WEEK OF JUNE 25 THROUGH JUNE 30
The Lord has used the long and drawn-out process of Oslo to show:
1. That none of Israel's land is to be given up for peace; ( The Lord shall bring the Peace )
2. How important the Israeli settlements figure into Israel's future; ( Christ shall build up Israel )
3. The motives of the United Nation and their resolutions and their partiality to the 52 Muslim member states, representing 1.2 billion people, and the importance of the oil they control;
4. The American Government's economic interest in standing by Israel as a strategic partner only to protect the Middle East oil;
5. The American church's lack of knowledge regarding the significance of Israel's existence; 6. The Roman Catholic Church's complicity in the Vatican-Palestinian agreement of February, 2000, calling for Jerusalem to become an "international city"; ( aka 1947 UN Resolution )
7. Pope John-Paul II's lack of Scriptural knowledge, pertaining to his statements about lasting peace and about the "need" for all participants to fulfill the U.N. Resolutions pertaining to Israel's land.
8. This seven-year process revealed much to those with eyes to see and ears to hear. However, the days ahead could be even more significant. It portends the pattern of yet another seven-year-long covenant agreement to come.

Why not let the Bible Decide?
As in any conflict, Israel's defenders will have to consider the tools at their disposal and use them as wisely and judiciously as possible. It is therefore time for Israel to consider the tool of claiming the land of Israel by Biblical deed. All other ideas have only weakened Israel's Position in this world. Yes, I know, we it is the worlds commandment that "Thou shalt not mention in public the Biblical right of the Jewish people to the Land of Israel!" The Bible does comes into play in all of this afterall! Years ago, Israeli leaders, religious or secular, would not hesitate to cite sources in the Bible as the source for the Jewish claim to the Land of Israel. In 1937, when David Ben-Gurion appeared before the British Peel Commission, established to investigate the situation in the British-controlled Mandate for Palestine, he vigorously defended the Jewish people's right to the Land of Israel, asserting that "The Mandate is not ours, but-the Bible is our mandate." When was the last time you heard any diplomat speak so forcefully and, pray tell, so Biblically? Israel's defenders must stop being embarrassed by the Bible, and start using it to make Israel's case. The time has come for us to do the same. The true Christian people need to state with unhesitating pride, in a voice that is both loud and clear, that the Land of Israel belongs to the people of Israel because the God of Israel has said so.

. OSLO ITSELF IS A FAILURE - NOT JUST ARAFAT
Israelis have reached a general consensus about Yasser Arafat, namely that he remains still yet a terrorist, and is only interested in the destruction of Israel; but by and large the nations of the world and even Israel in general fail to recognize the demonic conspiracy about the process that brought Arafat into the Middle East equation. Now Shimon Peres, and Colin Powell press the internationally hatched Mitchell Report upon the scene. It is yet another attempt to prop up a partner for peace in the Middle East. If the working assumption of Oslo was that the accords would serve as a kind of filter for the purification of Arafat and of the PLO, it has now been proven that no such transformation will ever occur. Indeed, any future arrangement of any similarity won't work either. The revelation about Arafat must be coupled with the conclusion that Oslo was a failure, because it was based upon a peace partner who did not want peace!

Sec. Powell Calls for International Observers
U.S. Secretary of State Colin Powell met today with Yasser Arafat in Ramallah. Powell demanded that the PLO leader take stronger measures to "stabilize the Cease-fire," and said that Israeli declarations condemning Arafat are "damaging and unnecessary." Taking a position diametrically opposed to the position of Israel, Powell said, "I think that if we reach the confidence-building measures stage, we will need international observers to come to the flash-points to give us an independent view of the situation." Secretary Powell met earlier this morning in the Foreign Ministry with Minister Shimon Peres. Peres took an opposite stance of Prime Minister Sharon by saying that the new Yesha outposts must be dismantled.

PA VIOLENCE UP SINCE CEASE-FIRE BEGAN
Contrary to statements by U.S. President Bush and Secretary of State Powell stating that Palestinian violence against Israelis has been decreasing, statistics indicate an actual 39% increase in the number of attacks during the 25 days after Arafat declared his cease-fire compared to the 25 days beforehand. There have been 266 terrorist attacks against Israelis from June 2, when Arafat announced the cease-fire, and June 26, when Bush stated that there was definite progress in reducing the violence. In contrast, there were only 191 attacks during the previous 25 days.

Israel watches Saddam's Army move West
Israeli security authorities are anxiously trying to calculate the purpose of the latest Iraqi military moves in the Western Desert. Since June 25, Iraqi fighter squadrons, and elite Hamurabi armored division and presidential guard command elements ( known as the Jerusalem Brigades ), together with the commands of some forward intelligence units, began a slow march westward. They moved out of bases at Al Haditha and Al-Baghdadi to the H-3 air force base, arriving at a point within 80 km ( 50 miles ) as the crow flies from the Jordanian frontier and 450km ( 280 miles ) in a straight line from the West Bank. Israeli military ears and eyes, human and electronic, are therefore glued to watching every Iraqi move, especially since Saddam has called for the extermination of Israel, and issued a call to the Arab world to support the Palestinian uprising..

CHINESE CHRISTIANS SENTENCED TO HARD LABOR
Chinese police have raided the home church of Wang Yulan. It is reported that a dozen of those Christians, including Mrs. Wang, have been sentenced to "reeducation through labor" in work camps. Wang's husband is already serving a three-year sentence for previous house church activities. Chinese police took 35 people into custody last month in Dongsheng City in inner Mongolia, but later released 20 of them after they paid fines of about $25, a week's salary. More than half of China's 40 million Protestants worship in unsanctioned house churches because the communist Chinese government dictates to the official churches what they can and cannot preach. One prominent Christian leader, Pastor Lamb, says: "I will not register. If I register, they will control us and I couldn't preach Daniel, Revelation, or preach prophecy! Note: The Devil really hates Bible prophecy. Prophecy reveals the Devil's fate. The Chinese government serves the Devil's cause. Pray for our fellow Christians in China.

SHARON, BUSH CLASH OVER NEXT STEPS
U.S. President George W. Bush and Prime Minister Ariel Sharon clashed publicly on where the Israeli-Palestinian crisis stands now. President Bush said he sees enough progress to send U.S. Secretary of State Colin Powell to the region to start work on the next steps, as outlined by the Mitchell Commission. Sharon reiterated his long-standing demand for an absolute end to "hostilities, terrorism and incitement." Sharon told Bush, Israel "will not negotiate under fire and under terror" as it tries to maintain a fragile truce with the Palestinians. President George W. Bush declared, "We are closer to peace now than we were before. That is why Colin Powell is leaving for the Middle East tonight." Not surprisingly, Palestinian spokesmen were pleased with the outcome of Bush-Sharon meeting. They interpret it as US acceptance of the unfeasibility of an absolute cease-fire plus a US decision to move on towards a final-status settlement.
In Paris, Syrian president Bashar Assad warned that the Middle East situation was deteriorating day by day, while in Cairo, Egyptian President Hosni Mubarak said the region would sink into "horrible terrorism" if the US did not press for a solution, and coerce Israel into negotiations again.

Greater Mid-East role urged for Europe
Jun 25,2001 -- Three Arab countries are pushing for what they see as a more balanced western role in resolving the Palestinian Israeli conflict. Saudi Arabia's crown prince Abdullah has criticized what he termed, America's one sided support for Israel. Syria's President Bashar al-Assad echoed that sentiment last month with the Pope, calling for a bigger European role in the crisis. Saudi Arabia's Crown Prince Abdullah bin Abdulaziz, who effectively runs the country, was quoted on Monday as saying that Europe should play a more prominent role. He said Europe had "a moral and political responsibility" to the region because of its former colonial role. ( Rome? ) The paper quoted the Crown Prince as saying that an escalation of violence could increase the risk of a war in the Middle East. He also called for an international force to monitor the Palestinian-Israeli cease-fire. The Arabs have long seen European countries as being more sympathetic to their cause than the US, which they regard as biased towards Israel because of military and strategic ties.
Note: The Bible has always portended that the prince of the last days world empire would emerge from the domain of the Roman Empire of the 1st century. The Antichrist will craft a resolution in the Middle East permitting Israel a short span of false-peace!

Bush May Press Sharon To Accept Observers in Territories
Ariel Sharon will likely be pressed to freeze settlement activity on his brief visit to Washington, and to accept immediate implementation of the Mitchell report, by allowing international observers to monitor the West Bank activities. It said a number of Arab states, among them Egypt, Jordan and Saudi Arabia are urging the administration to pressure Sharon to accept the measures. The Arab nations fear that the fragile U.S. cease-fire may otherwise collapse, undermining regional stability.

Until they accept Israel's existence
Even as the U.S.-brokered Mid-east cease-fire continues, Israelis are fired upon, and killed, while restrictions on the Palestinians are eased. Hard-liners in Israel are increasingly frustrated and angry with Prime Minister Ariel Sharon, the man they thought would respond more forcefully to such provocations and attacks. But Sharon, whose restrained behavior has earned him high points in Washington, has come to realize, that the current war of attrition with the Palestinians cannot be won militarily. This is a war with no battlefield, and the harder one strikes, the more resolve it creates in the enemy and the more empathy it evokes around the world for the victim. forced into calling for a cease-fire last week answers one important question. The question that remains unanswered, as diplomats push for a return to the negotiating table, is how Israel can sit down to deal with Arafat after he has proven to be false in his intentions and murderous in his actions. Until last September, Israeli leaders could fool themselves into thinking that the Palestinian leader wanted statehood above all else. But ever since Arafat rejected the Ehud Barak offer at Camp David in favor of a return to bloodshed, those suppositions no longer hold up. Instead, one is left with the intrinsically Middle Eastern prospect of peace talks intended to manage rather than end the violence, preventing the conflict from becoming a full-scale war. More and more Israelis now speak of the short-term goal of reducing the violence and putting off genuine peace talks until Arafat is no longer in power. Perhaps, or so the thinking goes, a younger generation of Palestinian leaders will be able to set aside the myth of destroying the Jewish state and come to terms with the concept of two states living side by side

Bush pressed to meet Arafat
A key mediator in the Middle East peace process says that US President Bush should invite Palestinian leader Yasser Arafat to Washington. Former US Senator George Mitchell, who chaired the Clinton investigation of the Intifada stated ahead of the talks between President George Bush and Israeli Prime Minister Ariel Sharon to shore up a faltering US-brokered cease-fire. It will be Mr. Sharon's second White House visit since he took office in March, but Mr Arafat has yet to receive a Presidential invitation from the Bush administration. Diplomats suggest this is indicative of the degree of Washington's annoyance with Mr. Arafat over the Palestinian uprising.

New arrests in Ramallah Lynching
The IDF and Shin Bet security service arrested two more suspects in the lynching of the two reservists in Ramallah last October, including the youth seen in the infamous television shot of the lynching, as he leaned out of the police station window and waved his bloody hands at the mob. The two reservists, Vadim Norzhich and Yosef Avrahami, took a wrong turn into Ramallah on October 17 and were arrested by Palestinian police, who took them to the local police station. There, a Palestinian mob beat the two to death and mutilated their bodies. The two new arrested are Abed al-Aziz Tzalha, 20, of Dir-Jarir and Mohammed Nuara, 18, of Mizara al-Kabaliyah.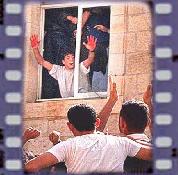 Tzalha admitted that he was the youth at the window in the television shots, waving his bloodstained hands. Tzalha said he burst into the police station, ran up the stairs to where the two soldiers were being held, and grabbed one and started choking him while other Palestinians beat him. Nuara, a Tanzim paramilitary activist, admitted stabbing one of the soldiers.
WEEK OF JUNE 18 THROUGH JUNE 24
Two More Israelis Die As Diplomats Fight for Truce
June22…A Palestinian suicide bomber in a jeep killed two Israeli soldiers in the Gaza Strip on Friday, as U.S. and European envoys battled to shore up a shaky Israeli-Palestinian cease-fire. A Palestinian woman on the roof of a house signaled to the soldiers that a jeep parked in the mud needed help. As the soldiers approached, the bomber set off his explosives, killing two soldiers and slightly wounding a third. About 4,000 Palestinians taking part in a rally of the Islamic Jihad movement in a Gaza refugee camp celebrated the news of the deaths, witnesses said. Members of the crowd shout "Allahu Akbar" ( God-Allah is greatest ) and some shot their weapons in the air.

Syrian President Will Recognize Israel When Peace Comes
June22…Syrian President Bashar Assad said that his country would recognize the state of Israel when a fair and "Global Peace" was installed in the Middle East. Assad, who came to power a year ago after the death of his father, said his country did support the Palestinian cause,and all methods which can be used to assert the rights of the Palestinian people. He reiterated his country's position that the Golan Heights belong to Syria, saying this was recognized by all international organizations. Syrian-Israeli talks collapsed in January 2000 with Syria demanding a full withdrawal from the Golan Heights, a plateau captured by Israel in 1967. Israel has insisted on settling borders only after it knows what it will gain by returning the Golan.
Note: Syria has attacked Israel twice when it has held the Golan. So, it stands to reason that the return of the Golan is not Syria's only interest regarding Israel. Israel is understandably worried that the return of the Golan to Syria will only enable Syria to attack Israel yet again. Syria, historically speaking, basically doesn't wish to give legitimacy to the state of Israel at all. Bashar Assad has alluded twice recently to Global Peace, being a factor to resolving the issues between Israel and Syria. Revelation-Daniel portend that the Antichrist will offer a Global Peace in the Middle East!

Iraq Demands UN Monitoring of Israeli Nuclear Weapons Program
Iraq urged the United Nations on Thursday to implement its 1981 resolution calling for international monitoring of Israel's nuclear weapons programs. Israel still challenges the international community by not allowing it to monitor its nuclear weapons, said Iraqi UN Ambassador Mohammed al-Douri in a letter to Secretary-General Kofi Annan. UN resolution 487 condemned Israel's 1981 attack on the Iraqi Osirak nuclear reactor that was under construction at the time. Within the resolution, the UN Security Council called on "Israel to urgently place its nuclear facilities" under International Atomic Energy Agency safeguards. The Iraqi letter Thursday accused the United States of helping Israel develop its nuclear industry. Israel, however has never admitted to possessing nuclear weapons.

Israeli army given green light to respond (Cease-fire over?)
Jun 21,2001….Israeli army officials said Thursday they had been given the green light to resume targeted attacks on Palestinian militants, in what could be the beginning of the end for a barely surviving Middle East cease-fire. The decision comes as the White House announced US Secretary of State Colin Powell would return to the region in a bid to hold together the shaky truce accord CIA Director George Tenet negotiated between Israel and the Palestinians last week. Foreign Minister Shimon Peres, who shared the Nobel peace prize with Palestinian leader Yasser Arafat for striking the Oslo peace accords, fought in vain against the security cabinet's decision to approve the attacks. Ariel Sharon called the council into session to re-think the cease-fire amid continuing bloodshed and violence.

Arafat suckers everyone again
June 21….The prevailing joke in Israel these days is that the meaning of the word "cease-fire" translates in Arabic as "the Israelis cease while the Palestinians fire". The latest Palestinian response to peace-making continues to make a mockery of the word. The Tenet Agreement, following eight months of failed attempts to bring Palestinian violence under control, is conditioned on a view that the Palestinian leadership shares the same understanding of " ceasefire" and "peace" as the Americans and Israelis. It offers another example of a continuing myopia to the Palestinians' absence of intention to relent in their armed struggle against Israel. In fact, from the beginning the Palestinians promised not to adhere to the ceasefire. Marwan Bargouti, the Tanzim head and leader of Arafat´s Fatah organization in Judea and Samaria, said that the cease-fire agreement applies only to the areas under total Palestinian control, but that in other areas, the Palestinians would "escalate their attacks and the intifada. Spokesmen for Islamic Jihad and Hamas similarly said that they did not accept the cease-fire, and that they would continue with the intifada. Other PA officials said they would not arrest wanted Islamic Jihad and Hamas terrorists, nor would they form the required buffer zones between their forces and Israel´s. The only surprise in Arafat's course of conduct has been that it is so transparent. But time is fast running out for Arafat. Israel cannot afford much longer to play his cynical games of peace pretenses.

Pope on journey to advance Christian Unity
Jun 21,2001…. Pope John Paul II will enter an ecclesiastical hornet nest when he flies to the Ukraine on a four-day visit Saturday. Ten thousand Orthodox Christians marched through the streets of Kiev Thursday in protest against Pope John Paul II controversial visit this week. "Orthodoxy or death" and "the Pope harbinger of the anti-Christ," were among the slogans emblazoned on banners carried by the demonstrators who marched to Ukraine's parliament building and then began chanting slogans outside the foreign ministry. Four Eastern-rite denominations with almost identical liturgies await him there, one with open arms, two with lukewarm feelings, and the fourth with animosity. There are also Latin-rite Roman Catholics, Baptists, Pentecostals, Adventists, Jehovah's Witnesses, Hungarian Reformed and Lutheran Christians of German stock. Two of John Paul's most urgent desires have driven this 81-year old man to undertake this strenuous journey. One is his wish to advance the unity of Christianity, "that they all be one." ( ala Nimrod…let us all come together )
Note: Pope John Paul II has committed Russia to Mary's Immaculate Heart! ( Fatima ) Unity can be nice, but not in the face of compromising the uncompromising gospel of Christ. The Pope stresses unity under the umbrella of the Papacy, and tolerance for other religions. Christians however are urged to conform as "one under the Pope". ( Many call Christ Lord, but do not do his will..)

IDF ready for Iraqi involvement in North
Jun 21,2001…The IDF Operations Directorate expects Iraq to get involved in any deterioration on the northern border and has prepared plans to deal with Saddam Hussein's forces. The IDF is preparing for another outbreak of violence in Lebanon and has not lost sight of the steps taken by Iraq during previous times of tensions. The Iraqis have twice moved armored divisions toward their western border, ready to back any confrontation with Israel. "The situation in the North is tense. An escalation could start with a successful attack by Hizbullah which would obligate Israel to retaliate against Syrian targets. This sort of situation is likely to quickly lead to a general escalation throughout the whole region. Israel presumes that this sort of situation will lead to Iraqi involvement and an intensification of Syrian participation in such events. In the meantime, the IDF is completing the laying of a cyber optic cable along the whole northern border that links up all outposts to communication, command, and intelligence networks.

US Sec. Of State Powell headed to Middle East
Jun 21,2001….Secretary of State Colin Powell will travel to the Middle East next week to try to cement a crumbling cease-fire and lay the ground work for confidence-building measures that would eventually be adopted by the sides. President Bush is sending Powell to Israel as a last-gap measure to salvage the tenuous cease-fire.

Palestinians said to be obtaining arms from Europe
Jun 21,2001….Palestinian fighters are said to be obtaining rockets and missiles from Europe to mount a war against Israel. European diplomatic sources said investigations are taking place in several countries regarding allegations that both the ruling Fatah party and the opposition Hamas terrorist cell have formed links with European groups to obtain weapons or supplies in exchange for Iraqi oil. Israel is alleging that the Palestinians have obtained weaponry smuggled from Europe by a former Croatian deputy defense minister. Weapons from Croatia, Hungary and Russia are known to be reaching the Palestinian Authority.

U.S. Bishops Issue Strong Call For Peace in Mid East
The US National Conference of Catholic Bishops (NCCB) last week urged Israel and Palestinians to return to the negotiation table, and they condemned all violence and said that the rights of both sides must be understood and respected. In a strongly worded resolution, the bishops said that Palestinians "rightly insist" on an end to Israel's occupation of the West Bank and Gaza and the practice of establishing and expanding settlements in the territories. The resolution was issued after Latin Patriarch Michel Sabbah of Jerusalem called for constant support from the Catholic world for a solution to the Middle East crisis.
Note: Rome insists on a solution to the Middle East controversy, a solution which denies the city of Jerusalem and Judah to the nation of Israel. Why?

US admits that it cannot fight Two Wars at once
June 21… President Bush and Donald Rumsfeld, US Defense Secretary who was also Defense Secretary at the height of the Cold War under President Gerald Ford, has been conducting a review of US force structures, equipment and commitments around the world. The "two war" concept, which has guided military strategy since the end of the Cold War in 1991, will be replaced with a new "one plus" plan. This will reflect a fundamental rethink about America's role in the world and the likelihood that future conflicts will not require the deployment of large ground and naval forces. "The two war requirement is dead. The real question is one plus what? The "two war" concept, which envisaged the possibility of wars being fought simultaneously against Iraq and North Korea, was formulated by Vice-President Dick Cheney, who was then Defense Secretary, and Gen. Colin Powell, then chairman of the joint chiefs of staff. Mr. Bush's advisers have also acknowledged that it would be very difficult for America to fight two wars at the same time and believe that the abandonment of the strategy reflects the reality of the state of the US armed forces. Secretary Rumsfeld advocates the reduction of American commitments around the world.
Note: Russia and China will take quick note of this fact.

Terrorism experts fear Holy War against Israel
Jun 19,2001….Hundreds of Muslim Arabs including Palestinians, have been learning terror techniques in camps run by Osama bin Laden, the United States most wanted terror suspect. Israeli researchers said they feared the current Palestinian uprising would go beyond a struggle for statehood and become a holy war. Afghan alumni see the national dispute between Israelis and Palestinians as a very good chance to transform this confrontation into a religious one. Palestinians call their uprising the "Al Aksa Intifada," referring to a mosque at a key Jerusalem holy site claimed by both Palestinians and Israel. That name provides an opening for the fundamentalists. For Musli terror cells, the Al Aksa term, which bears an Islamic connotation, is a wonderful opportunity to advance Jihad. The strategic aim of Hamas is to destroy Israel through the armed struggle and to transform the new Palestinian state into an Islamic state.

Bush And Sharon Will Meet Again
June 20, 2001 President Bush will meet Israeli Prime Minister Ariel Sharon in Washington next week as the United States tries to preserve a fragile Middle East cease-fire. The President hopes that the cease-fire will continue to take hold, and that the violence will diminish, and that (an) unconditional cease-fire by both parties can be implemented. Sharon, who had previously planned a trip to New York, will meet Bush and Secretary of State Colin Powell in Washington next Tuesday. It will be Sharon's second meeting with Bush since the Israeli leader took over in March. The White House said there were still no plans for Bush to meet Palestinian leader Yasser Arafat, with whom he has yet to hold a face-to-face meeting. U.S. officials have said they are waiting for a convincing commitment to peace by Arafat before consenting to a meeting.

War of Independence Continues: says Sharon
June 20…Prime Minister Sharon speaking to a group of veterans, said that "Our War of Independence has not yet ended." Speaking at a memorial ceremony for soldiers of the Alexandroni Brigade who fought in the Latrun battle during the 1948 war, Sharon said, "The past months prove to us that our struggle for our right to live on our land continues even today. Who would have believed, when we fought that terrible battle in Latrun to break the siege on Jerusalem, that now, 53 years later, we would still be fighting for Jerusalem, the capital of the Jewish Nation and of the State of Israel." Sharon himself fought in that battle, as did refugees from Europe who had just arrived in Israel days before.

China simulates Taiwan attack
China has amassed10,000 troops along the south-east coast of China in preparation for large-scale military exercises aimed at practicing an attack on Taiwan. It will include a mock invasion of a Taiwanese island and an attack on an aircraft carrier. The troops have massed on Dongshan island, a large peninsular that sticks out into the Taiwan strait.
China is reportedly throwing much of its most sophisticated weaponry into the exercise, including navy missile destroyers and submarines newly purchased from Russia. The message being sent is clear, China has the capability to attack Taiwan, and the ability to hit the US also if the US is foolish enough to intervene in a conflict over Taiwan with one of their aircraft carrier battle groups.

Arafat calls Israel cease-fire a Lie
Palestinian President Yasser Arafat said Israel was trying to fool the world by professing support for the cease-fire while dragging its feet on many of its key elements. The settlements built by Israel in the West Bank is what Palestinians call a siege of the West Bank and Gaza. It is an attempt to deceive international public opinion,'' Arafat told reporters in the West Bank city of Ramallah. The Israelis are still firing from their tanks and machineguns and are still using internationally banned weapons, and the Jewish settlers are pursuing their crimes under the protection of the Israeli army. So their claims that they are committed to a cease-fire is a lie.

War Crimes Case Filed in Belgium Against Sharon
June 20….Survivors of the massacre of hundreds of Palestinian refugees during Israel's 1982 invasion of Lebanon filed a case in Brussels, Belgium accusing Israeli Prime Minister Ariel Sharon of crimes against humanity. They allege that Sharon bores personal responsibility for the massacre, which took place following Israel's invasion of West Beirut after Israeli-allied Lebanese President-elect Bashir Gemayel was assassinated. The slaughter took place after the Israeli army allowed Israeli-backed Christian Phalangist militiamen to enter the camp, ostensibly to search for Palestinian gunmen. The twenty-eight survivors of the Sabra and Shatila massacres in Beirut 19 years ago charge Sharon with orchestrating the massacre, although it was actually carried out by Lebanese Phalangists. Ariel Sharon was the defense minister for the Israeli army in 1983. Israeli officials argue that the allegations are timed to deflect attention from Mr. Sharon's efforts to maintain the shaky truce with the Palestinians, which claimed its sixth and seventh victims in less than a week yesterday, with two Jewish settlers shot dead in separate incidents in the West Bank.
Note: Belgium is the present residency for the Presidency of the EU. The case against Sharon is being instigated by Yasser Arafat to bring about the downfall of yet another Israeli Prime Minister. ( aka: Ehud Barak )

President Bush to Visit Pope
US President George W. Bush will make another trip to Europe in July and will include a stop in Rome to meet with Pope John Paul II, according to the White House. On that trip, the President will also attend the G-7/8 summit of the world's seven largest industrial countries plus Russia in Genoa, Italy, July 20-22. Bush is scheduled to have an audience with the Pope at the pontiff's summer residence at Castel-Gandolfo.

U.S. Could Offer Iran Pipeline to Persian Gulf
The United States could approve the laying of an energy pipeline through Iran to the Persian Gulf as a reward for a moderate policy by the Islamic regime. Turkey believes that it would be a chief beneficiary of an Iranian pipeline that runs from the energy-rich Caspian basin to Turkey and the West. Turkish ambitions in this sphere will also hinge on developments in Iran. The United States is unwilling to cooperate with the existing regime in Iran. Yet seeking to encourage or reward political liberalization in Iran, U.S. policy might accept a pipeline through Iran to the Persian Gulf, which is also financially more attractive. In a study by the Middle East Review of International Affairs, Onis said an Iranian pipeline to the Persian Gulf would be more feasible than the Baku-Ceyhan pipeline.
Note: Russia is already coordinating plans with Iran to build this pipeline. Turkey is under consideration for admission to the EU, and also under immense pressure from Muslim influences to abandon its alliances with Israel.

Israel Threatens to Reconsider Cease-fire
June 19…Israel warned that it will reconsider its commitment to a cease-fire if the Palestinians do not prevent attacks like those on West Bank roads a day earlier that killed two Israelis. One Israeli was killed and another lightly injured when Palestinian gunmen fired at their car on a West Bank road. After nightfall, another Israeli was killed when a Palestinian fired shots at several cars in the West Bank. In response, Israeli forces re-imposed a blockade around Tulkarem. The roadblocks had been lifted only a day earlier as part of the cease-fire deal. In Amman, Jordan, Arafat accused Israel of breaking all of its international commitments and violating the cease-fire deal. Arafat said Israeli forces continue to demolish houses, attack Palestinian areas and maintain blockades of Gaza and West Bank territories.

Iraq procures hundreds of Tank Transporters
Jun 17,2001…. Iraq has procured hundreds of tank transporters from Russia in what has been termed as an effort to improve military logistics and respond quickly to the prospect of a regional conflict. Western intelligence sources confirmed reports that hundreds of Russian-made tank transporters have arrived in southern Iraq over the past few weeks. "This is one of the most significant procurements by the Iraqi military and demonstrates its preparations for conflict," an intelligence source said. It reported that at least 200 Ural tank transporters have been unloaded in Basra, and that Iraq plans to import 1,300 more tank transporters from Russia. Iraqi opposition sources said the tank transporters are key to the military's effort to regain control over the country or join any Middle East war against Israel.

Arafat: Mideast situation could spin "out of our control"
Arafat made these comments in Jordan before a meeting of Arab League foreign ministers, who were in the Jordanian capital to follow up on support that they have pledged for the Palestinians in the Middle East conflict. The ministers, representing eight Arab states and the Palestinian Authority, have been meeting periodically to search for ways to provide both financial and political support for the Palestinians. Arafat told the representatives that he was not optimistic about the current state of the conflict, saying it was very dangerous and could spin "out of our control." He said the current cease-fire will not last if Israel continues its settlement activities and does not lift the closure on Palestinian territories. Israeli police, meanwhile, said Palestinian gunmen killed an Israeli motorist and wounded another in an ambush in the West Bank as the shaky cease-fire continued to hold. Police also said that earlier on Monday they found and detonated two bombs in Haifa, Israel. Arafat appealed to the world community send international observers to oversee the implementation of the truce.

Major US-Israel-Turkey Air Exercise Starts
The three air forces of the US, Israel, and Turkey are lofting together their F-15 and F-16 fighter-bombers, AWACS spy planes, Boeing 707 in-flight refueling craft, Apache and Cobra gun-ships, as well as the Israeli anti-missile missile Arrow system in a joint exercise that will range over southern Turkey, the Eastern Mediterranean and Turkey's frontier zones with Syria, Iraq and Iran. Military experts reveal that, the operation, "Anatalian Eagle" secret objective is to make tangible preparations for a Middle East War. The three air forces will be rehearsing a Turkish-US response, should Syrian, Iraq and Iran, together or singularly, launch a surface missile assault on Turkish and US military bases inside Turkey, as part of an overall offensive against Israel. This offensive might come in the form of a missile raid or a ground invasion through Jordan or Syria. The 1995 Turkish-Israel military pact provides for Israel to use Turkish air bases if attacked.
WEEK OF JUNE 11 THROUGH JUNE 16
What Arafat Gets for Agreeing to Ceasefire
14 June: The secret list of rewards CIA Director promised Arafat comes in stages that dovetail with the Palestinian leader's execution of his cease-fire commitments. That list includes: A. The onset of Palestinian preventive measures against terrorist attacks and perpetrators will be met first by Israeli releases of the frozen tax receipts due to the Palestinian Authority. The rate of release will be adjusted to the security situation on the ground. The firmer that the Palestinian action to curb violence, the faster the unfreezing of funds.
B. As the first cooling off stage of the cease-fire goes into effect in a week or ten days, the US administration undertakes to gradually renew its relations with Palestinian Authority leaders.
C. If the cease-fire holds up well enough to lead into a dialogue on the implementation of the Mitchell Report recommendations, the U.S. will undertake to restore the diplomatic track leading ultimately to Palestinian-Israel final-status negotiations.
D. When that track is in place, and assuming that the truce governing violence and terrorist attacks becomes permanent, the United States government will consider inviting Yasser Arafat to visit Washington
. Note: Yasser Arafat is always the beneficiary party. What does Israel get this time? ( Arafat's 1,000,000,000 pledge to not kill Israeli's, and to back off terrorism. )

Mary Has Appeal For Other Religions
The Blessed Virgin Mary is a starting point for presenting the Christian message to believers of other religions, said a Vatican official returning from an interfaith conference at Lourdes. Cardinal Francis Arinze, President of the Pontifical Council for Interreligious Dialogue, and a pontential candidate to succeed Pope John Paul II; delivered a key address at the conference June 7-8. In an interview with Vatican Radio in Rome, he noted that Mary was a young Jewess, faithful to the tradition of her fathers. Yet, he said, it is interesting to note that the Koran, the sacred book of Islam, mentions her 34 times "always with great respect. She is regarded as a virgin, full of faith, obedient to God." Buddhists do not have a figure that corresponds to the Virgin of Christian faith, but their religiosity appreciates the feminine values proper to Mary, such as compassion, maternity and piety, something that can help them understand her witness, Cardinal Arinze explained. In Indian religions, there is also an image of feminine cult that includes femininity, maternity, fertility and piety, the cardinal added. The conference at Lourdes was organized by the local diocese in cooperation with the >u>Pontifical Council for Interreligious Dialogue. It gathered experts to study Mary´s role in ecumenical dialogue and in relations among religions. On the first day, the sessions focused on Mary in ecumenical dialogue. The debate centered on "The Virgin and the Call to Christian Unity," as well as the importance of icons for the Oriental Churches and their message.
Note: The apparitions pretending to be Mary that are appearing world wide emit messages of religious diversity, and unity. The ancient "Queen of Heaven", is working her mystical magic again in our days! Perhaps the Queen will be instrumental in the logistical and supernatural support of the Last Days tandem of the Antichrist and False Prophet. (Revelation 13 and 17 ) ( see Jeremiah 44 )

Sharon's Temple Mount Visit Didn't Cause War
June 13, 2001… Marwan Bargouti, secretary-general of Arafat's Fatah movement in Judea and Samaria, say the intifada did not start because of Sharon's visit, but that the violence began because of the desire to put an end to occupation and because the Palestinians did not approve of the peace process in its previous form. · PA cabinet minister Imad Faluji said at a rally in Lebanon on March 3, 2001 that the violence had been planned since Chairman Arafat's return from Camp David. · PA cabinet minister Ziyad Abu Ziyad Whoever improvises becomes confused and loses his way. Our path is very clear! Anybody following the events can see that there is a clear Palestinian track. The events on the ground are neither spontaneous nor an improvisation.

Gays target Baptist Conference June 13, 2001…Gay rights activists plan to stage a civil disobedience event to protest the anti-homosexual stances of the Southern Baptist Convention as the denomination concludes its annual meeting. The Rev. Mel White, organizer of Soul-force, a gay rights movement, will stage a jazz funeral at noon at the Louisiana Superdome where more than 9,100 messengers (delegates) are conducting business for the 15.9 million-member denomination. White said Soul-force protesters will carry a coffin containing letters describing the sufferings of gays because of Southern Baptist and other Christian denominations' rejection of homosexual lifestyles. White is a former evangelical Christian who acknowledged his homosexuality several years ago and has been leading civil disobedience demonstrations at denominational meetings for nearly two years. White, a minister in the Universal Fellowship of Metropolitan Community Churches, a gay-friendly denomination said he tried to meet with convention President James Merritt. Merritt stated that the denomination regards homosexuality as sin. "We are doing the loving, gracious thing in telling the homosexual the truth of God's Word. But Merritt also condemned violence against anyone because of "sexual preference." White said the denomination's stance is the reason for the protest. "We believe homosexual orientation is a gift from God," White said. "When you call people, who have no choice really, `sick and sinful,' it leads to all kind of spiritual violence within them. They feel God is condemning them.
Romans 1:26-29 For this cause God gave them up unto vile affections: for even their women did change the natural use into that which is against nature: And likewise also the men, leaving the natural use of the woman, burned in their lust one toward another; men with men working that which is unseemly, and receiving in themselves that recompence of their error which was meet. And even as they did not like to retain God in their knowledge, God gave them over to a reprobate mind, to do those things which are not convenient.

Bush Postpones Moving U.S. Embassy to Jerusalem
President George W. Bush signed a waiver on Monday postponing for six months any relocation of the U.S. Embassy in Israel from Tel Aviv to Jerusalem, but said he remained committed to such a move in the future. The U.S. Congress passed a bill in 1995 aimed at moving the embassy to Jerusalem, but former President Bill Clinton repeatedly made use of an escape clause in the measure allowing him to postpone the move on the grounds of national security. Bush cited the same clause in his decision on Monday to delay the relocation. "I hereby determine that it is necessary to protect the national security interests of the United States to suspend for a period of six months" implementation of the "Jerusalem Embassy Act," the President wrote in a memorandum to Secretary of State Colin Powell. But he added, "My administration remains committed to beginning the process of moving our embassy to Jerusalem."

U.S. Bishops Aim to Curb Ignorance of Eucharist
When U.S. Catholic bishops meet here this week they hope to clear up confusion on a basic Church teaching: the real presence of Christ in the Eucharist. Polls in recent years show that only 30% of Catholics believe they are really receiving Christ´s body and blood in the Eucharist, and not symbolically. To spread Church teaching on the Blessed Sacrament, the bishops will vote on a statement called "The Real Presence of Jesus Christ in the Sacrament of the Eucharist: Basic Questions and Answers. The statement notes from the outset that the Eucharist "is an inexhaustible mystery that the Church can never fully explain in words. It says the language used to describe this mystery was developed by medieval theologians, such as Thomas Aquinas. They taught that "the substance of the bread and wine is changed by the power of the Holy Spirit into the substance of the body and blood of Jesus Christ. Its outer appearance remains as bread and wine, but, the bishops´ statement says, it is "in fact now the body and blood of Christ (at the level of substance or deepest reality). The statement also discusses how Catholics should receive Communion, saying "it is preferable to receive Christ in both forms, body and blood, under the species of bread and wine.
Note: The concept of the Eucharist is the most blasphemous-idiotic bunch of nonsense that I have ever heard of. The very idea is a slap in the face of our precious Lord and Savior. Jesus died "ONE TIME" for the sins of "ALL" for all time! He does not need to be re-sacrificed over and over through Rome's Transubstantiation.
Heb 10:10-14 By the which will we are sanctified through the offering of the body of Jesus Christ once for all. And every priest standeth daily ministering and offering oftentimes the same sacrifices, which can never take away sins:But this man, after he had offered one sacrifice for sins for ever, sat down on the right hand of God; From henceforth expecting till his enemies be made his footstool. For by one offering he hath perfected forever them that are sanctified.

Israel Accepts U.S. Cease-Fire Plan
June12 - Israel accepted on Tuesday U.S. CIA Director George Tenet's cease-fire plan to end more than eight months of violence with the Palestinians, a spokesman for Israeli Prime Minister Ariel Sharon said. Israel's acceptance of Tenet's plan came after a late-night meeting with the Palestinians on Monday ended without results and deteriorated at times into shouting matches between the Israeli and Palestinian representatives. "The acceptance of the Tenet proposal is the true test of Chairman Arafat to see if he is abandoning the road of violence...or will be staying as he has been, the leader of a terrorist organization," Raanan Gissin Sharon's spokesman stated. Tenet's plan calls for a "complete end to violence" followed by a six-week cooling-off period.

Israel holds Strategic advantage in any upcoming Regional Wars
Tue Jun 12,2001 -- Israel's strategic advantage over countries in the region is so great that it provides an effective barrier against the deterioration of the current conflict with the Palestinians into regional war, a leading Tel Aviv think tank reports. Presenting its biennial Middle East Military Balance, Prof. Shai Feldman, head of the Jaffee Center for Strategic Studies, said Israel's deterrent capability remains strong. "But it does not say that we may not find ourselves in a spiral of escalation with Syria. It does not negate the possibility that Syrian President Bashar Assad, through miscalculation or mis-assessment, would give the green light to Hizbullah... and this could lead to a regional conflict.
Note: It is my honest opinion that Bashar Assad will indeed miscalculate his chances with Israel.

About Digital Angel:
Digital Angel(TM) represents the first-ever combination of advanced biosensor technology and Web-enabled wireless telecommunications linked to Global Positioning Systems (GPS). By utilizing advanced biosensor capabilities, Digital Angel will be able to monitor key body functions, such as temperature and pulse, and transmit that data, along with accurate location information, to a ground station or monitoring facility. Applied Digital Solutions is exploring a wide range of potential applications for Digital Angel, including: monitoring the location and medical condition of at-risk patients; locating lost or missing individuals; locating missing or stolen household pets; managing livestock and other farm-related animals; pinpointing the location of valuable stolen property; managing the commodity supply chain; preventing the unauthorized use of firearms; and even providing a tamper-proof means of identification!
Note: The Antichrist could very well utilize this technology to give everyone a "mark, number, or image imprint", and control the commerce of the world. ( Revelation 13:16-18 ) No man can buy or sell without the identification compliance with the Antichrist!

Hamas Warns Palestinian Authority Not to Give In To US Pressure
Leaders of the Hamas Islamic militant organization in Gaza warned the Palestinian Authority Monday not to give in to U.S. pressure to end the Intifada (uprising) against Israel, and not to arrest its activists. "The Palestinian authority must reject Israeli, American and even the European pressure to stop the Palestinian Intifada," said Abdel Aziz Ranteesi, Hamas spokesman in Gaza

Muslim Hatred from The Mosque
In Friday's sermon broadcast live on Palestinian Authority Television, preacher Dr. Muhammad Ibrahim Maadi praised the suicide terrorist slaughter in Tel-Aviv and called for continued suicide attacks. "Woe upon whomever will not raid, and not tell tales of raids. Woe upon whomever does not give his children Jihad, or Holy War education. Blessed is he who fights Jihad in the name of Allah, blessed is he who goes on a raid in the name of Allah, blessed is he who dons a vest of explosive, or on his children and goes in to the depth of the Jewish state, and blows them up. I ask of Allah that we see the Knesset building collapse on the heads of the Jews."
Note: This is typical of Friday sermons on the Temple Mount, by the Muslim clerics.

Hezbollah vows to retake IsraelI-held Shebaa Farms "by blood"
June 10… Hezbollah chief Sheikh Hassan Nasrallah vowed here Sunday that his militant Shiite movement would retake the Israeli-held Shebaa Farms. We, the sons of the resistance, say we will not renounce one inch of our territory, Nasrallah said at a ceremony marking the one-year anniversary of longtime Syrian ruler Hafez al-Assad's death. "We will retake the Shebaa Farms by blood, jihad (holy war) and resistance." In his remarks at the Assad memorial service, Sheikh Nasrallah said "we won't give up on Palestine, all of Palestine, and Jerusalem will remain the place to which all Jihad warriors will direct their prayers," Nasrallah vowed before an audience that included Arab delegations and the Syrian and Lebanese Presidents. The mountainous Shebaa Farms region was captured by Israel from Syria in the 1967 Six-Day War, but is claimed by Lebanon, with Damascus' support. Hezbollah, which is backed by Syria and Iran, fought a guerrilla war against Israel during its 22-year occupation of southern Lebanon, which ended May 24, 2000.

Cease Fire Talks Fail to Produce Results
11 June: The three-way security meeting between Palestinians and Israelis presided over by CIA director George Tenet Monday afternoon is clearly no more than a formality for winding up a failed mission. Tenet will read out his blueprint for a stable cease-fire together with the reservations of both sides, end the proceedings and depart from the Middle East. The Palestinian leader Yasser Arafat treated CIA director George Tenet to a repeat performance of his blocking maneuvers in the face of similar cease-fire efforts by President Bill Clinton, Madeleine Albright and no less than three times by George Tenet himself. Throughout the diplomatic process, he has never budged an inch from his strategic decision to vanquish Israel by violence. Neither has he foregone his purpose of bringing the Hizballah, Syria and Iraq into the conflict. Defense sources fully expect all hell to break loose after Tenet's departure. The Palestinians staged over 100 violent incidents in the nine days of Arafat's "cease-fire" According to defense circles, the Palestinians have big plans to begin directing more advanced weaponry, such as mortars and possibly Lebanon-style Katyusha rockets, from the West Bank into Israel, chiefly around Jerusalem and other adjacent areas

Saudi Crown Prince warns of Middle East War
Saudi Crown Prince Abdullah has warned of the prospect of a Middle East war, accusing Israel of raising Middle East bloodshed to "unacceptable" levels. Abdullah stated that the region is "sitting on a powder keg" that could "explode at any time". He added that such a war "would not only affect Israelis and Arabs but many parts of the world".
Note: The Rumor of War continues!
WEEK OF JUNE 3 THROUGH JUNE 10
Hezbollah Says It Will Attack if Israel Invades Palestinian Areas
Hezbollah says it will launch attacks against Israel if it invades Palestinian territories. Hezbollah leader Sheik Hassan Nasrallah told Hezbollah TV June 7th Thursday night that if a war erupts in the region, this war will not be in Israel's favor ... We will not abandon the Palestinian people and we will be with them in this battle. This is an ideological and religious commitment! "We are helping the Palestinian uprising as much as we can," Nasrallah said, adding Hezbollah "will not be late" in providing "a different kind" of military assistance. He did not elaborate, saying only, " We are constantly consulting with Palestinian leadership and forces which are participating in the Intifada".

'Arafat must be Defeated,' Israeli Protesters demand
(June 7) - Four months to the day that Prime Minister Ariel Sharon was elected in a landslide victory, tens of thousands of Israelis crowded downtown Jerusalem last night to urge him to end his current policy of restraint and fight Yasser Arafat in an all-out war. The rally, held at Kikar Zion under the slogan "Arafat must be defeated," was the first major right-wing rally to take place since the election, and reminiscent of a November demonstration there protesting former Prime Minister Ehud Barak's policy of restraint, which Sharon himself attended as opposition leader. They also called on Prime Minister Ariel Sharon and the government to declare Palestinian Authority Chairman Yasser Arafat a terrorist. Some in the crowd had come from an earlier prayer service at the Western Wall, attended by an estimated 15,000 people. "We will not allow this wickedness to exist," said Brig.-Gen. (res.) Ephraim (Fine) Eitam, who averred that the PA will cease to exist. Meanwhile, five-month old Yehuda Shoham, who was critically wounded in the head by a stone thrown at his parents' car on Tuesday night, continued to battle for his life. Leaders of the Council of Jewish Communities in Judea, Samaria, and the Gaza Strip warned that if the government does not act, they fear the situation may spin out of control, forcing residents to take the law into their own hands.

PA Leaders reject Israeli calls to arrest Terrorists
The Palestinian Authority does not intend to arrest members of opposition organizations such as Hamas and Islamic Jihad. Both PA Minister for International Cooperation Nabil Sha'ath and Jibril Rajoub, the head of the Palestinian Preventive Security Service in the West Bank, said there would be no such arrests. "The arrest of Palestinian activists is unequivocally unacceptable," said Sha'ath. "We don't take orders from anyone, either the U.S. or Israel. The Palestinian Authority acts according to the interests of the Palestinian people." "I can promise that there will not be arrests," added Rajoub. Israel has said that the arrest of people involved in terrorist attacks against Israelis is an essential component of a cease-fire, and to void Israeli retaliations. The Israeli government gave the PA a list of names containing 34 Hamas and Jihad activists whom it wants arrested.

Russia's New Middle East Alliance Targets Israel
Amid a changing U.S. foreign policy toward the Middle East, Russia is expanding its sphere of influence in the Middle East in a drive that threatens Israel. Some reports indicate that Moscow is achieving control of major sources of oil and natural gas and is reversing the gains made by the United States, in the region since the 1991 Gulf war. One report by the Institute for Advanced Strategic and Political Studies sees Russia attempting to control the world price of oil. The Russian foreign policy focuses on relations with Iran, ( Persia ) and is meant to contain militant Islam in the nearby Caucasus and Central Asia. Russia has developed Iranian energy reserves and offered advanced weapons and technology in exchange for Teheran's agreement to serve as a route for any proposed energy pipeline from the Caspian Sea. Perhaps more than any other thing, Moscow's concerted quest for domination of the Caspian Basin, ( US and EU seek to tap this reserve as well ) and its machinations to this end in the Persian Gulf, illustrate the degree of importance it attaches to the Middle East. Russia's Caspian policy is clear: to project its power over the oil-rich nations of the Caucusus Mountain region, and to exclude any strategic presence there, and to impose its own security environment over the area. Moscow's exploitation of the Caspian Sea oil reserve could place Russia and its allies as the world's wealthiest oil exporters. Such control could allow Moscow to rival the power of Gulf Arab oil and natural gas producers and set world energy price.
Note: The prophecies of Ezekiel pertaining to the Last Days invasion of Russia, with her allies ( Iran or Persia ) hinges on the acquisition of what Ezekiel termed as a "spoil". The superpowers of the 21st century are vying for the rich Caspian Sea oil reserves. Iran holds the key to Russia's ability to control the former Soviet Muslim republics, and to export oil from the Caspian Sea. Ezekiel portrays the Iran-Persia-Muslim factor as becoming the "hooks-in-the-jaws" mechanism that draws Russia down upon the mountains of Israel. Russia has been very busy supplying Teheran-Baghdad-Damascus with weaponry to confront Israel.

EU wants ''good dialogue'' with the Oil Producing States
Wed Jun 6,2001 --EU finance ministers, meeting in Luxembourg expressed concern over oil prices, saying that the euro-zone ( EU ) ministers wanted a "good dialogue" with the oil producing states that would result in prices acceptable for both producers and consumers.
Note: I wonder what is meant by "good dialogue" with the "Oil Producers". Undoubtedly it will involve the EU's relationship with Israel. OPEC still manipulates its "oil card" as an economic-diplomatic weapon against Israel.

Israel Gives Arafat List of 300 'Wanted' Militants
Israel handed the Palestinian Authority (PA) a list of 300 militants it wants the PA to arrest. ted. Israel told the PA that if they don't arrest them Israel would deal with them itself. Prime Minister Ariel Sharon's media advisor, Ra'anan Gissin, said the majority of the 300 were members of the Islamic Jihad, Hamas and Fatah and had been involved in car bomb or suicide attacks.
Note: These same militants were released from PA prisons at the outset of the Intifada by Yasser Arafat, for the express purpose of carrying out suicide-terror missions inside of Israel.

Russians OK MiG-25R Sale to Syria
Russia has approved the sale of an advanced high-altitude reconnaissance combat jet to Syria. Western intelligence sources said Moscow has approved a Syrian request for three MiG-25R jets. Termed the Foxbat-B, the aircraft deploys a reconnaissance payload that includes cameras and electronic countermeasures systems. Syria plans to use the MiG-25R for reconnaissance missions over Israel that could help in identifying targets in any war with the Jewish state. It will provide Syria with its first look inside Israel.
Note: Russia is busy supplying and equiping the very nations ( Libya, Syria, Iran-Persia, Iraq ) that Ezekiel indicated would be allied with Russia in the great Last Days invasion upon the mountains of Israel.

PALESTINIANS SUPPORT SUICIDE ATTACKS
Over three-quarters of Palestinians support suicide bomb attacks against Israel, according to a poll released two days ago. The poll of 707 people, carried out by the Palestine Center for Public Opinion in the PA town of Beit Sahour, was commissioned before both the Tel Aviv slaughter, and prior to Arafat's announcement of a cease-fire. The findings showed that 76% of respondents favored suicide operations like the May 18 suicide blast in Netanya, which killed five Israelis. Only one out of eight people opposed such tactics. Almost half of the respondents said they would resist a halt to the Intifada if called for by Arafat, while just over a third said they would back him. Almost half the respondents said they opposed the continuation of the peace process with Israel.

Sharon Calls Arafat 'Murderer And Pathological Liar
Israeli Prime Minister Ariel Sharon called Yasser Arafat a "murderer and a pathological Liar,'' in his strongest verbal attack on the Palestinian leader since taking office. Sharon lashed out at Arafat, four days after a Palestinian suicide bomber killed 20 people at a Tel Aviv nightclub. Arafat promised a cease-fire after the bombing by a member of the militant Muslim group Hamas. "He's a murderer and a pathological liar, "He's not a head of state. There were some people that expected he would behave like a head of state after sponsoring him in the Peace Process, but he behaves as a head of terrorists and murderers.''
Note: What a surprise? Arafat has been a murderer and terrorist all of his life. He has never desired Peace with Israel. The only peace with Israel he wants is the Whole piece!

Hamas Rejects Any Ceasefire with Israel
The militant Islamic group Hamas said on Tuesday it would keep attacking Israelis ``everywhere,'' setting back hopes that the Palestinians were edging toward a cease-fire with Israel. In a sign of heightened U.S. efforts to end eight months of violence, President Bush said CIA Director George Tenet would return to the Middle East on Wednesday for Israeli-Palestinian security talks. "We believe enough progress has been made on the cease-fire that it is time to send George Tenet to the Middle East to start serious discussions at the security level about how to make sure the cease-fire continues. "We're very hopeful that this step will continue to be a part of building confidence in the region,'' Bush said, adding that ''political discussions'' on peace issues could begin once security arrangements were in place. Hamas vowed no let-up in its conflict with Israel. "We are not offering any cease-fire,'' a senior Hamas official said, pledging to attack Israelis ``everywhere,'' four days after a Hamas suicide bomber killed 20 people at a Tel Aviv nightclub and prompted Israel to threaten military reprisals. "If I accept a cease-fire it means...I am raising a white flag,'' Hamas's spiritual leader, Sheikh Ahmed Yassin, told reporters. ``They (Israel) should remove their settlers. Our land must be returned and our people must win liberation.'' A Hamas official had said after a meeting with Arafat on Monday that the group might halt attacks inside Israel.

Tel Aviv Suicide Bomber Was a Misguided Muslim
A Jordanian believed to be the Tel Aviv suicide bomber was an observant Muslim who went to Israel for a better job, his father said Sunday. Saeed Hotary, 22, was a devout Muslim who used to pray, observed fasting and performed all his religious obligations to the letter and spirit,'' his father Hassan said in an interview. "I am very happy and proud of what my son did and I hope all the men of Palestine and Jordan would do the same,'' Hassan Hotary told The Associated Press with tears in his eyes. He said his son was the suicide bomber who blew himself up at the entrance of a Tel Aviv beachfront disco on Friday night, killing 20 others and injuring at least 90 - several of whom remained in critical condition. On Sunday, the military wing of Hamas, Izzedine al Qassam, claimed responsibility for the attack. Hotary's mother wept as she sat on the floor, surrounded by female relatives and other mourners. She declined to speak to a reporter, saying only: "I can't talk, O God.'' Saeed's oldest brother, Hussein, declined to say much when asked if his brother had political affiliations with Muslim militant groups advocating Israel's annihilation, like Hamas. ``I don't know. He was very religious since he was young; he prayed and fasted. All I can say is God have mercy on his soul,'' he said.
His father lashed out at Israel, saying its hardline policies are prompting many young Arab men to become militant. "We wanted peace, but they have been playing around. Israel has left us no choice, except this (militant) path,'' he said. Saeed Hotary was born in Zarqa to a poor Palestinian family who came originally from Qalqilya. He was one of nine children, six boys and three girls. In this image taken from television Sunday June 3, 2001, Hassan Hotary, holds a picture of his son, Saeed Hotary. Jordanian Saeed Hotary is believed to be the suicide bomber who killed himself and 19 Israelis at a Tel Aviv beachfront disco on Friday, June 1>

Fatah Leader Endorses Cease-Fire, but Says Intifada to Go On
A West Bank Fatah leader Monday endorsed Palestinian Authority Chairman Yasser Arafat's cease-fire call, but said the Intifada would continue. "We are honoring the Chairman's decision for a cease-fire," Fatah figure Hassan al-Sheikh proclaimed. We are giving a possibility of ending this war that the government of Israel has opened against the Palestinian people. Asked if that meant the end of the Intifada, al-Sheikh replied, "No. We are stating that the popular Intifada is the natural right of the Palestinian people. It is the thundering voice of the Palestinian people in opposing the occupation."
Note: How can you have a cease-fire and an Initfada at the same time?

Egypt Steps Up War Rhetoric Against Israel
The regime of Egyptian President Hosni Mubarak has escalated threats of a Middle East war. Senior aides of Mubarak have warned Israel of the prospect of war should the Jewish state attack the Palestinian Authority. The aides asserted that the Egyptian military is ready for any prospect, including a war with Israel. The escalation in rhetoric began last week on the eve of the commemoration of the 1967 Arab-Israeli war in which Egypt lost the Sinai peninsula to Israel. Egyptian officials were quoted in the state-run media as vowing that Cairo will not be again defeated in a war with Israel.
Note: I suppose Israel returned the Sinai back to Egypt for nothing. Egypt would still seek to involve themselves in any future war on Israel, should the opportunity arise.

Fighting threatens Israeli/Palestinian cease-fire
Mon Jun 4,2001 -- A cease-fire called by Palestinian leader Yasser Arafat is already teetering after Israeli soldiers and Palestinian militants fought a gun-battle in the Gaza Strip, increasing the likelihood that Israel will unleash its military might to avenge the suicide bombing in Tel Aviv on Friday that killed 20 teen-agers, and injured at least 90 more. Today's gunbattle marked an escalation since a sharp decrease in shooting incidents following Arafat's call Saturday for a cease-fire. Before the gunbattle, there had been six shooting attacks by Palestinians since Saturday. A mortar shell was fired at a Jewish settlement in the Gaza Strip late Sunday. On Monday morning, a bomb exploded in an industrial area along a major West Bank road. The Popular Front for the Liberation of Palestine said Monday it didn't back Arafat's cease-fire. The group's secretary-general, Abu Ali Mustafa, said in a statement distributed in Damascus that it would continue the uprising with all of its means, including an armed struggle. Palestinian officials said Arafat would not meet Israel's demand to arrest Islamic militants who have carried out more than a dozen bombings in Israel since September, including Friday's blast in Tel Aviv. A senior Israeli security official, speaking on condition of anonymity, said Israel had planned a "very severe air-strike" in retaliation for the disco bombing. He predicted the cease-fire would collapse and the plan would be revived: "I am sure that you will see it. It will happen." Dore Gold, an adviser to Prime Minister Ariel Sharon, appeared less optimistic. "Right now we are not seeing a follow through by Mr. Arafat," he said. "We do not have evidence that Mr. Arafat is re-arresting those human time-bombs, the operatives of Islamic Jihad and Hamas who are still out there and can attack Israeli population centers at any time." Many Israeli officials are now convinced that Arafat has been working hand-in-hand with the militants and signals them when attacks would be tolerated.









This free script provided by
Website Abstraction