WEEK OF NOVEMBER 26 THROUGH DECEMBER 2
Palestinian Terrorist Weekend in Israel

Bulletin: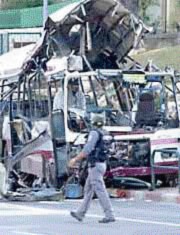 Dec. 2….Yet another Palestinian suicide bomb tore through a bus in the northern Israeli city of Haifa on Sunday, killing 15 people just hours after two Palestinian suicide bombers blew themselves up in downtown Jerusalem. The wave of attacks, including a shooting in Gaza have killed 28 people and injured nearly 200 in only 12 hours. Three other Israeli's were killed on Friday in a suicide bus attack in Afula, making 31 unsuspecting innocent Israeli victims through the weekend. The explosion tore the roof off the bus, shattered windows and spread bodies and mangled body parts across a street in a residential neighborhood.

President Bush condemned the bombings before talks with Israeli Prime Minister Ariel Sharon in Washington. "This is a moment where the advocates for peace in the Middle East must rise up and fight terror. Chairman Arafat must do everything in his power to find those who murdered innocent Israelis and bring them to justice,'' he said. The militant group Hamas, which opposes Israel's existence, claimed responsibility for the attacks. It said they were to avenge Israel's November 23 killing of Mahmoud Abu Hanoud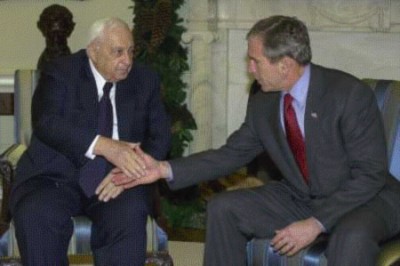 President Bush, right, and Israeli Prime Minister Ariel Sharon shake hands during an emergency meeting in the Oval Office of the White House, Sunday, Dec. 2, 2001, in Washington. Bush condemned this weekend's suicide bomber attacks in Israel as "acts of murder" and said Palestinian leader Yasser Arafat must pursue terrorists in his own domain or else. Arafat is a "harborer" of terrorists!
Palestinian Suicide Bombers Hit Jerusalem Mall

Bulletin:

Dec.1…..Palestinian suicide bombers and a powerful car bomb rocked central Jerusalem's busiest restaurant area on Saturday night, killing at least six bystanders and wounding more than 130 shoppers. The attack on a pedestrian street, the biggest in Jerusalem in years, dealt a fresh blow to a new U.S. effort to end 14 months of Israeli-Palestinian violence. Witnesses said the first blast had shook the crowded Ben Yehuda pedestrian street, full of restaurants and cafes and the site of several previous attacks, just before midnight (5:00 p.m. EST). "People just flew into the air and there were many people covered in blood", said one witness. Another witness, Yossi Mizrahi, said: "I saw people without arms. I saw a person with their stomach hanging open. I saw a 10-year-old-boy breathe his last breath. I can't believe anybody would do anything like this.''

U.S. envoy Anthony Zinni demanded that Palestinian President Yasser Arafat bring to justice those behind a series of bombings in Jerusalem. "I spoke with Chairman Arafat tonight and made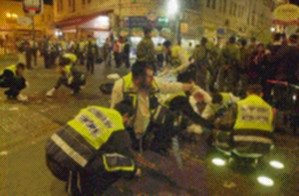 absolutely clear that those responsible for planning and carrying out these attacks must be found and brought to justice. President Bush on Saturday condemned the bombings and called them acts of murder. Bush called on Palestinian leader Yasser Arafat to find and arrest those responsible for the attacks and to act swiftly and decisively against the organizations that support them. "I strongly condemn them as acts of murder that no person of conscience can tolerate and no cause can ever justify,'' the U.S. president said. Now more than ever, Chairman Arafat and the Palestinian Authority must demonstrate through their actions and not merely their words their commitment to fight terror.''
Another Suicide Bombing in Northern Israel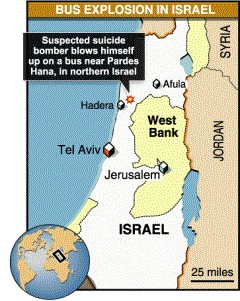 Nov. 30 ….Another Palestinian suicide bomber blew himself up on a bus in northern Israel on Thursday night, killing three other people in a bloody attack that delivered a fresh blow to the new U.S. peace mission. Some Palestinians in a refugee camp near the West Bank city of Jenin celebrated the news of the attack with gunshots into the air, witnesses said. An unofficial armed faction of Arafat's Fatah organization said it was responsible for the attack. Islamic Jihad has also claimed responsibility for the bloodshed. There have been 9 suicide bomb attacks inside Israel this year.



China's Zhu Urges World to Pressure Israel

Nov. 30….Chinese Premier Zhu Rongji has called on the international community to work harder to pressure Israel to re-open peace talks with the Palestinians. "We hold that only when legitimate national rights of the Palestinian people, including the right to an independent Palestinian state, are realized, can the peace and security of all countries in the Middle East be guaranteed,'' Zhu said. China has been more critical of Israel's use of force in recent months, condemning Israeli targeted offensives in Palestinian areas as well as its killing of a Palestinian terror cell faction chief in August. Zhu expressed deep sympathy for the Palestinian people who he said had suffered great losses in human life and property in violence.

Note: I guess in China's perspective that Israel hasn't suffered. I suppose Israel should not target terrorists, unlike the Palestinian suicide bombers who target innocent people.
Israel Captures 15 Iraqui-Insurgents

Nov. 29…Israel has apprehended 15 members of an Iraqi-sponsored terror network operating in the West Bank. The captured terrorist cell was organized by the Palestine Liberation Front and based in the West Bank cities of Ramallah and Jenin. The PLF is headed by Mahmoud Abbas who lives in Iraq. President Bush has said that Hussein needs to let inspectors back in his country to show us that he is not developing weapons of mass destruction. Saddam Hussein has threatened to launch missiles on Israel if the U.S. brings its war on terror to Iraq, and Israel has publicly stated that if Iraq attacks Israel that it will respond swiftly and harshly.

Arafat established a Coalition of Terror

Nov. 29….Prime Minister Ariel Sharon told United States envoys to the Mideast Anthony Zinni and William Burns during their meeting this week that Palestinian Authority Chairman Yasser Arafat "had established a coalition of terror with Hamas, Islamic Jihad, Hezbollah, PLO, Tanzim and Force 17 (Arafat's presidential guard)." There can be no compromise with terrorism," Prime Minister Ariel Sharon said. "As long as there is terrorism, it will be impossible to attain a peace settlement."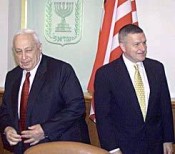 PM Ariel Sharon and U.S.
envoy Anthony Zinni before
their meeting in Sharon's office
in Jerusalem. Mr. Zinni met with
Palestinian leader Yasser Arafat Later.
Hamas Terror Mastermind Executed by Israel


Nov. 26….Hamas leader Mahmoud Abu Hanoud was a cold-blooded killer who masterminded the deaths of dozens of innocent civilians in suicide bombing attacks on a Tel Aviv disco, a Jerusalem pizzeria and a Jerusalem produce market. But to the thousands of Palestinians who came to pay their respects in his home village just north of the West Bank city of Nablus, Abu Hanoud was a hero of the resistance against Israeli occupation. Israeli intelligence said he organized many suicide bomb attacks in Israel, starting in July of 1997, when a bomber killed 16 and wounded 169 in Jerusalem's open-air market. Two months later, three suicide attackers killed four and wounded more than 200 in downtown Jerusalem. He was indirectly involved in each of those bloody attacks.

The Blessed Hope of Jesus Appearing

Two distinct phases of our Lord's appearing come as a pair in Scripture. "The blessed hope" always refers to the rapture of the church. The "Glorious Appearing" refers to our Lord's return "with power and great glory" (Matthew 24:30). In this final event He will conquer the Antichrist and establish His thousand-year reign of peace (Revelation 19:11-21). These two events will be separated by seven years, during which He judges both His saints in heaven and those left on this earth. This time will be so turbulent that Jesus called it the "great Tribulation." To help us be strong in the matters, God has given us "the blessed hope" of His Glorious Appearing. "Looking for the blessed hope," means that we should conduct entire lives in anticipation of that event when He shall rapture us to be with Him. The "blessed hope" is not the kind of hope that says, "I hope someone will come see me" or "I hope to see you again." This word for hope has much more certainty to it. It is a Bible word that speaks of "a blessed confidence." Hope here is used to indicate a future event that has long been guaranteed by God Himself. This hope is future, but it is certain!

U.S Formulating its new Mid-East Policy

Nov. 26….The following points are highlights of United States Secretary of State Colin Powell's Foreign policy speech regarding the Middle East, which establishes the Bush Policy:

1. The Bush Administration is in favor of the United Nations Security Council "land for peace" concept as spelled out in Resolutions 242 and 338 (reducing Israel back to the pre-1967 borders).

2. Israel must end its occupation according to those resolutions.

3. Israel must accept a viable Palestinian state.

4. The entire international community is in favor of the Mitchell Plan.

5. Israeli settlement construction has severely undermined the peace process.

6. The U.S. opposes all Israeli settlement activity; all settlement construction must stop.

7. The Israeli settlement activity of the last few years is responsible for the terror problems.

8. Palestinians must stop doubting Israel's legitimacy, must fully account for Israel's security needs, must end anger over "occupation," and must stop incitement.

9. Occupation" hurts the Palestinians and must end.

Note: It seems that the Lord has allowed the United States to officially present her position pertaining to God's covenant land to the world. Now, all the nations of the world have allowed their position to be made public, in addition to the world's major organizations (such as the World Council of Churches and the Vatican), the European Union (EU), and the United Nations (U.N.). Playing the Middle East card virtually completes a scenario wherein the nations have come against Israel (Zechariah 12:2-3), and the probability of a treaty (covenant) ensuring peace and security "with many" (Daniel 9:27) is very feasible. It is extremely interesting that the EU, along with certain nations of the Arab world, is currently pushing for a "a two-basket deal" calling for establishment of the Palestinian state along with a collective Arab guarantee for the security of Israel.
WEEK OF NOVEMBER 19 THROUGH NOVEMBER 25
Top Bush Adviser: 'Get Saddam Out Violently'

Nov. 21….Iraq could be next on the military's target list in the war on terror, says one of President Bush's and Defense Secretary Donald Rumsfeld's top informal national security advisers. "I think Iraq should be the principal next target because it poses the biggest threat to the United States," said Richard Perle, chairman of the Defense Policy Board. "I think the only way you are going to get Saddam Hussein out of there is violently." "I think if we destroy the Taliban and then Saddam Hussein the others will be more tractable," he said. The Defense Policy Board is an informal advisory board that debates policy issues and provides non-binding recommendations, often conflicting ones, to the defense secretary. Taking out Saddam Hussein hard on the heels of the destruction of the Taliban would have a sobering effect on other countries known to harbor or sponsor terrorists, he said.

Note: The lesson to be taught to Iraq is intended for Syria's ears. Beware Damascus!

Graham stands by comments on Islam
But `evil and wicked' quote doesn't cancel Christian love

Nov. 21…While saying he is called to love people regardless of their faith, evangelist Franklin Graham on Sunday wouldn't back away from his recent statement on a national news program that Islam "is a very evil and wicked religion." In a prepared statement released to The Observer through a spokesman, Graham said his Samaritan's Purse ministry in Boone will continue providing millions of dollars in aid to Muslims in need around the world. But he did not take back the controversial comments he made against Islam. . The God of Islam is not the same God. He's not the son of God of the Christian or Judeo-Christian faith. It's a different God and I believe it is a very evil and wicked religion." In the past, I have expressed my concerns about the teachings of Islam regarding the treatment of women and the killing of non-Muslims or infidels." His comments were challenged by former Charlottean Ali Akber, who helped organize a meeting between local Jews and Muslims after Sept. 11. "That's spreading hatred," said Akber. "It is the same God. We just don't worship the same way. Franklin Graham's views run counter to those expressed by President Bush.

Note: Franklin Graham has taken a stand for the Truth! Praise God for him. Allah and Jehovah are nothing alike. They are as opposite as night and day. Allah has no son, whereas Jehovah sent his only begotten son into this world to pay the ultimate price for sin. ( I John 2:22 Who is a liar but he that denieth that Jesus is the Christ? He is antichrist, that denieth the Father and the Son.)
President Bush Joins in Ramadan Prayers

Nov. 21….In what is believed to be a first in American history, there were prayers to Allah last night at the White House where President Bush hosted a formal Ramadan celebration with dozens of Muslim leaders. The Ramadan event was another effort by the Bush Administration to prove its war on terrorism is not a war against Islam. Some of the Muslim leaders who have been spending time with the President have been known to speak out in favor of terrorism.

According to reports, Franklin Graham upset the Bush Administration when he recently referred to Islam as being wicked, violent, and not of the same God. Shortly after the attacks of September 11, Graham commented, "I don't believe that Islam is a wonderful, peaceful religion." Asked by NBC News to clarify his statement, Graham repeated his charge that Islam, as a whole, was evil. In a follow-up statement yesterday, Graham said he is deeply concerned with "the teachings of Islam regarding the treatment of women, and the killing of non-Muslims or infidels." "A presidential friend and supporter now finds himself at odds with both the Muslim world and the message from the White House.

U.S. Ambassador to Pakistan Joins Ramadan Fasting

Nov. 21…U.S. Ambassador to Pakistan Wendy Chamberlin, a Christian, is fasting for the Islamic holy month of Ramadan in a bid to deepen her understanding of what Muslims experience. She decided she wanted to fast in Ramadan, embassy spokesman John Kincannon said on Tuesday. She wanted to better understand what Muslims experience during Ramadan and gain a sense of spiritual values that Ramadan reflects.

Powell's Sleight of Hand Speech

Nov. 21….Powell's speech to the University of Louisville was designed to outline the U.S. vision for the Middle East. He spoke of Israel's "occupation" of "Palestinian" land. A quick glance at a map of Palestine pre-1917 shows the cities of Palestine included Damascus, Beirut and Baghdad. What today is referred to as "Palestinian land," ( the West Bank) was called "Jordan" until June 6, 1967. The same British pen that created Lebanon, Jordan, Syria and Iraq also created both Israel and Palestine at the San Remo Conference in 1920. Earlier this month, Colin Powell told the Senate Foreign Relations Committee that, although al-Qaida may be a terrorist organization, groups like Hezbollah and Hamas fall into a "gray area." He made the argument that "one man's terrorist is another man's freedom fighter." From a legal standpoint, his comment was ridiculous. From a moral standpoint, the comment was deluded. International law sets forth legal standards for insurrection. Insurgency movements can be legitimate, provided they follow recognized rules of war. The Geneva Conventions on the Rules of War set forth the test of just means. To be a "freedom fighter" – that is to say, a legal insurgency movement – that test must be applied. It is a two-pronged test. First, the objective must be just. What is the objective of Hamas and Hezbollah? It isn't merely Palestinian statehood, since that has been offered and rejected.

Note: The objective of Hamas and Hezbullah is the destruction of the state of Israel, a legal member of the international community and a recognized member of the United Nations. The destruction of the state of Israel to make room for their state is hardly a just objective, either by the standards of international law or the spirit of the Geneva Conventions. Secondly, to be any man's freedom fighter, the Geneva Conventions prohibit making war on civilians, women or children. Most of the suicide bombing attacks have targeted non-combatants in restaurants, markets, city buses and bus stations. It is delusional in the extreme for the United States to not consider Yasser Arafat to be a terrorist. Or to imagine a Palestinian state would not instantly qualify as a terrorist state.
Syrians Accused of Direct Involvement in September 11th Attacks

Nov. 20….A group of Lebanese and Syrians has been arrested and accused of having direct links to the Islamic suicide attacks in New York and Washington on Sept. 11. Spanish authorities in Madrid and Granada have arrested 11 suspects, most of them Lebanese and Syrians. A Spanish judge accused eight of direct links with Saudi fugitive Osama Bin Laden and the attacks in the United States. The alleged leader of the cell was identified as Imad Eddin Barakat, a Syrian national, and accused of being directly linked with Mohammed Atta. Atta is reputed to have organized and launched the suicide hijackings in the United States.

Americans evenly split on whether Israel cause of U.S. problems

Nov. 20….Americans are evenly split on whether their country's problems in the Middle East are caused by the United States paying too much attention to Israel, according to a CBS-New York Times poll conducted October 25-28. About half of the respondents said they were more in sympathy with Israel, while one in five said their sympathies lay more with the Arab nations. Seven in 10 said the U.S. should not take either side in dealings with the Israelis and the Palestinians. Eighty percent of the respondents said they support the establishment of a Palestinian state as long as it recognizes the right of Israel to exist.
Historic: Pope Calls World Religions to "Peace Summit"

Nov 19….Pope John Paul has called for a meeting of leaders of all the world's religions in January to pray for peace and to work to overcome armed conflict at what he said was an historic moment for humanity. The Pope said he hoped the January 24 meeting in the Italian hill city of Assisi, birthplace of St. Francis, would be particularly helpful to improve relations between Christians and Muslims following the September 11 attacks on the United States. The Pope said the international situation was very worrying. "We cannot forget the heavy sufferings that have been inflicted and continue to be inflicted on our brothers and sisters in the world," the Pope said. "At this historic moment, humanity needs to see gestures of peace and listen to words of hope," he said. The Pope said the threat of terrorism was "always constant" and added: "The more insurmountable the difficulties seem, the darker the prospects, so much more intense should our prayer to God become to implore him for the gift of mutual understanding, of concord and peace." The Pope said he wanted the new Assisi summit in the birthplace of the saint most associated with peace "to help overcome contrasts and promote authentic peace." He said it was particularly important for Muslims and Christians to show the world "that religions must never be allowed to become a cause of conflict, hate and violence.

Note: The fulfilling of Bible prophecy is taking another stride toward uniting the faiths of the world and compelling them to come together and bring peace to the world. The inter-religious mechanism of the Global Order is promoting peace and security through unity of religion. The Babylonian one world religious system and the Babylonian world order of government depicted in the Revelation are quickly coming together. The uniting of the world's religions is exactly the opposite of what God instructs. Scripture teaches that true Christian brothers are to be a light to the world, showing others His precious truth of salvation...the only way, which is through Jesus Christ alone ) It is interesting that the false prophet will soon have very similar ideas of coordinating the efforts to unify the universal Babylonish church with other faiths, while sacrificing true sound doctrine. In Revelation 13 he's shown as the 2nd beast, and it indicates that it's actually him that causes the world to take the mark, number, or name of the beast, and that he bring about great miracles that deceive all the people of the earth into following the Antichrist.

Jordan's King seeks "Guarantees for Israel"

Nov. 19….King Abdullah II of Jordan has embarked on a bold but secretive peace-building campaign aimed at eliciting public guarantees from all Arab states that Israel will be accepted as a state and "integrated" into the region. He revealed that he has received pledges from President Bush to back the move, which would be a major breakthrough in resolving the Arab-Israeli conflict, but only if and when its success is assured. The declaration the king is seeking would offer Israel for the first time collective guarantees for its own security and acceptance from 22 Arab nations, stretching from north and west Africa across to the Arabian Sea. The Jordanian monarch called on his fellow Arab leaders to recognize that the world's new realities after the September 11 events.

Note: ( See November 5-10 news story on this subject )

Muslims Pray to Allah in the White House

Nov. 19….President Bush, anxious to improve America's reputation in the Muslim world, welcomed 50 ambassadors from Islamic countries for a traditional meal and prayer at the White House to mark the start of Ramadan. It is thought to be the first time that Muslims will have knelt and touched the floor with their foreheads in a formal ceremony in the official home of American presidents. Also the opening prayers of the House of Representatives on Capitol Hill yesterday were offered to Allah. The White House and State Department indicated the prayers to Allah for Ramadan were an effort to show sensitivity to Islamic faith. ( The U.S. also has issued a new stamp commemorating Ramadan )

Note: Thou shalt have no other gods before me! ( Jehovah )

Secretary Powell forming new US Policy on Mid-east

Nov. 19….In a speech delivered at the University of Louisville, Powell called for the creation of a state of Palestine beside Israel. He said Israel should end settlement activity in the West Bank and Gaza and insisted that the Palestinians must stop terrorism against Israelis. But he did not outline a U.S. formula for getting around the impasse on the future status of Jerusalem and the fate of 4 million Palestinian refugees and their descendants. Powell said the sides must implement the recommendations of the international commission led by former U.S. Sen. George Mitchell, which advocates a cease-fire, and a series of confidence-building measures and renewed peace talks.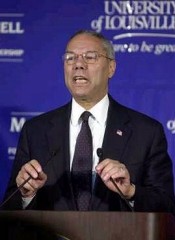 Note: Secretary Powell talks about the cycle of violence in the Middle East which seems to suggest that each side is participating in attacks on the other, which is not true. Palestinian terrorists perpetuate the violence, while Israel's response is self-defense. There is a big difference. The Mitchell Plan condemns Israel and rewards Terrorists, when it should do the opposite.
WEEK OF NOVEMBER 12 THROUGH NOVEMBER 18
Ramadan Begins in Jerusalem


Nov. 17….Muslims pray in front of the Dome of the Rock mosque in Jerusalem at the start of the holy month Ramadan November 16, 2001. Ironically, unbeknownst to the poor Muslim people, they bow and pray in the opposite direction from the only place on earth that God ( Yahweh ) chose for his name! In reality, they are turning their backs to the Truth, and paying allegiance to a Lie, and a false god! And that is the way of the Devil; he gets people to turn their backs to God, and follow in any other direction. The day is coming however when Satan will turn attention to the Temple Mount, pictured behind the praying people shown here, and present himself before all ( Jew and Arab alike ) as the one God. ( known in the Bible as the Abomination of Desolation)
Malaysian Minister calls for "War on Terror" link to Israel

Nov. 16….The U.S.-led war on terrorism is looking more and more like a war against Islam, Malaysian Prime Minister Mahathir Mohamad said Friday, and called for action to be taken against Israel. Mahathir, who has backed the pursuit of terrorists but condemned the strikes on Afghanistan, said talk that Iraq could be next in the firing line would spread alarm among Muslims. "We hate to say it, but it is beginning to look more and more like a war against Muslims," "The only way this War on Terror cannot be classified as a war on Islam is if the world acts to stop Israeli terror on Palestinians"!

Note: When has an Israeli gone into another state and committed suicide bombings? I guess Israel needs to quit putting itself in the way of suicide bombers. It's all Israel's fault. If Israel would just move to the Moon, all would be solved!

Hezbollah rejected secret U.S. reconciliation

Nov. 16….Hezbollah said today that it had rejected a secret U.S. offer to "forgive" alleged involvement in attacks on Westerners in exchange for ending the guerrillas' hostility towards Israel. Hezbollah spiritual leader Sheikh Hassan Nasrallah said the offer followed suicide attacks on U.S. targets that killed thousands of people on September 11 and sparked Washington's anti-terror war. He said unnamed intermediaries had offered to "forgive Hezbollah its past", including the 1983 bombing of the Marine barracks in Beirut, which killed 241 people and has helped make Hezbollah a fixture on U.S. lists of "terrorist" organizations. In return, Hezbollah was to withdraw from the Arab-Israeli conflict, cut ties to Syria and radical Palestinian groups that fight Israel.
Aid Workers Freed from Afghanistan

Nov. 15….President Bush announced today that the eight Western aid workers were rescued after more than three months being detained by the Taliban. The aid workers, four Germans, two Americans and two Australians, were flown from Afghanistan to Pakistan by U.S. Special Operations helicopters. All were reported to be in good condition. The Taliban had detained the aid workers, trying them on charges of attempting to convert Muslims to Christianity. Bush said Special Forces troops freed the workers with coordination from elements on the ground.

U.S. plans campaign to oust Saddam

Nov. 15…..The United States plans to launch a campaign to oust Saddam Hussein in Iraq as part of the international campaign against terrorism. The plan calls for U.S. aerial bombing to support anti-Saddam opposition forces in the country. The so-called "Rumsfeld Plan" - named after Defense Secretary Donald Rumsfeld , calls for setting up a secular, pluralist, democratic Iraq and preserving Iraq's current borders after Saddam is ousted.
Christian Hostages Still Held by Taliban

Nov. 14….Five years of harsh Taliban rule ended in rejoicing after the Taliban retreated in haste from Afghanistan's capital Tuesday. However when the Taliban retreated they took with them the eight Christian aid workers they had held on charges of spreading Christianity. Two Americans, two Australians and four Germans who work with German-based Shelter Now International have been held hostage since August 3rd. John Mercer, the father of one of the American women, met with Taliban diplomats and was told the prisoners were moved to Kandahar when alliance forces took Kabul.

U.S. set to Roll out Peace Plan


Nov.14….The Bush administration plans to release principles of a Middle East peace plan over the next week. The plan will call for the establishment of a Palestinian state. The U.S. intention to release a peace plan has been relayed to both Israel and the Palestinian Authority. U.S. Secretary of State Colin Powell met both Israeli Foreign Minister Shimon Peres and PA Chairman Yasser Arafat in New York on Sunday. Powell is expected to state the principles of the U.S. plan at the General Assembly over the next week. He said the administration is "moving more aggressively" toward the establishment of a Palestinian state. Peres has confirmed the U.S. effort. Israeli Prime Minister Ariel Sharon is expected to discuss the U.S. plan when he arrives in Washington in early December. Sharon is preparing Israeli ideas that would include a cease-fire and the establishment of a Palestinian state. The sources said President George Bush has also relayed a pledge to meet Arafat. Bush, in a move that angered Arab allies of the United States, refused to meet with Arafat over the weekend. But the sources said Bush has agreed to meet Arafat later this year.

British Prime Minister Tony Blair said the plan would require that the Arab nations recognize Israel's right to exist. Secretary of State Colin Powell will deliver his key Middle East Peace speech November 19 in Louisville, Kentucky, and then visit the region in two weeks to promote the plan.

Note: The U.S. is continuing to plod down the pathway to its own destruction. You do not coerce God's covenanted nation to give away its Promised Land, and get away with it! A Palestinian state should not be foolishly supported by the United States for immediate and short-term needs. Because the creation of a state of Palestine alongside the state of Israel will heighten the risk of regional nuclear war considerably, this newest enemy state should be viewed with real apprehension. Indeed, it´s creation could likely be a final step to bring an Islamic "Final Solution" to the region. Israel has much to fear, more, perhaps, than any other state on the face of the earth. If Israel soon faces a new state of Palestine, the Jewish state´s vulnerability to armed attack by hostile neighbors will increase markedly. Threatened by a growing number of adversaries with ballistic missiles, all with an interest in acquiring nuclear warheads, Israel should know that the full transformation of Judea/Samaria and Gaza into a Palestinian State will provide its enemies with the means and the incentives to destroy the Jewish State once and for all. Deprived of essential "strategic depth" and beset internally with hostile Arab citizens loyal only to "Palestine," Israel will become seriously vulnerable to total defeat. Anguished by a possible end to the Third Temple Commonwealth, the nation´s leaders will begin to think seriously about nuclear weapons as a last resort (the so-called "Samson Option"). It follows that President Bush´s October 2nd endorsement of a Palestinian state should be viewed with the most grave concern. But then, the emerging Global Security Alliance is going to guarantee Israel its security! On the other hand, Palestine, could wind up leading us toward Armageddon.

Arafat's Speech at United Nations


Nov. 14….When it was Arafat's turn to speak, he was escorted to the podium at the General Assembly's annual debate, an honor reserved for presidents and prime ministers. Arafat received an even warmer welcome than did President Bush when he gave his address. Arafat devoted most of his speech to explaining his views on the conflict with Israel, utterly absolving the PA of complicity in the past year of violence, and citing U.N. resolutions as the basis for resolving the issues. Arafat repeated his accusation that Sharon sparked the violence with his visit last year to the Temple Mount despite clear evidence that the intifada had been planned well in advance and was just waiting for an excuse. He charged Israel with practicing "state terror" - including "the killing of women, children, and old people." He accused Israel of "undermining our Christian and Muslim holy sites." Once Arafat finished blaming Israel for blowing themselves up using Palestinian suicide bombers, he voiced his support for the U.S. war against terrorism. Arafat received polite applause and overwhelming support from UN delegates.
Security Council to Israel: Get Out of PA Territory!

Nov. 13….Five major world powers called on Israel to withdraw its troops from Palestinian areas recently occupied and to ensure "greater restraint" by its soldiers. They also asked the Palestinians to step up efforts to end the violence in the Middle East. In a joint statement, foreign ministers from the five permanent members of the Security Council "reiterated their condemnation of acts of terror and violence and their conviction that the only solution to the Israel-Palestinian problem is through dialogue and negotiations." The veto-wielding council members, the United States, Russia, China, Britain and France, issued the statement after a meeting with UN Secretary-General Kofi Annan on the sidelines of the General Assembly's annual ministerial gathering.

Note: In other words; "Israel: You can't pursue terrorists!" Although Israel is the most targeted nation in the world by terrorists, the UN insists that Israel tolerate the terrorists, and reward them with safe-havens.

EU Gets Tough On Israeli Exports

Nov. 13….The European Union is poised to punish Israel by ending low tariffs for goods produced in occupied Palestinian territories. In the first sign that EU impatience with the Jewish state is being translated into practical policy, preferential tariffs that have applied for more than 25 years are to be stopped within months. The move is meant to force Israel to comply with UN Security Council Resolutions.

Powell meets Arafat, Peres, Annan and Russian, EU officials on Mideast

Mon Nov 12, 2001 -- US Secretary of State Colin Powell went into top gear on the Middle East, meeting Palestinian leader Yasser Arafat as well as UN Secretary General Kofi Annan and top Russian and EU officials. Powell told reporters he was "confident" that sooner or later US President George W. Bush would meet with Arafat. Powell's had private talks at New York's Waldorf-Astoria Hotel with Israeli Foreign Minister Shimon Peres. He later conferred with his Syrian counterpart, Faruq al-Shara, and with the foreign ministers of the 15 European Union (EU) nations. Powell re-arranged his schedule to include a meeting with Arafat after the Palestinian leader told the UN General Assembly that he welcomed a call by Bush for a Palestinian state based on secure borders. Palestinian Authority Chairman Yasser Arafat, in an address to the UN General Assembly yesterday, repeatedly laid the blame for the current violence squarely on Israel. "Here I am, once again bringing you the pain of the Palestinian people and their just cause, which is still awaiting a just solution.

World Frets About Ex-Soviet Nukes

Despite significant improvements in nuclear security during the 1990s, most of it with U.S. money, officials of the Vienna-based International Atomic Energy Agency, the UN body for monitoring nuclear programs, are deeply skeptical of Osama bin Laden's claim, that he possesses nuclear weapons. There have been numerous reports, especially since the 1998 announcement by Russian General Alexander Lebed about missing suitcase nuclear devices, that some of these weapons may have fallen into the hands of terrorists groups. Presently there are 8 nuclear capable countries, with several aspiring to join the club. Perhaps half of the ex-Soviet civilian and military nuclear stockpiles with weapons-grade material are not well protected. Russian officials say their fissile nuclear material is under strict and improving controls.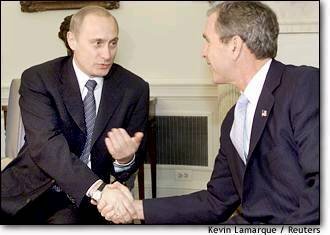 But only 10 days ago, in a discussion with officials at the UN agency in Vienna, Yury Volodin, Russian chief of safeguards for the nuclear regulatory agency, revealed that in the last year there were dozens of violations of regulations for securing and accounting for nuclear material. He noted that weapons grade uranium traffickers increasingly are going south, over traditional smuggling routes through Turkey, the Caucasus and especially central Asia, closer to Afghanistan, where borders are extremely long and lax.



WEEK OF NOVEMBER 5 THROUGH NOVEMBER 10
King of Jordan Calls For "All-Arab Deal with Israel"
Very Important Prophetic Development!

Nov. 10….Jorsdan's King Abdullah is calling for the Arab world to be prepared to offer a collective guarantee of Israel's security and integration into the Middle East in return for the setting up of a Palestinian state. Under a deal now being discussed by the main international parties, this would offer Israel for the first time a guarantee of its own existence and security by all countries from the Gulf to Morocco. According to the plan, "the Arab countries will make a statement guaranteeing the security of Israel", he said. This was part of what he called the "two-basket approach" agreed by the "team" of the main parties, including the United States, Russia, the European Union, the United Nations, Egypt and Jordan. It would mark an unprecedented public acceptance by all Arab states not only of Israel's existence but of its full integration within the Middle East. The King is understood to have canvassed the idea in the Gulf states, Saudi Arabia and several North African states. But the biggest barrier remains Syria, and those countries such as Iraq and Libya that have taken a consistently militant approach. The community of nations was therefore working on the establishment of a Palestinian state, set up in accordance with the United Nations Resolutions 242 and 338. In return, Israel would have its security underpinned not simply by the Palestinians but by the wider Arab world.


King Abdullah met with British Prime Minister Tony Blair November 9th to discus the aspects of Middle East peace, and how to implement security for the entire region. The concept includes acceptance of Israel by the Arab nations.


Note: The Antichrist will be able to guarantee Israel's security, and create a Global Regional network of security. ( 10 groupings of nations ) Daniel chapter 9:27 indicates that this "peace with security" world order will be enacted with "many nations". Daniel conveys that the Antichrist will "Confirm the Covenant" with many, not just Israel. The movement toward a unity of religions will allow the confirmation of Abraham's Covenant between Israel and the Arab world. It is this reality that will catapult the Coming Antichrist into world supremacy. This is the direct message of Focus on Jerusalem Prophecy Ministry. The stage is being set today for the climactic days of the Revelation!

U.S. Warns Arafat about Terrorism

Nov. 9….President George W. Bush has announced that a Middle East peace is not a prerequisite for winning the war against terror. "There's no doubt in my mind," he said, "We'll bring al Quaeda to justice, peace or no peace in the Middle East." The US president thus abandoned the diplomatic campaign to buy Arab support for his world war on terror in the coin of a Middle East settlement, announcing he was going ahead with or without the Arabs. But the worst drubbing of all, the US president reserved for Yasser Arafat in person. It was articulated clearly by national security adviser Condoleezza Rice that President Bush will not meet Yasser Arafat at the United Nations this weekend. She said, the Palestinian leader does not take seriously the US war on terrorism and the Al Qaeda terror network. "There are responsibilities that come with being the representative of the Palestinian people, " she pointed out. "And that means to make certain that you do everything you can to lower the level of violence, everything that you can to root out terrorists." The United States no longer regards him as a political leader with the requisite attributes for representing the Palestinian people. To sharpen the message, Rice continued: "You cannot help us with al Qaeda and hug Hizballah or Hamas. Ms. Rice words confirmed what FOJ Prophecy Ministry been reporting in the last 11 months, that Arafat has established a covert partnership with the Hizballah for collusion in terrorist operations against Israel.

This ultimatum is meant not only for Arafat's ears, but also for Syrian President Bashar Assad, who explains to the Americans that the Hizballah is only a popular liberation movement. That ultimatum has cleared the way for the United States to take its anti-terror war to Lebanon and fight all those who "embrace" terrorist organizations.


Libya, Russia Plan Summit to Include Arms Sale

Nov. 9….Libya and Russia are planning a leadership summit that could result in new arms purchases by Tripoli. Diplomatic sources said President Vladimir Putin plans to meet Libyan ruler Moammar Khaddafy in Moscow within the next eight weeks. Russian leaders hope the summit will result in a Libyan decision to purchase new weapons and upgrades. Libya plans to upgrade its MiG fighter-jet and T-72 tank fleet. Virtually of its systems were obtained from the former Soviet Union.

Note: These two news articles relate that Russia is preparing for her assault into the Middle East, by arming the allies depicted in Ezekiel 38-39. ( Persia and Libya ) President Bush believes that Mr. Putin is a trustworthy individual that believes in a higher power. Mr. Putin wears a Christian Cross and thus became the "bond" between the two leaders when they met in Slovenia earlier this year. ( I would caution Mr. Bush to be cautious because the Bible reveals that Russia will be involved in an attack on Israel someday soon )


Netanyahu: Terrorists Would Nuke New York

Nov. 9….Former Israeli Prime Minister Benjamin Netanyahu warned Monday night that Mid-east terrorists are determined to obtain nuclear weapons, and when they do, they will use them on New York City. "They're going to attack America again and again." The great danger that we face is that if they acquire nuclear weapons, any part of the terror network acquires nuclear weapons, they will use them. Netanyahu said there is no doubt which city would be first on the terrorist nuke target list. They'll drop it in New York City.


Clinton calls "Terror" a U.S. debt

Nov. 9….Former U.S. President Bill Clinton said in a speech at Georgetown University that terror has existed in America for hundreds of years and the nation is "paying a price today" for its past of slavery and for looking the other way when a significant number of native Americans were dispossessed and killed. Here in the United States, we were founded as a nation that practiced slavery, and slaves quite frequently were killed even though they were innocent. Clinton in a speech to nearly 1,000 students at Georgetown University's Gaston Hall said, "This country once looked the other way when a significant number of native Americans were dispossessed and killed to get their land or their mineral rights because they were thought of as less than fully human." And we are still paying a price today. Mr. Clinton said the international terrorism that has only just reached the United States dates back thousands of years. "In the first Crusade, when the Christian soldiers took Jerusalem, they first burned a synagogue with 300 Jews in it and proceeded to kill every woman and child who was a Muslim on the Temple Mount. I can tell you that story is still being told today in the Middle East and we are still paying for it. Mr. Clinton said America needs to pay more attention to its enemies and to the way the United States is viewed by the rest of the world. There are a lot of people that see the world differently than we do. It is quite important that we do more to build the pool of potential partners in the world and to shrink the pool of potential terrorists. At the end of his speech, Mr. Clinton, who was impeached for lying under oath about a sexual relationship with a 21-year-old White House intern, said the entire issue revolves around "the nature of truth." "This battle fundamentally is about what you think about the nature of truth," he said, noting that God has imposed on us the inability to ever know "the truth." Note: There is only one truth. The Holy Bible is the truth, and God has not imposed blindness upon mankind to that truth. The terror acts of September 11th was not the victim's fault. The Saudi Arabian foreign minister that visited New York voiced the same opinion as Mr. Clinton, saying America had invited terror upon itself by pursuing the wrong foreign policy in the Middle East. Mr. Clinton denigrates Christianity in his remarks, and asks that America give more credence to the other religions of the world, so that the world can be united.


China/Russia Deploy New Missiles

Nov. 9….U.S. defense officials have confirmed that China is preparing to test a new missile capable of delivering nuclear warheads directly to the United States. The Chinese Army Second Artillery Corps is preparing to test its new Dong Feng 31, or "East Wind," ICBM during the next few days. The DF-31 reportedly can carry a single 3-megaton H-bomb or three 90-kiloton nuclear warheads. The missile has an official range of over 4,800 miles. The Dong Feng 31 reportedly is equipped with U.S. missile and warhead technology that was obtained by China through espionage and legal and illegal technology transfers, from the "Clinton administration", through campaign contributions.


Israel Calls Iran 'Biggest Threat'

Nov. 8….Iran is the biggest terrorist threat in the Middle East and receives critical support from Russia for its nuclear weapons program, says Israeli Cabinet minister Ephraim Sneh. However Russian President Vladimir Putin insisted in an American television interview that Russia was not providing dangerous weapons technology to Iran. He called such suspicions a "legend," or fable. But Ephraim Sneh, a former Israeli general and now transportation minister, said he was certain "the central support for the Iranian nuclear project is provided by Russia. He said Israel had advised Russia that its support for Iran was damaging Israel's security. He also cited Iran and Syria, which the Bush administration has solicited for its anti-Taliban coalition, as countries that support terrorism. The ex-general said Iran has deployed thousands of missiles in southern Lebanon, across Israel's northern border. The missiles have a range of 40 to 45 miles, and Mr. Sneh commented that Iran stands in first place as a sponsor of terrorism.


EU Brings Peres and Arafat Together

Nov. 5….Palestinian leader Yasser Arafat sat down to dinner with Israeli Foreign Minister Shimon Peres on Monday, a meeting arranged by the European Union in hopes of getting them to make a new commitment to peace talks. The EU pursues a partnership with its Mediterranean neighbors with the aim of establishing a free trade zone in 2010. But the initiative has been hobbled by Mideast violence ever since it was launched in 1995. Earlier Monday, EU Commission President Romano Prodi called for a joint effort by the United States, the EU, Russia, the United Nations and Arab states to push the two sides toward peace.

Note: FOJ Ministry has been saying for years that the Middle East Peace Process would eventually need a new facilitator. ( out with the U.S. and in with somebody in the EU )
Christians face dismal plight in Islamic World

Nov. 5….The Oct. 28 attack by Islamic militants on a Pakistani church that left 16 dead dramatizes the plight of Christians in Muslim-ruled countries. In many of those countries, Christians cannot openly practice their religion, nor even attempt to convert others to it. Churches are not even allowed in Saudi Arabia and Afghanistan, and in other Islamic countries there are severe restrictions on where they can build and to whom they can preach the Gospel. The religious freedom enjoyed by America's 7 million Muslims lets them construct mosques, set up their own nonprofit groups and evangelize for their religion. Protected by the First Amendment, radical Muslim groups have also freely operated and raised funds here.

Note: Is Allah and Jehovah the same God? Allah and Jehovah don't seem to tolerate each other.
European Taxpayers Fund Arafat's Payroll for Terror

Nov. 5….On October 22, when Israeli forces burst into the Ramallah headquarters of Yasser Arafat's presidential guard known as Force 17, they found an extraordinary set of documents containing proof that the Palestinian leader was paying the entire body of Tanzim-Fatah terrorists out of his own "presidential" budget. The figures were there in black and white. Every one of the 10,000 Tanzim activists was taking home 875 New Israeli Shekels, and had been ever since the Palestinian leader launched his armed confrontation against Israel last September. The captured documents included Arafat's signed directive, issued three weeks before the outbreak of the intifada, to pay $22,000 each into the personal account of each of the leading Fatah terror masters for defray the costs of creating the terror spearhead body named the Tanzim. A corps of Palestinians was to be recruited who were prepared to engage in bombing, shooting, lynching and any other form of terror-killings against Israeli citizens. Marwan Barghouti, Kemal Hamad, Ahmed Abayat, Issam Abu Bakr and other Arafat thugs transfered the Tanzim payroll to the Ramallah offices of Force 17, whose paymasters distributed the wage packets.

Yasser Arafat fills those wage packets that keep his "Terror Machine" ticking. Subsidies awarded the Palestinian Authority by European Union member governments, include Germany, Belgium, France, UK and Italy. A simple reckoning shows that, since Arafat declared war on Israel 14 months ago, the European taxpayer has been contributing, unknowingly but regularly, roughly US $2,190,000 per month to keep the Palestinian terrorist Tanzim militia afloat, a total of about US $31million since September 2000.

Note: And the world thinks Arafat can't control terrorist incidents! These documents do not reveal that Arafat also utilizes the vast American assistance for his Terror Machine as well.
Imad Mughniyeh - Linked Also to Arafat

Imad Mughniye, who is today one of the most wanted terrorists in the world, and is closely associated with Osama Bin Ladin was a member of Yasser Arafat's personal guard, Force 17, when the Fatah group was one of the fiercest warring militias of the savage Lebanese civil war. Mughniyeh's hand has been detected in setting up the 1998 US embassy bombings in Nairobi and Dar es Salaam. Late in May, 2000, four months before he launched his uprising, Arafat sent Force 17 Commander Masoud Ayad to Beirut on a mission to Lebanon. He was instructed to organize the purchase from the Shiite extremist Hizballah of a quantity of weapons and to recruit their experts in suicide bombings and mortars as instructors for Palestinian terrorists, and to coordinate through Mughiniyeh a terror-networking relationship with Osama bin laden.

Note: The US, Great Britain, and Spain have compelled upon Syrian President Assad to reign in the operations of Mughniyeh-Hezbullah and its affiliations with Arafat, and Bin Laden in the country of Lebanon. Assad absolutely refused! Therefore, if America and its allies wants to really deal with terrorism, its destination is DAMASCUS, which keeps the door wide open for Terrorism near Israel.









This free script provided by
Website Abstraction