WEEK OF APRIL 1 THROUGH APRIL 8
Islamic States Warn of "All-Out War" in Mid-East

April 2….Islamic foreign ministers warned of "all-out war" in the Middle East. They said that "Israel's terrorist actions and aggressive practices, were posing a threat to international peace and security and dragging the region towards an all-out war. The statement was made unanimously by the 53 members of the 57-nation Organisation of the Islamic Conference. (OIC)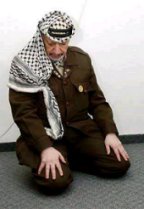 Arafat Rejects Exile

April 2…Palestinian President Yasser Arafat will not accept exile from his homeland under any circumstances, Palestinian cabinet minister Saeb Erekat announced from Ramallah. Israeli Prime Minister Ariel Sharon said he would only let Arafat leave his besieged headquarters in the West Bank city of Ramallah on a "one-way ticket." Palestinian Authority President Yasser Arafat is shown here participating in noon prayers at his compound in the West Bank City of Ramallah.



Oil as a Weapon?

April 2….Crude oil prices shot higher on Monday following a weekend of escalating violence between Palestinians and Israelis. Fears that the violence could spread unrest in the Middle East, where two thirds of the world's reserves reside could ignite a world crises of oil supplies. At 1030 GMT, US Nymex crude futures in off-hours access dealings were up over a dollar to $27.40 per barrel. Muslim countries may use oil as a weapon to make Western nations force an Israeli withdrawal from the West Bank . Foreign Minister Kamal Kharrazi, of Iran said his nation would back Iraq's call to use oil as weapon against the West to pressure Israel's hand. He said: "I believe the Islamic world has enough instruments to use if we have a collective decision of Islamic countries to use oil as a weapon. A 1970s Arab oil embargo shook the world, quadrupling oil prices and badly damaging the U.S. economy. Muslim spokesmen of Arab countries say they have the right to coordinate their policies to put pressure on Israel and those who defend Israel!

U.N. "We Need a 3rd Party"

April 2….U.N Secretary General Kofi Annan said the issue of a "third party" had been raised by many of the world leaders he spoke to this weekend. Leaders around the world are demanding a neutral third party to mediate peace between Israel and the Palestinians! "They need someone to help them resolve this issue," Annan said in New York. "That third party must help with the mediation and perhaps in some other forms too."

Note: Are we not looking for a candidate for Antichrist here?

U.S. Assails Iraq, Iran, and Syria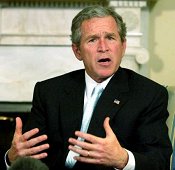 April 2….The Bush administration accused Iran, Iraq and Syria of fomenting terror while it urged Yasser Arafat to disengage from his terrorist allies. The multifaceted message emerged after President Bush met at the White House with Secretary of Defense Donald H. Rumsfeld, Secretary of State Colin Powell, National Security Adviser Condoleezza Rice and, by video linkup, Vice President Dick Cheney. The president stopped short of applying to Arafat his oft-repeated statements that those who harbor terrorists are terrorists. He said the Palestinian leader is excepted because of his past efforts to negotiate peace.

At the Pentagon, Secretary of DefenseRumsfeld offered a searing indictment of Iran, Iraq and Syria as supporters of a terrorist "war on civilization." The clear, overall aim is to register U.S. resolve against terrorists who have subjected Israel to the deadliest, most unrelenting series of bombings in its difficult 54-year history. Rumsfeld specifically accused Iran and Syria of funneling arms to Lebanon for use by terrorists and criticized Iraq for offering payments of up to $25,000 to families of Palestinian suicide bombers.

Misreporting About PLO Terrorism

April 2…..The PLO Fatah and Tanzim-Al Aqsa Brigades cells, both which report directly to Yasser Arafat are responsible for 85% of the terrorist attacks on Israel in recent months.

Arafat Contefeiting Israeli Currencies

April 2….Above and beyond the large arms caches found in Arafat's Mukata compound in Ramallah, it has been discovered by Israeli officials that Arafat's headquarters served as the heart of a secret Palestinian operation to flood Israel with counterfeit money. Apparently Arafat has been using counterfeit money to undermine the already-weakened Israeli economy and use the phony money to pay the salaries of terrorists.
Arafat: "Allah, Give me Martyrdom"
(Listen carefully to the words of a Demon from Hell!)

April 1….Yasser Arafat is making bragging statements about becoming a martyr for Allah. He has no such intention. He is basically issuing a call for other people to become martyrs. "Israel decided to take me as a prisoner, a deportee, or to kill me. I say to them that I will be a martyr, a martyr, a martyr, and a martyr. …"And they will be in the front line until Judgment Day"… and 'one of their martyrs who falls in the battle for Jerusalem is worth 40 martyrs'... Allah, give me martyrdom in Jerusalem, the place from which the Prophet Muhammad ascended to the heavens, and the place our lord Jesus was born… I may be martyred, but certainly one of our boys or one of our girls will wave the flag of Palestine over the walls of Jerusalem, over the minarets of Jerusalem, and over the churches of Jerusalem. 'They think it is distant, but we know it is imminent, and we are right'… This is the path I have chosen… Allah, give me martyrdom..." "We defend not only Palestine, the Arab nation, and not only the holy Islamic and Christian places – but also all men of freedom and honor in the world. This is our destiny. This is a divine decree..." "Let those far and near understand: None, among the Palestinian people or the Arab nation, will be willing to bow and surrender. But we ask Allah to grant us martyrdom, to grant us martyrdom. To Jerusalem we march – martyrs by the millions. To Jerusalem we march – martyrs by the millions. To Jerusalem we march – martyrs by the millions. To Jerusalem we march – martyrs by the millions." "This is a call to the Arab and Islamic nations and to all the Christians in the world. This is the sacred land called in the West 'Terra Sancta,' Holy Land. We defend these holy places..." Don't you know this will shake the Middle East? I say to our Palestinian people: 'Oh mountain, the wind will not shake you.' I say to our Arab nation: 'To Jerusalem we march – martyrs by the millions.'"

Sharon and Israel are a den of terrorism? I seek martyrdom. Allah, grant it to me. Am I better than that heroic youth Fares Odeh? We are seekers of martyrdom. We are all seekers of martyrdom. The entire Palestinian people is a seeker of martyrdom..." They are the plunderers, the murderers, the real terrorists in the entire world, in the entire world. We are the only people in the world under occupation. Arafat: "By Allah, we consider all possibilities. Nobody is shaken, nobody is scared, nobody is retreating. To Jerusalem we march – martyrs by the millions." Sharon besieges us… he uses all the weapons prohibited by international law. True he uses depleted uranium, true he uses toxic gases…but we are steadfast… 'And we will be in the frontline until Judgment Day'…"

Note: Mr. Arafat should be killed! He is a blight on humanity! He is an agent of hell. He is no different that Adolph Hitler. He casts himself as the protector of Christian places as well as Muslim Holy places. He hates Christians! He hates Jews, and he cares nothing for the Palestinian people either!
U. S. finds Haven for Beseiged Yasser Arafat.
Bulletin…..11:45am

April 1….The Bush administration has obtained approval from Morocco to provide asylum to Arafat. Over the past few days U.S. Secretary of State Colin Powell contacted Arab and Islamic countries in an effort to end the Israeli takeover of Arafat's headquarters in Ramallah. The only problem is that Arafat doesn't want to leave. Officials said that one of the obstacles to Arafat's exile is his insistence that he bring with him scores of aides and Palestinian insurgents wanted by Israel. The insurgents include up to 70 Fatah and Hamas agents responsible for the wave of suicide bombings in Israeli cities. Israeli Prime Minister Ariel Sharon has refused Arafat's demand to leave with the terrorists. The effort to find Arafat safe haven is being aided by the European Union. Egypt, Jordan and Tunisia have refused to provide Arafat with asylum. Israel has pledged to the Bush administration not to assassinate Arafat. Officials said the administration, in fear of a regional war in the Middle East sparked by Hizbullah!, The U.S. administration has come under tremendous pressure from Arab allies of the United States as well as from the European Union. Sen. Joseph Biden, chairman of the Senate Foreign Relations Committee, has called on the United States and EU to send troops to the West Bank and Gaza Strip to implement a ceasefire between Israel and the PA.

Note: FOJ has advised its readers for months of the potential of a second front opening in conjunction with a massive wave of terror-assaults within the West Bank. An American attack on Iraq in conjunction with the present Israel-PA-Hezbullah scenario with American peace-keepers in the West Bank is an invitation for a regional war with horrendous consequences! Why save Arafat? He is the enemy of America just as much as he is the enemy of Israel!
Sharon Speaks to Israel

April 1….Ariel Sharon speaking to the nation of Israel declared that the nation is in a state of war. "We are in a war for our survival"! Prime Minister Ariel Sharon vowed to smash Palestinian militants in an uncompromising offensive, as he addressed his people, rattled by five suicide bombings in five days, including back-to-back attacks Sunday that killed 15 Israelis. In an expansion of Israel's "Operation Protective Wall, Sharon said Israel is fighting a "war over our home" and branded Arafat an enemy of the Jewish state and an enemy of the "entire free world," as well as a danger to the Middle East. "One man directs and initiates this terrorism, the head of the Palestinian Authority, Yasser Arafat," Sharon said. "Arafat is the head of a coalition of terrorism and employs a strategy of terrorism." "All those who strive for freedom, who were educated on the values of liberty and democracy, need to know that Arafat is an obstacle to peace in the Middle East. Arafat is a danger to stability in the whole region."

End Clinton Mideast 'Appeasement' Policy

April 1…..The Bush administration is being advised to review its Middle East policy particularly as it regards the Palestinian Authority, and its leader Yasser Arafat. The Washington-based Heritage Foundation said the United States must reverse the policies of the former Clinton administration, which supported Palestinian Authority Chairman Yasser Arafat. The report said Arafat is not a credible partner for peace negotiations and has aligned himself with Iran. Washington must fundamentally rethink the flawed appeasement policies of the Clinton era that whetted Arafat's appetite for concessions, and led the Oslo negotiating process into a diplomatic dead end. "The peace negotiations can be salvaged by holding the PA until responsible for attacks on Israel. "If Arafat refuses to end his incitement to violence and support of terrorism, Washington should break relations with the Palestinian Authority, close the PA's office in Washington, and seek to isolate it diplomatically.

Note: Hallelujah! FOJ has advocated this diplomatic posture for years. Arafat played Bill Clinton for Santa Claus! Considering Arafat's strategy was to gain a footing inside Israel to launch the next phase of his campaign to destroy Israel, it worked too.

China Warns of Disaster if Arafat Harmed

April 1….China's Foreign Minister Tang Jiaxuan warned Israeli counterpart Shimon Peres in a phone conversation on Sunday of disastrous consequences for the Middle East if Palestinian leader Yasser Arafat is harmed. China supports the Palestinian uprising against Israel.
Note: The "Kings of the East" are squarely in the corner of the demonic anti-Israel hate-mongers. It is amazing to me how the whole world stands is support of Yasser Arafat and terrorism. Israel has few friends in the world. God have mercy on America if the day ever comes when it joins the world in favoring murderers and terrorists over God's Chosen people.

Thousands March in Baghdad in Support of Palestinians

April 1….Thousands of Iraqis marched in Baghdad Saturday denouncing Israel's "savage attacks" against the Palestinians and calling on Saddam Hussein to "hit Tel Aviv, with missiles. "Palestine is Arab, down with Zionism," "Don't worry Arafat, with our blood we will redeem Palestine," "Beloved Saddam, hit Tel Aviv," the demonstrators chanted. The protesters, who carried portraits of Iraqi President Saddam Hussein and Palestinian leader Yasser Arafat, were referring to Scud missiles fired by Iraq at Israel during the 1991 Gulf War.

French Join Pro-Palestinian Marches

April 1….Thousands gathered across France Saturday to call for an independent Palestinian state after Israel thrust into Palestinian cities and smashed into the compound of their leader Yasser Arafat. Protesters gathered in Strasbourg, Paris, Marseille, Lyon and Bordeaux, shouting slogans such as "Free Arafat," "Respect Palestinian rights". Protestors marched past the European Parliament waving Palestinian flags and chanting "Bush, Sharon assassins, referring to the U.S. and Israeli leaders. Protesters carried scrolls marked with an alternative "10 Commandments," including "Thou shalt not covet thy neighbor's land" and "Thou shalt dissolve Zionism.

Note: The hate of Israel is relative to the world's hate of God's law!

Israeli "Isolation" Exposes the Real Arafatu

April 1….Israel demanded that Arafat surrender top master terrorists responsible for dozens of serious attacks, who were enjoying sanctuary within his Ramallah compound quarters. Among them were organizers of Israeli minister Rehavam Zeevi's assassination last year. Arafat's response was adamant: If Israeli troops attempt to take the men under my protection and remove any more documents from my office, I will fight to the death. Arafat refused Israel's demand to turn over the terror activists and masterminds he has been harboring in his quarters now for months, including Tawfiq Tirawi, general intelligence chief and commander of the Fatah's al Aqsa Martyrs Brigades, PFLP secretary Ahmed Sadat as well as the assassins of Israeli minister Zeevi. Arafat has been keeping his international telephone hook-up busy, pleading with world leaders to save him from great danger, without explaining that he was using his personal immunity to shelter top terrorists and sending suicide bombers on the rampage in Israeli cities. In the Ramallah operation, military intelligence and Shin Beit operatives, who went in with Israeli forces, collected documentary proofs from Arafat's presidential suite linking the Palestinian leader personally with suicide attacks. His most trusted lieutenants, some with high diplomatic standing in the international community, are also personally connected to some of the most horrifying terror outrages presently going on in Israeli cities, including Jerusalem. Between 50 and 60 of the deadliest terror activists on Israel's wanted list, have been discovered sheltering in Arafat's quarters and command center. Thus far, Israeli troops have captured 500 known or suspected terrorists in Ramallah. Intelligence operatives accompanying the troops scoured the files in the Palestinian leader's headquarters, collecting documentary evidence linking Arafat and members of his inner circle to the orchestration of terror atrocities. They also turned up huge depots of banned weapons, such as 43 RPGs, 200 Kalashnikov assault rifles and anti-tank missiles, as well as millions of counterfeit Israeli currency notes.

Bush Considering Linking War on Terror to PLO?

April 1….President Bush has for the first time drawn a connecting line between America's war on global terror and Israel's fight against Palestinian terrorists. His stance that Israel has a right to defend itself against Palestinian terror has implications in the war on terror America is anticipating waging on Iraq. Saddam Hussein is heavily involved in supporting Palestinian terrorists organizations in the West Bank. President Bush, who has branded Iran part of an "axis of evil" along with Iraq and North Korea, said "the Iranians and the Syrians must stop fostering terrorism. Iran and Syria have faced U.S. diplomatic pressure for backing militant Palestinian groups and Lebanon's Hizbollah terror guerrillas. Syrian and Iranian leaders are discussing ways to counter Israel's ongoing siege of Palestinian cities and Palestinian President Yasser Arafat's Ramallah compound. Note: President Bush alluded to the states that "harbor terrorists" in his declaration of war on terror in September. If the U.S. is really serious about fighting terrorism, then the proposed new state of Palestine is the real battle front in that war!









This free script provided by
Website Abstraction