WEEK OF DECEMBER 28 THROUGH JANUARY 3
Israel Pushes Into Gaza
Jan. 3….(FOJ) Large IDF ground forces, including Armored and Engineering corps units, as well as infantry soldiers are currently operating in the Beit Lahiya and Beit Hanoun areas, from which rockets have been launched toward Israel. Earlier in the evening, large infantry, engineering and intelligence forces entered the Strip, accompanied by armored corps and artillery units. Navy vessels and Air Force gunships also played a role in the operation. The troops entered various areas in northern Gaza and fire exchanges were reported soon after. The objective is to destroy the Hamas terror infrastructure in the area of operations," said Major Avital Leibovitch, a military spokeswoman, confirming that incursions were under way. "We are going to take some of the launch areas used by Hamas." Army Chief Gabi Ashkenazi met with troops before the incursion was launched, and made it clear that the army was fully determined to secure the operation's objectives. Earlier in the day, artillery cannons started to shell targets in the Strip. The IDF said that by Saturday evening hundreds of shells had been fired at precise targets in Gaza. Much of Gaza was enveloped by darkness as night fell. Meanwhile, Air Force aircraft continued to drop leaflets in Gaza, calling on residents to leave their homes in order to avoid injury. The leaflets dropped Saturday read: "Area resident, as result of the acts undertaken by terror activists in your area against Israel, the IDF is forced to respond immediately and operate in this area. For your own safety, you are asked to leave the area immediately."
| | |
| --- | --- |
| | An illumination flare fired by Israeli forces is seen above the northern Gaza Strip from the Israeli side of the border with Gaza, Saturday, Jan. 3, 2009. Israeli warplanes, gunboats and artillery units blasted more than 40 Hamas targets Saturday, including weapons storage facilities, training centers and leaders' homes as Israel's offensive against Gaza's Islamic militant rulers entered a second week. |
Pres. Bush: Hamas Attacks on Israel Are 'Acts of Terror'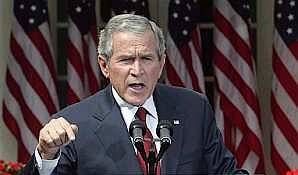 Jan. 3….(Fox News) President George W. Bush on Friday branded the Hamas rocket attacks on Israel an "act of terror" and outlined his own condition for a cease-fire in Gaza, saying no peace deal would be acceptable without monitoring to halt the flow of smuggled weapons to terrorist groups. Bush chose his weekly taped radio address to speak for the first time about one of the bloodiest Mideast clashes in decades. It began a week ago. Israeli warplanes have rained bombs on Gaza, targeting the Palestinian militant group Hamas, which has traumatized southern Israel with intensifying rocket attacks. "The United States is leading diplomatic efforts to achieve a meaningful cease-fire that is fully respected," Bush said. "Another one-way cease-fire that leads to rocket attacks on Israel is not acceptable. And promises from Hamas will not suffice, there must be monitoring mechanisms in place to help ensure that smuggling of weapons to terrorist groups in Gaza comes to an end." The White House released Bush's radio address a day early. It airs on Saturday morning. Despite Bush's account of a US leadership role, with time running out on his presidency, the administration seemed increasingly ready Friday to let the crisis in Gaza shift to President-elect Barack Obama, who takes office Jan. 20. Secretary of State Condoleezza Rice briefed Bush on developments in Gaza, and she continued furious telephone diplomacy to arrange a truce. Yet, she said she had no plans to make an emergency visit to the region. More than 400 Palestinians and four Israelis have been killed in the latest offensive. The UN estimated Friday that a quarter of the Palestinians killed were civilians. In their waning days in power, Bush and Rice have been working the phones with world allies. Bush offered no criticism of Israel, depicting the country's air assaults as a response to the attacks on its people. The White House will not comment on whether it views the Israeli response as proportionate or not to the scope of rockets attacks on Israel. "This recent outburst of violence was instigated by Hamas, a Palestinian terrorist group supported by Iran and Syria that calls for Israel's destruction," Bush said. The president said Hamas ultimately ended the latest cease-fire on Dec. 19 and "soon unleashed a barrage of rockets and mortars that deliberately targeted innocent Israelis, an act of terror that is opposed by the legitimate leader of the Palestinian people, President (Mahmoud) Abbas." Bush expressed deep concern about the humanitarian suffering of the Palestinian people in Gaza. UN officials say Gaza's 1.5 million residents face an alarming situation under constant Israeli bombardment, with hospitals overcrowded and both fuel and food supplies growing scarce. "By spending its resources on rocket launchers instead of roads and schools, Hamas has demonstrated that it has no intention of serving the Palestinian people," Bush said. "America has helped by providing tens of millions of dollars in humanitarian aid, and this week we contributed an additional $85 million through the United Nations. We have consistently called on all in the region to ensure that assistance reaches those in need." The White House has cautiously said Israel must be mindful of the toll its military strikes will have on civilians. Here, too, Bush blamed Hamas for hiding within the civilian population.
Suspense in Israel and Gaza as Ground Operation Nears
Jan. 3….(DEBKAfile Special Analysis) Although Israeli Defense Forces have the defense cabinet's green light for a ground operation in the Gaza Strip, the final go-ahead had not been given as of Jan. 2,–Day 7 of the Gaza campaign by the trio of decision-makers, prime minister Ehud Olmert, defense minister Ehud Barak and foreign minister Tzipi Livni. Suspense is high on both sides of the border. DEBKAfile quotes the view among high-ranking military sources that this decision is a historic one: Without a decisive ground assault on Hamas, a million citizens of the South will be entitled to feel that for the first time in 60 years, the state has abdicated its responsibility for their safety. Hamas will take it that Israel has lost its nerve. DEBKAfile's military sources report tacticians are discussing at least two scenarios. One favors a short in-and-out incursion with heavy tanks, armored infantry and air units hitting Hamas hard before pulling back. Another advocates a broader more fundamental treatment to destroy Hamas's military capabilities root and branch, withdraw and then follow up with sorties as necessary, as per the successful West Bank model. IDF officers warn that time now is of the essence; every hour that leaves Israel tanks stationary outside Gaza encourages Hamas propagandists to mock the Israel government (in Hebrew). A government that does not defend the rocket-blasted citizens of Sderot, Ashkelon, Ashdod and Beersheba, they say, will not defend Tel Aviv either when the rockets start coming. Hamas is feigning eagerness for an Israeli incursion in order to boost its own morale, Southern command officers stress. This pose is broadcast to support the argument for an immediate ceasefire. In fact, say the officers, Hamas is scared and ill-prepared. Apart from the hard core of 1,500 members of its military wing, the Ezz e-Din al-Qassam, Hamas' rank and file consists of 13,000 members of their police force and teenagers aged 15 to 16. They have been trained superficially to use the old Russian Phagot 9k-111 guided anti-tank missiles, which is the most advanced anti-armor weapon in the Hamas armory. It was manufactured in the 1960s for the Red Army. Israel tanks are equipped with counter-measures for far more sophisticated weapons. In any case, Hamas' courses were limited to practice shoots at stationary targets. They have never been exposed to realistic combat situations, requiring them to stop a fast-moving column of Israeli Chariots under artillery fire and aerial attack. Ahead of a potential invasion, Israeli air strikes destroyed the private homes of at least 45 Hamas commanders by Friday night as a means of breaking their fighting spirit. Aware of its deficiencies, Hamas has stopped firing its heavy 120mm mortars at Israeli targets and is keeping them in reserve for an Israeli tank advance in the Gaza Strip. Israel's high military command and intelligence experts are urging the Olmert government to seize the moment. They believe that striking Hamas now would be put Israel's feet on the shortest and most effective path to an exit from the Gaza war. They argue that it is better to go in hard now for an initial incursion and then decide how to proceed according to results. A slow, hesitant action must be avoided at all costs because the Hamas would soon pick up on any signs of vacillation or weakness.
Gaza rockets put Israel's nuclear plant in battle zone
(Growing concern over Hamas's new rocket arsenal)
Jan. 2….(Times on Line) There were growing fears in Israel last night that Hamas missiles could threaten its top-secret nuclear facility at Dimona. Rocket attacks from Gaza have forced Israelis to flee in ever greater numbers and military chiefs have been shaken by the size and sophistication of the militant group's arsenal. In Beersheba, until a few days ago a sleepy desert town in southern Israel, there is little sign of the 186,000 inhabitants. Schools are closed and the streets of shuttered shops echo with the howl of sirens warning of incoming rockets. Israeli planes, meanwhile, began a new stage yesterday in their offensive on Gaza, killing Nizar Rayyan, a senior Hamas official. Israeli officials say that Hamas has also acquired dozens of Iranian-made Fajr-3 missiles with an even longer range. Many fear that as the group acquires ever more sophisticated weaponry it is only a matter of time before the nuclear installation at Dimona, 20 miles east of Beersheba, falls within its sights. Dimona houses Israel's only nuclear reactor and is believed to be where nuclear warheads are stored. Israel's worst nightmare is that soon all its cities will be within range either of the Hezbollah Katyushas arrayed on the Lebanese border to the north or the increasingly sophisticated missiles stockpiled by Hamas to the south. Both groups have links to Israel's archenemy Iran. Israel has said that its aim is to smash Hamas's rocket-firing capability but also to topple the hardline Islamist regime that seized power in the Gaza Strip in 2007 after bloody street battles with its secular rivals Fatah.
Hamas Rockets Threaten Israel's Nuclear Plant
(Top Hamas spokesman declares: 'We can reach deeper and deeper')
(FOJ) Dimona, the site of Israel's nuclear power base is located in the Negev desert, only some 25 miles away from Gaza. It could be the strategy of Iran and Hamas to play a coy game at lobbing crude missiles into southern Israeli towns like Sederot before unleashing a massive strike against Dimona, thus affecting Israel's capacity to strike Iran just as Iran is developing a nuclear bomb.
(Focus on Jerusalem)
Jan. 2….(WND) Egypt would not be surprised if Hamas has a number of rockets in the Gaza Strip capable of reaching Israel's main nuclear power station, an Egyptian intelligence official told WND. The official's estimates, which could not immediately be confirmed by Israeli defense sources, are instrumental since Hamas routinely smuggles weaponry in tunnels that snake underneath the Gaza-Egypt border. He said he believes Hamas could have rockets that can reach Israel's nuclear plant in Dimona, which is about 40 miles from the Egypt-Gaza border. Hamas is known to possess 122mm Katyusha rockets, which have a range of about 18 miles, and has fired improved 122mm Katyusha's, with ranges up to 30 miles. The Egyptian intelligence official said Hamas may be saving larger, 220mm rockets, with ranges in the vicinity of 44 miles, which would place both Dimona and Tel Aviv within range. Asked to comment yesterday on his group's rocket capabilities, Abu Abdullah, considered one of the most important operational members of Hamas' so-called military wing, the Izzedine al-Qassam Martyrs Brigades, would only tell WND, "We can reach deeper and deeper." Earlier this week, Abu Abdullah and a leading member of a top, Hamas-allied terrorist group in Gaza both told WND they have "surprises" in store for Israel. Sources inside Hamas and the Popular Resistance Committees hinted to WND the claimed "surprises" include the ability to hit Tel Aviv with rockets from Gaza, a claim that may be grounded in some truth. Telling is a Grad rocket fired on Sunday that landed near Gan Yavne in south Israel, an area that is just a 15 minute highway ride from Tel Aviv. The Israel Defense Forces said the rocket was launched from northern Gaza, the furthest point from which to reach deepest inside Israel. WND, though, obtained specific information indicating that rocket actually was fired from just outside the Egyptian embassy in central Gaza, meaning if the same rocket had been launched from northern Gaza it could technically have reached outside Bat Yam, a satellite town of Tel Aviv. Avital Lebovich, a spokeswoman for the IDF, did not deny Palestinians may be capable of firing at Tel Aviv. "Hamas can have variety of capabilities," she told WND when asked whether Gaza rockets can strike Tel Aviv. Meanwhile, Israel's Haaretz newspaper today reported municipal authorities in Rishon Letzion, a town near Tel Aviv, told residents to begin preparing bomb shelters so they can be ready "for any possible scenario." Tel Aviv authorities decided to update their emergency response guidelines as a result of the fighting in Gaza, Haaretz reported. Tel Aviv authorities stressed to the Israeli newspaper the move does not mean the city is under the threat of attack.
Hezbollah Studying Whether to Join Hamas Fight
(Source: Terror group seeking ways to complicate Israeli military campaign)
Jan. 2….(WND) The Lebanese Hezbollah terrorist organization is studying whether to join Israel's conflict with Hamas by launching an attack from the Jewish state's northern border, according to an Egyptian intelligence official speaking to WND. The official said for the moment Hezbollah is confident Hamas can face Israel independently, believing Hamas' continued rocket fire from the Gaza Strip amid Israel's intensive air raids against the terror group's Gaza infrastructure is working to maintain Hamas' deterrent posture. Hamas' rockets have been fired deeper and deeper into Israeli territory. But Hezbollah is watching events closely and is concerned about a possible large-scale Israeli ground invasion, the Egyptian intelligence official said. He said Egyptian embassies in Beirut and Damascus have collected information indicating Hezbollah, which is backed by Iran, is studying whether to join the conflict. He said the probability is low Hezbollah would directly engage Israel, but is considering allowing Palestinian groups in South Lebanon to launch Katyusha rockets into Israel, in hopes of complicating the Israel Defense Forces focus on Gaza. According to Lebanese newspaper reports, the Israel Air Force has been buzzing South Lebanon with war planes, signaling for Hezbollah to stay out of the conflict. Hezbollah leaders for their part have restrained their direct involvement in the conflict to making heated pronouncements and organizing mass rallies decrying the Israeli bombing campaign in Gaza. Just before Israel launched its initial air raids in Gaza last Saturday, there were reports Palestinian groups in Lebanon were stopped from launching rockets into Israel. Hamas has taken a major beating from Israel's repeated air strikes, but the group's so-called Executive Force, a Hezbollah-like guerilla force, is said to still be intact and is preparing for a possible Israeli ground offensive.
FOJ Note: Hamas has been firing rockets consistently at Israel for many years now, since 2001. Even during the recent ceasefire, or "lull" as some call it, Hamas fired salvo after salvo of rockets against Israel. From a targeting perspective, as I note in my book, Hamas really has no calculations. Qassam rockets are very crude homemade weapons. They are virtually impossible to fire with any accuracy. Hamas simply aims them in the direction of Israeli civilian populations and then hopes that they cause damage or casualties. In terms of a broader strategy, Hamas fires these rockets because its financial patron, Iran, encourages the group to do so. In fact, I would venture to say that Hamas would not have broken the ceasefire had it not gotten permission from the Mullahs to do so. On a grassroots level, Hamas gains popularity by carrying out violence against the Jewish state. Most Palestinians still seek the destruction of the State of Israel. What the public needs to understand is that this so-called cycle of violence did not simply "break out," which is what the mainstream media reports. Back in June, Hamas declared that it would maintain a lull in violence against Israel for six months. Hamas can have a cease-fire anytime it chooses. It only chooses to have them intermittently so that it can regroup and rearm. The recent ceasefire was not an agreement with Israel. It was simply a unilateral decision. Similarly, it was a unilateral decision for Hamas to begin firing rockets into Israel when Hamas chose to end its ceasefire. Not surprisingly, when the rockets began to rain down on Israel, the Israel Defense Forces responded. The United Nations silence in response to Hamas rockets heretofore has been deafening. The tired calls now for restraint on both sides, after Hamas had launched nearly 7,000 rockets into Israel, demonstrates yet again that the UN is dominated by anti-Israel and anti-American interests. The best case scenario is not a ceasefire, but rather that Israel totally destroys the Iranian-backed terrorist Hamas outpost.
Iranian Volunteer Suicide Bombers Seek to Attack Israel
Dec. 31….(YNET) Hard-line Iranian student groups have asked the government to authorize volunteers to go carry out suicide bombings in Israel in response to the Israeli assault on the Gaza Strip. Volunteer suicide groups have made similar requests in the past and the government never responded to their calls. Some hard-liners have claimed previously they succeeded in secretly sending bombers to Israel, but their claims have never been verified, and there has not been any sign of Iranians carrying out suicide attacks in Israel, raising the likelihood the groups' activities are mainly for propaganda purposes. The hard-liners started signing up volunteers after Iran's supreme leader, Ayatollah Ali Khamenei, issued a religious decree Sunday saying anyone killed while defending Palestinians in Gaza against Israeli attacks would be considered a martyr. The groups claim that more than than 10,000 people throughout Iran have registered as volunteer suicide bombers in the past three days. At a gathering Tuesday in Tehran, hard-liners were distributing registration forms to volunteers. The volunteers wore white shrouds symbolizing their willingness to die and headbands with the slogan "Defenders of Gaza" and "Ready for Martyrdom." Most of those registering were members of the Basij militia, a hard-line paramilitary group that has tens of thousands of members and is often involved in drumming up popular fervor against Israel and the West.
Is Israel Using 'Disproportionate Force'
Dec. 31….(By Dore Gold) Israeli population centers in southern Israel have been the target of over 4,000 rockets, as well as thousands of mortar shells, fired by Hamas and other organizations since 2001. Rocket attacks increased by 500 percent after Israel withdrew completely from the Gaza Strip in August 2005. During an informal six-month lull, some 215 rockets were launched at Israel. The charge that Israel uses disproportionate force keeps resurfacing whenever it has to defend its citizens from non-state terrorist organizations and the rocket attacks they perpetrate. From a purely legal perspective, Israel's current military actions in Gaza are on solid ground. According to international law, Israel is not required to calibrate its use of force precisely according to the size and range of the weaponry used against it. What is critical from the standpoint of international law is that if the attempt has been made "to minimize civilian damage, then even a strike that causes large amounts of damage, but is directed at a target with very large military value, would be lawful." Luis Moreno-Ocampo, the Chief Prosecutor of the International Criminal Court, explained that international humanitarian law and the Rome Statute of the International Criminal Court "permit belligerents to carry out proportionate attacks against military objectives, even when it is known that some civilian deaths or injuries will occur." The attack becomes a war crime when it is directed against civilians, (which is precisely what Hamas does). To expect Israel to hold back in its use of decisive force against legitimate military targets in Gaza is to condemn it to a long war of attrition with Hamas. Israel is currently benefiting from a limited degree of understanding in international diplomatic and media circles for launching a major military operation against Hamas on December 27. Yet there are significant international voices that are prepared to argue that Israel is using disproportionate force in its struggle against Hamas.
Israeli Population Centers Under Rocket Attack
There are good reasons why initial criticism of Israel has been muted. After all, Israeli population centers in southern Israel have been the target of over 4,000 rockets, as well as thousands of mortar shells, fired by Hamas and other organizations since 2001. The majority of those attacks were launched after Israel withdrew completely from the Gaza Strip in August 2005. Indeed, rocket attacks increased by 500 percent (from 179 to 946) from 2005 to 2006. Moreover, lately Hamas has been extending the range of its striking capability even further with new rockets supplied by Iran. Hamas used a 20.4-kilometer-range Grad/Katyusha for the first time on March 28, 2006, bringing the Israeli city of Ashkelon into range of its rockets for the first time. That change increased the number of Israelis under threat from 200,000 to half a million. Moreover, on December 21, 2008, Yuval Diskin, Head of the Israel Security Agency, informed the Israeli government that Hamas had acquired rockets that could reach Ashdod, Kiryat Gat, and even the outskirts of Beersheba. The first Grad/Katyusha strike on Ashdod, in fact, took place on December 28. There had been no formal cease-fire between Israel and Hamas, but only an informal six-month tahadiya (lull), during which 215 rockets were launched at Israel. On December 21, Hamas unilaterally announced that the tahadiya had ended.
Critical Voices
On December 27, 2008, UN Secretary General Ban Ki-moon's spokesmen issued a statement saying that while the Secretary-General recognized "Israel's security concerns regarding the continued firing of rockets from Gaza," he reiterated "Israel's obligation to uphold international humanitarian and human rights law." The statement specifically noted that he "condemns excessive use of force leading to the killing and injuring of civilians." A day later, Navi Pillay, the UN High Commissioner for Human Rights "strongly condemned Israel's disproportionate use of force." French President Nicolas Sarkozy, who holds the rotating presidency of the European Union, also condemned Israel's "disproportionate use of force," while demanding an end to rocket attacks on Israel. Brazil also joined this chorus, criticizing Israel's "disproportionate response." Undoubtedly, a powerful impression has been created by large Western newspaper headlines that describe massive Israeli air-strikes in Gaza, without any up-front explanation for their cause.
Proportionality and International Law: The Protection of Innocent Civilians
The charge that Israel uses disproportionate force keeps resurfacing whenever it has to defend its citizens from non-state terrorist organizations and the rocket attacks they perpetrate. From a purely legal perspective, Israel's current military actions in Gaza are on solid ground. According to international law, Israel is not required to calibrate its use of force precisely according to the size and range of the weaponry used against it (Israel is not expected to make Kassam rockets and lob them back into Gaza). When international legal experts use the term "disproportionate use of force," they have a very precise meaning in mind. As the President of the International Court of Justice (ICJ) in The Hague, Rosalyn Higgins, has noted, proportionality "cannot be in relation to any specific prior injury, it has to be in relation to the overall legitimate objective of ending the aggression." In other words, if a state, like Israel, is facing aggression, then proportionality addresses whether force was specifically used by Israel to bring an end to the armed attack against it. By implication, force becomes excessive if it is employed for another purpose, like causing unnecessary harm to civilians. Numbers matter less than the purpose of the use of force. Israel has argued that it is specifically targeting facilities serving the Hamas regime and its determined effort to continue its rocket assault on Israel: headquarters, training bases, weapons depots, command and control networks, and weapons-smuggling tunnels. This way Israel is respecting the international legal concept of proportionality. An attack becomes a war crime when it is directed against civilians (which is precisely what Hamas does with its rockets) or when "the incidental civilian injuries would be clearly excessive in relation to the anticipated military advantage."
Proportionality as a Strategic Issue
Moving beyond the question of international law, the charge that Israel is using a disproportionate amount of force in the Gaza Strip because of reports of Palestinian casualties has to be looked at critically. Israelis have often said among themselves over the last seven years that when a Hamas rocket makes a direct strike on a crowded school, killing many children, then Israel will finally act. This scenario raises the question of whether the doctrine of proportionality requires that Israel wait for this horror to occur, or whether Israel could act on the basis of the destructive capability of the arsenal Hamas already possesses, the hostile declarations of intent of its leaders, and its readiness to use its rocket forces already. Alan Dershowitz noted two years ago: "Proportion must be defined by reference to the threat proposed by an enemy and not by the harm it has produced." Waiting for a Hamas rocket to fall on an Israeli school, he rightly notes, would put Israel in the position of allowing "its enemies to play Russian Roulette with its children." The fundamental fact is that in fighting terrorism, no state is willing to play Russian Roulette. After the US was attacked on 9/11, the Western alliance united to collectively topple the Taliban regime in Afghanistan; no one compared Afghan casualties in 2001 to the actual numbers that died from al-Qaeda's attack. Given that al-Qaeda was seeking non-conventional capabilities, it was essential to wage a campaign to deny it the sanctuary it had enjoyed in Afghanistan, even though that struggle continues right up to the present.
Moreover, decisive military action against an aggressor has another effect: it increases deterrence. To expect Israel to hold back in its use of decisive force against legitimate military targets in Gaza is to condemn it to a long war of attrition with Hamas. The loss of any civilian lives is truly regrettable. Israel has cancelled many military operations because of its concern with civilian casualties. But should civilian losses occur despite the best efforts of Israel to avoid them, it is ultimately not Israel's responsibility. As political philosopher Michael Walzer noted in 2006: "When Palestinian militants launch rocket attacks from civilian areas, they are themselves responsible, and no one else is, for the civilian deaths caused by Israeli counter-fire
Hamas Rockets Reach Beersheba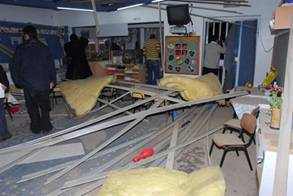 Hamas rocket caused damage to kindergarten
Dec. 31….(YNET) Beersheba joined the list of rocket-stricken communities Tuesday evening as an air raid siren sounded across the southern city, followed by several explosions. A Grad missile landed in an empty kindergarten in the city, causing damage. Thirty-four people were treated for shock at the Soroka Medical Center in Beersheba. The Israel Air Force managed to locate the terrorist cell which launched the Grad rocket. The cell was located in the northern Gaza Strip and attacked from the air by an IAF jet. Both the launching pads and the cell members were hit. Another rocket landed in an open area in the Merhavim Regional Council. Shortly afterwards, two Qassam rockets hit Ashkelon and two others were fired at the Sdot Negev Regional Council. Two additional rockets landed within the Sha'ar Hanegev Regional Council. A barn was damaged. One of the rockets landed in the heart of Ashkelon.
Israel's Use of Force in Gaza: Excessive, or Just Right?
Dec. 31….(Israel Today) UN Secretary-General Ban Ki-moon on Monday condemned Israel for "excessive use of force" against Gaza's terrorist infrastructure. Several other world leaders, including French President Nicolas Sarkozy, made similar statements on Sunday, decrying what they called Israel's "disproportionate response" after a fleet of Israeli aircraft dropped 100 tons of ordnance on 50 Hamas targets at the weekend. The Israeli assault came in response to incessant and unprovoked Hamas rocket fire on southern Israel. But because the Hamas rockets failed to kill more than a handful of Israelis, the world views Israel's killing of some 300 Palestinians, most of them terrorists - as completely unacceptable. Former Israeli ambassador to the UN and expert on international affairs says this focus on proportionality of force and casualty figures flies in the face of reason, as well as international law. "According to international law, Israel is not required to calibrate its use of force precisely according to the size and range of the weaponry used against it," writes Gold in a position paper for the Institute for Contemporary Affairs. Gold points out that to satisfy international law, Israel need only direct its use of force against legitimate military targets, and not the civilian population. But even when civilians are killed in such strikes, Israel is not to be held accountable under international law. That position is backed up by Luis Moreno-Orampo, chief prosecutor of the International Criminal Court, who previously explained that international law "permits belligerents to carry out proportionate attacks against military objectives, even when it is known that some civilian deaths or injuries will occur." According to figures released by the Palestinians themselves, only 15 out of the 230 people killed in Israel's initial wave of attacks on Gaza were civilians. Clearly, the target of Israel's use of force was Hamas, not Gaza's wider populace. Furthermore, Gold argues that to restrict Israel to only killing the same number of Palestinians as Israelis killed in Hamas rocket attacks is bereft of logic, as it would result in a prolonged war of attrition. Nor is that the correct legal definition of proportionality in such cases, even though world leaders often suggest as much. Again citing international legal experts, Gold explains that what the law really says is that "if a state, like Israel, faces aggression, then proportionality addresses whether force was specifically used by Israel to bring an end to the armed attack against it." To say it another way, Israel is permitted to use the proportionate amount of force needed to bring about an end to the threat to its citizens as rapidly as possible. It has nothing to do with comparing the strength of Israeli bombs and fighter jets to Palestinian rockets and suicide bombers, or the numbers of dead on both sides. "Numbers matter less than the purpose of the use of force," notes Gold. Israel's use of force only becomes "disproportionate" if it goes beyond the legitimate objective and purposefully targets civilians for unnecessary harm.
Egypt and Hizballah Clash Over Gaza
Dec. 31….(Israel Today) Egyptian Foreign Minister Ahmed Aboul Gheit on Monday mocked Hizballah as weak and disgraceful after the Lebanese terror group's leader called on Egyptians to defy their government a day earlier. In a televised address on Sunday, Hizballah leader Sheikh Hassan Nasrallah slammed Egypt for blaming the violence in Gaza on Hamas, and called upon Egyptians to rise up in their millions to force their government to open its border with Gaza. Nasrallah even reportedly urged the Egyptian military to act independently of the political leadership and help "secure what is needed of the Gaza resistance." In an interview on Egyptian television on Monday evening, Gheit responded by saying the Egyptian military exists to defend Egypt, and that Cairo would not hesitate to use it against threats like Nasrallah. "The Egyptian armed forces are tasked with defending Egypt. If need be, they will also protect Egypt against people like you," Gheit said in direct reference to the Hizballah leader, whom he accused of "practically declaring war on Egypt." Gheit went on to mock Hizballah as comparatively weak when stacked up against the Egyptian army, and noted that for all its declarations of victory over Israel in 2006, all Hizballah had accomplished was to set Lebanon back decades. Another senior official with Egypt's ruling party told London-based Arab newspaper Asharq al-Awsat on Tuesday that Cairo ultimately holds Iran responsible for Nasrallah's actions with Hamas. Iran is Hizballah's primary sponsor.
Israel Lets Humanitarian Aid into Gaza
Dec. 31….(Israel Today) Despite being engaged in full-scale armed conflict with Hamas, Israel demonstrated on Tuesday that its fight is not with Gaza's civilian population by allowing 100 trucks packed with food and medicine to enter the coastal strip. The food and medical supplies were donated by the Turkish and Jordanian governments, and entered Gaza via the Kerem Shalom crossing. All other Gaza crossings remain closed due to Hamas terrorists targeting them and nearby towns with rockets and mortar shells. Israel also continues to provide Gaza with most of its electricity. Addressing Gaza's civilian population directly, Israeli Defense Minister Ehud Barak on Monday urged everyone to stay away from Hamas terrorists and their bases of operations, as they will be targeted by Israeli forces.
IDF Finally Acting to Defend Israelis in the South
Dec. 31….(JNEWSWIRE) After enduring eight years and thousands of missile attacks from Gaza's Arabs, Israelis in range of the Kassam and Grad rockets at the weekend voiced relief as the Olmert government gave the Israel Defense Forces the green light to stop the "Palestinians" from terrorizing them. Finally unleashed, in "Operation Cast Lead," the IDF used its pilotless drones to target Hamas sites across Gaza which were then devastated by missiles fired from IAF warplanes high above the strip. In what was described as the most intensive Israeli military action in Gaza since the 1967 Six Day War, air force pilots flew at least 140 sorties in two days, sending fireballs and plumes of smoke shooting up from targets across the area, while international reporters stood behind the fence on the "Israeli side," flinching at the detonations shaking the ground. Arab sources reported as many as 280 people dead as a result of the Israeli strikes. Hundreds more were said to have been wounded. Footage from inside Gaza Saturday showed numerous bodies of dead men in military uniform, and long lines of ambulances and cars ferrying wounded people to hospitals. Hamas spokesman, who just hours before had taunted Israel, saying that its rockets had rendered the Israelis "hopeless and desperate," now described themselves as victims of an Israeli massacre and called for the world to intervene. "Israel is just killing as many people as it can," Hamas spokesman Ehab el-Ghazzim whined, courtesy of the BBC, which failed to point out that if Israel had been so inclined the number of Arab casualties would by now be in the tens of thousands and not merely a few hundred. On Sunday morning the Israeli cabinet authorized the calling up of 6,500 Israeli troops, and IDF tanks massed on the "border" with Gaza, intensifying the signal to Hamas that Israel was ready to put "boots on the ground" in a massive land operation if the group did not stop firing rockets at Israeli communities in the Negev and on the coast north of Gaza. For their part the Arabs fired more than 100 rockets after the Israeli attacks began. A 58-year-old Israeli man was killed when a rocket hit outside his home in Netivot Saturday, and a number of others were injured. One rocket directly hit a synagogue. The Israeli operation comes after the expiry of the so-called ceasefire with Hamas, a ceasefire which in any event was not kept by the terror group, and which it refused to renew last week. Rockets rained down on the Negev, and Israelis learned that the terrorists, who have been working to increase the range of their missiles, could now attack the cities of Beersheba and Ashdod. Indeed, for the first time Sunday, two Katyusha rockets were fired from Gaza and hit Ashdod. Traveling as far as 37 km, they marked the furthest strike to date. Rockets also repeatedly hit the slightly more southern city of Ashkelon. While the Arab rockets are mostly described as makeshift, and have "only" killed a few Israelis, they have successfully terrorized tens of thousands of people, psychologically wounding untold numbers of children and others who have had to flee with every sounded alarm. Only by the grace of God, what some call pure luck - have a number of schoolrooms full of children been spared a direct attack. As of last week, at least a quarter of a million Israelis have been living under threat of attacks. Despite this, the international consensus, at least on the part of the world's news services over the months, is that an Israeli military response was not warranted. While they would never sit still were their citizens being targeted in their homes, the United Nations, France and Russia were among those who this weekend slammed Israel for using "excessive force." The Security Council and the European Union called for an "immediate halt to the violence." Responding to a barrage of accusatory questions from Sky News, IDF Spokesman Major Avital Leibovich demanded to know where the world's condemnation had been when, day after day, month after month, year after year, Israelis were forced to cower in their shelters as sirens warned of the incoming attacks. "Israel has had enough," she said. Minister Isaac Herzog stated emphatically: Israel will do whatever it has to, whatever it takes, to restore security and a normal life to its citizens in the south.
Sederot Has Endured Months of Rocket Attacks
Dec. 31….(AP) This working-class border town has been pounded with several thousand missiles fired out of Gaza since 2001. Now anxiety is mixed with satisfaction that Israel's military is finally getting even with its tormentors. "It's about time," said Victor Turjeman, a 33-year-old electrician. "We've been waiting for this for eight years." In that time, rockets have killed eight people here, injured hundreds more and made daily life unbearable. Turjeman said his four children have been traumatized by the near daily attacks, his home has been damaged and his brother had a heart attack after a rocket exploded nearby. He fears escalation, but said he was pleased that the militant group Hamas was finally being punished. "We should keep pounding them until they beg for mercy," he said. "As far as I'm concerned, all of Gaza can be erased." Israeli warplanes have struck furiously at Hamas positions in Gaza since Saturday, killing about 380 people, according to Palestinian health officials. Elsewhere in southern Israel, however, people were increasingly fearful, and many followed army instructions to begin preparing bomb shelters. Four Israelis were killed by rockets since the Israeli offensive began, some in attacks that struck farther into Israel than ever before.
| | | |
| --- | --- | --- |
| | (FOJ) An Israeli paramedic evacuates an injured woman after a rocket fired by Palestinians terrorist militants hits her home in Sederot. | |
In Beersheba, the largest city in southern Israel, streets and malls were alive with movement, even after the Israeli military extended its rocket warning system to include the city Monday. Ortal Levy, a 30-year-old mother of two, said she had never even entertained the idea that her bustling city could be within rocket range. Now she was preparing her bomb shelter. Outside the central bus station, Mazal Ivgi, 62, said she couldn't believe their city, 28 miles from Gaza, would be hit. "When the first 'boom' comes, we'll have to get used to a new situation," she said. That first attack on Beersheba came Tuesday. One long-range rocket hit it an open area outside the city, and the mayor told Israel television that a second missile struck an empty kindergarten. Unlike the new targets of Gaza's militants, the residents of Sderot are well versed with life under fire. Sderot Mayor David Buskila said his 24,000 citizens were still scared but mostly overjoyed that something was being done to strike at Hamas. "We felt abandoned for so long, that our despair was ignored.
| | |
| --- | --- |
| | (FOJ) Meanwhile Israel continued its targeted air strikes against Hamas. Israeli aircraft dropped at least 16 bombs on five Hamas government buildings in a Gaza City complex yesterday. Israel rejected any truce with Islamist terrorists until Hamas orders the cessation of the rocket attacks on towns in southern Israeli towns that they have been launching since Israel gave the entire Gaza Strip over to the Palestinian force. Hamas has only engineered cease-fires as a means to re-supply on rockets. |
We felt like we weren't even a part of Israel," he said. "Now we feel like the army is actively protecting us." Israel Katz, a social psychologist at Hebrew University in Jerusalem, said the reaction in Sderot was a natural one. "Fear and rage are often intertwined," he said. "These are people who feel vulnerable and all of a sudden they feel empowered. It's the same kind of satisfaction that a child who has been picked on gets when he hits back." In Ashkelon, a city of 120,000 people 11 miles north of Gaza, the reality that Sderot has faced for years began to sink in after a missile crashed into a construction site Monday, killing one worker and wounding several others. It was the first rocket death ever in the city. Looking at the damaged site later, Yitzhak Daboosh shook his head in disbelief. The 58-year-old father of two has spent his entire life in Ashkelon, and he said he now fears for his family's safety. "These missiles have no address. Only God is watching over us now," he said. "We've been through a lot of things here, a lot of wars.
| | |
| --- | --- |
| | (FOJ) Turkish demonstrators in Istanbul shout slogans as they protest against Israel's Gaza raids. In the Middle East, there have been bigger, widespread protests with tens of thousands of demonstrators taking to the streets of Tehran. Tens of thousands of Lebanese Shi'ite protesters, chanting "Death to America, Death to Israel," massed in Beirut on Monday. In the Jordanian capital, Amman, about 20,000 people staged a demonstration organized by the mainstream Muslim Brotherhood, while in Cairo 1,000 people rallied to show solidarity with Gaza Palestinians. |
Bush: Hamas is to Blame
Dec. 30….(White House) President Bush spoke by phone to His Majesty King Abdullah of Jordan this morning, regarding the situation in the Middle East. Following that, the President received his daily intelligence briefing via secure video. He then joined a discussion via secure video with the Vice President, Chief of Staff Josh Bolten, and National Security Advisor Steve Hadley. They updated him on overnight developments in the Middle East and discussed US actions. For six months, a ceasefire, a state of calm, was in place between Hamas and Israel. Recently, Hamas refused to renew it. During that ceasefire, Hamas continued to fire rockets. Last week, Hamas substantially increased its rocket and mortar attacks on the people of Israel. Hamas has once again shown its true colors as a terrorist organization that refuses to even recognize Israel's right to exist. In order for the violence to stop Hamas must stop firing rockets into Israel, and agree to respect a sustainable and durable ceasefire. That is the objective to which all parties need to be working, and that is what the United States is working towards. We also remain concerned about the humanitarian situation for the people of Gaza. We ask that all parties involved allow food and medical supplies to reach the people there. We appreciate the efforts of a variety of countries in the region who are working to help the humanitarian needs of the people of Gaza.
Israel to Press Gaza War; Hamas Continues Rocket Attacks
Dec. 30….(Ha Aretz) As Israeli tanks continued to mass along the Gaza border and some 6,700 Israeli reserve soldiers were put on alert, Barak insisted that the Jewish state would expand its efforts against the threat facing its citizens as it sees fit, irrespective of international opinion. Barak noted that Israel had given Hamas every opportunity to maintain the relative calm that had prevailed in and around Gaza over the past six months, and that as such the international community must now lay sole blame for the escalation in violence on the terrorists' shoulders. "I would like to remind the world that Israel withdrew from the entire Gaza Strip more than three years ago. We gave a chance for a new reality, and all we've seen is the Hamas government firing rockets and missiles on our citizens and carrying out attacks against Israel," said Barak. Opposition leader Benjamin Netanyahu also spoke at the session, reiterating his promise of unity for the duration of the war and urging Barak to expand its objectives to include toppling the Hamas regime. "Our goal should be double, stopping the attacks on our cities and eliminating the threat of rocket attacks from the Gaza Strip," said Netanyahu. "Stopping the attacks can be done within a short period of time, while eliminating the threat of rocket attacks from Gaza will entail toppling the Hamas rule over the Strip and uprooting the Iranian base there." As the two men spoke, Hamas continued to rain down rockets on towns across southern Israel. An Israeli Arab was killed and at least 15 others were wounded when one rocket hit a construction site in the southern coastal city of Ashkelon. Hamas threatened its own escalation of hostilities when one of its spokesmen told Ha'aretz that the terror group will target Barak and Israeli Foreign Minister Tzipi Livni for assassination. Senior Hamas official Fatah Hamad also said his group will target members of Palestinian leader Mahmoud Abbas' regime in Ramallah and Egyptian political leaders. Hamas has accused both the Palestinian Authority and Egypt of collusion with Israel in its assault on Gaza.
Iran Calls for Global Jihad on Israel
(Iran's Supreme Leader issued a religious decree to Muslims around the world on Sunday, ordering them to defend Palestinians in Gaza against Israeli attacks "in any way possible", state television reported.)
Dec. 30….(YNET) Iran's Ayatollah Ali Khamenei declared Monday a day of public mourning in Iran after Israel struck back in Gaza in two days of air strikes on Gaza. "All Palestinian combatants and all the Islamic world's pious people are obliged to defend the defenseless women, children and people in Gaza in any way possible," Khamenei said. "Whoever is killed in this legitimate defense, is considered a martyr," he said in a statement. A religious decree is an official statement by a ranking religious leader that commands Muslims to carry out its message. While there is no religious and legal force behind it, Khamenei is respected by many Iranian and non-Iranian Shi'ites. Iran refuses to recognise Israel, which accuses Tehran of supplying Hamas Islamists with weapons. Iran denies the claim, saying it only provides moral support to the group. Israeli leaders said their campaign was a response to almost daily rocket and mortar fire by Gaza militants that intensified after Hamas ended a six-month ceasefire a week ago. Khamenei criticised some Arab governments for their lack of response towards the Israeli raids. "The even greater catastrophe is the encouraging silence of some Arab governments who claim to be Islamic," he said, also accusing the West of being indifferent to the killing of Palestinians. Khamenei, Iran's most powerful authority, urged Muslim countries to punish Israeli leaders. "The officials of this regime should be tried and punished for this crime by Islamic governments." Khamenei's remarks were interpreted by some oil traders as a hint that Iran was calling on oil-producing Arab countries to disrupt energy shipments to Israel. The West accuses Iran of covertly trying to build nuclear bomb, a charge rejected by Tehran. But Israel's insistence that the Islamic state must not be allowed to develop atomic weapons has fuelled speculation that the Jewish state, widely assumed to have the Middle East's only nuclear arsenal, could mount its own pre-emptive strike. Various protests were held in Tehran on Sunday, including one by Iranian lawmakers chanting "Death to Israel". Iran is ready to receive Palestinians wounded in the raids, foreign ministry spokesman Hassan Qashqavi said. Tehran denounced Israel's attacks as "unforgivable" on Saturday. President Mahmoud Ahmadinejad said the raids showed Israel's "weakness".
UN's Ban Condemns Israel's 'Excessive use of Force' in Gaza
Dec. 30….(Arutz) UN Secretary-General Ban Ki-moon on Monday condemned Israel's "excessive use of force" in the Gaza Strip and said that international powers were not doing enough to force a ceasefire on the two sides. Ban made the statements at a press conference held at the UN's headquarters in New York. I am deeply alarmed by the current escalation of violence in and around Gaza. This is unacceptable. I have been repeatedly condemning the rocket attacks by Hamas militants against Israel. While recognizing Israel's right to defend itself, I have also condemned the excessive use of force by Israel in Gaza. Ban said he was particularly concerned about the harm caused to children in Gaza: "The frightening nature of what is happening on the ground, in particular its effects on children, who are more than half of the population, troubles me greatly. I have continuously stressed the need for strict observance of international humanitarian law. "I am also pained at the death, injury and damage to United Nations personnel and premises as well as to others associated with our programs." Ban stated that both Hamas and Israel must halt all violence immediately and enter dialogue over a ceasefire. He further criticized world powers for not doing enough to stop the fighting:" I think regional and international partners have not done enough. They should do more. They should use all possible means to end the violence and encourage political dialogue, emphasizing peaceful ways of resolving differences."
Hamas Rocket Barrages kill three Israelis
Dec. 30….(DEBKA) Volleys of Palestinian rockets and missiles Monday night, Dec. 29, Day 3 of the Israeli offensive against Gaza, left three Israelis dead, as hundreds of Israel tank, armored cars and artillery piled up outside the gates of Gaza. The first was killed at an Ashkelon building site; the second two Monday night by intensified Grad rocket and Qassam missile volleys, one outside Nahal Oz and a women driver, Irit Sheetrit, 39, who took shelter in the Ashdod bus terminus, 30 km from Gaza, which was struck by a Grad Katyusha rocket. Altogether 15 people were injured in the late-night barrage, two seriously at Kibbutz Shear Hanegev. Ashkelon was hit twice: After the first Israeli was killed and 17 injured during the day, waves of Palestinian rockets and missiles continued to batter the town's school yards, kindergartens and bus terminus. There were no more casualties in Ashkelon in the second round of missiles which also targeted Sderot. Later, missiles struck Yavne for the first time and the closest point to Tel Aviv (25 km) to be hit as yet and Ofakim, another first, 30 km from Gaza. One person was injured there. The Israeli air force went into action. Missile alerts and sirens continued during the night. DEBKAfile's military sources reported earlier that, after being knocked sideways by three days of massive Israeli air strikes, and more than 315 dead, Hamas appeared to have recovered its bearings sufficiently to pound Israel with more than 70 Qassam missiles and two Grad Katyusha rockets during the day. Its spokesmen again reject a ceasefire. Its tacticians pin their hopes on the overcast, rainy conditions forecast for Tuesday to slow Israeli air attacks, delay an incursion, and further intensify their cross-border missile onslaught. After Hamas broadened the radius of its attacks with new Iranian rockets to Ashdod, other important Israeli towns, Beersheba, Gedera and Kiryat Gat are braced for attack. Homeland Front, police forces, 200 ambulances, 2 medical helicopters and hospitals are on alert around the clock at all targeted locations. Hospitals in central Israel have are also on the ready. Among the 100 Hamas targets struck by Israeli bombers Monday was a Hamas truck loaded with Grad rockets for distribution to rocket crews. The truck blew up in Jebalya in northern Gaza. The planners of the Israeli air offensive turned Monday to "second-tier" targets, such as Hamas' political offices and wings of the Islamic University in Gaza City, after its high-profile leaders went into hiding in the underground bunker network designed by an Iranian general deep under the surface of the Gaza Strip. They can only be dug out by special forces and armored units on the ground. The crucial battle of Gaza is therefore still to come, as indicated by Israel's deputy chief of staff Maj. Gen. Israel Harel, when he warned Monday that the hardest part of the campaign is still ahead. Prime minister Ehud Olmert, defense minister Ehud Barak and foreign minister Tzipi Livni conferred in Tel Aviv Monday night to determine the next phase of the Gaza offensives. Hizballah's Hassan Nasrallah told a mass rally in Beirut Monday that Hamas' most effective weapon is time; by holding out, it can wear Israel down and prevail. He was using the 2006 Lebanon war as an analogy for the Gaza campaign. Then, a massive Israeli offensive in the first days of the war failed to break Hizballah. By sustaining the blasting of its cities, the Lebanese terrorists ultimately cancelled out Israel's gains. He may not have realized that Israel's defense minister and chief of staff were both appointed after that debacle. Their most important guideline was to learn from its lessons. Hamas' trouble is the lack of a conspicuous war leader. Its politburo chief Khaled Meshaal is visible but because he is based in Damascus away from the action, he does not carry much clout. The flamboyant Hizballah leader, Nasrallah, appears to have appointed himself senior strategist. So far, this Tehran-sponsored Lebanese Shiite leader is making his mark verbally, but his repeated fiery rhetoric day after day aims at goading Iran and Syria, Hamas' avowed patrons, into intervening in the Gaza crisis to rescue Hamas, so dragging in the other Arab governments.
Iran Begins Preparing Operations Against Israel
Dec. 30….(DEBKAfile Special Report) On Monday, Dec. 29, Day 3 of Israel's Gaza operation, the spokesman said Iran had embarked on preparations for operations against Israel in line with the directives laid down by supreme ruler Ayatollah Ali Khameini in his speech Sunday. in his speech, Khameini issued a fatwa calling on Muslims to stand up and defend Palestinians against Israel. He said "true believers" were "duty-bound to defend" the Palestinians. Khamenei did not spell out what he intended. The foreign ministry statement said believers killed in their cause would be counted martyrs. A group of hardline clerics is signing up volunteers to fight "against the Zionist regime" in the Gaza Strip "in either military, financial or propaganda fields." This is reported by the semi-official Fars news agency. Iranian lawmaker Ali Motahari told the Iranian news agency IRNA that it was time for Iran and Arab nations to go to war with Israel. DEBKAfile: Egypt has led widespread Arab voices blaming Hamas for the Gaza crisis and accusing Iran of manipulating the Palestinian cause as a power play for its own ends.
Israel Faces Threat of Gaza Conflict Spreading to Southern Lebanon
Dec. 30….(Telegraph) Palestinian fighters based in southern Lebanon may be preparing to retaliate for the assault on Gaza by striking across the border and opening a second front against Israel. Lebanon's Hezbollah supporters watch their leader Nasrallah on a television screen during a religious gathering in Beirut."Lebanon's Hezbollah supporters watch their leader Nasrallah on a television screen during a religious gathering in Beirut. This would mark a major escalation, possibly provoking an Israeli invasion of Lebanon and a regional war. The UN peacekeeping force in the country, UNIFIL, and the Lebanese Army have stepped up their patrols amid rising tension along the frontier. "The usual measures have been fortified along the border," said a senior Lebanese military official. At least five Israeli warplanes have already conducted "mock air raids" over towns in southern Lebanon, according to the national news agency. Unmanned reconnaissance drones carried out extensive surveillance of the area on Saturday night. The Israeli Air Force flies regular reconnaissance missions over Lebanon, in violation of UN Resolution 1701, which ended the 34-day war between Israel and Hizbollah, the radical Shia movement, in 2006. Hizbollah, which controls most of southern Lebanon, has amassed perhaps as many as 40,000 missiles for use against Israel. But this arsenal, largely supplied by Iran, is probably being held in reserve to retaliate for any future Israeli or American assault on Tehran. Palestinian fighters could, however, open a second front against Israel without Hizbollah's direct involvement. The question is whether this would reignite the war between Hizbollah and Israel. Timur Goksel, a Beirut-based academic who served for more than 20 years with UNIFIL, said that Palestinian armed groups were able to act without Hizbollah. "I don't think there will be an organizational response of any sort, but there are enough Palestinian groups of various types to respond." He added: "It's certainly a distinct possibility." But it was unlikely that Hizbollah itself would retaliate for Gaza's ordeal. "I don't think that Hizbollah have anything on the cards now," said Goksel. Paul Salem, from Beirut's Carnegie Middle East Centre, said the attack on Gaza placed Hizbollah under pressure to respond. "I think it's very unlikely that Hizbullah will open a second front on the border, but they are in a difficult position," he said. "Politically they are under pressure to act. Other Arab states have paid lip service, but the difference with Hizbollah is they take action. But I don't think they will act, because it will come at a huge cost and this is not a battle of their choosing." Israel may also want to avoid an unplanned confrontation with Hizbollah. It may choose to treat any attacks from Palestinian groups in Lebanon as isolated incidents. "I wouldn't be surprised if Palestinian groups send a few rockets across the border, but Israel will likely ignore them, because they don't want to push Hizbollah to respond," said M. Salem. "The over-flights are a clear warning to Hizbollah not to do anything."
China Calls for Immediate Israeli Halt to Gaza Attacks
Dec. 30….(Herald Tribune) China, lending its voice to that of Russia said it is shocked by Israel's attack on Gaza and has called for an immediate halt to the military campaign that has killed nearly 300 people. Vice Premier Li Keqiang said in a statement on the Foreign Ministry's Web site Monday that the Mideast peace process must continue and that "realistic measures to ease the tension in Gaza" should be carried out. The appeal comes as Israel widened its air offensive that began Saturday against Gaza's Hamas rulers. China, a permanent member of the UN Security Council, has traditionally supported the Palestinian cause, but it has recently built up relations with Israel. It has become a bigger customer of Israeli military technology. "China supports the efforts made by all parties, especially the Arab countries, to realize a comprehensive, just peace in the region," Li was quoted as saying Sunday during a trip to Kuwait by the official Xinhua News Agency.
Hamas Chief: We Will Launch a new Intifada
(Exiled Hamas politburo chief Khaleed Meshaal, based in Damascus, for Islamist group calls on Palestinians to launch another wave of 'resistance' against Israel)
Dec. 29….(YNET) After Israel retaliated to Gaza's incessant rocket barrages, Hamas' politburo chief issued a pointedly aggressive statement. "I call upon you (Palestinians) to carry out a third intifada," Mashaal, who lives in exile in Damascus, told Al-Jazeera television in an interview. Mashaal pledged Hamas would respond to Israel's operation in Gaza against the Islamist group. "The time when you were the ones to control the Israeli-Palestinian conflict is over," he said, and vowed that "Gaza will soon be liberated" despite Israel's military superiority. He called for a "military intifada against the Zionist enemy", as well as "a peaceful intifada internally", an apparent reference to Hamas' power struggle with Western-backed Palestinian President Mahmoud Abbas. Mashaal added that Hamas "would defend itself. The military wing understands what is required of it. It must shoulder the responsibility and coordinate its moves to respond to this aggression." He said that he was not promising major surprises from Hamas' armed cells because of the ongoing siege on Gaza. Meanwhile Hamas Prime Minister Ismail Haniyeh declared on Saturday that Gaza would never cave to Israeli pressure, no matter how great. "We will not leave our land, we will not raise white flags and we kneel only before Allah," he said. "There is blood everywhere, there are wounded and martyrs in every house and in every street. Gaza today was decorated by blood ... There can be more martyrs and there can be more wounded but Gaza will never be broken and will never surrender," Haniyeh said. In a statement broadcast by the Hamas-owned Gaza-based television channel, Al-Aqsa, Haniyeh said: "Palestine has never witnessed an uglier massacre."
UN Security Council Calls for Immediate Halt to Israeli Gaza Attack
Dec. 29….(AP) The United Nations Security Council called early on Sunday for an immediate end to all violence in Gaza after the death toll climbed past 270 on the second day of Israeli air strikes in retaliation for rocket and mortar fire by Gaza militants. The statement, agreed upon after four hours of closed-door council discussions, called on all parties to address "the serious humanitarian and economic needs in Gaza." It urged them to take necessary measures, including the opening of border crossings, to ensure Gaza's people were supplied with food, fuel and medical treatment. Israel has been restricting the amount of supplies that have been allowed in. Council members "stressed the need for the restoration of calm in full," a reference to a six-month cease-fire ended by Hamas a week ago, to open the way for a Palestinian-Israeli political solution. Diplomats from several countries said they had preferred a cautiously worded statement on which all 15 council members could agree to a public debate where they would have clashed angrily over who was to blame for the Gaza violence. "We have had over the years many occasions when we had long meetings of the Security Council, strong statements were made and they did not affect anything," Russian Ambassador Vitaly Churkin said. "Our hope and our expectation is that this modest... press statement is going to have an impact." But within minutes of the statement being issued diplomats gave conflicting interpretations of it. Palestinian Ambassador Riyad Mansour said it was clearly aimed at Israel. He told reporters Palestinians would now be waiting to see if Israel stopped its "aggression." If Israel did not do so within 24 or 48 hours, he said, "We, the Arab nations and our friends will come back knocking on the door of the Security Council in order to bring Israel into compliance." But US Ambassador Zalmay Khalilzad said the "way forward" was for the Gaza militants to stop rocket attacks on Israel. "Clearly in that context Israel has the right of self-defense and nothing in this press statement should be read as anything but that," he told journalists. Israeli Ambassador Gabriela Shalev said Israel would "wait and see if Hamas is really going to abide by the ... statement of the Security Council and we'll draw the conclusions," but did not make clear whether Israel would halt its offensive. Israel "did not think it was so urgent for the Security Council after not being involved in the situation for such a long time to rush and call for the end of an operation which is taking place in order to protect our citizens," she said.
FOJ Note: The UN is quickly coming to the defense of Hamas, however the UN has had nothing whatsoever to say about the hundreds of rockets that Hamas has fired into Southern Israeli towns. The 15th missile of Wednesday, Dec. 17, from Gaza, which injured 12 people, three from shrapnel, the rest in shock, exploded in the Sderot supermarket parking area, destroying shops and cars and scattering crowds of panicky Hanukah shoppers. The attack capped two days of a massive Palestinian missile and mortar barrage against several Israeli towns and villages without an Israeli military response. Only after the Sderot shopping center was ravaged did the Air force go into action against the Palestinians launching missiles from Beit Hanun in the northern Gaza Strip. Even then, the Palestinians kept on firing raising the day's number of missiles to 21.
Israeli Troops Near Gaza, Airstrikes Continue

An Israeli Apache attack helicopter is prepped for action against Gaza terrorists
Dec. 29….(Arutz) Israeli warplanes pressing one of Israel's deadliest assaults ever on Palestinian militants dropped bombs and missiles on a top security installation and dozens of other targets across Hamas-ruled Gaza on Sunday. Infantry and armored units headed to the Gaza border for a possible ground invasion, as the Israeli Cabinet authorized a call up of thousands of reserve soldiers. Some 280 Palestinians died in the first 24 hours of the campaign against Gaza rocket squads, most of them Hamas police. Unbowed by 250 Israeli airstrikes, militants fired dozens of rockets and mortars at border communities Sunday. Two rockets struck close to the largest city in southern Israel, Ashdod, some 38 kilometers (23 miles) from Gaza, reaching deeper into Israel than ever before. The targeting of Ashdod confirmed Israel's concern that militants are capable of putting major cities within rocket range. No serious injuries were reported in any of the attacks Sunday. The Palestinians' moderate President Mahmoud Abbas, a fierce rival of Hamas' who controls only the West Bank and has little influence in Gaza, urged the Islamic militant group to renew a truce with Israel that collapsed last week. In New York, the UN Security Council expressed serious concern about the escalating situation in Gaza and called on Israel and the Palestinians to immediately halt all violence and military activities. The UN's most powerful body called for a new cease-fire between Israel and Hamas, and for opening border crossings into Gaza to enable humanitarian supplies to reach the territory. Israeli Defense Minister Ehud Barak allowed limited supplies of fuel and medicine into Gaza on Sunday. Many of Israel's Western allies urged restraint on both sides, though the US blamed Hamas for the fighting. The offensive began eight days after a six-month truce between Israel and the militants expired. The Israeli army says Palestinian militants have fired more than 300 rockets and mortars at Israeli targets over the past week, and 10 times that number over the past year. Streets were empty in Gaza City on Sunday as most residents stayed home, fearing more airstrikes. A few lined up to buy bread outside two bakeries. Schools were shut for a three-day mourning period the Gaza government declared Saturday for the campaign's dead. Hamas police kept a low profile, wearing jackets over their dark blue uniforms and walking close to walls, hoping to evade the detection by Israeli pilots. Aircraft struck one of Hamas' main security compounds in Gaza City, a major symbol of the group's authority. Senior Hamas leaders went into hiding before the offensive began, shutting off their phones. Hamas' Gaza prime minister, Ismail Haniyeh, spoke on a televised address on Saturday evening, but it was not immediately clear where the address was taped. Earlier, Palestinians said Israeli bombs destroyed a mosque outside Gaza's main hospital in Gaza City; the military called it a "base for terrorist activities." The initial waves of attacks Saturday focused on key Hamas security installations and rocket-launching pads. Israeli Prime Minister Ehud Olmert said it was unclear when the operation would end. The situation in southern Israel "is liable to last longer than we are able to foresee at this time," he told his Cabinet. Shortly after, the Cabinet authorized the mobilization of 6,500 soldiers, a government official said. But the callup was not the kind of massive mobilization that was ordered in the summer of 2006 when Israel went to war against Lebanese guerrillas. Israeli military spokesman Avi Benayahu said Israel's objective was not to halt all rocket attacks, but to cripple militants' intention and motivation to assault Israel. "To change the situation, we don't have to go after the last of the rocket launchers," Benayahu told Army Radio. The rockets that struck close to Ashdod, extending the militants' reach closer to Israel's heartland, landed some 23 miles (38 kilometers) from Gaza. Gaza's Hamas rulers have been stockpiling weapons in recent months, including medium-range missiles. Until Sunday, the deepest targets inside Israel had been the city of Ashkelon and the town of Netivot, which are about 12 miles (20 kilometers) from Gaza. Since the campaign began, around 150 rockets and mortars have bombarded southern Israel, according to the military's count. Rockets repeatedly struck Ashkelon, a city of 120,000 people about 11 miles (17 kilometers) from Gaza. Israel's military was on alert for possible disturbances in the West Bank. The campaign has inflamed public opinion across the Arab world, which has responded with protests and condemnations. Crowds of thousands swept into the streets of cities around the Middle East to shout down Israel's air assault. From Lebanon to Iran, Israel's adversaries used the weekend assault to marshal crowds out onto the streets for noisy demonstrations. Hundreds gathered in the West Bank town of Ramallah, seat of Abbas' government, where demonstrators were uncharacteristically allowed to march with Hamas' green flags. "With our blood and souls we defend you, Gaza," some of the protesters chanted.
Hizbullah Vows to Open Second Front in Gaza Conflict
Dec. 29….(IsraelNN.com) Hizbullah terrorists have vowed to open a second front against Israel in the north in retaliation for the IDF military operation against Hamas terrorists in Gaza. Terrorist chief Hassan Nasrallah issued a statement on Hizbullah's Al-Manar television station Sunday, vowing that "northern Israel will burn as Gaza is burning." Nasrallah rarely appears in person; he speaks via a video hook-up from his hideout due to fears of assassination by Israeli agents, following the 2006 Second Lebanon War. Hizbullah officials were quoted in a number of Arabic-language publications on Saturday warning that they would not permit Israel to attack Gaza without retaliating. Last week seven Hamas Katushya rockets were discovered primed and ready for launching in southern Lebanon, located near the northern border of Israel. All seven were aimed at targets in the Jewish State. Prime Minister Ehud Olmert, anticipating such a reaction, warned Hizbullah Saturday night in his speech informing the nation about the military operation in Gaza that any "others who may seek to take advantage of the situation would be wise not to." The last time Israel faced a two-front war was in June 2006, when a military conflict began with a cross-border raid by Hamas terrorists near the Kerem Shalom Crossing with Gaza that resulting in the kidnapping of IDF soldier Gilad Shalit. Two other soldiers were killed and a fourth soldier was critically wounded in the attack. Shalit remains captive in Gaza to this day. Less than a month later, in July 2006, Hizbullah terrorists carried out a cross-border raid in northern Israel, kidnapping and ultimately murdering IDF reservists Ehud Goldwasser and Eldad Regev. The attack, which was conducted simultaneously with the launch of a barrage of Katyusha rockets at Jewish communities in northern Israel, opened a second front in the military conflict that had began with Gaza, and ignited the 2006 Second Lebanon War.
World Seethes as Israel Defends Itself
Dec. 29….(JNEWSWIRE) The international community was in uproar at the weekend following Israel's decision to finally act against the relentless rain of rockets on Jewish communities in the south of the country. Only the United States and Great Britain indicated an understanding for the Israeli action and laid the blame for the crisis firmly at Hamas' door. "Hamas' continued rocket attacks into Israel must cease if the violence is to stop," said White House spokesman Gordon Johndroe. US Secretary of State Condoleezza Rice said her country "strongly condemns the repeated rocket and mortar attacks against Israel and holds Hamas responsible for breaking the ceasefire and for the renewal of violence in Gaza." British Prime Minister Gordon Brown called on the Hamas terror group "to cease all rocket attacks on Israel immediately" and said that he could "understand the Israeli government's sense of obligation to its population." Both Britain and America cautioned Israel, which in any case always employs surgically-precise strikes against the terrorists rather than wide-open attacks on the terrorist-supporting civilians - to do everything possible to avoid "collateral damage." According to the London Sunday Times - the positions adopted by the Bush and Brown administrations put those nations on "a collision course with their European allies." And with other world leaders. United Nations Secretary General Ban Ki-Moon led a chorus of condemnations, Saturday saying he was "deeply alarmed" at Israel's use of "excessive" force and demanding an "immediate halt to all violence". His bias was echoed by French President Nikolas Sarkozy and by a spokesman for the Russian Foreign Ministry. The European Union demanded "an immediate ceasefire" and the United Nations Security Council issued a statement Sunday morning expressing "serious concern" and calling for "an immediate halt to all violence," as Israeli airstrikes against Hamas targets continued. In Rome, Benedikt XVI pontificated that "the terrestrial homeland of Jesus cannot continue to be the witness of such bloodshed which is repeated ad infinitum." The pope implored the international community to do "all it can to help the Israelis and Palestinians on this dead-end road and not to give in to the perverse logic of confrontation and violence but to favor the path of dialogue and negotiations." Arab responses were predictable. The press had its say too: Media analysts believed neither Hamas nor Israel would heed the Security Council, and that its call really represented a "foundation" on which the nations would build an increasingly insistent demand for an end to the fighting. Fumed the Sunday Times: "The wave of attacks marked a violent end to President George W Bush's sporadic Middle East peace efforts." A Sky News reporter stated irresponsibly and inaccurately that in Gaza "women and children are dead and dying simply because of where they live." And CNN's Ralitsa Vasseliva said the "ceasefire" that had been in place had been weakened by, among other things, Israel's blockade of Gaza [an Israeli action in response to the rockets - Ed] and "increasingly hardlined positions by politicians on both sides."
WEEK OF DECEMBER 21 THROUGH DECEMBER 27
Christ's Birth was Time-World Changing Event
John 3:16-17 16 For God so loved the world, that he gave his only begotten Son, that whosoever believeth in him should not perish, but have everlasting life. For God sent not his Son into the world to condemn the world; but that the world through him might be saved.

(KJV)
Dec. 24….(Howard Coop) You may call it pivotal, you may call it world changing, or, if you choose, you may ignore it. However you choose to look at it, it was an ordinary event, the birth of a baby, that became so extraordinary that it impacted human history and human beings in a most unusual way. After riding a donkey from Nazareth to Bethlehem, a distance of about 75 miles, Mary, a young woman betrothed to Joseph, gave birth to a son, named Jesus, in a cattle stall, made available by kindly innkeeper, and placed him in the manger because there was no room available for them in the local inn. That event may have gone unnoticed by the cavalier crowd that had come, most of them unwillingly, from far and near to Bethlehem to be taxed because of an edict, issued by Caesar Augustus, that imposed a great deal of hardship. But it got the attention of some. Shepherds in the nearby fields, alerted by angels, left their valued flocks untended and went to the manger to adore him. And it got the attention of wise men from the East. Guided by the light of a brilliant star, they went to the manger with royal gifts. After presenting them to the manger child, they were directed to go on from there by another way. The event, which we celebrate as Christmas, was a cataclysmic event; it caused radical changes. It split time into two vast segments. Everything that happened before that event is dated backward from it and is designated BC which means "Before Christ." Everything that has happened since that event is dated forward from it and is designated AD. That means Anno Domini, which is Latin for "in the years of the Lord." In addition to splitting time into distinct segments, that event and all it involves impacts persons in a life-changing way. Like the wise men from the East, those persons who really encounter it go on "by another way." Merry Christmas! Have you received God's precious gift?
Russia's S-300 Missile Sale to Iran Marks Israel's Decision Point om Iran
Dec 23….(DEBKA) An American military intelligence official says Russia's sale of S-300 long-range missiles to Iran presents a "decision point for Israel, since once the anti-aircraft system is in place it could deter any strike" against Iran's nuclear sites. In this first gloomy statement, the American source did not rule out such a strike but implied it would be more difficult. State department spokesman Robert Wood said Monday, Dec. 22: "We have repeatedly made clear that we would strongly oppose the sale of S-300." US officials warned the missiles installed within Iran's borders could reach American troops in Iraq and Afghanistan and shift the Middle East military balance of power. DEBKAfile's military sources point to the confusion contrived by Moscow about the state of the consignment. Nonetheless, an American source said Tuesday: "The US believes it is taking place." In Moscow, a "military-diplomatic source" said Monday the S-300 systems are being packed up and prepared for shipment to Iran: "S-300 air defense systems," he added, "are expected to be delivered from the defense ministry's warehouses." The latter statement indicates that the missiles going to Iran are coming out of Russia's own emergency stores and not waiting to come off production lines. In response to media reports regarding the sale of S-300 systems to Iran, Vyacheslav Davidenko, spokesman of the Rosoboronexport arms exporters, said Monday without mentioning the missile by name: "At present exclusively defense systems, air defense systems fall within this category, are supplied to Iran," adding: The Tor-M1 missile aid defense systems were earlier supplied to Iran." DEBKAfile's military sources draw two conclusions from the Russian official's comment: One, that Moscow first sold Tehran a short-range air defense system and is now following up with the long-range S-300 to round off the full range of its air defenses; and two, a sales pitch is advising the Arab regimes to count on Russia, rather than America, to look after their defensive requirements for important strategic sites just like Iran. The same message was conveyed by the gift of 10 MiG-29 fighter jets Moscow made to Lebanon earlier this month.
Children Starved in Egypt to Coerce Mom to Renounce Christ
Report says police assault woman, promise freedom for conversion
Dec. 23….(WND) Authorities in Egypt are starving two children, ages 2 and 4, to force their mother to abandon Christianity and return to Islam, according to reports from several ministry organizations. The Egypt for Christ Ministry is reporting the woman, who converted to Christianity about five years ago and was arrested as she tried to leave her home country just days ago, also has been sexually assaulted by police officers. The woman, identified by the ministry as Martha Samuel, also has been beaten and tortured in effort to force her to return to Islam, with police promises for her release if she accepts, according to the reports. The Assyrian International News Agency said Samuel was arrested last week as she, her husband and two sons were trying to leave Cairo for Russia after her name was placed on a list of people barred from leaving Egypt. Then reports came today of the assaults. AINA said she was subjected to attacks by Egyptian police at El-Nozha police station as well as at the National Security office in Heliopolis. "The children are not being provided with food deliberately to pressure their mother to return to Islam," AINA reported. Her husband, Fadl Thabet, also was in custody. The report said Samuel formerly was known as Zainab Said Abdel-Aziz, and her family was fleeing continuous persecution by her own family and Egyptian police officers. She faces charges of forging official documents and changing her details after converting from Islam to Christianity. Egypt's constitution concludes laws that are derived from the Quran, stipulating that persecution of Christians is not only allowed but endorsed by the government.
US Warns Russia Against Selling Missiles to Iran
| | |
| --- | --- |
| | (FOJ) Putin announced that Russia had begun supplying the S-300s, an action Israel and the United States have aggressively opposed. Israel and the United States fear that, were Iran to possess S-300 missiles, it would use them to protect its first nuclear power plant now under construction at Bushehr by Russian contractors. That would make any potential military strike on the plant much more difficult. |
Dec. 22….(My Way) US officials say they want answers from Russia on whether it is selling advanced surface-to-air missiles to Iran. The US insists such a move could threaten American troops in Iraq and Afghanistan. A senior military intelligence official said Monday the US believes the sale of Russian long-range S-300 missiles is taking place. However, the official said it appears that no equipment has yet been delivered to Iran. The official spoke on condition of anonymity because of the sensitivity of the matter. Russia's state arms export agency said Monday it is supplying Iran with defensive weapons, including surface-to-air missiles. State Department spokesman Robert Wood said the US is seeking clarification from Russia.
Syria Demands Entire Golan Heights to Start Talks
(Precondition collapses Israeli leader's plan for direct dialogue)
Dec. 22….(WND) Prime Minister Ehud Olmert's attempts to negotiate with Syria collapsed today when Israel received a private message from Damascus that the Jewish state must first agree to relinquish the entire strategic Golan Heights as a starting point to commence talks, according to informed diplomatic sources speaking to WND. Olmert is in Turkey today for a meeting with the country's prime minister, Tayyip Erdogan, to discuss Israel's indirect negotiations with Syria aimed at an Israeli retreat from part or most of the Golan. The mountainous territory looking down on Israeli population centers twice was used by Damascus to mount ground invasions into the Jewish state. Olmert said last week it's possible to negotiate a peace treaty between Israel and Syria, adding that such talks would require "tough sacrifices" – alluding to some sort of Israeli retreat from the Golan. According to the informed diplomatic sources speaking to WND, Turkey passed a Syrian message to Olmert today requiring Israel to first pledge a complete retreat from the Golan Heights as a starting point for Israel-Syrian talks. Olmert refused to do so, the sources said. "This round of talks failed," said one informed diplomatic source. "Olmert had serious intentions to reach something with the Syrians. He was rebuffed." Likud leader Benjamin Netanyahu, today toured the Golan, where he pledged to retain the territory. "We don't know what Olmert is going to agree on behind closed doors," said Netanyahu. "We are here to state unequivocally: A Likud-led government will stay on the Golan Heights and keep them as a strategic asset." In May, the offices of Olmert and Assad officially announced the indirect negotiations. Olmert wanted to open direct negotiations with Syria and favors fast-tracking talks to reach understandings on some key issues before he leaves office in February. Last month, Assad reportedly told a Lebanese columnist, Jihad al-Hazan, that Israel did not set any preconditions for the current round of talks. He said the Jewish state did not demand Damascus drop its ties with Hezbollah, Hamas and Iran. Syria wants a full retreat to what is known as the 1967 borders, referring to the year Israel captured the Golan after Damascus used the territory to attack the Jewish state during the Six Day War. Syria is in a military alliance with Iran. It also is a sponsor of Hezbollah and allows the chiefs of the Hamas and Islamic Jihad terror groups to reside openly in Damascus, where both organizations maintain headquarters.
The Jewish Golan Presence
News media accounts routinely billed the Golan as "undisputed Syrian territory" until Israel "captured the region" in 1967. In actuality, the Golan has been out of Damascus' control for far longer than the 19 years it was within its rule, from 1948 to 1967. Even when Syria shortly held the Golan, some of it was stolen from Jews. Tens of thousands of acres of farmland on the Golan were purchased by Jews as far back as the late 19th century. The Turks of the Ottoman Empire kicked out some Jews around the turn of the century. But some of the Golan was still farmed by Jews until 1947 when Syria first became an independent state. Just before that, the territory was transferred back and forth between France, Great Britain and even Turkey, before it became a part of the French Mandate of Syria. When the French Mandate ended in 1944, the Golan Heights became part of the newly independent state of Syria, which quickly seized land that was being worked by the Palestine Colonization Association and the Jewish Colonization Association. A year later, in 1948, Syria, along with other Arab countries, used the Golan to attack Israel in a war to destroy the newly formed Jewish state. The Golan, steeped in Jewish history, is connected to the Torah and to the periods of the First and Second Jewish Temples. The Golan Heights was referred to in the Torah as "Bashan;" the word "Golan" apparently derived from the biblical city of "Golan in Bashan." The book of Joshua relates how the Golan was assigned to the tribe of Menasheh. Later, during the time of the First Temple, King Solomon appointed three ministers in the region, and the area became contested between the northern Jewish kingdom of Israel and the Aramean kingdom based in Damascus. The book of Kings relates how King Ahab of Israel defeated Ben-Hadad I of Damascus near the present-day site of Kibbutz Afik in the southern Golan, and the prophet Elisha foretold that King Jehoash of Israel would defeat Ben-Hadad III of Damascus, also near Kibbutz Afik. The online Jewish Virtual Library has an account of how in the late 6th and 5th centuries BC, the Golan was settled by Jewish exiles returning from Babylonia, modern day Iraq. In the mid-2nd century BC, Judah Maccabee's grandnephew, the Hasmonean King Alexander Jannai, added the Golan Heights to his kingdom. The Golan hosted some of the most important houses of Torah study in the years following the Second Temple's destruction and subsequent Jewish exile; some of Judaism's most revered ancient rabbis are buried in the territory. The remains of some 25 synagogues from the period between the Jewish revolt and the Islamic conquest in 636 have been excavated. The Golan is dotted with ancient Jewish villages.
US-Russian Race to Arm Lebanon with Heavy Weapons
Dec. 22….(DEBKA) The United States and Russia are bidding hard against each other to give the Lebanese army heavy weapons, a contest which Israeli diplomacy has failed to deter, DEBKAfile's military sources report. Defense ministry official Amos Gilead arrived in Moscow Friday, Dec. 19 only to watch his train leaving the station: Sophisticated Russian S-300 air defense systems were already speeding toward Tehran to guard its nuclear sites and MiG-29 fighter jets had been pledged to Lebanon. In Washington, too, Israeli diplomats pleaded in vain with Bush administration leaders to refrain from giving Lebanon tanks and a fleet of combat helicopters. Ten Cobras have led the way. They argued that there are no safeguards against American hardware falling into the hands of the Lebanese terrorist Hizballah, whose leaders vowed again Friday to destroy the Jewish state by launching a regional conflagration. The spillover has a precedent: In the Israel-Hizballah war of 2006, the Lebanese army, then only lightly armed, let the Shiite terrorists fire missiles at Israel's Mediterranean naval ships from its coastal radar positions. Next time round, Israel faces a far tougher, upgraded arsenal of anti-air missiles made in Iran and Russia -supplied in the last two years by Tehran and Damascus, plus the new influx of US-made tanks and helicopters. Israel's strategic standing has thus been allowed to drop another notch thanks to the spineless incompetence of Israel's current leaders, Ehud Olmert, Tzipi Livni and Ehud Barak. David Hale of the state department announced the US package for Lebanon Friday, Dec. 19, while denying Washington was competing with Moscow after the Russians gave Beirut a gift of 10 MiG fighters. After meeting Lebanese prime minister Fouad Siniora in Beirut, Hale said that, in addition to M-50 Supersherman tanks, the US package under preparation included "air support capabilities (helicopters) with precision weapons and urban combat gear." He did not go into numbers or types of weaponry. The US was helping the Lebanese army "to maintain internal security and fighting terrorism in Lebanon," Hale said. On Dec. 12, DEBKAfile reported exclusively that al Qaeda had relocated some of its Iraq terror force to Lebanon and that UNIFIL's peacemakers had been placed on the alert in the southern Sidon-Ain Hilwa region where the incoming jihadis were preparing attacks for Lebanon and across the border into Israel as well. American official visits to Beirut have become more frequent in recent weeks. In late November, the head of the US Central Command, Gen. David Petraeus, held talks with Lebanese leaders, followed on Dec. 10, by the coordinator of anti-terror operations at the state department, Dell Dailey. The last arrival, Hale, may choose to play down the competition with Moscow, but DEBKAfile's military sources see American and Russian military instructors working cheek by jowl to teach the Lebanese army how to use their respective weapons, especially air defense tactics. Close competition in these circumstances is bound to lead to the piling on of advanced hardware offers by the contestants. The big American military mission in Beirut at the moment will no doubt be followed by a Russian delegation of comparable size. Washington has not prevented Moscow from building up a rival military presence in Lebanon capital, a development in which Israel has a high security stake. Whereas Russia's strategic orbit focused earlier on new naval bases in Syria's Mediterranean ports of Latakia and Tartous, it has since stretched to a military foothold 250 km to the south, right up to Israel's back door from Lebanon. While the tanks America is giving Lebanon are ageing models, Israeli military experts comment that they form the nucleus of the Lebanese army's first tank corps, along with its first helicopters, two valuable resources coming within the Hizballah's grasp and in whose use Iranian officers will quickly instruct them. DEBKAfile also reveals that a group of Hizballah operatives recently paid a secret visit to Moscow and asked for Russian hardware. The Russians did not respond. But by supplying the Lebanese army with heavy equipment along with experts and instructors, it has opened the way for these assets to be diverted to the Shiite terrorists. Jerusalem is too busy spinning fairy tales about the feasibility of peace with Syria to pay proper attention to the hectic, hostile activity on Israel's northern border.
Missile Shield Considered for Arab States
(Officials plan NORAD-like project for Arab Gulf region)
Dec. 22….(WND) The United States plans to deploy an anti-missile defense system in the oil-rich Gulf Arab states to guard against a possible Iranian missile attack that could include conventional or nuclear warheads. The anti-missile shield would be a unified missile defense system that would provide protection to the entire region from Kuwait in the northern Gulf to Oman on the southern tip of the Arabian Peninsula. Protected would be the Gulf Arab states of Bahrain, Kuwait, Oman, Qatar, Saudi Arabia and the United Arab Emirates. The fact that senior US officials are reviewing the proposal that would supplement security already provided by US bases in the Gulf concedes the inability short of war of halting Iran's possible nuclear weapons development program. Installing such an anti-missile defense shield also may give the US the opportunity to undertake a strategy of withdrawing US military forces. At the same time it would permit more of a balancing of regional powers like Iran, Iraq and Saudi Arabia and permit them to check each other. For its part, Israel already has the Hetz, or Arrow, anti-missile defense system to counter long-range missiles such as the Shahab-3 from Iran and any missiles from the Arab states. It also will have operational next year the Peretz, designed to intercept short-range missiles such as Katyusha and Qassam rockets, which were fired by Hezbollah into Israel during the 34-day 2006 war. In addition, Israel as well as some of the Arab countries have US Patriot batteries used for short- and intermediate-range missiles. At a high level security meeting last week in Bahrain, senior US officials promoted the idea of an anti-missile defense shield for the Gulf Arab countries to guard against Iranian missiles. The meeting included US Secretary of Defense Robert Gates, Assistant Secretary of Defense for International Security Affairs Mary Beth Long and Gen. David Petraeus, commander of US Central Command, which has security responsibility for the Middle East and portions of Central Asia. According to officials, the United Arab Emirates, or UAE, will become the first country other than the US to deploy the advanced anti-missile system called THAAD, or Terminal High Altitude Area Defense.
Assad Won't Restrain Arming of Hezbollah
Dec. 22….(Ha Aretz) Syrian President Bashar Assad has told a number of European foreign ministers and senior diplomats this month that he would not lift a finger to restrain Hezbollah's arming in Lebanon. "I am not Israel's bodyguard," he reportedly said. The future of Syria's relations with Iran and Hezbollah is one of the main subjects Israel has raised in its indirect negotiations with Syria. Assad's remarks show no willingness for a concession to Israel on this issue, let alone an overall change of policy. Israel claims that Iran is smuggling rockets and other weapons to Hezbollah through Syria, and that the Syrian army is even arming the organization. Both front-running candidates for prime minister, Tzipi Livni and Benjamin Netanyahu, say Syria must show a willingness to act against the smuggling. An Israeli government source cited reports in recent weeks from three European officials who met with Assad. On the one hand, the officials said their impression was that the Syrian president was serious about negotiations, but that Assad's positions remained uncompromising. The source said Assad told the Europeans that Syria was willing to take significant steps in talks with Israel only after an Israeli declaration that it would withdraw from the entire Golan Heights. Assad also transmitted the message that despite continuing indirect talks through Turkey, between himself and Prime Minister Ehud Olmert, he sees no possibility of progress before the Israeli elections in February.

Egypt Warns Israel Against Assault on Gaza
| | |
| --- | --- |
| | (FOJ) Masked Palestinian terrorists from Islamic Jihad place Kassam rockets before later firing them towards Israel on the outskirts of Gaza City. But no military action to stamp out the Palestinian missile blitz against southwestern Israel will be undertaken before "international support" can be lobbied. This is how weak Israel's leadership has become, and reveals the political pressure that Israel feels from the world to not even defend itself, even when it is being attacked. |
Dec. 22….(Jerusalem Post) Egypt warned Israel on Sunday against launching a massive military operation in Gaza, but Israeli defense officials said Cairo was angry with Hamas leaders for ending the six-month period of relative calm. "Egypt is very upset at Hamas, and understands that the leadership there needs to be replaced," one official told the Jerusalem Post. Officially, though, the Egyptians cautioned Israel against an escalation of violence. "We say such a move would have devastating consequences, devastating humanitarian consequences," Egyptian Foreign Ministry spokesman Hossam Zaki told the Post in a telephone interview. "This is something we cannot accept or condone under any terms." Meanwhile, Defense officials revealed that Prime Minister Ehud Olmert and Defense Minister Ehud Barak met privately on Thursday and decided that Israel would respond militarily to rocket attacks against the western Negev. The timing of the operation will be determined at a later date, likely following a security cabinet meeting later this week. The government has, meanwhile, decided to embark on an international hasbara (public diplomacy) campaign ahead of a possible major operation in the Gaza Strip. Foreign Minister Tzipi Livni convened a special meeting with heads of her ministry in Jerusalem Sunday night to discuss the situation in the South. Following the meeting, the ministry announced that Livni had ordered that several diplomatic steps be taken with the objective of broadening international legitimacy for any military steps in Gaza. The foreign minister also instructed her staff to file an official complaint with the UN Security Council over rocket fire from the Strip. She reportedly briefed Israeli representatives abroad to open a massive diplomatic campaign in world capitals to convey the gravity with which Israel viewed the massive increase in attacks on its citizens in the South.
No, Christ isn't Allowed in Christmas
(6th-grader's teacher says Jesus can't be mentioned in class)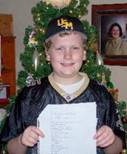 Dec. 22….(WND) A public school teacher in Mississippi marked down an eleven-year-old's Christmas poem assignment and told the boy to rewrite it because he used the word "Jesus," which, the instructor explained, is a name not allowed in school. Liberty Counsel, a non-profit organization dedicated to advancing religious freedom, reports that sixth-grader Andrew White of Hattiesburg, Miss., chose to write the poem on the assignment "What Christmas means to me." After White turned in his rough draft, however, his teacher circled the word "Jesus" and deducted a point from his grade. The teacher then explained that he needed to rewrite the poem without the offending word. When White's parents questioned the teacher, Liberty Counsel reports, they received a response email explaining, "Andrew and another child did a poem about Christ. I know we can't discuss these type [sic] of things in school so I asked the two of them to do another poem of their choice." Mathew D. Staver, founder of Liberty Counsel and dean of Liberty University School of Law, expressed dismay that despite many legal clarifications on the issue, there are still educational officials that mistakenly believe students can't speak of their faith at school. "Some educators need education that the story of Christmas is not banned from public schools," Staver said in a statement. Staver says he was "horrified that a sixth-grader was told by his teacher, 'we can't discuss these types of things in school.' I don't understand why some people don't get it. Christmas is a state and federal holiday. Schools are closed to celebrate this holiday. Obviously, Christmas is still constitutional." After White's parents encouraged Andrew to turn in his first, unedited poem, Principal Carrie Hornsby changed the boy's grade to a 100 and conceded that there was nothing improper in using Jesus' name. Hornsby also coordinated a mailing to all the school's parents, explaining that students' religious expression is permitted under federal guidelines. Andrew's original poem, "A Great Christmas," reads: "The best Christmas ever is when everyone is there. It is when everyone is laughing here and there. That is the Christmas I want to share. Christmas is about Jesus' birth. About peace on Earth. This is what Christmas is about. It is when He lay in a manger. And the three wise men come to see. That's what it means to me."
WEEK OF DECEMBER 14 THROUGH DECEMBER 20
Russia's Donation of Mig Fighters to Lebanon Raises Suspicion
Dec. 19….(In The Days) The announcement about Russian donation of 10 Mig-29 jet fighters to the Lebanese army was a surprising news which raised political, military and strategic questions, local daily As-Safir said Wednesday. ["Be thou prepared, and prepare for thyself, thou, and all thy company that are assembled unto thee, and be thou a guard (strongs 4929 which comes from strongs 8104, together they define "a guard" as—a guard—a hedge of thorns about them) unto them." Ezekiel 38:7] Lebanese Defense Minister Elias Murr announced Tuesday following a meeting with his Russian counterpart Anatoly Serdyukove in Moscow that Russia has agreed to deliver to Lebanon 10 Mig-29 jet fighters. The Mig-29 would be a significant donation to the Lebanese air force which currently consists of five Hawker Hunter jets from 1950s and 1960s, and a dozen helicopters. The first question raised, the report said, is why the Lebanese army has always been forbidden from acquiring any heavy weapons, under the pretext of threatening the security of Israel, and now the 10 Mig-29 are going to be boarding in Lebanese airports. The other question is related to Lebanon's ability to maintain the Russian donation, by sending 30 officers to be trained on flying the jets, and around 100 army soldiers to be trained on complete maintenance of such jets, in addition to the maintenance of the air force bases in Lebanon, at a time the Lebanese cabinet is refusing to pay the 20 percent allowance for field services to the Lebanese army soldiers. The value of these jets would be worthless if they were not accompanied by radars, and early warning system for air defense, the report said. The report hinted to a connection between the Russian donation and the upcoming dialogue session on Dec. 22 at the presidential palace in Lebanon, to discuss national defense strategy. The daily also asked if there was a connection between the Russian deal with Murr, and the visit of Lebanese majority leader Saad Hariri to Moscow last November. Hariri reportedly was quoted then as telling Russian Interfax news agency that Washington's military support was limited to light weaponry and Lebanon need more powerful equipment like tanks and artillery. The US has given around 410 million dollars in military aid to Lebanon, in the form of equipment and training, while other countries have said they are willing to participate in arming the Lebanese army. Iran had offered to supply the Lebanese army with mid-range rockets as part of a five-year defense deal during the visit of Lebanese President Michel Suleiman to Tehran last month.
Netanyahu: Iran 'Greatest Historical Challenge' Facing the World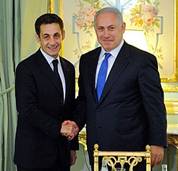 Dec. 19….(JPOST) Opposition leader Binyamin Netanyahu warned Thursday that "a terribly dangerous threshold will be crossed" if Iran obtains nuclear weapons, and urged world leaders to make sure it does not happen. After a meeting with French President Nicolas Sarkozy, the hardline front-runner in next year's elections, laid out his plans for Mideast peace and called Iran the "greatest historical challenge" the world faces. "We have never had a situation in the history of the world in which a radical regime with a retrograde ideology and apparently known ambitions on the use of force will get access to the weapons of mass death," Netanyahu told reporters, referring to the prospect of an Iranian nuclear bomb. The whirlwind visit to Paris came as a French parliamentary report raised new warning signs about Iran's progress toward a nuclear weapon, and amid revelations about a budding European Union peace initiative for the Middle East. French Foreign Ministry spokesman Eric Chevallier, confirming some details of a report Thursday in the Le Figaro daily newspaper, said EU foreign ministers had discussed earlier this month a "working document" to ease tensions between the Palestinians and Israel. The document, which had not been previously made public, mentions the prospect of making an international force "available" for Palestinian areas if both sides agree, and setting up "an international mechanism" that could give financial help to Palestinian refugees, he said. The document raises the possibility that Jerusalem could be "the capital of two states" side by side, Israel and a future Palestinian State, Chevallier said. He said the proposal is still in the works. Netanyahu said he made his position on those issues clear to Sarkozy. "We want a united Jerusalem under Israel, with access to the religious sites, to all the three great faiths," he said. "Our position on refugees is also unchanged: We'll seek a solution to the problem of refugees but not in Israel, we will not entertain refugees, Palestinian refugees, inside Israel." The meeting also came two days after the Foreign Affairs Commission at France's National Assembly published a report on Iran, detailing concerns that Tehran could achieve a nuclear bomb sometime between 2009 and 2011. Drawing on testimony from dozens of academics, defense experts, diplomats, intelligence chiefs, and officials from Iran, Israel and elsewhere, the report said, "Iran's access to the nuclear bomb is seen as inevitable and very dangerous, notably because of the risks of escalation with the United States." Jean-Louis Bianco, the Socialist lawmaker who led the preparation of the report, told The Associated Press that the report's major contribution to the debate over Iran's nuclear program was that "we state more clearly than others our belief that they are on the threshold of the nuclear weapon." Bianco said the report's other thrust was its call for "extremely open" talks between the international community and Iran over its nuclear program, which the Islamic regime says is aimed at generating electricity. "The coming year or two, this is the timetable we are talking about, will be a pivot of history," Netanyahu said. "If Iran acquires nuclear weapons, then a terribly dangerous threshold will be crossed."
Ehud Barak Backs 'Purposeful' US-Iran Dialogue
Dec. 18….(YNET) Defense Minister Ehud Barak is the first senior Israeli official to express qualified support for the prospect of American-Iranian dialogue over Tehran's contentious nuclear program. Speaking at a conference of the Institute for National Security Studies at Tel Aviv University, Barak said: "There is sense in brief and purposeful dialogue with Iran, on condition that if it turns out that it continues to deceive the world and is producing nuclear weapons, there will be a way out of this obligation." However, turning his attention to the possibility of a military strike on Iran, the defense minister said: "We are not taking any option off the table, and we recommend to the world not to take any option off the table, and we mean what we say." Barak also warned that if Iran acquires a nuclear weapon, it could try to attack the United States. "If it built even a primitive nuclear weapon like the type that destroyed Hiroshima, Iran would not hesitate to load it on a ship, arm it with a detonator operated by GPS and sail it into a vital port on the east coast of North America. Another danger alluded to by Barak was the possibility that Iranian nuclear weapons would encourage Arab states to also acquire nukes. "I do not view any kind of world order with Iran in possession of nuclear weapons," he said. "Neighboring countries in the region, or even just some of them, will embark on efforts to build or acquire a nuclear weapon as well."
US, UN Move to Handcuff Israel before Netanyahu is Elected
Dec. 18….(Arutz) At the urging of the US government, the UN Security Council on Tuesday adopted a resolution declaring peace negotiations between Israel and the Palestinians "irreversible." The resolution makes no room for changing circumstances or non-compliance by the parties involved. It appears to have been passed in response to Israeli prime ministerial frontrunner Benjamin Netanyahu's stated intention to alter the flow of the peace process as a result of Palestinian non-compliance. The opening the resolution, which was co-sponsored by the US and Russia, refers to the Security Council's "commitment to the irreversibility of the bilateral negotiations" between Israel and the Palestinian Authority. Various UN officials who spoke at the session clarified the meaning of the resolution by insisting that the coming year must see a headlong rush to birth a Palestinian Arab state on most, if not all, of Israel's biblical heartland of Judea and Samaria. But Netanyahu, who all polls show becoming Israel's next prime minister in February, has said that due to more than a decade of Palestinian non-compliance, the pace, and perhaps the entire focus of the peace process needs to be reexamined. In practical terms, Netanyahu plans to continue talking to the Palestinian leadership, but put a hold on land concessions. Instead, he wants to focus on boosting the Palestinian economy and quality of life in the Palestinian-ruled areas, both of which are currently used as an excuse for Palestinian terrorism. The new resolution also seems to be a swipe at the traditional Israeli position that nothing is agreed until everything is agreed. That position has allowed Israel to test different peace offers over the years without prematurely committing to concessions that the Israeli electorate may not accept. The results of a opinion polls published on Tuesday showed that nearly two-thirds of Israelis still oppose surrendering Judea, Samaria, the eastern half of Jerusalem and the Golan Heights in exchange for recognition from the Palestinians and the wider Arab world. Meanwhile, Israeli Prime Minister Ehud Olmert and Foreign Minister Tzipi Livni both welcomed the new resolution, despite the fact that just a month ago Israel's Channel One News reported that both the leaders firmly opposed US Secretary of State Condoleezza Rice's plans to introduce the document. Livni said that Israel was pleased with the resolution because it props up the understandings reached at last year's Annapolis Summit and the US-authored "Road Map" peace plan, both of which are performance-based initiatives that on paper require the Palestinians to eliminate the threat of anti-Jewish terrorism before receiving any significant concessions. However, the reality since the Road Map was introduced in 2003 has been that continuing Palestinian violence is overlooked in the name of expediting a final status agreement.
Sderot Suffers Direct Qassam Rocket Attacks hit from Gaza
Dec. 18….(DEBKA) The 15th missile of Wednesday, Dec. 17, from Gaza, which injured 12 people, three from shrapnel, the rest in shock, exploded in the Sderot supermarket parking area, destroying shops and cars and scattering crowds of panicky Hanukah shoppers. The attack capped two days of a massive Palestinian missile and mortar barrage against several Israeli towns and villages without an Israeli military response. Only after the Sderot shopping center was ravaged did the Air force go into action against the Palestinians launching missiles from Beit Hanun in the northern Gaza Strip. Even then, the Palestinians kept on firing raising the day's number to 21. This week, despite the escalating barrage from Gaza, the chief of staff, Lt. Gen. Gaby Ashkenazi held the IDF down to one counter-attack per day. Senior officers in the Southern Command said this order had made the Israeli army and its ability to protect the Israelis living around the Gaza Strip look ridiculous. The fact that the Palestinian Hamas and Jihad Islami missile teams have switched from mobile to stationary launchers showed they were aware that defense minister Ehud Barak had tied the Israeli military's hands and they could carry on firing safe from interference. The defense minister had counted on Egypt to hold the Hamas in check when he accepted a six-month unwritten "truce" through its good offices in June. This strategy collapsed along with the "truce" which expires Friday. Since then, Barak and Ashkenazi have drummed up all sorts of pretexts to duck the long-delayed effective military ground action in Gaza. Former generals, including the ex-chief of Military Intelligence, Aaron Farkas, have stated publicly that every day the Palestinian terrorists get away without punishment further erodes the Israeli military's deterrent power in the Middle East at large. They strongly urge an end to procrastination and the immediate launch of a series of pinpoint strikes against the Palestinian terror organizations shooting the missiles from Gaza: Hamas, Jihad Islami, Fatah and the Popular Resistance Committees. Without a serious military campaign, the security threat emanating from the Gaza Strip will go from bad to worse. The reoccupation of the Gaza Strip is not a serious option for any military authority and therefore should not be used as a pretext to shirk the necessary counter-action to the Palestinian missile blitz.
Mutilated Christian Girl, 10, Forgives Attackers
('They were out of their minds, they do not know the love of Jesus')
Dec. 18….(WND) Hindu extremists may have burned a 10-year-old Christian girl's face, inflicted shrapnel wounds on 40 percent of her body and forced her family to hide in a forest and flee to a refugee camp in Orissa, India, but her plight hasn't shaken her faith and thankfulness to God this season. "Christmas is a time to thank the baby Jesus who saved me from the fire and saved my face which was disfigured and wounded," Namrata Nayak told Asia News. Nayak's face was severely mutilated after Hindu extremists bombed the home where she was staying on Aug. 26. They broke into the house and burned it while Nayak and her siblings hid in a small bathroom. Before exiting the home, they left a bomb in a dresser, according to the report. While the little girl surveyed the destruction, the bomb detonated and burned her face. The explosion also lodged shrapnel into her face, hands and back. Nayak's mother, Sudhamani, came running out of the forest where she was hiding. "We saw everything burned, and feared that everyone had died in the flames," Sudhamani said. "Instead, thanks to God, everyone was safe. Only that my daughter had been wounded. But Jesus took care of her. "There is so much pain and suffering, and I don't know how long the special forces will protect us," she told Asia News. "But Christmas is a time of gratitude. I am afraid that my people will still be attacked, but this is our life. If God has saved me, he can save other Christians too." The Hindu attackers have vowed to launch another widespread assault on Christians during Christmas. Thousands of homes and churches have been destroyed, and Christians have been forced to flee the violence. Many have been doused with kerosene and torched after refusing to renounce their Christian faith. Nonetheless, Nayak urges India's Christians to forgive their Hindu attackers. We forgive the Hindu radicals who attacked us, who burned our homes," she told Asia News. "They were out of their minds, they do not know the love of Jesus. For this reason, I now want to study so that when I am older I can tell everyone how much Jesus loves us. This is my future."
When Netanyahu Met Obama
Dec. 18….(JWR) With the election of Barack Obama, the United States has moved dramatically to the left in its foreign policy at just the time that Israel, which seems likely to return Bibi Netanyahu to office in early February, is moving to the right. A collision is almost inevitable. Caroline Glick, the highly astute conservative columnist for the Jerusalem Post, writes that the "international community" believes that Obama "will move quickly to place massive pressure on the next Israeli government to withdraw from Judea, Samaria, Jerusalem and the Golan Heights in the interests of advancing a 'peace process' with the Palestinians and the Syrians." She notes that "people who have been in close contact with Obama's foreign policy transition team have privately acknowledged that the widespread belief that Obama will move swiftly to put the screws on Israel is fully justified. According to one source who has spent a great deal of time with the transition team since last month's US elections, Obama's people are 'scope-locked' on Israel." Meanwhile, in Israel, there is a growing consensus, reflected in public opinion surveys, that trading land for peace is a chimera. Netanyahu points out that "we do not have a viable partner with whom to negotiate peace." The Palestinian Authority does not speak for the people of either Gaza or the West Bank, and Hamas, which probably does (it won the election), does not want to be a party to any peace agreement. Recent experience suggests that Hamas will quickly install rocket launchers on any territory Israel concedes, using it not as a basis for peace, but as a platform from which to kill more Jews. Former Prime Minister Ehud Olmert and the candidates of the left, Labor's Ehud Barak and Kadima's Tzipi Livni, are deeply committed to land for peace. Their rejection by the Israeli electorate, the anticipated outcome of the Feb. 10 election, will signal a bold departure in the political consensus of the Jewish state, a consensus that flies directly in the face of Obama's likely policy. The difference between the US and Israel also extends to the realm of how strongly they oppose Iranian development of nuclear weapons. While Iran moves closer and closer to a bomb that could and will be used against Israel, Obama speaks of extending the American "nuclear umbrella" to cover Israel. Reading between the lines, this means that he doesn't think he can stop Iranian nuclear ambitions and will retreat to a policy of deterrence, accepting a nuclear Iran in the bargain. If Netanyahu wins the election, he will bring with him a determination to stop Iranian nuclear weapons, no matter what, and a refusal to concede more territory in the name of the peace process. But Obama's foreign policy team will be focusing on pushing Israel in just the opposite direction. The result is likely to be the most significant divergence between Israeli and American policies since 1956, when President Eisenhower sided with the Arabs to halt the British-French-Israeli invasion of Suez. The United States has tremendous leverage over Israel, military, financial and political. And Obama's ability to carry the Jewish vote by a wide margin despite his likely Middle East policy makes him largely immune to the kind of political pressure that has disciplined American presidents in the past and forced them to incline toward accommodating Israeli views on the Middle East. But Israel probably has the military capacity to bomb Iran and to win the Middle East war against Syria, Hamas, Iran, and Hezbollah that is likely to result. Unlike Olmert, Netanyahu will use ground troops right off the bat and will fight such a war to win and to win big. But they may have to do it without their strongest ally: the United States.
Quartet To Israel: We Won't Let you Turn Around From Roadmap
Dec. 18….(JNEWSWIRE) No matter what the realities on the ground or how discredited the land-for-peace process has been after decades of futile efforts to push ahead with it, the so-called Quartet of Middle East peace negotiators let Israel know Tuesday that there is no going back, no way out, no turning around. To the contrary, efforts are going to be made to shoulder ahead with the process. And if it is in fact endangering the security and very existence of Israel, that's just too bad. A dictatorial statement released by the group said that "the bilateral negotiations process launched at Annapolis is irreversible and these negotiations should be intensified in order to put an end to the conflict and to establish as soon as possible the state of Palestine." The land on which this "Palestine" is to be created has for nearly 4000 years been regarded by Jews as their national homeland, and houses the bones of Israel's founding fathers. US Secretary of State is Condoleezza Rice has been particularly keen to lock in the "progress" made at pushing, cajoling and strong-arming Israel into striking a deal with the Arabs. With time running out for her, she has just a month left in her powerful position, a relieved Rice said the Quartet''s resolution had "put the international community on record in believing in the irreversibility of the Annapolis process." To placate the oil-wielding aggressive Arab states and uncompromising Muslim demands, the God-rejecting nations of the world remain determined to divide up the Jews' divinely-given land. According to the Bible - a day of reckoning is racing towards them.
UN Council Endorses US-led Middle East Peace Talks
Security Council adopts Annapolis resolution stating Israeli-Palestinian peace process initiated by US last year is irreversible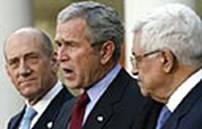 Dec. 17….(YNET) The UN Security Council on Tuesday declared that US-brokered negotiations between Israel and the Palestinians are "irreversible" and urged both sides to redouble efforts to secure peace. The declaration was at the heart of a resolution drafted by the United States and Russia. The resolution, which passed 14-0 with Israel's enemy Libya abstaining, was the first adopted on the Middle East crisis in nearly five years. The US and other delegations had hoped for a unanimous vote in favor of the two-page text, but Libyan UN Ambassador Giadalla Ettalhi criticized the text for not condemning Israel's treatment of the Palestinians, which he described as "basically a crime against humanity". Ettalhi had wanted the resolution to mention several Palestinian complaints, including the blockade of the Gaza Strip and Israeli settlement in Palestinian areas. Palestinian negotiator Saeb Erekat welcomed the resolution, but added that he hoped "it will not be added to the archives of other resolutions that have not been implemented so far." US officials said the point of the resolution was to endorse the goals of talks on Palestinian statehood launched in November 2007 by the administration of President George W. Bush in Annapolis, Maryland, while avoiding specific disagreements. The adopted resolution only indirectly addresses the complaints of the Palestinians and Israelis by urging them to "refrain from any steps that could undermine confidence or prejudice the outcome of the negotiations." It recognizes progress made in the talks and calls for "an intensification of diplomatic efforts" aimed at securing a "comprehensive, just and lasting peace in the Middle East." The Republican administration had wanted a deal on Palestinian statehood by the end of this year but all sides now say that will not happen. Bush leaves office on Jan. 20, when Democrat Barack Obama will become US president. UN diplomats have said the Bush administration, highly unpopular in the Arab world, hopes this resolution will help secure it a positive legacy for its Middle East policies and counter criticism it has faced for its 2003 invasion of Iraq. US Secretary of State of Condoleezza Rice described the situation in the Middle East as more than catastrophic when Bush took over from his predecessor Bill Clinton in 2001.
America's Financial Meltdown
Dec. 17….(Wilfred Hahn) Has the financial bust of the Apocalypse started after all? One could be tempted to think so. Since financial markets began to fracture more than 15 months ago, waves of selling, unwinding and deleveraging have continued unabated around the world. US housing values are sinking the fastest since the Great Depression and everything from bond markets to art and used trucks are deflating in value. Any extra-terrestrial visiting this planet would greatly wonder about a civilization that is so fickle about the value of its wealth. Of course, we know better. This world, which Christians surely live within, but its values do not endorse, is vulnerable to mankind's idolatries and vain confidence. In fact, it is hubris and confidence taken to the extreme, mankind's confidence in its surveys of confidence, that has brought the planet to this brink. But is it the beginning of the end? Well yes, and no. Yes, great global events such as are occurring now must be seen as part of mankind's progression to an end, actually, one of several ends that still lie ahead as the Bible tells us. But it is not yet the start of the Great Apocalypse, though surely very close. Then what does the present global financial storm signify? We think at least two, perhaps three developments. Firstly, it is the natural outcome of bad, bad economic policies and financial management. Here, leaders and voters can be blamed. Any common-sense observer will confirm this view. The world is simply reaping what it sowed. A second one is that a massive world crisis is required at this late, great stage of global economic and financial integration. For this, accountability can be given to powers in high places (Ephesians 6:12) but also flesh and blood complicitor elites. But why? This current crisis will serve the familiar role of catalyst, drawing most nations together and further setting up the conditions for the last-day 10 kings. A third corollary development that must fall out of this prophetic fulfillment of 10 kings, is that the world must first enter an age of multipolarism. What is multipolarism? It is a world power arrangement that is balanced between many countries and not dominated by one or more powerful nations. Certainly, there can be no world power structure comprised of 10 kings as the Bible prophesies (Daniel 2:41-42, Daniel 7, Revelation 12, 13, 17) if there is one superpower that can ignore or undermine such a world order.
What will be the result of the deep economic troubles that have now come upon the America? Will there be repentance or rebelliousness and anarchy? Both outcomes are possible. But I greatly fear for the latter outcome. As Revelation tells us about the Great Tribulation, we learn that people refused to repent, despite the wrath and hardship on no less than 4 occasions. Could it be that He finally has remembered the sins of this once "evangelistic" Philadelphian nation? Or has America shot itself in the foot? We seek to take the pre-millennial perspective (in other words, we take a literal Biblical view). Then what might be underfoot now. It indeed probably has much to do with the foot with 10 toes seen by Nebuchadnezzar (Daniel 2:41-42). Is America now being downsized, making way for the 10-king multipolar world to arrive? Bible prophecy confirms such an outcome. As such, at some point, in some way, America must become a relatively smaller power. This may be a process that may yet require a long time. However, conditions are such that this shift on the world stage could happen rather suddenly.
UNSC Nears First Mideast Plan in 5 Years
Dec. 15….(AP) For the first time in five years, the UN Security Council (UNSC) is poised to adopt a resolution calling for collective peace in the Middle East. Council members met Saturday in a closed-door emergency session to discuss a US-drafted resolution, strongly backed by Russia, that appeared to have near-unanimous support. A vote on it by the 15-nation council is expected Tuesday. The two-page draft resolution calls on Israelis and Palestinians "to fulfill their obligations" under last year's peace deal brokered at Annapolis, Maryland, and for all nations and international groups "to contribute to an atmosphere conducive to negotiations." The council would reiterate "its vision of a region where two democratic states, Israel and Palestine, live side by side in peace within secure and recognized borders." Those US-sponsored talks had set a goal of achieving a substantive peace accord before US President George W. Bush leaves office in January, a scenario that appears all but impossible now. Now, the US focus is on a smooth hand-off to US President-elect Barack Obama that keeps up the momentum for peace, said US Ambassador Zalmay Khalilzad, who made a symbolic point of standing beside Russian Ambassador Vitaly Churkin while addressing reporters after the council session. "This is an important time for the council to express itself on the Israeli-Palestinian issue. There is transition taking place here - by here I mean the United States - and there is of course also transition possibilities in other countries in the region," Khalilzad said. It's also important, Khalilzad said, that nations "recognize the progress that has been made and for this process ... to be sustained, and for the council to express its support so that there is no pause in the negotiations" once Bush leaves the White House. Churkin said the draft resolution was presented to council members Saturday for the first time as a culmination of "this close joint work" between the US and Russia, which have been at serious odds much of this past year over Zimbabwe, Georgia and other issues. "We believe it's very important to continue the momentum," Churkin said. "Of course, we all cannot be satisfied with where the peace process is at now. But considerable effort has been made over the past 12 months or so. And we believe that the effort has to be pinned down, and it has to continue without a pause, which may be there because of some political circumstances: change of administration in the United States, elections in Israel, possible elections in the Palestinian autonomy." On Monday, US Secretary of State Condoleezza Rice will come to the UN for two days. First she will take part in the so-called Middle East quartet, the European Union, the United States, Russia and the United Nations, that also will meet with Arab partners for talks on Middle East peace efforts. The next day she is participating in a council session on piracy from Somalia. "It is very important for the Security Council to show that they are on the side of the people on the ground" in the Middle East, said French Ambassador Jean-Maurice Ripert, whose nation holds the EU presidency until the end of the year. He said France has been urging for a long time that the Security Council get involved in the Mideast peace process. "So for us it could be a very important milestone ... to go forward to the solution of two states living side-by-side in peace," Ripert said. Before the council votes on the Middle East resolution, Libya has asked that it include language directed against Israeli settlements in the West Bank. The Arab peace plan calls for Arab recognition of the Jewish state in exchange for a full Israeli withdrawal from all lands captured in the 1967 Mideast war. Not since November 2003 has the council passed a resolution on the Middle East that calls for collective peace by insisting on a two-nation solution for Israelis and Palestinians, according to Security Council Report, an independent not-for-profit organization. That earlier resolution, unlike the latest proposal, also had mentioned the need for a "just and lasting peace in the Middle East, including the Israeli-Syrian and Israeli-Lebanese tracks." The council needs only nine members to pass the new draft resolution, but diplomats said that with a resolution on such a complex issue as this one, some of its strength would be derived from passing it unanimously. Even if that does not occur, the resolution appears to be headed toward near-unanimous passage, several Security Council diplomats said. With all five of the council's permanent members on board, there appears to be no threat that any of them, the US, Russia, China, Britain or France, will use their veto power. "The Security Council, for a long time, has not been able to pronounce itself on anything on the Middle East process, or on the situation in the Middle East," Churkin said. "So to have this political statement coming out of the Security Council at this crucial juncture will not be an insignificant achievement."
Jimmy Carter Cozies up to Syrian and Hamas Despots
Dec. 15….(Israel Today) Former US President Jimmy Carter arrived in Syria on Saturday where he declared that relations between the two countries would improve significantly under President-elect Barack Obama. "I don't have any doubt that the situation will improve between the United States and Syria after we have a new president," Carter told reporters in Damascus following his meeting with Syrian dictator Bashar Assad. Despite Syria's recently revealed covert nuclear program, its alliance with Iran's current leadership, its support of anti-American insurgents in Iraq and its sponsorship of anti-Israel terror groups, Carter wants the US to positively engage Assad, and is confident Obama will do just that. Carter also sided with Assad on his position that peace between Israel and its neighbors can never be achieved until the Jewish state surrenders all the land the Arabs claim it illegally occupies. Carter was scheduled to spend Sunday with Damascus-based Hamas leader Khaled Mashal. The former president has long rejected the notion that just because Hamas is a recognized terrorist organization openly dedicated to Israel's destruction that it shouldn't be engaged in dialogue.
UN & Quartet Prepares to Force Israel to Concede
Dec. 15….(IsraelNN.com) The United Nations Security Council is planning to pass a resolution on Tuesday that would call on the next Israeli government to continue negotiating "core issues," meaning the status of Jerusalem and the Palestinian Authority demand for the immigration of Arabs to Israel. Pre-election polls show that Likud chairman and former Prime Binyamin Netanyahu has a commanding lead and will form the next coalition government. The UN resolution has the backing of all Security Council members and, if passed, will be the first time in five years that the council has adopted a resolution calling for collective peace in the Middle East. The text of the draft was drafted by American Ambassador to the UN Zalmay Khalilzad in cooperation with Russia. The proposed resolution calls on Israel and the PA to continue "bilateral negotiating process and their determined efforts to reach their goal of concluding a peace treaty resolving all outstanding issues, including all core issues, without exception." It calls on both parties "to fulfill their obligations and refrain from any steps that could undermine confidence or prejudice the outcome of negotiations." Israel has accepted American initiatives to scrap the original Roadmap plans that called on the PA to cease incitement and terror before reaching the stage of drawing up of final borders for a new Arab state within Israel's current borders. The resolution also backs a move by Russia to hold an international conference on the Middle East in Moscow, a move that Israel has opposed but which is backed by the Quartet, comprising the UN, the US, Russia and the European Union (EU). The Quartet has been conferring with an official of the 22-member Arab League. Ambassador Khalizad said the timing of the resolution is designed to help the Obama administration during the transition period until US President George W. Bush leaves office on January 20. No reference was made to the upcoming Israeli elections. The PA has rejected Israel's latest offers for a final-status settlement, PA negotiator Ahmed Qureia said Friday. Speaking to Arab media, Qureia said that Israel had offered to "swap" about 7 percent of land in Judea and Samaria, including Ariel, Ma'aleh Adumim and Efrat-Gush Etzion, for land inside pre-1967 Israel. Qureia said the PA had rejected the offer, "because it would split the Palestinian state and not allow it to develop." In addition, he said that Israel had offered to allow 5,000 PA Arabs to immigrate to Israel over five years, and that absolutely no Israeli's would be allowed to live in the new Palestinian State.
UN Prepares to Trap an "Elected" Netanyahu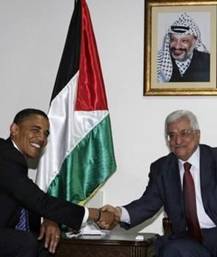 Dec. 15….(JWR) The "international community" is eagerly anticipating the incoming Obama administration's policy towards Israel. It is widely assumed that as soon as he comes into office, US president-elect Barack Obama will move quickly to apply massive pressure on the next Israeli government to withdraw from Judea, Samaria, Jerusalem, and the Golan Heights in the interests of advancing a "peace process" with the Palestinians and the Syrians. Giving voice to these expectations this week was this year's Nobel Peace Prize Laureate Martti Ahtisaari. The former Finnish prime minister used his prize ceremony to call on US president-elect Barack Obama to make contending with the Palestinian conflict with Israel his chief focus during his first year in office. This is the same Ahtisaari who recently demanded that the West recognize Hamas as a legitimate political movement. People who have been in close contact with Obama's foreign policy transition team have privately acknowledged that the widespread belief that Obama will move swiftly to put the screws on Israel is fully justified. According to one source who has spent a great deal of time with his transition team since last month's elections, Obama's people are "scope-locked" on Israel. The source reports that General Jim Jones, Obama's designated national security advisor is Israel's most outspoken critic. The source, who held a two and a half hour meeting with Jones, told his associates that Jones is keen to deploy NATO forces, perhaps including US forces to Judea and Samaria. Jones's plan, which is vociferously opposed by the IDF, would make it impossible for the IDF to carry out counter-terror operations in the areas. As a practical matter, the lives of hundreds of thousands of Israeli citizens in who live in the areas would be imperiled. Just as Hizbullah has used UNIFIL forces in southern Lebanon as a shield from the IDF behind which it has rearmed and reasserted control over the border zone, so too a NATO force would facilitate the empowerment of Hamas and Fatah which would unify, arm and organize free from the threat of IDF counter-terror operations. Samantha Power, Obama's closest foreign affairs advisor has called for US forces to be deployed to Judea and Samaria in what she referred to as "a mammoth protection force" to protect the Palestinians from Israel which she claimed was guilty of "major human rights abuses." Obama's team, like its supporters in the international foreign policy establishment, is dismayed by the Israeli opinion polls which show that Likud, led by Binyamin Netanyahu is favored to win the upcoming February 10 general elections by a wide margin. In anticipation of Likud's expected electoral victory, they have been piling on against Netanyahu and Likud. This was most recently evident at last week's Middle East policy conclave in Washington organized by the pro-Obama and post-Zionist Saban Middle East Forum at the Brookings Institute. There, both Secretary of state-designate Hillary Clinton's surrogate, former president Bill Clinton, and current Secretary of State Condoleezza Rice castigated Netanyahu's assertion that peace must be built from the bottom up through the liberalization of Palestinian society rather than from the top down by giving land to terrorists. Netanyahu foresees Palestinian liberalization coming about through economic development in what he refers to as an "economic peace process." Both the former president and Secretary Rice attacked his plan claiming that it is antithetical to the sacrosanct "two-state solution." As far as they and their many colleagues are concerned, the only thing that remains to be discussed is when Israel will vacate Judea, Samaria and Jerusalem. The fact that there is no significant Palestinian constituency willing to peacefully coexist with Israel is irrelevant. In light of the incoming Obama administration's palpable hostility towards Israel, and particularly towards Israel's political realists, the results of Likud's primaries this past Monday were especially significant. In selecting the party's slate of candidates for Knesset, Likud members favored sober-minded politicians who use their common sense to guide them over those with records of support for the fraudulent "peace processes" so favored by the local media, Kadima, Labor, and the international jet set. Likud politicians who warned of the dangers of then prime minister Ariel Sharon's decision to withdraw from Gaza and expel some ten thousand Israelis from their homes in Gaza and northern Samaria were elected to the top of the Knesset slate. Those who supported Sharon's withdrawal and expulsion plan, which is now widely recognized to have been Israel's most disastrous strategic move in recent history, were either rejected out of hand, or demoted. The men and women selected by Likud's voters will provide Netanyahu with the political strength to stand up to pressure from the Obama White House. They will support him when he is forced to reject US demands that Israel give away vital territory to Fatah and Hamas militias and to Syria's Iranian-sponsored regime. They will support him when he is compelled to refuse US demands to deploy NATO forces to Judea and Samaria. They will back him up when he says that Fatah is not a peace partner for Israel but Hamas's partner for war against Israel. That the general public shares the sensibilities exhibited by Likud primary voters is made clear by the fact that Likud's standing in the polls has not significantly diminished since the primaries. If, as the media warned, the public would reject a list comprised of sober-minded realists, one would have expected that support to drop. Instead, it remains steady even as Foreign Minister Tzipi Livni castigates Likud as naysayers and opponents of peace and Prime Minister Ehud Olmert scandalously invites the nations of the world to turn against Israel if Likud wins the elections.
One of Netanyahu's most difficult challenges during his tenure as prime minister from 1996 to 1999 was handling his relations with the hostile Clinton administration. From the moment Netanyahu was elected until the moment he left office, the Clinton administration's Israel policy was devoted entirely to bringing down his government. In close collusion with Netanyahu's political opponents and the local media, for three years Clinton worked steadily to overthrow him. Clinton's assault culminated in the 1999 elections when he sent his own campaign managers to Israel to lead the Labor Party's election campaign against Netanyahu and Likud. It is true that to withstand pressures and even an all-out assault by the Obama administration Netanyahu will need a broad coalition. To survive a hostile Obama While House, Netanyahu will require a broad coalition founded on support for his ideas and his party's policies, not a broad coalition populated by political and ideological opponents dedicated to undermining his ideas and policies. On a strategic level, Netanyahu and Likud have made clear that they stand for three main principles. First, they are committed to establishing defensible borders for Israel by securing Israeli sovereignty over all of greater Jerusalem, the Jordan Valley, the Samarian hills and the Golan Heights. Second, they recognize that the Palestinian society which elected a terror group to lead it, is a society that is uninterested in peace with Israel. Consequently, any future negotiations must be preceded by a full reorganization and reform of Palestinian society. Third, they reject the Kadima/Labor fantasy that foreign militaries and international forces can be expected to protect Israel in place of the IDF. If Netanyahu runs on these policies, he will not merely win the elections. He will win a clear mandate to govern. And only if Netanyahu runs on these policies will he have a chance of blunting the pressure that will certainly be brought to bear by the Obama administration.
WEEK OF DECEMBER 7 THROUGH DECEMBER 14
Global Governance Here We Come!
(Henry Lamb says with Obama, 'US national sovereignty is on the brink of extinction')
Dec. 13….(WND) For more than 20 years, the politically correct liberal elitists have ridiculed the "black helicopter crowd" whenever the words "world government" were uttered. Global governance, however, is a perfectly acceptable term the UN says is somehow different from world government. According to the UN, "Governance is not government, it is the framework of rules, institutions and practices that set limits on the behavior of individuals, organizations and companies" (UNDP Human Development Report, 1999, page 34). Any institution that has the power to issue rules and that limits the behavior of individuals, organizations and companies is a government. When those rules apply worldwide, it is world government. The difference between "global governance" and "world government," is much like the difference between date rape and rape. One begins with seduction; both end in violence. If there ever were any doubt about President-elect Obama's propensity toward global governance, it has been removed by his Cabinet choices. Hillary Clinton praised Walter Cronkite's attainment of the World Federalist Association's "Global Governance" award. As secretary of state, she will lead the US into the global village under the UN's governance. UN Ambassador-designate Susan Rice, who worked with Strobe Talbot at the Brookings Institution, will be the point person to see that the US supports the global governance agenda. Paramount among the rules required to make global governance an enforceable reality is the power to control each nation's use of energy. The Kyoto Protocol, promoted by Bill Clinton and Al Gore, was supposed to be that rule. To his credit, President Bush refused to subject the United Sates to this UN treaty. Obama has promised to change the US position to one of submission to a new UN Climate-Change Treaty, now under construction in Poland. Obama's representative at the climate change negotiations in Poland is John Kerry, sent there to reassure the delegates from around the world that the new administration will fully support whatever energy limitations the UN decides to impose. Make no mistake; the new climate change treaty will severely limit the supply of fossil fuel energy available in the United States by limiting the quantity of carbon emissions that can be released. The enforcement tool will be costly. Rep. James Sensenbrenner told an audience at the meeting in Poland that the new treaty could drive the price of gasoline to $10 per gallon. In addition, a global cap-and-trade system will arbitrarily limit the quantity of carbon emissions allowed by virtually all energy users, and releases beyond the limit will require a fee. Both the limit and the fee will be determined by the UN, thereby giving the UN control over energy use in every nation. The Kyoto Protocol already established the principle of "common but differentiated" responsibilities, which means developed nations must meet legally binding limitations – while more than 150 nations have no binding limitations. Through this mechanism, the UN can effectively redistribute the world's wealth to ensure that all people share equally the benefits of the earth's resources. This goal is expressed in a host of UN treaties and policy documents. There is a parade of other UN treaties and policy objectives lined up for approval by the new administration: The Convention on the Law of the Sea, the Convention on the Rights of the Child and the Convention on the Elimination of All Forms of Discrimination against Women are but a few. Obama has already embraced the UN's Millennium Goals, which include a three-fold increase in the US contribution to the UN's international aid programs. Obama is also expected to submit the United States to the jurisdiction of the International Criminal Court, which George Bush refused to do. Global governance advocates made great strides during the Clinton years, but were temporarily sidetracked by George Bush and Republicans in Congress. With a new, expanded Democrat majority to support Obama's aggressive global governance aspirations, national sovereignty is on the brink of extinction. The global economic downturn creates the perfect environment for a global response. The G-20 meeting held in Washington last month launched the final round of negotiations to create a new global financial mechanism to control the flow of money around the world. While global governance advocates ridiculed and laughed at "black helicopter" watchers, they steadily advanced their agenda. Nowhere in the UN Global-governance agenda is there any room for, or reference to, the fundamental principle that government is empowered by the consent of the people, expressed at the ballot box. The global governance agenda says that land use must be controlled by government; that speech must be regulated by law; that trade must be regulated by government; that education and child-rearing is the responsibility of government; that only the UN has the authority to regulate the manufacture, use and distribution of all firearms. This is Global Governance. This is the "change" that Obama promised; this is the change he will deliver
Al Qaeda Operatives Relocated From Iraq to Lebanon
Dec. 13….(DEBKA) The UN peacekeeping force's South Lebanon command has declared the Palestinian Ain Hilwe camp near Sidon a no-go zone for the force's convoys for fear of attacks by al Qaeda. Supply convoys using the main coastal road from Beirut to Sidon were restricted to travel by night between 3 and 5 a.m., under armored vehicle escort. The day before the al Qaeda alert, Dell Dailey, counter-terrorist operations director at the US State Department, reported that al Qaeda had responded to heavy US military in Iraq by shifting some of its fighting strength to Lebanon. He spoke during a visit Beirut. DEBKAfile's military sources report that this strength has split between two Palestinian camps: Ain Hilwa and Nahr al-Barad near the northern town of Tripoli. US intelligence expects them to focus on four targets:
1. One group will attempt cross-border strikes in northern Israel. A second has managed to infiltrate the Gaza Strip after landing in Egyptian Sinai by sea.
2. United Nation peacekeepers in southern Lebanon, who have been put on terror alert.
3. US installations and premises in Lebanon as well as Sixth Fleet vessels opposite its shores.
4. Pro-Western politicians in Lebanon.
According to our counter-terror sources, the al Qaeda cell in the north is keeping its head down. However, They are confident enough to strut around the camp fully armed. Acting on a request from Washington, Palestinian Authority chairman Mahmoud Abbas this week replaced the Fatah commanders who admitted al Qaeda to Ain Hilwe and collaborated with the newcomers. One of the functions of the undercover US mission recently established in Beirut is to liaise with the Lebanese army in operations against al Qaeda, as well as guarding the Lebanese government against a Syrian or Hizballah takeover. Washington does not rule out the possibility of al Qaeda building a new stronghold in the country for a broad new offensive in Lebanon and against Israel.
Obama's Atomic Umbrella: US Nuclear Strike if Iran Nukes Israel
Dec. 12….(HaAretz) US President-elect Barack Obama's administration will offer Israel a "nuclear umbrella" against the threat of a nuclear attack by Iran, a well-placed American source said earlier this week. The source, who is close to the new administration, said the US will declare that an attack on Israel by Tehran would result in a devastating US nuclear response against Iran. But America's nuclear guarantee to Israel could also be interpreted as a sign the US believes Iran will eventually acquire nuclear arms. Secretary of state-designate Hillary Clinton had raised the idea of a nuclear guarantee to Israel during her campaign for the Democratic Party's nomination for the presidency. During a debate with Obama in April, Clinton said that Israel and Arab countries must be given "deterrent backing." She added, "Iran must know that an attack on Israel will draw a massive response." Clinton also proposed that the American nuclear umbrella be extended to other countries in the region, like Saudi Arabia and the Gulf States, if they agree to relinquish their own nuclear ambitions. According to the same source, the nuclear guarantee would be backed by a new and improved Israeli anti-ballistic missile system. The Bush administration took the first step by deploying an early-warning radar system in the Negev, which hones the ability to detect Iranian ballistic missiles. Obama said this week that he would negotiate with Iran and would offer economic incentives for Tehran to relinquish its nuclear program. He warned that if Iran refused the deal, he would act to intensify sanctions against the Islamic Republic. Granting Israel a nuclear guarantee essentially suggests the US is willing to come to terms with a nuclear Iran. For its part, Israel opposes any such development and similar opposition was voiced by officials in the outgoing Bush administration. "What is the significance of such guarantee when it comes from those who hesitated to deal with a non-nuclear Iran?" asked a senior Israeli security source. "What kind of credibility would this guarantee have when Iran is nuclear-capable?" The same source noted that the fact that there is talk about the possibility of a nuclear Iran undermines efforts to prevent Tehran from acquiring such arms. A senior Bush administration source said that the proposal for an American nuclear umbrella for Israel was ridiculous and lacked credibility. "Who will convince the citizen in Kansas that the US needs to get mixed up in a nuclear war because Haifa was bombed? And what is the point of an American response, after Israel's cities are destroyed in an Iranian nuclear strike?" The current debate is taking place in light of the Military Intelligence assessment that Iran has passed beyond the point of no return, and has mastered the technology of uranium enrichment. The decision to proceed toward the development of nuclear arms is now purely a matter for Iran's leaders to decide. Intelligence assessments, however, suggest that the Iranians are trying to first accumulate larger quantities of fissile material, and this offers a window of opportunity for a last-ditch diplomatic effort to prevent an Iranian bomb.
Russia Courting the Muslim World
Dec. 12….(LeMonde) Vladimir Putin was the first head of a non-Muslim majority state to speak at the Organization of the Islamic Conference, a gathering of 57 Muslim states, in October 2003. That was a political and diplomatic feat, especially since Russia was waging a long-running war in Chechnya at the time. Putin stressed that 15% of the total population of the Russian Federation are Muslim, and that all the inhabitants of eight of its 21 autonomous republics are Muslim, and he won observer member status with the organization, thanks to support from Saudi Arabia and Iran. Since then, Putin and other Russian leaders, including the foreign minister, Sergei Lavrov, claim that Russia "is, to some extent, a part of the Muslim world". In an interview with Al Jazeera on 16 October 2003, Putin stressed that, unlike Muslims living in Western Europe, those in Russia were indigenous and that Islam had been present on Russian territory long before Christianity). So Russia now claims to have a privileged political relationship with the Arab and Muslim world and believes that, as a mostly European state, it has a historic vocation as a mediator between the western and Muslim worlds.
The other purpose in seeking special ties with the Arab and Muslim world is related to Russia's foreign policy aim to "reinforce multipolarity in the world," to sustain and develop poles of resistance to US hegemony and unilateralism. This means taking advantage of the hostility to US foreign policy in the Arab and Muslim world. The Soviet Union used to present itself as the natural ally of anti-imperialist Arab states "with a socialist orientation".
The power behind Russia's return to the international stage is in nuclear energy and the export of nuclear power stations. The same is true of high-tech weapons, which were the most successful economic sector of the former Soviet Union before serious difficulties in the 1990s. The Kremlin is no longer seeking formal alliances. It wants strong but non-restrictive political ties in frameworks such as the Shanghai Cooperation Organization (Russia, China, Kazakhstan, Kyrgyzstan, Tajikistan and Uzbekistan), which do not put it in direct opposition to the US. Significantly, Iran only has observer status in this organization, although it would like to be a full member. One more explanation for this new policy towards the Muslim world is the quest for a post-Soviet Russian identity at home and abroad. Russia hoped that a new multipolar configuration would emerge from the concerted opposition of the US invasion of Iraq at the UN Security Council, by France, Germany and Russia, which had deprived the US of international legitimacy for the war.
This is a key to understanding the complex and difficult relationship that Moscow has with Tehran. Iran is an important geopolitical partner, as well as being the third-biggest buyer of Russian arms after China and India, and a showcase for the controlled export of nuclear power plants. Russia does not want an Iran equipped with nuclear weapons on its frontiers, but it would prefer to live with a nuclear Iran than face the consequences of a US attack on Iran, and the expansion of US interests in Central Asia,
Israelis Bound by Secret Olmert Peace Deal, says Blair
Dec. 11….(Israel Today) International Middle East peace envoy Tony Blair told the largest Palestinian newspaper this week that Israeli Prime Minister Ehud Olmert and Palestinian Authority leader Mahmoud Abbas have reached a unsigned secret peace agreement. Blair was quoted by the Jerusalem-based daily Al Quds as saying that "continuous meetings between Abbas and Olmert...have produced an agreement," though he said he would abide by an decision by both leaders to keep the details of the agreement secret for the time being. The agreement remains unsigned because Israeli law forbids Olmert to make significant policy changes or decisions while he is head of a transition government. However, anything Olmert and Abbas agreed to will be expected by the international community to form the basis for peace negotiations going forward, regardless of who wins Israel's upcoming general election.
FOJ Note: The world is holding Israel hostage by an unelected leader. Mr. Olmert was never elected by the people of Israel, but assumed power when Ariel Sharon was incapacitated. Yet the Quartet power brokers enabled Olmert to remain in power and fix a secret deal with the Palestinians. The Quartet does not want Israel to negotiate under the leadership of a Netanyahu style conservative government.
Bork Says Obama Will Move Courts Left
Dec. 11….(Newsmax) Former Supreme Court Justice nominee Robert Bork predicts that President-elect Barack Obama's judicial nominees will orchestrate a profound sea change in US jurisprudence, legalizing same-sex marriage, restricting or eliminating the death penalty, and tying the hands of the military so severely that "commanders in the field will have to be gathering evidence while they're fighting." In an exclusive interview with Newsmax, Bork, who currently serves as a distinguished legal scholar at the Hudson Institute, criticized Obama's view of the role of judges. "The kind of judge he wants is a soft-hearted liberal who will legislate from the bench," Bork says. "He never mentions the meaning of the Constitution as it was originally understood or intended. He talks about the personal qualities of judges as if they were politicians, and maybe in his view they are, and how they should behave as politicians." The good news for conservatives, Bork says, is that the justices considered most likely to retire based on age, such as Justice Paul Stevens, 88, and Ruth Bader Ginsburg, 75, are already "quite liberal." "They will be replaced by liberals, so the only change is you will get younger liberals. It's not until you get to people like Scalia, Thomas, Alito, and Roberts and so forth that the problem begins to arise, and I don't see that arising for some time." Bork says there is an "enormous difference" in the way that conservative and liberal justices are treated by the US Senate during the confirmation process. "In the past," Bork tells Newsmax, "despite the fact that Democrats wage really bitter attacks on Republican nominees, when a Democratic nominee with a questionable record on judicial issues is nominated, Republicans did not attack. They fell over backwards and confirmed." He cited the example of Justice Ginsburg, whom he says had a record of making "really radical statements," yet was confirmed by the Senate 96 to 3. Bork's own nomination to the Supreme Court by President Ronald Reagan was torpedoed by Democrats led by Sen. Ted Kennedy, (and VP elect Joe Biden) who hurled unsubstantiated allegations of racism, sexism, and de facto fascism. Bork's treatment at the hands of the Senate was so beyond the pale it actually created a new word in the American political lexicon, "bork," used to describe savage personal attacks intended to defeat a person's nomination for public office. Even Bork's private history of video rentals was leaked to the press during his confirmation process, a thoroughly modest list revealing Bork's weakness for movies starring Jimmy Stewart, Cary Grant, Doris Day, and the Marx brothers. Bork's expectations for the future of American jurisprudence, once Obama's nominees are seated? "I would think that same-sex marriage, homosexual marriage, is one that's likely to be ordered by the courts," he says. "Roe v. Wade abortion will not change. Bork adds that under Obama terrorist suspects may be routinely tried in the United States with ACLU attorneys at their side. "I'm afraid it may happen," Bork says, "And commanders in the field will have to be gathering evidence while they're fighting."
Obama Will Restore US Image Among Muslims
Dec. 11….(AP) President-elect Barack Obama says he will try to "reboot America's image" among the world's Muslims and will follow tradition by using his entire name, Barack Hussein Obama — in his swearing-in ceremony. The US image globally has taken a deep hit during President George W. Bush's two terms in office, primarily because of opposition to the US-led invasion of Iraq, harsh interrogation of prisoners, the indefinite detention of terrorist suspects at Guantanamo Bay, Cuba, and mistreatment of inmates at the Abu Ghraib prison in Iraq. Obama promised during his campaign that one of his top priorities would be to work to repair America's reputation worldwide, and that one element of that effort would be a speech delivered in a Muslim capital. He pledged anew to give such a speech, though he declined to say whether it would happen during his first year in office. "It's something I intend to follow through on," Obama said in an interview published Wednesday in the Chicago Tribune and the Los Angeles Times. "We've got a unique opportunity to reboot America's image around the world and also in the Muslim world in particular. During the campaign, Obama repeatedly faced questions about whether he is a Muslim, particularly in whisper campaigns that noted his middle name, that his father is Kenyan, and that he lived for a time as a child in Indonesia, and attended an Islamic madrass.
Barak Approves Cash to Gaza Which will feed Hamas War Chest
Dec. 11….(DEBKA) Israeli defense minister Ehud Barak has ordered 100 million Israeli shekels in currency bills (equivalent to $25.6 million) be transferred by Israeli armored cars to the Gaza Strip via the West Bank Wednesday, Dec. 10. He bowed to appeals from Palestinian prime minister Salam Fayad and the governor of the Bank of Israel Stanley Fischer. The latter was concerned by complaints from the World Bank that Gaza's banks were closing their doors for lack of cash and the Hamas administration was unable to cover its payroll. This is a repeat performance of Hamas' fuel scam. This is how it works: Hamas hoards high-quality fuel from Israel in secret emergency stores ready for use by its military units against an Israeli incursion of the Gaza Strip. Israeli fuel supplies thus support Hamas' war against Israel. Meanwhile, Hamas tunnels from Egyptian Sinai are used to smuggle low quality diesel fuel, estimated at 1 million liters a week, which is sold to the population at top prices for cash. Neither the Egyptian nor the Israeli authorities lift a finger to stop this nefarious traffic. When Palestinian missile attacks escalate and Israel suspends its fuel supplies through the Gaza crossings, Hamas stages power outages for the benefit of the world media to show how Israel is starving the Palestinians of the energy needed for running Gaza's hospitals and power stations. The shekel shortage is another piece of theater directed by Hamas in the certainty that Israel's defense leaders will bow to outside pressure and deliver. By the same token, the Palestinian extremists were certain that nothing would come of the special discussion held Wednesday by prime minister Ehud Olmert, foreign minister Tzipi Livni, Barak, military officials and intelligence directors on whether to extend the six-month "ceasefire" when it expires on Dec. 16. The conference was planned as a serious review of the options for dealing with the incessant Palestinian missile blitz – more than 200 fired in less than a month, including four Grad Katyusha rockets, and the state of play between Gaza and the West Bank. The defense minister chose to wave the missile assault aside and wave through a resupply of cash for Hamas' war chest on the same day as this critical discussion. DEBKAfile's political sources report that Barak's purpose was to humiliate Livni, as Labor and Kadima leaders they head rival parties facing a general election. Livni has taken the position that passivity is no answer for the Hamas offensive and a substantial Israeli military response can no longer be avoided.
Iranian VP Calls for World to Destroy Israel
(Esfandyar Rahim Mashaei, reiterated President Ahmadinejad's calls for obliteration of Zionism. 'Corrupt Zionist regime harming Islamic world, all of humanity,' world should join to destroy Zionism)
Dec. 10….(YNET) Iranian Vice President Esfandyar Rahim Mashaei believes the destruction of Israel should become an international goal and a global demand, the state-owned IRNA reported Tuesday. The agency quoted Mashaei, who several months ago called his country "a friend of Israel", as blaming the "Zionist regime" for the world's ills. Mashaei, currently in Mecca for the hajj pilgrimage, met with Sudanese President Omar Hassan Ahmad al-Bashir and told him, "The corrupt and criminal Zionist regime is harming not only the Arab and Islamic world, but humanity in its entirety." He added that "in order to save humanity from its different crises, there is no other way other than the limiting of Zionist influence on human society, because the root and origin of most of the world's current crises are related to Zionism." Mashaei, currently cultural heritage and tourism organization chief of Iran, caused a commotion recently when he said during a tourism convention that "no nation in the world is our enemy. Iran is currently a friend of the people of the US and Israel." The surprising remark caused over 200 of the country's parliament members to issue a statement of condemnation. "Mr. Mashaei has no right to say these shameful things and he is not in a position to take on such a responsibility," the statement said. "Mashaei must not realize that he is calling them a nation, while they are the ones occupying the homes of millions of Palestinians."
UN Human Rights Forum Condemns Israel
(Syria, Egypt and Iran raise concerns about 'racist and discriminatory practices' against Palestinians; western countries urge Israel to lift blockade)
Dec. 10….(YNET) Israel drew fire regarding its human rights record on Thursday at a United Nations forum where its neighbors accused it of committing systematic violations against Palestinians in Gaza and the West Bank. Delegations from Syria, Egypt and Iran raised concerns about Israel's security wall, its detentions of young Palestinians, and what they called "illegal" Jewish settlements during the regular review by the UN Human Rights Council. Western countries, including Australia, Britain, Canada, France and Germany, urged Israel to lift its blockade on the Hamas-controlled Gaza Strip which they said had led to a worsening humanitarian situation. Iran's Ambassador Ali Reza Moaiyeri said the debate could not sufficiently address the "gross and systematic human rights violations committed against the Palestinians". These included targeted killings, torture, the demolition of houses, and "racist and discriminatory practices", he said. But Aharon Leshno Yaar, Israel's Ambassador to the UN in Geneva, told the Universal Periodic Review (UPR) session there was a "certain sense of pride at the culture of human rights that we have managed to develop in the six short decades since the founding of our state". "Our record is not perfect but the advantage of being a democracy is that multiple mechanisms exist for critical dialogue and oversight. The UPR is one such mechanism," he said.
Gaza Strip has become a hotbed for terrorists'
The 47-member UN Council has held three special sessions looking at Israel's treatment of the Palestinians since the body was created in 2006, and Israel has allowed eight UN human rights investigators to visit in the past three years. Malkiel Blass, deputy attorney general in Israel's justice ministry, told the Geneva session that Israel faced continuous security threats and had to build its security fence and wall after "waves of suicide bombings" began in 2002. Israeli interrogations of security suspects are subjected to "scrupulous oversight" and torture is prohibited, said Daniel Taub, senior deputy legal adviser in the foreign ministry. "The Gaza Strip has become a hotbed for terrorists preparing and launching attacks," Taub said, adding that more than 200 mortar shells were fired on Israel from Gaza in the past week. Israel said it opened its border crossings with the Gaza Strip on Thursday for the first time in a week to allow in limited amounts of food, medical supplies and fuel. It is also allowing foreign journalists to enter for the first time since Nov. 4, when an armed raid into the coastal enclave triggered a surge in cross-border rocket attacks by Palestinian militants. The United States did not take the floor at the Council, where its delegation has observer status. The Bush administration suspended its participation last June, citing the forum's "rather pathetic record".
Bush Says Creation Compatible With Evolution, Bible Not Literally True
(President says in televised interview the Bible is "probably not" literally true)
Dec. 10….(Fox News) President George W. Bush said his belief that God created the world is not incompatible with the scientific theory of evolution. In an interview with ABC's "Nightline" on Monday, the president also said he probably is not a literalist when reading the Biblee although an individual can learn a great deal from it, including the New Testament teaching that God sent his only son. Asked about creation and evolution, Bush said: "I think you can have both. I think evolution can, you're getting me way out of my lane here. I'm just a simple president. But it's, I think that God created the earth, created the world; I think the creation of the world is so mysterious it requires something as large as an almighty and I don't think it's incompatible with the scientific proof that there is evolution." He added, "I happen to believe that evolution doesn't fully explain the mystery of life."
Interviewer Cynthia McFadden asked Bush if the Bible was literally true.
"You know. Probably not. No, I'm not a literalist, but I think you can learn a lot from it, but I do think that the New Testament for example has got ... You know, the important lesson is 'God sent a son,"' Bush said. "It is hard for me to justify or prove the mystery of the Almighty in my life," he said. "All I can just tell you is that I got back into religion and I quit drinking shortly thereafter and I asked for help. I was a one-step program guy." The president also said that he prays to the same God as those with different religious beliefs. "I do believe there is an almighty that is broad and big enough and loving enough that can encompass a lot of people," Bush said. When asked whether he thought he would have become president had it not been for his faith, Bush said: "I don't know; it's hard to tell. I do know that I would have been, I'm pretty confident I would have been a pretty selfish person." Bush said he is often asked whether he thinks he was chosen by God to be president. "I just, I can't go there," he said. "I'm not that confident in knowing, you know, the Almighty, to be able to say, Yeah, God wanted me of all the other people." He also said the decision to go to war in Iraq was not connected to his religious believes." I did it based upon the need to protect the American people from harm," Bush said. "You can't look at the decision to go into Iraq apart from, you know, what happened on Sept. 11. It was not a religious decision," he said. "I don't view this as a war of religion. I view this as a war of good, decent people of all faiths against people who murder innocent people to achieve a political objective." He said he felt like God was with him as he made big decisions, but that the decisions were his. "George W. Bush has to make these decisions."
FOJ Note: President Bush is likely deluding himself that he is even a Christian, Biblically speaking. No wonder his administration is a gigantic failure, and he sees nothing wrong with worshiping Allah in the White House!
Supreme Court Denies Citizenship Challenge
(Justices won't give questions about eligibility full hearing)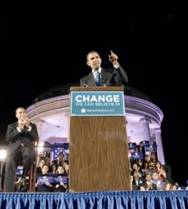 Dec. 9….(WND) The US Supreme Court today announced it has denied bringing Donofrio v. Wells, one of several cases challenging Barack Obama's eligibility to serve as president, before a full hearing. The case of Leo C. Donofrio v. New Jersey Secretary of State Nina Mitchell Wells claims Obama does not meet the Constitution's Article 2, Section 1 "natural-born citizen" requirement for president because of his dual citizenship at birth. Unlike many of the lawsuits regarding Obama's "natural-born citizen" status, the Donofrio case makes no allegation he was born on foreign soil. Instead, Donofrio contends Obama was a British citizen at birth, because of his father's citizenship in a British colony, Kenya. "Don't be distracted by the birth certificate and Indonesia issues," Donofrio writes on his Natural born citizen blog. "They are irrelevant to Senator Obama's ineligibility to be president. Since Barack Obama's father was a citizen of Kenya and therefore subject to the jurisdiction of the United Kingdom at the time of Senator Obama's birth, then Senator Obama was a British citizen 'at birth.'" Obama's Fight the Smears website confirms that Donofrio is correct about the Democrat's citizenship at birth but says his dual citizenship with Britain expired, leaving him with only American citizenship. Donfrio, however, contends that the Constitution was written in such a way to exclude dual citizens like Obama. "The Framers of the Constitution, at the time of their birth," Donofrio writes, "were also British citizens, and that's why the Framers declared that, while they were citizens of the United States, they themselves were not 'natural born citizens.'" "Therefore," Donofrio summarizes, "even if he were to produce an original birth certificate proving he were born on US soil, he still wouldn't be eligible to be president." Donfrio's case was originally denied a conference of the judges by Justice David H. Souter, but Justice Clarence Thomas agreed to bring it back for consideration last week. To go forward, from conference to a full hearing, the case needed the approval of four of the Supreme Court's nine justices. As WND has reported, Donofrio's case is only one of several filed around the country challenging Obama's eligibility to be elected president under the Constitution. The biggest question is why Obama, if a Hawaii birth certificate exists as his campaign has stated, simply hasn't ordered it made available to settle the rumors. Should Senator Obama be discovered, after he takes office, to be ineligible for the Office of President of the United States of America and, thereby, his election declared void, Petitioners, as well as other Americans, will suffer irreparable harm in that a usurper will be sitting as the President of the United States
Is Nuclear Iran Unstoppable?
(Analyst raises questions over US Middle East policy, allies)
Dec. 9….(Ha Aretz) Any US plan to contain a nuclear Shiite Iran will require help from nearby Sunni Arab nations, but a former senior Pentagon official says Teheran's neighbors may not be willing to provide the assistance. In an assessment on containing and deterring an Iran with nuclear power, Michael Rubin said the Gulf Arab states have no intention of allowing their lands to be used to launch any attack. His conclusion is that any US effort to contain Iran will require a US military presence in the Gulf Cooperation Council states of the United Arab Emirates, Qatar, Bahrain, Oman, Turkey and Kuwait. He said the US military also would need a presence in Oman, Iraq and Afghanistan. Ironically, the US Navy's Fifth Fleet uses facilities in Bahrain and ports in the UAE while Oman has been "less than reliable in granting US freedom of operation," Rubin said. In addition, US Central Command has a forward headquarters in Qatar, with bases in Kuwait, Bahrain, UAE, Oman and Pakistan. Rubin said the Gulf Arab states and the Central Asian countries simply do not want to be part of any conflict between the US and Iran. Rubin's concern is that Iran could use nuclear weapons to destroy Israel in a first-strike once it acquires them. "Elimination of Israel remains a cornerstone of Islamic Republic ideology," Rubin said. "The Iranian president (Mahmoud Ahmadinejad) was not just calling for 'regime change' in Israel, but rather the actual physical destruction of the state of Israel." Rubin also pointed to recent comments by Ali Akhbar Hashemi Rafsanjani, a former Iranian president and current chairman of the Iranian Expediency Council, who said it "would not be too far-fetched to envision use of nuclear weapons against the Jewish state. It is not irrational to contemplate such an eventuality." The Gulf Arab states' decision not to assist the US against a potential nuclear Iran raises concerns over US ability to contain or deter the Islamic Republic.
Iran Rejects Obama's Carrot/Stick Policy
Dec. 9….(AP) Iran has rejected a suggestion by US President-elect Barack Obama that a carrot and stick policy of economic incentives and additional sanctions might persuade the Iranian government to change its behavior. Iran's Foreign Ministry spokesman, Hasan Qashqavi, said Monday that Obama's proposed policy was unacceptable and had failed in the past. Qashqavi reiterated Iran's refusal to suspend enrichment Monday and said the US must recognize Iran's "nuclear right" before the country would dispel concerns about its program. He also said Obama would have to alter the current administration's confrontational policy toward Iran to overcome the present impasse. "Otherwise an old issue requires and old stance," said Qashqavi. Obama told NBC's "Meet the Press" on Sunday that the international community should adopt a carrot and stick policy to alter Iran's behavior toward its nuclear program and support for militant groups like Hamas and Hizbullah. He also said the US should increase direct diplomacy. "We are willing to talk to them directly and give them a clear choice and ultimately let them make a determination in terms of whether they want to do this the hard way or the easy way," Obama said. "We need to ratchet up tough but direct diplomacy with Iran, making very clear to them that their development of nuclear weapons would be unacceptable, that their funding of terrorist organizations, their threats against Israel are contrary to everything we believe in," he added. Obama said that his administration would pursue a carrot/stick policy in order to curb Iran's nuclear ambitions. "In terms of carrots, we can provide economic incentives that would be helpful to a country that despite being a net oil producer is under enormous strain, huge inflation, lots of employment problems," the president-elect said, but did state the incentives he would offer in return for Iranian compliance with the demands of the international community. "But we also have to focus on the sticks," he continued; "in order for us to change Iran's behavior we may have to tighten up those sanctions."
Palestinian Chief Diplomat: America is Still Our Enemy
Dec. 8….(Israel Today) Palestinian Ambassador to Lebanon Abbas Zaki says that notwithstanding the diplomatic language used in public, the Palestinian Authority continues to view the United States as an enemy nation. In an interview on Lebanese TV last month, Zaki insisted that as long as the US has a strategic alliance with Israel, it will be an enemy of the Palestinians. The interviewer pressed Zaki on how he could label either Israel or the US as enemy nations when the Palestinian Authority has signed a peace deal with one and receives aid from and maintains friendly diplomatic relations with the other. Zaki replied that the Palestinian Authority only negotiates with Israel and plays nice with the US because it has no other choice at this time. When the interviewer pointed out that Palestinian leader Mahmoud Abbas regularly refers to the US as a friend of the Palestinians in his public addresses, Zaki insisted that it was all a show. Zaki was appointed to his post by Abbas himself, and many analysts have said that to discover the Palestinian leader's true positions one need only listen to his most trusted ambassador.
US Marks 67th Anniversary of Pearl Harbor Attack
Dec. 7….(Fox News) More than 2,000 World War II veterans and other observers gathered in Hawaii yesterday to commemorate the 67th anniversary of the devastating Japanese attack on Pearl Harbor. Participants across the water from the sunken USS Arizona went silent at 7:55 a.m. local time, the moment in 1941 when hundreds of Japanese planes began raining bombs and torpedoes onto US military ships and planes in the harbor. Unlike past observances, which focused on the attack itself, this year's remembrance ceremony focused on the aftermath, including the carrier-launched B-52 bomber raid on Tokyo led by Lt. Col. James H. Doolittle four months later.
Moscow Sends Warships to Mediterranean, Sends Lebanon Weapons
Dec. 7….(DEBKA) DEBKAfile's military sources report that, four months after the Georgian war, Moscow is again testing the limits of its Mediterranean reach. Navy spokesman Igor Dygalo announced that two flotillas from the Barents Sea and the Black Sea are heading for the Mediterranean: One, based in the Barents sea near Finland, is led by the Admiral Kuznetsov carrier accompanied by two guided missile destroyers, the Admiral Chabanenko and Admiral Levchenko, with two supply ships in tow, one a tanker. The second is the guided nuclear-powered missile cruiser Peter the Great, one of the biggest warships afloat, with three accompanying ships. They come from a joint Caribbean exercise with Venezuela. According to the Russian Navy spokesman, the two groups will merge upon entering the Mediterranean and spend several months calling in at various ports. Another Russian military initiative which should worry Jerusalem is the arrival in Beirut Saturday Dec. 6 of Mikhail Dimitriev, head of the Russian military cooperation department, to prepare the visit to Moscow next week of Lebanese defense minister Elias Murr. After greeting his Russian visitor, Murr said: "There are no obstacles in terms of equipping the army. We prepared for my visit to Russia next week. I will discuss with the Russian defense minister what could be provided to the Lebanese Air Force." Clearly, Moscow and Beirut are preparing the way for their first important arms transaction. Military sources report that on the table are sales of Russian tanks, missiles, helicopters, and possibly warplanes. Murr's statement about no obstacles signals Washington that with Moscow ready and willing, Beirut is prepared to flout US opposition to the Lebanese army's acquisition of heavy weapons for fear they may fall into Hizballah's hands. Gen. David Petraeus, head of the US Central Command, raised this concern during a surprise three-hour visit to Beirut last Tuesday, Dec. 2. His trip was prompted by intelligence that Lebanese president Michel Sleiman had been bidding in Tehran, Moscow and Paris, for heavy arms, tanks, warplanes and self-propelled artillery, for the army of which he was formerly chief of staff. Gen. Petraeus warned prime minister Fouad Siniora and the new chief of staff Gen. Jean Qahwaji that the United States would not allow heavy weapons to reach Lebanon, irrespective of the source. It now looks as though Sleiman and Siniora are prepared to go out on a limb and defy Washington with Moscow's help.
Obama: Speech to Islamic World in First 100 Days
Dec. 7….(Newsmax) Barack Obama is considering making a major foreign policy speech in an Islamic capital during his first 100 days as president in an effort to mend rifts between the US and the Muslim world. Helene Cooper of the New York Times spoke to several sources, including diplomats, about which Islamic capital Obama might choose, and the consensus was Cairo, Egypt. Whatever capital Obama might choose, press reports don't explain why the new president feels it necessary to give a speech so early in his new administration. During the presidential campaign Obama indicated US foreign policy was too skewed in favor of Israel and that he would seek to balance that approach in his administration. He was also dogged with claims that he was a secret Muslim, an accusation he denied. In fact, Obama had been raised a Muslim and converted to Christianity after meeting the Rev. Jeremiah Wright in his 20s after he moved to Chicago. Obama was born to a Kenyan father who was a Muslim. His mother divorced this man and later remarried an Indonesian muslim who became Obama's stepfather. The couple moved to Indonesia with the young Obama. There he was registered at two schools as a Muslim student. Earlier this year, Obama spokesman Robert Gibbs claimed: "Senator Obama has never been a Muslim, was not raised a Muslim, and is a committed Christian." But in his autobiography, "Dreams From My Father," Obama mentions studying the Koran and describes the public school as "a Muslim school." Obama's campaign web site later removed the claim made by Gibbs that Obama was never a Muslim.
Islamic World Celebrates Hajj & Hatred of US and Israel
Dec. 7….(FOJ) Creating a sea of white robes, nearly 3 million Muslims converged on a rocky desert hill outside Mecca on Sunday to perform the ritual of forgiveness marking the climax of the annual hajj. Chants of "at thy service, my God, at thy service," reverberated through the valley as the pilgrims stood to pray for God's forgiveness in the most spiritual moment of the entire pilgrimage. But while most spent the day praying and reading Islam's holy book, the Quran, thousands, mostly Iranians, Lebanese, Iraqis and Bahrainis, held a rally inside their tents to denounce the United States and Israel. Called the "disavowal of pagans ceremony," the Iranian-sponsored, anti-US protest is held annually at the hajj. The Saudi grand mufti used the occasion of the day's ritual to warn Muslims that extremism could lead to terrorism and urged the faithful to show "the bright face of Islam" and spread teachings calling for "forgiveness, peace and love." Al-Sheikh's sermon, which was cited by the official news agency, also declared that the world economic crisis stemmed from an abandonment of Islamic prohibition of usury. According to Islamic teachings, the hajj is a spiritual journey that cleanses the soul and wins absolution. A Muslim who performs the hajj washes away his sins. Standing at Mount Arafat, a hill about 12 miles (15 kilometers) east of Mecca also known as the Mountain of Mercy, is considered one of the most spiritual moments of the pilgrimage when Muslims believe God will grant their prayers.
Why Founding Fathers Mandated Natural Born Presidents
Dec. 7….(FOJ) Why did our founding fathers insist that our national leader be a natural born citizen. They mandated the presidency be occupied only by an American born citizen because they feared that foreign subversive activities would seek to undermine our national sovereignty by placing a plant on the seat of our government. So, who is a natural-born citizen? Who, in other words, is a citizen at birth, such that that person can be a President someday? The 14the amendment defines citizenship this way: "All persons born or naturalized in the United States, and subject to the jurisdiction thereof, are citizens of the United States and of the State wherein they reside." But even this does not get specific enough. As usual, the Constitution provides the framework for the law, but it is the law that fills in the gaps. Currently, Title 8 of the US Code fills in those gaps. Section 1401 defines the following as people who are "citizens of the United States at birth:"
Anyone born inside the United States
Any Indian or Eskimo born in the United States, provided being a citizen of the US does not impair the person's status as a citizen of the tribe
Any one born outside the United States, both of whose parents are citizens of the US, as long as one parent has lived in the US.
Any one born outside the United States, if one parent is a citizen and lived in the US for at least one year and the other parent is a US national
Any one born in a US possession, if one parent is a citizen and lived in the US for at least one year
Any one found in the US under the age of five, whose parentage cannot be determined, as long as proof of non-citizenship is not provided by age 21
Any one born outside the United States, if one parent is an alien and as long as the other parent is a citizen of the US who lived in the US for at least five years (with military and diplomatic service included in this time)
A final, historical condition: a person born before 5/24/1934 of an alien father and a US citizen mother who has lived in the US.
Anyone falling into these categories is considered natural-born, and is eligible to run for President or Vice President. These provisions allow the children of military families to be considered natural-born, for example. The constitutional requirement for the President of the United States to be a natural-born citizen had one purpose according to St. George Tucker: That provision in the constitution which requires that the president shall be a native-born citizen (unless he were a citizen of the United States when the constitution was adopted,) is a happy means of security against foreign influence, which, wherever it is capable of being exerted, is to he dreaded more than the plague. The admission of foreigners into our councils, consequently, cannot be too much guarded against; their total exclusion from a station to which foreign nations have been accustomed to, attach ideas of sovereign power, sacredness of character, and hereditary right, is a measure of the most consummate policy and wisdom. The title of king, prince, emperor, or czar, without the smallest addition to his powers would have rendered him a member of the fraternity of crowned heads: their common cause has more than once threatened the desolation of Europe. To have added a member to this sacred family in America, would have invited and perpetuated among us all the evils of Pandora's Box. Additionally, Charles Pinckney in 1800 said the presidential eligibility clause was designed "to insure attachment to the country." What better way to insure attachment to the country then to require the President to have inherited his American citizenship through his American father and not through a foreign father. Any child can be born anywhere in the country and removed by their father to be raised in his native country. The risks would be for the child the return in later life to reside in this country bringing with him foreign influences and intrigues. Therefore, we can say with confidence that a natural-born citizen of the United States means those persons born whose father the United States already has an established jurisdiction over, i.e., born to father's who are themselves citizens of the United States. A person who had been born under a double allegiance (in Obama's case, even religion may supercede his allegiance to America) cannot be said to be a natural-born citizen of the United States because such status is not recognized (only in fiction of law). A child born to an American mother and alien father could be said to be a citizen of the United States by some affirmative act of law but never entitled to be a natural-born citizen because through laws of nature the child inherits the condition of their father.
The Oath of Allegiance to the United States
I hereby declare, on oath, that I absolutely and entirely renounce and abjure all allegiance and fidelity to any foreign prince, potentate, state, or sovereignty, of whom or which I have heretofore been a subject or citizen; that I will support and defend the Constitution and the laws of the United States of America against all enemies, foreign and domestic; that I will bear true faith and allegiance to the same; that I will bear arms on behalf of the United States when required by the law; that I will perform noncombatant service in the Armed Forces of the United States when required by the law; that I will perform work of national importance under civilian direction when required by the law; and that I take this obligation freely, without any mental reservation or purpose of evasion; so help me God.
WEEK OF DECEMBER 1 THROUGH DECEMBER 7
Revisiting 'The Burden of Damascus' Scenario
(Exclusive: Hal Lindsey lays out scenario in which Israeli nukes take out Syria's capital)
Dec. 5….(By Hal Lindsey) For most of this past election year, Israeli military planners have been wrestling with the twin problems of Iran and a change of administrations in Washington. The Israeli military was more comfortable with the idea of continued diplomacy with Iran under a McCain administration than it is an Obama administration. McCain was a known quantity. Obama is not. And what is known about Obama and members of his new administration is not comforting; Obama is reportedly considering Daniel Kurtzner as his special Middle East envoy. Kurtzer earned his Ph.D. from Columbia University. In his dissertation, he blamed the Israeli response to terror attacks for "the radicalization of those Palestinians to violence" whom Kurtzner term "guerrillas" – not terrorists. Kurtzner isn't exactly known in Israeli military circles as a hawk. According to a report in this week's Jerusalem Post, Israeli Defense Forces are working out attack plans for Iran's nuclear sites that do not involve coordination with the US The Post said that the IDF began working out alternatives after Ehud Olmert asked for, and was expressly denied, a green light to attack Iran. Iran is already believed to have enough enriched uranium to construct at least one nuclear bomb and, with more than 5,000 centrifuges in operation in Natanz and plans to enlarge enrichment to ultimately involve 54,000 centrifuges, Israel's window of opportunity to put an end to the threat before it is too late is rapidly closing. Granted, Barack Obama the president may see things differently than Barack Obama the candidate. But Ahmadinejad is a known threat, Obama a largely unknown quantity. There is an old saying to the effect that it is "better to beg for forgiveness than to ask for permission," but Israel only has until Jan. 20 to exercise that option. Israel finds itself at the point of a spear consisting of Iran to the east and Syria to the north. In between are Hezbollah and Hamas. Syria's chemical and biological arsenals are extensive. Syria's missile delivery systems were proved by Hezbollah during the 2006 Lebanon War. But according to Bible prophecy, Iran survives the Israeli strike and plays a major role in the coming Russian-led Gog-Magog Alliance foretold by the Prophet Ezekiel. Israel also survives, since the Gog-Magog Alliance eventually marches against it. But according to Bible prophecy, Damascus, the world's oldest continuously inhabited city, has a much less certain future. "The burden of Damascus. Behold, Damascus is taken away from being a city, and it shall be a ruinous heap." (Isaiah 17:1) Should Syria use chemical weapons against Israel, there is little doubt Israel will respond with tactical nukes. That is precisely the way Isaiah describes it. "The nations shall rush like the rushing of many waters: but God shall rebuke them, and they shall flee far off, and shall be chased as the chaff of the mountains before the wind, and like a rolling thing before the whirlwind. And behold at eveningtide trouble; and before the morning he is not." (Isaiah 17:13-14)
Police Evict Jews from Jewish Hebron
Dec. 5….(Jnewswire) Israeli police forced their way into a Jewish-owned home in the ancient Jewish city of Hebron Thursday and forcefully evicted the Jews living there, as applauding Palestinian Arabs looked on. The police were reportedly carrying out the instruction of Israel's law courts, who ruled last month that Jews should vacate the house whose ownership is being disputed by Arabs in Hebron. Hebron's Arabs hate the Jews and reject totally the right of any Israelis to live in the city. Massively outnumbered, Zionist Jews have risked, and some have paid with, their lives to slowly re-establish a Jewish presence in the place where Israel's founding father's lie buried. According to the Jewish residents of the "Peace House," as they named it, the court had made its decision completely disregarding the proof of purchase presented by them and by the American Jew who personally paid for the property. As such, the ruling had been biased in favor of the Arab side, and was being protested by the Jews. Tens of thousands of Israelis came to Hebron from around the country two weeks ago to show their support for the house residents and to voice their rejection of the court decision. After they left, the Jewish families and a smaller group of their friends vowed to stay and fight the eviction. Today they failed, but they have vowed to return and keep on returning no matter how many times they are thrown out. The eviction took place less than three hours after Defense Minister, Labor Party leader and aspiring prime minister Ehud Barak met with the Council of Jewish Settlements in Judea, Samaria and Gaza (Yesha) and reportedly deceived them into believing that he was willing to negotiate an end to the standoff. The eviction, described by Jews in the area as "violent," but which Barak insisted was carried out with "minimum force" was denounced by Israeli political leaders including Deputy Prime Minister and Industry, Trade and Labor Minister Eli Yishai. Yishai, who leads the Ultra-Orthodox Shas Party, suggested that Barak had launched the operation in an effort to boost his party's performance in the opinion polls. "It's a shame that for rating purposes, the defense minister chose to halt the dialogue process, act in complete disregard of the law and throw people out of their home. Making political use of defense issues will not make the Labor Party more relevant and reinvent something that is outdated." According to a statement released by the Yesha Council, Barak "acted in a deceitful manner today when he presented a false pretense as if he was working to prevent a violent evacuation, while he in fact gave his approval. A practical possibility for solving the issue without using violence was made possible, but Barak took a shameful one-sided move. It's regretful to see that the head of the defense establishment decided to abandon the road of responsibility and reasoning, and chose the road of aggression instead." Right Wing MK Aryeh Eldad called the eviction "an act of violent madness," and warned that it would end in bloodshed. Israel's sworn enemies were unabashedly delighted by the sight of Jews battling Jews in order to give them, the Arabs, the benefit of the doubt. A Channel Two reporter said, "It's impossible to ignore the Palestinians sic standing around and applauding as they watch these scenes." Two hours after they had driven out their countrymen, and as they were welding shut the entrances to the house, Israeli policemen came under fire from Palestinian Arabs. No injuries were reported. Not only Arabs, but many others in the international community will have approved the Israeli action. "As far as the rest of the world is concerned," the BBC's Tim Franks said, speaking from Jerusalem Thursday evening, "all Jewish settlements on the West Bank [sic] are illegal under international law."
Planned Parenthood Gift Certificates Can Be Used for Abortion
Dec. 5….(Fox News) They call it a "gift," but some would rather opt for a lump of coal. A number of Planned Parenthood clinics in Indiana and Illinois are offering gift certificates for their services this Christmas. Officials say the vouchers enable people to give their loved ones "the gift of life," that would help pay for annual checkups and birth control, but also can be used for abortions. Chrystal Struben-Hall with Planned Parenthood of Indiana said the idea is a response to economic woes that have forced many women to put health care at the bottom of their to-do list. "People are making really tough decisions about putting gas in their car and food on their table," Struben-Hall said. Planned Parenthood said the stocking-stuffers, which range in value from $25 to $100 and can be ordered online, are redeemable for health services at clinics throughout the two states and can go to any service offered. "We decided not to put restrictions on the gift certificates, so it's for whatever people feel they need the services for most," Struben-Hall said. A number of religious and pro-life groups are outraged, saying that at a time when millions are preparing to celebrate the birth of Jesus Christ, Planned Parenthood is offering a gift that could fund an abortion. "They can and will be used to end the lives of children at Christmas," said Cathy Ruse of the Family Research Council. She believes the gift certificates will anger many, even those who are not deeply religious. "A coupon for abortion at Christmas time?" Ruse said. "That's just inherently offensive, I think, to all Americans."
Mideast Peace Deal Will Require Global Force
(Israelis and Palestinians seem to realize that a strong international presence will be critical to any deal)
Dec. 4….(Newsmax) Israelis have traditionally scorned the idea of international peacekeepers intruding in their region. Prime Minister David Ben-Gurion once famously dismissed the UN pronounced "Oom" in Hebrew, as "Oom, schmoom." Arab leaders have also shown disdain: on the eve of the 1967 Six Day War, for example, Egypt's Gamal Abdel Nasser peremptorily expelled 1,300 blue helmets from Sinai before rolling through. And Palestinians have feared that allowing an armed international force into their territory would infringe on the sovereignty of their incipient state. It's therefore striking that a recent proposal to deploy NATO forces in the West Bank as part of any Obama-era peace deal is quickly gaining advocates in both Washington and the Levant. Former US national-security advisers Brent Scowcroft and Zbigniew Brzezinski both recently endorsed the idea. The president-elect's nominee to head the National Security Council, Gen. James Jones, a former NATO supreme commander, is also said to favor such a force. Israelis and Palestinians have raised tepid protests, but even they seem to be realizing increasingly that a strong international presence will be critical if any deal is to be struck, and if it's to stick. "A principle that appeared to be out of bounds I think is now in bounds," says Tony Blair, the Mideast envoy of the Quartet (the United States, the EU, the UN and Russia). Negotiators have long struggled with a frustrating Catch-22: how to secure Palestinian areas under any future peace plan. Israelis argue that they can't make a deal until Palestinian troops become competent enough to control militants. Palestinians, on the other hand, complain that they can't do so until the Israelis withdraw. A robust international force, in principle, could solve that conundrum. A NATO contingent, and it would likely have to be NATO, since Israelis are skeptical of the United Nations, would reassure Israelis on security while freeing the Palestinians from their hated occupiers. Given the idea's allure, it's no surprise that it's actually been floated before. The deal President Bill Clinton proposed at Camp David in 2000 called for "an international presence that can only be withdrawn by mutual consent." But Aaron David Miller, a US negotiator during the talks, says that Israelis insisted that this military presence be American, not European or other. Clinton's plan would have allowed Israeli forces to remain in the Jordan Valley for up to three years "under the authority of the international force." The NATO mission being proposed today would have a wider mandate and might even preclude Israeli troops in areas it would patrol. "People are increasingly going for the maximalist version," says Daniel Levy, a senior fellow at Washington's New America Foundation. What changed? To start, Israel has begun to recognize that it is ill equipped to defeat its asymmetrical enemies. "We're realizing that we don't have the means to deal with these [irregular guerrilla armies]," says Yossi Alpher, a former Mossad official. So despite what he calls Israel's prior "allergy" to foreign forces, "we're increasingly willing to rely on the international community," he says. Palestinians, too, have begun to come around, if only because nothing else has managed to secure statehood. They now realize, Brzezinski argues, that the alternative to an international force is continued Israeli occupation. Of course, there are still plenty of obstacles. International peacekeepers are currently stationed in the Golan Heights and the Sinai and have been quite successful. But they patrol largely empty demilitarized zones. Operating in the cramped and densely populated hills around Jerusalem would be infinitely more difficult. Working in Gaza, one of the world's most crowded areas, would be a nightmare. And with Hamas in control of the coastal strip, Palestinian President Mahmoud Abbas hopelessly weak, and Israel's hawkish Benjamin Netanyahu poised for a comeback, perhaps the biggest challenge will be getting any peace deal at all. Alpher says that NATO peacekeepers would be little more than the "icing on the cake" of a peace agreement. But he warns that, "I don't know how anyone arrives at the assumption that there's going to be a cake." Even if there were, it's not guaranteed that NATO countries would agree to provide the icing. Americans and Europeans have grown more comfortable in recent years deploying forces to combat zones outside Europe. And the benefits of a Mideast peace deal could be huge. Yet tough questions abound. What would happen if rejectionist groups like Islamic Jihad started picking off peacekeepers? Would NATO respond with the same kinds of preventive raids carried out by the Israelis today? Scowcroft says he hopes not. But then it's not clear how NATO could prevent the Israelis from taking matters into their own hands. And should all-out fighting resume, this is, remember, one of the world's most intractable conflicts, NATO could be drawn into the middle. At the end of the 2006 Lebanon War, one senior Israeli security official, speaking anonymously, said that NATO troops being deployed there would "put the whole conflict in a different context," drawing Americans and Europeans into "a clash of civilizations." The same would be true in the West Bank: a sobering thought that any Western politician, including the new US president, would do well to consider.
NATO Supports US Missile Defense in Europe
(NATO foreign ministers on Wednesday affirmed their support for US plans to install anti-missile defenses in Europe despite Russia's strong opposition)
Dec. 4….(In The Days) The ministers said the planned US defenses in Poland and the Czech Republic will make a "substantial contribution" to protecting allies from the threat of long-range ballistic missiles. Russia has vehemently opposed the deployment, threatening to respond by placing short-range missiles in its westernmost region, Kaliningrad, which borders Poland. The U.S. insists the defenses are aimed at potential attack from Iran and pose no threat to Russia's ballistic arsenal. All 26 NATO allies signed the statement backing the deployment of interceptor missiles in Poland and an advanced radar station in the Czech Republic. Doubts about allied support for the plan were raised last month when French President Nicolas Sarkozy said the missile defenses would "bring nothing to security, it would complicate things, and would make them move backward." Sarkozy's statement at a meeting in France with Russian President Dmitry Medvedev appeared to contradict his early support for the missile plans at a NATO summit in April. But in Washington a few days later, the French leader changed tack again, saying that the anti-missile shield could "complement" Western defenses against a threat from Iran. The NATO ministers agreed Tuesday to gradually resume contacts with Moscow, which were frozen after Russian troops poured into Georgia in August. However, they were critical of Moscow's actions and insisted the resumption of low-level talks would not mean a return to business as usual for the NATO-Russia Council. Faced with opposition from Russia, the NATO ministers backed away from establishing a plan for Ukraine and George to move toward entry into the Western military alliance for the former-Soviet nations. However, the ministers offered to step up military and political cooperation to help them achieve their goal of eventual membership. Russia's ambassador to NATO, Dmitry Rogozin, welcomed NATO's offer to resume talks, but dismissed the alliance plan to prepare Ukraine and Georgia for membership as an attempt to return to Cold-War bloc-building that made "no political sense." The European Union separately proposed building new economic and political ties with the former Soviet states of Armenia, Azerbaijan, Belarus, Georgia, Moldova and Ukraine. Several EU nations have been lobbying for such a program to counter Russia's increasingly assertive policy toward its neighbors, and to develop alternative routes for oil and gas pipelines to reduce Europe's energy dependence on Russia. In a sign of Moscow's more assertive foreign policy, the Russian Navy said one of its warships would sail through the Panama Canal for the first time since World War II. The destroyer Admiral Chabanenko will arrive Friday in Panama for a six-day visit following maneuvers with Venezuelan ships, said Navy spokesman Capt. Igor Dygalo in Moscow. The exercises with Venezuela were the first such deployment to the Western Hemisphere since the Cold War.
IDF Preparing Options for Strike at Iran Without US Assent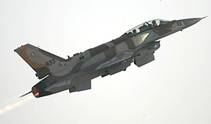 Dec. 4….(JPOST) The IDF is drawing up options for a strike on Iranian nuclear facilities that do not include coordination with the United States, The Jerusalem Post has learned. While its preference is to coordinate with the US, defense officials have said Israel is preparing a wide range of options for such an operation. It is always better to coordinate," one top Defense Ministry official explained last week. "But we are also preparing options that do not include coordination." Israeli officials have said it would be difficult, but not impossible, to launch a strike against Iran without receiving codes from the US Air Force, which controls Iraqi airspace. Israel also asked for the codes in 1991 during the First Gulf War, but the US refused. "There are a wide range of risks one takes when embarking on such an operation," a top Israeli official said. Several news reports have claimed recently that US President George W. Bush has refused to give Israel a green light for an attack on Iranian facilities. One such report, published in September in Britain's Guardian newspaper, claimed that Prime Minister Ehud Olmert requested a green light to attack Iran in May but was refused by Bush. In September, a Defense News article on an early warning radar system the US recently sent to Israel quoted a US government source who said the X-band deployment and other bilateral alliance-bolstering activities send parallel messages: "First, we want to put Iran on notice that we're bolstering our capabilities throughout the region, and especially in Israel. But just as important, we're telling the Israelis, 'Calm down, behave. We're doing all we can to stand by your side and strengthen defenses, because at this time, we don't want you rushing into the military option.'" The "US European Command (EUCOM) has deployed to Israel a high-powered X-band radar and the supporting people and equipment needed for coordinated defense against Iranian missile attack, marking the first permanent US military presence on Israeli soil," Defense News wrote. The radar will shave several precious minutes off Israel's reaction time to an Iranian missile launch. In a related article at about the same time, TIME magazine raised the possibility that through the deployment of the radar, America wants to keep an eye on Israeli airspace, so that the US is not surprised if and when the IAF is sent to bomb Iran, a scenario Washington wants to avoid. The US army sent 120 EUCOM personnel to Israel's Nevatim Air Base southeast of Beersheba to man the new radar. Last week, Iran's nuclear chief Gholam Reza Aghazadeh revealed that the country was operating more than 5,000 centrifuges at its uranium enrichment plant in Natanz and would continue to install centrifuges and enrich uranium to produce nuclear fuel for the country's future nuclear power plants. "At this point, more than 5,000 centrifuges are operating in Natanz," said Aghazadeh, who is also the head of the Atomic Energy Organization of Iran. This represents a significant increase from the 4,000 Iran had said were up and running in August at the plant. The Islamic republic has said it plans to move toward large-scale uranium enrichment that will ultimately involve 54,000 centrifuges. Israeli officials said last week that the drop in oil prices and the continued sanctions on Iran were having an effect, although they had yet to stop Teheran's nuclear program. The officials said that while Iran was making technological advancements, it would not have the necessary amount of highly-enriched uranium for a nuclear bomb until late 2009. "There is still time and there is no need to rush into an operation right now," another Israeli official said. "The regime there is already falling apart and will likely no longer be in power 10 years from now." The IAF was preparing for a wide range of options, OC Air Force Maj.-Gen. Ido Nehushtan recently said, adding that all it would take to launch an operation was a decision by the political echelon. "The air force is a very robust and flexible force," he told Der Spiegel. "We are ready to do whatever is demanded of us." On Monday, Teheran dismissed the possibility of an Israeli strike, saying it didn't take Israel seriously. "We think that regional and international developments and the complicated situation faced by Israel itself will not allow it to launch military strikes against other countries," Iranian Foreign Ministry spokesman Hassan Qashqavi told reporters in Teheran, according to the Press TV Web site. "Israel makes threats to promote its psychological and media warfare," he said.
Moscow Rushing to Finish Iran's Bushehr Reactor by Mid-2009
Dec. 3….(DEBKA) DEBKAfile's Iranian and Moscow sources report that Atomstroiexport, the Russian firm under contract to build and activate Iran's nuclear reactor at Bushehr, is offering nuclear engineers and technicians top salaries to leave for Iran at short notice. The Kremlin has promised Tehran to have the reactor up and running by mid-2009. Some 1,600 experts are already at work on the site; the project is short of another 500 to meet this deadline. An Atomstroiexport spokesman explained this week that the main technology for the station has already been installed "so the construction work is getting under way." Our Iranian sources report that this is the first time Russian officials have admitted that the Bushehr reactor is close to completion. Sergei Kiriyenko, director of the Russian company visited Tehran on Nov. 27 to tie up the final stage of the reactor's construction. Kiriyenko, former Russian prime minister and personal emissary of the incumbent prime minister Vladimir Putin, again assured the Iranians that the reactor would be ready to go within a few months. Our sources add that the Bushehr plant will make it possible for Iran to produce plutonium for nuclear weapons. Its completion will provide Iran with an alternative weapons fuel option in addition to the enriched uranium already accumulated for its first nuclear bomb. US and Israel intelligence had believed the plutonium track lagged behind the uranium process. However, now that Moscow has embarked on a crash program to finish the Bushehr project, this no longer holds true. Iran will go nuclear next year.
Obama, DNC Elude Citizenship Lawsuit Deadline
Dec. 3….(WND) President-elect Barack Obama and the Democratic National Convention have let a Dec. 1 deadline slip by without responding to Pennsylvania attorney Philip J. Berg's petition for writ of certiorari demanding Obama produce a legitimate birth certificate to document his eligibility for office. While the Federal Election Commission waived its right to respond to the complaint on Nov. 18, the solicitor general's office is refusing to say whether the waiver was also filed on behalf of Obama and the DNC. Berg filed his petition on Oct. 30, and according to procedure, a response from the defendants was due today. But when WND contacted the US Supreme Court and the solicitor general's office, officials referenced the FEC's waiver and dodged any questions about Barack Obama and the DNC filing separate responses. America's Right blogger and legal writer Jeff Schreiber has followed the case closely.
Imaging Expert: 'Certification' of Obama Birth Time, Location is Forgery
Dec. 3….(WND) A document expert contends the "Certification of Live Birth" Barack Obama's campaign posted online to rebut charges the president-elect fails the Constitution's natural-born citizen requirement is criminally fraudulent. The Obama campaign has told WND such allegations are "garbage," but Dr. Ron Polarik, who holds a Ph.D. in instructional media specializing in computer technology such as printers, scanners and digital imaging, disagrees. Polarik explained to WND his four months of research on the images, including nearly 1,000 test images using actual scans and photographs of real certificates, indicate there are several "giveaways" on the image itself. For example, the document has gray and white between the lettering, not green pixels as the rest of the background document, suggesting someone cut-and-pasted or typed new information that was embedded on top of the background. Also, Polarik said although the Obama form has a border like that used in Hawaii in 2007, the seal is like that used in 2006 or 2008, but not 2007. In Polarik's view, there has to be a significant reason for a political candidate and campaign to go to such lengths. "Obviously, there's something very critical to hide, or they wouldn't have spent the million dollars in legal fees to prevent the release of his original birth certificate," Polarik told WND. "There's absolutely something to hide," he said. "If he was born in Hawaii they would have had a luau that would be continuing today. "Not that the people who voted for him would care," he said, "but they used this forged document to convince the American voters. "It's a scary thought to have someone who essentially begins his presidency as a criminal," he said, because the use of a faked document as identification is, in fact, a crime, he noted. "It would be hard to perform as president from behind jail cell door at Leavenworth," he said. The video has Polarik's face and voice disguised, and he confirmed to WND he's using an assumed name because of the threats. Independent verification of his credentials was not immediately available. Polarik said the issue of the birth location is a "chink" in Obama's armor, but the Democrat also has declined to release information about his college years, about his selective service and about his passports, including on what nation's passport he traveled to Pakistan two decades ago when it was illegal to go there as a US citizen. Polarik describes his findings and conclusions on the video. WND reporter Janet Polarik has written extensively about the birth certification issue. "Look, we're not asking for the world here. Neither is the Constitution. Some pretty basic requirements like being 35 years old, having 14 years residency in the United States, and being a natural born citizen. When Senator John McCain was questioned about it, he showed his birth certificate without hesitating. When Barack Obama was asked by courts including the US Supreme Court, he ducked and hid behind the right to privacy," she writes. "Ironically, when Obama was running for the Senate, he won by disqualifying every candidate who ran against him in the primary, including a guy who had been through a nasty and salacious divorce. Even though he had a small child who could be hurt by the information being made public, a court decided that the public's right to know; outweighed this poor fella's right to privacy, and he backed out. Obama clings to the 'right to privacy' regarding his own qualifications, just not his opponents." "These are the facts," she wrote. "The Constitution requires the president to be a natural born citizen. Obama's grandmother said she was there when Barack was born in Kenya. Obama refuses to release his original birth certificate. Instead of a birth certificate, Obama's campaign posted a certification given to those born abroad. Experts have called even that document an 'obvious forgery.'"
Report: US Can Expect Nuclear Terrorist Attack Before 2013
Dec. 2….(Fox News) The United States can expect a terrorist attack using nuclear or more likely biological weapons before 2013, reports a bipartisan commission in a study being briefed Tuesday to Vice President-elect Joe Biden. It suggests the Obama administration bolster efforts to counter and prepare for germ warfare by terrorists. "Our margin of safety is shrinking, not growing," states the report, obtained by The Associated Press. It is scheduled to be publicly released Wednesday. The commission is also encouraging the new White House to appoint one official on the National Security Council to exclusively coordinate US intelligence and foreign policy on combating the spread of nuclear and biological weapons. The report of the Commission on the Prevention of WMD Proliferation and Terrorism, led by former Sens. Bob Graham of Florida and Jim Talent of Tennessee, acknowledges that terrorist groups still lack the needed scientific and technical ability to make weapons out of pathogens or nuclear bombs. But it warns that gap can be easily overcome, if terrorists find scientists willing to share or sell their know-how. "The United States should be less concerned that terrorists will become biologists and far more concerned that biologists will become terrorists," the report states. The commission believes biological weapons are more likely to be obtained and used before nuclear or radioactive weapons because nuclear facilities are more carefully guarded. Civilian laboratories with potentially dangerous pathogens abound, however, and could easily be compromised. "The biological threat is greater than the nuclear; the acquisition of deadly pathogens, and their weaponization and dissemination in aerosol form, would entail fewer technical hurdles than the theft or production of weapons-grade uranium or plutonium and its assembly into an improvised nuclear device," states the report. It notes that the US government's counter proliferation activities have been geared toward preventing nuclear terrorism. The commission recommends the prevention of biological terrorism be made a higher priority. Study chairman Graham said anthrax remains the most likely biological weapon. However, he told the AP that contagious diseases, like the flu strain that killed 40 million at the beginning of the 20th century, are looming threats. That virus has been recreated in scientific labs, and there remains no inoculation to protect against it if is stolen and released. Graham said the threat of a terrorist attack using nuclear or biological weapons is growing "not because we have not done positive things but because adversaries are moving at an even faster pace to increase their access" to those materials. He noted last week's rampage by a small group of gunmen in Mumbai. "If those people had had access to a biological or nuclear weapon they would have multiplied by orders of magnitude the deaths they could have inflicted," he said. Al Qaeda remains the only terrorist group judged to be actively intent on conducting a nuclear attack against the United States, the report notes. It is not yet capable of building such a weapon and has yet to obtain one. But that could change if a nuclear weapons engineer or scientist were recruited to Al Qaeda's cause, the report warns. The report says the potential nexus of terrorism, nuclear and biological weapons are especially acute in Pakistan. "Were one to map terrorism and weapons of mass destruction today, all roads would intersect in Pakistan," the report states. In fact, commission members were forced to cancel their trip to Pakistan this fall. The Islamabad Marriott Hotel that commission members were to stay in was blown up by terrorist bombs just hours before they were to check in.
Exposed: Europe's 2009 Plan for Israel
Dec. 2….(JNEWSWIRE) The European Union, which has been trying for decades to shoulder its way into playing a more important role in the global effort to establish a new Muslim Arab state on historically Jewish lands, is reportedly poised to unveil its latest plan for achieving this unprecedented act of state land theft. Drafted by the French foreign ministry and entitled "The EU Action Strategy for Peace in the Middle East: The Way Forward," the scheme on the agenda for discussion when the EU's foreign ministers meet in the second week of December. A copy of was leaked to the leftist Israeli daily, Ha'aretz, which published details from it at the top of its English-language website Sunday morning. Because of Ha'aretz's constant effort to undermine Israel's security by promoting every new "peace plan" to emerge, it is probable someone in the EU arranged to float the document and gauge Israel's reaction before Europe's foreign ministers convene to discuss it. The union is thought to have timed the document's release in order to have it in play before Barack Hussein Obama ascends to the presidency of the United States on January 20. Describing it as "the EU's plans for advancing an Israeli-Palestinian deal in 2009," Ha'aretz said initial reaction among Israel' officials has been one of "alarm." "Inter alia, it calls for increased pressure on Israel to reopen Palestinian institutions in Jerusalem, including Orient House, which formerly served as the Palestinian Authority's headquarters in the city," the paper said, and which gave the Arabs a strategic foot in what Israel calls its "eternal and undivided capital." A central demand of the Arab world is that the central and most important parts of Jerusalem, with the Temple Mount, Israel's holiest site, at the top of the list - be included in a Palestinian state. States the EU plan: "A key part of building the Palestinian state involves resolving the status of Jerusalem, as the future capital of two states. Therefore the EU will work actively towards the re-opening of the Palestinian institutions, including the Orient House." Apart from this, a variety of other steps are proposed which the EU should pursue next year to push forward diplomatic efforts between Israel and both the Palestinian Arabs and Syria. The newly elected American government must be "encouraged," it says, "to be actively engaged in Israeli-Palestinian talks." [Ed note: US Secretary of State Condoleezza Rice's indefatigable efforts, she visited Jerusalem no less than 24 times to try and bully Israel into making more "gestures for peace." were apparently not "active" enough for the Europeans.]
Part of this active engagement must be a close monitoring, or policing, of the implementation of the first stage of the so-called Road Map plan, which requires Israel to stop building communities in its biblical heartland and to dismantle the IDF checkpoints that keep Jews safe from terrorist attacks. The European Union "expects a complete freeze of all settlement activities including natural growth, including in East Jerusalem [sic]." It will continue to send "clear messages" to Israel and examine practical ways to more effectively influence these issues, including boycotting goods produced by Jews living in the "settlements." Oh, and the PA's commitment to "fight terror," a commitment it has manifestly not kept despite signing numerous agreements to do so; that should be monitored too. To this end the EU, which is historically strongly biased against the Jewish state, will offer to send "policemen, soldiers or civilians to help train Palestinian security forces or," ominously, "to supervise implementation of a final-status agreement." But in contrast to its strong communication of the sense that Israel remains intransigent and uncooperative, Ha'aretz reports that European document "praises the PA for having greatly improved security [sic] in the West Bank [sic], and therefore concludes that Israel must transfer additional large swathes of this territory to Palestinian security control." The Israeli paper predicts that the proposals will lead to a "clash" with the new government Israelis will be electing on February 10, whether it will be headed by Kadima Party chairman Tzipi Livni or Likud leader Benjamin Netanyahu. Israelis are already anticipating that a Netanyahu government will find itself at loggerheads with the new Obama administration, which is expected to greatly increase pressure on Israel in any case, with or without advice/interference from the EU. By drawing attention to the fact that all of Europe, too, will be lined up with Washington against Israel, Ha'aretz is suspected of seeking to influence Israelis away from voting for the almost universally-despised Netanyahu.
Jesus—Keynote of God's Plan
Dec. 2….(Charles Stanley) Jesus' genealogy may not seem like exciting reading but the context of the His lineage is important. The Bible delineates His family tree to reveal God's handiwork throughout history. Everything He had done from Eden to Bethlehem to Golgotha and beyond was planned. In the garden of Eden, disobedience ushered sin into the world, corrupting mankind's nature. So God provided immediate as well as long-term solutions. He shed an animal's blood so that its skin might cover Adam and Eve's nakedness. In addition, He set into motion events that would culminate in His Son becoming the sacrificial Lamb of God. As part of His plan, the heavenly Father promised to bless the human race through Abraham's descendants, a people whom He set apart to serve Him. Despite periods of enslavement, wandering, and exile, the Israelites grew into a prominent community with a radical belief in one God. Later, the Macedonian Empire's mandatory language (Greek) gave far-flung peoples a common tongue. In addition, Jews long separated from their homeland once again had access to Scripture, thanks to translation efforts. In another development, the Romans built 50,000 miles of highway, facilitating the gospel's distribution throughout the world. The timing of Jesus' birth was no accident. His ancestors' lives were woven into the redemption plan that culminated in Christ's triumph over death. God used both good and bad events to create the perfect environment for maximum impact.
Bush Tells Olmert "Foolish to Give-Away Golan
Dec. 1….(Israel Today) When US President George W. Bush met with visiting Israeli Prime Minister Ehud Olmert last week he urged Olmert to reconsider his ill-conceived rush to surrender the Golan Heights to Syria. That according to diplomatic sources briefed on the White House meeting between the two outgoing leaders. The sources told Ha'aretz that Bush pointedly asked Olmert, "Why do you want to give Syrian President Bashar Assad the Golan for nothing?" Olmert reportedly responded that the surrender of the Golan would "not be for nothing. It's an exchange for a change in the region's strategic alignment." Bush then suggested that Olmert was foolish for taking Assad at his word, to which the Israeli leader had no reply. Israeli commentators believe Olmert is eager to score a major diplomatic victory before leaving office in February, and sees a hasty peace deal with Syria as the most viable option.
India Furious at Pakistan as Bloody Attack is Crushed
Dec. 1….(Guardian) Tensions between India and Pakistan escalated last night after it was claimed that the only terrorist to have survived three days of deadly battles in Mumbai was from Pakistan, and that his nine fellow Islamist militants were either from that country or had been trained there. The claims about responsibility for the attack, in which almost 200 people were killed, came from leaked police accounts that gave details of the interrogation of Azam Amir Kasab, 21, said to have been the man pictured at Mumbai's main train station carrying an assault rifle and grenades. According to the reports, which could not be independently verified, Kasab said that the operation was the responsibility of Lashkar-e-Taiba, a jihadist group based in Pakistan, and its aim was to 'kill as many as possible' in what was intended to be India's 9/11. The claims were made as Indian special forces ended the violent sieges around Mumbai with the killing of the final three terrorists holding out in the Taj Mahal Palace hotel, where British survivors had walked through rooms strewn with bodies and 'blood and guts' as they were led to safety. The allegations about Pakistan emerged as India was confronted with the full horror of the past few days. Reporters were allowed into the wrecked and scorched remains of the Taj Mahal and Trident-Oberoi hotels, where scores of victims had been murdered. Public anger in India has been mounting following allegations linking Pakistan to the attacks. They include:
• Kasab's claim that militants were trained in two camps run by Lashkar-e-Taiba in Pakistan.
• Allegations that phones found on a trawler suspected of ferrying the gunmen to Mumbai had been used to contact Pakistan.
• The claim by India's minister of state for home affairs, Sri Prakash Jaiswal, that 'the investigation carried out so far has revealed the hand of Pakistan-based groups in the Mumbai attack'.
In response to the claim that the attackers were either Pakistanis or had been trained there, a senior Pakistani official said troops would be sent to the border if tensions continued to rise. However, despite initial claims, it became increasingly certain that there was no involvement of British-based fundamentalists. Police forces across the UK denied they were investigating named individuals and Gordon Brown said there was no evidence linking any of the terrorists to the UK. The escalating war of words between India and Pakistan has set alarm bells ringing in the United States, where President Bush convened an emergency meeting with senior security officials. President-elect Barack Obama, who has said that reconciliation between the nuclear-armed neighbors is essential to stabilize Afghanistan and defeat al-Qaeda, called Indian Prime Minister Manmohan Singh on Friday night to offer condolences.
Under questioning, Kasab is said to have admitted to being a resident of Faridkot in Pakistan's Punjab province. 'I was trained by Lashkar-e-Taiba and asked to cause maximum casualties in Mumbai,' he is alleged to have said, referring to an organisation which India says is sending armed militants into Kashmir. Kasab was arrested on Wednesday night after his partner, said to be Ismail Khan, was shot dead. Kasab told police that they had learnt about Mumbai's geography using Google Earth. According to Indian media reports, the captured militant said that a room booked in the Taj had been used to store explosives and ammunition ahead of the attacks. This might explain how the squads of gunmen were able to reload their weapons over more than 50 hours and appeared to have an inexhaustible supply of grenades. Asif Ali Zardari, the President of Pakistan, yesterday appeared on Indian television in an attempt to defuse tensions. 'As President of Pakistan, if any evidence comes of any individual or group in any part of my country, I shall take the swiftest action in the light of evidence and in front of the world,' he said. Analysts said that the omens did not look good for the peace process between India and Pakistan. 'I expect a very difficult time ahead,' said Tariq Fatemi, a former Pakistani ambassador to Washington. 'Anything short of a real and genuine effort to co-operate by Pakistan would send very, very bad signals, not just to India but to the US and Europe.'
India and Pakistan Move to War Footing
Dec. 1….(DEBKA) DEBKAfile's military sources report that on Sunday, Nov. 30, Asia's two nuclear powers, India and Pakistan, took their first steps towards a conventional war. India, claiming evidence of Pakistan's involvement in the Islamist terrorist assault on Mumbai, placed its air and missile units on war preparedness, while Pakistan, disclaiming the charge, diverted its armed divisions from the Afghan border to its frontier with India. Military experts fear a full-blown war could spill over into combat with tactical nuclear weapons. For the Indian government, the last straw was the admission by Azam Amir Kasab, aged 21, the only terrorist known to have been captured by Indian forces, that Lashkar e-Taiba was behind the assault which claimed 174 lives, injured hundreds and devastated India's financial capital. This Kashmiri group has links to both al Qaeda and the Pakistani Inter-Services Intelligence agency. From its outset on Wednesday, Nov. 26, the scale, coordination and clockwork targeting of the assault clearly betrayed the hand of a major national intelligence agency. Evidence also mounted that the attackers had reached Mumbai by boat from Karachi. Five months ago, Taliban suicide killers attacked the Indian embassy in Kabul, claiming 60 lives including that of the Indian military attaché. The New Delhi government then found leads to Pakistan's clandestine service as the prime mover behind the outrage. Washington came up with the same proofs. The Manmohan Singh government sees the Mumbai assault as a second, escalated Pakistani act of war-by-terror and cannot afford to avoid a strong, immediate response - particularly with a general election around the corner next May. If Singh braves the media and public howls for Pakistani blood and shows the same restraint as he did after the Kabul attack, he will lose his seat. Domestic opinion is goading the New Delhi to act tough after what is perceived as the poor, slow and unprofessional performance of the police and special forces in quelling the terrorists. Indian commandoes were brought in 10 hours after the terrorists took over and it took them 60 hours to finally gain control of the three hostage sites Saturday, Nov. 29. Sunday, home minister Shivraj Patil resigned in response to the clamor followed by national security advisor MK Narayanan. India and Pakistan have fought three wars and barely avoided a fourth in 2001. President George Bush and his successor Barack Obama cannot hope for much headway in defusing Indian-Pakistan tension. With only a few weeks left in the White House, Bush does not have much leverage and Obama even less for pulling the two adversaries apart. While campaigning, the president-elect pledged to work to mend the fences between India and Pakistan and broker their Kashmir conflict. In the present climate, neither is looking for a mediator.
Bin Laden-Inspired Terror Group Wants Asian Caliphate
Dec. 1….(Times on Line) Lashkar-e-Taiba is a Pakistan-based movement which wants the removal of Indian forces from the disputed Jammu and Kashmir region. Set up in about 1990 with aid, it is claimed, from the Pakistan authorities, its overall objective is the establishment of an Islamic caliphate throughout India, China and much of southeast Asia. It is said to have been inspired by Osama Bin Laden and to have maintained close ties with Al-Qaeda to this day. Lashkar-e-Taiba operatives are understood to have been trained at Al-Qaeda camps in Afghanistan until the US invasion in 2001. Since that time Lashkar-e-Taiba training grounds in Pakistan have reciprocated by hosting Al-Qaeda militants, including, it is said, one of the London bombers, Shehzad Tanweer. Designated a terrorist group by the US in 2003, Lashkar-e-Taiba's tactics include the use of suicide bombings, with attacks conducted on both military and civilian targets. Its emblem is a black AK-47 rifle balanced on an open Koran set against a background of a blue sky and a rising sun. Other than its activities in the disputed territories, Lashkar-e-Taiba has also carried out a number of atrocities in India. In December 2001 its members raided the Indian parliament, killing at least 14 people. Ten months later an attack on a Hindu temple in Gujarat left 28 dead and the following year a twin bombing in Mumbai killed 52 and wounded more than three times as many. One of its most recent confirmed attacks was in October 2005, when co-ordinated suicide bombings were staged in the capital, New Delhi, during the Diwali festival, killing more than 60 people and wounding more than 200. The group has also been linked to the 2006 train bombings, again in Mumbai, in which 209 died and more than 1,000 were injured.
Olmert Makes Mad Dash for Palestinian State
Dec. 1….(JNEWSWIRE) Outgoing Israeli Prime Minister Ehud Olmert said Tuesday he has asked US President George W. Bush to pressure PLO chief Mahmoud Abbas into accepting a plan that will see a State of Palestine established on the Jews' historic homeland before the end of the year. Olmert did not say how the American leader responded. While Israeli leaders have demanded that their disgraced prime minister (under police investigation for corruption) not make any far-reaching decisions before he steps down after general elections next February, Olmert insisted that he would do continue to use his authority regardless. According to Ha'aretz, Olmert said he told Bush his proposal to Abbas was more far-reaching than any previous offer the "Palestinians" have received from Israel. Time was pressing because the American administration and Israeli government would soon be replaced, and Abbas is due to complete his term on January 9. "We have reached the moment of decision, and now we need to decide. We don't need months for that," he said. "The decision is tough, but I am ready to make it and hope that the other side will make it." Virtually every nation on earth supports the creation of an Arab state on the Jews' land. Successive Israeli governments have tried to resist the global pressure to surrender their nation's patrimony, but increasingly leftist Israeli leaders have embraced the world's "two state solution" being spearheaded by Bush. The risks to Israel's existence posed by this dismemberment of its land and the establishment on the high ground of Judea and Samaria of a belligerent Islamic state do not appear to give these Israeli leaders or their counterparts in the United Nations pause. Seeing the securing of a "Palestinian"-Israeli peace agreement as an ultimate prize, leaders like Bush and Olmert have been plowing ahead regardless.
---