WEEK OF JANUARY 25 THROUGH JANUARY 31
Obama 'Confidant': End of Israel 'Within Reach'
(Activist boasts 'Western support for Israel, complicity is starting to crack')
Jan. 30….(WND) Accusing the Jewish state of "genocide," an anti-Israel Palestinian activist once commended by President Obama has predicted the end of Israel, which, he boasted, is "within reach, in our lifetimes." In a piece earlier this month titled, "Why Israel won't survive," Ali Abunimah, co-founder of Electronic Intifada, a pro-Palestinian online publication, accused Israel of war crimes and gloated, "Now, the other pillar of Israeli power – Western support and complicity, is starting to crack. We must do all we can to push it over." "It is Israel as a Zionist state, not Palestine or the Palestinian people, that cannot survive this attempted genocide. Its problem is legitimacy, or rather a profound and irreversible lack of it," wrote Abunimah. Abunimah previously was described as close to Obama and has introduced the politician at pro-Palestinian events. Referring to a time period in the late 1990s, Abunimah said that "Obama used to be very comfortable speaking up for and being associated with Palestinian rights and opposing the Israeli occupation." Abunimah was quoted stating Obama was "quite frank that the US needed to be more evenhanded, that it leaned too much toward Israel." He noted Obama's unusual stance toward Israel, commenting "these were the kind of statements I'd never heard from a US politician who seemed like he was going somewhere, rather than at the end of his career." In his piece this month, Abunimah blasted Israel's three-week campaign against Hamas in the Gaza Strip, accusing the Israel Defense Forces of "massacr[ing] civilians in the hope that the population would turn against those fighting the occupier." Israel did not carpet-bomb any area in the Gaza Strip. It carried out surgical precision strikes against specific Hamas targets. The IDF regularly warned civilians of incoming attacks with phone calls or text messages. The IDF routinely employed what it terms "roof knocking," just prior to a targeted bombing, the building in question would receive a telephone call in Arabic warning that the structure was going to be bombed. Hamas, on the other hand, was widely condemned for utilizing civilians as human shields and storing weapons and military infrastructure in civilian zones, including apartment buildings. But Abunimah asserted: "Israel simply cannot bomb its way to legitimacy. What choice will Israel make? In the absence of any political and moral legitimacy the only arguments it has left are bullets and bombs. Left to its own devices Israel will certainly keep trying – as it has for sixty years – to massacre Palestinians into submission." He claimed "Israel's real goals (in Gaza) were to restore its 'deterrence' fatally damaged after its 2006 defeat in Lebanon (translation: its ability to massacre and terrorize entire populations into submission) and to destroy any Palestinian resistance to total Israeli-Jewish control over historic Palestine from the Jordan River to the Mediterranean Sea." Zionism, he asserted, is an ideology of "racial supremacy, extremism and hate, is a dying project, in retreat and failing to find new recruits. It is within reach, in our lifetimes." In the 1990s, Obama was a speaker at events in Chicago's large Palestinian immigrant community to raise funds for UN camps for the so-called Palestinian refugees. Barack Obama used to be very comfortable speaking up for and being associated with Palestinian rights and opposing the Israeli occupation," Abunimah said. Abunimah previously described meeting with Obama at a fundraiser at the home of Columbia University professor Rashid Khalidi, reportedly a former PLO activist. "Obama came with his wife. That's where I had a chance to really talk to him," Abunimah recalled. "It was an intimate setting. He convinced me he was very aware of the issues and critical of US bias toward Israel and lack of sensitivity to Arabs. He was very supportive of US pressure on Israel.
China, Russia Blame US for Crisis
Jan. 30….(Canberra Times) Chinese and Russian leaders Wen Jiabao and Vladimir Putin have blamed the United States for causing the global economic crisis on a gloomy first day of the Davos forum. Both leaders called yesterday for a new attitude by US President Barack Obama, while deepening pessimism over the future of the global economy enshrouded the World Economic Forum. Mr Wen said America's voracious appetite for debt and ''blind pursuit of profit'' had led to the worst recession since the Great Depression which has rocked the 2500-strong political and business elite gathered in the Swiss mountain resort. Mr Putin said the disappearance of some Wall Street titans in the past six months testified to the errors committed. Mr Wen blamed the crisis on ''inappropriate macro-economic policies of some economies'' and ''prolonged low savings and high consumption'', in a lightly veiled attack on the US. He blasted the ''excessive expansion of financial institutions in blind pursuit of profit and the lack of self-discipline among financial institutions and ratings agencies'' while the ''failure'' of regulators had allowed the spread of toxic derivatives. Mr Wen said the crisis had posed ''severe challenges'' for China and that it needed 8 per cent growth this year to maintain social stability while the International Monetary Fund predicted 6.7 per cent for this year. The Chinese leader called for faster reform of international financial institutions and for a ''new world order'' for the economy. The Russian leader followed him to the podium and said the crisis had been a ''perfect storm'' for a new order in the world.
Iran and Syria Trying to Replace PLO?
| | | |
| --- | --- | --- |
| | (FOJ) Hamas rockets fired at southern Israel this month are shown piled up at one Sderot police station this week Hamas leadership is based in Damascus and was unyielding in permitting a cease-fire for its Gaza clients. | |
Jan. 30….(Jerusalem Post) The Palestinian Authority on Thursday accused Iran and Syria of encouraging Hamas and other radical groups to establish a new leadership that would challenge the PLO's claim to be the "sole and legitimate" representative of the Palestinians. The PA is an organ of the PLO. The PA fears that the potential new leadership, which would be headed by Hamas chief Khaled Mashaal, would be recognized by several Islamic governments that are unhappy with President Mahmoud Abbas. The PA is also worried because the idea of replacing the PLO is being backed by prominent Arab political analysts, newspaper editors and even veteran Fatah leader Farouk Kaddoumi. Abbas, who met with US Middle East envoy George Mitchel in Ramallah, warned that any attempt to create an alternative leadership to the PLO would "consolidate divisions" among the Palestinians. Mashaal on Wednesday surprised the PA by announcing that the current circumstances require the Palestinians to start thinking about the creation of a new leadership that would represent all Palestinians. The PLO was no longer the legitimate representative of the Palestinians "because of its role in deepening divisions among the Palestinians," he said. His declaration has won the backing of all the Damascus-based Palestinian groups, including Islamic Jihad and the Popular Front for the Liberation of Palestine-General Command headed by Ahmed Jibril. During the meeting in Ramallah, Abbas told Mitchell he was very worried about the role of Iran and Syria in the Fatah-Hamas conflict. Abbas said that he was keen on achieving "national unity" with Hamas and the other Palestinian groups. Chief PA negotiator Saeb Erekat said Abbas also briefed Mitchell about Israel's settlement construction and its policy of "creating new facts on the ground" in the West Bank. Ahmed Abdel Rahman, a senior Fatah official closely associated with Abbas, accused the Iranians and Syrians of meddling in Palestinian affairs. "This is cheap meddling in our affairs," he said. "They are inciting some sick people like Khaled Mashaal to reject national reconciliation and to go ahead with their plans to form an alternative leadership. But these attempts are doomed to failure." Another PA official said the Iranians and Syrians were now openly "conspiring" to undermine the PA leadership. "They are seeking to take advantage of the increased sympathy for Hamas on the Arab street following the Israeli military operation in the Gaza Strip," the official said. "We see this as a declaration of war on the legitimate representatives of the Palestinians." Hussein a-Sheikh, a senior Fatah operative in the West Bank, called for organizing protests against Mashaal's comments. "This is an Iranian-Syrian plot against the PLO," he said. "We will do our utmost to thwart it." Another senior Fatah official, Ziad Abu Ein, said Damascus and Teheran were seeking to "destroy" the Palestinian cause and to solidify divisions among the Palestinians. The PA believes that Qatar is also behind the call to establish a new Palestinian leadership. A PA official said the Qatari-owned Al-Jazeera network had long served as a platform for Mashaal and Hamas. He also claimed that the station had been "inciting" against Fatah and Mahmoud Abbas by depicting them as traitors. Three previous attempts to establish an alternative leadership to the PLO failed, largely because of the refusal of the majority of Arab and Islamic countries to recognize the new bodies. The first attempt occurred in 1976, when then-Iraqi President Saddam Hussein encouraged a group of Palestinian officials to form the Palestinian Rejection Front. The second attempt was in 1983, when dissident Fatah officers Abu Musa Maragha and Abu Khaled al-Amleh, backed by Syria, established the Palestinian Salvation Front. The third attempt took place a few years ago when Hamas and other Damascus-based Palestinian groups established the Front of the Ten Palestinian Factions.
Globalists See Economy Crisis as Excuse for 'New World'
(Leaders in Davos bill meltdown as opportunity to expand control)
Jan. 30….(WND) A call to utilize the current global economic crisis as a panic in which governments worldwide can move to nationalize banks is emerging from the 2009 World Economic Forum in Davos, Switzerland. The forum's founder, Klaus Schwab, told CNN yesterday the current global economic slowdown is a "transformational crisis" that should be utilized to shape a new world order." "Above all else this is a crisis of confidence," Schwab said. "To restore confidence you have to establish signposts that the world after the crisis will be different. We have to create a new world and that is what Davos 2009 will be all about, serving society." Speaking from the Davos conference yesterday, Nouriel Roubini, New York University professor at the Stern School of Business, told CNBC the global banking system is "effectively insolvent." Roubini estimated that the worldwide crisis in bad bank assets will extend far beyond the Collateralized Mortgage Obligation problem caused by subprime loans. He expects the crisis to include bad loans in consumer credit cards, car loans and student loans, as well as commercial loans that have been packaged into securities sold as assets to banks and brokerage firms. Roubini estimated the bad asset crisis would amount to $3.6 trillion, about half of which he believes will be held by US banks and brokerage firms. Roubini called on the Obama administration to employ the "Swedish solution," in which the US government would nationalize troubled banks, not just investing bailout cash but also taking over and giving management control to US government bureaucrats.
Israel responds to cease-fire violations with precision air-strikes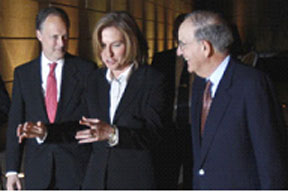 Jan. 30….(ICEJ News) IAF warplanes struck a vehicle carrying two Hamas operatives and a weapons manufacturing facility inside Gaza on Wednesday, shortly after another Kassam rocket fired by Palestinian militants landed in Israel. An IDF spokesman identified the vehicle as belonging to a terrorist involved in Tuesday's deadly roadside bomb attack on an Israeli unit patrolling the border. Witnesses said that the Israeli jet fired one missile, wounding several children that were walking nearby. The leader of the terrorist cell responsible for the attack on the Israeli border patrol was wounded in a similar strike on Tuesday. The weapons plant targeted was located in a stonecutting facility adjacent to a Hamas outpost and a smuggling tunnel. The bombing resulted in no injuries but was the IDF's first attack on a building inside the Strip since the end of Operation Cast Lead. "The era in which we would ignore (rocket attacks) has ended," said Israeli Foreign Minster Tzipi Livni after attending a security briefing with Prime Minister Ehud Olmert and Defense Minister Ehud Barak. "Israel will take whatever steps necessary. Any ceasefire violations, be it terror attacks, Kassam fire or arms smuggling, will meet a harsh response."
Scathing 'insider' report on UNWRA to hit Obama's desk
Former counselor says UN agency paying 'terrorists and criminals'
Jan. 29….(ICEJ News) The United Nations Relief and Works Agency for Palestinian refugees (UNRWA) employs and provides benefits for terrorists and criminals, a former legal advisor who left the organization asserts in a report that is scheduled to be reviewed by US President Barack Obama and his administration. James Lindsay, now a fellow at the Washington Institute for Near East Policy, served as an attorney with the US Justice Department for 20 years before joining the UN agency in 2000 and eventually serving as its general counsel. In his report, Lindsay notes that the US initially contributed over 75% of the funding for UNRWA and remains its largest single donor today, but the agency has long since parted ways with Washington in its policy aims and practices. Lindsay warns that the agency currently offers "millions of dollars in humanitarian aid" to those that don't need it. He also recommends that UNRWA "halt its one-sided political statements and limit itself to comments on humanitarian issues," as well as taking "additional steps to ensure the agency is not employing or providing benefits to terrorists and criminals." In many ways UNRWA acts a giant employment agency, as the vast majority of its 29,000 workers are local Palestinians who are listed themselves as refugees. But many of these employees are loyalists of Hamas and other terror militias, and its schools, clinics and other facilities have become outlets for anti-Israel indoctrination. Lindsey also contends that his most important recommendation is the purging the UNRWA rolls of those with the oxymoronic "citizen-refugees" status. Currently UNRWA continues to grant refugee status to around two million Palestinians that hold citizenship in Jordan, Syria and Lebanon.
Obama Gives First Interview as President to Al-Arabia
Jan. 28….(Breitbart) President Barack Obama chose an Arabic satellite TV network for his first formal television interview as president, part of a concerted effort to repair relations with the Muslim world that were damaged under the previous administration. Obama cited his Muslim background and relatives, practically a taboo issue during the US presidential campaign, and said in the interview, which aired Tuesday, that one of his main tasks was to communicate to Muslims "that the Americans are not your enemy." The interview on the Dubai-based Al-Arabiya news channel aired as Obama's new envoy to the region, former Sen. George J. Mitchell, arrived in Egypt on Tuesday for a visit that will also take him to Israel, the West Bank, Jordan, Turkey and Saudi Arabia. Obama said the US had made mistakes in the past but "that the same respect and partnership that America had with the Muslim world as recently as 20 or 30 years ago, there's no reason why we can't restore that." Obama also emphasized the importance of engaging with Iran, a country the Buah Administration often classified as part of the Axis of EvilHady Amr, director of the Brookings Doha Center, an arm of the US think-tank in the Qatari capital, described decision to make the first presidential interview with an Arabic news network as "stunning." "President Obama has made it absolutely clear that a central priority will be repairing America's relations with the Muslim world," he said. "If that's his objective, I'd say he's been hitting home run after home run." In the interview, Obama called for a new partnership with the Muslim world "based on mutual respect and mutual interest." He talked about growing up in Indonesia, the Muslim world's most populous nation, and noted that he has Muslim relatives. Obama's Kenyan father was born Muslim, though a self-described atheist, and many of his relatives in Kenya are practicing Muslims. As a child, Obama lived for a number of years in Indonesia and attended Muslim schools. Most of Obama's interview focused on the Israeli-Palestinian conflict, which is widely perceived in the Middle East as the most pressing issue in a region filled with animosities. Obama said he felt it was important to "get engaged right away" in the Middle East and had directed Mitchell to talk to "all the major parties involved." His administration would craft an approach after that, he said. "What I told him is start by listening, because all too often the United States starts by dictating," Obama told the interviewer.
Obama Sets Conference on Gaza Smuggling
(Next week will see meeting of representatives from US, EU, Israel and possibly Egypt in Copenhagen for in-depth discussion of arms smuggling from Sinai into Gaza)
Jan. 28….(YNET) US President Barack Obama has no intention of waiting for the general elections in Israel before tackling one of the region's most contentious problems. Ynet has learned that a meeting of high-ranking officials on arms smuggling into Gaza is shaping up to take place as early as next week in Denmark. Expected participants include European nations, Israel and possibly Egypt. President Obama vowed he would work aggressively to advance the process between Israel and the Palestinians, and this initiative is focused primarily on stabilizing the ceasefire between Israel and the Islamist Hamas. Obama, officials in Jerusalem say, wants to make it clear that the US is present, active and adamant about making sure the necessary understandings are reached to ensure the situation is stabilized. At this stage of the talks in Copenhagen the representatives will discuss the influx of arms smuggling from Iran to Hamas in Gaza. This following the commitment made by European nations and the US as part of the January 16th deal between then-Secretary of State Condoleezza Rice and Israeli Foreign Minister Tzipi Livni. Among other topics on the agenda, the representatives will discuss the allocation and deployment of troops and naval vessels to stop the smuggling. The special force may include NATO troops.
Obama Administration: All Taxpayers Must Fund Abortions
(Obama nominee takes position that 'contradicts' Constitution)
Jan. 28….(WND) President Obama's nominee for deputy secretary of state contends American taxpayers are required to pay for abortions, a position that contradicts the US Supreme Court's interpretation of the Constitution. James B. Steinberg's written testimony to the Senate Foreign Relations Committee was highlighted by Sen. Jim DeMint, a pro-life Republican serving South Carolina. Steinberg said the Mexico City policy, the newly overturned policy that forbade taxpayer subsidization of abortions overseas, "is an unnecessary restriction that, if applied to organizations based in this country, would be an unconstitutional limitation on free speech." Not so, said DeMint, pointing out Steinberg's stance is in direct opposition to the US Supreme Court. DeMint cited the 1991 Rust vs. Sullivan decision in which the court ruled, "The government has no constitutional duty to subsidize an activity merely because it is constitutionally protected, and may validly choose to allocate public funds for medical services relating to childbirth but not to abortion." DeMint had asked: "For more than 30 years the Hyde amendments, which prohibit federal funding for abortion services, have been supported by Republican and Democrat administrations and Congresses. Unfortunately, while this is the domestic policy of the United States, President Obama has vowed to reverse our foreign policy by repealing the Mexico City policy and use the federal taxpayer dollars to fund abortion services overseas. Do you support President Obama's efforts to lift the Mexico City restrictions? Do you believe our foreign policy should contradict long held domestic policies?" Tony Perkins of the Family Research Council told the Washington Post, "President Obama issued executive orders banning the torture of terrorists but signed an order that exports the torture of unborn children around the world." Perkins noted that Obama vowed at the debate with Republican candidate Sen. John McCain last fall at Rick Warren's Saddleback Church to find "common ground" on the issue of abortion and that he, as president, would work to "reduce the number of abortions." "His action today flies in the face of that vow and probably sets a record as the most quickly broken campaign promise ever," Perkins said. As a state lawmaker in Illinois, Obama opposed mandated physician help for babies who survive abortions. The president has promised to sign the "Freedom of Choice Act," a sweeping bill that would abolish pro-life rules and regulations across the nation. Among the laws that Obama would overturn are the Partial Birth Abortion Ban Act of 2003, the Hyde Amendment restricting taxpayer funding of abortions inside the U.S., informed consent laws, waiting period laws, parental consent and notification laws, requirements that abortion businesses follow health regulations, a ban on non-physicians doing abortions and bans on abortions of babies who can survive outside the womb.
Obama Hails 'Anti-Israel' Arab League Plan
(Arab initiative includes massive concessions, erosion of Jewish character)
Jan. 28….(WND) Following scores of denials he would trumpet the plan, President Obama today hailed a so-called "Saudi Peace Initiative," which offers normalization of ties with the Jewish state in exchange for extreme Israeli concessions. Defenders of Israel warn the plan would leave the Jewish state with truncated, difficult-to-defend borders and could threaten Israel's Jewish character by compelling it to accept millions of foreign Arabs. candidate Obama gave positive reception in meetings with Arab diplomats to the Saudi plan, but the reports were strongly denied by Obama's campaign. Today, in an interview with an Arab television network, his first formal interview as president, Obama trumpeted the Saudi initiative: "Well, here's what I think is important. Look at the proposal that was put forth by King Abdullah of Saudi Arabia. I might not agree with every aspect of the proposal, but it took great courage to put forward something that is as significant as that. I think that there are ideas across the region of how we might pursue peace. I do think that it is impossible for us to think only in terms of the Palestinian-Israeli conflict and not think in terms of what's happening with Syria or Iran or Lebanon or Afghanistan and Pakistan." Obama said he "believes" that there are "Israelis who recognize that it is important to achieve peace. They will be willing to make sacrifices if the time is appropriate and if there is serious partnership on the other side." In November, WND quoted a top Arab diplomatic source stating Obama advisers held meetings with Arab countries in which the Saudi Initiative was "very present." The source said in most cases it was the Arab states, including Saudi Arabia, Egypt and Jordan, that stressed the importance of the plan. He said Obama's advisers expressed a positive attitude toward the plan, but he stopped short of confirming a London Times article that claimed Obama would make the plan a central part of his Mideast policy. Then-senior Obama Mideast adviser Dennis Ross flatly denied the Times report, which quoted a source close to Obama stating that the president-elect intended to throw his support behind the Arab plan. Ross is now Obama's Mideast envoy. One senior Obama adviser was quoted telling the Times that on a visit to the Middle East last July, Obama said privately to the Palestinian leadership it would be "crazy" for Israel to refuse the Saudi Initiative, which Obama purportedly said could "give them peace with the Muslim world." Although Ross denied Obama would trumpet the Arab plan, Israeli President Shimon Peres told the British in November that in conversations he held with the president-elect, Obama proclaimed himself "very impressed" with the the Saudi plan, which was ratified by the Arab League. Peres was responding to questions about whether he thought Obama would advance the Israeli-Palestinian peace process in general and the Saudi plan in particular. The Saudi Initiative, originally proposed by King Abdullah of Saudi Arabia in 2002, states that Israel would receive "normal relations" with the Arab world in exchange for a full withdrawal from the entire Gaza Strip, West Bank, Golan Heights and eastern Jerusalem, which includes the Temple Mount. The West Bank contains important Jewish biblical sites and borders central Israeli population centers, while the Golan Heights looks down on Israeli civilian zones and twice was used by Syria to mount ground invasions into the Jewish state. The Saudi plan also demands the imposition of a non-binding UN resolution that calls for so-called Palestinian refugees who wish to move inside Israel to be permitted to do so at the "earliest practicable date." Palestinians have long demanded the "right of return" for millions of "refugees," a formula Israeli officials across the political spectrum warn is code for Israel's destruction by flooding the Jewish state with millions of Arabs, thereby changing its demographics. When Arab countries attacked the Jewish state after its creation in 1948, some 725,000 Arabs living within Israel's borders fled or were expelled from the area that became Israel. Also at that time, about 820,000 Jews were expelled from Arab countries or fled following rampant persecution. While most Jewish refugees were absorbed by Israel and other countries, the majority of Palestinian Arabs have been maintained in 59 UN-run camps that do not seek to settle its inhabitants elsewhere. There are currently about 4 million Arabs who claim Palestinian refugee status with the UN, including children and grandchildren of the original fleeing Arabs; Arabs living full-time in Jordan; and Arabs who long ago emigrated throughout the Middle East and to the West. According to Arab sources close to the Saudi Initiative, Arab countries are willing to come to an agreement whereby Israel absorbs about 500,000 "refugees" and reaches a compensation deal with the PA for the remaining millions of Palestinians. Obama's current and former advisers have recently endorsed the Arab Initiative. The Times referenced a partisan group of senior foreign policy advisers who urged Obama to give the Arab plan top priority immediately after his election victory, including Lee Hamilton, the former co-chairman of the Iraq Study Group, and Zbigniew Brzezinski, a Democratic former national security adviser. Brent Scowcroft, a Republican former national security adviser, also joined in the appeal.
Carter Sees 'unique' Chance to Direct Obama's Mideast Policy
Jan. 28….(JNEWSWIRE) Former US President Jimmy Carter, who has repeatedly refused to recognize his irrelevance in the Middle East and the bankruptcy of the ideas he first promulgated while in the White House nearly three decades ago, this week said he hopes to influence the new Obama administration as it moves "robustly" to engage the intractable Arab-Israeli conflict. Speaking during an interview Monday on NBC television, Carter revealed the extent to which he has lost touch with reality on the ground when he insisted that the terror group Hamas could be "trusted" to keep the ceasefire it entered into 10 days ago. The one-time Georgian peanut farmer said it was absolutely essential that the new Obama administration dialogue with the organization. "There won't be peace in the Middle East without Hamas involvement," he insisted. Less than 24 hours later the "trustworthy" group blatantly breached the ceasefire, killing an IDF soldier and wounding three others in an attack on an Israeli patrol near the Gaza-Israel "border" Tuesday. (See separate story.) Carter, who like the late PLO terror chieftain Yasser Arafat is a Nobel Peace Prize Laureate, will take into eternity with him the distinction of having set his country on the course it has followed ever since: aimed at getting Israel to relinquish its miraculously-restored homeland for the creation of a Palestinian state. In another interview Monday, this time with the Associated Press, Carter said Israel faces "catastrophe" unless it establishes Palestine. Like other proponents of "Palestine" Carter played the handy "demographic bomb" card, stating as if it were a foregone and unavoidable fact that Arabs will outnumber Jews in Israel in the foreseeable future. Because of America's unwillingness to stand up to bullying and blackmailing Arab regimes, previous administrations have simply refused to consider that a number of alternative and workable solutions are available.
New US Ambassador to UN: We Will Engage in Diplomacy with Iran
Jan. 27….(Jerusalem Post) US President Barack Obama's administration will engage in "direct diplomacy" with Iran, the newly installed US ambassador to the United Nations said Monday. Not since before the 1979 Iranian revolution are US officials believed to have conducted wide-ranging direct diplomacy with Iranian officials. But US Ambassador Susan Rice warned that Iran must meet UN Security Council demands to suspend uranium enrichment before any talks on its nuclear program. "The dialogue and diplomacy must go hand in hand with a very firm message from the United States and the international community that Iran needs to meet its obligations as defined by the Security Council. And its continuing refusal to do so will only cause pressure to increase," she told reporters during a brief question-and-answer session. Her comments, reflecting Obama's signals for improved relations with America's foes after eight years under former US president George W. Bush, came shortly after she met with UN Secretary-General Ban Ki-moon on her first day on the job. Iran still considers the US the "Great Satan," but a day after Obama was sworn in, it said it was "ready for new approaches by the United States." Foreign Minister Manouchehr Mottaki said his country would look into the idea of allowing the US to open a diplomatic office in Teheran, the first since 1979. Rice said the US remains "deeply concerned about the threat that Iran's nuclear program poses to the region, indeed to the United States and the entire international community." "We look forward to engaging in vigorous diplomacy that includes direct diplomacy with Iran," she said. It would include "continued collaboration and partnership" with the other four permanent members of the Security Council - Britain, China, France and Russia, along with Germany, Rice said. "And we will look at what is necessary and appropriate with respect to maintaining pressure toward that goal of ending Iran's nuclear program," she said.
Obama, Iran Talks Coming Next
Jan. 27….(WND) President Obama did a quick pivot Monday, shifting his focus to foreign policy by contacting a handful of major world leaders, including Russian President Dmitry Medvedev and French President Nikolas Sarkozy, as his new UN ambassador restated the desire for vigorous and "direct diplomacy" with Iran. Obama spoke with the foreign leaders ahead of a meeting with Secretary of State Hillary Clinton and his Middle East envoy George Mitchell, who was leaving immediately afterward for a trip to the region. Mitchell will go to Cairo, Egypt; Jersusalem, Israel; Ramallah in the West Bank; Amman, Jordan; Riyadh, Saudi Arabia. He will also visit Paris and London. Back in the US, UN Ambassador Susan Rice, who was confirmed last week for the post, said Monday that Iran's refusal to meet international obligations will increase pressure on Tehran to drop its nuclear ambitions and cooperate with the United States and global community. Besides pursuing nuclear weapons, Iran has called for the destruction of Israel and support for Hamas, a terror group designated by the US, Israel and the European Union. White House Press Secretary Robert Gibbs said Rice's remarks are not a departure from statements made previously by Obama the candidate. She merely restated the administration position that no forms of communication should be off the table with the Islamic regime. "Whether you were on the campaign trail or not, clearly this was something that generated a lot of coverage over the past two years. And I think Ambassador Rice was simply restating the position that the president had," he said. Gibbs did not offer any specific initiatives on dealing with Iran, but said Rice's remarks should come as no surprise. "This administration is going to use all elements of our national power to address concerns" about Iran's nuclear program. As for the Mitchell trip, Gibbs said Mitchell was ahead overseas "to begin the process that the president promised to be actively engaged in, the peace process there in the Middle East." State Department Spokesman Robert A. Wood said the purpose of the trip is to consult with regional leaders on a range of issues, including trying to contain smuggling into Gaza to prevent the rearming of Hamas, the Islamist movement that rules Gaza. He said Mitchell will not meet with any Hamas leaders.
Netanyahu Maintains Edge in Israel Election Race
Jan. 27….(Reuters) Israel's election race is back in full swing following the Gaza war and front-runner Benjamin Netanyahu has moved quickly to deflect allegations his victory could mean conflict with new US President Barack Obama. Claiming some of the middle ground in Israel occupied by the ruling Kadima party, Netanyahu told Middle East envoy Tony Blair that a government headed by his right-wing Likud party would not build new Jewish settlements, though would expand existing ones. "Like all the governments there have been until now, I will have to meet the needs of natural growth in the population. I will not be able to choke the settlements," Netanyahu said, according to a spokesman for the Likud chief on Monday. While such policy is opposed internationally and condemned by Palestinians seeking a state in the West Bank, it nonetheless puts Netanyahu broadly in line with the Kadima-led government and the party's prime ministerial candidate in the February 10 election, Foreign Minister Tzipi Livni. Speaking to reporters on Sunday, Livni suggested a Netanyahu-led administration would set Israel on a collision course with Obama, who has pledged swift efforts to try to achieve Palestinian statehood and a wide Israeli-Arab peace. Netanyahu has said peace talks, which Washington had hoped would achieve a framework peace deal in 2008, should focus on shoring up the Palestinian economy rather than on territorial issues that have stymied US mediation so far. "Israel and the United States could butt heads. It depends who's (in charge) here," Livni said in remarks widely seen as a swipe at Netanyahu, whose tenure as Israeli leader from 1996 to 1999 was marked by friction with the Clinton White House. She followed up in a radio interview on Monday, saying: "Netanyahu has already been prime minister, and he failed." Likud campaign billboards paint a different picture, of a confident-looking Netanyahu and an accompanying slogan: "Strong on security, strong on the economy."
With the vote now two weeks away on Tuesday, polls show Likud firmly in the lead after Israel's Gaza offensive, trailed by Kadima and with third-place Labor, led by Defense Minister Ehud Barak, gaining support as a result of his role in the war. The surveys give Likud some 29 seats in the 120-member parliament compared with about 25 for Kadima. Such a margin would leave Netanyahu well-placed to form a coalition government that could include partnerships with Kadima or Labor, as well as smaller religious and minority-interest groups. The 22-day Gaza offensive was widely supported by Israelis. If the opinion polls are correct, Livni made few inroads among Israeli voters as a result of the Gaza war.
Haniyeh to Obama: Support our Right to Freedom
(In congratulatory letter to new US president, Hamas prime minister says 'Palestinians will never be content as long as they remain victims of terrorist and barbaric occupation')
Jan. 27….(YNET) Hamas Prime Minister Ismail Haniyeh sent President Barack Obama a letter in which he urged the US to "support the Palestinians' right to freedom and independence," the Al-Jazeera TV network reported Monday evening. Haniyeh congratulated Obama and said his election was a "day of victory for the human struggle for freedom. "Your appointment expresses the triumph of egalitarian values over discrimination and humanity over extremism," the Hamas leader wrote. "The Palestinians are continuing along the path towards freedom and justice, as other nations in South Africa and America have in the past. However, they will never be content as long as they remain victims of terrorist and barbaric occupation. Haniyeh added that "the Palestinian nation will never be satisfied as long as it is denied all of the human rights that everyone in America and the rest of the free world is granted." Last week Obama assured Palestinian President Abbas that he intended "to work with him as partners to establish a durable peace in the region," Abbas' spokesman Nabil Abu Rudeina said.
US Navy Intercepts Iranian Arms Vessel Headed to Gaza
(Covert operations aim to cut Tehran's supply lines to terrorists)
Jan. 26….(WND) The US Navy is conducting covert operations aimed at intercepting Iranian ships carrying weapons to rearm Hamas in the Gaza Strip, informed defense officials told WND. The setup, which has already halted a vessel carrying Iranian munitions in recent days, acts on intelligence information provided by Israel, Egypt and Cyprus, the defense officials said. The US Navy refused to comment, but informed sources said the US last week intercepted an Iranian-owned vessel found to be carrying weapons, including rockets, mortar and artillery shells. It is suspected the ship was attempting to reach the Egyptian Sinai area. If successful, the delivery would have represented a major escalation by providing Hamas with artillery, something the terrorist organization is not thought to possess. The ship is now docked at an Egyptian port on the Red Sea after being escorted by the US Navy out of the Suez Canal, which leads to the Mediterranean, the defense officials said. Due to complicated maritime laws, the US and Egypt may let the ship sail to the Mediterranean, where either Israeli or Egyptian naval units would need to decide whether to entirely halt the vessel. According to the sources, aside from patrolling the seas, the US has also sent the Army's Corps of Engineers to the Egyptian Sinai desert, bringing with them advanced machinery to help Egyptian troops locate weapons smuggling tunnels that snake along the Egypt-Gaza border. The new naval patrols and US presence along the Gaza border comes in line with a memorandum of understanding signed between Israeli Foreign Minister Tzipi Livni and outgoing US Secretary of State Condoleezza Rice. The deal aims to curb Hamas rearmament and also includes patrols of the Persian Gulf, Sudan, and neighboring states. One of Israel's main goals for its offensive was to halt Hamas' ability to smuggle weapons across the Egypt-Gaza border. Israel is negotiating an international monitoring mechanism it hopes will stop Hamas from smuggling weapons from neighboring Egypt into Gaza. But previous international monitors stationed along the Egypt-Gaza border fled their duty and repeatedly failed to stem Hamas' weapons smuggling. The monitors were stationed at the border following Israel's 2005 evacuation of the Gaza Strip. The Israel Defense Forces reportedly destroyed 60 to 70 percent of an estimated 600 smuggling tunnels between Gaza and neighboring Egypt. Hamas sources speaking to WND claim the actual number of tunnels is closer to 1,300. The sources claimed Hamas was working to change the method of its weapons smuggling to rely more on sea shipments and less on smuggling tunnels. Last Tuesday, the Associated Press reported from the Egypt-Gaza border that just hours after Israeli troops withdrew from the border area, the smuggling tunnels were back in business, used by locals to bring in supplies.
Gaza Campaign Seen as Temporary Success in Israel
| | | |
| --- | --- | --- |
| | Sderot's open-air market is open and bustling for the first time in a month, thanks to newfound quiet brought by Israel's offensive against Hamas in the Gaza Strip. But residents of this rocket-scarred town don't expect the good times to last, as Hamas parades call for Israel's destruction. | |
Jan. 26….(AP) The new naval patrols and US presence along the Gaza border comes in line with a memorandum of understanding signed between Israeli Foreign Minister Tzipi Livni and outgoing US Secretary of State Condoleezza Rice. The deal aims to curb Hamas rearmament and also includes patrols of the Persian Gulf, Sudan, and neighboring states. One of Israel's main goals for its offensive was to halt Hamas' ability to smuggle weapons across the Egypt-Gaza border. Israel is negotiating an international monitoring mechanism it hopes will stop Hamas from smuggling weapons from neighboring Egypt into Gaza. But previous international monitors stationed along the Egypt-Gaza border fled their duty and repeatedly failed to stem Hamas' weapons smuggling. The monitors were stationed at the border following Israel's 2005 evacuation of the Gaza Strip. The Israel Defense Forces reportedly destroyed 60 to 70 percent of an estimated 600 smuggling tunnels between Gaza and neighboring Egypt. Hamas sources speaking to WND claim the actual number of tunnels is closer to 1,300. The sources claimed Hamas was working to change the method of its weapons smuggling to rely more on sea shipments and less on smuggling tunnels. Last Tuesday, the Associated Press reported from the Egypt-Gaza border that just hours after Israeli troops withdrew from the border area, the smuggling tunnels were back in business, used by locals to bring in supplies.
WEEK OF JANUARY 18 THROUGH JANUARY 24
Saudi Prince says US-Saudi Ties at Risk over Israel
('Unless Obama administration takes forceful steps to prevent any further suffering and slaughter of Palestinians, the US-Saudi relationship and the stability of the region are at risk,' Prince Turki al-Faisal says, adding that Ahmadinejad urged Saudis to lead 'jihad' against Israel)
Jan. 23….(YNET) A member of Saudi Arabia's royal family warned US President Barack Obama on Friday the Middle East peace process and US-Saudi ties were at risk unless Washington changed tack on the Israeli-Palestinian conflict. Israel had come close to "killing the prospect of peace" with its offensive in Gaza, Prince Turki al-Faisal wrote in an article published on the Financial Times' website. Unless the new US administration takes forceful steps to prevent any further suffering and slaughter of Palestinians, the peace process, the US-Saudi relationship and the stability of the region are at risk," said Turki, a former Saudi intelligence chief and former ambassador to the United States and Britain. "If the US wants to continue playing a leadership role in the Middle East and keep its strategic alliances intact, especially its 'special relationship' with Saudi Arabia - it will have to drastically revise its policies vis-a-vis Israel and Palestine," Turki wrote. He said Iranian President Mahmoud Ahmadinejad had written to Saudi King Abdullah last week urging Saudi Arabia to lead a "jihad", or holy war, against Israel. This call for jihad would, if pursued, create "unprecedented chaos and bloodshed" in the region, said Turki. "So far, the kingdom has resisted these calls, but every day this restraint becomes more difficult to maintain," he said. Turki urged Obama to condemn what he called "Israel's atrocities" against the Palestinians. Turki said Obama should condemn Israeli settlement building in the West Bank and the blockade of Gaza and should call for an immediate withdrawal of Israeli forces from the disputed Shebaa Farms area claimed by Lebanon. He urged Obama to strongly promote a 2002 Saudi peace initiative, which calls for full recognition of Israel if it gives up lands occupied in a 1967 war and accepts a solution for Palestinian refugees.
Obama Sends George Mitchell to Mideast
(US president says he plans to send new Mideast envoy Mitchell to region 'as soon as possible' in bid to promote lasting peace between Israel, Palestinians. Obama vows to 'aggressively seek' durable, credible solution for conflict)
Jan. 23….(YNET) President Barack Obama on Thursday named special envoys for the Middle East and the Afghanistan-Pakistan region and promised US help in ensuring a lasting truce in Gaza. Obama chose George Mitchell, a former senator and seasoned international trouble-shooter, as an envoy who will try to jump-start moribund Arab-Israeli peace talks. In a flurry of diplomatic activity in his first week in office, Obama also tapped former ambassador to the United Nations Richard Holbrooke as a special envoy for Afghanistan and Pakistan and related issues. Both the envoys have records of success in helping settle long-running violent conflicts, Mitchell in Northern Ireland and Holbrooke in the Balkans. We have no time to lose," said Obama, who was sworn in on Tuesday and is moving quickly to tackle foreign policy challenges he highlighted during his campaign. Obama introduced Mitchell and Holbrooke at an event with newly confirmed Secretary of State Hillary Clinton and underscored his pledge to engage early on the Middle East. Mitchell will go to the Middle East to help ensure the durability of the ceasefire in Gaza, which was left devastated by a 22-day Israeli offensive against Hamas. "It will be the policy of my administration to actively and aggressively seek a lasting peace between Israel and the Palestinians, as well as Israel and its Arab neighbors," Obama said.
Mitchell: There's no conflict that cannot be ended
On the morning after his inauguration, Obama called Israeli and Arab leaders to commit himself to "active engagement" in the Middle East and to promise help consolidating the Gaza ceasefire. Mitchell, 75, is best known for peacemaking efforts in Northern Ireland, but he also has experience in the Middle East and was appointed by former President Bill Clinton to find ways to halt Israeli-Palestinian violence. Mitchell's 2001 report called for Israelis to freeze construction of new settlements and for Palestinians to crack down on terrorism. Mitchell is the son of a Lebanese immigrant mother and a father of Irish descent. Mitchell said that from his experience working on the Northern Ireland issue, he "formed the conviction that there is no conflict that cannot be ended." "I believe deeply that with committed persevering and patient diplomacy it can be achieved in the Middle East," he said. He acknowledged there were many reasons to be skeptical that peace could be achieved in the Middle East. The conflict there had gone on for so long that "many have come to regard it as unchangeable and inevitable," he said.
Barack Obama: Israel Should Open Borders with Gaza
Jan. 23….(Financial Times) The plea came in a speech that signaled the new US administration's shift from Bush-era policy on the Middle East and the world as a whole. In a high-profile address on his second day in office, just hours after he signed an executive order to close the centre at Guantánamo Bay, Mr Obama proclaimed that the US would "actively and aggressively seek a lasting peace between Israel and the Palestinians" in the wake of this month's Gaza war. "The outline for a durable ceasefire is clear: Hamas must end its rocket fire: Israel will complete the withdrawal of its forces from Gaza: the US and our partners will support a credible anti-smuggling and interdiction regime, so that Hamas cannot re-arm," the US president said. "As part of a lasting ceasefire, Gaza's border crossings should be open to allow the flow of aid and commerce, with an appropriate monitoring regime, with the international and Palestinian Authority participating." Mr Obama and Hillary Clinton, secretary of state, also announced the appointment of George Mitchell, as the US special envoy for the Arab-Israeli conflict and Richard Holbrooke, former US ambassador to the United Nations, as representative for Afghanistan-Pakistan. The moves signalled another shift from the foreign policy of the Bush administration, which had resisted appointing a high-profile envoy for Middle East peace. Although Condoleezza Rice, who finished her tenure as secretary of state this week, brokered a 2005 deal to allow open border crossings to Gaza, access was often shut down, with Israel citing security concerns and Hamas launching rocket attacks. The issue is set to test the authority of the new administration as it begins to grapple with the Middle East conflict. Before Mr Obama gave his speech, an Israeli official said there would be tough conditions for any lifting of the blockade, which he linked with the release of Gilad Shalit, a soldier held captive by Hamas since 2006. "If the opening of the passages strengthens Hamas we will not do it," the official said. "We will make sure that all the [humanitarian] needs of the population will be met. But we will not be able to deal with Hamas on the other side. We will not do things that give legitimacy to Hamas." Under its ceasefire, Hamas has given Israel until Sunday to open the borders. Much of Gaza's civilian infrastructure has been destroyed during the three-week Israeli offensive and, without building materials and other supplies, there is little hope of rebuilding the water, sewage and power networks as well as private homes and key government buildings. But many foreign donors share Israel's concerns that the reconstruction efforts should not be led by Hamas, or enhance the group's legitimacy. "Let me be clear: America is committed to Israel's security and we will always support Israel's right to defend itself against legitimate threats," Mr Obama said. But in comments referring to the Gaza conflict he added: "I was deeply concerned by the loss of Palestinian and Israeli life in recent days and by the substantial suffering and humanitarian needs in Gaza. Our hearts go out to Palestinian civilians who are in need of immediate food, clean water, and basic medical care, and who've faced suffocating poverty for far too long." He called on Arab governments to "act on" the promise of a Saudi-led 2002 Arab peace initiative by supporting the Palestinian Authority headed by President Mahmoud Abbas "taking steps towards normalising relations with Israel, and by standing up to extremism that threatens us all."
Thousands of Abortion Foes Rally in Washington on Roe Anniversary
Jan. 23….(Fox News) Tens of thousands of abortion opponents rallied Thursday on the National Mall to mark the 36th anniversary of Roe v. Wade amid concerns they could face political setbacks under the new president. The rally and subsequent march to the Supreme Court comes two days after the swearing-in of Barack Obama, which many at the rally said emphasized their need to become more vocal with their message. Among those attending the rally was Kirk Kramer of Cottage City, Md., who held up a sign reading: "The Audacity Of Hope: No More Roe." Kramer, a Democrat, said he has mixed feelings about Obama. He supports the president's position on Iraq but said he was concerned about statements Obama made during the campaign indicating his support for the Freedom of Choice Act, which would overrule many state-level restrictions on access to abortion. "Love always finds a way. There's a way we can find for every pregnant woman to have a child or give it up for adoption," he said. In a letter posted on their Web site, organizers invited Obama to speak at Thursday's rally, though there was no indication that he planned to attend. "America needs your strong leadership as president of all the people to stop the intentional killing of an estimated 3,000 pre-born boys and girls each day and the brutalizing of mind, heart and body of pregnant mothers," the letter states. In contrast, President George W. Bush regularly voiced support for those attending the rally. In audio remarks broadcast to demonstrators last year, he said biology confirms that from the start, each unborn child is a separate individual with his or her own genetic code.
Meanwhile, President Barack Obama said he backed a woman's "right to choose" on the 36th anniversary of a landmark Supreme Court decision that women have a constitutional right to abortion. "On the 36th anniversary of Roe v. Wade, we are reminded that this decision not only protects women's health and reproductive freedom, but stands for a broader principle: that government should not intrude on our most private family matters," Obama said in a written statement. "I remain committed to protecting a woman's right to choose." In the landmark Roe v Wade decision in 1973, the Supreme Court ruled that most federal and state laws against abortion in the United States infringed on a right to privacy enshrined in the US Constitution. The decision shaped a generation of social policy in America, and remains a cultural fault line of US politics.
A Dream Unfulfilled
(Roe v. Wade has played a big role in the devastation of the African-American community)
Jan. 23….(by Star Parker & Gary Bauer) On Monday, January 19th, America commemorated the birthday of Martin Luther King Jr. His dream of an equal America is in many ways personified in Barack Obama, whose inauguration as our first African-American president took place the following day. Obama's triumph is a monumental achievement for black Americans. It is also a watershed for America as a whole, a final repudiation of an era when black men and women were not afforded the inalienable rights endowed to all persons by God as expressed in the Declaration of Independence. But while Obama's ascendance to the White House has been almost uniformly regarded as a complete victory for black Americans, it also stands to exacerbate one of the black community's most intractable problems: the destruction of black children in the womb. Today, January 22nd, marks the 36th anniversary of Roe v. Wade, the Supreme Court decision that claimed, along with its companion case Doe v. Bolton, to find a constitutional right to abortion throughout all nine months of pregnancy. Beginning with Roe, America's abortion regime has been responsible for the killing of over 50 million unborn Americans. The confluence of these events should prompt all Americans to reflect on how far our nation still has to go in creating a culture of true equality. For while abortion has had devastating effects on all demographic groups, its impact has been particularly acute for black Americans. The magnitude of the problem is difficult to overstate.
*Three in five black women will abort a child.
*1,500 black Americans are aborted every day.
*America's black population has been reduced by roughly one-third because of abortion.
What's more, disparities among racial groups are widening. According to a recent report by the Alan Guttmacher Institute (AGI), a pro-abortion group, while the share of all abortions performed on white women decreased from 45 percent in 1994 to 34 percent in 2004, it increased for black women, from 32 percent to 37 percent. Since blacks constitute 13 percent of the population, this means that in 2004 black babies were aborted about five times the rate of white babies. Another recent study by Canadian researchers reveals that the high abortion rate among black women is a "probable cause" of their disproportionately high rate of subsequent premature birth, a rate that is three to four times higher than that of women of other ethnic groups. There is no single reason why black women abort at a much higher rate than women of other ethnicities. AGI states that "black women have much higher abortion rates than white because they have much higher rates of unintended pregnancy." But this is only part of the cause. For instance, AGI found that black women are five times as likely to abort as white women but only three times as likely to experience unintended pregnancy. Many black leaders have long argued that abortion groups target black women, and that up to three-quarters of abortion facilities are located in minority communities. Planned Parenthood, by far America's largest abortion seller, is infamous for its racist origins, including the racist views of its founder, Margaret Sanger. Obama has promised that the first thing he'll do as president is sign the Freedom of Choice Act (FOCA), a law that would overturn the few existing state and federal restrictions on abortion. Researchers estimate that FOCA would generate at least 125,000 more abortions a year in a nation already devastated by 4,000 a day.
Obama Plan to Negotiate Buys Iran Time to Complete Nuclear Program
Jan. 23….(Ha Aretz) Barack Obama's arrival in the White House substantially reduces the likelihood of Israel using military force to thwart Iran's nuclear program and accelerates the possibility that within a year the regime of ayatollahs will possess atomic bombs, according to the assessment of experts in Israel and the United States. Obama may have referred in his inauguration speech to the challenge of "the nuclear threat," but before that he had already made clear his plan of pursuing a sharp turnaround from George Bush's policy on all matters related to Iran. The policy Obama is formulating is one of engagement and negotiation. He hopes the Iranians will be tempted to respond to the generous proposals he intends to offer them, diplomatic relations, lifting sanctions, improved commercial ties, and in return a halt or at least suspend uranium enrichment. Iran, the experts believe, will ostensibly respond favorably to the American courtship and will even reciprocate with some gestures of its own, but in practice, Iran will accelerate its nuclear program and there are already signs of this. Even leading US intelligence officials acknowledge that Iran is likely to produce its first nuclear bomb as early as this year. This is a race against the clock for all parties involved, Israel foremost among them, which may be obstructed by Obama's policy, even though his intention to negotiate with Iran is good. It is clear to all the experts that Israel will be unable to attack without coordinating it on one way or another - probably tacitly with the American administration. And such coordination will be difficult, certainly a decision to let Israel attack Iran's nuclear facilities so long as negotiations are underway between Washington and Tehran. The concern in Israel is that if the negotiations end in failure and even if Obama's administration reaches the conclusion that Iran was toying with it and never intended to reach a compromise and suspend its uranium enrichment, it might already be too late. Iran might have nuclear weapons and then it will be too late and too dangerous to attack it.
Obama Prioritizes Israel-Palestinian Conflict
(Foreign policy statement says US president will push for peaceful two-state solution)
Jan. 22….(YNET) "US President Barack Obama will make progress on the Israeli-Palestinian conflict a key diplomatic priority from day one," a White House foreign policy statement released Wednesday says. The Israeli-Palestinian conflict is one of five clauses listed under the heading, "Renewing American diplomacy". The clause says Obama and his vice president, Joe Biden, "will make a sustained push, working with Israelis and Palestinians to achieve the goal of two states, a Jewish state in Israel and a Palestinian state, living side by side in peace and security." The clause dealing with Israel states that Obama will act to ensure a strong partnership between his country and Israel, that the US will continue to support the State's right to defend itself, and that foreign assistance to Israel will continue. "Our first and incontrovertible commitment in the Middle East must be to the security of Israel, America's strongest ally in the region," the statement says. It also mentions the 2nd Lebanon War, stating that Obama had supported Israel's right to defend itself from Hizbullah's weapons. Regarding foreign aid, the statement says Obama and Biden "defend and support the annual foreign aid package that involves both military and economic assistance to Israel" and call for "continuing US cooperation with Israel in the development of missile defense systems." The clause on Iran states that Obama "supports tough and direct diplomacy with Iran without preconditions. Now is the time to use the power of American diplomacy to pressure Iran to stop their illicit nuclear program, support for terrorism, and threats toward Israel." The statement adds that Iran will be given a choice by the new US administration. "If Iran abandons its nuclear program and support for terrorism, we will offer incentives like membership in the World Trade Organization, economic investments, and a move toward normal diplomatic relations. If Iran continues its troubling behavior, we will step up our economic pressure and political isolation," it says. Seeking this kind of comprehensive settlement with Iran is our best way to make progress," the statement explains. During his first day in office Obama called a number of Middle East leaders, including Prime Minister Ehud Olmert and Palestinian President Mahmoud Abbas. Olmert said Israel had been moved by the president's inauguration speech, and briefed him on the situation in Gaza.
For Christians in Gaza
(It's not just Jews who continue to suffer at the hands of Hamas)
Jan. 22….(JWR) On a chilly January morning, three of us drove beneath a cloud-strewn sky through forests, fields, and ancient terraces, making our way from Jerusalem to Israel's southern region where thousands of people live within range of Hamas's rockets. As we approached our destination, I noticed another cloud, a towering column of black smoke on the horizon, billowing from northern Gaza, where a battle was raging. We passed the community of Sderot-literally "on the map" because of the Qassam strikes it has endured-and soon arrived at Kibbutz Gevim, situated just a few miles from both Sderot and Gaza. We were there to assist in a temporary evacuation of the kibbutz's senior citizens. The two Christian organizations my friends represent were treating these elders to a few leisurely days in the seaside resort town of Eilat, a welcome respite from the relentless bombardment. I talked with several genial but visibly anxious men and women while they waited for the bus to arrive. Many of them had lived at Kibbutz Gevim for more than half a century. They were eagerly looking forward to getting a good night's sleep in Eilat, with no sirens and no rush to the "safe room" in their houses. "Do you think this war will make your life better?" I asked one man named Moredcai "Yes, I think so" he nodded. "And not just my life. It will also be better for the people in Gaza once Hamas is broken." A woman named Edna seemed particularly nervous, her hands in constant movement. "Aren't you afraid to come here?" she asked me with a worried frown. "My own family won't even come to visit! I have to meet them in Tel Aviv." The sound of a large explosion startled us all and punctuated her comment. She added, "Anybody who says they aren't afraid to live here is lying." Several residents mentioned medications that made it possible for them to function- prescriptions for anti-depressants and anti-anxiety drugs are very much in demand, and for good reason. I learned that a few months before, a small boy from Kibbutz Gevim had been injured by a Qassam strike; in fact not a single child could be seen in the carefully-tended kibbutz playground. One woman described her house, which had taken a direct hit and needed extensive repairs. Other rockets had ignited fires and damaged structures. Everyone spoke of the nerve-wracking noise that never seemed to end: sirens, explosions, helicopters and warplanes. These ordinary men and women couldn't have been clearer about their dearest hopes: they want nothing more than to live out their lives in peace. Unfortunately, they face an extraordinarily hostile enemy that has fired 6,000 rockets into Israel's civilian communities over the past eight years. Hamas's actions reflect the spirit of their 1988 Charter, which calls for the death of Jews and the eradication of Israel. It's not just Jews, however, who suffer at the hands of Hamas. Getting far less media attention is the situation facing 3,000 Christians who live inside the Gaza strip. Following the Hamas coup in Gaza, a radical sheikh, Abu Sakir announced, "'I expect our Christian neighbors to understand the new Hamas rule means real changes. They must be ready for Islamic rule if they want to live in peace in Gaza.'" Months ago I had a conversation with two Gazan Christians, who had fled their homes and were hiding out in the West Bank while hoping for asylum elsewhere. Their stories exposed the dangers Christian families face under Hamas, including extortion, rape, beatings and murder. Our little gathering at Kibbutz Gevim wasn't especially religious. It amounted to an ad hoc coalition of concerned Christians hoping to make life a little easier for a group of war-weary Jews. Everything centered on life-affirming values and life-sustaining actions that are deeply rooted in both Christianity and Judaism. Yet even as we said our goodbyes, another deadly explosion shattered the morning stillness. As my friends and I headed back to Jerusalem, I thought about encroaching terrorism that has cast its terrible shadow across so many lives across the world. We are often told that its root causes are economic, territorial, ethnic and political. While these issues may indeed play their part, public declarations from groups like Hamas and Al Qaeda are almost entirely religious. By now the world has seen more than enough columns of black smoke towering above our cities, heard enough body counts, and witnessed enough of terrorism's tragic consequences. Still I can't help but wonder-are we taking seriously enough the hateful religious ideology that inflames radical Islamists?
President Obama Vows New Relationship with Muslims
(New president sworn in: Barack Obama says he will seek 'new way forward, based on mutual interest and mutual respect' vis-à-vis Muslim world, warns terrorists that America will outlast, defeat them)
Jan. 21….(YNET) US President Barack Obama promised a new start with the Muslim world in his inauguration address on Tuesday. "To the Muslim world, we seek a new way forward, based on mutual interest and mutual respect," said Obama, who also vowed to responsibly pull US forces out of Iraq. However, Obama warned that those who wage terrorism around the world that America's resolve remained strong. "We say to you now that our spirit is stronger and cannot be broken. You cannot outlast us, and we will defeat you." Obama was sworn-in as America's 44th president with millions in attendance at Washington, becoming the first black president of the United States. In his speech, Obama promised bold, swift action to meet what he called the crisis of two wars and a badly weakened economy. "Today I say to you that the challenges we face are real, they are serious and they are many," Obama said in a prepared text.
Obama to Muslims: You Are Judged on What you Build, not Destroy
Jan. 21….(IsraelNN.com) President Barack Obama advised Muslims in his inaugural speech Tuesday "to seek a new way forward based on mutual respect." Without specifically referring to terrorists, he warned Muslim leaders that "your people will judge you on what you can build and not what you destroy." His only reference to Jews was that the United States is a nation "of Christians, and Muslims, Jews and Hindus and non-believers." Speaking to approximately one million flag-waving spectators in frigid weather under mostly sunny skies, President Obama added that the US will not agree "to suffering outside our borders" and that the "world has changed and we must change with it." He did not refer to any specific foreign or domestic issues except for the current financial crisis, Iraq and a vague mention of the nuclear threat, without mentioning Iran or North Korea. "We will remain the strongest country on earth," said the president. "Our capacity remains undiminished and starting today, we must dust ourselves off and begin the work of remaking America." Concerning American leadership in the world, he addressed "all the other people and governments who are watching, know American is a friend of each nation" wanting peace and "we are ready to lead once more." He said that his government "will return Iraq to its people" and overcome nuclear threats.
Obama: US also Country of Muslims, Nonbelievers
(Echoes past remarks in which he said America 'no longer a Christian nation')
Jan. 21….(WND) Echoing his previous declaration that the US is "no longer a Christian nation," President Barack Obama today in his inaugural address affirmed America is a nation of many faiths that includes Muslims and "nonbelievers." "For we know that our patchwork heritage is a strength, not a weakness. We are a nation of Christians and Muslims, Jews and Hindus, and nonbelievers," Obama stated during his speech before a crowd estimated by security officials at about 1.8 million. He continued: "We are shaped by every language and culture, drawn from every end of this Earth; and because we have tasted the bitter swill of civil war and segregation, and emerged from that dark chapter stronger and more united, we cannot help but believe that the old hatreds shall someday pass; that the lines of tribe shall soon dissolve; that as the world grows smaller, our common humanity shall reveal itself; and that America must play its role in ushering in a new era of peace." Obama's statements about an inclusive country were strikingly similar to remarks he made twice in 2007 in which he went further and stated the US is "no longer Christian." At that time, some took issue with his pronouncement, fearing the declarations indicated his intention to reorient the US away from its traditional Judeo-Christian values. During a June 2007 speech Obama stated, "Whatever we once were, we're no longer a Christian nation. At least not just. We are also a Jewish nation, a Muslim nation, and a Buddhist nation, and a Hindu nation, and a nation of nonbelievers." In that speech, Obama took aim at the "Christian Right" for "hijacking" religion and using it to divide the nation: Somehow, somewhere along the way, faith stopped being used to bring us together and started being used to drive us apart. It got hijacked. Part of it's because of the so-called leaders of the Christian Right, who've been all too eager to exploit what divides us," he said. Obama's campaign had utilized faith as a central theme. The candidate's Christianity and his former membership in the controversial Trinity United Church of Christ led by Rev. Jeremiah Wright were much scrutinized. His comment about the "Christian Right" echoed similar statements made by Merrill A. McPeak, Obama's military adviser and national campaign co-chairman. As WND reported in a 2003 interview with The Oregonian newspaper, McPeak apparently compared evangelical Christians to the terror groups Hamas and Hezbollah.
Farah: Pray Obama Fails
(Many American Christians believe, as an article of faith, that we are to pray for the success of our leaders.) No, we are to pray for our leaders!)
Jan. 21….(Joseph Farah) It has become a sort of conventional wisdom among soft-minded believers. The biblical proof-text for this misguided way of thinking is Romans 13:1-4: "Let every soul be subject unto the higher powers. For there is no power but of God: the powers that be are ordained of God. "Whosoever therefore resisteth the power, resisteth the ordinance of God: and they that resist shall receive to themselves damnation. "For rulers are not a terror to good works, but to the evil. Wilt thou then not be afraid of the power? do that which is good, and thou shalt have praise of the same: "For he is the minister of God to thee for good. But if thou do that which is evil, be afraid; for he beareth not the sword in vain: for he is the minister of God, a revenger to execute wrath upon him that doeth evil." What could be more clear-cut? At face value, it would seem the Bible is telling us government is a God-ordained good and that we are not to resist its terrors. Many a coward has been bolstered in his conviction against challenging tyranny by not reading too deeply into the Scriptures. Yet, nowhere does the Bible ever suggest evil rulers are to be obeyed. When the rule of men conflicts with the commands of God, the Bible leaves no doubt about where we should stand. That's why I do not hesitate today in calling on godly Americans to pray that Barack Hussein Obama fail in his efforts to change our country from one anchored on self-governance and constitutional republicanism to one based on the raw and unlimited power of the central state. It would be folly to pray for his success in such an evil campaign. I want Obama to fail because his agenda is 100 percent at odds with God's. Pretending it is not simply makes a mockery of God's straightforward Commandments. So you will not see me joining in the ritual of affirming Obama and his mission in public or private prayer this week, or any other week. Instead, I uphold the words of Jesus in Matthew 15:14: "Let them alone: they be blind leaders of the blind. And if the blind lead the blind, both shall fall into the ditch." And I take warning from Isaiah 9:16: "For the leaders of this people cause them to err; and they that are led of them are destroyed." And please don't tell me about "rendering unto Caesar." It's important to consider the circumstances and the audience behind Jesus' instructions to "render unto Caesar." The Sadducees were attempting to trap Jesus into advocating open contempt for Caesar. He recognized their wicked and hypocritical little game and answered them with a totally truthful response that astonished everyone. But think about it. There are two components to Jesus' words. We are to "render unto Caesar the things that are Caesar's," but we are also to "render unto God the things that are God's." Well, everything ultimately belongs to God. But, most of all, this injunction by Jesus instructs us that government laws cannot trump God's laws, ever. If government commands you to do evil, as a Christian you must resist. There is no alternative. Citing the "render unto Caesar" line is an apologetic for accountability to God, nothing more, nothing less. Furthermore, it needs to be pointed out that in America we don't have a Caesar. Never have, never will. You see, our system of government is called a free republic, and it is based on the concept of constitutional self-government. We have no "rulers" in America, except ourselves and our God. We believe in the rule of law, not the rule of men. This is an important distinction, not a semantic one. Nowhere in the Bible does it teach us to obey evil rulers. Nowhere. This is a time for principled biblical resistance, not phony Christian appeasement.
King Abdullah: 'Arab Initiative Won't Last Forever'
Jan. 20….(Jerusalem Post) The Saudi king said Monday his country will donate $1 billion to help rebuild the Gaza Strip after the devastating Israeli offensive, and told Israel that an Arab initiative offering peace will not remain on the table forever. King Abdullah's comments at an Arab economic summit in Kuwait City were his first since Israel declared a cease-fire to halt three weeks of violence in Gaza that killed more than 1,250 Palestinians. "Israel has to understand that the choice between war and peace will not always stay open and that the Arab peace initiative that is on the table today will not stay on the table," said Abdullah during a speech. The initiative, first proposed by Saudi Arabia in 2002 and relaunched in March 2007, offers Israel collective Arab recognition in exchange for Israeli withdrawal from territory it occupied in the 1967 war, the establishment of a Palestinian state with Jerusalem as its capital and a just solution for the problem of Palestinian refugees. Israel initially rejected the initiative in 2002, but in the past year has said it could be a starting point for discussion. "The position of the Israeli government is that the Arab peace initiative remains a basis for dialogue between Israel and the Arab world," said Israeli spokesman Mark Regev. "And we continue to be willing to negotiate with all of our neighbors on the basis of that initiative." But progress toward finalizing a peace deal has been slow, especially after Hamas seized Gaza from its rival Fatah in June 2007, creating a rift between the two main Palestinian factions. Arab hard-liners discussing Gaza at a gathering in Qatar last week called for putting the peace initiative on hold, a more radical position than the one outlined by Abdullah. Syrian President Bashar Assad has proclaimed the offer already dead and proposed Monday that the Arab summit adopt a resolution declaring Israel a "terrorist entity." The Arab world has struggled to come up with a unified response to the Gaza crisis, with strong Hamas supporters like Iran and Syria facing off against US allies like Egypt, Jordan and Saudi Arabia. The Saudi king called on Arab countries to end their rift Monday and invited the leaders from Egypt, Qatar and Syria to his palace for lunch after the summit's opening session. Abbas on Monday rejected any talk of abandoning the initiative, saying the only option Arabs had was to make peace with Israel. "The Arab peace initiative did not carry the seeds of its demise," Abbas said at the Kuwait summit. "It was our shortcomings."
Arab League chief Amr Moussa told the summit that Arab countries would have to come up with an alternative if they decided to abandon the initiative. "The situation cannot take just freezing or suspending [the initiative]," Moussa said. Egyptian President Hosni Mubarak accused Hamas of inviting Israel's three-week offensive against Gaza by not extending their cease-fire when it expired last month. "You all know the efforts Egypt had undertaken to extend the cease-fire, and our warnings that a refusal by factions to extend it was an open invitation to Israeli aggression," Mubarak said. He said Egypt would continue its efforts to achieve a reconciliation between Palestinians. "Without it [Palestinian unity], no stability will be realized for Gaza and no rebuilding and no end for its embargo," Mubarak said. Mubarak pushed Israel to respond to the Arab initiative, saying "peace in the Middle East is an imperative that cannot be delayed." Egyptian liberal intellectual Tarek Heggy said Monday that the Arab peace initiative should have been implemented many years ago. "It should have been pushed by all parties, by the Quartet, by the Europeans, by America; because at the end, every reasonable person on the two sides will say a final settlement will not be far away from the Arab initiative," he said. In addition, Abbas should have also been given something to show his people progress in talks as a way to strengthen him and the peace process, said Heggy. Putting off a resolution to the protracted Arab-Israeli conflict only opened the door for religious extremism to take hold, he added. "Moderate Arabs, the liberal Arabs, the secular Arabs, the modern Arabs and all the Israelis, minus the very extreme religious Israelis, we have one enemy around us, called Sunni fundamentalism, which is al-Qaida, and Shi'ite fundamentalism, which is Iran," he said. "The more we leave the Israeli-Arab conflict pending, the more we leave our historic conflict on the shelf, the greater their chances are. We need to get rid of this. We need a Palestinian state that is a secular state... We need less grounds for these two fundamentalist groups." But prospects for Arab-Israeli peace seem dim following Israel's offensive in Gaza to halt Hamas rocket fire into its territory. The death and destruction enraged many Arabs and further strained relations between Israel and the Palestinians. Abdullah criticized the Israelis for using excessive force in Gaza, saying the Torah called for "an eye for an eye, and did not say an eye for the eyes of a whole city." The king said his country's $1b. donation for Gaza would go to a proposed fund Arabs are setting up to rebuild the seaside territory. "I know that one drop of Palestinian blood is more valuable than the treasures of the world," said Abdullah. But it remains to be seen whether Arab expressions of sympathy for the citizens of Gaza translate into actual funds to rebuild the city. Arabs have often criticized Israel for the plight of Palestinians, but pledges of financial support have not always materialized. Also Monday, Turkey's top envoy for the Middle East offered to mediate between Hamas and Fatah to forge a consensus necessary to a lasting cease-fire in Gaza. The rival factions have been unable to come up with a power-sharing formula since Hamas won 2006 parliamentary elections. "Palestinian reconciliation is a must in order for peace to be lasting," Ahmet Davutoglu told reporters. "If that is achieved, then the road to peace will be opened." France, which has played an active role in efforts to end the Gaza offensive, also urged convening an international conference toward eventually creating a Palestinian state. Foreign Ministry spokesman Eric Chevallier said in an on-line briefing Monday that "an international conference should be quickly organized" for launching "a dynamic for negotiations" on creating a Palestinian state. He gave no other details.
Hamas Declares Victory, Vows to Acquire More 'Holy Weapons'
Jan. 20….(Israel Today) Hamas Prime Minister Ismail Haniyeh announced in a televised address to the Gaza population on Sunday that the terror group had once again defeated Israel by force of arms. Hamas scored a "historical and strategic victory" over Israel, said Haniyeh as Israeli troops began withdrawing from the Gaza Strip following a three-week offensive against the terrorist infrastructure there. While Israel managed to kill hundreds of terrorists and destroy much of Hamas' military hardware, while suffering only minimal casualties itself, observers had warned for weeks that all Hamas had to do was survive the assault in order to legitimately claim victory in the eyes of their fellow Arabs and Muslims. Hamas also successfully convinced a majority of Palestinians that its acts of violence had driven the Israeli army and 10,000 Jewish civilians from Gaza in the 2005 "disengagement." Hamas spokesman Abu Ubaida followed up Haniyeh's pronouncement by telling reporters in Gaza that the group will continue to arm itself in violation of the "memorandum of understanding" Israel signed with Western powers guaranteeing assistance in keeping weapons out of the terrorists' hands.
Iran Renews Efforts to Supply Weaponry to Hamas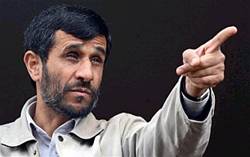 Jan. 20….(Jerusalem Post) Iran has renewed efforts to supply advanced weaponry to Hamas and the IDF is concerned that the terror group will try to smuggle long-range Fajr missiles into the Gaza Strip. According to the latest intelligence assessments, Iran, which was responsible for writing Hamas's military doctrine, has already launched an internal probe to determine how the plan it had created for Hamas failed to cause more IDF casualties. The military plan created by the Iranians was based on three pillars: The first was the defensive measures that Hamas had created in Gaza, which included dozens of kilometers of tunnels and thousands of roadside bombs and booby-trapped homes. The second pillar was rocket attacks against the home front. Here too, Hamas failed to fire rockets farther than 40 kilometers, even though it had planned to. The third pillar was creating a "victory image" in the form of a burned-out tank or the abduction of an IDF soldier. "Hamas thought it would succeed like Hizbullah did in 2006," a senior defense official said. The IDF is concerned that Hamas and Iran will try to smuggle long-range Fajr missiles into the Gaza Strip. Fajr missiles, manufactured in Iran, have a range of 70 km. and if fired from Gaza would easily reach Tel Aviv. On Monday, Foreign Minister Tzipi Livni said that renewed weapons smuggling would be legitimate grounds for Israel to renew attacks against Hamas. While the Fajr is large, 10 meters in length compared to the two-meter Grads - it is believed that it would be possible to smuggle the rockets into Gaza after it was disassembled into several components and via a tunnel dug especially large for the purpose. Meanwhile Monday, the IDF prepared to withdraw its remaining troops from the Gaza Strip. Defense officials estimated that the IDF would pull the troops out by the time Barack Obama is sworn in as the 44th president of the United States on Tuesday. The IDF believes that over 80 percent of the tunnels along the Philadelphi Corridor have been destroyed and that Hamas has under 1,000 rockets left in its arsenal after it fired over 600 and the IDF destroyed another 1,200. Remaining rockets include several dozen Grad-model Katyushas. On Monday, the Kerem Shalom, Karni, Nahal Oz and Erez crossings were opened to allow humanitarian supplies to enter Gaza. Throughout the day 195 trucks laden with 4,946 tons of supplies at the request of various international organizations, donations from Jordan, Egypt and the Israeli charity organization Latet made their way to Gaza.
Obama Team Asked Israel to End Offensive
(Top defense official says president-elect's aides wanted action stopped before inauguration)
Jan. 20….(WND) Representatives from the incoming administration of President-elect Barack Obama informed Israel they would like to see the Jewish state's offensive against Hamas scaled back before tomorrow's inauguration, according to a top defense official who spoke to WND. The official, speaking on condition of anonymity because he was not authorized to talk to the media, said he was not aware of any official demand from Obama or his team. But he said members of Obama's team made it clear to the Israeli government it would be better for them if Israel's three-week offensive came to an end as Obama assumes office. A representative from Prime Minister Ehud Olmert's office, who would not speak on the record on the matter, denied there was any contact between Olmert's office and Obama regarding the Hamas offensive. Hamas announced it would abide by a weeklong truce, but it launched at least 20 rockets and eight mortars from Gaza into nearby Jewish communities since making its cease-fire declaration yesterday. After surviving a three-week beating by the IDF, Hamas' former prime minister, Ismail Hineyeh, declared "victory" in Gaza. "What happened was a deity and humanity victory. This victory was not achieved by one faction, or party, or area, but by our entire people," he claimed. Olmert contended Israel's operative goals were achieved since the start of the offensive Jan. 3. He claimed Hamas would find it difficult to continue smuggling weapons into Gaza and stated the IDF controlled the northern Gaza Strip, the area from which most rockets are launched into Israel.
Israel Fails to Claim Win in Gaza
(Aaron Klein says Jewish state didn't achieve its objectives)
Jan. 20….(WND) Wars are won or lost based on which side achieves its goals. In the case of Israel's three-week offensive against Hamas in the Gaza Strip, the Jewish state made many impressive gains but largely failed to achieve its major objectives. At the beginning of the conflict, Prime Minister Ehud Olmert announced two main goals for waging war on Hamas, to decisively smash the terrorist group's ability to attack Israel; and to stop Hamas' rocket attacks from Gaza aimed at nearby Jewish communities. Neither goal was met. Olmert later announced a third goal, to change the situation on the ground so that Hamas will not be able to continue smuggling weapons into Gaza from neighboring Egypt. This goal is on the road to failure. With regard to denting Hamas' capabilities, during the past 23 days, Israeli air strikes targeted both symbolic Hamas institutions, such as government buildings, and the group's military infrastructure, including rocket caches, police stations, explosives factories, and about 200 of an estimated 600 smuggling tunnels between Gaza and neighboring Egypt. Although the IDF will not confirm the percentage of Hamas' military infrastructure wiped out, defense sources said Hamas lost about 30 percent of its rockets and a sizable portion of its explosives development program. But the sources said Hamas' estimated 6,000-man force trained in Hezbollah-like guerrilla tactics is still largely in place along with the majority of the group's underground bunkers. In addition, 60 percent of its rocket arsenal and most of its weapons caches are well-stored. Crucially, many components of Hamas' military wing are stored underground and remain safely tucked away. The IDF only launched two portions of a planned, three-stage assault on Gaza. The first stage was Israel's continuing aerial bombardment of Hamas targets, which the terror group admits dented its government infrastructure and which Israeli sources said resulted in some damage to the group's military capabilities. The second stage began about two weeks ago, with some ground troops entering Gaza, taking up peripheral positions in central and northern Gaza and mounting some small offensives and special operations within Gaza City and select northern Gaza camps. But defense sources say to deal a decisive blow to Hamas' ability to attack Israel, the IDF must embark on an extensive, large-scale ground operation that would clean out central and northern Gaza of Hamas' intact military wing. Now that a cease-fire has been announced, it seems Israel will not continue its offensive, meaning Hamas' military infrastructure is largely still intact. Olmert's stated goal of destroying Hamas' ability to rocket Israel fell short. This is obvious since Hamas fired an average of 33 rockets per day every day during the entire conflict, and reportedly shot at least 20 rockets and eight mortars since making its cease-fire declaration yesterday. Hamas of course has declared "victory," which is overstating things. Hamas' "victory" was by default since its only goal was to survive the IDF beating. It achieved this not due to its might but because the IDF will not be launching the third stage of its attack, which would have devastated Hamas. Hamas for now will probably scale back its rocket attacks against Israel, since it's in the group's best interests not to provoke any further IDF operations. But when the time is right and when its arsenal has been replenished, Hamas will resume its war to destroy the Jewish state.
Israel Will Complete Gaza Pullout Before Obama Inauguration
(Senior officials tell visiting European leaders that, barring any unforeseen developments, Israel will withdraw all IDF forces from Strip as gesture to incoming US president and to consolidate 'anti-smuggling' memorandum)
Jan. 19….(YNET) Barring any unforeseen developments, Israeli forces are expected to complete their withdrawal from Gaza prior to the inauguration of US President-elect Barack Obama on January 20 (7 pm GMT). Israel's plan to withdraw prior to the inauguration as a gesture to the incoming US president was mentioned during Sunday's talks between visiting European leaders and Ehud Olmert at the prime minister's official Jerusalem residence. French President Nicolas Sarkozy, UK Prime Minister Gordon Brown, Spanish Premier Jose Luis Rodriguez Zapatero, German Chancellor Angela Merkel, Italian Prime Minister Silvio Berlusconi and Czech PM, Mirek Topolánek, all traveled to the Middle East over the weekend to assist in the Gaza ceasefire efforts. Senior officials who attended a dinner party with the world leaders at the PM's residence, including Defense Minister Ehud Barak, Foreign Minister Tzipi Livni and Likud Chairman Benjamin Netanyahu, said Israel is looking to complete its withdrawal as soon as possible. Israel has conditioned its pullout on the complete halt of all rocket attacks on its southern region and the stability of the ceasefire in Gaza. Cabinet ministers told Ynet that Israel does not want to "embarrass" Obama as he takes office and is hoping to continue its cooperation with the US in the global fight against Islamist terror and the prevention of arms smuggling into Gaza, in accordance with the "memorandum of understanding" signed this week by Livni and US Secretary of State Condoleezza Rice. The IDF began pulling some of its troops out of Gaza earlier in the day, and reservists who were called-up by an emergency draft order may be discharged as early as Tuesday. IDF officials estimate that Hamas will begin to assess the damage done to the group in the coming days. "When the leaders will come out of their hideouts, they will have to confront the Palestinian population, and then they will realize that another round of fighting against Israel is not in their best interest," one official said.
Israel, Hamas Declare Separate Ceasefires in Gaza
Jan. 19….(Israel Today) Israel and Hamas declared separate unilateral ceasefires on Sunday, bringing to a halt three weeks of intense warfare in and around the Gaza Strip. Both sides declared ultimatums for the other. Israel insisted that its troops to remain deployed in the Gaza Strip until the terrorists completely halted their rocket fire on southern Israel, and until guarantees could be obtained that satisfied Israel that Hamas would no longer pose a threat to its citizens. Hamas waited about 12 hours after the Israeli announcement to declare its own ceasefire, and launched 17 missiles into southern Israel during the intervening period to drive home the point that it had not been defeated by the ferocious Israeli offensive. The terror group then gave Israel one week to get its forces out of Gaza. Hamas also demanded that Israel and Egypt throw open the border crossings to Gaza to unhindered traffic, possibly setting the stage for future rocket attacks when Israel refuses to fully comply with such a demand. Israeli Prime Minister Ehud Olmert warned in an address to the nation that renewed terrorist rocket fire on southern Israel could result in a resumption of what was dubbed "Operation Cast Lead." Amid skepticism in Israel over halting the offensive at this time, Olmert maintained that Israel had met and even exceeded its goals in the campaign against Hamas terror. Olmert was somewhat vague on what those goals were, but insisted that Hamas had been dealt a serious blow and that the security situation for southern Israel would now change. He also pointed to a "memorandum of understanding" signed by the US, Germany, Britain and France promising undefined assistance in preventing smuggled arms from reaching Hamas.
Netanyahu: Job Not Finished; Shin Bet: Hamas Can Rearm in Months
Jan. 19….(IsraelNN.com) Likud head MK Binyamin Netanyahu, who is considered likely to lead Israel after the coming elections, said Sunday afternoon that "the IDF has dealt Hamas some very hard blows on the head, but regrettably the job has not been finished." "Hamas still controls Gaza and it will continue to smuggle new missiles in through the Philadelphi Route," Netanyahu said. "I believe that in the face of Hamas's terror and its Iranian backing, we must show no weakness and we must show a resolute, iron fist, until the enemy is vanquished." Israel Security Agency (Shin Bet) head Yuval Diskin estimated Sunday morning that despite the serious impairment of Hamas's smuggling abilities, some tunnels used for weapons smuggling remain intact. He told ministers at the weekly cabinet meeting that Hamas would be able to rebuild the tunnels within a few months' time, and could then renew the arms smuggling into Gaza. Diskin said that the populace in Gaza is "very critical of Hamas for the destruction it has brought upon Gaza." He said that ever since Israel declared a ceasefire, Hamas's leadership has shown a great degree of confusion. IDF Chief of Staff Gabi Ashkenazi sent a message to the troops on Sunday, following Israel's declaration of a ceasefire in Gaza, in which he wrote: "The objectives which were presented at the start of the Cast Lead campaign have been completely met; Hamas's structure and terrorist infrastructure have been hit hard."
Israel Begins Pulling Hastily Troops from Gaza
(Infantrymen leaving Gaza pursuant to Saturday's cabinet decision think cessation of operation too hasty, say IDF could have and should have crushed Hamas)
Jan. 19….(Arutz) The IDF began pulling some of its troops out of the Gaza Strip Sunday, following Israel's decision on a unilateral ceasefire. The troops redeployed to areas near the security fence. Among many soldiers in the field, many of whom have been pulled out in the past several hours, Israel's declared truce appears to constitute a missed opportunity to crush Hamas' will to fire at Israeli civilians. Some reservists reported, though, that Hamas appeared weak. "We could have done a lot more. There's a feeling the operation ended too early," one soldier told Ynet. He and his colleagues are staying alert in an attempt to block ceasefire violations, rocket fire, by Hamas or other Palestinian organizations. These soldiers maintain that an operation such as Cast Lead should leave Hamas "devoid of desire" to continue aiming rockets at Israel. "We can continue without a problem, in urban Palestinian areas, in Gaza City or anywhere else. All they need to do is tell us to," soldiers said. Moreover, many wonder why troop presence has been reduced without any sort of formal resolution. "I'm sure any reservist would be willing to give another month if he knew that, at the end, (kidnapped soldier) Gilad Shalit would be returned home," said one reservist. Many reservists also said that they had expected a much fiercer enemy. "It's been pretty quiet. The regular troops did a good job here and, honestly, there were few incidents (of gun battle) during the week that we were there," said one reservist. "The army used a lot of fire power to cover our backs," reservists said, noting the vast damage in urban Gaza. Unfortunately, the ones paying the price are the Palestinian civilians, many of whom have been left without homes or infrastructure."
Hamas' Haniyeh Declares 'Victory' over Israel
(Group's leader in Gaza says IDF offensive was a failure, hails decision to declare ceasefire as 'wise and responsible')
Jan. 19….(YNET) A Hamas leader said on Sunday Israel's three-week offensive in the Gaza Strip was a failure and had not cowed the Palestinians. "The enemy has failed to achieve its goals," Ismail Haniyeh, the top Hamas leader in the territory, said in a speech broadcast on Hamas television. Though he called the war, in which more than 1,300 Gazans and 13 Israelis died, a "popular victory" for Palestinians, Haniyeh said Hamas' decision to declare a truce on Sunday was "wise and responsible". Earlier Sunday Hamas announced an immediate ceasefire by its fighters and allied groups in the Gaza Strip and gave Israel a week to pull out its troops. "Hamas and the factions announce a ceasefire in Gaza starting immediately and give Israel a week to withdraw," said Ayman Taha, a Hamas official in Cairo for talks with Egypt on a truce deal. The Islamic Jihad joined the ceasefire announcement. Hamas also demanded that Israel open all of the Gaza Strip's border crossings to allow in food and other goods to meet the "basic needs for our people".
Israeli Forces Leaving Gaza
Jan. 19….(DEBKAfile Special Report) Sunday, Jan. 18, Hamas leader Mussa Abu Marzuk in Damascus declared an immediate ceasefire on behalf of all the Palestinian organizations conditional on Israel's withdrawal from Gaza within a week. A few minutes later, two rockets exploded in two kibbutzim near the Gaza border, topping 15 fired earlier at Sderot, Ashkelon, Eshkol, Ashdod and Kiryat Gat. DEBKAfile's military sources report that armed Hamas units are moving to take control of the Gaza Strip as Israeli forces withdraw. The Israeli security cabinet in a special meeting Saturday night, Jan. 17, approved a unilateral halt in military operations in the Gaza Strip from 0200 hours while leaving Operation Cast Lead forces in Gaza to test Hamas' response. Although prime minister Ehud Olmert assured the nation that all the Gaza operation's goals had been reached, Hamas promised to keep on fighting and shooting rockets, while neither Washington nor Cairo guaranteed action to end the flow of weapons to Gaza. Sunday, a large group of European leaders from the UK, France, Germany, Spain, Italy and the Czech Republic descended on Jerusalem. DEBKAfile's sources report they came ostensibly to show the flag for Israel, but they were mainly on hand to ascertain that the Israeli military quit the Gaza Strip, even without the operation's goals being met, and also to lean hard on Israel to open the six Gaza crossings as demanded by Hamas. Earlier, they met Egyptian president Hosni Mubarak at Sharm e-Sheikh. The plan the European leaders have developed with Egypt provides a $1.6 billion aid package for the Gaza Strip's reconstruction. The millions of tons of cement and supplies will be shipped to Israeli ports and delivered through the Gaza crossings over a period of years. Israel, they believe, will not be able to refuse to reopen the crossings, thereby bringing its embargo of the Gaza Strip to an end.
WEEK OF JANUARY 11 THROUGH JANUARY 17
Hamas Leadership Locked in Fierce Controversy
Jan. 17….(DEBKAfile Special Analysis) Thursday, Hamas leaders and commanders emerged from their underground hideouts for their first look at the devastation wrought in 13 days of Israeli aerial bombardment, taking advantage of the pause Israel declared in its military operations for supplies to reach the Gaza population. IDF commanders hoped their lust for battle would be cooled by the sight of Gaza in ruins enough to give up and stop fighting. Hamas leaders are locked in a fierce controversy in both Damascus and Gaza over Egypt's ceasefire proposals. Politburo chief Khaled Meshaal flatly rejects them; Mussa Abu Marzouk would accept them, backed by Gaza prime minister Ismail Haniyeh, who maintains that Egypt is Hamas' only remaining lifeline which it dare not jeopardize. However, the military arm in Gaza and its heads, Khalil al Haya, Said Sayam and Muhammad Jabry, are strongly in favor of severing ties with Egypt and fighting on. Our sources disclose that the Hamas extremists are finding time for the brutal persecution of their rivals, the Palestinian Fatah. Under cover of the general mayhem, Hamas gangs are kidnapping Fatah operatives and executing them. Their bodies are tossed onto the mountains of uncollected garbage and their kinsmen informed where to find them. Hamas leaders are convinced their rivals are plotting to exploit the fighting to overthrow their regime.
Damascus Hamas Will not Accept Israel's Demands for Gaza Cease-fire
Jan. 17….(Ha Aretz) Hamas will not accept Israel's conditions for a cease-fire in Gaza and will continue armed resistance until the offensive ends, Khaled Meshal, the leader of the Palestinian Islamist group, said on Friday from Damascus. Speaking at the opening of an emergency meeting on Gaza in Doha, Meshal called on the leaders present to cut all ties with Israel. Meshal joined Iranian President Mahmoud Ahmadinejad in a surprise appearance at the summit, aimed to show their weight in diplomatic efforts surrounding the Gaza crisis. Meshal's comments contradicted a report published in the al-Sharq al-Awset daily on Friday, which claimed Hamas was prepared to accept a conditional cease-fire with Israel starting on Saturday. Meanwhile, Syrian President Bashar Assad said Friday that the Arab League initiative for peace with Israel is "dead" because of its offensive in the Gaza Strip.
Speaking at the summit in Qatar, Assad called on the participating Arab countries to sever "all direct and indirect" ties with Israel in protest against its continued operation in the coastal strip. Ahmadinejad, who is also attending the meeting of Arab and Muslim leaders in Qatar, said the Gaza offensive proved that Israel was in its last throes. Muslim nations "need to cut relations with Israel and America. Earlier Friday, Israeli and Western sources said that Jerusalem has rebuffed some of the conditions initially set forth by Hamas for an Egyptian-proposed truce in the Gaza Strip, including how long it would last and who would manage the border crossings. Jerusalem has expressed reservations regarding the Islamist group's terms, despite Cairo's apparent promise to crack down on arms smuggling to Gaza, one of Israel's key demands. The US wants the Palestinian Authority, rather than Hamas, to control Gaza's border crossings. Washington also believes Mr. Abbas should control the flow of any reconstruction aid into Gaza once hostilities end. "There is much that can be done to begin to bring Gaza out of the dark of Hamas's reign there and into the light of a reconnection to the very good governance that the Palestinian Authority can provide," Ms. Rice said.
"Iranian Unit" Destroyed, Hamas was Surprised
Jan. 17….(IsraelNN.com) Hamas took a gamble. We thought, at worst Israel will come and do something from the air - superficial. The so-called "Iranian Unit" of Hamas has been destroyed, according to Gaza sources cited Thursday by the Haaretz daily. The sources said most of the unit's 100 members were killed in fighting in the Zeytun neighborhood of Gaza City. The terrorists had been trained in infantry tactics, the use of anti-tank missiles and the detonation of explosives, among other skills, by the Iranian Revolutionary Guard at Hizbullah camps in Lebanon's Beka'a Valley, as well as sites in Iran. The IDF Southern Command has reportedly stepped up ground operations in Gaza, in anticipation of a ceasefire declaration in the near future. Senior officers said Thursday that there are probably no more than a few days until the end of the fighting. According to the Arab sources, when that happens Iran will send money to assist Hamas in restoring its military capabilities, in addition to the more widely-publicized program of rebuilding destroyed homes. Two captured terrorists interviewed by Maariv/NRG say that Hamas was not expecting Israel's response to the escalation in missile attacks on Israeli targets that preceded Operation Cast Lead. One of them, a 52-year-old victim of a premature detonation who had already done time in an Israeli jail, said, "Hamas took a gamble. We thought, at worst Israel will come and do something from the air, something superficial. They'll come in and go out. We never thought that we would reach the point where fear will swallow the heart and the feet will want to flee. You [Israel] are fighting like you fought in '48. What got into you all of a sudden?" The second terrorist, a 21-year-old, said Hamas brought order to Gaza, but also brought fear. He noted that it was dangerous in Gaza for non-Hamas members.
Russia Building Navy Bases in Libya, Syria, Yemen
Jan. 17….(Reuters) Russia has decided to establish naval bases in Libya, Syria and Yemen within a few years, a Russian military official was quoted as saying on by Itar-Tass news agency. "It is difficult to say how much time it will take to create the bases for our fleet in these countries, but within a few years this will be done without question," the official was quoted as saying. "The political decision on this question has been taken," the official said. A spokesman for the Russian navy could not immediately be reached for comment. The Kremlin is seeking to play a more assertive role in world politics and has been using its military to project its new-found confidence beyond its borders. Russian nuclear-capable strategic bombers regularly fly around the globe on patrols, and warships traverse the oceans in another show of force by Moscow. Analysts have said that the Syrian port of Tartus could be revived as a Russian naval base. During the Cold War, the Soviet navy had a permanent presence in the Mediterranean, using Tartus as a supply point. Russian media reported that opening a naval base in the Libyan port of Benghazi was among the main issues discussed during Libyan leader Muammar Gaddafi's visit to Moscow in October last year.
Russia Seeks Syrian, Iranian help on Gaza Cease-fire
Jan. 17….(Arutz) Russia has asked Iran and Syria to help persuade the Palestinian Islamist movement Hamas to accept an Egyptian proposal on ending the fighting in Gaza, Russian Foreign Minister Sergei Lavrov said on Friday. "Egypt's initiative is, for us, optimal and we believe all efforts should be thrown into supporting it," Lavrov told a news conference. "In connection with this we are sending corresponding signals to representatives of Hamas, and those states which have influence on Hamas," he said. "First and foremost that is Iran and Syria. We have spoken to our colleagues. I hope that everyone will concentrate on this." The Egyptian peace plan includes securing the Egypt-Gaza border, across which Israel alleges weapons are smuggled, and ending the Israeli blockade of Gaza. Russia maintains close ties to Tehran and Damascus and has official contacts with Hamas, which is shunned by Western powers for refusing to abandon its objective of destroying the Jewish state.
FOJ Note: Ironic is it not that Russia is building up its naval bases in the very nations that the prophet Ezekiel specifies Magog would prepare just before they invade Israel. (Ezek 38:3-7 And say, Thus saith the Lord GOD; Behold, I am against thee, O Gog, the chief prince of Meshech and Tubal: And I will turn thee back, and put hooks into thy jaws, and I will bring thee forth, and all thine army, horses and horsemen, all of them clothed with all sorts of armour, even a great company with bucklers and shields, all of them handling swords: Persia, Ethiopia, and Libya with them; all of them with shield and helmet: Gomer, and all his bands; the house of Togarmah of the north quarters, and all his bands: and many people with thee. Be thou prepared, and prepare for thyself, thou, and all thy company that are assembled unto thee, and be thou a guard unto them.)
Obama to Appoint Middle East Crisis Team on 'Day One'

Jan. 17….(IsraelNN.com) United States President-elect Barack Obama said he will appoint a team immediately after his inauguration on Tuesday to address on "Day One" the crisis in Gaza, as well as other troubles across the Middle East. "We've got a regional set of problems," Obama said in an interview with USA Today, noting the challenges in Iran, Afghanistan and Pakistan in addition to the war over the Land of Israel. "They're not going to be solved in isolation. And we've got to be active in all these areas in order for us to be successful in any of these areas." According to the report, Obama is planning a "diplomatic offensive, which could include the appointment of special envoys," and which "contrasts sharply" with President Bush's approach to the region. "Bush put less emphasis on the Israeli-Palestinian conflict early in his tenure and tended to deal with Middle East problems separately," the report explained.
Most Americans Blame Arab Side
The most recent poll by Rasmussen Reports showed 53% of Americans at least somewhat confident in Obama's ability to deal with the situation in Gaza, including 25% who are "very confident" in the President-elect. The Rasmussen poll found that 56 percent of voters nationwide believe that "the Palestinians are to blame" for the current situation in Gaza, while 13 percent say Israel is at fault. Close to half - 45% - said Israel was justified in taking military action against Gaza, while 38% opined that the Jewish nation should have tried harder to find a diplomatic solution. As in the earlier survey, Republicans strongly agree with Israel, while Democrats wish there had been more efforts at diplomacy. Half of those polled said Israel should agree to a truce now, while 26 percent disagree.
Report: Israel, Hamas Agree on 2-Week Truce
(Palestinian sources tell Ynet fighting in Gaza to cease within 72 hours for period of two weeks, during which sides will discuss supervision of crossings, IDF withdrawal from Strip and removal of blockade)
Jan. 16….(YNET) Palestinian sources told Ynet on Thursday evening that Israel and Hamas have agreed on all the general outlines of the Egyptian cease-fire initiative to end the fighting in Gaza. According to the report, the sides have agreed on the truce, on the supervision of the smuggling issue, on the crossings and on lifting of the blockade imposed on the Strip. According to the sources, the two sides are expected to agree on a ceasefire which will likely begin within 72 hours and last up to two weeks. During this period of time, the parties will discuss the Israel Defense Forces' withdrawal from Gaza and the withdrawal's timing. Palestinian sources estimated that the pullback into Israel would be swift. According to the sources, on the issue of the supervision mechanism it has been agreed that the international forces' presence would be on the Palestinian side of the Philadelphi route. On this issue the sides are expected to discuss the identity of the supervisors and the international force. Hamas is interested in Turkish forces, while Israel is expected to demand a reinforced Western presence. Simultaneously, Egypt will begin using the supervision equipment sent by the United States. This mechanism is aimed at reducing the smuggling of weapons through Hamas tunnels in the Rafah area to a minimum. Egyptian officers and supervisors who underwent training in Texas in the past few months will be in charge of operating the improved equipment, which is expected to begin functioning in the coming days. The operation of the crossings, particularly the Rafah crossings, will be based on an agreement from 2005 which includes the presence of European monitors, Israeli cameras and a force on behalf of Palestinian President Mahmoud Abbas. Hamas will also be present at the crossings, but the location of its representatives has yet to be determined. Simultaneously, Israel is expected to demand that the Palestinian organizations stop manufacturing weapons inside the Gaza Strip. In addition, according to the Palestinian sources, Israel will demand that Hamas or the other Palestinian organizations will refrain from attempting to execute terror attacks in Israel from the West Bank in response to the Gaza operation.
Iran says Obama Administration Must Change US Approach
Jan. 16….(Reuters) Iran's president said on Thursday the new US administration must change Washington's approach to the Islamic Republic, which is embroiled in a row with the United States over its nuclear program. Asked about President-elect Barack Obama, who has promised to engage more with Iran, Mahmoud Ahmadinejad told a news conference: "Any administration in America that takes office should at least make two changes in its behavior, the first change is in the field of America's interference. The circle of interference should be limited to within American borders." "The second change is the approach of the American government toward Iran," he said. "If there are real and fundamental changes I think it would be welcomed by nations." "But, if the previous behavior continues with a change of tactic and in a new package, the trend of the world's affairs will stay on the past trend," Ahmadinejad added. The United States accuses Iran of seeking to develop nuclear weapons and President George W. Bush has spearheaded a drive to isolate Tehran internationally. Tehran denies the charge. Obama, who takes office on January 20, has said he views Iran as a "genuine threat" but still favors initiating a dialogue. He has said he would take a new approach emphasizing respect for the Iranian people and spelling out what Washington expects of its leaders. Ahmadinejad said Iran would wait and see what the new administration's approach would be. "We do not want to have a prejudgment. We will wait and we have a lot of patience," he said.
Emerging Gaza Ceasefire Allows Hamas to Restock Rockets - and Fire Them
Jan. 16….(DEBKAfile Exclusive Report) DEBKAfile's military sources sum up the Egyptian-Hamas ceasefire accord presented to Israel as no better than a repeat formula of last year's failed informal truce, which led to the outbreak of the current Gaza fighting. One senior officer told us: For this we didn't have to go to war." Now as then, Egypt is fashioning separate understandings with Hamas and Israel. While tying Israel's military hands, these deals permit Hamas to claim it has come out of the fighting ahead, after Israel refrained from either toppling its Gaza government or extinguishing its missile capabilities. Thursday, Jan. 15, two Israeli envoys headed out - the foreign ministry's director general Aharon Ambramovich to Washington and the defense ministry's political adviser Amos Gilead to Cairo - to hear about the proposed American and Egyptian ceasefire mechanisms for controlling weapons smuggling through Sinai and the Philadelphi Corridor. Hamas took this as a signal to intensify its assaults on the southern Israel population: 20 missiles and rockets were launched before 10:00 a.m.Thursday; 23 Wednesday, one of which landed more than 70 km from Gaza, the furthest distance ever reached by a Hamas rocket. DEBKAfile's military sources note that even if the two mechanisms are agreed between the US, Egypt and Israel, it could be a year or more before they are in place. Only then, can their efficacy begin to be tested. All that time, Hamas will be free to restock its arsenal through the Philadelphi smuggling tunnels and calibrate its missile fire, in exactly the same way as Hizballah replenishedd its armory from Syria and Iran after the 2006 war and still shoots rockets at will under the noses of UN monitors. Therefore, although easily vanquished on the battlefield, the Hamas terrorists are winning the diplomatic war against a compliant Israel.
Kissinger Affirms Call for 'New World Order'
(

Proposes globalism to solve current world economic crisis

)

Jan. 16….(WND) Former Secretary of State Henry Kissinger reaffirmed his call for the incoming Obama administration to use the current financial crisis to create a "new world order," in an interview with the International Herald Tribune. Kissinger's commentary makes clear globalists intend to utilize the current global financial meltdown to advance globalism. In developing his call for action, Kissinger also makes clear his view of globalism involves a lessening of American power and influence to elevate other less advantaged countries in the global economy. "The economic world has been globalized," Kissinger proclaimed. "Its institutions have a global reach and have operated by maxims that assumed a self-regulating global market." Kissinger warns against individual countries taking action through national political institutions to cushion the shock of the current financial decline, with a view to ameliorating their domestic economies. Rather than focus on domestic politics, Kissinger says the solution involves more globalism. "Every major country has attempted to solve its immediate problems essentially on its own and to defer common action to a later, less crisis-driven point," Kissinger wrote. "So called rescue packages have emerged on a piecemeal national basis, generally by substituting unlimited governmental credit for the domestic credit that produced the debacle in the first place, so far without more than stemming incipient panic." Kissinger strongly objects to nation-states action as such to protect their domestic economies. "In the end, the political and economic systems can be harmonized in only one of two ways: by creating an international political regulatory system with the same reach as that of the economic world," he suggests, "or by shrinking the economic units to a size manageable by existing political structures, which is likely to lead to a new mercantilism, perhaps of regional units." Kissinger clearly prefers creating global political institutions to manage the global economy. Kissinger also chides America for being overbearing, suggesting that "righteousness" has "characterized too many American attitudes, especially since the collapse of the Soviet Union." He charges that American righteousness has resulted in "a certain inherent unilateralism, the standard of European critics, or else an insistent kind of consultation by which nations were invited to prove their fitness to enter the international system by conforming to American prescriptions." Not since JFK has a president like Obama come on the scene, "with such a reservoir of expectations," Kissinger argues. Kissinger believes the US partnerships with the European Union and China are the keystones to developing his perception of the new world order. He acknowledges "the global financial collapse has devastated Chinese exports," threatening to lower Chinese growth to below the 7.5 percent rate "that Chinese experts have always defined as the line that challenges political stability." Yet, he warns that "if protectionism grows in America or if China comes to be seen as a long-term adversary, a self-fulfilling prophecy may blight the prospects of global order." Kissinger wants his vision of the new world order to be built upon a trans-Atlantic reality in which the US combines economically and politically with the European Union, and a trans-Pacific reality in which the US combines with China. Kissinger is a leading participant in various global meetings, including those held by the Council on Foreign Relations, the Bilderberg Group and the Davos World Economic Forum.
Rick Warren Reaches Out to Homosexual Gene Robinson in Inauguration
Jan. 16….(WND) By Jacqui Salmon - The Rev. Rick Warren, the conservative evangelical minister who will deliver the invocation at Barack Obama's inauguration, has extended an olive branch to Bishop V. Gene Robinson. Robinson, an openly gay Episcopal bishop, had reacted angrily to the selection of Warren, who opposes gay marriage, calling it a "slap in the face." But then Robinson was selected this week to give the invocation at the inaugural opening ceremony at the Sunday afternoon concert on the Mall. Today, Warren issued a statement praising Obama for selecting Robinson, saying the president-elect "has again demonstrated his genuine commitment to bringing all Americans of goodwill together in search of common ground. I applaud his desire to be the president of every citizen."
Russia Prophetically Rises Against Israel
Jan. 15….(By Bill Wilson, KIN Senior Analyst) There are protests around the world against the Israeli defense of its citizens from terrorists in Gaza, but relatively nothing has been said about Russia's move to cut heating and cooking gas supplies to 20% of Europe during the coldest part of winter. Apparently, in the court of world opinion, it is more inhumane to snuff out terrorists that kill innocent civilians and use their families as shields against attack then it is to purposely try to freeze people in mid-winter to gain a financial advantage in a contract. In fact, those AK-47's and Qassum rocket materials used by terrorists must originate from somewhere, Egypt from Iran from Russia. Perhaps Russia is the one that the UN Security Council should be dealing with for world unrest. The Israeli Defense Forces have been eradicating the infrastructure for the democratically elected terrorist group Hamas. An extensive network of tunnels has been built between Gaza and Egypt to smuggle weapons and supplies to terrorists. On January 10, the Israeli Embassy supplied evidence of a map confiscated on an operation. General Yuval Halmish said the map described the location of explosive devices and firing positions in the middle of the civilian population in a densely populated neighborhood. General Halmish says, "That's what Hamas has been doing throughout the entirety of the operation, perversely using civilians as human shields." Meanwhile, Russia and 13 nations on the UN Security Council voted to condemn Israel for Gaza. The US shockingly abstained. Reuters reports that Israeli Prime Minister Ehud Olmert interrupted a Bush speech in Philadelphia to intervene. Olmert recounted the conversation during a recent speech: "I told him, 'You can't vote in favor of this resolution.' He said, 'Listen, I don't know about it, I didn't see it, I'm not familiar with the phrasing.'" Olmert said, "I'm familiar with it. You can't vote in favor. He gave an order to the secretary of state and she did not vote in favor of it, a resolution she cooked up, phrased, organized and maneuvered for. She was left pretty shamed and abstained on a resolution she arranged." The Bible prophesies in Ezekiel that in the latter days, Gog, generally considered Russia, will lead Iran and northern Africa in a colossal battle against Israel. The United States has been standing as the only superpower preventing such an attack, even though world opinion against Israel is overwhelming. Yet, at the beginning of 2009, the US for the first time in history has cast aside its support of Israel's right to defend itself. The Bible also prophesies in Zechariah 12:3 that all that burden themselves with Jerusalem "shall be cut in pieces, though all the people of the earth be gathered together against it." The Evil Empire referred to by President Reagan is on its prophetic rise, while the light of America is dimming.
Globalists 'Salivating' Over Collapse of America
(Warning issued over drive for Constitution Convention)
Jan. 15….(WND) Globalists are "salivating" over the possibility of a Constitutional Convention at which issues such as the 2nd Amendment could handily be dismissed, according to a leader who warns Virginia likely is the next target for the drive. "There is no question in my mind that, should a new Constitutional Convention be called, it would be the end of the United States of America as we know it, and our current Constitution and Bill of Rights would be forever altered beyond recognition," Constitution party leader Chuck Baldwin wrote in his latest commentary. "The globalists who currently control Washington, DC, and Wall Street are, no doubt, salivating over the opportunity to officially dismantle America's independence and national sovereignty, and establish a globalist North American Union, in much the same way that globalists created the European Union. A new Constitutional Convention is exactly the tool they need to cement their sinister scheme into law." "If called, a modern Constitutional Convention could declare the US Constitution to be null and void, and could completely rewrite the document. Judge Roy Moore wrote that James Madison himself, "the acknowledged 'Father of the Constitution,'" once warned, "Having witnessed the difficulties and dangers experienced by the first Convention which assembled under every propitious circumstance, I should tremble for the result of a second. " Moore wrote: "A new convention raises all sorts of frightening possibilities. Would valuable rights like the right to keep and bear arms or the right to worship God be kept intact? What would stop powerful special-interest groups from influencing the outcome?" There is no public support across America for a Constitutional Convention. A flurry of pro-Con Con activity during the Jimmy Carter administration died out. No state has passed a Con Con resolution in the last 25 years. During the 1980s, five states voted down a call for a Con Con, and three states repealed their earlier Con Con resolutions." Thewarning comes at a time when Barack Obama who will be inaugurated as the next president Jan. 20, has expressed his belief the US Constitution needs to be interpreted through the lens of current events. Melody Barnes, a senior domestic policy adviser to the Obama campaign, has told Fox News, Obama's "view is that our society isn't static and the law isn't static as well. That the Constitution is a living and breathing document and that the law and the justices who interpret it have to understand that." Obama believes the Constitution is flawed, because it fails to address wealth redistribution, and he says the Supreme Court should have intervened years ago to accomplish that. Obama told Chicago's public station WBEZ-FM that "redistributive change" is needed, pointing to what he regarded as a failure of the US Supreme Court under Chief Justice Earl Warren in its rulings on civil rights issues in the 1960s. The Warren court, he said, failed to "break free from the essential constraints" in the US Constitution and launch a major redistribution of wealth. The issue of Obama's own eligibility under the US Constitution's requirements that presidents be "natural born" citizens is the subject of nearly two dozen court cases, including several that have gone to the US Supreme Court. "The natural born citizen requirement in Article II of the United States Constitution has been called by Globalist ideologues the 'stupidest provision' in the Constitution, 'undecidedly un-American,' 'blatantly discriminatory,' and the 'Constitution's worst provision
How Hamas Uses Gaza Kids in Combat Support Roles
Jan. 15….(IsraelNN.com) The Hamas terrorist regime in Gaza is using children to support its fighters during combat with IDF troops as they carry out counter-terrorist activities in Operation Cast Lead in the region. Palestinian Media Watch (PMW) has created a video of key representative segments from Hamas TV that document indoctrination of children into the culture of terrorism, including a music video that teaches that bombs to kill Israelis are more precious to an Arab mother than her children. The PMW also noted that the Kul Al-Arab Arab weekly newspaper quoted a child, "Khaled, from A-Rimal", who described his job and those of his friends as they help adult terrorists at the military front. "We, the children, in small groups and in civilian clothes, are fulfilling missions of support for the Hamas Resistance fighters, by transmitting messages about the movements of the enemy forces or by bringing them ammunition and food," he said. "We ourselves are not aware of the movements of the Resistance fighters. We see them in one place, they suddenly disappear, and then reappear somewhere else. They are like ghosts, it is very hard to find them or hurt them." During the course of a prior Israeli military operation against Gaza terrorists in March 2008, Hamas repeatedly called upon civilians to gather near buildings where they expected the IDF to launch air strikes against weapons storage facilities and other military targets. Hamas's Al-Aqsa TV issued a special call to children at the time to form a human shield at the home of Abu al-Hatal of the a-Shouqaf quarter in Sajaiyeh in order to protect the building from an anticipated IAF air strike. A month earlier, Hamas Member of Parliament Fathi Hammad claimed in a speech broadcast on February 29, 2008 on Al-Aqsa TV that for PA Arabs, "death has become an industry at which women excel… The elderly excel at this, and so do the mujahideen and the children." In the video captured on tape and translated by the Washington DC-based Middle East Media Research Institute), Hammad is shown saying, "This is why they have formed human shields of the women, the children, the elderly and the mujahideen, in order to challenge the Zionist bombing machine. It is as if they were saying to the Zionist enemy: 'We desire death like you desire life.'"
Israel's Northern Forces on High alert after Attack on Kiryat Shemona
| | |
| --- | --- |
| | (FOJ) Israeli troops find a heavy anti-aircraft machine gun in a Gaza City mosque. |
Jan. 15….(DEBKAfile Special Report) Hizballah's Al Manar TV reports that Israel fired back after three rockets exploded in the Kiryat Shemone region of northern Israel. Additional Lebanese sources described Israeli helicopters hovering over southern Lebanon and an artillery response against the rocket sites. Five Katyusha rockets were apparently fired early Wednesday, Jan. 14, from two places in S. Lebanon, 3 from Arqoub and two from Habariyeh near Hasbaya. The latter fell short and exploded inside the Lebanese border. Three more rockets primed for launching were later discovered by the Lebanese army and UNIFIL troops at Habariyeh rocket site. The Lebanese government condemned the rocket attack and the UNIFIL chief asked both sides to exercise restraint. At 8:30 a.m., the northern Israeli town of Kiryat Shemona heard four explosions and saw plumes of smoke rise over the Galilee Panhandle. They headed for bomb shelters and cancelled classes at school. Two women went into shock. Last Thursday, Jan. 8, Nahariya on the Mediterranean coast came under rocket attack from Lebanon and a nursing home was destroyed. Israel responded with cross-border artillery fire to what was officially described as a one-off attack. Hizballah spokesmen warned then that further Israeli "provocations" would be met with reprisals. Israeli forces in the North are on high alert after responding to the latest attack. DEBKAfiles military sources report that the second rocket attack from Lebanon in less than a week indicates that Hizballah is supplying its terrorist allies with rockets for a systematic assault on northern Israel to expand the Hamas-Israel confrontation in the Gaza Strip to the northern front.
Iran Trying to Divert Israeli Forces from Gaza?
(Rocket-fire from Lebanon seen as ploy by Tehran-backed Hezbollah)
Jan. 15….(WND) The Lebanese Hezbollah terrorist organization is allowing rocket-fire into the Jewish state's northern communities in a move to divert Israeli forces away from fighting Hamas in Gaza, according to senior defense officials here. Earlier today, at least three Katyusha rockets were fired from Lebanon at northern Israel, prompting the Israel Defense Forces to fire eight shells back at the source near the village of Kfar Hamam in southern Lebanon. The IDF immediately sent warplanes and gunships to fly reconnaissance missions into southern Lebanon in a clear warning signal to Hezbollah, which largely controls the territory. The shelling ignited immediate fears from pundits speaking to the Israeli media of the opening of a second front outside Israel's war against Hamas in Gaza. Although no group has yet taken responsibility for the rocket-fire from Lebanon, it is extremely unlikely any rockets can be launched from Lebanon without coordination with Hezbollah. Defense officials in Tel Aviv told WND that Israel estimates the rockets were fired by Palestinian groups on behalf of Hezbollah. But the defense officials said Israel doesn't believe either Hezbollah or its Syrian patron are looking to engage in any direct conflict with the IDF. They said they estimate Hezbollah, backed by Iran, is trying to prompt Israel into fortifying its northern border with Lebanon in a bid to draw some Israeli forces out of fighting the Iranian-backed Hamas terrorist group in Gaza. Currently, a large contingent of the Golani Brigades, the elite force charged with protecting northern Israel, is fighting inside Gaza or stationed along the Israel-Gaza border.
US Sees Gaza Rebuilding as Opportunity to Prop up Abbas
Jan. 14….(Reuters) The United States hopes to use post-war reconstruction of the Gaza Strip to help the Western-backed Palestinian Authority reassert its presence and influence in Hamas's stronghold. US and Western officials said details have yet to be worked out and depended on the extent to which Israel's military offensive, which has killed more than 900 Palestinians, weakens Hamas's hold on power. The aim would be to ensure that credit for reconstruction accrues to President Mahmoud Abbas's Palestinian Authority, and not to the Iranian-backed Islamists who won a 2006 Palestinian election and seized control of Gaza 18 months later. A senior European diplomat involved in the discussions dismissed the idea "as a recipe for failure from the start." Any major reconstruction program is likely to face major hurdles, from Palestinian infighting and corruption to Israeli obstructionism, that could further undermine the credibility of "moderates" like Abbas, who advocates a peace deal with Israel, aid officials said. "Whoever rebuilds Gaza will be the real winner," said one Western diplomat. Western donors who financed most of this infrastructure in the first place have grown weary of seeing it destroyed by the Israelis (sic) and then being asked to fund the rebuilding. "We are pissed off," said a senior European diplomat based in the region. "We may end up paying again." Hamas chased out pro-Abbas officials when it took over the Gaza Strip in June 2007 and has run its own government since. "If the Palestinian Authority is to be in charge, it has to be on the ground, have institutions. At the moment there is none of that." EU officials said preparations were already under way for a donor conference. But diplomats questioned whether donors facing a global recession would add much to the $7.7 billion they pledged in 2007 to back US-led peace talks that went nowhere. A Bush administration official said the United States was weighing how Gaza reconstruction could be used to bolster Abbas. "We certainly don't want Hamas to benefit by the reconstruction program and we certainly don't want any of this money to go to Hamas or through Hamas," the official said. "On the positive side, we also want the legitimate Palestinian government, the PA, to get the credit for this and also to be able to reassert a presence in Gaza. Obviously Hamas will oppose this, so it's going to be a difficult issue." Abbas's prime minister, Salam Fayyad, is approaching donors, making housing the homeless his first priority and drawing up plans to repair all ruined or damaged buildings in Gaza. US officials said a vital question was how Palestinians will view the Israeli offensive after it is over.
Hamas Wants a Ceasefire That Isn't A Ceasefire for Them
| | |
| --- | --- |
| | (FOJ) Israeli reservists march toward Gaza City as Israel prepares to launch a new phase in its war on Hamas. |
Jan. 14….(Israel Today) Hamas Prime Minister Ismail Haniyeh said in a televised address from his hiding spot in Gaza on Monday that he is ready to consider any ceasefire proposal that forces Israel to halt its offensive, but permits Hamas to continue attacking Israel. Most media focused on the fact that the address was the first indication that the Hamas leadership is ready to throw in the towel in the current round of fighting. Brushed aside was the fact that Haniyeh also insisted that any ceasefire must recognize Hamas' right to continue launching attacks against Israel. "The intifada must continue because the occupation [sic] is continuing to kill," said the Hamas boss. Haniyeh also indicated that he would only accept a ceasefire deal that gave the impression of a Hamas victory, and told the residents of Gaza that his group is "nearing victory over the Zionist war machine." Hamas rejected an Egyptian-French ceasefire proposal last week because it called for the deployment of foreign troops in Gaza to ensure the terrorists did not start firing rockets at Israel again. In related news, outgoing US President George W. Bush used his final press conference on Monday to reiterate that any Gaza ceasefire must begin with Hamas halting its rocket fire on southern Israel. "I'm for a sustainable ceasefire. And a definition of a sustainable ceasefire is that Hamas stops firing rockets into Israel. The choice is Hamas' to make," stated the president. Israeli Defense Minister Ehud Barak on Tuesday said Israel will push forward with its anti-terror offensive in the Gaza Strip, but will also be monitoring diplomatic developments in hopes that someone will present an acceptable ceasefire proposal. Speaking at a meeting with Israeli air force pilots at the Palmachim air base, Barak said that Israel respects international calls for calm in Gaza, but insisted that Israel must finally, after more than seven years of absorbing rocket attacks, achieve its security goals there. "The operation is continuing on its eighteenth day with the aim of restoring quiet for southerners and curbing weapons smuggling," said Barak. "We are working on both these goals, with an eye on diplomatic initiatives." Israel has rejected several ceasefire proposals, most notably an Egyptian-French plan, because they failed to make a total cessation of Hamas rocket fire a prerequisite and failed to offer any guarantees that Hamas would no longer threaten the one million Israelis living within range of the Gaza Strip. Israeli army chief Gen. Gabi Ashkenazi spoke at the same meeting, and reported that all branches of the military are achieving "exceptional results in damaging Hamas, its infrastructure and its military wing." A senior army official cited by Israel National News on Monday said that more than 650 Palestinian terrorists had been killed since the start of the operation more than two weeks ago. Israeli forces began shelling the outskirts of Gaza City on Tuesday, as troops inched every closer to the dangerous alleys of the crowded population center that has become a hub of terrorist activity.
Netanyahu: Destroy Hamas, Stop Nuclear Iran
Jan. 14….(Newsmax) Former Israeli Prime Minister Benjamin Netanyahu said Tuesday that Israel must remove Gaza's Hamas rulers from power to ensure victory over "terror." He expressed full support for his country's punishing, 18-day offensive against the militants, even though it is being conducted by politicians who are running against him in Feb. 10 elections. "At the end of the day there will be no alternative but to bring down the regime of Hamas, a terrorist organization pledged to our destruction," Netanyahu told foreign reporters in Jerusalem. Netanyahu, a top contender to become prime minister in next month's vote, said toppling Hamas would not necessarily have to be part of the current offensive, but would eventually have to happen. He said Hamas, along with the Lebanese guerrilla group Hezbollah, are Iranian proxies located on Israel's southern and northern flanks. "Ultimately Israel cannot tolerate an Iranian base right next to its cities," Netanyahu said. Israel sees Iran as its top threat, and believes the country is working to develop a nuclear bomb, something Tehran denies. "If the proxies of Iran enjoy a nuclear umbrella, we have crossed into another realm," said Netanyahu, who leads the right-of-center Likud Party. "That is something we really don't want to contemplate." Netanyahu enjoyed a wide lead in the polls before Israel began its Gaza offensive on Dec. 27. However, since the war began he's been losing ground to Foreign Minister Tzipi Livni of the centrist Kadima Party and Defense Minister Ehud Barak of the left-leaning Labor Party. The war is enormously popular among Israelis, who see it as a way of stopping Hamas rocket attacks on southern Israel. The offensive has killed some 900 Palestinians and 13 Israelis. Netanyahu rejected calls to delay the elections because of the Gaza fighting. "I think if we do not hold it on time, it will give the terrorists an enormous victory. It means that they hold Israeli democracy hostage," he said. Even though Israel would not necessarily have to drive Hamas from power now, he said the Jewish state should not pull out of Gaza unless it receives assurances the militants will not rearm through smuggling at the Gaza-Egypt border. Hamas wrested control of Gaza in June 2007 from the moderate forces of Palestinian President Mahmoud Abbas. The Islamic militants now rule the territory while Abbas' Fatah movement is in charge of the West Bank. The two territories are located on opposite sides of Israel and are together supposed to make up a future Palestinian state. Netanyahu said conditions are not ripe for serious negotiations on a final peace deal with Abbas, a position that could put him at odds with the incoming Obama administration in the United States
Iran Recruits Somali Pirates to Replenish Hamas Arms Stocks
(FOJ Note: There has been a lot of news lately about Somali pirates. Guess what, these Somali pirates have been hired by Iran to help fellow Islamists in Gaza)
Jan. 14….(DEBKA) DEBKAfilee's military sources reveal a secret war waged by the US, Israel and Egypt to shut down Iran's serpentine maritime routes through the Red Sea and Suez for refilling Hamas' depleted arsenal by sea. After Hamas lost an estimated 60 percent of its weapons stocks to Israeli bombardments, Iran enlisted Somali pirates to step up the flow of smuggled hardware to Gaza. Tehran is rearming the Palestinian Islamists at top speed to persuade them to carry on the war against Israel and not surrender to Egypt's ceasefire terms. According to our military sources, the Iranian sealift is conducted along three routes:
1. The Iranian segment: Iranian freighters from the Persian Gulf port of Bandar Abbas sail to the Gulf of Suez. Some are intercepted by the American warships patrolling the sea against Somali pirates. US Marines board the ships and confiscate any weapons cargoes in their holds. But not all are caught; some of the Iranian freighters, especially the small vessels, escape the anti-piracy net. Western intelligence informants report that in the past week, Iranian agents hired Somali pirates to rendezvous with their freighters before they entered the Gulf of Aden and Red Sea, offload the weapons and carry them in small Somali craft to Eritrea. The pirates have strong ties with Eritrea. The Iranian freighters sail straight back to Bandar Abbas to reload.
2. The Eritrean route: Some of the Iranian arms freighters put into the Eritrean port of Assab to unload the cargoes, which are then consigned to Sudan, where the authorities turn a blind eye, for transit to southern Egypt. At that point, they are picked up by Egyptian smuggling gangs and carried by boat to Sinai shores.
3. The European route: The Balkan ports at Montenegro and Croatia are the starting points for freighters laden with containers carrying weapons for Hamas, mostly mortars and anti-air and anti-tank missiles. They head for the Suez Canal where they drop their cargoes overboard for waiting pirates' boats to collect.
DEBKAfile's military sources reveal that Iran's seaborne arms corridor to Hamas depends heavily on three Sinai Bedouin tribes: The Tarabin, which controls areas adjoining the Israeli and Gazan borders; the Tiyaha, which rule central Sinai; and the Azazmeh, whose wide spread covers northern Sinai, the Israeli Negev, Jordan and Syria. They form a human chain to relay the Iranian shipments, including heavy Grad rockets, into the Gaza Strip.
The Time Clock Has Run Out: Israel Ready to Strike Iran
Jan. 14….(Newsmax) Informed sources in Washington tell Newsmax that Israel indeed will launch a strike against Iran's nuclear facilities soon, possibly in just days as President George W. Bush prepares to leave office. The reason: The time clock has begun to run out. Iran is close to acquiring a nuclear device under the control of its radical president, Mahmoud Ahmadinejad. International Atomic Energy Agency Director General Mohamed ElBaradei said in June that Iran would have a nuclear weapon in as little as six months. That six-month period has passed. Reports of Israel's decision to imminently launch strikes, although unconfirmed, would seem to contradict the Bush stance outlined in a front-page New York Times story last week, which asserted that Bush rejected a plea from Israel last year to help it raid Iran's main nuclear complex. The Times said Israel was rebuffed after it requested from the US specialized bunker-busting bombs that it needs to attack Iran's nuclear complex at Natanz. The US also reportedly nixed permission to the Israeli warplanes to fly over Iraqi territory to reach Iran. Israel's requests to the US for military assistance came as the Jewish state was reportedly angry over a US intelligence assessment in late 2007 that concluded Iran had effectively suspended its development of nuclear weapons. But an investigative report circulated by IAEA chief ElBaradei late last year disclosed that Iran was continuing to carry out uranium enrichment and had already established 6,000 centrifuges for enriching uranium, of which 3,800 were then in operation. American intelligence officials now estimate that the figure is 4,000 to 5,000 centrifuges, enough to produce about one weapon's worth of uranium every eight months or so, according to the Times. The IAEA report estimated that Iran has obtained two tons of enriched uranium since its enrichment program was restarted at Natanz two years ago. Last year 100 Israeli jets took part in an exercise over the eastern Mediterranean that was interpreted as a dress rehearsal for a possible attack on Iran. And on Sept. 6 Israel launched an air attack against a site in Syria believed to be a nuclear-related facility containing material delivered by North Korea. Former US Ambassador to the United Nations John Bolton predicted that Israel would stage a raid against Iran's nuclear facilities if Barack Obama won the presidential election. Bolton stated that he believed the Israeli attack would take place sometime between the day after Obama's win and his inauguration on January 20. In an interview with FOX News, Bolton reasoned that Israel wouldn't be able to hold off a strike on Iran any longer than that given Obama's more conciliatory approach to Iran. The Israeli government "would have to make a judgment whether to [strike] during the remainder of President Bush's term in office or wait for his successor," Bolton added. William Perry, US Secretary of Defense under President Bill Clinton, said that Obama would face a major crisis in his first few months in office over Iran's nuclear weapons program. Perry, speaking at a foreign policy conference on Jan. 8, said that Iran is "moving inexorably toward becoming a nuclear power" and "it seems clear that Israel will not sit by idle while Iran takes the final steps toward becoming a nuclear power." And former CIA officer Robert Baer, author of the new book "The Devil We Know: Dealing with the New Iranian Superpower," told Newsmax in October that Iran was at that time probably months, if not weeks, away from war with Israel. The repercussions of an Israeli attack are not clear. Though Arab states remain openly hostile to Israel, many who belong to the Sunni branch of Islam fear the rise of a nuclear Iran, a nation dominated by Shiite imams. Gulf states like Bahrain, Saudi Arabia and Kuwait have been quietly pressing the US to take action against Iran, and may secretly root for an Israeli attack. But Iran, even without nuclear weapons, is a regional power. If attacked, they are likely to press proxy terror groups like Hamas and Hezbollah to launch offensives against Israel and possibly the US Iran has warned in the past that it would launch a "missile blitz" against Gulf states if it is attacked. And last July a senior Iranian official said the Islamic Republic would destroy Israel and 32 US military bases in the Middle East if Iran is attacked over its nuclear program. "Israel and 32 US military bases in the region would not be out of the reach of our missiles and would be destroyed," the semi-official Fars News Agency quoted Mojtaba Zolnour as saying in a speech. Zolnour is the deputy of Supreme Leader Ayatollah Ali Khamenei's representative in Iran's elite Revolutionary Guards. Even more ominously, Iran has reportedly carried out missile tests for what could be a plan for a nuclear strike on the US.
Obama Invites Gay Bishop to offer Prayer at Inauguration Ceremonyy
Jan. 14….(Guardian) US president-elect Barack Obama has invited the world's first openly gay Anglican bishop to offer the prayer that will mark the beginning of the inauguration festivities. In an email sent to a US blog yesterday the Right Rev Gene Robinson, of New Hampshire, said it would be an "enormous honor" to offer prayers for the country and its new president at the Lincoln Memorial. He wrote that he was "humbled and overjoyed" at the news and took the invitation as a sign of Obama's commitment to being "president of all the people". Yesterday Robinson said: "I am totally excited and a little overwhelmed. It ranks up there with some of the most important moments of my life. We have put an enormous burden on this man and I want to remind the country that we have a part to play in this too." Robinson said he had not received any time constraints or direction from Obama's office, but added: "It won't be overtly Christian. I want the prayer to be for all people," he said. Robinson has been the scourge of conservative evangelicals since his consecration in 2003. A divorced, non-celibate homosexual cleric, his appointment led to a schism in the US Episcopal Church
Iran Warns Hamas not to Accept Truce
Jan. 13….(Jerusalem Post) Iran is exerting heavy pressure on Hamas not to accept the Egyptian proposal for a cease-fire with Israel, an Egyptian government official said on Sunday. The official told The Jerusalem Post by phone that two senior Iranian officials who visited Damascus recently warned Hamas leaders against accepting the proposal. His remarks came as Hamas representatives met in Cairo with Egyptian Intelligence Chief Gen. Omar Suleiman and his aides to discuss ways of ending the fighting in the Gaza Strip. The Hamas representatives reiterated their opposition to a cease-fire that did not include the reopening of all the border crossings into the Gaza Strip, Hamas spokesmen said on Sunday. The spokesmen said Hamas voiced its strong opposition to the idea of deploying an international force inside the Gaza Strip. The Egyptian official said that the two Iranian emissaries, Ali Larijani, Speaker of the Iranian Parliament, and Said Jalili of the Iranian Intelligence Service, met in the Syrian capital with Hamas leader Khaled Mashaal and Islamic Jihad Secretary-General Ramadan Shallah. "As soon as the Iranians heard about the Egyptian cease-fire initiative, they dispatched the two officials to Damascus on an urgent mission to warn the Palestinians against accepting it," the Egyptian government official told the Post. "The Iranians threatened to stop weapons supplies and funding to the Palestinian factions if they agreed to a cease-fire with Israel. The Iranians want to fight Israel and the US indirectly. They are doing this through Hamas in Palestine and Hizbullah in Lebanon". The official pointed out that the Iranians were applying "double standards" regarding the current conflict, on the one hand, they encouraged Iranian men to volunteer to fight alongside Hamas; on the other hand, Iran's spiritual leader, Ali Khamenei, told the volunteers that they would not be permitted to join the fight against Israel. "The Iranians never fired one bullet at Israel," he said. "But now they are trying to appear as if they are participating in the war against Israel. The leaders of Teheran don't care about the innocent civilians who are being killed in the Gaza Strip". The Egyptian official accused Iran of "encouraging" Hamas to continue firing rockets at Israel with the hope that this would trigger a war that would divert attention from Iran's nuclear plans. "This conflict serves the interests of the Iranians," he said. "They are satisfied because the violence in the Gaza Strip has diverted attention from their nuclear ambitions. The Iranians are also hoping to use the Palestinian issue as a 'powerful card' in future talks with the Americans. "They want to show that they have control over Hamas and many Palestinians". Karam Jaber, editor of the semi-official Egyptian weekly Roz Al-Youssef magazine, said that Hamas was caught between the Syrian anvil and the Iranian hammer. The Iranians, he said, prevented Hamas from negotiating a cease-fire with Israel, while the Syrians were blackmailing and intimidating the Hamas leaders in Damascus. "History won't forget to mention that Hamas had inflicted death and destruction on the Palestinians," he said. "We hope that Hamas has learned the lesson and realizes that it has been fighting a war on behalf of others. We hope the Hamas leaders will realize that they are fighting a destructive war on behalf of the Iranians and Syrians". Egyptian political analyst Magdi Khalil said he shared the view of the Palestinian Authority and Egypt that Hamas was responsible for the war in the Gaza Strip. "Ever since Hamas seized control over the Gaza Strip in 2007, they turned the area into hell," he said. "They imposed restrictions on the people there and even prevented them from performing the pilgrimage to Mecca". The analyst said that the head of the Egyptian General Intelligence Service was right when he recently described Hamas as a group of gangsters. "Hamas and its masters in Damascus and Teheran want to spread chaos in Egypt," he said. "They want to solve the problem of the Gaza Strip by handing the area over to Egypt. They want to create a homeland for the Palestinians in Sinai". He said that Hamas was not only jeopardizing Egypt's national security, but had also destroyed the Palestinians' dream of statehood.
Israel: Hamas has Taken Refuge in Gaza Hospitals and Schools
Jan. 13….(YNET) Israeli Public Security Minister Avi Dichter on Monday said that top tier Hamas commanders and many of their subordinates have taken refuge in hospitals and schools across Gaza City as Israeli forces advance on their traditional bases of operations. Dichter said that Shifa Hospital, Gaza City's main medical center, has become the de facto Hamas headquarters. "Shifa Hospital has long ago ceased to be just a hospital, just as the UN humanitarian and health services in Gaza long ago ceased to be just humanitarian services providing food and medical services," Dichter said in an interview with Army Radio. UN and other schools were being similarly used by the terrorists. Dichter said that for obvious reasons Israel will avoid targeting Shifa Hospital and other public places being misused by Hamas, but suggested that Israel is less than pleased with the international community for ignoring these blatant violations of the Geneva Conventions.
Egypt to Hamas: Sign Truce or Risk Collapse of Gaza Regime
(Palestinian sources say Cairo exerting fierce pressure on Hamas movement to accept ceasefire proposal. Egypt warns Islamist group IDF operation will end only after forces enter Gaza City)
Jan. 13….(Debka) Egypt has been exerting fierce pressure on Hamas over the past 24 hours to accept its ceasefire proposal, Palestinian sources told Ynet Sunday night. According to the sources, Cairo warned Hamas that should it refuse to accept the proposal the IDF would continue to expand its operation in Gaza, which in effect would mean an end to Hamas' rule over the coastal enclave it took over in June 2007. A Hamas delegation is currently in Cairo for the ceasefire talks, but it may return to the Strip on Monday. The Egyptian pressure stems from Israel's preparations for the third phase of its campaign, which Cairo said will be launched in the coming days and will conclude only after Israeli forces enter Gaza City. Hamas Prime Minister Ismail Haniyeh said in a televised speech delivered from his hideout in Gaza on Monday that the Islamist group would "cooperate with any initiatives aimed at ending the (Israeli offensive) and bring about the enemy's withdrawal and the reopening of the crossings." Despite Haniyeh's statement, currently there is no sign of a breakthrough in the negotiations. One of the Palestinian sources said he fears Hamas will accept the Egyptian-brokered agreement only after the IDF operation "claims the lives of hundreds and maybe thousands more." The sources said Palestinian President Mahmoud Abbas was also working in a number of arenas in order to pressure Hamas into accepting a ceasefire. "The president wants an immediate end to the IDF operation, even if its continuation means the collapse of Hamas' regime in Gaza," one source said. Since Hamas stressed that it would not agree to the deployment of armed international forces in Gaza, Egypt is exploring the option of deploying Arab forces backed by European supervisors there. Among other things, these forces will be tasked with preventing the smuggling of arms into Gaza along the Philadelphi Route. Meanwhile, Muhammad Nazal, a member of Hamas' political bureau, denied reports of a rift among the group's leaders in Gaza and Damascus and disregarded the reports as "Israeli psychological warfare."
Hamas-Gaza Bows to Damascus veto Against Egyptian Ceasefire Terms
Jan. 13….(DEBKAfile Exclusive Report) The Gaza Hamas faction failed Monday, Jan. 12, to persuade its Damascus leaders to accept the Egyptian ceasefire terms and was ordered to carry on fighting in the Gaza Strip. This setback followed 48 hours of optimism in Jerusalem and Cairo where it had been hoped that, with their backs to the wall, the Palestinian extremists would submit to the tough Egyptian-Israeli ultimatum. It is now up to the Israeli defense cabinet to decide whether Israeli forces stand still on their present battle lines or go forward to the crunch, which means entering Gaza City proper and capturing the Philadelphi smuggling corridor. Intelligence sources report that Egypt has signaled discreetly that it is not averse to Israel broadening its operation in Gaza. Earlier, Israel and Egypt were playing hard ball with the Hamas delegation who arrived in Cairo Saturday to seek a ceasefire in Gaza hostilities. Israeli prime minister Ehud Olmert said Monday: We are closer than ever before to ending the rocket fire and getting Hamas' arms traffic under control. As Israel tightened its military pressure with added reservists units, Egyptian intelligence minister Gen. Omar Suleiman rejected Hamas negotiators' appeal for compromises and told them the deal on offer was take-it-or-leave-it: Accept or face an all-out Israeli assault on all fronts. DEBKAfile's analysts note that this was the first time the Egyptian government has used Israeli military gains as currency to further its national interests, namely, breaking the back of an Islamist movement deemed a destabilizing element for the Mubarak regime. Suleiman informed the Palestinian delegation that Israel was holding out for Hamas to collect all its rocket and missile stocks and weapons in the hands of other Palestinian terrorist groups and turn them over to a third party. This party would also take charge of security in the Philadelphi Corridor. Hamas would be given a month to implement the handover, but no longer. Israel was also adamant about retaining its army on the battle lines held in the Gaza Strip when the ceasefire goes into effect until a new military mechanism is put in place on the Philadelphi Corridor and has proved capable of effectively stemming the arms traffic entering through tunnels from outside sources. Some of the smuggling is still going on, but at a much reduced pace since the Israeli aerial bombardments began 17 days ago. The number of firings has dropped from 60 to 23. The Hamas negotiators also ran into a blank Egyptian wall when they proposed setting a six-month time cap on the proposed ceasefire and reopening the Rafah crossing from Gaza to Sinai as a face-saving gesture to mark the onset of a truce. Suleiman said firmly that Rafah would reopen only when all six Gaza crossings into Israel were reactivated by Palestinian Authority personnel and European military monitors. He said that Cairo was consulting with Jerusalem on the possible transfer of the two halves of Rafah, the Gazan and the Egyptian, to the Palestinian Authority and its chairman, Fatah leader Mahmoud Abbas. Sunday, an Egyptian military plane ferried the Hamas-Gaza delegation to Damascus to seek the endorsement of hardline Hamas politburo chief Khaled Meshaal for the truce terms dictated by Egypt and Israel. Gen. Suleiman directed them to pass this message on to Meshaal: Give up your illusions; Hamas' only remaining option now is to bow to the Middle East Quartet's primary condition: Recognize Israel. Israel's negotiator Amos Gilead put off his mission to Cairo from Monday to await the return of the Hamas-Gaza delegates from Damascus. All parties are clear that a negative Hamas response will signal the onset of the next stage of Israel's Gaza offensive.
Bush Reportedly Rejected Israeli Plea to Raid Iran
Jan. 12….(AP) President George W. Bush rejected a plea from Israel last year to help it raid Iran's main nuclear complex, opting instead to authorize a new US covert action aimed at sabotaging Iran's suspected nuclear weapons program, The New York Times reported. Israel's request was for specialized bunker-busting bombs that it wanted for an attack that tentatively involved flying over Iraq to reach Iran's major nuclear complex at Natanz, where the country's only known uranium enrichment plant is located, the Times reported Saturday in its online edition. The White House deflected requests for the bombs and flyover but said it would improve intelligence-sharing with Israel on covert US efforts to sabotage Iran's nuclear program. The covert efforts, which began in early 2008, involved plans to penetrate Iran's nuclear supply chain abroad and undermine electrical systems and other networks on which Iran relies, the Times said, citing interviews with current and former US officials, outside experts and international nuclear inspectors who spoke on condition of anonymity. The covert program will be handed off to President-elect Barack Obama, who will deciding whether to continue it. According to the Times, Bush decided against an overt attack based on input from top administration officials such as Defense Secretary Robert Gates, who believed that doing so would likely prove ineffective and could ignite a broader Middle East war. Israel made the push for permission to fly over Iraq for an attack on Iran following its anger over a US intelligence assessment in late 2007 that concluded Iran had effectively suspended its development of nuclear weapons four years earlier. Israel sought to rebut the report, providing evidence to US intelligence officials that they said indicated the Iranians were still working on a weapon. Gordon Johndroe, spokesman for the National Security Council, declined to comment Saturday. In an interview with The Associated Press earlier this week, Stephen Hadley, Bush's national security adviser, said he believed that Iran is the biggest challenge Obama will face in the Middle East and that more sanctions will be needed to force Tehran to forgo its nuclear ambitions and support for extremists. He said the Bush administration has been trying to "shore up and store up leverage" to bequeath to the Obama administration.
| | |
| --- | --- |
| | (FOJ) Israel wanted specialized bunker-busting bombs for an attack that would have involved flying over Iraq to reach Iran's major nuclear complex at Natanz, shown here. |
Bush Protested Planned Israeli Strike on Iran
Jan. 12….(Fox News) Two well placed sources confirmed to FOX News that Israel last year made "various requests" for US assistance with a planned Israeli air strike on Iran's nuclear program. Israel's plan, however, was scuttled when the United States rebuffed Israel in its request to fly through Iraqi airspace, according to a New York Times report on a covert US program. The Times story, published Saturday, cites unnamed American and foreign officials in reporting that President Bush also turned away an Israeli request for bunker-busting bombs for use in its planned attack on the Iranian nuclear complex. The president then revealed to the Israelis that he already had authorized a covert US effort to sabotage Iran's nuclear capabilities, the Times reports. The Bush administration was "particularly alarmed," the Times says, by the Israeli request for access to Iraqi airspace. Sources told FOX News that the Israeli requests were made directly to the White House because the Israelis were "disturbed and fearful" of leaks from the US intelligence community and "did not trust" Secretary of State Condoleezza Rice. One source told FOX News the Israelis approached the Bush White House at least once last summer, possibly twice, and were "slammed down" because senior administration officials felt such assistance would "unravel our position in Iraq." President Bush was convinced by aides, sources said, that any such American aid to an Israeli strike on Iran's nuclear program would cause the Iranians "to foment great upheaval in Iraq." One source told FOX News the Israeli emissary sent to request Washington's help was Meir Dagan, head of the Israeli spy agency Mossad. Dagan was sent reportedly because the Israelis considered him "the only trusted channel." Back in the summer of 2007, shortly before the Israelis' now legendary September 6, 2007 air strike on a nascent Syrian nuclear facility, built with the help of North Korea, it was Dagan whom the Israelis authorized to alert Washington to the impending attack. (It is this timeline that accounts for the New York Times' reference to its work on this story dating back "fifteen months.") Sources tell FOX News the upper echelons of the Central Intelligence Agency are "royally peeved" that the Israeli requests for assistance last summer went directly to the White House and not through Langley. From the Israelis' point of view, that was because they believed that CIA had tried to force the Israelis to abort the 2007 Syrian strike hours before it was launched. According to one source: The "CIA leaked the impending raid [on Syria in 2007] the day before in order to, as the Israelis suspected, scuttle it. Israel almost called it off, but when their sources detected no heightened Syrian readiness or defensive measures, they were sure Syrian intelligence had not picked the leak up, and thus Israel decided to go ahead and do the raid. From that experience, Israel believed that the Iran raid would need to be through even more restrictive channels, direct to the president by Olmert's most trusted channel, Dagan. They did not trust Condi." The refusal of the Bush administration to provide the assistance the Israelis requested occasioned sharp dispute among senior policymakers, who split along the now-familiar lines that saw Vice President Cheney and his aides favoring harsher measures against the Iranians and Secretary Rice and others opposing them. "It's yet another example," said one source, "of the Bush administration morphing into the Obama administration before Obama was elected." The Times report suggests that Bush is about to hand off to President-elect Obama a more advanced operation of counteracting Iran's nuclear capabilities than has yet been made public.
Israel's Gaza Operation Against Hamas
| | | |
| --- | --- | --- |
| | (FOJ) This photo shows a smoke trail from a rocket launched from the Gaza Strip towards southern Israel. The scene where the rocket landed in the southern town of Sderot. | |
| Israeli artillery shells explode over the Palestinian town of Beit Hanun in the Gaza Strip. How to prevent arms smuggling along the porous border between Gaza and Egypt is at the heart of cease-fire talks. | | Israeli troops battled Palestinian gunmen in Gaza City Sunday in one of the fiercest ground battles so far as Israel's military began targeting Gaza's population centers and residents braced for a possible expansion of the offensive infantrymen and tanks advanced toward Gaza City. |
| | |
| --- | --- |
| | Israeli soldiers sit on top of an armored vehicle as smoke rises from Gaza near Israel's border with the Gaza Strip, Sunday, Jan. 11, 2009. Israeli ground troops made their deepest advance into the Gaza Strip's most heavily populated area on Sunday, encountering fierce resistance from Islamic Hamas fighters as residents of the war-ravaged territory braced for a sharp escalation in fighting in defiance of global calls for a cease-fire. |
On Obama's Inauguration, Muslims Say, 'It's Our Time'
Jan. 12….(WND) A magazine that proudly promotes itself as Muslim has announced a special edition for Barack Obama's inauguration as president, with Editor Nida Kahn claiming, "It's our time." The publication, Elan magazine, also includes endorsements of Obama's familiarity with Islam from the daughter of Malcolm X and Benjamin F. Chavis Muhammad, the chief of the Hip-Hop Summit Action Network, as well as others. The magazine, which calls itself the "guide to global Muslim culture," is distributed in the US, Pakistan, Indonesia, Canada, Qatar, the United Kingdom and the United Arab Emirates, as well as online. Its cover story for the edition, "Muslim World Embraces Obama," "explores the hopes and aspirations of Muslims regarding America's new president." Chavis Muhammad writes that "with some 1.25 billion Muslims across the globe, the Islamic world couldn't be more excited and anticipatory about the possibility of increased dialogue, understanding and unity that Obama's presidency will undoubtedly bring." "As an African American Muslim, I can say my prayers were answered when Obama was elected," Chavis Muhammad writes. He quotes Ayann Ahmed, an entrepreneur working with hip-hop mogul Russell Simmons, saying, "I believe he will help bring about a better understanding that Islam is a religion of peace and compassion. Obama is a man of understanding of the world." Also cited by Chavis Muhammad is Imam El-Hagg Talib Abdur-Rashid of the Mosque of Islamic Brotherhood in New York, who says, "Obama has a job ahead of him of immense proportions. But so do we as Muslims in America." "Whenever there is an advance in the consciousness of people to do away with unjustified prejudices against Islam or the Muslim community, then that is cause for hope and goodwill," Chavis Muhammad says. "With President Obama, rhetoric will translate into sustainable actions for the greater good of society." "Beyond his name that signifies his connection to both the African and Muslim worlds, Barack Obama has demonstrated an openness and familiarity with Islam that gives Muslims hope that we will move beyond the 'clash of civilizations model,'" writes Zaheer Ali, a student at Columbia. Obama already has indicated a new strategic approach for the Middle East by eliminating at the outset the pre-emption policy of the outgoing Bush administration against terrorists, the report said.
WEEK OF JANUARY 4 THROUGH JANUARY 10
Hamas Reserves Fajr Rocket Stock After Losing 60% of its Missiles
Jan. 10….(DEBKA) The Israeli Gaza offensive has cut by half the daily missiles/rocket level from Gaza by wiping out 60 percent of Hamas' missile stocks, demolishing its production facilities and disablling the Philadelphi smuggling tunnels on the Egyptian border. However, DEBKAfile's military sources report Hamas has hidden a stock of Iran-made Fajr rockets with ranges of 70-75 km, capable of hitting central Israeli towns, such as Rehovot and Rishon Lezion, 16 km short of Tel Aviv, or even the Dimona nuclear center in the Negev. A halt to Israeli assaults on the Philadelphi border route at this point would enable Hamas to restore part of its underground supply network within 3-6 weeks.
A Formula for Perpetual War
Jan. 10….(By Hal Lindsey) As the current Israeli war against Hamas in Gaza continues, the worldwide propaganda assault against Israel grows exponentially. In the light of this, it's important to review a little history about Gaza. In 2005, Israel unilaterally withdrew from Gaza and completely turned its administration over to the Palestinian Authority. All of the Jewish settlements were disbanded and their residents forcibly removed. The Israeli agricultural, commercial and residential assets, which were considerable, were left for the Palestinians. They promptly trashed and destroyed these valuable assets that would have greatly helped them feed their own people. They were given the freedom to develop what easily could have been something like a "Hong Kong" of the Mediterranean. Many nations poured billions of dollars into the coffers of the Palestinian leadership to help them realize that dream. Instead, the Palestinians used the money to build a terrorist army. They purchased weapons and munitions to equip that army. They smuggled into Gaza a formidable arsenal and began to launch daily attacks on Israel's cities. They didn't even pretend to build an economic infrastructure that would enable the Gazan citizens to support themselves. That's why the partial Israeli closure of the crossing points has made life so difficult for the average Palestinian. Most of them can only find work in Israel. There is none in Gaza. Why? Because all of the foreign economic development money was poured into terrorism. Despite this glaring fraud, the world insists on rewarding the Palestinians for their open deception. The so-called "enlightened and responsible nations" have developed a formula for exclusive use against Israel. This formula determines under what circumstances and in what manner Israel is allowed to defend itself against terrorist attacks. First, the provocation must be many times more serious than would be necessary for other nations. Simple acts of war, such as hostage-taking or continuous missile attacks against civilian population centers, are not sufficient provocation to permit defensive measures. Since 2005, more than 6,000 rockets have rained down on Israeli cities from Gaza. In a display of remarkable restraint, only after three years and thousands of unprovoked attacks did Israel finally feel sufficiently justified to launch a defensive response. Now, the second phase of the anti-Israel propaganda assault kicks in. It begins almost immediately with the usual suspects, led by the Arabs, the Russians, the Muslims, all demanding an immediate Israeli withdrawal from its "invasion" of Gaza. Right on cue, the members of the United Nations begin their usual chorus, charging that Israel's response is "not proportionate." Finally, the media revs up their one-sided campaign. Their job is to spotlight the injuries and deaths of Palestinian women and children who are accidentally hit during the intense battles. Apparently, the months and years of constant bombardment lavished on the Israelis by Hamas thugs didn't trigger the media's interest. Only when Israel struck back did the signal go out for the mainstream media to join the fray. In Gaza, Hamas terrorists hide in classrooms and hospital basements. They store weapons in mosques and use university laboratories for bomb-making factories. They are currently hiding long-range rockets in the basement of Gaza City's main hospital. They intentionally place women and children on the rooftops of buildings they know will soon be targets of the Israeli air force. Then, when these human shields are killed or wounded by Israeli fire, the media vents their outrage on the Israeli gunner or pilot, not the calculating terrorist. The bodies of dead terrorists, or their human shields, are then paraded by the ever-accommodating media as "innocent victims of Israeli aggression." And the orchestrated calls for "proportionality" grow louder. Following this oft-repeated formula, as the selected media images mount, the predictable demands for an unconditional Israeli cease-fire rise to a global crescendo. Moderate Western governments like France, Britain and other EU nations that have large Muslim populations begin to demand that Israel cease this "disproportionate war." The worldwide cry grows until finally the United States is bullied into not vetoing a Security Council resolution condemning Israel as an unjustified aggressor. This is the formula that has always worked. The Islamic fundamentalists know this formula well. Terrorist organizations like Hezbollah and Hamas have perfected the use of this formula to the point of making it a "tactic of war." Islamic terrorists attack and fight until they begin to lose. Then the world rushes in and rescues them to fight another day. "Proportionality" is the key word that has been especially adapted for use against Israel in order to guarantee its eventual destruction through attrition. The historically accepted objective of defensive warfare is to eliminate an enemy's ability to harm you. The side that does that first is the winner. And until one side has accomplished that goal, the war continues. The one overriding goal of Hamas is the annihilation of Israel. It's clearly spelled out in their Charter. They confirm it at every opportunity. The "enlightened nations" just can't grasp this reality. The 6,000-plus rocket attacks against Israel were provoked by nothing more than Israel's continued existence. As long as Israel exists, Hamas' goal remains unfulfilled. The numerous state-supported Islamic terrorist organizations feel the same way. On the other hand, Israel has demonstrated that it will absorb almost any blow before resorting to war. Israel's one goal is to secure a lasting peace. To achieve that goal, Israel must eliminate the enemy's ability to wage war. If they don't, war will continue in perpetuity. The U.N.'s definition of "proportionality" in the case of Israel's self-defense means that Israeli losses must be at least equal to Palestinian losses. If Israel follows this formula, it guarantees that they will eventually loose by attrition. It guarantees that war will continue until the Muslims get strong enough to finally obliterate Israel. Just think what would have been the outcome of World War II if the same irrational thinking had been forced on the allied armies fighting against Nazi Germany and Imperial Japan. Some argue that Hamas is just defending itself, and homemade missiles are the only weapons they have against Israeli warplanes and tanks. But Hamas is NOT defending itself against Israel when it shells Israeli cities. Israel has not occupied Gaza since its 2005 withdrawal. However, if Hamas would cease firing rockets and sending suicide bombers into Israel, there would be no need to defend itself. The borders would be open and peace and prosperity would follow. The indiscriminate firing of rockets into civilian population centers is internationally acknowledged as a war crime. It constitutes collective punishment under UN treaty law. But since it's Hamas firing against Jewish targets, the United Nations is silent. This is just another example of how international law is more binding on Israel than any other nation on earth. There is no other nation whose conduct is subjected to closer scrutiny by "international law experts" than Israel, the UN appointed them for that specific purpose. But in the case of Israel, it can be demonstrated that Israel's enemies use UN international law against them. Hamas claims its attacks are in resistance to Israel's closing of its borders. But the reason why Israel closes its borders with Gaza are never mentioned. None of Israel's critics ever consider that every time Israel opens its borders to Palestinian workers, a flood of suicide bombers are sent in. And when Gaza's international borders are opened, Hamas rushes in new and more powerful rockets to fire at Israel's cities. What is it about Israel that makes it the world's pariah state? How can it be that no insult to the Arabs is too slight to justify wholesale murder, whereas no atrocity, no matter how outrageous, justifies an Israeli defensive response? It matters not how reasonable and legitimate the defensive action would be for any other nation. But leaders from around the world have streamed into the UN to defend the "Palestinian democracy," as if such an entity exists. It makes absolutely no sense in the natural. Only the Bible can explain the mystery behind the supernatural hatred of the Jews. Bible prophecy predicted that Israel would be miraculously reborn in "the last days." The Bible also predicted that a supernatural hatred against Jews would grow worldwide. This will be soon followed by Armageddon and the return of Jesus the Messiah. All of this is being fulfilled to the letter before our eyes. So don't be surprised or afraid. Christ's return to deliver those who have believed in Him is coming very soon.
Nasrallah says Hizbullah Ready to Fight Israel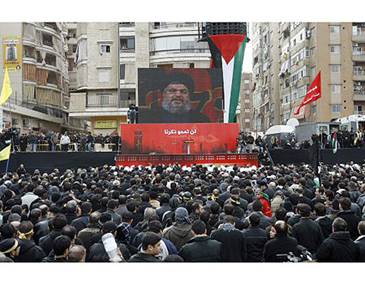 Jan. 10….(YNET) 'Lebanon war was just a walk in the park compared to what we have in store for you,' Hizbullah leader says in speech Wednesday. Nasrallah also slams Mubarak for refusing to open Rafah crossing. Hizbullah is prepared for any Israeli aggression, the organization's chief Sheikh Hassan Nasrallah said in a speech Wednesday. "If they come to our houses, our villages and our neighborhoods, the Zionists will find out that their war in July (the Second Lebanon War) was a walk in the park compared to what we have in store for them now." During his address Nasrallah mocked Israeli calls for toppling Hamas: "I say to Olmert, the failed leader who was defeated in Lebanon, you can never beat Hamas and Hizbullah." In recent days concerns have been mounting in Lebanon in light of the escalation in Gaza. UNIFIL and the Lebanese army have boosted their presence in southern Lebanon, and Hizbullah is said to have raised alertness among its ranks to the maximum. Nasrallah also slammed Egyptian President Hosni Mubarak on Wednesday for refusing to open the Rafah border crossing.
Hamas and the Arab States
Jan. 10 (Stratfor) Israel is now in the 12th day of carrying out Operation Cast Lead against the Palestinian Islamist movement Hamas in the Gaza Strip, where Hamas has been the de facto ruler ever since it seized control of the territory in a June 2007 coup. The Israeli campaign, whose primary military aim is to neutralize Hamas' ability to carry out rocket attacks against Israel, has led to the reported deaths of more than 560 Palestinians; the number of wounded is approaching the 3,000 mark. The reaction from the Arab world has been mixed. On the one hand, a look at the so-called Arab street will reveal an angry scene of chanting protesters, burning flags and embassy attacks in protest of Israel's actions. The principal Arab regimes, however, have either kept quiet or publicly condemned Hamas for the crisis, while privately often expressing their support for Israel's bid to weaken the radical Palestinian group. Despite the much-hyped Arab nationalist solidarity often cited in the name of Palestine, most Arab regimes actually have little love for the Palestinians. While these countries like keeping the Palestinian issue alive for domestic consumption and as a tool to pressure Israel and the West when the need arises, in actuality, they tend to view Palestinian refugees, and more Palestinian radical groups like Hamas, as a threat to the stability of their regimes. One such Arab country is Saudi Arabia. Given its financial power and its shared religious underpinnings with Hamas, Riyadh traditionally has backed the radical Palestinian group. The kingdom backed a variety of Islamist political forces during the 1960s and 1970s in a bid to undercut secular Nasserite Arab nationalist forces, which threatened Saudi Arabia's regional status. But 9/11, which stemmed in part from Saudi support for the Taliban and al Qaeda in Afghanistan, opened Riyadh's eyes to the danger of supporting militant Islamism. Thus, while Saudi Arabia continued to support many of the same Palestinian groups, it also started whistling a more moderate tune in its domestic and foreign policies. As part of this moderate drive, in 2002 King Abdullah offered Israel a comprehensive peace treaty whereby Arab states would normalize ties with the Jewish state in exchange for an Israeli withdrawal to its 1967 borders. Though Israel rejected the offer, the proposal itself clearly conflicted with Hamas' manifesto, which calls for Israel's destruction. The post-9/11 world also created new problems for one of Hamas' sources of regular funding, wealthy Gulf Arabs, who grew increasingly wary of turning up on the radars of Western security and intelligence agencies as fund transfers from the Gulf came under closer scrutiny. Meanwhile, Egypt, which regularly mediates Hamas-Israel and Hamas-Fatah matters, thus far has been the most vocal in its opposition to Hamas during the latest Israeli military offensive. Cairo has even gone as far as blaming Hamas for provoking the conflict. Though Egypt's stance has earned it a number of attacks on its embassies in the Arab world and condemnations in major Arab editorial pages, Cairo has a core strategic interest in ensuring that Hamas remains boxed in. The secular government of Egyptian President Hosni Mubarak is already preparing for a shaky leadership transition, which is bound to be exploited by the country's largest opposition movement, the Muslim Brotherhood (MB). The MB, from which Hamas emerged, maintains links with the Hamas leadership. Egypt's powerful security apparatus has kept the MB in check, but the Egyptian group has steadily built up support among Egypt's lower and middle classes, which have grown disillusioned with the soaring rate of unemployment and lack of economic prospects in Egypt. The sight of Muslim Brotherhood activists leading protests in Egypt in the name of Hamas is thus quite disconcerting for the Mubarak regime. The Egyptians also are fearful that Gaza could become a haven for Salafist jihadist groups that could collaborate with Egypt's own jihadist node the longer Gaza remains in disarray under Hamas rule. Of the Arab states, Jordan has the most to lose from a group like Hamas. More than three-fourths of the Hashemite monarchy's people claim Palestinian origins. The kingdom itself is a weak, poor state that historically has relied on the United Kingdom, Israel and the United States for its survival. Among all Arab governments, Amman has had the longest and closest relationship with Israel, even before it concluded a formal peace treaty with Israel in 1994. In 1970, Jordan waged war against Fatah when the group posed a threat to the kingdom's security; it also threw out Hamas in 1999 after fears that the group posed a similar threat to the stability of the kingdom. Like Egypt, Jordan also has a vibrant MB, which has closer ties to Hamas than its Egyptian counterpart. As far as Amman is concerned, therefore, the harder Israel hits Hamas, the better. Finally, Syria is in a more complex position than these other four Arab states. The Alawite-Baathist regime in Syria has long been a pariah in the Arab world because of its support for Shiite Iran and for their mutual militant proxy in Lebanon, Hezbollah. But ever since the 2006 war between Israel and Hezbollah, the Syrians have been looking for ways to break free from diplomatic isolation and to reach some sort of understanding with the Israelis. For the Syrians, support for Iran's terrorists proxies provides tools of leverage to use in negotiating a settlement with Israel. Any deal between the Syrians and the Israelis would thus involve Damascus sacrificing militant proxies such as Hezbollah and Hamas in return for key concessions in Lebanon, where Syria's core geopolitical interests lie, and in the disputed Golan Heights. While the Israeli-Syrian peace talks remain in flux, Syria's lukewarm reaction to the Israeli offensive and restraint (thus far) from criticizing the more moderate Arab regimes' lack of response suggests Damascus may be looking to exploit the Gaza offensive to improve its relations in the Arab world and reinvigorate its talks with Israel. And the more damage Israel does to Hamas now, the easier it will be for Damascus to crack down on Hamas should the need arise. With Saudi Arabia, Egypt, Jordan and Syria taking into account their own interests when dealing with the Palestinians, ironically, the most reliable patron Sunni Hamas has had in recent years is Iran, the Sunni Arab world's principal Shiite rival. Hamas' relations with the Arab states already were souring; its warming relationship with Iran has proved the coup de grace. Mubarak said it best when he recently remarked that the situation in the Gaza Strip "has led to Egypt, in practice, having a border with Iran." In other words, Hamas has allowed Iranian influence to come far too close for the Arab states' comfort. In many ways, the falling-out between Hamas and the Arab regimes is not surprising. The decline of Nasserism in the late 1960s essentially meant the death of Arab nationalism. Even before then, the Arab states put their respective national interests ahead of any devotion to pan-Arab nationalism that would have translated into support for the Palestinian cause. As Islamism gradually came to replace Arab nationalism as a political force throughout the region, the Arab regimes became even more concerned about stability at home, given the very real threat of a religious challenge to their rule. While these states worked to suppress radical Islamist elements that had taken root in their countries, the Arab governments caught wind of Tehran's attempts to adopt the region's radical Islamist trend to create a geopolitical space for Iran in the Arab Middle East. As a result, the Arab-Persian struggle became one of the key drivers that has turned the Arab states against Hamas. For each of these Arab states, Hamas represents a force that could stir the social pot at home, either by creating a backlash against the regimes for their ties to Israel and their perceived failure to aid the Palestinians, or by emboldening democratic Islamist movements in the region that could threaten the stability of both republican regimes and monarchies. With somewhat limited options to contain Iranian expansion in the region, the Arab states ironically are looking to Israel to ensure that Hamas remains boxed in. So, while on the surface it may seem that the entire Arab world is convulsing with anger at Israel's offensive against Hamas, a closer look reveals that the view from the Arab palace is quite different from the view on the Arab street.
Obama Vows to 'Engage Immediately' on Mideast Once Inaugurated
Jan. 9….(AP) US President-elect Barack Obama, who has avoided commenting on foreign policy matters, said on Wednesday he will "engage immediately" in the situation in the Middle East when he becomes president. Obama, who takes office on January 20, repeated that he was deeply concerned about the situation in Gaza but said he it would be imprudent to send signals that his incoming administration is running foreign policy. Obama broke his silence about the violence in the Gaza Strip on Tuesday, calling the loss of civilian lives in Gaza and in Israel a "source of deep concern for me." At a news conference on Wednesday, Obama said he was prepared to step immediately into the diplomatic field once he takes office. I am doing everything that we have to do to make sure that the day that I take office we are prepared to engage immediately in trying to deal with the situation there," he told reporters. "Not only the short-term situation but building a process whereby we can achieve a more lasting peace in the region."
These four American Presidents have expended tremendous effort on attempting to divide Israel's land and have experienced enormous consequences for that effort and now the United States has a president-elect who vows to 'engage immediately to continue the same partitioning process.' Apparently none of our presidents are familiar with the curse of dividing God's Land. (Zechariah 12:3 And in that day will I make Jerusalem a burdensome stone for all people: all that burden themselves with it shall be cut in pieces, though all the people of the earth be gathered together against it.)
Attack on Israel From Lebanon Threatens 2nd Front
Jan. 9….(Ha Aretz) Lebanese militants fired at least three rockets into Israel early Thursday, threatening to open a new front for the Jewish state as it pushed forward with a bloody offensive in the Gaza Strip that has killed nearly 700 people. Two people were lightly injured, and the rockets that exploded in Israel's north raised the specter of renewed hostilities with Hezbollah, just 2 1/2 years after Israel battled the guerrilla group to a 34-day stalemate. Hezbollah started the 2006 war as Israel was battling Palestinian militants in Gaza. No group claimed responsibility and Lebanon's government, wary of conflict, quickly condemned the rocket fire. Israel fired mortar shells into southern Lebanon in response. For a second straight day, Israel said it suspended is Gaza military operation for three hours to allow in humanitarian supplies. One of the Lebanese rockets went through the roof of a retirement home in Nahariya, about five miles from the border, and exploded in the kitchen as some 25 residents were eating breakfast in the adjacent dining hall. One resident suffered a broken leg, another bruises, apparently from slipping on the floor after emergency sprinklers came on. "The rocket entered through the roof, hurling the water heaters into the air. It went through bedrooms upstairs and then into the kitchen. There was a serious blast," said Henry Carmelli, the home's manager. About three hours later, air-raid sirens went off again. But authorities said it was a false alarm. Israel has repeatedly said it was prepared for a possible attack on the north since it launched its bruising campaign against Hamas militants in Gaza on Dec. 27. Israel has mobilized thousands of reserve troops for such a scenario, and leaders have warned Hezbollah of dire consequences if it enters the fighting. Hezbollah, which did not comment, has said it does not want to draw Lebanon into a new war. Small Palestinian groups, who have rocketed Israel twice since the end of the 2006 war, have recently threatened to open a new front against Israel if the fighting in Gaza continued. An Israeli Cabinet minister, Meir Sheetrit, suggested that Lebanese splinter groups, not Hezbollah, were responsible.
Gaza Terrorists Continue to Aim Rockets at Southern Israel
Jan. 9….(IsraelNN.com) Rockets continued to rain down in the south Thursday morning, beginning shortly after 4 katushya rockets struck Nahariya in the north, at approximately 7:30 a.m. Within ten minutes of the attack in the north, three long-range Grad-type Katyusha rockets, similar to those used by Hizbullah terrorists during the 2006 Second Lebanon War, landed near the port cities of Ashdod and Ashkelon. The rockets landed in open areas and no injuries were reported in the attacks. Overnight six rockets were launched from Gaza. Three rockets slammed into and around the city of Be'er Sheva, damaging a number of buildings and sending several people into emotional shock. There were no physical injuries reported. One rocket landed overnight near Ashkelon, one in the Eshkol region, and one near Lachish. No damage was reported, but 11 people were treated for shock at the Soroka Medical Center in Be'er Sheva as a result of the explosions. Shortly after the temporary cease-fire ended in the late afternoon Wednesday, terrorists immediately resumed rocket fire and launched two more Grad rockets at Be'er Sheva. Earlier in the day, 16 rockets and mortar shells were fired at Israel. A Grad rocket which struck near Ashdod slightly wounded one and sent several people into shock.
Rockets from Lebanon Slam into Northern Israel
Jan. 9….(DEBKA) After five rockets from Lebanon exploded in the Nahariya-Kabri district, early Thursday, Jan. 8, West Galilee police ordered people to stay under cover, like citizens in the south for the past month. One rocket hit a home for retired citizens. Three were injured and 11 went into shock. Israeli aircraft and artillery shelled the source of fire. Schools were closed in the area and public shelters opened. Lebanese TV reported the rockets were fired from Wadi Hamoud south of the Litani River. Ashkelon and Ashdod also took rockets. In the south, tanks joined the massive Israeli air-artillery assault Israel launched Wednesday night to destroy Hamas' smuggling tunnels, as an Israeli envoy headed for Cairo to discuss a ceasefire. Wednesday, Jan. 7, Cairo presented Hamas with an ultimatum to reply to Egypt's ceasefire proposals by 6 a.m. Thursday, Jan. 8. The Palestinian terrorist group was not expected to meet the demand. DEBKAfile reports: In the last 24 hours, the US, Israel and Egypt were clearly working in harness. In New York, the US acted for the second time to block a UN Security Council ordering an unconditional ceasefire; from Cairo, Egypt shut off Hamas' diplomatic options, while Israel embarked on a military operation to pre-determine a key outcome of the Gaza conflict: Hamas' inability to rearm. Leaflets dropped in advance by the Israeli air force warned the 30,000 dwellers in the targeted Rafah region to leave their homes. Hamas' Southern Brigade is deployed in this strategic sector of the southern Gaza Strip under the command of a high-ranking commander called Al-Attar. Its operatives tried and failed to stem the flight from the Yibne and Block O Rafah refugee camps and Rafah's Tel Sultan
DEBKAfile's military sources report that Israel pounded this Hamas lifeline for arms supplies and reinforcements for days by air and sea. The new operation aims to finish the system off for good by clearing the critical 300 meters between Rafah and Philadelphi, where the openings to the thousands of smuggling tunnels are concealed by buildings. For Hamas-Damascus and Hamas-Gaza alike, bowing to the Egyptian ultimatum and accepting the proposal intelligence minister Gen. Omar Suleiman put before its representatives in Cairo Tuesday would be seen as a surrender to the Israeli army. Israeli defense ministry official Amos Gilad flew to Cairo Thursday to start talks on Egypt's ceasefire proposals.
The Truth About Israel's 'Stolen' Land
(Larry Elder asks: Who's the 'David' and who's the 'Goliath' in current conflict?)
Jan. 9….(WND) Much of the world buys the line, peddled by the Palestinians and the Arab Muslim world and, indeed, many Western countries, that paints Israel as the bad "Goliath" that "stole" the land from the "Palestinians." Israel gave Gaza self-rule in 1994, unilaterally withdrawing the last of its citizens and soldiers from Gaza in 2005. Hamas, voted into power via free elections in 2006, fought and defeated their political and military rival, Fatah, to seize de facto control of Gaza in 2007. In the past eight years, Hamas has fired more than 10,000 rockets and mortars into Israel, 7,000 of them after Israel's 2005 withdrawal. With improved technology, reportedly assisted by Iran, Hamas' rockets can now fly 24 miles before impact and explosion, thereby threatening, injuring and killing more and more Israelis living in southern Israel. But why the "disproportionate" response by Israel? Reportedly, more than 600 Palestinians have been killed, some civilians. Set aside for the moment that Hamas' charter specifically calls for the "obliteration" of the state of Israel. And set aside the fact that the Palestinian "militants" fight in heavily populated areas, assuring, indeed encouraging (for PR purposes) civilian casualties. We turn our attention to the "stolen" allegation. Israel lies in the ancient Fertile Crescent's southwest corner, with some of the oldest archeological evidence of primitive towns and agriculture. Historians and archeologists believe the Hebrews probably arrived in the area in the second millennium BC. The nation itself was formed as the Israelites left Egypt during the Exodus, believed to be in the late 13th century BC. The 12 tribes of Israel united in about 1050 BC, forming the Kingdom of Israel. David, the second king of Israel, established Jerusalem as Israel's national capital 3,000 years ago. Jewish kingdoms and states existed intermittently in the region for a millennium. After conquests by Babylonians, Persians and Greeks, an independent Jewish kingdom was briefly revived in 168 BC, but Rome took control in the next century, renaming the land of Judea "Palestine" after the Philistines, historical enemies of the Israelites. Invading Arabs conquered the land from the Eastern Roman Empire (Byzantines) in AD 638 and attracted Arab settlers. Within a few centuries, the Arab language and Islam prevailed, but a Jewish minority remained. After a brief period of prosperity, waves of invasions and changes of control followed, including rule by the non-Arab empires of the Seljuks, Mamelukes and European crusaders, before becoming part of the Ottoman Empire from 1517 until 1918. The crusaders massacred thousands of Jews, along with Muslims, in the 11th century. But soon thereafter, European Jews established centers of Jewish learning and commerce. By the time the Ottoman Turks occupied Palestine in the 16th century, according to British reports, as many as 15,000 Jews lived in Safed, which was a center of rabbinical learning. Many more Jews lived in Jerusalem, Hebron, Acre and other locations. By the middle of the 19th century, Jews constituted a significant presence, often a majority, in many towns. Still, in the 19th century, the Holy Land looked mostly like a vast wasteland. When Jews began to return to their "promised land" early in the 20th century, the desert literally began to bloom under their industry. Arabs followed, coming in large numbers for the jobs and prosperity. After four centuries of Ottoman rule, Britain took the land in 1917 and pledged in the Balfour Declaration to support a Jewish national homeland there. In 1920, the British Palestine Mandate was recognized. A declaration passed by the League of Nations in 1922 effectively divided the mandated territory into two parts. The eastern portion, called Transjordan, would later become the Arab Kingdom of Jordan in 1946. The other portion, comprising the territory west of the Jordan River, was administered as Palestine under provisions that called for the establishment of a Jewish homeland. The United Nations, in 1947, partitioned the area into separate Jewish and Arab states along meandering and indefensible boundaries. The Arab world, insisting that any Jewish claim to Palestine was invalid, staunchly refused to compromise or even discuss the subject. When Israel's independence was declared in 1948, Arab forces from Egypt, Transjordan, Syria, Lebanon and Iraq combined to crush the one-day-old country. They lost. Still, Egypt occupied most of the Gaza Strip, and Transjordan (calling itself "Jordan") held most of the West Bank and half of Jerusalem. Neither Arab country gave the "Palestinians" a state. The word "Palestinian," as employed today, is a relatively recent term. Until the end of the British mandate over Palestine, in 1948, all inhabitants of the area west of the Jordan River were known as "Palestinians." A Jewish person living in what is now Israel was a "Palestinian Jew." An Arab living in the area was a "Palestinian Arab." Likewise, a Christian was known as a "Palestinian Christian." Israel won more land after a series of wars, land since returned or offered for return in exchange for peace. The Jews "stole" nothing.
Hamas War Crime Leaves 40 Dead at UN School
Jan. 8….(YNET) Israel is considering filing an official complaint with the United Nations after 40 Palestinians were killed on Tuesday when Hamas terrorists used a UN school as cover while attacking Israeli soldiers in Gaza. Aerial surveillance released by the Israeli army shows Palestinian forces moving into position next to the school and then firing mortar shells at Israeli troops in another part of the city. Israeli forces then returned fire in self defense, which in turn set off a series of bombs Hamas reportedly set as booby-traps in the school. Some 40 Palestinians who had taken refuge in the facility were killed. On cue, the Palestinians, the international media and world leaders blamed Israel for the "massacre." But Israeli officials noted it was Hamas that had actually committed a war crime by engaging in hostilities from the cover of a crowded protected area, knowingly putting the unarmed occupants at risk. [Fourth Geneva Convention, Annex I, Article 2; Article 28 of the same convention gives legal backing to Israel's right to return fire on the protected area.] A spokesman for the UN Relief and Works Agency (UNRWA) insisted in remarks to the press that terrorists are not allowed inside the agency's schools, and rejected an internal Israeli army probe that determined soldiers had reacted properly to a threat emanating from the school. The spokesman was reminded that terrorists had fired from the grounds of the same school in the past, and that one of the teachers at an UNRWA school in Gaza had even been revealed to be an Islamic Jihad bomb maker. Two local Palestinians who spoke to the Associated Press on condition of anonymity said they saw four Haamas terrorists firing mortar shells from a street adjacent to the school just before the Israelis fired back.
Turkey Choosing to Side With Iran & Russia
(Israel's founders had high hopes that the Jewish state, isolated in a sea of Arab hostility, could align itself informally with Iran and Turkey - Muslim countries which had their own differences with the Arabs.)
Jan. 8….(In The Days) Sure enough, for years Israel obtained much of its oil from the shah, and our unofficial embassy in Teheran was second in personnel only to our Washington representation. Turkey, in 1949, became the first Muslim state to recognize Israel. David Ben-Gurion made a secret trip there in 1958, but it was not until 1999 that an Israeli premier, Ehud Barak, visited openly. Defying the Arab League, Turkey signed a military cooperation pact with Israel in 1996. In 2002, Turkey's Islamically-inclined Justice and Development Party (AKP), under the leadership of Recep Tayyip Erdogan, won a landslide victory. Keen to pursue EU membership (Turkey is a candidate member), Erdogan said his party would maintain Ankara's ties with Israel. It has; but the approach, under the AKP, has turned decidedly tepid. During the 2000-2005 Palestinian uprising, for instance, Erdogan nixed a proposed water deal and temporarily recalled his ambassador to Israel. After Hamas won the 2006 Palestinian elections, Turkey broke with Western policy and received Hamas leader Khaled Mashaal. Having mended its relations with Damascus, Turkey protested the 2007 IAF raid on the Syrian nuclear facility and Israel's alleged overflight of Turkish territory. And last year, Turkey hosted Iranian President Mahmoud Ahmadinejad in Istanbul. Ankara and Teheran now have close political and economic ties. Despite Turkey's evident drift away from the Western camp, the Olmert government nevertheless accepted Ankara's offer to serve as a go-between in peace talks with Damascus. Since the IDF began hitting back at Hamas in Operation Cast Lead, both the government and people of Turkey have lined up behind the Islamists. Thousands rallied outside the Israeli consulate in Istanbul on Saturday; 200,000 demonstrated in a main Istanbul square on Sunday. There were also big "Down with Israel" rallies in Ankara, Diyarbakir province, Trabzon, Adana, Bursa and Sirnak. Erdogan has been trying to halt the IDF's operation to deter Hamas violence virtually since the mission began 11 days ago. He ostentatiously avoided Israel in a just-concluded fact-finding mission that took him to Saudi Arabia, Egypt, Jordan and Syria. Now he has "found" that Israel is conducting "inhuman acts" in Gaza, which, he says, will cause Israel to destroy itself. He believes that, in time, Allah will punish those who violate the rights of the "innocent." The human tragedy in Gaza, it transpires, is entirely Israel's fault: "Hamas abided by the truce. But Israel failed to lift embargoes. In Gaza, people seem to live in an open prison. In fact, all Palestine looks like an open prison." Turkish President Abdullah Gul adds: "What Israel has done is nothing but atrocity." Erdogan can find absolutely nothing wrong with anything Hamas has done since it grabbed power in Gaza. Turkey has just taken its seat as a non-permanent member of the Security Council and Ankara pledges to be Hamas's conduit to the United Nations. It has offered to deliver Hamas's conditions for a cease-fire to the council. Erdogan is also pushing to bring Fatah and Hamas together, though such reconciliation is unlikely to produce a less intransigent Palestinian polity, or one committed to coexistence with Israel.
Israel Attacking Hamas Smuggling Tunnels
Jan. 8….(Arutz) The IDF dropped flyers over the southern Gaza city of Rafiah on Wednesday warning civilians to leave the area. Afterwards, an intense anti-tunnel operation began, and dozens of buildings that hid the entrances to tunnels were destroyed. Several thousand residents of Rafah fled the area after being warned of the impending attack, United Nations officials in the area said. Witnesses reported exchanges of heavy fire between IDF soldiers and terrorists in the southern part of the city, where the anti-tunnel operation was in full swing. The Air Force took part in the operation, bombing tunnels from the air. The system of tunnels under Rafiah has taken several hits since operation "Cast Lead" began in Gaza, and several dozen tunnels were already destroyed. The tunnels are used to smuggle weapons and merchandise into Gaza. Senior IDF officers say hundreds of tunnels remain under the Gaza-Egypt border. According to Army Radio, soldiers in Gaza have been targeted in several attempted kidnappings. Soldiers have uncovered several tunnels that were apparently meant to be used in kidnappings, and soldiers in the paratroopers brigade fought off armed Hamas men who had grabbed a soldier and were attempting to drag him away. Soldiers have also encountered dozens of booby-trapped buildings. "We've neutralized hundreds of bombs," one commander said. Hamas' Southern Brigade is deployed in this strategic sector of the southern Gaza Strip under the command of a high-ranking Hamas commander called Al-Attar. Its operatives tried and failed to stem the flight from the Yibne and Block O Rafah refugee camps and Rafah's Tel Sultan. Israel has been pounding this Hamas lifeline for arms supplies and reinforcements by air and sea for days. Dozens of tunnels were demolished but enough of the system remained for Hamas to restore it if given the chance. With the new assault Israel is determined to destroy the entire network for good. For Hamas-Damascus and Hamas-Gaza alike, bowing to the Egyptian ultimatum and accepting the proposal intelligence minister Gen. Omar Suleiman put before its representatives in Cairo Tuesday would be seen as a surrender to the Israeli Defense Forces. The ultimatum may have been coordinated with the Israeli assault on the tunnels.
Obama Primed to Create 'New World Order'
(Kissinger says global upheaval presents 'great opportunity')
Jan. 8….(WND) According to Henry Kissinger, the Nobel Peace Prize winner and former secretary of state under President Nixon, conflicts across the globe and an international respect for Barack Obama have created the perfect setting for establishment of "a New World Order." Kissinger has long been an integral figure in US foreign policy, holding positions in the Nixon, Ford and Reagan administrations. Author of over a dozen books on foreign policy, Kissinger was also named by President Bush as the chairman of the Sept. 11 investigatory commission. Kissinger made the remark in an interview with CNBC's "Squawk on the Street" hosts Mark Haines and Erin Burnett at the New York Stock Exchange, after Burnett asked him what international conflict would define the Obama administration's foreign policy. "The president-elect is coming into office at a moment when there is upheaval in many parts of the world simultaneously," Kissinger responded. "You have India, Pakistan; you have the jihadist movement. So he can't really say there is one problem, that it's the most important one. But he can give new impetus to American foreign policy partly because the reception of him is so extraordinary around the world. His task will be to develop an overall strategy for America in this period when, really, a new world order can be created. It's a great opportunity, it isn't just a crisis." The phrase 'new world order' traces back at least as far as 1940, when author HG Wells used it as the title of a book about a socialist, unified, one-world government. The phrase has also been linked to American presidents, including Woodrow Wilson, whose work on establishing the League of Nations pioneered the concept of international government bodies, and to the first President Bush, who used it in a 1989 speech. "A new partnership of nations has begun, and we stand today at a unique and extraordinary moment," said Bush before a joint session of Congress. "Out of these troubled times, our fifth objective, a new world order, can emerge: A new era in which the nations of the world, east and west, north and south, can prosper and live in harmony." The phrase "New World Order" causes alarm for many Americans, particularly those concerned about an international governing body trumping US sovereignty or those that interpret biblical prophecy to foretell the establishment of a one-world government as key to the rise of the Antichrist. Conspiracy theorists, too, have latched on to the phrase, concerned that powerful financial or government figures are secretly plotting to rule the world. Kissinger's ties to government and international powers, as well as his use of the phrase, have made him suspect in the eyes of many who are wary of what "new world order" might actually mean. "There is a need for a new world order," Kissinger told PBS interviewer Charlie Rose last year, "I think that at the end of this administration, with all its turmoil, and at the beginning of the next, we might actually witness the creation of a new order, because people looking in the abyss, even in the Islamic world, have to conclude that at some point, ordered expectations must return under a different system." Kissinger was also part of last year's super-secret Bilderberg Group, an organization of powerful international elites, including government, business, academic and journalistic representatives, that has convened annually since 1954. According to sources that have penetrated the high-security meetings, the Bilderberg meetings emphasize a globalist agenda and promote the idea that the notion of national sovereignty is antiquated and regressive.
Hamas is Responsible For Killing its Own People
Jan. 8….(Olive Tree) The genuine sympathy for, and empathy with, the massive civilian casualties, disastrous human sufferings and extensive material loses sadly taking place in Gaza should not by any means blind the free world and human rights advocacy organizations to the prime causes of the current bloody Israeli-Palestinian confrontation. Syria and Iran totally control Hamas leadership, finance it directly and train its fighters. What has been going on in Gaza for the last two weeks was instigated by the Axis of Evil countries Syria and Iran, through their terrorist groups Hamas and Hizbullah. Gaza City, the impoverished Palestinian city, has been turned into a theater for a bloody tragedy. This tragedy is a scheme planned and orchestrated directly by Syria and Iran. The tool in its implementation is fundamentalist Hamas. The Palestinian people in Gaza are mere hostages. They are denied any say in this tragedy. The Axis of Evil countries and organizations are disregarding the security, destiny and livelihood of the people of Gaza. The entire world knows that Syria and Iran totally control Hamas leadership, finance it directly and train its fighters, as well as supplying it with weapons and equipment. And, according to all standards, the people of Gaza today are hostages in Hamas hands, which trades in their blood mercilessly under the false slogans of "resistance" and "liberation". The Hamas conspiracy against its own people has been overt in all its provocative practices. In reality, Hamas is mimicking Hizbullah, which back in July 2006 murdered Lebanese civilians and destroyed their infrastructure when it instigated, perpetrated and started its futile and destructive war with Israel, in order to serve the interests, plans and conspiracies of Teheran and Damascus. This is precisely what Hamas has been doing and continues to do. It kept on provoking Israel by firing rockets and missiles on Israeli civilians and refusing to renew a truce with the Jewish State that had been in effect for six months. It gave Israel all the justifications for waging its destructive and devastating on-going war against Gaza. Hamas and Hizbullah's practices and slogans are directly ordered by Teheran and Damascus. They are nothing but military instruments in the hands of Iran and Syria to achieve the expansionist goals of these two countries. It is crystal clear that Egypt, Saudi Arabia, and all other moderate Arab countries are also main targets of the Axis of Evil countries and their terrorist tools. The obvious questions are: Where are Iran's missiles, navies and bombs? Why have Iran and Syria refrained from coming to the rescue of their tool, Hamas? Where is the Syrian army, which has destroyed Lebanon and massacred our people? Where is Hizbullah's bravery and threats? Why don't they rush to the aid of Hamas? Lebanon, Gaza and the whole Middle East will not know peace and security until the destructive Iranian-Syrian role is ended, and the terrorist organizations of Hamas and Hizbullah are disarmed and their military teeth extracted.
The Gaza Strip and the Conflict in Maps
(FOJ) The Gaza Strip is about 4-5 miles wide and about 25 miles long, running from South to North. The Strip is home to about 1,500,00 people.
Is World Being Distracted By Gaza?
(Is Gaza war an Iranian ploy to divert attention away from nuke program)
Jan. 7….(YNET) The fighting in Gaza has filled the columns of every international newspaper and reputable news website around the world. International television and radio have provided a sea of analysts to pore over every detail, every inch and every angle of the operation. All the major international organizations such as the United Nations, the European Union and the Arab League are discussing nothing else. Perhaps this is the point of the whole conflict, and the decision by Hamas not to renew the ceasefire. Conceivably, the conflict was created to divert attention from something else, rather more pressing. Only weeks ago much of the world's spotlight, the politicians and media, if not the average person in the street, was focused on Iran. Iran's quest for nuclear weapons was such a pressing concern that as one high-level British official told me, "Every Member of Parliament's door is open on this issue." The situation has become so desperate that the Arab nations had petitioned the UN to hold meetings on Iran. The five permanent members of the UN Security Council plus Germany agreed to discuss with the Gulf Cooperation Council member states, Egypt, Jordan, and Iraq, the issue of the Iranian nuclear file. This meeting was extremely crucial for a united front against Iran. One of the Arab attendees stressed that there was a new "understanding" about the threat Iran posed to the region and beyond. The US, Europe and many others had been pushing for tougher sanctions that would have surely broken the otherwise struggling Iranian economy. Even Russia, faced with such unanimity on the Iranian nuclear issue, could not hold out its opposition to stronger sanctions. While oil reached the halcyon days of $150 a barrel, Iran could ignore the sanctions as a mere irritant. With oil now hovering around $40 a barrel (and Iran's lower-quality crude selling even cheaper,) disaster is just over the horizon, financial analysts say. Foreign imports will be throttled, incomes will drop, Iran's currency will weaken and inflation will grow even worse. The Iranian government might actually be brought to task and have to concede to prevent harsher sanctions. This is something that the Iranian regime cannot contemplate; not when it is so close to achieving its nuclear ambitions. Lost amidst the smoke of the battle in Gaza is a very important report released during the very last days of 2008 by the French Government. The long-awaited report prepared for the French National Assembly (parliament) and submitted to President Nicolas Sarkozy is the fruit of a bipartisan effort headed by Jean-Louis Bianco, a prominent Socialist Member of Parliament, and senior advisor to President Francois Mitterrand in the 1980s and 1990s. The report declares unequivocally that Iran is a "short distance" from securing all it needs to make a nuclear warhead. To differentiate this report and to provide it with an air of authenticity beyond reproach, the findings were based only on facts acknowledged by the Iranians themselves. This was to become a major tool in convincing the UN Security Council to impose the sanctions that many feel are necessary to bring Iran to heel. However, the report's long-awaited release was lost in the fog of the Gaza conflict.
Iranian fingerprints
The fingerprints of Iran on the latest confrontation are well known. Many in the Arab world have been saying that Iran is playing a major destabilizing role in the region for a while, but some in the West have refused to believe them. In the words of Dar al-Hayat columnist, Jihad El Khazen, "Iran is playing a disruptive and subversive role on the Palestinian scene; it does not intend through the $25 to $40 million it spends monthly in Gaza to support the Palestinians but rather to use them." In Lebanon, Iran's puppet, Hizbullah leader Hassan Nasrallah has been stoking the flames against Israel and those Arab states that are seen as in collusion with Israel and the West. If the situation in Gaza comes to a halt soon, a ceas-fire is signed or imposed and the world's attention wanes, it is not inconceivable that Hizbullah will be prodded to inflame the northern border. Perhaps for this very reason Iranian national security chief, Saeed Jalili, has been traveling to Syria and Lebanon, meeting with Hamas leader Khaled Mashaal and Nasrallah respectively. This is reminiscent of Iranian Expediency Council chairman and former IRGC commander Mohsen Rezai's stay in Lebanon throughout the 2006 Lebanon war while supervising Hizbullah's operations. Recently, the Syrian daily, Al-Watan reported that the Lebanese border with Israel is being monitored closely by both the Lebanese army and UNIFIL to prevent a flare-up. Iran has a great vested interest in destabilizing the region and diverting attention from the real threat of its nuclear ambitions.
Iran's Gazan Diversion?
Jan. 7….(JWR) Since the Israel Defense Forces (IDF) commenced its ground operations in Gaza on Saturday night, I have been hungrily eyeing my hat. On Friday I argued that the Olmert-Livni-Barak government is following the same defeatist strategy in Gaza today that the Olmert-Livni-Peretz government followed in Lebanon two and a half years ago. In 2006, the government supported a cease-fire that empowered outside actors, in that case the UN and Europe, to enforce an arms embargo against Hizbullah and to act as Israel's surrogate in preventing Hizbullah from reasserting control over South Lebanon. In the event, as government critics like myself warned at the time, these outside actors have done nothing of the sort. The European commanded UNIFIL force in Lebanon has instead acted as a shield defending Hizbullah from Israel. Under UNIFIL's blind eye, Iran and Syria have tripled the size of Hizbullah's pre-war missile arsenal. And Hizbullah has taken full control over some 130 villages along the border. In a similar fashion, today the government is insisting on the establishment of an international monitoring force, comprised perhaps of Egyptian, Israeli, Fatah-affiliated Palestinian, American and European officials that will monitor Gaza's border with Egypt and somehow prevent weapons smuggling. Like the cease-fire deal in Lebanon, this plan does not foresee the toppling of the Hamas regime in Gaza or the destruction of its military capacity. It ignores the fact that similar, already existing, theoretically friendly monitoring forces, like the US-commanded Multi-National Force Observers in the Sinai, have done nothing to prevent or even keep tabs on weapons transfers to Hamas. Still, in spite of the government's continued diplomatic incompetence, there are reasons to think that Israel may emerge the perceived victor in the current campaign against Hamas. The first is that Gaza is relatively easier to control as a battle space than Lebanon. Unlike the situation in Lebanon, IDF forces in Gaza have the ability to isolate Hamas from all outside assistance. The IDF's current siege of Gaza City, its control over northern Gaza, its naval quarantine of the coast and its bombardment and isolation of the border zone with Egypt could cause Hamas to sue for a cease-fire on less than victorious terms. Indeed, this may already be happening. Hamas's leaders are reportedly hiding in hospitals, cynically using the sick as human shields. And on Monday morning, Hamas's leadership in Damascus sent representatives to their new arch-enemy Egypt to begin discussing cease-fire terms. Taken together, these moves could indicate that Hamas is collapsing. But they could also indicate that Hamas is opting to fight another day while assuming that Israel will agree to let it do so. The second reason that it is possible that Hamas may be defeated is because much to everyone's surprise, Iran may have decided to let Hamas lose. Here it is important to note that the war today, like the war in 2006, is a war between Israel and Iran. Like Hizbullah, Hamas is an Iranian proxy. And just as was the case in 2006, Iran was instrumental in inciting the current war. Iran prepared Hamas for this war. It used Hamas's six-month cease-fire with Israel to double both the range and the size of Hamas's missile arsenal. It trained Hamas's 20,000-man army for this war. And as the six months drew to a close, Iran incited Hamas to attack. So too, in 2006, Iran incited Hamas to attack Israel. That war, now known as the Second Lebanon War, was actually a two-front war that began in Gaza. Ordered by Iran, it was Hamas that started the war when its forces (together with allied forces in Fatah), attacked the IDF position at Kerem Shalom on June 25, 2006 and kidnapped Cpl. Gilad Schalit. Israel fought a limited war against Iran's Palestinian proxies in Gaza for 17 days before the country's attention moved to the North after Hizbullah attacked an IDF position along the border and abducted Eldad Regev and Ehud Goldwasser. Israel's leaders today warn against a possible Hizbullah attack. In the North, municipalities are readying bomb shelters and air raid sirens ahead of such a possibility. Most of the IDF reservists called up over the weekend are being sent to the North ahead of a possible Hizbullah attack. But in contrast to the situation in 2006, today Iran seems to have little interest in expanding the war and so saving Hamas from military defeat and humiliation. Speaking on Hizbullah's Al Manar television network on Sunday, Saeed Jalili, the head of Iran's National Security Council, its chief nuclear negotiator and a close advisor to Supreme Leader Ali Khamenei, essentially told Hamas that it is on its own. In his words, "We believe that the great popular solidarity with the Palestinian people as expressed all over the world should reflect on the will of the Arab and Islamic countries and other countries that have an independent will so that these will move in a concerted, cooperative, and cohesive manner to draft a collective initiative that can achieve two main things as an inevitable first step. These are putting an immediate end to aggression and second breaking the siege and quickly securing humanitarian aid to the people of Gaza." In other words, Iran's response to its great enemy's the war against its proxy is to suggest forming a commission. There are many possible explanations for Iran's actions. First there is the fact that war is an expensive proposition and Iran today is in trouble on that score. In the summer of 2006, oil cost nearly $80 a barrel. Today it is being traded at $46 a barrel. Iran revised its 2009 budget downward on Monday based on the assumption that oil will average $37 a barrel in 2009. Over the past several months, Iran has been begging OPEC to cut back supply quotas to jack up the price of oil. But, perhaps in the interest of weakening Iran, Saudi Arabia has consistently refused Iran's requests. To date, OPEC's cutbacks in supply have been far too small to offset the decrease in demand. And the loss of billions in oil revenues may simply have priced Iran out of running a two-front terror war. Then too, Washington-based Iran expert Michael Ledeen from the Foundation for Defense of Democracies argued on Monday that Iran's apparent decision to sit this war out may well be the result of the regime's weakness. Its recent crackdown on dissidents, with the execution of nine people on Christmas Day, and the unleashing of regime supporters in riots against the Egyptian, Jordanian, Saudi, Turkish and French embassies as well as the home of Nobel Peace Prize laureate Shirin Ebadi lends to the conclusion that the regime is worried about its own survival. As Ledeen notes Teheran may view another expensive terror war as a spark which could incite a popular revolution or simply destabilize the country ahead of June's scheduled presidential elections. There is also the possibility that Iran simply miscalculated. It believed that ahead of Israel's February 10 elections, the lame-duck Olmert-Livni-Barak government, which was already traumatized by the 2006 war, would opt not to fight. This would have been a reasonable assumption. After all, in spite of Israel's sure knowledge last summer that Hamas and Iran would use a cease-fire with Israel to increase the size of Hamas's missile arsenal and expand the range of its projectiles while building up its forces, the Olmert-Livni-Barak government agreed to the cease-fire. And then, when Hamas announced that it would not extend the cease-fire past its December 19 deadline, Defense Minister Ehud Barak sent emissaries to Egypt to conduct "indirect" negotiations with Hamas in which Israel essentially begged the terror group to reconsider. But then Israel responded with great force and Iran was left to make a decision. And for the moment at least, it appears that Iran has decided to let Hamas go down. As far as Iran is concerned, even a Hamas defeat is not a terrible option. This view is likely encouraged by Israel's current suggested cease-fire. After all, international monitors stationed along Gaza's borders will not serve as an impediment to future Iranian moves to rebuild Hamas. Alas, there is another possible explanation for Iran's apparent decision to abandon a vassal it incited to open a war. On Sunday, Iranian analyst Amir Taheri reported the conclusions of a bipartisan French parliamentary report on the status of Iran's nuclear program in Asharq Alawsat. The report which was submitted to French President Nicolas Sarkozy late last month concluded that unless something changes, Iran will have passed the nuclear threshold by the end of 2009 and will become a nuclear power no later than 2011. The report is notable because it is based entirely on open-sourced material whose accuracy has been acknowledged by the Iranian regime. The report asserts that this year will be the world's final opportunity to prevent Iran from acquiring nuclear weapons. And, as Taheri hints strongly, the only way of doing that effectively is by attacking Iran's nuclear installations. In light of this new report, which contradicts earlier US intelligence assessments that claimed it would be years before Iran is able to build nuclear weapons, it is possible that Iran ordered the current war in Gaza for the same reason it launched its war in 2006: to divert international attention away from its nuclear program. It is possible that Iran prefers to run down US President George W. Bush's last two weeks in office with the White House and the rest of the world focused on Gaza, than risk the chance that during these two weeks, the White House (or Israel) might read the French parliament's report and decide to do something about it. So too, its apparent decision not to have Hizbullah join in this round of fighting might have more to do with Iran's desire to preserve its Lebanese delivery systems for any nuclear devices than its desire to save pennies in a tight economy. And if this is the case, then even if Israel beats Hamas (and I eat my hat), we could still lose the larger war by again having allowed Iran to get us to take our eyes away from the prize.
Israel Will File Complaint over Hamas' Use of Schools
(Olmert, Barak and Livni meet to discuss IDF strike near UNWRA school in Gaza, which left dozens of Palestinian civilians killed )
Jan. 7….(Arutz) Prime Minister Ehud Olmert, Foreign Minister Tzipi Livni and Defense Minister Ehud Barak met Tuesday evening to discuss an earlier incident in which dozens of Palestinians were killed following an Israel Defense Forces strike near a school belonging to the United Nations Relief and Works Agency for Palestine Refugees (UNRWA) at the Jabalya refugee camp in Gaza. The limited cabinet is examining the possibility of filing a complaint with the United Nations over the use of UNWRA schools made by Hamas gunmen in the Gaza Strip. An inquiry into the incident revealed that the IDF soldiers acted according to procedures and fired back at gunmen firing mortar shells from the school. The investigation also revealed that Hamas launching cells were operating within the school. The shells landed outside the school yard. IDF and intelligence sources said that Hamas was attempting to hide the circumstances of the incident. Members of the organization were also killed in the strike. The army released a video showing the terrorists firing mortar shells from the school yard, and the cabinet is considering using the video in a possible complaint filed with the UN. Sources in the IDF said earlier that several Hamas gunmen were inside the UNWRA school, including Imad and Hassan Abu-Askar. The army also said that a rocket launching cell had been firing rockets at Israel from the school. The UN's al-Fahoura school housed Palestinians forced to leave their homes which are located near the border fence for fear for their lives. The residents were living in the school's classrooms and corridors.
US, Egypt, Jordan, Germany and Israel Working On Ceasefire Package
Jan. 7….(DEBKA) DEBKAfile's Washington sources disclose that Washington, Cairo, Amman and Jerusalem are hammering out the lines of a ceasefire deal that will be contingent on the state of combat in the Gaza Strip. Jerusalem accepts the proposition that the ceasefire lines will follow the lines of combat reached in the Gaza Strip in the fighting between Israel and Hamas. Egyptian and Jordanian forces will then enter the Gaza Strip. Prime minister Ehud Olmert told visiting European Union ministers Monday, Jan. 5, that diplomacy is in progress to find an "international blanket for damping down the blaze in Gaza." He did not elaborate, but, according to our sources in Washington, he was referring to Egypt as the prime mover in a ceasefire solution, not the US. Alongside the overt diplomatic drive for a ceasefire, Washington is quietly moving ahead on a package in conjunction with Saudi Arabia, Jordan, Egypt, which is managing the Hamas track, and German chancellor Angela Merkel. Israel will hold the lines established on the day the ceasefire went into effect for a two-three month trial period. Egyptian and Jordanian units will remain in the enclave until a pre-set date. An international mechanism will prevent Hamas from rearming. Egyptian intelligence minister Gen. Omar Suleiman outlined this deal for the Hamas delegation, headed by operations chief, Imad Al Alami, which arrived in Cairo Monday night, after finally agreeing to discuss a truce. It was clear to both sides that he was dictating honorable terms for a Hamas capitulation, as Israeli forces entered the third and most dangerous phase of their Gaza offensive, the entry into Gaza's densely built-up areas. Tuesday saw heavy Israeli-Hamas street battles in Gaza City after a night of heavy Israeli aerial and naval bombardment. Israel forces engaged Hamas in Khan Younis in the south and hit the southern arms smuggling tunnels of the Philadelphi route and Rafah by air and land. Hamas attacked the Israeli troops holding the Netzarim belt cutting Gaza City off from the south at Deir al Balakh. This phase of Israel's Operation Cast Lead follows Phase 1, the heavy aerial bombardment of Hamas military and government infrastructure, and Phase 2, the ground, tank and artillery incursion on Jan. 1, which split the 360-sq km Gaza Strip into three segments. The outcome of the toughest challenge of the ongoing Phase 3 for flushing out Hamas operatives mingling with urban populations and reducing their rocket-firing capabilities will determine the ceasefire lines for ending the conflict. Meanwhile Hamas was still able to keep up its constant rocket and missile fire by Tuesday afternoon, Jan. 6. Our diplomatic sources report that the German chancellor's involvement in the US initiative has left French president Nicolas Sarkozy and his 48-hour humanitarian ceasefire proposal more or less standing. In any case, it was rejected by Israel except for his proposal to open a corridor for wounded Palestinians to leave the Gaza Strip for treatment. The next UN Security Council meeting on the Gaza crisis is also likely to break up for a second time without accord on a ceasefire resolution. Sarkozy continues his whirlwind Middle East tour in Damascus and Beirut Tuesday.
A Prophetic Perspective on Things in Gaza
Jan. 7….(Bill Salus) While driving home from a luncheon with a Pastor of a sizeable evangelical Church, I turned on their affiliated nationally syndicated radio program to hear what questions were on the minds of Christians across America. This radio program invites callers to ask questions ranging from prophecy related matters to issues regarded with day-to-day Christian living. Several pastors host this daily live broadcast and answer these questions from their pastoral perspective. One caller asked, "Are current Mideast events involving the Hamas and the Israelis prophetically significant?" Being an eschatologist and the author of the Bible prophecy book Israeltine: The Ancient Blueprints of the Future Middle East, I promptly pulled my car over to the side of the road and turned up my radio to hear the response of the two attending pastors. Listening intently, I was shocked to hear that they generally didn't believe so. They suggested that the Arabs and Jews have been fighting against each other from time immemorial, and that this current "Operation Cast Lead" resembled more of the same. They stated that ever since the reformation of the nation Israel in 1948, Israel has been at war with their Arab neighbors, and therefore this current conflict was nothing new. Ultimately they signaled that the next significant Middle East prophecy to find fulfillment would likely be when Russia and Iran assemble a confederacy and invade Israel as described in Ezekiel 38 & 39. Since this present struggle is predominately limited to the Palestinians and the Jews, the inference was that it had little to no prophetic relevance. In the immediate aftermath of the terrorist events that occurred on September 11, 2001 this same radio program answered a similar question in the same way. The caller back then asked if the toppling of the twin towers was prophetically important, and the host responded with, and I'm paraphrasing, keep your eye out for the Russian, Iranian led invasion of Israel described in Ezekiel 38 & 39. With all due respect to this program, which I listen to frequently, and personally think provides an invaluable radio service to the Christian community, I'm concerned that the literal fulfillment of the world changing Psalm 83 Bible prophecy is about to occur, and the preponderance of the Christian Church will lack the sufficient information to appropriately answer the serious prophetic questions that will certainly emanate from the secular world. What happened back on September 11th, and what is turning the worlds attention upon the Middle East today, has little to do with the coming Ezekiel 38 invasion, and everything to do with the Arab, Israeli conflict and terrorism, its ugly bi-product. The Bible provides volumes of prophetic information regarding both of these topics. The Bible declared that the Jews would return into the land of Israel from the Gentile nations of the world, which commenced in 1948, and that in the process they would meet with severe Arab resistance. As predicted, this is what occurred, and has been ongoing ever since the re-establishment of the modern day Jewish State. Failed conventional Arab war efforts in 1948, 1967, and 1973 to destroy the State of Israel, have led to the establishment of Mideast terrorist organizations, like the Hezbollah, Hamas, Al-Qaeda etc. For the most part these terrorist entities are the brainchild of the defeated Arab nations. They have primarily been forming to support the Palestinian plight for autonomy and to antagonize the restoration of the nation of Israel. Terrorism is the unconventional method of warfare adopted by the Arab States intended to accomplish what the conventional methods of Arab warfare failed to deliver upon. Thus when Israel retaliates against the Hamas launched rocket assaults; they are in essence conventionally defending itself against this relatively recently fashioned unconventional Arab method of warfare. As pointed out in my book Israeltine, the Bible has even foretold of the arrival of modern day terrorism. According to what appears to be one of the Bible's best-kept secrets, Psalm 83 foretells of a 10-member Arab population that someday confederates in a final bloody attempt to destroy the nation of Israel. This prophecy involves the Hezbollah, Hamas, Syrians, Saudis, Jordanians, Lebanese, Egyptians and more. Considering these are the populations that most closely border the modern day Jewish State, and they are the notorious enemies of Israel, one has to wonder if this final Psalm 83 Arab, Israeli war is destined to be the next Middle East News Headline? Imagine for a moment the possibility that a Bible prophecy might be about to find its literal fulfilment. Apart from the re-establishment of the nation Israel in 1948, Psalm 83 appears to be one of the few other prophecies that could be about to take place in this Baby-Boomer's generation. Should this be the case, wouldn't it seem logical that the Christian leadership of today should be able to offer up a satisfactory explanation for the events described in this prophecy? The current military events involving the Hamas and the Israeli Defense Forces, has the world watching and wondering if this present Mideast conflict is yet another sign that it has been involuntarily thrust into the end times. Christians are calling upon their leadership for some sound information, so that they can go out forward into the harvest field and give an intelligent answer for their faith in their God who is able to foretell the future with 100% accuracy.
Tehran's Sinister Agenda in Gaza
Jan. 6….(Robert McGinnis) Israel's Operation Cast Lead aims to stop Hamas from launching rockets from the Gaza strip at the Jewish nation's soft underbelly and prevent the terror group from obtaining more powerful rockets from its Iranian sponsor. But the hidden agenda in this crisis is Tehran's manipulation of its terror proxies to prevent Israel from attacking Iran's atomic weapons program. Iran is arming Hamas and terror proxy Hizballah in Lebanon with long-range rockets that eventually will threaten Israel's major cities and the Jewish nation's nuclear facilities at Dimona. That situation could create a "Mexican stand-off" between Tehran and Jerusalem. That is an Israeli attack on Iranian nuclear facilities would cause Tehran to unleash its proxies to attack Israel's key cities and Dimona. Israeli leaders have said they will not tolerate an atomic Tehran. But that milestone is now within Iran's reach and likely Israel is preparing to attack Iran's nuclear facilities. That forces Tehran to advance its "stand-off" strategy by demonstrating that its proxies present a credible threat. That brings us to the current crisis. On December 19, Hamas, an acronym which, from the Arabic, translates as the Islamic Resistance Movement, started the latest round of fighting by raining rockets on Israeli settlements from the Gaza Strip. The rocket offensive came after a six-month Egyptian-brokered truce which the terror group used to restock its arsenal and strengthen its militia forces. Hamas and other Palestinian militant groups have launched thousands of crude rockets into Israel since 2001 but the rockets fired by Hamas in the current fighting have flown farther and been more accurate than weapons used by the group in the past. Some have flown two dozen miles, destroying buildings in the southern Israeli cities of Ashdod and Beersheba. Jerusalem fears that should Hamas obtain rockets with even longer ranges and better guidance systems then Tel Aviv and Jerusalem and Israel's nuclear installation at Dimona, 20 miles east of Beersheba, would become targets. The possibility that Hamas missiles might strike Israel's nuclear reactor is frightening. A direct hit at Dimona could create a disaster at least as horrible as the 1986 Chernobyl nuclear reactor accident which released four hundred times more fallout than did the bombing of Hiroshima. Therefore, the longer-range rocket attacks and the prospect that more dangerous rockets are in reserve inside Gaza provided Jerusalem with the necessity of launching its massive assault. The public objective is to stop Hamas' rockets but Israel will also seek to find any longer-range rockets that Hamas could use to support Tehran's emerging strategy. Before 2008, Hamas only had militarily ineffective short range Kassam rockets which are crudely made of iron or steel piping and armed with a volatile explosive mixture used as the small warhead. Then Hamas began smuggling longer-range rockets into Gaza. The rockets that hit Beersheba were smuggled into Gaza after the Sinai border wall was blown up by Hamas last January. The Shin Bet (Israeli security agency) determined that they were transported through Sudan to the Sinai Peninsula via Bedouins and then through tunnels under Egypt's border into Gaza. Just how many rockets by type were smuggled into Gaza is not clear. But the Israeli Intelligence and Terrorism Information Center reports Hamas smuggled at least 80 tons of explosives, including rockets into Gaza since the group took control of the area in June 2007. Tehran's strategy of building-up Hamas' military machine is well known. "Iran is very much involved in supporting the buildup of the Hamas, whether it's in training, in funding or supplying them with munitions," Israeli government spokesman Mark Regev said. In 2002, Israel seized a Palestinian-captained ship bound for Gaza, the Karine A, carrying 50 tons of Iranian missiles, mortars, rifles and ammunition. Four years later, Egypt's foreign minister, Ahmed Aboul Gheit, accused Iran of being behind Hamas' violent takeover of Gaza. Recently, Hamas fighters were schooled at Iranian camps run by the Quds (Jerusalem) Force of Iran's Revolutionary Guards. American and Israeli officials implicate Iran's proxy Hizballah for aiding Hamas as well. The Gaza terror group has acquired sophisticated bomb-making skills from Hizballah. STRATFOR, an American intelligence think tank, just reported that 150 Hizballah military advisers and fighters are in Gaza City preparing to lead Hamas units against Israeli ground forces. Tehran's proxy strategy includes a role for Hizballah. It's noteworthy that on January 3 Hizballah chief Sheikh Hassan Nasrallah hosted a demonstration in Beirut, Lebanon, against Israeli action in Gaza. His war-like words have prompted Israel to keep its eye to the north as it fights in the south. Since its 2006 war with Israel, Hizballah has restocked its arsenal with longer-range rockets and expanded its fortifications. Like Hamas, Hizballah can quickly fill Israel's skies with rockets. The threat of another war with Hizballah and the need to deal with Iran's atomic weapons program necessitates quick action in Gaza. Israel must not become embroiled in bloody house-to-house fighting but soon leave Gaza in the hands of an international monitoring force to verify compliance with what must be a tough cease-fire agreement. Unfortunately, Israel's experience with the international monitoring force left in Lebanon after the 2006 war has been unsatisfactory. Those forces sat back and allowed Hizballah to rearm. That's why Israel must race to field its counter-rocket, artillery and mortar (C-RAM) systems now in development to defeat future Hamas and Hizballah rockets. These systems could become operational in the next five years and will be part of a layered network intended to protect Israel from short range Kassams up to long-range Iranian Shahab intercontinental ballistic missiles. Israel must never stop trying to resolve its differences diplomatically. But when diplomacy fails, it has every right to defend itself and must be prepared to use military force as it is in Gaza today.
But the threat Israel faces today is far more complex than a few rockets launched by Hamas. It faces a coordinated strategy that employs Iranian proxies armed with rockets meant to intimidate Israel from attacking Iran's atomic facilities. Should that plan work and Israel stands down its efforts to destroy Iran's nuclear weapons program, the world will see an atomic Tehran which will reshape the Middle East and threaten global security.
Israel Forces Clash With Hamas
Jan. 6….(YNET) IDF forces continued to pummel Hamas Monday, as Operation Cast Lead's 10th day saw numerous clashes between Israeli troops and Hamas gunmen in several terror hubs in northern and central Gaza. Sources estimated that somewhere between 80 and 100 terrorists were killed Monday, and 100 wanted gunmen were apprehended and taken in for interrogation. Hamas seems to have intensified its attempts to strike back at the advancing forces, utilizing mortar fire, snipers and booby trapped buildings and gunmen strapping explosive belts and trying to commit suicide attacks on soldiers. IDF sources reported of several cases in which suicide bomber lunged at the troops but failed to detonate. In one case, the soldiers were able to neutralize the explosives and arrest the gunmen. Hamas operatives are also incessantly trying to abduct soldiers. The fighting became more intense at nightfall and the IDF had to use heavy artillery fire. IDF forces making their way through Gaza deployed according to their operational goals, tightening their vise on the city. The IDF's movement through the area, which is riddled with traps, explosive devises, anti-tank weapons and tunnels, is slow and guarded; and they are slowed further by the constant need to neutralize weapons and destroy caches and battle stations. The Air Force is simultaneously striking various symbols of Hamas' regime, as well as tunnels along the Philadelphi Route and rocket launching pads. Despite the relentless attacks, Hamas' Izz al-Din al-Qassam Brigades, its military wing, seem to have caught their second wind: Hamas' political and military leaders may be in hiding, but the presence of the field operatives is very well felt and they are not lacking in motivation. Hamas rocket launching capabilities seems to be largely intact as well, although diminished due to the lack of supplies. The IDF divided the Strip into three, making it even harder to move supplies from Gaza's central and southern areas to it north, but the Gaza City warehouses still hold large numbers of weapons, hundreds of long-range Grad rockers that can reach Beersheba, dozens of mid-range Grads capable of hitting Ashkelon and thousands of Qassam rockets. Rocket launching cells have managed to fire some 40 rockets and mortar shells a day at Israel.
Israel Trying to Delay UN Security Council Pressure
(Jerusalem making diplomatic efforts to postpone meeting and prevent further international pressure on Israel to stop fighting in Gaza. Meanwhile Olmert, Livni continue to promote US-led initiative for truce)
Jan. 6….(YNET) Israel is making diplomatic efforts to postpone a UN Security Council meeting scheduled for Wednesday, in order to prevent further international pressure from being exerted on the country to halt its military operation in Gaza. Israel's political leadership has yet to decide who should represent Israel at the meeting. Top ministers are concerned that if Foreign Minister Tzipi Livni is present at the discussion, this could validate any decision made by the Security Council and leave Israel exposed to even more pressure. Livni has already noted that "even if the Security Council reaches an anti-Israeli resolution, this would not stop the military campaign against Hamas." Diplomatic sources in Jerusalem told Ynet that, "At this point we intend to try and minimize the damage there (at the Security Council), while simultaneously operating vis-à-vis the French and the rest of the international community to promote the US initiative." French President Nicolas Sarkozy, who is visiting the region in an attempt to promote a cease-fire, met with Palestinian President Mahmoud Abbas in Ramallah Monday evening. After the meeting Sarkozy said that the violence in Gaza must stop, but stressed that Hamas' actions were "irresponsible and unforgivable." Sarkozy, who met Egyptian President Hosni Mubarak earlier, said that Europe was seeking to establish truce in Gaza as soon as possible. Meanwhile, Israel was pressing on with efforts to reach international understandings through the US initiative, which is based on conditions set by Israel, including the halting of all rocket fire and terror emanating from the Gaza Strip, an end to the weapon smuggling and Hamas' military buildup, and international supervision in Gaza.
Hamas Threatens to Rocket Tel Aviv
Jan. 6….(DEBKA) As a Hamas delegation landed in Cairo from Damascus, Monday night Jan. 5, the Hamas and Jihad Islami units which took refuge in Gaza City's northern districts the day before launched a counter-offensive against the Israeli troops deployed at the northeastern edge of the city, taking advantage of conditions on the ground. DEBKAfile's military sources report a heavy exchange of fire ensued, lasting for more than an hour before Israeli artillery and helicopter gunships drove the Palestinians back inside the town. Hamas hit back at the Israeli troops fighting in Gaza since Saturday night, Jan. 1, in order to negotiate a ceasefire in Cairo from a position of strength. Imad al-Alami, Hamas' senior operations officer and its most important military figure, was sent to Cairo. To further show they were not cowed, a Hamas spokesman in Gaza threatened to bring out its long-range rockets and launch them against Rehovot, Rishon Lezion and Tel Aviv, key cities of Israel's heartland, if the Israeli offensive persisted. With this spreading menace in mind, the Homeland Command ordered warning sirens tested in areas north of the currently targeted stretch of country, almost as far as Jerusalem. During the day, Hamas battled Israeli troops manning the Netzarim line which cuts the Gaza Strip in two. Military sources report that Israel has taken 80 Hamas combatants prisoner. Behind the bravado, Hamas is casting about for ways to halt the Israeli military offensive, which is why it finally bowed to Egyptian pressure to discuss a ceasefire after repeated refusals. This does not mean that the way to a ceasefire will be quick or easy. The Palestinian extremists believe they have two weeks to play with for bettering terms and are counting on gaining three advantages:
1. IDF will hold back from sending troops deep inside build-up areas of Gaza City and the surrounding refugee camps.
2. By dragging the bargaining up until the Jan. 20, Barack Obama will replace George W. Bush in the White House. Hamas is counting on him being tougher on Israel than his predecessor. Hamas expects him to summon a UN Security Council resolution ordering both sides to accept an immediate unconditional ceasefire. Hamas will then be absolved from accepting Egypt's terms. DEBKAfile's Washington sources say that this expectation is unrealistic. 3. International pressure on Israel to halt hostilities is expected to build up following French president Nicolas Sarkozy's arrival in Jerusalem Monday night, when he again urged Israel for the second time in two weeks to accept a "humanitarian cease-fire." DEBKAfile's Jerusalem sources disclose that Israeli leaders rebuffed him on an immediate ceasefire, but left open the possibility of a corridor out of Gaza for injured Palestinians.
US Blocks UN Cease-fire Statement on Gaza
(Arab nations asked Security Council to call for immediate cease-fire)
Jan. 5….(AP) The United States late Saturday blocked approval of a UN Security Council statement calling for an immediate cease-fire in the Gaza Strip and southern Israel and expressing concern at the escalation of violence between Israel and Hamas. US deputy ambassador Alejandro Wolff said the United States saw no prospect of Hamas abiding by last week's council call for an immediate end to the violence. Therefore, he said, a new statement at this time "would not be adhered to and would have no underpinning for success, would not do credit to the council." France's UN Ambassador Jean-Maurice Ripert, the current council president, announced that there was no agreement among members on a statement. But he said there were "strong convergences" among the 15 members to express serious concern about the deteriorating situation in Gaza and the need for "an immediate, permanent and fully respected cease-fire." Arab nations demanded that the council adopt a statement calling for an immediate cease-fire following Israel's launch of a ground offensive in Gaza earlier Saturday, a view echoed by Secretary-General Ban Ki-moon. Libya's UN Ambassador Giadalla Ettalhi, the only Arab member of the council, said the United States objected to "any outcome" during the closed council discussions on the proposed statement. He said efforts were made to compromise and agree on a weaker press statement but there was no consensus. The 15-member council had met behind closed doors to discuss a proposed presidential statement that would also call for all parties to address the humanitarian and economic needs in Gaza, including by opening border crossings. The five permanent council members, the US, Britain, France, Russia and China, along with Libya, the only Arab nation on the council, then met privately to discuss possibly issuing another press statement. "We need to have from the Security Council reaction tonight to bring this latest addition of aggression against our people in Gaza to an immediate halt," Riyad Mansour, the Palestinian UN observer told reporters. The statement would have become part of the council's official record but would not have the weight of a Security Council resolution, which is legally binding. International criticism of the offensive has increased steadily, but Israel maintains the offensive is aimed at stopping the rocket attacks from Hamas-controlled Gaza that have traumatized southern Israel. Before the council met Saturday night, Ban telephoned Israeli Prime Minister Ehud Olmert and said he was disappointed that Israel launched a ground offensive and "alarmed that this escalation will inevitably increase the already heavy suffering" of Palestinian civilians, the UN spokesman's office said in a statement. "He called for an immediate end to the ground operation, and asked that Israel do all possible to ensure the protection of civilians and that humanitarian assistance is able to reach those in need," the statement said. Ban reiterated his call for an immediate cease-fire and urged regional and international partners "to exert all possible influence to bring about an immediate end to the bloodshed and suffering," the statement said. The secretary-general said the Israeli ground operation is complicating efforts by the Quartet of Mideast peacemakers, the UN, the US, the European Union and Russia, to end the violence. Several Arab foreign ministers are expected at UN headquarters on Monday to urge the Security Council to adopt a resolution ending the Israeli offensive. Palestinian President Mahmoud Abbas delayed his arrival until Tuesday so he can meet French President Nicolas Sarkozy in the West Bank.
Obama Stirs Fear in Israel
Jan. 5….(New York Post) As world leaders and international organizations rush to rescue Hamas, Israel faces complex battlefield challenges, while fearing a stab in the back from the incoming Obama administration. Israel's leaders are asking themselves two questions: Is the cost of sending sufficient ground forces into Gaza just too high? And, upon his inauguration on Jan. 20, will President Obama undercut Israel's counter-terror offensive before its goals have been reached? Israel can deal with self-aggrandizing busybodies, such as French President Nicolas Sarkozy, whose irresponsible attempts to force a cease-fire upon Israel benefit only Hamas. But Israel would be hard pressed to fight on without American support. As government leaders and generals in Jerusalem and Tel Aviv weigh the question of whether or not to send tanks into Gaza's streets, they hear the clock ticking. A major ground incursion would take time. Would Israel Defense Forces soldiers find themselves fighting on political quicksand? Despite the frankly anti-Israeli and anti-Jewish reporting of this conflict in the global media, Israel's military performance not only has been technically superb, but has been as humane as possible under such difficult circumstances. Ordinarily, Israeli leaders would only need to ponder battlefield costs and counter international pro-terror propaganda. But the rise of President-elect Obama complicates matters gravely. Even the timing of Israel's strike at Hamas has been driven, at least in part, by the coming power transfer in Washington. The immediate trigger was the hundreds of Hamas rocket attacks on Israel after the terrorists refused to renew an Egyptian-brokered cease-fire, but Israel's leaders also counted on steadfast support from the Bush administration in its final days. Obama's an unknown quantity, though. While hysterical claims that he'll be pro-Islamist from start to finish are absurd, even minor shifts away from supporting Israel's struggle against terrorists could have catastrophic consequences. And Israel's vaunted intelligence services can't tell their superiors what Obama will do, since few (if any) of the president-elect's supporters know what he intends to do. In fact, the president-elect may not know himself. He's a babe in the woods, and the woods are full of wolves. Fighting political rivals doesn't prepare you for fighting terrorist fanatics. For now, Israel must worry that a major ground offensive against Hamas would be halted halfway by the withdrawal of US support, both diplomatic and practical. As for our president-elect, his all-too-coy insistence that "we have only one president at a time" has been selective from the start. Glad to pontificate on stimulus packages and union benefits, Obama has used the one-president mantra to avoid taking stands on difficult issues that bedevil or bewilder him. Our president-elect needed to make a clear, prompt statement in support of Israel. He didn't. If I were an Israeli leader, I'd be worried, too. Obama's notorious for avoiding firm stands that might alienate any important constituency. But you can't have it both ways in the Middle East. He needs to stand up in support of Israel. Now, if he truly supports Israel's right to exist.
Israeli Forces Dissect Gaza, Block Hamas' Weapons Routes
Jan. 5….(DEBKA) DEBKAfile's military sources report that on the second day of their ground offensive, Sunday, Jan 4, Day 9 of its offensive against Hamas, Israeli forces have closed their siege encirclement of Gaza City. At least 30 Hamas gunmen were killed in the first thrust of Israel armored infantry, tanks, engineering, artillery and intelligence units into the enclave after a week of intense airstrikes. Western and Arab informants report that Sunday, Israeli armored forces had taken up position at Hamas launching sites in Beit Hanoun in the north and captured parts of the Zeitun refugee camp and Netzarim to cut off Gaza City and carve the enclave into three segments. They also fought their way into the disused airfield at Dahaniya. Israeli warships were reported to have dropped troops in the southern Philadelphi enclave through which smuggling tunnels carry Hamas weapons supplies. Armored and infantry unites are fighting for control of the strategic sector after dozens of tunnels were destroyed in previous Israeli air strikes. Foreign correspondents are not operating inside the Gaza Strip and both Israel and Hamas have cast "a fog of war" over developments. Hamas gunmen engaging Israeli forces are first battered by fire from Israeli helicopters, artillery and navy. This accounts for their heavy casualties. On Jan. 1, DEBKAfile reported that Hamas' tacticians did not plan to send the bulk of their elite fighting force against the Israeli invaders or the forces besieging Gaza City. Several hundred were to mingle with the Gaza City population and carry out nocturnal forays behind Israel lines. Taking this into account, defense minister Ehud Barak warned shortly after the offensive began that it would not be short or easy. Besieging a city of 800,000 densely packed inhabitants is a daunting mission by any military reckoning, requiring large numbers of troops both to control the city and secure its environs up to the enclave's southern border at Rafah. Hence the tens of thousands of Israeli reservists called up for combat duty. Some are assigned to Israel's northern frontiers in case Hizballah decides to send Palestinians armed with rockets to open a second front from Lebanon. DEBKAfile' sources report that in early December Hizballah's Hassan Nasrallah secretly visited Tehran and met with senior Revolutionary Guards officers. He later welcomed in Beirut the al Qods commander Gen. Qassem Suleimani.
---