WEEK OF AUGUST 23 THROUGH AUGUST 29
Netanyahu and Abbas: Ready for Talks
Aug. 28….(Ha Aretz) Prime Minister Benjamin Netanyahu on Wednesday said he was prepared to begin peace negotiations on every issue Palestinian President Mahmoud Abbas was interested in raising, but emphasized that he reserved the right to raise "core" issues of his own. Earlier Wednesday, Abbas said he was willing to accept Netanyahu's invitation to meet on the sidelines of the United Nations General Assembly. "If Abu Mazen [Abbas] really means what he has said, then this is a positive development," Netanyahu said, briefing reporters after flying to Berlin from London. "I've been saying for quite some time that I am ready to renew negotiations." Netanyahu, who is on a four-day European tour, said he was open to discussing the future of Jerusalem, Palestinian refugees and permanent borders. He added, however, that he would raise during negotiations Palestinian recognition of Israel as a Jewish state and would demand that the Palestinians declare the conflict over once an agreement was signed. "We have core issues of our own and the matter of declaring Israel a Jewish state is the root of the conflict," Netanyahu said. A meeting at the UN would be the first between the two leaders since Netanyahu took office in March. Abbas has refused to reopen peace talks until Netanyahu halts all construction in West Bank settlements, an issue still up for discussion. Palestinian officials said Wednesday that Abbas was not dropping his conditions. They termed a meeting at the UN a chance to talk, but stressed that it would not amount to negotiations. Netanyahu met earlier Wednesday in London with US special Mideast envoy George Mitchell, where the two reported "progress" in preparations for peace negotiations. The prime minister said later, however, that "there was still work to be done." Netanyahu and Mitchell failed to reach an agreement on West Bank settlements during their talks, but did concur on the need to renew direct peace talks with the Palestinians. Meanwhile, German Chancellor Angela Merkel said Wednesday that Israel must be prepared to compromise for a two-state solution. "We shouldn't let the window of opportunity pass," she said, ahead of her own talks with Netanyahu. "The time is absolutely right. Let us do everything to use it."
Netanyahu and Mitchell report 'progress
In a joint message after the London talks, spokesmen for Netanyahu and Mitchell said the two agreed on the need to begin meaningful diplomatic negotiations between Israel and the Palestinians with the aim of reaching a regional peace agreement. The next round of talks between Israel and the US was scheduled for the beginning of next week in Washington. Israel will be represented at those talks by the PM's special envoy Yitzhak Molcho and Defense Ministry chief of staff Mike Herzog, who both participated in Wednesday's meeting. The two will meet again with Mitchell to discuss again the US demand that Israel implement a settlement freeze. Prior to his meeting with Mitchell, Netanyahu said his government was making progress toward reopening talks with the Palestinians and hoped to be able to do so shortly. "We are making headway. My government has taken steps both in words and deeds to move forward," he said. Netanyahu has pledged not to build any new settlements but wanted to enable what he called "natural growth" of existing enclaves. The prime minister, whose comments during a photo opportunity were relayed to reporters by his spokesman, expressed hope the two sides would "shortly be able to resume normal talks." "The goal is a wider peace, which is our common goal," he said. Meanwhile, the British Guardian reported that President Barack Obama is close to breaking the stalemate between Israel and the Palestinians by getting Israel to agree to a partial settlement freeze in exchange for a tougher US stand against Iran's nuclear program. The report, which cites US, European, Israeli and Palestinian officials, said that Obama will be ready to announce the resumption of long-stalled peace talks between Israel and the Palestinians by the end of September. "The message is: Iran is an existential threat to Israel; settlements are not," the Guardian quoted one official close to the negotiations as saying. In exchange for Israel agreeing to a partial and temporary settlement freeze, the US, Britain and France would push the United Nations Security Council to expand sanctions on Iran to include its oil and gas industry, the report said. Israel is also seeking normalization with Arab states, which would include the right for El Al to fly within Arab states' airspace, the establishment of trade offices and embassies and an end to the ban on travelers with Israeli stamps in their passports.
Poll: Most Israelis oppose settlement freeze
A poll released Wednesday in Israel showed freezing settlements would be an unpopular move. Almost two-thirds of those questioned told pollsters they opposed a freeze, even in return for moves by Arab countries toward normalization of ties with Israel. Thirty-nine percent said they would support a freeze in return for Arab gestures.
Obama Leverages Iran to Extract Israeli Concessions
Aug. 28….(Israel Today) US President Barack Obama has more or less officially offered Israel firm pressure on Iran to halt its nuclear program if Israel agrees to stop building homes for Jews in areas claimed by the Palestinian Arabs. That according to a report in London's Guardian newspaper that cited Israeli, US, Palestinian and European officials. According to the proposal outlined in the article, Obama would put heavy diplomatic pressure on Iran and possibly even impose new sanctions if Israeli Prime Minister Benjamin Netanyahu halted most current construction projects and refused to approve any new ones in Judea, Samaria and the eastern half of Jerusalem. Commentators noted that Obama appears to not see Iran's nuclear program as a threat to US security, and so feels free to use it as a bargaining chip to obtain concessions from Israel. Last week a source in Netanyahu's office pointed out that the prime minister has already refused to approve any new building projects in the disputed areas since taking office in March. However, halting current building projects could result in a political and judicial storm at home. Prior to meeting with US Middle East envoy George Mitchell in London on Wednesday, Netanyahu said Israel and the US were very close to smoothing out their differences regarding the natural growth of Jewish towns. The prime minister said the conclusion that issue and a resumption of official peace talks with the Palestinians should take place by the end of next month. Meanwhile, a poll conducted by the Maagar Mohot survey institute on Sunday showed that a 52 percent majority of Israelis oppose any kind of building freeze in already established Jewish communities in Judea and Samaria, and especially in Jerusalem. Nearly 75 percent of respondents said that if Israel gives in now on this issue, Obama will pressure Netanyahu to maintain the building freeze indefinitely, even if the Arabs fail to respond with the hoped for political gestures.
Mideast Peace Efforts Revived as Europe Increases Pressure on Israel
Aug. 28….() Chancellor Angela Merkel has joined other world leaders in urging Israeli Prime Minister Benjamin Netanyahu to freeze the Jewish settlements in the Palestinian territories. But will that make an impression on Netanyahu? Earlier this week in talks with British Prime Minister Gordon Brown and US Middle East envoy George Mitchell in London, Benjamin Netanyahu made it clear that he wants to avoid creating new hurdles for the peace process. But in return for giving up settlements, he's making certain demands. "The Israelis have proven four years ago, when they evacuated all of the Gaza strip," analyst Gil Yaron told Deutsche Welle, "that they are willing to pay a price, if they think that a better future will follow. But the Israeli experience with these kind of removals has been very bitter." Silke Tempel, the editor-in-chief of the German Council's of Foreign Relations bimonthly magazine Internationale Politik (International Politics) agreed that over the past years the Palestinians in Gaza have only made things worse. "After the withdrawal from Gaza," she said, "Israel got a whole range of rocket attacks. That really did not help. It took all the courage away from left-wing politicians."
Palestinian divide
Yaron is convinced that most Israelis remain interested in a deal with the Palestinians. "Should they be presented with something tangible, something that promises them security and an end of conflict," he said, "then I think that the majority of Israelis would back a removal of settlements, even if that entails a confrontation with the settlers' movement." Even though she doesn't see any other alternative, Tempel is not very optimistic about the likelihood of a peace deal and a two-state solution: "It's not only that it is very hard for a right-wing government to freeze the settlements," she said, "it also seems to be very hard for the Palestinian side to get into a unity government." To Yaron, however, the Israeli prime minister has more political leeway than it may seem at first sight: "Netanyahu has potentially enough coalition partners for his own Likud Party to continue to govern," Yaron said. "There is the option of Kadima, his major opposition partner." Kadima, which is led by Tzipi Livni, refused to enter Netanyahu's coalition, because they were not convinced that he was going to press ahead with a diplomatic solution to the Palestinian problem. "Should they become convinced that he is willing to remove settlements," Yaron said, "that he is willing to reach an agreement with the Palestinians, they would have no choice but to enter his government. Together with the Labour Party, the three parties together are large enough to hold a coalition." But Yaron warns that this would solve only half of the problem: "There is a Palestinian partner on the other side, that is completely divided into two entities. We have the Hamas state in the Gaza strip and the Fatah state in the West Bank. There is no unity on the horizon on the Palestinian side. Whatever President Mahmoud Abbas says does not seem to be binding for Hamas."
Different time tables
The Palestinian divide suits the settlers. "The settler movement has a history of trying to play for time," Yaron said. "They think that time is on their side. With every day that passes they are able to extend their settlements and to create facts on the ground, that will make it even more difficult to create a Palestinian state." Silke Tempel said she's concerned about that kind of scenario. "I think in the long run the settlements might threaten the very existence of Israel, because they might hinder the possibility that Israel can withdraw from Palestinian territory," she said. Yaron is convinced that the "pragmatic Israeli majority" is aware of the fact that "time seems not to be in their favor." But, they do have a different time frame than the West, he added. "The West wants to solve the Palestinian problem first and then look at the Middle East as a whole. The Israelis say: before we solve the Iranian problem, we cannot solve anything else, because the Iranians are the ones that are pulling the strings behind terror organizations like Hezbollah and Hamas." In the meantime US President Barack Obama is attempting a more diplomatic approach towards Iran than his predecessor George W. Bush. For the time being, the Israeli government is willing to wait and see. "My personal guess," Gil Yaron said, "is the Israelis will wait until the middle of 2010 and then they are going to press for action. Whether that will be diplomatic, in terms of much harsher sanctions, or military, that remains to be seen."
FDIC Could Sink Into The Red
Bank failures hurt, but depositors' money is still safe
Aug. 28….(Aztarnet) The government agency that guarantees you won't lose your money in a bank failure may need a lifeline of its own. The Federal Deposit Insurance Corp. coffers have been so depleted by the epidemic of collapsing financial institutions that analysts warn it could go red by the end of this year. That has happened only once before, during the savings-and-loan crisis of the early 1990s, when the FDIC was forced to borrow $15 billion from the Treasury and repay it later with interest. The agency reveals today how much is left in its reserves. FDIC Chairman Sheila Bair may also use the quarterly briefing to say how the agency plans to shore up its accounts. Small and midsize banks across the country have been hurt by rising loan defaults in the recession. When they fail, the FDIC is responsible for making sure depositors don't lose a cent. It has two options to replenish its insurance fund in the short run: It can charge banks higher fees or it can take the more radical step of borrowing from the U.S. Treasury. None of this means bank customers have anything to worry about. The FDIC is fully backed by the government, which means depositors' accounts are guaranteed up to $250,000 per account. And it still has billions in loss reserves apart from the insurance fund. Bair today will also update the number of banks on the FDIC's list of troubled institutions. That number shot up to 305 in the first quarter, the highest since 1994 and up from 252 late last year. Because of the surging bank failures, the FDIC's board voted Wednesday to make it easier for private investors to buy failed financial institutions. Private equity funds have been criticized for taking too many risks and paying managers too much. But these days fewer healthy banks are willing to buy ailing banks, and the depth of the banking crisis appears to have softened the FDIC's resistance to private buyers. Under the new rules, a buyer would need to maintain the failed bank's reserves at levels equal to 10 percent of its assets. An earlier proposal set the requirement at 15 percent. The new policy also eases the rules on when private investors must maintain minimum levels of capital that might be needed to bolster banks they own. But the FDIC sought to guard against private equity funds that might want to buy and sell quickly at a profit: It required the investors to maintain a bank's minimum capital levels for three years. At least in theory, allowing private investors to buy failing banks would mean the FDIC could charge a higher price, shrinking the amount of losses the agency would have to cover. Bair has not ruled out hiking premiums on banks for the second time this year or asking the Treasury for a short-term loan. She has said taking the longer-term step of drawing on the Treasury credit line is only for emergencies. So far this year, 81 banks have failed, compared with just 25 last year, and only three in 2007. Hundreds more banks are expected to fall in coming years because of souring loans for commercial real estate. That threatens to deplete the FDIC's fund. "I think the public should expect the fund to go negative at some point," said Gerard Cassidy, a banking analyst at RBC Capital Markets, which has predicted that up to 1,000 banks, or one in eight, could disappear within three years. Last week's failure of Guaranty Bank in Texas, the second-largest this year, is expected to cost the FDIC $3 billion. The FDIC recorded more than $19 billion in losses through March. The agency figures it will need $70 billion to cover bank failures through 2013, more than five times the $13 billion that was in the fund in March.
Court Orders Fed to Disclose Last Years Emergency Bank Loans
Aug. 25….(Bloomberg) The Federal Reserve must for the first time identify the companies in its emergency lending programs after losing a freedom of information act lawsuit. Manhattan Chief US District Judge Loretta Preska ruled against the central bank yesterday, rejecting the argument that loan records aren't covered by the law because their disclosure would harm borrowers' competitive positions. The Fed has refused to name the financial firms it lent to or disclose the amounts or the assets put up as collateral under 11 programs, most put in place during the deepest financial crisis since the Great Depression, saying that doing so might set off a run by depositors and unsettle shareholders. Bloomberg LP, the New York-based company majority-owned by Mayor Michael Bloomberg, sued on Nov. 7 on behalf of its Bloomberg News unit. "The Federal Reserve has to be accountable for the decisions that it makes," said US Representative Alan Grayson, a Florida Democrat on the House Financial Services Committeee, after Preska's ruling. "It's one thing to say that the Federal Reserve is an independent institution. It's another thing to say that it can keep us all in the dark." The judge said the central bank "improperly withheld agency records" by "conducting an inadequate search" after Bloomberg News reporters filed a request under the information act. the US taxpayers need to know the terms of Fed lending because the public became an "involuntary investor" in the nation's banks as the financial crisis deepened and the government began shoring up companies with capital injections and loans. "When an unprecedented amount of taxpayer dollars were lent to financial institutions in unprecedented ways and the Federal Reserve refused to make public any of the details of its extraordinary lending, Bloomberg News asked the court why US citizens don't have the right to know." The US House may vote as soon as next month on a bill to require the Fed to submit to audits by the Government Accountability Office. The judge's ruling "is strikingly good news," Garrett said. "This is what the American people have been asking for." The Freedom of Information Act obliges federal agencies to make government documents available to the press and public. The public deserves to know what's being done with the money. This ought to be a wake-up call for the public that they need to be far more educated about the bank bailouts."
Obama Raises 2010 Deficit Estimate to $1.5 Trillion
Aug. 25….(Bloomberg) The US government faces exploding deficits and mounting debt over the next decade, White House and congressional budget officials projected Tuesday in competing but similar economic forecasts. A half-hour after President Obama tapped Federal Reserve Chairman Ben Bernanke for another term, the White House budget office released new figures today on the federal deficit. The hard-working Rich Wolf provides this context: For 2009, the deficit is now projected at $1.58 trillion. There will be a $5 trillion increase in red ink over the next five years and a total of $9 trillion over 10 years. The long-term numbers are worse than previously forecast. Rich says the White House numbers show the deficit declining $739 billion during the next decade and never falling below 3.7% of the economy. For perspective: In February the administration forecast the deficit over the next decade would be $512 billion and 2.7% of the economy, figures that were much more manageable. Beyond the 10-year forecast, the nation will face further challenges posed by rising health care costs and the aging of the population, the CBO said. "The budget remains on an unsustainable path" over the long-term and will require some combination of lower spending and higher tax revenues, it said. Both forecasts see unemployment rising to 10% before falling and both suggest growth will return to the economy later this year but that recovery will be slow after the longest and deepest recession since the 1930s. "This recession was simply worse than the information that we and other forecasters had back in last fall and early this winter," said Obama economic adviser Christina Romer. She predicted unemployment could reach 10% this year. The total national debt, made up of amounts the government owes to the public, including foreign governments, as well as money it has borrowed from itself, stood Tuesday at a staggering $11.7 trillion.
Israel: Obama Must Stop Iran Before It Builds Nuke
Aug. 25….(Newsmax) Former Israeli ambassador to the United Nations and best-selling author Dore Gold tells Newsmax that the threat of a nuclear-armed Iran is more immediate and more dangerous than commonly believed. Gold, whose latest book is "The Rise of Nuclear Iran: How Tehran Defies the West," asserts that the Islamic Republic already has the nuclear fuel necessary to produce two atomic weapons.
| | |
| --- | --- |
| | Iranian clergymen watch a Shahab-3 long-range ballistic missile test. "There is a whole cottage industry trying to present to the American people and to the Western alliance as a whole the idea that Iran does not have hostile intentions," says Dore Gold. "That is completely wrong." |
And he warns that a nuclear Iran would not only threaten Israel and Europe, but surely set off a nuclear arms race throughout the Middle East. Newsmax.TV's Kathleen Walter asked Gold where Iran stands now with its nuclear program. "We know from data of the International Atomic Energy Agency that Iran has already enriched uranium in sufficient quantities so that they have basically the feedstock for making military grade uranium sufficient for two atomic bombs," Gold said. "That is of June 2009. If no one stops the centrifuges from spinning in Natanz, that's where the enrichment is going on in Iran, then they will have even more enriched uranium in the future. "In terms of missiles, they have new missiles which they have been launching that are solid fuel, that are multi-stage, and are able to strike targets deep into European territory." Is it too late to block Iran from developing a nuclear bomb, and what should President Barack Obama do about the Iranian threat? Walter asked. "I don't think it is too late to block Iran," Gold declared. "I think there are a number of measures that can be taken very quickly. First of all, President Obama and the administration have spoken about engaging Iran. A lot of time has been given in 2009 for that engagement, and essentially the message from Iran is they will not stop their nuclear program. "That means the West as a whole has to move to a new stage of painful, I repeat painful, sanctions on Iran, even if it's implemented just by the US and its European allies. That can cut very deeply into the Iranian economy, especially if the export of gasoline and other refined products is halted. "Last but not least, the military option must be on the table. In my book I prove that only the fear of a Western military strike, along with painful sanctions, might bring the Iranians to stop what they're doing." Walter asked why Iran has been allowed to get this far with its nuclear development. "I stress in the book that almost every American administration and many European leaders have totally underestimated the threat of Iran," Gold responded. "There is a whole cottage industry trying to present to the American people and to the Western alliance as a whole the idea that Iran does not have hostile intentions. That is completely wrong." Asked how Israel is faring in the face of the Iranian threat, the former Israeli ambassador told Newsmax: "I think the Israeli leadership is fully aware that Iran has stated that it wants to destroy the state of Israel, and it has said that in the context of its acquisition of atomic weapons. "Israel is preparing to defend its people if Iran decides to move down that road. But Israel is also aware that the entire Middle East is today threatened." A nuclear Iran would lead to a "chain reaction" across the Middle East, with countries like Egypt, Turkey, and Saudi Arabia all seeking their own nuclear weapons programs. "You would suddenly have, in the most unstable part of the world, multiple nuclear powers that would each suspect each other of planning to strike one another, creating a very unstable security situation for the whole area," said Gold. But the real problem with a nuclear Iran, he added, is that Iran is the "greatest supporter of international terrorism around the world, and terrorist organizations would act far more freely knowing that the country that is supporting them has a nuclear umbrella. "For that reason a nuclear Iran must be stopped."
Syria, Iraq Recall Ambassadors in Falling-out over Damascus' Terror Haven
Aug. 25….(DEBKAfile Exclusive Report) (Region's death, devastation engineered from Syria)
Damascus has turned aside a demand from Baghdad to extradite two Iraqi Baathist leaders (Saddam Hussein's party) believed to have orchestrated from their base in eastern Syria the deadly coordinated bombing attacks which rocked the Iraqi capital on Aug. 19, killing 100 people and leaving more than 1,000 injured. This is reported by DEBKAfile's intelligence and counter-terror sources. The Iraqi security authorities named Mohammad Younis al-Ahmed, head of the Baath party's military arm based in Damascus and his operations officer Sattam Farhan. The demand followed broadcast confessions by detainees held in Iraq on suspicion of taking part in the atrocity. They named the two Syrian-based chiefs as having ordered the bombing attacks and providing the explosives. The Assad regime responded to the Iraqi demand by recalling its ambassador from Baghdad. Iraqi reciprocated by summoning his ambassador home from Damascus. DEBKA file reports that this row is highly relevant to the Obama administration's ambition to improve relations with Damascus. On Aug. 13, a high-ranking US delegation headed by Fred Hoff, head of the Mitchell group's Syrian desk and Gen. Michael Moeller of the US Central Command arrived in Damascus. They were there to find out if president Bashar Assad was ready to put a stop the flow of terrorists and weapons from his country into Iraq and the smuggling of Iranian arms to the Hizballah in Lebanon? That willingness is perceived in Washington as the litmus test for a possible rapprochement. But almost two weeks have gone by and Assad has still not answer those questions. A few days later, on Aug. 18, Iraqi Prime Minister Nouri al-Maliki went to Damascus with the same query. He told the Americans that Iraq was a sovereign state and their intercession on its security problems was unnecessary. This time Assad flatly denied that Syria was permitting Iraqi Baath terrorists to operate from its soil. The following day, Baghdad suffered one of the worst terrorist attacks in his history. Maliki was thus treated to a test of his neighbor's two-faced attitude on terrorists. While promising to fight terrorists, Assad gives them free rein to operate undisturbed from bases in his country.
Obama in Ramadan Message: US Unyielding in Support for Palestinian State
Aug. 24….(Ha Aretz) The United States is "unyielding" in its support for a two-state solution between Israel and the Palestinians, US President Barack Obama said in a special video message to the Muslim world on Friday to mark the beginning of Ramadan. Obama used the occasion to reiterate his desire to mend relations between the United States and Muslim countries, an effort he began with a major speech in Cairo in June to the Muslim world. "Beyond America's borders, we are committed to keeping our responsibility to build a world that is more peaceful and secure," Obama said in the message, which was posted on the White House Web site. "That is why we are responsibly ending the war in Iraq. That is why we are isolating violent extremists while empowering the people in places like Afghanistan and Pakistan. That is why we are unyielding in our support for a two-state solution that recognizes the rights of Israelis and Palestinians to live in peace and security. "And that is why America will always stand for the universal rights of all people to speak their mind, practice their religion, contribute fully to society and have confidence in the rule of law." Obama added that the US will continue to isolate violent extremists while seeking to empower Muslims in Afghanistan and Pakistan and "responsibly ending the war in Iraq." "America will always stand for the universal rights of all people to speak their mind, practice their religion, contribute fully to society and have confidence in the rule of law," Obama said.
Obama Plan: Temple Mount Under Arab-Muslim Sovereignty
Aug. 24….(IsraelNN.com) The Middle East peace plan that United States President Barack Obama will unveil soon involves the creation of a Palestinian Authority state by 2011 and the transfer of Islamic holy sites in Jerusalem [presumably including the Temple Mount, ed.] to Arab-Muslim sovereignty, Saudi newspaper Al-Ukaz has learned. According to the report published Sunday in Al-Ukaz, the Obama plan also includes the following elements:
Some parts of eastern Jerusalem [presumably Neveh Yaakov, Pisgat Ze'ev] would be transferred to Israeli control.
There would be an international presence in the Jordan Valley and other parts of Judea and Samaria.
The Palestinian Authority terror organizations would be disbanded and turn into political parties.
The large settlement blocs in Judea and Samaria would not be dismantled.
The fate of smaller Jewish settlement areas would be decided in a three-month-long negotiation period.
A reporter for the Saudi newspaper received the information from Hassan Harisha, the Second Deputy Speaker of the Palestinian Authority Parliament. Harisha told him that the US has handed over a draft of the peace proposal to the PA and other Arabs for their perusal. The plan also calls for Judea and Samaria to be demilitarized and for its airspace to remain under Israel control. Israeli-Palestinian Authority security coordination would be strengthened, and the Palestinian Authority state would not be allowed to strike military treaties with other countries in the region. An "agreed number" of Arab refugees would be absorbed in the Jordan Valley area and in other parts of Judea and Samaria, especially in the area between Ramallah and Shechem. An international fund would support the refugees and Israel would release Palestinian Authority prisoners three years after a diplomatic accord is signed.
Will he lay out a blueprint?
The Saudi report notwithstanding, the Washington Post's Jackson Diehl estimated Sunday that Obama will not go so far as to present a blueprint for a peace settlement, despite being urged to do so by several Arab governments. "As the UN General Assembly meets in late September, Obama aims to announce the opening of a new negotiating process between Israelis and Palestinians, along with 'confidence-building' steps by Israel, the Palestinian Authority and a number of Arab governments," the columnist wrote. Obama "will probably lay out at least a partial vision of the two-state settlement that all sides now say they support, and the course that negotiations should take. More significantly, he intends to set an ambitious timetable for completing the peace deal, something that will please Arabs but may irritate Israel."
WEEK OF AUGUST 16 THROUGH AUGUST 22
Lutherans to Allow Sexually Active Gays as Clergy
Aug. 22….(Yahoo) The nation's largest Lutheran denomination took openly gay clergy more fully into its fold Friday, as leaders of the Evangelical Lutheran Church in America voted to lift a ban that prohibited sexually active gays and lesbians from serving as ministers. Under the new policy, individual ELCA congregations will be allowed to hire homosexuals as clergy as long as they are in a committed relationships. Until now, gays and lesbians had to remain celibate to serve as clergy. The change passed with the support of 68 percent of about 1,000 delegates at the ELCA's national assembly. It makes the group, with about 4.7 million members in the US, one of the largest US Christian denominations yet to take a more gay-friendly stance. Conservative congregations will not be forced to hire gay clergy. Nevertheless, opponents of the shift decried what they saw as straying from clear Scriptural direction, and warned it could lead some congregations and individual churchgoers to split off from the ELCA. "This will cause an ever greater loss in members and finances. I can't believe the church I loved and served for 40 years can condone what God condemns," said the Rev. Richard Mahan, pastor at St. Timothy Lutheran Church in Charleston, W.Va. "Nowhere in Scripture does it say homosexuality and same-sex marriage is acceptable to God. Instead, it says it is immoral and perverted." David Keck, a delegate from the Southern Ohio Synod, said he feared that by embracing partnered gays as clergy that the ELCA was heading down a road that would ultimately lead to "the blessing of same-sex unions as the policy of this church," he said. Mahan said he believed a majority of his congregation would want to now break off from the ELCA. Other Christian denominations in the United States have struggled to remain united in the face of such debates. In 2003, the 2 million-member Episcopal Church of the United States consecrated its first openly gay bishop, a move that alienated American Episcopalians from its worldwide parent church, the Anglican Communion. The divide has led to the formation of the more conservative Anglican Church in North America, which claims 100,000 members.
Obama Offers Wishes for Muslim Holy Day
Aug. 22….(Washington Times) Continuing his administration's outreach efforts to the Islamic world, President Obama has recorded a video greeting to Muslims as they begin the annual holy season of Ramadan. "These rituals remind us of the principles we hold in common and of Islam's role in advancing justice, progress, tolerance and the dignity of all human beings," said Mr. Obama in the video. Mr. Obama offered a much-noted similar message of friendship in a Web video to mark Nowruz, the Iranian new year. earlier this year. "As the new crescent moon ushers in Ramadan, the president extends his best wishes to Muslim communities in the United States and around the world," Mr. Hussain wrote. Mr. Hussain said over the course of the holy month the White House will "highlight the perspectives of various faiths on fasting and profile faith-based organizations making real impacts in American cities and towns." He noted Mr. Obama's June speech in Cairo that sought to establish a "new beginning" for relations between the United States and the Islamic world. "As a part of that new beginning, the president emphasizes that our relationship with Muslim communities cannot be based on political and security concerns alone," he wrote. "True partnerships also require cooperation in all areas particularly those that can make a positive difference in peoples daily lives, including education, science and technology, health, and entrepreneurship - fields in which Muslim communities have helped play a pioneering role throughout history," Mr. Hussain said. "As this dialogue continues and leads to concrete actions, the president extends his greetings on behalf of the American people." The holiday is marked with a month of fasting from dawn, to sunset when Muslims break their fast with a prayer.
FOJ Note: Well, how much longer will it take for Mr. Obama to declare that America is a Muslim State! The powers of Hell (with the ACLU, etc.) are marching quickly to erase all vestiges of true Christianity in America, but Islam is promoted around our nation as if it were a religion of peace and hope. Yeah, Mr. Obama, this is the CHANGE you want!
Israelis Wary of Saudi Peace Plan

(Saudi King Abdullah)
Aug. 21….(JPOST) Fifty-four percent of Israelis oppose the US-backed Saudi peace initiative, while 58% of Palestinians favor it, according to a recent study by the Harry S. Truman Research Institute for the Advancement of Peace at the Hebrew University of Jerusalem and the Palestinian Center for Policy and Survey Research in Ramallah. The Israeli sample group was comprised of 600 adults, both Jewish and Arab, while the Palestinian group was made up of 1,270 adults from the West Bank, East Jerusalem and the Gaza Strip. Among both the Palestinian and Israeli public, the study finds that support for the Clinton (Geneva) plan has been steadily declining with only 38% of Palestinians and 46% of Israelis in favor of it. Presented by former US President Bill Clinton at a meeting with Israeli and Palestinian officials on December 23, 2000, this plan addressed final borders and territorial exchange, refugees, division of Jerusalem, a demilitarized Palestinian state, security arrangements, and an end to the conflict. The Saudi plan calls for an Israeli retreat from territories captured in the Six Day War, including East Jerusalem and the Golan Heights. It states that the Palestinian refugee issue must be dealt with through negotiations in accordance with UN resolution 194, and that a Palestinian state must be established. In exchange for all of this, Arab states will recognize Israel and normalize relations with the Jewish State. Forty percent of Israelis now support accepting and implementing the Saudi peace initiative, as opposed to the 44% that supported it last December. Palestinian support for the plan has remained consistent, with 56% backing it in December 2008 and 58% favoring the plan today. In regards to both sides' perception of the another, only 29% of Israelis believe the Palestinians will reject the Saudi plan, while 49% of Palestinians believe Israel will rebuff it. The study also polled Israelis and Palestinians concerning their feelings on US involvement in the peace process compared to their expectations last December after US President Barak Obama's election. The results showed that a majority of Palestinians consider Obama's policies to be more supportive of Israel, while Israelis saw it the other way around. In general, Israelis are growing frustrated with American pressure and are less enthusiastic about America's involvement in the region. The study also found that Israelis are worried about the continuation of America's vital aid and support to Israel. Interestingly, the study found that 52% of Israelis support talks with Hamas if necessary to reach a deal with the Palestinians, and 66% of the Israeli public support talks with a national unity government composed of both Hamas and Fatah.
'Saudi Arabia Working on Plans to Build a Nuclear Plant'
Aug. 21….(JPOST) With the world seemingly unable to stop Iran's nuclear march, other countries in the region are now pushing forward with their own plans to build nuclear power plants. The exterior of the Arak..."The Saudi newspaper Al-Watan reported on Thursday that the Saudi minister of water and electricity, Abdullah al-Hosain, said the kingdom was working on plans for its first nuclear power plant. The US inked civil nuclear power deals with Saudi Arabia and the UAE last year. Israel had no official response to the Saudi minister's announcement. Over the last two years, Saudi Arabia, Qatar, Bahrain, Oman, Kuwait, the UAE, Yemen, Libya, Jordan and Egypt have all indicated an interest in developing nuclear programs, with Israeli officials saying, off the record, that if these countries did not want the programs now for their military capabilities, they wanted the technology in place to keep "other options open" if Iran were to develop a bomb. Israel has been careful not to take a public stand on civilian nuclear programs in neighboring states, partly because as one of the few countries in the world that has not signed the Non-Proliferation Treaty, it is not keen on lobbying against nuclear know-how for peaceful needs going to countries that are willing to sign the treaty, since that would focus the limelight on Israel's own unique situation. There is also a sense that if the programs were under the supervision of the US or France, which pledged two years ago to help Morocco develop a nuclear program, then there would be little concern that they would later be turned into military projects. Nevertheless, defense officials said that Saudi interest in nuclear power was connected to Teheran's continued race toward nuclear power. "The Saudis are genuinely scared of what will happen if Iran turns nuclear," one official said. "This is part of their response." On the other hand, the officials said that Saudi Arabia's nuclear program was not of concern at the moment for Israel since the project was being established jointly with the United States and in the framework of International Atomic Energy Agency regulations. Israeli defense officials have warned for several years that one potential outcome of Iran's success in defying the international community and establishing a nuclear program would be that other countries in the Middle East would follow suit.
Al Qaeda Back Wreaking Destruction Across Baghdad
Aug. 20….(DEBKA) Several large truck bombs blew up across Baghdad and around its heavily fortified Green Zone, Wednesday, Aug. 19, hitting the Iraqi foreign and finance ministries, followed by a mortar barrage. Buildings were destroyed and windows shattered at the Iraqi parliament and the diplomatic complex inside the Green Zone in the bloodiest terror attack in Iraq this year. In one blast, a massive truck bomb close to a checkpoint leading into the Green Zone blew glass shards from shattered windows through busy offices killing and wounding scores of people and posting a major challenge to Shiite prime minister Nouri al-Maliki and his security forces. There was no word on how the terrorists, possibly al Qaeda, according to DEBKAfile military sources, managed to penetrate the most heavily safeguarded area in Iraq, seat of government, embassies and US military headquarters. Another truck bomb in Baghdad's Waziriya district near the finance ministry killed at least 28 people and caused widespread destruction. Al Qaeda's responsibility for the attack is strongly indicated also by the fact that it occurred on the anniversary of the suicide bombing which killed 22 people at UN headquarters in Baghdad on Aug. 19, 2003 and forced the world organization to shut its Iraq operational center down. The recent upsurge of attacks in Iraq since US forces exited main urban areas in June has focused mainly on poor Shiite neighborhoods. This one struck at the heart of Iraqi government. It was the deadliest apparently coordinated attack in Iraq so far this year and marked a major challenge to Iraqi control of Baghdad. A steady escalation of attacks following the June 30 withdrawal of US troops from urban areas has heightened fears that government troops are not ready to provide security. Iraqi officials blamed Al Qaeda in Iraq and other Sunni insurgents, echoing U.S. military warnings that the militant group is trying to provoke new bloodshed to undermine public trust in the Shiite-led Iraqi government. "The terrorists are trying to rekindle the cycle of violence of previous years by creating an atmosphere of tension among the Iraqi people," Iraqi President Jalal Talabani said in a statement. "Our security forces must be more alert and firm. Also, the political groups must unite." Sunni and Shiite extremists remain active in Iraq and the US military has detected some political violence ahead of next year's national elections. But truck bombs and suicide attacks bear the hallmarks of Al Qaeda in Iraq. The most devastating strike blackened the facade of the Foreign Ministry, killing at least 59 people and wounding 250, according to police and hospital officials. Rescue workers dug through rubble and debris near the ministry, which is adjacent to the Green Zone, the most heavily protected part of the capital. The explosives-laden truck was parked in a largely unguarded parking lot across the street but the force of the blast tore through the 10-story building, which itself is surrounded by a concrete blast wall, as well as nearby apartment blocs. Dozens of cars were charred and plumes of smoke rose into the sky. A recent rise in bombings has dealt a blow to Iraqi government efforts to restore a sense of normalcy in the capital as the overall level of violence remains low compared with recent years. US troops withdrew from Iraq's cities on June 30 under a security pact that outlines the American withdrawal by the end of 2011. President Barack Obama has ordered all US combat troops out of Iraq by Aug. 31, 2010.
Huckabee: 2-State Solution 'Unrealistic'
Aug. 19….(Jerusalem Post) Palestinians have a right to a homeland, but not within the boundaries of Israel, former governor of Arkansas and 2008 GOP presidential candidate Mike Huckabee suggested at a meeting with reporters in Jerusalem on Tuesday morning. Huckabee advocated for a one-state solution, thereby challenging the policies of both Prime Minister Binyamin Netanyahu and US President Barack Obama. Huckabee, who many consider the favorite for the Republican presidential nomination in 2012, is here on a four-day visit sponsored by Ateret Cohanim, the organization spearheading efforts to buy property for Jewish homes in east Jerusalem. In an exchange with The Jerusalem Post, he said that while both Israelis and Palestinians have a right to a self-governed homeland, it would be impossible for the countries to live side-by-side. "The point is that if you try to layer two governments on top of each other, there is going to be nothing but conflict," Huckabee said when asked if the Palestinians had a right to a homeland within territories currently controlled by Israel. "I don't know how that would work. That comes back to the question of how you designate two owners of the same car." "Historically, the international community has already said Israel has a right to be here, that this is going to be their homeland," Huckabee said. The same international community that granted Palestine to Jews ought to decide where Palestinians should establish their homeland, he said. "The question is, should the Palestinians have a place to call their own?" he asked. "Yes, I have no problem with that. Should it be in the middle of the Jewish homeland? That's what I think has to be honestly assessed as virtually unrealistic." However, Huckabee backed away from a suggestion he made in 2007 that the Palestinian State could be formed in Egypt or Saudi Arabia. "It wasn't so much of a plan, I think, as it was a speculation," he said. "I was speculating. My question was, why does the Palestinian State have to be here?" It was unreasonable for the world to expect Israel give up any of its land for a Palestinian state, he said. "They [the Jews] have been given a tiny minuscule strip of land to upon which to call home," he said. "To ask them to further give increasing amounts acreage away for what is hoped to be a peaceful arrangement, it has not resulted in creating any level of peace." Huckabee's one-state solution is politically to the right of the prime minister, who recently came out in favor of a two-state solution as long as the Palestinian state is demilitarized and does not pose a threat, and as long as Jerusalem remains Israel's undivided capital. "In my vision of peace, two peoples live freely, side-by-side, in amity and mutual respect," Netanyahu in an address delivered at Bar-Ilan University in June. "Each will have its own flag, its own national anthem, and its own government." "And how is that two-state solution working out for them?" Huckabee asked reporters on Tuesday morning. But he said that despite his preference for a one-state solution, if he were president, he would defer to Israel's leadership on the issue. "I would pursue allowing Israelis to self-govern. If that's what they decided, then that's their prerogative," he said in reference to a two-state solution. "The Israeli government, not another government, should decide where Jews live inside the boundary of Israel." Huckabee, an ordained Baptist minister on his 11th trip to Israel, said he has not yet decided whether will run for the White House in 2012. After meeting with Jerusalem Mayor Nir Barkat on Tuesday, Huckabee took a tour of the West Bank, starting in Ma'aleh Adumim, where Mayor Benny Kashriel explained how American policy was preventing the building of the E-1 neighborhood that would link his city to Jerusalem. From there he went to Bet El and received an explanation of the area's historic centrality to the Jewish people from Sarah Netanyahu's brother, Hagi Ben-Artzi, and then to Har Bracha, and one of the first settlement outposts - Givot Olam near Itamar and Nablus. The trip affirmed for him that "this is a very, very special land. It has been an amazing place to watch over the years, from the first time I saw it in 1973, through the various times until today. I continue to be amazed at places that I remember desolate at one time, now producing food, commerce and families. The dry bones have come alive," he said, in reference to the prophecy in the book of Ezekiel. Huckabee said Israelis have the right to live wherever they want. "It was very telling" that when his tour bus got to the outskirts of Nablus, "we couldn't go in, because Jewish people couldn't go there. Arab people can go to the Jewish parts of Jerusalem, and to Jewish parts of Israel, but the Jewish people could not go there. It was sad. I don't think a lot of Americans understand there are very seriously restricted zones," he said.
Egypt's Mubarak: Obama on the Side of Islam
| | |
| --- | --- |
| | (FOJ) In Washington, Egyptian leader Mubarak rejects notion of temporary Palestinian State, says 'we need to move to final status solution' based on return to pre-1967 borders. "They key is the amount of pressure the US will exert on Israel." |
Aug. 19….(Newsnax) President Barack Obama won lavish praise from his Egyptian counterpart on Tuesday and spoke of an "extraordinary opportunity" for making peace in the Middle East, saying he was encouraged by US efforts to restart talks between Israel and the Palestinians. Seated next to President Hosni Mubarak, who was making his first visit to the US capital in five years, Obama thanked his Egyptian counterpart for joining him in trying to construct a deal that has eluded world leaders for more than six decades. Returning the compliment, Mubarak asserted that Obama's speech to the Muslim world, delivered in Cairo earlier this summer, had convinced Arabs the United States truly was an honest broker. The 81-year-old Egyptian leader, who was estranged from the Bush administration, said Obama had "removed all doubts about the United States and the Muslim world." Mubarak said, "The Islamic world had thought that the US was against Islam, but Obama's fantastic address there has removed all those doubts." Obama's positive assessment of the peace effort was issued in response to a question about reports that Israel had stopped granting permission for new settlements in the West Bank, even though building in progress was continuing. Obama has made a resumption of peace talks between Israel and the Palestinians one of his key foreign policy goals, hoping a breakthrough there would lead to wider agreements among the Jewish state and the Arab world. To that end, Obama has demanded that the Israeli government of Prime Minister Benjamin Netanyahu freeze construction of Jewish settlements in East Jerusalem and the West Bank, land that the Palestinians want for a state. Netanyahu's public refusal has opened a rare rift between the traditionally close allies. Nevertheless, Obama said: "The Israeli government has taken discussions with us very seriously." He said he was "encouraged by some of the things I am seeing on the ground." "All parties," Obama said, "have to take steps to restart serious negotiations," including Palestinian efforts to end the incitement of violence against Israel. Obama took pains to include references to needed steps not only from Israel but also the Palestinians and the larger Arab world. "If all sides are willing to move off of the rut that we're in currently, then I think there is an extraordinary opportunity to make real progress. But we're not there yet," Obama said. Mubarak said an end to Jewish settlement activity was central to a resumption of Israeli-Palestinian talks and a wider improvement of ties among the Israelis and all of its Arab neighbors. Egypt made peace with Israel 30 years ago and Jordan, Israel's eastern neighbor that formerly controlled the West Bank, followed suit, but not until 1994. Mubarak took a traditionally tough stand about the thorny issues that still must be settled between Israel and the Palestinians, saying he had told the Israelis that they must "forget temporary solutions and forget about temporary borders." The Arabs, backing a long-standing peace offer from Saudi Arabia, have said they were willing to recognize Israel and make peace if the Jewish state returns to borders as they existed before the 1967 war. Israel annexed all of Jerusalem and captured the West Bank during that conflict. Mubarak looked robust despite reports that he was growing increasingly frail and preparing his 46-year-old son, Gamal, as a successor. Egypt has an exploding population, ravaged by widespread poverty and high unemployment. The Egyptian president, who has ruled the country for 28 years, has kept a lid on Egypt's burgeoning social and fundamentalist Islamic religious pressures through heavy repression of much of the political opposition in Egypt. He has been particularly tough on the Islamic fundamentalist Muslim Brotherhood, the most organized group challenging his rule. Mubarak had been a regular visitor to Washington during the Clinton administration. Then he stayed away to protest the US invasion of Iraq and President George W. Bush's intensified pressure to open the Egyptian political system and moderate its human rights policies. Mubarak's fulsome praise of Obama suggested the strategy was paying benefits. Mubarak, like Obama, the Israeli leadership and many Arab countries sees a nuclear-armed Iran as a "game-changing" possibility that could upend the power balance in the Middle East. While noting they confronted the issue, neither leader indicated how they intend to move forward. Obama has sought to establish a dialogue with the Iranians but has set a September deadline for Tehran's Islamic leadership to respond.
Obama: Palestinian State Now, Israel's Security Later
(Official says US applying 'huge' pressure for total freeze on Jewish construction)
Aug. 19….(WND) The US is seeking a deal that will set the final borders of a Palestinian state immediately and negotiate other issues, such as Israel's security and water rights, at a later date, according to a senior Egyptian official speaking to WND. The official spoke on condition his name be withheld since he was not authorized to discuss the subjects on the record yet. The Egyptian official said Obama stressed the US is applying "huge" pressure for Israel to agree to a complete freeze of Jewish construction in the strategic West Bank and eastern Jerusalem. He said the US is demanding a two-year freeze, while Prime Minister Benjamin Netanyahu wants six months. The Egyptian official said the Palestinian Authority is seeking to use concessions from former Prime Minister Ehud Olmert as a starting point in new talks with Netanyahu. Olmert reportedly offered the Palestinians not only 95 percent of the West Bank and peripheral eastern Jerusalem neighborhoods, but also other territories never before offered by any Israeli leader. The offer includes parts of the Israeli Negev desert as well as Beit Shean in the Jordan Valley just outside the Dead Sea.
Florida Principal, Athletic Director Could Go to Jail for Prayer Before Lunch at School
Aug. 17….(Fox News) A principal and an athletic director in Florida could be charged with crimes and spend six months in jail after they prayed before a meal at a school event, the Washington Times reported. Pace High School Principal Frank Lay and athletic director Robert Freeman will go on trial in federal district court Sept. 17. They're accused of violating the conditions of a lawsuit settlement reached last year with the American Civil Liberties Union, according to the Times. Local pastors and some students and teachers are outraged that Lay and Freeman face criminal charges, and they have protested during graduation ceremonies, the newspaper said. "I have been defending religious freedom issues for 22 years, and I've never had to defend somebody who has been charged criminally for praying," said Mathew Staver, founder and chairman of Liberty Counsel, the Christian-based legal group that is defending the two school officials. But an ACLU official said the Santa Rosa County School District has been guilty of "flagrant" First Amendment violations for years, the Times reported. "The defendants all admitted wrongdoing," said Daniel Mach, ACLU's director of litigation for its freedom of religion program. "For example, the Pace High School teachers handbook asks teachers to 'embrace every opportunity to inculcate, by precept and example, the practice of every Christian virtue.'" The case stems from a Jan. 28 incident in which Lay, a local Baptist church deacon, asked Freeman to offer mealtime prayers at a lunch for school employees. Staver said no students were there and the event took place on school property after hours. Mach countered that the event was held during the school day and Lay has admitted in writing that there were students present, according to the newspaper. The ACLU contends that the allowance of the lunchtime prayer was a breach of last year's settlement, in which the district promised, among other things, to prohibit all school employees from promoting prayers during school-sponsored events, espousing their religious beliefs and trying to convert students.
Assad Slams the Door on Obama and Israel
Aug. 17….(DEBKA) Syrian president Bashar Assad like the leopard has not changed his spots. After Washington opened the door wide to reconciliation, lavishing goodwill gestures and a procession of emissaries over several months, Assad has abruptly slammed it shut. Wednesday, Aug. 12, he announced he was off to Tehran next week to congratulate his good friend Mahmoud Ahmadinejad on his reelection as president and further cement their ties. He left behind him a trail of dashed hopes in Washington. The Obama administration had made a serious bid to detach Assad from his strategic bonds with Iran and make him the keystone for the president's comprehensive Middle East program. Assad first knocked this plan on the head on July 26 in a long conversation he had with US Middle East envoy George Mitchell in Damascus, DEBKAfile's Middle East sources disclose. It was then that the Syrian ruler turned round and rejected an American role in the next stage of his peace talks with Israel in favor of Turkey. He said he preferred to revert to the indirect format he had followed with Binyamin Netanyahu's successor, Ehud Olmert, up until the end of 2008, using the good offices of Turkish Prime Minister Tayyep Recip Erdogan. The US would be allowed to step in during the final stages. Mitchell was completely taken aback by Assad's reversal. In Washington it was taken as a death knell for President Obama's plans for Middle East peacemaking and the outright rejection of peace talks with Israel, in view of its poor relations with Ankara. All the same, it was decided to keep the setback quiet and keep going on the path of engagement with the Syrian regime. But Assad had other plans. Wednesday, Aug. 12, an American military delegation arrived in Damascus led by Frederick Hoff, head of the Syrian desk on the Mitchell team, and Maj. Gen. Michael Moeller of the US Central Command. Its arrival was intended to symbolize a new high point in US-Syrian rapprochement and a final test of Assad's real intentions. This time, the government-controlled Syria media which until then had meticulously noted every sign of progress in the relationship, completely ignored the presence of the high-ranking delegation. It was Hoff's task to lay before the Syrian leaders the rich diplomatic incentives offered Damascus in return for a breakthrough in relations with the United States. Gen. Moeller was there to apply the stick. DEBKAfile's exclusive sources reveal the three questions he put to the Syrian ruler:
1. Is Damascus willing to assist the United States' effort in Iraq by holding down the rising tide of Sunni violence? The general produced intelligence data exposing a swelling influx of terrorists, arms and explosives from Syria into Iraq.
2. Is Syria ready to meet its obligations under UN Security Council Resolution 1701 (which ended the 2006 Lebanon War) by sealing its border to the smuggling of arms to the Lebanese Hizballah?
3. Will Damascus accept responsibility for halting arms smuggling to the Palestinian Hamas in the Gaza Strip?
Instead of providing answers, Assad prevaricated and, while the US delegation was still standing by, his office announced that the Syrian ruler would travel to Tehran next week for a two-day trip in the course of which he would congratulate Ahmadinejad on his re-election and discuss the strengthening of ties between the two countries. The next day, Thursday, the visit was officially announced in Tehran. In two days, the Syrian ruler delivered two resounding snubs to the US president.
Spiritual Battle Between Humanists and Christians To Determine Soul of America
Aug. 17….(Bill Wilson) The White House led socialist coup in America is meeting resistance and now the man who occupies the Oval Office is angrily blaming conservative cable television shows for aggravating Americans over socialist health care. He told reporters during a weekend tour of western states that his staged town hall meeting in New Hampshire reflected America's opinion more accurately than what is being reported from Congressional town hall meetings across the country. It has been documented that the New Hampshire event was stacked with his campaign supporters and there was not one person who spoke in opposition to the socialist health care plan, unlike anywhere else reported in the country. In addition, ABC News, the same network that broadcast from the White House a prime time news program about the benefits of socialized medicine without allowing any opposing viewpoint, has carried a story painting protesters as racist hate mongers. The story used as examples three people in various parts of the country arrested during town hall meetings who were carrying threatening signs or had aggressive incidents with the police. ABC admitted that these people had previous mental problems, but quoted leftist groups saying these mentally ill people represent a trend against the White House. ABC also quoted former FBI agent and ABC News consultant Brad Garrett, who blamed talk show host Rush Limbaugh for "legitimizing people who are on the edge to go do something or say something." The White House is using sympathetic news media to propagandize those who are protesting the socialist coup in America as racists. In a similar vein, the White House released the April 7th Department of Homeland Security Report during the week of nationally held TEA Parties, protesting overreaching government. The report painted as radicals and possible domestic terrorists those who believe in end time prophecy, and are against abortion, homosexuality and illegal immigration. Americans are in a spiritual battle over the very collective soul of the nation. Socialism and Communism are based on humanism--the belief that man is his own god through is own goodness. The socialists are demonizing those who believe in God and His Holy word. These humanists are judging Christians as racists and hate mongers because of their love for Christ. This is a classic struggle between evil and good. Romans 14:16 says, "Let not then your good be evil spoken of." And Romans 10:17 says, "So then faith comes by hearing, and hearing by the word of God." It is time to speak the true word of God to all who will hear. As Ephesians says, speak boldly as you ought to speak.
WEEK OF AUGUST 2 THROUGH AUGUST 8
Texas Governor Urges Christians to get Involved in Politics
Aug. 7….(Culture War) Texas Governor Rick Perry says there is a spiritual battle under way for the future of Texas and the United States. According to MySanAntionio.com, during remarks this past Sunday at New Life Christian Center, Governor Perry said Christians should be involved in politics. He also said freedom of religion should not be confused with freedom from religion. "It is quite different, and I would say extreme, to say our laws should not be inspired and formed by the views of the faithful," he said. Perry says Christians have the same rights as other citizens to make their voices heard. "The question becomes, whose morality will inspire the laws that leave a lasting imprint on our society?" he asks. Perry also said he prays for President Barack Obama on a daily basis.
FOJ Note: Christians in America have sat on their duffs for too long. We have watched God and simple prayer kicked out of every public venue while the Churches accommodated a perverted gospel. It may now be too late for Christians to get involved in saving our country. Churches today still totally ignore and castigate Bible prophecy, leaving Christians ignorant about the times in which we live.
Muslim Leader Wants Temple Rebuilt
(
Jewish Sanhedrin rabbis unite with Turk on Temple discussion

)

Aug. 6….(WND) With the Middle East still in chaos and rumors of war in the air, the idea of rebuilding the Jerusalem Temple on a foundation occupied and administered by Islamic militants might seem fanciful, even preposterous. A prominent Islamic teacher and best-selling author and Jewish Sanhedrin rabbis are conspiring to do just that. Author Joel Richardson reveals the historically unprecedented development. Adnan Oktar, who uses the pen name of Harun Yahya, is a controversial but highly influential Muslim intellectual and author with more than 65 million of his books in circulation worldwide. Oktar recently met with three representatives from the re-established Jewish Sanhedrin, a group of 71 Orthodox rabbis and scholars from Israel, to discuss how religious Muslims, Jews and Christians can work together on the project. "The objectives of the alliance include waging a joint intellectual and spiritual battle against the worldwide growing tide of irreligiousness, unbelief and immorality," explains Richardson, who met in Turkey with Oktar. "But even more unusual is their agreement with regard to the need to rebuild the Jewish Temple, a structure that Mr. Oktar refers to as the 'Masjid (Mosque)' or the 'Palace of Solomon.'" An official statement about the meeting has been published on the Sanhedrin's website. Concluding the statement is the following call: "Out of a sense of collective responsibility for world peace and for all humanity we have found it timely to call to the World and exclaim that there is a way out for all peoples. It is etched in a call to all humanity: We are all the sons of one father, the descendants of Adam, and all humanity is but a single family. Peace among Nations will be achieved through building the House of God, where all peoples will serve as foreseen by King Solomon in his prayers at the dedication of the First Holy Temple. Come let us love and respect one another, and love and honor and hold our heavenly Father in awe. Let us establish a house of prayer in His name in order to worship and serve Him together, for the sake of His great compassion. He surely does not want the blood of His creations spilled, but prefers love and peace among all mankind. We pray to the Almighty Creator, that you harken to our Call. Together, each according to his or her ability, we shall work towards the building of the House of Prayer for All Nations on the Temple Mount in peace and mutual understanding." Oktar explained his vision for the rebuilding of Solomon's Temple to Richardson: "The Palace of Solomon is a historically important palace and rebuilding it would be a very wonderful thing. It is something that any Jew, a Christian or a Muslim should welcome with enthusiasm. Every Muslim, every believer will want to return to those days, to experience those days again and, albeit partially, to bring the beauty of those days back to life."

Oktar added that the Temple of Solomon "will be rebuilt and all believers will worship there in tranquility." Oktar expressed his belief that the Temple could be rebuilt in one year: "It could be done in a year at most. It could be built to the same perfection and beauty. The Torah says it was built in 13 years, if I remember correctly. It could be rebuilt in a year in its perfect form." Richardson later met with Rabbi Abrahamson and Rabbi Hollander, two of the Sanhedrin representatives who conferred with Oktar. Regarding the rebuilding of the Temple, Rabbi Hollander explained, "The building of the Temple is one of the stages in the Messianic process." But another possibility that has been presented is that the Dome of the Rock that sits so prominently on the Temple Mount be used as "a place prayer for all nations." "It is said that the structure of the Dome in Haram E-Sharrif (the Temple Mount) was originally meant by (Caliph) Omar to be a House of Prayer for Jews, and the Al-Aqsa for Muslims." However, he also explained that religious Jews would not be able to enter the Dome of the Rock unless it had first been ritually cleansed according to Jewish halakhic regulations. This is not the only similar call to rebuild the Jewish Temple, points out Richardson. Yoav Frankel is an Orthodox Jew who has been deeply involved in interfaith dialogue with Muslims and also envisions a shared Temple Mount. The Interfaith Encounter Association is working on a project called "God's Holy Mountain." It sees the day when the rebuilt Jewish Temple will exist side by side with the Dome of the Rock. Richardson sees such plans tying in to Barack Obama's calls for internationalizing the city of Jerusalem.
The Great American Debt
(We are committing national suicide by debt addiction, as the Chinese rake in our IOUs.)
Aug. 6….(By Victor Davis Hanson) With our national debt at $11 trillion and climbing at a projected rate of $1 to $2 trillion a year, examine the brilliant manner in which Americans justify borrowing much of this money from abroad, particularly from the Chinese. Precise figures on how much the United States owes China are hard to come by. China is secretive about where it invests its vast surpluses, and even about how gargantuan they have become. Perhaps they are afraid that if such data become widely known, Chinese reformers will start questioning state financial policy, and specifically how, why, and where such national wealth is banked. But for now, many observers believe the figure may have reached $1.4 trillion. On a per-capita basis, this means that each affluent American has borrowed well over $4,000 from the rather poor Chinese. We have excused our indebtedness in a variety of insidious ways. We say that our annual deficits and aggregate debt stimulate the US consumer demand that is so essential to the Chinese export market. By buying and borrowing from China, we have jumpstarted its transformation from rogue nation to member of the responsible capitalist world, with benefits for the planet at large. We go on to say that cheap Chinese goods keep consumer costs down in the US, increase the purchasing power of a weak currency, and maintain constant pressure on American competitors to maximize efficiency, lower prices, and cut costs. If real earnings have remained stagnant for the middle class, their purchasing power has increased, thanks in part to reduced prices at Wal-Mart and other mass retailers of Chinese goods. And we've thought up even more justifications. Some argue that this debtor/creditor relationship is analogous to the federal government's tangled no-divorce involvement with AIG or Citibank: The US is simply "too big to fail," and so we have more leverage over the Chinese than they have over us. They stop lending, we stop buying, and soon their factories shut down. And by the way, we pay low interest at fixed rates on their billions, and plan to pay them back with inflated dollars that will translate in the end into negative-interest loans. Besides the strange ways in which we addicts justify our borrowing habit vis-à-vis China, such huge sums have also warped politics at home. Republicans have not balanced a budget since the latter days of the Eisenhower presidency. We are supposed to nod and smile when they talk about financial responsibility, like the crowds at the naked emperor's procession. Nixon, Reagan, and the two Bushes all employed varying exegeses to justify red ink, Keynes, supply side, tapering deficits, a balanced budget by 2010, etc. Clinton, in contrast, was the last president to actually balance a budget, thanks mostly to a Republican Congress. The recent Republican-Democratic symbiosis about borrowing is bizarre: Democrats in Congress run up debts like teenagers, enabled by the fact that their Republican parents in the White House never call in their credit cards. Republicans, in turn, started calibrating debts and deficits as percentages of GDP, not in real dollars, once hundreds of billions had metamorphosed into tens of trillions. Liberals privately talked about "gorging the beast," hoping that their out-of-control spending would force higher taxes, and with them a long-awaited redistribution of income and government-mandated equality of result. Conservatives have talked of "starving the beast," by voting in tax cuts that would dry up government revenues and therefore force an end to huge federal expenditures. In the end, we got only higher taxes and higher spending and higher deficits and more debt. Republicans now say of Obama's fantasyland deficits, "He's gone way beyond Bush." Democrats reply, "But Bush did it first." Both parties privately know that financial physics will take care of the problem in Californian or Icelandic fashion: Lenders abroad and at home will cut off our supply of money. Unless we change our habits, that rendezvous is as inevitable as the sun's rising. The only mysteries are the approximate date of the arrival of national banruptcy."
Jewish Temple Model Erected Near Temple Mount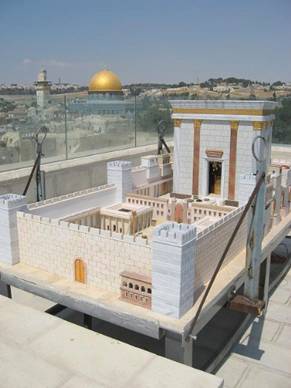 Aug. 6…. (IsraelNN.com) The world's largest model of the Holy Temple was inaugurated Wednesday only a few hundred meters away from the Temple Mount, the site where the Temple existed up until 70AD.
The model, built at a scale of 1:60, was built by Michael Osanis for the Aish HaTorah Yeshiva in Jerusalem's old city, and is displayed on the roof of its new museum, which at seven stories above the Western Wall plaza has a breathtaking view of the Temple Mount. We hope that seeing this model of the Temple, with the perspective of its actual location in the background, will give people a sense of the inspiration that people received when they entered the real Temple that stood here for almost 1,000 years," said Ephraim Shore of Aish HaTorah. The model, which was built after extensive consultation with experts, is also the first to include a hydraulic system that raises the sanctuary building at the heart of the Temple to offer a view of the contents of the Holy of Holies within, including the Menorah, the Table, the Inner Altar, and the Ark of the Covenant. The Temple model sits on top of Aish HaTorah's new Exploratorium museum, which explores how Judaism and Jewish ideas have changed the world and continue to impact humanity. The model is meant to show how these contributions "were nurtured, studied and exported to humanity from the center of our spiritual world, in the Temple," according to Shore. "There is a growing ignorance about the centrality of the Jewish connection to Jerusalem and the Temple Mount," Shore explained. "The Temple model is the beginning of a project that it is hoped will help Jews connect with their heritage and provide non-Jews with the awareness of our rich and broad history in these holy places."
Hezbollah Stockpiles 40,000 New Rockets at Israel Border
Aug. 5….(Times On Line) Three years after Israel fought a bloody war in Lebanon against Hezbollah, there are fears that hostilities could erupt again, this time with the militant group better armed than ever. According to Israeli, United Nations and Hezbollah officials, the Shia Muslim militia is stronger than it was in 2006 when it took on the Israeli army in a war that killed 1,191 Lebanese and 43 Israeli civilians. Hezbollah has up to 40,000 rockets and is training its forces to use ground-to-ground missiles capable of hitting Tel Aviv, and anti-aircraft missiles that could challenge Israel's dominance of the skies over Lebanon. Brigadier-General Alon Friedman, the deputy head of the Israeli Northern Command, told The Times from his headquarters overlooking the Israeli-Lebanese border that the peace of the past three years could "explode at any minute". His concerns were due partly to threats from Hezbollah's leadership. Last month Sheikh Hassan Nasrallah, the leader of Hezbollah, warned that if the southern suburbs of Beirut were bombed as they were in the last war, he would strike back against Tel Aviv, the largest Israeli city. "We have changed the equation that had existed previously," he said. "Now the southern suburbs versus Tel Aviv, and not Beirut versus Tel Aviv." Hezbollah's rearming is in the name of resistance against Israel. The real reason, however, probably has more to do with its ally Iran. If Israel carries out its threat to attack Iran's nuclear facilities, the main retaliation is likely to come from Hezbollah in Lebanon. Israel claims that Hezbollah has tripled the number of surface-to-surface rockets since 2006, to about 40,000. "Hezbollah has not only replaced the munitions but upgraded their missiles," Danny Ayalon, the Deputy Israeli Foreign Minister, said. "They are bragging now that they can hit Tel Aviv." According to Western intelligence sources, Hezbollah hopes to receive an improved version of the Iranian-manufactured Fateh-110 rocket, which can carry a 1,100lb (500kg) warhead more than 125 miles (200km).
Christian Family Burned to Death in Pakistan After Koran is 'Defiled'
Aug. 4….(Fox News) Paramilitary troops patrolled the streets of a town in eastern Pakistan yesterday after Muslim radicals burned to death eight members of a Christian family, raising fears of violence spreading to other areas. Hundreds of armed supporters of Lashkar-e-Jhangvi, an outlawed Islamic militant group, burned dozens of Christian homes in Gojra over the weekend after allegations that a copy of the Koran had been defiled. The mob opened fire indiscriminately, threw gas bombs and looted houses as thousands of frightened Christians ran for safety. "They were shouting anti-Christian slogans and attacked our houses," Rafiq Masih, a resident of the predominantly Christian colony, said. Residents said that police stood aside while the mob went on the rampage. "We kept begging for protection, but police did not take action," Masih said. Police and local officials said that at least eight people, including four women and a child, were killed in the fires. Two others died of gunshot wounds. Residents said that the casualties were much higher; one claimed that the number of dead could be in the dozens as many bodies were still buried under the rubble. Shahbaz Bhatti, the Minister for Minorities, said that 40 Christian homes were torched in rioting. He said there was no truth to allegations that a Koran had been defiled, and accused the police of ignoring his appeal to provide protection to Christians. Tension started mounting last week after Muslims accused three Christian youths of burning a copy of the Koran. They denied the allegations, but clerics called for their death. On Saturday, hundreds of supporters of Lashkar-e-Jhangvi, an outlawed Sunni sectarian group, poured into the town from surrounding districts. The group is believed to have close links with Al Qaeda and has been involved in several terrorist attacks targeting security forces in recent years. Television footage showed armed men running through the streets, gunfire, and women and children wailing. Blackened furniture lay outside burning homes, while a group of people rushed a man suffering from burns on a cart through the streets. Rehman Malik, the Interior Minister, said that the paramilitary troops were sent after police and the local administration failed to control the situation. Security forces were also placed on high alert to prevent violence from spreading to other towns of Punjab.
Arab Leaders Tell Obama: Onus is on Israel
Aug. 4….(Reuters) Two visiting Arab leaders sought to ratchet up diplomatic pressure on Israel in Washington on Monday after Saudi Arabia accused the Jewish state of not being serious about peace with the Palestinians. Kuwait's emir, Sheikh Sabah al-Ahmad al-Sabah, who met President Barack Obama, and Jordanian Foreign Minister Nasser Joudeh, who saw Secretary of State Hillary Clinton, both put the onus on Israel for reviving stalled peace moves. Israel has made clear its position that the Palestinians and Arab states that support them must first do more to help advance the peace process. "I affirmed to President Obama that we are interested in bringing about peace in the Middle East," the emir told reporters as he sat down with Obama at the White House. "It is in our interest that peace be brought about. And the indicator is that the recent Arab peace initiative that was agreed upon by all of the Arab parties and states, and we would implement this peace initiative when Israel implements and fulfills its obligations," he added. Saudi Foreign Minister Saud al-Faisal, during a US visit on Friday, rejected US pleas to improve ties with Israel as a way of jump-starting regional peace talks, saying Israel must decide "if it wants real peace, which is at hand, or if it wants to continue obfuscating." Arab leaders have sharpened criticism of Israel's right-leaning government over its resistance to US pressure to halt all Jewish settlement construction, an issue that has created a rare rift between Washington and its close ally. Middle East peace, along with "combating extremism and other regional threats and promoting reform across the Arab world." will also be high on the agenda when Obama meets Egyptian President Hosni Mubarak in Washington on August 18, the White House said. The Obama administration is pressing Arab governments for positive gestures toward Israel if it freezes settlements, a move the United States hopes will lead to regional peace negotiations. But Arab states are cool to the idea. Arab leaders say they remain committed to an initiative, put forth by Saudi Arabia and endorsed by a 2002 Arab League summit, offering Israel recognition in return for withdrawal from Arab land occupied in 1967, creation of a Palestinian state and a "just" solution for Palestinian refugees. Successive Israeli governments have rejected or ignored the offer, saying the return of refugees to areas now inside Israel would destroy the Jewish character of the state. Asked about Saud's accusation against Israel, Joudeh backed the Saudi minister's explanation of the Arab position. "The Arab peace initiative is very clear. It is an end of occupation, establishment of an independent Palestinian state, after which there will be normal relations," Joudeh said. Obama, with Kuwait's emir at his side, made no mention of the matter, saying they would discuss the "importance of moving the Arab-Israeli peace process forward." Since taking office in January, Obama has vowed a more active role in peace efforts than his predecessor George W. Bush.
Iran is Ready to Build an A-Bomb
Aug. 4….(In The Days) Iran has perfected the technology to create and detonate a nuclear warhead and is merely awaiting the word from its Supreme Leader, Ayatollah Ali Khamenei, to produce its first bomb, Western intelligence sources have told The Times. The sources said that Iran completed a research program to create weaponized uranium in the summer of 2003 and that it could feasibly make a bomb within a year of an order from its Supreme Leader. A US National Intelligence Estimate two years ago concluded that Iran had ended its nuclear arms research program in 2003 because of the threat from the American invasion of Iraq. But intelligence sources have told The Times that Tehran had halted the research because it had achieved its aim, to find a way of detonating a warhead that could be launched on its long-range Shehab-3 missiles. They said that, should Ayatollah Khamenei approve the building of a nuclear device, it would take six months to enrich enough uranium and another six months to assemble the warhead. The Iranian Defense Ministry has been running a covert nuclear research department for years, employing hundreds of scientists, researchers and metallurgists in a multibillion-dollar program to develop nuclear technology alongside the civilian nuclear program. "The main thing (in 2003) was the lack of fissile material, so it was best to slow it down," the sources said. "We think that the leader himself decided back then (to halt the program), after the good results." Iran's scientists have been trying to master a method of detonating a bomb known as the "multipoint initiation system," wrapping highly enriched uranium in high explosives and then detonating it. The sources said that the Iranian Defence Ministry had used a secret internal agency called Amad ("Supply" in Farsi), led by Mohsin Fakhri Zadeh, a physics professor and senior member of the Iranian Revolutionary Guards Council. The system operates by creating a series of explosive grooves on a metal hemisphere covering the uranium, which links explosives-filled holes opening onto a layer of high explosives enveloping the uranium. By detonating the explosives at either pole at the same time, the method ensures simultaneous impact around the sphere to achieve critical density. "If the Supreme Leader takes the decision (to build a bomb), we assess they have to enrich low-enriched uranium to highly-enriched uranium at the Natanz plant, which could take six months, depending on how many centrifuges are operating. We don't know if the decision was made yet," said the intelligence sources, adding that Iran could have created smaller, secret facilities, other than those at the heavily guarded bunker at Natanz to develop materials for a first bomb. Inspectors from the International Atomic Energy Agency only keep tabs on fissile material produced at monitored sites and not the number of centrifuges that Iran has built. Washington has given Iran until next month to open talks on resolving the nuclear crisis, although hopes of any constructive engagement have dimmed since the regime's crackdown on pro-reformist protesters after June's disputed presidential elections. Ehud Barak, Israel's Defense Minister, last week reiterated that a military strike against Iran's nuclear facilities was still an option, should the talks fail. Israeli officials estimate that a raid on Natanz and a nuclear facility at Arak, in central Iran, would set Iran's nuclear program back by two to three years. An Israeli official said that Iran had poured billions of dollars over three decades into a two-pronged "master plan" to build a nuclear bomb. He said that Iran had enriched 1,010kg of uranium to 3.9 per cent, which would be sufficient for 30kg of highly enriched uranium at 95 per cent. About 30kg is needed to build one bomb. British intelligence services are familiar with the secret information about Iran's experiments, sources at the Foreign and Commonwealth Office said. Although British agencies did not have their own "independent evidence" that Iran had successfully tested the explosive component of a nuclear warhead, they said there was no reason to doubt the assessment. If Iran's leader does decide to build a bomb, he will have two choices, intelligence sources said. One would be to take the high-risk approach of kicking out the international inspectors and making a sprint to complete Iran's first bomb, as the country weathered international sanctions or possible air strikes in the ensuing crisis. The other would be to covertly develop the materials needed for an arsenal in secret desert facilities. Last week, during a series of high-level US visits to Israel, officials outlined Washington's plans to step up sanctions on Iran, should Tehran fail to agree on talks. Robert Gates, the Defense Secretary, and General James Jones, the National Security Adviser, said that Iran had until the end of next month, when the UN General Assembly is to meet, to make a positive move towards engagement.
Saudi Arabia rebuffs US on ties to Israel
(Following talks with American Secretary of State Hillary Clinton, Saudi Foreign Minister Prince Saud al-Faisal says his country is not interested in taking steps suggested by Mideast peace envoy George Mitchell until Jewish state accepts Arab demands to withdraw from all Palestinian territories)
Aug. 3….(YNET) Saudi Arabia on Friday bluntly rejected US appeals for improved relations with Israel as a way to help restart Middle East peace talks as its foreign minister accused the Jewish state of not being interested in a deal. After talks with Secretary of State Hillary Rodham Clinton, Saudi Foreign Minister Prince Saud al-Faisal said his country is not interested in taking steps suggested by US Mideast peace envoy George Mitchell until Israel accepts Arab demands to withdraw from all Palestinian territories. "Incrementalism and a step-by-step approach, has not and, we believe, will not lead to peace," Saud said as Clinton looked on at a joint State Department news conference. "Temporary security and confidence building measures will also not bring peace." "What is required is a comprehensive approach that defines the final outcome at the outset and launches into negotiations over final status issues," the prince said, referring to the borders of a future Palestinian state, control of Jerusalem, the return of Palestinian refugees, water and security. President Barack Obama, Clinton and Mitchell have all been urging Arab nations to improve ties with Israel with confidence-building measures such as opening trade offices, allowing academic exchanges and civilian Israeli aircraft to overfly their airspace as a way of demonstrating their commitment to peace. Clinton repeated that call in her remarks, saying the Obama administration wants "the Arab states, including our friends in Saudi Arabia to work with us to take steps to improve relations with Israel, to support the Palestinian Authority and to prepare their people to embrace the eventual peace between the Palestinians and the Israelis." "Saudi Arabia's continued leadership is absolutely vital to achieve a comprehensive and lasting peace," she said. But Saud flatly rejected such steps. He maintained that Israel was trying to distract the world from a Saudi proposed Arab-Israeli peace deal in which Arab states would recognize Israel provided it withdraws from Arab territory seized in the 1967 war. "The question really is: 'What will Israel give in exchange for this comprehensive settlement offer'?" Saud said, noting that Israeli Prime Minister Benjamin Netanyahu has ignored US calls to stop constructing Jewish settlements in the West Bank and building housing in east Jerusalem. "Israel hasn't even responded to an American request to halt settlements, which President Obama described as illegitimate," he said. The Saudi stance is complicating Mitchell's efforts to bring the Israelis and Palestinians back to negotiations. But Clinton denied that the odds were insurmountable. She said Mitchell, who just returned from his fifth trip to the region, was making progress and developing a formula to get the two sides talking again. "We feel like we're making headway and we are determined to do so in as short a period of time as possible," she said.
Saudis Reject Obama's Mideast Plan: Top Urgency is Iran Threat
Aug. 3….(DEBKAfile Exclusive Analysis) Saudi foreign minister Prince Saud al-Faisal's rejection of the Obama administration's Middle East approach was a lot more comprehensive than a blunt refusal to improve relations with Israel to help restart peace talks. DEBKAfile's Washington sources report that in closed-door talks with US leaders, including secretary of state Hillary Clinton, the Saudi prince urged the US to get off their backs on the Israeli-Palestinian issue and deal more seriously and effectively with top-urgency action for stopping Iran acquiring a nuclear bomb. After those talks, Saud said his government would not consider steps suggested by the Obama administration until Israel accepted Arab demands "to withdraw from all occupied Palestinian territories." With Clinton looking on at a joint State Department news conference Friday, July 31, the Saudi foreign minister dismissed Obama principles one by one: "Temporary security and confidence building measures will also not bring peace," he maintained and rejected "incrementalism and a step-by-step approach." What is required, he said is "a comprehensive approach that defines the final outcome at the outset and launches into negotiations over final-status issues, including the future Palestinian state, control of Jerusalem, the return of Palestinian refugees, water and security." Our Gulf sources note that the Saudi foreign minister thus reaffirmed in public the rejection of President Barack Obama's Middle East policies which he encountered when he met King Abdullah in Riyadh on June 3. This week, the Saudis shot into action to elicit more rejections from the seven Arab rulers who received personal letters from the US president asking for their cooperation in the peace effort by normalizing gestures towards Israel. DEBKAfile's political sources comment that by stipulating Israel's surrender on all its core issues with the Palestinians before negotiations even begin the Saudis render those negotiations superfluous. It means that Israel will only be asked to arrange for the technicalities and timelines for its predetermined pullback to the pre-1967 (or 1949) lines, its handover of Jerusalem to Arab control, the distribution and administration of regional water resources and the return of the refugees and their descendants to the homes they forfeited on account of the 1948 Arab war against the new Israeli state. Two motives account for this Saudi all-or-nothing dictatorial position on Middle East peace are:
1. Riyadh is loath to waste effort on the Israeli-Palestinian conflict or any other elements of the Obama program such as détente with Syria when far more urgent business tops the royal agenda: The Saudis object strongly to the further entrenchment of the Shiite-ruled government in Baghdad and the restoration of Syrian influence in Beirut, both under US auspices. Washington is also seen to be making overtures towards Hizballah which can only strengthen the hand of the Lebanese Shiite extremists in the Lebanese government coalition. Furthermore, they see the bitter rift between the Hamas rulers of the Gaza Strip and the Fatah faction governing the West Bank as irreconcilable and therefore an insurmountable barrier to Middle East peacemaking.
2. The Saudis maintain that Obama and his Middle East envoy George Mitchell have been sidetracked by minor regional issues from dealing with the primary concern of the Gulf and Middle East region, the looming threat of a nuclear-armed Iran. Until that cloud is lifted, they say, no other initiatives have a chance. Paradoxically, this reading of the Middle East impasse is shared by Israeli prime minister Binyamin Netanyahu and his defense minister Ehud Barak. Saudi al Faisal's angry snub of the Obama administration's Middle East plans carries a clear message: First tackle the perils besetting us from the east and the north (Iraq and Iran) before you badger us about the Israelis and Palestinians.
---