WEEK OF JANUARY 24 THROUGH JANUARY 30
Palestinians: Jerusalem Will be Ours
Jan. 29….(Israel Today) "Moderate" Palestinian leader Mahmoud Abbas on Thursday reiterated that he will never make peace with Israel unless he is guaranteed sovereign control over the eastern half of Jerusalem. In an interview with an Arabic-language Russian television station, Abbas said the Palestinians would not accept the compromise of establishing their capital in Abu Dis, a town on Jerusalem's eastern outskirts that is already under Palestinian control. Previous American administrations had tried to convince the Palestinians to set up their capital in Abu Dis, which for all intents and purposes is part of Greater Jerusalem, and even helped build a parliament building there. But Abbas insisted that all areas of the holy city that until 1967 were under illegal Jordanian occupation must return to Arab rule, including the various neighborhoods where tens of thousands of Jews live today and the Old City, home to the Temple Mount. Abbas was adamant that he would not even talk to the Israelis until a full and complete freeze on Jewish construction in eastern Jerusalem was implemented. Israeli Prime Minister Benjamin Netanyahu maintains that Jerusalem will never again be divided, and the vast majority of Israelis support that position.
Analysis: Lebanon Conflict Would Widen to Syria
(Any future strike at Hizbullah that does not take into account its status as a client of Syria, is unlikely to land a decisive blow)
*FOJ Note: I would urge regular readers of FOJ to pay close attention to this news story. It reveals current developments that very likely could play a major role in events relative to Bible prophecy and the oft-debated timing of the prophecies (Isaiah 17 and Jeremiah 51) concerning the "burden of Damascus." I have often shared with listeners that this event may be a pre-tribulation event, and if so, the present threat being presented by Syria on Israel's northern border could potentially be an ominous signal pointing eventually to the rapture!
Jan. 29….(Jerusalem Post) In the last week, senior Israeli policymakers made statements of an uncharacteristically bellicose nature regarding Syria. It is unlikely that these statements were made because of sudden random irritation toward Israel's hostile northeastern neighbor. Rather, the statements probably constituted part of a message of deterrence to Damascus. The need to project deterrence itself derives from a series of significant changes currently under way on the ground in Lebanon, reflecting Syria's ever tighter alignment with Hizbullah and the pro-Iranian regional bloc of which it is a part. These changes take place against the backdrop of awareness that the tactics likely to be adopted by Israel in a future war with Hizbullah carry with them the very real possibility that Syria could, on one level or another, be drawn in. Minister Yossi Peled said that another conflict on the northern border was a "matter of time." Peled noted that in the event of such a conflict breaking out, Israel would hold "Syria and Lebanon alike responsible." Deputy Foreign Minister Danny Ayalon, meeting with Michael Williams, the UN special coordinator for Lebanon earlier this week, expressed his concern that Hizbullah fighters have been training on surface-to-surface missile systems in Syria. Then Defense Minister Ehud Barak noted in a speech that if Israel was forced to fight Syria, "we won't fear and we'll defeat them." Why the sudden pronouncements? The near-simultaneous ministerial recollection of the Syrian threat should be considered in conjunction with the following facts: Hizbullah has in the last weeks deployed advanced Syrian-made surface-to-surface M-600 missiles on the territory of Lebanon. The missiles, which according to Jane's Defense Weekly are copies of the Iranian Fateh-110 system, have a range of 250 kilometers and carry a 500-kg warhead. They bring the entirety of central Israel within Hizbullah's range. The missiles are precision-guided, meaning that in the event of renewed conflict, Hizbullah would be able to use them to target military facilities or heavily populated areas. According to Jane's, the deployment of the M-600s adds to concerns already expressed by Israel at Syrian supplying of the SA-2 air defense system and the SS-N-26 surface-to-sea missile to Hizbullah. Syria's undaunted and increased support for Hizbullah appears to reflect a clear strategic turn taken by Damascus. Lebanese analyst Tony Badran this week drew attention to a recent and relevant report in the Qatari daily al-Watan which quoted Syrian sources who claimed that "a strategic decision has been taken not to allow Israel to defeat the resistance movements." Such statements, if genuine, indicate that the Syrian regime is aware of the potential price to be paid for its current orientation, but feels that the risk is worth taking. The Syrians have not, according to available evidence, yet passed the point of no return, which, as Badran notes, would be the provision of sophisticated anti-aircraft systems to Hizbullah. The SA-2, if deployed, could constitute a danger to IAF helicopters, but not aircraft. Israel has made clear that the deployment of systems capable of threatening Israeli aircraft by Hizbullah would constitute a casus belli. But beyond the specific issue of weapons systems, the logic of confrontation in Lebanon suggests that Syria may find it hard to avoid direct engagement in a future Israel-Hizbullah clash. Since 2006, Lebanon's eastern border with Syria has formed the key conduit for weapons supplies to Hizbullah. And Hizbullah is reported to have relocated its main military infrastructure north of the Litani River, in the Bekaa Valley, in areas close to the Syrian border. Which suggests that if Israel wants in a future conflict to strike a real blow against Hizbullah, this implies an Israeli ground incursion into the Bekaa. Should such an incursion take place, the Syrians would be intimately involved in supplying Hizbullah just across the border, and the possibility of Syrian casualties at Israeli hands would become very real. It is again worth remembering that on August 4, 2006, 34 Syrians were killed when the IAF bombed a packing house on the Syrian side of the border thought to contain weapons for Hizbullah. The Syrians did not respond at that time. But an Israeli incursion into the Bekaa would logically raise the question of either the Syrians ceasing their real-time supplying of Hizbullah, or Israel acting to prevent this. Of course, the point of deterrence is to deter. The ominous statements from Israeli officials are not meant to signal an imminent war. Rather, they are intended to convey to the Syrians that they should not think their alliance with Hizbullah is cost free, and that they would be advised to adhere to red lines. The developing logic of the situation in Lebanon is nevertheless widening the circle of future conflict. The bottom line is that any future strike at Hizbullah that does not take into account its status as a client of Iran and Syria, is unlikely to be able to land the kind of decisive blow to the organization which alone would justify such a strike.
Report: Al-Qaeda Aims to Hit US With WMDs
Jan. 27….(MSNBC) Huge attack is top strategic goal, not 'empty rhetoric,' ex-CIA official says. When al-Qaeda's No. 2 leader, Ayman al-Zawahiri, called off a planned chemical attack on New York's subway system in 2003, he offered a chilling explanation: The plot to unleash poison gas on New Yorkers was being dropped for "something better," Zawahiri said in a message intercepted by US eavesdroppers. The meaning of Zawahiri's cryptic threat remains unclear more than six years later, but a new report warns that al-Qaeda has not abandoned its goal of attacking the United States with a chemical, biological or even nuclear weapon. The report, by a former senior CIA official who led the agency's hunt for weapons of mass destruction, portrays al-Qaeda's leaders as determined and patient, willing to wait for years to acquire the kind of weapons that could inflict widespread casualties. The former official, Rolf Mowatt-Larssen, draws on his knowledge of classified case files to argue that al-Qaeda has been far more sophisticated in its pursuit of weapons of mass destruction than is commonly believed, pursuing parallel paths to acquiring weapons and forging alliances with groups that can offer resources and expertise. "If Osama bin Laden and his lieutenants had been interested in small-scale attacks, there is little doubt they could have done so now," Mowatt-Larssen writes in a report released Monday by the Harvard Kennedy School of Government's Belfer Center for Science and International Affairs. The report comes as a panel on weapons of mass destruction appointed by Congress prepares to release a new assessment of the federal government's preparedness for such an attack. The review by the bipartisan Commission on the Prevention of Weapons of Mass Destruction Proliferation and Terrorism is particularly critical of the Obama administration's actions so far in hardening the country's defenses against bioterrorism, according to two former government officials who have seen drafts of the report. The commission's initial report in December 2008 warned that a terrorist attack using weapons of mass destruction was likely by 2013. Mowatt-Larssen, a 23-year CIA veteran, led the agency's internal task force on al-Qaeda and weapons of mass destruction after the Sept. 11, 2001, terrorist attacks and later was named director of intelligence and counterintelligence for the Energy Department. His report warns that bin Laden's threat to attack the West with weapons of mass destruction is not "empty rhetoric" but a top strategic goal for an organization that seeks the economic ruin of the United States and its allies to hasten the overthrow of pro-Western governments in the Islamic world. He cites patterns in al-Qaeda's 15-year pursuit of weapons of mass destruction that reflect a deliberateness and sophistication in assembling the needed expertise and equipment. He describes how Zawahiri hired two scientists, a Pakistani microbiologist sympathetic to al-Qaeda and a Malaysian army captain trained in the United States, to work separately on efforts to build a biological weapons lab and acquire deadly strains of anthrax bacteria. Al-Qaeda achieved both goals before September 2001 but apparently had not successfully weaponized the anthrax spores when the US-led invasion of Afghanistan forced the scientists to flee, Mowatt-Larssen said. "This was far from run-of-the-mill terrorism," he said in an interview. "The program was highly compartmentalized, at the highest level of the organization. It was methodical, and it was professional." Mowatt-Larssen said he has seen no evidence linking al-Qaeda's program with the anthrax attacks on US politicians and news outlets in 2001. Zawahiri's plan was aimed at mass casualties and "not just trying to scare people with a few letters," he said. Evidence from al-Qaeda documents and interrogations suggests that terrorists leaders had settled on anthrax as the weapon of choice and believed that the tools for a major biological attack were within their grasp, the former CIA official said. Al-Qaeda remained interested in nuclear weapons as well but understood that the odds of success were much longer. "They realized they needed a lucky break," Mowatt-Larssen said. "That meant buying or stealing fissile material or acquiring a stolen bomb." Bush administration officials feared that bin Laden was close to obtaining nuclear weapons in 2003 after US spies picked up a cryptic message by a Saudi affiliate of al-Qaeda referring to plans to obtain three stolen Russian nuclear devices. The intercepts prompted the US and Saudi governments to go on alert and later led to an aggressive Saudi crackdown that resulted in the arrest or killing of dozens of suspected al-Qaeda associates. After that, terrorists' chatter about a possible nuclear acquisition halted abruptly, but US officials were never certain whether the plot was dismantled or simply pushed deeper underground. "The crackdown was so successful," Mowatt-Larssen said, "that intelligence about the program basically dried up."
Secret Report: Iran Nuke Bomb Closer Than Ever
Der Spiegel: Intelligence information shows Iran could produce truck-sized nuke bomb this year
Jan. 26….(YNET) Iran's scientists could produce a basic truck-sized nuclear bomb this year, German Magazine Der Spiegel reported Monday. Tehran now needs to work on compressing such bomb so it can be fitted on a ballistic missile, the magazine says. According to estimates, Iran could reach that stage by sometime between 2012 and 2014. Der Spiegel's report is based on secret intelligence information handed over to the International Atomic Energy Agency. According to the report, Iran's nuclear program, which answers to the country's Defense Ministry, includes a secret military branch that engages in the program's military aspects and is responsible for Tehran's nuclear sites. "The Iranians are believed to have conducted non-nuclear tests of a detonating mechanism for a nuclear bomb more than six years ago," the German magazine says. The secret arm, known as the Department for Expanded High-Technology Applications, constitutes "the secret heart of Iran's nuclear weapons program," Der Spiegel says. According to the report, the secret branch is headed by Minister of Science, Research and Technology Kamran Daneshjoo and senior scientist Mohsen Fakhrizadeh, who also serves as a senior Revolutionary Guard officer. According to the information presented in the report, a computer seized in Iran years ago contained highly volatile information, which convinced officials that the Iranian regime is eager to develop a nuclear bomb and is at advanced stages of the project.
Iran Crosses Red Line
Jan. 26….(DEBKAfile Special Report) Attaining the ability to enrich uranium up to 20 percent grade brings Iran dangerously close to "break-out" point for a nuclear weapon capability, DEBKAfile's intelligence sources report. President Mahmoud Ahmadinejad promised the "good news" would be announced during the Feb. 1-11 celebrations of the Islamic Revolution. The "news" also prompted an urgent cabinet meeting in Jerusalem last week. Ahmadinejad's announcement is a provocative demonstration of contempt for the six world powers and their offer to trade Iran's low-grade uranium for 20 pc enriched product overseas. By going public on the banned process and abandoning concealment, Iran's rulers are throwing down the gauntlet to them and Israel. DEBKAfile's Iranian sources report that the hawks of the Islamic regime led by Ahmadinejad and spiritual ruler Ayatollah Ali Khamenei have won the day for their tactics of jumping ahead of any possible US-led or Israel steps against their nuclear program with its own aggressive initiatives. The Iranian president's enrichment announcement at a time that the Obama administration is pondering tough sanctions against the Revolutionary Guards was part of this policy; so were the Syrian and Hizballah declarations of military preparedness for a purported Israeli attack last week, taking advantage of an IDF war game to raise the alarm. Our political sources predict that Tehran's provocative move will be met with more of the five months of foot-dragging with which Washington and Jerusalem have met Iran's contempt for one deadline after another for ending nuclear enrichment. Both will continue to dither and pretend that stiff sanctions can scotch the Iranian nuclear threat. Tehran has meanwhile made good use of those five months to go forward and achieve a 20 pc enrichment capability. The only straight talk from any Western leader has come from French president Nicolas Sarkozy. Saturday, Jan. 23, he told visiting Lebanese prime minister Saad Hariri that France has evidence Iran is developing nuclear weapons contrary to its claims. He warned that Israel "would not stand by while Iran develops nuclear weapons."
Assad, Gaddafi say Arab Countries Must Unite Against Israel
Jan. 25….(YNET) Syrian President Bashar Assad met Sunday afternoon in Tripoli with Libyan leader Muammar Gaddafi. Official Syrian news agency SANA reported that the two leaders stressed during the meeting that Arab countries must overcome their differences in order to promote their shared interests. "The challenges facing the Arab nation, and especially the oppressing blockade imposed by the Israeli occupation authorities on the Palestinian people in the Gaza Strip and the obstacles placed by Israel ahead of achieving peace in the region, obligate all Arab countries to overcome the differences and stand together in a way which will boost the joint Arab activity," the two leaders said in a joint statement. "We must leave the next Arab summit with results which will serve the Arab interests and realize the aspirations of the Arab people," they added. The meeting between Assad and Gaddafi was held on the backdrop of preparations for the next Arab summit, which will be held in the Libyan capital in March. According to the Syrian news agency, the two leaders discussed the situation "in the occupied Palestinian territories and the conflict between the Palestinian factions." They agreed that there was a need to reach an intra-Palestinian reconciliation, which would help bolster the Arab stand in the face of "the reckless Israeli steps against the Palestinian people."
Bin Laden: Attacks on US to Continue as it Supports Israel
Jan. 25….(AP) A purported audio tape of Osama bin Laden aired on Al Jazeera television claimed responsibility for a Dec. 25 attempted bombing of a US-bound plane, and vowed to continue attacks on the United States, as long as it supports Israel. A White House top adviser David Axelrod said on CNN's "State of the Union" program that he could not confirm the authenticity of the audio-tape. "I can't confirm that (Al-Qaida's responsibility for the attack) nor can we confirm the authenticity of the tape, but assuming that it is him, his message contains the same hollow justifications for the mass slaughter of innocents that we've heard before," said Axelrod. Al-Qaida vowed to continue attacks so long as Palestinians cannot live in peace. "Our attacks against you will continue as long as US support for Israel continues," bin Laden said. "It is not fair that Americans should live in peace as long as our brothers in Gaza live in the worst conditions." The Yemen-based regional wing of Al-Qaida has said it was behind the Dec. 25 attempt to blow up the plane as it approached Detroit. The botched attack and subsequent threats in Yemen prompted Sanaa to declare an open war on the global militant group within its territory. A Foreign Ministry spokesman, Andy David, dismissed the latest Al-Qaida message and its attempt to link Israel with attacks on the US. "This is nothing new, he has said this before. Terrorists always look for absurd excuses for their despicable deeds," he said. "The message sent to you with the attempt by the hero Nigerian Umar Farouk Abdulmutallab is a confirmation of our previous message conveyed by the heroes of Sept. 11," bin Laden said on the tape, aired on Sunday. "If it was possible to carry our messages to you by words we wouldn't have carried them to you by planes," bin Laden added in a message he said was directed "from Osama to US President Barack] Obama." Yemen has launched a series of air strikes targeting Al-Qaida leaders since then and has declared that some top leaders including Qasim al-Raymi and Ayed al-Shabwani have been killed. Al Qaeda denies this. Defense and counterterrorism officials say Washington has been quietly supplying military equipment, intelligence and training to Yemen to destroy suspected Al-Qaida hide-outs. The last public message from bin Laden appears to have been on Sept. 26, 2009, when he demanded that European countries pull their troops out of Afghanistan. The order came in an audiotape that also warned of retaliation against nations that are allied with the United States in fighting the war.

Hezbollah Seeking to Broaden Next War With Israel
Jan. 25….(Washington Post) Hezbollah has dispersed its long-range-rocket sites deep into northern Lebanon and the Bekaa Valley, a move that analysts say threatens to broaden any future conflict between the Islamist movement and Israel into a war between the two countries. More than 10,000 UN troops now patrol traditional Hezbollah territory in southern Lebanon along the Israeli border, and several thousand Lebanese armed forces personnel also have moved into the area. A cross-border raid by Hezbollah guerrillas in summer 2006 triggered a month-long war that prompted the United Nations to deploy its force as part of a cease-fire. The United Nations is confident that the dense presence of its troops in the comparatively small area is helping lower the risk of conflict and minimizing Hezbollah's ability to move weapons across southern Lebanon, but analysts in Lebanon and Israel say the UN mission is almost beside the point. Hezbollah's redeployment and rearmament indicate that its next clash with Israel is unlikely to focus on the border, instead moving farther into Lebanon and challenging both the military and the government. The situation is important for US efforts in the region, whether aimed at curbing the influence of Hezbollah's patrons in Iran or at persuading Syria to moderate its stance toward Israel and its neighbors. Hezbollah "learned their lesson" in 2006, when vital intelligence enabled the Israel Defense Forces to destroy the group's long-range launch sites in the first days of the conflict, said reserve Gen. Aharon Zeevi Farkash, a former head of IDF intelligence. In effect, he said, "the 'border' is now the Litani River," with Hezbollah's rocket sites possibly extending north of Beirut. In a December briefing, Brig. Gen. Aviv Kochavi, the IDF head of operations, said some Hezbollah rockets now have a range of more than 150 miles, making Tel Aviv reachable from as far away as Beirut. The Islamist group has talked openly of its efforts to rebuild, and Israel estimates that Hezbollah has about 40,000 projectiles, most of them shorter-range rockets and mortar shells. The group "has been fortifying lots of different areas," said Judith Palmer Harik, a Hezbollah scholar in Beirut. With UN and Lebanese forces "packed along the border," she said, "we are looking at a much more expanded battle in all senses of the word." The border has been relatively quiet since the 2006 war, a fact that officials with the UN Interim Force in Lebanon attribute at least partly to the 400 or so patrols they send out each day to search for weapons stores and prevent border violations. Armored UN vehicles sit at the entrance to southern Lebanon, alongside Lebanese army and intelligence checkpoints; blue-flagged UN troops occupy mountaintop posts that Hezbollah used as firing sites in 2006. "We are covering every square inch," said Maj. S.K. Misra, a spokesman for the battalion of India's 3/11 Gurkha Rifles corps that patrols southeastern Lebanon. "It's impossible for anything to move." At the same time, debate is raging in political and military circles between those who argue that the damage to each side in 2006 has created a sort of respectful deterrence between Israel and Hezbollah and those who say it is only a matter of time before violence erupts again. Hezbollah lost hundreds of fighters in the conflict and was put on the defensive in Lebanon, where some questioned whether the group's vow to continue "resistance" against Israel was worth letting an unregulated paramilitary organization effectively make decisions about war and peace. With Iran backing and supplying Hezbollah and the United States backing and supplying Israel, "the battlefield is Lebanon," said Marwan Hamadeh, a Lebanese member of parliament and supporter of a government coalition that is trying to curb Hezbollah's arms and limit Syrian and Iranian influence in the country. "This is where the Iranian missiles sit, and this is where the Israeli air force can reach." In Beirut, politicians and analysts agree that the group has only grown stronger since 2006. As they hear Hezbollah's secretary general, Hasan Nasrallah, speak of a conflict that will "change the face of the region," many assume that the IDF will not allow the organization to rearm, recruit and train much longer before striking. In Israel, Hezbollah is seen as part of a wider struggle for regional influence between Iran and US-allied moderate Arab states, given the group's ties to Iran and Syria and arms supplies assumed to run through both countries. There is no reason the current calm cannot continue, said retired Maj. Gen. Giora Eiland, a former Israeli national security adviser who is now a senior researcher at Tel Aviv University's Institute for National Security Studies. But if a conflict does break out, "Israel will not contain that war against Hezbollah," Eiland said.
WEEK OF JANUARY 17 THROUGH JANUARY 23
'Hamas Might Accept Israel's Right to Exist'
Jan. 22….(Jerusalem Post) Hamas has accepted Israel's right to exist and would be prepared to nullify its charter, which calls for the destruction of Israel, Aziz Dwaik, Hamas's most senior representative in the West Bank, said on Wednesday. Dwaik's remarks are seen in the context of Hamas's attempts to win recognition from the international community. Dwaik is the elected speaker of the Palestinian Legislative Council. He was released a few months ago after spending nearly three years in an Israeli prison. Dwaik was among dozens of Hamas officials and members who were rounded up by Israel following the abduction of IDF soldier St.-Sgt. Gilad Schalit near the Gaza Strip in June 2006. His latest remarks were made during a meeting he held in Hebron with British millionaire David Martin Abrahams, who maintains close ties with senior Israeli and British government officials. Abrahams is scheduled to brief British Foreign Secretary David Milliband this weekend on the outcome of his meeting with Dwaik and other top Hamas officials in the West Bank. Abrahams, a major donor to Britain's Labor Party, told The Jerusalem Post he would urge Milliband to "consider the implications of Hamas's positive overtures." During the meeting in Hebron, Dwaik stressed that other Hamas leaders, including Damascus-based leader Khaled Mashaal and Gaza Prime Minister Ismail Haniyeh, have voiced support for the idea of establishing an independent Palestinian state within the pre-1967 boundaries. "The Hamas charter was drafted more than 20 years ago," Dwaik noted, adding that his movement would even be prepared to "nullify" the document. "No one wants to throw anyone into the sea," he said. Dwaik also expressed Hamas's desire to engage in dialogue with the international community, first and foremost the European Union. He confirmed that Hamas was receiving financial aid from Iran, but said that this was the direct result of the boycott and sanctions against the movement. Abrahams said that he would be happy to facilitate a dialogue between Hamas on the one hand, and Israel and the international community on the other. He said he was "very excited" to hear from the most prominent leader of Hamas in the West Bank that the movement would be prepared to nullify its charter and accept Israel. "The fact that there is a possibility for recognition of Israel is a symbolic gesture," Abrahams added. "We can all look for good in people and we can all look for bad in people. I always look for the good." Asked whether he might be condemned as naïve for believing Hamas, Abrahams said, "People might say that I'm naïve, so let them. But I'm prepared to give Hamas a chance because I've got faith and confidence in Dwaik and Haniyeh. We can't allow 1.5 million to be festering in the Gaza Strip while the majority of them are good and well-educated." Abrahams said that his decision to engage Hamas was aimed at "preventing bloodshed on both sides." He said he was encouraged by the massive support he found among the Jewish community in Britain for the idea of talking to Hamas. "I recently published an article in the Jewish Chronicle to test the temperature of the water within the Jewish community about Hamas," he said. "I found a lot of support among Jews for dealing with Hamas and I was pleasantly surprised." Denying that he had delivered any message from the British government or the EU leadership to Hamas, Abrahams said he was convinced more than ever that the movement posed no threat to the US. "Hamas is different from al-Qaida," he said. "Hamas is no threat to Western interests." Some consider Dwaik, as speaker of the PLC, to be the acting president of the Palestinian Authority, since Mahmoud Abbas's term officially expired on January 9. Dwaik himself has said that he is content to let Abbas continue in office until the election that is now scheduled for June 28, 2010
Facing Death Unprepared
Jan. 22….(Charles Stanley) God's grace is revealed in His willingness to welcome anyone at anytime into His kingdom, even at the moment of death. The repentant thief who hung on a cross next to Jesus had absolutely nothing to offer the Lord, no good works, no faithful service. He couldn't even be baptized. In his utterly helpless condition, the only thing he could do was believe. But that was all it took, because faith is the only way to be saved. Although both thieves began their crucifixion by hurling verbal abuse at Jesus, as the torturous minutes passed, one of them had a change of heart. His railing against the Savior turned to rebuke of the other criminal, and then to defense of Jesus, admission of his own guilt, and a plea for a place in Christ's kingdom. What was it that turned this mocker into a believer? Even if he himself had little prior knowledge of Jesus, the crowd's taunts supplied him with the information he needed to be saved. Scornful onlookers accused Jesus of being exactly who He was: the King of Israel, the Savior of others, and the Son of God. As the condemned man watched and listened, he turned in faith to the only One who could save Him: the One dying for him. On the hill that day, one man died in his sin, one Man died for sin, and the other was saved out of his sin. There are only two responses to the inevitability of death. We can either accept or reject Christ's substitutionary payment for our sin. How will you respond?
Vatican Blames Israel for All Christian Problems in Mideast
Jan. 22….(Israel Today) A document released by the Vatican this week blamed Israel not only for the exodus of Christians from Palestinian-controlled territories, but for the plight of Christians across the entire Middle East. The document will serve as the basis for an October gathering of bishops to discuss the difficulties of minority Christian communities in the Muslim world. It was largely authored by Arab bishops from the Middle East, most of whom said that the Israeli "occupation" of Arab-claimed lands is the root cause of nearly all oppression of Christians in the region. They suggested that in the absence of the "occupation," radical Islamic forces across the region would lose support and be unable to cause trouble for Christians. The document also appeared to justify the use of terrorist violence by Muslims in both Israel and Iraq: "Violence is in the hands of the strong and weak alike, the latter resorting to whatever violence is within reach in order to be free." A Vatican official told reporters on Tuesday that the Catholic Church is not trying to take sides or make policy recommendations, but insisted that the Middle East-based bishops who authored the document "know the situation well."
Russia Diversifies Away From American Dollars
Jan. 22….(Financial Times) Russia's central bank announced on Wednesday that it had started buying Canadian dollars and securities in a bid to diversify its foreign exchange reserves. Analysts said the move could be a sign of increased diversification of emerging market central bank assets away from the dollar and into investments denominated in other commodity-linked currencies, such as the Australian dollar. Adam Cole at RBC Capital Markets said if taken in isolation, Russia's announcement that it was buying Canadian dollars was not significant, but if it was part of a broader trend, then it was an important step. "If it is a barometer for the activity of other central banks, then its is structurally positive for the currencies of countries like Canada and Australia that have a commodity bias in their economies," he said. Although not officially confirmed, traders said that other emerging market central banks, including some in Asia which hold large foreign exchange reserves, have also been active in the foreign exchange market in recent weeks buying both Canadian dollars and Australian dollars. Alexei Ulyukayev, first deputy chairman of Russia's central bank, said that it would invest in Canadian dollar-denominated deposits and bonds. "The Canadian financial market is not very deep, so we can invest in deposits in significant volumes, while the bond market is limited," he said. Although the central bank did not specify how much of its reserves it was allocating to assets denominated in the Canadian dollar, analysts estimated that the central bank could put up to $9bn, or 2 per cent, of its foreign exchange reserves into the currency. Russia's foreign exchange reserves, the world's third largest, stood at $439bn at the end of December. These stockpiles have grown by 14 per cent since the start of the rally on global asset markets in March as rising commodity prices have boosted mineral-rich Russia's coffers. Ahead of Wednesday's announcement, Russia's foreign exchange reserves were evenly split between dollar and euros. Alarmed at the plummeting value of the dollars in its holdings, Russia has been at the vanguard of countries calling for the US authorities to stem the fall of its currency. Last year, along with China, Russia urged the creation of a new supra-national currency to replace the dollar as the world's reserve currency
Obama Hammers Wall Street Banks
Jan. 22….(Financial Times) The global banking industry was thrown into turmoil on Thursday after President Barack Obama, responding to public rage over the financial crisis, proposed the most far-reaching overhaul of Wall Street since the 1930s. In reforms that could force the restructuring of some of the biggest names in US finance, including JPMorgan Chase and Goldman Sachs, Obama promised that "never again will the American taxpayer be held hostage by a bank that is too big to fail". Flanked by Paul Volcker, the former Federal Reserve chairman, who has advocated the move for months, Obama called for banks to be banned from running their own trading desks and "owning, investing in or sponsoring" hedge funds and private equity groups. Tim Geithner, the Treasury secretary, who has come under attack from Democrats on Capitol Hill, backed the plan, officials said, even though his own regulatory proposals have stopped well short of the sweeping Volcker reforms. Republicans responded coolly, but did not reject the proposals out of hand. Richard Shelby, senior Republican on the Senate banking committee, called for more details and new hearings. The measures, which require congressional approval, hark back to the response to the 1929 stock market crash that ushered in the Glass–Steagall Act, separating commercial and investment banking, which remained in law until 1999. Wall Street bank shares fell as Obama announced the proposals, but those of regional banks rose. Mr Obama called for new rules, beyond current regulations restricting banks from holding no more than 10 per cent of US deposits, that would place unspecified size limits on institutions. "In recent years, too many financial firms have put taxpayer money at risk by operating hedge funds and private equity funds and making riskier investments to reap a quick reward," said Obama. "And these firms have taken these risks while benefiting from special financial privileges that are reserved only for banks." Congressional aides and administration officials said a lot of detail remained to be decided. Barney Frank, chairman of the House financial services committee, said he would support new rules if they allowed banks to dispose of newly banned operations over three to five years and thereby prevent a "fire sale". Bankers said the lack of detail and the likelihood of a protracted debate in Congress would give them the chance both to lobby for changes and to adapt their businesses, with, for example, Goldman possibly giving up the financial holding company status it adopted in the financial crisis.
Obama: I Misjudged the Will for Peace In Mideast
Jan. 22….(JPOST) Prime Minister Binyamin Netanyahu met US Mideast envoy George Mitchell Thursday night, a few hours after Time magazine published an interview with US President Barack Obama in which he admitted that he erred during his first year in office by raising too high expectations of a Middle East breakthrough. US President Barack Obama speaks in the East Room of the White House in Washington, Wednesday. "I'll be honest with you, this is just really hard," Obama said when asked about the Middle East. For all his administration's early engagement in the conflict, he acknowledged, things were not where he would want them to be. "This is as intractable a problem as you get," Obama said. "Both sides - the Israelis and the Palestinians, have found that the political environment, the nature of their coalitions or the divisions within their societies were such that it was very hard for them to start engaging in a meaningful conversation. And I think that we overestimated our ability to persuade them to do so when their politics ran contrary to that." Obama said that Palestinian Authority President Mahmoud Abbas had "Hamas looking over his shoulder and, I think, an environment generally within the Arab world that feels impatient with any process." As for Israel, he said that while Jerusalem showed a willingness "after a lot of time" to make "some modifications" in policy, it "still found it very hard to move with any bold gestures." "I think it is absolutely true that what we did this year didn't produce the kind of breakthrough that we wanted, and if we had anticipated some of these political problems on both sides earlier, we might not have raised expectations as high," Obama said. Moving forward, though, we are going to continue to work with both parties to recognize what I think is ultimately their deep-seated interest in a two-state solution in which Israel is secure and the Palestinians have sovereignty and can start focusing on developing their economy and improving the lives of their children and grandchildren." While the Prime Minister's Office had no official response to the president's remarks, Channel 2 quoted an unnamed senior Israeli official as saying that Israel had warned the Americans that their Middle East strategy would not bear fruit. Another senior official tried to lower any expectations that Mitchell's current regional trip, the US envoy arrived in Israel Wednesday night from Lebanon and Syria, would lead to any dramatic progress, saying that it was not clear whether the Palestinian Authority had made the strategic decision to re-enter the talks. The official said Netanyahu had no intention of giving Mitchell any more gestures to take to the Palestinians, saying that the Palestinians have climbed up a "eucalyptus tree," and every time a gesture is given as a ladder, they climb even higher. Among various ideas for Israeli gestures that have been floated in recent days was for Israel to expand Area A in the West Bank, where the Palestinians have both civil and security control; remove additional roadblocks; release Palestinian prisoners to Abbas; open the border crossings into Gaza to allow for a greater flow of goods and materials; reopen the Orient House in east Jerusalem; and/or agree to a complete settlement freeze, including in east Jerusalem, for a short period of between three to six months. Mitchell is scheduled to meet Abbas in Ramallah on Friday. Earlier in the day he met President Shimon Peres, Defense Minister Ehud Barak, Foreign Minister Avigdor Lieberman and Opposition head Tzipi Livni. Peres, before meeting Mitchell, told reporters that "time was of the essence" in the peace process, and that there were forces in the region who wanted to destroy has already been achieved. Mitchell said he recognized the difficulties and complexities, but that "we will pursue" until a peace agreement is reached. Meanwhile, chief Palestinian negotiator Saeb Erekat on Thursday rejected Netanyahu's call for an Israeli presence along the eastern border of any future Palestinian state, terming the demand "absolutely unacceptable." Netanyahu said in a speech to foreign journalists Wednesday evening that an Israeli presence on the eastern border of a future Palestinian state would be necessary to ensure that missiles, rockets and other weapons do not pour into that territory like they have into southern Lebanon and the Gaza Strip. A senior diplomatic source stressed Thursday that this was not a pre-condition for talks, but something that would obviously be discussed in negotiations.
Russia Will Start Iran Nuclear Plant in 2010
Jan. 22….(World Bulletin) Russia will this year start up the reactor at Iran's long-delayed Bushehr nuclear power plant, the head of Russia's state nuclear corporation said on Thursday. Russia agreed to build Iran the 1,000 megawatt nuclear power plant at Bushehr 15 years ago, but delays have haunted the $1 billion project and diplomats say Moscow has used it as a lever in relations with Tehran. "2010 is the year of Bushehr," Sergei Kiriyenko, the head of the Rosatom state nuclear corporation, told reporters after a cabinet meeting in Moscow. "There is absolutely no doubt that it will be built this year. Everything is going according to schedule," he said. Kiriyenko declined to answer a question on when exactly the plant would be started up. Two sources closely involved with the project told Reuters last year that Russia planned to start up the power station in March 2010.
NATO Member Turkey Aligning itself With Russia
(Move by Turkey gives Putin way to keep treaty organization at arm's length)
Jan. 22….(WND) As Turkey, a member of the North Atlantic Treaty Organization, turns away from its Western links, it is aligning itself more and more with Iran, Syria and Russia, especially because of its quickly developing energy and trade connections to the central part of what was the old Soviet Union. From a strategic standpoint, the development gives Moscow an opportunity to further undermine a plan by NATO to spread its security arrangement further east in a region Moscow considers to be its sphere of influence. During a recent visit to Moscow to meet with Russian Prime Minister Vladimir Putin, Turkish Prime Minister Recep Tayyip Erdogan signed multi-billion dollar agreements on trade and energy. While both parties agreed to increase trade from the current $35 billion to $100 billion within the next five years, the most significant development was an agreement in their strategic relationship on energy cooperation. In addition to concessions on various pipelines between the two countries, Erdogan pledged to pursue Russian construction and operation of Turkey's first nuclear power plant. The Turks were left with little choice but to involve Russia more in its energy future, given that Turkey imports some 70 percent of its natural gas from Russia. That dependency also gives the Russians considerable political and economic leverage over Ankara and increases Moscow's influence over Europe's energy future through greater control of existing and proposed pipelines that provide European countries with more than 40 percent of their energy needs. Various pipelines with Turkish participation as a gate to the West, however, are but one source of control Russia is exhibiting over the Turks. The more significant one is Russia's proposal to construct and operate Turkey's first nuclear power plant. Erdogan and Putin signed a commitment to construct the nuclear power plant, even though there is some domestic opposition due to the existing heavy reliance on Russia for energy. The plant is to be built on the Mediterranean coast near Akkuyu. A consortium to construct the nuclear power plant includes Russia's Atomstroyexport, Inter Rao Eus and Turkey's Park Teknik. Putin said that Russia had "significant advantages over the competition" to build the nuclear plant in Turkey. In one sense, he was alluding to the virtual energy grip Moscow enjoys over Ankara.
Gen. Vallely: Obama Iran Policy Destined to Fail
Jan. 20….(John Rossomando) The Obama administration's Iran policy could be destined to fail due to its inability to understand the situation, says retired Maj. Gen. Paul Vallely, a noted military analyst. The administration's policy of trying to get Iran to abandon its nuclear program diplomatically hasn't worked for decades, said Vallely, who founded the Stand Up America Project, is military committee chairman for the Washington-based Center for Security Policy, and has authored several books. "It hasn't worked at all since 1979 when they took our hostages," Vallely told Newsmax.TV's Kathleen Walter. "The Iranians have tried to do what they want to do and extend Shariah law around the world. The only thing we can do other than hope for an attack by Israel or the United States is that the Iranian opposition prevails and we have what we call a 'velvet revolution' in Iran." The administration has resorted to "appeasement" in its dealings with Iran, said Vallely, adding that sanctions won't work because the Iranian regime has placed itself on the path to becoming the dominant regional power in the Middle East. Gen. David Petraeus' recent admissions that contingency plans exist to take military action against Iran's nuclear targets reveal flaws about the Obama administration's Iran policy, Vallely said. "This doesn't say anything really positive because we haven't really had a solid commitment from the Obama administration on supporting Israel," Vallely said. "As a matter of fact, it's been more anti-Israel with the current administration." Petraeus' comments indicate that the U.S. military has done target assessments on 75 potential major Iranian nuclear targets that could be hit in case of war, and Israel has already done much of the same, he said. "So Gen. Petraeus was only talking about contingency plan either to support Israel or to take some kind of action from the United States," Vallely said. Contingency plans probably include attacking Iran's nuclear targets, as well as those related to its command and control functions, as well as disabling its Revolutionary Guard. He also believes the Obama administration has underestimated the threat posed by radical Islamic groups and their desire to hit targets in the United States, as evidenced by the Fort Hood, Texas, massacre and the attempt to blow up a Detroit-bound airliner on Christmas Day. "We've got to vet these people out even before they get on an aircraft and know who the enemies are," Vallely said. The administration needs to move past political correctness and go after the terrorist training camps to prevent further attacks, he said.
Iran Spurns Nuclear Fuel Deal
Diplomats say Islamic Republic has formally rejected key parts of deal to send abroad for processing most of its material that could be used to make nuclear arms. US rejects response as inadequate.

Jan. 20….(YNET) Iran has formally rejected key parts of a deal to send abroad for processing most of its material that could be used to make nuclear arms, diplomats said, a response the United States rejected as inadequate. Diplomats said Iran's position, given in writing to the International Atomic Energy Agency, echoed two months of verbal calls for amendments to the deal that Western powers dismissed as non-starters but said did not amount to a final response. Under the deal, Iran would transfer stocks of low-enriched uranium abroad and in return receive fuel for a medical research reactor. The deal aimed to minimize the risk of Iran refining the material to a grade suitable for a weapon. In Washington, State Department spokesman P.J. Crowley said Iran's response was inadequate. "I am not sure that they have delivered a formal response but it is clearly an inadequate response," he told reporters. "I am not sure that whatever they have done, perhaps today, is any different than what they have done previously." Iran's failure to meet an effective US deadline of December 31 to accept the plan devised in October by then-IAEA chief Mohamed ElBaradei has prompted six world powers to start considering possible tougher sanctions against Tehran. "This written position is a non-event because it's nothing new, it just makes official what the Iranians have been saying (through the media)," said a Western diplomat, who like others asked for anonymity due to political sensitivities. Another Vienna-based diplomat said Iran had conveyed a written answer to the IAEA and the United States, France and Russia, the other parties to the draft deal, earlier this month after three months of delay. The fuel plan was meant to allay suspicions Tehran wants to develop atomic bombs, rather than generate electricity, from uranium enrichment by having Iran ship around 70 percent of its low-enriched uranium stockpile abroad for further refinement and conversion into fuel to keep a medical reactor running.
Iran Slams Nuclear 'Discrimination'
Foreign Minister Mottaki says world banning Islamic Republic from developing peaceful nuclear energy while ignoring Israel's 'stockpile of warheads'
Jan. 20….(YNET) Iranian Foreign Minister Manouchehr Mottaki criticized the international community Monday for discriminating against his country while ignoring "the hundreds of nuclear warheads stockpiled in the Zionist regime's reactors". Speaking at a Tehran conference on the Persian Gulf states, Mottaki added that "states that signed the Nuclear Non-Proliferation Treaty are being unlawfully banned from using nuclear energy for peaceful purposes". He said a recent conference of six world powers in New York last weekend had acted predictably in deciding not to impose new sanctions on Iran. Mottaki added that Israel was a destabilizing presence in the Middle East. "The Zionist regime is causing insecurity and instability in the region and, unfortunately, for years US leaders have based their foreign policy on guaranteeing its security," he said. In praise of the Palestinian terror organizations Mottaki said Iran would "always stand by the legitimate resistance of the oppressed before the aggressive superpowers".
Turkey Moving Towards Radical Islam
Jan. 20….(JPOST) Iran has not been deterred from its march to the nuclear bomb, and one-time ally Turkey is drawing closer to the side of Islamic radicals and further from Israel and the West, OC Military Intelligence Maj.-Gen. Amos Yadlin warned on Tuesday. Teheran, said Yadlin, was responsible for the failure of talks regarding its nuclear program. As a result, the international community was preparing to place new sanctions on Teheran. But "as long as Iran is not under heavy international pressure, Teheran is continuing to advance with its nuclear program," he said. The Iranian technological clock on the way to the nuclear program is continuing to tick at a rate of a number of kilograms of enriched uranium every day," he cautioned, reiterating assessments by intelligence community members over the past year that Iran is enriching uranium at a low level, and is "continuing to advance the nuclear program on a wide track. They are also advancing on the military track, but that is being done secretly." Israel has no indications in the field that Iran has tried to build additional nuclear facilities to speed up the enrichment, but it was instead developing more technologically advanced centrifuges to put in its existing facilities. The more advanced centrifuges, said Yadlin, would accomplish the same purpose as building additional facilities. Although he did not mention the recent incident involving Deputy Foreign Minister Danny Ayalon and Turkish Ambassador Oguz Celikkol, Yadlin said that "beyond the specific tension, one must understand that the distancing between the two countries is more significant and is related to strategic topics and shared interests. "In the past, Turkey had ambitions of becoming closer to the West, beyond its acceptance into NATO," Yadlin said. "They wanted to be part of the European market, and they thought that relations with Israel would help them advance in the American market. But then they received a cold shoulder from the Europeans and did not achieve what they wanted. In light of that, they changed their policies and are currently drawing away from secularism and going in a more radical direction. There are still joint strategic interests shared by Turkey and Israel, but it is not the same strategic proximity that they once shared." Ankara and Jerusalem have also parted ways, he said, regarding their shared neighbor, Syria. In the '90s, Turkey saw Syria as an enemy state, a position shared by Israel. But in the ensuing years, Ankara-Damascus relations have warmed, and the two countries have since settled the key disagreements between them. A week after Israel and Turkey stepped back from the brink of a rupture in relations, senior diplomatic officials from the countries met on Tuesday to discuss ways to "deepen and widen" the relationship, according to the Foreign Ministry. The ministry put out a statement saying that director-general Yossi Gal held high-level strategic talks with his counterparts in Ankara on Tuesday, and - among other issues - discussed the possibility of reciprocal high-level visits. It has been months since a senior Turkish minister has come to Israel. Turkey's envoy Celikkol, whose public dressing-down by Ayalon was a major factor in the diplomatic crisis, took part in the talks. It was agreed that the next round of strategic talks would take place in Israel in May. Yadlin also referred to the situation on the northern border, arguing that Hizbullah recognizes that war with Israel does not enjoy popular support today on the Lebanese street, but is trying to carry out a high-profile assassination in reprisal for the death of top operative Imad Mughniyeh in Damascus in 2008. Hizbullah, which Yadlin described as "Iran's spearhead in south Lebanon," was different in this regard from other key international terrorist networks, such as al-Qaida and Islamic Jihad, which are focusing their energy on attacks that would result in mass deaths of Israelis.
Vatican: ME Conflict Driving Christians Out Of Holy Land
Jan. 20….(JPOST) A Vatican document released Tuesday blamed the Israeli-Palestinian conflict and the "occupying" of lands for fomenting most of the conflicts in the Middle East, driving Christians out and making life difficult for those who remain. The document is a guide for discussions for an Oct. 10-24 meeting of Mideast bishops convened by Pope Benedict XVI to discuss the plight of the Christian minority in the overwhelmingly Muslim region. The exodus of Christians from the region and religious discrimination faced by those who remain are main issues on the table. In Iraq, the war has unleashed evil forces within the country, religious confessions and political movements, making all Iraqis victims," it said. "However, because Christians represent the smallest and weakest part of Iraqi communities, they are among the principal victims, with world politics taking no notice." It criticized the Israeli "occupation" of Palestinian lands, saying it had made life difficult both for daily life and religious life since access to holy places are restricted. Citing both the Israeli-Palestinian and Iraqi conflicts, it said: "The solution to conflicts rests in the hands of the stronger country in its occupying and inflicting wars on another country." "Violence is in the hands of the strong and weak alike, the latter resorting to whatever violence is within reach in order to be free," it said. Asked at a news conference if the document was referring specifically to Israeli settlements in the West Bank and construction in east Jerusalem, Eterovic said the Vatican wasn't making policy decisions or recommendations in the document. Synod organizer Monsignor Nikola Eterovic said about 150 bishops, most of them from Eastern rite churches, are expected to attend the meeting, which follows a 2009 Vatican meeting of bishops on Africa. The meeting document made clear that bishops in the Middle East believe the Israeli-Palestinian conflict to be the root cause of several conflicts in the region. But it also singled out the growth of "political Islam" in countries like Egypt, and said the decades-old Israeli-Palestinian conflict had been "exploited" by radical terrorism in recent years.
Al-Qaida Seeking Tools for Nuclear 9/11
Intel agents 'certain' terrorists will try for Pakistan's bombs
Jan. 20….(WND) Agents for Britain's MI6 Secret Intelligence Service say they are "certain" al-Qaida is poised to try and grab some of the 80 nuclear weapons that Pakistan possesses. The al-Qaida leadership – Osama bin Laden and Ayman a-Zawahri, are believed to have spent the winter months in Pakistan's Tribal Areas finalizing their plans for an attack. It will spearhead al-Qaida's global network and its capability to carry out a wide range of terrorist onslaughts. The MI6 analysis is based on what the agency calls "al-Qaida's zone of terrorism." It includes the Afghan Taliban, the Islamic Movement of Uzbekistan in East Turkistan and al-Shabaab in Somalia. In the Sahara region al-Qaida has reformed Islamic Magreb (AQIM) which has grown out of Algerian resistance movement. But nothing poses more of a threat than al-Qaida's plan to steal Pakistan's nuclear weapons. MI6 agents in Pakistan say there is mounting evidence "the leadership is thinking of a nuclear 9/11 and are approaching it in increasingly professional ways." Nuclear experts have told the Secret Intelligence Service that the biggest fear is of "an inside job." One analyst said, "There are up to 12,000 people in Pakistan with some kind of role which brings them into nuclear facilities, whether as part of a team of scientists or working in security." Professor Shaun Gregory, director of the Pakistan security research center at Bradford University in England, has tracked a number of attempted security breaches in the past four years at Pakistan's nuclear facilities. Past attacks have included a suicide bomber striking Kamra where Pakistan Air Force F-16 jet aircraft are stationed with nuclear bombs. Another attack was against a nuclear weapons complex in Punjab where a nuclear warhead assembly plant is based.
Huckabee Praises US Aid to Haiti, World Ignores Israel's Aid
Jan. 19….(Hillel Fendel / Arutz) "Mike Huckabee, past and likely future candidate for president of the United States, has praised American efforts in and for Haiti, and lashed out at critics and enemies of the United States who stand by and do nothing. The former Arkansas governor's remarks brought out in bold relief how Israel's disproportionate aid to Haiti is ignored by the world. Speaking on his FoxNews television program, Huckabee noted that "once again, in the face of a horrible human tragedy, it's Americans who show up first, do the most, and expect the least in return." "When it comes to a time of human tragedy," Huckabee continued, "it's the United States that will export its most precious commodity, its generosity. Within hours of the horrific earthquake that hit Haiti, Americans were pouring record donations into the relief efforts. The US military dispatched ships, planes and thousands of personnel. American relief workers lined up to go to Haiti and risked death and disease to help people they don't even know." "I realize that other countries are helping and providing resources, but the next time some pipsqueak punk politician like Venezuelan dictato Hugo Chavez or Iran's nutjob of a president Ahmoud Medinajad whines about how evil we are, we ought to tell them to put up or shut up." When the earthquake struck, American went to Haiti. As for our critics, they can go to hell."As for Israel's relief efforts to Haiti, they include the following: A field hospital, the only hospital in operation, with 40 doctors, 25 nurses, paramedics, a pharmacy, a children's ward, a radiology department, an intensive care unit, an emergency room, two operating rooms, a surgical department, an internal department and a maternity ward. The hospital can treat approximately 500 patients each day, and in addition will perform preliminary surgeries. A search-and-rescue team, which has rescued about five people from under the rubble. 220 personnel in total Dozens of truckloads of medical and logistical equipment Saudi Arabia, on the other hand, one of the richest countries in the world, has sent a message of condolence to Haitian President René Préval. Some Arab countries have "pledged" help, such as $1 million pledged from both Kuwait and Morocco, and the United Arab Emirates says it will "shortly" send a plane with humanitarian assistance. Qatar, with the third largest gas reserves and the second highest GDP per capita in the world, has dispatched 50 metric tons of aid to the hundreds of thousands of homeless and injured Haitians. Latest reports are that the IDF Medical Corps have treated some 200 injured people in Haiti, performed ten life-saving surgeries and saved the lives of 140 others. On Sunday night, a resident of Port-au-Prince gave birth to a boy at the Israeli field hospital. In appreciation and gratitude, his mother decided to name her new son "Israel" in honor of the country that helped her. The director of the Haiti field hospital, Col. Dr. Itzik Reis, explained that the IDF delegation is also giving assistance "to people from emergency crews from all over the world, who simply are not capable of dealing with everyone who needs help and giving them treatment. For example, when we understood that the Dominican team is not set up to provide full treatment, we created an order by which they stabilize the patients and we give them the remainder of the treatment."Other Israeli relief operations in Haiti include: A six-man ZAKA rescue unit, which worked for 38 consecutive hours and succeeded in pulling eight students alive from the rubble of the collapsed university. IsraAID, which sent a planeload of food and medical equipment. "Latet" (To Give) a 15-member mission to Haiti, including three physicians, three nurses, and three paramedics.
Hizbullah May Behind Assassination of Tehran Physics Professor
Jan. 19….(IsraelNN.com) Evidence is mounting that Hizbullah may have been behind last week's assassination of Professor Ali Mohammadi, a physics professor who was murdered in a booby-trapped motorcycle explosion near his home. Contrary to initial reports, Mohammadi apparently was not a nuclear physicist and had no connection with the development of Iran's nuclear program, thus ruling out a motive that opposition groups were responsible for killing him. He also supported Mir Hossein Mousavi in the election against Iranian President Mahmoud Ahmadinejad. He reportedly signed a petition on behalf of those who protested what they called the rigged re-election of Ahmadinejad last June. Within a day of the assassination, Iran accused "Zionists' and the US Central Intelligence Agency (CIA) of being responsible for the murder. The government on Monday warned it will take revenge against the two countries. An opposition group has claimed that a Hizbullah assassin was photographed at the scene of the bomb explosion and that Iran hired its ally Hizbullah to carry out the murder in order to scare opposition forces. A blogger associated with the opposition named the possible assassin as Abu Nasser Hossein, identifying him as a prominent Lebanese Hizbullah member who has been in Tehran and who has been involved in suppressing demonstrations. However, the Islamic Republic regime took pains to praise Mohammedi as a supporter and sent hundreds of Revolutionary Guards to his funeral in what appears to be a mask for its having ordered his murder. The bomb blast, a rarity in Tehran although not uncommon in outlying areas of Iran, was similar to the modus operandi of Hizbullah explosions in Lebanon. Murdering Mohammadi gave the Iranian regime the double-edged excuse of putting fear into the hearts of the opposition while claiming that it needs to control protests in order to prevent further violence by opponents to the regime. The professor may have been targeted because of his association with SESAME, a Jordanian-based program in which Israeli scientists also participate. Laura Rozen recently reported on the Politico.com website, "An academic contact speculates: I know for a fact that SESAME is a fertile recruiting ground for all sorts of scientific espionage. If Mohammadi was too cozy with his Israeli colleagues, he may have been taken out by the Iranians themselves (through their Hizbullah allies in Tehran) as an example to other pro-reform academics."
Moscow Won't Sacrifice Iran for US Ties
Jan. 19….(Press TV) Iran's Ambassador to Moscow says it is unlikely for the Kremlin to give up its friendly ties with Tehran in order to establish closer relations with Washington. "Russia sees Iran as a regional power. So, it is not likely that Moscow will sacrifice its friendly ties with a trusty neighbor for costly short-term relations with Washington," Mahmoud-Reza Sajjady told Ria Novosti in a Saturday interview. The envoy added that, from his point of view, the relationship between Moscow and Washington abounds with disagreements and suffers from lack of trust. "These disagreements are not something that can be overcome in the short term. That is why the two sides can not agree on various issues," he explained. "It was not long ago that US Republicans described a vast unified Russia as their most dangerous enemy. Although they are not currently in power, they still have enough influence in the US society to be able to impact political decision-making." "That is why I believe the current US leadership will not be able to create a deep rift in Tehran-Moscow relations," he added. Sajjady, however, went on to add that in some cases Iran is obliged to show a great deal of sensitivity in matters that concern cooperation between Tehran and Moscow. He noted that at the moment, the Islamic Republic is looking to see how soon Moscow will deliver the S300 anti-aircraft defense system to Iran and what course it will take under US pressure to pass another resolution against Tehran at the Board of Governors of the International Atomic Energy Agency.
Iran Opposition Urges Protests on Revolution Day
Jan. 19….(Yahoo News) Iranian opposition groups flooded the Web on Monday with calls for a massive show of force during next month's anniversary of the Islamic Revolution, openly taunting authorities who have warned of a punishing response to any disruptions of the most hallowed day in the Iranian political calendar. The blitz of messages and videos on opposition sites and social networking forums highlighted the continued ability of anti-government forces to harness the Internet despite attempts by Iranian officials to cripple their Web outreach. It also suggested that the Feb. 11 commemorations could become a replay of the street battles that have marked other major political and religions dates in past months that anti-government protesters have used to challenge the ruling system. In the latest violence, at least eight people died in clashes between security forces and opposition supporters across Iran in late December, including a nephew of opposition leader Mir Hossein Mousavi. The barrage of opposition Web postings picked up steam Monday with some drawing parallels between the current showdowns against Iran's Islamic leaders and the 1979 groundswell that toppled the Western-backed monarchy. One video featured patriotic music with scenes from 1979 and the demonstrations that began with claims of vote-rigging in last June's presidential election. "Countrymen, rise up," read one message by the opposition. "Victory is near." The blog included a calendar marking the dates of the large opposition marches since June and pointing ahead to plans for upcoming protests, the next being timed to coincide the government's Feb. 11 events that culminate with a huge political gathering in Tehran's Azadi Square. Iranian authorities have warned opposition groups that security forces would crush any protests on the anniversary, claiming riot police and hard-line militias have shown restraint so far despite using clubs, tear gas and gunfire. The opposition says more than 80 protesters have been killed since June, while the government puts the number of confirmed dead at less than 40. On Monday, Iran put five people on trial over their alleged roles in anti-government protests on Dec. 27, a significant day of Shiite religious events, that sparked the worst street violence in months, state television reported. If found guilty, they could face the death penalty. The five, who were not identified, have been accused of cooperating with the People's Mujahedeen, an armed opposition group, the report said. The broadcast showed the defendants in a courtroom but their faces were not visible. It was the worst bloodshed since the height of the unrest immediately after the disputed re-election of President Mahmoud Ahmadinejad. A prosecutor read out a lengthy indictment against the five, accusing them of a serious crime against Islam and the state known as "moharebeh," or defying God, which is punishable by death. More than 100 opposition figures were brought before judges starting in August in what critics have said was a show trial with coerced confessions. Prosecutors accuse them of seeking to topple the country's ruling Islamic system. The court has so far sentenced five people to death and handed down more than 80 prison sentences ranging from six months to 15 years. After the December clashes, police chief Gen. Ismail Ahmadi Moghaddam warned opposition protesters to stay off the streets or face harsh consequences. "In dealing with previous protests, police showed leniency. But given that these opponents are seeking to topple (the ruling system), there will be no mercy," Moghaddam said, according to the state-run Islamic Republic News Agency. "We will take severe action. The era of tolerance is over. Anyone attending such rallies will be crushed." In a statement posted last week on a judicial Web site, Iran's top prosecutor ordered his representative in Tehran to seek the harshest measures against opposition protesters detained in the Dec. 27 unrest. "Strong action must be taken against seditionist elements," General Prosecutor Gholam Hossein Mohseni Ejehi said in the statement, addressing Tehran chief prosecutor Abbas Jafari Dolatabadi. But opposition appeared undaunted. Web posts urged government opponents to expand their campaign of graffiti and writing slogans on money. Dozens of messages called for protesters to pour onto the streets on Feb. 11, which marks the day the last security forces of the shah collapsed. "Unite, fight, victory," said one blog. Another proclaimed: "I will get my country back." They included: "Our nation is awake." Also Monday, Iran vowed to take revenge on Israel and the United States for the slaying last week of a physics professor in a mysterious bomb attack, the official news agency IRNA reported. Iranian officials have blamed an exiled opposition group known as the People's Mujahedeen, accusing it of acting on behalf of Israel and the US. The armed opposition group and Washington have denied involvement, while Israel has not commented. It remains unclear why the 50-year-old Tehran University professor, Masoud Ali Mohammadi, would have been a target for assassins who left a bomb-rigged motorcycle outside his home on Jan. 12. Ali Mohammadi had no prominent political voice, no published work with military relevance and no declared links to Iran's nuclear program, though his work included some aspects of nuclear theory. "Rest assured that Iran will take revenge for the blood of martyr Ali Mohammadi from you," Interior Minister Mostafa Mohammad Najjar said, addressing Israel and the United States.
WEEK OF JANUARY 10 THROUGH JANUARY 16
Nasrallah: We Will Change Face of Region in Next War
Jan. 16….(YNET) Hezbollah leader Hassan Nasrallah vowed today to "change the face of the region" in the event of renewed conflict with Israel. The Hezbollah leader said he was addressing perceived "threats" by the Jewish state. On Tuesday, Israeli Minister of Defense Ehud Barak warned Lebanon and Hezbollah against any attempt to challenge the calm currently in place at the Lebanese-Israeli border. Nasrallah told followers that if another war breaks out with the Zionists, we will defeat the enemy, achieve a great victory and change the face of the region," in a speech broadcast on a large screen. The Hezbollah leader was addressing the "Forum of Arab and international support for the resistance" at the Unesco Palace in Beirut, which is hosting delegations from various nationalities. Nasrallah said the future of the region was "strength, dignity, and freedom," while slamming "Israel, occupation, hegemony and arrogance." "Israel is in real trouble," he said, claiming that the IDF had been defeated by a "handful of resistance fighters and jihadists" and charging Israel with beating the drums of war. Last month, Prime Minister Benjamin Netanyahu said Israel was holding the Lebanese government responsible for any attack against its territory, calling Hezbollah a "real Lebanese army."
Israel is Due, and Ill Prepared, for a Major Earthquake
Jan. 16….(Ha Aretz) The magnitude of the earthquake that struck Port au Prince was 7.0 on the Richter scale, with an epicenter 15 kilometers from the city and at a depth of 10 kilometers. In 1770 a powerful earthquake occurred, destroying the city, but many years have passed and it has slipped from Haiti's national memory. In Israel the last destructive earthquake, with a magnitude of 6.2 on the Richter scale, occurred in 1927. Its epicenter was the Dead Sea, and its effects were felt in Jerusalem, Nablus, Jericho, Ramle and Tiberias, resulting in 500 deaths and injuries to 700. An earthquake in 1837 killed 5,000 people. According to the Jewish historian Josephus Flavius, in 31 BC, 30,000 people lost their lives in an earthquake. On average, a destructive earthquake takes place in Israel once every 80 years, causing serious casualties and damage. The more time passes since the previous earthquake, the closer we are to the next. In other words, we are running out of time.
The Growing Rome-Teheran Axis
Jan. 16….(In The Days) Italian companies, with Rome's backing have equipped Iran's military and contributed to the regime's satellite and possibly nuclear programs. When it comes to appeasing the Islamic Republic, no other Western nation has stooped lower than Italy. Amid the international outrage over the Iranian regime's brutalization of its own people, Italian Foreign Minister Franco Frattini warned Europe "must not burn every bridge because Iran is a key figure" in the region. While rejecting any military action to stop Tehran's nuclear weapons program, Mr. Frattini urged the West to "avoid sanctions that are connected with Iranian national pride." What may sound like a naïve appeal for more failed diplomacy may just as easily be thought of as a bid to secure lucrative business interests. To understand Mr. Frattini's concerns for "Iranian national pride," one has to know that next to Germany, where such bogus arguments against economic sanctions are also very popular, Italy is Iran's most important European trade partner. The list of about 1,000 Italian companies active in Iran includes such household names as Eni, the energy giant is Iran's biggest business partner in Europe according to the Italian-Iranian Chamber of Commerce, as well as Fiat, Ansaldo, Maire Tecnimont, Danieli and Duferco. Italian companies are not just busy in the civilian and energy sectors, Maire Tecnimont just signed a €200 million gas deal with Iran, but have equipped the regime's military and contributed to Iran's satellite and possibly even nuclear weapons program. Take the case of Carlo Gavazzi Space. The Italian technology company helped Iran with its Mesbah communications satellite program. "Communications satellites" can of course be easily diverted for military purposes and used, for example, as spy satellites and, more ominously, to help pinpoint nuclear strikes. Despite these risks, the Mesbah project enjoyed Rome's political backing. Despite international sanctions against Iran, Italian exports to the Islamic Republic rose almost 17% in 2008 to €2.17 billion, according to the Italian statistical office. During that same year, overall trade also rose almost 17% to €7 billion, representing more than a quarter of the European Union's total trade with Iran. For the past three years, Italy has been Iran's No. 1 European trading partner. "Iran and Italy were rivals and two great powerhouses in ancient times, but in the contemporary world they are great partners," the Italian-Iranian Chamber of Commerce proudly proclaims on its Web site. Created in 1999 following an Italian-Iranian cooperation agreement signed three years earlier under former Prime Minister Romano Prodi, the Italian-Iranian Chamber of Commerce is today the largest such bilateral chamber in Italy. Its board members not only include business leaders but high-ranking government officials from both sides, including Cesare Ragaglini, Italy's ambassador at the United Nations, Alberto Bradanini, the Italian ambassador to Tehran, Amedeo Teti, director of commercial policies at the Italian ministry for economic development, and Fereidoun Haghbin, Iran's ambassador in Rome, who serves as the board's honorary chairman. The Italian-Iranian political-industrial complex was on full display at a 2008 Tehran military parade, where slogans such as "Israel Must be Wiped off the Map" were written on Shihab-3 missiles that can reach the Jewish state. Unlike other European Union countries who avoid sending emissaries to such hate-filled rallies, Vittorio Maria Boccia, Italy's military attaché in Tehran, was seated right among the assorted ayatollahs and generals. The other Western diplomat who attended this spectacle was Mr. Boccia's German colleague. Call it the Rome-Berlin-Tehran Axis. The sturdy link between Italy and Iran has also irked the Obama administration. When asked about Rome's dealings with Tehran, David Thorne, US Ambassador to Italy, told reporters after taking office two months ago that "there are certain Italian foreign policy positions which continue to concern us." Rome's policies toward Iran, however, continue to follow the old Roman proverb. "Pecunia non olet" or "Money Doesn't Smell. Italy is like the two-faced Roman god Janus. Rhetorically, Rome is part of the Western front against the Iranian regime. Mr. Berlusconi even called Ahmadinejad "Hitler." But when it comes to translating this rhetoric into foreign policy, business interests trump everything else. Next month, Mr. Berlusconi, who claims to be a great friend of the Jewish state, will speak in the Israeli parliament. It would be a good opportunity for him to prove his friendship by finally announcing tough economic sanctions against Iran.
King of South/Saudi Arabia Fails to Heal Palestinian Breach
Jan. 16….(DEBKAfile Exclusive Report) There was no word by Friday, Jan. 15, that Syrian president Bashar Assad, who arrived seven hours late for his appointment with King Abdullah in Riyadh Wednesday, Jan. 13, had left for home or any announcement about their talks, DEBKAfile's Middle East sources report. He was invited by the Saudi King to meet Egyptian president Hosni Mubarak for a fence-mending summit. But Mubarak did not turn up. The King had planned for the three Arab rulers to get together on the Palestinian feud and apply to the Palestinian quarrel their success in forging a unity government in Beirut, the key to which entailed Lebanese prime minister Saad Hariri accepting Hizballah as a coalition partner and going to Damascus to shake the hand of his father's alleged murderer, Bashar Assad. Syria represented Iran in this process. King Abdullah hoped Mubarak and Assad would now join hands to force Palestinian Authority Chairman Mahmoud Abbas and Hamas political leader Khaled Meshaal to meet and set up a power-sharing Palestinian administration in Ramallah for the West Bank and Gaza Strip. The two architects of this scheme were the Saudi intelligence chief Prince Moqrin Abdulazziz and his Syrian opposite number and strongman, Gen. Ali Mamluk. Its success would have put Israel in an awkward position over Palestinian representation at possible peace talks, an outcome for which King Abdullah was willing to pay a heavy price, even to kowtowing to Tehran.
1. For the second time in three months, he embarked on an action that required Riyadh to publicly concede that nothing can be achieved in the Middle East these days without Iran's nod. The Saudi monarch went ahead with his Palestinian maneuver, after listening politely to the visiting US National Security Adviser James Jones expounding on administration policy on Iran in Riyadh Tuesday, Jan. 13. Then too he was not convinced Washington would pursue any effective policy against Iran and its nuclear program, any more than he had trusted the assurances given him last year by President Barack Obama in person, defense secretary Robert Gates or presidential envoy Dennis Ross. This mistrust was summed up in Abdullah's recent remark: "We have heard enough words from Washington.
2. After bowing to the formation of a Lebanese unity government powerless to throw off the
Syrian yoke or stop Hizballah from seizing large parts of the country, King Abdullah accepted that any Palestinian power-sharing deal must give Hamas a strong position in Ramallah as well as Gaza. He knew Tehran and Damascus will only go along with Palestinian unity if Khaled Meshaal came out of the deal stronger and Abbas weaker. DEBKAfile's Middle East sources report that this effort is so far stuck nowhere and there is not much point in US envoy George Mitchell returning to the region next week for a fresh bid to revive Israel-Palestinian talks. But King Abdullah will most probably keep on trying to rebuild his Palestinian house of cards even though it keeps on falling down, like the one which collapsed last week in Yemen. DEBKAfile's Saudi experts report that the Saudi military has meanwhile returned to the Yemen battlefield against Iran-backed Houthi rebels in the north, less than a month after striking a deal guaranteed by the Syrian president for a Saudi troop pull-out from Yemen to be matched by a Houthi withdrawal from Saudi territory. Abdullah made the mistake of counting on Assad's word binding Tehran too as the Yemeni rebels' sponsor. But the departing Houthis turned round and quickly regained their former positions in the southern Saudi provinces. The situation in Lebanon is pretty fragile too. Its stability depends on prime minister Hariri continuing to let Hizballah expand its military and government holdings undisturbed. And any deal the Saudi king might pull off between the rival Palestinian factions would go the same way, if Iran's protégée, Hamas, were to be thwarted.
Predicting The 'End of Time' Takes an Optimistic Turn
Jan. 15….(AP) Man is the only creature that knows it's going to die, and atomic scientists are the only professionals who measure the amount of time before man annihilates himself. But there is good news from those scientists: Humanity inched away from Armageddon on Thursday morning. The Doomsday Clock was set back one minute, from 11:55 to 11:54, reversing a precipitous slide toward midnight, the zero hour and ultimate self-destruction. The clock was reset to reflect a "more hopeful state of world affairs," the Bulletin of the Atomic Scientists announced at the New York Academy of Sciences and over a live feed on the Internet. Forty policymakers, scientists and Nobel laureates on the board of the Bulletin-an online magazine that covers threats to humanity-decided to move the clock after spirited debates about current trends in science and politics. "We are poised to bend the arc of history toward a world free of nuclear weapons," the board said in a statement. "For the first time since atomic bombs were dropped in 1945, leaders of nuclear weapons states are cooperating to vastly reduce their arsenals and secure all nuclear bomb-making material. And for the first time ever, industrialized and developing countries alike are pledging to limit climate-changing gas emissions that could render our planet nearly uninhabitable." This is the 19th time the clock has moved in 63 years. The creators of the Manhattan Project wound up the symbolic device in 1947 to remind the world of the consequence of abusing nuclear power. Since then, the clock has moved forward 11 times and back eight times. It came closest to midnight in 1953, when the testing of hydrogen bombs nudged it to 11:58, and moved farthest away in 1991, when it slid to 11:43 after the Strategic Arms Reduction Treaty. The clock has been steadily ticking toward midnight since the mid-'90s, as increased terrorism destabilized regions of the world and India and Pakistan tested nuclear bombs. So, atomic scientists: Are they a nervous bunch? "I actually think most of them are optimists," says Kennette Benedict, executive director of the Bulletin. "They think human beings can channel technology and have the capacity to cooperate and tackle these problems. That's why they bother to get word out. They're not on edge." The Bulletin's statement also cited President Obama's "pragmatic, problem-solving approach," arms reduction talks with Russia, negotiations with Iran over its nuclear enrichment program and support for a fissile material cutoff treaty at the UN Security Council last September, though Obama has also endured partisan challenges to his leadership on national security over the past year. The number of nuclear weapons in the world has decreased by 4,000 over the past three years, to 23,000, according to Benedict. Regardless, Hollywood still churns out apocalyptic movies ("The Road," ''2012" and "Knowing" premiered over the past 10 months), and 50 million Americans still believe the world will end in their lifetimes, according to Nicholas Guyatt, author of "Have a Nice Doomsday: Why Millions of Americans Are Looking Forward to the End of the World." "Continuing tensions with Iran, the bad weather in Europe and especially the earthquake in Haiti will all be taken as 'end times' indicators," Guyatt, a history professor at the University of York, writes in an e-mail. "My guess is that (apocalyptic Christians) would happily move the clock forwards by a couple of minutes. The irony, of course, is that these guys-unlike the atomic scientists-are actually rooting for doomsday." On the eve of the massive quake in Haiti, the Rapture Index rose to its highest point since Sept. 11, 2001, on the Web site Rapture Ready, which describes itself as the largest prophecy site on the Internet, with 240,000 unique visitors a month. "Scientists seem to be driven by what's going on politically," says the site's founder, Todd Strandberg, who lives in Benton, Ark., calls himself an end-time believer and recalculates the index every Sunday based on man-made, natural and allegedly supernatural phenomena. "I suppose we tend to be the eternal pessimists because the Bible says it's going to get worse. So any time they move (the Doomsday Clock) back, the general reaction is scorn." Expect another crucial prognostication soon: Next month a groundhog will divine the probability of six weeks of winter, leaving nuclear winter to the scientists and the rapture to the prophets.
FOJ Note: Bible prophecy reveals that although perilous and problematic ties will come in the Last Days, it also indicates that the nations will tinker with the geo-political complexities of a dangerous world and reach a seeming resolution to the threats of world chaos and destruction. First the global government builders will forge a process for peace in the Middle East, and secondly erect a method of controlling or eliminating the nuclear threat via disarmament treaties or defense shields. And when the world's elite accomplish these feats, and elect a global guarantor for "peace and security", then sudden destruction will come. (1 Thessalonians 5:2-6 For yourselves know perfectly that the day of the Lord so cometh as a thief in the night. For when they shall say, Peace and safety; then sudden destruction cometh upon them, as travail upon a woman with child; and they shall not escape. But ye, brethren, are not in darkness, that that day should overtake you as a thief. Ye are all the children of light, and the children of the day: we are not of the night, nor of darkness. Therefore let us not sleep, as do others; but let us watch and be sober.)
Doomsday Clock to be Advanced by World's Atomic Scientists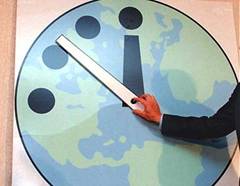 (Doomsday Clock:
Created in 1947 by concerned scientists)
Jan. 14….(Daily Mail) The minute hand of the famous Doomsday Clock will be advanced forward tomorrow afternoon, for the first time in two years. The timepiece in New York conveys how close humanity is to catastrophic destruction, which is represented by midnight. It was created by the Bulletin of the Atomic Scientists in 1947, two years after the US dropped the first atomic bombs on Japan in World War II. It was originally set at seven minutes to midnight. The clock has been altered 18 times since then by the Bulletin's scientific board. This now includes Professor Stephen Hawking and 18 other Nobel laureates. The latest recorded time was two minutes to midnight in 1953 as the Cold War heated up between the US and Soviet Union. In 2007 it was wound on to five minutes to midnight, to reflect the failure to solve problems posed by nuclear weapons. Today the public can watch the change for the first time via a live web feed. A spokesman said: 'Factors influencing the latest Doomsday Clock change include international negotiations on nuclear disarmament and nonproliferation, expansion of civilian nuclear power, the possibilities of nuclear terrorism, and climate change.'
PA Leader Abbas Spurns US Effort to Revive Mideast Talks
(Palestinian president tells reporters in Ramallah, 'We won't agree to resume negotiations without full settlement freeze, especially in Jerusalem, for a certain period' )
Jan. 13….(YNET) Palestinian President Mahmoud Abbas on Tuesday spurned a new US effort to revive Mideast peace talks, sticking to his position that he will not resume negotiations unless Israel freezes settlement construction. With Abbas digging in, an upcoming diplomatic mission by US Mideast envoy George Mitchell could be doomed from the outset. Mitchell has said he is trying to persuade both sides to resume talks aimed at ending their decades-old conflict. Previous talks broke off in December 2008. However, the US has failed to get Israel to halt construction of Jewish settlements in the West Bank and east Jerusalem, lands the Palestinians want for their state. Israel captured both from Jordan in the 1967 Mideast war. Instead, Israeli Prime Minister Benjamin Netanyahu has agreed to a 10-month moratorium on new construction in just the West Bank. Israel continues to build for Jews in east Jerusalem. Abbas said on Tuesday he will not resume talks under the current conditions. "No negotiations," he told reporters at his headquarters in Ramallah. "We won't agree to resume negotiations without a full settlement freeze, especially in Jerusalem, for a certain period." The Obama administration has recently suggested bypassing the settlement issue by getting the two sides to discuss the borders of a Palestinian state. US Secretary of State Hillary Rodham Clinton has said that by focusing on the endgame, such talks would defuse the problem of settlements. But Abbas' insistence on a settlement freeze suggested the US approach won't work. The US lost credibility among Palestinians by backing down on settlements, an issue they see as an important test of Washington's resolve. Under the US-backed "road map" plan, Israel is required to freeze all settlement construction. The Israeli government has not commented on the proposed US plan. But aides to Israeli Prime Minister Benjamin Netanyahu have said he will not agree to divide Jerusalem and will not permit Palestinian refugees to return to what is now Israel.
Iran Accuses US, Israel in Killing of Nuclear Expert
Jan. 13….(Bloomberg) Iran said U.S. and Israeli spy agencies may have conspired with dissident Iranians to kill a nuclear scientist in a bomb attack today in Tehran. Massoud Ali-Mohammadi, a professor of nuclear physics, was killed by a remote-controlled device planted on a motorcycle in front of his home in the Qeytarieh neighborhood. The Kingdom Assembly of Iran, a political group that seeks to end Iran's religious rule, took responsibility for the bombing in a statement, the state-run Fars news agency said. "Signs of evil by the triangle of the Zionist regime, the US and their mercenaries in Iran can be seen in this terrorist incident," Foreign Ministry spokesman Ramin Mehmanparast was cited as saying by Fars. "Such terrorist acts and the elimination of the country's nuclear scientists will certainly not halt the scientific and technological process." The US and its allies accuse Iran of seeking to acquire nuclear weapons, while the Persian Gulf country says it wants the technology for peaceful purposes. State media didn't say whether Ali-Mohammadi was involved in Iran's nuclear program. The Iran Atomic Energy Organization spokesman, Ali Shirzadian, wasn't immediately available for comment. State television identified the US Central Intelligence Agency and Israel's Mossad as having possible involvement. Press TV said the killing may be linked to Israel's opposition to Iran's nuclear development. There have been no arrests in the case, Tehran prosecutor-general Abbas Jafari-Dolatabadi told the state-run Iranian Students News Agency Loyal to Government. The killing of Ali-Mohammadi, who taught at Tehran University, was "a terrorist act by anti-revolutionary elements," Iran said. He was "a revolutionary," it said, a term used by the government to describe individuals who are loyal to the country's Shiite Muslim leadership. Iran has been in political turmoil since President Ahmadinejad's disputed re-election in June, which provoked the biggest street protests since the 1979 Islamic Revolution. He denies allegations by opponents that the vote was rigged. Anti-government demonstrations flared up again last month in Tehran and other major cities, prompting a crackdown by security forces that authorities said had left eight people dead.
Covert War on Iran's Nuclear Program Reaches into Tehran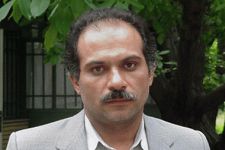 Nuclear physicist
Masoud Ali Mohammadi
Jan. 13….(DEBKA) DEBKAfile reports: The covert war against Iran's nuclear program may have struck deep inside the Islamic Republic with the death Tuesday, Jan. 12 of nuclear physicist professor Masoud Ali Mohammadi, 50, by a remote-controlled exploding motorbike as he left his Tehran home. He was a senior professor at Tehran University which DEBKAfile's Iranian sources say is an important hub of nuclear weapons research. Those sources stress that his death was unrelated to the political turbulence sweeping Iran since the June elections; state-run Press TV described him as a "staunch supporter" of Iran's 1979 revolution. The targeting of the scientists in the heart of Tehran by a remote-controlled explosion shows that the covert agencies working to sabotage Iran's controversial nuclear program have managed to plant death squads in the Iranian capital like those operating in Damascus. Shadowy inside elements are therefore threatening the military nuclear projects of both these allies. Before launching their investigation, Iranian officials laid the incident at the door of the Israel Mossad or the Paris-based Mujaheddin Khalq dissidents, which Tehran believes are sponsored by the CIA and the Mossad. Iranian authorities see Mohammadi's death as ramping up the Western effort to recruit, intimidate or liquidate the brains behind Iran's nuclear progress and a warning. They are already keeping these scientists closely quarantined and forbidden overseas travel, their movements and correspondence closely monitored. But they failed to guard Prof. Mohammadi, just as last year two nuclear scientists managed to escape and apparently defected to the US: Shahram Amiri went missing while on a pilgrimage Saudi Arabia and a man known as "Ardebili" was allegedly arrested in Georgia and not seen since. In Jan. 2007, a leading nuclear scientist Ardeshir Hassanbpour, professor at Shiraz University died of gas suffocation at his home in mysterious circumstances. And one more or more car accidents fall into the same unexplained category.
US, Israel Close their Eyes to Turkey's Radicalization
Jan. 13….(DEBKAfile Exclusive Analysis) Israel's leaders, and some of its military and security chiefs, refuse to recognize that it is no good expecting Turkish prime minister Tayyep Recep Erdogan and president Abdullah Gul to stay friends with Israel while eagerly rushing into the arms of the radical anti-West Ahmadinejad, Assad and Chavez. The latest spat between Ankara and Jerusalem, generated by this week's pointless diplomatic tit-for-tat, originated in this ostrich-in-the-sand attitude. Erdogan's provocative anti-Israel comments certainly go down well in Tehran. However, Israel's foreign minister Avigdor Lieberman saw red and instructed his deputy Danny Ayalon to summon the Turkish ambassador for a dressing-down. Ayalon foolishly thought that showing the envoy to TV cameras seated lower than his Israel hosts would put Ankara in its place. This pointless exercise could have been avoided had the Israeli government recognized that the good old times of close strategic and military friendship with Turkey were over and Turkey was operating on a different plane. Jerusalem's fond illusion is shared by the Obama administration which too refuses to accept that the Erdogan regime has divorced itself from the pro-Western bloc of Saudi Arabia, Egypt, Jordan and Israel and plunged headlong into the new "Northern Islamic Alliance" club, alongside Iran, the Lebanese Hizballah and the Palestinian extremist Hamas. Monday, Jan. 11, Lebanese prime minister Saad Hariri was welcomed in Ankara, and so too especially was his agriculture minister, Hussein Al-Hajj of Hizballah. Their formal objective was the signing of an agricultural cooperation pact. However, the pact provided the vehicle for the Erdogan government to acknowledge Hizballah's role as a prime political mover in Lebanon, no longer just a terrorist militia. Ankara's also manifested its new orientation by partially funding the aid convoy led by the British pro-Palestinian MP George Galloway for Gaza, which Egypt did its best to keep from entering the enclave. The delegation had more Turkish nationals who "volunteered" at their government's instructions than international "peace activists" as the delegation claimed. Yet defense minister Ehud Barak, industry minister Binyamin Ben Eliezer and parts of the intelligence community insist that if Israel keeps its head down until the Islamic storm blows over in Ankara, Turkey will come to its senses and the warm relations of yore - especially with its armed forces - will go back to normal. But the Turkish military elite is no longer dominated by generals who feel at home in Israel. They have lost the urge to stand in the way of Erdogan's Islamic drive; nor are they willing to uphold their constitutional obligation to safeguard the nation's secular character. The open rupture between Ankara and Jerusalem is breaking out at several points, the damage made all the more painful by Israel's insistence on playing a passive role in an inexorable process. Absurdly, president Shimon Peres, for instance, recently said that "everything is back to normal in relations with Turkey." In the same week, the Turkish prime minister redoubled his wild abuse against Israel, branding as war crimes Israel's counter-operations in Lebanon and Gaza Strip. Even if defense minister Barak, decides to go through with his visit to Turkey next week, he need not expect to mend the fractured relationship.
Exposed: Secret Talks to Carve up Israel, Again (Could it be the Big Push?)
Clandestine bargaining hastens Palestinian state
Jan. 13….(WND) Israel and the Palestinian Authority are negotiating indirectly via the US, Jordan and Egypt to outline a future Palestinian state that would encompass Jerusalem, the West Bank and the Gaza Strip, Middle East security and diplomatic officials told WND. Popular perception has it that talks between Israel and the PA are stalled over a Palestinian demand that Prime Minister Benjamin Netanyahu extend a 10-month West Bank settlement freeze to include Jewish communities in eastern Jerusalem. Just yesterday, Netanyahu's office released a statement declaring the prime minister would "never" cede control of united Jerusalem nor retreat to the 1967 borders, referring to an evacuation of the West Bank and eastern Jerusalem. The statement came after Egypt's foreign minister said in Cairo last week Netanyahu was ready to discuss making "Arab Jerusalem" the capital of a Palestinian state. According to Middle East security and diplomatic officials, however, Netanyahu's statement may be misleading unless he meant he would not retreat to the exact 1967 lines. Those officials, from Egypt, Jordan, the PA and Israel, told WND in separate interviews over the course of the last few weeks that Israel is in advanced stages of outlining a future Palestinian state that would encompass most of the West Bank. Also Jerusalem is being discussed between Israel and members of the Obama administration, the officials said. To point out the advanced levels of the current talks, a PA official told WND that a visit next week by President Obama's national security adviser, Jim Jones, will center around security arrangements for a future Palestinian state in the West Bank. The arrangements may include a contingent of Jordanian troops in the strategic territory as well as private Palestinian firms and international soldiers participating in the patrol of the Palestinian side of a future border, the official said. Regarding international forces, one Jordanian security sources said there are "very serious talks about bringing international forces to the borders between the West Bank and Israel, especially the Jordan Valley, where the Israelis would have security guarantees from an international force working in collaboration with the Palestinians." Officially, White House spokesman Mike Hammer said that in his consultations, Jones "will discuss the full range of regional challenges and opportunities at this critical time in the Middle East." According to the Middle East security officials, Netanyahu agreed in principal to establish a Palestinian state along the 1967 borders, the Gaza Strip, West Bank and eastern Jerusalem. However, Israel would retain what are known as major settlement blocks, including Ariel, Gush Etzion and Maale Adumim. The officials said the formula, established under Netanyahu's predecessor, Ehud Olmert, would call for a 100 percent territorial exchange, meaning that any West Bank Jewish communities retained by Israel would be compensated to the PA using other land, such as territory in the Israeli Negev alongside the Gaza Strip.
Status of Jerusalem up for talks
With regard to Jerusalem, talks between the US and Israel are in the infancy stages. The officials from the Obama administration most publicly identified with brokering Israeli-Palestinian talks include Jones and Obama's envoy to the Israeli-Palestinian conflict, George Mitchell. However, WND has learned Dennis Ross, an Obama foreign policy adviser who served as Mideast envoy to the Clinton administration, is actively engaged in brokering a deal regarding Jerusalem. Israeli diplomatic sources said Ross wants to use the formula established under the Clinton administration that would see Jewish sections of Jerusalem becoming Israeli while areas largely inhabited by Arabs would become Palestinian. About 100,000 Arabs live illegally on Jewish-owned land in Jerusalem. The fact that the talks are ongoing through mediators leaves Netanyahu and PA President Mahmoud Abbas open to declaring that there are no direct negotiations. Israeli leaders in the recent past claimed talks were not occurring or did not include certain territories only later to admit the territory in question had been ceded in secret negotiations. After months of denials the status of Jerusalem was on the table during negotiations, Olmert's office finally confirmed in August 2008 that Jerusalem had been included in talks. Also, weeks before he departed office, Olmert gave an interview to Israel's leading daily, Yediot Aharonot, admitting that during negotiations he offered Abbas 94 percent of the West Bank and peripheral areas of eastern Jerusalem. Olmert's office repeatedly had denied such talks. Similarly, Prime Minister Ariel Sharon ran for office in 2000 on the very election platform that he would not withdraw from the Gaza Strip. Sharon was running against Amram Mitzneh, a leader of Israel's leftist Labor party who had pledged to evacuate Gaza. In 2004, Sharon did an about face and announced his Gaza disengagement policy. One year later, Sharon pulled all Jewish communities out of the Gaza Strip.
Chinese Soldiers Headed to Middle East?
(China planning for bases, deployment under consideration)
Jan. 13….(WND) China is considering setting up military bases and possibly deploying forces in the Middle East over the next decade as a means of protecting its access to strategic materials, especially oil, and sizeable investments in various Arab countries. Middle East expert Patrick Seale said the Chinese influence in the Middle East is rising and its trade with Arab countries, which totaled $132 billion in 2008, will increase. The growing cooperation between China and Iran in energy and trade is seen as leading to the prospect of increased military cooperation. That would come at a time when the West is considering increased sanctions against Iran, and Israel is threatening open military attack on Iran's nuclear enrichment facilities. "For sure, Iran's willingness to show a greater willingness than hitherto to embrace China's naval vessels making port calls to Iran is now in the cards, this as a prelude to more extensive agreements up to and including provisions for a small Chinese naval outpost on one of Iran's Persian Gulf islands," according to Iranian expert Kaveh L. Afrasiabi. Again, such a scenario, sure to raise the serious ire of Washington, depends on a number of intervening variables," Afrasiabi said. "These include future US moves in the Persian Gulf, for example, whether or not the US military will end up utilizing some of the man-made artificial islands set up by the (United Arab Emirates). If so, thus enhancing the US's power projection capability with regard to Iran, Tehran may be more inclined to try to offset the US's leaning so heavy on it by playing the 'China card.'" Until now, the role of China and its influence in the region has received little public attention, even though Beijing's influence is growing, especially toward Iran. China, for example, is Iran's main customer for oil. It plans to invest some $43 billion in Iran's oil industry, despite the fact that US policymakers are adamantly opposed to this development. In the case of China, however, unilateral US sanctions would be fruitless and would create further tensions between Beijing and Washington. Policymakers view Tehran's offer to give China access to its massive oil and natural gas reserves as a way of deflecting the possibility of increased sanctions for its uranium enrichment program. As the UN Security Council shortly will consider such sanctions, there are growing indications that neither China nor Russia will support the move. A good reason for that is China's heavy reliance on oil shipments from the Middle East, particularly from Iran and Saudi Arabia. Security experts say the strategy that China is developing for the Middle East is referred to as the "string of pearls." The strategy is designed to protect sea lanes from the oil-rich area of the Middle East to China. In addition to military, the strategy includes diplomatic and economic activities. As part of the "string of pearls" strategy, China is to develop commercial seaports that also can handle Chinese warships and provide support for alliances from Gwadar in Pakistan through the Indian Ocean and Southeast Asia.
Turkey Leader Lashes Out at Israel
Jan. 12….(YNET) Turkey's prime minister accused Israel on Monday of threatening peace in the region and using disproportionate force against Palestinians. Prime Minister Recep Tayyip Erdogan urged Israel to stop violating Lebanon's airspace and territorial waters. He also called on the UN Security Council to put same pressure on Israel regarding nuclear arms as it does on Iran. "We can never remain silent in the face of Israel's attitude. It has disproportionate power and it is using that at will while refusing to abide by UN resolutions. We can never accept this picture," Erdogan said. "These steps threaten global peace." He spoke a joint news conference with Lebanese Prime Minister Saad Hariri. Hariri described Israel as an enemy that threatens Lebanon's security. "Today, Israel continues its violation of our airspace and waters," Hariri said. Erdogan promised to support Lebanon's case against Israel at the United Nations. Turkey is a temporary member of the Security Council. Discussing the possibility of war to make Iran drop its nuclear program, Erdogan said, "The region cannot accept a new Iraq syndrome." Turkey has long defended Iran's right to develop nuclear energy for peaceful use. "Those who are warning Iran over nuclear weapons are not making the same warnings to Israel," Erdogan said. "Five permanent members of the Security Council must be just. Israel has not denied the existence of its nuclear arsenal; on the contrary it has admitted it." Turkey's ties with Israel have been strained by Erdogan's frequent criticism of the Jewish state's use of force against Palestinians, as well as during the 2006 war against Hezbollah forces in Lebanon.
Egypt Rejects Proposed Alternative to Two-State Solution
Jan. 12….(IsraelNN.com) Maj. Gen. (res.) Giora Eiland presented two alternatives to the two-state solution Monday, at a conference hosted by Bar-Ilan University's Begin-Sadat (BESA) Center for Strategic Studies. Eiland's presentation was based on his new study "Regional Alternatives to the Two-State Solution." According to Eiland, Israel's former National Security Adviser, the first alternative is for Israel to relinquish most of the territory it currently controls in Judea and Samaria for the establishment of a Palestinian state in confederation with the Hashemite Kingdom of Jordan. The second is a multinational exchange of territory between Israel, Jordan, Egypt and the Palestinians on the basis of mutual interest.
Gaza 'needs to be enlarged'
In the territorial exchange proposed by Eiland, Egypt would transfer 720 square km of land to the Palestinians, enabling them to build a seaport, airport and city. Egypt would be compensated with an equal amount of land taken from the Negev desert and a tunnel to run from Egypt to Jordan at the southern tip of Israel which would connect Egypt with the Arab countries to the east. The 720 square km to be transferred by Egypt are equal to 12 percent of Judea and Samaria, which would be the percentage of Judea and Samaria territory to remain in Israel's hands. Eiland argued that the enlargement of Gaza is necessary in order for it to be a viable entity, particularly since demographically the population there is expected to double in the next 20 years. This alternative could enable the region to become an international trade center, he said. Responding to the proposal put forward at the BESA conference by Eiland, a representative of the Egyptian embassy in Israel said it is not possible to expect Egypt to cede territory under its sovereignty in order to reach a solution and that "the Palestinian problem should not be turned into an Egyptian problem." Eiland voiced skepticism regarding the parameters for negotiations as defined recently by US Secretary of State Hillary Clinton, a solution based on the 1967 borders, with land exchanges. The two-state paradigm is not achievable because it is "not attractive enough" to the Palestinians or the Israelis, he said.
Hamas Playing Games in Gaza Again With Rocket-Mortar Barrage
Jan. 11….(Israel Today) Palestinian terrorists operating out of the Gaza Strip have fired 20 rockets and mortar shells into southern Israel over the past week. Over the weekend alone, 10 mortar shells and five rockets were fired. All of the rockets landed in open areas and did not cause any injuries or damage. Responding to the escalating threat, Israeli warplanes bombed terrorist targets in Gaza over the weekend. Palestinian sources said three terrorists were killed when Israel bombed an arms smuggling tunnel running under the Gaza-Egypt border. At Sunday's weekly cabinet meeting, Prime Minister Benjamin Netanyahu said Israel would continue to respond powerfully to each and every rocket fired into Israel. The fact that the Palestinian attacks caused no casualties meant they weren't reported in the international media, while the Israelis responses were. Hamas jumped at the opportunity to turn the tables, telling reporters that it was Israel that was trying to provoke another round of full-scale violence in the region.
Israel Sends 'Message' to Hamas after Rocket Attacks
Jan. 11….(IsraelNN.com) Gaza-based terrorists continued to test Israel's determination to stop rocket and mortar shelling attacks and were met with another aerial strafing on Sunday following more strikes on the Western Negev. At least two Islamic Jihad terrorists were killed. None of the mortar shells and rockets caused any injuries or damage. The IDF denied Arab claims that soldiers fired at and killed two terrorists in a shooting clash. Awad Abu Nasir, one of the operatives killed, was one of the terror organization's senior field commanders and is known to be behind dozens of bombing and gunfire attacks. The Air Force also targeted and identified hitting a squad of terror operatives who were preparing to fire rockets from the central Gaza strip into Israel, military spokesmen said. They noted that Hamas and allied terrorists have attacked Israel with more than 300 rockets and mortars since the end of Operation Cast Lead last year. Last week, the Air Force struck terrorist tunnels and a weapons factory in central and southern Gaza in the strongest show of force since Cast Lead. The IDF vowed it "will not tolerate the firing of rockets by terrorist organizations at Israel and will continue to respond against any attempt to disrupt the calm in Israel's southern communities." The aerial attack, the second in three days, followed Prime Minister Binyamin Netanyahu's warning earlier on Sunday of a "powerful" response to continued attacks. He told the Cabinet Sunday morning, "Iran smuggles in missiles and rockets" into Gaza." Foreign media noted that the escalation of violence from Gaza may complicate efforts by the United States to pressure the Palestinian Authority and Israel for a resumption in talks towards the creation of a new PA state within Israel's current borders. Prime Minister Netanyahu emphasized that PA Chairman Mahmoud Abbas continues to violate previous agreements by encouraging incitement against Israel. Last week. Abbas used the term "martyrs" to describe three terrorists killed by the IDF after they murdered a rabbi in Samaria. The Prime Minister also noted that the PA named a public square for a terrorist involved in a lethal 1978 bus attack in Israel. "Incitement continues in the Palestinian media and education system, in its official media outlets and in the schools under its supervision," he said. "These serious actions represent a harsh violation of the Palestinians' international obligations. This is not how peace is made. Peace is made by educating towards reconciliation, by encouraging good neighborly relations and by developing mutual respect."
Petraeus: US Has Attack Plan for Iran's Nukes
Jan. 11….(Newsmax) The United States has developed contingency plans to address Iran's nuclear ambitions if negotiations falter between the Islamic republic and Western nations, a top US general said Sunday. "It would be almost literally irresponsible if CENTCOM were not to have been thinking about the various 'what ifs' and to make plans for a whole variety of different contingencies," said General David Petraeus, who heads the US Central Command that oversees the Middle East, the Gulf region and Central Asia. Petraeus declined to comment on reports that Israel, which says Iran presents an existential threat to the Jewish state, may attack its arch-foe's nuclear facilities. But he told CNN the facilities "certainly can be bombed" even though they are reportedly heavily fortified. "The level of effect would vary with who it is that carries it out, what ordnance they have, and what capability they can bring to bear," he added. Without elaborating on the contingency plans, the general said it could be some time before Washington decides whether to execute them and that diplomatic efforts would continue in the meantime. Tehran is at loggerheads with Western nations, which charge it is developing nuclear weapons under the cover of a civilian nuclear energy program. Iran denies the charges. The United States is leading efforts to slap a fourth round of UN sanctions on Iran after it failed to meet an end-of-year deadline to accept a deal offered by five permanent UN Security Council members, Britain, China, France, Russia and the United States, plus Germany. Iran gave the West until the end of January to accept its own proposal and President Mahmoud Ahmadinejad said Saturday that Tehran will not back down "one iota" in the face of international pressure over its atomic work. The top US military officer meanwhile said Iran has a "strategic intent" to develop nuclear weapons but urged a new diplomatic push to stem Tehran's nuclear drive, warning that a strike on the Islamic republic would be "very destabilizing." "I think that would be an incredibly destabilizing outcome and potentially generate a nuclear weapons race in that part of the world," Admiral Michael Mullen, the chairman of the Joint Chiefs of Staff, told CNN. "I think an attack would also be, by us or by anybody else, be very destabilizing. US officials have repeatedly insisted they are keeping "all options on the table," which includes a military option, when it comes to Iran. When it comes to Iran's alleged intent to develop nuclear weapons, Mullen stressed it was "important that leaders throughout the world do everything we can to make sure that, one, they don't consummate it and, two, we don't get to a point where an attack is imminent." Leading US Senator Joe Lieberman, an independent who usually votes with the Democrats, said economic sanctions were not enough. "We have to do everything we can not just to put economic sanctions on Iran because of their development of nuclear weapons but to support the people of Iran, to cry out against the human rights abuses, the terrible repression of the demonstrators and just the freedom of average citizens in Iran." Mass protests broke out as a part of what has been dubbed the opposition "Green Movement" in June over hardline President Mahmoud Ahmadinejad's controversial re-election. Opposition demonstrators also clashed with security forces during the Shiite mourning ceremonies of Ashura in Tehran on December 27, leading to the deaths of at least eight people and hundreds of arrests, according to police. Republican Senator John McCain, who lost his White House bid to President Barack Obama in 2008, said the public disenchantment with Iran's hardline regime evidenced by the protests meant "this regime's days are numbered."
'Hizbullah, Lebanese Army One and the Same'
Jan. 11….(JPOST) Israel has launched a diplomatic campaign to impress upon countries providing military assistance to Lebanon that any equipment and technology it provides the Beirut government is likely to fall into Hizbullah's hands, The Jerusalem Post has learned. Lebanese soldiers patrol a mainly Sunni area during clashes in Beirut, Friday. This comes at at time when the US prepares to provide Lebanon with various military equipment. According to government sources, the position Israel is trying to impress on countries that support Lebanon is that the Lebanese army and Hizbullah are virtually indistinguishable. As such, Israel is calling on countries that provide military aid to Lebanon to rethink the matter. In early December, the Lebanese parliament gave a vote of confidence to the government of Saad Hariri and approved a government platform that allowed Hizbullah to maintain its arms in defiance of UN Security Council resolutions. From that time, which also included a declaration that Hizbullah had a mandate to defend Lebanon from Israel, "there has been a great deal of concern here," one official said. The main concern, the official said, is weaponry being provided or pledged by the US. The issue is likely to be raised during the expected meetings here Tuesday with US National Security Advisor James Jones. The US has long provided military assistance to Lebanon. Over the past years this military assistance has included aircraft, tanks, artillery, small boats, infantry weapons, ammunition, Humvees and cargo trucks.
WEEK OF JANUARY 3 THROUGH JANUARY 9
Mitchell: Mideast Stagnation Endangers US Foreign Aid
(On eve of visit to region, American special envoy George Mitchell threatens Israel with sanctions if it fails to advance peace talks, two-state solution. Secretary of State Clinton says working to restart negotiations 'without preconditions')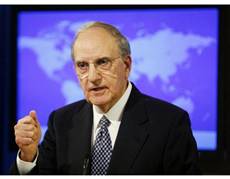 Jan. 9….(YNET) On the eve of his visit to the Middle East, US special envoy George Mitchell threatened that his country would freeze its aid to Israel if the Jewish state failed to advance peace talks with the Palestinians and a two-state solution. Mitchell clarified in an interview to the PBS network that the United States would use incentives or sanctions against both sides. According to American law, Mitchell said, the US can freeze its support for aid to Israel. He added that all options must remain open and that the sides must be convinced about what their important interests are. The US envoy noted that some progress had been made and that his country would continue its efforts to resume the negotiations. The American guarantees allow Israel to raise funds at low interest rates and improve the Jewish state's credit rating. The last time the US threatened to freeze the guarantees was during the term of President George Bush Sr. and former Prime Minister Yitzhak Shamir. Ahead of Mitchell's visit, US Secretary of State Hillary Clinton held talks Friday with Jordanian Foreign Minister Nasser Judeh and Egyptian Foreign Minister Ahmed Aboul Gheit. Egyptian Intelligence Minister Omar Suleiman is also in Washington. Clinton's aim is to recruit Egypt to host a possible meeting between PM Benjamin Netanyahu and Palestinian President Mahmoud Abbas, in which a resumption of direct negotiations will be declared. The secretary of state Hillary Clinton said after meeting with her Jordanian counterpart that she was working to restart peace talks between Palestinians and Israelis "without preconditions." "We are working with the Israelis, the (Palestinian Authority), and the Arab states to take the steps needed to relaunch the negotiations as soon as possible and without preconditions," she said. Clinton and Judeh said that resolving those matters first would eliminate Palestinian concerns about continued construction of Jewish settlements in disputed areas. They said negotiations should begin as soon as possible and be bound by deadlines. "Resolving borders resolves settlements, resolving Jerusalem resolves settlements," Clinton said after meeting Judeh at the State Department. "I think we need to lift our sights and instead of being looking down at the trees, we need to look at the forest." Peace efforts in the past have tended to focus on broader issues, including settlements, the fate of Palestinian refugees and water, with even more contentious matters like borders and Jerusalem being left for so-called "final status" talks. "If you resolve the question of borders then you automatically resolve not only settlements and Jerusalem but you identify the nature on the ground of the two-state solution and (what) it looks like," Judeh said. Both Clinton and Judeh spoke out against new Israeli housing construction in east Jerusalem, which the Palestinians claim as their capital, saying it was damaging to the process. When he travels to the region, Mitchell is expected to be carrying letters of "guarantees" outlining the US position. The letters are likely to contain gestures to both sides. For the Palestinians, that would include criticism of settlements and the belief that the borders that existed before the 1967 Arab-Israeli War should be the basis of a future peace deal. For the Israelis, they would acknowledge that post-1967 demographic changes on the ground must be taken into account, meaning that Israel would be able to keep some settlements. Clinton did not address the letters in her remarks. But she said the administration wanted a resolution that meets both the Palestinian goal of a clearly defined and viable state based on the borders that existed before the 1967 war "with agreed swaps" and the Israeli goal of security within boundaries that "reflect subsequent developments." "There is a hunger for a resolution of this matter, a two-state solution that would rebuke the terrorists and the naysayers, that would give the Palestinians a legitimate state for their own aspirations and would give the Israelis the security they deserve to have," she said. "This is a year of renewed commitment and increased effort towards what we see as an imperative goal for the region and the world," Clinton said.
FOJ Note: Mitchell's threat is diplomatic blackmail, it is despicable, and it is dangerous for our country!
Jesus Christ - 'Two Most Explosive Words in English Language'
(Fox News analyst Brit Hume says Tiger Woods should become a Christian)
Jan. 9….(Culture) On a Fox News Sunday segment featuring predictions for 2010, Hume said he expects Woods to resume his golfing career, but added that faith will likely determine "whether he can recover as a person." Woods is taking a hiatus from golf after admitting he was unfaithful to his wife. Hume said the golfing great will probably lose his wife and children, but can still find redemption and "a total recovery" if he becomes a Christian. "He's said to be a Buddhist," stated Hume. "But I don't think that faith offers the kind of forgiveness and redemption that is offered by the Christian faith. So my message to Tiger would be...turn to the Christian faith and you can make a total recovery and be a great example to the world."
Fox News analyst Brit Hume says he doesn't regret urging Tiger Woods to become a Christian so the golfer can find forgiveness for marital infidelity. Hume told CBN News that "Christianity is a religion for sinners, and I think that Tiger Woods has an opportunity here, and my prayer would be that he would take it." Hume has been denounced for saying that he doesn't think the famous golfer's belief in Buddhism "offers the kind of forgiveness and redemption that is offered by the Christian faith." The longtime journalist said he wasn't surprised that the remark aroused controversy. "If you're trying to find the two most explosive words in the English language, those two words are 'Jesus Christ,'" he stated. He recognizes that openly expressing faith in Jesus Christ offends a lot of people. "People rage about this," he said. "It's very offensive to those who don't share the faith, [and] it's offensive to some people who claim they do share the faith. This is to be expected, and it has been happening to people who proclaim their faith in Christ for as long as anybody can remember, this is part of the deal." Hume described how he became a Christian. "Eleven years ago, my son committed suicide," he shared. "And as you can imagine, it was absolutely devastating. And yet throughout that whole horrible time, I had this sense that God was there for me, that he would rescue me, that he would save me, and he did." The news analyst said he was deeply moved by the hundreds of letters of condolence he received after that tragedy. "I felt that I was seeing in them the face of God," he recalled, "and I felt that it was time for me now to face up to the Christian faith which I purported to belong to, and try to face up to the implications of what I purported to believe, and I've been trying ever since."
FOJ Note: Now here is a newsman I could trust………
Has The Countdown to The End Begun?
Jan. 7….(Earl Cox/Jerusalem Post) Another year has come and gone, and that simply means that the world is one year farther into the "end times" of Bible prophecy. As some would say, it is one year closer to its Biblical conclusion. Actually, the Bible does not say that the world itself will end, but that this "time" or "age" will end and a new one will begin. So how has the year 2009 contributed to this "end times" progression? What has occurred this past year to help lead the world closer to the conclusion of our present "time"? The election of a new American president focused on "change". But it appears that the new administration is following the same route to attempt to fix the problem of the Israeli-Palestinian conflict as did the old, namely to force a two-state solution. The pursuit continues, in spite of the clear reality that for 60+ years this highly heralded two-state solution has run into insurmountable obstacles. It has not worked and will not work until the rebellious and militant mindset of the radical Muslim Arabs changes and they accept Israel as a sovereign state and recognize her right to exist. The Arab and Muslim mindset of hatred for the Jewish people goes back some 4,000 years to the rivalry between Isaac and Ishmael. But Bible prophecy tells us that one day this Arab hatred is going to erupt in an all-out war aimed at destroying and annihilating the Jewish nation and people. This event seems to be more and more imminent. The world community has failed to acknowledge the Biblical significance of the state of Israel. The fulfillment of the Biblical prophecy of the return of the Jewish people to their ancient homeland and the rebirth of the ancient nation of Israel virtually launched the "end times." Nor do the world leaders seem to understand that their policies, in regard to the restored present-day Israel, have accelerated the "end times" events that the Bible describes. The leaders of the world's nations do not even realize that we are now living in a most important time in Biblical prophetic history. Ironically, even most Christians and Jews, who base their religious beliefs on the Bible, do not really comprehend Bible prophecies either. Most Christians and Jews do not seem to understand the Biblical significance of the nation of Israel, or of the Middle East, Russia, Iran, the European Union and other nations of the world. Most of the fathers, reverends and rabbis believe that the Biblical "end times" prophecies are allegorical and not literal. The Vatican and the World Council of Churches have joined the international political community in calling on Israel's Jewish people to get out of and to give away to the Arabs the land that God promised to the descendents of Abraham, Isaac and Jacob as an everlasting possession. This view, of course, is in direct opposition to God's Divine policy, as revealed in the Bible. The international Quartet, made up of the United Nations, the United States, the European Union and the Russian Federation, are trying their hardest to sacrifice the land of Israel, as they see it, for the sake of peace. But they should know that serving up Israel sacrificially will not bring peace to Israel or to the rest of the Middle East. The land for peace efforts already tried have only brought more violence and disorder because of the radical Islamic beliefs and the unabated Arab hatred for the Jews. True to form, the United Nations continually raises its fist against Israel, reflecting world sentiment. The demand is always on the table for Israel to commit to the formation of a Palestinian state as soon as possible and freeze all Jewish settlement construction. The entire world seems so completely biased that they totally ignore the Palestinians' failure to make any efforts to implement what they promised in signing the Roadmap agreement several years ago. The first step in the agreement was for the Arabs to halt all their terrorist activities against Israel and for the Palestinian leaders to disarm and dismantle all the terrorist groups. Not only has this first step not been taken, but nothing else the Arabs agreed to has been implemented yet. President Obama and UN leaders want Israel to give the Palestinians a state anyway, even though they have deliberately defied their word and have done nothing positive to deserve it. All this world community pressure on Israel has only led to increased animosity toward Israel from Arab and Muslim nations of the Middle East, most prominently Iran. The whole world knows that the leader of Iran has incessantly declared his intentions "to wipe Israel off the face of the map." Interestingly, Bible prophecy describes this very Middle East scenario and places it in the framework of the "end times." The prophet Ezekiel clearly declared that in the "end times" Persia (today's Iran) would form a military coalition with Russia and several other Arab-Muslim nations, to fight against Israel with the intent to annihilate the Jewish nation and people. This Iranian-Russian alliance is already in place and, with Iran boasting of its nuclear weapons development, an attack against Israel could be imminent. The Bible calls this the Gog-Magog War. However, the prophecy goes on to declare that the God of Israel will intervene and this will begin with the coming of the promised Jewish Messiah. And remember, nothing is as sure as the promises of God in the Scriptures.
Obama Forswears Tough Sanctions on Iran, Letting Iran Off the Hook
Jan. 7….(DEBKAfile Special Report) Taking advantage of the ado surrounding the failed airliner bombing and the new prominence of the al Qaeda peril, the Obama administration has finally given up its sanctions strategy for averting the rise of a nuclear-armed Iran. US secretary of state Hillary Clinton was tasked with the public announcement: "The Obama administration wants to keep the door to dialogue open with Iran," she said Jan. 4, then added a remark which let Iran off completely of the American hook, "although the United States has avoided using the term deadline, it cannot wait indefinitely to hear form Iran." Her words explicitly backtracked on statements by other senior administration officials, including National Security Adviser James Jones, in recent interviews that Tehran's deadline for responding to international proposals expired on Dec. 31. DEBKAfile's Iranian sources report that Tehran sees Washington as so eager to reach the negotiating table that it is falling back from effective penalties step by step, including an embargo on refined oils and benzene, and even willing to forgive Iran's failure to meet a highly publicized international deadline. "Our goal is to pressure the Iranian government, particularly the Revolutionary Guards elements without contributing to the suffering of Iranians," Clinton explained. Threatening Iran's Revolutionary Guards instead of its regime is nothing but a feeble face-saver, our Iranian sources maintain, since the IRGC, whose financial operations and its management of Iran's nuclear program subsist on alternative "black market" economic mechanisms is hardly vulnerable to international sanctions. The Guards command a world network of thousands of straw companies, which defy investigation, even by American experts. Their funds are not moved through banks but around the illegal channels of international crime and drug cartels in countries outside US scrutiny. The IRGC is therefore not afraid of the fading US threat of sanctions. In Jerusalem, the Netanyahu government persists in clinging to the Obama administration's coattails on the Iranian nuclear menace, keeping up the pretence that sanctions are still a viable option. On Jan. 2, a senior Israeli diplomat in Washington was quoted as saying that in back-channel conversations "Obama has convinced us that it's worth trying the sanctions, at least for a few months." Another official, deputy foreign minister Danny Ayalon, predicted confidently to an interviewer: "The US will impose sanctions against Iran within a month." Two days later, the Clinton statement showed Israeli officials to be woefully lagging behind the times with regard to decision-making in Washington. There, the Iran crisis has been taken back a whole year to square one. The Obama administration wasted this year in barren diplomatic engagement against Tehran's iron resistance to any changes in its nuclear objectives, while the Netanyahu-Barak government frittered the year away by playing follow-the-US leader and keeping Israel on the sidelines of any initiative against an avowed enemy. By contrast, Iran spent the year celebrating another leap forward in developing its nuclear weaponry and missiles, the while binding its ally Syria and proxies Hizballah and Hamas to mutual defense pacts should the US or Israel conjure up the temerity to strike its nuclear facilities after all.
US Intelligence: Southern Gaza Could be the Next Yemen
Jan. 6….(DEBKAfile Exclusive Report) The year 2010 will see a new Israeli military operation in Gaza - not against the Palestinian Hamas, which is not eager for more punishment, but the al Qaeda bastions spreading across the southern Gaza Strip. This prognosis is shared by intelligence circles close to the Obama administration and the CIA, DEBKAfile's intelligence and counter-terror sources report. A senior White House terror expert warned recently that strengthened al Qaeda networks in the Gaza Strip would be as dangerous and menacing as the jihadists' strongholds in Yemen. This threat prompted Egypt to build its iron wall along the Gaza-Egyptian border. Their access to Sinai would not only directly imperil the peninsula, but might well spill over into Egypt proper, first terrorizing the cities along the Suez Canal and the vital waterway itself. US intelligence watchers have picked up a working link between the Gaza-based networks and Pakistan accompanied by a swelling influx of Pakistani fighters into the Hamas-ruled Palestinian territory at a rate estimated at dozens a month. They include some Saudi jihadists. According to current US evaluations, while al Qaeda's new headquarters in Pakistani Baluchistan is working hard to push reinforcements into Yemen, its operational planners are not neglecting the Gaza Strip, assuming that this Palestinian enclave will be the next Western-jihadist warfront after Yemen. Bruce Riedel, who produces the latest evaluations on the Afghanistan and Pakistan conflicts for president Barack Obama, predicts another Gaza war may be triggered by a jihadist cell ambushing another military patrol on the border of Gaza, killing several and capturing one or two. Israel will not be able to endure another Shalit ordeal for the return of its captive soldiers and will therefore go into the Gaza Strip with maximum force. "Another Gaza war would be another gift to al Qaeda," says Riedel, especially if the ambush is timed to take place on the anniversary of 9/11 in September 2010. Worries about al Qaeda's spreading tentacles were also voiced in Lebanon by Fatah commander Brigadier Sultan Abu al-Aynayn. Sunday, Jan. 3, he accused external parties of seeking to "export" fundamentalists to refugee camps across Lebanon. "We have taken measures to prevent Al-Qaeda from infiltrating Palestinian refugee camps after we received information that external parties were seeking to export extremists, particularly from Iraq, and stir up tension inside the camps," Abu al-Aynayn said in an interview.
Iraq De-Judaizing Ezekiel's Tomb
Jan. 5….(IsraelNN.com) Early reports that Iraq plans to retain the Jewish nature of the Tomb of the Prophet Ezekiel are apparently false. Sources in Baghdad say that the government plans to turn it into a mosque and erase all Jewish markings. Iraq announced earlier this year that it would revamp the ancient burial site, which is located in Al-Kifl, a small town south of Baghdad. The US-backed government announcement implied that its Jewish nature would continue to be emphasized. Since then, however, reports have surfaced that the government is actually planning to build a mosque there, including removing the ancient Hebew inscriptions that adorn the site. Some reports say that all or some of the lines of Hebrew script have already been erased. Ezekiel (Yechezkel, in Hebrew), lived in the sixth century BCE, having accompanied the exiled Judeans to Babylon. His prophecies include the Vision of the Dry Bones, as well as the future return of Jewish People to the Land of Israel even if they are not deserving (Chapter 36: 22-25). Thousands of Jews often visited the site of his tomb annually before Iraqi Jewry came to an abrupt end in the middle of the 20th century, and Moslems and Christians continue to visit it even today. Shelomo Alfassa, Director of Justice for Jews from Arab Countries, reports that Islamic political parties have pressured the government to remove the Jewish inscriptions. He quotes the Iraqi news agency Ur News as reporting that the writing and ornamentations "are being (or have been) removed… under the pretext of restoring the site." Alfassa quotes sources to the effect that Iraq's Antiquities and Heritage Authority "has been pressured by Islamists to historically cleanse all evidence of a Jewish connection to Iraq, a land where Jews had lived for over a thousand years before the advent of Islam." "Iraq, the Biblical Mesopotamia is almost as rich in Jewish history as the Land of Israel. The tomb of the prophet Ezekiel dates back to the Babylonian exile in the sixth century BCE. It was there in Iraq that Abraham discovered monotheism, and it is where the prophets Ezra, Nehemiah, Nahum, Jonah and Daniel are all buried."
Sharon Still in a Coma, Four Years Later
Jan. 5….(IsraelNN.com) Ariel Sharon suffered a stroke four years go that has left him comatose, a condition that is unlikely to change, according to close friend and former advisor Dov Weisglass. Sharon, now age 81, suffered a mild stroke in December of 2005, followed by a massive one in January 2006 from which he has never regained consciousness. Weisglass told the Associated Press that although Sharon's vital signs are good, there are no signs he is progressing out of his coma, despite several rumors over the years that were based on involuntarily movements of his eyes. Although he is not on a respirator during the day, he is fitted with an oxygen mask at night. Raanan Gissin, another close friend and former director of Sharon's office, told the news agency, "There is still no change physiologically. His body functions, but he has still not regained consciousness. Who knows if he can hear or not?" Sharon's major stroke occurred less than four months after the expulsion of almost 10,000 Jews from the Gaza region and parts of northern Samaria, as well as the withdrawal of the IDF from Gaza and the Philadelphi corridor. Shortly afterwards, Hamas staged a coup and took control of the region.
Chinese Helped Develop Pakistan Nuke Program
(Aid continues despite diversions to Iran)
Jan. 4….(WND) China covertly helped Pakistan in developing its nuclear weapons program and continues that support even now while that assistance has become the basis for Pakistan's help with Iran's nuclear development effort. US government report from the congressional US-China Economic and Security Review Commission said that Chinese support to Pakistan began in the mid-1980s and covertly supplied technology and materials for an entire nuclear weapons development program. "In 1983, US intelligence agencies reported that China had transferred to Pakistan a complete nuclear weapon design and enough weapons-grade uranium for two nuclear weapons," the report said. "Despite Pakistan's poor track record for preventing proliferation of nuclear materials and technology, China continues to support Islamabad's nuclear development." The revelation is the first time the US government has confirmed what has been widely assessed for some time. It came in a brief, boxed statement buried in the midst of a 381-page overall annual assessment on the "national security implications of the bilateral trade and economic relationship between the United States and the People's Republic of China." China's nuclear assistance to Pakistan underscores the long-standing strategic relationship between the two countries spanning five decades. "No relationship between two sovereign states is as unique and durable as that between Pakistan and China," according to Pakistani President Asif Ali Zardari. The relationship is designed to counter the nemesis of both China and Pakistan – India. That relationship began in the mid-1950s when China sought help from a number of countries in the region as its relationship with India became more hostile, resulting in conflicts from 1962 to the late 1980s. "Chinese policy toward Pakistan is driven primarily by its interest in countering Indian power in the region and diverting Indian military force and strategic attention away from China," according to Lisa Curtis, a senior research fellow at the Washington think-tank Heritage Foundation. China today remains Pakistan's largest defense supplier, having provided equipment, technology and scientific expertise not only for Pakistan's nuclear weapons but also for its ballistic missile programs. China also has helped Pakistan build two nuclear reactors and promised to build two more, notwithstanding international criticism Pakistan received from the nuclear espionage of AQ Khan, known as the father of the Pakistan nuclear bomb. Khan had developed an international nuclear espionage network to smuggle nuclear components into Pakistan and in turn assisted such countries as North Korea and Iran in creating their own nuclear weapons program. Zardari recently released Khan from house arrest, much to the consternation of the US. Yet there is no evidence that his international network has been dismantled. To the contrary, it looks like it continues to flourish. Khan himself remains under the protection of Pakistan's intelligence service, the Inter-Service Intelligence Directorate, or ISI. The ISI also was responsible for creating the Taliban which is battling US forces today in Afghanistan.
Obama: AWOL in Iran Crisis
Jan. 4….(Tom Tancredo/WND) It is now abundantly and painfully clear that President Obama is clueless about America's national security interests in this dangerous world. Obama is playing golf in Hawaii as the Islamist regime in Tehran shoots protesters in the streets and admits it has beaten to death scores of other protesters taken to jail. Obama's silence in not voicing support for the protesters is deafening. Anyone who has watched events unfold in Iran over the past three months can see that the street protests have evolved from a protest against a stolen election to a wider protest against the regime itself. The protests are not only taking place in the capital but in major cities all across the country. The most recent protests featured banners and shouts aimed at America: "Obama, which side are you on?" is a chant heard often. Unfortunately, that's a good question. Since the revolution in 1979 that overthrew the pro-Western shah, Iran has pretended to be a democracy, but its "fundamentalist regime" slowly concentrated power in the hands of radical clerics. So, Iran now pretends to be a democracy, and the world pretends to believe it. Last October, the regime pretended to have a presidential election but overplayed its hand by stuffing the ballot boxes. In the last 27 years, over 120,000 citizens in Iran have been killed by the regime, executed after sham trials or simply shot or beaten to death in prison without benefit of a trial. The street protests are escalating because millions of Iranian citizens have decided they have no other recourse. The question is not, what do Iranians want? The question is, is the civilized world listening? Is Obama listening? Obama's silence over Iran's democratic protests is especially confounding after his rush to judgment in Honduras. After the Honduran Supreme Court and Congress ousted the president under a constitutional provision allowing that move, the US State Department protested their action. In Honduras there was no reluctance to criticize a pro-American regime, but in Iran, the United States bends over backwards to maintain neutrality and keep "open channels" to the dictatorship run by the radical mullahs. Why this double standard? Obama's silence is not merely hypocritical, it is patently contrary to America's vital interests. There is more at stake in Iran than the human rights of street demonstrators. What is at stake is the safety and security of the United States. Why? Because Iran's clerical regime is the central banker and strategic sanctuary for Islamist terrorists all over the world. Iran's leadership has openly stated that one of their goals is to destroy Western democracies and replace them with a new, worldwide caliphate ruled by Shariah law. In other words, Iran's regime has declared war on the West and is covertly funding our enemies, while we pretend these conflicts are the result of "misunderstandings." Without Iran's funding and backing, the terrorist cells in Yemen, Pakistan, Somalia, Argentina, Western Europe, Indonesia, Lebanon and Iraq would be far less dangerous. Try this experiment. Think what a different world we would have if the radical mullahs in Tehran were overthrown and a genuine democracy installed in its place. What if there were a government in Iran that actually sought nuclear power for peaceful purposes and not for bombs? What a different world it would be if the government in Iran stopped interfering in the affairs of Iraq and other neighbors! The democratic protesters in Iran are not asking for American "intervention." They are only asking for our moral support, a signal that we want their side to win. Why is that so difficult for Obama to do? Since his election, Obama has been following a policy of "reconciliation" with Iran. He has opened negotiations both publicly and through back channels, offering a new dialog and apologies for America's past sins. What has been the Iranian response? It has proceeded full speed on its nuclear program, its suppression of democratic dissent at home and its support of terrorists aboard. By his naivete, Obama has made himself worse than irrelevant: His silence implies support for the Iranian regime. Like millions of other Iranians worldwide, Tim Ghami, the head of the Colorado Iranian American Community, follows the events in Iran closely. A naturalized American citizen who worries about both America and Iran, Ghami believes that within 12 months the dictators will be gone, if only America and Europe will give moral support to the democratic forces. But Iranians are not the only ones who are asking Obama, "Which side are you on?" Americans, too, are asking the president to change course.
Party On Drunken World
Jan. 4….(JNEWSWIRE) Even as country after country celebrated the arrival of a new year, at least everywhere the Gregorian calendar is held to, toasts will be drunk, fireworks fired, dances kicked off, resolutions made and new wall calendars hung. As the final days of 2009 ticked away, television networks and other media parsed the main happenings of the year, held votes for the most influential people of the year, and tried their hand at forecasting the events they believe could come to pass in 2010. The annual, worldwide party has almost "everyone" hyped up with excitement and anticipation. Almost, but not quite, everyone. From here in Israel, in a strange, almost eerie way, the Christmas and New Year holidays appear to be happening way "out there." The mood, the atmosphere, the bright lights, decorations and festivities, all seems to mostly pass Israel by. Apart from in the Arab-occupied town of Bethlehem and among the tiny Christian minority and the ex-patriots, Christmas Day here was an ordinary working day, and New Year's Eve and Day are normal working and school days. It's a strange feeling. I watch on Sky News and Fox News as 2009 flickers out and 2010 is ushered in "all around us" and think, not for the first time, about how out of step Israel is with the rest of the world; in another, more serious sense, how alone. There can be little doubt about what the international community's wishes are for Israel in 2010. The Muslim world will be hoping to secure Israel's destruction, through terrorism, war and the global outlawing of the Jewish state, in the coming year. The "Christian" world will be hoping to secure a peace treaty between Israel and the Arabs, at Israel's expense and to the Arabs' benefit, in a way that will ensure as much as possible the stability of the oil market. Yes, western democratic leaders and eastern despotic mullahs will continue to plot and plan ways to realize their aims and goals with this nation. Will Hillary Clinton and Barack Obama succeed in squeezing Israel into compliance with their plans? Will Mahmoud Ahmadinejad triumphantly announce Iran's acquisition of an atomic bomb? What about the newly-strengthened European Union? What about Syrian belligerency, Lebanon's Hizb'allah, Gaza's Hamas, Ramallah's Fatah? Will Marwan Barghouti be released and in him, Yasser Arafat rise sphinx-like from the grave? How much longer can Israel stand? As we look into 2010, polls in the country show that Israelis are more pessimistic about what lies ahead than they were a year ago. Without question, the pressures have continued to mount exponentially year after year. While things have been relatively still on the surface since Operation Cast Lead in the Gaza Strip a year ago, few here doubt that this is anything other than the quiet before the storm. Unsurprisingly, then, there are lots of questions; plenty of unknowns. In the face of this, Isaiah 41:9-14 is a source of great encouragement to me. I have taken the liberty of inserting a few thoughts between each line: But you, Israel, are my servant, Jacob whom I have chosen, the seed of Abraham my friend. The Mighty God directs His following comments to Israel, that is Jacob: not some spiritual entity but to the physical children of Israel. You whom I have taken from the ends of the earth, and called you from the chief men thereof, and said to you, You are my servant; I have chosen you, and not cast you away. Contrary to what so many Christians (God forgive us) espouse, God has not cast His ancient people away. Fear you not; for I am with you: be not dismayed; for I am your God: I will strengthen you; yes, I will help you; yes, I will uphold you with the right hand of my righteousness. Exhortation after exhortation: Don't be afraid; don't be dismayed – because HE IS YOUR GOD. He will strengthen, help and uphold His nation. Behold, all they that were incensed against you shall be ashamed and confounded: they shall be as nothing; and they that strive with you shall perish. You shall seek them, and shall not find them, even them that contended with you: they that war against you shall be as nothing, and as a thing of nothing. Oh, no matter how powerful the nations, how influential, how deceitfully diplomatic or belligerently boastful; neither the power of the White House nor the power of a nuclear bomb amounts to anything Israel need fear. Mighty as they seem, these nations are doomed to disappear, to destruction, to everlasting nothingness. For I the LORD your God will hold your right hand, saying to you, Fear not; I will help you. Fear not, you worm Jacob, and you men of Israel; I will help you, said the LORD, and your redeemer, the Holy One of Israel. Small Israel might be. Sheep without a shepherd. A worm in the site of the world. A worm to be squashed, as far as the nations are concerned, but a small nation to be lifted up, shielded and protected as far as the God of Israel is concerned. Party on, world, with your guilty pleasures, your twisted reality shows, your power trips and blood lust, your manifest hatred of God and devious designs on His land. Those of us who love Him, love His purposes and love His appearing – we can pray and call upon the God of Israel:
Happy New Year From FOJ
(And remember God is still in control and will do as follows:)
Isaiah 46:9-10 Remember the former things of old: for I am God, and there is none else; I am God, and there is none like me, Declaring the end from the beginning, and from ancient times the things that are not yet done, saying, My counsel shall stand, and I will do all my pleasure.
---