WEEK OF MARCH 29 THROUGH APRIL 3
The Precious Blood of Jesus
April 3….(Charles Stanley) Many churches today have erased all mention of Jesus' blood from their worship. But the shedding of blood is essential to the Christian faith, without a sacrifice, no one can have a relationship with God. For that reason, the Lord wove the story of death, renewal, and reconciliation like a red thread from Genesis to Revelation. What do you have if you take all the blood from a body? A lifeless corpse, right? The same thing is true of the Bible. Scripture would be no more than historical literature if we edited the "unpleasant" bits regarding animal sacrifice, Jesus on the cross, or the power of His blood. God designed the redemption system in such a way that anyone could understand the connection between shed blood and freedom from sin. The Lord gave detailed instructions for offering a perfect animal sacrifice so that His holiness would be satisfied. God also wanted His followers to understand that sin brought terrible consequences and resulted in death. The first fatality in Scripture was the animal whose skin was used to cover Adam and Eve's nakedness (Genesis 3:21) Every time an Israelite brought to the priests a lamb or a pair of doves, he recognized that "the wages of sin is death" (Romans 6:23). God chose a graphic solution to the world's sin problem. Therefore, believers cannot be squeamish about explaining what truly happened at Golgotha. The words we choose influence listeners; "Jesus shed His blood for you" is a powerful statement. It is also the message God repeats throughout the Bible.
FOJ Note: Jesus could have called 10,000 angels to avoid an ignominious death on a cross, but he chose to be lifted up on that old rugged cross that all might have eternal life. While praying in the Garden of Gethsemane, he could have escaped into the wilderness, but he chose to allow himself to be arrested by the Romans. (Hebrews 10:12-14 But this man, after he had offered one sacrifice for sins for ever, sat down on the right hand of God; From henceforth expecting till his enemies be made his footstool. For by one offering he hath perfected forever them that are sanctified.)
ME Game-Changer: US Nuclear Shield for Saudis
(The US test-fired a submarine-launched ballistic Trident missile capable of carrying nuclear warheads from Saudi territory during a joint military exercise last week)
April 2….(DEBKA) A US defense spokesman denied the Trident's launch, Wednesday, April 1, but Saudi security sources stand by the report. debkafile's military sources report this was the first time in Middle East military history that a nuclear-capable missile was fired from the oil kingdom toward the Persian Gulf and Iranian shores. It came in response to Saudi and Gulf Arab concerns over America's failure to halt Iran's evolving nuclear weapon program. The official did not reveal the location of the test, the type of submarine used, whether it was successful, or even the scale of US and Saudi strength taking part in the joint exercise. Our sources report they must have been American since Saudi Arabia does not have the units or radar systems for operating multiple-headed ballistic missiles. Regardless of the location - Saudi waters off the Red Sea or its Persian Gulf bases, the drill would have brought the Trident close to the Iranian coastline, either on the Persian Gulf or Arabian Sea. This demonstration by the Obama administration aimed at showing Saudi and Gulf Arab rulers they are now protected by an American nuclear umbrella against an Iranian nuclear attack. Monday, March 29, Saudi Deputy Defense Minister Prince Khaled bin Sultan said Saudi and US warplanes will carry out joint air exercises soon.
Shock Claim: Obama Encouraged Palestinian 'Resistance'
(Violence targeting Jews aimed at pressuring Israel into splitting capital)
April 2….(WND) The Obama administration has encouraged "resistance" by Palestinians to protest Israel's presence in eastern Jerusalem, a senior Palestinian Authority official claimed to WND. The senior PA official, speaking from Ramallah on condition of anonymity, said that in recent meetings with US envoys to the region, American diplomats supported and encouraged the concept of Palestinian protests to pressure Israel into evacuating eastern sections of Jerusalem. The PA official's claim follows a meeting in Jordan last week between PA President Mahmoud Abbas and George Mitchell, Obama's envoy to the Israeli-Palestinian conflict. At a press conference immediately following the meeting, Abbas declared the Palestinian "right" to "resistance" against Israel. The US has come down hard on a decision by the Jerusalem municipality to approve 1,600 new homes in Ramat Shlomo, an already-existing Jewish community in eastern Jerusalem.
Palestinian Authority Squandering Foreign Aid
March 31….(Israel Today) The Palestinian Authority is squandering massive amounts of foreign financial aid, acknowledged a top Palestinian economist in an address to the United Nation's Seminar on Assistance to the Palestinian People last week. Dr. Ghania Malhis of the Economic Policy Research Institute in Ramallah noted that foreign governments have donated over $12 billion to the PA over the past decade. Non-governmental organizations (NGOs) such as UNRWA have pumped even more into the Palestinian economy. Malhis explained that these sums are enormous considering that the PA's GDP is only about $4.5 billion a year, and that there are only around three million Palestinians living in the area, meaning they receive more foreign financial aid per capita than anyone else in the world. And yet, the Palestinian economy is actually in worse shape than it was a decade ago. "One cannot but feel that these resources have been wasted. When the outcome of more than a 12 billion dollar investment results in such disastrous numbers, then it is obvious that immense mistakes were made on a strategic level," said Malhis. Besides outright corruption and theft, Malhis blamed the situation on the PA's inability to adequately manage economic affairs, noting that the production capacity in Palestinian areas was far higher prior to the start of the land-for-peace process, when the area was under Israeli control.
Calls for 3rd Temple in Jerusalem
March 30….(Jerusalem Post) While tensions continue to simmer around the Temple Mount after riots in and around the capital's Old City earlier this month, a new campaign calling for the construction of the Third Temple atop the holy site has made its way to the sides of 200 Egged buses in the city, which now sport posters featuring a picture of a rebuilt temple on the Mount, and nothing else. The posters, which contain the phrase, "May the Bais Hamikdosh be rebuilt speedily and within our days," were sponsored by the Our Land of Israel group, which is led by Rabbi Shalom Dov Volpo and activist Baruch Marzel, leave out the site's current structures, namely the the Aksa Mosque and the Dome of the Rock. The campaign's organizers chose to plaster the posters on buses whose routes take them through predominately Arab neighborhoods of east Jerusalem. With regards to the campaign, Volpo said Israel is waiting breathlessly for the coming of the messiah and the rebuilding of the temple. "The Arabs and President Obama know that the Temple will be built on the Temple Mount," he said. "Instead of the temporary buildings that are there today." Speaking to The Jerusalem Post on Sunday, Marzel said it was no mistake that the Islamic shrines were left out of the picture. "We're representing the truth, in front of everyone, and saying out loud what every Jew believes," Marzel said. "That the Third Temple needs to be built immediately on the Temple Mount and that the mosque should not be there." "When we reach the end of the Pessah Seder tomorrow night, he continued, "we'll say, 'Next year in a rebuilt Jerusalem.' What does 'rebuilt' mean? It means with the Third temple intact." Marzel brushed off the furor the ads might elicit from the capital's Muslims, saying, "It upsets them that we're alive, and that we're living here. "If such a basic point is going to piss them off, then we mine as well say what we truly believe and what we pray for three times a day. That is to rebuild the holy temple on top of the Temple Mount, and tomorrow, not to wait any longer."
Israel Fears Obama May Impose Mideast Peace Settlement
March 30….(Ha Aretz) US President Barack Obama's demands during his meeting with Prime Minister Benjamin Netanyahu last Tuesday point to an intention to impose a permanent settlement on Israel and the Palestinians in less than two years, political sources in Jerusalem say. Israeli officials view the demands that Obama made at the White House as the tip of the iceberg under which lies a dramatic change in US policy toward Israel. Of 10 demands posed by Obama, four deal with Jerusalem: opening a Palestinian commercial interests office in East Jerusalem, an end to the razing of structures in Palestinian neighborhoods in the capital, stopping construction in Jewish neighborhoods in East Jerusalem, and not building the neighborhood of Ramat Shlomo. But another key demand, to discuss the dispute's core issues during the indirect talks that are planned, is perceived in Jerusalem as problematic because it implies that direct negotiations would be bypassed. This would set up a framework through which the Americans would be able to impose a final settlement. It is not just Obama's demands that are perceived as problematic, but also the new modus operandi of American diplomacy. The fact that the White House and State Department have been in contact with Israel's European allies, first and foremost Germany, is seen as part of an effort to isolate Israel and put enormous political pressure on it. Israeli officials say that the Obama administration's new policy contradicts commitments made by previous administrations, as well as a letter from George W. Bush in 2004 to the prime minister at the time, Ariel Sharon. According to this view, the new policy is also incongruous with the framework posed by Bill Clinton in 2000. Senior Israeli sources say that as a result of the US administration's policies, the Palestinians will toughen their stance and seriously undermine the peace process' chances of success. Moreover, sources in Jerusalem say that the new American positions undermine the principle of credibility that has guided US foreign policy since the end of World War II. Ignoring specific promises made to its Israeli ally would make other American allies lose trust in its commitments to them. Israeli officials warn that if the United States shirks its past commitments, the willingness of the Israeli public to put its trust in future American guarantees will be undermined, as will the superpower's regional and international standing. Israeli officials again warned that Obama's behavior is hardening Palestinian positions and putting genuine peace even further out of reach. They also cautioned that Israeli public trust in America would further wane.
We Will Decapitate the Jews and Rip Out Their Hearts
March 30….(In The Days) On March 20, 2010, the Gaza-based Salafi-jihadi group Jama'at Al-Tawhid wa'l-Jihad (JTJ) issued a communiqué on the recent confrontations at the Al-Aqsa Mosque and on the Israeli declaration of holy places in Hebron and Bethlehem as national heritage sites. The communiqué focuses its fire primarily on the Arab regimes, "the 'ulama of evil," and Hamas and the Muslim Brotherhood, all of whom the JTJ attacks for having betrayed the cause. Following are excerpts: The lowliest of Allah's creation, the Jews, are making the pilgrimage to the first qibla [Jerusalem], borne on corrupt evangelical belief and delusions, after having had the audacity to include Al-Haram Al-Ibrahimi [the Tomb of the Patriarchs in Hebron] and the Bilal [Ibn Rabah] Mosque [Rachel's Tomb in Bethlehem] in the so-called 'Jewish heritage.' This is occurring at a time when the armies of the Muslims number in the millions, and their heavy and light weapons are rusting by the day in their silos, or else we see them turned to wage war on the mujahideen or to repress their peoples. "We are still in the situation of scum that the Prophet of Allah, Allah's prayer and peace be upon him, informed us would take root in the Islamic nation when he said: 'The nations will rally against you like ravenous people to the kettle'. Someone asked: 'Will we be few on that day?' He answered, 'To the contrary, you will be many, but you will be as the scum on the torrent, and Allah will remove fear of you from the breasts of your enemy, and will strike weakness into your hearts'. Someone asked: 'Oh Prophet of Allah, what is this weakness?' He answered: 'Love of this world and hatred for death.' "What has assisted in the perpetuation of this situation of scum is the presence of these iniquitous regimes, which spare no effort in making war on Islam and the Muslims and in enabling the forces of global unbelief, the Jews and the Christians, against the Muslims' lands, resources, and sanctities, after having given over the Muslims' blood and honor in order to steady their rotten thrones and to fill their putrid bellies. "As for the descendants of apes and pigs [the Jews], we bring them the tidings that the wave of jihad is inexorably coming, and they, Allah willing, will taste the bitterness of the blows of the sincere and the harsh imprint of the monotheists [the Salafi-jihadis] on their lives and their property. Allah carries out his promises and makes his orders come to pass. If in the past they reeled under the blows of the nationalists, the pan-Arabists, and counterfeit jihadists, they will cry [tears of] blood over every drop of Muslim blood they spilled and the women's honor and the sanctities they violated when they see the fright of meeting the friends of Allah in battle. They will see men who love to be killed for the sake of Allah as much as they [the Jews] love life, men who throw themselves into the thick of battle and storm fortresses to separate their heads from their necks and to rip their hearts out of their bodies."
Syria, Libya Pressure Palestinians to Quit Talks
'Price of resistance is not higher than the price of peace,' Assad tells Abbas; Gaddafi warns Libya will withdraw support for Arab peace initiative.
March 29….(YNET) Syria and Libya teamed up Sunday to pressure the Palestinian leader to quit peace talks with Israel and return to violence, delegates to an Arab leadership summit said. An adviser to the US-backed Palestinian president, Mahmoud Abbas, quickly rejected the suggestion, calling for the 22 nations represented at the gathering in Sirte, Libya, to be "realistic." Despite the opposition from two of Israel's longtime foes, the summit was expected Sunday to renew backing for Palestinian peace talks with Israel. Still, the calls to abandon the effort reflected the depth of frustration and anger over the stalled process and continued Israeli construction in areas claimed by the Palestinians, particularly east Jerusalem. Syrian President Bashar Assad urged Abbas to withdraw from a US-supported peace strategy and resume armed resistance to Israel, according to two delegates who spoke on condition of anonymity because of the sensitivity of the issue. They said Assad also urged Arab countries to halt any contacts with Israel, though only Egypt and Jordan have peace deals with the Jewish state. "The price of resistance is not higher than the price of peace," one delegate quoted Assad as telling Abbas. Summit host Moammar Gaddafi of Libya warned that his nation will withdraw support for an initiative launched at a 2002 Arab League summit in Beirut calling for exchanging land for peace with Israel, the delegates said. Senior Abbas aide Nabil Abu Rdeneh dismissed the pressure. "Let us be realistic. We will not follow those who have special agendas," he told Al-Jazeera television. "We are ready for any Arab option. If they want to go to war let them declare that and mobilize their armies and their people and we will follow suit," Abu Rdeneh said. Earlier this month, Arab nations opened the door for Abbas to enter four months of indirect, American-brokered peace talks with Israel. But they later threatened to withdraw support for the negotiations after Israel announced plans for new Jewish homes in east Jerusalem, the part of the city Palestinians claim as the capital of a future state. Speaking at the summit Saturday, Abbas urged Mideast peace brokers to push Israel to stop settlement construction, and he vowed that the Palestinians will not sign any peace deal with Israel without the Jewish state ending its "occupation" of east Jerusalem. He accused Israeli Prime Minster Benjamin Netanyahu's government of trying to create a de facto situation in Jerusalem that would torpedo any future peace settlement. The Palestinians are also asking Arab nations for millions of dollars in funding for Palestinians living in east Jerusalem. Arab League chief Amr Moussa urged leaders at the opening of the summit to create a new strategy to pressure Israel and stressed the peace process cannot be "open ended." During the summit Arab leaders failed to reach a consensus on whether the Palestinians should resume stalled talks with Israel. The Arab League had given its blessing to the Palestinians, before the Israeli decision was announced, to conduct the so-called proximity talks with Israel, so the organization's stance now on whether those negotiations should still go ahead is potentially decisive. The committee of foreign ministers from some member states produced a resolution saying that a halt to all settlement activity was necessary for Israeli-Palestinian negotiations to go ahead. But that decision was not adopted by the full summit and, in a sign of the lack of consensus, Syria's foreign minister said his country would not recognize the document as representing the view of the Arab League. Moussa said after the summit ended that another, extraordinary meeting of heads of state would take place at an unspecified date later in the year to deal with outstanding issues. He acknowledged the urgency of taking a collective decision on the Israeli-Palestinian talks. "Within the next few weeks we have to decide what to do: whether to continue with the negotiations or to completely shift course," he told a news conference. In the summit's closing statement, Moussa said, "The resumption of negotiations requires a complete halt to the construction of Israeli settlements in the occupied Palestinian territories, including east Jerusalem. "The Arab leaders stress their commitment to the Arab stance according to which the renewal off Israeli-Palestinian talks requires that Israel lives up to its obligations. They (leaders) reject any Israeli excuses and justifications to continue the illegitimate settlement activity," read the closing statement. The Arab leaders also urged the Mideast Quartet, which is comprised of the UN, US, EU and Russia, to "reject Israeli excuses for the continuation of settlement construction and the acts of aggression in Jerusalem aimed at Judaizing the city." Moussa added that "the ball is in Israel's court with regards to the peace process." Addressing the Israeli government, he said, "If you're serious, we're serious."
Pope 'Deeply Saddened' by Jerusalem Clashes
(Head of Roman Catholic church urges 'those responsible for Jerusalem to take path of peace)
March 29….(YNET) Pope Benedict XVI on Sunday voiced "deep sadness" over clashes in east Jerusalem where Israel has defied international pressure with a plan to step up construction. "I am deeply saddened by the recent clashes and tensions that have arisen once again in this city that is the spiritual home of Christians, Jews and Muslims," Benedict said after reciting his weekly Angelus prayer. He urged "those responsible for the fate of Jerusalem to take the path of peace with courage and to follow it with perseverance." At an Arab League Summit on Saturday, Palestinian President Mahmoud Abbas ruled out US-brokered indirect peace talks with Israel unless it halts settlements and urged his Arab peers to "rescue" Jerusalem. Abbas accused Israel of seeking to wipe out the Arab identity of Jerusalem through "ethnic cleansing" and insisted that Israeli-annexed east Jerusalem must be the capital of any future Palestinian state.
'Obama Resigned to Nuclear Iran'
(Bolton says Washington pressuring Israel not to strike nuke facilities)
March 29….(WND) Former US ambassador to the UN John Bolton expressed concern Sunday that Washington was coming to terms with a nuclear Iran. "I very much worry the Obama administration is willing to accept a nuclear Iran, that's why there's this extraordinary pressure on Israel not to attack in Iran," Bolton told Army Radio. The former envoy claimed that this pressure was the focus of last week's meetings in Washington between Prime Minister Binyamin Netanyhau and US officials, including President Barack Obama. Bolton said that the Obama administration had embraced the view, prevalent in Europe, that the Israeli-Palestinian conflict was the key to the resolution of all other conflicts throughout the Middle East, including the Iranian conflict. He added that the rift in US-Israel relations stemmed from a fundamental difference in the understanding of the Middle East and Israel's role in the Middle East, and is not really about east Jerusalem at all. Bolton said that the treatment Netanyahu received during his visit "should tell the people of Israel how difficult it's going to be dealing with Washington for the next couple of years." On Saturday, meanwhile, The New York Times reported that international inspectors and Western intelligence agencies suspect that Teheran is preparing to build more sites in defiance of United Nations demands. According to the report, half a year after the revelation of a secret Iranian nuclear enrichment site northeast of Qom, the UN inspectors assigned to monitor Iran's nuclear program are now searching for evidence of two additional sites, prompted by Israeli assessments as well as by recent comments by a top Iranian official that drew little attention in the West. The paper said that the inspectors were looking into the mysterious whereabouts of recently manufactured uranium enrichment equipment. In an interview with the Iranian Student News Agency, the official, Ali Akbar Salehi, head of Iran's Atomic Energy Organization, said Iranian President Mahmoud Ahmadinejad had ordered work to begin soon on two new plants. The plants, he said, "will be built inside mountains," presumably to protect them from attacks. "God willing," Mr. Salehi was quoted as saying, "we may start the construction of two new enrichment sites" in the Iranian new year, which began March 21. One European official noted to the Times that "while we have some evidence," Iran's heavy restrictions on where inspectors can travel and the existence of numerous tunneling projects were making the detection of any new enrichment plants especially difficult. The paper went on to quote American officials as saying that Israel had "pressed the case" with their American counterparts that evidence points to what one senior administration official called "Qom lookalikes."
Eternal Life: You Can Be Sure
March 29….(Charles Stanley) I have heard many reasons why people are uncertain about their eternal future. "I sin too much," says one. "I don't feel saved, Pastor," says another. Someone else worries that she did not follow the "right procedure" to ask for forgiveness. Still others have erroneously learned from their families or churches that no one can be sure of salvation. My response to all of these rationales is the same: If you believe that Jesus Christ is the Son of God and that His death on the cross purchased God's forgiveness for your sins, then you are saved. And you can be sure. God's promises never change. He said that those who trust in His Son would have eternal life. What's more, a believer cannot be snatched from God's hand. The Lord loves us unconditionally. Nothing can separate a believer from God's love. Satan's charges against us can never change how precious we are to our Father. The Savior's work on the cross is finished. Jesus Christ made one perfect sacrifice, His own life. In this single act, He atoned for every sinful deed, word, and thought. When we receive His salvation, it is ours forever. God loved us so much that He sent His Son to die for our sins so we could live eternally in His presence. It really is that simple. Whatever your doubts, ask the Holy Spirit to confront them with biblical truth. He will quietly assure your heart that you are God's child forever.
WEEK OF MARCH 21 THROUGH MARCH 27
Arab League: We Must Prepare for Failure of Peace Process
(Arab league chief says the situation "has reached a turning point"; Abbas: No peace deal while East Jerusalem is occupied; Erdogan calls Israeli policy on east Jerusalem "madness.")
March 27….(Jerusalem Post) The chief of the Arab League warned Saturday that Israel's actions could bring about a final end to the Middle East peace process. Amr Moussa urged an Arab leadership summit in Libya on Saturday to forge a new strategy to pressure Israel, saying the peace process could not be "an open ended process." "We must prepare for the possibility that the peace process will be a complete failure," Moussa said. "This is the time to stand up to Israel. We must find alternative options, because the situation appears to have reached a turning point." Speaking at the event, Palestinian Authority President Mahmoud Abbas said there would be no peace agreement without ending the occupation of Palestinian land, first and foremost east Jerusalem. He accused Prime Minster Binyamin Netanyahu's government of trying to create a de facto situation in Jerusalem that would torpedo any future peace settlement. Abbas added that conflict in Jerusalem was dangerous and could ignite the entire Middle East. He said the PA would not resume peace talks with Israel, including indirect talks, until Israel stops construction in the settlements. Earlier this month, Arab nations opened the door for Abbas to enter four months of indirect, American-brokered peace talks with Israel. But they later threatened to withdraw support for the talks because of Israel's announcement of new plans for construction in east Jerusalem. Turkish Prime Minister Recep Tayyip Erdogan, a guest at the summit, said in his speech that the Israeli "violation" of peace in Jerusalem and Muslim holy sites was unacceptable. Erdogan said that the Israeli position defining the whole of Jerusalem as its united capital was "madness." Israeli construction in east Jerusalem was completely unjustified, he said. Moussa also urged the 22-nation bloc to engage Iran directly over concerns about its growing influence and its nuclear activities, a proposal that could undermine US and Israeli efforts to isolate the Islamic Republic. Moussa's engagement plan would involve a forum for regional cooperation and conflict resolution that would include non-Arab nations Iran and Turkey. "I realize that some are worried about Iran but that is precisely why we need the dialogue," Moussa said. The push to engage Tehran seems to be at least partly fueled by Arab frustration over Washington's failure to get Israel to back down on plans for more Jewish settlements on land the Palestinians want for a future state. It also suggests that Arab nations are increasingly less likely to align with the US strategy on Iran if they feel they are getting nothing in return in Mideast peace efforts. The Arab leaders called together for a Middle East free of nuclear weapons. Moussa was quoted by Egyptian newspaper Al-Mesryoon as saying that Arab states were facing a great threat in the form of Israel's nuclear capability. He warned against a nuclear arms race in the region. The summit registered a higher than usual number of no-shows from Arab leaders. Eight heads of state stayed away, including Egyptian President Hosni Mubarak and King Abdullah of Saudi Arabia.
Israeli PM Gets Home Support in Dispute With US
March 26….(INS) Top Israeli officials on Thursday rallied behind embattled Prime Minister Benjamin Netanyahu in his dispute with the US, deepening the rift between the two allies over Israeli construction in east Jerusalem. Before Netanyahu returned Thursday afternoon from an unsuccessful visit to the United States, a string of Cabinet ministers declared that Israel would keep on building Jewish homes in east Jerusalem and accused Washington of unfairly putting pressure on the Israeli government. The tough stance signaled further trouble for the US as it tries to restart Israeli-Palestinian peace talks, which broke down more than a year ago. Netanyahu left Washington after a last-ditch effort to clear the air with the Americans appeared to fail. The US wants Israel to stop building Jewish homes in east Jerusalem, the section of the city that the Palestinians want as the capital of a future state. Netanyahu refuses, saying the entire holy city must remain Israel's eternal capital. Silvan Shalom, Netanyahu's deputy and sometimes rival in the ruling Likud Party, told Israel Radio on Thursday that he "completely supports" the prime minister, saying that the Jewish people's historical bond to Jerusalem is unbreakable. "The subject of building in Jerusalem is unconditional, and if we blink we will lose everything," Shalom said, warning the government would collapse if Netanyahu backs down. While he said the relationship with Washington is critical for Israel, he warned that "one-sided" pressure could backfire. In the past, perceived pressure from abroad has rallied Israelis around their leaders.
Interior Minister Eli Yishai, whose office oversees approval of new housing construction, pledged in a newspaper interview to keep on building in east Jerusalem. "I thank God I have been given the opportunity to be the minister who approves the construction of thousands of housing units in Jerusalem," he said. Netanyahu called a special meeting of senior Cabinet ministers after returning home. Israeli newspapers described the situation as a full-blown crisis. Many commentators criticized Netanyahu for insisting on meeting with President Barack Obama at a time of disagreement. But reports also accused Obama of treating Netanyahu more like a Third World despot than the leader of a close ally. Yediot Ahronot, Israel's largest newspaper, reported that during their White House meeting, Obama got up and told Netanyahu he was taking a break to have dinner with his family. "Let me know if there is anything new," it quoted Obama as saying. There was no official comment on the newspaper's report. The fate of Jerusalem is the most explosive issue in the Israeli-Palestinian conflict. Israel captured east Jerusalem from Jordan in the 1967 Mideast war and immediately annexed the area, a move that has never been recognized internationally. The Palestinians want east Jerusalem as the capital of a state that includes the West Bank and Gaza Strip. Over the years, Israel has built a ring of Jewish neighborhoods in east Jerusalem to cement its control over the area. About 180,000 Israelis live in these neighborhoods, which the international community view as illegal settlements. The Palestinians have refused to return to the negotiating table until Israel freezes construction in all settlements in the West Bank and east Jerusalem. Netanyahu has offered only to slow construction in the West Bank. In neighboring Jordan, King Abdullah II warned Israel that it is playing with fire over its settlement policy and that the Jewish state must decide whether it wants peace or war. The crisis with the US erupted earlier this month when Israel announced during a visit to Israel by Vice President Joe Biden that it plans to build 1,600 new apartments in a Jewish neighborhood of east Jerusalem. Biden condemned the move, and plans to resume peace talks through US mediation were put on hold. The US has asked Israel to cancel the plan.
Obama Wants Israel to Hand Over Abu-Dis to PA
(US demands that Israel hand over area adjacent to Jerusalem to exclusive PA control, Palestinian sources say, adding that Americans want Palestinian state to be established within next two years)
March 26….(Arutz) The Obama Administration is demanding that Israel hand over more West Bank land to exclusive PA control, including the Abu-Dis area adjacent to Jerusalem, Palestinian sources told Ynet Thursday. According to the US vision, the move will take place as part of reverting to the state that prevailed in the West Bank before the outbreak of the last Intifada. According to the sources, the American plan calls for Abu-Dis, where Palestinian government institutions were previously established, to fall under full Palestinian sovereignty. The possibility of the area serving as a future Palestinian capital has already been discussed in the past. Other demands made by the US include the release of about 2,000 prisoners by Israel, as well as significant gestures pertaining to daily life in the West Bank, the Palestinians said. "The most significant demand is to restore the situation to what it was on the eve of the Intifada," one source said. The Palestinians added that President Obama also demanded that Netanyahu renew peace talks with Syria, as part of an effort to promote a comprehensive regional move that would assist in neutralizing Iran and forming a broad Arab anti-Iranian coalition. PA officials estimate that the US has decided to present Netanyahu with the equation mentioned at the beginning of President Obama's term in office, Bushehr for Yitzhar", implying that Israel's cooperation in the West Bank is required in order to ensure American support against Iran. "For the first time, we're hearing a clear timetable from the Americans," a Palestinian official said. "They wish to limit the negotiations to two years, which are supposed to conclude with the establishment of a Palestinian state in line with the 1967 borders with Jerusalem as its capital." "The Americans started to understand what we've been saying for a while now, that there is one side which isn't a partner, and that's the Israeli side," he said.
UN Human Rights Council Rips Israel With 3 More Anti-Israel Resolutions
March 26….(IsraelNN.com) The United Nations Human Rights Council approved three anti-Israel resolutions on Wednesday, in addition to a resolution supporting the "right to self-determination" of Palestinian Authority Arabs. The three resolutions included language referring to the "occupied Syrian Golan" and also focused on Israel's treatment of PA Arabs in Judea, Samaria and Jerusalem. On Thursday, the Council was set to approve the creation of a committee to monitor compliance with the Goldstone Report by Israel and the Palestinian Authority. The Goldstone Report accused Israel of committing war crimes and possibly crimes against humanity during its counter terrorism campaign, Operation Cast Lead, conducted in Gaza from December 2008 to January 2009. The report barely acknowledged the cause of the operation, namely, eight years and nearly 10,000 Kassam rocket and shelling attacks from Hamas at Israeli civilians in the western Negev. The majority of the condemnations and censures of the 47-member UNHRC since it was established by the United Nations in 2006 have been aimed at Israel.
Obama Demands Netanyahu's Peace Answers by Saturday
(US hopes Netanyahu shakedown will get Arab League approval for proximity peace talks)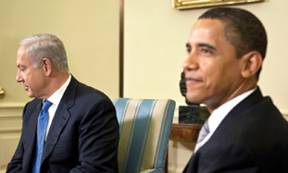 March 26….(JERUSALEM POST) Prime Minister Binyamin Netanyahu will convene his senior ministers on Friday to discuss the demands made by US President Barack Obama and his overall trip to Washington – a trip that, because of negative atmospherics and amid a paucity of hard information, has been widely characterized as among the most difficult in recent memory. Officials in the Prime Minister's Office continued to throw a blackout on the Netanyahu-Obama meeting, as well as give only very sketchy information about the commitments that the US is demanding of Israel as a precursor to starting the proximity talks with the Palestinians. The US, according to officials, wants these commitments by Saturday so it can take them to the Arab League meeting in Libya and receive that organization's backing for starting proximity talks. According to a Palestinian Authority official in Ramallah, the US administration on Thursday informed the PA that the Netanyahu meetings in Washington did not produce any agreement on the issue of construction in east Jerusalem. The official said that PA President Mahmoud Abbas met in Amman with David Hale, US deputy assistant secretary of state for Near Eastern Affairs, who briefed him on the outcome of Netanyahu's talks with Obama. "The American envoy said that the two sides failed to reach agreement on settlement construction in Jerusalem," the PA official said. Hale also told Abbas that the US administration would continue its discussions with the Israeli government in the next few days and weeks, in an attempt to solve the crisis that has erupted between the Obama administration and the Netanyahu government. Prior to leaving Washington late on Wednesday night, Netanyahu tried to put a positive spin on the meetings, saying that the two sides had made progress in finding a "middle path" between the "traditional policy of all Israeli governments [regarding building in east Jerusalem], and our will to also find a way to renew the peace process." US officials indicated on Thursday that Israel had bridged some of the gaps between the two countries during their marathon consultations, even though no final resolution was presented after Obama's and Netanyahu's staffs toiled late into the night on Wednesday for a second straight day. "I think we're making progress on important issues," White House spokesman Robert Gibbs told reporters on Thursday afternoon, but he declined to go into specifics. US sources indicated that there seemed to be a good deal of movement on the contents of planned indirect negotiations between Israelis and Palestinians. Nevertheless, the administration's treatment of Netanyahu during his meeting with Obama created the impression of a deep crisis in relations. As Jackson Diehl wrote in The Washington Post, the White House's refusal to allow non-official photographers record the Obama-Netanyahu meeting, and the fact that no statement was issued afterward, led to the impression that "Netanyahu is being treated as if he were an unsavory Third World dictator, needed for strategic reasons but conspicuously held at arms length." According to various Israeli sources, the Obama administration is asking for Israel to commit to some type of limitation on building in east Jerusalem; to show a willingness to deal with the so-called core issues of borders, refugee and Jerusalem already in the indirect talks; and to agree to a number of confidence building measures, including the release of hundreds of Fatah prisoners. There were also reports, not confirmed, that the administration had asked for a commitment to extend the moratorium on housing starts in the West Bank settlements beyond the 10-months originally declared. One source in the Prime Minister's Office said the goal of the dialogue with the US was to find a way to start the proximity talks and "put these problems behind us." The key problem with the US has to do with Jerusalem, with the administration making it clear in recent days that it did not accept Netanyahu's declaration at the AIPAC conference on Monday evening that Jerusalem was not a settlement, but rather Israel's capital, and that building would continue there. "On the issue of Jerusalem," one source in Netanyahu's office said, "the truth is that this is a city of 750,000 people, and every couple of days there is going to be some kind of building, or zoning, or buying or planning and actual building. The whole idea that every time this happens dialogue will stop is a recipe for no peace process." Foreign Minister Avigdor Lieberman, one of the members of Netanyahu's "septet" inner cabinet, told Channel 2 on Thursday that while Israel was not looking for a fight with the US, it would not give up on its "basic right" to build in Jerusalem. This sentiment was repeated by Netanyahu a number of times during his visit to Washington. Lieberman, according to some reports, called the prime minister during his Washington talks to urge him not to bow to US pressure and not to sign off on any new commitments. Regarding confidence building measures to the Palestinians, Netanyahu, according to senior officials, did not commit himself to a prisoner release, and said he would bring the matter to the security establishment in Israel to determine whether this was something they would recommend or not. Defense Minister Ehud Barak, who accompanied Netanyahu on the trip, told the Americans, who reportedly had asked for an Israeli commitment to extend the housing start moratorium, that he was "disappointed" by the reaction to the original moratorium decision. He said he thought this would garner more positive reactions from around the world, as well as bring the Palestinians to the negotiating table. Instead, he said, the move made the Palestinians believe that if they held out, they could get even more. Netanyahu, during his talks in the White House, asked the Obama administration why it was not placing the same kind of pressure on the Palestinians as it was placing on Israel, and asked where the "reciprocity" was. Netanyahu, according to senior officials, said that while the US held him responsible for the timing of the announcement to build 1,600 units in Ramat Shlomo, rather than holding Interior Minister Eli Yishai responsible, Abbas was not held responsible when it came to the PA, which recently presided over the naming of a square in Ramallah for the terrorist responsible for the Coastal Road massacre. Meanwhile, the PA's chief negotiator Saeb Erekat said that Israel was "damaging its credibility as a serious peace partner" by refusing to stop construction in east Jerusalem and West Bank settlements. In response to the latest decision to approve the construction of 20 housing units at the site of Shepherd's Hotel in Jerusalem's Sheikh Jarrah neighborhood, Erekat said: "There is a growing sense of frustration among the international community with the measures and decisions taken by Israel." Erekat said that if Israel were serious about achieving peace with the Palestinians, it would stop building "illegal settlements," as requested by the road map for peace in the Middle East and the Quartet. Erekat said that the PA wanted to give the proposed proximity talks a chance to succeed, "because our obvious goal is to end Israeli occupation and [achieve] the establishment of a viable and independent Palestinian state within the pre-June 4, 1967, borders."
What Does it All Mean Today?
March 26….(Jan Markell / Olive Tree) I believe I have studied under the best of the best teachers when it comes to what the Bible lays out for us in the last days. Many are dazed at the rapid decline of America. The passage of health care wasn't about health care; rather, the socialization of America. America just came under the power of Saul Alinsky. But some of us, while grieved, look at the broader picture. So, this is how I see it. Revelation, chapters 13 and 17, lays out a coming one-world political system, one-world leader, one-world religion, and a one-world financial system (cashless). We don't know when this will all be implemented, but we do know the biggest factor holding up the one-world order has been America, the superpower like no other. In the coming system, all nations will likely be "equal." That is, there will be no superpower other than, perhaps, the European Union, a consortium of powerful European nations. Even some individual nations in Europe are crumbling as I write this so some of those nations will band together and become the end-time power. Economic chaos is likely to level the playing field of all the world's players on this strange chessboard. Economic chaos will also bring down China and Russia, although both seem to have major roles in the last days as they invade Israel, one in the Gog/Magog war and one in the Battle of Armageddon. Their empires and land mass are enormous. But the number one superpower has been America and now we see her imploding due to corrupt politics, greed, love of self, love of power, and the personification of the Bible verse that says, "The heart is more deceitful than all else and desperately wicked; who can understand it?" So the bottom line is that America has been the primary obstacle to the one-world system. We see the decline of the dollar which has been one of the major currencies for decades, yet it stands in the way of a one-world economic/financial system. Barack Obama and others say we are not a Christian nation, but that is nonsense because the church in America, in spite of its weaknesses today, stands in the way of the coming one-world religion. On the other hand, we have the apostate church in the US which will go along with a one-world religion. As this is being written, there is an assault on everything Christian in America. It is to strip us of our godly heritage and rid the US of as much Christianity as possible. This scenario is scripted in the Bible by the inference that as America didn't exist in Bible times: America has to diminish and Europe must rise. The man who could best bring this about promised America and the world "hope and change" and the uninformed bought it hook, line, and sinker. But Barack Obama is just one player in this global chess game. Nonetheless, he gave the world an image that he was the new "world leader" during the 2008 campaign. This is what the world longs for: A "man with a plan." There needs to be a one-world leader but it is not him. Capitalism must go and must be replaced by a socialized world. You say this will take decades. Look at what has happened in just over a year! So not only are we threatened from without by radical Islam, we are threatened from without and within by a group of intelligent globalists who are convincing America and the nations of the world that the only way to lasting world peace is the establishment of global government. And all nations will have to be equal for this to work efficiently. Globalists have no respect for the people who elected them; no respect for their office; no respect for the American Constitution; no respect for what it means to be entrusted by the people of any nation to serve in a high capacity. Their only maniacal goal is the consolidation of more money and power into the hands of the few in order to control and manipulate the entire world. This coming system is not some prophetically speculative or futuristic fairy tale, but a real world reality outlined in the Bible. It is not some whacko conspiracy theory being advanced by the fringe society. It's an orchestrated agenda which God had planned for before the foundations of the earth. But America has not made it possible for the globalists to get their agenda through until now. We see that through the corrupt-to-the-core Obama administration, they are pressing forward to the prize - a one-world system with America subservient to the European Union. We just don't know the timing, nor the timing of the return of our "blessed hope" Who remains our only hope. Because so many feel a foolish one-world system is the answer for global unity, I feel the words of Isaiah 66:4 have been in play for several years: "I also will choose their delusions, and will bring their fears upon them; because when I called, none did answer; when I spoke, they did not hear, but they did evil before mine eyes, and chose that in which I delighted not." God sent delusion and this is the result. He sent the delusion to fulfill His Word. It is strong delusion that is causing some Americans to stand behind globalists who will bring about a system outlined in the book of Revelation. Where one gets in trouble with this kind of theology and opinion is when it leads to an "I give up" mentality. Good people stop fighting evil. Some just roll over. Some go into complete apathy and escapism. Remember the profound statement by Edmund Burke: "All that is necessary for evil to triumph is for good people to do nothing." Just keep expectations realistic and Bible-focused. Now, what is the good news? We can only change the world by changing the spirituality of a culture. In the meantime, we can contend for the faith, preach the gospel, and be salt and light to a frightened world. And since all of the above are scripted, the final act is as well. We can know with certainty that the King of kings is coming back very soon. Right now some are wailing and calling this "escapist theology." Go ahead and wail.
Fatah Proud of Palestinian Women Martyrs and the Virgin Mary
March 26….(PMW) In its official statement in honor of International Women's Day, the Fatah movement listed a group of "Palestinian" women of whom it is proud: Martyrs, fighters, prisoners and the Virgin Mary. Turning Virgin Mary and Jesus from Judeans (Jews) into "Palestinians" is a basic part of the Palestinian Authority's revision of history. The PA leadership has for years been attempting to create a Palestinian-Islamic history in the Land of Israel. This is not an alternative interpretation of modern history; rather, it is an invented history from long before Islam was founded (610AD) and long before the Romans tried to sever Jewish ties to the Land of Israel/Judea by renaming it "Palestine" in the year 135AD. Although historically meaningless, turning Jesus and the Virgin Mary into Palestinians is a repeating theme of PA historical revision. The following is the Fatah Communications and Education Authority statement in honor of International Women's Day from the official Fatah website: "If we are proud of the holiness of our land, then we are proud and pride ourselves that the first and most important holy woman among the nations and peoples is from the holy land: The Virgin Mary, the woman of love and peace, is of the nation of Palestine, whose roots are grounded in the depths of history. Our movement takes note of its pride in all the women Shahidas (Martyrs), prisoners, Palestinian fighters, who have become a model of sacrifice and a school that teaches the meaning of giving and of sacrifice."
Saudi King Slams Netanyahu Speech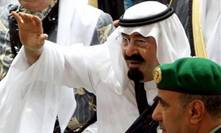 March 25….(Jerusalem Post) Prime Minister Binyamin Netanyahu's Monday speech at the AIPAC conference drew harsh criticism from Saudi Arabia, accusing him of endangering the peace process, according to an Al-Arabia report quoting the official Saudi Press Agency SPA. A Saudi official is also quoted as saying that his country expects clarification from the Quartet over "Israeli arrogance, defiance of international will as well as violation of all the international laws and legislation." In Netanyahu's speech, he declared that "Jerusalem is not a settlement," responding to new criticism of Jewish housing construction in east Jerusalem. The official also asserted that Israel "blatantly confiscated Palestinian, Arab and Islamic rights in Jerusalem without any regard to Palestinian, Arab and Islamic rights" in the wake of the Netanyahu government's plan to build 1,600 homes in Ramat Shlomo. "Saudi Arabia has always called upon the international community to bear the responsibility of dealing with the Israeli one-sided defiance that usually opposes the peace process," the official said.
Obama the American Muslim President
(Today, when Benyamin Netanyahu, the Prime Minister of the Jewish state of Israel, met with President Barack Hussein Obama, a Muslim, he found that he will not be able to rely on a compact of support that has existed since President Truman became the first world leader to recognize the new state of Israel in 1947.)
March 25….(In The News) The meeting will occur at a time when Americans of all political persuasions are calling for the impeachment of the President; when anger against Congress seethes over the passage of a widely opposed healthcare plan intended to impose socialism and debt on a nation facing a financial crisis that threatens its existence. It will occur at a time when Israel is threatened with annihilation by Iran and attack by Hezbollah from the north and Hamas from the south, both proxies of Iran. The previous evening, Netanyahu addressed the largest conference in the history of the American Israel Public Affairs Committee (AIPAC). An audience of 8,000 gathered in Washington to hear him address the issues that are critical to both Israel and the United States of America. "America has no better friend in the community of nations than Israel," said Netanyahu. Led now by Obama, the unspoken question is whether Israel has a friend in America? It is the President who sets foreign policy and it is this President who began his first term in office with an address on Al Jazeera, a television channel that serves the Middle East. It is this President who traveled to Cairo to assure Muslims there and around the world that America is not their enemy. It is this President who held out the olive branch to Iran only to have it slapped away. Israel knows something about negotiating with Muslims. For more than six decades, despite continued attacks by its Arab neighbor states and terror campaigns in its streets, Israel has striven to find peace with them. The Palestinians, an invention of Yassir Arafat, have been maintained as the longest existing group of refugees anywhere in the world by the United Nations. Imagine, then, the audacity of this administration to demand that the Israelis stop building housing developments in their own capitol city of Jerusalem, backed up by threats to withhold the military means with which Israel can defend itself against Iran and its other enemies in the region. In his AIPAC address Netanyahu pointed out that the "fanatic hatred of Western civilization predates Israel's establishment by over one thousand years. Militant Islam does not hate the West because of Israel. It hates Israel because of the West; because it sees Israel as an outpost of freedom that prevents them from overrunning the Middle East." The continued support of Israel now lies in the hands of President Obama, a Muslim who would have you believe he is a Christian; a man who attended a Chicago church led by an anti-American pastor; a man who Louis Farrakhan, the leader of the Nation of Islam called "the messiah."
Obama Dresses Down Netanyahu: No Photo Ops or Statements
March 25….(IsraelNN.com) President Barack Obama appeared to carry on a policy of intentionally humiliating Israeli Prime Minister Binyamin Netanyahu this week, by ignoring custom and abstaining from any public appearance with him during Netanyahu's visit to the White House. In a particularly unusual step, no press coverage or photographs of Netanyahu's meeting with President Obama at the White House were permitted. Photographers had to make do with paparazzi-style shots of a somewhat grim-faced Netanyahu, accompanied by Defense Minister Ehud Barak, shot from a distance as they passed though a corridor between meetings. An administration official who declined to be identified told the Associated Press that "photographs would have been inappropriate given the current situation." A photographer was allowed, however, into a meeting between the Israeli leader and Vice President Joe Biden on Monday. Although Obama and Netanyahu met twice for a total of two hours, the White House did not issue a formal statement on the content of either meeting, in yet another break with tradition. Obama left it to spokesmen to issue terse statements on the talks with Israel. Mark Toner, the deputy State Department spokesman, said that "the US made clear it is looking for steps to increase confidence and show commitment to the process." A White House spokesman, Tommy Vietor, said the White House continues to believe that Israeli building in eastern Jerusalem is "destructive" to the Middle East peace process.
The two separate meetings between President Obama and Binyamin Netanyahu, the Israeli Prime Minister, failed to produce so much as even an official photograph as a cold chill settled over Obama-Netanyahu, and thus US-Israeli relations and secrecy shrouded any efforts to repair them. The Israeli Prime Minister was due to fly home from Washington after three days marked by Israeli defiance on the issue of settlements and an extraordinary silence maintained by both sides after his three-and-a-half-hour visit to the White House. The meeting was overshadowed by Israeli approval for 20 homes built for Jews in Arab east Jerusalem, a move denounced by one senior US official as "exactly what we expect Prime Minister Netanyahu to get control of". White House staff denied Netanyahu the usual photo opportunities afforded to a visiting leader, issued only the vaguest summary of their talks, let alone a joint statement, and reversed a decision to release an official photo of their meetings. In Jerusalem the government press office issued a terse statement saying that the talks had been held in a good atmosphere. They went on longer than expected with the leaders meeting for 90 minutes, then again for half an hour after a long private discussion between Netanyahu and his advisers in the White House Roosevelt Room. The choreography of the evening suggested that the talks covered substantive proposals, possibly including an undertaking from Netanyahu to prevent ill-timed announcements of Israeli construction. Yet there is little doubt that Netanyahu's stance on settlements has left him struggling to persuade a newly confident US President of his willingness to compromise for peace. White House sources said that observers were right to infer from the news blackout that relations between the two sides were not good but later hinted that some Israeli proposals had been favourably received. Direct talks between Israel and the Palestinians have been shelved since 2008.
Assad: It's either peace or war
(Syrian president tells Hebzollah's al-Manar television, 'We are in a temporary situation which will either end in war or in peace. There is no other choice apart from these two.' Israel, he says, is an enemy which only understands the language of force)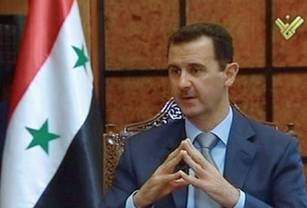 March 25….(YNET) Syrian President Bashar Assad told Hezbollah'sl-Manar television station on Wednesday evening, "We are in a situation of neither war nor peace, and this is a temporary situation which will either end in peace or in war. There is no other choice apart from these two." According to Assad, "We believe we are facing an enemy which only understands the language of force. We believe peace is not at arm's length for the region, but in any event there are many ways to reach the goals and they must not necessarily go through war." He noted that "the Syrian army is developing itself", and warned that Damascus "will enter any war imposed on us." According to the Syrian president, his country cannot remain neutral when it comes to the "resistance". He also stressed that Syria was interested in having good relations with Lebanon. According to the Syrian president, "The Israeli power of deterrence has worn out over time, although Israel is boosting its power. However, at the same time, the 'resistance' perception is growing stronger as well in the Arab street. In practice, Israel has become weaker and its military force guarantees nothing. "Many of its supporters, especially from the Zionist organizations and several radical Jewish organizations, have begun saying that they believed in war in the past, but now they believe that there is no solution for Israel other than peace. There is no escape but to look for the peace process first. "As for me, in terms of a war of liberation or resistance, the resistance doesn't grow from a decision made by a country, but in a popular way. Syria is a country with a developing army." Asked about the chances for a war against Israel, Assad said: "When a war is imposed on you, you must enter it regardless of the balance of power. But this is not a simple matter and it is not hidden in a declaration of war. This issue is not a matter of enthusiasm." The Syrian president slammed former US President George W. Bush, who he said had failed in the move he led against Damascus. Addressing current US President Barack Obama, Assad said there was a clear difference between the two administrations. "We don't hear the language of dictations. There are differences in the worldviews and its natural, but the dictation language no longer exists," he said.
Is the US Eroding Israel's Qualitative Edge?
March 25….(IsraelNN.com) The Jewish Institute for National Security Affairs (JINSA) revealed in a January report recently revised that the government of Israel has been concealing a change in arms policy by the United States against the Jewish state. The Institute further stated that the Likud-led government of Binyamin Netanyahu has also refrained from protesting massive American weapons sales to Arab states in the region, an initiative that has eroded Israel's military edge over its neighbors. The Institute reports that over the last year, the Obama Administration has refused to approve any major Israeli weapons requests. Government sources asserted that the refusal represents a new White House policy to link arms sales to the Jewish state with the Netanyahu government's willingness to submit on Washington's demands that Israel surrender Judea, Samaria and most of Jerusalem to the American-backed Palestinian Authority. The report revealed that the White House has so far blocked key weapons projects and upgrades for Israel, rejecting requests for AH-64D Apache Longbow helicopters while approving advanced F-16 multi-role fighters for Egypt. Israel has meanwhile refrained from objecting to American plans to sell F-16s, Harpoon Block 2 anti-ship missiles, Hellfire air-to-ground missiles, fast attack craft and helicopters to the Egyptians. In addition to the advanced weapons sold to Egypt, Washington has also approved more than $10 billion worth of arms sales to Arab League states, including Kuwait, Jordan, Morocco, Saudi Arabia and the United Arab Emirates.
"Indeed, Israel's request for six AH-64D Apache Longbow attack helicopters was blocked by the Obama Administration in June, the same time the Egyptian sale was approved," the JINSA report stated. According to the report, the failure to sponsor Israel's qualitative edge, which violates a pledge given more than 40 years ago to maintain Israel's military superiority over its neighbors, began not with Obama but under the previous administration of President George W. Bush. "The concept of the Qualitative Military Edge failed to keep up with the changes in US arms sales and training policy over the decades." Israel has to now stay ahead of the curve through other means. A major US policy shift came in 2004, when the Bush Administration needed Gulf Arab help for the American-led invasion of Iraq, particularly after Turkey denied Bush entrance into Iraq from the north, and wanted to bolster Washington's influence and ability to deal with regional problems. JINSA dismissed Israeli government claims that the White House was ready to address the erosion of Israel's defensive capabilities. The Institute said the January 2010 visit by US National Security Advisor James Jones did not concern the Washington's pledge to Israel's qualitative military edge but was to push Israel into making further concessions to the Fatah-led PA. According to the report, the US aid to Arab states has hampered Israeli military cooperation with Washington. More than 20 years ago, the Israel Air Force stopped participating in American sponsored regional exercises in order to prevent the leakage of combat tactics. "It's one thing for our lover to take pictures in the bedroom," the report quoted an Israeli combat pilot as saying. "It is another for them to sell the pictures on the street."
Obama May Issue Presidential Condemnation of Israel over Jerusalem
March 25….(DEBKA) US president Barack Obama kept on turning the screw on Israeli minister Binyamin Netanyahu Wednesday, March 24, after their harsh conversation in the White House Tuesday: Netanyahu was told bluntly to issue before leaving Washington for home a White House-dictated public pledge to eschew further construction in East Jerusalem, or else face a US presidential notice condemning Israel and holding its government responsible for the failure to restart indirect Israel-Palestinian talks. Reporting this, debkafile's Washington sources add that Netanyahu's public renunciation of Jerusalem construction was required to include also the large Jewish suburbs of the city and remain in force for the duration of negotiations. He must also pledge further concessions to the Palestinians. As part of the ultimatum, the US president warned the Israeli prime minister that he also intended formulating in detail for the first time the settlement the US government sought for solving the Israeli-Palestinian dispute. A high-ranking US official categorized the current crisis in US-Israeli relations as the most acute in 54 years, ever since 1956 when President Dwight Eisenhower gave David Ben-Gurion an ultimatum to pull Israeli forces out of Sinai - certainly more serious than the impasse over the Madrid conference between the first President Bush and Yitzhak Shamir in 1992. A US presidential notice condemning Israel and predetermining the shape of an Israeli-Palestinian settlement would be tantamount to a US diktat and put the lid on negotiations, direct or indirect, because Israel would be dragged to the table in handcuffs to face an Arab partner who would accept nothing less than the terms Washington imposed in advance on Israel. Such a notice would put a clamp on the close dialogue which has historically characterized US-Israeli ties to the detriment of Israel's international standing. In the shadow of Obama's threat, Netanyahu and defense minister Ehud Barak spent their last hours in the US capital working on a statement that might satisfy him. These negotiations are led by Barak working out of the Israel embassy and the president's special adviser Dennis Ross from the National Security Council's office at the White House.
President Obama showed his displeasure with the Israeli government's failure to cave in to his demands, especially after Netanyahu's declaration that Jerusalem is no settlement but "our capital" to the AIPAC conference Monday, by ordering all the Israeli prime minister's meetings in Washington to take place without statements, news coverage or the cameras which normally record smiles and handshakes between friendly leaders. Debkafile's Middle East sources report that this latest turn of events in US-Israeli relations makes naught of American leaders' constant affirmations of commitment to Israel's security. Iran, Syria, Hizballah, Hamas and Palestinian leader Mahmoud Abbas are acutely sensitive to the slightest crack in American support for Israel and ready with tactics for widening the rift. They will now drive hard to separate the Obama administration from America's historic military backing for the Jewish state.
Clinton: The American Vision
(Clinton uses AIPAC speech to outline US solution for Mideast conflict)2410a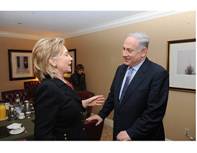 March 24….(YNET) The secretary of state broadly addressed the demographic threat resulting from "Israeli occupation," which she said "threatens Israel's long-term future as a secure and democratic Jewish state. She said a peace treaty premised on a return to the 1967 borders, hints of international administration of the holy sites, and demands for improved ties in the West Bank and an improved humanitarian situation in Gaza were the vision of the Obama Administration for peace in the Middle East. However, the Obama Administration chose to present the question of borders as the first core issue. Final-status borders will end the Israeli construction freeze nightmare, and the Netanyahu government would be able to build as it wishes in the territory determined to belong to Israel. For that reason, Clinton did not hesitate to state the US' objective in the framework of final-status talks at her AIPAC appearance, working out the borders issue. In her speech, she mentioned "the Palestinian goal of an independent and viable state based on the '67 lines, with agreed swaps." The objective here is to maintain the large settlement blocs in Israeli territory while handing over alternate land to Palestinian control. Clinton already hinted of the solution she seeks: Joint administration of the Holy Sites. As the secretary of state expressed it diplomatically: "The United States recognizes that Jerusalem is a deeply important issue for Israelis and Palestinians, and for Jews, Muslims, and Christians. We believe that through good faith negotiations the parties can mutually agree on an outcome that realizes the aspirations of both parties for Jerusalem, and safeguards its status for people around the world."
Netanyahu: Jerusalem is Not a Settlement, It's Our Capitol
(Speaking at AIPAC conference, Netanyahu stresses Jewish connection to Israel's capital, saying building there 'in no way precludes possibility of two-state solution'.)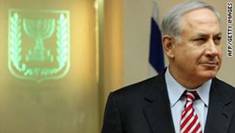 March 24….(YNET) As the world faces monumental challenges, I know that Israel and America will face them together," said Netanyahu, opening his speech before the American Israel Public Affairs committee Monday, after a meeting with US Secretary of State Hilary Clinton. The prime minister reiterated his stance on construction in Jerusalem, and told his audience of some 8,000 pro-Israel activists, "The connection between the Jewish people and the Land of Israel cannot be denied. The connection between the Jewish people and Jerusalem cannot be denied. The Jewish people were building Jerusalem 3,000 year ago and the Jewish people are building Jerusalem today. Jerusalem is not a settlement. It is our capital." He continued to say, "In Jerusalem, my government has maintained the policies of all Israeli governments since 1967, including those led by Golda Meir, Menachem Begin and Yitzhak Rabin. Today, nearly a quarter of a million Jews, almost half the city's Jewish population, live in neighborhoods that are just beyond the 1949 armistice lines. All these neighborhoods are within a five-minute drive from the Knesset. They are an integral and inextricable part of modern Jerusalem. Everyone knows that these neighborhoods will be part of Israel in any peace settlement. Therefore, building them in no way precludes the possibility of a two-state solution." As an example to the Jewish people's link to Jerusalem, he told his audience of a signet ring he has in display in his office: "The ring was found next to the Western wall, but it dates back some 2,800 years ago, two hundred years after Kind David turned Jerusalem into our capital city. The ring is a seal of a Jewish official, and inscribed on it in Hebrew is his name: Netanyahu. His name was Netanyahu Ben-Yoash." Netanyahu then mentioned the Holocaust, and the price the Jewish people had to pay: "Ultimately, two of history's greatest leaders helped turn the tide. Franklin Delano Roosevelt and Winston Churchill helped save the world. But they were too late to save six million of my own people." He stressed that "the future of the Jewish state can never depend on the goodwill of even the greatest of men. Israel must always reserve the right to defend itself." The conference was a major show of pro-Israel power, and was attended by almost half of the members of Senate. At one point, two women from the Code Pink anti-war group disrupted the prime minister's speech, causing him to stop for a few seconds. The demonstrators were quickly removed form the hall. He also urged the Palestinians once again to resume negotiations: "President Abbas, come and negotiate peace." However, he stressed that be cannot be forced on the parties: "Of course, the United States can help the parties solve their problems but it cannot solve the problems for the parties. Peace cannot be imposed from the outside. It can only come through direct negotiations in which we develop mutual trust." Netanyahu then detailed the obstacles the Palestinians have placed in the way of renewing peace talks, and described the mitigating steps his government has taking in hopes of bringing both parties back to the negotiations table. He pointed out the removal of "hundreds of roadblocks, barriers and checkpoints in the West Bank. As a result, we have helped spur a fantastic economic boom there. Finally, we announced an unprecedented moratorium on new Israeli construction in Judea and Samaria." Addressing the Iranian threat, Netanyahu said, "In recent decades the hatred of the Jews has reemerged with increasing force, but with an insidious twist. It is not merely directed at the Jewish people but increasingly at the Jewish State. In its most pernicious form, it argues that if only Israel did not exist, many of the world's problems would go away." He noted that "Iran's rulers say, 'Israel is a one bomb country.' The head of Hezbollah says: 'If all the Jews gather in Israel, it will save us the trouble of going after them worldwide.'" In an attempt to explain Israel's security predicament to his audience, Netanyahu said, "Imagine the entire United States compressed to the size of New Jersey. Next, put on New Jersey's northern border an Iranian terror proxy called Hezbollah which fires 6,000 rockets into that small state. Then imagine that this terror proxy has amassed 60,000 more missiles to fire at you. Now imagine on New Jersey's southern border another Iranian terror proxy called Hamas. It too fires 6,000 rockets into your territory while smuggling ever more lethal weapons into its territory."
Into the Lion's Den: Netanyahu meets US Leaders
March 24….(Israel Today) Amid the worst tension between Israel and the US in over 30 years, Israeli Prime Minister Benjamin Netanyahu on Monday evening addressed the annual AIPAC conference in Washington and strongly reaffirmed Israel's right to all of Jerusalem. The current row between Netanyahu and the Obama Administration started more than a week ago when Israel announced a new building project in a disputed eastern Jerusalem Jewish neighborhood while US Vice President Joe Biden was visiting. Washington saw the announcement as an insult, considering that it has backed the Palestinian demand that eastern Jerusalem be surrendered and that Jewish building there come to a halt. Netanyahu won thunderous applause on Monday when he told AIPAC supporters that the US needs to reevaluate its policies if it wants to successfully oversee a Middle East peace deal. "Jerusalem is not a settlement," insisted Netanyahu. "Everyone knows that these neighborhoods will be part of Israel in any peace settlement." Netanyahu was more conciliatory earlier in the day when he met with US Secretary of State Hillary Clinton, who last week unleashed some of the more hostile rhetoric in response to the Ramat Shlomo building project. Netanyahu reportedly presented Clinton with a diagram of the long and complicated approval process such building projects go through, and noted that it was merely a coincidence that it was approved while Biden was in town. Unfortunately, the Palestinians and the international media took the opportunity to create a storm out of the incident. Netanyahu was scheduled to meet with US President Barack Obama at the White House on Tuesday. It was announced that the meeting would take place behind closed doors and be off limits to the media, a clear break from protocol. Israeli media noted that the decision to not allow the press near the meeting indicated that it would not be a friendly gathering, and that much tension still lingers between the two leaders.
Polls: Israelis View Obama as Pro-Arab
March 24….(IsraelNN.com) A lopsided plurality of 42 percent of Israelis view US President Barack Obama as pro-Arab, and only seven percent see him as pro-Israel, according to a new Brain Base (Maagar Mochot) poll released on Monday. Thirty-four percent of the respondents are reserving judgment, with a neutral view. Results of the survey point to clear support for Prime Minister Binyamin Netanyahu and criticism of the Obama administration's reaction to Israeli plans to continue building for Jews in parts of united Jerusalem that the United States and the international community refuse to recognize as being under Israeli sovereignty. Nearly two-thirds said they support Prime Minister Netanyahu's decision to continue to build in all of the capital city, while only 26 percent oppose it even though the majority also expressed the opinion that it will lead to more pressure from the United States. A similar percentage of respondents believe that the Obama administration over-reacted to the announcement of progress in plans to build 1,600 new housing units in the Jewish neighborhood of Ramat Shlomo. Only five percent of the respondents said that the American criticism of the project would help the diplomatic process, while 59 percent said the criticism will hurt the peace initiative. The survey also covered the subjects of a nuclear Iran and the issue of whether to cede the Golan Heights to Syria. A plurality of one-third expressed dissatisfaction with the American efforts to deal with the nuclear threat, and only 26 percent were satisfied. An overwhelming 82 percent of those surveyed said it is "naïve or simplistic" to think that Israel and Syria would conclude a lasting peace if Israel were to surrender the Golan Heights. Similar sentiment was registered in the United States in a recent Israel Project poll, which showed an 8 to 1 margin of Americans saying that their government should side with Israel in the conflict with the Palestinian Authority. Those favoring support for Israel cited the Jewish State's being the only democracy in the Middle East, and others emphasized the alliance with the United States.
UN Chief: Israeli Settlements Must be Stopped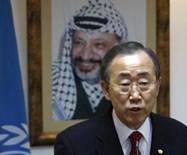 March 22….(YNET) Israeli settlement building anywhere on occupied land is illegal and must be stopped, UN chief Ban Ki-moon said Saturday, after getting a closer look at some of the Israeli enclaves scattered across Palestinian-claimed territories. During a high-profile West Bank visit, Ban was escorted to an observation point by Palestinian Authority Prime Minister Salam Fayyad. From the hill on the outskirts of Ramallah, the UN secretary-general was able to see the sprawling settlement of Givat Ze'ev, home to 11,000 Israelis who live in rows of red-roofed houses. The panorama also included Jewish neighborhoods in east Jerusalem. The brief geography lesson came a day after Ban, US Secretary of State Hillary Clinton and representatives of the EU and Russia, known together as the Quartet, met in Moscow to try to find a way to restart Israeli-Palestinian peace talks. The mediators urged Israel to halt all settlement construction, which has emerged as a key obstacle to renewing talks. Israel has agreed to curb settlement construction in the West Bank, but not in east Jerusalem. On Saturday, Ban rejected Israel's distinction between east Jerusalem and the West Bank, noting that both are occupied lands. "The world has condemned Israel's settlement plans in east Jerusalem," Ban told a news conference after his brief tour. "Let us be clear. All settlement activity is illegal anywhere in occupied territory and must be stopped." The UN chief reassured his Palestinian hosts that the international community supports the establishment of a Palestinian state, and also expressed concern about what he said was a worsening humanitarian situation in blockaded Hamas-ruled Gaza.
Obama Raises Heat on Israel
March 22….(DEBKAfile Exclusive Analysis) While exploiting Israel's ill-timed announcement of 1,600 new homes in East Jerusalem for concessions to the Palestinians, Washington will keep the hullabaloo against Israel at top pitch until the Netanyahu government toes the line on Iran, Debkafile's Washington sources report. This issue goes way beyond a campaign to unseat Netanyahu, in which Washington and Israeli elements have happily joined forces. The Obama Administration is at odds on its Iran stance not only with Israel but Saudi Arabia, too, as well as the moderate Arab regimes of the Middle East, none of whom buy its new line. Had Netanyahu's political reflexes been sharper, he could have removed the immediate pretext for the crisis, the Jerusalem housing announcement during vice president Joe Biden's visit, by firing a couple of bureaucrats and apologizing on the spot. But that would not have averted the crisis. The Obama administration failed to arrest Iran's race for a nuclear weapon in months of diplomacy and was unable to persuade Russia or China to join stiff sanctions. Yet the US president is flat against any military action against Iran's nuclear installations, and will stop at nothing to stop Israel taking matters in its own hands. It is hammering Jerusalem with the bluntest instruments in its diplomatic armory to a degree unheard of against a friendly government. This four-day battering follows the failure of two top US officials, Biden in Jerusalem March 9 and defense secretary Robert Gates in Riyadh and Abu Dhabi March 10-11, to persuade US Middle East allies to accept the new Obama take on Iran, which consists essentially of letting Iran take its nuclear program forward while administering mild sanctions from time to time to keep it under control. Neither the Saudis and their Gulf neighbors nor the Israelis trust in this strategy for keeping Iran from becoming a nuclear power, a standing which would in enhance the capacity of the most radical Middle East elements, Syria, Hizballah and the Hamas, for destabilizing the region and generating terrorism to an alarming degree. Israel and Saudi Arabia would be first in their sights. Strengthening Iran as a player in the international energy market would also weaken America's hand because Russia and China would have gained leverage as champions of the winning side with kudos for averting both military action and harsh sanctions against it. Both Saudi Arabia and the Gulf Arabs and Israel are aghast at this prospect and are therefore deeply reluctant to line up behind Barack Obama on Iran. The US president is playing for high stakes. A White House which capitulated to Iran is hardly the slogan Democratic candidates need for their midterm race against Republican rivals. In fact, it could cost the Democrats their majority and even place Obama's second term in jeopardy when he faces the electorate in 2013. With this in mind, the White House is going hard after Israel and its government to force Netanyahu to line up behind the Obama line on Iran. The pressure from Washington will be unrelenting and the arrows keep coming day by day until Israel folds. Washington cannot wield this battery against Riyadh. In fact Gates ended his mission to Riyadh on the receiving end of Saudi ire, a fact which both sides preferred to keep quiet, except for two telltale signs: No joint communiqué was released at the end of Gates's visit to King Abdullah's farm outside Riyadh and, second, the Saudis publicly repudiated Gates' statement after his arrival in Abu Dhabi that he had obtained Saudi consent to come aboard US diplomacy on Iran and play its part by leaning hard on China to endorse sanctions. On March 13, the royal house issued this bulletin: "This issue is not true, it was not discussed during the visit of the secretary of defense who was in the kingdom recently." Failing to make headway with the Saudis, the US administration is putting all its weight behind extracting from Prime Minister Netanyahu an unequivocal commitment to refrain from military action against Iran. This commitment could then be used to persuade Riyadh that there is no hope of a military solution for Iran's nuclear threat and that both Israel and Saudi Arabia must learn to live with a nuclear-armed Islamic Republic.
WEEK OF MARCH 14 THROUGH MARCH 20
UN, Russia Join Forces on Restarting Peace Process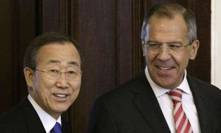 March 19….(Jerusalem Post) Russia and the United Nations vowed Thursday to resuscitate Israeli-Palestinian peace talks, whose prospects collapsed following Israel's announcement it would build new homes in east Jerusalem. Visiting UN Secretary General Ban Ki-moon said that Friday's meeting of the so-called Quartet of international mediators in Moscow should help restart talks. "There is no other alternative to direct peace talks," Ban said after meeting Foreign Minister Sergey Lavrov. Lavrov said that the main goal of the mediators, Russia, the United States, the UN and the European Union, is to persuade Israel and the Palestinians to resume talks. He said the Quartet would issue a strong joint statement when their Moscow meeting concludes Friday. Quartet members are fully committed to end their meeting with a very concrete, clear document that that will confirm all previous decisions of the world community about conditions and parameters of direct talks between Israel and Palestinians," Lavrov said.
Putin Asserts That Russia Will See Iran Through to Nuclear Power
March 19….(World Watch) Vladimir Putin, Russia's prime minister, promised on Thursday that Moscow would help Iran complete a civil nuclear power station by this summer, drawing criticism from Hillary Clinton, US secretary of state. His remarks highlighted the continuing differences between the two powers over how to contain Iran's nuclear ambitions. Hillary Clinton was visiting Moscow on a trip partly designed to increase the pressure on Tehran by showing America's unity with Russia. Putin said that work to complete the Bushehr plant on Iran's Gulf coast would soon be complete. "The first block of the Iranian atomic power station must be launched this summer," he said. Asked about Mr Putin's remarks, Clinton said it "would be premature to go forward with any project at this time, because we want to send an unequivocal message to the Iranians". However, she added: "We have consistently said that Iran is entitled to civil nuclear power. It is a nuclear weapons program that it is not entitled to." Russian experts have been helping to build a light water reactor at Bushehr since the 1990s. Officials have previously said it would be finished this year. Mrs. Clinton is trying to build support for United Nations sanctions on Iran and has enjoyed more success in winning over Russia, which has signaled it could support limited measures, than other members of the Security Council such as China, Brazil and Turkey. Appearing at the same press conference with Clinton, Sergei Lavrov, Russia's foreign minister, said sanctions on Iran should be aimed solely at preventing nuclear proliferation rather than having any broader impact on the economy. He added that construction at Bushehr, a project originally intended to be completed about a decade ago, was in its final stages. The US and Russia, owners of 22,000 of the world's atomic weapons, are negotiating big cuts in deployed weapons and launch systems under a new nuclear arms agreement to replace the 1991 Strategic Arms Reduction Treaty (Start) that expired last December. The US is eager to conclude the negotiations, a litmus test of its efforts to reset relations with Russia, before Barack Obama hosts a non-proliferation conference in May where he hopes to close loopholes exploited by countries such as Iran. Ban Ki-Moon, UN secretary-general, urged the two sides to clinch a new Start treaty during talks with Dmitry Medvedev, the Russian president in Moscow on Thursday. "We very much value your efforts to free the world of nuclear weapons and we sincerely hope that you and US president Barack Obama can soon sign a new Start treaty," he said in remarks posted on the Kremlin website. Mrs Clinton and Ban Ki-Moon will attend a meeting of Middle East mediators aimed at reviving peace talks between Israel and Palestine in Moscow on Friday.
Peres to EU: Israel has Every Right to Build in Jerusalem
March 19….(Ha Aretz) President Shimon Peres told visiting European Union foreign policy chief Catherine Ashton on Thursday that Israel reserved the right to build in Jerusalem, adding that its construction policy in the capital has not changed in 40 years. Peres told Ashton that Israel allowed construction in Jewish areas of the capital, but not in neighborhoods heavily populated by Arabs ? a policy held by all previous government, he said. This policy was carried out in accordance with all relevant parties including the Palestinians, he said, and has never interfered with the peace process. He added that Israel would continue this policy and called for a quick resumption of peace talks so that borders between Israel and future Palestine could finally be set. Meanwhile, United Nations Secretary-General Ban Ki-moon said on Thursday that the Israeli and Palestinian leaderships have no alternative to eventual direct negotiations, repeating criticism of Israel's decision to allow the construction of 1,600 new homes in East Jerusalem. Ban said he hoped a meeting of the international "quartet" of Middle East mediators in Moscow on Friday could advance troubled peace efforts at a crucially important time. There is no alternative to direct negotiations," said Ban, who heads to the Middle East after Friday's meeting with US Secretary of State Hillary Clinton, Russian Foreign Minister Sergei Lavrov and Ashton. "The quartet meeting is being held at a crucially important time," he said. Ban also reiterated criticism of the plans for more homes for Jews near East Jerusalem, which Israel announced last week during a visit by US Vice President Joe Biden. "We have been very much frustrated by what has happened on the ground," said Ban. "Israel has announced a new settlement plan ... that has been strongly condemned by the quartet." The global powers "have been frustrated be not being able to see progress on the ground," he added. Palestinian President Mahmoud Abbas has indicated there would be no proximity talks unless Israel froze all settlement building.


Israeli Air Force Strikes in Gaza
(IDF retaliates for deadly Qassam rocket attack)
March 19….(YNET) IDF aircraft struck at least four targets in the Gaza Strip on Friday, a day after a rocket fired from the Palestinian enclave killed a Thai worker in Israel, Hamas security officials and witnesses said. There were no immediate reports of injuries in any of the strikes, whose targets included a smuggling tunnel along the border with Egypt, two open areas in Khan Younis and a metal foundry near Gaza City. Vice Prime Minister Silvan Shalom had said Israel would offer a strong response to what was the first deadly rocket fire from Hamas-ruled Gaza at Israel in more than a year. Israel also sent a letter of complaint to United Nations Secretary General Ban Ki-moon, who is due to visit Israel at the weekend, and to the UN Security Council. A previously unknown group, Ansar al-Sunna, believed to share the hardline ideology of al-Qaeda, claimed responsibility for the rocket fire at Israel, as well as the al-Aqsa Martrys Brigades, a wing of the Fatah movement. Deputy Defense Minister Matan Vilnai said, "Israel is not interested in a military confrontation, but will not allow attacks on its citizens. Hamas must prevent any and all attacks on Israel to avoid a deterioration of the situation."
Washington Abandoning Israel, may Give Palestinians Military Shield
March 19….(DEBKA) "Israel is one of our closest allies and we and the Israeli people have a special bond that's not going to go away," said President Barack Obama to Fox News Wednesday, March 17, after denying any crisis in the relationship. debkafile's Washington sources note that denial makes a lot of sense for the president because it lets him off the hook for dealing with it. However, in Jerusalem, prime minister Binyamin Netanyahu called his inner cabinet into its second session on the crisis that same night. The seven ministers were asked to review the situation after President Obama and secretary of state Hillary Clinton turned down their initial proposals for easing the upset and laid down three pre-conditions for restoring normal relations with Jerusalem:
1. The Netanyahu government must extend the 10-month freeze on West Bank settlement construction to include East Jerusalem;
2. When the moratorium runs out in September, it must be renewed for the duration of peace negotiations with the Palestinians;
3. Israeli must make more concessions to the Palestinian Authority and its chairman Mahmoud Abbas.
The Israeli government was informed that until those conditions were met, its ministers would not be received in Washington by high-level American officials - a virtual boycott, which downgrades the normal diplomatic, strategic and security exchanges between the two administrations to the level of senators and the special Middle East envoy George Mitchell. Netanyahu tried offering the Obama administration a number of compromise proposals, such as the suspension of construction in East Jerusalem and the city's outlying Jewish suburbs until September, but they were rejected, as was an offer to prohibit further Jewish purchases of land and buildings in Jerusalem's Arab districts during peace negotiations. Obama and Clinton made it clear they would brook no departures from their three demands, which Israel is required to treat as an ultimatum. Neither party to the difference has mentioned the US administration's fourth condition for resuming normal relations: an Israeli commitment to refrain from attacking Iran's nuclear program without prior US consent. Because that commitment has not been offered, administration officials are continuing to hammer Israel in every possible arena. Indeed, the gloves are now off in earnest for insinuations that Israel's settlement policy is the root-cause of Iran's drive for a nuclear bomb and of the conflicts endangering American lives in combat in Afghanistan and Iraq. Vice President Joe Biden launched this drive, when he reportedly attacked Netanyahu for the announcement of 1,600 new homes in East Jerusalem by saying: "What you are doing here undermines the security of our troops who are fighting in Iraq, Afghanistan and Pakistan." A much-admired American military figure, CENTCOM chief, Gen. David Petraeus, was the next US official to put this linkage into words. In his briefing to a Senate panel, he said Wednesday, March 16: Clearly the tensions on these issues with Israel have enormous effect on the strategic context in which we operate in the Central Command's area of responsibility." The general denied he had as yet formally asked for the Palestinian territories to be transferred to his command, but added: "In fact, staff members at various times have discussed asking for the Palestinian territories to be added to CENTCOM's turf." debkafile's military sources explain that, if approved, this step would be tantamount to providing the Palestinians with an American military umbrella against Israel. More than one friend of Israel demurred against the Petraeus suggestion. Former presidential candidate, Republican Senator John McCain, caught on fast to the way the wind is blowing in Obama's Washington: During his testimony, he put in: "Isn't the issue not the issue of settlements as much as it is the existence of the state of Israel…?
EU: Israel Should Give Golan to Syria
March 19….(ANSA) Israel should return the Golan Heights to Syria as part of the Middle East peace process, visiting Italian President Giorgio Napolitano told Syrian leaders in Damascus today. Speaking after his talks with Syrian President Bashar al Assad, Napolitano also expressed his concern over the expansion of Israeli settlements in Arab East Jerusalem and the consequences this could have on the peace process. Napolitano also hoped for "the signing of an association accord between EU and Syria that satisfies both Damascus and the European Union". An accord, he stressed, "which fully respects the independence and the autonomy of Syria", and that "reflects the mutual interest of the trade relations". Furthermore, Napolitano said that "Italy supports the entry of Syria in the World Trade Organization and, turning his attention to relations between Italy and Syria, the Italian president said they were "excellent" although there were "ample margins to improve them on an economic and cultural level". "Relations between the two countries, he added, "date back to a long time ago". From his part, Assad criticized Israel and his settlement policy. "Israel cannot be chosen as a partner if it continues with the settlements and with the violation of sacred sites", said the Syrian President also stressing the need for "Israel to stop the siege and the occupation of the territories occupied in 1967 (Golan heights)". "We want a fair and global peace" which could be reached also "through Turkey's mediation", he added. He also told the press that "Italy and Syria have converging views on the peace process above all in regard to the conviction that peace in the Middle East is essential for global stability and security".
Iran's Link to China Includes Nukes, Missiles
March 18….(Washington Times) Recent developments in Iran confirm that China is providing Tehran with critical defense technologies and weapons systems, including some that violate stated Chinese policies aimed at preventing nuclear proliferation. The disclosure of Chinese military aid comes as the Obama Administration is trying to persuade Beijing to join other members of the UN Security Council, European Union member states and major non-aligned states such as Brazil to adopt a new set of tough sanctions to punish Iran for its nuclear-arms program. Proliferation of defense industrial know-how and brain power from Russia, Ukraine and other former Soviet republics to Iran, specifically advanced anti-ship missiles, nuclear technology and ballistic-missile designs, has been at the top of US government concerns since the fall of the Soviet Union in 1991. One of the more recent issues is the expected delivery to Iran of state-of-the-art Almaz-Antei S-300 air-defense missiles systems under a contract originally signed in 2005 between Teheran and Russia's Rosoboronexport (ROE), the state-run arms-export agency. The US, Israel and others have objected to Russian S-300 deliveries on the grounds that the missiles will significantly improve Iran's surface-to-air missile network and reduce the chances, if deemed necessary at some point, of successful air strikes on Iranian nuclear facilities. A CIA report to Congress made public in 2009 states that assistance from Chinese and Russian entities "has helped Iran move toward self-sufficiency in the production of ballistic missiles." Last week, Iran's naval forces announced test firings of two basic models of anti-ship missiles, a short-range design called the Nasr-1 and Nasr-2 and a longer-range missile called the Nour. The Nour, which has a range greater than 60 miles, is also produced in Iran and analysts said there is a new version of the missile in development with triple the current range. According to missile specialists, both weapons were originally developed and built in China, and have been advertised as being in service with the Chinese armed forces. The Nour is known in China as the C-802 anti-ship cruise missile, and the Nasr is a design that was developed specifically for Iran by China's Hongdu Aviation Group at the beginning of this decade. China's history of cooperation with Iran in defense industrial technology dates back almost to the first days of the Islamic Revolution of 1979. Chinese arms specialists remain among the world's best experts at reverse-engineering foreign weapons, and have produced large numbers of copies of Russian-design weapon systems for decades. The same week as the missile launches, Iran's air force announced it has formed the first squadron of Iranian-manufactured Saeqeh, or Thunderbolt, fighter aircraft. The aircraft is a modified version of the old Northrop F-5 fighter that first saw service in the Vietnam War, but it has some subtle differences, including a new twin vertical tail. It is another conventional-weapons capability that Iran built with Chinese development assistance. These and other Iranian-Chinese programs may end up having a cumulative effect on the security balance in the region that outweighs the Russian S-300 deal. But, by far the most alarming transfer of defense technology was an illegal sale made last year to Iran of 108 pressure transducers. Nuclear specialists said these items, which are also known as capacitance diaphragm gauges, would only have been purchased in such large numbers in order to be used to monitor the processing of the gas centrifuges Iran is operating to produce enriched, weapons-grade uranium. These pressure transducers are in theory prohibited for sale to Iran, but a lengthy investigative report by the Associated Press bureau in Taipei has proved that by using backdated paperwork and false end-user certificates, Chinese agents were able to set up an elaborate daisy chain to conceal the true destination of these components. The Swiss manufacturers of these components were told that the transducers, which were ordered by its Taiwan-based sales agent, were intended for shipment to Shanghai. Export licensing paperwork was altered to change the destination to Tehran, where they were received by an Iranian company. David Albright from the Institute for Science and International Security in Washington, and the author of the upcoming book "Peddling Peril: How the Secret Nuclear Trade Arms America's Enemies," commented that the Chinese essentially rode to the rescue of Tehran's nuclear program by providing a purchasing channel where all other efforts at acquiring these items had failed. "The Iranian government looked everywhere, Russia, Europe, the US and they were being thwarted by the international community," Mr. Albright said. European intelligence services have reported that nine out of ten attempts to acquire these transducers had been blocked until now. China's Ministry of Foreign Affairs has stated that it was unaware of this sale and that all illegal exports of nuclear-related items are forbidden. But, observers familiar with the trade patterns between the two nations point out that Beijing is not in a position to deny too much of what the Iranians would like to have whether it is legal or not. Energy-hungry China purchases some 15 percent of its oil and natural gas from Iran and this dependency is only likely to increase over time, as are the demands from Iran for more advanced military technology.
Obama May be Seeking 'Regime Change' in Israel
March 18….(Google) The Obama administration's row with Israel over settlements has prompted some analysts to wonder whether it seeks "regime change," a new government that can make peace with the Palestinians. However, the analysts doubt that President Barack Obama's administration, which has made Arab-Israeli peace a national security priority, will achieve anything if it has indeed adopted such a strategy. In unusually harsh words, Secretary of State Hillary Clinton told Prime Minister Benjamin Netanyahu on Friday that his right-wing government's plans to build new settler homes in east Jerusalem sent a "deeply negative signal" about Israel's ties to its top ally. "Is this about regime change, or is it about (Israeli) behavior modification?" asked Aaron David Miller, a Middle East peace negotiator in past Republican and Democratic administrations. Miller said Obama and Clinton may be trying to create the impression Netanyahu is "mismanaging the relationship" with Washington in order to shake up Israeli politics. After all, he said, former president George H.W. Bush and his top diplomat James Baker did much the same thing with then Israeli prime minister Yitzhak Shamir and helped pave the way for Yitzhak Rabin to become prime minister. "But there are no more Rabins," Miller said. Rabin, who was assassinated by an Israeli right-wing extremist in 1995, sealed a short-lived peace deal with Palestinian leader Yasser Arafat at the White House in 1993 under then president Bill Clinton. Under another scenario, if the Obama administration defuses the row and even wins some concessions from Netanyahu, he warned, it may still be impossible to bridge the Israeli-Palestinian divide, say analysts. Miller and others like Daniel Kurtzer, the former US ambassador to Egypt and Israel, have long wondered whether the Obama administration has a strategy to revive Arab-Israeli peace talks suspended since 2008. Both noted that the Obama administration, in its first year, demanded a total halt to Jewish settlements, only to yield to Netanyahu's call for a 10-month moratorium on construction in the West Bank but not in east Jerusalem. The Palestinians want east Jerusalem, which Israel captured in the 1967 war, to be the capital of a future state; Israel claims all of Jerusalem as its capital. Kurtzer, who is now at Princeton University, could not rule out that the Obama administration might be contemplating a way to change Israel's political landscape. "I would like to say 'no' because we don't do that with Israel and with friends and democracies," Kurtzer told AFP when asked whether "regime change" might be part of the Obama strategy. "But I don't doubt that there are some Obama people who are angry enough to want to see the Netanyahu government fall," he said. The previous George W. Bush administration embraced "regime change" for Iraq, Iran and North Korea, although the term referred to the violent overthrow of dictatorships. "In people's heart of hearts, they probably want somebody other than Netanyahu but I can't imagine that anybody really believes that they have a strategy or a real chance of effecting it," the former ambassador said.
Netanyahu to Clinton: Israel Has Proven its Commitment to Peace
March 18….(Ha Aretz) Prime Minister Benjamin Netanyahu declared on Tuesday that Israel had proven its commitment to peace before both in words and actions, after US Secretary of State Hillary Clinton urged Jerusalem to do more to prove it was serious about the Middle East process. "The State of Israel appreciates and respects the warm words said by Secretary of State Hillary Clinton regarding the deep bond between the US and Israel, and on the US' commitment to Israel's security," Netanyahu's office said in a statement. "With regard to commitments to peace, the government of Israel has proven over the last year that it is commitment to peace, both in words and actions," said the statement." The statement cited as examples Netanyahu's inaugural foreign policy speech made at Bar Ilan University, the removal of hundreds of roadblocks across the West Bank, and its decision to freeze temporarily construction in West Bank settlements. The latter, said the statement, was even called by Clinton an "unprecedented" move. Netanyahu's office added in its statement that the Palestinians were continuing to thwart the political process by demanding preconditions before the resumption of peace talks. "They are orchestrating a de-legitimization campaign against Israel in international institutions." "Prime Minister Benjamin Netanyahu again calls on the Palestinians to enter the tent of peace without preconditions, because that is the only way to reach a settlement that will ensure peace, security and prosperity for both nations," said the statement.
'There is an Anti-Semitic President in America'
March 18….(Israel Today) Israeli Prime Minister Benjamin Netanyahu's brother-in-law, Dr. Hagi Ben-Artzi on Wednesday charged US President Barack Obama with being anti-Semitic, and allowing his disdain for the Jewish nation to influence recent policy decisions and statements. Speaking to Army Radio, Ben-Artzi said, "It must be stated clearly and simply. Unfortunately, there is an anti-Semitic president in America. As a politician, who ran for presidency, he had to hide it, but from time to time, it bursts out from inside." Ben-Artzi noted that this should come as no surprise, considering that Obama was spiritually mentored by Rev. Jeremiah Wright for the past 20 years. "For 20 years he sat with the preacher Jeremiah Wright, who is anti-Semitic, anti-Jewish and anti-Israeli," he said. During Obama's election campaign, it was revealed that Wright's church on more than one occasion featured Hamas-authored editorials in its weekly bulletin. Ben-Artzi said that rather than despair, Israelis should view the situation in the White House as a test of their faith and commitment. "When an anti-Semitic president comes to power in America, it is our test, and we must say: 'We will not give up. We are a 4,000-year-old people, while you will pass on and disappear in one or two years. Who will remember you? But Jerusalem will always be secure.'"
Iran Aiding al Qaeda's Terror Links
March 18….(Bill Gertz) Iran is assisting al Qaeda by facilitating links between senior terrorist leaders and affiliate groups, the commander of US forces in the Middle East told Congress on Tuesday. Army Gen. David H. Petraeus, commander of the US Central Command, also said Iran's nuclear program is facing problems, and as a result, Tehran is not expected to emerge with a nuclear weapon this year. The exact details of when US intelligence agencies estimate Iran will have a nuclear bomb are classified, but the timeline for developing a nuclear device has "thankfully slid to the right a bit," he said. On Tehran's ties to al Qaeda, Gen. Petraeus said the group "continues to use Iran as a key facilitation hub, where facilitators connect al Qaedas senior leadership to regional affiliates." "And although Iranian authorities do periodically disrupt this network by detaining select al Qaeda facilitators and operational planners, Tehrans policy in this regard is often unpredictable," he stated in written testimony to the Senate Foreign Relations Committee. The comments reinforce concerns of both military and intelligence officials about Iran's backing for the group behind the Sept. 11, 2001, attacks. Some analysts in the past doubted or minimized links between Shi'ite Islamists like those in Iran and rival Sunni extremists, such as al Qaeda. A US counter-terrorism official said al Qaeda members are located in Iran, and "and the Iranian government knows it." "Al Qaeda members also make their way through Iran to Pakistan and Afghanistan, and the Iranian government knows it. That's just unacceptable," the official said. A National Counterterrorism Center report said Iran is unwilling to "bring to justice" senior al Qaeda members it holds and "has refused to publicly identify those senior members in its custody." Gen. Petraeus said Iran is also working to undermine US and international efforts to stabilize Iraq, Afghanistan and other areas of the region. He noted that in Afghanistan, Iran appears to have "hedged" its tacit support for the Kabul government headed by President Hamid Karzai by "providing opportunistic support to the Taliban." In Iraq, Iranian Islamist "Qods Force" personnel are working both politically to influence Iraqi politics and to provide explosives and other military support to Shi'ite militias. "The Qods Force also maintains its lethal support to Shia Iraqi militia groups, providing them with weapons, funding and training," Gen. Petraeus said. On the war in Afghanistan, he said the US and allied military surge of forces is in the early stages and aimed at rolling back gains by Taliban insurgents over the past year. However, the war is far from over and will "likely get harder before it gets easier," he said. Taliban insurgents and al Qaeda extremists, operating from border regions, are waging an increasingly violent campaign in Afghanistan, he said. The current 12- to 18-month campaign is seeking to retake the initiative from the insurgents. Gen. Petraeus said the new strategy unveiled in 2009 of more troops, civilian resources and greater international involvement "can help turn the tide over time, but we must manage expectations as we continue the buildup in our forces," the four-star general said. "Progress will be incremental and difficult," he said. He also warned that the growing stability in Iraq remains "fragile" despite significant gains. Fundamental issues such as the distribution of political power and resources are unsettled, and the developing state faces "numerous challenges," Gen. Petraeus said. Al Qaeda has its main operating bases in the ungoverned regions between Afghanistan and Pakistan, and while "under pressure" it continues to threaten the stability of nuclear-armed Pakistan, he said. The prospect of "significant instability" in Pakistan poses a serious threat, a result of the country being a "a critical strategic foothold for al Qaeda and important to the organization's efforts to rally supporters worldwide."
Fatah Terrorists Shift to Hizballah
(The realignment of Fatah terrorists represents Iran's first big direct Palestinian inroad)
March 18….(DEBKA) Iran's Lebanese proxy, the Hizballah militia, has set up a Palestinian operations unit for 2,000 new recruits from the Lebanese Fatah, who came over in recent days full armed with their commander Col. Munir Maqdah, an important handler of the Fatah terrorist apparatus on the West Bank. Reporting this, Debkafile's military sources add: The first major Palestinian defection to the Shiite Hizballah has given Iran and its proxy a large foot inside Palestinian Authority chairman Mahmoud Abbas' Fatah organization and swelled Hizballah's fighting strength by some 15 percent. Most of the defectors came from the big Ain Hilwa refugee town near the southern Lebanese port of Sidon. Col. Munir Maqdah, commander of Fatah units in Ain Hilwa, carried the formal title of Commander of the Armed Struggle Units of Palestinian Forces in Lebanon. Mahmoud Abbas reacted to the blow by signing orders expelling Maqdah from the Fatah along with dozens of Palestinians officers who followed him. He was forced to accept that Fatah-Lebanon's 5,000-man fighting strength has been pared down to 3,000 and its top officer ranks depleted. The biggest loss was Maqdah, who maintained close ties with the Palestinian terrorist sleeper cells in the West Bank towns of Nablus and Jenin, mainly by means of large dollops of cash. His networks and contacts are now available to Tehran. The renegade officer also acted as liaison between Fatah and al Qaeda's affiliates in Lebanon, such as Fatah al-Islam. His men took active part in more than one Katyusha rocket bombardment of northern Israel from South Lebanon.
Is it Too Late to Save US From God's Wrath?
(Americans flock to nation's capital to discover true leadership)
March 18….(WND) While the nation is riddled with soaring debt, government expansion, abortion, declining morality and a raging culture war, Christian and Jewish leaders are urging Americans to stop shaking their fists at their television sets and come seek the real solution to today's moral crisis by calling out to God from the nation's capital. They will all gather for one purpose: repentance. The group will repent for how the nation has turned from God in every area of influence: 1) business 2) government, 3) media, 4) arts and entertainment, 5) education, 6) the family and 7) religion. "We're headed for a cliff," explained Faith2Action President Janet Porter, a coordinator of May Day. "Short of calling Congress and waiting for November, this is what to do: Fast and pray for our country in distress. On May Day, the national distress call, we won't be aiming our message at the Washington elite nor at media activists. It's aimed at God." "We just want God to know we're serious about standing in the gap for America," she said. "We are calling the remnant to come and repent. It's a two-fold plan to not only pray but to proclaim what our founders believed, that we are one nation under God."
Riots Rock Jerusalem as Hamas Calls for Another 'Intifada'
March 18….(Yahoo) Hundreds of Palestinians clashed with Israeli security forces across east Jerusalem on Tuesday in the worst rioting in years, as a senior Hamas leader called for a new "intifada" or uprising. As the unrest rocked Jerusalem, US Middle East envoy George Mitchell delayed a visit to the region amid the worst diplomatic spat in decades between Israel and key ally the United States, which was struggling to revive peace talks. Police fired rubber bullets, stun grenades and tear gas at Palestinian protesters who hurled stones and set up barricades of dumpsters and burning tires in several neighborhoods. As the rioting flared, Hamas deputy politburo chief Mussa Abu Marzuk called for another popular Palestinian uprising. "The intifada must enjoy the participation of all of Palestinian society," he told Al-Jazeera television. "Every Palestinian should rise up against the forces of the Israeli occupation." In the Hamas-ruled Gaza Strip thousands of people took to the streets, chanting: "With our blood, with our souls, we sacrifice for you, Jerusalem." The Palestinians have launched two intifadas against Israeli rule in the occupied territories, the first in 1987 and the second in 2000, but Hamas's calls for a new uprising in recent years have been largely ignored.
Clinton: 'Israel Must Prove Peace Commitment'
March 17….(YNET) US Secretary of State Hillary Rodham Clinton said Tuesday that Israel must prove it is committed to the Mideast peace process with actions, but brushed aside suggestions that US-Israeli relations were in crisis and reaffirmed America's steadfast commitment to the security of the Jewish state. Clinton said US and Israeli officials were in intense talks about how to repair the damage caused by last week's Israeli announcement of new Jewish housing in east Jerusalem while US Vice President Joe Biden was visiting the country. She said the goal was to relaunch stalled Israeli-Palestinian peace talks. "We are engaged in very active consultations with the Israelis over steps that we think would demonstrate the requisite commitment to the process," she told reporters at a joint State Department news conference with visiting Irish Foreign Minister Michael Martin. "It's been a very important effort on their part as well as ours," Clinton said. "We know how hard this is, this is a very difficult, complex matter. But the Obama administration is committed to a two-state solution, we are committed to a resumption of the negotiations between the parties."
Tony Blair Teaming With Pastor Rick Warren to Unite World Faiths
March 17….(Guardian) Tony Blair is preparing to launch a "faith offensive" across the United States over the next year, after building up relationships with a network of influential religious leaders and faith organizations. With Afghanistan and Iraq casting a shadow over his popularity at home in Britain, Blair's focus has increasingly shifted across the Atlantic, to where the nexus of faith and power is immutable and he is feted like a rock star. According to the annual accounts of the Tony Blair Faith Foundation, a UK-based charity that promotes cohesion between the major faiths, the foundation is to develop a US arm that will pursue a host of faith-based projects. The accounts show that his foundation has an impressive, and, in at least one case, controversial, set of faith contacts. Sitting on some £4.5m in funds as of April last year, mostly gathered through donations, it is now well placed to make its voice heard. The foundation's advisory council of religious leaders includes Rick Warren, powerful founder of the California-based Saddleback church. It attracts congregations of nearly 20,000 and is reportedly one of the largest in the US. Warren, who has addressed the UN and the World Economic Forum in Davos, has been named one of the "15 world leaders who matter most" and one of the "100 most influential people in the world".
UN Worried About Mounting Mideast Tension
(FOJ) Damascus is the home base for a couple dozen Palestinian and other terrorist organizations, all of which (with their various sponsors) are dedicated to the destruction of Israel.

<-- A view of Damascus
March 17….(In The Days) A little-noticed summit held recently in Damascus has reinforced the "axis of resistance" and could set the tone for a strategy not only for Lebanon but the entire Middle East region as Iran prepares for a possible Israeli attack. The Feb. 25 summit attended by Syrian President Bashar al-Assad, Iranian President Mahmoud Ahmadinejad and Shiite Hezbollah Secretary-General Sayyid Hassan Nasrallah reinforced their commitment to each other in what was a slap in the face to US efforts to get Damascus to break its longstanding alliance with Iran. Discussion at the summit dovetailed with national defense strategy sessions in Lebanon on what to do about Hezbollah's weapons stockpile said to be larger than that of the Lebanese army. That meeting lasted only a few hours, with a promise to reconvene on April 15 for further discussions. Hezbollah claims it needs the weapons to confront any Israeli attack on Lebanon. Indeed, recent comments by the Israeli leadership have raised the specter of such an attack. Israeli Prime Minister Benjamin Netanyahu recently said that because Hezbollah was part of the Lebanese government, Israel would hold Lebanon accountable for any rockets launched against Israel by Hezbollah. Not only has UN Secretary-General Ban Ki-moon starting talking about his concerns, the discussions have happened against the increasing prospect of another war that could occur between Hezbollah and Israel over international efforts to curb Iran's nuclear development program which the West believes is a cover for developing a nuclear arsenal.
Obama's anti-Israel Policy Challenges Congressional Law on Jerusalem
March 17….(IsraelNN.com) US President Barack Obama's policy against a Jewish presence in parts of Jerusalem flies in the face of the contents of a 1995 Congressional law to relocate the American embassy in a united capital. Congress passed the law in October 1995 after the House of Representatives approved it in a 374-37 vote and the Senate voted for it by a 93-5 margin. Article 1 of the law states: "Each sovereign nation, under international law and custom, may designate its own capital". Then it goes on to specifics in Article 5,6,7: " From 1948-1967, Jerusalem was a divided city and Israeli citizens of all faiths as well as Jewish citizens of all states were denied access to holy sites in the area controlled by Jordan. Since 1967, Jerusalem has been a united city administered by Israel, and persons of all religious faiths have been guaranteed full access to holy sites within the city." It also notes that "Jerusalem has been administered as a unified city in which the rights of all faiths have been respected and protected." In Article 9, the law quotes a 1990 Congressional resolution that Congress ''strongly believes that Jerusalem must remain an undivided city in which the rights of every ethnic and religious group are protected'' and states in article 10 that in 1992, the United States Senate and House of Representatives unanimously adopted senate concurrent resolution of the 102nd congress to commemorate the 25th anniversary of the reunification of Jerusalem, and reaffirming congressional sentiment that Jerusalem must remain an undivided city. Since the act was passed, President Obama was the only candidate for office who did not state during his campaign that he would act to move the embassy back to Jerusalem, which was reunited in the Six-Day War in 1967. The United States and eventually every other country in the world pulled embassies out of Jerusalem following Israel's declaring sovereignty over the city. Every president, except for President Obama, has exercised the law's waiver that allows for delay in moving the embassy "to protect the national security interests of the United States." President Obama's policy since taking office last year has been to divide the city and create a base in Jerusalem as the seat of Palestinian Authority state although the Jerusalem Embassy Act recalls previous Congressional resolutions calling for the city to remain united. The Obama administration has continued a State Department policy of dis-regardng the law passed by the Congress, of not recognizing Israeli sovereignty over parts of Jerusalem, including the Old City, that were restored to the Jewish State in the Six-Day War in 1967 after Jordan conquered them in 1948. Republican Senator Sam Brownback and six other senators last November co-sponsored a bill to require the President to execute the Congressional act by 2012, regardless of the "security" waiver. Co-sponsor Sen. Jim Inhofe flatly stated that security has not been the reason for the embassy remaining in Tel Aviv. "For political reasons, our embassy is currently located in Tel Aviv instead of in the nation's capital city," he said. Following this week's standoff between the Obama and the Netanyahu governments over building for Jews in part of Jerusalem, Sen. Brownback stated, "It's hard to see how spending a weekend condemning Israel for a zoning decision in its capital city amounts to a positive step towards peace. "Rather than launching verbal attacks on our staunch ally and friend, it would be far more worthwhile for this Administration to expend the effort planning for the transfer of our embassy to Jerusalem and tackling the growing Iranian nuclear threat."
Encouraged by US Slamming Israel, Palestinian Groups Riot in J'lem
March 17….(By Stan Goodenough) The Palestinian Arabs have been swift to capitalize on the Obama administration's recent harsh denouncements of Israel, organizing riots in Jerusalem as well as in at least one Arab town in Samaria. For the fifth day running Tuesday, thousands of Israeli police were posted in and around the Old City as clashes broke out that saw 60 Arabs and a number of Israeli officers wounded. Arabs hurled rocks from behind smokescreens created by burning tires and trash cans, and police responded with rubber bullets and teargas. Tens of Arabs were arrested, some by undercover Israeli police, who moved in to nab primary instigators. Hundreds of Arabs, including busloads of Bedouin from the Negev responding to inciting calls from their leadership, came to the capital to "rescue" the Al-Aqsa Mosque and Temple Mount from the Jews. Israeli Arab Knesset Members, who are openly loyal to the "Palestinian Cause" rather than to their own state, were condemned by Jewish lawmakers for encouraging the riots. According to some analysts, the renewed violence might be just what Washington's land-for-peace-gang had hoped would happen, as it upped the already intense pressure on Israeli Prime Minister Benjamin Netanyahu to agree to make yet more territorial concessions in favor of the "Palestinians." The unrest began Friday, just hours after the White House and State Department both ripped into Israel, accusing the nation it calls its "friend and ally" of "insulting the United States" and of "undermining the peace process [sic]." White House Press Secretary Robert Gibbs and President Barack Obama's senior advisor, David Axelrod, both dealt Israel blows in public, as did Secretary of State Hillary Clinton, speaking on CNN. That was after she had given Netanyahu a 45 minute telephone tongue lashing. Obama, who is Netanyahu's political counterpart and as such should have been the one making the call, is believed to have handed the task to his underling in order to "insult" Israel in return. According to Washington insiders, the Obama administration has not used the harsh language it employed against Israel in its dealing with any other nation - including Iran and North Korea, since coming to power last year. Hamas, the Islamist "Palestinian" terror group that controls Gaza and is fighting for the hearts and minds of the rest of the Palestinian Arabs, called for Tuesday to be a "day of rage" and instructed its terrorists to launch attacks in the heart of the country. However Israeli police commissioner David Cohen, who toured the riot hit areas of Jerusalem Tuesday said the outburst was not expected to lead to a "third intifada." Intifada means "throwing off" of an oppressive force, but in reality the two that have been unleashed, in the late 1980s and beginning again in 2000, are viewed by Israelis as the latest manifestations of the numerous Arab pogroms inflicted on the Jews.
The Eyes of Obama are on the Temple Mount
March 16….(WND) A member of the US government met with organizers of Tuesday's "International Temple Mount awareness Day" to pepper the activists about their intentions regarding Jewish ascent to the holy site. "It was obvious," one of the planners told WND, "the individual who met with us from the Obama government was concerned about the Jewish connection to the Temple Mount and what is being done to deepen it." The organizer talked on condition of anonymity and also on condition that WND kept confidential the name of the US official who met with the Temple event planners. The International Temple Mount Awareness Day is being planned by a coalition of Jewish groups, including The Temple Institute, the Organization for the Renewal of the Temple (ORT), Women in Green, the Temple Mount Heritage Foundation and Israel National Radio. "We call on Jews and Gentiles around the world to mark March 16th as a day of solidarity with the Temple Mount and the prophetic vision of 'a house of prayer for all nations,'" reads a statement from the organizers of the event. In coordination with the Waqf, the Mount's Islamic custodians, police here ban all non-Muslims from praying on the Mount despite an Israeli Supreme Court decision requiring police to offer an arrangement that will enable public Jewish prayer on the site. The Israeli police cite security concerns for their Jewish prayer restrictions, explaining they fear the outbreak of Muslim violence if non-Muslim prayer is allowed. The planners of Tuesday's Temple awareness day are asking Israelis to arrive at the Mugrabi Gate, the entrance to the Mount, at 7:15 in the morning local time in accordance with directions posted on the institute's site. Institute leaders stressed they are seeking a peaceful public demonstration of solidarity with the Mount. Those outside Israel are being asked to "make known their dissatisfaction with the ongoing injustice to the Prime Minister of Israel, by telephone, by fax and by e-mail." The Temple Institute is a group that works to restore a Jewish presence to the Mount, where the Israeli police bar Jews from ascending during most hours of the day, while Muslims are granted nearly 24-hour access. Organizers are also calling for those living abroad to "assemble in prayer and discussion, spreading the word and raising awareness about the injustices being committed on the Temple Mount." "We suggest holding prayer vigils outside Israeli consulates and the embassies," stated the Temple Institute. The Institute points out that according to the Hebrew calendar, tomorrow marks the anniversary of the dedication of the Tabernacle and the first day of the divine service.
No prayer zone
The Temple Mount was opened to the general public until September 2000, when the Palestinians started their intifada by throwing stones at Jewish worshipers after then-candidate for prime minister Ariel Sharon visited the area. Following the onset of violence, the new Sharon government closed the Mount to non-Muslims, using checkpoints to control all pedestrian traffic for fear of further clashes with the Palestinians. The Temple Mount was reopened to non-Muslims in August 2003. It still is open but only Sundays through Thursdays, 7:30 a.m. to 10 a.m. and 12:30 p.m. to 1:30 p.m., and not on any Christian, Jewish or Muslim holidays or other days considered "sensitive" by the Waqf. During "open" days, Jews and Christian are allowed to ascend the Mount, usually through organized tours and only if they conform first to a strict set of guidelines, which includes demands that they not pray or bring any "holy objects" to the site. Visitors are banned from entering any of the mosques without direct Waqf permission. Rules are enforced by Waqf agents, who watch tours closely and alert nearby Israeli police to any breaking of their guidelines.
Rebuilding the Third Temple
Besides advocating for non-Muslim rights on the mount, the Temple Institute also focuses on preparation for the rebuilding of the Third Temple. The group has been preparing ritual objects suitable for Temple use. Many of the more than 90 ritual items to be used in the Temple have been re-made to the highest standards. The First Temple was built by King Solomon in the 10th century BC. It was destroyed by the Babylonians in 586 BC. The Second Temple was rebuilt in 515 BC after Jerusalem was freed from Babylonian captivity. That temple was destroyed by the Roman Empire in AD70. Each temple stood for a period of about four centuries. The temple was the center of religious worship for ancient Israelites. It housed the Holy of Holies, which contained the Ark of the Covenant and was said to be the area upon which God's presence dwelt. All biblical holidays centered on worship at the temple. The temples served as the primary location for the offering of sacrifices and were the main gathering place for Israelites. According to the Talmud, the world was created from the foundation stone of the Temple Mount. It's believed to be the biblical Mount Moriah, the location where Abraham fulfilled God's test to see if he would be willing to sacrifice his son Isaac. The Temple Mount has remained a focal point for Jewish services for thousands of years. Prayers for a return to Jerusalem and the rebuilding of the temple have been uttered by Jews since the Second Temple was destroyed, according to Jewish tradition. The Al Aqsa Mosque was constructed in about AD709 to serve as a shrine near another shrine, the Dome of the Rock, which was built by an Islamic caliph. Al Aqsa was meant to mark what Muslims came to believe was the place at which Muhammad, the founder of Islam, ascended to heaven to receive revelations from Allah belief, on which 'David built there an altar unto the Lord.'"
Perfect Storm Brewing Against America?
March 16….(Bill Wilson) Secretary of State Hillary Clinton told CNN news March 13, "The announcement of the settlements on the very day that the vice president was there was insulting." A State Department spokesman said that Clinton called Israel's Prime Minister Benjamin Netanyahu "to make clear that the United States considered the announcement to be a deeply negative signal about Israel's approach to the bilateral relationship and counter to the spirit of the vice president's trip." The Administration of the man who occupies the Oval Office is deeply upset that the Israeli government would announce plans to build homes on its land in East Jerusalem, especially during the visit of its vice president. The Vice President stood side by side with Palestinian leaders during his visit to Israel and condemned Israel for its announcement. Vice President Joe Biden said that the Palestinians deserve a "viable and contiguous" independent state not broken up by Israeli settlements. The news media nor the current Administration ever mention that the plan is to carve out two pieces of land, Gaza on the West side of Israel and Judea and Samaria on the East side of Israel, and connect them by a strip of land dividing Israel in half. That's what they mean when they use the word "contiguous." Who in their right mind would agree to allowing a terrorist organization dressed in suits and ties to split their country in half? But Biden, Clinton and the crew have shown their true colors to the Israeli government: Biden standing shoulder to shoulder with terrorists saying that Israel needs to play fair and Clinton giving Netanyahu a 43 minute tongue lashing for "embarrassing" Biden by announcing settlements when he was in Israel March 10th. Previous announcements by this Administration to boost the economies of Islamic nations that harbor terrorists, continuing and mounting pressure on Israel to appease the Palestinian movement, and this current very public diplomatic row over Israel building homes on its own land certainly puts into perspective where this Administration stands regarding Israel. Israeli Ambassador Michael Oren was quoted by the Yedioth Ahronoth newspaper telling other Israeli diplomats in a telephone briefing, "Israel's ties with the United States are in their worst crisis since 1975, a crisis of historic proportions." Ever wonder why there is such cataclysmic events happening to the United States politically and economically? There is a spiritual and physical side to all things. Physically, crooked socialist politicians are mismanaging America's policies, causing extraordinary calamity. Spiritually, in Genesis 12:3 the Lord speaks of Israel, saying, "And I will bless them that bless thee, and curse him that curses thee." The perfect storm against America may be brewing.
Obama's Turn Against Israel (Is it Really a Turn?)
March 16….(In The Days) In recent weeks, the Obama Administration has endorsed "healthy relations" between Iran and Syria, mildly rebuked Syrian President Bashar Assad for accusing the US of "colonialism," and publicly apologized to Moammar Gadhafi for treating him with less than appropriate deference after the Libyan called for "a jihad" against Switzerland. When it comes to Israel, however, the Administration has no trouble rising to a high pitch of public indignation. On a visit to Israel last week, Vice President Joe Biden condemned an announcement by a mid-level Israeli official that the government had approved a planning stage, the fourth out of seven required, for the construction of 1,600 housing units in north Jerusalem. Assuming final approval, no ground will be broken on the project for at least three years. But neither that nor repeated apologies from Israeli Prime Minister Benjamin Netanyahu prevented Secretary of State Hillary Clinton, at what White House sources ostentatiously said was the personal direction of President Obama, from calling the announcement "an insult to the United States." White House political chief David Axelrod got in his licks on NBC's Meet the Press yesterday, lambasting Israel for what he described as "an affront." Since nobody is defending the Israeli announcement, least of all an obviously embarrassed Israeli government, it's difficult to see why the Administration has chosen this occasion to spark a full-blown diplomatic crisis with its most reliable Middle Eastern ally. Mr. Biden's visit was intended to reassure Israelis that the Administration remained fully committed to Israeli security and legitimacy. In a speech at Tel Aviv University two days after the Israeli announcement, Mr. Biden publicly thanked Mr. Netanyahu for "putting in place a process to prevent the recurrence" of similar incidents. The subsequent escalation by Mrs. Clinton was clearly intended as a highly public rebuke to the Israelis, but its political and strategic logic is puzzling. The US needs Israel's acquiescence in the Obama Administration's increasingly drawn-out efforts to halt Iran's nuclear bid through diplomacy or sanctions. But Israel's restraint is measured in direct proportion to its sense that US security guarantees are good. If Israel senses that the Administration is looking for any pretext to blow up relations, it will care much less how the US might react to a military strike on Iran. As for the West Bank settlements, it is increasingly difficult to argue that their existence is the key obstacle to a peace deal with the Palestinians. Israel withdrew all of its settlements from Gaza in 2005, only to see the Strip transform itself into a Hamas statelet and a base for continuous rocket fire against Israeli civilians. Israeli anxieties about America's role as an honest broker in any diplomacy won't be assuaged by the Administration's neuralgia over this particular housing project, which falls within Jerusalem's municipal boundaries and can only be described as a "settlement" in the maximalist terms defined by the Palestinians. Any realistic peace deal will have to include a readjustment of the 1967 borders and an exchange of territory, a point formally recognized by the Bush Administration prior to Israel's withdrawal from Gaza. If the Obama Administration opts to transform itself, as the Europeans have, into another set of lawyers for the Palestinians, it will find Israeli concessions increasingly hard to come by. That may be the preferred outcome for Israel's enemies, both in the Arab world and the West, since it allows them to paint Israel as the intransigent party standing in the way of "peace." Why an Administration that repeatedly avers its friendship with Israel would want that is another question. Then again, this episode does fit Obama's foreign policy pattern to date: Our enemies get courted; our friends get the squeeze. It has happened to Poland, the Czech Republic, Honduras and Colombia. Now it's Israel's turn.
PLO Warns Building in east Jerusalem will Lead to Intifada (terror)
After Netanyahu vows to continue east Jerusalem construction, Qureia says, 'If Israel continues these practices, another uprising will break out'
March 16….(YNET) PLO executive committee member Ahmed Qureia warned Monday that if Israel continues to build Jewish neighborhood in east Jerusalem and raze Arab homes "another intifada will break out." Speaking to reporters in Abu Dis, Qureia, a former prime minister of the Palestinian Authority, said, "If matters remain at this level, regardless of whether we take the decision or not, it is coming. If Israel continues these practices, it is coming," he said. Tensions between Palestinians and Israel have escalated in recent weeks following an Israeli government decision to include West Bank religious sites in a Jewish national heritage plan. Meanwhile, the European Union made a new push Monday to revive the stalled Mideast peace process, offering to raise aid to the Palestinians and beef up its security missions in Lebanon and the Palestinian areas to help Israel. Reflecting Europe's frustration over the deadlocked peace process, Catherine Ashton, the EU foreign and security affairs chief, criticized Israel's announcement last week it will build new housing units in east Jerusalem and the Palestinian leadership's reluctance to embrace reforms. Ashton said the EU will support a Palestinian state with agreed changes to the borders of 1967, with Jerusalem as the capital of both Israel and Palestine. The EU is also ready to extend aid to Palestinians, if there is credible movement to a two-state solution, and consider "further political, financial and security guarantees," Ashton said, without elaborating. The security comment referred to an EU peacekeeping mission in southern Lebanon, a police training mission in the West Bank and a border monitoring operation on the Israel-Gaza border. These missions were launched several years ago in response to Israeli demands for more law and order in Palestinian areas. The international community, Ashton said, including our Arab nations "should offer guarantees to the parties so they can take the necessary steps toward peace." Saudi Arabian Foreign Minister Prince Saud al-Faisal also criticized Israel's construction plan in east Jerusalem, saying, "This is another example of Israel's lack of responsibility and its commitment to prevent the Arab countries and the world from working towards peace." Earlier Monday, Netanyahu rejected any curbs on Jewish settlement in and around Jerusalem, defying Washington in Israel's deepening crisis with US President Barack Obama's administration. "For the past 40 years, no Israeli government ever limited construction in the neighborhoods of Jerusalem," he said in a speech in parliament, citing areas in the West Bank that Israel captured in a 1967 war and annexed to the city.
Meet Obama's new controversial pastor
(Champion of communism, socialism called US 'destroyer of human life')
March 16….(WND) Rev. Jim Wallis, a member of President Obama's "faith council" who is described as a spiritual adviser to the president, is a socialist activist who has championed communist causes and previously labeled the US "the great captor and destroyer of human life." Wallis was in the news last week urging Christians to stop watching Fox News host Glenn Beck's program for Beck's remarks against churches that preach "social justice." The Associated Baptist Press described Wallis as a "politically progressive evangelical and longtime advocate for the poor." The Huffington Post identified Wallis as a "Christian author and social justice advocate." Wallis, however, is a long time socialist advocate and founder of a far-left magazine, Sojourners, that has championed communist causes. He currently serves on Obama's White House Advisory Council on Faith-based and Neighborhood Partnerships. He reportedly is a spiritual adviser to Obama and has known the president for years. Wallis began his activism as a protester and then later Michigan leader of the Students for a Democratic Society, the 1960's antiwar group from which Bill Ayers' Weatherman domestic terrorist organization splintered. Wallis founded an anti-capitalism magazine called the Post-American, which identified wealth redistribution and government-managed economies as the keys to achieving "social justice." In 1971, Wallis renamed his magazine Sojourners. He has since served as editor of the publication. Sojourners' official "statement of faith" urges readers to "refuse to accept capitalist structures and assumptions that normalize poverty and segregate the world by class." Sojourners has published a slew of radicals, including socialist activist Cornel West and James Cone, considered the founder of Black Liberation Theology, which spawned the likes of Rev. Jeremiah Wright, Obama's pastor of nearly 20 years. Wallis' magazine actively lobbied for communist regimes that seized power in Latin America in the late 1970s, including the Sandinista dictatorship in Nicaragua. Sojourners in the 1980s was a fierce opponent of the US nuclear buildup, claiming the policy was "an intolerable evil" irreconcilably at odds with Christianity. Wallis has called the US "the great power, the great seducer, the great captor and destroyer of human life, the great master of humanity and history in its totalitarian claims and designs." Wallis continues to openly support socialism. Along with socialist activist West, Wallis in 1995 founded Call to Renewal, a coalition of religious groups demanding the spread of US wealth to promote "social justice."
'US-Israel Relations at Their Worst
March 15….(Ha Aretz) Israel's ambassador to the United States, Michael Oren, has told the country's diplomats there that US-Israeli relations face their worst crisis in 35 years, despite attempts by Prime Minister Benjamin Netanyahu's office to project a sense of "business as usual." Oren was speaking to Israeli consuls general in a conference call on Saturday night. Sunday, Netanyahu continued to consult with the forum of seven senior cabinet ministers over a list of demands that US Secretary of State Hillary Clinton made in a telephone conversation Friday. Clinton harshly criticized the announcement last week of plans to expand the Ramat Shlomo neighborhood in East Jerusalem while US Vice President Joe Biden was visiting Israel. Clinton's list includes at least four steps the United States expects Netanyahu to carry out to restore confidence in bilateral relations and permit the resumption of peace talks with the Palestinians.
1. Investigate the process that led to the announcement of the Ramat Shlomo construction plans in the middle of Biden's visit. The Americans seek an official response from Israel on whether this was a bureaucratic mistake or a deliberate act carried out for political reasons. Already on Saturday night, Netanyahu announced the convening of a committee to look into the issue.
2. Reverse the decision by the Jerusalem District Planning and Building Committee to approve construction of 1,600 new housing units in Ramat Shlomo.
3. Make a substantial gesture toward the Palestinians enabling the renewal of peace talks. The Americans suggested that hundreds of Palestinian prisoners be released, that the Israel Defense Forces withdraw from additional areas of the West Bank and transfer them to Palestinian control, that the siege of the Gaza Strip be eased and further roadblocks in the West Bank be removed.
4. Issue an official declaration that the talks with the Palestinians, even indirect talks, will deal with all the conflict's core issues, borders, refugees, Jerusalem, security arrangements, water and settlements.
Two advisers of the prime minister, Yitzhak Molcho and Ron Dermer, held marathon talks Sunday with senior White House officials in Washington and US Mideast envoy George Mitchell and his staff to try to calm the situation. Mitchell will return to Israel Tuesday and expects to hear if Netanyahu intends to take the proposed steps. At the beginning of Sunday's cabinet meeting, Netanyahu tried to convey a message that there was no crisis in relations with the United States. But he sent precisely the opposite message to Oren in Washington. In Oren's Saturday conference call with the Israeli consuls general, he said that the current crisis was the most serious with the Americans since a confrontation between Henry Kissinger and Yitzhak Rabin in 1975 over an American demand for a partial withdrawal from the Sinai Peninsula. At Sunday's cabinet meeting, Netanyahu said the matter had been blown out of proportion by the media. He added that "there was an unfortunate incident here that was innocently committed and was hurtful, and certainly should not have occurred." He said steps would be taken to prevent such cases in the future. "It is extremely important to understand that the State of Israel and the United States have common interests," he said, adding that those interests "also require us to take decisions to change the situation in the country." Four consuls discussed the conference call with Haaretz. Some noted that in previous conference calls with Oren, the ambassador took pains to make clear that relations with the United States were excellent. This time, however, Oren sounded extremely tense and pessimistic. Oren was quoted as saying that "the crisis was very serious and we are facing a very difficult period in relations between the two countries." Oren told the consuls to lobby congressmen, Jewish community leaders and the media to convey Israel's position. He said the message to be relayed was that Israel had no intention to cause offense to Vice President Biden and that the matter had stemmed from actions by junior bureaucrats in the Interior Ministry and was caused by a lack of coordination between government offices. "It should be stressed that our relations with the United States are very important to us," Oren reportedly said. Several of the consuls suggested waiting, but Oren hinted that his approach reflected Netanyahu's wishes. "These instructions come from the highest level in Jerusalem," he was quoted as saying, adding that the utmost must be done to calm matters. Oren told participants in the conference call of a meeting he was summoned to on Friday with Deputy Secretary of State James Steinberg for a reprimand. Oren spoke of his surprise at being summoned after believing that the crisis had ended on Thursday. "Steinberg read to me from the American letter of protest, whose content was extremely harsh," Oren reportedly said.
Obama-Clinton Scold Israel on Settlements
(US President Barack Obama did not hold back in condemning the humiliation caused to Joe Biden with the Israeli announcement of 1,600 new housing units in East Jerusalem during what was supposed to be the vice president's friendly visit to Israel. Instead of accepting Netanyahu's partial apology and letting bygones be bygones, Obama issued a stern warning to the Israeli prime minister and is now demanding that he take "specific actions" to show he is "committed" to the US-Israel relationship and to the peace process itself.)
(FOJ) The northern Jerusalem neighborhood of Ramat Shlomo. Israel's decision to build 1,600 more apartments there has brought international condemnation, especially from Barak Obama and Secretary Clinton.
March 15….(Israel Today) As though she were scolding a child, US Secretary of State Hillary Clinton had a 45-minute phone conversation with Israeli Prime Minister Benjamin Netanyahu on Friday to chew him out over the decision to build 1,600 more homes for Jews in a part of Jerusalem claimed by the Palestinians. Approval for the housing project in the northeastern Jerusalem neighborhood of Ramat Shlomo came while US Vice President Joe Biden was visiting the Israeli capital last week, a fact that American officials saw as a major insult. State Department spokesman PJ Crowley said that Clinton told Netanyahu she "could not understand how this happened, particularly in light of the United States' strong commitment to Israel's security and she made clear that the Israeli government needed to demonstrate not just through words but through specific actions that they are committed to this relationship and to the peace process." Clinton said the incident had for the Obama Administration raised questions about Israel's commitment to its bilateral relations with the US. The State Department also summoned Israeli Ambassador Michael Oren to officially reprimand him over the new building project. Palestinian leaders have jumped at the opportunity provided by the US government by declaring they will not take part in scheduled indirect peace talks until the Jerusalem building decision is rescinded, which Israelis know would effectively kill their ancient claims to the city. At Sunday's cabinet meeting in Jerusalem, Netanyahu reiterated that he regrets the timing of the building announcement, but still refused to apologize for the decision to approve more Jewish homes on the eastern side of the city. Netanyahu also urged Israelis to not get so worked up by headlines that suggested US-Israel relations were going sour. While it is true that Israel's relationship with the US public remains strong, increasing hostility from the White House is starting to concern many Israelis and American supporters of the Jewish state. Anti-Defamation League Director Abe Foxman issued a statement deploring the severe language used by Clinton and her colleagues over what is ultimately a minor issue. "We are shocked and stunned at the administration's tone and public dressing-down of Israel on the issue of future building in Jerusalem," said Foxman. "One can only wonder how far the US is prepared to go in distancing itself from Israel in order to placate the Palestinians in the hope they see it is in their interest to return to the negotiating table." Meanwhile, official Palestinian Authority TV on Thursday aired a special segment dedicated to the memory of Dalal Mughrabi, the terrorist responsible for the most deadly terrorist attack in Israel's modern history. The broadcast described the anniversary of the attack, March 11, as a "day of pride and glory for the Palestinians." While the Palestinians view Israeli building on lands they claim as the biggest obstacle to peace, Israel views ongoing Palestinian incitement in the exact same light. However, the American and world response to the Palestinian violations is very different (read: non-existent) than the response to perceived Israeli provocations.
Egypt: Israel's actions prove it isn't interested in peace
(Referring to east Jerusalem building plan, Cairo official calls for continued international pressure on Israel to prevent 'provocative actions'. Jordan's King Abdullah warns against unilateral measures that will 'change Jerusalem's identity, threaten holy sites)
March 15….(YNET) Egyptian Foreign Ministry Spokesman Hossam Zaki called on the international community Sunday to carry on with the campaign against Israel in an effort to persuade the Jewish state to stop its "provocative actions". Referring to Israel's decision to approve the construction of 1,600 housing units in east Jerusalem, Zaki told Egyptian television station Nile News that "Israel's actions prove that it is the one not interested in peace, and the Americans have begun to realize this." He further added that, contrary to Israel, the Arabs and Palestinians "have been reaching out for peace in preparation for the indirect negotiations." Meanwhile, Jordan's King Abdullah warned against continued Israeli settlement construction in the West Bank and against any unilateral Israel measures "that may change the city's (Jerusalem) identity and threaten its holy sites". King Abdullah was further quoted by the Petra News Agency as saying that Israel's actions may hinder the efforts to achieve peace and destabilize the region. The White House isn't relenting in its strong criticism of Israel for plans to build in east Jerusalem, which Palestinians are seeking as their future capital. President Barack Obama said the Israelis' action was both an "affront" and an "insult."
Biden/Clinton Backlash A blessing in Disguise For Israel
(United States Secretary of State Hillary Clinton lashed out verbally at Prime Minister Binyamin Netanyahu on Friday, berating him for announcing building plans in Jerusalem during the visit of US Vice President Joe Biden. Secretary of State Hillary Rodham Clinton, however, called Netanyahu on Friday and scolded him over the incident.Saturday evening, the Anti-Defamation League took the administration to task saying in a statement it was "shocked and stunned" by Washington's "public dressing down" of Israel. The ADL said a daily briefing by Assistant Secretary of State P.J. Crowley was especially harsh when Crowley said Israel "undermined trust and confidence in the peace process, and in America's interests" when it announced the housing in Ramat Shlomo. "We cannot remember an instance when such harsh language was directed at a friend and ally of the United States. One can only wonder how far the US is prepared to go in distancing itself from Israel in order to placate the Palestinians in the hope they see it is in their interest to return to the negotiating table," ADL National Director Abraham L. Foxman said.)
March 15….(YNET) If delusion is one of the most dangerous pitfalls of diplomacy, then, paradoxically, recent criticism of Israel by Vice President Joe Biden and Secretary of State Hillary Clinton is a blessing in disguise. Condemning a routine announcement of Israeli plans to build a new neighborhood in Jerusalem, Biden fired the first shot. Clinton added that "it was not only an insult to Biden, but an insult to the United States." Such fiery attacks on Israel are sharp contrasts to pledges of love and loyalty, rhetoric meant to anesthetize Israelis against the reality of American policy and intentions. We should all breathe a sigh of relief, not only that these agents of PLO policies, that Jerusalem is negotiable, have left, but that it's out in the open. Prime Minister Netanyahu avoided the first salvo by excusing and apologizing for the "untimely" announcement. Actually, the timing was perfect. It exposed the real purpose of Biden's visit and President Barack Hussein Obama's direction. But Netanyahu cannot avoid Clinton's pot shots, which struck at the spinal nerve of the relationship between Israel and the US. As she put it, this was not a dispute over policy, but a deliberate attempt to humiliate the United States of America. It was not the planned official dedication of a square and monument in Ramallah, during Biden's visit, to a terrorist who had murdered Israelis that offended Ms. Clinton, but plans to build apartments for Jews. Supporters of Israel should rejoice that Biden and Clinton have emerged from Obama's closet hatred of Israel. Their wild attack, as deadly as it seemed initially, however, did little or no damage. It clears the way for a robust Israeli response, one that will set the course of Israeli policy and the guidelines of future discussions. PM Netanyahu now has the opportunity to defend Israel's position, not only on Jerusalem, but other issues of Israeli sovereignty that have been disputed. This includes the right to decide on what Jewish heritage sites include and the right to preserve those historical and archeological sites, the right of Jews to live in Judea and Samaria, and the right of self-defense.
Netanyahu Bows to US Demand for Jerusalem Building Freeze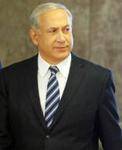 March 15….(DEBKA) Debkafile's exclusive sources report that already Friday, March 12, Israeli prime minister Binyamin Netanyahu gave in to US Secretary of State Hillary Clinton's peremptory demand for a moratorium on construction in East Jerusalem for the duration of indirect talks with the Palestinians. This was in addition to the freeze he accepted earlier on settlement construction on the West Bank. Netanyahu did not disclose this concession to the full cabinet meeting Sunday, March 14, only to the inner cabinet of seven which he convened Saturday night to discuss the spiraling crisis in relations with Washington. According to sources familiar with the content of Clinton's phone call to the prime minister, she did not allow it to proceed like a normal conversation between the high officials of two governments, but simply read out a prepared list of Obama administration demands in relation to the talks with the Palestinians US envoy George Mitchell would be getting off the ground in the coming days. Netanyahu was not given a chance to agree or disagree; Clinton presented those demands as an ultimatum. Her key requirement was for Israel to freeze construction in Jerusalem as well as the West Bank for the four months of indirect negotiations with the Palestinians and then continue the suspension past that stage after direct talks begin. Sunday, Netanyahu instructed the relevant planning authorities to suspend authorizations for new building - or even alterations such as balconies - in all the outlying Jerusalem suburbs of Ramot Eshkol, French Hill, Pisgat Zeev, Neve Yakov, Har Homah and Gilo.
WEEK OF MARCH 7 THROUGH MARCH 13
Clinton Delivers Blunt Message to Netanyahu on East Jerusalem
| | |
| --- | --- |
| | (FOJ) Secretary of State Hillary Rodham Clinton warned Israeli Prime Minister Binyamin Netanyahu on Friday that Israel had sent a "deeply negative signal" about the US-Israeli relationship and urged him to take immediate steps to demonstrate it was interested in renewing efforts at a Middle East peace agreement. |
March 13….(Ha Aretz) United States Secretary of State Hillary Clinton warned Prime Minister Benjamin Netanyahu on Friday that his government sent a "deeply negative signal" by taking steps which undermined renewed Middle East peace talks. Clinton telephoned Netanyahu and expressed frustration over Israel's announcement on Tuesday of new settlement construction, a move that deeply embarrassed visiting US Vice President Joe Biden and imperiled US plans to launch indirect negotiations between Israel and the Palestinians. State Department spokesman P.J. Crowley said Clinton told Netanyahu the announcement was a "deeply negative signal about Israel's approach to the bilateral relationship, and had undermined trust and confidence in the peace process." The secretary said she could not understand how this happened, particularly in light of the United States' strong commitment to Israel's security," Crowley said. "She made clear that the Israeli government needed to demonstrate not just through words but through specific actions that they are committed to this relationship and to the peace process," he said. The "quartet" of Middle East peace mediators, the United States, the European Union, the United Nations and Russia, on Friday issued its own condemnation of the settlement plan and said it would assess the situation at a previously scheduled meeting in Moscow next week. "The Quartet has agreed to closely monitor developments in Jerusalem and to keep under consideration additional steps that may be required to address the situation on the ground," the group said in a statement, without providing further details. Clinton's rebuke of Netanyahu capped a week of tense exchanges between the United States and Israel, which on Tuesday announced it was building 1,600 new settler homes in an area of the occupied West Bank it annexed to Jerusalem. The announcement infuriated the West Bank-based Palestinian leadership, which threatened to pull out of US-brokered indirect "proximity" talks with Israel that Washington hoped would be the first step toward relaunching full peace negotiations after more than a year.
Vice President Biden Embarrassed
It also embarrassed Biden, who repeated calls for talks despite Palestinian demands that Israel first cancel the settlement project. Crowley said US Middle East peace envoy George Mitchell and Assistant Secretary of State Jeffrey Feltman had made numerous calls to regional leaders, including Palestinian President Mahmoud Abbas, and underscored continued commitment to the plans for the indirect talks. Mitchell is due to return to the region next week and US officials hope the indirect talks might begin then. Israel has so far balked at Palestinian demands that the indirect phase include talk of so-called "final status issues" including the delineation of borders, the fate of Jewish settlements on the West Bank and the status of Jerusalem. The Obama administration wants indirect talks to cover issues of "consequence" but has yet to spell out publicly what that would entail. Palestinians have called the settlement announcement a deliberate attempt by Netanyahu to sabotage peace talks in which he could come under pressure to trade land for a deal. Netanyahu has said he did not know the announcement was coming and castigated his interior minister, while noting that nothing would actually be built in the area for years. Netanyahu's relationship with the Obama Administration was already under heavy strain, and Clinton made clear that Washington would hold him responsible.

Biden Damages Israel Relationship
I've spent the last week traveling across Israel as part of a delegation from Christians United for Israel (CUFI). I've had individual meetings with Prime Minister Benjamin Netanyahu, Foreign Minister Ehud Barak, President Shimon Peres, Deputy Foreign Minister Danny Ayalon and others. As always, it has been an eye opening experience. Vice President Joe Biden also spent the past few days in Israel, consorting with many of the same leaders I met with, visiting some of the same historic sites and perhaps walking many of the same streets in Jerusalem and elsewhere. But what he seems to have missed on his trip is at the heart of the troubles that the Obama administration is having in the Middle East. Despite having similar itineraries, Biden and I come to strikingly different conclusions about America's relationship with Israel, and what it will take to resolve the world's most intractable conflict. The vice president (and the administration he works for) treats Israel as the primary obstacle to peace in the Middle East. They seem blind to the Islamic fundamentalist who want Israel and the US wiped off the map. But I regard the Jewish state as a lonely outpost of Western Civilization deserving and in dire need of our unwavering support. Biden's trip has been dominated by controversy over new settlements. The Israeli government this week revealed plans to build 1,600 new housing units in response to a housing shortage in an Orthodox community of East Jerusalem. Because much of the so-called "international community," including the US, refuses to recognize Israeli sovereignty over East Jerusalem, the new settlement plan has prompted the usual anti-Israel outrage. In a particularly harsh condemnation, Biden said, "The substance and timing of the announcement, is precisely the kind of step that undermines the trust we need right now." But the timing of the new housing announcement was drafted three years ago and is under the authority of district planning committees, not Israel's political leadership. And according to Ehud Barak, the settlement area "is an ultra-Orthodox city very close to the green line, and these are housing units for people who are struggling and cannot buy elsewhere." Biden's blistering response is emblematic of the Obama administration's antipathy toward Israel. Obama, who has made outreach to the Muslim world a feature of his presidency, has left Israelis skeptical about his support for them. A poll last August found that just four percent of Israelis viewed Obama's policies as more "pro-Israel" than "pro-Palestinian" or neutral. Most Israelis doubt that the Obama administration understands the singular importance of the US-Israeli alliance. Administration officials will sometimes sound reassuring. Biden told an audience at Tel Aviv University this week that the US has "no better friend" than Israel. But his boss has exasperated the Israeli leadership by berating it over natural growth expansion of West Bank housing settlements. Even worse have been Obama's overtures to Iran, a regime that by arming Hamas in Gaza and Hezbollah in Lebanon has become Israel's greatest menace. Iran's leadership rejects freedom and individual rights for its own people. Its president, Mahmoud Ahmadinejad, is a Shiite fundamentalist who believes a Muslim messiah will soon appear to kill Jews and Christians. With Iran's nuclear program in full force, Ahmadinejad may soon be able to deliver on his promise to "wipe Israel off the map." I confess that I have always had a deep instinctual love for Israel that has deepened during each of my numerous trips here. My faith teaches me that God blesses those who bless Israel. But it has become increasingly apparent that one doesn't need a theological view to understand that Israel is an outpost of Western Civilization that's threatened by the same death-worshipping wave of radical Islamists that targets the US. Many Israeli Jews are Americans too. More than 110,000 American Jews have immigrated to Israel, and 2009 saw the most immigrants from North America in 36 years. Most of those who come do so for religious, ideological and political reasons; not financial ones. They come, risking death and enduring the constant anxiety of knowing that they are rich targets of Muslim hatred, to live in solidarity with fellow Jews. They come also because, in the middle of a region dominated by tyrannical regimes, Israel stands as the lone beacon of democracy. And that's the reason I, with hundreds of other Christians, have come to Israel. We recognize that abandoning Israel would not only seriously threaten Israel's existence, but also imperil the United States. One of the most moving activities I participated in this week was a solidarity march through Jerusalem's Old City. We marchers were met with the astonished faces of city residents more accustomed to witnessing anti-Israel rallies. Some passersby began weeping at our display of support, and one man threw rose petals at our feet. Many ran up to offer their heartfelt "thank-yous." I wish Joe Biden had been able to witness the outpouring of love and appreciation we've received from the Israeli people. In late January, President Obama tried to explain his lack of success thus far in brokering Middle East peace by saying, "This is just really hard." Middle East peace will remain really hard for the Obama administration until it stops accommodating those who seek to destroy both Israel and the United States and begins treating Israel like the "no better friend" Joe Biden insists it is.
Atheist Battling to Remove 'In God We Trust' From US Currency
(An atheist has claimed in court that the words "under God" in the Pledge of Allegiance and "In God We Trust" on US currency should be removed on the grounds they breach his constitutional rights as a non believer)
March 13….(Telegraph) The San Francisco-based 9th US Circuit Court of Appeals panel rejected two legal challenges by Michael Newdow, a doctor, who said the references to God are unconstitutional and infringe on his religious beliefs. The same appeals court caused a national uproar and prompted accusations of judicial activism when it decided in Mr Newdow's favor in 2002, ruling that the pledge violated the First Amendment prohibition against government endorsement of religion. President George W Bush called the 2002 decision "ridiculous," senators passed a resolution condemning the ruling and Newdow received death threats. That lawsuit reached the US Supreme Court in 2004, but the high court said Dr Newdow lacked the legal standing to file the suit because he didn't have custody of his daughter, on whose behalf he brought the case. So Dr Newdow, of Sacremento, filed an identical challenge on behalf of other parents who objected to the recitation of the pledge at school. In 2005, a federal judge in Sacramento decided in Dr Newdow's favor, prompting the appeals court to take up the case again. Judge Carlos Bea, who was appointed by Bush in 2003, wrote for the majority in Thursday's 2-1 ruling. "The Pledge of Allegiance serves to unite our vast nation through the proud recitation of some of the ideals upon which our Republic was founded," he said. Judge Bea noted that schools do not require students to recite the pledge, which was amended to include the words "under God" by a 1954 federal law. Members of Congress at the time said they wanted to set the United States apart from "godless communists." Judge Stephen Reinhardt, who was part of the three-judge panel that ruled in Dr Newdow's favor eight years ago, wrote a 123-page dissent to the 60-page majority opinion. "Under no sound legal analysis adhering to binding Supreme Court precedent could this court uphold state-directed, teacher-led, daily recitation of the 'under God' version of the Pledge of Allegiance by children in public schools," wrote Reinhardt, who was appointed by President Jimmy Carter in 1980. Dr Newdow, who is also an attorney and founded a group called the First Atheist Church of True Science, said he would ask the appeals court to rehear the case. If it rejects that request, Newdow said he'll appeal to the US Supreme Court. "The whole argument that 'under God' wasn't placed into the pledge for religious purposes is bogus," Dr Newdow said. "I hope people recognise this is not against God or people who believe in God. It's about the government not treating people equally on the basis of their lawful religious views." Dr Newdow said he isn't optimistic the Supreme Court will agree to hear the case because the justices will likely be reluctant to hear a case that could invalidate the pledge. "They don't want to do what's politically unpopular," he said. "The Supreme Court will not hear a case that upholds the Pledge of Allegiance. It's very unlikely at least." Rory Little, a professor at the University of California Hastings College of the Law, agreed. He said the Supreme Court is unlikely to review the case because Thursday's ruling is the third appellate court decision upholding the pledge. In addition, Congress passed legislation reaffirming the pledge in 2002, following the 9th Circuit's ruling that struck it down. "I think this is the last word on this particular lawsuit," Little said. "It's an important ruling." In a separate 3-0 ruling Thursday, the appeals court upheld the inscription of the national motto "In God We Trust" on US coins and currency, citing an earlier 9th Circuit panel that ruled the phrase is ceremonial and patriotic and "has nothing whatsoever to do with the establishment of religion." Greg Katsas, who argued the case on behalf of the US government when the appellate court heard the case in December 2007, said the panel made the right decision Thursday. "I think these two phrases encapsulate the philosophy on which the nation was founded," said Katsas, who now works in private practice. "There is a religious aspect to saying "One nation under God," but it isn't like a prayer. When someone says the pledge, they're not praying to God, they're pledging allegiance to the country, the flag and the ideals of the country."
Russia Blasts 'Unacceptable' Israel Settlements Plan
March 13….(AFP) Russia criticized as unacceptable Thursday a decision by the Israeli government to build new settlement homes in annexed Arab east Jerusalem. "We consider such actions by Israel as unacceptable," the foreign ministry said in a statement, adding that Moscow had learned of the decision with "great concern". "The actions contradict the generally accepted international legal basis for a (Middle East) settlement (and) predetermine the results of the negotiating process," it added. Israel's interior ministry said Tuesday it had approved construction of 1,600 new housing units in Ramat Shlomo, a Jewish settlement in the mainly Arab eastern sector of Jerusalem. A permanent UN Security Council member, Russia is also part of the international quartet for peace in the Middle East that includes the European Union, the United Nations and the United States.
Arab League Pulls Palestinians Out of Talks With Israel
| | |
| --- | --- |
| | (FOJ) US Vice President Joe Biden has told the Palestinians that they deserve a "viable" independent state with contiguous territory. Biden's reassured Abbas of US support a day after Israel announced plans to build 1,600 new homes in disputed east Jerusalem. Biden said Israel's plan was undermining Palestinian faith in new peace negotiations. Biden kept Netanyahu and wife Sara waiting for 90 minutes at a dinner they were hosting for him Tuesday, after the project was made public. "I condemn the decision by the government of Israel for new housing units," Biden said after he finally arrived for the meal. |
March 11….(YNET) Arab League chief Amr Moussa said on Wednesday that Palestinian President Mahmoud Abbas told him he would not enter indirect talks with Israel. "The Palestinian president decided he will not enter into those negotiations now, the Palestinian side is not ready to negotiate under the present circumstances," Moussa told a news conference following an urgent meeting of Arab delegates at the Arab League headquarters in Cairo. The Arab League, which recently endorsed indirect talks between the Palestinians and Israel, convened on Wednesday an emergency session following Israel's decision to build 1,600 new housing units in east Jerusalem. The league's Arab peace initiative committee called on Arab foreign ministers to reconsider their support for the talks they extended on March 3. "In case of the failure to stop the Israeli measures immediately, the committee concludes that the proposed talks are irrelevant," the committee's statement said. Secretary-General Moussa cut short his visit to Qatar in order to attend the meeting. Syrian representative to the Arab League, Ambassador Yosef Ahamad said that Israel's decision justifies Damascus' objection to the renewal of negotiations with the Jewish State. During a joint press conference with Qatari Prime Minister Sheikh Hamad Bin Jassim Bin Jabr al-Thani, Moussa said, "We will study Israel's position and formulate recommendations that will be presented to the ministers and later on to the Arab Summit slated to convene in Libya at the end of the month." Al-Thani condemned Israel's plan to expand construction around Jerusalem and said that a clear Arab response must be put forth. He added that Israel's position is placing the Arab League's decisions at risk. "We demand peace with Israel, and demand an immediate peaceful resolution. This is not a warning but an advice for the leaders of Israel," he said. The construction plan, which was announced during US Vice President Joe Biden's visit to Israel, stirred a diplomatic flurry and embarrassed the Prime Minister's Office. Biden publicly criticized Israel's decision and said during a news conference with Palestinian President Mahmoud Abbas in Ramallah, "Yesterday the decision by the Israeli government to advance planning for new housing units in east Jerusalem undermines that very trust, the trust that we need right now in order to begin, profitable negotiations." Abbas, for his part, urged Israel to commit to the peace process and refrain from taking steps that might impede it. He had agreed to a proposal to resume the US-mediated negotiations after a 14 month hiatus due to the backing from Arab countries. "The Palestinians remain committed to peace as a strategic choice on the basis of two states co-existing side by side according to the '67 borders, with Jerusalem as the capital of the Palestinian state," he said.
| | |
| --- | --- |
| | (FOJ) US VP Biden poses in front of a smiling photo of Yasser Arafat, the master terrorist of the 20th century. The Vice President then publicly scolded Israel on Wednesday over a Jewish settlement plan, saying it was undermining peace efforts after Palestinians had agreed to US-mediated talks. Biden Blamed Israel for any interruption in future talks, even as the Arab League issued orders for Abbas to walk away. Biden called on president Shimon Peres and explicitly warned Israel against venturing to attack Iran without prior American permission. |
Biden called on President Shimon Peres, his first meeting with an Israel leader. He then explicitly warned Israel against venturing to attack Iran without prior American permission. Even the oft-repeated American commitment to Israel's security was delivered with a notable reservation: I can promise the people of Israel that we will confront every security challenge that we will face, said Biden. This statement ruled out unilateral Israel operations in its defense. Forget unilateral, he was saying: From now "we" make the decisions about the levels of "security challenge" facing Israel and how to "confront it." And there was no false modesty about who the senior decision-maker was to be in this "alliance." Israel was also taken aback by the US vice president's assertion that Iran was isolated as never before. A distorting prism appeared to be held up by the Obama administration to justify its backtracking on painful sanctions for Iran. These sanctions were explicitly promised by the White House to Netanyahu and defense minister Ehud Barak in return for Israel's consent to hold back from striking Iran's nuclear facilities. (Now there are no sanctions, and no sign of any forthcoming) The Biden visit to Israel, therefore, far from meeting its avowed goal of smoothing over the differences between the Obama administration and Israel, has left Jerusalem more distrustful than ever. The climate was not improved Monday, March 8, by Yukiya Amano, director of the International Atomic Energy Agency in Vienna, announcing that the IAEA board would get back to discussing Iran's nuclear program and making decisions only in five months' time. Israel attributed this delay to Washington's intervention as another gambit for shunting Israel and its demands for harsh sanctions aside, while also holding its hand against exercising any military options.

Gates Clarifies US Iran Policy in Riyadh after Biden Fails in Israel
March 11….(DEBKA) US Secretary of Defense Robert Gates arrived in Riyadh Wednesday, March 10, flying in unexpectedly from Kabul in Afghanistan, after the Saudis demanded urgent clarifications of the Obama Administration's Iran policy. Debkafile's military sources report that the demand followed the failure of US Vice President Joe Biden's talks with Israeli leaders to resolve their differences on Iran. As a result, two senior US officials are visiting to Middle East capitals at the same to under pressure to deal with the Iranian nuclear question. Gates was closeted with Saudi rulers although it was as recently as Feb. 15 that Secretary of State Hillary Clinton visited Riyadh and explained Washington's strategy on Iran to King Abdullah and several senior Saudi princes. But she failed to allay her hosts' intense concerns that the US was doing enough to abort Iran's nuclear weapons program. Then on Sunday, March 7, US Centcom Commander Gen. David Petraeus, asked by a CNN interviewer, whether countries in the Persian Gulf wish to see a US military attack on Iran, said: "there are countries that would like to see a strike, us or perhaps Israel, even." In Israel, where the media are obsessed with the slightest Arab or Palestinian utterance, none cited the US general's comments. Debkafile's military sources report that Petraeus' comments referred mainly to the two main Persian Gulf state, Saudi Arabia and the United Arab Emirates. In fact, the UAE foreign minister, referring to the assassination of Hamas member al-Mabhouh, noted this week that his country and Israel see eye to eye on the Iranian issue. Reports of the Biden conversations in Jerusalem Tuesday have reached Riyadh. They reveal that not only is the Obama Administration leaning hard on Israel to abstain from attacking Iran, but is even retreating from harsh sanctions. Such penalties have no been put on hold for five months. The Saudis are as deeply alarmed by the latest American stance on Iran is as the Israelis. US sources reported that no sooner did the US defense secretary land in Riyadh from Kabul when he was summoned to dinner with King Abdullah and the Saudi defense minister, Crown Prince Sultan. They admitted that he would be required "to present an update to Saudi officials who are intensely concerned about Iran's nuclear program and the fate of the American-led effort to impose new sanctions on Tehran."
Israel Exerts Sovereign Right to Jerusalem and Biden is Angered!
March 11….(JWR) In the midst of a high-profile visit by Vice President Joe Biden, Israel on Tuesday unveiled plans for new housing in disputed Jerusalem, a surprise step that embarrassed and angered the highest-ranking Obama administration official yet to visit the country. Biden, who had come to promote new peace talks and to smooth the Obama administration's strained relations with a longtime ally, instead denounced Israel's plans to build 1,600 new housing units in East Jerusalem as a threat to the search for peace. "I condemn the decision by the government of Israel to advance planning for new housing units in East Jerusalem," Biden said, calling it "precisely the kind of step that undermines the trust we need right now." "We must build an atmosphere to support negotiations, not complicate them," Biden said. The sharp turn of events abruptly changed the tenor of the trip in its second day, coming just hours after the vice president proclaimed his love for Israel and declared enduring US support. Biden's visit followed a year of tension brought on by Israel's defiance of the Obama administration's admonitions on precisely the same issue: housing settlements in disputed areas. In Washington, the White House added its own criticism. But it was unclear how deeply the latest step by Israel would affect ties between the two countries, which have been strained by tensions over the Jewish state's hardline security measures. Aides said Biden raised the issue with Israeli Prime Minister Benjamin Netanyahu at a dinner given in honor of the vice president's visit. US officials have repeatedly warned Israel that such development in Jerusalem would anger Palestinians and further threaten prospects for peace. Biden is to deliver a major address on US-Israeli relations on Thursday. He will also meet with Palestinian and Jordanian officials. However, Israelis sought to downplay any relation between Tuesday's announcement and Biden's visit, saying the housing plans have been years in the making and that Netanyahu, who appeared in public with Biden only hours earlier, had no idea it they were being unveiled. Nonetheless, the plans by the Israel Interior Ministry to build the 1,600 homes for Israelis in the Ramat-Schlomo neighborhood of Jerusalem cast a dark shadow over Biden's visit, which was aimed at strengthening frayed ties between the two allies. Palestinian leaders consider such housing moves a threat to the future Palestinian presence in a city they hope will someday be their capital, and the announcement brought quick protests. Palestinian officials said the announcement was timed to Biden's visit and called for a strong US response. A spokesman for Palestinian President Mahmoud Abbas described the Israeli move as "dangerous" and said it would "torpedo negotiations and the American effort even before they start."
UN's Weak Response to Muslim Slaughter of Christians
March 11….(IsraelNN.com) Hundreds of Christians were brutally slaughtered with axes and knives by a Muslim Nigerian mob on Sunday. The Muslims attacked three small Christian villages in central Nigeria in an early-morning raid. They blocked off all exits, shot in the air, and then set upon the Christian residents of all ages as they tried to escape with axes, machetes and gunfire. Reports of the number of dead range from nearly 400 to more than 500. Two months ago, violence between the sides claimed more than 300 people when rival youth gangs burned mosques, churches and businesses. Nigeria, Africa's most populous nation with over 150 million people, is about equally split between the mostly-Muslim north and the chiefly-Christian south. The center, however, is largely mixed, and native Christians vie with relatively-recent Muslim immigrant arrivals for control of fertile agricultural areas. UN Secretary-General Ban Ki-Moon expressed sorrow Monday night at the slaughter. In a fairly restrained response, he told reporters that he is "very disturbed" at the situation, and "called upon all sides to act with maximum restraint."
FOJ Note: The UN does not plan to have any meetings or investigations into the massacre. One cannot help but wonder at the hypocrisy at the UN. Had this situation been reversed, there would have been an immediate resolution passed before the General Assembly condemning the Christians, but as it was a Muslim assault, the UN just calls for restraint. I guess the attackers are allowed a quota on how many Christians they can kill!
Netanyahu Encourages Christian Zionists to Stay the Course
March 10….(Israel Today) Israeli Prime Minister Benjamin Netanyahu on Monday addressed a Christians United for Israel (CUFI) summit in Jerusalem and encouraged Christian Zionists around the world to stay the course in their defense of the Jewish state. Netanyahu reiterated the amazing turn of events that the presence of Israel-loving Christians in the Jewish state represents after centuries of Christian persecution of Jewish minorities. "Your presence here today represents a profound transformation in the relationship between Christians and Jews," said the prime minister. "This transformation has its roots in the 19th century when the early Christian Zionists came to the Land Israel and when they began exploring the land of the Bible, when they began to yearn for the Jewish restoration in this land, the restoration of our numbers, the restoration of our sovereignty." Netanyahu noted the Christian Zionism actually preceded modern Jewish Zionism, and acted as a stepping stone for the reestablishment of Israeli sovereignty. In the same spirit as those 19th century Christian Zionists, Netanyahu said leaders like CUFI Director John Hagee are continuing to hold Israel aloft in both prayer and advocacy. "Time after time, through thick and thin, you have stood shoulder to shoulder with our state, and I have come here tonight to thank you for your unwavering friendship," said Netanyahu. "I salute you, the people of Israel salute you, the Jewish people salute you." The summit was attended by 1,000 Christian delegates and led by Hagee, who took the opportunity to reaffirm his support and the support of tens of millions of American Christians for Israel.
Israel Partnering in Africa Against Terror
March 10….(IsraelNN.com) Israel is increasing its partnership in Africa, united with factions which are battling fundamentalist Islam. Following talks between Israel and the Kenyan government in which the African country requested Israeli assistance in fighting terror, Israel and Kenya may form a joint force to guard against the entry of terrorists through the northern Kenyan border with Somalia. In addition, Israel has reportedly expressed an interest in being the first country to recognize the autonomous province of Somaliland as a country, according to a report in Somaliland's Golis News. Somaliland broke away from Somalia, Kenya's eastern neighbor, in 1991, rebelling against Somalian military dictator Siad Barre. A positive relationship with Somaliland could have important geo-military significance for Israel, due to the province's position at the northeastern tip of Africa, on the southern bank of the Gulf of Aden. Somaliland's northern coast is located just south of the strategic Bab al-Mandab strait at the southern end of the Red Sea. A deputy leader of al-Qaeda recently announced the terror group's aim to re-enforce Somali militants in order to turn Somaliland into a bastion of Islamic fundamentalism and hamper the ability of Israeli vessels to sail south out of the Red Sea. He said al-Qaeda wants to put Bab al-Mandab "under the protection of Islam," according to a report by the al-Malahim Establishment for Media Production. The Somali press has also reported that Israel may establish an outpost at the port of Berbera in Somaliland, to guard the entrance to the Red Sea. Up until now, Somaliland, which is overwhelmingly populated by Sunni Muslims, has been unable to receive any kind of foreign aid, development assistance, or military equipment because of a lack of international recognition.
Yousef Went 'to the Crux of the Problem'
March 10….(Culture) A former member of the Palestine Liberation Organization believes the Christian convert and son of a Hamas terrorist got to the crux of the situation when he recently said the biggest terrorist is the god of the Quran. Mosab Yousef testifies that he now worships a God who will never disown him, and since leaving Islam, Yousef has come to believe that the more closely Muslims follow Allah and Muhammad, the more they become "inhuman" terrorists. "The biggest terrorist is the god of the Quran," he recently shared with The Associated Press. "I know this is very dangerous, and I know this will offend many people, but my goal is not to offend them. What I'm saying is that the biggest terrorist is Allah of the Koran, the god of the Koran, the god of Islam." Like Yousef, Walid Shoebat is a former Muslim who converted to Christianity and is now an outspoken critic of Islam. He believes that Yousef's comments are right on the mark. "I was elated to watch brother Mosab speak on the TV and saying the problem is Allah," Shoebat stated. "He's going to the crux of the problem." The fellow convert adds, however, that Yousef's life is now in danger. "The Quran also says if they leave the faith or they renege on the faith, then kill them wherever you find them," he explains. "So it becomes the duty of every Muslim to try to find these people who left Islam to kill them. So now he lives in danger. I live in danger." Shoebat concludes that it is the mission of ex-Muslims to wake up America about the threat Islam poses to the world.
Machete Wielding Muslim Group Attacks, Kills Christians in Nigeria
March 9….(Telegraph) UN chief Ban Ki-moon and Washington led calls for restraint on Monday after the slaughter of more than 500 Christians in Nigeria, as survivors told how the killers chopped down their victims. Funerals took place for victims of the three-hour orgy of violence on Sunday in three Christian villages close to the northern city of Jos, blamed on members of the mainly Muslim Fulani ethnic group. While troops were deployed to the villages to prevent new attacks, security forces detained 95 suspects but faced bitter criticism over how the killers were able to go on the rampage at a time when a curfew was meant to be in force. Media reported that Muslim residents of the villages in Plateau state had been warned by phone text message, two days prior to the attack, so they could make good their escape before the exit points were sealed off. Survivors said the attackers were able to separate the Fulanis from members of the rival Berom group by chanting 'nagge', the Fulani word for cattle. Those who failed to respond in the same language were hacked to death. One local paper said the gangs shouted Allah Akhbar (God is Great) before breaking into homes and setting them alight in the early hours of Sunday. Churches were among the buildings that were burned down. "People were attacked with axes, daggers and cutlasses, many of them children, the aged and pregnant women." The attacks, blamed on mainly Muslim nomadic cattle rearers, targeted the local Berom ethnic group, which is predominantly Christian.
Direct Israeli-Palestinian Talks Next Week in Washington
March 9….(DEBKAfile Exclusive Report) The delegations will be headed by Israeli prime minister's adviser Yitzhak Molcho and senior Palestinian negotiator Saeb Erekat. debkafile's Middle East sources disclose that Special US Middle East Envoy George Mitchell notified Israeli prime minister Binyamin Netanyahu and Palestinian Authority chairman Mahmoud Abbas Monday, March 8, that his mission on behalf of president Barack Obama was to get direct peace talks started without delay at a venue near Washington. The US president, he said, was out of patience with the two sides' objections, gripes and maneuvers. According to our Washington sources, administration officials were charged with finding a location around the US capital isolated enough for Israel and Israeli negotiators to talk in private. They recommended the 11th Wing's facility at Bolling Air Force base, which best answered the White House's request for a venue where the Israeli and Palestinian delegations could be kept out of reach of US, Israeli and Palestinian media, so that Mitchell could act as the negotiations sole spokesman. The US envoy's immediate plan now is to ensconce the two delegations for a couple of days in separate rooms at a place in Israel still to be selected to preserve the semblance of indirect talks. After that, they will be transferred to Washington early next week. debkafile's sources stress that the reports leaked from Israeli and Palestinian quarters about the subjects of the talks are irrelevant because the US envoy is still pondering the agenda and has not yet decided where it will start. Our sources disclose that the Palestinians spent most of Monday finding ways to clamp their delegation's wheels because the Fatah doest not trust Erekat enough to give him a free hand. His opponents finally established a "national committee" to monitor his decisions at the negotiating table. Its members are Jibril Rajoub, Muhammad Dahlan and Nasser al Kidwa. The Palestinian team will therefore operate under the close scrutiny of two commissions, one Palestinian, the other appointed by the Arab League. The Israeli prime minister and defense minister Ehud Barak both warned Mitchell against Abbas' plan to attach representatives of Palestinian terrorist groups to the monitoring commission, including the Popular Front for the Liberation of Palestine and Damascus-based extremist groups, all of whom are determined to derail the US peace initiative.
Dire Warning: Israel Must Strike Iran Now, US Will Nottt
(Tehran will have nukes before UN, Obama do anything, says diplomat)
March 9….(WND) The only action that can stop Iran from building nuclear weapons is an Israeli strike on Tehran's nuclear facilities, argued John Bolton, the former US ambassador to the UN under the Bush administration. Speaking in a radio interview with WND senior reporter Aaron Klein, who hosts an investigative program on New York's WABC 770 AM, Bolton warned time is running out for an Israeli attack. "Right now we know about the facilities. We know where they are," he said. "We know exactly what their dimensions are, and I think they are susceptible to an Israeli attack." Bolton said an Israeli military option "isn't there forever. If Israel is going to use military force, it needs to use it sooner rather than later." Bolton posited, "Right now, basically the only scenario that I see other than Iran getting nuclear weapons is military strikes against their nuclear program that result in breaking Iran's control over the nuclear fuel cycle." Continued Bolton: "Since I don't see any possibility that the Obama administration will use military force, I think what that means, to cut to the chase, is this comes down to a decision by Israel whether or not it will use military force against Iran's program." Bolton said he believes there is no doubt Israel possesses the military capability to hit Iran's nuclear sites, but he said the Jewish state would need to act soon. "I think the problem is that the military option is declining day by day," he said. "Every day that goes by is another day where the Iranians can build alternative facilities for uranium conversion, uranium enrichment weaponization, that are in unknown locations that are deeply buried or hardened and that Israel's capabilities just can't reach." Bolton said he sees "almost no chance" for the UN to pass the crippling sanctions that Israeli Prime Minister Benjamin Netanyahu has demanded. "I think it's just a mistake to believe the Security Council, which has already passed three sanctions resolutions against Iran, will do anything much more than a marginal increase in sanctions that are already in place," he stated. "At this point there is very little that will stop Iran," Bolton added. "The most likely outcome, unfortunately, is that Iran is going to get nuclear weapons, and I think sooner rather than later."
Iran Unveils First Cruise Missile: Ahmadinejad to Afghanistan
| | |
| --- | --- |
| | (FOJ) Factfile explaining the enrichment of uranium. The United States and the European Union said recently that there must be more sanctions against Iran's nuclear program standoff if diplomacy fails to shift Tehran away from developing nuclear bombs and the missiles to deliver them. |
March 8….(DEBKA) If the Iranians are to be believed, they have launched production of their first cruise missile, the short-range Nasr 1 (Victory 1), which was claimed by Defense Minister Ahmad Vahidi Sunday, March 7 to be capable of destroying warships of up to 3,000 tons when launched from the ground or sea vessels. The new weapon imperils US naval carriers and US and Israeli submarines stationed in the Persian Gulf. The next Nasr version will be designed for launching from helicopters and submarines, said Vahidi. Last month, Tehran inaugurated production lines for new Qaem (Rising) ground-to-air and Toofan (Storm) surface missiles. debkafile's Iranian sources say Tehran and its allies Syria and Hizballah feel they are in the midst of rapid military and diplomatic momentum compared with American ineptness and Israeli inertia. Sunday, Iranian president Mahmoud Ahmadinejad suddenly announced he would pay an official visit to Kabul Monday and hold talks with Afghan president Hamid Karzai. He prepared his visit 48 hours earlier by calling the September 11 attacks on the Twin Towers of New York "a big fabrication" and "a provocation" to justify America's war on terror and invasion of Afghanistan. The Iranian president has therefore embarked on a verbal offensive to undermine the legitimacy of the US military presence in Afghanistan in the eyes of its population, at a time when the new Afghan strategy composed by Barack Obama last year is in full swing with 30,000 extra US troops on the way. In Kabul, he is expectedly to call stridently for an immediate pull-out of US troops. Ahmadinejad used the same trick when he denied the Nazi Holocaust ever happened in order to question Israel's right to exist. This time, he is aiming at two targets: He arrives in Kabul at around the same time that US Vice President Joe Biden lands in Israel. Biden's overriding mission (alongside the US envoy George Mitchell's effort to revive Israel-Palestinian peace talks) is to make sure Israel does not exercise its military option against Iran's nuclear facilities in view of the fading prospects of international harsh sanctions. The Iranian foreign ministry spokesman poured salt on Western wounds Sunday by asserting that "sanctions would not materialize" in view of the lack of consensus among the six powers working to halt Tehran'
WEEK OF MARCH 1 THROUGH MARCH 6
US Vows to Assign Blame if Israel-PA Talks Fail
March 5….(Ha Aretz) The United States government has committed to playing a role in indirect talks between Israel and the Palestinian Authority, and promised that if the talks were to fail, the US will assign blame and take action, according to a document sent by the US to the Palestinian Authority, which Haaretz obtained on Friday. The US government sent the document to the Palestinians responding to their inquires regarding the US initiative to launch indirect talks between Israel and the Palestinians. "We expect both parties to act seriously and in good faith. If one side, in our judgment, is not living up to our expectations, we will make our concerns clear and we will act accordingly to overcome that obstacle," it was written. This commitment by the US was a determining factor in the Palestinians' and the Arab League's decision to agree to the US proposal on indirect talks. The document also reveals that US involvement will include "sharing messages between the parties and offering our own ideas and bridging proposals." The US also emphasized that their main concern is establishing a Palestinian state. "Our core remains a viable, independent and sovereign Palestinian State with contiguous territory that ends the occupation that began in 1967," the document read. Regarding the settlements, the US noted its continued commitment to the road map, which dictates that Israel must freeze all construction in the settlements, and dismantle all outposts erected since March 2001. A prominent Palestinian official told Haaretz that the Palestinian leadership welcomed the US response, and the only reason PA President Mahmoud Abbas delayed responding to the US initially was so he could receive support from the Arab League. The Palestinians are especially satisfied from the US commitment to put the blame on the side responsible if the talks fail.
Syria: Israel Trying to Frame Us With Nuke Charges
Damascus blames Israel for uranium traces; US, EU, urge Syria to drop nuclear secrecy.
March 5….(JPOST) Fiercely backed by allied Iran, Syria on Thursday denied hiding nuclear activities from the world and said Israel was the source of suspicious uranium particles found at a Syrian desert complex, allegedly bombed two years ago by IAF jets. The Syrian and Iranian comments to the International Atomic Energy Agency's board of governors came in response to Western demands that Damascus stop stonewalling IAEA attempts to investigate suspicions that it ran covert nuclear programs, some with possible weapons applications. While Iran remains the main focus of the board, Syria's refusal to allow IAEA inspectors into the country for follow-up visit to sites possibly linked to secret nuclear work was the principal theme of Thursday's closed board meeting. A recent IAEA report prepared for the board said for the first time that uranium particles found at the desert facility allegedly destroyed by IAF warplanes in September 2007 indicate possible covert nuclear activities at the site. The finding lent backing to Western allegations that the bombed target was a nearly completed nuclear reactor that Washington says was of North Korean design and meant to making weapons-grade plutonium. Syria has put forward several explanations for the source of the uranium at the bomb site and of uranium traces found at its Damascus research reactor that IAEA inspectors say would not normally be found at such a facility. One Syrian suggestion, that Israeli munitions used to bomb the desert location contained depleted uranium, has been all but ruled out by the agency. Delegates inside the meeting told The Associated Press that Bassam Al-Sabbag, Syria's chief IAEA delegate offered a new theory Thursday, suggesting that Israel had dropped uranium particles from the air after the bombing to implicate his country. Separately, Iranian chief delegate Ali Asghar Soltanieh said Israel, not Syria, should be criticized at the meeting, describing the bombing of the Dir A-Zur desert site as "an aggressive act, committed by the Zionist Regime." He accused the US and its allies of making an issue of "a few uranium particles." But the USand the European Union said the onus was on Syria to disprove suspicions by cooperating with the agency. IAEA experts inspected the Dair Alzour site in June 2008 but have been barred from revisiting since. Damascus also has turned down requests for visits to three linked sites which have undergone major landscaping work since those requests were made. The IAEA has also been attempting to probe possible connections between the uranium traces found at the desert site and those detected during a separate 2008 visit at a research reactor in Damascus. "Over the past two years, we have noticed a troubling pattern in Syria's behavior," Chief US delegate Glyn Davies told the meeting. "The more evidence the agency uncovers that Syria was engaged in serious safeguards violations, the more Syria has tried to actively hinder the agency's investigation." On behalf of the EU, Spanish chief delegate Jose Luis Rosello expressed deep regret that Syria "has not been cooperative and transparent with the agency."
Not Just Zionism: Lousy Economy Pushes US Jews to Move to Israel
March 4….(In The Days) When Nisan and Gilan Gertz stepped off the plane at Ben-Gurion International Airport with their children last August, they were seven of almost 4,000 North Americans to make aliyah in 2009, the largest number to do so in a single year since 1983. There were a lot of reasons that the Gertzes chose to move their new home in Beit Shemesh, some 25 miles west of Jerusalem, from their home in the US. There was "inspiration and spirituality," as Nisan describes it. "For the first time in 2,000 years, we can live in a sovereign nation that's Jewish." But money was also an issue. Four of the Gertzes' five children enrolled at Jewish day schools, which together cost the family upward of $50,000 per year in tuition. "All of our money was being dumped into the increasing cost of education and the increasing cost of health care," said Nisan, With unemployment rates hovering at around 10 percent (more than double what they were two years ago), one ripple effect of America's recession is increased immigration to Israel. It is no panacea. But unemployment there is hovering at around 8 percent, while the economy overall has contracted less than in the United States and now appears on the way back to growth. "Israel has proved to be resilient to this particular global shock," the International Monetary Fund noted admiringly in a January report. Then there are the actual cash incentives Israel offers to ease the way for those immigrating under the country's Law of Return, which offers automatic citizenship to anyone with at least one Jewish grandparent. The Ministry of Immigrant Absorption provides about $4,000 per adult and about $2,000 per child to these immigrants, paid out over seven months. Immigrants are also entitled to free education up to the master's degree level and are customarily granted a 70 percent to 90 percent reduction on their property taxes. Plus, they receive discounts and tax waivers on Israeli-made appliances. If that is not enough, additional financial help is available from Nefesh B'Nefesh, a relatively new non-governmental organization that facilitates immigration for American Jews. Cash handouts alone are not likely to cause American families to pick up and move to Israel, of course. But the number of North American Jews immigrating to Israel has been, on the whole, rising in recent years. And the last time there was an uptick as high as this year's, 17 percent, was in 2003, one year after Nefesh was established in Israel with private funding and a mission "to revitalize Aliyah and to substantially increase the number of future olim," or Jewish immigrants. Life in America for Jews is safe and good," said Mark Robbins, a Conservative rabbi who made aliyah in August with his wife and two young children. Unlike the majority of olim, who come to Israel fleeing oppression and political instability elsewhere in the world, for Americans, Robbins said, "in order to make the move, you've really go to be pulled. The push for me came, truthfully, from the incredible cost of raising Jewish kids in the States," Robbins said. The economy is "not the reason, but it's a reason American Jews are making aliyah," said Michael Jankelowitz, the foreign press spokesman for the Jewish Agency. "They have Israel in their hearts. That's coupled with an economic crisis." The economy was an issue even for those without children, and the rates of aliyah among this group seem to be rising. According to Nefesh, almost half of olim in 2008 and 2009 were between the ages of 18 and 35. Freelance music producer and marketer Yoni Leviatan of Miami was among them. "I was always a Zionist," said Leviatan, 31. "I always used to say, I'll be buried in Israel. But I always thought it would be later in life. If I was making a lot of money and I was secure, I don't know if it would have entered my mind to leave." Now that he's there, Leviatan has been impressed by the country's cutting-edge technology sector, both for the jobs it creates and for the quality of life it facilitates. Israel is "not the Third World country that we used to think it was," he said. The largest number of Americans ever to move to Israel in a single year was 8,122, 1n 1971, part of the extended afterglow of Israel's victory in the 1967 Six Day War. "There was a euphoria in the Jewish world after the Six Day War," Jankelowitz said, "that Israel, instead of being annihilated, survived." Moving to Israel back then was a political statement as much as a personal choice. Now, he said, "These people are coming because they're looking for a Jewish way of life.
Arab League Approves US-Brokered PA-Israel Talks
March 4….(IsraelNN.com) In a meeting of 14 foreign ministers in Cairo, the Arab League has approved "indirect negotiations" between the Palestinian Authority and Israel. The indirectness of the talks will be due to American mediation, an element proposed by the United States. According to a report by The New York Times, Arab League approval will politically enable PA President Hamoud Abbas to agree to resume talks with Israel. Up until now, Abbas has refused any discussion with the Jewish state until Israel ceases to build in any Jewish communities in the biblical heartland of Judea and Samaria. Prime Minister Binyamin Netanyahu imposed a 10 month building restriction on Jewish residents in those areas, but the PA was not satisfied, because the cessation did not include construction which had already begun, or that which takes place in eastern Jerusalem. According to the present initiative, the US will engage in shuttle diplomacy between the parties until Israel meets the Arab demands in their entirety, at which point Abbas will be allowed to agree to direct talks with Israel. Arab League Secretary General Amr Moussa of Egypt said that the League agreed to talks "despite the lack of conviction in the seriousness of the Israeli side to facilitate the US role.'' Representatives of Syria and of the Hamas terror organization rejected the Wednesday decision. The League limited the talks to a preliminary four-month period. The Arab League is comprised of 22 member countries and four observers. Member countries are Egypt, Sudan, Algeria, Morocco, Iraq, Saudi Arabia, Yemen, Syria, Tunisia, Somalia, Libya, Jordan, United Arab Emirates, Lebanon, Mauritania, Kuwait, Oman, Qatar, Djibouti, Bahrain, and Comoros, as well as 'Palestine', which is not legally recognized as a country. Observers are Venezuela, Brazil, Eritrea, and India. As of 2007, the Arab League is believed to represent countries with a total population of approximately 340 million people, at least 88% of whom are Muslim.
Mideast War in 'Very' Near Future?
(Dramatic escalation in cooperation between Israel's foes)
| | |
| --- | --- |
| | Egyptian trucks cross a bridge laid across the Suez Canal during the 1973 Yom Kippur War. In the north Syria timed its crossing from the Golan into Israel in conjunction with Egypt's attack . |
March 4….(WND) Egypt is concerned Israel could be in a conflict in the very near future with Syria or the Iranian-backed Hezbollah in Lebanon, a senior Egyptian security official told WND. The security official said in any future war with Syria or Hezbollah, both actors have been preparing to storm the Israeli border with guerillas and commandos, an act unseen here since the 1973 Yom Kippur War, the last conflict in which Syria was openly involved. In previous conflicts with Hezbollah, the terrorist group fired rockets into Israel. In addition, the security official said Syria has separately been contemplating launching low-grade attacks against Jewish communities in the Golan Heights to pressure Israel into negotiations aimed at relinquishing the strategic territory. The official said his country is concerned about a coming conflict but did not mention a specific timeframe. "It's possible either side may misinterpret moves and launch the opening salvo very soon," he said. The official also said Israel is concerned Syria has recently passes advanced weaponry to Hezbollah in Lebanon. He said his country believes Israel may want to engage in a conflict with Hezbollah to minimize that group's capabilities before any future strike against Iran's nuclear facilities. Hezbollah could be used as part of Iran's strategy of retaliation against Iran in a future war, the official said. Recent weeks have seen a war of words between Israel and Syria, as well as a dramatic escalation of public cooperation between Israel's foes Iran, Syria, Hezbollah and Hamas. Last month, Israeli Foreign Minister Avigdor Lieberman warned Syria's president, Bashar Assad, that any war with his country would topple his regime. "Assad should know that if he attacks, he will not only lose the war. Neither he nor his family will remain in power," Lieberman said. Lieberman was responding to a Syrian threat against Israeli cities one day earlier. "Israel knows that if it declares war on Syria, such a war will reach its cities as well," Syrian Foreign Minister Walid Moallem said following a meeting last week with Spanish Foreign Minister Miguel Moratinos. Syria has long demanded the Golan Heights as part of any deal with Israel. The Golan looks down on Israeli population centers and twice was used by Damascus to launch ground invasions into the Jewish state. Last week, Syria hosted a summit with Iranian President Mahmoud Ahmadinejad, Hezbollah chief Hassan Nasrallah and Khaled Meshal, head of the Hamas. All participants expressed solidarity with each other and vowed the destruction of Israel. The meeting was followed up with another confab in Iran last weekend entitled "Islamic and National Solidarity with the Palestinian People." The summit was attended by the leaders of Hamas, Hezbollah and Syria. All three again denounced Israel.
Psalms 83 War Clouds
| | |
| --- | --- |
| | Psalms 83:1-8 Keep not thou silence, O God: hold not thy peace, and be not still, O God. For, lo, thine enemies make a tumult: and they that hate thee have lifted up the head. They have taken crafty counsel against thy people, and consulted against thy hidden ones. They have said, Come, and let us cut them off from being a nation; that the name of Israel may be no more in remembrance. For they have consulted together with one consent: they are confederate against thee: The tabernacles of Edom, and the Ishmaelites; of Moab, and the Hagarenes; Gebal, and Ammon, and Amalek; the Philistines with the inhabitants of Tyre; Assur also is joined with them: they have holpen the children of Lot. |
March 4….(FOJ) It is a matter of fact that Bible prophecy is literally being fulfilled in our lifetime, especially since the reconstitution of the state of Israel amongst the community of nations in 1948. We have witnessed the 1947 war, with wars followed in 1956, 1967, 1973, and numerous terrorist campaigns followed by many retaliatory conflicts throughout the area. Where is all this turmoil heading? Bible scholars can easily see that Iran (Persia) is quickly asserting itself for its role in the Ezekiel 38 scenario in prophecy. Most concerns today are about Iran's nuclear weapons program and whether or not Israel of the US might strike against Iran. But little attention is given to the fact that both Iran and the Arab League are using the Palestinians as pawns in their separate chess-war game against Israel. The prophecies from Pslams 83 indicate that the mutual ideal throughout the Middle East is the concept of confederating against Israel to destroy it forever. The Palestinians (tents of Edom, Moab, etc) scattered throughout Syria, Jordan, Egypt, and the Gaza-West Bank areas have long (since 1948) been whipped into a maniacal frenzy of hatred against Israel. It is the position of FOJ that Iran is pushing Assur (verse 8-Syria) to assist in leading the Palestinian confederation of terror machines against Israel, while they (Iran/Persia) seek to escape the brunt of a full-scale war with Israel. The attached photo shows the diminutive devious Israel hater Ahmadinejad striding alongside Syrian leader Bashar Assad, and the Iranian terror proxy Hasan Nasrallah. Just as surely as Mr. Nasrallah has usurped power for Iran in Lebanon via the Hezbollah terror machine, Syria is just as much chained down to the Iran mullocracy and its goals to exterminate the nation of Israel. Damascus has become the domain of the Palestinian burden, and thus the lynchpin of the push of Iran on one hand, and the Arab League on the second hand in confronting the existence of Israel. The Pslams 83 war almost certainly precedes the Ezekiel 38 campaign, which will involve Iran's great benefactor and guard, Russia. Syria is not listed among the allies of the Magog coalition, and therefore it is FOJ 's contention that the Psalms 83 war is very near, and this is evidenced by the combative news that we see daily between Israel and Syria.
Syria Offers Hezbollah Greater Support Than Ever
March 3….(YNET) Syria is crossing previous red lines in supplying Hezbollah with weapons, handing over arms that it never before dared transfer to the Lebanese terror group in he past, the head of the IDF's research division of Military Intelligence says. "Syria is handing over to Hezbollah components that it would not dare hand over before," Yossi Baidatz told the Knesset Defense and Foreign Affairs Committee Tuesday. Addressing the Hezbollah threat, the senior IDF official said the group was facing a dilemma between its Jihadist identity and commitment to Iran on the one hand and Lebanon's domestic arena on the other hand. "For that reason, although it has maintained the quiet and is uninterested in a clash, it attempts to carry out a revenge attack for Mugniyah's death, especially against Israeli targets abroad," Baidatz said. "Simultaneously, it continues to build up its strength for a confrontation against Israel, deploys its members broadly throughout south Lebanon but also deeper, and accumulates advanced weapons, long-range missiles, anti-aircraft missiles, and anti-tank missiles, with Iran's and Syria's assistance."
Prime Minister Benjamin Netanyahu also addressed the issue, noting that "there is a process of military buildup and very methodical provocation by Iran." "We are not seeking any kind of confrontation with Syria. The talk about us preparing for an offensive against Syria is unfounded," the PM said. "This false impression is being created by Iran." Baidatz added that "Iran continues to tighten its ties with the radical axis." "Just look at the three-way meeting held in Syria," he said. "It included the commander of Iran's revolutionary forces, who are responsible on behalf of Iran for supplying weapons to all terror groups at all regions." Also in respect to Iran, Baidatz said that hopes for an imminent collapse of the Ayatollah regime are premature. "The potential for something taking place within the Iranian population exists, but there's a great distance between the riots we saw and the regime's collapse," he said. "The Iranian regime is not about to collapse, and those who expect that Iran will soon collapse will be gravely disappointed."
Nasrallah: Arabs Must Help Palestinians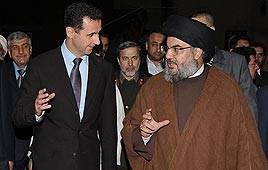 (Hezbollah leader lashes out at Arab states, tells them to learn from Iran, Syria)
March 3….(YNET) Arab states should actively support Islamic resistance, as Iran and Syria do, Hezbollah Secretary General Hassan Nasrallah said in an aggressive speech Monday. Speaking on the occasion of Prophet Muhammad's birthday, Nasrallah accused Israel of annexing territory and desecrating Jerusalem's al-Aqsa Mosque, but directed most of his criticism at Arab states. "Netanyahu convenes his government and annexes everything, the Golan, the Cave of the Patriarchs, everything. And what did the Arab world do? Nothing," the Hezbollah leader said, while praising young Arab rioters in east Jerusalem for their sacrifices. "The Muslim nation must assume its responsibility and not leave the resistance movements alone on the ground," Nasrallah said. "When Syria and Iran stand by us clearly they assume their responsibility and should be thanked for that. Assist the Palestinians as Iran does and this will resolve the problem; assume your responsibility." Nasrallah added that Hezbollah managed to deter Israel, but said the Jewish State still threatens Lebanon's stability and the arms smuggling from Iran and Syria to Hezbollah. Israel is aware of Hezbollah's strength and views it as a "powerful organization embraced by its people," he said.
Muslim Leader Issues Anti-Terror Fatwa
(Suicide bombers heading to hell, al-Qaeda evil, Pakistani-born scholar says)
March 3….(YNET) The leader of a global Muslim movement has issued a fatwa, or religious edict, that he calls an absolute condemnation of terrorism. Muhammad Tahir-ul-Qadri, a former Pakistani lawmaker, says the 600-page fatwa bans suicide bombing "without any excuses, any pretexts, or exceptions." "They can't claim that their suicide bombings are martyrdom operations and that they become the heroes of the Muslim nation," Qadri told a press conference in London. ""No, they become heroes of hellfire, and they are heading towards hellfire." Qadri also slammed Osama Bin Laden's al-Qaeda network, referring to it as an "old evil with a new name" and saying it has not be challenged adequately thus far. "There is no place for any martyrdom and their act is never, ever to be considered jihad," he said. Tahir-ul-Qadri has issued similar, shorter decrees, but Tuesday's event in London was publicized by the Quilliam Foundation, a government-funded anti-extremism think tank and drew strong media attention.
Al Qaeda Desperately Wants Nuclear Device
March 2….(Newsmax) Former CIA Director Michael Hayden said the agency has taken it as "a matter of faith" that if al-Qaida obtained a nuclear weapon, they wouldn't hesitate to use it against the United States. "If they had the ability, they would do it," he told Newsmax in an exclusive interview. "Now as a practical matter, if you're asking me in my professional persona, it's weapons of mass destruction they're after. It's probably easier for them to work with chemical or biological weapons than with a nuclear device. "And if they work with a nuclear device, our judgment was that it would more likely be a dispersal device, where you're just throwing radiation into the atmosphere, rather than the actual nuclear detonation. But we took it as an article of faith that if they could they would, and they wouldn't hesitate." Hayden echoed the concerns of FBI Director Robert S. Mueller, who told Newsmax's Ronald Kessler in May 2007 that al-Qaida's paramount goal is to detonate a nuclear device that would kill hundreds of thousands of Americans. Muller said New York City and Washington, DC were prime targets for a terrorist detonation. The FBI director said that the nuclear threat is so real, he sometimes wakes up in the middle of the night worrying about that possibility.
Iran 'Hell-Bent' on Getting Nuclear Weapons
March 2….(Newsmax) Iran remains "hell-bent" on obtaining a nuclear weapon, and that deeply worries former CIA Director Michael Hayden. Newsmax asked Hayden if the Iranians, once they obtain a nuclear weapon, would use it against Israel or the US. "I don't know and I don't want to find out," he declared. That's one of the most disturbing things. Usually I'm able to maintain this kind of professional detachment from these kinds of things. I can stay a bit removed. This one really worries me personally," Hayden said. Hayden, a former four-star Air Force General, served as CIA director under President George W. Bush and departed the agency shortly after President Obama took office. He is now with the Chertoff Group, a security-consulting firm headed by former Homeland Security Secretary Michael Chertoff. "As I watch what the Iranian government is doing, and frankly I think they're operating against their own self-interest, but they seem hell-bent on getting this weapon," he said. A new study released this month, based on UN inspection and intelligence findings, disclosed that Iran is on course to produce enough highly enriched uranium to make nuclear weapons. The Islamic Republic has adjusted some centrifuges to enrich uranium to a higher grade than that needed to generate electricity, stoking Western concern that it is working to produce a nuclear weapon. "I'm worried about the irresponsible use of such a device, given some of the things they've said," Hayden added. "But beyond that, let's just assume for a moment, and that's a big assumption, that they get the device but that's simply what they wanted to have. They wanted to own it for the deterrent effect. Even that would be incredibly destabilizing in the neighborhood. This is just bad all over."
Israel Shows China Evidence of Iran Bomb Program
March 2….(Ha Aretz) An Israeli delegation that traveled to Beijing last week presented detailed intelligence on Iran's nuclear program in an attempt to persuade China that Tehran seeks atomic weapons, a senior diplomatic source told Haaretz. The group, led by Strategic Affairs Minister Moshe Ya'alon and central bank chief Stanley Fischer, tried to persuade China to support sanctions on Iran by offering "the full intelligence picture available to Israel," the diplomat said. The Israeli officials also told the Chinese that a nuclear Iran would push up oil prices, China depends on Iran for a significant proportion of its imported oil. Israel is trying to recruit China's support for a fourth round of sanctions on Iran, and the UN Security Council is due to vote on the issue in the coming months. At the very least, Israel wants to ensure that China does not oppose the sanctions when they come to vote. Israel also wants to make sure that China supports the report on Iran published by the new head of the International Atomic Energy Agency, Yukiya Amano. Unlike his predecessor Mohamed ElBaradei, Amano discussed in his report the possibility that Iran might secretively be developing nuclear weapons. The IAEA's annual conference is set to open in Vienna today. The diplomat said that the delegation's main aim was to present the Chinese with evidence that Iran is developing nuclear arms. China's official position is that Iran has a right to develop nuclear technology for peaceful, civilian purposes and that there is no proof Iran has a military nuclear program. The Chinese were given the full intelligence picture Israel has about the Iranian nuclear program, which clearly shows Iran is developing nuclear weapons," the source said. "The delegation also stressed how concerned Israel was, and that all options must remain on the table," the source added. According to the source, the Israelis spent two hours presenting the Chinese with an overview of the intelligence information Israel has on Iran's nuclear program. This was the most detailed overview given by Israel to China in more than three years, since prime minister Ehud Olmert's visit in January 2007. Fischer detailed the implications a nuclear Iran would have for the world economy, stressing a dramatic rise in oil prices. Alternatives to importing oil from Iran were also discussed. Earlier this year, Saudi Arabia and the United States proposed to China that it buy oil from Arab states at much lower prices than oil imported from Iran. China is also concerned about possible sanctions because of its deals with Iran on developing railroads, tunnels and oil fields. These contracts are expected to be highly profitable, so the Chinese fear that sanctions would put them at risk.
As the West Woos Syria, Assad Aligns Himself With Iran
March 2….(Ha Aretz) There is something provocative in Syria's behavior over the last few weeks. Compared with Iran, the messages coming out of Damascus are still moderate. But the Syrians certainly seem attracted by the Iranian strategy of baiting the West. Precisely as the United States strives to buy good will by returning an ambassador, Robert Ford, to Damascus; and just after US Secretary of State Hillary Clinton turned to Syria with a request to curb arms smuggling to Hezbollah, Syria has responded by convening an 'Axis of Evil' summit at the presidential palace in Damascus. Mahmoud Ahmadinejad, the Iranian President, Hassan Nasrallah, Secretary General of Hezbollah, and Khaled Meshal, head of the Hamas politburo, were the star guests at the meeting last week. The message was clear. Efforts by the Americans and Europeans to cozy up to Damascus are all very well; but in Syrian eyes, the real strategic partnership remains in the east, with Teheran. To emphasize the solidity of ties between them, Iran and Syria announced at the summit that their citizens would no longer need visas to visit each other. And in terms of intimacy with Hezbollah, Syrian President Bashar Assad is outdoing even his father. Hafez Assad always remained wary of the Lebanese group and in the 1990s even dispatched forces to Lebanon to fight it. Bashar, in contrast, has supplied Hezbollah with weapons more deadly than any it had in the past, weapons which threaten to ignite the entire region. It is true that overtures from the West could keep Syria from giving itself wholly to Iran. And persuading Syria to negotiate with Israel could even significantly weaken its axis with Tehran and might neutralize the threat of regional war. But with the Damascus summit, Assad is signaling unease over American and French attempts to woo him and, moreover, that he has no interest in reopening talks with Israel. Ahmadinejad has been to Damascus before, of course, and Bashar has visited Tehran. But the presence this time of Hamas and Hezbollah hints at more than the usual show of deterrence to Israel and the West. America appears to understand this: in the last 24 hours there have been reports Washington has urged both Israel and Syria to calm tensions between them, as well as stepping up pressure on Syria over the transfer of sensitive weapons to Hezbollah.
On Saturday, two days after the Damascus summit, a conference on 'Islamic and National Solidarity with the Palestinian People' opened in Iran. All the confident predictions of the Zionist entity's demise aired in Damascus were repeated, largely by the same cast of characters (Nasrallah excepted). Meshal, a guest of honor, denounced Israel from the podium. While the rhetoric is not new, Hamas' growing loyalty to Iran is worrying. Until just a few years ago, before the assassination of Sheikh Ahmed Yassin, Palestinians were on the whole suspicious of the Iranians and the group tried to keep its links with Tehran inconspicuous. But power in Hamas has since shifted from the West Bank and Gaza to the organization's political leadership in Damascus. The now dominant Syrian branch has crept gradually closer to Iran and Hamas policy has hardened accordingly. Its leaders, especially in Damascus, show no sign of softening their stance and have time and again scorned attempts to reconcile them with Fatah. Relations between Meshal and Gaza are increasingly febrile, to the point where one of the group's Gaza chiefs, Mahmoud Zahar, resigned last week from a team negotiating the release of captured Israeli soldier Gilad Shalit. Zahar's departure is unprecedented and it can only be wondered just how deeply the Hamas elite is split, and how far the moderate faction in Gaza has been swept aside to leave control in the hands of Ahmadinejad.
Obama Plans to Eliminate 'Thousands' of US Nuclear Warheads
March 2….(Newsmax) The Obama administration is formulating a new nuclear weapons policy that would include the elimination of thousands of warheads and the possible withdrawal of all American tactical warheads from Europe. Obama is also under pressure to abandon the Bush Doctrine allowing preemptive action, including the use of nuclear weapons, against any nation threatening American security, The New York Times reported on Monday. The new strategy will be included in a document called the Nuclear Posture Review, which every president must complete. "It will be clear in the document that there will be very dramatic reductions, in the thousands, as related to the stockpile," a senior administration official told the Times. Many of those warheads are in storage. The administration is also discussing whether to withdraw American nuclear weapons from Europe, "where they provide more political reassurance than actual defense," according to the Times. A number of influential Democrats, including Senate Intelligence Committee Chairwoman Dianne Feinstein, are urging Obama to declare that the "sole purpose" of America's nuclear arsenal is to deter a nuclear attack. But some officials in the Pentagon and the White House want Obama to declare that deterring a nuclear attack is the primary, but not the only, purpose of the arsenal. "Any compromise wording that leaves in place elements of the Bush-era preemption policy, or suggests the United States could use nuclear weapons against a non-nuclear adversary, would disappoint many on the left wing of his party, and some arms control advocates," the Times disclosed. In describing what became known as the "Bush Doctrine," President George W. Bush asserted in a June 1, 2002, speech that the United States has a unilateral right to act against any government or organization that is deemed a threat to America. "If we wait for threats to fully materialize, we will have waited too long," he declared. The new strategy will include a heavier focus on missile defenses, especially near the Persian Gulf. Obama last year ended financing for a new nuclear warhead sought by the Bush administration, bunker-busting weapons that could be used to strike buried targets such as the nuclear facilities in Iran and North Korea. But Obama's recently published Quadrennial Defense Review supports the development of new non-nuclear weapons, called "Prompt Global Strike" missiles, that could be fired from the United States and strike targets anywhere within an hour. The weapons could provide a new form of deterrence against nations that possess or are working to develop nuclear, biological or chemical weapons, without the United States' using the nuclear option.
Iran: Palestinian Resistance Key to Demise of World Powers
March 2….(IsraelNN.com) Iran's senior nuclear negotiator, Saeed Jalil, says that Palestinian Authority resistance is the key to freedom for Muslims and the demise of western dominance. Jalil also is the Secretary of Iran's Supreme National Security Council (SNSC). He told the government-controlled Fars News Agency Sunday, that world powers should accept their fate. Speaking to an international conference on "National and Islamic Solidarity for the Future of Palestine" in Tehran, he insisted that "the era of supremacy of certain power clubs has ended." According to Jalil, "Palestine and the resistance are symbols and keys to an understanding of the relations dominating the world. Palestine is the key to resistance, standing and honor which will spread throughout the world day by day." He reasoned that world powers are worried that Arab resistance in Judea, Samaria and Gaza will become a model in international relations. Jalil also charged that the "power club" fighting terrorism "officially supported and equipped a terrorist group [Israel] and this signals the end of the era belonging to the 'power club.'" Iranian Intelligence Minister Heydar Moslehi told the Islamic conference that "resistance movements" should launch an all-out media and Internet campaign against Israel. "The social networking sites could provide the ground for exposing the Zionist regime's atrocities; and through these networks the Palestinian groups can start a full-scale war against global arrogance and Israel," Moslehi said.
*FOJ Note: This (Persian) Iranian strategy exposes exactly the scenario that Bible prophecy conveys concerning the Palestinian burden against Israel in the Last Days. Psalms chapter 83 reveals that the "tents of Edom" and Ammon will be led by the forceful power of Assur (Syria/Damascus) against the nation of Israel. It is my position that Iran is using the Palestinian resistance (terrorists) forces logistically headquartered in Damascus as cannon-fodder for the schemes of the "prince of Persia." Later, Ezekiel reveals that Persia will engage Russia for another coalition of forces upon the mountains of Israel.
King of Jordan: Protect Holy Sites from Israel
(In meeting with Abbas in Amman, King Abdullah warns of 'dangerous consequences of provocative Israeli moves and aggressive acts against al-Aqsa Mosque.' He adds that steps taken 'constitute dangerous provocation that threatens efforts to achieve regional peace')
March 1….(YNET) Israel's eastern neighbor makes a call for action: King Abdullah of Jordan said Sunday that the international community must take immediate measures to protect the holy sites in east Jerusalem from unilateral moves on Israel's part. According to him, Israel's moves seek to alter Jerusalem's identity and constitute a dangerous provocation that threatens all efforts invested in achieving regional peace. Jordan's official news agency, Petra, reported that during a meeting with Palestinian President Mahmoud Abbas in Amman the Jordanian king warned against "the dangerous consequences of provocative Israeli moves and acts of aggression against the al-Aqsa Mosque, moves with Jordan condemns." King Abdullah emphasized that his country will continue to invest efforts in protecting the holy sites in Jerusalem. In addition, Abdullah highlighted Jordan's rejection and rebuke of Israel's decision to include Rachel's Tomb and the Cave of the Patriarchs on its list of national heritage sites. During the meeting, which was attended by senior Jordanian officials, including Jordanian Foreign Minister Nasser Judeh, and senior Palestinians, including their head of negotiation team Saeb Erekat, the two sides discussed efforts being put forth in order to overcome the hurdles to renewing the Israeli-Palestinian peace process on the basis of a two-state solution, a set timetable, and the Arab Peace Initiative. The Jordanian king reiterated his country's support for the Palestinian Authority and efforts to reinstate the rights of the Palestinian people, particularly their right to an independent country
Israel Distributing Gas Masks to Citizens
March 1….(Ha Aretz) Israel has begun distributing new gas masks to its 7 million citizens to offer protection against a possible chemical attack. Israel's postal service is handing out the equipment in a process, it says, that will take about three years. Avi Hochman, CEO & President of the Israel Postal Company stated that they have made the necessary preparations for the task, including a state-of-the art technological and logistical infrastructure. The Israeli military says it is routine and not in response to a specific threat. Israel believes a chemical attack could potentially come from Syria or Iran. Israel has distributed gas masks and kits with antidotes in the past, beginning with the first Gulf War in 1991.

Ahmadinejad Says Israel's Existence is "an Insult to All of Humanity."
March 1….(YNET) In a rant that reeked of old-fashioned anti-Semitism, Iranian President Mahmoud Ahmadinejad said Sunday that the "Zionist regime" was seeking to control the world. Addressing the International Conference on National and Islamic Solidarity for Future of Palestine, Ahmadinejad said that the existence of the "Zionist regime" is an insult to all of humanity, asserting that it had lost its raison d'être. He said it was "well-known for all that the Zionist regime's mission is threat, violence and beating drums of war," according to an IRNA translation. "Supporters of the Zionist regime who are shouting slogans of human rights and anti-terrorism, support systematic crimes of the occupying regime," he said at the Teheran conference, adding that "everybody knows that the regime is seeking hegemony over the world." He said that the "Zionist regime" is the "origin of all the wars, genocide, terrors and crimes against humanity" and that they are "the racist group not respecting the human principles." "With God's grace and thanks to the Palestinian resistance the occupying Zionist regime has lost its raison d'être," Ahmadinejad continued. "The only way to confront the Israelis is through the Palestinian youths' resistance, and that of the regional nations." Hamas chief Khaled Mashaal, Islamic Jihad leader Ramadan Abdullah Shalah and the head of the Popular Front for the Liberation of Palestine Ahmed Jibril were among those in attendance at the conference.
Big Quake Question: Are they Getting Worse?
| | |
| --- | --- |
| | This color-coded map shows earthquakes that have been recorded over the previous seven days. The size of the box indicates the quake's strength, and the color indicates how recently the quake occurred. Notable quakes include the cluster of red boxes in Chile, and the blue box indicating a seismic event in Japan. |
(Seismic shockers are to be expected, but planet is definitely more active)
March 1….(MSNBC) Chile is on a hotspot of sorts for earthquake activity. And so the 8.8-magnitude temblor that shook the region overnight was not a surprise, historically speaking. Nor was it outside the realm of normal, scientists say, even though it comes on the heels of other major earthquakes. One scientist, however, says that relative to the time period from the mid-1970s to the mid-1990s, Earth has been more active over the past 15 years or so. The Chilean earthquake, and the tsunami it spawned, originated on a hot spot known as a subduction zone, where one plate of Earth's crust dives under another. It's part of the active "Ring of Fire," a zone of major crustal plate clashes that surround the Pacific Ocean. The largest quake ever recorded, magnitude 9.5, occurred along the same fault zone in May 1960. Even so, magnitude-8 earthquakes occur globally, on average, just once a year. Since magnitudes are given on a logarithmic scale, an 8.8-magnitude is much more intense than a magnitude 8, and so this event would be even rarer, said J. Ramón Arrowsmith, a geologist at Arizona State University. Is Earth shaking more? The Ryukyu Islands of Japan were hit with a 7.0-magnitude quake on Friday night. News of that tremor, the Haiti quake and now Chile may make it seem as if Earth is becoming ever more active. But in the grand scheme of things, geologists say this is just Mother Nature as usual. "From our human perspective with our relatively short and incomplete memories and better and better communications around the world, we hear about more earthquakes and it seems like they are more frequent," Arrowsmith said. "But this is probably not any indication of a global change in earthquake rate of significance." Coupled with better communication, as the human population skyrockets and we move into more hazardous regions, we're going to hear more about the events that do occur, Arrowsmith added. However, "relative to the 20-year period from the mid-1970s to the mid 1990s, the Earth has been more active over the past 15 or so years," said Stephen S. Gao, a geophysicist at Missouri University of Science and Technology. "We still do not know the reason for this yet. Could simply be the natural temporal variation of the stress field in the earth's lithosphere." (The lithosphere is the outer solid part of the Earth.) Chile liesreside within the Ring of Fire, which is a zone surrounding the Pacific Ocean where the Pacific tectonic plate and other plates dive beneath other slabs of Earth. The Chilean earthquake occurred at the boundary between the Nazca and South American tectonic plates. These rocky slabs are converging at a rate of 3 inches (80 mm) per year, according to the USGS. This huge jolt happened as the Nazca plate moved down and landward below the South American plate. This is called a subduction zone when one plate subducts beneath another. (Over time, the overriding South American Plate gets lifted up, creating the towering Andes Mountains.) The plate movement explains why coastal Chile has such a history of powerful earthquakes. Since 1973, 13 temblors of magnitude 7.0 or greater have occurred there, according to the USGS.
North Korean Yellowcake was Bound for Syria when Israel Struck
March 1….(DEBKA) At the time of Israel's bombardment of the Syrian-Iranian plutonium plant under construction in northern Syria on September 2007, 45 tons of North Korean yellowcake, enough for several nuclear bombs, was on its way to the plant, Japanese intelligence sources have revealed. It was this information, debkafile's intelligence sources add, that prompted the Israeli attack with President George W. Bush's approval. The administration in Washington sought not merely to prevent a large consignment of weapons-grade material from reaching Syrian hands, but equally to make it clear to Pyongyang that the US meant to enforce the UN Security Council ban on its nuclear proliferation activities. Straight after the Israeli bombardment, Syrian president Bashar Assad is said to have urgently advised the North Korean ruler Kim Jong-Il to turn the uranium-laden ship around because the Americans and Israelis would likely attack it or seize its cargo if it reached the Mediterranean. Two years later, in the summer of 2009, that same yellowcake consignment was secretly reshipped to Iran, attesting to the integral nuclear partnership between Tehran and Damascus. So, even without 1,950 kilo- stock of enriched uranium Iran has produced at Natanz, the Islamic Republic has piled up enough material to make three or five bombs or warheads. Revelation of the North Korean delivery suggests Tehran may have more secret enriched uranium hoards, probably from black market sources, such as Central Asia. The New York Times Sunday, Feb. 28, reported that IAEA inspectors were taken by surprise two weeks ago when Iran moved almost its entire fuel stockpile in Natanz above ground. According to one theory, Iran was taunting the Israelis to strike first; according to another, it was escalating the confrontation with the West to extract more concessions in negotiations. But some US nuclear and intelligence experts opt for a simpler explanation: Iran has announced its intention of enriching low-grade uranium up to 20 percent purity and has now moved its stock to a new site for reprocessing. The real question, according to debkafile's sources, is not how much banned enriched material has been observed and recorded by international inspectors, but how much is hidden in caches concealed from and undeclared to the IAEA.
Israel Prepares for Two-front War with Hamas and Hizbullah
(Israel's military has been exercising for the prospect of a multi-front war)
March 1….(World Tribune) Officials said the Israeli Army has been conducting exercises in preparation for a two-front war. They said the military envisions fighting along the southern Israeli frontier with the Gaza Strip as well as with Lebanon and Syria. "The exercises enable us to prepare for possible scenarios, improve our readiness and implement lessons," Chief of Staff Lt. Gen. Gabi Ashkenazi said. On Feb. 25, the military concluded a command exercise that simulated a two-front war with Hamas and Hizbullah. The exercise included a scenario of massive missile and rocket strikes on Israel from Lebanon and the Gaza Strip. "Israel has no interest in seeing escalation in the region," Ashkenazi said. "Yet, we closely monitor developments and make sure to maintain a prepared, deterring, and motivated military." Officials said the military was preparing each of its major elements for a regional war. In the latest exercise, the General Staff tested the response and decisions of senior commanders in such areas as combat, intelligence, logistics and media relations. "During the exercise, forces were trained in the management of joint combat methods," the military said. "Inter-branch operability procedures amongst air, ground and naval forces were examined under various scenarios. Multi-arena combat management were also tested, with the support of logistics, intelligence, communications and home front coordination, as was communication between the Israel Defense Forces and the Israeli government." Military intelligence has warned the government of Prime Minister Binyamin Netanyahu of the prospect of war in 2010. Officials said the intelligence assessment said Iran could order a war by Hamas and Hizbullah in an effort to divert Western attention from its campaign to halt Teheran's nuclear program. "A wind of tension is blowing again in the north of the country," chief armored officer Brig. Gen. Agai Yehezkel said. "Despite the fact that the challenge might be more difficult than during Operation Cast Lead [Hamas war], we are prepared for it." Officials said the next war would require a rapid Israeli ground advance into the Gaza Strip, Lebanon and Syria. They said this would require the integration of air, infantry and armored forces, with support from the navy in coastal operations. Some of these goals were said to have been achieved in the 22-day war with Hamas in 2009. "The work is comprehensive, systematic and deep, with the ability to see a general picture of headquarters operations, a necessary condition for effective force operations," Defense Minister Ehud Barak said
---