WEEK OF MAY 30
Happy Memorial Day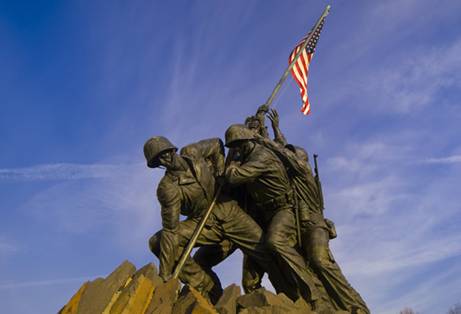 Syria Caught Arming Hezbollah From Secret Bases
Hezbollah is running weapons, including surface-to-surface missiles, from secret arms depots in Syria to its bases in Lebanon, according to security sources.
May 31….(In The Days) The Times has been shown satellite images of one of the sites, a compound near the town of Adra, northeast of Damascus, where militants have their own living quarters, an arms storage site and a fleet of lorries reportedly used to ferry weapons into Lebanon. The military hardware is either of Syrian origin or sent from Iran by sea, via Mediterranean ports, or by air, via Damascus airport. The arms are stored at the Hezbollah depot and then trucked into Lebanon. "Hezbollah is allowed to operate this site freely," said a security source. "They often move the arms in bad weather when Israeli satellites are unable to track them." Most of the weapons are sent from depots like the one near Adra and then stored at Hezbollah bases in the Bekaa Valley or southern Lebanon. The revelation adds to growing fears in the West that the regime of Bashar Assad, the President of Syria, is becoming increasingly close to Hezbollah and its main supporter, Iran. Syria has long backed the Lebanese militant group, but until now most of those contacts have taken place on Lebanese soil. There are fears that if Israel and Hezbollah clash again, as happened in August 2006, Syria could become directly embroiled in the conflict. Israel reportedly planned recently to bomb one of the arms convoys as it crossed the border into Lebanon, but the operation was called off at the last minute. Western intelligence sources say that the Israelis have yielded, for now, to American diplomatic efforts to persuade Syria to stop the arms transfers. However, the apparent lack of success is increasing the chances that Israel may send a "calibrated signal" to Hezbollah and Syria by launching an airstrike against an arms depot or weapons convoy. Jihad Makdissi, the spokesman for the Syrian Embassy in London, insisted that all military sites in Syria were exclusive to the Syrian military. "Syria and Israel remain in a state of war as long as Israel refuses to implement UNSC [United Nations Security Council] resolutions to end the occupation of Arab lands; therefore if these military depots really exist it would be for the exclusive use of the Syrian Army to defend Syrian soil, and it is definitely nobody's business," he said. Arming Hezbollah was banned under the provisions of UN Security Council Resolution 1701, which brought an end to the 2006 war. Since then, however, Hezbollah has managed to replenish its military stocks and the group is thought to have amassed more than 40,000 rockets and missiles, ranging from short-range Katyushas to medium-range M600 missiles and the Soviet-era Scud ballistic missile, which is capable of hitting most big population centres in Israel. Yossi Baidatz, an Israeli intelligence officer, told the Knesset this month that the amount of arms being sent to Hezbollah by Syria and Iran could no longer be described as "smuggling". He said it was an "organised and official transfer" of weapons and that the Scuds were "only the tip of the iceberg". Syria has denied arming Hezbollah with Scuds, but America and Israel insist they have hard intelligence to the contrary. The Times has learnt that US and Israeli intelligence agencies suspect that two Scud missiles have entered Lebanon and could be hidden in underground arms depots in the northern Bekaa Valley. One source said there were indications that Hezbollah may even be considering returning the missiles because of the intensified scrutiny. Western officials have repeatedly urged President Assad to halt the flow of weapons to Hezbollah. John Kerry, the head of the US Senate Foreign Relations Committee, visited Damascus in April and presented the Syrian President with evidence that Scuds had been transferred to Hezbollah, according to Western diplomatic sources. Mr Assad denied the allegations. Western officials privately say that the Syrian leader is "flat out lying" about the arms transfers.
Netanyahu: Israel Not Bound by NPT Resolution
(Netanyahu dismisses Middle East nuclear talks as hypocritical')
May 31….(Ha Aretz) Israel has no obligation to act on a resolution passed at a UN conference on Friday that singled out Israel over non-proliferation, Prime Minister Benjamin Netanyahu's office said on Saturday. At the conclusion of a month-long conference in New York, the 189 signatories of the international nuclear non-proliferation treaty (NPT) called for an international conference in 2012 with the aim of establishing a nuclear-weapon-free Middle East. "As a non-signatory state of the NPT, Israel is not obligated by the decisions of this Conference, which has no authority over Israel," the prime minister's office said in a statement. "Given the distorted nature of this resolution, Israel will not be able to take part in its implementation." Israel, which operates a policy of 'nuclear ambiguity' but is widely believed to have an arsenal of atomic warheads, has not signed the NPT and is not required by international law to comply with the conference's resolutions. The resolution also called on Israel, along with two other non-signatories, India and Pakistan, to join the treaty. On Friday, US President Barack Obama said he strongly opposed efforts to single out Israel on non-proliferation and would oppose actions that jeopardize Israel's national security. The United States announced it "deeply regrets" the resolution. US National Security Adviser General James L. Jones called the decision to single out Israel "gratuitous". In the run-up to Friday's conference vote, Israeli diplomats worked intensively to soften the wording of the resolution. After it was passed on Friday, Netanyahu, on a visit to Toronto, consulted by telephone with senior ministers to formulate an official response. The prime minister office's statement called the resolution "deeply flawed and hypocritical" for focusing on Israel while ignoring the Iran. An NPT signatory, Iran claims its nuclear program is for civilian purposes but is accused by Israel of seeking an atomic bomb. "[The resolution] singles out Israel, the Middle East's only true democracy and the only country threatened with annihilation," the statement said. "Yet the terrorist regime in Iran, which is racing to develop nuclear weapons and which openly threatens to wipe Israel off the map, is not even mentioned in the resolution." The statement also claimed that several NPT signatories, including Libya, Iran, Syria and Iraq, have violated the treaty with secret nuclear programs. "That is why the resolution adopted by the NPT Review Conference not only fails to advance regional security but actually sets it back," the statement said. In 2008 Israeli warplanes bombed a site in Syria that the US later said was a clandestine nuclear reactor. Libya agreed to dismantle its nuclear program in 2003, while unproved allegations that Iraq was building a bomb formed part of justifications for a US invasion of the country in 2003.
WEEK OF MAY 23 THROUGH MAY 29
'Hizbullah Missile Base in Damascus'
(Satellite photos show terrorists with Scuds)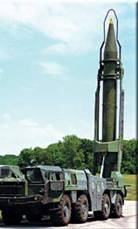 May 28….(JPOST) Satellite photos show that Hizbullah terrorists have been living in armed bases stocked with surface-to-surface missiles in Syria, The Times of London reported Friday. The photos show the Hizbullah members moving freely at a base in the Syrian city of Adra, near Damascus. The Syrian government has denied that the bases are being used by Hizbullah, claiming they are for Syrian military use only. In the beginning of April , Kuwait's Al-Rai newspaper reported that Syria had transferred Scud ballistic missiles to Hizbullah. Israel subsequently issued a stern warning that it would consider attacking both Syrian and Lebanese targets in response to a Scud attack on its territory. Last month, Senate Intelligence Committee Chairwoman Dianne Feinstein warned that Hizbullah had acquired Scud missiles and improved its missile capabilities. "There are rockets and missiles in Lebanon in greater quantities and levels of sophistication and this point endangers Israel," Feinstein said to AFP.

US Stopped Israel from Targeting Hizballah Missile Shipments
May 28….(Israel Today) The London Times on Thursday reported on evidence it was shown revealing the existence of Hizballah-run military bases in Syria where long-range surface-to-surface missiles are received and prepared for shipment to southern Lebanon. Security sources told the newspaper that several of the arms depots exist, and are being supplied either directly by Syria or by Iran. According to the report, Israeli forces were planning to bomb one of the missile convoys as it entered Lebanon, but called off the strike at the last minute as a result of US pressure. Disregarding Israeli security, Washington has insisted that Jerusalem continue to let failed diplomacy lead the way. Earlier this month, US President Barack Obama chided Syria for continuing to aid Hizballah in violation of UN resolutions, but also decided to renew diplomatic ties with Damascus. Middle East observers said the American leader's behavior sends mixed signals to Arab leaders that ultimately make him look weak and his threats empty. Also earlier this month, Gen. Yossi Baidatz, a senior Israeli intelligence officer, told a Knesset oversight committee that it was no longer to describe the transfer of arms to Hizballah as "smuggling" since the operation is highly organized, massive and carried out in the open.
Heaven—Our Eternal Home
(Heaven……..Why don't more Christians yearn for it?)
May 28….(Charles Stanley) Jesus warned the disciples that He was going away. However, the Lord also promised to return and take them to a home He had prepared (John 14:3). This verse confirms that heaven is a real place. According to the Bible, Christians have a citizenship in paradise (Philippians 3:20), our treasure is stored there (Matthew 6:20), and it will be our eternal home (I Thessalonians 4:17). God is not describing a celestial dream world. Rather, all believers will be gathered to a tangible dwelling place. Every believer's spirit enters God's presence immediately after physical death (II Cor. 5:6). Once the Lord's timing is fulfilled for the world's tribulation and judgment, He will renew all things. First, our bodies will be resurrected as immortal, pain-free, and vigorous sheaths for our spirits (I Cor. 15:42). Later, earth will be transformed into an uncorrupted paradise, and we will also have access to a heavenly city—the new Jerusalem (Revelation 21). In these two spheres of heaven, God's children will spend eternity serving and worshipping Him. Despite misconceptions about reclining on clouds and playing harps, we won't be sitting and doing nothing! We will rest, but this holy respite is from all the things that make life on earth so wearying, temptation, trials, heartache, and pain. Paradise is beyond our imagination, but we do know that the believer's life goes on in heaven. As citizens of that realm, we will take up the work of serving and praising God. Moreover, we will enjoy unlimited energy and perfect harmony between the Lord, ourselves, and other saints.
Arabs Don't Even Accept Vaunted 2 State Solution
May 28….(YNET) Twenty five years after the British gave away 76% of the land they promised as a homeland for the Jewish people the United Nations voted to partition the remaining 24% into two states, one Arab, one Jewish. This gave the Jews a mere 12% of what they were originally promised. Nevertheless, the Jews said "yes" to the deal. The Arab answer was an ominous "no." One day after Israel declared independence the Arabs attacked intending to destroy it. Yet here we are more than 60 years later and we are led to believe the answer to the conflict is another two-state "solution," albeit with the land sacrifices coming from only one side - Israel. And what are the Arabs offering? In a word, nothing. Unless you consider their vague promises and poor track record on curbing terror as enough. The repeated Arab failure to live up to promises of curbing terror forced Israel to take the matter into its own hands by constructing the security barrier. This has proven to be a highly effective deterrent, saving untold innocent lives. Since its construction terror attacks from these areas have been all but eliminated. Another matter Israel took upon itself was a voluntary withdrawal from the Gaza Strip in 2005. The "thank you" it received was approximately 8,000 rocket and mortar attacks until it finally had to take action against Hamas in Jan. '09. Does Hamas support a two-state solution? Group leader Khaled Mashaal said "has not and will not recognize Israel." Hamas' charter calls for Israel's destruction. This puts them in the "no" column. Mahmoud Abbas is already on record refusing to accept Israel as a Jewish state. His party's constitution likewise calls for the destruction of Israel. This puts Fatah in the "no" column. So who supports a two-state solution? In spite of undeniable evidence to the contrary, the prevailing opinion of President Obama and most western leaders is that Abbas supports a two-state solution. But is this really the case? The facts speak for themselves: He is on record denying any Jewish connection to Jerusalem, saying "I challenge this claim is so." His demands include making Jerusalem the capital of "Palestine," thus all Jewish connection to the holy Old City would vanish, leaving Jews without access to their two holiest sites, Temple Mount and the Western Wall. His precise quote when asked if he would accept Israel as a Jewish state was "I do not accept it." He attends mosques where vitriolic sermons are spoken, blaming the Jews for all the Muslim's problems, suggesting the only course of action is "jihad" against the "Zionist entity." He routinely attends events where the map of Israel is completely covered by a Palestinian flag. He names public squares after suicide bombers who murdered innocent Israeli civilians. His continued demand the so-called "refugees" be allowed to flood into Israel, would eliminate its Jewish majority. Yet isn't the intent of a two-state solution based on two distinct sovereign states, one of which is Jewish? Former Israeli PM Ehud Barack was willing to give up over 90% of Judea/Samaria and divide Jerusalem in 2000 at the Camp David ll negotiations. The Arab answer? "No." Under PM Ehud Olmert, Israel offered approximately 98% of Judea/Samaria, land swaps and a divided Jerusalem. Abbas dismissed Olmert's offer, yet he recently told US Envoy George Mitchell, "the points agreed upon with Olmert are agreements with the government of Israel." Apparently, he's creating his own rules of diplomatic negotiations now. While Presidents Bush, Obama and many other world leaders have endorsed a two-state solution, what these same leaders don't appear to understand is that key Arab players don't. Some believe Abbas might accept a two-state solution, but only as a first step toward the ultimate elimination of Israel. Lest we forget a key reason why Hamas and Fatah have been at odds with each other, and what motivated Hamas to violently take over Gaza in 2007: Namely, Fatah's talks with Israel, which in the mind of Hamas leaders suggests Fatah has given "legitimacy" to Israel. This is completely unacceptable to Hamas to the point of being blasphemous. The only two-state "solution" the Muslims may truly endorse is one state controlled by Fatah and the other by Hamas…once Israel has been eliminated.
Feds Issue Terror Watch for the Texas/Mexico Border
May 28….(Fox News) The Department of Homeland Security is alerting Texas authorities to be on the lookout for a suspected member of the Somalia-based Al Shabaab terrorist group who might be attempting to travel to the US through Mexico, a security expert who has seen the memo tells FOXNews.com. The warning follows an indictment unsealed this month in Texas federal court that accuses a Somali man in Texas of running a "large-scale smuggling enterprise" responsible for bringing hundreds of Somalis from Brazil through South America and eventually across the Mexican border. Many of the illegal immigrants, who court records say were given fake IDs, are alleged to have ties to other now-defunct Somalian terror organizations that have merged with active organizations like Al Shabaab, al-Barakat and Al-Ittihad Al-Islami. In 2008, the US government designated Al Shabaab a terrorist organization. Al Shabaab has said its priority is to impose Sharia, or Islamic law, on Somalia; the group has aligned itself with Al Qaeda and has made statements about its intent to harm the United States. In recent years, American Somalis have been recruited by Al Shabaab to travel to Somalia, where they are often radicalized by more extremist or operational anti-American terror groups, which Al Shabaab supports. The recruiters coming through the Mexican border are the ones who could be the most dangerous, according to law enforcement officials. Security experts tell FOXNews.com that the influx of hundreds of Somalis over the US border who allegedly have ties to suspected terror cells is evidence of a porous and unsecured border being exploited by groups intent on wrecking deadly havoc on American soil. Mexican smugglers are coaching some Middle Eastern immigrants before they cross the border, schooling them on how to dress and giving them phrases to help them look and sound like Latinos. There have been a number of certain communities that have noticed this, villages in northern Mexico where Middle Easterners try to move into town and learn Spanish," Neuhaus Schaan said. "People were changing there names from Middle Eastern names to Hispanic names." Security experts say the push by illegal immigrants to try to fit in also could be the realization of what officials have feared for years: Latin American drug cartels are helping jihadist groups bring terrorists across the Mexican border.
Syria Has 1,000 Ballistic Missiles Zeroed on Israeli Targets
May 27….(DEBKA) colossal Iran-funded and directed armament program has enabled Syria to field 1,000 ballistic missiles and Hizballah 1,000 rockets, all pointed at specific Israeli military and civilian locations, including the densely populated conurbation around Tel Aviv, debkafile's military sources reveal. Syria has smuggled most of its stock of liquid-fuel powered ballistic missiles over to Hizballah in Lebanon, while its own production lines have been working day and night for five months to upgrade its stock solid fuel-propelled missiles, so improving their accuracy. North Korean military engineers and technicians are employed on those production lines. According to Western military sources, a command center for coordinating a missile offensive against military and civilian targets in Israel has been operating at Syrian general staff headquarters in Damascus since early March with the help of Iranian, Syrian, Hizballah and Hamas liaison officers. The command center, operating under direct Iranian command, was formally established at a gala banquet attended by Iranian President Mahmoud Ahmadinejad, Syrian President Bashar Assad, and Hizballah leader Hassan Nasrallah in Damascus on February 25. Its primary mission was defined as "target unification," military lingo for interaction at the command level to make sure that Tehran, Damascus, Beirut and Gaza do not send short-range missiles flying toward the same Israeli target at the same time. Each of the four has been assigned one of four Israeli sectors and given specialist training in its features. The new joint command gave Hizballah secretary-general Hassan Nasrallah the confidence to sneer at Israel's five-day, countrywide home front missile defense exercise, which ends Thursday, May 27. In a speech on Tuesday, May 25, he said: 'Israel wants to reassure its people and make them feel strong and properly prepared to stand up to all possible war situations. But this assurance is false. So carry on with your drills," he said, "but when the rockets start falling on the occupied territories, we'll soon see how much good they are." The command center's central strategy, say our military sources, is to eliminate the Israel Air Force's edge by releasing a simultaneous deluge of missiles and rockets from hundreds of stationary and mobile launching sites in remote parts of Syria, Lebanon, Iran and the Gaza Strip. Most of the projectiles in the Syrian, Hizballah and Hamas arsenals are propelled by liquid fuel and therefore take 50 minutes to 1 hour to load and loose at assigned targets. During this time gap, they are vulnerable to air attack. As a bridging device, western intelligence sources believe the joint command in Damascus plans to attack Israel with synchronized missile fire from Iran and Syria during the time Israeli warplanes are hammering, say, Hizballah batteries in Lebanon. The thinking in Tehran and Damascus is that the Israeli Air Force will find it hard to tackle three or four fronts simultaneously. Tehran and Damascus are therefore building air shields around their missile bases and launching sites, for which purpose Assad asked Russian President Dmitry Medvedev to speed up the delivery of the advanced Russian Pantsir anti-aircraft missiles when the latter visited Damascus on May. Medvedev promised to accede to this request. debkafile's military sources recall that the same Russian Pantsir missiles were ineffective in preventing the September 2007 air strike, by which Israel destroyed the North Korean plutonium reactor financed by Tehran at Al-Azur in northern Syria.
Workers Netting Less and Less of Their Check
May 26….(In The Days) At the same time, government-provided benefits, from Social Security, unemployment insurance, food stamps and other programs, rose to a record high during the first three months of 2010. Those records reflect a long-term trend accelerated by the recession and the federal stimulus program to counteract the downturn. The result is a major shift in the source of personal income from private wages to government programs. The trend is not sustainable, says University of Michigan economist Donald Grimes. Reason: The federal government depends on private wages to generate income taxes to pay for its ever-more-expensive programs. Government-generated income is taxed at lower rates or not at all, he says. "This is really important," Grimes says. The recession has erased 8 million private jobs. Even before the downturn, private wages were eroding because of the substitution of health and pension benefits for taxable salaries. The Bureau of Economic Analysis reports that individuals received income from all sources, wages, investments, food stamps, etc., at a $12.2 trillion annual rate in the first quarter.
Key shifts in income this year:
• Private wages. A record-low 41.9% of the nation's personal income came from private wages and salaries in the first quarter, down from 44.6% when the recession began in December 2007.
•Government benefits. Individuals got 17.9% of their income from government programs in the first quarter, up from 14.2% when the recession started. Programs for the elderly, the poor and the unemployed all grew in cost and importance. An additional 9.8% of personal income was paid as wages to government employees. The shift in income shows that the federal government's stimulus efforts have been effective, says Paul Van de Water, an economist at the liberal Center on Budget and Policy Priorities. "It's the system working as it should," Van de Water says. Government is stimulating growth and helping people in need, he says. As the economy recovers, private wages will rebound, he says. Economist Veronique de Rugy of the free-market Mercatus Center at George Mason University says the riots in Greece over cutting benefits to close a huge budget deficit are a warning about unsustainable income programs. Economist David Henderson of the conservative Hoover Institution says a shift from private wages to government benefits saps the economy of dynamism. "People are paid for being rather than for producing," he says.
'Recon for Attack a Warning to Iran'
May 26….(JPOST) Reports that the Pentagon has okayed reconnaissance missions over Iran were seen in Jerusalem on Tuesday as the first public signs of practical preparations for a possible US military operation against Iran. The New York Times reported on Monday that Gen. David Petraeus, the top American commander in the Middle East, ordered an expansion of clandestine military activity in the region. According to the report, "officials said the order also permits reconnaissance that could pave the way for possible military strikes in Iran if tensions over its nuclear ambitions escalate." The article continued that the seven-page directive "appears to authorize specific operations in Iran, most likely to gather intelligence about the country's nuclear program or identify dissident groups that might be useful for a future military offensive." Although it is obvious that the Pentagon has contingency plans for all possible scenarios, one Israeli official said this was "the first time that the public is getting word of practical preparations of military activity." The official said that if this was a deliberate leak, then it was clearly an attempt to send a tough message to the Iranians that, indeed, no options, as the US has been saying for months, have been taken off the table. Teheran, Netanyahu said, must "understand that the international community is determined to prevent it from acquiring nuclear arms."
Sorry, Mr. President: Socialism's Not in the Bible
May 24….(Perspectives) Having placed 50 percent of America's economy under government control, the Obama administration is now angling for a tighter grip on the financial sector. The operative word is "fairness," which is shorthand for Obama's famous campaign promise to "spread the wealth around." When critics said that this remark to "Joe the Plumber" displayed Obama's socialist leanings, Obama justified it by citing Scripture: "My Bible tells me there is nothing wrong with helping other people," said then-Sen. Obama. "That we want to treat others like we want to be treated. That I am my brother's keeper, and I am my sister's keeper. I believe that." But Obama, who once dismissed the Bible's relevance to politics, saying, "People haven't been reading their Bibles lately," may need to go reread his Engels. Co-author with Karl Marx of The Communist Manifesto, Friedrich Engels knew better than Obama about collectivism's clash with Christianity, stating, "if some few passages of the Bible may be favorable to Communism, the general spirit of its doctrines is, nevertheless, totally opposed to it." Despite Engels and Marx (who dismissed religion as the "opium of the people"), Obama and many others still manage to see socialism in the Bible. They point to the early church which, at first glance, seems like a model socialist community. The New Testament reports that these first believers "had all things in common" (Acts 4:32) and "all who were possessors of lands or houses sold them, and brought the proceeds of the things that were sold, and laid them at the apostles' feet; and they distributed to each as anyone had need" (Acts 4:34-35). But unlike socialism, the sharing was voluntary, not coerced, and the money was given not to the state, but the church. As Southern Baptist leader Richard Land puts it on the new Coral Ridge Ministries documentary, Socialism: A Clear and Present Danger, "It's one thing for you to give out of compassion to someone who's less fortunate. It's an entirely different thing for the government to confiscate your property and give it to someone else." While the Bible asserts property rights and the rights of inheritance, socialism assaults them. Marx and Engels put the "abolition of property" first in a ten-step program for implementing communism. That's not exactly a Christian thing to do. The eighth commandment, "You shall not steal" (Exodus 20:15) applies every bit as much to the men and women who hold the reins of political power as it does to everyone else. So does the 10th commandment, "You shall not covet" (Exodus 20:17). Coveting, or envy, is a powerful driver of socialism, which is in a perpetual snit that some people have more than others. So when President Obama castigates "Fats Cats" on Wall Street, decries "economic inequality," and warns, as he did in his 2009 budget statement that a "disproportionate share of the nation's wealth has been accumulated by the very wealthy," he stokes a destructive impulse that is condemned by Scripture. Socialism also runs afoul of the first commandment, "You shall have no other gods before Me" (Exodus 20:3). Socialist governments seek to play God, to take His place as the ultimate sovereign. Consider the veneration that Russians once gave to the embalmed remains of Lenin and Stalin, the Nazi-prescribed prayer to Hitler ("Thy Reich [kingdom] comes, thy will alone is law upon the earth"), and the personality cult surrounding North Korea's "Dear Leader," Kim Jong-il. The sixth commandment, "You shall not murder," is also widely ignored by Marxist regimes. Marx and Engels proclaimed that their aims could be "attained only by the forcible overthrow of all existing social conditions." Their disciples, Lenin, Stalin, Mao, Pol Pot, and other communist henchmen, killed 100-million people, a "tragedy of planetary dimensions," as the French publisher of The Black Book of Communism put it. Barack Obama may say that the Bible tells him to be his brother's keeper (his youngest half-brother reportedly lived in a shack in Kenya on $1 a day at the time he said this), but he ought to go back and reread what God's Word actually says. Engels was right. Socialism has nothing in common with Scripture.
Assad Reaffirms Support For Iran
(Assad's comments come as Obama set to meet with Lebanon PM to raise concerns about alleged Syria-Hezbollah Scud transfer)
May 24….(Ha Aretz) Syrian President Bashar Assad said Monday that he is willing to sign a peace agreement with Israel in exchange for the Golan Heights. In an interview with the Italian daily newspaper La Republica, Assad added that he did not think it necessary to break Syria's strong ties with Iran in order to make peace with Israel. The Syrian president maintained in the interview that the US has lost its influence in the Middle East and should not be depended on to bring peace to the region. Assad differentiated between US President Barack Obama, who he said brought hope to the Middle East, and the US itself. He claimed that Obama has good intentions, but is powerless to affect real change in the region because of the Congress and lobbies involved in decision making. The Syrian leader met on Sunday with French Foreign Minister Bernard Kouchner in Damascus earlier Sunday and urged the West to "break its silence" in the face of Israeli "aggression" in the Middle East. During their talks, Assad denounced "the ongoing Israeli threats to ignite wars and undermine the stability in the region." "The region has changed and the West's policy in the area is no longer acceptable, keeping silent over Israeli violations is no longer acceptable," Assad told Kouchner, according to Syria's official news agency SANA. "If the West wants security and stability to be established in the Middle East, [it] must start to play an effective role to contain Israel and put an end to its extremist policies," Assad said. The Syrian president also told Kouchner that the Western countries pushing for harsh United Nations sanctions against Iran should understand that Tehran's contentious nuclear program was aimed at civilian and not military pursuits, according to SANA. "The countries involved need to change their attitude to Iran's civil nuclear program, because this agreement is an important opportunity to reach a diplomatic solution and prevent a tragic dispute in the region and the world at large," said Assad. Also Sunday, Syria defied Western pressure over its support for the militant group Hezbollah and said it would not act as a policeman for Israel to prevent weapons from reaching the Lebanese Shi'ite movement. "Did Israel ever stop arming itself, did it stop instigating violence or making military maneuvers," Foreign Minister Walid Moallem said after meeting his German counterpart Guido Westerwelle. "Why are arms forbidden to Arabs and allowed to Israel?" Citing Israeli occupation of Arab land and the technical state of war between Syria and Israel, Moualem said the Damascus government "will not be a policeman for Israel". "Israel is beating the drum of war. In the absence of real peace every thing is possible," he added. Syria, a country Washington says is critical for Middle East peace, has shown no signs of withdrawing backing for Hezbollah, which is also supported by Iran, although the issue has clouded rapprochement between Damascus and Washington. The row intensified when President Shimon Peres last month accused Syria, which borders Lebanon, of sending long-range Scud missiles to Hezbollah. Syria said it only gives Hezbollah political backing and that Israel may be using the accusation as a pretext for a military strike. "A Scud missile is as big as this room. How could it be hidden and smuggled with Israeli planes and satellites all over the region?" Moallem asked, adding that cumbersome Scuds were not suited to Hezbollah's guerrilla tactics.
WEEK OF MAY 16 THROUGH MAY 22
Obama Signs US Up for Anti-Israel UN Movement
May 21….(Israel Today) US President Barack Obama has officially brought his nation into the ranks of the Alliance of Civilizations, a UN organization started in 2006 with the publicized goal of bridging the gaps between Muslim and Western civilizations. However, since its inception, the Alliance of Civilizations has pushed the idea that the overriding reason for the Muslim-Western rift is Israel, its "settlement activity" and very existence, and perceived Western support of the Jewish state. The Alliance of Civilizations has also highlighted "a perception among Muslim societies of unjust aggression stemming from the West" regarding America's response to the Muslim terrorist attacks on its cities on September 11, 2001. Obama announced in a statement released by the White House that joining the Alliance of Civilizations is yet another way to forward his "vision of active US engagement with other nations and international organizations." But many in Israel fear it will only further drive a wedge between America and the Jewish state, and further embolden the enemies of both Israel and the US.
Foreign 'Terrorists' Breaching US Border
| | |
| --- | --- |
| | (FOJ) Illegal aliens from Central America ride atop a freight train leaving Arriaga, Mexico, en route to the US. So why won't the American federal government do anything to protect our borders? Perhaps there are those in our government who wish to do away with our border altogether, as President Obama alluded to in his remarks with Mexican President Caulderon, when he stated that America was a nation without barriers. It was unseemly and insulting to have our President join with the head of another nation in bashing the duly-approved law of a state of our union |
Illegals coming from Afghanistan, Iran, Egypt, Pakistan, Sudan, Syria, Yemen
May 21….(WND) Almost nine years after terrorists murdered 2,751 people on Sept. 11, 2001, the US is still facing a major threat as hundreds of illegal aliens from countries known to support and sponsor terrorism sneak across the US-Mexico border. Thousands of illegal aliens apprehended along the 2,000 mile border stretching through California, Arizona, New Mexico and Texas aren't even from Mexico. The US Border Patrol calls them "Other Than Mexicans," or OTMs, and many are citizens of countries that are sponsors of terrorism. A 2006 congressional report on border threats, titled "A Line in the Sand: Confronting the threat at the Southwest Border," and prepared by the House Committee on Homeland Security Subcommittee on Investigations, indicated that 1.2 million illegal aliens were apprehended in 2005 alone, and 165,000 of those were from countries other than Mexico. Approximately 650 were from "special interest countries," or nations the Border Patrol defines as "designated by the intelligence community as countries that could export individuals that could bring harm to our country in the way of terrorism." Atlanta's WSB-TV2 aired a segment on US border security after it obtained records from a federal detention center near Phoenix, Ariz., and found current listings for illegal aliens from Afghanistan, Egypt, Iran, Iraq, Pakistan, Sudan and Yemen. "We have left the back door to the United States open," former Rep. JD Hayworth told the station. "We have to understand that there are definitely people who mean to do us harm who have crossed that border." WSB-TV 2 published a population breakdown from an Immigration and Customs Enforcement staging facility in Florence, Arizona, dated April 15, 2010, which includes detainees from as far away as Afghanistan, Armenia, Bosnia, Egypt, Ghana, Iraq, Iran, Jordan, Kenya, Morocco, Pakistan, Sudan, Uzbekistan, Yemen, Botswana, Turkey and many other countries. Based on US Border Patrol statistics, there were 30,147 OTMs apprehended in fiscal year 2003; 44, 614 in fiscal year 2004; 165,178 in fiscal year 2005; and 108,025 in fiscal year 2006. Most were caught along the U.S. Southwest border. According to the Department of Homeland Security's 2008 yearbook of Immigration Studies, from the Office of Immigration Statistics, federal law enforcement agencies detained 791,568 deportable aliens in fiscal year 2008, and 5,506 of them were from 14 "special-interest countries." The State Department lists the following as "special-interest countries": Afghanistan, Algeria, Iraq, Lebanon, Libya, Nigeria, Pakistan, Saudi Arabia, Somalia and Yemen. The following "special-interest countries" are listed as sponsors of terror: Cuba, Sudan, Syria and Iran. The aliens were apprehended "at the borders of the United States, in the interior of the country and at designated sites outside of the United States." The 2008 yearbook lists 791,568 deportable aliens by country
Iran Says It Can Destroy Israel in Week
(Ahmadinejad's chief of staff says if Israel attacks, 'Zionists will have no longer than week to live')

May 21….(YNET) Mahmoud Ahmadinejad's chief of staff, Esfandiar Rahim Mashaei, said Wednesday that if Israel attacked Iran it would be destroyed within a week. Speaking at a political conference of ultra-conservatives in Iran's north, Mashaei said, "If the Zionist regime attacks Iran, the Zionists will have no longer than a week to live." The semi-official Fars news agency quoted him as saying that the Islamic Republic would destroy Israel "in less than 10 days". Mashaei, who was also formerly a vice president, added that new sanctions to be imposed on Iran for its nuclear program would only harm Western countries. The statesman is considered a close affiliate of the Iranian president and has previously caused a stir by saying that Iran was "a friend of the Israeli people." He later retracted this statement and issued a contrary one saying Israel should be destroyed. On a visit to Saudi Arabia Mashaei claimed that the annihilation of Israel should be a global goal. He told Sudanese President Omar al-Bashir that "the corrupt and criminal Zionist regime is harming not only the Arab and Islamic world, but all of humanity."
Former US General Warns of Chemical Attacks against Israel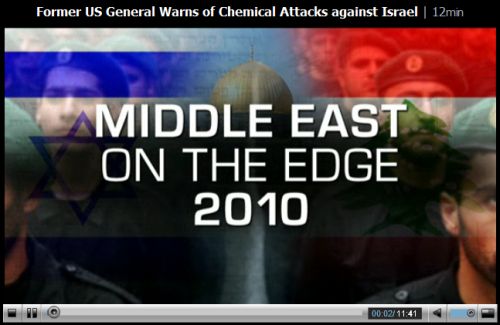 US to Syria: Stop Hizbullah Arms
(Top diplomat in Washington says Damascus crucial to ME peace)
May 21….(Jerusalem Post) A top US diplomat on Thursday urged Syria to do more to prevent arms shipments to Hizbullah and stem the flow of terrorists into Iraq. Assistant US Secretary of State Jeffrey Feltman said that while relations remain uneasy, Syria was important to achieving a full Arab-Israeli settlement. He told reporters that Washington wants to influence Damascus because of its ties to Iran and other US foes in the region. Feltman said that because Syria has the ear of Hizbullah, Iran and Hamas, the Obama administration felt it must make its own views known to Damascus to ensure peace and security in the region. The US is also acting to encourage Hezbollah moderates. In related news, Lebanese Prime Minister Saaad Hariri met Syrian President Bashar Assad on Wednesday, in preparation for a visit Washington set for next week. Syria recently signed a large arms deal with Russia and is said to be considering buying a Russian nuclear reactor.
PA May Invite NATO Forces in Future State
May 20….(YNET) Palestinian President Mahmoud Abbas intends on informing Special US envoy to the Middle East George Mitchell that the Palestinian Authority would agree to have NATO forces stationed in future state of Palestine. London-based Arabic-language newspaper al-Quds al-Arabi reported. Abbas and Mitchell are scheduled to meet in Ramallah on Wednesday afternoon. The newspaper quoted Palestinian sources as saying that Abbas would agree to have North Atlantic Treaty Organization forces monitor the borders of the future Palestinian State, in order to stop arms smuggling to what is supposed to become a demilitarized zone. According to the report, NATO forces would also be tasked with "protecting the Palestinian state from Israel." The newspaper added that the Palestinian president intends to "reiterate his commitment to fighting terror and any incitement or violence against Israel. He will stress that the PA has met its security obligations, as detailed in the Roadmap in full." According to the report, Abbas will inform the US envoy that he intends to establish a state within the confines of the 1967 borders, (perhaps this year) while keeping the option of a territorial exchange with Israel.
Assad: Peres Offered us 'Golan If We Betray Iran'
(Syrian president says his Russian counterpart relayed message from Israeli president that Jewish state will be willing to withdraw from Golan Heights if Damascus cuts its ties with Tehran)
May 19….(YNET) Syrian President Bashar Assad says his Russian President, Dmitry Medvedev, relayed a message from President Shimon Peres last week, that Israel was willing to withdraw from the Golan Heights in exchange for Syria cutting its ties with Iran and the "resistance movements." Last week, President Peres took part in ceremonies marking the 65th anniversary of the Nazi defeat in Moscow. He asked Medvedev to relay a message to Assad, with who the Russian leader met two days later. On the backdrop of the recent tensions and the calming messages, Assad replied: "Our answer is clear. Reality proves that Israel is not working for peace, so talks will not help."
Peres told Medvedev, "We are reaching our hand out for peace with Syria, but peace cannot exist without a basic condition: You cannot reach a hand out for peace while continuing to support terror groups." He explained that "Israel has no other interpretation for the transfer of arms from Syria to Hezbollah. The transfer of long-range, precise missiles to the organization is an incitement to war." Assad was asked in the interview whether Syria would join a war in the event of an Israeli attack on Lebanon. "I believe that the Israelis hope to hear the answer to this question, but I won't fulfill their wish," the Syrian president replied. "These are military matters which we shall not reveal. We shall not reveal our cards or plans." He also addressed claims that his country transferred Scud missiles to Hezbollah. "All the public sights of war and peace are imaginary. I say we must worry if the Israelis are silent, not if they talk. The threats you hear and the Scud missiles they talk about have nothing to do with the conditions of war and the possibility that it will take place, just like all the calm attempts which follow do not mean that the chances of peace have grown stronger." "We don't believe the Israelis," Assad added. "We act based on the assumption that we must be prepared for war and peace at any minute. There are those who made a mistake and erased the resistance option, becoming hostage to the peace option. We must be prepared for both options at the same time." Officials at the President's Residence said the report was false and reiterated Peres's message, according to which Israel is interested in a peace agreement with Syria rather than in a military conflict. They clarified that Peres told Medvedev that five Israeli prime ministers were willing to make far-reaching moves for peace, but that the Syrians were the ones who rejected these moves. "Israel will not allow Syria to have its cake and eat it too, by on one hand demanding withdrawal from the Golan Heights, while planting Iranian missiles on the northern hills and continuing its support for terror groups such as Hezbollah and Hamas," a statement from the residence said. The president's associates added that a situation in which the Syrians have the Golan but continue to maintain relations with Iran is inconceivable. The Prime Minister's Office refused to address Assad's remark, but Netanyahu's associates told Ynet that the prime minister had clarified in the past that Israel would be willing to launch negotiations with the Syrians without any preconditions. They stressed, however, that there was no one who could offer territorial concessions on behalf of the prime minister.
Muslim Cleric Calls for 'Greater Iran'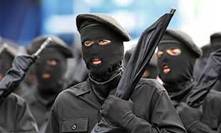 (Shi'ite Islamic union would stretch from Afghanistan to Israel)
May 17….(JPOST) A radical cleric called Saturday for the creation of a "Greater Iran" that would rule over the entire Middle East and Central Asia, in an event that he said would herald the coming of Islam's expected messiah. Ayatollah Mohammad Bagher Kharrazi said the creation of what he termed an Islamic United States is a central aim of the political party he leads, called Hizbullah, or Party of God. He added that he hoped to make his vision a reality if the party won the next presidential election. Kharrazi's comments revealed the thinking of a growing number of hard-liners in Iran, many of whom have become more radical during the postelection political crisis and the international standoff over the country's nuclear program. Kharrazi, however, is not highly influential in Iran's clerical hierarchy and his views do not represent those of the current government. Kharrazi's comments were published Saturday in his newspaper, Hizbullah. He said he envisioned a Greater Iran that would stretch from Afghanistan to Israel, bringing about the destruction of the Jewish state. He also said its formation would be a prelude to the reappearance of the Mahdi, a revered ninth-century saint known as the Hidden Imam, whom Muslims believe will reappear before judgment day to end tyranny and promote justice in the world. "The Islamic United States will be an introduction to the formation of the global village of the oppressed and that will be a prelude to the single global rule of the Mahdi," the newspaper quoted him as saying. Besides Israel, he said the union would also destroy Shi'ite Iran's other regional adversaries, whom he called "cancerous tumors." He singled out secular Arab nationalists such as members of Saddam Hussein's Ba'ath Party in Iraq, as well as followers of the austere version of Sunni Islam practiced primarily in Saudi Arabia that is known as Wahabism. Saudi Arabia and other Sunni Arab nations have watched Iran's growing regional clout with deep concern. The growing voice of hard-liners like Kharrazi has deepened worries even if it appears unlikely such a divisive figure would win the 2013 presidential election. Still, even Iranian President Mahmoud Ahmadinejad said on Thursday that he expects the government which follows his to be "ten times more revolutionary."
Syria Deepens its Footprint in Lebanon
May 17….(DEBKA) Hizballah and Syria are building a massive fortified wall, running from Rashaya Al-Wadi on the western, Lebanese slopes of Mt. Hermon (85 kilometers southeast of Beirut) in the south, to the Lebanese Beqaa Valley town of Aita el-Foukhar, in the north, debkafile's military sources reveal. The structure, 22 kilometers long in parallel to the Lebanese-Syrian border promises to be one of the biggest fortified structures in the Middle East. It is designed as an obstacle against any Israeli tank forces heading through Lebanon toward the Syrian capital, Damascus. When it is finished, the barrier will isolate a key Lebanese border region - 14 kilometers wide and 22 kilometers long - from the rest of the country and place it under Hizballah-Syrian military control. This region is inhabited most by Druzes and Christians. The project became possible in the last year, after Lebanon's Druze leader, Walid Jumblatt, turned away from his pro-Western allegiance and threw in his lot with the pro-Syrian camp, lining up with Syrian president Bashar Assad and Hizballah's secretary Hassan Nasrallah and buying into the military alliance headed by Iran. Behind the rising wall, Hizballah and Syria can freely smuggle weapons across concealed from outside surveillance, while deepening Syria's footprint in Lebanon. In any case, as debkafile has disclosed, they pulled off their subterfuge for getting the Scuds across by stationing two Hizballah brigades on the Syrian side of the border for training in the new missiles. When Israeli failed to make good on its threat to strike those missiles if they reached Hizballah hands, Damascus and Hizballah felt free to go forward with Part Two of their plan for Lebanon's militarization, first the Hizballah militia's transformation into a modern army with sophisticated weapons, and now the raising of a fortified wall and creating a Syrian-controlled buffer region inside Lebanon, 55 kilometers east of Beirut and 35 kilometers north of South Lebanon and the Israeli border. According to our military sources, Syria intends to keep that region off-limits to Lebanese military access, except for Hizballah. Syrian troops, officers and arms stores are to be based there and maintained in a state of war readiness. Syria stands to gain another prime strategic asset with its control of Rashaya Al-Wadi, at the southernmost point of the new wall: This scenic village commands the Taim valley, whence flow a number of water courses that feed the River Jordan and the Sea of Galilee; for the first time in many years, Damascus will be placing a hand on one of Israel's primary water sources. Satisfied that the Netanyahu government will continue to sit on its hands, Syria and Hizballah are not hiding the massive barrier project's progress. Long convoys of trucks crossing in from Syria can be seen converging on the site, loaded with cement and other building materials. Our Middle East sources report that the project is so immense and the work so intensive, that shops in Damascus have run out of cement, forcing many other construction works in Syria to a standstill.
Obama Threatens to 'Impose' Palestinian State
(Warns White House can force solution 'Israelis won't appreciate')
May 17….(WND) If Israel and the Palestinians fail to reach an agreement to create a Palestinian state, the Obama administration will look into imposing a solution on the parties, a senior Palestinian Authority negotiator told WND. The negotiator, speaking by telephone from Ramallah, said the PA agreed to resume direct talks with Israel earlier this week only after a US pledge to ensure against any new Jewish construction in eastern Jerusalem and the strategic West Bank. The PA negotiator told WND the Obama administration told the Palestinians if a deal is ultimately not reached with Israel the US will consider imposing a solution "that the Israelis won't appreciate." Further, the PA negotiator said recent meetings between the Obama administration and the Palestinians revealed the White House is on board a Palestinian threat to unilaterally ask the United Nations to recognize a Palestinian state outside of negotiations with Israel. The PA negotiator said the US wanted for now to stress negotiations between the parties, but that if an agreement is not reached the US would not veto a UN Security Council resolution to unilaterally create a Palestinian state. Earlier this week, Obama urged PA President Mahmoud Abbas in a telephone conversation to engage in direct talks with Israel, the White House announced. A White House statement said the two "discussed the need for both parties to negotiate seriously and in good faith, and to move from proximity talks to direct negotiations as soon as possible in order to reach an agreement on permanent status issues." The report came after the PA announced last Sunday it was ready to resume indirect negotiations with Israel, brokered by Obama's Mideast envoy, George Mitchell.
Palestinians Don't Like Israelis Quoting Bible
May 17….(Israel Today) Chief Palestinian negotiator Saeb Erekat last week blasted Israeli Prime Minister Benjamin Netanyahu for quoting from the Bible in order to draw a connection between Jerusalem and the Jews. In his Jerusalem Day address to the Knesset marking the 43rd anniversary of the reunification of the city under Israeli control, Netanyahu highlighted the prominent place Jerusalem holds in the Jewish Bible, where it is mentioned no fewer than 850 times (including the times the city is referred to as "Zion"). A day later, Erekat told Reuters that he found it "distasteful, this use of religion to incite hatred and fear." Erekat insisted that the eastern half of Jerusalem is "an occupied Palestinian town" that must be surrendered by Israel. The Palestinians have worked hard over the past few decades to erase the Jews' millennia-old history in Jerusalem, including claims that there never was a Jewish temple atop the Temple Mount and that Jesus was actually an Arab.
WEEK OF MAY 9 THROUGH MAY 15
Russia Signs Major Arms Deal With Syria
| | |
| --- | --- |
| | (FOJ) Medvedev said construction of the nuclear reactor, hit by the Israelis two years ago, is back under consideration. Cooperation on atomic energy will get a second wind," Medvedev said. We will equip Syria with whatever they need. |
(Syria will be supplied with warplanes, anti-tank weapons, and air defense systems)
May 15….(Ha Aretz) Russia has signed deals with Syria under which it will sell it warplanes, anti-tank weapons and air defense systems, Itar-Tass news agency quoted a senior Russian arms trader as saying on Friday. Mikhail Dmitriyev, head of the Federal Service for Military-Technical Cooperation, said Russia would supply Syria with MiG-29 fighters and truck-mounted Pantsir short-range surface-to-air missiles and anti-aircraft artillery systems. The arms deal is likely to be watched with unease by the United States which imposed sanctions on Damascus for its support of militant groups and corruption. Earlier this week, Russian President Dmitry Medvedev visited Syria - the first visit to Damascus by a Moscow ruler since the 1917 Bolshevik revolution, and oversaw talks on Russia's possible assistance in building a nuclear power plant in Syria. While in Syria, Medvedev also paid a visit to Khaled Meshaal, the exiled leader of the Palestinian Islamist group Hamas. Israel's Foreign Ministry said it was "deeply disappointed" that Medvedev met the leader of Hamas, which it said was "a terror organization in every way".
Moscow to Build Nuke Plants in Turkey and Syria
May 15….(Jerusalem Post) While Jerusalem lashed out against Moscow on Wednesday for wanting to include Hamas in the diplomatic process, it took a much more low-key approach to news that Russia would build a nuclear reactor in Turkey, and was considering doing the same in Syria. "This is obviously not something people here are overjoyed about," one official said of the developments, but there is a feeling, at least regarding Turkey, that if the plant is under the supervision of the International Atomic Energy Agency, there is much less to worry about. The problem is Syria, the official added, because although it is a signatory to the Nuclear Non-Proliferation Treaty and under IAEA supervision, it still managed to set up a clandestine plutonium-producing facility that was reportedly taken out by the IAF in September 2007. "The Syrians have never apologized and have not been cooperative with the IAEA," the official said. Turkey and Russia signed 17 cooperation agreements on Wednesday, including one for the construction of Turkey's first nuclear power plant near the Mediterranean coastal town of Akkuyu. The construction was expected to take seven years, Turkish Prime Minister Recep Tayyip Erdogan said. Russia plans to build four reactors at the plant at a cost of about $20 billion. On Tuesday, Russia's energy minister, who visited Damascus along with Russian President Dmitry Medvedev, said Moscow was studying the possibility of building a nuclear plant in Syria as well. Syrian President Bashar Assad said during Medvedev's visit that he and the Russian president "talked about oil and gas cooperation, as well as constructing conventional or nuclear-powered electricity stations." Russian Energy Minister Sergei Shmatko, when asked whether his country would build an atomic power plant in Syria, told Reuters, "We are studying this question." Israeli diplomatic officials said Russia was following France and the US in trying to ink lucrative deals in Mideast countries for nuclear plants. The US signed civil nuclear power deals with Saudi Arabia and the United Arab Emirates in 2009, and France pledged in 2007 to help Morocco develop its nuclear program for civilian use. Over the past three years, Saudi Arabia, Qatar, Bahrain, Oman, Kuwait, the UAE, Yemen, Morocco, Libya, Jordan and Egypt have all indicated an interest in developing some kind of nuclear facilities. Israel, one official acknowledged, has little leverage to try to stop Russia from building a nuclear reactor in either Turkey or in Syria, just as it had little power to keep Moscow from building the Iranian reactor in Bushehr. Syria has sought new sources of energy, including nuclear, since the country has major electricity shortages and its power generation capabilities fall one-third short of demand due to its expanding population. Syrian President Bashar al-Assad said that he and the Russian president "talked about oil and gas cooperation, as well as constructing conventional or nuclear powered electricity stations."
Russia Warns US Against Unilateral Iran Sanctions
May 14….(Reuters) Russian Foreign Minister Sergei Lavrov warned the United States and other Western nations on Thursday against imposing unilateral sanctions on Iran over its nuclear program, Interfax news agency reported. The European Union has said it may impose unilateral sanctions if a UN Security Council resolution fails. US President Barack Obama's administration has been lobbying Western companies not to do business with Iran, but has not imposed sanctions against them. Countries facing Security Council sanctions "cannot under any circumstances be the subject of one-sided sanctions imposed by one or other government bypassing the Security Council", Lavrov was quoted as saying by Interfax. "The position of the United States today does not display understanding of this absolutely clear truth." Russia is in talks with the United States and other UN Security Council members on a fourth round of sanctions. Moscow has indicated it could support broader sanctions but has stressed they must not harm the Iranian people. Washington has not publicly warned of unilateral sanctions but has made clear it wants tougher measures than veto-wielding Security Council member Russia is likely to accept. Permanent Security Council member China has joined Russia in opposing Washington's plans to impose tough, wide-ranging sanctions on the Islamic Republic over its refusal to suspend sensitive uranium enrichment activity and open up fully to UN nuclear inspections. Lavrov's warning came just before the arrival in Russia on Thursday of President Luiz Inacio Lula da Silva of Brazil, a non-permanent member of the Security Council that is also opposed to further sanctions against Iran. Lula was expected to meet senior Russian officials on Friday to discuss how to revive a stalled nuclear fuel swap deal meant to minimize the risk of Tehran using enrichment for military purposes. Lula will travel on to Iran on Sunday. Lavrov, speaking to deputies from Russia's upper house of parliament, said the United States tended not to see international law as having pre-eminence over national laws. "We are now confronted with this problem during discussion of a new UN Security Council resolution on Iran."
Israel's EU Upgrade to be Delayed Again
(Plan seeks to tie countries to the east, south of Europe into EU)
May 14….(Jerusalem Post) Israel's ties with the European Union remain strong, but are unlikely to be upgraded when the action plan for its bilateral relations expires in June, diplomatic sources told The Jerusalem Post on Wednesday. That plan, which exists under the framework of the European Neighborhood Policy that seeks to tie countries to the east and south of the EU into the EU, was put in place in 2005 with a three-year time frame. But although the EU's foreign ministers agreed to upgrade its ties with Israel in June 2008, by redrafting the plan and enhancing political contacts, it has yet to do so. As a result, no new action plan has been developed. Instead, the 2005 plan has been extended twice and is likely to be extended for a third time next month. "No one ever declared that the upgrade is frozen," Foreign Ministry spokesman Yigal Palmor said on Wednesday. "But we all know that it has lingered on and been postponed." During a meeting with Deputy Foreign Minister Danny Ayalon visiting Spanish Foreign Minister Miguel Moratinos that he would push for the upgrade to take place soon. But Palmor said that there is no reason to believe that someone is going to accelerate the process just to meet the June deadline. Progress on the upgrade stalled as the diplomatic process between Israel and the Palestinians began to unravel in the winter of 2008-2009. In an annual progress report on the action plan released on Wednesday in Brussels, the EU commended Israel for implementing many of the priorities set out in the plan. But, it said, "deterioration in the overall political context, in particular as regards the Gaza conflict in December 2008-January 2009 and a lack of progress in 2009 on the Middle East peace process, affected the process of upgrading bilateral relations between the EU and Israel. "The EU remains committed to upgrading relations with Israel, but the situation was not conductive to the resumption of the process," the 2009 progress report read. Israel's annual progress report was one of 12 for 2009 that Brussels released Wednesday on European Neighborhood Policy countries. There are 16 countries in the program. At a press conference in Tel Aviv on the report, EU Ambassador Andrew Standley denied that an upgrade in Israel ties was specifically linked to the peace process. He explained it this way: "When the political decision was taken to upgrade in 2008, it was made clear that a decision on an upgrade would consider regional aspects and political developments," Standley said. "The conditions for the implementation of the upgrade have yet to present themselves. We look forward to the moment when those conditions would allow for the implementation of the upgrade." He did not specify what those conditions were. "This is a political decision. The implementation of the enhancement of the relations is an issue under constant political review," Standley said. The upgrade as it has been envisioned so far would increase the level and frequency of political contacts between Israel and the EU, he said. The existing action plan provides for a wealth of positive interaction in a wide range of fields such as telecommunications, transportation, energy, environment, education and the fight against terrorism and anti-Semitism, Standley said. The ENP offers neighboring countries with close ties to the EU the ability to engage with European institutions and programs at a level that is akin to that of its member states. In return, ENP countries promise to improve their economic and democratic practices and governmental institutions. "Israel was the first country to develop an action plan and have it approved," Standley said. Israel has a high level of socioeconomic development, which set it apart from other countries in the program, he said. Israel's ENP report noted that its economy was one of the least affected by the global economic and financial crisis and among the earliest to stage a recovery. Israel is far ahead of the others in adjusting its institutional economic and social structures to EU standards in a manner that it allows it to engage more successfully with Europe, the ambassador said.
Netanyahu Turns to Bible in Tussle Over Jerusalem
May 13….(Reuters) Beset by questions about the future of Jerusalem in talks with the Palestinians, Israeli Prime Minister Benjamin reached for the Bible on Wednesday to stake out the Jewish state's disputed claim on the city. Netanyahu told a parliamentary session commemorating Israel's capture of East Jerusalem from Jordan in the 1967 war that "Jerusalem" and its alternative Hebrew name "Zion" appear 850 times in the Old Testament, Judaism's core canon. "As to how many times Jerusalem is mentioned in the holy scriptures of other faiths, I recommend you check," he said. Citing such ancestry, Israel calls all of Jerusalem its "indivisible" capital, a designation not recognized abroad, where many powers support Palestinian claims to East Jerusalem as the capital of a future Palestinian state. Jerusalem, at the heart of the Israeli-Palestinian conflict, is also revered by Muslims because it houses al-Aqsa mosque, Islam's third-holiest shrine after Mecca and Medina, on a plaza Jews revere as the vestige of two biblical Jewish temples. Heckled by a lawmaker from Israel's Arab minority, Netanyahu offered a lesson in comparative religion from the lectern. "Because you asked: Jerusalem is mentioned 142 times in the New Testament, and none of the 16 various Arabic names for Jerusalem is mentioned in the Koran. But in an expanded interpretation of the Koran from the 12th century, one passage is said to refer to Jerusalem," he said. Asked about Netanyahu's citations, Palestinian chief negotiator Saeb Erekat said: "I find it very distasteful this use of religion to incite hatred and fear."
Destroyed as a Jewish capital by the Romans in the 1st century AD, Jerusalem was a Christian city under their Byzantine successors before falling to Muslim Arabs in the 7th. European Crusaders took it back for a century before 700 years of Muslim control until Britain defeated the Ottoman Turks in 1917. As Britain prepared to quit, the United Nations proposed international rule for the city, along with nearby Bethlehem, in 1947 as a "corpus separatum." That proposal was overtaken by fighting that left Israel holding West Jerusalem in 1948 and Jordanian forces in East Jerusalem. Israel then took the rest in the Six Day War of 1967. The city, within boundaries defined by Israel but not recognized internationally, is now home to 750,000 people, two in three of them Jews and the rest mostly Muslim Palestinians. Netanyahu did not refer in his speech to indirect peace negotiations with the Palestinians that resumed this month after 1 1/2 years of US mediation. But he said Israel would retain all of Jerusalem while ensuring freedom of worship at its sites. Such assertions are challenged by Palestinians given that Israel, over the last decade of fighting, has often banned their access to al-Aqsa. Christians in the adjacent West Bank complain of similar difficulties in reaching Jerusalem churches. "There is no undercutting, nor do I intend to undercut, the connection of others to Jerusalem," Netanyahu said. "But I do confront the attempt to undercut and warp or obfuscate the unique connection that we, the people of Israel, have to the capital of Israel."
Netanyahu: We Will Never Divide Jerusalem
(Prime minister speaks at ceremony marking 43rd anniversary of reunification of Jerusalem, declares that Israel's capital 'will never return to being divided, gloomy, and halved)
May 13….(YNET) The state ceremony marking 43rd anniversary of reunification of Jerusalem was held Wednesday on Jerusalem's Ammunition Hill, as international voices are increasingly calling for territorial concessions to be made in the capital. "We will never divide Jerusalem," declared Prime Minister Netanyahu. "Jerusalem Day is the day on which the city of Jerusalem started to breath easy, to spread its wings for the good of all its residents, Jews and Arabs alike," said Netanyahu. "Israel instated freedom of worship for all religions and free access to holy sites to members of all religions. We will never let Jerusalem again be a divided, gloomy, and halved city. We will continue to build and be built in Jerusalem. We will continue to plan, develop, and produce," the prime minister said. "My friends," he added. "We are the generation that was privileged to see the liberation of Jerusalem and our return to the sites holy to our people. We also must bestow this privilege on our children and grandchildren. "Today, the Knesset speaker said during a special Knesset session that there perhaps has been a certain estrangement from this sense of uniqueness and from our nation's unique relationship with our city. I do not think so. The people of Israel's connection with Jerusalem is so strong. It is so unique, and it surpasses any connection of any other people with its capital. It has lasted thousands of years. It has withstood so many tests. It is stronger than ever." President Shimon Peres recalled the first report Ben-Gurion (Israel's first prime minister) gave to Israel's first government. "The facts were very bitter. Faith was unshakeable. Ever since, this faith has been the pillar of fire leading our camp – it was, is, and will be. It will remain with us in the decisive hour, if it is forced on us. It will be with us when peace comes," said Peres. Today, too, ominous clouds loom in our skies," added Peres. "I do suggest that we close our eyes to the threat. Absolutely not. However, we will not fear and we will not be enticed. Our land is blessed with good, strong people. It is the land of resourcefulness and faith that ensure the future." Before consoling the families of the soldiers who fell in the battle for Jerusalem, Peres boasted, 'Since the walls fell, Jerusalem has returned to its historic splendor, developing as a diverse and lively city into the largest city in our country, a one-of-a-kind metropolis. It is Israel's eternal capital. It is a city open to all believers.
US Warns Israel of Taking Inflammatory Actions in Jerusalem
May 13….(Ha Aretz) Following Public Security Minister Yitzhak Aharonovitch's statement on Wednesday that Israel will demolish Arab homes in East Jerusalem, the United States warned Israel and the Palestinians of taking inciting steps in Jerusalem. We call on both sides to avoid inflammatory actions in Jerusalem," a US State Department representative said on Wednesday. "As we have said, if either side takes significant actions during the proximity talks that we judge would seriously undermine trust, we will respond to hold them accountable and ensure that negotiations continue." Earlier on Wednesday, Aharonovitch said that Israel will demolish Palestinian homes in East Jerusalem in the coming days despite the renewal of indirect peace talks. The State Department further emphasized the US stance on Jerusalem and expressed faith in the success of the indirect negotiations between the Palestinians and Israel. "Our policy on Jerusalem remains unchanged. The status of Jerusalem is an issue that should be resolved in permanent status negotiations between the parties. This underlines the importance of making progress in the proximity talks to enable the parties to move to direct negotiations that will resolve this and other issues once and for all," said the US official. Aharonovitch made his remarks at Wednesday's Knesset plenum session, during which he said that demolitions had been postponed in recent months so as not to harm efforts by US special envoy George Mitchell to get peace talks off the ground. Aharonovitch, however, clarified that currently there is no order in effect instructing police to not to raze homes. "As of right now, there is no directive for police not to implement the demolition orders," said Aharonovitch, adding that Jerusalem Police are prepared to deploy the forces necessary for the demolitions. The minister also said that the demolitions were postponed because some in Israel's political echelons felt the timing was wrong. "If there was a postponement, it has now ended," he said. Prime Minister Benjamin Netanyahu on Wednesday said Israel plans to prioritize Jerusalem over other areas, during a special Knesset session marking Jerusalem Day. Netanyahu also said, "There are those among us who lament the very day Jerusalem was liberated and the capital of Israel was freed from its stranglehold." Netanyahu told the special Knesset session that "Jerusalem" and its alternative Hebrew name "Zion" appear 850 times in the Old Testament, Judaism's core canon. "As to how many times Jerusalem is mentioned in the holy scriptures of other faiths, I recommend you check," he said. Heckled by a lawmaker from Israel's Arab minority, Netanyahu offered a lesson in comparative religion from the lectern. "Because you asked: Jerusalem is mentioned 142 times in the New Testament, and none of the 16 various Arabic names for Jerusalem is mentioned in the Koran. But in an expanded interpretation of the Koran from the 12th century, one passage is said to refer to Jerusalem," he said. "There is no undercutting, nor do I intend to undercut, the connection of others to Jerusalem," Netanyahu said. "But I do confront the attempt to undercut and warp or obfuscate the unique connection that we, the people of Israel, have to the capital of Israel." Construction in East Jerusalem has been a major sticking point between Israel and the US since Israel infuriated Washington in March by announcing a major new East Jerusalem housing development during a visit by US Vice President Joe Biden.
Russia Moving Closer to Hezbollah, As Well as Hamas
(Experts analyze Moscow's connection to radical Islam, say it is all part of much bigger plan)
May 13….(YNET) Russian President Dmitry Medvedev visited Syria this week and met with Hamas politburo Khaled Mashaal. On Wednesday, he even stated that Hamas should be included in the Middle East peace process, despite Israel's firm stand against the Islamist movement. Is Russia taking a pro-Islamic side in one of the most explosive regions in the world? A former Israeli ambassador to Russia explains that Moscow is seeking to increase its involvement, and hold, in the region. Terror organizations? It's doesn't really matter to them. Russia doesn't view it as taking sides. That's too harsh. It's taking the middle. It wants to assume the role of the Middle East mediator," says former Ambassador Zvi Magen. "It believes it already has us. We are ready to talk, and now the question is who will bring the others. The Russians seek to do it before the Americans, and for this Russia needs the Syrians and both parts of the Palestinians, including Hamas." Magen says the Russians are looking for Palestinian unity, in order to bring all sides to the negotiating table, "which they want to place in Russia as part of a Middle East conference attended by all parties, all the Palestinians, the Syrians and even Hezbollah." Why is Russia engaging in these intensive efforts? "It seeks to upgrade its status. It wants to turn into a more important power. For this purpose it must activate worldwide moves, in the Middle East as well." According to Magen, "This is the Russian mind, that they will emerge from such a peace process as a great nation without investing much. It faces the American attempt to remove Syria from the axis of evil." The former ambassador cannot understand the Israeli surprise. "They have been talking about it for months, and this visit is basically a continuation of the move, in addition to an effort together with Turkey and Iran. "Mashaal was in Moscow in March. Prime Minister Benjamin Netanyahu was there at the same time, as was Abu Mazen (Abbas) and other Arab leaders. The Russians brought all the sides, one by one, and now they want to bring them all together."
Dr. Yuri Petrushevsky, an expert on Russian foreign policy from Bar-Ilan University's Department of General History, says Russia was the first of the major world powers to recognize Hamas. "This line was continued during this visit, and will be continued in the future. Russia is not interested in real war in the region, but it is interested in strengthening its status through strengthening its ties with Hamas, and, subsequently, with the Muslim world," explains Dr. Petrushevsky. Dr. Petrushevsky says that during his visit in Damascus, Medvedev also bolstered ties with Syria "alongside strengthening tie with Iran, Hamas, and, through less openly, with Hezbollah." Like Magen, Petrushevsky believes that Russia wants to become a major regional actor, but emphasizes above all else the country's courtship of the Islamic world: "For three reasons: to neutralize the Muslim world from supporting radical Islam within Russia; internal reconciliation within radical Islam while displaying pro-Islamic foreign policy, and strengthening its status in the world in this method." And what about Russia's relations with Israel? In other words, have the Russians given up on us? Despite everything, including Israel's recent scathing response, Magen agrees that Russia's move is a complex one. "There is a certain risk to the relations between the countries," claims Magen. However, he mentioned that the Russians are very calculated and deliberate. "They are trying to come across as a mediating factor. They didn't take a side against Israel, and, according to them, only want to solve the conflict and bring peace. According to their approach, Abbas alone is incapable. Without Syria, Lebanon, and Hamas, it won't work, especially when American doesn't succeed in mediating. As such, they believe, Israel has no reason to be angry with them," Magen explained. Petrushevsky agrees. "Russia does not think its ties with Israel, and with the West in general, will be damaged by contact with the Islamic world. From its perspective, Israel is not a strong enough reason to cut ties with Hamas. However, Russia is calculated, and the formula also works in reverse from its perspective. Russia will be balanced and flexible. Everything is dedicated to making it into a world power and returning it to the front of the world stage."
Israel Slams Russia's Hamas Stance
(Government issues an unusually sharp response to Medvedev's suggestions)
May 13….(Jerusalem Post) The Foreign Ministry issued an uncharacteristically sharp response on Wednesday to a Russian and Turkish call to include Hamas in the diplomatic process, drawing parallels between Hamas and Chechen terrorists and saying it was wrong to distinguish between "good" and "bad" terrorists. The statement, released at the directive of Foreign Minister Avigdor Lieberman, who is currently in Tokyo, said Hamas was a terrorist organization that set as its goal the destruction of Israel. "Hamas people are responsible for the murder of hundreds of innocent civilians, including those who came from the former Soviet Union, and also Russian citizens," the statement said. "It is forbidden for enlightened countries to divide terrorists into good and bad ones on the basis of geography." It stressed that "a terrorist is a terrorist" and that Israel saw no difference whatsoever between the terrorism that Hamas deployed against Israel, and the terrorism that the Chechens used against Russia. "There is no difference between Khaled Mashaal and Shamil Basayev [a Chechen leader who was killed in 2006]," it read. "Israel always stood behind Russia in its fight against Chechen terrorism, and would have expected similar treatment regarding Hamas terrorism against Israel,"the Foreign Ministry statement said. What raised Israel's ire was a comment Russian President Dmitry Medvedev made in Ankara on Wednesday, during a visit with Turkish President Recep Tayyip Erdogan, saying, in a clear reference to Hamas, that no one should be excluded from the Mideast peace process. Medvedev met Mashaal in Damascus on Tuesday, following a meeting he held with Syrian President Bashar Assad. Although Russia is a member of the Middle East Quartet, which also includes the US, EU and UN, it has never accepted the Quartet principles that there should be no engagement with Hamas until it forswears terrorism, recognizes Israel and accepts previous agreements. Russia is one of three European countries that continue to maintain contact with Hamas, the others being Turkey and Norway. While this is not the first time the Russian leadership has met with Mashaal, this is the harshest response that Israel has ever released regarding the matter, and one diplomatic official said it reflected deep frustration in Jerusalem. At the same time, the official said there was little concern that just because Russia and Turkey wanted to see engagement with Hamas, other Western countries would follow suit.
Russia May Build Nuclear Power Plant in Syria
(FOJ….The US and Israel were unpleasantly taken aback to find Russian president Dmitry Medvedev receiving a pack of Hamas leaders, including political secretary Khaled Meshaal, Monday May 11, on the second day of his Damascus visit. Syrian president Bashar Assad was also present. Medvedev's visit could be the occasion for a weapons deal which might even be a secret back door for Iran to acquire the sophisticated weapons Moscow has denied to date. It was also an opportunity for Moscow to dramatize its polar differences on Iran with Washington by gestures of support for the extremist Tehran-Damascus-Hizballah-Hamas alignment in the Middle East at the expense of the pro-Western moderate bloc led by Egypt and Saudi Arabia.)
May 12….(Reuters) Russia may help build a nuclear power plant in Syria, Russian Energy Minister Sergei Shmatko told Reuters on Tuesday as the Kremlin moved to strengthen ties with a Soviet-era ally in the Middle East. On the first state visit to Syria by a Kremlin chief since the Bolshevik Revolution, Russian President Dmitry Medvedev played up prospects for nuclear power cooperation and said Washington should work harder for peace in the Middle East. "Cooperation on atomic energy could get a second wind," Medvedev said at a news conference with Syrian President Bashar al-Assad after their talks. Assad said he and Medvedev "talked about oil and gas cooperation, as well as constructing conventional or nuclear powered electricity stations." Asked whether Russia would build an atomic power plant in Syria, Shmatko told Reuters: "We are studying this question." Syria is under investigation by the International Atomic Energy Agency for a suspected nuclear site that Israeli warplanes destroyed in 2007. Syria said the site was a conventional military complex. The nation has been plagued for years with huge electricity shortages, with power generation falling one-third short of demand and the population expanding at 2.5 percent a year. Israel has opposed Russian arms sales to Syria in the last several years, and nuclear energy cooperation between Damascus and Moscow may anger the Jewish state. Shmatko said that cooperation with Russia on a possible nuclear plant would require Damascus to abide by the nuclear Non-Proliferation Treaty.
He also suggested Russia might build more nuclear power reactors in Iran beyond the one it plans to switch on this year near the city of Bushehr despite likely US disapproval. "We are in favor of continuing cooperation with Iran in the energy sphere to the full extent, including in building light-water reactors," Shmatko told journalists. Russia says all nations have the right to peaceful nuclear power programs and is aggressively seeking contracts abroad to build nuclear power plants. But Medvedev, who has indicated Russia could support new UN Security Council sanctions against Iran over its nuclear program, called for "constructive cooperation with the international community on Iran's part." The United States and some European countries believe Iran's nuclear program is a front for an effort to develop atomic weapons. Iran denies it. Moscow backed Syria through the Arab-Israeli conflict, and the Kremlin is seeking to reinvigorate ties in the Middle East nations. It forgave most of Syria's multi-billion dollar debt.
Netanyahu: Iran Trying to Provoke War Between Israel and Syria
May 12….(Ha Aretz) "Israel has no intention for war, and this is an effort to spread lies in order to create regional tension," Netanyahu said. We want stability and peace," the premier continued. "Israel seeks peace and has no intention to attack its neighbors, despite false rumors." Responding to a question about Tuesday's meeting between Syrian President Bashar Assad and Russian Prime Minister Dmitry Medvedev, Netanyahu said that Israel would welcome any steps toward the resumption of peace talks, including those with Syria. Netanyahu said, however, that peace talks must take place without preconditions. "The path to peace is through negotiations, and that is our intention with the Palestinians and with the Syrians. Medvedev arrived in Syria late on Monday, shortly after meeting President Shimon Peres, who said in Moscow that Israel did not want war and did not intend to escalate tensions along its borders. The visit is seen as part of diplomatic endeavor to decrease tensions between Syria and Israel, as well as a defiant message from Syria to Washington, in the wake of rising tensions over an Israeli accusation that Damascus had provided the Lebanese Shiite group Hezbollah with Scud missiles.
Hezbollah is Preparing For War Inside Israel Next Time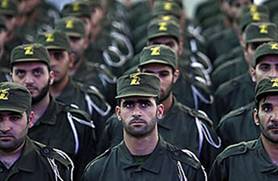 May 12….(In The Days) Acting on an internal assessment of its military performance in the 2006 war, Hizballah is seeking to improve its capabilities by developing new tactics and acquiring new weapons. It is placing particular emphasis on improved air-defense systems to challenge Israel's aerial superiority. Reports over the past year suggest that Hizballah has received advanced Russian shoulder-fired antiaircraft missiles, and some fighters have been trained in Syria on larger truck-mounted missile systems. US and Israeli intelligence sources say Hizballah has also augmented its arsenal with larger, longer-range rockets with guidance capabilities. Many analysts believe that in the event of another war, Hizballah plans to strike strategic targets deep inside Israel. In February, movement leader Sheik Hassan Nasrallah hinted that Hizballah now had the ability to strike targets in Tel Aviv. Although last month's Israeli claims that Syria transferred Scud ballistic missiles to Hizballah remain unsubstantiated, and some military analysts are skeptical, given the rocket's size and cumbersome logistical requirements, the group is believed to have acquired Syrian-manufactured M-600 guided rockets. The M-600, a copy of an Iranian rocket, can carry a 1,100-lb. (500 kg) warhead a distance of 155 miles (250 km), and its guidance system allows Hizballah to target Israel's Defense Ministry in Tel Aviv from hidden bases in the northern Bekaa Valley. Hizballah's possession of the M-600 is "just the tip of the iceberg," Brigadier General Yossi Baidatz, Israel's top military intelligence analyst, told a Knesset committee on Tuesday, May 4. "Hizballah currently has an arsenal of thousands of rockets of all kinds and ranges, including solid-fueled rockets, with a longer range and more accurate," he said. Besides seeking new weapons systems, the Shi'ite militia is also finding innovative ways to utilize older armaments, such as the guerrilla-standard RPG-7 grenade launcher and the recoilless rifle, a near obsolete antitank weapon. "The RPG-7 is old but still a good weapon," says Ali. "It's how you use them that counts. We are always studying new combat techniques." Israel's heavily armored tanks are to receive a newly developed defense system that fires mini-interceptors to destroy incoming antitank missiles. Hizballah fighters, without revealing details, say they are training to overcome such sophisticated defenses by "swarming" Israeli tanks with low-tech antitank weapons. Hizballah's battle plans may also include having fighters infiltrate Israel to carry out raids and sabotage missions, a move that would be unprecedented in the Arab-Israeli conflict. Israeli doctrine is to fight its wars in the territory of its enemies rather than on its home front. Says Ali: "God willing, we will go into Palestine next time." Despite the mounting tension, Israel's pledge, and vast capability, to inflict catastrophic damage on Lebanon and the scale of Hizballah's arms buildup functions as a kind of mutual deterrence that has brought the usually volatile frontier its longest period of calm in 40 years.
Israel Charges North Korea With Shipping WMD's to Syria
May 12….(In The Days) Israeli Foreign Minister Avigdor Lieberman on Tuesday accused nuclear power North Korea of supplying Syria with weapons of mass destruction. Lieberman's office quoted him as telling Japanese Prime Minister Yukio Hatoyama at a meeting in Tokyo that such activity threatened to destabilise east Asia as well as the Middle East. "The cooperation between Syria and North Korea is not focused on economic development and growth but rather on weapons of mass destruction" Lieberman said. In evidence he cited the December 2009 seizure at Bangkok airport of an illicit North Korean arms shipment which US intelligence said was bound for an unnamed Middle East country. Lieberman said Syria intended to pass the weapons on to the Lebanese Hezbollah militia and to the Islamic Hamas movement, which rules Gaza and has its political headquarters in Damascus. "This cooperation endangers stability in both southeast Asia and also in the Middle East and is against all the accepted norms in the international arena," Lieberman was quoted as telling Hatoyama. Thai officials at the time said that acting on a tipoff from Washington they confiscated about 30 tonnes of missiles, rocket-propelled grenades and other weapons when the North Korean plane landed for refuelling in Bangkok. Israel has accused North Korea in the past of transferring nuclear technology to Syria, which is technically in a state of war with the neighbouring Jewish state, although the two last fought openly in 1973. Britain's Sunday Times newspaper reported in 2007 that Israel seized North Korean nuclear material in a commando raid on a secret military site in Syria and then destroyed the site in an air attack. Syria denied the report. The communist regime in North Korea has denied collaborating on nuclear activity with Syria, while Israel has maintained an official silence on the reported September 2007 raid and strike.
Thieves Take Controversial Mojave Desert Cross
(FOJ) A NATION THAT HAS NO ROOM FOR THE CROSS, HAS NO HOPE.
The Veterans of Foreign Wars first placed a cross on the rock in 1934 to honor troops who died in World War I. The cross that stood at the memorial until this week was erected at a later date. The cross has been covered with a tarp or a wooden box since 2002 by a court order to avoid violating federal law mandating the separation of church and state
May 12….(Newsmax) Thieves have stolen a cross in the Mojave Desert that honored American war dead, less than two weeks after the US Supreme Court allowed the religious symbol to remain on federal land. The 7-foot-high cross was stolen late Sunday or early Monday by thieves who cut the metal bolts that attached the symbol to a rock in the sprawling desert preserve, National Park Service spokeswoman Linda Slater said. Authorities had no immediate motive for the theft but ideas range from scrap metal scavengers to people "with an interest in the case," Slater said. A $25,000 reward has been offered for information leading to the arrest and conviction of the thieves, she said. Veterans groups were outraged. "The American Legion expects whoever is responsible for this vile act to be brought to justice," said Clarence Hill, the group's national commander. "While the memorial has been attacked, the fight will continue to ensure that veterans memorials will remain sacrosanct." The Veterans of Foreign Wars first placed a cross on the rock in 1934 to honor the dead troops of World War I. Slater said she did not know when the latest version was erected. Late last month, the Supreme Court refused to order the removal of the cross by a 5-4 vote in a controversial case focusing on the separation of church and state. The cross had been covered with plywood while the US Supreme Court decided the case but vandals tore off the cover over the weekend. Maintenance workers went out to the rock to replace it and discovered the cross was missing, Slater said. The VFW promised that the memorial will be rebuilt. "This was a legal fight that a vandal just made personal to 50 million veterans, military personnel and their families," National Commander Thomas J. Tradewell said. The remote rock is about 70 miles south of Las Vegas and 200 miles northeast of Los Angeles.
Netanyahu: The Battle for Jerusalem is a Battle for Truth
May 12….(Arutz) Prime MInister Binyamin Netanyahu attended the annual Jerusalem Day celebration at the Merkaz HaRav Yeshiva in Kiryat Moshe, Jerusalem. In his speech, Netanyahu stressed the importance of Jerusalem and the unbroken connection of the Jewish people to the city, quoting the verse from Isaiah 62: "For Zion's sake I will not be silent and for the sake of Jerusalem I will not be still, until her righteousness emerges as a shining light and her salvation burns like a torch". The Prime Minister continued: "The battle for Jerusalem is a battle for truth. After the ensuing applause, the PM continued: "There can be no justice without truth and if there is a perversion of justice vis a vis our city and nation, it means the truth has been perverted, because the truth is that Jerusalem is our city and we never compromised on that," he said, "not after the destruction of the First Holy Temple, nor after the destruction of the Second. We were a majority in the city until the 9th century and we returned 2000 years later and witnessed the city's destruction once again. There is no other nation that feels this deeply about a city. Yet there is no other nation that has allowed such complete freedom of worship to other religions in this city. We will continue to build Jerusalem, a city that is full of life." The packed audience, including hundreds on the street outside the yeshiva who watched the event on a large screen, burst into applause and song. To the Yeshiva head, Rabbi Yaakov Shapira, who encouraged him to be strong in facing the pressure of other nations and be strengthened by the support he sees at the yeshiva, the PM answered: "Don't worry about me. I am strong, strong enough. I am grateful for your support and your desire to strengthen me. We come from the same roots. My grandfather was a close friend of Rabbi Kook, for whom the yeshiva is named. Our past is what molds our future. Let us strengthen one another." Since the first year of Jerusalem's liberation and reunification 43 years ago, the Merkaz HaRav Yeshiva holds a major event on the eve of Jerusalem Day. The Chief Rabbis, other prominent rabbis, Mayor, Ministers, MK's and other public figures attend the evening. At the end of the speeches and song, the entire yeshiva sings and dances its way to the Western Wall in the middle of the night. The Chief Rabbi of Haifa, Rav Sheer Yashuv Cohen, described the first minutes at the Western Wall in 1967 when a jeep carrying his father, the Nazir Hayerushalmi and Rabbi Tzvi Yehuda Kook rushed to the wall and Rabbi Goren blew the shofar there for the first time. Former MK Chanan Porat, who was in the paratroop corps and took part in the liberation of Jerusalem, told how religious and non religious soldiers shouted the "Shma Yisrael" (Hear O Israel) prayer at the wall. The Speaker of the Knesset, MK Ruby Rivlin spoke at the start of the event, saying "Over the last year, Jerusalem has lost many supporters. It worries me that Jerusalem Day is becoming a holiday for the knitted skullcap crowd alone. Today, some Zionist political parties who spoke of united Jerusalem until a short while ago, are now seeing the city as a problem and obstacle to our continued existence here. The same politicians who voted laws protecting Jerusalem into effect are now looking for loopholes in those same laws that will allow them to raise their hand against Jerusalem. "Today, Jerusalem doesn't know who is on her side and who is against her, who are her builders and who are her looters, who is truly faithful to her and who is just using her for his own ends." "Today it is clear that a unified Jerusalem under Jewish sovereignty is not a given. We have reached the stage where the world claims that we have stolen the city and wants us to turn the clock back 43 years. It is clearer than ever that a people whose loyalty is up for grabs will find that its existence is limited, God forbid. Zionism without Zion, without Jerusalem is an empty shell. Our ability to withstand attacks on Jerusalem depends a great deal on our resolve and patience, on our ability to bide our time until the sword that is drawn over the city is removed."
Syria: Search Israel for Nuclear Weapons
| | |
| --- | --- |
| | (FOJ) Russia is arming the exact allies that Ezekiel lists in his preview of the Magog war on Israel. Russia and Iran are guarding and baiting their clients in the Middle East with the aim being to eradicate Israel. |
May 12….(Press TV) The Syrian leader says Western countries should inspect Israel for nuclear weapons instead of denying Iran the right to use peaceful nuclear energy. "We agree that every country has a right to peaceful nuclear energy, and that we should free the region of all weapons of mass destruction," Syria's state news agency, Sana quoted Syrian President Bashar al-Assad as saying in a meeting with visiting President Abdullah Gul in Istanbul. "Syria believes that the international community should begin by inspecting Israel for nuclear weapons," al-Assad added. Israel, believed to be the sole possessor of nuclear arms in the Middle East, accuses Iran, a signatory to the nuclear Non-Proliferation Treaty (NPT), of developing atomic weapons. Iran has categorically denied the allegation, saying nuclear weapons have no place in the country's political and religious doctrine. Syrian and Turkish leaders further called for a diplomatic solution to Iran's nuclear issue. "Every political agreement must be based on international law," al-Assad said. Turkey and Syria have opposed new sanctions against Tehran over its nuclear program as demanded by the US.
US Debt Shock Will Hit Between 2013 and 2018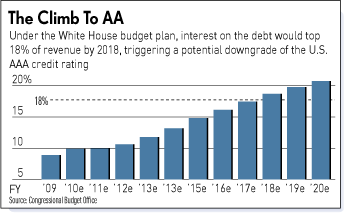 May 11….(Investor's Business Daily) Spiraling debt is Uncle Sam's shock collar, and its jolt may await like an invisible pet fence. "Nobody knows when you bump up against the limit, but you know when it happens it will really hurt," said fiscal watchdog Maya MacGuineas of the Committee for a Responsible Federal Budget. The great uncertainty about how much debt is too much has tended to make fiscal discipline seem less urgent, rather than more. There is no obvious threshold beyond which investors will demand higher real yields for holding US debt. Vague warnings from ratings agencies about the loss of America's 'AAA' status haven't added much clarity, until recently. In the wake of the financial crisis and recession, Moody's Investors Service has brought new transparency to its sovereign ratings analysis, so much so that 2018 lights up as the year the US could be in line for a downgrade if Congressional Budget Office projections hold. The key data point in Moody's view is the size of federal interest payments on the public debt as a percentage of tax revenue. For the US, debt service of 18%-20% of federal revenue is the outer limit of AAA-territory, Moody's managing director Pierre Cailleteau confirmed in an e-mail. Under the Obama budget, interest would top 18% of revenue in 2018 and 20% in 2020, CBO projects. But under more adverse scenarios than the CBO considered, including higher interest rates, Moody's projects that debt service could hit 22.4% of revenue by 2013. "While we see limited risk of a US sovereign debt downgrade in the next 2-3 years, beyond that we cannot be so certain," wrote Societe Generale's economics team in a recent report. The Moody's ratings framework is one that could have a significant influence on policy, particularly in a crisis.
Russia's Medvedev Visits Damascus
May 11….(DEBKA) Although the Kremlin stated that no weapons deals will be signed during Russian president Dmitry Medvedev's first state visit to Damascus, Monday, May 10, but they may be discussed and even approved, a prospect which has the US and Israel deeply concerned, debkafile's Washington and military sources report. These items may well include sophisticated weapons systems which Moscow has withheld from Iran. Both Washington and Jerusalem were unpleasantly surprised by Moscow's willingness to provide Bashar Assad with this public shot in the arm just a week after the Obama administration renewed US sanctions against Syria, citing its support for terrorist groups and pursuit of weapons of mass destruction as an "extraordinary threat" to American national security. Syria is widely shunned in the Middle East itself. Egyptian president Hosni Mubarak brusquely refused to receive Assad for a get-well visit to Sharm el-Sheikh. The Syrian ruler will no doubt take the Russian gesture as support for his supply of long-range missiles to Hizballah and its substantial enhancement of the of the extremist Tehran-Damascus-Hizballah-Hamas alignment in the Middle East at the expense of the pro-Western moderate bloc led by Egypt and Saudi Arabia. On April 30, DEBKA-Net-Weekly 443 carried a report on the negative import of the Medvedev visit, but Israeli government leaders were too busy dealing with the reopening of indirect talks with the Palestinians to gear up in time to forestall the damage to Israel's interests predicted from expected Russian-Syrian deals. Observers in Washington see the deepening of Moscow-Damascus relations as a failed mark for the Obama-Clinton drive to woo Assad. Some are saying that the Kremlin, for its part, seeks to use Syria as a fig leaf for its deepening crisis with Tehran, following the Russian president's promise to Barack Obama to back tough sanctions against Iran. This promise was accompanied by Moscow's secret assurance to hold back from activating Iran's first nuclear reactor at Bushehr, in breach of Russian Prime Minister Vladimir Putin's pledge earlier this month to have the reactor up and running by August. The Russian president needs to demonstrate that the Kremlin is not in Washington's pocket on Iran, and certainly not aligned with Israel, hence his show of friendship toward Damascus and a possible major arms transaction with Syria that will give Iran a back door for acquiring the sophisticated weapons Moscow has denied to date. In view of this concern, Israeli president Shimon Peres was dispatched to Moscow to attend Sunday's events Sunday marking the 65th anniversary of the allied victory against the Nazis. He tried to discourage the Russian president from going to these lengths, but failed to obtain a clear response to his appeal from Medvedev.
Russia, Turkey Becoming Strategic Partners
May 11….(Novosti) Russia and Turkey are becoming strategic partners, President Dmitry Medvedev said shortly before his visit to Ankara, due May 11-12. "June 3 will see 90 years since the day diplomatic relations between our countries were established, and my visit will take place shortly before that remarkable date," Medvedev said in an article for Turkish newspaper Zaman. "First of all, we can say with conviction that Russian-Turkish ties are reaching the level of full-scale strategic partnership," the Russian leader said, adding that a declaration signed by the two presidents in Moscow in February 2009 testified to that. He also said Russia sees Turkey as a "good and reliable neighbor with whom we are happy to jointly build plans to further strengthen cooperation for the good of our countries' peoples." Medvedev said the two countries should aim at increasing bilateral trade three to fivefold during the next five years, not only at the expense of raw materials but also through cooperation in hi-tech fields and mutual investment. He said the key direction of cooperation is the fuel and energy sector. "There are a number of priority landmark joint projects in the field: the construction of the South Stream and Blue Stream-2 gas pipelines, the Samsun-Ceyhan oil pipeline, the construction of a nuclear power plant by Russia on the territory of the Turkish Republic," Medvedev said.
Obama's Plan to Destroy Israel
May 11….(Arutz) If there's one thing that the Carter Administration can be given credit for, it's creating the new wave of Islamist terrorism, both Sunni, operating out of Afghanistan, and Shiite, operating out of Iran. The Carter Administration cracked down on Israel and put its "faith" in Muslim terrorists, who then went on to wage war on America, even while Carter was in office. Twenty-eight years after Carter was removed from office, we're in reruns again with the Obama Administration, which is not only following the Carter line, but whose plans greatly exceed it. Twenty-eight years ago, Wahhabi Sunni and Shiite terrorists were generally an afterthought when compared to the standard USSR backed Marxist terrorist groups, such as the PLO. Iran is to be our new best friend under this arrangement, Israel is to be our new best enemy. Today Obama has inherited control over several countries and have designs on several more. From Pakistan to Afghanistan, from Gaza to Lebanon, from the Middle East to Southeast Asia, the threat is very real and bigger than ever particularly as the race by both Sunni and Shiite groups to build and deploy nuclear weapons continues. Like Carter before him, Obama has chosen to cut backdoor deals with the Mullahs in Iran, offering them power over Iraq and Afghanistan, in exchange for quieting things down enough to let him hang up a Mission Accomplished banner and pull the troops out. "Peace with honor," preferably before the next election. The rape law for Shiites in Afghanistan, the push for a US funded Hamas/Fatah Unity government in the territories and the rising expansion of the Taliban are all fruits of this arrangement. If Iran is to be our new best friend under this arrangement, Israel is to be our new best enemy. Obama stacked the deck by deploying Hillary Clinton as Secretary of State in a position that gave her an important title, but absolutely no power to go with it, while stacking the National Security Council and even the Pentagon with oil appointees in the pockets of the Saudis or his own left wing radical friends. Israel electing a conservative government really put the ball into play, freeing up even more resources for attacking Israel. The strategy runs something like this. The Obama Administration has broken down the Israel problem into two subsections, Israel itself, and American Jews. Obama's people have studied the problem and understand where Carter went wrong. Obama does not want to have the same image problems as Carter in the Jewish community. Should that happen, the Beloved Leader and his lapdog press are fully prepared to unleash a Chavez style hate-on targeting American Jews. But that would be inconvenient and messy. Even with the changing face of America, there are significant differences between the average American and European or Venezuelan, and what kind of ugliness they are willing to tolerate. So Obama's people have split their attention in handling the two factors as two different problems. American Jews, Obama has been clever about putting his Jewish appointees front and center. Like many minorities, some American Jews suffer from self-esteem problems that are soothed when they see a seeming acceptance. Of course what they fail to realize is that exploitation is not acceptance. And that Obama's appointees are creatures of his backers, Nazi collaborators like Soros, who have nothing but contempt for Jews, individually or collectively. While outwardly courting Jews, Obama's people have also been quietly shoving Jewish organizations and their leaders into a corner. Within the Jewish organizational world there has been a silent but deadly takeover of major Jewish groups by left wing radicals. Former alumni of the far left wing and anti-Israel groups like Breira or Coname in the 70's have been elevated to key positions in such organizations as the UJA Federation. Behind the scenes any Jewish leaders who expressed even doubts about Obama during the primaries were intimidated and silenced. Much as with conservatives, a list has been drawn up of those figures who can be won over, and those who cannot. The ones who can be won over are described as "moderates", the ones who cannot be won over are described as "extremists". Meanwhile a bevy of left wing Jewish In Name Only groups have been organized to play their part. Key among them is the Soros funded J Street, a group created as an anti-Israel lobby meant to eventually replace AIPAC. The multi-layered approach to American Jews can then be summed up as follows;
1.) Co-opt existing Jewish organizations and swing them to the left using old school 70's leftists.
2.) Create new "progressive" organizations to appeal to a younger generation of ethnically Jewish youth detached from any actual identity. Have these organizations generate attacks on the Israeli government and pro-Israel Jews, while creating phony polls indicating that most American Jews are behind them and Obama.
3.) Silence and intimidate remaining Jewish organizations and leaders behind the scenes. The overall idea is to keep a happy face pasted on American Jewry while the knives are out in the dark.
The basic understanding in the Obama Administration is that Israel Must Go. In the worldview of the more moderate Obama appointees, Israel is a destabilizing factor in the Middle East. To the more left wing Obama advisors, Israel is a Western imperialist colonialist state that must be destroyed in the name of revolutionary justice. To the Islamist mindset, Israel is a Kufir state that has no right to exist in the Dar Al Islam. While intractably hostile to Israel, the Obama Administration wants to avoid the kind of public confrontations that marked the Carter and Bush Sr. administrations. Instead they would much rather model the way that the Clinton Administration waged a quiet war against Israel, removing one government, and forcing extensive concessions to terrorists, all the while keeping a happy face pasted on the whole affair. On the one hand that means avoiding harsh public attacks on Israel, but keeping the pressure up for Israel to make extensive far reaching one sided concessions, to accept Saudi and Arab League "peace plans," to legitimize Hamas as the new government of the Palestinian Authority, and to insure that Israel does not reply to any rocket or terrorist attacks.
There are two forms of quiet leverage that the United States has on Israel, the first is financial and the second is military. On the financial side, the goal will be to bring down the Netanyahu government coalition by destabilizing Israel economically. This is the surest and most direct path to bringing down Israel's conservative government and replacing it with a left of center coalition. The Obama Administration has a wide variety of tactics at its disposal for doing so, from the overt, such as targeting Israeli exports and imports, to the covert, that would involve targeting the Shekel. On the military side, Obama's people will make their non-existent efforts to stop Iran's nukes conditional on more concessions to terrorists. Since Israel will never be able to make enough concessions and since Obama is working with Iran, rather than working to stop Iran's nukes, this is a hollow charade. Furthermore while Israel has already been locked out of the military technology pipeline for anything cutting edge, it still remains dependent on US military equipment for parts and supplies. The decades of US foreign aid have also served to create dependency. Unlike many other countries, including even Sweden, Israel does not have its own jet fighter. Israel's Air Force is heavily dependent on US weapons, parts and equipment. Cutting Israel off, would leave the Israeli military dangerously vulnerable in the case of a war. This is an effective chokehold that has been used before, once to prevent Israel from attacking Saddam Hussein during the Gulf War, as well as preventing Israel from carrying out a preemptive strike against its enemies before the Yom Kippur War. The overall Obama policy is to push Israel to the brink, using financial and military blackmail against the Netanyahu government, while maintaining control over American Jews to prevent any protests or backtalk. The more Israel will offer, the more the Obama Administration will tighten the screws. No offer will be good enough, and Israel will be blamed for every breakdown in talks and every bit of violence that takes place. The media will portray Israel and particularly Netanyahu as extremist and intransigent. Hamas will be slowly whitewashed in the media, the same way that Arafat's goons were. The plan is to destroy Israel, and to do it by pushing Israel to the edge of the cliff and then over the cliff. Israel's enemies will be getting top of the line US military equipment. Israel will not. Israel will be squeezed economically until the Netanyahu government collapses, leaving a weak left wing leader like Livni in charge of Israel, and in charge of acceding to the new Pharaoh's demands. That is the Obama Mideast game plan.
Obama Flexes Muscles in Mideast, Resumes Ties with Damascus
May 11….(Arutz) US President Barack Obama is resuming diplomatic ties with Syria after a four-year hiatus as he aims for a regional peace in the Middle East. Syrian President Bashar Assad has conditioned peace with Israel on its regaining sovereignty of the strategic Golan Heights. Slightly more than half of the population on the Golan comprises Jews, and most of the remainder are Druze. Israeli Foreign Minister spokesman Andy David told Israel National News Wednesday morning that the move by the US is part of President Obama's policies of "talking with the enemy" and that the issue of the Golan Heights is not a top American priority. He noted that the return of an envoy does not necessarily mean an improvement in relations, and that the US wants to have a more direct influence on the issues of the inquiry into the murder of former anti-Syrian Lebanese prime minister Rafik Hariri, the struggling economy in Syria and its support of Iraq rebels. Imad Mustafa, Syria's ambassador in Washington, welcomed the news of the return of an American counterpart to Damascus. The US recalled its envoy from Syria four years ago, following the mammoth bomb attack that killed Hariri. Syria has been suspected of being behind the assassination. "It's in our interests to have an ambassador in Syria," a senior Obama administration official told CNN. "We've been having more and more discussions, and we need to have someone there to engage," he said. The government has not made an official announcement, and no one has yet been named to serve in the post.Syria remains on the American list of states that support terror, but relations between the two countries have been closer since President Obama took office
It's Time to Plan for War
May 10….(JWR) At the UN's Nuclear Nonproliferation Treaty review conference which opened this week, the Obama administration managed to lose control over the agenda before the conference even started. Obama administration officials said they intended to use the conference as a platform to mount international pressure on Iran to stop its illicit nuclear proliferation activities. But even before the conference began the administration agreed that instead of focusing on Iran, the conference would adopt Iran's chosen agenda: attacking Israel for its alleged nuclear arsenal. Last week the Wall Street Journal reported that US officials were conducting negotiations with Egypt about Egypt's demand that the NPT review conference call for sanctions against Israel for refusing to join the NPT as a non-nuclear state. Among other possibilities, that proposal may have included a US agreement to appoint a UN envoy responsible for organizing a UN conference calling for the Greater Middle East to become a nuclear-free zone. In diplomatese, "Middle East nuclear-free zone" is a well-accepted euphemism for stripping Israel of its purported nuclear capability while turning a blind eye to Iranian, Syrian and other Islamic nuclear weapons programs. The Plan calls for Israel to open its nuclear installations to international inspectors as a first step towards unilateral nuclear disarmament. On Wednesday the US joined the other four permanent members of the Security Council in signing a statement calling for a nuclear-free Middle East and urging Israel, Pakistan and India to accede to the NPT as non-nuclear states. Yukiya Amano, the new Director General of the International Atomic Energy Agency wrote a letter to IAEA member states asking for their suggestions for how to convince Israel to sign the NPT. So as Iran, an NPT signatory, makes a mockery of the treaty by building nuclear weapons in contempt of its treaty obligations, the US has actively supported Iran's bid to use the NPT review conference as yet another UN forum for bashing Israel. It bears recalling that the primary goal of the NPT is to prevent nuclear proliferation. From the amount of attention Israel is receiving at the NPT review conference, you could easily get the impression that Israel's purported nuclear arsenal is the gravest proliferation threat in the world today. But history shows that this is nonsense. Israel's alleged nuclear arsenal, which it has reportedly fielded for four decades, has not led to a regional nuclear arms race. Notwithstanding their protestations to the contrary, Israel's neighbors fully recognize that the purpose of Israel's undeclared nuclear arsenal is to guarantee Israel's survival and consequently only threatens those who would attack the Jewish state with the intention of annihilating it. This is why although it is four decades old; Israel's undeclared nuclear arsenal has never caused a regional nuclear arms race. Moreover, as a non-signatory to the NPT, Israel has the right to develop a nuclear program. Iran on the other hand gave up that right when it joined the NPT regime. So too, in sharp contrast to Israel's alleged program, it is clear that Iran's nuclear project is aggressive rather than defensive. Consequently, it is universally recognized that if Iran becomes a nuclear power, Egypt, Saudi Arabia, Turkey and other states will begin developing their own nuclear arsenals in short order. The US has now joined the ranks of fools who claim that nuclear weapons in the hands of states like Israel are as problematic as nuclear weapons in the hands of states like Iran and North Korea. But then, in the end it makes no difference that the US has followed Iran's lead at the NPT conference. Even if the administration had managed to make Iran's nuclear weapons program the focus of debate, it wouldn't have mattered because diplomacy is no longer a relevant tool for preventing Iran from becoming a nuclear power. Appeasement has failed. Sanctions are dead in the water in the Security Council. And even if the Security Council passes a sanctions resolution, they will have no impact on Iran's behavior. The only way to stop Iran from acquiring nuclear bombs is to use military force to destroy or severely damage its nuclear installations. And this of course is something Obama will never do. His begging-to-shake-hands policy towards Iran and the one hand and his iron fist policy towards Israel on the other makes it absolutely clear that Obama will do nothing to prevent Iran from becoming a nuclear power. The US's abdication of its responsibility as the leader of the free world to prevent the most dangerous regimes from acquiring the most dangerous weapons means that the responsibility for preventing Iran from acquiring nuclear weapons has fallen on Israel's shoulders. Only Israel has the means and the will to prevent Iran from becoming a nuclear power. And the message the NPT follies convey is that Israel must develop contingency plans for attacking Iran as quickly as possible. Daily reports of weapons build-ups and military exercises in Iran and among Iran's clients Syria, Hizbullah and Hamas expose the contours of their war plans. Syria and Iran have armed Hizbullah with some 40,000 missiles and rockets, including hundreds of Scud missiles and guided surface-to-surface solid fuel M600 missiles with a 250 km range and. This week Hizbullah threatened to attack Israel with non-conventional weapons. Syria itself has a formidable chemical and biological arsenal as well as a massive artillery and missile force at its disposal.
As for Hamas, since Operation Cast Lead Iran's Palestinian proxy Hamas has expanded its own missile arsenal. Today it reportedly has projectiles capable of reaching Tel Aviv and beyond. As for Iran, as its seemingly endless military exercises make clear, the mullocracy has the capacity to use conventional weapons to imperil global oil shipments from the Persian Gulf. So too, this week's report that Osama Bin Laden may have decamped to Iran in 2003 merely served to underline Iran's ability to utilize jihadist terror forces throughout the world. From the open preparations for war that Iran and its clients have undertaken, it is clear that if they initiate the next round of fighting they will fight a four front war against Israel. That war will be dominated by missile attacks against the entire country aimed at breaking the will of the Israeli people while forcing the IDF to divert vital resources away from Israel's primary target, Iran's nuclear installations, to contend with Iran's proxies' missile stores. As they consider Israel's options going forward, Israel's political and military leaders have to take two considerations into account. First, the side that initiates the conflict will be the side that controls the battle space. And second, there is a real possibility that the Obama administration will refuse to resupply Israel with vital weapons systems in the course of the war. The fact that Israel will be roundly condemned by the UN and its component parts is a certainty regardless of who initiates the conflict and therefore is irrelevant for operational planning. Armed with these understandings, it is apparent that Israeli contingency plans for war must have limited goals and should be guided by the overarching aim of beginning and ending the war quickly. Luckily, Israel excels at limited, swift campaigns. Responding to one of Syrian President Bashar Assad's recent threats, Foreign Minister Avigdor Lieberman promised last month that if Assad attacks Israel, Israel will bring down his regime. While bringing about the utter defeat of Iran's regional proxies is a reasonable goal, it cannot be Israel's goal in the coming war. In the coming war, Israel will have only one goal: to destroy or seriously damage Iran's nuclear installations. Every resource turned against Iran's proxies must be aimed at facilitating that goal. That is, the only thing Israel should seek to accomplish in contending with Syria, Hizbullah and Hamas is to prevent them from diverting Israeli resources away from attacking Iran's nuclear installations. These are dangerous times. Iran, which seeks to position itself as a regional superpower, has been emboldened by the Obama administration's abdication of US global leadership. Only Israel can prevent Iran from endangering the world. But time is of the essence.
WEEK OF MAY 2 THROUGH MAY 8
IAEA Nuke Chief Focuses on Israel
May 7….(AP) The head of the UN atomic watchdog is asking for international input on an Arab-led push to have Israel join the Nonproliferation Treaty, in a move that adds to pressure on the Jewish state to disclose its unacknowledged nuclear arsenal. Israel, in turn, is suggesting efforts should focus instead on giving teeth to the nuclear treaty to prevent signatories like Iran from acquiring such weapons. On Wednesday, The Associated Press disclosed that International Atomic Energy Agency chief Yukiya Amano had sent a letter soliciting proposals from the agency's 151 member states on how to persuade Israel to sign the treaty. And the world's five recognized nuclear-weapons powers, the US, Russia, Britain, France and China, reaffirmed the goal of a nuclear-free Middle East. A string of Israeli officials, including a spokesman for Prime Minister Benjamin Netanyahu, the minister of atomic energy, the deputy minister of foreign affairs, the minister of strategic threats and the minister of communication, all refused to comment on the recent developments. The latest pressure is putting the Jewish state in an uncomfortable position. It wants the international community to take stern action to prevent Iran from getting atomic weapons but at the same time brushes off calls to come clean about its own nuclear capabilities. In his letter, Amano asked foreign ministers of the IAEA's 151 member states to share views on how to implement a resolution demanding that Israel "accede" to the Nonproliferation Treaty and throw its nuclear facilities open to IAEA oversight. In response Thursday, an Israeli government official noted that the treaty obligating nations to stop the spread of nuclear weapons didn't stop countries like Saddam Hussein's Iraq and now Iran from pursuing nuclear weapons programs. Iran denies that accusation, which has also been made by the US and other world powers. The Israeli official spoke on condition of anonymity in keeping with his country's opaque nuclear policy. Egypt has proposed that a Nonproliferation Treaty conference now meeting at UN headquarters in New York back a plan calling for the start of negotiations next year on a Mideast free of nuclear arms. The US has cautiously supported the idea while saying that implementing it must wait for progress in the Middle East peace process. Israel also says a comprehensive Middle East peace settlement must come first. "The question is, how do you do that in the absence of a peace plan?" Undersecretary of State Ellen Tauscher said Wednesday of the "nuke-free" zone idea. Still, Washington and the four other nuclear weapons countries recognized as such under the NPT appear to be ready to move from passive support to a more active role. In her speech to the UN nuclear conference on Monday, Secretary of State Hillary Rodham Clinton said Washington would support "practical measures for moving toward that objective," while Tauscher said the US has been working "for months" with Egypt on the issue. Washington also has been discussing it with the Israelis, said another Western diplomatic source, who asked for anonymity since he was discussing other countries' contacts. Russian arms negotiator Anatoly I. Antonov, speaking on behalf of the five NPT nuclear powers, said these nations were "committed to full implementation" of a Middle East nuclear free zone. Amano's April 7 letter comes seven months after IAEA member states at their annual Vienna conference narrowly passed a resolution directly criticizing Israel and its atomic program, with 49 of the 110 nations present in support, 45 against and 16 abstaining. The result was a setback not only for Israel but also for Washington and other backers of the Jewish state, which had lobbied for 18 years of past practice, debate on the issue without a vote. The resolution "expresses concern about the Israeli nuclear capabilities," and links it to "concern about the threat posed by the proliferation of nuclear weapons for the security and stability of the Middle East." The US and its allies consider Iran the region's greatest proliferation threat, fearing that Tehran is trying to achieve the capacity to make nuclear weapons despite its assertion that it is only building a civilian program to generate power. But Islamic nations insist that Israel's nuclear capacity is the true danger in the Middle East.
Israeli-Palestinian Proximity Talks Begin
(Abbas allocates 4 months for the negotiations)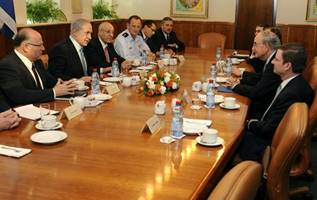 May 6….(Jerusalem Post) US Middle East envoy George Mitchell launched Israeli-Palestinian peace negotiations Wednesday after a break of more than a year, amid much skepticism from both sides. Mitchell met with Prime Minister Binyamin Netanyahu to start the indirect negotiations. He will travel between Netanyahu's office in Jerusalem and the headquarters of Palestinian Authority President Mahmoud Abbas in Ramallah. However, the two sides could not even agree about the technicality of whether the talks had begun. Israel labeled the Mitchell-Netanyahu meeting Wednesday as the beginning of the mediation, while Palestinians insisted they still had to give formal approval to the process over the weekend. Abbas is only allowing 4 months for the talks, insisting that the main disagreements must be discussed, control of Jerusalem, Palestinian refugees, borders and Israel's West Bank settlements. "Negotiations will focus on final status issues and there's no need to enter into details and small matters, because we have had enough of that in the previous negotiations," Abbas said after talks with Jordan's King Abdullah II in the Jordanian capital. "We said the indirect negotiations will last only four months," Abbas said. "After that, we will go to the Arab League to consult on whether to continue or what to do." Even as US Middle East envoy George Mitchell was meeting Prime Minister Binyamin Netanyahu in Jerusalem to launch proximity peace talks, Palestinian Authority President Mahmoud Abbas warned that should the negotiations fail to focus on key issues, they could collapse within a few months. "Negotiations will focus on final status issues and there's no need to enter into details and small matters because we have had enough of that in the previous negotiations," Abbas said after talks with Jordan's King Abdullah II in the Jordanian capital. Abbas gave the talks four months to make progress. After that, he said, he would seek Arab League advice on the next steps. "We said the indirect negotiations will last only four months," Abbas said. "After that, we will go to the Arab League to consult on whether to continue or what to do." Abbas said crucial issues to be discussed in the indirect talks with Israel must include the final borders of a future Palestinian state. Speaking to CNN earlier Wednesday, Abbas called the Netanyahu government "extreme and uncooperative." The PA president added that "since they are an elected government, we have no choice but to work with them," but warned that he would halt negotiations should building in the West Bank continue. The comments came as Abbas convened Fatah's Central Committee, which is expected to give Abbas permission to enter into proximity talks.
The cliché has it that "both sides know full well the contours of a final Israeli-Palestinian deal." Essentially, according to such conventional wisdom, the key elements could be summed up on the back of an envelope: Israel has gone from Gaza. It will have to withdraw from almost all of the West Bank, too. Any territory that is maintained, to encompass major settlement blocs, will have to be traded for equivalent territory from within Israel's current sovereign borders. Jewish Jerusalem neighborhoods will remain under Israeli control. Arab Jerusalem neighborhoods will come under Palestinian control. A separate, delicate arrangement will be agreed upon for the Temple Mount and possibly the wider Old City area. And the Palestinians will abandon the practical implementation of the "right of return," so that there is no significant influx of refugees and their descendants to Israel. Except that, even when listed as superficially as that, it is immediately clear that the cliché and the conventional wisdom are mistaken. It's really not that simple at all. Relatively moderate Palestinians do not control Gaza; emphatically extremist Hamas does. The Netanyahu government, most of whose influential members are deeply committed to the settlement enterprise, does not want to withdraw from most of the West Bank. It has major security concerns, too, and wants to ensure no influx of missiles, in part, via a long-term presence in the Jordan Valley. In any case, when the Olmert government proposed a near-full withdrawal, Palestinian Authority President Mahmoud Abbas rebuffed the offer. Even president Bill Clinton, knowledgeable, committed and widely trusted by both sides, proved unable to foster a workable arrangement for Jerusalem 10 years ago; the Obama administration has no comparable record of commitment, and enjoys no remotely comparable level of trust. And while the US believes Abbas is ready for a deal on the refugees, the Netanyahu government largely doubts this. Given the bitter 16-year record of failed direct negotiations, it is hard to imagine former senator George Mitchell, no matter how indefatigable he may be, and no matter how impressive his Northern Ireland peacemaking credentials, wresting dramatic achievements from an indirect track that will see him and his team shuttling back and forth along the road from Jerusalem to Ramallah. Worse, it is painfully clear that the two sides themselves are entering "proximity" talks with conflicting goals and expectations. The Palestinians hope to gain American and possibly Israeli concessions on core issues over the next four months, and have bitterly resisted any resumption of direct negotiations. Israel has only grudgingly agreed to even raise final-status issues in the proximity talks, wants direct negotiations as soon as possible and says nothing can be finalized in the indirect track. The very fact that the two sides are finally about to start talking again might reasonably be considered a positive development, especially if the uninspiring framework nonetheless yields a gradual reestablishment of mutual confidence and thus paves the way for genuine progress. But recent history has also shown that when talks break down, violence can swiftly follow. Thus, negotiations themselves are not necessarily a good thing; if they fall apart in acrimony, as they so often do, they can cause terrible damage. The collapse of Camp David in 2000, for instance, when Yasser Arafat chose to shatter the high expectations of many Israelis and Palestinians, and opted not to legitimize Israel, was followed by his fostering of the second intifada's terror war. The silver lining this time may be that no one, on either side, is entering these proximity talks with high expectations. Quite the contrary. Failure is all but assumed. And that means even the smallest success would truly be a pleasant surprise.
UN Security Council Permanent Members Back Nuke-free Mideast
(US, Russia, Britain, France and China voice support for 'full implementation' of nuclear non-proliferation treaty)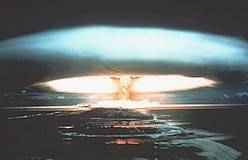 May 6….(Ha Aretz) We are committed to a full implementation of the 1995 NPT resolution on the Middle East and we support all ongoing efforts to this end," the five permanent UN Security Council members said in a unanimous statement issued at a conference taking stock of the 1970 nuclear Non-Proliferation Treaty. The 1995 resolution adopted by signatories of the landmark arms control treaty called for making the Middle East a zone without nuclear arms. Israel, which is widely believed to have nuclear weapons, is the only country in the Middle East not to have signed the treaty and, along with India and Pakistan, one of only three countries worldwide outside the agreement. Iran, though a signatory, is accused by the West of flouting treaty requirements to disclose its nuclear activities. "This conference represents a pivotal turning point in the history of the treaty, and an opportunity that may be the last and that must be seized," Egyptian UN Ambassador Maged A. Abdelaziz told delegates Wednesday. On Tuesday, Arab countries sought to turn attention to Israel as delegates from 189 countries debated how to stem the spread of nuclear weapons. The Middle East would join five other nuclear-free regions, Africa, Southeast Asia, Central Asia, the South Pacific and Latin America, covering some 116 countries that have outlawed the presence of atomic arms in their areas. The US and Israel are discussing what such practical measures might be, said a Western diplomatic source, speaking on condition of anonymity about other countries' contacts. Russia's deputy foreign minister, meanwhile, said Moscow is partnering with Washington on a draft plan. "In recent weeks, we have managed to develop a joint approach with the United States," Sergei A. Ryabkov told reporters. On the second day of the month-long meeting at the United Nations, Arab countries were reiterating calls for a nuclear-free Middle East with criticism of Israel's unacknowledged nuclear arsenal and failure to sign the Nuclear Nonproliferation Treaty (NPT). Meanwhile, US Secretary of State Hillary Clinton on Monday declared the need for a Middle East free of nuclear weapons, telling the United Nations General Assembly that the US was '"prepared to support practical measures for achieving that objective." "We support efforts to realize the goal of a weapons-of-mass-destruction-free-zone in the Middle East in accordance with the 1995 Middle East resolution," Clinton told delegates at the opening of a month-long review conference of the Nuclear Non-Proliferation Treaty in New York. "The Middle East may present the greatest threat of nuclear proliferation in the world today."
Franklin Graham: Christians Will Lose the Power to Pray Outside Church Walls 'Maybe in My Lifetime'
May 6….(CNSNews.com) Two top evangelical leaders sounded a defiant tone on the eve of National Day of Prayer, warning that the American right to freedom of religion "is being eroded every day" and may be lost in an onslaught of secularism unless Americans "have the guts to stand up." The Rev. Franklin Graham, who last month was officially "disinvited" by the Army to speak at a National Day of Prayer ceremony at the Pentagon for statements he made about Islam, said he will not back down in preaching the Gospel as he sees it. "We're living in a time where we cannot compromise, we cannot back up, we cannot retreat," Graham said Wednesday during a live Webcast from the Washington, DC offices of the Family Research Council. "The Gospel of the Lord Jesus Christ is to be preached to the ends of the Earth, that's what He's called us to do," he said. Graham, the honorary chairman of this year's National Day of Prayer, made his comments in a sermon to an audience of leaders making final preparations for Thursday's National Day of Prayer. He alluded to Eastern Europe under communism, where Christians and others were allowed to pray only within their homes or inside the officially sanctioned churches that were allowed by the state. "I think its coming to this country where we will have the freedom to preach inside a church wall, but we will lose the freedom to do it outside. That day will probably come, maybe in my lifetime," Graham said. Ironically, it was Graham's famous father, the Rev. Billy Graham, who, in the 1980s became the first Western preacher allowed by the Soviet government to preach at a Russian church, helping to open the door to greater religious freedom after 70 years of repression. "(In the United States) we see everyday our rights being eroded. Just a little at a time, but its happening. Everyday. So let's preach while we can. Let's stand up and holler 'Jesus Christ! King of Kings, Lord of Lords!' to the top of our voice," the younger Graham said. "The secularists are going to get ticked off, the news media's going to hate it. I don't know, maybe the people in the White House are going to be mad. But you know what, I don't care. Because God has called us to take the Gospel, His Gospel, the power of God and His Salvation, unto the ends of the Earth." Graham was joined by James Dobson, founder of Focus on the Family, and Bishop Harry Jackson, Jr., who is leading efforts to stop and force a referendum on recent action by the Washington, DC, city council creating homosexual marriage in the nation's capital. Dobson, who praised Graham as a "model" for the restrained way he responded to a recent ruling by a federal judge in Madison, Wis., outlawing the statute creating the National Day of Prayer, said the right to publicly proclaim the Christian Gospel was one of the chief freedoms enshrined in the Constitution by the Founding Fathers. "I am convinced that there are people in high places, people with a great deal of authority and influence, who want to eliminate every vestige of religion, especially Christian religion, or evangelical religion, from the public square. They want to expunge it. They want to get rid of it. They want to take away our right to worship and to have a prayer service in a government building. That's not unconstitutional!" Dobson said. Dobson said 33 of 44 US presidents have called for a National Day of Prayer. "This has been our history. We dare not lose it now," Dobson exclaimed. "And we will, if we don't have the guts to stand up with that kind of intensity." Dobson, whose wife Shirley serves as chairman of the National Day of Prayer Task Force, recounted a case in Santa Rosa County, Fla. near Pensacola, involving a high school principal and athletic director at an off-campus event who prayed at an off-campus meeting. "Prior to the meeting, one of them said to the other, 'Why don't you say a word of prayer from wisdom and what we're about to do?' And he said a 16-second prayer. It was a prayer for their food! Sixteen seconds! It was reported and a judge in Northern Florida hauled them into court, harangued them for eight hours in one day, and threatened to put them in prison for six months," Dobson said. Dobson said the judge did not back off until members of the Congressional Prayer Caucus took up the cause.


Obama Wants to Take Israel's Nukes
May 6….(Israel Today) US President Barack Obama is working closely with Russia and Egypt on an effort to rid Israel of its supposed nuclear weapons arsenal, according to several mainstream media reports this week. Most prominently, the Wall Street Journal reported that Obama is keen to adopt an Egyptian proposal to declare the Middle East a nuclear-free zone. A follow-up regional conference would put heavy pressure on all nations to comply. Being the only country in the Middle East believed to possess nuclear weapons, Israel would be the clear target of such a move. Washington is suggesting that by pressuring Israel to give up its nukes, it has a much better chance to convince Iran to halt its defiant nuclear program. That angle has become a major topic of discussion at the current Nuclear Non-Proliferation Treaty Review Conference taking place at UN headquarters in New York. Arab and Muslim nations have enthusiastically joined and pushed the discussion on Israel's nuclear program in an effort to divert attention from Iran. Former US Ambassador to the UN John Bolton warned that Obama was playing right into the Muslims' hands, and threatening Israel's long-term security. "The president is not happy with Israel's nuclear capabilities. I think he would be delighted if Israel gave up its nuclear weapons," Bolton told Israel's Army Radio. "The only unknown answer at this point is exactly how much pressure he would exert on Israel to do just that. Part of that pressure is being exerted right now by even considering the possibility of a conference on a nuclear-weapons-free Middle East." Israel has never confirmed nor denied that it has nuclear weapons, though most believe the Jewish state to be in possession of at least a couple hundred warheads. Those weapons, if they exist, are the primary deterrent against yet another region-wide Arab attempt to overrun and destroy Israel. Prior to Israel's nuclear program, its Arab neighbors launched three full-scale wars aimed at annihilating the Jewish State.
Syria Calls for Compelling Israel to Join NPT
May 6….(SANA) Syria called on the international community to seriously work to compel Israel, the only party with nuclear military capacities outside the international supervision, to join the Nuclear Non-Proliferation Treaty (NPT) and open all its nuclear facilities to the international inspection. Syria submitted on Wednesday a work paper to the NPT conference in New York, calling for putting pressure on Israel to implement the international legitimacy resolutions as a major step towards achieving regional and international peace and security. The work paper pointed out that the NPT couldn't achieve balance among the three main axes of its goals in stopping the horizontal and vertical proliferation of nuclear weapons, the whole and comprehensive dismantling of all kinds of nuclear weapons and giving countries their whole and inalienable right of using nuclear energy technology in various peaceful applications away from double-standard policy. The paper reflects Syria's concern over not achieving the universality of the NPT represented in Israel's obstinacy on not joining it or announcing its intention to join it or subject all its nuclear facilities to the international control, turning the Middle East into one of the most volatile regions in the world. The Syrian work paper demanded the international community to abide by the provisions of Article 4 of the NPT which gives all member countries an inalienable right to possess nuclear technology for peaceful use in a balanced way away from discrimination and double-standard policy. In this regard, Syria called on the international community to stop imposing restrictions on transfer of peaceful nuclear technology and equipment to the NPT member countries which have safeguard agreements with the International Atomic Energy Agency (IAEA). No more restrictions should be imposed on peaceful use of this technology otherwise this would violate the spirit and provisions of the NPT, Syria demanded. Syria asserted the role of the IAEA in facilitating transfer of technological equipment and information to the member states and encouraging them to conduct scientific research for peaceful purposes. Syria also demanded complete non-interference in the IAEA work, stressing its commitment to the provisions of the safeguards agreement signed with the IAEA regarding all its nuclear activities provided that the IAEA achieves fair balance between its supervision and safeguard activities and those related to the transfer of nuclear technology and its applications. Syria called on the international community, particularly the states which possess nuclear weapons, to shoulder their responsibilities and exert all efforts to outline the practical steps that guarantee full implementation of the Middle East decision issued by the NPT Review and Extension Conference, achieving its goals and eliminating all obstacles which hinder its implementation. The Syrian work paper stressed the need for serious work to make the Middle East region free of nuclear weapons, underlining the importance of not linking this to the issue of achieving just and comprehensive peace in the region. The paper referred to Syria's initiative presented to the UN Security Council in 2003 on behalf of the Arab Group for freeing the Middle East of weapons of mass destruction, particularly nuclear weapons, where Syria announced before the international community that it will participate with Arab countries and peace-loving countries in achieving this goal. Syria called on the countries which possess the nuclear weapons to present overall security guarantees to the NPT member countries which don't possess nuclear weapons. The paper demanded that these countries should undertake not to threaten to use these weapons against the non-nuclear countries according to the UN Charter and commit themselves to carrying out the relevant resolutions of the UN General Assembly. Syria underlined that the outcome of Tehran Conference held in April 2010 under the title "Nuclear Energy for All, Nuclear Weapons for None," noting that any attack against peaceful nuclear facilities will have dangerous repercussions on humanity and the environment and be a flagrant violation of the UN Charter. Syria was one of the first countries to join the NPT in 1968 due to its conviction that the existence of these weapons constitutes a big threat not only to the security and peace in the Middle East but also to the whole world. Syria works on carrying out the resolutions regarding the NPT rules through its ad hoc committees in observing its land, marine and air crossings points in order to combat the smuggling of the radioactive and nuclear materials. Syria is meticulously committed to all relevant international obligations in this regard. All the countries signatories to the Treaty and a number of international and non-governmental organizations are participating in the conference which started its activities on May 3.
Arab States Spotlight Israeli Nukes at UN
May 5….(Jerusalem Post) Arab countries sought to turn attention Tuesday to Israel as delegates from 189 countries debated how to stem the spread of nuclear weapons. On the second day of the monthlong meeting at the United Nations, Arab countries were reiterating calls for a nuclear-free Middle East with criticism of Israel's unacknowledged nuclear arsenal and failure to sign the Nuclear Nonproliferation Treaty (NPT). The first day of the conference was dominated by rhetorical crossfire between the United States and Iran, as Washington pushed for the UN Security Council to approve new sanctions against Iran. On Tuesday, Jordanian Foreign Minister Nasser Judeh expressed frustration at the lack of progress on implementing a nuclear-free Middle East, a goal that was declared in a resolution of a previous meeting of NPT signatories. He said that Israel's failure to sign the NPT and allow international monitoring of its nuclear program "renders the NPT a source of instability in the Middle East." Egypt has proposed that this 2010 NPT conference back a plan calling for the start of negotiations next year on such a Mideast zone. The proposal may become a major debating point in the month-long session. The United States has cautiously supported the idea while saying that implementing the idea must wait for progress in the Middle East peace process. The position reflected a middle ground as the Obama administration sought to satisfy Arab countries while keeping the spotlight of the conference on Iran's nuclear program.
Bin Laden Living in Lap of Luxury in Iran?
*FOJ Note: FOJ reported from US military intel officers in 2001 that Bin Laden escaped Afghanistan via helicopter and flew to Teheran.
May 5….(YNET) A new documentary on the world of falconry claims that Osama Bin Laden is living in a comfortable, private compound north of Tehran, surrounded by his family and under the watchful eye of Iran's Revolutionary Guard. The documentary shows a testimony by his acquaintance, a weapons' dealer in northern Iran who says he personally met bin-Laden six times on hunting retreats in Iran since 2003. It was not the first time claims were made regarding the al-Qaeda leader living in Iran. Tehran agreed to take in 35 of the organization's leaders after the fall of the Taliban in Afghanistan, and the US has previously accused the regime of supporting it. Last year, reports said one of Osama's wives was living in Tehran along with six of his children and 11 of his grandchildren. The press got word of this when one of the girls living in the complex which Parrot claims houses Bin Laden ran away and asked for sanctuary at the Saudi Embassy.
Hizbullah Scud Missiles are 'Just the Tip of the Iceberg'
May 5….(Arutz) The Scud missiles transferred from Syria to Hezbollah recently are "just the tip of the iceberg," a top IDF intelligence officer told the Knesset Tuesday. Brigadier General Yossi Baidatz, Head of Research Division in Military Intelligence, gave a situation assessment Tuesday to the Knesset's Foreign Affairs and Defense Committee. "Syria has a very prominent role in enlarging the arsenal of rockets in Hizbullah's hands," he said. "Weapons transfers to Hizbullah from Syria are carried out in a regular manner and are arranged by the Syrian and Iranian regimes. Therefore this should not be termed 'weapons smuggling to Lebanon,' it is an organized, officially sanctioned process." Even without the recent Scud transfers, Baidatz said, "Hizbullah possesses an arsenal of thousands of rockets of all types and ranges including solid-fuel missiles with a longer range and more accuracy than the Scuds." "The long range of Syria's Scuds makes it possible for them to position their missiles deep inside Lebanon, and they cover much longer ranges than what we were familiar with in the past. Hizbullah Model 2010 is different from Hizbullah Model 2006 as far as military capability, which has greatly developed." "Syria continues to march down two paths without being made to choose between them by the international community," he said. "On the one hand, it is improving its relations with the West, with Arab states and with Turkey, and is going back to wielding influence in Lebanon; and at the same time it is deepening its strategic and operative cooperation with Iran, Hizbullah and Palestinian terrorist networks." Baidatz also warned the day before proximity peace talks are launched by US envoy George Mitchell, "We do not recognize in Palestinian leader Mahmoud Abbas a true attempt to be flexible on the core issues. He is preparing for the talks to fail and then "expose the true face' of Israel." He is preparing the ground for the talks to reach the same point as previous rounds of negotiations - failure, and then blaming Israel.
Bolton: Obama Pressuring Israel on Nukes, But Not Iran
(Former UN ambassador says nuke-free ME proposal is targeted at Israel)
May 5….(JPOST) Former US ambassador to the UN John Bolton expressed general concern Tuesday with the US President Barack Obama's pressure on Israel to rid the country of nuclear weapons. "Egypt and the Obama administration are negotiating right now on an Egyptian proposal for a nuclear weapons free zone in the Middle East, which certainly sounds good," Bolton told Army Radio."Except when you think about it, there is only one country that resolution is targeted at and that is Israel." "When I was in the Bush administration we refused to even talk about these kinds of ideas," Bolton said. "I'd be quite worried about the possible outcome there." "The president is not happy with Israel's nuclear capabilities. I think he would be delighted if Israel gave up its nuclear weapons," Bolton asserted. "The only unknown answer at this point is exactly how much pressure he would exert on Israel to do just that. Part of that pressure is being exerted right now by even considering the possibility of a conference on a nuclear-weapons-free Middle East." Bolton also expressed his disapproval, yet not surprise, at the fact that the UN hosted Iranian President Mahmoud Ahmadinejad at the Nuclear Non-Proliferation Treaty Review Conference on Monday. "This is nothing exceptional for the UN, this is the way the UN is day in and day out," Bolton told the radio station. "This is not some isolated problem we could fix with the UN by banning the likes of Ahmadinejad, this is the way the organization works."
World Gathers to Focus on Israeli Nukes
May 4….(Washington Times) Secretary of State Hillary Rodham Clinton will try this week at the United Nations to keep the worst-kept secret in the Middle East: Israel's status as a nuclear power. In recent weeks, the US government has held talks with Egypt on a proposal to eliminate nuclear weapons in the Middle East. The US diplomacy on the proposal also has been coordinated closely with Israel, according to a senior White House official. That proposal is likely to be a major point of debate this month at the review conference for the nuclear Non-Proliferation Treaty (NPT) that is set to begin in New York on Monday. Mrs. Clinton is leading the US delegation to the opening of the conference. The United States is trying to rally the UN Security Council to pass a fourth resolution to sanction Iran's nuclear program. The conference will focus on ways to strengthen the fraying treaty and isolate Iran, US officials said. Iranian President Mahmoud Ahmadinejad will attend the conference as the head of his country's delegation. He is expected to raise the issue of Israel's nuclear weapons to deflect attention from Iran's enrichment of uranium. Iran could have an ally in traditional rival Egypt, whose delegation will be pushing for a resolution that would have the effect of singling out Israel, one of the three countries in the world that has never signed the NPT. As an undeclared nuclear power, the Israeli government does not confirm that it has nuclear weapons. It is illegal in Israel for newspapers to print that the country has nuclear arms. For 40 years, the United States has been a partner in Israel's nuclear opacity as well. In a deal fashioned in 1969 between President Nixon and Israeli Prime Minister Golda Meir, the United States does not pressure Israel to join the treaty, which would require the Jewish state to give up its nuclear weapons. Israel, in turn, does not acknowledge it has the weapons. The Egyptian working paper of March 2010 on the nuclear-free Middle East threatens to upset this secret understanding. Specifically, it would require member states of the NPT to "disclose in their national reports on the implementation of the resolution on the Middle East all information available to them on the nature and scope of Israeli nuclear facilities and activities, including information pertaining to previous nuclear transfers to Israel." The Egyptian working paper also calls for a conference by 2011 on making the Middle East free of nuclear weapons and a special envoy to coordinate such a conference. Speaking to reporters Friday, Ellen Tauscher, undersecretary of state for international security and arms control, said the United States supports in principle the long-term goal of a nuclear-free Middle East. But she said that a conference on this issue should follow a comprehensive peace in the region and should address weapons of mass destruction programs in addition to nuclear weapons. "We believe that this is a very worthy goal, something that we have supported since 1995," Ms. Tauscher said. "But we are concerned that the conditions are not right. And unless all members of the region participate, which would be unlikely unless there is a comprehensive peace plan that is being accepted and worked on, then you couldn't have the conference that would achieve what we are all looking to achieve, which is for the region to make its own decisions and come together and find a way to do that." Ms. Tauscher's position is substantively no different from the secret Israeli strategic doctrine known as the "long corridor," which establishes conditions, such as peace agreements with its neighbors, for Israel to relinquish its nuclear weapons. The official Israeli statement, for example, from the International Atomic Energy Agency conference in September endorsed the long-term goal of a nuclear-free Middle East. It also said, "in our view, progress towards realizing this vision cannot be made without a fundamental change in regional circumstances, including a significant transformation in the attitude of states in the region towards Israel." An Israeli official said Sunday: "We haven't changed our policy. We are in favor of and support a nuclear-free Middle East. We believe this should be a culmination of a process and not the beginning of a process, this is a process that includes individual and bilateral peace agreements." At last year's UN General Assembly, Prime Minister Benjamin Netanyahu said he sought and received assurances from President Obama on a series of strategic understandings between the two countries. The Washington Times first reported last year that one of those reassurances was the Meir-Nixon understanding. Over the weekend, US officials tried to lower expectations that Egypt would modify its proposal for a nuclear-free Middle East. "We are still in the early stages of negotiations," a senior White House official said. One possible compromise would be for the United States to accept naming an envoy or coordinator for a regional conference on seeking a Middle East that is free of weapons of mass destruction. "It appears that the various key players could reach agreement in principle to name a special envoy and to call upon states in the region to meet to discuss the issue," said Daryl Kimball, executive director of the Arms Control Association. "This is a helpful, country-neutral way to deal with the Iranian issue and Israel's controversial nuclear program." David Albright, president of the Institute for Science and International Security, said a deal with the Egyptians is within reach. "The key is for the US administration to quietly let the Egyptians know that at the presidential and vice-presidential level, the United States takes the issue of a WMD-free zone in the Middle East seriously."
Franklin Graham: Obama 'Giving Islam a Pass,' Warns of Persecution
| | |
| --- | --- |
| | (FOJ) Franklin Graham: "I don't know if it's (hostility toward Christianity) exactly from President Obama. But I'm certain that some of the men around him are very much opposed to what we stand for and what we believe." America needs more preachers standing boldly in the firing line on this issue. Franklin Graham is dead-on right. America is not an Islamic country. It was founded as a Christian country, and if we do not stand up today and defend our heritage, we will have to seek refuge on another planet, because there is no place left in this world that is Christian-friendly. |
May 4….(Newsmax) Evangelical leader Rev. Franklin Graham issued his toughest remarks yet Monday on the administration's role in revoking his invitation to speak at the Pentagon's National Day of Prayer event, charging that President Obama is "giving Islam a pass" rather than speaking openly about the "horrific" treatment women and minorities receive in many Muslim countries. In an exclusive telephone interview with Newsmax, Graham called revoking his invitation to the prayer service "a slap at all evangelical Christians." And he clearly placed the blame on the Obama administration, telling Newsmax that the Pentagon would never revoke such an invitation without first consulting with the White House. "I'm being restricted from my religious rights, and from what I believe," Graham warned, as he complained of a growing "secularization" in the government. He also warned Christian of "coming" persecution for believing in Jesus Christ. On April 22, the Pentagon announced that it would be "inappropriate" to have Graham speak at the May 6 event. After 9-11, Graham said Islamic teachings had made that faith "a very evil and wicked religion." He says that view is based on decades of travel and ministry to the Middle East where he has seen evidence of religious violence, including the mistreatment of women. Graham said the Pentagon snub matter came up during last week's visit by President Obama with Franklin and his world-renowned father, Rev. Billy Graham, at the elder Graham's home in North Carolina. "He said he didn't know anything about it until two days prior to that meeting," Franklin Graham tells Newsmax. "And I would certainly believe him. I don't think that he would say something that wasn't true, so I believe what he said. "But I certainly believe that it was people in his administration that said no," Graham continued. "I don't think the Pentagon would say no on an invitation like this without consulting the White House." The Pentagon's invitation was actually to the National Day of Prayer task force led by Shirley Dobson, wife of respected Christian leader James Dobson. Shirley Dobson castigated the Pentagon's decision, saying it suffers from rampant "political correctness." Graham, as the task force's honorary chairman, had been scheduled to speak at the event. After the invitation was rescinded, he warned that anti-Christian activists are trying to remove all traces of religion from the US military. In his interview with Newsmax, Graham said the invitation controversy is "absolutely" part of a pattern of hostility toward Christianity in the federal government. "And I don't know if it's exactly from President Obama," Graham said in the interview. "But I'm certain that some of the men around him are very much opposed to what we stand for and what we believe." The younger Graham tells Newsmax that he perceives an increasing secularization in government, a pattern that he says began long before Obama became president. "This goes back into the Clinton years," he tells Newsmax. "This whole secularization has come in, creeping in, and it's getting more and more and more. "And of course the Bush administration was very friendly toward evangelicals. And Bush certainly, I think if he were president, he would have overturned that [Pentagon] decision," Graham says. "And I am hoping that President Obama will do this as well."
Islam Is 'Not the Faith of This Country'
Asked why President Obama has praised Islam on several occasions, even as his administration has taken actions seemingly hostile toward Christianity, Graham said: "I don't know." He continued: "It seems as though Muslims are getting a pass. And you look at the violence that they have portrayed against women. It's just horrific. If you just take women alone, and I just don't understand why the president would be giving Islam a pass. "We certainly love the Muslim people," Graham went on to say. "But that is not the faith of this country. And that is not the religion that built this nation. The people of the Christian faith and the Jewish faith are the ones who built America, and it is not Islam." Regarding the recent case of a British preacher recently arrested for publicly espousing the biblical view that homosexuality is a sin, Graham was asked if that level of secular repression could be enacted in the United States. "Oh, no question. It's coming," Graham says. "I think when you preach that Jesus Christ is the way, the truth, and the life, I think we're going to see one day that people will say, 'This is hate speech, because you're being so narrow and you're excluding other people.' I believe that, I think we're going to see that come." Revocation of the Graham speaking engagement is one of several administration moves that have alarmed some Christian leaders. Earlier this year, an invitation to Family Research Council leader Tony Perkins to speak at a prayer lunch at Andrews Air Force Base was revoked, after he criticized President Obama's call to allow gays to serve openly in the US military. Perkins, a veteran himself, told CBN: "I never thought when I put on the uniform as a United States Marine, served six years serving this country, never gave thought to the fact that one day I would be denied the right to speak." In March 2009, the Vatican condemned the president's decision to lift Bush administration restrictions on public funding for stem-cell research. In April last year, the White House directed Georgetown University to cover up part of crucifix, including the initials that indicate he is "King of the Jews," that were visible above the podium where Obama was scheduled to speak. The National Day of Prayer event is itself under attack. Earlier this month, US District Judge Barbara Crabb of Wisconsin ruled that holding a National Day of Prayer was unconstitutional, maintaining it violates the First Amendment's prohibition against the establishment of a religion by the federal government. That ruling stemmed from a lawsuit filed in 2008 by a group of atheists and agnostics. The Justice Department announced it will appeal Crabb's ruling. The White House has announced President Obama will sign a proclamation recognizing this year's National Day of Prayer event, but he is not scheduled to attend Day of Prayer activities.

Ahmadinejad: Israeli Nukes Threaten Mideast
(Addressing meeting of 189 NPT signatories at UN, Iranian president says, 'Zionist regime continues to threaten countries with its arsenal')
May 4….(YNET) Iranian President Mahmoud Ahmadinejad on Monday called for states that threaten to use atomic weapons to be punished, a clear reference to a new US nuclear strategy released last month. Speaking at a meeting of the 189 signatories of the 1970 nuclear Non-Proliferation Treaty (NPT), he urged "considering any threat to use nuclear weapons or attack against peaceful nuclear facilities as a breach of international peace and security." Such threats should meet with "swift reaction from the United Nations and termination of all cooperation of NPT member states with the threatening aggressor state," Ahmadinejad said. "The US has not only used nuclear weapons in the past, it continues to threaten other countries, including mine, with (nuclear arms)," said the Iranian president. The delegations of the United States, Britain and France all walked out of the UN General Assembly chamber during the Iranian president's speech. The Iranian leader went on to attack Israel directly, saying, "The Zionist regime continues to threaten the countries of the Middle East with its arsenal. It continues to threaten the world's countries with acts of terror and invasion, and even gets the necessary assistance for its nuclear program." The United States' so-called nuclear posture review reduces the role of atomic weapons in US defense policy but does not rule out the use of nuclear warheads against countries like Iran and North Korea that are considered to be NPT violators. Both the United States and Israel have suggested that they could use military force against Iranian nuclear facilities, which they suspect are part of a covert atomic weapons program. Iran denies pursuing atomic weapons and insists its nuclear ambitions are limited to peacefully generating electricity.
US Reveals Nuclear Arsenal Includes 5,113 Warheads
(Pentagon reveals for first time size of American nuclear arsenal - FOJ Note…..This is a major act of stupidity on the behalf of the American leadership.)
May 4….(YNET) The United States disclosed for the first time on Monday the overall size of its nuclear arsenal, saying it had a total of 5,113 warheads operationally deployed, kept in active reserve and held in inactive storage. The total does not include warheads that have been retired and scheduled for dismantlement, an estimated 4,600 according to the Federation of American Scientists nonprofit group. According to figures released by the Pentagon, the US nuclear arsenal has been reduced by 84% from its maximum level of 31,225 warheads at the end of fiscal year 1967. US Secretary of State Hillary Clinton on Monday said that Iran's nuclear ambitions put the world at risk and called on global nations to rally around US efforts to hold Tehran to account. "Iran is the only country represented in this hall that has been found by the IAEA board of governors to be currently in non-compliance with its nuclear safeguard obligations," Clinton said in a speech to a Nuclear Non-proliferation Treaty (NPT) review conference at the United Nations. "It has defied the UN Security Council and the IAEA and placed the future of the non-proliferation regime in jeopardy, and that is why it is facing increasing isolation and pressure from the international community," she said. Clinton spoke to the meeting of the 189 signatories of the 1970 NPT just hours after Iran's President Ahmadinejad, who used his speech to slam the United States for what he said were threats to use nuclear weapons on his country. Clinton detailed what she described as the strong US record on nuclear non-proliferation and weapons control, including the recently concluded US-Russia deal to cap strategic nuclear weapons and the new US nuclear policy which sets new limits when and where atomic weapons might be used. She said Washington would contribute $50 million to a drive to raise $100 million to support the International Atomic Energy Agency (IAEA), the UN nuclear watchdog, to promote peaceful uses of nuclear energy in developing countries. She also said the United States would ratify nuclear weapons-free zones in Africa and the South Pacific and also support "practical measures" to establish the Middle East as a region free of weapons of mass destruction, which could alienate and harm US ally Israel, presumed to have a sizable nuclear arsenal. Clinton said the world stood at a crossroads, facing a future either of sharply reduced nuclear risk or of a spread of nuclear-armed states and groups, and that issues such as Iran's nuclear program could determine which path is taken.
US Targets Israel as Anti-Nuke Conference Begins
*FOJ Note: The Antichrist will likely accomplish the universal control of nuclear weapons, placing them under a Global authority, thereby guaranteeing peace and security for Israel, and many other nations.
May 4….(Arutz) The United States is working with both Egypt and Russia to rid Israel of its nuclear weapons, as part of a comprehensive plan to neutralize Iran's nuclear power. Reports of this nature are being reported in various news media. The Guardian (London) reports that the US and Russia have drafted an initiative to ban nuclear weapons and other weapons of mass destruction in the Middle East, while the Wall Street Journal says the Obama Administration is considering support for a "nuclear-free Middle East." The Guardian adds that the proposal involves the appointment of a special coordinator to conduct exploratory talks with Israel, Iran and the Arab states, followed by a regional conference. It is to be a central issue at an anti-proliferation United Nations conference beginning Monday in New York. According to the Wall Street Journal report, the US is strongly considering opposing Israeli nuclear weapons more strongly than it ever has before. However, the US government has, at the same time, sent Jerusalem a message designed to calm Israeli anxieties on the matter, stating that the US would not take such a drastic approach before it sees significant progress in the peace process between Israel and the Arab nations. Specifically, Ellen Tauscher, undersecretary of state for arms control and international security, said the conditions are not right "unless all members of the region participate, which would be unlikely unless there is a comprehensive peace plan which is accepted." Such a message is actually not very calming, in that it does not state that there must be "peace" before the US would take such a position. Furthermore, it is widely felt in Israel that its nuclear potential is as critical for maintaining peace as it is during times of war. This may not be Israel's official position, however, at least according to the Wall Street Journal. An Israeli source is quoted in the report as saying that Jerusalem's vision is one of a Middle East without weapons of mass destruction, but that this must occur only as the climax of a peace process with all nations of the region. "The last NPT conference in 2005 ended in collapse," the Journal reported, "but US officials said they have been laying the groundwork for this conference for nearly a year."
EMP Attack Could Leave '9 out of 10 Americans Dead'
(Analyst: 'That is exactly what Iranians are working toward')
May 4….(WND) There is renewed alarm about the possibility of an EMP attack, electromagnetic pulse, on the United States because of Iran's work on a multi-stage Space Launch Vehicle. And experts forecast if such an attack were a success, it effectively could throw the US back into an age of agriculture. "Within a year of that attack, nine out of 10 Americans would be dead, because we can't support a population of the present size in urban centers and the like without electricity," said Frank Gaffney, president of the Center for Security Policy. "And that is exactly what I believe the Iranians are working towards." recent launch of an SLV by Iran has sparked renewed concern of an attack that could send an electromagnetic pulse powerful enough to wipe out computer controls for systems on which society has come to rely, officials say. As the G2 Bulletin reported last week, Ronald Burgess, director of the US Defense Intelligence Agency, revealed that Iran successfully launched a multi-stage SLV, the Simorgh. The device ultimately could be equipped with a nuclear bomb, which the US intelligence community assesses Iran is developing. Officials also report Iran has been testing detonation of its nuclear-capable missiles by remote control while still in high-altitude flight. The development makes a potential EMP attack on the US more probable.
Obama Administration Working to Remove Netanyahu
(The administration of President Barack Obama has launched what officials termed a psychological warfare campaign meant to topple Israeli Prime Minister Benjamin Netanyahu)
May 3….(In The Days) Sources in the administration and Congress asserted that the White House and State Department have sought to destabilize Netanyahu's government by forcing him to agree to an indefinite freeze on Jewish construction in the West Bank and most of Jerusalem as well as the establishment of a Palestinian state by 2012. They said the campaign sought to replace Netanyahu with opposition leader and former foreign minister Tsipi Livni. "Bibi is extremely vulnerable to pressure," a source familiar with the White House effort said. "We know this from his first term in office and believe he will collapse this time as well." The sources said the administration's strategy aimed to de-legitimize Netanyahu in his government and right-wing constituency. They said Obama and his aides have sought to portray Netanyahu as a weak and unstable politician who will destroy relations with Washington as Israel seeks US support for a military option against Iran. "There seems to be a general belief in the circle around the president that the democratically-elected government in Israel is drunk at the wheel," Steven Rosen, a veteran pro-Israeli lobbyist now with the Middle East Forum, said. "They clearly will use pressure tactics to bring Israel around." In April 2010, former US ambassador to Israel Martin Indyk began a series of attacks on Netanyahu in the Israeli media. Indyk, a former assistant secretary of state under then-President Bill Clinton, has called for the toppling of Netanyahu while his right-wing partners accept a more pliant prime minister. "Indyk was sent by Obama and encouraged by his American Jewish supporters, particularly [former Rep.] Robert Wexler, to do this," the source said. In January 2010, Wexler resigned from Congress to become head of the Center for Middle East Peace and Economic Cooperation. The center was founded by Obama supporter Daniel Abraham and a delegation met Netanyahu in February. The sources said the administration's campaign has included invitations to Defense Minister Ehud Barak to the White House, where he met with Obama on April 26. Barak has been regarded as the most pro-US minister in Netanyahu's Cabinet and has been lobbying ministers to accept Obama's proposals. "It's not going to be easy to turn this thing around," Rosen told a briefing on April 21. "Some of my friends in Jerusalem believe this crisis will go on for an extended period." The anti-Netanyahu fervor has alarmed pro-Israeli members in Congress, particularly from the Democratic Party. Several of the Democrats have reported a sharp drop in funds by Jewish donors for congressional elections in November. "This [campaign against Netanyahu] is counterproductive and has to stop," Sen. Charles Schumer, a New York Democrat who has threatened to issue a condemnation of the White House, said. Some in the pro-Israeli community detect an anti-Semitic tinge to the White House campaign, despite the involvement of Jewish aides. On April 21, National Security Advisor James Jones stunned an audience at the pro-Israel Washington Institute when he told a joke of a Jewish merchant who tricked a thirsty Taliban fighter into buying a tie. "I wish that I had not made this off the cuff joke at the top of my remarks," Jones later said. "I apologize to anyone who was offended by it. It also distracted from the larger message I carried that day: That the United States' commitment to Israel's security is sacrosanct." Former State Department official Aaron Miller said Obama has surrounded himself with aides who blame Netanyahu for the suspension of the Arab-Israeli peace process. Miller said many of the aides had encountered Netanyahu during his first tenure as prime minister from 1996 to 1999. "They had seen the Benjamin Netanyahu movie before and were determined not to let their chance at Middle East peace end the same way," Miller said in the magazine Foreign Policy. "Confronted with Netanyahu again, Obama and his team needed no encouragement to talk tough on the growing Israeli settlements in the West Bank, an issue that experts inside and outside government were clamoring for Obama to raise as the first step in his renewed push for peace. Fresh from his victory on health care, he's [Obama] king of the world again and in no mood to let the king of Israel frustrate his plans."
Obama Tells Palestinians Israel is to Blame
May 3….(Israel Today) US President Barack Obama made clear in a recent letter to the Palestinians that he views Israel as the obstacle to peace and will approach further peace efforts from that point of view, according to senior Palestinian Authority officials. Chief Palestinian negotiator Saeb Erekat confirmed for the Bethlehem-based Ma'an news agency that such a letter was sent, and that in it Obama "clarified the US stance on the peace process and Israel's intransigence on the issue of settlements." Erekat said that the letter contained several assurances to the Palestinians, but refused to go into detail. A day earlier, London newspaper The Guardian reported on what one of those assurances may be - a proposal to start backing official UN condemnation of any and all Israeli "settlement activity." Washington has traditionally used its veto power to block any UN resolutions that would put Israel in a difficult position vis-à-vis allowing Jews to build on their ancestral and biblical lands. If the US were to stop vetoing such resolutions, which would likely result in an increase in condemnation, Israel could be forced to implement an unofficial Jewish building freeze across the board and for an unlimited amount of time. That report would seem to fit with the more vague account of assurances another Palestinian official said the letter contained. PA secretary general Tayeb Abdel Rahim on Sunday told reporters that the letter made the usual commitments to an independent Palestinian state with territorial continuity. Rahim also said that Obama promised to start publicly assigning blame to those he sees holding up peace and to force Israel into indefinitely extending its temporary settlement freeze. Israeli Prime Minister Benjamin Netanyahu implemented the 10-month freeze at the behest of Washington in order to test the Palestinians' readiness to return to the negotiating table. When it was first announced last November, US officials praised Netanyahu for taking "unprecedented" steps for peace. Now that it is clear the Palestinians are not going to respond in kind, the Obama administration appears to be blaming Netanyahu for not having done enough.
Arab League to PA: Go Ahead With US-Brokered Talks With Israel
May 3….(INN) Arab countries are renewing attempts to push Israel back into negotiations with the Palestinian Authority, telling the PA to conduct indirect negotiations with Israel for four-months. The announcement came following a meeting of the Arab League in Cairo. The United States, under the Barak Obama Administration will serve as broker between the two. PA President Mahmoud Abbas has consented to the agreement, according to a report in the Associated Press. President Barack Obama's Secretary of State, Hillary Rodham Clinton, announced that her office, via envoy George Mitchell, will begin to mediate talks this week.
Israel-PA 'Proximity' Talks to Commence Wednesday
(Netanyahu to personally head negotiations together with small team in order to avoid possible leaks)
May 3….(YNET) Indirect proximity talks between Israel and the Palestinians will commence on Wednesday, Ynet learned. Israeli Prime Minister Benjamin Netanyahu has decided to personally head negotiations, which will be mediated by US special envoy to the Middle East George Mitchell. Netanyahu is scheduled to depart for Egypt on Monday for a meeting with President Hosni Mubarak. Netanyahu has decided to enlist his political aide Yitzhak Molcho for the negotiations. Advisors Ron Dermer and Uzi Arad may also be called in to assist if needed. The prime minister will also consult with the forum of seven senior cabinet members. He is interested in keeping an intimate team and to control possible leaks. In Egypt, Netanyahu hopes to receive more guarantees for the promotion of talks with the Palestinians. He expects Mubarak to appreciate the Israeli demand for absolute security as a condition for any future agreement. He furthermore hopes that the Egyptian president will work towards shortening the duration of indirect negotiations ahead of direct talks. A number of other issues may also arise during the meeting, including the campaign against smuggling tunnels on the Gaza-Egypt border, and the war on radical Islamic terror following recent Sinai travel warnings. However, one issue is slated to outweigh the rest, and that is the Egyptian claim for a nuclear free Middle East on the backdrop of the NPT review conference in New York to commence on Monday. According to a Wall Street Journal report, Washington is negotiating a nuclear-free Mideast declaration with Cairo. Mitchell is scheduled to land in Israel just several hours after the Netanyahu-Mubarak meeting.
Obama Seeks to Declare Mideast Nuclear-Free Zone
May 3….(WND) The United States and Egypt are negotiating a proposal that would make the Middle East a nuclear-free zone, the Wall Street Journal reported Saturday, saying the effort was a meant to prevent Iran from disrupting an upcoming UN conference on nuclear nonproliferation. US officials told the Wall Street Journal that the move could be a significant step toward showing that Washington, who is often criticized of overlooking Israel's reported nuclear arsenal, could be even handed in its attempt to ensure the Middle East is free of nuclear weapons. "We've made a proposal to Egypt that goes beyond what the US has been willing to do before," senior US officials told the WSJ, adding that they didn't believe that would happen without first achieving major advances in Arab-Israeli peace talks. An Israeli official told the WSJ that Israel was in favor a Middle East freeze of WMD and nuclear weapons, but that "it should be the culmination of a process that begins with bilateral and individual peace agreements between all the countries in the region." Ellen Tauscher, undersecretary of state for arms control and international security told the WSJ that Washington was "concerned that the conditions are not right unless all members of the region participate, which would be unlikely unless there is a comprehensive peace plan which is accepted," Tauscher added that Washington had already discussed the possibility of creating such a nuclear-free zone with the Arab League and other members of the Nonaligned Movement. Egypt and other Arab states have been demanding that any final declaration that might come out of the month-long UN nuclear nonproliferation conference planned to open on Monday would include the call for the creation of a nuclear-weapon-free zone in the Middle East. Israel is widely believed to have a sizable nuclear arsenal although it has not acknowledged it. Egypt is also demanding the convening of an international conference next year with Israel's participation to discuss that issue. Diplomats have said the United States and Russia are trying to find a way to satisfy Egypt's demands. Many NPT signatories would also like the review conference to call for universality of the treaty, meaning that Israel, Pakistan and India should be pressured to sign and get rid of any warheads they have. North Korea withdrew from the NPT in 2003 and tested nuclear devices in 2006 and 2009. Senior Obama administration officials told the WSJ Saturday that Washington would support a conference such as the one demanded by Egypt at a future date, saying that talks with Egypt on the subject would resume on the sidelines of this month's UN conference in New York
---