WEEK OF AUGUST 29 THROUGH SEPTEMBER 4
Arab League Chief: This Round of Israeli-Palestinian Talks will be the Last
Sept. 4….(Ha Aretz) Arab League chief Amr Moussa predicted on Friday that the latest round of negotiations between Israel and the Palestinians will be the last. Israeli-Palestinian talks resumed in Washington this week and are meant to continue later this month. Speaking at a news conference in Italy, Moussa said Arabs are ready for full peace with Israel in exchange for a pullout from the lands Israel occupied in 1967, including East Jerusalem. He continued by stressing that Arabs were ready to have normal relations with Israel and that there was no alternative but to achieve a real peace. Moussa's remarks sharply contrast comments he made this past Sunday, when he said that he had little hope that direct peace talks between Israel and the Palestinians would be successful. "We are hoping that talks will succeed but we are all very pessimistic about the viability of the peace process because of the past experience," Moussa told Reuters in an interview on the sidelines of a political conference in Slovenia on Sunday. "The only reason for the hope in the success of the talks is the sincerity of President Obama and his wish to achieve something good in his presidency," Moussa said. He said Obama had given the Palestinians assurances that Israel would stop settling new territory during talks that are due to last for one year. "If we find that during that year Israel continues to build settlements, there is no use in waiting for the full year of talks" Moussa said. The 10-month freeze is set to expire on September 26. Palestinian officials have declared that talks would break down if Israel resumed construction in the settlements after that date. Prime Minister Benjamin Netanyahu has remained mum on whether or not he would extend the moratorium.
Hezbollah Slams Peace Talks
(Netanyahu and Abbas with Clinton and Mitchell. 'Palestinians oppose talks)
Sept. 4….(YNET) Hezbollah Secretary-General Hasan Nasrallah today slammed the Palestinian Authority's decision to launch direct peace talks with Israel, saying that "these negotiations were born dead." Speaking in a televised speech in honor of "Jerusalem Day," which is being marked by Shiites across the Muslim world, Nasrallah said that "Palestinian from the sea to the river is the property of the Palestinian, Arab and Muslim people, and no one has the right to cede it, nor a grain or drop of water of it." The Hezbollah leader failed to comment on earlier blasts in his organization's arms depot in southern Lebanon. In his speech, Nasrallah addressed one of the issues the talks were expected to focus on, stressing that "Jerusalem, or a single street in it, can never be the capital of the state called 'Israel.' Jerusalem is the capital of the earth and sky. Excluding the fact that the existence of the State of Israel is both immoral and illegal, and that it is based on murder, it cannot be legitimized." According to the Hezbollah leader, the circumstances of the negotiations are clear. "The political need ahead of the (Congress) elections in the United States is clear, the Israeli need is clear, and the need of some of the Arabs is also clear. These negotiations were born dead. The vast majority of the Palestinian people object to them. There are people who even object to the principle of negotiations with Israel, and so do we." Nasrallah noted that surveys held among the Palestinians prove that the majority of the Palestinian people oppose the move, "and therefore it is useless." He added that the attempts of those who participated in negotiations in the past point to great frustration. "Unfortunately, the negotiations with this Israeli enemy in particular, this arrogant and patronizing enemy which is supported by the US and the West, have no results apart from legitimizing this illegitimate entity." Nasrallah mentioned the political climate on the background of the talks, saying that the American withdrawal form Iraq was an admission of defeat. "No one in the US has delivered a victory speech or provided justifications for the pullout," he boasted, noting that Washington was surprised by the local "resistance." He added that "after the September 11 attacks, the neo-conservatives came to the White House with a plan for the entire regime called 'the great Middle East.' The essence of the plan, he said, was stabilizing Israel's status and strengthening it though a "shameful agreement" which would be imposed on the Palestinians with a comprehensive Arab agreement. "They came with the goal to destroy the entire resistance, military, political and cultural," he said. The Hezbollah leader went on to boast the "victory" of the axis of resistance. "American today cannot start new wars. Why did we win and they failed? Because of the standing of the Palestinian people, especially in Gaza, and because of the standing of the Lebanese, Syrian, Iranian and Iraqi people.
Direct Peace Talks Begin in Washington
| | |
| --- | --- |
| | (FOJ) Egyptian President Hosni Mubarak, Israeli Prime Minister Benjamin Netanyahu, President Barack Obama, Palestinian President Mahmoud Abbas and Jordan's King Abdullah II walk to East Room of the White House before making statements on the Middle East peace negotiations in Washington DC. |
Sept. 2….(YNET) Prime Minister Benjamin Netanyahu and Palestinian Authority President Mahmoud Abbas met one-on-one Thursday under the supervision of US Secretary of State Hillary Clinton, after a series of speeches launched direct peace negotiations. spokesman for US President Barack Obama was optimistic, and said the president is encouraged by the seriousness shown by both sides. His evoy to the Middle East, George Mitchell, told reporters that the leaders had agreed to convene a second round of talks Sept. 14-15, and every two weeks thereafter. "President Abbas and Prime Minister Netanyahu are committed to doing what it takes to achieve the right result," Mitchell told reporters, adding that both he and Clinton would attend the September talks. Mitchell said both sides agreed that the talks were sensitive and that they would therefore release little information about details of their discussions. But he said they agreed that the first item on the agenda would be to work up a "framework agreement" to establish the fundamental compromises necessary to reach a final deal within a year. Earlier, Palestinian delegation members were first to enter the room in which a round of speeches kicked off the talks. About 15 minutes later, Israel's negotiation team, which includes Ambassador to the US Michael Oren and Netanyahu's advisor Uzi Arad, came in the room, followed by Netanyahu, Abbas, and Clinton a few minutes later.
| | |
| --- | --- |
| | (FOJ) A major hurricane is bearing down in the direction of Washington as Obama welcomes Mideast leaders to the US to begin direct peace talks in the "land-for-peace" formula that the world has mandated as the only viable solution to the Mideast Conflict. Is God sending a warning to America with this hurricane? Zechariah warns nations that burden themselves with partitioning the Promised Land they shall be cut to pieces |
Clinton then formally opened the first direct peace talks between Israel and the Palestinians in nearly two years, imploring the two sides to make compromises to forge an agreement. In a ceremony at the State Department, Clinton said the Obama Administration is committed to reaching a settlement in a year's time. But she stressed that after decades of failed attempts the main work belongs to Israeli PM Netanyahu and Palestinian President Abbas. "By being here today, you each have taken an important step toward freeing your peoples from the shackles of a history we cannot change and moving toward a future of peace and dignity that only you can create," she said. "We cannot and we will not impose a solution," Clinton said. "I know the decision to sit at this table was not easy," she added. "We understand the suspicion and skepticism that so many feel borne out of years of conflict and frustrated hopes."
Hawking: God Did Not Create the Universe
Sept. 2….(Yahoo) God did not create the universe and the "Big Bang" was an inevitable consequence of the laws of physics, the eminent British theoretical physicist Stephen Hawking argues in a new book. In "The Grand Design," co-authored with US physicist Leonard Mlodinow, Hawking says a new series of theories made a creator of the universe redundant, according to the Times newspaper which published extracts on Thursday. "Because there is a law such as gravity, the universe can and will create itself from nothing. Spontaneous creation is the reason there is something rather than nothing, why the universe exists, why we exist," Hawking writes. "It is not necessary to invoke God to light the blue touch paper and set the universe going." Hawking, 68, who won global recognition with his 1988 book "A brief history of time," an account of the origins of the universe, is renowned for his work on black holes, cosmology and quantum gravity. Since 1974, the scientist has worked on marrying the two cornerstones of modern physics, Albert Einstein's General Theory of Relativity, which concerns gravity and large-scale phenomena, and quantum theory, which covers subatomic particles. His latest comments suggest he has broken away from previous views he has expressed on religion. Previously, he wrote that the laws of physics meant it was simply not necessary to believe that God had intervened in the Big Bang. He wrote in A Brief History. "If we discover a complete theory, it would be the ultimate triumph of human reason, for then we should know the mind of God." In his latest book, he said the 1992 discovery of a planet orbiting another star other than the Sun helped deconstruct the view of the father of physics Isaac Newton that the universe could not have arisen out of chaos but was created by God. "That makes the coincidences of our planetary conditions, the single Sun, the lucky combination of Earth-Sun distance and solar mass, far less remarkable, and far less compelling evidence that the Earth was carefully designed just to please us human beings," he writes. Hawking, who is only able to speak through a computer-generated voice synthesizer, has a neuro muscular dystrophy that has progressed over the years and left him almost completely paralyzed.
FOJ Note: Mr. Hawking is going to be surprised one day. God not only created everything that exists, he stretched the heavens out, and sustains the whole of creation with his word. Colossians 1:16 For by him were all things created, that are in heaven, and that are in earth, visible and invisible, whether they be thrones, or dominions, or principalities, or powers: all things were created by him, and for him: And he is before all things, and by him all things consist.
Mitchell: Israel-Palestinian Peace Deal This Year
Sept. 1….(Jerusalem Post) US Mideast envoy George Mitchell on Tuesday night stressed the US belief in the possibility of the sides reaching an agreement within a year, in a briefing for reporters held before the West Bank attack which left four Israelis dead. He also began to sketch out the American perspective of how talks would proceed, embracing Prime Minister Binyamin Netanyahu's suggestion that he meet personally with Palestinian Authority President Mahmoud Abbas every two weeks. "We think that's a sensible approach which we hope is undertaken," Mitchell said, also pointing to an American desire to see "meetings at other levels on a consistent basis." He indicated that the US would not be "physically represented in every single meeting" because US officials "recognize the value of direct, bilateral discussion between the parties." He also stressed that an agreement must be made by the two sides alone, saying, "We recognize that this is a bilateral negotiation and in the end the parties must make this decision by and for themselves." But he also pointed to a robust American involvement on an "intensive basis," as he noted that "the United States will play an active and sustained role in the process." Tuesday was a case in point, as US Secretary of State Hillary Clinton had meetings scheduled with Netanyahu and Abbas and her counterparts from Jordan and Egypt. US officials, however, declined to discuss the moratorium or single out the issue of settlements despite its impending prominence in the future of the talks. On Wednesday, Netanyahu and Abbas, as well as Jordan's King Abdullah and Egypt's President Hosni Mubarak, are set to have bilateral meetings with US President Barack Obama. Obama plans to make a statement following the meetings, and then each of the leaders will make remarks ahead of an intimate dinner expected to be held in the White House. The following day, Clinton will hold a three-way meeting with Netanyahu and Abbas that is likely to last several hours. Afterwards, the three are expected to make public addresses formally launching direct talks. Late Tuesday, Clinton was also scheduled to met with Quartet envoy Tony Blair and former president Jimmy Carter. Carter, who helped broker the peace accords between Israel and Egypt, was at the State Department to talk about North Korea following his role arranging the release of a US citizen being held by the authorities there. US officials did, however, acknowledge the important work done in the many previous iterations of the peace process, which haven't been as successful when it comes to the Israelis and Palestinians. Mitchell said he had studied those previous attempts and the frameworks they engendered, and that while the Obama administration has tried to "avoid a slavish adherence to the past," it has gleaned essential principles. He pointed to the need for frequent direct contact between the leaders involved; active and sustained US participation; maintaining broad international support; and the importance of creating an atmosphere conducive to success and conveying a "sincerity and seriousness of purpose" on the part of both sides.
Palestinian terrorists make 7 Israeli kids orphans
Palestinian Arab gunmen attacked a Jewish vehicle near the Hebron suburb of Kiryat Arba on Tuesday night, killing a husband and wife and two additional people who were hitching a ride with them. Yitzhak and Talia Ames, both age 40, leave behind six children. The other woman, Kochava Even-Chaim, leaves behind a daughter and was also pregnant with her second child at the time of the attack. Avishai Schindler was the fourth victim. Rescue crews and security officials who responded to the scene said the terrorists managed to hit at least two of the car's occupants in their initial burst of fire, and then moved in closer to execute their victims at close range. The bodies of all four victims were found strewn across the road with numerous bullet wounds inflicted from point-blank range. In a horribly tragic scene, one of the responding rescue crew volunteers realized that his wife, Kochava Even-Chaim, was among the victims. "We saw him crying at the scene and didn't understand what was hapenning at first. It wasn't the first disaster he saw," ZAKA rescue service official Isaac Berenstein told The Jerusalem Post. "Then he shouted, 'That's my wife! That's my wife!'" Prime Minister Benjamin Netanyahu said the attack is further evidence of why Israel must stick firmly to its security demands. Many other Israelis said it is further evidence that Palestinian leader Mahmoud Abbas either has no control over his people or doesn't care to stop them from killing Jews, and that in either case, he is not a viable peace partner. "Even when Israel reaches out to them, the Palestinians make every effort to cut its hand off brutally," Likud lawmaker Ofir Akunis told Yediot Ahronot. "The whole world can see tonight that Israel desires peace while the Palestinians want violence and terror." Settler officials urged Netanyahu to immediately return home, noting that previous concessions in the form of removing checkpoints had enabled Tuesday's attack, and that the Washington talks would inevitably result in more concessions that put Israeli lives in danger. "This is a massacre that is not meant to foil talks, but is a direct result of negotiations and talks of concessions," Yesha Council Director-General Naftali Bennett told Yediot. Right-wing lawmaker Uri Ariel (National Union) added in remarks to Israel National News, "It is clear by now – the most violent period is when there is a diplomatic process. Netanyahu must freeze the talks immediately and concentrate on safeguarding the security of the citizens of Israel." Abbas' office issued a condemnation of the attack, but attempted to draw moral equivalence between it and Israeli actions by referring to the massacre as an "operation" and saying that Abbas objects to "any acts targeting civilians, Palestinians or Israelis." Palestinian Prime Minister Salam Fayyad, whom the international community sees as even more moderate than Abbas, failed to go even that far, and instead condemned the attack only because it "is contrary to Palestinians interests."
Syria Signs Defense Pact With Hezbollah
(Will strike Dimona if attacked)
Sept. 1….(In The Days) The Syrian army signed a defense alliance with Hizbullah, a Kuwaiti paper reported on Monday. According to the report in Al- Rai, in case of war, the two will split a "bank" of targets in Israel, and Syrian radars will supply Hizbullah operatives with intelligence on the location of Israeli aircraft, to assist Hizbullah in aiming anti-aircraft weapons. The alliance radically changes the balance of power in the North, because it means in any future confrontation the IDF will be faced with attacks from both the northern and northeastern borders. The IDF was surprised by Hizbullah's level of organization during the Second Lebanon War in 2006. Syrian assistance in intelligence gathering would give the Shi'ite organization a technological advantage that would bring it even closer to the level of an organized military. During the 2006 war, Israel warned Syria not to intervene, and it avoided clashing with the IDF. According to the new pact, each of the parties will rush to assist the other in case of confrontation with Israel. In Damascus, Syrian President Bashar Assad urged Lebanon's leader to support Hizbullah and maintain calm in the country. Assad met with Lebanese Prime Minister Saad Hariri in the Syrian capital for a predawn suhour meal, the last meal before the daytime fast resumes during Ramadan, the Syrian state-run news agency reported. Hariri has visited Damascus repeatedly this year, in a sign of Syria's renewed influence over Lebanon. Hariri's visits indicate that he needs Syrian support as his Western-backed coalition struggles at home. Syria backs Hizbullah, which has a large role in Lebanon's fragile national unity government. Last week, street battles in Beirut between the Shi'ite Hizbullah and a small Sunni group resulted in the deaths of three people. Hariri was expected on Monday to head the first meeting of a new committee formed to discuss ways of ridding the Lebanese capital of weapons. Meanwhile, an Iranian official told the London-based Arabic-language newspaper Asharq al-Awsat that Teheran would target Israel's Dimona reactor if the Islamic Republic was hit by an Israeli or US air strike. "Teheran is aware that Israel and the United States want to target Iran, but we are also aware that while they actually have the option to launch war, they do not have the option to end it. This is America's and Israel's point of weakness. We know that there is no solution to this point of weakness, thanks to the importance of the Gulf region, America's problems in Iraq and Afghanistan, and the small area of the Zionist entity," the unnamed official was quoted by the paper as saying. The official added that the Iranian regime did not see any strong reason to reach an accommodation with Israel because of the view of Israel's declining strategic value among Western countries, including the US. "We believe that the United States is looking for a strong partner in the region as an alternative to its dependence on Israel in the future. We in Iran believe that the United States and the Western nations now view Israel more as a burden and that Israel is incapable of contributing to achieving peace in the Middle East," the official told Asharq al-Awsat. The official went on to say that the Islamic Republic would seek to expand its presence in Syria and Lebanon as Israel's influence in the region declined and Iran acquired nuclear capability. Last week, Deputy Foreign Minister Danny Ayalon told the Iranian people by radio that a regional war initiated by Teheran was a distinct possibility, adding that "Israel is committed to defending its citizens and if attacked will act accordingly." The comments, released by the Foreign Ministry in Hebrew last Tuesday, came during a Farsi-language broadcast on Israel Radio in which Ayalon addressed the people of Iran, took calls and answered questions. The Farsi broadcast originally aired last Monday. "A fear exists that Iran, as it becomes more pressured by sanctions, will goad those under its patronage in Hizbullah and Hamas to initiate military action against Israel. There's also a possibility that Iran will make a military move against the Arab Gulf states and harm the flow of oil to the world, in which case the entire situation will degrade into widespread confrontations.
Barak: Israel May Divide Jerusalem, Internationalize Holy Basin
Sept. 1….(Arutz) Defense Minister Ehud Barak says it is likely that Prime Minister Binyamin Netanyahu will agree to divide Jerusalem with the Palestinian Authority. Barak told the Hebrew-language newspaper Haaretz in an interview published Wednesday that he believes the best chance for peace lies in a peace deal in which all the Arab neighborhoods in Jerusalem would be handed over to the PA in order to create a capital for a new Arab country. "If Netanyahu leads a process, a significant number of rightist ministers will stand with him," he told the newspaper. "So what is needed is courage to make historic, painful decisions. I'm not saying that there is certainty for success, but there is a chance. This chance must be exploited to the fullest." The peace plan described by Barak includes the following:
* two states for two nations
* an end to the conflict and the end of all future demands
* demarcation of a border "that will run inside the Land of Israel" dividing a demilitarized PA state from an Israel that includes the "settlement blocs"
* retrieving and relocating the "isolated settlements" into the settlement blocs or within Israel
* a solution to the refugee problem within the PA state, or rehabilitating them through international aid
* comprehensive security arrangements
* a "solution to the Jerusalem problem."
As for the "Jerusalem problem," Barak told the newspaper that the western side of the city plus "12 Jewish neighborhoods that are home to 200,000 residents will be ours." The neighborhoods in which nearly 250,000 Arabs are living "will be theirs." In addition, Barak envisions a "special regime" with "agreed-upon arrangements" to administer the Old City, the Mount of Olives and the City of David. The concept is similar to one raised in the past by the administration of former US. President Bill Clinton, who recommended the area, which he referred to as the "Holy Basin," be internationalized under a "special regime." Prior to his re-election as Israel's prime minister nearly two years ago, Binyamin Netanyahu warned a gathering at the Jerusalem Conference in January 2009 that leftist politicians would try to internationalize the holy sites in Jerusalem, and he vowed to fight the move. "Some politicians are trying to blur the importance of the Temple Mount to the Jewish People by referring to it as the 'Holy Basin'," he told the crowd at the time. "We, as Jews, know who built the Temple Mount." Netanyahu promised the packed hall, "We have demonstrated in the past, and will continue to demonstrate our commitment to a complete, undivided Jerusalem. Everyone knows what will happen if we were to leave those areas and divide Jerusalem. Someone will enter, and that someone will be Hamas." Meanwhile, Barak told Haaretz that Tuesday night's murderous attack by Hamas terrorists was "a very serious incident, the likes of which we haven't seen for a long time." Four Jews, two men and two women, one of whom was nine months pregnant, were shot to death by a Hamas terrorist cell on Highway 60 at the Bani Nayim junction, between the Jewish community of Pene Hever and Hevron just as darkness fell, ending the daily Muslim fast of Ramadan. According to security sources, the terrorists had "confirmed the kill" by approaching the car and firing at point-blank range once the victims were already either seriously wounded or dead. Ten children were orphaned by the attack. Barak countered demands by outraged politicians and community leaders for Netanyahu to return from Washington, saying the attack had "no doubt" been an attempt to "harm the start of the peace talks" and urged Israelis to support the process.
US Intel: Tehran Pushes Hizballah Attack Israel
Sept. 1….(DEBKA) Western intelligence and Persian Gulf sources report that on August 30, Hizballah put its forces on a state of war alert and issued a partial call-up of reservists. According to Debkafile's military sources, Hizballah appears to be preparing a major attack on Israel straight after the ceremonial start of Israeli-Palestinian peace talks in Washington Thursday Sept. 2. A second target date is the Jewish New Year festival starting on Sept. 8. The pressure from Tehran for the Lebanese Shiite terrorists to strike Israel has intensified in the wake of the example the Palestinian Hamas gave Tuesday night Aug. 31 in the drive-by murder of four Israeli civilians on a road near Hebron. A large-scale attack appears to be in the works judging by the heavy influx of armed Hizballah units to southern Lebanon in the last few days. Our military sources report that they include special units trained especially for deep-strike incursions into northern Israel in response to Israeli counter-attacks. Our intelligence sources report that the Iranian al Qods commander of Tehran's networks and surrogates in Iraq, the Gaza Strip and the Palestinian Authority has spent the last ten days in Damascus. He arrived there on August 19 in the party of Gen. Mohammad Ali Jafari, Revolutionary Guards (IRGC) chief and stayed on after his boss left the Syrian capital, apparently assigned to oversee an important terrorist or military operation against Israel. Hizballah's own direct commander on behalf of the IRGC, Hassan Mahdavi is reported by Western intelligence sources monitoring events in Lebanon as leaning hard on Hizballah's secretary-general Hassan Nasrallah to strike IDF forces within a few days in response to US sponsorship of direct Israeli-Palestinian talks. The terrorist chief is reported to be on the verge of a decision about what target to attack and when. Reluctant to leave the field to the Palestinian Hamas, Nasrallah is additionally badgered by a flock of IRGC officers visiting Beirut and trying to persuade Lebanese Parliament Speaker Nabih Beri to allow his rival Shiite Amal organization to join Hizballah for the first time in a strike against Israel. They want all the Shiite streams in Lebanon to show the flag in unison as a gesture of welcome in advance of Iranian President Mahmoud Ahmadinejad's forthcoming state visit to Lebanon. The date of his visit is a closely-kept secret both by Tehran and Beirut. debkafile's sources disclose that it is scheduled for Sept. 10-12 when Israel is celebrating Rosh Hashana.
Syria Tying Knot with Hizbullah and Lebanon Against Israel
Aug. 31….(Arutz) Syrian President Bashar Assad put his cards on the table while hosting Lebanese Prime Minister Sa'ad Hariri on Sunday night and urged a joint Syrian-Lebanese-Hizbullah front against Israel. The two leaders met in a traditional "suhour" meal at night, before the daily Ramadan fast, to strengthen an anti-Israeli alliance and patch up chilly relations. Their countries' relationship reached a deep freeze with the bloody 2005 assassination of Hariri's father and former Lebanese anti-Syrian Prime Rafiq Hariri. Syria and Hezbollah have been identified by United Nations investigators as being behind the murder five years ago. Syria's official SANA news agency ignored the historically bitter relations with Lebanon, describing as "excellent" the bilateral relations that Assad and Hariri said "emphasize the depth of the historic ties between the two brother nations, as well as the future horizons for tightening the cooperation between the countries in all areas."Hizbullah's and Syria's increasing dominance in Lebanon was evidenced Monday by the Kuwaiti al-Rai newspaper, which reported that their respective military forces plan to cooperate to gather and exchange intelligence information concerning a "bank of Israeli targets" in the event of war. Israeli leaders, including Prime Minister Binyamin Netanyahu, have flatly stated that Hizbullah's terrorist army has in effect become part of the Lebanese army. Hizbullah possesses an estimated 60-80,000 missiles smuggled from Iran and Syria, despite the United Nations Interim Forces in Lebanon (UNIFIL) mandate to prevent arms from reaching Hizbullah in southern Lebanon, where thousands of the missiles are stockpiled. Syria also is estimated to have procured long-range scud missiles, and the combined missile capacity of both armies would seriously threaten Israel if war were to break out. Israel and Syria each have accused the other side of inflaming tensions over the past year in order to create an excuse for an attack. Lebanese forces recently opened fire on the Israeli army within Israeli territory, killing a reserve officer and wounding another. The IDF returned fire and killed three Lebanese soldiers and a journalist who had been invited to cover what turned out to be a planned ambush.
Poll: Palestinians Will Still Seek Israel's Destruction
Aug. 31….(Israel Today) The most recent poll of Palestinian Arabs revealed that even if US President Barack Obama gets Israel and the Palestinians to sign a peace deal, the violent efforts to destroy the Jewish state will not end. Obama is set to host the renewal of direct peace negotiations between Israel and the Palestinian Authority in Washington on Thursday. Based on the Obama Administration's view that PA leader Mahmoud Abbas and most of the Palestinians living under his rule are "moderates," a true and genuine peace is within reach. But the Arab World for Research & Development (AWRAD) based in the de facto Palestinian capital of Ramallah showed in its August 8-14 survey that Obama's view is way off base. AWRAD asked a random sampling of Palestinian Arabs to rank various aspects of the peace process from "essential" to "unacceptable." Nearly 73 percent of respondents said it is either essential, desirable or acceptable to use violence against Israeli Jews in order to obtain an independent Palestinian state. That view is a direct violation of the Israeli-Palestinian peace accords. Furthermore, an overwhelming 78.2 percent of respondents said that eventually establishing "Palestine" from the Jordan River to the Mediterranean Sea (which includes all of Israel) is "essential." Another 12.5 percent said that goal is "desirable." Only 17.7 percent said a two-state solution is "essential." Regarding Jerusalem (presumably before the full takeover of Israel), 84.1 percent said it is essential and 10.3 percent said it is desirable for the entire city (including the Jewish-dominated western half) to be surrendered to the Palestinians. Seventy-five percent of respondents said it is "unacceptable" that a future Palestinian state will be demilitarized as Israel is demanding. Even if Israel meets all the Palestinian demands and conditions, a 42.3 percent plurality said Palestinians and Israelis will not coexist in peace. That makes sense, considering that most Palestinians will still be seeking the destruction of the Jewish State.
Responding to Tough Times
Aug. 31….(Charles Stanley) Tough times have a way of separating the "wheat" from the "chaff." That is, when two people face similar dilemmas, one grows closer to God, bears spiritual fruit, and becomes more peaceful. The other, meanwhile, becomes anxious, bitter in spirit, and full of secret doubts about the Lord's faithfulness. The difference has to do with how each one responds to hardship. We all know that hardship is part of life. Becoming a Christian does not change that fact (John 16:33). What shifts is our understanding of God's sovereignty, nothing touches our lives unless He permits it. The Lord allowed a murderous king to pursue David for years (I Samuel 23). But the fugitive responded to adversity with faith and called God his stronghold and refuge (Psalms 59:16). We are confronted with challenges for many reasons. God intends for them to grow our faith, change our perspective, or deepen our compassion. Sometimes believers reach heaven before they understand why they've had to endure suffering. But whatever the trial or God's intention for it, He is available to help us in our affliction (Psalm 46:1). We can turn toward Him for comfort, guidance, and support. Or we can get angry and resentful that we are not being rescued from our shadowy valley (Psalm 23:4). When affliction strips away every crutch, one has only the Lord to depend upon. Can you think of a better position to find yourself in than to be undergirded by our faithful and sovereign God? Though some people are destroyed by that kind of situation, others are built into stalwart believers.
Hezbollah Terrorists in America
Aug. 31….(WND) Chuck Morse warns of Islamic radicals operating with free hand inside US. The Interagency Intelligence Committee on Terrorism assessment, which was issued by the Department of Homeland Security in December of 2008, reported that Hezbollah terrorists were operating with a free hand inside the US. The report describes terrorist involvement in fundraising for so-called "charity projects" and engaging in criminal activities such as money laundering, smuggling, drug trafficking, fraud and extortion. The report estimates that the Iranian-backed Hezbollah would likely increase in strength in the coming years inside the US to the degree that it would pose as a national security threat by the year 2014. There is no record to be found of any arrests or deportations of any of these non-citizen terrorists who are quietly going about their business in our communities undetected. The terrorism report said, "The Lebanese Shiite group Hezbollah does not have a known history of fomenting attacks inside the US, but that could change if there is some kind of 'triggering' event." Might such a triggering event involve a strong stance, perhaps military in nature, on the part of the US if Iran obtains a nuclear bomb? General estimates indicate that the Iranian bomb is within reach of the fundamentalist Islamic mullahs within a year or two. If and when the Mullahs get the bomb, it is reasonable to assume that they will hit Tel Aviv and destroy Israel. Might the Hezbollah terror sleeper cells inside the US, viewing the destruction of Israel as a triggering event, respond by attacking the US from within? If Israel is destroyed, and it probably will be destroyed if nothing is done very soon, the destruction of Israel would only whet the appetite of the fundamentalist Islamic jihad who would no doubt respond by going after the big prize, the Great Satan US. The 38-page terrorism report further indicates that "Hezbollah was being directed by the leadership in Lebanon as well as by Iran's Islamic Revolutionary Guards Corps (IRGC)." The Washington Institute and several other reliable sources have written about the increasing ties between Iran and the radical Muslim Brotherhood, which indicates that when it comes to jihad against the Dar el-Harb, or the portion of the planet that has not yet submitted to Islamic control, the Sunnis and the Shiites stand together. The Muslim Brotherhood, which served as a spy network for the Nazis during World War II and has spawned Hamas and al-Qaida, is Sunni while the Iranians, which spawned Hezbollah, are Shiites. Sunni Hamas leader Khaled Mashal visited Iran in February 2009 where he stated that the Hamas-controlled "people of Gaza, have always appreciated the political and spiritual support of the Iranian leaders and nation." Iranian state television reported that Mashal said, "Iran has definitely played a big role in the victory of the people of Gaza and is a partner in that victory." Compounding the problem is the generally acknowledged notion that the Muslim Brotherhood, the secretive Saudi-backed and Egyptian-based terrorist society with tentacles reaching into more than 70 countries, has extensive contacts inside most major American Islamic organizations. In America, the Muslim Brotherhood displays a peaceful and tolerant face, one that appeals to American liberals, and self-hating Jews like New York Mayor Michael Bloomberg, who are hypnotized by the combination of flowery sounding talk of peace and tolerance as well as by the authoritarian undertones inherent in the Islamic ideology. This same toxic mix appealed to the same liberals in previous generations who thought that communism was idealistic. Meanwhile, the Muslim Brotherhood, funneling Saudi money into major American investments and endowments and into the mega mosques that are springing up across the country, are laughing up their sleeves in the same contemptuous manner as did their communist counterparts in past generations. And all of this in the backdrop of Hezbollah, Iran, Hamas and their associates preparing for the final Islamic assault and victory and their goal of ushering in their utopian Dar al-Islam, a world completely submitted to Islamic control and law.
Religions Should Unite Against Radicalism
Aug. 31….(Gulf News) Imam Faisal Abdul Rauof, a central figure in plans to build a Muslim community centre in Lower Manhattan, New York, near the site of the September 11, 2001 attacks, urged followers of all faiths to join hands against radicalism, which he says exists in all religions. "We are all in this together, there is a common threat: Radicalism, which exists in all religions," Abdul Rauof told WAM in an interview in Abu Dhabi. "The real battlefront is not between Muslims and non-Muslims. The real battlefront is between moderates and extremists." Abdul Rauof is the founder and chairman of the Cordoba Initiative, an independent, non-partisan and multi-national project which he says works with state and non-state actors to improve relations between Muslim-West relations, and in particular Muslim-US relations because "the US is the most influential player in the West and because the US is my home base." He is in the UAE as part of a mission from the US government to promote religious tolerance.
Mullen: National Debt is a Security Threat
Aug. 30….(Exective.gov) The national debt is the single biggest threat to national security, according to Adm. Mike Mullen, chairman of the Joint Chiefs of Staff. Tax payers will be paying around $600 billion in interest on the national debt by 2012, the chairman told students and local leaders in Detroit. "That's one year's worth of defense budget," he said, adding that the Pentagon needs to cut back on spending. "We're going to have to do that if it's going to survive at all," Mullen said, "and do it in a way that is predictable." He also called on the defense industry to hire veterans and become more robust in the future. "I need the defense industry, in particular, to be robust," he said. "My procurement budget is over $100 billion, and I need to be able to leverage that as much as possible with those companies who reach out to veterans." Mullen highlighted the unity of purpose between the government and industry as well, in working to solve national security issues. "I have found that universally, [private-sector workers] care every bit as much about our country, are every bit as patriotic and wanting to make a difference, as those who wear the uniform and are in harm's way," he said.
Damascus–Based Leader Meshaal Warns Abbas About Peace With Israel
Aug. 30….(DEBKA) In a very belligerent speech by Hamas' Damascus-based political leader Khaled Meshaal, Hamas confirmed the information reaching Israel and the Palestinian Authority intelligence services that the extremist Palestinian group is set for large-scale terror attacks against Israeli and Palestinian West Bank targets. Debkafile's intelligence and counter-terror sources report Hamas is setting its sights on torpedoing the direct Israel-Palestinian negotiations Prime Minister Binyamin Netanyahu and PA Chairman Mahmoud Abbas are to launch in Washington on Sept. 2. Hamas is said by our sources to be preparing to activate its West Bank networks for coordinated strikes against a major target inside Israel and another associated with Abbas' power base or the US and British-trained Palestinian security forces. However, if those networks are thwarted by the preventive measures set in motion meanwhile, Hamas will resort to attacks from the Gaza Strip which it controls or further South from Sinai, across the leaky Egyptian-Israeli border. Hamas last attacked Israel on Aug. 2, sending a cell from its military wing, the Izzedin al-Qassam Brigades, to infiltrate Sinai through the arms tunnels running under the Gaza-Sinai border for a rocket attack on the twin Red Sea towns of Israeli Eilat and Jordanian Aqaba. Israeli and Palestinian security officials do not rule out a Hamas strike from Lebanon or even from the Mediterranean Sea. Meshaal's speech, shortly before the iftar meal breaking the Ramadan fast, was exceptionally vicious. Never before, had he dared vent his fury on Egyptian president Hosni Mubarak and Jordan's King Abdullah. For the first time, Khaled Meshal not only openly criticized Egyptian President Hosni Mubarak and Jordan's King Abdullah but threatened them: Should they refuse to boycott the US-sponsored Israel-Palestinian negotiations, he said, "The results will be catastrophic for the interests and the security of Jordan and Egypt." The Hamas leader showed he was even prepared to jeopardize the lifelines given his organization by both Arab governments: Egypt provides Hamas officials and military leaders with their only exit route from Gaza, while Jordan tolerates Hamas' extensive political organization, which has always been careful not to upset its delicate ties with the royal family and risk its freedom of action there. Meshaal had only venom to pour on Mahmoud Abbas, who he predicted would end up like Yasser Arafat (a reference to Hamas' allegations that foreign parties including Israel poisoned him in 2004). He depicted the PA Chairman as an enemy of Islam, accusing him of setting loose Palestinian security forces on mosques, Islamic charitable associations, cultural centers and Koran study groups. The direct talks with Israel, he said, were aimed at "liquidating" the Palestinian cause. Meshaal's speech was the last straw, Palestinian and other Arab intelligence officials affirm: The breach between him and Mahmoud Abbas is seen as final and irrevocable.
WEEK OF AUGUST 22 THROUGH AUGUST 28
Obama Will Push Agreement Now, Peace Later
(Obama to visit Jerusalem and Ramallah, call for painful concessions; permanent agreement to be signed within one year, implemented within 10 years.)
Aug. 28….(YNET) The Obama administration plans to present Israel and the Palestinian Authority with a new outline aimed at ending the Middle East conflict. The Yedioth Ahronoth daily has learned that the Americans will pressure the parties to sign a framework agreement for a permanent settlement within one year, but that the agreement itself would be implemented within 10 years. The American administration plans to invest every effort to guarantee that the direct talks between Israel and the Palestinians, which will be launched officially next Thursday, will end with an agreement rather than with a crisis, as in previous negotiations. US President Barack Obama, whose approval rating has hit a new low, is interested in marking his first success in the Middle East, in light of the ongoing bloodshed in Iraq and Afghanistan. This time, Obama plans to get into the thick of things himself. Daniel Shapiro, the National Security Council's top Middle East expert, told the leaders of the American Jewish organizations that the president planned to visit Israel and the Palestinian Authority in the coming year. During his visit, Obama will try to convince the two sides to support painful concessions for the sake of peace. Several days ago, leaders of the American Jewish organizations held a conference call with three of the top officials determining the Obama administration's Middle East policy, Shapiro, Dennis Ross and David Hale, deputy of US special Middle East envoy George Mitchell. Ross has been involved in all the talks between Israel and the Palestinians since the Oslo accords. He is considered today Obama's No. 1 expert on Middle Eastern affairs. The framework agreement aimed at ending the conflict would be signed within a year. From that moment on, the agreement would be implemented gradually over a period of several years. Ross estimated in the conference call that many elements would try to sabotage the talks. "Our challenge would be to guarantee their success," he stated. The Palestinians, on their part, have already clarified their demands ahead of the direct talks, the first one being the establishment of a Palestinian state with east Jerusalem as its capital. Upon the start of the negotiations, the Palestinians will demand that Israel withdraw from the northern Dead Sea as part of a gesture before continuing the talks.
'Son of Hamas' Warns US Fatally Falling for Lies
('Peaceful' Muslims following Quran's dictate to establish 'global Islamic state')

(Mosab Hassan Yousef )
Aug. 27….(WND) As the son of a Hamas co-founder who became a Christian, a spy for Israel and a consultant to the Holy Land Foundation terror-finance trial, Mosab Hassan Yousef offers a rare perspective on the Egypt-based Muslim Brotherhood, at once the spawn of nearly every major Islamic terrorist group and of "mainstream" operatives in the US such as the Council on American-Islamic Relations. Yousef, who recently was granted asylum in the US after the US Dept of Homeland Security tried to deport him, told WND in a telephone interview Americans must understand that the ultimate goal of the highly influential Brotherhood is not terrorism but to establish a global Islamic state over the entire world. "If they can establish this in a peaceful manner, that's fine," he said. "But they are required by the Quran to establish this global Islamic state on the rubble of every civilization, every constitution, every government." The Holy Land Foundation trial in Dallas in 2008, the largest terror-finance case in US history, presented evidence of the Muslim Brotherhood's "100-year plan" to gradually destroy the US and Western civilization from within "so that it is eliminated and Allah's religion is made victorious over all other religions." "This is not a doctrine of some freak Muslim," Yousef observed. "It's the doctrine, the requirement, of the god of Islam himself and his prophet, whom they praise every day." One of the Brotherhood's prime strategies to help achieve its ultimate aim is to spin off groups such as the Washington, DC-based Council on American-Islamic Relations, or CAIR, that attempt to give Islam a positive face, he pointed out. CAIR, casting itself as a human rights organization, has often been called on by government and media to represent Muslims in the US. But it's origin as a front group for the Muslim Brotherhood and Hamas is now widely documented. CAIR and some of its leaders were indicted in the trial of the Texas-based Holy Land Foundation, which was convicted of helping fund Hamas. The bureau suspended all formal contacts with CAIR because of evidence the group was founded as a front in the US for Hamas. Among numerous government relationships, CAIR leaders had regular meetings with top FBI brass on security issues and helped lead FBI Muslim "sensitivity training" sessions. At the Holy Land Foundation trial, the FBI presented evidence in which Hamas supporters sought to establish Muslim organizations in the US "whose Islamic hue is not very conspicuous." CAIR was soon founded by two Palestinian participants in the Philadelphia meeting, Omar Ahmad and Nihad Awad. Wiretaps revealed Ahmad argued for using Muslims as an "entry point" to "pressure Congress and the decision makers in America" to change US foreign policy in the Middle East. One FBI official quoted in "Muslim Mafia" says CAIR and the other Muslim Brotherhood front groups differ from al-Qaida only in their methods. "The only difference between the guys in the suits and the guys with the AK-47s is timing and tactics," the official explained.
'Hamas is the Muslim Brotherhood'
Hamas itself was formed in 1987 as part of the Muslim Brotherhood's strategy to advance the movement by spinning off new organizations, Yousef said. "If they have a confrontation with Israel as the Muslim Brotherhood, they are going to pay a very high price," he explained. "So they choose people like my father, from the Muslim Brotherhood originally, and they ask them to establish an independent movement that shares the same exact doctrine." As WND reported, Yousef worked alongside his father, Sheik Hassan Yousef, in the West Bank city of al-Ghaniya near Ramallah while secretly embracing Christian faith and serving as a Shin Bet spy. Since publicly declaring his faith in August 2008, he has been condemned by Al Qaeda and disowned by his family. "Hamas is the Muslim Brotherhood," Yousef said. "It's the same organization." The Muslim Brotherhood, founded in the 1920s in the wake of the collapse of the Ottoman Turkish empire, considers itself an instrument of the charge Muslims have been given since Islam's founding 1,400 years ago, to make the Quran and Allah's authority supreme over the entire world. Along with CAIR, prominent US organizations launched by Muslim Brotherhood leaders include the Muslim Students Association, North American Islamic Trust, the Islamic Society of North America, the American Muslim Council, the Muslim American Society and the International Institute of Islamic Thought. "Before we start to listen to their lies," Yousef said, "we have to ask ourselves all the time, what is the goal of the Muslim Brotherhood? Ask them, 'What do you want?'" He said the Muslim Brotherhood "will keep the hope and the ultimate goal very clear in the eyes of every Muslim who belongs to the organization that one day [we will] establish an Islamic state and establish Shariah law." The West, Yousef said, has fallen for the "lie" that there are two types of Islam, radical and moderate. While there may be individual Muslims who are radical or moderate, Islam itself is not moderate, he contends. "Let's learn what Islam says about itself," Yousef said. "Forget about what the Muslim Brotherhood, what al-Qaida, what Hezbollah, what even Americans or Westerners say about Islam. Let's study and see what Islam says about itself, then we will understand why we have this problem." American foreign policy, especially under President Obama, he said, has "bought the lie of Muslim groups who are trying to make Islam look good in the eyes of Westerners."

(Imam Feisal Abdul Rauf  /NYC mosque Imam)
Because of that approach, he said, Muslim leaders such as Feisal Abdul Rauf have developed "the courage to come forward with a very aggressive symbol" of Islamic authority, the proposed Islamic center and mosque near the site of the 2001 World Trade Center attacks. "If it was any other American president, we wouldn't have this aggressive step," Yousef contended. He noted the State Department has designated Rauf an ambassador to the Muslim world despite the imam's unwillingness to condemn Hamas as a terrorist group. Yousef pointed out Rauf has claimed Obama based his highly publicized Cairo speech to the Muslim world last year on a chapter from the Arabic version of Rauf's book, "A Call to Prayer From the World Trade Center: Islamic Dawah in the Heart of America Post-9/11." Obama asserted in the speech that violent extremists have exploited tensions between Muslims and the West, insisting Islam was not part of the problem but part of promoting peace. Defenders of the proposed Ground Zero mosque cite American Muslims' First Amendment freedoms to practice their religion. But Yousef makes a distinction between Islam and other religions, arguing Islam is a subversive system that threatens America's very existence. No one in the Middle East has the courage or the power to confront Islam, he said, but transformation can start in the most powerful country in the world. "Instead of giving Islam credit, this is the country where we can start to fight, not against Muslims, against the bad teachings of Islam." Americans can begin, he said, by "understanding the real nature of Islam." "I am telling you, this is not a matter of politics," he said. "It's a matter of life and death. It's a matter of hundreds of millions who have been killed because of this deadly ideology of Islam that has been here 1,400 years."
Iran: Dimona is in Our Crosshairs
Aug. 27….(Arutz) An unnamed senior officer in the Iranian Revolutionary Guards warned Thursday that Iran would strike Israel if it is targeted, no matter who the attacker is. According to the Kuwaiti newspaper Al-Rai, the officer said, "Iran has thousands of surface-to-surface missiles, including improved Zelzal-2 and Al-Fatah 110 missiles, with which it will set alight all of the oil towns, facilities and infrastructures of the neighboring countries, if these serve as platforms for attacking it." Any attack upon Iran will lead to a massive missile attack on Israel, he said, including the nuclear power plant at Dimona, no matter where the attack on Iran originated from. This is taken as referring to a possible attack by the United States. The Iranian officer boasted that the Patriot missiles that Kuwait intends to buy from the US will not be able to protect it from the Al-Kaim 1 missile in Iran's arsenal. He added that the torpedo boats that the Gulf states received from the West will be useless against Iran's small submarines, which will deploy sea mines against enemy ships. Ali Fazli, Deputy Commander of the Iranian Basij militia, warned this week at a Basij conference in Tehran that his country would destabilize security in the Persian Gulf if it is attacked. Meanwhile, Iran's ambassador to Russia told Hizbullah's Al-Manar television that an attack on Iran would cause American interests in the region to be damaged and will endanger the existence of the "Zionist entity." Arab countries are as worried as Israel is by the Iranian nuclear weapons program. London-based A-Sharq al-Awsat reported Wednesday that Said Mashaal, Egypt's State Minister for the Security Industries, said that the nuclear weapons being developed by Iran pose a danger to the entire Middle East, and not just to Israel. "Iran's push to develop missiles with a range of 3,000 km is causing all of the European nations to develop hostility toward it and to take action to prevent it from developing militarily," he added.
Obama Weighing Offer of US Nuclear Umbrella if Israel Scraps Iran Strike
Aug. 27….(DEBKA) A study of the mood among Israeli leaders and military chiefs indicates that at any moment a strike on Iran's nuclear sites must be taken into account. The Israeli media show nothing of this; they are totally absorbed in guessing whether Prime Minister Binyamin Netanyahu will extend the 10-month settlement construction moratorium beyond its Sept. 25 expiry date at the talks opening with the Palestinians next week. The American media, in contrast, are highlighting speculation about a possible Israeli attack on Iran. Debkafile's Washington and Jerusalem sources believe Israel has revived its military option against Iran, especially since Iran activated its first nuclear reactor at Bushehr on Aug. 21, thereby placing Washington under enormous pressure. In addition to the dire predictions of catastrophe planted on various op-ed pages, the Obama administration this week sent two big guns to Jerusalem to try and check an Israel attack. The first to arrive was International Atomic Energy Agency Director Yukiya Amano, who explained that under his stewardship the nuclear watchdog's treatment of Iran would be quite different from the lenience shown by his predecessor, Mohamed ElBaradei. He promised its inspectors would henceforth clamp down hard on Iran's nuclear activities including the Bushehr reactor. Thursday, Aug. 26, Amano was joined by Daniel Shapiro, Middle East Director of the National Security Council and close friend of many Israeli leaders. He came laden with offers of security gifts, possible rewards both for restraint on Iran and as a softener for Netanyahu to be generous with concessions to the Palestinians in the forthcoming negotiations. Shapiro has taken three days to make his pitch on Iran, while Netanyahu has less than a week to decide whether he can again trust the US president's new promises after they were not exactly upheld in the way the Bushehr reactor was allowed to go on stream or the modalities for the negotiations with the Palestinians. While preparing the Shapiro mission, the administration let it be known that the security gifts on offer would be dramatic and make the IDF one of the strongest and most advanced armies in the world. Advance notice came in a series of leaks to former CIA officer Bruce Riedel, who is very close to President Obama, for an article he published in the influential The National Interest on Aug. 25 under the caption "If Israel Attacks." Riedel urged the US to do everything in its power to stop an attack happening as it would spell catastrophe and advised Israel to adjust to the fact that the development of an Iranian atom bomb can no longer be halted. To make Israel feel secure in the new reality, Riedel "proposed" four steps for strengthening the Israeli armed forces and lending it a second-strike capability, even against an Iranian nuclear attack.
1. The US must spread a nuclear umbrella over Israel that would entail the installation of American nuclear depots in Israel to show Tehran that a nuclear attack on the Jewish state would meet with a US nuclear response.
2. American nuclear submarines would be supplied to the Israeli Navy as the backbone of its nuclear counter-strike capability. There are two categories, ballistic missile submarines and attack submarines.
3. The Israeli Air Force would receive US F-22 Raptor stealth jets, the most sophisticated warplane in the skies today. They would be equipped with all the systems and ordnance needed to strike the Iranian nuclear program.
4. The US would arrange for Israel's full membership of NATO, so rendering an Iranian nuclear attack on Israel subject not just to US retaliation but a declaration of war by the 26-member alliance.
To qualify for these American security perks, Riedel made it clear that Israel would be required to come to terms with a nuclear-armed Iran and eschew military action against it, a provision which Debkafile's military and Jerusalem sources say the Netanyahu government is most unlikely to accept. However, this proposition does not take into account the Islamic Republic rulers' persistent threats to wipe Israel off the map or his own and the Obama administration's conviction that if Israel attacks Iran, Tehran will hit back at US targets and interests. Debkafile's sources ask: Why would a "reasonable" regime risk going to war with America instead of limiting its military action to Israel? And what good would all the wonderful new military systems be to Israel for a second-strike capability when an initial Iranian nuclear attack would suffice to destroy the tiny Jewish State?
UN Presses Israel on its Nuclear Program
Aug. 25….(VOA) The top United Nations nuclear envoy has held talks with Israeli officials to push their country to be more open about its largely secretive nuclear program. Yukiya Amano is keeping his visit to Israel low-key. He is due to meet with Israel's Atomic Energy Commission, President Shimon Peres and strategic affairs officials during his two-day visit. Israel is widely considered to be the only nuclear-armed state in the Middle East. But it does not discuss its arsenal, keeping a policy of "nuclear ambiguity." Israel will not sign the Nuclear Nonproliferation Treaty, nor will it allow the UN nuclear agency to inspect its nuclear facility near the southern city of Dimona. Israeli officials say they intend to express their concerns to Amano about Iran's advancing nuclear program. They say it is a threat to Israel's existence. Iran says its program is solely for peaceful purposes. Prime Minister Benjamin Netanyahu will not meet with Amon because he plans to go on holiday. Mr. Netanyahu canceled his scheduled meeting with the UN International Atomic Energy Agency head days ago, saying it conflicted with his vacation. Iran began loading fuel into the country's first nuclear power plant on Saturday. The plant was built in Russia with assistance by Russian officials. The IAEA oversaw the launch.
The Muslims Are Coming! The Muslims Are Coming!
Aug. 24….(WND/Chuck Morris) The influx of Muslims into the United States, and what this potentially means to our society and culture, is a serious and profound topic that should be discussed and examined dispassionately and without rancor. Fortunately most Muslims in the United States today are secular and western in their orientation, at least at this juncture in time. Yet a scenario exists, one that cannot be credibly denied, in which fundamentalist Islamic clerics could make inroads into that community in the future. Therefore, as a form of national inoculation, the doctrines of Islam must be publicly exposed and the practices and mores of the true believers in Islam must be understood without equivocation. Additionally, serious attention should be paid to the track record of the recently established Muslim minority communities in Europe. Where are the social scientists? Where are the high-minded intellectuals who have vigorously examined and written interminable articles claiming that Christian fundamentalism threatens American democracy? Their silence on the topic of the potential influence of Islam in America seems to indicate that the intellectuals are part of a left-wing cultural dictatorship that has chosen to view criticism of Islam through the lens of intolerance and any critique of Islam as a form of bigotry regardless of its level of accuracy. The liberals, by their dishonesty and cowardice, pose as much of a threat to our society as does a potential element within the Muslim community. Besides, Christianity, unlike Islam, is a religion of tolerance and individual choice. The basic doctrines of Islam are well known but are rarely discussed in polite company and those doctrines illustrate anything but tolerance. Islamic Shariah law calls for the execution of apostates, homosexuals, women who are seen in the company of men other than their husband or guardian and anyone else deemed by Islamic authorities to be an active political or religious opponent of Islam. Remember Salmon Rushdie and Theo Van Gogh? Islam calls for the military physical subjugation of the entire planet under the scimitar. Islam calls for perpetual war, or jihad, against that portion of the planet that refuses to submit to its rule. Islam calls for the slaughter of Jews and Christians who refuse to submit. Islamic societies tolerate minorities only if they accept dhimmi status in which they have no rights. Islam supports lies and deception on the part of Muslims in the non-Muslim world, or what Islam calls the world of war, if those lies further the interests of the Islamic agenda. Islam is imperialistic and militant by nature as opposed to by exception. The aforementioned statements are documented and irrefutable facts. Islamic doctrine is not just theoretical but it is an integral part of all Islamic societies to varying degrees. Islamic societies are not free but they are rather authoritarian in nature. Perhaps, in time, and with western influence, Islamic societies may become more free and women in particular will no longer have to live in fear and in a state of submission. As a governing philosophy, Islam is not compatible with American notions of freedom. These statements are not meant to be chauvinistic. Freedom transcends American society. Freedom is available to all people who choose to grasp its meaning and significance. Freedom is the natural state of all human society. Islamic influence is becoming more prevalent every passing year in America. There are 6-7 million Muslims in America today, and there has been a 75 percent increase in affiliation on the part of Muslims with the ever-increasing numbers of mosques springing up across the country. How many of these mosques might at some point host a fundamentalist Muslim cleric who might preach a message of violence and hate? Even if such an event is rare, an Islamic cleric preaching anti-Semitism, homophobia, male patriarchy, Islamic supremacy, that event could spawn recruits in the ongoing jihad plaguing the free world today.
China Moving Away From Financing American Debt
Aug. 24….(In The Days) As the Sino-American showdown in the South China and Yellow Seas escalates into the gravest superpower clash since the Cold War, the United States cannot wisely rely on China to help fund its budget deficit for any longer. The cacophony of voices in Beijing questioning or mocking the credit-worthiness of the US is now deafening, from premier Wen Jiabao on down. The results are in any case manifest: US Treasury data show that China has cut its holdings of US Treasury debt by roughly $100bn over the past year to $844bn. ZeroHedge reports that net purchases by the big three of China, Japan, and the UK (Mid-East petro-dollars) have been sliding for two years. In August they bought the least amount of US debt this year. China is finding other ways to recycle its trade surplus and hold down its currency, buying record amounts of Japanese, Korean, Thai, and no doubt Latin American bonds. Beijing is buying gold on the dips, or doing so quietly through purchases of scrap ores, or by deals with miners such as Coeur d'Alene in Alaska. It is building strategic reserves of oil and coal, and industrial metals. State entities are buying up natural gas reserves in Africa and Central Asia, or oil sands in Canada, or timber in Guyana. Where this expansion runs into political barriers, they are funding projects, such as a $10bn loan to Petrobras for the deepwater oil off Brazil. Where all else fails, they are buying equities. All of this recycles China's reserve surplus away from US debt. So US citizens, for now have stepped into the breach, investing a record $185bn into bonds funds this year (ICI data). The inventory cycle is ebbing, manufacturing has tipped over, the workforce is still shrinking, and the economy is sliding into a deflationary rut. As Moody's said this week, the Great Recession has made sovereign debt suspect. "The burden of proof now falls on governments". Events have "fast-forwarded history", ripping away the 20-year cushion we counted on before the "adverse debt dynamics" of our aging crisis hits home.
Mystery Solved! Why Americans Think Obama is Muslim
Aug. 23….(WND) The only person to blame for the surprising number of Americans who think that President Obama is actually a Muslim is Barack Hussein Obama. So says author and Boston talk-radio personality Chuck Morse. "Obama bears the lion's share of the responsibility for any confusion," said Morse. "There are only two scenarios that can dispel it, and with Islamic law undergirding both, neither is very comforting." The issue arose following a Pew Research Center poll, with its Pew Forum on Religion & Public Life, that revealed nearly 1 in 5 Americans, or 18 percent, said they think Obama is a Muslim. The poll taken just days ago is a dramatic change from the 11 percent who held that belief in March 2009. The percentage now who say they believe White House statements that Obama is Christian is at 34 percent, down from 43 percent in 2009. A separate poll released by Time magazine showed 24 percent believe Obama is Muslim. Morse is the author of the newly released "The Nazi Connection to Islamic terrorism which probes a forgotten chapter of World War II history and recounts how Hitler united with a Muslim leader whose anti-Jewish teachings still inform modern-day terrorists. Morse makes an equally compelling case in his bold assertion that the president is concealing something profound about his religious and political identity. "It's hard to reasonably explain Obama's cold relationship with Israel, his inaction in the face of Iran obtaining a nuclear bomb, his giving a green light to the building of a mosque near where Islamic fundamentalists hijacked passenger planes on September 11, 2001, and made them into missiles to destroy the World Trade Center in Manhattan," says Morse. One possible explanation, says Morse, is the Islamic principle of Taqiyya, or the sanctioning of hiding one's Muslim faith. It's ultimately fear of the president's multicultural background and suspicion about his childhood travels that drives public distrust over the president's religion, reported the Associated Press. Born in Hawaii, he lived from ages 6 to 10 in predominantly Muslim Indonesia with his mother and Indonesian stepfather. His full name, Barack Hussein Obama, sounds Muslim to many. The name "Hussein" doesn't just sound Muslim, says Morse. It is "reserved exclusively for Muslims." In addition, Islamic law upholds that children born to a Muslim father are automatically Muslim, says Morse. The president's stepfather, Lolo Soetoro, was Muslim. Obama's school records indicate that in Indonesia he enrolled as a Muslim in Catholic and Muslim schools, and in his autobiography, he acknowledged studying the Quran in Indonesia. Morse also refuses to overlook recent insights, noting:
Israel Today quoting Egyptian FM Ahmed Aboul Ghefit stating on Nile TV that "the American president told me in confidence that he is a Muslim;
Obama claiming Islam played a significant role in American history and culture.
Obama crediting Islam with key contributions to the Europe's Renaissance and Enlightenment.
As word of the poll's results blazed out across online news sites, White House spokesman Bill Burton chastened Americans for not reading a lot of news about what religion the President is, "The president is obviously a Christian," said Burton, "he prays every day." Morse notes that Obama confessed to converting to Christianity around the dawn of his political involvement, "under the tutelage of the racist anti-American and anti-Semitic pastor Jeremiah Wright," he said. (right…we know what kind of Christian Mr. Wright is) But leaving Islam, Morse says, is fraught with complications and deadly consequences. "By converting out of Islam, Obama either became an apostate, a murtadd, in Arabic, or he began engaging in an Islamic-sanctioned deception and thus remained Muslim," says Morse. "If Obama truly left Islam, and actively embraced Christianity, he could be subject to severe penalties under Islamic law including the death sentence. Islamic Shariah law calls for the execution of any Muslim who becomes a murtadd." Amid the current controversy, a 2008 New York Times commentary piece has surfaced affirming the dire circumstances that would surround a decision to leave Islam. "Indeed, it is the worst of all crimes that a Muslim can commit, worse than murder (which the victim's family may choose to forgive)." It's conceivable, says Morse, that the president never truly left Islam at all, but professes faith in Christ as a cover for his true beliefs, an allowable offense for Muslims in certain circumstances. The "Islamic-sanctioned deception," says Morse, remains the only explanation to escaping such punishment. "The other possibility is that President Obama is engaging in a Taqiyya, which is a lie that is spoken in the greater interest of Islam," says Morse. "There are several quotes in the Quran and the Hadith, the Islamic holy books, that set the conditions under which it is permissible for the Muslim to lie regarding his identity and his intentions when dealing with non-Muslims and the non-Muslim world. Lying is allowed, even encouraged, by the Muslim according to Shariah law, if the lie in some way furthers the agenda of Islam. "If Obama is indeed a secret-believing Muslim, as opposed to an apostate, the effects on public policy and on American society would be profound," adds Morse
Israel: Iran's Bushehr Nuclear Plant Totally Unacceptable
(As fueling of Iranian nuclear facility begins, Ahmadinejad warns that a strike on Iran would be answered with "harsh and painful" response; US: Plant does not pose proliferation risk)
Aug. 23….(Jerusalem Post) With Iranian and Russian engineers loading fuel into Iran's first nuclear power plant at Bushehr on Saturday, Israel expressed astonishment at how a country that completely thumbs its nose at the world regarding its nuclear program will be able to enjoy the benefits of nuclear energy. "It is totally unacceptable that a country that blatantly violates decisions of the United Nations Security Council and the International Atomic Energy Agency, and ignores its commitment to the Non-Proliferation Treaty charter, will enjoy the fruits of using nuclear energy," Foreign Ministry spokesman Yossi Levy said. "The international community," he added, "must increase pressure on Iran, so that it will obey international decisions, halt its activity in the field of enrichment and construction of heavy water reactors, and will fully reply to the accusations raised against it." The Foreign Ministry was pointedly making no reference to the Russian involvement in the reactor, an apparent effort not to say anything that could in any way complicate Israel's relations with Moscow. The US State Department said Saturday that they do not consider Iran's Bushehr nuclear power facility a proliferation risk, AFP reported. "We recognize that the Bushehr reactor is designed to provide civilian nuclear power and do not view it as a proliferation risk," State Department spokesman Darby Holladay told AFP on Saturday. Holladay added that if Iran's nuclear activities are meant for peaceful purposes, as Teheran has claimed, than the new Bushehr fuel reactor would eliminate Iran's need to continue enriching uranium. As the opening of the Bushehr plant took place on Saturday, Iranian President Mahmoud Ahmadinejad told Qatari newspaper Al-Shark that if the Islamic Republic's nuclear facilities were attacked, the response from Teheran would be "worldwide" in its scope. "Our possibilities would be limitless and would encompass the whole world," said Ahmadinejad. Ahmadinejad discussed Israel, stating that the Jewish state would like to attack Iran but understands that the Islamic Republic is a "fortress that cannot be destroyed" and that the Iranian response to such an attack would be "harsh and painful." "I don't believe their American masters would let them attack," Ahamadinejad added on Israel. The weeklong operation to load uranium fuel into the reactor at the Bushehr power plant is the first step in starting up a facility the US once hoped to prevent because of fears over Teheran's nuclear ambitions. Opening of facility hailed as triumph over sanctions. "Despite all pressure, sanctions and hardships imposed by Western nations, we are now witnessing the startup of the largest symbol of Iran's peaceful nuclear activities," Iranian Vice President and nuclear chief Ali Akbar Salehi told reporters inside the plant. Russia, which helped finish building the plant, has pledged to safeguard the site and prevent spent nuclear fuel from being shifted to a possible weapons program. After years of delaying its completion, Moscow says it believes the Bushehr project is essential for persuading Iran to cooperate with international efforts to ensure Iran does not develop the bomb. The United States, while no longer formally objecting to the plant, disagrees and says Iran should not be rewarded while it continues to defy UN demands to halt enrichment of uranium, a process used to produce fuel for power plants but which can also be used in weapons production. On Saturday, a first truckload of fuel was taken from a storage site to a fuel "pool" inside the reactor building. Over the next 10 days, 163 fuel assemblies, equal to 80 tons of uranium fuel, will be moved inside the building and then into the reactor core. Workers in white lab coats and helmets led reporters on a tour of the cavernous facility. It will be another two months before the 1,000-megawatt light-water reactor is pumping electricity to Iranian cities. Iran denies an intention to develop nuclear weapons, saying it only wants to generate power with a network of nuclear plants it plans to build. Russians to retrieve spent fuel which can be used to make nuclear weapons. The Bushehr plant is not considered a proliferation risk because the terms of the deal commit the Iranians to allowing the Russians to retrieve all used reactor fuel for reprocessing. Spent fuel contains plutonium, which can be used to make atomic weapons. Additionally, Iran has said that International Atomic Energy Agency experts will be able to verify that none of the fresh fuel or waste is diverted. Of greater concern to the West, however, are Iran's stated plans to build 10 new uranium enrichment sites inside protected mountain strongholds. Iran said recently it will begin construction on the first one in March in defiance of the UN sanctions. Nationwide celebrations were planned for Saturday's fuel loading at Bushehr. "I thank the Russian government and nation, which cooperated with the great Iranian nation and registered their name in Islamic Iran's golden history," Salehi said. "Today is a historic day and will be remembered in history." He spoke at a news conference inside the plant with the head of Russia's state-run nuclear corporation, Sergei Kiriyenko, who said Russia was always committed to the project.
Ahmadinejad: Our Response to Attack Would be
Worldwide
Aug. 23….(Jerusalem Post) As Iranian and Russian engineers began loading fuel into Iran's first nuclear power plant on Saturday, Iranian President Mahmoud Ahmadinejad told Qatari newspaper Al-Shark that if the Islamic Republic's nuclear facilities were attacked, the response from Teheran would be "worldwide" in its scope. "Our possibilities would be limitless and would encompass the whole world," said Ahmadinejad. Ahmadinejad discussed Israel, stating that the Jewish state would like to attack Iran but understands that the Islamic Republic is a "fortress that cannot be destroyed" and that the Iranian response to such an attack would be "harsh and painful." "I don't believe their American masters would let them attack," Ahamadinejad added on Israel. The weeklong operation to load uranium fuel into the reactor at the Bushehr power plant in southern Iran that began on Saturday is the first step in starting up a facility the US once hoped to prevent because of fears over Teheran's nuclear ambitions. "Despite all pressure, sanctions and hardships imposed by Western nations, we are now witnessing the startup of the largest symbol of Iran's peaceful nuclear activities," Iranian Vice President and nuclear chief Ali Akbar Salehi told reporters inside the plant. The US State Department said Saturday that they do not consider the Bushehr facility a proliferation risk, AFP reported. "We recognize that the Bushehr reactor is designed to provide civilian nuclear power and do not view it as a proliferation risk," State Department spokesman Darby Holladay told AFP on Saturday. Holladay added that if Iran's nuclear activities are meant for peaceful purposes, as Teheran has claimed, than the new Bushehr fuel reactor would eliminate Iran's need to continue enriching uranium. Russia, which helped finish building the plant, has pledged to safeguard the site and prevent spent nuclear fuel from being shifted to a possible weapons program. After years of delaying its completion, Moscow says it believes the Bushehr project is essential for persuading Iran to cooperate with international efforts to ensure Iran does not develop the bomb. The United States, while no longer formally objecting to the plant, disagrees and says Iran should not be rewarded while it continues to defy UN demands to halt enrichment of uranium, a process used to produce fuel for power plants but which can also be used in weapons production. On Saturday, a first truckload of fuel was taken from a storage site to a fuel "pool" inside the reactor building. Over the next 10 days, 163 fuel assemblies, equal to 80 tons of uranium fuel, will be moved inside the building and then into the reactor core. Workers in white lab coats and helmets led reporters on a tour of the cavernous facility. It will be another two months before the 1,000-megawatt light-water reactor is pumping electricity to Iranian cities. Iran denies an intention to develop nuclear weapons, saying it only wants to generate power with a network of nuclear plants it plans to build. The Bushehr plant is not considered a proliferation risk because the terms of the deal commit the Iranians to allowing the Russians to retrieve all used reactor fuel for reprocessing. Spent fuel contains plutonium, which can be used to make atomic weapons. Additionally, Iran has said that International Atomic Energy Agency experts will be able to verify that none of the fresh fuel or waste is diverted. Of greater concern to the West, however, are Iran's stated plans to build 10 new uranium enrichment sites inside protected mountain strongholds. Iran said recently it will begin construction on the first one in March in defiance of the UN sanctions. Nationwide celebrations were planned for Saturday's fuel loading at Bushehr. "I thank the Russian government and nation, which cooperated with the great Iranian nation and registered their name in Islamic Iran's golden history," Salehi said. "Today is a historic day and will be remembered in history." He spoke at a news conference inside the plant with the head of Russia's state-run nuclear corporation, Sergei Kiriyenko, who said Russia was always committed to the project. "The countdown to the Bushehr nuclear power plant has started," Kiriyenko said. "Congratulations." Iran's hard-liners consider the completion of the plant to be a show of defiance against UN Security Council sanctions that seek to slow Iran's nuclear advances. Hard-line leader Hamid Reza Taraqi said the launch will boost Iran's international standing and "will show the failure of all sanctions" against Iran. President Mahmoud Ahmadinejad reiterated Friday that Teheran was ready to resume negotiations with the six major powers trying to curb Iran's program, the five permanent Security Council members plus Germany. Ahmadinejad, however, insisted Iran would reject calls to completely halt uranium enrichment, a key UN demand. The president had earlier said the talks could start in September, but in an interview with Japan's biggest newspaper, The Yomiuri Shimbun, he said the talks could start as early as this month. Russia signed a $1 billion contract to build the Bushehr plant in 1995 but has dragged its feet on completing the work. Moscow had cited technical reasons for the delays, but analysts say Russia used the project to try to press Iran to ease its defiance over its nuclear program. The uranium fuel used at Bushehr is well below the more than 90 percent enrichment needed for a nuclear warhead. Iran is already producing its own uranium enriched to the Bushehr level, about 3.5 percent. It also has started a pilot program of enriching uranium to 20 percent, which officials say is needed for a medical research reactor. The Bushehr plant overlooks the Persian Gulf and is visible from several miles (kilometers) away with its cream-colored dome dominating the green landscape. Soldiers maintain a 24-hour watch on roads leading up to the plant, manning anti-aircraft guns and supported by numerous radar stations. There are several housing facilities for employees inside the complex plus a separate large compound housing the families of Russian experts and technicians. The site is about 745 miles (1,200 kilometers) south of Teheran. Russians began shipping fuel for the plant in 2007 and carried out a test-run of the plant in February 2009. Iran says it plans to build other reactors and says designs for a second rector in southwestern Iran are taking shape. The Bushehr project dates backs to 1974, when Iran's US-backed Shah Mohammed Reza Pahlavi contracted with the German company Siemens to build the reactor. The company withdrew from the project after the 1979 Islamic Revolution toppled the shah. The partially finished plant later sustained damages after it was bombed by Iraq during its 1980-88 war against Iran.
Six Reasons Why Iran Cannot be Allowed Nukes
Aug. 23….(In The Days) With Russia's ever-helpful policy of assisting Iran to accelerate its reactor program, allied to the progress of sanctions on the Ahmadinejad regime and the increasingly hopeless state of negotiations with the Palestinians, there is likely to be no let-up in the speculation about an Israeli "first strike" on Iran's covert but ever-more-flagrant nuclear weapons installations. I have lost count of the number of essays and columns on the subject that were published this month alone. The most significant and detailed such contribution, though, came from my friend and colleague Jeffrey Goldberg in a cover story in the Atlantic. From any close reading of this piece, it was possible to be sure of at least one thing: The government of Benjamin Netanyahu wants it to be understood that, in the absence of an American decision to do so, Israel can and will mount such an attack in the not-too-distant future. The keyword of the current anguished argument, the word existential, is thought by a strategic majority of Israel's political and military leadership to apply in its fullest meaning. To them, an Iranian bomb is incompatible with the long-term survival of the Israeli state and even of the Jewish people. It would be a real pity if the argument went on being conducted in these relatively narrow terms. A sentence from Goldberg's report will illustrate what I mean: Israel, Netanyahu told me, is worried about an entire complex of problems, not only that Iran, or one of its proxies, would destroy Tel Aviv. Why Tel Aviv? It is admittedly the most Jewish of Israel's centers of population, and it was built only in the course of the last century. It is also the most secular and modern and sexually licentious of Israel's cities, which might also qualify it for the apocalyptic wrath of the mullahs. But it is also home to many Arabs and Muslims, as are the coastal towns adjacent to it. And, as I never tire of pointing out, there is no weapon of mass destruction yet devised that can discriminate on the basis of religion or ethnicity. So why did Netanyahu not say Jerusalem, which he and his party regard as Israel's true capital? Surely because this would immediately raise the question of whether the Iranian theocracy seriously intends to immolate the Dome of the Rock and the other Islamic holy places along with the poisonous "Zionist entity." And that's to say nothing of the number of Palestinians who would be slaughtered in any such assault. There is something sectarian, almost racist, in the way this aspect of the issue is always overlooked. I tried to raise the same question in print when Menachem Begin ordered the bombing of Iraq's Osirak reactor in 1981. On that occasion, the worst he could find to say about Saddam Hussein's genocidal ambitions was that they, too, constituted a threat to Jewish survival. Yet every knowledgeable person understands that if Saddam Hussein had come into possession of a bomb, he would have used it in the first instance on what his propaganda always defined as "the Persian racists." (This is why the Iranian air force had tried and failed to hit the very same reactor a short time before.) When speaking of the Zionist foe, incidentally, Saddam's most aggressive public speech promised only that with his chemical and other weapons, he would "burn up half of Israel." The late megalomaniac was not notorious for speaking of half-measures. It's possible that even in some part of his reptilian brain he understood that Palestine is not populated only by Jews. The whole emphasis on Israel's salience in this matter, and of the related idea of subcontracting a strike to the Israeli Defense Forces, is an evasion, somewhat ethnically tinged, of what is an international responsibility. If the Iranian dictatorship succeeds in "breaking out" and becoming a nuclear power, the following things will have happened:
1) International law and the stewardship of the United Nations will have been irretrievably ruined. The mullahs will have broken every solemn undertaking that they ever gave: to the International Atomic Energy Agency; to the European Union, which has been their main negotiating interlocutor up until now; and to the United Nations. (Tehran specifically rejects the right of the UN Security Council to have any say in this question.) Those who usually fetishize the role of the United Nations and of the international nuclear inspectors have a special responsibility to notice this appalling outcome.
2) The "Revolutionary Guards," who last year shot and raped their way to near-absolute power in Iran, are also the guardians of the underground weapons program. A successful consummation of that program would be an immeasurable enhancement of the most aggressive faction of the current dictatorship.
3) The power of the guards to project violence outside Iran's borders would likewise be increased. Any Hezbollah subversion of Lebanese democracy or missile attack on Israel; any Iranian collusion with the Taliban or with nihilist forces in Iraq would be harder to counter in that it would involve a confrontation with a nuclear godfather.
4) The same powerful strategic ambiguity would apply in the case of any Iranian move on a neighboring Sunni Arab Gulf state, such as Bahrain. The more extreme of Iran's theocratic newspapers already gloat at such a prospect, which is why so many Arab regimes hope—sometimes publicly—that this "existential" threat to them also be removed.
There will never be a settlement of the Israel-Palestine dispute, because the rejectionist Palestinians will be even more a proxy of a regime that calls for Israel's elimination, and the rejectionist Jews will be vindicated in their belief that concessions are a waste of time, if not worse.
6) The concept of "nonproliferation," so dear to the heart of the right-thinking, will go straight into the history books along with the League of Nations..
These, then, are some of the prices to be paid for not disarming Iran.
Israel-PA Talks Already Appear Doomed
Aug. 23….(Israel Today) US Secretary of State Hillary Clinton at the weekend announced the impending resumption of direct peace negotiations between Israel and the Palestinians. Israel hailed the development as a significant achievement, but the Palestinians were already throwing cold water on the talks before they ever began. Clinton told a press conference in Washington that Israeli Prime Minister Benjamin Netanyahu and Palestinian leader Mahmoud Abbas had been invited to the US capital in September 2 to officially relaunch direct talks, and that she believed the negotiations on a final status peace agreement could be "completed within a year." Netanyahu's Likud Party issued a statement welcoming the final resumption of negotiations without preconditions. "It took a year and a half to persuade the international community and the Palestinians that direct dialogue is the only way to try to reach a solution to the conflict," said Likud spokesman MK Ofir Akunis. "This is further proof that when you stand up for your principles and do not give in, you can attain diplomatic achievements." Another unnamed Likud official later told The Jerusalem Postt that while Netanyahu is hoping to conclude an accord with the Palestinians, he is committed to bring any agreement to the Israeli people before signing it. The Palestinians, meanwhile, were far less optimistic, and appeared determined to sink the talks even before Netanyahu and Abbas reach the negotiating table. Nearly every Palestinian faction outside of Abbas' own Fatah movement slammed the decision to negotiation with Netanyahu, and accused Abbas of surrendering to American pressure. Abbas' top aides sought to reassure his Palestinian critics by insisting that if Israel continued building new Jewish homes in Judea and Samaria (the so-called "West Bank"), Abbas would pull out of the talks. The threat included Jewish housing projects on the eastern side of Jerusalem, which, despite being home to hundreds of thousands of Israeli Jews, the Palestinians claim as their capital. "Even if Israel builds one house in the settlements," the negotiations will come to an end, declared Palestine Liberation Organization (PLO) Executive Committee member Hanna Amireh. Chief Palestinian negotiator Saeb Erekat added that if Israel did not extend its self-imposed 10-month settlement building freeze that is set to expire on September 26, there would be nothing to negotiate about. "If the Israeli government decides, on 26 September, to continue to permit the submission of settlement bids, then there will be no talks," said Erekat. It is widely believed that Netanyahu will quietly extend the building freeze in Jewish towns around Judea and Samaria in order to give talks a chance, but that construction in large Jewish neighborhoods in eastern Jerusalem will continue, giving the Palestinians the opportunity they need to again sidestep an opportunity for a negotiated peace.
WEEK OF AUGUST 15 THROUGH AUGUST 21
US: Direct Peace Talks to Begin on September 2 in Washington
(Hillary Clinton, George Mitchell say through peace talks between Israel and the Palestinians, all final status issues can be resolved in one year.)
Aug. 21….(Ha Aretz) Prime Minister Benjamin Netanyahu and Palestinian President Mahmoud Abbas have been invited to Washington to begin direct peace talks on Sept. 2, US Secretary of State Hillary Clinton said during a press conference on Friday. The meeting will serve to "re-launch direct negotiations to resolve all final-status issues which we believe we can complete in one year," Clinton said. There have been difficulties in the past; there will be difficulties ahead. Without a doubt, we will hit more obstacles. The enemies of peace will keep trying to defeat us and to derail these talks. But I ask the parties to persevere," Clinton said. US President Barack Obama will hold one-on-one talks with each of the leaders, separately, on Sept. 1, followed by a dinner with them, Clinton said. Former British Prime Minister Tony Blair, the special representative of the Quartet of Mideast peacemakers, the US, the UN, the European Union and Russia - also has been invited to attend the dinner, she said. Clinton said she would then host the first direct Israel-Palestinian negotiating session on September 2. The leaders of Egypt and Jordan have also been invited to join in the first session of direct talks. Prime Minister Benjamin Netanyahu on Friday welcomed the US invitation to launch direct peace talks with Palestinians. "Israel wants serious and comprehensive talks," Netanyahu said in response to Clinton's statement on Friday. "We are coming to these talks with a serious desire to reach a peace agreement between nations, while still preserving Israel's national interests, security being the foremost of them." Middle East envoy George Mitchell reiterated Cinton's statement, saying, "We believe it can be done within a year and that is our objective." Mitchell said subsequent negotiating sessions with Netanyahu and Abbas probably will be held in the Mideast, but he mentioned no specific site. Emphasizing that the US would not impose peace on the parties, Mitchell said "I don't want anyone to have the impression that we are going to supplant or displace the roles of the parties themselves." "This must in the end be an agreement by the parties themselves," Mitchell added. When a reporter posed a question about Israeli settlement building in the West Bank, Mitchell responded that the US position on settlement building remained unchanged. "Let's be clear that the declaration of the moratorium itself last November was a significant action which has had a significant effect on new housing construction starts in the West Bank," Mitchell said, noting that he expects both parties to promote an environment conducive to negotiations. The Middle East Quartet released a statement following Friday's announcement, reaffirming their support for the resolution of all final-status issues. Palestinian leaders welcomed the Quartet statement. Chief negotiator Saeb Erekat said the statement "contains the elements needed to provide for a peace agreement." While not responding directly to Clinton's invitation to Washington, Erekat said peace talks could be done in less than a year. "The most important thing now is to see to it that the Israeli government refrains from settlement activities and incursions," Erekat added.
Iran Prepares to Start up First Nuclear Reactor
(With Russian Help)
Aug. 21….(Yahoo) Iranian and Russian nuclear technicians made final preparations to start up Iran's first reactor on Saturday after years of delays, an operation that will mark a milestone in what Tehran considers its right to produce nuclear energy. Nationwide celebrations are planned for the fuel loading at the Busher facility in southern Iran, while Russia pledges to safeguard the plant and prevent spent nuclear fuel from being shifted to a possible weapons program. "The startup operations will be a big success for Iran," conservative lawmaker Javad Karimi said in Tehran. "It also shows Iran's resolve and capability in pursuing its nuclear activities." The West has not sought to block the reactor startup as part of its confrontations over Iran's nuclear agenda, a clash that has resulted in repeated rounds of UN sanctions against Iran. Washington and other nations do not specifically object to Tehran's ability to build peaceful reactors that are under international scrutiny. However, it is seen by hard-liners as defiance of UN Security Council sanctions that seek to slow Iran's nuclear advances, which Tehran's foes worry could eventually push toward atomic weapons. What concerns America and others, including Russia, is Iran's refusal to halt uranium enrichment, a process that can be used to make fuel for nuclear arms. Russia now must follow through with its agreements, signed by Iran, to remove all spent fuel at Bushehr and ship it back to Russia for reprocessing. That's would make it impossible for Iran to use plutonium, contained in the spent fuel, for nuclear weapons. Iran has said UN nuclear agency experts will be able to verify none of the waste is diverted. The uranium fuel used at Bushehr is well below the more than 90 percent enrichment needed for a nuclear warhead. Iran is already producing its own uranium enriched to the Bushehr level, about 3.5 percent. It also has started a pilot program of enriching uranium to 20 percent, which officials say is needed for a medical research reactor. President Barack Obama's top adviser on nuclear issues, Gary Samore, told The New York Times that he thinks it would take Iran "roughly a year" to turn low-enriched uranium into weapons-grade material. The assessment was reportedly shared with Israel and could ease concerns over the possibility of an imminent Israeli military strike against Iranian nuclear facilities. Iran's envoy to the UN. nuclear watchdog, Ali Asghar Soltanieh, said Thursday that any military attack against an operational nuclear power plant would be a direct violation of the UN charter. It also would likely provoke international outrage by possibly unleashing dangerous radiation.
Some US Schools Adjust Calendars to Observe Muslim Holidays
Aug. 21….(Fox News) As an increasing number of US public schools adjust their calendars to observe Muslim holidays, a debate is growing over how far schools should go to accommodate minority religious populations, and where they should stop. Federal and state laws prohibit schools from penalizing students for missing school on religious holidays. In many school systems, these have long included Good Friday and the Jewish holidays of Yom Kippur, Rosh Hashanah and Passover. In many districts with sizable Catholic or Jewish populations, schools have traditionally closed on these holidays. But now the list of religious holidays increasingly includes Eid al-Fitr, which marks the end of Ramadan, and Eid al-Adha, which honors the Prophet Abraham. Some schools no longer administer tests on those holidays; others won't schedule school events, including sports activities, on the night before the holidays; and some districts are choosing to close their schools entirely. Some school districts are making the accommodations due to functional issues associated with holding school, tests, or events on days when a substantial number of students and faculty will be absent; others have decided that they simply want to be inclusive of their Muslim community, no matter what the size. But critics warn that schools may be heading down a slippery slope that will open the door for more extensive accommodation requests from the Muslim community, as well as demands from other minority religious communities looking for the same treatment. In Dearborn, Mich., where schools are closed on both the day before and the day of Eid al-Fitr and Eid al-Adha, the predominantly-Muslim football team has switched its two-a-day summer practice schedule to 11am to 4am during Ramadan, so that Muslim players, who fast while the sun is up, won't be forced to practice in the heat without drinking water. The move received little backlash in Dearborn, because most of the football players are Muslims. But syndicated columnist and Fox News contributor Cal Thomas says he doesn't see Christian students getting similar accommodations around the country. "It is instructive to me that schools are going out of their way to discriminate against Christians by denying them the right to voluntarily pray with coaches and other players before games, but those same schools bend over backwards to accommodate Muslim student athletes for Ramadan," Thomas told Fox News.
China Targets US Troops With Arms Buildup
Aug. 21….(Washington Times) China is aggressively building up military forces capable of striking US forces in the western Pacific and elsewhere as part of what the Pentagon calls an array of high-tech "anti-access" missiles, submarines and warplanes in its latest annual report. The report to Congress on China's military power, released Monday, also warned that China's military is extending its global military reach beyond a weapons buildup to wage regional war with Taiwan and the United States. The report also questioned US-China military exchanges, noting that Beijing is using the visits and meetings for political influence operations and intelligence gathering. "China is fielding an array of conventionally armed ballistic missiles, ground- and air-launched land-attack cruise missiles, special operations forces, and cyberwarfare capabilities to hold targets at risk throughout the region," the report said. Release of the assessment comes amid reports that China has surpassed Japan as the world's second largest economy in terms of gross domestic product, highlighting Beijing's expanding global power. Japan's nominal GDP, which isn't adjusted for price and seasonal variations, was worth almost $1.29 trillion in the April-to-June quarter compared with almost $1.34 trillion for China, the Associated Press reported. The figures are converted into dollars based on an average exchange rate for the quarter. The 74-page Pentagon report highlighted numerous military developments by China's 125-million-troop army, including the first mention of a new multiple-warhead, long-range road-mobile missile, and details on China's plan to field aircraft carriers.
Tawfik Hamid: Ground Zero Mosque Symbol of Islamic Victory
Aug. 20….(Newsmax) Islamic expert Tawfik Hamid tells Newsmax that many Muslims will view the construction of a mosque near ground zero as symbolizing a "triumph over America." He also declares that if the mosque is built it could prove to be the "spark" that begins a "war between civilizations." Hamid is well acquainted with the threats from radical Islam, he was once a member of a terrorist Islamic organization along with Dr. Ayman Al-Zawahiri, who later became the second in command of al-Qaida. Today Hamid is a senior fellow and chair for the Study of Islamic Radicalism at the Potomac Institute for Policy Studies. He is the author of "Inside Jihad: Understanding and Confronting Radical Islam," and a regular Newsmax contributor. President Barack Obama said over the weekend that the Muslims have the right to build the mosque near ground zero in Manhattan, although he later stated he did not advocate the construction. But New York City Mayor Michael Bloomberg has said he does advocate construction. In an exclusive interview with Newsmax TV, Hamid criticized Bloomberg's advocacy of the mosque. "I believe he did this without doing the most basic step, which is to make sure that the leaders of the mosque are truly moderates," Hamid says. "I don't have any specific negative things against them except for the issue of Hamas. They support Hamas. This is a very serious issue. It means they support killing innocent children in the name of Islam. This is what Hamas does. He should have made sure first that this group that wants to build the mosque is moderate. "He should have asked them, if they are truly moderate, shall they tell us, and tell the media and tell the world, their position on the violent Shariah teachings, such as killing the apostate and stoning women to death and declaring wars to spread their religion. "How could he consider them moderate without making sure that they stand clearly and unambiguously against the violent ethics of Shariah?" As for why he personally opposes construction of the mosque, Hamid says: "Many Islamists believe that this is a sign of victory for Islam, a triumph over America. It's a symbol of victory for Islam over the values of America." Questions have arisen over where the funding for the $100 million mosque project is coming from. Hamid says: "Mostly from Muslims around the world, most likely personal donations from people who want to see Islam victorious in the West." Asked if the mosque project will further polarize Muslims and non-Muslims, Hamid says: "Absolutely. It will create friction between civilizations, and I'm afraid it can be the spark that will start the big fire of a war between civilizations, because I can see people are getting angry. "And it shows a lot of insensitivity from the Muslim side. Doing something legal does not mean that you are sensitive to others." Hamid was also asked why Muslims aren't speaking out more against Islamic radicals. He questioned "how many Muslims are true moderates here. "Some people pretend they are moderates but they are not moderates. And there are some people who do not have the theological knowledge to discredit the beliefs of the radicals. "It's tribal mentality. We haven't seen demonstrations in the Muslim world against bin-Laden, for example. So it's sort of a tribal mentality that makes them unable to criticize their fellow Muslim brothers."
Time: Many Americans Believe Obama is Muslim
Aug. 20….(Time) Opponents of the planned Islamic community center and mosque near Ground Zero in Lower Manhattan have public opinion firmly in their corner. According to a new TIME poll, 61% of respondents oppose the construction of the Park51/Cordoba House project, compared to 26% who support it. More than 70% concur with the premise that proceeding with the plan would be an insult to the victims of the attacks on the World Trade Center. Opposition to the project appears to derive largely from the conviction that the proposed site of the project, just two blocks from Ground Zero, in a building that formerly housed a Burlington Coat Factory outlet, is so close to "hallowed ground," as President Obama put it. Yet the survey also revealed that many Americans harbor lingering animosity toward Muslims. Twenty-eight percent of voters do not believe Muslims should be eligible to sit on the US Supreme Court. Nearly one third of the country thinks adherents of Islam should be barred from running for President, slightly higher than the 24% who mistakenly believe that the current occupant of the Oval Office is himself a Muslim.

Arab Terrorists Preparing for War With Israel
(Hezbollah reportedly builds tunnel system 'more impressive than Paris underground' to counter IDF strikes; Yemenite Qaeda leader tells followers to prepare for Israel-Iran war, urges pilots to replicate 9/11 attacks in Israel)
Aug. 20….(YNET) Hezbollah built an elaborate network of tunnels that will allow its members to fight a future war against Israel without being exposed to Air Force bombardments and IDF surveillance, a Kuwaiti newspaper says. According to a report published by the al-Rai newspaper, the tunnel network "is more impressive than the Paris underground," and is meant to prevent the IDF from gravely hurting Hezbollah by aerial or ground attacks. The report also claimed Hezbollah created an underground system of weapon caches, and that additional warehouses were dispersed in different locations above ground, so they are not damaged by IDF attacks, as was the case during the Second Lebanon War. Al-Qaeda wants to perpetrate 9/11 in Israel.
| | |
| --- | --- |
| | (FOJ) Muslim extremists aspire to perpetrate a 9-11 style attack in Israel, and later perhaps build another "victory symbol" (Islamic mosque) at the site. The Islamic efforts to build a mosque in NYC is the pattern for a religious victory over both the little Satan and the big Satan. |
Meanwhile, al-Qaeda is preparing its fighters in the Arabian peninsula for the possibility of an Iran-Israel warn, urging Arab pilots to crash into targets in Israel. A terror leader in Yemen urged Jihad supporters to exploit a future war between the Jewish State and the Ayatollah regime in order to advance al-Qaeda's causes, the Daily Beast website reported. The deputy chief of al-Qaeda's arm in Yemen, Saeed al-Shehri, told supporters via an audio message that a war is expected to break out after Israel will strike Tehran's nuclear facilities, prompting a chain reaction that would lead to an all-out regional war. Sheri then calls on Arab Air Force pilots who endorse the cause of Jihad to fly their planes into Israeli targets, replicating the September 11 attacks. He also urged followers with access to top Arab leaders to assassinate them, similarly to the killing of "tyrant Anwar Sadat," the Egyptian president murdered by Islamic radicals.
Iran Concerned About Improved Syrian-Saudi Ties
(Tehran working to prevent Riyadh from increasing influence in Lebanon, worried about Saudi cooperation with Damascus)
Aug. 17….(YNET) Iran is concerned about the improving relations between Syria and Saudi Arabia, the London-based Arabic language newspaper Al Hayat reported Monday. According to the report, Iran is displeased with Syrian President Bashar Assad and Saudi King Abdullah's pledge to work together to help stabilize Lebanon. During an unprecedented joint trip to Beirut in late July, Assad and Abdullah urged Lebanon's rival factions to avoid violence. "The leaders stressed the importance of stability... the commitment (of the Lebanese) not to resort to violence and the need to place the country's interests above all sectarian interests," said a communiqué issued after a mini-summit between Assad, the Saudi monarch and Lebanese President Michel Suleiman. The statement also stressed the need to "resort to legal institutions and Lebanon's's unity government to resolve any differences." The pair made the hours-long visit in a united bid to ease tensions over reports of an impending indictment against members the Shiite Islamist party Hezbollah for the 2005 murder of Lebanese ex-premier Rafik Hariri. The leaders who took part in the summit urged the continuation of the investigation into the assassination. As part of its efforts to prevent the Saudis from increasing their influence in Lebanon, Iran sent Supreme Leader Ayatollah Ali Khamenei's advisor, Ali Akbar Velayati, to Beirut and Damascus. Foreign Minister Manouchehr Mottaki also visited Syria, and senior Iranian officials were sent to both Lebanon and Syria to thwart a possible agreement that would not be to Tehran's liking. Speaking to Ynet, Syrian sources confirmed that Assad met with Hezbollah leader Hassan Nasrallah due to Iran's concerns. According to the Al-Hayat report, Syria expects Iran to be more understanding of Syria's interests, particularly with regards to its influence in Lebanon.
Why Israel Needs the Jordan Valley
http://www.defensibleborders.org/security/
Aug. 17….(Arutz) The Jerusalem Center for Public Affairs presents a five-minute video that dramatically and clearly delineates Israel's critical security needs to protect it from attack. In addition, the JCPA recently hosted a first-of-its-kind gathering of senior Israeli generals who outlined the basic principles of a defense policy focused on maintaining defensible borders for Israel. It was held in light of recent events, such as the deterioration in relations between Israel and its erstwhile ally Turkey, which underscore how critical it is for Israel to be guided by the principle of defending itself by itself. The video below, which features state-of-the-art graphics to depict Israel's topography-related dangers, can also be seen on the JCPA website, as can a summary of the generals' speeches.
After the Six Day War in 1967, when Israel was nearly overrun by four Arab armies on three fronts, the United Nations resolved that every country in the region has the right "to live in peace within secure and recognized boundaries free from threats and acts of force." The video shows vividly that if Israel does not control both the Jordan Rift Valley and critical mountains of Samaria, its borders would be rendered absolutely indefensible, and thereby in violation of the spirit of the UN resolution. The video effectively utilizes 3D graphics to show, as no map can, how Israel is protected by the heights of the Jordan Valley on one side, and by those of the Samarian mountains on the other. "The Jordan Rift Valley on the east forms a natural barrier between Israel and the countries of Jordan, Iraq and Iran," the narrator relates. It rises from 1,200 feet below sea level to a height of 3,000 feet above, "creating a steep virtual wall opposite any force attacking from the east." Here, the film shows a Jerusalem-bound enemy tank failing in its attempt to scale and climb the steep mountainside. Similarly, the Mountain Ridge of Samaria is dramatically shown to dominate Israel's Coastal Plain, Tel Aviv area, industry, population concentration, and airports. The film shows how Palestinian Authority control of the mountains of Judea and Samaria would mean that Jerusalem, Israel's airports, and virtually every spot in the State of Israel would be within rocket range. "That's why any future arrangement must include Israeli control over key areas of the mountain ridge and a demilitarized Palestinian state," the narrator warns. Another point emphasized in the clip is the importance of Israeli control of the airspace over Judea and Samaria. To avoid the threat of fighter jets crossing into Israel, a four-minute fly from Jordan to the Mediterranean, Israel must be able to identify enemy planes before they cross the Jordan River, so that they can be shot down in time. This means, the video reiterates, that Israel must control the airspace over Judea and Samaria.
Arab League Urges US to End Support of Israel's Nuclear Secrecy
(Ignoring US warning, Arab League pushes for international inspections of Israel's nuclear program.)
| | |
| --- | --- |
| | (FOJ) Arab foreign ministers and delegations attending a meeting of the Arab League in Cairo, Egypt today and called for UN inspection of Israeli nuclear program. |
Aug. 16….(Ha Aretz) Ignoring a US warning, Arab nations are urging Washington and other powers to end support of Israel's nuclear secrecy and to push for international inspections of Israel's nuclear program, diplomats told The Associated Press Sunday. Islamic nations have long called for Israel, which is widely believed to have nuclear arms, to open its program. But the fact that the Arab League has directly approached Washington and other Israeli allies for support at the September meeting of the International Atomic Energy Agency is significant, considering that US President Barack Obama last month warned against using that forum to single out Israel. Obama then suggested that such a move would likely kill hopes of breakthrough talks on a Mideast nuclear-free zone, as proposed by the United Nations' 189-member Nuclear Nonproliferation Treaty conference three months ago. Over Israeli objections, the planned 2012 talks were backed by the US and other nuclear powers for the first time since Arab nations pushed for such a gathering 15 years ago. The Arab appeal to pressure Israel to open its nuclear program to inspectors also threatens to deflect attention from Iran, which Washington and its allies now consider a grave nuclear proliferation threat, even though Tehran insists it is not developing nuclear weapons. The Arab appeal is contained in an Aug. 8 letter signed by Arab League chief Amr Moussa. It asks for backing of a resolution that Arab nations will submit to the September assembly of the International Atomic Energy Agency. A draft of the resolution expresses concern about Israel's nuclear program and urges it to join the Nuclear Nonproliferation Treaty and to open its atomic activities to outside inspection. A cover note asks the Belgian Embassy in Cairo to transmit the letter and the draft to Belgian Foreign Minister Steven Vanackere, who now holds the rotating European Union presidency. Diplomats accredited to the Vienna-based International Atomic Energy Agency and familiar with the issue told the AP that the letter was also sent to US Secretary of State Hillary Clinton and the foreign ministers of Russia, China, Britain and France, the four other permanent UN Security Council members. All the diplomats who agreed to discuss the issue with the AP asked for anonymity because of the confidentiality of their information. Obama and Prime Minister Benjamin Netanyahu agreed in a statement last month to work together to oppose efforts to single out Israel at the 150-nation International Atomic Energy Agency conference. On the proposed Mideast nuclear-free zone talks, their statement warned that any efforts to single out Israel will make the prospects of convening such a conference unlikely. But the Arab letter argues that singling out Israel is not the aim: "Singling out a state assumes that there are a number of states in the same position and only one state was singled out," the letter says. Referring to the Nonproliferation Treaty, it says: "The fact is that all the states in the region have acceded to the NPT except Israel." Israel is commonly assumed to have nuclear weapons but refuses to confirm or deny the assumption. The latest pressure puts Israel in an uncomfortable position. It wants the international community to take stern action to prevent Iran from obtaining atomic weapons but at the same time brushes off calls to come clean about its own nuclear capabilities. Passions have grown since September when the International Atomic Energy Agency assembly overrode Western objections to pass a resolution directly criticizing Israel and its atomic program for the first time in 18 years. The result was a setback not only for Israel but also for the United States and other supporters of Israel. Because the resolution passed by only a four-vote margin, lobbying by both sides has intensified ahead of next month's meeting. Three diplomats from International Atomic Energy Agency member nations said the EU and the US were meeting or planning to meet with possible undecided nations to seek their support of Israel, even as the Arab bloc continues pushing for support for its resolution. The US and its allies consider Iran the region's greatest proliferation threat, fearing that Tehran is trying to achieve the capacity to make nuclear weapons despite its assertion that it is only building a civilian program to generate power. They also say Syria, which, like Iran is under International Atomic Energy Agency investigation ran a clandestine nuclear program, at least until Israeli warplanes destroyed what they describe as a nearly finished plutonium-producing reactor two years ago. Syria denies these allegations. But Islamic nations insist that Israel is the true danger in the Middle East, saying they fear its nuclear weapons capacity.
Arabs: 'End Israel's Nuclear Secrecy'
Aug. 16….(Jerusalem Post) Ignoring a US warning, Arab nations urged Washington and other powers to end support of Israel's nuclear secrecy and to push Israel to allow international inspections of its program, diplomats told The Associated Press Sunday. Islamic nations have long called for Israel to open its nuclear program. But the fact that the Arab League has directly approached Washington and other Israeli allies for support at the September meeting of the International Atomic Energy Agency is significant, considering that US President Barack Obama last month warned against using that forum to single out Israel. Obama then suggested that such a move would likely kill hopes of breakthrough talks on a Mideast nuclear-free zone, as proposed by the UN's 189-nation Nuclear Nonproliferation Treaty conference three months ago. Over Israeli objections, the planned 2012 talks were backed by the US and other nuclear powers for the first time since Arab nations pushed for such a gathering 15 years ago. The Arab appeal to pressure Israel to open its nuclear program to inspectors also threatens to deflect attention from Iran, which Washington and its allies now consider a grave nuclear proliferation threat, even though Teheran insists it is not developing nuclear weapons. The Arab appeal is contained in an Aug 8 letter signed by Arab League chief Amr Moussa that was shared with The Associated Press. It asks for backing of a resolution that Arab nations will submit to the September assembly of the International Atomic Energy Agency. An attached draft of the resolution expresses "concern" about Israel's nuclear program and urges it to join the Nuclear Nonproliferation Treaty and to open its atomic activities to outside inspection. Obama and Israeli Prime Minister Benjamin Netanyahu agreed in a statement last month to "work together to oppose efforts to single out Israel" at the 150-nation International Atomic Energy Agency conference. On the proposed Mideast nuclear-free zone talks, their statement warned that "any efforts to single out Israel will make the prospects of convening such a conference unlikely." But the Arab letter says the notion of singling out Israel "is not the case." "Singling out a state assumes that there are a number of states in the same position and only one state was singled out," the letter says. Referring to the Nonproliferation Treaty, it says: "The fact is that all the states in the region have acceded to the NPT except Israel." Israel is commonly assumed to have nuclear weapons but refuses to discuss the issue. Passions have grown since September when the International Atomic Energy Agency assembly overrode Western objections to pass a resolution directly criticizing Israel and its atomic program for the first time in 18 years. The US and its allies consider Iran the region's greatest proliferation threat, fearing that Teheran is trying to achieve the capacity to make nuclear weapons despite its assertion that it is only building a civilian program to generate power.

American Bar Association Adopts Gay Marriage Resolution
Aug. 16….(Christian Post) The American Bar Association has adopted a resolution calling on governments at every level to eliminate all the legal barriers that prevent to same-sex couples from being joined in marriage. "The American Bar Association urges state, territorial, and tribal governments to eliminate all of their legal barriers to civil marriage between two persons of the same sex who are otherwise eligible to marry," states Resolution 111, which the ABA House of Delegates adopted Wednesday at its annual meeting in San Francisco. According to a report submitted in support of the resolution, the extension of equal marriage rights to same-sex couples is consistent with constitutional principles of equal protection and due process, as well as the states' strong interest in protecting and fostering the family unit. "The historic action taken today represents another promising step on the path toward equal rights for same-sex couples," commented Stephen P. Younger, president of the New York State Bar Association, which was a lead sponsor of the resolution. "I want to commend the members of the American Bar Association's House of Delegates for working with the New York State Bar Association and other bar associations to help in the effort to end this injustice against lesbian and gay people and their families," he added. According to reports, the resolution passed overwhelmingly with only vote made against the measure. Ahead of the resolution's passage, the Christian legal group Alliance Defense Fund stressed that the ABA does not speak for all US lawyers and noted how three-quarters of American lawyers do not belong to the ABA. "The fact that ADF and other lawyers disagree with ABA on a number of controversial issues demonstrates the gross inaccuracy of ABA's claim that it speaks for the US legal profession," remarked ADF Senior Legal Counsel Doug Napier, who resigned from the ABA because of its stance on controversial political issues. In the past, ABA has advocated for abortion rights, civil trial for suspected terrorists, and repeal of the military's "Don't Ask, Don't Tell" policy. The association's 1992 abortion policy prompted many of its member lawyers to leave and lead to the formation of the pro-life National Lawyers Association. "The ABA was not originally designed to endorse political agendas," Napier explained in a statement last week. "But in recent years, it has joined hands with groups like the ACLU on a number of societal issues and wrongly asserts that it speaks for the legal profession." "We urge the ABA to abandon its divisive political agenda and return to its original non-partisan mission," the conservative lawyer stated. Notably, the adoption of resolution 111 on Wednesday came one week after US District Judge Vaughn Walker ruled California's Proposition 8 unconstitutional. And the keynote speaker of the 2010 ABA Annual Meeting in San Francisco was David Boies, who co-counseled with Ted Olson to overturn Prop. 8. Prop. 8, which California voters passed in 2008, effectively defined marriage in the state's constitution as the union of one man and one woman. Last week, however, Walker determined that people of the same sex do have the right to marry and that the decision of the majority to define marriage as the union between a man and a woman violates that right.
Our Dependency on Christ
"We are troubled on every side" (II Cor. 7:5).
Aug. 16….(Crosswalk) Why should God have to lead us thus, and allow the pressure to be so hard and constant? Well, in the first place, it shows His all-sufficient strength and grace much better than if we were exempt from pressure and trial. "The treasure is in earthen vessels, that the excellency of the power may be of God, and not of us." It makes us more conscious of our dependence upon Him. God is constantly trying to teach us our dependence, and to hold us absolutely in His hand and hanging upon His care. This was the place where Jesus Himself stood and where He wants us to stand, not with self-constituted strength, but with a hand ever leaning upon His, and a trust that dare not take one step alone. It teaches us trust. There is no way of learning faith except by trial. It is God's school of faith, and it is far better for us to learn to trust God than to enjoy life. The lesson of faith once learned, is an everlasting acquisition and an eternal fortune made; and without trust even riches will leave us poor.
Days of Heaven upon Earth
"Why must I weep when others sing?
'To test the deeps of suffering.'
Why must I work while others rest?
'To spend my strength at God's request.'
Why must I lose while others gain?
'To understand defeat's sharp pain.'
Why must this lot of life be mine
When that which fairer seems is thine?
'Because God knows what plans for me
Shall blossom in eternity.'"
The US is Bankrupt And Nobody is Acting Like it
Aug. 16….(In The Days) Let's get real. The US is bankrupt. Neither spending more nor taxing less will help the country pay its bills. What it can and must do is radically simplify its tax, health-care, retirement and financial systems, each of which is a complete mess. But this is the good news. It means they can each be redesigned to achieve their legitimate purposes at much lower cost and, in the process, revitalize the economy. Last month, the International Monetary Fund released its annual review of US economic policy. Its summary contained these bland words about US fiscal policy: "Directors welcomed the authorities' commitment to fiscal stabilization, but noted that a larger than budgeted adjustment would be required to stabilize debt-to-GDP." But delve deeper, and you will find that the IMF has effectively pronounced the US bankrupt. Section 6 of the July 2010 Selected Issues Paper says: "The US fiscal gap associated with today's federal fiscal policy is huge for plausible discount rates." It adds that "closing the fiscal gap requires a permanent annual fiscal adjustment equal to about 14 percent of US GDP." The fiscal gap is the value today (the present value) of the difference between projected spending (including servicing official debt) and projected revenue in all future years.
To put 14 percent of gross domestic product in perspective, current federal revenue totals 14.9 percent of GDP. So the IMF is saying that closing the US fiscal gap, from the revenue side, requires, roughly speaking, an immediate and permanent doubling of our personal-income, corporate and federal taxes as well as the payroll levy set down in the Federal Insurance Contribution Act. Such a tax hike would leave the US running a surplus equal to 5 percent of GDP this year, rather than a 9 percent deficit. So the IMF is really saying the US needs to run a huge surplus now and for many years to come to pay for the spending that is scheduled. It's also saying the longer the country waits to make tough fiscal adjustments, the more painful they will be. Is the IMF bonkers?
No. It has done its homework. So has the Congressional Budget Office whose Long-Term Budget Outlook, released in June, shows an even larger problem. 'Based on the CBO's data, I calculate a fiscal gap of $202 trillion, which is more than 15 times the official debt. This gargantuan discrepancy between our "official" debt and our actual net indebtedness isn't surprising. It reflects what economists call the labeling problem. Congress has been very careful over the years to label most of its liabilities "unofficial" to keep them off the books and far in the future. For example, our Social Security FICA contributions are called taxes and our future Social Security benefits are called transfer payments. The government could equally well have labeled our contributions "loans" and called our future benefits "repayment of these loans less an old age tax," with the old age tax making up for any difference between the benefits promised and principal plus interest on the contributions. The fiscal gap isn't affected by fiscal labeling. It's the only theoretically correct measure of our long-run fiscal condition because it considers all spending, no matter how labeled, and incorporates long-term and short-term policy.
How can the fiscal gap be so enormous? Simple. We have 78 million baby boomers who, when fully retired, will collect benefits from Social Security, Medicare, and Medicaid that, on average, exceed per-capita GDP. The annual costs of these entitlements will total about $4 trillion in today's dollars. Yes, our economy will be bigger in 20 years, but not big enough to handle this size load year after year. This is what happens when you run a massive Ponzi scheme for six decades straight, taking ever larger resources from the young and giving them to the old while promising the young their eventual turn at passing the generational buck. Herb Stein, chairman of the Council of Economic Advisers under US President Richard Nixon, coined an oft-repeated phrase: "Something that can't go on, will stop." True enough. Uncle Sam's Ponzi scheme will stop. But it will stop too late. And it will stop in a very nasty manner. The first possibility is massive benefit cuts visited on the baby boomers in retirement. The second is astronomical tax increases that leave the young with little incentive to work and save. And the third is the government simply printing vast quantities of money to cover its bills. Most likely we will see a combination of all three responses with dramatic increases in poverty, tax, interest rates and consumer prices. This is an awful, downhill road to follow, but it's the one we are on. And bond traders will kick us miles down our road once they wake up and realize the US is in worse fiscal shape than Greece. Some doctrinaire Keynesian economists would say any stimulus over the next few years won't affect our ability to deal with deficits in the long run. This is wrong as a simple matter of arithmetic. The fiscal gap is the government's credit-card bill and each year's 14 percent of GDP is the interest on that bill. If it doesn't pay this year's interest, it will be added to the balance. Demand-siders say forgoing this year's 14 percent fiscal tightening, and spending even more, will pay for itself, in present value, by expanding the economy and tax revenue. My reaction? Get real, or go hang out with equally deluded supply-siders. Our country is broke and can no longer afford no-pain, all-gain "solutions."
WEEK OF AUGUST 8 THROUGH AUGUST 14
Obama's Islamic America
(What country is he talking about?) (Islam had nothing to do with American history)
Aug. 14….(Washington Times) President Obama says Islam has always been part of America, which raises the question, does the president know something about American history that we don't? It has become customary for presidents to offer greetings to various religious communities on the occasion of their most holy days. Presidents Ford and Carter both issued Ramadan messages, as did Presidents Clinton and Bush. The Ramadan greeting became intensely political during Bush's tenure because he was seeking to dispel the charge that the war on terrorism was a crusade against Islam. But Mr. Obama has used the occasion of Ramadan to rewrite US history and give Islam a prominence in American annals that it has not earned. In this year's greeting, Obama said the rituals of Ramadan "remind us of the principles that we hold in common and Islam's role in advancing justice, progress, tolerance and the dignity of all human beings. Ramadan is a celebration of a faith known for great diversity and racial equality. And here in the United States, Ramadan is a reminder that Islam has always been part of America and that American Muslims have made extraordinary contributions to our country." That Islam has had a major role in advancing justice, progress, tolerance and the dignity of all human beings may come as a surprise to Muslim women. Young Afghan girls who are having acid thrown in their faces on the way to school might want to offer their perspectives. That Islam is "known" for diversity and racial equality is also a bit of a reach. This certainly does not refer to religious diversity, which is nonexistent in many Muslim-majority states. This is a plaudit better reserved for a speech at the opening of a synagogue in Mecca. Most puzzling is the president's claim that "Islam has always been part of America." Islam had no influence on the origins and development of the US. It contributed nothing to early American political culture, art, literature, music or any other aspect of the early nation. Throughout most of American history, the Muslim world was perceived as remote, alien and belligerent, and President Jackson even sent the American Navy to the Barbary Coast to stop Muslim Pirates from attacking American ships. That is the history of Islam with America!
Obama Backs Ground Zero Mosque While Observing Ramadan
Aug. 14….(Politico & Newsmax) President Barack Obama on Friday forcefully endorsed allowing a mosque near ground zero, saying the country's founding principles demanded no less. "As a citizen, and as president, I believe that Muslims have the same right to practice their religion as anyone else in this country," Obama said, weighing in for the first time on a controversy that has riven New York City and the nation. "That includes the right to build a place of worship and a community center on private property in lower Manhattan, in accordance with local laws and ordinances," he said. "This is America, and our commitment to religious freedom must be unshakable." Obama made the comments at an annual dinner in the White House State Dining Room celebrating the Islamic holy month of Ramadan. Entering the highly charged election-year debate, Obama surely knew that his words would not only make headlines but be heard by Muslims worldwide. The president has made it a point to reach out to the global Muslim community, and the over 100 guests at Friday's dinner included ambassadors and officials from numerous Muslim nations, including Saudi Arabia and Indonesia. Seated around candlelit tables, they listened closely as Obama spoke, then stood and applauded when the president finished his remarks. While his pronouncement concerning the mosque might find favor in the Muslim world, Obama's stance runs counter to the opinions of the majority of Americans, according to polls. A CNN/Opinion Research poll released this week found that nearly 70 percent of Americans opposed the mosque plan while just 29 percent approved. Entering the highly charged election-year debate, Obama surely knew that his words would not only make headlines but be heard by Muslims worldwide. The president has made it a point to reach out to the global Muslim community, and the over 100 guests at Friday's dinner included ambassadors and officials from numerous Muslim nations, including Saudi Arabia and Indonesia. Seated around candlelit tables, they listened closely as Obama spoke, then stood and applauded when the president finished his remarks. While his pronouncement concerning the mosque might find favor in the Muslim world, Obama's stance runs counter to the opinions of the majority of Americans, according to polls. A CNN/Opinion Research poll released this week found that nearly 70 percent of Americans opposed the mosque plan while just 29 percent approved. In a statement recognizing the onset of the Muslim holy month, Obama said that the rituals of Ramadan "remind us of the principles that we hold in common, and Islam's role in advancing justice, progress, tolerance, and the dignity of all human beings." The event is this White House's second annual recognition of Ramadan, the Islamic month of fasting, with a traditional iftar dinner, a communal event that traditionally marks the breaking of the fast at sundown.
"There should be no mosque near Ground Zero in New York so long as there are no churches or synagogues in Saudi Arabia," Newt Gingrich responded on his website. "The time for double standards that allow Islamists to behave aggressively toward us while they demand our weakness and submission is over." "While the Muslim community has the right to build the mosque they are abusing that right by needlessly offending so many people who have suffered so much," he said in a statement Friday. "The right and moral thing for President Obama to have done was to urge Muslim leaders to respect the families of those who died and move their mosque away from Ground Zero. Imam Feisal Abdul Rauf, the religious leader for the mosque and head of the Cordoba Institute, has been sent by the Bush and Obama administrations to parts of the Muslim world to speak about religious tolerance in the United States.
Lebanon: US Can Keep its Aid
(Spiteful response: Lebanon's defense minister slams American decision to halt military aid to Beirut following deadly border skirmish with Israel; 'Let them keep their money)
Aug. 12….(Jerusalem Post) Lebanon's defense minister on Wednesday lashed out at a US decision to halt aid to his country's army in the wake of a deadly border clash with Israel, protesting that aid was being made conditional. "Whoever sets as a condition that the aid should not be used to protect Lebanon's land, people and borders from the (Israeli) enemy can keep their money," Defense Minister Elias Murr told a news conference. "Let them keep their money or give it to Israel. We will confront (Israel) with the capabilities we own." "We welcome any unconditional offer of aid to the Lebanese army, and if anyone announces they have decided to halt that aid, they are free to make that choice," he said. Murr's bitter comments were in reaction to a US decision to freeze military aid to Lebanon following last week's clash between Israeli and Lebanese troops that left four dead. It also came after Iran's ambassador to Lebanon, Ghazanfar Roknabadi, said Tehran was ready to help the Lebanese army in a meeting with army chief Jean Kahwaji, according to Iran's official IRNA agency. An advisor to Lebanese President Michel Sleiman has also criticized the US decision but said that support for the army was central to upholding Lebanon's sovereignty. "It is time the Lebanese army be adequately armed, and we are counting on the friends of Lebanon to help the army," Nazem Khoury told AFP. US Congressman Howard Berman, chairman of the House Foreign Affairs Committee, said on Monday he had placed on hold $100 million in aid to Lebanon's military. Berman, in a statement, said he could not be sure the Lebanese armed forces were not working with Hezbollah, which Washington lists as a terrorist organization.
Retired General says Congress Should Give Obama Ultimatum
(Message to president should be he needs to clear up cloud of doubt about eligibility)
Aug. 12….(WND) A retired major general who is a decorated combat veteran and ran an abbreviated campaign for the presidency in 2008 says Congress should deliver an ultimatum to President Obama: Prove your eligibility or quit. The comments come from Major Gen. Jerry Curry, who served in Vietnam and commanded the US Army Test and Evaluation Command at Aberdeen Proving Ground during his long military career. Action should be taken by the Senate and should be taken by the House," he said. "They should serve notice on him and say 'Mr. President, we love you but we want to tell you something. You're under a cloud of suspicion. We can't continue running this country with you in charge under this cloud. Now either you clear it up or you resign from office.'" The issue arose when a caller asked about Curry's opinion of Lt. Col. Terrence Lakin, an active duty doctor who is challenging Obama's eligibility to be commander-in-chief in the military courts. "I think he's a very brave man," Curry said. "I hope he's got good counselors. They are going to try to destroy him personally in this process. I just hope he's prepared to stay for the long term." Curry expanded on his comments. He said the military should not be in the position even of trying to get such answers. "It shouldn't be the lieutenant colonels, sergeants and generals in the Army. It should be the congressman and senators on both sides of the issue asking this man to step up to the plate" to provide proof, Curry said. He said in his video interview, it really shouldn't even be necessary for Congress to do anything. "If he has anything going for him in term of decency and honesty and the kind of whatever it takes to be a good American and be a good public servant, if he has any of that stuff, he would throw it all out of the window and say, 'Look folks. I'm an American citizen. I am native born. Tell me what you want to prove it and I will give it to you," Curry said. Lt. Col. Lakin has an arraignment on various charges filed by the Army over his refusal to deploy until Obama can confirm his eligibility. Lakin's counsel has asked for verification of Obama's birth documentation in court, a request that was rejected early on then renewed. But the attorney has asked how Lakin could be convicted of a criminal count without documenting the evidence fully. Curry, who fought in Vietnam, also was military deputy assistant secretary of defense under President Carter, administrator of the National Highway Traffic and Safety Administration under President George H.W. Bush and worked with the secretary of defense under President Reagan. He is not the first senior military leader to suggest Obama has problems. Retired US Major General Paul Vallely a noted military leader who now is a presence on the Internet with his Stand Up For America and Veterans Defenders websites, earlier told WND he would like Obama to resign. Vallely, who served in Vietnam and retired in 1991 from the US Army as deputy commanding general for the Pacific, said, "We now must call for the immediate resignation of Barry Soetoro (aka President Barack Hussein Obama) based on incompetence, deceit, fraud, corruption, dishonesty and violation of the US oath of office and the Constitution."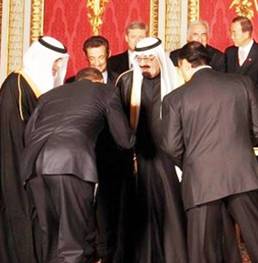 (Obama bowing to Saudi Arabian leader)
"We can wait no longer for a traditional change of power and new government," he has warned. "'We the People' have had enough. Enough is enough. The Obama White House and identifiable members of Congress are now on a progressive-socialist, treasonous death march and are bankrupting and weakening the country. We have watched them violate their sacred oath of office. 'We, the People' cannot wait for and solely rely on the next round of elections in November of this year. It is now and each day that these public servants must put the citizen's interests above self-interest by resigning immediately," he said. Peter Ferrara on the American Spectator website, also has predicted Obama's resignation. "I am now ready to predict that President Obama will not even make it to 2012," he wrote. "I predict that he will resign in discredited disgrace before the fall of 2012," Ferrera said. WND also reported recently that former congressman and GOP presidential candidate Tom Tancredo said for current members of the House and Senate to uphold their oath to defend the United States against enemies "foreign and domestic," they need to file impeachment charges against Barack Obama. Tancredo wrote in an opinion piece in the Washington Times that Obama's "refusal to live up to his own oath of office, which includes the duty to defend the United States against foreign invasion, requires senators and representatives to live up to their oaths. Members of Congress must defend our nation against all enemies, foreign and domestic. Today, that means bringing impeachment charges against Mr. Obama." At the same time, Times columnist Jeffrey T. Kuhner, who also is president of the Edmund Burke Institute, wrote, "President Obama has engaged in numerous high crimes and misdemeanors. The Democratic majority in Congress is in peril as Americans reject his agenda. Yet more must be done: Mr. Obama should be impeached." Kuhner continued, "He is slowly, piece by painful piece, erecting a socialist dictatorship. We are not there, yet. But he is putting America on that dangerous path. He is undermining our constitutional system of checks and balances; subverting democratic procedures and the rule of law; presiding over a corrupt, gangster regime; and assaulting the very pillars of traditional capitalism. Like Venezuela's leftist strongman, Hugo Chavez, Obama is bent on imposing a revolution from above, one that is polarizing America along racial, political and ideological lines. Obama is the most divisive president since Richard Nixon. His policies are balkanizing the country. It's time for him to go."
Assad, Iranian FM Discuss 'Zionist Threats' in Damascus
(Syrian president, Iranian foreign minister meet in Damascus to discuss regional developments, vow to support Lebanon in face of Israeli 'aggression')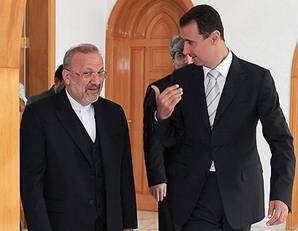 Aug. 12….(YNET) Damascus and Tehran continue to tighten ties. Iranian Foreign Minister Manouchehr Mottaki met with Syrian President Bashar Assad in Damascus on Wednesday and the two discussed "the regional security threats posed by the Zionist regime." Syrian news agency SANA reported that the president and foreign minister discussed recent developments in the Middle East, and in particular the deadly border skirmish between Israel and Lebanon last week, in which Israeli Lieutenant-Colonel Dov Harari was killed. Both Assad and Mottaki declared that they would support Lebanon against Israel's "aggression". The two also discussed the situation in the Palestinian territories and said efforts should be boosted to put an end to what they called the "Israeli violations" in the Palestinian territories, "and in particular the Judaization of Jerusalem and the expulsion of Palestinians from their lands." They also said Israel must lift the blockade on the Gaza Strip. The Syrian president and Iranian foreign minister also discussed cooperation on the situation in Iraq. Syrian Foreign Minister Walid al-Muallem and the Iranian ambassador to Iran also attended the meeting. Earlier, Lebanese Defense Minister Elias Murr lashed out at a US decision to halt aid to his country's army in the wake of the deadly border clash with Israel, protesting that aid was being made conditional. "Whoever sets as a condition that the aid should not be used to protect Lebanon's land, people and borders from the (Israeli) enemy can keep their money," Murr told a news conference. "Let them keep their money or give it to Israel. We will confront (Israel) with the capabilities we own." Murr's comments came after Iran's ambassador to Lebanon, Ghazanfar Roknabadi, said Tehran was ready to help the Lebanese army in a meeting with army chief Jean Kahwaji, according to Iran's official IRNA agency. The border incident led to a deterioration in ties between Beirut and Washington, but gave way for the Islamic Republic's involvement, and its president, Mahmoud Ahmadinejad, is slated to visit Beirut next month.
Lebanon's Crisis Strikes Discord in Palestinian Gaza
Aug. 11….(DEBKA) Beirut is caught in a vice between pro-Iranian and pro-Syrian factions over the Saudi move to pull Syria away from its support for the Lebanese Shiite Hizballah and Tehran's counter-moves. In Palestinian Gaza, debkafile's military sources report, this conflict is reflected in the strains breaking surface between the ruling Hamas, whose political secretary Khaled Meshaal is based in Damascus, and the Jihad Islami, Tehran's Palestinian arm. Both have put their armed men on the ready for a showdown which could end in the carving-up of the densely populated, tiny (360 sq. km.) Palestinian enclave. Our exclusive sources report that Saturday night, Aug. 7, Hamas' Ezzedine al-Qassam and Jihad's Saraya al Qods-Jerusalem Battalions ordered a general mobilization. Except for Israeli military units stationed near the Gaza border and certain intelligence circles, this brink-of-factional war went unnoticed in Jerusalem and Israel's media, which are preoccupied with unending domestic political disputes. Debkafile's military sources, however, call the situation in the Gaza strip "explosive" thanks to the extreme steps the two feuding Palestinian factions have set in motion:
1. Their two armed forces have called up reserves, corralled them inside towns across Gaza and are holding them ready to step into flare-ups as reinforcements;
2. The two armed groups are under orders not to rest: they must stay in uniform, hold their side arms ready and keep awake.
3. Both Hamas and Jihad have broken open their weapons stores and are distributing arms around neighborhoods they regard as loyal bastions.
4. Both threaten to use against each other the missiles they have stocked up for attacking Israel;
Our sources are holding tight in the hope that outbreaks of violence building up in the Gaza Strip do not spill over the border into Israel.
US Sells Saudi's Fighters Inspite of Israeli Concerns
| | |
| --- | --- |
| | (FOJ) The package is one of the biggest deals of its kind and would see Saudi Arabia receiving the fighter jets for a period of 10 years at a cost of $30 billion. The report explained that the deal has been a source of behind-the-scenes tension, as Israeli officials repeatedly conveyed their concerns that the US risks undermining Israel's military advantage. At the same time the US is equipping both the Lebanese and Palestinian militaries. One has to wonder why the US would arm Israel's sworn enemies. |
Aug. 10….(Ha Aretz) The Wall Street Journal said Monday that the United States had signed on to sell dozens of F-15 fighter jets to Saudi Arabia, but that details in the final deal had been negotiated to quell Israeli concerns over the possible exchange. Last month, a senior defense source told Haaretz that Israel was trying to prevent the United States from selling new F-15 fighter jets to Saudi Arabia in order to upgrade the 150 F-15s already in the Saudi air force. Defense Minister Ehud Barak raised the deal in meetings with US Defense Secretary Robert Gates and National Security Advisor General Jim Jones over a month ago in Washington. It was also reported that Israel made its reservations clear at a meeting in Tel Aviv between top Israeli defense officials and a delegation led by US under secretary of defense for policy Michele Flournoy. According to the Wall Street Journal report, the Obama administration in fact agreed to sell advanced F-15 fighter jets to the Saudis, however excluding long-range weapons systems as well as other components in order to quiet Israel's concerns. However, despite the reported Israeli concerns over the weapons deal, US officials speaking to the Wall Street Journal made it clear that Washington did not make changes to appease Israel. "It's not that Barak swoops into town, we suddenly make a bunch of concessions that the Israelis never knew about before, and they're assuaged," the official said. "There were no refinements, no changes." The official concluded that Israel had acquiesced to the deal not because of changes made to it, but as a result of Israeli officials having a better understanding "what the configuration looks like." The report said that the $30 billion, 10-year package came after US officials offered "clarifications" to Israel about the deal, with officials close to the deal saying that, while Israel still had its reservations, it was unlikely to challenge the sale. In addition to the exclusion of long-range weapons, according to the Wall Street Journal, the 84 F-15s included in the deal will have onboard targeting systems of the kind the US sells to foreign nations, yet inferior to those in American-used F-15s. Last month, security sources told Haaretz that if the deal would indeed be completed, Israel hoped Saudi Arabia will receive fewer advanced versions of the F-15 than those possessed by Israel, which seeks to maintain its air force's superiority. "Today these planes are against Iran, tomorrow they might turn against us," the source said. Israel and the United States held a number of meetings over the past 18 months on maintaining Israel's security standings in the Middle East. The two sides agreed that neither would surprise the other by agreeing to a military deal with a third party. A senior source in the US administration told Haaretz the United States has promised Israel it would have priority access to any new weapons system and, in some cases, exclusive rights to buy new weapons systems, as opposed to Arab states. "The administration is conducting open and completely transparent talks with Israel on the matter, and we are updating Israel on any planned deal to hear its reservations," the official said. "We believe that there are many cases in which the Iranian threat commits us to strengthen the ability of states in the region to defend themselves."
US Congress Seeks Halt of Aid to Lebanese Army
(Concern over ties to Hizbullah prompt freeze of $100m)
Aug. 10….(Jerusalem Post) The US Congress is blocking funding to the Lebanese military following a cross-border shooting attack on Israeli soldiers last week amidst concern it is cooperating with Hizbullah. "This incident was tragic and entirely avoidable," Rep. Nita Lowey (D-New York) said Monday. "US assistance is intended to enhance our safety and that of our allies." Lowey chairs the House appropriations subcommittee that authorizes such funds. The $100 million in Lebanese military assistance approved for 2010 has yet to be disbursed, giving her a window to put the funding on hold for the immediate future. Lowey is looking to find out more about the nature of what she termed an "outrageous incident," as well as watching how Lebanon responds in the wake of the violence. "These holds are typically dependent on the actions and rhetoric coming out of the relevant nations," a Democratic aide noted. Similarly, House Foreign Affairs Chairman Howard Berman (D-California) also applied a hold, citing more general concerns about "reported Hizbullah influence on the Lebanese Armed Forces." Congressman calls for information on Hizbullah's role in LAF. Berman entered his hold the day before the deadly incident, he said Monday, which only confirmed his reservations. His office also wants more information on Hizbullah's role in the LAF, how diligently US weapons are kept track of and how well the LAF cooperates with UNIFIL. "Until we know more about this incident and the nature of Hizbullah influence on the LAF, and can assure that the LAF is a responsible actor, I cannot in good conscience allow the United States to continue sending weapons to Lebanon," Berman said. Last Tuesday, Lebanese Armed Forces soldiers shot at Israeli officers while brush was being cleared along the northern border; one officer was killed and another seriously wounded. "Ultimately, we continue to believe that our support to the LAF and ISF [Internal Security Forces] will contribute toward improving regional security." He added that the funding was "part of an international effort to help strengthen the institutions of the Lebanese State. We have provided support to Lebanon to strengthen the ability of the Lebanese government to exercise its own sovereignty." Additional $100 m. was requested before incident occurred. LAF funding approved for 2009 and already in the pipeline is being distributed by the US as scheduled. Another $100 million had already been requested by the Obama administration for 2011 and considered by Lowey's subcommittee before the incident occurred. That money could also be affected when Congress reconvenes from its summer recess in September. On Monday, Rep. Eric Cantor (R-Virginia), the House minority whip, called for 2011's funding to be blocked until the incident was investigated and it was clear that the Lebanese military wasn't collaborating with Hizbullah. "The LAF's unprovoked attack on the Israeli defense forces in undisputed Israeli territory demands a sweeping reassessment of how we distribute our foreign aid," Cantor declared in a statement. "The purpose of the assistance was to build up a Lebanese fighting force that would serve as a check on the growing power of the radical Islamist Hizbullah movement," he noted, referring to hundreds of millions of dollars the US has already spent training and equipping the LAF in recent years. "For the past few years, the US and the international community looked the other way as the lines between Hizbullah and the Lebanese military and government became blurred," he charged. "But the days of ignoring the LAF's provocations against Israel and protection of Hizbullah in southern Lebanon are over." Separately, the US is also looking to boost the military capabilities of Saudi Arabia, with a reported $30 billion arms deal in the works. The Saudis will be getting the advanced F-15 fighter, although the jet will not have long-range weapons or other systems that Israel has been wary about, according to a report in the Wall Street Journal. Defense Minister Ehud Barak was recently in Washington for talks with Defense Secretary Robert Gates and other top Pentagon officials, in which this issue was understood to have figured prominently.
UN Teaching Arab Kids to Hate Jews - in Jerusalem!
Aug. 10….(Israel Today) It is no secret that the Palestinian education system continues to demonize Israel and the Jews. It is also no secret that the UN, and especially the UN Relief and Works Agency set up specifically to cater to "Palestinian refugees," has no love for the Jewish state. But for the internationally-funded UNRWA to be teaching Arab kids living in Jerusalem using the tainted Palestinian Authority textbooks is a travesty Western power brokers are simply ignoring in their march to a phony peace. Israeli investigative journalist David Bedein discovered the use of the inciting Palestinian textbooks while checking up on two UNRWA-run schools on the eastern side of Jerusalem. He found that just like kids in Ramallah and other PA-controlled towns, Arab children in Jerusalem are being taught that those who massacre Jews in suicide bombings are "martyrs" and that all the land between the Jordan River and the Mediterranean are "stolen Palestinian lands" that must be liberated by blood. "These books discuss war against Israel, martyrs, the right of return. It's the first education system since the Third Reich which prepares its pupils to demonize Jews and to wage war against the Jews," Bedein said in an interview with Arutz 7 radio. UNRWA is primarily funded by the United States and the European Union. That it is using its funding to buy and teach from textbooks that encourage the use of terrorist violence is a violation of US, and perhaps European, laws. It also runs contrary to toothless demands by American and European leaders that the Palestinians reform their education system to promote peaceful coexistence between Arabs and Jews. Then-US Senator Hillary Clinton said of the textbooks in 2007: "I believe that education is one of the keys to lasting peace in the Middle East. Ever since we first raised this issue some years ago there still has not been an adequate repudiation of incitement by the Palestinian Authority. It is even more disturbing that the problem appears to have gotten worse. These textbooks don't give Palestinian children an education, they give them an indoctrination."
Iran's Khamenei Commands Lebanese Crisis & Lebanon Army
(FOJ….While the US has been busy building up the Lebanese army to counter the influence of Hezbollah in Lebanon, Iran has been using Hezbollah's political arm to overtake the Lebanese government and thereby take command the newly built and US trained Lebanese army) (The US government is nothing if not stupid)
Aug. 10….(DEBKA) Tehran has thrown all its weight behind Hizballah leader Hassan Nasrallah by declaring that "Lebanon, Iraq and Afghanistan are Iran's security belt," and sending its National Security Council Director Saeed Jalili, who is also lead nuclear negotiator, to Beirut Sunday to strengthen his hand. This is reported by Debkafile's Iranian sources. Upon arrival, the NSC head went into conference with Nasrallah and the spiritual leader's special aide Ali Akbar Velayati, who arrived in Beirut last Thursday, Aug. 5 after the Lebanese-Israeli border clash, and is still there. Jalilee then took off for Damascus to give Syrian president Bashar Assad a piece of his mind. According to our sources, in a conversation that went on till early Monday, the Iranian official made it clear that Tehran would not tolerate the deal Assad concluded with Saudi king Abdullah to pull away from, or even reduce, Syrian relations with Hizballah. Supreme leader Ayatollah Ali Khamenei has clearly taken charge of the Lebanese situation. He is maintaining control through two top officials kept standing by in Beirut and Damascus as Nasrallah prepares to accuse Israel of assassinating Rafiq Hariri, four-time prime minister of Lebanon, in February 2005. This is the gambit Nasrallah is using to blackmail the Hariri government by a threat of civil war and/or a military confrontation with Israel into disbanding the UN special tribunal and so avoid surrendering indicted Hizballah leaders to the court. With Tehran ranged solidly behind him at the highest level, the Israeli, Lebanese and Syrian war planners have put their armies, along with Hzballah, on the ready for trouble. Iran made sure border tensions remained high after Lebanese army snipers killed an Israeli officer in a clash last Tuesday, Aug. 5. As Debkafile reported at the time, a group of Iranian intelligence and commando officers Friday openly toured the South Lebanese-Israeli borders and studied Israeli positions, making sure they were seen on the Israeli side. They are still present at Hizballah's forward positions. Sunday, Lebanese foreign minister Ali Al-Shami flew to Tehran to appeal for help in toning down the ultimatum posed by Nasrallah for Prime Minister Saad Hariri to disband the special tribunal established by the UN and Lebanon to probe his father's murder and instead accuse Israel before the UN Security Council. Al-Shami maintained that this move would break up Lebanon's unity government and open the gates to a recurrence of civil warfare and fighting with Israel. His appeal to President Mahmoud Ahmadinejad fell on deaf ears. Instead, Jalilee was put on a special plane to Beirut to strengthen the Hizballah leader's hand. This was clear from his remark: "The power of resistance and unity of the Lebanese Army does not let the Zionist regime to even cut a tree. Earlier, the Zionist regime could advance to the borders of Beirut fearlessly. Today the Zionist army gets a strong response from Islamic Resistance." His words meant that, for Tehran, the Lebanese Army's 9th Battalion is no longer a separate, autonomous entity but integral to Hizballah and a partner in its radical mission.
Israel Threatened with Terror 'Resistance Axis'
(Middle East expert says link designed to deter actions against Lebanon, Iran)
Aug. 10….(WND) An expert on the Middle East says Hezbollah, supported by Hamas, Syria, Iran and potentially Turkey, will form a "resistance axis" if Israel attacks Lebanon, from which attacks have come in the past, or Iran, which reportedly is seeking nuclear weapons and has a president who has threatened to destroy the Jewish nation. And the result of any counter-attack could mean the end of Israel, according to Alastair Crooke, a former member of the British intelligence service MI6, who maintains close ties with Hezbollah, Hamas and the leadership of Syria and Iran. In the wake of mounting tensions in Lebanon, Crooke said that Hezbollah's resistance to Israel does not equate to its destruction, despite what the West and Israel think. In a recent exclusive interview with the G2Bulletin in Beirut where he is based, Crooke said that there is an historical and cultural unity that bring these countries together, along with Hezbollah and Hamas. "Everyone sees Israel at a crossroads," Crooke said. "The situation for Israel is changing. A comprehensive solution is needed," said Crooke, who runs the Beirut-based Conflicts Forum, an organization that advocates engagement between political Islam and the West. In questioning the prospect for bombing Iran over its nuclear enrichment program, Crooke, who also was a Middle East adviser to the European Union, said Iran had a "right" under the Nuclear Non-Proliferation Treaty, or NPT, to enrich uranium and not just a discretion "allowed" by existing weapons states such as the US. He pointed out that Iran is a signatory to the NPT while Israel isn't.
Lebanese President Vows to arm Military with Advanced Weaponry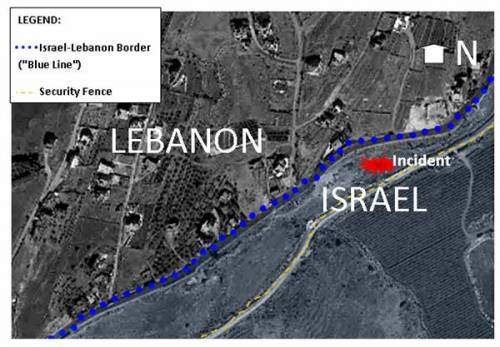 Aug. 9….(Ha Aretz) Lebanese President Michel Suleiman toured Saturday the area where Lebanese and Israeli military forces clashed and vowed to arm the country's troops with advanced weaponry. On Tuesday, while Israeli troops were trimming a tree on the border fence between Israel and Lebanon, Lebanese soldiers opened fire at an observation post some 300 meters from the fence in Israeli territory. A senior Israel Defense Forces officer was killed, and another was seriously wounded. Two Lebanese soldiers and a journalist were also killed in the ensuing clashes. Speaking to Lebanese Armed Forces (LAF) members in Adissyeh in southern Lebanon, where the clashes took place, Suleiman commended their performance during Tuesday's fighting, saying "it's necessary to resist Israeli aggression." Suleiman said the cabinet will put forward a plan at its next session to arm the Lebanese military "with all that is necessary." "Lebanon will work with friendly countries to provide it with more advanced equipment," Suleiman said. Arming the military is aimed at "protecting the dignity of the nation," he added. Together with Defense Minister Elias al Murr, Suleiman inspected the army base in Adissyeh and met UN officers also present in the area. Suleiman said Lebanon will "cooperate with UNIFIL in the implementation of UN Security Council Resolution 1701." UN Resolution 1701 of August 17, 2006 ended a 33-day war between Israel and Lebanese Shiite militant group Hezbollah during which some 1,200 people, mainly Lebanese civilians, died.
Lebanon Building Up Army after Israel Border Clash
Aug. 9….(Reuters) Lebanon said Saturday it was committed to building up its armed forces after complaints by Israel about Western assistance to the military following a deadly border clash between the two countries. Two Lebanese soldiers, a Lebanese journalist and a senior Israeli officer were killed in a rare cross-border skirmish on Tuesday, the worst such violence since a 2006 war between Israel and Iranian-backed Hezbollah guerrillas. The clash, in which Lebanon and Israel gave different accounts of what happened, raised fears of wider conflict. Both countries have since worked to calm tension at the border. Speaking in the southern Lebanese village of Adaisseh where the clash occurred, President Michel Suleiman said the cabinet would meet to ratify a three- or five-year plan to arm the military "so that it can protect the nation's dignity." "The government will put forth a plan to arm the army regardless of the position of some countries," Suleiman was quoted as saying by the National News Agency. He did not say when the plan would be approved. Israeli Defense Minister Ehud Barak said he had spoken to France and the United States about the Jewish state's worries. "We think it is a mistake to arm the Lebanese army with weapons, with advanced systems," Barak said in an interview with Israel Radio earlier this week. Because these things are liable to be, we used to describe the danger that these things would end up in Hezbollah hands, but before our eyes something more troubling is happening, and they are being used directly by the Lebanese army against us." Asked whether Paris or Washington had paid attention to Israel's complaint, Barak said: "Not really. Not really. Hezbollah did not take part in the clash, although its leader, Sayyed Hassan Nasrallah, said his powerful Shi'ite guerrillas would intervene if Israel attacked the army again. By Israel's account of Tuesday's events, a Lebanese army sniper hit two Israeli officers as they watched a tree-pruning operation on the security fence below the UN "Blue Line." The Lebanese army said it first fired warning shots, then Israelis fired at their soldiers. Israeli artillery and tank fire followed. The United States has provided more than $720 million in assistance to the Lebanese army since 2006, according to the US embassy website. In Washington, asked whether the United States was confident the Lebanese army was not being "manipulated by any particular political group," State Department spokesman P.J. Crowley said: "We are, as we've said many times, we're in support of the civilian government in Lebanon," he said according to a transcript of an August 5 daily press briefing. "And we think improving the capability and performance of the Lebanese government, both across the government, but including in the security sector, contributes to stability in the region and is in our interest."
WEEK OF AUGUST 1 THROUGH AUGUST 7
Did Iran Coordinate Attack on Israel's Borders?
(Tehran sending message it can 'bring any war' into Jewish state)
Aug. 6….(WND) Western, Israeli and Arab intelligence services have identified a growing penetration of Iranian Revolutionary Guard Units into the Lebanese Army, according to Egyptian and other Middle Eastern security officials speaking to WND. The security officials point specifically to the Division 9 Lebanese Army border patrol, which is suspected of carrying out yesterday's attack on Israeli troop positions that resulted in the deaths of three Lebanese soldiers, one Lebanese reporter and an Israeli soldier. The security officials said Iran has penetrated Lebanese Army positions along the Israeli border, replacing Hezbollah inside the first lines of the Lebanese Army. The security officials said a committee of the Arab League that publicly asked Lebanon to inspect its army for Israeli agents was really mostly concerned about the growing role of Iran in the Lebanese Army. Egyptian security officials, meanwhile, told WND that the rocket attacks on Eilat and Aqaba were coordinated by Iran, in particular an axis of the Iranian-backed Hamas and Hezbollah that works from the Egyptian Sinai desert. The attack itself may have been carried out by cutouts, specifically Islamist organizations that operate under the umbrella of al-Qaida ideology, the officials said. Since Friday, a series of border attacks have struck Israel. On Friday and Saturday, rockets were launched from Gaza into nearby Jewish communities. One of the rockets smashed into a children's hydrotherapy center in the populated town of Sderot. The center, normally bustling with more than 100 workers and children during working hours, was closed at the time of the strike. On Monday, Grad-style rockets hit the Sinai, Aqaba and Eilat in coordinated attacks. Yesterday saw a series of deadly clashes along Israel's northern border. "Iran is sending a message that they are able also to bring any war into the Israeli land and not only in the Iranian field," said a Middle Eastern security official. "The message is also intended for Egypt and Jordan, which is accused of helping Israel train for a war with Iran." "Iran is leading a huge campaign in the Middle East to counter military signs that Israel may strike. Iran is worried about what they view as an agreement that the Arab countries will remain silent if Israel attacks Iran," the security official said.
Israel Threatens to Destroy Hostile Lebanese Border Positions
Aug. 6….(DEBKA) Israel has handed Lebanon an ultimatum. Before a line can be drawn on the Lebanese-Israeli clash which flared Tuesday, Aug. 3, the Lebanese Army 9th Brigade commander responsible for sending snipers to shoot at Israeli troops clearing brush on their side of the border and killing Lt. Col. (Res.) Dov Harari, must be dismissed or court-martialed, Debkafile's military sources report. This burst of Lebanese sniper fire triggered the clash. The ultimatum was delivered at a three-way meeting at UNIFIL headquarters in Naqura on yesterday, attended by UN, IDF and Lebanese Army officers, after Israel learned that the guilty Lebanese officer is a Shiite who hangs out with Hizballah commanders in South Lebanon. The possibility is not precluded that his Hizballah friends tipped him off to the presence of high Israeli officers within firing distance from the Lebanese border. This information runs contrary to the IDF's official line on the incident, which absolved Hizballah of involvement in the clash and claimed the Shiite terrorists were taken by surprise no less than the Israeli military. UNIFIL carried a warning to Beirut that if the Lebanese army failed to punish the officer, Israel would deem it an enemy force and feel free to destroy its military positions along their border. Our military sources reveal that the Naqura conference was also attended unofficially by the American, French and German military attachés stationed at their embassies in Beirut. They were sent to apply the brakes on any further escalation of the Israeli-Lebanese military showdown. A UNIFIL spokesman announced early Thursday morning, August 5 that Israel and Lebanon had both pledged to work with the UN to avoid violent incidents in the future. However, on the quiet, our sources report the UN peacekeepers agreed to convey the Israeli ultimatum and warning to Beirut with their own recommendation to remove the Lebanese officer responsible for the outbreak from the South in the interests of restoring calm. Jerusalem will not let the death of a high officer go unpunished. The Lebanese high command and Hizballah were reminded of Israel's reprisal Saturday Aug. 1 against Hamas, for firing a Grad missile at Ashkelon on July 30: Israeli Air Force bombers struck a number of targets across the Gaza Strip, one of which killed the high-ranking Hamas commander, Issa Batran, commander of the organization's missile batteries. It was to avenge his death that Hamas' military wing, Izzedin al-Qassam, launched half a dozen Grad missiles from Sinai against Eilat on Monday, August 2. Far from winding down the Lebanese-Israel border crisis, the Israeli ultimatum looks more like the opening move for the next round. The Beirut government is not expected in Jerusalem, Washington or Naqura to punish the Shiite 9th Brigade officer lest Hizballah throw its weight behind him and canonize him as a national Shiite hero. Israel will then feel free to exercise its options for the Lebanese act of aggression. The state of play between Israel and Lebanon was described by high Israeli military sources as fluid and incendiary. A single tree or rocket could blow up into a major conflagration and spread across the Middle East. Time is rushing toward another flashpoint: Hizballah's secretary-general, Hassan Nasrallah, has threatened to pass the buck for the five-year old assassination of former Lebanese Prime Minister Rafiq Hariri to Israel to ease the pressure of guilt preying on his own organization. He promises to present "proof" of Israeli secret service complicity at a press conference on Monday, August 9. Western military and intelligence circles in the Middle East agreed Thursday that Israel cannot afford to let a second casus belli from Lebanon go unanswered after the unprovoked death of its officer. A tense Prime Minister Benjamin Netanyahu set the scene Thursday night with his first ever videotaped speech that was broadcast on three Israeli TV channels. He held Hamas and the Lebanese government responsible for three cross-border attacks in as many days. While the third was staged by Lebanon, Netanyahu placed the Grad attacks on Ashkelon and Eilat squarely at the door of the Palestinian Hamas. He made it clear that Israel would make both answerable when he said: "Don't test our resolve to defend our citizens."
Ahmadinejad Survives Assassination Attempt
Aug. 5….(DEBKA) Debkafile's Iranian sources report an explosive device was tossed at the Iranian president Mahmoud Ahmadinejad's heavily secured armored convoy as it drove through the northern Iranian city of Hamadan Wednesday, Aug. 4. He was reported unhurt. Some of his bodyguards and bystanders were or injured. Iranian media reported the explosion hit a minivan carrying correspondents and one attacker was arrested. Later, the president's office said the bang was caused by a "firecracker." After the attack, Ahmadinejad switched vehicles and was soon standing on a platform in the town center and making a speech televised live.
Hamadan's population is purely Iranian Shiite with none of the ethnic or religious minorities persecuted by the regime. It is located on the site of the Biblical Shushan, the site of the tombs of Esther and Mordecai, several hundred kilometers west of Tehran.
Ahmadinejad Escapes Assassination Attempt; Suspect Arrested
Aug. 5….(Arutz) Arab and Iranian sources confirmed Wednesday that Iranian President Mahmoud Ahmadinejad escaped an assassination attempt in the city of Hamadan and that several people were wounded. The Iranian conservative Khabaronline.ir website said that the attacker was arrested. Iran's semi-official media originally confirmed the report, but the office of Ahmadinejad later denied it, claiming that someone threw a firecracker at his motorcade to celebrate his arrival. The Arabic-language Arabiya website, which is considered responsible and has published several articles against Ahmadinejad, reported that the "Iranian presidency confirms that President Ahmadinejad escaped an assassination attempt as his procession was targeted by a bomb." Arabiya said that Ahmadinejad's procession was targeted by a bomb, but other sources said a grenade was thrown at the convoy and landed approximately 300 feet from Ahmadinejad's car. After the attack, Ahmadinejad continued with his schedule and addressed a crowd as planned. Iran's semi-official media reported in mid-July that Israel, in collaboration with Iranian terror groups, plotted to kill the Iranian leader. "The Zionist regime had met with the Mujahedin-e-Khalq Organization (MKO) to execute the plan," according to the Fars News Agency.
Netanyahu Issues Stern Warnings to Lebanon & Hamas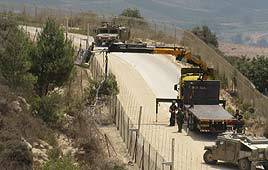 Aug. 5….(YNET) Israel will hit hard against anyone who tries to harm its citizens, Prime Minister Benjamin Netanyahu said on Wednesday as he issued a stern warning to both Hamas and the Lebanese government in the aftermath of four attacks against Israel in the past five days from Gaza, Sinai and Lebanon. "We will reach, and hit with great force, anyone who shoots at Israeli citizens, no matter from where," Netanyahu said in a Hebrew statement released to the media. In a new move for the Prime Minister's Office, Netanyahu also released the statement in video form. In it, he held Hamas accountable for Friday's rocket attack from Gaza on Ashkelon, and for Saturday's attack against the Sha'ar Hanegev region. He also blamed Hamas for Monday's rocket fire from Sinai against Eilat and Aqaba. One Jordanian was killed. These attacks were followed by an incident along the northern border on Tuesday in which Lebanese soldiers killed an IDF reserve battalion commander and wounded another officer. "I want it to be clear to Hamas, as well as to the Lebanese government, which we hold responsible for the violent provocations against our soldiers: Do not test our determination to protect Israeli citizens and soldiers. Our policy is clear. Israel responds and will continue to respond forcibly to every attack against its citizens and soldiers," the prime minister said. Separately, he issued an English statement, both in print and on video, in which he called on the international community to condemn the Lebanese attack in light of Wednesday's statement by UNIFIL peacekeepers that the trees the IDF was removing along the security fence was located in Israel.
Netanyahu said that now was the time for the world to speak out against such aggression. "For years, many in the international community have remained silent when rockets have been fired at Israeli civilians, and when unprovoked attacks have been launched against our soldiers," he said. "Expressions of outrage have largely been reserved for Israel's response to those attacks. Firing missiles on civilians is a war crime, and unprovoked attacks on soldiers are blatant acts of aggression. "Israel expects the international community to condemn such attacks in the strongest possible terms," the prime minister said. "All those in the international community committed to peace should support Israel's right to defend itself against those who attack the innocent and seek to destroy peace."
The United Nations established that the trees cut by the Israeli Defense Forces were on the Israeli side of the line that separates Israel and Lebanon, and that the firing by the Lebanese Armed Forces was wholly unjustified and unwarranted." Deputy Foreign Minister Danny Ayalon also told The Jerusalem Post that Israel expects the international community to come out loudly in condemnation of Lebanon, especially in light of UNIFIL's statement. Diplomatic officials in Jerusalem said they were slightly frustrated at the "even-handed" statement put out by European countries, which did not squarely condemn Lebanon.
Islamic Mosque Adjacent to Sept. 11 Site Wins Approval
(City Landmarks Commission clears way for construction of Muslim cultural center near ground zero)
Aug. 4….(Arutz) A New York city agency on Tuesday cleared the way for construction of a Muslim cultural center near the site of the Sept. 11 attacks. In a case that triggered national debate, the City Landmarks Commission voted unanimously to deny landmark status for an old building currently on the site of the planned center. Opponents of the Muslim center, which would include a mosque, say it will be a betrayal of the memory of victims of the Sept. 11 attacks, which were carried out by the militant Muslim group al Qaeda with hijacked passenger planes. Critics had hoped to stall the project by having the 1857 Italianate building declared a historic landmark worthy of protection because pieces from one of the hijacked planes hit it. Commission members argued the building, situated among a row of businesses about a block from attack site, held no historic value and their vote will allow the old building to be demolished. But the September 11th Families for Peaceful Tomorrows, founded by family of those killed in the 9/11 attacks, praised the commission for making its decision without caving in to politics and emotion. "We strongly support the establishment of the Islamic Cultural Center as we believe that welcoming the center, which is intended to promote interfaith tolerance and respect, is consistent with the fundamental American values of freedom for all," the group said in a statement. The American Center for Law and Justice, representing a firefighter who survived the attacks, said it will file a lawsuit on Wednesday challenging the decision and seeking to stop the building of the mosque. The group said in a statement that the city was guilty of "ignoring proper procedure and ignoring a growing number of New Yorkers and Americans who don't believe this site is the place to build a mosque." Some opponents of the Muslim center had pointed to comments by imam Feisal Abdul Rauf, leader of the project, that "United States' policies were an accessory to the crime that happened" as evidence to the center's ulterior motives.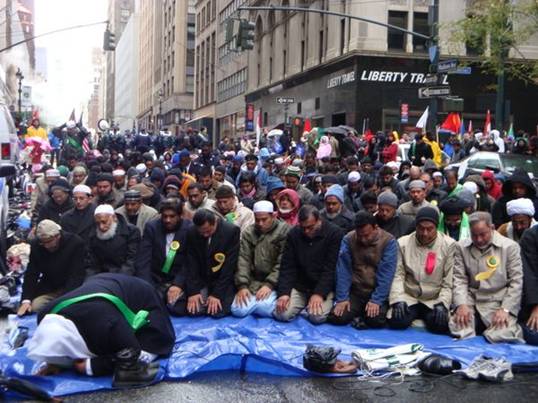 (FOJ) A historically Christian Nation cannot put up a Christmas scene of the baby Jesus in a public place, but the government allows Muslims to totally interrupt and stop normal traffic every Friday afternoon when Muslims gather and begin worshiping in the public streets. Something is happening in America that is reminiscent of what is happening in Europe. This is Political Correctness gone crazy...And let us not forget that we have a President who proudly proclaimed in a Muslim nation last year that America is not a Christian nation! America truly once was a Christian-based nation, but that day is past. It is only in Christian nations where the spirit of tolerance for the "freedom of worship" is practiced. It is certainly not the same spirit in Muslim lands!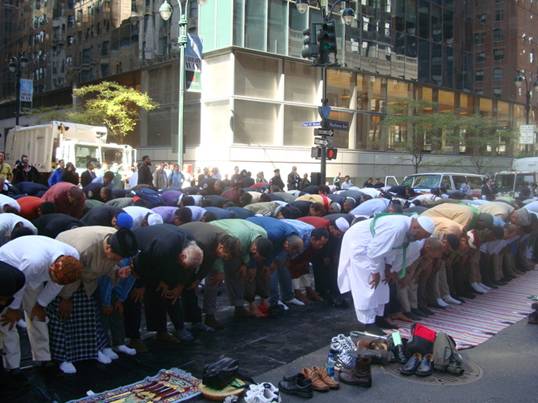 Netanyahu: Israel will Respond Forcefully to Further Attacks
Aug. 4….(Arutz) Prime Minister Binyamin Netanyahu instructed the IDF to respond forcefully to any further aggression from Lebanon, and laid the blame for Tuesday's deadly incident on the government of Lebanon. "Israel views the attack on IDF soldiers with great gravity," Netanyahu said in a formal statement Tuesday evening. "This is a grave breach of United Nations Security Council Resolution 1701," he said. "I see the Lebanese government as directly responsible for this violent provocation against Israel. Israel has responded forcefully and will do so in the future as well, against any attempt to break the peace on the northern border and to harm the residents of the north and the soldiers who defend them." Defense Minister Ehud Barak called the incident a "murderous terror attack" and warned the Lebanese government against "continuing to provoke the IDF as they have been doing recently." He demanded that the Lebanese Army investigate and find out who was responsible for Tuesday's attack. The United States said Tuesday that it is "extremely concerned" about the violence on the Lebanon/Israel border. State Department spokesman P.J. Crowley said the U.S. was in touch with both governments to try and establish what exactly happened.
Lebanese Army Emerges as Israel's New Pro-active Foe
Aug. 3….(DEBKA) By launching a cross-border sniper attack on Israeli forces Tuesday, Aug. 3, and provoking a major clash, the 9th Brigade of the Lebanese Army laid down a new fact of life in the Middle East: The next war against Israel will be fought - not by the Hizballah militia, but by the Lebanese army, whose mission is henceforth merged into the radical objectives of the Iran-backed terrorist group. By taking on Israeli forces, the Lebanese Army assumed responsibility for the volatile Lebanese-Israeli border and showed it was prepared to take the consequences of aggression. Never seen as capable of anything more than substandard police work and inclined to run a mile from combat situations, this army was described by debkafile's military sources as having astonished military observers by its performance against the IDF.
1. Its commanders proved capable of catching the Israeli military unawares, in exactly the same way as Hizballah did when it kidnapped and murdered three Israeli soldiers in 2000 and, again, when it snatched another two Israeli officers in a cross-border raid in 2006. In both cases, the terrorists stole across the border into Israel. Tuesday, the Lebanese army showed itself to be not only an apt pupil of Hizballah's tactics, but capable of going "one better." Its snipers shot Lt. Col. (Res.) Dov Harari, 45, from Netanya, in cold blood as he stood well inside the Israeli border, and seriously injured Capt. Ezer Lakiya from Kfar Harif. Doctors are fighting to save his life by removing a piece of shrapnel from his heart. Both were watching Israeli troops carrying out routine tasks on the Israeli side of the border fence.
2. The Lebanese army was able to hoodwink Israeli military intelligence border scouts and keep its plan of attack dark. The fact that Hizballah was also out of the picture would have been cold comfort for the Israeli high command.
3. Its commanders were not deterred by Israeli retaliation and rather than backing down raised the pitch of violence.
4. Israel commanders judged that, by exacting a painful price, they could silence the enemy's guns. They therefore bombed the Lebanese Army's regional command center at Taybeh, torched an APC and left three soldiers dead. The enemy kept on shooting.
5. The day's combat ended with the Lebanese army's 9th Brigade established as a new threat to the Israel Defense Forces from positions abutting the border. Its presence in South Lebanon is moreover legitimate, unlike Hizballah, which moved men and weapons into the south although prohibited from doing so by the UN Security Council Resolution 1701 of 2006.
6. The Lebanese army may decide to follow up on its attack, using one flimsy pretext or another. After all, the UN peacekeepers stood by idly when the snipers opened fire into Israel under the world body's flag.
8. The IDF's response was disproportionately mild given the loss of two high commanders in an act of unprovoked aggression. But it was enough to allow Hizballah's Hassan Nasrallah to pose as Lebanon's great national unifier. In the speech he delivered Tuesday night, he capitalized on the incident by saying he had ordered his militiamen not to interfere in the clash with Israeli forces, commended the Lebanese Army for its bravery in taking on the Zionist foe and let it be understood that his rockets and missiles would be made available for the next round of fighting with Israel.
Israel-Lebanon Clashes 'Staged Provocation'
Aug. 4….(WND) The Israel Defense Forces says it believes allies of the Hezbollah terrorist organization today started a series of clashes along Israel's northern border, resulting in the deaths of at least three Lebanese soldiers and a Lebanese journalist. Sources in the IDF told WND they fear Hezbollah may be trying to create a fight with Israel to divert attention from a potentially damaging United Nations probe into the 2005 assassination of former Lebanese Prime Minister Rafiq Hariri, for which Syria and Hezbollah have been widely blamed. The Lebanese army today confirmed three of its troops were killed when Israeli forces fired on a vehicle in which they were traveling, setting it on fire. Another soldier was wounded. The Lebanese al-Nahar newspaper reported a journalist from the al-Akhbar newspaper was killed during the clash. Lebanese reports claim the conflict began when an IDF patrol attempted to uproot a tree on the Lebanese side of the border early today. Other reports said the Israeli soldiers were attempting to plant cameras in Lebanon. The presence of Israeli troops resulted in the Lebanese army opening fire, with Israel responding by shelling the Lebanese side of the border. Also, a Katyusha rocket reportedly was fired into a northern Israeli civilian population center. Residents in the north report hearing a loud explosion. They were then warned by a siren to enter their bomb shelters. Since Israel's 2006 war in Lebanon, the IDF has conducted routine patrols up to the international border, which in some places is disputed territory. IDF officials told WND Israeli soldiers coordinate their routine patrols with the international forces stationed at the border and that today's patrol was no different. Also, the officials said the IDF was performing necessary maintenance work on the Israeli side of the fence. Sources in the IDF said today's clashes appear to have been a coordinated assault, especially in light of a Katyusha rocket they said was ready on a truck in Lebanon for firing, making it look like a staged provocation. The IDF sources said many of the Lebanese forces at the border, particularly the Division 9 Lebanese Army border patrol, consist of Shiite Muslims. The sources believe that division is loyal to Hezbollah, a Shiite organization.
Assad Vows to Help Against Israeli Aggression
(Following fierce exchanges of fire along Israel-Lebanon border, Syrian president tells Lebanese counterpart Damascus 'will stand by its sister Lebanon)
Aug. 3….(YNET) Following Tuesday's heavy exchanges of fire between Israeli and Lebanese forces, Syrian President Bashar Assad told his Lebanese counterpart Michel Suleiman that Syria stands by Lebanon and is willing to provide it with any necessary aid, al-Jazeera reported. At least three Lebanese soldiers and a local journalist were killed in the border incident. The official Syrian Arab News Agency (SANA) quoted Assad as saying that the "Israeli attack proves once again that Israel is constantly working to destabilize security in Lebanon and the region. "Syria stresses that it is standing by its sister Lebanon in the face of the criminal Israeli aggression and calls on the UN to condemn and stop this aggression," the Syrian leader added. Earlier, Suleiman vowed to "stand up to Israel's violation of Resolution 1701, whatever the sacrifices are." Resolution 1701 brought an end to Israel's war with Hezbollah in the summer of 2006. The Lebanese president denounced the "crossing of the 'blue line' (the internationally recognized border between Israel and Lebanon) by Israeli soldiers, the attack on property and the bombardment of the Lebanese army checkpoint in the Adaisseh area."
IDF Soldier, 4 Lebanese Killed in Northern Border Clash
Aug. 3….(Jerusalem Post) Exchange of fire between IDF and LAF troops prompts Israel and Lebanon to cite violations of UN Resolution 1701; IDF says it gave UNIFIL notice of plans to cross fence for maintenance work. An IDF soldier was killed and two soldiers were seriously injured during an exchange of fire with Lebanese forces on the northern border on Tuesday. Lt.-Col. Dov Harari, a 45-year-old from Netanya and the commander of a reserve unit died in the clashes. On the Lebanese side, at least four were killed, three soldiers and one journalist, according to a Lebanese security official. Speaking on condition of anonymity under military guidelines, the Lebanese official said IDF shelling struck near a military vehicle in the border town of Adaisseh, setting it on fire and killing three soldiers inside the vehicle. Lebanese reports said the conflict began when an IDF patrol attempted to uproot a tree on the Lebanese side of the border. Other reports said the Israeli soldiers were attempting to plant cameras. According to Israeli reports, the IDF was performing necessary maintenance work across the fence, but still within Israeli territory, since the fence does not always exactly parallel the border. Lebanese troops reportedly opened fire, and the IDF responded with artillery fire into southern Lebanon and dispatched helicopters which attacked LAF battalion headquarters in the village of Altaybeh, as well as a number of armored vehicles that were parked nearby. IDF Chief of General Staff Lt.Gen. Ashkenazi flew to the northern border Tuesday to oversee operations. The IDF stressed that it had coordinated its crossing of the fence with UNIFIL, informing them of a need to carry out maintenance work across the fence but still within Israeli territory. Lebanese President Michel Suleiman called on his country to "stand up to Israel's violation of UN Resolution 1701, whatever the cost." Resolution 1701 brokered the cease-fire which ended the 2006 Lebanon War. Foreign Minister Avigdor Lieberman instructed Israel's UN representative to submit a complaint UN secretary general and security council, saying that Israel holds the Lebanese government responsible for the very serious incident.
Serious Clash On Israel's Northern Border
Aug. 3….(DEBKA) The border tensions brewing between Lebanon and Israel in recent weeks boiled over Tuesday, Aug. 3 into a heavy exchange of fire between troops on both sides of the border. IDF casualties are reported by foreign sources. The Lebanese report three soldiers and several civilians killed, as well as a number injured. The exchange developed after the Lebanese army opened fire on Israeli troops, using mortars and RPGs. Israeli tank artillery retaliated, followed by IDF helicopterswhich attacked Lebanese firing positions. An Israeli complaint to the United Nations holds the Lebanese government responsible for attacking Israeli troops whose work on the Israeli side of the border was coordinated with UN peacekeepers. debkafile's military sources report indications in Beirut and Jerusalem that, despite UNIFIL's call on both sides to exercise "maximum restraint," the incident which flared at 12:30 p.m. may not be over. On the Israeli side, helicopters, tanks and artillery are in action and all Lebanese units in the south have gone on full alert since President Michel Suleiman, at two p.m. called on the Lebanese people to be prepared to lay down their lives to defend their country and UN Security Council Resolution 1701 which terminated the 2006 war with Israel. In Jerusalem, Prime Minister, Binyamin Netanyahu urgently consulted with security chiefs on Israel's response to what it sees as Lebanese aggression. The possibility that the Lebanese soldiers who began the shooting were Hizballah gunmen disguised in military uniform is under investigation. The incident flared when they ordered Israeli troops to stop installing a surveillance camera on the border fence near Kibbutz Misgav-Am opposite the Lebanese village of Adeisseh village. They accused the Israeli soldiers of encroaching on Lebanese territory. When the Israelis replied they had kept to their own side of the border and refused to back down, the Lebanese started shooting. According to Debkafile's military sources, the clash was staged deliberately by the Lebanese side to divert attention from the radical change in the balance of power in Beirut as a result of President Bashar Assad's abrupt switch of patronage from Hizballah's Hassan Nasrallah to Prime Minister Sa'ad Hariri.
Turkey, Another Muslim Country gets Nuke Fever
(Turkish nuke program would change balance of power in the world)
Aug. 3….(WND) Turkey's ruling Justice and Development Party of Prime Minister Recep Tayyip Erdoğan is considering whether to develop nuclear weapons in an effort to maintain parity with other countries in the region. Among neighbors who have such weapons are Russia, Israel, Pakistan and, probably soon, Iran. Turkish nuclear research has been under way for years, according to sources who say the only reason Turkey hasn't pursued nukes before now is out of concern it would jeopardize good relations with the United States and the North Atlantic Treaty Organization. Those relations, however, have begun to wane over the past few years, especially following the European Union's repeated rejection of Turkey's membership campaign. That, in turn, has prompted Turkey to begin looking eastward in a policy shift. Turkey opposed US action in Iraq, has been against NATO's eastward expansion into the Caucasus and Central Asia and recently opposed the imposition of United Nations sanctions on Iran.
The Palestinian Problem: A Real Solution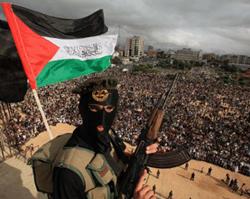 Aug. 3….(Frontpage) From Israel's point of view, the "two-state/land for peace" solution to the Palestinian conflict has proven to be a long, drawn out failure that should have been abandoned long ago. It is only because many prominent political figures have foolishly mortgaged their personal and professional prestige in the name of this unworkable position that it manages to remain a live option, to the grave detriment of Israelis and Palestinians alike. Any dispassionate evaluation of the events of the past two decades invariably leads one to accept the following conclusion: that the Palestinians seem far more focused on annulling Jewish political independence than attaining Palestinian political independence. That is to say, Palestinians are far more committed to the deconstruction of the Jewish State than to construction of a Palestinian one. However, no matter how convincingly one can show that the Palestinians as a national entity have failed to create their own national destiny, a stark reality remains: there are hundreds of thousands of essentially disenfranchised Palestinian families residing both in Israeli territory and in the wider Arab world. Addressing this situation requires a comprehensive solution comprised of three constituent elements, all eminently consistent with liberal political doctrine. Two involve eliminating discriminatory practices against the Palestinians as refugees and as residents in Arab countries. The third involves facilitating free choice for individual Palestinians to determine their own future.
Eliminating the UNRWA
As Daniel Pipes has pointed out, the persistence and scale of the Palestinian refugee problem is, to a large degree, an artificial construct. The UN body under whose auspices all the refugees on the face of the globe fall, except for the Palestinians, is the UN Commissioner for Refugees (UNHCR). A separate institution exists for the Palestinians, the United Nations Relief and Works Agency. UNHCR and UNRWA have widely different definitions for the term "refugee" and widely divergent mandates for dealing with them. According to the High Commission's definition, the number of refuges decreases over time, while according to the UNRWA definition, the number increases. This "definition disparity" brings about an astonishing situation: If the High Commission criterion was applied to the Palestinians, the number of refugees would shrink dramatically to around 200,000, less than 5 percent of the current number of almost 5 million according to the UNRWA definition. Moreover, while the mandate of the UNHCR permits the body to seek permanent solutions for refugees under its auspices, UNRWA is permitted only to provide ongoing humanitarian aid for the ever-increasing population of Palestinians. Accordingly, while UNHCR operates to dissipate the problems of the refugees under its auspices, UNRWA activities serve only to prolong their refugee status and thus, their predicament. Indeed, rather than reduce the dimensions of the refugee problem, UNRWA has actually functioned to perpetuate the refugee status of the Palestinians from one generation to the next. It has create an enduring and expanding culture of dependency, while cultivating an unrealistic fantasy of returning to a home that no longer exists. As long as the Palestinian refugee problem continues to be treated in what former Congressman Tom Lantos called "this privileged and prolonged manner" it will never be resolved. Accordingly, the first step toward the resolution of the Palestinian refugee problem must be the abolition of UNRWA and the transfer of responsibility for the matter to the UN High Commissioner for Refugees. This move will facilitate the gradual tapering off of support for what should be a decreasing Palestinian refugee population.
Eliminating Arab Discrimination against Palestinians
Throughout the Arab world, the Palestinians are subject to blatant discrimination with regard to employment opportunities, property ownership, freedom of movement, and acquisition of citizenship. For example, Saudi Arabia in 2004 announced it was introducing measures to ease the attainment of Saudi citizenship for all foreigners who were residing in the country except Palestinians, half a million of whom live in the kingdom. Similar policies of discrimination are prevalent in other Arab states. A 2004 Los Angeles Times report painted a grim picture of the life Palestinians are forced to endure among the Arab "brethren." According to the report, Palestinians in Egypt suffer restrictions on employment, education, and owning property, and when Egypt announced in 2003 that it would grant nationality to children of Egyptian mothers married to foreigners, Palestinians were excluded. In Lebanon, meanwhile, nearly 400,000 Palestinians live in 12 "refugee camps," where crime is rife and clashes between rival Palestinian factions are common. Palestinians cannot own property or get state health care. According to Tayseer Nasrallah, head of the Palestinian Refugee Rights Committee in the West Bank, Lebanon bans refugees from 72 areas of employment, including medicine and engineering. Syria, with a population of 18 million, is a strong verbal supporter of the Palestinian cause, but refuses citizenship to its 410,000 Palestinian refugees. Even in Jordan, where Palestinians comprise nearly 70% of the population, Palestinians complain that they are discriminated against in terms of employment. When approached on this issue of discrimination against the Palestinian residents in Arab countries, Hisham Youssef, spokesman for the 22-nation Arab League, openly acknowledged that Palestinians live "in very bad conditions," but claimed the policy is meant "to preserve their Palestinian identity." He went on to explain with perhaps unintended candor: "If every Palestinian who sought refuge in a certain country was integrated and accommodated into that country, there won't be any reason for them to return to Palestine." But according to a survey conducted by the well-known Palestinian pollster, Dr. Khalil Shikaki, most Palestinians were less interested in being nationalist standard-bearers than in living fuller lives. This view resonates strongly with opinion samples gathered by the leading Arab television stations Al-Arabiya and Al Jazeera of Palestinians living in the various Arab states, the vast majority of whom very much want to become citizens in the their respective countries of residence. This clearly seems to indicate that Palestinian national identity is something more jealously guarded by non-Palestinian Arabs rather than the Palestinians themselves. It is only the United Nations Relief and Works Agency that allows the Arab countries to continue to keep the Palestinians within their borders in their situation of suspended stateless animation. For while its mandate prevents finding a permanent solution for the Palestinian residents in these countries, it is the ongoing humanitarian aid that it provides for an ever-increasing client population that permits the host governments to sustain their discriminatory policy toward their Palestinian "guests," to perpetuate their inferior status, and to allow their situation to languish and fester.
Allowing Individual Palestinians the Exercise of Free Will
If the first two elements of the proposed solution, abolishing the UNRWA and attacking the discrimination Palestinian émigrés suffer in other Arab countries, are directed mainly toward easing the plight the Palestinians living outside the West Bank and Gaza, a third element is aimed directly and exclusively at those living inside these areas.
Hamas Seeking to Sabotage Direct Peace Talks
Aug. 3….(Jerusalem Post) Israel and Jordan launched a joint investigation on Monday into a string of Katyusha rocket attacks from Egypt, aimed at the resort cities of Eilat and Aqaba, which killed one Jordanian. While Egypt denied that the rockets had been fired from its territory, Israeli defense officials said that the rockets had been fired from the Sinai Peninsula, a known safe haven for global jihad elements as well as Hamas terrorists. The rockets were Grad-model Katyushas, and officials were investigating to see if they had originated in Iran. The IDF now plans to decide shortly whether to connect Eilat to the "Color Red" rocket warning system, which is deployed in towns along the border with the Gaza Strip. Israeli officials did not rule out the possibility that Hamas or another Palestinian terror organization was behind the rocket attacks, which, they said, were aimed at derailing diplomatic progress in peace talks with the Palestinians, as well as damaging the tourist season in Eilat. If carried out by global jihad elements, the rocket attacks were also likely meant to embarrass Egyptian President Hosni Mubarak and make it appear that he has lost control of his country. In total, six rockets were fired from Sinai early Monday morning. One landed in the Sinai, another in a field near Eilat and two in the Red Sea. Two more rockets landed in Jordan near the Intercontinental Hotel in Aqaba, killing one person and wounding four others. A taxi was destroyed in the blast, said witness Muhammad Shudeifat, who was on his way to work in the area when the rocket struck. This would not have been the first time rockets were fired at Eilat. In April, two rockets landed in Eilat and near Aqaba, and in 2005, al- Qaida operatives in Jordan launched Katyusha rockets into Eilat. The attack came on the heels of a travel advisory issued recently by the Counter-Terrorism Bureau, warning Israelis to immediately leave the Sinai Peninsula, citing "concrete evidence" of an expected terrorist attempt to kidnap Israelis. Prime Minister Binyamin Netanyahu spoke by phone with Mubarak and Jordan's King Abdullah on Monday about the attacks. "The attacks perpetrated on innocent citizens of Jordan and Israel were carried out by terrorists that want to thwart the peace process," said Netanyahu in a statement released Monday. "All of the countries in the region who want peace need to fight against these forces in order to expel terror and bring peace closer," he added. The Jordanian Information Ministry referred to the rocket attack as a "terror attack," and Jordan promised to continue in its war against terror. The US condemned the attacks, calling the actions "deplorable," AFP reported. US State Department spokesman Philip Crowley told reporters that the attacks seemed to be an attempt to sabotage peace talks between Israel and the Palestinian Authority. "At a point where we are hoping to see direct negotiations begin as soon as possible to address the core concerns, it's not surprising that you have others who are taking actions to try to inhibit that kind of progress," said Crowley. He added that the US had "strong suspicions" about who was responsible for the attacks, but he did not elaborate.
Obama Warns Abbas Against Failure to Resume Direct Talks
Aug. 2….(YNET) US President Barack Obama has warned Palestinian leader Mahmoud Abbas that failure to resume direct peace talks with Israel could undermine US-Palestinian ties, Palestinian officials said on Saturday. Obama made the warning in a letter to Abbas but also pledged to rally Arab, European and Russian support for the Palestinians if direct negotiations resume, a Palestinian official told AFP speaking on condition of anonymity. "In the letter, President Barack Obama warned president Mahmoud Abbas that his refusal to enter into direct negotiations with Israel next month will have consequences for American-Palestinian relations," the official said. The 16-point letter had a "carrot-and-stick approach," he added. Obama stressed "it is high time to resume direct negotiations with Israel" and told Abbas that Israeli Prime Minister Benjamin Netanyahu "is ready to resume direct negotiations." The letter warned that "Obama will absolutely not accept the rejection of his recommendation to move to direct negotiations and that there will be consequences for such a rejection in the form of a lack of trust in President Abbas and the Palestinian side," the official said. Obama pledged that his administration would work to extend an Israeli moratorium on Jewish settlements due to expire in September if Abbas resumes direct negotiations, he added. "But in case of a refusal its assistance on that issue will be very limited," he said, quoting from the letter in Arabic. Chief Palestinian negotiator Saeb Erekat confirmed to AFP that Abbas received a letter from the US president on July 16. The revelation comes after the Arab League agreed in principle on Thursday to the resumption of direct Palestinian-Israeli peace talks, stressing however that Abbas had the final word on whey they should start. Obama expects direct Palestinian-Israeli peace talks to resume at the onset of August and to address thorny issues such as borders and Israeli-annexed east Jerusalem, said the Palestinian official who declined to be named. Meanwhile, the London-based Arabic-language newspaper Al-Quds Al-Arabi quoted Palestinian Legislative Council Member Hanan Ashrawi as saying that the Americans have threatened to isolate the Palestinians. "The (US) pressure has reached extortion levels. No Arab regime could say no (to the Americans)," she said.
Hamas Fires Missile on Two Israeli Cities
Aug. 2….(Israel Today) Palestinian terrorists operating out of the Gaza Strip fired a Grad missile into the heart of the Israeli coastal city of Ashkelon on Friday. The missile landed in a central residential neighborhood, causing damage to surrounding buildings and vehicles. Two people were treated for shock. Israeli ambassadors were instructed to file complaints to the UN Security Council and the UN Human Rights Council and to convey the following message: "The Grad missile launch on a city the size of Ashkelon is a clear attempt to kill men, women and children and is a clear violation of international law and sheds light on the murderous, barbaric and violent intent of the missile attack." The "military wing" of Gaza's ruling Hamas faction claimed responsibility for the attack. Israel responded to the attack with an air strike against a Hamas position in Gaza on Friday night. One senior Hamas official and either other terrorists were reportedly killed in the attack. A day later, Hamas fired another rocket, this time at the battered southern Israel town of Sderot
Mullen says US has Iran Strike Plan
Aug. 2….(Yahoo) The US military has a plan to attack Iran, the chairman of the Joint Chiefs of Staff said Sunday, although he thinks a military strike is probably a bad idea. Not long after Adm. Mike Mullen's aired on a Sunday talk show, the deputy chief of Iran's Revolutionary Guard was quoted as saying there would be a strong Iranian response should the US take military action against his country. Mullen, the highest ranking US military officer, often has warned that a strike on Iran would have serious and unpredictable ripple effects around the Middle East. At the same time, Mullen said the risk of Iran's developing a nuclear weapon is unacceptable, although he would not say which risk he thinks is worse. "I think the military options have been on the table and remain on the table," Mullen said on "Meet the Press" on NBC. "It's one of the options that the president has. Again, I hope we don't get to that, but it's an important option and it's one that's well understood." The official Iranian news agency IRNA quoted Revolutionary Guard deputy chief Yadollah Javani as saying Sunday that security in the Persian Gulf would be jeopardized "if Americans commit the slightest mistake." "The Persian Gulf is a strategic region. If the security of this region is endangered, they will suffer losses too and our response will be firm," Javani said. Iran repeatedly has threatened to target the heart of Tel Aviv, the second-largest city in Israel, should the US or Israel take military action against it. The US and Iran are at odds over the goals of Iran's nuclear program. Iran contends that it's aimed at peaceful uses of nuclear energy while the US claims Iran is gearing up to create a nuclear weapon.
---