WEEK OF NOVEMBER 28 THROUGH DECEMBER 4
Lebanon's Problems are Made in Tehran
Dec. 4….(In The Days) Lebanese prime minister Saad Hariri's planned trip to Tehran Saturday, November 27, is perhaps best understood as a coda to Mahmoud Ahmadinejad's tour of Lebanon two months ago. With that visit, the Islamic Republic of Iran effectively declared that the tiny country of 4.1 million on the Eastern Mediterranean is nothing more than an Iranian victory garden, to be chewed up in the next round of war between Israel and Iran's Lebanese surrogate, Hezbollah. Ahmadinejad's trip finally awakened the Obama administration to the fact that its Lebanon policy had gone awry. The White House dispatched Assistant Secretary of State for Near Eastern Affairs Jeffrey Feltman to Lebanon and Saudi Arabia to consult with allies, and now Lebanon is back on Washington's front burner, almost as in the heyday of the Bush administration's freedom agenda. The UN Security Council's Special Tribunal for Lebanon (STL) is due to hand down indictments in the 2005 assassination of former Lebanese prime minister Rafiq Hariri. The threat of Hezbollah, Iran's client and Syria's partner in murdering Hariri, to take over all of Lebanon has the White House up in arms. But the Obama administration may be too late to save an independent Lebanon. Hariri, the Lebanese Sunni leader, has shown by his journey to the citadel of Shia power that if you want to contest the fate of Lebanon, as with so much else in the Middle East these days, the doors to knock on are in Tehran. This is an unhappy turn of events for Lebanon, which just celebrated the 67th anniversary of its independence. President Obama marked the day with a cursory promise to protect that independence, even as his policy ideas have undermined that goal since the earliest days of his candidacy. Unlike Bush, we were told, Obama would reach out to Syria and find common ground. After all, as the senator from Illinois explained on the campaign trail, talking to your enemies is not a reward for them. Maybe not in theory, but in practice, talking to Damascus meant selling out the anti-Syrian politicians of Lebanon's Cedar Revolution. Fearing that Washington was about to sacrifice its Lebanon policy in the name of entente with Syria, as it had done throughout the 1990s, the one-time pillar of Lebanon's pro-democracy March 14 movement, Walid Jumblatt, changed sides, traveling to Damascus to kiss the ring of Bashar al-Assad. Perhaps more important, Saudi Arabia, patron of Lebanon's Sunni community, actually chose friendship with Syria over its Lebanese partners. Oddly enough, after all of this jockeying for Syrian favor, Damascus turns out to be a distraction. "Hariri's trip highlights the fact that Damascus is no longer a central actor," says Tony Badran, research fellow at the Foundation for Defense of Democracies. "The Syria-Saudi initiative is a sideshow, and the Iranians have been saying this for a while: The Saudis have to negotiate with Tehran, but the Saudis don't want to consecrate this fact." Iran is now the power on the ground in Lebanon, via Hezbollah's arms. Its general secretary, Hassan Nasrallah has renewed his warning that Hezbollah will cut off the hands of anyone who tries to touch the weapons of the "resistance," in part no doubt to scare off the Hariri assassination tribunal from issuing indictments of Hezbollah members. In the event of such indictments, the Party of God's reputation would suffer another blow in the court of Arab opinion for murdering a Sunni leader. But many analysts inside and outside Lebanon believe that Nasrallah is bluffing. It's not clear that Hezbollah has anything to gain by extending its South Lebanon satrapy over the whole national territory. It already proved itself capable of doing so in May 2008 when it overran Sunnis loyal to Saad Hariri in West Beirut and surrounded Jumblatt's Druze in the Chouf Mountains. Indeed that near-coup so damaged Hezbollah's reputation with the region's Sunni majority that it is hard to see how indictments might further tarnish it, or how a genuine coup against the Sunnis would protect it. Maybe more to the point, the Iranians would prefer to keep their asset in reserve for the next round of fighting with Israel rather than spend it for uncertain gain. In any case, it is difficult to see how indictments of Hezbollah would be enforced: Who is in a position to arrest suspects and bring them to account? The Lebanese Armed Forces is already penetrated by Hezbollah. The chief of the Internal Security Forces, one of Saad Hariri's confidants, has himself just been identified as a possible accomplice in the murder of Saad's father by a Canadian Broadcasting Corporation report. Surely neither the US government, nor the UN, nor the "international community" is going to lay its hands on suspects. If the Bush White House let its Lebanese allies get slaughtered in May 2008, then the Obama administration is even less likely to intervene, even as it is putting out word that it's not going to take Hezbollah's threats lying down. A Lebanon under overt Hezbollah control, American diplomats are letting on, will be treated like a pariah state. That raises the bleak prospect of Lebanon as the new Yemen, with Hezbollah in the crosshairs of drone strikes. It's a far cry from the "Freedom, Sovereignty, and Independence" of the Cedar Revolution, only five years ago. More likely, though, Hezbollah will simply continue its slow-motion, behind the scenes takeover of the Lebanese state.
Christians Differ on Lifting 'Don't Ask, Don't Tell'
Dec. 2….(Culture) Most American Christians, with the exception of white evangelicals, favor letting homosexual men and women serve openly in the military, according to a new survey. (Read: Pentagon study dismisses risk of 'gay' troops) The poll was conducted this month by the Pew Forum on Religion & Public Life as the Pentagon prepared to release its study on how lifting the "don't ask, don't tell" policy would affect the armed forces. Catholics and white mainline Protestants who were surveyed favor letting homosexuals serve openly by about a three-to-one margin. A smaller majority of black Protestants agrees. But 48 percent of white evangelicals said they oppose lifting "don't ask, don't tell" compared to 34 percent who said they approve. Over half of conservative Republicans also oppose lifting the ban. Among all Americans, 58 percent of the 1,255 adults surveyed said they favor letting homosexual men and women serve openly in the military, while only 27 percent said they're opposed.
Putin Warns US Over Missile Defense
Dec. 2….(In The Days) Prime Minister Vladimir Putin told CNN television that Russia would deploy nuclear weapons and "strike forces" if it were shut out of a Western missile shield, adding punch to a warning from President Dmitry Medvedev. Putin said missile threats against Europe must be tackled jointly, a reference to an agreement reached at a November 20 Russia-NATO summit to cooperate on missile defense. Plans are sketchy and Russia has warned it wants an equal role. If Russia's proposals are rejected and Western missile defense installations create "additional threats" near its borders, "Russia will have to ensure its own security," he said. Russia would "put in place new strike forces against the new threats which will have been created along our borders," he said, according to a translation in an excerpt on CNN's website. "New missile, nuclear technologies will be put in place." Putin said Russia was not threatening the West, but the remarks underscored the Kremlin's insistence on maintaining a significant role in a missile defense system and suggested improving ties could sour again if agreement is not reached. In his state of the nation address on Tuesday, Medvedev warned that a new arms race would erupt if US and NATO offers of cooperation on missile defense failed to produce a concrete agreement within a decade. "That's not our choice, we don't want that to happen. This is no threat on our part," Putin said. "We've been simply saying that this is what all of us expect to happen if we don't agree on a joint effort there." US plans for a missile shield have been a major irritant in its ties with Moscow since the Cold War. Now both Russia and the West are casting missile defense cooperation as a crucial ingredient in recipes to bring the former foes closer. As part of a campaign to 'reset' strained relations with Moscow, President Barack Obama last year scrapped Bush-era plans for a radar and interceptor missiles in eastern Europe that Russia said would be a major threat to its security. Russia has been far more accepting of Obama's revised blueprint, which involves shorter-range interceptors. But Putin suggested Russia would feel threatened if the United States pushes ahead without significant Russian input. The Kremlin warnings come amid uncertainty over US Senate ratification of New START, a strategic nuclear arms limitation treaty signed by Obama and Medvedev in April and seen as the linchpin of improving relations. Russia emphasizes it could withdraw from New START if a US missile shield develops into a threat to its security. Putin's interview was conducted shortly after Medvedev delivered his biggest annual address in the Kremlin, timing that seemed to emphasize that the former president has a strong hand on Russia's reins despite now holding Russia's No. 2 office. US diplomatic cables revealed by the website WikiLeaks describe Putin as Russia's "alpha-dog" ruler and Medvedev as a sidekick-like "Robin to Putin's Batman." Putin steered Medvedev into the Kremlin in 2008 and has suggested he may return in a 2012 vote.
Obama: US Army Ready for Change
(FOJ) Satan is now utilizing his dark forces in the culture war to implode the last bastion of American moral discipline, the American military. Sadly, the American Church abandoned its traditional position of defender of Judeo-Christian ethics and morals in our country, and therefore society exposed to a continual onslaught of demonic attacks. The "beat-down of our "national defense mechanism," our wonderful military could be the last straw before the judgement of God befalls our nation!
Dec. 2….(In The Days) In a statement issued today, President Barack Obama urged the Senate to act swiftly so he can sign the repeal of the so-called "Don't Ask, Don't Tell" law this year, citing the Defense Department's report as proof that the nation "can transition to a new policy in a responsible manner." Here is the full text of the president's statement:
As Commander in Chief, I have pledged to repeal the "don't ask, don't tell" law because it weakens our national security, diminishes our military readiness, and violates fundamental American principles of fairness and equality by preventing patriotic Americans who are gay from serving openly in our armed forces. At the same time, as Commander in Chief, I am committed to ensuring that we understand the implications of this transition, and maintain good order and discipline within our military ranks. That is why I directed the Department of Defense earlier this year to begin preparing for a transition to a new policy. Today's report confirms that a strong majority of our military men and women and their families, more than two thirds, are prepared to serve alongside Americans who are openly gay and lesbian. This report also confirms that, by every measure, from unit cohesion to recruitment and retention to family readiness, we can transition to a new policy in a responsible manner that ensures our military strength and national security. And for the first time since this law was enacted 17 years ago today, both the Secretary of Defense and the Chairman of the Joint Chiefs of Staff have publicly endorsed ending this policy. With our nation at war and so many Americans serving on the front lines, our troops and their families deserve the certainty that can only come when an act of Congress ends this discriminatory policy once and for all. The House of Representatives has already passed the necessary legislation. Today I call on the Senate to act as soon as possible so I can sign this repeal into law this year and ensure that Americans who are willing to risk their lives for their country are treated fairly and equally. Our troops represent the virtues of selfless sacrifice and love of country that have enabled our freedoms. I am absolutely confident that they will adapt to this change and remain the best led, best trained, best equipped fighting force the world has ever known.
European Banks Got Most of US Government Bank Bailout Package
Dec. 2….(Financial Times) Foreign banks were among the biggest beneficiaries of the $3,300bn in emergency credit provided by the Federal Reserve during the crisis, according to new data on the extraordinary efforts of the US authorities to save the global financial system. The revelation of the scale of overseas lenders' borrowing underlines the global nature of the turmoil and the crucial role of the Fed as the lender of last resort for the world's banking sector. However, news that banks such as Barclays of the UK, Switzerland's UBS and Dexia of Belgium borrowed billions of dollars at favorable terms from US authorities may further anger critics already enraged about the Fed's rescue of Wall Street. "We're talking about huge sums of money going to bail out large foreign banks," said Bernie Sanders, the independent senator from Vermont. "Has the Federal Reserve of the United States become the central bank of the world?" Under the Dodd-Frank financial reform act, the Fed on Wednesday detailed more than 21,000 transactions with banks carried out through half a dozen special financing programs starting in 2007. They include the Primary Dealer Credit Facility (PDCF) for overnight funding of investment banks and the Term Auction Facility (TAF) for one-to three-month loans. Barclays was the biggest cumulative borrower from TAF. The UK bank, which bought the US operations of Lehman Brothers out of bankruptcy in September 2008, borrowed a cumulative $232bn from the TAF through various subsidiaries. Bank of Scotland and RBS of the UK, Société Générale of France, Dresdner Bank and Bayerische Landesbank of Germany, and Dexia of Belgium were all among the top 10 cumulative users of TAF. At any given time, these borrowers owed less than the total amount because the short-term loans were extended after they expired. The largest TAF user at a single point in time was Bank of America, which borrowed $60bn in the spring of 2009, followed by Wachovia, Wells Fargo, JPMorgan Chase and Barclays. The biggest seller of commercial paper to the Fed's Commercial Paper Funding Facility, which bought illiquid short-term loans, was UBS of Switzerland, then the insurer AIG. Five of the top 10 CPFF users were European banks. Merrill Lynch, which is now part of BofA, was the biggest user of the PDCF, followed by Citigroup. Barclays said it had "repaid all the relevant facilities that it accessed in the USA by end December 2009". RBS said it "no longer makes use of any Federal Reserve schemes and all money borrowed has now been repaid in full with interest". UBS said its use of the Fed's facilities was "relatively modest" given its presence in the US.
Saudi Arabia and Israel Conducted Secret Talks on Iran
Dec. 2….(DEBKA) Riyadh has signaled its intention for the secret Saudi-Israeli meetings on Iran taking place for more than a year to continue after the changing of the guard at the Mossad, debkafile's intelligence sources reveal. This was one of the first messages Tamir Pardo found on his desk as head of Israel's external spy agency when he took over from Meir Dagan this week. The Saudis were clearly not put off by any possible awkwardness from the WikiLeaks disclosure that they had been pressing the US to attack Iran's nuclear sites before it developed a weapon. The meetings between Saudi General Intelligence Director Prince Muqrin bin Abdaziz and Meir Dagan, most of which were held in the Jordanian capital Amman, dealt extensively with clandestine cooperation between the two agencies and plans for attacking Iran. Arab and Western sources reported that they reached agreement in the course of the year for Israeli fighter-bombers to transit Saudi air space on their way to bombing Iran's nuclear facilities. The Saudis were even willing to build a new landing strip in the desert with refueling facilities for the use of the warplanes en route to their mission. Western intelligence experts on Saudi Arabia found special significance in the publication by the Saudi Arab News site of Monday, Nov. 29 of a long report on Meir Dagan and his retirement after eight years as head of Israel's external espionage agency. The Saudi official media never, ever report on Israeli military or intelligence affairs. Even Maj. Gen. Yoav Galant's appointment as Chief of Staff, for instance, was not mentioned. Still more out of character was the tone of the Arab News report. The outgoing Mossad chief is described as "a hawkish ex-general" and "widely seen as responsible for a wave of covert actions including the sabotage of Iranian nuclear projects." Western sources found a connection between this comment and the attack 24 hours earlier in the heart of Tehran on two senior Iranian nuclear scientists, killing Prof. Majid Shahriari on the spot and leaving Prof. Feredoun Abbassi-Davani critically injured. The Saudi publication goes on to say: "Choosing Pardo means the government wants to keep things in the family for the Mossad and let it know things will go on as before", a "source" is quoted as saying. Pardo's job is termed "at the heart of Israel's secret war against Iran." Debkafile's Saudi experts stress that these comments would never have appeared in an official publication unless they were inspired from the highest levels of the royal house. They amount to a strong message that Riyadh wants to keep its intelligence dialogue with the new Israeli Mossad chief going on as before. Our sources do not rule out Meir Dagan attending the introductory encounter between his successor and Prince Muqrin. Our intelligence sources add: The WikiLeaks disclosure, which also showed the Obama administration rejecting the Gulf Arab rulers' demand for military action against Iran, may even have spurred the Saudis to insist on carrying on with their backdoor meetings with Israel so as to underline their abiding conviction that Iran's nuclear program must be wiped out.
Pentagon Report on 'Gays' Rigged?
('This is a profoundly radical experiment with the military')
Dec. 2….(WND) Critics are charging that the Pentagon report on repealing "Don't Ask, Don't Tell" was rigged to come to conclusions preordained by the Obama administration, which promised to lift the policy in order to attract homosexual supporters during the 2008 presidential campaign. "That was the mandate that was given to the Department of Defense, to make that outcome occur," said retired Army Col. Dick Black. "Can we trust the government under Obama to have asked fair questions? Not a chance," said Peter LaBarbera, president of Americans for Truth about Homosexuality. "It was a fait accompli if there ever was one. The whole project was stacked in favor of Obama's agenda. It was not a matter of 'if,' but 'how' the change should go forward. I wouldn't call the numbers trustworthy." The "Report of the Comprehensive Review of the Issues Associated with a Repeal of 'Don't Ask, Don't Tell'" is based on extensive surveys of US troops. "One hundred forty-five thousand people in uniform answered the questionnaire, and tens of thousands were reached in other ways," said Secretary of Defense Robert Gates at a Pentagon news conference yesterday. The chairman of the Joint Chiefs of Staff, Adm. Mike Mullen, added that the "main thrust" of the report was combat effectiveness, readiness, and cohesion. "The data was very compelling" in respect to those issues, said Mullen. Ninety-two percent of soldiers said they would be able to work with open homosexuals, said DOD General Counsel Jeh Johnson. "We believe the US military can make this change," said Gen. Carter Ham, commander of US forces in Europe. But critics challenge whether the survey was a fair assessment of soldiers' attitudes, suggesting it was designed to arrive at the conclusion preferred by the Obama administration, which quashed opposing views. "When this study was first announced, Lt. Gen. Mixon, the commander of our forces in the Pacific, publicly encouraged soldiers to speak out on the issue. He was told in no uncertain terms to shut up or get out of the service," said Black, a former Marine combat officer and Army lawyer. "I find it most difficult to believe troops honestly support homosexuals in the military," Black continued. "That's silly, there's no way that 92 percent could be a legitimate figure." "They never asked whether they should accept homosexuals," said Bob Knight, senior writer for Coral Ridge Ministries. "Lots of this is based on the fact that people haven't had trouble with 'gays,' but that's because good behavior on the part of homosexuals should be attributed to the policies in place [banning open homosexuality]." "The troops were given no option to express support for the law, that says homosexuals are not permitted to serve in the military. They were not asked about transgenders in the military, they were not asked about zero tolerance, about courses to change attitudes," said Elaine Donnelly, president of the Center for Military Readiness. "If the disruption to the military is limited, that will be because the only people who would be left in the military would be people who are not opposed to this."
"This is a profoundly radical experiment with the military," said Black. "Unfortunately many of the political leaders in both parties have no military experience, so there's no way they can connect the dots. They envision it's no different than working in an office setting. "They are altering a policy that in one form or another has existed since the time of the Continental Army. General George Washington was the first commander of the armed forces to prohibit homosexuals from serving, and he did this at a time when he was desperately short of manpower. He needed every musket he could bring to bear, but he knew that homosexuals would be so disruptive to military discipline that he eliminated them." "The Pentagon's plan calls for a gradual transition, and they plan to use that time to 'educate' the troops about proper attitudes toward homosexuality. When we start talking about educating the troops, we're talking about indoctrination. "They say chaplains won't be made to teach anything they don't believe in. But will they be allowed to preach anything the military doesn't believe in, like the Scriptural passages condemning homosexual behavior? "I don't know what planet those guys are living on, but on this planet 'gay' rights certainly undermine the rights of people who disagree," LaBarbera continued. "They're either naïve or they're not willing to say what will obviously happen down the road. Greater and greater advance of 'gay' rights down the road with the goal of changing soldiers' minds.
"It's a sad day. We're really becoming a postmoral country." "This is hardly the first time the Democrats have used social experimentation with the military," said Black. "For example, the Doolittle Commission instituted by Harry Truman in the wake of the Second World War. The commission felt we should be more egalitarian, so they weakened the rank structure. As a result the US was almost driven into the sea when the North Koreans attacked during the Korean War. They tightened up many of those rules in the wake of the Korean War. "Secretary of Defense Robert McNamara collapsed good order and discipline during the Vietnam War with Project 100,000, a policy where they brought in troops with low IQs and criminal records. It took a highly disciplined military force and turned it almost into a dangerous mob in certain places. It was so bad in Camp Lejeune they could no longer have individual guards walking post with loaded rifles. They had to put them in pairs with a radio, so they could call for help if they were attacked."
Hezbollah Ready for War With Israel
Dec. 2….(YNET) Kuwaiti Al-Rai newspaper reported that Hezbollah has completed its preparations for a future war with Israel. According to the report, the organization has refilled its armories. Hezbollah has also finished digging underground tunnels where militants have been conducting training exercises simulating battles against IDF troops.
North Korea (China Companies) Supplying Iran With Missiles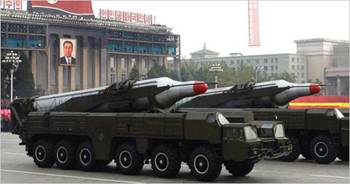 Dec. 1….(In The Days) Secret American intelligence assessments have concluded that Iran has obtained a cache of advanced missiles, based on a Russian design, that are much more powerful than anything Washington has publicly conceded that Tehran has in its arsenal, diplomatic cables show. Iran obtained 19 of the missiles from North Korea, according to a cable dated Feb. 24 of this year. The cable is a detailed, highly classified account of a meeting between top Russian officials and an American delegation led by Vann H. Van Diepen, an official with the State Department's nonproliferation division who, as a national intelligence officer several years ago, played a crucial role in the 2007 assessment of Iran's nuclear capacity. The missiles could for the first time give Iran the capacity to strike at capitals in Western Europe or easily reach Moscow, and American officials warned that their advanced propulsion could speed Iran's development of intercontinental ballistic missiles. There has been scattered but persistent speculation on the topic since 2006, when fragmentary reports surfaced that North Korea might have sold Iran missiles based on a Russian design called the R-27, once used aboard Soviet submarines to carry nuclear warheads. In the unclassified world, many arms control experts concluded that isolated components made their way to Iran, but there has been little support for the idea that complete missiles, with their huge thrusters, had been secretly shipped. The Feb. 24 cable, which is among those obtained by WikiLeaks and made available to a number of news organizations, makes it clear that American intelligence agencies believe that the complete shipment indeed took place, and that Iran is taking pains to master the technology in an attempt to build a new generation of missiles. The missile intelligence also suggests far deeper military, and perhaps nuclear cooperation between North Korea and Iran than was previously known. At the request of the Obama administration, The New York Times has agreed not to publish the text of the cable. The North Korean version of the advanced missile, known as the BM-25, could carry a nuclear warhead. Many experts say that Iran remains some distance from obtaining a nuclear warhead, especially one small enough to fit atop a missile, though they believe that it has worked hard to do so. Still, the BM-25 would be a significant step up for Iran. Today, the maximum range of Iran's known ballistic missiles is roughly 1,200 miles, according to experts. That means they could reach targets throughout the Middle East, including Israel, as well as all of Turkey and parts of Eastern Europe. The range of the Russian R-27, launched from a submarine, was said to be up to 1,500 miles. Rocket scientists say the BM-25 is longer and heavier, and carries more fuel, giving it a range of up to 2,000 miles. If fired from Iran, that range, in theory, would let its warheads reach targets as far away as Western Europe, including Berlin. If fired northwestward, the warheads could easily reach Moscow. A range of 2,000 miles is considered medium or intermediate. Traditionally, the United States has defined long-range or intercontinental ballistic missiles as having ranges greater than 3,400 miles. The fuel for the advanced engines goes by the tongue-twisting name of unsymmetrical dimethylhydrazine, according to the secret cables. It is a highly toxic, volatile clear liquid with a sharp, fishy smell. International concern about advances in Iran's missile program increased last year, after Tehran sent its first satellite into space. Experts said it was clear that the second stage of the rocket, known as the Safir, had employed a new, more powerful class of engines that took advantage of some elements of the Russian technology. American government experts say the engines of the Russian R-27 represent an improvement of roughly 40 percent in lifting force over the kerosene-fired engines that power most Iranian missiles. "Without this higher-energy output, the Safir would have failed in its mission to orbit a small satellite," said a report issued in May by the International Institute for Strategic Studies, an arms analysis group in London. The London group's report, though, gives no indication of access to the American intelligence assessment. Indeed, the report argued that while Iran had some elements of the R-27 technology, the available public evidence suggested that it had made no purchase of either the complete North Korean missile or its Russian parent. The cables say that Iran not only obtained the BM-25, but also saw the advanced technology as a way to learn how to design and build a new class of more powerful engines. "Iran wanted engines capable of using more-energetic fuels," the Feb. 24 cable said, "and buying a batch of BM-25 missiles gives Iran a set it can work on for reverse engineering." The cable added that Tehran could use the BM-25 technologies as "building blocks" for the production of long-range missiles.
Iranian-Hizballah Takeover of Lebanon's Armed Forces
Dec. 1….(DEBKAfile Exclusive Report) Lebanese Prime Minister Saad Hariri ended his two-day visit to Tehran Monday, Nov. 29, with consent for Iranian Revolutionary Guards officers to take part for the first time in coordinating sessions between Lebanese and Hizballah commanders, debkafile's military and Iranian sources report. Hariri was steered toward this concession in meetings with President Mahmoud Ahmadinejad and defense minister Ahmed Wahidi. He was told it was the price for an audience with supreme leader Ayatollah Ali Khamenei. What Hariri's action means is that the Lebanese chief of staff Gen. Jean Kahwaji, will henceforth be obliged to coordinate all his operational decisions and actions with Hizballah's Iranian chief commander, Gen. Hossein Mahadavi of the Al Qods Brigades, as well as the new Hizballah commander on the Israeli front line, Hashim Safi Al-Din, Hassan Nasrallah's cousin and a staunch pro-Iranian loyalist. Debkafile's military sources note that, since Hizballah's top military echelon in Lebanon functions under the operational orders of the joint Iranian-Syrian headquarters in Damascus, so too will the Lebanese army. Therefore, Hariri's concession in Tehran opened the door to the IRGC moving in on the Lebanese army. Khamenei greeted the Lebanese Prime Minister with his new instructions: "You should consolidate relations with Hizballah," he said, explaining: "As long as the occupying Zionist regime exists, Lebanon needs Resistance (a euphemism for Hizballah)." The supreme leader did not mention the Lebanon's national army forces as a factor in these instructions because, in his mind, Hariri's concession had already waived its autonomy and accepted the inevitability of its merger with Hizballah as a unified force under the latter's superior command. Ayatollah Khamenei's last remark to his Lebanon visitor was loaded with menace: "If the government and the Resistance form part of the same front, this country will follow the path of greatness and development, and the Zionist regime will not be able to do it the least harm."And if not? Hariri was given to understand that if Lebanon toes the Iranian-Hizballah line, he and his country will prosper and live in peace. But if not, Lebanon faces the alternative of deathly domestic struggle ending in the triumph of the Hizballah "Resistance."
One Arab Ruler Surprised Israel Still Willing to Make Peace
(Points out terrorists took control of relinquished lands)
Dec. 1….(WND) The ruler of the Arab state of Qatar expressed his "surprise" that Israel still is willing to engage in negotiations after the Hamas and Hezbollah terror groups assumed control of vacated land, according to classified documents released by WikiLeaks and reviewed by WND. "When you consider that many in the region perceive that Hezbollah drove Israel out of Lebanon and Hamas kicked them out 'of the small piece of land called Gaza,' it is actually surprising that the Israelis still want peace," a US embassy document quoted Qatar's Emir, Hamad bin Khalifa al-Thani, as stating. Al-Thani was making those comments in a meeting this past February with Sen. John Kerry. The ruler went on to express understanding for Israeli "mistrust" of Arab countries. "The Israeli leaders need to represent the people of Israel, who themselves do not trust Arabs. The emir said this is understandable and 'we can't blame them' because the Israelis have been 'under threat' for a long time,'" he was quoted as telling Kerry. Al-Thani claimed the best way to achieve regional peace was by Israel relinquishing the strategic Golan Heights to Iranian ally Syria. The classified cable summed up Al Thani's views: "In Qatar's view, now is the time to reach out to Damascus. The Syrian government can help Arab extremists make tough choices, but only if the US, whose involvement is essential, demonstrates to Syria early on a willingness to address the return of the Golan Heights and supports Turkey's mediation efforts between Israel and Syria." The region, however, is still "far away" from peace, concluded the emir. In his meeting with Al-Thani, Kerry went on to support the Israeli relinquishment of the Golan Heights to Syria. He also stated Palestinian control of the Al Aqsa Mosque on the Temple Mount and a capital in eastern Jerusalem are nonnegotiable for the Palestinians. "We know for the Palestinians that control of Al-Aqsa Mosque and the establishment of some kind of capital for the Palestinians in East Jerusalem are not negotiable. For the Israelis, the Senator continued, Israel's character as a Jewish state is not open for negotiation," related the cable.
Christian Woman Faces Death for Blasphemy
Nov. 30….(NBC) In early November, in the dusty city of Sheikhupura in Pakistan's heartland, Asia Bibi, an illiterate Christian woman and mother of five, was sentenced to death by hanging under the country's blasphemy laws. Her crime? She allegedly insulted the Prophet Muhammad. Almost immediately, the death sentence unleashed international condemnation, and put pressure on Pakistan's government to overturn the verdict and amend the country's blasphemy laws, a holdover from a 19th century penal code designed to protect minority religious sects during British colonial times. The law was radicalized during the 1980's under the military dictatorship of General Zia ul Haq. He imposed life sentences, even death, for blasphemy to appease the mullahs and legitimize his grip on power. Pope Benedict XVI appealed for clemency but hard-line Islamic groups have threatened civil war if the government pardons Bibi or attempts to amend the law. Bibi's husband, 48-year-old Ashiq Masih, is desperate, convinced radical Islamic groups are aiming to kill the family. He has gone into hiding, along with his children, sheltered inside a Christian colony in an outlying district of Sheikhupura. Masih insists his wife was framed, a victim of old score-settling in their village of Ittan Walli, where his family was just one of two Christian families. "She was picking berries with other women, when she was sent to get water," her husband said. "One of the women refused to drink the water after my wife dipped her cup into the bucket. This woman said it was contaminated because it was touched by a Christian." According to Masih, all the women then started taunting his wife, and shouting insults against her mother and their children. Bibi just repeated the same insults back at them. "The name of the holy prophet never came up." At the time, Masih said he thought that was the end of it. It wasn't. "Five days later, the local cleric came to our house, followed by an angry mob, and dragged my wife away," he said, recalling the incident that took place in June 2009. They beat her, ripped off her clothes and accused her of insulting the prophet. Then they locked her up in a house until the police came to take her away." In an interview with NBC News, Qari Muhammed Salem, the local cleric in Ittan Walli, accused Masih of lying. "I talked to everyone who witnessed this incident and she is guilty," he said. "She confessed to the crime in front of the entire village and then she begged for forgiveness," he insisted. In an interview with NBC News, Qari Muhammed Salem, the local cleric in Ittan Walli, accused Masih of lying. "I talked to everyone who witnessed this incident and she is guilty," he said. "She confessed to the crime in front of the entire village and then she begged for forgiveness," he insisted. Bibi, 45, is the first woman condemned to death under Pakistan's blasphemy laws. While no one has ever been executed, most of the accused, all men, languish in prison alone and forgotten. Human rights groups point out that the law is a convenient way to settle scores, often among the Christian community who total about 2 million of Pakistan's 175 million people. In a statement released from New York, Human Rights Watch, called for Pakistan's government to immediately introduce legislation to repeal the blasphemy laws. "Asia Bibi has suffered greatly and should never have been put behind bars," said Ali Dayan Hasan, senior South Asia researcher at Human Rights Watch. "The injustice and fear the blasphemy law spawns will only cease when this heinous law is repealed." With media reports of a possible pardon for Bibi, hard line Islamic groups have held demonstrations in cities across Pakistan. They've warned Zardari of a severe backlash if he commutes her death sentence. At one rally, organized by "The Movement for the Protection of the Prophet's Honor" denounced any attempt to change the law. "We are ready to sacrifice our life for the prophet," they chanted.
Iran Blames Israel after Nuclear Scientist Killed
Nov. 30….(AP) Iran's president accused Israel and the West of being behind a pair of daring bomb attacks that killed one nuclear scientist and wounded another in their cars on the streets of Tehran on Monday. He also admitted for the first time that a computer worm had affected centrifuges in Iran's uranium enrichment program. Mahmoud Ahmadinejad and other Iranian officials vowed that the nuclear program would not be hampered by what they described as a campaign to sabotage it, whether by assassination or by the computer virus. The United States and its allies say Iran is seeking to build a nuclear bomb, a claim Tehran denies. The two bomb attacks occurred when assailants on motorcycles attached magnetized bombs to the cars of two nuclear scientists as they drove to work in separate parts of the capital Monday morning. They detonated seconds later, killing one scientist, wounding another and wounding each of their wives, who were in the cars, Tehran's police chief said. At least two other Iranian nuclear scientists have been killed in recent years, one of them in an attack similar to Monday's. The wounded scientist, Fereidoun Abbasi, is on a list of figures suspected of links to secret nuclear activities in a 2007 U.N. sanctions resolution, which puts a travel ban and asset freeze on those listed. The resolution describes him as a Defense Ministry scientist who works closely with Mohsen Fakhrizadeh, believed to head secret nuclear projects. Iranian media said he was a member of the Revolutionary Guard, Iran's strongest military force. Majid Shahriar, the scientist killed in the bombing, was involved in a major project with Iran's nuclear agency, said the agency's chief, Vice President Ali Akbar Salehi, though he did not give specifics. "Undoubtedly, the hand of the Zionist regime and Western governments is involved in the assassination," Ahmadinejad told a press conference. He said the attack would not hamper the nuclear program.
Asked about the Iranian accusations, Israeli government spokesman Mark Regev said Israel did not comment on such matters. In Washington, US State Department spokesman PJ Crowley said, "We decry acts of terrorism, wherever they occur. And beyond that, we do not have any information on what happened." Meanwhile, Ahmadinejad also acknowledged for the first time that a computer worm affected centrifuges in Iran's uranium enrichment program, which the United Nations has demanded Tehran halt. Iran has previously acknowledged discovering the Stuxnet worm, which experts say is calibrated to destroy centrifuges by causing them to spin out of control, at its nuclear facilities. But Iranian officials, including Salehi said it was discovered and neutralized before it could cause any damage, and they accused the West of trying to sabotage Iran's program. But Ahmadinejad told reporters, "They managed to create problems for a limited number of our centrifuges through the software installed on electronic parts. But this (virus) was discovered and the problem was resolved." He said Iranian experts had learned from the attempt and "this became an experience that stops the path for sabotage forever." Earlier in November, UN inspectors found Iran's enrichment program temporarily shut down, according to a recent report by the UN nuclear watchdog. The length and cause of the shutdown were not known, but speculation fell on Stuxnet. Iran's enrichment program is of international concern because the process can create both fuel for an electricity-generating reactor and nuclear warhead material.
Turkey Promises Retaliation if Lebanon Attacked
(Erdogan warns his nation 'will not remain silent' if Israel makes move)
Nov. 29….(WND) Turkish Prime Minister Recep Tayyip Erdogan has warned that his country "will not remain silent" if Israel attacks or is provoked into attacking Lebanon or the Gaza Strip, and he accused the Jewish state of breaching Lebanon's air space and waters and continuing to use force against Palestinians, according to a report from Joseph Farah's G2 Bulletin. He also called on the United Nations Security Council to pressure Israel to reveal its nuclear program just as it has been doing with Iran on its nuclear enrichment effort, which the West believes is a cover for making nuclear weapons. Erdogan made his comments during an official two-day visit to Lebanon. Prior to going to Lebanon, he also warned Lebanese leaders in Ankara that Israel was planning an attack from its northern border. Does (Israel) think it can enter Lebanon with the most modern aircraft and tanks to kill women and children, and destroy schools and hospitals, and then expect us to remain silent?" Erdogan asked. "Does (Israel) think it can use the most modern weapons, phosphorus munitions and cluster bombs to kill children in Gaza and then expect us to remain silent?" he added. "We will not be silent and we will support justice by all means available to us." While the implication here was to spearhead initiatives in the UN against Israel should it attack Lebanon or Gaza, the "by all means available to us" raised the specter of whether Turkey would engage militarily against Israel. Until the beginning of this year, Turkey and Israel held joint military exercises and were involved in the production of military equipment. However, Turkey suspended all military cooperation following Israel's attack in January on Gaza, called Operation Cast Lead.
King James Version? Most Never Heard Of It
('Yet this is work far more influential than Shakespeare in spread of English')
Nov. 29….(WND) A new poll taken for the occasion of the 400th anniversary of the King James Bible reveals that a majority of those under 35 in the United Kingdom don't even know about the work, which has been described as a significant part of the estimated 100 million Bible sales annually, making it the best best-seller, ever. "Yet this is a work which was far more influential than Shakespeare in the development and spread of English," a spokesman for the King James Bible Trust told the Christian Institute in a recent report. The Christian Institute's report said the translation, which will celebrate its 400th anniversary next year, was the subject of a poll commissioned by the Bible Trust, and a spokesman said it was clear "there has been a dramatic drop in knowledge in a generation." The results revealed that 51 percent of those under 35 never have heard of the King James Bible, compared to 28 percent of those over the age of 35. The institute reported that Labor Member of Parliament Frank Field said, "It is not possible to comprehend fully Britain's historical, linguistic or religious development without an understanding of this great translation." According to officials who are working on a series of events marking the 400th year of the King James Bible, work on the translation into English of God's Word started in 1604 at the request of King James I. Work continued on the project until 1611, when the team of 47 of the top Bible scholars of the time finished their work. Among the various events that are being planned is the issuance of commemorative stamps in the UK. Mervyn Storey of North Antrim was among those petitioning for the recognition. "The Authorized or King James Version of the Bible is the most influential piece of literature in the English language," he told The Christian Institute. "However, the King James Version didn't just influence our literature and language. It also had a beneficial influence upon political and constitutional affairs."
China and Russia Agree to Abandon The Dollar
| | |
| --- | --- |
| | (FOJ) It is no coincidence that North Korea is flexing its muscle at this particular time. One week ago, China fired a missile off the coast of California as a stark warning to the US government about its economic debts. Then today, both China and Russia make the startling announcement about sidelining the dollar. It may be but the first step in a schemed foreclosure on America! |
Nov. 29….(China Daily) China and Russia have decided to renounce the US dollar and resort to using their own currencies for bilateral trade, Premier Wen Jiabao and his Russian counterpart Vladimir Putin announced late on Tuesday. Chinese experts said the move reflected closer relations between Beijing and Moscow and is not aimed at challenging the dollar, but to protect their domestic economies. "About trade settlement, we have decided to use our own currencies," Putin said at a joint news conference with Wen in St. Petersburg. The two countries were accustomed to using other currencies, especially the dollar, for bilateral trade. Since the financial crisis, however, high-ranking officials on both sides began to explore other possibilities. The yuan has now started trading against the Russian rouble in the Chinese interbank market, while the renminbi will soon be allowed to trade against the rouble in Russia, Putin said. "That has forged an important step in bilateral trade and it is a result of the consolidated financial systems of world countries," he said. Putin made his remarks after a meeting with Wen. They also officiated at a signing ceremony for 12 documents, including energy cooperation.The documents covered cooperation on aviation, railroad construction, customs, protecting intellectual property, culture and a joint communiqu. Details of the documents have yet to be released. Putin said one of the pacts between the two countries is about the purchase of two nuclear reactors from Russia by China's Tianwan nuclear power plant, the most advanced nuclear power complex in China. Putin has called for boosting sales of natural resources - Russia's main export, to China, but price has proven to be a sticking point. Russian Deputy Prime Minister Igor Sechin, who holds sway over Russia's energy sector, said following a meeting with Chinese representatives that Moscow and Beijing are unlikely to agree on the price of Russian gas supplies to China before the middle of next year. Russia is looking for China to pay prices similar to those Russian gas giant Gazprom charges its European customers, but Beijing wants a discount. The two sides were about $100 per 1,000 cubic meters apart, according to Chinese officials last week. Wen's trip follows Russian President Dmitry Medvedev's three-day visit to China in September, during which he and President Hu Jintao launched a cross-border pipeline linking the world's biggest energy producer with the largest energy consumer. Wen said at the press conference that the partnership between Beijing and Moscow has "reached an unprecedented level" and pledged the two countries will "never become each other's enemy". Over the past year, "our strategic cooperative partnership endured strenuous tests and reached an unprecedented level," Wen said, adding the two nations are now more confident and determined to defend their mutual interests. "China will firmly follow the path of peaceful development and support the renaissance of Russia as a great power," he said. "The modernization of China will not affect other countries' interests, while a solid and strong Sino-Russian relationship is in line with the fundamental interests of both countries." Wen said Beijing is willing to boost cooperation with Moscow in Northeast Asia, Central Asia and the Asia-Pacific region, as well as in major international organizations and on mechanisms in pursuit of a "fair and reasonable new order" in international politics and the economy. Sun Zhuangzhi, a senior researcher in Central Asian studies at the Chinese Academy of Social Sciences, said the new mode of trade settlement between China and Russia follows a global trend after the financial crisis exposed the faults of a dollar-dominated world financial system. Pang Zhongying, who specializes in international politics at Renmin University of China, said the proposal is not challenging the dollar, but aimed at avoiding the risks the dollar represents.
WEEK OF NOVEMBER 21 THROUGH NOVEMBER 27
Jerusalem: A Cup of Trembling and a Burdensome Stone
Nov. 24….(Israel Today) The prophecy of Zechariah Chapter 12 was written approximately 2500 years ago predicting a future day when the world's focus would be on Jerusalem: "Behold, I will make Jerusalem a cup of trembling unto all the people round about, when they shall be in the siege both against Judah and against Jerusalem." "And in that day will I make Jerusalem a burdensome stone for all people: all that burden themselves with it shall be cut in pieces, though all the people of the earth be gathered together against it." Further in verses 7, 8 and 9, the prophecy makes it clear that God will ultimately save the city and its people, but to the surrounding nations, the attempted conquest of Jerusalem will cause them great trouble, and to every nation pressuring to lift Jerusalem out of Jewish control, it will prove to be a heavy burden, and be injurious to them all. This is widely regarded as an End Time prophecy, and by examining the current geo-political and spiritual situation of the Middle East conflict, it is safe to say the time-frame of this prophecy is upon us. The words to Israel's national anthem, "Hatikvah" (The Hope) written in 1886 by Naphtali Herz Imber, express the powerful emotion and inmost God-given desire of the Jewish people, and the deep longing of the Jewish heart while living in exile among the nations, for their homeland. Praying, they faced Jerusalem, and never gave up the hope for their promised return there, as prophesied in the word of God. (Isaiah 11:11-12; Ezekiel 36:8-11 Ezekiel 37:21-22; Ezekiel 38:8, Isaiah 43:5-6; Jeremiah 31:7-10) Today, millions of Jewish people have returned, and many are still making aliyah, as prophesied in the Bible. However, the Islamic community, the nations surrounding Israel (Psalm 83:4-8), the international community, and the Vatican - all have a different goal in mind for Jerusalem. They would all remove complete Jewish control over the city and erase the Jewish victory in the June 1967 (miraculous) Six Day War, and either divide Jerusalem, or attempt a complete conquest of it, if they could. The call of the world at this time then is the attempt to lift this 'immovable rock,' but in return, to only find that the word of God is the unshakeable truth. All who burden themselves with pressuring Israel in changing what God has said in His word concerning Jerusalem, will find themselves facing nothing less than God's judgment. Jerusalem will be a cup of trembling to the surrounding nations attempting to take it over from Israel; the Six Day War is an example of the supernatural protection around this Holy Land. His word is faithful and true. At present, the US and Israel are negotiating a deal that would effectively bring both the Palestinians and Israel back to the table for direct peace talks, under the pressure from the international community, with the prospect to bring about a "two-state solution" that would supposedly solve the Middle East conflict. The negotiations are stalled at the moment as Israel is waiting for a written letter of promise back from the Obama Administration assuring them that this current construction freeze demand does not include "East Jerusalem"; it is "only" imposed on construction in Judea and Samaria. Israel is to receive certain military gestures, security guarantees, and 20 aircraft, in return for agreeing to the freeze. Israeli Prime Minister Benjamin Netanyahu has strongly declared to the Obama Administration that "Jerusalem is not a settlement, it is our Capital!" He has stated previously that Jerusalem is not to be included in this round of talks. However, the letter from the US is slow in coming back, apparently the Obama Administration does not want Israel to continue building in East Jerusalem. Jerusalem is a burdensome stone! Israel is like a banner to the entire world that the word of God is the truth. With each passing day, as Jerusalem becomes more and more the center of the world's attention, it will become increasingly difficult for anyone to dispute the incredible accuracy of these ancient prophecies. Truly, the time to seek God is now, if you don't know Him. Zechariah Chapter 12 ends with the Messiah's prophesied return: "And in that day I will set about to destroy all the nations that come against Jerusalem. I will pour out on the house of David and on the inhabitants of Jerusalem, the Spirit of grace and of supplication, so that they will look on Me whom they have pierced; and they will mourn for Him, as one mourns for an only son, and they will weep bitterly over Him like the bitter weeping over a firstborn." Let us Pray for the Peace of Jerusalem - Psalm 122.
2 Koreas Exchange Fire Across Border
| | |
| --- | --- |
| | (FOJ) The Korean arena is important for many reasons, not the least of which involves Israel. Tehran will be encouraged by the Obama administration's inaction against North Korea to greater pugnacity against Israel whose position in the Middle East Iran sees as akin to that of South Korea in the Far East. Both are regarded in Iran as tied hand and foot by Washington and therefore in no position to defend themselves without US approval. |
(In one of fiercest attacks in decades, North Korea fires at least 200 artillery shells at South Korean island, killing two soldiers and setting dozens of houses ablaze. North: South started it)
Nov. 24….(YNET) North Korea on Tuesday fired dozens of artillery shells at a South Korean island, killing two soldiers and setting dozens of houses ablaze, in one of the heaviest attacks on its neighbor since the Korean War ended in 1953. The attack, with South Korea returning fire came as the reclusive state has been pressing regional powers to return to negotiations about its nuclear weapons program, and it follows revelations at the weekend that Pyongyang is fast developing another source of material to make atomic bombs. It also follows moves by iron leader Kim Jong-il to make his youngest son heir apparent to the family dynasty. For decades, the Korean leadership has played a carefully calibrated game of provocations to win concessions from the international community and impress his own military. The risk is that the leadership transition has upset this balance and that events spin out of control. South Korean President Lee Myung-bak, who has pursued a hard line with the reclusive North since taking office nearly three years ago, said a response had to be firm following the attack on Yeonpyeong island, just 120 km (75 miles) west of Seoul.
The two Koreas are still technically at war, the Korean War ended only with a truce, and tension rose sharply early this year after Seoul accused the North of torpedoing one of its navy vessels, killing 46 sailors. "Houses and mountains are on fire and people are evacuating. You can't see very well because of plumes of smoke," a witness on the island told YTN Television before the shelling ended after about an hour. News of the attack rattled global markets, already unsettled by Ireland's debt woes and shifting to less risky assets. "Despite our repeated warnings, South Korea fired dozens of shells from 1 pm and we've taken strong military action immediately," its KCNA news agency said in a brief statement. South Korea has been conducting military exercises this week but it was not clear whether there had been any drills near the island that could have triggered the incident. Russian Foreign Minister Sergei Lavrov said the latest rise in tension represented a "colossal danger". China, the impoverished North's only powerful ally, was careful to avoid taking sides, calling on both Koreas to "do more to contribute to peace". "China hopes that the relevant parties will do more to contribute to peace and stability in the region, it is imperative now to resume the six-party talks," a spokesman for the Chinese Foreign Ministry, Hong Lei, told reporters. Those talks on North Korea's nuclear weapons program. involving the two Koreas, China, Japan, Russia and the United States, have long been on ice. However, the reclusive North has more recently been pushing to resume the talks, which previously it has used to win massive aid in return for promises to end its weapons program.
The attack comes just as a US envoy is in Beijing on a tour of the region and is expected to ask China to use its influence to help tame North Korea. Washington has branded the North a danger to the region and expressed concern Pyongyang would sell nuclear weapons technology to other states. It has said it was ready to return to talks but wants to see more commitment to denuclearization by the North beforehand. The White House condemned the attack, telling the North to halt its "belligerent action" and saying it was committed to defend the South. It has about 28,000 troops in South Korea, their combined forces facing an estimated one million North Korean soldiers who make up one of the world's biggest standing armies.
provocation'
"It's unbelievable," said Zhu Feng, professor of international relations at Peking University. "Today's news proves that North Korea, under unprovoked conditions, shot these South Korean islands. It's reckless provocation. They want to make a big bang and force the negotiations back into their favor. It's the oldest trick." The North depends heavily on China for economic and diplomatic support and its leader, Kim Jong-il, has visited China twice this year, in part to gain backing for the anointment of his son as heir. Those ties have become a sore-point with Washington after reports that North Korea appears to have made big steps towards enriching uranium, possibly using technology that passed through or even originated in China. China has urged returning to the nuclear disarmament negotiations but has also fended off calls from the US and its regional allies to use its vital food and energy aid to North Korea as a lever.
North Korea Testing Obama
(Similarly to Nazi era, failure to respond to North Korean aggression could lead to war)
Nov. 24 (YNET) All eyes in the international theater are currently on Washington. The White House also understands that the North Korean attack on the South Korean island is a challenge to the US no less so, and possibly even more so, than it is a provocation towards Seoul. Officials in Washington know that a failure to respond in this case would have grave strategic and international implications: Iran is closely monitoring North Korea's conduct on the nuclear and sanctions front, and there are quite a few indications that Pyongyang serves as a model for emulation. On top of it, there is the close cooperation between the two states on the missile and nuclear development front. Syria is in the same boat and draws from North Korea not only military and nuclear assistance, but also inspiration for provocative conduct vis-à-vis the US. Meanwhile, the concern shown by America's traditional allies in Asia and in the Middle East is growing in the face of the weakness and helplessness displayed by Washington in respect to Pyongyang's provocations. Major question marks regarding America's power and leadership are in the air, ranging from Riyadh to Tokyo: If this is how the White House conducts itself vis-à-vis the small, poor North Korea, would it have the power and desire to protect the oil states against Iran should Tehran decide, for example, to disrupt oil tanker traffic in the Persian Gulf? Can Japan and Taiwan count on the US to protect them in face of Chinese aggression? And that's not all. There is substantial danger that should North Korea's provocation not be met with an effective Western, international response, it would provide Pyongyang with an incentive to embark on additional adventures with graver results, to the point of all-out war, as was the case with Nazi Germany on the eve of World War II. We can assume that at this time, South Korea and the US would not be initiating military retaliation to the North Korean attack. It is also doubtful whether the US would adopt a grave step such as a total naval blockade against North Korea that may escalate to war. South Korea would be the first to oppose such move. However, the US still has two options on the diplomatic and economic front that may deter the regime in Pyongyang and make it think twice before undertaking the next provocation.
The Key: China
One option is to enlist China to the cause of exerting pressure on its ally, Pyongyang, to put an end to the provocations and return to the negotiating table. China has a substantial interest at this time in appeasing Washington, which is pressing Beijing to devaluate its currency and improve the balance of trade between the two countries. China also holds more than a billion-dollar worth of US bonds and has an interest in seeing an American economic recovery. Hence, China is attentive to Washington's concerns and is uninterested in seeing the US completely losing its superpower status. Another option available to the US is to convene the Security Council and pass a resolution that imposes further sanctions on North Korea and even threatens Pyongyang with Chapter VII in the UN charter, which allows for military action against a rogue state that jeopardizes world peace. China would then be facing an uncomfortable position, where it is forced to impose its veto power in defiance of all other Security Council members or endorse the resolution and become a party to sanctions against its ally. In any case, the key to restraining North Korea via non-violent means is currently in Beijing's hands. Should all this fail, the US has another possibility at its disposal: Redeploying tactical nuclear weapons on South Korea's soil. Such move would not only make clear the seriousness of America's intentions to Pyongyang, but also prove to China that it risks a nuclear war at its doorstep. This move would also signal to Iran what it can expect should it continue with its nuclear provocations. Should Washington be able to prompt China to impose effective pressure on Pyongyang, or should the US deploy nuclear weapons in South Korea, this would have a restraining effect on Iran on the nuclear front. However, should the White House show weakness, the North Korean model is expected to repeat in our region, in a doubly dangerous fashion.
Two-State Solutions Don't Work
Nov. 24….(FOJ) Considering the events of today concerning North and South Korea, and how that conflict has repercussions for the bigger powers in the world, it is obvious that two-state solutions to conflicts don't work. Israel, especially, should take extra note about the political situation on the Korean peninsula since the UN and the Quartet of Mideast peace brokers are constantly pushing a 2-state solution on them. (Korea and Viet Nam serve as stark examples of 2-state solutions) The Korean Conflict ended in an armistice, which is simply a political postponement of a volatile geo-political quagmire. If Israel is pushed into a 2-state situation with a new state of Palestine in the West Bank, Israel would be left with a much worse scenario, militarily than presently is faced by South Korea. Japan, Taiwan, and the Phillipines are a major player on behalf of South Korea, but Israel has no such regional ally. Two-state solutions only serve to enable enemies more time to gather together for a final assult.
PA: Jews Have No Right to Western Wall
('Muslim tolerance allowed the Jews to stand in front of it and weep,' says Information Ministry official)
Nov. 23….(Jerusalem Post) The Western Wall belongs to Muslims and is an integral part of Al-Aksa Mosque and Haram al-Sharif (the Islamic term for the Temple Mount complex, meaning the Noble Sanctuary), according to an official paper published on Monday by the Palestinian Authority Ministry of Information in Ramallah. The paper, which has been presented as a "study," was prepared by Al-Mutawakel Taha, a senior official with the ministry, to "refute" Jews' claims to the Western Wall. In the past, PA leaders and officials have also denied Jewish rights to the Wall, insisting that the Temple Mount never stood in the area. The new document claims that the Western Wall, or Al- Buraq Wall, as it is known to Muslims, constitutes Waqf property owned by an Algerian- Moroccan Muslim family. It claims there isn't one stone in the wall that belongs to the era of King Solomon. The "study" also contends that the path next to the Western Wall was never a public road, but was established only for the use of Muslims living in the area or making their way toward the mosques on the Temple Mount. "The Zionist occupation falsely and unjustly claims that it owns this wall, which it calls the Western Wall or Kotel," Taha, who is also a renowned Palestinian poet and writer, wrote in his project. "Al-Buraq Wall is in fact the western wall of Al-Aksa Mosque." He added that the Jews had never used the site for worship until the Balfour Declaration of 1917. "This wall was never part of the so-called Temple Mount, but Muslim tolerance allowed the Jews to stand in front of it and weep over its destruction," he wrote. "During the British mandate in Palestine, the number of Jews who visited the wall increased to a point where the Muslims felt threatened, and then there was the Al-Buraq Revolution on August 23, 1929, where dozens of Muslims were martyred and a large number of Jews were killed." Taha was referring to an Arab uprising throughout Palestine over access to the Western Wall during which 133 Jews and 116 Arabs were killed over a few weeks. The author, who is affiliated with PA President Mahmoud Abbas's Fatah faction, emphasizes that over the past few decades, Jews have failed to prove that the wall has any connection to their religion. "Many studies published by Jewish experts have affirmed that there is no archeological evidence that the Temple Mount was built during the period of King Solomon," the paper added. "One can only conclude that Al-Buraq Wall is a Muslim wall and an integral part of the Aksa Mosque and Haram al-Sharif. No one has the right to claim ownership over it or change its features or original character. Also, no one has the right to agree with the occupation state's racist and oppressive measures against history and holy sites." The PA ministry's study also warned that "no Muslim or Arab or Palestinian had the right to give up one stone of Al-Buraq Wall or other religious sites."
New Syrian, Hizballah's Guided Missiles Defy Israel's Aerial Supremacy
Nov. 23….(DEBKAfile Special Report) Israeli Military Intelligence chief Maj. Gen. Amos Yadlin took his leave from the Israel cabinet Sunday, Nov. 21, with a stern warning: "Tel Aviv will be a front line in the next conflict," he said. Debkafile's military sources report: Syria and Hizballah now possess thousands of surface missiles from Iran with enhanced ranges of up to 300 kilometers and they are being outfitted by Iranian engineers with guidance systems. The new guided Fateh-110, M-600 and Scud D missiles hardware can pinpoint any part of Israel within a 10-meter radius in defiance of Israel's aerial and anti-missile capabilities, say Israeli and Western missile experts. Hizballah and Syria have been furnished by Iran with the means for fighting a new, far more comprehensive war. All of Syria's chemical Scud C and D warheads have been converted into guided missiles, and so have the 1,000 Scud Ds kept in Syrian bases near the Lebanese border ready to push across to Hizballah in a military confrontation with Israel, which Hassan Nasrallah said ten days ago he would welcome. During the three-week war of 2006, Hizballah launched 500 rockets a day, relying on sheer, terrifying numbers against populated areas, mostly in the North - to bring Israeli armed forces low. A dozen a day of the guided, long-range weapons would do far more damage, say our military sources. Iran's allies would likely go for Greater Tel Aviv in order to sow demoralization in the most densely populated part of Israel and devastate its industrial and financial centers. Earlier this month, Israel's Chief of Staff Lt. Gen. Gaby Ashkenazi, said it was possible that in the next war, large segments of the population would have to be evacuated from their homes. Former head of the Israel Mission Defense Organization Uzi Rubin said recently: "The enemy has achieved aerial supremacy without even having aircraft." Iran's fully-guided Fateh-110 rocket would enable Hizballah and Syria to strike critical Israeli facilities with dozens rather than hundreds of rockets, he said. Hizballah and Syria have 1,500 warheads that could strike the Tel Aviv area. "This is a revolution," said the missile expert. Debkafile's military sources note that Rubin did not mention Israel's missile and rocket defense systems, the Arrow, Iron Dome and David's Sling, as able to thwart the new Syrian and Hizballah guided weapons, for good reason. Those systems are not up to intercepting heavy hails of thousands of incoming missiles. Even if only scores reached their targets, the damage would be tremendous. As for aerial strikes against launching sites, Hizballah has dismantled its missile bases and scattered the warheads widely apart in underground bunkers and natural caverns, from which they can be launched.
NATO Panning 'Integral' Role in Enforcing Mideast Peace Deal
NATO chief says that alliance will enforce, but not forge, Mideast peace
Nov. 22….(Ha Aretz) NATO will play an integral role in enforcing a Middle East peace deal, but will not play a direct role in reaching that agreement, the alliance's secretary general told Haaretz this weekend. "If a Middle East peace agreement is reached, an international military force will be needed to monitor and implement it," Anders Fogh Rasmussen said. At a press briefing in the Portuguese capital, the secretary general said that unlike its member states, NATO as an organization is not involved in the peace process, but expressed support for the efforts of the United States and the other members of the so-called Quartet of Mideast peace negotiators to reach a resolution to the Israeli-Palestinian conflict. Rasmussen will visit Israel in February of the coming year. At center stage throughout the weekend summit was Afghanistan, and NATO member states agreed to continue the military campaign in the country until 2014 at least. Also on the agenda were NATO's increasingly friendly relations with Russia, the need to bolster Europe's defenses against surface-to-surface missiles and streamlining the alliance's military and administrative networks. Meeting in the Portuguese capital yesterday and the day before, the heads of government of NATO's 28 members states signed on to a new strategic doctrine for the coming decade. The document's central tenets are a reaffirmation of collective defense, deterrence and resource allocation, crisis management, and advancing security and stability, even beyond the North Atlantic theater of North America and Europe. The doctrine was formulated based on the recommendations of a committee of experts assembled by former US secretary of state Madeleine Albright. Among other issues, the panel's report offered recommendations relating to the Israeli-Arab conflict, but prior to the document's authorization on Friday, representatives of member states decided not to touch on the issue. When asked why the document contained no explicit reference to Iran, a country highlighted by Albright's panel as a multi-pronged threat and the primary reason to invest in the deployment of surface-to-surface missiles in Europe, Rasmussen reaffirmed NATO's official stance - which cites the over 30 countries that own or seek to own advanced weapons that could cause harm to the Euro-Atlantic region. This ambiguous phrasing was adopted following pressure from Turkey, a country widely seen as forging ever-closer ties to Iran. Ankara also expressed its opposition to providing information gathered by the European missile-defense system - planned to be based partially on its soil, to "non-NATO countries," wording that could be perceived as code for Israel. A high-ranking official in a Western government said that at the meeting of the heads of state, French President Nicolas Sarkozy raged against the "verbal contortions" surrounding the missile-defense system. "We all know we're talking about Iran," Sarkozy reportedly said. Turkey's President Abdullah Gul (representing the country in the absence of Prime Minister Recep Tayyip Erdogan ) did not respond to Sarkozy's remarks, but instead expressed opposition to what he called NATO's preferential treatment of Cyprus in circumventing Turkey's veto of the island country's participation in NATO negotiations with the European Union. One result of the new NATO doctrine will likely be closer relations with non-member states. This weekend, NATO sources said high-level officials at the organization's Brussels headquarters are cognizant of Israel's disappointment with its apparently downgraded ties with NATO over the past few years, and are laying groundwork for strengthening those ties. The North Atlantic Council, NATO's most senior governing body, also announced it would launch bilateral relations (in contrast to collective ties ) with Israel and the six Arab states that comprise the Mediterranean Dialogue. Egypt and several other of the Arab states have tried to prevent NATO from forging closer ties with Israel.
US Building Freeze Deal Will Include Jerusalem
Nov. 22….(Israel Today) The 90-day building freeze the Obama Administration is asking Israel to accept in return for a bag of goodies (read: bribe) will include the eastern half of Jerusalem, contrary to original reports on the proposal. A senior American diplomat confirmed to Israel's Ha'aretz daily newspaper that Israel will not be able to build in the Jewish neighborhoods in eastern Jerusalem or demolish illegally-built Arab homes if it wants increased US support at the UN, more recognition of Israeli security demands, and possibly 20 new F-35 fighter jets. But the wording is expected to be deceptive. According to the report, the US-Israeli deal will not explicitly prohibit Jewish construction in eastern Jerusalem, but the White House will nevertheless look to Israel to fulfill that Palestinian demand. Right-wing Israeli lawmakers have been yelling for the past week that the US proposal is a trap, and that despite US promises that no further freeze will be asked for beyond these 90 days, previous American "guarantees" have proved otherwise. What's worse is that if the US presses for Israel to also stop demolishing illegally built Arab homes, that means the Palestinians may initiate a massive building rush in Jerusalem. Already, local Arabs building hundreds to thousands of housing units every year in the Israeli capital without proper authorization and building permits. Due to Israel's desire to not be too harshly condemned in the international arena, very few of those houses are removed. Signaling that he liked the way things were starting to go, Palestinian leader Mahmoud Abbas on Sunday declared that there would be no resumption of peace talks unless a Jewish building freeze in Jerusalem is part of the US proposal. Since the goal of the freeze to facilitate a resumption of direct peace talks, Washington is expected to fully back Abbas' position. Thousands of Israelis demonstrated outside the Prime Minister's Office in Jerusalem on Sunday to demand that Prime Minister Benjamin Netanyahu reject the American proposal. Netanyahu is currently in favor of accepting the deal, believing that it will provide Israel the moral and diplomatic upper hand, and expose the Palestinians as the true obstacle to peace. Past prime ministers have made similar errors, like Ariel Sharon in uprooting the 10,000 Jews of Gaza.
'US No Longer Views Israel as an Asset'
Nov. 22….(Israel Today) While it is perhaps premature to call the Obama Administration hostile toward Israel, Knesset Speaker Reuven Rivlin said in an interview with The Jerusalem Post that it has become clear that Washington no longer sees its relationship with the Jewish state as a strategic asset. "There is definitely a new American perception that does not see Israel as a strategic asset in the Middle East for both the United States and the free world," said Rivlin. "This is a development that even we, the veteran politicians, see as something new." Perhaps even worse than that, Rivlin believes the US government no longer considers itself as having a moral responsibility toward Israel. "Today we find ourselves facing an American administration that does not see as a basic point of reference the moral responsibility for the existence of Israel," Rivlin stated. "The US certainly supports the Zionist idea, the idea that the Jews of Israel live here, but it does not feel any moral responsibility for Israel's existence." Rivlin's remarks provide a good reference point for how average Israelis view the growing tension between Jerusalem and Washington, which is being fed by a burgeoning movement within the US to paint Israel as a liability, both ethically and politically. That movement has even found support among many younger Evangelical Christians who have been caught up in various forms of "Palestinian liberation theology." Israel Today covered the growing Palestinian liberation theology, which is really just a new strain of Replacement Theology.
PA Arabs See Two States as 'Temporary Solution
Nov. 22….(Arutz) A majority of Arabs in Judea, Samaria and Gaza favor two states only as a step towards an Arab state of Palestine, by the use of violence, if necessary, according to a new poll by the non- profit The Israel Project. The results of the survey were released on Friday, hours before Palestinian Authority negotiator Saeb Erekat said that if Israel agrees to recognizing the Palestinian Authority as a new Arab country based on Israel's size being shrunk to the indefensible 1949 Armistice Line borders, the PA then would relinquish all claims to "historic Palestine," which he said includes all of Israel from the Dead Sea to the Mediterranean Seas. The Israel Project poll of PA Arabs shows that 60 percent favor direct negotiations with Israel for "two states" of the Palestinian Authority and Israel, but it also reveals that two-thirds agree that "over time, Palestinian must work to get back all the land for a Palestinian state." Only 23 percent of the respondent agreed that "Israel has a permanent right to exist as a homeland for the Jewish people." The option of armed violence still is a high priority for a majority of PA Arabs, 58 percent preferring "armed struggle" over "engagement with Israel." A majority of Arabs in both Gaza and Judea and Samaria favor violence, with a higher percentage in Gaza. On the other hand, Arab opinion was somewhat more conciliatory when respondents were given the option that an agreement with Israel would be based on 1949-1967 Armistice lines, once referred to former Israel Ambassador to the United Nations Abba Eban as "Auschwitz borders." Most of the PA Arab would like to see an end to the naming of public places after terrorists, but only a tiny minority of 12 percent agree that official maps, documents and school textbooks should show the name "Israel." As in previous polls, the popularity of Hamas has declined, even in Gaza, where the rival Fatah party would easily win if elections were held today. In contrast to another recent poll that showed PA Arabs as having a favorable view of Iran, most of the respondents in the Israel Project poll had negative opinions on Iran and President Mahmoud Ahmadinejad.
WEEK OF NOVEMBER 14 THROUGH NOVEMBER 2
0
Obama: Missile Defense Shield for all NATO Members
(Obama said the shield would cover all NATO members in Europe and North America)
Nov. 20….(BBC) A missile defense system covering all NATO countries has been agreed at the alliance's summit in Lisbon, US President Barack Obama has said. The shield would cover all NATO members in Europe and North America. NATO is also backing the swift ratification of the Start treaty between the US and Russia, cutting nuclear weapon stockpiles. The summit will discuss Afghanistan on Saturday, with plans to end combat operations by 2014. NATO will ask Russia to co-operate on missile defense and join the system. On Saturday, leaders will meet Russian President Dmitry Medvedev, who is attending the summit. Missile defense has been a point of tension between NATO and Russia in the past, but President Medvedev's presence at the summit is being seen as a strengthening of ties. NATO's new "strategic concept" is the third revision that the organization's mission statement has undergone since the Berlin Wall came down. Hence Secretary General Anders Fogh Rasmussen's quip about this being "NATO 3.0". But is this a speedy new software version with added bells and whistles or an attempt to re-package an older product for very different market conditions? Nato's much-vaunted new missions, specifically defense against cyber-warfare and ballistic missile attack, look a little bit like being a case of "Back to the Future" since they hark back in many ways to NATO's traditional role, the defense of its own territory and populations. On crucial (and divisive) issues like the fate of NATO short-range or battlefield nuclear weapons in Europe, the new strategic concept offers only limited guidance. No doubt a full-scale nuclear review will be needed to determine the role of these weapons, which many critics see as outdated, and to ascertain the broader circumstances in which they might be withdrawn. "It offers a role for all of our allies. It responds to the threats of our times," Mr Obama said, according to the Reuters news agency. "Tomorrow we look forward to working with Russia to build our co-operation with them in this area as well, recognizing that we share many of the same threats," Mr Obama said. Last month, President Medvedev said Russia was considering whether to join a missile shield. In November 2009, President Obama announced the US was scrapping plans for a missile shield based in Poland and the Czech Republic which had infuriated Russia. NATO Secretary General Anders Fogh Rasmussen and Mr Obama both called for the speedy ratification of the Start treaty, which Russia and the US signed in April. The agreement would reduce both countries' nuclear arsenals and allow each to inspect the other's facilities.
Experts: Mystery Contrail was From Chinese Missile
'Muted response' was decision 'made by the president himself'
Nov. 20….(WND) Although the US Defense Department and North American Aerospace Defense Command have speculated publicly that the unidentified contrail of a projectile soaring into the skies off the California coast, and recorded by a KCBS television crew, came from a jet and posed no security threat to the US, several experts are raising provocative and disturbing questions about the government's official response. Two governmental military experts with extensive experience working with missiles and computer security systems have examined the television video and conclude the mysterious contrail originating some 30 miles off the coast near Los Angeles did not come from a jet, but rather, they say the exhaust and the billowing plume emanated from a single source nozzle of a missile, probably made in China. They further suggest the missile was fired from a submerged Chinese nuclear submarine off America's coast, and point out that the timing of the alleged Chinese missile shot coincided with an increasing confrontation between the US and China, and was likely meant to send a message to Washington. Indeed, the Federal Aviation Administration documents that there were no aircraft flying in the area at that time, the night of Nov. 8. "The question that still must be answered is why NORAD's muted response was simply that North America was not threatened, and later our government approved the lame excuse that the picture recorded was simply an aircraft leaving a contrail," said retired U.S. Air Force Brig. Gen. Jim Cash. A former US Air Force fighter pilot and commander of an F-15 squadron and an F-16 wing, Cash was assigned to NORAD as an assistant director of operations at the Cheyenne Mountain complex near Colorado Springs, Colo., and is fully knowledgeable of NORAD procedures. "There is absolutely no doubt that what was captured on video off the coast of California was a missile launch, was clearly observed by NORAD, assessed by a four-star general in minutes, and passed to the president immediately," he said. Even more ominously, cautioned Cash: "We must question the timing of this shot across our bow. The president was abroad being diplomatic, which means trying to placate China which is becoming overly concerned with our handling a totally out-of-control deficit in spending." Wayne Madsen, a former naval officer who has worked at the National Security Agency and the Naval Data Automation Command, said the inability to pick up what he described as a Chinese Jin-class submarine-launched ballistic missile isn't the first time US Navy anti-submarine warfare sensors have failed. Madsen, who today is an investigative journalist, said the Pentagon is working "overtime with the media and on the Internet to cover up the latest debacle. However, even some reporters who cover the Pentagon full-time are beginning to question the Pentagon's version of events, over the skies west of Los Angeles." Dr. Lyle J. Rapacki of Sentinel Intelligence Services, LLC, said the contrail incident off the Los Angeles coast is "fraught with peril" due to the defense systems and protocols in place that should have detected the alleged submarine. "The decision to officially announce that North America was not threatened," he said, "and all the excitement was due to an aircraft leaving a contrail is a decision that reaches beyond the four-star general level and goes directly to a decision made by the commander-in-chief." G2Bulletin calls to the Pentagon and NORAD for comment beyond previous official statements were not returned.
UN Official Admits: We Redistribute World's Wealth by Climate Policy
Nov. 20….(The Blaze) "This has almost nothing to do with environmental policy." Is this quote from a) a climate change skeptic, or b) an official from the United Nations Intergovernmental Panel on Climate Change? Climate change skeptics have long theorized about ulterior motives behind attempts to legislate and regulate man-made global warming. This speculation reached a fever pitch after data from the University of East Anglia, widely referenced by the United Nations, was found to be flawed and private emails pointed to a broader conspiracy to falsify the so-called evidence. But this speculation is only likely to grow after a leading member of the United Nations Intergovernmental Panel on Climate Change (IPCC) told a German news outlet, "We redistribute de facto the world's wealth by climate policy." Via the Media Research Center, Germany's NZZ Online Sunday interviews Ottmar Edenhofer of the UN.
(NZZ AM SONNTAG): The new thing about your proposal for a Global Deal is the stress on the importance of development policy for climate policy. Until now, many think of aid when they hear development policies.
(OTTMAR EDENHOFER, UN IPCC OFFICIAL): That will change immediately if global emission rights are distributed. If this happens, on a per capita basis, then Africa will be the big winner, and huge amounts of money will flow there. This will have enormous implications for development policy. And it will raise the question if these countries can deal responsibly with so much money at all.
(NZZ): That does not sound anymore like the climate policy that we know.
(EDENHOFER): Basically it's a big mistake to discuss climate policy separately from the major themes of globalization. The climate summit in Cancun at the end of the month is not a climate conference, but one of the largest economic conferences since the Second World War. Why? Because we have 11,000 gigatons of carbon in the coal reserves in the soil under our feet, and we must emit only 400 gigatons in the atmosphere if we want to keep the 2-degree target. 11 000 to 400, there is no getting around the fact that most of the fossil reserves must remain in the soil.
(NZZ): De facto, this means an expropriation of the countries with natural resources. This leads to a very different development from that which has been triggered by development policy.
(EDENHOFER): First of all, developed countries have basically expropriated the atmosphere of the world community. But one must say clearly that we redistribute de facto the world's wealth by climate policy. Obviously, the owners of coal and oil will not be enthusiastic about this. One has to free oneself from the illusion that international climate policy is environmental policy. This has almost nothing to do with environmental policy anymore, with problems such as deforestation or the ozone hole. According to the Media Research Center, Edenhofer was "co-chair of the IPCC's Working Group III, and was a lead author of the IPCC's Fourth Assessment Report released in 2007 which controversially concluded, 'Most of the observed increase in global average temperatures since the mid-20th century is very likely due to the observed increase in anthropogenic greenhouse gas concentrations.'" This week marks the one year anniversary since the "Climategate" scandal erupted.
Ashkenazi: US Losing Foothold in Region
(For the last time before he retires from IDF, Chief of Staff Ashkenazi meets with senior US defense officials; army chief warns that for the first time in 60 years, America is losing its foothold in the Middle East as Iran and Turkey pursue a new agenda)
Nov. 19….(YNET) IDF Chief of Staff Gabi Ashkenazi was received Wednesday in a special Pentagon ceremony in his last US visit in uniform, highlighting his warm relationship with his American counterpart, Admiral Michael Mullen. During meetings at the Pentagon and on Capitol Hill, Ashkenazi warned that for the first time in 60 years, the US is losing its foothold in the Middle East, as Iran and Turkey are joining forces to create a new agenda in the region. He added that Syria is boosting is activity within the radical axis. Ashkenazi also reiterated warnings that implicating Hezbollah in the assassination of late Lebanese Prime Minister Rafik al-Hariri may prompt a shakeup that could lead Hassan Nasrallah to take power in Beirut.
Disagreements on Iran
In his meetings, scheduled to continue tomorrow, Army Chief Ashkenazi also stressed the importance of reinforcing the sanctions imposed on Tehran, while discussing the progress of Iran's nuclear program with his US counterpart. "I think Iran is on a path to achieve nuclear capability and that that would be a disaster for the region, incredibly destabilizing," Mullen said. "Right now the focus is on dialogue and engagement and sanctions. The sanctions are actually taking a fairly significant bite, and that's the current path. We've all been pretty clear here that all options remain on the table, including military options." The US military commander said that the sanctions are having a much quicker effect than expected, and that their influence is significant. Ashkenazi, however, was more skeptical, saying that it was not clear whether the sanctions are sufficient to convince Iran to change course.
Obama Demands Jews "Lease Their Land
Nov. 19….(WND) Have you heard the latest great foreign-policy idea from Barack Obama? He wants Israel to lease lands in historic Judea and Samaria from the Palestinian Authority. This would presumably be a reward to the Arabs for waging nearly continuous acts of war and terrorism on the Jews for 62 years. But what is even more shocking to me as a Christian American of Arabic heritage is that Israeli Prime Minister Benjamin Netanyahu approves of the idea in principle. It's a suicide pact for the Israelis, who continue to believe they can negotiate with an implacable foe hell-bent on their total annihilation. The proposal is for a seven-year lease of the lands in question. Netanyahu's only objection is that the term of the deal is not long enough. "Seven years is not enough, an arrangement like this needs to last for dozens of years," Netanyahu reportedly said behind closed doors to Israeli army radio. Another senior minister was quoted anonymously as saying "anything less than a 99-year lease is not worth talking about." But the Israeli leaders are missing the point, as usual. Any agreement to lease the land bestows ownership of the land by their enemies. It thoroughly undermines the legitimate Jewish claim to land bestowed to the heirs of Abraham, Isaac and Jacob. If Israel agrees that the land legitimately belongs to the Palestinians, how will it morally and legally defend the rest of its land? The concession would represent an implicit admission that so-called Palestinians have a legitimate right of ownership to all lands under the control of Israel, including Jerusalem and Tel Aviv, which are contested by the same people. Israel has tried the old "land for peace" approach too many times. It hasn't worked and it will never work, not with people whose ultimate objective remains the destruction of Israel and the Jewish people. Perhaps some in Israel are tempted to try a new "bribe for peace" approach. I sympathize with Israelis who only want to live in peace and harmony with their neighbors. But this is not the way. Any such agreement will not only raise the stakes for the terrorists of the Palestinian Authority, but it will increase international pressure on Israel for even more absurd land concessions. If you really think this conflict is about the Arabs not having enough land, please consult a map. Arabs control more than 99 percent of the land mass of the Middle East. Israel controls less than 1 percent. If you really think this conflict is about money, think again. The Arabs control all of the oil resources of the Middle East. The Arab nations are among the wealthiest in the world. Israel has to import oil. When conventional warfare against Israel proved unsuccessful in four major conflicts, the Arab nations began supporting the asymmetrical warfare conducted by so-called Palestinian terrorists to rid the Middle East of Jews. They brutally exploited the so-called Palestinian refugees rather than resettling them. This proposal from Barack Obama represents nothing but a reward for six decades of anti-Semitic hatred and intimidation by Arabs, recently cheered on by Western leaders under the economic thumb of Middle Eastern oil interests. Have we already forgotten how and why the nation of Israel was reborn in 1948? It was a direct result of the European Holocaust in which about half of all Jews perished. They were chased out of their homes in country after country as the Nazis hunted them down as part of their genocidal "final solution." The ideological heirs of the Nazis in the Muslim world are hard at work once again. And, once again, a world blinded by self-interest and the possibility of quick fixes turns its back on the Jews.
Despite US Effort, Syria's Middle East Role on the Rise
| | |
| --- | --- |
| | (FOJ) Syrian President Assad is courted by Saudi King Abdullah, even as he coddles up to Iran's mullahs. Everyone seems to realize that Damascus is a critical piece to Middle East geo-political time-bomb. The "King of the South" (Ezekiel 38) is obviously concerned about Syria and Lebanon's close ties to Iran, and ultimately to Russia. |
(Washington has increasingly expressed its frustration with Damascus, which it says is stirring up tension through its support of Hizbullah.)
Nov. 18….(Jerusalem Post) Syria has bounced back from years of international isolation and is wielding its influence in crises around the Middle East, shrugging off US attempts to pull it away from its alliances with Iran, Hamas and Hizbullah. Damascus played a role in helping Iraq's fractious politicians agree this month to form a new government after eight months of deadlock. Now with Lebanon's factions heading for a possible new violent collision, Arabs have had to turn to Syria in hopes of ensuring peace, even as Damascus backs Lebanon's heaviest armed player, the Shi'ite terrorist group Hizbullah. Washington has increasingly expressed its frustration with Syria, which it says is stirring up tension through its support of Hizbullah. Last week, US Secretary of State Hillary Rodham Clinton said Syria's behavior "has not met our hopes and expectations" over the past 20 months and that it has "not met its international obligations." Since 2005, Washington, along with its Arab allies, hoped to squeeze Syrian influence out of its smaller neighbor Lebanon. But Arab powers that once shunned Damascus, particularly Saudi Arabia, have had to acknowledge its regional weight. This month, Syrian and Saudi officials have been holding talks trying to avert an explosion in Lebanon. It is a remarkable turnaround from several years ago, when the two countries were locked in a bitter rivalry and an outright personal feud between their leaders, Syrian President Bashar Assad and Saudi King Abdullah. Fears of violence in Lebanon are high because an international tribunal investigating the 2005 assassination of former Lebanese prime minister Rafik Hariri is expected soon to indict members of Hizbullah. Many Lebanese fear that could break the country's fragile unity government grouping Hizbullah and pro-Western parties loyal to Hariri's son, Sa'ad, who is the current prime minister, and even lead to clashes between the two sides. With Syria's backing, Hizbullah demands Sa'ad Hariri break off Lebanon's ties with the tribunal. Little is known about the Syrian-Saudi talks, but Lebanon's daily As-Safir reported Monday that the contacts have produced a five-point compromise plan in which Hariri, a close Saudi ally, is likely to declare Hizbullah innocent of the assassination once the tribunal issues indictments. Such a deal would be a setback for Washington, which has pressed for support of the tribunal, and for pro-US factions in Lebanon who fear the country is coming under Hizbullah's thumb. But it would mark a new success for Syria and illustrate how it has come to restore its regional clout largely on its own terms. It has done so while ignoring incentives from Washington. US President Barack Obama has made repeated overtures to Damascus this year, nominating the first US ambassador to Syria since 2005 and sending top diplomats to meet with Assad, in hopes of swaying it away from its alliance with Iran and regional militant groups. As it spurns moves by the US, Damascus is making friends elsewhere, and not just with staunch anti-American governments such as Iran and Venezuela, whose President Hugo Chavez swung through Damascus in October. Iraqi leaders looked to Syria for help in solving the political stalemate stemming from March parliamentary elections, which failed to produce a clear winner. Iraqi Prime Minister Nouri al-Maliki, who along with other prominent Iraqi officials made a trip to Damascus, is expected to form a new government after last week's deal broke the political impasse. Syria's emergence as a regional heavyweight is a reversal from just a few years ago. Rafik Hariri's assassination prompted a wave of anti-Syrian protests that forced Damascus to withdraw its military from Lebanon and end its long control there. In 2006, relations with some Arab states took a dive when Assad called Saudi King Abdullah and other Arab leaders "half men" over their disapproval of Hizbullah's capture of two Israeli soldiers in a cross-border raid, which sparked a 34-day war between Hizbullah and Israel. Syria could benefit from improved ties with Washington, which would boost its economy and end sanctions first imposed by former US president George W. Bush. Assad also wants US mediation in indirect peace talks with Israel, a recognition that he needs Washington's help to win the return of the Golan Heights, seized by Israel in 1967. But after rebuilding its regional status, it may feel less of a need to pay the price for better ties.
China Raises US Debt Holdings
Nov. 17….(AFP) The United States' top creditor China increased its stockpile of American debt in September, official figures showed on Tuesday, even as other nations slashed their holdings. Both China and Japan bucked the trend of foreign investors cutting their exposure of US assets. Overall holdings, known as net long-term capital inflows in financial jargon, fell 37 percent from elevated levels in August. Amid political sensitivities over the level of US bonds held by Beijing, the emerging market giant, excluding Hong Kong, increased its holdings by 1.7 percent to nearly 884 billion dollars. Japan meanwhile raised its Treasury holdings to 865 billion dollars, a more than three percent increase. "The strong interest in Treasury bonds and notes points to a still-high level of risk aversion in global financial markets," said Tu Packard of Moody's Analytics.
FOJ Note: I wonder when China will foreclose on our nation? The "kings of the east" are rising.
Russia Sells Lebanon Tanks, Helicopters
Nov. 17….(Arutz) Lebanese Prime Minister Saad Hariri confirmed Tuesday that Russia has agreed to supply the Lebanese army with advanced weapons. The new weaponry will include 31 tanks, 130mm caliber cannon shells, six attack helicopters and various munitions. The new helicopters are expected to significantly boost Lebanon's air force, which currently has around 30 helicopters, all unarmed, and several jets. Hariri visited Moscow and met with Prime Minister Vladamir Putin. Following that meeting he called on Israel to agree to the Saudi Initiative, and credited Russia for its involvement with the "Palestinian cause." Putin told Hariri that Russian firms plan to bid on Lebanese contracts, including electric, transport, telecommunications and weapons tenders, and asked him to support Russian participation in bidding. Russia is one of Lebanon's top military suppliers. The Lebanese army also receives much of its support from the United States. The US Congress had blocked military aid to Lebanon over concerns that weapons could end up in the hands of Hizbullah. However, Representative Howard Berman, who is soon to lose his chairmanship of the House Foreign Affairs Committee, announced Sunday that he would lift the hold on $100 million in aid. Berman said he had received classified briefings from the Obama administration that convinced him the aid would boost security and would not be used by terrorists. State Department officials said after the hold was lifted that the US will work "aggressively" with the Lebanese government to deal with problems. IDF officials have cautioned that weapons given to Lebanon are likely to end up with Hizbullah, just as much of the aid given to Fatah fell into Hamas hands during the 2007 takeover of Gaza. Outgoing IDF intelligence chief Major General Amos Yadlin recently warned that Hizbullah's terrorist army has partially merged with the Lebanese army, and is planning a coup. "If it wanted to, Hizbullah could take over Lebanon in a matter of hours," he said.
Former Iranian Fighter Pilot: 'Ahmadinejad Incites War on Israel'
Nov. 17….(Jerusalem Post) Iran has a nuclear military plan and intends to acquire nuclear weapons, said a former Iranian army lieutenant in an interview with Channel 10 news Tuesday night. Bahazad Masawi, a former fighter pilot in the Iranian Air Force who defected from the regime and is in hiding in Paris, said in the interview that "Ahmadinejad creates terror and incites war in the area. This is not good for the Iranian people. Ahmadinejad makes the situation in Iran and in the entire region worse. The former pilot, who flew Iran's F-14 fighter jets, stressed that Israel is not an enemy of Iran. "The Iranian nation is not an enemy of the Israeli people and in the past they were not enemies either, they had always been friends. It is not possible to separate the Iranian people from the people of Israel. King Cyrus is the one who saved the Jews. Masawi expressed regret in the interview for Iran's support for Hizbullah and for terrorist organizations. "All of the state's money finances terrorism, the Islamic regime in Iran is the biggest supporter of terrorism in the world. Everyone knows this," he said. Speaking on his role as a pilot in Iran's air force, Masawi said, "We had no access to the fighting techniques of the Israeli Air Force, it belongs to Iranian intelligence. They are the ones who are involved in this issue. We had no need to spy on anyone, our job was to fly." Masawi fled to Paris a few days ago through a network of military officers who oppose the Islamic regime. Speaking about the regime, the pilot said, "One young man comes out and speak against the Iranian regime, shouting in the streets, 'Death to the dictatorship,' and then they arrest him, rape him, imprison him, and then kill him. This is a dictatorial regime. This is not a just regime."
Israel Discusses Syrian Support for Terrorism at UNSC
Nov. 17….(Jerusalem Post) Israeli Deputy Permanent Representative to the United Nations Haim Waxman told the Security Council Monday that Syria is "a prime sanctuary for terrorism." Stating that "we in Israel know firsthand the devastation caused by terrorism," Waxman noted for the Council, engaged in a debate on counter-terrorism, that "every day, at least one UN member state suffers some form of a terrorist attack." "Hamas and Hizbullah are among the most dangerous terrorist organizations worldwide, threatening not just Israel's security but also the stability of the entire region," Waxman told the Security Council, adding that a growing arsenal of missiles and rockets, along with weapons smuggling by Iran and Syria constitute "an imminent threat." Waxman said Syria hosts the headquarters of several terror organizations in Damascus, and finances, supports and trains terror organizations on its soil. Facilitating the transfer of ammunition and weapons through its borders, Waxman said, is "in clear violation" of Security Council Resolutions 1373, 1624 and 1701, among others. "Several member states have granted safe haven to terrorists who seek to attack Israel by any means," Waxman told the Council. In his speech, Waxman stated that Israel is committed to cooperating with the UN to combat terrorism around the world. Israel's counter-terrorism agencies cooperate with numerous regional organizations, Waxman said, and Israel has and will continue to host conferences on the subject. "We believe that it is critical to continue to develop international standards against the proliferation of weapons of mass destruction and dual use items," Waxman said. "The international community must continue to seek and implement measures that keep the world's most dangerous weapons out of the hands of the world's most dangerous individuals, especially in our region." Reiterating Israel's support for resolution 1540, which established binding obligations on member states to enforce measures against the proliferation of weapons of mass destruction, Waxman concluded saying that "the struggle against terrorism requires our joint will, effort and action."
Hizballah Weighs War in Months, Israel Plans Defense
Nov. 17….(DEBKA) On October 28, a Hizballah war game demonstrated the ability of its special forces to overrun Lebanon in two hours. It took Israel 19 days to respond: Chief of Staff Lt. Gen. Gaby Ashkenazi finally confirmed on Nov. 15 that the Shiite terrorists may seize power after the UN Tribunal indicts their leaders for the Hariri assassination. The general's was dry - not a word about how Israel proposed to handle a violent hostile terrorist takeover of Beirut on Iran's behalf and the grave strategic peril it presented Israel. One of the first targets Iran's surrogate plans to grab is Beirut International airport and harbor. Massive quantities of war materiel could then be delivered directly into Hizballah's hand in Beirut instead going the roundabout route through Syria's sea port at Tartous and Damascus airport as they do now. So how will the IDF handle this brazen hostile act? Impose a belated blockade on Beirut and intercept Iranian freighters? Tehran has already made it clear that any party intercepting its shipping for searches would find itself at war with the Islamic Republic. Will the Israeli Air force intercept Iranian air transports ferrying weapons and Revolutionary Guards fighters to sustain Hizballah's war machine against Israel? Again, If Israel never once, in the four years since UN Security Council 1701 banned the import of weapons for Hizballah, fired a single shot to impede the vast quantities of arms smuggled in from Sytia to Hizballah since then, why suddenly now? Prime Minster Binyamin Netanyahu and Defense Minister Ehud Barak appear to be sunk in a state of suspended animation as attested to by three events in the last two days:
1. Both of them, backed by certain high-ranking military officers have made a big deal of the security incentives they say the Obama administration is willing to pledge in return for its second, 90-day moratorium. One of those incentives is another 20 F-35 stealth warplanes on top of the first twenty Israel has already purchased. (The Palestinians have meanwhile dug their heels in against resuming talks claiming the US has given Israel too many benefits.) The value of the warplanes is not in question, only their relevance to Israel's military muscle in view of the fact that those planes are not scheduled for delivery before 2020, that is in ten years' time! Does anyone know how many nuclear bombs Iran will have amassed since then or whether any will be deployed in Lebanon? All that can be said for sure about the year 2010 is that Barack Obama will no longer be president of the USA, Netanyahu prime minister of Israel nor Mahmoud Ahmadinejad president of Iran, even though as things stand today, the last of the three might yet make himself supreme ruler a lifelong position. Therefore, what good are the US F-35 warplanes when today Israel which lives under active threats from Iran, Hizballah, Syria and Hamas?
2. An Israeli intelligence officer, who opted to stay anonymous, confirmed Sunday, Nov. 14, that Hamas had obtained surface missiles (Improved Fajr-5,made in Iran) with a range of 80 kilometers and therefore capable of exploding in the heart of Tel Aviv. He blamed Egypt for not doing enough to thwart the smuggling of illicit weapons through Sinai into the Gaza strip, but neglected to mention what Israel had done to thwart their passage into the Strip and deployment. This approach is typical of the mindset afflicting Israel's government, military and intelligence decision-makers these days. They seem to think that they need only to sound the alarm about threats and Washington or Cairo will do the rest. Israel's enemies are left in peace to build up their strength and magnify the menace they pose without interference.
3. Monday, Nov. 15, Colonel Zvika Haimovitch of the Israeli air defense corps told a government-sponsored aerospace conference in Jerusalem that within two years, or 2015 at the latest, Israel's skies will be hermetically protected against enemy missiles. In the next two to five years "we will turn this vision into reality," he said. Israel's multi-layered air defense network will be fully deployed by 2015, "combining short-range rocket interceptors with kamikaze satellites that blow up ballistic missiles in space." He mentioned the Iron Dome developed by Israel for shooting down rockets with ranges of 5-70 kilometers as one of those tiers, David's Sling for intercepting more powerful rockets and the Arrow III for boosting a satellite beyond the Earth's atmosphere to collide with an incoming missile. Debkafile notes that the same day, American military sources disclosed that the IDF had only lately halted the introduction of the first Iron Dome battery to operational use because the battalion that was to have operated it had not finished training. Those sources mentioned a delay of at least one year. Col. Haimovitch would have done better to use his public platform to address real events such as Iran's five-day countrywide air defense exercise which started Tuesday, Nov. 16, on driving off US and Israel warplanes and missiles venturing into its airspace. However, Israel's top brass are taking the lead from its political leaders, preferring to talk in the abstract about future threats when real perils lurk just behind Israel's door.
1.2 Million Muslims Living in Israel
Nov. 16….(Jerusalem Post) At the end of 2009, the Muslim population in Israel was estimated to be 1,286,000 people, an increase of 32,000 people from the end of 2008, according to new figures on the Muslim population in Israel released by the Central Bureau of Statistics on Monday. Among the Muslim population, 264,000 thousand (20.5 percent) were living in Jerusalem, with Muslims constituting over a third (34.2%) of all of the capital's residents, and making it the largest community of Muslims living in Israel. By the end of 2009, the total rate of fertility (defined as the average number of children a woman will have in her lifetime) within the Muslim population stood at 3.7 children per woman, a decline from 4.7 children per woman in 2000, but currently the highest birthrate in Israel overall. The percentage also makes the birth rate among the Muslim population in Israel higher than the birth rate among Muslims in Syria, Egypt, and Lebanon.
Hamas Idolizes Obama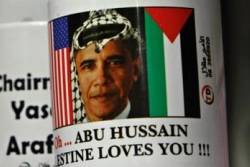 Nov. 16….(Israel Today) It has been a rocky love story. Many Palestinians believed that when he was elected president of the US, Barack Obama would swiftly put an end to the "Zionist enterprise." While things haven't quite panned out that way, many Palestinians still see Obama as the best hope of eventually bringing the Jewish state to its knees. Chief among Obama's hopeful supporters in the region is the Islamic terrorist organization Hamas. From the territory it rules in the Gaza Strip, Hamas sought to express that affection last week with a new line of products declaring Palestinian love for the American leader. Local newspapers carried front page stories of the new posters, mugs and other paraphernalia all adorned with the slogan "Oh Abu Hussain - Palestine Loves You!!!" According to media reports in the region, Abu Hussain (referencing the president's Arabic middle name) is what Obama is commonly referred to in Gaza. Israeli and foreign commentators have noted the problem that this phenomenon highlights. Hamas remains openly dedicated to Israel's eventual destruction. If such a group feels that Obama can help it in that endeavor, it means that the US president either is no friend of Israel, or has so failed to firmly communicate his position that the region's most vile terrorist organization views him as an ally.
Arab League Set to Reject Settlement Freeze
Nov. 16….(Arutz) The Arab League is waiting to see if the Obama administration will offer it further inducements to entice the Palestinian Authority into direct talks, but it likely will reject direct talks with Israel based on the "Clinton freeze," an official said Monday. "If the news is true about there being a settlement freeze that excludes Jerusalem and that takes the criticism off Israel, I cannot imagine that would be acceptable to the Palestinian side or the Arab side," Hesham Youssef, an official with the office of the secretary general of the Arab League, told the German press agency Deutsche Presse-Agentur.
The United States has offered Israel 20 fighter planes, a verbal guarantee to veto United Nations resolutions against Israel, and a verbal promise that a 90-day freeze on building Jewish homes in Judea and Samaria will be non-renewable. The US plan is said to call for Israel and the PA to reach agreement within 90 days on final borders for a PA country on the land of Judea and Samaria and areas in Jerusalem, though some American officials have denied that pressure will be placed on Israel in this regard. The Palestinian Authority and the Arab League have said the freeze must include all areas of Jerusalem that it demands as part of a PA state, including the Temple Mount and adjacent Western Wall, all of the Old City, and "neighborhoods in northern and eastern Jerusalem where 300,000 Jews live. Like the Palestinian Authority, the Arab League has not rejected the proposal, but is rather holding out for additional offers, such as compensation, guarantees on its desired borders and its demand that five million foreign Arabs can move to Israel, on the basis of claims that they or their parents and grandparents lived in the country, known as the "right of return." The demand is part of the Saudi 2002 Initiative and has been regarded by almost every Israeli political leader as being aimed at eliminating Israel as a Jewish state. Meanwhile, Prime Minister Binyamin Netanyahu is trying to iron out details of the freeze in language that will pass his Cabinet, where nearly half of the ministers oppose it, fearing it will be a trap for Israel to make further concessions that would endanger its security. US President Barack Obama has maintained his position that Israel's surrendering all of Judea and Samaria and dividing Jerusalem with the PA is good for the security of both Israel and the United States.
Obama to Present US Israel-Palestinian Border Map Within 3 Months
Nov. 15….(DEBKA) Debkafile's Washington sources disclose that the three-month settlement construction freeze-for-incentives deal Prime Minister Binyamin Netanyahu discussed with US Secretary of State Hillary Clinton Friday, Nov. 12, also included a commitment to hold Israel-Palestinian negotiations on the two states' final borders during that period. Assuming the talks collapse, the Obama administration will take the initiative of delineating those borders and present its own map to both sides before the three months are up. Our sources disclose that the boundaries the US map will adhere a lot more closely to Palestinian territorial aspirations than to Israel case. While no one is talking about imposing it on Israel, a rejection by the Netanyahu government would place it on a collision course with the Obama White House. Word about Obama's planned map was not relayed to the Israeli cabinet Sunday, Nov. 14 when Netanyahu reported to the cabinet on his talks with US leaders last week, our Jerusalem sources report. According to our Washington sources, Obama believes that leaving Israel with no more than 4-4.5 percent of the pre-1967 West Bank area should satisfy its essential security requirements. In terms of population, this would entail the evacuation of dozens of settlements plus two important towns, Efrat in Gush Etzion in the south which has a population of 8,000, and Ariel in Samaria which has 20,000 inhabitants. For Washington, it is the Palestinians who are laying down the law. After his ultimatum on construction was accepted as an obstacle to talks, the Palestinian Authority chairman Mahmoud Abbas now warns Washington that if every last Jewish resident is not cleared from Ariel, there will be no peace accord. Even when the former Prime Minister Ehud Olmert held talks with Mahmoud Abbas in 2007 and 2008, Washington backed his demand for at least 5.9 percent of the land, although the figure quoted by Olmert is 6.5 percent. It was understood that in the past 33 years, these locations had developed exponentially each time the Palestinians refused to discuss peace and resorted to violence. As for the US incentives offered Israel for accepting a second moratorium on settlement construction, Netanyahu neglected to mention the corresponding benefits to be offered the Palestinians. The Obama administration is willing to let Israel have 20 F-35 stealth warplanes worth $3 billion in addition to the 20 already allocated and promises to veto anti-Israeli motions at the UN and other international bodies. No one knows what promises are contained in the letter under preparation at the White House for the Palestinian Authority chairman. US sources told Debkafile that Israel should not be surprised if commitments it contains are inimical to Israel.
US Releases $100 Million Aid for Lebanon Army
| | |
| --- | --- |
| | (FOJ) A Lebanese soldier holding his rifle on Israeli troops as they patrol the border fence in the southern Lebanon village of Adeisa. |
Nov. 15….(Ha Aretz) A senior United States lawmaker lifted a hold on Friday on US funding for Lebanon's military, saying he was persuaded it had taken steps that would avoid a repeat of August's deadly border clash between Lebanese and Israeli forces. Howard Berman, the Democrat who chairs the House Foreign Affairs Committee, said he was releasing over $100 million in aid to Lebanon's army following a US review of the aid program and safeguards by the Lebanese Armed Forces, or LAF. "I am reassured as to the nature and purposes of the proposed package," Berman said in a news release. "As a result of these assurances, I am lifting the hold on the e100 million spending plan for the LAF." The State Department had voiced strong support for the continuation of the military aid, which it said was in the interest of both the United States and Lebanon. Berman and fellow Democrat Nita Lowey placed the hold on the assistance package after an Aug. 3 clash that killed two Lebanese soldiers, a Lebanese journalist and a senior Israeli officer in a cross-border skirmish that marked the worst such violence since a 2006 war between Israel and Iranian-backed Hezbollah guerrillas. A spokesman for Lowey confirmed that she also dropped her hold. Berman said the LAF had taken "important steps to prevent a recurrence of dangerous and provocative actions" and that he had been reassured no US military assistance was falling into the hands of Hezbollah. The United States has provided more than e720 million in aid to the Lebanese army since 2006, and senior US officials including Secretary of State Hillary Clinton have pledged strong support in recent days for the country, where tension is rising as a UN-backed tribunal investigates the 2005 killing of statesman Rafik al-Hariri. Berman said he remained concern about developments in Lebanon and would continue to discuss "the optimal contours of future military assistance" for the country with the State Department.
WEEK OF NOVEMBER 7 THROUGH NOVEMBER 13
Palestinians: Peace Process Should Erase Israel
Nov. 11….(Israel Today) The Palestinians have conducted another public opinion poll that shows the same results as those before it, that most Palestinians support the peace process, but only if it ultimately results in Israel's eradication. Conducted by Arab World for Research and Development, the poll again showed that a large majority of Palestinians (66.5 percent) support peace negotiations, and an even larger number (73.8 percent) even want direct negotiations between Israel and the Palestinian leadership to resume. As usual, that is where left-wing Israeli and international media outlets stopped reporting. The rest of the poll reveals that while most Palestinians are in favor or a diplomatic process with Israel, like their leaders, they view it as a strategy for defeating the Jewish state in the absence of a viable military option. Asked if the Palestinians should compromise on red-line issues like the demand to flood Israel with millions of so-called "Palestinian refugee," control of Jerusalem or final borders, an overwhelming 85.2 percent said there should be no compromises for peace. Respondents were then asked to rate certain aspects of the peace process from "essential" to "unacceptable." Over 83 percent said that replacing Israel with a Palestinian Arab state from the Jordan River to the Mediterranean Sea is either "desirable" or "essential." The feelings of the Palestinian general public and the fact that they are evidence the Palestinian leadership has not educated its people for peace will, of course, be ignored by international peace brokers like the US and European Union.
Abbas Asks UN to Stop Israeli Settlements
Nov. 11….(YNET) Palestinian President Mahmoud Abbas has asked for a UN Security Council meeting to discuss Jewish settlement building on "occupied" land in the West Bank where the Palestinians aim to found a state. Israel said on Monday it would go ahead with plans for 1,300 new apartments on land in and around Jerusalem which was annexed by Israel following the 1967 Middle East war. A further 800 housing units were planned for the settlement of Ariel in the northern West Bank. Secretary Clinton also announced on Wednesday that the United States will give an additional $150 million to the Palestinian Authority as Washington seeks to boost the fledgling government amid an impasse in peace talks with Israel. US-backed peace talks aimed at ending the Palestinian-Israeli conflict through the creation of a Palestinian state are stalled because of the dispute over the construction of settlements. Close to 500,000 Jews live on lands captured by Israel in the 1967 Middle East war, where the Palestinians aim to found a state that would also include the separate Gaza Strip. The Palestinians, concerned that settlement building will render that goal impossible, say they will not resume the peace talks until Israel agrees to halt all settlement construction. US President Barack Obama said on Tuesday that the settlement building plans were not helpful for peace talks
EU Pushing US away from Israel 'and Closer to the Arabs'
Nov. 10….(World Tribune) A report by a leading analyst said the EU has become the most influential lobby in the United States regarding Israel. Steven Rosen, a director at the Middle East Forum, said EU leaders were pushing Washington away from Israel and toward the Arab world. "European leaders are the most effective external force urging the US government to move away from Israel and closer to the Arabs," the report, titled "The Arab Lobby: The European Component," said. Rosen, a former senior lobbyist with the American Israel Public Affairs Committee, said Arab countries have used Europe to pressure Washington to weaken the U.S. relationship with Israel. He said successive US administrations have regarded Europe as vital for the world economy, NATO as well as American dominance in the Middle East. "Europe is not hostile to Israel on every issue, and not every European intervention with US officials is meant to move US policy in the Arab direction," the report, published in the Middle East Quarterly," said. "But, on the whole, the Arab road to Washington runs through Paris, London, and Berlin." Rosen said the Europeans have been far more effective than the Arab-American lobby. The report also played down the so-called "petrodollar lobby," led by Saudi Arabia, in reducing US policy toward Israel. "The strongest external force pressuring the US government to distance itself from Israel is not the Arab-American organizations, the Arab embassies, the oil companies, or the petrodollar lobby," the report said. "Rather, it is the Europeans, especially the British, French, and Germans, that are the most influential Arab lobby to the US government. The Arabs consider Europe to be the soft underbelly of the US alliance with Israel and the best way to drive a wedge between the two historic allies." Rosen said Britain, France and Germany wield the greatest influence over Washington's foreign policy establishment. They said the leaders of the three EU states, which have threatened to embark on an independent policy, have easier access to the president and his senior aides than either Arabs or Israelis. The EU states were said to have been pressing Washington to engage with Hamas and Hizbullah, force Israeli concessions to the PA and oppose Jewish construction in the West Bank and most of Jerusalem. The report said the EU has been working intensively behind the scenes to pressure Israel to establish a Palestinian state in the West Bank. "One of the things the Europeans want from Washington is intensified pressure on Jerusalem to make concessions in peace negotiations, in order to get an agreement with the Palestinians," the report said. "Europeans like the idea of deadlines, international conferences, verbal and economic pressure on Israel, and other devices, to dislodge the Israeli government from what they tend to see as its 'intransigence.'" In 1991, the report said, then-British Prime Minister John Major scuttled an Israeli-U.S. deal that would have enabled $10 billion worth of American loan guarantees to the Jewish state. Major was said to have changed the mind of President George Bush, who then asked Congress to delay the loan guarantees. "Assistant secretaries, office directors, and senior advisers give special weight to the opinions of their French, German, and British counterparts and spend more time with them than they do with the Arabs," the report said. "These Europeans also have easy access to members of Congress and their senior staffs."
Hamas Invites Ahmadinejad to Gaza Strip
Nov. 9….(YNET) Hamas has invited Iranian President Mahmoud Ahamdinejad to visit the Gaza Strip on Monday. Ahmed Youssef, deputy Hamas foreign minister told Iranian news agency Fars that a visit from the Iranian president would lift the spirits of "the resistance front" as it did with Hezbollah in Lebanon last month. "We are certain his visit would be very significant," Youssef said in an interview with the news agency. Iran has yet to provide an official response to the invitation, however such a visit is unlikely to take place as Iranian officials do not usually visit the Gaza Strip, despite politically supporting Hamas. Hamas sources confirmed that Ahmadinejad had been invited to Gaza as part of Palestinian efforts to break the blockade. They told Ynet that the Iranian president had a positive response to the invitation. Nevertheless, Gaza elements estimated the visit is not likely to occur in the near future. Last month, Ahmadinejad held his first visit to Lebanon, during which he met with Hezbollah Secretary-General Hassan Nasrallah. Tens of thousands of Lebanese rallied in his honor across the country including in Bint Jbeil and Kafr Kana. Ahmadinejad's visit was meant to send a message of support to Hezbollah and assist the Shiite group in its internal conflict ahead of an international report on the assassination of Lebanese Prime Minister Rafik Hariri.
Hamas: Our Goal is to Expel All Jews
Nov. 8….(Israel Today) There are many in the international community who suggest that most Palestinians do not harbor the desire to destroy Israel, and there are some who even defend Hamas as an organization that truly wants peace. But Gaza-based Hamas leader Mahmoud Zahar at the weekend sought to set the record straight when he told supporters that the Jews must and will be expelled from the region. Zahar claimed that the Jews were historically expelled from France, Britain, Belgium, Russia and Germany "because they betrayed, stole and corrupted these countries." Only the Islamic world took in Jews, said Zahar, but insisted that now "they have no place here amongst us because of their crimes. They will soon be expelled from here." The Hamas leader urged unity between his group, which rules the Gaza Strip, and Mahmoud Abbas' Palestinian Authority that exercises control over the so-called "West Bank." "Together, with blood, we could liberate our lands and holy sites," said Zahar. "You have tasted the bitterness of arbitrary negotiations." International figures are increasingly siding with the notion that Hamas must be part of the diplomatic equation. They do their best to ignore the fact that Hamas remains dedicated to Israel's ultimate demise, and therefore cannot be a true peace partner. What they also ignore is the fact that Hamas was overwhelmingly voted into power by the Palestinian public.
Lebanon in 'Grave Danger' of Becoming Iranian Satellite
Nov. 8….(Israel Today) A top Lebanese politician on Friday warned that his country is in "grave danger" of being taken over by Hizballah and turned into a satellite of the group's sponsors in the Iranian regime. "Lebanon as an entity and a democratic country is in grave danger," said Amin Gamayel, a former president of Lebanon, after an emergency meeting with other Christian politicians. Gamayel was referring to Hizballah's threats regarding the impending findings of the UN investigation into the assassination of former Lebanese Prime Minister Rafik Hariri, father of the current prime minister, Saad Hariri. Hizballah has called the international probe a farce, and has vowed it will not turn over any of its members for prosecution should the UN determine that Hizballah and its allies in Syria and Iran were behind the elder Hariri's murder in a Beirut car bombing in 2005. Gamayel and others are concerned because Hizballah continues to maintain a military force nearly on par with the official Lebanese army in clear violation of UN resolutions, and because the group now exercises veto power over the government. Veto power was given to Hizballah as part of a 2008 unity coalition deal struck in Qatar that was seen by most as an appeasement of the Islamic group after weeks of clashes between its forces and the army. But Hizballah and Iran are looking for more than that. According to a reports in the pan-Arab newspapers A-Sharq Al-Awsat and Al Akhbar last week, Hizballah and its allies in Lebanon are already plotting to take over the country. "If this scenario does take place, Hezbollah would be able to seize power in three days or a week at most," a Lebanese general who supports Hizballah told Al-Sharq Al-Awsat. Lebanon's army chief, General Jean Kahwaji, told France's AFP news agency that he is "worried, but I am not afraid." Gen. Kahwaji said the army has "deployed sufficient troops in Beirut and has studied all other areas at risk." Were Hizballah to seize control, Israeli intelligence has no doubt Lebanon would be turned into one of several launching pads for an Iranian-sponsored strategy to overwhelm the Jewish state. "The next conflict, even if it is limited in scale will be much bigger, much broader, and with many more casualties," warned outgoing Israeli army intelligence chief Amos Yadlin in his final Knesset appearance. Yadlin explained that Israel's enemies are moving toward a coordinated assault that will see simultaneous attacks from Hamas-ruled Gaza, Hizballah-controlled Lebanon and Syria. The key to that strategy, according to Yadlin, is air defenses. The Arabs believe if they can stop or even slow down Israel's vaunted air force, then their long-range missiles will quickly wear down Israeli resolve. Yadlin noted Syria's recent acquisition of the Russian-made S-300 anti-aircraft system had already increased from 48 hours to a week or more the time it would take Israel to achieve air superiority over Syria. He believes those defenses may already be on the way to Hizballah, and certainly will be deployed in Lebanon if the Islamic group seizes power.
WEEK OF OCTOBER 31 THROUGH NOVEMBER 6
Saudis: No Talks Until Israel Returns Arab Land
(Saudi Prince Turki al-Faisal rules out any engagement with Jewish state until it withdraws to 1967 borders.)
Nov. 5….(YNET) After peace talks with the Palestinians have been stalemated after the end of the settlement construction freeze, a leading member of Saudi Arabia's royal family has clarified that his country has no plans to not negotiate with Israel anytime soon. Prince Turki al-Faisal, the former Saudi ambassador to the United States, said in a speech at the Carnegie Endowment for International Peace in Washington on Thursday that Saudi Arabia will refuse to "directly or indirectly engage with Israel" until it leaves all land captured during the 1967 Six-Day War. The remarks dash any hopes the Obama administration might have had for rapprochement between two of the Americans' major weapon importers before a final peace deal with the Palestinians. "For us to take any steps toward any form of normalization with the Israeli state before these Arab lands have been returned to their rightful legitimate owners would undermine international law and turn a blind eye to immorality," the Saudi prince said. Although he is not a member of the Saudi government, Prince Turki is considered a candidate to replace his ailing brother, Saud al-Faisal, as foreign minister. In his speech, Turki stressed that since 2002 his country has led an Arab effort to recognize Israel if it reaches agreements on the return of the territories, including east Jerusalem, and a "just settlement" of claims by Palestinian refugees. He also warned against a return of the "neoconservative philosophy," in an usual reference to US politics. He said that under the policies of President Obama, many Americans may have believed "that the neocon movement has died, the victim of its own failed, delusional ambitions. But this recent election will give more fodder for these warmongers to pursue their favorite exercise, war-making."
FOJ Note: Should Israel surrender lands won in the 67 war, what is left to discuss? Israel simply vanishing from the planet, perhaps?
Iran Intends To Bomb Israel
Nov. 4….(Israel Today) A former member of Iran's Revolutionary Guard, the elite military force that keeps the regime in power, has warned that if Iran succeeds in building nuclear weapons, its leaders will not hesitate to use them against Israel, the Persian Gulf states and even Europe. Speaking to Israel National Radio, the man explained that Iranian President Mahmoud Ahmadinejad and the nation's spiritual dictators are committed to ushering in the chaos and havoc called for in the last hadith (Islamic commentaries on Mohammed's teachings and actions). Out of that chaos, the hadith teaches that the Imam Mahdi, an Islamic messianic figure, will emerge. The man, who spoke from an undisclosed location and used a phony name to protect himself and his family, said that many Iranians like him had become totally disillusioned with their nation's Islamic regime, and would welcome the help of Israel or any other nation in overthrowing it. The former Revolutionary Guard also spoke much of the experiences that caused him to betray his nation and aid the American CIA. These can be read about in his new book, "A Time to Betray".
Israel's military intelligence chief says Iran possesses enough enriched uranium to build one nuclear bomb and soon will have enough to produce a second. Maj. Gen. Amos Yadlin's statement coincides with previous assessments from both the CIA and the UN's nuclear watchdog. But any Israeli commentary on Tehran's nuclear program is significant because Israel has not ruled out a military strike to try to prevent Iran from developing nuclear weapons. Israel, like the West, does not believe Tehran's claims that it is developing nuclear technology to produce energy. Yadlin spoke to parliament's foreign affairs and defense committee Tuesday. His remarks were reported by meeting participants who spoke on condition of anonymity because the testimony was delivered behind closed doors.
Al Qaeda Threatening Christians in Iraq
Nov. 4….(Fox News) Just days after a brutal attack in a Catholic Church in Baghdad that killed more than 50 people, an Al Qaeda group in Iraq has declared all Christians "legitimate targets," calling for them to be killed. A group calling itself the Islamic State of Iraq, or ISI, has labeled all Christians "idolators" in an Internet statement, which it also used to dub the Vatican a "hallucinating tyrant." ISI is calling for the release of two Egyptian women, wives of Coptic priests, who the group claims are being held against their will after converting to Islam. ISI said "the killing sword will not be lifted from the necks" of Christians until its demands are met. Christians in Egypt, whose situation in the country is delicate even in the best of times, will be on high alert after the threat. Christians make up about 10 percent of the Egyptian population, and have often complained about discrimination in the country. While it's hard to tell how serious the ISI threat actually is, for Christians in Egypt or elsewhere, the attack on the church in Baghdad was a body blow to the Christian community in Iraq.
Mid East Talks Resume January, Netanyahu Caves on Building Freeze
Nov. 4….(DEBKA) Direct Israeli-Palestinian talks, interrupted in September after less than a week, will resume in January, 2011 straight after the New Year, following a quiet deal between the US, Israel, Egypt and Saudi Arabia, Debkafile's Washington sources disclose. Obama administration officials while admitting that two months is a long time in the Middle East are upbeat after four developments swept aside the last roadblocks:
1. Israeli Prime Minister Binyamin Netanyahu agreed to a second settlement construction freeze on a limited scale. The first 10-month moratorium ran out in September.
Washington sources declined to say whether the second freeze was total or partial and what exceptions were allowed to enable Netanyahu to get a decision through his security cabinet.
2. Saudi King Abdullah and Egyptian President Hosni Mubarak put their weight behind persuading Palestinian leader Mahmoud Abbas to return to the negotiating table with Israel as his only option. They told to cancel all plans for UN Security Council recognition of a unilateral declaration of Palestinian statehood within-pre-1967 boundaries. The PA chairman has complied with their demands.
3. In the two months before the talks resume, Abbas agreed to join the Saudi-Egyptian effort to patch up the quarrel between his Fatah and the Hams extremists with a view to signing a reconciliation accord by early January so that the Palestinians would be represented by a unified West Bank-Gaza Strip delegation.
Abbas has taken the first step of withdrawing from the Fatah-Hamas talks which began last month in Damascus under the Syrian aegis.
4. A high-ranking US official will shuttle between Jerusalem and Ramallah in the weeks remaining up to January to make sure the Israelis and Palestinians stick to the deal and don't change their minds. Debkafile's Washington sources report that President Barack Obama has not yet decided to whom to assign the task, but Secretary of State Hillary Clinton is a favorite.
5. The one official who will not longer be seen on the Israel-Palestinian peace track is George Mitchell. He secretly resigned as Presidential Special Envoy last month but agreed to delay the announcement until his successor is in place.
There Are No Occupied Territories
Nov. 3….(Eli Hertz) A UN coalition sought to rewrite history by labeling the Territories 'Occupied Territories, 'thus endowing them with an aura of bogus statehood and a false history. They used capital letters for 'Occupied Territories' and then shifted to 'Palestinian Occupied Territories' and 'Palestine,' as if title or ownership could be assigned out of thin air. No legal binding authority has empowered any UN organ, including the International Court of Justice (ICJ), to decide that the territories of the West Bank, known as Judea and Samaria, and Gaza could be transformed into 'Occupied Palestinian Territories' or 'Palestine.' UN organs' the EU and the US use of these dishonest, loaded terms empower terrorism and the Palestinian Arabs with the right to use all measures to expel Israel . The phrase 'illegal occupation' is a "careless language" and "perilous threat to the diplomatic search for peace," says Professor George Fletcher, an expert in international law: "The International Court of Justice (ICJ) has been insistent, not least as regards questions of territorial title, that the rules and concepts of international law have to be interpreted 'by reference to the law in force' and 'the State practice' at the relevant period." General Assembly's attempts to legislate changes in the status of the territories against Israel and the rule of international law. One can easily trace the General Assembly's attempts to legislate changes in the status of the Territories, doctoring the definition of the status of the Territories, which is well documented on the website of the Palestinian delegation to the United Nations that posts landmark pro-Palestinian decisions. Examination reveals how over the years in UN General Assembly resolutions and the wording of resolutions by sub-committees moves from "territories" to "occupied territories" to "Occupied Territories" and "Arab territories" to "occupied Palestinian territories" to "Occupied Palestinian Territory " and "occupied Palestinian territory, including Jerusalem ":
● Resolution 3236 (XXIX) passed in November 1974 speaks of "the question of Palestine
● Resolution 38/58 in December 1983 speaks of "Arab territories" and "occupied territories";
● Resolution 43/176 passed in December 1988 expresses sentiments suggesting Palestinian entitlement, speaking of "the Palestinian people's right to exercise their sovereignty over their territory occupied since 1967";
● Resolution 51/133 passed in December 1996 adds Jerusalem in particular, peaking of "occupied Palestinian territory, including Jerusalem , and the occupied Syrian Golan";
● Resolution 52/250 passed in July 1998 fully "assigns title, speaking of "Occupied Palestinian Territory," a designation that is frequently used in subsequent resolutions.
None of these terms have a legal foundation any more than declaring "The world is flat" makes it so. Yet the International Court of Justice cites these terms as if they were legal documents. Even junior jurists know better. It should be noted: The coining of the term "Occupied Palestinian Territory" by the General Assembly, and all the more so it's 'adoption' by the International Court of Justice, is contrary to, and totally incompatible with, Article 12 of the UN Charter which states: "While the Security Council is exercising in respect of any dispute or situation the functions assigned to it in the present Charter, the General Assembly shall not make any recommendation with regard to that dispute or situation unless the Security Council so requests."
The Artificiality of the Historical Palestinian Identity
Nov. 3….(Myths and Facts) The use of the word ' Palestine ' was adopted by the Arabs specifically for political gain, to brand Israelis as invaders and to inherit the geographic area called Palestine as exclusively belonging to the Arabs. The artificiality of a Palestinian identity is reflected in the attitudes and actions of neighboring Arabs who never established a Palestinian state or advocated one prior to the Six-Day War in 1967. What unites Palestinians has been their opposition to Jewish nationalism and the desire to stamp it out, not aspirations for their own state. Local patriotic feelings are generated only when a non-Islamic entity takes charge, such as Israel did in 1967 after the Six-Day War. It dissipates under Arab rule no matter how distant or despotic, as it was under the rule of Jordan prior to 1967. Culturally, Palestinians are not distinct from other Arabs. The sole contributions Palestinians can take credit for are the invention of skyjacking for political purposes in the 1960s, and lately a special brand of suicidal terrorism that uses their own youth as delivery systems for bombing pizza parlors, discos, and public commuter buses. Ironically, before local Jews began calling themselves Israelis in 1948 (the name Israel was chosen for the newly established Jewish state), the term ' Palestine ' applied almost exclusively to Jews and the institutions founded by new Jewish immigrants in the first half of the 20th century, before independence.
Iran and Russia giving Syria advanced weapons
Nov. 3….(Jerusalem Post) Outgoing head of Military Intelligence Maj.-Gen. Amos Yadlin may have initially waxed sentimental on Tuesday during his final appearance before the Knesset's Foreign Affairs and Defense Committee, but the MI head later gave a stark warning regarding Iran's nuclear program, and painted a grim portrait of what Israel's next war could look like. Yadlin, who will be replaced this month by Brig. Gen. Aviv Kochavi, began his briefing by wryly noting he had dealt with "three defense ministers, two chiefs of the General Staff and two prime ministers, gone through two wars and dealt with two nuclear programs in enemy countries." Many in the audience took his last comment as a wink to the air strike on a suspected Syrian nuclear plant three years ago, which foreign reports have attributed to the IAF. "There are intelligence fields that were blurry when I entered the position, a lot of black holes," continued Yadlin. "There are far fewer such spots today." But Yadlin's upbeat assessment then came to an abrupt halt. "The next conflict, even if it is limited in scale," warned the former IAF general, "will be much bigger, much broader, and with many more casualties than we saw in Operation Cast Lead or the Second Lebanon War." Such a conflict, predicted the 59-year old Yadlin, will be played out on two or more fronts; moreover, Israel's enemies "believe that the only way to overcome Israel's deterrence is through longrange missile fire and improving air defense capabilities." Pulling no punches, Yadlin warned that the cutting-edge anti-aircraft system that Syria has purchased from Russia could send the IDF and IAF's capabilities "back to their status in the 1970s Suez years," according to a source present at the meeting. "With the S-300, we are talking about relatively cheap missiles, but no less deadly," Yadlin cautioned during his foreboding address to the committee. In addition, he said, the Russians are upgrading older Syrian weapons systems to make them far more advanced. In outlining how the weapons deal benefited Damascus, the MI chief said the Syrians are conducting "intense efforts to acquire extremely advanced weapons, so advanced that everything just off of the production line in Russia ends up in Syria." Yadlin also disclosed that Israel had detected the Iranians laying the groundwork for two new nuclear sites, but did not reveal their locations. "Iran is the greatest threat to Israel and to the well-being of the entire region," he said. And in an ominous note, Yadlin informed the committee that Iran already had enough uranium enriched to 20 percent to make one nuclear bomb, and before long, enough for two nuclear devices. "Iran's progression towards a bomb is slower than they had hoped for," advised the general. "They are running into quite a few problems. But Iran is also taking radical action regarding the transfer of money, technology, weapons and intelligence." Yadlin pointed out that with 3,000 to 4,000 centrifuges in operation, Iran could very easily make the leap from civilian-grade enriched uranium to the higher enrichment required for building a nuclear explosive device. Ending on a more positive note, Yadlin said Teheran had run into difficulties developing the Ashura missile, intended to have a range exceeding 2,000 kilometers and widely thought to be the planned delivery system for a nuclear bomb. The missile was supposed to be operational by end of 2010, but Teheran has run into "technological difficulties they have not been able to overcome."

Al Qaeda Attacks in Baghdad
Nov. 3…(DEBKA) The Iraqi capital was rocked late Tuesday, Nov. 2 by the most ferocious assault al Qaeda has ever carried out on a capital city. By evening, it had spread to Baghdad's environs after the death toll had climbed past 120 with more than 300 injured from 19 bomb car explosions in a dozen Shiite suburbs. Clearly visible in each was a pair of suicides detonating their explosives. Scores of roadside and sticky bombs were activated against cars at main intersections and smashed into army, police and emergency teams racing to the scenes of disaster. The rattle of heavy automatic gunfire accompanied the sounds of explosions. Huge fires broke out amid the violence. Iraqi army commanders admitted the city had veered out of control and voiced fear that it was just the beginning of a broader al Qaeda onslaught which had already begun spreading. As the public medical system collapsed, the army parked tanks and APCs on the bridges of the Tigris River which cuts through Baghdad. Interim Iraqi prime minister Nouri al-Maliki turned down police request to impose a curfew on the city until control was restored. He agreed only to rush two or three Iraqi armored brigades to Baghdad as reinforcements.
Turkey Goes From Israel Ally to Israeli Foe
(FOJ) Ankara's National Security Council names Israel as central threat to Turkey's security for first time since 1949, fails to mention Iran, Syria. Prior to Erdogan becoming Prime Minister in Turkey, Israel had a friendly relationship with Turkey. Erdogan has moved Turkish politics more toward an Islamic state. (Moving Towards Ezekiel 38-39 - "Gomer, and all his bands; the house of Togarmah of the north quarters, and all his bands: and many people with thee.) (Many Bible teachers believe Togarmah includes the area of present day Turkey, Armenia & Georgia)
Nov. 2….(In The Days) Turkey's tense relations with Israel continued their apparent downward spiral as a central Ankara policy paper defined Israel as a central threat to Turkey's security, blaming Jerusalem's policies for destabilizing the entire region. Tensions between Israel and Turkey peaked earlier this year, following a deadly Israeli raid aboard a Turkish aid ship sailing to Gaza in attempt to violate the Israeli naval blockade. On May 31, Israeli navy commandos boarded the Mavi Marmara and killed nine Turkish activists on board after facing violence from the passengers. The Channel 10 report on Saturday, citing Turkish media outlets, said Turkey's National Security Council rectified an amendment to Ankara's central policy paper, nicknamed the "secret constitution," defining Israel as "a central threat to Turkey." "The region's instability stems from Israeli actions and policy, which could lead to an arms race in the Middle East," the paper outlining Turkey's foreign and home policy for the next five years said, adding that those actions posed "a major threat on Turkey." Channel 10 also said Turkish media dubbed the amendment "historic," as it represented the first time Israel had been seen as a threat on Turkey since 1949. The document fails to mention Iran or Syria as outside threats, apparently as a result of Ankara's recently improved relations with both states.
Earlier this month Haaretz quoted Turkish reports as expecting that, for the first time since the Cold War, Turkey to remove Iran, Iraq, Russia, and Greece from their list of "threatening countries.
The reports claimed that such a move would directly affect Turkey's foreign policy, as laid out by Minister of Foreign Affairs, Ahmet Davutoğlu, whose goal is to rid Turkey of any problems with its neighbors.
Turkish Prime Minister Recep Tayyip Erdogan reiterated his demand that Israel apologize for its May attack on the Gaza flotilla, saying "Israel must apologize to Turkey and pay compensation for the state terrorism in the Mediterranean."
"If it does not, it will be doomed to remain isolated in the Middle East," Erdogan added.
The Turkish premier also criticized the United States for continuing to support Israel after the "uncivilized" attack during a recent state visit to Pakistan.
"Nine Turkish martyrs on the ship received 21 bullets from Israeli soldiers in their bodies, we provided post mortem reports and even the pictures to the EU and U.S. but Washington is not ready to condemn the state terrorism of Israel against Turkey which means that the U.S. is supporting an international terrorist who killed our citizens in international waters," Erdogan said
Israel Warns Russia Iran Could get S-300 via Venezuela
Nov. 1….(Jerusalem Post) With Caracas set to sign an agreement to purchase the system, Israel is concerned that Islamic Regime will eventually obtain S-300 based on increasingly warm ties between the two countries. Israel has warned Russia of the possibility that an advanced air defense system it is planning to sell to Venezuela could eventually make its way to Iran, according to defense officials. The system, the S-300, is one of the most advanced multi-target anti-aircraft-missile systems in the world, with a reported ability to track up to 100 targets simultaneously while engaging up to 12 at the same time. It has a range of about 200 kilometers and can hit targets at altitudes of 90,000 feet. Iran signed a deal with Russia to buy the system in 2007. But following the passing of a fourth set of UN sanctions in June, the Kremlin announced that it would not deliver the system to Iran. Israel and the United States had lobbied Moscow to cancel the deal. But now, with Venezuela set to sign an agreement to purchase the system, Israel is concerned that Iran will eventually obtain the S-300. "This is a real possibility, considering the close ties between Venezuela and Iran," an Israeli official familiar with the deal said. Other officials are less concerned by the system and claim that if and when the S-300 is delivered to Iran, Israel will be able to develop an electronic warfare system to neutralize it. In general, Israel is concerned with the strengthening ties between Venezuelan President Hugo Chavez and Iranian President Mahmoud Ahmadinejad. Chavez has visited Iran eight times, most recently last month when he signed a number of agreements aimed at increasing strategic ties between the countries.
Yemen: The New Breeding Ground for Terror
(The explosive devices intercepted en route to the US started their journey in the Arabian Peninsula, al-Qaeda's latest stronghold)
Nov. 1….(Telegraph) US and British security officials believe Anwar al-Awlaki, the American-born figurehead of Al-Qaeda in the Arabian Peninsula (AQAP) was behind the foiled attack. For an organization that is supposed to be the poor relation of Osama bin Laden's terror network, the sheer sophistication of the plot to plant two bombs on cargo planes en route to the US demonstrates that al-Qaeda in the Arabian Peninsula is rapidly emerging as a major threat to Western security. Not since the 1988 Lockerbie bombing of Pan Am flight 103, which killed 270 people, has a terror group sought to smuggle primed explosive devices in the cargo holds of commercial aircraft. The fact that al-Qaeda's Yemen-based branch appears to have been able to plant a number of explosive devices on aircraft whose ultimate destination was the United States is a graphic illustration of the sophisticated techniques it is able to employ in its attempts to wreak havoc on the streets of Western cities. The main focus of the war against Islamist terrorism is focused on the lawless border area between Pakistan and Afghanistan, where al-Qaeda's main command structure continues to be based in spite of the massive military operation being undertaken by NATO and Pakistani forces. Senior Western intelligence officials, though, are becoming increasingly concerned about the rapid emergence of the off-shoot organization that has successfully established itself in Yemen. Acknowledging the emergence of terror groups based in Yemen as a major threat to Western security, Sir John Sawers, the head of Britain's MI6 foreign intelligence-gathering operation, last week singled out Anwar al-Awlaki, the American-born terrorist who is believed to be the head of al-Qaeda in the Arabian Peninsula (AQAP), as posing a grave threat to British security. He described him as a key al-Qaeda leader operating "from his remote base in Yemen", who "broadcasts propaganda and terrorist instruction in fluent English, over the internet". The device found in the cargo hold of an aircraft at East Midlands airport was so sophisticated that security officials failed to detect it when they conducted their initial search. It was only when they carried out a second examination after another potential bomb had been discovered in Dubai that a further examination revealed explosive material. "Al-Qaeda in the Arabian Peninsula is rapidly emerging as a major security threat to rival the traditional al-Qaeda organization that is based in northern Pakistan," explained a senior British security official. "Its ability to devise increasingly sophisticated plots to attack Western targets is now a serious concern." Following last December's failed aircraft bombing at Detroit, President Obama launched a massive operation against AQAP. American forces have supported operations by the Yemeni government to root out al-Qaeda terror cells, which have targeted the organization's senior leaders and training camps. The Americans have sent advisers and provided intelligence, as well as deploying unmanned drone aircraft and firing cruise missiles at suspected al-Qaeda targets. In addition, last April, Obama gave his personal authorization for US forces to kill or capture al-Awlaki, whom the White House believes is the mastermind behind the group's recent emergence as a major terrorist threat. But AQAP has proved to be remarkably resilient to this onslaught. Estimates on the group's membership vary between a hard core of just 50 fighters to a more sizeable organization of between 200 and 300 terrorists. And, while the Americans have succeeded in killing several key figures in the movement, it has still managed to maintain its campaign of terror. Since the start of the year, the group has carried out dozens of armed assaults and bombings against military, civilian and diplomatic targets, killing at least 90 people. One senior Yemeni military official said that the government is now fighting a civil war with the militants.
The fact that AQAP has been able to establish a terrorist stronghold in Yemen is a source of immense frustration to Western intelligence. On one level, the fact that Islamist-inspired terrorists have been forced to relocate to Yemen is a tribute to the success the West has enjoyed in disrupting bin Laden's terror operations in Afghanistan and Pakistan. The relentless intelligence-led operations against al-Qaeda's key leaders have severely limited their ability to undertake a repeat of the September 11 attacks in 2001. As a result, the number of terror plots originating from north Waziristan has fallen from a high of about 90 per cent five years ago to about 50 per cent today. Al-Qaeda and its affiliates have always flourished in the ungoverned regions of failed or failing Islamic states. Bin Laden's early training camps were established in Khartoum at the height of the Sudanese civil war, and later moved to countries such as Somalia and Afghanistan, where the governments were unable to enforce their will. The same situation exists in Yemen, where the government struggles to impose its writ much beyond Sana'a, the country's capital. Al-Qaeda has had an active terrorist presence in Yemen for more than a decade. In 2000, an al-Qaeda cell was responsible for the suicide boat attack on the American warship USS Cole in the port of Aden, which killed 17 US sailors. The presence of al-Awlaki, who returned to live permanently in Yemen in 2004 after a spell preaching in radical mosques in Britain, has also been a major factor in the development of AQAP as a major terror organization. Having spent more than a decade studying in American schools and universities, al-Awlaki's fluency in English enables the organization to articulate its message to potential Islamic recruits in both Europe and America
---