WEEK OF MAY 29 THROUGH JUNE 4
Vatican Calls for Independent Palestinian State 'Soon'
| | |
| --- | --- |
| | Pope Benedict XVI told PA President Abbas at that it is urgent that Israel "live in security, at peace with her neighbors." The Vatican called urgently for a just and lasting peace between peace between Israel and the Palestinians, which it said can only be brought about through and independent Palestinian state, within internationally recognized borders. (Joel 3:2 I will also gather all nations, and will bring them down into the valley of Jehoshaphat, and will plead with them there for my people and for my heritage Israel, whom they have scattered among the nations, and parted my land.) |
June 4….(Jerusalem Post) The Vatican on Friday called urgently for a just and lasting peace between peace between Israel and the Palestinians, which it said can be brought about through and independent Palestinian state. "Soon, the State of Israel and the Palestinian state must live in security, at peace with their neighbors and within internationally recognized borders," the Vatican said in a statement issued following a meeting between Palestinian Authority President Mahmoud Abbas and Pope Benedict XVI at the Vatican. The Holy See added that any solution to the conflict must be capable of ensuring "respect for the rights of all," calling the current situation "troubled." Abbas, who was in Italy, exchanged gifts with the Pope, with whom he also discussed the situation of Christians in the Palestinian territories as well as the Middle East. Late last year, the Vatican blamed the flight of Christians from the Middle East on the Israeli-Palestinian conflict, saying that the exodus could be devastating for the birthplace of Christianity. Some bishops who took place in a special meeting blamed fanatical Islam for the trend but others accused Israel of discriminating against Arab Christians.
Russia Warns US / Hands Off in Syria!
June 4….(In The Days) Russian Foreign Minister Sergei Lavrov warned the US and European nations not to encourage anti-government protesters in Syria by holding out the prospect of military support like they provided in Libya. "It is not in the interests of anyone to send messages to the opposition in Syria or elsewhere that if you reject all reasonable offers we will come and help you as we did in Libya," Lavrov, 61, said yesterday during an interview in Moscow. "It's a very dangerous position." Rallies against President Bashar al-Assad's rule have swept Syria, inspired by the uprisings that ousted authoritarian rulers in Egypt and Tunisia. Syrian security forces have killed more than 1,100 people and detained at least 10,000, according to human-rights groups. The government blames the protests on Islamic militants and foreign provocateurs.
Russia abstained from the March 18 vote by the United Nations Security Council that authorized the use of force to protect civilians from Libyan leader Muammar Qaddafi's forces, saying the resolution might lead to a "large-scale military intervention." Operations led by the North Atlantic Treaty Organization have stretched far beyond the stated goal of enforcing a no-fly zone, Lavrov said. President Dmitry Medvedev expects to meet with US Vice President Joe Biden and Italian Prime Minister Silvio Berlusconi later today in Rome to discuss the situation in Libya and throughout the Middle East, the Russian president said.
UN Involvement Opposed
The UK, France, Germany and Portugal asked the Security Council on May 25 to demand that Syria end attacks on peaceful protesters and address their grievances. The European Union last week imposed a travel ban and asset freeze on the "highest level of leadership," a week after the U.S. froze the assets of Assad and six top officials. Russia opposes Security Council involvement in Syria, Lavrov said. "First of all, the situation doesn't present a threat to international peace and security," he said. "Second, Syria is a very important country in the Middle East and destabilizing Syria would have repercussions far beyond its borders." While Russia is opposed to international intervention, it supports the need for change in Syria and has encouraged Assad to implement promised reforms, Lavrov said. Assad on April 21 ordered the lifting of a 48-year-old state of emergency, abolished the Supreme State Security Court and issued a decree allowing peaceful protests. This week he offered a "general amnesty" covering political detainees. "We are gratified that our appeals have been heard," Lavrov said. "Recently he published a draft of a new constitution, he declared an amnesty for political prisoners, and I think this should calm the situation."
Syria Protests
Protests continued after the amnesty decree, issued late on May 31, as opposition leaders said it was a ploy to gain time. Lavrov called for the Libyan resolution to be a unique one and said Russia will demand that any future UN mandates be more specific. "If somebody would like to get authorization to use force to achieve a shared goal by all of us, they would have to specify in the resolution who this somebody is, who is going to use this authorization, what the rules of engagement are and the limits on the use of force," Lavrov said. Russia has stepped up diplomatic efforts to help forge a Libyan settlement that would persuade Qaddafi to step down and end NATO military action, Lavrov said.
At the Group of Eight summit last week in France, US President Barack Obama and French President Nicolas Sarkozy asked Medvedev to help negotiate a deal acceptable to coalition forces, the African Union and Libyan rebels, Lavrov said. Medvedev spoke by phone with South African President Jacob Zuma before and after Zuma flew to Tripoli, Libya's capital, on May 30, Lavrov said. The Russian president also told his special envoy for Libya, Mikhail Margelov, to go to the port city of Benghazi for talks with opposition leaders as soon as possible. Any solution must "be acceptable to all Libyans," Lavrov said, echoing comments Zuma made after returning from Tripoli in a trip backed by the African Union.
The US and its partners, including France and the UK, launched the first attacks against Qaddafi's forces on March 19. NATO took command on March 31 and yesterday extended its mission for 90 days in what Secretary General Anders Fogh Rasmussen said was "a clear message" that "we are determined to continue our operation to protect the people of Libya." The air raids killed 718 civilians and wounded 4,067 from March 19 to May 26, Agence France Presse reported, citing a spokesman for Libya's government. Russia isn't involved in negotiating "any deals of immunity or guarantees" for Qaddafi, though others are considering a range of options, he said. "I can tell you without revealing too many secrets that the leaders of countries who can influence the situation are actively discussing the possibilities," Lavrov said. Officials at the G-8 summit discussed options for Qaddafi ranging "from a quiet life as a simple Bedouin in the Libyan desert to the fate of Milosevic in the Hague," Margelov said in an interview yesterday, referring to the war crimes trial of former Yugoslav leader Slobodan Milosevic.
Syrian Army Kills More Protestors
June 4….(Arutz) Syrian security forces shot dead at least 34 demonstrators in the Syrian town of Hama on Friday, as once again protesters were mown down as they left Friday's noon prayers. The revolt against President Bashar al-Assad is in its 11th week and security forces, including snipers, fired into a crowd of thousands in an attempt to bring it to an end. "The firing began from rooftops on the demonstrators. I saw scores of people falling in Assi square and the streets and alleyways branching out. Blood was everywhere," a witness who gave his name as Omar told Reuters from Hama. "It looked to me as if hundreds of people have been injured but I was in a panic and wanted to find cover. Funerals for the martyrs have already started," he said. HIstory may be repeating itself in Hama, where Bashar's father, Hafez, slaughtered at least 30,000 of his own citizens in 1982, in order to suppress a revolt. Rami Abdulrahman of the Syrian Observatory for Human Rights told Reuters he expected the death toll to rise because many people at the demonstration had serious injuries. One person was reported killed in Idlib, in the Kurdish northeast, and forces also opened fire on demonstrations in the eastern city of Deir al-Zor and in Damascus' Barzeh district where thousands demonstrated on Friday. Residents defied the curfew in Deraa and came out to protest.
According to human rights groupsm security forces have killed more than 1,000 civilians since March. US Secretary of State Hillary Clinton, who originally called Assad a "reformer" has said that his legitimacy "had nearly run out." Although the United States has joined NATO operations in Libya aimed at toppling Qaddafi, who has also killed his own citizens, no similar actions have been announced against Assad. The EU, Australia and the United States have passed sanctions against the regime. Assad has responded to this continuing revolt against his rule with violence accompanied by promises of reforms, which protestors have dismissed as irrelevant. The media blackout instituted by the regime has made a mockery of those promises and news is dependent on activists who manage to communicate via the web.
UN Chief Demands End to 'Violent Repression' in Syria
June 4….(Jerusalem Post) After rights group claims that security forces kill 34 in Hama crackdown, UN spokeswoman says Ban-Ki-moon asks for immediate end to human rights abuses by pro-Assad forces against protesters. The UN chief on Friday demanded an immediate end to the "violent repression" and human rights abuses by Syrian forces in their bloody crackdown against anti-government protesters. Secretary-General Ban Ki-moon "is deeply troubled by the continued serious violations of human rights, including disturbing reports of the deaths of children under torture, live ammunition and shelling," UN spokeswoman Vannina Maestracci told reporters. She said Ban "takes note" of a promised amnesty and call for national dialogue by the Syrian authorities. "He emphasizes, however, that violent repression by security and military forces must end immediately for a genuine and inclusive dialogue to take place and lead to the comprehensive reforms and change called for by the Syrian people," Maestracci said.
She added that Ban reiterated his for call for a full, transparent and independent investigation into the killings. The UN Security Council is considering a draft resolution condemning Syria which was circulated to its 15 members by Britain, France, Germany and Portugal last week. Veto powers Russia and China have made clear they dislike the idea of council involvement in what they see as a domestic issue. Diplomats said Security Council envoys met on Thursday to see if there was any way to amend the resolution so that Russia and China would not veto it. They have yet to overcome their differences, Western diplomats said.
First Time: Temple Mount Priestly Blessing on Jerusalem Day
June 4….(Arutz) Hundreds of religious Jews from all streams were able to happily commemorate the 44th anniversary of the first-ever entry of Israeli soldiers onto the Temple Mount. For the first time in the history of Israeli restrictions on Jewish entry to the Temple Mount, the recitation of the Priestly Blessing was permitted there. It happened on Wednesday, Jerusalem Reunification Day, when hundreds of visitors, all of whom immersed in a mikveh (ritual bath) prior to coming and took other precautions required by Jewish Law, were allowed to enter the Temple Mount in groups of 30-40. Among them were several Cohanim (descendants of Aharon the Priest). They spread their hands in the customary manner and recited, "May G-d bless and watch over your. May G-d shine His countenance upon and show you grace. May G-d raise His countenance towards you and grant you peace" (Numbers 6, from the portion to be read aloud this week in synagogues throughout the Jewish world).
Rabbi Yisrael Ariel, head of the Temple Institute and one of the paratroopers who helped liberate the Temple Mount in 1967, and who was miraculously saved from death at the tim, recited aloud the blessing, "Barukh, Thou art the source of blessing, G-d, Who performed a miracle for me in this place." Many visitors and listeners, including policemen, recited "Amen!" The visitors specifically noted the fair and pleasant attitude displayed by the police, as well as the preparations and security precautions they implemented for all those wishing to ascend to the Temple Mount on this date. In addition to the above, Rabbi Yoel Elitzur delivered a Torah lesson on Temple-related issues, after which the participants, again, including policemen, stood for the recitation of the Kaddish. Despite the close proximity of the Moslem Waqf policemen and their obvious anger, the visit went off nearly without a hitch. One Israeli policemen yelled angrily and threatened the Jewish visitors, but that incident ended relatively quickly.
Hamas: America is the Enemy of Allah
June 2….(Israel Today) It has already been reported that while much of the Middle East was pleased with Osama bin Laden's assassination by American forces, the Palestinian Arabs stood out as the only regional group to oppose the elimination of the arch-terrorist. Recent rallies in the Hamas-ruled Gaza Strip have revealed just how much Palestinian Islamists idolized bin Laden and how broad was his popularity on the "Palestinian street." During the various rallies, the standard chants of the thousands of attendees have been: "Bin Laden Shattered Crosses" (speaking to their hatred of Christianity) and "America is the Enemy of Allah." At one rally, Hamas leader Sheikh Munir Al-Aydi eulogized bin Laden by praising the latter's dedication to "lead the global jihad against America and its allies, the worshippers of the cross." Western leaders have for the past decade been trying hard to equate Christianity with Islam and the God of the Bible with Allah. They are adamant that there is no religious war taking place. But the Palestinian Islamists clearly do not agree. In light of these dangerous delcarations by Hamas leaders, it is important to once again call out Western leaders who insist that Hamas be made part of the diplomatic peace process with Israel. Not only does Hamas continue to refuse to recognize Israel's right to exist, but it openly advocates the teachings of terrorists who want to impose Islamic law on the entire world.
Netanyahu on Jerusalem Day: This City is Ours!
June 2….(Israel Today) As Israel marked the 44th anniversary of the reunification of Jerusalem on Wednesday, Prime Minister Benjamin Netanyahu insisted that Israel would never allow the city to be again divided. "Forty-four years ago, IDF soldiers realized the prophets' vision and returned Jerusalem to its proper place," Netanyahu said, referring to the liberation of the eastern half of Jerusalem during the 1967 Six Day War. Speaking at Jerusalem's Merkaz Harav Yeshiva, which has long been at the forefront of religious Zionism, Netanyahu continued: "Jerusalem will never be divided. There's nothing more holy to us than Jerusalem, we'll protect Jerusalem, it's unity, and we'll build and develop it."
US President Barack Obama and other Western leaders have been pushing hard to restart Israeli-Palestinian peace talks based on Arab demands that Israel return to its pre-1967 borders. For its part, the Palestinian leadership insists it will never sign a peace deal with Israel that does not include the full surrender of the eastern half of Jerusalem, including the Temple Mount. But a Jerusalem Day poll revealed that a strong majority of Israelis remain firmly behind Netanyahu's policies, and do not agree to divide Jerusalem even as part of a comprehensive peace agreement. Conducted by the Geocartography Knowledge Group on behalf of Israel's Channel One News, the survey showed that 66 percent of Israelis oppose handing over any part of Jerusalem to the Palestinian Authority. A 23 percent minority said they would be willing to surrender Jerusalem's Arab neighborhoods, a compromise the Palestinian Authority has already rejected. An even larger 73 percent majority opposed placing Jerusalem's holy sites under international control, a proposal that first came up during former US President Bill Clinton's oversight of the peace process. Rather than talk about how to divide Jerusalem, 67 percent of Israelis want to simply get on with building up and developing the city as the capital of Israel.
Assad is Set to Declare Victory Over Syria's Uprising
June 1….(DEBKAfile Exclusive Report) Damascus is humming in anticipation of the victory speech Syrian President Bashar Assad is about to deliver in the coming hours with the announcement that the 10-week popular uprising against his regime has been defeated, debkafile's military sources report. In advance of the speech, Assad Tuesday, May 31 declared a general amnesty "for all members of political movements including the Muslim Brotherhood" (membership of which is punishable by death in Syria.) It is not clear how many of the 10,000 protesters impirsoned will benefit from the amnesty, or how genuine it is. The Syrian ruler may only be pretending to release all political prisoners to show he is meeting one of the protesters' key demands without meaning to carry out his promise. Israeli Chief of Staff Lt. Gen. Benny Gantz reported Tuesday to the Knesset Foreign Affairs and Security Committee that according to his information the death toll from Assad's brutal crackdown had shot up to 1,200. Also Tuesday, ruling Baath party sources reported that shortly before the speech, a national dialogue commission would be established representing political and economic interests in the country. They were careful to avoid saying "political parties" would be included in this forum.
According to our sources, propagandists in Damascus are striving to present a picture of wall-to-wall national reconciliation, while in practice, the Syrian ruler does not for a moment contemplate bringing opposition parties into his next political moves. After suppressing protest in most parts of Syria with tanks, artillery and gunfire, Syrian troops are still fighting dissidents in two suburbs of the central city of Homs, Talbiseh and Rastan. They are the only pockets where Syrian troops have been confronted with heavily armed protesters using rocket-propelled grenades and heavy machine guns. Most of the uprising's ringleaders had by last week fled to Lebanon and set up an anti-Assad struggle's headquarters-in-exile in the northern port-town of Tripoli. From there, they smuggled arms to hold-out groups in Talbiseh and Rastan. But most military sources say these are the last dying embers of national campaign of resistance and the army will soon make short work of them.
In any case, the hard core of the protest movement is on the point of departing Lebanon, mainly by sea, and heading for a safe haven somewhere in West Europe before Assad sends commando units after them in helicopters. Syria's veteran opposition leaders in exile were given permission by the Turkish government to hold a three-day conference in Antalya on ways of sustaining the anti-Assad impetus after the first 10 weeks. At the opening session starting Tuesday, those leaders were dismayed to find their ranks had been heavily penetrated by Assad loyalists. The communiqué they issued criticizing Asssad's amnesty and national reconciliation moves as "too little and too late" was the best they could manage.
Palestinians to Approach UN Security Council About Statehood in July
(UN General Assembly authorized to accept Palestine as a member state, but can do so only after it receives a recommendation to this effect from the Security Council.)
June 1….(Ha Aretz) The Palestinian Authority plans to approach the United Nations Security Council in July to begin the process of getting Palestine recognized as a full member of the United Nations and to assure a vote on the matter by the General Assembly in September, Haaretz has learned. The UN General Assembly is authorized to accept Palestine as a member state, but can do so only after it receives a recommendation to this effect from the Security Council. This is not likely to happen, because the United States vehemently objects to the Palestinians' unilateral efforts in the UN and it has veto power over Security Council decisions. The Palestinians realize this, both Israeli and foreign diplomatic officials say, but they are interested in making sure that the United States is isolated on the Security Council and forced to exercise its veto.
The Palestinians will then ask the General Assembly to recognize Palestine as a state, without it being a full UN member. Last Wednesday, the Palestinian leadership met in Ramallah to discuss the addresses of US President Barack Obama and Prime Minister Benjamin Netanyahu. During the meeting, the former chief Palestinian negotiator, Saeb Erekat, presented a document containing the Palestinian Authority's work plan through September for achieving full member status in the United Nations. The document, whose contents reached Haaretz, sets a timeline for the stages the PA must go through according to the UN Charter. The General Assembly opens on September 15 in New York. Thus, to complete the procedural requirements that would lead to a General Assembly vote, the Palestinians must apply by mid-July at the latest.
According to the Palestinian plan, in mid-July Palestine will submit an official letter to the UN secretary-general asking that it be accepted as a full member of the United Nations on the basis of the June 4, 1967 borders. In this letter, the Palestinians are expected to declare that the state of Palestine accepts the principles of the UN Charter. The secretary-general will then pass on the request to the rotating president of the Security Council, which in July will be Germany. To receive full UN membership, the Palestinians must be recognized as meeting various international criteria for statehood, such as a territory, a people, a recognized government and more.
Erekat's document states that after the Palestinian request is received, the Security Council will convene a special committee to debate the request. This committee must submit a report to council members at least 35 days before the General Assembly opens, meaning by August 10. Given this schedule, the PA must make its initial request to the UN secretary general by mid-July. After the report is submitted, the Security Council will vote whether to recommend accepting Palestine as a member state or to reject the request. If the Security Council recommends UN membership, as noted, an unlikely development, the Palestinians would need support of two-thirds of the General Assembly, 128 states, to attain membership.
Prime Minister Benjamin Netanyahu told a meeting of the Foreign Affairs and Defense Committee yesterday that while he did not believe the Security Council would recommend membership, nothing could be done to prevent the UN General Assembly from recognizing a Palestinian state. "They can decide that the world is flat, there's nothing we can do about it," said Netanyahu. "We have no way of blocking a decision by the assembly. We will get support there from only a few countries." However, Netanyahu still said the move could be thwarted. "We have no way to obstruct the UN decision," he said, warning that that the Palestinians will not succeed in their efforts in the UN Security Council. "It is impossible to recognize a Palestinian state without passing through the Security Council and such a move is bound to fail."
Two Iraqis Charged in Kentucky with Terrorism Plotting
| | |
| --- | --- |
| | (FOJ) In this undated photo provided by the US Marshals Service, Mohanad Shareef Hammadi, 23, an Iraqi living in Bowling Green, Ky. |
June 1….(AP) Two Iraqi men living as refugees in Kentucky tried to send sniper rifles, Stinger missiles and money to al-Qaida operatives in their home country, and both boasted of using improvised explosives against American troops there before moving to the US, according to court documents unsealed Tuesday. Thirty-year-old Waad Ramadan Alwan and 23-year-old Mohanad Shareef Hammadi, both of Bowling Green, were arrested last week after an investigation that began months after they arrived in the US in 2009. Neither is charged with plotting attacks within the United States, and authorities said their weapons and money didn't make it to Iraq because of a tightly controlled undercover investigation.
Alwan is charged with conspiracy to kill a United States national, conspiracy to use a weapon of mass destruction and attempting to provide material support to terrorists. Hammadi is charged with attempting to provide material support to terrorists and knowingly transferring, possession or exporting a device designed or intended to launch or guide a rocket or missile. The FBI said in an affidavit that Alwan told an informant that he took part in insurgent attacks on U.S. troops in Iraq using both improvised explosive devices and a sniper rifle, saying "lunch and dinner would be an American." Court documents say Hammadi also told an informant he planted improvised explosives in Iraq. The men pleaded not guilty to the charges during a preliminary hearing Tuesday, and they're in federal custody pending a detention hearing.
The criminal complaints against the two men say they entered the United States legally in April 2009 and had refugee status. By late 2010, Alwan had told the informant he wanted to help terrorists in Iraq, and he recruited Hammadi early this year, authorities said. They are accused of trying to send the rifles, missiles and C4 plastic explosives to Iraq. Federal prosecutors and the FBI declined to say how the two men were able to enter the country as refugees, or what they were doing in Bowling Green, a city of 60,000. State officials said at least 253 Iraqi refugees have moved to the city since 2008 but wouldn't comment on whether the state's refugee office dealt with the suspects. "Perhaps they just thought it was a lovely community," said FBI Special Agent in Charge Elizabeth Fries, who declined to say what the men did for a living. A Department of Homeland Security official, who requested anonymity because the investigation is ongoing, said Alwan and Hammadi slipped through gaps in the immigration vetting system that have since been filled. The official said the agency now checks people repeatedly as new information becomes available.
Their arrests come after FBI Director Robert Mueller said in February that his agency was taking a fresh look at Iraqi nationals in the U.S. who had ties to al-Qaida's offshoot in Iraq. The group had not previously been considered a threat in the U.S. Hammadi's court-appointed attorney, James Earhart of Louisville, said he doesn't know much about the case beyond what's in the criminal complaint. "I haven't had a chance to sit down and talk with him yet," he said. Federal Public Defender Scott Wendelsdorf, who represents Alwan, declined comment. No one answered the door Tuesday afternoon when a reporter went to Alwan's and Hammadi's listed addresses in Bowling Green. Iraqi government spokesman Ali al-Dabbagh said the government is trying to find out more about Alwan and Hammadi but currently has no information.
Court documents say the probe of Alwan began in September 2009, five months after he'd come to the US Late the next year, authorities started using an informant to record conversations with him. According to the criminal complaints, Alwan told the informant he was involved in insurgent attacks in Iraq from 2003 until 2006. The FBI said Alwan drew diagrams of four types of improvised explosive devices, or IEDs, for the informant. In January, investigators identified fingerprints belonging to Alwan on a component of an unexploded IED that was recovered by US forces in Iraq in 2005, the FBI said. The informant told Alwan that he worked for groups that received money from Osama bin Laden and was planning to send money and weapons to Iraq in secret compartments on cars. The criminal complaints say that in January, Alwan recruited Hammadi to assist him, describing the younger Iraqi to the informant as a relative whose work as an insurgent was well known. Later that month, Alwan and Hammadi allegedly delivered money to a tractor-trailer, believing the money would ultimately be shipped to al-Qaida in Iraq. They later helped delivered weapons that included two Stinger missiles, authorities say.
Beneath Jerusalem, an Underground City Exists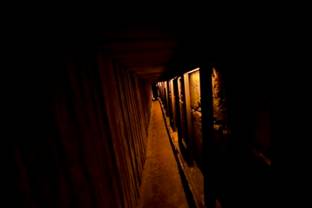 May 31….(Yahoo) Underneath the crowded alleys and holy sites of old Jerusalem, hundreds of people are snaking at any given moment through tunnels, vaulted medieval chambers and Roman sewers in a rapidly expanding subterranean city invisible from the streets above. At street level, the walled Old City is an energetic and fractious enclave with a physical landscape that is predominantly Islamic and a population that is mainly Arab. Underground Jerusalem is different: Here the noise recedes, the fierce Middle Eastern sun disappears, and light comes from fluorescent bulbs. There is a smell of earth and mildew, and the geography recalls a Jewish city that existed 2,000 years ago. Archaeological digs under the disputed Old City are a matter of immense sensitivity. For Israel, the tunnels are proof of the depth of Jewish roots here, and this has made the tunnels one of Jerusalem's main tourist draws: The number of visitors, mostly Jews and Christians, has risen dramatically in recent years to more than a million visitors in 2010.
But many Palestinians, who reject Israel's sovereignty in the city, see them as a threat to their own claims to Jerusalem. And some critics say they put an exaggerated focus on Jewish history. A new underground link is opening within two months, and when it does, there will be more than a mile (two kilometers) of pathways beneath the city. Officials say at least one other major project is in the works. Soon, anyone so inclined will be able to spend much of their time in Jerusalem without seeing the sky. On a recent morning, a man carrying surveying equipment walked across a two-millennia-old stone road, paused at the edge of a hole and disappeared underground. In a multilevel maze of rooms and corridors beneath the Muslim Quarter, workers cleared rubble and installed steel safety braces to shore up crumbling 700-year-old Mamluk-era arches. Above ground, a group of French tourists emerged from a dark passage they had entered an hour earlier in the Jewish Quarter and found themselves among Arab shops on the Via Dolorosa, the traditional route Jesus took to his crucifixion. South of the Old City, visitors to Jerusalem can enter a tunnel chipped from the bedrock by a Judean king 2,500 years ago and walk through knee-deep water under the Arab neighborhood of Silwan.
Beginning this summer, a new passage will be open nearby: a sewer Jewish rebels are thought to have used to flee the Roman legions who destroyed the Jerusalem temple in 70 AD. The sewer leads uphill, passing beneath the Old City walls before expelling visitors into sunlight next to the rectangular enclosure where the temple once stood, now home to the Al-Aqsa Mosque and the gold-capped Dome of the Rock. From there, it's a short walk to a third passage, the Western Wall tunnel, which continues north from the Jewish holy site past stones cut by masons working for King Herod and an ancient water system. Visitors emerge near the entrance to an ancient quarry called Zedekiah's Cave that descends under the Muslim Quarter. The next major project, according to the Israel Antiquities Authority, will follow the course of one of the city's main Roman-era streets underneath the prayer plaza at the Western Wall. This route, scheduled for completion in three years, will link up with the Western Wall tunnel. The excavations and flood of visitors exist against a backdrop of acute distrust between Israeli Jews and Palestinian Muslims, who are suspicious of any government moves in the Old City and particularly around the Al-Aqsa compound, Islam's third-holiest shrine. Jews know the compound as the Temple Mount, site of two destroyed temples and the center of the Jewish faith for three millennia.
Muslim fears have led to violence in the past: The 1996 opening of a new exit to the Western Wall tunnel sparked rumors among Palestinians that Israel meant to damage the mosques, and dozens were killed in the ensuing riots. In recent years, however, work has gone ahead without incident. Mindful that the compound has the potential to trigger devastating conflict, Israel's policy is to allow no excavations there. Digging under Temple Mount, the Israeli historian Gershom Gorenberg has written, "would be like trying to figure out how a hand grenade works by pulling the pin and peering inside." Despite the Israeli assurances, however, rumors persist that the excavations are undermining the physical stability of the Islamic holy sites. "I believe the Israelis are tunneling under the mosques," said Najeh Bkerat, an official of the Waqf, the Muslim religious body that runs the compound under Israel's overall security control. Samir Abu Leil, another Waqf official, said he had heard hammering that very morning underneath the Waqf's offices, in a Mamluk-era building that sits just outside the holy compound and directly over the route of the Western Wall tunnel, and had filed a complaint with police. The closest thing to an excavation on the mount, Israeli archaeologists point out, was done by the Waqf itself: In the 1990s, the Waqf opened a new entrance to a subterranean prayer space and dumped truckloads of rubble outside the Old City, drawing outrage from scholars who said priceless artifacts were being destroyed.
This month, an Israeli government watchdog released a report saying Waqf construction work in the compound in recent years had been done without supervision and had damaged antiquities. The issue is deemed so sensitive that the details of the report were kept classified. Some Israeli critics of the tunnels point to what they call an exaggerated emphasis on a Jewish narrative. "The tunnels all say: We were here 2,000 years ago, and now we're back, and here's proof," said Yonathan Mizrachi, an Israeli archaeologist. "Living here means recognizing that other stories exist alongside ours." Yuval Baruch, the Antiquities Authority archaeologist in charge of Jerusalem, said his diggers are careful to preserve worthy finds from all of the city's historical periods. "This city is of interest to at least half the people on Earth, and we will continue uncovering the past in the most professional way we can," he said.
Netanyahu Warns Egypt Losing Control of Sinai To Terrorists
(PM says Hamas and international terror groups are strengthening presence in Egypt and that the country's military government is having trouble 'realizing its sovereignty' in Sinai)
May 31….(Ha Aretz) Prime Minister Benjamin Netanyahu warned Monday that Egypt's new military government was having a "hard time" controlling the rise of international terror organizations in the Sinai Peninsula. "Egypt is having a hard time realizing its sovereignty in Sinai," Netanyahu said during a meeting of the Knesset's Foreign Affairs and Defense Committee. "International terror organizations are stirring in Sinai and their presence is increasing due to Sinai's connection to Gaza." Netanyahu also warned that Hamas is getting stronger and that Israel is concerned for its future in the region, in particular with its peace partners Egypt and Jordan. "Hamas is strengthening in Egypt," Netanyahu said. "It transferred more of its activities to Egypt and less to Syria due to the turmoil there. The Muslim Brotherhood is also not an insignificant player in Egypt." The prime minister noted that Israel must act responsibly in light of the Arab world turmoil, saying that even though Israel supports the hope for democracy, it is unclear when and if this will happen. Meanwhile on Monday, Egyptian security forces were pursuing 400 al-Qaida members who have been located in Sinai, said a senior Egyptian security source on Sunday. According to a report on Egypt's Al-Hayat television channel, the operatives were planning terrorist attacks in Egypt and in Sinai. The source said the al-Qaida members include Bedouins, Palestinians and foreign Arab nationals. They reportedly attacked a number of security stations in the past in the El Arish area. Last January, Egypt's interior minister said al-Qaida is trying to establish terror cells in the Gaza Strip. His remarks came as Egyptian security forces had arrested 19 suspected al-Qaida militants, who were suspected of planning suicide bombings at holy sites throughout the country.
Arab League Chief Backs UN Route for Palestinian State
(Amr Moussa calls Palestinian plans to seek UN recognition for a future state in September 'the sound path' to statehood in light of 'futile' negotiations with Israel)
May 30….(Ha Aretz) The head of the Arab League said on Saturday the Palestinians should seek UN recognition for their statehood in September because negotiations with Israel have proven futile. "The sound path is going to the United Nations and political struggle," Amr Moussa told Reuters. He was speaking in Doha, where Arab League member states were to meet later on Saturday to discuss Palestinian options in the wake of major policy speeches by US President Barack Obama and Israeli Prime Minister Benjamin Netanyahu. Moussa said a vision presented by Netanyahu in a speech to the US Congress this week had amounted to a series of "no's". "I believe that negotiations have become futile in light of all of these no's. What will you negotiate on?" Moussa said, referring to the Netanyahu speech which the Palestinians said put more obstacles in the path of the moribund peace process. Netanyahu said he was willing to make concessions for peace but repeated terms long rejected by the Palestinians, including an insistence that they recognize Israel as a Jewish state and accept Israel keeping settlement blocs in the occupied West Bank.
Palestinian President Mahmoud Abbas, in Doha for the meeting of the Arab League's peace process committee, said this week he would seek UN recognition for Palestinian statehood if there was no breakthrough in the peace process by September. The Palestinians currently have the status of UN observers without voting rights, but are hoping that at September's General Assembly they can persuade other nations to accept them as a sovereign member. Both Netanyahu and Obama have criticized the move, and although US opposition means the Palestinians have very little chance of success, the Israelis fear the maneuvering will leave them looking increasingly vulnerable on the diplomatic front.
US-brokered talks between the Palestinians and Israel broke down last September in a dispute over continued Jewish settlement building in the West Bank. In a bid to break the deadlock, Obama said in a major policy speech last week that a future Palestinian state should be based on the borders as they existed on the eve of the Six Day War in 1967, with land swaps mutually agreed with Israel. Netanyahu immediately rejected Obama's proposal saying it would leave Israel with "indefensible" borders. Abbas described the idea as "a foundation with which we can deal positively."
Arab League to seek full UN membership for Palestinian state
(At General Assembly meeting in New York in September, Arab League will request that UN recognize a Palestinian state in the West Bank and Gaza Strip, with East Jerusalem as its capital)
May 30….(Ha Aretz) An Arab League committee decided on Saturday to seek full UN membership for a Palestinian state in the Gaza Strip and the West Bank, with East Jerusalem as its capital, it said in a statement. The Arab League's peace process follow-up committee said it would request membership for the state of Palestine at the UN General Assembly's meeting in New York in September.
| | |
| --- | --- |
| | (FOJ) Qatar's Prime Minister Sheikh Hamad bin Jassem al-Thani speaks as Palestinian President Mahmoud Abbas (L) listens on during the opening of the Arab League Monitoring Committee in Doha on May 28, 2011. |
The committee decided to go to the United Nations to request full membership for Palestine on the 1967 borders, with East Jerusalem as its capital," it said in a statement. Earlier on Saturday, Palestinian President Mahmoud Abbas said there were "no shared foundations" for peace talks with Prime Minister Benjamin Netanyahu and seeking UN recognition of Palestinian statehood was his only option. Abbas expressed concern that taking the diplomatic step opposed by the United States and Israel could result in financial sanctions and urged Arab states to fill any gap. While he left room for a compromise, saying a resumption of peace talks on terms acceptable to the Palestinians would avoid the UN move, the remarks were some of Abbas's bleakest yet on the likelihood of more negotiations. Palestinian leaders have said Netanyahu's ideas for peace with the Palestinians, outlined in a speech to the US Congress on Tuesday, put more obstacles in the path of an already moribund peace process. "We see from the conditions that Netanyahu laid out that there are no shared foundations for negotiations. Our fundamental option is to go to the United Nations," Abbas said.
US-Russian deal for two rulers who survived the Arab revolt
May 30….(DEBKAfile Exclusive) Although 2,300 kilometers separates Libya from Syria, Muammar Qaddafi and Bashar Assad have this in common: Both Arab leaders look like surviving the revolts against them and neither is buckling under the pressures thrown at them by the United States and Europe, albeit in different forms and varying measures. Debkafile's military sources report that Sunday, May 29, there were solid signs that Assad and his army was recovering control of most parts of Syria, excepting only the Homs area of central Syria.
Elsewhere, after three months of battling the regime, the opposition is finding it harder to get protesters out on the streets for big rallies. Sunday, Syrian forces backed by tanks and heavy machine guns killed three civilians and wounded scores in the central towns of Talbiseh and Rastan and villages around Homs. Otherwise, most Syrian cities were calm.
This achievement is largely the result of the Syrian president's iron-fisted crackdown on protest followed by a ruthless purge of opponents to the regime in one area after another. But four more factors played their part:
1. The affluent middle class living in Syria's biggest towns, Damascus and Aleppo, stood aside from the uprising.
2. Likewise the Druze community which obeyed its leaders to stay out of it on orders coming from the Lebanese Druze leader Walid Jumblatt.
3. Syria's Christians who are the backbone of the country's business community actively supported the Syrian ruler.
4. More than 100 Iranian and Hizballah officers placed their active experience in crushing opponents at Assad's disposal. They brought with them a whole range of manpower and equipment for breaking up demonstrations against which the popular demonstrators were helpless.
Large military units have occupied the southern region of Horan and its capital Daraa, where the uprising first flared, and where a million people live under a reign of terror. Outbreaks in the suburbs of Damascus have been crushed and the port cities of Tartous and Latakia have gone back to normal. While the protest movement has not been completely extinguished and may continue to raise its head for some time, President Assad has undeniably regained control of his country. Outside the Middle East, in Washington and Moscow, Debkafile's sources report word going round that President Barak Obama and President Dmitry Medvedev Friday, May 27, came to an reciprocal understanding on the sidelines of the G8 summit in Deauville about the fate of the Syrian and Libyan rulers.
Obama is reported to have promised Medvedev to let Assad finish off the uprising against him without too much pressure from the US and the West. In return, the Russian president undertook to help the US draw the Libyan war to a close by means of an effort to bring about Muammar Qaddafi's exit from power, in a word, the two big powers traded Qaddafi for Assad.
According to our sources, neither the US nor Russia sees anyone in the Libyan rebel political or military leadership capable of taking over the reins of power in Tripoli. It is therefore assumed that a member of the Qaddafi clan will be chosen as Libya's interim ruler. Obama and Medvedev also quietly agreed, those sources say, that French President Nicolas Sarkozy and British Prime Minister David Cameron, despite their excessive involvement in the Libyan war, were wasting their time because they had no chance of making Qaddafi leave. According to the information the Russian president offered Obama, NATO attacks had not disabled a single one of Qaddafi's five brigades. Obama confirmed this from his own sources.
Syrian Tanks Attack Towns That Held Protests
May 30….(Yahoo) Syrian government troops backed by tanks attacked three central towns Sunday in an attempt to stop round-the-clock protests there against President Bashar Assad's regime, killing at least five people and wounding scores of others, activists and a rights group said. Activists said a school employee was killed and several students hurt, four seriously, when a shell exploded near a school bus.Security forces in several other parts of the country fired on crowds holding overnight demonstrations, causing casualties, activists said.The new attack using military forces pointed to Assad's determination to crush the two-month-old revolt, despite U.S. and European sanctions, including an EU assets freeze and a visa ban on Assad and nine members of his regime.The uprising, which began in mid-March, is posing the most serious challenge to his family's 40-year rule. What began as a disparate movement demanding reforms has grown into a resilient uprising seeking Assad's ouster. Human rights groups say more than 1,000 people have been killed in the crackdown.Sunday's military attacks targeted the towns of Rastan, Talbiseh and Teir Maaleh in the central province of Homs. Authorities had sealed off and isolated the towns by closing roads and cutting phone service, the activists said."The towns are under siege," one of the activists said.The activists spoke on condition of anonymity, fearing government reprisals.Residents of the towns have held anti-regime protests since the start of the uprising. Those protests have increased recently, with crowds taking to the streets day and night to call for the fall of Assad's regime, an activist said.The Syrian Observatory for Human Rights said two people were killed in Rastan and four were wounded in Talbiseh. There were no immediate reports of casualties in Teir Maaleh.An activist said at least three people were killed in Tabliseh. The activist said that nearly 100 wounded people were taken to hospitals in the central city of Homs.
The Local Coordination Committees in Syria, which help organize the protests, said security forces were detaining men in Talbiseh. They said people were blindfolded before being loaded to buses that took them to detention centers.Also Sunday, human rights activist Mustafa Osso said security forces opened fire at about 8,000 protesters in the northeastern town of Deir el-Zour, wounding several people. He said there were protests overnight in several parts of Syria, including the Damascus suburbs of Zabadani and Douma.In recent days, many Assad opponents have been holding protests and candlelight vigils at times of the night when the security presence has thinned out.Osso said armed forces were also conducting operations in the southern village of Hirak, near the city of Daraa, where the uprising began. Tanks have been used against Syrian cities and towns in the past weeks and major military operations were conducted in areas such as Daraa, the coastal town of Banias and the western town of Talkalakh near the border with Lebanon.
WEEK OF MAY 22 THROUGH MAY 28
Iran Sending Special Forces to Assist in Syria Crackdowns
(Iran sending members of elite Quds force as well as weapons, riot gear, sophisticated surveillance equipment to use against Syria government opposition.)
May 28….(Ha Aretz) US officials said that Iran is assisting Syrian President Bashar Assad's violent crackdown on protesters, sending trainers and advisers to suppress opposition, according to a Washington Post report. Iran has sent members of its elite Quds force, whom the United States has recently sanctioned in response to the 10 weeks of brutal Syrian government quashing of protests, to help the Syrian government, Iran's most important ally in the region. Manpower is only one of the forms of assistance Iran has sent to Syria, the report said, with the Islamist government sending weapons, riot gear and sophisticated surveillance equipment that allows Syrian authorities to trace and find opposition members through Facebook and Twitter accounts. The surveillance system has reportedly prompted the arrest of hundreds of Syrians in recent weeks, two US officials and a diplomat from an allied nation told the Washington Post, all speaking on condition of anonymity due to the sensitivity of the information. The diplomat said that Iranian military trainers have been brought to Syria's capital Damascus to teach security forces techniques that were used against the "Green Movement" in 2009. Protests to the allegedly corrupt election of current President Mahmoud Ahmadinejad were met with brutal violence from Iranian security forces.
The elite Iranian Quds force has reportedly played an influential role in crackdowns since at least mid-April, the sources told the Washington Post, prompting Obama to sign an executive order sanctioning the group last month. The Quds Force is a branch of the Iranian government's principal security agency which operates outside Iran and has in the past been accused by US officials of interfering extensively in political and insurgent activities in Iraq. The elite force has also helped train members of Hamas and Hezbollah. Although the number of Iranian advisers in Syria remains unknown, it has reportedly been increasing, according to the US and allied officials. The Obama administration mentioned the Quds force in a second set of sanctions last week, which targeted Assad and six other top officials including Mohsen Chizari, and Iranian military officer who is the Quds Force's third in command responsible for training.
In March Turkey informed a UN Security Council panel that it seized a cache of weapons Iran was attempting to export to Syria in breach of a UN arms embargo. The report to the council's Iran sanctions committee, which oversees compliance with the four rounds of punitive steps the 15-nation body has imposed on Iran over its nuclear program, said a March 21 inspection turned up the weapons, which were listed as "auto spare parts" on the plane's documents. The plane was bound for Aleppo, Syria, and was given permission to pass through Turkish airspace provided it made a "technical stop" at Diyarbakir airport, the report said.
White House Getting Set for Obama-Netanyahu-Abbas Summit
May 28….(DEBKAfile Exclusive Report) The White House is going full steam ahead with preparations for an early summit between US President Barack Obama, Israeli Prime Minister Binyamin Netanyahu and Palestinian Authority Chairman Mahmoud Abbas for restartng the peace process, debkafile's Washington sources report exclusively. Sources in Jerusalem and Ramallah confirm that they too are getting set for the occasion. A high-ranking US official told Debkafile: "Till now, we have had the curtain-raiser and opening positions: Now we are going for the real show, negotiations." He was referring to the Middle East six-speech marathon launched by the US president May 19, countered by the Israeli prime minster and swinging back and forth up until Thursday, May 26 when Obama reiterated his concept of the Middle East peace track in London. While many circles have accused the Israeli prime minister of taking a hard line on peace in Washington, Obama is reportedly congratulating himself on what was generally perceived as a debate between the two leaders but which he feels extracted from Israel three major concessions:
1. Netanyahu is the first Israeli prime minister to offer to leave settlements outside borders in a prospective accord establishing a Palestinian state. A high US official credited successful diplomatic cooperation between Obama and Netanyahu with obtaining this concession. He noted that the Netanyahu government is now off the hook of having to evacuate settlements, which would have been politically impossible after the traumas still lingering from Israel's 2005 pullout from the Gaza Strip and destruction of settlements there. In the view of the US official, the prime minister is now able to give roughly 120,000 settlers outside certain pre-determined areas the option of relocating across the lines in pre-1967 Israel or remaining on the West Bank under sovereign Palestinian rule.
The US official elaborated on the president's conception of the "mutual swaps of land": These swaps need not entail the evacuation of large populations or numerous settlements but rather create Israeli and Palestinian pockets that would remain in situ in each other's territories under the "sovereign symbols" of the opposite party, Israeli or Palestinian. More crises obviously lie ahead for Washington and Israel as they hammer out the exact nature and scope of these arrangements. But the moment the Israeli leader accepted the principle of settlements outside borders, the door swung open for restarting peace talks. The US official noted that the Palestinian leader had positively ruled out any Israeli settlements remaining under Palestinian rule. The White House was treating his position as negotiable.
2. If the Obama administration can bring the Israelis and Palestinians to agree on the nature of the "symbols of sovereignty" in the swapped pockets, it will have come up with the formula of joint sovereignty for solving the core issue of Jerusalem, said the official. Neither side would have to give up its sovereign rights in the city, and it would also be possible to introduce an international presence in defined areas.
3. After examining the ways in which the concept of 1967 borders was interpreted, the US official found no major differences between Obama and Netanyahu. While the Israeli prime minister insists those lines are indefensible, Obama says they are the basis for negotiating changes that meet Israel's security requirements. Both Israel and the Palestinians will be free to demand changes in the 1967 boundaries. The official pointed out that although the Israeli and Palestinian leaders assert that the differences between them are too wide to bridge, both are busy preparing for the triple summit at the White House. State Department sources told Debkafile that, considering the Palestinian refusal for almost two years to sit down and talk to Israel, some members of the White House National Security Council and State Department as closely watching the Arab League foreign ministers' meeting in Qatar Saturday, May 28,as the key to unlocking Mahmoud Abbas' resistance to the peace track. The White House has been working behind the scenes to ensure that the ministers give him the green light for the three-way summit to go ahead.
Those officials stress that the start of negotiations is the best way to stop Abbas turning to the UN in September for recognition of a Palestinian state within 1967 borders.
Sources in Jerusalem confirmed the preparations for the triple summit, but were absolutely sure that the US official was overdoing the optimism in order to squeeze Israel for more concessions. They said the US president had loaded his Middle East speech of May 19 with pro-Palestinian arguments and laid down two propositions that Israel can on no account accept.
--- No Israeli military presence would remain across the new agreed borders between Israel and the Palestinians, i.e. Israel would be denied security provisions;
--- As part of the land swap, Israel would have to give up territory – or, in other words, withdraw not just to the 1967 lines but further west and give up chunks of pre-1967 sovereign land. If Obama sticks to this position, Israeli sources stressed, the negotiations will end very soon after they begin and the distrust between Israel and Washington will only deepen.
What Really Happened in 1948?
| | |
| --- | --- |
| | (FOJ) Arabs and Palestinians mark the day Israel was reborn in 1948 in the Promised Land as "al Nakba" or the great catastrophe. For Israel, the day marked a miracle that reversed the "Diaspora" inflicted upon them by Rome in the 1st century. UN Resolution 181 allowed for the existence of Israel on pre 1967 lines. The Arabs rejected those lines in 1948. So, why would those same lines bring peace today? |
May 27….(Israel Today) With country after country lining up to support the unilateral creation of a Palestinian Arab state in September, the Palestinian leadership is feeling increasingly confident in rewriting history. In an op-ed piece published by the New York Times last week, Palestinian leader Mahmoud Abbas claimed that after the UN decided to partition "Palestine" into Jewish and Arab states in 1947, the "Zionists" launched an unprovoked military offensive forcing surrounding Arab states to intervene. Abbas wants the world body to "right that historic wrong" by recognizing an independent Palestinian state on ancient Jewish lands later this year. It has been nothing short of astonishing to watch as respected international media outlets like the Times act as mouthpieces for these grotesque revisions of documented history. This phenomenon should leave little doubt that there is a spiritual battle taking place, and that its physical manifestation often defies logic.
Sha'ath: Unity Deal Will Allow us to 'Liberate Palestine'
(Highest ranking Fatah official to visit Gaza since Hamas reconciliation vows Abbas determined to go ahead with Palestinian unity.)
May 27….(Jerusalem Post) Nabil Sha'ath on Thursday became the highest ranking Fatah official to visit the Gaza Strip since the signing of the Egyptian-brokered reconciliation agreement between his faction and Hamas in Cairo earlier this month. A former PA foreign minister, Sha'ath entered the Gaza Strip through the northern Erez crossing. He told reporters upon his arrival that he came to tell everyone that PA President Mahmoud Abbas was determined to go ahead with the Fatah-Hamas accord and rebuild destroyed homes in the Gaza Strip. Sha'ath said that the recent speeches of US President Barack Obama and Prime Minister Binyamin Netanyahu in Washington over the past week would have no impact on the Palestinians. "We will remain steadfast and we will continue, because this is a national and strategic interest," he said in reference to the reconciliation pact. "Without it, we won't be able to liberate Palestine and with it, we will be able to establish the Palestinian state." Sha'ath said that Abbas was also planning to visit the Gaza Strip, but did not say when. Sha'ath added that he was carrying messages from Abbas to leaders of all the groups that he's planning to meet with.
He said that neither Netanyahu nor anyone else would succeed in foiling the Hamas-Fatah reconciliation agreement. Sha'ath was scheduled to hold talks with leaders of Hamas and other Palestinian groups on the latest developments in the region and on the PA's intention to ask the United Nations in September to recognize a Palestinian state, an official in Ramallah said. Later on Thursday, former PA chief negotiator Saeb Erekat condemned the inauguration of a new Jewish neighborhood in east Jerusalem that was attended by several Israeli officials, Palestinian news agency WAFA reported.
Jerusalem Mayor Nir Barkat, Knesset Speaker Reuven Rivlin, Interior Minister Eli Yishai, Education Minister Gideon Sa'ar and Environmental Protection Minister Gilad Erdan attended the dedication ceremony of the second stage of the Ma'aleh Hazeitim neighborhood on Wednesday night, which celebrated 60 new apartments in the Jewish compound located in the heart of the Arab neighborhood of Ras el-Amud in the capital's southeast. "The Israeli government is implementing its vision for the destruction of a two-state solution presented by Prime Minister Netanyahu to the American Congress," said Erekat. "This settlement is not only another obstacle to returning to negotiations, but it also raises tensions, institutionalizes discrimination, and brings those with extremist beliefs in close proximity to Palestinian residential areas," he added. Erekat called on the international community to act "so that Israel will understand that the creation of its facts on the ground can never make legal what is a war crime under international law. We call on all peace-loving countries that have not recognized the Palestinian state on the 1967 border to do so now."
G8 Leaders to Endorse Aid to Arab Democracies
May 27….(Jerusalem Post) Leaders of the Group of Eight began gathering in France on Thursday to endorse aid to new Arab democracies, but wrangling among Western and developing economies over who runs the IMF may take up much of their time. Overnight violence in Yemen, one of several Arab states where veteran rulers have faced unprecedented popular uprisings, may also get attention, the United States, a key sponsor of President Ali Abdullah Saleh, ordered all but essential diplomatic staff to leave the country as clashes intensified. Officials from the G8, the United States, Canada, Britain, France, Germany, Italy, Japan and Russia, had held preparatory talks on Wednesday in the seaside resort of Deauville to hammer out common positions on issues ranging from the world economy to Libya's civil war, Iran's nuclear goals and unrest in Syria.
Hosted by French President Nicolas Sarkozy, the summit runs until Friday. It is expected to approve a multi-billion-dollar aid package for Tunisia and Egypt, after "Arab Spring" uprisings deposed their autocratic leaders, and to seal an agreement to back others in the region who want democracy. Protests against other allies of the West, notably in the oil-rich Gulf, are, however, unlikely to win clear assistance. "We share a compelling interest in seeing the transitions in Egypt and Tunisia succeed and become models for the region," US Secretary of State Hillary Clinton and Treasury Secretary Timothy Geithner wrote in a letter to the G8 on Wednesday. "Otherwise, we risk losing this moment of opportunity."
Nasrallah: Obama, Netanyahu Issued Declaration of War
(Hezbollah's leader has lashed out at US President Barack Obama, saying the US and Israel have the same goals.)
May 26….(YNET) Sheik Hassan Nasrallah spoke Wednesday on "Liberation Day," which marks the withdrawal of the Israeli army from southern Lebanon in 2000. He said both US President Barack Obama and Prime Minister Benjamin Netanyahu have dealt a "mortal blow" to the peace process, and urged the Arab League to withdraw its initiative for the Middle East peace process in response. Both speeches, he added, required a response from Arab governments: "The speeches offered a knockout blow to the Arab peace initiative. I call on the Arab League to take that initiative off the table... it's time to withdraw it," he said to cheers from the crowd. Citing Israel and the United State's "unwillingness to offer the Palestinians anything," Nasrallah said the Arabs were left with only one option: armed resistance: "What have Obama and Netanyahu left for the Palestinian people, Palestinian Authority and Palestinians factions?" Nasrallah asked the crowds via video link to the rally. "The Palestinians have only resistance to achieve liberation," he continued. Nasrallah vowed that the group would maintain its arsenal and said no one could disarm it: "Our rockets will remain, and they will stay efficient. No one will be able to take it away."
Hizbullah Arsenal Bigger Than Most Nation
May 26….(Arutz) The Hizbullah terrorist organization has an arsenal bigger than that of most countries, according to outgoing US Defense Secretary Robert Gates. The Lebanon-based terrorist group has at least 550 bunkers, 300 surveillance sites and 100 other bases, according to a map publicized two months ago by Israel. According to the map produced by Israel's military intelligence, one of the bunkers is even located inside a mosque. "Our interest is to show the world that the Hizbullah organization has turned these villages into fighting zones," a senior military commander told the newspaper. "Hizbullah cruise missiles could threaten US ships with anti-ship missiles with a range of 65 miles," Gates told a gathering at the American Enterprise Institute on Wednesday. He warned that the terrorist group may also have acquired biological and chemical weapons, according to CNN.
Turkey Ditches Assad
May 26….(DEBKAfile Exclusive) Syrian President Bashar Assad's Arab and Muslim support is melting fast. Debkafile's intelligence sources report that his second most steadfast supporter after Iran, Turkish Prime Minister Tayyip Erdogan, has secretly ordered his government officials to dump Ankara's ties with Damascus with all speed. This change has several consequences which may also indirectly affect Turkey's relations with Israel. For now, Erdogan has given Syrian opposition leaders permission for the first time to hold a meeting in Anatalia from May 31 to June 2 to turn over ways of intensifying the three-month popular uprising to the right pitch for finally toppling Bashar Assad. After three months of unstinting support for the Assad regime, Turkish government circles seek to shun finding themselves "backing a regime which shoots to kill Muslims in the street." After the number of Syrian deaths rose past 1,100, one high-ranking official commented to debkafile, "Turkey is a Muslim democracy. It must not lend support to dictators who murder their citizens." This change of policy has taken form in three additional steps:
1. The following message was posted to Damascus on Tuesday, May 24: Turkey is not a member of the European Union and is therefore not bound by its sanctions it has imposed freezing Assad's assets and barring him and his regime heads from travelling. Nonetheless, the Syrian ruler is advised not to try and test its intentions by trying to visit Turkey.
2. Assad's repression of the uprising in the Kurdish regions of northern Syria is causing ferment among the Kurds of southern Turkey. Unless it is stopped forthwith, Ankara will take overt action against the Syrian ruler.
3. Erdogan has discontinued his almost daily phone conversations with Assad. In any case, his advice to the Syrian ruler on how to overcome the uprising against him was never heeded.
Our sources report that he also ordered the Hakan Fidan, chief of Turkish MIT intelligence service, to stop traveling to Damascus with updates on Syrian opposition activities. Assad has thus lost his key source of information about what the opposition is up to. As a by-product of this radical policy change in Ankara, the Turkish Prime Minister is reported by our sources to have reconsidered the dispatch from Turkish ports of a large anti-Israel flotilla for breaking the Gaza blockade. It was scheduled for the last week of June. Fifteen vessels carrying 1,500 activists from several countries were due to take part, led by the Mavi Marmara, the Turkish vessel aboard which nine people were killed in a violent clash with Israeli commandos a year ago. Erdogan decided to withdraw Turkish participation lest Syria exploit another possible Israel-Turkish clash at sea to launch an attack on Israel's northern border as a show of Syrian-Turkish solidarity. These days, Ankara is working hard to avoid any suggestion of solidarity with Syria.
US Slaps Sanctions on Syria's Assad
May 25….(Yahoo) The United States slapped sanctions on Syrian President Bashar Assad and six senior Syrian officials for human rights abuses over their brutal crackdown on anti-government protests, for the first time personally penalizing the Syrian leader for actions of his security forces. The White House announced the sanctions today, a day before President Barack Obama delivers a major speech on the uprisings throughout the Arab world. The speech is expected to include prominent mentions of Syria. The Obama administration had pinned hopes on Assad, seen until recent months as a pragmatist and potential reformer who could buck Iranian influence and help broker an eventual Arab peace deal with Israel. But US officials said Assad's increasingly brutal crackdown left them little choice but to abandon the effort to woo Assad, and to stop exempting him from the same sort of sanctions already applied to Libya's Moammar Gadhafi. In a letter to congressional leaders, Obama said he issued the new sanctions order as a response to the Syrian government's "continuous escalation of violence against the people of Syria." Obama cited "attacks on protesters, arrests and harassment of protesters and political activists, and repression of democratic change, overseen and executed by numerous elements of the Syrian government." The sanctions will freeze any assets Assad and the six Syrian government officials have in US jurisdiction and make it illegal for Americans to do business with them. The US had imposed similar sanctions on two of Assad's relatives and another top Syrian official last month but had thus far refrained from going after Assad himself. "The actions the administration has taken today send an unequivocal message to President Assad, the Syrian leadership and regime insiders that they will be held accountable for the ongoing violence and repression in Syria," said David S. Cohen, Treasury's acting under secretary for terrorism, said in a statement. "President al-Assad and his regime must immediately end the use of violence, answer the calls of the Syrian people for a more representative government and embark upon the path of meaningful democratic reform," Cohen said. Treasury officials could give no estimate on how much in Assad's assets were located in the United States that would be frozen by the new sanctions order.
The US move came as Assad said earlier that his security forces had made mistakes during the two-month uprising and blamed poorly trained police at least in part for the crackdown that has killed more than 850 people. On Tuesday, Secretary of State Hillary Rodham Clinton said she was increasingly alarmed by developments in Syria and called out Assad and his allies for failing to follow through on earlier pledges of reform. "They have embraced the worst tactics of their Iranian ally, and they have refused to honor the legitimate aspirations of their own people in Syria," Clinton told reporters. "President Assad talks about reform, but his heavy-handed, brutal crackdown shows his true intentions." Clinton's pointed accusation about Assad bearing personal responsibility for the repression came as the White House ramped up its criticism of his rule. White House press secretary Jay Carney said democratic change had to come to Syria. "The recent events in Syria we believe prove that the country cannot go back to the status quo ante," he said. "Syria's future will only be secured by a government that reflects the popular will of its people."
Netanyahu in Congress: Jerusalem Will not be Divided
(Historic speech: Prime minister receives warm welcome in Congress, expresses willingness to give up 'parts of ancestral Jewish homeland.' Israel will be generous to Palestinians, he says, but will not return to 1967 borders)
May 25….(YNET) Prime Minister Benjamin Netanyahu addressed the Unites States Congress in a historic and much anticipated speech on Tuesday. Netanyahu urged Palestinian President Mahmoud Abbas to tear up the pact with Hamas and recognize a Jewish state and also noted that Israel will withdraw from some West Bank settlements. Netanyahu received a particularly warm welcome in Congress. "I'm deeply moved by this warm welcome and I'm deeply honored that you've given me the opportunity to address this congress for the second time," he said. "I see a lot of old friends here and a lot of new friends as well, democrats and republicans alike," he noted. "Israel has no better friend than America and America has no better friend than Israel." Netanyahu declared "I am willing to make painful compromises to achieve peace. As a leader it's my responsibility to lead my people to peace. It's not easy, because I recognize that in a genuine peace we will be required to give up parts of the ancestral Jewish homeland." He added: "We'll be generous about the size of the Palestinian state but as Obama said the border will be different than 1948. Israel will not return to the border of 1967."
Netanyahu stressed that Israel is not a colonial power. "The Jewish people are not foreign occupiers. We're not the British in India, or the Belgians in the Congo. This is the land of our forefathers, no distortion of history will deny the 4,000 year-old bond between the Jewish people and the Jewish land." Netanyahu congratulated the US on the assassination of al-Qaeda leader Osama bin Laden. "Congratulations America. You got bin laden – good riddance!" He also thanked President Obama for his great commitment to Israel's security. There were several disruptions during the speech, to which Netanyahu replied: "In Tripoli and Iran this wouldn't have happened, this is a true democracy." Netanyahu reminded Congress again that Israel is the only democracy in a turbulent Middle East. "In an unstable Mideast Israel is the one anchor of stability," he said and noted Israel will always be America's friend.
'Israel will negotiate on settlements'
Netanyahu noted that the status of the settlements will be agreed upon as part of peace negotiations and said that any real peace agreement will see settlements outside Israel's borders. He mentioned the withdrawal from Gaza and Lebanon and warned against a massive flow of weapons into a Palestinian state which could be fired into Israel should it withdraw from the territories. Finally, Netanyahu addressed Mahmoud Abbas and urged him to cancel the reconciliation agreement with Hamas. "Tear up your pact with Hamas, sit down and negotiate, make peace with the Jewish state. I you do I promise you this, Israel will not be the only state to welcome a Palestinian state." Netanyahu's speech concludes his turbulent visit in Washington which exposed acute disagreements with the US administration, most notably after his meeting with President Obama. Earlier on Tuesday, Netanyahu told the AIPAC conference that the State of Israel is not the root of the Middle East's problem and must not be blamed for the region's troubles. "Israel's not what's wrong with the Middle East. Israel is what's right about the Middle East," he said to the cheering audience.
Netanyahu: We Won't Negotiate with Palestinian Version of al-Qaida
May 25….(Jerusalem Post) Prime Minister Benjamin Netanyahu tells Congress Hamas isn't a partner for peace, its charter calls for killing Jews; says he's ready to make "far-reaching compromises," but strategic areas must be kept in any pragmatic deal. Prime Minister Binyamin Netanyahu told a joint session of the US Congress on Tuesday that he is willing to return to negotiations with the Palestinian Authority, but not with Hamas. Israel will not, he said, "negotiate with a Palestinian government, which is backed by a Palestinian version of al-Qaida," he said referring to Hamas after noting that they condemned the US killing of Osama bin Laden. Hamas, he noted, is not a partner for peace. It "remains committed to Israel's destruction and to terrorism. They have a charter, it calls not only for the destruction of Israel, it says: kill the Jews." The prime minister also told the gathered congress-people that he is "prepared to make a far-reaching compromise," for peace. Israel, he said, will be generous with the size of a Palestinian state but will be firm on where we put the border." Netanyahu said he recognize that "a Palestinian state must be big enough to be viable." Jerusalem, however, "must remain the united capital of Israel." Only a democratic Israel, the prime minister said, "has protected the freedom of worship" in the holy city. "The status of the settlements will only be be decided in negotiations, but I'll say this; in any real peace agreement, that ends the conflict... some settlements will end up beyond Israel's borders," the prime minister went on, adding, "The exact border will be negotiated.' The prime minister also stressed Israel's position as the one democracy in the Middle East, in a special joint session of Congress. "Israel is the one anchor of stability in a region of shifting alliances," Netanyahu said. He went on to stress the strong ties between Jerusalem and Washington. "Israel has no better friend than America and America has no better friend than Israel," Netanyahu said. The two countries "stand together, to defend democracy, to advance peace and to fight terrorism," he said.
Ahmadinejad Survives Assassination Attempt
May 25….(DEBKAfile Special Report) A large explosion set fire to an oil refinery unit in Abadan, Iran's biggest oil city, during a visit by Iranian President Mahmoud Ahmadinejad Tuesday, May 24. He came to inaugurate a unit for expanding production capacity by 4.2 million liters a day. Two people were killed and 12 injured. The blast was attributed by officials to a gas leak or "a technical fault" in one of the units, without specifying whether it was the same unit Ahmadinejad was scheduled to visit. However, according to Debkafile's Iranian sources, the explosion was triggered by his pushing the button to activate it that same unit, which must have been tested and run in before the inauguration ceremony to avoid any technical hitches. A news conference was quickly staged live on state TV showing him answering questions about the Abadan refinery, apparently to put a stop to spreading rumors that he had been assassinated. He did not refer to the explosion. The last known attack on Ahmadinejad's life was on Aug. 24, 2010 when a grenade was lobbed at his motorcade in the western town of Hamadan. Officials then said it was only a firecracker. Our Iranian sources point to three possible parties who might have rigged the attack:
1. Abadan on the Shatt al Arb is near the Iraqi border and the route popular with Arab agents from Saudi Arabia and the Gulf moving in and out of the Iranian oil-rich rich of Khuzestan, which is the hotbed of disaffected Arab Iranians and their liberation movements.
2. Infighting at the top of the Revolutionary Guards Corps or elite regime circles, where Ahmadinejad's prestige has slipped badly over his dispute with Supreme Leader Ayatollah Ali Khamenei on the division of authority. The ayatollah's clique says the president violated the Islamic Republic's first commandment, some said even the precepts of the faith, by disobeying the Supreme Ruler. Ahmadinejad flouted his order reinstate the intelligence minister he sacked - only to be overruled by Khamenei. The Supreme Leader's suspects that Ahmadinejad is secretly plotting to topple him. The two camps are now squaring up for a fight with the president seeking to drum up popularity by claiming he is targeted for assassination. Maybe he is.
3. A foreign clandestine agency may be responsible, possibly the same unnamed hand
which for two years has bedeviled Iran's nuclear program by liquidating its leading scientists and planting the Stuxnet virus in its computer control systems.
Obama's Betrayal of Israel Even Worse than we Thought
May 25….(WND) While President Obama last week outlined an Israeli retreat as part of a deal with the Palestinian Authority, the US in recent weeks also quietly has been leading talks aimed at an Israeli surrender of the strategic Golan Heights, WND has learned. Dennis Ross, Obama's Middle East envoy, has exchanged messages the past few weeks between Israel and the regime of Syrian President Bashar Assad, according to informed Israeli and Arab officials. The Israeli officials said that in the course of the discussions, the U.S. concluded Syria is in possession of a chemical weapons arsenal. The officials said the weapons were taken into consideration by the US in its assessment of Assad's regime. "It was part of the equation that led the White House to conclude that Assad should stay in power," said one Israeli official. Informed Arab officials, meanwhile, told WND that Assad believes previous negotiations with Israel could form the basis of a future accord in which Israel would surrender the vast majority of the Golan Heights. Both Israeli and Arab officials said the Obama administration believes it is in US interests for Assad to remain in power. The US reasons that even though Assad is a partner of Iran and a sponsor of Hamas, the alternative to his regime would likely be Islamist radicals.
Assad has been threatened with uprisings in recent weeks. He has been accused of ordering rampant human rights violations and mass killings in attempting to suppress the rebellions. The Israeli officials told WND that in recent discussions, the US belittled White House sanctions passed targeting Assad and top Syrian officials, explaining the sanctions are more symbolic and that the measures will not harm Assad in reality.
In a major address last week, Obama called for Israel to retreat to the 1967 borders, meaning a Palestinian state in the Gaza Strip, West Bank and eastern sections of Jerusalem while allowing for some territorial swaps. In his address, Obama supported the Arab revolutions across the Middle East and North Africa and called for the ouster of dictators and transitions to democracy. On Sunday, Obama clarified that Israel could retain some of the West Bank, telling a pro-Israel group negotiations based on 1967 borders would include mutually agreed swaps. He clarified that he did not mean the exact borders that existed on June 4, 1967. Meanwhile, with Assad's regime faltering, the White House has been pushing Israel to surrender the Golan in an accord with Syria. Syria twice used the Golan, which looks down on Israeli population centers, to mount ground invasions into the Jewish state. News media accounts routinely billed the Golan as "undisputed Syrian territory" until Israel "captured the region" in 1967. The Golan, however, has been out of Damascus' control for far longer than the 19 years it was within its rule, from 1948 to 1967.
Even when Syria shortly held the Golan, some of it was stolen from Jews. Tens of thousands of acres of farmland on the Golan were purchased by Jews as far back as the late 19th century. The Turks of the Ottoman Empire kicked out some Jews around the turn of the century. But some of the Golan still was farmed by Jews until 1947, when Syria first became an independent state. Just before that, the territory was transferred back and forth between France, Britain and even Turkey, before it became a part of the French Mandate of Syria. When the French Mandate ended in 1944, the Golan Heights became part of the newly independent state of Syria, which quickly seized land that was being worked by the Palestine Colonization Association and the Jewish Colonization Association. A year later, in 1948, Syria, along with other Arab countries, used the Golan to attack Israel in a war to destroy the newly formed Jewish state. The Golan, steeped in Jewish history, is connected to the Torah and to the periods of the First and Second Jewish Temples. The Golan Heights was referred to in the Torah as "Bashan." The word "Golan" apparently was derived from the biblical city of "Golan in Bashan."
The book of Joshua relates how the Golan was assigned to the tribe of Manasseh. Later, during the time of the First Temple, King Solomon appointed three ministers in the region, and the area became contested between the northern Jewish kingdom of Israel and the Aramean kingdom based in Damascus. The book of Kings relates how King Ahab of Israel defeated Ben-Hadad I of Damascus near the present-day site of Kibbutz Afik in the southern Golan, and the prophet Elisha foretold that King Jehoash of Israel would defeat Ben-Hadad III of Damascus, also near Kibbutz Afik. The online Jewish Virtual Library has an account of how in the late 6th and 5th centuries BC, the Golan was settled by Jewish exiles returning from Babylonia, or modern day Iraq. In the mid-2nd century BC, Judah Maccabee's grandnephew, the Hasmonean King Alexander Jannai, added the Golan Heights to his kingdom. The Golan hosted some of the most important houses of Torah study in the years following the Second Temple's destruction and subsequent Jewish exile; some of Judaism's most revered ancient rabbis are buried in the territory. The remains of some 25 synagogues from the period between the Jewish revolt and the Islamic conquest in 636 have been excavated. The Golan is also dotted with ancient Jewish villages.
China Warns USA to Respect Pakistan Sovereignty
May 24….(The Statesman) In the wake of the US raid in Abbottabad that killed Osama bin Laden, China has "warned in unequivocal terms that any attack on Pakistan would be construed as an attack on China," a media report claimed today. The warning was formally conveyed by the Chinese foreign minister at last week's China-US strategic dialogue and economic talks in Washington, The News daily quoted diplomatic sources as saying. China also advised the USA to "respect Pakistan's sovereignty and solidarity", the report said. Chinese Premier Wen Jiabao informed his Pakistani counterpart Yousuf Raza Gilani about the matters taken up with the US during their formal talks at the Great Hall of the People yesterday. The report said China "warned in unequivocal terms that any attack on Pakistan would be construed as an attack on China". The two premiers held a 45-minute one-on-one meeting before beginning talks with their delegations. The Chinese leadership was "extremely forthcoming in assuring its unprecedented support to Pakistan for its national cause and security" and discussed all subjects of mutual interest with Mr Gilani, the report said. Mr Gilani described Pakistan-China relations and friendship as "unique". Talking to Pakistani journalists accompanying him, he said that China had acknowledged his country's contribution and sacrifices in the war against terrorism and supported its cause at the international level. "China supported Pakistan's cause on its own accord," Gilani said with reference to the Sino-US strategic dialogue where the Chinese told the US that Pakistan should be helped and its national honor respected. Gilani said China had asked the US to improve its relations with Pakistan, keeping in view the present scenario.
Pakistan reiterated its position on the one-China policy and said it fully supported China on the issues of Taiwan and Tibet, he said. He said both sides will continue their consultations on UN reforms. It was also agreed that both countries will formulate a long-term joint energy mechanism for electricity generation in Pakistan through various means, including nuclear energy. Wen announced that the Chinese leadership will send a special envoy to Islamabad to express solidarity with Pakistan at this "crucial period in its history". The envoy, a senior minister, will take part in celebrations marking the 60th anniversary of diplomatic ties between the two countries. The USA has stepped up pressure on Pakistan to crack down on terrorist sanctuaries and to probe whether military and intelligence officials were aware that bin Laden had been hiding in the garrison city of Abbottabad, which is home to thousands of soldiers.
Pakistan has turned to China, its "all weather friend," for support in the face of reports that US lawmakers are pressing for cuts in aid. China has agreed to provide Pakistan 50 new JF-17 Thunder multi-role jets under a co-production agreement, The News reported. It is likely that these planes will be supplied by June next year. The two countries are also discussing the supply of Chinese J-20 stealth jets and Xiaolong/FC-1 multi-purpose light fighter aircraft to Pakistan. They are discussing the mode of payment and the number of planes to be provided to Pakistan, the report said. China will also launch a satellite for Pakistan on 14 August. The satellite will supply "multifarious data" to Pakistan, the report said. Mr. Gilani said both sides had agreed to increase defense cooperation and China had assured Pakistan of help in enhancing the capacity of its armed forces. He said Pakistan's trade with China had registered a significant increase in the last two years and efforts were being made to raise it to US$ 15 billion a year. Gilani said Pakistan has the capability and capacity to defend its frontiers and the armed forces are fully vigilant, and no incident like the US raid against bin Laden will happen in future. He said Pakistan will continue its efforts to stop US drone attacks, which have proved to be counter-productive. To a question, Gilani said Pakistan's political and military leadership will decide about a military operation in North Waziristan agency. No pressure will be accepted in this regard and Pakistan alone will decide on this issue, he said. Gilani said Pakistan desired good relations with all its neighbors, including India, Afghanistan and Iran.
Taliban Raid Triggers Pakistan Nuke Shockwave
May 24….(Financial Times) The brazen attack on a Pakistani naval air base has sent shockwaves through the nuclear-armed country, raising concerns about the military's ability to protect sophisticated weaponry. The ease with which six Taliban militants stormed the PNS Mehran base in Karachi, close to the city's busy commercial airport, and destroyed two newly US-supplied P-3C Orion maritime surveillance aircraft has unnerved Pakistan's military establishment. The militants held off security forces for more than 16 hours, killed 12 naval personnel and injured 14. Their primary objective appeared to be some of the military's most sophisticated electronic warfare equipment, as they wiped out Pakistan's anti-submarine warfare capability in a single stroke. Ghazanfar Ali, a former brigadier general, said the Taliban attack would "hurt Pakistan's reputation as a nuclear weapons state" in the eyes of the international community, by emphasising the country's vulnerability. In its arms race with arch-rival India, Pakistan developed nuclear weapons in the 1990s and carried out its first nuclear tests in 1998. Pakistan's security establishment insists that the nuclear arsenal is carefully guarded. Some analysts, however, argue that nuclear material used in the earlier phases of weapons production is more vulnerable. "There is more concern about the plutonium and highly enriched uranium in production facilities and laboratories, which involve considerably more people and facilities that aren't as protected as well as military bases," said David Albright at the Institute for Science and International Security in Washington. "You would worry that militants could try to seize a reactor in order to have a very visible suicide mission where they could threaten to damage the reactor or cause a massive radiation release." "The biggest assurance is that Pakistan's nuclear weapons are not deployed," said Mahmud Durrani, a former national security adviser to the prime minister. "They are kept disassembled and in different locations." But others are demanding an urgent review of military capabilities after the Karachi attack and this month's cross-border raid by US special forces, which slipped across Afghan-Pakistan border undetected and killed Osama bin Laden in a hide-out just 50km from Islamabad.
Al Qaeda Masterminded Pakistani Base Assault
May 24….(DEBKAfile Special Report) The fingerprints of Al Qaeda's interim operations commander Saif al Adal were all over the assault on the important Pakistani PNS Mehran naval air base in Karachi, which began Sunday night, May 22 and ended only after 17 hours of fierce combat, Debkafile's counter-terror sources report. It was the jihadist group's first major revenge operation for Osama bin Laden's death in Pakistan on May 2. Fourteen Pakistani military personnel were killed and 15 injured. Four attackers died, 4 were captured and 2 got away. The operation had four telltale features:
1. In planning and execution, the Merhan hit looked as though it was modeled on the Al Qaeda attack of May 12, 2003 on three fortified estates populated by a Saudi-foreign mix in Riyadh, Saudi Arabia, which Saif al Adal orchestrated.
2. The Pakistani base also had a strong foreign military presence of at least five Americans and 11 Chinese naval personnel. The attack therefore aimed at damaging the US-Pakistani intelligence collaboration which al Qaeda believes to have been indispensible to the operation for killing Osama bin Laden in Abbottabad. Targeting Chinese personnel was meant to tear a hole in Islamabad's ties with Beijing which contribute substantially to Pakistan's military potency. According to official statements, no Americans or Chinese advisers were hurt in the attack despite earlier reports that hostages were taken from the latter group.
3. The military professionalism exhibited by the estimated 12-15 attackers was greater than the usual combat standards of terrorist organizations or Pakistani Taliban. The outer walls of the base were smashed in with explosives and the intruders used ladders to climb in, a method used in al Qaeda's attack on the US consulate in Jeddah on December 7, 2004 and believed adopted by Saif al-Adal based on mistakes he made in the break-in to the Riyadh estates.
4. Meticulous and detailed advance surveillance of the base's layout armed the attackers with precise targets, indicating aid from an inside accomplice or long and careful reconnaissance by spies disguised in Pakistani military uniforms with false ID.
The operation's objectives were: First, to impair Pakistan's intelligence-gathering capabilities: Pakistani surveillance aircraft take off from Mehran for their missions over the tribal districts bordering Afghanistan, especial North Waziristan, home to terrorist strongholds. Some of this information is passed on to the Americans for Predator drone missile strikes. Second, to destroy the three P-3C Orion surveillance planes the US had given Pakistan: Two were totaled and a third badly damaged. The hangars housing them, which contained a substantial amount of surveillance and technical equipment, were blown up and set on fire. Third, to disable Islamabad's intelligence operations over the Arabian Sea coastal area and water which separates Pakistan from India:
No indigenous Pakistani element, including Taliban, which claimed responsibility for the attack in Karachi, would have wanted to harm Pakistani's intelligence capacity against India. Al Qaeda's motives were quite separate from those of Taliban in this case: In recent years, a high goal on its agenda has been to stir up trouble, up to and including war, between the two nuclear neighbors by means of terrorist operations in India which are clearly labeled "made in Pakistan." By hitting Mehran and so removing the seeing eyes of Pakistani surveillance, al Qaeda aimed to give itself a free hand to launch more attacks on India.
In summing up the operation, debkafile's military sources judge it was not one of the biggest or most dramatic al Qaeda has ever perpetrated. But it achieved its goals in terms of strategic gains, precision and rapid organization at very short notice after the death of its leader. Saif al-Adal does not specialize in the mega-attacks typical of al Qaeda's late leader. His expertise lies in medium-scale precisely targeted serial terror recurring at short intervals. More attacks are therefore coming.
Russia Hosts Hamas and Fatah, Praises Power-Share
May 24….(Newsmax) Russia hosted representatives of rival Palestinian factions Fatah and Hamas on Monday and praised a power-sharing deal that US President Barack Obama has called an "enormous obstacle" to Middle East peace. "We very much value your agreement," Russian Foreign Minister Sergei Lavrov told members of Fatah, Hamas and other parties to the deal signed early this month in Cairo. "All peoples need unity, not least the Palestinian people, who are justly seeking a solution to their task of creating a state," Lavrov said. Israel and the United States have criticized the deal between Palestinian President Mahmoud Abbas's Fatah movement and its Islamist rival Hamas, which they shun. Obama said on Sunday that the agreement "poses an enormous obstacle to peace. "No country can be expected to negotiate with a terrorist organization sworn to its destruction."
A partner of the United States, the EU and the United Nations in the Middle East "quartet," Moscow has made a point of calling for the inclusion of Hamas in diplomacy, hosting its leaders and saying isolating it is counterproductive. Hamas deputy leader Moussa Abu Marzouk said after the talks that Lavrov promised Moscow's support if the Palestinians seek recognition as a UN member-state in September. Lavrov did not comment directly on the issue in public. Obama said the United States would veto a Palestinian statehood bid at the United Nations. Lavrov also welcomed the Palestinian plans for elections in October. The Palestinian Authority recently postponed the local balloting, which had been scheduled for July, gaining more time to organize voting in the Hamas-controlled Gaza Strip. Fatah and Hamas have yet to reach a deal setting up a new government, and the choice of a prime minister could help increase Western support for the reconciliation deal. Marzouk said the factions would hold further talks on candidates early next week and would announce the name of a new prime minister in early June, state-run Russian news agency RIA reported.
Obama Thinks Jerusalem is Outside Israel?
May 24….(Arutz) The United States State Department is standing behind the wording of an official statement that implied that Jerusalem, including its western parts, is not a part of Israel. Against the backdrop of President Barack Obama's speech calling on Israel to return to the 1949 Armistice lines, the statement's implications appear more alarming. The May 18 statement was cited in a Weekly Standard column by Eliot Abrams, a former foreign policy advisor for presidents Ronald Reagan and George W. Bush. Abrams wrote: "In what country is the Knesset? It seems that this question has stumped the State Department. It does not know or will not say what country the Knesset is in, nor, one must assume, does it know what country the Prime Minister's Office, the Israel Museum, or especially the Western Wall are in. He quotes a "remarkable" press release from the State Department about the travels of Deputy Secretary James Steinberg, which says: Deputy Secretary of State James Steinberg visits Israel, Jerusalem and the West Bank May 18-19, 2011. In Israel, Deputy Secretary Steinberg met with Israeli academic and student leaders. In the West Bank, he met with Palestinian Authority President Mahmoud Abbas and other Palestinian officials. Among other issues, he discussed moving forward on Middle East peace as well as the recent fundamental changes in the region and the United States' response to them. On May 19, he will participate in the U.S.-Israel Strategic Dialogue. The Strategic Dialogue allows senior U.S. and Israeli leaders to discuss, on a regular basis and in depth, the many issues that affect our mutual security and partnership.
The wording of the statement seems to imply that Jerusalem is outside Israel. Since Steinberg's visit included a meeting with Deputy Foreign Minister Danny Ayalon in the Foreign Ministry, which is in western Jerusalem, the implication seems to be that western Jerusalem, too, is separate from Israel. "I suppose the poor benighted Israelis believed they were hosting Steinberg in their country when he visited government offices," Abrams wrote sarcastically. "But he knew better. What makes this especially egregious is that Israeli government offices, where Mr. Steinberg would have had his official meetings, are actually in west Jerusalem, the portion Israel controlled even before 1967. Yet the Clinton State Department is apparently unwilling to call even that portion of the city 'Israel.'"
Abrams believes the statement is not an innocuous mistake: "While Deputy Secretary Steinberg and Secretary Clinton's State Department may believe that the Western Wall of the ancient Temple is actually not in Israel, and are apparently unwilling to confirm that the Knesset and Prime Minister's Office are in Israel, it's an unsustainable position. It is a ludicrous, insulting, morally untenable position." In response to a query by Arutz Sheva, the State Department did not retract or try to claim the statement had been misunderstood. A US Embassy spokesperson would not directly address the article, but stated: "The formula as it was written does not show any change in the American policy toward Israel, and similar wording was used in the past."
When Doomsday Doesn't Come
(FOJ "Beware of false prophets, which come to you in sheep's clothing, but inwardly they are ravening wolves." —Matthew 7:15) (FOJ—People like Mr. Camping cause more harm to the prophetic word of God than any tactic Satan can invent. Bible prophecy was given to us by God for specific purposes, and playing guessing games about the timing of the rapture event is fool hearty, and brings about more harm and discredit to the field of eschatology than anything I can think of.)
May 23….(Yahoo) If you're reading this, Harold Camping's predictions that the end of the world would start Saturday (May 21) failed to pan out. That's good news for most of us, but Camping and his followers were looking forward to the end. After all, they believed that they were likely to be among the 200 million souls sent to live in paradise forever. So how do believers cope when their doomsday predictions fail? It depends, said Lorenzo DiTommaso, a professor of religion at Concordia University in Montreal who studies the history of doomsday predictions. "If you have a strong leader, the group survives," DiTommaso told LiveScience. "Sometimes the group falls apart. Most often, the answer given by the group is that the prophecy is true, but the interpretation was wrong." In 1994, Camping predicted a September doomsday, but hedged his bets with a question mark. On his website, Camping wrote that he had misunderstood a key biblical passage, but since that time, biblical evidence for a 2011 end had "greatly solidified."
Doomsdays without doom
The classic study of "doomsdays gone bad" took place in 1954. A Chicago woman named Dorothy Martin predicted a cataclysmic flood from which a few true believers would be saved by aliens. Martin and her cult, The Seekers, gathered the night before the expected flood to await the flying saucer. Unbeknown to them, however, their group had been infiltrated by psychologist Leon Festinger, who hoped to find out what happens when the rug of people's beliefs is pulled out from under them. Festinger's study, which became the basis of the book "When Prophecy Fails" (Harper-Torchbooks 1956), revealed that as the appointed time passed with no alien visitors, the group sat stunned. But a few hours before dawn, Martin suddenly received a new prophecy, stating that The Seekers had been so devout that God had called off the apocalypse. At that, the group rejoiced, and started calling newspapers to boast of what they'd done. Eventually, the group fell apart. Martin later changed her name to "Sister Thedra" and continued her prophecies.
Other failed doomsday prophets have struggled to keep their followers in line. One self-proclaimed prophet, Mariana Andrada (later known as Mariana La Loca), preached to a gang of followers in the 1880s in the San Joaquin Valley of California, predicting doomsday by 1886. But Andrada was not consistent with her predictions, and believers began to defect. Trying to keep one family from leaving, Andrada told them one of them would die on the journey. Sure enough, the family's young son soon fell violently ill and passed away. The family accused Andrada of poisoning him. She was arrested and found not guilty, but never returned to preach to her followers.
Searching for explanations
How Camping's followers will cope with a failed doomsday prediction depends on the structure of the group, said Steve Hassan, a counseling psychologist and cult expert who runs the online Freedom of Mind Resource Center. "The more people have connections outside of the group, the more likely it is that they're going to stop looking to Camping as the mouth of God on Earth," Hassan told LiveScience. "Information control is one of the most important features of mind control." In his experience, Hassan said, about a third of believers become disillusioned after a failed prediction, while another third find reason to believe more strongly. The remaining group members fall somewhere in between, he said. Doomsday groups in history have run a gamut of responses after failed predictions, said Stephen Kent, a sociologist at the University of Alberta who studies new and alternative religions. On occasion, a leader will admit he or she was wrong; other groups will come up with a face-saving explanation. Some groups may blame themselves, rationalizing that their lack of faith caused the failure, Kent told LiveScience. Other groups blame outside forces and redouble their efforts. "One of the options is for the group to say, 'Society wasn't ready, Jesus felt there weren't enough people worthy of rapturing. Hence, we've got to go out and convert more people,'" Kent said.
After the apocalypse
Often, a failed prediction leads to splinter groups and re-entrenchment. After Baptist preacher William Miller predicted the end of the world on Oct. 22, 1844, a date thereafter known as "The Great Disappointment" when nothing happened, his followers struggled to explain their mistake. One subset decided that on that date, Jesus had shifted his location in heaven in preparation to return to Earth. This group later became the Seventh-Day Adventist church. Sociologists and doomsday experts agree that Camping is likely convinced of doomsday rather than perpetuating a hoax or running a scam. A con artist, Hassan said, would never set himself up for failure by giving a firm date. A belief in doomsday gives followers a clear sense of the world and their place in it, Kent said. Those comforting beliefs are difficult to maintain after the world fails to end. "This could be a fairly sad day for these people," Kent said. "There will be some greatly disheartened people who may be terribly confused about what didn't happen."
Israelis Slam Obama's Dangerous Peace Policies
May 23….(Israel Today) Israeli officials on Sunday had harsh criticism for US President Barack Obama a day after he sided with Arab "peace" demands and strongly suggested that Israel is the obstacle to peace in the region. In a televised foreign policy speech last Thursday, Obama stated that "the borders of Israel and Palestine should be based on the 1967 lines," and insisted that "the Palestinian people must have the right to govern themselves and reach their full potential." A day later, Obama met with Israeli Prime Minister Benjamin Netanyahu at the White House. During their joint press conference following the meeting, Netanyahu flat-out rejected Obama's premise that peace must be based on the 1967 borders. "While Israel is prepared to make generous compromises for peace, it cannot go back to the 1967 lines because these lines are indefensible [and] because they don't take into account certain changes that have taken place on the ground," explained Netanyahu. Netanyahu went on to note that "before 1967, Israel was all of nine miles wide. And these were not the boundaries of peace; they were the boundaries of repeated wars, because the attack on Israel was so attractive." The Israeli leader warned that basing a future peace deal on the 1967 borders, as the Arabs insist, will result in "a peace based on illusions that will eventually crash on the rocks of Middle Eastern reality."
Writing for the leftist Israeli newspaper Ha'aretz, top political analyst Ari Shavit said that Obama's speech was good for Israel in that it opposed Palestinian efforts to unilaterally secure independence, slammed Mahmoud Abbas' unity deal with Hamas, and recognized Israel as the Jewish state, and called on the Palestinians to do the same. But, Shavit said, Obama erred critically in his insistence on the 1967 borders. "Instead of presenting the 1967 borders as the end of the process, Obama made them its start. Instead of tying them to the end of demands and the end of the conflict, they were tied to greater demands and continued conflict," wrote Shavit. He continued: "Without intending any harm, Obama presented Israel with a suicidal proposition: an interim agreement based on the 1967 borders. It's a proposal that runs along the same lines as the Hamas offer of a hudna - a long-term cease-fire." Shavit warned that by setting the 1967 borders as the starting point for final status negotiations, Obama had allowed the Palestinians to make the "right" of millions of so-called "Palestinian refugees" to flood Israel the focal point of continued negotiations.
Israelis from across the political spectrum reject the Palestinian effort to demographically destroy the Jewish state by bringing in those millions of foreign-born Arabs. If the Palestinian "right of return" becomes the primary topic of discussion, there is little to no hope of concluding a peace deal. Right-wing Israeli lawmaker Yaakov Katz (National Union) was less forgiving, cautioning in a letter to the American Israel Public Affairs Committee (AIPAC): "Don't fall for Obama's magical oratory. He put a gun to Israel's head and asked it to commit suicide." According to some reports, Netanyahu recognized the danger of Obama's words, and the two leaders had a tense discussion during their White House meeting. Netanyahu dismissed reports of increased tension between himself and Obama, insisting that their disagreements on certain details of the peace process are "differences of opinion...among friends." But many believe the writing is on the wall, and Obama will soon push Israel into a dangerous peace deal. His clear suggestion that Israel's repeated stalling, rather than Palestinian peace infractions, is the main reason for a lack of peace today is telling. "The international community is tired of an endless process that never produces an outcome," said Obama in his Thursday foreign policy speech. "The dream of a Jewish and democratic state cannot be fulfilled with permanent occupation."t;
In his remarks following the White House summit, Obama said the current political changes across the Arab world offers an opportunity for his vision of peace to be realized. "There is a moment of opportunity that can be seized as a consequence of the Arab Spring," said Obama. In an interview last month with Israel Today, Israeli political analyst Yoram Ettinger said the opposite is in fact true. The reality, said Ettiger, is that the "Arab Spring" demonstrates just how fragile the Arab world is, and how foolish it would be to trust Israel's security to a Palestinian regime that could be swept aside in a moment. Obama's reiteration that without a state the Palestinians cannot reach their true potential and must live in humiliation also ignored realities on the ground. In the upcoming issue of Israel Today, average Palestinians told us that they don't want an independent state ruled by Abbas and his thugs, and that they already live in peace and prosperity with the Jews around them.
Putin Decides to Retake Russian Presidency
May 23….(The Australian) Russian Prime Minister Vladimir Putin has decided to run for the presidency next year, raising the possibility of a power struggle with his protege Dmitry Medvedev, the incumbent Kremlin leader, say highly placed sources. The once-close relationship between Putin, the tough-talking former KGB officer who has inspired a personality cult, and Medvedev, a softly spoken Twitter enthusiast, has become increasingly fractious amid speculation in Moscow that the younger man wishes to stand again. Insiders familiar with both leaders said Putin, who served eight years as president before becoming Prime Minister three years ago, had begun to lose confidence in Medvedev's loyalty. Under the constitution, Mr Putin's move to reclaim the presidency could see him rule for two consecutive six-year terms until 2024, when he will be 72. If so, he would have served as prime minister or president for 24 years in all. The sources said recent criticism by Medvedev had made Putin suspicious. "Putin will run for president. He's made up his mind for good. Rumours that he's still weighing his options are false," said one source. "There's mounting tension between Medvedev and Putin. The view in Putin's camp is that Medvedev has started behaving with too much arrogance and wants to challenge him. Putin is starting to doubt his loyalty." The Russian constitution allows the president to serve no more than two consecutive terms. Putin stepped down in 2008 and handed the reins to Medvedev on the tacit understanding that he could come back next year if he wished.
At first Medvedev was regarded as a puppet. He even took to imitating Putin's distinctive macho stride and speaking style. But three years later, Medvedev, who at 45 is still Russia's youngest leader in more than seven decades, is understood to be reluctant to step aside for Putin. The President is said to be frustrated at the perception, both at home and abroad, that he is a lame duck. A second term would give him the power to pursue a more liberal agenda of greater political freedom and sweeping judicial reforms, in contrast to that of Putin, who is viewed as authoritarian. "Both Putin and Medvedev see themselves as the next Russian president," said another Kremlin source. "Given that the former brought the latter to power, that's a problem. "It's the classic tale of the pupil trying to overtake his master. Putin's camp thinks Medvedev is getting too cocky while the President and his people say it's time for the old man to retire." In a comment seen as a veiled attack on Putin, Mr Medvedev said last week: "A person who thinks he can stay in power indefinitely is a danger to society. "Russian history shows that monopolizing power leads to stagnation or civil war." In the past, Medvedev, a Led Zeppelin fan and iPad devotee who speaks fluent English, has been careful to avoid open criticism of Putin but they have clashed recently. "Make no mistake, Medvedev is an impressive leader who would be good news for Russia if he stays on," said a Kremlin source. "There's rivalry with Putin but they're both too smart to get drawn into a nasty personal conflict. "The difference is simple: Putin can ask Medvedev to step aside. No matter how reluctantly, he'll oblige. But Medvedev can't stop Putin from coming back. And Putin wants to be president again."t;
Hamas: US Can't Convince us to Recognize Israel
(Hamas rejects US President Obama's demand to recognize Jewish state, says US favors Israel at expense of Palestinian freedom)
May 23….(YNET) Hamas spokesman Sami Abu Zuhri responded to US President Barack Obama AIPAC speech Sunday, saying that "the American government has failed in the past, and will continue to fail in its attempt to convince Hamas to recognize the Israeli occupation. "They have a clear preference for Israel, at the expense of the freedom of the Palestinian people and its right for self-definition and the establishment of a sovereign Palestinian state," he said. In the speech made during the AIPAC conference Sunday, Obama slammed the Fatah-Hamas unity deal. "The recent agreement between Fatah and Hamas poses an enormous obstacle to peace," he said. "No country can be expected to negotiate with a terrorist organization sworn to its destruction. "We will continue to demand that Hamas accept the basic responsibilities of peace: recognizing Israel's right to exist, rejecting violence, and adhering to all existing agreements," he went on to say. "We once again call on Hamas to release Gilad Shalit, who has been kept from his family for five long years." Abu Zuhri countered by saying that "Obama's speech proves that it is a mistake to consider the American government as fair mediator, and that it is a mistake to continue betting on the role that the United States plays."
'Interference in Palestinian affairs'
Senior Hamas official Salah al-Bardwil expressed his disapproval as well. "Obama's speech is unacceptable, and it is a blatant interference in the Palestinian internal affairs," he said. "It is an attempt to continue to deepen the Palestinian rift in order to please Israel," he added. Bardwil said that the Palestinians must move forward in the reconciliation process, and called on world leaders, especially European ones, to support Palestinian unity, "remove the blockade and stop the settlements." Fatah officials kept a low profile following Sunday's speech; Nabil Abu Rodeina, a spokesman for Palestinian President Mahmoud Abbas, said that the Palestinian leadership will convene on Wednesday in Ramallah and the Arab Peace Initiative will convene on Saturday in Doha, Qatar to discuss the implications of Obama's statements.
Obama at AIPAC: Israel's Borders to Differ from 1967 Lines
May 23….(DEBKAfile Exclusive Analysis) US President Barack Obama corrected the harsh impression Israel gained from his May 19 Middle East speech in one of the most pro-Israeli addresses ever delivered by an American president. He explained to the 11,000 delegates at the American Israeli Public Affairs Committee, AIPAC conference Sunday, May 22 that the final Israeli-Palestinian borders would differ from the 1967 lines because of the "mutually agreed swaps" he had also advocated. Obama reverted to the guarantee President Bush gave Prime Minister Ariel Sharon in 2004 against a return to the indefensible 1967 boundaries, adding that demographic changes on the ground and the interests of both sides made it unrealistic and were bound to be changed in negotiations. The US president thus addressed the cardinal objection raised insistently by Prime Minister Binyamin Netanyahu when they met at the White House Friday, May 20, although Netanyahu was accused by critics at home of overstating the case. Netanyahu responded by saying he is determined to work with Obama on finding ways to renew peace talks and voiced deep appreciation for his efforts and speech. Obama was also influenced by the heated criticism he encountered in the American media, which not only ignored the principles he set forth in his wider Middle East vision, but accused him of pandering to the Palestinian Authority chairman Mahmoud Abbas to lure him back to the table after two years.
In a speech aimed at pleasing his solidly pro-Israeli audience, Obama offered another key concession by clarifying his early comment: Last Thursday, he said the future Palestinian state would share borders with Jordan, Egypt and Israel, but did not refer to the security provisions demanded by Israel, such as a military presence on the Jordan River border. Sunday, the US President explained that the IDF withdrawal from the territory which would be assigned to the Palestinian state in peace negotiations would be graded to match the guaranteed ability of the new state and its security forces to prevent terror, arms smuggling and infiltration. Otherwise, Israel would stay on the West Bank. Debkafile's military sources stress this correction is vitally important because it comes close to Israel's on security perception. Obama stood by his original definition of a non-militarized rather than a demilitarized Palestinian state in view of the armed force needed to fight terror. He stressed that both states must enjoy the right to self-defense.
He also repeated his earlier assertion that the status quo is unsustainable for three reasons:
1. The Palestinian population west of the Jordan River is increasing rapidly making it harder for Israel to remain a Jewish democratic state.
2. Technological advances will jeopardize Israel's presence on the West Bank. He was alluding to the pileup of long and short-range missiles in its enemies arsenals.
3. A new Arab generation is shaping the region. Therefore, Israel cannot rely on any peace treaty with one or more Arab rulers. "The world is moving too fast and is too impatient," said Obama.
At the same time, he offered Israel some important commitments: The US will maintain Israel's qualitative military edge and has an unbreakable commitment to Israel as the homeland of the Jewish people. He vowed to prevent Iran acquiring nuclear weapons and oppose any effort to "chip away at Israel's legitimacy." The US opposed the Palestinian plan to ask the UNto recognize a unilaterally declared state. Israel cannot be expected to negotiate with a party dedicated to its destruction, namely Hamas, he said. Hamas must release Gilead Shalit after holding him for five long years, he said. The US will stand up against any attempt to single out Israel at the UN or any international forum. The Israeli prime minister addresses the AIPAC conference Monday.
WEEK OF MAY 15 THROUGH MAY 21
China Gives Pakistan 50 Fighter Jets
(FOJ: In the wake of strained relations with the US over its raid on Bin Laden's compound, Pakistan has moved closer to China)
May 20….(New York Times) China has agreed to immediately provide 50 JF-17 fighter jets to Pakistan, a major outcome of a visit by Prime Minister Yousaf Raza Gilani to Beijing this week, Pakistani officials said Thursday. China and Pakistan have jointly produced the JF-17 aircraft, but the new planes would be equipped with more sophisticated avionics, the officials said. The latest jet fighters would be paid for by China, they said. The announcement came as Pakistan's already tense relations with the United States soured further after the killing of Osama bin Laden deep inside Pakistan on May 2. Last week, Pakistan's spy chief denounced the United States in a rare briefing before Parliament in which he condemned the American raid for breaching Pakistan's sovereignty. Parliament, in turn, called for the government to revisit relations with the United States. Mr. Gilani's visit to Beijing served as a pointed reminder of Pakistani suggestions that the government might seek to recalibrate relations with the United States, using China to offset what many here view as an over-dependence on Washington.
The United States has provided Pakistan with some $20 billion in aid, mostly military, for its cooperation in fighting terrorism since the attacks of Sept. 11, 2001. Much of that aid has come in the form of reimbursements for Pakistani counter-terrorism operations. Both the aid and the effectiveness of Pakistan's cooperation have been called into question by the discovery that Bin Laden had lived for years in a large compound adjacent to a top military academy in the city of Abbottabad, a two-hour drive from the capital, Islamabad. While the Obama administration would still like Pakistan's cooperation to wind down the war in Afghanistan and to root out terrorist groups, some American lawmakers are now calling for aid to Pakistan to be cut or suspended.
For their part, Pakistani officials were incensed that the Obama administration gave them no notice of the raid until helicopters bearing a Navy Seal team had already left the country. Mr. Gilani's four-day visit to China may help Pakistan as it tries to regain leverage with the United States. During his visit, Mr. Gilani met with Premier Wen Jiabao of China, who bolstered Pakistan by saying the United States should respect Pakistan's sovereignty. The news about the JF-17 aircraft is clearly a signal that Pakistan is shopping for alternatives to Washington, though the value of the deal may be more symbolic than decisive in terms of Pakistan's military capacity. Pakistani military officials have consistently complained that American aid, which they would nonetheless like to keep flowing, falls short on many essential military items that the Americans have been reluctant to offer.
The United States provides Pakistan with F-16 fighter jets to help the country match the air power of its archrival India, but Pakistani military officials have complained that their F-16 fleet is aging. The deal is another sign that Pakistan's relations with China are frequently far less encumbered than those with the United States, and that in many ways the interests of Pakistan and China coincide more easily. The United States may be Pakistan's largest benefactor, but China is Pakistan's largest trading partner, and for years the Chinese have heavily invested in building a deep-water port in the Pakistani city of Gwadar. China is often referred to as Pakistan's "all-weather friend," a contrast to the common depiction of its up-and-down relationship with the United States, which is deeply unpopular here. The United States has invested in a special relationship with India. Both China and Pakistan, on the other hand, view India as a rival. They share an interest in containing India's regional influence, particularly as the United States draws down its forces in Afghanistan, a process the Obama administration says it will start this summer.
At a landmark meeting on April 16 in the Afghan capital, Kabul, top Pakistani officials suggested to Afghan leaders that they, too, needed to look to China, an ascendant power, rather than align themselves closely with the United States, according to Afghan officials. "You couldn't tell exactly what they meant, whether China could possibly be an alternative to the United States, but they were saying it could help both countries," an Afghan official said afterward.
Barack Obama Reaches Out to Muslims
May 20….(BBC) In a speech at the state department, Mr Obama said the future of the US was bound to the Middle East by forces of economics, security, history and fate. "It will be the policy of the US to promote reform, and to support transitions to democracy," he said. The speech was Obama's first comprehensive response to revolts sweeping the Arab world, analysts say. "We face a historic opportunity," he said. "We have a chance to show that America values the dignity of a street vendor in Tunisia more than the raw power of the dictator." "As Americans have been seared by hostage taking, violent rhetoric, and terrorist attacks that have killed thousands of our citizens, a failure to change our approach in the Middle East threatens a deepening spiral of division between the United States and Muslim communities," Obama added. We must reach out to our Muslim brothers in the Middle East and help them enjoy the fruits of democracy, and the spirit of democracy must also be enjoyed by those in Palestine.
Key points in Mr Obama's speech:
* In the months ahead the US must use all its resources to encourage reform in North Africa and the Middle East
* Will cut $1bn of debt for a democratic Egypt and work to create Enterprise Funds to invest in Tunisia and Egypt
* Syrian President Bashar al-Assad must lead a political transition or "get out of the way"
* US will continue to insist the Iranian people deserve their universal rights, and a government that does not smother their aspirations
* Mass arrests and brute force in Bahrain are at odds with the universal rights of Bahrain's citizens.
* The borders of Israel and a Palestinian state should be based on pre-1967 borders with agreed swaps
Obama lays out US Plan for Arab Democracy, Resolving Israeli-Palestinian conflict
| | |
| --- | --- |
| | (FOJ) The President's Mideast Peace Plan places the United States at "ground zero" in a Biblical "curse" regarding the Promised Land. America will suffer greatly because of today's action! |
May 20….(Yahoo) In a widely anticipated speech at the State Department today, President Barack Obama laid out a sweeping vision for US policy in the Middle East and North Africa. Obama stressed a renewed US support for democracy, political reform and economic development in the region, and drew heavily on the "Arab spring" popular rebellions of the past six month, which have challenged and in some cases upended, seemingly stable authoritarian regimes in the Arab world. At the same time, Obama defied expectations he would only briefly discuss the stalemated Israeli-Palestinian peace process, laying out a more detailed US vision for how the Israelis and Palestinians should resolve their dispute over borders based on pre-1967 war lines with agreed swaps. "It will be the policy of the United States to support democracy and civil society in the region," Obama said in recognition of the Arab spring's legacy. And toward the end of the hour-long address, he cautioned that "the dream of a Jewish and democratic state cannot be fulfilled with permanent occupation." "What America and the international community can do is state frankly what everyone knows: a lasting peace will involve two states for two peoples," he said. "Israel as a Jewish state and the homeland for the Jewish people, and the state of Palestine as the homeland for the Palestinian people; each state enjoying self-determination, mutual recognition, and peace. "The United States believes that negotiations should result in two states, with permanent Palestinian borders with Israel, Jordan, and Egypt, and permanent Israeli borders with Palestine," Obama said, laying out the US position. "We believe the borders of Israel and Palestine should be based on the 1967 lines with mutually agreed swaps, so that secure and recognized borders are established for both states. The Palestinian people must have the right to govern themselves, and reach their potential, in a sovereign and contiguous state."
Mideast experts called it a "moment of truth" and expressed relief that Obama chose to outline a US vision for resolving the conflict at this time. "I think the president intuitively understood that if he did not offer a legitimate way forward toward resolving the Israeli Palestinian conflict, that this broader vision for how America would engage with the citizens of the Middle East and North Africa would seem hollow," said former Rep. Robert Wexler (D-Fl.), now president of the S. Daniel Abraham Center for Middle East Peace and a close Obama administration ally on the peace process. "By stating for the first time as an American president the American position that the Israeli-Palestinian conflict will be resolved based on '67 lines with agreed upon territorial swaps, Israeli prime Minister Benjamin Netanyahu and Palestinian president Abbas now have decisions to make," Wexler continued. "And the decisions that they must make are not to be juxtaposed with the other sides' position, but with America's position. And this is a moment of truth." "For the Israelis and Palestinian publics, President Obama has offered the way forward," Wexler continued. Obama's laying out the US vision that Israel and Palestine should negotiate borders on the '67 borders with agreed swaps is "a huge advance," said Stephen P. Cohen, a former Middle East consultant to the National Intelligence Council. In a statement responding to Obama's remarks, Israeli Prime Minister Benjamin Netanyahu thanked Obama for his "commitment to peace," but said Israel would not "withdraw to the 1967 lines which are both indefensible and which would leave major Israeli population centers in Judea and Samaria [the West Bank] beyond those lines."
The Israeli leader, who meets with Obama at the White House Friday, also asked Obama to reassert a promise Israel received in a 2004 letter from President George W. Bush that three major Jewish settlement blocs in the West Bank would become part of Israel under the establishment of a Palestinian state. Presumably, this is the kind of "agreed swap" Obama's speech suggested Israelis and Palestinians could negotiate. Beyond the Israeli-Palestinian issue, Obama's speech underlined a broader compass for America's ties to the people of the Arab world beyond narrowly defined US interests of fighting terrorism, securing energy supplies and ensuring stability. He chastised regimes cracking down violently against their populations, from Libya's Moammar Gadhafi, to Syria's Bashar al-Assad (who was targeted for US economic sanctions yesterday). Significantly, Obama also criticized US-allies Yemen and Bahrain, whose Sunni rulers have been engaged in a Saudi-backed brutal crackdown against its Shiite majority. "Our support for these peoples is not of secondary interest: it is a top priority that must be translated into concrete actions," Obama said. The White House proposed over two billion dollars in foreign investment incentives and debt relief for Egypt among other measures to try to lend economic support to fledgling democracies in the region. Obama's speech heralded "the first opportunity for a serious American Middle East policy that we have had since the end of World War II," Cohen said. "Now I must tell you, it is going to be not easy to implement. But he has spoken clearly about some of the steps can take now to implement which include not only verbal support of these groups but also to work hard on economic development of Egypt."
Netanyahu Slams Obama Call for 'Palestine' Based on '67 Lines
("Those borders are not defensible," PM rages as he flies off to Washington; Palestinian state must not come "at Israel's expense"; US President urges resumed talks, focused on territory, security)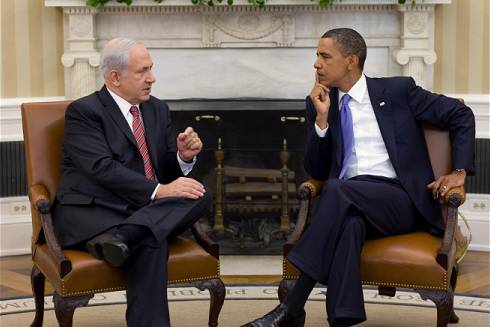 May 20….(Jerusalem Post) A day before their scheduled meeting in Washington, Prime Minister Binyamin Netanyahu and US President Barack Obama staked out dramatically conflicting positions Thursday as to the path for resolving the Israeli-Palestinian conflict. Netanyahu issued a quick, bitter response on Thursday night to Obama's landmark Middle East speech, saying that the establishment of a Palestinian state could not come "at Israel's expense." "The Palestinians, and not only the US, must recognize Israel as the nation state of the Jewish people," he said. Obama, in his address earlier in the day on the changes sweeping the Middle East, called for a demilitarized Palestinian state along the 1967 lines with agreed upon land swaps.
While thanking Obama for his commitment to peace, Netanyahu said he "expects to hear from President Obama a reconfirmation of commitments to Israel from 2004 that received wide support in both houses of Congress." This was a reference to a letter from president George W. Bush to prime minister Ariel Sharon that did not call for a return to the 1967 lines, and that recognized that any agreement would take into account the changed realities on the ground, a line interpreted by Israel to mean a recognition that it would hold on to the large settlement blocs. The Bush commitments, said Netanyahu, "deal with Israel not being asked to withdraw to the 1967 lines, which are not defensible, and which place large population centers in Judea and Samaria outside of these borders." Netanyahu's statement also said that the Bush letter made clear that Palestinian refugees would be absorbed in a future Palestinian state, something that was not explicitly mentioned in Obama's speech. "Without a solution to the refugee issue by settling them outside of Israel, no territorial concessions will end the conflict," the statement read.
In a wide-ranging address at the State Department, Obama devoted considerable attention to the Israeli-Palestinian issue, whose peaceful resolution he called "more urgent than ever," and pushed back against those who have said the current tumult precluded a serious peace process. "While the core issues of the conflict must be negotiated, the basis of those negotiations is clear: a viable Palestine, a secure Israel," the president declared. "We believe the borders of Israel and Palestine should be based on the 1967 lines with mutually agreed swaps, so that secure and recognized borders are established for both states." Though he stressed that the United States can't impose a solution, "what America and the international community can do is to state frankly what everyone knows, a lasting peace will involve two states for two peoples: Israel as a Jewish state and the homeland for the Jewish people, and the state of Palestine as the homeland for the Palestinian people."
Obama fleshed that out further by saying that Palestinians should have "a sovereign, nonmilitarized state" and that there must be provisions for stopping terrorism and weapons smuggling, and ensuring border security. He called for a "full and phased withdrawal" of the IDF to be coordinated with the Palestinians during a transition period with a clear duration and demonstrated security effectiveness. "These principles provide a foundation for negotiations," Obama said. "Palestinians should know the territorial outlines of their state; Israelis should know that their basic security concerns will be met." He pointedly skipped making any prescriptions on the "wrenching and emotional" issues of Jerusalem and Palestinian refugees but argued that "moving forward now on the basis of territory and security provides a foundation to resolve those two issues in a way that is just and fair." Obama's comments codify long-standing American policy in a more explicit and detailed format than his predecessors offered. George W. Bush was the first to call for a Palestinian state, and later referred to "mutually agreed changes" to the 1949 armistice lines as its basis, in the 2004 letter to Sharon. The greater significance of Obama's comments is likely to come in how they are perceived by both parties, as well as what they indicate about the United States' intentions on shepherding the peace process. Though the US has not been engaged in active diplomacy since the Palestinians left the talks last year, this could signal an effort to raise the profile of US involvement in the issue. It comes at a time when the Palestinians are threatening to go to the UN with a unilateral declaration of statehood, a move that concerns Israel and is sure to be a subject of discussion when Netanyahu arrives at the White House on Friday.
Obama strongly rebuked the Palestinians for this tactic on Thursday, saying, "Symbolic actions to isolate Israel at the United Nations in September won't create an independent state." He warned Palestinians that "efforts to delegitimize Israel will end in failure" and that they would "never realize their independence by denying the right of Israel to exist." He chastised both sides for taking steps that don't help the peace process. "Israeli settlement activity continues. Palestinians have walked away from talks," Obama said. "The world looks at a conflict that has ground on and on and on, and sees nothing but stalemate."
Israel has expressed doubt that any progress toward negotiations can be made for the time being with the recent announcement of a Palestinian unity government that will include Hamas. Obama acknowledged these concerns when he referred to the unity deal as raising "profound and legitimate questions for Israel" and emphasized that "in the weeks and months to come, Palestinian leaders will have to provide a credible answer to that question." Elsewhere, he said, "Palestinian leaders will not achieve peace or prosperity if Hamas insists on a path of terror and rejection." He stressed American support for Israel: "Our friendship is rooted deeply in a shared history and shared values. Our commitment to Israel's security is unshakeable. And we will stand against attempts to single it out for criticism in international forums." He continued, "But precisely because of our friendship, it's important that we tell the truth: The status quo is unsustainable, and Israel too must act boldly to advance a lasting peace." Obama added, "The dream of a Jewish and democratic state cannot be fulfilled with permanent occupation." Referring to Obama's statement about Israel as the nation state of the Jewish people, the Prime Minister's Office said the Palestinians and not only the US need to recognize that as a fact. Netanyahu also said that he will make clear in his meeting with Obama that Israel will need to remain on the Jordan River, and that he was disappointed by Fatah's reconciliation with Hamas.
While Obama noted the emotive nature of the Palestinian issue for the broader Arab world, he also criticized dictators for deflecting attention from their autocratic rule by focusing on Israel. "Antagonism toward Israel became the only acceptable outlet for political expression," he said. His speech was delivered in response to the Arab uprisings against these autocracies, and Obama pledged American support for those who sought democracy and freedom. "There must be no doubt that the United States of America welcomes change that advances self-determination and opportunity," he said. "Yes, there will be perils that accompany this moment of promise. But after decades of accepting the world as it is in the region, we have a chance to pursue the world as it should be." He stressed, "The status quo is not sustainable. Societies held together by fear and repression may offer the illusion of stability for a time, but they are built upon fault lines that will eventually tear asunder."
Obama criticized Syrian leader Bashar Assad for firing on his own citizens, who have taken to the streets to demand such self-determination. But he didn't refer to Assad as illegitimate, much less call on him to go, as he has with other Arab leaders in similar positions, as some had speculated he would before the speech. Instead, Obama said, "President Assad now has a choice: He can lead that transition, or get out of the way. The Syrian government must stop shooting demonstrators, and allow peaceful protests." He also called on Assad to "start a serious dialogue to advance a democratic transition," warning that "otherwise, President Assad and his regime will continue to be challenged from within and will continue to be isolated abroad." He spoke of significant American aid to help Egypt and Tunisia reach democracy, and spoke of the need for religious freedom and rights for women throughout the Arab world. Obama concluded with his comments on the peace process, and used the experience of bereaved Israelis and Palestinians who chose to seek reconciliation rather than violence as a message for the greater region. "That is the choice that must be made, not simply in the Israeli-Palestinian conflict, but across the entire region, a choice between hate and hope; between the shackles of the past and the promise of the future," he said. "It's a choice that must be made by leaders and by the people, and it's a choice that will define the future of a region that served as the cradle of civilization and a crucible of strife."
Russia Warns of 'New Cold War' as US Focuses on Mideast
May 20….(Hürriyet Daily News) As the United States prepares to unveil its new Middle East strategy Thursday, major rival Russia has warned of a new Cold War era if an agreement on missile defense cannot be reached. The comments by Russian President Dimitry Medvedev signal a new spat between the two major world powers amid ongoing unrest in the Middle East and North Africa. "We would then be talking about developing the offensive potential of our nuclear capabilities. This would be a very bad scenario," Medvedev said Wednesday in a rare press conference.
Russia is increasingly worried about US plans to build missile-defense facilities in ex-communist Eastern Europe. It is also offended that NATO appears to have shunned its proposals for a joint missile-defense shield. Washington has already made deals with a number of Eastern European countries, including Poland and Romania, to deploy missile-defense systems, at the expense of angering Moscow. "President Medvedev's warning is nothing new, having been made before within the context of the ongoing debate on missile defense," Semih İdiz, a foreign-policy columnist for daily Milliyet, told the Hürriyet Daily News on Wednesday. "Russia continues to be wary about this project, which also includes Turkey, but is hardly prepared to make this a major issue with the United States at a time of turbulence in the Middle East." Medvedev told reporters that the US decision to push ahead with construction of the missile-defense system despite Russia's objections would force Moscow "to take retaliatory measures, something we would very much rather not do." "This would be a very bad scenario. It would be a scenario that throws us back into the Cold War era," he said.
The Russian president is engaged in a balancing act between appearing strong against the West and cooperating with it to the extent that he can, especially given the growing interest Russia has in Europe, according to İdiz. NATO defense ministers will meet in Brussels in early June to discuss the alliance's plans to move ahead with the missile-defense project, in line with its Strategic Concept embraced at a summit last year. The missile-defense project has already launched debate not only in Europe, but also in the Middle East as its primary target is seen as being Iran. Turkish diplomats said Turkey was still pondering whether or not to participate to the project. The negotiations between Turkey and NATO include the project's financial costs and whether a radar system would be hosted on Turkish soil.
New Mideast strategy
Medvedev's statement was made all the more noteworthy because it came just ahead of US President Barack Obama's scheduled speech Thursday, in which he is expected to disclose Washington's new Middle East strategy. Medvedev is also posturing on the eve of President Obama's policy speech on the Middle East, which is expected to underscore that Syria's instability poses a risk for the whole region, making it incumbent on the regime to initiate reforms immediately, painful as they may be, for the sake of the unity of the country," İdiz said. He added that this Russian stance is very much in line with the Turkish view on Syria. "Obama sees an opportunity to sort of step back and assess what we've all witnessed," White House spokesman Jay Carney said Wednesday. "He'll talk specifically about ways we can best support that positive change while focusing on our core principles: nonviolence, support for human rights and support for political and economic reform."
On the eve of the Obama speech, US envoys held meetings with regional countries to seek alignment in their policies. Palestinian President Mahmoud Abbas met Wednesday with Deputy Secretary of State James Steinberg and Assistant Secretary of State for Near East Affairs Jeffrey Feltman on the recent unity deal between his Fatah party and rival Hamas. Israeli Prime Minister Benjamin Netanyahu will meet with Obama on Friday. In Ankara, US Ambassador to Turkey Francis J. Ricciardone met with Prime Minister Recep Tayyip Erdoğan on Tuesday to discuss the developments in the Middle East, with particular attention to Syria. "We have just wanted to evaluate the developments in the Middle East," Erdoğan told reporters Wednesday. He said that some delegations from the Middle East and North African countries would come to Turkey, without specifying which countries or when.
Obama Sides With Palestinians and Arabs Against Israel
| | |
| --- | --- |
| | (FOJ) President Barack Obama is endorsing the Palestinians' demand for their future state to be based on the borders that existed before the 1967 Middle East war, in a move that sides with the Arabs against Israel. |
May 20….(Arutz) Prime Minister Binyamin Netanyahu was quick on the draw Thursday in voicing clear displeasure with President Barack Obama's mideast policy speech. "Israel appreciates President Obama's commitment to peace," the response began, curtly. "Israel believes that for peace to endure between Israelis and Palestinians, the viability of a Palestinian state cannot come at the expense of the viability of the one and only Jewish state." "That is why Prime Minister Netanyahu expects to hear a reaffirmation from President Obama of US commitments made to Israel in 2004, which were overwhelmingly supported by both Houses of Congress." "Among other things," Netanyahu reminded Obama, "those commitments relate to Israel not having to withdraw to the 1967 lines which are both indefensible and which would leave major Israeli population centers in Judea and Samaria beyond those lines." "Those commitments also ensure Israel's well-being as a Jewish state by making clear that Palestinian refugees will settle in a future Palestinian state rather than in Israel." "Without a solution to the Palestinian refugee problem outside the borders of Israel, no territorial concession will bring peace." Equally, the Palestinians, and not just the United States, must recognize Israel as the nation state of the Jewish people, and any peace agreement with them must end all claims against Israel." "Prime Minister Netanyahu will make clear that the defense of Israel requires an Israeli military presence along the Jordan River." "Prime Minister Netanyahu will also express his disappointment over the Palestinian Authority's decision to embrace Hamas, a terror organization committed to Israel's destruction, as well as over Mahmoud Abbas's recently expressed views which grossly distort history and make clear that Abbas seeks a Palestinian state in order to continue the conflict with Israel rather than end it."
| | |
| --- | --- |
| | A veiled Palestinian woman walks near a television during a speech by US President Barack Obama, in the West Bank city of Nablus, Thursday. Obama's endorsement of a Palestinian state based on 1967 borders - those that existed before the Six Day War in which Israel occupied East Jerusalem, the West Bank and Gaza, was a significant shift in US policy and seemed certain to anger Israel. |
Hamas Slams Obama Speech As Evil
(Hamas doesn't need democracy lessons from American president, terror group says)
May 20….(YNET) President Barack Obama's Mideast policy speech Thursday was a "total failure," Hamas said Thursday evening. "The Arab nation does not need a lesson on democracy from Obama," said Hamas spokesman in the Gaza Strip, Sami Abu-Zuhri. "Rather, Obama is the one who needs the lesson given his absolute endorsement of Israel's crimes and his refusal to condemn Israel's occupation." "We will not recognize the Israeli occupation under any circumstances," the Hamas spokesman said, while adding: "We object to intervention in our internal affairs." Abu-Zuhri also urged the Palestinian Authority not to endorse the American president's speech. He stressed the need to coordinate Palestinian positions in the face of what he referred to as "American-Israeli arrogance." Other Hamas sources said the president's speech was "deceptive."
Immediately following Obama's speech, the Palestinian Authority's leadership met for an urgent session convened by PA President Mahmoud Abbas. The president's spokesman, Nabil Abu-Rudaina, took the opportunity to condemn Israel's decision Thursday to build 1,550 new homes in the Jerusalem area, beyond the Green Line. "It's a despicable act and the American Administration must make sure that Israel bears the responsibility for the ongoing deterioration of the peace process," he said. "We respect the American decision to revive the peace process."
Obama: Israel Is An Occupier
May 20….(Arutz) US President Barack Obama dramatically changed US foreign policy, sandbagging Israel and aligning himself with PA chairman Mahmoud Abbas' preconditions for talks, when he called Thursday for a "full and phased withdraw of Israeli forces" from "occupied Palestinian lands" to what he termed "1967 borders" - the 1949 armistice lines Israel's former Foreign Minister and UN ambassador Abba Eban, in 1967, referred to as the "Auschwitz borders." Obama left room for some "land swaps" at those borders. Obama's comments came during his much anticipated policy address at the State Department in which he outlined the United State's new foreign policy for the Middle East and North Africa in light of the "spring revolutions" that have rocked the region. Saying the world was tired of "nothing but stalemate" in the Arab-Israeli conflict, and complaining that "settlement activity continues" while the "Palestinians have walked away from talks," Obama said Israelis cannot obtain the dream of a democratic and Jewish state through "occupation."
Obama called for "two states for two peoples" with permanent borders based on the "1967 lines with agreed upon swaps." The borders referred to as "1967 lines" are in fact the lines agreed upon in the 1949 armistice, following which Jordan occupied Judea and Samaria for 19 years. The armistice lines, considered indefensible by defense experts, are often called "Auschwitz borders" in Israel. He also mentioned that the PA state should be contiguous. This word may refer to Judea and Samaria's Jewish communities that separate Palestinian areas from one another, or even more dangerously, refer to a connecting road between Gaza and Judea and Samaria, which would make Israel non-contiguous. "Our policy is two states for two peoples. Israel as a Jewish state for the Jewish people. Palestine as a Palestinian state for the Palestinian people. A viable Palestine; a secure Israel." Calling for final negotiations on permanent borders, although he left only land swaps to negotiate, and security before deciding the "future of Jerusalem" and "Palestinian refugees," Obama said he believed these "wrenching issues" would eventually be solved because, in his words, "I am convinced majority of Israelis and Palestinians would rather look to the future than be trapped in the past." Abbas has stated almost the same thing: that returning to the 1949 Armistice lines is non-negotiable, but included Jerusalem in those borders, and said that only the refugees are a negotiable issue. Obama, who tried to justify remarks endorsing PA territorial demands by invoking the long-standing friendship between Israel and the United States, said that "because of that friendship we must speak the truth," but at the same time endorsed PA leaders maximalist demands, ignoring most of Israeli Prime Minister Binyamin Netanyahu's conditions for a peace accord.
Obama's Speech Stuns Israelis. Netanyahu Rejects Obama Plan
May 20….(DEBKAfile Special Report) US President Barack Obama's declaration in his policy speech Thursday, May 19, that Israel should withdraw to the 1967 lines with mutually agreed territorial swaps caused consternation in Jerusalem. Before flying to Washington, Prime Minister Binyamin Netanyahu stated: The 1967 lines are indefensible. Israeli security demands an IDF presence on the Jordan River. Israel appreciates the US president's commitment to peace but a Palestinian state cannot rise at the expense of Israel's existence. In his statement, the Prime Minister pointed out that not only the US but the Palestinians must recognize Israel as the national home of the Jewish people and a peace accord must guarantee an end to all claims against the Jewish State of Israel.
In effect, Israel has rejected Obama's new Middle East policy as it relates to resolving its dispute with the Palestinians before he meets the US president at the White House Friday. As presented Thursday night, Obama call for mutual swaps of land amounted to calling on Israel hand over to the Palestinians large chunks of sovereign territory in return for leaving the settlement blocks in the West Bank. This demand was not agreed in the exchanges between the White House and the Prime Minster's Office ahead of the speech. It also contradicts the guarantee the Bush presidency gave Prime Minister Ariel Sharon in 2004 not to force Israel to return to the indefensible borders of 1967.
Obama is also the first US president to demand that Israeli Defense Forces withdraw from the Palestinian state without the security measures Israel required after numerous Arab and Palestinian attacks and still threatened. The US President's plan would also entail the IDF's evacuation of its the vital defense lines in the Jordan Valley against invasion from the east, which would pass to the Palestinian state. The US president stated repeatedly that the Palestinian state was entitled to "a sovereign, contiguous state" bordering on Egypt, Jordan and Israel. This would give the Palestinian state sole control of its borders without regard to Israeli's security requirements. Israel was advised to be satisfied with America's "unshakeable commitment" to its security.
Obama introduced a new concept for potential Israel-Palestinian peace negotiations, from which he admitted "the Palestinians have walked away." The Palestinians state would be "non-militarized," he said, not demilitarized as Israel has demanded but possessed of an army of a size to be negotiated by the parties. Washington sources informed reporters later that Obama's speech was delayed by more than an hour over a behind-the-scenes argument the White House had with Jerusalem and Ramallah in pursuit of approval from both for the fundamentals contained in his speech. Debkafile's Washington sources report that although both Netanyahu and Mahmoud Abbas voiced strong reservations on some points, those sources concluded that they need not stop them entering into negations on the basis of the Obama principles. According to other sources, nothing of the kind was agreed and major differences lie ahead of Netanyahu's White House talks in Washington and his speeches to Congress and the conference of AIPAC the Israel lobby
Uprisings In Mideast, Obama Looks to Reshape the Peace Debate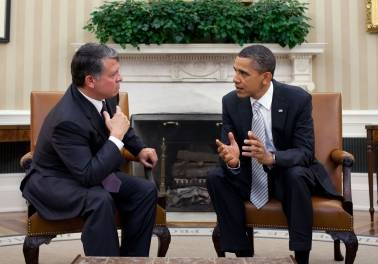 May 19….(New York Times) Six months after the Arab world erupted in a political firestorm, President Obama has been searching for ways to link the region's historic transformation to the long-stymied peace negotiations between Israel and the Palestinians. It is far from clear how he can do that. President Obama will have a chance to reshape the debate on Thursday, when he delivers a major speech on the region at the State Department. The president plans to argue that the political upheaval raises the prospect for progress on all fronts, and will offer "some specific new ideas about US policy toward the region," the White House press secretary, Jay Carney, said Tuesday. Officials said Obama was weighing whether to formally endorse Israel's pre-1967 borders as the starting point for negotiations over a Palestinian state, a move that would be less a policy shift than a signal by the United States that it expected Israel to make concessions in pursuit of an agreement. But several officials said the president did not plan to present an American blueprint for breaking the stalemate between the Israelis and Palestinians. In the absence of that, experts said, there is little he can do to draw the two sides closer, especially since the Arab upheaval has deepened the rift between them. President Obama has been grappling for a more coherent response to the violent crackdowns in Bahrain, Syria and Yemen and may use the opportunity to increase the pressure on Syria's president, Bashar al-Assad. Secretary of State Hillary Rodham Clinton said stiffer sanctions against the Assad government could be imposed in the coming days.
Beyond the sanctions, Obama may personally criticize Assad in his speech, abandoning his somewhat restrained response to the Syrian government's repression of protesters. Some administration officials said the American reticence stemmed in part from a hope, clearly unfulfilled, that the tumult could serve as a wedge to peel the Syrian government away from its alliance with Iran. For Arab allies of the United States, Mr. Obama is offering encouragement to pursue reforms. On Tuesday, he welcomed King Abdullah II of Jordan to the White House and announced more than $400 million in American investments in Jordan, as well as aid in the form of 50,000 tons of wheat, which he said would help Jordanians and allow the government to speed up its overhaul of the economy. Mr. Obama's speech comes during a hectic week of Middle East diplomacy. In addition to King Abdullah, the president plans to meet with Prime Minister Benjamin Netanyahu of Israel on Friday. On Sunday, he is to address a major pro-Israel lobbying group, the American Israeli Public Affairs Committee. And later next week, Mr. Netanyahu plans to deliver his own speech, before a joint session of Congress.
But the whirl of activity comes against one of the most forbidding backdrops for the peace process in many years. Israeli security forces clashed with thousands of Palestinian protesters who marched into border areas on Sunday. And the Palestinian Fatah party recently signed a unity agreement with the Islamic militant group Hamas, which Mr. Netanyahu condemned as antithetical to a peace deal. "I've never been more concerned about where this is headed than I am now," said Robert Danin, a senior fellow at the Council on Foreign Relations who used to run the Jerusalem office of the group known as the Middle East quartet. "There seems to be increased momentum towards what could be a real explosion." Mr. Obama had considered laying out American parameters for a peace deal, several officials said, a move that Mrs. Clinton favored, but one that would have put him at odds with his national security adviser, Thomas E. Donilon, and his top Middle East adviser, Dennis Ross. But the unity accord between Hamas and Fatah, the party of President Mahmoud Abbas of the Palestinian Authority, effectively killed the plans to try to push through an American proposal, one administration official said. "It's hard to imagine how we do that when Hamas hasn't agreed" to recognize Israel's right to exist and to forswear violence against Israel, the official said. On Tuesday, Mr. Obama reaffirmed his commitment to help broker a deal between the Israelis and Palestinians. "Despite the many changes, or perhaps because of the many changes that are taking place in the region, it's more vital than ever that both Israelis and Palestinians find a way to get back to the table and begin negotiating a process whereby they can create two states that are living side by side in peace and security," the president said after his Oval Office meeting with King Abdullah. Palestinian officials said they were forging ahead with their own plans to pursue United Nations recognition of a Palestinian state when the General Assembly meets in September in New York, a gambit that alarms American officials, who loathe being put in the position of having to vote against Palestinian statehood just as popular democratic movements are taking hold throughout the Middle East.
In an Op-Ed article in The New York Times on Tuesday that analysts interpreted as the diplomatic equivalent of a declaration of war on the status quo, Abbas said flatly that he would request international recognition of the state of Palestine, based on the borders of Israel before the 1967 Arab-Israeli war. Such a move would most likely get a lopsided majority of votes in the General Assembly, diplomats said, with Latin American, African, Asian and Middle Eastern countries all expected to vote in favor of it. That, by itself, would be embarrassing to Israel. So Israeli officials are trying to make sure that big European countries, including France, Italy, Britain and Germany, join the United States in either voting against it or abstaining, thus denying the Palestinians' plan recognition by the major world powers. For the Palestinians, a formal American endorsement of the 1967 borders as a baseline for negotiations might make them somewhat less suspicious about returning to the table. Israel has historically rejected any preconditions for talks, and analysts said Netanyahu's reaction would be critical. In a speech on Monday to the Israeli Parliament, Netanyahu ruled out any dealings with Hamas but suggested that Israel would be open to surrendering most of the West Bank in a peace agreement with the Palestinians. The speech by Netanyahu "was more forthcoming than I've seen him in the past," said David Makovsky, a senior fellow at the Washington Institute for Near East Policy. "It actually gave me some hope for the peace process."
Russia Will Not Support UN Resolutions Against Syria
May 19….(Novosti) Russian President Dmitry Medvedev said on Wednesday that Russia will not support a UN resolution on Syria. Britain, France and Germany have been pushing for the UN Security Council to condemn Syria's crackdown on pro-democracy protests. Syrian President Bashar al-Assad has been using tanks and troops to crush the dissent. "I will not back this resolution even if my friends are going to beg me to," Medvedev told a news conference at the Skolkovo School of Management near Moscow. "It is sad that these resolutions can be manipulated," he said. Russia also abstained from supporting resolution 1973 which authorized air strikes to protect Libyan civilians against forces loyal to Col. Muammar Gaddafi.
US to Sanction Syria's Assad for Human Rights Abuses
(Sources say dramatic escalation of US pressure on Damascus to cease its brutal crackdown on protesters will be announced.)
May 19….(Jerusalem Post) The United States will impose sanctions on Syrian President Bashar Assad for human rights abuses on Wednesday, sources briefed on the matter said, in a dramatic escalation of US pressure on Damascus to cease its brutal crackdown on protesters. The sources declined to provide further details on the US decision other than to say it would be announced on Wednesday and that the US sanctions would flow from alleged human rights abuses by Assad. Targeting Assad personally with sanctions, which the United States and the European Union have so far avoided, would be a significant new break with Damascus and raise questions about whether the West ultimately seeks his removal from power. Syrian rights activists say at least 700 civilians have been killed in two months of clashes between government forces and protesters seeking an end to his 11-year rule. European governments agreed on Tuesday to tighten sanctions against the Syrian leadership, but said they would decide next week about whether to include Assad on the list. US President Barack Obama last month signed an executive order imposing a first round of US sanctions against Syria's intelligence agency and two relatives of Assad's for alleged human rights abuses. The EU, for its part, put 13 Syrian officials on its sanctions list in what it described as a move to gradually increase pressure.
Obama Planning to Get Tough With Assad
May 19….(DEBKA) Debkafile's Washington sources report exclusively that President Barack Obama has finally resolved to stamp down hard on Syrian President Bashar Assad in person as the man responsible for the inhuman Syrian crackdown on protest against his regime and the massacre of hundreds of dissenters. Before his much-awaited speech on US relations with Middle East Muslim nations Thursday, May 19, Obama is preparing to impose sanctions on the Syrian president. The White House is working on the final text of the announcement but has already decided to recall the newly-appointed US Ambassador to Damascus Robert Ford for consultations. An American ambassador was last recalled from Damascus in 2005. It took five years for Obama to appoint Robert Ford to the post in late 2010. The administration has also decided to authorize the International Atomic Energy Agency in Vienna to report to the UN Security Council that Syria was building a plutonium reactor for military purposes at Deir A-Zour, which it was bombed by Israeli in September 2007. Damascus has refused to cooperate with the nuclear watchdog in making the site available for inspection. The IAEA is therefore urged to seek the same Security Council for Syria as those imposed on Iran for its nuclear activities.
Barack Obama was finally convinced that Assad must be stopped without delay by the horrifying discovery of hastily-dug dug mass graves near the protest center of Daraa in southern Syria. The civilian death toll from Assad's savage three-month crackdown on dissent is now well past 1,000. It is taken into account, Debkafile's military sources report that tough American measures targeting Assad will bring forth heightened Syrian-Israeli border tensions, potentially in the form of a limited Syrian military strike into Israel or Lebanon or both. Indeed his cousin Rami Makhlouf threatened that instability in Syria would cause instability in Israel. The expectation of trouble to come was strengthened by the information reaching Washington that Syrian military intelligence and Ahmed Jibril's PFL-General Command had organized the forcible crossing of the Israeli border on the Palestinian Nakba (Catastrophe) Day, Sunday, May 15, of thousands of Palestinians streaming out of the camps in which they are held near Damascus. The operation was also synchronized with the Lebanese Hizballah. According to this information, Syria and the PFL-GC are planning another mass incursion in the same format for June 5, the 44th anniversary of the 1967 War, when Syria lost part of the Golan after attacking Israel. In advance of the event, the Israeli Defense Forces and Lebanese army have reinforced the units guarding their borders and are on a high state of preparedness.
The IDF's engineering corps has embarked on a crash operation for building a proper defense system with physical obstacles along the 220-kilometer Israeli-Syrian border in place of the fragile fence that crowds of Palestinians trampled on May 15. Washington's impatience with Syria was evident in the harsh tone of the White House rebuke of Syria as "inciting protests on the Golan Heights" and therefore responsible for the clash and loss of life which resulted: "The Jewish state has the right to prevent unauthorized crossing at its borders," said White House spokesman Jay Carney Monday. The White House's allusion to Israel's borders in the Golan context was deliberate, our Washington sources report.It signposted Barack Obama's intention to emphasize the importance the US attaches to Israeli border security as a matter of policy when he meets Prime Minister Binyamin Netanyahu at the White House Friday, May 20 and again when he addresses the conference of the US-Israeli lobby AIPAC Sunday, May 22. According to our sources, too, the US President has no intention of outlining a Middle East peace plan for dictating to Israel in his address to the Muslim world Thursday, May 19. This suggestion which is the subject of heated debate in Israel did not originate with US administration sources but political opposition elements at home which have an interest in pushing the Netanyahu government to the wall.
Are the Jews the Chosen People?
May 18….(Dennis Prager/JewishWorldReview.com) I assume that the type of person who reads columns such as this one has wondered at one time or another why, for thousands of years, there has been so much attention paid to Jews and why, today, to Israel, the one Jewish state. But how do most people explain this preoccupation? There is no fully rational explanation for the amount of attention paid to the Jews and the Jewish state. And there is no fully rational explanation for the amount of hatred directed at Jews and the Jewish state. A lifetime of study of this issue, including writing (with Rabbi Joseph Telushkin) a book on anti-Semitism ("Why the Jews? The Reason for Antisemitism") has convinced me that, along with all the rational explanations, there is one explanation that transcends reason alone. It is that the Jews are G0d's chosen people. Now, believe me, dear reader, I am well aware of the hazards of making such a claim. It sounds chauvinistic. It sounds racist. And it sounds irrational, if not bizarre. But it is none of these. As regards chauvinism, there is not a hint of inherent superiority in the claim of Jewish chosen-ness. In fact, the Jewish Bible, the book that states the Jews are chosen, constantly berates the Jews for their flawed moral behavior. No bible of any other religion is so critical of the religious group affiliated with that bible as the Hebrew Scriptures are of the Jews. As for racism, Jewish chosen-ness cannot be racist by definition. Here is why: a) The Jews are not a race; there are Jews of every race. And b) any person of any race, ethnicity or nationality can become a member of the Jewish people and thereby be as chosen as Abraham, Moses, Jeremiah or the chief rabbi of Israel. And with regard to chosen-ness being an irrational or even bizarre claim, it must be so only to atheists. They don't believe in a Chooser, so they cannot believe in a Chosen. But for most believing Jews and Christians (most particularly the Founders who saw America as a Second Israel, a second Chosen People), Jewish Chosen-ness has been a given. And even the atheist must look at the evidence and conclude that the Jews play a role in history that defies reason.
Can reason alone explain how a hodgepodge of ex-slaves was able to change history, to introduce the moral G0d-Creator we know as G0d; to write the world's most influential book, the Bible; to devise ethical monotheism; to be the only civilization to deny the cyclical worldview and give humanity belief in a linear (i.e., purposeful) history; to provide morality-driven prophets and so much more, without G0d playing the decisive role in this people's history? Without the Jews, there would be no Christianity (a fact acknowledged by the great majority of Christians) and no Islam (a fact acknowledged by almost no Muslims). Read Thomas Cahill's "The Gifts of the Jews" or Paul Johnson's "A History of the Jews" to get an idea about how much this people changed history. What further renders the claim for Jewish chosen-ness worthy of rational consideration is that virtually every other nation has perceived itself as chosen or otherwise divinely special. For example, China means "Middle Kingdom" in Chinese, meaning that China is at the center of the world; and Japan considers itself the land where the sun originates ("Land of the Rising Sun"). The difference between Jewish chosen-ness and other nations' similar claims is that no one cares about any other group considering itself Chosen, while vast numbers of non-Jews have either believed the Jews' claim or have hated the Jews for it. Perhaps the greatest evidence for the Jews' chosen-ness has been provided in modern times, during which time evil has consistently targeted the Jews:
— Nazi Germany was more concerned with exterminating the Jews than with winning World War II.
— Throughout its 70-year history, the Soviet Union persecuted its Jews and tried to extinguish Judaism. Hatred of Jews was one thing communists and Nazis shared.
— The United Nations has spent more time discussing and condemning the Jewish state than any other country in the world. Yet, this state is smaller than every Central American country, including El Salvador, Panama and even Belize. Imagine if the amount of attention paid to Israel were paid to Belize, who would not think there was something extraordinary about that country?
— Much of the contemporary Muslim world, and nearly all the Arab world is obsessed with annihilating the one Jewish state.
In the words of Catholic scholar Father Edward Flannery, the Jews carry the burden of G0d in history. Most Jews, being secular, do not believe this. And many Jews dislike talk of chosen-ness because they fear it will increase anti-Semitism; they may be right. But it doesn't alter the fact that the obsession with one of the smallest countries and smallest peoples on earth, and the unique hatred of the Jews and the Jewish state by the world's most vicious ideologies, can be best explained only in transcendent terms. Namely that G0d, for whatever reason, chose the Jews.
Not all Palestinians Want a State
May 18….(Israel Today) Come September, the international community in all its great wisdom will seek to solve the Israeli-Arab conflict by birthing a Palestinian state on the ancient Jewish lands of Judea and Samaria. Half of the biblical city of Jerusalem will be the capital of that state. The world insists that for the Palestinian Arabs to experience dignity and live meaningful lives, and for Israelis to have security, a Palestinian state is a must. Jews and Arabs cannot have peace any other way, according to world leaders. But for years, those Jews living in Judea and Samaria, and the handful of Arabs brave enough to speak openly, have argued that peace begins and ends with them, and that they already live together in relative harmony. In order to catch a glimpse of what the mainstream media so often ignores as it stokes the fires of the Israeli-Arab conflict Israel Today visited one of these communities where Jews and Arabs have already forged peace on their own terms, and all without the need for diplomatic intervention and international treaties.
Pakistani PM Hails China as his Country's 'Best Friend'
(Yousuf Raza Gilani has been effusive in his praise of China)
May 18….(BBC) Pakistani Prime Minister Yousuf Raza Gilani has arrived in China on a four-day visit to commemorate 60 years of diplomatic ties between the countries. Earlier, he described China as Pakistan's "best friend". Although the visit was planned long ago, correspondents say it is especially timely for Islamabad because of strains with the US over the killing of Osama Bin Laden. China is one of Pakistan's staunchest allies and trading partners. "We appreciate that in all difficult circumstances, China stood with Pakistan. Therefore we call China a true friend and a time-tested and all-weather friend," Mr Gilani told China's official Xinhua news agency. "We are proud to have China as our best and most trusted friend, and China will always find Pakistan standing beside it at all times," he said in an interview released on Tuesday. The BBC's Jill McGivering says this latest display of warmth seems designed to reflect Pakistan's appreciation for China's uncompromising support in recent days. Any divisions between Pakistan and the United States could be an opportunity for China, Pakistan is desperate for foreign investment, especially in infrastructure, one of China's specialties, our correspondent adds.
Diplomatic balance
Gilani's first stop is Shanghai. On Wednesday he is due to speak at a cultural forum in the eastern city of Suzhou. He will then travel to Beijing, where he will meet Chinese leaders, including President Hu Jintao and Premier Wen Jiabao. The two sides are expected to sign a series of agreements and discuss how they can fight extremism. Trade between the two countries is increasing significantly. It reached $8.6bn (£5.3bn) last year, an increase of nearly 30% compared with 2009.
China is now believed to be Pakistan's biggest supplier of military equipment, providing surface-to-air missiles, warships and fighter jets. Last week Pakistan opened a new nuclear reactor in Punjab, built with Chinese help. At least two more are planned. Chinese officials and state media have hinted that they will use Mr Gilani's visit to portray Beijing as a steadfast and reliable partner in contrast to Washington, described in one editorial as a fickle and demanding interloper. "US opinion has not only failed to criticize its own unilateralism in this action against Bin Laden, violating Pakistani territorial sovereignty, it has vilified Pakistan as a scapegoat for its own rough going in its war against terror," an editorial said on Monday in the overseas edition of the People's Daily, China's main official newspaper.
Netanyahu: Abbas 'Blatantly Distorting' Documented History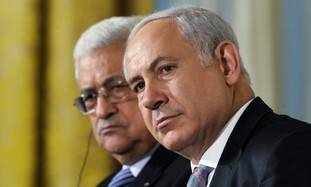 May 18….(Jerusalem Post) Prime Minister Binyamin Netanyahu crossed swords with Palestinian Authority President Mahmoud Abbas on Tuesday, saying an op-ed Abbas penned in Tuesday's New York Times was a "blatant distortion" of history. Netanyahu leaves for Washington on Thursday, and is expected to argue against recognition of a Palestinian state at the UN in September. Abbas argued in print for that recognition, saying such an acknowledgement would mend a historic wrong. "It is important to note that the last time the question of Palestinian statehood took center stage at the General Assembly, the question posed to the international community was whether our homeland should be partitioned into two states," Abbas wrote in the Times. "In November 1947, the General Assembly made its recommendation and answered in the affirmative. "Shortly thereafter, Zionist forces expelled Palestinian Arabs to ensure a decisive Jewish majority in the future state of Israel, and Arab armies intervened. War and further expulsions ensued," he wrote.
Aghast at what sources in the Prime Minister's Office termed Abbas's Stalinist-style rewriting of history, Netanyahu issued a statement calling it a "blatant distortion of known and documented history." "The Palestinians are the ones who rejected the partition into two states, even as the Jewish Yishuv agreed to it," Netanyahu said. Arab armies, with the assistance of Palestinian forces, "are the ones who attacked the Jewish state with the intention of destroying it. There is no mention of that in the article," the statement said. Netanyahu also took strong issue with another part of the op-ed, where Abbas writes that Palestine's admission to the UN "would pave the way for the internationalization of the conflict as a legal matter, not only a political one. It would also pave the way for us to pursue claims against Israel at the United Nations, human rights treaty bodies and the International Court of Justice." In response, Netanyahu said, "One can draw the conclusion that the Palestinian leadership sees the establishment of a Palestinian state as a means toward continuing the conflict with Israel, rather than end it."
Government sources said that calling for a Palestinian state to be a platform for continuing the struggle against Israel was "diametrically opposed to how we in Israel and in the international community see it. "We see the issue of Palestinian statehood as ending the conflict, Abbas is saying they want a state to continue the struggle against Israel." The sources said it was extremely problematic for the Palestinian leader to divorce the issues of peace and statehood, and to say that the purpose of a state is not peace, but rather to get a better platform to continue the struggle against Israel. Based on the PA president's column, the sources said, "One can only conclude that Abbas has abandoned even the pretense of embracing the path of peace and instead chosen a strategy to establish a Palestinian state and use this improved position to wage a diplomatic and legal war against Israel." According to the sources, "Abbas's strategy for the past two years has been to avoid a negotiated settlement with Israel. "That's why he avoided Netanyahu's continued call for negotiations. That's why he placed a settlement freeze as a precondition for negotiations, something he never did before in the 18 years of Israeli-Palestinian negotiations. That's why he walked away from peace talks last September." And, the sources added, "That's why he had no qualms about forging a pact with Hamas, which refuses to recognize the existence of Israel and refuses to abandon terrorism."
US, EU Planning New Steps in Response to Syria Crackdown
May 18….(Ha Aretz) The United States and the European Union will 05take new steps to respond to Syria's crackdown in coming days if the government does not change course, US Secretary of State Hillary Clinton and European Union foreign policy chief Catherine Ashton said on Tuesday. Ashton told reporters ahead of a meeting with Clinton that she had spoken recently to Syria's foreign minister to convey the message that it was time to stop the violence. "This is extremely urgent," Ashton said. "If the government really does want to see some kind of change, it's got to be now." We are now in a situation where we need to consider all of the options. So I think there will be a number of moves in the coming hours and days that you will see," she added. Clinton said she agreed and that both the EU and the United States, which have already slapped targeted sanctions on a number of senior Syrian officials but not on President Bashar Assad himself, were planning new moves. "We will be taking additional steps in the days ahead," Clinton said. Syria has been widely criticized for its crackdown on the two-month wave of protests against the government. Syrian rights activists say at least 700 civilians have been killed by security forces. Villagers near Syria's southern city of Daraa said they had found two separate mass graves, containing up to 26 bodies. The government denied the existence of any mass graves, saying the reports were part of a "campaign of incitement" against authorities.
Netanyahu: Conflict is about 1948, not 1967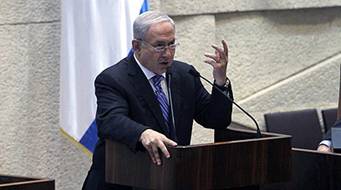 (Prime minister addresses Knesset plenum following 'Nakba Day' riots, claims Palestinians to blame for failure of peace process over their refusal to recognize State of Israel. Opposition chairwoman warns of establishment of 'Hamastan')
May 17….(YNET) Prime Minister Benjamin Netanyahu on Monday addressed the Knesset plenum as part of the Knesset's "Herzl Day" events. "We must stop beating ourselves up and blaming ourselves," Netanyahu said, "The reason there is no peace is that the Palestinians refuse to recognize the State of Israel as the Jewish people's nation state." The prime minister added, "This is not a conflict about 1967, this is a conflict about 1948, about the State of Israel's very existence. You must have noticed that yesterday's events did not take place on June 5, the day the Six Day War erupted, they took place on May 15, the day the State of Israel was established." Netanyahu also addressed the reconciliation agreement between Fatah and Hamas. "A Palestinian government half of which is comprised of those who declare their willingness to destroy the State of Israel on a daily basis is not a partner for peace. "Anyone who says 'one makes peace with one's enemies' must add 'one make's peace with an enemy who has decided to make peace.'" He stressed that Israel is ready to make painful concessions for "parts of the homeland" if the Palestinians recognize Israel and denounce terror.
Netanyahu claimed there was wide consensus over his fundamental positions, including his demand that the Palestinian refugee issue be resolved outside Israel's borders and that a Palestinian state be established as part of a peace agreement. "I believe there is also consensus around the fact that a Palestinian state must be disarmed including Israeli military presence along the Jordan River. We also agree that our people must retain the settlement blocks. Finally I insist that Jerusalem remain the State of Israel's capital." Netanyahu concluded his speech by addressing the opposition. "In this historic moment, while our very existence is being challenged, we must unite for the state's benefit, and I call members of the opposition, rise above partisan interests, join us and together we shall present a united front."
Pakistan Cozying Up To Russia
May 17….(Arutz) The three-day state visit to Moscow by Pakistani President Asif Ali Zardari (May 11-13) was the first visit by a Pakistani president to Russia since 1974. During the Cold War, Moscow was a firm supporter of India, a country viewed as a key to influence in the Third World and later on as a counterweight to Moscow's rival within the international communist movement, China. Pakistan received support from the United States as a member of the CENTO alliance and as part of the northern tier against the then-Soviet Union. Pakistan was also friendly with China and helped broker negotiations that led to the rapprochement between Washington and Beijing in the Nixon era .
When the Soviet Union invaded Afghanistan in 1979,Pakistan served as a forward base for American assistance to the Afghan guerrillas who were fighting the Russians, and whose descendants are now fighting the Americans. It is therefore understandable that visits by Pakistani presidents to Moscow were few and far between. Both sides have an interest in warming up the relationship. The Pakistanis, who have received billions of dollars in assistance from the United States, are sensing a cold wind from Washington in the aftermath of Osama bin Laden's killing. Congress wants answers to the question of who facilitated the arch terrorist's lengthy and visible stay in a Pakistani garrison town. Senator John Kerry, Chairman of the Senate Foreign Relations Committee, visited Pakistan this week calling for sober and serious discussions to resolve the rift and suspicions.
Pakistani leaders were thoroughly embarrassed by the US raid because the United States did not inform Pakistan beforehand. A further complication to the relationship is a trial of a Chicago businessman accused of providing financial support to the Pakistani group that carried out the 2008 attack in Mumbai. According to reports, the government witness is going to claim that the guerrillas were supported by the main Pakistani spy agency Inter-Service Intelligence or ISI. If the Americans were to cut the purse strings, it would be necessary to have another major power in addition to China to provide aid. The Pakistani president signed agreements in Moscow to modernize Pakistani steel production facilities and receive Russian assistance in developing Pakistan's gas industry. A Pakistani newspaper Dawn editorialized on the visit; "A `former` superpower it may be, Russia remains Eurasia`s most important country. With its vast territorial expanse, huge energy resources and a level of technology that enabled it to put the first man in space, Russia deserves greater attention from Pakistan at a time when the need for Islamabad to broaden its economic and political ties has never been greater as we head towards a post-Cold War, multipolar world."
Russia has its reasons as well for embracing friendlier relations with Pakistan. For one, it may serve as a useful reminder to India. Russia was once India's principal supplier of weaponry. Lately, New Delhi has preferred European and American weapons. Cozying up to Islamabad can make the Indians take notice. Russia has to make provisions for the day that the Americans exit Afghanistan, leaving Pakistan to have a major say on what transpires in Afghanistan. Afghanistan poses the threat of terrorism and narcotics. The visit by the Pakistani president touched on both topics. As opposed to the Cold War situation where Pakistan's close relations to China proved a hindrance, currently they provide a force of attraction, as Moscow and Beijing share an opposition to US and NATO interventionism. The two powers are building what they hope will be an alternative to NATO, called the Shanghai Cooperation Organization, in which Pakistan, supported by China is pressing for full membership an upgrade from the current observer status. India has also applied for full membership to the organization. So has Iran.
Palestinian Violence Erupts on Three Borders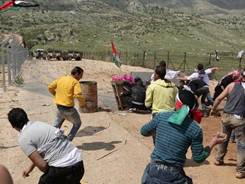 May 16….(Reuters) Violence erupted on Israel's borders with Syria, Lebanon and Gaza on Sunday, leaving at least eight dead and dozens wounded, as Palestinians marked what they term "the catastrophe" of Israel's founding in 1948. Israeli troops shot at protesters in three separate locations to prevent crowds from crossing Israeli frontier lines in the deadliest such confrontation in years. Israeli and Syrian media reports said Israeli gunfire killed four people after dozens of Palestinian refugees infiltrated the Israeli-occupied Golan Heights from Syria, along a disputed border that has been quiet for decades. Witnesses on the nearby Lebanese frontier said four Palestinians were killed after Israeli forces fired at rock-throwing protesters to prevent them from crossing the border. The Lebanese army had also earlier fired in the air in an attempt to hold back the crowds. On Israel's tense southern border with the Gaza Strip, Israeli gunfire wounded 60 Palestinians as demonstrators approached Israel's fence with the Hamas Islamist-run enclave, medical workers said. In Tel Aviv, Israel's commercial hub, a truck driven by an Arab Israeli slammed into vehicles and pedestrians, killing one man and injuring 17 people. Police were trying to determine whether the incident was an accident or an attack. Witnesses said the driver, who was arrested, ran amok with his truck in downtown traffic.
Israeli security forces had been on alert for violence on Sunday, the day Palestinians mark the "Nakba," or catastrophe, of Israel's founding in a 1948 war, when hundreds of thousands of their brethren fled or were forced to leave their homes. In the Druze village of Majdal Shams, on the Golan Heights captured by Israel from Syria in 1967, Mayor Dolan Abu Salah said between 40 and 50 Nakba demonstrators from Syria tore through the frontier fence. Hundreds of protesters flooded the lush green valley that marks the border area, waving Palestinian flags. Israeli troops attempted to mend the breached fence, firing at what the army described as infiltrators. "We are seeing here an Iranian provocation, on both the Syrian and the Lebanese frontiers, to try to exploit the Nakba day commemorations," said the army's chief spokesman, Lieutenant-Colonel Yoav Mordechai. Syria is home to 470,000 Palestinian refugees and its leadership, now facing fierce internal unrest, had in previous years prevented protesters from reaching the frontier fence. "This appears to be a cynical and transparent act by the Syrian leadership to deliberately create a crisis on the border so as to distract attention from the very real problems that regime is facing at home," said a senior Israeli government official who declined to be named. In a Nakba protest in the occupied West Bank, Palestinian youths threw rocks at Israeli soldiers, who fired tear gas and rubber bullets in a clash at the Israeli military checkpoint outside the city of Ramallah, a constant flashpoint. A Palestinian teenager was shot dead during protests in Jerusalem on Friday. Police said it was unclear who had shot him and they were investigating. That shooting took place in the tense neighborhood of Silwan in East Jerusalem, where violence regularly breaks out between Palestinian stone throwers and Israeli police and Jewish settlers. Palestinians want East Jerusalem as the capital of the state they intend to establish in the West Bank and Gaza Strip.
Syrians Invade Golan Heights
May 16….(Israel Today) Hundreds of Syrians broke through the border fence and entered the Golan Heights on Sunday to mark "Al Nakba Day," the Day of Catastrophe when Israel was reborn as a nation-state. The infiltrators clashed with Israeli soldiers, who were authorized to open fire. Four Syrians were reportedly killed in the clashes, and dozens more were wounded. At least five Israeli soldiers were also wounded. A large number of Syrians are reported to have escaped deeper into the Golan Heights, and are being pursued by the Israeli army. Arab demonstrators also massed on the Israel-Lebanon border, threatening to break through that barrier, as well. Israeli soldiers fired over the protesters' heads, prompting them to halt their advance, and Lebanese soldiers and members of the United Nations Interim Force in Lebanon (UNIFIL) then stepped in to control the demonstrators.
In Gaza, demonstrators broke through Hamas checkpoints and approached the Gaza security fence forcing Israeli tanks to open fire to keep them back. Palestinian sources claimed dozens were wounded in the clash. Violence also erupted in Jerusalem, where Arabs stoned police and Jewish motorists, and hurled firebombs at Hadassah Mount Scopus Hospital. On Saturday, an Arab teen from the Jerusalem neighborhood of Silwan was shot dead during a clash with Israeli security officers. It remains unclear who actually shot the youth, but officials feared his death would spark much more severe violence. For months, pro-Palestinian activists around the world have been encouraging Arabs in neighboring states and territories to march on Israel en masse to mark the 63th Nakba Day. The largest promotional avenue was Facebook. However, by mid-afternoon, it appeared the popular assault on the Jewish state would be less intense than feared. Nevertheless, more than 10,000 soldiers and police officers remained on high alert for any flare-ups.
Arab Protesters Assault Israeli Borders, Using Media Barrage
May 16….(Yahoo) Mobilized by calls on Facebook, thousands of Arab protesters marched on Israel's borders with Syria, Lebanon and Gaza on Sunday in an unprecedented wave of demonstrations, sparking clashes that left at least 15 people dead in an annual Palestinian mourning ritual marking the anniversary of Israel's birth. In a surprising turn of events, hundreds of Palestinians and supporters poured across the Syrian frontier and staged riots, drawing Israeli accusations that Damascus, and its ally Iran, orchestrated the unrest to shift attention from an uprising back home. It was a rare incursion from the usually tightly controlled Syrian side and could upset the delicate balance between the two longtime foes. Prime Minister Benjamin Netanyahu, who heads to Washington at the end of the week, said he ordered the military to act with "maximum restraint" but vowed a tough response to further provocations. "Nobody should be mistaken. We are determined to defend our borders and sovereignty," he declared in a brief address broadcast live on Israeli TV stations. The violence showed Israel the extent of Arab anger over the Palestinian issue, beyond the residents of the West Bank and Gaza, and came at a critical time for US Mideast policy.
President Barack Obama's envoy to the region, George Mitchell, resigned Friday after more than two years of fruitless efforts. The US president may now have to retool the administration's approach to peacemaking. Obama is expected to deliver a Mideast policy speech in the coming week. Deadly clashes also took place along Israel's nearby northern border with Lebanon, as well as in the Gaza Strip on Israel's southern flank. The Israeli military said 13 soldiers were wounded, none seriously. Sunday's unrest, which came after activists used Facebook and other websites to mobilize Palestinians and their supporters in neighboring countries to march on the border with Israel, marked the first time the protests that have swept the Arab world in recent months have been directed at Israel. The events carried a message for Israel: Even as it wrestles with the Palestinian demand for a state in the West Bank, Gaza and east Jerusalem, areas Israel captured in the 1967 Mideast war, there is a related problem of neighboring countries that host millions of Palestinians with aspirations to return. The fate of Palestinian refugees is one of the thorniest issues that any Israeli-Palestinian peace deal will have to address.
Palestinians mark Israel's birthday by marking the "nakba," or "catastrophe," the term they use to describe their defeat and displacement in the war that followed Israel's founding on May 15, 1948. Hundreds of thousands of Palestinians were uprooted. Today, the surviving refugees and their descendants number several million people.
The Syrian incursion was especially surprising. Israel captured the Golan from Syria in the 1967 war, and Syria demands the area back as part of any peace deal. Israel has annexed the territory. Despite hostility between the two countries, Syria has carefully kept the border quiet since the 1973 Mideast war. Around midday, thousands of people approached the frontier, hoisting Palestinian flags, shouting slogans and throwing rocks and bottles at Israeli forces. When hundreds of people burst across the border fence into the Israeli-controlled town of Majdal Shams, surprised soldiers opened fire. Syrian forces did not intervene, and Syrian officials reported four people were killed, and dozens wounded. The Israeli army said more than 100 people were sent back to Syria by the time the unrest died down several hours later. Officials also said there were strong signs that Syria and its Iranian-backed Lebanese ally, Hezbollah, orchestrated the unrest. "The Syrian regime is intentionally attempting to divert international attention away from the brutal crackdown of their own citizens to incite against Israel," said Lt. Col. Avital Leibovich, an Israeli military spokeswoman. Hezbollah's al-Manar TV was in place to film much of the day's clashes, and defense officials said the activists were bused in from Palestinian refugee camps throughout Syria. Many of them held European passports and told interrogators they had been flown in from abroad for the march. "It's our land," one of the infiltrators, Sufian Abdel Hamid, told Israel's Channel 2 TV. "We won't stop trying to come back." An explosion of unrest along the border could play into the hands of Syrian President Bashar Assad, who has faced two months of popular protests against political repression and rights abuses in his country. The uprising, in which human rights groups say more than 800 people have been killed, is the most serious challenge to the Assad family's 40-year dynasty. Assad has cast himself as the only person who can bring stability to Syria, a country with a volatile mixture of religions and sects, and with a hostile neighbor in Israel.
About 25 miles (40 kilometers) to the west, Israeli troops clashed with a large crowd of Lebanese demonstrators who approached that border. The military said it opened fire when protesters tried to damage the border fence. Security officials in Lebanon reported 10 dead. It was the deadliest incident along the volatile border since Israel fought Lebanese Hezbollah guerrillas during a month-long war five years ago. Sunday's shooting erupted at the tense border village of Maroun el-Rass, which saw some of the fiercest fighting in 2006. Thousands of Palestinian refugees traveled to the village in buses adorned with posters that said: "We are returning." Many came from the 12 crowded refugee camps in Lebanon where some 400,000 Palestinian refugees live. Hundreds of Lebanese soldiers, UN peacekeepers and riot police deployed heavily in the area, taking up positions along the electrified border fence and patrolling the area in military vehicles. Young Hezbollah supporters wearing yellow hats and carrying walkie-talkies organized the entry to the village and handed out Palestinian flags.
In Cairo, a security official said more than 1,000 protesters tried to push their way past a tight security cordon toward the Israeli Embassy, located on the top floor of a building. Egyptian soldiers guarding the embassy fired tear gas to disperse the crowd. One protester burned an Israeli flag. There was also violence in a predictable location, Gaza. Palestinian medics said 125 people were wounded when demonstrators in the Gaza Strip tried to approach a heavily fortified border crossing into Israel. One man was killed by an Israeli sniper. The military said he was trying to plant a bomb. In Jordan, meanwhile, police blocked a group of protesters trying to reach the border with Israel. In addition, hundreds of West Bank Palestinian threw stones at Israeli police and burned tires at a checkpoint outside Jerusalem before they were dispersed.
Syria Breaches Israel's Golan Border
May 16….(DEBKAfile Special) Israel's enemies breached three of its borders in an operation that caught its government, army and intelligence napping. Their reaction to the massive violation of its Syrian, Lebanese and Gaza borders showed all three to be muddled and incapable of an organized, rational tactical response to a multiple security crisis. This weakness ("maximum restraint"), which was no doubted noted in Tehran, Damascus, Beirut and Ramallah, may be expected to lead to the next Syrian step to recover the Golan, not this time by thousands of civilians, but by military and terrorist forces. Debkafile's military sources report that the Prime Minister Binyamin Netanyahu, Defense Minister Ehud Barak, the chief of staff and his deputy, instead of dropping their routine occupations and taking charge of the crisis, preferred to make light of it. Local commanders, left to handle extreme situations developing at high speed during the day, were reluctant to assume responsibility for the weighty decisions called for.
This weakness, which was no doubted noted in Tehran, Damascus, Beirut and Ramallah, may be expected to lead to the next Syrian step to recover the Golan, not this time by thousands of civilians, but by tough military and terrorist forces. Eleven months ago, Israeli intelligence missed the coming of the Turkish Mavi Marmara at the head of a flotilla for breaking the Gaza blockade. Israeli commandos who boarded the ship were therefore unprepared for the violence which met them. The Israeli government and IDF did not learn from this incident. However, Syria, Hizballah, Hamas and Turkey (which is preparing a second flotilla for next month) did and have adjusted their tactics to Israel's conspicuous shortcomings. The popular uprisings sweeping through Arab countries confirmed these anti-Israel forces in their conviction that massed civilians when wielded as a surprise weapon can achieve more than armies or individual terrorists. Crowds of civilians activated on several synchronized fronts are extremely difficult to withstand. The coalition organizing the exceptionally violent events of the Palestinian Nakba Day Sunday, marking the founding of Israeli in 1948, first tested the water in the morning: An Israeli Arab drove his truck at high speed through a Tel Aviv thoroughfare, slamming into more than a dozen vehicles and running over pedestrians. He had killed one civilian and injured 17 over a 2-kilometer stretch of road before he was overpowered and apprehended. When Israel's police chiefs declined to designate the attack an act of terror and insisted it could have been a traffic accident, Damascus, Hizballah and Hamas felt they were safe in letting their master plan go forward: There was no risk of a tough Israeli response. And indeed, Prime Minister Binyamin Netanyahu later admitted that local commanders and police chiefs were directed to deal with all fronts "with maximum restraint while defending Israel's borders and sovereignty."
Debkafile's military sources found this contradiction in terms perplexing hours after the IDF failed to defend Israel's borders and sovereignty against invaders. Because of this directive, Israelis were shocked to discover at 13:30 that hundreds of Syrians, Palestinians and a Hizballah group had crossed the border and hoisted Syrian and Palestinian flags in the main square of the Israel Golan village of Majd al Shams. They had already been there for four hours and no one was stopping them crossing the border back and forth during that time. Throughout the day, only a small squad of soldiers had been left to guard this border because nothing untoward had been expected there. It was only at 17:00 hours that tanks and reinforcements arrived. The invaders had every reason to march around the village declaring they had recaptured the territory Syria had lost 44 years ago while attacking Israel. By then, military spokesmen had got their act together. It was fortunate that we undermanned the Syrian border, they said, otherwise the incident would have ended with hundreds of dead. The claim that Iran was behind the massive incursion convinced no one.
The Syrian interlopers were finally driven back across the border, not by Israeli troops, but by local Druze chiefs. Israel still does not know how many left and if any remained. It is to be regretted that the IDF did not meet its fundamental duty to defend Israel's Golan border by bringing up large reinforcements to surround Majdal Shams, seal the Syrian border and shoot trespassers. The Syrians should not have been released but held until Damascus forced the Hamas to free the Israeli soldier Gilead Shalit. Former Shin Bet director Israel Hasson, who is today an opposition Kadima lawmaker, commented later Sunday that Israel must make it crystal clear to Damascus, Hizballah and Hamas that they will not be allowed to toss their internal problems into the Israeli court or violate Israeli sovereignty. His words fell on deaf ears, judging from the prime minister's statement. Debkafile's strategic sources fear that Israel will pay a heavy price for its flaccid response and misplaced "maximum restraint." Syrian President Bashar Assad can be counted on not to miss the chance of sending over to the Golan the Syrian and Palestinian terrorist teams he has held in reserve for more than a year for the right opportunity. That opportunity is clearly now at hand. The Majd al-Shams invasion followed by violence by masked Paletinians in Jerusalem and a terrorist attack in Tel Aviv. It was synchronized with mass incursions from Lebanon and the Gaza Strip. This round is not over. It will not be stopped by military restraint.
Hamas: The Zionism Must End
(Hamas PM in Gaza tells thousands of worshipers that Palestinians have 'right to resist' Israeli occupation, reiterates that the Islamic movement will not recognize Israel)
May 16….(Ha Aretz) Hamas' leader in the Gaza Strip on Sunday affirmed the Islamist movement's hard-line principles in a speech to thousands of Muslim worshippers Sunday, as they commemorated the uprooting of Palestinians during the 1948 Independence Day War. "Palestinians mark the occasion this year with great hope of bringing to an end the Zionist project in Palestine," Ismail Haniyeh, the prime minister of the Hamas government in Gaza, told about 10,000 people at a Gaza City mosque. Haniyeh's apparent call for Israel's destruction comes just weeks after Hamas reconciled with Western-backed Palestinian President Mahmoud Abbas after a four-year split. Abbas has been trying to market the Islamic militants to the international community as an acceptable political partner. Marches commemorating the 1948 events, known in Arabic as nakba (catastrophe), were also planned in the Abbas-ruled West Bank and in Arab towns in Israel. Hundreds of thousands of Palestinians fled or were driven out during the fighting more than six decades ago. The dispute over the fate of the refugees and their descendants, now several million people, remains at the core of the Middle East conflict. Israeli security forces were on high alert Sunday, and the Israeli military sealed the West Bank for a day, barring Palestinians from entering Israel. Haniyeh launched the Nakba Day events with a dawn sermon at Gaza City's al-Omari Mosque. "Palestinians have the right to resist Israeli occupation and will one day return to property they lost in 1948," Haniyeh told worshipers. "To achieve our goals in the liberation of our occupied land, we should have one leadership," he added, praising the recent unity deal.
As part of the reconciliation agreement, Hamas and Abbas' Fatah movement are to share power in a transitional government until elections are held next year. The US and Europe consider Hamas a terrorist group and have said they will only deal with it if it renounces violence, recognizes Israel and honors previous peace commitments made by the Palestinians. Haniyeh reiterated Sunday that his movement would not recognize Israel at the outset. However, Hamas leaders are often vague or issue contradictory statements about the group's political aims. In recent weeks, some in the group have spoken of reconciliation with the West and a halt to armed hostilities with Israel, and even hinted at some sort of political accommodation. While Israel is not convinced, there are hopes in some Palestinian circles that the Iran-backed group could become a more accepted part of the Middle East diplomatic equation.
WEEK OF MAY 08 THROUGH MAY 14
Russia Blocks UN Report on Iran Arms Sales to Syria
(Western envoys say weapon deliveries to Syria were to be passed on to Lebanese, Palestinian terrorists.)
May 14….(Jerusalem Post) Russia is attempting to suppress a United Nations report that says Iran has been breaking a UN arms embargo by shipping weapons to Syria, Western diplomats said on Thursday. "Russia has objected to the publication of the report as an official Security Council document," a council diplomat told Reuters on condition of anonymity. Several other diplomats confirmed it. It's obviously an attempt to protect (Syrian President) Bashar Assad," who is coming under increasing international pressure over his violent crackdown on anti-government protesters, another council diplomat said.
The confidential report, obtained by Reuters, said most of Iran's breaches of the embargo have been deliveries of weapons to Syria, which Western diplomats say were to be passed on to Lebanese and Palestinian militants. The report by the UN Security Council's so-called Panel of Experts, a newly formed committee that reports on compliance with four rounds of UN sanctions imposed on Iran for refusing to halt its nuclear enrichment program, also says Tehran flouts the sanctions as it continues to develop its atomic program. Diplomats said Russia offered a procedural justification for objecting to the publication of the report, it should first be discussed by the Security Council's Iran sanctions committee before being released to the public. "Eventually they'll have to give in but we don't know how long it will take," a diplomat said. Russia is able to block the Iran report because decisions about such reports are made by consensus among the 15 members of the Security Council.
Russia's decision to block the report comes as diplomats said Britain and France were attempting to revive plans to have the Security Council condemn Syria for its crackdown against demonstrators. A previous attempt failed after Russia, China and India objected to the proposed condemnation. A spokesman for Russia's UN mission did not immediately respond to a request for comment. China has prevented the publication of similar U. expert panel reports on North Korea and Sudan, two countries that Beijing routinely tries to shield from Security Council criticism, for as long as half a year. Russia has long acted as a kind of protector for Iran on the council, working hard to dilute the four sanctions resolutions on Iran between 2006 and 2010 before voting in favor of them. It also has close commercial ties to the Islamic Republic. A senior Russian diplomat was quoted by Russian news agencies as saying on Thursday that Iran's Russian-built Bushehr nuclear power plant will be fully operational within weeks.
Fearing Assad Demise, Hezbollah May Move Assets From Syria
May 13….(Jerusalem Post) Israel concerned about fate of advanced missiles and extensive chemical weapons held by Assad's military, and the question of whose hands they would fall into in the event that his regime is toppled. Concern is growing among Western intelligence agencies that Hezbollah might try to transfer advanced weaponry it reportedly maintains on Syrian soil if it feels that President Bashar Assad's reign is on the verge of ending. Last year, Prime Minister Binyamin Netanyahu revealed in a meeting with Italian Prime Minister Silvio Berlusconi that Hezbollah was storing Scud missiles in military bases in Syria. The London Times revealed at the time a compound near the town of Adra, northeast of Damascus, where it said Hezbollah fighters had their own living quarters and which housed arms and a fleet of trucks used to ferry weapons into Lebanon. Hezbollah is believed to have stored other advanced arms in Syria, including long-range rockets, as part of its logistical deployment along Israel's northern border. Israel's main concern in Syria has to do with the fate of the advanced missiles and extensive chemical weapons held by Assad's military and the question of whose hands they would fall into in the event that his regime is toppled. Since Israel's bombing of the nuclear reactor Assad was covertly building in 2007, Syria has put a stronger emphasis on chemical weapons and nonconventional warheads. At the moment, the Syrian military is believed to still be in full control of its assets and troops, although some lowlevel soldiers have defected to the opposition. A senior IDF officer said on Thursday that Hezbollah and Iran were extremely concerned by the protests in Syria. "They worry about what will happen to their axis, that included Iran, Syria and Hezbollah, if Assad falls," the senior officer said. According to the officer, both Iran and Hezbollah have sent advisers to Syria to assist the military in quelling the growing protests. In recent years, a significant portion of Hezbollah's weaponry has been manufactured in Syria or smuggled into Lebanon via Syria. One known route was over land, originating in Iran, moving through Turkey, into Syria, and then into Lebanon. Another was by sea from Iran to Syria and then by land to Lebanon. There have also been instances of planes that have taken off from Iran and landed in Lebanon with weaponry. The land route involving Turkey has for the most part been exposed and is no longer believed to be in use, due to a Turkish decision to distance itself from its relations with Syria amid Assad's violent crackdown on his people.
Syrian Army Shells Own Towns
May 12….(In The Days) Syrian tanks shelled residential districts in two towns on Wednesday and at least 19 people were killed across the country, rights campaigners said, as President Bashar al-Assad's forces fought to crush a seven-week uprising. ("Damascus is waxed feeble, and turneth herself to flee, and fear hath seized on her: anguish and sorrows have taken her, as a woman in travail." Jeremiah 49:24)
Assad, fighting the most serious challenge to his 11-year-rule, has sent troops and tanks into several cities in the last two weeks to try to bring to an end protests inspired by Arab revolts which toppled leaders in Egypt and Tunisia. Protesters, who first called for reforms and greater freedoms, have hardened their demands with many chanting for the overthrow of the president who inherited the authoritarian powers of his father Hafez al-Assad, who died in 2000. Wednesday was one of the bloodiest days apart from the main Friday protest days, when thousands use the platform of weekly Muslim prayers to demonstrate. Most of the violence occurred in the southern Deraa province, where unrest erupted on March 18. Ammar Qurabi, head of the National Organization for Human Rights in Syria, said 13 people were killed in the town of Harra, about 60 km (40 miles) northwest of Deraa city. Most were killed when tanks shelled four houses. Two people, a child and a nurse, died in gunfire, he said. Tanks also shelled a residential district in Homs, Syria's third largest city, and at least five people were killed, a rights campaigner in the city said. A sixth person was killed by a sniper shot to the head as he stood in front of his house. "The security forces are terrorizing urban centers," said Najati Tayara, the activist in Homs. There was no immediate comment from Syrian authorities, who have banned most international media from Syria, making it difficult to verify accounts of events. In Syria's second city Aleppo near the border with Turkey, security forces used batons to disperse a pro-democracy demonstration by 2,000 students on Wednesday at a university campus, a witness at the scene said. Another resident of Aleppo said secret police had closed the main road leading from the center of the city to the campus in the western Furqan district. The violence has been denounced in the West, where countries have imposed limited sanctions on Syrian leaders but stopped short of calling for Assad to step down, as they have in the case of Libya's Muammar Gaddafi.
Syria withdrew its candidacy on Wednesday for a spot on the top UN human rights body. Its ambassador to the United Nations, Bashar Ja-afari, said Damascus was "reconsidering our priorities" and would try again in 2013. US Ambassador Susan Rice said Syria's bid was blocked by Asian states with the "good sense" to withdraw support from a country "in the process of killing its own people on the streets, arresting thousands and terrorizing a population that is seeking to express itself through largely peaceful means." In Damascus, security forces have arrested opposition leader Mazen Adi, from the People's Democratic Party founded by Syria's top dissident, Riad al-Turk, according to rights activists. They added that thousands of pro-democracy Syrians had been arrested and beaten in the last two months, including scores on Wednesday in Homs and in the coastal city of Banias. Assad adviser Bouthaina Shaaban said this week authorities had "passed the most dangerous moment" of the protest and that she had met a group of veteran opposition figures, promising them a freer press, political parties and an election law. Assad has responded to the unrest with promises of reform, lifting a 48-year-old state of emergency. The state news agency SANA said on Wednesday a government committee had been formed to draft a new election law, but gave no details. Activists say the reforms are cosmetic, and the forceful crackdown on demonstrations shows Assad will not risk loosening the grip his family has held for 41 years. Rights groups say at least 650 civilians have been killed in the crackdown.
Long a foe of Washington and part of an anti-Israel bloc with Iran, Assad had nonetheless been gingerly emerging from Western isolation before the unrest. In Banias, protesters held up pictures of Turkish Prime Minister Tayyip Erdogan to salute him for his stand against what they perceive as Assad's iron fist policy toward opposition. Erdogan maintains close trade and diplomatic ties with Assad but has disputed the official Damascus account of the violence. Syrian officials have blamed most of the violence on "armed terrorist groups," backed by Islamists and foreign agitators, and say about 100 soldiers and police have been killed. Erdogan said more than 1,000 civilians had died in Syria's upheaval. He said he did not want to see a repeat of the 1982 bloodshed in Hama, where Assad's father crushed an Islamist uprising, or the 1988 gassing of Kurds in the Iraqi town of Halabja during the dictatorship of Saddam Hussein.
Hamas Will Never Recognize Israel
(Speaking to Palestinian news agency Ma'an, Mahmoud Zahar says recognition of Israel would deprive future Palestinian generations of the possibility to 'liberate' their lands. Hamas would be willing to accept a Palestinian state within 1967 borders, a leader of the militant group, Mahmoud Zahar, told the Palestinian news agency Ma'an on Wednesday, adding, however, that Hamas would never recognize Israel since such a move would counter the group's aim to "liberate" all of Palestine)
May 11….(Ha Aretz) Zahar's comments come amid Palestinian efforts to form a unity government that would include former rivals Fatah and Hamas, following a reconciliation agreement the two factions signed last week in Cairo. Speaking to Ma'an on Wednesday, Zahar, hinting at the possible political line of a future Palestinian unity cabinet, said that recognizing Israel would "preclude the right of the next generations to liberate the lands," wondering: "What will be the fate of the five million Palestinians in the diaspora?" The Gaza strongman went on to tell Ma'an that Hamas would be willing to recognize a Palestinian state "on any part of Palestine," as opposed to the group's proclaimed aim to form a state "from the Jordan river to the Mediterranean sea." Zahar also referred to the future of Hamas' military truce with Israel, confirming that the movement would continue to honor the cessation of fighting, following a joint decision made with its new Fatah partners. The Hamas leader, however, reiterated that the truce was "part of the resistance not its rejection," adding that a "truce is not peace."
A top Palestinian official said on Tuesday that a new unity government between recently reconciled Hamas and Fatah will be formed in 10 days. In an interview with Ma'an news agency, Fatah leader Nabil Shaath said that although the prime minister of a future interim unity government has yet to be announced, current PA Prime Minister Salam Fayyad is still in the running for the position. Fayyad has taken unprecedented steps in recent months toward Palestinian statehood, recently presenting proposal in Brussels delineating a three-year aid plan that would allow for the establishment of a Palestinian state in the foreseeable future. Palestinian leaders plan to ask the United Nations General Assembly in September to recognize a Palestinian state in all the lands Israel occupied in 1967. Fayyad has made it clear that in the event that Israel and the Palestinians do not reach a negotiated settlement, a Palestinian state will be declared unilaterally.
Hamas to Israel: 1 Year to Recognize 'Palestine,' or Else
May 11….(Israel Today) Damascus-based Hamas leader Khaled Mashaal this week warned Israel that it has one more year to recognize an independent Palestinian state. If Israel fails to do so, Hamas will "add new cards to the resistance," Mashaal told a group of young Egyptians who took part in the recent overthrow of dictator Hosni Mubarak. Palestinian news agency Ma'an further quoted Mashaal as saying the Palestinian state Israel recognizes must include 100 percent of Judea, Samaria and the entire eastern half of Jerusalem. And this must come about via a unilateral surrender to Arab demands by Israel, as Mashaal and Hamas, which last week signed a reconciliation agreement with the regime of Palestinian leader Mahmoud Abbas, continue to insist they will not negotiate with the Jewish state. Israeli leaders say the reconciliation agreement and the possible formation of unity government including Hamas and Abbas' Fatah faction has effectively killed all chances of a bilateral peace agreement. Israelis also argue that the deal is further evidence of the true goals of Abbas and his allegedly "moderate" leadership. Many Americans agree with that sentiment.
Last week, 27 US Senators sent a letter to President Barack Obama demanding that American financial aid to the Palestinian Authority be halted if Hamas is brought back into the government. "It is imperative for you to make clear to Abbas that Palestinian Authority participation in a unity government with an unreformed Hamas will jeopardize its relationship with the United States, including its receipt of US aid," wrote the senators. All Republican senators and about half of Democratic senators support cutting aid to a Palestinian Authority that includes Hamas. The lawmakers reminded Obama that it is actually illegal to give US aid to those listed as terrorists by the US State Department, which Hamas is. It remains important to remember that Hamas was actually elected to power by the Palestinian public in 2006. In that election, Hamas won an strong majority in the Palestinian parliament. When Abbas tried to stifle the group's power, Hamas lashed out and seized control of Gaza.
Syria's bloody crackdown continues; Assad unfazed
May 11….(Jerusalem Post) Army tanks shelled a residential district in Homs on Wednesday, said a rights campaigner in Syria's third city which has emerged as the most populous center of defiance against President Bashar Assad's rule. "Homs is shaking with the sound of explosions from tank shelling and heavy machineguns in the Bab Amro neighborhood," said Najati Tayara. Assad's forces killed three anti-government protesters in southern Syria on Tuesday night, activists told AP.
Assad initially responded to the unrest, the most serious challenge to his 11-year grip on power, with promises of reform. He granted citizenship to stateless Kurds and last month lifted a 48-year state of emergency. But he also sent the army to crush dissent, in Deraa where demonstrations first erupted on March 18 and then to other cities, making clear he would not risk losing the tight control his family has held over Syria for the past 41 years. Security forces have released 300 people detained in Banias and restored basic services in the coastal city stormed by tanks last week, a human rights group said. Water, telecommunications and electricity had been restored, but tanks remained in major streets, the Syrian Observatory for Human Rights said on Tuesday. Two hundred people, including pro-democracy protest leaders were still in jail, it said. "Scores of those released were severely beaten and subjected to insults. A tank deployed in the square where demonstrations were being held," Observatory director Rami Abdelrahman said. Human rights campaigners said at least six civilians, including four women, where killed in raids on Sunni neighborhoods and in an attack on an all-women demonstration just outside Banias on Saturday. Demonstrators in Banias had raised posters of Turkish Prime Minister Tayyip Erdogan, who has had close ties to Assad, but disputed the official Syrian account of the violence. Erdogan said more than 1,000 civilians had died and he did not want to see a repeat of the 1982 Hama violence or the 1988 gassing of Iraqi Kurds in Halabja, when 5,000 people died. Officials have blamed most of the violence on "armed terrorist groups", backed by Islamists and foreign agitators, and say about 100 soldiers and police have been killed. In southern Syria, four civilians in the southern town of Tafas were killed as security forces widened a campaign of arrests, a human rights campaigner in the region said, adding 300 people had been detained since tanks entered Tafas on Saturday.
Cairo Moves Meshaal's Hamas Base to Gaza. Assad Threatens Israel with War
May 11….(DEBKAfile Exclusive Report) Egypt's military rulers promised Hamas' political leader Khaled Meshaal to let him transfer his base, command center and residence from troubled Damascus to a new haven in the Gaza Strip as an inducement for signing the Palestinian unity agreement with Mahmoud Abbas' Fatah on May 4. This is disclosed for the first time by debkafile's intelligence sources. In Damascus, Bashar Assad's close confidante Rami Makhlouf threatened that Syria would go to war against Israel in reprisal for US and Europe backing for the uprising. Makhlouf, an international business tycoon, is on the US and EU sanctions lists. In an interview with the New York Times Wednesday, May 11, he said: "If there is no stability here, there's no way there will be stability in Israel. No way, and nobody can guarantee what will happen after, God forbid, anything happens to this regime." He advised the US and Europe not to "put a lot of pressure on the president, don't push Syria to do anything it is not happy to do."
The Syrian president is examining two strategic options, he said: "Going to war against Israel, and/or sending weapons shipments to the West Bank and to Israeli Arabs for use in terrorist attacks against Israel. Debkafile's military sources note that Makhlouf, who is a cousin of Bashar Assad, built up his fortune from smuggling Saddam Hussein's underground fighters, weapons and funds from their havens in Syria to Iraq, as well as al Qaeda combatants and leaders to fight Americans into the wartorn country. He therefore has excellent connections with terrorist networks and is very familiar with their requirements for pursuing suicide bombing campaigns. The tycoon would not have made his remarks to the NYT without the Syrian president's nod. So they may be safely interpreted as a declaration that the Assad regime is holding Israel hostage for its survival against the groundswell of popular disaffection shaking it for more than two months. Those remarks were also addressed to Jordan, Iraq and Lebanon, the sources of weapons consignments to Syrian protesters which Damascus believes Saudi Arabia as well as the US and European nations are generating. If that influx is not stopped, therefore, the Syrian government threatens to respond in kind by secreting arms and money into the West Bank and Israeli Arab districts in order to foment an armed uprising against Israel. This step would also undermine another Western interest by menacing Palestinian Authority Chairman Mahmoud Abbas.
According to Debkafile's intelligence sources, the transfer of Khaled Meshaal lock, stock and barrel, from Damascus to Gaza serves the diametrically opposite interests of the current Egyptian and Syrian rulers alike. It was agreed between them, out of totally different considerations, during several visits to the Syrian capital by the new Egyptian intelligence minister Gen. Murad Muwafi from mid-March to late April: For Cairo, the relocation of the Hamas epicenter to Gaza is pivotal to Egypt's return to an active role in the Palestinian arena, whereas Damascus sees the strengthened Hamas presence in Gaza as a key instrument for implementing Makhlouf's threats. Our sources say that Israeli Prime Minister Benjamin Netanyahu has responded to these disruptions with two discreet steps:
1. The defense ministry's political coordinator, Gen. Amos Gilad, was removed from the Israeli-Egyptian military-cum-intelligence track. The formal reason given for his exclusion was the removal from power of Hosni Mubarak's intelligence minister, Gen. Omar Suleiman, with whom Gilad developed strong personal ties. He is now under investigation and partial house arrest in Egypt. The real reason is that his evaluations and forecasts which formed the basis of Israel's security policy in recent years proved erroneous. The Israeli government must now go back to square one to chart new courses in the face of radical changes around its borders.
2. Gilad's place is taken by Prime Minister Netanyahu's personal political adviser, Yitzhak Molcho, who earlier this week was sent to Cairo for talks with the new intelligence minister, Gen. Muwafi, to explore the new ties between Egypt, Syria and Hamas and find out what Cairo was aiming for by the reshuffle of these relationships.
Molcho returned to home just before Independence Day (Tuesday, May 10) with a very despondent report. The only ray of light he saw was the possibility of Syria and Egypt, each for its own reasons, leaning on Hamas to climb down on its price for setting the Israeli soldier Gilead Shalit free nearly five years after he was kidnapped on the Israeli side of the Gaza border. While Netanyahu and Defense Minister Ehud Barak were putting their heads together on tactics for grappling with the explosive new situation Egypt is helping to put in place in the Gaza Strip, Makhlouf put a message from his masters up front: The real danger to Israel of a military flare-up lies in Damascus which continues to call the Palestinian shots.
US Will Forgive Egypt $1B Debt
May 10….(YNET) The Obama administration is planning to provide Egypt with $1 billion in debt relief, the Washington Post reported Sunday. The funds will go towards resuscitating the state after the recent uprisings and subsequent deposition of President Hosni Mubarak. The move is part of a larger aid package of incentives for commerce and investments. Cairo currently owes Washington $3.6 billion in procured agricultural products but the state is in financial dire straits, and its government asked that the debt be shelved. But Congress is engaged in a budget battle and Egyptian officials have expressed frustration with the cool response they received, the Post reported. The US has already supplied Egypt with $150 million in emergency aid after the uprisings paralyzed its tourism industry. The aid was justified by a clause citing establishment of democracy and economic development. The administration has also agreed to provide a billion dollars in loans, guarantees, and insurance for US firms willing to invest in the Middle East and North Africa. In addition, Senators Joe Lieberman, John Kerry, and John McCain are currently promoting a bill to create an Egyptian aid fund the likes of those given to eastern European countries after the fall of the Berlin wall. However the Washington Post quotes a Western diplomat as saying that the sums so far transferred to Egypt are miniscule. "We need a big scheme for helping Egypt and Tunisia. If things don't turn out the right way in the region, the results could be very bad for all of us," he said.
Protest at Cairo Embassy Calls for Intifada
(Hundreds rally at Israeli embassy to call for annulment of peace, Jews to 'return to birthplaces)
May 10….(YNET) Hundreds gathered before Israel's embassy in Cairo on Friday to protest against the peace agreement with the state of Israel. Protesters waved Palestinian flags and called for another intifada on May 15, on which Palestinians in Israel mark the Nakba. Both men and women were present at the gathering, and participants were mostly young. They called to "return Palestine to the Palestinians" and held signs saying Jews should "return to their places of birth". Speakers at the rally said Jews who wanted to stay in "Palestine" should agree to live under Islamic rule. "On May 15 we should hold a convoy of Egyptian cars to Rafah," one young speaker said. Among the protesters were also those who demanded Egypt renege on its peace accord with Israel, and in addition refuse to sell natural gas to the state.
Israel's Next Challenge: Obama's Outreach to Muslim Brotherhood
May 9….(DEBKAfile Exclusive Report) Israelis celebrate the 63rd anniversary of their independence this week in good cheer. Neither by word nor hint have its leaders referred to the challenge facing the country in the year to come: Barack Obama, President of Israel's best friend and ally, has picked the Muslim Brotherhood movement of the Middle East as his chosen partner for promoting American interests in the Arab world in place of its ousted rulers. His courtship of this organization, which he regards as moderate, was the rationale, say debkafile's Washington and counter-terror sources, behind his bold decision to get rid of Osama bin Laden, a step which his two predecessors, George W. Bush and Bill Clinton, held back from although they knew where he was. Many people forgot the vow Obama made in Cairo on June 4 to mend America's fences with the Muslim world, but he meant every word. His White House has made forging a pact between the United States and the Muslim Brotherhood their ultimate policy objective, although they do not expect to achieve it in one fell swoop. Bin Laden's death was part of the US president's unfolding game plan:
1. He needed to demonstrate unswerving resolve to eradicate the terrorist threat posed by Islamic extremists;
2. The Muslim Brotherhood and its national chapters needed to be held back from falling into the arms of Islamic radicalism if it were to qualify as the centerpiece of America's new beginning with the Arab world.
Another part of the Obama game plan was the "Arab Spring" for paving the way to that beginning by making decades'-old autocratic rulers redundant. Egypt's Hosni Mubarak had to go first, and he was therefore the only Arab ruler whom the US president told bluntly to leave, unlike Muammar Qaddafi or even Bashar Assad, very simply because Egypt is the center of the many-branched Muslim Brotherhood's and its Shura Council. More than any other Middle East party or organization, the Brotherhood holds powerful levers of influence in Libya, Syria, Jordan, the Palestinian arena and even in Saudi Arabia through its presence in national religious institutions and broad membership. It is therefore suppressed by all those regimes as it was in Egypt.
Mubarak's fellow Arab rulers watched and noted how quickly and ruthlessly Obama disposed of him and mustered all their resources to defeat the US-backed revolts against their regimes before they too were tossed on the rubbish heap. Saudi King Abdullah fought back with a divorce from Washington. He is bitterly hostile to the Obama administration, not just over Mubarak's humiliating downfall, but because he believes that a US-Muslim Brotherhood pact would threaten the royal House of Saud by engulfing the clerical institutions which give the throne its legitimacy.
Libya's Qaddafi tried to save himself by pointing to his common cause with the US against a rebellion penetrated by Al Qaeda and other Muslim extremists. When he realized that Washington did not share his view and favored the Muslim elements, he decided to fight back against the rebellion and defy their NATO backers. Syria's Bashar Assad, who represents a secular regime and creed, has resorted to tanks, artillery and live bullets for a ferocious crackdown to end what he regards as the continuation of the Muslim Brotherhood-led challenge to the Alawite Assad family rule launched first against his father 19 years ago. Another piece of the Obama game plan was put in place in Cairo Wednesday, May 4, with the inking of the Palestinian unity pact by Palestinian Authority chairman Mahmoud Abbas for Fatah and Khaled Meshaal for Hamas.
After Israeli Prime Minister Binyamin Netanyahu warned Abbas that the Palestinians must choose between peace and Hamas, Abbas is reported by Debkafile's Cairo sources as privately asking why the Israelis complained to him. They should complain to Obama, he said. Hamas is an offshoot of the Egyptian and Jordanian Muslim Brotherhood branches. "I am only acting out his guidelines by helping the Brotherhood's integration in Middle East government." The US president has taken certain steps to get his plan in motion. It will be far from plain sailing. In Israel and in some Western capitals, the military junta which has succeeded Hosni Mubarak in Cairo is not expected to tamely open the door to the Muslim Brotherhood. The Egyptian generals have meanwhile taken the lead in steering Palestinian moves in the hope of focusing the Muslim Brotherhood's attention on the Palestinian issue rather than its drive for power. This device worked for Gemal Abdul Nasser in the 60s and 70s. But sooner or later, the Brotherhood and Washington will realize that the military rulers fully intend to hold onto power. Instead of standing aside for a Brotherhood presidential candidate, they will run one of their own. President Obama will then be confronted with a hard decision.
Sensing the supportive winds blowing in from Washington, Muslim activists attacked a Coptic Christian church in Cairo Saturday, May 7, sparking a violent sectarian clash that raged through Sunday night leaving more than 20 dead and raising fears of a Muslim power grab. With the White House busy juggling the balls of its primary Middle East policy, there is not much Israel can do. Therefore, Prime Minister Netanyahu's meeting with Obama on May 21and his speech to the joint Houses of Congress during his Washington visit are not expected to yield momentous changes. There is not much point in his unveiling any new peace proposal as long as the Palestinians are stuck betwixt and between their next moves, or trying to warn Obama against a US-Muslim Brotherhood rapprochement. While a Brotherhood takeover in neighboring Arab countries, however gradual, would pose a direct threat to Israeli security, Obama in the full flush of success of his initial steps will not be receptive to Israel's arguments.
Bin Laden Warned US over Support For Israel in Final Tape
(AFP, quoting an Islamist website, says the al-Qaida chief condemned US support for Israel in his final audio recording before he was killed)
May 9….(Ha Aretz) An Islamist website said that Osama bin Laden warned the United States they would not be secure until Palestine is secure, AFP news agency reported on Sunday. According to the news agency, the al-Qaida website Shamikh1.net quotes bin Laden as saying "America will not be able to dream of security until we live in security in Palestine. It is unfair that you live in peace while our brothers in Gaza live in insecurity." The quote is apparently taken from bin Laden's last audio tape that he recorded before being killed by American troops. "Accordingly, and with the will of God, our attacks will continue against you as long as your support for Israel continues," the al-Qaida chief said in the audio recording. "So the message we wanted to convey through the plane of our hero, the fighter Umar Farouk, may God be with him, confirms a previous message which had been sent to you by our heroes of September 11," bin Laden reportedly said in the minute-long recording.
Muslim Mobs Burn Egyptian Churches
May 9….(Yahoo) Hundreds of Christians and Muslims hurled stones at each other in downtown Cairo on Sunday, hours after Muslim mobs set fire to a church and a Christian-owned apartment building in a frenzy of violence that killed 12 people and injured more than 200. The deepening religious violence in military-ruled Egypt is exacerbating the lawlessness and disorder of the country's bumpy transition to democracy after three decades of autocratic rule under former President Hosni Mubarak was brought to an end in February. Muslim youths attacked a large crowd of Coptic Christian protesters marching from the headquarters of Egypt's general prosecutor to the state television building overlooking the Nile, said Christian activist Bishoy Tamri. TV images showed both sides furiously throwing stones, including one Christian who held a large wooden cross in one hand while flinging rocks with another. Scores were injured, but an army unit securing the TV building did nothing to stop the violence, Tamri said. Hours earlier, mobs of ultraconservative Muslims attacked the Virgin Mary Church in the slum of Imbaba on the opposite side of the Nile. The attack was fueled by rumors that a Christian woman married to a Muslim man had been abducted by the church. Residents said a separate mob of youths armed with knives and machetes attacked an apartment building several blocks away with firebombs. "People were scared to come near them," said resident Adel Mohammed, 29, who lives near the Virgin Mary Church. "They looked scary. They threw their firebombs at the church and set parts of it ablaze." The military deployed armored vehicles and dozens of troop carriers to cordon off a main street leading to the area. They halted traffic and turned away pedestrians. Men, women and children watching from balconies took photos with mobile phones and cheered the troops. Islamic clerics denounced the violence, sounding alarm bells at the escalating tension during the transitional period following Mubarak's Feb. 11 ouster by a popular uprising. "These events do not benefit either Muslim or Copts," Ahmed al-Tayyeb, the sheik of al-Azhar, told the daily Al-Ahram. Interfaith relationships are taboo in Egypt, where the Muslim majority and sizable Christian minority are both largely conservative. Such relationships are often the source of deadly clashes between the faiths.
Israel at 63: Population of 7,746,000
(Independence Day 2011: Central Bureau of Statistics data indicate 75% of population are Jewish, 178,000 babies born in past year, 24,500 immigrants made aliyah)
May 9….(YNET) On Israel's 63rd anniversary its population stands at 7,746,000 people, a 2% increase (150,000 residents) compared with 2010. In comparison, on the night of its establishment, the State of Israel consisted of only 806,000 residents. New data published by the Central Bureau of Statistics on Sunday indicate that nearly 5,837,000 of the population are Jewish (75.3%). The Arab population stands at 1,587,000 people (20.5%) and the remaining 4.2% are immigrants and their children, who are not listed as Jewish by the Interior Ministry. They comprise 322,000 residents. Since last year's Independence Day, exactly 178,000 babies have been born in Israel, and 43,000 people have died. Approximately 24,5000 immigrants arrived in the country, while nearly 12,000 chose to leave Israel. Another 7,500 people joined the general population, but CBS data do not state where they came from. Over 70% of the Jewish population are native-born Israelis, and more than half of them are at least second generation Israelis. In contrast, only 35% of the population were native-born in 1948. Also in 1948, there was only one city with more than 100,000 residents, Tel Aviv-Yafo. Today there are 14 cities with more than 100,000 residents each, six of which have more than 200,000 people, including: Jerusalem, Tel Aviv-Yafo, Haifa, Rishon Lezion, Ashdod and Petah Tikva.
PA State Endangers Israel's Home Front
May 9….(Arutz) According to IDF Reserve Major Moshe Hisdai, a Palestinian state established in Judea, Samaria, and Jerusalem would directly endanger Israel's home front. In an article he wrote which he is distributing publicly these days, Hisdai, a well-known defense official who conducted numerous investigations of defensive systems and set up a special missions unit in Judea and Samaria, brings quotes by politicians and security officials who have warned in the past of the dangerous impacts a Palestinian state would have on Israel and its citizens. The article in its entirety was presented by Arutz Sheva's Hebrew website on Sunday. Among the officials quoted in Hisdai's paper is Prime Minister Binyamin Netanyahu himself, who in 2006, during a conference of Likud leaders in Kfar Saba, criticized the conduct of then Prime Minister Ehud Olmert. Olmert had delivered a speech in Sde Boker, in which he offered to free terrorist prisoners and give up large areas of Judea and Samaria for a Palestinian state. Netanyahu said that concessions such as the ones offered by Olmert would allow Hamas to fire rockets deeper into Israeli territory, with an emphasis on the Ben Gurion International Airport. "Handing over more territories to the Arabs means giving them means for launching missiles at Ben Gurion Airport and at Kfar Saba," Hisdai quotes Netanyahu as having said during the conference. "It is no coincidence that Netanyahu chose to emphasize in his speech the missile threat and mentioned not only the Dan region, but the Ben Gurion Airport," writes Hisdai. "The Qassam rocket attacks from Gaza after the disengagement are considered by the Israeli public as the greatest failure of the Oslo Accords and particularly of Ariel Sharon's plan. But this threat is now becoming very real, as the proclamation of a Palestinian state draws near."
Another official quoted by Hisdai is Education Minister Gideon Saar, who declared during a 2006 press conference in Tel Aviv that a withdrawal by Israel to the 1949 Armistice Lines would endanger the security of Israeli citizens. Like Netanyahu, Saar said that doing so will cause a direct threat of rockets being fired on Ben Gurion Airport, and added that it would also endanger Israeli passengers on Route 443 (on which many terror attacks have taken place and which was opened to traffic from the PA last year). Saar also noted that an Israeli withdrawal to the 1949 Armistice Lines would essentially bring the Hamas terror group directly into Jerusalem. Other experts quoted in Hisdai's paper include Dr. Azriel Lorber of Tel Aviv University, who is an expert on missiles and rockets. Lorber wrote in a study entitled 'The growing threat of Qassam rockets against Israel, that "although ostensibly the Palestinian 'Intifada' is directed against 'the Israeli occupation of Palestinian territory,' Palestinians have no qualms about attacking civilian targets inside Israel proper. In fact, they even prefer that type of warfare over attacking military targets in the so-called 'occupied territories.'" "From Dr. Azriel Lorber's study we also learn that the strategic role designated by the Palestinians for the rockets in their possession is similar to that of the Hizbullah rockets on the Israel-Lebanon border," writes Hisdai. "That is, a weapon of attack and deterrence. There is no doubt that the Palestinians want to see their rockets play a similar role within the Gaza Strip, and in the very near future, along the borders of the Palestinian state, the establishment of which is going to be announced within a few months, and that in preparation for it the two sworn enemies, Hamas and Fatah, come together."
At the conclusion of his article, Hisdai writes: "Therefore, I ask: Is the establishment of a Palestinian state in Judea and Samaria not a strategic threat to Israel's existence? Does the establishment of a Palestinian state not mean throwing the residents of Judea and Samaria right into the hands of Hamas and Fatah? Will the residents and communities in Judea and Samaria simply become areas of Palestinian military training for the purposes of conquering Israel with the support of enemy states? Hisdai calls on the Yesha Council to take action and "to protect Israel which is currently in mortal danger. There will be a war over Judea and Samaria because it is a spiritual, educational, Jewish, military and political security belt which protects all the people living in Zion."
During the interview Hisdai noted that the Israeli army, government and residents have to be ready in advance for a Palestinian state. "This is not an apocalyptic scenario, but we must rid ourselves of the viewpoint that such radical scenarios are far-fetched," he said. "The mindset that we are well-defended is a false one."
US Special Forces go after Mullah Omer, Ayman Zawahiri, Seif al-Adel
May 9….(DEBKA) In the wake of the Osama bin Laden operation, the US is sustaining the momentum of the war on terror by sending more Special Forces and drones into Pakistan after his top lieutenant, the Egyptian Ayman al Zawahiri, Taliban leader Mullah Omer and al Qaeda's chief operations officer, Seif al Adal. Debkafile's counter-terror sources report that on May 2, the day bin Laden was killed, the Taliban leader and his top staff were thought to be in Karachi, southern Pakistan and the two al Qaeda leaders in the tribal region of North Waziristan. All three are presumed to have since moved on. US intelligence suspects their whereabouts are known to Pakistan's Inter-Services-Intelligence agency (ISI). Our Washington sources report that Saturday night, May 7, President Barack Obama gave the Pakistani government, army and intelligence an ultimatum: Cooperate in the capture of the three wanted men or else we shall pump more American soldiers into Pakistan to take up the pursuit with or without your permission. US intelligence is convinced that Omer, Zawahiri and al-Adal have joined forces and are plotting a revenge attack on America dramatic enough to outdo the psychological impact of the bin Laden killing.
Al-Adal, whom Iran released in Sept. 2010 and allowed to cross into Pakistan, is rated the most competent and innovative planner of large-scale terrorist attacks. The videos of bin Laden the Pentagon released Saturday from the raid on his Abbottabad compound show an aging man with a straggling gray beard, huddled under a blanket and watching his own performance on a TV screen, a far cry from the well-known tall, commanding presence. Still, US spokesmen are now insisting that the master-terrorist they killed was active, dangerous and preoccupied with plotting attacks on the United States. As the sifting through the computers, files and drives captured in the raid continued, a senior US intelligence source maintained: "The materials reviewed over the past several days clearly show that bin Laden remained an active leader in al Qaeda, providing strategic, operational and tactical instructions to the group. He was far from a figurehead. He was an actively player." This assessment radically contradicted everything Washington put out about the al Qaeda leader in the last four years. They scorned as "one man on the run" who was too busy chasing from one hideout to another under hot US pursuit to have time for setting up terrorist operations. Such operations were increasingly attributed to al Qaeda's regional "franchises." Now, US terrorist experts have clearly decided otherwise.
WEEK OF MAY 01 THROUGH MAY 07
Evidence at bin Laden's Home Raises Nuclear Concerns
(Pakistani government links suspected)
May 6….(Washington Times) Intelligence analysts are sifting through phone numbers and email addresses found at Osama bin Laden's compound to determine potential links to Pakistani government and military officials while US officials and analysts raise concerns about the safety of Pakistan's nuclear materials. According to three US intelligence officials, the race is on to identify what President Obama's top counter-terrorism adviser, John Brennan, has called bin Laden's "support system" inside Pakistan. "My concern now is that we cannot exclude the possibility that officers in the Pakistani military and the intelligence service were helping to harbor or aware of the location of bin Laden," said Olli Heinonen, who served as the deputy director general of the International Atomic Energy Agency (IAEA) from 2005 to 2010. "What is to say they would not help al Qaeda or other terrorist groups to gain access to sensitive nuclear materials such as highly enriched uranium and plutonium?" The US has worried quietly about the infiltration of Pakistan's Inter-Services Intelligence (ISI) and military for years. Those concerns heightened in recent months when the CIA learned that bin Laden's compound in Abbottabad was a stone's throw from Pakistan's military academy. Politico first reported this week that CIA Director Leon E. Panetta told members of Congress that bin Laden's clothing had two phone numbers sewn into it at the time of the raid. Those numbers and other contacts found at the compound are key clues in an effort to determine what elements of Pakistan's national security establishment provided support to bin Laden and al Qaeda. "I can tell you that concern about al Qaeda and other terrorists' infiltration into the ISI is not new on the part of the Congress or the George W. Bush and Obama administrations," said Rep. Steve Rothman, a New Jersey Democrat who serves on two House Appropriations subcommittees that fund defense and foreign aid. Mr. Rothman has attended top-secret briefings on the Abbottabad raid and the impact of the raid on Afghanistan and Pakistan. Pakistan is neither a member of the IAEA nor a party to the nuclear Non-Proliferation Treaty. Nonetheless, it has agreed to some IAEA safeguards on its civil nuclear program, but nothing comprehensive.
Analysts estimate Pakistan to have more than 100 nuclear weapons. The latest estimate by Princeton University's International Panel on Fissile Materials, which takes account of the world's nuclear material, estimates that Pakistan possesses between 1.6 tons and 3.8 tons of weapons-grade uranium and between 132 pounds and 286 pounds of plutonium.
"Up to now, the Pakistanis have said the nuclear material is under military and ISI control and particularly the plutonium and highly enriched uranium," Mr. Heinonen said. "These are from facilities that are not under IAEA control at all."
A Feb. 19, 2009, cable from the U.S. Embassy in Islamabad said the nuclear arsenal is "under the control of the secular military, which has implemented extensive physical, personnel and command and control safeguards."
"Our major concern has not been that an Islamic militant could steal an entire weapon but rather the chance someone working in [Pakistani government] facilities could gradually smuggle enough fissile material out to eventually make a weapon and the vulnerability of weapons in transit," said the cable, which was released Wednesday by the anti-secrecy website WikiLeaks. The cable was prepared in anticipation of the February 2009 visit to Washington of Gen. Ashfaq Kayani, who is chief of staff of Pakistan's military. In it, the cable also acknowledged how the ISI and Pakistani army have elements that still support terrorist groups. The details on bin Laden's compound already have led some members of Congress to threaten to cut off military aid to Pakistan, which receives more than $3 billion annually from the US.
Pakistanis, Saudis Are Not US Allies, Israel is a True Friend
May 6….(YNET) The discovery of Osama Bin Laden in a compound 700 meters from the Pakistani military academy raises the question, who are America's allies in the war against global jihad? Which countries are really just business associates and not true allies? Which relationships are based on coinciding interests and which on shared values? Four cases may be examined. Pakistan has been caught red-handed. Pakistani denials notwithstanding, it is inconceivable that bin Laden could have resided in Abbottabad without official knowledge and contrivance. Rumors have circulated consistently since 9/11 that Pakistani authorities, in particular the Inter-Services Intelligence directorate, tipped off bin Laden when US forces were getting close and ultimately gave him shelter. Bin Laden was the biggest al-Qaeda figure located inside Pakistan but hardly the only one. The WikiLeaks documents also make it clear that American officials have not fully trusted Pakistan for years. Pakistan's double game is now beyond question; taking billions in American military and economic aid, aiding the Taliban in Afghanistan, making desultory efforts against lower and middle level terror figures, but not challenging the hold of Islamists in the tribal territories or the vast urban slums. But will another American president and Congress succumb to continuing open blackmail, continue aid to Pakistan or have its allegiances, and nuclear arsenal, switch sides to the Taliban and global jihad? Saudi Arabia's role as the largest funder of al-Qaeda has been known since before 9/11. It has also exported its intolerant and violent form of Islam, Wahhabism, spending billions to establish mosques and other institutions like the Organization of the Islamic Conferences that have crowded out and transformed the practice of Islam around the world. Internally, Saudi Arabia is also horrifically repressive of women, Shi'ites, and other minorities.
But the world's most important oil producing state has consistently purchased lavish quantities of American weaponry, and is on the frontline against Iranian expansionism in the Gulf and the Middle East. Like Pakistan, it has played a double game that is well-understood, supporting only those US and Western efforts, such as the war in Iraq, that are in its immediate interest, and opposing the rest. Now that Saudi Arabia's prodigal son, Osama bin Laden, is dead and with even more documentation of that country's support for al-Qaeda, will Saudi energy production and arms purchases continue to blackmail US policymakers? Few countries share a closer heritage and set of values than the US and the UK, and closer security cooperation. But a recent report showed that many jihadists imprisoned at the Guantanamo facility were radicalized in the United Kingdom. Countless Islamist groups have operated freely in that country for years, part of a strategy to maintain British relations with countries like Pakistan and Saudi Arabia and to deflect radical Islam away from Britain. The 7/7 terror attacks showed that the latter strategy was a dramatic failure, and more broadly, closer relations with Pakistan in particular have helped radicalize British Muslims. British officials are confronted with a huge cultural groundswell of angry, unassimilated and increasingly violent Muslims, indigenous and immigrant, as well as with hundreds if not thousands of active terror threats. Britain has been on the frontline with the US in Iraq and Afghanistan, and its Special Forces and secret services have been active around the world against global jihad threats. However, British policy has produced security threats to the West, largely through indulgence of Islamic radicalism in the name of official multiculturalism. Although that policy is gone, the reality it produced, a polyglot Britain filled with angry Muslims, cannot be undone. In part thanks to American pressure, these problems are now fully out in the open.
Israel is frequently alleged to be the root cause of Muslim anger and global jihad. Westerners frequently point to specific Israeli actions and policies, not least of all the "occupation" of the West Bank, as irritants, which, if removed, would alleviate global Muslim anger and terror. Many Israeli actions and policies are of questionable wisdom and utility, but as Hamas happily admits, the real problem is the existence of a Jewish sovereign state in the Middle East. In this it is echoed by its parent, the Muslim Brotherhood, by Hezbollah and its Iranian parent, and by countless individuals, from theologians to the man in the street. Indeed, the creation and existence of Israel are regarded as literally unholy by a large majority of Muslims around the world. Without committing national suicide, Israel will always be a global Islamic cause, until the unlikely day when Islam itself changes. As Israeli Ambassador to the US Michael Oren recently pointed out, Israel's alliance with the US is uniquely close and includes security, technological and political cooperation. The US has successfully persuaded as well as pressured Israel to halt military campaigns and launch negotiations with adversaries, sometimes against Israel's immediate interests. Allies sometimes defer to one another in order to maintain alliances and create shared a strategic vision. Pakistan and Saudi Arabia are not allies of the US, but rather, business associates. These states are effectively run by and like violent organized crime syndicates and share only one value with the US and the West, self-preservation. Unfortunately, the US has often trapped itself into either supporting such putative allies or abandoning them in the name of "democratic revolution." The fate of Egypt is instructive. The brutal, if partially reliable, Mubarak, kept in power thanks to billions in US aid, was swiftly overthrown, abandoned by the US, and will soon be replaced by an Islamist or anti-American regime. The lesson is that allies cannot be bought or even rented, and that business relationships do not constitute an alliance.
Britain, France Threaten to Recognize Palestinian State
May 6….(Israel Today) Britain and France on Wednesday played right into the hands of Israel's enemies by threatening to recognize a Palestinian Arab state on ancient Jewish lands if Israel fails to advance the peace process with the Palestinian Authority in the coming months. That's right, both Britain and France are now saying that the stagnation of the Middle East peace process is the fault of Israel, not the Palestinian Authority that for well over a year has refused to hold direct negotiations. When US President Barack Obama tried to get Israel and the Palestinians to the negotiating table in September of last year, Israel agreed and the Palestinians refused. At the time, Obama and his counterparts in London and Paris slammed Palestinian leader Mahmoud Abbas as the obstacle to peace. But it is a tried and tested Palestinian strategy to just keep hanging on, making demands Israel cannot possibly meet, until the international community shifts course and starts blaming Israel. And that's precisely what happened when Prime Minister Benjamin Netanyahu met with British Prime Minister David Cameron on Wednesday. The Guardian reported that Cameron directly threatened to back a Palestinian bid to unilaterally secure sovereignty over Judea and Samaria this coming September at the UN General Assembly. That is, unless "Israel engages seriously in a meaningful peace process." France's Nicolas Sarkozy agreed in an interview with L'Express just one day before his own meeting with Netanyahu: If the peace process remains stalled in September, France will take responsibility on the central question of recognizing a Palestinian state." Were Britain and France to join the estimated 130 other nations that plan to vote in favor of Palestinian independence at the General Assembly, it could tip the scales just enough to get the motion passed in the UN Security Council.
US to Move Against Al-Qaeda's Central Command
May 5….(Global Security Services) The United States will seek to capitalize on the recent killing of al-Qaeda leader Osama bin Laden by eliminating the terrorist network's core command, White House counterterrorism adviser John Brennan said on Tuesday. White House counterterrorism adviser John Brennan on Tuesday said the United States would target al-Qaeda's central command following the Sunday killing of organization leader Osama bin Laden. Following the September 11 assaults that killed close to 3,000 people in the United States, al-Qaeda offshoots have proliferated in Africa and the Middle East, Reuters reported. Residents of Europe and the United States have also become radicalized and carried out strikes in their home nations. The Sunday shooting death of bin Laden by elite US Navy SEALS is the most recent of several US "severe body blows" to al-Qaeda's main organization in Afghanistan and Pakistan within the last year, Brennan said in an interview with NBC's Today show. "We're going to try to take advantage of this opportunity we have now with the death of al-Qaeda's leader, bin Laden, to ensure that we're able to destroy that organization," said. "We're determined to do so and we believe we can." "We believe that we have damaged the organization, degraded its capability and made it much more difficult for it to operate inside of Pakistan as well as beyond," Brennan said. On Monday, Senate Foreign Relations Committee Chairman John Kerry told MSNBC that US drone attacks in Pakistan's tribal region had eliminated up to 17 high-ranking al-Qaeda commanders prior to bin Laden's demise. Security officials and foreign leaders have called for heightened security and monitoring following the terrorist leader's death as al-Qaeda adherents might seek to mount revenge attacks. Brennan, however, said US officials had received no intelligence regarding any particular plot since Sunday. "But what we're doing is, we're taking all those prudent measures that we need to whenever there's an incident of significance like this," Brennan told ABC's "Good Morning America." "Right now, I think we feel pretty confident that we are at the right posture" On Tuesday, US Attorney General Eric Holder said the US people and police forces could not let down their guards. "We cannot become complacent, the fight is far from over," Holder said at a Capitol Hill hearing. "Just yesterday I ordered the Justice Department's prosecutors and law enforcement agencies to be mindful that bin Laden's death could result in retaliatory acts in the United States or against our interests overseas," Holder said. Cities across the United States have bolstered their defenses in response to worries about terrorist revenge attacks, the Christian Science Monitor reported on Tuesday. The Homeland Security Department, however, has not heightened the terrorist threat alert, saying it would only do so if there is detailed or clearly valid intelligence about an attack plan. Some terrorism analysts said it was highly likely that Muslim extremists would seek to mount a retaliatory strike.
Al-Qaeda today has ties to between 30 and 40 extremist organizations, University of Maryland terrorism expert Gary LaFree said. "It's more like a franchise. And they are not going away." The terrorist network has had a role in 16 of the 25 terrorist strikes that caused 25 deaths or more since 1998, according to the National Consortium for the Study of Terrorism and Responses to Terrorism. Bin Laden years before his death had prioritized acquiring weapons of mass destruction for use in a terrorist attack, which makes the decision to recall the Marine chem/bio response team a wise one, said LaFree, who leads the consortium.
The United States does not believe that al-Qaeda has succeeded in obtaining a workable nuclear device or in weaponizing lethal pathogens or chemical agents. US Deputy Assistant Secretary of State Pamela Quanrud on Tuesday said Europe need not be worried about a reported threat made before bin Laden's death that al-Qaeda would respond to precisely that situation with a retaliatory nuclear attack in Europe. Securing all nuclear materials has become even more necessary with the death of bin Laden, US nonproliferation analyst William Tobey told the Korea Times. Al-Qaeda has long sought to conduct acts of nuclear terrorism, but so far, has proven unsuccessful. The key, of course, is to preventing them from gaining access to fissile material.
Meanwhile, Washington on Tuesday pledged to find out if Pakistan had aided bin Laden's effort in evading the United States' massive and years-long search for the al-Qaeda chief, Reuters reported. An extended US intelligence operation in Pakistan determined that bin Laden was probably hiding in a secured compound in the town of Abbottabad, not far from the capital of Islamabad. The Sunday commando raid confirmed the US suspicions and raised doubts over the utility of the strategic alliance with Pakistan. The Obama administration did not alert Islamabad before the raid out of concern that Pakistani officials would "alert the targets" and enable bin Laden to once again escape, CIA chief Leon Panetta said in an interview with Time magazine. "It would be premature to rule out the possibility that there were some individuals inside of Pakistan, including within the official Pakistani establishment, who might have been aware of bin Laden's true whereabouts," Brennan said. Some Capitol Hill lawmakers have called for reassessment of continued aid to Islamabad, which since September 2001 has received $20 billion in US military and economic assistance. There are widespread suspicions that Islamabad has been playing both sides, the United States which is a source of financial support and militants who provide a tool for Pakistan's interests in neighboring Afghanistan and against rival India.
Terror Expert Scheuer: 'Al-Qaida Will Counterpunch' Against US
May 5….(Newsmax) Al-Qaida is much stronger than it was on 9/11 despite the death of Osama bin Laden and it's a virtual certainty that the growing terrorist group will launch a major revenge attack, according to author and former CIA bin Laden expert Michael Scheuer. In an exclusive Newsmax TV interview, Scheuer predicted that bin Laden will have "an enduring resonance among Muslims for hundreds of years," because he hurt the United States and survived for a decade afterward. "It's a bigger organization geographically, it's a bigger organization in numbers, and on a whole there are more mujahedeen in the field against us today than there were on 9/11," Scheuer told Newsmax. "So this is a problem that America hasn't come to grips with yet." A revenge attack from al-Qaida against American or Western targets is "certain." He adds: "They will counterpunch. I'm not sure it's going to be in the near term though. If they have something they can do that's on the shelf, they'll do it. Otherwise, they'll plan and execute an operation that is of significant size." Don't be fooled by the rosily optimistic scenarios of democratic revolution spreading across the Arab landscape, Scheuer advises. Already, Muslim Brotherhood and other Islamist groups are moving to exploit the turmoil in Egypt. Al-Qaida, too, will seek to move in and fill the power vacuum in places like Libya and Syria. "Islam is on the rise across the Middle East at the moment, despite BBC and CNN singing the praises of so-called democrats in Egypt," Scheuer said. From 1996 to 1999, Scheuer led the CIA unit hunting bin Laden, and he also helped the CIA search for the al-Qaida chief following the 9/11 attacks. His book "Osama bin Laden" was published in February. According to Scheuer, bin Laden always envisioned that the Islamic struggle with the West would take decades. "He had long argued that this was a generational war, that he wouldn't be around to see the end of it," Scheuer said. "And certainly over the past four or five years he has dispersed his organization in order to survive just what happened on Sunday, the killing of the head of the snake." He said there is little doubt al-Qaida has gained strength. On 9/11, al-Qaida was primarily based in Afghanistan, with just a few other peripheral locations. "Now it is still in parts of Afghanistan, it's well established in Pakistan, it's in Yemen, it's in Iraq, it's in the Levant in Gaza, it's in Somalia, and it's in northern Africa," he said. Although Scheuer predicts bin Laden's stature in the Muslim world will endure, he added, "It's much preferable to have a dead martyr than to have a live, smart guy. And he was a very smart, very modern manager in many ways. So the United States certainly is better off with him dead." Bin Laden's death clearly is a blow to al-Qaida, he said. "But to think that his influence is now going to recede in the near term, or even in the distant term, is a mistake," he added. Scheuer predicts that Obama's lieutenant, Ayman al-Zawahiri, will rise to become the temporary head of al-Qaida. But he warns regional al-Qaida commanders in Yemen and Afghanistan actually may pose the greater threat to the United States.
Al-Qaida's New Battle Hardened
In the wake of Osama bin Laden's demise, his likely successor is his longtime deputy and collaborator, Egyptian jihadist Ayman al-Zawahiri. The U.S. government has offered a reward of up to $25 million for Zawahiri, who officials have said was responsible for the planning of 9/11, the bombings of American embassies in Kenya and Tanzania in 1998, and the October 2000 bombing of the USS Cole in Yemen .It remains to be seen whether Zawahiri will be able to recruit and inspire a new generation of jihadists the way bin Laden did. Veteran observers of al-Qaida say bin Laden was a media-savvy, charismatic figure and a good listener. Zawahiri, by contrast, has a record "of alienating his colleagues, fighting over dogma, even within the Islamist movement," said journalist Steve Coll. "And as a communicator, he is less effective. His books are turgid and dogmatic." During a recent online chat with fellow jihadists, Zawahiri sounded "defensive and argumentative. He sounded unappealing as a leader."
Shortly after 9/11, Zawahiri and bin Laden appeared together on video discussing the suicide attacks. "This was not just a human achievement. It was a holy act," Zawahiri said. "These 19 brave men who gave their lives for the cause of G0d will be well taken care of. G0d granted them the strength to do what they did. There's no comparison between the power of these 19 men and the power of America, and there's no comparison between the destruction these 19 men caused and the destruction America caused." In 1998, Zawahiri wrote in the jihadist journal Al-Mujahidoun that "America is now controlled by the Jews, completely." He added that the United States "uses Israel to attack its neighbors and to slaughter those who are living peacefully there." According to Zawahiri, "If we are a nation of martyrs, as we claim, all that we need is courage of heart and the will of killers and the belief in what we claim to be love of death for G0d's sake."
Born in Egypt on June 19, 1951, joined the Muslim Brotherhood as an adolescent. He was arrested by the Egyptian government in 1966 for forming an underground Muslim Brotherhood cell. Zawahiri graduated from Cairo University in 1974 and went into the Egyptian Army, serving as a surgeon for three years. After leaving the Army, he joined a coalition of Islamist cells calling itself Egyptian Islamic Jihad. He was among scores of militants arrested and tried in connection with Sadat's October 1981 assassination. During the opening day of the trial, Zawahiri said the accused were "the real Islamic front and the real Islamic opposition against Zionism, Communism and imperialism." He said authorities were conducting the prosecution as part of a "conspiracy of evacuating the area in preparation for the Zionist infiltration." Zawahiri was convicted and sentenced to three years imprisonment for illegal weapons possession. He left Egypt in 1985 and went to Peshawar, Pakistan, where he treated mujahedeen fighting the Soviets. That was where he met Osama bin Laden, and the two became close, linked together as "Afghan Arabs." In 1989, with the Soviets defeated and Afghanistan descending into chaos, Zawahiri and bin Laden moved to Sudan. The Egyptian government launched a ferocious crackdown after Zawahiri's group tried to assassinate President Hosni Mubarak during a 1995 visit to Ethiopia. Tens of thousands of actual or suspected Islamists were jailed. In retaliation, Zawahiri dispatched suicide bombers to blow up the Egyptian Embassy in Islamabad, Pakistan. The attack by two suicide bombers killed 16 people and wounded 60.
By 1996, pressure from the United States and Saudi Arabia forced Sudan to kick out al-Qaida. By 1996, bin Laden, Zawahiri and al-Qaida relocated to Afghanistan, where the Taliban gave them sanctuary. In 1997, the State Department named Zawahiri as a leader of a group called Vanguards of Conquest, an Islamic Jihad faction believed to have been behind the massacre of 58 foreign tourists at Luxor, Egypt that year. Zawahiri has also been indicted in the United States for masterminding the August 7, 1998 bombings of the US embassies in Kenya and Tanzania in which 224 people were killed. In 1998, he joined bin Laden in announcing the World Islamic Front's Statement Urging Jihad Against the Jews and Crusaders. The men issued a fatwa declaring: "We, with G0d's help, call on every Muslim who believes in God and wishes to be rewarded to comply with G0d's order to kill Americans and plunder their money wherever they find it." In 1999, Zawahiri was tried in absentia in Egypt and sentenced to death.
Tawfiq Hamid, who worked with Zawahiri when the two were part of Jamaa Islamiya, an Egyptian jihadist group, warned against underestimating Zawahiri in his new role as bin Laden's successor. Zawahiri's superior organizational skills and dedication to violence could make him more dangerous than bin Laden. "He's much more powerful as a leader, much more organized," Hamid said. "When you listen to him, you can tell clearly that he has the ambition and is dedicated 100 percent to achieve this mission."
Netanyahu: Fatah-Hamas Unity a Victory for Terrorism
May 5….(Jerusalem Post) The signing of the Hamas Fatah unity deal in Cairo is a setback for peace and an advancement for terror, Prime Minister Binyamin Netanyahu told reporters in London on Wednesday. "What happened today in Cairo is a tremendous blow to peace and a great victory for terrorism," Netanyahu said. Three days ago terrorism was dealt a resounding defeat with the elimination of Osama Bin Laden. Today in Cairo it had a victory," said Netanyahu. He charged that in signing this deal, Palestinian Authority President Mahmoud Abbas had "embraced" an organization that had condemned American action against Bin Laden, who it considered to be a great martyr. "When he embraces this organization which is committed to Israel's destruction and fires rockets on our cities, this is a tremendous set back for peace and a great advancement for terror," Netanyahu said. "What we hope will happen is that we find peace and the only way we can make peace is with our neighbors who want peace." "Those who want to eliminate us, those who practice terror are not partners for peace," Netanyahu said. He spoke in advance of a scheduled meeting late Wednesday night with the United Kingdom's Prime Minister David Cameron. Israeli officials said that Netanyahu hopes to gain Cameron's commitment that the United Kingdom will not support the deal unless Hamas accepts three principles set out by the Quartet a number of years ago. Those principles include a demand that Hamas recognize Israel, renounced terror and abide by past agreements with Israel. Hamas refused to do so. Netanyahu's largest coalition partner, Israel Beiteinu, announced that in light of the official agreement between Fatah and Hamas, it would demand that the government cease all contact between Israel and the Palestinian Authority. The right-wing party called to stop various inter-ministerial initiatives with the Palestinian Authority as well as the transfer of money to the Palestinian government. "It is impossible to expect the State of Israel to transfer money to Hamas and in doing so to fund terror activities against Israel's citizens," the party complained. "Those who declared bin Laden to be a Muslim freedom fighter, as Hamas Prime Minister Ismail Haniyeh did, and those who refuse to allow the Red Cross to visit Gilad Schalit cannot be partners in negotiations, either directly or indirectly." Palestinian leaders have defended the unity agreement, saying reconciliation with Hamas reflects a deep-seated public desire to end internal differences. International leaders have had a cautious approach to the unity agreement. They wanted Hamas and Fatah to come together, but at the same time envisioned that it would come hand in hand with an acceptance of the Quartet's principles.
The Hamas-al Qaeda Alliance

(Ismail Haniyeh of Gaza Hamas)
May 4….(The Weekly Standard) While most of the world celebrates the US military operation that killed al Qaeda leader Osama bin Laden in Pakistan, the sentiment is not unanimous. In the Gaza Strip, Hamas leader Ismail Haniyeh has condemned the United States, accusing Washington of assassinating a "Muslim and Arabic warrior" and the "continuation of the American oppression and shedding of blood of Muslims and Arabs."
Haniyeh's reaction underscores the ideological roots Hamas and al Qaeda share: Hamas was founded by Sheikh Ahmed Yassin, a prominent Palestinian Muslim Brotherhood figure; al Qaeda was cofounded, along with bin Laden, by Abdullah Azzam, another prominent Palestinian Muslim Brotherhood figure. But this only partially explains why Haniyeh and his ilk are now mourning the death of the most notorious terrorist in modern history. While Hamas insists that it has no operational ties to al Qaeda, in the early and mid-1990s Hamas members received paramilitary training and attended Islamist conferences in Sudan, alongside bin Laden and his supporters. The operational ties were confirmed a decade later, when bin Laden reportedly sent emissaries to Hamas on two separate occasions (September 2000 and January 2001). While most analysts believe Hamas rejected al Qaeda's offer to coordinate violence against Israel, it appears Hamas never closed the door. In 2002, the Washington Post quoted official US government sources as confirming a loose alliance "between al-Qaeda, Hamas, and Hizbullah."
Iran, Egypt Forming Closer Ties
(Iranian Foreign Minister Ali Akbar Salehi speaks with Egyptian counterpart, praises Egypt for role in Hamas-Fatah reconciliation. 'Palestinian unity is key to resistance against Zionity enemy,' he says)
May 4….(YNET) Iranian Foreign Minister Ali Akbar Salehi spoke with his Egyptian counterpart Nabil al-Araby on Monday evening for the first time since the uprising in Egypt. Salehi said at press conference on Tuesday that cooperation with Egypt, especially in the political arena, "will help establish stability, security and peace in the region." He also praised Egypt for its role in the reconciliation of Fatah and Hamas. "Palestinian unity is the key factor in empowering the resistance against the Zionist enemy," he said. During their telephone chat, Salehi and Araby discussed developments in the Middle East, including the Fatah- Hamas unity agreement. The two ministers are expected to meet at the end of the month at the Nonaligned Movement meeting in Bally, Indonesia.
In Tuesday's press conference, which took place in Doha, Qatar, Salehi said that there isn't a reason that Iran's ties with Egypt should be weaker its ties with its other neighbors. "Currently we have good ties with all our neighbors, we have ambassadors and significant financial relationships," Salehi explained. The two nations, which have maintained low-level diplomatic ties over the past three decades, have been growing closer since the transition of power in Egypt. It was reported recently that the Iranian government has already appointed an ambassador, although it is yet to become clear when the envoy will travel to Cairo. The Iranian foreign minister also addressed the riots in Syria for the first time during the press conference, saying that "as long as the popular movement persists," Tehran will continue to support Syrian President Bashar al-Assad and his government's response to the "popular demands." "According to the information that we have," he added, "There is a small group in Syria which receives outside support and is interested in creating unrest in the nation." The United States accused Iran recently of aiding the Syrian authorities in suppressing the protests.
Gaza has Six Fortified Compounds Exactly Like Bin Laden's Abbottabad Compound

(An al Qaeda residence - in Gaza)
May 4….(DEBKAfile Exclusive Report) Israel has a history with al Qaeda, although this is not generally acknowledged by its leaders or media (who prefer the term "Global Jihad"). Like Iran and its surrogates, the late Osama bin Laden's organization declared war on the Jews and has established networks around its borders in Lebanon, Syria, Jordan, the Gaza Strip and Egyptian Sinai. In reporting on his death Monday, May 2, Israeli TV networks claimed incorrectly that Al Qaeda had never attacked Israel when, only in the past year, Al Qaeda cells based in the Gaza Strip carried out many of the armed attacks launched on the Gaza-Israeli border and Jewish civilian locations. One cell abducted and put to death the Italian pro-Palestinian activist Vittorio Arrigoni on April 14, an "operation" commanded by an al Qaeda operative from Jordan called Abdul Rahman al-Briziti. This atrocity should have pointed attention to the stream of al Qaeda fugitives swelling Palestinian terrorist ranks in Gaza. But it didn't, although some are coming in from battle arenas in Yemen and Somalia via Sudan; others from Iraq via Jordan and the Sinai Peninsula or as infiltrators from Syria and Lebanon. Only six months ago, American, Israeli and Egyptian (then ruled by Hosni Mubarak) counter-terror agencies working together carried out a targeted operation against the Army of Islam's Sinai chief, Jemal Mohammed Namnam and his two confederates, Islam Yassin and Mohammed Yassin. Their deaths on Nov. 11 and 17, 2010 averted the large-scale terrorist attacks they were preparing to launch in the Egyptian peninsula and would have entailed strikes against the Americans staffing the international MFO at its headquarters in f El Arish and Sharm El-Sheikh and the abduction of Americans and Israelis for secret confinement in Hamas-ruled Gaza Strip as hostages. Our counter-terror sources reveal that Al Qaeda's units are ensconced in the southern, central and northeastern sectors of the Gaza Strip: The southern cluster is based in the northern and southern districts of Khan Younis, a town of 220,000 inhabitants 4 kilometers east of the Mediterranean coast and 1.5 kilometers from the Israeli border. A second group more or less controls the town of Deir al Balakh, a town of 150,000 in the central region. A third is embedded in the Zaitun and Nuseyrat districts of Gaza City. Debkafile's counter-terror sources disclose that these Al Qaeda operatives have built themselves at least six fortified villas in those three locations. Like the Abbottabad villa-fortress where Osama bin Laden was killed Sunday night by a team of US Seals, the Gaza villas have top security and dominate the surrounding skylines.
The success of the American, Israeli and Egyptian agencies in foiling a major terrorist attack in Sinai was played down by Washington and Jerusalem, conduct that deserves an explanation in the new anti-al Qaeda climate. The fact is that the international community has assigned the Palestinian extremist Hamas a key role in the Palestinian-Israeli peace process and is therefore concerned with cleaning up its reputation. Every effort is therefore being made to avoid the embarrassment of fingering Hamas, not only for harboring but also activating al Qaeda's Gaza's cells for terrorism against Israel. Hamas is not punished for opening the smuggling tunnels it runs jointly with Iran and al Qaeda to admit them, even though those tunnels are branches of the wide-ranging Hamas-Iran-al Qaeda smuggling web that links Somalia, Eritrea, Sudan and the Arabian Peninsula, including Yemen.
How would Hamas look if it were exposed to the same hard light of day as al Qaeda? Would its sponsors be able to sanitize these Islamists enough to sit them down opposite Israel as legitimate co-rulers of the future Palestine, including the West Bank? Therefore, in the past year, agents of the US, British, French, Italian, Swiss and Norwegian governments have been working hard to refurbish Hamas and make it look respectable in Western eyes. They therefore choose to believe Gaza's Prime Minister Ismail Haniyeh when he laughed off the suggestion that his organization maintains operational ties with al Qaeda or that any of its jihadis are present in the Strip. But all their hard work was undone Monday, May 2, when the al Qaeda leader's sudden death caught the Hamas prime minister off-guard. Blurting out what he really felt, Haniyeh condemned the killing of bin Laden as "the continuation of American oppression and shedding of blood of Muslims and Arabs." Although Hamas had its differences with Al Qaeda, his group, he said, condemns the assassination of "a Muslim and holy Arabic warrior" and prays that bin Laden's "soul rests in peace."
The Hamas official was the only Muslim leader in the world to bluntly condemn the US for killing the master-terrorist, a telltale betrayal of Hamas's true nature behind its Western-contrived diplomatic façade. While some Israeli officials tried pretending Haniyeh had been carried away, debkafile's Palestinian sources report that he was genuinely appalled by Osama bin Laden's death and spoke from the heart. In private conversations, Hamas leaders confess that they really do regard the United States as the worst and most blood-stained oppressor of Middle East Arabs, aside from Israel. Despite their ideological differences, they genuinely regard Al Qaeda and its fighters as heroic mujahedin and prized allies.
In this, they secretly line up with Tehran which too, behind its show of denouncing al Qaeda, using its services covertly, mainly in Iraq, for killing Americans. The absence of any American or Israeli rebuke for Haniyeh is accounted for by the date: Wednesday, May 4, Khaled Meshaal flies into Cairo from Hamas headquarters, Damascus, to embrace Palestinian Authority Chairman, Mahmoud Abbas of Fatah, and solemnize a unity pact burying the four-year old hatchet dividing their organizations and separating the Gaza Strip from the West Bank. The deal was mediated by Egypt for the main objective shared by all three of bestowing respectability and legitimacy on the Hamas terrorist organization, and by definition its operational partnership with al Qaeda. The Obama administration and Europe seem to find no difficulty in reconciling the killing of al Qaeda's leader after a 10-year hunt and the consolidation of his organization and terrorist cells in the Gaza Strip and Sinai with the blessing of Cairo, Ramallah and their Western backers.
Palestinians Riot in Jerusalem to Protest Killing of Bin Laden
May 3….(In The Days) While most of the free world praised the United States for having rid it of arch-terrorist Bin Laden, the Hamas organization, which has recently all but merged with Fatah, headed by Mahmoud Abbas, condemned the act. Similarly, Arabs in the village of Silwan, adjacent to the City of David neighborhood in Jerusalem, rioted Monday night in protest over the elimination of Osama Bin Laden. The rioters threw stones at police and attempted to block roads. The Gaza-based website Al Qassam reports that Gaza leader Ismail Haniyeh, the head of the local Hamas chapter that runs Gaza, told reporters on Monday that Bin Laden was an "Arab holy warrior." Meeting with journalists in his office in Gaza City, Haniyeh said, "If this news of Bin Laden's killing is true, then this means that it is part of the American policy based on the oppression and bloodshed in the Muslim and Arab world." Haniyeh expressed his strong condemnation for the killing or assassination of Bin Laden, whom he referred to as "Mujahed," someone in engaged in jihad, holy war against infidels. He said he was praying for mercy for Bin Laden. Hamas reached a "reconciliation" agreement with Fatah last week, calling for the formation of a joint interim government in the coming days, and preparations for elections a year from now throughout Judea, Samaria and Gaza. The agreement was hailed by most left-wing and anti-Israel organizations, but even President Shimon Peres, a strong supporter of a two-state solution and the Oslo process, said, "Israel would like to see the Palestinian people become united for peace, but this is not an agreement, this is a split. Hamas is a recognized terrorist organization. According to this agreement Hamas doesn't have to change their charter that calls for the destruction of Israel, they can continue to shoot at us as they did when firing [last month] on a yellow school bus [and murdering a teenager]. Hamas is a branch of Iran, Iran, Hamas and Hizbullah want a union for war."
Hamas Mourns Bin Laden's Death
| | |
| --- | --- |
| | A 40-man Navy Seals squadron killed Bin Laden in Abbottabad, Pakistan, with a bullet to the head. |
May 2….(YNET) Hamas on Monday condemned the killing by US forces of Osama bin Laden and mourned him as an "Arab holy warrior" while Iran condemned "Zionist terror" and a US national security official told Reuters the mission of the special forces team that hunted down the terrorist had been to kill him. "This was a kill operation," the official said, making clear there was no desire to try to capture bin Laden alive in Pakistan. Ismail Haniyeh, head of the Hamas administration in the Gaza Strip, told reporters that the group regards bin Laden's death "as a continuation of the American policy based on oppression and the shedding of Muslim and Arab blood." Though he noted doctrinal differences between bin Laden's al Qaeda and Hamas, Haniyeh said: "We condemn the assassination and the killing of an Arab holy warrior. We ask God to offer him mercy with the true believers and the martyrs." Iran responded to the killing by saying that the US and its allies had now "lost the excuse to continue their presence in the region with the aim of fighting terror". In a statement Iranian Foreign Ministry Spokesman Ramin Mehmanparast said, "This incident proves that there is no need for a huge war in order to deal with one person." He said Iran, which sees itself as a victim of terror, "condemns all acts of terrorism in the world, including the organized terror of the Zionist regime". 'Saudi Arabia refused to bury bin Laden'
US officials said Monday that bin Laden's country of birth, Saudi Arabia, had refused to accept the body of the arch-terrorist for burial so the country was forced to bury him at sea, CBS reported. Earlier sources in Washington reported that bin Laden's body had been transferred to Afghanistan and then buried at sea for fear that Islamist extremists would turn any gravesite into a holy place. The Saudi Press Agency carried an official statement Monday expressing hope that bin Laden's death with be a "step that supports the international efforts against terrorism." It added that the Saudi people in particular were targeted by "this terrorist organization," referring to bin Laden's al-Qaeda, which once had an active branch in the desert kingdom. Saudi Arabia revoked his citizenship in 1994.
Issam al-Aryan of Egypt's Muslim Brotherhood responded to bin Laden's death by calling on the US to withdraw from Afghanistan and Iraq. "With bin Laden's death one of the main reasons for violence in the world is gone," he said. "It's time for Obama to withdraw from Afghanistan and Iraq and terminate the occupation of the US and Western forces throughout the world, which harms Muslim states deeply." Al-Aryan added that "the uprisings in the Middle East are proof that democracy has its place in the region and it does not require foreign occupation". He also predicted that various terror groups would retaliate for the killing. "It's time the world understood that there is no connection between violence and Islam," al-Aryan said. "Any connection between them is false and based on the media."
Palestinians: Jerusalem is Already Ours
May 1….(Israel Today) While Israelis from the right and left of the political spectrum argue over the future of Jerusalem, Palestinian leaders say the eastern half of the holy city is already in their hands. In his weekly radio address last week, Palestinian Authority Prime Minister Salam Fayyad announced that his government would soon resume administrative duties in eastern Jerusalem neighborhoods. Fayyad noted that the PA had already allocated half-a-million dollars to altering the curriculum in Arab schools in Jerusalem, and that it would also bolster health and judicial services. The move is a direct violation of the Palestinians' signed agreements with Israel, which prohibit Palestinian administrative activity in Jerusalem. It is seen as part of the new Palestinian Authority strategy of unilaterally seizing control of the lands it claims and winning international backing for sovereignty over them. Of special concern are the changes to the curriculum in Arab schools. The new textbooks that Fayyad's government is bringing in deny the Jews' right to live in Israel and even contain excerpts of the infamous Czarist blood libel The Protocols of the Elders of Zion. Fayyad claimed that with eastern Jerusalem in Palestinians hands, the city would become a symbol of peace and coexistence, but the schoolbook changes in particular show that the Palestinians are only interested in sowing the seeds of hate and continued conflict.
Israel increasingly concerned about Egypt
May 1….(Israel Today) Israelis are growing increasingly concerned that Egypt is reverting to an openly hostile enemy state in the wake of its much-publicized "democratic" revolution. The peace forged between Israel and Egypt in 1979 was a very cold peace for most of the past three decades. But, there was bilateral trade, there were no open threats, and Cairo was just as interested as Israel in curbing Islamic extremists. All of that appears to be changing. Egyptian Minister of Finance Samir Radwan told Kuwaiti newspaper Al Anba at the weekend that the Camp David Accord does not require Egypt to sell natural gas to Israel. Since 1979, Israel has relied on the reasonably-priced supply of gas from its neighbor. It is expected that if Islamists like the Muslim Brotherhood make a strong showing in upcoming Egyptian elections, Egypt will either significantly raise the price of gas to Israel, or shut off the supply all together. And there is every reason to believe the Brotherhood will do well when Egyptians go to the polls, most likely in September.
The Muslim Brotherhood on Saturday announced that it will contest roughly half of the seats in the Egyptian parliament. Analysts have noted that the group is currently the most organized political force in Egypt, and has a very real chance of winning most, if not all of those seats. If the Muslim Brotherhood comes to power, it will exacerbate another growing problem in Israel-Egypt relations, that of Cairo's shifting policies toward Gaza and its Hamas rulers. The interim government in Egypt has already decided to open its border crossing with Gaza, allowing Gaza-based terrorists to far more easily import weapons. It has also openly embraced Hamas and the group's sponsors in the Iranian regime. Hamas actually has its origins in the Muslim Brotherhood, and if the latter comes to power in Egypt, the Palestinian group can be expected to profit considerably. Israeli experts warn these developments could eventually undermine the Israeli-Egyptian peace treaty.
All of Israel within Rocket Range under Hamas-Fatah State
| | |
| --- | --- |
| | (FOJ) A new illustrated map presented by the pro-Israel Americans for a Safe Israel (ASFI) shows that a Hamas-Fatah-controlled Palestinian Authority state, with or without all the borders the PA demands, would leave all of what would remain of Israel within Katyusha missile range. A Hamas-Fatah PA state would allow the Hamas terrorist organization, whose stated aim is the destruction of Israel, to deploy Iranian and Syrian-supplied Katyusha missiles near all Israel urban centers. been Haifa and the Galilee from Hizbullah terrorists in Lebanon. Mahmoud Abbas, Israel's supposed 'peace' partner, has now joined forces with Hamas, the acknowledged Hamas terrorist group. |
May 1….(Arutz) Seventy percent of the population of Israel, and 80 percent of the country's industrial base is located in the coastal region that includes Netanya and metropolitan Tel Aviv. One large PA city is Tulkarm, located only a few miles east of Netanya and overlooking the high-speed north-south Highway 6 (Kvish 6). Jerusalem would be within easy range of Jericho, where the PA army is trained on a United States-funded base by American military officers. Be'er Sheva already has been attacked by Grad Katyusha missiles from Gaza, as have been Haifa and the Galilee.
"This is actually a declaration of war against the State of Israel since Hamas has never disguised its intentions of destroying Israel. "The Palestine Liberation Organization (PLO) has used the diplomatic track, hoping to delude Israelis and the world with its words of peace, while pursuing its terrorist ideology. The truth is now out." It added that the creation of a new Arab state controlled by Hamas and Fatah would be "suicidal" for Israel. Israel has been almost totally unified in its horror of the idea of Hamas being part of the Palestinian Authority. Even before the "unity" of the two organizations, there was the fear of a Hamas takeover in the PA's Judea and Samaria areas, as happened in Gaza.
The Obama administration has only stated that it is "studying" the new agreement between Fatah and Hamas while former US President Jimmy Carter stated he thinks it is a great idea. The Carter Center, founded in 1982 by Carter and his wife Rosalynn, commended members of Hamas and Fatah for "having the vision to begin the process of reunifying the Palestinian people." Carter added, "Based on my years of contacts with Fatah and Hamas, I am confident that, if handled creatively and flexibly by the international community, Hamas' return to unified Palestinian governance can increase the likelihood of a two-state solution and a peaceful outcome."

---