WEEK OF JULY 24 THROUGH JULY 30
Israeli, Palestinian Envoys Square off Over UN Recognition
(Palestinian envoy says UN recognition of Palestinian statehood would not harm the peace process, while Israeli ambassador says unilateral move would not lead to peace)
July 29….(Ha Aretz) Israeli and Palestinian envoys squared off on Tuesday over plans to seek UN recognition of a state of Palestine in September, which Israel rejected as an attempt to bypass direct peace talks. Speaking at a regular meeting of the UN Security Council on the Israeli-Palestinian conflict, Palestinian observer Riyad Mansour said seeking UN recognition would not hurt the peace process and would instead strengthen efforts to achieve a negotiated "two-state solution." "The consecration of the two-state solution in bold resolutions, including recognition of the state of Palestine, on the basis of the pre-1967 borders and its admission as a full member of the organization, will help to make the two-state solution more inevitable," he said. Mansour did not spell out what exactly his delegation plans to propose during the annual gathering of world leaders in September at the opening of a new session of the 193-nation UN General Assembly.
Western diplomats say the Palestinians have not yet decided whether to seek membership in the UN as a sovereign state or press for a non-binding resolution recognizing a Palestinian state without UN membership. The United States, like its ally Israel, opposes the idea of full Palestinian membership in the UN at the moment and has made clear it would use Washington's veto power on the Security Council to block it. Israel and the US say Palestinian statehood, including UN membership, should come at the end of a negotiated peace process. Mansour later told journalists he looked forward to legislative action in the new General Assembly session opening in September and that UN membership was an "ultimate objective" but he gave no details.
Israel's UN Ambassador Ron Prosor made clear the Jewish state was strongly opposed to the Palestinian push at the UN. "Now is the time for the international community to tell the Palestinian leadership what it refuses to tell its own people, there are no shortcuts to statehood," he told the 15-nation council. "You cannot bypass the only path to peace. "The Palestinians will have to make compromises and make hard choices," Prosor said. "They will have to get off the bandwagon of unilateralism and back to the hard work of direct peacemaking." The Palestinians, who have UN "observer" status, previously pledged to seek UN endorsement in September for their claim of sovereignty in the Gaza Strip, the Israeli-occupied West Bank and East Jerusalem. The move has gained momentum with the lack of progress in Israeli-Palestinian peace negotiations. The Arab League formally backed this plan in May.
But in the face of opposition from Israel and a number of major powers who say only negotiations can solve the conflict, the Palestinians later signaled they might opt for a more limited upgrade to "non-member state" status, which requires only General Assembly approval. Mansour referred to US President Barack Obama's May 19 speech on the Israeli-Palestinian conflict, in which Obama expressed support for a two-state peace deal based on 1967 lines with land swaps, as "bold." But he said the Quartet of Middle East peace negotiators, the US, Russia, the European Union and the UN, had missed an opportunity at a July 11 meeting in Washington to set guidelines for renewed peace talks because it been "held hostage by (Israel's) intransigence." The Palestinians have refused to resume peace talks unless Israel renews a moratorium on settlement building in occupied territory, something Israel has rejected. Israel reacted coldly to Obama's reference to the 1967 lines, which the Jewish state says are indefensible, but Prosor told journalists on Tuesday the US president's speech could serve as "a base" for negotiations.
US Will Oppose Palestinian Statehood Recognition at UN
July 29….(In The Days) The United States has made clear it will oppose a possible Palestinian bid for state recognition at the United Nations this September. The Palestinians might seek such recognition because they are frustrated with the lack of progress in direct peace negotiations with Israel. During the final public discussion in the UN Security Council about the Israeli-Palestinian situation before the UN General Assembly meets in September, US Deputy UN Ambassador Rosemary DiCarlo emphatically stated that Washington will not support any bid by the Palestinians for recognition. "Let there be no doubt: symbolic actions to isolate Israel at the United Nations in September will not create an independent Palestinian state. The United States will not support unilateral campaigns at the United Nations in September or any other time," she said.
The United States is one of five veto-wielding permanent members of the Security Council, and it is the 15-member council that recommends states for UN admission to the General Assembly for approval. Without that recommendation, a state cannot be admitted to the United Nations. The Palestinians are considering going to the General Assembly first to try to achieve a two-thirds majority or more from the 193 nations, hoping to pressure the United States not to veto their request if they can muster broad international support. Ambassador DiCarlo said there are no "short-cuts" to a two-state solution. She said a viable and sustainable peace can only be achieved through mutual agreement between the Palestinians and Israelis on outstanding issues. But efforts to restart talks between the two parties have been stalled since late September following Israel's refusal to extend a 10-month freeze on settlement activity in the occupied Palestinian territory.
Palestinian envoy Riyad Mansour seized on the settlement issue, saying that is the "biggest unilateral illegal action" and that the Palestinian bid for recognition is a very multi-lateral action. "We thus continue to appeal for recognition of the State of Palestine based on the pre-1967 borders," he said. "We are convinced that the more than 120 bilateral recognition of Palestine to date are each a reaffirmation of our inalienable right to self-determination and our natural and legal right to statehood and to be a part of the international community." But Israel's UN envoy, Ron Prosor, said the split within the Palestinian leadership means even the most basic condition for statehood does not exist. "The Palestinian Authority does not maintain effective control over all its territory, nor does it hold a monopoly on the use of force. The Hamas terrorist organization still maintains de facto control in Gaza," said Prosor. Later, the Palestinian envoy told reporters that hundreds of thousands of Palestinians inspired by the Arab Spring sweeping the region could take to the streets to peacefully demand their right to self-determination, a voice he did not think the international community could ignore.
Record Number of US Troops Killed by Iranian Weapons
July 29….(National Journal) US military commanders in Iraq say Iranian-made weaponry is killing American troops there at an unprecedented pace, posing new dangers to the remaining forces and highlighting Tehran's intensifying push to gain influence over post-US Iraq. June was the deadliest month in more than two years for US troops, with 14 killed. In May, the US death toll was two. In April, it was 11. Senior US commanders say the three primary Iranian-backed militias, Kataib Hezbollah, the Promise Day Brigade, and Asaib al Haq, and their rockets were behind 12 of the deaths in June. A detailed US military breakdown of June's casualties illustrates the growing threat posed by Iranian munitions.
Military officials said six of the 14 dead troops were killed by so-called "explosively formed penetrators," or EFPs, a sophisticated roadside bomb capable of piercing through even the best-protected US vehicles. Five other troops were killed earlier in the month when a barrage of rockets slammed into their base in Baghdad. It was the largest single-day US loss of life since April 2009, when a truck bomb killed five soldiers. The remaining three troops killed in June died after a rocket known as an "improvised rocket-assisted mortar," or IRAM, landed in a remote US outpost in southern Iraq. US officials say the EFPs, rockets, and IRAMs all come from neighboring Iran. Tehran denies providing the weaponry to Shia militias operating in Iraq. "We're seeing a sharp increase in the amount of munitions coming across the border, some manufactured as recently as 2010," Maj. Gen. Jeffrey Buchanan, the top US military spokesman in Baghdad, said in an interview. "These are highly lethal weapons, and their sheer volume is a major concern." Buchanan said much of the current weaponry is passing into the country through its formal border crossings with Iran. Current and former American military officers claim that those border crossings are guarded by Iraqi security personnel whose long-standing financial relationships with their Iranian counterparts means they will accept bribes or turn a blind eye in order to allow munitions through.
Covert Iranian shipments of munitions into Iraq are not a new phenomenon, but Buchanan said the amount of weaponry being used against US forces throughout the country has reached unprecedented levels. US ground patrols have in the past suffered one or two EFPs in a single attack, but Buchanan said some recent incidents have involved as many as 14 of the powerful bombs. American bases, meanwhile, are being struck by dozens of rockets at a time. In mid-July, a single US outpost was hit by 40 rockets, though none caused casualties, Buchanan said. "The number of EFP's being used in a given attack, the number of rockets being launched in a single volley, all of that is much higher than in the past," Buchanan said. The rising American death toll from Iranian-made weaponry provides a grim counterpoint to Iraq's escalating political debate over whether any US troops should be allowed to remain in the country past the end of the year. Under the terms of a treaty signed by the Bush administration in late 2008, the remaining 46,000 US troops now in Iraq are supposed to return home by the end of 2011. The Obama administration has made clear that it would be open to leaving approximately 10,000 troops in Iraq indefinitely if Baghdad requests such an extension, but the fractious Iraqi government has yet to decide whether or not it wants the troops to stay.
In the meantime, American influence within Iraq is on the wane. US officials believe the Iranian government is trying to fill the void, stepping up both its commercial dealings with Iraq's government, the two countries, along with Syria, signed a $10 billion natural-gas pipeline deal earlier this week, and its covert support to the armed militias inflicting casualties on the departing US troops. "Their intent is to bleed US forces on the way out of Iraq for some sort of moral victory, as well as to reestablish coercive control over Iraqi governors in the south by showing off their capacity to carry out these kinds of sophisticated attacks," said Mike Oates, a recently-retired, three-star Army general and former commander of all US forces in southern Iraq. "They're trying to prick us as we leave."
US Accuses Iran of 'Secret Deal' With al-Qaeda
(US accuses Tehran of having 'secret deal' with global terror group, says 'Iran has become critical transit point for al-Qaeda resources')
July 29….(YNET) The Obama administration is accusing the Iranian government of entering into a "secret deal" with al-Qaeda to funnel money and insurgents from the Middle East to Afghanistan and Pakistan. The Treasury said Iran has allowed al-Qaeda operatives to build a "core pipeline" to funnel cash and extremists to the front lines. t said Iran had become a "critical transit point" for money and recruits, and slapped sanctions on six alleged al-Qaeda agents. They include an Iran-based member allegedly operating with the permission of authorities in Tehran. The sanctions freeze any assets the six may have in the US and ban Americans from commercial or financial transactions with them. The Treasury said its exposure of the deal and the sanctions would further set back Iran and al-Qaeda's extremist agenda.
The US Treasury named Iran-based Ezedine Abdel Aziz Khalil, also known as Yasin al-Sura, as a "senior al-Qaeda facilitator" who has operated from inside Iran since 2005 "under an agreement between al-Qaeda and the Iranian government." Khalil moves al-Qaeda money and recruits from across the Middle East through Iran and then to Pakistan "for the benefit of al-Qaeda senior leaders," Washington said in a statement. Pakistan-based Atiyah Abd al-Rahman, formerly al-Qaeda founder Osama bin Laden's "emissary in Iran," according to DC, was also named on the list. Rahman is currently al-Qaeda's overall commander in Pakistan's tribal areas, it said. Four other men, Umid Muhammadi, Salim Hasan Khalifa Rashid al-Kuwari, Abdallah Ghanim Mafuz Muslim al-Khawar, and Ali Hasan Ali al-Ajmi, were also named as part the operation working through and in Iran. "This network serves as the core pipeline through which al-Qaeda moves money, facilitators and operatives from across the Middle East to South Asia," the Treasury said. The Treasury did not say where Muhammadi is based, but Kuwari and Khawar are believed to be based in Qatar, while Ajmi is based in Kuwait.
Radical Islamists Trying to Take Over Temple Mount
(Hizb ut-Tahrir organization rallies thousands on Temple Mount calling for Islamic Caliphate rule.)
July 29….(Arutz) On the 90th anniversary of the fall of the Ottoman Empire, the vast Islamic Caliphate regime which fell in 1921 after WWI, thousands of members of the Radical Islamist organization Hizb ut-Tahrir rallied on the Temple Mount in Jerusalem. They called for Muslims to unite and embrace the Caliphate rulership once more. Demonstrators flew banners bearing inscriptions such as "The Ummah (Muslims) Want Muslim Caliphates." A giant banner was put up in the Al Aksa mosque courtyard on the Temple Mount. Other banners said "No to Democracy, Yes to Caliphates". The crowd controller, using a microphone, soon had the crowd chanting over and over, "O Muslim armies, awaken to help Muslims." The Hizb ut-Tahrir ('Party of Liberation') website calls for the Muslim armies to forcefully lift the Gaza IDF naval blockade with military action, making it serve "as a tight noose" around Israel. Caliphates were a totalitarian system of Muslim government established by Mohammed, who made himself the first Caliph, reigning until 632AD The Caliph was a religious and political leader, who made the Koran's prescriptions, now developed into the legal body known as Sharia law, the law of the land. The Ottoman Empire embraced the idea of a caliphate, and was governed this way until its dissolution.
The Islamic Party of Liberation is a radical Islamic group founded in 1953 in East Jerusalem under Jordanian rule. They are active in Judea and Samaria and in Jordan, with most of their power in the southern Hebron mountain region and in East Jerusalem, where the hard core activists pray in the Temple Mount mosques.The organization has branches spread across the Arab and Islamic world (primarily Central and South-East Asia), with activity in Islamic communities in Europe, North America, Asia, and Australia. The 'Arab Spring' upheavals seem to have put fresh wind in the sails of Hizb ut-Tahrir, now rallying and openly demanding Muslim unity under one caliphate government. A similar demonstration was held in Gaza, with more activity in Cairo's Tahrir Square. The leaders of Hizb ut-Tahrir see the new reality in the Middle East as the right time for the caliphate, as well as for the end of the State of Israel.
Egypt Hosts Hizbullah-Muslim Brotherhood Terror Axis Meeting
(Egypt this week hosted a "resistance" conference attended by the Muslim Brotherhood, Hizbullah and Palestinian Authority terrorist groups.)
July 28….(Arutz) Egypt this week hosted a "resistance" conference attended by the Muslim Brotherhood, Hizbullah and Palestinian Authority terrorist groups. They discussed linking the Arab Spring uprisings with demands of the Palestinian Authority. The two-day convention at the Egyptian Press Syndicate was held under the lofty name of the "Founding Conference of the Arab-Islamic Gathering to Support the Option of Resistance," according to The Meir Amit Intelligence and Terrorism Information Center. Delegates from 14 countries joined the meeting, including those from Saudi Arabia, Tunisia, Turkey, Iran, Indonesia, Morocco, Sudan and Jordan. The terrorist groups from the Palestinian Authority were not named but probably include Hamas, Islamic Jihad and the Al Aqsa Martyrs' Brigade, the military arm of the Fatah movement headed by PA Chairman Mahmoud Abbas.
Representatives also came from the Muslim Brotherhood, which spawned the Hamas terrorist organization and which has gained significant influence in Egypt since the ouster of former Egyptian President Hosni Mubarak earlier this year. A delegate from Hizbullah spoke in the name of its supreme leader, Hassan Nasrallah, Arab news agencies reported. The conference attempted to establish a link between the so-called "resistance," the Arab code word for terrorism, and the Arab Spring uprisings. Osama Hamdan, responsible for Hamas' international relations, said that "the [Israeli-Palestinian] conflict will never end unless Israel ceases to exist."
Lawmaker Calls for Congressional Probe Into Ban of Christian Prayers at Military Funerals
July 27….(Fox News) A Texas lawmaker is calling for a congressional investigation of the Houston National Cemetery after he went undercover and determined that cemetery officials are still preventing Christian prayers at the funerals of military veterans. "The Obama administration continues to try to prevent the word 'God' from being used at the funerals of our heroes," said. Rep. John Culberson (R-Texas). "It's unacceptable and I'm going to put a stop to it as fast as humanly possible," Culberson told Fox News Radio. He attended a burial service at the cemetery undercover on July 8, when he says he witnessed volunteer members of the honor guard from the Veterans of Foreign Wars being prohibited from using any references to God. "The Obama administration had told the nation and me they were not interfering with the prayer said over the graves of veterans," he said. "And I went undercover to personally verify that claim." VA officials have strongly denied they've banned any religious speech, and have offered support for Arleen Ocasio, the cemetery's director. "The idea that invoking the name of God or Jesus is banned at VA national cemeteries is blatantly false," said VA Press Secretary Josh Taylor in a written statement to Fox News Radio. "The truth is, VA's policy protects veterans' families' rights to pray however they choose at our national cemeteries." Taylor declined to comment on the pending lawsuit or other ongoing legal proceedings, but did say, "No one should make judgments before all the facts are known." Culberson said the commander of the honor guard was told by cemetery officials to approach a grieving widow to reconfirm that she wanted the word God mentioned at her husband's graveside service. "He quite correctly said as a Texan and a man of honor and integrity, 'I'm not bothering that poor woman at this most terrible time of her life. We're going to do the ritual,'" Culberson said. "Right in front of me, the VA directly and deliberately attempted to prevent the VFW from doing their magnificent, spiritual ritual over the grave of this fallen hero."
The cemetery is already the focus of a lawsuit filed on behalf of the VFW, an American Legion post and Houston's National Memorial Ladies. They claim the VA banned members of the organizations from using the words "God" or "Jesus" at burial services. They also allege they were banned from reciting prayers or using religious language during services unless families approved the text in advance. Culberson, who oversees the sub-committee responsible for funding the cemetery, said that he wants the cemetery director fired, and he's willing to do whatever possible to make sure that happens. "The cemetery director has to leave," he said. "I will zero out her salary. If she attempts to work for the VA anywhere in the state of Texas her salary will be zero." "It makes my skin crawl that liberals are attempting to drive prayer out of a funeral ceremony for our heroes," Culberson said. "We're going to fix this so that no Obama liberal bureaucrat will interfere with the funeral of a hero." But Taylor said the rules set in place at the cemetery are meant to protect the grieving families. "Put simply, VA policy puts the wishes of the veteran's family above all else on the day it matters most, the day they pay their final respects to their loved ones," Taylor said. "Out of respect for the families, VA's policy exists to prevent anyone from disrespecting or interfering with a veteran's private committal service." Controversy first surfaced nationally at the cemetery during a Memorial Day event when a Houston pastor was ordered by the VA to remove the name of Jesus from his prayer. Culberson said he hopes to hold hearings on the cemetery in the fall. "They will bury 10 to 20 American heroes today and the Obama administration is preventing prayers from being said over their gravesites, today, " Culberson said.
US Protests Iran's Anti-Christian 'Convert of Die' Verdict
July 27….(Arutz Sheva: Christian World News) The United States is "outraged" at Iran's decision to uphold a court's "choose Islam or die" verdict for a Christian pastor. The verdict was upheld although Iran officially grants Christians freedom of religion. Yousef Nadarkhani, 32, was sentenced to death by hanging after his arrest nearly two years ago for objecting to Islamic education for Christian children. He was arrested in October 2009 for apostasy because he objected to the teaching of Islam to Christian children at Iranian schools. He was sentenced to death by hanging late last year, a verdict that he appealed to Iran's Supreme Court. His lawyers' appeal to cancel the verdict was thought to have been successful, but Christian websites have reported that he will be questioned again to state whether he is a Muslim, in which case he will be released, or a Christian, a statement that would lead to his execution. "While Iran's leaders hypocritically claim to promote tolerance, they continue to detain, imprison, harass, and abuse those who simply wish to worship the faith of their choosing," State Department spokeswoman Victoria Nuland said.
Iran's constitution declares that the "official religion of Iran is Islam" and adds, "Other Islamic denominations are to be accorded full respect." It recognizes Christianity and Judaism as "protected" religious minorities. Nadarkhani became a Christian at the age of 19 and has been accused by Iranian authorities of encouraging Muslims to convert. The last time a Christian was executed in Iran was in 1990, when a Christian pastor was hanged after refusing to denounce his religion. Meanwhile, Nadarkhani's lawyer, Mohammed Ali Dadkhah, has been sentenced to nine years in jail for "actions and propaganda against the Islamic regime"
Biblical Jewish Roots Irrelevant, Says PA Activist
(The Bible is an "ancient holy book" that is irrelevant in the Palestinian Authority aim for all of Judea and Samaria, a PA activist says)
July 25….(Arutz) The Bible is an "ancient holy book" that is irrelevant to the Palestinian Authority's aim to take over all of Judea and Samaria from the Jews, a PA activist said in a rare debate last week with a "settler" in a Washington synagogue. The Bible is full of "medieval" traditions that should not be considered or influence decisions on whether or not to create the Palestinian Authority as an independent state within Israel's borders, Dr. Hussein Ibish, Senior Fellow at the American Task Force on Palestine, said in the debate with David Ha'Ivri, director of the Shomron (Samaria) Liaison Office. His comment is at odds with Palestinian Authority Muslim clerics who claim that Jews have "stolen" the Temple Mount, Rachel's Tomb and other holy Jewish sites, which they say have no connection with Jews. The clerics have argued the sites' alleged connections with Islam, a religion which did not exist in Biblical times and which was not founded until centuries after the Holy Temples were built and approximately 2,000 years after the matriarch Rachel died. The Koran has many excerpts from the Bible. Ibish's comments were in answer to Ha'Ivri's statement that Jerusalem is mentioned over 800 times in the Bible and not at all in the Koran and that most of the Biblical narrative relates to events in Judea and Samaria.
The live debate on the subject "Palestinian State or Jewish Homeland?" came less than two months before the Arab League is expected to ask the United Nations to recognize "Palestine" as an independent country based on the Arab world's territorial and political demands, which deny recognizing Israel as a "Jewish" state. Ibish, born in Lebanon and a self-described agnostic, has campaigned on American campuses as executive director of the American Task Force for Palestine. He co-authored an article in the Huffington Post last week claiming that the United Nations "Council failed to implement Resolution 181," recommending the partition of Palestine into two separate states, one Jewish and one Arab. According to Ibish's account of history, the declaration of the re-establishment of Israel led to the "the intervention by five Arab armies in what was already a raging communal civil war in Palestine. By all accounts, Arab forces waged war against Jews in Israel well before the United Nations Partition Plan and immediately attacked Jews afterwards. Ibish's article also avoided all mention of Arab terror when he described the "peace efforts" from the Oslo Accords in 1993 to the American Roadmap plan in 2003.
WEEK OF JULY 17 THROUGH JULY 23
The Growing Threat in Gaza
Fall of Mubarak regime allowed terror groups to smuggle in huge quantities of arms
July 22….(YNET) Seven months passed since the outbreak of Arab world uprisings. The wave is not over yet and it is still difficult to estimate its implications and how it will affect, in the long run, Israel's strategic, political and security situation. However, at this time already we can see several developments that have a direct bearing on the security-military balance between Israel and elements that threaten it in neighboring theaters. The main, immediate beneficiaries of what is known as the "Arab spring" are Hamas and Islamic Jihad in the Gaza Strip. The riots in Egypt and the removal of Mubarak and his associates from power prompted two developments: First, the Muslim Brotherhood is no longer an underground movement and has become an important, influential political element. The group's influence prompted Egypt's government to completely halt construction of the underground metal obstacle built with American assistance in a bid to block smuggling tunnels. The Egyptian regime is making no effort to curb new tunnels and has virtually suspended its battle against smuggling from Rafah to the Strip. Simultaneously, Egyptian security forces preoccupied with domestic developments completely lost their hold on the Sinai Peninsula. Some 300,000 Bedouins belonging to four or five large tribes are now the Sinai's true rulers. These tribes' main income is based on smuggling in general, and on smuggling to Gaza in particular, and they quickly exploited the security vacuum in the peninsula in the wake of the revolution. As result of these developments, arms shipments to the Strip have been surging in recent months: Everything that has been sent by the Iranians and their emissaries in recent years and was hidden by the Bedouins, who waited for an opportunity to pass it over to Hamas under Egypt's nose, has flowed freely into Gaza in the past five months. Meanwhile, new shipments arrived and were transferred to Hamas and Islamic Jihad without delay or a need to hide them.
Consequently, terror groups in the Gaza Strip doubled their rocket arsenals. Today, according to highly credible sources, these organizations possess some 10,000 rockets of all types, a similar number to the Hezbollah arsenal in the Second Lebanon War. While this is a disturbing figure, the overwhelming majority of rockets held by Hamas and its allies are short-range projectiles with relatively small warheads. However, Gaza terror groups, and mostly Hamas and Islamic Jihad, hold thousands of mid-range Grad rockets, and a few heavy Fajr rockets that have a range of some 65 kilometers (roughly 40 miles) and can reach the outskirts of Bat Yam, just south of Tel Aviv. This means that in the next major clash in the Strip, Hamas and Islamic Jihad will be able to disrupt life not only in south-central Israel more than before, but also disrupt the orderly operations of IDF and Air Force basis in the area. Moreover, from the beginning of the year, the Bedouins transferred into Gaza three times the quantity of industrial explosives compared to the quantity handed over throughout 2010. The shipments included advanced explosives that would enable Gaza groups to produce more dangerous, destructive bombs than in the past. In addition to rockets and explosives, large quantities of anti-aircraft weapons, and mostly shoulder-held missiles and light artillery, were also smuggled into the Strip. Such arms were available in Gaza before but in small quantities. Now, the quantities are higher, creating a greater threat for Air Force choppers and jets.
Netanyahu: Peace Will Come With Recognition of Jewish State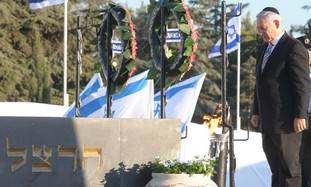 July 22….(Jerusalem Post) Even though peace seems distant, Israel "will know peace has been reached when all our neighbors will recognize the right of a Jewish state to exist," Netanyahu says at national memorial ceremony at Mount Herzl in J'lem. Although peace between Israel and its neighboring countries seems impossible to reach, peace will ultimately come along with recognition of a Jewish state, Prime Minister Binyamin Netanyahu said on Thursday at a memorial ceremony at Mount Herzl in Jerusalem. "Even though peace seems distant and unattainable and there will be many more obstacles before it is reached, peace between us and our neighbors will come," Netanyahu said. "We will know peace has been reached when all our neighbors recognize the right of a Jewish state to exist, just as Benjamin Ze'ev Theodore Herzl predicted." In June, Netanyahu called on Palestinian Authority President Mahmoud Abbas to recognize Israel as a Jewish state, saying "Just say the six words, 'I will accept the Jewish state." In an address to an assembly of the Jewish Agency Board of Trustees, Netanyahu said, "I stood before my people, people of Israel and I said numerous times that I will accept a Palestinian state. Now President Abbas must stand before his people and he has to say these six words, 'I will accept the Jewish state.' I will repeat this over and over and over again because it is the attempt to fudge, it's the attempt to fudge and evade and obscure this essential component of peace; the removal of this basic obstacle to peace that is required and this is what the international community must face up to," he added. "Once the Palestinian leadership says it, we will move inexorably towards peace."
Obama Supports Bill to Repeal Federal Gay Marriage Ban
July 21….(Fox News) As a leading Senate Democrat prepares for hearings this week on repealing the federal law that defines marriage as between a man and a woman, the White House on Tuesday threw its support to overturning the Defense of Marriage Act. The Obama administration has already said it won't defend the Defense of Marriage Act in court because it concludes it's unconstitutional. But Press Secretary Jay Carney on Tuesday went further, saying President Obama is "proud to support" the Respect for Marriage Act, legislation by Sen. Dianne Feinstein, D-Calif., to overturn the 15-year-old law. "The president has long called for a legislative repeal of the so-called Defense of Marriage Act, which continues to have a real impact on the lives of real people, our families, friends and neighbors," Carney said in his daily briefing with reporters. Feinstein, who is a member of the Senate Judiciary Committee, which is hosting the hearing, said she is under no illusion that overturning the ban will be easy, but she does think the public is ready for a change. "I think eyes have opened. More and more people across this land know people who are gay, who want to have a lasting relationship, who look at marriage as an economic agreement as well as an emotional agreement," said Feinstein, speaking at the National Press Club Tuesday.
So far six states have passed legislation allowing gay marriage within their states, but the federal ban prevents same-sex couples from applying for citizenship benefits, filing federal taxes together or claiming deductions that married people receive. Married gay couples can also not receive spousal benefits under Social Security or take unpaid leave for certain family and medical reasons. The Defense of Marriage Act passed both chambers of Congress by overwhelming margins and was signed into law by President Bill Clinton. Feinstein was one of 14 senators to oppose the legislation. Feinstein is now one of 27 co-sponsors, none Republican, supporting repeal. She said with a GOP-dominated House, she understands repeal may not happen anytime soon. "If we don't succeed this session, we will try again next session," she said. "Believe me, we will continue this effort until the battle is won."
Israel's Only Two Options
July 20….(JewishWorldReview) Fatah leader Mahmoud Abbas is in Europe this week seeking to convince the Spanish and Norwegian governments to support the Palestinian bid to sidestep negotiations with Israel and have the UN General Assembly recognize Palestinian sovereignty over Judea, Samaria and Jerusalem in addition to Gaza. The Palestinians know that without US support, their initiative will fail to gain Security Council support and therefore have no legal weight. But they believe that if they push hard enough, Israel's control over these areas will eventually unravel and they will gain control over them without ever accepting Israel's right to exist. Fatah's UN gambit, along with its unity deal with Hamas, makes clear that the time has come for Israel to finally face the facts: There are only two realistic options for dealing with Judea and Samaria. Either the Palestinians will take control of Judea and Samaria, or Israel will annex them. If the Palestinians take control, they will establish a terror state in the areas, which, like their terror state in Gaza, will use its territory as a starting point for continued war against Israel. It isn't only Israel's experience with post-withdrawal Gaza and South Lebanon that make it clear that a post-withdrawal Palestinian-controlled Judea and Samaria will become a terror state. The Palestinians themselves make no bones about this.
In a Palestinian public opinion survey released last week by The Israel Project, 65 percent of Palestinians said they believe that they should conduct negotiations with Israel. But before we get excited, we need to read the fine print. According to the survey, those two-thirds of Palestinians believe that talks should not lead to the establishment of the State of Palestine next to Israel and at peace with the Jewish state. They believe the establishment of "Palestine" next to Israel should serve as a means for continuing their war against Israel. The goal of that war is to destroy what's left of Israel after the "peace" treaty and gobble it into "Palestine." That is, 66% of Palestinians believe "peace" talks with Israel should be conducted in bad faith. Moreover, three-quarters deny Jewish ties to Jerusalem, and 80% support Islamic jihad against Jews as called for in the Hamas charter; 73% support the annihilation of the Jewish people as called for in the Hamas charter on the basis of Islamic scripture.
As bad as Israel's experience with post-withdrawal Gaza and South Lebanon has been, Israel's prospects with a post-withdrawal Judea and Samaria will be far worse. It isn't simply that withdrawal will invite aggression from Judea and Samaria. It will invite foreign Arab armies to invade the rump Jewish State. Unlike the post-withdrawal situation with Gaza and South Lebanon, without Judea and Samaria, Israel would not have the territorial depth and topographical advantage to defend itself from invasion from the east. Moreover, the establishment of the second Palestinian terror state after Gaza in Judea and Samaria would embolden some of Israel's Arab citizens in the Galilee and the Negev as well as in Jaffa, Lod, Haifa and beyond to escalate their already declared irredentist plans to demand autonomy or unification with whatever Palestinian terror state they choose. Living under the constant threat of invasion from the east (and the south, from a Muslim Brotherhood-controlled Egyptian army moving through the Sinai and Gaza), Israel would likely be deterred from taking concerted action against its treacherous Arab citizens.
As then-prime minister Ariel Sharon warned in 2001, the situation would be analogous to the plight of Czechoslovakia in the 1930s. Just as the Nazis deterred the Czech government from acting against its traitorous German minority in the Sudetenland in the 1930s, so Arab states (and a nuclear Iran), supporting the Palestinian terror states in Judea and Samaria and in Gaza, would make it impossible for Israel to enforce its sovereign rights on its remaining territory. Israel's destruction would be all but preordained.
The second option is for Israel to annex Judea and Samaria, complete with its hostile Arab population. Absorbing the Arab population of Judea and Samaria would increase Israel's Arab minority from 20% to 33% of the overall population. This is true whether or not Israel grants them full citizenship with voting rights or permanent residency without them. Obviously such a scenario would present Israel with new and complex legal, social and law enforcement challenges. But it would also provide Israel with substantial advantages and opportunities. Israel would have to consider its electoral laws and weigh the prospect of moving from a proportional representation system to a direct, district system. It would have to begin enforcing its laws toward its Arab citizens in a manner identical to the way it enforces its laws against its Jewish citizens. This includes everything from administrative laws concerning building to criminal statutes related to treason. It would have to ensure that Arab schoolchildren are no longer indoctrinated to hate Jews, despite the fact that according to the Israel Project survey, 53% of Palestinians support such anti-Semitic indoctrination in the classroom. These steps would be difficult to enact.
On the other side, annexing Judea and Samaria holds unmistakable advantages for Israel. For instance, Israel would regain complete military control over the areas. Israel ceded much of this control to the PLO in 1996. The Palestinian armies Israel agreed to allow the PLO to field have played a central role in the Palestinian terror machine. They have also played a key role in indoctrinating Palestinian society to seek and work toward Israel's destruction. By bringing about the disbanding of these terror forces, Israel would go a long way toward securing its citizens from attack. Furthermore, by asserting its sovereign rights to its heartland, for the first time since 1967, Israel would be adopting an unambiguous position around which its citizens and supporters could rally. Annexation would also finally free Israel's politicians and diplomats to tell the truth about the pathological nature of Palestinian nationalism and about the rank hypocrisy and anti-Semitism at the heart of much of the international Left's campaigns on behalf of the Palestinians. No, annexation won't be easy. But then again, the alternative is national suicide. And again, these are the only options. Either the Palestinians form a terror state from which it will wage war against the shrunken, indefensible Jewish State, or Israel expands the size of the Jewish State.
Since 1967, Israel has refused to accept the fact that these are the only two options available. Instead, successive governments and the nation as a whole have set their hopes on imaginary third options. For the Left, this option has been the fantasy of a two-state solution. This "solution" involves the Palestinians controlling some or all of the lands Israel took over from Jordan and Egypt in the Six Day War, establishing a state, and all of us living happily ever after. Given the Palestinians' overwhelming, consistent and violent support for the destruction of Israel in any size, this leftist fantasy never had a leg to stand on. And since 1993, when the Rabin government adopted the Left's fantasy as state policy, more than 2,000 Israelis have been killed in its pursuit. Not only has the Left's third option fantasy facilitated the Palestinian terror machine's ability to kill Jews, it has empowered their propaganda war against Israel. Israel's pursuit of the nonexistent two-state solution has eroded its own international position to a degree unprecedented in its history. Last week's meeting of the so-called Middle East Quartet ended without a final statement. It isn't that its members couldn't agree on the need to establish "Palestine" in Judea and Samaria and Jerusalem. That was a no-brainer. The Quartet members couldn't agree on the need to accept the Jewish State. Russia reportedly rejected wording that would have enjoined the Palestinians to accept the Jewish state's right to exist as part of a peace treaty. And this was eminently foreseeable. The unhinged two-state solution makes Israel's legitimacy contingent on the establishment of a Palestinian state. And it put the burden to establish a Palestinian state on Israel. Since everyone except Israel and the US always accepted the establishment of a Palestinian state, and no one except Israel and the US always accepted the existence of the Jewish state, by making its own legitimacy dependent on Palestinian statehood, Israel started the clock running on its own demonization.
The longer Israel allows its very right to exist to be contingent on the establishment of another terror state committed to its destruction, the less the nations of the world will feel obliged to accept its right to exist. As for the Right, its leaders have embraced imaginary third options of their own. Either Jordan would come in and save us, or the Palestinians would come to like us, or something. The one thing that both the Left's fantasy option and the Right's fantasy option share is their belief that the Palestinians or the Arabs as a whole will eventually change. Both sides' imaginary third options maintain that with sufficient inducements or time, the Arabs will change their behavior and drop their goal of destroying Israel. Our 44-year dalliance in fantasyland has not simply weakened us militarily and diplomatically. It has torn us apart internally by surrendering the debate to the two ideological fringes of the political spectrum. Actually, to be precise, we have surrendered 99% of our public discourse to the radical Left and 1% to the radical Right. The Left's control over the discourse has caused its ideological opposite's numbers to increasingly disengage from the state. That would be bad enough, but the Palestinians' inarguable bad faith and continued commitment to Israel's destruction have driven the far Left far off the cliff of reason and rationality. Unable to convince their fellow Israelis that their two-state pipe dream will bring peace, the Israeli Left has joined forces with the international Left in its increasingly shrill campaigns to delegitimize the country's right to exist and undermine its ability to defend itself.
This sorry state of affairs is exemplified today by the radical Left's hysterical response to the Knesset's passage last week of the anti-boycott law. The comparatively mild law makes it a civil offense to solicit boycotts against Israel. It bars people engaged in economic warfare against Israel from getting government benefits and makes them liable to punitive damages in civil suits. The Left's hysterical public relations campaign to demonize the law and its supporters as fascists and seek its overthrow through the Supreme Court makes clear that the Left will wage war against its own country in pursuit of its delusion.
Amid Bachmann Controversy, Many Christians Cool to Conversion Therapy for Gays
(FOJ) Michele Bachman is being castigated by the liberal media and societal engineers for her fundamental Christian beliefs. It is a sad state of the American cultural landscape that "Christian principles" are repudiated in the mainstream, and good people are crucified by such hate mongers.
Of course, the liberal, compromised modern church is only too eager to join the world!
July 19….(CNN) When presidential candidate Michele Bachmann's husband, Marcus, addressed accusations that his Christian counseling business encourages homosexual clients to try to change their sexual orientation, he appeared to play down the role of so-called conversion therapy at his clinics. "Is it a remedy form that I typically would use?" Bachmann told Minnesota's Star Tribune newspaper. "It is at the client's discretion. "We don't have an agenda or a philosophy of trying to change someone," Bachmann said, noting that such therapy was not a focus of his two clinics. Bachmann's seeming ambivalence about conversion therapy, sometimes called reparative therapy, after a week's worth of news stories that raised questions about whether his clinics promote the practice may illustrate a broader trend in the conservative Christian subculture.
While many evangelicals once viewed conversion therapy as key way to deal with homosexuality, many of the religious movement's leaders and organizations have cooled to the practice in recent years, as more science suggests that homosexuality may be innate and as new therapeutic approaches have emerged. "Evangelicals, in quiet ways, are shifting to this position to where there is just not a lot of support for the change paradigm," said Warren Throckmorton, an influential voice in the world of Christian counseling, referring to so-called change therapy. "In the late 1990s, the debate was clearly, 'Could gays change from being gay?' and the focus was on orientation, and it was a big part of politics," said Throckmorton, an associate professor of psychology at Grove City College, an evangelical school in Pennsylvania. One sign of that shift, Throckmorton says, is the influential evangelical group Focus on the Family's 2009 decision to stop funding a program teaching that "transformation is possible for those unhappy with same-sex attractions." (Focus, which said the move was due partly to financial pressures, handed the program off to another Christian group.)
The head of the Southern Baptist Theological Seminary, meanwhile, a leading conservative Christian, has recently chided some evangelicals for characterizing homosexuality as a choice that's relatively easy to change. "We have spoken carelessly and unknowledgeably in the past to just say, 'Just change. Just decide right now your pattern of attraction is not homosexual but heterosexual,' " Southern Baptist Theological Seminary President Al Mohler said. "We have to know better." "We understand that sexual attraction and a profile of someone's sexuality is a complex of factors, some of which are certainly not chosen," he continued. "It's not just a matter of choice. It's not something that's turned on or turned off." Exodus International, the national Christian organization that promotes "freedom from homosexuality through the power of Jesus Christ," has de-emphasized conversion therapy in recent years as more of the counselors in its network have abandoned the practice. "In the 1980s and '90s, the counseling emphasis was heavier than it was today," said Alan Chambers, the president of Exodus. "Transformation in Christ is possible, but it doesn't necessarily mean that we will never be tempted or completely move beyond a certain struggle that we might have. "But we can live through the filter of our faith and abide by that most, and leave behind all sorts of things that have power of us," said Chambers, who once identified as gay but who says he no longer does.
Most conservative Christians point to biblical passages that condemn homosexuality and believe the Bible teaches that sex is to be reserved for married men and women. The American Psychological Association adopted a resolution condemning conversion therapy in 2009, saying that "mental health professionals should avoid telling clients that they can change their sexual orientation through therapy or other treatments." But the same resolution also encouraged therapists to consider the religious beliefs of clients who say such beliefs are important to their views of homosexuality. Some Christian counselors have moved away from reparative therapy and have adopted a therapeutic approach that Throckmorton describes as a "congruence paradigm." The model encourages counselors to appreciate a client's wishes to harmonize their values, often shaped by religion, and their sexuality. Under the congruence approach, a religious person who considers homosexuality sinful could attempt to square their beliefs and sexuality by trying to remain celibate. A bisexual client who perceives a similar conflict could try to focus on heterosexual relationships. But under the congruence model, it's up to the client - not the therapist - to decide how to view his or her sexual orientation. "If they say 'I think being gay is OK and it's what I want to pursue,' we'll work with them to do that, too," said Throckmorton.
Evangelical re-examination of conversion therapy is part of a larger conversation under way among conservative Christians on how to respond to homosexuality at a time when more gay people are coming out, when there's a new awareness of the bullying that many young gay people face and when the gay rights movement is making some big strides, including, in some states, legalized gay marriage. "We're silly to think that there are not gays coming to church, part of our congregations," said Marcus Yoars, the editor of Charisma, a popular Christian magazine. "It's the elephant in the room. Its ridiculous that we can't address it in a manner of love first, which doesn't mean watering down biblical teaching." For the first time in years, Charisma put the issue of homosexuality on the cover of its magazine for the July issue, in a package that includes a story of a woman who says she was "rescued from lesbianism." But Yoars said that conversion therapy should be seen as only a small part of the Christian response to homosexuality. "We have to realize that reparative therapy is a fraction of what's out there, especially in Christian counseling," he said. "When it's reduced to sound bites, it gives (the therapy) a bad rap and falls into the stereotype of all Christians feeling that this kind of therapy is what all Christian counselors should use."
Another factor behind the new evangelical conversation around homosexuality and conversion therapy is a generational shift on attitudes toward the issues. Recent polls show that young evangelicals are much more supportive of rights for gay partners than their parents are, even as they mirror their parents' opposition to abortion. "Retaining young people is crucial, and a more accepting generation will not tolerate business as usual when it comes to the debate over homosexuality," wrote Jonathan Merritt, a young evangelical leader, in a recent opinion piece. "Pastors need not compromise their convictions, but they can expect congregants to call for a more accepting, forgiving message, a more Christian message. "If Christian leaders can't make that transition, and quickly, instead of an awakening," Merritt wrote in the Christian Science Monitor, "evangelicals may be facing an exodus."
(FOJ) God has not "changed" his mind about sexual perversions and deviant lifestyles!
Leviticus 20:13 If a man also lie with mankind, as he lieth with a woman, both of them have committed an abomination: they shall surely be put to death;
Romans 1:26-28 For this cause God gave them up unto vile affections: for even their women did change the natural use into that which is against nature: And likewise also the men, leaving the natural use of the woman, burned in their lust one toward another; men with men working that which is unseemly, and receiving in themselves that recompense of their error which was meet. And even as they did not like to retain God in their knowledge, God gave them over to a reprobate mind, to do those things which are not convenient;
Assad Regime Recognizes 'Palestinian State'
July 19….(Arutz) The regime of embattled Syrian President Bashar Assad has recognized the Palestinian Authority as a sovereign state, Reuters reports. The statement added that Syria now regards the Palestine Liberation Organization office in Damascus as the official embassy of the 'Palestinian state.' Assad's recognition comes at a time when mass protests calling for his ouster are being staged and the world questions his legitimacy to rule. Meanwhile, Qatar has suspended diplomatic relations with Syria due to an attack on its own embassy by Assad supporters. The announcement follows the Arab League draft statement last week saying it will submit a motion to the United Nations to upgrade the PA to full member status. "It was decided to go to the United Nations to request the recognition of the state of Palestine with east Jerusalem as its capital and to move ahead and request a full membership," said the communique, a copy of which was obtained by Reuters. The statement did not provide a timeline, indicating the application would be made in time for the UN assembly in September. One PA delegate said the Arab League had appointed a committee to determine dates. Full member status would require approval in the Security Council, where the United States has formally said it would veto any such resolution.
The Second Coming of Christ
July 18….(Rev. T. DeWitt Talmage, D.D.) ("Behold, I come quickly: hold that fast which thou hast, that no man take thy crown" Rev. 3:11). George Mueller bears this testimony, "When it pleased God in July, 1829, to reveal to my heart the truth of the personal return of the Lord Jesus, and to show me that I had made a great mistake in looking for the conversion of the world, the effect that it produced upon me was this: From my inmost soul I was stirred up to feel compassion for perishing sinners, and for the slumbering world around me lying in the wicked one, and considered, 'Ought I not to do what I can for the Lord Jesus while He tarries, and to rouse a slumbering church?" There may be many hard years of hard work before the consummation, but the signs are to me so encouraging that I would not be unbelieving if I saw the wing of the apocalyptic angel spread for its last triumphal flight in this day's sunset; or if tomorrow morning the ocean cables should thrill us with the news that Christ the Lord had alighted on Mount Olivet or Mount Calvary to proclaim universal dominion. O you dead churches wake up! O Christ, descend! Scarred temple, take the crown! Bruised hand, take the sceptre! Wounded foot, step the throne! Thine is the kingdom.
Hosni Mubarak May be Dying but his Military Regime is Fighting
July 18….(DEBKAfile Exclusive) "The former president Hosni Mubarak is in a full coma after his health suddenly deteriorated," Egyptian state TV reported Sunday night, July 17, shortly after a cabinet reshuffle was carried out in Cairo to placate rising dissent five months since his overthrow. But the reports of his state of health are conflicting: Lawyers say he went into a coma after a stroke, while the director of the Sharm el Sheikh hospital denies this. Aged 83 and suffering from cancer, Mubarak has been confined to a Sharm el-Sheikh hospital since April when he suffered a heart attack during questioning. He and his sons face trial on August 3 on charges of corruption and murder. The cabinet reshuffle came as Egypt sank ever more deeply into lawlessness and economic stagnation. City streets are plagued by robbers and outlaws. Many districts have set up vigilante militias to protect life and property. Tens of thousands continue to rally in Tahrir Square against the new rulers, the Supreme Council of Revolutionary Forces,' (SCAF) and not only in Cairo, but in Suez, Ismailia and Alexandria. They say they are staging what they call "the second Egyptian revolution," this one against the 25 generals led by Field Marshall Muhammad Tantawi, whom they accuse of stealing the revolution from the Egyptian people and putting the Mubarak regime back in place.
Whether or not the ousted president survives the next few hours is immaterial for the Egyptian street. Debkafile's Egyptian sources report that the demonstrators of Tahrir Square no longer believe the military junta can save the country. They suspect the generals are deliberately letting the situation deteriorate, said one opposition source, "to generate anarchy as the pretext for postponing the promised general and presidential elections, already put off once from September to November," "The junta wants to be sure of winning the election before it fixes on the date," he said. Grievances are rife: SCAF heads are accused of having 10,000 political activists detained in the last two months and subjecting some to torture, "just like in the old days." The protesters don't believe the Mubaraks will ever be put on trial and allege that to officials of the former regime are given derisory sentences for corruption and the authorities refrain from confiscating their ill-gotten property. "The revolution triumphed, Mubarak was toppled, but the machinery of his regime lives on," said another protester. The World Bank estimates that GDP growth, running at close to 5.5 percent on Mubarak's watch in 2010, plummeted 4.5 percent after the uprising that ousted him due to loss of tourism, industry and trade. Egypt will be lucky to reach one percent this year. Unemployment is rife and jobs pay a wretched wage of $50-115 a month, nowhere near enough to generate a consumer drive. Economic stagnation is a major cause of dissent.
Another red flag is the name of Egyptian multi-billionaire Hussein Salem, 76, a former intelligence agent and close friend and business associate of the Mubarak family. The military rulers are accused of turning a blind eye to his escape to Spain aboard his private jet in the early days of the uprising. Salem is said to have been part and parcel of the former regime's conspiracy to plunder of the national treasury. He was, for instance, awarded prize real estate on the Sharm el-Sharm Red Sea coast for building luxury hotels and the presidential palace from which Mubarak ruled the country. Salem is also accused of setting up the Egyptian-Israel natural gas transaction and raking off revenue for himself and the Mubarak family, a charge which further fans anti-Israel anger on the Egyptian street.
Egyptians are unforgiving of the cordial relations Israeli leaders maintained with the discredited president and claim that they collaborated in Hosni Mubarak's alleged misappropriation of national funds. The opposition believes that thanks to skullduggery by the generals Salem has been able to evade extradition despite Interpol warrants and stay safely under house arrests in Spain. Laying hands on the absconding tycoon they are sure would also lead to the recovery of some of the plundered money. Debkafile's Middle East sources confirm the accusation by the opposition that from the day it took over government in Cairo, the military junta SCAF has sat on its hands let the country go to rack and ruin. Only this week, when the situation became unendurable, was a cabinet reshuffle ordered and the ministers for foreign affairs, finance and trade and industry sacked as a means of unlocking frozen aid funds to get the economy moving. Hazem El Beblawi, an economist who works as an adviser for the Arab Monetary Fund in the United Arab Emirates, was appointed finance minister and deputy prime minister. The UAE has pledged $3 billion, Saudi Arabia $4 billion, and Qatar $500 million in aid. Additionally, the United States has offered $2 billion. But the Gulf emirates have set three conditions for making these sums available:
1. The Supreme Council in Cairo must stop working with the Obama administration.
2. The generals must inaugurate ties full security cooperation with the Gulf Cooperation Council(GCC), meaning they must adopt an anti-Iran stance and be willing to make troops available to GCC nations in a potential war with Iran.
3. The military rulers of Egypt must bring closure to the revolution, use the army and security forces to restore law and order and put a stop to the popular demonstrations. The heads of the junta have not yet decided how to respond to this proposition. If they accept, they will confirm the worst forebodings of the second wave of Egyptian revolutionaries who fear they are being stuck for the foreseeable future with a military junta instead of the democratically-elected government they dreamed of and fought for.
WEEK OF JULY 10 THROUGH JULY 16
WCC Against Israel
July 16….(Israel Today) The World Council of Churches recently sponsored a debate on the situation of Christians in the Middle East that went unnoticed by most, but which provided another huge red flag in regards to the direction the Church is going as it relates to Israel and the Jews. Meeting in Volos, Greece, a collection of 30 theologians, social scientists, politicians and church representatives labored for five days to decisively identify the reason for shrinking Christian communities across the Middle East. They could have saved their time and their money for other things like, you know, feeding the poor, because everyone already knew what the conclusion was going to be. Israel, and specifically Zionism, is making life untenable for Christians in the region, announced the group in its closing statement. "…conflict situations such as Palestine...have seen significant drops in the Christian populations because of Israeli occupation," said the World Council of Churches, ignoring the myriad other reasons why Christians no longer feel comfortable or safe in a society where Hamas can win a landslide electoral victory.
In places like Egypt, where Christians are increasingly being targeted for their faith in the wake of "democratic" revolutions, the council attributed the shrinking Christian demographic to "economic and immigration realities." This was to be expected from the World Council of Churches, a Geneva-based organization that represents 347 Protestant churches and denominations, and counts among its constituents more than 500 million Christians world-wide. In a 2007 conference in Jordan that also focused on dwindling Christian communities in the Middle East, the group called for a political crusade to end the Jews' "occupation" of their biblical lands.
When it comes to the Christian situation in the Middle East, Islam is just not a problem. It's all those pesky Jews. The Church in general has a long history of dedicating resources to harassing the Jews and painting them as the "enemies of Christ(rians)," which the Bible specifically warns against. Many thought we had moved beyond all that, that the horrors of the Holocaust had finally woken the Church to how wrong it had been. In fact, those Christians involved today in this new brand of Israel-bashing will most loudly protest the label of anti-Semitism. But, as the saying goes, "methinks they do protest too loudly." What the World Council of Churches and others like it are doing is rebranding that most anti-Semitic of doctrines - Replacement Theology. Instead of calling for their heads, this new brand of Replacement Theology sheds crocodile tears for the Jews as mistreated lost souls who once tasted God's goodness, but have since been replaced as His "chosen" because of their rejection of Jesus. They do not hate the Jews (at least not openly), but they believe the biblical promises made to national Israel have expired. And that is where the State of Israel comes in. If God's promises to national Israel are no longer valid, then modern Israel has nothing to do with biblical prophecy or God's plan of global redemption.
And, if God's big picture plans don't include the reborn Jewish state, then these Christians feel freer to pursue their unbiblical humanist agenda - seeking what they call "social justice" for Palestinian Christians. But Jesus never taught his followers to fight for "social justice" by seeking political sovereignty. He taught that His followers would be persecuted and should endure that situation with humility and meekness in order to reach their oppressors, real or perceived, with His message of love. Ultimately, the aim of groups like the World Council of Churches is not biblical, it's not even about genuine social justice. Whether they know it or not, whether they accept it or not, their agenda is about advancing the cause of Islam and reversing what God is doing in this land.
Protest: Stop Temple Mount Discrimination, Desecration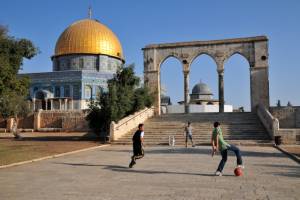 July 16….(Arutz) Jewish activists held a demonstration Thursday to protest anti-Jewish discrimination on the Temple Mount in Jerusalem. While Muslims are allowed to pray freely at the site, Jews are allowed to enter the area only in small groups, and may not pray while there. The Temple Mount is the holiest place on earth according to Jewish tradition. It was the site of the First Temple and Second Temple.The activists accused police of discriminating against Jews in an attempt to appease the Muslim Wakf religious authority. Police limit the number of Jewish worshipers allowed on the Temple Mount at one time in order to prevent conflict with Muslim worshipers and have often closed the Mount to Jews in response to Muslim riots, despite evidence that Muslim riots have been planned in advance for the specific purpose of forcing Jews out. Protesters also spoke out about Muslim desecration of the holy site. While the Wakf claims the site is holy to Islam as the home of the Al-Aksa Mosque, Muslims often use the site for mundane activities such as picnics and soccer games as well as for prayers, activities which Jewish tradition sees as offensive to the holy nature of the area. The protest was held at the String Bridge (Gesher Meitarim) at the entrance to Jerusalem. Activists said they plan to continue protesting every Thursday leading up to Tisha B'Av, the annual day of mourning for the destruction of the First and Second Temples.
Assad's Syrian Security Forces Kill 12 in Biggest Protests to Date
(Hundreds of thousands hit streets across country calling for ouster of Assad; police fire live ammunition and teargas in Damascus and in southern Syria near the Jordanian border; 3 shot in northern city of Idlibm.)
July 16….(Jerusalem Post) Syrian security forces shot dead at least 12 protesters on Friday as hundreds of thousands of people took to the streets across the country in the biggest protests so far against President Bashar Assad. Assad, facing the greatest challenge to 40 years of Baath Party rule, has sought to crush demonstrations. But although rights groups say some 1,400 civilians have been killed since March, the protests have continued unabated and swelled in size. "These are the biggest demonstrations so far. It is a clear challenge to the authorities, especially when we see all these numbers coming out from Damascus for the first time," said Rami Abdelrahman, head of the Syrian Observatory for Human Rights. Police fired live ammunition and teargas in the capital Damascus, killing five people, and in southern Syria near the Jordanian border, where four people were killed, witnesses sand activists said. Three protesters were shot dead in the northern city of Idlibm, they said. In the city of Hama, scene of a 1982 massacre by the military, live video footage by residents showed a huge crowd in the main Orontos Square shouting "the people want the overthrow of the regime".
At least 350,000 people demonstrated in the eastern province of Deir al Zor, the Syrian Observatory for Human Rights said. Syrian forces shot dead two pro-democracy protesters there on Thursday, residents said. Despite being the center of Syria's modest oil production, Deir is among the poorest regions in the country of 20 million. The desert area has suffered water shortages for six years which experts say have been caused largely by mismanagement and corruption, and have decimated agricultural production. As well as police and the army, Assad has also deployed irregular militia known as shabbiha from his Alawite minority sect, a branch of Shi'ite Islam. Sunni Muslims are the biggest group in Syria. International powers, including Turkey, have cautioned Assad against a repeat of massacres from the era of his father, the late President Hafez Assad, who crushed leftist and Islamist challenges to his rule. This culminated in the killing of up to 30,000 people in Hama in 1982. The US and French ambassadors visited Hama in a show of support last Friday. Three days later their embassies were attacked by Assad loyalists. No one was killed in the attacks, which were condemned by the United Nations Security Council.
Arab League to Request Full Palestinian Membership at UN
(Security Council set to hold open debate on Middle East on July 26, but Israel has made it clear that it opposes any unilateral Palestinian declaration of statehood)
July 15….(Ha Aretz) The Arab League will apply to upgrade the Palestinians to full member status at the United Nations, according to a draft statement from a league meeting in Qatar on Thursday. "It was decided to go to the United Nations to request the recognition of the state of Palestine with East Jerusalem as its capital and to move ahead and request a full membership," said the communiqué, a copy of which was obtained by Reuters. An open debate on the Middle East has been scheduled for July 26 according to a provisional calendar for the Security Council for July. Israel, on the other hand, has made it clear that it opposes a Palestinian unilateral declaration. Although in his Bar-Ilan speech Prime Minister Benjamin Netanyahu recognized the right to establish such an entity alongside the State of Israel, Jerusalem's position is that establishment of the state should be done with the full coordination of and at the conclusion of negotiations with Israel. Over 130 of the 192 member states of the United Nations are expected to support the establishment of a Palestinian state if it is brought up for a vote by the General Assembly this coming September.
Iranian Pastor Sentenced to Death To Be Executed if He Doesn't Recant
July 15….(Fox News) Iran's Supreme Court says an evangelical pastor charged with apostasy can be executed if he does not recant his faith, according to a copy of the verdict obtained by a religious rights activist group. Christian Solidarity World says Iranian-born Yousef Nadarkhani, who was arrested in 2009 and given the death sentence late last year, could have his sentence suspended on the grounds that he renounce his faith. Those who know him say he is not likely to do that, for if he were disposed to giving it up, he would have done it long ago. If Nadarkhani does not recant, his fate is unclear. It's believed his case would then be remanded to lower courts in Iran.
Recently the US State Department issued the following remarks: "We are dismayed over reports that the Iranian courts are requiring Yousef Nadarkhani to recant his faith or face the death penalty for apostasy, a charge based on his religious beliefs. If carried out, it would be the first execution for apostasy in Iran since 1990. He is just one of thousands who face persecution for their religious beliefs in Iran, including the seven leaders of the Baha'i community whose imprisonment was increased to twenty years for practicing their faith and hundreds of Sufis who have been flogged in public because of their beliefs." Christian and human rights groups say apostasy isn't even codified in Iranian law. "From a human rights perspective, you can't criminalize someone's choice of religion, much less execute them for that," says Hadi Ghaemi, executive director of the International Campaign for Human Rights in Iran. Nadarkhani, from Rasht, on the Caspian Sea, converted to Christianity as a teenager. He is reportedly an effective pastor, who has converted an unknown number of people from Islam to Christianity. Some believe he has about 400 people in his church.
Iran has ancient Armenian and Assyrian churches. The Evangelical Church of Iran is relatively new, church officials tell Fox News, a product of the legacy of Anglican missionaries who were in Iran in the last two centuries. Even after the Islamic Revolution, Iran been fairly tolerant of the older Armenian and Assyrian orders, which date back to the early days of Christianity, but has been less accepting of Evangelical conversions. Firouz Khandjani, a spokesman for the evangelical Church of Iran, lives in exile in Eastern Europe. He fled Iran for Turkey for security reasons, but says even in his new homeland he's not safe, and was informed he could be targeted by Iranian agents in Turkey. Khandjani says a sort of "soft persecution" began after the Revolution, with Christians generally losing many civil rights, including access to top jobs in the country, but has increased since President Mahmoud Ahmadinejad took office in 2005.Khandjani himself was arrested and released 18 years ago. But he says about 40 people have been arrested, many of them also released, since Ahmadinejad became President. "I can't say Ahmadinejad is persecuting us, but the hard-liners around him are. The leadership needs hard-liners to permit them to do what they want. They need their support."
It is hard to get a number on how many Evangelical Christians there are in Iran. It is not a large number in this country of 70 million, but reportedly, the numbers continue to grow. The International Campaign for Human Rights in Iran estimates there may be 4,000. Khandjani believes the number to be as high as 200,000. Many of them watch evangelical television stations beamed into Iran from the United States. Ghaemi says, "Most churches in Iran operate with some degree of secrecy. They operate in homes. People take their batteries out of their cellphones and leave them at the door. They show up at random times so as to avoid the appearance of a crowd filing in. The current government sees them as a threat." Ghaemi says there had been a tacit agreement between the Ministry of Intelligence and the Church of Iran, whereby if worshippers were open, and told the Ministry where they were going, the government would leave them alone. The government appears to have broken that "gentlemen's agreement." Firouz Khandjani said the church wanted to be out in the open, and had asked to have physical churches in which to operate under the previous presidential administration. "It was in the time of Khatami. We believed it was possible. He was more open to minority groups, but unfortunately, he didn't have the will. We had believed in him." A court in Shiraz, Iran, recently released a group of Christians who had been arrested for subversion. The court ultimately ruled that they were just exercising their right to practice their religion. Human rights advocates say the higher courts should follow their example. Sources say while the Iranian regime doesn't look fondly upon conversion, it is proselytizing that really rankles them. "The US, which is fighting for freedom, has to take care of this situation. This is the 21st century. We are not a military group. We want to worship God, according to the Gospel, and being persecuted is not acceptable."
US Jews Oppose Dividing Jerusalem, are Losing Faith in Obama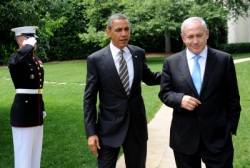 July 15….(Israel Today) A bipartisan survey of American Jewish voters by McLaughlin & Associates found that an overwhelming majority oppose dividing Jerusalem as part of an Israeli-Palestinian peace deal. Nearly three-fourths (73%) of respondents believe Jerusalem must remain fully under Israeli control, even though the Palestinians have made it a "red line" demand that they receive control over the holy city's eastern half. The poll results were somewhat surprising in this regard, as a majority of the American Jewish community is in favor of the "two-state solution" and the creation of a Palestinian Arab state as an end to the Middle East conflict.
But American Jewish views may be shifting as the community increasingly sees Israel as facing an existential threat that will eventually reach them as well. Firm majorities said that both Iran and the Palestinians will continue their efforts to eliminate Israel regardless of whatever concessions they are offered. Very few American Jews still believe a lasting and genuine peace is achievable via diplomatic means. So, where does that leave American Jewish opinion regarding President Barack Obama?
Nearly half of those polled (43%) said they are no longer sure who Obama favors in the Israeli-Arab conflict, and less than half (46%) still think the president's policies are not putting Israel in danger. That leaves more than half of Jewish voters who are either unsure or certain that Obama's policies endanger the future of the Jewish state. In fact, a sizeable portion of Jewish voters believes Obama is capable of outright lying when it comes to his relationship with Israel.
Obama and other members of his administration have made it clear that they will veto a resolution on unilateral Palestinian statehood expected to be presented at the UN this September. But 40 percent of Jewish voters don't trust the president to actually order the US ambassador to exercise that veto. Sixty-seven percent are also concerned about Israel's future should Obama be re-elected, considering that he has called for a return to the pre-1967 borders and has opposed Israeli sovereignty over a united Jerusalem. Most American Jews are Democrats. And most (65%) of those polled voted for Obama in 2008. A 64 percent majority said they still have a favorable opinion of the president overall, but only 43 percent said they would vote for him again.
IDF Strikes Hamas Terrorist Rocket Targets in Gaza
July 15….(Arutz) The Israeli Air Force attacked terror targets in the Gaza Strip overnight Thursday. The attacks came in response to the recent escalation in rocket attacks on Israeli communities. The IDF Spokesperson confirmed that the attacks had taken place. Earlier, the Palestinian Authority-based Ma'an news agency reported that IAF aircraft had struck Hamas targets in Gaza City and in Khan Yunis. At least six rockets were fired from the Gaza region at Israeli communities on Thursday. The rockets landed in open areas and no injuries or damage was reported. The 'Color Red' anti-rocket alert was activated in the area. Gaza terrorists also fired a rocket at southern Israel Thursday morning. The projectile landed in an open area in Sha'ar Hanegev Regional Council. No injuries or damage were reported in that incident, either.
Sixty Per Cent of Palestinians Reject 2-State Solution
(73% of 1,010 Palestinians in W. Bank, Gaza agree with Hamas Charter quote, 'hadith' about the need to kill Jews hiding behind stones, trees.)
July 15….(Jerusalem Post) Only one in three Palestinians (34 percent) accepts two states for two peoples as the solution to the Israeli-Palestinian conflict, according to an intensive, face-to-face survey in Arabic of 1,010 Palestinian adults in the West Bank and the Gaza Strip completed this week by American pollster Stanley Greenberg. The poll, which has a margin of error of 3.1 percentage points, was conducted in partnership with the Beit Sahour-based Palestinian Center for Public Opinion and sponsored by the Israel Project, an international nonprofit organization that provides journalists and leaders with information about the Middle East. The Israel Project is trying to reach out to the Arab world to promote "people-to-people peace." The poll appears to indicate that the organization has a difficult task ahead. Respondents were asked about US President Barack Obama's statement that "there should be two states: Palestine as the homeland for the Palestinian people and Israel as the homeland for the Jewish people." Just 34% said they accepted that concept, while 61% rejected it. Sixty-six percent said the Palestinians' real goal should be to start with a two-state solution but then move to it all being one Palestinian state. Asked about the fate of Jerusalem, 92% said it should be the capital of Palestine, 1% said the capital of Israel, 3% the capital of both, and 4% a neutral international city. Seventy-two percent backed denying the thousands of years of Jewish history in Jerusalem, 62% supported kidnapping IDF soldiers and holding them hostage, and 53% were in favor or teaching songs about hating Jews in Palestinian schools. When given a quote from the Hamas Charter about the need for battalions from the Arab and Islamic world to defeat the Jews, 80% agreed. Seventy-three percent agreed with a quote from the charter (and a hadith, or tradition ascribed to the prophet Muhammad) about the need to kill Jews hiding behind stones and trees. But only 45% said they believed in the charter's statement that the only solution to the Palestinian problem was jihad.
The survey's more positive findings included that only 22% supported firing rockets at Israeli cities and citizens and that two-thirds preferred diplomatic engagement over violent "resistance." Among Palestinians in general 65% preferred talks and 20% violence. In the West Bank it was 69-28%, and in Gaza, 59-32%. Asked whether they backed seeking a Palestinian state unilaterally in the UN, 64% said yes. The number was 57% in the West Bank and 79% in Gaza. Thirty-seven percent said the UN action would bring a Palestinian state closer, 16% said it would set back the establishment of a state, and 44% said it would make no difference.
The Libyan War Ending. Obama Makes Moscow Peace Broker
July 15….(DEBKAfile Exclusive Report) Bar the shouting, the war in Libya virtually ended Thursday morning, July 14, when US President Barack Obama called Russian President Dmitry Medvedev to hand Moscow the lead role in negotiations with Muammar Qaddafi for ending the conflict, provided only that the Libyan ruler steps down in favor of a transitional administration. The US president thus accepted the Russian-Libyan formula for ending the war over the heads of the NATO chiefs who rejected it when they met Russian leaders at the Black Sea resort of Sochi last week.
Debkafile's sources note that this same proposal first came from the Libyan ruler himself four months ago: On April 4, just ten days after NATO launched its air operation on behalf of the Libyan rebels, Qaddafi sent emissaries to Athens to propose Greek Prime Minister Georges Papandreou as mediator. The heads of NATO, French President Nicolas Sarkozy and British Prime Minister David Cameron, turned him down, certain at the time they were within easy reach of a quick victory to topple him. By the time Obama had decided to call Medvedev, individual governments which had spearheaded the anti-Qaddafi campaign were quietly melting away. From Saturday, July 9, Debkafile's military sources report, NATO discontinued its air strikes against Libyan pro-government targets in Tripoli and other places. The halt though unannounced was nonetheless an admission that 15,000 flight missions and 6,000 bombardments of Qaddafi targets had failed to achieve their object: Col. Qaddafi, without deploying a single fighter jet, firing an anti-air missile or activating terrorist cells in Europe, had waited for NATO to run out of steam and was still in power.
The agreement President Obama and Medvedev reached on terms for negotiating the war's end with Muammar Qaddafi are a major victory for the Libyan ruler and a resounding fiasco for NATO. It also knocks over the international war crimes tribunal's demand to extradite Qaddafi and his sons as war criminals. Instead of sitting in the dock of the world court, they will now take their seats at the negotiating table for a deal one of whose objects will be to rescue NATO from the humiliation of defeat at war. But its main purpose will be to agree on the shape of a regime for the transition to democracy and its makeup. Qaddafi, while consenting to step down, will not doubt insist on his sons and loyalists being co-opted with full privileges to the future administration in Tripoli. The rebels will take up the offer for lack of any other options. Libyan diplomacy is liable to be protracted and exhausting with many ups and downs and perhaps even limited military engagements on the ground.
Amr Moussa: Egypt's Rising Power Player
(Amr Moussa is on track to succeed Mubarak. And that spells danger for Israel)
July 14….(JWR) At first glance, Amr Moussa would seem to have scant hope of winning Egypt's upcoming presidential election, the first truly free contest in modern history for that position. There's no shortage of candidates to lead the country, and none of them is more closely identified with the hated dictatorship of Hosni Mubarak than Moussa. He served as Mubarak's foreign minister from 1991 to 2001 and has spent the past decade as head of the Arab League, essentially an association of Mideast autocrats like Mubarak before his ouster early this year. And yet, with the vote planned for sometime this fall, the frontrunner is none other than Moussa. Drawing support from a whole array of disparate groups, he's far ahead of his leading challenger, Mohamed ElBaradei, even though ElBaradei is a big favorite among the anti-Mubarak protesters who filled Cairo's Tahrir Square during the winter. More than anything, they sought a sharp break from the policies and the regime that ruled Egypt for three decades of repression and mismanagement. A break, that is, from the likes of Amr Moussa. What's his secret? Many people admire the 74-year-old's dignified bearing and his smoky baritone, but that's only part of the explanation. What his supporters love most is his long and vocal history of anti-Israel diatribes. Speaking at his Arab League office looking out on Tahrir Square, he made no secret of his anger against Israel. "The peace process has become a dirty word, because we discovered it was just an Israeli trick to continue talking and make the cameras flash, but there's no substance. We shall not engage in such a thing anymore. Never."
Israel has been a theme in much of Moussa's professional life. A career diplomat, he was a protege of Egypt's foreign minister in the 1970s, Ismail Fahmy. When President Anwar Sadat made his historic visit to Jerusalem in 1977, Fahmy resigned his post, arguing that the overture would cost Egypt its leadership position in the Arab world. Moussa, 41 at the time, broke with Fahmy and eventually joined the team that helped draft the peace treaty between the two countries. The agreement returned the Sinai Peninsula to Egypt, but just as Fahmy had warned, it also shattered Egypt's standing among the Arabs. By the time Moussa became foreign minister, Israel's settlement building in the West Bank and Gaza and its stalled negotiations with the Palestinians had undermined the rapprochement. Moussa became one of Israel's most relentless detractors in Egypt. He confronted Israelis at conferences and attacked them in television interviews.
Nagui El-Ghatrifi, who served as Moussa's spokesman for four years at the Foreign Ministry, says his former boss's anger at Israel is genuine. Still, Moussa seems keenly aware of the public's response to his outbursts. In a Pew Research Center poll published this April, two months after the revolution, 54 percent of Egyptians favor annulling the peace agreement with Israel, versus 36 percent who wanted to maintain it. (The rest were undecided.) A Western diplomat who got to know Moussa while serving in the region puts it bluntly: "The source of his popularity is almost entirely derived from his image as an Arab nationalist who's very critical of Israel." Even so, Moussa rules out the idea of abolishing the treaty. "I will tell you two things: No. 1, that the treaty, we're not going to abrogate it. And No. 2, we want to rebuild the country, and rebuilding the country by necessity means not to follow an adventurous policy."
| | |
| --- | --- |
| | (FOJ) The United States is viewed less favorably in much of the Arab world today than it was during the final year of the Bush administration. The US is viewed less favorable today even in Egypt, where the US once was highly regarded. So much for President Obama's outreach to Islam! |
Political polling was never allowed under Mubarak, but the international research company Ipsos is making up for decades of lost time. Its latest survey, in June, showed Moussa leading the pack with 25 percent of the vote, versus 5 percent for ElBaradei and even lower numbers for the rest. But Moussa's trend line is less upbeat: his support has declined steadily, from 40 percent in March. And the formidable number of undecideds, 57 percent as of June, means the race is still open. As political scientist Marc Lynch of George Washington University puts it: " 'None of the above' appears to be winning by a mile right now." Nevertheless, Moussa leads the field in name recognition, and he's courting the Islamist vote. He might actually win. Washington might find the former foreign minister more palatable than some of his America-bashing rivals, says Lynch: "The West can live with him, I'd guess." But what about the protesters who toppled the regime, can they live with him? Will they give up on democracy if he's elected?
Hariri: Hezbollah Arms are Root of Lebanon Problem
(Former Lebanese PM warns against Hezbollah's weapons, asks, "Is Hezbollah going to continue pointing arms at the Lebanese?")
July 13….(JPOST) Former Prime Minister Saad Hariri made a verbal attack on Hezbollah on Tuesday and said its possession of arms was at the root of conflict in Lebanon. Hariri, raising the intensity of his opposition to Hezbollah, which with its allies toppled his government in January, said indictments issued by the UN-backed tribunal seeking the killers of his father, Rafik Hariri, and which accuses four members of Hezbollah of involvement, would never be changed. "The weapons (of Hezbollah) are the cause of the problem in Lebanon. Hezbollah does not know what to do with its arms. It is our problem with Hezbollah and also it is a problem for Hezbollah," Hariri told a local television channel. "What is it going to do with them? Is it going to continue pointing them at the Lebanese?" he said, speaking from Paris. The group says it needed its weaponry to fight Israel, but in 2008 its supporters fought followers of Hariri, a Sunni Muslim, in sectarian clashes in which at least 81 people were killed. Hezbollah and its allies brought down Hariri's national unity government, which included Hezbollah ministers, when he rejected their demand that he renounce the UN-backed tribunal. The group's leader, Sayyed Hassan Nasrallah, has repeatedly accused the tribunal of serving a political agenda, to undermine Hezbollah, and says it is a US and Israeli tool.
In a televised speech last week Nasrallah displayed documents purporting to show that when the tribunal was moving equipment from Lebanon to its base in The Netherlands in 2009, it sent a consignment of 97 computers via Israel, which fought a 34-day war with Hezbollah five years ago, rather than ship them directly from Beirut. "If Nasrallah comes out in 300 press conferences, he will not change the content of the indictments," he said. "There are people accused (in connection with the killings) and they must be put on trial," he said. Hariri said that if his government were still in power it would have found and handed over the suspects.
Hezbollah denies any role in the huge explosion on the Beirut seafront which killed Rafik Hariri, who served several terms as prime minister, and 22 others in February 2005. The killing plunged Lebanon into a series of political crises and assassinations, and there were fears that the indictments could revive sectarian tension in a country still scarred by its 1975-90 civil war. While Hezbollah is powerful enough to resist any attempt to act against its members, it is anxious that its domestic reputation as a force prepared to stand up to Israel should not be tarnished by accusations of involvement in internal conflict. Hariri's March 14 alliance accused the government of Hezbollah-backed businessman Najib Mikati, formed in June after five months of political wrangling, of not giving whole-hearted endorsement to the UN-backed tribunal. Mikati says his government will respect international resolutions and wants to reveal the truth behind Hariri's killing. Lebanon received the indictments this month. Hariri said he would work with his allies to bring down Mikati's government "We will work on bringing down the government democratically. We can go to the streets for example," Hariri said.
81% of Israelis Support EU Membership
| | |
| --- | --- |
| | (FOJ) Israeli's are keenly in favor of joining the Greater Euro Med Union, and even allowing NATO forces to operate along the Jordan Valley to ensure security. |
July 12….(Jerusalem Post) Sixty-four percent of Israelis would support a NATO deployment of peacekeeping troops to the West Bank and Gaza, according to a survey published by the Ben-Gurion University of the Negev on Monday. The survey, compiled by Sharon Pardo, Jean Monnet Chair in European Studies in the Department of Politics and Government at BGU, found that the level of support for such a move was the same for both Arab and Jewish citizens of Israel. Pardo's survey also found 81% of Israelis would support European Union membership for Israel, and that in general, 43% of Israelis want stronger relations with the EU. Pardo said the survey shows "Israelis are really into strengthening and deepening the cooperation between Israel and the EU. Israelis understand the importance of the EU for the future of Israel and they want to strengthen the relations." He added that "message is quite clear, Israelis are not for isolationism; they want cooperation." When asked why Israelis are often seen as being at times anti-European, he said "we know that there is this misperception that Israelis are anti- European, and the survey shows that this is actually not the truth and that Israelis are de facto pro-European. They might not like policies of the EU and they may be critical of them, but they want to be as close as possible to the EU for a non-EU country."
Great Darkness Descending On Egypt
Egyptian uprising has given way to growing Islamism, racism and anti-Israel venom
July 11….(YNET) Maha, an Egyptian merchant in her 40s, doesn't sleep well at night. Ever since the January 25 revolution, she is experiencing a difficult period. "In the first days of the mass demonstrations against Mubarak, my mother and me couldn't even sleep because of fear," said the Christian Copt. "We didn't know what will happen to us. Ever since then, even though the general security situation in the country has stabilized, our fears were confirmed." In recent months we have seen significant escalation in violent clashes between radical Islamists and members of the Copt minority across Egypt. It started with the lethal suicide attack in one of Alexandria's main churches in the first days of the year, even before the popular protest against Mubarak gained steam. Twenty three worshippers were murdered and some 100 were wounded.
Egyptian opposition sources claimed at the time that the attack was organized by a secret unit established by the former interior minister in order to undermine domestic stability and reinforce the regime's hold on the country. A few weeks ago, when angry Islamist masses attacked a Cairo church where two Christian women who converted to Islam were apparently held, some charged that loyalists of the outgoing regime were identified among the radical Muslim activists. Ten people were killed in the clash, while security forces stood at the sidelines and observed. Maha has no doubt as to who stands behind the growing violence against Copts, the Salafiyun, the ultra-conservative Islamic camp. Al-Qaeda's new leader, Ayman al-Zawahri hailed from the Salafiyun's ranks. So did Mohammed Atta, the commander of the September 11 attacks, who was a member of mosque affiliated with the movement. The Salafiyun are inspired by Saudi Arabia and seek to impose traditions from the early days of Islam and the Prophet Mohammad era. "They hate everyone," said Maha. "They also hate Muslims who are not like them, but they mostly hate us, Christians. One of their leaders said during a TV show that he dreams of waking up one day and discovering that Egypt is free of Christians. 'They should go to the US and Canada,' he said. 'It's not their country.' Unbelievable chutzpah. We were in this country hundreds of years before Islam and the Arabs arrived."
'Islamists are taking over'
According to official figures, some eight million Copts live in Egypt, comprising 10% of the population. The Copt Church claims that the community numbers 13 million. Many Christians, young and wealthy, left Egypt in recent years, seeing no future for themselves in the country. "At first we thought that the revolution would put Egypt on the right path," said Maher, who immigrated to Canada and returned to visit his family. "We believed that the many minorities in the country would be able to live freely in a new society, yet today we no longer believe it. The Islamists are reckless and are taking over the country. It's only a matter of time before they impose Islamic law here." In post-revolution Egypt, almost no day goes by without the Salafiyun assaulting Christians or members of other Muslim sects. They even took over a Cairo mosque held by the State, removed the local Imam and appointed one of their own instead, an elderly preacher who was recently released from jail and boasts of fighting the "Zionists" in 1948. Indeed, Egypt is still far from being a free country, and radical Muslims are doing as they wish, under the auspices of the supreme military council. The despair of non-Sunni minorities is so deep that many Copts have armed themselves and are opening fire every time Muslim masses threaten their communities. Representatives of the Shiite and Sufi camps also declared "jihad" against the Salafiyun this past week, making it clear that from now on violence will be met with violence.
The tense atmosphere also drew, against their will, Mickey and Minnie Mouse into the fray. The Twitter account of Egyptian-Copt billionaire Naguib Sawiris, a telecommunication tycoon who recently formed a liberal-secular party, featured a photo of Disney's stars with Mickey boasting a thick Salafi-style beard and Minnie's face covered by a black niqab. The Salafiyun responded quickly: The immediately issued calls to boycott Sawiris' phone companies and torch their offices. "We must cut off the tongue of those who attack our religion," boycott organizers declared. Sawiris already stirred a storm in the past after declaring that he feels like a foreigner on Cairo's streets when facing the growing number of people adhering to radical Islamic dress codes. His party, which endorses separation of religion and state, still waits for approval from the central elections committee. Islamic parties established ahead of the upcoming elections for parliament were not forced to wait.
Longing for Mubarak
Should the planned elections timetable be adhered to, nobody in Egypt doubts that the big winner of the "freedom revolution" would be the Islamist movement on all its shades. Following the elections, Egypt will be under the control of Islam that is more radical than the one ruling Turkey. "Today's Egypt is very different than the Egypt we knew so far," a Western diplomat said. The initiators of the January revolution, the liberal, secular and democratic youngsters, are feeling that they are losing control over the movement they launched. While the revolution against Mubarak's regime was initially led by members of the middle class, now it is being taken over by the simple folk, who pull it in entirely different directions: More Islam and aspirations for the return of a powerful leader. "Before, we barely had any parties, and now we have too many," says Mohammad while sipping tea at a Luxor teahouse. The 25-year-old studied industrial design but like many others didn't find a job and is making a living from tourism. "We need a president that will restore Egypt's stability. Everything happening around here now greatly harms the state and our economic situation."
Muhammad, a Muslim, said he will not be voting for one of the Islamist parties and boasts of having Christian friends. "We cannot afford to isolate Egypt from the world," he said. This is what will happen if the Islamists win the elections. This will harm tourism even more. How will we make a living? The uncertainty over Egypt's future under Islamist rule is making some people long for Mubarak's days. "At the end of the day, he was a good leader," said Ahmad, a young student. "He did not lead us to adventurous wars; we had stability and security. It's a pity that at the end he became detached from the people. His great mistake was to groom his son, Gamal, as his successor."
The Islamists are careful not to voice overly zealous sentiments in respect to Israel. They know that after the elections they will have to swallow some bitter pills. Some of the people interviewed for this article estimated that the Islamists will expel Israel's ambassador from Cairo should they win the elections but that they still realize they must show some flexibility. However, the Islamists don't need to make much effort on the Israel front. The supreme military committee, the transition government and the secular democratic parties are doing the job for them by spreading hateful anti-Israel propaganda and erasing any sign of peace, with the exception of the business normalization. In the days of the previous regime, anti-Israel propaganda was the only area where almost absolute freedom of speech was allowed, but now we are seeing reckless abandon.
Israel is accused of everything by the Islamists, causing the "civil war" between Muslims and Christians, causing the terrible Egyptian economy's terrible state, and of course, engaging in reckless espionage. The best way to eliminate someone politically is to accuse him of having ties with Israel. Egyptians are eagerly reading reports about Israel's "secret takeover" during Mubarak's era; most of the stories are pure inventions meant to implicate former top officials in the gravest crime of all: Normalization with Israel. Meanwhile, businessmen associated with the previous regime are accused of planning to sell Cairo's main streets to the Jewish Agency, "which is planning to take over Cairo as it took over Palestine." If this hysterical witch-hunt, which is replete with anti-Semitic tones, wasn't enough, Egyptian daily al-Wafd reported this week that Israel also stole the opera Aida from Egypt. "Israel, as usual, is exploiting events in Arab states in its favor, as it considers itself a Middle Eastern state, it organized several Aida shows at the Dead Sea on June 5th and 6th. It appears Israel chose those dates in order to celebrate our defeat in the 1967 war. Aida was written especially for Egypt, yet Israel is always trying to take over the property of others."
Liberal Critics Slam Texas Gov. Perry for Prayer Day 'Endorsement'
July 11….(USA Today) Is Texas Gov. Rick Perry personally accountable for the faith views of everyone who says amen to his Christian day of prayer? The Right Wing Watch political activist organization seems to think so. It's plowing through the names of 50+ "endorsers" for The Response, the Aug. 6 event at Houston's Reliant Stadium. The "prayer" team says that as a nation, we must come together and call upon Jesus to guide us through unprecedented struggles, and thank Him for the blessings of freedom we so richly enjoy. But it's not Governor Perry running the show, separation of church and state and all that. No, the American Family Association is actually managing the big event and the website where endorser portraits are published. Eric Bearse, a former speech writer for Perry and now a consultant to the Family group on this, says Perry has nothing to do with the website and, actually, no one is vetting the "endorsers." Says Bearse: The leadership looked for a diverse cross-section of the body of Christ to endorse the event. Roughly half of the endorsers were invited by the leadership team and the rest by our volunteer mobilizers.
The Houston Clergy Council, an interfaith coalition of religious leaders, says the prayer meeting violates separation of church and state. The group is also calling the event "non-inclusive" and protests the AFA's involvement. The Houston Clergy Council wrote on its website: "We ask that Rick Perry leave the ministry to us and refocus his energy on the work of governing our state." But Donald Wildmon, founder of the AFA, brushes that off, telling Charisma: The Response is an open event. Anyone who wants to pray to Jesus for a nation in crisis is welcome to attend. The Response is a prayer event, not a political event. Bearse says: The Response is not about resolving all the theological differences within the pale of Christian orthodoxy. We don't have to agree on all issues to pray together. Very few state governors have replied to Perry's invite? But many are asking, "Is Christian prayer the only kind that could help America?"
As Arab Spring Roils, Hunger Emerges
July 11….(JPOST) The Arab Spring was supposed to bring democracy, peace and prosperity. But stalemates between governments and opposition forces are paralyzing economic life, exacerbating food shortages that were already in the making due to unfavorable weather and rising world prices. Reports of widespread hunger have emerged in recent weeks in Libya and Syria. On Wednesday, Yemen was officially added to the list of food trouble spots when a United Nation mission visiting Yemen called on the international community to quickly provide humanitarian aid to the impoverished country, pushed to the verge of starvation by five months of protests and armed insurrection. "Before the unrest began, seven million Yemenis were forced to reduce their number of daily meals from three to one," Aziz Al-Athwari, Yemen country director at Oxfam, a British aid agency, told The Media Line. "Although we have no current statistics, that number has certainly increased since fighting began."
Seven million is equal to nearly a third of Yemen's population. The UN's World Food Program (WFP) recently launched an emergency operation to feed 1.7 million severely food insecure Yemenis. The poorest country in the Middle East, Yemen has been rocked by deadly protests since late January demanding President Ali Abdullah Saleh's ouster. All three Middle East countries suffered from food and water shortfalls even before unrest broke out, preventing inputs like seeds and fertilizer reaching farmers and severing transportation links to markets. But with fighting in Libya and Yemen nearly reaching their fifth month and unrest in Syria nearing its fourth, economic paralysis has become the norm. And as the fighting goes on, world food prices are rising. In June they reached a near record led by sharp increase in sugar prices outweighed a slump in the grains complex, the UN's Food and Agriculture Organization (FAO) said on Thursday.
The FAO's food price index, which covers prices of a basket of commodities, rose 1% to 234 points last month, up 39% compared with the same time last year and just below the record 238 points hit in February. Food prices are likely to stay at historically-high, and volatilelevels well into 2012, the FAO said.
In Libya, the fighting between government and opposition forces has severely harmed the supply of food and medication, particularly to the Western Mountain Region which is entirely dependant on outside supplies, said Reem Nada, a Cairo-based public information officer for the World Food Program. Libya is almost entirely dependent on food imports but the country's ports have been shuttered for months. "The World Food Program is concerned with the collapse of the public distribution system, affected by the situation in Libya," Nada told The Media Line. "Due to heavy fighting in Libya's Western Mountain Region, markets are closed and there is a lack of cash and fuel. Some areas have no electricity or water." According to the UN Refugee Agency (UNHCR), over one million refugees have so far fled Libya as a result of the fighting.
Syrians too have suffered hunger due to a drought that has plagued the country's northeast since 2006, described by the WFP as "the worst in decades." Mass migration from Syria's rural agricultural areas into cities has ensued. Some one million Iraqi refugees living in Syria are the most vulnerable to food shortage, as they are not allowed to work or own land to sustain themselves. For Syrians struggling with less food in the markets, the problem was made worse by cuts in food subsidies and frozen wages after 2004. In the weeks before unrest broke out in mid-March, the Syrian President Bashar Assad government restored some of those subsidies and raised salaries for civil servants. But with the economy paralyzed, it's not clear the government can afford to increase aid or distribute it. The fighting, however, has been a major cause of hunger in Syria. In mid-June, government forces loyal to Assad blocked food from reaching Syrian villages near the border with Turkey, where thousands of internally displaced refugees had gathered fleeing government violence. "This is a starvation war they're waging," Jameel Saib, a local eyewitness, told CNN, adding that refugees were forced to pluck fruit from trees in order to survive. Ali Al-Saffar, a Middle East researcher at the Economist Intelligence Unit, a London-based researcher affiliated with The Economist magazine, said food scarcity and high inflation were one of the root causes of the Arab uprisings.
WEEK OF JULY 3 THROUGH JULY 9
Iranian Pastor Faces Brutal Choice: Reject Christian Faith or Die
July 8….(Newsmax) A US State Department official expressed outrage and pressed Iran to reverse a court decision that gives an Iranian pastor an outrageous, and suicidal, choice: Reject his Christian faith, or die. The 32-year-old pastor, Yosef Nadarkhani, was arrested in October 2009 for apostasy because he objected to the teaching of Islam to Christian children at Iranian schools. He was sentenced to death by hanging late last year, a verdict that he appealed to Iran's Supreme Court. Late last month, the appeal appeared to have been granted, as his lawyer indicated to a news agency on July 3. But an Iranian human rights agency now says the ruling actually imposes the recant-or-die choice, according to CNSNews.com.
A US State Department official issued a statement Wednesday expressing dismay at the prospect. "While Iran's leaders hypocritically claim to promote tolerance, they continue to detain, imprison, harass, and abuse those who simply wish to worship the faith of their choosing," State Department spokeswoman Victoria Nuland said. "We join the international community in continuing to call on the Iranian government to respect the fundamental rights of all its citizens and uphold its international commitments to protect them." The indictment against Nadarkhani, a father and evangelical pastor who became a Christian at age 19, accused him of organizing evangelistic meetings, sharing his faith, inviting others to convert, running a house church, and "denying Islamic values," CNSNews reports. After his death sentence, his appeal appeared to win a reversal of the fate of hanging. But the victory was not as clear-cut as it seemed, and Nadarkhani now has been told that he may face new charges or the case could be returned to the original sentencing court in northern Iran's Gilan province, according to the Human Rights Activists News Agency, an association that Iranian human rights advocates established in 2009. Now, it appears that the Gilan court will "question the defendant again in order to determine whether he believes in Islam or not. If he is a Muslim, Yosef Nadarkhani must be released. If it is determined that he is a Christian, he may repent from his faith. Otherwise, if he insists on his beliefs, the death penalty must be carried out," CNSNews quotes the agency as saying. And the advocacy group Christian Solidarity Worldwide said, that, despite reports that the death sentence had been reversed, "in reality the Supreme Court appears to have added a precondition requiring him to renounce his faith, or face execution."
Although Nadarkhani didn't practice any faith before he became a Christian at 19, he was born to Muslim parents and Islamic law dictates that a child of Muslim parents is considered to be a Muslim. Although apostasy is not an offense in the Iranian penal code, CNSNews reports that Iran's constitution includes a clause demanding that, if a basis for a judicial ruling does not exist in the law, judges must turn to "reliable Islamic sources or a valid fatwa."
The most recent execution of a Christian in Iran for his faith took place 21 years ago, when Assemblies of God Pastor Hussein Sodmand was hanged after refusing to recant, according to CNS News.
Glenn Beck to Visit Temple Mount
July 8….(Arutz) Glenn Beck and Knesset Member Danny Danon plan to ascend the Temple Mount next week. Beck also will speak with a Knesset committee that Danon heads. Beck will arrive in Israel Monday, an organizer of his visit told Israel National News. He declined to reveal any timetable or details of the visit, but a Knesset source confirmed the visit to the Temple Mount.
Beck will appear at the Knesset Committee on Aliyah to speak about the anti-Israeli effort to present the Jewish state as being illegitimate. The controversial and fiery personality, who several days ago broadcast his last show on Fox News, has been a constant champion of Israel. He visited the Temple Mount earlier this year and later announced a "Restoring Courage" rally in Jerusalem August 24. After his previous visit to the holy site, he said, "The Temple Mount almost pulsated. I could feel it." He is hoping for a repeat of last year's massive turnout in Washington for a "Restoring Honor" rally. His web page encourages people to sign up for the tour but warns that the price tag is high. It also states that both American and Israel firms will be deployed to ensure security. In his announcement of the rally in Israel, he stated, "It is time for us to courageously stand with Israel" and said that high security will be required because "the very gates of hell will open up against us."
Beck added, "The only power broker, the only seat of government that can and will solve this problem with or without us is God. It is time to return inside the walls that surround Jerusalem and stand with people of all faiths, all around the world. "There are people that will promise you 'peace' in the coming months. They are going to attack the center of our faith; our common faith, and that is Jerusalem, but it won't be with bullets or bombs. It will be with a two-state solution that cuts off Jerusalem; the Old City, from the rest of the world."
Palestinians Will Apply Next Week for UN Membership
July 8….(DEBKAfile Exclusive Report) On Wednesday, July 6, the Palestinian Authority notified the Obama administration that early next week it would file with the UN Security Council a request for admission to the United Nations as a full member recognized as an independent state within the 1967 borders. But Debkafile's Washington sources report the US had got in first, having agreed with European powers and Russia on a ploy for deferring the Palestinian request. The Security Council would agree to discuss it behind closed doors without setting a date. A senior American official commented: The Security Council will stall by keeping the matter "under consideration" on its regular agenda. PA Chairman Mahmoud Abbas knew what was going on: That is why his chief negotiator Saeb Erekat said in Washington Thursday, July 7, that there is no contradiction between the Palestinian application for UN recognition and the restart of negotiations with Israel. What Erekat had in mind was the US-French initiative -first revealed exclusively by debkafile Tuesday, July 5, for the convening of an Israeli-Palestinian peace summit on September 2 in Paris. If this plan takes off, President Barack Obama will come to Paris to join President Nicolas Sarkozy in declaring the talks open alongside Israeli Prime Minister Benjamin Netanyahu and PA Chairman Mahmoud Abbas. By putting off a Security Council debate, the US, France, Israel and the Palestinians have won two months to get negotiations off the ground and moving forward. The Americans hope to bring Turkey aboard for the effort, to which end it is necessary to end the quarrel between Ankara and Jerusalem in that time.
According to US and Israeli sources, Abbas was given to understand that whatever happens, even if the talks stall again, Washington would stand in the way of a Security Council discussion of the Palestinian application. Abbas would then have to decide whether to circumvent the Security Council and take the Palestinian request for recognition of its statehood to the UN General Assembly when it convenes in September.
Tuesday, July 5, Debkafile's sources disclosed the US-French plan to convene an Israeli-Palestinian peace summit in Paris on Sept. 2 after ending the Libyan war.
Back to the main story: The Obama and Sarkozy administrations are working together on a plan to convene an Israel-Palestinian peace summit in Paris on Sept. 2 shortly after the Libyan war is brought to a close, Debkafile's Washington and Paris exclusive sources disclose. If they can pull it off, Presidents Barack Obama and Nicolas Sarkozy will join Prime Minister Benjamin Netanyahu and Palestinian leader Mahmoud Abbas at a summit in the French capital to announce the restart of Israel-Palestinian peace talks, thereby calling off the unilateral Palestinian request for UN recognition of an independent state.
President Obama's Special Adviser Dennis Ross and senior French diplomat Jean-David Levitte are leading the effort to get this summit off the ground. According to the US-French plan, it will take place shortly after the Libyan war is brought to a close, ideally by a four-way accord between the US, France, Muammar Qaddafi and the Libyan rebels or, failing agreement, by a crushing NATO military blow in which the United States will also take part. The proposed accord would be based on Muammar Qaddafi's departure and the establishment of a power-sharing transitional administration in Tripoli between the incumbent government and rebel leaders. The US and French presidents hope to be credited at home and in the Middle East with a triple feat: two diplomatic breakthroughs in the Middle East and a US-French victory in Libya. To this end, negotiations are going forward with the concerned parties. Russia and the African Union have been drawn into the drive to end the war in Libya. One stumbling block still remaining is Qaddafi's demand for his sons to be part of the proposed transitional administration in Tripoli.
To clear the way for the Paris summit, Ross recently put before Netanyahu Obama's revised formula for the starting-point of negotiations with the Palestinians: Israel would have to accept the 1967 borders with territorial swaps in exchange for Palestinian recognition of Israel as the national state of the Jewish people. Just this week, the Israeli prime minister said that if the Palestinians recognized Israel as the Jewish homeland, the other outstanding issues could be easily and quickly resolved. However, it is not clear whether the revised formula had won prior Palestinian approval before it was presented in Jerusalem or Washington intended to later squeeze this concession out of Mahmud Abbas and so drive a crack in the deadlock which has frozen the peace track for more than seven months.
At all events, Netanyahu's reply was qualified. He accepted the new US formula in principle, but batted the ball back into the White House's court. Debkafile's sources in Jerusalem and Washington disclose that he made acceptance contingent on President Obama publicly and formally affixing his signature to President Bush's letter of April 2004 to then-Prime Minister Ariel Sharon. This letter constituted a presidential commitment to support negotiations with the Palestinians based on UN Resolution 242 (which promised Israel defensible borders), to refrain from demanding Israel's return to the 1949 lines, and to acknowledge the existence of major Jewish population centers on the West Bank as demographic changes occurring in the years since the Six-Day War.
Netanyahu is now waiting for an answer from the White House. Our sources in Jerusalem explain that this exchange encapsulates the US-Israeli-Palestinian debate over how much territory the land swaps would leave Israel and the Palestinians respectively in future agreements on their borders. Up until now, the Palestinians have insisted on a ratio of one kilometer in pre-1967 Israel for every kilometer awarded Israel on the West Bank. This ratio Jerusalem has found to be unacceptable. A comprehensive study commissioned by the prime minister's office from the National Security Council found that the big settlement blocs on the West Bank cover roughly 8 percent of West Bank area. Giving up an equal area of Israeli territory would imperil its security no less than a flat return to the 1967 borders. Israel cannot therefore afford to cede more than 4 percent of its sovereign territory at most. The Palestinian demand for parity in the mutual exchanges of land is therefore rejected by Jerusalem.
Jerusalem is reverting to the Bush letter and its reaffirmation of UN Resolution 242, not just because it better addresses Israel's security needs more advantageous, but also because, "You can't just toss out UN Resolution 242 and Bush's letter to Sharon," Netanyahu has been saying in recent private talks. In his view, the Obama White House cannot simply ignore a presidential commitment given by his predecessor personally to an Israeli prime minister. In the opinion of the prime minister and his advisers, the formula incorporated in Obama's May 19 speech requiring Israel to return to the 1967 borders with mutual land swaps and accept a non-demilitarized Palestinian state is tantamount to giving up on secure borders. The UN 242 and the Bush commitment upheld this principle and is therefore the option preferred in Jerusalem.
UNSC Plans to Discuss Palestinian Statehood in July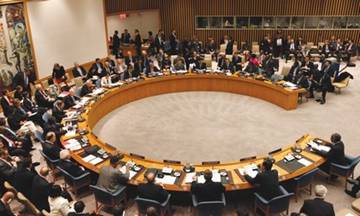 July 7….(Jerusalem Post) The UN Security Council plans to discuss in July the possibility of Palestine becoming a United Nations member state, the Security Council president said on Tuesday. The Arab League has said it would request UN membership for a Palestinian state in the Gaza Strip and the West Bank, with east Jerusalem as its capital at the UN General Assembly in September. An open debate on the Middle East has been scheduled for July 26 according to a provisional calendar for the Security Council for July. "I think (that) will be an occasion to explore the various options that might exist on the Palestinian side," said German Ambassador Peter Wittig, UN Security Council president, in response to a question about when the issue would be debated. Germany holds the Security Council presidency in July. Wittig pointed to an upcoming Quartet meeting as a possible indicator on the situation.
The Quartet is expected to meet on July 11. The meeting, expected to take place in Washington, will come amid a US push to revive peace negotiations between Israel and the Palestinians. Separately, a spokesman for UN chief Ban Ki-moon said he could not give a firm date as to when the much-delayed findings from a panel set up to investigate the 2010 Gaza flotilla incident would be released. "I don't think we are yet at the point where the report would be handed over - when that happens obviously we'll let you know," he said at a press conference on Tuesday. Last August, Ban appointed a panel headed by former New Zealand Prime Minister Geoffrey Palmer to investigate last year's Israeli attack on an aid convoy bound for Gaza.
The Tipping Point: US Embracing the Muslim Brotherhood
July 6….(Center for Security Policy/By Frank Gaffney, Jr.) The Obama administration chose the eve of the holiday marking our Nation's birth to acknowledge publicly behavior in which it has long been stealthily engaged to the United States' extreme detriment: It's officials now admit that they are embracing the Muslim Brotherhood. That would be the same international Islamist organization that has the destruction of the United States, Israel and all other parts of the Free World as its explicit objective. On Thursday, Secretary of State Hillary Clinton tried to downplay the momentousness of this major policy shift by portraying it during a stopover in Budapest as follows: "The Obama administration is continuing the approach of limited contacts with the Muslim Brotherhood that have existed on and off for about five or six years." In fact, as former federal prosecutor Andrew McCarthy points out in a characteristically brilliant, and scathing, dissection of this announcement, Team Obama's official, open legitimation of the Brotherhood marks a dramatic break from the US government's historical refusal to deal formally with the Ikhwan. To understand why the Obama administration's embrace of the Muslim Brotherhood is so ominous, consider three insights into the organization's nature and ambitions:
First, here's the MB's creed: "Allah is our objective. The Prophet is our leader. The Qur'an is our law. Jihad is our way. Dying in the way of Allah is our highest hope." (Source: Husain Haqqani and Hillel Fradkin, "Islamist Parties: Going Back to the Origins.")
Second, here's the Ikwhan's mission in America: "A kind of grand jihad in eliminating and destroying the Western civilization from within, sabotaging its miserable house with their [i.e., Americans'] hands and the hands of the believers so that it is eliminated and God's religion is made victorious over all other religions." (Source: Muslim Brotherhood's "Explanatory Memorandum on the General Strategic Goals of the Group," entered into evidence by the Department of Justice in the 2008 Holy Land Foundation terrorism-finance trial. Archived at the NEFA Foundation.)
Third, here are excerpts from the Muslim Brotherhood's "phased plan" for accomplishing that mission:
Phase One: Discreet and secret establishment of leadership.
Phase Two: Phase of gradual appearance on the public scene and exercising and utilizing various public activities. It greatly succeeded in implementing this stage. It also succeeded in achieving a great deal of its important goals, such as infiltrating various sectors of the Government.
Phase Three: Escalation phase, prior to conflict and confrontation with the rulers, through utilizing mass media. Currently in progress.
Phase Four: Open public confrontation with the Government through exercising the political pressure approach. It is aggressively implementing the above-mentioned approach. Training on the use of weapons domestically and overseas in anticipation of zero-hour. It has noticeable activities in this regard.
Phase Five: Seizing power to establish their Islamic Nation under which all parties and Islamic groups are united. (Source: Undated Muslim Brotherhood Paper entitled, "Phases of the World Underground Movement Plan." Archived at Shariah: The Threat to America.)
In short, the Muslim Brotherhood is deadly serious about waging what it calls "civilization jihad" against the United States and other freedom-loving nations in order to secure their submission to the Islamic totalitarian political-military-legal doctrine called shariah. The MB's goal in this country is to replace our Constitution with theirs, namely the Koran. And they regard this task as one commanded by none other than Allah. (For more details on the nature, ambitions and modus operandi of the Ikhwan, see the Team B II Report, Shariah: The Threat to America). To this end, as Andy McCarthy notes in the aforementioned essay, the MB's senior official, Supreme Guide Muhammad Badi, has effectively declared war on the United States. Were there any doubt that legitimacy is what the Ikhwan is taking away from this gambit, consider this assessment from an expert in Islamic groups, Ammar Ali Hassan, cited by Associated Press: "The Brotherhood will likely try to float 'conditions' or 'reservations' on any dialogue to avoid a perception that it is allowing the US to meddle in Egypt's internal affairs. But in the end, the talks will give a boost to the group, he said, by easing worries some in the Brotherhood and the public have of a backlash if the Brotherhood becomes the dominant player in Egypt. 'Now the Muslim Brotherhood will not have to worry about moving forward toward taking over power,' Hassan said."
Unfortunately, the US government's dangerous outreach to the Ikhwan is not confined to Egypt but is systematically practiced inside the United States, as well. For example: * Muslim-American organizations identified in court by the US government, and, in many cases, by the Muslim Brotherhood itself, as MB fronts are routinely cultivated by federal, state and local officials. Representatives of homeland security, Pentagon, intelligence and law enforcement agencies frequently meet with and attend functions sponsored by such groups.
* MB-associated individuals are sent as our country's "goodwill ambassadors" to foreign Muslim nations and communities. MB-favored initiatives to insinuate shariah into the United States, notably, the Ground Zero Mosque and shariah-compliant finance, conscientious objector status for Muslim servicemen and stifling of free speech in accordance with shariah "blasphemy" laws, are endorsed and/or enabled by official institutions.
A blind eye is turned to the presence across the country of shariah-adherent mosques that incubate jihadism. A peer-reviewed study published last month in Middle East Quarterly determined that 81% of a random sample of 100 mosques exhibited such qualities - constituting an infrastructure for recruitment, indoctrination and training consistent with the Brotherhood's phased plan.
* Under both Republican and Democratic administrations, individuals with family and other ties to the Muslim Brotherhood have actually given senior government positions. The most recent of these to come to light is Secretary of State Hillary Clinton's Deputy Chief of Staff, Huma Abedin (who also happens to be former Rep. Anthony Weiner's wife). It seems a safe bet that, as Team Obama legitimates Muslim Brotherhood organizations and groups overseas, it will feel ever less constrained about further empowering their counterparts in the United States. If so, the MB will come to exercise even greater influence over what our government does and does not do about the threat posed by shariah, both abroad and here. The absolutely predictable effect will be to undermine US interests and allies in the Middle East and further catalyze the Brotherhood's campaign to insinuate shariah in the United States and, ultimately, to supplant the Constitution with Islamic law. Consequently, the Obama administration's efforts to "engage" the Muslim Brotherhood are not just reckless. They are wholly incompatible with the President's oath to "preserve, protect and defend the Constitution of the United States" and the similar commitment made by his subordinates.
These officials' now-open embrace of the Muslim Brotherhood constitutes a geo-strategic tipping point, one that must catalyze an urgent national debate on this question: Does such conduct violate their oath of office by endangering the Constitution they have undertaken to uphold? At a minimum, such a debate would afford a much-needed opportunity to examine alternatives to the administration's present course, as well as the real risks associated with that its intensifying pursuit. For instance, one of the most astute American authorities on the Middle East in general and the Muslim Brotherhood in particular, Dr. Michael Rubin of the American Enterprise Institute, wrote in a posting at The American blog yesterday:
Rather than embrace the Brotherhood, the Obama administration should be seeking to ensure that the group cannot dominate Egypt. Most analysts agree that the Muslim Brotherhood is by far the best organized group in Egypt, but that it only enjoys perhaps 25 or 30 percent support. The secular opposition remains weak and fractured. If the Obama administration wishes to remain engaged in Egypt's future and shape the best possible outcome for both US national security and the Egyptian people, it should be pushing for electoral reform to change Egypt's dysfunctional system to a proportional representation model in which the secular majority can form a coalition to check a Muslim Brotherhood minority for which true democracy is anathema. The same goes for the enemy within. Instead of relying upon, let alone hiring, Muslim Brotherhood operatives and associates, the United States government should be shutting down their fronts, shariah-adherent, jihad-incubating "community centers" and insidious influence operations in America. By recognizing these enterprises for what they are, namely vehicles for fulfilling the seditious goals of the MB's civilization jihad, they can and must be treated as prosecutable subversive enterprises, not protected religious ones under the US Constitution.
Muslim Brotherhood's First Demand for US: Drop Israel
July 6….(Israel Today) US Secretary of State Hillary Clinton at the weekend publicly announced the Obama Administration's desire to reestablish ties with Egypt's Muslim Brotherhood. The Brotherhood responded this week by thanking Clinton, and issuing its first demand of its new American friends: drop support for the "Zionist regime." In an email response quoted by Bloomberg, Muslim Brotherhood spokesman Mahmoud Ghozlan stated that if America wants solid relations with the group, it should "stop supporting the corrupt and tyrannical regimes, backing the Zionist occupation and using double standards." It is important to remember that when the Muslim Brotherhood speaks of the "Zionist occupation" it does not mean only the Israeli presence in Judea and Samaria, the so-called "West Bank."
The Muslim Brotherhood sees all of Israel as a cancerous growth that must be eradicated. The group supports returning Egypt to a state of war with Israel, and wants to see the entirety of the region become an Islamic Caliphate. Former Egyptian President Anwar Sadat was assassinated by the Muslim Brotherhood for making peace with Israel. The Muslim Brotherhood is today the most organized political force in Egypt, raising expectations that it will win control of the government when Egyptians go to the polls in September.
The Arab Spring's anti-Israel Flavor
July 6….(Israel Today) When Arab masses began to rise up against dictatorial regimes and demand democratic reforms, Western leaders hailed the movement as one that would result in a more liberal, open and conflict-free Middle East. Many Western officials, especially those in Washington, insisted that the so-called "Arab Spring" would improve the prospects of peaceful relations between Israel and its Arab neighbors. But as Islamist groups have effectively hijacked most of the regional revolutions, those prospects have diminished considerably. In the nation where it all started, Tunisia, the newly established High Commission for Political Reforms and Democratic Transition decided last Friday that peace with Israel will in fact be forbidden.
An official government document cited by the AFP news agency stated that the new Tunisia is democratic, that its language is Arabic, its religion is Islam and that it rejects "any form of normalization with the Zionist state." The situation is likely to be similar in Egypt, though with more devastating effects, since that country already has a peace agreement with Israel. Egyptians are scheduled to go to the polls in September in the country's first parliamentary election since the ouster of former dictator Hosni Mubarak. But the only organized and broadly-supported political force in Egypt at present is the Muslim Brotherhood. And with so little time before the election, there is no chance for any other group to rise up and win a majority of seats in the parliament. That means the Muslim Brotherood is almost guaranteed to control the Egyptian parliament, whether through an outright majority or via smaller allied political groups. And that will not bode well for the Israel-Egypt peace treaty. All in all, the Arab Spring is turning out to be a rather chilly season for Israel. It appears those "experts" in Washington and Europe don't know as much as they would like to think.
What Are the Palestinians Planning after September?
July 6….(Pinhas Inbari) (Jerusalem Center for Public Affairs)
* What the Palestinians really envisage after September is to exploit a UN endorsement of statehood to legitimize an escalation of the conflict. After having the 1967 lines recognized so as to negate the results of the Six-Day War, they plan to seek recognition of the 1947 partition lines.
* There are signs that the long period of quiet since the Second Intifada is going to end after September or just before it, and that Abbas' Fatah organization is already preparing for the "Third Intifada." Ahmad Abu Ruteima, a Hamas activist in Gaza, describes the objective of the Third Intifada: "The struggle is about the very existence of Israel and not about the 1967 borders. The defense minister, Ehud Barak, confirmed that the [Israeli] army is incapable of confronting a human influx from all directions."
* The post-September scenarios discussed in the upper Fatah echelons involve a return to the struggle. A senior member of the Fatah Revolutionary Council, Hatem Abd al-Qader, noted that in case Israel obstructs the Palestinians' political plans, Abbas will step down, the PA will dissolve itself, and nothing will prevent the Palestinians from returning to the struggle. And even if elections are held, the new president will come from the younger generation, abolish the Oslo agreements, and lead the Palestinians back to the struggle.
* Why does the PLO so adamantly refuse any discussion of swaps between the Palestinian-populated areas in the Israeli Triangle region and the settlement blocs. The PLO, apparently, wants to leave the Palestinian-populated areas in Israel as an anchor for pushing Israel back to the 1947 borders or even further, as the territorial basis for exercising the right of return into Israel.
* In his New York Times article, Abbas was straightforward: "Palestine's admission to the United Nations would pave the way for the internationalization of the conflict as a legal matter, not only a political one. It would also pave the way for us to pursue claims against Israel at the United Nations, human rights treaty bodies and the International Court of Justice."
Pentagon Concerned Over Iran, Hizbullah in Latin America
July 5….(Arutz) Iran and its proxy Hizbullah continue to expand their influence and presence in South America, a top US general warns. USAF General Douglas Fraser, commanding officer of the Pentagon's Southern Command, says Iran has aggressively expanded its network of embassies in the region, as well as building numerous cultural centers and mosques in more than 15 Latin American countries. Fraser, the shot-caller for US military operations in 31 countries in Latin America and the Caribbean, says intelligence provided to SoCom indicates the Iranian-built Mosques and cultural centers are teaching a radical brand of Islam to impoverished Latin American's and serve as recruiting centers for 'extremist organizations.' Fraser warns these efforts have been accelerated by the close relationship between President Hugo Chavez of Venezuela and Iran's President Mahmoud Ahmadinejad, who have met at least nine times during Chavez's 12-year tenure as President.
The Iranian-Venezuelan alliance remains largely diplomatic and commercial, according to Fraser. But he maintains there are still too many unknowns to simply discount its long-term strategic importance vis-a-vis the growth of Islamic terror groups in the region. "There are flights between Iran and Venezuela on a weekly basis, and visas are not required for entrance into Venezuela or Bolivia or Nicaragua. So we don't have a lot of visibility in who's visiting and who isn't, and that's really where I see the concerns," Fraser says. "It is a concern, and it is an issue we will continue to monitor for any increasing activity," Fraser said. Fraser also told the Senate Armed Services Committee that military intelligence confirmed Iran has hosted heads of state from three countries: Bolivia, Guyana and Venezuela.
But Fraser isn't just concerned about Iran forming a beach-head in the region. The Iranian-supported Hizbullah terror-organization is also developing a dangerous presence in Latin America, Fraser says. In addition to fundraising and recruiting in the region, the terror group has reportedly started muscling in on the Mexican drug trade. Fraser is not the first to warn lawmakers from both parties about Latin America's vulnerability to radical Islam. In 2007, Marine Corps General Peter Pace, the Bush Administration's chairman of the Joint Chiefs of Staff, told the Armed Services Committee elements of radical Islamic groups were active in South America recruiting and training terrorists. Pace specifically cited Hizbullah and al-Qaeda, but the Senate chose not to act on Pace's warnings at the time. Due to Fraser's lobbying, the Senate Committee on Homeland Security's Subcommittee on Counterterrorism and Intelligence will hold a hearing entitled "Hizbullah in Latin America, Implications for US Homeland Security" on July 7th.
US Bailout for Palestinian Economy if Abbas Drops UN Plan
July 5….(DEBKAfile Exclusive) The Palestinian Authority is broke. Prime Minister Salam Fayyad, who has been credited with performing an economic miracle, appealed to "donors and our Arab brothers" Sunday, June 3, for urgent assistance after being forced to halve civil servants' July wages. Donors have stumped up only $330 of the total of $970 pledged for 2011. "If the crisis continues," said Fayyad, more austerity measures will be necessary - meaning more wage cuts and dismissals in August. The Palestinian economy is suffering in the backlash from European recessions, donors have dropped out or cut back on aid - and the political unrest in hitherto supportive Arab countries, Egypt, Syria, Libya and Tunisia which has virtually immobilized their economies. The only three countries able to rescue the Palestinian Authority from bankruptcy, Saudi Arabia, the United States and Turkey, are invested elsewhere, unwilling to come forward, or both.
The Saudis are channeling vast amounts of cash to Pakistan and Jordan in support of the league of conservative Sunni Muslim regimes they are fashioning as a bulwark against Iranian expansion and its nuclear threat and as a counter-trend to the Obama administration's sponsorship of the "Arab Spring." Sunday, July, 3, Saudi King Abdullah bin Abdul Aziz guaranteed to the Hashemite monarch visiting him in Jeddah: "We will stand with all our potential by Jordan to enable it to face all challenges out of the belief that what affects one country reflects on the other." The Saudis have therefore hauled Jordan back from the brink of bankruptcy and given the neighboring kingdom a financial cushion, estimated by debkafile's sources at $1 billion for July, with one major string attached: a commitment to line up behind Saudi policies instead of obeying Washington. To obtain even the smallest crumbs of Saudi largesse, the Ramallah-based Palestinian government would be expected to follow Jordan's lead and break away from America's Middle East orientation. This PA chairman Mahmoud Abbas is deeply reluctant to do.
Turkey, which under the rule of Prime Minister Tayyip Erdogan has prospered, its economy registering 11 percent growth in the last quarter, walks in step with US President Barack Obama in the Middle East and will not advance a cent to the Palestinians without White House approval. On this front, Abbas is also facing a squeeze.
Our sources report that a secret White House emissary visited Jerusalem and Ramallah last week to inform both governments that Obama will not take no for an answer to his invitation to send delegates to Washington to prepare the opening ceremony for revived Israel-Palestinian negotiations. Abbas was told that direct talks with Israel was his only option; he must therefore abandon his plan to have the UN vote to approve an independent Palestinian state within 1967 boundaries at the September General Assembly. Nothing was said about ongoing US financial assistance. But Abbas knows perfectly well that if he sticks to his UN initiative, the US Congress will freeze the aid that sustains Palestinian projects on the West Bank, keeps the PA administration solvent and provides jobs. The financial situation in Ramallah will go from bad to worse. He therefore understands that salvation for the Palestinian cause at this stage is financial rather than political and must be sought in Riyadh, Washington or Ankara, not the United Nations.
Israelis, Palestinians Brace for Potential Outbreak of Violence After UN Vote
July 5….(Fox News) Israeli and Palestinian security forces are already taking precautions to avoid an outbreak of violence after an expected UN vote for Palestinian independence in September, officials on both sides said Sunday, reflecting shared concerns about the possibility of renewed fighting this fall. For now, Israeli and Palestinian officials said they do not want, or expect, armed hostilities to resume. But both sides fear that one small incident could quickly spin out of control. "We need only popular and peaceful struggle," said Amin Makboul, a top official in Palestinian President Mahmoud Abbas' Fatah Party. "We want to show the world that we are responsible and deserve to be part of the international community." After the bitter lessons of last decade's Palestinian uprising, the Palestinians do not want to give Israel any "pretext" to claim the Palestinians are not serious about creating a peaceful state, Makboul added. A top Palestinian security official, speaking on condition of anonymity, said Abbas recently issued a straightforward order to his commanders: "I don't want any violent actions in September," the official quoted Abbas as saying. He spoke on condition of anonymity because he was discussing a sensitive internal meeting.
Israeli and Palestinian officials both say the region is headed into uncharted waters if the Palestinians follow through on their pledge to turn to the United Nations. Each side is trying to prepare for all scenarios. Mostly it is in closed forums whose deliberations are so tightly guarded as to suggest a fear that the mere mention of a new Palestinian uprising might somehow contribute to tensions. However, some preparations are more public. Some 1,000 Israeli military officers held a two-day drill last week to prepare for September, discussing such issues as crowd-control tactics and the latest intelligence, officials say. The army will use the coming months to fine-tune its preparations in hopes of avoiding bloodshed, they said. Abbas has said he will seek an international endorsement of Palestinian independence if peace talks with Israel remain stalled, as they have been for nearly three years. The US has stepped up efforts to find a formula for renewing negotiations in recent weeks, but there have been no signs of a breakthrough. The Palestinians say they will not resume talks until Israel freezes all construction in Jewish settlements in the West Bank and east Jerusalem, areas captured in 1967 which they claim for a future state.
A senior Palestinian official has hinted the Palestinians will ease this demand if Israel accepts President Obama's formula of basing a future Palestinian state on Israel's pre-1967 frontiers, with agreed land swaps. Setting the rough outlines of a future border at the outset, the thinking goes, would largely solve the settlement issue on its own, since Israel would know which of the communities it will ultimately be able to keep. Israel has reacted coolly to Obama's plan, saying that all issues, including settlements and final borders, should be reached in negotiations. The effect of the UN vote will likely be limited in the short term. With the US threatening to use its veto power in the Security Council, the powerful UN body that must approve membership in the world body, the Palestinians instead plan to turn to the General Assembly. Although the assembly's decisions are nonbinding, the Palestinians are calculating that a resounding victory there would send a strong international message and put heavy pressure on Israel to begin withdrawing from occupied territories. Israeli military officials believe the Palestinians have no desire to stage another uprising; more than 5,000 Palestinians and more than 1,000 Israelis were killed in the previous one. It is a view shared by many observers of the Palestinian scene, who note that in recent years the fighting has largely subsided, and the West Bank has enjoyed an economic boom. Still, the last Palestinian uprising broke out during another period of relative prosperity, in late 2000, and it initially enjoyed wide support among a public that felt disappointed by the results of peace efforts. Some Israelis fear that this fall, the UN vote could similarly fuel unrealistic expectations among the Palestinian public. Officials fear a single incident with Palestinian fatalities could spark a wider outbreak of violence. They spoke on condition of anonymity because they were discussing a sensitive security assessment. While the Israeli military does not believe the Palestinian leadership in the West Bank is looking for a battle, the rise in Facebook-organized groups is adding some uncertainty to the equation.
Palestinian activists in Syria, for instance, recently organized demonstrations along the frontier with Israel that resulted in more the deaths of more than 20 protesters. Facebook use is widespread in the Palestinian territories, especially among the younger generation. The Israeli military officials said they will limit the use of lethal force as much as possible and will try to prevent violent confrontations by using intelligence capabilities. Different protest ideas have been floated, including mass marches on Jewish settlements, though some of that has come from analysts and commentators, not from Palestinian activists. The Israeli military officials say such marches would require extensive planning and could be thwarted ahead of time, if deemed a threat. A Palestinian security official said orders would be for marches to be peaceful, and that tactics like stone-throwing would not be tolerated. He also said rallies would be confined to Palestinian population centers and not be permitted to get too close to Israeli settlements. The official concurred that unofficial groups could stir up violence, particularly if they try to enter areas off limits to Palestinians, like the main checkpoint linking the West Bank to Jerusalem. He said such scenarios would be "out of our control," since Palestinian security forces are barred from operating there. "If Palestinian demonstrators are killed, the situation could deteriorate," he warned.
Happy 4th of July USA!
July 4…..(FOJ)
Stand fast therefore in the liberty wherewith Christ hath made us free,
and be not entangled again with the yoke of bondage.
–Galatians 5:1
---