WEEK OF OCTOBER 30 THROUGH NOVEMBER 5
China Heavily Involved in Iranian Missile/Weapons Deal
Nov. 4….(Washington Times) China is continuing to provide advanced missiles and other conventional arms to Iran and may be doing so in violation of UN sanctions against the Tehran regime, according to a draft report by the congressional US-China Commission. "China continues to provide Iran with what could be considered advanced conventional weapons," the report of the US-China Economic and Security Review Commission says. According to the report, which will be made public Nov. 16, China sold $312 million worth of arms to Iran, second only to Russia, after Congress passed the Iran Freedom Support Act in 2006 that allows the US government to sanction foreign companies that provide advanced arms to Iran. The report also noted that, after Russia began cutting back arms transfers to Iran in 2008, China became the largest arms supplier to the Iranian military. Most of the weapons transfers involved sales of Chinese anti-ship cruise missiles, including C-802 missiles that China promised the United States in 1997 would not be exported to Iran. China also built an entire missile plant in Iran last year to produce the Nasr-1 anti-ship cruise missile. "Because of the relatively short range of these missiles, China's provision of them to Iran does not violate the Iran, North Korea and Syria Nonproliferation Act of 2006, which seeks to prevent the transfer of only those missiles that can carry a 500-kilogram warhead more than 300 kilometers," the report says. "It is possible, however, that these transactions violate the Iran Freedom Support Act, or the Comprehensive Iran Sanctions, Accountability and Divestment Act of 2010, which both use the ambiguous term 'advanced conventional weapons.' Regarding China's professed claims to have ended all backing for Iran's nuclear and ballistic-missile programs, the report says "there has been speculation that China, or Chinese entities, have quietly continued to provide some support for Iran's pursuit of weapons of mass destruction and ballistic missile capabilities."
The report says China also is supporting North Korea's military and providing economic and technical assistance to Pyongyang. The report concludes: "Despite Beijing's stated claim to be acting as a responsible major power, China continues to place its national interests ahead of regional stability by providing economic and diplomatic support to countries that undermine international security." Chinese Embassy spokesman Wang Baodong denied China violated UN sanctions.
Abbas' Huge Land Grab
(Palestinians have no interest in peaceful coexistence with Jewish state of Israel)
Nov. 4….(Jerusalem Post) With the United Nations vote on Palestinian statehood looming, the issue of Israel returning to the '67 borders will once again be in the spotlight. Even so-called "friends" such as the United States and Britain have pressured Israel to return to these lines. They also say any agreement must include "defensible borders" for Israel. However, a return to said lines would leave Israel a mere nine miles wide north of Tel Aviv. To put this in perspective, nine miles is less than the driving distance from Wall Street to the George Washington Bridge inside New York City. With today's advanced weaponry and technology defining such borders as "defensible" is not only a logical absurdity; it demonstrates a profound lack of concern for Israel's security.
Israel is on record as accepting a Palestinian State. In return it asks to be accepted by the Palestinians as a Jewish state. The response from Mahmoud Abbas has been a constant drumbeat of "no." Moreover, the Palestinian leader decided to use construction of homes on the eastern side of Jerusalem as a reason to suspend direct negotiations. This is based on his assumption Israel is going to willingly divide its capital and holiest city and turn it over to the Palestinians as capitol of their presumed state. Israel froze construction for 10 months. Did Abbas return to the table? No. Now he has come to the UN, presenting the General Assembly with a formal application for statehood.
Ironically, in 1947 the very body he stood before approved an Arab state by virtue of UN resolution 181. Yet his own Arab brethren refused to accept the UN vote. Why? Because it included two states, one of which was Jewish. Sixty-four years, six wars, and two intifadas later we face an identical stalemate, the refusal to accept a Jewish state. As Abbas knows Prime Minister Netanyahu will require Palestinian recognition of Israel as a Jewish state, the PA president has instead turned to the UN and asked it to approve a 23rd Arab state to avoid being in the position of having to accept the "unacceptable." Yet while the eyes of the world were focused on Abbas as he handed Secretary General Ban Ki-moon the formal statehood application, it seems those same eyes missed something quite significant.
The assumption has been that if a Palestinian State is approved, it would be based on pre '67 borders, which many believe are indefensible. Yet the application presented by Abbas is not based on pre '67 borders. It is based on the original 1947 partition plan of UN resolution 181. First, aside from the irony of requesting the identical item from the identical body rejected by his Arab brethren in 1947, Abbas' application negates what virtually all proponents of the "two-state solution" have supported, (including the proposal put forth by Saudi Arabia in 2002) a return to '67 borders. Second, the area of land designated for Israel under the '47 partition is 5,500 sq. miles. This is 30% smaller than the 8,000 sq. miles the '67 borders encompass. Third, it would mean several hundred thousand Jews now living inside the pre '67 borders would end up outside Israel and inside a hostile Palestinian state. This is in addition to the roughly 300,000 Jews who have been living in Judea and Samaria who also will be required to move, as Mr. Abbas is already on record saying "there will be no room for a single Jew to live in Palestine." Thus, potentially over 500,000 Jews would be forced to relocate, even though Israel has a 20% Arab population who is not being asked to move. Fourth, Jerusalem would no longer be inside Israel. It would be cut off, well inside and completely surrounded by the Palestinian State.
Even though the application is available for all to see, this astonishing effort on Abbas' part has gone virtually without comment. Yet the moment Israel designates new homes within its own sovereign territory the media cannot wait to splash such "inflammatory" moves all over the news. Abbas by virtue of requesting the '47 partition lines is essentially asking for a second chance to accept a UN resolution his Arab brethren rejected 64 years ago. This alone is precedent setting. It also demonstrates he has no interest in peaceful coexistence with a Jewish state of Israel within secure and defensible borders. Rather, his goal is to grab as much land as he can, while remaining committed to "the complete liberation of Palestine, and eradication of Zionist economic, political, military and cultural existence." (Article 12 of his Fatah Party's Charter.)
The Middle East already has 22 Arab countries, with a combined population of more than 300 million. Israel's six million Jews represent 2% of that figure, yet in order for "justice" to be played out, the Arabs require a 23rd state and the Jews are being asked to slice up their already tiny state. Moreover, if Mr. Abbas has his way, Israel will be 30% smaller than the already indefensible pre '67 borders, and its capital will be in the middle of his hostile state.
Hezbollah's Plan For War on Israel
Nov. 3….(Jerusalem Center for Public Affairs) In recent weeks Hizbullah leader Hasan Nasrallah held a series of meetings with his top-level military command as well as field commanders responsible for preparing for war with Israel. According to a source close to Hizbullah, Nasrallah's operational directive was that in the next military conflict with Israel, Hizbullah will hit Tel Aviv with missiles at the outset of the war, while also dispatching forces to conquer the Galilee. Hizbullah forces are being trained to fire at least ten thousand missiles, right at the war's outset, at military and strategic targets such as airfields, military camps, and vital facilities including maritime ones, followed by the firing of rockets from launch sites whose location will come as a surprise to Israel.
Nasrallah updated his commanders on regional developments, the situation in Lebanon, and on Hizbullah's internal and organizational affairs. Nasrallah emphasized the supreme importance of maintaining the organization's field security, given US and Israeli intelligence organizations' successes in penetrating Hizbullah and recruiting individuals holding sensitive posts. The exposure of agents within Hizbullah was profoundly unsettling to Nasrallah and the other leaders.
According to a source close to Hizbullah, Nasrallah's operational directive to the commanders was to prepare for the fact that in the next military conflict with Israel, Hizbullah will hit Tel Aviv with missiles at the outset of the war, while also dispatching forces to conquer the Galilee. The source stressed that this is an operational directive and not a matter of psychological warfare. Hizbullah's conclusion from the lessons of the Second Lebanon War is that, next time, Israel will have no red lines in waging all-out war against Lebanon and Hizbullah. Hence, Hizbullah is planning "many surprises" that will change the force equation with Israel both at the start of the conflict and during its operational phase.
The Operational Plan
The operational plan to conquer the Galilee was first aired in Nasrallah's announcement on 16 February 2011, as part of events marking the third anniversary of the assassination of Hizbullah commander-in-chief Imad Mughniyeh. Nasrallah told his fighters to be prepared for the fact that, should Israel launch a war against Hizbullah, they will be conquering the Galilee. Since that announcement, Hizbullah forces have been training and preparing to carry out Nasrallah's order. This preparation includes:
* Identifying landing sites for Israeli helicopters where explosive charges have been laid and dispersed.
* Deploying substantial rocket and artillery firepower in areas Hizbullah does not see as suitable for guerrilla warfare, mainly in parts of the Bekaa Valley.
* Visits by commanders to the front, which have included delegations of military experts headed by Haj Zu Alfikar. He is none other than Mustafa Badr Aldin, Mughniyeh's replacement as the most senior security-military figure in Hizbullah, who is continuing to act despite an extradition order against him for the murder of Prime Minister Rafiq Hariri. The senior military delegation visited the Bekaa Valley and southern Lebanon.
* The end of a series of intensive training sessions for some 727 fighters in Iran, who learned new combat methods for guerrilla and special commando units.
* The completion of courses for operators of advanced missiles and anti-tank weapons. Here it was said that Hizbullah had equipped itself with "smart" Iranian anti-tank missiles that can disrupt the defensive systems of Merkava tanks on the way to striking them. The military scenario for which Hizbullah forces trained is the firing of at least ten thousand missiles, right at the war's outset, at military and strategic targets such as airfields, military camps, and vital facilities including maritime ones, followed by the firing of rockets from launch sites whose location will come as a surprise to Israel.
The Operational Plan to Conquer the Galilee
The source said that the operational plan Hizbullah has formulated in tandem with senior Iranian strategic experts is based on using a force of five thousand fighters who have recently trained in Iran, particularly in the context of this plan. Another report said that in recent weeks Hizbullah forces had completed intensive training in Iran and had been deployed in southern Lebanon and the Bekaa Valley. It was further reported that in the area of Maydon in the western Bekaa Valley, Hizbullah engineering units had finished excavation work and the improvement of positions, while engineering units of the Iranian army had mined areas in the eastern Bekaa Valley that were seen as possible landing sites for Israeli special forces tasked with attacking Hizbullah's missile and artillery deployment. The source close to Hizbullah said its fighting force would number five brigades, each consisting of a thousand fighters. Each brigade has a designated combat zone in northern Israel that it is tasked with taking over. Each brigade is familiar with the layout and special topographical conditions of its sector and has trained to conquer it.
* Brigade 1 will take over the town of Nahariya or parts of it, after crossing the border in the area of Rosh Hanikra. According to Hizbullah information, means of protection in that area are meager, the distance is small (seven kilometers), and there are no military capabilities or special topography that will retard the unit in achieving its goal. Concurrently, a force of 150 fighters from the first brigade will reach Nahariya by sea in speedboats that Hizbullah already possesses. This force's mission is to take as many hostages as possible so as to prevent Israel from bombing the Hizbullah forces in this sector.
* Brigade 2 will take over the town of Shlomi, which has 6,500 residents and is about 300 meters from the border. The aim is to cut the IDF's supply lines and force it to send reinforcements from the east.
* Brigade 3 was ordered to reach the town of Carmiel and conquer areas south of it with the aim of blocking traffic from Acre, on the Mediterranean coast, to Safed.
* Brigade 4 will take over the communities of Malkiya, Ramot Naftali and Yiftach in order to prevent the IDF from firing from these areas into southern Lebanon.
* Brigade 5 will serve as a strategic reserve force for special missions.
Syria
Hizbullah is discussing the question of whether Bashar Assad will take part in the war, and is not excluding this possibility, particularly in light of Syria's domestic situation. Al Akhbar, a Hezbollah newspaper disclosed that Nasrallah had met with Assad a few days earlier in Damascus. It said Nasrallah had come to explain to Assad why Hizbullah insists that the Lebanese government stop contributing to the funding of the international investigatory commission (the STL) on former Lebanese premier Hariri's murder. Assad, according to the paper, did not give a clear answer on the issue and only emphasized the need to maintain the Lebanese government's representation. If such a Nasrallah-Assad meeting indeed occurred, it can reasonably be assumed that the subject of a military conflict with Israel was central to it. A day after the article appeared in Al Akhbar, the paper published a correction saying the Nasrallah-Assad meeting had not occurred and apologizing for the error. It should be stressed that the paper is very close to Hizbullah and not infrequently serves as Nasrallah's mouthpiece. It is hard to imagine that it would publish a detailed report of this meeting, including specific quotations, against Hizbullah's wishes. It could be that, on second thought, Hizbullah decided the timing of the article was unwise. As Assad kills his people, Hizbullah faces bitter criticism for supporting him and is losing its standing in the Arab street. Indeed, since the reports in the Lebanese press on Hizbullah's operational plan and preparations to implement it, Hizbullah has in no way related to these matters either directly or indirectly.
Summary
Nasrallah's recent escalation of public statements on concrete targets for the next war, rocket fire on Tel Aviv at its outset and the conquest of the Galilee, along with the completion of military preparations, do not come in a vacuum. They stem from heightened fear in Hizbullah that an Israeli and/or American attack on Iran is drawing nearer. Hence, as a strategic arm of Iran that sees itself as Iran's first line of defense against Israel, Hizbullah is seeking, with Iran's help, to deter Israel. This explains Nasrallah's care in emphasizing that he is not referring to an offensive thrust by Hizbullah but, rather, a harsh response to an Israeli move that would engulf Lebanon in war. But even if what is envisaged is a reaction by Hizbullah, let alone a surprise move by Nasrallah, it is important to see the picture as reflected in Hizbullah's vision.
West Waging A War of Nerves against Iran?
Nov. 3….(DEBKAfile Special Report) The sudden rush of military news Wednesday, Nov. 2, was part of an orchestrated Western performance to persuade Tehran that the US, Britain and Israel are on the verge of a military operation against its nuclear installations. The show, directed from Washington, was meant to warn Iran that military punishment was in store unless it gives up its drive for a nuclear weapon. If Tehran continues to hold out, President Barack Obama may decide to strike Revolutionary Guards Corps, the bulwark of the Islamic regime, as well as its strategic infrastructure, thereby removing key props holding up the regime of the ayatollahs. Contributing to the menacing climate hanging over Iran were four headline events involving Israel, all on the same day.
Israel conducted a successful test launch of a new intercontinental ballistic missile, Jericho 3, which foreign sources report is capable of carrying a nuclear warhead 7,000 kilometers. After that, the IDF released photographs of Israeli Air Force squadron leaders reporting from Italian air base runways to the media on joint exercises they had conducted in long-range maneuvers with the Italian air force "and other NATO nations," to familiarize the IAF with NATO military tactics. The inference was clear: The Israeli Air Force was strengthening its cooperation with Western allies in preparation for a NATO assault on Iran. The IAF also got a chance to study the lessons Western alliance air force tacticians had drawn from the eight-month Libyan operation which ended on Oct. 31. Next, the IDF's Home Command announced a large-scale anti-missile exercise in central Israel starting Thursday morning, Nov. 3. Finally, Defense Minister Ehud Barak left for an unscheduled trip to London shortly after a secret visit to Israel by the British chief of staff General Sir David Richards earlier this week as guest of Israel's top soldier Lt. Gen. Benny Gantz. If the British general was in Israel only this week, why was Barak is such a hurry to visit London?
The answer came from the British media, which reported as soon as he arrived that the Ministry of Defense in London had accelerated and upgraded its contingency planning for participation in a US-led assault on Iran. They carried an account of plans for deploying large naval units including submarines to the Persian Gulf. The UK was reported to have asked Washington for permission to station its fighter-bombers on the Indian Ocean island of Diego Garcia for launching bombing sorties against Iran. This whirlwind of military activity was said to have been prompted by the approaching publication of the International Atomic Energy Agency's Iran report next Tuesday, Nov. 8 and the conclusion the nuclear watchdog had reached: Inside 12 months, Iran will have tucked all its nuclear and ballistic missile facilities away in deep underground tunnels where they will be invulnerable to attack.
A potential US-British strike to pre-empt this move would also be timed for the run-up to America's next presidential election in November 2012. Debkafile's military sources report that if the US, Britain and other NATO nations, such as France, Italy and Germany, participate in the attack, Israel will not. Its army, air force and navy will defend the home front, be available to engage Iran's allies to prevent them from striking the assault forces from the rear, and act as a strategic reserve. The danger would come from Syria, the Lebanese Hizballah, and the Palestinian Hamas and Jihad Islami in the Gaza Strip.
These contingency plans are subject to changes, especially if President Obama and other NATO allies decide after all against attacking Iran in the coming year. The hyperactivity will then subside and Israel will be thrown back on the dilemma of having to decide whether or not to conduct a lone military operation against Iran. There is not much time for contemplation. Syria and Hizballah are reported by Debkafile's military sources to be in the throes of separate preparations for attacking Israel if their respective grips on power are shaken. For now, those sources rate the chances of Israel facing a military clash with Syria and/or Hizballah much higher than a NATO-Israeli showdown being mounted against Iran.
Did the Libyan Leadership Deceive the West?
Nov. 2….(Jonathan D. Halevi) On October 23, Mustafa Abdul Jalil, Chairman of the National Transitional Council, (NTC) the temporary power in Libya replacing the Gaddafi regime, announced: "We, as an Islamic state, determined that Islamic law is a major source for legislation, and on this basis any law which contradicts the principles of Islam and Islamic law will be considered null and void."
* The NTC has had the support of the West and NATO countries, which helped it militarily to bring down the Gaddafi regime, hoping to establish a democratic regime in Libya.
* In early October, Dr. David Gerbi, who was born in Libya and fled to Italy in 1967, arrived in Tripoli and asked to repair the synagogue. The NTC was quick to remove him, while demonstrations were held in Tripoli calling to prevent any Jewish presence in Libya or the establishment of synagogues. The NTC did not condemn this expression of anti-Semitism, nor was there any objection by any other political factions in Libya.
* NTC and Western officials have already stated their growing concerns that Qatar is trying to interfere in the country's sovereignty, and the rebels are said to have received about $2 billion from the Qatari government. Qatari involvement is likely to produce a regime in Libya that follows the political orientation of Sheikh Yusuf Qaradawi, thereby giving the Muslim Brotherhood an open door in the new Libya.
* It seems that the strategy of the democratic states that trusted the promises of the rebel forces to adopt and implement the principles of democracy has collapsed, and that Western aid to overthrow Gaddafi's tyrannical regime prepared the groundwork for the establishment of an Islamic state, which eventually may become hostile to the West.
Libya is opening a new page in its history after the execution of former leader Muammar Gaddafi. At a ceremony in Benghazi on October 23, Mustafa Abdul Jalil, Chairman of the National Transitional Council, which is the temporary power in Libya replacing the Gaddafi regime, announced the completion of the "liberation of Libya" and outlined the characteristics of the new government, which adopts Islamic law (Sharia) as a major source for legislation. That means Libya's transformation into an Islamic state. In his victory speech, Abdul Jalil said: "We, as an Islamic state, determined that Islamic law is a major source for legislation, and on this basis any law which contradicts the principles of Islam and Islamic law will be considered null and void.
The National Transitional Council has the support of the West and NATO countries, which helped it militarily to bring down the Gaddafi regime, hoping to establish a democratic regime in Libya. NATO's political, military, and economic support of the rebels played a decisive role in breaking the yoke of the Gaddafi regime. This included economic sanctions, military attacks on targets in Libya, enforcing a no-fly zone over Libya, and intelligence assistance.
The West's basic assumption was that the leadership of the National Transitional Council would remain faithful to its promises and commitment to the implementation of democracy in Libya, protecting human rights, and fighting terrorism. The message conveyed by the National Transitional Council was clear, as reflected in its platform published in the Council's official website. The section, "The Democratic Vision of Libya" reads as follows: The National Transitional Council presents the vision to building a democracy in Libya. There is no alternative to building a free, pluralistic and democratic society, a unified state based on the rule of law, human dignity, and protecting human rights and formation. We recognize without reservation our duty and our commitment as follows:
Formulation of a national constitution, keeping a civil constitutional state which will ensure ideological and political pluralism, protecting freedom of expression, promising that the state will draw its power from the provisions of religion which teach of peace, right, justice and equality, applying a political democracy and the principles of social justice, including. A constitutional civil state which respects the sanctity of faith and condemns fanaticism, extremism and violence...a country to which we aspire that condemns violence, terrorism, fanaticism and cultural isolation, seeing how it respects human rights and the foundations and principles of citizenship and the rights of minorities and weaker groups. Every person shall enjoy the full rights of citizenship regardless of color, sex, race or social status.
The building of a democratic Libya which bases our foreign relations and relations with regional countries on (the following principles): establishing democratic values and democratic institutions that honor our neighbors, that build partnerships and recognize the independence and sovereignty of other countries, a country which will promote the values of international justice and citizenship and will respect international humanitarian law and human rights conventions...a country that will join the international community in the opposition and condemnation of discrimination, racism and terrorism and will strongly support peace, democracy and freedom.
The National Transitional Council emphasized the words "democracy," "pluralism," "civil rights," "justice," and "equality," but their meanings in its eyes are quite different from those of the Western democracies that supported it and actually enabled its rise to power in place of Gaddafi. Like the Muslim Brotherhood, the National Transitional Council subjects "democracy" to Islamic law (Sharia), and actually drains it of its contents by stating that Islamic law is the source of legislation and that all laws that contradict it are null and void. The declaration by Mustafa Abdul Jalil of an Islamic Libyan state was not received with any opposition from members of the National Transitional Council and the Libyan public, and it apparently expresses the dominant mood within the public, which tends to accept Islamic rule.
A central force of power in the National Transitional Council is Abdelhakim Belhadj, commander of the military forces in Tripoli who led the campaign to remove the Gaddafi regime and occupy the presidential compound in Bab al-Azizia. Belhadj, who was appointed by Mustafa Abdul Jalil, has an extensive jihadist background. He fought alongside the mujahideen in Afghanistan against Soviet forces and was a senior member of the Libyan Islamic Fighting Group (LIFG), a radical Islamic terrorist organization, which until recently held a world-view rather similar to that of Al-Qaeda. The Al-Sharq Al-Awsat newspaper reported that nearly 800 soldiers from the LIFG were involved in the fighting in Tripoli, some of them former combatants in Afghanistan and Bosnia.
In September 2010, a former leader of the LIFG and colleague of bin Laden in Afghanistan, Noman Benotman, addressed an open letter to bin Laden, calling on him and al-Qaeda to "abandon armed struggle, "stating that "Your actions have harmed millions of innocent Muslims and non-Muslims alike. How is this Islam or jihad? For how much longer will al-Qaeda continue to bring shame on Islam, disrupt ordinary Muslims' lives, and be the cause of global unrest?" Just a year earlier, the LIFG published a very long, revisionist document to repudiate al-Qaeda's ideology of global jihad. This was part of a more comprehensive deal, orchestrated by Saif al-Islam Gaddafi, who was interested in promoting his planned reforms and the leadership of the LIFG and other imprisoned Islamist groups, to release them from prison in return for their reintegration into society and abandonment of terror. The document, however, did not mean that the LIFG was to abandon its Islamist tendency. Indeed, it was mainly endorsed by senior scholars close to the Muslim Brotherhood's ideology, like Saudi Sheikh Salman al-Awdeh.
In addition to Benotman, Libyan Sheikh Ali al-Salabi, who until recently resided in Qatar, served as the intermediary between Saif al-Islam and the LIFG leadership. Salabi is a member of the International Union of Muslim Scholars (IUMS), a global umbrella group headed by Sheikh Yusuf Qaradawi, the Qatar-based leader of the Muslim Brotherhood on a global scale. Even though he had no official position in Libya at the time, Salabi had already won the title of the "spiritual guide of the Libyan revolution," and was also described by the New York Times as someone who may well be the most important politician in the new Libya. A few weeks ago, Salabi called on the top leadership of the NTC to resign, saying that they supported the West's agenda and interest in taking control over Libya's resources. Salabi further stated that the rebels had received about $2 billion from the Qatari government, and indeed, NTC and Western officials have already stated their growing concerns that Qatar is trying to interfere in the country's sovereignty, bypassing an internationally-agreed assistance strategy for Libya to throw its support behind individuals and factions contributing to the continuing political instability. Qatari involvement is likely to produce a regime in Libya that follows the political orientation of Sheikh Yusuf Qaradawi, thereby giving the Muslim Brotherhood an open door in the new Libya.
In North Africa, Libya is emerging as a very different country from Morocco or Algeria, for, unlike its neighbors, Libya is headed towards the establishment of an Islamic state. The political debate in Libya will be within an essentially Islamist universe, with different leaders distinguished by the degree to which they seek to implement their Islamism. We already can see that many of its new leaders are far from the values of democracy and human rights as understood in the West. It seems that the strategy of the democratic states that trusted the promises of the rebel forces to adopt and implement the principles of democracy has collapsed, and that Western aid to overthrow Gaddafi's tyrannical regime prepared the groundwork for the establishment of an Islamic state.
Israel Warns West: Window of Opportunity to Thwart Iran Nuclear Program is Closing
Nov. 2….(Ha Aretz) Israeli ambassadors in Western countries have been instructed to inform high-ranking politicians that the window of opportunity for imposing effective sanctions on Iran is closing, as part of a renewed diplomatic offensive aimed at using new sanctions to stop Tehran from developing a nuclear bomb. The Foreign Ministry campaign, which began in mid-September, seeks to convince the United States, European Union member states and other Western countries to impose the sanctions immediately because Iran is continuing to develop its nuclear program. "The significant progress that has taken place on all the components of the Iranian nuclear program should be emphasized, especially uranium enrichment," said a classified cable sent to Israeli ambassadors in several dozen countries. "The Iranian program is military, and in light of International Atomic Energy Agency reports, there is an increased fear that the Iranians are developing a nuclear warhead for ballistic missiles." The ambassadors were asked to tell the equivalent of the foreign ministries and prime minister's offices in the countries where they are serving that there isn't much time left to stop the nuclear program through diplomatic means.
The sanctions campaign comes ahead of the planned November 8 release of an IAEA report, which is expected to reveal new details about the scope of Iran's nuclear program. The IAEA is reportedly preparing to bring proof that Iran is attempting to build a nuclear bomb. Israel and the US are planning to use the report in a worldwide campaign to push for isolating Iran. Sanctions suggested by Israeli representatives in recent talks with the US, France, Britain and Germany include banning contact with Iran's central bank and banning the purchase of Iranian crude oil. Israeli officials also suggested imposing additional sanctions on Iranian airlines and ships. Israeli officials noticed last month that international interest in stopping Iran was flagging, said a senior Foreign Ministry official. "International and Israeli attention was focused on the Arab Spring, on flotillas to Gaza and on the Palestinian move in the UN," he said.
Foreign Ministry officials were concerned that the reduced attention Iran was receiving made its pursuit of a nuclear program seem less urgent. "There's a feeling that even though the sanctions are harming Iran, the technological timetable is faster than the diplomatic timetable," said another Foreign Ministry official. "Now is the time to intensify the steps against Iran. The pressure influences Iran, and the present circumstances require us to increase that pressure. The Iranians are preparing a technological infrastructure that will enable them to have a breakthrough as they head for nuclear weapons within a short time span. If Iran passes this technological threshold, the ramifications will be severe, especially in light of the weakening of regional stability following the Arab Spring." A few days ago, the ambassadors received another cable, directing them to highlight the alleged Iranian plot to assassinate the Saudi ambassador to Washington. "You should emphasize that this incident indicates the need to isolate Iran," the cable said.
The Israeli ambassadors were also informed that Iran is boosting arms smuggling to Syria, Hamas, Islamic Jihad and Hezbollah. According to Israeli intelligence information, Iran has been carrying out low-level uranium enrichment at a stable pace, despite the existing sanctions. Iranian officials have been outspoken about their interest in tripling the pace of producing uranium enriched to 20 percent, moving the centrifuges from a non-reinforced facility in the central Iranian city of Natanz to an underground enrichment facility in Qom. At the same time, Iran is continuing to build a heavy water reactor in Arak, which would enable them to produce the plutonium needed for a nuclear bomb.
One of the Foreign Ministry officials said Israel wants Western countries to impose the sanctions on their own because domestic politics and leadership changeovers in Russia and China in 2012, along with the US and French presidential elections, will make it impossible to secure another UN Security Council resolution approving sanctions. Although Israel's latest push for sanctions is new, diplomatic efforts to thwart the Iranian nuclear program are ongoing, one of the Foreign Ministry officials said. An inter-ministerial task force headed by Yaakov Amidror, the national security adviser, meets every few weeks to coordinate the diplomatic efforts. Other members of the task force include representatives of the foreign and defense ministries, the IDF and the Mossad.
New Suspected Nuclear Complex Exposed in Syria
(UN investigators identify previously unknown complex in Syria that bolsters suspicions Syrian gov't worked with A.Q. Khan, father of Pakistan's atomic bomb, to acquire technology that could be used to make nuclear arms)
Nov. 2….(YNET) UN investigators have identified a previously unknown complex in Syria that bolsters suspicions that the Syrian government worked with AQ Khan, the father of Pakistan's atomic bomb, to acquire technology that could be used to make nuclear arms. The buildings in northwest Syria closely match the design of a uranium enrichment plant provided to Libya when Moammar Gaddafi was trying to build nuclear weapons under Khan's guidance, officials told The Associated Press. The UN's International Atomic Energy Agency also has obtained correspondence between Khan and a Syrian government official, Muhidin Issa, who proposed scientific cooperation and a visit to Khan's laboratories following Pakistan's successful nuclear test in 1998. The complex, in the city of Al-Hasakah, now appears to be a cotton-spinning plant, and investigators have found no sign that it was ever used for nuclear production. But given that Israeli warplanes destroyed a suspected plutonium production reactor in Syria in 2007, the unlikely coincidence in design suggests that Syria may have been pursuing two routes to an atomic bomb: uranium as well as plutonium. Details of the Syria-Khan connection were provided to the AP by a senior diplomat with knowledge of IAEA investigations and a former UN investigator. Both spoke on condition of anonymity because of the sensitivity of the issue.
The Syrian government did not respond to a request for comment. It has repeatedly denied pursuing nuclear weapons but also has stymied an investigation into the site bombed by Israel. It has not responded to an IAEA request to visit the Al-Hasakah complex, the officials said. The IAEA's examination of Syria's programs has slowed as world powers focus on a popular uprising in the country and the violent crackdown by the government of President Bashar Assad. Syria never has been seen as being close to development of a nuclear bomb. There also is no indication that Damascus continues to work on a secret nuclear program. If the facility in Al-Hasakah was indeed intended for uranium production, those plans appear to have been abandoned and the path to a plutonium weapon ended with the Israeli bombing.
But Mark Hibbs, an analyst at the nuclear policy program at the Carnegie Endowment for International Peace, who has spoken to IAEA officials about the Al-Hasakah complex, said it is important to learn more details about the buildings. "What is at stake here is the nuclear history of that facility," Hibbs said. "People want to know what did they intend to do there and Syria has provided no information." "A nuclear weapon would give Syria at least a kind of parity with Israel and some status within the region," says Anthony Cordesman, a national security analyst at the Center for Strategic and International Studies. For years, there has been speculation about ties between the Syrian government and Khan.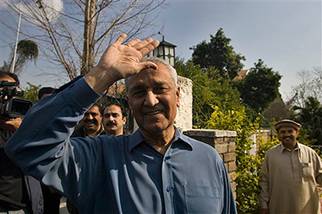 (AQ Khan)
A hero to many in Pakistan for developing the country's nuclear bomb, Khan is considered the world's most prolific nuclear merchant. He supplied Iran with the basics of what is now an established uranium enrichment program that has churned out enough material to make several nuclear weapons. Libya also bought equipment and a warhead design from Khan for a secret nuclear program that it renounced in 2003. In 2004, Khan confessed on TV to selling nuclear technology to Iran, North Korea and Libya, but he has never spoken of Syria. Khan later said Pakistani authorities forced him to make the confession.
The former investigator says Syria acknowledged to the IAEA that Khan made at least one trip to Syria to deliver scientific lectures, as the Los Angeles Times reported in 2004. The former official said he has seen letters from Issa, then a deputy minister of education, written on official letterhead shortly after Pakistan's 1998 nuclear test congratulating Pakistan for Khan's achievement. In subsequent correspondence, Issa suggested cooperation with Khan and requested a visit by Syrian officials to Khan's laboratory, the former official said. Issa, who later served as the dean of the faculty of sciences at Arab International University, could not be reached for comment. Syrian President Assad acknowledged having received a letter that appeared to have been from Khan, but said his government had not responded and did not meet Khan.
IAEA investigators homed in on the Al-Hasakah facility after an intensive search of satellite imagery in the Middle East sparked by a belief that Khan had an additional government customer, which had not yet come to light. They identified the site, the largest industrial complex in Al-Hasakah, after a 2006 report in a Kuwaiti newspaper claimed Syria had a secret nuclear program in the city. Satellite imagery of the Al-Hasakah complex revealed striking similarities to plans for a uranium enrichment facility that were seized during a Swiss investigation related to Khan.
Syria Used Pakistani Nuke Ties to Build Plant
(The "father of Pakistan's atom bomb" worked with Damascus build a nuclear site in northern Syria, new evidence shows)
Nov. 2….(Arutz) The father of Pakistan's atom bomb" worked with Damascus build a nuclear site in northern Syria, according to new evidence uncovered by the Associated Press. The news agency said that Syria built a previously unknown complex that matched the design of a uranium enrichment plant that Libya's former dictator Muammar Qaddafi intended to build with the help of AQ Khan, who pioneered the atomic bomb in Pakistan. Libya renounced its secret nuclear program in 2003 after it already had ordered 1,000 gas centrifuges from Khan. The newly uncovered site in northwest Syria was eventually used for textiles after Israel bombed another facility, being built in eastern Syria with the help of North Korea, four years ago.
Correspondence between Khan and Syrian official Muhidin Issa was obtained by the UN International Atomic Energy Agency, according to AP. Issa proposed scientific cooperation and a visit to Khan's laboratories after Pakistan successful conducted a nuclear test in 1998. The newly discovered Syrian site never was used to produce plutonium or uranium, probably because of Israel's bombing of the other plant. However, Syria's intentions are important to know, Mark Hibbs, an analyst at the nuclear policy program at the Carnegie Endowment for International Peace who has spoken to IAEA officials, told AP. Khan supplied Iran with knowledge for its established uranium enrichment program that already has manufactured enough material to manufacture nuclear bombs.
NATO Squeezes Assad: A Syrian Uranium Enrichment Plant Suddenly "Discovered"
Nov. 2….(DEBKA) The disclosure Tuesday, Nov. 1, by the International Atomic Energy Agency, that a spinning factor built in the northeastern Syrian town of Hasaka in 2003 was in fact designed for developing nuclear weapons from enriched uranium, had a purpose: It was intended to crowd Bashar Assad into talking to the leaders of the revolt against him instead of slaughtering them. debkafile's intelligence sources report that Syria procured the enriched uranium and equipment for the plant from Iraq when its ruler Saddam Hussein in early March 2003 when he decided to dispose of the bulk of his nuclear plant and weapons of mass destruction by spiriting them out to Syria, then his closest ally.
The IAEA sources revealed that the Syrian government worked on the secret Hasaka complex with Abdel Qader Khan, father of Pakistan's atomic bomb, basing it on the same technology he designed for Muammar Qaddafi's nuclear bomb project. Khan also provided Iran and North Korea with the basics for their nuclear weapons programs. They also disclosed correspondence between Khan and a Syrian government official Muhidin Issa after Pakistan's nuclear test in 1998 requesting scientific cooperation and asking to visit Khan's laboratories. Debkafile sources add: The cotton spinning plant at Hasaka could have been used as a facility for uranium enrichment by centrifuges. Yet the IAEA inspectors who visited the site two years ago found no traces of nuclear activity there. Aerial photos accompanying this article show long, disused structures standing at a distance from the factory alongside water pools, which would not be used for cotton spinning. This group of buildings, which look like ammo stores, would confirm the presence of a large military complex at the site which may well have served a secret uranium enrichment project run in parallel to the clandestine plutonium reactor which Israel demolished in 2007. The timing of the nuclear watchdog's revelations points to two objectives:
1. A broad hint that the atomic agency has more information about the Hasaka site which it is holding back for now. If it reacts to the disclosure, Damascus may give away more than it intends.
2. To squeeze Bashar Assad into bowing to the opposition's demands for democratic reforms and a share in government. He was given to understand that further damaging disclosures about his illegal nuclear activities will be calibrated according to his continuing rejection of political dialogue and abuses. They will pave the way towards tougher sanctions.
Sunday, Oct. 31, the Syrian ruler threatened to "burn the Middle East" if the West intervened in Syria. Monday, NATO Secretary General Anders Fogh Rasmussen said firmly: "NATO has no intention to intervene whatsoever. I can completely rule that out." According to the information reaching Debkafile's military and intelligence sources, this negative applies to the alliance as a body, not its individual members. Turkey for example is directly involved in supporting the Syrian revolt against the Assad regime by laying on weapons and training and allowing rebel leaders to operate cross-border command centers on its soil.
Qatar, which is not a NATO member but was closely associated with the alliance operation in Libya, is a major purveyor of arms and funding for Syria's anti-regime fighters. In the operation against Muammar Qaddafi, the Qataris became expert in the management of revolts against Arab dictatorships and accustomed to working in close sync with NATO intelligence and military arms. Whether or not NATO intervenes in Syria is no longer a question. It already has, in one way or another. The question is when will Assad decide that Western intervention has reached a level warranting delivery on his threat to burn the Middle East?
UN Recognizes 'Palestine
Nov. 2….(Israel Today) The United Nations Education, Scientific and Cultural Organization (UNESCO) on Monday voted overwhelmingly in favor of recognizing "Palestine" as an independent state. The vote makes "Palestine" an official member state of the UNESCO General Assembly, and puts it one step closer to overall UN recognition. Voting against the motion were the US, Canada, Germany, the Netherlands and Israel, along with nine other nations. One hundred and seven nations voted in favor, including Brazil, Russia, China, India, South Africa, Austria and France. Notable among the 52 abstentions were Britain and Italy. Following the vote, the Obama Administration froze US funding of UNESCO, and Canada announced that it would reconsider its membership in the body. The US, Canada and a handful of European nations have firmly supported Israel's campaign to stop the Palestinians from obtaining unilateral recognition by the UN. Palestinian leader Mahmoud Abbas officially petitioned the UN for membership status for "Palestine" back in September. The UN Security Council is scheduled to vote on Palestinian statehood later this month, but the US has threatened to use its veto power to squash the motion.
One day after the UN Educational, Scientific and Cultural Organization (UNESCO) voted to grant the Palestinian Authority full membership in the agency, a Palestinian diplomat said the Palestinians will seek membership in 16 other UN agencies. The United States cut off all American funding for UNESCO following the UN vote on Monday, as required by 1990s laws barring American funding of any agency that grants membership to the Palestinians. If those laws are applied to the 16 agencies that could grant membership to the Palestinians, they all could lose their US funding. Ibrahim Khraishi, the top Palestinian envoy at the UN in Geneva, said on Tuesday that Palestinian diplomats are preparing papers to join 16 other agencies. "It's now precedent that we are a full member in one of the biggest and one of the most important UN agencies, UNESCO," he told The Associated Press. "So it will open the door for us now to go further in our efforts to join other UN agencies." US officials warned of a "cascade" effect at UN agencies that might follow UNESCO's lead, according to the Washington Post. The agencies that the Palestinians will seek to join include the International Labor Organization and the International Atomic Energy Agency
Palestinian Missiles Pound Southern Israel for 3rd Day
Nov. 1….(DEBKAfile Special Report) Beersheba, Ashkelon, Ashdod and Sderot came under missile attack from Gaza again Monday night, Oct. 31, hours after Israel's Home Front Minister Mattan Vilnai stated the Jihad Islami offensive launched Saturday was over. Seven missiles flew across the border on Day 3 of the assault, one intercepted in Beersheba by an Iron Dome battery. Sunday night Israeli mayors and council heads of key southern towns questioned the military assessment and kept schools closed. The continuing barrage and the army's decision to park an interceptor battery in Rehovot, 32 kilometers from the Gaza Strip, proved they were right. Israel is seeing its first ever crisis of confidence between a large normally docile civilian population and the heads of the armed forces. Mayors and local council heads representing the three quarters of-a-million inhabitants of the southern towns of Beersheba, Ashkelon, Ashdod, Kiryat Gat and Gan Yavneh, announced Sunday night, Oct. 31, that they don't believe the army's claim the missile offensive besetting them since Saturday is over. Their schools stayed closed Monday, Oct. 31, in defiance of Home Front Command orders to lift the security restrictions that were imposed Saturday, when eight Israeli towns were pounded by scores of missiles, causing one death, dozens of injuries, substantial damage and the disruption of lives. After a decade of missile violence from Gaza, the people still living there are saying enough is enough. They are fed up with being told that the military and powers-that-be know best how to handle the terrorism from the Gaza Strip. The missiles start flying whenever it pleases the Gazan Palestinians, a recurring blight which has seriously stunted the region's development. Debkafile's analysts attribute this newfound combativeness to seven causes.
1. Conflicting statements from Prime Minister Binyamin Netanyahu and the army chiefs. Whereas Netanyahu stated Sunday that there is no ceasefire, army officers informed the South that a truce is in force and only needs time to take hold.
2. An Egyptian-brokered cease-fire was announced as going into effect Sunday morning, Oct. 30 at 0600 hours (after more than 35 missiles were fired Saturday). That whole day, the Palestinians continued their attacks, which they divided into two stages: Soon after the 0600 deadline, they shot 15 Grads and mortar rounds into Israel and paused. In the evening, other round of 9 Qassam missiles hit Ashkelon regional council and Eshkol district.
3. The Iron Dome batteries, designed by Israel to intercept short-range rockets, failed to stop any Sunday, starting a wave of rumors across the South. Few heeded the words of ex-security officers turned pundits who explained that even wonder systems have mechanical breakdowns. After the IDF issued a bulletin asserting the Jihad Islami had used "innovative firing technology," without specifying what it was, many assumed that the Iron Dome had been neutralized, not by the technologically-challenged Palestinian extremists, but by specialist officers sent to Gaza but their masters in Tehran.
4. The brief television appearance of Chief of Staff Lt. Gen. Benny Gantz, answering a question with the words: "We shall do what needs to be done." As he spoke, sirens sounded and missiles and mortar shells exploded in Ashkelon, Sderot and other locations abutting on the Gaza Strip.
5. As Sunday wore on, the lack of clarity over government intentions deepened . The population realized that no substantial military operation was planned and their trouble was there to stay. A new truce deadline was said to be scheduled for 2200 Sunday night. The Palestinians chose that hour to resume their attacks on Ashkelon regional council and Eshkol district.
6. As Monday morning, Oct. 31 dawned with no sign that the radical jihad Islami intended to hold its fire, Home Front Minister Mattan Vilnai aired his first message to the South: "This round is over," he said. "It was the work of the Jihad Islami alone. Hamas, which as Gaza Strip rulers are responsible, stood aside." This anomalous situation arose from an unsatisfactory exchange between Jerusalem and Cairo. Egypt informed Jerusalem it had managed to persuade Jihad Islami to halt its missile offensive but not to stop its fellow radical Palestinian groups in the Gaza from shooting or even withhold the missiles for them to continue their assaults. The prime minister and defense minister were reluctant to admit to the public that they had placed their reliance for the security of southern Israel on the military rulers of Egypt, and then only with partial success.
Muslim Convert Goes Missing in Iran
Nov. 1….(Worthy News) A Christian believer, formerly of Muslim background, Fariborz Arazm, has gone missing since his arrest last week by plain clothes security officers. According to Mohabat News, on October 17, 2011, a group of four officers engaged in a commando-style raid on the house of Mr. Arazm, arresting him, then transferring him to an unknown location. The raid took place around 7:30 in the morning local time, just before he left for work. The officers apparently searched the house upside-down and left a mess in their wake. The plainclothes officers confiscated Mr. Arazm's computer hard disk, CDs, pictures, and a number of Bibles. His family was also threatened to remain silent and not to talk about this incident to anyone. Article 32 of the constitution of Islamic Republic of Iran clearly states that, "no one should be arrested, unless the legal warrant has been issued for the person. Also, the reason of the arrestment should be clearly notified to the arrestee. Accordingly, the initial case should be sent to be reviewed by the righteous judicial authorities within 24 hours.
At the same time, according to the report received by Mohabat News, another Christian by the name of "Mohammad" was arrested in another city named Shahriar. The authorities interrogated him for the charge of Christianity. During the interrogation session, Mehdi stated that he was studying about the Christian religion. The interrogators then questioned him about his Christian faith in more detail, threatened him, and released him some hours later. This incident took place even though Article 23 of the constitution states that, "Inquisition is prohibited and no one should be harassed or interrogated because of his/her belief." Notable here is that discrimination and persecution against the religious minorities has always been a major matter of violation of human rights situation by the Iranian regime during the past 30 years. Ahmad Shaheed, the United Nation's special rapporteur on the human rights situation in Iran, has also mentioned this issue in his first report about the human rights situation in Iran. He indicated in his report that the religious minorities inside Iran face serious restrictions regardign their rights and religious practices. Mr. Arazm, 44, is the father of two children. He has not been able to contact nor visit his family since the arrest. Due to the nature of the situation, Mr. Arazm's family has suffered stress and anxiety, and are also concerned for his health. No information at time of the arrest was available as to the charges, but it is now known that the reason he is under arrest is related to his Christian faith.
North Sudan Leader Announces Sharia Law
(FOJ Note: Just as happened recently in Libya, Sudan now conformed to Sharia)
Nov. 1….(VOM) Sudanese leader Omer Hassan Al-Bashir is rewriting his country's constitution in order to implement shar'ia (Islamic) law. "This new law is going to affect a significant number of Christians who live in places like Khartoum," said Jonathan Rach, International Christian Concern's North Africa specialist. "There are still a significant number of Christians in Sudan. If Al-Bashir introduces this shar'ia law and if he's going to go ahead and adopt an entirely Islamic constitution, Christians and other non-Muslims who live in Sudan will be treated like second-class citizens; they will be dhimmis and they will not have full rights in the freedom of religion." Racho said Al-Bashir's move towards shar'ia shows that the government of Sudan hasn't learned anything from its recent loss of the South. "The government of Sudan should realize that the reason the South seceded, was because of the shar'ia law, and now they're repeating the same mistake." "Bashir has always embraced shar'ia as good government," said Global Response Network Founder and President Tom Zurowski. "Shar'ia has been the very ethos of Bashir and the North for a long, long time. People on the ground in the South have known this right along (that) the Islamization of Sudan has been the goal of Bashir's government for years." Zurowski said al-Bashir is now facing the realities of having a new Christian neighbor while having to deal with its other African Islamic countries. "If Bashir wants the backing of neighboring Arab nations, he must fully embrace shar'ia, or be seen as a weak leader among other Arab countries," he said. "His ego and arrogance will not allow for that."
South Sudan's independence took a major portion of Sudan's oil revenues, so Al-Bashir is now facing a new economic reality. The Sudan Tribune reported Al-Bashir told government officials that spending reductions are now a priority so as to relieve mounting economic pressures, but Racho is asking the international community to put even more pressure on Sudan to ensure safety for its Christians. "We (ICC) want the international community to put pressure on Sudan," he said. "One of the important things about Sudan is its reliance on the international community. We also want the American Christian community to know that the secession of the South doesn't end the plight of Christians, so they should continue to advocate on behalf of the Christians in Sudan."
Sharia Law Advanced by Muslims in Somalia
Nov. 1….(Worthy News) Christians in Somalia were confronted with more violence Sunday, October 23, amid reports that a suspected Islamic militant blew himself up while earlier the militant al-Shabab group beheaded a 17-year-old Christian near the capital Mogadishu. The African Union peace mission said the suicide bomber injured two AU peacekeepers. Peacekeepers blamed al-Shabab, a group linked to terror network al-Qaida-linked, which wants to establish an even more strict Islamic regime and targets what it considers "infidels" or a "person without Islamic faith" including Christians. Sunday's violence was also a reminder for Christians to be on high alert following new revelations that Al-Shabab beheaded last month a 17-year-old boy. Guled Jama Muktar was killed by al Shabab militants September 25 in his home near Deynile, about 20 kilometers (12 miles) from the Somali capital, Christians said. Al-Shabab fighters, who have vowed to rid Somalia of Christianity, reportedly monitoring Muktar's family because they apparently held secret Bible meetings in their house. Witnesses said he was killed at home after his parents had left for work. The parents later buried their son and fled the area. At least more than two dozen Christians are believed have been killed in Somalia in recent years.
Somali Christians and human rights activists confirmed earlier to Worthy News that the body of Juma Nuradin Kamil, a kidnapped Christian who converted from Islam, was found decapitated near the southern town of Hudur on September 2. He was apparently killed after three suspected members of the Islamic group al-Shabab pushed him into a car, according to witnesses. "Islamic radicals kidnapped a Christian brother and then beheaded him. His decapitated body was discovered" by locals on a street, explained Jonathan Racho, the regional manager for Africa of advocacy group International Christian Concern (ICC). His body was reportedly buried in secret after it lay two days in the open aid as locals feared Islamic reprisals, Worthy News reported at the time.
Among earlier anti-Christian incidents this year was the reported April 18 murder in Shalambod town of 21-year-old Hassan Adawe Adan, a member of an underground Christian congregation. Two suspected al-Shabab fighters were blamed, Christians said. In Warbhigly village on the outskirts of Mogadishu, a mother of four was killed for her Christian faith by al-Shabab in January, according to locals and investigators. Asha Mberwa, 36, was reportedly murdered when Islamists slit her throat in front of her fellow villagers.
Over 99 percent of Somalia's nearly 10 million people are Muslims. The tiny Christian minority of perhaps thousands of people comprises many ethnic Bantus as well as humanitarian workers and expatriates, Christian aid groups say. While the government has pledged to crackdown on militants, Christian analysts have expressed concerns that even the United Nations-backed transitional administration of President Sheikh Sharif Sheik Ahmed supports a version of Islamic law that mandates the death penalty for all those who leave Islam.
Syrian Christians Being Persecuted in Wake of Uprising
Nov. 1….(Worthy) Christians in Syria need prayer during that country's current civil turmoil; at least 2,700 people have been killed and thousands more arrested in an effort to overthrow Syrian President Bashar al-Assad. Syria's general population has already suffered job losses with increased food prices; now Open Doors USA tells OneNewsNow how Christians are also suffering. "More so perhaps than the regular population," he said, "so there's a great need for goods and for food, we need to uplift the Christian community there, which numbers about ten percent of the country, which is a significant amount: 1.9 million people." According to Dykstra, if al-Assad is overthrown, Shar'ia law may be implemented, which will further threaten Syrian Christians. "Many Iraqi Christians have fled into Syria, maybe 100,000 Christians there in the last few months," said Dykstra, "and they're fearful what happened in Iraq will also happen in Syria." After Iraqi President Saddam Hussein was removed from office, imprisoned, convicted and executed, Iraqi Christians were persecuted and many had to flee for their lives into Syria.
Egypt's Muslim Brotherhood in Gaza to Widen Terror Axis
(The new Egyptian regime has allowed the Muslim Brotherhood to visit Gaza, a move that widens the Iranian-Hamas-Hizbullah terror Axis)
Oct. 31….(Arutz) The new Egyptian regime has allowed the Muslim Brotherhood to visit Hamas in Gaza, a move that widens the Iranian-Hamas-Hizbullah terror axis. The visit of a delegation of the once-outlawed Egyptian party on Saturday comes two weeks after the provisional military regime played a significant role in brokering the deal to gain the release of 1,027 Arab terrorists and security prisoners from Israeli jails in exchange for the return of kidnapped soldier Gilad Shalit. "We came to participate in the joy at the release of brothers. We are proud of them. Resistance proved itself," deputy Brotherhood chief Goma Amin told reporters. He met with de facto Gaza Prime Minister Ismail Haniyeh. Former Egyptian President Hosni Mubarak had banned the party, which is vehemently anti-Israel and already has won up to 35 percent support in pre-election polls. The Arab language daily Al Masry Al-Youm reported that the visit represents a "shift in Cairo's posture toward the Palestinian Islamists since the fall of President Hosni Mubarak." The Muslim Brotherhood, which spawned the Hamas terrorist organization, has enjoyed the limelight by opposing Israel while still managing to win praise in the administration of President Barack Obama. Last February, US National Intelligence Director James Clapper told a Congressional committee that that the Muslim Brotherhood was "largely secular" and was working for "a betterment of the political order in Egypt."
Assad Warns Against Intervention in Syria
Oct. 31….(Fox News) Syrian President Bashar Assad warned against Western intervention in his country's 7-month-old uprising, saying such action would trigger an "earthquake" that "would burn the whole region." Assad's comments, published in an interview with Britain's Sunday Telegraph, were made against a backdrop of growing calls from anti-regime protesters for a no-fly zone over Syria and increasingly frequent clashes between government troops and army defectors, the latest of which left at least 30 troops dead Saturday. "Syria is the hub now in this region. It is the fault line, and if you play with the ground you will cause an earthquake," Assad said. "Do you want to see another Afghanistan, or tens of Afghanistans?"
Assad's remarks appeared to reflect his regime's increasing concern about foreign intervention in the country's crisis after the recent death of Libyan dictator Muammar Qaddafi, who was toppled by a popular uprising backed by NATO airstrikes. Syrian opposition leaders have not called for an armed uprising like the one in Libya and have for the most part opposed foreign intervention, and the US and its allies have shown little appetite for intervening in another Arab nation in turmoil. But with the 7-month-old revolt against Assad stalemated, some Syrian protesters have begun calling for a no-fly zone over the country because of fears the regime might use its air force now that army defectors are becoming more active in fighting the security forces.
The British-based Syrian Observatory for Human Rights said a clash Saturday night in the restive central city of Homs between soldiers and gunmen believed to be army defectors left at least 20 soldiers dead and 53 wounded. It also said gunmen ambushed a bus carrying security officers late Saturday in the northwestern province of Idlib, killing at least 10 security agents. One attacker was also killed. The Associated Press could not verify the activists' accounts. Syria has banned most foreign media and restricted local coverage, making it impossible to get independent confirmation of the events on the ground. Syria's state-run news agency SANA, said seven members of the military and police, who were killed in Homs and the suburbs of Damascus were buried Sunday.
The Local Coordination Committees, another activist group, said Sunday that 343 people, including 20 children, have been killed in Syria since Oct. 16, when the Cairo-based Arab League gave Damascus a 15-day deadline to enact a cease-fire. A meeting was scheduled for later Sunday in Qatar between an Arab committee set up by the 22-member Arab League and a Syrian delegation expected to be headed by Foreign Minister Walid al-Moallem.
The unrest in Syria could send unsettling ripples through the region, as Damascus' web of alliances extends to Lebanon's powerful Hezbollah movement, the militant Palestinian Hamas and Iran's Shiite theocracy. Unlike Qaddafi, Assad enjoys a number of powerful allies that give him the means to push back against the outside pressure. A conflict in Syria risks touching off a wider Middle East conflict with arch foes Israel and Iran in the mix. Syria wouldn't have to look far for prime targets to strike, sharing a border with US-backed Israel and NATO-member Turkey. In case of an international intervention, Assad and his main Mideast backer, Iran, could launch retaliatory attacks on Israel or, more likely, unleash Hezbollah fighters or Palestinian militant allies for the job. To the north, Turkey has opened its doors to anti-Assad activists and breakaway military rebels, which also could bring Syrian reprisals. Assad alluded to those concerns at home and abroad, saying "any problem in Syria will burn the whole region. If the plan is to divide Syria, that is to divide the whole region."
The uprising against the Syrian regime began during a wave of anti-government protests in the Arab world that toppled autocrats in Tunisia, Egypt and Libya. The UN says that Assad's crackdown has left more than 3,000 people dead since the uprising began in mid-March. Facing an unprecedented threat to his rule, Assad is desperate to show that only he can guarantee security in a troubled region where failed states abound. In a show of support to Assad's regime, thousands of Syrians carrying the nation's flag and Assad posters rallied Sunday in a major square in the southern city of Sweida, some 70 miles (110 kilometers) south of Damascus, near the Jordanian border. There have been two similar massive pro-Assad demonstrations in recent days in the capital Damascus and the coastal city of Latakia.
Assad said that Western countries "are going to ratchet up the pressure, definitely." He was apparently referring to a wave of sanctions that were imposed by the European Union and the US. "But Syria is different in every respect from Egypt, Tunisia, Yemen. The history is different. The politics is different," Assad said. The Syrian president described the uprising as a "struggle between Islamism and pan-Arabism." He was referring to his ruling Baath party's secular ideology and the Muslim Brotherhood that was crushed by his regime in 1982. "We've been fighting the Muslim Brotherhood since the 1950s and we are still fighting with them," Assad said.
Assad also spoke to Russia's state Channel One television, and in an interview broadcast Sunday hailed Moscow's veto of a European-backed UN Security Council resolution on Syria that aimed to impose sanctions on Damascus. "We are relying on Russia as a country with which we have strong historic ties," Assad said. The measure vetoed by Russia and China earlier this month would have been the first legally binding resolution against Syria since Assad's forces began attacking civilian protesters.
Islamic Jihad Launches Rocket Attacks on Israel
Oct. 31….(Debka) Islamic Jihad launched eleven Grad missiles and two mortar rounds from the Gaza Strip at Ashdod, Gan Yavne, Lahavim, Ashkelo, Kiryat Malachi, Rahat and Shear Hanegev on a second day of a massive assault on Southern Israel. Earlier they launched six other missiles that hit Beersheba, Lahavim, Shear Hanegev and Ashkelon. Israeli air strikes struck back and hit six Palestinian terrorist targets in Gaza. One Israeli air strike against a Palestinian Jihad Islami camp near Rafah, southern Gaza killed Ahmad Sheikh Halil, head of its missile engineering and production arm and foiled another planned attack.
Prime Minister Binyamin Netanyahu on Sunday reiterated the Israeli government's policy of strict retaliation against those that harm Israelis, warning both Islamic Jihad and Hamas not to test Israel. His comments came the day after an Israeli man was killed by shrapnel when a Grad rocket hit Ashdod, and nine Palestinians were reported dead in IAF strikes on terror targets in the Strip. Speaking in Safed at the opening of the Bar-Ilan University Faculty of Medicine in the Galilee, Netanyahu went on to stress the importance of remembering that "Hamas is the ruling power in Gaza, and it is [the organization's] responsibility to preserving the quiet and to prevent rocket fire" from the Strip," even if those launching the rockets are from Islamic Jihad.
Israeli air strikes hit six Palestinian terrorist targets, a tunnel and three missile launch pads in northern Gaza and two more in the south. There was no discernible deterrent effect on the missile assault. Schools were ordered to stay closed Sunday in eight southern Israeli towns. Cairo's ceasefire initiative leaves Israel with two major concerns:
1. The Jihad Islami, which takes its orders and funding from Iran, will ignore the ceasefire and redouble its missile offensive against Israel to show Cairo and Jerusalem who has the whip hand.
2. Islamic Jihad will decide whether or not to continue its attacks depending on its orders from Damascus and Tehran rather than Cairo, and the Muslim Brotherhood. A top-level Hamas desertion of Damascus would seriously undermine Bashar Assad at a time when he needs all the help he can get against the popular uprising against him. It would also deprive Iran of a strong Palestinian asset under its control.
Syrian ruler Bashar Assad hardly signaled a pacific intent when, in an interview to the Sunday Telegraph of October 30, he warned the West against intervening in the popular uprising raging against his regime: "Syria is the hub now in this region. It is the fault line, and if you play with the ground you will cause an earthquake. Do you want to see another Afghanistan, or tens of Afghanistans? "Any problem in Syria will burn the whole region." Therefore the chances of Egypt's cease-fire initiative taking hold are tenuous at best. Iran will no doubt take the chance of muscle-flexing in support of Assad. The Jihad confrontation with Israel suits both their plans
WEEK OF OCTOBER 23 THROUGH OCTOBER 29
Egypt may Cancel Peace with Israel
Oct. 28….(Israel Today) It's not only Israeli analysts who fear that even the cold peace between their country and Egypt may be in danger as Islamic forces rise in the wake of Egypt's revolution. Jordan's King Abdullah II on Wednesday told the Washington Post that there is a "very strong possibility" that following upcoming elections, Egypt's new rulers will revoke the Camp David Accords. That is especially true if the Muslim Brotherhood comes to power. The group is contesting over 50 percent of the parliament seats in the next election, and is currently the only major political party active in the country. Abdullah said that Jordan will soon be "the last man standing" in terms of nations in the region that have friendly relations with Israel. There are many who disagree with Abdullah's conclusions, and even the Post tried to qualify his statements by noting that so-called experts (presumably the same who failed to see the 'Arab Spring' coming in the first place) find talk of Egypt ending its peace treaty with Israel wildly speculative. Those experts insist that Egypt wants to maintain its flow of American financial aid and military equipment, and won't do anything to jeopardize that. However, the Muslim Brotherhood and the many Egyptians who back the group have repeatedly stated throughout the revolution that they have no interest in continuing their nation's reliance on American backing, and that they view adherence to their radical Islamic ideals as far more important than Western money. "The peace between Israel and Egypt is no longer holy," declared Egyptian diplomat and Secretary-General of the Arab League Nabil al-Arabi at a recent rally. "It [peace with Israel] cannot be considered equal to the holy Koran." Al-Arabi was only echoing what the Egyptian public had been saying for months. The results of a public opinion poll conducted following the fall of dictator Hosni Mubarak found that the majority of Egyptians want to annul their nation's peace treaty with Israel. Conducted by the Pew Research Center, the survey revealed that 54 percent of Egyptians don't want peace with Israel, and will support a candidate who advocates annulling the Camp David Accords. That percentage was the same among both secular Egyptians and those affiliated with Islamic organizations. A newer poll conducted by the parent company of Egypt's Al-Ahram newspaper tried to skew the numbers a bit by giving respondents numerous options regarding what they would like to see happen with the Camp David Accords. Only 23 percent said they want the peace treaty with Israel to be left as it is. Sixty-two percent said they were interested in maintaining the peace treaty with Israel, but only if it was amended to enhance the benefits to Egypt. It was that 62 percent that the media latched onto, ignoring the fact that the majority wants to alter the peace treaty in ways that would no doubt be hostile toward and unacceptable to Israel.
Russia Equips Iran With Defensive Weapons
Oct. 27….(DEBKAfile Special Report) Moscow has sold Iran the highly-advanced Avtobaza truck-mounted systems which are capable of jamming aircraft radar and the electronic guidance instruments of attacking missiles. This deal, announced in Moscow Tuesday, Oct. 25, substantially boosts Russian military assistance to the Islamic Republic. Debkafile's military sources: These radar jammers are a component of Russia's most sophisticated anti-aircraft and electronic warfare system for the early warning of approaching assault planes and missiles. Avtobaza is only part of the complete system. Its job is to transmit incoming information via optic fibers to separate electronic command centers and central air defense commands which then act to foil air or missile attacks.
Arguing that the weapon is purely defensive, Moscow claimed its sale to Iran does not violate the UN Security Council weapons embargo against Iran. However, the US and Israel are reported to suspect a Russian stratagem whereby the Avotbaza jammers are only the first part of the deal, to be followed by the delivery to Iran of the full ELINT-electronic signals intelligence system. The full system would enable Iran to identity and react to any aerial or missile movements, not only over its territory but in the skies of the entire Persian Gulf and the Caspian Sea. Debkafile's military sources describe the Avrobaza system as able to simultaneously detect and electronically jam 60 targets within a 150-kilometer radius at angles ranging 360 degrees on 20 minutes notice.
Western suspicions were alerted by the way the Russians announced the transaction. It was made by Konstantin Biryulin, head of a department in the Russian Defense Ministry, a departure from the usual practice of announcing these transactions through spokesmen of Russia arms export industry agencies outside the government ministry. Debkafile's sources in Moscow take this to mean that the Kremlin will henceforth treat arms sales to Iran as a strategic matter for senior security echelons to handle. They expect such deals with Syria to be upgraded in the same way. In his statement, Biryulin stressed, "Russia has sent a set of mobile radar jammers to Iran and is negotiating future deliveries." He did not say how many jammers were in the contract or what other weapons were under negotiation with Tehran.
American and Israeli notice was also piqued by another of Biryulin's remarks:
"We are not talking about jets, submarines or even S-300 (missile) systems," he said. "We are talking about providing security for the Iranian state." Our Moscow sources take this also as the Kremlin's notice that this time it will not surrender to US and Israeli pressure for calling off the Avtobaza deal in the same way as it revoked its contract with Iran for supplying S-300 missiles. From now on, Russia is undertaking responsibility for providing Iran with the defensive hardware it needs for its national security. Implied in this undertaking is another message: Russia will not stand for American or any other Western attacks on Iran or Syria like the NATO operation which overthrew Muammar Qaddafi in Libya.
FOJ Note: Russia is doing precisely what the prophet Ezekiel proclaimed that nation would do in the very Last Days, namely equip, guard, and run interference on behalf of Persia.
Obama Has Paved the Way for an Explosive Era
Oct. 26….(Frank J. Gaffney, Jr./JewishWorldReview) Conventional wisdom has it that the 2012 presidential election will be all about the dismal economy, unemployment and the soaring deficit. That appears a safe bet because such matters touch the electorate, are much in the news at the moment and have indisputably become worse on Barack Obama's watch. It seems increasingly likely, however, that the American people will have a whole lot more to worry about by next fall. Indeed, the way things are going, by November 2012, we may see the Middle East, and perhaps other parts of the planet, plunged into a cataclysmic war. Consider just a few of the straws in the wind of a gathering storm:
• Moammar Gadhafi's death last week prompted the Obama administration to trumpet the president's competence as commander in chief and the superiority of his "small footprint," "lead-from-behind" approach to waging war over the more traditional, and costly and messy one pursued by George W. Bush. The bloom came off that false rose on Sunday when Mustafa Abdul-Jalil, chairman of the National Transitional Council, repeatedly declared his government's fealty to Shariah, Islam's brutally repressive, totalitarian political-military-legal doctrine. Among other things, Mr. Abdul-Jalil said Shariah would be the "basic source" of all legislation. Translation: Forget about representative democracy. Under Shariah, Allah, not man makes the laws.
In short, the result of Obama's $2 billion expenditure to oust Gadhafi is a regime that will be led by jihadists, controls vast oil reserves and has inherited a very substantial arsenal (although some of it, including reportedly as many as 20,000 surface-to-air missiles has "gone missing"-missing to Gaza). This scarcely can be considered a victory for the United States and probably will prove a grave liability.
• An Islamist party called Ennahda seems likely to have captured the lion's share of the votes cast in the first free election in Tunisia. Although we are assured it is a "moderate" religious party, the same has long been said of Turkey's governing AKP party. Unfortunately, we have lately seen the latter's true colors as it has become ever more insistent at home on jettisoning the secular form of government handed down by Mustafa Kemal Attaturk and acted ever more aggressively abroad. A similar transformation can be expected, later if not sooner, of any Shariah-adherent political movement.
• In Egypt, meanwhile, the agenda of the Islamists' mother ship, the Muslim Brotherhood, is being adopted even before elections formally bring it to power. The interim military government has abetted efforts to punish and even kill the Coptic Christian minority. It has facilitated the arming of the Brotherhood's franchise in Gaza and allowed the Sinai to become the launching pad for al Qaeda and others' attacks on Israel. Egypt's transitional regime also helped broker the odious exchange of more than 1,000 convicted terrorists held by Israel for a single soldier kidnapped and held hostage for five years by Hamas. Upon their release, the convicts with Jewish blood on their hands received heroes' welcomes even as they affirmed their desire to destroy Israel and called for the seizure of still more Israelis to spring their comrades still behind bars. This does not augur well for either the Jewish State or for our interests.
• The increasingly mercurial Afghan president, Hamid Karzai, has announced that, despite the long-running, immensely costly and ongoing US effort to protect his kleptocratic government, in a war between Pakistan and the United States, Afghanistan would side with Pakistan. The magnitude of this insulting repudiation of America is all the greater since Pakistan is widely seen as doing everything it can to re-establish the Taliban in Kabul.
In Iraq, Prime Minister Nouri al-Maliki has touted his success in thwarting Washington's belated (and halfhearted) efforts to keep a significant number of US forces in his country after the end of this year. His coalition partner and fellow Iranian cat's paw, Muqtada al-Sadr, already is boasting that he also will drive out the American contractor personnel who are, for the moment, expected to provide a measure of security after the military withdraws. In that case, we may well see the mullahs' agents take over a US embassy for the second time since 1979, this one the newest, largest and most expensive in the world. Add to this litany an emboldened and ascendant China, a revanchist Russia once again under the absolute control of Vladimir Putin, a Mexico free-falling into civil war with narcotraffickers and their Hezbollah allies on our southern border and you get a world that is fraught with peril for the United States. Matters are made infinitely worse by the prospect of reckless budget cuts hollowing out the US military.
Gaffney: Rise of Sharia Law Will Bring War to the Middle East
Oct. 26….(Newsmax) War is on its way in the Middle East as Muslim countries are determined to force a showdown over the future of Israel, Ronald Reagan's assistant defense secretary Frank Gaffney warned in an exclusive Newsmax interview. "I'm afraid there's a war coming, a very serious, perhaps cataclysmic regional war," he said. "It will be presumably over, at least in part, the future existence of the state of Israel. It may involve all of its neighbors, as they have in the past, attacking Israel to try, as they say, to drive the Jews into the sea. "It may involve the use of nuclear weapons," Gaffney predicted. "But whatever form it takes and whenever it occurs, it is unlikely to be contained to that region, and we must do everything we can to prevent freedom's enemies from thinking they have an opportunity to engage in that kind of warfare." That means standing "absolutely, unmistakably" as one with Israel and doing everything to prevent Iran getting its hands on nuclear weapons. Gaffney, who now heads up the nonprofit Center for Security Policy in Washington, DC, was speaking on the day that the "moderate" Islamist party Ennahda claimed victory at the ballot box in Tunisia and the day after Libya's new rulers declared that country will be run on Islamic principles and under Sharia law. Gaffney does not believe Ennahda is really a moderating force. "I don't believe there is such a thing as a moderate Islamist party," he said. "The challenge with Islamists is that they seek to impose what they call Sharia on everybody, Muslim and non-Muslim alike. "The problem is that, because ultimately they must, according to Sharia, according to what they believe is God's will, make everyone feel subdued in order to achieve their God-mandated direction, they will not remain moderate. They will not be satisfied with anything less than the ultimate supremacy of Sharia and they certainly will not resist the use of violence when it becomes expedient to get their way."
Gaffney foresees a rising tide of Islamist governments growing throughout Middle East and North Africa and spreading even further. "We're witnessing not just the violent kind of jihad that these Islamists believe God compels them to engage in, but also, where they must for tactical reasons, a more stealthy kind, or civilizational jihad as the Muslim Brotherhood calls it. We're witnessing that playing out, not only in places in the Middle East but also in Europe, in Australia, in Canada and here in the United States as well," he said. The spread of Sharia, which Gaffney said often is referred to as "Communism with a god," is "the most urgent and grievous challenge we face as a free people. "Those who follow this program of Sharia believe that God is directing them to engage in jihad or whatever form of warfare is necessary to accomplish their goals, through stealth, they have successfully penetrated important parts of the free world including our own government and civil society institutions."
The Obama administration has to stop "embracing" the Muslim Brotherhood, Gaffney said. "This is legitimating our enemies," he said. "It is facilitating their influence operations and their penetration and it greatly increases the prospect that they will be successful at what the Muslim Brotherhood's own documents indicate is their desire, which is to destroy western civilization from within." People are pointing to Tunisia as a perfect example of democracy at work. Democracy is fine if all you want is one-man-one-vote one-time. That is precisely what the Muslim Brotherhood and its like-minded Islamist friends want."
The Obama administration must apply pressure to ensure that democracy has a future there and elsewhere in the region, Gaffney said. "The president and his administration are not even pursuing that," he said. "What we are likely to wind up with, not just in Tunisia, not just in Libya, not just in Egypt, but probably in due course in Syria, as we have in Lebanon, as we have in Gaza and probably will have down the road in Yemen, Bahrain, maybe Saudi Arabia, is the takeover, the unmistakable takeover, perhaps through the ballot box, of people who will not seek or allow others freedom, who will impose Sharia and who will use whatever resources they amass as a result, not only to suppress their own people, but to endanger us."
Post-Mubarak Egypt Threatens Ties to Israel, US
Oct. 26….(Fox News) In the eight months since the Egyptian Revolution, radical Islamic groups are rising to power, the army seems between the US, Israel and Egypt is in serious question. "I am the enemy of democracy," Hesham al Ashry said in an interview with Fox News in his Cairo tailor shop. The devout Muslim is a main organizer in a group called the Salafists, which is working to bring Shariah law to Egypt. They, along with the Muslim Brotherhood, have risen quickly in the past eight months to fill the power vacuum left in post-Mubarak Egypt. Mubarak's heavy handed security apparatus kept groups like the Salafis on a tight leash; now free to organize and recruit the Salafists and Brotherhood have quickly climbed to the top of the political food chain with organizational help and financing from supporters in the Gulf states. "This is a big opportunity and it's not going to go back. This was mentioned by the Prophet Mohammed. Peace be upon him. He said this was going to happen," al Ashry said, speaking of the Arab Spring and the opportunity for groups like his to organize.
The past eight months have given a scary preview of what al Ashry's opportunity might mean. It was a Salafy Cleric who called for the attack on the Israeli Embassy in Cario, the rocket and suicide bomb attack on a southern Israeli highway which killed 8 and injured more than 40 was launched from Egypt's Sinai Peninsula, and it was the Army which intervened in a peaceful Coptic Christian protest killing more than two dozen. "They (the army) are completely frantic, they are overwhelmed by these every weak demonstrations, the country is going bust. The economy is going down. They are unable to get it to rest (stop)," Sawiris, who says there is only a 20% chance of next month's election producing a liberal or secular Muslim government, said.
Egypt's first parliamentary elections are scheduled for late-November and many have warned they will become a flash point for the type of sectarian violence that left more than two dozen Coptic Christians dead. While al Ashry blames the Coptics for burning their own churches down in a sympathy ploy, it's widely accepted that fundamentalists from the Muslim Brotherhood or Salafists are responsible for burning down a number of a Coptic churches. The church burnings have brought the Christians out in force beginning a cycle of violence which the army seems unable, or unwilling, to stop. "It is madness to hold elections in that short of a time. No security in the country. Anybody can do anything in Egypt with impunity," said Coptic Christian politician Michael Muenier. Egypt received $1.5B in foreign aid from the United States, making it one of the largest recipients in the world. Much of the aid comes in the form of military hardware and training. Since Egypt's peace treaty with Israel and the rise of President Mubarak, Egypt has functioned as a key US ally in the region and has done much of Washington's bidding, but the recent developments have put the special relationship into serious question.
The Army has yet to arrest anyone for the string of Church burnings or punish any of the soldiers involved in the Coptic massacre in early October. Despite pleas from the United States, Egypt has continued to hold an American/Israeli citizen accused of spying, and the Army leadership has failed to secure arms smuggling/militant activity in the Sinai Peninsula. This combination creates a new dynamic in the Middle East as Egypt no longer walks in step with her Western benefactors. For example, democratic elections long promised by the military already have Christians crying foul. "You are telling me the military just ran over 30 people with their tanks and we are going to feel comfortable going to elections," Muenier who also predicts a win by the Muslim Brotherhood, said. As for what's next if al Ashry and his followers get their way, "instead of one Iran, you have two."
US Borrows Big Time From China While Also Giving It Foreign Aid
Oct. 26….(Fox News) China is one of the biggest economies in the world and grew at more than 9 percent over the last year. It also has loaned more than $1 trillion to the US to fund its deficit-spending. But at the same time, the US sends foreign aid to China, which lawmakers of all stripes say is just plain nuts "Why in the world would we be borrowing money and then turn around and giving it back to the countries that we're borrowing it from?" Republican Sen. Tom Coburn of Oklahoma said. "If they have enough of a surplus to loan us money, they have enough of a surplus to take care of their own needs."
Democratic Sen. Jim Webb of Virginia asked the same question in a recent appearance on Fox News: "Hey, in the crisis that we're in right now, should we really be continuing to send American taxpayer dollars over to China for these purposes?" It isn't a lot of aid, tens of millions in bilateral aid, much more through international institutions to which the US contributes. But the question is why a nation that's competing with the US economically and politically in every corner of the globe should get any money from the US. "I think the Chinese are just laughing whenever they receive a check," said Dan Ikenson, a trade economist at the CATO Institute. "How silly this is of the United States to be subsidizing the fastest-growing, second-largest economy in the world." The whole matter leaves Coburn completely disgusted. "You know, it's stupidity. There's no other explanation for it, other than we're stupid in Washington to continue to do that." The Senate recently passed a bill to punish Chinese currency manipulation, while the House is about to examine Chinese trade policy across the board. But as lawmakers debate those more complicated issues, some are asking a simpler question, why keep sending money to a country trying to undercut the US seemingly at every turn?
FOJ Note: US leaders are the most stupid leaders in the world. America is going bankrupt, and yet we send out millions/billions in foreign aid to over 150 countries around the world. And, get this, most of the recipients hate our guts, and seek our destruction. Ironically, the Bible says that nations that forget God will be turned into hell, and that such nations will be left with leaders they deserve.
Vatican Calls for Global Authority on Economy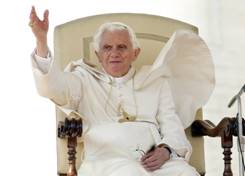 Oct. 25….(Newsmax) The Vatican called on Monday for the establishment of a "global public authority" and a "central world bank" to rule over financial institutions that have become outdated and often ineffective in dealing fairly with crises. A major document from the Vatican's Justice and Peace department should be music to the ears of the "Occupy Wall Street" demonstrators and similar movements around the world who have protested against the economic downturn. The 18-page document, "Towards Reforming the International Financial and Monetary Systems in the Context of a Global Public Authority," was at times very specific, calling, for example, for taxation measures on financial transactions. "The economic and financial crisis which the world is going through calls everyone, individuals and peoples, to examine in depth the principles and the cultural and moral values at the basis of social coexistence," it said. It condemned what it called "the idolatry of the market" as well as a "neo-liberal thinking" that it said looked exclusively at technical solutions to economic problems. "In fact, the crisis has revealed behaviors like selfishness, collective greed and hoarding of goods on a great scale," it said, adding that world economics needed an "ethic of solidarity" among rich and poor nations. "If no solutions are found to the various forms of injustice, the negative effects that will follow on the social, political and economic level will be destined to create a climate of growing hostility and even violence, and ultimately undermine the very foundations of democratic institutions, even the ones considered most solid," it said. It called for the establishment of "a supranational authority" with worldwide scope and "universal jurisdiction" to guide economic policies and decisions. Such an authority should start with the United Nations as its reference point but later become independent and be endowed with the power to see to it that developed countries were not allowed to wield "excessive power over the weaker countries".
Iraq Withdrawal, a Gift to Iran
Oct. 25….(National Review) If the Iranians pride themselves on playing chess while we play checkers, they never could have expected us to walk away from the board. But that's our next move in Iraq. President Obama announced on Friday that all of the roughly 40,000 US troops will leave the country by the end of the year. We are thus handing the Iranians a goal they have sought for years, to remove us from Iraq entirely so they can better influence the country for their ends.
It once seemed that Iraq could be a strategic ally and base for our influence in the Middle East; it now may become both those things for our foremost enemy in the region. The Iranians must think they either are very lucky or, more likely very good. The announcement of our total withdrawal comes just weeks after the revelation of an Iranian plot to execute the Saudi ambassador to the US on our soil. It comes as Iran's key Arab ally, the Assad regime in Syria, is rocked by a revolt. Just as Tehran's dangerousness is put in stark relief and as events in Syria threaten to deal it a strategic setback, it gets this windfall.
The Obama administration is talking out of both sides of its mouth on Iraq. On the one hand, it says the total withdrawal is the blessed advent of one of President Obama's most cherished campaign promises, proof of how committed he's always been to ending the Iraq War. On the other, it says on background that this is all the Iraqis' fault, that we wanted to maintain troops on the ground after 2011 but the Iraqis wouldn't budge. It appears that the first factor played into the second, the administration's lack of commitment to Iraq was the crucial backdrop to its poor handling of inherently difficult negotiations with the Iraqis.
To continue to maintain troops in Iraq after the expiration of the current deal for our presence at the end of the year, we needed the Iraqis to agree to give our troops immunity. This is obviously always a sensitive issue. And negotiations with the Iraqis over almost anything tend to drag out to the breaking point. None of this should have necessarily deep-sixed a deal, given how many top Iraqi leaders say privately that they want to keep American forces in the country. The Obama administration foolishly insisted that the Iraqi Council of Representatives endorse an immunity deal, a political impossibility. But it's hard to believe that if the administration truly wanted to make a deal happen it couldn't have worked something out with enough patience and ingenuity.
Instead, President Obama took to the podium on Friday for a snap announcement of the end of the war. His commanders on the ground wanted to keep more than 20,000 troops in Iraq (the administration had bid this number down to several thousand, perhaps convincing Iraqi political players that cutting a painful deal on immunity wouldn't have enough of a corresponding upside). Such a force would have enhanced our political leverage in Baghdad, checked Iran's already considerable influence, ensured against a return of al-Qaeda, and helped keep a lid on Arab–Kurdish tensions in the north. Now, we'll simply have to hope for the best. Deputy National Security Advisor Dennis McDonough said Iraq is "secure, stable, and self-reliant." It is none of these things. Its government is still inchoate and it is not capable of defending itself from Iran in the air or on the ground.
Our pullout is a bonanza for Tehran. Its militias were already active in Iraq. Now, it can use Iraq for bases for its proxy forces to spread its tentacles in the rest of the Persian Gulf. Independent ayotollahs in Iraq will have an incentive to keep their heads down. Political decisions of the Iranian-influenced Shiite bloc running the country are sure to begin to tilt more and more Iran's way. Our diplomatic leverage will diminish, even as maintain our largest embassy in the world in Baghdad. The Iranians will crow in Iraq and throughout the region that they were right that the Americans would eventually leave. We expended a great deal of blood and treasure to topple Saddam Hussein, and then to establish enough order so that George W. Bush's successor would only have to consolidate our gains. President Obama is careless enough to risk throwing it all away, and shameless enough to call it success.
Islamic Winter: Tunisian and Libyan 'Liberation' Leads to Sharia
Oct. 25….(Israel Today) The "Arab Spring" was predictably hailed by naive Western leaders as a positive development that would finally bring true Western-style democratic freedom to the masses of the Middle East. But more than one analyst, including top Israeli officials, have warned that the Arab Spring is about to give birth to the Islamic Winter. Tunisia was the first country in the Arab Spring to oust its long-time dictator. On Sunday the north African nation held its first free election since the uprising. Voter turnout was massive at 90 percent. The results surprised many in the West, but they shouldn't have. By Monday afternoon with many of the votes counted, Tunisia's Ennahda Party was projected to take control of the parliament with a healthy majority. Ennahda is labeled by Western media as a "moderate" Islamic group, but the description is misleading. Ennahda supported Iran's takeover of the US Embassy in Tehran in 1979 and called for attacks on US targets during the Gulf War. Furthermore, Ennahda's ideology is based on that of Egypt's Muslim Brotherhood, which seeks to impose Islamic law on the whole world.
And it will start with Tunisia. Ennahda leader Rachid Ghannouchi announced recently that if his group won Tunisia's election, it would impose what he called "moderate" Sharia Law on what until now was one of the Arab world's most progressive nations. A similar phenomenon is happening in Libya, whose liberation from the rule of Col. Muammar Gaddafi was so widely celebrated this week. Post-Gaddafi Libya will have Sharia Law as the "basic source" of its civil laws, declared interim leader Mustafa Abdul-Jalil on Sunday. Already Abdul-Jalil has altered several Libyan laws that did not line up with Sharia, such as banning local banks from charging interest and making it legal to again practice polygamy. Abdul-Jalil urged his countrymen to celebrate their newfound "freedom" by shouting "Allahu Akbar," or "Allah is Great."
Egypt has yet to hold elections since ousting former dictator Hosni Mubarak, but all estimates are that the Muslim Brotherhood will either win an outright majority in the parliament, or hold such a large bloc that any future government will be beholden to it. The Egyptian Muslim Brotherhood is the grandfather of all extremist Islamic groups in the region, and the direct progenitor of organizations such as Hamas. Islamists have also been consolidating power in Turkey and Lebanon, though it did not require civil uprisings to accomplish their goals there.
As General Eyal Eisenberg, head of Israel's Home Front Command, warned months ago, the Middle East that is resulting from the Arab Spring will be a haven for radical ideology that increases the likelihood of all out war, a war that Eisenberg said "might even involve weapons of mass destruction."With the Middle East under its former dictatorships, analysts were largely correct in surmising that weapons of mass destruction would never been used against Israel on a large scale, as those ruling regimes had a long-term interest in maintaining the status quo. But the radical powers taking over in many nations largely do not share that concern, and are far more driven by messianic ideologies that compel them to destroy Israel in order to usher in a new Islamic golden age.
US and NATO Allies vie over "kudos" for Qaddafi's Termination
Oct. 25….(DEBKAfile Special Report) Libya's transitional leader Mustafa Abdul-Jalil was quite clear about his intentions for liberated Libya Sunday, Oct. 23, when he addressed a crowd of tens of thousands in Benghazi celebrating Muammar Qaddafi's death: "Libyan laws in future would have Sharia, the Islamic code, as its basic source," he declared and promised to revoke the Qaddafi code which outlawed polygamy and restore the Islamic banking laws banning interest on loans. "Interest creates disease and hatred among people," said Abdul-Jalil. As he spoke, the Islamic law which requires immediate burial was flouted by Libyans still queuing up to view the bodies of the dead ruler and his son Mutassim lying in a Misrata cold meat store, four days after their deaths. The Misrata Brigade told the interim leaders: "Let all the people see him." That was one act of defiance. It was generally believed in Tripoli that the strongmen ruling the capital, Abdel Hakim Belhaj, ex-al Qaeda, and Ismail and Ali al-Sallabi, heads of the Libyan Muslim Brotherhood, only granted Abdul-Jalil's wish for a big liberation rally in Benghazi after he agreed to declare the new Libya a Sharia state.
But after the grand celebration is over, Debkafile's sources report, the transitional leader will be little more than a figurehead. Even now, he is confined in Benghazi by the three strongmen, who control most parts of the capital, and have not given him permission to move the seat of the interim government to Tripoli. Abdul-Jalil is only allowed to pop over to receiving visiting foreign dignitaries.
Working through NATO, US President Barack Obama, the UK's David Cameron and French President Nicolas Sarkozy managed to finish off Qaddafi but are far from controlling the transition. The regime taking shape could not be further from the Western ideal of a free democracy. Behind the grisly images of Muammar Qaddafi's last moments spilling out since Thursday, Oct. 20, a quiet contest is afoot between the US and at least two NATO allies, France and Germany, over who deserves the credit for his termination and therefore for ending the alliance's military role in Libya.
American sources are willing to admit that US drones operated by pilots from Las Vegas pinpointed the fugitive ruler's hideout in Sirte and kept the building under surveillance for two weeks, surrounded by US and British forces. Both therefore had boots on the ground in breach of the UN mandate which limited NATO military intervention in Libya to air strikes. Some of the accounts of his last days suggest that he abandoned the precautions which kept him safe for years and was not afraid to use the satellite and cell phones which gave his position away, almost as though he courted capture.
Other accounts describe his departure from Sirte Thursday morning in a convoy of 75 vehicles as "a suicidal flight." According to the London Daily Telegraph, his presence in the convoy was first picked up by the USAF River Joint RC-135V/W intelligence signals plane, which passed the information to French warplanes overhead who then carried out the strike on Qaddafi's vehicle.
The German Der Spiegel reported Monday, Oct. 24, that the tip revealing Qaddafi's last hiding place came from German BND intelligence agents. Although Chancellor Angela Merkel was dead against German participation in the NATO operation in Libya, the BND nonetheless played an important role in intelligence-gathering. It is increasingly obvious now that without the active intervention of the US, Britain, France and Germany, the anti-Qaddafi rebels on their own would never have beaten Qaddafi or been able to end his life. The way the Libyan episode unfolded up to its ending has two important messages for the Middle East and North Africa, say Debkafile's military and intelligence sources:
1. The United States and its NATO allies have no compunctions about eradicating dictatorships one way or another. The opposition in Syria quickly picked up the message. Shortly after Qaddafi's demise was confirmed, the protesters were out in the streets flying Libyan flags and warning Bashar Assad that he would soon share the same fate.
2. A primary objective of the Arab Spring as promoted by the United States and the Western Alliance is the substitution of those dictatorships by fundamental Muslim regimes whose leaders quite frankly usher Sharia law in to the liberated countries.
Libyan Leadership Declares Libya Now an Islamic Sharia State
Oct. 24….(Yahoo) Libya's transitional leader declared his country's liberation on Sunday, three days after the hated dictator Moammar Gadhafi was captured and killed. He called on Libyans to show "patience, honesty and tolerance" and eschew hatred as they embark on rebuilding the country at the end of an 8-month civil war. The transitional government leader Mustafa Abdul-Jalil set out a vision for the post-Gadhafi future with an Islamist tint, saying that Islamic Sharia law would be the "basic source" of legislation in the country and that existing laws that contradict the teachings of Islam would be nullified. In a gesture that showed his own piety, he urged Libyans not to express their joy by firing in the air, but rather to chant "Allahu Akbar," or God is Great. He then stepped aside and knelt to offer a brief prayer of thanks. "This revolution was looked after by God to achieve victory," he told the crowd at the declaration ceremony in the eastern city of Benghazi, the birthplace of the uprising against Gadhafi began. He thanked those who fell in the fight against Gadhafi's forces. "This revolution began peacefully to demand the minimum of legitimate rights, but it was met by excessive violence."
Abdul-Jalil said new banks would be set up to follow the Islamic banking system, which bans charging interest. For the time being, he said interest would be canceled from any personal loans already taken out less than 10,000 Libyan dinars (about $7,500). He also announced that all military personnel and civilians who have taken part in the fight against Gadhafi would be promoted to the rank above their existing one. He said a package of perks would later be announced for all fighters. "Thank You, thank you to the fighters who achieved victory, both civilians and military," he said. He also paid tribute to the Gulf Cooperation Council, a six-nation alliance led by Saudi Arabia, The Arab League and the European Union. NATO, which aided the anti-Gadhafi fighters with airstrikes, performed its task with "efficiency and professionalism."
US / Quadaffi Killing Should be Investigated
Oct. 24….(Yahoo) US Secretary of State Hillary Rodham Clinton says she supports calls for an investigation into the death of Libyan leader Moammar Gadhafi as part of Libya's transition from dictatorship to democracy. Gadhafi was captured wounded, but alive Thursday in his hometown of Sirte. Bloody images of Gadhafi being taunted and beaten by his captors have raised questions about whether he was killed in crossfire, as suggested by government officials, or was executed. Clinton tells NBC's "Meet the Press" that she backs a proposal that the United Nations investigate Gadhafi's death and that Libya's Transitional National Council look into the circumstances, too. Clinton says a democratic Libya should begin with the rule of law and accountability, as well as unity and reconciliation. She says investigating Gadhafi's death is part of the process.
FOJ Note: Bloody images of Gaddafi being taunted and beaten by his captors in his hometown of Sirte have raised questions about whether he was killed in crossfire as suggested by the government or deliberately executed. Qaddafi's body has been on public display in a commercial freezer in a shopping center in the port city of Misrata. FOJ has gleaned from its intelligence contacts that networking elements of Al Qaeda and the Muslim Brotherhood, which has roots in eastern Libya, and this spring made inroads in Egypt may have been responsible for silencing Quadaffi. Today, Libyan leadership announced that the so-called new democracy in Libya would be based on Sharia Law. So much for democracy and freedom! Oddly enough, President Obama has congratulated Libya on their declaration of liberation, and new Islamic State. Couples with the anticipated rise of Prince Nayef (a close confidant of the Egyptian Brotherhood) as the next King in Saudi Arabia, the Muslim Brotherhood (not democracy) stands to be the victor in the so-called Arab Spring.
Modern Anti-Semitism Curses Concept of Jews as the Chosen People
Oct. 24….(YNET / Giulio Meotti) The malignant use of the expression "chosen Jews" is recurring in the latest attacks on Israel made by secular intellectuals, archbishops, mainstream journalists and European politicians. Such vilification inspired historical waves of violence, like the pogroms, the expulsion of the Spanish Jews and Martin Luther's demonology (the founder of Protestantism argued that the Jews were no longer the chosen people but instead "the Devil's people.") "Modern-day Jews are not God's chosen people," the head of Egypt's Coptic Orthodox Church, Pope Shenouda III, declared recently in a meeting with former US President Jimmy Carter. "Do not believe their claims that they are God's chosen people, because it is not true."
It is no longer only Syria that aired a movie against the "Chosen Jews" or the former prime minister of Malaysia, Mohammad Mahathir, who warned that "the Jews must never think they are the chosen people." The obsession for this issue now widely appears in the latest indictments of Israel as an "apartheid state" and in the legal campaigns against the Law of Return.
Recently, Stephen Sizer, a leading British theologian, released a declaration to support the UN Palestinian bid: "The New Testament insists the promises God made to Abraham are fulfilled not in the Jewish people but in Jesus and those who acknowledge him." According to Sizer, the Jewish covenant with God is "rubbish."
Archbishop Cyrille Salim Bustros, a cleric chosen by Pope Benedict XVI to draft the conclusions of the synod on the Middle East, declared that "there is no longer a Jewish chosen people," resurrecting the ancient calumny that the Jews are damned for all time as cosmic exiles. Elias Chacour, the Vatican-approved Catholic Archbishop of Israel, says that "we do not believe anymore that the Jews are the Chosen People."
Many anti-Semitic comments are based on the concept of Jews as the chosen people. "All Jews share a particular gene, that makes them different from other peoples," recently declared German central bank executive Thilo Sarrazin. Christina Patterson attacked the Jews in a column for The Independent: "I didn't realize that a purchase by a goy was a crime to be punished with monosyllabic terseness, or that bus seats were a potential source of contamination, or that road signs, and parking restrictions, were for people who hadn't been chosen by God." 'We call it racism'
Meanwhile, acclaimed Greek composer Mikis Theodorakis told an interviewer that "today it is possible to say that this small nation (Israel) is the root of all evil; it is full of self-importance and evil stubbornness." Asked by his interlocutor, "what is it that holds us Jews together?" Theodorakis replied, "It is the feeling that you are the children of God. That you are the chosen."
Elsewhere, European Trade Commissioner Karel De Gucht, a former Belgian foreign minister, recently blamed the "Jewish lobby" and said that "there is indeed a belief, it's difficult to describe it otherwise, among most Jews that they are right." De Gucht's target was the Jews, not Israeli policies.
Jostein Gaarder, author of the literary bestseller Sophie's World, published an op-ed titled "God's chosen people" in the Aftenposten, one of Norway's major newspapers, in which he declared that Israel has lost its right to exist: "We no longer recognize the state of Israel. We don't believe in the idea of God's chosen people. To present oneself as God's chosen people is not just stupid and arrogant, but a crime against humanity. We call it racism."
José Saramago, the Portuguese writer and Nobel Prize laureate, described the Jews in perfervid terms as "contaminated by the monstrous and rooted 'certitude' that in this catastrophic and absurd world there exists a people chosen by God and that, consequently, all the actions of an obsessive, psychological, and pathological exclusivist racism are justified." Taken to its logical end, this language suggests that there is only one price the Jews can pay for being accepted by the world: Israel's elimination.
The World Council of Churches, an ecumenical Christian body based in Genève and boasting 590 million worshippers, just ended a four-day conference in the Greek city of Volos. Not a single word of criticism was uttered there against the Islamists who are persecuting Arabs who believe Jesus. But they were vociferous in declaring a theological demonology of the State of Israel. Theso-called Christian conference declared the Jewish State "a sin" and "occupying power," accused Israelis of "dehumanizing" the Palestinians, theologically dismantled the "chosenness" of the Jewish people and called for "resistance" as a Christian duty. This so-called Christian conference even legitimized terrorism when it talked about the "thousands of prisoners who languish in Israeli jails," proclaiming that "resistance to the evil of occupation is a Christian's right and duty."
In the last few months we have seen a radical and dangerous increase of attacks on Israel by the Protestant and Catholic churches. While the US is home to many Christian supporters of Israel, the groups more closely linked to global public opinion, European bureaucracy, the media industry, the United Nations and various legal forums are all violently anti-Israel and anti-Jewish. They are paving the way for a new Jewish bloodbath by the theological exclusion of Israel's Jews from the family of nations. Today, most of the divestment campaign against Israel is driven by Christian groups such as the Dutch Interchurch Organization and the Irish Catholic group Troicaré, both funded by the EU. The United Church of Canada, a very popular and mainstream Christian denomination, just voted to boycott six companies (Caterpillar, Motorola, Ahava, Veolia, Elbit Systems and Chapters/Indigo) and South African bishop Desmond Tutu convinced the University of Johannesburg to severe all its links with Israeli fellows.
Last year the Methodist Church of Britain voted to boycott Israeli-produced goods and services from Judea and Samaria. The catholic Pax Christi is also leading the campaign glorifying Mordechai Vanunu, Israel's nuclear whistleblower who had converted to Christianity. La Civiltà Cattolica, the Vatican magazine reviewed by the Holy See secretary of state before publication, in January opened with a shocking editorial on Palestinian refugees. Adopting the Islamist propagandist word "Nakba," just recently invoked by Arab mobs to breach Israel's borders, the paper declared that the refugees are a consequence of "ethnic cleansing" by Israel and that "the Zionists were cleverly able to exploit the Western sense of guilt for the Shoah to lay the foundations of their own state." Indeed, Iran's Ahmadinejad's rhetoric against Israel is alarmingly similar to that of these liberal Christians.
Dealing Wisely with Temptation
Oct. 24….(Charles Stanley) Common sense dictates that a pilot trainee flying for the first time in a squall needs to be quite cautious. But a wise seasoned pilot knows that he must be just as watchful in his hundredth storm as in the first. Despite thousands of flight hours and years of experience, he can still be brought down by bad weather unless he is proactive. Temptation is a lot like an unexpected storm that sweeps in and damages those who are caught unaware. Like a good pilot, a believer must be alert to the approach of temptation and prepared to ride it out. In this life, none of us reach a level of maturity at which sinful enticements lose all their power. Understanding our own weaknesses is an important part of being watchful and prepared. In which areas are you most vulnerable? What we commonly think of as "huge sins,"like adultery and murder, are not what land most people in hot water. It's usually a multitude of "little sins" that lead to big trouble. Temptation is an invitation to carry any God-given desire beyond its God-given limits. Take one step over the line, and soon there is inducement to take another. And then another. Unless you correct the course quickly, you could find yourself estranged from the Father and overwhelmed by guilt and shame. The issue of temptation cannot be ignored. Know where you are vulnerable, so you can prepare a defense. Learn when and how you're most likely to be lured, and take extra precautions in those situations. And always look for the escape route that God has promised to those who are tempted
(1 Cor. 10:13).
FOJ Note: Our Lord taught us to pray, "lead us not into temptation." Why, because He knew that as flesh and blood beings, we were easily beguiled, and also that being natural, we possess an abundance of arrogance in our own abilities.
US Withdrawal From Iraq Leaves 30,000 Iranian Al Qods Fighters Sitting in Iraq
Oct. 24….(DEBKAfile Exclusive Analysis) Ten days have gone by since President Barack Obama accused Iran of instigating a foiled plot to assassinate the Saudi ambassador to Washington last April. Yet neither the US nor Saudi Arabia has done anything about it, even at the UN. Friday, Oct. 21, Obama reaffirmed that all US soldiers will be brought home from Iraq by the end of the year. Two days later, Secretary of State Hillary Clinton pledged in Tajikistan: "To countries in the region, especially Iraq's neighbors, we want to emphasize that American will stand with our allies and friends, including Iraq, in defense of our common security and interests." She spoke as the Obama administration was preparing to pull out of Iraq, leaving in Baghdad a government and national army incapable of defending the country against widening cycles of terror, headed by a prime minister under Tehran's thumb and more than 30,000 armed members of the Iranian Revolutionary Guards' terrorist arm, Al Qods Brigades, deployed there.
Prime Minister Nouri al Maliki is so completely in thrall to Iran that he was afraid to accede to Washington's insistent demand for immunity to be extended to at least 5,000 US soldiers remaining in Iraq, although left on his own he would have been inclined to do so. The eight-year US military presence in Iraq ends therefore leaving Iran sitting pretty on its two key strategic goals:
1. The exit of American soldiers, whose presence in Iraq since the 2003 invasion was deemed in Tehran a continuous threat to its borders. US military involvement in Afghanistan is seen in the same light.
2. A weak Shiite-led government in place in Baghdad, heavily dependent on Tehran's will. Torn by strife among Shiites, Sunnis and Kurds, Iraq is in no state to obstruct Iran's hegemonic plans for the Persian Gulf and Syria.
The Iranian regime's right hand for achieving those goals was, and is, Al Quds commander Lt. Gen. Qassem Soleimani, the man also accused by Washington of masterminding the assassination plot. Washington is well aware of Soleimani's capacity for interfering with American interests. Indeed he crows about it. Last July, US sources leaked a message he posted in 2008 to Gen. David Petraeus, then head of US Central Command and now CIA Director: "General Petraeus, you should know that I, Qassem Suleimani, control the policy for Iran with respect to Iraq, Lebanon, Gaza and Afghanistan. And indeed, the ambassador in Baghdad is a Quds Force member. The individual who's going to replace him is a Quds Force member." He was flaunting his control of Baghdad at American expense. Since then, he has expanded this control, Debkafile's military sources report, by injecting 30,000 al Qods fighting personnel into Iraq, all trained in guerrilla tactics to the standards of Western and Middle East elite units.
At least half are deployed in Baghdad in the guise of bodyguard units Iraqi government members and political figures have hired from local firms. Most of the Shiite figures in government and parliament are now using Al Quds details for protection. This makes the easily vulnerably to manipulation from Tehran. Today, Iran's Al Quds army has the run of Baghdad's Green Zone, the top-security enclave built a cost of billions of American dollars to keep the US embassy and high commands in Iraq and its seat of government safe from terrorist bombs. After the US military drawdown in just over two months, the 16,000 US embassy staffers remain in the Green Zone, including 5,000 security officers from civilian contractors. They will stand eyeball to eyeball with a like number of Al Quds operatives defending the pro-Iranian Iraqi government. It is on this jarring note that America is about to end its war in Iraq.
WEEK OF OCTOBER 16 THROUGH OCTOBER 22
Saudi Arabia's Crown Prince Sultan bin Abdul Aziz Al Saud Dies
Oct. 22….(Fox News) The heir to the Saudi throne, Crown Prince Sultan bin Abdel Aziz Al Saud, died abroad Saturday after an illness, state TV said. The death of the 85-year-old prince opens questions about the succession in the critical, oil-rich US ally. Sultan was the half-brother of Saudi Arabia's King Abdullah, who is two years older than him and has also been ailing and underwent back surgery last week. The most likely candidate to replace Sultan as Abdullah's successor is Prince Nayef, the powerful interior minister in charge of internal security forces. After Sultan fell ill, the king gave Nayef, also his half-brother, an implicit nod in 2009 by naming him second deputy prime minister, traditionally the post of the second in line to the throne.
Saudi Arabia has been ruled since 1953 by the sons of its founder, King Abdul-Aziz, who had over 40 sons by multiple wives. He was commonly referred to as Ibn Saud. Anyone who rises to the throne is likely to maintain the kingdom's close alliance with the United States. But it would have an internal impact. Abdullah has been seen as a reformer, making cautious changes to improve the position of women, such as granting them to right to vote in elections scheduled for 2015, and seeking modernize the kingdom despite some backlash from the ultraconservative Wahhabi clerics who give the royal family the religious legitimacy needed to rule. Nayef, however, is often seen as closer to the clerics. Sultan's death comes amid questions about the health of the king. Last week, King Abdullah underwent back surgery in Riyadh. The SPA news agency said the operation was to treat a loose vertebra in his back. Abdullah also had two back surgeries late last year in New York City. Sultan was part of the aging second generation of the King Abdul-Aziz's sons, including the 78-year-old Nayef.
| | | |
| --- | --- | --- |
| | | (FOJ) Saudi King Ibn Saud converses with then-American President Franklin D. Roosevelt (right) through translator Colonel Bill Eddy on board the USS Quincy after the Yalta Conference |
Nayef has led an aggressive campaign against Islamic militants following the Sept. 11, 2001 attacks, in which 15 of the 19 hijackers were from Saudi Arabia, but he also has a reputation for close ties to the Saudi religious establishment. This could bring tensions within the Saudi leadership if Nayef is named crown prince, pitting those backing Abdullah's reform measures against those opposing any deviations to the kingdom's strict interpretations of Islam. Nayef also maintains a hard line against regional rival, the Shiite power Iran, claiming earlier this year that Tehran was encouraging protests among Saudi Arabia's minority Shiites. Nayef was deeply involved in the kingdom's decision in March to send military forces into neighboring Bahrain to help crush pro-reform demonstrations led by tiny island nation's majority Shiites against its Sunni rulers, which Gulf Arab leaders accuse of having ties to Iran.
Saudi Prince Nayef's Rise in Tune With Muslim Brotherhood's Regional Takeover
Oct. 22….(DEBKAfile Exclusive Analysis) Saudi Crown Prince Sultan bin Abdulaziz's long-expected passing aged 87 in New York Saturday, Oct. 22 could not have happened at a more auspicious time for his presumed successor, Interior Minister and Deputy Prime Minister Prince Nayef bin Abdulaziz, to move up as next in line to the throne after King Abdullah. With the rest of the Arab world beset by anti-regime uprisings, and just two days after Libya's Muammar Qaddafi was brutally killed in the streets of Misrata, the Saudi kingdom's 60-year old succession system offers a singularly smooth transition of power. Debkafile's Saudi experts point to three reasons why the hardheaded Prince Nayef, aged 78 (a spring chicken in the Saudi gerontocracy), may already have been chosen to step into the shoes of Sultan, who served as First Deputy Prime Minister and Minister of Defense and Aviation:
1. Nayef has a solid record of suppressing domestic opposition with an iron fist, including the challenge posed by al Qaeda.
2. He is a conservative in Saudi terms, meaning he is close to the clerical establishment. In all five Arab nations overtaken by uprisings, Tunisia, Egypt, Yemen, Syria and Libya, the Muslim clergy sided with the rebels against the regime. In Saudi Arabia, the imams are full partners with the royal rulers and will be especially supportive of Nayef.
3. The frontrunner for Crown Prince also maintains cordial relations with foreign Muslim Brotherhood chapters. Since the Brothers appear to be on their way to power in the new societies thrown up by the Arab "spring," a trend with which President Barack Obama sympathizes, Nayef is the right man at the right time to lead the oil kingdom into integration with the dominant trend.
Although the Saudi royal house is obsessively secretive about its internal affairs, it was obvious Wednesday, Oct. 19 that something momentous was happening: As Sultan lay at death's door in a New York hospital, King Abdullah, aged 89 or 90, summoned an urgent meeting of the princely Allegiance Council to his own bedside in the hospital wing of the royal palace in Riyadh. He too was laid up after a minor operation to help strengthen his spine had been performed by surgeons and staff summoned from the United States.
The picture is the first ever of the Allegiance Council meeting at a Saudi king's bedside and also the first photograph of a Saudi monarch minus his kefiyeh headdress. Both images provide glimpses of the disarray in Saudi royal circles. King Abdullah formed the Allegiance Council five years ago. Whereas the king and crown prince had formerly been selected mainly by seniority among the many sons and grandsons of the founder and deals among the branches, the incumbent king decided it was time to have a royal mechanism for managing the transition of power in an orderly manner to ensure stable rule. The new council was to have begun functioning after Sultan succeeded to the throne. However, as soon as the news of Sultan's imminent death reached Riyadh, the king called the Allegiance Council into session to approve the Nayef appointment without delay. The process was not as untroubled as the king had hoped.
Prince Talal bin Abdulaziz, Nayef's most vocal opponent was conspicuously absent from the crisis meeting as were representatives of the royal branches which had been dropped out of the line of succession. Nayef's appointment will not be formally announced until after Sultan's state funeral next Tuesday, or even the customary 40 days of mourning. This will give his rivals time to jockey for position, either to thwart it or cozy up to the future king. The next contest will occur when the Allegiance Council has to choose Nayef's successor as crown prince, or third in line to the throne. For now the contest is wide open.
Despite his great age, King Abdullah appears to be in full control and going forward steadily with his program of reforms, especially the steps for the partial enfranchisement of women. But he is getting progressively weaker and Nayef's position a heartbeat away from the throne should be counted in months rather than years.
Former al-Qaida Leader Emerging as Strongman in Libya
Oct. 22….(Newsmax) The death of Libyan leader Moammar Gadhafi could create a vacuum that a whole new slew of Islamic terrorists and would-be despots seek to fill, says award-winning journalist Arnaud de Borchgrave in an exclusive Newsmax interview. There is a grave risk that the fractious nation divided along tribal lines could fracture or further weaken, creating a new breeding ground for terrorists, says de Borchgrave. Already, there is tension from the Islamist fighters of the Tripoli Military Council, and also of the militias of the city of Misrata who played a key military role in toppling Gaddafi and killing him. Islamists, led by several charismatic clerics, are better organized that many other groups. "One very disturbing element is the fact that a former al-Qaida terrorist by the name of Abdul Hakim Belhadj, who the CIA renditioned into Thailand where he was tortured, is now back in his original stomping ground. "Libya is where he was head of al-Qaida underground. Now he's above ground and commander of the Tripoli garrison."
Belhadj is the former leader of the Libyan Islamic Fighting Group (LIFG). As an engineering student in Tripoli he was opposed to the Gadhafi regime and was attracted to political Islam. In the 1980s, he left Libya for Afghanistan where he fought as a mujahideen against Soviet forces. There, with other Libyans, he formed the LIFG to confront the Gadhafi regime and, according to some experts, formed links to al-Qaida.
A Cold War Emerges In The Arab World
Oct. 22….(Jerusalem Post) The underlying strategic contours of the Middle East remain largely unchanged; the contest between Iran and Saudi Arabia remains central. Winston Churchill, speaking in the British House of Commons in 1922, discussed the transformative effect of the 1914-18 war on Europe. Great empires have been overturned," he said. "The whole map has changed, the modes of thought of men, the whole outlook on affairs." But, he continued, "as the deluge subsides and the waters fall short, we see the dreary steeples of Fermanagh and Tyrone emerging once again." Churchill was referring to the durability of the Irish question. A sense of the weary re-emergence of previous patterns is apparent also in the revelations of the Iranian plot to kill Saudi ambassador Adel Jubair in Washington. The plot's revelation casts the spotlight on a crucial fact underlying the upheavals that have shaken the Arab world this year: Namely, for all the sound and fury that the 'Arab Spring' has wrought, the underlying strategic contours of the Middle East remain largely unchanged. As the wave of popular discontent begins to draw back, so these structures are once again becoming apparent.
The contest between Iran and Saudi Arabia formed the central dynamic in the larger regional cold war which has defined the Middle East in recent years. Iran has sought very publicly in recent years to build its regional popularity through enmity toward Israel. But the primary strategic ambitions of the Islamic Republic are directed not westward toward the Mediterranean, but rather southward, toward the Persian Gulf. Iran is the most populous country of the Gulf region, with the largest army. It sees domination of this area as a matter of manifest destiny. Tehran seeks to replace the United States as the guarantor of the security of Gulf energy routes. This ambition by its very nature brings it into a situation of conflict with the main beneficiary of that American guarantee, the Kingdom of Saudi Arabia. This core geo-strategic basis to Iranian-Saudi enmity is reinforced and deepened by the stark sectarian and ideological divide between the two countries. Saudi Arabia holds to an ultra-conservative interpretation of Sunni Islam which demonizes Shia Muslims. Riyadh has long scorned the Iranian regime as a purveyor of fitna (discord) in the Muslim world.
Ayatollah Khomeini, meanwhile, described the Saudi monarchy unambiguously as "heretics" and "vile and ungodly Wahhabis." Saudi-Iranian rivalries have underlain a number of recent central events in the region, some related to the so-called "Arab Spring," some clearly separate. When the Shia majority in Bahrain proved restive, the Saudis discerned Iranian fingerprints. A new regime in Bahrain aligned with Tehran would mean Iranian control of the western littoral of the Persian Gulf. The uprising was also interpreted as the beginning of an Iranian attempt to spread Shia sedition southwards toward the majority Shia Saudi eastern province. The Saudis led a military expedition to crush the revolt in its infancy.
In Syria, the Saudis see the uprising as an attempt by a Sunni Arab people to throw off the yoke of an Iran-backed, heretical regime. Through his maternal line, Saudi King Abdullah has close kinship ties with Sunni clans in Syria. Riyadh discerns a strategic opportunity in Assad's current travails. The Iranians too understand the disastrous implications for them of the danger to the Assad regime, and are consequently making every effort to preserve it. The Saudis were the first Arab country to remove their ambassador from Syria, and to denounce Assad. There are reports of Saudi links to radical Sunni preachers in Syria.
In Lebanon, of course, members of the Iranian client Hezbollah organization are wanted by the tribunal investigating the 2005 murder of Saudi citizen and former Lebanese Prime Minister Rafiq al- Hariri. The Saudi-backed March 14 movement in the country was eclipsed by the pro-Iranian forces after a brief clash in May/June 2008. Yet, by backing the opposition to the Assad regime in Syria, Riyadh hopes to cut Hezbollah off from its hinterland and source of weaponry, leaving it dangerously isolated on the Mediterranean.
In Iraq, with the US set to leave, the Saudis and the Iranians are once again set to face each other. The Shia-led government in Baghdad already enjoys close relations with Tehran. Iran also sponsors powerful Shia militia groups. Riyadh, meanwhile, has actively funded Sunni insurgents. The presence of US troops in Iraq was a disincentive to more overt support. With an increasingly pro-Iranian Shia government in Baghdad this disincentive will no longer apply.
The Iranians are by far the stronger of the two rivals. They have compromised their 'brand' in the Arab world through their support for the Assad regime in Syria. This, however, could be rapidly reversed in the wake of new confrontations with the US or Israel. Their nuclear program is proceeding apace. The Tehran regime looks safe in its seat at home. It still possesses powerful assets across the region.
The Saudis, by contrast, can offer a credible barrier to Iranian ambitions only as part of a larger, de facto alliance including the US and Israel. The Saudi-Iranian cold war was one of the factors defining the Middle East prior to the upheavals of 2011. It has been a significant element in determining the course of those upheavals so far. In Bahrain and in Syria, the Saudis are winning. Iranian anger and frustration at Riyadh and a desire to strike at it should therefore come as no surprise. As the deluge subsides, the dreary minarets of Riyadh and Tehran are emerging once again.
Libya's Missing Weapons Were Smuggled into Gaza
(Israeli intelligence is increasingly concerned about the quantity of Libyan arms flowing into Gaza.)
Oct. 21….(Global Investigative Reports) Israel's military intelligence is increasingly concerned about the quantity of Libyan arms flowing into the Gaza strip through its increasingly volatile southern border. Egypt has a northwestern border point with Israel, at the top of the Sinai desert, and a long eastern boundary with Libya. The fall of Muammar Gaddafi's Tripoli represents a new source for weaponry, and has opened up a new land route, enabling smugglers to bring "thousands" of weapons into Gaza by way of tunnels that run from Rafah, in northern Egypt, into the Hamas-run territory, according to numerous Israeli military sources. Before the influx of Libyan contraband, Israeli assessments have been that most of the weapons coming into Gaza, albeit also illegally, have been from Iran, transported by ships crossing the Mediterranean Sea or over land via Sudan. A September report by Israeli military intelligence, widely quoted in public, stated that the weapons smuggled in from Libya constitute an increase in Gaza stockpiles, but not necessarily a qualitative enhancement of Hamas's military capacities. Mostly, SA-7 anti-aircraft missiles and rocket-propelled grenades (RPGs) have been detected.
The Sinai has increasingly acquired the feel of an untamed no man's land. With Egyptian military and police personnel occupied keeping the peace in Cairo and other urban centers, and with the military government apparently distancing itself from promises of democratic reform, it is unclear who rules the desert. A fringe group of extremists calling itself "Al Qaeda of Sinai" has taken control of growing stretches of the peninsula and appears to be attempting to cement ties to the Bedouin tribes that reside there. Egyptian-Israeli relations have become severely strained since the fall of President Hosni Mubarak last February, and despite the grave concern both governments express at the influx of arms, these apprehensions have not brought about renewed cooperation.
Late last month, Egyptian authorities briefly closed the Rafah border crossing without consulting their Israel counterparts after another, larger than usual, cache of Libyan arms was detected on its way into Gaza. Speaking on Army Radio, Gen. (Ret.) Shlomo Gazit, a former head of military intelligence who was privy to the intelligence report, brought up the inflow of weapons from Libya as a primary reason for the urgency of establishing a new base for Israeli-Egyptian relations. "It is another reason Israel has to get itself back on track with its neighbors. I just read the study about Libyan weapons coming into Gaza, and it's not clear we know who we can even talk to about this right now," he said. Israel's ambassador to Egypt, Yitzhak Levanon, has not returned to Cairo since being evacuated when the Israeli embassy was attacked and invaded by a mob three weeks ago, and with the sharp deterioration in bilateral military contacts, it is not evident who the counterparts for pressing diplomatic consultations would be. There is some concern in Israel that the new weapons may increase the range of missiles that Hamas or splinter groups have access to, possibly even allowing for attacks against the two main population centers of Tel Aviv and Jerusalem.
*FOJ has learned through its intelligence links that Libyan weapons have been smuggled into Egypt's black market and into Gaza. Keep in mind that an elaborate system of tunnels has been constructed between the Sinai and Gaza. It was reported recently that an estimated 20,000 surface-to-air missiles have vanished from known Libyan inventory. Some Palestinian groups, such as Hamas and Al Qaeda, under the Muslim Brotherhood made a deal with the Libyans to get special weapons such as shoulder-fired surface-to-air missiles. And smuggled them across Egypt while the new Egyptian authorities turned a blind eye to the process. The price for Stinger-like anti-aircraft missiles has plummeted around Gaza, because so many of the weapons have suddenly become available. The introduction of Libyan shoulder-fired anti-aircraft missiles could enhance Hamas' ability to target Israeli helicopters and other aircraft which patrol the skies over Gaza.
Libyan Terrorist Dictator Moammar Gadhafi Killed in Old Hometown
Oct. 21….(My Way) Moammar Gadhafi, Libya's dictator for 42 years until he was ousted in an uprising-turned-civil war, was killed Thursday as revolutionary fighters overwhelmed his hometown of Sirte and captured the last major bastion of resistance two months after his regime fell. The 69-year-old Gadhafi is the first leader to be killed in the Arab Spring wave of popular uprisings that swept the Middle East, demanding the end of autocratic rulers and the establishment of greater democracy. "We have been waiting for this moment for a long time. Moammar Gadhafi has been killed," Prime Minister Mahmoud Jibril told a news conference in the capital of Tripoli.There were conflicting accounts about Gadhafi's final hours, with the interim government saying he was captured unharmed and later mortally wounded in the crossfire from both sides. A second account described how he was already wounded in the chest when he was seized and later sustained the other wounds. This video frame grab image taken from Libyan TV, purports to show former Libyan leader Moammar Quadaffi in death.
Interim government officials said one of Gadhafi's sons, his former national security adviser Muatassim, also was killed in Sirte, and another, one-time heir apparent Seif al-Islam, was wounded and captured. Gadhafi's death decisively ends a regime that had turned Libya into an international pariah and ran the oil-rich nation by the whim and brutality of its notoriously eccentric leader. Libya stands on the cusp of a new era, but its turmoil may not be over. The former rebels who now rule are disorganized and face rebuilding a country virtually without institutions, by Gadhafi's design. They have already shown signs of infighting, with divisions between geographical areas and Islamist and more secular ideologies. President Barack Obama told the Libyan people: "You have won your revolution." Although the US briefly led the NATO bombing campaign in Libya that sealed Gadhafi's fate, Washington later took a secondary role to its allies. Britain and France said they hoped that his death would lead to a more democratic Libya.
Arab broadcasters showed graphic images of the balding, goateed Gadhafi, wounded, with a bloodied face and shirt, but alive. Later video showed fighters rolling Gadhafi's lifeless body over on the pavement, stripped to the waist and a pool of blood under his head. Standing, he was shoved along a Sirte road by fighters who chanted "Allah is great." Gadhafi appears to struggle against them, stumbling and shouting as the fighters push him onto the hood of a pickup truck. He was driven around lying on the hood of a truck, according to the video. One fighter is seen holding him down, pressing on his thigh with a pair of shoes in a show of contempt. "We want him alive. We want him alive," one man shouted before Gadhafi is dragged away, some fighters pulling his hair, toward an ambulance. Most accounts agreed Gadhafi had been holed up with heavily armed supporters in the last few buildings held by regime loyalists in the Mediterranean coastal town, where revolutionary fighters have been trying prevail for more than a month.
At one point, a convoy tried to flee and was hit by NATO airstrikes, carried out by French warplanes. France's Defense Minister Gerard Longuet said the 80-vehicle convoy was carrying Gadhafi and was trying to escape the city. The strikes stopped the convoy but did not destroy it, and then revolutionary fighters moved in on Gadhafi. One fighter who said he was at the battle told AP Television News that the final fight took place at an opulent compound. Adel Busamir said the convoy tried to break out but after being hit, it turned back and re-entered the compound. Several hundred fighters attacked. "We found him there," Busamir said of Gadhafi. "We saw them beating him (Gadhafi) and someone shot him with a 9mm pistol, then they took him away." Military spokesman Col. Ahmed Bani in Tripoli told Al-Jazeera TV that a wounded Gadhafi "tried to resist (revolutionary forces) so they took him down." Fathi Bashaga, spokesman for the Misrata military council, whose forces were involved in the battle, said fighters encircled the convoy and exchanged fire. In one vehicle, they found Gadhafi, wounded in the neck, and took him to an ambulance. "What do you want?" Gadhafi asked the approaching revolutionaries, Bashaga said, citing witnesses.
Gadhafi bled to death from his wounds a half-hour later, he said. Fighters said he died in the ambulance en route to Misrata, 120 miles from Sirte. Abdel-Jalil Abdel-Aziz, a doctor who accompanied the body in the ambulance and examined it, said Gadhafi died from two bullet wounds, to the head and chest. "You can't imagine my happiness today. I can't describe my happiness," he told The Associated Press. "The tyranny is gone. Now the Libyan people can rest."
The account given by Jibril after a coroner's investigation said Gadhafi was seized unharmed from a drainage pipe but was then shot in the hand and put in a pickup truck. In ensuing crossfire, Gadhafi was shot in the head, the government account said. According to an account from Hassan Doua, a commander whose fighters found Gadhafi, the former leader already was wounded in the chest when he was seized near a large drainage pipe, and then was put in the ambulance.
Amnesty International urged the revolutionary fighters to report the full facts of how Gadhafi died, saying all members of the former regime should be treated humanely. The London-based rights group said it was essential to conduct "a full, independent and impartial inquiry to establish the circumstances of Col. Gadhafi's death." After his death, Gadhafi's body was paraded through the streets of Misrata on top of a vehicle surrounded by a large crowd chanting, "The blood of the martyrs will not go in vain," according to footage aired on Al-Arabiya television. The fighters who killed Gadhafi are believed to have come from Misrata, a city that suffered a brutal weeks-long siege by Gadhafi's forces during the eight-month civil war. In Sirte, the ecstatic former rebels celebrated the city's fall after weeks of fighting by firing endless rounds into the sky, pumping their guns, knives and even a meat cleaver in the air and singing the national anthem. "We would have wanted him alive for trial. But personally, I think it is better he died," Bashaga said. The capture of Sirte, the death of Gadhafi, and the death and capture of his two most powerful sons, gives the transitional leaders confidence to declare the entire country "liberated." It rules out a scenario some had feared, that Gadhafi might flee deep into Libya's southern deserts and lead a resistance campaign.
Libyan Rebels Drag Qaddafi's Body through Misrata Streets
Oct. 21….(DEBKAfile Special Report) Questions swirl around the death outside Sirte Thursday, Oct. 20, of Muammar Qaddafi, who ruled Libya for 42 years until his overthrow in August 2011: One theory holds that after his convoy was attacked by NATO warplanes outside Sirte, he was seriously wounded in both legs, released that the game was up, crawled into a nearby pipe and shot himself dead to escape capture. This theory is borne out by the discovery by rebels of a gold-plated pistol near his body. But some TV footage indicates he was shot dead after being abused by rebels. In the eyes of his loyalists, and there are still many left in Libya, he is admired for dying the death of a hero. If the bullet or shell that injured or killed him is identified as belonging to a NATO weapon, he may be acclaimed by his own people and the Muslim world as a martyr like Osama bin Laden before him. This would be the pretext for the outbreak of bloody guerrilla warfare between the dead ruler's following and his opponents. The third theory is that rebel forces found him dying from an attack on the convoy carrying him and his party and made sure of his death by shooting him in the head.
Qaddafi's death may end NATO's military campaign in Libya, but it is far from ending the Libyan war. The barbaric treatment of his body in Misrata is a shocking omen of the bloody conflict to come. Western sources confirm the NTC report that Muammar Qaddafi was captured Thursday, Oct. 20 in or near Sirte. There were initially conflicting reports of his condition. He was said wounded in two legs, according to an NTC official. He now appears to have died of wounds sustained in a NATO air strike against his convoy outside Sirte, one of his last strongholds. As long as Qaddafi was at liberty, the interim government was prevented from establishing its legitimacy and a stable administration. For the rebel forces, Qaddafi's capture or death is a major psychological and political triumph. However, Libya remains bitterly polarized between pro- and anti-Qaddafi factions with scores of rival militias and hundreds of tribes at each other's throats. Qaddafi's demise rather than promoting unity and ending the conflict could trigger wider civil bloodshed.
Qaddafi's Weapons of Mass Destruction Are a Concern Now
Oct. 21….(Fox News) Libya's Transitional National Council reports that Muammar Qaddafi is dead. That's great and welcome news. Finally. And it's especially great if, and we're still sorting this out, it was the Libyans who ended the notorious strongman's life not the United States of America or NATO. The Libyans, and their new government, are the ones who need to own this war. They don't need the death of Qaddafi to have happened courtesy of the United States and or NATO. The most pressing question now is what's next for Libya? We can only hope that the long-suffering and courageous people of Libya can put the hunt for Qaddafi behind them and get on with forming an effective government. The future is murky but a new chapter is already underway. The hard part is that we''re still not sure who these rebels are and what their connections might be too radical Islamists. So what does today's news mean for the United States?
First, for President Obama it means that, for better or worse, the White House will take the news of Qaddafi's death as vindication that "leading from behind" works. Then there's the War on Terror. If you look at the big picture, I'm less concerned with Qaddafi and much more concerned about his weapons of mass destruction. The Libyan strong man reportedly hid WMD around the country. I'm thinking of the roughly 20,000 shoulder-fired RPGs and manpads that can take out helicopters and commercial aircraft, whatever fissiles materials are left over from his already dismantled nuclear program (that could still be used to make dirty bombs), and any chemical weapons (for example, could there be mustard gas stockpiled somewhere?) that might be left. These are valuable items for looters and could end up in the international black market, where terrorists go shopping.
FOJ Note: Many of these weapons are already being reported to have found their way into the Sinai and Gaza Strip
Where Did Libyan Weapons Stockpile Disappear to?
Oct. 21….(Fox News) The State Department is sending dozens of American contractors to Libya to help that country's fledgling efforts to track down and destroy heat-seeking antiaircraft missiles looted from government stockpiles that could be used against civilian airliners. The contractors, weapons and explosives specialists, are part of a growing $30 million American program to secure Libya's conventional weapons arsenal, which was ransacked during the fall of the government of Col. Muammar el-Qaddafi. American and other Western officials are especially concerned that as weapons slip from state custody, they can be easily sold through black markets to other countries, fueling regional wars or arming terrorist groups. Analysts are particularly worried about the dispersal of the SA-7, an early-generation, shoulder-fired missile in the same family as the more widely known Stinger. "We are very concerned about the threat that's posed," Andrew Shapiro, the assistant secretary of state for political-military affairs, told reporters on Friday after meetings in Brussels.
Mr. Shapiro said he had no estimate as to how many of the roughly 20,000 shoulder-fired antiaircraft missiles that had been in Libya were unaccounted for since the fall of Colonel Qaddafi, but added, "In the wrong hands these systems could pose a potential threat to civil aviation." The State Department so far has sent 14 unarmed civilian contractors, many with military experience, to be part of teams led by Libya's Transitional National Council, according to David I. McKeeby, a department spokesman. McKeeby said that an additional two to three dozen contractors would join the effort over the coming weeks. The teams have surveyed and secured 20 of the former government's 36 known ammunition depots, encompassing several hundred bunkers at each site, and have destroyed or disabled hundreds of the shoulder-fired missiles, he said. The deployment of the American contractors was reported on Friday by The Washington Post.
Though Western officials said they had asked rebel officials to secure Libya's vast arsenal, there was little evidence on the ground of that effort. For months during the conflict, the capture of towns and cities was quickly followed by a familiar routine, in which rebel fighters, along with most anyone who showed up, converged on abandoned arsenals and emptied their stores. After the initial looting, many depots remained unguarded or tended only occasionally for months. Some depots appeared to have been bombed by NATO, but in many cases the air-strikes failed to destroy all of the weapons. In June, when rebel fighters reached an enormous depot in the mountains, they found many bunkers destroyed but also several full of weapons, including SA-7 components and antitank weapons. Several days later, the rebels said NATO planes had returned to bomb the depot again. More than two weeks later, there was evidence that more SA-7 missiles had been taken from the site, called El-Ga'a.
In some cases, the arms depots were well hidden. As the rebels rushed toward Tripoli in late August, they stormed the base of the notorious Khamis Brigade. The base had been partly bombed by NATO, but many of the weapons stores appeared to be undamaged. Down the street there was a warehouse full of arms, including SA-7s that were removed by the truckload, in a building that appeared to have been a cannery.
Of the heads of state closely associated with the underground arms trade, Col. Muammar el-Qaddafi has long been a veritable case study. His deep pockets of oil revenue, combined with his ambitions to be a regional power broker, spiced with his on-and-off role as supporter of nationalist movements elsewhere, has made him a prominent and persistent figure in an often shadowy game. Over the years, weapons have flowed into and out of Colonel Qaddafi's Libya, sometimes openly and sometimes via subterfuge. His government helped arm Idi Amin for war and repression in Uganda, and sent weapons as well to Palestinian, Irish and African fighters. A Kremlin client when convenient, the colonel entered arms deals with the Soviet rulers of Moscow and with the clique of former KGB officials who run Russia today. But the Kremlin is hardly alone in feeding the Libyan arms pipeline. Qaddafi's government bought widely, inhaling arms from Western nations, too, and from China, and from former Socialist satellites.
The eruption of fighting in recent months, and the looting of many government arsenals, has provided fresh peeks at Libyan accumulations and the perils they can pose. The New York Times and the At War blog looked last week at the potential threats from the SA-7 man-portable air-defense systems now loose in Libya. n the last three decades, Libya has been purchasing weapons from: Russia, France, Sweden, Belgium, Brazil, Greece, Italy, Malta, Germany, UK, Portugal, Spain, Slovakia, Slovenia, Bulgaria, Poland, Latvia, Czech R., China, and from US and Israel through third parties, thus allowing the US the luxury of condemning Libya as one of the world's most armed nations. In early April 2011, there were allegations that two former Palestinian Fatah movement members were instrumental in supplying Israeli-made weapons to Gaddafi. The Associated Press has reported that US government approved a $77 million sale of 50 armored troop carriers to Gadhafi, in a move to help defense contractors.
This is not a complete list, but it indicates that billions in oil revenue went to purchase weapons that are now waiting to be used in the ongoing civil war in which NATO has taken sides. There are no reliable figures on how much Gaddafi had been spending each year for arms purchases. From EU members alone, it is estimated that in 2009 and 2010, Libya purchased $500 million, a tiny amount compared with an average of $1 billion spent annually to purchase weapons from the Soviets in the 1970s. As his regime collapsed, Moammar Gadhafi's forces fired a Scud-B missile at the advancing rebels. This was same type of missile that Gadhafi agreed to eliminate as part of his renunciation of weapons of mass destruction. Obviously, that didn't happen. So, how did Gadhafi's Scud force outlast Gadhafi himself?
Libya Under Quadaffi
Oct. 21….(Royal African) Libya declared its independence from Italy as the United Kingdom of Libya on 24th December 1951, under the monarchy of King Idris. The discovery petroleum and of oil reserves in 1959 coupled with a relatively small population in the coastal region, transformed Libya's economy in the 1960s and generated the highest Human Development Index (HDI) in Africa. But a relatively high standard of living has concealed a regime of big-brother style repression and rigorously uneven distribution of wealth.
Tired of King Idris's monopoly of national wealth, Muammar Gaddafi and fellow officers staged a coup d'etat on 1st September 1969 and launched the Libyan Revolution. Gaddafi's 'Great Socialist People's Libyan Arab Jamahiriya' proclaimed the institution of governance through direct popular democracy, with Libyan's participating in local councils. However, it was not long before newspapers were dismantled or censored, all potential political opposition was removed, and the military greatly expanded.
In the 1970s and 80s Gaddafi employed much of the nation's oil income on arms purchases and the sponsoring of terrorist groups, such as the IRA and various armed Palestinian organizations. Money was pumped into military expeditions, as Gaddafi established a base in Northern Chad's Aozou Strip and engaged in the war against Tanzanian troops alongside Ugandan President Idi Amin.
The 1988 bombing of a Pan Am Flight 103 plane above the Scottish town of Lockerbie by Libyan agents brought about international sanctions, and Libya's economy suffered the loss of over $30 billion in revenue. It was not until 2003 that Gaddafi admitted Libyan responsibility for Lockerbie, offering compensation to families of victims and, crucially, agreed to halt development of weapons of mass destruction. UN sanctions were duly lifted in 2004-6 and foreign investment grew rapidly.
In February 2011, inspired by successful uprisings in Tunisia and Egypt, Libyans in the East of the country started to protest against the Gaddafi regime. Their grievances being numerous and long-ingrained, against the lack of freedom in the press, the zero tolerance policies towards opposition parties and dissidents, the perceived nepotism of Gaddafi leadership and uneven distribution of national revenue. Gaddafi's system of extensive surveillance, and execution or assassination of refugees critical of his regime throughout the 80s, and alleged human rights abuses in Abu Salim prison among other places earned him a discontented and highly volatile population.
The Anti-Gaddafi forces named themselves the National Transitional Council on 27th February 2011. The council being lead by Mustafa Muhammad Abd-al-Jalil, Gaddafi's former justice minister, and based in Benghazi. As of March 2011 the council controlled the Eastern half of the country, while Gaddafi's regime currently controls Tripoli and several other western cities. The use of force by Gaddafi's military against protesters has been widely condemned, sanctions have been imposed once again on Libya, and Gaddafi's assets have been frozen by the UN security council.
Moscow Welcomes Hizballah Delegation
Oct. 20….(DEBKA) Russia used Israel's negotiations with the Hamas for the release of Gilad Shalit to justify its continuing support for Syrian President Bashar Assad and opening the door to pro-Iranian and pro-Syrian terrorist groups. Wednesday, Oct. 19, Moscow welcomed a Lebanese Hizballah delegation, the first European capital to formally receive Iran's terrorist surrogate. Russian officials justified this action by arguing that since Israel decided it was acceptable to deal directly with Hamas, there was no reason why Moscow shouldn't set up direct links with Hizballah, especially when the Shiite group has ministers serving in the Lebanese government in Beirut. The Hizballah delegation, on a three-day visit to the Russian capital as the official guests of the Russian Lower House, is composed of three high-ranking officials, Mohamed Raad, director of Hizballah's Organization Department, Hassan Fadlallah, who runs the Information and Propaganda Department, and Secretary General Hassan Nasrallah's deputy, Nawar As-Sakhili. Debkafile's sources stress that for Hizballah, the official Russian communiqué announcing its visit, was tantamount to international recognition as a force with a say in the region, as well as boosting the prestige of its masters in Tehran. The Russians stressed that they would discuss with their Lebanese visitors "the situation in the Middle East including the recent events in Libya, Palestine, Syria and Yemen," a singular honor for a group banned as terrorists by the United States, Israel and most Western countries. In this way, our Moscow sources report, the Kremlin is demonstrating that it has its own take on the deal struck between Israel and the Palestinian Hamas and strongly suspects it is designed to set in motion a two-stage process:
1. The Israel prime minister wanted to show US President Barack Obama how far he was willing to go for the sake of an accommodation with the Palestinians, even to the extent of talking to Hamas.
2. By concluding the prisoner exchange deal with Hamas, Israel sought to draw the United States into dumping the Palestinian Authority chairman and his Fatah party which governs the West Bank in favor of ties with the fundamentalist Hamas. This would enable the transfer of Hamas' political bureau from Damascus to Cairo, thereby diluting or even severing its close bonds with Damascus and Tehran.
It is suspected in some Russian ruling circles that the Israeli prime minister may even have won support for his deal from certain factions in Washington for the dual purpose of pulling the rug from under Abbas and also undermining Assad. This Moscow is determined to prevent. The Russians are therefore using Hizballah and its close ties with Hamas as a vehicle for cautioning the Palestinian organization not to desert Damascus and Bashar Assad. Hamas maintains military command centers in Beirut which operate under the aegis and protection of Hizballah, whereas Hizballah maintains military advisers in the Gaza Strip. Debkafile's Russian sources would not be surprised to hear about a Hamas delegation or its leader Khaled Meshaal arriving without warning in Moscow on the heels of their Lebanese allies.
Moscow Welcomes Hizbullah
(Moscow invited Hizbullah for its first official visit to the Kremlin in what some say is a strategic move to bolster allies in Tehran)
Oct. 20….(Israel National News) A Hizbullah delegation was welcomed by officials in Moscow on Wednesday for the terror group's first official visit to the Kremlin. The three-man delegation, headed by Hizbollah MP Mohammad Raad, is scheduled to meet Russian officials for talks on developments in Lebanon and the region, a Hizbollah source told Lebanon's The Daily Star. The source said discussions will also touch on bilateral ties and issues of common interest. Russia has opposed Western intervention in Syria as the uprising there enters its seventh month, as has Hizbullah, which has close ties to the regime of Syrian president Bashar al-Assad in Damascus. Those ties have eroded Hizbullah's reputation as a 'popular resistance movement' eroded due to its backing, and suspected participation in Assad's brutal crackdown that has killed over 3,000 Syrian dissident to date. But analysts say Moscow is likely seeking to bolster the terror group, which is a key component of Tehran's axis of influence in the region running through Damascus to Beirut.
Moscow's backing of Iran in recent years has been widely seen as a cold war style strategic move aimed in what may be a resurgent strategic rivalry with the United States and other Western powers over economic interests. Hizbullah said the visit came in response to an invitation by Russia's Parliament. The As-Safir newspaper said the Hizbullah delegation will reiterate the terrorist group's role in "protecting Lebanon from Israel." Hizbullah is also expected to raise the issue of ongoing pressure exerted on it from the West, which it says 'undermines the resistance' with the aim of exerting power in the region and thereby controlling natural resources. Observers note, however, that Hizbullah has come under increasing fire from March 14 opposition leaders in Lebanon, who demand it disarm and disband its terror militias saying they use then to undermine the will of the Lebanese people. Criticism has also been leveled that Hizbullah's mode of 'resistance,' which includes pursuing territorial claims without Beirut's consent, has dragged Lebanon into devastating wars it wanted no part of.
UNSC may vote on Palestinian statehood in early November
Oct. 20….(Jerusalem Post) The Palestinian quest for UN membership is likely to come to a head on or around Nov. 11, when Security Council ambassadors plan a final meeting to decide their response, diplomats said on Wednesday. The date represents a delay in dealing with the Palestinian application, submitted by Palestinian Authority President Mahmoud Abbas on Sept. 23, amid hopes that indirect Israeli-Palestinian talks scheduled for next week could get a peace process off the ground. The Nov. 11 meeting could result in a vote by the divided council, diplomats said. The United States, which supports its ally Israel in strongly opposing the membership bid, is considered certain to veto it but the Palestinians may seek a vote anyway if they can show majority support in the council. Prime Minister Binyamin Netanyahu met with Colombian Foreign Minister Maria Angela Holguin on Wednesday, thanking her for Colombia's opposition to the Palestinian statehood bid. Membership is formally approved by the 193-nation General Assembly but that requires a Security Council recommendation. "The 11th of November will probably be the end of the Security Council consideration process, one way or the other," a senior council diplomat said following a meeting of envoys on Tuesday that agreed to a timetable. "If the Palestinians want a vote, there will be a vote." Such a Palestinian request would be channeled through Lebanon, the sole Arab state currently on the 15-nation council. Under UN rules for applications, council diplomats are currently discussing technical issues of whether Palestine is a state, is "peace-loving," and willing to fulfill the obligations of the UN charter, all requirements for membership. But members are expected ultimately to vote on political grounds. Diplomats said indications so far were that the Palestinians would push for a vote next month, but that could change if prospects improved for peace negotiations.
International mediators will meet separately with Israeli and Palestinian officials on Oct. 26 in Jerusalem to try to revive direct peace talks. "If they were to make progress, and there were to be further meetings over the following few days, then obviously that could affect the Security Council timetable," said the senior diplomat, who asked not to be identified. Many analysts, however, think a breakthrough is unlikely, with the Palestinians continuing to reject direct talks unless Israel halts settlement activities and Israel refusing to do so. While the Palestinian application looks certain to fail in the council, Abbas has made a major effort to attract nine votes in support, which would oblige the United States to use its veto and be seen by Palestinians as a moral victory. To pass, council resolutions need nine votes and no vetoes. If the application fails in the council, the Palestinians could ask the General Assembly to upgrade their status to "nonmember state" observer, which would not require council endorsement. That would imply UN recognition of statehood and could help the Palestinians join international bodies.
Schlafly: Obama Moving Country Headlong to Socialism
Oct. 19….(Newsmax) America is in the middle of the most dangerous presidency the country has ever seen, conservative icon Phyllis Schlafly warns in a wide-ranging, exclusive Newsmax.TV interview to mark the first 1,000 days of Barack Obama administration. "He is taking us into socialism just as rapidly as he possibly can," she said. "He campaigned on the idea of fundamentally transforming the United States and he is doing that. "He's doing things that are unconstitutional; he's trying to rule by executive order; he's trashed some of our favorite symbols; he calls himself a citizen of the world instead of talking about patriotism and America. "I hope that we can survive the next year," added Schlafly, the 87-year-old mother-of-six who founded the Eagle Forum and has been a thorn in the side of the radical feminist movement for half a century. Schlafly said she is convinced that Obama is still acting on what he learned when he attended the Socialist Scholars Conference while a student at New York's Columbia University in 1983. "He really bought into Frances Fox Piven's strategy which is to load so many people on welfare that he breaks the capitalist system. "That is what he's been doing," she said. "That is what he told Joe the Plumber he wanted to do, redistribute the wealth."
Schlafly said all polls show that the American public thinks the country is moving in the wrong direction and Washington has to address that problem. "The average American detects that something is wrong, it's just going in the wrong way and we don't want more government dependency. "One of the very serious problems today is that nearly half of our people are dependent, in whole or in part, on the government for their living expenses. They don't pay any income taxes and so they really don't have a stake in the opportunity society. They are looking for dependency on government and it's most unfortunate. "That's not the way America became a great country," she pointed out.
"The solution is a drastic cut in spending," she said, adding that she would end all federal spending on education immediately. "They've spent about $2 trillion on the public schools and the goals were to raise the test scores and to reduce the gap between high income and low income and it's been a total failure. After all that money they haven't accomplished anything. "They should abolish the whole thing, and then college loans. To try to tell every kid that they should go to college is so wrong. College is not for everybody. We have equality of opportunity but we certainly do not have equality of talent. Some people are able to play sports or sing beautifully or get high grades in math or whatever, but we are all not equal in things like that."
Schlafly said the emphasis placed on college education is partly responsible for shipping jobs overseas and she attacked Obama's "jobs czar" General Electric chairman Jeffrey Immelt for closing the country's last incandescent light bulb factory in Winchester, Va. last year with the loss of 200 jobs. "It's most unfortunate that millions of our good blue-collar jobs have been shipped over to China," she said. "Starting jobs in China is not helping America at all." Schlafly said what is needed in America right now is "to restore real jobs in private industry" but she said nothing that Obama has done during his first 1,000 days has achieved that. "When he talks about jobs, he's talking about more government jobs and that doesn't get us anywhere. His stimulus plan was pretty much a failure.
The feminists had their tantrum and he gave most the jobs to women, a lot of which were in the educational system or in government and they weren't shovel-ready jobs by any means." And she said Rep. Nancy Pelosi's comment voting against government funding for abortion, would be a vote "to say that women can die on the floor," proved the Democrats "are completely in the clutches of the radical feminists."
Schlafly dismissed the Occupy Wall Street demonstrations as the wrong way for people to get what they want. "That's not the way if you believe in the democratic system. "They are making a lot of press, they're having a lot of good food shipped in, they're eating well, according to the latest reports, but we don't solve our problems by street demonstrations. That's common in other countries and I'm afraid the big television coverage of demonstrations in other lands may have given some people the idea that that's the way to go here. "What we must do is to nominate and elect people who will do what the people want, which is drastically cut federal spending and live within our means." Schlafly said the only way to halt the march towards socialism is to elect a Republican president in November next year. But she said she does not have a favorite candidate. "I'm waiting to see who's got the best plan. We have got a lot of talent in the Republican Party and, in any event, I am in favor of whoever is running against Barack Obama." She said she both hopes and believes that Obama will be a one-term president. "He's got a very low approval rating and the American people know that he is taking us down a path we don't want to go. "So I hope that our Republican candidates get their act together and show the alternative and win in 2012."
Israel Releases 1000 Terrorists to Gain One Soldier
Oct. 19….(Jerusalem Post) Israel freed 477 Palestinian terrorists, including multiple murderers serving several life sentences, to obtain the release of Gilad Shalit, held by Hamas for five years and four months after he was kidnapped in a cross-border raid from Gaza. Shalit was abducted in June 2006 by militants who tunnelled into Israel from the Gaza Strip and surprised his tank crew, killing two of his comrades. He was whisked back into Gaza and held virtually incommunicado until his release. A poll conducted by Maagar Mochot the day before the prisoner swap took place showed 88% of the Israelis sampled approving of the prime minister's decision to hand over 1,070 terrorists to recover Gilad Shallit, while 63 percent considered the price to high. Asked if the deal would lead to more abductions of Israelis by Palestinian terrorists, 82 percent though it would. Almost 69 percent approved of direct dialogue with Hamas, while 70 percent favored the death sentence for exceptionally brutal multiple murders. Certain names of terrorists were marked as posing danger not only to Israel but also to US interests in the Middle East, including the Israel-Palestinian peace track - if they were set loose.
Palestinians/Enough Talk, Ready to Fight
Oct. 18….(Israel Today) A Palestinian public opinion poll conducted over the weekend revealed that Israel's ostensible peace partners have had enough of talking, and may be gearing up for more violence. The Center for Opinion Polls and Survey Studies at An-Najah National University in Nablus asked local Palestinians if they believe a lasting peace deal can be negotiated between their leaders and Israel. Nearly 73 percent answered 'No.' But that didn't mean the Palestinians had given up hope on their nationalistic goals. Over 64 percent said negotiations are not the only way to achieve a Palestinian state, and 57 percent said they expect the eruption of a "third intifada" or terrorist uprising against Israel. Though such an uprising will not have universal backing, at least not at first. Only 28 percent of respondents in the so-called "West Bank" said they will support a fresh intifada, while a 50 percent majority said the said in Gaza. Meanwhile, a majority of all Palestinians said the Western-brokered peace process with Israel is no longer of interest to them, a fact bolstered by last month's unilateral attempt by Palestinian leader Mahmoud Abbas to gain recognition of Palestinian independence at the UN. Nearly 77 percent of Palestinians were pleased with Abbas' stunt, though most (67.1%) expect the Americans to use their Security Council veto to squash the motion. Most Palestinians (69.6%) believe the reason America will veto their unilateral statehood bid is because Washington no longer cares about peace in the region. Nor are they too keen on the European Union, with 57.8 percent of respondents saying the Europeans are no more reliable at peace brokers than the US. The results of the poll further demonstrate how the terms of the Palestinians previous agreements with Israel were never instilled in the general public. According to the so-called "Oslo Accords," the Palestinians were supposed to renounce all other means of achieving a Palestinian state outside of direct bilateral negotiations.
Russia Demands Israel Quit Building in East Jerusalem
Oct. 18….(Novosti) Israel should abandon housing construction plans in East Jerusalem and end settlement activities in the occupied territories, the Russian Foreign Ministry said in a statement on Monday. Israel plans to build more than 2,600 apartments in the Jewish neighborhood of Givat Hamatos in East Jerusalem and later increase the number to 4,200. "We call on the Israeli government to abandon plans to continue settlement activity in the occupied territories and abstain from steps which unilaterally define the status of Jerusalem and the borders of the future Jewish state, which should be determined in negotiations," the ministry said in a statement. The Russian ministry also said such moves run contrary to Israel's obligations under the internationally agreed road map, under which Israel is obliged to freeze all settlement construction activity and remove unauthorized outposts built since 2001 from Palestinian territories. "We are especially concerned by the fact that such moves can have an extremely negative impact on the efforts of the international community, including the Middle East Quartet, to re-launch Israeli-Palestinian peace talks," the statement reads. Israeli-Palestinian direct peace talks came to a halt in December 2008, when Israel launched an attack on the Gaza Strip in a bid to put an end to the firing of homemade rockets at southern Israel by Palestinian militants based in the enclave. The negotiations resumed in the US on September 2, but ended shortly after. The Palestinians have cited ongoing Israeli settlement construction in the West Bank and East Jerusalem, both occupied by Israel since the 1967 Arab-Israeli War, as the main obstacle to the peace process.
Turkey and Iran Vie for Influence in Greater Middle East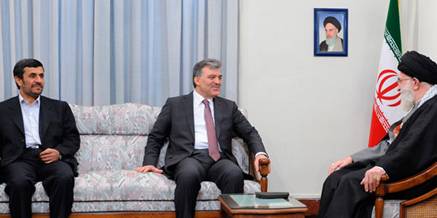 Oct. 17….(In The Days) Though official comments praise "brotherly ties" between Turkey and Iran with some sore remarks here and there, the two neighbors are competing with each other to gain influence in the region from Azerbaijan to Iraq. It appears Turkey and Iran both have found themselves positioned in different camps with the latest developments in the Middle East. A hidden power struggle is what possibly will follow. It was less than a year ago when Turkish President Abdullah Gül visited Tehran, in February, when the leaders of the two countries expressed hopes for strengthening relations. But then the Arab Spring came. Turkey's choice of acting in line with the United States, and notably Turkey's attitude towards Syria, has caused Iran to turn sour. To top it all off, when Turkey agreed to the construction of a NATO radar at Kürecik in Malatya province, Tehran started to express its disappointment at the highest level. The striking thing about the statements coming from the Iranian side was the tone. The statements carried not only simple criticism but also a threatening tone towards Turkey.
According to Nüzhet Kandemir, a former Turkish ambassador and a current member of the board at Bahçeşehir University's international relations department, there is a hidden power struggle between Iran and Turkey, and this has intensified as Turkey has started to act as a leader in the region. In a wave of criticism from Iran, President Mahmoud Ahmadinejad, referring to the NATO early warning system, criticized Turkey in a television address, saying: "We told our Turkish friends that it was not a correct decision they made and that it's to their detriment. Such shields can't prevent the collapse of the Zionist regime." Özcan Alas, chairman of the Iran and Middle Eastern Trade Development Association, based in İstanbul and founded in 2009, argues that the Iranian people feel resentment towards Turkey because of its attitude towards Syria, which has been a close ally of Iran, and accuse Turkey of acting in favor of Israel.
However, the relationship between Turkey and Iran is not all doom and gloom. Two statements came last week from the Turkish and Iranian sides, confirming good relations, with Turkish Foreign Minister Ahmet Davutoğlu announcing that Turkey and Iran have had extensive cooperation in combating terrorism, while the spokesman for the Foreign Ministry of Iran expressed the willingness by both sides to increase the trade volume between the two countries from today's $10 billion to the level of $30 billion. Although Turkey and Iran have a lot of grounds on which to cooperate, the number of Iranians coming to Turkey last year was 2 million, the two countries struggling for leadership in the region have also opposing interests. Iran is a major actor in Iraq, where it supports Shiite groups, whereas Turkey tends to support the secular movement while still maintaining good relations with Shiite elements. Iran has strategic ties with Syria, through which it supports Hezbollah in Lebanon. As recent statements from top Iranian officials show, Turkish Prime Minister Recep Tayyip Erdoğan's suggestion that Egyptians should adopt a secular form of government was not well received in Iran and was countered by Yahya Safavi, who said, "Turkey's secular system is not a good model." So it's also a struggle revolving around the political systems of the two countries. Kandemir is of the opinion that Iran is more in control of Iraq than the US. Kandemir, who doesn't think the NATO early warning system to be installed in Malatya would make any great difference for Iran given that Turkey is already hosting other NATO facilities having a similar capacity, does not expect any heated conflict between the two countries. As to the Turkic republics, Kandemir believes that Turkey is behind Iran and that Iran would maintain its position in the coming years as well.
Retired intelligence officer and strategist Mahir Kaynak's scenario, on the other hand, is based more on heated conflict. Kaynak, who claims that an armed conflict over Iraq should be expected in the near future, says the function of the dissident movement in Syria is to cut down the influence of Iran on Syria. In this scenario, in the armed conflict the parties will be divided on a Shiite-Sunni axis. But the main aim of the US and Russia, the scenario's owners according to Kaynak, will be to restrict the influence of the European Union and China in this region. And Turkey is expected to enter northern Iraq. The reason behind Turkey's entry will not be the terrorist activities of the outlawed Kurdistan Workers' Party (PKK) but to contain the Iranian influence there. Kaynak adds that acting in cooperation with the US, Turkey's regional policies will become dissimilar to those of Iran. Contrary to Kandemir, Kaynak foresees rather tense relations between Iran and Turkey in the coming years.
Hüsnü Mahalli, a Syrian journalist based in Turkey, thinks otherwise. He believes that the so-called conflict between Iran and Turkey exists only at a psychological level. The efforts to display an image of Iran and Turkey as if they were rivals, he claims, are of Western origin and the two countries do not need to become adversaries. "Why has the US decided to install the missile shield system in Malatya and not in Iraq or Saudi Arabia?" he asks. His mind is clear about the answer: The US wants to force Turkey to side with it. What Kaynak foresees in his scenario is what Mahalli dreads most for the region: sectarian warfare. "The West has always wanted to ignite a sectarian war in the region, and the two probable actors in this scenario would be Turkey and Iran because these are big countries," he explains.
In the near future we might come face-to-face with situations in which Turkey and Iran are positioned against each other. Should Turkey decide to enter Iraqi territory or intervene in Syria, Iran might express its discontent by giving its support to the PKK. In the case of Syria Iran would certainly not make do with a mild reaction because if Syria falls then Hizbullah, which is Iran's staunch ally against Israel, falls and then as Mahalli puts it, "Iran knows that its turn has come." That's why maybe the deputy head of Iran's Armed Forces Joint Chiefs of Staff Brig. Gen. Massoud Jazayeri was quoted on Iran's state-run Press TV on Monday as saying, "Turkey should rethink its long-term strategic interests and draw lessons from the 'bitter historical experiences' of other countries." Warning of "adverse consequences" Jazayeri also urged Turkey to reconsider its decision to host the NATO radar. When looking at the picture in the region, in the final analysis, Turkey seems to have concluded that its best interests lie with acting together with the US, which means that Turkey's relations with its eastern neighbor will follow a somewhat sour course in the near future. But Turkey and Iran, who have not fought a war since the Qasr-ı Shirin Treaty of 1639, in spite of their own ambitions, always find a balance in managing their ties.
Arab League to Debate Suspending Syria
(Saudi Arabia and its Gulf allies want Syria suspended from the Arab League as unrest in the country spirals towards civil war)
Oct. 17….(Arutz) Arab foreign ministers are slated to discuss suspending Syria's membership in the Arab League at an emergency meeting due to be held in Cairo on Sunday, Egypt's semi-official newspaper Al Ahram reported. The report, quoting diplomatic sources, said ministers may also consider the possibility of recognizing the newly-formed opposition Syrian National Council. Sunday's meeting is to be held at the request of the six-member Gulf Cooperation Council (GCC) to discuss the situation in Syria, which they described as "deteriorating badly." "However, the new Arab stance will not reach the point of backing an international intervention in Syria," the paper quoted the unidentified sources as saying.
But some regional analysts say Saudi Arabia and its GCC allies may be willing to arm and fund the nascent insurgency being mounted by Syrian armed forces defectors even if they do not openly support outside intervention. The GCC, comprised of the six Sunni Persian Gulf monarchies, has taken a hard-line on events in Iran-allied Syria as a means of chipping away at Tehran's regional influence. Saudi Arabia and its GCC allies accuse Iran of fomenting unrest in Shiite communities in their countries, and the region as a means of destabilizing them.
Previously, officials in Iraq's reconstruction government accused Saudi Arabia of underwriting the Sunni terror insurgency in their country as a means of countering the Iran-backed Shiite insurgency in the country. Observers say, in the wake of the US indicting two Iranians connected to Tehran's elite Quds Force for plotting to assassinate the Saudi envoy in Washington, motivation in Riyahd to smash Iran's axis of power in the region - which is heavily vested in the regime of Syrian President Bashar al-Assad and the Hizbullah terror militias in Lebanon, will almost certainly grow stronger.
The Arab League meeting comes as UN High Commissioner for Human Rights Navanethem "Navi" Pillay warned unrest in Syria might erupt into civil war as a result of Assad's "ruthless repression." At least eight people were killed yesterday as anti-government demonstrations were held across Syria to honor army personnel who have defected to join pro-democracy protests, according to opposition activists. More than 3,000 civilians, including at least 187 children, have been killed in Syria since pro-democracy protests erupted in mid-March, the United Nations said on Friday.
Gay Group Vandalizes Illinois Church
Oct. 17….(WND) In the early morning hours, on the eve of a banquet designed to expose the homosexual activist agenda, security cameras on the campus of the Christian Liberty Academy, a school run by the Church of Christian Liberty in Arlington Heights, Ill., captured what may be a prominent example of an anti-Christian "hate crime." An unknown vandal or vandals threw chunks of concrete bricks through the school's entryway with a message protesting the banquet, which was planned by Americans for Truth about Homosexuality, or AFTAH, to honor pro-family activist and author of "The Pink Swastika," Dr. Scott Lively. Upon the concrete bricks were written the words "Shut down Lively," and the vandals included a note threatening more violence if the church and school didn't stop hosting such "homophobic" guests. "This is just a sample of what we will do if you don't shut down Scott Lively and AFTAH," the note reads. "F--- Scott Lively. Quit the homophobic s---!"
Hours later, a "press release" was sent by email to AFTAH President Peter LaBarbera, Church of Christian Liberty Pastor Calvin Lindstrom and the Chicago Independent Media Center claiming responsibility for the attack. "In the early morning hours of October 15th, we put two chunks of concrete through the glass windows and doors of the Christian Liberty Academy," claims the author of the release, identifying himself only by a vulgar nickname. "We did this because at 6pm today they will be hosting an event organized by the homophobic hate group Americans For Truth About Homosexuality, that will be presenting an award to Scott Lively." The statement continues, "These chunks of concrete were thrown through these windows and doors for two reasons: to show that there is a consequence for hatred and homophobia in our community and to directly cause this event to be shut down. If this event is not shut down, and the homophobic day training do not end, the Christian Liberty Academy will continue to be under constant attack."
"In my 20 plus years of pro-family activism," Lively told WND, "I have never seen such a brazen act of 'gay' militancy." "We see the homosexual agenda is becoming so arrogant in its growing power," LaBarbera added, "but we've never seen this before, what we would call 'homofascism' being raised to the level of domestic terrorism." The Christian Liberty Academy has hosted several events for Americans For Truth over the years, including last year's three-day Truth Academy, which drew a large protest led by the Chicago-based Gay Liberation Network, or GLN. The GLN has also announced that it will protest the AFTAH banquet.
When asked how the church would respond to the attack, Lindstrom answered, "In prayer. The Lord is our ultimate defender, and we trust the Lord will give us safety and will bring whoever did this to justice." "A lot of Chistians cower in fear before the power and influence of the homosexual lobby," LaBarbera added. "It's not helpful. If you demonstrate you can be intimidated, you reward the bully. The 'gay' bully has been rewarded enough times, so many times they think they can get their way. We hope more churches will refuse to be bullied and will stand up to tell the truth about the homosexual agenda."
Dr. Lively is the founder and president of California-based Abiding Truth Ministries and its subsidiary, Defend the Family International. Lively developed the ministry to respond to the deterioration of family life and the decline of Christian influence in America and many other countries.
WEEK OF OCTOBER 9 THROUGH OCTOBER 15
Obama's Christian Problem
(Obama White House overlooks Christian persecution while pandering to Islam)
Oct. 14….(Washington Times) The Obama administration has been obsessed with Muslim outreach and recently tried to mend fences with the Jewish community. Given the state of the world, however, the White House ought to be focused on helping the world's oppressed Christians. The United States has been wary to intervene in matters affecting Christians in the Middle East for fear of validating terrorist narratives that the West is engaged in a new crusade against Islam. The result of this passive policy has been to allow Islamic extremists increasingly to dominate the debate, often with tragic consequences. On Sunday in Egypt, a clash between Coptic Christians and the military left at least 25 dead. Copts are the largest religious minority in Egypt, representing about 10 percent of the population. Attacks on the Copts have increased since former President Hosni Mubarak's ouster. That the military was involved in this incident was a signal that matters are taking a turn for the worse. The White House issued a lukewarm condemnation noting that President Obama is "deeply concerned about the violence in Egypt" and that "as the Egyptian people shape their future, the United States continues to believe that the rights of minorities - including Copts - must be respected." In other words, the US government will do nothing about the massacre of Christians.
Smaller Christian communities face even greater challenges. The world awaits definitive news about Iranian pastor Yousef Nadarkhani, who faced execution for apostasy after converting to Christianity from Islam. Sayed Mussa, an Afghan Red Cross worker who converted to Christianity, faced the death penalty. He was freed earlier this year after his case gained international attention but went immediately into hiding due to the public climate of hostility. According to the State Department's International Religious Freedom Report, the last Christian church in Afghanistan has been destroyed. The 500 to 8,000 Afghan Christians who wish to worship publicly can attend services at military bases, Provincial Reconstruction Team facilities and the Italian embassy, but there are obvious risks involved. State's report says, "the U.S. government regularly discusses religious freedom with [Afghan] government officials as part of its overall policy to promote human rights." Considering all the aid America has given Afghanistan over the last decade, the State Department should do more than just talk.
Domestically, Mr. Obama faces a skeptical Christian majority going into the 2012 election. According to Gallup, the president is lauded by the Islamic-American community, with 80 percent approval, but Muslims are a fraction of a percent of the population and an insignificant electoral base. Among major Christian groups, Catholics gave 50 percent approval, Protestants (representing over half the US population) 37 percent, and Mormons 25 percent. Those who are more devout give Obama lower marks than those for whom religion is unimportant. According to the most recent Gallup data, Obama has 43 percent approval of those who attend church "seldom or never," which is 2 points above that survey's national average. Among those who attend church weekly, his approval rate is 34 percent, seven points below average. It's no mystery why America's Christian faithful have little faith in Mr. Obama.
Winning in Warfare
Oct. 14….(Charles Stanley) After September 11, 2001, our country declared war against terrorism. Initially, this effort monopolized headlines and kept many of us glued to the television. Ten years later, there is far less publicity about the struggle, but we are far from experiencing international peace.
These are trying, uncertain times, and not just on a global scale. As believers, we face warfare constantly, wrestling with sin and its consequences. Continually at a crossroads, we are faced with a decision: Will we follow Jesus or let the pressures of life turn our loyalty elsewhere? In any war, whether renewed tensions in the Middle East or our own spiritual battle, there are several actions essential for victory. Today, we will focus on the first tactic: knowing our Enemy and the way he operates. In his desire to draw us away from the Lord, the Devil attempts to bring doubt, sin, guilt, and destruction to our lives. He deceives, divides, and destroys.
Christians must stay alert with regard to the Enemy. When we are reading the Word, praying, and spending time with other believers, good protection is in place. By memorizing Scripture, we have truth in our hearts to shield us against deception. In addition, we can tell Satan to flee in the name of Christ (Mark 16:17; Luke 10:17). Are you in a vulnerable position where the Adversary has easy access? Make sure your life is firm upon the solid rock of Jesus Christ. Unless you purposefully stay close to Him, the Devil will draw you away from God. Be like a branch that stays attached to the vine so that victory is yours.
Explaining the Iran-Saudi Rivalry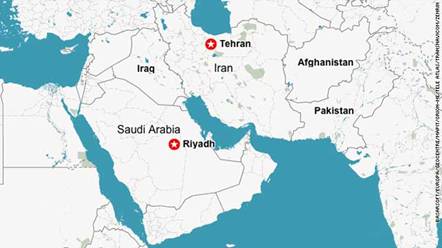 Oct. 13….(CNN/Mohsen M. Milani) Yesterday afternoon, the US government charged Mansoor Arbabsiar, a dual US–Iranian citizen, and Gholam Shakuri, an alleged member of the Iranian Quds Force (a division of the Revolutionary Guards), with conspiracy to assassinate the Saudi Arabian ambassador to the United States, Adel Al-Jubeir, and to attack both the Saudi and Israeli embassies in Washington, DC. Although the nature of Iranian government involvement remains to be seen, the indictment is just the latest story in the intricate cold war now developing between Iran and Saudi Arabia. The two countries, at odds since the 1979 revolution in Iran and ever more so in the wake of the Arab Spring, are competing for dominance in global energy markets and nuclear technology and for political influence in the Persian Gulf and the Levant. Their conflict, with its sectarian overtones, has the potential to weaken pro-democracy forces in the Middle East and North Africa, empower Islamists, and drag the United States into military interventions. To avoid all this, the United States will need strategic imagination to devise ways to mitigate and manage the rivalry between Riyadh and Tehran.
Iran and Saudi Arabia are neither natural allies nor natural enemies but natural rivals who have long competed as major oil producers and self-proclaimed defenders of Shia and Sunni Islam, respectively. Until the Iranian revolution in 1979, their rivalry was managed and controlled by the United States, with whom they were both strategic allies. But after the Shah was overthrown, Saudi Arabia's leadership became frightened by the Ayatollah Khomenei's denunciation of the Saudi monarchy as antithetical to Islam and his ambition to export to the revolution to the Arab world. Saudi Arabia remained an ally of the United States; Iran became an implacable foe. Thereafter, the rivalry between Iran and Saudi Arabia became defined by the new US strategy, ally with Saudi Arabia to offset Iran. As a result, Iran sees Saudi Arabia as a wealthy, ambitious proxy of the United States and Saudi Arabia views Iran as a major source of instability in the region, believing that it seeks to establish a so-called Shia Crescent to dominate Arab Sunnis. The rivalry has shaped both countries' policies as they have attempted to contain and combat each other's influence. They have accused each other of blatant interference in their internal affairs, including indirect support for acts of terrorism against each other.
Not a Single Christian Church Left in Afghanistan
Oct. 13….(CNS) There is not a single, public Christian church left in Afghanistan, according to the US State Department. This reflects the state of religious freedom in that country ten years after the United States first invaded it and overthrew its Islamist Taliban regime.
In the intervening decade, US taxpayers have spent $440 billion to support Afghanistan's new government and more than 1,700 US military personnel have died serving in that country. The last public Christian church in Afghanistan was razed in March 2010, according to the State Department's latest International Religious Freedom Report. The report, which was released last month and covers the period of July 1, 2010 through December 31, 2010, also states that "there were no Christian schools in the country." "There is no longer a public Christian church; the courts have not upheld the church's claim to its 99-year lease, and the landowner destroyed the building in March [2010]," reads the State Department report on religious freedom. "Private chapels and churches for the international community of various faiths are located on several military bases, PRTs [Provincial Reconstruction Teams], and at the Italian embassy. Some citizens who converted to Christianity as refugees have returned."
In recent times, freedom of religion has declined in Afghanistan, according to the State Department. "The government's level of respect for religious freedom in law and in practice declined during the reporting period, particularly for Christian groups and individuals," reads the State Department report. "Negative societal opinions and suspicion of Christian activities led to targeting of Christian groups and individuals, including Muslim converts to Christianity," said the report. "The lack of government responsiveness and protection for these groups and individuals contributed to the deterioration of religious freedom." Most Christians in the country refuse to "state their beliefs or gather openly to worship," said the State Department.
More than 1,700 US military personnel have died serving in the decade-old Afghanistan war, according to CNSNews.com's database of all US casualties in Afghanistan. A September audit released jointly by the Special Inspector General for Afghanistan Reconstruction and the State Department's Office of Inspector General, found that the US government will spend at least $1.7 billion to support the civilian effort from 2009-2011. According to that report, the $1.7 billion excludes additional security costs, which the report says the State Department priced at about $491 million. A March 2011 report by the Congressional Research Service showed that overall the United States has spent more than $440 billion in the Afghanistan war. Christian aid from the international community has also gone to aid the Afghan government.
Nevertheless, according to the State Department, the lack of non-Muslim religious centers in Afghanistan can be blamed in part on a "strapped government budget," which is primarily fueled by the US aid. "There were no explicit restrictions for religious minority groups to establish places of worship and training of clergy to serve their communities," says the report, "however, very few public places of worship exist for minorities due to a strapped government budget." The report acknowledged that Afghanistan's post-Taliban constitution, which was ratified with the help of US mediation in 2004, can be contradictory when it comes to the free exercise of religion.
While the new constitution states that Islam is the "religion of the state" and that "no law can be contrary to the beliefs and provisions of the sacred religion of Islam," it also proclaims that "followers of other religions are free to exercise their faith and perform their religious rites within the limits of the provisions of the law." However, "the right to change one's religion was not respected either in law or in practice," according to the State Department. "Muslims who converted away from Islam risked losing their marriages, rejection from their families and villages, and loss of jobs," according to the report. "Legal aid for imprisoned converts away from Islam remains difficult due to the personal objection of Afghan lawyers to defend apostates." The report says that "conversion from Islam is considered apostasy and is punishable by death under some interpretations of Islamic rule in the country." According to the State Department report, the United States continues to promote religious freedom in Afghanistan, even though the country no longer has even one Christian church.
Homosexuality Gaining Acceptance in US
Oct. 13….(In The Days) Younger generations are leading the way toward greater tolerance and social acceptance of gays and lesbians in the United States, according to new research. While the nation remains deeply divided on gay marriage, the vast majority of Americans support basic civil liberties and freedom of expression for homosexual people. This wasn't always the case. In 1973, 70 percent of Americans felt homosexuality was "always wrong," the report revealed. By 2010, the percentage of those who felt that homosexuality was "always wrong" had dropped to 44 percent. The findings show a clear "trend toward greater tolerance regarding homosexuality," said Tom W. Smith, director of the General Social Survey at NORC and author of the NORC report, in news release last week. The researchers found a dramatic increase in support for same-sex marriage over the last 20 years, jumping from an 11 percent approval rate in 1988 to 46 percent in 2010. Meanwhile, 40 percent remain opposed. "There is a large generation gap on the issue [of same-sex marriage]," noted Smith. While 64 percent of those under age 30 support gay marriage, just 27 percent of those aged 70 or older feel the same.
The findings, based on a national survey of more than 2,000 people, also showed more general acceptance of homosexuality among younger people. In 2010, only 26 percent those under age 30 said they believed same-sex behavior is "always wrong." However, 63 percent of those 70 and older held that belief. Public attitudes on the issue are highly polarized, the researchers found. Although 44 percent of those surveyed felt that sex between two adults of the same sex is "always wrong," 41 percent thought such behavior was "not wrong at all." Only 11 percent of the people surveyed fell somewhere in the middle. Although the nation remains divided on feelings towards homosexuality, a significant increase occurred in support for civil liberties for gays and lesbians over the past two decades. Support for a gay person's right to speak publicly jumped to 86 percent in 2010, up from 62 percent in 1972. Meanwhile, support for homosexuals teaching at colleges or universities rose to 84 percent in 2010, up from 48 percent in 1973. The researchers also found more people approved of library books that cast a favorable light on homosexuality. Support for these books rose from 54 percent in 1973 to 78 percent in 2010.
China Breaks Ranks With Assad
(China, a staunch ally of Damascus, has called on Syrian president Bashar al-Assad to honor his pledges for political reform)
Oct. 13….(Arutz) China on Tuesday urged embattled Syrian President Bashar al-Assad to meet the "reasonable" demands of opposition protesters, AFP reported. A staunch ally of Assad's regime throughout the six-month uprising, Beijing - like Moscow - has thus far used its Security Council veto to protect Syria from Western moves against Damascus at the United Nations. But Beijing's statement urging Bashar to "respond to the Syrian people's reasonable expectations" on Tuesday has been taken as a nod to opposition protesters in the country who have weathered a bloody six-month regime crackdown. Observers also say the statement is a clear message to Damascus that Beijing is distancing itself from the Syrian narrative, which maintains the popular uprising in the country is the work of foreign terrorists. "China is highly concerned about the situation in Syria, is against the use of violence, and we hope not to see any more bloodshed and casualties," the Guardian quoted Chinese foreign ministry spokesman, Liu Weimin, as saying. "The Syrian government should move faster to honor its reform pledges and quickly initiate and push forward the inclusive political process with the broad participation of all parties."
The Chinese move comes several days after Russia also publicly shifted its position, offering strident criticism of the regime and demanding that Assad either reform or quit. Moscow had previously banked on Assad weathering the political storm in his country in hopes of maintaining its lucrative strategic alliance with Damascus, which dates back to the cold war. The six-month revolt in Syria has crippled the nation's economy, and led the regime to suspend oil production under an increasing array of sanctions from both Western and Arab nations. Assad's crackdown has resulted in nearly 3,000 deaths to date. The 46-year-old Assad has repeatedly demonstrated he plans to continue his autocratic rule. Assad pledged to make reforms over the weekend, but he has made such promises before and they have always proved hollow. Syrian security forces continue to besiege the focal protest city of Homs, where clashes between dissidents and security forces have been sporadically erupting since protests first erupted. At least seven were killed in Homs, and some 20 wounded, on Tuesday evening.
US Funding for Palestinians Put on Hold
Oct. 13….(WND) To the consternation of both the Obama administration and Israel, congressional committee leaders in the US House of Representatives have frozen some $200 million in aid that had been intended for the Palestinians in response to their bid for full recognition of Palestine as a state in the United Nations. The Palestinians already are embroiled in a financial crisis and Saudi Arabia has announced its intention to make up the loss, which would have affected security and humanitarian assistance to the Palestinians. According to sources, Saudi Finance Minister Ibrahim Alassaf has informed PA Prime Minister Aalam Fayyad that the Saudi government would transfer the $200 million in funds. The International Monetary Fund and the World Bank already had determined that the financial crisis in effect would endanger Palestine's state-building program altogether.
"This money goes to establishing and strengthening the institutions of a future Palestinian state, building a more democratic and stable and secure region," said State Department spokeswoman Victoria Nuland. "We think it is money that is not only in the interest of the Palestinians, it's in US interests and it's also in Israeli interests." The initiative to cut off funding for the Palestinian Authority comes from two committees in the Republican-controlled House. One is an appropriations subcommittee and the other is the Committee on Foreign Affairs, chaired by Ileana Ros-Lehtinen. She is to hold a hearing this week to overhaul the US contribution to the UN, including the withholding of US funds "from any UN agency or program that upgrades the status" of Palestinians. While voicing opposition to a cutoff of funding to the PA, the administration threatened a veto before the United Nations Security Council when Palestinian Authority Mahmoud Abbas presented the formal bid for upgrading Palestinian state status before the 66th United Nations General Assembly last month. At the time, a number of US congressmen threatened congressional action if Abbas went ahead with asking the UNGA to approve Palestine's full statehood representation bid. Abbas went ahead anyway and formally submitted the application to UN Secretary-General Ban Ki-moon. In response, the two congressional panels placed a hold on funds totaling some $192 million in humanitarian assistance that had not yet been disbursed for this year and also targeted another $150 million in security assistance. In all, the Palestinians receive some $500 million a year from the US through US Agency for International Development, or USAID, and from various grants such as from the World Bank.
Iran Terror Plot to Assassinate Saudi Ambassador in US Foiled by FBI
Oct. 12….(Christian Post) A major terror plot to assassinate the Saudi Arabian ambassador to the United States has been foiled by the FBI and DEA. Attorney General Eric Holder announced Tuesday a foiled plot by "factions of the Iranian government" to assassinate the Saudi ambassador to the United States. "The United States is committed to hold Iran accountable for its actions," Holder told reporters during an afternoon news conference. Ambassador Adel Al-Jubeir has been serving as ambassador since 2007, and was targeted in a bomb attack planned by Iranian terrorists. The plot also involved bomb attacks on the Saudi and Israeli embassies in Washington, DC. Two men, identified as Manssor Arbabsiar and Gholam Shakuri have been charged with planning to assassinate the ambassador and to attack the embassies, according to court documents filed by the Justice Department. Both men are originally from Iran. Sources say that one of the suspects reportedly contacted an undercover DEA informant and asked for assistance from the Zetas drug cartel in Mexico to assassinate the ambassador.
According to ABC News, Arbabsiar made the contact, claiming he was being "directed by high-ranking members of the Iranian government," including a cousin who was "a member of the Iranian army but did not wear a uniform." Meetings and phone calls between the informant and Arbabsiar were recorded by the DEA and FBI, according to ABC news, which ultimately led to the foiling of the plot. The DEA informant was given $50,000 as down-payment of a $1.5 million assassination fee by Arbabsiar. They have now been charged with conspiracy to kill a foreign official and conspiracy to use a weapon of mass destruction, a bomb, among other counts.
Iranians Charged in US over Plot to kill Saudi Envoy
Oct. 12….(Reuters) US authorities broke up a plot by two men linked to the Iranian government to assassinate the Saudi ambassador in the United States, US officials said on Tuesday, escalating tensions between Tehran and Washington. US Attorney General Eric Holder said one of two men charged in the plot, both originally from Iran, had been arrested and had confessed. The other man, who was still at large, was described in the criminal complaint as being a member of the elite Quds Force, which is part of the Iranian Islamic Revolutionary Guard Corps. "High-up (Iranian) officials in those agencies were responsible for this plot," Holder told a news conference. "I think one has to be concerned about the chilling nature of what the Iranian government attempted to do here," he said.
The two men were charged in a US court. Gholam Shakuri was described in the criminal complaint as a member of the Quds Force and is believed to be in Iran. The arrested suspected was Manssor Arbabsiar, 56, who is a naturalized US citizen and holds an Iranian passport. He was detained at John F. Kennedy International Airport in New York on September 29. Arbabsiar made a brief appearance in a Manhattan courtroom where he was ordered detained and assigned a public defender. He appeared in blue jeans and a dress shirt. He had thinning gray hair and a scar on the left side of his face.
Iran swiftly rejected the allegation. "The Islamic Republic of Iran has rejected US accusations of the country plotting to assassinate the Saudi envoy to Washington as a prefabricated scenario," state English language Press TV said, without elaborating or giving a source. US officials said there had also been initial discussions about other alleged plots, including attacking the Saudi and Israeli embassies in Washington, however no charges for that were revealed on Tuesday. The United States slapped economic sanctions on five Iranians including four senior members of the Quds.
The target of the plot was Saudi ambassador Adel Al-Jubeir, according to the criminal complaint. US allied Saudi Arabia and Iran, both major oil exporting countries, are historic regional rivals that have struggled for dominance in the Gulf. Relations were already sour between the Tehran and Washington, which accuses the Islamic republic of backing terrorism and pursuing nuclear arms, a charge Iran has denied. Last month hopes were raised of improved ties when Iran released two US hikers accused of spying when they were arrested on the Iran-Iraq border in 2009. Holder said there was no link between the hikers' case and the alleged plot. Officials said that the Saudi ambassador, Adel Al-Jubeir, was never in danger. President Barack Obama was briefed in June about the alleged plot and through a spokesman expressed gratitude for it being disrupted.
The assassination plot began to unfold in May 2011 when Arbabsiar approached an individual in Mexico to help, but that individual turned out to be an informant for the US Drug Enforcement Administration. The confidential source, who was not identified, immediately tipped law enforcement agents, according to the criminal complaint. Arbabsiar paid $100,000 to the informant in July and August for the plot, a down payment on the $1.5 million requested. Shakuri approved the plan to kill the ambassador during telephone conversations with Arbabsiar, the complaint said. After Arbabsiar was arrested in New York, he allegedly confessed and provided US authorities with more details about the Iranian government's alleged involvement, Holder said. The men are charged with one count of conspiracy to murder a foreign official, two counts of foreign travel and use of interstate and foreign commerce facilities in the commission of murder for hire and one count each of conspiracy to use a weapon of mass destruction and conspiracy to commit an act of terrorism. Authorities said no explosives were acquired for the plot and the weapon of mass destruction charge can range from a simple improvised device to a more significant weapon. They face up to life in prison if convicted.
Syria Clergyman threatens West with Suicide Attacks
The country's highest Sunni Muslim clergyman, Mufti Ahmed Badereddine Hassoun, said he would launch suicide attackers if Syria is attacked.
Oct. 12….(Ha Aretz) Syria's highest Sunni Muslim clergyman, Mufti Ahmed Badereddine Hassoun, threatened Monday to order suicide attacks in the United States and Europe if his country is attacked. "I am telling this to Europe and the United States: We will set up suicide attackers who now live on your land in case you bomb Syria or Lebanon," Hasson said in a video posted on the website of the Al Arabiya television network. Hassoun was addressing a delegation of Lebanese women who had come to offer their condolences for his son's death. Hassoun's son was killed last week by unknown gunmen in front of a university in Aleppo. Last week, Syrian President Bashar Assad said Syria will strike Israel and "set fire" to the Middle East if foreign forces choose to launch a military strike on the protest-ridden country, the Iranian news agency Fars reported. During a meeting with the Turkish FM, the Fars report claimed, Assad indicated that Syria would not hesitate to strike major Israeli cities if it was attacked. "If a crazy measure is taken against Damascus, I will need not more than 6 hours to transfer hundreds of rockets and missiles to the Golan Heights to fire them at Tel Aviv," Assad said.
The Forgotten Christians of the East
Oct. 12….(Jerusalem Post) On Sunday night, Egyptian Copts staged what was supposed to be a peaceful vigil at Egypt's state television headquarters in Cairo. The 1,000 Christians represented the ancient Christian community of some 8 million whose presence in Egypt predates the establishment of Islam by several centuries. They gathered in Cairo to protest the recent burning of two churches by Islamic mobs and the rapid escalation of state-supported violent attacks on Christians by Muslim groups since the overthrow of former Egyptian president Hosni Mubarak in February. According to Coptic sources, the protesters Sunday night were beset by Islamic attackers who were rapidly backed up by military forces. Between 19 and 40 Copts were killed by soldiers and Muslim attackers. They were run over by military vehicles, beaten, shot and dragged through the streets of Cairo. State television Sunday night reported only that three soldiers had been killed. According to al-Ahram Online, the military attacked the studios of al-Hurra television on Sunday night to block its broadcast of information on the military assault on the Copts. Apparently the attempt to control information about what happened worked. Monday's news reports about the violence gave little indication of the identity of the dead or wounded. They certainly left untold the story of what actually happened in Cairo on Sunday night.
In a not unrelated event, Lebanon's Maronite Catholic Patriarch Bechara Rai caused a storm two weeks ago. During an official visit to Paris, Rai warned French President Nicolas Sarkozy that the fall of the Assad regime in Syria could be a disaster for Christians in Syria and throughout the region. Today the Western-backed Syrian opposition is dominated by the Muslim Brotherhood. Rai cautioned that the overthrow of President Bashar Assad could lead to civil war and the establishment of an Islamic regime.
In Iraq, the Iranian and Syrian-sponsored insurgency that followed the US-led overthrow of Saddam Hussein's Baathist regime in 2003 fomented a bloody jihad against Iraq's Christian population. This month marks the anniversary of last year's massacre of 58 Christian worshippers in a Catholic church in Baghdad. A decade ago there were 800,000 Christians in Iraq. Today there are 150,000. Under the Shah of Iran, Iran's Christians were more or less free to practice their religion. Today, they are subject to the whims of Islamic overlords who know no law other than Islamic supremacism.
Take the plight of Yousef Nadarkhani, an evangelical Protestant preacher who was arrested two years ago, tried and sentenced to death for apostasy and refusal to disavow his Christian faith. There is no law against apostasy in Iran, but no matter. Ayatollah Khomeini opposed apostasy. And so does Islamic law. Once Nadarkhani's story was publicized in the West the Iranians changed their course. Now they have reportedly abandoned the apostasy charge and are sentencing Nadarkhani to death for rape. The fact that he was never charged or convicted of rape is neither here nor there.
Palestinian Christians have similarly suffered under their popularly elected governments. When the Palestinian Authority was established in 1994, Christians made up 80 percent of Bethlehem's population. Today they comprise less than 20% of the population. Since Hamas "liberated" Gaza in 2007, the area's ancient Christian minority has been under constant attack. With only 3,000 members, Gaza's Christian community has seen its churches, convents, book stores and libraries burned by Hamas members and their allies. Its members have been killed and assaulted. While Hamas has pledged to protect the Christians of Gaza, no one has been arrested for anti-Christian violence.
Just as the Jews of the Islamic world were forcibly removed from their ancient communities by the Arab rulers with the establishment of Israel in 1948, so Christians have been persecuted and driven out of their homes. Populist Islamic and Arab regimes have used Islamic religious supremacism and Arab racial chauvinism against Christians as rallying cries to their subjects. These calls have in turn led to the decimation of the Christian populations of the Arab and Islamic world.
For instance, at the time of Lebanese independence from France in 1946 the majority of Lebanese were Christians. Today less than 30% of Lebanese are Christians. In Turkey, the Christian population has dwindled from 2 million at the end of World War I to less than 100,000 today. In Syria, at the time of independence Christians made up nearly half of the population. Today 4% of Syrians are Christian. In Jordan half a century ago 18% of the population was Christian. Today 2% of Jordanians are Christian.
Christians are prohibited from practicing Christianity in Saudi Arabia. In Pakistan, the Christian population is being systematically destroyed by regime-supported Islamic groups. Church burnings, forced conversions, rape, murder, kidnap and legal persecution of Pakistani Christians has become a daily occurrence. Sadly for the Christians of the Islamic world, their cause is not being championed either by Western governments or by Western Christians. Rather than condition French support for the Syrian opposition on its leaders' commitment to religious freedom for all in a post-Assad Syria, the French Foreign Ministry reacted with anger to Rai's warning of what is liable to befall Syria's Christians in the event President Bashar Assad and his regime are overthrown. The Foreign Ministry published a statement claiming it was "surprised and disappointed," by Rai's statement.
The Obama administration was even less sympathetic. Rai is now travelling through the US and Latin America on a three week visit to émigré Maronite communities. The existence of these communities is a direct result of Arab and Islamic persecution of Lebanese Maronite Christians. Rai's visit to the US was supposed to begin with a visit to Washington and meetings with senior administration officials including President Barack Obama. Yet, following his statement in Paris, the administration cancelled all of its scheduled meetings with him. That is, rather than consider the dangers that Rai warned about and use US influence to increase the power of Christians and Kurds and other minorities in any post- Assad Syrian government, the Obama administration decided to blackball Rai for pointing out the dangers.
Aside from Evangelical Protestants, most Western churches are similarly uninterested in defending the rights of their co-religionists in the Islamic world. Most mainline Protestant churches, from the Anglican Church and its US and international branches to the Methodists, Baptists, Mennonite and other churches have organized no sustained efforts to protect or defend the rights of Christians in the Muslim world. Instead, over the past decade these churches and their related international bodies have made repeated efforts to attack the only country in the Middle East in which the Christian population has increased in the past 60 years – Israel.
As for the Vatican, in the five years since Pope Benedict XVI laid down the gauntlet at his speech in Regensburg and challenged the Muslim world to act with reason and tolerance it its dealing with other religions, the Vatican has abandoned this principled stand. A true discourse of equals has been replaced by supplication to Islam in the name of ecumenical understanding. Last year Benedict hosted a Synod on Christians in the Middle East that made no mention of the persecution of Christians by Islamic and populist forces and regimes. Instead, Israel was singled out for criticism.
The Vatican's outreach has extended to Iran where it sent a representative to Mahmoud Ahmadinejad's faux counter terror conference. As Giulio Meotti wrote this week in Ynet, whereas all the EU ambassadors walked out of Ahmadinejad's Holocaust denying speech at the UN's second Durban conference in Geneva in 2009, the Vatican's ambassador remained in his seat. The Vatican has embraced leaders of the Muslim Brotherhood in Europe and the Middle East.
It is unclear what either Western governments or Western churches think they are achieving by turning a blind eye to the persecution and decimation of Christian communities in the Muslim world. As Sunday's events in Egypt and other daily anti-Christian attacks by Muslims against Christians throughout the region show, their behavior is not appeasing anyone. What is clear enough is that they shall reap what they sow.
Case of Iranian Pastor Facing Death Penalty Reportedly in Hands of Supreme Leader
An undated photograph circulated by religious rights organizations shows
Youcef Nadarkhani
and his family.
Oct. 11….(Fox News) The case of an Iranian pastor facing a possible death sentence has reportedly been referred to Iran's supreme leader, a move some say shows the Islamic republic is feeling pressure in the face of growing international support. Attorney Mohammad Ali Dadkhah told AFP on Monday that an Iranian court has decided to seek the opinion of Ayatollah Ali Khamenei, the Islamic republic's spiritual leader and highest authority, in the case of Youcef Nadarkhani, a 32-year-old pastor who was arrested in October 2009 and later sentenced to death for converting to Christianity. Dadkhah and religious rights organizations say Nadarkhani is facing possible execution for apostasy and for refusing to renounce his religion, contradicting reports by Iran state media that have indicated Nadarkhani was found guilty of rape, extortion and security-related crimes. Messages seeking comment from Dadkhah were not immediately returned early Monday.
Jordan Sekulow, executive director of the American Center for Law and Justice, a Washington-based organization that is monitoring Nadarkhani's case, told FoxNews.com that the move was unusual and is part of the "secretive process" within the Iranian judicial system. "Based on these reports, Pastor Youcef is alive and we have reached the highest level of Iranian government," Sekulow said on Monday. "I don't believe this would've ever reached the level of Khamenei without the media attention and outpouring of support we've seen." Sekulow said the move to involve Khamenei in a case before a regional court is uncommon and indicates that "Iran is feeling the pressure" of the growing international community in support of Nadarkhani. As of Friday, at least 39 members of Congress had signed a letter calling on Secretary of State Hillary Clinton to put pressure on Iranian authorities to release Nadarkhani, who, according to reports last week from Iranian state-funded Press TV, is now considered a security threat and previously operated a brothel. Judiciary Chief Mohammad-Javad Heshmati of Iran's Gilan Province told the station on Wednesday that no verdict had been reached and that an execution order had not yet been issued.
Documents obtained by the American Center for Law and Justice, however, indicate that apostasy is the only charge against Nadarkhani. "There was an indication that this would go to one of Iran's top leaders," Sekulow said of Nadarkhani's case. "It looks like everything we believed would happen has now happened. This is the time where the international pressure, the media attention, has to increase tenfold." Sekulow also asked Clinton to call for Nadarkhani's "unconditional release" and said more than 125,000 people have signed a petition in support of the father of two. Calls seeking comment from the US State Department were not immediately returned on Monday. The White House condemned the conviction and possible death sentence for Nadarkhani late last month, saying the execution would further demonstrate Iranian authorities' "utter disregard" for religious freedom. "Pastor Nadarkhani has done nothing more than maintain his devout faith, which is a universal right for all people," the statement released by the White House on Sept. 29 read. "That the Iranian authorities would try to force him to renounce that faith violates the religious values they claim to defend, crosses all bounds of decency, and breaches Iran's own international obligations. A decision to impose the death penalty would further demonstrate the Iranian authorities' utter disregard for religious freedom, and highlight Iran's continuing violation of the universal rights of its citizens. We call upon the Iranian authorities to release Pastor Nadarkhani, and demonstrate a commitment to basic, universal human rights, including freedom of religion."
Nadarkhani is the latest Christian cleric to be imprisoned in Iran for his religious beliefs. According to Elam Ministries, a United Kingdom-based organization that serves Christian churches in Iran, there was a significant increase in the number of Christians arrested solely for practicing their faith between June 2010 and January 2011. A total of 202 arrests occurred during that six-month period, including 33 people who remained in prison as of January, Elam reported. Nadarkhani, a pastor in the 400-member Church of Iran, has been held in that country's Gilan Province since October 2009, after he protested to local education authorities that his son was forced to read from the Koran at school. His wife, Fatemeh Pasandideh, was also arrested in June 2010 in an apparent attempt to pressure him to renounce his faith. She was released in October 2010, according to Amnesty International.
The Price of 'Palestine'
(The US may be forced to withhold funds if Palestine is recognized as a state)
Oct. 11….(Brett Schaeffer) Palestine is in, almost! The 58-member executive board of the United Nations Educational, Scientific, and Cultural Organization (UNESCO) voted 40–4, with 14 abstentions, to let the organization's General Conference vote on admitting "Palestine" as a full member state. The United States was one of the four countries voting against this resolution. However, unlike in the case of UN votes, the US cannot veto a UNESCO resolution. Thus, "Palestine" will likely become a "made member" of UNESCO this fall. Following the executive board's vote, Secretary of State Hillary Clinton warned that the United States might be legally required to withhold funding for UNESCO if the organization grants Palestine membership. "We are certainly aware of strong legislative prohibition that prevents the United States from funding organizations that jump the gun, so to speak, in recognizing entities before they are fully ready for such recognition," she said. "It is still our hope and our strong recommendation that we take this to the appropriate forum, which is the negotiating table." Current US law contains two restrictions that could lead the United States to withhold funds. US Code Title 22, Section 287e states:
* "No funds authorized to be appropriated by this Act or any other Act shall be available for the United Nations or any specialized agency thereof which accords the Palestine Liberation Organization the same standing as member states." This was adopted by a Democratic Congress in 1989 as Public Law 101-246.
* "The United States shall not make any voluntary or assessed contribution: (1) to any affiliated organization of the United Nations which grants full membership as a state to any organization or group that does not have the internationally recognized attributes of statehood, or (2) to the United Nations, if the United Nations grants full membership as a state in the United Nations to any organization or group that does not have the internationally recognized attributes of statehood, during any period in which such membership is effective." This was adopted by a Democratic Congress in 1994 as Public Law 103-236.
The first restriction applies to the Palestinian Liberation Organization (PLO). Some have argued that Palestine is not the same as the PLO. This is a distinction without much of a difference. The links between the two are extensive and could easily justify suspension of funding. For instance, Yasser Arafat, who signed the 1993 Oslo Accords through which the Palestinian Authority was established, served concurrently as president of the Palestinian Authority and chairman of the PLO. Moreover, even after the Oslo Accords, the PLO still claims a status superior to that of to the Palestinian Authority as the representative of all of the Palestinian people. That claim has been entrenched in various UN resolutions over decades. Pointedly, in his letter seeking UN membership, Mahmoud Abbas signed as "President of the State of Palestine and Chairman of the Executive Committee of the Palestinian Liberation Organization." He specifically based his authority to apply for membership on the "status of the Palestinian Liberation Organization (PLO) as the sole legitimate representative of the Palestinian people" because it was the PLO that was granted observer status in the General Assembly in 1974 under resolution 3237. In 1988, the General Assembly decided to use the designation "Palestine" instead of PLO. The PLO remains the basis for the UN-observer status of Palestine and Abbas's application for membership. Secretary Clinton, however, seems inclined to rely on the second provision rather than the first.
Clearly, the United States deems widespread international recognition of statehood to be insufficient. After all, Palestine claims recognition from some 120 countries, albeit not the United States. Presumably, Clinton is implying that admitting Palestine to UNESCO as a member would trigger the withholding of funds, because Palestine lacks the characteristics of a state long recognized under customary international law. These principles are concisely stated in Article I of the 1933 Montevideo Convention on the Rights and Duties of States: "The state as a person of international law should possess the following qualifications: a) a permanent population; b) a defined territory; c) government; and d) capacity to enter into relations with the other states."
Palestine certainly falls short on the defined-territory criterion. It also arguably lacks a permanent population, Many Palestinians are in refugee camps in neighboring countries. It is questionable that they will be permitted to become citizens of Palestine. The PLO itself maintains that many of them have a "right of return" to Israel. It does not have a government that is the indisputable sovereign authority, Hamas controls the Gaza strip. As for the ability to enter into relations with other states, Hamas has refused to be bound by agreements negotiated by the Palestinian Authority, which it does not recognize as a legitimate institution. Clinton's interpretation of the legislation as it applies to the issue of statehood is reasonable. But the US should not rely solely on the second legislative restriction to oppose the Palestinian effort, since it is doubtful that the administration would adhere to it when it realizes the full implications of that position. Objecting to Palestine's membership because it lacks "the internationally recognized attributes of statehood" will inevitably raise the question, certainly in Congress as it deliberates closing budget deficits, of why the United States is not also applying that standard to other failed states that are members of the United Nations. To highlight just one obvious example, Somalia's Transitional Federal Government is voting in the United Nations on behalf of Somalia even though it controls only a fraction of Somali territory and falls short of most standards for statehood.
The United States is on strong ground for opposing Abbas's effort beyond the withholding question, given that there is no unified government and that the two entities that claim control of parts of the Palestinian territories are closely tied to the PLO and Hamas, entities sanctioned under US law. To the extent that the administration wishes to use the threat of financial withholding, which will be particularly useful in UN organizations where the US cannot block Palestine's membership through its Security Council veto, the PLO restriction should also be utilized. If embraced by the administration, is far more likely to be applied consistently.
Sec. Clinton Warns Against Even Symbolically Recognizing Jerusalem as Capital of Israel
Oct. 11….(In The Days) Secretary of State Clinton, in a sharp departure from her stance when she was a senator, is warning that any American action, even symbolically, toward recognizing Jerusalem as the capital of Israel must be avoided for the reason that it would jeopardize the peace process. Her warnings were issued in a brief she has just filed with the Supreme Court, in which she is arguing that a law she voted for when she was Senator is unconstitutional because it could require the US government to give to an American citizen born at Jerusalem papers showing the birthplace as Israel. The law requiring the government to issue such documents on request passed the Senate unanimously at a time when Mrs. Clinton was a member. But Presidents Bush and Obama have taken the position that the law infringes on the president's prerogatives in respect of foreign policy. Mrs. Clinton is being sued by an American youngster, Menachem Zivotofsky, who was born at Jerusalem in 2002 to American parents who want his birthplace to be listed on his passport as Israel.
In addition to citing the peace process as the excuse for not issuing the birth document the Congress wants issued, Mrs. Clinton's brief adds a new twist to the story of the White House photos first disclosed last month by the New York Sun. The story involved the discovery that even while the White House was fretting over the requirement to list Jerusalem, Israel, as Master Zivotofsky's birthplace, the White House's own website was featuring a series of pictures from Vice President Biden's 2010 trip to the Jewish state and identifying the pictures as showing him at "Jerusalem, Israel." The Sun queried whether the Zivotofsky case really rose to constitutional proportions, since the White House on its own website treated Jerusalem as being in Israel. Five days later, the White House removed "Israel" from each of the Biden pictures, without announcing the deletion. The State Department also quietly deleted "Israel" from references to "Jerusalem, Israel" on numerous official documents on its own website, dating from the Bush administration.
Mrs. Clinton's brief alleges that any American action that "symbolically or concretely" signals it recognizes Jerusalem being in Israel would "critically compromise the ability of the United States to work with Israelis, Palestinians and others in the region to further the peace process." The brief contends that American policy is to remain neutral over all sovereignty issues, leaving them to negotiations, and that the US thus "does not recognize Palestinian claims to current sovereignty" in the West Bank or Gaza either. It is that latter statement that requires further revision to the Biden photos on the White House website. Two of the photos from Biden's trip show him meeting with Palestinian officials in the "Palestinian Territories."
The proper reference is to "territories," the word used in UN Resolution 242, the foundational document of the "peace process," which did not affix the adjective "Jordanian" or "Arab" or "Palestinian" to the territories, nor require that "all of the" territories be relinquished by Israel, but rather left an unspecified portion to be traded for a defensible peace. America has never assigned that land to the "Palestinians" and maintains that only negotiations can create Palestinian sovereignty there. So far, Israel has made three offers of a Palestinian state, and the Palestinians rejected all three. They currently refuse to negotiate a fourth, unless Israel concedes the 1949 armistice lines as the basis of a Palestinian state before negotiations begin, while rejecting on their own part any recognition of a Jewish state, defensible borders, or an "end of claims" agreement.
If an adjective is necessary, the term Israel uses is "disputed territories." Palestine was designated by the League of Nations in 1922 as the national home of the Jewish people. In response to Arab opposition, Britain's Peel Commission in 1937 proposed two states, which the Jews accepted and the Arabs rejected. In 1947, the Arabs rejected the UN two-state proposal, and Jordan illegally occupied a portion of Palestine in the ensuing war that the Arabs commenced.
That occupation ended in 1967, when Jordan joined a new war against Israel and lost the land it unlawfully held. The UN thereafter adopted Resolution 242 as the basis for peace, under which any Israeli withdrawal, and the extent thereof, is subject to the establishment of "secure and recognized boundaries." Hence it is a contradiction of the neutrality principle asserted in the Clinton brief for the adjective "Palestinian" to be affixed to the territories prior to a negotiated agreement.
If the Obama administration believes in the neutrality principle it is asserting in the Supreme Court, and that the mere mention of "Jerusalem, Israel" on its website, or putting "Israel" on an individual's passport, would violate that principle, the question will arise as to whether it will also scrub also the references to the "Palestinian" territories. If it does not treat both situations the same, the Supreme Court may legitimately question whether the Clinton brief is asserting the true reason for the administration's adamant opposition to the designation of "Israel" in the passport of Master Zivotofsky.
Moscow Reaches out to Syrian Opposition to head off Western Military Action
Oct. 11….(DEBKAfile Special Report) Five days after defeating a Western-backed UN Security Council resolution condemning Bashar Assad's savagery against his opposition, Moscow turned the heat on him by inviting an opposition delegation for a visit today, and offering to host talks between the Syrian government and the opposition umbrella Syrian National Council. Syrian Foreign Minister Wallid Moallem threatened unspecified "tough measures" against any countries recognizing the council, evidently fearing a repeat of the Libyan exercise which toppled Muammar Qaddafi. Damascus also pointedly released a rare photo of President Assad with his army chiefs, a not so gentle hint that tough measures might well take military form.
In issuing the invitation, Russian Deputy Foreign Minister Mikhail Bogdanov explained: "Our main message is that all the problems which have accumulated in Syria over many years can't be resolved through force or confrontation," a failed mark equally assigned by Moscow to Assad's methods of suppression and potential foreign intervention. "In our view there is no alternative to broad-based political dialogue," the Russian official insisted. Debkafile's Russian and Iranian sources report that Moscow's willingness to receive a delegation of the newly formed opposition council has gone down badly not just in Damascus but also in Tehran.
Sunday, Iranian Supreme leader Ayatollah Ali Khamenei's senior military adviser warned Turkey to "radically rethink its policies on Syria, the NATO missile shield and promoting Muslim secularism in the Arab world, or face trouble from its own people and neighbors." Maj.-Gen. Yahya Rahim-Safavi did not mention Russia, but his warning coinciding as it did with the Syrian foreign minister's threat did not go unnoticed in Moscow. Turkey was singled out by name when Moallem said that Syria's hands were not bound and it would retaliate against any Turkish moves. The Erdogan government did not wait for the Security Council before imposing its own sanctions on Syria. Furthermore, Istanbul was the venue for the foundation of the Syrian National Council umbrella of all opposition groups for the declared goal of replacing the Assad regime and seeking recognition as the legitimate rulers of Syria from Arab governments including Egypt. The Turkish army also staged a large-scale army mobilization exercise on the Syrian border from Oct. 2 to Oct. 13. Debkafile's sources report that Damascus views all these steps as replicating the process which led to the ouster of the Qaddafi regime in Libya and its replacement with forcible NATO backing by the National Transitional Council.
Russia was and remains flatly opposed to the Western alliance's military intervention in Libya following its recognition of the NTC in Benghazi as legitimate rulers of Libya and is determined to deny the West an opening for similar military action in Syria. Hence the Russian veto, along with China, of a Security Council motion paving the way for such action. For a few days, Syrian President Assad was allowed to hail this diplomatic success far and wide as attesting to the support of his regime by two big world powers. However, his victory march was short lived. Friday, President Dmitry Medvedev admonished the Syrian president by saying: "If the Syrian leadership is incapable of conducting reforms, it will have to go, but this decision should be taken not in NATO or certain European countries, it should be taken by the Syrian people," he said. Then, after the assassination of Kurdish leader Mashaal Tammo at his home in Qamishli, the White House for the first time called on Assad to go. Spokesman Jay Carney said the Syrian ruler must "step down now before taking his country farther down this very dangerous path."
All at once, President Assad was confronted by two very strong voices telling him his time was up. When he failed to respond, Moscow stepped up the diplomatic pressure by reaching out to the Syrian opposition, the first government to do so after Turkey. This setback was serious enough to alarm the Assad regime and elicit threats. In the case of Libya, Russia went along with the Obama administration, but only in as far as helping to negotiate the installation of an alternative government in Tripoli for the opposition to share power with Qaddafi's sons. This diplomatic collaboration was cut short in August by the French-British-Qatari-Jordanian special forces' conquest of Tripoli. Moscow is now bidding to broker a similar power-sharing administration to take the reins of government in Damascus from the bloody hands of the Assad regime. Only this time, the Russians hope to act in time to preempt Western military intervention in Syria. Last week, the Syrian ruler threatened to flatten Tel Aviv and Jordanian cities if attacked.
Israel Ready to Strike Syria, Lebanon, Gaza
Oct. 10….(Israel Today) Israeli officials have reportedly warned Syrian dictator Bashar Assad that if he uses the downfall of his regime as an excuse to launch missiles at Tel Aviv, Israel will respond with a massive assault against Syria, Lebanon and Gaza. Unnamed Israeli government sources told News First Class that the threat was relayed to Assad via European intelligence agencies. The Israeli counter-threat came just days after Iran's Fars news agency quoted Assad telling Turkey's foreign minister that he would launch hundreds of ballistic missiles at Tel Aviv if the West interferes in his violent crackdown on pro-democracy protestors in Syria. "If a crazy measure is taken against Damascus, I will need not more than six hours to transfer hundreds of rockets and missiles to the Golan Heights to fire them at Tel Aviv," Assad reportedly said. Israel's threat included Lebanon and Gaza because Assad is said to have boasted that his own missile barrage on Tel Aviv would be complemented by Hizballah and Hamas attacks on Israel. Were that scenario to play out, Assad is also reportedly confident that Iran would launch an attack on US warships in the Persian Gulf. While the situation is wholly out of Israel's hands, there is concern in the Jewish state over what Assad may interpret as Western interference. Israeli commentators have already stressed that if Assad feels he is going to be toppled, he will have nothing to lose by launching a last minute attack on Israel. In fact, by doing so he has much to gain, as a missile assault on Tel Aviv would solidify Assad's legacy as a dedicated enemy of the hated "Zionist entity."
Fatah: We Have Not Put Aside the Rifle (Terrorism)
Oct. 10….(Jerusalem Post) The US is the number one enemy of the Palestinians because it supports Israeli "oppression" against the Palestinians, Tawfik Tirawi, a senior member of the Fatah Central Committee, said on Sunday. Tirawi, former commander of the Palestinian Authority's General Intelligence Force in the West Bank, also said that Fatah has not abandoned the armed struggle option against Israel. "Fatah hasn't thrown the rifle aside," Tirawi told thousands of university students during a rally in Hebron. Tirawi's anti-US remarks came only days after Palestinian protesters tossed a shoe at US diplomats who arrived in Ramallah to attend a cultural event. The Palestinians were protesting against US President Barack Obama's refusal to back the PA's statehood bid at the UN and US threats to cut off financial aid to the PA. Tirawi also criticized the PA leadership for refusing to allow Palestine TV to use the term "Israeli enemy" in its broadcasts. "Those who prevent the use of the term Israeli enemy are acting in violation of national awareness and the principles of people under occupation," he argued. "They must go away."
The PA, meanwhile, has informed the Quartet that the Palestinians are not opposed to the resumption of the peace talks with Israel, Chief PLO negotiator Saeb Erekat said on Sunday. However, the Palestinians want the Quartet members, the US, EU, UN and Russia to oblige Israel to recognize the pre-1967 lines as the baseline for a two-state solution and to halt construction in the settlements, Erekat said. Recognition of the pre-1967 lines and a freeze in settlement construction are the key to resumption of the peace negotiations, he added. Erekat's remarks came as representatives of the Quartet were due to meet in Strasbourg on Sunday to discuss ways of resuming the peace talks between the Palestinians and Israel.
The Israeli government has accepted a recent proposal by the Quartet for the resumption of the talks with the goal of reaching a peace agreement before the end of 2012. The PA, on the other hand, has expressed reservations about the proposal, mainly because it does not specifically call upon Israel to freeze construction in the settlements and recognize the pre-1967 lines as the basis for a two-state solution. Yet the PA has stopped short of completely rejecting the Quartet proposal which, according to some PA officials, contains "encouraging elements." PA negotiator Nabil Shaath warned that the Quartet would lose its credibility if its members failed to condemn "provocations" by the Israeli government.
Assad Warns Jordan About Threats
Oct. 10….DEBKAfile Special Report) Tensions peaked again around Syria's borders with Israel, Turkey and Jordan as the first two embarked on large-scale mobilization maneuvers near those borders Wednesday and Thursday, Oct. 5-6 and the Jordanian armed forces prepared to follow suit. Debkafile's military and intelligence sources report that the United States and Turkey urged Jordan's King Abdullah to hold a similar maneuver or reinforce his units on the Syrian border. But Bashar Assad decided that being forced to build up his forces on Syria's borders with Turkey and Israel was enough and a Jordanian exercise must be stopped. Thursday, he sent his powerful brother-in-law Gen. Asef Shawqat to Amman with a stern warning for the king: If the Hashemite Kingdom lines up with Turkey and Israel and deploys extra troops on the Syrian border, Assad will order his air force to bomb Jordanian towns. And if Israel intervenes to engage Syrian bombers, Damascus would launch surface missiles against Jordanian cities.
It was the second time this week that the Syrian ruler had threatened to punish an enemy with ground-to-ground missiles. Tuesday, Oct. 4, Debkafile revealed that Assad had threatened to demolish Tel Aviv by missiles within six hours of an attack on Syria. Jordan's Abdullah told Gen. Shawqat he agreed to give up his planned military exercise, but not his opposition to Assad actions. In Washington, Ankara and Jerusalem, the Syrian message to Jordan was taken as an implied warning to Turkey and Israel alike that Assad had no intention of taking their military exercises lying down either and a military response was coming.
The Turkish war game is taking place in the Hatay province which borders on northern Syria. It is scheduled to last nine days. Israel ended its two-day maneuver Thursday, deploying troops within sight of southwest Syria and Jordan. Israeli and Turkish military movements were coordinated by NATO's European commander Gen. James Staviris who he visited Tel Aviv and Ankara for this purpose in the last week of September. US Defense Secretary Leon Panetta gave the exercises a seal of approval during his visit to Israel Monday, Oct. 3.The next day, both armies were in the field. The United States informed both governments that US warships had been deployed in the eastern Mediterranean against any unforeseen events. Turkish-Israeli military ties remain frozen and relations sour. But Ankara did not refuse American mediation for coordinating their exercises for the first time in more than a year. The two-day Israeli war game was not announced. It entailed the call-up of the Northern and Central Commands reserve brigades without prior notice. The units were directed to collect the men and officers from home and drive them to their units on the assumption that a missile attack on Israel was already underway and road disruptions prevented them from making their own way. Chief of Staff, Lt. Gen. Benny Gantz, summed up the exercise by telling the troops: "In the current instability around us, we must be sure that our forces are on the highest level of readiness and keep on enhancing it."
WEEK OF OCTOBER 2 THROUGH OCTOBER 8
Iranian Christian to be Executed for Crime of Being a 'Zionist'
Oct. 7….(Israel Today) The international community was furious when it learned that Iran was going to execute a young man for converting to Christianity and wanting to start a church. So Iran on Sunday altered the charges and said it is instead going to execute Youcef Nadarkhani because, among other things, he loves Israel. Nadarkhani was arrested and convicted in 2010. Legal documents obtained by CNN accused Nadarkhani of "turning his back on Islam, the greatest religion..." In Iran, the punishment for apostasy is death.
But with pressure mounting for Iran to cease its brutal repression of religious freedom, Gholomali Rezvani, the deputy governor of Nadarkhani's home province, announced that the charges had been changed. "His crime is not, as some claim, converting others to Christianity. He is guilty of security-related crimes," Rezvani told the Fars news agency. And what kind of security-related crimes had Nadarkhani committed? He "is a Zionist," declared Rezvani. And just in case, Nadarkhani also had charges of rape and extortion tacked on to his rap sheet. Both CNN and Fox News later pointed out that the original 2010 court ruling did not contain one mention of rape or extortion.
Turkey PM: Israel a Nuclear Threat to Middle East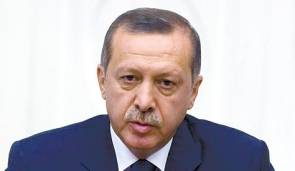 Oct. 7….(Ha Aretz) Turkish Prime Minister Recep Tayyip Erdogan said on Wednesday that Israel is a threat to the Middle East region for having a nuclear weapon. Erdogan spoke during a trip to South Africa. His comments were carried by Turkey's Anatolia news agency. Israel refuses to confirm whether it has a nuclear weapon, following a policy it terms "nuclear ambiguity," but it is widely considered to be the Middle East's only nuclear power.
Israeli-Turkish ties have deteriorated over Israel's refusal to apologize for the deaths of nine Turkish activists in a raid on a Gaza-bound aid ship last year, prompting Turkey to downgrade relations. Israel says its troops acted in self-defense. Erdogan recently told TIME magazine that sanctions imposed by the United Nations on Israel would have resolved the issue of Mideast peace long ago, adding that he felt the Quartet on the Middle East was not genuinely seeking to resolve the conflict between Israel and the Palestinians.
Assad: Syria will Shower Tel Aviv with Rockets if attacked by Foreign Powers
(Iranian news agency quotes remarks made by Syrian president during August meeting with Turkish FM; Assad: It will take Damascus 6 hours to mobilize against Israel)
| | |
| --- | --- |
| | (FOJ) Assad's remarks recently are eerily revealing the fact that the Burden of Damascus is active in our time. As revealed in Isaiah 17 and Jeremiah 49, the Syrian is flirting with disaster. |
Oct. 6….(Ha Aretz) Syria will strike Israel and "set fire" to the Middle East if foreign forces choose to launch a military strike on the protest-ridden country, the Iranian news agency Fars quoted Syrian President Bashar Assad as saying on Tuesday, referring to remarks made by the Syrian leader during a meeting with Turkish Foreign Minister Ahmet Davutoglu last August. During a meeting with the Turkish FM, the Fars report claimed, Assad indicated that Syria would not hesitate to strike major Israeli cities if it was attacked. "If a crazy measure is taken against Damascus, I will need not more than 6 hours to transfer hundreds of rockets and missiles to the Golan Heights to fire them at Tel Aviv," Assad said. In addition, Fars reported that the Syrian president told the Turkish FM that he would also call on Hezbollah in Lebanon to launch a rocket attack on Israel, adding: "All these events will happen in three hours, but in the second three hours, Iran will attack the US warships in the Persian Gulf and the US and European interests will be targeted simultaneously."
Assad's comments to the Turkish FM came after Turkish Prime Minister Recep Tayyip Erdogan said earlier Tuesday he would set out his country's plans for sanctions against Syria after he visits a Syrian refugee camp near the border in the coming days. The move heralds a further deterioration in previously friendly relations between Ankara and Damascus since the start of Assad's crackdown on protesters. "Regarding sanctions, we will make an assessment and announce our road map after the visit to Hatay in southern Turkey, setting out the steps," Erdogan told reporters, adding he expected to visit the region at the weekend or the start of next week.
Syria's Assad Intent on Dragging Israel into His Mess
Oct. 6….(Israel Today) Syrian President Bashar Assad on Tuesday reportedly threatened to bombard Tel Aviv with ballistic missiles if NATO or other Western powers dare to interfere with his violent crackdown on Syrian pro-democracy demonstrations. Iran's Fars news agency reported that Assad made the threat during a meeting with Turkish Foreign Minister Ahmad Davutoglu. According to Assad, he would "not need more than 6 hours to transfer hundreds of rockets and missiles to the Golan Heights to fire them at Tel Aviv." Assad reportedly said the Syrian missile barrage would also be complimented by an intense Hizballah missile assualt from Lebanon on northern Israel.
Were that scenario to play out, Assad is said to be confident that Iran would launch an attack on US warships in the Persian Gulf. While the situation is wholly out of Israel's hands, there is concern in the Jewish state over what Assad may interpret as Western interference. Israeli commentators have already stressed that if Assad feels he is going to be toppled, he will have nothing to lose by launching a last minute attack on Israel. In fact, by doing so he has much to gain, as a missile assault on Tel Aviv would solidify Assad's legacy as a dedicated enemy of the hated "Zionist entity."
Meanwhile, the Obama Administration was outraged on Tuesday when Russia and China vetoed a UN Security Council resolution condemning the Assad regime's brutal suppression of pro-democracy protestors in Syria. Russia and China "would rather sell arms to the Syrian regime than stand with the Syrian people," said US Ambassador to the UN Susan Rice after storming out of the Security Council. "Today the courageous people of Syria can now see who on this council supports their yearning for liberty and universal human rights and who does not."
Turkish military exercise on Syrian border. Assad threatens Tel Aviv if attacked
Oct. 6….(DEBKAfile Exclusive Report) War tensions between Turkey, NATO and Syria shot up again Tuesday, Oct. 4, with the announcement from Ankara that Turkey embarks Wednesday on a 10-day "mobilization" exercise in the southern province of Hatay along the Syrian border, through which arms are being funneled to Syrian protesters. Turkish Prime Minister Tayyip Erdogan is expected on the same day to visit the 7,000 Syrians who have taken refuge in Hatay from President Bashar Assad's troops. Debkafile reported earlier Tuesday that Syrian President Bashar Assad has for three months staved off a military attack by Turkey or NATO for halting the exceptional brutality of his crackdown on protest by explicitly holding Greater Tel Aviv's 1.2 million inhabitants under threat of missile retaliation.
Our military sources note that the Turkish exercise was announced the day after US Defense Secretary Leon Panetta held talks with Israeli leaders, during which he emphasized the importance of restoring ties with Turkey for deterring Syrian, Iranian and Hizballah menaces. And a week ago, on Sept. 27, NATO's European commander Gen. James Staviris visited Ankara. Both visits were apparently part of the build-up for the Turkish exercise, which will involve the 39th mechanized infantry brigade and 730 reserve soldiers. Its target: the mobilization of reserves and their rapid transfer to the Syrian border. The drill may well revive speculation in Damascus that Turkey is preparing to go ahead with a plan to carve out a buffer enclave inside Syria to protect civilians and provide rebels with shelter and logistical and medical assistance. The Assad regime would no doubt regard this act as a direct attack on sovereign Syrian territory by a NATO member. The announcement from Ankara added that Turkey would soon announce a roadmap for further sanctions to be imposed against Syria in addition to those already underway.
For the past three months, Syrian President Bashar Assad has staved off a military attack by Turkey or NATO for halting the exceptional brutality of his crackdown on protest by explicitly holding Greater Tel Aviv's 1.2 million inhabitants under threat of missile retaliation. Iran and Hizballah are exercising the same deterrent. This standoff was the main theme of the talks US Defense Secretary Leon Panetta held with Israeli leaders in Tel Aviv Monday, Oct. 3. According to Western intelligence sources, Syria, Iran and Hizballah have charted a coordinated military operation for flattening metropolitan Tel Aviv, Israel's financial, industrial and cultural center, with thousands of missiles launched simultaneously by all three, plus the Palestinian Hamas and Jihad Islami firing from the Gaza Strip.
Israeli officials have never publicly admitted that this threat is on record, but Western intelligence sources have reported that Israel reacted with a warning of its own: If a single Syrian missile explodes in Tel Aviv, Damascus will be first to pay the price, and if the missile offensive persists, one Syrian town after another will be destroyed. The Israeli message to Assad cited the warnings Defense Minister Ehud Barak and other government members addressed in the past year to Hizballah, that if Tel Aviv comes under attack from its missiles, not only Beirut but all of Lebanon would go up in flames. Assad was given to understand that Syria would go the same way as Lebanon if it engaged in missile belligerence against Israel. Bashar Assad's threat to Israel was very much on Leon Panetta's mind when he told reporters on the plane carrying him to Israel Monday for his first visit as defense secretary: "Real security can only be achieved by both a strong diplomatic effort as well as a strong effort to project your military strength," he said.
Western military sources say that he was not only referring to Syria, Egypt and the Palestinians by this and other statements, but pointing at the widening rift between Israel and Turkey. The US official believes that this rift plays into the hands of the Syrian ruler and grants him the freedom to issue dire threats against Israel to hold Turkey and NATO back from using military force against his vicious regime. For Panetta, this is a prime example of Israel failing to project its military strength for diplomatic gains that would be beneficial to the West in the uprisings sweeping the Arab world. The loss of Turkish-Israeli military cooperation, albeit not initiated by Israel, ties the hands of the US and NATO against striking Syria. Those sources report that Panetta does not absolve Ankara of responsibility for this situation.
Syria first threatened Israel with retaliation on Aug. 9 when Turkish Foreign Minister Ahmet Davutoglu spent six hours with Bashar Assad in an effort on behalf of his own government and NATO to persuade him to stop the carnage his troops were perpetrating against his people. Davutoglu warned Assad that if he did not desist from his actions he would share the fate of Muammar Qaddafi at the hands of NATO and Turkish forces. The Syrian ruler's response was harsh: From the moment a shot is fired against Syria, "it will take only six hours for Syria to devastate Tel Aviv and ignite the entire Middle East," he said. Assad was spelling out the warning issued on May 10 by a close crony, international business tycoon Rami Makhlouf, who said then: "If there is no stability here, there's no way there will be stability in Israel. No way, and nobody can guarantee what will happen after, God forbid, anything happens to this regime." The barrage of Syrian threats was reinforced from Tehran Monday, Sept, 26 by Ayatollah Jafar Shoujouni, a close associate of the all-powerful Supreme Leader Ayatollah Ali Khamenei. Shoujouni recalled that when he visited Hizballah leader Hassan Nasrallah in Beirut last May, he assured him: "If Israelis come near Tehran, we will destroy Tel Aviv."
The Iranian cleric and the Syrian businessman spoke in the same vein in the same month. This was no coincidence. Their threat has since been repeated with greater emphasis to provide the Assad regime with insurance for its survival against foreign military intervention while continuing its pitiless onslaught on dissent. Syria and Turkey are increasingly at odds, Debkafile's military sources report. This week, Damascus accused the Turks of smuggling automatic and anti-tank weapons to the protesters, claiming to have uncovered a consignment in the protest center of Homs.
Assad family members' bank accounts and assets whose worth is estimated at half a billion dollars. Turkey is also weighing unilateral sanctions after the UN Security Council last week imposed an arms embargo on Syria although Russia succeeded in blocking a tough council resolution. Moscow was punishing the West for its military intervention in Libya and flatly opposed to giving NATO another such opportunity in Syria. Damascus repeatedly warned Turkey in the past week of reprisals if its inspectors dare open freights on transit to Syria by ship, plane or land vehicle to search for embargoed arms. At a time of dangerously spiraling tensions, there is no knowing when the Assad regime will determine that the first Turkish shot was fired and how it will retaliate.
Iranian leaders host 'Intifada Conference'
Khamenei; Israel a 'cancerous tumor'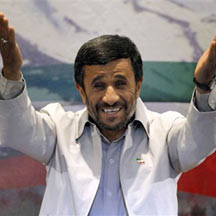 Oct. 04….(ICEJ) Iranian President Mahmoud Ahmadinejad was the keynote speaker at Sunday's "Intifada Conference" in Tehran, telling delegates that the establishment of Israel was the "most heinous historical crime," which had been perpetuated by Western countries in order to exert control over the Middle East. He also lamented what he described as a western intolerance for debate over the Jewish state's existence and complained that "any criticism of the Zionist regime is tantamount to being a terrorist, the only sacred thing in Europe is the Zionist regime." He added that in order to solve the Israel-Palestinian conflict, the "Palestinians should go home," and "those that were brought [to Israel]" should be ejected from the country and "go back" to Europe. Ahmadinejad's latest firebrand speech came the day after Iranian supreme leader Ayatollah Ali Khamenei rejected the Palestinian Authority's UN statehood bid in an address to the conference, declaring that "the two-state scheme, which has been clad in the self-righteousness of the acceptance of the Palestinian government and membership at the United Nations, is nothing but a capitulation to the demands of the Zionists or the recognition of the Zionist regime on Palestinian land. Governments that host Zionist embassies or economic bureaus cannot advocate support for Palestine." He concluded by declaring that any deal that accepts the existence of Israel would leave a "cancerous tumor" forever threatening the security of the Middle East.
Israel Welcomes Mideast Talks Plan With Palestinians, but With Reservations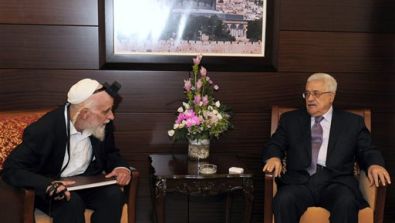 Oct. 03….(AP) Israel's government welcomed on Sunday parts of an international proposal to resume long-stalled peace talks with the Palestinians but said it had concerns about the plan. The plan by Mideast mediators, known as the Quartet, calls for a peace deal in a year and asks both sides to produce comprehensive proposals on territory and security within three months. The Quartet presented the latest timetable after Palestinian President Mahmoud Abbas asked the U.N. late last month to recognize a state of Palestine in the West Bank, Gaza and east Jerusalem, territories Israel captured in the 1967 Mideast War. The Palestinian request has put the U.S. and other countries in a diplomatically awkward position, forcing them to take sides for or against, and has stepped up pressure on the international community to chart out a resolution of the conflict. The Israeli government would not say Sunday what its concerns were, saying only that it would raise them "at the appropriate time." However, Israeli officials have expressed reservations about the Quartet's timetable for the discussion of specific issues. A senior Palestinian official, Saeb Erekat, dismissed the Israeli government's statement as disingenuous, noting that Israel has previously rejected key provisions of the Quartet proposal, including a freeze of Israeli settlement building on occupied land. Last week, the Palestinians said the Quartet's plan contained "encouraging elements" but that they would not return to talks unless Israel freezes settlement building and accepts the pre-1967 war frontier as a baseline for talks. The Palestinians, like the Israelis, seem wary of being perceived as the party blocking any resumption of negotiations. The Quartet plan calls for a speedy resumption of peace talks, with the goal of reaching a comprehensive agreement by the end of 2012. In the meantime, it urges both sides to avoid "provocative actions." On Sunday, senior Israeli Cabinet ministers discussed the Quartet's proposal. In a statement, Prime Minister Benjamin Netanyahu's office said Israel "welcomes the Quartet's call for direct negotiations between the parties without preconditions" but said it would raise its "concerns" in the future. Israeli officials have previously questioned the one-year timetable, as well as the Quartet's call to produce "comprehensive proposals" on territory and security within three months. Israel believes these matters should not be broken away from a wider array of issues dividing Israel and the Palestinians, like the conflicting claims to east Jerusalem and the fate of Palestinian refugees displaced during Israel's establishment 63 years ago. The Quartet -- the U.S., European Union, United Nations and Russia -- did not include any new ideas for bridging the gaps that have kept negotiations deadlocked for the past three years, chiefly the Palestinian demand for a settlement freeze. But it "reaffirmed" its commitment to several older documents and proposals, including the U.S.-backed "road map", which calls for a complete settlement freeze. Israel has refused to endorse the 1967 lines as a basis for the future Palestinian state , despite President Barack Obama's calls to do so. It says talks should immediately resume with no preconditions. Just last week, Israel approved the construction of 1,100 new housing units in an area of Jerusalem built on land captured in 1967 in a move that drew widespread international condemnation. In Cairo, Erekat questioned Netanyahu's seriousness toward the Quartet proposal, since the Israeli leader has rejected the Quartet's previous calls for a settlement freeze and its endorsement of the 1967 lines. "Mr. Netanyahu should put his money where his mouth is and announce he will stop settlements and accept a two-state solution based on 1967," Erekat said. "If he doesn't accept this, it means he's playing a game of deception and public relations. No one is going to swallow it."
---