WEEK OF NOVEMBER 27 THROUGH DECEMBER 3
Russia 'Delivers Cruise Missiles to Syria'
Dec. 2….(AFP) Russia has delivered supersonic cruise missiles to Syria despite the violence shaking the Arab country and Israel's furious condemnation of the deal, a news report said on Thursday. "The Yakhont supersonic anti-ship cruise missiles have been delivered to Syria," a military source told the Interfax news agency without disclosing when the shipment was made. Russia signed a contract reportedly worth at least $300 million (222 million euros) in 2007 to supply its traditional Arab world ally with a large shipment of the cruise missiles. Reports said Russia intended to deliver 72 of the missiles to Syria in all. The deal immediately angered Israel, which fears the weapons may fall into the hands of Hezbollah militants in neighboring Lebanon. Russia has since also come under growing pressure from Washington, which wants all military sales to President Bashar al-Assad's regime halted because of his deadly crackdown on Syrian street protests. But Moscow has defended Assad against global pressure and this week argued that its arms sales were permitted under international law and would continue. Another Russian official told Interfax that the missiles, which operate as part of the Bastion mobile coastal defense system, "will be able to protect Syria's entire coast against a possible attack from the sea." Each Bastion system is equipped with 36 cruise missiles as well as truck-mounted radar and other equipment. It was not immediately clear how many of the missiles Russia has delivered to Syria so far.
Israeli Poll: We'll Give up Nukes if Iran Does
(Saban Center survey shows 65% of Israeli Jews willing to give up nuclear weapons if Islamic Republic waives its own program; prefer to see nuclear-free Middle East)
Dec. 2….(YNET) Two thirds of Israeli Jews are willing to give up Israel's nuclear weapons in return for Iran giving up its own program, a survey published on Thursday claimed. According to the findings, released by Saban Center for Middle East Policy, 65% of Israeli Jews preferred if neither Israel nor Iran to held nuclear arms, and opted for a nuclear-free Middle East. In contrast, some 19% of respondents said they want both countries to have nuclear capabilities. Asked a series of questions about the Israeli-Arab conflict, some two thirds of respondents said the government must promote a comprehensive peace plan, based on 1967 borders, with a demilitarized Palestinian state. Some 71% said they agreed with a definition of Israel as "the homeland of the Jewish people and all its citizens." The survey was published ahead of the Saban Forum that will open in Washington on Thursday, and is expected to draw senior American and Israeli officials including US Secretary of State Hillary Clinton, Defense Secretary Leon Panetta, Opposition chairwoman Tzipi Livni, and Palestinian Prime Minister Salam Fayyad.
The survey also indicated that the Israeli public is split over pursuing a military option in the Islamic Republic, Some 43% of Israeli Jewish respondents said they support a military strike on Iranian nuclear facilities, while 41% opposed it. Among the Israeli Arab public, 68% opposed military action while only 4% supported it. Asked whether they believed Tehran had an intention to develop nuclear weapons, 90% of Israeli Jews responded affirmatively, while only 47% of Israeli Arabs thought the same. However, among the Israeli Arab population, 48% believed that a nuclear Iran will have negative influence on the Middle East, compared with only 17% that said it will have a positive affect. Surprisingly, when asked about their satisfaction with US President Barack Obama, most Israelis, who held a negative view of the president in 2010 (51% compared with 41%) seemed to have changed their minds. At least 54% of Israeli Jews held a positive view of Obama, while only 39% expressed a negative view. However, 39% of respondents also said they were disappointed with Obama's policy in the Middle East, while 22% said they were encouraged by it and 35% expressed no stance.
Egypt: The Next Islamic Republic?
Dec. 2….(Israel Today) Preliminary results from Egypt's first democratic election since the fall of former dictator Hosni Mubarak began rolling in on Thursday, and they are not positive for those who had hoped the Arab Spring would lead to a more open and free Middle East. While this week's vote was only the first in a three-phase election scheduled to last until early January, it did encompass most of Egypt's most populous regions, and so provides a fairly clear picture of what the next Egyptian government will look like. According to unofficial results two days after the vote, the Muslim Brotherhood will control 40-50 percent of the parliament. That wouldn't necessarily be the end of the world if the other half was controlled by "moderate" parties. But it won't be. According to the same results, the second place party in most of the reporting districts is al-Nour, a Salafi Muslim party that is at least as radical as the Muslim Brotherhood.
The liberal Freedom Party and the secular Wafd party placed a distant third in various districts, reported Egypt's Al-Masry Al-Youm newspaper. A leading Egyptian political analyst told the state-run newspaper Al-Ahram that by the time official results are announced in early January, she expects the Islamists to be in control of around 65 percent of the Egyptian parliament. Earlier this week, the head of Iran's Revolutionary Guards, Maj.-Gen. Qassem Soleimani, told a gathering of 50,000 soldiers that "Egypt is a new Iran, whether you (the US-led West) accept it or not." Soleimani also noted that other "Arab Spring" countries like Libya and Yemen are headed in a similar direction. The Muslim Brotherhood has long vowed that if it ever came to power, it would work to reverse or outright nullify the Camp David Accord and end the official state of peace with Israel. The Brotherhood also advocates Sharia Law and the eventual establishment of a global Islamic caliphate, much like the rulers of Iran.
Muslim Brotherhood Takes Egypt Elections by Storm
(Islamist parties are expected to control Cairo's parliament by the spring with the Muslim Brotherhood projected to be in the driver's seat.)
Dec. 2….(Arutz) Judges overseeing the vote count in Egypt's parliamentary elections say Islamist parties have won a majority of the contested seats in the first round. The judges spoke on condition of anonymity because official results are expected to be released later Thursday. They say the Muslim Brotherhood could take 45 percent of the seats up for grabs. The liberal Egyptian bloc coalition and the ultra-fundamentalist Nour party are competing for second place. Together, Islamist parties are expected to control a majority of parliamentary seats by March. This week's vote was the first of six stages of parliamentary elections that will last until then. Continued success by Islamists will allow them to give Cairo's government and constitution a decidedly Islamist character. It could also lead Cairo to shift away from the West towards the Iranian axis. It will also diminish the influence of Cairo's caretaker junta, which has sought to maintain the Mubarak-era status quo and keep US foreign aid dollars, running into the billions per annum, flowing. Analysts say Islamists may also seek to annul the 1979 Egypt-Israel Peace Treaty, which could prompt Israel to seize the Sinai Peninsula for the fourth time in its history to create a strategic buffer zone. After reaching the Suez Canal in 1967 and controlling the Sinai for twelve years,, Israel ceded Sinai to Egypt under the 1979 treaty on condition it remains demilitarized. The Muslim Brotherhood, which birthed the virulently anti-Israel Hamas terror militia, might also seek to effectively annex Gaza. Should Hamas be triumphant in future PA elections, they would also gain a foothold in Judea and Samaria.
Barak vs US: We can't wait until Iran declares it has a nuclear bomb
Dec. 2….(DEBKAfile Special Report) Major US-Israel differences surfaced suddenly today over the timing and circumstances of an attack on Iran's nuclear facilities, when Gen. Martin Dempsey, Chairman of the Joint US Chiefs of Staff, said: "I don't know whether Israel would alert the United States ahead of time if it decided to take military action against Iran." Three hours later, Israeli Defense Minister Ehud Barak maintained US policy would enable Iran to obtain a nuclear weapon without the possibility of attacking it. In an interview, General Dempsey went on to admit a range of differences between the US and Israel on two key issues: The first related to their expectations from the sanctions and the diplomatic moves being taken by the Obama administration, "with the stated intent not to take any options off the table," language that leaves open the possibility of future military action. "I am not sure that the Israelis share our outlook" on this matter, said the American general.
The second issue on which the Americans and Israelis are divided is their perspective on the future course of events relating to the Iranian nuclear program and the Middle East: "And because to them a nuclear-armed Iran is an existential threat I think probably that it's fair to say that our expectations are different right now," said Gen. Dempsey. In an early morning radio interview, Ehud Barak laid Israel's cards on the table with unusual frankness: He said he would be happy if diplomatic moves and sanctions were to stop Iran's nuclear program and make it possible to give up the military option, but he does not believe that is the case. The Americans tell us, what's the hurry with an attack on Iran? Wait until Ayatollah Khamenei announces that Iran is abandoning the NPT (nuclear non-proliferation treaty). The Iranians will break the locks (IAEA inspection seals at Iranian uranium enrichment plants) and then it will be clear to all that they have a nuclear weapon."
Barak added: "The difference between us and the Americans is this: We say that because the Iranians are busy moving their nuclear program to underground facilities, they can announce this (that they have a nuclear weapon) after it is no longer possible to attack it." He went on to warn that If Israel is pushed into a corner, "it will have to act." In other words, Israel is not willing to wait, as the Obama Administration proposes, until diplomatic moves and sanctions against Iran have achieved their aim, mostly because Israel is not ready to let Iran complete the transfer of its nuclear facilities to underground facilities and so make them safe from attack. According to Debkafile's military and intelligence sources, Israel gives Iran no more than six to eight months to complete this transfer, i.e., by June to August, 2012.
Another point made by the Israeli defense minister was that some of Iran's nuclear facilities have already been hidden underground and are therefore impossible to monitor, even by military satellites. He was referring especially, our sources say, to the Fordo bunker site near Qom where, according to intelligence data, Iran is about to start enriching 20-percent grade uranium to 60 percent. This would bring the program to a few weeks away from weapons grade uranium for a bomb or a warhead. On Tuesday, Nov. 29, former IDF military intelligence chief Maj. Gen. (res.) Amos Yadlin estimated that Iran had already accumulated sufficient enriched uranium to build 4 to 5 nuclear bombs.
In his interview Thursday, Defense Minister Barak also answered former Mossad chief Meir Dagan's persistent arguments against an Israeli military strike against Iran on the grounds that it would immediately trigger a regional war: Syria, Hizballah, Hamas and Islamic Jihad would launch attacks on Israel, seriously battering the country and inflicting heavy casualties, in Dagan's view.
Israel, Barak replied, is nowhere near being paralyzed by messages of doom. The degree of damage and number of civilian casualties would not, in his view, be alarmingly high. He repeated his estimate of early November that the casualty figure from a combined Arab missile assault resulting from an attack on Iran would be "a lot less than 500," especially if people took cover. The defense minister concluded this comment by saying: I have no idea what may happen tomorrow morning in Syria, or in Egypt." Debkafile's military sources interpret this as meaning that the danger of a new Middle East regional war is already present, unrelated to a possible Israeli attack on Iran, but rather as a result of the volatility set up by the uprising in Syria and the predicted rise to power in Egypt of the Muslim Brotherhood and Salafi Islamists.
China Will Protect Iran Even if it Means World War III
Dec. 2….(ZeroHedge) "It is puzzling to some that Major General Zhang Zhaozhong, a professor from the Chinese National Defense University, said China will not hesitate to protect Iran even with a third World War... Professor Xia Ming: "Zhang Zhaozhong said that not hesitating to fight a third world war would be entirely for domestic political needs...." And don't forget Russia, which recently said it is preparing to retaliate against NATO and has put radar stations on combat alert: "Russia is another ally of Iran, with similar policy to that of China. Toward Iran." Watch, and please forward the entire video, for an explanation of how China is approaching the situation not only in Iran, but a perspective of how they view the western "threat", as well as what tensions they face domestically.
US Urges Americans to Leave Syria Immediately
Isaiah 17:1 The burden of Damascus. Behold, Damascus is taken away from being a city, and it shall be a ruinous heap.




Jeremiah 49:24-25 Damascus is waxed feeble, and turneth herself to flee, and fear hath seized on her: anguish and sorrows have taken her, as a woman in travail. How is the city of praise not left, the city of my joy!
Dec. 1….(In The Days) The US Embassy in Damascus urged its citizens in Syria to depart from that country "immediately," and Turkey's foreign ministry urged Turkish pilgrims to opt for flights to return home from Saudi Arabia to avoid traveling through Syria. "The US Embassy continues to urge US citizens in Syria to depart immediately while commercial transportation is available," said a statement issued to the American community in Syria Wednesday and posted on the Embassy's website. "The number of airlines serving Syria has decreased significantly since the summer, while many of those airlines remaining have reduced their number of flights." The warning followed an announcement in Washington this week that Ambassador Robert Ford would not return to Syria this month as planned, indicating concerns over his safety. The Obama administration quietly pulled Ford out of Syria last month, citing credible personal threats against him.
The Turkish foreign ministry on Wednesday urged Turkish pilgrims to opt for flights to return home from Saudi Arabia and avoid traveling through Syria for security reasons. The warning came two days after Syrian soldiers opened fire on at least two buses carrying Turkish citizens, witnesses and officials said, apparent retaliation for Turkey's criticism of Assad. The Turks were returning from Saudi Arabia after performing the annual Muslim pilgrimage to Mecca in Saudi Arabia.
A key UN committee voted Tuesday to condemn human rights violations by Assad's government and called for an immediate end to all violence. Nearly 4,000 people have been reported killed in the military crackdown on the popular uprising since March. The nonbinding resolution adopted by the General Assembly's human rights committee calls on Syrian authorities to implement the Arab League peace plan, agreed to earlier this month, "without further delay." The resolution, sponsored by Britain, France and Germany, was passed by a vote of 122-13 with 41 abstentions. It must now be approved at a plenary session of the 193-member world body, where its adoption is virtually certain. US Ambassador Susan Rice said in a statement that the committee's first-ever resolution on Syria's human rights violations "has sent a clear message that it does not accept abuse and death as a legitimate path to retaining power." Syria's UN Ambassador Bashar Jaafari again accused Britain, France and Germany of "waging a media, political and diplomatic war against Syria" and encouraging armed groups to engage in violence rather than national dialogue with the government.
Russia Sending Warships to Syria in 2012
Nov. 30….(YNET) Russia will send a flotilla of warships led by its only aircraft carrier to its naval base in Syria for a port call next year amid tensions with the West over the Syrian crisis, a Russian report said Monday. The ships, headed by the Admiral Kuznetsov aircraft carrier, will dock at the little-utilized Russian base in the Syrian port of Tartus in spring 2012, the Izvestia daily said, quoting the Russian Navy. The Tartus Base, a strategic asset for Russia dating back to Soviet times, is rarely used by Russian vessels and currently no Russian ship is based there although civilian and military personnel are present.
A naval spokesman confirmed the plan to send the ships but insisted it had nothing to do with the deadly violence in Syria between forces loyal to President Bashar Assad and the opposition. "The call of the Russian ships in Tartus should not be seen as a gesture towards what is going on in Syria," the spokesman told the paper, adding the Admiral Kuznetsov would also visit Beirut, Genoa and Cyprus. "This was planned already in 2010 when there were no such events there. There has been active preparation and there is no need to cancel this," added the spokesman.
Russia and the West have become deeply split over the situation in Syria, with Moscow insisting that sanctions and pressure against the Assad regime is not the way to solve the crisis. Izvestia said the Admiral Kuznetsov, Russia's only operational aircraft carrier, would head down from the Russian Far North in December, keeping west of Europe and heading into the Mediterranean through the Strait of Gibraltar. It would also carry around a dozen aircraft. It said the Admiral Kuznetsov would not be able to dock in Tartus itself due to the size of the vessel but anchor outside and be supplied by the smaller ships accompanying it. The ship has visited Tartus before in 1995 and 2007.
Al Qaeda Group Attacks Northern Israel
Nov. 30….(Ha Aretz) The Sheikh Abdullah Azzam Brigades, a militant group affiliated with Al-Qaida on Tuesday claimed responsibility for the four Katyusha rockets fired from Lebanon at Israel overnight. The small organization, whose members live mostly in hideouts in Palestinian refugee camps across southern Lebanon, has claimed responsibility for past rocket attack on Israel, as well. The group does not have a large weapons cache and most of its members have been trained on outdated arms, some left over from the 1980s Lebanon civil war.
The United Nations Interim Force in Lebanon vowed Tuesday morning to ensure that the border remain calm, hours after the four Katyusha rockets were fired into Israel. UNIFIL commanders held emergency meetings with representatives of the Israel Defense Forces and the Lebanese Army following the overnight attack. UNIFIL released a statement declaring that it had deployed extra troops and patrols in the area to preserve the calm and would do everything possible to make sure restraint was exercised. "This is a serious incident in violation of UN Security Council resolution 1701 and is clearly directed at undermining stability in the area," UNIFIL said in its statement. Several rockets fired from Lebanon hit the Western Galilee overnight, the first since 2009, prompting Israel to return artillery fire, military officials said. Two buildings in the Western Galilee were damaged and one of the 122-millimeter rockets struck a gas tank. The rockets ignited a blaze that firefighters fought for hours. No casualties were reported. Residents said they heard two explosions and that houses shook.
Israel said that it held the Lebanese government responsible and would deliver a complaint. "The Lebanese government is responsible for everything that happens in Lebanon and everything that exits from its border," Home Front Defense Minister Matan Vilnai said. In Lebanon, security sources said the four Katyusha rockets were fired into Israel from an area between the villages of Aita Shaab and Rmeish, about 2 kilometers from the border.
They said Israel fired four artillery shells in response, but they landed in fields and caused no damage. The Lebanese Army said late Tuesday morning that it had found two rocket launchers it believed had been used to fire the Katyushas at Israel. An IDF spokesman said the rockets were the first fired since 2009 across a border where a 34-day war was fought in 2006 between Israel and Iranian-backed Lebanese Hezbollah guerrillas. "Several rockets hit the western Galilee. The Israeli army considers the incident severe and is targeting origins of fire," said a statement from the military spokesman's office.
The chairman of the Galilee town that absorbed the attack said residents were going about their daily routine, despite the rocket fire. He said that while the attack came as a surprise, it was not completely unexpected considering ongoing tensions in the area. "It's true that it is relatively quiet here, but there have been incidents of rocket attacks in the last five years," he said. "We're just lucky that it was chicken coops that were hit, and not houses." Israel's defense establishment should carefully weigh its options following the rocket fire, said the town chairman, adding that "perhaps the time has come to consider deploying a rocket detection system in the north of the country similar to the [Iron Dome batteries] in the South." Two weeks after a mysterious explosion at an Iranian missile base, a Washington-based research group has released a satellite image showing extensive damage to the site. The image of the compound, near the city of Malard, doesn't provide any clues as to what caused the Nov. 12 explosion, which Iranian authorities described as an "accident" involving the transport of ammunition. But it does make clear that the facility has been effectively destroyed.
Lebanon Fires on Northern Israel
Nov. 30….(Israel Today) Four Katyusha missiles were fired from southern Lebanon into northern Israel overnight Monday. Three of the missiles landed on two northern Israel towns, causing minor damage and no injuries. The fourth landed in a nearby wooded area. Israeli forces returned fire on the source of three of the missiles, and army commanders said they hold the Lebanese government directly responsible for such provocations emanating from its sovereign territory. While Israel holds Beirut responsible, the attack was likely perpetrated by the Hizballah terrorist militia, which indirectly controls the Lebanese government. Hizballah is backing the blood-soaked and beleagured government of Bashar Assad in neighboring Syria, and the attack on northern Israel could be linked to the death throes of the Assad regime. Israeli officials have warned that should Assad feel his regime will fall (as now appears likely) and that he has nothing left to lose, he could chose to go out in a "blaze of glory" by striking hard at Israel. It is all but certain that Hizballah would join Assad in such an adventure.
Image Shows Iranian Missile Site was Destroyed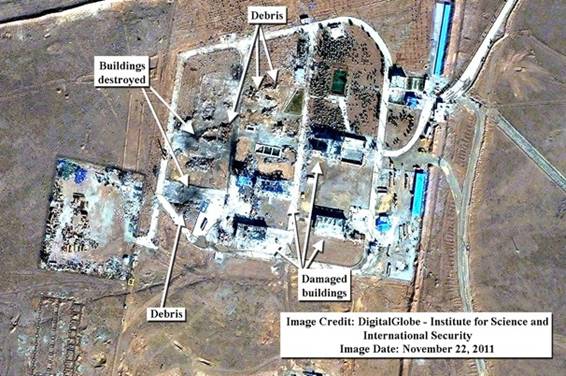 (For comparison's sake, see below for a satellite image taken in September.)
Nov. 30…..(Washington Post) Paul Brannan, a senior analyst for the Institute for Science and International Security, which specializes in the study of nuclear weapons programs, said it's impossible to tell from the image whether the blast was caused by sabotage, as has has been speculated in this explosion and others at transport facilities, oil refineries and military bases in Iran.
When performing work with missiles, there are a variety of "volatile processes" that could cause an explosion, Brannan said. Brannan said ISIS had recently learned from "knowledgable officials" that the blast had occurred just as Iran had achieved a milestone in the development of a new missile and may have been performing a "volatile procedure involving a missile engine at the site." As with the cause of the blast, the nature of that milestone is unclear
Muslim Brotherhood Rally Vows to 'Kill all Jews'
Nov. 30….(Jerusalem Post) A Muslim Brotherhood rally in Cairo on Friday at the Sunni world's most prestigious center of learning turned into a call for genocide, with protesters pledging to "one day kill all Jews." Eldad Beck, Ynet's Arab affairs correspondent, reported from Cairo that some 5,000 people attended the rally at al-Azhar Mosque, convened to coincide with the anniversary of the approval of the 1947 UN Partition Plan for Palestine. The event, organizers said, was aimed at rallying Egyptians behind the "battle against Jerusalem's Judaization." Speakers at the demonstration condemned "Zionist occupiers" and "treacherous Jews," and organizers distributed maps of the Old City highlighting areas where "Zionists are aiming to change Jerusalem's Muslim character."
Muhammad Ahmed el- Tayeb, the imam of al-Azhar Mosque, told the crowd: "Al- Aksa Mosque is currently under an offensive by the Jews. We shall not allow the Zionists to Judaize al-Quds [Jerusalem]. We are telling Israel and Europe that we shall not allow even one stone to be moved there." Protesters chanted, "Tel Aviv, Tel Aviv: Judgment Day has come," and passages from the Koran vowing that "one day we shall kill all the Jews." Al-Azhar Mosque is part of al-Azhar University, a millennium- old compound in central Cairo that is the world's leading center of Arabic literature and Sunni jurisprudence.
Beck quoted an elementary school teacher outside the mosque telling him, "All Egyptian Muslims are willing to embark on jihad for the sake of Palestine." "Why is the US losing in Afghanistan?" he asked. "Because the other side is willing and wants to die. We have a different mentality than that of the Americans and Jews." Meanwhile, late last week, Egypt's Youm7 newsweekly reported that the Brotherhood's spiritual leader, Yusuf al-Qaradawi, had returned to Cairo for the first time since his dramatic return in February from a half-century in exile.
The immensely popular television preacher arrived at Cairo Airport on Wednesday "to follow the incidents in Tahrir Square," the center of anti-government protests. Qaradawi hosts the weekly program Shari'a and Life on Al Jazeera. Exiled from Egypt in 1961, he has since resided in the Persian Gulf emirate of Qatar. Following February's ouster of President Hosni Mubarak, Qaradawi made a triumphant return to Tahrir, where he led at least 200,000 Egyptians in mass prayer. The 85-year-old is hailed by supporters as an engaging and telegenic preacher, and vilified by critics for his often venomous attacks on Americans, Shi'ites and Jews. Qaradawi has been described as the spiritual leader of Hamas, and has justified suicide bombings against Israeli civilians and against US soldiers serving in Iraq.
Marc Ginsberg, the former US ambassador to Morocco and a top Middle East adviser during Jimmy Carter's presidency, wrote an op-ed last week highlighting what he sees as an "unholy alliance" between the Muslim Brotherhood and Egypt's ruling military council. "The Supreme Council of Armed Forces (SCAF) met secretly with representatives of the Muslim Brotherhood and other Islamist-oriented political movements last April to establish local political 'action committee' bank accounts," he wrote on the Huffington Post website, citing a "reliable European military intelligence source." The payouts in question could amount to millions of dollars, Ginsberg wrote. "The SCAF's surreptitious political maneuvering favoring Islamists over more secular political movements is based on one simple equation," he wrote. "The military is determined to prevent secularists from gaining a parliamentary majority which would likely impair its insatiable appetite for controlling Egypt's national budget and its own extensive business operations. "It is determined to prevent a civilian government from interfering with its cherished prerogatives."
Rocket Fire on Israel was Syrian Warning
Nov. 30….(DEBKAfile Exclusive Report) Debkafile's military sources report that the four-Katyusha rocket volley from S. Lebanon which hit Galilee in northern Israel in the small hours of Tuesday, Nov. 29, was initiated by Hizballah commanders in South Lebanon although it was claimed by the al Qaeda-linked Abdullah Azzam Brigades. Hizballah activated a Palestinian cell it controls in the Ain Hilwa refugee camp near Sidon on behalf of its ally in Damascus, arming the cell with the rockets and marking out their firing positions and targets in Israel's Galilee. One Katyusha blew up near the border, two inside a Galilee moshav damaging a hen coop and a fourth in a wood outside Maalot, causing damage but no injuries. Israeli artillery returned the fire.
Officers in the IDF northern command familiar with the terrain across the border, assert that those firing positions are located in a sector under Hizballah's exclusive control. It is off limits to any outsiders without the Iran-backed Shiite group's permission and knowledge. IDF sources read the rocket attack as the Assad regime's last warning to the US, fellow NATO members and Gulf nations that Israel would be first to pay the price for their planned intervention in Syria. It would trigger a Lebanese-Israel border clash followed by a massive rocket assault on Israel. More Katyusha incidents are therefore to be expected to emphasize the message.
In Istanbul meanwhile, Turkish Foreign Minister Ahmet Davutoglu said his government hopes that a military intervention in Syria will never be necessary "but is ready for any scenario." A regime which tortures its own people has no chance of survival, he added. Turkey may consider setting up a buffer zone on its border in co-ordination with the international community in the event of a massive exodus of refugees from Syria, its foreign minister said on Tuesday. This was the first time, Debkafile's sources note, that Turkey has publicly declared itself ready for direct military intervention in Syria in addition to providing bases in support of an allied operation.
Monday, Nov. 28, debkafile reported a group of military officers from NATO and Persian Gulf nations had quietly established a mixed operational command at Iskenderun in the Turkish Hatay province on the border of North Syria:
Hailing from the United States, France, Canada, Qatar, Saudi Arabia and the United Arab Emirates, with Turkish officers providing liaison, they do not represent NATO but are self-designated "monitors." Their mission is to set up "humanitarian corridors" inside Syria to serve the victims of Bashar Assad's crackdown. Commanded by ground, naval, air force and engineering officers, the task force aims to move into most of northern Syria. Laying the groundwork for the legitimacy of the combined NATO-Arab intervention in Syria, the UN Independent International Commission set up to assess the situation in Syria published a horrendous report Monday, Nov. 28 on the Assad regime's brutalities. It documented "gross violations of human rights" and "patterns of summary execution, arbitrary arrest, enforced disappearance, torture including sexual violence, as well as violations of children's rights."
Syrian foreign minister Walid al-Moallem fought back by showing a press conference Monday photos of dismembered bodies of Syrian soldiers as proof of the atrocities he claimed were perpetrated by the anti-Assad opposition. He also complained that "the Arab League and others refuse to believe that there is a foreign conspiracy targeting Syria."
Debkafile military sources report exclusively that the Western-Arab intervention in the Syrian crisis is in an advanced state of operational planning. It entails a buffer zone in northern Syria encompassing beleaguered towns, primarily Idlib, Rastan and Homs, but also Aleppo, Syria's largest city (2.5 million mostly Sunni and Kurdish inhabitants). The protest movement never caught on in Aleppo, home to the moneyed classes who run the country's financial and trading sectors, and it was confined to the highway network feeding the city. Therefore, for the Assad regime, bringing Aleppo into the "humanitarian corridor" system under foreign military control will round of the damage caused by the economic sanctions approved this week by the Arab League. Losing Aleppo will fatally hammer the economy into the ground and rob the Syrian ruler of funding for sustaining his military crackdown to wipe out the unrest in the areas remaining under his control. Aware of this threat, Foreign Minister al-Moallem accused the Arab League of declaring economic war on Syria.
'Iran Prepping Al-Qaida for Large-Scale Attacks on US and Israel'
(Warning raises concern nuclear device could pass to terrorists targeting US)
Nov. 29….(WND) In response to any future Israeli military strike on its nuclear sites, Iran has been training al-Qaida elements in the Egyptian Sinai desert on how to coordinate retaliatory attacks, a senior Egyptian security official told WND. The al-Qaida attacks are meant to target both Israeli and Egyptian installations, the security official said, as part of an Iranian plot to widen any Israeli-Iranian conflict to involve other countries. The Egyptian official said there is also information Iran has been working with Islamic Salafist groups in Jordan that are allied with al-Qaida.
The Iranian Revolutionary Guards helped to train al-Qaida elements in the Sinai and Gaza Strip to carry out large-scale attacks, including missile attacks, cross-border incursions, suicide bombings and explosions targeting infrastructure, such as oil and gas pipelines, the official said. Any Iranian cooperation with al-Qaida would underscore the dangers of Tehran obtaining nuclear weapons. Iran has a history of using terrorist proxies, most notably Hezbollah in Lebanon, to carry out its bidding Some analysts have raised fears of terrorists obtaining a nuclear device from a nation state and using the weapon for maximum damage. The deployment a nuclear electromagnetic pulse, or EMP attack, for example, could collapse the US national electric grid and other critical infrastructures affecting tens of millions of civilians This is not the first time Iran has been accused of working with al-Qaida.
The Obama administration last July accused Iran of entering into a "secret deal" with an al-Qaida offshoot that provides money and recruits for attacks in Afghanistan and Pakistan. Also, the Treasury Department fingered an al-Qaida operative, Atiyah Abd al-Rahman, as serving as Osama bin Laden's recent envoy in Iran. Treasury said in July that al-Rahman traveled in and out of the country with the permission of government officials. Meanwhile, the reports Iran is prepping for a possible Israeli strike are the latest evidence Tehran is readying its proxies. Earlier this month, WND reported on Iran's missile training in Gaza. Egyptian security officials said Iran has been preparing Palestinian terrorist groups in the Gaza Strip and Hezbollah in Lebanon to retaliate in the event of Israeli strikes against Tehran's nuclear sites. The security officials said Tehran was convinced the Jewish state was going to attack its suspected nuclear sites in September, prompting Iran to hold joint military drills with Gazan jihad groups in August, including with Hamas and Islamic Jihad. Similar drills were held in August with Hezbollah militants in Lebanon. The drills were conducted by Iranian Revolutionary Guard members, the officials said. The exercises focused largely on coordinated missile onslaughts from both Gaza and Lebanon aimed at blanketing Israel. According to the Egyptian security officials, any attack against Iran or Syria would result in an immediate Iranian missile campaign against Israel using proxies in Gaza and Lebanon. The international news media has been replete with reports in recent weeks speculating Israel is strongly considering striking Iran's suspected illicit nuclear sites. The reports came as the United Nations nuclear watchdog, the International Atomic Energy Agency, released a report detailing Iran's drive to obtain nuclear weapons.
While the media focus has largely been on Iran, there is information indicating an international campaign could target Iran's ally, Syria. The regime of Syria's Bashar Assad has been accused of major human rights violations, including crimes against humanity, in clamping down on a violent insurgency targeting Assad's rule. Mass demonstrations were held in recent weeks in Syrian insurgent strongholds calling for the international NATO coalition in Libya to deploy in Syria. The Arab League has been strongly considering suspending Syria. Arab League diplomats, speaking to the Associated Press on condition of anonymity, said that if Syria does not adhere to its demands for immediate reform, the organization will work to unify Syrian opposition groups into a coalition similar to that of Libya's National Transitional Council. A next step, the diplomats said, would be to recognize the opposition as the sole representative of the Syrian people in a move that would symbolically isolate the Assad's regime. The moves mimic the diplomatic initiatives taken to isolate Muammar Gadhafi's regime before the NATO campaign in Libya.
Damascus officials claim that NATO troops are currently training in Turkey for a Turkish-led NATO invasion of Syria. Any deployment would come under the banner of the same "Responsibility to Protect" global doctrine used to justify the US-NATO air-strikes in Libya. Responsibility to Protect, or Responsibility to Act, as cited by President Obama, is a set of principles, now backed by the United Nations, based on the idea that sovereignty is not a privilege but a responsibility that can be revoked if a country is accused of "war crimes," "genocide," "crimes against humanity" or "ethnic cleansing." A Turkish-US-NATO strike could have immediate implications for Israel.
The Syrian president warned in a recent interview with a UK newspaper that foreign intervention in Syria would cause an "earthquake" across the region and create another Afghanistan, while directly threatening the Jewish state. Assad reportedly made similar comments in a meeting in early October with Turkish Foreign Minister Ahmad Davutoglu. He was quoted stating, "If a crazy measure is taken against Damascus, I will need not more than six hours to transfer hundreds of rockets and missiles to the Golan Heights to fire them at Tel Aviv." Assad also reportedly warned that "all these events will happen in three hours, but in the second three hours, Iran will attack the US warships in the Persian Gulf and the US and European interests will be targeted simultaneously."
Iran Threatens to Hit Turkey if Nuclear Program Hit by Israel
(Threat by senior Revolutionary Guard commander comes after another Iranian general says Tehran would strike Israel's nuclear facilities if it was attacked.)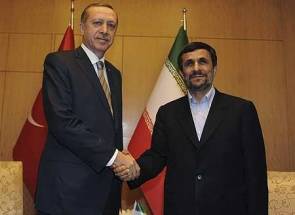 Nov. 29….(Ha Aretz) A senior commander of Iran's powerful Revolutionary Guard says the country will target NATO's missile defense shield in Turkey if the US or Israel attacks the Islamic Republic. Gen. Amir Ali Hajizadeh, the head of the Guards' aerospace division, is quoted by the semiofficial Mehr news agency as saying the warning is part of a new defense strategy to counter what it sees as an increase in threats from the US and Israel. He says Iran will now respond to threats with threats rather than a defensive position. Tehran says NATO's early warning radar station in Turkey is meant to protect Israel against Iranian missile attacks if a war breaks out with Israel. Turkey agreed to host the radar in September as part of NATO's missile defense system.
Earlier Saturday, another Iranian defense official threatened retaliation against Israel if any of its nuclear or security sites are attacked. "If Israeli missiles hit one of our nuclear facilities or other vital centers, then they should know that any part of Israeli territory would be target of our missiles, including their nuclear sites," General Yadollah Javani of the Revolutionary Guards told ISNA news agency. "They (Israel) know that we have the capability to do so." Javani, the former head of the military's political department, was referring to mounting speculation that Israel would strike Iran's nuclear facilities after the International Atomic Energy Agency said Iran had tested designs used to make nuclear warheads.
Iran Threatens Israel with 150,000 Missiles if Attacked
(Iran continues to threaten Israel, this time hinting it will hit it with up to 150,000 missiles if its nuclear facilities are attacked)
Nov. 29….(Arutz) In a continuation of its statements from the past several days, Iran on Sunday threatened Israel with a barrage of missiles, if the Jewish State attacks its nuclear facilities. Iran's Defense Minister Brigadier General Ahmad Vahidi told the Fars news agency that Israel will not have a minimal chance of survival after attacking Iran. "The enemy must answer this question, if it attacks Iran, for how long a battle and losing how many of its warships and vessels has it prepared itself?" Vahidi said. "Why is the Zionist regime making threats against Iran? How many missiles have they prepared themselves for? 10,000? 20,000? 50,000? 100,000? 150,000 or more?" he added. He advised the US and its allies to realize Iran's incredible might and said that in the event of a war, the Islamic Republic will teach the Americans what war really is and what soldiers are supposed to be like. The latest threat comes after on Saturday, Iran threatened to target NATO's missile defense installations in Turkey if the US or Israel attacks the Islamic Republic. Gen. Amir Ali Hajizadeh, the head of Iran's Revolutionary Guards' aerospace division, said, "Should we be threatened, we will target NATO's missile defense shield in Turkey and then hit the next targets."
Another senior Guard commander, Yadollah Javani, threatened that Tehran will target Israel's nuclear facilities if the Jewish state attacks Iran. "If Israel fires a missile at our nuclear facilities or vital installations, it should know that Israel's nuclear centers will be the target of our missiles," Javani said. Tensions have been rising between Iran and the West since the release of a report earlier this month by the International Atomic Energy Agency, which said that Tehran was suspected of conducting secret experiments whose sole purpose was the development of nuclear arms. Meanwhile, Israel's Channel 2 News reported on Sunday that Israel plans to clarify to the United States this week that the sanctions imposed on Iran are important, but not enough.
According to the report, Israel will give this message to David Cohen, the US Treasury Department's undersecretary for terrorism and financial intelligence, who will arrive in Israel on Monday for talks on the Iranian sanctions. During his visit, Cohen is expected to meet with security officials and with Deputy Foreign Minister Danny Ayalon. Last week, Prime Minister Binyamin Netanyahu made similar comments and said, "While it is very important that significant economic sanctions have been imposed, it is insufficient. Effective sanctions must continue to be imposed on its petrochemical industries and on the Iranian central bank as well, and soon."
Obama Policies Endanger World, Could Propel Mideast War
(Three years of President Barack Obama's policies have made the world a more perilous place, aggravating a Mideast situation that could result in an all-out war with a nuclear-armed Iran)
Nov. 28….(Newsmax) "The world will become substantially more dangerous" if the evisceration of the US military, the undermining of American allies, notably Israel, and the emboldening of its enemies continues under the Obama administration, said Gaffney, the founder and president of the Center for Security Policy. The Obama Administration must stop embracing the Muslim Brotherhood to protect US national security, says Frank Gaffney. In a NewsmaxTV video interview, the Center for Security Policy founder says a cataclysmic regional war over Israels future is inevitable in the Middle East. "All of these things really are adding inexorably to the dynamic that war can be taken safely with the United States standing on the sidelines rather than being the reliable ally of Israel that has helped deter such conflicts in the past," Gaffney said in the exclusive Newsmax interview. "There's been a further, if you will, gathering of the storm clouds, that only further reinforces my concern that, probably before the next election, you may see this break out in way that results in a regional cataclysm," Gaffney said. "The next year may prove even more problematic. Were the president to be completely unrestrained by the necessity of being re-elected, I feel that far more damage might be done in several different areas." Among his concerns are the establishment of Shariah in Tunisia, Libya, Egypt, and Syria; the rise of Hezbollah in Lebanon; and the strengthening of Hamas in Gaza. "Whether we're likely to see a caliphate emerge any time soon, I don't know," Gaffney said. "We're certainly seeing people who aspire to that goal, believing more and more and more that they will accomplish it." His primary concern remains the Iranian nuclear weapons program. "I don't think anything will dissuade the Iranians from fulfilling their longstanding objective of obtaining nuclear weapons," he said. "They'll have to be stopped." There is a strong likelihood that Iran will develop a nuclear weapon before the next election, he said. "My guess is that, if it's not matter of weeks off, it may be months at most, and the trouble is, we don't know, and we may not know until either there's a nuclear test or there's a nuclear explosion," he said. Gaffney offered two strategies to thwart nuclear Iran:
• The United States could help the Iranian people succeed in overthrowing "a regime that they detest and that has ruinously misruled them for so long."
• Another country could use military force to disrupt or destroy the nuclear program.
"Sanctions, I don't think, are going to help in either of those respects," he said. "They certainly haven't to date." When asked whether Israel would be the first to strike Iran, Gaffney replied: "Whether Israel will do it remains to be seen. There's talk, and my experience tells me that when there's talk, that usually means there's not going to be action. But I think there's no doubt that the Israelis increasingly recognize that what is happening with ineffective sanctions, with an America that is not taking the lead or, worse, is actually trying to engage the mullahs of Iran is that an existential threat to the Jewish state is becoming ever more of an imminent peril." When asked whether the United States would support Israel if the country struck first, Gaffney answered, "Under the Obama administration, it seems exceedingly unlikely that there will be any kind of support for the Israelis should they decide, actually, to go for it with Iran. My guess is the Israelis are going to be very leery of sharing with us information about what we're doing out of a concern that the Obama administration would, at a minimum, feel constrained to discourage them from doing so and may actually take more direct steps to prevent them from being able to execute such a strike."
Arab League Levies Sanctions On Syria; Russia Sends Missiles to Assad
Nov. 28….(DEBKAfile Special Report) Twenty-four hours before the Arab League clamped down sanctions on the Assad regime, the first ever against a member state, the armies of Syria's seven neighbors were already scrambling into position on standby on its borders for acts of retaliation. Military suspense mounted after the Arab League vote to cut off transactions with Syria's central bank, withdraw Arab funding from projects and other painful sanctions over Bashar Assad's refusal to halt his crackdown on protest. Debkafile's military sources report Israeli armored brigades pushed forward up to the Lebanese and Syrian borders; Ankara placed three armored brigades, its air force and navy in astate of preparedness, likewise Hizballah and the Lebanese and Jordanian armed forces, while the US and Russia are in the midst of a naval buildup opposite Syrian shores.
Military sources in the Gulf report that 150 Iranian Revolutionary Guards specialists had landed at a military airport south of Damascus on their way to Lebanon to join Hizballah which began bringing its rockets out of their hideouts. Ahead of the Arab League vote, Qatar and Turkey were reported to be airlifting "volunteers" from Libya to fight alongside the rebel Free Syrian Army, some also transporting weapons, whereas Russia has begun another airlift to deliver top-notch missiles for Assad's forces. Our sources report the two key items are advanced Pantsir-1 (SA-22 Greyhound) anti-air missiles for breaking a no-fly zone against most types of aircraft should one be imposed and supersonic Yakhont (SS-26) missiles for targeting vessels blockading Syria's shores at a distance of 300 kilometers.
Israeli and Jordanian armed forces declared a state of preparedness Friday, Nov. 25, after the Syrian General Command accused an "armed terrorist" group of an ambush killing 10 airmen including 6 elite pilots on the Homs-Palmyra road Thursday, "with the involvement of foreign parties, the foremost of which is Israel." Debkafile's military and intelligence sources report the ambush was another of the major operations against Assad regime's most sensitive targets executed by the Free Syrian Army this week. It took place at a point on the highway east of Palmyra on the fringe of the Syrian Desert and close to the Syrian Air Force base at Tiyas. The official statement aired on Syrian state TV said the attack claimed the lives of six elite pilots, one technical officer and three technical sub-officers of the airbase. Our sources add that the rebel army must have penetrated the highest levels of Syria's military intelligence command for the attack and was clearly receiving targeting data from inside the armed forces. The ruling Baath party headquarters in Damascus was also attacked on Thursday.
The official Syrian statement broadcast Friday described the pilots as "qualitatively trained in piloting modern military aircraft" and "prepared to carry out "the sacred duty of liberating the land and restoring the usurped rights." It went on to say: "The General Command considers that the beneficiaries of this terrorist act are the enemies of the homeland and the nation, foremost being Israel." The Syrian military vowed "to cut every evil hand that targets Syrian blood, and decisively confront all who threaten the homeland's security and stability." Assad for now, has decided to point the finger at Israel, a reliable standby when the regime has its back to the wall. Jordan, through which large arms supplies reach the Syrian opposition, may seem to Damascus to be easy prey for the bombardment or raid of bases hosting Syrian rebels. Now, Damascus faces economic sanctions spearheaded by the Arab League, which earlier this month suspended Syrian membership, amid growing international isolation.
WEEK OF NOVEMBER 20 THROUGH NOVEMBER 26
US Carrier Strike Force Enters Syrian Waters: Russian Battle Carrier En Route
| | |
| --- | --- |
| (USS Bush enters Syrian waters) | (FOJ) It is apparent that President Obama is working in tandem with the Muslim Botherhood to bring "Change" to the Middle East. The change will not be good for Israel. The "burden of Damascus," prophesied by Isaiah and Jeremiah may be on the horizon. And that epic event may lead to the rapid rise of the Antichrist. |
Nov. 26….(DEBKA) The Syrian crisis assumed a big power dimension this week with the build-up of rival United States and Russia naval air carrier armadas in Syrian waters, Debkafile's military sources report. The USS George HW Bush arrived Wednesday, Nov. 23, in the wake of the three Russian warships anchored earlier opposite Tartus, which established a command post in the Syrian port. They will be augmented by Russia's only air carrier the Admiral Kuznetsov, which is due by mid-week. By deploying 70 ship-borne fighter-bombers plus three heavy guided missile cruisers and five guided missile destroyers opposite Syria, Washington has laid down military support for any intervention the Arab League in conjunction with Turkey may decide on. Bashar Assad can see for himself that Washington has hoisted a nuclear aerial umbrella to protect its allies, Israel, Turkey, and Jordan, against the retaliation his armed forces high command pledged Friday for the deaths of six Syrian air force elite pilots in an ambush Thursday.
For some time, Ankara has been weighing the creation of a protected haven for rebels and refugees inside Syria. France has proposed slicing "humanitarian corridors" through Syria for them to flee safely from military tank and gunfire and secure supply of food, medicines and other essential supplies to the cities under army siege. Both plans would depend on being safeguarded by substantial ground and air strength inside Syria which would certainly face fierce resistance from Assad's military. The Arab League has scheduled weekend meetings to decide how to proceed after Damascus ignored its Friday deadline for accepting hundreds of monitors. Saturday, Nov. 26, AL finance ministers will discuss economic sanctions. In the past 48 hours, at least 70 people were reported killed as the Syrian army continued its crackdown in the face of spreading armed opposition.
The Russian Kuznetzov carrier and its accompanying strike vessels will join the three Russian warships parked opposite Tartus for more than a week. It will enter the same Syrian offshore waters as the USS Bush and the US Sixth Fleet, which is permanently posted in the Mediterranean. The Syrian crisis is therefore building up to a superpower face-off unparalleled since the Cold War between America and the Soviet Union ended in the nineties.
While Washington clearly stands ready to back operations against the Assad regime, Moscow is drawing a red line around his presidential palace in Damascus. The Kremlin is warning the US, NATO and the Arab League that they will not be allowed to repeat their feat in Libya of overthrowing Muammar Qaddafi against Assad. In the face of this escalating big power standoff and the high possibility of the Syrian ruler deciding to lash out against his country's neighbors, the Israeli, Jordanian and Turkey armies have declared a high state of war preparedness.
Chaos in Egypt Causing Alarm in Israel
Nov. 26….(In The Days) Before the current clashes between protesters and the military in Egypt, Israel's relations with the country had deteriorated following the ouster of former dictator Hosni Mubarak. Israelis are nervously watching Egypt's revolution reignite with protests in Tahrir Square raising fears a decades-old military dictatorship may soon be replaced by Islamist radicals who will pose a new security threat. When Israel's inner security Cabinet met for eight hours Tuesday to discuss annual intelligence assessments compiled by Shin Bet, the Mossad, Military Intelligence and the Ministry of Foreign Affairs, its discussions apparently were dominated by concerns about Egypt, Syria and Iran. Wednesday morning's edition of Yediot Aharonot, Israel's top-selling newspaper, carried the front-page headline: "Between Cairo and Tehran," in reference to the Middle East's rising Islamist tide. The newspaper Maariv also reported that Israel's army chief, Benny Gantz, "presented the security Cabinet with a scenario involving the cancellation of the peace treaty" between Egypt and Israel.
Also on Wednesday, Israel's Minister for Civil Defense, Matan Vilnai, told Israel's Army Radio that security experts expect a "grave erosion" of Israel's 32year-old peace treaty with Egypt if the Muslim Brotherhood makes major gains in Egypt's upcoming elections. "The picture is quite clear," he said. "We've been saying it for months. What we call the Muslim Brotherhood will ultimately be the majority in all the Egyptian institutions and once the regime stabilizes, as we expect it to do, we expect that there will be a grave erosion of this agreement. We have to prepare for such a situation." The peace treaty with Egypt has been a cornerstone of Israel's security doctrine for three decades, guaranteeing relative quiet along its southern border and allowing Israel's military to focus on threats elsewhere. Israeli and Egyptian militaries learned to co-operate with each other and shared an interest in guarding the border and limiting the influence of Hamas in Gaza.
But relations have already deteriorated sharply since the ousting of former dictator Hosni Mubarak in February. Arab terrorists have launched cross-border attacks into Israel from the Sinai and repeatedly blown up an Egyptian pipeline that carries natural gas to Israel and Jordan. In September, a Cairo mob stormed and destroyed Israel's Egyptian embassy. The situation may only deteriorate further as Egypt experiences its first real taste of political competition in more than 40 years with the scheduled start of parliamentary elections on Monday. "The political context in Egypt, when it comes to peace with Israel, might be changing," said David Makovsky of the Washington Institute for Near East Policy. "Islamist parties – led by the Muslin Brotherhood but not exclusively, could be a dominant political bloc." Israel could become a target of convenience for competing politicians and a military that wants to cling to power while limiting confrontations with the Egyptian public. "There is political capital to be made in saying, 'We're going to take a tougher position toward Israel,'" Mr. Makovsky said. "In light of the Jan. 25 Revolution, Israel no longer has the luxury or the security, of dealing with a handful of Egyptian leaders," writes Mirette Mabrouk of the Brookings Institute. "While the move toward democracy in Egypt is likely to be a slow and painful grind, Israel is still going to have to deal with a government more accountable to its people. And considering that any new government is going to struggle with the prodigious social and economic burdens left by the former regime, a populist foreign policy may be considered an easy crowd-pleaser."
Israel has already braced for change by doubling up its military deployments along the Sinai and accelerating construction of a $400-million, five-metre-tall security fence along 240 kilometres of the Egyptian border. Any cooling of relations with Cairo could have major repercussions for Israel, since Egypt is more than just an Arab neighbour, but plays a dominant role in the rest of the Arab world. "It looks like it is going to be a long Arab Winter," said Moshe Arens, a former Israeli defence and foreign minister. "The Islamists are going to inherit the mantle of the dictators. A wave of Islamic rule, with all it entails, is sweeping across the Arab world. It will replace secular dictatorships with Islamic ones. We should have expected nothing else."
Cairo Rally: One Day we'll Kill all Jews
(Muslim Brotherhood holds venomous anti-Israel rally in Cairo mosque Friday; Islamic activists chant: Tel Aviv, judgment day is coming)
Nov. 26….(YNET) A Muslim Brotherhood rally in Cairo's most prominent mosque Friday turned into a venomous anti-Israel protest, with attendants vowing to "one day kill all Jews." Some 5,000 people joined the rally, called to promote the "battle against Jerusalem's Judaization." The event coincided with the anniversary of the United Nations' partition plan in 1947, which called for the establishment of a Jewish state. However, most worshippers who prayed at the mosque Friday quickly left it before the Muslim Brotherhood's rally got underway. A group spokesman urged attendants to remain for the protest, asking them not to create a bad impression for the media by leaving.
Speakers at the event delivered impassioned, hateful speeches against Israel, slamming the "Zionist occupiers" and the "treacherous Jews." Upon leaving the rally, worshippers were given small flags, with Egypt's flag on one side and the Palestinian flag on the other, as well as maps of Jerusalem's Old City detailing where "Zionists are aiming to change Jerusalem's Muslim character." Propaganda material ahead of Egypt's parliamentary elections was also handed out at the site. Spiritual leader Dr. Ahmed al-Tayeb charged in his speech that to this day Jews everywhere in the world are seeking to prevent Islamic and Egyptian unity. "In order to build Egypt, we must be one. Politics is insufficient. Faith in Allah is the basis for everything," he said. "The al-Aqsa Mosque is currently under an offensive by the Jews…we shall not allow the Zionists to Judaize al-Quds (Jerusalem.) We are telling Israel and Europe that we shall not allow even one stone to be moved there." Muslim Brotherhood spokesmen, as well as Palestinian guest speakers, made explicit calls for Jihad and for liberating the whole of Palestine. Time and again, a Koran quote vowing that "one day we shall kill all the Jews" was uttered at the site. Meanwhile, businessmen in the crowd were urged to invest funds in Jerusalem in order to prevent the acquisition of land and homes by Jews. Throughout the event, Muslim Brotherhood activists chanted: "Tel Aviv, Tel Aviv, judgment day has come." Speaking to Ynet outside the mosque following the prayer, elementary school teacher Ala al-Din said that "all Egyptian Muslims are willing to embark on Jihad for the sake of Palestine." "Why is the US losing in Afghanistan? Because the other side is willing and wants to die. We have a different mentality than that of the Americans and Jews," he said.
Thousands Rally in Egypt on 'Islamic Last Friday'
(Protesters accuse military leaders of holding on to power; ElBaradei joins Friday prayers in Tahrir Square to support protests)
Nov. 26….(Reuters) Tens of thousands of Egyptians demanding an end to military rule converged on Cairo's Tahrir square on Friday in what activists say will be the biggest day yet in a week of demonstrations in which 41 people have been killed. The military men who took over after people power toppled deposed president Hosni Mubarak on Feb. 11 are themselves under fire from protesters who accuse them of clinging to power, leading to street battles that look like a replay of February's unrest. The ruling army council named Kamal Ganzouri, 78, who served as prime minister under Mubarak from 1996 to 1999, to head a national salvation government. Prime Minister Essam Sharaf's cabinet had resigned this week amid the protests. The United States, long a bedrock supporter of Egypt's military, called on the generals to step aside "as soon as possible" and give real power to the new cabinet "immediately." The military rulers say they are working on a transition of power, including parliamentary elections set for Monday, which could be overshadowed if violence continues. Some protesters say the army cannot be trusted to hold a clean vote.
Ganzouri declined to reveal details of his new cabinet. "Everything will be outlined later," he said. After his appointment was confirmed, crowds in Tahrir chanted: "They brought a thief and appointed another thief", referring to Sharaf and Ganzouri. Activists sought to bring a million people into the streets of Cairo on what they dubbed "the Friday of the last chance, to oppose Ganzouri". Thousands flooded into Tahrir Square for prayers, where Sheikh Mazhar Shahin told worshipers the protest would go on until Egypt had a new salvation government. Former International Atomic Energy Agency chief and Egyptian presidential candidate Dr. Mohamed ElBaradei made an appearance at Tahrir Square as protesters were assembling for Friday's protest. He urged the ruling council to usher in quickly the democratic reforms they had promised after the fall of Mubarak. ElBaradei's appearance was his first since the start of last weeks protests, in which at least 41 have been killed according to the Egyptian Health Ministry. The presidential candidate participated in Friday prayers with demonstrators before jumping in an SUV surrounded by an "appreciative crowd," and driving off, according to a Wall Street Journal reporter in Tahrir Square. Friday, the weekly Muslim prayer day, has traditionally been the biggest day of demonstrations in the "Arab Spring" protests sweeping the Middle East this year.
Enthusiasm for the protests was not universal. About 5,000 people waving Egyptian flags demonstrated in favor of the military rulers in Cairo's Abbassiya district. "The people want the emptying of the square," shouted the demonstrators. A big banner read: "Egypt will not be governed from Tahrir square." Activists who tried to organize a march to Tahrir from a mosque in the capital's Shubra neighborhood were rebuffed. "The army council will leave in six months. We have elections in three days. What do these people want?" asked one worshipper angrily. "They are hired to start trouble."
The Obama White House (as it did in the Spring) stepped up pressure on Egypt's military rulers to speed up the hand-over to civilian control. "Full transfer of power to a civilian government must take place in a just and inclusive manner that responds to the legitimate aspirations of the Egyptian people, as soon as possible," Obama Administration spokesman Jay Carney said in a statement. "The United States strongly believes that the new Egyptian government must be empowered with real authority immediately."
FOJ Note: Once again, President Obama is taking quick action to annihilate any prospect of a US ally that will make peace with Israel. Obama's actions reveal that he is definitely pro-Muslim Brotherhood.
Thanksgiving is A Christian Ideal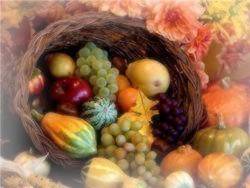 Happy Thanksgiving !…..(FOJ) Thanksgiving Day is a time to reflect and be thankful for all that God has given us. He has given us his Son, his Grace, his Love, and a Home for the future.
Psalms 69:30 I will praise the name of God with a song, and will magnify him with thanksgiving.
I Chronicles 16:8 Give thanks unto the Lord, call upon his name, make known his deeds among the people.
I Chronicles 16:34 O give thanks to the Lord, for He is good; For His loving kindness is everlasting.
Colossians 3:15 And let the peace of Christ rule in your hearts, to which indeed you were called in one body; and be thankful.
1 Timothy 4:4-5 For everything created by God is good, and nothing is to be rejected, if it is received with gratitude; for it is sanctified by means of the word of God and prayer.
1 Thessalonians 5:18 in everything give thanks; for this is God's will for you in Christ Jesus.
Russia May Target US/NATO Missile Defense Sites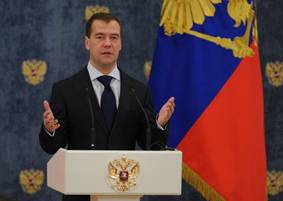 Nov. 24….(AP) Russia will deploy new missiles aimed at US missile defense sites in Europe if Washington goes ahead with the planned shield despite Russia's concerns, President Dmitry Medvedev said Wednesday. Russia will station missiles in its westernmost Kaliningrad region and other areas if Russia and NATO fail to reach a deal on the US-led missile defense plans, he said in a tough statement that seemed to be aimed at rallying domestic support. Russia considers the plans for missile shields in Europe, including in Romania and Poland, to be a threat to its nuclear forces, but the Obama administration insists they are meant to fend off a potential threat from Iran. Moscow has agreed to consider NATO's proposal last fall to cooperate on the missile shield, but the talks have been deadlocked over how the system should operate. Russia has insisted that the system should be run jointly, which NATO has rejected. Medvedev also warned that Moscow may opt out of the New START arms control deal with the United States and halt other arms control talks if the US proceeds. The Americans had hoped that the treaty would stimulate progress further ambitious arms control efforts, but such talks have stalled over tension on the missile plans. "The United States and its NATO partners as of now aren't going to take our concerns about the European missile defense into account," a stern Medvedev said, adding that if the alliance continues to "stonewall" Russia it will take retaliatory action. The US plan calls for placing land- and sea-based radars and interceptors in European locations over the next decade and upgrading them over time. Medvedev warned that Russia will deploy short-range Iskander missiles in Kaliningrad, a Baltic Sea exclave bordering Poland, and place weapons in other areas in Russia's west and south to target US missile defense sites.
Russia Warns US About Missile Shield While Targeting Israel's Missile Defenses
Nov. 24….(DEBKAfile Exclusive Report) After deploying three warships in Syrian waters, Moscow continues to beat war drums against the United States followed closely by Tehran. Wednesday, Nov. 23, Russian President Dmitry Medvedev told state television: "I have ordered the armed forces to develop measures to ensure if necessary that we can destroy the command and control systems" of the planned US missile-defense system in Europe. These measures are appropriate, effective and low-cost." Iranian Supreme Leader's top advisor for military affairs Major General Yahya Rahim Safavi came next. He said: "The Iranian Revolutionary Guards controls the identity and destination of every US warship which intends to pass through the Strait of Hormuz." Debkafile's military sources report that the US missile shield's command and control systems which the Russian president spoke of destroying are linked directly to Israel's missile defense network against Iranian, Syria and Hizballah missiles and the X-Band radar station located in the southern Israeli Negev. Medvedev's threat to American "command and control systems" was therefore comprehensive. It referred not just to the US anti-missile shield facilities planned for Europe, but also to preparing measures for use in the course of a possible American or Israeli attack on Iran or Syria, for striking the US missile defense systems in Europe before they can intercept Iranian missiles. Knocking out the European shield would leave Israel completely exposed to Iranian missile attack. In a very few terse words, the Russian president has made it clear that the Kremlin will not allow Iran and its Middle East allies be prevented from missile retaliation in the event of war. That threat also explains why at least two of the three Russian naval vessels moved into Syrian territorial waters last week were equipped for surveillance and electronic warfare, exactly what is needed for a Russian operation to destroy US missile shield command and control centers near the Syrian border, such as the one stationed in Turkey. In another part of his announcement, President Medvedev also threatened to opt out of the new START arms control deal with the United States and halt other arms control talks if the US proceeds with the missile shield without meeting Russia's demand for it to be managed jointly, which NATO has rejected. The Iranian General Savavi's assertion of the IRGC's exclusive control of the Strait of Hormuz was in direct response to the crossing of two US carriers, the USS Stennis and USS Bush, through the strait to take up position opposite the Iranian coast.
Hezbollah Considering Military Coup if Assad Falls
Nov. 24….(YNET) Hezbollah's leadership is considering the possibility of taking control of Beirut and effectively carrying out a military coup in Lebanon should the current Syrian regime fall, the al-Arabia network reported Tuesday. According to the report, Hezbollah members have expressed concerns over the escalation of the civil uprising in Syria, which could lead to the fall of Bashar Assad's regime. The Syrian president is an ally of the Lebanese Shiite group. Sources close to Hezbollah noted that it was due to those concerns that the Hezbollah leadership was examining various scenarios, including a "broad maneuver on the ground," similar to the takeover of Beirut in May 2008. However, the current plans apparently include a much more extensive maneuver which may expand to a military coup. "As soon as Hezbollah will sense that the collapse of Assad's regime is imminent, armed cells will quickly begin operating to seize control of Beirut's eastern and western parts," one of the sources told al-Arabia. "This operation, which will be coordinated with Hezbollah's allies, including Michel Aoun's Free Patriotic Movement, will be carried out under the banner of 'protecting the resistance and its weapons inside Lebanon,'" he said.
According to the source, Hezbollah will explain that the takeover "as an act that is aimed at countering Lebanese forces plotting to suppress the resistance in cooperation with foreign elements, headed by Israel, and take advantage of (Assad's downfall) to annihilate Hezbollah." About a week and a half ago Hezbollah Secretary-General Hassan Nasrallah warned Israel and the US that a war against Iran and Syria would lead to an all-out regional conflict. "They should understand that a war on Iran and Syria will not remain in Iran and Syrian territory, but it will engulf the whole region and there is no escaping this reality," Nasrallah said during a televised speech honoring "Martyrs' Day."
Russian Warships In Syria, US Carriers Near Iran
Nov. 22….(DEBKAfile Exclusive Report) Big power gunboat diplomacy is in full spate in the Mediterranean and Persian Gulf. Washington is underscoring its military option against Iran's nuclear program, while Russia is demonstrating its resolve to prevent NATO attacking Syria after Libya and defending Bashar Assad's regime. Monday, Nov. 21, Russia's foreign minister Sergey Lavrov accused Western nations of "political provocation" by urging the Syrian opposition to refuse to negotiate a settlement with Assad. Turkish Prime Minister Tayyip Erdogan, for his part, advised Assad: "You can only continue with tanks and guns to a certain point, the day will come when you will go." Debkafile's military sources note that Russia and America adopted aggressive postures on Nov. 12, when two American carriers, the USS Bush and USS Stennis sailed through the Strait of Hormuz side by side and took up position opposite the Iranian coast. That was also the day when a mysterious explosion at the Revolutionary Guards base near Tehran wiped out the entire leadership of Iran's ballistic missile program. Five days later, on Nov. 17, the Syrian news agency reported three Russian naval vessels on the Mediterranean were heading toward Syria. Monday, Nov. 21, presidential sources in Damascus announced three warships had entered Syrian territorial waters outside Tartus port. Those sources stressed the Russian ships would not anchor in the Syrian port, indicating that their mission was not just to show the flag for the Assad regime but was on operational duty along its coasts to resist any foreign intervention in Syria unrest.
Our military sources are watching to see whether the Russian flotilla targets the small craft transporting arms from Lebanon and Turkey to Syrian rebels fighting the regime. If so, Moscow would be able to present these strikes as actions against piracy which would fall under a UN Security Council resolution. While Moscow and Damascus kept the identity of the Russian warships dark, Arab sources said at least two of them are equipped for gathering intelligence and electronic warfare. As the Russian warships entered Syrian territorial waters, Canadian Defense Minister Peter McKay announced that in the light of the Syrian crisis, the Royal Canadian Navy would keep back in the Mediterranean until the end of 2012 certain vessels which took part in the Libyan campaign. Debkafile's military sources report he was referring to two frigates: HMCS Vancouver will stay in the Mediterranean Sea until early next year," he said, taking part in "locating, tracking, reporting (and) boarding vessels of interest suspected of international terrorism." It would be relieved by HMCS Charlottetown until the end of 2012. Defense Minister Mckay explained: "…a lot of dictators are on notice that this type of behavior isn't going to be tolerated. How we go about it and what comes next is done on an escalating scale before making any final decisions about intervention." The Canadian defense minister was the first prominent Western official to admit the possibility of Western military intervention in Syria.
Three more events affecting the fate of the Assad regime, Tehran's closest ally, followed in quick succession Monday: British Foreign Secretary William Hague received a delegation of the opposition Syrian National Council in London. Shortly before the interview the SNC published its plan for the transition of power from the Assad regime in Damascus, calling also for "international protection for Syrian civilians." In Syria itself, three buses carrying Turkish pilgrims home from Mecca were accosted by a Syrian checkpoint at Cizre near Homs. The passengers were ordered to disembark for their papers to be inspected. The Syrian soldiers then started shooting at them, injuring a passenger and one of the drivers. This incident will not be treated lightly by the Erdogan government.
Until now, despite vocal threats, Ankara has not intervened directly in the nine-month Syrian uprising aside from arming and training rebels. Also Monday, Jordan's King Abdullah II paid a surprise visit to Ramallah for talks with the Palestinian Authority chairman Mahmoud Abbas. One of the items on his agenda was an attempt to find out where the Palestinian leader stands vis-à-vis the Arab Revolt, especially on the conflict in Syria.
Muslim Brotherhood Inciting Protests in Cairo
Nov. 21….(FOJ) Islamists from the Muslim Brotherhood, Egypt's most powerful political group, as well as political parties representing the ultra-conservative Salafi school of Islam marched on Tahrir Square on Friday to demand that a set of "constitutional principles" proposed by the interim government be retracted. The Islamists, as well as some demonstrators from secular-minded pro-democracy groups such as the April 6th Youth Movement and the Revolutionary Youth Coalition, complained that the proposals are undemocratic because they would place the military budget and operations beyond the purview of democratic institutions. The principles would also give the ruling council of generals final say over the constitutional drafting process and allow it to choose 80% of the constituent assembly that will write the founding document. Egyptians face deep uncertainty over the parliamentary elections that start on November 28th, 2011 and question whether presidential elections will take place in March or April 2012, as previously promised or delayed until 2013 allowing the military to retain control.
Egyptian soldiers and police set fire to protest tents in Cairo's Tahrir Square and fired tear gas and rubber bullets in a major assault Sunday to drive out thousands demanding that the military rulers quickly transfer power to a civilian government. At least 11 protesters were killed and hundreds were injured. It was the second day of clashes marking a sharp escalation of tensions on Egypt's streets a week before the first elections since the ouster of longtime authoritarian leader Hosni Mubarak in February. The military took over the country, promising a swift transition to democratic rule by the people, but the MB is making hay out of the situation in order to turn Egypt into an Islamic State. Many Egyptians are anxious about what the impending elections will bring. Specifically they worry that stalwarts of Mubarak's ruling party could win a significant number of seats in the next parliament because the military did not ban them from running for public office as requested by activists.
Syria Sitting on the Edge of the Abyss
Nov. 21….(Bloomberg) Syrian President Bashar al-Assad's declaration that he won't "bow down" to international pressure forced the US and its allies to weigh their next steps amid reports that security forces killed 12 more protesters in two cities. Arizona Senator John McCain, the top Republican on the US Senate's Armed Services Committee, said continued bloodshed in Syria will mean military action by other nations "will receive some kind of serious consideration." "I see it as more of a consideration than I did a few months ago," McCain said on Canadian Television yesterday while attending an international security conference in Halifax, Nova Scotia. "At this point in time, I do not see military action." Canadian National Defense Minister Peter MacKay said the images from Syria were "troubling in the extreme."
Assad's flouting of the Arab League's ultimatum to end the violence will require "further action," MacKay said during a press conference at the conclusion of the Halifax forum. Canadian leaders are working with those in the region "as Canada and other countries contemplate our next step." The Arab League on Nov. 16 gave Syria three days to end bloodshed and allow observers in or face economic sanctions. That deadline expired midnight two days ago.
Assad Resists Arab League and Western Demands
"I assure you that Syria will not bow down and that it will continue to resist the pressure being imposed on it," Assad said in an interview with the Sunday Times. The Cairo-based Arab League refused to negotiate with Assad's government to change plans on sending about 500 monitors to Syria, Egypt's state-run Middle East News Agency reported yesterday. The league informed the Syrian government the previous day that the adjustments proposed by Damascus "radically changes" the nature of the mission, MENA said. The league reiterated a call for "immediate measures" to stop the bloodshed, the news agency said, citing a statement. Syrian Foreign Minister Walid al-Moallem said in a televised press conference yesterday that the Arab League measures infringe on Syria's sovereignty and aim to pave the way for foreign intervention in the country. Arab foreign ministers will meet on Nov. 24 to discuss Syria, MENA reported.
Turkish President Abdullah Gul said Syria's government is on a "dead-end road" of increasing isolation. Turkey will "strongly support" the decisions of the Arab League, Gul said in televised remarks in Ankara yesterday before departing for an official visit to the UK. While the opposition in Syria is becoming an armed resistance, any outside military intervention would be pitted against a "really modern air force" controlled by the Syrian government, said Anthony Cordesman, a military analyst at the Center for Strategic and International Studies in Washington. "They know how to use their surface-to-air missiles," and can draw on an experienced army with thousands of tanks, Cordesman said. "Talking about a casual use of force, something like the no-fly zone we had inside Libya, simply isn't tenable."
The eight-month revolt against Assad's rule has begun to splinter the army, squeeze the economy and weaken support among erstwhile backers. Jordan's King Abdullah has said that Assad should step down. In the past week, defectors launched a rocket- propelled grenade assault on a military security building in Damascus. Assad said military action against Syria would create an "earthquake" across the Middle East. "The repercussions are very dire," Assad told the Sunday Times. "Military intervention will destabilize the region as a whole, and all countries will be affected."
Syrian state forces, and not army defectors belonging to the Free Syrian Army, staged an attack yesterday on an empty Baath Party building in Damascus "to stoke civil strife," Captain Ammar al-Wawi, a leader of the FSA that aims to topple Assad, said in a telephone interview from Turkey. Wawi said 100 buses carrying members from the anti-US Iraqi Shiite cleric Moqtada al-Sadr's militia as well as members of the Shiite Hezbollah movement in Lebanon backed by the Syrian and Iranian governments crossed into Syria a few days ago to help the Assad regime quell protests. Assad's security forces killed more than 20 people on Nov. 19 in Homs, the suburbs of Damascus and in Hama, Mahmoud Merei, head of the Arab Organization for Human Rights, said in a phone interview. Yesterday, security forces killed 12 protesters in Homs and Idlib, al-Arabiya television reported, citing activists. The central city of Homs has witnessed sectarian fighting with people being kidnapped or killed according to their ethnic religious background after their identification cards were checked, Merei said. About 60 percent of Homs' population is Sunni Muslim, with a small Christian minority, and about 30 percent of the remaining portion Alawite, an offshoot of Shiite Islam and a core group from which Assad comes. Homs is the hometown of Assad's wife Asma.
Jordan's Abdullah in Ramallah for talks on Syria, Hamas
Nov. 21….(DEBKAfile Exclusive Report) Jordan's King Abdullah II arrived in Ramallah at very short notice for his first visit in more than a decade. He comes wearing two hats, one for Saudi Arabia and the Gulf emirates and one for the Obama Administration. His talks with the Chairman of the Palestinian Authority will cover Mahmoud Abbas' approaching reconciliation with the rival Hamas and an attempt to revive the stalled Israel-Palestinian peace dialogue. Debkafile's Washington sources report that the Jordanian King is on a mission for the US, Saudi Arabia and Israel to pull Abbas back to stable relations with Washington before he crosses the brink and aligns the Palestinian Authority with the fundamentalist Hamas. In the light of imminent events in Syria, this step will take the PA across the Middle East divide and place it in the Iranian-Syrian Middle East orbit.
US President Barack Obama's special envoy David Hale was in Ramallah Sunday, Nov. 20 to warn Palestinian leaders against further moves towards appeasing Hamas after Abbas offered to fire Palestinian Prime Minister Salam Fayyad in favor of a Hamas appointee. Hale warned Abbas that if he goes through with this move the US followed by West Europe will sever ties with the Palestinian Authority. He will not be forgiven for hitching his cart to Hamas, thereby strengthening the hand of Syria's Bashar Assad and enhancing Iranian influence with the Palestinians at the most crucial peak of the West's confrontation with Damascus. The American envoy offered the Palestinian leader a last chance to save his people from this dangerous course: Invite King Abdullah to Ramallah and inform him, not Washington that the PA had chosen to resume negotiations with Israel, a choice which would automatically freeze his evolving ties with Hamas.
Obama and Washington reckoned that the dramatic impact of the royal visit to the West Bank would sway Palestinian opinion into accepting an alliance with Jordan, Saudi Arabia and the United States as preferable to the Hamas option. Hale left Ramallah without a final answer. But soon after, Palestinian sources let it be known that Abbas had never sought Fayyad's departure or ever wanted him replaced by a Hamas candidate. These leaks Sunday night were taken to mean that Abbas was beginning to step back from his high-speed rapprochement with Khaled Meshaal, the Damascus-based political chief of Hamas. Abdullah's visit to Ramallah will determine if he is willing to go all the way.
The pro-American Jordanian king, who is backed politically and militarily by Saudi Arabia, the Gulf emirates and Turkey, emerged in the last week or two as the unified Arab spokesman on the Syrian crisis. He was the first Arab ruler in a BBC interview broadcast Monday, Nov. 11to tell Bashar Assad publicly to resign. While the Saudis and Qataris steered the Arab League into suspending Syria and arm anti-Assad rebels, they chose Jordan's Abdullah to be the public voice representing the League consensus on Syria to the Arab world. The day after Abdullah told Assad to go, the "Free Syrian Army" launched its first organized attacks on Assad's military command centers, government facilities and party headquarters in and around Damascus. This was no chance happening. The Arab world backed by the West is piling on the diplomatic, economic and military pressure to force the Assad regime into breaking point. It is fully coordinated with Israel's Prime Minster Binyamin Netanyahu and will be redoubled in the coming days.
Factored into this squeeze on Assad were the warnings Israel's chief of staff Lt. Gen. Benny Gantz twice addressed to the Hamas rulers of Gaza in the last ten days: He has said the IDF will no longer put up with missile attacks by Palestinians in the Gaza Strip disrupting life in southern Israel. Sunday, he spoke of the coming military operation against Gaza and said it would be would be instigated by Israel and be "orderly and painful." These warnings carried a message to Abbas that the IDF was poised for a military operation against Hamas which would scuttle any understanding he forged with the Palestinian fundamentalists and he would be smart to back down in good time.
WEEK OF NOVEMBER 13 THROUGH NOVEMBER 19
Russia Warships to Base in Syria to Block Foreign Intervention
| | |
| --- | --- |
| | (FOJ) Russia President Dmitry Medvedev, right, and Syrian President Bashar Assad shown in Damascus, where Russia is concerned about the fate of the pro-Russia ally. Russia today is geo-politically acting in 100% accordance with the prophecies of Ezekiel concerning Israel. |
Nov. 19….(Ha Aretz) Russian warships are due to arrive at Syrian territorial waters, a Syrian news agency said on Thursday, indicating that the move represented a clear message to the West that Moscow would resist any foreign intervention in the country's civil unrest. Also on Friday, a Syrian official said Damascus has agreed "in principle" to allow an Arab League observer mission into the country. But the official said Friday that Syria was still studying the details. The official asked not to be named because the issue is so sensitive. The Arab League suspended Syria earlier this week over its deadly crackdown on an eight-month-old uprising. The 22-member body has proposed sending hundreds of observers to the country to try to help end the bloodshed. The report came a day after a draft resolution backed by Arab and European countries and the United States was submitted to the United Nations General Assembly, seeking to condemn human rights violations in the on-going violence in Syria. Jordan, Morocco, Qatar, and Saudi Arabia were among Arab states that joined Germany, Britain, and France to sponsor the draft submitted to the assembly's human rights committee. In Washington, State Department spokesman Mark Toner said the US would sign on as a co-sponsor of the resolution. The draft demanded an end to violence, respect of human rights and implementation by Damascus of a plan of action of the Arab League. The move comes as clashes escalated in Syria and after Russia and China used their veto in October to block a Security Council resolution that would have condemned the Syrian government of President Bashir for the violence. Such a veto is not applicable in the 193-nation assembly, which will consider the issue after the human rights committee reports back to it. The UN says more than 3,500 people have been killed since unrest erupted in spring against Assad.
Promotion of Syria Demonstrates UN's Irrelevance
Nov. 19….(Israel Today) Israeli officials on Wednesday said a decision by the UN Education, Science and Culture Organization (UNESCO) to name Syria as the Arab representative to a committee on implementing human rights at a time when the Syrian regime is massacring its own citizens further demonstrates the total irrelevance of the world body. Israeli media reported on Syria's promotion on Thursday, just one day after the UN had issued a report condemning the massacre of at least 3,500 Syrian pro-democracy activists and other civilians at the hands of Syrian government forces. "We are talking about an outrageous absurdity," one Israeli official told Israel Radio. "UNESCO is legitimizing Syria as a human rights champion even as it is slaughtering its own people." Other officials noted that this is the same UNESCO that just a week ago summoned the Israeli ambassador to officially complain over a political cartoon in the liberal Israeli newspaper Ha'aretz. The cartoon showed Israeli Prime Minister Benjamin Netanyahu and Defense Minister Ehud Barak ordering an aerial assault on Iran's nuclear facilities, and telling the pilots involved to also bomb the UNESCO office in Ramallah on their way back.
It was a left-wing editorial jab at Netanyahu and Barak for so vocally condemning UNESCO recognition of "Palestine" as a sovereign nation, but UNESCO officials insisted the cartoon "endangers the lives of unarmed diplomats." UNESCO has been petitioned countless times over cartoons appearing in Arab newspapers that present Israel and the Jews as bloodthirsty and demonic, but the organization has yet to issue any formal complaints in those cases. The cartoon incident and the promotion of Syria, of all nations, to sit on a human rights advisory committee are, for most Israelis, the final nails in the coffin of the UN's legitimacy and relevance. Meanwhile, the mainstream international media completely ignored the story of Syria's hypocritical promotion at UNESCO.
Russia: NATO Expansion Raises Danger of Nuclear Conflict
Nov. 19….(Ha Aretz) Russia is facing a heightened risk of being drawn into conflicts at its borders that have the potential of turning nuclear, the nation's top military officer said Thursday. Gen. Nikolai Makarov, chief of the General Staff of the Russian armed forces, cautioned over NATO's expansion eastward and warned that the risks of Russia being pulled into local conflicts have "risen sharply." Makarov added, according to Russian news agencies, that "under certain conditions local and regional conflicts may develop into a full-scale war involving nuclear weapons." A steady decline in Russia's conventional forces has prompted the Kremlin to rely increasingly on its nuclear deterrent. The nation's military doctrine says it may use nuclear weapons to counter a nuclear attack on Russia or an ally, or a large-scale conventional attack that threatens Russia's existence.
Russia sees NATO's expansion to include former Soviet republics and ex-members of the Soviet bloc in eastern and central Europe as a key threat to Russia's security. Makarov specifically referred to NATO's plans to offer membership to Georgia and Ukraine as potentially threatening Russia's security. Russia routed Georgian forces in a brief August 2008 war over a separatist province of South Ossetia. Moscow later recognized South Ossettia and another breakaway Georgian province of Abkhazia as independent states and increased its military presence there. Makarov warned that the planned pullout of NATO forces from Afghanistan could trigger conflicts in neighboring ex-Soviet Central Asian nations that could "grow into a large-scale war."
In its military doctrine, Russia has also described US missile defense plans as another major security challenge, saying it could threaten its nuclear forces and undermine their deterrence potential. Moscow has agreed to consider NATO's proposal last fall to cooperate on the missile shield, but the talks have been deadlocked over how the system should operate. Russia has insisted that the system should be run jointly, which NATO has rejected.
Iran Training Gaza Terrorists to Operate Anti-Tank Missiles
(IDF believes select group of Palestinian terrorists have undergone extensive military training in Islamic Republic)
Nov. 18….(Jerusalem Post) A select group of Palestinian terrorists in the Gaza Strip have undergone extensive military training recently in Iran, turning them into expert operators of sophisticated anti-tank missiles, The Jerusalem Post has learned. The IDF believes that Hamas and Islamic Jihad have obtained several hundred advanced Russian-made antitank missiles, such as the Kornet and the Fagot, which have a range of more than 4 kilometers and are capable of penetrating armored personnel carriers and some IDF tanks. Terrorist groups in the Gaza Strip had a small number of these missiles ahead of Operation Cast Lead, Israel's offensive against Hamas in 2009, but only used them in a handful of known instances. "They were not trained well then, and as a result, the missiles were not effective," a senior IDF officer explained this week. "Since then, the groups have significantly increased the stockpile and have also sent specific terrorists to Iran for extensive training where they became anti-tank missile experts." The level of expertise was demonstrated earlier this year when Hamas fired a Kornet anti-tank missile at a school bus near Nahal Oz, which killed 16-year-old Daniel Viflic.
The missile was fired from a distance of close to 3 kilometers and the operator had to fire in between the Gaza security fence and electrical cables. "He also had to hit the bus, which was not easily seen on the road," the officer said, explaining the complexities of the attack as a demonstration of the level of expertise in Gaza. The anti-tank missiles are obtained by Hamas in several different ways. In some cases, they are purchased directly from Russia by Syria and are then transferred to Hamas or Hezbollah. In other cases, Hamas operatives buy the weaponry on the black market and then smuggle it into the Gaza Strip via the tunnels it maintains under the Philadelphi Corridor. "The Gaza Strip is completely different today than what it was almost three years ago," a senior defense official said. "The amounts of weaponry are significantly higher as well as the type of weaponry and its sophistication."
In face of the threat, the IDF is moving forward with plans to install the Trophy active protection system on Merkava Mk 4 tanks that are in production ahead of their delivery to the 401st Armored Brigade. Two of the brigade's battalions have already received the system and the remaining battalion will finish receiving it by the beginning of 2012. The Trophy system creates a hemispheric protected zone around armored vehicles such as the Merkava tank, which operated prominently in Lebanon and the Gaza Strip. Using advanced radar, the system is designed to detect and track a threat and counters it with a launched projectile that intercepts the anti-tank missile.
Hindu Militants Want Christian Converts Beheaded
Nov. 18….(Worthy News) The leader of a hardline Hindu group wants India's constitution to legalize the killing of Christian evangelists and, for instance, promoters of other non-Hindu religions. Praveen Togadia, the general secretary of the influential Vishwa Hindu Parishad (VHP), or 'World Hindu Council', told supporters in the western Indian state of Gujarat this week that the constitution should be changed and "allow anyone who converts Hindus to be beheaded". His remarks, obtained by Worthy News Friday, November 11, came as American evangelist Franklin Graham began a series of massive evangelistic rallies in the south Indian city of Hyderabad. On the second night of Graham's 'Hyderabad Festival' on Friday, November 11, some 50,000 people poured into Lal Bahadur Stadium in the capital city of Andhra Pradesh state, witnesses said, despite protests from VHP supporters.
During the rallies in Hyderabad, which continue this weekend amid tight security, so far at least hundreds of people made clear they want to follow Jesus Christ, organizers said. Hindu nationalists claim "Christian missionaries" seek to convert Hindus by offering money and other benefits and have urged the state to ban the event. In July, an article by Janata Party President Subramanian Swamy sparked controversy for its comments about Muslims, recommending a "national law prohibiting conversion from Hinduism to any other religion". Rights activists have expressed concerns about the situation and urged India's government to protect minorities, including Christians, in this heavily Hindu nation. "India's pluralist pedigree is once again under concerted fire," said Andrew Johnston, the advocacy director of religious rights group Christian Solidarity Worldwide (CSW). "Inflammatory remarks such as Togadia's can be a spur for prejudice and violence against Muslims and Christians. For example, communal attacks against Christians in India are often linked to unsubstantiated accusations about conversions," he told Worthy News. Christians comprise roughly two percent of India's over one billion population, but Hindu nationalists have expressed concerns about the spread of Christianity among 'Dalits', the 'lowest' caste in India's ancient system of Hinduism, and in other areas.
Iran Expert: US Elections Increase Likelihood of Israeli Strike
(Former State Department official says Israel may feel it has more room to act alone in an election year, and may only inform the US after the planes take off)
Nov. 18….(Ha Aretz) An Israeli strike on Iran's nuclear sites may become likelier in 2012 if Israel calculates it has more room to act alone in a US presidential election year, a former US official and nuclear diplomacy expert said. Mark Fitzpatrick, an Iran watcher at the International Institute of Strategic Studies, told Reuters the latest report by the UN nuclear watchdog made him more worried that Iran was closer to mastering how to use nuclear power as a weapon. Iran insists its nuclear program is for civilian energy only. But Fitzpatrick, who was a State Department official responsible for nuclear non-proliferation, said the International Atomic Energy Agency (IAEA) report was damning. It found that Iran appeared to have worked on designing a nuclear weapon and may be continuing research relevant to that end.
Fitzpatrick said an IAEA governing board meeting on Thursday and Friday in Vienna should demonstrate serious international concern over the findings. But he doubted whether Russia or China would go along with any resolution finding Iran to be in non-compliance with the nuclear Non-Proliferation Treaty (NPT). And he said he feared that if countries like Israel that felt most threatened by Iran lost faith in the international community to act firmly, they could act alone. "When you consider that next year being the US presidential election year, and the dynamics of politics in the United States, this could increase Israel's inclination to take matters into its own hands," Fitzpatrick said. Israeli Prime Minister Benjamin Netanyahu might not necessarily ask President Barack Obama for permission to mount a strike, Fitzpatrick said, if Israel believed Iran could acquire a nuclear weapon or place one in a site out of reach. Netanyahu said on Sunday Iran was closer to getting an atomic bomb than had been thought. "The most likely possibility is that Netanyahu calls up Obama and says: 'I'm not asking for a green light, I'm just telling you that we've just launched the planes, don't shoot them down'," Fitzpatrick said. "And in a US presidential election year, I think it's unlikely that Obama would shoot them down." An Israeli attack on Iran would raise the possibility of a wider conflict in the Middle East, at a time when the Jewish state has become more isolated due to changes wrought by the Arab Spring.
Fitzpatrick said he did not think Israel was at that point yet but he saw the danger rising. He said if Iran took the political decision it could produce a bomb within a year, given its current stockpile of low-enriched uranium (LEU). But he doubted whether Iran would race to produce a single bomb, and it would take a couple of years to produce the handful needed to constitute a "real nuclear deterrent". Since last year, Iran has tested long range missiles, increased its LEU stockpile, and installed more advanced centrifuges for further enrichment, putting some deep inside a fortified mountain facility at Fordow.
Israel, Arab Nations to Hold Rare Round of Nuclear Talks
Nov. 17….(Ha Aretz) Israel and Arab states plan to attend a rare round of talks next week on efforts to free the world of nuclear weapons but Iran has yet to say whether it will take part in the meeting in Vienna, diplomats said on Wednesday. The Nov. 21-22 forum, hosted by the International Atomic Energy Agency, is seen as symbolically significant in seeking to bring regional foes together at the same venue and start a dialogue, even though no concrete outcome is expected. If conducted smoothly with toned-down rhetoric on both sides, it could send a positive signal ahead of a planned international conference next year on ridding the Middle East of nuclear and other weapons of mass destruction. "It is a good opportunity for everybody to sit and talk but I don't think it is going to achieve a tangible result," a Western diplomat said.
Israel is widely believed to harbor the Middle East's only nuclear arsenal, drawing frequent Arab and Iranian condemnation. Israel and the United States regard Iran as the region's main proliferation threat, accusing Iran of seeking to develop a nuclear weapons capability in secret. An IAEA report last week
added independent weight to those allegations.
Convened by IAEA chief Yukiya Amano, next week's discussions will focus on the experiences of regions in the world which have set up Nuclear-Weapons-Free Zones (NWFZ), including Africa and Latin America, and their possible relevance for the Middle East. IAEA member states decided in 2000 that such a meeting should be held but until this year the parties involved were unable to agree on the agenda and other issues. All 151 IAEA member countries have been invited to the talks, to be chaired by senior Norwegian diplomat Jan Petersen, but participating envoys from the region will be in focus. "The forum will consider the experience of five NWFZs and two regional verification arrangements and discuss the potential relevance of such experience to the creation of a NWFZ in the Middle East," the IAEA said in a statement this week. Diplomats said Israel and Arab states had accepted the invitation but that there had as yet been no word from Iran, which in September said it saw no justification for such a meeting now and took a swipe at arch-enemy Israel.
Israel, the only Middle East country outside the nuclear Non-Proliferation Treaty (NPT), has never confirmed or denied having nuclear weapons under a policy of ambiguity to deter numerically superior foes. It says it would only join the NPT if there is a comprehensive Middle East peace with its longtime Arab and Iranian adversaries. If it signed the 1970 treaty, Israel would have to renounce nuclear weaponry. Arab states, backed by Iran, say Israel's stance poses a threat to regional peace and stability. Last month, the United Nations said Finland had agreed to host a potentially divisive international meeting in 2012 to discuss the possible creation of a Middle East free of weapons of mass destruction. The idea for such a conference came from Egypt, which pushed for a meeting with all states in the Middle East to negotiate a treaty that would establish a nuclear arms-free zone. US commitment will be key to the success or failure of next year's talks, Western diplomats say, as it is the only state that can persuade Israel to attend.
France Recalls Syrian Ambassador
Nov. 17….(AP) France recalled its ambassador to Damascus on Wednesday as Syrian President Bashar Assad came under increasing pressure from home and abroad, with army defectors killing at least eight soldiers in a daring attack on the military. French Ambassador Eric Chevallier was ordered home in the wake of recent attacks against diplomatic missions and increasing violence stemming from Syria's 8-month-old uprising. Pro-regime demonstrators have stormed the diplomatic offices of France, the US and other countries critical of the Syrian government. Syrian forces fired tear gas Wednesday to disperse demonstrators outside the Qatari and United Arab Emirates embassies in Damascus. French Foreign Minister Alain Juppe said "the vise is tightening" around the Syrian regime. "I'm convinced the Syrian people will keep up their fight, and France will continue to do everything possible to help," he told the lower house of parliament.
The move comes as the Arab League met in Morocco, where the 22-member group was expected to formally suspend Damascus over its bloody crackdown. France, Syria's former colonial ruler, has been increasingly critical of Assad's regime in recent weeks, urging him to step down and meeting with opposition figures. French government spokeswoman Valerie Pecresse said Paris is working with the Syrian opposition "to try to develop a political alternative" to Assad's government.
Assad, who inherited power 11 years ago from his father, is facing a swiftly escalating challenge to his rule. Syrian army defectors attacked military and intelligence bases near the capital and an army checkpoint in Hama province on Wednesday. Attacks on regime forces by renegade troops have been growing in recent days as the country's political crisis appears to be spiraling out of control. Although activists say the anti-government protesters have remained largely peaceful, an armed insurgency has developed in recent months, targeting Assad's military and security forces.
Netanyahu "is acting to stop" Iran's Nuclear Armament
Nov. 17….(DEBKAfile Special Report) A short statement was read out to the Knesset (Israel's parliament by cabinet member Michael Eitan Wednesday afternoon, Nov. 16. It read: "Prime Minister Binyamin Netanyahu informed the full Knesset plenum that all options are on the table when it comes to Iran's nuclear program. The prime minister and the authorized bodies are acting to stop the nuclear armament of Iran. The efforts are ongoing and we will do everything possible to enlist states in the international community, "he continued "because the Iranian threat is a danger not only to the State of Israel but to world peace." The Knesset was due to devote a special session to the question of an attack on Iran.
Debkafile's military sources report that this is the first statement of this nature the prime minister has ever delivered to Israel's parliament. It was phrased notably in the present tense. "The authorized bodies" are thought to refer to the Israeli Defense Forces and its intelligence community. Also worth noting is that Netanyahu sent a minister to read out his message. He himself absent from this key debate and so was the defense minister. For the first time too, there was no reference to sanctions which have figured hitherto in all Israeli official statements on the Iranian nuclear controversy. The implication is that an operation against a nuclear Iran may be in the works. If so, a response from Tehran is to be expected shortly.
Earlier Wednesday, the supreme commander of Iran's armed forces Gen. Hassan Firouz-Abadi said Israel's cries of alarm about Iran's nuclear development bespeak shock and fear. But nothing will save the Zionist regime from its bitter fate – a hint at Iran's nuclear capability. Firouz-Abadi said the massive explosion which killed Iran's missile chief Saturday "had nothing to do with Israel or America." It took place during "research on weapons that could strike Israel," adding that the blast had delayed by only two weeks the development of an undisclosed military "product."
The two statements together aroused lively speculation in the tense climate left by the latest nuclear watchdog agency's evidence of Iran's work on a nuclear weapon. Linking them might suggest that the Israeli prime minister had decided to refute the Iranian general's claim. By stating that "efforts are ongoing" to stop Iran's nuclear armament, he may have been implying that the explosion at the Guards base Saturday was indeed a covert Israeli operation in line with those efforts
Iran Would Interrupt Oil Flow
Nov. 16….(Washington Times) Iran is contemplating violently shutting down shipping in the Persian Gulf as one of several counterattack options if Israel strikes its nuclear facilities, regional and intelligence analysts say. Such attacks would present the Obama administration with the option of undertaking a limited war against Iran by striking its warships and shore-based anti-ship missiles to keep the Gulf open for business. Former CIA analyst Larry C. Johnson said Iran has enough firepower to effectively close the Gulf and Strait of Hormuz, through which 40 percent of all the world's oil moves. "One of the things that Iran has exercised, has the capability to do, is shut down the Persian Gulf," Mr. Johnson said. "The best-case scenario is they shut it down for a week. The worst case is they shut it down for three to four months." He said Iran could unleash small boats laden with explosives "that we don't have adequate covers for. Add to that the ability to fire multiple missiles. Our naval force will try to stop it, and that's the hope." Mr. Johnson, now a consultant on counter-terrorism, said Iran's Revolutionary Guard, which has orchestrated attacks against the US in Iraq, also likely would hit targets in Saudi Arabia and other Gulf nations. "I think we would be looking at a significant wave of terrorist retaliation by them," he said. Over the past two weeks, Israeli media have reported that Prime Minister Benjamin Netanyahu has been seeking consensus on attacking Iran's nuclear sites ahead of a UN atomic agency report last week that said the Islamic republic has engaged in activity consistent with building a nuclear weapon. Frank J. Gaffney Jr., a former senior Pentagon official who runs the Center for Security Policy, said Iran's ruling mullahs have always had designs on attacking the US, and an Israeli attack might prompt them to do so. "I think they will try to do as much damage to as many of us as they can," Mr. Gaffney said. "My guess is they will try options to have Hezbollah cells engage in attacks around the world against our forces. "I think they will probably try to retaliate directly against the Israelis, of course, perhaps with missiles, perhaps through their proxies, Hezbollah and Hamas."
Arab League Meets Assad Foes after 69 Killed in Syria
Nov. 16….(Reuters) The Arab League, stung into action by months of bloodshed in Syria, met opponents of President Bashar al-Assad on Tuesday, a day after violence in his country killed 69 more people. The League, which has voted to suspend Syria's membership from Wednesday, asked Syrian opposition groups to draw up their plans for a transition of power, as a prelude to a wider gathering on Syria's future planned by the Cairo-based body. "The Arab League will announce soon a date for a conference to include many of the Syrian opposition groups to discuss the ways and time needed to move to a transitional period," Abdel Basset Sedah, of the opposition Syrian National Council's executive office, told Reuters after meeting League officials. After months of hesitation, the League decided on Saturday to discipline Syria for pursuing a violent crackdown on dissent instead of implementing an Arab peace initiative. It has stopped short of calling for Assad's departure or proposing any Libya-style foreign military intervention in Syria. Hundreds of Syrians have been killed this month in one of the bloodiest periods of the revolt, inspired by uprisings which have overthrown leaders in Tunisia, Egypt and Libya.
Damascus says it is committed to the Arab peace initiative, which calls for a ceasefire and dialogue with the opposition. Syria requested an emergency Arab summit, but a Saudi-led bloc of six Gulf Arab states rejected the idea, which would need the support of 15 of the League's 22 members. Morocco's foreign minister said "Syrian colleagues" were welcome at Wednesday's meeting of Arab foreign ministers in Rabat, but did not say if Syria's top diplomat could attend. Arab ostracism is a particularly bitter blow for Assad, who has always seen himself as a champion of Arab unity. The United States hoped the League would use Wednesday's meeting to send a "forceful message to Assad that he needs to allow for a democratic transition to take place and end the violence against his own people," said State Department spokesman Mark Toner.
Russia, one of Syria's last few foreign friends, hosted talks with the Syrian National Council and urged it to hold a dialogue with Assad's government. The opposition group responded by pressing Moscow to join calls for the Syrian leader to quit. Russia joined China last month to block a UN Security Council resolution that would have condemned Assad's crackdown, and has accused the West of discouraging dialogue in Syria. Turkish Prime Minister Tayyip Erdogan, who had fostered close ties with Syria before this year's unrest, warned Assad that his government was on a "knife-edge" and demanded an apology for attacks on Turkey's diplomatic missions in Syria. Erdogan said Turkey expected more contrition. "Bashar, you are required to punish those who attacked the Turkish flag. We want the Syrian administration to not only respect the Turks in Turkey and the Turkish flag but also to respect their own people. Erdogan has yet to unveil promised sanctions against Syria, but his country now hosts the main Syrian opposition and has given refuge to Syrian civilians and defecting soldiers. "Nobody now expects the (Syrian) people's demands to be met. We all want the Syrian administration, which is now on a knife-edge, to turn back from the edge of the cliff," he said
Israel Building East African Coalition against Islamic Fundamentalism and Iran
Nov. 16….(DEBKAfile Exclusive Report) Kenyan Prime Minister Raila Odinga ended his visit to Israel this week with a promise in hand from President Shimon Peres and Prime Minister Binyamin Netanyahu to help establish a new alliance to combat the spread of fundamentalist Islam into the predominantly Christian African nations Ethiopia, Kenya, Tanzania and South Sudan. Their combined populations total 138 million. DEBKAfile's military sources report that Israel has agreed to supply Kenya with drones, fast naval boats, military instructors, munitions, armored vehicles and electronic surveillance equipment. This was discussed with the Kenyan prime minister and Internal Security Minister George Saitoti who accompanied him on his visit. On Oct. 16, Kenya sent troops into neighboring Somali to fight the al Qaeda-linked al Shabab after a series of cross-border abductions.
Israel owns a strong interest in curtailing the presence in these strategic lands not only of Islamist terrorist groups but also of Iran. It needs naval bases along the Gulf of Aden and eastern Indian Ocean where Iran has in the past year built up a naval presence close to Israel's southern border. Netanyahu told Prime Minister Odinga that Israel would join him in setting up "a coalition against fundamentalism in East Africa, incorporating Kenya, Ethiopia, South Sudan and Tanzania." Debkafile's military sources note that this interest places Israel squarely in the middle of two African wars: Kenya's campaign in southern Somalia; and the inevitable flare-up of major hostilities on the volatile border between the newly-created republic of South Sudan and Khartoum.
Israel is already providing South Sudanese President Salva Kiir Mayardit with military and intelligence assistance to counter the military support President Omar al-Bashir receives from Iran. After a 40-year absence from this part of Africa, Israel is therefore regaining a major presence there and helping to draw a safety belt around its countries to ward off the intrusion of Islamist movements. Those movements include the Muslim Brotherhood, which has climbed aboard Arab uprisings to attain the political center stage in Egypt, Tunisia and Libya. The Brotherhood is expected to scoop up least 40 percent of the vote in Egypt's first post-Mubarak elections starting Nov. 28.
Our sources emphasize that Israel's African entrée is coordinated with the Obama administration in Washington which is engaged in two parallel and contrasting thrusts. The US is sponsoring "moderate" Muslim Brotherhood elements in North Africa and the Arab countries alongside an effort in conjunction with Israel and France to strengthen the non-Muslim nations of East Africa and the Horn against the oncoming Islamist tide. Prime Minister Odinga ended his visit to Israel Sunday, Nov. 11 by stating, "Kenya got the backing of Israel to rid its territory of fundamentalist elements." Peres and Netanyahu were careful to avoid involving Israel directly in Kenya's military intervention in Somalia. Like Washington Jerusalem too is wary of committing its military to any part of that country's long war against al Qaeda. Israel has designated its assistance to friendly Kenya as necessary to defend its border provinces against Al-Shabab's aggressive incursions and more abductions of Western citizens, while stopping at the Somalia border.
Odinga put it this way: "Israel would help Kenya's police force detect and destroy al-Shabab's networks in Kenya," a reference to the terrorist attacks carried out in Nairobi since Kenya invaded Somalia. Our military sources report that Kenya's strategic goal is to capture the big southern Somali port of Kismayo, a town of a quarter of a million inhabitants on the coast of the Indian Ocean. Al Shabab have made Kismayo their capital, its port facilities providing much of their revenue. Capture of this town would give Kenya control of most of southern Somalia. But it is beyond its military capabilities at the moment and so Nairobi bombards the city from the air. It remains to be seen whether Israel's military assistance will help Kenya achieve this objective.
Russia Opposes Arab League Decision to Suspend Syria
(Russian FM Sergei Lavrov says Western countries inciting opponents of Assad to seek his removal)
Nov. 15….(Ha Aretz)Russia opposes the Arab League's decision to suspend Syria and believes Western nations are inciting opponents of President Bashar Assad to seek his removal, Russian news agencies quoted Foreign Minister Sergei Lavrov as saying on Monday. Lavrov also underlined Russia's opposition to imposing new sanctions on Iran over its nuclear program and said nations were whipping up tension over Tehran to impose additional unilateral sanctions against it, the reports said. Meanwhile, Syrian Foreign Minister Walid al Muallem discussed the League's decision during a press conference in Damascus on Monday. According to al Muallem, the decision "crosses red lines, and runs contrary to the regulations of the Arab League." The foreign minister also said that despite the Arab League's claims, Syria responded to the League's initiative and released 500 political prisoners, and allowed 80 foreign journalists to enter the country. Furthermore, Syria's interior minister released a statement calling on all armed protesters to turn in their weapon in return for amnesty. However, continued the interior minister, those same "armed cells" refused, thus preventing the government from "ending the struggle."
European Union governments reached a preliminary agreement on Monday to extend sanctions against Syria to more individuals associated with a violent crackdown on dissent, an EU official said. The agreement by ambassadors of the 27 EU states, was expected to be confirmed by EU foreign ministers meeting later in Brussels, who will also endorse a decision to stop Syria accessing funds from the European Investment Bank, the official said. EU leaders warned last month that Syria could face further sanctions if there was no halt to the violence, which the United Nations says has lead to the death of more than 3,500 protesters. British Foreign Secretary William Hague said there was a good case for adding to EU sanctions, which already affect 56 individuals and 19 firms and entities. "It's very important in the European Union that we consider additional measures to add to the pressure on the Assad regime to stop the unacceptable violence against the people of Syria," he told reporters as he entered the meeting of EU foreign ministers..
Hague welcomed efforts by the Arab League to end the crisis. In a surprise move on Saturday, the Arab League suspended Syria's membership and called on its army to stop killing civilians and some Western leaders said this should prompt tougher international action against President Bashar Assad. The Arab League will also impose economic and political sanctions on Damascus and has appealed to member states to withdraw their ambassadors. EU foreign policy chief Catherine Ashton said she was in close contact with the Arab League to work on an approach to Syria. "The situation in Syria causes enormous concern. I spoke last night to the secretary general of the Arab League and expressed our commitment to working closely with them," she said.
Iran Will Have 5 Nukes by April 2012
Nov. 15….(DEBKAfile Exclusive Report) According to the briefing given to a closed meeting of Jewish leaders in New York Sunday, Nov. 13, the window of opportunity for stopping Iran attaining a nuclear weapon is closing fast, Debkafile's sources report. It will shut down altogether after late March 2012. The intelligence reaching US President Barak Obama is that by April, Iran will already have five nuclear bombs or warheads and military action then would generate a dangerous level of radioactive contamination across the Gulf region, the main source of the world's energy. US President Barack Obama said the sanctions against Iran had taken an "enormous bite" out of its economy. He also said that the "US is united with Russian and Chinese leaders in ensuring Iran does not develop an atomic weapon and unleash an arms race across the Middle East." He spoke after talking to Russian President Dmitry Medvedev and Chinese President Hu Jintao at the Asian Pacific Economic Cooperation summit in Hawaii about the new evidence submitted by the International Atomic Energy Agency that Iran was engaged in clandestine efforts to build a bomb. He said both shared the goal of keeping a bomb out of Iran's hands.
As to sanctions, Russian Foreign Minister Sergey Lavrov told a news conference that sanctions against Iran had been exhausted and "now the problem should be solved though diplomatic channels." Debkafile's analysts note that tough sanctions are pretty much off the table now. In any case, it is obvious that they failed to slow down Iran's work on a bomb as confirmed by the latest IAEA report. The road of diplomacy, favored by Moscow, has proved worse than ineffectual. Its only result was to buy time for Tehran to carry on with its military atomic project free of international pressure.
The Jewish leaders meeting Sunday were informed that the Obama administration had intelligence data that the US and Israel have no more than a couple of months left for striking down Iran's military weapons development by force. This will not longer be viable after Iran is armed with five nuclear bombs or warheads. Debkafile's military and intelligence sources refute the wild rumors alleging that the American CIA or Israeli Mossad was responsible for the massive explosion Saturday at a Revolutionary Guards base west of Tehran in which Iran's missile chief Brig. Hassan Moghadam was killed. While both organizations have formidable capabilities which Iran has experienced in the past, there is no way they could have hit a single missile warhead in the middle of a Guards base at the very moment that IRGC chiefs were gathered around considering how best to improve its precision. All the evidence garnered in the two days since the attack indicates that a single warhead blew up by accident while it was being handled, rather than by sabotage.
Arab League Votes to Suspend Syria
Nov. 14….(AP) The Arab League voted Saturday to suspend Syria in four days and warned the regime could face sanctions if it does not end its bloody crackdown against anti-government protesters. The decision was a symbolic blow to a nation that prides itself on being a powerhouse of Arab nationalism. Qatar's Foreign Minister Hamad bin Jassim said 18 countries agreed to the suspension, which will take effect on Wednesday. Syria, Lebanon and Yemen voted against it, and Iraq abstained. The Arab League also will consider introducing political and economic sanctions against Syria, he said. "Syria is a dear country for all of us and it pains us to make this decision," bin Jassim said. "We hope there will be a brave move from Syria to stop the violence and begin a real dialogue toward real reform."
The decision comes as November shapes up to be the bloodiest month yet in Syria's 8-month-old uprising, with more than 250 Syrian civilians killed so far, most as part of a siege of the rebellious city of Homs, according to activist groups. Bin Jassim suggested that Arab League members withdraw their ambassadors from Damascus but left that up to the individual countries. The 22-member league will monitor the situation and revisit the decision in a meeting Wednesday in the Moroccan capital Rabat, bin Jassim said, a move that appeared to give Syrian President Bashar Assad time to prevent the action from being implemented.
Syria's envoy to the Arab League, Youssef Ahmed, called the decision "illegal and contrary to the league's internal charter," according to the country's state-run news agency SANA. Ahmed was quoted as saying that Syria remains committed to its pledges to the Arab League and said Damascus is calling on the "armed opposition abroad to lay down arms, surrender, stop the violence and accept a national dialogue." The vote was a strong message from the Cairo-based organization and showed growing impatience as violence has continued unabated since Syria agreed on Nov. 2 to an Arab-brokered peace deal that called for the Syria to halt attacks against protesters, pull tanks and armored vehicles out of cities, release political prisoners and allow journalists and rights groups into the country.
Arab nations also are eager to avoid seeing another Arab leader toppled violently and dragged through the streets, as happened to Libya's Moammar Gadhafi last month. An Arab League decision had paved the way for the UN-mandated no-fly zone and NATO airstrikes that eventually brought down Gadhafi, but bin Jassim stressed international intervention was not on the agenda. "No one is talking about a no-fly zone, people are trying to mix up the cases. None of us is talking about this kind of decision," he said. Arab League chief Nabil Elaraby echoed that sentiment. "This decision reflects a lack of foreign intervention," he said. "The Arab League has been calling on Syria to stop the violence for four months and it hasn't happened."
The international community is limited in what it can do to help solve the Syrian crisis. NATO has ruled out the kind of military intervention that helped topple Gadhafi. Sanctions from the United Nations, the United States and the European Union are chipping away at the regime, but the economy has not collapsed. The unrest could balloon into a regional disaster. Damascus' web of allegiances extends to Lebanon's powerful Hezbollah movement and Iran's Shiite theocracy. And although Syria sees Israel as the enemy, the countries have held up a fragile truce for years. Assad already has warned the region will burn if there is any foreign intervention in his country. On Friday, Hezbollah leader Sheikh Hassan Nasrallah backed up Assad and his allies in Iran, saying any war in either country would take down the Middle East.
Dozens of protesters outside had rallied for the decision, carrying placards reading "Freedom for the Syrian people" and "Arab leaders are garbage" as they chanted for Assad's removal. They were joined by demonstrators from Yemen, protesting violent government crackdowns in their country. Even as the violence continues, the opposition has faced infighting and divisions that have prevented it from gaining the traction it needs to present a credible alternative to the regime. The Arab League called on all factions to meet later this week to unify their message as a step toward dialogue with the Syrian government, and bin Jassim said the Arab League would discuss the possibility of recognizing the Syrian National Council as the official voice for the movement.
Israel Refuses to Share With US its Iran Intentions
Nov. 14….(Telegraph) Israel has refused to reassure President Barack Obama that it would warn him in advance of any pre-emptive strike on Iran's nuclear capabilities, raising fears that it may be planning a go-it-alone attack as early as next summer. The US leader was rebuffed last month when he demanded private guarantees that no strike would go ahead without White House notification, suggesting Israel no longer plans to "seek Washington's permission", sources said. The disclosure, made by insiders briefed on a top-secret meeting between America's most senior defense chief and Benjamin Netanyahu, Israel's hawkish prime minister, comes amid concerns that Iran's continuing progress towards nuclear weapons capability means the Jewish state has all but lost hope for a diplomatic solution. On Tuesday, UN weapons inspectors released their most damning report to date into Iran's nuclear activities, saying for the first time that the Islamic republic appeared to be building a nuclear weapon. It was with that grave possiblity in mind that Leon Panetta, the US defense secretary, flew into Israel last month on what was ostensibly a routine trip.
Officially, his brief was restricted to the Middle East peace process, but the most important part of his mission was a private meeting with Netanyahu and the defense minister, Ehud Barak. Once all but a handful of trusted staff had left the room, Mr Panetta conveyed an urgent message from Barack Obama. The president, Leon Panetta said, wanted an unshakable guarantee that Israel would not carry out a unilateral military strike against Iran's nuclear installations without first seeking Washington's clearance. The two Israelis were notably evasive in their response, according to sources both in Israel and the United States. "They did not suggest that military action was being planned or was imminent, but neither did they give any assurances that Israel would first seek Washington's permission, or even inform the White House in advance that a mission was underway," one said.
Alarmed by Netanyahu's noncommittal response, Obama reportedly ordered the US intelligence services to step up monitoring of Israel to glean clues of its intentions. What those intentions might be remains distinctly murky. Over the past fortnight, Israel's press has given every impression that the country is on a war footing, with numerous claims that Netanyahu and Barak are lobbying the cabinet to support the military option. Two weeks ago Israel tested a long-range ballistic missile capable of reaching Iran, its first since 2008. Shortly before, the Israeli airforce took part in Nato exercises in Sardinia that involved air-to-air refuelling, a key component of an aerial strike on Iran. A separate exercise in and around Tel Aviv tested civilian readiness in the event of a missile strike against the city. In a sign of the febrility of the public mood, many beach-goers apparently mistook the air raid sirens for a genuine Iranian attack and fled in panic for their cars. There were similar jitters in Iran yesterday, when a huge but apparently accidental explosion at arms dump outside Tehran killed at least 27 soldiers and shook the city. Speculation about an imminent Israeli military action has been a regular occurrence over the years, but rarely as fevered as now. Last week, a British official even suggested that an attack could come before Christmas. Few in Israel believe that is likely and the difficulty of mounting an operation over winter, when cloud cover hampers aircraft targeting systems, means that if military action is being considered it will not come before the spring or summer of next year.
Many observers also believe that the bellicose rhetoric voiced by a number of senior Israeli figures in recent days is largely bluff, designed to goad the international community into imposing sanctions of such severity that Iran would be forced into economic ruin if it persisted with its nuclear ambitions. Israel says that if Iran's central bank were sanctioned and a ban on Iranian oil exports enforced by an international naval blockade, military action would not be necessary. Barak has already publicly stated that he does not believe the West can overcome Russian and Chinese opposition to the sanctions Israel wants, leaving military action increasingly as the only alternative.
If Israel is to attack Iran, many in the country believe time is running out. Last week's report by the International Atomic Energy Agency (IAEA) highlighted Iran's apparent determination to build a nuclear warhead, but did not indicate how long it might take. Some in Israel, however, believe it is very close. "It is my personal opinion that, if the Iranian regime decides to do so, it can produce a nuclear explosive device within a year, plus or minus a few months," said Ephraim Asculai, a former IAEA official and leading Israeli expert on Iran's nuclear program. Not everyone agrees. Some argue that a covert espionage operation has caused such delays that Iran still needs another three years to build a bomb. Sabotage efforts by Israeli, American and British intelligence have successfully slowed Iranian progress, most notably via the Stuxnet computer virus that caused the centrifuges at Iran's Natanz uranium enrichment plant to explode. Mossad agents on motorbikes are also believed to have planted magnetic explosives on the cars of at least two key Iranian nuclear scientists as they weaved through Tehran's traffic jams. Mohsen Fakhrizadeh, the scientist and Revolutionary Guards officer who is thought to be the ultimate mastermind of the nuclear program, is now believed to be under round-the-clock protection as a result. But, whatever the time frame, some in Israel believe there is additional cause for urgency that could prompt military action sooner rather than later.
According to western intelligence assessments, Tehran is preparing to move the bulk of its nuclear production to a plant beneath a mountain near the holy city of Qom that would be far harder to hit from the air. According to Ronen Bergman, senior military analyst for Israel's Yediot Ahronot newspaper and the author of a forthcoming book on Mossad, that makes a strike necessary well before Iran actually perfects its program. "Today Israeli intelligence talks of what is known as the 'framework of immunity'," he said. "In other words, it is not the point at which Iran acquires a nuclear device, but the point at which the project has reached such an advanced stage that a strike any time after would be ineffective." An Israeli attack could probably manage at most a dozen targets, using more than 100 F-15 and F-16 aircraft.
Three German-designed Dolphin submarines equipped with conventional cruise missiles could also be ordered into the Persian Gulf to take part, although it is thought that Israel's Jericho-3 ballistic missiles are to inaccurate to play a role. But how effective the mission would be is another matter. At best, Israel can hope to delay Iran from building a bomb by two to four years, experts assess. Optimists hope that within such a period, Iran's Islamist regime could collapse and give may to a more moderate government. But it could equally redouble its nuclear efforts, this time arguing that it now had every right to produce a weapon. As Mr Panetta warned during a Pentagon briefing last Thursday, such a strike would also have a "serious impact" on the region. Iran could blockade the Straits of Hormuz, through which 25 per cent of the world's oil exports are shipped, sending energy prices soaring. US military assets in the Gulf could come also come under attack from Iranian Scud missiles. Iran would almost certainly fire its Shahab ballistic missiles at Israeli cities and press Hizbollah and Hamas, the militant Islamist groups it funds and equips, to unleash their huge rocket arsenals from their bases in Lebanon and Gaza.
Despite this, last week Barak, making a rare venture in such sensitive territory, predicted that fewer than 500 fatalities would arise "if people stayed at home". Such are both the political and military risks involved that many Israelis say it is inconceivable that Netanyahu would go to war without the United States alongside him. "I think personally that if such action is taken, there will be come kind of consultation with the United States," said Ilan Mizrahi, Mossad's former deputy director and Israel's national security adviser until 2007. "If Iran breaks all the rules, then military action will be needed, but definitely not alone by a tiny country like Israel," added Uzi Eilam, a retired general who held senior positions at the Israeli defense ministry. But not everyone is so sure. Obama's willingness to take on Iran militarily is openly questioned in Israel. And while many Israelis do not believe Iran has any intention of actually firing a nuclear missile at them, the the key question is whether their prime minister is one of them. In Netanyahu's eyes, Iran's president, Mahmoud Ahmadinejad, is another "Hitler" whose aim is to complete what the Holocaust failed to do by wiping out the Jewish race. "People outside Israel don't understand how profound memories of the Holocaust are, and how they affect future policy making," said Mr Bergman, the military analyst. "At the end of the day, this policy of 'never again' would dictate Israel's behavior when intelligence comes through that Iran has come close to a bomb."
Mid-East War Fears Rise; Iranian Blast, Syria's Arab League Suspension
Nov. 14….(DEBKAfile Exclusive Analysis) The potential for a regional flare-up shot up Friday and Saturday, Nov-11-12, with the blasts at two Iranian arms bases which killed at least 32 Revolutionary Guards men including Iran's top missile expert, and the Arab League Foreign Ministers' decision to suspend Syria's membership over Bashar Assad's brutal military crackdown on civilians. As windows shattered in Tehran, the streets were awash with rumors that Iran was under attack, or that the regime had staged a failed nuclear test. Foreign businessmen were said to be fleeing the country.
In Kuwait, lawmakers demanded an urgent debate on the potential fallout from an attack on Iran three days after British ministers were briefed on a possible US-backed Israeli strike against Iran's nuclear sites in the last week of December or early next year. Hopes faded for effective international sanctions in the wake of nuclear watchdog evidence of Iran's nuclear capabilities, even as US President Obama tackled Russian and Chinese leaders at. Hours after the base explosions in Iran, the Arab League decided to suspend the membership of its ally Syria and impose political and economic sanctions on the Assad regime. Members were advised to withdraw their ambassadors form the Syrian capital until their Nov. 2 peace plan was implemented. The AL decision was praised by US President Barack Obama and backed by the UN Secretary General Ban Ki-moon.
This penalty hurts Bashar Assad more than would a threatened Turkish invasion and seizure of a buffer enclave to serve the Syrian opposition. It conveys the Arab world's rejection of the legitimacy of Bashar Assad's regime. The Syrian ruler has got away with defying the UN Security Council, NATO and even Washington. He will find it much harder to survive being cast out of the fold by his Arab brethren who are punishing him for the contempt he showed for the peace deal they initiated and he signed by having his troops kill another 250 civilians in ten days.
Indeed the Qatari foreign minister Hamad bin Jassim, reading out of the decision, warned Assad that further non-compliance would result in "more steps to protect the citizens of Syria" by the Arab League, a broad hint at military intervention to aid the beleaguered opposition as Assad tried ineffectually to brand the Arab bloc American puppets. Turkey, Saudi Arabia, Qatar and Jordan are already arming Syrian opposition groups and Turkey is hosting their command and training facilities. The scenario is beginning to resemble the Libyan format. There too, Qatari, Jordanian and Turkish military elements took part in the NATO operation to overthrow Muammar Qaddafi. And Bashar Assad may be nearing the end of his tether. No one any longer credits his word after his repeated promises in the nine-month uprising against him to pull his troops out of city centers, release prisoners and enact reforms, while only piling on the savagery. His army is turning against him. The ruling Assad clan and military command have reached a crossroads in the pact they concluded in March to extinguish the uprising regardless of the cost in blood. That pact may now prove unsustainable confronting its parties with three broad options:
1. The army's top commanders may decide they can no longer get away with the slaughter committed in the name of the regime and the time has come to get rid of Bashar Assad. A coup d'etat would be one way.
2. Assad may get in first with a preemptive coup of his own to install in Damascus a military junta composed of trusted loyalists which he and his family will manipulate behind the scenes. This move would ease some of the Arab and Western pressure on him to step down.
3. He could make good on his threat to start a Middle East conflagration along with Iran and Hizballah. Most of the action would be aimed against Israel forcing the Arab League to go along with Syria and restore its status.
The war rumors sweeping Tehran after the explosions at the Revolutionary Guards bases and the hard choices confronting the discredited Assad regime have generated a highly perilous climate in the region. All its capitals are on edge for trouble. This time, the usual conspiracy allegations from Tehran and Damascus won't wash.
WEEK OF NOVEMBER 6 THROUGH NOVEMBER 12
Americans Like Netanyahu Better than Obama
Nov. 11….(Israel Today) US President Barack Obama accidentally let it be known last week that he doesn't think much of Israeli leader Benjamin Netanyahu. But that's OK, because Obama's own countrymen actually prefer Netanyahu over their own president. A poll conducted by the group Greenber Quinlan Rosner found that 52.3 percent of Americans rate Netanyahu positively, compared to 51.5 percent for Obama. Other polls have Obama's approval ratings even lower, while Netanyahu has been consistently winning praise.
Nasrallah Warns of Regional War if Iran, Syria Attacked
Nov. 11….(YNET) Hezbollah Secretary-General Hassan Nasrallah on Friday warned Israel and the US that a war against Iran and Syria would lead to an all-out regional conflict. "They should understand that a war on Iran and Syria will not remain in Iran and Syrian territory, but it will engulf the whole region and there is no escaping this reality," Nasrallah said during a televised speech honoring "Martyrs' Day." In his first response to the growing calls for a military strike on Iran following the publication of the International Atomic Energy Agency's (IAEA) report on the country's nuclear program, the Hezbollah chief said the Islamic Republic would respond harshly to any strike in its territory. "Iran is strong, united and has a one-of-a-kind leader and it will retaliate harshly," he said in his speech, which was delivered in Beirut's southern neighborhood of Dahia. The IAEA report said Iran appeared to have worked on designing an atom bomb. Iran and Syria have been supplying Hezbollah with military equipment - including thousands of rockets and other weapons – for years. Israel estimates that a strike on Iran would prompt an attack by Hezbollah from Lebanon, as well as an attack by Hamas, which rules the Gaza Strip. Hamas is also backed by Iran. "Over the past few days we have witnessed an escalation in threats, and suddenly there is talk that the Israeli enemy may attack the Iranian nuclear facilities…The Iranian leadership responded firmly and decisively," Nasrallah added.

Iran's Ahmadinejad (L) with Nasrallah

(FOJ) In response to reports of a possible Israeli strike on Iranian nuclear facilities, Iran is threatening to mount an attack on Israel via the Syrian border. Some 30,000 Syrian and Palestinian men have spent the past three months training to infiltrate Israel in order to carry out suicide missions, the Iranian Fars news agency reported Friday.

The agency, which is associated with the Revolutionary Guards, reported that the men have sent a petition to the Syrian government expressing their willingness to help it through "any crisis" which may arise with Israel.
The Hezbollah leader said the recent warning by Iranian Supreme Leader Ayatollah Ali Khamenei, according to which any military action against Iran's nuclear sites would be met with "iron fists," best expressed "the reality, which is that Iran is strong and has an army, a nation and unity, and should not fear the fear campaign, the ships and the American armed forces who have already conquered the entire region around Iran. "The US wants to defeat Iran and drag it to direct negotiations, which Iran rejects," he said.
Nasrallah further warned of foreign military intervention in Syria, where President Bashar Assad continues to butcher his opposers. "The US is looking to subjugate Syria so that it will accept the conditions it has objected to in the past. Despite all the threats in the region…the state of the axis of resistance is better than ever," Nasrallah said, adding "those who are gambling on the collapse of Assad's regime (should) stop wasting their time." More than 3,500 people have been killed in Syria's crackdown on protesters, the United Nations said this week, as the military pressed its campaign to put down resistance in the city of Homs against Assad's rule. "The brutal government crackdown on dissent in Syria has so far claimed the lives of more than 3,500 Syrians," UN Human Rights Office spokeswoman Ravina Shamdasani told reporters in Geneva. "Since Syria signed the peace plan sponsored by the League of Arab States last week, more than 60 people are reported to have been killed by military and security forces, including at least 19 on the Sunday that marked Eid al-Adha (the main Muslim feast)." Syria agreed to the Arab League plan on November 2, pledging to pull its military from restive cities, set political prisoners free and start talks with the opposition, which wants to remove Assad and introduce more democratic freedoms. Syrians have recently called for NATO's intervention, but Assad has warned that any military intervention in his country's affairs would cause an "earthquake" that would "burn the whole region".
Arab Leaders Offer Assad Safe Haven
(US officials say Arab leaders have offered Syria's Bashar al-Assad a safe-haven in exchange for his "inevitable" departure from power)
Nov. 11….(Arutz) Arab leaders reportedly told the United States they are willing to provide safe haven to Syrian President Bashar Al Assad to hasten what they say is his "inevitable departure" from power, a senior US official said on Wednesday. Assistant Secretary of State Jeffrey Feltman did not identify which countries had offered a place for Al Assad to go after seven months of protests against his rule in Syria. "Almost all the Arab leaders, foreign ministers who I talk to say the same thing: Al Assad's rule is coming to an end. It is inevitable," Feltman told a Senate panel. "Some of these Arabs have even begun to offer Al Assad safe haven to encourage him to leave quickly," Feltman said, adding he hoped Al Assad and his inner circle would "head for the exits voluntarily." Al Assad, however, has shown no signs he is interested in leaving power. Syrian troops continue their intense crackdown on dissident protests, with some of the worst bloodletting in the unrest gripping the country coming in recent weeks. More than 80 people have been killed by the army and security forces just since last week, when Al Assad's government signed a peace plan sponsored by the Arab League. Western governments led by the United States have called on Al Assad to leave power. Feltman said the United States would continue to support the Syrian opposition while diplomatically and financially pressuring the regime, "until Al Assad is gone."
US and European financial sanctions were "tightening the financial noose around the Al Assad regime," he added. But, Feltman said, the United States did not seek a militarization of the conflict: "Syria is not Libya." He also expressed concern the transition to democracy in Syria could decend into choas, and had no answer when Senator Richard Lugar asked who might replace Al Assad once he is gone. "That's one of the real challenges, because the opposition in Syria is still divided," Feltman said. In addition to sanctions by western nations, Assad faces a growing armed resistance by organized Army defectors led by dissident Syrian Air Force General Riad Assad in Turkey. The nascent insurgency has reached an estimated strength of fifteen thousand and has, in the absence of direct Western support, found itself backed by Turkish Prime Minister Recep Tayyip Erdogan. Analysts say it is likely Turkey will provide arms, bases, and training to the Syrian insurgency in exchange for influence with future regimes should they succeed.
Libyan Mercenaries Arrive in Gaza With Weapons
Nov. 11….(DEBKAfile Exclusive Report) Fifty Libyan Muslim Brotherhood mercenaries arrived in the Gaza Strip from Tripoli last month, in time to take part in the Jihad Islami's last missile offensive against Israel starting Oct. 29, Debkafile's military sources report. They arrived at the wheels of minivans on which were mounted the new Grad multiple rocket-launchers which Palestinian terrorists fired for the first time last month. These mobile rocket-launchers were last seen on the Libyan battlefield in use against Muammar Qaddafi's army. The 50 mercenaries did not bother to paint over the Libyan national colors or replace the trucks' Libyan license plates. Jihad Islami fighters kept them sequestered away from awkward questions about who sent them.
Gazan sources report the Libyan mercenaries left Tripoli on October 10 aboard two buses which drove them via Benghazi to Tobruk. They then entered Egypt as tourists. On Oct. 21, the day Muammar Qaddafi was killed, they crossed the Suez Canal into the Sinai Peninsula. The minivans mounted with the Grad multiple rocket launchers had been moved out of Libya by a separate route and were waiting in the care of Bedouin smugglers beside a Sinai wadi near the old copper mines of Ras Sudar. They looked quite new with no sign of having been in combat.
Our military sources report that, Qatar and the United Arab Republic had supplied these advanced rocket-launchers to assorted Libyan National Transitional Council militias, their accurate fire against designated targets intended to counter the precision of the Libyan army's artillery.But their effectiveness was demonstrated most strikingly after Qaddafi's fall in the Gaza Strip, where they instantly improved the Palestinian extremists' aim against Israeli locations. Most of these rapid-firing missiles were also able to evade Israel's Iron Dome missile interceptors. When the Palestinians reverted to their old weapons, they continued to miss their aim.
The Libyan convoy had to travel some 2,000 kilometers through Egypt to reach the Gaza Strip, raising questions about how it had failed to arouse the notice of local security units. Western sources discovered that the Egyptian Islamic Brotherhood had made all the necessary arrangements for the Libyan Brotherhood mercenaries' long trek to Gaza under its protection, and more are on the way. Furthermore, large sums of money would have been available to smooth their passage and that of the new Grads. Our intelligence sources report that Hamas and Hizballah arms purchasing missions worked out of Benghazi and Tripoli for seven months, buying hardware from rebel militias for hard cash. After Tripoli fell in late August, they split up between the two cities and are still snapping up black market arms sold by NTC militias.
Vatican Calls For World Government
Nov. 11….(Chick Pub.) The current global economic crisis has pushed world leaders to begin recommending a world government. The Vatican is now calling for a "global public authority," including a world central bank controlling global financial affairs. An 18-page document released by the Vatican's Justice and Peace department was entitled, "Towards Reforming the International Financial and Monetary Systems in the Context of a Global Public Authority." It condemned the "idolatry of the market" and called for an in-depth examination of "the principles and the cultural and moral values at the basis of social coexistence." "Selfishness, collective greed and hoarding of goods," is blamed for the economic crisis which, it predicted, would lead to "a climate of growing hostility and even violence, and ultimately undermine the very foundations of democratic institutions, even the ones considered most solid."
France's top financial regulator, Jean-Pierre Jouyet, was quick to agree that, "the Pontifical Council for Justice and Peace is right to emphasize in its latest report the need to strengthen global governance." He pointed out that the "states have increasingly fallen under the control of markets. States, politics, must regain control of things." As a first step, Jouyet emphasized the need to "strengthen" the powers of the new European banking and insurance regulators.
Of course, this also fits neatly with the US President's stated goal to "spread the wealth around." The world is succumbing to the false idea that more laws and regulations by the government is the solution to the "selfishness, collective greed and hoarding of goods." Lost in all this is the biblical concept that the basic problem is the human heart and only when it is changed by the Holy Spirit will social, economic, cultural and political problems be solved.
Part of the government's job is to suppress evil, but it cannot do it alone. That is why America's founding fathers made sure that we were free to promote biblical truth. Churches, Bible schools, and charities were given tax favor so the government would not hamper the dissemination of the gospel. In this level playing field the church's job was to counter Satan's strategies at the most basic level, the condition of the human heart. None of the devil's lies of evolution, humanism, Islam, Catholicism, atheism, socialism, etc. can stand against a robust and dynamic soul winning and discipleship effort.
Unfortunately today, the church finds itself playing catch-up. And Satan has hobbled the churches with defective bibles leaving pastors doubting the word of God and the people in confusion. Using that doubt, the Devil has convinced us that hell may not be so bad, homosexuality is not really a sin, evolution may be part of God's creation process, worldly music and entertainment is okay, marriage vows don't really mean what they say, and whoever dies with the most toys wins.
Institutions such as Harvard and Yale that were established to train pastors have become hotbeds of anti-Christ philosophies: humanism, naturalism, atheism, Marxism and evolution. Their graduates have firmly planted these godless viewpoints in our public schools and government institutions, driving out the Ten Commandments and forbidding any reference to our Creator. The crises we are facing are designed by God to shock us awake. But once awake, people need to know the truth and that is not always where they are likely to find it. But, over the years, thousands of people have told us that a no-nonsense gospel tract is where they first discovered the Truth. From it, they eventually found their way to their Creator, committed their lives to Him, and began to stand in righteousness against Satan's whispers of doubt. Only the gospel can forestall the chaos prophesied for the end times and allow a few more into the Kingdom. We need to saturate our communities with biblical truth. The easiest way that anyone can do that is with gospel tracts.
Russia Will Oppose Sanctions on Iran
Nov. 10….(Ha Aretz) Russia will not support new, tougher sanctions against Iran over its nuclear program, Interfax news agency quoted a senior Russian diplomat as saying on Wednesday.
"Any additional sanctions against Iran will be seen in the international community as an instrument for regime change in Iran. That approach is unacceptable to us, and the Russian side does not intend to consider such proposals," Interfax quoted Deputy Foreign Minister Gennady Gatilov as saying. Earlier on Wednesday, France said it wanted to convene the UN Security Council and could push for unprecedented sanctions against Iran after an International Atomic Energy Agency report said Iran had worked to develop an atomic bomb design. "Convening of the UN Security Council is called for," Foreign Minister Alain Juppe told RFI radio. In a statement, Juppe said diplomatic pressure needed to be ramped up. "If Iran refuses to conform to the demands of the international community and refuses any serious cooperation, we stand ready to adopt, with other willing countries, sanctions on an unprecedented scale," Juppe said. Also on Wednesday, an Iranian army general warned Israel that any attack against Iranian nuclear sites would not only be met with the "destruction" of Israel, but would invite a reaction that spread beyond the Middle East. Deputy armed forces chief Massoud Jazayeri did not further elaborate, but said that the Dimona nuclear site in Israel could be targeted by Iran if Israel attacked it.
Clinton: US Will Work with Islamist Parties
Nov. 10….(Hurryiet) US Secretary of State Hillary Rodham Clinton declared Nov. 7 that the Obama administration would work with ascendant Islamist parties in the Muslim world, such as those who enjoyed a recent election victory in Tunisia, answering one of the central US policy questions resulting from the Arab Spring. The United States shares "their desire to see a Tunisian democracy emerge," she told an audience National Democratic Institute in Washington, in an address that emphasized: "Not all Islamists are alike." What parties call themselves, she added, "is less important to us than what they actually do." Tunisia's main Islamist party Ennahda swept the polls in a landmark vote last month over their main challenger, the secular center-left PDP party. To govern, Clinton said, the party must "persuade secular parties to work with them. America will work with them, too," and noted that the group's leaders have "have promised to embrace freedom of religion and full rights for women." The top US diplomat listed key criteria any party must meet in a democracy, including the rejection of violence, adherence to the rule of law, and respect for the rights of women and minorities, and an acceptance of electoral defeats. After decades of partnering with dictators throughout the region, her message was that the US would approach the new political landscape with an open mind and the understanding that long-term support for democracy trumps any short-term advantages through alliances with authoritarian regimes. However she said nothing about changing US policies toward Hezbollah and Hamas, which have performed well in Lebanese and Palestinian elections but are considered foreign terrorist organizations by the US.
The one-size-does-not-fit-all approach has meant US support for an imperfect military stewardship over Egypt ahead of elections and largely overlooking ally Bahrain's rough response to protests earlier this year. Washington helped a military effort that deposed Moammar Gadhafi. It also demanded that leaders in Syria and Yemen leave power. "There will be times when not all of our interests align," Clinton said. "That is just reality." Still, she moved to counter an increasingly common criticism from Republicans that the Obama administration's boisterous support for the Arab Spring has foolishly opened the door to Islamist takeovers of secular governments. Clinton took a hard-line, deriding the suggestion that faithful Muslims cannot thrive in a democracy as "insulting, dangerous and wrong." She said the US would work with any individuals and parties willing to uphold fundamental values. Clinton said real power needed to be transferred in Egypt immediately and warned Syrian President al-Assad. "Those leaders trying to hold back the future at the point of a gun should know their days are numbered." Clinton said.
Iran Threatens to Attack Israel's Nuclear Facilities
Nov. 10….(DEBKA) For the second time in four days, Iran has threatened to annihilate Israel. Sunday, Nov. 6, Tehran said four missiles would be enough to kill a million Israelis. Wednesday, Nov. 9, Gen. Masoud Jazayeri, deputy commander of Iran's armed forces, said an American or Israeli attack on Iran's nuclear facilities would not only result in the Jewish state's extinction - "Dimona is the most accessible target," but generate a response that "would not be limited to the Middle East." Debkafile's military sources interpret this to mean a missile attack on American bases in Europe and US Sixth Fleet vessels in the Mediterranean. "The smallest action by Israel against Iran and we will see its destruction," Gen. Jazayeri went on to say. "We have plans of reprisal ready for any attack." Debkafile's Iranian sources report all this muscle-flexing is a sign of mounting edginess in Tehran as the debate in the United States and Israel over the need for a military operation against Iran gains momentum following the UN nuclear agency (IAEA)'s exposure of its nuclear program as weapon-focused.
Some American papers have responded with stories designed to discourage the Netanyahu government from a military offensive. They claim Israel is short of the bombers and air crews needed to conduct the 1,000 rapid-fire sorties required for a successful operation. The damage would therefore be slight, they argue, enough only to hold Iran's nuclear progress back by no more than a year or two at best. Israel would have to repeat its operation every few years.
Other US sources maintain that a unilateral Israel strike on Iran would seriously undercut America's Middle East influence and call for unwilling US intervention in the war to rescue Israel from the fury of Iranian missiles. According to another view expounded by certain US columnists Wednesday, no American or Israel attack is to be expected in the coming days, but must eventually take place. President Barack Obama swore Iran would not be allowed to attain a nuclear weapon. He is bound to make good on his pledge just as he kept his promise to liquidate Al Qaeda leader Osama bin Laden and pull US troops out of Iraq and Afghanistan.
In Israel, Prime Minister Binyamin Netanyahu has told his office to offer no comment on the nuclear agency's evidence of Iran's work on an atomic bomb until he is ready and ordered cabinet ministers to keep silent. There is a certain amount of frustration in Jerusalem over the nuclear agency's report, mainly because it conceals as much as it reveals. Its researches cover Iran's nuclear and missile developments only in the years 2008 and 2009 whereas both programs took off dramatically and ominously later. Debkafile's Jerusalem sources have registered two other dominant responses:
1. If as government sources claim Iran can attain an operational nuclear weapon within a year, why is the Netanyahu government talking about sanctions which everyone knows are useless instead of exercising its military option before it is too late?
2. Israeli intelligence and military sources and commentators say the agency's findings are not new but have been known for some years.
If that is the case, many Israelis ask, why was Iran's nuclear progress kept dark and why didn't a military attack come up for debate much sooner when it would have been more expeditious?
And if the truth was kept hidden for two or three years, why should anyone believe that the data released this week covers the true picture? The conclusion is inescapable that Iran's nuclear doings are a lot more dangerous than the agency and the Israeli government would have people believe. A minority of former government officials in opposition today maintain in response to the IAEA report that Israel should learn to live with a nuclear-armed Iran and in fact has already managed to survive for some years and even prosper in its shadow without coming to harm. However, most Israelis now suspect that Iran already has the N-bomb but no one responsible is willing to admit it.
Iran prepping for missile attack on Israel
Mullah regime would try to blanket Jewish state with blasts
Nov. 10….(WND) Iran has been preparing Palestinian terrorist groups in the Gaza Strip and Hezbollah in Lebanon to retaliate in the case of Israeli strikes against Tehran's nuclear sites, according to Egyptian security officials speaking to WND. The security officials said Tehran was convinced the Jewish state was going to attack its suspected nuclear sites in September, prompting Iran to hold joint military drills with Gazan jihad groups in August, including with Hamas and Islamic Jihad. Similar drills were held in August with Hezbollah militants in Lebanon. Those drills were conducted by Iranian Revolutionary Guard members, the officials said. The exercises focused largely on coordinated missile onslaughts from both Gaza and Lebanon aimed at blanketing the Jewish. According to the Egyptian security officials, any attack against Iran or Syria would result in an immediate Iranian missile campaign against Israel using proxies in Gaza and Lebanon. The international news media has been replete with reports in recent days speculating Israel is strongly considering striking Iran's suspected illicit nuclear sites.
While the media focus has largely been on Iran, there is information indicating an international campaign could target Iran's ally, Syria. The regime of Syria's Bashar Assad has been accused of major human rights violations, including crimes against humanity, in clamping down on a violent insurgency targeting Assad's rule. Mass demonstrations were held last week in Syrian insurgent strongholds calling for the international NATO coalition in Libya to deploy in Syria. Damascus officials claimed to WND that NATO troops are currently training in Turkey for a Turkish-led NATO invasion of Syria.
Any deployment would come under the banner of the same "Responsibility to Protect" global doctrine used to justify the US-NATO air-strikes in Libya. Responsibility to Protect, or Responsibility to Act, as cited by President Obama, is a set of principles, now backed by the United Nations, based on the idea that sovereignty is not a privilege but a responsibility that can be revoked if a country is accused of "war crimes," "genocide," "crimes against humanity" or "ethnic cleansing." A Turkish-US-NATO strike could have immediate implications for Israel.
The Syrian president warned in a recent interview with a UK newspaper that foreign intervention in Syria would cause an "earthquake" across the region and create another Afghanistan, while directly threatening the Jewish state. Assad reportedly made similar comments in a meeting in early October with Turkish Foreign Minister Ahmad Davutoglu. He was quoted stating, "If a crazy measure is taken against Damascus, I will need not more than six hours to transfer hundreds of rockets and missiles to the Golan Heights to fire them at Tel Aviv." Assad also reportedly warned that "all these events will happen in three hours, but in the second three hours, Iran will attack the US warships in the Persian Gulf and the US and European interests will be targeted simultaneously."
Obama, Sarkozy Don't Like Netanyahu
Nov. 9….(Israel Today) Earlier this month US President Barack Obama and French President Nicolas Sarkozy had what they thought was a private conversation regarding their mutual dislike of Israeli Prime Minister Benjamin Netanyahu. The incident occurred after the two leaders fielded questions at a G20 press conference in Paris on November 3. With their microphones still attached and apparently still turned on, Obama and Sarkozy retired to a private meeting room. Obama started by criticizing Sarkozy for not warning him that France intended to vote in favor of recognizing "Palestine" at the UN Educational, Scientific and Cultural Organization (UNESCO) days earlier. From there, the conversation drifted toward relations with Netanyahu. According to a report on the French website Arret Sur Images, the brief conversation went like this: Sarkozy: I can't stand him [Netanyahu]. He is a liar. Obama: You're fed up with him, but I have to deal with him every day!
Due to the microphones that Obama and Sarkozy were wearing being inadvertently left on, all members of the press who had been wearing translation headsets were able to hear the private conversation regarding Netanyahu. Incredibly, though probably not surprisingly, the assembled members of the press agreed to sign a document promising not to publish the damning remarks. "There were discussions between journalists and they agreed not to publish the comments due to the sensitivity of the issue," and unnamed journalist told Arret Sur Images. One must wonder if the mainstream media would have been so sensitive had Netanyahu been caught making similar remarks.
McCain: 'Liar' Remark Indicative of New US Policy Toward Israel
Nov. 9….(YNET) French President Nicolas Sarkozy may have stirred media frenzy by calling Prime Minister Benjamin Netanyahu a "liar" behind closed doors, but some politicians see it as an opportunity to shift the blame. Republican Senator John McCain on Tuesday slammed the French and American leaders over their derogatory remarks on Netanyahu, saying that while the "French have always been like that" toward Israel, the United States should know better. The former presidential candidate was referring to reports that during the G-20 summit, Obama and Sarkozy were overheard on an open mic bashing Netanyahu, with Sarkozy calling him a liar and Obama responding, "You're sick of him, but I have to deal with him every day." In an interview with Fox Network, the Arizona senator said "I happen to be a great admirer of Prime Minister Netanyahu," adding that "Israel is under more pressure and probably in more danger than they've been since the 67 war and that kind of comment is not only not helpful, but indicative of some of the policies towards Israel that this administration has been part of. Commenting on the deadlocked peace process between the Israelis and Palestinians, McCain noted that "no one, not even the most ardent supporter of the president, can view the Israeli-Palestinian issue and peace in the region as anything but a total failure as part of (the current American) administration."
After IAEA Report, Israel says Military Option can Wait for Sanctions
Nov. 9….(DEBKAfile Special Report) The UN nuclear watchdog (IAEA) began circulating its much-awaited Iran report Tuesday night, Nov. 11 to Security Council and IAEA board members. According to the first leaks, the agency has no doubt that Iran is working on developing atomic weapons: Its clandestine computer-simulated and practical tests on nuclear detonators, uranium enrichment at a hidden underground site at Fordo and tests for adapting nuclear warheads to missiles have no explanation other than work on components for a nuclear weapon. Israel's initial response was to give sanctions a last chance and hold its military option in abeyance for the weeks needed to put them in place, so long as they are tough enough to disrupt Iran's central bank and its oil industry. However, the Obama administration has already foresworn these penalties, as Debkafile reported earlier Tuesday.
After IAEA Report, Israel Says Military Option can Wait for Sanctions
Nov. 9….(DEBKA) The UN nuclear watchdog (IAEA) began circulating its much-awaited Iran report Tuesday night, Nov. 11 to Security Council and IAEA board members. According to the first leaks, the agency has no doubt that Iran is working on developing atomic weapons: Its clandestine computer-simulated and practical tests on nuclear detonators, uranium enrichment at a hidden underground site at Fordo and tests for adapting nuclear warheads to missiles have no explanation other than work on components for a nuclear weapon. Israel's initial response was to give sanctions a last chance and hold its military option in abeyance for the weeks needed to put them in place, so long as they are tough enough to disrupt Iran's central bank and its oil industry. However, the Obama administration has already foresworn these penalties, as Debkafile reported earlier Tuesday.
US President Barack Obama is backing away from crippling sanctions on Iran's central bank bank and an embargo on its oil trade. This was decided shortly before the International Atomic Energy Agency was due to confirm Tuesday or Wednesday, Nov. 8-9 that Iran's clandestine military nuclear program had reached the point of no-return, and after Israel intelligence experts found that Iran could build a weapon as soon as it so decided. Four considerations persuaded the Obama administration to backtrack on new sanctions, thereby letting Tehran prevail in this round of the nuclear controversy:
1. Because it is too late. Even the harshest sanctions would not alter the fact that Iran has arrived at a position whereby it is capable of building a bomb or warhead any time it chooses.
2. Severe penalties against Iran's central bank and its fuel exports would exacerbate the turmoil on international financial markets.
The Los Angeles Times reported Tuesday, Nov. 8, "Though US officials had declared they would hold 'Iran accountable' for a purported plot to assassinate the Saudi ambassador to Washington, they now have decided that a proposed move against Iran's central bank could disrupt international oil markets and further damage the reeling American and world economies." Instead, say those officials, Washington will seek to persuade some of Tehran's key trading partners, including the Persian Gulf states, South Korea and Japan, to join existing sanctions.
3. For the first time in American history, Washington has admitted its military capabilities are constrained by economic concerns. This constraint was also reflected in the Washington Post of Tuesday: "The possibility of a US strike is considered remote, however. That is partly because there is no certainty it would successfully stop Iran and partly because of the diplomatic and political repercussions for a cash-strapped nation emerging from two wars."
4. Israel's Defense Minister Ehud Barak said Tuesday in a radio interview that he was not optimistic about tough sanctions because there was no international consensus to support them.
Debkafile's intelligence sources report that Russia and China would not only cast their votes against stiff penalties but disrupt them through marketing mechanisms they have already put in place for bypassing international restrictions on Iran's foreign banking and exports. Those mechanisms have also been placed at the disposal of Syria. Tehran has therefore been able to pre-empt the IAEA report, however damning it may turn out to be, and can continue to develop its nuclear objectives without fear of punishing sanctions. The Israeli defense minister noted that while it would be preferable in matters as grave as a potential attack on Iran's nuclear sites to work closely with the United States, Israeli is a sovereign country and its government cannot shirk responsibility for defending its security.
Israel's existence was not at stake, Barak stressed, either from Iran's missiles or Hizballah's rockets. An attack would cause suffering on the home front, he said, but nowhere near the 100,000 mentioned in the speculation of the last two weeks, or even 5,000. He dismissed much of this speculation as wildly irresponsible and unfounded. If sanctions against Iran fall by the wayside, all other options stay on the table, said the defense minister. Israeli is holding intelligence exchanges with some friends but in the last resort must make its own decisions which he promised would be made responsibly.
Prime Minster Binyamin Netanyahu no doubt intended to go through the motions of demanding tougher sanctions against Iran after the publication of the IAEA report. But that option has vanished from the Washington landscape, leaving Israel with a choice between a military strike or bowing to the Obama administration's acceptance of a nuclear-armed Iran and learning to live with this ever-present menace. The same stark choice confronts Saudi Arabia and the rest of the Gulf.
The Cause of America's Economic Troubles
Nov. 9….(Martin D. Weiss Ph.D. / In The Days) Are you wondering why the US economy has now stagnated, despite the largest government stimulus, bailouts, and money printing of all time? Are you puzzled why the real income of American households has just suffered its worst plunge in recorded history, despite the so-called "recovery" of 2009-2011? Do you want to know why it now takes 40.5 weeks for the average unemployed worker to find a new job, also the worst in recorded history? And are you flabbergasted by the utter failure of the US Congress to do anything about trillion-dollar federal deficits for years to come? The fundamental source of the nation's troubles is DEBTS that are far larger and more destructive than Washington admits. Indeed, the US government is covering up the magnitude of the nation's debt disasters with three major deceptions:
Debt Deception #1
Washington Excludes the Massive Debts of Federal Government Agencies
"As long as the government's debt burden is under 100 percent of GDP," they say, "we can handle it. It's only when it surpasses the 100 percent threshold that we'll be in danger." True or false? Let's look at the numbers:
• US GDP is $14.6 trillion. And …
• According to the Federal Reserve's Flow of Funds, US Treasury debts outstanding are $9.7 trillion.
• So that means the debts are well under the 100 percent danger threshold, right?
Wrong! The authorities conveniently ignore a massive $7.6 trillion of additional government debts that have piled up on the books of US government agencies, such as Fannie Mae and Freddie Mac. These agencies were created by the US government, have always been controlled by the US government, and now, after the federal bailouts of the last debt crisis, are even owned by the US government. How in the world anyone could possibly exclude their debts from the US government's books is beyond me. And yet that's precisely what Washington does. Add those debts to the government's total burden … and guess what! Instead of $9.7 trillion in federal government debts outstanding, the actual total comes to $17.3 trillion, a whopping 118.3 percent of GDP! How bad is that?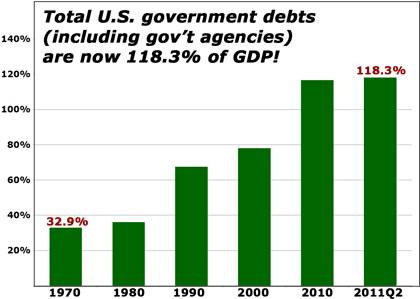 Well, back in 1970, about eight months before President Richard Nixon devalued the dollar and abandoned the gold standard, all US government debts (even including government agencies) was only 32.9 percent of GDP. Now, at 118.3 percent, the nation's debt load is nearly FOUR times worse, in an economy that's far less competitive than it was in the 1970s. Moreover, at 118.3 percent of GDP, the US federal government now has roughly the same horrendous debt burden as Greece had before its collapse and as much as Italy has today!
Debt Deception #2
Wall Street and Main Street Are Also Swimming in Excess Debts
The current debate in Washington seems to be focused almost exclusively on federal government debts and deficits. However, the debt burden of US households and corporations is also the biggest in history. In fact, throughout more than two centuries of American history, total US debts (including consumer debts, corporate debts AND government debts) never exceeded 200 percent of GDP; and when it did, it was invariably a cause for grave alarm. Now, it has mushroomed from 154 percent of GDP in 1970 to a nosebleed level of 360 percent of GDP this year. Needless to say, this is a massive, inescapable burden that pervades nearly every aspect of American life, via mortgages, credit cards, bank loans, municipal debt, and corporate debts of all kind.
Debt Deception #3
The Government Has Failed to Admit that America's Private-Sector Credit Engine Has Collapsed
Since 2009, the giant US engine for the creation of new PRIVATE-sector credit has utterly collapsed. Sure, the federal government and its agencies continue to borrow money at a torrid pace, to finance their massive deficits. But, in nearly all US sectors outside of the federal government, instead of new credit being created, old credit is being destroyed. I have never seen this happen before in my lifetime! Now, though, it's happening, and in a big way. Here are the facts …
Until the housing bust, the massive private-sector credit engine in the US was robust and booming: At its peak in 2006, the US added a net of $3.5 trillion in new mortgages, consumer credit, and other nonfederal debts. And in 2007, it added another $3.3 trillion, according to the Fed's Flow of Funds. Then, suddenly, in 2008, banks began cutting back on new loans. Hundreds of billions of mortgages went into foreclosure. And combined, the net overall expansion of credit outside of the federal government plunged by a shocking 83 percent from the prior year, to a meager half-trillion dollars! Can you imagine that? Think about what the impact would have been of an 83 percent plunge in the stock market, or in any sector of the economy! Yet here you had precisely that kind of a collapse in THE most fundamental source of stimulus for the US economy — credit!
But if that sounds bad, wait till you hear the rest of the story. In 2009, as millions of Americans defaulted on their mortgages, auto loans, or credit cards, and as thousands of banks tightened up their lending standards for new credit, we actually witnessed a massive liquidation of private credit. When the dust settled, the Fed tabulated a net destruction of credit to the tune of $1.99 trillion in mortgages, consumer credit, bank loans, and other nonfederal debts. It was literally the biggest decline of credit outstanding in recorded history. If it ended there, it would have been bad enough. But it didn't. The credit carnage continued in 2010 and is still taking place now in 2011: All told, in the 30 months between January 1, 2009 and June 30, 2011, the US has witnessed the net destruction of nearly $3.2 trillion in nonfederal credit.
Remember: Credit is the stuff that drives the US economy, that millions of American families are addicted to in order to maintain their spending habits and lifestyle, that businesses count on to keep their sales and earnings flowing. So now do you understand why the economy is stagnating? It's quite simple when you think about it: Washington is hogging nearly all the new credit available to finance its out-of-control deficits. But nearly everyone else is sucking hind teeth or, worse, getting kicked out of the pen entirely!
No wonder households are suffering such huge income declines despite the "recovery"! No wonder it's taking an average of 40.5 weeks for folks losing their job to find a new one! No wonder Congress is hopelessly deadlocked on budget fixes! With households and small businesses already suffering massive credit withdrawal, no politicians in their right mind would to go to their home district to impose even more pain.
Bottom line:
1. Don't count on the Treasury or the Fed to rescue the US economy. Even with the biggest bailouts and lowest interest rates in American history, we are still witnessing net destruction of credit RIGHT NOW!
2. Don't count on Congress to make any major progress in reducing our nation's massive federal deficits.
3. Don't expect an end to the liquidation of private credit, and the damage it's doing to the economy anytime soon.
*FOJ Note: A nation that forgets God shall be turned to their own folly. (Psalms 9:17) A proud and haughty nation that abandons God, and turns to other gods shall receive the basest of leaders (Daniel 4:17)
How the US and Israel Allowed Iran to Acquire Nuclear Arms
Nov. 8….(DEBKAfile Exclusive Report) Hardly a day has gone by in the last month without new revelations, mostly from US intelligence sources, confirming that Iran has either reached or is within a hand's breadth of a nuclear weapon capability. Sunday, Nov. 6, Iran was reported to have carried out implosion experiments in a large steel container built as a testing capsule for this purpose at Parchin. Such experiments would be hard to explain away for any purpose other than the development of nuclear arms. Monday, Nov. 7, a Russian nuclear expert Vyacheslav Danilenko was named as having taught the Iranians how to build the R265 generator used for the implosion in the Parchin experiment. Since Danilenko was back home in Russia by 2005, Iran must be considered to have mastered the critical nuclear detonation technology as far back as six years ago. It is critical because before a nuclear weapon can be used, a sphere of conventional explosives must be detonated to create a blast wave that compresses a central ball of nuclear fuel into an incredibly dense mass, triggering a nuclear chain reaction and explosion.
For six years, therefore, American and Israeli governments have kept their own people and the world ignorant of the true state of Iran's nuclear program. Indeed in 2007, under President George W. Bush, the American government, military and intelligence agencies published a deliberately misleading National Intelligence Estimate which concluded that in 2003, Tehran had suspended intense work on the design and production of a nuclear weapon.
The Israeli government under Prime Minister Ehud Olmert tried protesting that the report was false, but when no one listened, he lined up behind Washington. He and his foreign minister at the time Tzipi Livni brushed off anxious queries by retorting that the Iranian nuclear menace was a matter for the international community to deal with, even though the high-wire diplomacy attempted at the time was getting exactly nowhere. But both the US and Israeli knew the truth, that Iran was getting dangerously close to a nuclear capacity, had obtained nuclear explosives, detonators and the technology for triggering them, as well as building missiles.
Against this backdrop, the Stuxnet malworm made its first appearance in June 2010. The virus embarked on stealthy depredations of the uranium enrichment facility's control system in Natanz, in order to stall Iran's stockpiling of large quantities of weapons-grade fuel. It worked for a year or two, no more. According to US sources, Iran has since managed to accumulate enough enriched uranium for four nuclear bombs. That explains the comment appearing in the New York Times of Monday, Nov. 6, from a senior US official. He said the virus had run its course but some recently discovered computer worms suggested a new, improved Stuxnet 2.0 may be in the works. "There were a lot of mistakes made the first time," he said. "This was a first-generation product. Think of Edison's initial light bulbs or the Apple II." Cyber war therefore briefly stalled Iran's progress toward a nuclear bomb but never derailed it.
The covert assassinations of Iranian nuclear scientists were similarly only temporary setbacks soon overcome. The Iran report promised for Tuesday or Wednesday by the International Atomic Energy Agency (IAEA) will show plainly that sanctions, the clandestine assassinations of scientists, the Stuxnet virus and a host of covert operations to damage the equipment on its way to Iran, never diverted Tehran long from its ruthless march on a nuclear arsenal. Two leaders, US President Obama and Israeli Prime Minister Binyamin Netanyahu, pledged solemnly when they assumed office never to let Iran achieve a nuclear arms capability. On their watch, however, Iran has achieved that capability. As things stand today, it is now only a step away from a bomb, separated by little more than a political decision to take it. Some experts say Iran still needs several months to produce its first weapon and a shorter period to produce each subsequent one. Does this leave time to intervene?
No one knows what the US or Israeli leaders will decide to do, whether in concert or unilaterally, to rectify their grave lapse. Will they opt for living with a nuclear-armed Iran while downplaying the menace thereof or resort to a military offensive to extinguish it? The forthcoming IAEA report will probably disperse some of the opaque mists blurring the Iranian nuclear reality and making possible the obfuscations of the past six years. It is expected to focus on Iran's efforts towards putting radioactive material in a warhead and developing missiles. Once the facts are laid out on the table for all to see, it will be that much harder for interested parties to continue to spin the facts for political expedience.
Iran: If Israel Attacks, 4 Iranian Missiles will Kill a Million Israelis
Nov. 8….(DEBKAfile Exclusive Report) The Iranian Revolutionary Guards Corps (IRGC) new agency Fars headlined a threat Sunday, Nov. 6: Four Iranian missiles can destroy tiny Israel, said the paper in Tehran's first reaction to the flood of conflicting reports about a possible Israel attack on Iran's nuclear sites. However, Iran's leaders are divided on how to assess the seriousness of an Israeli or American threat to their nuclear program and this is reflected in their various media. The writer of the Fars story is identified by Debkafile's Iranian sources as Saad-allah Zarey, its senior military commentator and a crony of Supreme Leader Ayatollah Ali Khamenei. He stressed that the four missiles capable of causing the Zionist entity a million casualties would be conventional.
According to those sources point that the experiences of the Gulf war show that this number of ordinary missiles could not cause anything like the damage calculated by the writer. What Zarey may be referring to are the stubborn rumors going around Western intelligence circles since early 2005 that during the breakup of the Soviet Union, Tehran laid hands on black market nuclear cruise missiles from the Ukraine and 3 to 5 more from Belarus. Debkafile cites a BBC report of March 18, 2005: Ukrainian arms dealers smuggled 18 nuclear-capable cruise missiles to Iran and China in 1999-2001, Ukraine's prosecutor-general has said. The Soviet-era Kh-55 missiles, also known as X-55s - have a maximum range of 2,500km. They are launched by long-range bombers. The Kh-55, known in the West as the AS-15, is designed to carry a nuclear warhead with a 200-kiloton yield. Our military sources add that with these missiles in hand, Iranian warplanes could bombard Israel 1,200 kilometers away without leaving their own air space. The Ukrainian prosecutor-generalclaimed at the time that the missiles were not exported with nuclear warheads. However our sources cite Western intelligence as suspecting that Tehran obtained those warheads from Belarus or from unconventional arms traffickers based in the Muslim Republics which were part of the USSR up until the 1990s. And indeed the Fars report did not specify what warheads the "conventional" missiles would carry.
Saad-allah Zarey described Israel as so small and vulnerable that even 100 Israeli bombs would not substantially damage Iran which is 80 times larger in area, whereas in a missile war Israel would not have enough time to rally its defenses. Therefore, he concludes, the chances of Israel or the US launching a military operation against Iran are slight. Iran's most radical publication Kayhan finds in its Sunday editorial that Israel is too weak and America too exhausted to do much harm to Iran.
FOJ Note: US President Obama and French President Sarkozy were overheard discussing the situation between Israel and Iran at the G20 meetings. Both leaders expressed disdain for Israeli PM Benjamin Netanyahu. Further rumors abound that President Obama has advised European leaders that the US will strike Iran next fall. (just before US presidential elections!)
Iran on Verge of Achieving Nuke Capacity
Nov. 8….(NTI : Global Security Newswire) Data slated for publication this week by the International Atomic Energy Agency indicates that Iran has passed every crucial milestone in a possible effort to develop a nuclear bomb, the Washington Post reported. The forthcoming Iran safeguards assessment from IAEA Director General Yukiya Amano provides details on what appears to be a clandestine scientific initiative more sophisticated, more productive and wider in scope than is generally believed, according to the Post. The United States and other countries suspect that Iran's nuclear program is geared toward weapons development; Tehran insists the effort is strictly peaceful. Experts in Iran labored in a number of areas over much of the previous decade, with the exception of a period in 2003, to acquire critical capabilities necessary to assemble and vet a nuclear warhead suited for deployment on an Iranian long-range missile, Institute for Science and International Security head David Albright said. The program never really stopped," Albright said in briefing slides, obtained by the Post, describing key IAEA findings and presented last week to intelligence personnel. "After 2003, money was made available for research in areas that sure look like nuclear weapons work but were hidden within civilian institutions."
Taking into account all related data provided to the UN nuclear watchdog, IAEA experts have determined that Iran "has sufficient information to design and produce a workable implosion nuclear device" with a core of weapon-grade uranium, Albright said in the closed-door meeting. Findings suggest the nation established a methodical, routinized bid to acquire every capacity necessary in bomb assembly, tapping domestic and international sources for needed knowledge, the expert said. "The intelligence points to a comprehensive project structure and hierarchy with clear responsibilities, time lines and deliverables," said Albright, according to a record of his remarks. Two European envoys verified the briefing's specifics.
Data received by the UN organization establishes former Soviet atomic expert Vyacheslav Danilenko as a key player in Iran's acquisition of schematics for an R265 generator, a hollow aluminum structure lined with detonators for initiating the fission reaction in a nuclear explosion. Danilenko provided support to Iran for no less than five years following his recruitment by the Iranian Physics Research Center in the 1990s, and he provided scientific reports and verbal guidance for building and vetting a detonation component believed to have been included in an Iranian warhead plan, said two officials privy to unreleased IAEA information. UN inspectors pushed relatively hard for Danilenko's assistance because his contribution in Iran was judged to be central, according to the two officials. The expert said he believed he was only aiding peaceful programs, they added. No indications have emerged that Moscow was aware of Danilenko's role, the Post reported. North Korea and former top Pakistani nuclear scientist Abdul Qadeer Khan also appear to have supported Iranian efforts. The 35-nation IAEA Board of Governors is expected to receive photographs taken from space of a structure the agency believes to be a massive steel chamber for conducting nuclear weapon-linked combustion experiments, the Associated Press reported quoted diplomatic officials as saying. Western nations hope the IAEA document will prompt the agency's governing board to again refer Iran to the UN Security Council, which has already adopted four resolutions aimed at curbing Iran's disputed atomic activities. Alternatively, the powers could seek a March deadline for Iran to better assist the IAEA investigation of the nation's nuclear program. Afterward, Tehran might be sent back to the Security Council.
Russian FM Warns Against any Military Strike on Iran
(There's no military solution to Iranian nuclear problem as there is no military solution to any other problem in the modern world," Lavrov says; any strike against Iran will sour ties between West, Russia.)
Nov. 8….(Jerusalem Post) Russia's foreign minister warned on Monday that any military strike against Iran would be a grave mistake with unpredictable consequences. Russia, the closest thing Iran has to a big power ally, is deeply opposed to any military action against the Islamic Republic, though Moscow has supported United Nations Security Council sanctions against Iran over its nuclear program. "This would be a very serious mistake fraught with unpredictable consequences," Russian Foreign Minister Sergei Lavrov said when asked about reports that Israel planned a military strike against Iran. Lavrov said there could be no military resolution to the Iranian nuclear problem and said the conflicts in Iran's neighbors, Iraq and Afghanistan, had led to human suffering and high numbers of casualties. A raid on Iran's nuclear facilities would be likely to provoke Tehran into hugely disruptive retaliatory measures in the Gulf that would sever shipping routes and disrupt the flow of oil and gas to export markets, political analysts believe. Iran is already under four rounds of United Nations sanctions due to concerns about its nuclear program, which it says is entirely peaceful. Washington is pushing for tighter measures after discovering what it says was an Iranian plot to kill the Saudi ambassador to the United States.
Russia has tried to push Tehran to disclose more details about its nuclear work to ease international concerns. Senior Russian security officials accept that the West has legitimate concerns about the nuclear program though Moscow says there is no clear evidence that Iran is trying to make a nuclear bomb. Any military strike against Iran would be likely to sour ties between the West and Russia, whose leader, Vladimir Putin, is almost certain to win a presidential election in March. "There is no military solution to the Iranian nuclear problem as there is no military solution to any other problem in the modern world," said Lavrov, who has served as foreign minister since 2004. "This is confirmed to us every day when we see how the problems of the conflicts around Iran are being resolved, whether Iraq or Afghanistan or what is happening in other countries in the region. Military intervention only leads to many times more deaths and human suffering." Lavrov added that talks between Britain, China, France, Russia, the United States, Germany and Iran should be resumed as soon as possible.
Russia Warns Israel

Against Air Strike on Iran

(Russia's foreign minister Sergei Lavov has warned that a military strike on Iran would be a "very serious mistake" with "unpredictable consequences", after Israel's president Shimon Peres said that an attack was increasingly likely)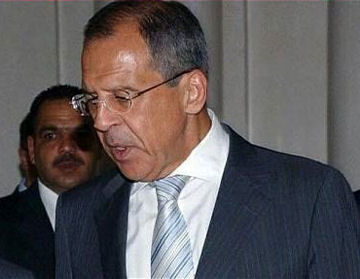 Nov. 8….(Telegraph) In comments published in the Israeli daily Hayom, Mr Peres said that "the possibility of a military attack against Iran is now closer to being applied than the application of a diplomatic option". "We must stay calm and resist pressure so that we can consider every alternative," he added.
The drumbeat of war is expected to grow louder this week when United Nations nuclear watchdog, the IAEA, issues its most detailed report to date on nuclear research in Iran. It will provide what Western officials and experts regard as irrefutable evidence that Tehran is compiling the capacity and skills to build a bomb. It will be used as leverage for a fifth round of sanctions at the UN, but could also provide Israel, with the tacit support of Washington, to finalize plans for an air strike. Among its findings are that Tehran was helped by nuclear experts from two countries, believed to be Russia and Pakistan. The Washington Post reported that key assistance was provided by Vyacheslav Danilenko, a former Soviet nuclear scientist, hired by Iran's Physics Research Centre.
Documents handed over to UN officials showed that he had worked for the Iranians for at least five years, giving lectures and sharing his expertise on developing and testing an explosives package that the Iranians have now succeeded in making part of their blueprint for a nuclear warhead.
Moscow, the closest thing Iran has to a big power ally, is deeply opposed to any military action against the Islamic republic, though Moscow has supported UN Security Council sanctions against Tehran. "This would be a very serious mistake fraught with unpredictable consequences," said Mr Lavrov, addressing reporters in Moscow. "Military intervention only leads to a multiple rise in casualties and human suffering." A raid on Iran's nuclear facilities would be likely to provoke Tehran into disruptive retaliatory measures in the Gulf that would sever shipping routes and disrupt the flow of oil and gas to export markets. Some analysts have said it could backfire and bolster the theocratic regime to the detriment of the pro-democracy movement, and spawn terror attacks on Israeli and US targets around the world.
The issue has been debated in the Israeli cabinet, where Mr Netanyahu has argued that only a muscular response will keep the Iranians in check. He has often spoken of the "existential threat" posed by Iran, whose president Mahmoud Ahmadinejad has called for Israel's annihilation. Washington is pushing for tighter measures after discovering an Iranian plot to kill the Saudi ambassador to the United States. Russia has tried to push Tehran to disclose more details about its nuclear work to ease international concerns. Senior Russian security officials accept that the West has legitimate concerns about the nuclear program though Moscow still says there is no clear evidence that Iran is trying to make a nuclear bomb. The Iranians, who insist that their nuclear program is designed for peaceful purposes, have dismissed the IAEA report as "counterfeit".
Western officials have admitted that the report, due to be circulated to its 35 member states on Tuesday or Wednesday, will not reveal a "smoking gun" of Iranian nuclear weapon-making. But it will contain new details of particular activities and add flesh to previous reports that make no other conclusion possible, they have said. The report will reveal that the Iranians are constructing a chamber the size of a London bus whose design is best suited for testing nuclear explosives. They have also finished a blueprint for a nuclear warhead and have enough uranium for four weapons that could be readied in a matter of months.
Iran IS Developing Nuclear Weapons

    (Parchin military base, about 30 kilometers from Tehran)
Nov. 8….(In The Days) Iran is pursuing its nuclear weapons program at the Parchin military base about 30 kilometers from Tehran, diplomatic sources in Vienna say. The Vienna-based International Atomic Energy Agency is expected to release a report this week on Iran's nuclear activities. According to recent leaks, Iran has carried out experiments in the final, critical stage for developing nuclear weapons, weaponization. This includes explosions and computer simulations of explosions. The Associated Press and other media outlets have reported that satellite photos of the site reveal a bus-sized container for conducting experiments. Parchin serves as a base for research and development of missile weaponry and explosive material. It also has hundreds of structures and a number of fortified tunnels and bunkers for carrying out explosive experiments.
As far back as eight years ago, US intelligence sources received information indicating that the bunkers would also be suitable to develop nuclear weapons. According to that information, Iran conducted experiments there to examine its capacity to simulate a nuclear explosion. The Iranians rejected an IAEA request to visit Parchin, saying that IAEA rules permitted the organization's member states to deny such visits to military bases. Now, eight years later, the site is again suspected as a location for covert military nuclear activity.
Sources say that this time around, the IAEA report will contain clearer language on military aspects of the Iranian nuclear program. The report is in the final drafting stages and will need the approval of the IAEA's director general, Yukiya Amano. According to information leaked to the media, the report will include a 12-page appendix with details including documents and satellite photos that support the contention that, in violation of its international obligations, Iran is covertly developing nuclear weapons. The report is also expected to detail Iranian's progress on uranium enrichment at its Natanz facility and state that the Islamic Republic still refuses to disclose information on various aspects of its atomic program. This in turn arouses suspicions that Iran is hiding information and is indeed developing nuclear weapons.
Previous IAEA reports have said Iran already has four and a half tons of uranium at Natanz that are enriched at 3.5 percent. If such a quantity is enriched to 90 percent, something Iran has the capacity for, it will be enough to produce fissile material for four or five nuclear bombs. The report is expected to state that Iran has also begun to install centrifuges at a facility near Qom that is built underground to shield the site from an air attack. Both the Natanz and Qom sites, however, are subject to regular visits by IAEA inspectors. Any decision on moving to the final stage in a nuclear weapons program would largely be up to Iran's supreme leader, Ayatollah Ali Khamenei, with the assistance of two military advisers. In any event, diplomats say it is unlikely the IAEA's governing board will condemn Iran when it meets on November 17 and 18. It might take months to convince China and Russia to support a board resolution that could be the first step toward additional UN sanctions.
Iran Backs Islamic Jihad's 8,000-Man Army in Gaza
(Hamas' rival Islamic Jihad has built an 8,000-man army supported by Iran and "ready for martyrdom or victory". Martyrdom is more desirable.)
Nov. 8….(Arutz) Hamas' rival Islamic Jihad has built an 8,000-man army supported by Iran and "ready for martyrdom or victory." "Martyrdom is the more desirable," it says. Its estimate of the number of terrorists trained for war against Israelis the first time Islamic Jihad has disclosed how many fighters it has. "We are proud and honored to say that the Islamic Republic of Iran gives us support and help," Abu Ahmed, the spokesman for Islamic Jihad's al-Quds Brigades told Reuters in a rare interview. He denied that its weapons come from Iran and refused to comment on whether its fighters were trained by Iranians. Israeli intelligence officials previously have said that Hamas and other terrorists often travel to Iran, where Revolutionary Guards teach them. "What I will say is that we have every right to turn to every source of power for help," said Abu Ahmed.
He told the interviewer that there is a demand from young people to join Islamic Jihad but that it "can't accept everyone. It is a question of quality, not quantity." Concerning Israel's successful targeting of Islamic Jihad terrorists last week, Abu Ahmed commented, "It is a good feeling to be under drone attack. When we chose the path of resistance, we opted either for martyrdom or victory. Martyrdom is the more desirable." Islamic Jihad has become more prominent by virtue of its not being in an official political role in Gaza, which officially is governed by Hamas.
It has been the most prominent holdout in a number of "ceasefires" from Gaza, none of which has held for a long time. Abu Ahmed boasted of an advanced missile launcher that it showed on a video last week as it fired multiple missiles almost simultaneously from a pick-up truck. Israeli military officials think the video may have been taken in some other area, such as Lebanon or Iran. However, Abu Ahmed maintained, "The al-Quds Brigades really surprised Israel, forcing them to rethink their assessment of us. I don't think they realized we had that weaponry."
Arab League Warns Syria of Disaster
Nov. 7….(AP) The head of the Arab League warned Saturday that the failure of an Arab-brokered plan to end the violence in Syria would have disastrous consequences, as new bloodshed fueled skepticism that the country's autocratic regime is serious about halting its crackdown on dissenters. The 22-nation bloc's secretary-general, Nabil Elaraby, expressed "deep worries and regret for the continuation of violence all around Syria" despite the deal announced Wednesday at the Arab League's headquarters in Cairo. The deal called for the Syria to halt violence against protesters, but skeptical regime opponents who held large protests Friday to test the government's word were met with gunfire that killed more than 15 people, activists said. "The failure of the Arab solution will have disastrous consequences in Syria and the region," Elaraby said. He urged the Syrian government to take "immediate measures to protect civilians and assure everyone."
On Saturday, activists reported more violence, including tank shelling, in the restive central city of Homs, one of Syria's centers of both protest and reprisal during the seven-month uprising against President Bashar Assad. Under the Arab plan, Syria's government also agreed to pull tanks and armored vehicles out of cities, release political prisoners and allow journalists and rights groups into the country. On Saturday, Assad marked Eid al-Adha, or the Feast of the Sacrifice, by releasing 553 detainees, according to SANA, the state-run news agency. The detainees were involved in the unrest in the country, but had "no blood on their hands," SANA said. Assad traditionally releases detainees to mark religious or national holidays, but many more are believed to remain in jail as political prisoners. The continuous shelling three days after the Arab League deal was reached suggests Damascus is unwilling, or unable, to put a swift end to a crackdown that has already killed 3,000 people, according to UN estimates.
Bloodshed linked to the military crackdown on dissent and what appear to be sectarian revenge killings have engulfed Homs in recent weeks, claiming scores of lives in the country's third-largest city. Two main activist groups, the British-based Syrian Observatory for Human Rights and the Local Coordinating Committees, said there were casualties Saturday but the exact figure was not immediately clear. The crisis in Syria has burned since mid-March despite widespread condemnation and international sanctions aimed at chipping away at the ailing economy and isolating Assad and his tight circle of relatives and advisers. The protesters have grown increasingly frustrated with the limits of their peaceful movement, and there are signs of a growing armed rebellion in some areas. Some protesters are even calling for the kind of foreign military action that helped topple Libyan dictator Moammar Gadhafi.
Syria blames the bloodshed on "armed gangs" and extremists acting out a foreign agenda to destabilize the regime. Assad has played on some of the country's worst fears to rally support behind him, painting himself as the lone force who can ward off the kind of radicalism and sectarianism that have bedeviled neighbors in Iraq and Lebanon. Tremors from the unrest in Syria could shake the region. Damascus' web of allegiances extends to Lebanon's powerful Hezbollah movement and Iran's Shiite theocracy. And although Syria sees Israel as the enemy, the countries have held up a fragile truce for years.
The Strategic Effect for Israel of America's Disengagement From Iraq
Nov. 7….(FOJ) The American withdrawal from Iraq, with all the chaos and commotion that still prevails there, will ultimately allow neighboring Iran to operate in Iraq with no limitations or interruption. Iran is sitting like a catbird on the prey, waiting for Obama's order of disengagement to be carried out by December 31 of this year. The immediate result will be that Iran will gain another geographic pawn in their clandestine asymmetrical war against Israel. Iran currently utilizes Hezbollah in Southern Lebanon and Syria to threaten Israel on its northern boundary. It further uses Hamas and Islamic Jihad, and numerous other terror entities in Gaza and the Sinai to test Israel's southern underbelly. With the latest crisis in Egypt and Libya, strength has been shifted to the Muslim Brotherhood, as well as Al Qaeda operatives in those regions, further increasing the threat to Israel's southern security. But, when America leaves Iraq, another area will likely see unrest. That place is Jordan. When was the last terrorist infiltration into Israel from Jordan? (PLO and Yasser Arafat?) The fact is that the Israeli side of the border with Jordan is currently guarded by very few soldiers, aka the Oslo Peace Accords of 1993. Since Egypt is likely to abandon its 1979 Camp David agreements with Israel, Jordan would seem to be the next chipping stone in Iraq's campaign to encircle Israel. President Barack Obama recently declared his intention to withdraw US troops from Iraq. Jordan is currently the only country serving as a buffer between Israel and Iran. Once Iraq is subdued to Iranian political and philosophic intrigues, the Iranians would be able to freely move from Iran through Iraq and Jordan into the West Bank, mere minutes from central Israel. One only has to remind oneself of Hezbollah leader Hasan Nasrallah's remarks on the next war with Israel, "in the next war, missiles will fall on central Israel." In gauging the scenario for the prophetic times in which we live, it is ironic that Israel is this week studying long and hard over the tactic of striking Iran's nuclear facilities. As for Iran, perhaps they are eagerly waiting until America leaves Iraq, before fomenting any temptations for Israel. But no matter how we dissect and interpret the present balance of power in the Middle East, one thing is for certain; the Middle East today is more dangerous than ever before. There is no prospect of any resemblance of peace today, only more war! And beyond that next war, then what? It may well be that the prophecies concerning Damascus (Syria) are hovering on our geo-political horizon, and even more ominous is the rise of the false peace of the Antichrist!
Persecuted Christians? Why Pastors Won't Speak Up
(In many countries, and especially in Muslim lands, Christians are being killed)
Nov. 7….(WND) About half of all the pastors in America's churches today do not want to tell their congregations that there are forces in the world that persecute Christians for their beliefs, because it's a "downer," according to the results of a startling new poll. The Barna Research Associates survey, commissioned by Open Doors USA, says a significant majority of American Christians, some three out of four, want to hear about the persecuted church. But the same study showed that 52 percent of America's pastors don't want to talk about persecution and have no plans to talk about it. In the nationwide poll of more than 800 Christians, 74 percent of America's churchgoers want to hear about the persecuted church. But the same survey said only 48 percent of the pastors even want to discuss the issue.
Open Doors President Carl Moeller says the survey shows that American Christians are not isolationists. "Much of what we've been hearing from people and in my experience of speaking with people all over the country would indicate that American Christians really want to know what's happening to their brothers and sisters in Christ all around the world, particularly those that are suffering for their faith in Christ," Moeller said. Moeller said that perception led him to commission the study. "And so, we did a survey with Barna that was two parts. The first part was asking pastors when they think they might preach on persecution or the suffering church around the world," Moeller said. "We had several options there, but 48 percent said they weren't ever planning on preaching about persecuted Christians. Some said they would be preaching on it sometime in the future and a few said they preach on it regularly," Moeller said.
That 48 percent kind of stuck with me. 'Wow, 48 percent never plan to talk about the persecuted church," Moeller said. Moeller said the story was different in part two of the study. Seventy-four percent of American Christians who go to church regularly said they would like to hear sermons from time-to-time on the suffering church or persecuted Christians. Almost half of the pastors in American were never planning on preaching on something but three-quarters, yet almost three-quarters of their congregations want to hear on it regularly. "People are really hungry; they want to know, they want to pray. They want to do something, speak out, take action, on behalf of suffering Christians wherever they can," Moeller said. Christian human rights group International Christian Concern's Middle East Area Specialist Aidan Clay believes the problem comes from the pulpits. "The persecuted church reminds us that the decision to follow Christ is all or nothing," Clay said. "It reminds us that Jesus promises persecution in the Scriptures and that the Christian life was not intended to be easy."
Clay said the reality about Christian persecution isn't popular,especially among preachers. "That's a difficult teaching to swallow in some American churches today that are centered on self-improvement and feel-good sermons. (FOJ Note: perhaps some preachers don't want their listeners to redirect money away from them.) And, perhaps pastors fear that the topic of Christian persecution will drive complacent Christians or those who are unsure what they believe out of the church," Clay said. Clay said he's pleasantly surprised that the message of persecution has a solid impact on American Christians. "However, I've learned when speaking to Western Christians that the opposite is true. Upon hearing the stories of the persecuted, Western Christians are enlivened, driven to prayer, and begin seeking ways to assist and raise awareness," Clay said. "Even complacent Christians often find greater purpose when awakened to the harsh realities Christians face in other parts of the world. We are strengthened and encouraged when hearing the stories of Christians who remain joyful and continue to trust God after being imprisoned or even tortured for following Jesus," Clay said.
Moeller agreed, saying that sometimes persecution stories bring out the best in American churches. "Persecution teaches us what the global church, the suffering church, has learned that maybe we've forgotten. The straight fact of the matter is that it's actually a story of inspirational courage and fortitude and faith," he said. "There's great inspiration that comes from being exposed to what the suffering church is going through. So if I can put it this way: I think American pastors are still hoping to mobilize their congregations to a level of engagement with the Gospel," Moeller said. "But they have forgotten that we can be inspired, not just by clever stories about our neighborhood evangelism which can give us techniques in how to share our faith, but we can be inspired by the big story of Christ's church expanding," Moeller said. "It's an epic story that can inspire the church to reach out," Moeller said. Moeller added that the story of the persecuted church can teach the American church something that many other lessons cannot. "Just because people are concerned about their own personal lives doesn't mean that they can't draw strength and encouragement from those that are going through suffering," Moeller said. "I like to refer to my mom who said a very wise thing to me one time. She said, 'Carl, experience is not the best teacher. Someone else's experience is the best teacher," Moeller said. "In many ways, the American church is longing for the kind of personal purpose and satisfaction that comes from being deeply connected to God's plan for the world," Moeller said. Many Christians even gain comfort from the stories of persecuted believers. And, there is great comfort in knowing that we are not alone, but part of the same church that was built and has endured because of the trials, sufferings and perseverance of faithful men and women before us who never gave up despite the cost. When hearing about the devotion of today's persecuted Christians, we are motivated to honor their sacrifices by living out our own faith purposefully in obedience to Scripture.
---