WEEK OF FEBRUARY 26 THROUGH MARCH 3
Obama Rules Out Military Intervention in Syria
March 1….(DEBKAfile Exclusive Report) Despite his strong words against Bashar Assad's horrendous treatment of the opposition to his rule, US President Barack Obama Tuesday, Feb. 28, has vetoed plans submitted to him last week for Western-Arab military intervention to stop it, Debkafile's Washington sources report. He is weighing an alternative plan for setting up "humanitarian corridors" in the most embattled areas. All this for Obama would be contingent on Russian endorsement, because Obama believes Moscow holds the key to Assad's consent, or at least abstention from sending his army to attack the aid routes.
The Russians have not so far responded to feelers on this from Washington. Neither have they rescinded their threat to block any such plan if tabled at the Security Council. Ankara provided the clincher for the US president's decision against military intervention in Syria by its evasiveness over participation in the operation. The plan has nowhere to go without Turkey's cooperation and the use of its bases from which Western and Arab forces would mount the operation. Debkafile's sources note that Turkish leaders are vocal about the pressing need to save the Syrian people, but when it comes to the brass tacks of operational planning, they develop cold feet. The eight-point military plan rejected by Obama, but still waiting in the wings are as follows.
1. A group of nations led by the United States will reserve a quarter of Syrian territory (185,180 sq. km) as a safe haven for protecting more than a quarter of the nation's population (5.5 million people) a under a collective air shield.
2. The operation will be exclusively airborne. No foreign boots will touch the ground in Syria. American, Turkish, French, Italian and British Air Force planes will fly out from three Middle East air bases, Incirlik and Diyarbakir in Turkey, where the US maintains substantial air force strength, and the British facility in Akrotiri, Cyprus.
3. France has offered to make its aircraft carrier Charles de Gaulle available but accepts that without US air power, spy satellites and operational and logistical resources, the operation will not be feasible.
4. The safe haven will range from Tarkush on Syria's northern border with Turkey and include the besieged towns of Jabal Al Zaweya, Idlib, Hama, Homs and their outlying villages.
5. The safe haven will be placed off limits to Syrian military and security personnel and its air space declared a no fly zone. Syrian intruders will be challenged by the Western fighter-bombers shielding the protected area.
6. The makeup of the coalition force for saving Syria is still a work in progress. Sarkozy has obtained the consent of Britain, Italy, Turkey and Qatar and is in discussion with Saudi Arabia and Egypt. Participation of the last two would make it possible to expand the safe haven to southern and eastern Syria, to include the restive towns of Daraa, Deir a-Zour and Abu Kemal.
7. A regional Syrian administration assisted by Western liaison officers would run the safe haven's day-to-day affairs. The coalition would take care of the population's food, medicines and medical care needs.
8. The Western-Arab expedition would not seek Bashar Assad's ouster as a mission goal or engage in combat with Syrian forces outside the safe haven.
Israel Faces Resistance Everywhere Over Potential Iran Strike
Feb. 29….(Financial Times) Next week's White House visit by Benjamin Netanyahu, the Israeli prime minister, is already being billed as a make-or-break meeting. With good reason: the principal item on the agenda will be Iran's nuclear program and the prospects for war. As numerous leaks and public comments attest, Israel appears closer than ever to taking military action against Iran. The drumbeats for war are coming from many directions – some of them eerily reminiscent of the build-up to the Iraq war. As Iran steps up its uranium enrichment, the inspectors from the International Atomic Energy Agency, whose reports are filled with dry descriptions of nuclear centrifuges and cascades, are back at the centre of attention, just as they were in Iraq. Sanctions are being cranked up to squeeze the Iranian economy. There is also a growing feeling of impatience with diplomacy and the idea of negotiating with Tehran. It is the sort of atmosphere in which ideas that once seemed far-off or dangerous can start to become mainstream and even gather a sense of the inevitable.
Yet if Mr Netanyahu really is coming to Washington to test support for a military assault, it is also increasingly clear what the answer is likely to be. While US president Barack Obama might still be sticking to the mantra that "all options are still on the table", his senior national security officials have in recent weeks made it clear that they remain opposed to an attack by Israel or anyone else. General Martin Dempsey, chairman of the joint chiefs of staff, said last week that it was "premature" to think about a military strike against Iran. James Clapper, director of national intelligence, told the Senate that Iran had not yet made the decision to build a nuclear bomb. "I think they're keeping themselves in a position to make that decision but there are certain things they have not yet done and have not done for some time," he said. Admittedly, this is not as decisive a point as it used to be, given that Iran's other activities have reduced the "break-out" time needed to build a bomb, but it is still an important distinction. These are the public words of current officials. The opinion of many former members of the national security establishment is even more categorical. "No one I am aware of thinks that there is a positive outcome from a military strike," Admiral William Fallon, former commander of US Central Command, which covers the Middle East, said last week.
Such doubts extend to the Israelis. Michael Hayden, former director of the Central Intelligence Agency, told a meeting last month that Israel did not have the capacity to cause serious damage to Iran's nuclear programme. "They only have the ability to make this worse," he said. The difference in opinion between the US and Israel is sometimes put down to a question of timing, the idea being that Washington's superior air power means it can afford to wait longer before deciding whether to attack. Yet for some former US military leaders, it is in some ways already too late. According to General James Cartwright, who was until last year vice-chairman of the joint chiefs of staff, Iran's understanding of the nuclear fuel cycle and the uranium enrichment process means it could open numerous facilities around the country. "Even if you could destroy the facilities, you would not destroy the intellectual capital," he said. "If they have the intent, all the weapons in the world are not going to change that, because the knowledge is there and they'd just build it back."
Of course, none of this means that Israel will not decide to launch a strike on Iran. Indeed, it is possible that the depth of the skepticism in Washington about the benefits of military action might convince Netanyahu that he has no choice but to go it alone. But amid some of the loose talk about looming war, the reluctance of official Washington is still striking.
Top US General Grilled on Iran Strike
Feb. 29….(YNET) US Chairman of the Joint Chiefs of Staff Gen. Martin Dempsey on Tuesday told a Senate panel he did not counsel Israel against attacking Iran over its nuclear program. "We've had a conversation with them about time, the issue of time," Dempsey said, referring to his visit to Israel a month ago. Grilled during a Senate Budget Committee meeting, Dempsey also defended his comment that Iran was a rational actor from Senator Lindsey Graham. "We can't afford to underestimate our potential adversaries by writing them off as irrational," Dempsey said. Asked pointedly by Graham if a military strike by the US was off the table, Dempsey responded, "Absolutely not." He stressed the danger of nuclear weapons reaching terrorist groups and the beginning of a nuclear arms race in the Middle East involving countries threatened by Iran.
Earlier this month, Dempsey said in a CNN interview that an Israeli strike on Iranian nuclear facilities would be imprudent, destabilizing and would not achieve Israel's long-term objectives. Those comments led Israeli Prime Minister Binyamin Netanyahu to charge Dempsey as being "unwilling to aid Israel" in ensuring Iran does not obtain nuclear weapons. Netanyahu said Dempsey's comments "served Iran." Graham told reporters, "we would like to see the United States and Israel agree on a course of action that will lead us toward a goal we both share." "People are giving Israel a lot of advice here lately from America," Graham said. "I just want to tell our Israeli friends that my advice to you is never lose control of your destiny."
In recent months Obama administration officials have leaked secret strategy meetings with Mossad chief Tamir Pardo on Iran, as well as Israel's theoretical timetable for an Iran strike. Obama has also taken the unprecedented step of siding with Iran in accusing Israel of supporting the People's Mujahadeen of Iran in an assassination campaign targeting Iranian nuclear scientists.
Israel Will Not Alert US if it Strikes Iran
(FOJ Note: Israel does not trust the Obama Administration about Iran. In fact, as the above article indicates, the Obama Administration has leaked Israeli strategies for attacking Iran)
Feb. 29….(Fox News) Israeli officials say they won't warn the US if they decide to launch a pre-emptive strike against Iranian nuclear facilities, one US intelligence official familiar with the discussions told the Associated Press. The pronouncement, delivered in a series of private, top-level conversations, sets a tense tone ahead of meetings in the coming days at the White House and Capitol Hill. Israeli officials said that if they eventually decide a strike is necessary, they would keep the Americans in the dark to decrease the likelihood that the U.S. would be held responsible for failing to stop Israel's potential attack. The U.S. has been working with the Israelis for months to persuade them that an attack would be only a temporary setback to Iran's nuclear program.
Israeli Prime Minister Benjamin Netanyahu and Defense Minister Ehud Barak delivered the message to a series of top-level US visitors to the country, including the chairman of the Joint Chiefs of Staff, the White House national security adviser and the director of national intelligence, and top US lawmakers, all trying to close the trust gap between Israel and the US over how to deal with Iran's nuclear ambitions. The apparent decision to keep the US in the dark also stems from Israel's frustration with the White House. After a visit by National Security Adviser Tom Donilon in particular, they became convinced the Americans would neither take military action, nor go along with unilateral action by Israel against Iran. The Israelis concluded they would have to conduct a strike unilaterally, a point they are likely to hammer home in a series of meetings over the next two weeks in Washington, the official said. Ehud Barak will meet with top administration and congressional officials during his visit. Netanyahu arrives in Washington for meetings with President Barack Obama next week.
Saudi Arabia Still Harassing Christians
Feb. 29….(Worthy News) Dozens of Christians demonstrated at the Saudi Arabia Embassy in Washington demanding that Ethiopian Christians imprisoned for their beliefs be released. Dr. Kassa Ayalew, an organizer of the demonstration, told The Christian Post that the religious discrimination Christians face in Saudi are not new. "The Saudi persecution of Christians has been going on for a long time," said Ayalew. "The government should allow different people to have their religious rights respected in that country and the United States government should urge the Saudi government to release all of the people who are in jail for exercising their religious rights."
The embassy protest was in response to a police raid in Jeddah where 35 Ethiopian Christians were arrested during a prayer meeting held at a private home last December. According to International Christian Concern, their treatment has become even worse since the arrests. "Our sources indicate they have been imprisoned without trial and have not been told when or if they will be released," ICC said in a statement. "The women report that they were strip searched upon their arrest and that unsanitary conditions during the search have led to illnesses among some of the prisoners for which they are unable to obtain proper medical treatment." Saudi Arabia is listed by the US State Department as a "Country of Concern" for human rights violations second only to North Korea.
Russia Upgrades Syria-based Warning System Iran of US/Israeli Attack
Feb. 28….(DEBKAfile Special Report) The Russians have upgraded their Jabal Al Harrah electronic and surveillance station south of Damascus opposite Israel's Sea of Galilee, adding resources especially tailored to give Tehran early warning of an oncoming US or Israeli attack, debkafile's US military sources report. Before it was boosted by extra advanced technology and manpower, the station covered civilian and military movements in northern Israel up to Tel Aviv, northern Jordan and western Iraq. Today, its range extends to all parts of Israel and Jordan, the Gulf of Aqaba and northern Saudi Arabia. Part two of Moscow's project for extending the range of its Middle East ears and eyes consisted of upgrading the Russian-equipped Syrian radar stationed on Lebanon's Mount Sannine and connecting it to the Jabal Al Harrah facility in Syria. Russian technicians have completed this project too. Russia is now able to additionally track US and Israeli naval and aerial movements in the Eastern Mediterranean up to and including Cyprus and Greece.
According to our sources, the Russian aircraft carrier Admiral Kutznetsov's stay at the Syrian port of Tartus through most of January and up to mid-February had the special mission of keeping an eye out for any Israeli preparations for attacking Iran, Syria or Hizballah. It filled the gap left by the Russian station south of Damascus which was fully occupied with feeding data on Syrian opposition movements to Bashar Assad and watching out for signs of foreign intervention, military or covert, against his regime.
The Russian vessel meanwhile followed increased traffic of US drone over Syria keeping track of the Syrian arsenal of missiles with chemical, biological and nerve gas warheads.
Washington disclosed on Feb. 25 that the US State Department had sent out warnings to six countries, Israel, Turkey, Lebanon, Saudi Arabia, Jordan and Iraq, to beware of these deadly weapons. It was not clear whether the warning referred to a possible Assad regime's decision to use WMD against those nations or the danger of their transfer to terrorists embedded within those countries. Moscow decided to boost its radar tracking and surveillance reach for Iran's benefit in response to a complaint from Tehran that it could not longer count on Russia for a real-time alert on an incoming US or Israeli military strike, because those resources were stretched to the limit in support of the Assad regime. After expanding and upgrading their range to meet Iranian needs by interconnecting the two stations and adding extra Russian manpower, Moscow ordered the Admiral Kutznetsov to depart Tartus on Feb. 13 and sail to home port at Severomorsk on the Kola Peninsula. The Russian stations in Syria and Lebanon were by then ready for their expanded missions.
US State Dept. Warning About Syrian WMD
Feb. 27….(FP) This week, the State Department sent a diplomatic demarche to Syria's neighbors Iraq, Jordan, Lebanon, and Saudi Arabia, warning them about the possibility of Syria's WMDs crossing their borders and offering US government help in dealing with the problem, three Obama administration officials confirmed to The Cable. For concerned parties both inside and outside the US government, the demarche signifies that the United States is increasingly developing plans to deal with the dangers of a post-Assad Syria, while simultaneously highlighting the lack of planning for how to directly bring about Assad's downfall. Syria is believed to have a substantial chemical weapons program, which includes mustard gas and sophisticated nerve agents, such as sarin gas, as well as biological weapons. Syria has also refused IAEA requests to make available facilities that were part of its nuclear weapons program and may still be in operation.
The State Department declined to provide access to any officials to discuss the private diplomatic communication on the record, such as the author of the demarche Assistant Secretary of State for International Security and Nonproliferation Tom Countryman. In a meeting with reporters earlier this year, Countryman expressed confidence that the United States knows where Syria's s WMD stockpiles are, but warned that they could become a very serious security issue for Syria and the region going forward. "We have ideas as to the quantity and we have ideas as to where they are," Countryman said. "We wish some of the neighbors of Syria to be on the lookout... When you get a change of regime in Syria, it matters what are the conditions, chaotic or orderly." Today, in response to inquiries from The Cable, a State Department official offered the following statement: "The US and our allies are monitoring Syria's chemical weapons stockpile. These weapons' presence in Syria undermines peace and security in the Middle East, and we have long called on the Syrian government to destroy its chemicals weapons arsenal and join the Chemical Weapons Convention," the State Department official said. "We believe Syria's chemical weapons stockpile remains under Syrian government control, and we will continue to work closely with like-minded countries to prevent proliferation of Syria's chemical weapons program."
The demarche made four specific points, according to other US officials who offered a fuller account to The Cable. It communicated the US government's recognition that there is a highly active chemical warfare program in Syria, which is complemented by ballistic-missile delivery capability. It further emphasized that that any potential political transition in Syria could raise serious questions about the regime's control over proliferation-sensitive material. Third, the State Department wanted Syria's neighbors to know that should the Assad regime fall, the security of its WMD stockpile, as well as its control over conventional weapons like MANPADS (shoulder-fired rocket launchers) could come into question and could pose a serious threat to regional security. Lastly, the demarche emphasized that the US government stands ready to support neighboring countries to provide border-related security cooperation. "It's essentially a recognition of the danger to the regional and international community of the stockpiles that the regime possesses and the importance of working with countries, given the potential fall of the regime, to prevent the proliferation of these very sensitive weapons outside of Syria's border," one administration official said. "It's an exponentially more dangerous program than Libya. We are talking about legitimate WMDs, and this isn't Iraq. The administration is really concerned about loose WMDs. It's one of the few things you could put on the agenda and do something about without planning the fall of the regime."t;
The administration is also working closely with the Jordanians on the issue. A Jordanian military delegation was at the Pentagon Thursday to meet with Defense Secretary Leon Panetta. In addition to the danger of proliferation, there is a concern that Assad could actually use his WMDs if his situation becomes desperate. "The WMD program is in play now, and that's important because it highlights the innate danger that the existence of this regime poses to US security and regional interests," the administration official said. "The demarche puts Syria's neighbors on notice and it reflects the recognition that a dangerous Assad regime is willing to do anything to save its own skin. If they are willing to kill the country to save the regime, they might be willing to do a great deal more damage throughout the region." Some officials inside and outside the administration see the WMD activity as helpful, but lament that such a high degree of planning is not taking place on the issue of how to precipitate the downfall of the Assad regime as quickly and as safely as possible. Over 70 countries met in Tunis today to develop a unified message on the transition of power in Syria and urge the Assad regime to allow humanitarian access. The Saudi delegation actually walked out of the meeting, complaining of "inactivity" and urging the international community to arm the Syrian opposition.
The Obama administration has consistently rejected calls by the Syrian National Council and others to prepare for a military intervention in Syria and no real strategy exists internally to force Assad from power, another administration official said. "Our strategic calculus can't be solely about what comes after Assad without taking a hard look at how to bring about Assad's downfall as safely as possible," said this official. "The reality is, at some point, there will be a recognition you can't plan for a post-Assad scenario without planning how to shape the downfall itself. You can't separate the two."
Concern about a gap in planning for how to oust the Assad regime is shared by some in Congress, including Sens. John McCain (R-AZ), Joe Lieberman (I-CT), and Lindsey Graham (R-SC), who issued a statement today urging the administration to start directly aiding the Syrian rebels and protecting Syrian civilians. "Unfortunately, speeches and meetings by themselves will do nothing to stop the unacceptable slaughter in Syria, which is growing worse by the day," the senators said. "We remain deeply concerned that our international diplomacy risks becoming divorced from the reality on the ground in Syria, which is now an armed conflict between Assad's forces and the people of Syria who are struggling to defend themselves against indiscriminate attacks." In her prepared remarks in Tunis, Secretary of State Hillary Clinton said she supported more sanctions on the Assad regime but she declined to endorse any direct help to the Syrian opposition without the consent of the Syrian government, saying only, "We all need to look hard at what more we can do."
Abbas, Palestinians Plan Million Muslim March on Jerusalem
(Gov't official slams Abbas's comments at Int'l Conference for the Defense of Jerusalem in Qatar, comparing them to Arafat's denial of Jewish temple in the city; PA president calls on Arabs, Muslims to flock to J'lem)
Feb. 27….(Jerusalem Post) Peace cannot be based on ignoring the truth, an Israeli government official said Sunday, in reaction to Palestinian Authority President Mahmoud Abbas's comments about the Arab-Islamic claims to Jerusalem. Abbas was speaking at the International Conference for the Defense of Jerusalem in Doha, Qatar. Palestinian Ma'an news agency quoting him as saying, "The Israeli occupation authorities are using the ugliest and most dangerous means to implement plans to erase and remove the Arab-Islamic and the Christian character of east Jerusalem," making no mention of city's Jewish history.
The Israeli official pointed out that at the 2000 Camp David negotiations between then prime minister Ehud Barak and Palestinian leader Yasser Arafat, Arafat denied there ever was a Jewish temple in Jerusalem, saying this was the reason he was not willing to make any compromises on the Holy City. "I hope the current generation of Palestinian leadership will not make the same mistake Arafat made," the official said. "If the Palestinian side continues with a position that denies reality, that totally negates Jewish rights, then there can be no basis for peace and co-existence."
Abbas called on Arabs and Muslims to visit Jerusalem in the face of what he called Israel's accelerated efforts to Judaize the city. The PA president accused Israel of "surrounding Jerusalem with an Apartheid wall and a band of settlements in order to isolate the city from its surroundings in the West Bank." Abbas slammed Israeli authorities for setting up barriers preventing Palestinians from entering Jerusalem without "almost impossible to obtain" permits. He implored Arabs and Muslims from other countries to visit Jerusalem if they can. "This move will have political, moral, economic and humanitarian repercussions, showing that Jerusalem belongs to all of us and no one can stop us from accessing it." He added that visiting "occupied Jerusalem" would remind the Israelis that "Jerusalem is the cause of every Arab, Muslim and Christian," and would not constitute normalization with Israel.
The International Conference for the Defense of Jerusalem was taking place for the first time Sunday. This followed a decision made by delegates to last year's Arab summit in Libya to hold an annual international conference that would include Arab and foreign countries and civil institutions, to discuss defending Jerusalem "against Israeli violation at all levels." United Arab List-Ta'al MKs Taleb a-Sanaa and Ahmed Tibi attended the conference, prompting Likud MK Danny Danon to call for their ouster from the Knesset as "enemies of the state."
'Iran Ready to Wipe Israel off the Map'
(Tehran's deputy defense minister warns Jerusalem against strike on Iran's nuclear facilities, says 'any action by Zionist regime will bring about its destruction')
Feb. 27….(YNET) As speculations over a possible strike on Iran's nuclear facilities grow, the Islamic Republic is exacerbating its rhetoric. Deputy Defense Minister Ahmad Vahidi on Friday warned Israel against mounting such an attack: "Any act by the Zionist regime against Iran will bring about its destruction." Hezbollah, he added, "Is at the forefront of the fight against Israel and it is growing stronger by the day." Speaking at a ceremony honoring past Hezbollah commanders, Vahidi said that "Israel is weaker than it has ever been and its army is tired and humiliated. This is why it is trying to solve its problems by talking about taking action against Iran. But these are ridiculous statements. "Iran's warriors are ready and willing to wipe Israel off the map," he declared.
China: US, Europe Have Hegemonistic Goals in Syria
(Statement comes day after US Secretary of State Hillary Clinton called Russia and China 'despicable' for vetoing UN Security Council resolution on Syria.)
| | |
| --- | --- |
| | (FOJ) UAE FM Sheikh Abdullah bin Zayed al-Nahyan, British FM William Hague, and US Secretary of State Hillary Rodham Clinton at the Friends of Syria Conference in Tunisia, Feb. 24, 2012. Statement comes day after US Secretary of State Hillary Clinton called Russia and China 'despicable' for vetoing UN Security Council resolution on Syria. |
Feb. 27….(Ha Aretz) The United States and Europe are "harboring hegemonistic ambitions" in Syria, China's state news agency said Saturday, a day after Beijing was condemned at an international conference held to find a way to halt the Syrian regime's nearly year-old suppression of an anti-government uprising. At the Friends of Syria meeting in Tunisia, US Secretary of State Hillary Rodham Clinton blasted Russia and China as "despicable" for vetoing UN Security Council resolutions backing Arab League plans aimed at ending the conflict and condemning the crackdown by President Bashar Assad's government. "They are clearly not on the side of the Syrian people," Clinton said.
The official Xinhua News Agency said in a commentary that China's position on Syria was balanced and that "most of the Arab countries have begun to realize that the United States and Europe are hiding a dagger behind a smile." "In other words, while they appear to be acting out of humanitarian concern, they are actually harboring hegemonistic ambitions," it said. Both China and Russia boycotted the Friends of Syria conference, which Xinhua said ended with a "broad consensus" on avoiding a militarization of the conflict in Syria. The conference urged Assad to end the violence immediately and allow humanitarian aid into areas hit by his regime's crackdown. It also proposed tighter sanctions on the country and Assad's inner circle. Calls and faxes to China's Foreign Ministry on Saturday asking for comment on Clinton's charges were not immediately answered. Ministry spokesman Hong Lei said at several news conferences this week that China wanted more information on the goals and mechanisms of the conference before it would attend. Xinhua quoted him as saying China was a friend of the Syrian people, and that "any action taken by the international community should help to cease tensions, boost political dialogues, resolve differences and maintain peace and stability in the Middle East."
The UN estimated in January that 5,400 people have died in the conflict. Hundreds more have died since, with activists saying the death toll is more than 7,300. Assad's regime blames the violence on terrorists and armed thugs, not people who want to reform the system. China sent a vice foreign minister to Syria last week for talks. It says it vetoed the UN Security Council vote on Syria because it was called before differences over the proposal were bridged.
Int'l Conference Attacks Israeli Control of Jerusalem
Feb. 27….(Israel Today) The Emir of Qatar on Sunday opened the International Conference for the Defense of Jerusalem, where for the next three days Arabs and Westerners, Muslims and Christians will attack Israel's position that Jerusalem is its eternal, undivided capital. The official program calls for discussing "the legal status of Jerusalem before and after the Israeli occupation [sic], the reality and the future of Jerusalem under occupation, and the status of the holy places under international law." Arab media reported that the conference is being held amid ongoing assaults on the Muslim-controlled Temple Mount by Israelis determined to "Judaize" the city.
There has been violence at the Temple Mount in recent days, but it has all originated on the Muslim side. Twice last week, Christian tour groups were stoned by Muslims while visiting the Temple Mount. The violence escalated on Friday, with Muslim worshippers attacking police throughout eastern Jerusalem, resulting in the death of at least one Muslim and the injuring of 11 Israelis. But the Arab media rarely lets facts get the way of a good Israel-bashing story, and neither do the speakers at the conference in Qatar.
Opening the event was Palestinian leader Mahmoud Abbas, who declared, "The Israeli occupation authorities are using the ugliest and most dangerous means to implement plans to erase and remove the Arab-Islamic and the Christian character of east Jerusalem." Many Arabs view the purchase of land and the building of homes by Jews in areas claimed as Islamic (or Christian) to be a violation of "human rights." Another group of people once held similar views. They were called Nazis. It should come as little surprise that such a gathering would not be missed by the anti-Zionist Rev. Stephen Sizer, an Anglican vicar from Surrey, England. Sizer was scheduled to present his paper "Jerusalem: The City of God in Christian Tradition," in which he attempts to use scripture to refute the idea that Jerusalem was given as part of an eternal heritage to the children of Israel. Sizer, who will be a headline speaker at the upcoming Christ at the Checkpoint conference in Bethlehem is a vehement opponent of Christians who would use the Bible as a basis for supporting the Jewish restoration to their homeland.
Israeli Arab Knesset Member Ahmed Tibi, a former advisor to Yasser Arafat, was also at the opening of the conference, where he told Qatari media that "Israel is an occupying power in east Jerusalem and withholds the Palestinian people's freedom of religion." A casual stroll through Jerusalem, where a multitude of churches and mosques operate freely, would be enough to discredit Tibi's allegations. What Israel does restrict is the entry of Muslim worshippers who regularly use the Temple Mount as high ground to launch stone attacks on Israeli Jews and foreign Christians. Although, to some Muslims, that is part of their faith, so perhaps Tibi has a point.
Also scheduled to address this international gathering to defend Jerusalem against the Jews were representatives of the UN, the Arab League, and popular Egyptian cleric Yusuf al-Qaradawi, who advocates the subjugation of the world to Islam and the annihilation of the Jews. That political and religious leaders from around the world would gather to wring their hands over Israel's control of Jerusalem should come as little surprise. ("I am going to make Jerusalem a cup that sends all the surrounding peoples reeling. Judah will be besieged as well as Jerusalem. On that day, when all the nations of the earth are gathered against her, I will make Jerusalem an immovable rock for all the nations. All who try to move it will injure themselves." - Zechariah 12:2-3)
Obama Avoiding Syrian War to Appease Putin
Feb. 27….(Debka) Saudi Foreign Minister Prince Saud al-Faisal did not hide his anger before marching out of the Friends of Syria conference attended by 70 nations in Tunis Friday, Feb. 24 after they fell in behind US plans for avoiding direct action against Syria's Bashar Assad. Filmed sitting with US Secretary of State Hillary Clinton, the Saudi minister told a reporter that arming the Free Syrian Army was an "excellent idea" because they needed to defend themselves. Clinton remained frostily aloof on this obvious bone of contention. As one of the world's richest oil and financial powers, Saudi Arabia could buy and sell Iran several times over, and after seeing the ayatollahs get away with insulting America time and time again, the Saudi foreign minister did not pull his punches when he faced his US colleague. He was frank about Riyadh and the Obama administration being miles apart in their perceptions of current Middle East events; resentment over the US role in the overthrow of Egyptian president Hosni Mubarak remains a constant irritant. This dissonance came to the fore when Saudi al Faisal accused Washington of reducing Assad's butchery of his opponents to the level of a humanitarian issue and so saving his regime.
Riyadh is no happier with Moscow than it is with Washington. Saudi King Abdullah is reported by Middle East sources to have banged down the telephone on Russian President Dmitry Medvedev Wednesday, Feb. 22, when he called to invite the oil kingdom to align with Russia's Syrian strategy against the West. Tariq Alhomayed, the talented editor of the London-based Asharq Al-Awsat, who is regarded as having a direct line to the king, wrote later: "This was undoubtedly a historic and unusual telephone call." He reported that Abdullah rejected out of hand Moscow's proposal of a two-hour ceasefire in Homs, the Syrian city bombarded now for three weeks. He retorted that this would give Bashar Assad's killing machine a 22-hour day carte blanche.
Alhomayed did not refer directly to the clash of wills between the Saudi foreign minister and the US secretary of state, except for a snide dig: "He [the Saudi king] is also the one who, during the Arab summit in Riyadh, first described the US army in Iraq as an army of occupation."
Israel's Binyamin Netanyahu's is of one mind with Saudi rulers in his aversion to big power policies for handling the Assad regime: Washington though horrified by the Syrian ruler's violence is yet shy of taking the final steps for his removal, while Moscow showers arms and intelligence on the Syrian despot to preserve him from his enemies.
It may be said that the Saudis and Israelis share a distrust of President Barack Obama and Vladimir Putin, suspecting them both of keeping Bashar Assad in power to promote their divergent interests in Iran.
The Saudi king faults the "safe havens" plan under air force protection, the sum total of foreign intervention taking shape between Washington, Turkey, some European powers and Gulf emirates, because it excludes what he regards as the key component: Bombardment of the presidential palace in Damascus and the crushing of the Syrian army, the same treatment meted out to Muammar Qaddafi in Libya. The Saudis therefore sees this plan as actually protecting Assad's regime and not only his victims.
Underlying Obama's restraint is his indefatigable quest for nuclear negotiations with Iran, which is impelling him to show Tehran he is even prepared to keep its ally Assad in power, albeit with clipped wings, for the sake of a negotiated nuclear accord. The Saudis think the US president is dreaming if he reckons Iran's rulers will be so grateful for Assad's escape that they will be willing to give up their aspirations for a nuclear weapon. They also think Obama misguided in aiming for Russian collaboration in making its political, military, technological and nuclear clout in Tehran available at some point for them to arrive together at agreed accommodations in both Syria and Iran.
Up until Monday, Feb. 20, Washington was bucked up by Iranian signposts apparently pointing to resumed talks with world powers on an eventual nuclear standstill and a freeze on uranium enrichment past five percent. Iranian emissaries in backdoor exchanges were forthcoming on US requests for gestures to confirm that Supreme Leader Ayatollah Ali Khamenei was serious about entering into diplomatic dialogue. A rude awakening was not long coming. Ten days ago, the Obama administration asked and received from Tehran final proof of goodwill, a promise that International Atomic Energy Agency inspectors would be allowed to view the Parchin military facility.
US National Security Adviser Tom Donilon, when he first met Israeli leaders in Jerusalem Thursday and Friday (Feb. 16-17), accordingly informed them that since Tehran had agreed to open this suspect site to UN inspection and nuclear negotiations were soon to begin, Israel had no cause to attack its nuclear facilities. Tuesday, Feb. 21, the UN inspectors arrived in Tehran, certain they would be admitted to Parchin, only to run into their second Iranian refusal this month. Their visit was cut short by IAEA Vienna headquarters.
Every attempt by Washington to find out what had gone wrong drew a blank. Iranian officials withdrew into total hush and let the entire diplomatic edifice so painstakingly constructed by Washington start falling apart. But Obama the eternal optimist has not given up. He is treating Tehran's latest spell of intransigence as no more than a hiccup symptomatic of the run-up to parliamentary elections on March 2, after which Khamenei will revert to the track leading to negotiations. This approach is what put Saudi backs up. They accuse the US and Russia through their different polices of granting the Syrian ruler a license to keep on massacring his people, regardless of any safe havens or "no kill" zones the West may be planning. Netanyahu is likewise opposed to the Obama administration's interconnected policies on Syria and Iran. His White House meeting with Obama on March 5 is not expected to put this dispute to rest.
WEEK OF FEBRUARY 19 THROUGH FEBRUARY 25
Note of Thanks From FOJ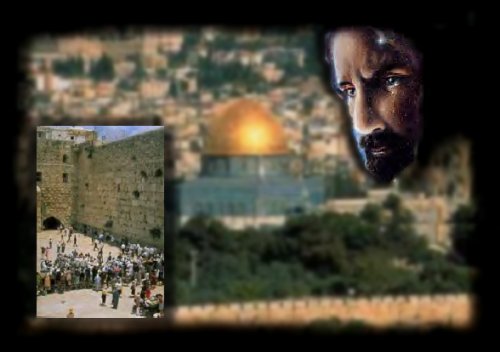 Feb. 25….(FOJ) The Focus on Jerusalem Prophecy Ministry will realize a landmark for the website portion of its ministry in the next couple of hours. Thanks to all of you regular visitors, FOJ will count its two millionth (2,000,000) visitor. The website portion of this work is now eleven years old, and it has been a labor of love for myself. I truly appreciate all of those who purview its pages. I hope that it continues to be a blessing and a valuable resource to each of you in these last days. If there is anything we can do to make it better, or to provide more information for you, please feel free to write. FOJ articles are also available on twitter, and a blog via twitter linkage. FOJ has many powerpoint presentations that we have produced for presentations in churches.
Iran Launches Bible-burning Campaign
Feb. 24….(Newsmax) Iranian authorities began to systematically seize and destroy Bibles after a Shiite cleric issued an urgent warning about the spread of Christianity. Authorities in northwestern Iran seized 6,500 Bibles, according to the Iranian Christian news organization Mohabat News, which quotes an official as saying of the seizure that "all religions are strengthening their power to confront Islam; otherwise, what does this huge number of Bibles mean?" The agency has reported several other recent incidents of Bibles and other Christian literature being seized and sometimes publicly burned. Mohabat reports that the government-connected cleric, Ayatollah Hadi Jahangosha, warned of "the spread of Christianity among our youth," pointing to burgeoning satellite programming, literature, and religious articles promoting the Western tradition. "Everyone in society should feel responsibility in this matter and play his or her role in spreading of pure Islam and fight false and distorted cultures," the news agency quotes him as saying.
US Cowering to Islam & The Koran
Feb. 24….(WND) Experts on radical Islam say the US military is sadly mistaken if it believes groveling at the feet of Muslims after copies of the Quran were accidentally burned will help win the hearts and minds of the world's Islamic community. The reaction of the US military toward a recent report that NATO forces may have unintentionally burned copies of the Muslim holy book stands in stark contrast to its response when US forces burned copies of the Bible in 2009, when it refused to apologize and even defended the practice.
Robert Spencer, founder of Jihad Watch, called the actions taken by US Gen. John Allen offensive. "Allen's statements amount to groveling before Muslims around the world," he said. "This is the United States military, and he is the commander of all US forces in Afghanistan. This is embarrassing and an insult to every American." The Qurans were among books and other materials that had been confiscated from Taliban prisoners after military personnel thought they were being used to send messages to other operatives. The materials were taken to a waste pit on the US base at Bagram, north of Kabul, and burned. Once Gen. Allen became aware of the burning, he quickly issued a statement of apology in an attempt to prevent violent Muslim riots similar to those last year that resulted in at least 24 deaths.
In a statement, Gen. Allen said, "I have ordered an investigation into a report I received during the night that ISAF personnel at Bagram Airbase improperly disposed of a large number of Islamic religious materials which included Korans [sic]. When we learned of these actions, we immediately intervened and stopped them. The materials recovered will be properly handled by appropriate religious authorities." He assured Muslims that he would thoroughly investigate the issue and ensure the burning "does not ever happen again," pleading, "I assure you, I promise you this was NOT intentional in any way." Following the Quran burnings, thousands of protesters shouted "Death to Americans!" and "Death to infidels!" They reportedly besieged the US base with petrol bombs and slingshots.
In a similar incident involving the burning of holy books in 2009, the US military confiscated copies of the Bible that a church had sent to an American soldier to use in an outreach geared toward Afghan citizens. When the military discovered the Bibles, the holy books were confiscated and burned. After the Bible burnings, the US military defended its actions.
Appearing on CNN, Lt. Col. Mark Wright said, "The decision was made that it was a 'force protection' measure to throw them away, because, if they did get out, it could be perceived by Afghans that the US government or the US military was trying to convert Muslims. lare Lopez, a senior fellow with the Center for Security Policy, said Allen's penitent attitude will create nothing but contempt among the populace for US soldiers serving in Afghanistan. "They value and respect strength," she said. "They disdain and will not respect those who show weakness."
Lopez said the military's defense of burning Bibles, while simultaneously showing veneration for the Quran, reveals a shocking lack of understanding regarding the Muslim perception of those outside the Islamic faith. "If the government had showed similar respect for the Bible as the Quran, they would respect us more than they do," she said. "As it is now, all they have for us is contempt. They will not respect anyone who does not first respect themselves or demand respect for themselves." Lopez argued that when military and government officials show a higher level of reverence for the Quran than the Bible, they are sending a message that America does not believe the Bible is as sacred as the Quran.
Evidence Iran's Nuclear Program is Not Peaceful
Feb. 24….(Israel Today) Iran continues to insist its secretive nuclear program is peaceful in nature, and Western leaders remain eager to at least partially take Tehran at its word in order to avoid a military conflict. But an interview with the wife of a slain Iranian nuclear scientist further suggested that the international community is sticking its head in the sand, to the detriment of Israel. Speaking to Iran's Fars News Agency, Fatemeh Bolouri Kashani, the wife of recently assassinated nuclear scientist, Mostafa Ahmadi Roshan Behdast, said her husband's "ultimate goal was the annihilation of Israel." Roshan was a director and lead chemist at the Natanz uranium enrichment facility, one of the most important facilities in Iran's nuclear program, and perhaps the most important if Iran is planning building atomic bombs.
Iranian officials and media have accused Israel's Mossad spy agency of being behind the car bomb that killed Roshan as he drove to work last month. Israeli President Shimon Peres denied that his nation was involved. On Wednesday, Israeli army chief Gen. Benny Gantz reiterated that a nuclear-armed Iran poses an unacceptable existential threat to the Jewish state. And Balouri Kashani's revelation of what her husband was working toward is only the latest vindication of the Israeli assessment.
A document recently published by the chief strategist of Iranian Supreme Leader Ayatollah Ali Khamenei, Alireza Forghani, argued that "in the name of Allah, Iran must attack Israel by 2014. All our troubles are due to Israel!" Khamenei and especially Iranian President Mahmoud Ahmadinejad have repeatedly referred to Israel as a cancer that must be removed from the Middle East. Despite this evidence to the contrary, Israel's critics continue to accuse the Jewish state of manipulating the situation for the sake of starting what they call another pointless war.
Iranian Scientist 'Sought Israel's Annihilation,' Says Widow
Feb. 24….(Arutz) The wife of Mostafa Ahmadi Roshan, an Iranian nuclear scientist who was assassinated in Tehran in January, said Tuesday that her husband "sought the annihilation of the Zionist regime wholeheartedly," according to Iran's semi-official Fars news agency. "Mostafa's ultimate goal was the annihilation of Israel," the agency quoted Fatemeh Bolouri Kashani as saying Tuesday. Bolouri Kashani also underlined that her spouse "loved any resistance figure in his life who was willing to fight the Zionist regime and supported the rights of the oppressed Palestinian nation." The report belies attempts by Iran to claim that its nuclear program is not military in nature.
Mostafa Ahmadi Roshan is described as "a chemistry professor and a deputy director of commerce at Natanz uranium enrichment facility." Fars says he was killed by Mossad agents, who used a method of attack similar to that used against Iranian nuclear scientist Massoud Ali Mohammadi in January 2010, as well as scientists Fereidoun Abbassi Davani and Majid Shahriari. Abbasi Davani survived the attack, but Shahriari died. Yet another Iranian scientist, Dariush Rezaeinejad, was assassinated by the same method in July of 2011.
US, France, UK, Turkey, Italy Preparing for Military Intervention in Syria?
Feb. 24….(DEBKA) Despite public denials, military preparations for intervention in the horrendous Syrian crisis are quietly afoot in Washington, Paris, Rome, London and Ankara. President Barack Obama is poised for a final decision after the Pentagon submits operational plans for protecting Syrian rebels and beleaguered populations from the brutal assaults of Bashar Assad's army, debkafile's Washington sources disclose. This process is also underway in allied capitals which joined the US in the Libyan operation that ended Muammar Qaddafi's rule in August, 2011. They are waiting for a White House decision before going forward.
In Libya, foreign intervention began as an operation to protect the Libyan population against its ruler's outrageous crackdown on dissent. It was mandated by UN Security Council. There is no chance of this in the Syrian case because it will be blocked by a Russian veto. Therefore, Western countries are planning military action of limited scope outside the purview of the world body, possibly on behalf of "Friends of Syria," a group of 80 world nations which meets for the first time in Tunis Friday, Feb. 24, to hammer out practical steps for terminating the bloodbath pursued by the Assad regime. The foreign ministers and senior officials, Russia has excluded itself, will certainly be further galvanized into action by the tragic deaths of two notable journalists Wednesday, Feb. 22, on the 19th day of the shelling of Homs. Preparations for the event are taking place at the Foreign Office in London. Wednesday, Foreign Secretary William Hague said: Governments around the world have the responsibility to act, and to redouble our efforts to stop the Assad regime's despicable campaign of terror." Hague pointedly said nothing about removing the Syrian ruler. Nor did he spell out the efforts need to stop the campaign of terror. Debkafile's military sources note that he left these issues open because a decision by President Obama about if and how the US will act is pending until the Pentagon submits operational plans to Commander-in-Chief Obama. The US president is also waiting for Secretary of State Hillary Clinton's report on the mood at the Tunis conference. He wants to know in particular if Saudi Arabia, Egypt, Qatar and the UAR will support US-led Western intervention in Syria, both politically and financially.
Iran Court Condemns Christian Pastor Convert to Death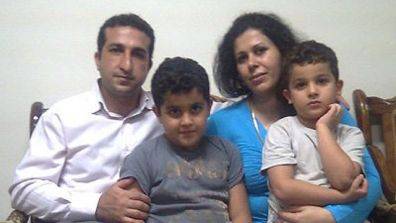 Feb. 23….(Fox News) A trial court in Iran has issued its final verdict, ordering a Christian pastor to be put to death for leaving Islam and converting to Christianity, according to sources close to the pastor and his legal team. Supporters fear Youcef Nadarkhani, a 34-year-old father of two who was arrested over two years ago on charges of apostasy, may now be executed at any time without prior warning, as death sentences in Iran may be carried out immediately or dragged out for years. It is unclear whether Nadarkhani can appeal the execution order. "The world needs to stand up and say that a man cannot be put to death because of his faith," said Jordan Sekulow, executive director of The American Center for Law and Justice (ACLJ). "This one case is not just about one execution. We have been able to expose the system instead of just letting one man disappear, like so many other Christians have in the past."
It is also feared that Nadarkhani will be executed in retaliation as Iran endures crippling sanctions and international pressure in response to its nuclear agenda and rogue rhetoric. The number of executions in Iran has increased significantly in the last month. "This is defiance," Sekulow said. "They want to say they will carry out what they say they will do." The order to execute Nadarkhani came only days after lawmakers in Congress supported a resolution sponsored by Pennsylvania Rep. Joseph Pitts denouncing the apostasy charge and calling for his immediate release. Nadarkhani was arrested in October 2009 and was tried and found guilty of apostasy by a lower court in Gilan, a province in Rasht. He was then given verbal notification of an impending death-by-hanging sentence. His lawyers appealed the decision under the premise that Nadarkhani was never a Muslim at the age of majority, and the case was sent to Iran's Supreme Court, which upheld the lower court's decision of execution, provided it could be proven that he had been a practicing Muslim from the age of adulthood, 15 in Islamic law, to age 19, which was when he converted. The lower court then ruled that Nadarkhani had not practiced Islam during his adult life but still upheld the apostasy charge because he was born into a Muslim family. The court then gave Nadarkhani the opportunity to recant, as the law requires a man to be given three chances to recant his beliefs and return to Islam. His first option was to convert back to Islam. When he refused, he was asked to declare Muhammad a prophet, and still he declined.
Nearly Half of All Americans Don't Pay Any Income Taxes
Feb. 23….(The Foundry) This year's Index of Dependence on Government presented startling findings about the sharp increase of Americans who rely on the federal government for housing, food, income, student aid or other assistance. Another eye-popping number was the percentage of Americans who don't pay income taxes, which now accounts for nearly half of the US population. Meanwhile, most of that population receives generous federal benefits. "One of the most worrying trends in the Index is the coinciding growth in the non-taxpaying public," wrote Heritage authors Bill Beach and Patrick Tyrrell. "The percentage of people who do not pay federal income taxes, and who are not claimed as dependents by someone who does pay them, jumped from 14.8 percent in 1984 to 49.5 percent in 2009." That means 151.7 million Americans paid nothing in 2009. By comparison, 34.8 million tax filers paid no taxes in 1984. The rapid growth of Americans who don't pay income taxes is particularly alarming for the fate of the American form of government, Beach and Tyrrell warned. Coupled with higher spending on government programs, it is already proving to be a major fiscal challenge. "This trend should concern everyone who supports America's republican form of government," Beach and Tyrrell wrote. "If the citizens' representatives are elected by an increasing percentage of voters who pay no income tax, how long will it be before these representatives respond more to demands for yet more entitlements and subsidies from non-payers than to the pleas of taxpayers to exercise greater spending prudence?"
Russia Warns Israel Not to Attack Iran
Feb. 23….(YNET) Russia warned Israel on Wednesday that attacking Iran would be a disastrous and played down the failure of a UN nuclear agency mission to Tehran, saying there is still a chance for new talks over the Iranian atomic program. "Of course any possible military scenario against Iran will be catastrophic for the region and for the whole system of international relations," Deputy Foreign Minister Gennady Gatilov told a news conference. It was one of Russia's starkest warnings against resorting to force, an option Israel and the United States have not ruled out if they conclude that diplomacy and increasing sanctions will not stop Iran from developing a nuclear bomb. "I hope Israel understands all these consequences, and they should also consider the consequences of such action for themselves," Gatilov said. "I hope a realistic approach will prevail, along with a sensible assessment." Russia, China as well as many allies of the United States are concerned that any military action against Iran could engulf the Middle East in wider war, which would send oil prices rocketing at a time of global economic troubles. Iran has threatened to retaliate for any attack, or even if it feels endangered, by closing the Strait of Hormuz, the conduit for Gulf oil exports crucial to the global economy, and hitting Israel and US interests in the Middle East.
Russia, which built Iran's first nuclear power plant, has often stressed the need for talks and that too much coercive pressure on Iran is counterproductive, a stance that has prompted concerns Moscow has helped Tehran play for time. Last week, Russia said global powers must be serious about proposing solutions Iran might accept, warning that Tehran's desire for compromise was waning as it moved closer to being technically capable of building atomic weapons.
Russia Will Resume Nuclear-Armed Sub Patrols
Feb. 23….(WND) The recent veto by Russia and China of US efforts in the United Nations Security Council to condemn the Syrian regime of President Bashar al-Assad for its violent treatment of protesters has escalated tensions between the United States and Russia, which seeks to maintain its influence in the Middle East by protecting al-Assad. It is apparent now that the United States wants al-Assad ousted as a way to diminish the influence of Syrian ally Iran in the Middle East. Russia, on the other hand, has serious equities in protecting the al-Assad regime through its two major naval bases in Syria. In addition, Moscow has sold considerable arms to the Syrian regime. For these reasons, the Russians saw their investments threatened and vetoed the UNSC resolution, saying that it didn't call for the disarming of the opposition, which analysts believe has been taken over by the Syrian Muslim Brotherhood.
The concern is that it raises the potential for a civil war in Syria. All of this boils down to the Russian challenge of US supremacy in the Middle East, say regional analysts. Now, the US has called for an international coalition to support the opposition by sending arms and money to back its efforts against the al-Assad regime. Not only does this prospect team up the US with the Muslim Brotherhood but also with al-Qaida whose chief, Ayman al-Zawahiri, has expressed the terrorist group's support for the popular unrest in Syria. Al-Zawahiri also called on Muslims in Turkey, Iraq, Lebanon and Jordan to back the Syrian rebels against the al-Assad regime. Not only does this place the US in bad company, but it reflects the beginning of a new Cold War between Moscow and Washington for dominance in the Middle East being fought through proxies such as Syria.As a sign of the renewal of the Cold War between Moscow and Washington, the Kremlin has decided to resume worldwide nuclear submarine patrols.
Franklin Graham: Obama Aids Islamists While Ignoring Christian Persecution
Feb. 22….(Newsmax) Rev. Franklin Graham says President Barack Obama has "given Islam a pass," including ignoring atrocities against Christians in the Muslim world, so much so that the evangelist says he cannot "categorically" say Obama is not a Muslim. In a stunning interview with MSNBC's "Morning Joe" on Tuesday, the renowned Christian leader and son of the Rev. Billy Graham expressed shock that Obama was doing little to protect Christians across the Muslim world against a wave of persecution. MSNBC's liberal hosts were flummoxed by Graham's strong rebuke of Obama, and they asked him whether he believes the president is a Christian. "You have to ask that of President Obama," Graham shot back. "You can ask me do I believe you're a Christian. I think people have to ask Barack Obama. He's come out saying he's a Christian. So I think the question is, what is a Christian?"
Graham said he asked Obama about his faith when he was first running for president. Graham related their conversation: "He said that he was working on the south side of Chicago in the community and they asked him what church he went to. "He said I don't go to church. Then they said if you are going to work in our community you have to join one of the churches. Then, of course, he joined Reverend Jeremiah's church. So that's what his answer to my question was." Again queried about Obama's faith, Graham repeated: "You have to ask him. I cannot answer that question for anybody. All I know is I'm a sinner and that God has forgiven me of my sins because I put my faith and trust in Jesus Christ." Graham added that he accepts Obama's claim he's a Christian at face value, but said ultimately only God knows his heart.
He did note that Obama has shown strong empathy toward Muslims, and the president has an Islamic background. "Under Islamic law, under Shariah law, Islam sees him as a son of Islam, because his father was a Muslim, his grandfather was a Muslim, his great-grandfather was a Muslim," Graham said. "So under Islamic law, the Muslim world sees President Obama as a Muslim, as a son of Islam. That's just the way it works. That's the way they see him." Asked whether he believes Obama is "categorically not a Muslim," Graham said, "I can't say categorically because Islam has gotten a free a pass under Obama."
Graham noted that Obama's Middle East policies have helped Islamists while hurting Christian minorities throughout the region. "We see the Arab Spring, and coming out of the Arab Spring, the Islamists are taking control of the Middle East. And people like Hosni Mubarak was a dictator, but he kept the peace with Israel and the Christian minorities in Egypt were protected. "Now those Christian minorities throughout the entire Arab world are under attack. A Newsweek magazine cover story last week ran a story about the massacre of Christians in the Islamic world. From Europe all the way through the Middle East to Africa into East Asia, Muslims are killing Christians. "The president can come out and make a statement demanding that if these countries do not protect their minorities, no more foreign aid from the United States. They are not protecting the minorities. The society in these Islamic countries is not protecting the Christians anymore." Graham added: "And hopefully, the people that are in power are going to protect the minorities, and Christians in the Muslim world are the minority. Egypt is like 13 million in the minority. Nigeria is 80-some million, but they're still a minority. "These Christians are having their churches burned. They're being raped. Women are being raped. They're being murdered. Because under Shariah law Muslims can take a Christian's property, take a Christian's life, can take his daughter. And this is what is happening. The governments are not able to protect the minorities in the society. And they're unwilling to protect them. If a government is not going to protect the minorities, we should not give them one dollar of US aid."
Graham claimed Obama is doing little to nothing to help persecuted Christians. "And he's got the power of the White House," Graham complained. "He could be speaking to these countries right now, demanding that they protect the Christians in those countries. He's been quiet about it. "We have an aid station in Southern Sudan. The Sudanese dropped bombs on it right before Christmas. We have a Bible school. Just two weeks ago the Sudanese air force dropped eight bombs on that Bible school. Why doesn't the president come out and try to bring peace to the Sudan?"
Barak on Iran: We'll do Whatever We Need to Do
(FOJ) Israel is under pressure from all sides. The Americans don't want to be surprised and faced with a fait accompli of an Israeli attack," a senior Israeli official told AFP, speaking on condition of anonymity.

Ehud Barak has been "summoned" to Washington next week, media reports said, ahead of a visit by the premier himself on March 5 and a planned meeting between Israel's PM and the American president.
Feb. 22….(Jerusalem Post) Defense minister's comments come amid growing public calls for Israel not to hit Iran; US intel chief to visit for further talks on Tehran. As more and more US officials publicly call on Israel not to attack Iran at this time, Defense Minister Ehud Barak emerged from a two-hour meeting Monday with visiting US National Security Adviser Tom Donilon saying sovereign nations act based on their own perception of their interests. The US-Israel relationship, Barak said at a meeting of his Independence faction shortly after hosting Donilon, is a relationship between "two sovereign countries, each one responsible in the final analysis for the decisions it takes for itself and about its future."
Barak's comments came amid a wave of reports citing unconfirmed sources saying that the US, including Donilon, is pressing Israel to give more time for international sanctions to work before taking military action against Iran. Barak gave little indication of friction with the US over the issue, saying the discussions with Donilon covered a wide range of issues, and that the security relationship between Israel and the US was excellent. He added that the relationship was unique it its "openness, mutual respect, understanding, attentiveness, and knowledge that at the end of the day we are talking about two very friendly countries with a very long and deep connection, that has deepened during the current administration."
The White House put out a statement after the meeting saying that Donilon concluded three days of talks in Israel that "addressed the full range of security issues of mutual concern." "The visit is part of the continuous and intensive dialogue between the United States and Israel and reflects our unshakable commitment to Israel's security," the statement said, adding that Donilon confirmed a meeting between Prime Minister Binyamin Netanyahu and US President Barack Obama for March 5. Even before that meeting, which is expected to focus primarily on the Iranian issue, James R. Clapper, Washington's director of national intelligence, is expected to come to Jerusalem at the end of the week for further talks with Israeli officials about Iran. Clapper serves as the head of the US intelligence community, acting as the principle advisor to the president, National Security Council, and the Homeland Security Council for intelligence matters related to the national security.
Before going to Washington, where he will also address the annual AIPAC policy conference, Netanyahu will go to Ottawa and meet with Canadian Prime Minister Stephen Harper. The flurry of high-level US-Israeli consultations comes even as significant US officials are publicly saying this is not the time for an Israeli strike on Iran. The chairman of the US Joint Chiefs of Staff, US Army General Martin Dempsey, said in a CNN interview on Sunday that an Israeli attack on Iran would be "destabilizing" and "not prudent" at this point. Intelligence Agencies Minister Dan Meridor stressed to reporters Monday that Dempsey said an attack was not prudent "at this point." "He said it is not prudent now, but does that mean later?" Meridor asked. Meridor said the sanctions regime had been toughened to the point of causing "hysteria" in Iran.
Deputy Chief of Iran's Armed Forces Gen. Mohammad Hejazi issued a new threat Tuesday, Feb. 21: "Our strategy now is that if we feel our enemies want to endanger Iran's national interests, we will act without waiting for their actions." Debkafile's military sources report that an Iranian preemptive attack on Israel has been in the air for some weeks. It became realistic because the dragging out of the argument between Washington and Jerusalem over a military strike and the two government's indecisiveness gave Tehran a golden opportunity to further its interests. It bestowed on Iran the gift of entering into talks on its nuclear program with the six world powers free of a military threat and therefore in a superior bargaining position. For openers, Tehran has already pocketed the Obama administration's promise of permission to continue to enrich uranium up to 5 percent in any quantity and will be more than ready to lay down more demands. Gen. Hejazi's threat of a preemptive strike against Israel also serves the Islamic regime in its run-up to a general election on March 3. It aims to show the Iranian voter and Middle East public that Iran has successfully turned US and Israeli aggression against Iran against them and demonstrated they are no more than paper tigers incapable of carrying through on their rhetoric. The military initiative therefore stays in Iran's hands.
In Tehran, the standard Israeli cliché of "We don't' advise anyone to test our resolve" has worn thin. By letting two Iranian warships bearing arms for Assad pass Israel's coast on its way to Tartus without interference, Israel encouraged Tehran to assume that, in the last reckoning, it will abstain from a unilateral strike to eradicate Iran's nuclear facilities without Washington's blessing. The Netanyahu government's resolve is expected to melt away under the bulldozer assault of one American emissary after another touching down at Ben-Gurion airport to corner them into backing down. Once Israel lets its hands be tied, Tehran calculates, it will become progressively harder to break them loose, so that if Tehran does carry out a limited "preemptive" missile attack on the Jewish state, Jerusalem will again bow to Washington and let itself be coerced into not responding. he Iranians felt confident enough to safely deny requests from the UN team of IAEA inspectors who arrived in Tehran Monday for access suspect nuclear locations and meetings with scientists employed in their nuclear program. Gen. Hejazi's words were backed up by a four-day air defense exercise, dubbed Sarallah (God's Revenge), in the south of the country. The Islamic Republic also took another initiative by cutting off oil exports to Britain and France and so turning the tables on the European Union's oil embargo on Tehran.
Netanyahu & US Officials Spar Over Iran and Israeli Military Option
Feb. 21….(DEBKAfile Exclusive Report) White House National Security Adviser Tom Donilon faced an acrimonious Prime Minister Binyamin Netanyahu in two hours of stormy conversation in Jerusalem Sunday, Feb. 19, according to updates reaching senior US sources in Washington. The main bones of contention were Iran's continuing enrichment of uranium and its ongoing relocation of production to underground sites. Israeli officials declined to give out any information on the conversation. Some even refused to confirm it took place. According to Debkafile's sources, Netanyahu accused the Obama administration of drawing Iran into resuming nuclear negotiations with world powers by an assurance that Tehran would be allowed to continue enriching uranium in any quantity, provided it promised not to build an Iranian nuclear weapon. The prime minister charged that this permit contravened US administration guarantees to Israel on the nuclear issue and, moreover left Tehran free to upgrade its current 20 percent enrichment level to 90 percent weapons grade. This Israel cannot tolerate, said Netanyahu, so leaving its military option on the ready. He warned the US National Security Adviser that no evidence whatsoever confirms Washington's claim that Tehran intends suspending enrichment and other nuclear advances when negotiations begin. Quite the contrary: Even before the date was set, Iran started working at top speed to build up its bargaining chips by laying down major advances in its nuclear program as undisputed facts.
Tehran now claims to have progressed to self-reliance in the production of 20 percent-enriched uranium, the basis for the weapons grade fuel, in unlimited quantity. Once the talks are underway, Netanyahu maintained, there would be no stopping the Iranians without stalling the negotiating process. Going by past experience, Tehran would use dialogue as an extra fulcrum for its impetus toward weapon production without interruption. Monday, Donilon and his delegation meet Defense Minister Ehud Barak. The mission of this high-powered US delegation in Israel takes place to the accompanied of a resumed US media campaign for discouraging Israeli military action against Iran's nuclear installations. Sunday, Gen. Martin Dempsey, Chairman of the Joint US Chiefs of Staff, offered this opinion to CNN: "Israel has the capability to strike Iran and delay the Iranians probably for a couple of years. But some of the targets are probably beyond their reach." Monday's New York Times carried an assessment by "American defense officials and military analysts close to the Pentagon" under the caption, "Iran Raid Seen as a Huge Task for Israel Jets." Debkafile's military sources report the main argument, dredged up from the past and long refuted, is that Israeli Air Force bombers cannot cover the distance to Iran without in-flight refueling. That array of "analysts" apparently missed the CNN interview and therefore contradicted the assessment of America's own top general that "Israel has the capability to strike Iran." Reality has meanwhile moved on. Four events in the last 24 hours no doubt figured large in the US delegation's talks with Israeli leaders:
1. Monday, the IAEA sent to Tehran its second team of monitors this month for another attempt to gain access to nuclear facilities hitherto barred by the Iranians. The inspectors will also demand permission to interview scientists which according to a list drawn up at the agency's Vienna headquarters hold key positions in their nuclear program.
2. The Russian Chief of Chaff Gen. Nikolai Makarov estimated that the attack on Iran would be "coordinated" by several governments and "a decision would be made by the summer."
3. Moscow recalled Russian aircraft carrier Admiral Kutznetsov from the Syrian port of Tartus to its home base at Severomorsk on the Kola Peninsula.
4. Turkey is beinding over backward to assure Iran that data collected by the US missile shield radar stationed at its Kurecik air base will not shared with Israel. It is especially anxious not to annoy Tehran after foreign minister Ali Akbar Salehi announced that the resumed nuclear talks with the five Permanent Security Council members and German (P5+1) would be held in Istanbul. However, the Iranians certainly know exactly what is going on after watching the recent joint US-Israeli radar test which demonstrated that Israel is fully integrated in the missile shield radar network and that the US radar station in the Israeli Negev interfaces with its station in Turkey and Israel's Arrow missile Green Pine radar. When he visited Ankara last week, NATO Secretary-General Anders Fogh Rasmussen assured his Turkish hosts that "Intelligence data collected within the missile defense system will not be shared with third countries. It will be shared with the allies within our alliance." His statement was quite accurate, except for the fact that the radar stations collecting the intelligence data are not controlled by NATO but by US military teams, both of which, including the Turkish-based radar, are integrated and coordinated with Israeli radar and missile interceptors.
Iranian Warships Dock in Syrian Port
Feb. 21….(In The Days) Iranian warships have crossed the Suez Canal and docked in Syria's port of Tartous, Iranian state media has reported. The Mehr news agency said on Sunday that Tehran's show of support has caused "extreme worry for Zionist forces". Youcef Bouandel, professor of international affairs at Qatar University, told Al Jazeera that Iran's deployment has to be viewed as part of a "broader picture", because the Iranian government feels that "Syria is the first step towards putting Iran in the corner". "Iran has been having a few standoffs with the West in general over its nuclear program and over its oil emabrgo," said Bouandel, who added that the docking of the ships on the Syrian coast had two largely symbolic meanings. Iran has been threatening to close the Strait of Hormuz and has been a strong ally of Syria over the last year in particular. The two ships crossed the Suez Canal without being stopped or searched which suggests that they do not carry any weapons," he said.
Tensions over the nature of Iran's nuclear program have led to ever-tightening sanctions on the country's oil exports, prompting Iran to threaten to close the strait, the world's most important choke-point for oil transport. Reacting to the news on Saturday, Israel's foreign ministry denounced the deployment as a "provocation" and a "power play". Israel said it will be watching the ships' movements closely to ensure they do not approach its coast. There have been increasingly frequent media reports, as has been the case in the past, citing Israeli officials who say they must bomb Iran's nuclear facilities before the government acquires the ability to construct a nuclear bomb. Tom Donilon, the US national security advisor, is due to meet Binyamin Netanyahu, the Israeli prime minister, in Jerusalam on Sunday, and he will likely warn against such a strike. Donilon has "made it clear that the US does not support any kind of military action against Iran."
Israel has expressed some satisfaction with recent harsh sanctions passed against Iran's financial sector but does not believe they alone will lead Tehran to re-evaluate its nuclear program, said Shamayleh, reporting from Jerusalem.
Iranian Admiral Habibollah Sayari said the flotilla had previously docked in the Saudi port city of Jeddah. Two Iranian ships, the destroyer Shahid Qandi and supply vessel Kharg, had docked in the Red Sea port on February 4, according to Iranian media. Sayari said the naval deployment to the Mediterranean would carry a "message of peace" but also put on display "the might" of Iran's military.
It is the first Iranian presence in the Mediterranean in February 2011 provoked strong reactions from Israel and the US. During the 2011 deployment, two Iranian vessels, a destroyer and a supply ship, sailed past the coast of Israel and docked at the port of Latakia in Syria before returning to Iran via the Red Sea. Russia, who has close relations with Iran and has at every turn opposed military action against Syria, also has a base in Tartous.
Obama Trying to Talk Netanyahu Out of Iran Strike
Feb. 21….(DEBKAfile Exclusive Report) After a high-ranking US delegation headed by White House National Security Adviser Tom Donilon failed in three days of tough talks (Feb.18-20) to dissuade Israeli leaders to back off plans for a military strike against Iran's nuclear sites, the White House invited Prime Minister Binyamin Netanyahu for talks with President Barak Obama on March 5. He will try and break the stalemate, which ended his advisers' talks with Netanyahu, Defense Minister Ehud Barak and Chief of Staff Lt. Gen. Benny Gantz. The defense minister, addressing his Independence Party later Monday praised Israel's security relations with the US as very good and very important for a strong Israel. The dialogue between the two governments, he said, is marked by openness, mutual respect, understanding and attentiveness. At the same time, Barak hinted at discord by adding, "Both are sovereign nations which are ultimately responsible for their decisions in relation to themselves and their future." Netanyahu has accused the Obama administration of pursuing nuclear negotiations with Iran while allowing Iran to continue enriching uranium and building a nuclear weapon.
Saudis Aiding Al Qaeda Move from Iraq to Syria
Feb. 20….(DEBKAfile Exclusive Report) 13 Feb. Saudi rulers, to save the Syrian opposition from defeat at Bashar Assad's hands, are reported by DEBKAfile's intelligence sources as taking a hand in turning al Qaeda Iraqi cells loose against him. Saudi agents used their pull with Iraqi Sunnis to persuade al Qaeda leaders that Assad and his Alawite regime were their most dangerous foe and their overthrow the first Sunni priority. Al Qaeda's Pakistan-based leader Ayman a-Zuwahri broadcast the same call-up to all combat strength in Iraq, Jordan, Lebanon and Turkey. Up 1,000 al Qaeda jihadis reported now in Syria. Monday, Iraq's acting interior minister Adnan al-Assadi confirmed that "a number of jihadists had gone to Syria," reporting also that the price of weapons in Mosul had risen because they were being sent to the opposition in Syria "from Baghdad to Nineveh province." The newly-arrived al Qaeda cells were almost certainly behind the Aleppo car bombings Friday, Feb. 10, which claimed the lies of 28 people. After virtually crushing most of the pockets of resistance to his rule, the Syrian ruler may well find himself up against the new threat of jihadist terror.
Muslims Stone Christians on Temple Mount
Feb. 20….(Israel Today) A mob of some 50 Palestinian Muslims stoned a group of Christian tourists atop Jerusalem's Temple Mount on Sunday morning. Three of the Israeli police officers who acted to protect the Christian group were wounded by the stone-throwers. Police arrested 11 Palestinians, several of them minors, for their role in the attack. The attack is believed to have been instigated by the former Muslim mufti of Jerusalem, Ekrama Sabri, who told Palestinian media over the weekend that Jewish groups were planning to break into the mosques that occupy the holy compound and desecrate them. Sabri urged all local Muslims to protect the mosques from "the Israeli conspiracy against the city and its holy places."
Muslim religious figures regularly claim that Israel is plotting to destroy the Dome of the Rock and the Al Aqsa Mosque to pave the way for the rebuilding of the Jewish Temple, which the Muslims now insist never previously existed. Because of the constant threat of Muslim violence, and despite the fact that the Temple Mount is the most holy place on earth to Jews and many Christians, the Israeli police comply with Muslim demands for harsh restrictions on non-Muslim visitors to the site. For instance, Jews and Christians are forbidden to carry Bibles atop the Temple Mount or to utter even silent prayers within its walls. Jews and Christians are regularly detained for violating these conditions.
Crisis in US-Israel Relations over Obama Nuclear Talks with Iran
Feb. 20….(DEBKAfile Special Report) In the last 24 hours, the approach of international talks with Iran on its nuclear program has escalated already high tensions over the issue between the Obama administration and the Israeli government and triggered the following developments: US President Barack Obama decided to send his US National Security Adviser Tom Donilon to an urgent visit to Israel Saturday, Feb. 18, for three days of talks "on regional issues including Syria and Iran." This unusually long trip by a top White House official over the weekend is a measure of the crisis in relations. The visit is part of the US "unshakeable commitment to Israel's security," according to a White House statement. It was called "the latest in a series of regular, high-level consultations between the United States and Israel, consistent with our strong bilateral partnership."
Such pledges no longer wash in Jerusalem, Debkafile's political sources report, in light of Prime Minister Binyamin Netanyahu's strong sense of betrayal from what he sees as surreptitious US diplomacy with Iran for promoting talks that will end the promised sanctions for halting Iran's momentum for building a nuclear weapon now in its final stages. The existence of those back-channel exchanges and the imminence of negotiations with Iran were first disclosed by DEBKA-Net-Weekly 529 of Feb. 17.
In private conversations, Netanyahu has said he feels cheated. By its actions the Obama administration leaves Israel with no recourse other than to grapple with the Iranian menace on its own, he has said, and be less sensitive to Washington's wishes. A bipartisan group of concerned US senators warned President Obama Friday that they would strongly oppose any proposal in talks with Iran that would allow it to continue uranium enrichment activities. A letter signed by a dozen senators from both parties expressed concern that Iran would try to use a resumption of talks with world powers on its nuclear program to buy time and dilute international pressure on it." Such tactical maneuverings are a dangerous distraction and should not be tolerated," the senators said.
Belgium-based SWIFT, which provides 10,000 banks in 210 countries with a system for moving funds around the world, said Friday that it was ready to block its network to money transfers by Iranian banks. Expelling Iranian banks from the Society for Worldwide Interbank Financial Telecommunication would shut down Tehran's main avenue for doing business with the rest of the world. Two Iranian warships sailed through Suez Canal to Mediterranean Friday on their way to Syria. Israel called their mission a provocation.
Netanyahu blasted Iran, and indirectly Washington, when he said in Cyprus that sanctions "haven't worked" and that for a regime which attacks diplomats to have nuclear weapons "is something that should be of enormous concern for the United States and for Israel."
US President Barack Obama is convinced that the resumed international nuclear negotiations he has worked hard to set up will not only avert war but lay to rest once and for all the problem of Iran's nuclear bomb program. He was led to this belief in secret back channel exchanges at the highest level between US and Turkish representatives and emissaries of the Supreme Leader Ayatollah Ali Khamenei which paved the way for the formal talks. The governments Washington seek to harness to its oil embargo, as well as such opponents as India, China Russia, Turkey, South Korea and the Europeans, realize the Obama administration is not planning to stiffen sanctions but more likely to ease them in the coming months of negotiations with Iran until they disappear. This accounts for Israeli Prime Minister Binyamin Netanyahu's angry comments after his talks with Cypriot leaders. He said sanctions imposed on Iran are important but so far "haven't worked. So if anything persuaded Iranian Supreme Leader Ayatollah Khamenei to go along with Obama's pursuit of diplomacy it was not sanctions, but the Israel's willingness to resort to military action to pre-empt a nuclear Iran. US President Obama, for his part is pinning his hopes of averting a Middle East war with unpredictable consequences by again engaging Iran in dialogue.
WEEK OF FEBRUARY 12 THROUGH FEBRUARY 18
Syria Could Attack Israel Soon
Feb. 17….(Israel Today) The Jerusalem Post reported today that there is growing concern in the Israeli army that Syrian dictator Bashar Assad could attack the Jewish state as pressure mounts for him to step down. Assad is currently facing a revolution in his own country that he has sought to quell with brutal military force. Those bloody tactics have resulted in a good portion of the Syrian army joining the opposition, and Syria is nearing the point of full-scale civil war. The situation has prompted the Arab League and Western powers to consider injecting their own military forces into Syria with the aim of ending Assad's rule. But before that happens, Israeli military officials believe Assad would lash out at Israel, both to divert Arab attention on Syria's internal struggle and to establish a lasting legacy for himself. What has made this prospect all the more worrying is that recent reports suggest Assad has been using chemical weapons against the Syrian opposition, including civilians. If he attacks Israel, it is believed Assad would have no problem using those same weapons against the Jewish state. Syria reportedly has the most extensive chemical weapons arsenal in the world. The Israeli army has been holding drills and formulating plans focused on dealing with a number of possible scenarios springing from the situation in Syria.
Islam Praised by School Choir in Colorado
Feb. 17….(WND) A Colorado high school student says he quit the school choir after an Islamic song containing the lyric "there is no truth except Allah" made it into the repertoire. James Harper, a senior at Grand Junction High School in Grand Junction, put his objection to singing "Zikr," a song written by Indian composer A.R. Rahman, in an email to Mesa County School District 51 officials. When the school stood by choir director Marcia Wieland's selection, Harper said, he quit. "I don't want to come across as a bigot or a racist, but I really don't feel it is appropriate for students in a public high school to be singing an Islamic worship song," Harper told KREX-TV. "This is worshipping another God, and even worshipping another prophet. I think there would be a lot of outrage if we made a Muslim choir say Jesus Christ is the only truth."
FOJ Note: Can you imagine the outrage the ACLU would raise if a Christian prayer were uttered in school, or if Jesus were referred to in a song?
Muslim Group Invited to Speak to Florida School
Feb. 17….(Fox News) Parents in Tampa are the latest to protest school officials inviting a controversial Muslim civil liberties advocacy group to speak to students. Dozens of people showed up at a Hillsborough County school board meeting Tuesday night to complain that a member of Council on American-Islamic Relations, or CAIR, spoke to history students at Steinbrenner High School last fall. They cited the group's past connection to a terror financing case involving the terrorist group Hamas. The group, which purports to promote diversity and tolerance of the religion, has met a similar reception in Texas and Georgia in recent years. CAIR spokesman Corey Saylor dismissed the criticism as "fear-mongering." Hassan Shibly, the Florida CAIR member who spoke to the students, said the parents are misguided. "This hatred and animosity only shows the importance of reaching out to the community," he said, "It's insulting to the school and the students to think that one person can influence their beliefs. It's misleading." The group, the nation's largest Muslim civil liberties advocacy organization, also has come under criticism for, among other reasons, being named by the Justice Department as an unindicted co-conspirator in a major terror financing case involving the Holy Land Foundation.
Michael Rubin, a resident scholar with the American Enterprise Institute who focuses on the Middle East and terrorism, said concerns about CAIR are not unfounded. "They have been co-conspirators in a terrorism finance trial and seek to stymie debate rather than safeguard it," Rubin said. "Almost every day, jihadists on religious Internet forums belie CAIR's claim that religion has nothing to do with terrorism. Ultimately, there is a battle for interpretation going on inside the world of Islam, and rather than seek to win that debate for the moderates and proponents of tolerance, CAIR acts as the jihadists' offensive linesmen."
FOJ Note: Again, another example of political correctness gone haywire. Where is the ACLU on this one, and their vitriol about separation of church and state? Ahh, but it is only that evil Christianity that must be banned from America's schools.
The PA — Israel's so-Called "Peace Partner"
Feb. 17….(Amichai Farkas/Stand For Israel) In a Cairo speech attended by foreign ministers of the Arab League this past Sunday, Palestinian Authority (PA) Chairman Mahmoud Abbas lambasted Benjamin Netanyahu and effectively gave the Israeli Prime Minister an ultimatum, Israel must freeze all settlement construction and return to her pre-1967 borders as the starting point for negotiations, or else the PA will renew its unilateral actions to obtain statehood in the United Nations. Abbas then went on to blame Netanyahu for not presenting the PA with serious proposals during recent peace talks held in Jordan, and derided the Israeli government for failing to take any steps to build trust with the Palestinians.
Abbas would like the world to believe, and, sadly, much of the world does believe, that Israel's refusal to renew a settlement freeze is the reason that the peace process is at a stalemate. He wants the world to think that Israel's refusal to give in to outlandish Palestinian demands is the sole obstacle to peace. Yet, what have the Palestinians done to lay the foundation for a lasting peace? Well, let's see … in recent memory, the principal Palestinian Authority religious leader, the Mufti Muhammad Hussein, addressed the audience at an event celebrating the PA's 47th anniversary by citing a popular Islamic Hadith (Islamic saying attributed to the Muslim prophet Mohammad) which calls on Muslims to kill all Jews. Shortly thereafter, PA television broadcast a show that glorified the killers of the Fogel family. These are vicious, despicable acts of incitement. And yet, when we saw them, and so many other incidents like them, we still held out hope and did not walk out of peace talks.
The final blow, however, may have been dealt when PA Chairman Mahmoud Abbas sat alongside his Hamas counterpart and announced that they have finalized a unity deal in which both factions will share power in the newly formed Palestinian Authority. Mahmoud Abbas wouldn't make peace with Israel. He chose to make peace with terrorists. On Sunday, Israeli Prime Minister Benjamin Netanyahu commented on the Fatah-Hamas unity deal and blasted Abbas for turning his back on peace and signing a deal with the "terror organization Hamas, the same Hamas that embraces Iran." Glorifying terrorists, vicious incitement against the Jewish people, signing a unity deal with Hamas, these are not the actions of a moderate group. Nonetheless, this is what we've witnessed in the past month from Israel's so-called "peace partner," the Palestinian Authority.
Iran Announces 'Advanced Uranium Centrifuges'
(IRNA reports Ahmadinejad inserted first Iran-made rod into north Tehran reactor; Minister Qassemi says Islamic Republic cut off oil to Netherlands, Spain, Italy, France, Greece and Portugal in response to EU sanctions)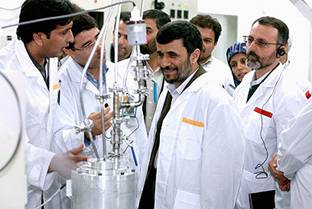 (Ahmadinejad shown at nuclear reactor)
Feb. 16….(YNET) An Iranian news agency says that the country has started using new advanced centrifuges at its main uranium enrichment site. The semiofficial Fars agency reported Wednesday that a "new generation of Iranian centrifuges" had been installed and operated at the Natanz site in the center of the country. Earlier in the day Iran said it began loading domestically made nuclear fuel rods into its Tehran research reactor on Wednesday, a defiant move in response to toughening Western sanctions over its controversial nuclear program. The official IRNA news agency said President Mahmoud Ahmadinejad inserted the first Iranian-made rod into the reactor in northern Tehran, and state TV broadcast live images from the ceremony with Iranian nuclear experts briefing Ahmadinejad on the process. Iran touted the development as an incremental step in the country's efforts to master the complete nuclear fuel cycle, despite Western penalties and UN sanctions.
The West suspects Iran's nuclear program is aimed at producing atomic weapons, a charge Tehran denies, insisting it's geared for peaceful purposes only, such as energy production. The Tehran reactor, for example, produces nuclear isotopes for treating cancer patients. The development came as Iran said Wednesday it cut oil exports to six European countries, the Netherlands, Spain, Italy, France, Greece and Portugal, in response to recent new European Union sanctions. The move comes days after Iran's Oil Minister Rostam Qassemi said Tehran could cut off oil exports to "hostile" European nations as tensions rose over suggestions that military strikes are an increasing possibility if sanctions fail to rein in the Islamic Republic's nuclear ambitions. Iran argues that the EU oil embargo will not cripple its economy, claiming that the country already has identified new customers to replace the loss in European sales that account for about 18 percent of Iran's exports. Members of Iran's parliament have been discussing a draft bill, although not finalized, which would cut off the flow to the European Union before the latest EU sanctions on Iran go into effect this summer.
Israel is worried Iran could be on the brink of an atomic bomb and many Israeli officials believe sanctions only give Tehran time to move its nuclear program underground, out of reach of Israeli military strikes. The US and its allies argue that Israel should hold off on any military strike on Iranian nuclear facilities to allow more time for sanctions to work.
Iran's Nuclear, Terror Offensives Meet Slow US Response
Feb. 16….(DEBKA) Shrugging off Western sanctions and Israeli recriminations, Iranian President Mahmoud Ahmadinejad played a starring role in a widely televised spectacle by inserting his country's first domestically-made fuel rod into the Tehran Research Reactor Wednesday, Feb. 15. The scene came after the announced cutoff of Iranian oil exports to six European countries, Netherlands, Spain, Italy, France, Greece and Portugal. Two hours later, the Iranian oil ministry challenged the announcement, spoiling the show by attesting to differences in high regime ranks. By this show, Tehran thumbed its nose at Israeli Prime Minister Binyamin Netanyahu's call on the world Wednesday to set red lines for Iran's nuclear program and denounce its terrorist activity. "If Iran's aggression is not halted, it will ultimately spread to other countries," he told the Knesset.
Meanwhile the USS Abraham Lincoln aircraft carrier crossed the Strait of Hormuz into the Sea of Oman for the second time. Unlike the first, an Iranian flotilla shadowed its passage made up of an explosive speedboat, warships with missiles poised ready for launching, a spy plane, a drone and several assault helicopters. Tehran was flexing muscle in the face of US naval might. The incident passed without a US response.
By announcing the cutoff of oil exports to six European countries, Tehran sought to turn the European Union's oil sanctions against the alliance itself. Only this week, US and Israeli officials claimed that the latest round of stiffer sanctions against Iran were working and is economy was on the point of collapse. The Iranians were anxious to show that they can afford to pick and choose the customers for their oil and mean to do so. And maybe they can. Debkafile's energy sources note that China, India, Russia, Turkey and South Korea, which buy 65 percent of Iran's exported crude, have all refused to join the US and European boycott and cut back on their purchases from the Islamic Republic. None have so far taken up the Saudi offer of supplies to replace Iranian oil.
Muslim Brotherhood Warns US: Cut Foreign Aid, No Peace Treaty With Israel
| | |
| --- | --- |
| | The Society of the Muslim Brothers, (The Brotherhood" or "MB") is the world's oldest and one of the largest Islamist movements. The Brotherhood's credo is, "God is our objective; the Quran is our constitution, the Prophet is our leader; Jihad is our way; and death for the sake of God is the highest of our aspirations." The "principles of the Muslim Brotherhood" include firstly the introduction of the Islamic Shari`ah as "the basis for controlling the affairs of state;" and secondly work to unify "Islamic countries and states, mainly among the Arab states, and liberation them from foreign imperialism." |
Feb. 15….(CNS) A top Muslim Brotherhood official has warned that any cuts in US foreign aid to Egypt could affect Cairo's peace treaty with Israel, the latest sign that Egypt's emerging political forces intend to call Washington's bluff over the diplomatic dispute triggered by a crackdown on non-governmental organizations. Egyptian judges have referred 16 Americans and 27 others linked to NGO's for trial, accusing them of using foreign funds to encourage disruptive protests. Among the targeted NGO's whose assets and funds have been seized are the US government-funded International Republican Institute and National Democratic Institute.
On Capitol Hill, the chorus of senior lawmakers calling for aid to Egypt to be suspended over the affair is growing, and Secretary of State Hillary Clinton has warned that the funds could be in jeopardy. So far, the defiant response from Cairo has been attributed mostly to government figures with links to the deposed Mubarak regime, including the anti-Western minister for international cooperation, Fayza Abul-Naga. The military-appointed Prime Minister Kamal el-Ganzouri, who also served during the Mubarak era, told reporters last Wednesday that the authorities "won't change course because of some aid."
But now the Muslim Brotherhood (MB), which won almost 50 percent of the seats in recent legislative elections and dominates parliamentary committees, is making its position clear, too. Any US aid cut to Egypt, top MB lawmaker Essam el-Erian told the pan-Arabic al-Hayat newspaper, would violate the US-brokered 1979 peace agreement with Israel. The Jerusalem Post quoted Erian as saying that if the US cuts aid to Egypt, the MB would consider changing the terms of the peace treaty. He is warning that the US should understand that "what was acceptable before the revolution is no longer." Erian chairs the parliamentary foreign affairs committee and is deputy leader of the MB's political wing, the Freedom and Justice Party (FJP).
The FJP was an early critic of the crackdown on the NGOs. But threats to cut US aid appear to have rallied various factions behind the government, feeding into long-held suspicion of and hostility towards the West. "This is only the beginning of the anti-American populism/nationalism/Islamism we are going to be seeing in Egypt from now on," Mideast expert Barry Rubin, director of the Global Research in International Affairs Center in Israel, wrote in a column Sunday. "What's amazing is that nobody is pointing out that if an Egyptian government is willing to risk US aid and have a confrontation on this small issue, what are they going to do regarding big issues?' Rubin said. "What happens when the Egyptian government moves toward Islamism or helps Hamas fight Israel on some level? We have been told that fear of losing US aid will constrain Egypt. But we are now seeing that this simply isn't true."
Among the biggest uncertainties sparked by the toppling of Mubarak a year ago was the future of the Middle East peace treaty. After four wars involving the two neighbors, in 1948, 1956, 1967 and 1973, the treaty negotiated at Camp David led to Israel handing back to Egypt the Sinai Peninsula, an area three times bigger than Israel itself, which it had captured in the 1967 Six Day War. Although never particularly popular in Egypt, the agreement kept the peace between the former foes for three decades and secured Egypt more than $1.3 billion in US military and economic aid each year. Legislation signed into law last December ties the provision of $1.3 billion in military aid to Egypt in fiscal year 2012 to certification that the government in Cairo "is supporting the transition to civilian government including holding free and fair elections; implementing policies to protect freedom of expression, association, and religion, and due process of law."
Sen. Patrick Leahy (D-Vt.), chairman of the Senate Appropriations Committee's foreign operations subcommittee, inserted the language. He warned this month that the NGO clampdown would affect the certification requirements. Other lawmakers who have warned the aid is in jeopardy include House Foreign Affairs Committee Chairman Rep. Ileana Ros-Lehtinen (R-Fla.); Rep. Kay Granger (R-Texas), who chairs the House Appropriations Committee's foreign operations subcommittee; and Sens. John McCain (R-Ariz.), Kelly Ayotte (R-N.H.) and Joe Lieberman (I-Conn.). A Gallup poll, released last week, but conducted before the furor over the NGO prosecutions, found that a large majority of Egyptians, 71 percent are opposed to US aid. About half of the poll respondents said they supported Egypt receiving aid from international institutions, and 68 percent were in favor of aid from other Arab countries.
James Lindsay, senior vice president of the Council on Foreign Relations, argued that while Americans would naturally be upset if the recipients of their hard earned money are ungrateful, "gratitude isn't the primary objective of US foreign aid" "Washington doles out aid primarily based on calculations about how to advance US strategic interests. And the United States certainly has great interests at stake in how Egypt's political transition plays out even if it doesn't have a lot of influence over where it ends up."
Over the past year, Americans' views of Egypt have deteriorated significantly. A Gallup poll a year ago found favorable ratings had dropped from 58 percent in 2010 to 40 percent a year later, with more Americans having a negative than a positive view of Egypt for the first time since Gallup began polling the issue in 1991. The trend was borne out in a survey by the Arab American Institute (AAI), released on Thursday, in which only 33 percent of respondents said their attitudes regarding Egypt were favorable, compared to 34 percent who said they viewed Egypt unfavorable light.
Syrian Defector: Assad Using Chemical Weapons
(Assad's forces used nerve gas in Homs under Iranian, Russian supervision)
Feb. 15….(YNET) Non-conventional war in Syria? Security forces loyal to President Bashar Assad have been using chemical weapons against Syrian rebels, under the supervision of Iranian and Russian experts, a defecting Syrian officer charged Monday. The officer, Captain Abd al-Salam Ahmed Abdul Razek, who served in Syrian's chemical warfare administration, told al-Arabiya that the Syrian military used nerve gas, banned by various international conventions, in order to assist forces in their raid on the restive city of Homs. The defecting officer added that the Syrian army's Fourth Division and Republican Guard are expected to use chemical weapons elsewhere. Assad's forces have access to toxins produced by Russia and a small quantity of them may cause numerous casualties, he said. The nerve gas was used under the supervision of Russian and Iranian experts, who told the army when and how to utilize the chemical weapons, the officer added. Meanwhile, Syrian opposition sources said that 25 people were killed during the day by army forces loyal to President Assad. The sources added that the massive bombardment of the city of Homs continues unabated. On Sunday, 36 civilians were killed by security forces across Syria.
Obama to Cut Support for Israeli Missile Defense Program
Feb. 15….(Ha Aretz) The US budget proposed by the Obama Administration for 2013 would cut the funding for Israeli missile defense programs by $6 million, US officials said on Monday. The cuts would affect the development of Israel's Short Range Ballistic Missile Defense program and the Arrow System Improvement Program. The $3 billion annual military assistance to Israel, within the framework of the 10 years memorandum of understanding, will remain unchanged. The budget plan stipulates that no funds be allocated to a Palestinian state unless the Secretary of State determines and certifies that the Palestinians have addressed a long list of issues including "a firm commitment to peaceful co-existence with the State of Israel" and "taking appropriate measures to counter terrorism and terrorist financing in the West Bank and Gaza." The Republican Party, controlling the House of Representatives, voiced strong opposition to the budget, claiming it does not address the problems facing the nation. "It seems like the president has decided again to campaign instead of govern and that he's just going to duck this country's fiscal problems," said House Budget Committee Chairman Paul Ryan, a Wisconsin Republican. "Obama's budget is an insult to the American taxpayer," said Mitt Romney, frontrunner for the Republican nomination to face Obama in the November presidential election and one of the richest men to ever run for the White House. Also opposing the new budget are two major Jewish charities. The budget includes limits to tax deductions for charitable contributions, expected to deprive American nonprofits of USD 4 billion annually. The Jewish Federations of North America and the Union of Orthodox Jewish Congregations of America, which stand to suffer loses to their budget due to the change have both released statements objecting to the change in policy. "In these distressed times, in which charities are serving more people's needs while at the same time continuing to suffer a downturn in donations, the proposal to reduce the rate of tax deductibility for contributions is a recipe for harmful displacements and cuts in much-needed non-profit sector institutions and services," the Union of Orthodox Jewish Congregations of America wrote in its statement.
Abbas: Palestinians Won't Recognize Israel as a Jewish State
(FOJ) Palestinian Authority President Mahmoud Abbas and Hamas leader Ismail Haniyeh (center) meet with the Emir of Qatar, and the Arab League.

(Psalms 83:3-4 They have taken crafty counsel against thy people, and consulted against thy hidden ones. They have said, Come, and let us cut them off from being a nation; that the name of Israel may be no more in remembrance.)
Feb. 14….(Israel Hayom) Speaking to Arab League foreign ministers in Cairo, PA President Mahmoud Abbas issues ultimatum to Israel: Stop settlement construction and accept 1967 borders as basis for talks, or we will pursue unilateral moves at UN. The Palestinians will not give in to Israeli demands to recognize Israel as a Jewish state, Palestinian Authority President Mahmoud Abbas said on Sunday, in a pointed attack against Israel during a meeting of Arab League foreign ministers in Cairo. According to Israel Radio, Abbas said that were the Palestinians to agree to this requirement, Palestinian refugees would not be allowed to return to Israel as part of a future agreement, and some million and a half Arab citizens of Israel would have little say in shaping the country's affairs. Israeli Arabs have previously challenged Israel's Jewish identity by calling for it to become a "state of all its citizens."
Abbas said he intended to send a letter to Prime Minister Benjamin Netanyahu outlining his demands for resuming to negotiations, which included basing talks on 1967 lines, an immediate halt to construction in the settlements and east Jerusalem, and the release of Palestinian political prisoners, including those jailed during the Second Intifada. Abbas warned that should Netanyahu refuse to negotiate based on these parameters, the Palestinians would renew their campaign to isolate Israel diplomatically and would resume unilateral efforts to seek recognition for an independent Palestinian state at UN institutions.
Abbas also said he would ask the Arab League to call for an international peace conference, French news agency AFP reported Sunday. Arab foreign ministers supported the request, stressing in a statement "the importance of holding an international peace conference on the Palestinian issue." Such a meeting would seek "an end to the occupation of Palestinian territories and to reach a comprehensive solution to the issues of borders, security, Jerusalem and refugees based on the Arab peace initiative." Abbas has been under increasing international pressure to resume talks that began last month in Jordan, the first direct negotiations between Israelis and Palestinians since talks broke down in September 2010. The Amman talks broke down as well, with each side blaming the other for the failure to get negotiations off the ground.
UN Secretary-General Ban Ki-moon visited the region late last month to convince both sides to continue "exploratory talks" that began in Amman. Ban had urged Israel to halt settlement activity and offer the Palestinians a "goodwill gesture" to jump-start the stalled talks. However, Netanyahu said he considers settlements an issue to be discussed during negotiations, not before. Netanyahu on Sunday responded to Abbas' remarks, saying in a statement: "Instead of entering into negotiations that will lead to an end to the conflict, Abbas prefers to join forces with the Hamas terrorist organization, the same Hamas that is embracing Iran."
In Cairo, the Palestinian Authority president also spoke about the reconciliation agreement he signed recently with Hamas political bureau chief Khaled Mashaal in Doha, Qatar, according to which Abbas will head a caretaker government that will usher in presidential and parliamentary elections in the territories. Abbas said that once an interim government was formed under his leadership, elections would be held within three months, probably in May or June.
Netanyahu was quick to condemn the Doha deal last week, telling Abbas, "It's either peace with Hamas or peace with Israel. You can't have it both ways." "Hamas is a terrorist organization that strives to destroy Israel, and that is supported by Iran," Netanyahu said at a Likud faction meeting last week. "I have said many times in the past that the Palestinian Authority must choose between an alliance with Hamas and peace with Israel. Hamas and peace do not go together." Meanwhile, a senior official in the Prime Minister's Office on Sunday said that Netanyahu had in fact approved goodwill gestures to the Palestinians, but the agreement between Fatah-Hamas had led to a renewed standstill in the peace process. "Every time we make progress with Abbas, he runs away," the official said. "When we become more flexible, he torpedoes the negotiations. When it comes time to make decisions, he issues preconditions." According to the official, Netanyahu had agreed to approve the incentives following a request made by Middle East Quartet envoy Tony Blair. The gestures included the advancement of construction in the new Palestinian city of Rawabi, and were meant to ensure continued negotiations with the Palestinians through the end of 2012, with the ultimate goal being a final agreement based on the Quartet's framework.
Meanwhile, an official from the Prime Minister's Office said Netanyahu plans to visit the US next month for the annual AIPAC conference, where Netanyahu is set to deliver an address. The visit comes against the backdrop of deadlocked Israel-Palestinian peace talks and growing international concern that Israel could launch an attack on Iran's nuclear program. It was not immediately clear whether Netanyahu would meet US President Obama during his visit.
Obama Forces Pentagon to Cut Troops
Feb. 14….(Bloomberg) The Defense Department may have to force soldiers, Marines or other members of the military out of the services for the first time since the aftermath of the Cold War to achieve the spending reductions in its budget proposal. The Pentagon plans to cut 67,100 soldiers from active and reserve Army units and the Army National Guard in the five years starting Oct. 1, as well as 15,200 from the active and reserve ranks of the Marine Corps as part of an effort to save $487 billion over a decade, according to the budget sent to Congress today. The military will first try buying out contracts or offering bonuses for people to leave, while working to keep those with valuable specialties such as cyber warfare and acquisitions, according to Travis Sharp, a fellow at the Center for a New American Security, a Washington policy group, who attended a Pentagon briefing for analysts last month. "I was surprised that they were going to complete the reductions to the Army and the Marine Corps in just five years," Sharp said in an interview before the budget was released. "What they told us is that they will try to use those types of positive incentives to the greatest extent possible, but that involuntary separations would probably still be necessary." The reductions would start with 31,300 uniformed positions, or 1.4 percent, eliminated in the 12 months starting Oct. 1, cutting the force size to 2,238,400 from 2,269,700 this year, according to the proposal.
Obama's budget proposal fleshes out the cuts for each of the military branches. Army forces would be reduced by less than 1 percent to 1,115,300 in 2013 and then drop to 1,048,200 in 2017. That's still far greater troop strength than in February 2002, a year before the U.S. invasion of Iraq, when the Army numbered about 480,000 on active duty. The Navy would have 1.7 percent fewer personnel, or 385,200 in 2013, and faces a reduction of 3.9 percent to a total of 376,600 people in 2017. The Marines would be down to 236,900 in 2013, or 2 percent fewer than this year. By the end of 2017, the Marines face a reduction of 8.3 percent from this year to 221,700. The Air Force will have 501,000 personnel in 2013, or 1.9 percent fewer than this year. In 2017, Air Force personnel will decline to 499,300.
FOJ Note: Although the US is facing a monumental and dangerous situation with respect to its budget woes, the defense arena is the very last place to be cutting resources. America is in more danger today than ever before, and the world is witnessing major end-time players assume their positions for the Tribulation era. It is foolish for the US to continue its march toward Socialism in such times.
Al-Qaida Calls on Muslims to Support Assad Opposition
| | |
| --- | --- |
| | (FOJ) Al-Qaeda leader Ayman al-Zawahri, in a video recording posted on the Internet on Sunday, urged Syrians not to rely on the West or Arab governments in their uprising to topple President Bashar Assad. In the eight-minute video, titled "Onwards, Lions of Syria" and posted on an Islamist website, the Egyptian-born Zawahri also urged Muslims in Turkey, Iraq, Lebanon and Jordan to come to the aid of Syrian rebels confronting Assad's forces. |
Feb. 13….(Ha Aretz) The head of al-Qaida is calling on Muslims across the Arab world and beyond to support rebels in Syria who are seeking to overthrow President Bashar Assad, and says they cannot depend on the West for help. In a new videotaped statement, Ayman al-Zawahri calls on Muslims in Iraq, Jordan, Lebanon and Turkey to join the uprising against Assad's "pernicious, cancerous regime." A senior Iraqi intelligence official says al-Qaida-linked fighters already are flowing from Iraq to Syria. The official spoke on condition of anonymity because he's not authorized to brief the media. On Saturday, US publication McClatchy cited US officials as saying that al-Qaida's branch in Iraq carried out two recent terrorist attacks in the Syrian capital, Damascus, and was likely responsible for the bombings in Aleppo on Friday that killed at least 28 people.
US intelligence reports were said to show that the Syria bombings were ordered by al-Qaida leader Ayman al-Zawahiri, seemingly verifying Syrian President Bashar Assad's assertions of al-Qaida involvement in the uprising in Syria. The two Aleppo bombings on Friday were the worst attack to hit the country's commercial hub during the revolt against the Assads' 42-year dynastic rule. No one claimed responsibility for the Aleppo bombings but they took place as Assad's forces grow more ferocious in operations to crush the uprising. Some opposition figures accused the government of manipulating events to discredit them. Earlier Sunday, Saudi state news agency SPA cited an official at the country's foreign ministry denying reports that Saudi Arabia formally presented a new resolution on Syria to the United Nations General Assembly. "No provision of any draft resolution on behalf of the Kingdom has been presented to the General Assembly," he told SPA.
Palestinians Reject 2-State Solution
Feb. 13….(Israel Today) Israel is widely portrayed as the primary obstacle to peace in the Middle East, but a new poll reveals that Israelis may have very good reason for not trusting the intentions of their Palestinian peace partners. Conducted by American pollster Stanley Greenberg and the Palestinian Center for Public Opinion, the survey found that 61 percent of Palestinians do not accept the "two states for two peoples" formula that has thus far driven the peace process. An even larger 66 percent said that while they would accept a "two-state solution" as a first step, they would want to eventually move on to replacing Israel with a single Palestinian state. A full 92 percent said that even in a two-state solution phase, Jerusalem can be the capital of "Palestine" only, regardless of whether or not Israel retains control over the Jewish-dominated western half of the city. Their intractable hard-line positions are the result of the fact that an overwhelming 72 percent of Palestinians reject any Jewish historical connection to Jerusalem and the land as a whole.
When your opponent is painted as an occupying invader with no legitimate reason to be in the land, it is easy to support violence against him, which most Palestinians do. Over 62 percent of respondents said Palestinian terror groups should abduct more Israeli soldiers until their demands are met, and 53 percent said they are in favor of teaching songs about hating Jews in Palestinian schools. Note, that's not songs about hating Israel or the Zionists, but songs about hating the Jewish race of people. In other words, anti-Semitism is taught in Palestinian schools with parental approval and support. It is that kind of education that has kept a healthy 73 percent of Palestinian adults in agreement with the old Islamic teaching that one day every Jew must be hunted down and killed.
For now, the poll showed that an average "only" 30 percent of Palestinians support open warfare against Israel, while 65 percent feel that diplomatic efforts are currently meeting most of their needs. By contrast, the vast majority of Israelis, even many of those on the right, long ago surrendered to the idea that an independent Palestinian Arab state is needed to end the conflict. The problem most Israelis have is that while an agreement to a two-state solution may be signed with the current Palestinian leadership today, there is no telling who will be in charge of a Palestinian state tomorrow, especially given that a majority of Palestinians appear ready to vote into power groups like Hamas that have the ultimate goal of removing Israel from the map.
Federal Reserve Seeks to Destroy the Dollar
(FOJ Note: The Federal Reserve is the biggest investor in America's debt. It is financing the national debt because it desires to see taxes raised on the American worker)
Feb. 13….(In The Days) The Federal Reserve Open Market Committee (FOMC) has made it official: After its latest two day meeting, it announced its goal to devalue the dollar by 33% over the next 20 years. The debauch of the dollar will be even greater if the Fed exceeds its goal of a 2 percent per year increase in the price level. An increase in the price level of 2% in any one year is barely noticeable. Under a gold standard, such an increase was uncommon, but not unknown. The difference is that when the dollar was as good as gold, the years of modest inflation would be followed, in time, by declining prices. As a consequence, over longer periods of time, the price level was unchanged. A dollar 20 years hence was still worth a dollar. But, an increase of 2% a year over a period of 20 years will lead to a 50% increase in the price level. It will take 150 (2032) dollars to purchase the same basket of goods 100 (2012) dollars can buy today. What will be called the "dollar" in 2032 will be worth one-third less (100/150) than what we call a dollar today.
The Fed's zero interest rate policy accentuates the negative consequences of this steady erosion in the dollar's buying power by imposing a negative return on short-term bonds and bank deposits. In effect, the Fed has announced a course of action that will steal, there is no better word for it, nearly 10 percent of the value of American's hard earned savings over the next 4 years. Why target an annual 2 percent decline in the dollar's value instead of price stability? Here is the Fed's answer: "The Federal Open Market Committee (FOMC) judges that inflation at the rate of 2 percent (as measured by the annual change in the price index for personal consumption expenditures, or PCE) is most consistent over the longer run with the Federal Reserve's mandate for price stability and maximum employment. Over time, a higher inflation rate would reduce the public's ability to make accurate longer-term economic and financial decisions. On the other hand, a lower inflation rate would be associated with an elevated probability of falling into deflation, which means prices and perhaps wages, on average, are falling–a phenomenon associated with very weak economic conditions. Having at least a small level of inflation makes it less likely that the economy will experience harmful deflation if economic conditions weaken. The FOMC implements monetary policy to help maintain an inflation rate of 2 percent over the medium term." In other words, a gradual destruction of the dollar's value is the best the FOMC can do.
Iran Now Has its Finger on the Nuclear Button
Feb. 13….(WND) Iranian nuclear experts have completed the component for a nuclear bomb trigger, overcoming a major obstacle in obtaining the bomb, according to sources within Iran. As reported last May, the Iranian nuclear and military industries, under the order of Iran's supreme leader, Ayatollah Ali Khamenei, were to weaponize at least two warheads with a nuclear payload no later than next month. Sources within the Revolutionary Guards reveal that the work on the trigger is taking place covertly under the control of the Guards in the cities of Darkhovin and Isfahan. Mohsen Fakhrizadeh, the main brain behind the Iranian nuclear bomb program, is guiding the project. Fakhrizadeh reportedly reports directly to Khamenei and is under tight security because of the assassination of other Iranian nuclear scientists.
The Islamic regime has rejected several requests by the International Atomic Energy Agency to interview him. The UN nuclear watchdog believes Fakhrizadeh was responsible for the project "111," which would convert highly enriched uranium into metal for a nuclear warhead and its reentry design. The IAEA last November indicated that Iran had experimented with firing multiple detonators with a high level of simultaneity. The report also indicated that Iran as early as 2003 began a large-scale experiment to initiate a high-explosive charge in the form of a hemispherical shell. This indicates work on a nuclear bomb.
According to Sepahonline, which is close to the Revolutionary Guards, Iranian nuclear bomb progress is overseen by the supreme leader's military adviser, Rahim Safavi, a former chief commander of the Guards, and a cleric, Mohsen Ghomi, who has communicated the will of the supreme leader for a speedy completion of the project. These activities are taking place at several secret locations unknown to the IAEA. One location reportedly is in the city of Mobarake, south west of Isfahan. Peter Vincent Pry, executive director of the newly established Task Force on National and Homeland Security, a congressional advisory board, concludes from IAEA intelligence that Iran's nuclear weapons program is very advanced. "Iran has already developed hemispherical explosive lenses and highly precise detonators," Pry states, "a clear indicator Iran is working on, or has already built, an implosion-type nuclear weapon. The United States used an implosion atomic bomb during World War II to destroy Nagasaki."
WEEK OF FEBRUARY 5 THROUGH FEBRUARY 11
Will America Sacrifice Israel?
Feb. 10….(YNET) Historian Niall Ferguson writes in Newsweek that "Israel and Iran are on the eve of destruction in a new Six Day War." Bret Stephens in the Wall Street Journal warns that if Israel will not destroy Tehran the Jewish State will risk another Yom Kippur scenario. The Israel-Iran countdown has already begun, but will Washington help the tiny Jewish State? Will Israel strike Iran even without America's "green light?" American taxpayers fund some 20-25% of Israel's defense budget, with the Jewish State being the largest recipient by far of American aid since World War II. Moreover, the United States has cast 40 vetoes to protect Israel in the UN Security Council.
These facts have made Israel highly dependent on the US for economic, military and diplomatic support. There is a quid pro quo for such support, but also a limit to what even that degree of dependence can buy. Former Prime Minister Menachem Begin once told a US ambassador: "We're not a vassal state." But it seems he got it wrong. Over the years, Israel has becomes subservient to the United States and "America's 51st state." It is no wonder perhaps that Obama's Administration fomented a war on Jerusalem and treated Israel like a banana republic. Washington doesn't support Israel because the Jewish State's democracy or respect for human rights. America's interest in Israel's strategic value, rather than shared values, the Holocaust or "David and Goliath," has always been the primary motivation for US aid. But it can change tomorrow, especially if Israel's survival becomes a heavy burden for Washington. That's why Israel must remember that she is America's ally and client, but not friend.
The first US presidents after Israel was established, Truman, Eisenhower, Kennedy and Johnson, gave nothing to Jerusalem. If Israel's birth in 1948 had depended solely on US support, the Jewish State would not have been reborn then. Truman maintained a US embargo against arms sales to the Israeli and Arabs, which was effective only against Israel. Eisenhower expelled Israel from Sinai and Gaza without a peace treaty. Prior to the Six Day War, Abba Eban approached Johnson and all he got was an arms embargo on the Middle East. Israel can stand tall in the face of its powerful ally because it never asked American soldiers to spill their blood for its defense. It's Washington that must beg for Israel's alliance, as it cannot afford disengagement from the only democracy in that dark region. But will the US eventually be compelled to sacrifice Israel on the altar of realism, when Iran's knife will descend on Isaac? And will the Jewish state's leadership dutifully bind Israel on the altar?
Foreign Troops Already in Syria: Damascus and Moscow at Odds
Feb. 10….(DEBKAfile Exclusive Report) British and Qatari special operations units are operating with rebel forces under cover in the Syrian city of Homs just 162 kilometers from Damascus, according to Debkafile's exclusive military and intelligence sources. The foreign troops are not engaged in direct combat with the Syrian forces bombarding different parts of Syria's third largest city of 1.2 million. They are tactical advisers, manage rebel communications lines and relay their requests for arms, ammo, fighters and logistical aid to outside suppliers, mostly in Turkey. Our sources report the two foreign contingents have set up four centers of operation, in the northern Homs district of Khaldiya, Bab Amro in the east, and Bab Derib and Rastan in the north. Each district is home to about a quarter of a million people. Our military sources also report that Wednesday afternoon, Feb. 8, Assad sent the 40th Mechanized Brigade of heavy T-72 tanks to Homs for an all-out effort to beat the rebellion, counter the foreign contingents and reinforce the 90th Infantry Brigade commanded by his kinsman, Gen. Zuhair al-Assad, the backbone of the military force battering the city for the past five days at the cost of hundreds of dead.
The presence of the British and Qatari troops was seized on by Turkish Prime Minister Tayyip Erdogan for the new plan he unveiled to parliament in Ankara Tuesday, Feb. 7. Treating the British-Qatari contingents as the first foreign foot wedged through the Syrian door, his plan hinges on consigning a new Turkish-Arab force to Homs through that door and under the protection of those contingents. Later, they would go to additional flashpoint cities. In the close to eleven months of the Syrian revolt, Erdogan has hatched more than one scheme for countering the Assad regime's savage crackdown on dissent. His most persistent was a plan for the creation of military buffer zones to shelter rebels and civilians persecuted by the Syrian authorities. But nothing came of those plans because, every time they came up, Assad reinforced his contingents on the Turkish border and deployed air defense and surface-to-surface missile batteries. He made it clear that the first Turk crossing the border would spark a full-scale war.
It is hard to say at this point whether the latest Turkish leader's current plan is any more practical than his earlier schemes. For now, he has put the ball in the American court. Wednesday, Feb. 8, he sent Foreign Minister Ahmet Davutoglu to Washington to ask for the Obama administration's cooperation. The Turkish prime minister is also in urgent consultation with Saudi and several other Gulf rulers in the hope of bringing them aboard.
The British-Qatari troop presence in Homs was at the center of Assad's talks in Damascus Tuesday with Russian Foreign Minister Sergei Lavrov and Russian SVR intelligence chief Mikhail Fradkov. Senior Syrian intelligence officers laid their updates from the field before the Russian visitors and received SVR data and evaluations in return. Western intelligence officials familiar with the talks describe the atmosphere between Assad and the Russian officials as uneasy and tense. Later, Lavrov reported optimistically that he had received assurances from the Syrian ruler of an end to the violence, talks with all Syrian parties and an early referendum on a new constitution for political reforms. His account was no more than prevarication to conceal the opposite outcome of their talks. In fact, their conversation focused on more violence, namely, Assad's plans for his next assault on rebels and protesters and his military response to the rising covert presence of foreign Western, Arab and Muslim troops in Syria.
As US and Israel Debate Iran Strike, America Airlifts Power to the Gulf
Feb. 10….(DEBKAfile Special Report) As the US and Israel carried on bickering over the right time to strike Iran's nuclear sites, their war preparations continued apace. Debkafile's military sources report that flight after flight of US warplanes and transports were to be seen this week cutting eastward through the skies of Sinai on their way to Gulf destinations, presumably Saudi Arabia, at a frequency not seen in the Middle East for many years. The three International Atomic Energy inspectors who spent the last three days of January in Tehran had asked to meet the hitherto invisible head of Iran's nuclear bomb program, Mohsen Fakhrizadeh, 50, a general of the Revolutionary Guards. The Iranians pretended to be deaf. They also kept the inspectors away from any nuclear installations. A senior Obama administration official termed the visit "foot-dragging at best and a disaster at worst."
Debkafile's intelligence and military sources note that without talking to Fakhrizadeh or any of the 600 nuclear engineers and scientists working under him, unless one of them defects, there is no way the West can determine what exactly is going on in Iran's nuclear program stands and which installations have been moved to underground facilities. No one doubts now that advanced centrifuges and stocks of enriched uranium, 3.5 percent and 20 percent grades alike, have been moved to Iran's underground bunker site at Fordo near Qom, which the US administration has claimed its bunker buster bombs cannot reach and which Israel's Defense Minister Ehud Barak has defined as "a zone of immunity."
In their ongoing argument with Jerusalem, American officials commented crossly this week that "Israelis are looking at the problem too narrowly." Clearly Israel, unlike America, envisions the Iranian "problem" from the narrow viewpoint of potential victim of an Iranian attack. Sunday, Feb. 5, Alireza Forghani, head of the Supreme Leader Ayatollah Ali Khamenei's strategic team, was quoted as remarking, "It would only take nine minutes to wipe out Israel." The remark came from a just-published detailed and serious paper by an Iranian study group which advised Tehran not to wait to be attacked but to launch a preemptive strike against the Jewish state. Wiping Israel out in 9 minutes would require a nuclear weapon. It therefore behooves Israel to narrow its vision and focus closely on Iran's nuclear potential and intent.
By now, the Obama administration and the Netanyahu government have pretty well run out of semantic ammunition for their debate over how long to wait for sanctions to bite before going on the military offensive against Iran's nuclear sites and who should do the deed. Prime Minister Binyamin Netanyahu plans a trip to Washington in March and will almost certainly get together with President Barack Obama. That is a date to watch. Israel leaders have not given up warning that time is running out for a military strike that could stop Iran from developing nuclear weapons. Obama's comment to NBC TV Sunday Feb. 4, "I don't think that Israel has made a decision on what they need to do," has been interpreted by some circles in Washington as meaning that Israel has agreed to wait long enough to give tough sanctions a chance. Debkafile's sources say that interpretation is wishful thinking rather than based on fact. The president's comment was another attempt to keep Israel within certain lines of restraint.
'Iran Plans to Attack Israel by 2014'
(Khamenei strategist releases document providing legal, religious justification for annihilation of Jewish people)
Feb. 10….(Jerusalem Post) Iranian Supreme Leader Ayatollah Ali Khamenei's strategist provided the legal and religious justification for the annihilation of Israel and the Jewish people, in a document published on conservative Farsi website Alef. Reports of the document began to circulate the internet this week. The document, written by strategy specialist Alireza Forghani, outlined the reasons why, "In the name of Allah, Iran must attack Israel by 2014." Claiming to only represent the personal opinion of its author, and not the Iranian government, the doctrine was published on a website believed to have close ties with the Ayatollah. Forghani called the Jewish state a "cancerous tumor for the Middle East" and reminded his readers that "All our troubles are due to Israel!" "Every Muslim is obliged to equip himself against Israel," he urged, reasoning that if the Muslim world does not attack Israel in the near future, "the opportunity could be lost and it may not be possible to stop them."
The document explained that the war against Israel must be carried out in the name of "defensive jihad," or the protecting of Islam against aggressors "who want to gain domination over the Muslims and kill them." It also clarified that although Israel had yet to strike Iran, its occupation of Palestinian lands already justifies an attack as Islam dictates that "the political borders of the world cannot divide Muslims and the earth is divided into two parts, Muslim countries and non-Muslim countries." Forghani pointed out that Israel is the only country in the world with a Jewish majority, using the findings of the Israel Central Bureau of Statistics last consensus for veracity. He posited that since Israel requires US and western support to attack Iran, the latter should take advantage of western "passiveness" to "wipe out Israel." The document also provides a "concise description of mid and long-range ballistic missiles that can target territories of this regional cancerous tumor" and destroy Israel in "less than nine minutes."
Iran Prepping for Hormuz Shutdown?
Feb. 10….(WND) Recent Iranian naval activity has shown exercises that appear to be aimed more at shutting down the Strait of Hormuz than the defensive preparations that had been identified as the goal. And that has prompted an internal debate between the military and the parliamentary members, regional experts indicate. The maneuvers showed a definite trend of engaging in asymmetrical, or unconventional, warfare by attacking primarily oil tankers. The apparent goal would be to block the Strait prior to any engagement with US and allied naval forces. The maneuvers showed activity using missiles and particularly submarines using torpedoes, a development G2Bulletin recently reported. While the maneuvers were to be a show of the force and capabilities of the Iranian military, it also gave US intelligence a keen insight on tactics to be employed that would then allow the US military to take evasive action. "In light of this tactical move, with its obvious military risks, the ultimate strategic objective is to cause major chaos in the oil markets and the global economy on which the United States relies heavily for its own survival," according to Iranian sources.
In addition, the tactics the Iranians employed showed the use of Special Forces along with the use of surface-to-surface missiles, suggesting surprise strikes. Analysts believe that the focus on the Strait serves as both the first and last "bullet" to fight any US threats against its nuclear program and the sanctions now afflicting the Iranian economy. This show of offensive maneuvers has promoted an internal debate with more moderate Iranian forces who believe the maneuvers pose a risky policy and could cause an inadvertent military confrontation with US naval forces. According to Emad Hussein of the Iranian Energy Commission of the Iranian Majlis, or parliament, rhetoric threatening to shut down the Strait of Hormuz does not help Iran's position over its nuclear development and doesn't do anything to help the country's economic condition.
New PA-Hamas Agreement: Opens Gates to the Trojan Horse
Feb. 10….(Jerusalem Center for Public Affairs) On February 6, 2012, Palestinian Authority Chairman Mahmoud Abbas and Hamas leader Khaled Mashaal signed a new agreement to create a Palestinian national unity government for the West Bank and Gaza. The agreement, known as the Doha Declaration, under the patronage of the emir of Qatar, Hamad bin Khalifa Al Thani, includes the following provisions: The continued functioning of the PLO via the reformation of the Palestinian National Council, together with elections to the presidency and the parliament. The holding of a second meeting of the ad-hoc committee on revitalizing the PLO in Cairo on February 18.
The creation of a national unity government of technocrats headed by "the president" (Abbas), whose task will be to implement the elections for the presidency and the parliament and to begin the rehabilitation of Gaza. To continue the activity of the committees set up by the reconciliation document signed by the two sides in Cairo in December, namely: the Public Freedom Committee, which is authorized to deal with the release of prisoners, the opening of institutions (including Hamas charitable societies) that were closed during the period of hostility between the sides, the return of Fatah activists to Gaza, the issuance of passports, and freedom of action; and the Community Reconciliation Committee, which is to deal with compensating the families of those killed in the violent clashes between Fatah and Hamas.
On the background of the signing of the agreement, Abbas announced as a confidence-building measure the release of 64 prisoners from Palestinian Authority (PA) prisons in the West Bank. Although the identities of the released prisoners have not been made clear, probably most of them belong to Hamas, given its strong demand to free all the "political prisoners" as an essential condition for reconciliation between the sides.
The agreement makes Abbas the supreme authority for all PA institutions. In addition to heading Fatah, Abbas serves as leader of the PLO, chairman of the PA, and soon as Palestinian prime minister as well. Although appointing "the president" as prime minister contravenes Palestinian basic law, it served as a compromise to overcome Fatah-Hamas disagreement on this issue. Although the words sound weighty, their practical significance is small since the Doha Declaration, similar to the Cairo reconciliation agreement that preceded it, does not express genuine Hamas recognition of Abbas' leadership or his authority as leader of the Palestinian people. Instead, it is merely verbal, expedient recognition for tactical reasons, intended to enable Hamas' official entry into the PLO in the framework of new elections for the Palestinian National Council and to pave the way for presidential and parliamentary elections. The Hamas leaders are trying to implement the strategy of the Arab Spring in the Palestinian arena. They assume they will win an overwhelming majority in the elections to the representative Palestinian institutions and, thereby, complete their historic takeover of the Palestinian national movement. In other words, they view Abbas as the doorman who opens the gates to the Trojan horse.
Hamas sees no political significance in the envisaged Abbas-headed transition government. This is evident from the fact that its powers are limited to carrying out the presidential and parliamentary elections and working to rehabilitate Gaza. From Abbas' perspective, his appointment as prime minister, in addition to president, will enable him to maintain the international recognition of the Palestinian government despite the agreement with Hamas, and give him room to maneuver in contacts with the international community, both politically and in terms of keeping the aid money flowing.
The Doha Declaration, like previous Fatah-Hamas agreements, emphasizes the need to implement the agreements between the sides, once again demonstrating the difficulty of achieving institutional unity in the Palestinian arena in light of Hamas' declared ambition to assume senior status in representing the Palestinian people. The two sides will have to show great creativity to overcome the many obstacles facing the holding of elections, from unifying the separate civilian and security institutions in the West Bank and Gaza, to budget allocations.
Both sides have a basic interest in joining forces. Hamas, as noted, sees the move as an opportunity to attain seniority and rebuild its infrastructure in the West Bank. Fatah is drawn into the reconciliation by force of circumstances and awareness of the lessons and implications of the Arab Spring, which has led to the loss of its Egyptian support and the rise in power of the Muslim Brotherhood, the parent-movement of Hamas. It appears that the Fatah leaders prefer swimming with the current to sinking beneath it. Abbas thereby buys himself some quiet for an interim period. When it ends, though, he will likely find himself without assets and in a minority in the representative institutions of the Palestinian national movement.
Abbas' cooperation with Mashaal, and his uncompromising refusal to meet with Israeli Prime Minister Benjamin Netanyahu, illustrates the strategic choice he has made. He does not prefer the path of a political settlement but, rather, to link up with Hamas and the other regional forces emerging in the Arab Spring and thereby use them as a force multiplier against Israel without having to offer political concessions. The release of the 64 prisoners is not only a gesture to Hamas but also an implicit message that the security cooperation with Israel is secondary in Abbas' eyes to the old-new alliance with Hamas.
Iran Sending 150,000 Troops to Support Assad
Feb. 8….(Ha Aretz) A top Iranian military official is activily aiding the regime of Syrian President Bashar Assad in suppressing popular unrest throughout the country, a top member of the National Syrian Council said on Monday. According to the Syrian official, Kassam Salimani, commander of the Quds Force, the Iranian Revolutionary Guard special forces unit, has arrived in Syria recently and has taken up a spot in the war room which manages army maneuvers against opposition forces. The war room is also reportedly populated by Assad himself, as well as his brother Maher, brother-in-law Assaf Shaukat and cousin Rami Makhlouf, with the Syrian chief of staff's authority reportedly restricted and divided up between other military commanders. The Quds Force includes 15,000 elite soldiers who operated, among other locations, in Iraq during the war, and the specialty of which is engaging in unconventional warfare on foreign soil. Among other duties, the Quds Force is in charge of traning and funding Hezbollah. Salimani's presence in Syria serves as an indication of the kind of battle that Assad is planning against opposition forces, with the Syrian army reportedly planning to wage all out war against the rebel city of Homs.
According to the report, the Syrian president's goal is to gain ground ahead of a planned visit by Russian Foreign Minister Sergey Lavrov, who will be arriving in the country along with a military delegation which includes the head of Russian intelligence. Assad's aim, sources say, is to display his control of the situation and his ability to suppress the unrest, with the determining battles to be staged in Homs and in the reoccupation of the town of Zabadani, which fell to Free Syria Army forces.
An Al-Arabiya report indicated that the battle over Zabadani has already begun, with Syrian soldiers defecting to the opposition along with eight tanks, and that Homs has been placed under a siege which has included the cutting of electricity and water supplies. The report also claimed that the Syrian army for the first time has been using rockets in order to target houses as well as mortars to hit populated areas. So far, 60 people were reportedly killed and hundreds wounded in this battle, as well as reports of the demolition of seven houses, residents and all. Syrian opposition organizations that are active internationally are currently trying to gain a political front bypassing the UN Security Council, where a resolution underwritten by the Arab League failed due to Russian and Chinese vetoes on Saturday. At this stage, opposition leaders are trying to find a way forward, as it is clear that Turkey and the Arab states oppose military action against the Assad regime, and the imposing of economic sanctions will not stop Assad.
Facing Russia and Chinese opposition, and the Iranian threat to open a new front, there is doubt whether a western coalition will agree to act directly against Syria. The question is whether the Free Syrian Army will be able to get additional military assistance, and to arm itself with heavy artillery, tanks and shells so that it will be able to pose a real challenge to the Syrian army, and change the civilian resistance into a real military struggle, much like the rebel forces in Libya.
Syria Raises Specter of Proxy Conflict Between US, Russia
Feb. 8….(Reuters) As the Obama administration weighs worst-case scenarios for Syria, one stands out: a civil war that develops into a proxy battle between Arabs and the West on one side, and Russia and Iran on the other. US officials stress they do not want to play a military role in Syria, where President Bashar al-Assad's crackdown on protests has killed more than 5,000 people and raised fears of a protracted power struggle in a country at the heart of the Arab world. But after US and Arab League led efforts to craft consensus in the UN Security Council on Syria's political transition were torpedoed by vetoes from Russia and China, some analysts say risks are growing that the international community will line up on opposite sides of a fratricidal war.
Resistance fighters known as the Free Syrian Army have pledged to liberate the country from Assad's rule. Activists call for armed support for rebels. And Syrian security forces are ratcheting up the violence, vowing to fulfill their president's threat to strike with an "iron fist" against the government's opponents. ""There is a risk of it could become a proxy conflict. It is already headed in that direction," said Andrew Tabler, a Syria expert at the Washington Institute for Near East Policy. Already weapons have been coming in from Lebanon. You will now see more coming in from Jordan, from Turkey, from Iraq or from Russia. Everyone will start to operate in this environment."
US officials say their emphasis is on building support for Syria's beleaguered political opposition and possibly providing humanitarian relief for refugees as the fighting intensifies. For their part, Russia and Iran say they are urging Damascus to make reforms. But they reject what they describe as a Western-engineered attempt to overthrow the government of one of their closest allies. Some in Washington worry the situation may eventually edge toward a Cold War-style proxy conflict.
During the Cold War, Washington and Moscow fought proxy battles in Latin America, Africa, Afghanistan and elsewhere, arming allied governments or insurgents fighting against them. US President Barack Obama, facing re-election in November, has steered away from deeper involvement in Syria, a complex and combustible political puzzle that is a potential threat to US allies including Israel, Turkey and Jordan. "It is very important for us to try to resolve this without recourse to outside military intervention. And I think that's possible," Obama told NBC this week, dismissing parallels with the international military effort that toppled Libya's Muammar Gaddafi last year.
But Damascus, facing its greatest crisis in four decades of the Assad family's dynastic rule, contends that it is already fighting an Islamic insurgency funded and directed by enemies in US-allied Gulf Arab states. Turkey, which shares a long border with Syria, has expressed outrage at the violence and floated the idea of "humanitarian corridors" to stem the bloodshed. Western powers including the United States and the European Union have imposed economic sanctions to pressure Assad and isolate his government. Obama has called on Assad to step down.
Russia, which sells Syria arms and maintains a military base on its Mediterranean coast, has shown no sign of backing away from its Syrian alliance. Foreign Minister Sergei Lavrov visited Damascus on Tuesday and emerged saying that Assad was committed to halting the violence and would soon roll out new political reforms, promises the Syrian leader has reneged on in the past.
Iran has also stood by Syria, which has long helped it support the militant anti-Israel Hezbollah faction in neighboring Lebanon, and accused Washington of trying to destabilize the region. "America's plans for Syria are evident and unfortunately some foreign and regional countries take part in America's plans," Iranian Supreme Leader Ayatollah Ali Khamenei said late last month.
Washington's plan for Syria thus far appears limited. After Russia's and China's double veto in the UN Security Council, Secretary of State Hillary Clinton on Sunday suggested the United States would work with allies to tighten sanctions and support democratic change in Syria even without Security Council backing. But many analysts say expanding violence on the ground may eventually force Washington and its allies to consider additional steps, which would be fraught with political risk even if no foreign forces were directly involved. Most experts don't see the Syrian regime giving up. Most think they are going to fight this to the very last drop of blood.
Israel Concerned that Syria's Weapons Will Fall to Hezbollah
Feb. 8….(The Telegraph) Tel Aviv has expressed grave concerns about the fate of Syria's weaponry should Bashar al Assad fall, saying they pose as great a threat to Israeli security as Iranian nuclear development. As the violent government crack down on Syrian civilian protestors enters its eleventh month, Israeli intelligence now regards the fall of the Assad regime as inevitable. Syria's massive stockpile of weapons includes surface-to-air missiles, high-trajectory long-range rockets and missiles, biological and chemical weapons, which are currently under the watchful guard of government troops.
An Israeli defense official was quoted last week in free Israeli daily Israel Hayom, a paper closely affiliated with prime minister Benjamin Netanyahu, warning that the transference of chemical weaponry to Lebanon would be tantamount to a declaration of war by the Lebanese government, adding that Israel would act to prevent such a move. Air Force Command Major General Ido Nechushtan has stated baldly that the volatile situation in Syria may lead to a conflict on Israel's northern border. "Everything that is happening [in Syria] every day is reason for us to re-examine the situation, closely follow the developments and make decisions as necessary," Nechushtan said.
Incoming Israeli Air Force Chief Major General Emir Eshel told a recent press conference: "The question is when, not if Assad will fall. And the big question is what will happen the following day. "What has been passed on to Hezbollah so far? What will be passed on in the future? What will be divided between the two factions in Syria?" Benjamin Ben Eliezer, who has served both as Israel's minister of defence and deputy prime minister, warned last month that radical Shi'a militant group Hezbollah has trebled in strength since the last war between Lebanon and Israel in 2006. "The fall of Syria will cause a lot of problems. We're talking in terms of thousands of missiles that might move to Hezbollah and endanger the whole of the Middle East," Ben Eliezer warned. "Lebanon's Hezbollah is getting stronger. The numbers and the range of the missiles in Syria and already with Hezbollah are beyond any imagining. Even without Iran - they cover the whole of Israel." According to Arab media reports, Syria has already moved Scud missiles to Hezbollah camps in Lebanon and erected advanced surface-to-air missiles in the Lebanese mountains.
Since 2008, Israel has warned of the transfer of unconventional weapons to the Lebanese militant group, which are stored on Syrian territory to prevent their destruction in an Israeli strike. But with Assad's grip on Syria loosening, the danger is that these weapons, including deadly chemical agents such as Sarin and the nerve agent VX, will reach Hezbollah militants or fall into the hands of radical Sunni elements.
Russia's Putin Warns US: Don't Mess With Syria
Feb. 8….(YNET) Russian Prime Minister Vladimir Putin said on Wednesday the world faced a growing "cult of violence" and Moscow must not let events like those in Libya and Syria be repeated in Russia, issuing a warning to the West against interference. "We of course condemn all violence regardless of its source, but one cannot act like an elephant in a china shop," Putin told Russian religious leaders at a meeting as talk turned to Libya and Syria. "Help them, advise them, limit, for instance, their ability to use weapons but not interfere under any circumstances," said Putin, whose country vetoed a UN Security Council resolution last week backing an Arab League call for Syria's president to cede power. He added that "The Syrian people must decide their future themselves, without foreign intervention." "A cult of violence has been coming to the fore in international affairs in the past decade," he said. "This cannot fail to cause concern, and we must not allow anything like this in our country."
Putin, who is running in a presidential election next month, has often criticized the United States and its NATO allies over its use of military force abroad, from the US-led invasion of Iraq in 2003 to a NATO air campaign that helped Libyan rebels drive Muammar Gaddafi from power last year. He has also accused his political foes, who have since December staged the biggest opposition protests of his 12-year rule, of receiving financial and other support from the United States and Europe.
Ayatollah Khameini: Kill All Israeli's; Destroy Israel
(Iranian leader lays out legal case for genocidal attack against 'cancerous tumor, Israel)
(FOJ) Imagine how the world would react if another foreign leader called for the annihilation of their country.

Yet, while Israel sits alone on its ten mile wide stretch of homeland, Iran boldly works to blow Israel off the map. And we tell Israel to not attack.
Feb. 7….(In The Days) The Iranian government, through a website proxy, has laid out the legal and religious justification for the destruction of Israel and the slaughter of its people. The doctrine includes wiping out Israeli assets and Jewish people worldwide. Calling Israel a danger to Islam, the conservative website Alef, with ties to Iran's supreme leader, Ayatollah Ali Khamenei, said the opportunity must not be lost to remove "this corrupting material. It is a 'jurisprudential justification" to kill all the Jews and annihilate Israel, and in that, the Islamic government of Iran must take the helm."
The article, written by Alireza Forghani, a conservative analyst and a strategy specialist in Khamenei's camp, now is being run on most state-owned conservative sites, including the Revolutionary Guards' Fars News Agency, showing that the regime endorses this doctrine. Because Israel is going to attack Iran's nuclear facilities, Iran is justified in launching a pre-emptive, cataclysmic attack against the Jewish State, the doctrine argues.
On Friday, in a major speech at prayers, Khamenei announced that Iran will support any nation or group that attacks the "cancerous tumor" of Israel. Though his statement was seen by some in the West as fluff, there is substance behind it. Iran's Defense Ministry announced this weekend that it test-fired an advanced two-stage, solid-fuel ballistic missile and boasted about successfully putting a new satellite into orbit, reminding the West that its engineers have mastered the technology for intercontinental ballistic missiles even as the Islamic state pushes its nuclear weapons program.
The commander of the Revolutionary Guards, Brig. Gen. Seyyed Mehdi Farahi, stated in August that the Safir missile, which is capable of transporting a satellite into space, can easily be launched parallel to the earth's orbit, which will transform it into an intercontinental ballistic missile. Western analysts didn't believe this would happen until 2015. Historically, orbiting a satellite is the criterion for crediting a nation with ICBM capability. Forghani details the Islamic duty of jihad as laid out in the Quran for the sake of Allah and states that "primary jihad," according to some Shiite jurists, can only occur when the Hidden Imam, the Shiites' 12th Imam Mahdi, returns. Shiites believe Mahdi''s return will usher in Armageddon.
In the absence of the hidden Imam, Forghani says, "defensive jihad" could certainly take place when Islam is threatened, and Muslims must defend Islam and kill their enemies. To justify such action, Alef quotes the Shiites' first imam, Ali, who stated "Waging war against the enemies with whom war is inevitable and there is a strong possibility that in near future they will attack Muslims is a must and the duty of Muslims." The article then quotes the Quran (Albaghara 2:191-193): "And slay them wherever ye find them, and drive them out of the places whence they drove you out, for persecution of Muslims is worse than slaughter [of non-believers] and fight them until persecution is no more, and religion is for Allah." It is the duty for all Muslims to participate in this defensive jihad, Forghani says. A fatwa by the late Ayatollah Ruhollah Khomeini made it clear that any political domination by infidels over Muslims authorizes Muslims to defend Islam by all means. Iran now has the ICBM means to deliver destruction on Israel and soon will have nuclear warheads for those missiles.
In order to attack Iran, the article says, Israel needs the approval and assistance of America, and under the current passive climate in the United States, the opportunity must not be lost to wipe out Israel before it attacks Iran. Under this pre-emptive defensive doctrine, several Ground Zero points of Israel must be destroyed and its people annihilated. Forghani cites the last census by the Israel Central Bureau of Statistics that shows Israel has a population of 7.5 million citizens of which a majority of 5.7 million are Jewish. Then it breaks down the districts with the highest concentration of Jewish people, indicating that three cities, Tel Aviv, Jerusalem and Haifa, contain over 60 percent of the Jewish population that Iran could target with its Shahab 3 ballistic missiles, killing all its inhabitants.
Forghani suggests that Iran's Sejil missile, which is a two-stage rocket with a trajectory and speed that make it impossible to intercept, should target such Israeli facilities as: the Rafael nuclear plant, which is the main nuclear engineering center of Israel; the Eilun nuclear plant; another Israeli reactor in Nebrin; and the Dimona reactor in the nuclear research center in Neqeb, the most critical nuclear reactor in Israel because it produces 90 percent enriched uranium for Israel's nuclear weapons. Other targets, according to the article, include airports and air force bases such as the Sedot Mikha Air Base, which contains Jericho ballistic missiles and is located southwest of the Tel Nof Air Base, where aircraft equipped with nuclear weapons are based. Secondary targets include power plants, sewage treatment facilities, energy resources, and transportation and communication infrastructures.
Finally, Forghani says, Shahab 3 and Ghadr missiles can target urban settlements until the Israelis are wiped out. Forghani claims that Israel could be destroyed in less than nine minutes and that Khamenei, as utmost authority, the Velayete Faghih (Islamic Jurist), also believes that Israel and America not only must be defeated but annihilated. The radicals ruling Iran today not only posses over 1,000 ballistic missiles but are on the verge of ICBM delivery and have sufficient enriched uranium for six nuclear bombs even as they continue to highly enrich uranium despite four sets of UN sanctions. The Iranian secret documentary "The Coming Is Upon Us" clearly indicates that these radicals believe the destruction of Israel will trigger the coming of the last Islamic Messiah and that even Jesus Christ, who will convert to Islam, will act as Mahdi's deputy, praying to Allah as he stands behind the 12th Imam.
New Sanctions on Iran Intended to Ratchet up Pressure, but Will They Ease Israeli Stress?
Feb. 7….(Fox News) New sanctions imposed by the US on Iran are intended to ratchet up the pressure on Tehran, and perhaps take down the temperature of Israel, which is clearly worried about Iran's accelerated pursuit of nuclear weapons. In an interview that aired Monday, President Obama said he wants to exhaust all non-military means and lower the heat in the Mideast. "We have done extensive planning on all our various options in the Gulf. We are prepared to exercise these options should the need arise," Obama told NBC. "But my goal is to try to solve this diplomatically, mainly because the only way to keep Iran from getting nuclear weapon is to make them understand it's not in their interest."
Part of that plan, imposing new sanctions on Iran's Central Bank as well as tightening existing sanctions. The president signed the executive order on Sunday evening. Treasury officials say they do not want to grant waivers to those buying oil through Tehran's main bank, tightening the screws on outsiders who do business with Iran. The new sanctions, however, may not provide too much consolation to Israel, which fears Washington may not be approaching the Iran situation with the same urgency as Tel Aviv. Israeli defense officials have been telegraphing their intent to strike, with Israeli Defense Minister Ehud Barak saying last week that "later is too late." But Israeli Prime Minister Benjamin Netanyahu reportedly told his cabinet on Monday to halt the "chitchat" about Iran, just days after US Defense Secretary Leon Panetta expressed fears that Israel could attack this spring. House Intelligence Committee Chairman Mike Rogers says some of the confusion for Israel may be coming from mixed messages by the Obama administration.
But the president may have had his hand forced in terms of a timeline. Iran began more war games this weekend. Its leaders have said the US would pay 10 times what Iran did should anyone carry out a military strike against them. On Monday, the International Atomic Energy Agency announced that it believes Iran is moving its nuclear enrichment activity away from its main facility at Natanz further underground to a facility 220 feet underground near the holy site of Qom, known as Furdow.
Russian FM: West 'Hysterical' over Syria
(Sergey Lavrov blasts West's criticism over Russia, China's veto of UN Security Council resolution against Syria)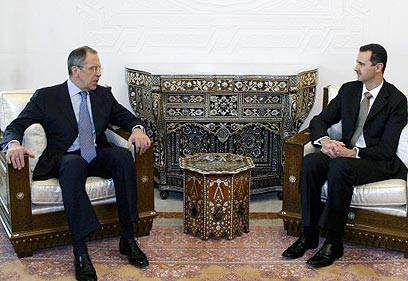 Feb. 7….(YNET) Russian Foreign Minister Sergey Lavrov blasted the US and the West's reaction to Moscow and Beijing's veto on the UN Security Council resolution on Syria, calling it "almost hysterical." "Those who get angry are hardly ever right," Lavrov stated at a media conference in Moscow. He is expected to arrive on an official visit to Syria on Tuesday. Earlier Monday, Washington announced it was closing its embassy in Damascus, while London recalled its ambassador to the Syrian capital. US President Barack Obama said that "We have been relentless in sending a message that it is time for Assad to go. This is not going to be a matter of if, it's going to be a matter of when."
British Foreign Secretary William Hague said that the Syrian regime was "a doomed regime. There is no way it can recover its credibility internationally." Expanding on the matter, State Department spokeswoman Victoria Nuland said the US would seek to work outside the UN to "strengthen and deepen and broaden the international community pressure on Assad, to work with as many countries as we can to increase both regional sanctions and unilateral national sanctions on the Assad regime." Lavrov, however, said that there was more than one source of violence in Syria, adding that that is why Moscow has supported the Arab League's initiative for Syria, which urges an end to all violence. Syrian President Bashar Assad has repeatedly claimed that the bloodshed in Syria was the result of "domestic terrorism," and has vowed to fight it relentlessly. Lavrov added that prior to the veto, Russia submitted several amendments to the proposed Security Council resolution in order to "eliminate the imbalance (phrasing) and describe concrete steps that we expect from the opposition and the international community concerning armed extremists in Syria."
Lavrov said that Moscow has repeatedly urged Damascus to speed up reforms and we are continuing to do so. But we also see that there are those who have other goals," Lavrov was quoted as saying. "They are trying to use this movement in order to change the regime. (FOJ Note: an obvious accusation leveled at the US) External players are encouraging armed groups, including extremists, and supply them with weapons, as well as providing support in other forms," Lavrov stated.
Obama Vying to Interrupt Israel Strike on Iran by Syrian Pressure
Feb. 7….(DEBKAfile Special Report) US President Barack Obama, by asserting Sunday, Feb. 5, he doesn't think Israel has made a decision on whether to attack Iran, indicated he preferred to keep Israel back from military action and set aside as a strategic reserve, while at the same time using the broad presumption of Jerusalem's assault plans to intimidate Iran into opting for diplomatic talks on its nuclear program. To this end, the president directly contradicted Defense Secretary Leon Panetta's statement six days earlier that he expected Israel to strike Iran in April, May or June.
In Israel, no knowledgeable source any longer doubts that the Netanyahu government has already reached a decision. It was instantly assumed that Maj. Gen. Amir Eshel, whose appointment as the next Israeli Air Force commander was announced Sunday, would lead the coming operation against Iran. Obama also said, "We are going to be sure we work in lockstep as we proceed to try to solve this, hopefully diplomatically." Debkafile's analysts report that by "lockstep" he meant the role to which he had assigned Israel in the massive disinformation contest underway between the West and Iran. Tehran responded to this verbal assault with one of its own, publishing a paper which suggested for the first time that Iran would not wait to be attacked but was preparing pre-emptive action of its own against Israel. The paper spoke of a surprise missile offensive targeting Israel's military installations, which were said to be concentrated between Kiryat Gat and the South, and the central Lod-Modiin district in the center, which Iran considers to be the soft urban-military belly of Israel. Two features stood out from the verbiage of the last 24 hours:
1. Iran has no intention whatsoever of abandoning its drive for a nuclear bomb. According to the information in Israeli hands, its program has passed the point of no return and capable of producing a weapon whenever its rulers so decide. This situation, American and Israeli leaders year after year had vowed to avert. Iran underscored its negative on diplomacy by contemptuously refusing the IAEA inspectors visiting the country this week access to any of its nuclear facilities.
2. The US-led confrontation against Iran by Turkey, Saudi Arabia, and Qatar has made Syria a major hub of the conflict, especially since the Russian-Chinese blockage Saturday of their UN Security Council motion to remove President Bashar Assad and end his brutal crackdown. Israel has no role in this clash of wills, and President Obama is doing his best to keep Israel on the sidelines of the Iran controversy too, while he continues to angle for nuclear dialogue.
For the Obama administration the Security Council defeat was a major policy setback on top of reversals in Cairo. Tehran in contrast was buoyed up by what it saw as the lifebelt Moscow and Beijing cast to rescue the Assad regime, for now at least, from the onslaught of its enemies and the stabilization of their Mediterranean flank to the west and direct front against Israel. The Syrian ruler's fall would rob Tehran of its most powerful military ally for taking on Israel without direct Iranian involvement. It would also cause the Lebanese Hizballah's disempowerment as a military force. Severance of its geographic link to Tehran via Syria would expose the Shiite militia to Western and Arab diplomatic pressure and an Israeli attack.
The Six-nation Gulf Cooperation Council foreign ministers meet in Riyadh this week for another round of consultations on the Syrian crisis after the Security Council fiasco and failed attempt to deploy monitors in the war-stricken country. The West is also threatening to supply the rebels with heavy weaponry, at the risk of an escalation to full-scale civil war. By boosting rebel strength, the West would tell Moscow that tolerance for the Assad regime to continue to rule Syria had dropped to zero. The Russians are being called upon to back away from their support for Assad and reverse the policy which actuated their veto vote at the Security Council. Whether or not this is realistic will become known as the week unfolds.
Bolton: US 'Waving the White Flag' to The Taliban
(Concerned Obama's re-election will 'gravely impair' national security)
Feb. 7….(WND) President Obama is "running up the white flag" of surrender to the Taliban by ending combat missions in Afghanistan in 2013, contends former UN Ambassador John Bolton. Bolton also says he's concerned Obama's re-election will "gravely impair" what he described as an already "seriously weakened" US national security. Asked how Obama's re-election would affect US foreign policy, Bolton replied: "I think the national security of the United States, which has already been seriously weakened by the administration's policies, will be gravely impaired."
Continued Bolton: "I think the announcement that the US hopes to end combat operations in Afghanistan by 2013 is all but running up the white flag to the Taliban. The withdrawal of combat forces from Iraq has sent a terrible signal to America's Arab friends in the region." "This inability to acknowledge the reality of Iran's nuclear weapons program, our continued hostility under the Obama administration to Israel, is a pattern of America in decline." "And when the president, if he is re-elected, doesn't have to face the people of the United States ever again, I just think the vista that lies in front of us is truly worrying," Bolton added. Last week, Defense Secretary Leon Panetta announced the US plans to end combat missions in Afghanistan by 2013 while continuing a training and advisory role with Afghan forces through 2014. According to multiple reports, Germany, Britain and other NATO members complained that they had been blindsided by Panetta's plan, while Afghan officials expressed concern with the new timetable.
US Calls for International Coalition Against Syria
(Following UN failure, the United States proposes an international coalition to support Syria's opposition)
Feb. 7….(Arutz) The United States on Sunday proposed an international coalition to support Syria's opposition, The Associated Press reported. The proposal came one day after Russia and China vetoed a UN Security Council attempt to end nearly 11 months of bloodshed. US Secretary of State Hillary Clinton warned that chances for "a brutal civil war" would increase as Syrians under attack from their government move to defend themselves, unless international steps provide another way. Speaking to reporters in the Bulgarian capital of Sofia, Clinton called the double veto at the UN Security Council "a travesty." Ambassador to the UN Susan Rice said after the meeting that Washington was "disgusted" by the vetoes. "Faced with a neutered Security Council, we have to redouble our efforts outside of the United Nations," Clinton was quoted by AP as having said. She called for "friends of democratic Syria" to unite and "support the Syrian people's right to have a better future."
US officials were quoted by AP as having said an alliance would work to further squeeze the Assad regime by stepping up sanctions against it, bringing disparate Syrian opposition groups inside and outside the country together, providing humanitarian relief for embattled Syrian communities and working to prevent an escalation of violence by monitoring arms sales. The main Syrian opposition umbrella group, the Syrian National Council, backed the idea, AP reported. Radwan Ziadeh, a prominent figure in the SNC, wrote on his Facebook page that friendly countries should form an "international coalition. whose aim will be to lead international moves to support the revolution through political and economic aid." In an interview with CBS' "Face the Nation," Gingrich said he thinks there are "a lot of things we could do covertly" in Syria, such as "supplying weapons, helping people in the region supply advisers. I think we should make clear to the world that Assad is going to go." He supported the idea for a coalition to be formed to "get rid" of Assad.
* FOJ Note: It should be noted that the US-EU-Arab League quest in the Arab Spring revolts has ended up in Syria. Now they are discussing a "coalition of forces" to unseat Assad from the Damascus throne. Ironically, the eventual outplaying of this scenario will eventually exalt the empire of the Antichrist, and cause Russia to lead another "coalition of forces" (Ezekiel 38) to come down into the Middle East maze. We are indeed in the Latter Days!
Russia Vetoes UN Motion as it Prepares Special Forces for Syria
Feb. 6….(DEBKAfile Special Report) The West and Russia had a major showdown Saturday Feb. 5 over the Arab League resolution calling on Bashar Assad to step down and allow the formation of a national unity government. US President Barack Obama demanded a UN stand against the Syrian president's "relentless brutality" and a vote before the end of the day. It was put to the vote and defeated by Russian and China vetoes. Moscow sources charged that the motion had been intended to pave the way for war in Iran and a bid to overthrow the Tehran regime. Debkafile's military sources report that the Russians backed their hard line against the West by putting Rapid Reaction Force units in Black Sea bases on the ready to set out for Syria and defend Damascus. A Cold War dimension has been injected into the Syrian crisis, which is fast descending into a sectarian war between Syria's ruling Alawites (Shiites) and the majority Sunnis. The regional dimension is provided by pitting Iran and Syria against Turkey and the Gulf Arabs.
Russian Foreign Minister Sergei Lavrov's earlier announcement that he would visit Damascus next Tuesday, Feb 7, with Russian Foreign Intelligence Service chief Mikhail Fradkov was meant to buy Bashar Assad another three days' grace to polish off the opposition before a possible UN-ordered ceasefire. However, the US and Western powers refused to wait for further Syrian excesses to take place after various sources reported earlier Saturday that Syrian troops had shelled the Homs district of Khaldiyeh, killing an estimated 350 people there and injuring some 1,500, in the worst military bombardment of nearly 11-month-old uprising. Syrian government officials denied the charge accusing "gunmen" of killing civilians.
Debkafile's intelligence sources note that Moscow's gesture to send the Russian foreign intelligence chief to Damascus alongside the foreign minister is supported additionally by the presence in the Syrian port of Tartus of Russia's only aircraft carrier Admiral Kuznetsov with two destroyers and a marine force. Aside from a few Turkish brigades strung out along the Syrian border, the West maintains no troops on in the vicinity of Syria since the American military withdrew from Iraq last December.
The United States presented a tough front at the UN Security Council Saturday, with President Obama insisting that the council vote on a Arab League text without further delay or changes to accommodate Moscow and that its president step down over his "unspeakable assault" on Homs. The hard lines taken by Washington and Moscow over the Syrian crisis produced a harsh showdown over the "Arab Spring" per se, which Russian has been building up to since NATO helped Libyan rebels overthrow Muammar Qaddafi. Russian Prime Minister Vladimir Putin, who runs for his third term as president in a month's time, and President Dmitry Medvedev appear to have determined, even at the price of military intervention, not to let NATO and Arab states repeat the Libyan exercise in Damascus. The gauntlet they threw down was picked up by President Obama Saturday. If the Russians continue to obstruct the US, European and Arab role in backing the Arab revolt and the Muslim Brotherhood, The United States, the Europeans and the Gulf Arabs are likely to redouble their efforts to unseat Bashar Assad.
Assad Sends Hit Squads After Top Lebanese Officials
Feb. 6….(DEBKAfile Exclusive Report) Syrian President Bashar Assad has hired hit squads to kill top Lebanese government, intelligence and security officials whom he suspects of helping insurrectionists and Saudi and Qatari agents smuggle fighters and weapons into the country to fight his regime. One Lebanese hit squad is reported by debkafile's counter-terror sources as having been captured in the third week of January by Lebanese security police. Its members confessed to receiving, cash, arms, explosives and a list of targets from Syrian Military intelligence, with precise instructions on the method of assassination for two targets, Director General of Lebanese Internal Security Maj. Gen. Ashraf Rifi and his deputy, Col. Wissam al-Hassan, head of its Information Branch. The team was instructed to rig two bomb cars, each loaded with one ton of explosives to be detonated remotely. They were told which cars would be driving by different routes to a secret meeting of all Lebanese intelligence arms at Internal Security headquarters in the Christian Ashrafieh district of Beirut. Two narrow side streets would bring them close to their destination and it was there that the bomb cars would be planted. This was exactly the same method used to assassinate the former Lebanese Prime Minister Rafiq Harirri in February 2005.
However, shortly before they set out for the staff meeting, a foreign clandestine agency warned the two Lebanese officers of the death trap awaiting them. The information, according to our sources, also covered the location of the bomb cars and the whereabouts of the hit team. Saturday, Jan. 28, Gen. Rifi and Col. Al-Hassan attended a news conference at which Rifi revealed a plot to murder his deputy, without disclosing the identity of its instigator or that he himself had been targeted.
Debkafile's sources in Beirut explain that he did not dare name the source of the plot or the results of his investigation because people in Lebanon live in extreme dread of the Assad regime's long arm and its propensities for violence. But top Lebanese figures are now taking extra security measures to protect themselves and their families from ongoing Syrian assassination conspiracies. And indeed, Friday, Feb. 3, Gen. Rifi warned Lebanese lawmaker Sami Gemayel, one of the leaders of the Christian Phalange Party, two of whose forbears, Pierre and Amin, were assassinated, to take care because murderers were after him at his home town of Ain Safsaf in the Mattan Mountains. The Lebanese intelligence chief did not dare reveal who was behind the plot. But our counter-terror sources report that the warning itself indicated that the Lebanese spy chief is on top of a flow of intelligence on the death list Bashar Assad has drawn up for Lebanon.
Did Iran Bribe China to Torpedo UN Vote?
(Reported oil deal helps mask Islamist violence in Syria)
Feb. 6….(WND) According to a senior Egyptian security official speaking to WND, Iran offered China a deal to purchase oil at a cheaper price in exchange for vetoing a UN resolution today that called on Syrian President Bashar al-Assad to resign. Assad's regime has been facing a violent insurgency. The Syrian president's security forces were accused of a massacre today shelling the insurgent stronghold of Homs, reportedly the bloodiest single day in the 11-month uprising. Russia and China torpedoed today's resolution at the UN Security Council that endorsed an Arab League plan for Assad to hand power to a deputy to make way for a transition towards democracy.
Reuters reported that Russia complained the draft resolution was an improper and biased attempt at "regime change" in Syria, which is Moscow's sole major Middle East ally, an important buyer of Russian arms exports and host to a Russian naval base. Indeed, last month WND reported Russian military experts were inside Syria helping Assad's regime face down the protests, including advising Syrian forces on how to quell rioting in Damascus and around the presidential compound. presidential compound. WND also reported in December that Russian military technicians were in Syria to inspect the country's missile and army installations amid Syrian fears a Turkish-backed NATO military campaign may try to target the Assad regime.
Meanwhile, President Obama today decried the "relentless brutality" of Assad's regime, calling the reported killing of 200 people in Homs by government shelling an "unspeakable assault," while urging Assad to step down. Lost in much of the media reporting on events in Homs is Syria's claim that eight of its security forces were killed as well as many so-called terrorists, who Syria says provoked the attack. Syria further disputes the claim that over 200 civilians were killed.
A Syrian official told WND an "armed terrorist group" first attacked a security post in Palmyra, in the Homs countryside. The Syrian official also accused the purported terrorist group of targeting civilians, saying Syrian forces found and dismantled several explosive devices placed in civilian locations in and near Homs. This tactic was actually confirmed by a leaked Arab League report, posted by the Anonymous group, which says Arab League monitors several times witnessed an "armed entity" provoking Syrian forces and placing civilian lives in danger. The classified report states: "The Mission determined that there is an armed entity that is not mentioned in the protocol. In some zones, this armed entity reacted by attacking Syrian security forces and citizens, causing the Government to respond with further violence. In the end, innocent citizens pay the price for those actions with life and limb."
New Bible Translation Introduced Not To Offend Muslims
(New Bible yanks 'Father,' Jesus as 'Son of God')
Feb. 6….(WND) In the world of questionable and sometimes downright silly Bible translations, one would think that it couldn't get any worse. For instance, the New Oxford Annotated Bible was created in part by pro-"gay" and feminist scholars in order to set forth a more "gay" revisionist interpretation of Scripture. But now there is a major controversy developing as the latest altered Bibles are being created by organizations that most would think of as being more conservative and reasonable. At the forefront of the controversy are the Wycliffe Bible Translators, the Summer Institute of Linguistics and Frontiers, all of which are producing Bible translations that remove or modify terms which they have deemed offensive to Muslims. That's right: Muslim-friendly Bibles. Included in the controversial development is the removal of any references to God as "Father," to Jesus as the "Son" or "the Son of God." One example of such a change can be seen in an Arabic version of the Gospel of Matthew produced and promoted by Frontiers and SIL. It changes Matthew 28:19 from this: "baptizing them in the name of the Father and the Son and the Holy Spirit." to this: "cleanse them by water in the name of Allah, his Messiah and his Holy Spirit."
A large number of such Muslim-sensitive translations already are published and well-circulated in several Muslim-majority nations such as Bangladesh, Indonesia and Malaysia. According to Joshua Lingel of i2 Ministries, "Even more dramatic a change is the Arabic and Bangla (Bangladesh) translations. In Arabic, Bible translations err by translating 'Father' as 'Lord.' 'Guardian.' 'Most High' and 'God." In Bangla, 'Son of God' is mistranslated 'Messiah of God' consistent with the Quran's Isa al-Masih (Jesus the Messiah), which references the merely human Jesus."
In response to these translations, many within the evangelical missions movement as well as many former Muslim converts and indigenous Christians from countries where these translations are being used, are indignant. After numerous appeals have been rejected, a petition has been launched to call for the end to the translations. While the organizations that are promoting these translations are adamant that replacing such terms as Father, with Lord or Master, best conveys the inspired meaning of the text, many of the indigenous Christian leaders from the countries where these translations are being promoted are broadly rejecting the translations. The indigenous believers see the introduction of these American-made translations with which they so strongly disagree as a form of American cultural imperialism or colonialism.
Such translations would seem to demand that the divine author of the Bible change rather than the Muslim reader. But Jesus demanded that many of his listeners change," says one critic, explaining that instead of demanding that Muslim readers change their understanding of God, these translations seem to convey that God must accommodate the religious prejudices of Muslims. This new bible is promoting a kind of "Chrislam, a joining of Christianity with Islam."
'Israeli Attack on Iran will Prompt Pakistani Response'
(European diplomat based in Islamabad says Israeli strike would force Pakistan to support Iranian retaliation)
Feb. 6….(YNET) Is the world counting down to "D-Day"? After US Secretary of Defense Leon Panetta estimated that Israel would attack Iran by June, and Prime Minister Benjamin Netanyahu warned government officials against "Iran chatter," A European diplomat based in Pakistan said that if Israel attacks, Islamabad will have no choice but to support any Iranian retaliation. The diplomat's statement raised the specter of putting a nuclear-armed Pakistan at odds with Israel, which is widely believed to have its own significant nuclear arsenal. To some, the greatest risk of an attack was to the moribund world economy. Nick Witney, former head of the EU's European Defense Agency, said "the political and economic consequences of an Israeli attack would be catastrophic for Europe" since the likely spike in the price of oil alone "could push the entire EU, including Germany, into recession." He said this could lead to "messy defaults" by countries like Greece and Italy, and possibly cause a collapse of the already-wobbly Euro. Witney, a senior fellow at the European Council on Foreign Relations, added that "the Iranians would probably retaliate against European interests in the region, and conceivably more directly with terrorism aimed at Western countries and societies."
Meanwhile, Iran continued to raise the bar, a senior Revolutionary Guard commander on Sunday warned that the Islamic Republic will target any country where an attack against it is staged. Gen. Hossein Salami, deputy commander of the elite Revolutionary Guard, Iran's most powerful military force, did not elaborate. His comments appeared to be a warning to Iran's neighbors not to let their territory or airspace be used as a base for an attack. On Friday, Iran's supreme leader, Ayatollah Ali Khamenei, called Israel a "cancerous tumor that should be cut and will be cut," and boasted of supporting any group that will challenge the Jewish state.
---