WEEK OF APRIL 29 THROUGH MAY 5
Is The Bible Still Relevant in 2012?
May 1….(Fox News) After all the very visible fighting about public displays of religious symbols, from 10 Commandments plaques to graveyard crosses to faith-themed war memorials to holiday manger displays, you might have developed the impression that most Americans don't think the Bible matters today and they like it that way. You'd be wrong.
There is a lot of speculation about both the current role and the appropriate role of the Bible in America. But each year, American Bible Society puts the guessing aside and asks a sampling of Americans to tell us how they view and use the Bible and what they believe its role should be in America. Recently, American Bible Society released this year's results from that research in the 2012 State of the Bible report. The State of the Bible in America in 2012 can be summed up in a two words: encouraging and unsettling.
The research, commissioned by American Bible Society and conducted by Barna Research, found that the majority of Americans (69%) believe the Bible provides answers on how to live a meaningful life. But while 79% believe they are knowledgeable about the Bible, 54% were unable to correctly identify the first five books of the Bible. And approximately half of Americans surveyed didn't know the fundamental differences between the teachings of the Bible, Koran and Book of Mormon, with 46% percent saying they believe all three books teach the same spiritual truths.
While nearly half of Americans (47%) believe the Bible has too little influence in society, a far cry from the anti-faith picture often painted in culture, approximately half (46%) say they read the Bible no more than once or twice a year. What the State of the Bible report also confirmed is that the lack of engagement with the Bible among Americans isn't caused by a lack of access to it. Here in the United States, 85% of households own a Bible. Actually, most families own more than one, with a household average of 4.3 Bibles.
Looking more closely at the data, something really interesting emerges. When we examine responses to the question "Do you believe the Bible contains everything a person needs to live a meaningful life?," we find that older respondents agreed at a much higher rate than did younger respondents. While 61% of those surveyed between ages 18-27 agreed, those 47 years and older agreed at a rate of 75%.
Before you assert that older people are just naturally more traditional, remember that the older group is made up of the Woodstock generation, free-love '70s kids and the MTV generation. The data seems to say that the older you are, the more likely you are to value the Bible. Maybe it's that our own life experiences prove the value of the Bible's wisdom?
There is no doubt that the findings in The State of the Bible lead to some obvious questions. For instance…
 If Americans believe in the value of reading and applying the Bible, why don't more of us simply read it?
 If we believe that the Bible has the right amount of, or too little influence in society, why is so much negative attention given to expressions of the faith in the God of the Bible?
When survey participants were asked what frustrated them most about reading the Bible, the most oft-cited response was that they "never had enough time to read it." The busy-ness of our lives often make it difficult for us to follow through on what we say we value. Another reason I often hear from non-Bible readers is that they find the sheer size of the Bible to be overwhelming. So is the Bible really relevant in 2012? You won't know until you read it.
New Obama Slogan has Long Ties to Marxism, Socialism
FOJ Note…..Just last week the American Communist party endorsed Barack Obama for president. If I was a candidate for the presidency and the Communists publicly acclaimed me, I would have to take issue with that. I would vehemently deny any association with Communists, or even Socialism. But, as Obama is a political Socialist, don't look for him to be bothered by such support. Socialism is just a stepping stone away from outright Communism, or oligarchy control.
May 1….(Washington Times) The Obama campaign apparently didn't look backwards into history when selecting its new campaign slogan, "Forward," a word with a long and rich association with European Marxism. Many Communist and radical publications and entities throughout the 19th and 20th centuries had the name "Forward!" or its foreign cognates. Wikipedia has an entire section called "Forward (generic name of socialist publications)." "The name Forward carries a special meaning in socialist political terminology. It has been frequently used as a name for socialist, communist and other left-wing newspapers and publications," the online encyclopedia explains.
The slogan "Forward!" reflected the conviction of European Marxists and radicals that their movements reflected the march of history, which would move forward past capitalism and into socialism and communism. The Obama campaign released its new campaign slogan Monday in a 7-minute video. The title card has simply the word "Forward" with the "O" having the familiar Obama logo from 2008. It will be played at rallies this weekend that mark the Obama re-election campaign's official beginning.
There have been at least two radical-left publications named "Vorwaerts" (the German word for "Forward"). One was the daily newspaper of the Social Democratic Party of Germany whose writers included Friedrich Engels and Leon Trotsky. It still publishes as the organ of Germany's SDP, though that party has changed considerably since World War II. Another was the 1844 biweekly reader of the Communist League. Karl Marx, Engels and Mikhail Bakunin are among the names associated with that publication. East Germany named its Army soccer club ASK Vorwaerts Berlin (later FC Vorwaerts Frankfort).
Vladimir Lenin founded the publication "Vpered" (the Russian word for "forward") in 1905. Soviet propaganda film-maker Dziga Vertov made a documentary whose title is sometimes translated as "Forward, Soviet" (though also and more literally as "Stride, Soviet"). Conservative critics of the Obama administration have noted numerous ties to radicalism and socialists throughout Obama's history, from his first political campaign being launched from the living room of two former Weather Underground members, to appointing as green jobs czar Van Jones, a self-described communist.
Chaos in Syria as
Al Qaeda Seizes Control of Rebel Factions
May 1….(DEBKAfile Exclusive) Around the first anniversary of the death of al Qaeda's iconic leader Osama bin Laden at the hands of US special forces, the jihadist movement is making an operational comback in the Arab world and Africa. The suicide bombings hitting Damascus and Idlib in the last 24 hours were the work of Al Qaeda in Iraq, AQI, whose operatives have been pouring into Syria in the last two weeks, Debkafile's counter-terror sources report. Washington has not asked Iraqi premier Nouri al-Maliki to stem the outward flow, realizing he is glad to see the backs of the terrorists and waving them across the border into Syria. Our sources report from Western agencies fighting Al Qaeda that several thousand operatives have arrived in Syria to fight the Assad regime, most entering the country from the north. They come fully armed with quantities of explosives. Among them are hundreds of Saudis, Egyptians, Lebanese, Palestinians, Iraqis and Sudanese. They quickly join up with the hundreds of al Qaeda fighters from Libya present at Free Syrian Army-FSA training camps in southeast Turkey. There, they are instructed in the geography of Syrian government, army and security forces locations, led across the border and transported to their targeted locations by special guides.
Today after Norwegian Maj. Gen. Robert Hood took command of a painfully inadequate force of UN truce supervisors, al Qaeda let loose with a spate of bombings in Damascus and the northeastern flashpoint town of Idlib. In the capital, they bombed the Syrian central bank with RPG grenades, ambushed a police patrol in the town center and blew up a bomb car against a Syrian military convoy driving through the Qudsiya district. Two days earlier, a suicide bomber blew himself up at the Zain al-Abideen mosque of Damascus, killing at least 9 worshippers. These attacks were followed later Monday with three bomb blasts in Idlib at security and intelligence centers in the town, killing some 20 people, most of them security personnel. One command center was destroyed and hundreds were injured by the force of the blasts.
The Syrian ruler Bashar Assad keeps on complaining that his regime is under assault by terrorists and many of the fatalities reported are members of his army and police. But his own brutal methods against dissidents have deafened the West to these complaints and the world addresses its demands to halt the violence to him and him alone. There is nothing new about the refusal in the West to heed the fact that al Qaeda infiltrators are increasingly responsible for violence in the various parts of the Arab Revolt. In Libya too, Muammar Qaddafi warned repeatedly that his overthrow would result in al Qaeda-linked groups seizing control of the country and commandeering his vast arsenals of weapons.
In the seven months since the Qaddafi regime was destroyed, Washington, London and Paris have turned a blind eye to the impossibility of establishing a stable government in Tripoli because rebel factions and militias identified with al Qaeda, which control Libya's main towns are too busy running the biggest arms smuggling network ever seen in North Africa. Rockets, explosives and every kind of weapon is reaching al Qaeda elements and affiliates in abundant quantities across northern Africa and the Middle East, including their offshoots in Egyptian Sinai and the Gaza Strip. Groups identified with al Qaeda have seized control of large parts of Mali and directly threaten the stability of the Algerian government.
Debkafile's counter-terror and Washington sources report fears that Syria might go the same way as Libya. Syrian officers and agents who have deserted from Syrian military and security agencies have made their way to Washington to implore administration officials to abandon the US policy of non-intervention in Syria. They warn that the rebel Free Syrian Army is falling into the clutches of al Qaeda. It won't be long, they say, before these jihdist terrorists not only wreak mayhem in Syria, but turn that country into their haven and base for cross-border attacks against Turkey, Lebanon, Israel, the West Bank and Jordan.
Their pleas have not moved the Obama Administration. Our military sources note that so long as the Americans stay out of involvement in Syria, France, Turkey and Arab League nations will also stand aside, because the US alone is capable of establishing combined commands and infrastructure for coordinating an operation with multiple air support on the scale required for Syria. By opting out of action in Syria, the West and the Arab League not only give Assad free rein to continue slaughtering his people but leave the door open for Al Qaeda to move in on the various Syrian rebel movements and add the element of terror to the ongoing carnage.
American Communist Party Endorses Obama
April 30….(WND) The Communist Party USA isn't always happy with the Democrats, but in the 2012 election, its chairman says, the best bet for advancing the Party's goals is to back Barack Obama. In a report called "Defeating the Rightwing on the Road to Socialism" delivered to the CPUSA annual conference, Party Chairman Sam Webb moved to squash sentiments that disgruntled communists should jump off the Democrat ship and back a third-party candidate for president. "Some think the Democrats are as bad as the Republicans. Others go further and say that the Democrats are worse because they create popular illusions that change is possible within the two-party system," Webb said. "And finally there are advocates of running a third-party presidential candidate in this election. "I can understand these sentiments, but only up to a point," he said. "Like it or not, millions go to the polls in spite of their misgivings, and the Democratic Party is the vehicle of reform for tens of millions, the majority of whom are working and oppressed people." Therefore, Webb said, communists need to join other left-leaning allies in ensuring Republicans are defeated in November.
Saudi Arabia Recalls Ambassador to Cairo, Closes Embassy in Egypt
April 30….(Ha Aretz) Saudi Arabia said on Saturday it had recalled its ambassador from Egypt "for consultations" and closed its embassy and consulates in the country for security reasons after protests against the kingdom's arrest of an Egyptian lawyer. It was the first public rupture between the two major Arab states since last year's popular uprising in Egypt that forced Hosni Mubarak, a close ally of Riyadh, from power. The head of Egypt's ruling military council, Field Marshal Mohammed Hussein Tantawi, said in a statement reported by Egypt's state media he was working to "heal the rift" with Saudi Arabia and had contacted Riyadh over its "surprise decision".
Demonstrations outside the Saudi embassy in Cairo had grown in recent days over the arrest of Ahmed el-Gezawi upon his arrival at Jeddah airport on April 17. Saudi Arabia's official SPA news agency quoted an unidentified source as saying the protests were unjustified and that attempts had been made to storm the embassy, threatening the safety of its employees. On Friday around 1,000 protesters demonstrated outside the mission, demanding the release of Gezawi and other Egyptians held in Saudi jails, witnesses said. Egypt's foreign ministry bemoaned "irresponsible actions" by protesters at the embassy and said they were at odds with "deeply rooted Egyptian-Saudi ties".
Activists in Cairo, including Gezawi's wife, said early in the week that the lawyer was detained when he arrived for pilgrimage after being sentenced in absentia to a year in prison and 20 lashes for insulting King Abdullah. The Saudi embassy on Tuesday denied that version of events and said he had been arrested for possession of more than 21,000 pills of the anxiety drug Xanax, which is banned in Saudi Arabia.
Iran Threatens American East Coast
(Iranian Navy capable of deploying vessels near US shores, senior commander says; another official says Tehran has ability to disable American aircraft carriers)
April 30….(YNET) Iran's Navy has the ability to deploy its vessels three miles off the US east coast, a high-ranking Iranian Navy commander was quoted as saying by the Fars news agency. "Our naval forces are so powerful that we have a presence in all the waters of the world and, if needed, we can move to within three miles of New York," Revolutionary Guards Navy Commander Rear Admiral Ali Fadavi was quoted as saying during a speech to students at the University of Yazd earlier this week. The Iranian admiral was speaking on the anniversary the failed 1980 US attempt to rescue American hostages held captive in the US embassy in Tehran. Fadavi said dominance in the Persian Gulf is "the only tool for the Americans to rule the world," charging that this prompts the US to "confront any other power that threatens their status." Meanwhile, Revolutionary Guards Aerospace Commander Brigadier General Amir Ali Hajizadeh said Iran was capable of crippling or disabling any US aircraft carriers.
France: UN Should Prepare Military Option in Syria
April 30….(Times In Israel) France wants the UN Security Council to consider allowing military action in Syria if an international peace plan fails to stop the violence under Bashar Assad's regime, the French foreign minister said Wednesday. Alain Juppe's comments signaled that Paris is increasingly lining up behind a US position laid out by Secretary of State Hillary Rodham Clinton last week. But the prospect of the Security Council backing military action in Syria is remote because veto-wielding members Russia and China are unlikely to go along.
The Syrian government's crackdown on a popular uprising is estimated to have killed more than 9,000 people over the past 13 months. The French foreign minister demanded that 300 UN observers authorized to go to Syria be deployed within 15 days and said France has all but set a May 5 deadline for Damascus to comply with special envoy Kofi Annan's peace plan. Annan's scheduled May 5 report on the state of a cease-fire called for under his six-point peace plan will be "a moment of truth: Either this mediation is working, or it isn't," Juppe said. "We cannot allow ourselves to be defied by the current regime," he added, insisting that Assad's government has not held to the Annan plan. Juppe said France has been discussing with other world powers the prospect of invoking Chapter 7 of the UN charter, which allows for action that could be militarily enforceable.
During Paris talks last week by key members of the so-called "Friends of Syria" group, Clinton also mentioned a Chapter 7 resolution despite concern that it would be vetoed by Russia and China. Russia, in particular, has largely defended its longtime ally Syria against the threat of UN sanctions.
WEEK OF APRIL 22 THROUGH APRIL 28
Explosions Rock Damascus
April 28….(CNN) A suicide bombing in a Damascus neighborhood killed nine people Friday, most of them government forces, and further unraveled an already tenuous ceasefire, Syrian state media reported. The attack, in the district of Midan, was described by the state-run news agency as a "terrorist bombing." The opposition Syrian Observatory for Human Rights put the death toll from the suicide bombing at 10, and reported that most of the victims were regime forces. ITN Reporter Bill Neely arrived at the scene moments after the blast erupted under a highway overpass. Dozens of riot police and troops had been huddled there, prepared to confront any demonstrators as they emerged from a nearby mosque to protest against the government. Such demonstrations are common after Friday prayers. Neely, who is one of the few Western journalists allowed by the government to report from Syria, said one young man walked up to the security forces; when he was asked for his identification, the man reached into his jacket and detonated a suicide vest. Body parts and tattered pieces of uniforms strewn nearby testified to the power of the blast, which wounded more than 20 people, many of them seriously, he said. Many of the security forces who witnessed the event appeared shell-shocked, Neely said. Damascus has been largely spared such attacks, and the repercussions appeared psychological as well as physical.
President Obama Vetoes Ban on Financial Aid to the Palestinian Authority
(Obama says aid is "important to the security interests of the United States)
April 28….(Times of Israel) The US Congress froze a $192 million aid package to the Palestinian Authority after its president, Mahmoud Abbas, defied US pressure and sought to attain UN endorsement of Palestinian statehood last September. The presidential waiver means that aid can now be delivered. The unilateral statehood gambit was strongly opposed by Israel, which said Abbas was seeking to avoid negotiating the necessary compromises and modalities of statehood with Israel. The US indicated it would veto a resolution in the Security Council seeking unilateral recognition of "Palestine," but the issue has not come to a vote, because the Palestinians were unable to obtain sufficient support in the Security Council. They may yet seek a non-binding endorsement of statehood in the UN General Assembly.
Section 3 of Congress's Palestinian Accountability Act, which applies to 2012, stipulates that "no funds available to any United States Government department or agency, may be obligated or expended with respect to providing funds to the Palestinian Authority." Obama has now signed a waiver, however, the White House said Friday, and asked Secretary of State Hillary Clinton to inform Congress accordingly. The AFP news agency quoted White House spokesman Tommy Vietor as saying the $192 million aid package would be devoted to "ensuring the continued viability of the moderate PA government under the leadership of Palestinian Authority President Mahmoud Abbas and Prime Minister Salam Fayyad." Vietor added that the PA had fulfilled its major obligations, such as recognizing Israel's right to exist, renouncing violence and accepting the Road Map for Peace. Earlier in April, the Middle East peacemaking "Quartet" expressed concern about the "increasing fragility" of the Palestinian Authority, which requires $1.1 billion in financial aid.
Anti-Bullying Speaker Curses (Bullies) Christian Teens
April 28….(Fox News) As many as 100 high school students walked out of a national journalism conference after an anti-bullying speaker began cursing, attacked the Bible and reportedly called those who refused to listen to his rant "pansy asses." The speaker was Dan Savage, founder of the "It Gets Better" project, an anti-bullying campaign that has reached more than 40 million viewers with major contributors ranging from President Obama to Hollywood stars. Savage also writes a sex advice column called "Savage Love." Savage, and his male husband, were also guests at the White House for President Obama's 2011 LGBT Pride Month reception. He was also invited to a White House anti-bullying conference. Savage was supposed to be delivering a speech about anti-bullying at the National High School Journalism Conference sponsored by the Journalism Education Association and the National Scholastic Press Association. But Savage turned the event into an episode of Christian-bashing, and Bible trashing.
US Deploys F-22s to Base Near Iran
April 28….(Fox News) The US military has deployed several F-22s, the nation's most advanced fighter jets, to an allied base less than 200 miles from Iran. The Air Force strongly denies this deployment is meant as a show of force against Iran or that it is in some way related to a potential strike on Iran's nuclear facilities. Rather, it says this is all part of a routine deployment and "security cooperation with regional partners." The Air Force won't say how many jets were sent or exactly where they are stationed, but privately, US officials have told Fox News the jets are in hangars at the United Arab Emirates' Al Dafra Air Base, a fact first reported by Aviation Week.
The F-22 has not yet seen combat. The jets were not used in Iraq, Afghanistan or Libya. They are stealth, and they specialize in air-to-air combat, but can also strike air-to-ground if needed. As one Air Force official put it, "this is America's premier fighter jet. It has no rival." The next round for Iran nuclear negotiations, which many consider to be the country's last diplomatic opportunity, takes place on May 23 in Baghdad. "The United States Air Force has deployed F-22s to Southwest Asia. Such deployments strengthen military-to-military relationships, promote sovereign and regional security, improve combined tactical air operations, and enhance interoperability of forces, equipment and procedures," Lt.Col. John Dorrian, Air Force public affairs, said in a written statement.
United Methodists to Debate Allowing Gay Clergy and Same-Sex Marriage
(John Wesley must be turning over in his grave)
April 27….(Religion News) As nearly 1,000 delegates from across the world gather in Tampa, Fla., for the United Methodist Church's General Conference, gay and lesbian activists have printed pamphlets promoting their cause in five languages, including Portuguese and Swahili. The UMC's global reach, stretching from the Philippines to Philadelphia, compels the multilingual lobbying. Nearly 40 percent of the delegates, who meet through May 4, live outside the United States, according to church leaders. "We see it as a challenge to deal with the cultural differences," said Bishop Rosemarie Wenner of Germany, who will be installed in Tampa as president of the UMC's Council of Bishops. "But we also see it as a gift."
Convened every four years, General Conference legislates decisions on everything from pensions to prayer books. But few debates garner as much attention and acrimony as the role of gays and lesbians in the UMC. The homosexuality debate dates to 1972, when a phrase calling homosexual activity "incompatible with Christian teaching" was added to the Book of Discipline, which contains the denomination's laws and doctrines. The UMC also bans noncelibate gay clergy and same-sex marriage. The UMC's long and painful membership decline in the U.S. looms over the debate, as church leaders search for ways to reverse the decades-long drop.
Gay rights activists argue that the UMC must become more inclusive to attract young Americans who view the sexuality prohibitions as hypocritical. Conservatives counter that only churches that hold fast to traditional doctrines are growing.
United Methodists who support gay rights have proposed about 100 resolutions this year that would lift the bans and excise the "incompatible" phrase from the Book of Discipline. Leading up to General Conference, they argued that momentum is on their side.
For example, last year a UMC court barely punished a Wisconsin minister who sanctioned a same-sex marriage; more than 1,200 retired and active UMC clergy have pledged to perform gay marriages; surveys show young Christians generally support gay rights; and other mainline Protestants -- including Episcopalians, Lutherans and Presbyterians -- have adopted gay-friendly policies in recent years.
Conservatives counter that all of those churches have subsequently split, with traditionalist congregations packing up and starting new denominations.
Gay and lesbian Methodists acknowledge that their church's complexity presents unique challenges. For example, their General Conference includes delegates from states where gay marriage is legal, but also from countries like Liberia, where "voluntary sodomy" is a crime.
"Our structure is different, so that has impacted how we move on these concerns," said Ann Craig, a United Methodist and gay activist who witnessed votes by the Evangelical Lutheran Church in America and Presbyterian Church (USA) to allow partnered gay clergy.
"We're going to move together when we move," Craig said of her own UMC.
But others argue that trends favor traditionalists.
For example, the UMC's membership in the United States has fallen to 7.8 million, while it has grown to 4.4 million abroad, mainly in Africa and the Philippines, where homosexuality is denounced. As those numbers shift, so does the balance of power, since delegates to General Conference -- the only church body that can change the homosexuality bans -- are apportioned based on membership.
Compared to the 2008 General Conference, this year there are 100 fewer delegates from the U.S. and 100 more from abroad, according to Mark Tooley, a United Methodist and president of the conservative Institute on Religion & Democracy. "With that lineup, a major shift would be unlikely," said Tooley.
In addition, UMC growth is stronger in the Bible Belt than in the relatively liberal West and Northeast, said Russell Richey, co-author of a two-volume history of Methodism in the United States and former dean of the Candler School of Theology at Emory University in Atlanta.
Some United Methodists argue that policy should be set by regional conferences and reflect local mores.
For example, pastors who live where gay marriage is legal should be permitted to wed same-sex couples in their congregations, said the Rev. Dean Snyder, senior pastor of Washington's Foundry United Methodist Church.
Foundry proposed a resolution that would allow churches in six states and the District of Columbia to celebrate same-sex marriage, and sent 50 volunteers to Tampa to lobby for it. Snyder said his church has celebrated about 10 same-sex weddings since 2010, when DC legalized gay marriage. That admission could place the longtime pastor's career in jeopardy if UMC policy is not changed at General Conference.
Is America Embracing the 10 Tenets of the Communist Manifesto?
April 26….(Infowars) Karl Marx and Friedrich Engels, the purported founders of communism, established in the 19th century a government paradigm that transformed Europe and other regions in the eastern hemisphere, adding to an already expansive repertoire of political ideologies. And the seemingly farfetched assertion that communism could someday take control of America seems, quite simply, unfathomable. But is it really that improbable, or furthermore, has it already ensnared certain sectors of society?
Writing for The Blaze, Tiffany Gabbay recently produced a thoughtful exposé entitled "Are We Headed Toward the Constitution or the Communist Manifesto?" that breaks down the 10 tenets of Marx and Engels' infamous 1848 publication and describes how those 10 steps or "planks" to establish communism are slowly being woven into American society. In prefacing her piece, which was published on Saturday, Gabbay quotes the British philosopher Anthony Flew, who exploited Marx's blatant disregard for the truth: … the first and only volume of Das Kapital to be published in the lifetime of Marx was, in his own words, to demonstrate that "In proportion as capital accumulates, the lot of the labourer must grow worse. Accumulation of wealth at one pole is at the same time accumulation of misery, agony of toil, slavery, ignorance, brutality, mental degradation at the opposite pole." But by 1867, when that volume was first published, Marx had known for 15 or more years that this thesis was false.
In describing how the Communist Manifesto''s key tenets stack up against the US Constitution, and society as a whole, Gabbay's argument should provoke alarm, as the republic founded centuries ago, which was built on the concept of freedom and justice, has been tainted with characteristics of an illegal and despotic political structure. The first ideal under the microscope is the abolition of private property, and while the complete confiscation of private assets is not fully developed here in the United States, such freedom is enjoyed not in its entirety. Eminent domain, for example, has arguably violated the Fifth Amendment to the Constitution, which prevents the government from confiscating private property "for public use, without just compensation."
Now, what the government determines to be "fair and just" is often arbitrary, and regardless of the dollar amount agreed upon, the citizen's property is still confiscated with or without the owner's blessing. Moreover, politicians stretch what is acceptable under the Constitution's "public good" charge, as they often acquire land or property through eminent domain to launch public works projects designed to "improve communities," by building such things as freeways, schools, libraries, and public utilities. And following the Supreme Court's decision in Kelo v. City of New London, the use of eminent domain greatly expanded in scope to include reforming "depressed areas," meaning, a private citizen's home could be seized by government bureaucrats to construct shopping malls and sports complexes on their land.
Another tenet included in the Communist Manifesto advocates a highly progressive income tax. This ideal is an archetype of class warfare, as Marx and Engels believed the upper echelon of society must have their wealth redistributed to establish so-called "social equality." This progressive tax structure is evident in President Obama's "Buffett Rule" tax plan, which would set a minimum tax rate of 30 percent on the nation's highest earners. And the consequences of not adhering to the US government's progressive tax code are draconian, including imprisonment, the freezing of bank accounts, and the confiscation of personal property.
The third tenet under the Communist Manifesto deals with abolishing the rights of inheritance, such as the estate tax, more commonly known as the "death tax." The abolition of inheritance was evident in Marx's ideology, as he strove to eliminate all physical property upon a person's death, which in a subtler form, has woven itself into the US political system. Ms. Gabbay explains how the estate tax is not only unconstitutional, but it delivers the IRS another arbitrary stream of income for it to disperse at its own discretion:
First, many argue the estate tax is unconstitutional because it creates a direct tax that is not disbursed to the states for collection. But the more obvious discrepancy is that it allows the government to tax individuals twice, as the items that find their way into one's estate, be they a car, house, land, jewelry or other valuable possessions, have already been subject to either sales or property tax once before. The Federal government's carte blanche to double-dip is spurred further by Democrats' renewed push to resurrect and expand what the Wall Street Journal dubs President Obama's "night of living death tax."
Another unconstitutional, and communistic-inspired entity, is the Federal Reserve, America's national bank which exerts unprecedented power to set monetary policy with the intent of "stabilizing" the economy. All in all, the impact central bankers have had on the US economy has been devastating, by, for instance, devaluing the dollar and spiking inflation rates by printing more and more money. "One of the fundamental problems with the US economy right now is the Federal Reserve thinks the answer to all our economic problems is printing money," asserted Stephen Moore of the Wall Street Journal. "We haven't created new jobs from all of this printing of money, but what we have produced is inflation in prices." (The actual definition of inflation is an increase in the amount of currency in circulation, which in turn causes an increase in prices.)
One of the more widely perceived tenets of the Communist Manifesto is its stance on the "equality of labor," which often take the form of labor unions and their intimate relations with government. While unions themselves are not nationalized organizations, many develop a strong bond with government leaders, resulting in favoritism in the area of labor policy. Another example of labor control comes from the Labor Department's policies in the area of Affirmative Action, which forces private businesses to adhere to a staff-quota consisting of minorities, women, and people with disabilities. This mandate imposes a blatant confiscation of individual rights, as it ties the hands of business owners who desire to hire employees based on merit, not on the color of their skin or other characteristics.
Nationalized education, which is glaringly evident in the United States, is also a tenet of the Marx-Engels communist ideology. In America's K-12 education system, despotic bureaucrats have largely seized the parents' rights to choose their school districts, they have imposed certain religious teachings on children, and have decided what can and cannot be consumed during lunch break.
Among the remaining tenets propagated in the Communist Manifesto, government ownership of factories, combination of agriculture with manufacturing industries, centralized control of transportation and communication, and the confiscation of the property of all emigrants and rebels, Gabbay points to nationalized healthcare, the unspoken 11th plank of the Marx-Engels brand of communism.
If President Obama's landmark healthcare overhaul makes it past the Supreme Court, a blatantly unconstitutional precedent will be set that grants the US government a supreme and tyrannical authority over citizens' health and well-being. Gabbay sums up her article by countering the inevitable charge, that all those who claim America is embracing communism are fanatical:
Some balk at the use of the word "Communism," dismissing its invocation as hyperbole. Yet when dissecting actual policies, laws, regulations and bureaucratic government approaches which Americans are increasingly subjected to, and weighing them against the 10 progressive "rules to live by," the facts scream loudly and clearly in the face of those who deny the ever-creeping onset of Socialism. Marx's Communist "utopia" is only one evolutionary stage away from reality.
Israel at 64: Population of 7,881,000
(Israel's population grew by 161,000 people since last year's Independence Day, approaches 8 million mark)
April 25….(YNET) Israel's population numbered 7,881,000 people on the eve of its 64th anniversary, data released by the Central Bureau of Statistics indicate. In comparison, on the eve of its establishment, the State of Israel consisted of only 806,000 residents. New data published by the CBS, indicate that nearly 5,931,000 of the population are Jewish (75.3%). The Arab population stands at 1,623,000 (20.6%) and the remaining 4.1% are immigrants and t042512aheir children, who are not listed as Jewish by the Interior Ministry. They comprise 327,000 residents. Since last year's Independence Day, 161,000 babies have been born in Israel, and 39,000 people have died. Approximately 19,000 immigrants arrived in the country, while nearly 8,000 chose to leave Israel. Another 4,500 people joined the general population as a result of family reunifications. In total, Israel's population grew by 137, 500, a 1.8% increase. The data also suggest that more than 70% of the Jewish population are native-born Israelis, and more than half of them are at least second generation Israelis. In contrast, only 35% of the population were native-born in 1948.
| | |
| --- | --- |
| | (FOJ) Prime Minister Binyamin Netanyahu quoted a passage from the Prophet Isaiah, "be comforted, be comforted, my people" in a message for Remembrance Day for the IDF's Fallen Soldiers and Victims of Terror. Take comfort in the building of the land, take comfort in the building of Zion, and may you know no more pain." |
FOJ Note: Israelis today began the painful process of remembering the 22,993 soldiers and civilians who have fallen in war and terrorist attacks since the Jewish state's rebirth 64 years ago. Sirens marked the beginning of this year's Remembrance Day events and was followed by a memorial service at the Western Wall.
Obama Bids to Defuse Egyptian-Israeli Tensions
(Egyptian Islamists intentionally stirring up strife)
April 25….(DEBKAfile Special Report) Yesterday the Obama administration stepped in to damp down the military frictions developing between Jerusalem and Cairo, which were fanned further this week by a dispute over the suspension of Egyptian gas to Israel. Earlier that day, the Chairman of Egypt's Supreme Military Council, SCAF, Field Marshal Muhammad Tantawi said: "If anyone comes near Egypt's border, we will break their leg." Egypt's Second Army chief, Gen. Muhammad Higazi added: "Aggressors should reconsider before thinking of attacking any part of Egyptian territory." Their remarks, delivered during a live fire exercise, Nasr 7, conducted by the Second Egyptian Army in Sinai, were clearly addressed to Israel and the IDF. In Washington, Debkafile's sources report that President Barack Obama, Defense Secretary Leon Panetta and Secretary of State Hillary Clinton were warned by their military and intelligence analysts that a military clash between Egypt and Israel was hovering on the brink. There were two potential triggers: The gas issue which suddenly surfaced this week and advance warnings that Sinai Bedouin, Palestinian extremists, some from Gaza, and al Qaeda gangs were plotting terrorist attacks against Israel. Their object: to whip up a storm to blow up the 1979 Egyptian-Israel peace accords.
This almost happened on 2 weeks ago, after a Palestinian Popular Resistance Committees gang fired two Grad missiles at Eilat from Sinai. The IDF was about to send a small special force across into Sinai for the first time since the peace pacts were signed 33 years ago to waylay the missile team as it headed back to the Gaza Strip. But Netanyahu and Barak vetoed the incursion. Wednesday, the US bid to temper tension was abruptly overturned. Section 8 of the peace accords strictly bind Egypt to maintain and honor the war memorials for the Israelis who fell in battle in Sinai. On Israel's Memorial Day for fallen soldiers on the eve of its 64th independence day, Egyptian Islamists and Bedouin groups announced they would advance en masse on the Israeli memorials, erase the Israeli names of Israeli soldiers and fill in the names of Egyptian fallen men. They are counting on Egyptian military and security forces, which have pretty much lost control of the situation there, failing to guard the Israeli sites and hope by their deep affront to Israel to plunge relations into deep crisis.
Today, Prime Minister Benjamin Netanyahu said in a radio interview ahead of Independence Day that the Sinai had degenerated into a Wild West land rife with Iranian-aided gangs who smuggled arms and attacked Israel. He expressed hope that the next Egyptian president, whomsoever is elected, will opt for upholding the peace pact with Israel because it is in the interests of both countries. The strains between Cairo and Jerusalem were further exacerbated this week by the misreporting by Israel media of a dispute concerning the flow of Egyptian gas to Israel. It was falsely presented as affecting the peace accords, when in fact the flow was suspended over a court case airing in Egypt between conflicting business interests and repeated sabotaqe.
As the political rhetoric heated up in both Cairo and Jerusalem, a dose of balm was administered from Washington in both capitals. The Egyptian ambassador in Tel Aviv formally stated that the disagreement was commercial, certainly not political. And the defense ministry's diplomatic coordinator Amos Gilad was dispatched to Cairo to persuade Egypt's intelligence chief Murad Mowafi to join forces for calming the upset.
Netanyahu: Egypt's Sinai Turning into a 'Wild West'
April 25….(Jerusalem Post) Egypt's Sinai Peninsula has turned into a "kind of Wild West," which terrorist organizations use to smuggle weapons with Iranian assistance and initiate attacks on Israel, Prime Minister Binyamin Netanyahu told Israel Radio on Tuesday. The open desert border between Israel and Egypt has been relatively quiet since the 1979 peace treaty. But various Israeli officials have said that since the fall of former Egyptian president Hosni Mubarak, Cairo lost control of the desolate Sinai, exacerbating tensions. Earlier this month, Jerusalem said a rocket that hit Eilat was fired from Sinai. Last August, cross-border infiltrators shot dead eight Israelis. "We are acting against this reality and we are in. continuous discussions with the Egyptian government, which is also troubled by this," said Netanyahu.
Iran denies supporting terrorist attacks on Israel from the Sinai. Foreign Minister Avigdor Liberman said Sunday that the situation in Sinai was more worrying than what was happening in Iran, and called for a significant boost to troop numbers along the southern border. In an apparent response Monday, Egypt's interim military ruler, Field Marshal Mohamed Hussein Tantawi, cautioned against any interference along the long desert frontier. "Our borders, especially the northeast ones, are inflamed. We do not attack neighboring countries but will defend our territory," Egypt's state news agency MENA quoted him as saying. "We will break the legs of anyone trying to attack us or who come near the borders."
Egypt cuts off gas supply to Israel
April 24….(Israel Today) Egypt on Sunday unilaterally decided to terminate its supply of natural gas to Israel, despite having signed a long-term agreement, and in possibly violation of the peace treaty between the two nations. Egyptian authorities called the move purely "commercial," claiming that Israel had failed to pay its bills. Israeli authorities countered that during 2011 Egypt had supplied only 25 percent of the contracted natural gas due to its inability or unwillingness to protect the gas pipeline from repeated sabotage.
The pipeline, which runs through the Sinai Peninsula, has been blown up 14 times over the past year, resulting in disruptions in gas supplies to Israelis and rising domestic gas rates. Israeli Prime Minister Benjamin Netanyahu and Foreign Minister Avigdor Lieberman tried to prevent a diplomatic crisis by backing up the Egyptian assertion that the halted gas flow was not political in nature, and stating that the issue was now in arbitration. Still, the timing was highly suspect, and many Israelis leaders were not buying the official line.
This new Egyptian provocation is "very worrying," said Israeli Finance Minister Yuval Steinitz, while opposition leader Shaul Mofaz labeled it "a flagrant breach of the 1979 peace treaty." Mofaz said that as the guarantor of the Camp David Accords, the US should get involved in the new dispute over the gas supply. The Camp David Accords obligate Egypt to allow Israel to bid on its surplus oil and natural gas resources. The 2005 natural gas deal penned between the two nations was seen as part of that understanding.
Knesset Member and former defense minister Binyamin Ben-Eliezer played a leading role in the Israel-Egypt gas deal. He told Army Radio that the unilateral and hostile nature of the Egyptian move is "very serious. The existence of the pipeline supported the peace treaty." Many fear that is precisely why Egypt's new rulers cancelled the gas deal. In fact, Egyptian presidential hopeful Abdel Moneim Aboul Fotouh bolstered that assessment on Sunday when he reacted to the cancelled gas deal by stating, "The Egyptian people do not want to export gas to Israel and the president must act according to their wishes."
Israeli Energy Minister Uzi Landau also disputed the notion that the halted gas supply had no political connotations. "At the end of the day it is not just a commercial deal between companies, it is an important deal between two countries," Landau told Army Radio. "Something like this can't happen without the knowledge of the Egyptian authorities." Landau said he was not surprised by the Egyptian move, and that his ministry had already been preparing for the day that Egyptian gas would stop flowing to Israel. "Israel is working to establish its energy independence and rapidly develop Israeli supply sources," Landau said. In related news, the Israeli and international developers of the Tamar natural gas field off Israel's Mediterranean coast announced on Sunday that they had secured $900 million in funding. With the financial backing they need, company officials estimated that the Tamar field will go operational by the middle of next year and become Israel's primary source of natural gas.
EU Ministers Ponder Creation of EU Super-President
April 24….(EU Observer) Ideas kicking around in a reflection group of select EU foreign ministers include merging the roles of the EU Council and European Commission presidents. A senior EU source told this website following a meeting of the club in the Val Duchesse stately home in Brussels on Thursday that the new Supremo would have more power than either Herman Van Rompuy or Jose Manuel Barroso do today but also more "democratic legitimacy" because he or she would be elected by MEPs. In other reforms, the new figure would "streamline" the European Commission into a two-tier structure. Every EU country would still have its own commissioner with their own vote in the college of 27 top officials. But as in some national set-ups, some commissioners would have more than one dossier while others would be the equivalent of ministers without portfolio. The new super-president would also chair General Affairs Councils (GACs) monthly meetings of foreign ministers which discuss internal Union affairs.
The EU Council President post was created by the Lisbon Treaty in 2009. But the Lisbon architecture is messy, with Van Rompuy, for instance, overseeing recent debate on EU fiscal reform, while Barroso's commission puts forward its own ideas and implements final decisions. Van Rompuy and Barroso also represent the Union at international summits. But Van Rompuy is top dog in terms of protocol, while another post-Lisbon creature, the EU "high representative," a job currently filled by Catherine Ashton, does day-to-day foreign relations. Meanwhile, the GAC, an increasingly important policy-making body, is still chaired by a national minister from the rotating EU presidency. "I have heard experts who say that the Van-Rompuy-Barroso merger could be done without changing the Lisbon Treaty, there is no appetite for a new Treaty," the EU source said.
The reflection group was formed by German foreign minister Guido Westerwelle in Berlin in March. It plans to meet two more times before the summer recess and to circulate a discussion paper at EU27-level in September. The other countries in the club are: Austria, Belgium, Denmark, France, Italy, Luxembourg, the Netherlands, Poland, Portugal and Spain.
Russian Warships Arrive in China for Joint Drills
April 23…(Novosti) A Russian naval task group arrived at the eastern Chinese port city of Qingdao on Saturday for joint exercises with the Chinese navy, a captain said. A Russian naval task group arrived at the eastern Chinese port city of Qingdao on Saturday for joint exercises with the Chinese navy, a captain said. "Each vessel was welcomed individually," Captain Roman Martov told RIA Novosti. The naval squadron, including the Varyag missile cruiser, three Udaloy class destroyers and three fleet support ships, will join 16 Chinese surface ships for drills in the Yellow Sea between Aril 22 and 27. "The exercises will involve several simulated missions, including the rescue of a hijacked ship, the escort of a commercial vessel, and the defense a convoy from air and sea attacks," a Russian defense ministry spokesman said on Friday. Chinese army chief Gen Chen Bingde has said the drills will promote "strategic coordination" and "mutual trust" between the two nations, Xinhua news agency reported. Russia and China have held a number of joint military exercises since 2005 within the framework of the Shanghai Cooperation Organization, which also includes the Central Asian countries of Kazakhstan, Kyrgyzstan, Tajikistan and Uzbekistan.
For Israel, Egypt More Dangerous than Iran
April 23….(Israel Today) Following the recent disqualification of Egypt's first batch of presidential hopefuls, the Muslim Brotherhood on Sunday announced its new candidate, while Israel's foreign minister warned that Egypt is quickly becoming a bigger threat to Israel than even Iran.
Last week, Egypt's Presidential Elections Commission barred on technicalities the three frontrunners for presidency, including the Muslim Brotherhood's Khairat al-Shater. Both Jerusalem and Washington were concerned that al-Shater would become Egypt's president, considering his hardline politics. But his replacement might not be any better. The Muslim Brotherhood's new presidential candidate is Mohammed Mursi, who told a press conference on Saturday that if elected his government's top priority will be strong-arming Israel into accepting Palestinian land demands. When asked if he would honor Egypt's peace treaty with Israel, Mursi vaguely responded that he would abide by all international agreements, but would not be coerced by "externally-dictated policies."
While the Muslim Brotherhood already controls Egypt's parliament, Mursi faces a stiff challenge from former Arab League Secretary-General Amr Moussa for the presidency. But Moussa, too, is likely to be openly hostile toward Israel. While touring southern Egypt on Saturday, Moussa told reporters that if elected, he will work to make the Middle East a nuclear weapons-free zone, starting with Israel. He had previously stated that Egypt's peace treaty with Israel needs to be revised.
Before being disqualified from the presidential race, former intelligence chief Omar Suleiman reportedly told an Egyptian newspaper that Muslim Brotherhood control of the presidency would lead to war with Israel. "I fear that incorrect judgments will push us into confrontations with Israel. The Sinai may become an area from which rockets are fired into Israel and the parties may be drawn into war," Suleiman was quoted as saying by Israel's Army Radio.
Earlier this month, the director of Policy and Political-Military Affairs at Israel's Defense Ministry, Maj.-Gen. Amos Gilad, said that while the Palestinian, Iranian and Syrian threats are subdued at the moment, Israel's military remains wary of the direction in which Egypt is heading. "The leaders of the Muslim Brotherhood keep declaring, 'We are committed to this peace.' I am not so sure," Gilad told a gathering at the Jerusalem Center for Public Affairs. He estimates that the Muslim Brotherhood is still engaged in an international charm offensive, but that after coming to power, the group's true Islamist agenda will take over. Gilad noted that as Islamists, the Muslim Brotherhood ultimately sees the Israel as an Islamic "Waqf," a "holy trust" that must be returned one way or another to Muslim control. While Gilad tried to maintain a diplomatic tone, Israel's outspoken Foreign Minister, Avigdor Lieberman, was pulling no punches in a recent discussion with Prime Minister Benjamin Netanyahu, during which Lieberman labeled Egypt a great threat than even Iran's defiant nuclear program. "The Egyptian situation is much more disturbring," Lieberman was quoted as saying by the Israeli newspaper Maariv. According to the report, Lieberman has advised significantly bolstering Israel's southern defenses ahead of the Egyptian presidential election.
Israel Ready to Strike Iran, Lebanon, Gaza if Ordered
(Israeli armed forces chief of staff Lt. Gen. Benny Gantz has said this
year will prove critical in trying to halt an Iranian nuclear arms program)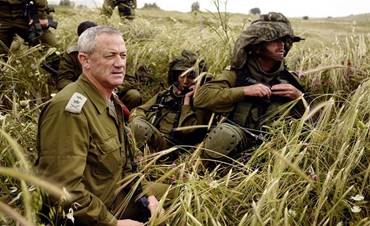 April 23….(Al Arabia) Israeli forces are carrying out more special operations beyond the country's borders and will be ready to attack Iran's nuclear sites, Gaza and Lebanon if ordered, the chief-of-staff said in an interview on Sunday.
In an extract from an interview with the top-selling Yediot Aharanot daily, Lieutenant General Benny Gantz said that 2012 would be a critical year in efforts to halt what Israel and much of the international community believe is an Iranian nuclear arms program. "We think that a nuclear Iran is a very bad thing, which the world needs to stop and which Israel needs to stop, and we are planning accordingly," Gantz said. "In principle, we are ready to act. "That does not mean that I will now order (air force chief) Ido (Nehushtan) to strike Iran," he added in the interview which will be published in full on Wednesday, on the eve of Israel's 64th anniversary as a state.
The United States says it does not believe Iran has so far taken a decision to develop a nuclear weapon, or that the time is right for military action, preferring to give international sanctions time to work. But Israel, which sees a nuclear Iran as a threat to its very existence, claims Tehran may be on the cusp of "breakout" capability, when it could quickly build a nuclear weapon, and it does not rule out staging a pre-emptive strike of its own.
During the interview, Gantz also addressed special operations carried out by the IDF beyond Israel's borders, revealing that the scope of such activities has increased significantly compared to the past. "I don't think you will find a point in time where something isn't happening somewhere in the world," he said. "The level of risk has increased as well. This is not something invented by Benny Gantz. I'm not taking the credit here. I'm simply accelerating all those special operations."
Regarding the likelihood of a war breaking out this year, Gantz said: "Our intelligence assessment asserts that given the strategic reality and instability in the region, the chance of deteriorating to a war is higher than in the past. There are no indications of war, but the chances of the situation deteriorating into one are higher than in the past.
Gantz on threats from Lebanon, Gaza
The army chief added that in case of a regional war, the military will be able to cope with the rocket threat from Lebanon and from the Gaza Strip. "I can't promise no missiles will be landing here. They will be falling; many of them. It won't be a simple war, neither on the frontlines nor ion the home front," he said. "However, I don't advice anyone to test us on this front." "When (Hezbollah leader Hassan) Nasrallah comes out of his bunker, he's concerned, and rightfully so. He saw what happened to Lebanon last time, and it won't be close to what will happen to Lebanon next time," the army chief said. "I think they understand it well."
WEEK OF APRIL 15 THROUGH APRIL 21
I Pledge Allegiance to the Flag, & the Republic For Which it Stands
April 21....(FOJ) Democracy is all the rave in the politically correct world view of the elite today. One only need witness the so-called Arab Spring of last year, and observe the charade for democracy in Egypt. It was all a pretense, for everyone knows democracy leads to majority rule, and in Egypt, majority rule means another Muslim Theocracy.
In America, the populist democracy ruse has gradually changed America from its roots in Christian Law and therefore its Republican form of government into a Socialist Democracy.
'Israeli Nuclear Bomb Deters New Holocaust'
April 19….(Jerusalem Post) A nuclear bomb in Israel's hands would deter the threat of a genocidal attack against the Jewish people, such as the one perpetrated by the German Nazi regime during the 1940s, a Knesset Channel poll revealed on Wednesday. The questionnaire, written by the Dahaf Insititute, asked respondents to relate to Israel's ambiguous nuclear arsenal, and the effectiveness of nuclear deterrence against a second Holocaust, when Jews were systematically slaughtered in German-occupied Europe along with other minorities such as Roma people, homosexuals, people with disabilities and Jehova's Witnesses. Of those questioned, 64% said they believed a nuclear bomb in Israeli hands could prevent a new Holocaust, while 29% said a nuclear weapon could not deter that threat.
Israel, who is not party to the Nuclear Non-Proliferation Treaty, is widely believed to be the Middle East's sole nuclear power, though Jerusalem neither confirms nor denies the presence of nuclear weapons in the Jewish State. While the context of the survey was grim, the poll also revealed a generally optimistic trend amongst the nation's citizens. Only a slightly smaller number of respondents than those that believed an Israeli nuclear weapon was an effective deterrent said they thought the danger of a new Holocaust against the Jewish people was no longer relevant.
The poll, which was published on the eve of the nationwide Remembrance Day for the Holocaust, showed that 60% of respondents believed there is no longer any danger of a new Holocaust, while 36% believed the danger is still pertinent. A majority of respondents said that a nuclear-armed Iran, considered by many in Israel to be the most hostile nation against the Jewish State, would threaten Israel's existence.
Netanyahu: Israel Obligated to Prevent Nuclear-Armed Iran
(At Yad Vashem ceremony marking Holocaust Remembrance Day, PM pushes back against critics saying he should not draw parallels between Iran and the Holocaust)
April 19….(Jerusalem Post) It is the world's duty to keep Iran from acquiring nuclear arms, but first and foremost it is Israel's obligation, Prime Minister Binyamin Netanyahu said on Wednesday at the state's Holocaust Remembrance Day ceremony at Yad Vashem. In a speech that dealt heavily with Iran, Netanyahu said the obligation Israel must take from the Holocaust is not only to remember the past, "but to learn the lessons and more importantly to implement those lessons to ensure the future of our people." He noted that this was especially true in this generation, when there are those calling for the destruction of the Jewish state, and when Iran is working toward obtaining the means of achieving that goal. "The truth is that an Iran armed with nuclear weapons is an existential threat to Israel's existence," Netanyahu said. "The truth is that a nuclear Iran is an immediate threat to other nations in the region, and a grave threat to the peace of the world. And the truth is that it is necessary to prevent Iran from getting nuclear arms. That is the obligation of the world, but first and foremost it is our obligation."
Netanyahu's comments came at the ceremony whose theme this year, under the banner of "My Brother's Keeper," was Jewish solidarity during the Holocaust. Hundreds of survivors attended, and six survivors who assisted other Jews during the Holocaust were honored during a torch lighting ceremony. "In one week we will raise the flags of Israel's independence which rose for the first time 64 years ago," President Shimon Peres told the crowd. "Today, it is clear that the reality we have built is the vision we once dreamed." "We used to be a question mark; today we are a strong country," he said. "Humanity has no choice but to learn from the lessons of the Holocaust and stand strong in the face of existential threats, before it is too late."
The prime minister, who came under a great deal of domestic criticism last month after delivering a speech at the AIPAC Policy Conference in Washington drawing parallels between the Iranian threat and the Holocaust, pushed back hard against those critics who said this argument both trivialized the Holocaust and sowed panic in the country. "I know there are those who don't like when I say these types of unpleasant truths," Netanyahu said. "They prefer not to talk about a nuclear Iran as an existential threat, and claim that this statement, even if it is correct, only sows fear and panic." Netanyahu said Israel dealt with existential threats, in 1948 and 1967, when the country was infinitely less strong than it is today, and that during those periods the country's leaders, first David Ben-Gurion and then Levi Eshkol, told the nation the truth about the dangers it faced. The nation did not panic, but rather united to defend itself, Netanyahu said. "I believe in the Jewish people's ability to deal with the truth, and I believe in our ability to defend ourselves against those who want to kill us."
Netanyahu charged that those who dismiss the Iranian threat as being exaggerated or not serious have not learned anything from the Holocaust. He said there were always those among the Jewish people who preferred to scorn unpleasant truths rather than face them head on. This, he added, was the way certain Jewish intellectuals dealt with revisionist leader Ze'ev Jabotinsky, ridiculing his warnings to Polish Jews in 1938 of the oncoming disaster.
To those who argue that the singular evil of the Holocaust should not be raised when talking about the present dangers and that doing so in some way cheapens the Holocaust and insults the victims, Netanyahu replied, "I completely reject that approach." On the contrary, to be deterred from speaking the truth and saying that today, like then, there are those who want to destroy millions of Jews, "that is cheapening the Holocaust, that is an insult to the memory of the victims, that is ignoring its lessons." While the Jewish people had neither a voice to stir the world to action, or an army to defend itself during the Holocaust, today the reality is different, Netanyahu said. "Today we have a state, today we have an army," he said. "We have the ability, obligation and determination to defend ourselves." Netanyahu pledged that as prime minister he would not hesitate to tell uncomfortable truths to the world, nor to his own people, which "is strong enough" to hear it.
Obama Ready to Yield on Iran's Nuclear Transparency
April 19….(DEBKA) In the direct, secret exchanges between the US and Iran which led up to the Istanbul talks with the six powers, of Saturday, April 14, President Barack Obama quietly backed off from his demand that Iran "come clean" on its nuclear activities and merely open up to international inspections. This concession paved the way for Tehran's consent to discuss his framework proposal to stop enriching uranium to 20 percent, halt work at its underground facility for higher enrichment near Qom, and export its stockpile of highly enriched uranium for final processing to 20 percent for use in medical isotopes. This would be presented as a deal for settling the nuclear controversy. The Iranians may find it worth their while to accept this framework. After all, once sanctions are lifted by the end of June, as Tehran demands, and they are freed of IAEA oversight, the Iranians can then go forward with their plans for building a nuclear weapon undisturbed and Washington can celebrate a breakthrough.
Debkafile's Washington sources report that in contrast with the downbeat mood in Israel, Washington is already celebrating its success in resolving the Iranian nuclear conundrum and averting war. Our sources have two points to make in this regard:
1. Tehran has not yet put pen to paper to approve the American proposal and agreed only to move forward in their back-door negotiations without prejudice:
2. Obama will eventually have to level with Israel, the American people and the rest of the world on his deal with Iran.
But, there is no chance of Israel's Binyamin Netanyahu going along with agreements on the lines under discussion between Washington and Iran, because they would allow Iran to develop nuclear armaments relieved of the hindrances of international oversight and sanctions. The Israeli prime minister, when addressing the state ceremony marking the annual Holocaust Remembrance Day Wednesday night, spoke at length of the mortal danger a nuclear Iran for the Jewish state. He said those who maintained Israel lacked the military capacity for dealing with the Iranian menace were wrong. "We can and will defend ourselves," he said.
Jordan King Abdullah: Two States Only Solution
(Tells EU Parliament, Israel's illegal settlements block peace)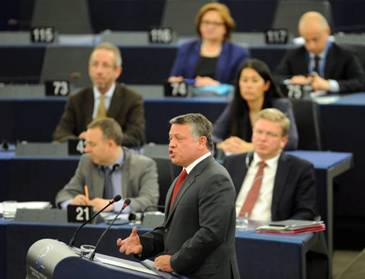 April 19….(ANSAMED) It is thus necessary that "Israel be committed" to create "Two states with equal dignities and self-determination" with "East Jerusalem as capital of Palestine." It's a solution which will guarantee safety and peace in Israel", otherwise "Israel will be far from being secure and it will take decades to restart the peace process." This was the message given by King Abdullah II of Jordan to the plenary hall in Strasbourg. A guest of the European Parliament at the end of talks with the EU, the Jordanian King was widely applauded by all and given a standing ovation.
In his speech to the parliament, Abdullah II stated that the partnership with the EU is "useful" to "keep the pressure going and hopes high." The King also said that it is the illegal settlements which are creating an obstacle to the peace process." After remembering that "ten years ago the Arab initiative took the decision to look ahead and not back to find an agreement" but since then "another generation still awaits in vain for a Palestinian nation." King Abdullah reiterated the fact that the two states solution "is supported by the whole Muslim world." "There is no time to wait" he added, warning that prolonging things will just "add frustration." Speaking to the European Parliament, the monarch then illustrated the steps made by his country towards democracy, highlighting the Constitutional reforms and the start of Parliamentary elections: "only in this way shall we be a safe haven."
Quake Expert: Earth Cracking Up
April 18….(Croatian Times) A leading earthquake scientist has warned that the planet could be cracking up after a series of massive quakes in just 48 hours. Expert Gheorghe Marmureanu, from Romania's National Institute of Earth Physics, says 39 quakes had hit the globe within two days. The series started with two massive quakes in Indonesia measuring 8.6 and 8.2 on the Richter scale rapidly followed by three more only slightly smaller in Mexico within hours. "There is no doubt that something is seriously wrong. There have been too many strong earthquakes," said Marmureanu. He added: "The quakes are a surprise that cannot be easily explained by current scientific knowledge. With the Indonesian quake for example, statistically, there should be one big earthquake in this part of Asia every 500 years. However, since 2004, there were already three quakes with a magnitude of over 8, which is not normal.
FOJ Note: I cannot remember another time in history where there were so many rumors about wars, coupled with the threats from many nations, and earthquakes occurring with so much frequency. (Luke 21:9-11 But when ye shall hear of wars and commotions, be not terrified: for these things must first come to pass; but the end is not by and by. Then said he unto them, Nation shall rise against nation, and kingdom against kingdom: And great earthquakes shall be in divers places, and famines, and pestilences; and fearful sights and great signs shall there be from heaven.)
Israeli TV Report Shows IAF Gearing up for Iran Attack: Moment of Truth is Near
('IAF expects losses, and knows it can't destroy entire Iranian program')
April 18….(Times of Israel) A major Israel TV station on Sunday night broadcast a detailed report on how Israel will go about attacking Iran's nuclear facilities in the event that diplomacy and sanctions fail and Israel decides to carry out a military strike. The report, screened on the main evening news of Channel 10, was remarkable both in terms of the access granted to the reporter, who said he had spent weeks with the pilots and other personnel he interviewed, and in the fact that his assessments on a strike were cleared by the military censor. No order to strike is likely to be given before the P5+1 talks with Iran resume in May, the reporter, Alon Ben-David, said. "But the coming summer will not only be hot but tense." In the event that negotiations fail and the order is given for Israel to carry out an attack on Iranian nuclear facilities, "dozens if not more planes" will take part in the mission: attack and escort jets, tankers for mid-air refueling, electronic warfare planes and rescue helicopters, the report said.
Ben-David said the Israel Air Force "does not have the capacity to destroy the entire Iranian program." There will be no replication of the decisive strikes on Iraq's Osirak reactor in 1981 or on Syria in 2007, he said. "The result won't be definitive." But, a pilot quoted in the report said, the IAF will have to ensure that it emerges with the necessary result, with "a short and professional" assault. Ben-David said that if negotiations break down, and Iran moves key parts of its nuclear program underground to its Qom facility, the IAF "is likely to get the order and to set out on the long journey to Iran." "Years of preparations are likely to come to realization," he said, adding that "the moment of truth is near." Ben-David interviewed several squadron leaders, pilots and other officers. He noted that some of the IAF personnel, "it is likely, will not return from the mission." An officer named Gilad said it would be "naive" to think there would be no losses.
The IAF is said to be worried about the advanced anti-aircraft systems that Russia has sold to countries in the region, the report said. Among those systems, the SA 17 and 22 in Syria and Iran present a challenge. According to the report, it's the older versions of the F-15 that can fly further than any other plane in Israel's arsenal, and this puts them on the front line of any potential attack. One pilot said in the report that the F-15 "is a plane with a very wide range of operation, a combination of relatively energy-efficient engines, and significant flightworthiness regarding weapons and fuel." The IAF has a full-sized unmanned plane, the "Eitan," that is said to be able to fly to Iran, the report indicated. "This plane can do all that is required of it when the order is given," a pilot said, without elaboration.
The attack, the report said, would presumably trigger a war in northern Israel, with missile attacks (presumably from the Iranian-proxy Hezbollah in Lebanon). "There will be no tranquility and peace anywhere in Israel," Ben-David said. This could be the first full-scale war the IAF has fought in nearly 30 years, the report stated. Pilots had already been told where their families would be moved, away from their bases, for safety, the report said.
Netanyahu Dismissive of Iran Nuclear Talks
April 16….(YNET) Prime Minister Benjamin Netanyahu voiced irritation on Sunday that the next session of nuclear talks between Iran and six world powers would be held in more than a month's time. "My initial impression is that Iran has been given a freebie. It's got five weeks to continue enrichment without any limitation, any inhibition," Netanyahu said in video footage, provided by his office, during a meeting with US Senator Joseph Lieberman. "I think Iran should take immediate steps: first stop all enrichment, take out all the enriched material and dismantle the nuclear facility in Qom. I believe that the world's greatest practitioner of terrorism must not have the opportunity to develop atomic bombs," Netanyahu said.
Assad Offers Moscow, Beijing Bonds Worth $30bn.
April 16….(DEBKAfile Exclusive Report) Announcing he is not responsible for the safety of UN observers on their way to Syria if they don't obey his rules, President Bashar Assad has set in motion steps for prolonging his war on the Syrian people rather than abiding by a truce. Debkafile discloses he offered Moscow and Beijing $30 billion worth of government bonds for a massive injection of funds to replenish his depleted war chest. And at the UN Security Council, while Russia's Vitaly Churkin in a surprise turnabout voted with the West on a UN observer team to secure the Syrian ceasefire, Moscow quietly sent warships to Syrian shores to secure the Assad regime. The heaviest outlay for keeping the massive Syrian war machine turning over is on fuel. Countless tanks, self-propelled artillery, thousands of trucks and tank transporters are constantly on the move from one rebel flashpoint to another, reinforcing embattled units and ferrying troops, equipment and ammunition.
Iran covers the payroll for Syrian military and security personnel and the government bodies keeping the regime functioning, to the tune of more than half a billion dollars a month, according to estimates. But the embargo on fuel sales to Syria puts Assad in the hands of Lebanese merchants. He has run out of funds to meet their exorbitant charges for petrol and diesel, without which his military crackdown on the opposition would grind to a stop. Russia and China have therefore been asked for the necessary funding.
Moscow, meanwhile, announced Friday, April 13, "A decision has been made to deploy Russian warships near the Syrian shores on a permanent basis." The communiqué did not say who made the decision, but it may be assumed that the decision-maker is at the top level of the Kremlin, President-elect Vladimir Putin. It is the first time that Moscow has officially announced the permanent deployment of naval vessels in the eastern Mediterranean and off Syria in particular. They extend a protective shield over Bashar Assad and the continuation of his regime against outside military intervention. They also guarantee that the UN observer team, due in Damascus by Monday, April 16, never becomes the nucleus of a broader international expedition for Assad's removal under the UN aegis, which is what happened in Libya.
Moscow is making sure that the monitors adhere strictly to their Security Council mandate, determined not to leave it Washington or NATO to set out their areas of operation and powers. Assad drove this point home Sunday when ahead of their arrival in Damascus, he warned that he would not be responsible for the observers' safety if they failed to comply with his rules.
Western and Israeli military circles therefore find it hard to understand the rationale of the US and Turkish push for international monitors in Syria, unless the initiative was nothing more than a device to save them having to intervene militarily in the conflict. In the final reckoning, the presence of a couple of hundred UN monitors in Syria will if anything prolong the violence: the rebels will regard the observers as the vanguard of a major international intervention force to champion their cause, while Assad and Moscow will clip their wings so as to give the Syrian army a free hand to finish the job of wiping out the anti-Assad revolt. Between the two, the UN team will be rendered useless like the Arab League monitors before them. Seeing Russia and China solidly behind him, the Syria ruler expects them also to put their hands in their pockets to help him survive.
WEEK OF APRIL 8 THROUGH APRIL 14
Israel holds secret talks on involvement in Mideast nuclear disarmament conference
(Finnish official meets with Israelis secretly in Jerusalem ahead of the upcoming Nuclear Nonproliferation Treaty conference)
April 12….(Ha Aretz) Finland's Undersecretary of State for Foreign Affairs visited Jerusalem secretly last week for talks with Israeli counterparts about Israel's involvement in a conference to ban nuclear arms from the Middle East. Two years ago Israel voiced opposition to such a conference. The Nuclear Nonproliferation Treaty conference is scheduled to be held in Helsinki in December but could be deferred until 2013. The main item on the agenda is likely to be attempts made by Arab states and Iran to curb Israel's nuclear capability. Israel wants to coordinate its positions with the United States. The Americans support the staging of such a conference. They are worried that its cancelation could serve as a pretext to undermine their efforts to promote the NPT, and could erode US President Barack Obama's vision of a nuclear-weapon-free world.
However, during last week's meetings with Finland's Jaakko Laajava, the NPT conference coordinator, Israeli representatives neither agreed nor refused to participate in the disarmament talks in Finland. Laajava met with an Israeli team of officials headed by Foreign Ministry Deputy Director General Jeremy Issacharoff. Representatives from Israel's National Security Council and the Atomic Energy Commission also took part in the talks. Issacharoff and his colleagues voiced reservations about the conference's timing. They claimed it should not be held until regimes in the region, particularly in Egypt and Syria, stabilize. Issacharoff is coordinating the Foreign Ministry's handling of the Iranian nuclear issue. As a sign of Israel's reservations about the conference, discussions with Laajava have been held by professional diplomats, rather than by senior officials in Prime Minister Benjamin Netanyahu's government such as Foreign Minister Avigdor Lieberman and Minister Dan Meridor, who represented the government at a nuclear security conference held in Seoul last month. In other countries, Laajava has met with higher-ranking figures. For instance, he met in Tehran in January with Iran's Foreign Minister Ali Akbar Salehi.
The decision to proceed with the conference, despite Israel's opposition, is incorporated in an agreement document issued by the treaty's fifth annual review conference, held in New York in May 2010. The US State Department expressed "deep regret" about an anti-Israel clause that appeared in this document, and Israel protested its inclusion. Still the document was not repealed.
The Obama administration has pursued a successful tactic of delaying the convening of the Middle East conference until the end of 2012, and after the upcoming presidential elections. Since his appointment in October as coordinator of the Helsinki conference, Laajava has held dozens of meetings with UN officials and with representatives of countries that have permanent membership in the UN Security Council and of countries in this region. He has met two or three times with Israeli diplomats. Laajava, who competed for this NPT post against a Dutch diplomat, was appointed to coordinate the disarmament conference by UN Secretary-General Ban Ki-moon and by three of the five permanent Security Council members - the United States, Russia and Britain. At the fifth NPT annual conference in 1995, these three countries sponsored a proposal for the establishment of the Middle East as a region free of nuclear, chemical and biological weapons.
Israel, which was busy at the time with the Oslo Accords peace process, agreed in principle with this proposal, but predicated its application on the arrangement of a comprehensive peace accord, and upon a definition of the Middle East that would include countries not contiguous with it, particularly Iraq and Iran. The idea, also discussed at the 2000 and 2005 review conferences, gained momentum two years ago, when the Arab League, headed by Egypt, harnessed itself to Obama's enthusiasm for disarmament issues. During the last day of the 2010 conference, the United States assented to Egypt's demand for the holding of a regional disarmament conference in 2012. US officials fear that failure during this Helsinki meeting will reinforce forces in countries that are considering pulling out of the NPT framework. Under the regime of former President Hosni Mubarak, Egypt led the campaign to compel Israel to join NPT frameworks and to initiate disarmament discussions that relate simultaneously to Israel and Iran.
Iran's "new initiatives" place Israel at center of nuclear talks
April 12….(DEBKA) The head of Iran's National Security Council Saeed Jalili suggested enigmatically Wednesday, April 11, that its representatives would present "new initiatives" at the negotiations with six world powers starting in Istanbul next Saturday. "We hope," he said, "that the powers will also enter talks with constructive approaches; the language of threat and pressure against the Iranian nation has never yielded results." Although Jalili, who will lead the Iranian negotiating team, did not divulge the nature of the new initiatives, debkafile's Iranian and intelligence sources have obtained their content:
1. Iran will continue to enrich low-grade 3.5 percent uranium but not consent to a cap on quantities;
2. The removal of enriched uranium outside Iran's borders is not open to discussion and will not be permitted;
3. Iran is prepared for a deal whereby the six powers endorse Iran's right to enrich as much high-grade 20-percent enriched uranium as it wishes according to a three-part fomula:
a) A joint panel of the six powers and Iran will determine the amounts required to meet the needs of its reactor and the production of isotopes for medical research; b) Iran will sell the surfeit on the international market and become the world's No. 1 exporter of 20-percent enriched uranium; c) Excess quantities over and above a) and b) will be downgraded by a reverse process from 20 to 3.5 percent.
4. Iran will reject demands to shut down the underground enrichment plant at Fordow, near Qom, but agree to signing the Non-Proliferation Treaty's Additional Protocol - which would permit IAEA inspectors to make spot checks at all suspect nuclear sites in Iran, including Fordow - with one proviso: The six powers must also require Israel to sign the NPT plus the Additional Protocol. If Israel doesn't sign both parts of this treaty, neither will Iran endorse the AP.
5. The "Israeli dossier" tops the tactical agenda set out by Iran's top strategic team for the forthcoming nuclear negotiations Istanbul.
Its representatives will be briefed to turn aside every demand the world powers make of Tehran by twisting it around and pointing it at Israel's alleged nuclear program. They will argue that they are acting to promote President Barack Obama's avowed vision of a nuclear-free Middle East. By using this stratagem, the Iranians expect to come away from the negotiating table sitting pretty, having extracted international permission both for enriching as much high-grade uranium as they want and for keeping the Fordow facility in full operation.
Sen. Barak Obama Raised Money For PLO
April 12….(WND) Back in the 1990s, Barack Obama spoke at fundraisers for Palestinians living in what the United Nations terms refugee camps, as WND was first to report. Palestinians have long demanded the "right of return" for millions of "refugees," a formula Israeli officials across the political spectrum warn is code for Israel's destruction by flooding the Jewish state with millions of Muslim Arabs, thereby changing its demographics. As president, Obama has faced criticism of his stance on Israel, including his unprecedented call for a complete halt to Jewish construction in the eastern sections of Jerusalem and in Judea and Samaria as a precondition for talks with the Palestinians.
Obama has hailed his presidential track record on the Jewish state, touting continued financial aid and loan guarantees to Israel. Such standard funding falls mostly within the purview of Congress, however. In a conference in January 2008, Obama stated "Palestinian refugees" belong in their own state. Ali Abunimah, a Chicago-based Palestinian-American activist and co-founder of Electronic Intifada, a pro-Palestinian online publication, recalls introducing Obama at one such event, a 1999 fundraiser for the Deheisha Palestinian camp in the West Bank. Abunimah also was quoted that year saying that until a few years ago, Obama was "quite frank that the US needed to be more evenhanded, that it leaned too much toward Israel." Abunimah previously described meeting with Obama at a fundraiser at the home of Columbia University professor Rashid Khalidi, reportedly a former PLO activist. "Obama came with his wife. That's where I had a chance to really talk to him," Abunimah recalled. "It was an intimate setting. He convinced me he was very aware of the issues and critical of US bias toward Israel and lack of sensitivity to Arabs. He was very supportive of US pressure on Israel." *Abunimah serves on the board of the Arab American Action Network, or AAAN, a controversial Arab group that mourns the establishment of Israel as a "catastrophe."
The Earth is Quaking Around The World
(Matthew 24:6-8 And ye shall hear of wars and rumors of wars: (Iran, North Korea, etc) see that ye be not troubled: for all these things must come to pass, but the end is not yet. For nation shall rise against nation, and kingdom against kingdom: and there shall be famines, (Sudan, Ethiopia, etc) and pestilences, and earthquakes, (just this week) in divers places. All these are the beginning of sorrows.)
April 12….(FOJ) An earthquake of magnitude 7.0 was reported on Mexico's Pacific Coast on Wednesday, following on the heels of a major but lesser quake off the coasts of Oregon. The Mexican earthquake reportedly was centered in a sparsely populated area in the mountains of western Mexico but still caused tall buildings to sway more than 200 miles away in Mexico City. A quake of this magnitude is considered a major earthquake, but this one hit about 41 miles below the surface and a tremor's power to cause damage is often dissipated when it is so deep. Mexico was hit by a powerful 7.4-magnitude quake that hit southern Mexico just three weeks ago. The magnitude 5.9 earthquake off the US coast struck about 160 miles west-northwest of the coastal city of Bandon, Oregon with no reports of damage. Doug Gibbons of the US Geological Survey says the earthquake is not related to the two massive earthquakes that struck in Indonesia on Wednesday.
The Indian Ocean quakes struck off the coast of the Indonesian island of Sumatra on Wednesday afternoon, triggering a tsunami watch for the Indian Ocean, which was later canceled. The first quake struck about 434 kilometers (270 miles) southwest of Banda Aceh, the capital of Indonesia's Aceh province, and had a magnitude of 8.6, the US Geological Survey said. It took place at a depth of 23 kilometers (14 miles). A second large quake, with a magnitude of 8.2, occurred off the west coast of Sumatra about two hours later, the USGS said.
In 2004, a 9.1-magnitude underwater earthquake off the coast of Sumatra triggered a tsunami that killed more than 200,000 people in 14 countries. The majority of the deaths were in Indonesia, with Aceh bearing the brunt. That quake took place 250 kilometers (155 miles) south-southeast of Banda Aceh at a depth of 30 kilometers (19 miles). The tsunami, which washed away entire communities, caused nearly $10 billion in damage and more casualties than any other tsunami in history, according to the United Nations.
Indonesia is on the so-called Ring of Fire, an arc of fault lines circling the Pacific Basin that is prone to frequent earthquakes and volcanic eruptions. The earthquake Wednesday comes just over year after a magnitude-9 quake off the northeast coast of Japan caused a devastating tsunami. The death toll from that disaster stands at about 15,850.
US Weighs Limited Military Action Against Assad
April 11….(DEBKA) After Damascus skipped the truce laid down in the UN-Arab envoy Kofi Annan's plan and escalated its attacks on the Syrian population, a change of tone was detected in the Obama administration. Debkafile's Washington sources report that, although President Barack Obama is still flat against broad US military intervention in Syria, administration circles feel America could no longer stay aloof from what is happening there. They are thinking in terms of limited military action to show Bashar Assad and the heads of his regime and army the first American red lines against his brutal crackdown. One plan under discussion is for a US air strike against an Assad regime and/or military target would be enough to dent morale in Damascus and demonstrate to his loyal troops and the Syrian opposition that the Syrian ruler is far from infallible. This lesson might corner Assad into complying with Annan's six-point peace plan, especially the ceasefire and withdrawal of armored troops from Syrian cities, which he ducked Tuesday.
The pretext Syrian Foreign Minister Walid Moallem offered Russian Foreign Minister Sergey Lavrov for missing the deadline, our Moscow sources report, was that when the soldiers are pulled out of the cities, rebel forces will move into the evacuated areas; the anti-Assad uprising would flare up again at full strength across Syria. Moallem appealed to his host to persuade the Americans to continue to abstain from military action in Syria and defend the need for Syrian units to remain in the main cities, even against a complaint by Annan to the UN Security Council accusing Damascus of flouting an agreed plan.
In consideration of this side play in Moscow, Annan was cautious in his comments to reporters on his visit to a Syrian refugee camp in southern Turkey, saying it was too soon to declare his plan a failure. He explained that the Syrian regime had not taken issue with a single one of his six proposals and the situation could improve once UN observers were on the ground. Annan offered Assad another two days up until Thursday, April 12, to implement the agreed ceasefire. Talking to reporters In Moscow alongside Moallem, Lavrov proposed that UN observers move into Syria without delay. The team could be enlisted mainly from the UNDOF (United Nations Disengagement Observer Force) serving on the Syrian-Israeli Golan border. The Syrian minister was not in favor of the plan.
Tuesday night, the UN Security Council called on Bashar Assad to meet the Thursday deadline for a truce. US Secretary of State Hillary Clinton announced the council would meet Thursday to hear Annan's report. She spoke after consulting with Lavrov. The Lavrov proposal would redeploy the main body of the Golan UN force, which maintains a liaison office in Damascus, in positions for enforcing the truce between Syrian and rebel forces in Syria's main embattled cities, preferably by April 12. The UN 1,000-strong force has two battalions, one Austrian and one Philippine, and a small Croatian unit.
Our intelligence sources report that Assad objects to the plan because it would be tantamount to internationalizing the civil war raging in Syria and pave the way for rebels and protesters against his regime to gain UN protection. Convinced that the Syrian ruler would never allow himself to be pushed into accepting UN intervention, the Americans continue to keep limited military intervention on the table. They will let it simmer there until the Six-Power nuclear talks with Iran beginning Saturday, April 14, in Istanbul are well under way, so as not to give Tehran pretexts for toughening its bargaining position or pulling out of the negotiations.
Turkey too is moving closer than ever before to real military action, not just empty words. Armed Turkish assault helicopters flew Tuesday over the Syrian border. They were there to warn Damascus that if Syrian soldiers again fired across the border into Syrian refugee camps as they did Monday, April 9, they would be targeted by the Turkish gunships. Sources in Ankara reminded local and Arab media of the existence of the mutual defense cooperation pact known as the "Adana agreement" which Turkey and Syria concluded in 1998. Article 1 states that "Syria, on the basis of the principle of reciprocity, will not permit any activity that emanates from its territory aimed at jeopardizing the security and stability of Turkey." Under this article, Ankara feels Turkish military intervention in Syria is legitimate. This reminder was offered the media, our military sources confirm, to provide the legal grounding for a potential Turkish military move across its border into Syria.
US Deploys Carrier in Gulf, as West Prepares for Iran Nuclear Talks
(The battleships will support the American military operations in Afghanistan and anti-piracy efforts off Somalia's coast and in the Gulf of Aden, and also patrol the Gulf's strategic oil routes that Iran has threatened to shut down in retaliation for economic sanctions.)
April 10….(Ha Aretz) The US Navy has deployed a second aircraft carrier to the Persian Gulf amid rising tensions with Iran over its nuclear program, Cmdr. Amy Derrick-Frost of the Bahrain-based 5th Fleet said Monday. Derrick-Frost said that the deployment of the nuclear-powered USS Enterprise along the Abraham Lincoln carrier strike group marks only the fourth time in the past decade that the Navy has had two aircraft carriers operating at the same time in the region. Derrick-Frost says the two carriers will support the American military operations in Afghanistan and anti-piracy efforts off Somalia's coast and in the Gulf of Aden. The battleships will also patrol the Gulf's strategic oil routes that Iran has threatened to shut down in retaliation for economic sanctions.
In late January, the carrier USS Abraham Lincoln completed a "regular and routine", accompanied by strike group of warships. That the first US aircraft carrier to enter the Gulf since late December and was on a routine rotation to replace the outgoing USS John C. Stennis. The deployment announced on Monday comes less than a week before world superpowers are set to open negotiations in Istanbul with the Islamic Republic over its contentious nuclear program.
Iranian Foreign Minister Ali Akbar Salehi said Iran would not agree to world powers imposing pre-conditions ahead of the resumption of talks, Iranian media reported on Monday. "Setting conditions before the meeting means drawing conclusions, which is completely meaningless and none of the parties will accept conditions set before the talks," the Iranian parliamentary news agency quoted him as saying. But Iran's nuclear chief, Fereidoun Abbasi, has hinted that the Islamic Republic may offer a compromise. At the core of the dispute is the issue of uranium enrichment. The West fears Tehran is seeking an atomic weapon, which the country denies. Uranium has to be enriched to more than 90 percent to be used for a nuclear weapon. Abbasi told state TV late Sunday thatTehran could stop its production of 20 percent enriched uranium needed for a research reactor, and continue enriching uranium to lower levels for power generation. This could take place once Iran has stock piled enough of the 20 percent enriched uranium, Abbasi said.
Big US-Arab Gulf Air Force Exercise Draws Iranian Warning
April 10….(DEBKA) At least 200 American and Arab Gulf fighter-bombers thundered overhead Sunday, April 8 at the outset of the biggest air force exercise ever conducted in the Gulf region. They are simulating war with Iran and an operation for reopening the strategic Straits of Hormuz if it is closed by Tehran. debkafile's military sources report that 100 of the warplanes took off from the USS Enterprise and USS Abraham Lincoln which are cruising with their strike groups opposite Iranian shores. The Saudi, UAE, Kuwaiti and Bahraini air forces contributed the other 100. In an unprecedented show of military solidarity with the US, Bahrain, which hosts the US Fifth Fleet High Command, was also chosen by Gulf Cooperation Council, GCC, members for their unified exercise headquarters to be located at the Shaikh Isa Air Base. Tehran was being told that neither the Obama administration nor the Gulf Arab governments were deterred by its threats of retaliation against emirates placing bases at the disposal of foreign forces for an attack on Iran.However, shortly after the exercise began, Iranian ambassador to Kuwait Rouhullah Qahremani called urgently on Kuwait Chief of Staff Lt.-Gen Khalid Al-Sabah with a warning that the Iranian air and navy would attack the Gulf nations taking part in the exercise unless they withdrew at once.
The Kuwaiti army chief then too the warning to the GCC Secretary General for Military Affairs Maj. Gen. Khalifa Humaid Al-Kaabi, with several high-ranking Kuwait officers in attendance. Kuwait and Riyadh also briefed the Americans. warning. The exercise is due to end on April 15, the day after the six world powers launch resumed nuclear negotiations with Iran in Istanbul. However some Iranian sources were hinting Monday that they would not come to the talks under military threat. Although the participants are keeping the exercise's scenario under wraps, debkafile's military and intelligence sources are able to outline its five segments:
1. A practice operation to pry open the Strait of Hormuz should Iran try to block the waterway through which one-fifth of the world's oil is exported - whether by deploying warships, scuttling old vessels, strewing sea mines or firing shore-to-ship missiles from the Iranian-controlled islands of Abu Musa, Great Tunb, Lesser Tunb and Sirri Island.
The combined US-Gulf force is practicing air and naval assaults against those Iranian island bases and the Revolutionary Guards Corps' mainland facilities facing them from Bandar-e-Abbas, Bandar-e-Lengeh and Qeshm island. They plan to cut off Iranian reinforcements en route to Hormuz.
2. They also aim to prevent Iranian air or sea assaults on the Persian Gulf emirates' oil facilities and export terminals, focusing mainly on Saudi, Bahraini and Kuwaiti oil facilities and fields.
3. Air strikes are conducted against Iranian naval vessels, including speedboats, in a simulated exercise to head them off before they strike American aircraft carriers and warships or Gulf fleet vessels.
4. Testing the degree of coordination between US air, sea and marine forces and their Persian Gulf counterparts.
5. The Gulf exercise is in fact the sequel of Noble Dina 12, the US-Israeli-Greek war game conducted earlier this month in the Mediterranean and Aegean Seas. That war game practiced runs by Israeli fighter-bomber from their home bases to the big American facility on Crete, fueled in flight by American and Israeli tanker planes. The distance between the two points is roughly equivalent to the 1,200 kilometers between Israel and Iran. In a furious response to that maneuver, the Iranian Chief of Staff Gen. Seyed Hassan Firouzabadi, declared Saturday April 7: "Iran will bulldoze and destroy the illegal Zionist nest."
IDF Preparing for Mass Lebanon Incursion & War With Hezbollah
April 10….(Ha Aretz) Almost six years after the Second Lebanon War, special Israeli units are preparing to take part in mass incursions into Lebanon if another round of fighting with Hezbollah breaks out. Just as important, they are being trained to heed the legal implications. Officers say the Israel Air Force would destroy targets like training bases and rocket-launching pads within a few days, based on the intelligence gathered by the Israel Defense Forces. But this would not be enough, so a ground offensive would be necessary. "When you stick an Israeli flag on enemy territory, there's no question who won," says a high-ranking officer who requested anonymity. "You need to seize a geographic space. This is the only way the concept of victory can be established."
The IDF has been trying to improve its performance if hostilities resume, but so has Hezbollah. The Shi'ite organization has built fortified lines with underground command posts and improved operational capacity. Its rockets are hidden in better-camouflaged launching pads. The ground forces are therefore expected to contribute much more to the war effort than in 2006, when Israel relied mainly on the IAF. This would entail much more intense urban warfare, with many civilians caught in the crossfire, and the attendant legal implications. "Everything that we've seen with the flotillas, Operation Cast Lead and the implications in terms of international law have left a strong impression on us," says Lt. Col. Sahar Abergil, commander of the special elite unit Yahalom. That unit specializes in bunker warfare and is likely to carry much of the military burden.
Yahalom soldiers, along with the men and dogs of the IDF's Oketz canine unit, finished a long training session last week. "It's not patrols or raids on Palestinians we're simulating here, but a full-fledged war," says Oketz's commander. One of Oketz's main tasks is to distinguish between militants and uninvolved civilians. "Our dogs know how to spare civilians and home in on terrorists," says Sivan, a captain. "How do they? That's our secret." When closing in on a house where the enemy is thought to be hiding, the soldiers must order everyone to exit. Those who don't come out are considered suspects, and the dogs soon get an order to attack. The army's encounter with a civilian population is never simple, and there's no way to master it fully. We're trying to instruct the soldiers to use their discretion and common sense. At the end of the day, this is war."
Syria Launches its Heaviest Air-Ground Assault Yet
April 9….(DEBKAfile Exclusive Report) Certain he is safe from Western-Arab intervention, Bashar Assad Sunday unleashed an across-the board air and ground offensive against the last surviving rebel locations. Debkafile's military sources report that starting Sunday noon, April 8, 30 towns and villages were hit simultaneously. For the first time since the outbreak of revolt thirteen months ago, heavy long-range artillery and air force helicopters pounded the rebel positions remaining in the northern mountains of Idlib near the Turkish border. The scale of the onslaught was such that it is hard to come by casualty figures, but they certainly run into hundreds. The mountains of ordnance and numbers of tanks and artillery the Syrian army is pouring into the embattled sectors attest to Assad's determination to root out with no holds barred the last rebel and protester however long it takes. He probably never intended standing by his commitment to observe a cease-fire from April 10. He simply used the UN envoy Kofi Annan's peace proposals to buy time to rout his opponents once and for all.
Our military sources say the rebels, and especially the Free Syrian Army, don't have the slightest chance of surviving Assad's killing machine. As he lifts all restraints, the Syrian ruler is also certain he is backed to the hilt by Tehran and Moscow. Our sources add that, just as Iranians is sure President Barack Obama will avoid military intervention in Syria, they are certain that their nuclear program is equally safe from a military offensive. Tehran was therefore emboldened Sunday to reject out of hand the core demands of the West to give up high-grade uranium enrichment and shut down their underground nuclear facility at Fordow.
So as not to bury the negotiations with the six world powers before they even begin on, the Iranian spokesman, atomic energy chief Fereidoon Abbasi left the door open a tiny crack: "We will produce 20 percent uranium to the amount needed for the Tehran research reactor and the reactors we are planning to build in the future," he said. That too was a typical Iranian exercise in deception. Since no one in the West has a clue to how many reactors requiring 20-percent uranium Tehran plans to build, the size of its stocks and the quantity reserved for building a bomb cannot be determined. Nevertheless, the European foreign policy chief Catherine Ashton later announced formally that the talks between the Six Powers and Iran would begin in Istanbul on April 14.
Russia Preparing For US/Israel Attack on Iran
April 9….(WND) The Russian military anticipates that an attack will occur on Iran by the summer and has developed an action plan to move Russian troops through neighboring Georgia to stage in Armenia, which borders on the Islamic republic, informed Russian sources say in a report in Joseph Farah's G2 Bulletin. Russian Security Council head Viktor Ozerov said that Russian General Military Headquarters has prepared an action plan in the event of an attack on Iran. Dmitry Rogozin, who recently was the Russian ambassador to the North Atlantic Treaty Organization, or NATO, warned against an attack on Iran. "Iran is our neighbor," Rogozin said. "If Iran is involved in any military action, it's a direct threat to our security." Rogozin now is the deputy Russian prime minister and is regarded as anti-Western. He oversees Russia's defense sector. Russian Defense Ministry sources say that the Russian military doesn't believe that Israel has sufficient military assets to defeat Iranian defenses and further believes that US military action will be necessary. Russia's purpose in moving its troops would be not only to protect its own vital regional interests but possibly to assist Iran in the event of an attack. Sources add that a Russian military buildup in the region could result in the Russian military potentially engaging Israeli forces, US forces or both.
Informed sources say that the Russians have warned of "unpredictable consequences" in the event Iran is attacked, with some Russians saying that the Russian military would intervene because its vital interests in region would be threatened. The influential Russian Nezavisimaya Gazeta newspaper has quoted a Russian military source as saying that the situation forming around Syria and Iran "causes Russia to expedite the course of improvement of its military groups in the South Caucasus, the Caspian, Mediterranean and Black Sea regions." This latest information comes from a series of reports and leaks from official Russian spokesmen and government news agencies who say that an Israeli attack is all but certain by the summer. Because of the impact on Russian vital interests in the region, sources say that Russian preparations for such an attack began two years ago when Russian Military Base 102 in Gyumri, Armenia, was modernized. It is said to occupy a major geopolitical position in the region.
WEEK OF APRIL 1 THROUGH APRIL 7
Obama to Accept Civilian Nuke Program in Iran'
April 7….(YNET) US President Barack Obama has signaled Tehran that the Washington would accept an civilian nuclear program in Iran if Supreme Leader Ali Khamenei can back up his recent claim that his nation "will never pursue nuclear weapons," the Washington Post reported Friday. According to the report, the verbal message was sent through Turkish Prime Minister Recep Tayyip Erdogan, who met with Khamenei last week. A few days prior to leaving for the trip, Erdogan held a two-hour meeting with Obama on the sidelines of the nuclear security summit in Seoul, in which they discussed what the Turkish leader would tell Khamenei about the nuclear issue. Washington Post columnist David Ignatius wrote that Obama advised Tehran, via Edrogan, that time is running out for a peaceful agreement. Obama didn't specify whether Iran would be allowed to enrich uranium domestically. The issue evidently is to be discussed during the talks between the Islamic Republic and the West, which are slated start on April 13 at a venue yet to be decided.
Edrogan is said to have agreed with Obama that the primary challenge faced by the negotiators is turning Khamenei's public rhetoric into a serious and verifiable commitment not to build a bomb. Erdogan reportedly conveyed Obama's message to Khamenei when he met the Iranian leader on Thursday. Erdogan also met President Mahmoud Ahmadinejad and other senior Iranian officials during his visit.
Western diplomats remain skeptic about the success of the diplomatic path, especially in light of the recent disagreement over the venue for the upcoming negotiations. According to the report, Istanbul was expected to host the talks, but the Iranians last weekend balked and suggested instead to meet in Iraq or China. US officials consider this foot-dragging a sign that the Iranian leadership is still formulating its positions ahead of the talks. Meanwhile, the US pressed on with sanctions that aim to deprive Tehran of revenue needed to develop its nuclear program.
Exclusive: Obama Sends Khamenei 6 Point Message Through Erdogan
(Obama seeks election favors from Iran)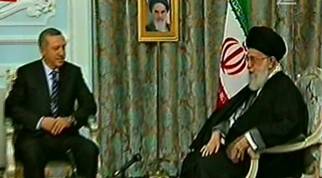 (Erdogan & Ayatollah Ali Khamenei)
April 7….(DEBKA) After a two-hour, 15-minute conversation with US President Barack Obama in Seoul on March 25, Turkish Prime Minister Tayyip Erdogan undertook to fly to Tehran and personally hand Obama's six-point message to Iran's Supreme Leader Ayatollah Ali Khamenei. The note, which laid out the American position for the nuclear talks between Iran and six world powers that were scheduled to open in Istanbul on April 13, was delivered on March 29. Debkafile's Iranian sources report that the exercise was not a success. The Iranian leader has not replied to the US president's communication up until the present. Instead, in the past week, Tehran has turned its guns on Prime Minister Erdogan and refused to accept Turkey as venue for the nuclear talks. Washington has explained this setback by a controversy among heads of the regime in Tehran over the US President's six points. Our Iranian sources strongly doubt this since, quite simply, the Islamic regime is a one-man show. Khamenei makes the decisions and he has clearly decided not to send a reply.
Obama's six-point message to Khamenei is now revealed here for the benefit of Debkafile's readers:
1. Tehran must come to the talks ready to show it is seriously and genuinely open to a compromise deal on its nuclear program;
2. A negative attitude on Iran's part would result in President Obama merging the back-channel US-Iranian dialogue with the formal diplomatic negotiating track. He asked the Turkish prime minister to inform the Supreme Leader that the Russian and Chinese presidents, Hu Jintao and Dmitry Medvedev, had agreed to go along with this position if Khamenei found it acceptable.
3. Any deal would require a commitment from Khamenei to freeze, though not dismantle, all aspects of Iran's nuclear program from the moment an accord was reached. No new projects must be initiated and all progress arrested. For example: The centrifuges already functioning in the Fordo underground plant near Qom must not be expanded; research on nuclear weapons and the construction of models be discontinued; and the transition of uranium enrichment from 3.5 percent grade to 20 percent halted. The entire program would remain frozen in place.
4. President Obama asked Erdogan to convey a personal message from him to the Iranian leader: He was favorably impressed with the ayatollah's comments in the New Year speech he broadcast live on state television Tuesday, March 20: "We do not have nuclear weapons and we will not build them," said the ayatollah. "But in the face of aggression from enemies, whether from America or the Zionist regime, we will defend ourselves with attacks on the same level as our enemies attack us." Obama also responded to another Khamenei remark. Addressing thousands of pilgrims gathered at the Imam Reza Shrine in Mashhad, the Supreme Leader said: "The Americans are making a grave mistake if they think that by making threats they will destroy the Iranian nation." To this, the US President answered that neither he nor America entertained any such intention.
5. Tehran must change the hostile anti-US tone of its speeches and publications and stop calling America an enemy and the Great Satan. In place of antipathy, Obama would deeply appreciate a series of helpful comments coming from Iranian leaders and news reports out of Tehran, especially if they highlighted an improved Islamic Republican attitude towards the United States as a result of his administration's polices. Erdogan was asked to hold up as an example of the sort of remark Obama had in mind the words of praise Khamenei offered President Obama on March 8, "for promoting diplomacy rather than war" as a solution to Tehran's nuclear ambition. More of this sort of rhetoric would be welcome, the Turkish prime minister was directed to inform Tehran.
The US presidential campaign was never directly mentioned, sources note. However, the rewards accruing to Tehran from extending a helping hand for Obama's reelection were evident in the subtext. Benign Iranian references to America would allow Obama to credit his foreign policy with kudos for an important breakthrough to the Islamic Republic. The improved climate surrounding relations would reduce the hazards of a war being launched against Iran. By helping to get him returned for a second term, Tehran would find the US president ready to pursue policies agreed between him and Khamenei in the course of their secret dialogue.
6. Erdogan was asked to explain the US President's strategy of drawing a close linkage between the shifts in US policy on Iran and its nuclear program, on the one hand, and the Syrian crisis, on the other. This approach had guided Obama's hand in his thus far successful moves to block Muslim-Arab-Western military intervention in Syria. The US president believes that a coalition working on the Syrian crisis, composed of Washington, Moscow, Beijing, Tehran and the United Nations (the UN and Arab League envoy former UN Secretary General Kofi Annan was mentioned in this regard) could be equally successful in resolving the Iranian nuclear controversy.
Syrian Christians: The Revolution's Unsung Victims
April 5….(Israel Today) The international community and global media are focusing a lot of attention of late on the brutal tactics being employed by the forces of Syrian dictator Bashar Assad as he battles a year-long insurgency that has recently blossomed into full-scale civil war. In the process, the Syrian opposition forces, collectively known as the Free Syrian Army, have been primarily portrayed in a positive light. But a trickle of reports from sources in embattled Syrian towns reveal that the Sunni-led revolutionaries are guilty of at least as many war crimes as Assad, especially against the country's Christian minority. In the latest issue of Israel Today, we wrote about how Syria's minority communities actually prefer Assad, who is himself from the small Alawite Muslim minority. They fear the alternative, which is rule by a Sunni majority that will likely align itself with the Muslim Brotherhood and other regional radicals. Their fears appear increasingly justified.
Two weeks ago, the Catholic news agency Fides reported that it had received word from Syrian Orthodox Church sources that 90 percent of Christians in the Syrian city of Homs had been driven from their homes by Sunni rebels. According to Fides, the Faruq Brigade of the Free Syrian Army had threatened to kill any Christians who did not leave, and then confiscated their homes and resettled them with Muslim families. The sources told Fides that the Faruq Brigade is made up at least partially by members of Al Qaeda and other Wahhabi groups.
The exodus from Homs began back in February, according to the Christian relief agency Barnabas Fund, which reported at the time that at least 200 local Christians had been massacred, while more had been kidnapped, tortured and ransomed by Muslim forces. Still more Christians were forced to act as human shields for the rebel fighters. Church leaders called the situation in Homs an "ongoing ethnic cleansing of Christians," and said that the 1,000 Christians still in the city are living in a constant state of fear. Homs was previously home to some 50,000 Christians. In a follow-up, the Vicar Apostolic of Aleppo, Mgr. Giuseppe Nazzaro told Fides that while he could not confirm the reports out of Homs, he had witnessed the similar targeting of Christians in Aleppo. "Last Sunday, a car bomb exploded...in the vicinity of the school of the Franciscan fathers. By a miracle a massacre of children was avoided, only because the Franciscans, sensing danger, made the children leave 15 minutes before the usual time," said Nazzaro, who lamented by the current media silence has allowed the Islamists to advance their anti-Christian agenda.
Issam Bishara, regional director for the Catholic Near East Welfare Association (CNEWA), told the National Catholic Reporter that contrary to the picture being painted by the mainstream media, Assad's government forces are "still providing protection to the Christian communities in almost all places where the regime is still controlling the ground." Bishara said that should Assad fall, it is almost certain that Sunni political forces aligned with the Muslim Brotherhood and radical Salafi groups will take power, as they did in Egypt, Libya and Tunisia, leaving the region's Christians even more vulnerable.
Online Graphic Warns of al-Qaida Return to NYC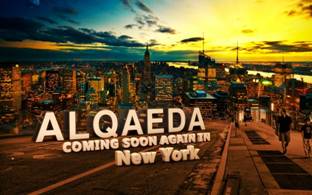 April 4….(Yahoo) A mock movie poster warns al-Qaida wants to return to New York City, but authorities say there's no evidence of an actual threat. Investigators learned about the online amateur graphic on Monday. The graphic shows the Manhattan skyline at sunset with "Al Qaeda" in bold type followed by "Coming Soon Again in New York." Al-Qaida has been blamed in the Sept. 11, 2001, terrorist attacks, which destroyed the World Trade Center and killed thousands of people. New York Police Department spokesman Paul Browne says an overseas, Arab-language Internet site posted the graphic on its "artwork and design" page. He says the NYPD has been monitoring the site. FBI spokesman J. Peter Donald says the agency takes all threats seriously and "there is no specific or credible threat to New York."
Obama Blaming Israel for Rising Fuel Prices
(The Obama administration is blaming Israel for the recent rise in global crude oil prices, says its "posturing" on Iran brought the rise.)
April 4….(Arutz) The Obama administration is blaming Israel for the recent rise in global crude oil prices, according to a Sunday report in The World Tribune. The rise in fuel prices is deemed as harming the US economy and has also hurt Obama in the election polls as he seeks re-election in November. The report cited a leading US analyst, Robert Satloff, who returned from talks with Israeli officials. Satloff, executive director of the Washington Institute for Near East Policy, said, according to The World Tribune, that the Israeli leadership saw Washington as attributing the higher gas prices to "Israel's posturing" on Iran. "They think the Iranians should be held responsible for the higher gasoline prices," Satloff was quoted as having said. He added that the officials told him the Obama administration was staging a campaign to undermine Israel. "I cannot underscore how deep and visceral the Israeli comments of the leaking that came out of Washington were," Satloff said, noting Israel is alarmed by what officials determined were leaks by the administration of US President Barack Obama of purported Israeli preparations to attack Iran.
The Israeli concerns come in the wake of a report in Foreign Policy magazine last week, according to which Israel has purchased an airfield in Azerbaijan on Iran's northern border, prompting the United States to watch very closely. Journalist Mark Perry wrote that the Obama Administration is monitoring Israel's relations with Azerbaijan, particularly its military ties. The Americans believe Israel may use the site as a springboard for an attack on Iran's nuclear plants, or as a landing and refueling spot following one. The site could also be used for aircraft needed for search, rescue and recovery in the wake of an attack. "We're watching what Israel is doing in Azerbaijan. And we're not happy about it," an official told the Foreign Policy writer. Azeri president Ilham Aliyev later dismissed the speculation and said, "Azerbaijan's territory will never be used to launch an attack against its neighbor, Iran."
Majority of US Jews Still Support Obama
(Despite his rocky relationship with Israel, a new survey finds that 62% American Jews still favor Obama for re-election.)
April 4….(Arutz) Despite his rocky relationship with Israel and with Prime Minister Binyamin Netanyahu, a survey released Tuesday finds that American Jews still favor President Barack Obama for re-election. The survey, conducted among 1,004 American Jews by the Washington-based Public Religion Research Institute, found that Obama has the same level of support, 62 percent, among American Jewish voters as during a comparable point in the 2008 race. Three-in-ten Jewish voters said they prefer a Republican candidate over the incumbent president. Of those who supported Obama in 2008, an overwhelming majority say they would like to see him re-elected, 86 percent, while seven percent of Jewish voters who supported him in 2008 say they instead would support a Republican candidate in 2012. Jewish voters who supported John McCain in 2008 demonstrate similar loyalty in their voting preferences, the survey found, with 92 percent reporting that they would prefer it if a Republican candidate won the election.
The survey also found that Israel is relatively low on the list of voting priorities for American Jewish voters. Only four percent of respondents said that Israel was the issue that would be most important to their vote. Instead, Jewish voters' top priorities center around economic issues such as the economy (51 percent), the growing gap between the rich and the poor (15 percent), and health care and the federal deficit (10 percent). The survey also found that by a margin of more than 2-to-1, American Jews say good diplomacy rather than military strength is the best way to ensure peace (63 percent vs. 25 percent, respectively).
However, in the case of Iran, if diplomacy and other deterrents fail, most American Jews say they would support military action. Nearly six-in-ten (59 percent) agreed that the US should take military action to prevent Iran's development of a nuclear weapon if economic sanctions are unable to stop Iran's nuclear weapons program, compared to 37 percent who disagreed.
Russian Warships Launch Drill from Tartus
April 4….(DEBKA) Not 24 hours after Russian Foreign Minister Sergey Lavrov warned that a pre-emptive strike (by the US and/or Israel) would violate international law, Moscow put muscle into his warning: Tuesday, April 3, the Russian guided missile destroyer Smetliviy arrived in the Syrian port of Tartus from its Black Sea base for a naval exercise. The warship's support group is on the way. Debkafile's military sources report that the Russian flotilla carried a threefold message for Washington:
1. The Russian-Iranian strategy of propping up the Assad regime which has brought the Syrian ruler close to victory over his foes, will continue: Diplomacy will be propelled by military impetus.
2. Russia is providing the Assad regime with defense systems capable of repelling foreign military intervention.
3. Consigning the Smetliviy warship to Syria illustrates Moscow's new rapid response policy: Russia is launching a naval exercise in the eastern Mediterranean to match the "Noble Dina" air and naval maneuver the US, Israel and Greece are conducting across a broad expanse of sea between Crete and the Israeli bases at Haifa and Ashdod.
Israeli warships and air force jets may therefore find themselves not just operating alongside US naval and aircraft but confronted suddenly by one of the largest destroyers in the Russian fleet (NATO-coded ASW-submarine warfare), whose decks are the launching base for anti-air, anti-ship and anti-submarine missiles. The Smetliviy's support group, believed to be a supply vessel and a submarine, passed through the Bosporus Saturday, March 31 on their way to Tartus.
Condemned Pastor in Iran Gets Rare Visit From Family
April 4….(WND) Condemned Iranian pastor Youcef Nadarkhani's son received a birthday present, a visit with his father in an Iranian jail. The visit also serves as a present for the pastor, whose birthday is next week, and evidence that he is still alive, reports the American Center for Law and Justice reports, which cited its sources in Iran. ACLJ Executive Director Jordan Sekulow said the development "is significant because it underscores what millions of people around the world understand, that Iran's illegal imprisonment of Pastor Youcef, and threatened execution, is a violation of international law." Even though Nadarkhani was granted the visit by his son on his son's birthday, Center for Security Policy Senior Fellow Clare Lopez said this doesn't mean the Iranians have changed. Lopez said the visit could be Iran's attempt to gain approval from the international community. "They'll project the image of reasonableness when what this is really about is enforcement of Islamic law on apostasy," Lopez said. "Legally, Iran's hands are tied. It cannot not enforce Islamic law and retain any legitimacy in the Islamic world or pretense of being a society under Shariah, especially now when Iran is locked in a titanic struggle against Turkey for leadership in the Islamic world," Lopez said. "This is about credibility in the eyes of millions of Muslims." However, Lopez said international pressure can be effective, even with Iran's mullah regime. Tehran, she said, may eventually decide on a compromise, as Afghan President Hamid Karzai did with Christian convert Abdul Rahman and issue a finding of insanity, which does not carry a death sentence.
Nadakhani was arrested and convicted of apostasy in 2009 for allegedly leaving Islam, a charge he denied by explaining that he was never a Muslim. But as WND reported, Nadarkhani's Christian background isn't enough, according to Islamic doctrine. Islam teaches that everyone on earth is born a Muslim. In the introduction of a copy of the Quran, published by Ansariyan Publications in Iran, it is "the parents who make him a Jew, Christian or Hindu." Therefore, even if Nadarkhani had never visited a mosque, when he became a Christian he left the Muslim faith whether he knew it or not.
Should Israel Even Exist?
April 4….(excerpts From book by Michael Curtis) The very question would have been unthinkable at one time. Israel, reborn after an exile that was almost comically lengthy, had a modicum of international support until the tiny nation went Bruce Lee on the Arab world in the Six Day War. Bleeding and humiliated, the surrounding Arab countries then began an oh-so-effective propaganda campaign that now has too many people asking an odious question: "Should Israel Exist?"
This is the title of a terrific new book by acclaimed author Michael Curtis, and his sub-title says it all: "A Sovereign Nation Under Attack by the International Community." Today in the international community, the Palestinians have succeeded in introducing a novel idea, centering around Israel disappearing, but posed as two scenarios: Either a "two-state" solution, by which the Palestinian state would be armed to the teeth and serve as a staging area for the final Final Solution; or a "bi-national" state of Palestine, where Jews and Arabs would gather wildflowers and sit under the stars for a folk music concert. Both "state" ideas are in fact merely window dressing for the goal of Yasser Arafat, and the Muslim Brotherhood's agenda: the destruction of the state of Israel.
Russia, Iran Set to Counter US/Israeli Strike Against Iran
April 3….(DEBKAfile Special Report) Russian Foreign Minister Sergey Lavrov issued a strong warning against a military attack on Iran Monday, April 2, saying that a pre-emptive strike would violate international law. His comments, made during a visit to Armenia, stopped short of threatening (the US and/or Israel) of consequences. But they backed up and were in tune with the explicit threat from Iran's supreme leader Ayatollah Ali Khamenei last Thursday of strong Iranian resistance to foreign intervention in Syria and vow to defend Damascus as the "center of resistance against Israel."
Western military observers link the two statements as representing an evolving Russian-Iranian front. After their shared success in delivering Bashar Assad from the revolt against his regime, the two partners are preparing to fend off a potential strike against Tehran's nuclear program as well as shore up Iran's regional interests from the Persian Gulf to the Mediterranean. They are getting set to counter two US-led steps, disclosed here by Debkafile:
1. Although the US-backed Friends of Syria 2, which took place Sunday, April 1, in Istanbul, offered the Syrian Free Army no direct assistance or support, Saudi Arabia and Qatar established an international fund to pay rebel fighters a regular wage. They hope to lure more officers and men into defecting from the army units loyal to Assad. Moscow and Tehran view this step as Arab intervention in the Syrian conflict.
2. The US, Israel and Greece launched a shadowy air-naval exercise in the Mediterranean Thursday, March 29. Code-named "Noble Dina," it appears to range across a broad sweep of sea up to Crete and including the waters off Turkey, Cyprus, and Israel Navy bases in Haifa and Ashdod ports.
None of the participants have admitted the maneuver is taking place, nor given out details. Some sources say it will end April 5, although this is not confirmed. Russia and Iran appear to be treating the two events as interconnected. Our military sources infer from the unusually broad area covered by the tripartite air and navy exercise, almost the entire eastern Mediterranean, that it is designed to simulate action in the Persian Gulf and Gulf of Aden.
Western naval sources in Naples disclose that the American, Israeli and Greek fleets are supported by a British Royal Navy flotilla cruising around the Straits of Gibraltar. They also report that the exercise is led by the USS Enterprise Strike Force. As soon as it is over, this aircraft carrier and strike group will head through the Suez Canal to the Red Sea and Persian Gulf, raising the number of US aircraft carriers facing Iran to three. Those sources also disclose that Israel contributed missile ships, submarines, fighter jets and assault helicopters to the drill.
Replacement Theology & World Church is Anti Israel
(Mainline world churches increasingly anti-Israel)
April 2….(YNET) While mainline churches in America seem to be lining up these days to divest from Israel, the Episcopal Church's Presiding Bishop condemned the boycott. "The Church does not endorse divestment or boycott", Bishop Katharine Jefferts Schori just told a Los Angeles group. "It's not going to be helpful to endorse divestment or boycotts of Israel." The Episcopal Church has two million members and 7,200 churches in the US and is part of the 77-million member Anglican Communion. Because of the relative wealth of its members, and its connections to the Church of England throughout the world, the Episcopal Church is in a strategic position to influence attitudes toward Israel on both a national and global scale.
Since the first Intifada, the mainline churches have become increasingly hostile to Israel, viewing Arab violence as a legitimate grassroots rebellion by "oppressed natives" against Israel's "colonial conquests" of Palestinian lands. All five of the mainline denominations in the United States, Methodist, Presbyterian, Episcopalian, Lutheran and United Church of Christ, have debated or adopted policies intended to divest or boycott Israel.
These Churches are now at a crossroad. During the upcoming General Conference of the United Methodist Church scheduled for April 25 in Tampa, Florida, and the General Assembly of the Presbyterian Church USA (June 30 in Pittsburgh,) anti-Israel actions in the form of boycott, divestment or sanctions are expected to be brought to the floor for a vote. The strategic objective of this campaign is not economic. It has been and continues to be about the isolation and the weakening of Israel's image in the eyes of the world — and most crucially, America.
A General Synod of the United Church of Christ, the same denomination of President Barack Obama, debated multiple strongly worded resolutions against Israel (one comparing Israel to South Africa's apartheid regime.) Historically, if one surveys the American presidents and secretaries of state, one finds that with very few exceptions, they all come from these Churches. The Rockefellers, the Vanderbilts, the Carnegies and the landed aristocracy of America are found in these churches. If the divest and boycott campaigns will be adopted by these Churches, it will have severe consequences in many other Christian quarters around the world. In Australia, the National Council of Churches last year passed a motion backing the boycott. The national Church of Sweden promoted a boycott of Israeli goods. The official Lutheran State Church is also a source of anti-Israeli attitudes. In 2010, the International Advice Council of the Church of Norway, the highest Church authority in Norway, decided to call for a full boycott of Israel. In 2007 the Protestant Church in the Netherlands reexamined "policy of solidarity with Israel." The Church of Scotland considered a divestment at its general assembly. The British Methodist Church has also seen a number of resolutions against Israel passed in recent years. With 26 member Churches, the South African council has endorsed an "academic and cultural" boycott of Israel.
The global Church has become unabashed apologists for Arab rejectionism, wrapping genocidal violence against Israelis in the mantle of innocent suffering and caricaturing the Jews as a divinely forsaken people, superseded in God's favor by Christian "New Israel," stripped of any right to a land or a future. This doctrine was key in fanning the flames of the Holocaust, which could not have happened without 2,000 years of anti-Jewish Christian polemic. The future of Jewish-Christian relations is now at stake.
By Securing Assad, Iran Moves to Secure its Nukes & Threaten Israel
| | |
| --- | --- |
| | (FOJ) Arab coalition says it will provide funding and communications equipment to Syrian rebels and opposition activists, reflecting a shift toward military options that might oust Syrian President Bashar Assad. Saudi Arabia and other Gulf countries are creating a multimillion-dollar fund to pay members of the rebel Free Syrian Army, a move meant to thwart Iran's agenda in the region. |
April 2….(DEBKAfile Special Report) In propping up Syrian dictator Bashar Assad, Iran reveals that it strongly opposes any foreign intervention in Syria's conflict and will defend Damascus so that it can continue to be a center of "resistance" against Israel. Iran's Lebanese stooge, Hizballah's Hassan Nasrallah, interrupted his Friday night sermon to declare triumphantly: "The die in Syria is cast. Talk of military intervention is over. There is no more talk about arming the opposition or about toppling the regime!" Saturday, the Syrian Foreign Ministry spokesman Jihad Makdisi announced, "The battle to topple the state is over, and the battle to solidify stability and move towards a renewed Syria has begun."
Bashar Assad's supposed victory over the 12-month uprising to unseat him is unquestioned. With massive Iranian and Russian intelligence and military support, the Syrian army was able to push the rebels out of the cities, barring isolated pockets in Homs and Idlib, and drive them to the rural periphery, where they can't hold up for long. One observer, describing their situation as "undergunned and overwhelmed," reported that Syria's rebels have to negotiate for hours for every box of bullets they haul across the border for their war against Assad. "And their frustration is starting to show." Tehran, Damascus and Hizballah are crowing over their success in derailing the Obama administration's two-pronged policy for halting a nuclear Iran. It hinged on Tehran's isolation by unraveling its alliance with Damascus and Hizballah and economic pressure through tough financial sanctions and an oil embargo. Iran has come out of the woods firmly in position at the head of its bloc, now cemented by Assad's defeat of his foes. Tehran's hand is much strengthened for the coming nuclear talks between Iran and the Six Powers due to start in two weeks. Washington will have to pay for any Iranian concessions by starting the process of unwinding sanctions.
The failure of Obama's linked strategies for Iran and Syria resounded in the background of US Secretary of State Hillary Clinton's Persian Gulf mission Friday and Saturday, described officially as aiming to bring Saudi Arabia and the Gulf states aboard a US-led front against Iran and Syria. In Riyadh, Friday, Clinton heard King Abdullah place responsibility for the Syrian debacle squarely at the door of the Obama administration for spurning the Saudi intervention plan to establish opposition sanctuaries in Syria under air force and ground forces' protection. On Saturday, more recriminations echoed between the lines of the announcement of Clinton's meeting with the foreign ministers of the GCC (Gulf Cooperation Council). GCC Secretary Ahmed Al-Kaabi said: The meeting at the GCC secretariat will focus on the Gulf's position on Syria and the role of the US and other allies. He added, "In fact, Saudi Arabia, along with fellow Gulf nation Qatar, has called for a timely approach, including arming the rebels and carving out a safe haven inside Syria from where the opposition can operate."
Iran's supreme leader gave the United States, Saudi Arabia and the GCC them his answer Thursday, when he pledged on his website strong opposition to any foreign intervention in Syria's conflict and the defense of Damascus, so that it can continue to be the center of "resistance" against Israel. It is clearly too late to reverse the tide in Damascus: Should the US have a sudden change of heart and accept the Saudi plan to intervene in Syria and arm the anti-Assad rebellion, that route would be cut off by Tehran calling off the nuclear talks and so robbing Obama's Iran policy of its ultimate goal.
The second Friends of Syria Clinton will be leading in Istanbul Sunday, April 1 has likewise been overtaken by events. Iran, Damascus and Hizballah have left the Syrian opposition and their adversaries' tactics behind them in the dust. This ought to be a resounding lesson for the Israeli circles who argue that it is up to America to deal with a nuclear Iran. Washington's management of the Syrian crisis and its non-military approach to a nuclear Iran has left Assad in the saddle and enhanced Iran's prospects of hanging onto its nuclear weapons capacity, while escalating anti-Israel "resistance" from Damascus.
Lebanon Being Infiltrated by Al Qaeda
April 2….(WND) There are increasing indications that al-Qaida's presence in Lebanon is on the rise, centering on the Palestinian Ain al-Hilweh refugee camp near Sidon, according to informed sources. Al-Qaida's presence has prompted the Lebanese army to place troops around the camp, which in turn has resulted in protests from the residents that troop presence is inhibiting their freedom of movement. The army isn't permitted to enter the refugee camps. It is believed that al-Qaida's top operative, Tawfiq Taha, heads a cell at the camp, with the goal of attacking the Lebanese army. Sources also indicate that some of the members of the terrorist cell are army officers.
Taha, also known as Abu Mohammad, is believed to have planned attacks against United Nations peacekeepers and the Lebanese army in south Lebanon in recent years. Al-Qaida's presence in Ain al-Hilweh brings to mind action taken at the Nahr al-Bared Palestinian camp near the northern Lebanese city of Tripoli in May 2007 by Lebanese Internal Security Forces. The Fatah al-Islam is an offshoot of al-Qaida. Taha was deputy to the Fatah al-Islam head, Abdul-Rahman Mohammad Awad, who was killed by the army shortly after the 2007 episode at Nahr al-Bared. While there currently is calm at the Ain al-Hilweh camp, the standoff continues with the Lebanese army insisting that residents of the camp hand over Taha. The Palestinian Follow-up Committee, which is comprised of nationalist and Islamist factions at the camp, has called the army an ally. "The Lebanese army, which fought the Israeli enemy, is an ally of the Palestinian people," the committee recently said in a statement. However, there is no indication that the camp will turn over Taha, but there haven't been any attacks on the army, at this point.
Sunni Al-Qaida's presence in Lebanon has been growing in recent years, with indications of their infiltration into the Bakaa border town of Arsal under the guise of being Syrian opposition activists. Elements of al-Qaida in Lebanon have reached a point that even the Shi'ite Hezbollah is concerned about its increasing presence. The concern centers over the prospect that al-Qaida could launch an attack on Israel, which in turn would blame Hezbollah and create an open conflict between Lebanon and the Jewish state.
Turkey's Erdogan Cites Israel as Nuclear Threat

(Hillary Clinton/
Turkey's Erdogan)

(FOJ) US Secretary of State Hillary Rodham Clinton on Sunday urged Iran to back up its declaration that Islam bars weapons of mass destruction by agreeing to a plan that would prove it does not intend to develop nuclear arms.
The Obama Administration obviously believes that Iran might actually not be seeking to wipe Israel off the map, once it produces its nuclear bombs. The foolishness of some politicians is mind-boggling, but yet it is setting the trap known in Bible prophecy as the Valley of Decision. The nations of this world are deceived, and they will never defend Israel against anyone.
April 2….(Ha Aretz) An Israeli strike against Iran would have "disastrous" consequences, Turkish Prime Minister Recep Tayyip Erdogan was quoted as saying on Saturday, adding the world remains silent on Israel's reported nuclear armament while threatening Iran over its peaceful program. The comments, made to reporters while making the journey back from an official visit to Iran. The Turkish PM said that "no one has the right to impose anything on anyone with regards to nuclear energy, provided that it is for peaceful purposes." Everyone with commonsense opposes nuclear weapons," Erdogan was quoted as saying by Turkish newspaper Today's Zaman. Speaking to reporters on Saturday, Erdogan was quoted by the Turkish daily Hurriyet as warning against the "disastrous" outcome of a possible Israeli strike against Iran's nuclear facilities, saying: "The entire region would be devastated if Israel strikes Iran."
The Turkish premier, who indicated he shared his concerns regarding the consequences of an Israeli attack with US President Barack Obama, said that a regional war triggered by such a move "would not end up like the war between US and Iraq. Israel should not attack Iran." Erdogan also criticized the international community for keeping mum on Israel's alleged nuclear weapons, while threatening Iran over what he said was a peaceful nuclear program. "Israel has between 250 to 300 nuclear warheads. Nobody is discussing Israel's nuclear program," Erdogan said, adding: "Iran says they would not produce nuclear weapons. They are saying that they would produce a specific amount of enriched uranium rods and stop after that."
---