WEEK OF AUGUST 5 THROUGH AUGUST 11
Assad Rides Crest of Disintegrating Country
Aug. 6….(DEBKAfile Special Report) UN Secretary General Ban Ki-moon was voicing the general consensus when he said Friday, Aug. 3, "The conflict in Syria is a test of everything this organization stands for." He stopped short of giving the UN a failed mark. "World powers must overcome their rivalries to end the proxy war in Syria dividing the country into parts, in which different militias fight each other," he said,
Nonetheless, the resolution approved by the general assembly roundly condemned the Assad regime and rapped the Security Council, but had no teeth.
Ban was speaking of a future danger. Debkafile reports it is already happening. Day by day, new militias spring up to fight the Assad regime, five in the last 48 hours. They fall into three main categories: they represent one Syrian ethnic minority or another, Islamists streaming in from across the Middle East, or rebels groups armed and backed by Arab and Muslim intelligence bodies.
Common to them all is contempt for the mainstream Free Syrian Army which insists it is the umbrella organization for the entire rebel movement. The biggest new paramilitary group rising from Syria's war-torn landscape is the Kurdish coalition formed by the Syrian Democratic Union Party and elements of the Turkish PKK, which continue to arrive from Iraq and are taking up position on the Syrian-Turkish border. Kurdish fighters are occupying one northern Syrian town and village after another, laying the foundation for an independent Syrian Kurdish state which plans to link up with the Kurdish Regional Government of Iraq.
The merger of Syrian and Turkish Kurdish militias with the Iraqi Kurdish peshmerga would produce a Kurdish army of 225,000 fighting men. Terrified that the separatism sweeping its brothers will infect the Turkish Kurdish minority, and suspecting Washington of surreptitiously supporting it, Turkish intelligence, the MIT, was instructed to establish and arm two Turkmen militias in the Syrian Kurdish region: Brigades of Mehmet the Conqueror and Brigades of Sultan Abdulhamid.
In Aleppo, the FSA has been displaced at the head of the campaign against government troops by a militia established by the Muslim Brotherhood and a rival set up by radical affiliates of al Qaeda, which is a hodgepodge of jihadists from Libya, the Gaza Strip, and Egyptian Sinai. Saudi and Qatari intelligence services are competing for the favors of these militias by supplying them with arms. American intelligence analysts keeping watch on Syria warned Saturday, Aug. 4, that if the proliferation of fighting militias taking part in the conflict goes on, Syria will soon have more than a hundred mini-armies, some of them Christian and Druze. In no time they will be fighting each other.
American and European military sources explain their reluctance to provide the Syrian rebel movement with heavy anti-tank and anti-air weapons capable of tipping the scales of the fighting in Aleppo by their uncertainty about whose hands they will end up in.
Saturday saw the state of battle in Aleppo undecided. In an attempt to break the tie, Assad sent MiG fighter-bombers to bomb rebel positions in the northern sector of the city. He hopes to recover control of Aleppo well before external powers reach a decision on supplying the rebels with heavy arms.
In Damascus, Syrian troops backed by dozens of tanks and armored vehicles Friday night stormed Damascus' southern district of Tadamon, the last rebel bastion in the capital. Activists reported that troop were conducting house to house raids and had executed at least 12 people.
Muslim Brotherhood Establishes Militia Inside Syria
(The Muslim Brotherhood has established its own militia inside Syria as the country's rebels fracture between radical Islamists and their rivals)
Aug. 6….(The Telegraph) Calling itself the "Armed Men of the Muslim Brotherhood", the militia has a presence in Damascus as well as opposition hot spots like Homs and Idlib. One of their organisers, who called himself Abu Hamza, said that he started the movement along with a member of the Syrian National Council (SNC), the opposition alliance. "We saw there were civilians with weapons inside, so we decided to co-operate with them and put them under one umbrella," he said.
Hossam Abu Habel, whose late father was in Syria's Muslim Brotherhood in the 1950s, said that he raised $40-50,000 (£25,000-£32,000) a month to supply Islamist militias in Homs province with weapons and other aid. The militias he funded were not affiliated to the Free Syrian Army (FSA), the main rebel movement, added Habel. "Our mission is to build a civil country but with an Islamic base," he said. "We are trying to raise awareness for Islam and for jihad."
The Syrian wing of the Muslim Brotherhood has been revitalized by the organization's success in Egypt, where it won both parliamentary and presidential elections. In the early days of the uprising against President Bashar al-Assad, secular and Islamist rebels were both prepared to fight under the FSA's banner and recognize the SNC as their political masters. But the FSA, dominated by defectors from the regime's army, has fallen out with the SNC, whose leaders are in exile. It now has its own political front, the Syrian Support Group (SSG). This split has divided the revolution's main international backers, with Saudi Arabia supporting the FSA and Qatar moving closer to the SNC and the Islamist militias.
The divisions are affecting operations on the ground: competing militias co-operate when necessary but otherwise disavow each other. "I would take it as an insult if you described me as FSA," said Abu Bakri, a front line commander of an Islamist militia in Aleppo calling itself the Abu Emara Battalion. One activist described how he was working with Sunni politicians in Lebanon to buy arms for the FSA with Saudi money. A member of the FSA command centre, located in neighboring Turkey, told the Daily Telegraph that they have this week received large consignments of ammunition, machine guns and anti-tank missiles. At one point Saudi Arabia and Qatar were both funding the FSA, with the command centre receiving up to $3 million in cash every month. But the operative said the situation had changed. "Now we are not working with the Qataris because they made so many mistakes supporting other groups." But the fracturing of the armed opposition raises the prospect of post-Assad Syria becoming a battleground. "This adds to the fragmentation and tones down the credibility of the opposition," said Louay Sakka, the SSG's Executive Director. "Supporters should go through the proper channel of the Free Syrian Army military council rather than build their own militias."
Amr al-Azm, a Syrian-American academic who was briefly on the SNC, said that Syria risked the same kind of disintegration that was set in motion by Saddam Hussein's downfall in neighbouring Iraq. The West's decision to limit its involvement in the Syrian conflict, and refrain from supplying lethal weapons, had left a gap for the Islamists to fill. "By playing to your own fears, you are making them come true," said Mr Azm. "By not intervening, you are forcing people to go those who have resources. No one wants to go to al-Qaeda, but if you are down to your last five bullets and someone asks you to say 'Allahu Akbar' (God is greatest) five times, you do it."
US to smash Iran's missiles, Israel tackle Syria, Hizballah
Aug. 6….(DEBKAfile Exclusive Report) An authoritative US military source told Debkafile Sunday, Aug. 5 that the American armed forces are standing ready for war with Iran. Without going into the thorny question of who should lead the operation to dismantle Iran's nuclear program, the US or Israel, it is understood that one of the US Air Force's tasks will be to destroy Iran's Shehab-3 ballistic missile batteries which have Israel and Saudi Arabia within range. This task is not as formidable as Iranian spokesmen would have the world believe. Tehran's entire stock of those missiles is no more than 30-40. That quantity is not nearly enough to take on the entire gamut of potential wartime foes, the United States Middle East bases, Israel, Saudi Arabia, Qatar, Jordan and Turkey. They would quckly be picked off by American Aegis Ballistic Missile Defense Systems and Israeli Arrow guided interceptor rockets, which are synchronized through the advanced US X-Band radar systems installed in the Israeli Negev and southeast Turkey.
In any case, it is hard to believe that Iran would empty its entire ballistic missile arsenal in a single blazing assault at the start of war. "They are too canny to leave themselves without some Shehabs in reserve for crises even more acute than the outbreak of war," said the US military source. He went on to explain that by wiping out the Shehabs, the US high command would leave the Israeli Air Force free to take on the thousands of rockets Syria, the Lebanese Hizballah and the Palestinian Hamas and Jihad Islami have stored ready for shooting in support of an Iranian missile offensive, not just against Israel, but Turkey and Jordan as well. Saturday, the Iranian Defense Minister, Gen. Ahmad Vahidi, announced that his ministry's aerospace industries had successfully test-fired the fourth generation of high-precision Fateh-110 missiles with a range of over 300km. He said that the new missiles can hit and destroy both land and sea targets, enemy concentration points, command centers, missile sites, ammunition dumps, radars and other targets with 100 percent precision.
Debkafile's military sources add that the Fateh-110 is the core weapon Syria and Hizballah have stocked for destroying strategic targets in Israel, Jordan and Turkey. Sunday, Aug. 5, a senior Israeli defense official reported that Israel is upgrading its Arrow II ballistic missile shield, designed to intercept medium range rockets and fill the gaps left by Iron Dome. The announcement in Tehran was taken in Israel as a threat and an indication that the improved Fatah-110 had already been dispatched to its Damascus and Beirut destinations, so exacerbating the perils of Syria's Scud missiles and chemical weapons which its government has threatened to use against external enemies.
Palestinians Abandoning Assad
Aug. 6….(WND) Syria's Palestinians are turning against longtime President Bashir al-Assad and will be a thorn in his side if his regime survives, according to a new report. Foundation for the Defense of Democracies Research Director Jonathan Schanzer says in his article, "Why the Palestinians are Turning Against al-Assad," that the Syrian leader has disillusioned his Palestinian supporters. "Even if Syrian strongman Bashar al-Assad somehow survives the current uprising aimed at toppling his regime, the beleaguered dictator will have a lingering identity problem," he writes. "Indeed, a long-standing pillar of Syria's foreign policy has been support to the Palestinian 'resistance' against Israel."
However, he writes, "In the wake of the Syrian onslaught, the country's estimated 500,000 Palestinians are abandoning, even challenging their longtime champion. With this dramatic shift, al-Assad is left more isolated in the Middle East than ever before." The report is a follow-up to an earlier analysis that said the Palestinians in Syria may end up in the driver's seat if Assad is toppled. The previous report noted Assad has brutalized his Palestinian population and has even attacked Palestinian refugee camps. "Indeed, it is already clear that the Syrian conflict has placed Assad's Palestinian clients into an untenable position. It's hard for Palestinian groups to claim they are fighting for justice when their patron is in the midst of slaughtering its own people, 18,000 souls and counting, in cold blood," Schanzer writes. "That is why an ever growing number of Palestinians are now working to topple the regime that once supported them," Schanzer writes. "But while the Assad regime has been willing to leverage the Palestinian cause on the international stage, those Palestinians living within Syrian borders have never been treated well. Palestinians in Syria are not allowed to vote or hold Syrian passports."
The conclusion is that the Palestinians are choosing sides, and their choice isn't to go with Syria. The reasons, Schanzer said, are many. "In recent weeks, the violence against Palestinians has spiked. In one incident, Syrian forces bombed a hospital in Yarmouk refugee camp, reportedly because medics were treating the wounded from both sides," he says. "This came on the heels of reports that Syrian forces opened fire on demonstrators in Yarmouk, killing four and injuring several others." However, that may be overstating the case, according to former Palestine Liberation Organization fighter Walid Shoebat. Shoebat says there are more powerful entities maneuvering Middle Eastern events. "That would be an exaggeration, what holds Syria's future is next door, Turkey, which is currently the superpower in the region, and the United States policy has left the Middle East to be policed by Turkey," Shoebat said. "When it comes to the Middle East, we should always start from top to bottom, the BIG dogs down to the underdogs. The Big Dog is Turkey (Sunni), then Iran (Shiite)," Shoebat said.
He said outside players also are going to steer the direction of the civil war. "The outside interference of course comes from Russia, the US and the EU. Today the bone is gripped between two vicious rivals, Iran and Turkey. It is all about turning Syria from Shiite control to Sunni control. Americans forgot about sectarian feuds in Syria and years ago in [the] Lebanon civil war," Shoebat said. He also believes Iran is losing out in the Syrian conflict. "Saber-rattling Iran is losing to the quite calculating Turkey which will soon emerge to cash in the entire Middle East. If you go to the Palestinian streets today you will find the Turkish flags flying all over," Shoebat said. "It is Neo-Ottoman and is purely Islamic. I have tons of footage from the Arabic sources to show you who really is fighting in Syria, it is al-Qaida and tons of its fresh duplicates who are freshly recruited to join the Islamist forces called Free Syrian Army," Shoebat said. "Americans by and large are naive when it comes to Syria. Syria is a bone of contention between Iran and Turkey, the bigger dog will gain it, Turkey," Shoebat said.
One Palestinian faction supporting the Syrian regime, the Popular Front for the Liberation of Palestine-General Command, started in 1968 after Ahmed Jibril, the secretary general for the PFLP, broke with PFLP founder George Habash. Jibril opposed Habash's willingness to work through political and diplomatic channels, favoring only armed conflict. Schanzer notes that PFLP-GC hasn't hesitated to attack and kill fellow Palestinians. "World powers aim to provoke sectarian divide and separatism in region including Syria; supporting government and nation of Syria in the current situation can deter Zionist regime plots," Jibril said. He made the comments in a meeting with Iranian Parliament Speaker Ali Larijani in June. Jibril also praised the Iranian regime for being the only country to support the Palestinians. Shoebat says that after reading one of Jibril's messages in Arabic, Jibril is indeed supporting Assad. "Ahmed Jibril of the PFLP is arming to fight against the Free Syria Army since the PFLP and its sister smaller faction, DFLP, are socialist and has always been a puppet of the Russians," Shoebat said. "The PFLP is not Islamist and is neither Sunni nor Shia in its ideology. Of course it will side with the Syrian regime. But to say that they are the 'key' in holding Syria's future is simply American naïveté.
White House Differs With Romney on Jerusalem as Capital of Israel
Aug. 6….(CNSNews.com) In what marks a decisive difference in the presidential campaign, one day after Republican presidential candidate Mitt Romney called Jerusalem the capital of Israel, the White House asserted that Romney's position was different from that of the Obama administration. "Our view is that that is a different position than this administration holds. It's the view of this administration that the capital should be determined in final status negotiations between parties," White House spokesman Josh Earnest told reporters Monday. "I would remind you that that is the position that has been held by previous administrations both Democratic and Republican. So, if Mr. Romney disagrees with that position, he is also disagreeing with positions taken by previous presidents like Bill Clinton and Ronald Reagan," Earnest added.
On Thursday, White House Press Secretary Jay Carney struggled during the afternoon press briefing to answer what the capital of Israel was, insisting reporters already knew the administration's policy and that the policy was not changed. Hours later he issued a written answer, stating it will be negotiated between Israel and the Palestinians. On Sunday, Romney, a former Massachusetts governor, spoke from Jerusalem addressing the close relationship between the US and Israel. "It is a deeply moving experience to be in Jerusalem, the capital of Israel," Romney said. "Our two nations are separated by more than 5,000 miles. But for an American abroad, you can't get much closer to the ideals and convictions of my own country than you do in Israel. "We're part of the great fellowship of democracies. We speak the same language of freedom and justice, and the right of every person to live in peace. We serve the same cause and provoke the same hatreds in the same enemies of civilization," he added. On Thursday, IRN-USA Radio News reporter Connie Lawn asked Carney, "What city does this administration consider to be the capital of Israel – Jerusalem or Tel Aviv?"
Carney said, "I haven't had that question in a while. Our position has not changed, Connie." The reporter followed, "What is the position? What's the capital?" Carney responded, "You know our position."
Carney issued a written statement to answer the question. "The status of Jerusalem is an issue that should be resolved in final status negotiations between Israelis and Palestinians," Carney said in a written statement. "We continue to work with the parties to resolve this issue and others in a way that is just and fair, and respects the rights and aspirations of both Israelis and Palestinians." The statement mirrors the troubles thThe statement mirrors the troubles that State Department spokeswoman Victoria Nuland had at a March 29 press briefing.
According to the official State Department transcript, a reporter asked Nuland, "Is it the view of the United States that Jerusalem is the capital of Israel, notwithstanding the question about the Embassy, the location of the US Embassy?" Nuland said, "We are not going to prejudge the outcome of those negotiations, including the final status of Jerusalem." The reporter said, "Does that mean that you do not regard Jerusalem as the capital of Israel?" Nuland responded, "Jerusalem is a permanent status issue; it's got to be resolved through negotiations."
The reporter further asked, "That seems to suggest that you do not regard Jerusalem as the capital of Israel. Is that correct or not?" Nuland responded, "I have just spoken to this issue –"
The reporter went on to ask, "You've spoken to the issue but didn't answer the question, and I think there's a lot of people out there who are interested in hearing a real answer and not saying, and not trying to duck and say that this has got to be resolved by negotiations between the two sides." The reporter again asked, "What is the capital of Israel?" Nuland said, "Our policy with regard to Jerusalem is it has to be solved through negotiations. That's all I have to say on this issue."
The reporter again asked, "What is the capital of Israel?" Nuland answered, "Our Embassy, as you know, is located in Tel Aviv." The reporter responded, "So does that mean that you regard Tel Aviv as the capital of Israel?" Nuland said, "The issue on Jerusalem has to be settled through negotiations."
WEEK OF JULY 29 THROUGH AUGUST 4
Ahmadinejad: World Forces Must Strive to Annihilate Israel
Aug. 3….(Jerusalem Post) In Ramadan speech to ambassadors from Islamic countries, Iranian president says "horrible Zionist current" has been managing world affairs for 400 years, adds that liberating Palestine would solve all world problems. In a speech published on his website Thursday, Iranian President Mahmoud Ahmadinejad said the ultimate goal of world forces must be the annihilation of Israel.
Speaking to ambassadors from Islamic countries ahead of 'Qods Day' ('Jerusalem Day'), an annual Iranian anti-Zionist event established in 1979 by Ayatollah Khomeini and which falls this year on August 17, Ahmadinejad said that a "horrible Zionist current" had been managing world affairs for "about 400 years." Repeating traditional anti-Semitic slurs, the Iranian president accused "Zionists" of controlling the world's media and financial systems.It was Zionists, he said, who were "behind the scene of the world's main powers, media, monetary and banking centers." "They are the decision makers, to the extent that the presidential election hopefuls of the USA must go and kiss the feet of the Zionists to ensure their election victory," he added.
Ahmadinejad added that "liberating Palestine" would solve all the world's problems, although he did not elaborate on exactly how that might work. "Qods Day is not merely a strategic solution for the Palestinian problem, as it is to be viewed as a key for solving the world problems," he said.He added: "Anyone who loves freedom and justice must strive for the annihilation of the Zionist regime in order to pave the way for world justice and freedom."
The Iranian president said that Israel reinforced "the dominance of arrogant powers in the region and across the globe" and that Arab countries in particular, he cited Bahrain, Yemen, Libya, Syria and Turkey were affected by Israel's "plots." Ahmadinejad, who has called the Holocaust a myth, has previously called for Israel's annihilation, in a 2005 speech in which he used a Persian phrase that translates literally as "wiped off the page of time."
Khamenei Warns Iran's Top Leaders: "War in Weeks"
Aug. 2….(DEBKAfile) On July 27, just before Friday prayers, Iran's supreme leader Ayatollah Ali Khamenei summoned top Iranian military chiefs for what he called "their last war council." "We'll be at war within weeks," he told the gathering, debkafile's exclusive Iranian and intelligence sources disclose. Present were Defense Minister General Ahmad Vahidi, Khamenei's military adviser General Yahya Rahim-Safavi, Armed Forces Chief Major General Seyed Hassan Firuzabadi, Revolutionary Guards Corps commander General Mohammad Ali Jafari and Al Qods Brigades chief General Qassem Soleimani. The commanders of the air force, the navy and ground forces were also there. Each of the participants was tapped to report on the readiness of his branch or sector for shouldering its contingency mission.
While retaliation had been exhaustively drilled in regular military exercises in the past year, Khamenei ordered the biggest fortification project in Iran's history to save its nuclear program from even the mightiest of America's super-weapons. Rocks are being gathered from afar, piled on key nuclear installations, covered with many tons of poured concrete and finally plated with steel.
That same Friday, the US Air force unveiled its new Massive Ordnance Penetrators. Each bunker buster weighs 30,000 pounds and is able to penetrate 60 feet of reinforced concrete.
Turning to retaliation, the war council endorsed a battery of paybacks for potential US and/or Israeli pre-emptive strikes against its nuclear program. They would start by announcing enhanced uranium enrichment up to 60 percent, which is close to weapons grade. Oft-tested ballistic missiles, Shehab-3, would be loosed against Israel, Saudi Arabia and American Middle East and Gulf military installations. Hizballah in Lebanon and Hamas and Jihad Islami in Gaza stand ready to pitch in against Israel with attacks from the north and the southwest. Saudi oil export terminals would be blown up and mines sown in the Strait of Hormuz to impede the export of one-fifth of the world's oil.
Khamenei put before his war council a timeline of weeks for the coming conflict – September or October.
Jewish Home MK calls for a "Third Temple" in Jerusalem
(MK Zevulun Orlev of the Jewish Home party has called for massive reforms, including new Basic Laws, in order to establish a Third Temple in Jerusalem.)
Aug. 2….(Times of Israel) In an article published in advance of the fast of Tisha B'Av in the weekly Hebrew journal Olam Katan, entitled "Internal and Legislative Reform," Orlev wrote that the Temple must be rebuilt in Jerusalem and that "fundamental changes" to Israeli society and government were necessary in order to realize the success of the project. Besides spiritual reform and the creation of a cadre of religious experts capable of running the Temple, Orlev argued that the government, "assuming the government will choose to be democratic," must turn back dissent surrounding the project. "It will be necessary to defeat no-confidence motions, to overcome the hostile, left-wing, secular media, and to ignore eye-rolling economists who will say it's a waste of public funds," he wrote. To forestall appeals to the High Court of Justice, Orlev advocated the legislation of a new Basic Law that would guarantee funding and manpower and protect the Third Temple from prosecution. "The law will also protect the Third Temple project from accusations of discrimination, inequality of women in the Temple service, and animal cruelty in the offering of sacrifices," Orlev continued.
Orlev acknowledged that to remove the "religious and political impediment" to his plan, namely the presence of the al-Aqsa Mosque and Dome of the Rock atop the Temple Mount, would mean that the "billion-strong Muslim world would surely launch a world war." However, he added, "everything political is temporary and there is no stability," and "Of late we're witnessed dramatic political changed that have occurred in many Arab countries." Orlev recently advocated a bill to bypass the High Court of Justice and protect illegally constructed buildings in the Beit El neighborhood of Givat Ulpana that was struck down by the Knesset in June.
Egyptian Christians Protest Islamic Takeover
Aug. 2….(Worthy News) Hundreds of Christians were preparing Monday, July 30, for a massive protest outside Egypt's Constitutional court to demand the dissolution of what they view as an Islamist-dominated assembly tasked with writing the country's new constitution, rights activists said. The legislators, appointed by a parliament that was dissolved by the military on June 14, has proposed a constitution that will adhere to the "principles of Islamic Sharia [as] the main source for legislation."
Advocacy group International Christian Concern (ICC) told Worthy News that Egypt's Supreme Administrative Court (SAC) is expected to decide whether or not the Constituent Assembly, a body tasked with drafting Egypt's new constitution, is legal. The current 100-member assembly is led by the Muslim Brotherhood and other Islamist groups. "If the court dissolves the assembly, the military will be granted authority to create a new panel to write the document, making it less likely that Egypt's constitution will be centered on Islamic law," ICC said.
There have also been international concerns over the military's influence over democratic institutions in Egypt, but minority Christians have made clear they fear more persecution under Islamic leaders. In early July, Islamic legislators already proposed to base Egypt's laws on the "principles" of Sharia, or Muslim law. Aidan Clay, ICC regional manager for the Middle East, said, "The 'Arab Spring', which many of Egypt's Christians and secularists believed would grant greater freedoms, has instead given rise to Islamists that do not recognize the rights of religious minorities."
In remarks to Worthy News he admitted that "the dissolution of the Constituent Assembly will threaten the very fabric of Egypt's revolution by giving the military, rather than a democratically elected assembly, the authority to write the country's constitution."
However, "If the military and the constitutional court do not intervene, then Islamic law will become the basis of the country's legislation. Under a Sharia state, attacks on churches and the killing of Christians will continue to increase," he said. "Additionally, Christians and secularists who are viewed as a threat to the Islamist-dominated government will routinely be charged with blasphemy or 'insulting Islam' and thrown in prison". He added that, "The remaining freedoms that Christians and other religious minorities still have in Egypt will be completely taken from them."
Obama Administration Refuses to Call Nigerian Terrorist Group a Terrorist Group
Aug. 2….(Worthy News) As the number of murders by a militant Islamic group in Nigeria continue to grow, some Congressmen are questioning the Obama administration's refusal to officially designate it as a terrorist organization. Boko Haram, which translates as "Western education is sinful," wants to create an Islamist state ruled by shar'ia; to that end, the group unleashed a series of deadly bombings against Nigerian churches last Christmas that killed and maimed many defenseless parishioners. Yet despite its murderous agenda, some senior US officials claim they just don't know enough about Boko Haram to put it on a watch list.
In May, action by Rep. Patrick Meehan (R-Pa.) came in the form of a resolution urging the State Department to either designate Boko Haram as a terrorist organization, or explain its reasons for not doing so. General Carter Ham of the US military's Africa Command claims Boko Haram is now allied with al Qaida in the Islamic Maghreb and Somalia's al Sha'bab, two militant Islamic groups that the State Department has already designated as terrorist organizations. Some experts say this designation may be exactly what Boko Haram wants: it could raise the group's "street cred," which would aid it in recruiting new members, according to William Minter, an expert on African terror issues.
Muslim Brotherhood Waiting in Wings to Take Over in Syria
Aug. 1….(DW) The fighting between the Syrian regime and rebels is intensifying. Observers say it is only a matter of time before President Bashar Assad loses his iron grip on power. But who will take over at the helm? Syrian government forces and rebels are both claiming victory in key areas of the major commercial hub Aleppo. As fierce fighting in the northern Syrian city continued, US Defense Secretary Leon Panetta said the attacks on Aleppo were evidence that President Bashar Assad lacked the legitimacy to rule. "If they continue this kind of tragic attack on their own people in Aleppo, I think it ultimately will be a nail in Assad's own coffin," Panetta said, speaking to reporters at the start of a weeklong trip to the Middle East and North Africa. "What Assad has been doing to his own people and what he continues to do to his own people makes clear that his regime is coming to an end," Panetta said. "It's lost all legitimacy. It's no longer a question of whether he's coming to an end, it's when."
Should the Syrian regime be toppled, the question arises who will fill the power vacuum left behind? The Syrian National Council (SNC) has acted as the international face of the revolution. But the organization has been unable to unite the various disparate rebel factions under one umbrella. The SNC secretariat convened in Qatar last week to try to agree on a transitional leadership should Assad's regime fall - but no decisions were made.
A major force being closely observed is Syria's Muslim Brotherhood. It holds the largest number of seats in the SNC and controls its relief committee, and thereby the distribution of SNC funds in Syria. The movement said it was ready for the post-Assad era. "We have plans for the economy, the courts, politics," the Brotherhood's spokesman Mulhem al-Droubi told news agency AFP earlier this month. Though the Muslim Brotherhood has reemerged as a major political force since the turmoil in Syria began in March 2011, no one can say for certain just how popular it is within the country, said Syria expert Thomas Pierret. "You can't reconstruct a popular base within a year's time, from abroad," said Pierret, a lecturer in contemporary Islam at the University of Edinburgh and author of the upcoming book "Religion and State in Syria." "This is a movement in exile that has not had any activity within Syria for over 30 years," Pierret told DW "It is difficult to prove how powerful they are since they have been operating underground."
The Muslim Brotherhood was founded in Egypt in 1928 and branched into Syria in the 1940s. Originally part of the legal opposition, it was banned in 1963 when the Baath party took over office. Bashar Assad's father Hafez crushed an armed insurgency led by the Brotherhood in Hama in 1982, completely destroying the movement. Only a few members were able to flee and rebuild the group in exile. Stakes are very high in Syria, as powers in the region were intent on following their own interests. Saudi Arabia, for example, is a key financial backer of the rebellion. Saudi Arabia doesn't want the Muslim Brotherhood in power, Pierret said.
Western powers, meanwhile, have been unable to end the impasse at the UN over the Syrian crisis. Both Russia and China have been blocking efforts to put more pressure on Assad. Russia, which sells arms and makes use of a naval maintenance facility in Syria, has said its rejection of sanctions was not driven by support for Assad but rather by a conviction that Syrians must decide their own fate and opposition to military intervention. But without Russia's support, diplomatic efforts will not succeed. The West has limited options in Syria, and Russia is one of the key players. Western, Arab and Russian interests would most certainly clash regardless of the results.
The "Muddle" East
Aug. 1….(Victor Davis Hanson) No one has any idea what the Middle East will look like next year, much less in five years, especially the revolutionary players themselves. There are not even the old familiar fault lines this revolutionary time around. Are the Sunni Gulf kingdoms eager to support revolutionaries in Syria and North Africa? Perhaps and perhaps not, given that the fall of strongmen like Mubarak, bin Ali, Qaddafi, and Assad may lead to Muslim Brotherhood inspired Islamist governments, which would like to see the oil-rich monarchies become less Western and more theocratic. Or, though this is less likely, if pro-Western reformist movements were to prevail, such governments would like to democratize and secularize the Gulf. Who are our best allies in breaking up the dangerous Iran-Hezbollah-Syria axis? Islamist extremists who want to kill the hated Assad slightly more than they do us — at least for now?
Who can sort out Lebanon? Are Christians and Shiites there sympathetic to the tottering Assad dictatorship for protecting religious minorities and, in the case of the Shiites, helping to arm Hezbollah? Or do non-Sunnis also favor reform movements that seek the ouster of a despised police state, one that has a long history of killing Lebanese? Does a grateful Iraq feel that Syria has been more sympathetic to its Shiite government than its Sunni neighbors have been, or is it experiencing schadenfreude that its terrorists are now doing to Syria what Syria's used to do to Iraq?
Will new Arab Islamist governments seek solidarity with the anti-Western Persian theocracy, or will they fall back into their religious and ethnic fears of Iranian Shiites? No one has ever quite fathomed whether Shiite and Sunni extremists hate Westerners more or less than they do each other. Does the supposed Arab Street desire to be free, especially in the age of globalized instant communications, and given its general repugnance for the sheer corruption of the moribund Arab dictatorships? Or will the Muslim Brotherhood simply tap that popular anger to abort the delivery of constitutional government, whether overtly, as in the case of the Iranian revolution and the one-vote-once Hamas takeover of Gaza; or more insidiously, as in the current Turkish government's war against freedom of the press and independent opposition movements, or in the Karzai-Maliki paradigm of constitutional kleptocracy? Amid this chaos there are a handful of constants that can guide US foreign policy.
1. Arab governments, whether they take the form of one-man authoritarianism, monarchy, or theocracy, will remain anti-Israel. That is not to say that particular factions from time to time will not stealthily strengthen ties with Israel in order to punish shared enemies, but by and large the Arab Middle East will still detest Israel. The region's unrepentant embrace of anti-Semitism, resentment over the economic power and success of Israel, and longstanding anger at the establishment of a Jewish state in the heart of the Arab Middle East trump all ephemeral changes in government. To the extent that a new Arab regime is elected by popular vote, and to the extent that it retains the loyalty of its people, anti-Israeli feeling will only escalate. Power to the people in the Middle East means more power to hate Israel.
2. The Arab Middle East will remain staunchly anti-American. We already see that Barack Hussein Obama had little, if any, success in winning over hearts and minds of the Arab Street after the exit of the Texas evangelical and Iraq-invading George Bush. Secretary of State Hillary Clinton was greeted with crude chants of "Monica" from demonstrators among our supposedly secular, reformist allies in aid-receiving "friendly" Egypt. The new government in Cairo apparently wishes the release of the mass-murdering blind sheikh, who helped plan the 1993 World Trade Center bombing, and who dreams of Jerusalem as the Arab capital of a West Bank state. All we know of Syria with any surety is that Assad detests us, his Hezbollah partners detest us, his Iranian patrons detest us, the al-Qaeda extremists who seek to overthrow him detest us, and more reasonable reformist rebels either detest us for not helping them more overtly, or will soon find other reasons for detesting us when and if they should seize power. American aid; generous US immigration policies for Muslims and Arabs; loud support for democratic movements; the removal of Saddam Hussein and Moammar Qaddafi; past help to the Iraqis, Kuwaitis, Egyptians, Palestinians, and Jordanians; prior efforts to protect Muslims in Afghanistan, Bosnia, and Somalia, all that effort by America earns little, if any, goodwill from the Arabs.
3. Oil, one way or another, will still affect all strategic thinking. Over the next decade, the huge new reserves of oil and natural gas found in the US, Canada, and Mexico will, if fully exploited, revolutionize the fossil-fuel supplies of North America. Vastly increased daily production will allow the United States, inter alia, far more flexibility in its foreign policy, freed from fears of embargos, boycotts, and OPEC price-rigging. Add into the mix the unanticipated emergence of an energy-independent Israel, and access to Arab oil, and the power of Middle East petrodollars, may no longer dominate American foreign policy. For good or evil, in five years we may be no more concerned about the subversion of Arab Spring–type democratic movements than the present administration is today about the lack, or erosion, of constitutional government in nearby Cuba, Ecuador, Nicaragua, Peru, and Venezuela.
4. Nuclear proliferation may become immune to international scrutiny. There is simply too much turmoil in the Middle East for the international community to monitor and control the spread of nuclear weapons. As Western forces leave Afghanistan, expect tensions to rise between Afghanistan and nuclear Pakistan, and between nuclear Pakistan and nuclear India. No one can figure out the politics of either an Israeli preemptive strike on Iran's nuclear facilities, or an announcement that Iran has let off a nuclear device, other than that either development, or both, would destabilize the region even more. If Syria, the entire West Bank, Jordan, and Egypt embrace Muslim Brotherhood–inspired governments, soon a probability, we will see a return to the pre-1973 Middle East calculus, with Islamism substituting for the old pro-Soviet stance as the common creed of uniform hostility among frontline enemies of Israel. In such a scenario, the Arab states would naturally seek some sort of replacement for the lost Soviet deterrence that always ensured that, as in 1967 or 1973, an Arab setback was not quite a total defeat.
5. America will have not a single ally in any effort to influence Middle East change in the near future. Reset with Vladimir Putin's Russia was an abject disaster. The only impulse that trumps Putin's fear of Islamic radicalism is his desire to ensure that any crisis in the region affects America negatively. China wants oil, period. To the extent that it is involved, it seeks to be on the side of any government that provides it energy and, as a bonus, is anti-American, which gives it a wide field in which to play. A financially troubled Europe will not repeat its Libyan escapade. Europe's southern nations, which are most proximate to Middle Eastern unrest, are also all insolvent, increasingly disarmed, and paranoid about the sources of their energy. A non-interventionist Germany has not just the say over whether the Euro zone survives, but, by virtue of its much-needed money, de facto veto power over future collective European action. Turkey is the Obama administration's most fickle and unreliable new "ally," distancing itself from the United States when it seeks new Islamic partners, only to beg for our cooperation when those efforts blow up in its face, as they have in Syria. NATO is dying on the vine, because of our much-heralded Asian "pivot" and the lack of money in Europe. The United Nations remains a joke; there will never be a UN resolution regarding Syria like the one regarding Libya, largely because the West stoked Chinese and Russian resentment when it transmogrified UN-approved humanitarian help and no-fly zones into a blank check for bombing.
Given those depressing factors, where does the ongoing Middle East mess leave America? We should restore close relations with an Israel that is becoming wealthier and stronger all the time, and is the only consistently pro-American, democratic nation in the entire region. The Obama administration has demonstrated that any hint of daylight between the US and Israel does not win over the Arab world, but only persuades it that Israel is more vulnerable.
The wisest course will be to depersonalize our Middle East policy and simply state that the US, to the extent that it weighs in on the turmoil, supports constitutional government (rather than plebiscites): To the degree that a society is transparent, respects human rights, and remains consensual, we support it; to the degree that it does not, we are more likely to oppose it. In fact, that would soon place us at odds with most of the theocratic movements that are slowly strangling their secularist counterparts. The US must fast-track energy exploration, especially via the leasing of resource-rich federal land, the completion of the Keystone pipeline, and drilling in well-established oil-rich areas offshore and in Alaska. If North America does become energy independent, the entire continent, and perhaps the world at large, will be both richer and safer.
Now is not the time to cut our strategic arsenal or to prune back missile defense. The danger is not the loss of our own nuclear deterrence, but any sign that the US feels somehow that its arsenal is redundant. We should worry not just that Egypt or a Gulf state might go nuclear in response to Iran, but that a half-dozen nations might. America's message to the Middle East must be that an attack on the US or its interests would not only be futile but would ensure an overwhelmingly destructive response.
In short, names and faces come and go in the Middle East. So do its mass movements, whether pro-Hitler fascism, Nasserism, Baathism, Soviet clientship, or Islamism and theocracy. Yesterday's crude Grand Mufti is today's slicker Hassan Nasrallah and may be tomorrow's slickest of all, Mohammed Morsi. Hosni Mubarak went from Nasserite stooge, to Sadat's welcomed successor, to a reliably corrupt but strategically aligned US ally, to enemy of the Arab Street and now little more than a breathing corpse. All that should remain constant is American support for a pro-Western, free-market, and constitutional Arab world, an inseparable alliance with Israel, an end to importation of Middle Eastern energy, and an America with overwhelming military dominance.
Democrats to Back Gay Marriage at Convention
July 31….(NBC) The Democratic Party is set to include a pro-gay-marriage plank in their party convention platform, according to a Democratic source. The language was included as the first step in the platform process. The platform drafting committee met in Minneapolis this past weekend. Next, the full platform committee will be consider it in Detroit in two weeks and then, it will go to the convention delegates in Charlotte for final approval. No specific language of the platform plank was made available.
The Washington Blade, which broke the news, also reported, and the source confirms that it was approved unanimously and "the platform approved on Sunday not only backs marriage equality, but also rejects DOMA and has positive language with regard to the Employment Non-Discrimination Act. The move does not come as a complete surprise, considering President Obama's public endorsement of same-sex marriage back in May.
The National Republican Senatorial Committee points to a Wall Street Journal report in May which notes Democratic Senate candidates who have not backed the president's position on gay marriage. Democrats maintain a 53-47 advantage in the Senate, including two Independents who caucus with the Democrats. Control is up for grabs this fall with Democrats on defense in many races.
FOJ Note: America is in danger, and headed for certain judgment, if this political movement becomes standard morality in America. It is the last sin of descent, from which there is no hope for escape! (Romans 1:26-28 For this cause God gave them up unto vile affections: for even their women did change the natural use into that which is against nature: And likewise also the men, leaving the natural use of the woman, burned in their lust one toward another; men with men working that which is unseemly, and receiving in themselves that recompence of their error which was meet. And even as they did not like to retain God in their knowledge, God gave them over to a reprobate mind, to do those things which are not convenient)
Syrian Chemical Weapons and Al-Qaida
July 30….(Israel Hayom) During a nighttime raid in Amman on April 20, 2004, Jordanian security forces foiled a plot by al-Qaida to attack the headquarters of Jordanian intelligence, the Jordanian prime minister's office and the US Embassy with chemical weapons. Tons of chemical agents were seized that apparently had come from Syria. Jordanian officials estimated that the chemical attack could have killed 20,000 people. One of the terrorists who was captured confessed on Jordanian television that he worked for Abu Musab al-Zarqawi, the Jordanian who had become the commander of al-Qaida in Iraq. Zarqawi was eliminated by the US, but his organization survived. Today it is dispatching its operatives to Syria to fight the embattled regime of Bashar al-Assad.
There was an emerging chemical threat to Europe as well. In 2002, the French counterintelligence agency, DST, broke up an Algerian cell connected to the Zarqawi network that was intending to attack the subway system of Paris with chemical weapons. The revelations about al-Qaida planning to use chemical weapons was not new. US intelligence agencies had in their possession al-Qaida training manuals, which contained information on the production and deployment of chemical weapons. The al-Qaida network appeared to be prepared to use chemical weapons in the terrorist attacks it was planning in order to cause far greater numbers of casualties in comparison with a conventional terrorist attack.
Given this recent history, the concern in the West that Syria's stocks of chemical weapons will end up in the hands of terrorist organizations is valid. There are two scenarios in which this transfer of chemical weapons could occur. According to one scenario, terrorist organizations simply overpower the Syrian units protecting the chemical weapons stockpiles. There has been a similar concern in the West that this could occur with the nuclear weapons of Pakistan with the weakening of its regime and the penetration of the Pakistani Army by jihadist elements.
There is also another scenario that the Syrians actually give their chemical weapons to an organization like Hezbollah, rather than al-Qaida, just as the regime collapses. Defeated regimes have been known to give away their strategic "crown jewels" during previous wars, sometimes temporarily for safekeeping and other times with no intention of getting the weapons back. In 1991, Saddam Hussein gave away the most advanced aircraft in the Iraqi Air Force to Iran, his former adversary, rather than letting them be destroyed on the ground by the US Air Force.
Then in 2003, just before the outbreak of the Iraq War, the US had satellite intelligence showing the heavy flow of truck traffic from Iraq into Syria. In late October 2003, James Clapper, who today serves as President Obama's chief intelligence advisor, told The New York Times when he headed an American agency that was responsible for interpreting satellite imagery, that the truck convoys contained Iraqi weapons of mass destruction. The Iraq Study Group that reported to the head of the CIA and was given the task of finding Iraq's weapons of mass destruction, after the US invasion, did not have sufficient information about the movement of Iraqi chemical weapons to Syria, though it concluded that the reports on this subject "were sufficiently credible to merit further investigation." In 2005, just after he left his position as IDF chief of staff, Lt. Gen. (res.) Moshe Ya'alon, told The New York Sun that Saddam Hussein had transferred chemical agents in Iraq to Syria, adding in a tone of criticism that no one went to Syria to find them.
This time it is less likely that the West will allow Syria's substantial chemical weapons stockpile to disappear, like in the Iraqi case. In early March, The Wall Street Journal reported that the armies of the US and Jordan were developing joint plans to secure Syria's chemical arsenal. It was noteworthy that Jordan's King Abdullah specifically warned in a CNN interview on July 18 that Syrian chemical weapons might fall " in the wrong hands," adding that al-Qaida had a presence in parts of Syria already.
Syrian Govt Claims Victory in Damascus as Aleppo
July 30….(RT) The Syrian government has declared victory in Damascus while the fierce struggle for control of Aleppo continues. Meanwhile, the country's Foreign Minister is in Iran, seeking support from the Islamic state. According to Reuters, Syrian Foreign Minister Walid al-Muallem said, "Today I tell you, Syria is stronger. In less than a week they were defeated in Damascus and the battle failed. So they moved on to Aleppo and I assure you, their plots will fail." The comment was made during his visit to Tehran, where he met with his Iranian counterpart, Ali Akbar Salehi.
Fighting between rebel and government forces escalated in Aleppo on Sunday, just as Salehi expressed doubts that a managed Syrian power transition would ever work. "Thinking naively and wrongly that if there is a power vacuum perhaps in Syria and if there is a transition of power in Syria, simply another government will come to power, that I think is just a dream," Salehi said. According to reports from Al Arabiya, Muallem said, "We believe that all the anti-Syrian forces have gathered in Aleppo to fight the government, and they will definitely be defeated."
Intense fighting continued in Aleppo on Sunday, as government troops aimed to regain control in the southwestern neighborhoods of Salaheddine and parts of Saif al-Dawla, which were seized by rebels last week. Aleppo is Syria's commercial hub, and is seen as a critical city for both the regime and the opposition. Rebels are believed to control between a third and half of the neighborhoods in Aleppo.
Iranian Foreign Minister Ali Akbar Salehi has called on regional powers to stop supporting the Syrian opposition, arguing that the power vacuum which would open up should the government in Damascus fall would result in dire consequences for the whole region.
Syrian FM Blames Israel for Syrian Turmoil
July 30….(YNET) Syrian Foreign Minister Walid al-Muallem, who is currently visiting in Iran, accused Israel of conspiring against Syrians. Muallem and his Iranian counterpart Ali Akbar Salehi, confirmed in a media conference that the two countries take a similar stance on the ongoing military conflict in Syria. "We are happy that the all-out efforts and plots made by the Zionist regime and the West to meddle in Syria's internal affairs are frustrated," they said.
FOJ Note: Ahh, there we go again, everything in the world, and especially in the Middle East is always Israel's fault. If only Israel would cease to exist, there would be World Peace!
WEEK OF JULY 22 THROUGH JULY 28
Congress Warned that al-Qaida in Iraq is Coming to America
July 27….(Jewish World Review) The terrorist organization that was once the scourge of the US occupation in Iraq and likely is responsible for more than 100 deaths in the country over the past few days has set its sights on launching attacks inside the United States, intelligence officials said.
Al-Qaida in Iraq released a message earlier this week that threatened to strike at the "heart" of the United States, and several associates of al-Qaida in Iraq have been arrested in the United States and Canada over the past two years, said US officials, a sign that the terrorist affiliate has tried to establish a network inside North America. The arrests highlight "the potential threat posed to the United States" from al-Qaida in Iraq, said Matthew Olsen, the director of the National Counterterrorism Center, during a hearing Wednesday held by the House Homeland Security Committee examining the current threat from terrorism to the United States.
Al-Qaida in Iraq has been known primarily for launching attacks against the American forces in Iraq and the Shiite-led government there, as well as helping to plot attacks in neighboring Jordan. But "there are networks and recruiting efforts in the US and Canada," said Seth Jones, an expert on al-Qaida at the RAND Corp. and author of "Hunting in the Shadows: the Pursuit of al-Qaida since 9/11." "You can say pretty categorically that al-Qaida in Iraq appears to be strengthening from where it was two years ago," said Jones, even as the organization's senior leaders in Pakistan have been killed.
The terrorist organization's affiliate in Iraq was pummeled more than five years ago by a coalition of Sunni tribal leaders in western Iraq and US forces, but experts who study al-Qaida say that the organization in Iraq has begun to rebuild, energized in the past year by the violent uprising in Syria next door and an influx of cash from wealthy benefactors in the Persian Gulf. On Sunday, the day before the latest wave of attacks, al-Qaida in Iraq released an audio recording to mark the beginning of the Ramadan fast. The message announced a new campaign of violence against the Iraqi government, praised Syria's uprising and made a call for new recruits to join the group. It also spoke directly to Americans. "You will soon witness how attacks will resound in the heart of your land, because our war with you has now started," said a man that identified himself as Abu Bakr al-Baghdadi, the pseudonym used by the head of al-Qaida in Iraq.
Attacking the US is easier said than done, said Rep. Michael McCaul, R-Texas, who sits on the House Homeland Security Committee and has been briefed on the threat to the US from Iraq. "But when you have the leader signaling that it is time to go on the offensive, there is a heightened sense of concern for law enforcement and intelligence agencies here in the US," McCaul said. Two Iraqi refugees were arrested in Kentucky in May of last year and charged with attempting to ship weapons from the US to assist al-Qaida in Iraq. The fingerprint of one of the men had allegedly been found on a bomb that attacked a US convoy in Iraq in 2005. Federal officials believe the two men had been trained to build roadside bombs from cordless telephones. In January 2011, a Canadian man named Faruq Isa was arrested for allegedly recruiting fighters to launch attacks against American forces in Iraq. Isa is fighting extradition to the US from Canada to face charges of conspiracy to kill Americans.
Russian Fleet Arrives Nears Syria
July 26….(DEBKAfile Special Report) Russian, Western and Arab forces were piling up on Syrian borders Wednesday, July 25, bringing closer a war confrontation which could spur the Assad regime into making good on its threat to use chemical weapons against "external aggression." Based on this reading, Moscow added its voice to that of US President Obama and warned Bashar Assad against using chemical weapons in view of "its commitments under the international convention it ratified prohibiting the use of poisonous gases as a method of warfare." Debkafile's military sources: With operational intelligence deployment and electronic stations positioned inside Syria, the Russians are better placed than any other outsiders to know what is happening on Syria's battlefields. Their warning must therefore be tied to solid information confirming Washington's assessment that Assad is dangerously close to deciding to use his chemical and biological weapons in a way that would precipitate a regional conflict. Israel, Turkey and Jordan would be the first targets on his list. The immediacy of the peril, Debkafile's military sources report, has speeded the arrival of Russian warships to Syria to counter a potential Western, Arab or Israeli assault on the embattled country.
The Russian Ministry of Defense, which rarely discloses Russian military movements outside its borders, announced early Wednesday morning, July 25 that a fleet of Russian warships had passed through the Strait of Gibraltar and entered the Mediterranean. The fleet is headed by the anti-submarine and anti-aircraft Admiral Chabanenko warship and consists of another three vessels carrying a large number of Russian marines. This fleet will rendezvous with a Russian flotilla standing by in the Mediterranean since July 21, detached from Russian Black Fleet and composed of the Smetlivy figate and two large landing craft loaded with Russian marines. This group awaited the main force before approaching Syria.
The fact that Russia is massing large numbers of marines off the Syrian coast looks as though a landing on Syrian soil is on Moscow's cards. The Russian marine contingent, Debkafile's sources say, will stand ready, either to come to the aid of the Assad regime or to serve as a bargaining chip for a last-minute deal between Moscow and Washington for ending the war by establishing a transitional military regime in Damascus whose makeup would be agreed between them and Assad.
US Secretary of State Hillary Clinton hinted at this possibility on Tuesday, July 24, when she said: "We do believe that it is not too late for the Assad regime to commence with planning for a transition." But Clinton also hinted, in a more threatening tone, that a situation is developing for the creation of safe zones in rebel-controlled areas of Syria. "More and more territory is being taken and it will, eventually, result in a safe haven inside Syria which will then provide a base for further actions by the opposition," she said. Clinton didn't name the potential protectors of those havens. However, since the Syrian rebels are short of manpower, Western, Muslim or Arab defenders would have to be called in.
Deputy Iranian Revolutionary Guard chief, Gen. Masoud Jazayeri, warned on Tuesday, July 24, that Tehran would not permit regime change in Damascus and if Syria's enemies intervened, Iran would hit them hard. The Iranian commander pointed a finger at Saudi Arabia and Qatar, adding that the US and Israel are at the forefront of the comprehensive campaign against Syria but are being beaten back. This was the first time Tehran had explicitly threatened military intervention in Syria. Turkey shut its border crossings to Syria. Military sources in Ankara confirmed that massive Turkish military strength had been on the move toward the Syrian border.
Russia Accuses US of Supporting Terrorism in Syria
July 26….(Jerusalem Post) Lavrov slams comments made by US State Department spokeswoman Victoria Nuland who said attacks on Assad's top officials are "not surprising." Russian Foreign Minister Sergei Lavrov accused the United States on Wednesday of justifying terrorism against the Syrian government and berated Western nations he said had not condemned attacks that killed top members of Syrian President Bashar Assad's inner circle. Referring to what he said were comments by US State Department spokeswoman Victoria Nuland indicating such attacks were not surprising given the Syrian government's conduct, Lavrov said, "This is a direct justification of terrorism."
Meanwhile, the Syrian army turned its forces on Aleppo on Wednesday, ordering an armored column to advance on the country's second biggest city and pounding rebel fighters there with artillery and attack helicopters, opposition activists said. As hostilities intensified near the Turkish border, Turkey said it was closing its crossing posts, although the United Nations said refugees fleeing Syria would be allowed through. The 16-month revolt against Syrian President Bashar Assad has been transformed from an insurgency in remote provinces into a battle for control of the two main cities, Aleppo and the capital, Damascus, where fighting exploded last week. Assad's forces have launched massive counter assaults in both cities. They appear to have beaten rebels back from neighborhoods in the capital and are turning towards Aleppo, a commercial hub in the north. Syrian forces fired artillery and rockets on Wednesday at the northern Damascus suburb of al-Tel in an attempt to seize it from rebels, causing panic and forcing hundreds of families to flee, residents and opposition activists said. The 216th mechanized battalion headquartered near Tel started bombarding the town of about 100,000 people before dawn and initial reports said
Iran Prepping its Terror Proxies for War
July 25….(WND) Iran in recent days sent a series of missile and rocket convoys to the Islamic Jihad terrorist group in the Gaza Strip, a senior Egyptian security official told WND. The official said the increased weapons flow to Gaza is seen as part of a wider Iranian strategy to prepare for the possibility of a war involving Syria, with particular concern about the prospect of a future Turkish or NATO confrontation with Damascus. The official said the Egyptian military aided in the attempt to stop some of the Iranian convoys. He said some weapons made it through to Gaza. The Iranian arming of Islamic Jihad is causing tension between the jihadist group and Gaza's Hamas rulers.
WND previously reported that according to well-placed sources within Hamas speaking to WND, the jihadist group has been asked by the Egyptian military to stay out of any future confrontation between Israel and Iran. For the first time in recent years, Hamas, feeling confident from major Muslim Brotherhood gains in the region, is considering distancing itself somewhat from Iran, the sources said. The group may even remain largely neutral if Israel strikes Iran's suspected nuclear sites, the sources said. The sources added, however, that no decision has been made.
Hamas and the Muslim Brotherhood belong to the Sunni stream of Islam while Iran's leadership espouses fundamentalist Shiite Islam. While Iran has long supported Sunni groups such as Hamas, the major differences in Islamic ideology and practice have always caused unease. Indeed, one of the most senior Hamas officials, speaking previously to WND on condition of anonymity, once said he would ultimately be pleased if Israel strikes Iran's nuclear sites, even if it means scaled-back Iranian funding to his group. The Hamas official said he fears Iran would use a nuclear umbrella to enforce a Shiite superpower in the Middle East at the expense of the Sunnis.
According to several Hamas sources, there has been tension between the jihad group and Iran over Hamas' decision to not aid Syrian President Bashar al-Assad's battle against an insurgency targeting his regime. The uprising has been supported by the Muslim Brotherhood. Syria is a major Iranian partner in the region.
Israel: Syrian Transfer of WMD to Hezbollah is Act of War
July 25….(Newsmax) Israel will act "decisively and without hesitation or restraint" if Syria transfers any chemical weapons to the terrorist organization Hezbollah, Israel's Foreign Minister Avigdor Liberman declares. Liberman also said Syria's transfer of chemical weapons to Hezbollah would be a "justification for war." Speaking at a press conference at the EU-Israel Association Council meeting in Brussels on Tuesday, Liberman said the transfer of some of Syria's stockpile of chemical and biological weapons to anti-Israel Hezbollah would make tensions in the region "a completely different ballgame," adding that "we hope for the understanding and cooperation of the international community," the Jerusalem Post reported.
Also on Tuesday, Israeli Chief of Staff Lt.-Gen. Benny Gantz said that the Jewish state could face a large-scale conflict in the aftermath of an attack against Syria's chemical weapons. Gantz told the Israeli Knesset's Foreign Affairs and Defense Committee that the challenge for Israel is to identify the appropriate moment to take action, if needed, to destroy Syria's chemical weapons and keep them from falling into the hands of terrorist groups like Hezbollah. He said Syrian military forces are guarding the chemical weapons stockpile "and have even increased security so it will not fall into rogue hands, although this does not mean it will stay that way. We need to take into consideration what will remain after we act and whose hands it will fall into."
Syria acknowledged for the first time on Monday that it had chemical and biological weapons and said it could use them if foreign countries intervened in the ongoing rebellion there. Damascus has not signed a 1992 international convention that bans the use, production or stockpiling of chemical weapons, but Syrian officials in the past had denied it had any weapons stockpiles. "Given the escalation of violence in Syria, and the regime's increasing attacks on their people, we remain very concerned about these weapons," White House spokesman Tommy Vietor said on Monday. The Global Security website, which collects published intelligence reports and other data, says the weapons Syria produces include the nerve agents VX, sarin and tabun. Gantz expressed concern that deteriorating conditions in Syria could threaten the military's ability to safeguard the chemical weapons supplies.
US Supporting Wrong Side in Syria
(US actually working in league with Al Qaeda, and other Muslim terrorists)
July 24….(WND) The US government is misguided in its support of the rebels fighting to overthrow the Syrian regime, because Christians and other religious majorities are faring better under Bashar al-Assad, according to two activists who have recently returned from the region. "There is no place where the Christians can go. They have no place to go," said Religious Freedom Coalition President William Murray after his return from a trip to Jordan. Nearly the entire Christian population of the Syrian city of Homs, about 80,000 people, have fled Syria to refugee camps in neighboring Jordan. Dutch human rights writer Martin Janssen, who himself fled the violence in Homs, told WND the rebels are increasingly turning their sights on the Christians. "The big Christian community of Damascus, the city of the apostle Paul, lives in terror," Janssen said. "They are hiding in their homes fearing the ongoing violence. Will the churches of Damascus be next?" Janssen noted the rebels openly announced their ultimate intentions as they entered the Yarmouk Palestinian refugee camp in Damascus Wednesday, shouting their desire to restore the Islamic Caliphate. "They are trying to draw the approximately half million Palestinians into the battle for Damascus," Janssen said. He said his first concern, however, "is the deteriorating position of the Middle-East Christians and the bleak future of Christianity in the region."
Janssen worries about the long-term impact of the advances of the Muslim Brotherhood in the Middle East on Christians. His concern is prompted by the election of Muslim Brotherhood leader Mohammed Morsi as president of Egypt, where an estimated 10 percent of the population identifies as Christian. He believes, however, the situation in Syria isn't beyond repair, because there are groups in the country working to bring about a peaceful resolution. Janssen noted he has written articles aimed at bringing the Syrian reconciliation movement Musalaha to the attention of the West. "The problem is that the Dutch media doesn't have much of a presence in the region, because of the differences in our language from other European languages, and it's harder to get accurate translations," Janssen said.
After his conversations with Syrian refugees, Murray is convinced the US government needs to recognize Christians in Syria are better off under Assad. Christians in Syria were very prosperous, he said, living under the last secular government in the region after the overthrow of Saddam Hussein's government in Iraq and Moammar Gadhafi's regime in Libya. "It's not Egypt, like so many people believe," Murray said. "The Christians of Syria, because it's a secular government, Christians had better representation in government and business." Murray said Christians in Syria "were dealing with the devil you know versus the devil you don't and were backing the Assad regime." "They did this because they knew whatever replaces Assad will be a lot worse," he said. He pointed out the rebels come mostly from Homs, a hotbed of Islamist activity. The rebels fighting to overthrow Gadhafi are connected to al-Qaida and other jihadist groups.
Murray contends the US has miscalculated the intentions of the Muslim Brotherhood. "I think this is a bandwagon movement in our government: The Muslim Brotherhood is winning.
Russia May Empower Iran More if Syria Falls
July 24….(WND) While Russia seeks to work out an orderly transition in Syria to help ensure its continued influence in the Levant and the entire eastern Mediterranean region, it also is looking to fallback positions to maintain its continued relevance in the Middle East. That could include a major tie-up with Iran. Analysts believe that if the regime of Syrian President Bashar al-Assad were to fall, Russia which has been a close ally to Assad, may reconsider its denial of S-300 anti-aircraft missiles to Iran.
Russia previously had decided not to honor a contract for such sales out of concern it would violate some of the few UN Security Council sanctions to which it had agreed against Iran's continued pursuit of nuclear energy development. The West sought the UN sanctions out of concern that Iran's nuclear enrichment program is a cover to develop nuclear weapons, although Iran insists its program is for peaceful development. Iran also is a signatory to the Nuclear Non-Proliferation Treaty and a member of the International Atomic Energy Agency, which monitors nuclear programs of its signatories.
Iran now is concerned that Israel, the US, or both may decide to launch military action against its nuclear sites, since repeated discussions and diplomacy have just about run their course. Meanwhile, Russia has vetoed all Security Council resolutions that call for harsher sanctions against Iran and undoubtedly would oppose any effort to call for military action. This then would leave Israel and the US to decide to take action on their own with a nodding but not formal approval from other Western countries as well as the Arab countries that comprise the Gulf Cooperation Council.
The GCC members are Bahrain, Kuwait, Oman, Qatar, Saudi Arabia and the United Arab Emirates. All being Sunni, these countries are very concerned about Shiite Iran's growing influence in the Middle East region, which is why some, particularly Saudi Arabia and Qatar, are providing financial support and weapons to the Syrian opposition seeking to oust Assad, a Shiite Alawite, due to his alliance with Iran. If Assad were to fall, there are increasing indications that Moscow would supply the S-300s to Iran. "If the Syrian regime is changed by force, or if Russia doesn't like the outcome, it most likely will respond by selling the S-300s to Iran," said Rusian Pukhov, director of the think-tank Center for Analysis of Strategies and Technologies in Moscow.
Syria Will Use Chemical Weapons if Attacked
July 24….(AP) Syria threatened Monday to unleash its chemical and biological weapons if the country faces a foreign attack, a desperate warning from a regime that has failed to crush a powerful and strengthening rebellion. The statement, Syria's first-ever acknowledgement that the country possesses weapons of mass destruction suggests President Bashar Assad will continue the fight to stay in power, regardless of the cost. "It would be reprehensible if anybody in Syria is contemplating use of such weapons of mass destruction like chemical weapons," UN Secretary-General Ban Ki-moon said during a trip to Belgrade, Serbia. "I sincerely hope the international community will keep an eye on this so that there will be no such things happening."
Syria is believed to have nerve agents as well as mustard gas, Scud missiles capable of delivering these lethal chemicals and a variety of advanced conventional arms, including anti-tank rockets and late-model portable anti-aircraft missiles. During a televised news conference Monday, Foreign Ministry spokesman Jihad Makdissi stressed that the weapons are secure and would only be used in the case of an external attack. "No chemical or biological weapons will ever be used, and I repeat, will never be used, during the crisis in Syria no matter what the developments inside Syria," he said. "All of these types of weapons are in storage and under security and the direct supervision of the Syrian armed forces and will never be used unless Syria is exposed to external aggression."
The Syrian government later tried to back off from the announcement, sending journalists an amendment to the prepared statement read out by Makdissi. The amendment said "all of these types of weapons are in storage and under security." It was an attempt to return to Damascus' position of neither confirming nor denying the existence of unconventional weapons. In his comments to reporters, Makdissi also repeated the regime's assertion that the country's 17-month-old conflict, which activists say has killed at least 19,000 people, is not the result of a popular uprising, casting it instead as the work of foreign extremists looking to destroy the nation.
Israel and the US are concerned that Syria's stockpile of chemical weapons could fall into the hands of Islamist militants should the regime in Damascus collapse. Israeli Prime Minister Benjamin Netanyahu warned Sunday that his country would "have to act" if necessary to safeguard the arsenal from rogue elements. In Washington, State Department spokeswoman Victoria Nuland said Monday that "any possible use of these kinds of weapons would be completely unacceptable." "The Syrian regime has a responsibility to the world, a responsibility first and foremost to its own citizens to protect and safeguard those weapons," she said, adding that Washington was working with allies to monitor the situation and send the message to both Syria's government and opposition about the importance of protecting unconventional weapons.
A senior US intelligence official said Friday the Syrians have moved chemical weapons material from the country's north, where the fighting was fiercest, apparently to both secure and consolidate it, which US officials considered a responsible step. But there has also been a disturbing rise in activity at the installations, so the US intelligence community is intensifying its monitoring efforts to track the weapons and try to figure out whether the Syrians are trying to use them, the official said on condition of anonymity to discuss the still-evolving investigation. Concerns over Syria's long-suspected chemical weapons stockpiles have skyrocketed in recent days as the rebels gain serious momentum in their fight to oust the Assad regime.
Gulf nations such as Saudi Arabia and Qatar have pledged funds to aid Syria's rebels, but there is no clear trail showing how much is reaching the fighters. US officials are debating whether to step up aid to the rebels, including sending in heavy weaponry, but officials are worried the aid may end up in the hands of Islamic militants who have infiltrated the rebel Free Syrian Army, the American official said. Former American CIA officer Reuel Marc Gerecht has called for the White House to initiate a covert CIA operation inside Syria, to help arm the rebels with weaponry able to take down the helicopter gunships menacing Syrian towns.
Even as the government appeared to be reasserting control in the capital after the weeklong rebel assault, the Arab League offered Assad and his family a "safe exit" if he steps down. Assad, 46, is married with three young children under the age of 13. "This request comes from all the Arab states: Step aside," said Qatari Prime Minister Hamid bin Jassim Al Thani at an Arab League foreign ministers meeting in Doha, Qatar, that concluded at dawn Monday. He urged Syria to form a temporary transitional government to plan for a possible post-Assad era. Makdissi dismissed the offer as "flagrant interventionism." The Arab League has already suspended Syria's membership and it is doubtful that Assad will pay much attention to their calls.
How Israel Could be Dragged into Syria's Civil War
July 24….(Israel Today) Syria's civil war is spiraling out of control, and is now threatening to drag Israel into open conflict with its northern neighbor after rebel forces captured a border town just a little too close to Israeli towns and military installations. Over the weekend, Syrian rebels reportedly took control of the town of Rawyahina, situated just at the edge of the buffer zone the separates Syria from the Israeli Golan Heights. Pursuing Syrian government forces actually entered the demilitarized buffer zone during the fighting, prompting Israel to file a stern complaint with the UN, which is responsible for maintaining the buffer with a force of 8,000 peacekeepers, who apparently did little to prevent the Syrian incursion.
Visiting the northern Golan Heights over the weekend, Israeli Defense Minister Ehud Barak said the fighting was taking place within earshot, and that a number of mortar shells had landed just a few hundred yards from an Israeli army base. The possibility of the conflict spilling over the border is growing by the day, especially as Syrian rebel forces receive increased political and even material support from the international community. That despite the rebels' affiliation with radical Islamist groups like the Muslim Brotherhood and their persecution of Syrian Christians and other minorities. There also remains concern that as Syrian dictator Bashar Assad is pushed out, he may lash out in one final attack against Israel, a move that would solidify his legacy with many Muslims. In response to the situation, Israel has gone on heightened alert along its northern border.
IDF: Syrian Chemical Threat Targets Israel
July 24….(DEBKAfile Exclusive Report) Senior Israeli military officers, referring to the Syrian foreign ministry statement Monday, July 23, that Syria would only use chemical weapons against "external aggression," found in it a direct threat by the Assad regime to turn those weapons against Israel. It was Syria's rejoinder to Israel's vow to use force against those chemical weapons to prevent them from reaching Hizballah's hands in Lebanon. Tensions between Syria and Israel, like its other neighbors, especially Jordan and Turkey, rose to a new pitch in the wake of the new Syrian statement. Israel's Prime Minister Binyamin Netanyahu said plainly Sunday that preventing Syria's chemical weapons from "falling into the wrong hands" was a key to Israeli security, while Defense Minister Ehud Barak said he had ordered the Israeli military to prepare for a possible attack on Syria's weapons arsenal, because "Israel cannot accept the transfer of advanced weapons from Syria to Lebanon."
Monday, British Foreign Secretary William Hague, catching onto Syria's veiled threat, called it unacceptable: "This is typical of the complete illusion of this regime that they are the victims of external aggression." A few hours later, the UN Secretary Ban Ki-moon said in New York that he was "very concerned" that "Syria may be tempted to use chemical weapons." He was followed by Pentagon press secretary George Little who told reporters: "They should not think one iota about using chemical weapons," he said. "We have been very strong in our statements inside the US government on the prospective use of chemical weapons and it would be entirely unacceptable."
An Israeli officer told Debkafile that the Syrian foreign ministry's statement was tantamount to a declaration that the Assad regime holds all the cards on when and against whom to use its chemical weapons. America, Israel, Jordan and Turkey have no say in the matter. Assad alone will decide if and when to wage chemical warfare against such enemies as Israel and Jordan, although he may be expected to follow Iran in refraining from going after American targets at this time. He has, in other words, given himself carte blanche for resorting to chemical warfare at a time of his choosing by reiterating that his government is subject to external Arab and Western aggression. Israeli sources point out that the Syrian statement omitted any mention, certainly no denial, of the possible transfer of those weapons to Hizballah in Lebanon. The Assad regime must therefore be understood to reserve to itself that option, too, thereby laying Israel wide open to a direct threat. Israel and its military were alone in expressly vowing to prevent this transfer. "We understand the Syrian ruler to be preparing to expand the Syria war into Lebanon whence his troops can threaten northern and Mediterranean areas of Israel," said a US military source.
Another development Monday portending the further exacerbation of the Syrian crisis was the announcement by Aeroflot that it was suspending flights to Damascus in two weeks "for economic reasons." It looks as though Moscow foresees a further downturn in the Syrian conflict and estimates that by early August intensified air force activity in Syrian skies will reach a dangerous level.
Al Qaeda Claims it is Taking Over Iraq
July 24….(My Way) Al-Qaida's affiliate in Iraq claims that the militant network is returning to the old strongholds from which it was driven by US forces and their Sunni allies prior to the American withdrawal at the end of last year, and that it is preparing operations to free prisoners and assassinate court officials. The audio identifies the speaker as Abu Bakr al-Baghdadi, who became head of the Islamic State of Iraq in 2010. It was posted late Saturday on a website regularly used by the militant movement to make statements. Al-Baghdadi also invited Muslims to come to Iraq to join his movement and warned the United States that it would soon see militant attacks on its territory, although it is unclear whether he was referring to attacks by his Iraqi network or by other al-Qaida affiliates.
The statement comes as Sunni insurgents, now believed to be dominated by the ISI, step up attacks against Shiites, government officials and other targets, in what is seen as a bit to undercut the authority of Iraq's state and revive sectarian conflict in the wake of the pull-out of the last American forces in the country in December. There is little indication yet however that the large-scale fighting between sectarian groups that wracked the country in 2006 and 2007 will return, nor does al-Qaida appear to have restored the domination it once had over many Sunni communities in that period.
Al Qaeda claims to be starting a new phase in its struggle with a plan named 'Breaking the walls,' and we remind you of your priority to free the Muslim prisoners," their spokesman said. "At the top of your priorities regarding targets is to chase and liquidate the judges, the investigators and the guards," he said. He urged tribal leaders to send their men to join al-Qaida as it returns to areas from which it withdrew- a reference to reverses the ISI suffered at the hands of US forces and allied Sunni militias in 2007 and 2008. "On the occasion of the return of the (Islamic) State to the regions it evacuated, I urge you to send your sons to join the ranks of the mujahideen in defense of your religion and honor," he said. "The majority of the Sunnis in Iraq support al-Qaida and are waiting for its return." He said that Iraqis who allied with the government and the Americans could repent; reports that al-Qaida killed penitents were "lies." Al-Baghdadi said to the United States: "You will see the mujahideen (holy warriors) at the heart of your country, since our war with you has only started now."
Netanyahu: "Rock Solid Evidence" Against Iran
(Netanyahu also called the Iran government "the world's most dangerous regime)
July 23….(Fox News) Israeli Prime Minister Benjamin Netanyahu joined "Fox News Sunday" to press the case against Iran and Hezbollah, and argue that recent events illustrate the danger the world faces should Tehran be allowed to develop or possess nuclear or chemical weapons. Five Israeli tourists died this week in Bulgaria, an attack the prime minster says was carried out by Hezbollah, a terror organization that gets support and direction from Iran.
Netanyahu says he has "rock solid evidence" tying Iran to this attack, but more than that, he accused Iran and Hezbollah of orchestrating similar plots, some of them successful, in 24 countries across five continents over the past two years. "These attacks tell you what kind of people we are dealing with, imagine these people possessing nuclear weapons," Netanyahu said. Netanyahu wouldn't be drawn into a discussion about the 2012 presidential elections in the US, but he did discuss the importance of seeing progress made in halting the development of Iran's nuclear program. The prime minister said the talks between the p5+1 and Iran have not stopped the regime "a bit." "The jury is out on all of this, the real question is results on the ground," Netanyahu said about the current strategy in dealing with Iran.
Netanyahu also said he thinks Syrian President Bashar Assad will soon be removed from power, but his bigger concern is what will happen to the country's stockpile of weapons in the aftermath, "when there is no control."
Netanyahu: Hezbollah may get Chemical Weapons if Syria Collapses
(Netanyahu tells Fox News Israel not ruling our military intervention if Assad regime collapses in 'chaotic' manner)
July 23….(YNET) The "great threat" to Israel from the Syrian conflict is that the Damascus government may collapse and its stock of chemical weapons and missiles fall into the hands of the Lebanese Islamist group Hezbollah, Israeli Prime Minister Benjamin Netanyahu said on Sunday. Interviewed on the US "Fox News Sunday" television program, Netanyahu said Syrian President Bashar al-Assad's government would fall, but he was more concerned about a chaotic "regime collapse" that would leave Syria's weapons sites unguarded than a regime change. "We certainly don't want to be exposed to chemical weapons falling into the hands of Hezbollah or some other terror groups. ... It's a great threat," he said. "We will have to consider our action. Do I seek action? No. Do I preclude it? No," Netanyahu said when asked whether Israel would act alone or prefer the United States to take the lead.
US Senator John McCain said that in addition to the Israeli concerns, there was a risk that the Syrian government might use chemical weapons against its opponents. "These are helicopter gunships, tanks, artillery that are slaughtering people, and now there is a risk - and I'm not saying it is going to happen, a risk that in his desperation, Bashar al-Assad might use those chemical weapons," McCain, the 2008 Republican presidential nominee, said on CNN ' s "State of the Union with Candy Crowley."
Israeli Defense Minister Ehud Barak said on Friday that Israel would consider taking military action if needed to ensure Syrian missiles or chemical weapons do not reach Hezbollah. Hezbollah, which in the past has received military and financial support from Syria and Iran, launched thousands of mainly short-range rockets into Israel during the Jewish state's 2006 offensive in southern Lebanon.
Netanyahu reiterated Israeli charges that Hezbollah and Iran were behind a suicide bombing in Bulgaria last week that killed five Israeli tourists. Iran has denied any involvement. "I know based on absolutely rock-solid intelligence that this is Hezbollah and this is something that Iran knows about very, very well," the prime minister said. Asked if he could give any hard evidence linking Wednesday's bombing at Bulgaria's Burgas airport with Hezbollah, Netanyahu said his government would share its intelligence with "friendly agencies." Netanyahu said negotiations by the United States and other world powers with Tehran over its nuclear program had failed to slow down uranium enrichment in Iran "one bit."
Israel: Syrian Forces Crossed into Our Territory
(Israel files a complaint with the UN after Syrian forces fighting rebels cross 1974 Armistice Line)
July 23….(YNET) Israel filed a complaint against Syria Monday in the United Nations, alleging that Syrian forces crossed the border between Israel and Syria in the Golan Heights last week. Israel's Deputy UN Ambassador, Haim Waxman, sent a letter to the UN Security Council Secretary General, in which he said that during fighting Thursday between the Syrian Army and rebel forces at Jubta al-Hasheb, Syrian forces crossed the 1974 Armistice Line.
Waxman noted that the event is a serious breach of the armistice agreement, which could have far reaching ramifications for security and stability in the region. Voice of Israel radio reported that the commander of the UN's peacekeeping force along the Israeli-Syrian border confirmed Israel's claims and said that Syria had indeed seriously breached the armistice accord. The UN peacekeeping force has requested clarifications from the Syrian regime, he said.
Hamas May Declare Gaza Independent Country
(Hamas is banking on Egyptian support and may declare Gaza an independent state, a London-based Arab language paper reports.)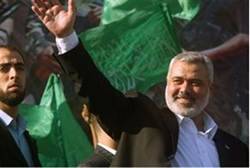 (Hamas PM Ismail Haniyeh)
July 23….(YNET) Hamas is banking on Egyptian support to declare Gaza an independent state and "a liberated part of the '67 territories," the London-based Al Hayat Arab language paper reported Sunday. Hamas has been tossing around the idea for two years, but Egypt has rejected the move. The new Muslim Brotherhood government has given the Hamas terrorist party new hope, and a senior Hamas official told Al Hayat that the subject will be discussed in meetings with newly elected Egyptian president Mohammed Mursi this Thursday. "Relations with Egypt are based on common needs," the source said, explaining that Hamas wants to cut off its crossings with Israel and develop a trade route with Egypt through Rafiah. Hamas is telling Egypt it can provide security to secure its northern Sinai border. Rafiah is Gaza's most southern city and straddles both sides of the Egyptian-Gazan border and also is a major point of smuggling of arms, drugs and women.
Announcing Gaza as an independent entity could hamper relations between Egypt and the United States, which has labeled Hamas as an illegal terrorist organization. It also would be a major blow to the Ramallah-based Palestinian Authority, which has refused to negotiate without pre-conditions with Israel to obtain recognition. Instead of promoting a "two-state" solution, it would create a de facto situation of two countries, Israel and Gaza, and an increasing fractured Palestinian Authority entity.
The British-based Gadstone Institute recently observed, "Everyone who is anyone has declared for a two-state solution: Israel and Palestine. And almost everyone argues that the only alternative would be a one-state solution. "Hardly anybody wants to know that three states have emerged, de facto, in the area: Israel, West Bank and Gaza."
Syrian Chemical Weapons Could Reach Lebanon Soon
July 23….(DEBKAfile Exclusive Report) The IDF, the Turkish and Jordanian armies and US Middle East forces have switched to preparedness mode in the last few hours in case the Syrian chemical weapons arsenal starts moving west toward Lebanon, Debkafile's military sources report. Acting in unison, those armies are on the ready for instantaneous action because it would take no more than two hours to cover the distance from Syria to the Hizballah-controlled Bakaa Valley of east Lebanon. Their arrival there, unless thwarted, would mean a war on Hizballah. Therefore Israeli and US military chiefs prefer to stop the arsenal in its tracks before it moves across the border. This would call for surgically precise, rapid action against a target going to extreme lengths to stay concealed.
In the view of a senior US military source quoted by debkafile, the risk is solid but it comes from a different direction. He stressed that "President Assad has not decided to hand over his chemical weapons to Hizballah, nor has Hizballah leader Hassan Nasrallah decided to accept them."
Syria's chemical stockpile is kept at the al-Safira base northwest of Damascus in the care of the president's personal guard unit which takes orders from Bashar Assad and no one else. If the heads of that guard saw the regime suddenly collapse, as it was expected to do last Wednesday when assassins murdered the men closest to the president, the American official says, "it is impossible to predict how they will act or what use they will make of the weapons systems under their guard." "They may decide to sneak out of Syria to Lebanon and take with them the entire arsenal as insurance for their safety and future," he suggested.
According to our military sources, the arsenal which could be spirited across to Lebanon contains a lot more than chemical weapons. It also includes Scud C and Scud D surface missiles capable of delivering chemical warheads and also the Russian-made advanced Pantsyr-S1 (NATO code-named SA-22 Greyhound) anti-air missiles, which have been guarding the chemical stocks.
This background accounts for the words used by Israeli Prime Minister Binyamin Netanyahu and Defense Minister Ehud Barak Sunday, July 22, to make their intentions clear: "Israel would have to act if the Syrian regime collapsed without changing and if there's a risk Syria's chemical weapons and missiles could fall into the hands of military groups," such as Hizballah or al Qaeda, Netanyahu said. Asked if Israel would act alone, he said that Syria's stockpile was a "common concern," hinting at the coordination in place between the Israeli, Turkish and Jordanian armies and US regional forces. Barak was more specific: "I've ordered the Israeli military to prepare for a situation where we would have to weigh the possibility of carrying out an attack against Syrian weapons arsenals." He told reporters. "The state of Israel cannot accept a situation where advanced weapons systems are transferred form Syria to Lebanon."
Clashes Rock Damascus and Aleppo
July 23….(BBC) Fierce fighting is reported in Syria's two biggest cities, Damascus and Aleppo, as government forces seek to regain control of rebel-held areas. The army's elite fourth division, backed by helicopters, has reportedly launched an assault on the capital's north-eastern suburb of Barzeh. Troops were also said to have deployed in the western suburb of Mezzeh. Fighting also continued for a third day in Aleppo, where activists said a building had collapsed under tankfire. The violence follows a week in which rebels made major advances, taking control of several parts of Damascus, seizing border crossings and claiming an attack that killed four top security officials, including the defense minister and President Bashar al-Assad's brother-in-law. The battles in Damascus and Aleppo signal a new and bloody phase of Syria's civil war, with combat in heavily populated cities.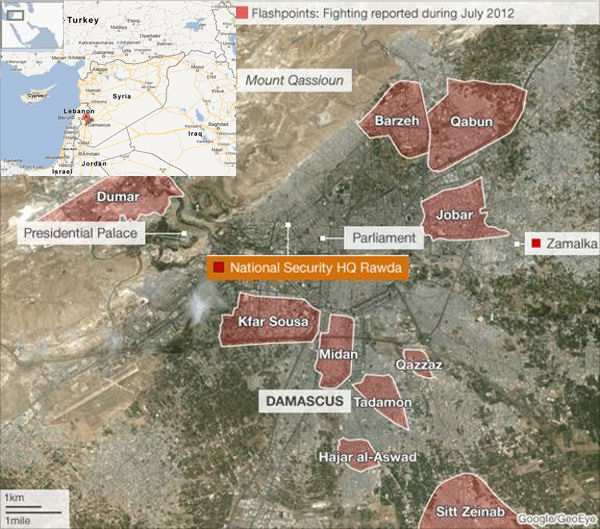 Syrian government forces seem determined to drive the rebel Free Syrian Army (FSA) completely out of Damascus and are setting about it quite systematically. Having regained one district close to the centre of the capital and another on its north-eastern edge, troops are now focusing on Mezzeh and Barzeh, our correspondent adds. A Screen grab from Syrian state TV showing the aftermath of fighting in Qabun district of Damascus shows that Damascus is engulfed in chaos. Government forces have yet to reassert their control over the whole of the capital, Damascus. The attack on Barzeh by the army's fourth division, which is commanded by the president's brother Maher, had sent residents fleeing from the area, the Syrian Observatory reported. Helicopter gunships have been firing rockets and snipers were deployed on rooftops. An Aleppo-based activist, Mohammed Saeed, said rebels were still in control of the central Salah al-Din district and nearby Sakhour.
"Aleppo is witnessing serious street battles," he told the Associated Press. Mr Saeed also said there had been clashes on the road leading to the city's international airport, as rebels tried to prevent military reinforcements being flown in. State TV played down the scale of the violence, saying troops were merely hunting down "terrorists". The commander of FSA forces in Aleppo province has vowed to "liberate" the whole city.
BBC sources in Syria also confirmed that rebels were now in control of the Bab al-Salam border crossing with Turkey. Turkey is not allowing non-Syrian nationals through so the border remains effectively closed.
President Assad was meanwhile shown on state TV receiving his new armed forces chief-of-staff, Gen Ali Abdullah Ayub, giving him his instructions, and wishing him success in his mission.
Meanwhile, Israeli Prime Minister Benjamin Netanyahu said in an interview with Fox TV that his "principle concern" is the political chaos that might ensue if Assad falls and the Syrian- and Iranian-backed Lebanese militant group Hezbollah gains access to Syria's stockpile of chemical weapons, rockets and missiles. He said Israel hasn't considered specifically trying to cross the border and seize the weapons. "There are other possibilities," he said without elaborating. Netanyahu said, "There have been no indications that Shiite Hezbollah is active in Syria, where the rebels are largely Sunni."
Also, King Abdullah of Saudi Arabia, a Sunni power and major regional rival of Iran, has announced the start of a "national campaign to collect donations to support its brothers in Syria." That suggested the oil-rich kingdom may be looking to boost its financial support for the rebels, which they are already believed to be funding.
WEEK OF JULY 15 THROUGH JULY 21
Israel May Seize Advanced Weapons in Syria
July 21….(Jerusalem Post) Israel is preparing for a possible military intervention in Syria in case the Syrian government hands missiles or chemical weapons to Hezbollah in Lebanon, Defense Minister Ehud Barak said on Friday. "I have instructed the military to increase its intelligence preparations and prepare what is needed so that, if necessary we will be able to consider carrying out an operation," Barak said. "We are following the possible transfer of advanced munitions systems, mainly anti-aircraft missiles or heavy ground-to-ground missiles, but there could also be a possibility of the transfer of chemical means (weapons) from Syria to Lebanon," he added. "The moment Syrian President Bashar al-Assad starts to fall we will conduct intelligence monitoring and will liaise with other agencies," Barak said.
Hezbollah, which has in the past received military and financial support from Syria and Iran, launched thousands of mainly short-range rockets into Israel during Israel's 2006 offensive in southern Lebanon, but some longer-range rockets reached central Israel. Their border has largely remained quiet since then.
On Thursday, Barak toured the Golan Heights, a strategic plateau that Israel captured from Syria in the Middle East war in 1967 and from where it can monitor movements inside the territory of its northern foe. Barak said Israeli troops were preparing to prevent an influx of refugees into territory that Israel controls there. "The refugees have not chosen to come close to us, but in the event of the regime's downfall, which could happen, Israeli forces here are alert and ready, and if we have to stop waves of refugees, we will stop them," Barak said.
Syrian rebels have assassinated four of Assad's closest aides in Damascus and seized three border crossings with Iraq and Turkey this week, putting the Syrian leader under greater pressure than at any time in the 16-month uprising against his rule.
Pentagon: Signs Hezbollah Staged Bulgaria Attack
(US defense department says signs point to Hezbollah, but no final determination made; investigators seek possible accomplice)
July 21….(Jerusalem Post) The Pentagon said Friday that there are signs that Hezbollah orchestrated the Wednesday suicide bombing which killed five Israelis in Bulgaria. Top Israeli officials, including Prime Minister Binyamin Netanyahu and Defense Minister Ehud Barak have maintained since immediately after the attack that Hezbollah and Iran were responsible.
Pentagon spokesman George Little was quoted as saying by AFP on Friday that while the US was not prepared to say with certainty that the Israeli claims were true, there was evidence to that effect. "The attack does bear some of the hallmarks of Hezbollah but we're not in a position to make any final determination on who was responsible," Little stated.
Both Iran and Hezbollah have denied any involvement in the attack. Bulgarian investigators said on Friday that they had managed to obtain DNA samples from the fingers of the bomber and were checking databases in an attempt to identify him. Bulgarian Prime Minister Boiko Borisov told parliament he hoped that would be done in 3-4 days.
The interior minister added that the man who blew up a bus carrying Israeli tourists at a Bulgarian airport, killing himself and six others, was a foreign national and Sofia was trying to pin down details with the help of foreign spy services. "We are talking about a person that is not a Bulgarian citizen," Interior Minister Tsvetan Tsvetanov told a news conference. "We are exchanging information with our Israeli colleagues and the other services." Tsvetanov said investigators were working on several leads, including the possibility that the bomber had an accomplice, but he denied media reports that a local Hezbollah cell was behind the bombing.
Some analysts believe Iran is trying to avenge the assassinations of several scientists involved in its controversial nuclear program that it blames on Israel and the United States. Israeli diplomats have been targeted in several countries in recent months by bombers who the Jewish state maintained had struck on behalf of Tehran.
What's Next in Syria?
| | |
| --- | --- |
| | (FOJ) Why is the US so heavily involved in removing Arab leaders in the Middle East. First, Libya, then Egypt, and now Syria have suspiciously come under fire from s-called Democracy and freedom movements. But if Muslim radicals assume power in these places, freedom will be more scarce than ever before. And then there is the spectre of these peoples constantly burning the American flag, an act which doesn't reflect a pattern of emulating freedom. American style! |
July 21….(Daily Beast) With the days and weeks of the Syrian government appearing numbered, the Central Intelligence Agency is scrambling to get a handle on the locations of the country's chemical and biological weapons, while assessing the composition, loyalties, and background of the rebel groups poised to take power in the event President Bashar al-Assad falls.
The Obama administration officials tell The Daily Beast that the CIA has sent officers to the region to assess Syria's weapons program. One major task for the CIA right now is to work with military defectors to find out as much information on Syria's weapons of mass destruction, according to one US official with access to Syrian intelligence. Another focus will be to sort through reams of intercepted phone calls and emails, satellite images, and other collected intelligence to find the exact locations of the Syrian weapons, this official said. This task has become more urgent in recent days. Last week, The Wall Street Journal reported that the Syrian military was moving its chemical weapons out of storage. On July 17, Nawaf Fares, Syria's ex-ambassador to Iraq, told the BBC the regime would not hesitate to use chemical weapons against the rebel fighters. On Wednesday, a bomb killed the Syrian defense minister and the brother-in-law of President al-Assad in Damascus. The blow to the al-Assad cabinet raised the prospect that the Syrian regime may be on its last legs.
Rep. Mike Rogers, the Republican chairman of the House Permanent Select Committee on Intelligence, declined to provide details on what intelligence assets have been sent to Syria or to say whether the CIA has sent officers on the ground there. He said that the administration had recently deployed "the resources necessary to collect the information that we need to make a good decision on chemical and biological weapons, opposition groups and leadership transition strategies." But, he added, "We don't know nearly what we need to know to be completely effective if the regime were to implode tomorrow." A CIA spokesman Thursday declined to comment.
Syria never signed the 1992 Chemical Weapons Convention, the treaty that bans the use, stockpiling, or production of chemical weapons. Steven Heydemann, a senior adviser for Middle East initiatives at the US Institute of Peace, a nonpartisan think tank, said he understands Syria's stockpiles to be "massive."
Brian Sayers, the director of government relations for the Syria Support Group, a new lobby in Washington that is pressing the Obama administration to give guns and training to Syria's opposition said, "We believe that if the United States does not act urgently, there is a real risk of a political vacuum in Syria, including the possibility of a dispersion of chemical weapons to rogue groups such as Hezbollah."
Paula DeSutter, who served as assistant secretary of state for verification, compliance, and implementation between 2002 and 2009 and is now retired, said biological weapons could be a bigger a concern. A 2011 State Department report on the compliance of countries with arms control and nonproliferation agreements said it "remained unclear" whether Syria would use biological weapons as a military option or whether Syria had violated the Biological Weapons Convention. DeSutter also said she would want the US and international community to secure any remaining nuclear-related equipment from the al-Kibar reactor destroyed in 2007 by Israeli jets. Also unclear is what, if anything, Iraq transferred to Syria before the 2003 US invasion of Iraq. "That is the wild card," said DeSutter.
Whether or not sensitive weapons technology was moved to Syria is a hotly disputed question in the intelligence community. James Clapper, now the Director of National Intelligence and formerly the director of the National Geospatial Intelligence Agency, said in 2003 that he believed materials had been moved out of Iraq in the months before the war and cited satellite imagery. Obama administration officials say the White House has yet to decide on how it will respond if pro-al-Assad forces use chemical weapons against the Syrian population or a neighboring country. The administration has told senior regime officials that they will be held responsible if they fail to secure chemical weapons.
While several government agencies and departments are drawing up contingency plans and drafting policy memos, the White House has ultimate control of the policy process and has yet to make a decision. "We are still waiting for red lines," one Obama administration official who works on Syria issues told The Daily Beast. "This is a decision for the president." Up until now, the Obama administration has preferred to influence events in Syria from behind the scenes. Secretary of State Hillary Clinton has helped create a group of states known as "Friends of Syria" that seek a managed transition through financial support for the opposition. The State Department is also providing nonlethal aid to Syria's opposition such as communications equipment. US Ambassador to the United Nations Susan Rice has pushed for UN Security Council resolutions and sanctions targeting President al-Assad and his top aides. A resolution authorizing military intervention in Syria was vetoed Thursday by China and Russia at the United Nations.
Eli Lake is the senior national-security correspondent for Newsweek and the Daily Beast. He previously covered national security and intelligence for the Washington Times. Lake has also been a contributing editor at The New Republic since 2008 and covered diplomacy, intelligence, and the military for the late New York Sun. He has lived in Cairo and traveled to war zones in Sudan, Iraq, and Gaza. He is one of the few journalists to report from all three members of President Bush's axis of evil: Iraq, Iran, and North Korea.
Obama Observes Ramadan
July 21….(Politico) In a statement, President Obama commemorated the Muslim holiday of Ramadan, calling it a time to "cherish family, friends, and neighbors, and to help those in need." "On behalf of the American people, Michelle and I extend our warmest wishes to Muslim Americans and Muslims around the world at the start of Ramadan," Obama said. Obama also took the opportunity to tie in the struggles of people across the Muslim world engaged in ongoing fighting related to the Arab spring uprisings that began in 2011. "This year, Ramadan holds special meaning for those citizens in the Middle East and North Africa who are courageously achieving democracy and self-determination and for those who are still struggling to achieve their universal rights. The United States continues to stand with those who seek the chance to decide their own destiny, to live free from fear and violence, and to practice their faith freely. Here in the United States, Ramadan reminds us that Islam is part of the fabric of our Nation, and that, from public service to business, from healthcare and science to the arts, Muslim Americans help strengthen our country and enrich our lives," Obama said.
"Even as Ramadan holds profound meaning for the world's 1.5 billion Muslims, it is also a reminder to people of all faiths of our common humanity and the commitment to justice, equality, and compassion shared by all great faiths. In that spirit, I wish Muslims across America and around the world a blessed month, and I look forward to again hosting an iftar dinner here at the White House. Ramadan Kareem," Obama said.
Syrian Muslim Brotherhood to Launch Political Party
July 21….(YNET) Syria's Muslim Brotherhood, a key opponent of President Bashar Assad's regime, announced plans Friday to launch an Islamist political party, saying it was ready for the post-Assad era. "The decision has been taken to create an Islamic party," the head of the Brotherhood's political wing, Ali Beyanouni, told journalists after the group completed a four-day conference in Istanbul. The new party would be "open to all Syrians" and will promote a "democratic and pluralist" vision of the state based on the equality of all citizens, Beyanouni said. "We are ready for the post-Assad era, we have plans for the economy, the courts, politics," said Mulhem al-Droubi, the Brotherhood's spokesman.
The Muslim Brotherhood is an Islamist political movement founded in Egypt in 1928 and has branches and affiliates around the world. The Syrian Muslim Brotherhood was banned there in 1963. Many of its members fled Syria following a revolt that was violently suppressed in 1982, leaving nearly 20,000 people dead according to estimates. Spokesman al-Droubi acknowledged the group's current reach was limited. "My opinion is that in case of free elections the Muslim Brothers wouldn't have more than 25% of the votes," he said. But the group's leader, Mohammad Riad al-Shakfa, said the Brotherhood was still "present everywhere in Syria". The Brotherhood plays a key role in the Syrian National Council, the opposition coalition opposing Assad.
Hizballah behind Suicide Terror act in Burgas Bus Bombing
July 21….(DEBKAfile Special Report) The suicide bombing attack in Bulgaria that left five Israelis dead and more than 30 injured Wednesday, July 18, is seen by Israeli and Western intelligence and counter-terror sources as marking Hizballah's regression to its old tactics. After a 17-year break in major international attacks, the Lebanese terrorist group is again sending suicide killers to murder Israelis and Jews. In the 1980s, Hizballah was notorious for its massive bomb attacks against US Marines in Lebanon and the US embassy in Beirut, which left more than 300 dead. In the early 1990s, the Israeli embassy in Buenos Aires, Argentina was blown up killing 29 people, followed by the destruction of the Jewish center in the city leaving 85 people. It is now evident that the old Hizballah is back and fully equipped with suicide killers standing by for action worldwide at the bases of its far-flung terrorist, espionage, dope-smuggling and money laundry networks.
Western counter-terror experts give Israel's Mossad, Shin Bet and Military Intelligence a failed mark for missing those preparations and not appreciating the significance of the bungled Iranian-backed Hizballah bomb and assassination plots over the past year or two in India, Turkey, Azerhianjan, Thailand, Georgia, Kenya and Cyprus. They were experienced ought to have realized that Hizballah planners were testing the ground and their own methods and analyzing their performance, before concluding that suicide attacks would get them the optimal results, namely, maximum fatalities. The experts estimate that it will take Israel's intelligence and counter-terror agencies time to get organized for catching up with Hizballah's plots and developing preventive measures. As one said, "It may take weeks or even months before Israel is able to come to grips with the new Hizballah terror deployment. Iran's external terrorist arms and Hizballah planners will try and take advantage of Israel's vulnerability in that period for repeated attacks. In any case, they warn, the Bulgarian bombing was a first shot. Hizballah must be put down firmly by a strong Israeli deterrent. Its terror offensive must be nipped in the bud before it spills over into Israel.
Iran's al Qods and its Lebanese surrogate have planted a network of sleepers on the West Bank, the Gaza Strip and among certain Arab Israeli communities, who may be called into action at any time. Israel's response to the attack in Bulgaria so far has been feeble and hesitant, a frustrated counter-terror official told debkafile. A complaint to the UN Security Council on Thursday, July 19, the day that international body demonstrated its irrelevance for halting the Syrian bloodbath was worse than useless; it was a sign of weakness. This type of reaction will serve only to encourage Tehran and Hizballah to keep going. Indeed, The Security Council did more harm than good by condemning the bombing attack and the Israeli deaths, without naming the perpetrators. Iran and Hizballah got off scot-free.
Iran and the 'End of Days'
July 21….(Trumpet / Brad Macdonald) Tension is rising in the Middle East again. The civil war in Syria is worsening, Western sanctions on Iran are intensifying, large-scale military exercises by both Tehran and the West are on the cards. This is all worrying and cause for alarm. Yet, it is an unprecedented, largely ignored national address by Iran's supreme leader that is most alarming. On Friday, July 6, a number of Iranian state-run media outlets ran stories highlighting remarks by Ayatollah Ali Khamenei. In his address, Khamenei warned his people all over the world that Iran must prepare for war, and that we are now living in "the end of times." More specifically, Khamenei warned of the imminent return of the Mahdi, or the 12th imam. "The issue of Imam Mahdi is of utmost importance, and his reappearance has been clearly stated in our holy religion of Islam," he said. "We must study and remind ourselves of the end of times and Imam Mahdi's era. We must prepare the environment for the coming so that the great leader will come."
The belief of a returning Mahdi, or 12th imam, is a defining doctrine within the most populous group of Shiites known as Ithna Ashari, or "Twelvers." In addition to Iran's supreme leader, President Mahmoud Ahmadinejad also belongs to this influential group. According to Twelver theology, the Mahdi's return will be precipitated by planet-engulfing wars, the likes of which will destroy one third of the world's population, and another third as a result of widespread hunger, disease and social unrest. Finally, the destruction will be capped with the annihilation of the Jewish State and the killing of all infidels, after which the seed of Islam will be planted in the four corners of the Earth.
Here in the West, most people mistakenly ignore this theology and the depth of commitment Khamenei, Ahmadinejad and their followers have to it. This is to our own peril. Twelvers don't just believe the Mahdi will soon return: They consider it a personal responsibility to create the apocalyptic conditions that will surround his return. Frankly, ushering in the Mahdi is the guiding principle of Iran's foreign policy!
As Joel Rosenburg, former aide to Benjamin Netanyahu, put it, "In order to bring about this Islamic messiah, the Mahdi, the 12th imam, Islamic leaders need to hasten his coming by destroying little Satan, Israel, and the great Satan, the United States. The Iranian leaders actually believe they need to create bloody carnage, the death of millions of people in order to create the conditions for the Mahdi to bring peace" (emphasis added throughout). Indeed, as Khamenei recently told his people: "We must prepare for the coming. Since we consider ourselves the warriors of the 12th imam, we must fight."
Khamenei has created several centers in Iran devoted to the research of the coming of the Mahdi, and there's even an annual conference on Mahdiism. In 2004, during his tenure as mayor of Tehran, Ahmadinejad constructed a "grand avenue" in preparation for the Mahdi's return. When he became president in 2005, he allocated $17 million for a blue-tiled mosque in Jamkaran (south of the capital), closely associated with mahdaviat. Inside Iran, both Khamenei and Ahmadinejad have been quite literally preparing the place to which they believe the Mahdi will return. Ahmadinejad's conviction is so strong, he even stood in front of a room full of United Nations leaders in New York and prayed for Allah to help him hasten the Mahdi's return, which he could only do by precipitating a Holocaust-type event!
Bolton to Israel: Time to Finally 'Retaliate' Against Iran
July 21….(Newsmax) Former UN Ambassador John Bolton is urging Israel to attack Iran in retaliation for the killing of Israeli tourists in Bulgaria, saying the time has come for the Jewish state to quit threatening and take action. "This is obviously a very dangerous period for Israel with the civil war in Syria, refugees reported going across the border into Lebanon, and Hezbollah well armed with rockets on Israel's northern border," Bolton told Fox News' Greta Van Susteren Thursday night. "So I think if there were ever a time to retaliate, and directly against Iran this time, this is it."
American and Israeli officials on Thursday linked the suicide bomber who killed the Israeli tourists to the Lebanese militant group Hezbollah, which is clearly backed by Iran. "This was a tit for tat," one American official told the New York Times, suggesting the attack on the tourists in Bulgaria was a response to he assassinations of Iranian nuclear scientists, for which Tehran blamed Israel.
Bolton, however, said the tourist bus bombing in Bulgaria was not just "a tit for tat operation" initiated by Iran, but was timed for "maximum effect." He noted, for example, that the Bulgaria killings coincided with the 18th anniversary of a bombing against Israelis in Buenos Aires and comes as new tensions with Iran are building over its efforts to develop a nuclear-weapons program. "I mean, this is clearly timed for its max effect. And that's why I think Israel is perfectly entitled to respond," said Bolton, now a Fox News contributor. "It's not just a tit-for- tat operation. This is self-defense, to dissuade Iran, if it's susceptible of rational calculation, not to do this again." Calling Iran "the central banker of terrorism," Bolton said things would only get worse for Israel and the rest of the world "once they get nuclear weapons." "If Israel waits until Iran gets nuclear weapons and then Iran continues to engage in these kinds of terrorist attacks, Iran really can do it with impunity because Israel risks a nuclear response from Iran," he said, noting that the Jewish state is "entitled to stop the attacks at their source."
Turning to the situation in Syria, Bolton said he wasn't surprised at China and Russia's veto Thursday of UN sanctions against the regime of Bashar al-Assad. "It was a mistake to believe that the United Nations was ever going to have any impact on Syria," Bolton told Van Susteren. "The Russians are committed to Assad." Bolton said it was important to remember Iran "is also a major backer of the Assad regime," which is yet another reason, he suggested, that Israel should act. "Their hands are in every area of difficulty in the region and nearby," he added.
Assad Wounded, Wife Flees to Russia
July 19….(Daily News) In this July 13, 2010 file photo, Syrian President Bashar Assad, left, and his wife Asma Assad, listen to explanations as they visit a technology plant in Tunis. In this July 13, 2010 file photo, Syrian President Bashar Assad, left, and his wife Asma Assad, listen to explanations as they visit a technology plant in Tunis. Syria's embattled president, Bashar al-Assad, was wounded in yesterday's bomb attack, which killed the country's top security chiefs, The Guardian reported today. The report also claimed al-Assad's wife, Asma, had fled to Russia.
Unconfirmed reports claimed that al-Assad had suffered injuries in yesterday's attack which killed his brother-in-law and the deputy chief of the Armed Forces, Assef Shawkat, as well as Defense Minister Dawoud Rahja and Hassan Turkmani, the crisis management chief. Assad was in the coastal city of Latakia, directing a response to the assassination of three of his top lieutenants, opposition sources and a Western diplomat said today, as reported by Reuters. Assad, who has not made a public appearance since yesterday's bombing, was commanding the government operation, they said. It was not clear whether Assad traveled to the Mediterranean sea resort before or after the attack. Syrian Information Minister Umran al-Zuabi, speaking on state TV yesterday, vowed that those behind the attack would be held accountable even if they were outside the country. He also said the bombing was orchestrated by Turkish, Qatari, Saudi Arabian and Israeli intelligence.
'Golan Heights Turning Into Terror Base like Sinai'
July 19….(Israel Hayom) Israel Defense Forces Director of Military Intelligence Maj. Gen. Aviv Kochavi on Tuesday warned that global jihadists have moved into Syrian territory bordering the Golan Heights and could soon use the area to stage attacks on Israel. In a briefing to the Knesset Foreign Affairs and Defense Committee, Kochavi said that Islamic terrorists have taken advantage of the chaos created by the Syrian civil war to approach the Golan area. He said Syrian President Bashar al-Assad has pulled troops out of the Golan to fight rebels in other parts of the country, after concluding that the likelihood of war with Israel at this time is low.
Kochavi's comments were echoed on Wednesday by Strategic Affairs Minister Moshe (Bogie) Ya'alon, himself a former head of military intelligence. Speaking on Army Radio, Ya'alon said Israel should prepare for instability in Syria to reach the Golan Heights. "Assad is living on borrowed time, he cannot reconstitute his legitimacy to rule, he's crossed the point of no return," Ya'alon added. Kochavi told lawmakers that a power vacuum has created a possible arena in the Golan Heights for anti-Israel operations, similar to what was happening in Egypt's Sinai region, where the government in Cairo is finding it hard to impose its authority on the desert peninsula. "The Golan area is liable to become an arena of operations against Israel in much the same way the Sinai is today, and that's a result of the increasing entrenchment of global jihad in Syria," he said.
An increase in suicide bombings and other signature attacks in Syria has led experts to conclude that al-Qaida is taking a role in the uprising against Assad's regime. Though al-Qaida's main targets have been the West and secular Arab regimes, the group has also tried to attack Israel.
Since the overthrow of Egyptian President Hosni Mubarak early last year, terrorists based in Egypt's Sinai have carried out two deadly cross-border raids into Israel and fired several rockets at Israeli territory, and more than 10 terrorist networks based in the Sinai Peninsula have been destroyed recently, Kochavi said. While Kochavi did not reveal who the terrorists were or who disrupted their networks, he warned the Knesset committee that Islamic terrorists operating out of Sinai would continue in their efforts to create geopolitical crises. Kochavi said that for Egypt's newly-elected president, Mohammed Morsi, the security situation in Sinai was only a secondary priority, coming after his need to establish his leadership. "In Egypt there is a clear power struggle between the military and the Islamists. The fact that Egyptian President Morsi is considered the number two man in the Muslim Brotherhood there hurts his confidence to make decisions and obligates him to seek advice from the [Brotherhood's] leadership, which has been kept outside of the president's sphere of power," said Kochavi. The Israel-Syria border has been mostly quiet since 1974.
Israel, which captured the Golan Heights in the 1967 Six-Day War, has closely monitored the civil war in Syria. While Israel has been careful not to get involved, Israel fears that Assad's formidable arsenal of missiles and chemical weapons could slip into the hands of Hezbollah or other terrorist groups. Kochavi, repeating the assessment of other Israeli officials, judged Assad's days to be numbered, but he did not estimate how long he would be able to cling to power. "Assad could be in power from anywhere between two months and two years," Kochavi said.
Anti-Israel Attacks Mount in Sync with Syrian War, Looming Strike on Iran
July 19….(DEBKAfile Special Report) The tactics Iran, Syria and Hizballah have set out for escalating their terrorist attacks on Israel differentiate between "local" and high-value "strategic" targets. They have now decided to up the assaults on the latter to keep pace with the worsening war situation in Syria and the approach of an attack on Iran's nuclear program. This is reported by Debkafile's intelligence and counter-terror sources.
Iranian terror planners classify the blowing up of the Bulgarian bus Wednesday, July 18 as "local" notwithstanding its "success" in killing at least seven Israelis and wounding more than thirty. Destroying an Israeli passenger plane in Limassol, Cyprus, or assassinating an Israeli ambassador, in which they have failed so far, would have been "strategic" as would key Israeli security figures, politicians, business executives and Israel's Mediterranean oil and gas fields.
Just by coincidence, two major episodes occurred on the same day only hours apart, a large hole was struck in Bashar Assad's inner circle with the deaths in Damascus of half the management of his killing machine against the Syrian opposition and, soon after, the Israeli tour bus was blown up by means still under investigation. This chance synchronicity heralds a new period of horrific Middle East violence which will reach not only Israel, but the United States and the West as well. This realization was uppermost in the conversation between US President Barack Obama and Israeli Prime Minister Benjamin Netanyahu Thursday morning, July 19. Neither doubted that Tehran and Damascus were hatching retribution for the assassination of top Syrian ministers. They had information missing from media reports on the two events, including the news that straight after the deadly attack on Assad's henchmen, Supreme Leader Ayatollah Ali Khamenei called an Iranian leadership conference which lasted most of Wednesday and was punctuated with frequent phone calls by Iranian officials to the Syrian President. The content of those phone calls reaching reached Obama and Netanyahu showed clearly which way the wind was blowing in Damascus and Tehran: Neither intended pulling their punches.
The US and Israeli leaders agreed to work together in the investigation of the bus explosion in Bulgaria. Our sources stress that this is just diplomatic speak for holding off on action. Despite Netanyahu's pledge of a "strong response" to the attack, it was decided that a proactive response to the attack by striking an Iranian or Hizballah target would exacerbate a situation which US Defense Secretary Leon Panetta described as "spinning out of control." Nothing seems to deflect Iran, Syria and Hizballah from their resolve to vent their urge for revenge on Israel.
Hizballah leader Hassan Nasrallah has often managed to stay a step or two ahead of US and Israeli thinking, especially in his propaganda campaigns, ever since he surprised Israel by launching the Second Lebanon War in the summer of 2006.
A few hours after the attacks in Bulgaria and Damascus, Nasrallah had found his tongue and was crowing: We know what Israel's first strike will be and we promise you a big surprise." His words were a warning to Israel and a message to Washington that anyone trying to reach the bunker in which he has been hiding since 2006 was in for a big surprise. Israel was painfully reminded of the Iranian C-802 shore-to-ship missile fired from the Lebanese coast which surprised and crippled the unready INS Hanit missile ship exactly six years ago.
Israel Considers Strike at Syrian Chemical Weapons
Washington has held talks with Israel about a possible strike at Syria's chemical weapons stockpile, which is thought to be the largest in the world.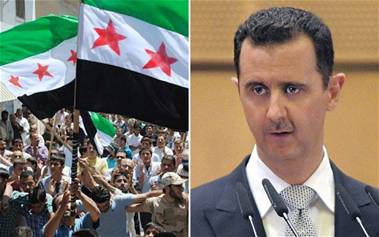 July 19….( ) The Pentagon is not advocating military action, particularly while President Bashar al-Assad still clings to power, but US officials told the New York Times that the option had been presented by Israel. Thomas Donilon, the US national security advisor, was in Israel last weekend to discuss the dramatically developing crisis, which reached a bloody turning point on Wednesday when a rebel bomb killed three of Mr Assad's closest aides.
An Israeli incursion from the air or by land would be highly sensitive, given that it has officially been in a state of war with Syria for decades. Israel however has a track record of unilateral action there, having destroyed a facility suspected of being a planned nuclear weapon research and development centre in the eastern Deir ez-Zor region in 2007. Its concern is shared by King Abdullah of Jordan, who told CNN that in the "worst case scenario" chemical weapons could end up in the hands of jihadist groups among the patchwork of anti-Assad forces. "Our information is that there is a presence of al-Qaeda in certain regions inside Syria, and has been there for a while," he told CNN. "And, again, one of the worst-case scenarios as we are obviously trying to look for a political solution would be if some of those chemical stockpiles were to fall into unfriendly hands," he warned
US intelligence reports recently suggested that some of Syria's chemical weapons had transferred, though the reasons were unclear. Some Western officials believe the material was being deliberately hidden from armed rebel groups or Western powers. In the past two days rumours have circulated widely in Syria that the army is preparing to use chemical weapons against rebel forces or civilians.
The White House was open about its concern, with spokesman Jay Carney saying on Wednesday: "The Syrian government has a responsibility to safeguard its stockpiles of chemical weapons, and the international community will hold accountable any Syrian officials who fails to meet that obligation." Syria is believed to have reserves of sarin, mustard gas and cyanide, but the full details of its stockpile are unknown as it is one of eight states not to have joined the 1997 Chemical Weapons Convention. Others include Israel and Egypt.
US Policymakers Brace for Sudden 'Collapse' in Syria
July 19….(Fox News) US policymakers are bracing for a potential "collapse" of the power structure inside Syria, as the Obama administration closely monitors the intensifying violence in the capital. Following a bomb attack that left several Syrian regime officials dead, a State Department source forwarded to Fox News an assessment from an independent Middle East analyst who monitors social media in the region and provides occasional guidance to the department. "Tweet trends in Damascus indicate something will collapse in Syria next 36 hours. Looks a lot like Tripoli did a year ago." The note was a reference to the atmosphere in Libya's capital before Muammar Qaddafi's regime was overthrown, and Qaddafi was captured and killed.
It's unclear whether Damascus has entered such a period, but the capital saw an unprecedented attack Wednesday on Bashar Assad's regime, when a bomb ripped through a high-level security meeting and killed at least three officials. Syrian TV confirmed the deaths of Defense Minister Dawoud Rajha, 65, a former army general and the most senior government official to be killed in the rebels' battle to oust Assad; Gen. Assef Shawkat, the deputy defense minister who is married to Assad's elder sister; and Hassan Turkmani, a former defense minister who died of wounds suffered in the attack.
US Defense Secretary Leon Panetta, speaking alongside British Defense Minister Philip Hammond on Wednesday, said the escalating violence indicates that the rebels feel emboldened and that the government of Assad is suffering "probably some fragmentation around the edges" as it struggles to keep a grip on power. The bombing was the harshest blow to the government's inner circle in the 16-month uprising. "The violence there has only gotten worse, and the loss of lives has only increased," Panetta said, "which tells us that this is a situation that is rapidly spinning out of control." He said that is all the more reason for the international community to bring "maximum pressure" on Assad to step down and permit a stable transfer of power.
Meanwhile, the Obama Administration slapped financial sanctions on a huge swath of top members in Assad's government, targeting the prime minister and 28 other cabinet ministers and senior officials.
The elimination of Bashar Assad's top security tier, leaders of his brutal campaign of suppression against the Syrian uprising sent shock waves reverberating across the Middle East where armies have gone on high alert. It now transpires that their deaths were not caused by a suicide bomber but a 40-kilogram bomb hidden in Syria ministers' conference room at the heavily fortified National Security building, which killed at least four of the eight top officials present: Assad's brother-in-law Security Chief Assif Shawqat, Defense minister Gen. Dawoud Raijiha, Interior Minister Maj. Gen. Mohammad Ibrahim Shaar and ice-Presidential aide and former defense minister Gen. Hasan Turkmani. The last two died of their wounds.
Syria Descending Into Civil War
July 19….(DEBKA) US Defense Secretary Leon Panetta commented: "The violence in Syria is rapidly spinning out of control." Emergency consultations are taking place at the White House, the National Security Council, the Pentagon and the State Department to try and assess how the Syrian crisis will develop and above all Assad's response to the almost knock-out blow his inner circle has sustained. Israel's Defense Minister Ehud Barak urgently summoned intelligence and security officials to discuss possible implications of the rapidly deteriorating situation in Syria. They include IDF Chief of Staff Lt. Gen. Benny Gantz and heads of the Northern Command, Military Intelligence, the Planning Division and the various IDF branches.
Neither Washington nor Jerusalem has reported military alerts. However, debkafile's military sources report that US forces in the region, Israel, Jordan, Saudi Arabia, Iraq and Turkey have placed their armies on a high state of readiness until it is clear which way the Assad regime jumps after the disaster it sustained. The two questions uppermost in their minds are:
1. Will the Syrian army, security apparatus and intelligence services hold up under the shock of losing their top echelons?
2. Will President Assad respond violently? He has in the past declared that if there is no calm in Syria, neither would there be in Israel and threatened to set the entire Middle East on fire if his regime is jeopardized.
Only last week, Syria staged a large-scale missile exercise during which, on July 12, a Scud D capable of carrying of chemical gas warheads was tested. The next day, US military sources reported that Syria had moved chemical weapons out of storage and distributed them to missile and artillery units. The Syrian president, bereft of his top allies, must decide on his own how to react and against which of his many enemies. It is already becoming clear that the Syrian rebels lacked the expertise for a high-quality terrorist operation of the kind that decimated Assad's inner circle. He will certainly pin the blame on a foreign intelligence agency as perpetrator, in which case he is likely to lash out against the United States, Israel, Britain, Saudi Arabia, Turkey or Qatar. Taking advantage of the regime's sudden weakness, the streets of the outer suburbs of Damascus suddenly filled with people celebrating. In other parts of the capital, tanks and artillery barrages thundered against rebels fighting in Damascus for the fourth day.
Debkafile reported earlier Wednesday: Bashar Assad's survival is in serious question after the deaths of his top allies, the deadliest blow to his regime in the 17-month Syrian uprising, striking deep inside the president's inner circle and family: Shawqat was married to his sister. It took place on the fourth day of fierce fights with rebel forces which seized parts of Damascus and are battling superior government forces backed by heavy tank, artillery and machine gun fire and helicopters.
'If Cornered, Assad Could use Chemical Weapons'
(Syrian, Lebanese armies prepare for possible Israeli attack to prevent transfer of chemical weapons to Hezbollah • Former Syrian ambassador to Iraq says "cornered" Assad could use chemical weapons )
| | |
| --- | --- |
| | (FOJ) IDF Chief Aviv Kochavi says that Iran and Hezbollah are preparing for the day after Assad's fall from power. In Lebanon, Hezbollah has 70,000-80,000 rockets that could hit Israel. "The smuggling of rockets from Iran to Lebanon continues." Meanwhile the Syrian army battles rebels in the streets of Damascus,.turning that city into a ticking time-bomb, that could explode into Israel or Lebanon at anytime! |
July 17….(Israel Hayom) Syrian President Bashar al-Assad will now find it more difficult to project business as usual after the rebellion against his regime turned into pitched battles on the streets of the capital Damascus on Monday, and the noose of international pressure around the regime further tightened.
Nawaf Fares, Syria's ex-ambassador to Iraq and the most senior Syrian politician to defect to the opposition, told the BBC on Tuesday that Assad's regime will not hesitate to use chemical weapons if it is cornered. When asked if he thought Assad might use chemical weapons against the opposition, Fares replied he could not rule it out, describing Assad as "a wounded wolf and cornered." "There is information, unconfirmed information of course, that chemical weapons have been used partially in the city of Homs," Fares told the BBC. "It doesn't occur to any Syrian, not only me, that Bashar al-Assad will let go of power through political interventions. He will be ousted only by force," he said. Fares also claimed that Assad's regime, dominated by the Shi'ite Alawite sect, is collaborating with Sunni Muslim militants in al-Qaida. "Al-Qaida is searching for space to move and means of support, the regime is looking for ways to terrorize the Syrian people," Fares said.
Meanwhile, Lebanese media outlets reported Monday that both the Syrian and Lebanese armies have reinforced their respective armies positioned along their shared border, not only to prevent the civil war in Syria from spilling into Lebanon, but out of concern that Israel may be looking to pre-emptively attack in Syria in order to thwart the transfer of chemical weapons from the Syrian regime to the Lebanon-based Hezbollah terrorist organization.
On the ground in Damascus, rebels fired grenades at tanks and troops while armored regime units shelled the city's neighborhoods, sending terrified families fleeing the most sustained and widespread fighting in the capital since the start of the uprising 16 months ago. Activists say Syrian government forces have also used helicopter gunships to battle rebels in the capital Damascus. The activists say that helicopters fired heavy machine guns during overnight clashes in the neighborhoods of Qadam and Hajar al-Aswad as a ring of fierce clashes nearly encircled the heavily guarded capital.
Israeli Defense Minister Ehud Barak said Monday that, "The fate of the Assad family is sealed, but on its way out of power it can kill more people. The Assad family is holding on to power at the cost of the continued slaughter of its own people. The world understands, the International Red Cross made a very important declaration [on Sunday] that it sees the situation in Syria as a civil war." Barak added that "there is a disturbing lesson in the fact that the entire world, even when these grave events unfold before all of our eyes, cannot manage to gather the fortitude, legitimacy or the unity required to put an end to this bloodbath."
While the clashes in Damascus were focused in a string of neighborhoods in the city's southwest, for many of its four million people the violence brought ominously close to home the strife that has deeply scarred other Syrian cities. In high-end downtown cafes frequented by the business and government elite tightly bound to the Assad regime, customers watched as black smoke billowed on the horizon and the boom of government shells reverberated in the distance. "Without a doubt, this is all anyone is talking about today," a Damascus activist who gave his name as Noor Bitar said via Skype. "The sounds of war are clear throughout the city. They are bouncing off the buildings."
Meanwhile, Syrian Ambassador to Belarus Farouk Taha defected on Monday and aligned himself with the rebels. Also Monday, Morocco asked the Syrian ambassador to leave the country. Within hours, Syria's state-run TV said the Foreign Ministry had declared Morocco's ambassador to Syria persona non grata. International diplomacy has failed to stop the violence, and world powers remain deeply divided over who is responsible and how to stop it. The US and many Western nations have called on Assad to leave power, while Russia, China and Iran have stood by the regime.
On Monday, Russian Foreign Minister Sergey Lavrov accused the West of using blackmail to secure a UN Security Council resolution that could allow the use of force in Syria. Lavrov objected to the text of a Western-backed resolution that calls for sanctions and invokes Chapter 7 of the UN Charter, which can be enforceable militarily. He said Russia had been told that if it opposed the resolution, Western nations would not extend the mandate of a UN mission sent to Syria to monitor a cease-fire. "We consider it to be an absolutely counterproductive and dangerous approach, since it is unacceptable to use monitors as bargaining chips," Lavrov said.
International envoy Kofi Annan, who has made little progress in brokering a political solution in Syria, met Russian leaders in Moscow on Monday. The meeting, the latest in Annan's efforts to save his faltering peace plan, comes a day after the conflict crossed an important symbolic threshold, with the international Red Cross formally declaring it a civil war, a status with implications for potential war crime prosecutions. Monday's fighting suggested that deep cracks were appearing in the tightly controlled facade of calm that has insulated Damascus from violence throughout the uprising.
Damascus, and Syria's largest city, Aleppo, are both home to elites who have benefited from close ties to Assad's regime, as well as merchant classes and minority groups who worry their status will suffer if Assad falls. But for months, rebels have been gaining strength in poorer towns and cities in the Damascus countryside. Some activists suggested Monday that recent government crackdowns in those areas had pushed rebels into the city, where they were determined to strike at the heart of the regime.
Damascus is Going Down
July 17... (DEBKA) Bashar Assad has gathered in his military strength to defend his beleaguered capital, deploying armored forces to cut off central Damascus from the embattled southern districts of Meidan and Tadmon seized by the rebels Monday, July 16. A quarter of Damascus's 1.8 million inhabitants live in those districts. Debkafile's military sources report they are now surrounded by six strengthened Allawite Shabiha militia battalions and under heavy fire. Assad and his commanders have turned to a different tactic for defending Damascus: They allowed the rebels to occupy the southern districts with the intention of trapping them there and destroying them.
Our sources expect the ongoing heavy bombardment of the rebel concentrations there to result in a bloodbath on the horrific scale of the Bab al Amr massacre in Homs last February and March. The Syrian general staff has prepared for the last battle for Damascus by relocating its command headquarters to a well-fortified complex on Shuhada Street in the capital's center, known as the "summer command" and normally housing the supply division.
The 130,000 Palestinians living in two Damascus refugee camps, Yarmuk and Hama, have meanwhile joined the rebels. Two Syrian tank columns drove into those locations early Tuesday, July 17, and have been shelling them relentlessly. Thus would end 60 years of Assad regime investment in supporting the radical Palestinian organizations, Hamas, Jihad Islami, the Popular Front and Ahmad Jibril's PFLA-General Command. Their top commands were provided with hospitality in Damascus during those decades.
US Sends 2nd Aircraft Carrier to Gulf for Possible Iran Showdown
July 17….(Israel Hayom) The US is sending an aircraft carrier to the Middle East several months early to make sure at least two carriers will constantly be present in the troubled region. There are two carriers in the area now, but one was scheduled to leave before its replacement arrived to fill that gap. Defense Secretary Leon Panetta has approved sending by late summer the USS John C. Stennis strike group, which also includes the Aegis guided-missile cruiser USS Mobile Bay and some 5,500 sailors. The extra presence was approved late last week on a request by Gen. James Mattis, commander of US Central Command, Pentagon press secretary George Little said Monday.
After the last US deployment, Iran's army chief Gen. Ataollah Salehi in January warned the US warship not to return to the Gulf, but its replacement, the carrier USS Abraham Lincoln, entered the Gulf without incident later in January. Although US warships have had a presence in the region for decades, the deployment schedule change comes during an escalating showdown between Iran and the West over the Islamic Republic's nuclear program.
The Pentagon also recently doubled the number of minesweepers in the region, giving the US greater flexibility to counter any Iranian effort to mine the Strait of Hormuz at the mouth of the Gulf. The strait is routinely patrolled by Iranian and US warships. Iran has repeatedly threatened to close the strategic waterway, which is the transit route for about a fifth of the world's oil supply, in retaliation for increased Western-led sanctions.
Hillary Clinton Urges Full Civilian Rule in Egypt
| | |
| --- | --- |
| | (FOJ) Mrs. Clinton's pro-democracy push in Egypt has resulted in the displacement of an American ally, who was a proponent of the Middle East Peace Process with Israel. Now, Egypt has leadership that advocates war on Israel and seeks to establish Islamic law in Egypt, which in turn will not provide civil rights to non Muslims; All thanks to Hillary/Obama. |
July 16….(BBC) Supporters of new President Mohammed Mursi are in a stand-off with generals who have ruled since President Hosni Mubarak was ousted last year. Speaking after talks with Mr. Mursi, Mrs. Clinton said the situation required "compromise and real politics". She also praised Egypt's military council for its interim leadership. Mohammad Mursi, of the Muslim Brotherhood's Freedom and Justice Party, was elected in June in the country's first freely contested leadership vote.
Hillary Clinton wanted to come to Egypt soon after the elections because the US believes it is important to engage with President Mursi early on. The meeting was described by officials as good and candid but this is still a tentative relationship, not a full embrace. The US administration is slowly feeling its way in the region, learning to work with groups that Washington has shunned in the past.
When Condoleezza Rice was here in 2005 as US Secretary of State, she was categorical' the US would not engage with the Muslim Brotherhood. But in the new Arab world, long-held American assumptions about who is a friend or not have been shattered. And new problems have emerged. Outside Mrs Clinton's hotel, dozens of Egyptians protested against Mursi with slogans like: "We don't want Hamas to rule Egypt."
Afterwards, Mrs. Clinton told reporters: "I have come to Cairo to reaffirm the strong support of the United States for the Egyptian people and their democratic transition. "We want to be a good partner and we want to support the democracy that has been achieved by the courage and sacrifice of the Egyptian people."
Israel Braces for Syrian Missile Attack – Conventional or Chemical
July 16….(DEBKAfile Special Report) As the already unthinkable pace of slaughter in Syria accelerates further, Western military sources warned Saturday, July 14, that not only Israel, but additional strategic targets in Middle East lands deemed enemies by Bashar Assad should prepare for him to launch surface-to-surface missile attacks. The assaults would start out with conventional warheads, but as the regime continues to be hammered, the beleaguered ruler might well arm the next round of missiles from his huge stockpile of mustard gas, not to mention sarin nerve poison and cyanide.
Western intelligence sources say Assad has a list of targets ready to go. Analyzing the Syrian war game taking place last week, they calculated that Wednesday and Thursday, July 11 and 12, the Syrian army practiced shooting missiles at strategic centers in Israel, Turkey and Jordan. But while most Western officials now confirm that Assad has moved his WMD warheads and shells out of storage, they are already divided on what it means. Some US officials are soft-pedaling the menace, offering the theory that the Syrian ruler is only safeguarding his unconventional weapons from falling into rebel, or what he calls "terrorist" hands.
Other Western intelligence watchers, especially in Britain, believe he is preparing a campaign of ethnic cleansing at centers of revolt and report that chemical weapons have already been transferred to Homs, Latakia and Aleppo for operational use. That is one game-changing predicament facing the West. It would quickly assume a regional dimension if Turkey, Israel and Jordan were to come under Syrian missile assault. Air and missile reprisals against Syrian military or regime centers would carry the danger of Hizballah retaliation from Lebanon leading to direct attacks from Iran. Before going down that road, Israeli Prime Minister Binyamin Netanyahu and Turkish Prime Minister Tayyip Erdogan, who are not on speaking terms, would certainly confer with US President Barack Obama. Even then, their consultations would not necessarily lead to action.
For example, three weeks have gone by since Syria shot down a Turkish Air Force reconnaissance jet and yet after, close consultation with Washington, the Erdogan government was persuaded to leave the incident without response. Administration officials explained to the Turks that covert warfare carried a price in failure and casualties.
This US attitude might well embolden the Syrian ruler to risk his arm with limited missile strikes against Turkey and Israel and bank on the Obama administration twisting their leaders' arms behind their backs to prevent them making any serious response.
Christians Fleeing Syria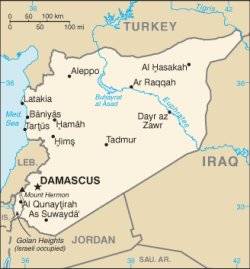 July 16….(Worthy News) Thousands of Christians have fled their homes in Syria where news emerged recently that intelligence agencies run dozens of torture centers where detainees are beaten with batons and cables, burned with acid, sexually assaulted, and have fingernails torn out.
The New York-based Human Rights Watch (HRW) group said it identified 27 abuse centers which have been used since President Bashar al-Assad's government began a crackdown in March 2011 on pro-democracy protesters trying to oust him.
Christians are caught in the middle, and are suffering abuse from all sides, including from rebels who accuse them of supporting the regime or observing a 'Western religion' and some believers have been killed, according to church groups. Among those recently killed was Atallah Ibrahim Bitar, who was shot dead while reportedly taking food to people forced into hiding by a week-long bombardment, Christian aid workers said.
CHRISTIAN EXODUS UNDERWAY
The violence has sparked an exodus of Christians, including from city of Qusayr, about 4.8 kilometers (3 miles) southwest of Homs in a mountainous area overlooking Syria's border with Lebanon, said aid and advocacy group Barnabas Fund. Many reportedly flee to other parts of Syria or to neighboring countries. Most of the 10,000 Christian residents have left the area, "after reportedly being given an ultimatum to leave, a threat which was also echoed by the mosques," the group told Worthy News in a statement. "Two Christian leaders among those fleeing the city said that they heard the following message from the minarets: 'Christians must leave Qusayr within six days, ending June 8'." Barnabas Fund, which is working in the region, described the city as "an extremely dangerous place for those who remain and it is clear that Christians in particular are not safe in their homes."
Earlier, Dutch aid group 'Kerk in Nood', or 'Church in Need', told Worthy News that in Homs itself 90 percent of Christians living there fled after "fanatics" forced them to leave their homes. It said 50,000 people have fled Homs since February. "They have fled to villages and in the mountains, sometimes as far as 50 kilometers from their homes. We have reports that Islamists 'cleansed' the Homs areas of Hamidiya and Bustan al-Diwan without giving Christians the opportunity to take anything with them," the group told Worthy News recently.
Christians have expressed concerns over who will takeover the country once President Bashar al-Assad leave office, amid fears of an Islamic takeover, concerns shared by Christian groups in other countries in the region facing political upheaval, including Egypt.
WEEK OF JULY 8 THROUGH JULY 13
Muslims Incorporating Shariah Law Upon USA
July 14….(WND) Retired Army Lt. Gen. William "Jerry" Boykin is warning that Islamic Shariah law already is in the United States, and is forming a cloud over the future of the nation. Boykin, addressing a packed house at a synagogue today in Stoughton, Mass., said, "There is a threat to this country from Shariah and the Muslim Brotherhood," noting the Muslim Brotherhood has had a presence in the US since at least 1962. "The new Egyptian president, Mohamed Morsi, said he joined the Muslim Brotherhood in 1978 while he was in the United States of America. People who say that the Muslim Brotherhood is not in America are not dealing in reality," Boykin said. He said even Muslims pay a price for being indifferent to the agenda of the radical Muslim Brotherhood. "Muslims who are not pushing for Shariah in the United States are pushed aside and don't have a voice. They're often marginalized in their mosques and sometimes not allowed to participate," he said.
Boykin also says that Shariah law has deep ramifications for the United States. "People say that Shariah isn't going to be a threat in the United States. Fifty-three cases in 28 states have been decided by Shariah law at the appellate level," Boykin said. "There are groups and websites in the United States pushing for Shariah law. Boykin told the crowd of the Muslim Brotherhood's master plan for the United States. "The Muslim Brotherhood is working to control the dialogue in the United States, ensuring that people don't talk about Shariah or its objectives for the country," he said. "It's gone into the deepest halls of our government too. It was no less than FBI Director Robert Mueller that had a March meeting with the Muslim Brotherhood. The leader of the Brotherhood complained about the counterterrorism training manual," Boykin said. "In response, Mueller allowed the Muslim Brotherhood to expunge over 1,000 documents from the training manual," Boykin said. "So please don't say it can't happen here. You've been told a lot of lies and you've been told it's a religion of peace. You've been told that Islam and democracy are compatible and that's a lie.
In an exclusive interview with WND, Boykin addressed related issues: "We've been told we all worship the same God. That's a lie. My God, you can have a personal relationship with. With Allah, you can't have a personal relationship," he said. He noted that the roots between Israel and the United States go deep, and it's a necessary alliance for the United States to honor. He also blasted the Obama administration for its neglect of Israel and for its failure to take Iran seriously. "We make a major mistake if we think Mahmoud Ahmadinejad is a clown. He is deadly serious," Boykin said. Boykin says that Ahmadinejad takes seriously the Islamic eschatological belief in an apocalypse of the Jews followed by a return to the final imam.
Boykin then turned his attention to the political relationship between the government and Israel. "The last four presidents have actually harmed the country's relationship with Israel, but this one is especially bad," Boykin said. "This administration has told the Israelis to go back to the 1967 borders, and that's like telling Israel to commit national suicide." The general had some very harsh words for the way Obama personally has treated Israeli leaders. "We welcomed the Chinese to the White House. We had an official state function and rolled out the red carpet," Boykin said. "But if some reports are correct, the president made Prime Minister Benjamin Netanyahu sit in a room by himself for about an hour while the president went off and did something else. "No president has ever done that to a sitting Israeli head of state," he said.
WND reported recently that Israel and Iran may already be fighting a proxy war in the Sudans, with Israel supporting South Sudan and Iran developing deeper ties to Omar al-Bashir in Sudan. A war between Iran and Israel is a matter of deep concern for Boykin. "Prime Minister Netanyahu may be waiting to see if Obama is re-elected. If Obama is re-elected, the Israelis may be willing to launch a pre-emptive strike against Iranian nuclear facilities," Boykin said. "If Obama is re-elected and he doesn't have to worry about another four years, Israel will be on their own to have to act apart from any US help which will likely not be forthcoming in a second Obama term," Boykin said. Boykin also has stated that a war between Israel and Iran is inevitable, and the US needs to stand with Israel. Boykin also talked about similar concerns in the interview with WND: "This whole issue of fighting to defend Israel is very personal to me. I try to make people understand the vital nature of Israel," Boykin said. "As an American I am appalled at how little people in the United States know about Israel. "Seven thousand miles from here, a piece of dirt, the Holy City, is the global epicenter of terrorism and the fight for freedom.
America's Coming Civil War -- Makers vs. Takers
("A house divided against itself cannot stand." –Abraham Lincoln)
July 14….(Fox News) Abe Lincoln used those words in 1858 to describe a country that was careening toward civil war. Now we're a house divided again and another civil war is coming, with the 2012 election as its Gettysburg. Call it America's coming civil war between the Makers and the Takers. On one side are those who create wealth, America's private sector–the very ones targeted by President Obama's tax hikes announced Monday.
On the other are the public employee unions; left-leaning intelligentsia who see the growth of government as index of progress; and the millions of Americans now dependent on government through a growing network of government transfer payments, from Medicaid and Social Security to college loans and corporate bailouts and handouts (think GM and Solyndra).
Over the past century America's private sector has been the source of productivity, innovation, creativity, and growth–and gave us the iPhone and iPad. The public sector has been the engine of entitlement, stagnation, and decline, and gave us Detroit and the South Bronx. The private sector built the strongest economy in the world. It armed the free world in World War Two, and then in the three decades after the war turned America into the most prosperous society history had ever seen. It revived America in the Reagan and Clinton years, and thanks to the Bush tax cuts brought this country back from economic collapse after 9/11.
In those same years a growing public sector, by contrast, turned Europe into a cesspool of debt, stalled economies, and chronic social dysfunction that's set the streets of Athens, and perhaps other European capitals, on fire. That's where we're headed, too, more rapidly than we like to think. That public sector–state, local, and federal, now consumes 40% of GDP, compared to 33% just twelve years ago. It's brought us to the point where 48% of Americans are now on some form of government handout, from 44% when Obama took office–almost a fifth more than during the Reagan years. And too many of them have been programmed to believe they have no future unless the government takes more from the Makers, precisely what Obama promised on Monday.
So we know which side Obama and the Democratic party are on. Like John Brown's raid on Harper's Ferry, ObamaCare has been a wakeup call to what's at stake–just as the turbulent events in Wisconsin showed how far Democrats are willing to go to win. We're not Greece yet, or on the brink of Bull Run. But it's time for Romney and Republicans to make clear which side they're on, and to make it clear there can't be government transfer payments, from Medicaid to Social Security, without a strong vibrant private sector to pay for them. They don't have to stoop to the Democrats' tactics. They just have to give our free market, private sector economy the robust defense it deserves. A country where more Americans go on Social Security disability than get jobs, as happened last month--can't stand. Lincoln hoped in 1861 that the "angels of our better nature" would pull us back from catastrophe. He was wrong. Let's hope in 2012 those angels still hover, and can make a house divided whole once more.
US Fears Assad Relocating Chemical Stockpiles
July 14….(YNET) US officials said that Syria has started to move part of its chemical weapons arsenal out of storage facilities, the Wall Street Journal reported on Friday. The country's undeclared stockpiles of sarin nerve agent, mustard gas and cyanide have long worried US officials and their allies in the region, the report said. Western nations have looked for signs amid the rebellion against President Bashar Assad's government of any change in the location of those weapons, believed to be the world's largest stockpile. American officials are divided on the meaning of the moves of the arsenal. Some fear Assad may want to use the weapons against rebels or civilians, while others said perhaps he is trying to safeguard them from his opponents, the WSJ reported.
Some US officials fear Damascus intends to use the weapons against the rebels or civilians, potentially as part of a targeted ethnic cleansing campaign. But other officials said Assad may be trying to safeguard the material from his opponents or to complicate Western powers' efforts to track the weapons. Whatever the motivation, the evidence that the chemical weapons are coming into play could escalate the conflict in Syria, the report said. "This could set the precedent of WMD (weapons of mass destruction) being used under our watch. This is incredibly dangerous to our national security," a US official told the paper.
US State Department spokeswoman Victoria Nuland said: "We repeatedly made it clear that the Syrian government has a responsibility to safeguard its stockpiles of chemical weapons." She added that "the international community will hold accountable any Syrian officials who fail to meet that obligation." The Syrian government denied chemical stockpiles have been moved, the report said. Syria is one of eight states, along with Israel and nearby Egypt, that have not joined the 1997 Chemical Weapons Convention, which means the world's chemical weapons watchdog has no jurisdiction to intervene there. The Assad government has in the past denied having weapons of mass destruction.
Syria takes WMD out of Storage: US: Situation Incredibly Dangerous
July 14….(DEBKAfile Special Report) As part of its ongoing war maneuver, Syria Thursday, July 12, this week drilled the firing of advanced Scud D ballistic missiles capable of carrying chemical weapons and nerve gas, a clear message from Bashar Assad that weapons of mass destruction are now in play to save his regime. American officials, alarmed by the movement out of storage of parts of his vast arsenal of sarin nerve agent, mustard gas and cyanide, warned it could escalate the Syrian conflict and expand it to other parts of the region. "This could set the precedent of WMD [weapons of mass destruction] being used under our watch," one US official said. "This is incredibly dangerous to our national security." The Obama administration has begun to hold classified briefings about the new intelligence. Debkafile's military sources say that two developments drove the Syrian president Bashar Assad to this extreme threat:
1. The rebels were discovered to have procured roadside bombs capable of crippling the T-72 tank units he has just tried injecting into the battle for the first time this week. Tanks sent in long convoys into Aleppo and the suburbs of Damascus were blown up.
2. The balance of war has reached the point that the government controls only those parts of the country where heavy military or security forces contingents with massive fire power are deployed; elsewhere, the rebels have the upper hand.
In the course of its war exercise, the Syrians fired a selection of ground-to-ground missiles which they described as capable of "hitting targets deep within enemy territory." Our military sources say all the Scuds, the M-600, Fateh-110 and Zelzal can reach any point in Israel. They also tested upgraded C-802 shore-to-ship rockets. American officials revealed Thursday in Washington that "Syria has begun moving parts of its vast arsenal of chemical weapons out of storage facilities." They didn't say to where they were moved. Debkafile's military sources report that the missile warheads and shells containing poisonous weapons such as sarin, mustard gas and cyanide are being moved to specific Syrian units ahead of field operations.
Some US officials are quoted by The Wall Street Journal as fearing "Damascus intends to use the weapons against the rebels or civilians, potentially as part of a targeted ethnic cleansing campaign." Others hope it is a feint to inspire fear. Whatever the case, the alarmed US official said in Washington: This could set the precedent of WMD being used under our watch" and is "incredibly dangerous to our national security."
Russian Ship with Attack Helicopters Sails for Syria
(Moscow insists it will deliver Syria the Mi-25 helicopters despite western disapproval)
July 14….(TELEGRAPH) The Alaed's previous attempt to convey the Mi-25 gunships to the regime of President Bashar al-Assad under a Curaçao flag caused anger in London and Washington. US Secretary of State Hillary Clinton said the aircraft would be used to kill innocent civilians. The ship's new destination is unclear but maritime data show it was travelling south off Norway on Thursday and is due in Baltiysk on the Baltic coast of Kaliningrad, Russia's enclave between Poland and Lithuania, on July 17. A spokesman for Femco, the Russian company which owns the cargo vessel, said on Friday that it would arrive in St Petersburg two days later and may then head to the Russian Far East.
Moscow has insisted it will deliver the Mi-25 helicopters in the teeth of western disapproval and it appears likely the ship's real or eventual target is Syria. The Alaed turned back 50 miles off Scotland on June 18 and returned to its home port of Murmansk after its British insurer found out it had weapons bound for Syria on board and cancelled its policy rather than violate a EU arms embargo.
Ex-Revolutionary Guards General: Khamenei Lying About Nukes
(Former general of Iran's Revolutionary Guards accuses supreme leader Khamenei of lying when he says Iran's nuclear program is peaceful.)
July 13….(Arutz) A former general of Iran's powerful Revolutionary Guards has accused the supreme leader, Ayatollah Ali Khamenei, of having blood on his hands over the brutal crackdown on the opposition. The British Guardian reported on Thursday that the former general described government claims that Iran's nuclear program is entirely peaceful as a "sheer lie." The former officer made the comments in a letter to prominent opposition activist Mohammad Nourizad. Identified only by his initials, the general says that he and a number of his colleagues were threatened with execution for disloyalty and later dismissed "because we refused to participate in the betrayals and the crimes committed by our seniors." "I'm writing this letter to you to tell our people that there are still many generals and members of staff within the Revolutionary Guards who are opposed to these crimes and are waiting to join the people," the letter, quoted by the Guardian, reads.
Speaking to the Guardian by telephone from Tehran, Nourizad, who published the general's letter on his website, said he was convinced of its authenticity because it was handed to him in person by the former general. "This is one of the many such letters written by senior figures within the Sepah [Revolutionary Guards] that I have received," Nourizad said. "I have refrained from publishing many of them because I was worried they might pose security problems." The report noted that in the aftermath of the fiercely disputed 2009 elections, several dozen Revolutionary Guards generals, as well as senior figures in the informal voluntary Basij militia, were replaced for refusing to use violence against unarmed protesters.
The general says the order to open fire on the protesters came from the top. "[In 2009,] the leader [Khamenei] asked Rahim Safavi [a former chief commander of the guards] whether he would be prepared to run over people with tanks if they took to streets to revolt. He said yes and the leader gave him the order," he writes. "They shut our mouth for years by saying that the leader wanted this or that … But we could no more keep it shut after the post-election bloodshed. This was the point many spoke out or simply refused to comply." According to the general, Khamenei was also personally involved in the restrictions imposed on opposition leader Mir Hossein Mousavi, who is still under house arrest with little access to the outside world. The general also accuses Khamenei of lying about Iran's nuclear program, casting doubt on what the regime officials claim to be "peaceful" activities and describing them as the country's "nuclear gamble." "The inspectors of the International Atomic Energy Agency are fooling themselves if they believe that the nuclear facilities on and under the ground are only for peaceful purposes," he writes. "The leader said [in a fatwa] that Iran has only peaceful intentions with its nuclear activities. This is a sheer lie." He adds, "We undertook this nuclear gamble with the leader's knowledge, that's why we are paying billions of dollars into Chinese and Russian bank accounts so that they support us in international negotiations and we could find a way out of this stalemate."
The general accuses the Revolutionary Guards of corruption and involvement in smuggling and the illegal transfer of foreign currency. "Is it not ridiculous? The presidential office established a unit to combat smuggling but at the same time, senior guards generals were doing exactly the same thing in the southern islands of Qeshm, Hormuz and Abu Musa," he writes. "We tolerated the guards' economic activities and involvement in smuggling with the excuse of raising funds for its revolutionary ideas."
Why Abbas Will Never Make Peace With Israel
July 13….(Gatestone Institute) What are the chances that Palestinian Authority President Mahmoud Abbas would ever sign a peace agreement with Israel? The answer: zero.
Abbas, who is in his late 70s, has been in power since 2005 even though his term in office formally ended in January 2009. If Abbas did not sign a peace agreement with Israel when he was a legitimate president during his earlier four-year term in office, he is most unlikely to strike any deal with Israel now that he does not have a mandate from his people. If he wished, Abbas could have reached a deal with the governments of Prime Minister Ehud Olmert and Foreign Minister Tzipi Livni. But Abbas, like his predecessor Yasser Arafat, chose to turn down a generous offer that could have seen Israel relinquish control over most of the West Bank and east Jerusalem.
Abbas is not interested in reaching any deal with Israel: he knows that such a move would require him to make concessions. Abbas knows that Israel will never give him 100% of his demands; that is enough for him to refuse to sign any historic agreement. Like Arafat, Abbas does not want to go down into history as the first Palestinian leader to make concessions, especially on sensitive issues such as refugees and Jerusalem.
In 2000, Arafat rejected Prime Minister Ehud Barak's generous offer, which included more than 90% of the territories captured by Israel in the Six Day War. Arafat turned down the offer because he was afraid of being condemned by Arabs and Muslims for having "sold out to the Jews." Arafat was later quoted as explaining that if he made any concessions to Israel he would "end up drinking coffee with [slain Egyptian President] Anwar Sadat up there." So if Arafat, the popular symbol and leader of the Palestinians was unable to make any concessions to Israel, who is Abbas to accept anything less than 100%?
Abbas knows that in a final deal, Israel would not permit millions of Palestinians living in refugee camps to enter the country. He also knows that Israel is planning to retain control over some parts of the West Bank and east Jerusalem. Arafat walked away from the Camp David summit in 2000 because he had been telling his people that anyone who makes concessions to Israel is a traitor. Similarly, Abbas has also tied his hands by constantly promising the Palestinians that he would never make concessions on the "right of return" and settlements.
Abbas has even gone a step further by mobilizing Palestinian public opinion against Israel to a point where his people are not even ready to see him meeting with Vice Prime Minister Shaul Mofaz.. Abbas's Palestinian Authority has been denouncing Israel and many of its leaders, including Mofaz, as war criminals. This is why when, two weeks ago, Palestinians heard that Mofaz was planning to visit Ramallah to meet with Abbas, hundreds took to the streets to protest. Abbas quickly succumbed, and called off the meeting with Mofaz. The next time Abbas plans to meet with any Israeli government official, Palestinians will once again take to the streets to protest.
The motives of the protesters are understandable. Why should they approve of such meetings while Abbas himself has been telling them for many years that Israeli leaders are war criminals and do not want peace? If Abbas is not even able to hold a meeting with a senior representative of the Israeli government, who said that he could ever reach any peace agreement with Israel?
Abbas's problem is more with his people than with Israel. Not only does Abbas not have a mandate to reach any deal with Israel, he has also lost much of his credibility among Palestinians for his failure to end his dispute with Hamas and to implement major reforms in his ruling Fatah faction. Today, Abbas is not in a position that allows him to sell to most Palestinians any agreement he reaches with Israel. Even if he were to bring home an agreement that includes 100% of his demands, most Palestinians would still receive it with full skepticism because it would be coming from a leader who does not have a mandate to make even the slightest concession.
Israel Perturbed by Obama's Outreach to Muslim Brotherhood
July 10….(DEBKAfile Exclusive Report) Israeli government and military leaders were taken aback by the news of US President Barack Obama's invitation to the new Egyptian president Mohammed Mursi to visit Washington in September, in breach of the president's assurances to US Jewish leaders at the White House last month. His key assurance was that Mursi would not be invited to the White House and Obama would not maintain direct telephone contact with him until he met certain conditions, the foremost of which concerned a public and unambiguous commitment to Egypt's 1979 peace treaty with Israel.
The American Jewish delegation was assured that President Mursi would be required to devote a section of his earliest speech on foreign affairs to the specific affirmation of his profound commitment to the peace pact with Israel. The unspecific pledge to uphold Cairo's international accords he made upon his election on June 24 would not satisfy the US president, the American Jewish delegation was promised. Indeed the new Egyptian president would also be required to table the peace pact with Israel in the new Egyptian parliament for ratification. With these assurances, the Jewish delegation was satisfied.
However, it turned out Monday, July 8, that, instead of standing by his promises, President Obama had sent Deputy Secretary of State William Burns to Cairo for two days of interviews with Egyptian officials, in none of which did future relations with Israel figure. President Mursi's spokesman then announced that the US official had handed the new president an invitation to visit the White House in September. Neither Burns nor the White House contradicted him. Furthermore, in a briefing to reporters after he saw Mursi, Burns vehemently denied that the peace pact had been discussed.
Obama Invites Egypt's Islamist Leader to US
July 10….(Reuters) President Barack Obama has invited Egypt's newly elected Islamist president, Mohamed Mursi, to visit the United States in September, an Egyptian official said on Sunday, reflecting the new ties Washington is cultivating with the region's Islamists. Washington, long wary of Islamists and an ally of ousted President Hosni Mubarak, shifted policy last year to open formal contacts with the Muslim Brotherhood, the group behind Mursi's win. Mursi formally resigned from the group after his victory. Mursi's success at the polls mirrors the rising influence of Islamists in countries across the Middle East and North Africa in the wake of revolts and protests against autocratic rulers who have led the region for decades.
President Obama extended an invitation to President Mursi to visit the United States when he attends the UN General Assembly in September," Egyptian aide Yasser Ali said after Mursi met US Deputy Secretary of State William Burns in Cairo. Burns, who did not mention the invitation at a news conference earlier, pledged US support for Egypt's battered economy and said he welcomed Mursi's promise to uphold international treaties, which include a peace deal with Israel. "We have taken careful note and appreciated President Mursi's public statements about a commitment to international obligations and we certainly attach great importance to Egypt's continuing role as a force for peace," Burns said.
Israel has watched with growing concern the political gains of the Brotherhood, an inspiration for the Palestinian militant group Hamas. The 84-year-old Brotherhood renounced violence as a means to achieve political change in Egypt decades ago. Analysts say that one way the United States could influence the direction of policy in Egypt, a nation at the heart of Washington's regional policy since a peace treaty was signed with Israel in 1979, would be through economic support. Washington provides Egypt $1.3 billion a year in military aid as well as other assistance and could help mobilize other donors, lenders and investors. Those could prove vital as Egypt tries to stave off a balance of payments and budget crisis.
Egypt's Muslim Brotherhood Leader: Israelis are Rapists of Jerusalem
July 10….(Israel Hayom) Israelis are "rapists" and it is a necessity for every Muslim to save Jerusalem from their clutches, Muhammad Badi is reported to have said last Thursday • Iran's Majlis Speaker Ali Larijani: Time has come for the disappearance of the West and the Zionist regime. Israelis are "rapists" and it is a necessity for every Muslim to save Jerusalem from their clutches, the Supreme Leader of the Egyptian Muslim Brotherhood organization is reported to have said last Thursday.
According to last Thursday's edition of Al Wafd, an Egyptian daily newspaper, during his weekly sermon, "Muhammad Badi, the Muslim Brotherhood's Supreme Guide, confirmed the necessity for every Muslim to strive to save al-Quds [Jerusalem] from the hands of the rapists [Israelis] and to cleanse Palestine from the clutches of the occupation, deeming this an individual duty for all Muslims." More specifically, he "called on all Muslims to wage jihad [holy war] with their money and their selves to free al-Quds." Last month, Egyptians elected Mohammed Morsi of the Muslim Brotherhood as the first democratically elected president of Egypt since the ouster of Hosni Mubarak.
According to Al Wafd, Badi said Muslims must enable the displaced [Palestinians] to "return to their homes." "The Jews had gathered from the Diaspora on behalf of an alleged, illusory right, and established their state on the sanctities of the [Palestinian] nation," Badi is reported to have said.
According to a profile of the group by the Israel Project, the Muslim Brotherhood opposes secular tendencies of Islamic nations and wants return to the precepts of the Koran. It rejects Western influences and values. The organization's motto is: "Allah is our objective. The Prophet is our leader. Quran is our law. Jihad is our way. Dying in the way of Allah is our highest hope."
Establishing a state based on Islamic law (Shariah) is at the center of the Muslim Brotherhood's ideology, both in Egypt and among the group's many offshoots abroad. Though the Muslim Brotherhood is now viewed by some as more moderate than groups such as al-Qaida, messages delivered by the group's leaders have made clear the Brotherhood remains committed to militancy. In September 2010, Muhammad Badi gave a sermon in which he said, "The improvement and change that the Muslim nation seeks can only be attained through jihad and sacrifice and by raising a jihadi generation that pursues death, just as the enemies pursue life." The group's 2007 political platform says, "Islam is the official state religion and that Shariah is the main source for legislation." The platform also calls for "revising" the peace treaty with Israel.
Meanwhile, Iran's Majlis Speaker Ali Larijani has described the West and the Israeli regime as the major sources of oppression in the current era, saying that time has come for their existence to end, Iran's Press TV reported. "Today, the time has come for the disappearance of the West and the Zionist regime, which are two dark spots in the present era, from the face of the universe," Larijani said in a Thursday conference in Tehran commemorating the anniversary of the birth of Shia Islam's 12th imam mahdi.
Iranian Supreme Muslim Leader: Mahdi is Coming
(Mahdi will destroy Israel and Christianity)
July 10….(WND) Iran's supreme leader, for the first time, is telling his nation that it must prepare for war and "the end of times" as it continues to develop nuclear weapons. State-owned media outlets, in a coordinated effort, all ran a similar story Friday highlighting Ayatollah Ali Khamenei's message on the coming of the last Islamic messiah.
Until now, the Iranian media would mostly quote clerics from seminaries on the issue of the last Islamic messiah to avoid the regime being labeled messianic. However, the wide publication of Khamenei's statements on a need to prepare for the end of times as it confronts the West over its illicit nuclear program is alarming to Western leaders. "The issue of Imam Mahdi is of utmost importance, and his reappearance has been clearly stated in our holy religion of Islam," Khamenei said. We must study and remind ourselves of the end of times and Imam Mahdi's era. We must prepare the environment for the coming so that the great leader will come." Shiite theology holds that great wars must engulf the Earth, during which one-third of the world's population will die in the fighting and another third from hunger, lawlessness and havoc. Israel is to be destroyed, and only then will the 12th imam, Mahdi, reappear and kill all the infidels, raising the flag of Islam in all corners of the world.
Under the guidance of Khamenei, several centers have been established in Iran on research and information on the coming of Mahdi, and a conference is held annually on Mahdiism. "Today we have a duty to prepare for the coming. If we are the soldiers of the 12th imam, then we must be ready to fight," Khamenei said. "With the guidance of Allah and His invisible help, we shall make the Islamic civilization proud on the world stage. This is our destiny. The youth, the faithful must prepare themselves for this great move." Referring to the Quran, Khamenei said the coming has been promised by Allah. "There will come a time when all the oppressive powers of the world will be destroyed and humanity will be enlightened in the era of Imam Mahdi."
Tensions Increasing Between Russia & Saudi Arabia
July 9….(WND) Russia has more reasons to be upset with Saudi Arabia than its backing of the Syrian opposition against the embattled regime of President Bashar al-Assad, which Moscow supports, according to Joseph Farah's G2 Bulletin. Now, the Saudis have refused to cut back on oil production, which has driven down the world price for oil, greatly affecting Russia's economic recovery. Moscow has hoped that through increased oil prices it could begin to funnel more resources to rebuild its military capability in an effort to keep up with Western military technology development. In recent weeks, the price per barrel of oil has dropped below $90 for the first time in 18 months. Yet, the Saudis are continuing at the same high oil output to support economic growth.
The output certainly has increased Saudi Arabian coffers, enabling the kingdom to balance its budget, something which other members of the OPEC and non-OPEC oil producing countries such as Russia have been unable to do. To some observers, this development may have hardened Moscow's position toward supporting Assad despite Saudi Arabia's backing of the rebels who seek to oust him. The Sunni Saudi kingdom wants Assad out because he is allied with its arch rival and sectarian opponent, Shia Iran, which is seeking to extend its influence among the Arab countries. Assad is from the Shiite offshoot Alawite tribe, a minority in a country whose majority population is Sunni. Saudi Arabia's refusal to cut production and thereby raise the price per barrel of oil also is infuriating fellow OPEC member Iran.
Assad Accuses US of Fueling Syrian Uprising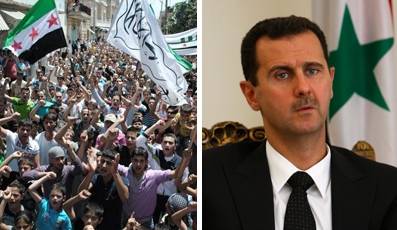 July 9….(Fox News) Syrian President Bashar Assad said in an interview broadcast Sunday that he is not afraid of meeting the same fate as the deposed and disgraced leaders of Libya and Egypt, saying he has nothing in common with them. In one of his rare interviews with Western media since the deadly uprising in Syria erupted last year, Assad brushed off a question about whether he feared for his family, including his wife and three children. "It's a completely different situation," he told German broadcaster ARD. "What's happening in Egypt is different from what is happening in Syria. You cannot compare," he said. He also rejected any comparisons with Libya, where rebels helped by NATO air strikes toppled the regime. Libyan leader Muammar Qaddafi was killed while fleeing advancing opposition fighters. "Describing what happened to Qaddafi, this is savage, this is crime," he said in the interview which was conducted in English.
The 16 months of upheaval in Syria, spurred by the Arab Spring's pro-democracy movements across the Middle East, have left well over 14,000 people dead, according to activists. They accuse the autocratic ruler of crushing legitimate protests seeking reforms by waging a war against his own people. But in the interview, the 46-year-old Assad who has ruled Syria since taking over from his father in 2000, accused the US of fueling the uprising, saying that Washington ultimately bears responsibility for the deaths of innocent civilians in the Middle Eastern nation. The US is partnering with those "terrorists, with weapons, money or public and political support at the United Nations," Assad said. "They offer the umbrella and political support to those gangs to destabilize Syria." Assad rejected responsibility of his security forces for the violence, claiming that "supporters of the government, the victims from the security and the army" far outnumber those among civilians.
Instead, he told ARD that an opposition made up of terrorists, gangs, "a mixture, an amalgam of Al Qaeda and other extremists" is responsible for the violence. The main obstacles to a peaceful solution to the conflict are the nations supporting the opposition, namely Saudi Arabia and Qatar who send armaments, Turkey which helps with logistics and smuggling across the border and, finally, US political support, he said. When asked how Syria would react to a military intervention, the Syrian leader vowed to stand up to the attackers.
Damascus has a web of allegiances to powerful forces including Shiite powerhouse Iran and Lebanon's Hezbollah and there are concerns that a military campaign could pull them into a wider conflagration. Damascus' staunchest ally, Iran, meanwhile, warned Sunday of a "catastrophe" in the region if no political solution to the Syrian conflict is found. And Syria's other main partner, Russia, has over the past months prevented the UN Security Council from adopting tougher measures.
Clinton: Syria, Region in Danger
July 9….(DEBKAfile Special Report) "There is still a chance to save the Syrian state from a catastrophic assault that would be very dangerous not only to Syria, but to the region," said US Secretary of State Hillary Clinton in Tokyo, Sunday, July 8. She did not elaborate, but stressed earlier, "the opposition is getting more effective in defense of themselves and going on the offensive against the Syrian military." Debkafile's military sources note that her over-the-top language comes at a pivotal moment in the Syrian conflict: The rebels are winning more and more territory and not only encircling Damascus but fighting inside the capital. To save itself, the Assad regime which still controls the army outside Damascus may in desperation open up its arsenals and deploy weapons of mass destruction in a bid to drive off the rebels while also spreading the flames to other parts of the region, including Israel.
Persian Gulf sources reported Sunday that inside the capital, the Syrian army no longer moves troops in military convoys for fear of rebel attack. They now travel in unmarked civilian vehicles. Some officers prefer to stay on base for fear of assassination or kidnap on their way home. Clinton did not explain how the rebels were suddenly able in the last few days to develop their ubiquitous capabilities, rising numbers and military organization, or where they procured weapons for their wholesale offensive against the Syrian army. According to Debkafile's intelligence and military sources, Turkey, Saudi Arabia and Qatar have substantially stepped up the flow of munitions to the rebels. They are reaching combatants inside Syria as well as the trainees at Turkish military facilities. Their numbers have, furthermore, risen to 50,000 armed men who are efficiently organized in 17 brigades. Fighting inside the country are 260 military units, each consisting of one or two battalions, which mostly range from 1,000-1,500 men, depending on the arena. Some are brigades of 3,000 men.
By the first week of July, the rebel army had put in place an efficient logistical system:
1. The Free Syrian Army had been able to establish a geographical presence in all of Syria's provinces, barring the minority regions (Kurds and Druzes) which are outside the conflict, and the pro-regime Alawite region.
2. A regional operational command was working in all those provinces (260). It was equipped with hi-tech communications connecting the provinces and linked to the FSA's high command in Turkey.
3. A well-organized arms smuggling ring was transferring weapons from one command to another as required for local attacks on Syrian military and security forces. This pipeline is fed by Turkish, Saudi and Qatari suppliers via Jordan, Iraq, Lebanon, and Turkey..
4. A foreign "military adviser" is posted at each provincial command center. They are usually special forces experts mainly from the British, French, Turkish, Saudi and Qatari armies.
Up until last month, the rebels were fighting primarily to sever a strategic strip of land from Idlib in the north to Deraa in the south in order to tie down the regime in Damascus and its Allawite loyalist forces in the west and center and cut it off from the rest of the country. This goal has now been abandoned. Today, the anti-Assad forces are concentrating on a single objective: The regime's overthrow.
Putin Sends 2 Russian Bombers into US Airspace
July 9….(Washington Beacon) Two Russian strategic nuclear bombers entered the US air defense zone near the Pacific coast on Wednesday and were met by US interceptor jets, defense officials told the Free Beacon. It was the second time Moscow dispatched nuclear-capable bombers into the 200-mile zone surrounding US territory in the past two weeks. An earlier intrusion by two Tu-95 Bear H bombers took place near Alaska as part of arctic war games that a Russian military spokesman said included simulated attacks on "enemy" air defenses and strategic facilities.
A defense official said the Pacific coast intrusion came close to the US coast but did not enter the 12-mile area that the US military considers sovereign airspace. The bomber flights near the Pacific and earlier flights near Alaska appear to be signs Moscow is practicing the targeting of its long-range air-launched cruise missiles on two strategic missile defense sites, one at Fort Greely, Alaska and a second site at Vandenberg Air Force Base, Calif.
In May, Russian Gen. Nikolai Makarov, the chief of the Russian General Staff, said during a Moscow conference that because missile defense systems are destabilizing, "A decision on pre-emptive use of the attack weapons available will be made when the situation worsens." The comments highlighted Russian opposition to planned deployments of US missile defense interceptors and sensors in Europe. The US defense official called the latest Bear H incident near the US West Coast "Putin's Fourth of July Bear greeting to Obama."
But retired Air Force Lt. Gen. Thomas McInerney, a former Alaska commander for the North American Aerospace Defense Command, said the latest Bear H intrusion appears to be Russian military testing. "It's becoming very obvious that Putin is testing Obama and his national security team," McInerney told the Free Beacon. "These long-range aviation excursions are duplicating exercises I experienced during the height of the Cold War when I commanded the Alaska NORAD region. McInerney said the Bear H flights are an effort by the Russians to challenge US resolve, something he noted is "somewhat surprising as Obama is about to make a unilateral reduction of our nuclear forces as well as major reductions in our air defense forces." "Actions by Russia in Syria and Iran demonstrate that Cold War strategy may be resurrected," he said. "These are not good indications of future US Russian relations."
Pentagon spokesman Capt. John Kirby said the incident occurred July 4. He said the "out-of-area patrol by two Russian long range bombers entered the outer [Air Defense Identification Zone]" and the bombers "were visually identified by NORAD fighters." Kirby said the bombers did not enter "sovereign airspace." He declined to identify the specific distance the aircraft flew from the United States due to operational security concerns. He also declined to identify the types of aircraft used to intercept the bombers. In last month's intercept of two Russian Tu-95 bombers, US F-15s and Canadian CF-18s were used. The most likely aircraft used in Wednesday's intercept were US F-15 jets based at Elmendorf Air Force Base, Alaska. Kirby and US Northern Command spokesmen, apparently in line with the Obama administration's conciliatory reset policy toward Russia, sought to play down both bomber intrusions.
WEEK OF JULY 1 THROUGH JULY 7
Secretary Clinton Threatens Russia & China
| | |
| --- | --- |
| | (FOJ) With the present powers that be, Mrs. Clinton is our nation's boss in the arena of foreign policy. (she should be back in Arkansas baking cookies) But all joking aside, she and her New One World partners are busy trying to bring Socialistic democracy to the Middle East, and that agenda is agitating Russia, who is angry about losing regional clients, and it is leading towards major trouble. |
July 7….(Jerusalem Post) US Secretary of State Hillary Clinton lambasted Russia and China on Friday for blocking efforts to topple Syrian President Bashar al-Assad, whose much-reviled regime has endured a serious crack in its armor, the defection of a key member of its inner circle. Speaking at the Friends of Syria conference in Paris, Clinton called on Russia and China to "get off the sidelines" and accused them of "standing up for" al-Assad's regime.
She urged the other 60 or so nations represented at the summit to "make it clear that Russia and China will pay a price" for that support. "I ask you to reach out to Russia and China and not only ask but demand that they get off the sidelines," she said. "I don't think Russia and China believe they are paying any price at all, nothing at all, for standing with the Assad regime." "It is frankly not enough just to come to the Friends of the Syrian People meeting, because I will tell you very frankly, I don't think Russia and China believe they are paying any price at all, nothing at all, for standing up on behalf of the Assad regime," Clinton said at a gathering of countries seeking to speed the departure of Syrian President Bashar Assad. "The only way that will change is if every nation represented here directly and urgently makes it clear that Russia and China will pay a price because they are holding up progress, blockading it, and that is no longer tolerable."
Russia and China have in the past vetoed UN Security Council resolutions designed to pressure Assad, who has sought to crush a rebellion against his family's 42-year rule. In her comments, Clinton repeated the US call for a Security Council resolution under Chapter 7 of the UN Charter, which allows the council to authorize actions ranging from diplomatic and economic sanctions to military intervention. US officials have repeatedly said in the case of Syria they are talking about sanctions and not military intervention. "We should go back and ask for a resolution in the Security Council that imposes real and immediate consequences for noncompliance, including sanctions under Chapter 7," Clinton said. She also called for countries to better enforce existing bilateral sanctions on Syria.
British Foreign Secretary William Hague on Friday echoed Clinton's call for increased action on Syria, saying that countries that do not impose sanctions on Syrian President Bashar Assad's government are effectively allowing killings to continue. "There is no way of sitting on the sidelines on this," Hague told a meeting in Paris of the Western and Arab states that back a rebel uprising against Assad and want him out of power. "If you don't impose sanctions and implement them thoroughly you are allowing the provision to the Assad regime of the means to go on killing the Syrian people," Hague said.
Egypt Heading Towards Iran's Model?
July 6….(Israel Today) According to the Egyptian media, President-elect Mohammed Morsi cancelled his visit to Iran, where next month he was supposed to attend an international conference organized by the Non-Alignment Movement, a group of states that take a harsh anti-American line, despite their general reluctance to affiliate themselves with any major power bloc. The expected meeting led Tehran's Foreign Minister Ali Akbar Salehi to state that Iran would be willing to bolster bilateral ties, reopen embassies, and exchange ambassadors.
The Islamic Republic severed formal connections with Egypt after Cairo sealed its peace treaty with Jerusalem in 1979. Iran was further aggravated by Egypt's decision to give political asylum to the ousted Shah and by Cairo's support for Saddam Hussein during the Iran-Iraq war, when Egypt provided an estimated USD $5 billion in weapons, including tanks, Soviet Scud B missiles, and other ammunition. Egypt's receipt of US aid (averaging USD $2 billion annually) didn't help in easing tensions either, with Iranian officials often calling Egypt "the puppet of the West."
The Mubarak regime, on the other hand, had always eyed with suspicion Tehran's nuclear ambitions and support for various terrorist organizations (like Hamas and Hezbollah) aimed at undermining regional security. Home to the main center of Sunni Islamic learning in the world (the powerful Al-Azhar mosque and university), Egypt sees itself as the leader of the Muslim world, a status that the Shia-dominated Iran constantly tries to weaken. Now, however, things seem to be changing. When the Egyptian revolution erupted in January 2011, the Islamic Republic rushed to welcome the move, while pointing out the parallels to their Islamic revolution of 1979. Even though differences between the two countries abound, some are predicting that Egypt may turn into a Sunni version of Iran.
Moscow Will Arm Iran if Assad Ousted
July 6….(DEBKAfile Special Report) Moscow has removed the gloves in its defense of Syrian ruler Bashar Assad. Wednesday, July 4, senior official Ruslan Pukhov warned: "If the Syrian regime is changed by force or if Russia doesn't like the outcome, it most likely will respond by selling S-300s to Iran." Pukhov, who sits on the Russian Defense Ministry's advisory board and heads a defense affairs think tank in Moscow, added: "The fall of the Syrian government would significantly increase the chances of a strike on Iran. Resuming S-300 shipments to Iran may be a very timely decision." Moscow has since 2010 withheld the S-300 air defense system from Iran at the request of the US and Israel. The Pukhov statement indicated that, just as that was the correct decision for the time, the strategic situation in the Middle East with regard to Syria and Iran has since changed, and so providing Iran with these weapons would be the timely decision now.
Kremlin strategic thinking on the region shifted radically in August 2011. On August 8, two weeks before NATO and Arab forces drove the Libyan rebel invasion of Tripoli to oust Muammar Qaddafi, Russia's ambassador to NATO, Dmitry Rogozin, warned in an interview to the Russian Izvestia, "NATO is planning a military campaign against Syria to help overthrow the regime of President Bashar Assad with a long-reaching goal of preparing a beachhead for an attack on Iran." To this day, Moscow is certain that the same Western-Arab coalition will sooner or later intervene militarily in Syria and then move against Iran.
Sources in Washington and Jerusalem found evidence of that suspicion in comments made by Russian President Vladimir Putin during his visit to Israel on June 25. He is reported to have scattered vague threats indicating that Syrian President Bashar Assad's overthrow would be treated by Moscow as violating Security Council resolutions and elicit Russia's exit from the international arms embargo on the Syrian regime. Putin was not specific. Russian S-300 missiles batteries would make the targeting of Iranian nuclear sites by US and Israeli warplanes difficult because that weapon is reputed to have a near-zero miss ratio for intercepting ballistic and cruise missiles, even when they come in at very low altitudes.
Seeds of World War 3
(Hezbollah and Iran say they will fight with Assad to defend Syria against any invasion)
July 6….(The Extinction Protocol) Lebanese Shiite Hezbollah and Iran will fight alongside the Syrian regime if it is attacked by foreign forces, a pro-Damascus Palestinian fighter leader said on Tuesday. In the event of "a foreign attack, we discussed with our brothers (in the Syrian regime), with (Hezbollah chief) Hassan Nasrallah and our brothers in Iran, we will be part of this battle," said Ahmad Jibril of the Popular Front for the Liberation of Palestine-General Command. In an interview with Beirut-based Mayadeen television, Jibril said that if a "Turkish-European alliance or NATO escalate. Jibril also cited Nasrallah as saying Hezbollah would fight on behalf of the Syrian regime, and described the Iran-Syria-Hezbollah alliance as "one axis" that the PFLP-GC is part of. He added that he met recently with Nasrallah, Iranian President Mahmoud Ahmadinejad and Syrian President Bashar Al Assad, without specifying when. He also noted that the Hezbollah chief "said he would join this battle, in the event of a foreign attack" on Syria. The Iranian regime, he said, told him it would not allow a strike on Syria. "We have warned the Turks several times not to play with fire," Jibril said.
Echoing the Syrian regime's discourse, the PFLP-GC chief said the 16-month uprising against Assad was not a genuine local movement, but rather "a change in the foundations of this region in order to create a new Middle East," referring to a term coined in 2006 by former US Secretary of State Condoleezza Rice. Jibril described the defense of the Syrian regime as "a decisive battle." Victory would be necessary, he said, in order to "defeat the American and Zionist projects."
Iran has threatened to destroy US military bases across the Middle East and target Israel within minutes of being attacked, Iranian media reported on Wednesday, as Revolutionary Guards extended test-firing of ballistic missiles into a third day. Iran test-fired in its central desert a ballistic missile capable of striking Israel as part of war games designed to show its ability to retaliate if attacked, media said. Israel has hinted it may attack Iran if diplomacy fails to secure a halt to its disputed nuclear energy program.
Saudi Arabia Buying Nuclear-capable Missiles From China
July 5….(DEBKA) Debkafile's military sources report that Saudi Arabia has set its feet on the path to a nuclear weapon capability and is negotiating in Beijng the purchase of Chinese nuclear-capable Dong-Fen 21 ((NATO-codenamed CSS-5) ballistic missile. China, which has agreed to the transaction in principle, would also build a base of operations near Riyadh for the new Saudi purchases.
As we reported last year, Saudi Arabia has struck a deal with Pakistan for the availability on demand of a nuclear warhead from Islamabad's arsenal for fitting onto a ballistic missile. Riyadh owns a direct interest in the two most active Middle East issues: Iran and Syria. Iran's nuclear weapons program has been advancing for two decades regardless of countless attempts at restraint by every diplomatic tool under the sun and a rising scale of sanctions, to no avail. Tehran marches on regardless of impediments. In Istanbul, Tuesday, July 3, the six powers and Iran failed the fourth attempt to reach an accommodation on Iran's nuclear program.
The Syrian ruler Bashar Assad remains equally undeterred by international condemnation. Saturday, June 30, the US and Russia again failed to agree on a joint plan of action in Syria. Saudi forces have been poised for action in Syria on the Jordanian and Iraqi borders since US Secretary of State Leon Panetta visited Riyadh in late June. On July 1, they redoubled their military preparedness when the European Union clamped down an oil embargo on Iran. The Saudis, the US Fifth Fleet and the entire Gulf region are since braced for Iranian reprisals which could come in the form of closure by Tehran of the vital Straits of Hormuz to shipping or strikes against the Gulf emirates' oil exporting facilities.
Deadly Attacks in Syria the Work of New Jihadist Groups
July 5….(Fox News) A group that observes jihadist chatter on the Internet says that a new anti-government militant group has emerged in Syria and has claimed responsibility for dozens of deadly attacks. The monitoring group said late Tuesday that a shadowy group calling itself the Al-Nusra Front said in statements on jihadist websites that the attacks sought revenge against the regime of President Bashar al-Assad for killing Syrians. Little is known about the Al-Nusra Front, and the statements could not be independently verified. The group has claimed past attacks in similar posts. Syria's widening insurgency has raised fears that Islamist extremists are playing a larger role in the fighting. One attack that the Al-Nusra Front claimed responsibility was a raid last week on a pro-government TV station that left seven dead.
An Associated Press photographer said the attack on the Al-Ikhbariya TV station in the town of Drousha, about 14 miles south of the capital Damascus, left bloodstains on the ground and bullet holes in the walls. The attack heavily damaged five portable buildings used for offices and studios. Al-Ikhbariya is privately owned, but strongly supports the regime. Last month, two Al-Ikhbariya employees were shot and seriously wounded by gunmen in the northwestern town of Haffa while covering clashes between government troops and insurgents.
Much of the violence that has gripped Syria in the uprising has been sanctioned by the government to crush dissent. But rebel fighters are launching increasingly deadly attacks on regime targets, and several massive suicide attacks this year suggest Al Qaeda or other extremists are joining the fray. Anti-regime activists put the death toll in Syria at more than 14,000.
God Bless America at 236
Psalms 9:16-17 The Lord is known by the judgment which he executeth: the wicked is snared in the work of his own hands. Higgaion. Selah. The wicked shall be turned into hell, and all the nations that forget God.

The USA has certainly FORGOTTEN who God is, and I cringe when I read scripture concerning those nations that mock God and his law.
July 4….(FOJ) We sing "God bless America', every July 4th. Yet we live as a people all year long as if there was no god at all. Fifty years ago our nation excluded God from the public school system, until today we have almost totally emaciated all reference to our Creator and grantor of freedom from every public venue. So then, how could God possibly bless our nation? The truth of the matter is that he can't. In fact we as a people have removed ourselves so far from his law, and his moral compass that God is more likely to curse us than he is to bless us. And too, America has historically been blessed of God beyond any measure. The US has probably enjoyed more of God's blessings than any other country or people ever have in human history, and yet we as a society and culture carry on today in the same manner as the prodigal son in his most riotous days. Just between you and me, I don't see any evidence that the USA will change its course like the prodigal son, and return to God. And in that event, I foresee God's impending judgement on our once Christian nation.
US Building Up Military Reinforcements in Persian Gulf
(The Strait of Hormuz and the Persian Gulf beyond it, as seen from the International Space Station. Iran is to the right)
July 4….(Israel Hayom) The United States has quietly moved significant military reinforcements into the Persian Gulf to deter the Iranian military from any possible attempt to shut the Strait of Hormuz and to increase the number of fighter jets capable of striking deep into Iran if the standoff over its nuclear program escalates. The reinforcements also increase the number of fighter jets capable of striking deep into Iran if the standoff over its nuclear program escalates. The deployments, according to the Times, are part of a long-planned effort by the US to bolster its military presence in region, in part to reassure Israel that when confronting Iran, as one senior administration official put it last week, "When the president says there are other options on the table beyond negotiations, he means it."
The military build-up, however, which comes on the heels of increasing economic pressure on Iran, carries significant risks, including provoking Iran's Revolutionary Guard to lash out against the greater US military presence. Featured most prominently in the enhanced US build-up are ships that are designed to vastly improve the Navy's ability to patrol the Strait of Hormuz, and to reopen the narrow waterway should Iran attempt to mine it to prevent Saudi Arabia and other oil exporters from sending tankers through. The Times reported that the US Navy has doubled the number of minesweepers assigned to the region, to eight vessels, in what military officers say is a purely defensive measure. "The message to Iran is, 'Don't even think about it,'" one senior US Defense Department official told the Times. "Don't even think about closing the strait. We'll clear the mines. Don't even think about sending your fast boats out to harass our vessels or commercial shipping. We'll put them on the bottom of the gulf."
Like others interviewed on the matter, the official spoke on the condition of anonymity because of the delicacy of the diplomatic and military situation. Meanwhile, Iran's official news agency IRNA reported Tuesday that the Revolutionary Guard launched several ballistic missiles on the second day of its Great Prophet 7 exercise, including those with long-range capabilities that can hit US warships in the Persian Gulf and Israel.
Iran's Fars news agency said "dozens" of different types of missiles were fired from different parts of Iran at a single target in the Kavir Desert. "In these exercises, we used missiles with a range of 2,000 kilometers, but the plan called for them to be fired only 1,300 kilometers," Fars quoted the head of the Revolutionary Guard's aerospace division in charge of missile systems, Brig. Gen. Amir Ali Hajizadeh, as saying. The ISNA news agency said the last day of the drill, Wednesday, would see Revolutionary Guard "bomber drones" also used. Although the Islamic republic has test-fired its Shahab missiles before, and frequently holds military maneuvers, it says these war games are aimed at sending a message to Israel and the US to think twice on their threats of possibly attacking Iran. "The message of these Grand Prophet 7 maneuvers is to show the determination, the will and the power of the Iranian people in defending their national interests and core values," the Revolutionary Guard's second in command, Gen. Hossein Salami, said, according to IRNA. "It's a reaction to those who are politically discourteous to the Iranian people by saying 'all options are on the table'," Salami said.
US Military Strength Beefed up in Hormuz Strait
July 4….(DEBKAfile Exclusive Report) The Obama administration released details Tuesday, July 3, of a fresh buildup of its military forces in the Persian Gulf, stressing their task is to fend off any Iranian attempt to endanger international shipping by blocking or planting mines in the Strait of Hormuz. Shortly after the announcement, senior US administration officials said the fourth round of nuclear negotiations between Iran and six world powers taking place in Istanbul Tuesday were most probably the last: Tehran has refused to give way on the key issues of the 20-percent grade enrichment of uranium and the closure of its underground nuclear facility at Fordo. The new war drums also sent oil past $100 for the first time in three weeks.
As for the Gulf buildup, US sources said counter-measures were in place in case the extra forces were targeted for Iranian aggression. Tehran earlier threatened military reprisals for the oil embargo imposed by the European Union Sunday, July 1. The next day, the Prophet 7 missile exercise was launched by Iran's Revolutionary Guards simulating attacks on "enemy air bases." The wording of the exercise's mission was taken as strongly intimating that Tehran had US air bases in the Persian Gulf and Middle East, including facilities used the US Air Force in Israel and Turkey, well within the sights of its missiles. It was stressed that short-, medium- and long-range missiles were being put through their paces.
The US has doubled the number of fast warships in Gulf waters that are capable of instantaneously responding to Iranian moves for closing the strategic Straits of Hormuz, through which a fifth of the world's oil passes daily. More minesweepers are also on hand, as well as commando units for preventive action against the planting of mines in the sea lanes frequented by oil tankers on their way to and from Gulf export terminals. Debkafile's military sources report that US, Saudi and other Gulf armies have been on high military alert since Thursday, June 28, on two counts: the escalating Syrian crisis and the potential threat to the strategic strait in response to the EU embargo. Iranian leaders have often threatened to treat this penalty as an act of war. As part of their new stance, Saudi forces moved up to the Jordanian and Iraqi borders.
According to our sources, the information released in Washington on the US Gulf buildup represents only a fraction of the concentration of strength gradually building up around Iran for five months since March. It was then that two squadrons of the F-22 Raptor stealth planes were moved to the United Arab Emirates air base at Al Dhafra and troops were flown in to two strategic islands, Masirah on the Gulf of Oman and Socotra at the meeting-point between the Gulf of Aden and the Indian Ocean. Their numbers now are estimated at 40,000.
UN: It's Now Official, Jesus was a Palestinian
| | |
| --- | --- |
| | (FOJ) The Palestinian flag flutters in front of the Church of the Nativity, the traditional birthplace of Jesus Christ, in the biblical West Bank town of Bethlehem. The Palestinians hailed Friday's granting by UNESCO of world heritage status to the Church of the Nativity in the city of Bethlehem as an "historic day Palestinian sovereignty in the land." |
July 3….(JWR) The Palestinians hailed Friday's granting by UNESCO of world heritage status to the Church of the Nativity in the West Bank city of Bethlehem as an "historic day for justice." "This global recognition of the rights of the Palestinian people is a victory for our cause and for justice," President Mahmud Abbas's spokesman Nabil Abu Rudeina told AFP. "This decision shows that it's natural that the world is with us and recognises the rights of the Palestinian people and the state of Palestine," he said. Palestinian negotiator Saeb Erakat called it "a historic day." Erakat told AFP the decision was "another step on the long road towards worldwide recognition of the state of Palestine within 1967 borders with east Jerusalem as its capital." UNESCO, the United Nations cultural body, overrode Israeli objections to urgently grant world heritage status to the church worshipped as the birthplace of Jesus.
The 13-6 secret vote in Russia's Saint Petersburg to add the Church of the Nativity and its pilgrimage route to the prestigious list was received with rousing applause and a celebratory fist pump by the Palestinian delegation chief. Israel's premier said the decision proved the UN organization was motivated by politics. "This decision proves that UNESCO is motivated by political motives, not cultural ones," Prime Minister Benjamin Netanyahu said in a statement. Israel said the "emergency basis" status essentially meant that the United Nations as a world body was backing the Palestinian view that the church was threatened by Israeli troops.
Earlier Hanan Ashrawi, a leader of the Palestine Liberation Organisation, issued a statement calling the decision "a welcome recognition by the international community of our historical and cultural rights in this land." She said it came "in spite of the Israeli occupation and all its prejudicial measures." Ashrawi's statement said: "The Palestinian people are celebrating this decision as a moment of national pride and affirmation of their rich and unique heritage and identity. "Situated in the heart of the occupied Palestinian city of Bethlehem, the Church of the Nativity and the pilgrimage route are sites of enormous universal significance, not just to Christendom but also to humanity as a whole." Ziad Bandak, who serves as an adviser on Christian affairs to Abbas, told AFP he was "delighted because we exercised our sovereignty in choosing the site." He stressed that the vote had been secured "despite attempts by Israel and its allies to put up obstacles." The bid, the first since the Palestinians won controversial membership of UNESCO in October 2011, was submitted "on an emergency basis" because the Palestinians say urgent restoration work to the church is needed.
Assad to Kremlin: I Can Still Defeat the Rebels With Help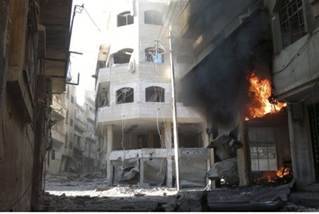 July 3….(DEBKAfile Exclusive Report) In a phone call to the Kremlin Sunday, July 1, Syrian President Bashar Assad said he needed just two months to finish off the revolt against his regime. "My new military tactics are working," he said in a secret video-conference with Russian intelligence and foreign ministry officials who shape Moscow's policy on Syria. Reporting this exclusively, Debkafile's intelligence sources also register the fleeting life span of the new plan for ending the Syrian war which UN envoy Kofi Annan announced had been agreed at a multinational Action Group meeting in Geneva on Saturday, June 30. Within 24 hours, the principle of a national unity transitional government based on "mutual consent" was rejected by the regime and the Turkish-based opposition leaders alike, as the violence went into another month. On the first day of July, 91 people were reported killed in the escalating Syrian violence after a record 4,000 in June. The new military tactics to which Assad referred are disclosed here:
1. The sweeping removal of most of the veteran Syrian army commanders who led the 16-month bloody assault on regime opponents and rebels. They were sent home with full pay to make way for a new set of younger commanders, most of them drawn from the brutal Alawite Shabiha militia, which is the ruling family's primary arm against its enemies.The regular commanders had shown signs of fatigue and doubts about their ability to win Assad's war. Their will to fight on was being badly sapped by the mounting numbers officers and men going over to the opposition camp in June. One of the tasks set the new commanders is to stem the rate of defections. To keep the veteran commanders from joining the renegades and reduce their susceptibility to hostile penetration, the officers were not sacked but retired on full pension plus all the perks of office, including official cars.
2. But a higher, unthinkable level of violence is the key to Assad's "new tactics." He has armed the new military chiefs with extra fire power, additional tank and artillery units, air force bombers and attack helicopters, for smashing pockets of resistance and unlimited permission to use it. Already the level of live fire used against the rebels has risen to an even more unthinkable level which explains the sharp escalation of deaths to an average of 120 per day. On the Syrian-Turkish border, tensions continue to mount. Monday morning, Turkey was still pumping large-scale strength including tanks, antiaircraft and antitank guns, artillery, surface missiles and combat helicopters to the border region. Saturday, half a dozen Turkish jets were scrambled to meet Syria helicopters approaching their common border.
In Tehran, Brig. Gen. Amir-Ali Hajizadeh, commander of Iran's IRGC Aerospace Division, warned Ankara that if its troops ventured onto Syrian soil, their bases of departure would be destroyed. The threat was made during Hajizadeh's announcement of a three-day missile exercise starting Monday in response to the European oil embargo. He reported that long, medium and short-range missiles would target "simulations of foreign bases in the northern Semnan Desert," without mentioning any specific nation except Turkey.
Assad's Downfall – All Over But the Shouting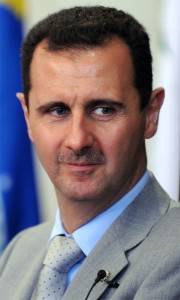 (Syrian dictator Bashar al-Assad)
July 3….(Stand For Israel) Syrian dictator Bashar al-Assad is going to lose power. The only questions are when, how many Syrians will have to die first, when Iran (which has been Assad's prime assistant in killing his own people) will give up on him, and whether he and his family will escape into exile or suffer the fate of Qaddafi. The repercussions for the region will be fascinating and, probably, negative. Without the Assad family's influence, Iran (Hezbollah's main benefactor) will continue its ascendant exertion of influence in Lebanon. Syria is likely to go one of two ways: They will either descend into chaos or emerge ruled by Islamists.
Islamism has its drawbacks, but, at least for the neighbors, chaos is often worse. Chaos means refugees, privation, and violence. Already, Syrians fleeing the civil war are finding their way across the Turkish border. There aren't many other options for them; Syria also borders Lebanon, Jordan, Iraq, and Israel. An Islamist Syria would further the disturbing trend in the Muslim world away from secular governance and toward a brand of Islam that is hostile not just to the West, but to non-Muslims.
For Israel, any change would mean the replacement in a relatively brief time period of two stable bordering governments with an unknown quantity. A power vacuum isn't in anyone's interest, and Israel doesn't need a massive refugee and humanitarian crisis further destabilizing its neighborhood. An Islamist regime would make for yet another new, hostile, virulently anti-Israel, religiously fanatical regime (the other being Egypt). Syria has always had a hostile border with Israel, but the Assads, first the father Hafez, now son Bashar, cared more about maintaining power and not starting a war they knew they'd lose. There's no guarantee an Islamist government will have the same values.
One certainty on display in the Syrian morass: The dithering of the West demonstrates how truly in need of fundamental change is the current "international community." We are racked with moral equivalence, indecision, and a paralyzing guilt complex. I doubt this will be the event that forces us to make needed changes, it's easier to do nothing. But doing nothing means that once we have suffered a calamity that is big enough to force us to change, we will look back and see that it could have been avoided had we made difficult decisions now.
What Divides Catholics and Protestants?
July 3….(Christian Post) Some may wonder what the major differences are between Catholicism and Protestantism, the two main Christian bodies in the world. Perhaps the biggest difference is their views on the sufficiency and authority of Scripture. Traditionally, Protestants believe that the Bible alone (sola scripture) is sufficient in teaching man all that is necessary for salvation from sin, and contains the standard in which Christians should measure their behavior.
Catholics, however, do not believe that the Bible alone is enough, and instead hold that the Bible and sacred Roman Catholic traditions are equal in authority. Roman Catholic doctrines, such as purgatory, praying to the saints, veneration of Mary, have little or no basis in the Scripture, but are based on Roman Catholic traditions. Another major difference is the office and authority of the pope. There is no equivalent position to the pope in Protestantism because of the belief that no human being is infallible and that Christ alone is the head of the church. Protestants believe that the spiritual authority of the church is based on the Word rather than apostolic succession, and that all believers through the Holy Spirit can understand the Word.
For Roman Catholics, on the other hand, the Pope is the "Vicar of Christ," and stands in the place of Jesus as the visible head of the Church. Therefore, his teachings are considered infallible and effective over all Christians. Because of the emphasis on the authority of the Church over the individual believer, Catholics believe that only the Roman Catholic Church can interpret the Bible. Protestants, on the other hand, believe that all Christians have the authority to interpret the Bible through the guidance of the Holy Spirit.
The issue of salvation is also a point of contention between the two Christian bodies. Protestants traditionally believe that a person is justified and saved only by faith in Jesus Christ alone. However, Roman Catholics believe it is faith in Christ plus good works that man can be saved. Part of the Catholic salvation process is the seven sacraments: baptism at birth, confirmation, the Eucharist, holy orders, anointing of the sick, matrimony and penance. "To get access to the grace of God, Catholics have to go through the Catholic Church and the sacraments. Southern Baptists for instance think that's unnecessary and, in fact, is a hindrance to God. "We go straight to Jesus Christ for salvation by faith alone. No works are involved. You can't save yourself and you can't add anything to God's plan of salvation."
To Catholics, faith in Christ is only the beginning of the process of salvation, and the individual must engage in good works for eternal salvation. Purgatory, for example, is where man goes after death if he did not sufficiently pay for his sins. While Protestants recognize the importance of good works, they believe good works is the fruit of their salvation and not part of the process to be saved. "Simply put, the Roman Catholic viewpoint on salvation implies that Christ's atonement on the cross was not sufficient payment for the sins of those who believe in Him, and that even a believer must atone or pay for his own sins, either through acts of penance, or time in purgatory. Differences aside, Protestants and Catholics do share several core beliefs including the Trinity, the deity of Jesus, and the fact that he was sinless, that he died on the cross for man's sin and rose from the dead and ascended to heaven.
Still, the divide between Protestants and the Roman Catholic Church is clear, as respected Baptist theologian Dr. R. Albert Mohler recently reiterated. "I am convinced that he (the pope) is not right, not right on the papacy, not right on the sacraments, not right on the priesthood, not right on the Gospel, not right in understanding the Church," the seminary president wrote recently in a special column for The Washington Post and Newsweek. The Roman Catholic Church believes that evangelicals are in spiritual danger for obstinately and disobediently excluding ourselves from submission to its universal claims and its papacy. Evangelicals are concerned that Catholics are in spiritual danger for their submission to these very claims," he added. "We both understand what is at stake."
According to the CIA World Factbook, Christians make up one-third of the world's population, with Roman Catholics making up 17 percent, Protestants 5.8 percent, Orthodox 3.5 percent, and Anglicans 1.3 percent. By comparison, Muslims make up 21 percent, Hindus 13.3 percent and Buddhists 5.8 percent.
Iran: We Have A Missile That Can Pierce Israel's Iron Dome Defenses
July 2….(YNET) As the EU's oil sanctions against Iran take effect, the Islamic Republic's Revolutionary Guards announced Sunday that they will hold a three-day surface-to-surface missile exercise, targeting bases modeled after those of foreign armies. The IRNA agency said Sunday the maneuvers, dubbed "Great Profit 7," would begin Monday in Iran's central desert and last three days. The report quoted Gen. Ami Ali Hajizadeh, chief of the Revolutionary Guards' airspace unit, as saying that the maneuver is aimed at assessing the accuracy and effectiveness of warheads and systems. Hajizadeh added that Iran will soon introduce a new missile that can also penetrate the Iron Dome missile defense system, threatening that if Israel plans any attack on Iran's nuclear facilities, "They will provide us a reason to remove Israel from the earth." He said Israel is not capable of attacking Iran "since it was defeated by Hezbollah" in 2006. Iran has reportedly a few hundred surface-to-surface missiles with a range of approximately 2,000 kilometers (1,200 miles), which can reach Israel, southern Europe and other states in the Persian Gulf, where US maintains military bases.
The announcement coincides with the beginning of a European Union oil embargo meant to pressure Iran over its nuclear program. Iran denies Western suspicions that it wants to build nuclear weapons. The announcement came after US Army General Martin Dempsey said Friday that the United States and Israel are expected to hold a joint military exercise sometime around October or November, after postponing it earlier this year. In response to the oil embargo, Iranian Central Bank governor Mahmoud Bahmani told Mehr news agency that his country has "plans" to deal with the embargo, and warned that Tehran will confront hostile policies against it. According to Bahmani, Iran has enough hard currency to meet its import needs.
---