WEEK OF AUGUST 26 THROUGH SEPTEMBER 1
Top US soldier: "I Don't Want to be Complicit" if Israel Attacks Iran
Aug. 31….(DEBKAfile Special Report) In its bluntest message yet, the US administration under Barack Obama, declared that Israel is on its own if it decides to go for Iran's nuclear program with a military operation. Thursday, Aug. 30, Gen. Martin Dempsey, Chairman of the Joint Chiefs of Staff, offered the view for the third time in as many weeks that an Israeli attack would "clearly delay but probably not destroy Iran's nuclear program." But this time, talking to journalists in London, he added impatiently: "I don't want to be complicit if they [Israel] choose to do it."
Dempsey then astonished his audience by saying he did not know Iran's nuclear intentions, "as intelligence did not reveal intentions." What was clear, he said, was that the "international coalition" applying pressure on Iran "could be undone if [Iran] was attacked prematurely." Sanctions against Iran were having an effect, he said, and they should be given a reasonable opportunity to succeed. The general's timing on this assertion was unfortunate. As he spoke, the International Atomic Energy Agency reported a 31-percent jump in Iran's 20 percent enriched uranium to 189.4 kilograms from 145 in May.
It was therefore obvious to the world that Iran has not been deflected by sanctions one whit from its gallop towards a nuclear weapon capacity, a race that will continue so long as nothing effective is done to stop, or even delay its progress. The mistimed Dempsey remarks are the clearest sign yet that President Obama is fed up with hearing about Iran and its nuclear aspirations. He wants to be left alone to make his own judgments and decisions on the intelligence put before him, even though he might be too slow to stop Iran becoming a nuclear-armed power.
Israel, which is in direct line of an explicit Iranian threat of destruction, was therefore publicly slapped down by its best friend. Prime Minister Binyamin Netanyahu and Defense Minister Ehud Barak and their predecessors were shown to have wasted three years in tireless efforts to solve the Iranian nuclear peril in accord with that friend. Washington has just dumped them. Debkafile suggests that unless Gen. Dempsey spoke off the cuff (unlikely), he would certainly have been obeying a White House directive, even if Washington later issues a softening remark. That directive may have been prompted by information that Israel is on the point of attacking Iran, which Obama would seek to head off.
The latest IAEA quarterly report published Thursday must have seriously embarrassed the Obama administration by making nonsense of its dependence on diplomacy and sanctions. The top US soldier may have been deployed for an authorative answer. But Iran's leaders must be laughing up their sleeves at America's futile efforts to isolate them, as they race toward their nuclear goal while showcasing Tehran as the stage for the Non-Aligned Summit attended by dozens of world leaders.
Netanyahu Tells US 'Time Has Run Out' on Iran Diplomacy
Aug. 31….(Jerusalem Post) Prime Minister Binyamin Netanyahu got into a diplomatic shouting match with US Ambassador Dan Shapiro over US President Barack Obama's handling of Iran's nuclear program, saying "time has run out" for diplomacy, Yediot Aharonot cited a source as saying on Friday. According to the report, which the Jerusalem Post could not independently verify, the showdown took place as Netanyahu met with Shapiro and Republican Congressman Mike Rogers, who visited Israel earlier in the week. A source that participated in the meeting said that a particularly angry and stressed Netanyahu began a tirade against the US president, attacking him for not doing enough on Iran. "Instead of pressuring Iran in an effective way, Obama and his people are pressuring us not to attack the nuclear facilities," the source quoted Netanyahu as saying.
Angered about continued US rhetoric that diplomacy needs more time to work, Netanyahu said flatly: "Time has run out," Yediot reported. The American ambassador is said to have responded politely but firmly, telling Netanyahu that he was distorting Obama's position. Obama promised not to allow Iran to obtain nuclear weapons, he explained, and left all options on the table, including military options. At that point, diplomatic sources told the paper, "sparks flew" in an escalating shouting match between Netanyahu and Shapiro as the stunned congressman watched. Netanyahu and Obama may meet face-to-face on the sidelines of September's United Nations General Assembly meeting.
Russia Disengaging From Syria?
Aug. 30….(DEBKAfile Exclusive Report) Russian naval vessels have unexpectedly departed the Syrian Mediterranean port of Tartus and Russian arms shipments to Syria have been suddenly discontinued. Debkafile's military sources reveal that those and other steps indicate that the Russians are rapidly drawing away from the Syrian arena to avoid getting caught up in the escalating hostilities expected to arise from military intervention by the US, Europe and a number of Arab states. Russian intelligence appears to have decided that this outside intervention is imminent and Moscow looks anxious to keep its distance for now.
According to our military and Russian sources, these drastic steps must have been personally ordered by President Vladimir Putin. He is believed to have acted over the objections of some of his army and naval chiefs. This would explain the mixed statements issuing from Moscow in recent days about the disposition of Russian personnel at the naval base in Tartus and Russian military personnel in Syria. Commander of the Russian Navy Vice Adm. Viktor Chirkov said that if the fighting in Syria reached Tartus, Moscow may decide to evacuate the base. He stressed that this decision would have to be taken on the authority of President Putin. He was the first Russian official to suggest the possibility of an evacuation. Russian chief of staff Gen. Nikolai Makarov denied anything had changed in the working procedures of Russian military personnel in Syria or that there were any plans to evacuate the Russian naval base in Tartus: "I think it's too early to draw conclusions from the situation in Syria," said the general. "No one is running away from there." When a Russian journalist pressed the general and ventured to ask whether Moscow was terminating its military involvement in Syria, Marakov retorted, "Why are you so worried about Syria?" But he didn't answer the question. Debkafile's military sources disclose that the Russians have taken five significant military steps with regard to Syria in the last two weeks:
1. They cancelled a large-scale naval exercise dubbed "Caucasus 2012" scheduled to start mid-August in the eastern Mediterranean opposite the Syrian coast;
2. Warships from three fleets, the Northern, Baltic and Black Sea, concentrated opposite Syria have dispersed and returned to their bases;
3. Syrian President Bashar Assad was notified that Moscow was halting military aid to his army, except for intelligence updates and advice on logistics from Russian military advisers;
4. Moscow has not clearly announced a freeze on arms shipments, including replacement parts for Russian weapons, which make up the bulk of the Syrian army's weaponry. Officials have only said, "There are no large Russian weapons shipments planned in the near future to Syria."
5. The only Russian naval ship left in Tartus, a floating Russian Navy PM-138 shipyard is also under orders to depart Tartus and return to the Black Sea in September. A Russian source disclosed that all the remaining Russian personnel in Tartus have gathered on the floating shipyard, except for two officers on shore. This vessel and the remaining personnel are evidently packed up and ready to sail at any moment out of the Syrian port.
Syrian Rebels Claim to Have Taken Over Syrian Chemical Weapons
(A statement published by the Syrian rebels says that they have taken over a military base and found missiles with non-conventional warheads)
Aug. 30….(Arutz) The Supreme Military Council of the Syrian Rebels released on a statement on Tuesday which said that the rebel forces took control of an army missile base in Damascus, in which ten ready-to-launch missiles were found. Some of the missiles, according to the statement, were converted to carry non-conventional warheads. "During the successful operation, the operatives of the Free Syrian Army found a large number of rockets ready for launching, with enormous destructive capability, and they were very surprised to find missiles that were converted to carry non-conventional warheads and which can be equipped with chemical or biological warheads," said the statement which was translated by Arab affairs expert Dalit Halevi.
The Supreme Military Council of the rebels went on to claim that it had confirmed the report by examining photographic documentation of the scene. The Council warned that these facts indicate that the Assad regime is getting ready to bomb cities in Syria using these missiles, and the possibility that he will use missiles with unconventional warheads cannot be ruled out. The Council called on Arab countries and the international community to immediately intervene in order to protect the lives of the Syrian people "before the regime moves to a new level of crimes, which will have tragic consequences for the entire region."
On Monday, French President Francois Holllande warned that any use of chemical weapons by Syria would be sufficient reason for Western countries to intervene in Syria. Hollande said that France was working along with several other countries to create a protective zone around Syria, to be in position to move in if necessary. A similar warning was made last week by US President Barack Obama, who said that President Bashar al-Assad should heed US warnings to neither use nor move chemical or biological weapons. "We cannot have a situation where chemical or biological weapons are falling into the hands of the wrong people," Obama told reporters at the White House. "We have been very clear to the Assad regime, but also to other players on the ground, that a red line for us is we start seeing a whole bunch of chemical weapons moving around or being utilized." He added, "That would change my calculus; that would change my equation."
Israel has expressed concerns that Assad's chemical weapons will end up in the hands of the Hizbullah terror group if his regime falls. Syria has admitted it has chemical weapons and has threatened to use them if attacked by external forces. It claimed it will not use these weapons on rebels fighting to oust Assad. Recent reports from Syria indicated that Assad has transferred a battery of advanced missiles to the al-Masna border crossing, which is the central route used to transfer equipment and weapons to Hizbullah. Members of the Syrian opposition said that one of two major chemical arsenals of the Syrian regime is located near that border crossing. This facility is located just 24 kilometers from a missile base belonging to Hizbullah and was first exposed by the London Times newspaper in May of 2010.
Syria Christians Targeted By Islamist Rebels Amid Massive Exodus
Aug. 30….(Worthy News) Syrian Christians are reportedly targeted by rebels linked to Islamic terror groups and it remained unclear whether everyone fleeing the violence would be able to reach neighboring Turkey. "Religious minority groups have become a primary target" of rebels linked to terror group "Al-Qaida and other Islamists who are executing attacks in 'the name of Allah', said International Christian Concern, a major advocacy group. "Recent threats and killings of Syria's Christian minority include the murder of a Christian family in the Damascus neighborhood of Bab Tuma on July 23 by rebels belonging to the group Liwa al-Islam, or 'The Brigade of Islam', ICC said in a statement to Worthy News. "The flight of thousands of Christians from the city of Qusayr in June after an ultimatum to leave the city was issued by a rebel commander," it added. There was no immediate response from the Free Syrian Army, a lose force with rebels fighting out President Bashar al-Assad.
ICC said the evacuation of another 63 Christians from the troubled central city of Homs began July 11. In published remarks, Greek Orthodox Priest Maximos al-Jamal said rebels had kept the Christians in the city as bargaining chips and that, "Gunmen had told the besieged people that if they go out of these areas, they will be killes." He added that thousands of Christians had lived in Homs prior to Syria's uprising early last year, but today, only 100 Christian civilians remain. Washington-based ICC said it welcomed that U.S. Congressman Gus Bilirakis introduced a resolution on the floor of the US House of Representatives on August 2 that would direct American policies towards protecting Christians and other minorities in Syria. The resolution follows reports indicating that "Islamic extremism is on the rise in a civil war that is taking on increasingly stronger sectarian overtones," ICC said. The group cited a recently released video showing masked men, who claim to belong to the Free Syrian Army, holding AK-47s in front of two Al-Qaida flags. "We are now forming suicide cells to make jihad in the name of Allah," a speaker was heard saying in the video.
Islamists Rebels have accused Christians of supporting President Assad, with believers saying they fear more persecution under new Islamic government. "While ICC condemns in the strongest terms the Syrian government's assault on protesters, we are also gravely concerned about the Islamist agenda of the Free Syrian Army," said Aidan Clay, ICC Regional Manager for the Middle East. He said they and other rebel forces "are increasingly targeting the Christian community." The future of Syria's ancient Christian community is at stake."
Neighboring Turkey has proposed setting up a United Nations buffer zone inside Syria to shelter Christians and other refugees. The exodus of refugees to Turkey, including Christians, has intensified in the last week as a result of a Syrian army offensive and fighting in the northern city of Aleppo, observers said, reaching a total of 70,000 people. Christians and others also face difficulties in neighboring Lebanon, amid fears the nation will be drawn into Syria's bloodshed, something described by commentators as a troubling sign for a country that has gone through its own 15-year civil war. Tensions and intermittent fighting in the northern Lebanon city of Tripoli have continued following two days of clashes between pro- and anti-Assad groups that killed at least six people and wounded more than 70, news reports said.
Arab States Looking to Turn IAEA Meeting into Referendum on Israeli Nukes
Aug. 29….(Times of Israel) Muslim nations and Israel are heading for a confrontation at a 154-nation nuclear meeting next month over an Arab initiative to criticize Israel's secretive atomic program. Documents submitted for that gathering show that Arab nations are seeking Israel's censure, a move the Jewish state says is a sideshow that deflects attention from the real danger to Mideast peace — Iran.
In asking September's International Atomic Energy Agency meeting to reprimand Israel, Jordan says Israel is guilty of thwarting "all initiatives to free the region of the Middle East of weapons of mass destruction, and in particular of nuclear weapons." Israel, in turn, warns that the Arab initiative is "serving Iran's attempt to divert the attention of the international community from its quest for nuclear weapons."
Israel is widely assumed to be the only Mideast country with such arms, according to foreign reports. But it refuses to either confirm or deny its status, sticking to an official policy of ambiguity that, combined with the stalemate over Palestinian demands, feeds tensions in the region.
Israel's Arab neighbors have repeatedly demanded that it declare itself, join the Nonproliferation Treaty and open its nuclear activities to full inspection by the International Atomic Energy Agency, conditions Israel says it can consider only after peace rules in the Middle East. But Arab nations insist that peace can come only if Israel takes the steps it demands, leading to a standoff that has stretched over decades. Already high tensions over the issue have grown in recent years as Iran forges ahead with nuclear activities that Israel says are meant to allow it to make atomic arms, a suspicion shared by the United States and other Western nations. Iran denies any interest in such weapons but refuses to cooperate with an IAEA probe of Iran's alleged secret work on nuclear weapons.
Iran also continues to enrich uranium, which can make both reactor fuel and the core of nuclear missiles, instead of accepting foreign offers of such fuel. That comes despite international sanctions against Iran and threats of attack from the Jewish state, which says it will not tolerate the existence of an Iran armed with nuclear weapons. Tehran has warned in turn that any Israeli strike on its nuclear facilities will be met with a crushing response. In Tehran, Iran's IAEA envoy, Ali Asghar Soltanieh, told reporters that his country will "not suspend enrichment activities, even for a second." The initiative to censure the Jewish state in a vote at the IAEA meeting comes from the 17 Arab members of the nuclear agency. But it is expected to be supported by Iran as well as most if not all the other Muslim countries, as well as others critical of Israel's stance on Palestine, meaning it has a good chance of passing.
The Arab and Israeli documents were submitted to a preparatory commission for the meeting. Arguing the Arab position, Jordanian Ambassador Makram Queisi says Israel is exposing the Middle East "to nuclear risks and threatening peace" by refusing to throw open its nuclear facilities to international purview. Beyond his warning on Iran, Ehud Azoulay, Israel's chief IAEA delegate, questions whether Arab nations have the moral right to point fingers. He says some have "a long, unflattering history of violating their international obligations and other norms of the international community," an apparent poke at Syria, itself suspected of hiding a nuclear program and the target of international condemnation for atrocities attributed to government troops fighting insurgents. Some 20,000 people have died since an uprising against Syrian President Bashar Assad's rule began in March 2011, according to human rights groups.
At last year's meeting, Arab states repeated their demands of Israel but did not push for a resolution targeting the Jewish State by name. The conference did pass a resolution calling on all Middle East states to adopt the Nuclear Nonproliferation Treaty.
Netanyahu: Iran, Islamic rise are barriers to negotiations
Aug. 29….(Jerusalem Post) Iran and the growing Islamic ascendancy in the region are acting as a barrier against any chances of soon re-starting negotiations with the Palestinians, Prime Minister Binyamin Netanyahu said Tuesday. Netanyahu, in a meting with visiting US Senator Mark Bennet (D-Colorado), was asked if he thought there was any chance of a quick return to the talks. While saying he was ready for their immediate resumption, Netanyahu expressed skepticism that this was going to happen. Iran, he said, was driving the Palestinian issue, more than the Palestinian issue was impacting on the world's ability to deal with Iran. His point was that as long as Iran seemed to be ascendant and on the rise, and as long as it supported a growing Islamist tendency in the region that is overwhelmingly hostile to Israel, including holding huge sway over Hamas, the Palestinian Authority was not going to go out against the way it perceived the regional winds were blowing. Netanyahu's remark to the senator was a throwback to the early days of US President Barack Obama's presidency, when there was tension between Jerusalem and Washington over which issue to tackle first: Iran or the Palestinians.
The US position was that a breakthrough on the Palestinian issue would have a great deal of impact in dealing with Iran, as more Arab and Muslim countries would support the West's effort to halt Iran's nuclear march. Israel's position was, and remains, that if Iran was successfully dealt with and its regional influence reduced, it would be easier to strike a deal with the Palestinians since there would be fewer actors trying to torpedo any agreement.
Democratic Convention Will Proceed With Muslim Prayer
Aug. 29….(The Blaze) The host committee for the Democratic National Convention is raising a number of eyebrows after choosing to proceed with featuring Islamic "Jumah" prayers for two hours on the Friday of its convention, though Democrats earlier denied a Catholic cardinal's request to say a prayer at the same event. Up to 20,000 people are expected to attend the Friday prayers and Jibril Hough, a spokesman for the Bureau of Indigenous Muslim Affairs (BIMA), said the purpose of the event is to hold political parties accountable for the issues faced by Muslim-Americans. In particular, the event will target the Patriot Act, the NYPD, the National Defense Authorization Act, and anti-Shariah sentiment.
In 'Increasingly Islamist' Region, Israel May be Headed for War
Aug. 28….(Times of Israel) In an ever-more-volatile Middle East, the prospect of a military confrontation between Israel and its neighbors is fast becoming a tangible possibility, the IDF's intelligence chief warned on Monday. "In the coming year, the State of Israel will come up against an unstable, increasingly Islamist region: a region that has been dealing with a series of crises, regional and internal, that increases the volatility of all of the players and that could lead, without prior warning, to conflagrations," Military Intelligence Director Maj.-Gen. Aviv Kochavi said in his annual presentation to Chief of General Staff Lt.-Gen. Benny Gantz and the IDF top brass.
Abbas Denies Jewish Temple and Christian Theology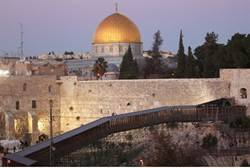 Aug. 28….(Arutz) Palestinian Authority Chairman Mahmoud Abbas frequently refers to the "alleged" Jewish Temple, but if it was not Jewish, there is no basis for Christian belief, as written in the New Testament in Matthew (21:12), that Jewish "moneychangers" chased Jesus from the Holy Temple. However, Christians so far have not reacted to the implicit denial of their belief. The PA campaign to eradicate Jewish history at the Temple Mount , as well as in the rest of Israel, has escalated sharply in the past two years.
Palestinian Media Watch (PMW) documented and translated statements from Palestinian Authority leaders, including Abbas, his advisor Ahmad Al-Ruweidi, clerics and ministers, all of whom used the term "alleged Temple" 97 times in 2011 and 2012. PMW pointed out that the number 97 refers only to the term "alleged Temple" and does not include thousands of other denials of the existence of the First and Second Temples and Jewish history in the rest of Israel. Many Jewish sites, such as Rachel's Tomb at the edge of Bethlehem and less than a mile from Jerusalem, has been given an Arab name by the PA, whose clerics claim it was a Muslim site - before Islam was founded.
Last week, Abbas said in the official PA WAFA news agency and in the PA official daily Al-Hayat Al-Jadida, "Israel's purpose is to achieve its black goals: Destroying the Al-Aqsa Mosque, building the 'alleged Temple,' taking over the Muslim and Christian holy sites, and destroying Jerusalem's institutions in order to empty it, uproot its residents, and continue its occupation and Judaization." PMW also uncovered Abbas' statement "that all of Israel's archeological digs and tunnels... will not change the reality of the city... and will not create a [Jewish] right based on fantasy and legends." The statement ended, "There will be no peace, security, or stability unless the occupation [Israel], its settlements and settlers will be evacuated from our holy city and the eternal capital of our state."
Abbas has previously declared that "Palestinian" history is 9,000 years old and said last year, on the eve of Israel's Independence Day, "Netanyahu, you are incidental in history. We are the people of history. We are the owners of history," PMW stated.
New Cold War Emerging Between US and Russia
(Israel and the Arab states are at ground level for the current regional turmoil between these 2 former rivals, and America and Russia are each pulling strings on the sidelines of the Middle East Conflict)
Aug. 27….(WND) Moscow has informed Washington it will not put up with unilateral US sanctions against Russian companies because of their continued trade with Iran. The Kremlin has pointed out it has adhered to sanctions passed by the United Nations but will not abide by unilateral sanctions imposed on its companies by the United States or the European Union. This development is but the latest as the United States and Russia are heading for a confrontation over their opposite positions on Syria. Moscow continues to support the Syrian regime of President Bashar al-Assad.
The Russians have a strategic base at the Syrian port of Tartous, which is used for intelligence gathering and to service Russian naval ships for access to the Mediterranean Sea. The Russians perceive the US effort to oust al-Assad really is aimed at the Syrian regime's alliance with Iran. Because Moscow also supports Tehran, it may be on a collision course with Washington over geostrategic concerns that a weakened Iran would pose for it. For Russia, Shi'ite Iran, like the Shi'ite Alawite regime of Syria's al-Assad, has been an impediment until now to the spread of the more radical Sunni Salafist form of Islam which has al-Qaida as an adherent.
To some analysts, the US effort to oust al-Assad in an effort to sever the alliance with Iran has put the US in the position of siding with al-Qaida and the Salafists who are being pushed by Sunni Saudi Arabia. China is in a similar position. Beijing, like Moscow, sees Shi'ite Iran as a bulwark to the spread of Sunni Salafist radicals into its western region of Xinjiang province. For that reason, neither Moscow nor Beijing trusts Saudi Arabia, which has exhibited a more assertive foreign policy approach to stem the influence of Iran in the Arab countries. Analysts agree if the US presses further for the ouster of al-Assad, it could put Washington on a greater collision course with Moscow, resulting in a possible freeze in relations, or worse.
WEEK OF AUGUST 19 THROUGH AUGUST 25
Jerusalem: A Cup of Trembling
Aug. 24….(CBN) According to Palestinian Authority leader Mahmoud Abbas, Israeli Jews are "occupiers" of Jerusalem, with no historical connection to "the city that will forever be Arabic, Islamic, and Christian." Abbas made his remarks in a statement marking an incident 43 years ago when a fanatic Australian named Denis Michael Rohan, who called himself "the Lord's emissary," set fire to the al-Aksa mosque on the Temple Mount. In terminology borrowed from Israel's description of Jerusalem as the eternal, undivided capital of the Jewish people, Abbas warned there would be "no peace or stability before our beloved city and eternal capital is liberated from occupation and settlement."
So whose "beloved city" and "eternal capital" is Jerusalem? Is it a city that "will forever be Arabic and Islamic?" And what does "Christian" mean to Abbas? Does he have an understanding of God's heart as revealed in the Bible? Herein lies the rub: the Jewish connection to Jerusalem is based on the Word of God, which has little bearing on anyone for whom the Bible is not historically true. In the Torah (the first five books of the Old Testament), Jerusalem is mentioned by name 623 times and in the Old Testament, 669 times, not including many references to the city using other terminology. Compare that with the Koran, Islam's holy book, which does not name Jerusalem even once.
The unbridgeable gap between the Jewish connection to Jerusalem and Islamic claims on Israel's capital undermine a potential two-state solution. Abbas' heated Islamic rhetoric on Judaism's holy city brings a prophetic word recorded thousands of years ago closer than ever to fulfillment. About 2,500 years ago, the prophet Zechariah, whose name means "God remembered," said the day would come when Jerusalem would be the focal point of the nations of the world.
Behold, I will make Jerusalem a cup of drunkenness to all the surrounding peoples, when they lay siege against Judah and Jerusalem. And it shall happen in that day that I will make Jerusalem a very heavy stone for all peoples; all who would heave it away will surely be cut in pieces, though all nations of the earth are gathered against it. (Zech. 12:2-3)
The Palestinian Liberation Organization has always had as its goal the "liberation" of Israel and its capital, Jerusalem, from the "Zionist occupiers." In some ways they can't help themselves because their religion teaches that once any land has been under Islamic rule, it must never be yielded to any other people, Christians, Jews, or anyone else. Some have called Islam the "ultimate replacement theology," and so it would seem. Christian replacement theology alleges that the Church has replaced Israel, while Islamic replacement theology teaches that Islam and the Koran replaces Judaism, Christianity and everything else.
The goal of Islamists is domination of every society they've infiltrated. Even a cursory look back over the past few decades show they've made considerable progress toward that goal in many European countries and even in America, which from its inception defined itself as a nation founded on Judeo-Christian ethics. Successive Israeli governments have sought workable solutions that would bring peaceful coexistence between Jews and Arabs and there have been some real success stories. But until the Palestinian Arab leadership accepts Israel as the modern nation-state of the Jewish people, with an undivided Jerusalem as its capital, the quest for peace will continue to be stymied.
US, UK, French Elite Units on Standby for Seizing Syrian Chemical Weapons
Aug. 24….(DEBKAfile Exclusive Report) US C130 transports stand ready at Middle East air bases to fly into Syria US elite units especially trained in combat against chemical and biological weapons and tactics for securing their arsenals. Western intelligence sources reported Thursday, Aug. 23 that those units are on standby at bases in Israel and Jordan. Their assignments are to engage Syrian troops attempting to move those unconventional weapons systems to battle fronts or Hizballah and to prevent them falling into the hands of radical Islamic rebel fighters, especially Al Qaeda. Those elite units have been issued with special equipment for chemical and biological warfare including anti-contamination suits. The transports are also fitted with purification equipment for operating in polluted terrain. These plans followed President Barack Obama's warning Monday, Aug. 20 that "we cannot have a situation where chemical or biological weapons are falling into the hands of the wrong people." He announced, "We have put together a range of contingency plans."
Also on standby for stealthy raids into Syria are British special operations forces in Cyprus and French units trained in unconventional warfare in Jordan. Thursday morning, President Obama talked by phone to British Prime Minister David Cameron and French President Francois Hollande to wrap up the details of their combined operation in Syria, effectively the onset of direct Western intervention in the Syrian conflict. The Pentagon had not by Thursday reacted to these reports, but did release photos of US special operations soldiers clad in anti-contamination suits standing by armored personnel carriers equipped for chemical and biological warfare. The American media were also briefed on US plans to land special operations teams trained in the handling of these weapons for missions to protect or destroy unguarded Syrian stockpiles before they fall into the wrong hands. They also refer to air strikes to incinerate chemicals without dispersing them in the air.
Debkafile's military sources report that alongside the US satellites and drone aircraft monitoring the chemical and biological weapons stores, small American reconnaissance teams are already on the ground, marking out landing sites and setting up bridgeheads for the incoming US, British and French special forces. Some, though not all of the targeted stockpiles of shells and missile warheads are located around centers of the fiercest fighting in Syria's civil war such as Aleppo in the north. They may be inadequately guarded since the Syrian ruler may have been forced to throw the units securing them into battle against rebel forces.
Important stress was laid by Obama in his comments Monday on the fact that he had not ordered US military engagement in Syria "at this point." In other words, beyond that point, he was free to change that order. debkafile's military sources report that direct American military involvement in the Syrian conflict has to all intents and purposes begun and looks like expanding in the coming days. This is a sharp reversal of the military situation in the Middle East. It could lead to all-out warfare exploding in Syria possibly involving Hizballah ahead of a strike against Iran's nuclear weapons, although this strike could unfold from the Syrian campaign - during its course or at its conclusion.
Washington is hoping that its direct action in Syria, aside from grappling with the unconventional warfare menace looming over the region, may persuade Tehran to cave into American demands for halting uranium enrichment and turn it aside from its race for a nuclear weapon in order to save itself from attack. The Obama administration is split between two factions on the Syrian question, those who are pushing hard for direct US military intervention - both to end the bloodshed and Bashar Assad's reign in Syria and to preempt a unilateral Israeli strike against Iran. The other faction is dedicated to Obama's anti-interventionist mindset
Iran Continues Persecuting Christian Pastor Youcef Nadarkhani
Aug. 23….(Fox News) A Christian pastor, who has spent nearly three years behind bars in Iran and has been sentenced to death for refusing to renounce his faith, has been ordered to appear in court next month, where he could face new charges. Youcef Nadarkhani, 32, was imprisoned in 2009 when he went to complain about mandatory Koran classes at his son's school. Although the exact charges he faces have not always been clear, at one point an Iranian court accused him of apostasy, or leaving the Muslim faith. He has since been found guilty of other crimes, including rape, extortion and security violations, according to Iranian state media.
At the hearing next month, Nadarkhani will answer "charges brought against him," according to the American Center for Law and Justice (ACLJ), which has taken up Nadarkhani's cause. It's unclear if the charges are new. Nadarkhani's attorney, who also has been jailed, has said the married father of two faces execution because he refused to renounce his religion. An Iranian diplomat told a United Nations panel earlier this year that Nadarkhani would not be executed.
The Washington-based ACLJ, which is pressuring for the pastor's release, told Charisma News that it was unclear if the charges are new or connected to the apostasy conviction. According to Sharia law, an apostate has three days to recant. The pastor refused to do so and sources close to the matter say executions in Iran can happen at any time, often without notice. The court is reportedly seeking the opinion of Ayatollah Ali Khamenei, the Islamic republic's spiritual leader and highest authority, according to AFP. The ACLJ has been working with the State Department to try to win Nadarkhani's freedom, and the US House of Representatives passed a resolution earlier this year condemning his imprisonment and calling for his immediate release. Nearly 3 million people have voiced support for Nadarkhani on Twitter through the "Tweet for Youcef" campaign.
Iran's Supreme Leader Orders Terror Attacks on West
(Iran's Supreme Leader has ordered the country's Revolutionary Guards to intensify its campaign of terror attacks against the West and its allies in retaliation for supporting the overthrow of President Bashar al-Assad in Syria)
Aug. 23….(The Telegraph) According to Western intelligence officials, Ayatollah Ali Khamenei gave the order to the elite Quds Force unit following a recent emergency meeting of Iran's National Security Council in Tehran held to discuss a specially-commissioned report into the implications for Iran of the Assad regime's overthrow. Damascus is Iran's most important regional ally, and the survival of the Assad regime is regarded as vital to sustaining the Iranian-backed Hizbollah militia which controls southern Lebanon. The report, which was personally commissioned by Khamenei, concluded that Iran's national interests were being threatened by a combination of the UN sanctions imposed over Iran's nuclear programme and the West's continuing support for Syrian opposition groups attempting to overthrow the Syrian government.
Intelligence officials say the report concludes that Iran "cannot be passive" to the new threats posed to its national security, and warns that Western support for Syrian opposition groups was placing Iran's "resistance alliance" in jeopardy, and could seriously disrupt Iran's access to Hizbollah in Lebanon. It advised that the Iranian regime should demonstrate to the West that there were "red lines" over what it would accept in Syria, and that a warning should be sent to "America, the Zionists, Britain, Turkey, Saudi Arabia, Qatar and others that they cannot act with impunity in Syria and elsewhere in the region."
Democratic National Convention to Honor "Islam"
Aug. 23….(Red State.com) Starting at the end of this month the Democratic National Convention will open with a focus on Islam. Up to 20,000 Muslims are expected to attend according to the Bureau of Indigenous Muslim Affairs (BIMA), the national Muslim American non-profit coordinating the two days of events they claim are non-political. "Jumah at the DNC" begins August 29 and will start with a Friday afternoon jummah prayer followed by other unnamed programs and events, leading up to the Islamic Regal Banquet. The following day will be an all day Islamic Cultural and Fun Fest which will include discussions on the topics of Islamaphobia, Anti-Shariah, Middle Eastern Crisis, Patriot Act, National Defense Authorization Act and more. The purpose, according to BIMA, is to attract national and international attention to the plight of American Muslims and to hold political parties accountable for issues that affect them.
It is troubling that the Democratic National Convention has decided to promote and lend its name and national political platform to the organizers of the "Jummah at the DNC". The leaders of this event – Jibril Hough and Imam Siraj Wahhaj as advertised are no moderates. They are radicals. These individuals embrace Islamist supremacy and have demonstrated support for radical ideologies. A quick Google search by the DNC would have shown them that Hough and Wahhaj are leaders in the separatist American Islamist movement. American Democrats should be concerned, and ashamed.
Netanyahu "Determined to Attack Iran Before the US Elections,"
Aug. 22….(Times of Israel) The TV station's military reporter Alon Ben-David, who earlier this year was given extensive access to the Israel Air Force as it trained for a possible attack, reported that, since upgraded sanctions against Iran have failed to force a suspension of the Iranian nuclear program in the past two months, "from the prime minister's point of view, the time for action is getting ever closer." Asked by the news anchor in the Hebrew-language TV report how close Israel now was to "a decision and perhaps an attack," Ben-David said: "It appears that we are closer than ever." He said it seemed that Netanyahu was not waiting for a much-discussed possible meeting with US President Barack Obama, after the UN General Assembly gathering in New York late next month, indeed, "it's not clear that there'll be a meeting." In any case, said Ben-David, "I doubt Obama could say anything that would convince Netanyahu to delay a possible attack." The report added that Netanyahu and Defense Minister Ehud Barak believe Obama would have no choice but to give backing for an Israeli attack before the US presidential elections in November.
There is considerable opposition to an Israeli strike on Iran's nuclear facilities, the report noted, with President Shimon Peres, the army's chief of the General Staff and top generals, the intelligence community, opposition leader Shaul Mofaz, "and of course the Americans" all lined up against Israeli action at this stage. But, noted Ben-David, it is the Israeli government that would have to take the decision, and there Netanyahu is "almost guaranteed" a majority.
Iran Unveils Upgraded Missile as Israel talks of Attack Plan
Aug. 22….(Fox News) Iran's president unveiled an upgraded version of one of its short-range surface-to-surface ballistic missiles Tuesday, amid a report that a top Israeli national security adviser met with a prominent rabbi hoping to persuade him in favor of an attack on Iran's nuclear program. The upgraded version of the missile was revealed just weeks after it was test-fired, the country's state-media reported. At the ceremony for Fateh-110, or Conqueror, Mahmoud Ahmadinejad told a group of defense officials that Iran wants to advance its defense technology "not in an aggressive context, but as a deterrence." "We do not seek it for conquest, domination of neighboring countries and the world. We do not want it because of defiance," said Ahmadinejad, according to state TV.
The official IRNA news agency reported Tuesday that the new version of Fateh-110 has a quicker launch capability, a longer life and can be used in adverse weather conditions, but gave no other details. The missile has been in service in Iran over the past decade. Iran claimed earlier this month that it successfully test-fired the missile, saying at the time that Fateh-110 has an improved accuracy to strike land and naval targets within a 185-mile range.
Iran considers both the United States and Israel as potential adversaries. Neither country has ruled out a military strike against Iran's nuclear program, which they claim is aimed at developing nuclear weapons. Iran says its program is for peaceful purposes. An Israeli Shas Party official said Rabbi Ovadia Yosef, Shas' 92-year-old spiritual leader, met with national security adviser Yaakov Amidror last week to discuss the possibility of a strike. The official spoke Tuesday on condition of anonymity because the meeting was private. He said he did not know the rabbi's response. Israeli leaders have consulted with Yosef, who has hundreds of thousands of followers, about weighty military decisions in the past. The meeting came at a time of concern about a possible Israeli strike against Iran to stop its nuclear program. Prime Minister Benjamin Netanyahu has threatened military action, though officials stress no final decision has been made.
Since 1992, Iran has tried to set up a self-sufficient military program. The country's military leaders have said they believe future wars will take place in the air and on sea, and Tehran has sought to upgrade its air defense systems and naval power in anticipation of such a possibility. Iran also has been pushing to upgrade its missiles, which already are targeting Israel and US bases in the Middle East. The Pentagon released a report in June noting significant advances in Iranian missile technology, acknowledging that the Islamic Republic has improved the accuracy and firing capabilities of its missiles. "If (the enemy) ever has the intent of attacking this soil, we will make the Persian Gulf their grave," Mohammad Javad Askari, Abadeh's governor reportedly said. Defense Minister Gen. Ahmad Vahidi said Iran will commission a new generation of fighter jets, missiles, unmanned drones and submarines by the Iranian New Year, which falls in March 2013. Iran's purported military advancements are impossible to independently verify because the country does not release technical details of its arsenals or rely on equipment from major international defense contractors.
Egypt Violating 1979 Israeli Peace Treaty
Aug. 22….(YNET) Foreign Minister Avigdor Lieberman said Tuesday that Israel must make sure that the 1979 peace treaty is upheld and not stay silent as Egypt's military forces enter Sinai. Israeli state officials expressed concerns over the fact that Egypt failed to notify Israel about the deployment of tanks in Sinai. In a move that clearly violates the peace treaty. n a closed meeting with ambassadors in Jerusalem, Lieberman said, "We must make sure that every detail is upheld, otherwise we'll find ourselves in a slippery slope as far as the peace treaty is concerned." Israel has asked Egypt to withdraw the tanks and state officials believe that the US will use its influence over Cairo, which depends on US aid, to compel it to remove them. The request was conveyed within the last few days, an Israeli government official told the New York Times, adding that it was likely that the Obama administration had made a similar approach to Cairo.
Earlier on Tuesday, state officials told Ynet that the problem can only be solved if the US intervenes and puts pressure on Cairo. "Netanyahu will need the Americans," one state official said. "He's got a beef with them. Things are getting more complicated by the minute." The US, on its part, was careful not to denounce Egypt's move. While Jerusalem does not want to create a crisis with Egypt, it wishes to demonstrate that a violation of the treaty, even with a small number of tanks, will not be ignored. Some state officials are concerned that Egypt is trying to test Israel's determination to uphold the peace accord. Cairo officials have already announced that the agreements will be reconsidered and it is possible Egypt's unilateral steps are part of an effort to create a conflict on the ground that will eventually lead to a reevaluation of the peace deal.
Netanyahu Warns Egypt About Military Buildup in Sinai
Aug. 22….(Arutz) Prime Minister Binyamin Netanyahu has demanded that Egypt cease sending tanks into the Sinai without Israel's approval, a "blatant violation" of the 1979 peace treaty, the Maariv Hebrew-language website reported Tuesday.Mark Regev, spokesman for the Office of the Prime Minister, told Arutz Sheva, "We are not commenting" on the report. An Egyptian newspaper reported that local Bedouin claimed that Egypt already has sent dozens of tanks to the northern Sinai, near the Israeli border. The report has not been confirmed, and most other media outlets have reported that Egypt is preparing to send in tanks, planes and additional soldiers to combat rampant terror.
Al Qaeda-linked terror cells, Bedouin and Hamas terrorists have taken control of the Sinai Peninsula in recent years, particularly since the end of the Mubarak regime. A source close to Prime Minister Netanyahu told Maariv the planned buildup, if it already has not taken place, is "a blatant violation of the peace treaty."
The Obama administration wields influence over Egypt because of its $1.3 billion annual aid to Cairo, and the office of Prime Minister Netanyahu has appealed to the White House to pressure Egypt to stop the deployment. Israel knows that it is to its benefit if the new Egyptian regime can defeat terrorists in the area, but it also fears that Egypt will not be successful and that terrorists could gain possession of tanks. Another concern is that Egypt would maintain its new military presence for an unlimited amount of time and establish "facts on the ground: that would represent a de facto change in terms of the treaty, which requires Israeli approval for additional forces.
An unstated concern of almost every Israeli who remembers the Yom Kippur War is that a renewed Egyptian military presence in the Sinai could set the stage for another war, especially if Iran or Hizbullah attacks from the north. Egypt's Muslim Brotherhood President Mohammed Morsi is scheduled to visit Iran next week to re-establish ties with Tehran, despite the objections of the United States.
Former Obama administration Middle East envoy Dennis Ross wrote in The Washington Post Monday that the US must make clear to Egypt that if it continues to violate its commitments under the Camp David Accords, it would jeopardize its US funding.
Israel May Seek Decapiation Style Attacks on Irans Leadership
Aug. 22….(DEBKA) While US President Barack Obama and Prime Minister Binyamin Netanyahu have bandied about thousands of words in their dispute over an Israeli strike on Iran's nuclear sites. For a time, their argument muffled the abiding ambition of the Islamic Republic to destroy Israel, come what may. However, the message roared by Iranian leaders over last weekend - before and after Al Quds Day, was quite simply this: Israel must be destroyed, irrespective of whether or not it attacks the Islamic Republic. President Mahmoud Ahmadinejad was cheered by half a million demonstrators in Tehran shouting: Death to Israel! Death to America! when he declared Israel is a "cancerous tumor" that will soon be finished off in the new Middle East. He called "the Zionist regime's existence an insult to all humanity." Ayatollah Ali Khamenei said: "The fake Zionist (regime) will disappear from the landscape of geography,"
And although both were somewhat rebuked by world leaders for their violent invective, it continued to pour out of Tehran in a comment by Islamic Revolutionary Guard Corps Aerospace Force Chief, Brig. Gen. Amir Hajizadeh who said an Israeli attack would be welcome "as a pretext to get rid of Israel for good." Israel's new Home Defense Minister Avi Dichter laid it out in plain language: While Syria, Lebanon and Gaza confront Israel with a strategic threat, Iran imperils our very existence."
Certain Western intelligence sources were reminded of a speech by Israeli Prime Minister Binyamin Netanyahu in 2006 when he quoted a Holocaust survivor as saying: "My main lesson from the Holocaust is that if someone tells you he is going to exterminate you, believe him. And I add to that. Believe him and stop him!" Six years later, those sources now suggest, after America's top soldier Gen. Martin Dempsey offered the opinion that Israel can no longer destroy Iran's nuclear weapon capacity, only delay it , that Netanyahu may be willing to go further: Not only to stop them, but kill them. They are quietly using the term "decapitation."
They point to the Israeli Mossad's long record of targeted covert operations for dealing with past and would-be annihilators: In the fifties, the Mossad captured the Nazi criminal Adolf Eichmann in Operational Finale. In the seventies, Golda Meir ordered Operation Wrath of God to hunt down and pick off one by one the Palestinian Black September murderers of 11 Israeli sportsmen at the 1972 Munich Olympics. In February 2008, Iran's senior terrorist operations commander, Hizballah's Imad Mughniyeh, was liquidated in Damascus, so ending a bloody career of assassinations, terrorism and abductions against US and other Western targets as well as Israel. Hizballah's chief Hassan Nasrallah knows the score: He has spent six years hunkered down in a fortified bunker, taking care never to broadcast his inflammatory speeches calling for Israel's destruction live, only by video. It cannot be ruled out that this point, Israel may decide to disable Iran's nuclear program by going for its leaders.
Obama: Chemical Weapon Use Would Alter Syrian Equation
(US president says use of unconventional weapons by Assad regime would be 'red line'; hints it would warrant possible military intervention)
Aug. 21….(YNET) US President Barack Obama on Monday warned Syrian President Bashar Assad that the use or deployment of chemical or biological weapons in his country's conflict would be a "red line" for the United States as it views Damascus's suppression of the uprising. Obama made an unscheduled appearance in the White House briefing room Monday and told reporters that the issue of Syria's unconventional weapons was of high concern to both the United States and its close ally, Israel. "A red line for us is (if) we see a whole bunch of chemical weapons moving around, or being utilized. That would change my calculus," Obama said. Obama further said that the US would consider the possibility of military involvement in Syria should unconventional weapons come into play in the Syrian civil war. The use of such weapons of mass destruction, which Syria has, would widen the conflict considerably, he noted. "It doesn't just include Syria. It would concern allies in the region, including Israel, and it would concern us." Obama warned Assad and "other players on the ground" that the use or movement of such weapons would be a "red line" would "alter the equation."
Syria's undeclared stockpiles of sarin nerve agent, mustard gas and cyanide are considered the largest in the world. The US and Israel, as well as other western nations, fear that Assad has begun moving his stockpiles. The growing violence in the country has also sparked concerns that nonconventional weapons may find their way into Hezbollah's hands. A situation assessment held by the Pentagon in July concluded that Damascus was still in control of its chemical arsenal. In early August, the Syrian opposition claimed that Assad's forces used "mass-killing thermobaric weapons" on civilians in Aleppo, in northern Syria. Thermobaric are lethal weapons that explode above a target area with a massive blast and suck air in, leaving a vacuum. When such a weapon is detonated, it produces a blast wave with a significantly longer duration, maximizing damage and casualties. It is believed that Damascus acquired the weapons from Russia
Hezbollah Chief: We Will Send Israel to Hell
| | |
| --- | --- |
| | (FOJ) The leader of Shiite terrorist group Hezbollah said his group will transform the lives of millions of Israelis to "hell" if Israel attacks Lebanon. Speaking in a televised speech marking Jerusalem Day Friday, Hassan Nasrallah said Hezbollah has a list of Israeli targets that it can hit with rockets. "I tell the Israelis that by hitting a number of targets with our precision rockets will turn the lives of hundreds of thousands of Zionists to real hell. |
| | |
| --- | --- |
| | (FOJ) Saudi Arabia's King Abdullah is shown shaking hands with Iran's President Mahmoud Ahmadinejad at the opening ceremony of the Organization of Islamic Conference (OIC) summit in Mecca August 14, 2012. Iran and Saudi Arabia remain on contending paths for supremacy in the Muslim world, and are potential adversaries in Syria, and elsewhere. |
Iranian General Welcomes War With Israel
Aug. 20….(Times of Israel) A senior Iranian commander said a possible Israeli airstrike against his country's nuclear facilities is "welcome" because it would give Iran a reason to retaliate and "get rid of" the Jewish state "forever." The remarks by Gen. Amir Ali Hajizadeh, head of the Revolutionary Guard's air force, were reported Saturday by the official IRNA news agency. Hajizadeh said that in the event of an Israeli strike, Iran's response would be "swift, decisive and destructive." But he also claimed that Israeli threats of a strike are just part of a psychological war against Iran. Hajizadeh told the news agency that the Islamic resistance would not bypass an opportunity to avenge the "massacres" allegedly perpetrated by Israel against Palestinian targets and Iranian nuclear scientists. The top-ranking military official was said to be responding to recent "threatening" remarks made by Israel against the regime in Tehran.
Iran's leadership on Friday used the annual Al-Quds day protests against Israel to repeat its oft-stated calls for Israel's elimination. Iranian President Mahmoud Ahmadinejad branded Israel "an insult to humanity" and "a cancerous tumor" and called for "a new Middle East with no trace of Americans or Zionists." Israeli media has been full of reports in recent weeks of a possible Israeli military strike on Iran, with politicians and security chiefs weighing in. President Shimon Peres sparked a furor over the weekend by declaring that Israel could not "go it alone" against Iran and adding that he trusted President Barack Obama to prevent Iran from getting the bomb.
In a Channel 2 interview on Friday night, opposition leader Shaul Mofaz (Kadima) said Prime Minister Benjamin Netanyahu and Defense Minister Ehud Barak were leading Israel toward a potentially "disastrous" war with a strike on Iran, and said their decision-making was flawed and over-hasty. An Israeli strike could only set back Iran by a few months to a year, he said. In contrast, former Israel Air Force commander (1992-96) Herzl Bodinger, also speaking on Friday, said Israel had to take care of its own defense. Israel "should have hit Iran" years ago, Bodinger said on Channel 1′s Friday night news, "when there was only one facility" that needed to be taken out.
Meanwhile, also on Friday, a top Iranian official warned that Syria is the battleground between an Islamic awakening across the Middle East and an attempt by the US to dominate the region. The battle to topple Assad is a US plan to take control of the Middle East, the official said, pointing to American involvement in Afghanistan and Iraq as examples. "In Syria, we are faced with a final game between Iran and the US," said Mohsen Rezaie, secretary of the Expediency Council that advises supreme leader Ayatollah Ali Khamenei. "If the US takes hold of Syria, the entire Islamic awakening will come under the US control, but if Syria remains unchanged, the Islamic Awakening [Iran's term for the Arab Spring] will advance more seriously and more speedily," he added. Rezaie described the "well-armed gangs" that attack Syrian police forces, referring to what he called Israeli, US and Arab plots to stir unrest in the country: "The US and its western and regional allies have long sought to topple [Syrian President] Bashar Assad." Qatar and Saudi Arabia have been providing arms to the Syrian opposition for several months.
The US national security establishment recently stated that Iran is helping and training Bashar Assad's forces. US Defense Secretary Leon Panetta said that Iran is doing more for the Syrian regime in recent weeks, including providing assistance and training.
Egypt's New President Morsi To Visit Iran
Aug. 20….(Times of Israel) Egypt's President Mohammed Morsi will attend a summit in Iran later this month, a presidential official said on Saturday, the first such trip for an Egyptian leader since relations with Tehran deteriorated decades ago. The visit could mark a thaw between the two countries after years of enmity, especially since Egypt signed its 1979 peace treaty with Israel and Iran underwent its Islamic revolution. Under Morsi's predecessor Hosni Mubarak, Egypt, predominantly Sunni Muslim, sided with Saudi Arabia and other Sunni-dominated Arab states in trying to isolate Shiite-led Iran. The official said that Morsi will visit Tehran on Aug. 30 on his way back from China to attend the Non-Aligned Movement Summit, where Egypt will transfer the movement's rotating leadership to Iran. He spoke on condition of anonymity because he was not yet authorized to make the announcement.
The trip is no surprise, as it comes days after Morsi included Iran in a proposal for a contact group to mediate an end to Syria's escalating civil war. The proposal for the group, which includes Egypt, Saudi Arabia and Turkey, was made at the Organization of Islamic Cooperation summit in Saudi Arabia's holy city of Mecca. The idea was welcomed by Iran's state-run Press TV, and a leading member of Egypt's Muslim Brotherhood said that Tehran's acceptance of the proposal was a sign Egypt was beginning to regain some of the diplomatic and strategic clout it once held in the region. After the fall of Egypt's longtime strongman Hosni Mubarak in a popular uprising last year, officials have expressed no desire to maintain Mubarak's staunch anti-Iranian stance. Last July, former Egyptian foreign minister Nabil Elaraby, who also heads the Arab League, delivered a conciliatory message to the Islamic Republic, saying "Iran is not an enemy," and noted that post-Mubarak Egypt would seek to open a new page with every country in the world, including Iran. Any normalization, however, would have to be based on careful calculations.
Majority Sunni Egypt has its own suspicions of Iran on both religious and political grounds. The country's ultraconservative Salafis consider Shiites heretics and enemies, and for more than three decades under Mubarak, state-run media fed the public stories of Iranian plots to weaken the Egyptian state. However, many Egyptians sympathize with Iran's Islamic revolution and consider Tehran's defiance of the United States a model to follow, while others seek a foreign policy at the very least more independent of Washington.
A new understanding with Iran would be a big shake-up for the region, which has been sharply split between Tehran's camp, which includes Syria and Islamic militias Hezbollah in Lebanon and Hamas in Gaza, and a US-backed group led by Saudi Arabia and rich Gulf nations. But of the two camps, so far it's clear Morsi has focused on courting Saudi Arabia. He visited it twice, once just after he won the presidency, and a second time during the Islamic summit. In an attempt to assuage fears of the Arab uprisings by oil monarchs, he vowed that Egypt does not want to "export its revolution". He has also asserted commitment to the security of Saudi Arabia and its Gulf Arab allies, a thinly veiled reference to the tension between them and Iran.
USA, Not Israel, is Iran's Priority One Target
Aug. 20….(CBN) A fundamentally different worldview accounts for reports the United States wants the Israeli media to oppose a preemptive military strike on Iran's nuclear facilities, a former Israeli ambassador said. The thinking is that Israel's military planning against Iran jeopardizes interests of many of the nations in the world, including the United States. That worldview is preventing many from realizing the United States would be a nuclear-armed Iran's primary target. Despite all the rhetoric about Israel, former Israeli ambassador to Washington, Yoram Ettinger, said the US is the one in the crosshairs as much as Israel. "It's a seemingly unbridgeable gap in worldviews between the Obama administration and Israel whereby the administration does not realize the US and not Israel is the target for a nuclear Iran," the former ambassador told CBN News.
Ettinger was commenting on an article in Israel Hayom alleging that "senior figures in the US administration have been briefing local media outlets in recent weeks against a preemptive Israeli attack on Iran's nuclear facilities in an attempt to sway Israeli public opinion." But Ettinger said Iran's goals go far beyond eliminating Israel. "Iran is not developing nuclear capabilities to eliminate Israel as a number one target, but rather to advance its historical vision of controlling the Persian Gulf," he explained. "Concern over a preemptive attack would be dwarfed by non-preemption, which would reap regional and global havoc, enable Iran to become nuclear, and mean the demise of an American presence in the region." A nuclear-armed Iran would cause a "meltdown" in neighboring Gulf States and strengthen ties between Iran and Venezuela, Bolivia, Ecuador, and Mexico, which would bring the danger right to America's doorstep. "It would not only provide a tailwind to Islamic terrorism in general, but also to sleeper cells on the US mainland," he said. And, it would bolster and intensify nuclear proliferation in the Middle East and beyond.
Still, the pressure from Washington continues. According to the Israel Hayom report, a high-level Israeli security source quoted on the Walla! website called the media leaks "a blatant and extreme attempt to directly influence the debate in Israel." The report further stated that remarks by US Joint Chiefs of Staff Gen. Martin Dempsey and Defense Secretary Leon Panetta at Tuesday's press conference in Washington included information from closed-door meetings with Israel, which he said should not have been talked about "so publicly in the media." "The attitude of the present US administration is based on a faulty assumption that Iran is an Israeli problem rather than primarily and most importantly an American problem," Ettinger concluded.
Israeli Promises No Strike Now if Obama Pledges a Spring Attack
Aug. 20…..(DEBKAfile Exclusive Report) The White House this week scrambled to reconnect with Jerusalem after the Obama administration was persuaded that Israel was serious about conducting a fall military operation against Iran's nuclear program before the Nov. 6 US presidential election - notwithstanding the heavy opposition guns firing against it at home and from Washington. Prime Minister Binyamin Netanyahu and Defense Minister, Ehud Barak, assisted by their newly-appointed Home Front Defense Minister, were seen deep in practical preparations for this operation and its repercussions, as well an outbreak of hostilities with Syria and Hizballah. The White House accordingly got in touch with Netanyahu's office to find out what America must do to convince Israel to back off. Obama and Netanyahu discussed one-on-one on the sidelines of the UN General Assembly session opening in New York on Sept. 18 in order to resume their military and strategic dialog on the Iranian issue broken off by their polar differences. Debkafile now learns that those discussions have moved forward. Handled by National Security Adviser Tom Donilon for the US president and senior adviser Ron Dermer for the prime minister, they focus essentially on a four-point plan embodying Israel's requirements for delaying an attack.
1. President Obama will formally inform the two houses of congress in writing that he plans to use military force to prevent Iran from arming itself with a nuclear weapon. He will request their endorsement. Aside from this step's powerful deterrent weight for persuading Iran's leaders to give up their pursuit of a nuclear bomb, it would also give the US president the freedom to go to war with Iran when he sees fit, without have to seek congressional endorsement.
2. To underscore his commitment, President Obama would pay a visit to Israel in the weeks leading up to election-day and deliver a speech to the Knesset solemnly pledging to use American military force against the Islamic Republic if Tehran still refuses to give up its nuclear weapon program. He will repeat that pledge before various other public forums.
3. In the coming months up until Spring 2013, the United States will upgrade Israel's military, intelligence and technological capabilities so that if President Obama (whether he is reelected or replaced by Mitt Romney) decides to back out of this commitment, Israel will by then be in command of the resources necessary for inflicting mortal damage on Iran's nuclear program with a unilateral strike. Debkafile's military sources note that an influx of these top-grade US military resources would bridge the gap between American and Israeli ticking clocks for an attack on Iran, and dispel the fear in Jerusalem that delay would give Iran time to bury its key facilities in "zones of immunity," outside Israel's reach for serious damage with its present capabilities.
4. If points 1-3 can be covered, and Netanyahu and Barak will be convinced the US really means to strike Iran next spring, our Washington and Jerusalem sources report that Jerusalem may be coming around to agreeing to hold back a lone Israeli attack this autumn.
WEEK OF AUGUST 12 THROUGH AUGUST 18
Ahmadinejad: 'Tumor' of Israel Will Soon Be Destroyed
(Israel's existence is an "insult to all humanity, calls on world to get rid of it)
Aug. 17….(AFP) Israel is a "cancerous tumour" that will soon be finished off, Iranian President Mahmoud Ahmadinejad on Friday told demonstrators holding an annual protest against the existence of the Jewish state. "The Zionist regime and the Zionists are a cancerous tumor. Even if one cell of them is left in one inch of Palestinian land, in the future this story (of Israel's existence) will repeat," he said in a speech in Tehran marking Iran's Quds Day that was broadcast on state television. "The nations of the region will soon finish off the usurper Zionists in the Palestinian land. A new Middle East will definitely be formed. With the grace of God and help of the nations, in the new Middle East there will be no trace of the Americans and Zionists," he said.
Israelis know very well they don't have the ability" to successfully attack Iran, foreign ministry spokesman Ramin Mehmanparast was quoted as saying by the ISNA news agency. "If they make a mistake, our nation's reaction will lead to the end of the Zionist regime," he said. State television showed crowds marching under blazing sunshine in Tehran and other Iranian cities to mark Quds Days, whose name, derived from Arabic, designates the city of Jerusalem, the disputed future capital of both the Israelis and the Palestinians. Demonstrators held up Palestinian flags and pictures of Iran's supreme leader, Ayatollah Ali Khamenei, and banners reading "Death to Israel" and "Death to America." A group in Tehran was shown burning an Israeli flag. The marches have been an annual event during the Muslim holy month of Ramadan in Iran, ever since the 1979 Islamic Revolution. They underline Iran's antipathy to Israel and its ally the United States, and support for the Palestinian cause, which Khamenei on Wednesday called "a religious duty." The supreme leader described Israel as a "bogus and fake Zionist outgrowth" in the Middle East that "will disappear."
The head of Iran's powerful Revolutionary Guards, General Mohammad Ali Jafari, told the Fars news agency as he attended the Tehran rally that "the Iranian nation has always been at the forefront of the (regional anti-Israeli) resistance in showing its animosity with Israel." He added that Iran intended to maintain that virulent stance. Ahmadinejad, in his speech, claimed that "Zionists" triggered the first and second world wars, and had "taken control over world affairs since the moment they became dominant over the US government." He asserted that major governments, banks and media were in thrall to a Zionist cabal whose aim was to "destroy the cultures, values and sovereignty of nations." He added that "Zionist presence on even one centimeter of Palestinian land was dangerous. That's my personal understanding. Don't blame me later, this is how I see things."
A 'New Middle East With no Israel or America'
Thus, he believes that even the two-state solution was a "historic opportunity for Zionists, it will mean hundreds of years of efforts go down the drain." Addressing worshippers at Tehran University Ahmadinejad also alluded to the recent changes political changes in Egypt and warned the Arab nations against joining with the west, "which has exchanged one mask for another and become their friend." He recommended that "our enemies must not be forgotten and we cannot let them control the region." The Islamic Republic's president went on to say that western powers were "thirsty for bloodshed," and he claims that they have managed to cause a conflict within the Islamic world between Shiites and Sunnis.
Iran is Simply Unafraid of the United States
Aug. 17….(Times of Israel) Iran's behavior shows it does not seriously believe the US will resort to military action against its nuclear program, the former head of Israeli military intelligence, Amos Yadlin, told The Times of Israel. As for Israel, Yadlin said, it needs to see both firmer US declarations, and actual indications that the US means what it says about a possible resort to force, as it agonizes over whether to let its window for military action against Iran close and place its faith in the US to thwart Iran come what may.
That window for Israeli action "extends into 2013," Yadlin added. Defense Minister Ehud Barak, by contrast, has said it closes at the end of this year, one of the factors behind the feverish speculation of recent weeks about an Israeli strike in the fall. In a clear and candid interview Wednesday, Yadlin, who retired as MI chief at the end of 2010, urged President Barack Obama to make a statement to Congress, specifying "that if the steps the administration is relying upon today, like negotiations and sanctions, do not achieve success by the summer of 2013, then the Americans will deal with the problem via military intervention."
Such a statement, he said, could assuage Israeli concerns over American policy. And in addition to declarations, he said, the US should take certain actions "to show that you're serious. More intensive missile defense in the Middle East, exercises with your allies in the Middle East, in order to demonstrate to the world more clearly that you're really training for this and preparing for this."
As things stands, said Yadlin, who today heads the Institute for National Security Studies at Tel Aviv University, "The Iranians have just said that they're not afraid of the Israelis. They didn't say they're not afraid of the Americans. But you can see from their behavior that they're not afraid." It was unacceptable, Yadlin added, for a US defense secretary "to stand up publicly and say that an attack on Iran will plunge the world into World War III or the Middle East will go up in flames. That shows that you don't really mean to do it."
Yadlin said he was certain that, if all else failed, a single "smart, surgical" air operation by the US could halt the Iranian nuclear program.
Syria's Neighbors Bracing for Chemical Threat
Aug. 17….(DEBKAfile Exclusive Report) The US and its allies are discussing a worst-case scenario that could require up to 60,000 ground troops to go into Syria to secure chemical and biological weapons sites following the fall of the Assad government, an unnamed American source said Thursday night, Aug.16. This scenario postulates the disintegration of his security forces, he said, leaving chemical and biological weapons sites vulnerable to pillaging. It assumes the sites could not be destroyed by aerial bombings in view of health and environmental hazards. "There is no imminent plan to deploy ground forces," the source insisted. This is just a worst-case scenario.
Debkafile's military sources find in this disclosure a bid to psychologically prepare the world for the prospect of chemical warfare, as the dialogue between Bashar Assad and his neighbors gains in violence. The American special forces deployed on the Jordanian-Syrian border and in bases in Israel and Turkey clearly perceive a chemical-biological weapon threat. Military and medical preparations are being quietly put in place. Reconnaissance teams from potentially targeted countries have infiltrated Syria. They are on the lookout for any chemical missiles being moved into firing positions, although it is taken into account that Assad may be shifting decoys and that not all the real launchings can be stopped.
The Syrian ruler may also decide to transfer chemical explosives to Hizballah in Lebanon. Israel is on record as warning it would prevent this. In Tel Aviv, city hall announced underground parking spaces would be available in an emergency as bomb shelters for up to 850,000 people. IDF Home Front Command units embarked on a series of chemical attack drills in the towns of the northern district down to Afula, which is 52 kilometers east of Haifa and 110 kilometers north of Tel Aviv.
Khamenei: Zionist Regime will Disappear From Map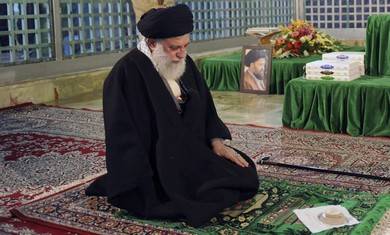 Aug. 17….(Jerusalem Post) Iranian officials ramp up rhetoric ahead of :Al-Quds Day"; Israeli official: Statement "not an aberration." With the US sending clear public signals to Israel that it is opposed to military action now against Iran, and a cacophonous debate on the matter in Israel, senior Iranian officials continue to threaten Israel with destruction.
Iranian Supreme Leader Ayatollah Ali Khamenei said Wednesday that he was confidant "the fake Zionist (regime) will disappear from the landscape of geography," Iran's Mehr News Agency reported. Khamenei made the comments during a meeting with veterans of the Iran-Iraq War. "The light of hope will shine on the Palestinian issue, and this Islamic land will certainly be returned to the Palestinian nation," Khamenei was quoted as saying.
Earlier on Wednesday Brig. Gen. Gholamreza Jalali, the head of Iran's Passive (civil) Defense Organization and a former commander of the Revolutionary Guards, during a speech ahead of Al-Quds Day, an anti-Israel event initiated by Iran, said that in order to liberate Palestine there was no other option but to destroy Israel. "Al-Quds Day is a reflection of the fact that no other way exists apart from resolve and strength to completely eliminate the aggressive nature and to destroy Israel," Jalali said, according to a report by Iran's ISNA news agency.
Al-Quds Day is an annual Iranian anti-Zionist event established in 1979 by Ayatollah Khomeini and which falls this year on August 17. Iran also seeks to export the event to other Muslim countries. Jalali said that the message of Khomeini's Al-Quds Day initiative was that the Muslim world must support the "oppressed people of Palestine" in a show of resistance against "the Zionist usurpers."
The Passive Defense Organization head added that the Islamic Revolution was a "beacon of light" and that the plight of the Palestinians was not forgotten. Calling on Muslims to rally on Al-Quds Day, he expressed hope that the Islamic world would be "strong against the Zionist threat," adding that the "Islamic front in Syria has been strengthened," presumably a reference to Iran's support for Syrian President Bashar Assad's regime.
An Israeli government official responded to Jalali's comments by saying it was simply a "reaffirmation of what we continually hear from the Iranian leadership." The official said that the statement was "not an aberration," and that Israel was taking the Iranian threat very seriously. "We urge others to do the same," he said. "The Iranians use unequivocal language, and their words speak for themselves."
Obama Initiates September Meeting with Netanyahu to Renew Iran Dialogue
Aug. 17….(DEBKAfile Exclusive) The White House has urgently contacted Jerusalem to arrange for US President Barack Obama to get together with Israeli Prime Minister Binyamin Netanyahu on the sidelines of the next UN General Assembly session opening in New York on Sept. 18, Debkafile's Washington and Jerusalem sources report. Netanyahu is preparing a tough speech inveighing against Iran's nuclear aspirations, its calls to annihilate the state of Israel and widespread anti-Semitism. He plans to accuse Iranian leaders of assuming the role of contemporary Nazis and call for their expulsion from the world organization.
Sources close to Obama admit that the dialogue on Iran with Israeli leaders has run its course since neither side believes it can change its opposite number's mind. This communications cutoff is hurting the president's campaign for reelection.
Washington's media offensive to tie Israel's hands against attacking Iran before voting day on Nov. 6 climaxed with the news briefing given by US Defense Secretary Leon Panetta and Chairman of the Joint Chiefs of Staff Gen. Martin Dempsey at the Pentagon Tuesday, Aug. 14. They accentuated Israel's weaknesses and argued that an attack on Iran's nuclear facilities would gain very little time.
Earlier that day, the opening shot of the counter-campaign landed in the influential Wall Street Journal in an article entitled Iran Doesn't Belong in the UN or IMF, under the bylines of former UN ambassador John Bolton and the heads of the United Against Nuclear Iran organization, Mark Wallace and Kristen Silverberg. They wrote that by allowing Iran to use their platforms to disseminate anti-Semitic propaganda, the UN and IMF are complicit in aiding the development of the Iranian nuclear program.
The next day, the White House went into action for a meeting with Netanyahu, aware that a strong Netanyahu speech at the UN General Assembly highlighting Iran's progress toward building a nuclear bomb and its anti-Semitism would connect with mounting anti-Iran opinion in America and show Obama in a bad light as standing against military action against Iran by the United States and, more particularly, Israel. Even before that, damage was caused the Obama campaign by the widely-reported remarks by Israeli Ambassador to Washington Michael Oren on Wednesday, Aug. 15, asserting that Israel would be willing to strike Iran's nuclear facilities, even if doing so only delayed its ability to produce nuclear weapons for a few years. "One, two, three, four years are a long time in the Middle East, look what's happened in the last year" in terms of political change, Oren said today at a Bloomberg Government breakfast in Washington. "In our neighborhood, those are the rules of the game." He went on to stress, "Diplomacy hasn't succeeded. We've come to a very critical juncture where important decisions do have to be made."
Even before Ambassador Oren's rejoinder, Washington insiders found the Panetta-Dempsey briefing unconvincing because it essentially covered well-trodden ground without new facts. Its timing was also unfortunate, said Debkafile's Washington sources, because the White House had already set in motion arrangements for an Obama-Netanyahu meeting for putting their understandings on Iran back on course. At the moment, they admitted, the US and Israel are no longer talking, because, "Both know that they have said all they have to say on the subject and remain divided." But, they say, "The president can't afford to let matters rest there. He will have to perform urgent repairs when he meets Netanyahu in September." That too is not plain sailing. Our sources report that while the prime minister is perfectly willing to meet Obama, he says it would be only proper for him to meet his rival for the presidency, Governor Mitt Romney, as well. The president's emissaries object on the grounds that Romney recently visited Israel. Their Israeli interlocutors respond that the government would be happy to host Obama in Israel too, even before the presidential election. Both sides are acutely aware that Obama has not visited Israel in the course of his presidency.
The Result of The Gaza Withdrawal
Aug. 17….(Stand For Israel / Rabbi Jonathan Greenberg) Seven years ago today, Israel undertook one of the most wrenching operations in her history, the evacuation of Israeli settlements from Gaza. I was there for my wedding during part of this time. Seven years later, my marriage, thank God, is working out beautifully. I wish we could say the same for the Disengagement.
The first thing we need to remember about the Disengagement is how painful, awful, and polarizing it was for Israel and for Israelis. This video tells the story beautifully. No one, even Israel's harshest critics, can reasonably deny that Israel is willing to pay a heavy price to bring about peace with the Palestinians (incidentally, Israel's critics still make such a case, they seldom let facts stand in their way). Police and soldiers forcibly removed some 8,500 settlers, about 1,800 families, from their homes. The scenes played out on live television with Israelis, many of whom had personal memories or were children of those with memories of another time in Jewish history in which police forced open the doors of Jewish homes and dragged Jews away, watching in anguish. Even among the many Israelis who supported the Disengagement, there was no celebration.
For months before the Disengagement, Israelis divided up into separate political camps. Those who opposed evacuation wore orange ribbons. Those who supported it wore blue. Ribbons were tied to trees, poles, posts, car antennae, and wrists. A billboard I saw had a blue ribbon tied to an orange ribbon and declared "we are all Israelis." A nice sentiment, but it didn't feel that way in late August of 2005. The country felt torn. Nonetheless, the Disengagement happened. The military and the police cleared every Jew out of Gaza. The effects were not what anyone had hoped for.
In fantasyland, there were those who believed that turning Gaza over to total Palestinian control would allow the Palestinians to begin developing a country of their own, a model for what could happen in the West Bank. Western investors prepared to step in to help Palestinians, including a group of American Jews who paid $14 million for 3,000 state-of-the-art greenhouses to be left behind by settlers and handed over to the Palestinians. Within days of the evacuation, Palestinians had looted and destroyed those greenhouses.
Far from becoming a model, Gaza became a nightmare. Terrorists from Hamas took over within a year. Thousands of rockets were fired from the Strip into Israel proper as it became clear that the Palestinian leadership was interested less in building their own state than in destroying the Jewish one next door. Gaza today is a backward, terrorist-dominated place in which children marinate in anti-Semitic hatred, 80% of the population lives on international food aid, and smuggling through tunnels under the Egyptian border is the main growth industry. The Palestinian leadership, which has never once put together a thoughtful attempt to build an economy or the institutions necessary for the proper functioning of a state, complains bitterly about Israeli occupation and spends its time oscillating between plotting murderous attacks against Israeli civilians, aimlessly lobbing rockets into the air in the hopes that they'll land on some Jews, and demanding that the international community throw ever-more money down their entitlement rabbit-hole. The only word to describe the situation is "failure."
The ultimate result of the Disengagement is this: There are no more illusions. The Israeli electorate is now well aware that the leaders of the Palestinians are not interested in a country of their own. They don't long for independence or self-determination. They don't cry out for justice or liberty. They are interested only in destroying Israel and killing Jews. That is the ultimate legacy of the Disengagement. Israelis finally came face-to-face with that reality. It caused the total political collapse of Israel's peace camp, as the policies for which they advocated had been tried and had utterly failed. It sent some of those politicians, their arguments totally debunked by facts on the ground and rejected by the Israeli public, scattering to Paris and London and Brussels and the pages of the New York Times to criticize Israel for not being smart (suicidal?) enough to recognize their genius.
In 2008, Rabbi Daniel Gordis wrote, wisely, I believe, about the Disengagement (in an article not actually about the Disengagement and absolutely worth reading), saying: It is now clear that the Disengagement from Gaza was a horrifying, costly and still painful mistake. But, and I realize that this is not a popular position, it was a mistake that Israel needed to make. It was the mistake that proved, once and for all, that the enemies we face have no interest in a state of their own. They just want to destroy ours. That is what Israelis learned, now without a doubt, as a result of the Disengagement. There's almost no one left around here myopic enough to imagine even for an instant that further retreats will get us peace. OK, there are still a few armchair peaceniks in the States, insisting that there is simply no conflict that cannot be resolved. But here? Precisely the opposite. Now we know that the right was correct, further retreats will only embolden our enemies. They'll demand more. And more. Until we're all gone.
Foes: Saudi King Abdullah and Iran's Ahmadinejad Meet
Aug. 16….(Reuters) Saudi Arabia's King Abdullah seated Iranian President Mahmoud Ahmadinejad at his side to welcome leaders to a summit on Wednesday, an apparent conciliatory gesture before the Organization of Islamic Cooperation suspends the membership of Iran's ally Syria. Foreign ministers of the 57-member body have already agreed to suspend Syria over President Bashar al-Assad's crackdown on protests. The decision, which requires support of two thirds of members and is strongly opposed by Tehran, is expected to be implemented on Wednesday at a summit called by Abdullah in the holy city of Mecca. Syria's civil war has divided Muslim countries on sectarian lines, with Sunni-led Arab states and Turkey backing Syria's rebels, while Shi'ite Iran supports Assad.
Sunni Saudi Arabia and Shi'ite Iran have tussled for influence in recent years in sectarian conflicts across the Middle East. In giving Iran's leader such a prominent place at the summit, shown on Saudi state television, King Abdullah was making what analysts described as an important gesture. "It was a message to the Iranian nation and, I assume, to the Saudi people, that we are Muslim and we have to work together and forget about our differences," said Abdullah al-Shammari, a Saudi political analyst. Ahmadinejad, wearing the dark suit and shirt without tie favored by Iranian leaders, sat at the left hand of the octogenarian king in his traditional Arab robes. The two were shown talking and sometimes laughing together. As each of the leaders, including those of major Middle Eastern and South Asian states, arrived in the entrance chamber, Abdullah rose to meet him followed by Ahmadinejad. The emir of Qatar, which like Saudi Arabia has voiced support for Syria's rebels, sat on Abdullah's other side.
Analysts had billed the summit as a potential showdown between Iran and Sunni states led by Saudi Arabia over Tehran's support for Syrian President Bashar al-Assad in his 17-month suppression of a popular uprising. "I think Abdullah is trying to tell Ahmadinejad that whatever Saudi Arabia wants with regard to Syria is not going to be directed against Iran," said Saudi political scientist Khalid al-Dakhil. Riyadh has called for Syrians to be "enabled to protect themselves" if the international community cannot protect them, and has excoriated Assad's use of force against civilians.
Iran has echoed the narrative of Assad's government that the country is being torn apart by "terrorist gangs" supported by Sunni states and the West. Riyadh has also accused Tehran of fomenting discord in the Gulf by backing a popular uprising among majority Shi'ites in Bahrain against the Sunni monarchy there and stirring unrest among Saudi Arabia's own Shi'ite minority. Tehran denies responsibility for unrest and accuses the Sunni states of crushing Shi'ite dissent. In his opening message, Abdullah reinforced to the conference setting up a center for dialogue between different Muslim sects.
Iran Proposes Military Alliance of Muslim Countries
Aug. 16….(Trend) It is necessary to create a military alliance of Muslim countries. It can be created in order to repel an attack on the Muslim countries, as well as to protect the Palestinian people, the Mehr news agency quoted Iranian Defense Minister Ahmad Vahidi as saying at today's meeting at the Ministry of Defense. Vahidi discussed the Palestinian issue, and noted that every year on the last Friday of Ramadan, many countries celebrate Jerusalem Day and hold rallies to protest against Israel. He said the Muslim countries should unite for a just solution to the Palestinian problem. "If a strong and strategic alliance of Muslim countries in order to protect the Palestinian land is created, then the 'Zionist regime' will have no choice but to bow to the Palestinian people," Vahidi said. The defense minister also commented on the numerous reports of Israeli plans to attack Iran. "The Israeli regime" which lost 22-day and 33-day war against the Hezbollah in Lebanon, can not oppose the Iranian people, Vahidi said. He stressed that the threat of an attack on Iran speaks not about the power of Israel, but its weakness.
Temple Mount Is Not in Our Hands
(Jerusalem holy site, once a source of national pride, now viewed by Israeli decision-makers as a national problem)
Aug. 15….(YNET) "The Temple Mount is in our hands," Lieutenant General Mordechai 'Motta' Gur called out upon entering the plaza beneath the golden mosque during the Six Day War. Gur, who was secular, was referring to secular sovereignty, the kind that can plant a flag, rule and fight. In a way, Gur's declaration symbolized the connection between Judaism and Zionism. Without Judaism the Jews would not have necessarily chosen to come to Zion. Without Zionism they would not have built a state, conquered a capital and fought for territory and sovereignty.
Rabbi Goren, the shofar and the prayers symbolized the return of the religious divine presence (shechina) to the Temple Mount. The paratroopers, Gur and the calls over the radio symbolized the secular divine presence that took over the Temple Mount. Since those days in June of 1967, the secular divine presence has departed from the Temple Mount. The Israelis' excitement upon hearing recordings of Gur's famous words and seeing the Israeli flag being waved at the Temple Mount faded. All that remained was the religious presence. The Temple Mount, once a source of national pride, has become a national problem in the eyes of the decision-makers – a "powder keg."
The State of Israel repeatedly declares its sovereignty over the Temple Mount, and no ruling party has ever called publicly to transfer control over the site to another entity. But in practice, 45 years on, in modern Israel, there is no sovereignty over the Temple Mount. The waqf is the sole ruler and it decides what is permitted and what is forbidden. A state within a state.
Muslim Brotherhood Seizes Control of Egyptian Military
Aug. 14….(Israel Today) Egyptian President Mohammed Morsi on Sunday stunned the region and caused grave concern in Israel when he dismissed all of Egypt's top generals and installed commanders loyal and subservient to his Muslim Brotherhood. Following the ouster of former dictator Hosni Mubarak, the Supreme Council of the Armed Forces headed by former Defense Minister Field Marshal Mohammed Hussein Tantawi had held de facto power, and had placed certain limitations on the presidency when it became clear the Muslim Brotherhood would the election. For instance, the Tantawi-led council had introduced a constitutional amendment that forbade the president from declaring war without the council's approval.
In addition to firing Tantawi, the Egyptian chief-of-staff, and the heads of the navy and air force, Morsi also rescinded all of the council's constitutional amendments, effectively granting his office outright control of military matters. So long as Tantawi and the other older generals were largely in control of military matters, Israeli leaders were more or less certain that Egypt's revolution would not lead to armed conflict with the Jewish state. But with the Muslim Brotherhood seizing control of the armed forces, previous assessments are now void.
Israeli commentators said they do not expect a sudden "call to arms" in Egypt, but are concerned that the Muslim Brotherhood-appointed generals will not cooperate with Israel like the old generals did. That will ultimately result in a situation similar to Lebanon, where Israel is forced to act on its own in foreign territory to stop terrorist threats. And the Egyptian Sinai is fast becoming a regional hotspot of terrorist activity, making it all but inevitable that Israel would have to launch military incursions should Morsi's forces stop preventing attacks on the Jewish state.
On the other hand, only last week, Israel approved a temporary amendment to the Camp David Accords to allow Egypt to deploy more forces to Sinai to root out local terrorist gangs. There is now concern that Morsi will not pull those forces back once their mission is complete. As a demonstration of why Israel is so concerned by the Muslim Brotherhood's power-hungry moves, last week Arab television stations around the region broadcast a recent interview with Egyptian-born cleric Salah Sultan, a member of the Muslim Brotherhood. In the interview, Sultan stated that people he has met all over Egypt and the Middle East "thirst for the blood of the Jews." Sultan operates an Islamic teaching center in the American state of Ohio.
Speaking of America, the Washington Post reported that the Obama Administration is not at all concerned by Morsi seizing control of the military, and that it has "confidence" in the newly installed generals.
New Egyptian President Mulls Nullifying Israel Treaty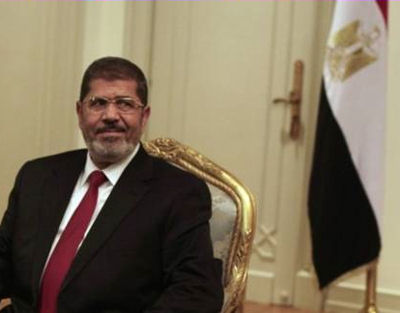 Aug. 14….(Times of Israel) Egyptian President Mohammed Morsi is considering amending the Camp David Accords to expand Egypt's control over the Sinai, Egyptian media reported Monday. Morsi legal adviser Mohamed Gadallah told newspaper al Masry al Youm that Morsi was looking into the possibility of changing the accord to give Egypt full sovereignty and control of the entire peninsula. Currently, Egypt is only allowed to keep a small force in much of the territory, as per the 1979 peace treaty with Israel. Last week, Cairo deployed heavy artillery and missiles for the first time to hunt down terrorists following a deadly attack on its border police in the border town of Rafah.
Israel, which has suffered several attacks from the largely lawless Sinai peninsula, did not protest the movement of troops in the semi-demilitarized buffer zone. Defense Minister Ehud Barak approved Egypt's initial use of air power in the Sinai, for the first time since the 1973 war, as Morsi ordered a crackdown on terror bases in the peninsula. Israeli ministers then gave telephone approval for the temporary maintenance of assault helicopters in the Sinai as the crackdown continued.
Calls in Egypt to review the terms of the peace treaty have ramped up since a popular revolution overthrew former president Hosni Mubarak last year, and especially since the attack last Sunday in which 16 Egyptian troops were killed. Last week, former presidential contender Abdel-Moneim Abolfotoh called on Twitter for the president to consider changing the treaty's terms. "The blood that has been spilled should force Egypt to assume full control of Sinai without the restrictions and obligations stipulated by this inequitable treaty that prevents Egypt's armed forces from deploying on Egyptian territory," he wrote. Amr Moussa a former Arab league chief and presidential also-ran, also called for the accord to be amended.
On Monday, Israeli Foreign Minister Avigdor Liberman said he hoped Morsi would continue to work with Israel and keep to the peace deal, despite the shake-up. An amendment to the treaty would require negotiation with Israel, which would likely be wary of an increased Egyptian military presence in territory it relinquished as part of the 1979 peace agreement. Unilateral changes to Egypt's military deployment could jeopardize the peace treaty and the fragile ties between the two countries, which have long been awkward and which were placed under further strain by the election of Muslim Brotherhood candidate Morsi to the presidency.
Russia: New US Sanctions on Iran 'Overt Blackmail'
Aug. 14….(Jerusalem Post) Russia sharply criticized new US sanctions against Iran on Monday, saying the measures to punish banks, insurance companies and shippers that help Iran sell its oil would harm Moscow's ties with Washington if Russian firms are affected. Russia, which has long opposed sanctions beyond those approved by the UN Security Council to pressure Tehran over its nuclear program, called the measures "overt blackmail" and a "crude contradiction of international law."
The United States ceased most trade with Iran many years ago and has put increasing pressure on other countries to reduce their business with the Islamic Republic. The measures approved by Congress on Aug. 1 build on oil trade sanctions signed into law by Obama in December that have prompted Japan, South Korea, India and others to slash purchases of Iranian oil. "We are talking about restrictive measures not only against Iran but also affecting foreign companies and individuals working with it, including in the hydrocarbon extraction and transport, petrochemicals, finance and insurance industries," the Russian Foreign Ministry said in a statement. "We consider efforts to impose internal American legislation on the entire world completely unacceptable," it said. "We reject methods of overt blackmail that the United States resorts to in relation to the companies and banks of other countries." "Those in Washington should take into account that our bilateral relations will suffer seriously if Russian operators come under the effects of the American restrictions," the ministry said.
Relations between Moscow and Washington improved after US President Barack Obama moved to "reset" ties early in his term, but they have been strained by disputes over Syria and Russian President Vladimir Putin's accusation of US meddling in Russian politics. In the statement, Russia repeated its argument that unilateral sanctions, as opposed to those approved by the Security Council, where Moscow has veto power, are counterproductive. The "constant increase of pressure on Tehran" undermines unity among the six nations leading diplomatic efforts to rein in Iran's nuclear program- Russia, the United States, China, Britain, France and Germany, and hurts the chances of success.
Russia balances its role in the diplomatic attempts to ensure Tehran does not develop nuclear weapons with aid to the civilian nuclear program in Iran, where it built a nuclear power plant that came on line this year. Talks between Iran and the six powers in Moscow in June failed to end the standoff over Tehran's nuclear activities including the enrichment of uranium which Western nations fear is part of a bid for weapons capability.
Muslim Brotherhood Anti-Army Coup in Cairo
| | |
| --- | --- |
| | (FOJ) Morsi has moved to displace all of his former rivals for the presidency of Egypt. His actions clearly are meant to kill democracy establish the Muslim Brotherhood as the sole powerbroker of Egyptian politics. |
(Morsi Moves Tanks up to Israel border)
Aug. 13….(DEBKAfile Special Report) Having gained control of the Egyptian parliament, government and presidency, the Muslim Brotherhood has made itself the unchallenged ruler of Egypt. Demoting the heads of the military leaves the MB in control of the biggest army in the Arab world. Two months after assuming the presidency, the Muslim Brotherhood's President Mohamed Morsi swept away the powerful pro-American Supreme Military Council heads ruling Egypt since Hosni Mubarak's overthrow. Sunday. Aug. 12, he fired the Egyptian Defense Minister, Field Marshal Mohamed Tantawi, the Egyptian chief of staff Gen. Hafez Sami Annan and three more generals and appointed Field Marshall Abd al-Fatah Sissi defense minister and Gen. Sidki Sobhi chief of staff in their place.
The three generals also sacked were Air Force chief Rezza Abd al-Megid, Navy commander Mahab Muhamed Mamish and Air Defense chief Abd Al-Aziz Muhamed Seif. President Morsi also annulled the law amendments endowing the military with broad powers. Debkafile reports: Field Marshal Tantawi and Gen. Annan were regarded as the last major impediments to the Muslim Brotherhood's complete takeover of Egypt. Morsi's action has cast Egypt's military caste out into uncertain territory with regard to its future status in government.
Morsi's actions in the last month have aroused serious concern in the United States and Israel. His coup Sunday will give them more unsavory food for thought. They will not have missed the sudden arrival of Egyptian army M-60 tanks (made in the US) right up to the Israeli border of Sinai while the new appointments were announced in Cairo.It is still not yet clear whether the Israeli government and army were caught off guard or gave permission for this extreme exception to the demilitarized clauses of their 1979 peace treaty. However, last week, the Egyptian president said that treaty clauses not deemed beneficial to Egyptian interests by the new regime would have to go. Israel did not respond to this statement.
In another new departure, he appointed a former senior judge Mohamed Mahmud Makki vice president, a new office in Egyptian government. Debkafile was the only publication to report that the Muslim Brotherhood and Morsi were exploiting the terrorist attack in Sinai to rid Cairo of the pro-Western military control of the Egyptian government. Debkafile was the only publication to report that the Muslim Brotherhood and Morsi were exploiting the terrorist attack in Sinai to rid Cairo of the pro-Western military control of the Egyptian government. A faster worker, Morsi has achieved this in exactly seven days.
Israel: US Unreliable, Deceptive on Iran
Aug. 13….(Times of Israel) Israeli officials issued a withering response Saturday to assurances from the White House that the US would know in good time if Iran was making a "breakout" to a nuclear weapon. The Americans "didn't see 9/11 coming," Israel's Channel 2 news quoted what it said were "sources in Jerusalem" saying, a day after White House spokesman Jay Carney claimed the US can see what's going on with Iran's nuclear program and that it would know if Tehran is close to obtaining a nuclear weapon. "I would also say that we have eyes, we have visibility into the program, and we would know if and when Iran made what's called a breakout move towards acquiring a weapon," said Carney. The exchanges of rhetoric came as Israel's leaders issue increasingly clear hints about an imminent Israeli resort to military action to thwart Iran's nuclear drive, and with the US reportedly trying to persuade Israel to hold its fire.
Israel's main TV news broadcast reported on Friday evening that Prime Minister Benjamin Netanyahu and Defense Minister Ehud Barak have "almost finally" decided on an Israeli strike at Iran's nuclear facilities this fall, and a final decision will be taken "soon." Channel 2 News' diplomatic correspondent Udi Segal said Israel does not believe that the US will take military action as Iran closes in on the bomb. The US, the TV report said, has not provided Israel with details of an attack plan. President Obama has not promised to attack Iran if all else fails. Conditions cited by Defense Secretary Leon Panetta for an American attack do not calm Israeli concerns. And Obama has a record of seeking UN and Arab League approval before action. All these factors, in Jerusalem's mind, underline the growing conviction of Netanyahu and Barak that Israel will have to tackle Iran alone, the TV report said.
WEEK OF AUGUST 5 THROUGH AUGUST 11
Hezbollah: Iran's Nuclear Program Designed to 'Finish Off' Israel
(The entire equation in the Middle East will change, Walid Sakariya tells al-Manar TV)
Aug. 10….(Times of Israel) Hezbollah MP Walid Sakariya told Lebanese television this week that the nuclear weapon Iran is allegedly developing is intended to annihilate Israel. In a segment recorded and translated by MEMRI (the Middle East Media Research Institute), Sakariya, also a retired general, told his interviewer on Hezbollah's al-Manar TV Tuesday that should Iran acquire a nuclear weapon it would serve Syrian as well as Iranian interests, namely the eradication of the Jewish state. "This nuclear weapon is intended to create a balance of terror with Israel, to finish off the Zionist enterprise, and to end all Israeli aggression against the Arab nation," Sakariya said. "The entire equation in the Middle East will change," he asserted. Iranian officials typically assert that their controversial nuclear program is meant solely for peaceful purposes.
Decision by Netanyahu, Barak to Strike Iran Almost Final
Aug. 11….(Times of Israel) Prime Minister Benjamin Netanyahu and Defense Minister Ehud Barak have "almost finally" decided on an Israeli strike at Iran's nuclear facilities this fall, and a final decision will be taken "soon," Israel's main TV news broadcast reported on Friday evening. Channel 2 News, the country's leading news program, says Netanyahu and Barak are at the brink of approving an Israeli military attack despite opposition from the Obama administration and from many Israeli security chiefs. Critically, the station's diplomatic correspondent Udi Segal said, Israel does not believe that the US will take military action as Iran closes in on the bomb.
The US, the TV report said, has not provided Israel with details of an attack plan. President Obama has not promised to attack Iran if all else fails. Conditions cited by Defense Secretary Leon Panetta for an American attack do not calm Israeli concerns. And Obama has a record of seeking UN and Arab League approval before action. All these factors, in Jerusalem's mind, underline the growing conviction of Netanyahu and Barak that Israel will have to tackle Iran alone, the TV report said.
Israel's leaders have also noted that president George W. Bush vowed repeatedly that North Korea would not be allowed to attain a nuclear weapons capability, a vow that proved empty. Obama does not want to intervene militarily before the presidential elections in November, and it is doubtful that he would act afterwards, runs the Israeli assessment, the TV report said. Obama may believe that the US can live with a nuclear Iran, but Israel cannot, the report quoted those in "Netanyahu's circle" as saying.
As for presidential challenger Mitt Romney, he takes a more forceful position, but would probably not have the domestic support necessary to act in the first year of his presidency, if elected, and after that it would be too late. The US can live with Iran as a "breakout state," on the edge of attaining a bomb, the report said the prime minister's circle believes. But "for Israel, a breakout state is a nuclear state." Netanyahu, for his part, "is convinced that thwarting Iran amounts to thwarting a plan to destroy the Jewish people.
Netanyahu was reported to have said in private conversations that "if no one attacks, Iran will get the bomb," underlining that he does not believe sanctions will thwart Tehran. Militarily, an Israeli strike would prompt missile attacks on Israel, attacks by Hamas and Hezbollah from the south and the north, and upheaval on the Arab street, in the leadership's assessment. The assessment is that Syria's President Bashar Assad would not get involved, since this would finish him off, the report said. But if Iran got the bomb, the missile threat would be escalated, Hamas and Hezbollah further empowered, and there would be a danger of any crisis escalating into a nuclear crisis.
Diplomatically, an Israeli strike would prompt a confrontation with the US, global protests, international isolation for Israel, delegitimization, and a situation in which Israel was seen as the aggressor. But if Iran got the bomb, Israel would be defeated and humiliated diplomatically, and would become a liability to the US, the TV report said Israel's two key leaders believe.
Economically, an Israeli strike would deepen the economic slowdown and lead to a suspension of foreign investment. An Iranian bomb would end foreign investment in Israel, however, and prompt an exodus of Israel's best brains. Netanyahu and Barak were said to believe that an Israeli military strike, though opposed by Washington, would not shatter ties with the US. Survey figures that have impacted their thinking suggest significant US support for an American and for an Israeli strike on Iran, the TV report said.
Israel would not be planning to draw the US into a war with Iran by striking at Iran's nuclear facilities, the report said. And Israel does not believer an attack would prompt regional war. The report made much of a recent speech by Netanyahu, at the scene of Sunday's terror attack thwarted by Israel at the Gaza-Egypt-Israel border. Visiting the area on Monday, Netanyahu said Israel "must and can" only rely on itself to safeguard its security. "It becomes clear time after time that when it comes to the safety of Israeli citizens, Israel must and can rely only on itself. No one can fulfill this role except the IDF and different Israel security forces of Israel, and we will continue to conduct ourselves in this way," Netanyahu said.
US: Al-Qaeda Gaining Foothold in Syria
Aug. 11….(YNET) Al-Qaeda has advanced beyond isolated pockets of activity in Syria and now is building a network of well-organized cells, according to US intelligence officials. Washington fears the terrorists could be on the verge of establishing an Iraq-like foothold that would be hard to defeat if rebels eventually oust President Bashar Assad. At least a couple of hundred al-Qaeda-linked militants are already operating in Syria, and their ranks are growing as foreign fighters stream into the Arab country daily, current and former US intelligence officials said. The units are spreading from city to city, with veterans of the Iraq insurgency employing their expertise in bomb-building to carry out more than two dozen attacks so far. Others are using their experience in coordinating small units of fighters in Afghanistan to win new followers. In Syria on Friday, rebel commanders appealed anew for new and better weapons from abroad. In fact, rebel leaders said that with so little aid coming to them from the US and other nations, they are slowly losing the battle for influence against hardline militants. They say their fighters are sometimes siding with extremists who are better funded and armed so they can fight the far stronger Syrian army.
It all could point to a widening danger posed by extremists who have joined rebels fighting the Assad government. US officials fear their presence could fundamentally reshape what began as a protest movement for reform composed of largely moderate or secular Syrians. The intelligence also offers some explanation for the Obama administration's reluctance to offer military aid to the anti-Assad insurgency, which Washington says it is still trying to better understand. Underscoring the administration's desire to step up efforts against the Assad government without providing weapons, the US set largely symbolic sanctions Friday on Syria's state-run oil company and Iranian-backed Hezbollah. It accused Iran and the Lebanese Shiite militant group of helping prop up Assad. Neither action will mean much immediately. Americans have been banned from doing business with Hezbollah since the US declared it a foreign terrorist organization in the 1990s.
US officials said the number of al-Qaeda operatives remains small in the context of the larger anti-government insurgency, with perhaps only 200 or so who are active. But ranks are growing, the officials said. Once operating as disparate, disconnected units, the al-Qaeda cells are now communicating and sometimes cooperating on missions, with a command-and-control structure evolving to match more sophisticated operations in places like Iraq and Afghanistan, US officials said. The coordination is sometimes as good as that of Syria's mainstream rebels. "There is a larger group of foreign fighters, who are either in or headed to Syria," the State Department's counter-terrorism coordinator, Daniel Benjamin, told reporters recently. He said Syrian opposition groups "assured us that they are being vigilant and want nothing to do with al-Qaeda or with violent extremists."
What Did Jesus Teach About Homosexuality & Gay Marriage
Aug. 10….(Carl Gallups) It would appear to be indisputable that same-sex marriage and the open celebration of homosexuality is quickly becoming a part of the global cultural agenda – and corresponding to the rise of the activist homosexual agenda is a teaching that is permeating the Christian world: "Since Jesus never mentions homosexuality nor does He specifically condemn it, homosexuality must be legitimate in Jesus' eyes." Let me address these issues from the biblical worldview. As a matter of fact, I include an entire chapter in my new book, "The Magic Man in the Sky: Effectively Defending The Christian Faith," on the importance and relevance of various worldviews upon cultures and civilizations.
This is a foundationally important issue. For if there is no God or accountability to God, our Creator, as the secular worldview would have us to believe, then homosexual marriage is a completely legitimate issue. Pedophilia and bestiality would not be out of the question either, should the prevailing secular worldview "deem" the lifestyles to be acceptable and the "new norm." The biblical worldview, however, is grounded in the unchanging tenets of the Word of God. This is where the loudest cultural clash occurs … when two worlds collide.
So, did Jesus condemn, speak of, or even mention homosexuality? The one who espouses this false teaching usually begins by saying that he discounts both the Old Testament and the writings of Paul and adheres only to the four Gospels. In so doing, they think they have found a convenient way to justify the homosexual lifestyle. First, the gyrations one must use to reach this illogical conclusion are astounding and ought to be the first dead giveaway of the falsehood of the proposition. But, secondly, let's simply examine the question on its face, did Jesus ever say anything in the four Gospels that would condemn the homosexual lifestyle or homosexual marriage?
As it turns out, yes, He did. As a matter of fact, He spoke very clearly and directly about the issue. Let me begin with Matthew 19:4. Here Jesus is answering a question from the Pharisees regarding divorce. However, his answer is very telling concerning the entire issue of sexuality, the purpose of sexuality, marriage and the proper form of marriage. Here are the words of Jesus: "And He answered and said to them, 'Have you not read that He who made them at the beginning "made them male and female," and said, "For this reason a man shall leave his father and mother and be joined to his wife, and the two shall become one flesh"?'" (Matthew 19:4)
Here Jesus upholds creation, male and female sexual relationships (in marriage), male and female marriage, procreation as a part of male and female marriage, and the sanctity of male and female marriage and sexual relationships. His answer is a blanket ignoring (thus condemnation as perversion) of anything outside God's standard for sexuality and marriage. This truth cannot be legitimately explained away.
But, Jesus gets even more direct concerning the issue of homosexuality. In John 5:46-47, Jesus tells his detractors that unless one holds to the writings of Moses (the first five books of the Bible), one cannot fully know or understand truth or Jesus Himself. "For if you believed Moses, you would believe me; for he wrote about Me. But if you do not believe his writings, how will you believe my words?" (John 5:46-47) Of course, in the first five books of the Bible we read of the days of Noah and Sodom and Gomorrah (Genesis) and the blanket condemnation of homosexuality as perversion (Leviticus). Oh well, so much for throwing out the Old Testament to legitimize homosexuality. But wait – Jesus gets even more direct with the matter.
Jesus also spoke of the destruction of the Sodomite (openly celebrating homosexuality) cities of Sodom and Gomorrah. (Luke 17:28-32; Matthew 10:15; 11:24; Mark 6:11.) The presenting sin that brought about the destruction of those cultures was homosexuality. Consider these words found in the book of Jude: "Even as Sodom and Gomorrah, and the cities about them in like manner, giving themselves over to fornication, and going after strange flesh, are set forth for an example, suffering the vengeance of eternal fire. Likewise also these filthy dreamers defile the flesh, despise dominion, and speak evil of dignities." (Jude 1:7-8)
Three of the four gospels contain quotes from Jesus about the sinful condition of Sodom and Gomorrah and the destruction that the celebration of the presenting sin of homosexuality wrought upon them. One of those quotes equates the sins of Sodom (homosexuality) to the same type of pervasive perversion of Noah's day (Luke 17:26-30). So, as it turns out … YES, Jesus did speak rather forthrightly, and often, about the sin of homosexuality and the judgment that it brings upon societies that celebrate it.
But, most important to the issue is the matter of the person of Jesus. Who is He? Well, He claimed to be God with us. The Scriptures claim that He is God with us (Matthew 1:24). Even his enemies knew that Jesus was making this claim (John 10:33). So, if Jesus is "God with us," then we have to ask, "Does God condemn homosexuality?" The answer is obvious. From Genesis to Revelation, God's Word, homosexuality is condemned as perversion and a certain sign that God's judgment is on the way to the culture that openly celebrates it as "normal."
Now for the good news. Once we understand the correct and contextual biblical position in this matter, we also discover that homosexuality is not the unforgivable sin. There is hope, healing, forgiveness and salvation for anyone caught in the grips of any sinful lifestyle. Jesus extends his love and forgiveness to anyone, the Bible says, if one would repent (turn from) their sin and call upon Jesus Christ as Lord. Just like the woman caught in the act of adultery, you can hear Jesus say, "Neither do I condemn you, go and sin no more."
Ramallah Lynch Murders Finally Arrested
Aug. 10….(YNET) Nearly 12 years after the brutal lynching of two IDF reservists in Ramallah, security forces arrested two Palestinians who confessed to being actively involved in the act. The Ramallah lynch took place on October 12, 2000, when a mob of Palestinians murdered Vadim Norzich and Yossi Avrahami, and mutilated their bodies. The lynching occurred at the start of the al-Aqsa Intifada and despite attempts by the Palestinian Authority to erase any documentation of the brutal murders, the horrific images reached every corner of the world and sent shockwaves across Israel. In June, security forces arrested Marwan Ibrahim Tawfik Maadi, 51, and Yasser Ibrahim Mohammed Khatab, 40. Indictments were filed in the case with the Judea Military Court on Sunday.
19 Killed at Central Nigeria Church Bible Study
Aug. 9….(The Zaman) Three men entered a central Nigerian church just before Bible study began, but instead of joining the worship service they opened fire, killing at least 19 people in an attack that shows that violence is spreading in the divided nation. Witnesses and the military described a chaotic, blood-soaked scene at the Deeper Life church in Otite, a quiet neighborhood on the outskirts of the city of Okene, 250 kilometers (155 miles) southwest of Nigeria's capital, Abuja. Two gunmen sprayed the windowless sanctuary Monday night with fire from Kalashnikov assault rifles, said Lt. Col. Gabriel Olorunyomi, the head of a local joint army and police unit. Another armed man stayed back and switched off the generator providing lights in the church, leaving those inside unable to flee as the gunfire flashed through the darkness, witness Lawan Saliu said. Saliu, who suffered gunshot wounds to the stomach, spoke from a hospital bed Tuesday.
No group claimed responsibility for the attack, but the violence came as Nigeria is facing attacks from a radical Islamist sect known as Boko Haram. Olorunyomi said 15 people died in the church and four died later from their injuries. He said the number of wounded remained unknown, but that some of them sought care in hospitals, while others remained at home. A rescue official, who spoke on condition of anonymity, said that probably fewer than 20 people were wounded in the attack. The sect is blamed for more than 660 killings this year alone in Nigeria, according to an Associated Press count.
Nigeria, a nation of more than 160 million people, is divided between a predominantly Muslim north and mainly Christian south. While members of the two faiths often live and work together, and intermarry, Boko Haram attacks have increased religious tensions in the nation over the last year.
Billy Graham: 'Final Call' for America to Repent
(Blasts US 'indulgence, pride, lack of shame over sin)
Aug. 9….(WND) Believing God will allow him to live to 95, famed evangelist Billy Graham is making his "final call to America to turn to God." Timed to coincide with his 95th birthday, Graham is calling people in the United States and Canada to repentance as part of the "My Hope with Billy Graham" evangelistic outreach set for the week of Nov. 7, 2013. Unlike his famous stadium crusades over the past six decades, Graham is asking Christians to invite family, friends and neighbors to their homes to watch the "Living Room Crusade" on their televisions, tablets or smartphones as part of a massive grassroots effort to ignite a spiritual awakening in North America.
In what is expected to be the largest undertaking in its 60-plus year history, the Billy Graham Evangelistic Association hopes to mobilize millions of Christians to register as host "Matthews" at www.myhopewithbillygraham.org and undergo training to learn how to share their faith with others. "We have seen God visit our nation in powerful and transformational ways in the past," Preston Parrish, vice president of "My Hope with Billy Graham," told WND.com. "We are praying this will be a real moment of revival and awakening and transformation across our nation."
The announcement comes as Graham, whom Parrish described as "very sharp and keen mentally" at age 93, released a letter last month entitled, "My Heart Aches for America." In the letter, Graham recalled how his late wife Ruth once expressed concerns about the "terrible downward spiral of our nation's moral standards" exclaiming, "If God doesn't punish America, He'll have to apologize to Sodom and Gomorrah." Graham wondered what his wife would think of America today, noting millions of babies have since been aborted and "self-centered indulgence, pride and a lack of shame over sin are now emblems of the American lifestyle." "My heart aches for America and its deceived people," wrote Graham. "The wonderful news is that our Lord is a God of mercy, and He responds to repentance. In Jonah's day, Nineveh was the lone world superpower, wealthy, unconcerned and self-centered. When the prophet Jonah finally traveled to Nineveh and proclaimed God's warning, people heard and repented. I believe the same thing can happen once again, this time in our nation."
America and the world seem to be in a state of growing apostasy and unbelief. Atheism and agnosticism is growing by leaps and bounds. In history, when there is great darkness engulfing the world, there is also the opportunity for a great light to come, the gospel light. And so at this time when we seem to be spiraling downward into spiritual darkness, it is the ideal and opportune time for a great spiritual awakening." Graham's letter comes as a growing number of spiritual and political leaders have made similar calls for repentance, stressing that the nation is in a downward spiral of economic decline, corruption, immorality, secular humanism and attacks on religious liberty.
Iran Reaffirms 'Unbreakable' Alliance With Syria's Assad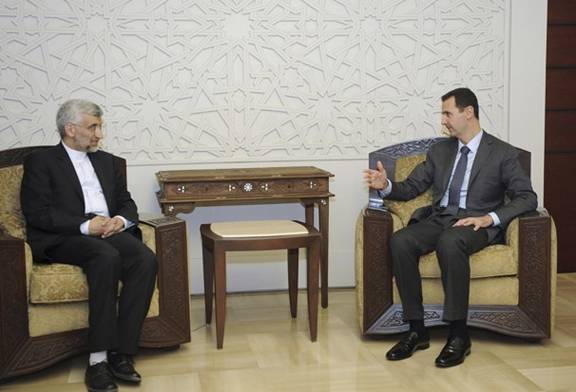 (Assad makes first public appearance in two weeks in meeting with senior Iranian
official; "axis of resistance" will not fall, says Jalili; Turkey hints Tehran responsible
for ongoing Syria bloodshed.)
Aug. 8….(Jerusalem Post) Iran assured Syrian President Bashar Assad on Tuesday that his country was a vital partner in its regional anti-Israeli alliance, a bond that would not be broken by a rebellion it said was backed by the two countries' common enemies. "Iran will not allow the axis of resistance, of which it considers Syria to be an essential part, to be broken in any way," Syrian state television quoted Saeed Jalili, head of Iran's Supreme National Security Council, as telling Assad. Jalili's meeting with Assad, shown on Syrian TV, was the first broadcast footage of the president in two weeks. Assad has been shown on television only twice since a July 18 bombing which killed four members of his inner circle, the biggest single blow he has suffered during an armed insurgency.
Jalili said the 17-month uprising was not a domestic matter for Syria but a "conflict between the axis of resistance and its enemies in the region and the world." The "axis of resistance" refers to Iran's alliance with Syria and Lebanon's Shi'ite group Hezbollah, which fought a month-long war with Israel in 2006, with Iranian and Syrian support. It also includes some Palestinian terrorist groups. Also Tuesday, Turkey's Foreign Ministry condemned comments by an Iranian official blaming Ankara for the bloodshed in Syria and warning Turkey it would be next. "It is unacceptable and irresponsible that Iranian officials in various posts continue to target our country through their statements, although Turkey's principled foreign policy is known to everyone," the Foreign Ministry said in a statement. "Everyone knows who, inside and outside Syria, is responsible for the human tragedy, caused by the Syrian regime. They will be called to account by history and human conscience."
Syria: Iran Vows it Will Not Allow Assad to Fall
(Iran pledged that its "axis" with Syria will "never" be allowed to break when Tehran sought to bolster President Bashar al-Assad by sending a senior envoy to Damascus.)
Aug. 8….(Telegraph) Mr Assad made his first appearance on state television for over a fortnight, promising to continue the struggle against his enemies "without respite". Iran has been trying to guarantee the survival of Mr Assad, who serves as Tehran's only reliable ally in the Middle East, by supplying Syria's regime with funds, weaponry and expert personnel to aid the campaign against rebels. Saeed Jalili, the secretary of Iran's Supreme National Security Council, came to Damascus as a visible symbol of that support. "Iran will never allow the resistance axis, of which Syria is an essential pillar, to break," he said. The "axis of resistance" refers to the Middle East's anti-Western powers: Iran, Syria and the armed groups, Hizbollah and Hamas, although in reality the latter has already broken away by ending its presence in Damascus.
Iran and Syria both claim that foreign countries have caused the uprising against Assad with the aim of destroying the "axis". During his visit, Mr Jalili echoed that message. "What is happening in Syria is not an internal issue but a conflict between the axis of resistance on one hand, and the regional and global enemies of this axis on the other," he said. Syria's regime has suffered a series of reverses in recent weeks, with Riyad Hijab, the prime minister, defecting on Monday and denouncing Assad's "murderous" government.
The rebel Free Syrian Army now controls much of the country: its fighters are struggling for possession of Aleppo, the commercial capital. The FSA claimed to be delaying the regime's advance on the city at the end of a day of intense fighting. Assad's forces had been unable or unwilling to enter the key district of Salaheddin, despite reinforcements of thousands of troops and hundreds of tanks, according to rebel spokesmen. The insurgents were also encircling government troops in the northern half of Aleppo. They believe the army's inability to fully employ tanks in built-up areas has blunted its assault. On Tuesday, however, Assad reassured his Iranian guest of his determination to fight on. "The Syrian people and their government are determined to purge the country of terrorists and to fight the terrorists without respite," he said. The Iranian envoy also demanded the release of 48 of his country's citizens, who were kidnapped by Syrian rebels while visiting a shrine near Damascus. Jalili pledged to use "all means possible" to win their freedom. An official letter sent to the US administration by Iran's foreign ministry said that Washington, as the "manifest" sponsor of "terrorist groups" in Syria, was responsible for the captives' safety.
The rebels, for their part, claimed that members of the Iranian Revolutionary Guard Corps were among the hostages. They believe that Iran has sent soldiers from this unit to fight alongside Syrian forces. The pilgrimage was, the rebels say, merely a cover for infiltrating more Iranian combatants into the country. To support this allegation, the rebels produced military identity cards supposedly found on the hostages. However, any Iranian who has performed compulsory military service will hold these documents: they do not prove current membership of the country's armed forces. Syria's regime, dominated by members of the Alawite sect of Shia Islam, bases its alliance with Iran's Shia rulers on religious fraternity. In addition, Syria provides Iran with its only base for influence in the Arab world, as well as offering a route for supplying weapons to Hizbollah, the radical Shia group based in south Lebanon.
If Assad were to be overthrown, Iran would risk losing this influence and its vital link to Hizbollah. Experts believe this would amount to a strategic setback. "For Iran, Syria is a very important partner in a region where allies are not easy to come by," said Gareth Stansfield, from the Middle East and North Africa programme at Chatham House. "If Assad goes, he will replaced by a government that is likely to be totally antipathetic to Iran's wider interests." Sixteen civilians, mostly Alawites and Christians, meanwhile were killed by anti-regime gunmen in an attack on a housing compound near Homs, according to the Syrian Observatory for Human Rights. The majority of Syria's population is Sunni Muslim, while the ruling clan of President Bashar al-Assad belong to the Alawite sect, an offshoot of Shia Islam.
Jalili in Damascus Underscores Iran's Commitment to Assad
Aug. 8….(DEBKAfile Special Report) Tehran gave Bashar Assad its strongest avowal of support Tuesday, Aug. 7, while heaping threats on the heads of his enemies. Saeed Jalili, head of Iran's Supreme National Security Council, stood alongside the Syrian ruler in Damascus at the end of their talks and vowed not to let Iran's "close partnership with the Syrian leadership to be shaken by the uprising or external foes" or the "axis of resistance (Iran, Syria, Hizballah) be broken in any way." Assad then affirmed his determination to purge Syria of violence and bring his forces to victory. When Iranian and Syrian leaders refer to "external foes," they mean the US, Turkey, Saudi Arabia, Qatar and Israel. Jalilii was sent to Damascus to publicly and unambiguously display Iran's commitment to save Assad from being overthrown either by internal or external forces. He arrived from Beirut after a conference Monday with Hizballah leader Hassan Nasrallah. The Iranian official most likely laid before the Syrian ruler plans for the responses of the three allies to coming events in the Syrian conflict.
Tehran is not done with threats after shaking its fist at Israel: Tuesday, Aug. 7, Iranian Armed Forces Chief Gen. Hassan Firuzabadi pointed at Ankara and other Middle East capitals when he declared: "Turkey will be next in line for violence after Syria if it continues to work on behalf of Western interests." He went on to assert that "Ankara is toeing the Western (American) line in the region, like Saudi Arabia and Qatar. They are therefore accountable for the bloodshed in the Arab Republic [Syria]" The Iranian army chief warned: "If those nations carry on this way, they should realize that Turkey is the next in line." He was in fact holding them all responsible for a potential outbreak of war with Turkey. Spreading around responsibility for violence with accompanying threats appears to be Iran's latest diplomatic ploy.
Earlier Tuesday, Tehran passed a message to Washington in which the United States was held responsible for the lives of the 48 Iranians nabbed by Syrian rebels in Damascus last week. The message was dropped off at the Swiss embassy in Tehran which handles US interests in the absence of diplomatic ties. It denied that the hostages were Revolutionary Guardsmen and insisted they were pilgrims to Shiite shrines in Syria. All the countries "supporting current events in Syria, starting with the US," would be held responsible for their safety by Tehran.
The rebel Free Syrian Army's Al-Baraa Brigade has threatened to execute its Iranian "prisoners" if Syrian army shelling continues against Aleppo. Three were reported already dead as a result of that shelling. Gen. Firuzabadi addressed his threat to Turkey shortly before the arrival in Ankara of Iran's foreign minister, Ali-Akbar Salehi, in the hope of galvanizing the Turks into forcing the Syrian rebels to let go of their Iranian hostages.
Tehran now holds at least three nations, the US, Turkey and Israel, in peril of military action in the context of the Syrian conflict. Israel was the object of the first threat of engulfment by the "Syrian fire."
Syrian Christians Caught in the Middle
(Syrian Christians are increasingly being targeted for attack by radical Islamists)
Aug. 8….(DW) As fighting between the Syrian regime and the forces of the opposition has intensified, so has the suffering of the civilian population. Hundreds of thousands of citizens of different political and religious backgrounds have been displaced. Some are still in the country, while others have fled to the border regions in neighboring countries. Among them are many Syrian Christians, who constitute around 10 percent of the population. They fear that, if the uprising against the dictator Bashar al-Assad is successful, they will find themselves on the losing side regardless of whom they support.
Christian refugees from the Syrian city of Kusair recently told a correspondent for Spiegel Online that many of their relatives had been murdered by radical Islamists who had joined the fight against the Assad regime. The refugees spoke of a concerted campaign against the Christian minority. "We are constantly accused of working for the regime," said a Christian woman whom the magazine spoke to in Lebanon. Initially, she said, they got along well with the rebels, but later on Islamists, most of whom come to Syria from other countries, incited the rebels to turn on the Christians.
For many years Christians enjoyed a far better status, and above all greater security, under the Assad regime than their fellow believers did in other Arab countries. "Many of them are now very afraid that a form of political Islam will come to power that regards Christians as just a minority, as dhimmi [non-Muslim subjects] who do not enjoy the same rights and obligations as other citizens." There is also a growing fear of anti-Christian terror commandos like those that are active in Iraq.
Syrian sociologist Ishaq Kanaou makes similar observations. "The Christians in Syria are very afraid that Islamic forces will come to power, and that they themselves will become second-class citizens as a result," Kanaou told DW. "This fear is based, of course, on the experiences of Christians in Egypt, and above all in Iraq, where they have been increasingly marginalized." Nonetheless, he says, "the majority of Syrian Christians are now on the side of the opposition," though he adds that they are acting very cautiously as they don't want to make themselves vulnerable to either side. "Just like other Syrian citizens, the Christians fear the brutality of the regime. But they're also afraid of radical and extremist groups."
For years the Assad regime has been trying to ensure that the Christians would remain loyal, and to this end it has been stirring up among them a fear of Islamists that is now increasingly becoming a reality, but the regime also uses threats and intimidation against Christians to coerce their support.
Assad Rides Crest of Disintegrating Country
Aug. 6….(DEBKAfile Special Report) UN Secretary General Ban Ki-moon was voicing the general consensus when he said Friday, Aug. 3, "The conflict in Syria is a test of everything this organization stands for." He stopped short of giving the UN a failed mark. "World powers must overcome their rivalries to end the proxy war in Syria dividing the country into parts, in which different militias fight each other," he said,
Nonetheless, the resolution approved by the general assembly roundly condemned the Assad regime and rapped the Security Council, but had no teeth.
Ban was speaking of a future danger. Debkafile reports it is already happening. Day by day, new militias spring up to fight the Assad regime, five in the last 48 hours. They fall into three main categories: they represent one Syrian ethnic minority or another, Islamists streaming in from across the Middle East, or rebels groups armed and backed by Arab and Muslim intelligence bodies.
Common to them all is contempt for the mainstream Free Syrian Army which insists it is the umbrella organization for the entire rebel movement. The biggest new paramilitary group rising from Syria's war-torn landscape is the Kurdish coalition formed by the Syrian Democratic Union Party and elements of the Turkish PKK, which continue to arrive from Iraq and are taking up position on the Syrian-Turkish border. Kurdish fighters are occupying one northern Syrian town and village after another, laying the foundation for an independent Syrian Kurdish state which plans to link up with the Kurdish Regional Government of Iraq.
The merger of Syrian and Turkish Kurdish militias with the Iraqi Kurdish peshmerga would produce a Kurdish army of 225,000 fighting men. Terrified that the separatism sweeping its brothers will infect the Turkish Kurdish minority, and suspecting Washington of surreptitiously supporting it, Turkish intelligence, the MIT, was instructed to establish and arm two Turkmen militias in the Syrian Kurdish region: Brigades of Mehmet the Conqueror and Brigades of Sultan Abdulhamid.
In Aleppo, the FSA has been displaced at the head of the campaign against government troops by a militia established by the Muslim Brotherhood and a rival set up by radical affiliates of al Qaeda, which is a hodgepodge of jihadists from Libya, the Gaza Strip, and Egyptian Sinai. Saudi and Qatari intelligence services are competing for the favors of these militias by supplying them with arms. American intelligence analysts keeping watch on Syria warned Saturday, Aug. 4, that if the proliferation of fighting militias taking part in the conflict goes on, Syria will soon have more than a hundred mini-armies, some of them Christian and Druze. In no time they will be fighting each other.
American and European military sources explain their reluctance to provide the Syrian rebel movement with heavy anti-tank and anti-air weapons capable of tipping the scales of the fighting in Aleppo by their uncertainty about whose hands they will end up in.
Saturday saw the state of battle in Aleppo undecided. In an attempt to break the tie, Assad sent MiG fighter-bombers to bomb rebel positions in the northern sector of the city. He hopes to recover control of Aleppo well before external powers reach a decision on supplying the rebels with heavy arms.
In Damascus, Syrian troops backed by dozens of tanks and armored vehicles Friday night stormed Damascus' southern district of Tadamon, the last rebel bastion in the capital. Activists reported that troop were conducting house to house raids and had executed at least 12 people.
Muslim Brotherhood Establishes Militia Inside Syria
(The Muslim Brotherhood has established its own militia inside Syria as the country's rebels fracture between radical Islamists and their rivals)
Aug. 6….(The Telegraph) Calling itself the "Armed Men of the Muslim Brotherhood", the militia has a presence in Damascus as well as opposition hot spots like Homs and Idlib. One of their organisers, who called himself Abu Hamza, said that he started the movement along with a member of the Syrian National Council (SNC), the opposition alliance. "We saw there were civilians with weapons inside, so we decided to co-operate with them and put them under one umbrella," he said.
Hossam Abu Habel, whose late father was in Syria's Muslim Brotherhood in the 1950s, said that he raised $40-50,000 (£25,000-£32,000) a month to supply Islamist militias in Homs province with weapons and other aid. The militias he funded were not affiliated to the Free Syrian Army (FSA), the main rebel movement, added Habel. "Our mission is to build a civil country but with an Islamic base," he said. "We are trying to raise awareness for Islam and for jihad."
The Syrian wing of the Muslim Brotherhood has been revitalized by the organization's success in Egypt, where it won both parliamentary and presidential elections. In the early days of the uprising against President Bashar al-Assad, secular and Islamist rebels were both prepared to fight under the FSA's banner and recognize the SNC as their political masters. But the FSA, dominated by defectors from the regime's army, has fallen out with the SNC, whose leaders are in exile. It now has its own political front, the Syrian Support Group (SSG). This split has divided the revolution's main international backers, with Saudi Arabia supporting the FSA and Qatar moving closer to the SNC and the Islamist militias.
The divisions are affecting operations on the ground: competing militias co-operate when necessary but otherwise disavow each other. "I would take it as an insult if you described me as FSA," said Abu Bakri, a front line commander of an Islamist militia in Aleppo calling itself the Abu Emara Battalion. One activist described how he was working with Sunni politicians in Lebanon to buy arms for the FSA with Saudi money. A member of the FSA command centre, located in neighboring Turkey, told the Daily Telegraph that they have this week received large consignments of ammunition, machine guns and anti-tank missiles. At one point Saudi Arabia and Qatar were both funding the FSA, with the command centre receiving up to $3 million in cash every month. But the operative said the situation had changed. "Now we are not working with the Qataris because they made so many mistakes supporting other groups." But the fracturing of the armed opposition raises the prospect of post-Assad Syria becoming a battleground. "This adds to the fragmentation and tones down the credibility of the opposition," said Louay Sakka, the SSG's Executive Director. "Supporters should go through the proper channel of the Free Syrian Army military council rather than build their own militias."
Amr al-Azm, a Syrian-American academic who was briefly on the SNC, said that Syria risked the same kind of disintegration that was set in motion by Saddam Hussein's downfall in neighbouring Iraq. The West's decision to limit its involvement in the Syrian conflict, and refrain from supplying lethal weapons, had left a gap for the Islamists to fill. "By playing to your own fears, you are making them come true," said Mr Azm. "By not intervening, you are forcing people to go those who have resources. No one wants to go to al-Qaeda, but if you are down to your last five bullets and someone asks you to say 'Allahu Akbar' (God is greatest) five times, you do it."
US to smash Iran's missiles, Israel tackle Syria, Hizballah
Aug. 6….(DEBKAfile Exclusive Report) An authoritative US military source told Debkafile Sunday, Aug. 5 that the American armed forces are standing ready for war with Iran. Without going into the thorny question of who should lead the operation to dismantle Iran's nuclear program, the US or Israel, it is understood that one of the US Air Force's tasks will be to destroy Iran's Shehab-3 ballistic missile batteries which have Israel and Saudi Arabia within range. This task is not as formidable as Iranian spokesmen would have the world believe. Tehran's entire stock of those missiles is no more than 30-40. That quantity is not nearly enough to take on the entire gamut of potential wartime foes, the United States Middle East bases, Israel, Saudi Arabia, Qatar, Jordan and Turkey. They would quckly be picked off by American Aegis Ballistic Missile Defense Systems and Israeli Arrow guided interceptor rockets, which are synchronized through the advanced US X-Band radar systems installed in the Israeli Negev and southeast Turkey.
In any case, it is hard to believe that Iran would empty its entire ballistic missile arsenal in a single blazing assault at the start of war. "They are too canny to leave themselves without some Shehabs in reserve for crises even more acute than the outbreak of war," said the US military source. He went on to explain that by wiping out the Shehabs, the US high command would leave the Israeli Air Force free to take on the thousands of rockets Syria, the Lebanese Hizballah and the Palestinian Hamas and Jihad Islami have stored ready for shooting in support of an Iranian missile offensive, not just against Israel, but Turkey and Jordan as well. Saturday, the Iranian Defense Minister, Gen. Ahmad Vahidi, announced that his ministry's aerospace industries had successfully test-fired the fourth generation of high-precision Fateh-110 missiles with a range of over 300km. He said that the new missiles can hit and destroy both land and sea targets, enemy concentration points, command centers, missile sites, ammunition dumps, radars and other targets with 100 percent precision.
Debkafile's military sources add that the Fateh-110 is the core weapon Syria and Hizballah have stocked for destroying strategic targets in Israel, Jordan and Turkey. Sunday, Aug. 5, a senior Israeli defense official reported that Israel is upgrading its Arrow II ballistic missile shield, designed to intercept medium range rockets and fill the gaps left by Iron Dome. The announcement in Tehran was taken in Israel as a threat and an indication that the improved Fatah-110 had already been dispatched to its Damascus and Beirut destinations, so exacerbating the perils of Syria's Scud missiles and chemical weapons which its government has threatened to use against external enemies.
Palestinians Abandoning Assad
Aug. 6….(WND) Syria's Palestinians are turning against longtime President Bashir al-Assad and will be a thorn in his side if his regime survives, according to a new report. Foundation for the Defense of Democracies Research Director Jonathan Schanzer says in his article, "Why the Palestinians are Turning Against al-Assad," that the Syrian leader has disillusioned his Palestinian supporters. "Even if Syrian strongman Bashar al-Assad somehow survives the current uprising aimed at toppling his regime, the beleaguered dictator will have a lingering identity problem," he writes. "Indeed, a long-standing pillar of Syria's foreign policy has been support to the Palestinian 'resistance' against Israel."
However, he writes, "In the wake of the Syrian onslaught, the country's estimated 500,000 Palestinians are abandoning, even challenging their longtime champion. With this dramatic shift, al-Assad is left more isolated in the Middle East than ever before." The report is a follow-up to an earlier analysis that said the Palestinians in Syria may end up in the driver's seat if Assad is toppled. The previous report noted Assad has brutalized his Palestinian population and has even attacked Palestinian refugee camps. "Indeed, it is already clear that the Syrian conflict has placed Assad's Palestinian clients into an untenable position. It's hard for Palestinian groups to claim they are fighting for justice when their patron is in the midst of slaughtering its own people, 18,000 souls and counting, in cold blood," Schanzer writes. "That is why an ever growing number of Palestinians are now working to topple the regime that once supported them," Schanzer writes. "But while the Assad regime has been willing to leverage the Palestinian cause on the international stage, those Palestinians living within Syrian borders have never been treated well. Palestinians in Syria are not allowed to vote or hold Syrian passports."
The conclusion is that the Palestinians are choosing sides, and their choice isn't to go with Syria. The reasons, Schanzer said, are many. "In recent weeks, the violence against Palestinians has spiked. In one incident, Syrian forces bombed a hospital in Yarmouk refugee camp, reportedly because medics were treating the wounded from both sides," he says. "This came on the heels of reports that Syrian forces opened fire on demonstrators in Yarmouk, killing four and injuring several others." However, that may be overstating the case, according to former Palestine Liberation Organization fighter Walid Shoebat. Shoebat says there are more powerful entities maneuvering Middle Eastern events. "That would be an exaggeration, what holds Syria's future is next door, Turkey, which is currently the superpower in the region, and the United States policy has left the Middle East to be policed by Turkey," Shoebat said. "When it comes to the Middle East, we should always start from top to bottom, the BIG dogs down to the underdogs. The Big Dog is Turkey (Sunni), then Iran (Shiite)," Shoebat said.
He said outside players also are going to steer the direction of the civil war. "The outside interference of course comes from Russia, the US and the EU. Today the bone is gripped between two vicious rivals, Iran and Turkey. It is all about turning Syria from Shiite control to Sunni control. Americans forgot about sectarian feuds in Syria and years ago in [the] Lebanon civil war," Shoebat said. He also believes Iran is losing out in the Syrian conflict. "Saber-rattling Iran is losing to the quite calculating Turkey which will soon emerge to cash in the entire Middle East. If you go to the Palestinian streets today you will find the Turkish flags flying all over," Shoebat said. "It is Neo-Ottoman and is purely Islamic. I have tons of footage from the Arabic sources to show you who really is fighting in Syria, it is al-Qaida and tons of its fresh duplicates who are freshly recruited to join the Islamist forces called Free Syrian Army," Shoebat said. "Americans by and large are naive when it comes to Syria. Syria is a bone of contention between Iran and Turkey, the bigger dog will gain it, Turkey," Shoebat said.
One Palestinian faction supporting the Syrian regime, the Popular Front for the Liberation of Palestine-General Command, started in 1968 after Ahmed Jibril, the secretary general for the PFLP, broke with PFLP founder George Habash. Jibril opposed Habash's willingness to work through political and diplomatic channels, favoring only armed conflict. Schanzer notes that PFLP-GC hasn't hesitated to attack and kill fellow Palestinians. "World powers aim to provoke sectarian divide and separatism in region including Syria; supporting government and nation of Syria in the current situation can deter Zionist regime plots," Jibril said. He made the comments in a meeting with Iranian Parliament Speaker Ali Larijani in June. Jibril also praised the Iranian regime for being the only country to support the Palestinians. Shoebat says that after reading one of Jibril's messages in Arabic, Jibril is indeed supporting Assad. "Ahmed Jibril of the PFLP is arming to fight against the Free Syria Army since the PFLP and its sister smaller faction, DFLP, are socialist and has always been a puppet of the Russians," Shoebat said. "The PFLP is not Islamist and is neither Sunni nor Shia in its ideology. Of course it will side with the Syrian regime. But to say that they are the 'key' in holding Syria's future is simply American naïveté.
White House Differs With Romney on Jerusalem as Capital of Israel
Aug. 6….(CNSNews.com) In what marks a decisive difference in the presidential campaign, one day after Republican presidential candidate Mitt Romney called Jerusalem the capital of Israel, the White House asserted that Romney's position was different from that of the Obama administration. "Our view is that that is a different position than this administration holds. It's the view of this administration that the capital should be determined in final status negotiations between parties," White House spokesman Josh Earnest told reporters Monday. "I would remind you that that is the position that has been held by previous administrations both Democratic and Republican. So, if Mr. Romney disagrees with that position, he is also disagreeing with positions taken by previous presidents like Bill Clinton and Ronald Reagan," Earnest added.
On Thursday, White House Press Secretary Jay Carney struggled during the afternoon press briefing to answer what the capital of Israel was, insisting reporters already knew the administration's policy and that the policy was not changed. Hours later he issued a written answer, stating it will be negotiated between Israel and the Palestinians. On Sunday, Romney, a former Massachusetts governor, spoke from Jerusalem addressing the close relationship between the US and Israel. "It is a deeply moving experience to be in Jerusalem, the capital of Israel," Romney said. "Our two nations are separated by more than 5,000 miles. But for an American abroad, you can't get much closer to the ideals and convictions of my own country than you do in Israel. "We're part of the great fellowship of democracies. We speak the same language of freedom and justice, and the right of every person to live in peace. We serve the same cause and provoke the same hatreds in the same enemies of civilization," he added. On Thursday, IRN-USA Radio News reporter Connie Lawn asked Carney, "What city does this administration consider to be the capital of Israel – Jerusalem or Tel Aviv?"
Carney said, "I haven't had that question in a while. Our position has not changed, Connie." The reporter followed, "What is the position? What's the capital?" Carney responded, "You know our position."
Carney issued a written statement to answer the question. "The status of Jerusalem is an issue that should be resolved in final status negotiations between Israelis and Palestinians," Carney said in a written statement. "We continue to work with the parties to resolve this issue and others in a way that is just and fair, and respects the rights and aspirations of both Israelis and Palestinians." The statement mirrors the troubles thThe statement mirrors the troubles that State Department spokeswoman Victoria Nuland had at a March 29 press briefing.
According to the official State Department transcript, a reporter asked Nuland, "Is it the view of the United States that Jerusalem is the capital of Israel, notwithstanding the question about the Embassy, the location of the US Embassy?" Nuland said, "We are not going to prejudge the outcome of those negotiations, including the final status of Jerusalem." The reporter said, "Does that mean that you do not regard Jerusalem as the capital of Israel?" Nuland responded, "Jerusalem is a permanent status issue; it's got to be resolved through negotiations."
The reporter further asked, "That seems to suggest that you do not regard Jerusalem as the capital of Israel. Is that correct or not?" Nuland responded, "I have just spoken to this issue –"
The reporter went on to ask, "You've spoken to the issue but didn't answer the question, and I think there's a lot of people out there who are interested in hearing a real answer and not saying, and not trying to duck and say that this has got to be resolved by negotiations between the two sides." The reporter again asked, "What is the capital of Israel?" Nuland said, "Our policy with regard to Jerusalem is it has to be solved through negotiations. That's all I have to say on this issue."
The reporter again asked, "What is the capital of Israel?" Nuland answered, "Our Embassy, as you know, is located in Tel Aviv." The reporter responded, "So does that mean that you regard Tel Aviv as the capital of Israel?" Nuland said, "The issue on Jerusalem has to be settled through negotiations."
---