WEEK OF SEPTEMBER 24 THROUGH SEPTEMBER 30
At UN, Abbas Attacks Israel, Blames Israel for Everything
(FOJ) Palestinian Authority President Mahmoud Abbas on Thursday launched a scathing attack on the Israeli government, accusing it of pursuing a "policy of war, occupation and settlement colonization" and rejecting the two-state solution.

Abbas declared that he has begun intensive consultations with various regional organizations and UN member states aimed at having the General Assembly adopt a resolution granting a Palestinian state the status of non-member.
Sept. 28….(Times of Israel) Palestinian Authority President Mahmoud Abbas addressed the UN General Assembly on Thursday, asserting that the Palestinians would seek full UN membership and condemned "relentless" attacks by "terrorist settler militias" in the West Bank. "We contend with attacks on our people, our mosques, our churches and our schools," Abbas said, in an apparent reference, in part, to the burgeoning phenomenon of price-tag attacks and vandalism in response to Israeli evacuations of outposts in the West Bank. "They are unleashing their venom against our fields, trees and properties," he said. Abbas said that "settler crimes" could be traced back to the Israeli government and were an "inherent byproduct" of continued occupation and an Israeli policy of "ethnic cleansing."
Israel was trying to altering Jerusalem's "historic character and the glorious image of the Holy City," Abbas charged, through "a campaign of ethnic cleansing against the Palestinian people via the demolition of their homes and prevention of their construction; the revocation of residency rights; the denial of basic services, especially with regard to construction of school; the closure of institutions; and the impoverishment of Jerusalem's community via a siege of walls and checkpoints that are choking the City."
Throughout his speech, Abbas referred to Israel as "the occupying power." Israeli actions on the ground, the "occupation of Palestinian water basins" and "control over the most fertile agricultural areas in our land as well as over our air, skies and borders," were "making the implementation of the Accords extremely difficult if not completely impossible," the Palestinian leader warned. "There can only be one understanding of the Israeli government's actions in our homeland. That the Israeli Government rejects the two-state solution. Israel is promising the Palestinian people a new catastrophe, a new Nakba."
On Monday, ahead of his UN speech, Abbas had reportedly expressed a willingness to restart peace talks with Israel. In a meeting attended by about 10 Jewish leaders, Abbas endorsed Alan Dershowitz's formula for returning to talks with Israel, participants of the meeting said.
Participants described Abbas as emphasizing an urgent need to return to talks with Israel due to the protests and fighting roiling the Arab world, and due to increased tensions with Iran. He asked his Jewish interlocutors why Israel was demanding that he recognize Israel as a Jewish state when he had repeatedly recognized its legitimacy. He was told that insensitivity to Jewish claims helped fuel the demand, and was reminded that last year, in his speech to the UN General Assembly, he noted only Muslim and Christian claims. The PA president repeated his commitment to a Palestinian state, and said that he accepts a 2002 Arab proposal to find a "justified and acceptable" solution to the refugee problem. However, others reported that Abbas at times appeared to despair of the situation of the Palestinian economy and talked of abandoning the Oslo Accords and retiring from public life.
Abbas Accuses Israel of Ethnic Cleansing & Stealing Jerusalem
Sept. 28….(Times of Israel) Palestinian President Mahmoud Abbas accused Israel of ethnic cleansing Thursday for building settlements in east Jerusalem. "It is a campaign of ethnic cleansing against the Palestinian people via the demolition of their homes," Abbas said in his speech to the UN General Assembly.
Shortly after, Israel Prime Minister Benjamin Netanyahu rebuked Abbas in his own address to the assembly. "We won't solve our conflict with libelous speeches at the UN," Netanyahu said.
Israel conquered the eastern part of Jerusalem from Jordan during the 1967 Mideast War. It later annexed it but the move has not been internationally recognized. The Palestinians want east Jerusalem to the capital of their future state in the West Bank.
Abbas also said he has opened talks on a new bid for international recognition at the UN, but didn't specify exactly when he will ask the General Assembly to vote. "Intensive consultations with the various regional organizations and the state members" were underway, he said. The Palestinians will apply to the General Assembly for nonmember state status. That stands in sharp contrast to last year, when they asked the Security Council to admit them as a full member state, but the bid failed.
Abbas insisted that the new quest for recognition was "not seeking to delegitimize Israel, but rather establish a state that should be established: Palestine." Palestinian officials said their bid is likely to be submitted on Nov. 29. Abbas said in his speech to the assembly that efforts to win Palestine status as an observer state, a lower level than last year's failed bid for recognition as a full state, were not intended to pose any threat to Israel. "We are not seeking to delegitimize Israel, but rather establish a state that should be established: Palestine," Abbas said. However, Abbas said he was "speaking on behalf of an angry people," who believed they were not winning their rights despite adopting a "culture of peace and international resolutions, "Israel gets rewarded while continues the policies of war, occupation and settlements," he said. Abbas also accused Israel of seeking to "continue its occupation of East Jerusalem, and annex vast parts of West Bank and refuses to discuss seriously the Palestinian refugees issue." He claimed that Israeli actions threatened to undermine the Palestinian Authority to the point "which could lead to its collapse."
Palestinian officials said that their bid for recognition will likely be submitted to the General Assembly on Nov. 29, after the US presidential election. Abbas has sought to avoid entangling the Palestinian statehood bid in US presidential politics. Appealing to other nations for their support, Abbas asked world leaders to help avoid a new "catastrophe" in Palestine. "Support the establishment of the free state of Palestine now, with Jerusalem as our capitol and let peace win before it's too late," he said.
Netanyahu:
'Clear Red Line

' Needed to Stop Iran's Nuclear Program

(Netanyahu warns future of world at stake over Iran's nuclear program)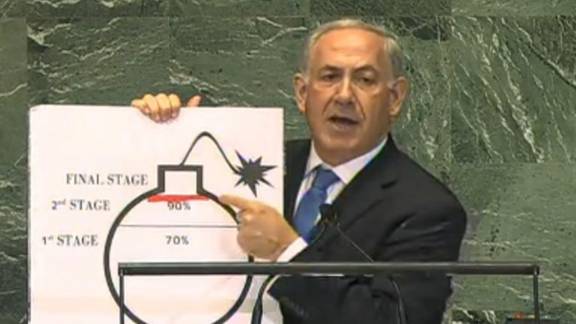 Sept. 28….(Times of Israel) Israeli Prime Minister Benjamin Netanyahu, in a dramatic speech to the United Nations, employed a simple diagram to hammer home his plea that the international community set a "clear red line" over Iran's nuclear program, warning that a nuclear-armed Iran would be tantamount to a nuclear-armed Al Qaeda. Netanyahu claimed Thursday that Iran would have enough enriched uranium to make a nuclear bomb by next summer. His remarks before the U.N. General Assembly amounted to an appeal to the US and other nations to join Israel in drawing a line that Iran cannot cross without risking a military response. Netanyahu argued that nothing less than the "security of the world" is at stake.
Some people peddle "the absurd" nation that a nuclear-armed Iran might stabilize the Middle East, he says, ridiculing the notion. He says he's been warning about a nuclear Iran for years, but now the hour is getting late. "I speak about it now" he says, because when it comes to the future of his country, "it is my duty to speak." He says every world leader committed to peace must act. Iran is using diplomacy merely to buy time, he says. For over 7 years, the international community has introduced heavy sanctions, he says. "It's had an effect, the Iranian economy has been hit hard, but we must face the truth: Sanctions have not stopped the Iranians' nuclear program." In the past year, he says, Iran has doubled its centrifuges. "There's only one way to peacefully" prevent Iran getting the bomb, by placing "red lines" on its nuclear weapons program. "Red lines don't lead to war. Red lines prevent war." Red lines might have averted some of the horrors of World War II, he says. Clear red lines can work with Iran, too, he says. Red lines forced Iran to back off on its threat to close the Strait of Hormuz, he noted. First, vital red line must be drawn "on Iran's efforts to enrich uranium."
Netanyahu then went into the mechanics of building a bomb, and said. "For Iran, amassing enough enriched uranium is far more difficult than producing the nuclear fuse," he says. Iran can produce "the detonator" in a year or less, in a tiny workshop that may be hard to find. "The same is true for the small facility in which they could assemble a warhead." So the only way to credibly stop Iran is at the enrichment stage, he says, and produces a sketch to prove his point. He explains how far along the enrichment process Iran already is. The red line must be drawn "before Iran gets to the point where it is a few months away or a few weeks away" from amassing enough enriched uranium to make a nuclear weapon.
Netanyahu Draws Israel's Red Line in Mideast Sand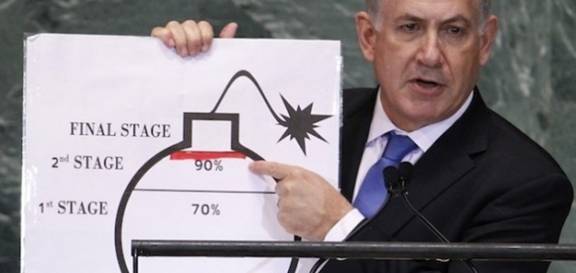 Sept. 28….(DEBKAfile Special Report) Addressing the UN General Assembly Thursday, Sept. 27 Israel Prime Minister Binyamin Netanyahu graphically depicted Israel's red line for Iran. He held up a simple diagram showing that Iran had covered 70 percent of the distance to a nuclear bomb and must be stopped before it reached the critical stage next spring or early summer. He stressed that it is getting late, very late to stop a nuclear Iran. The best way, he said, is to lay down a clear red line on the most vulnerable element of its nuclear program: uranium enrichment. "I believe that if faced with a clear and credible red line, Iran will back down and may even disband its nuclear program," he said. Red lines prevent wars, don't start them and in fact deterred Iran from blocking the Strait of Hormuz.
Israel and the US are in discussion over this issue, said Netanyahu. "I'm sure we can forge a way forward together. He went on to accuse Iran of spreading terrorist networks in two dozen countries and turning Lebanon and Gaza into terror strongholds. Hoping a nuclear-armed Iran will bring stability is like hoping a nuclear al Qaeda will bring peace, the prime minister remarked. Debkafile quotes some Washington sources as disclosing that the White House and Israel emissaries have come to an understanding that Israel will hold back from attacking Iran's nuclear sites before the US election in November, while a special team led set up by President Barack Obama completes a new paper setting out the end game for Iran. He put the team to work after concluding that negotiations with Iran had exhausted their usefulness and placed at its head Gary Samore, top presidential adviser on nuclear proliferation.
Netanyahu's citing of late spring, early summer 2013, as the critical point on Iran's path to a nuclear bomb appears to confirm that he has agreed to delay military action against Iran in negotiations with the White House. Our sources report that the Prime Minister was represented in those talks by Defense Minister Ehud Barak and National Security Adviser Yakov Amidror. According to another view, which is current in Washington's intelligence community, Israel was finally persuaded by fresh intelligence presented by the Obama administration which showed that Israeli estimates were overly pessimistic in judging the timeline for Iran's nuclear facilities to be buried in "immunity zones." That time line extended to spring 2013, leaving Israel five to six months up to April-May for ordering a military operation against those sites.
However, we have learned, Israeli intelligence circles dispute their American colleagues' estimate as "interesting" but inaccurate. Netanyahu in his speech confirmed that Washington and Jerusalem were constantly exchanging views and evaluations on the state of Iran's nuclear program. He also made the point that while intelligence services, American and Israeli alike, had remarkable aptitudes, their estimates on Iran were not foolproof.
President Obama, Sec. Clinton Lied About Libya Embassy Attack, Why?
Sept. 28….(Fox News) Fresh claims that US intelligence officials knew practically from the start that the attack on the US Consulate in Benghazi was terrorism possibly tied to Al Qaeda have lawmakers alleging they were misled and questioning whether the administration has something to hide. "This is turning into something not short of Benghazi-gate," Sen. Bob Corker, R-Tenn., told Fox News, adding he's "very suspicious" about the way the administration has handled this. Two senior US officials told Fox News on Thursday that US intelligence officials knew within 24 hours of the assault that it was a terrorist attack and suspected Al Qaeda-tied elements were involved. The account sharply conflicted with claims by US Ambassador to the United Nations Susan Rice on the Sunday after the attack that the administration believed the strike was a "spontaneous" event triggered by protests in Egypt over an anti-Islam film.
FOJ Note: Perhaps President Obama lied about the Libyan embassy attack because he wanted to promote Islam in the US, or because he wanted to diminish the freedom of speech in America, while promoting overtures to Muslim nations. Another possibility is that he wants Americans to be deceived about the levels of the terrorist wars being promoted against us.
Ahmadinejad to UN: 'Uncivilized Zionists' Threaten Iran
| | |
| --- | --- |
| | (FOJ) Iranian leader Mahmoud Ahmadinejad says he has a vision of a new world order that would be absent of the "hegemony of arrogance." His New World Order would do away with great satan (US) and little satan (Israel). |
Sept. 27….(Times of Israel) Iran's President Mahmoud Ahmadinejad told the UN General Assembly Wednesday that his country was under threat of military action from "uncivilized Zionists." "Continued threat by the uncivilized Zionists to resort to military action against our great nation is a clear example of this bitter reality," he said in the address, his last as president before his second term ends next summer. Ahmadinejad, in remarks that largely followed the prepared text of the speech lodged with the UN ahead of time, lamented that the major world powers had allied with the devil, and suggested a new world order that would end the "hegemony of arrogance," bolster human dignity and bring universal happiness. He also said he did not believe Muslims, Christians, Jews and Buddhists had "any problems with each other," but protested the "arms race and intimidation by nuclear weapons and weapons of mass-destruction by the hegemonic powers." The military threats by the Zionists to his country, he said, were a case in point. He said "a state of mistrust has cast its shadow" over international relations, and that there was "no trusted or just authority to help resolve world conflicts." Ahmadinejad was speaking a day after President Barack Obama told the General Assembly that the US "will do what we must to prevent Iran from obtaining a nuclear weapon. The US boycotted Ahmadinejad's speech, as did Israel. Canadian diplomats walked out as he took the podium. Wednesday marked Ahmadinejad's last address to the General Assembly as Iranian president. He will end his second four-year term next summer; presidential elections are scheduled for June.
Ahmadinejad Calls For New World Order, Under Mahdi
Sept. 27….(FOJ) All Praise Belongs to Allah, the Lord of the Worlds, and May Peace and Blessings be upon the Greatest and Trustworthy Prophet and His Pure Progeny, His Chosen Companions, and upon all Divine Messengers. Oh, God, Hasten the Emergence of Your Chosen Beloved, Grant Him Good Health and Victory, Make us His Best Companions, and all those who attest to His Rightfulness, so began Ahmadinejad in his speech at the UN. The Almighty God has not left us alone in this mission and has said that it will surely happen. If it doesn't, then it will be contradictory to his wisdom. God Almighty has promised us a man of kindness, a man who loves people and loves absolute justice, a man who is a perfect human being and is named Imam Al-Mahdi, a man who will come in the company of Jesus Christ (PBUH) and the righteous. By using the inherent potential of all the worthy men and women of all nations and I repeat, the inherent potential of "all the worthy men and women of all nations" he will lead humanity into achieving its glorious and eternal ideals.
The arrival of the Ultimate Savior will mark a new beginning, a rebirth and a resurrection. It will be the beginning of peace, lasting security and genuine life. His arrival will be the end of oppression, immorality, poverty, discrimination and the beginning of justice, love and empathy. The arrival of the Ultimate Savior, Jesus Christ and the Righteous will bring about an eternally bright future for mankind, not by force or waging wars but through thought awakening and developing kindness in everyone. Their arrival will breathe a new life in the cold and frozen body of the world. He will bless humanity with a spring that puts an end to our winter of ignorance, poverty and war with the tidings of a season of blooming. Delegates at the United Nations General Assembly applauded the speech given by Iranian President Mahmoud Ahmadinejad Wednesday.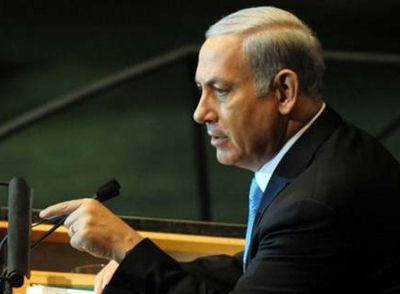 Meanwhile, Prime Minister Benjamin Netanyahu left for New York in the immediate aftermath of the Yom Kippur fast on Wednesday evening, to address the annual General Assembly of the United Nations on Thursday and conduct meetings with several world leaders. Shortly before flying out, Netanyahu bitterly castigated Iranian President Mahmoud Ahmadinejad's speech to the UN earlier Wednesday, and those who stayed in the room to hear it. "On the day that we pray to be inscribed in the Book of Life," the prime minister said in reference to Yom Kippur, "the authoritarian Iranian regime takes every opportunity to condemn us to death." He added: "The Iranian oppressor chose to call in public, in front of the entire world, for our disappearance. That is a black day for those who chose to remain in the room and listen to these accusatory words."
Netanyahu is expected to try to rally support for tougher sanctions and underline his demand that the international community, most especially the United States, halt Iran's race to a nuclear weapons capability. Surprisingly, Netanyahu's visit will not include a meeting with Obama, because of what the White House claimed were scheduling difficulties. At one point the White House said no such meeting had been sought, prompting the remarkable charge by an unnamed aide to the prime minister that the White House was lying.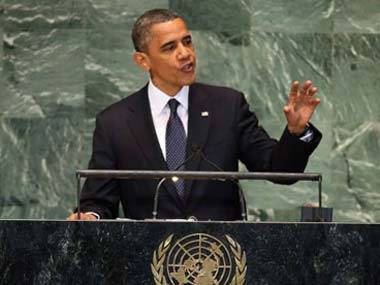 Although Obama, in the midst of his reelection campaign, with elections just weeks away, has not been meeting with any foreign leaders during his time in New York, his unwillingness to make time for Netanyahu has been widely discussed in American media. Some newspapers pointed out that he did find room in his schedule for appearances on several talk shows in recent days, including an interview with ABC's "The View" on Monday. The failure to overcome the scheduling difficulties appears to underline the tensions and differences between the two allied leaderships on Iran.
In his UN speech, Obama stated, "Among Israelis and Palestinians, the future must not belong to those who turn their backs on the prospect of peace. Let us leave behind those who thrive on conflict, and those who reject the right of Israel to exist. The road is hard but the destination is clear, a secure, Jewish state of Israel; and an independent, prosperous Palestine.
Egypt's Morsi to UN: End Israeli Occupation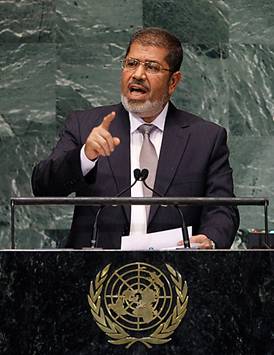 (In debut speech before General Assembly, Egyptian MB president urges int'l community to work toward establishing Palestinian state and 'changing identity of occupied Jerusalem.)
Sept. 27….(YNET) Egyptian President Mohammed Morsi on Wednesday urged the international community to work immediately toward the establishment of an independent Palestinian state within "all the occupied territories." In a belligerent debut speech before the UN General Assembly, Egypt's first democratically-elected president called for immediate progress that would "put an end to the colonialism and the settlements and change the identity of occupied Jerusalem." Three months after winning the general elections as the candidate of the Muslim Brotherhood movement, Morsi told the UN, "I am the first Egyptian president who was elected in a democratic vote at the end of the revolution."
The Egyptian president stressed that a Palestinian state must be built with Jerusalem as its capital," he said. "It is a shame that the world continues to ignore the rights of the Palestinians. All forms of occupation of the Arab nation must end. I promise that Egypt will support any Palestinian maneuver in the UN to obtain their legitimate right to a state." Morsi also called for a Middle East that is "free of nuclear weapons, without exceptions."
Turning his attention to Syria, Egypt's new Islamist president said his country opposes foreign military intervention to stop the civil war and prefers an inclusive, negotiated settlement. Speaking in Arabic, Morsi dedicated the first part of his speech to god, the prophet Mohammed and Islam.
Iranian Officers Reshape Assad's Shabbiha Militia into a 2nd Al-Qods
Sept. 27….(DEBKAfile Exclusive Report) Iran's Revolutionary Guards Corps (IRGC) has leapt into the Syrian battle arena, undertaking the task of transforming the Alawite Shabbiha militia, which has carried the brunt of Bashar Assad's brutal suppression of the Syrian opposition for 18 months, into a new corps, retrained and reorganized on the model of the elite Al Qods Brigade. Al Qods is the IRGC's arm of clandestine and terrorist operations in Iran's foreign arenas.
Debkafile's military sources report exclusively that when the Shabbiha is slapped into its new military shape, Bashar Assad will have at his disposal an extra 50-60,000 professional Alawite soldiers under arms, the nucleus of a Syrian Revolutionary Guards Corps. Our sources also reveal that Tehran has promised the Syrian outfit weaponry on a par with the Al Qods arsenal. So, unless he is overthrown in the interim, the Syrian ruler and Iranian government will command the biggest special operations force in the Middle East. For this project, a massive Iranian airlift of personnel and weapons is running daily from IRGC air bases in Iran into Syria. Most of the planes land at Damascus military airfield; some in other parts of Syria. They are carrying large numbers of IRGC and al Qods military officers and instructors, as well as enough arms to distribute to the Shabbiha combatants during their training and after they go out on field operations.
Our military sources disclose that by mid-week, the number of Iranian military personnel present in Syria had swelled to 2,200. They arrived with the commander of Tehran's Syrian enterprise, Gen. Ibrahim Hamadani, one of the deputies of Al Qods chief, Gen. Qassem Soleimani. His Syrian opposite number is Izzat Hassan, head of the Shabbiha.
All US efforts, including personal intercession by President Barack Obama, have failed to dissuade Iraqi Prime Minister Nouri al-Maliki from allowing the Iranian military air corridor to Syria take a short cut through Iraqi air space. Maliki has refused to listen. Tehran's willingness in these tense times to hazard the withdrawal of thousands of crack officers, commanders and weapons from combat duty in Iran attests to two conclusions reached by Iranian strategists:
1. They estimate that the United States and Israel have shelved plans for an imminent military strike on Iran's nuclear program.
2. And if a surprise attack is nonetheless launched, thousands of Iranian elite troops will be on hand to menace Israel from the Syrian border without delay.
Jordan Next: Muslim Brotherhood Mobilizes for King Abdullah's Overthrow
Sept. 26….(DEBKAfile Exclusive Report) Jordan's Muslim Brotherhood has given King Abdullah II notice that he has until October to bow to their demand to transform the Hashemite Kingdom into a constitutional monarchy or face Arab Spring street pressure for his abdication. Debkafile's Middle East sources report that Israeli and Saudi intelligence watchers are becoming increasingly concerned about the approaching climax of the conflict in Amman between Islamists and the throne.
For Israel, an upheaval in Jordan bodes the tightening of the Islamist noose around its borders, Egypt and Libya to the south and Syria to the north, with unpredictable consequences with regard to Jordan's Palestinian population. Saudi Arabia, already threatened by Iranian aggression, fears the oil kingdom may be next in line if its northern neighbor is crushed under the marching feet of the "Arab Spring." The oil kingdom's royal rulers are reported to have belatedly woken up to the peril and are in a panic. They realize that their preoccupation with helping Syrian rebels overthrow Bashar Assad misdirected their attention from the enemies lurking at their own door. Thousands of articles in the Arab press in the past year have predicted that after the Muslim Brotherhood seizes power in Damascus, Amman would be next in its sights followed by Riyadh. The latest DEBKA-Net-Weekly of Sept. 21 analyzed the plight closing in on the Jordanian monarch and outlined three of his options:
1. He could bow to the main Muslim Brotherhood's demand by submitting to the kingdom's transition to a constitutional monarchy and the transfer of executive power to an MB-led government by means of the electoral reforms for which the Brothers have been pushing for years. In Jordan as in Egypt, the Brothers hope for a two-third majority in a free election.
2. He could stand up to the Brotherhood's demands and order his security, intelligence and military forces to crack down on the opposition. This course carries the risk of plunging Jordan into the carnage of civil war among the diverse segments of the population. The biggest dangers come from the Bedouin tribes, whose traditional allegiance to the Hashemite throne has weakened in recent years, and the Palestinians who form 60 percent of the population.
3. He could seek to negotiate a compromise through various brokers. Our sources report that several attempts at mediation have been ventured of late, but got nowhere because the Muslim Brotherhood sent its most radical leaders to the table and they left very little margin for compromise. According to sources at the royal court, Abdullah will very soon meet with MB leaders for a personal appeal for calm after years of heated debate. Most observers believe that he has left it too late and by now the Muslim Brotherhood has got the bit between its teeth.
Indeed, according to an internal memorandum leaked to the Al-Hayat newspaper, the MB has already set a date for mass demonstrations against the King to start on Oct. 10 and ordered its members to go to work at once to mobilize at least 50,000 demonstrators for daily protests against the king and the royal family until he bows to their will. The memorandum states: "Every member must be dedicated to communicate with his relatives, close friends, acquaintances, fellow employees and various Islamic groups and patriots." It calls for the formation of "hotbeds to focus on the participation of groups affiliated with universities, schools and women's organizations." Protesters are also advised on tactics for overcoming a security crackdown. Jordan's Muslim Brotherhood has therefore moved forward from opposition propaganda, debating and political pressure to activism against the throne. Both Jordanian camps are anxiously watching to see which way the wind blows in the White House.
President Barack Obama has a balancing act to resolve: On the one hand, the Jordanian king has long been a staunch American ally and friend, its mainstay in many regional crises. On the other, Obama regards the Muslim Brotherhood as the linchpin of his external policy of outreach to the Muslim world.
Persecution of Christianity Rising in USA
Sept. 26….(Worthy News) A joint report by Liberty Institute and the Family Research Council shows that anti-Christian persecution is not only increasing in America, but that it's coming from our own government. "There are children being prohibited from writing Merry Christmas to the soldiers, senior citizens being banned from praying over their meals in the Senior Center, the VA banning the mention of God in military funerals, numerous attempts to have veterans memorials torn down if they have any religious symbols, such as a cross, and I could go on and on," said Liberty Institute Founder Kelly Shackleford. "Religious hostility is the red light on the dashboard that tells us we have a problem and that violence will come next if not fixed," Shackleford said. "The recent attacks on the faith-based Family Research Council and the attack on the Sikhs are recent examples alone."
Many public facilities are also masking American Christianity, according to ACLJ senior counsel David French. "One of the most strident examples: the misuse of the Establishment Clause to attempt to ban any mention of God from historical markers, monuments or even museum exhibits. This represents an effort to whitewash God from American history and change our national identity." French said that though the Obama administration has contributed to this, it didn't begin with his inauguration; in fact, anti-Christian persecution has been stewing here in America for decades. "While the Obama administration launched its own unprecedented assault on religious liberty through Obamacare, the attack on Christian expression is the result of cultural changes that have been taking place for decades, the trend began with the advent of the sexual revolution and the mainstreaming of the 1960s counterculture. As leftist radicals have progressed through the academy, media, churches and government, the trend has only accelerated."
Shackleford said a plethora of new court cases has sped-up this trend. "The seeds for these attacks were dropped in Supreme Court opinions in the '40s and it really began to take off in the 1960s. The thing that is shocking now, and different, is that the attacks have dramatically picked up speed. There can be as many as 100 new attacks in a month. While Liberty Institute has the highest win rate of any group in the country at over 99 percent, we just can't currently cover all these with our current resources." Other examples of anti-Christian persecution by the US government in the joint report are:
- Federal judges who threatened to incarcerate a high school valedictorian unless she removed all references to Jesus from her graduation speech and who decided that prayer before a state House of Representatives couldn't be to Jesus.
- Public school officials who prohibited students from handing out gifts containing religious messages and who stopped another student from handing out flyers inviting classmates to a church event.
- The US Department of Veterans Affairs ban against any mention of God in veterans' funerals, despite the desires of families of the deceased.
Muslims and Atheists vs. Christianity in America
Sept. 26….(Worthy News) – Although America is on alert against terrorists every Sept. 11, on this anniversary, the threats are now coming from domestic atheists after the Christian Cross as well as Muslim clerics in Cairo burning Bibles. Atheists and Muslims: strange bedfellows indeed.
Drawing first blood, the American Atheists Foundation filed a lawsuit complaining of unequal representation regarding the two steel beams in the shape of a cross found in the rubble of Ground Zero. The cross, which was later added to the World Trade Center Memorial, can adversely affects atheists who see it on display, resulting in everything from headaches to mental anguish, at least according to David Silverman, president of American Atheists. "The lawsuit is further evidence of the war on Christianity in America," said Liberty Counsel Chairman Mat Staver. "The 9/11 cross survived the terrorist attack by Muslim extremists, and it will survive the cultural attack by radical secularists."
On 9/11/12, other Muslim extremists held a rally in front of the American Embassy in Cairo where cleric Abu Islam burnt a Bible before thousands of his fellow believers who applauded and cheered.
According to Bretbart.com, Imam Islam then took another Bible and said: "This is the book the dog Terry (Jones) believes in, as well as those dogs with him, the Egyptian Christians in America, to all the cross worshipers around the world, we will not keep quiet." When it comes to the Cross of Christ, silence poses no problem for Islamists like Abu Islam, nor are lawsuits a burden for American Atheists. Who knew atheists and Islamists had so much in common?
Ahmadinejad: Israel Has 'No Roots' in Mideast
Sept.25 (Reuters) The Iranian president tells reporters in NYC that Israel is a disturbance for his country, which he is ready to defend against. Israel has "no roots" in the history of the Middle East and represents a disturbance for Iran, Iranian President Mahmoud Ahmadinejad said on Monday. Ahmadinejad said Iran has been around for thousands of years, but Israel has existed for only 60 or 70 years. He said that for a certain "historical phase" Israel represents a disturbance for Iran and "they are then eliminated." "They (Israel) have no roots there in history," Ahmadinejad told reporters in New York, where he is due to attend the UN General Assembly. "They do not even enter the equation for Iran." Ahmadinejad also asserted that Iran does not take seriously Israeli threats of attack, but is prepared to defend itself.
Prime Minister Binyamin Netanyahu has hinted that Israel could strike Iran's nuclear sites and has criticized US President Barack Obama's position that sanctions and diplomacy should be given more time to stop Iran from getting nuclear weapons. Iran denies that it is seeking nuclear arms and says its atomic work is peaceful, aimed at generating electricity. "Fundamentally we do not take seriously the threats of the Zionists. We have all the defensive means at our disposal and we are ready to defend ourselves," Ahmadinejad told reporters in New York, where he is due to attend the UN General Assembly. "While we are fully ready to defend ourselves, we do not take such threats seriously," he said, speaking through an interpreter. Amir Ali Hajizadeh, a brigadier general in Iran's Islamic Revolutionary Guard Corps, was quoted as saying on Sunday that Iran could launch a pre-emptive strike on Israel if it was sure the Jewish state was preparing to attack it. "The nuclear issue is not a problem. But the approach of the United States on Iran is important," Ahmadinejad told reporters. "We are ready for dialogue, for a fundamental resolution of the problems" but under conditions that are based on "fairness and mutual respect," he added.
UN Secretary-General Ban Ki-moon warned Ahmadinejad of the dangers of incendiary rhetoric when two men met in New York on Sunday before this week's annual gathering of world leaders at the General Assembly. In previous years, Ahmadinejad has used his UN speeches to defend Iran's nuclear program and to attack Israel, the United States and Europe. He has questioned the Holocaust and cast doubt on whether 19 hijackers were really responsible for the Sept. 11 attacks on the United States in 2001. Western envoys predictably walk out of Ahmadinejad's speeches in protest.
Israel's Other 'Nuclear' Option
Sept. 25….(Israel Today) Israel has more than just the obvious options when it comes to dealing with Iran's defiant nuclear program, including the use of electromagnetic pulse (EMP) technology that would disable the Islamic Republic as a viable threat, while keeping casualties to a minimum. London's Sunday Times reported earlier this month that the possibility of Israel using electromagnetic bombs was raised during a recent meeting between Western officials.
An American official cited by the newspaper said such a bomb would be detonated above the ground sending out a strong pulse that would "disrupt all the technological devices working on the ground," effectively sending Iran "back to the stone ages." The pulse from an electromagnetic bomb is non-lethal to humans.
In related news, Iranian officials this week suggested that if they become convinced Israel is about to strike, they might launch their own pre-emptive attack on the Jewish state. Israeli commentators noted that the threat was little more than hot air, considering that an Iranian pre-emptive attack would almost certainly prompt a response from the massive American forces parked in the Persian Gulf.
Obama Suggests Israel's Iran Concerns are Just 'Noise'
Sept. 25….(Israel Today) As the US presidential race reaches its climax both candidates have increasingly turned Israel into a major election issue, and perhaps inadvertently turned Israeli Prime Minister Benjamin Netanyahu into something of a king-maker. And that doesn't bode well for President Barack Obama, while challenger Mitt Romney is reaping the rewards of his good working relationship with the Israeli leader.
The latest black mark for Obama vis-a-vis Israel came in an interview this week with CBS's "60 Minutes," during which the president was asked to respond to criticism that he refuses to meet with Netanyahu at the UN next week because he feels pressured by the Israeli. Netanyahu has been insisting for months that the only way to stop Iran's nuclear program and avoid war in the Middle East is for America to set firm red lines for Iranian compliance. "When it comes to our national security decisions, any pressure that I feel is simply to do what's right for the American people," Obama told his interviewer, adding, "And I am going to block out any noise that's out there."
The president continued: "Now I feel an obligation, not pressure but obligation, to make sure that we're in close consultation with the Israelis on these issues because it affects them deeply." Nevertheless, the remark seemed to back up Romney's claims that Obama has at best resigned himself to a policy of containment when it comes to a nuclear-armed Iran, and at worst has "thrown Israel under the bus." Just last week, senior Obama Administration officials insisted that the White House would not be setting any red lines for Iran, despite more than a decade of failed diplomatic efforts, and irrespective of Israel's concern that in the absence of a viable American threat, Iran will go nuclear.
Meanwhile, Israeli media reports local restlessness over the perception that Netanyahu is becoming too deeply involved in the American election and has clearly chosen a favorite. Netanyahu sought to put the rumors to rest in an interview with NBC, stating, "You're trying to get me into the American election and I'm not going to do that. There's no one in Israel who appreciates more than me the importance of American support for Israel. It's not a partisan issue. In fact we cherish the bipartisan support of Democrats and Republicans alike. This is critical for us." Still, there are many in Israel that fear if Obama is reelected, his displeasure with Netanyahu will lead to unprecedented American pressure on Israel.
Obama Snubs Netanyahu on Iran
Sept. 25….(DEBKA) US President Barack Obama said Sunday night, Sept. 23 on CBS "60 Minutes" that he understands and agrees with Netanyahu's insistence that Iran not be allowed to obtain nuclear weapons as this would threaten both countries, the world in general and kick off an arms race. But he then added: "When it comes to our national security decisions, any pressure that I feel is simply to do what's right for the American people. And I am going to block out any noise that's out there." Obama went on to say: "Now I feel an obligation, not pressure but obligation to make sure that we're in close consultation with the Israelis on these issues because it affects them deeply."
So, consultation? yes; cooperation? forget it. His comments removed the last hopes Prime Minister Binyamin Netanyahu and Defense Minister Ehud Barak may have entertained of cooperation with the US for curtailing Iran's nuclear designs by military force. The US president was crystal clear: By saying he will be ruled solely by American security interests, he showed them that they too were being left to be guided by Israel's security interests. So forget about red lines for America, he was telling Netanyahu.
His blunt verging-on-contemptuous dismissal of Israel's concerns as "noise out there" was not much different from the way Iran's leaders referred to the Jewish state. Their threats against Israel have different dimensions: On the one hand, they say that if Israel is even thinking of attacking Iran, it will be destroyed in a preemptive attack. On the other, Israel has neither the military capability nor the courage to strike Iran.
Asked on CNN Sunday whether he feared a war with Israel was imminent, Iran's president Mahmoud Ahmadinejad said: "The Zionists are very much, very adventuresome. They seek to fabricate new opportunities for themselves and their adventurous behaviors."
Debkafile's Jerusalem sources report that Netanyahu is now seriously considering calling off his trip to New York for a speech to the UN General Assembly scheduled for Thursday, Sept. 27. He realizes that by challenging US policy from the UN platform, he would lay himself open to criticism for gratuitous provocation of the president and interference in America's election campaign weeks before a presidential election. Obama's Republican challenger Mitt Romney, in a separate CBS interview, attacked Obama's reference to Israel's legitimate concerns about a nuclear Iran as "noise out there," calling it "just the latest evidence of his chronic disregard for the security of our closest ally in the Middle East." Earlier, Romney termed the president's decision not to meet Netanyahu as sending a message throughout the Middle East "that we distance ourselves from our friends."
As Debkafile reported after that Obama snub, the wrangling with Washington has reduced Netanyahu's options to start standing alone and making his own decisions. Obama's latest words underline this. The prime minister can no longer avoid his most fateful decision and one that is critical to Israel's survival: to attack Iran and disrupt its nuclear program or live with an anti-Semitic nuclear Iran dedicated to the destruction of the Jewish state and a threat to world stability. For two weeks, the Israeli prime minister has dodged around the White House message. Instead, he has kept on bombarding Washington with high-powered messengers. They all came back with the same tidings: the US President is not only fed up with Israeli pressure but more determined than evade any military engagement with Iran.
Egypt's Morsi Says US Needs Support to Palestinian Self-Rule
(If Egypt is to keep its Camp David commitments to Israel, America should also make good on its commitments from 1978, the Egyptian president explained)
Sept. 24….(Ha Aretz) On the eve of his first flight to the United States, where he will attend the United Nations General Assembly, Egyptian President Mohammed Morsi called on the US to make good on its commitment to Palestinian self-rule. In an interview with the New York Times, published Saturday night, Morsi equated Egypt's commitment to peace with Israel to the US commitment to the Palestinians. "As long as peace and justice are not fulfilled for the Palestinians, then the treaty remains unfulfilled," he said. Morsi told the New York Times that it was up to America to revitalize its relations with the Arab world, relations that according to him have been strained by the fact that "successive American administrations essentially purchased with American taxpayer money the dislike, if not the hatred, of the peoples of the region" by supporting Israel over the Palestinians and backing oppressive regimes. Morsi praised US President Barack Obama for "decisively and quickly" supporting the Arab Spring that brought him to power, adding that in doing so the US was supporting "the right of the people of the region to enjoy the same freedoms that Americans have." Morsi rejected criticism that he didn't condemn the protesters who recently climbed over the US Embassy walls and burned an American flag in rage over the YouTube video that has been inflaming the Arab world. "We took our time," he explained to the New York Times in order to avoid a violent response, but then "decisively" dealt with what the small and violent group of demonstrators. Morsi stressed that the embassy staff was never in danger.
Iran: War With 'Cancerous Tumor Israel' Inevitable
Sept. 24….(Times of Israel) The commander of Iran's Revolutionary Guard Corps (IRGC), Gen. Mohammad Ali Jafari, said Saturday that war with Israel will "eventually happen," and that the Islamic Republic would "destroy the Jewish state." Speaking at a news conference in Tehran, Jafari said, "The war will eventually happen but it is not clear when and where it will take place," according to the semi-official Fars news agency. "This cancerous tumor Israel seeks to launch a war against us," he said, and added, "right now they see war as the only method of confrontation." "If the Israelis start something, they will be destroyed and it will be the end of the story for them," Jafari said, according to ISNA. An Al Arabiya report on Friday said that Iran's supreme leader Ayatollah Ali Khamenei has ordered the powerful IRGC to stop its operations around the world, particularly those in Africa and Latin America, according to a senior army official. The official told Al Arabiya that Khamenei wants the IRGC to focus its efforts on countries in the region, and that he fears a possible Israeli strike. Khamenei is also worried about the effect of crushing international sanctions, particularly on the Islamic Republic's funding of its military forces, according to the report. The IRGC has been accused of involvement in numerous acts of terrorism worldwide, and its Al-Quds force has focused on attacks on Israeli targets. Most recently, Israel blamed Iran for a series of attempts to hit Israeli targets in India, Georgia, Thailand and other countries last spring. India's police reported IRGC involvement in one of these attacks, in which the wife of an Israeli diplomat was injured in a bombing in February in New Delhi.
Also on Friday, Iran held a massive parade where it unveiled a new air defense system, Raad. At the parade, the air force commander of the Revolutionary Guards, Amir Ali Hajizadeh, warned that Israel "would cease to exist" if it launched an attack on Iran's nuclear facilities. "If a conflict breaks out, the Zionist regime would be able to manage the beginning of the war, but the response and end would be in our hands, in which case the Zionist entity would cease to exist," said Hajizadeh. "The number of missiles launched would be more than the Zionists could imagine," he added, according to Iran's Fars news agency.
Iranian President Mahmoud Ahmadinejad used the event to lash out at the West over an anti-Islam film produced in the United States and the publication of caricatures of the Prophet Muhammad by a French satirical weekly. Ahmadinejad said that "in return for (allowing) the ugliest insults to the divine messenger, they, the West, raise the slogan of respect for freedom of speech." He asserted that this shows a double standard and "is clearly a deception." Ahmadinejad called the film a plot conceived by Zionists to cause discord among Muslims. The parade marked the anniversary of the beginning of the Iran-Iraq war 32 years ago.
Iran Admits: We Might Attack First
(Senior Iranian commander admits that Iran might attack Israel first, says US will be targeted as well. "It will turn into World War III.")
Sept. 24….(Arutz) Iran could launch a pre-emptive strike if Israel prepares to attack it, a senior Revolutionary Guards commander told broadcaster Al-Alam on Sunday, a day after his boss warned that conflict was inevitable, the AFP news agency reports. Should Israel and Iran engage militarily, "nothing is predictable... and it will turn into World War III," Brigadier General Amir Ali Hajizadeh told Iran's Arabic-language television network. Hajizadeh, who is in charge of Revolutionary Guards missile systems, said: "In circumstances in which they (the Israelis) have prepared everything for an attack, it is possible that we will make a pre-emptive attack. He added that Iran would deem any Israeli strike to be conducted with US authorization, so "whether the Zionist regime attacks with or without US knowledge, then we will definitely attack US bases in Bahrain, Qatar and Afghanistan." He warned that Israel "cannot imagine our response, and it will sustain heavy damage and that will be a prelude to its obliteration."
On Saturday, the head of the Revolutionary Guards, General Mohammad Ali Jafari, said war between Iran and Israel "will eventually happen, but it is not certain where and when." Jafari, quoted by the ISNA and Fars news agencies, also said such a conflict would lead to the annihilation of Israel. "If they begin (aggression), it will spell their destruction and will be the end of the story," he said. On Sunday, Jafari's deputy, Brigadier General Hossein Salami, told Fars in an interview that Iran's "defensive strategy is based on the assumption that we will engage in a war, a massive battle against a global coalition led by the US." He said the Islamic republic had made preparations to "crush" the enemy by hitting "enemy bases in the region, the security of the Zionist regime (Israel) and the energy market, as well as the lives of enemy forces."
Hamas Signs Binding Military Commitment to Iran-led War on Israel
Sept. 24….DEBKAfile Exclusive Report) Hamas leader Mahmoud A-Zahar and deputy commander of its military arm, Marwan Issa, spent the second week of September in Beirut and Tehran finalizing and signing protocols covering a binding commitment by the radical Hamas rulers of the Gaza Strip to join Iran, Syria and Hizballah in a war on Israel, Debkafile's exclusive military sources disclose. The protocols set out in detail the circumstances, procedures and terms governing Hamas's participation in a conflict, whether it arises from an Israeli attack on Iran's nuclear program or the involvement of Iran's allies, Syria and Hizballah, in comprehensive or partial hostilities against Israel. Hamas agreed to obey any orders to attack the Jewish state coming from Tehran, Damascus or Beirut.
Tehran also required A-Zahar and Issa to attach their signatures to copies of the military understandings Iranian National Security Director Saeed Jalili concluded with Bashar Assad during his visit to Damascus on Aug. 7. Those understandings, Debkafile reports, touched off the massive Iranian airlift currently carrying hundreds of military personnel and weapons day by day to the embattled Syrian regime. Hamas's signature provided a booster shot of 22,000 trained fighters including reservists for the battle array of elite Iranian al Qods Brigades units building up in Syria and Lebanon and taking up positions along Israel's borders. This buildup prompted the large-scale snap military exercise Israel staged on the Golan Wednesday, Sept. 19. Most of the forces stayed on after the exercise was over and spread out along the Syrian and Lebanese borders.
The directives Hamas leaders received in Tehran after their meetings with top officials were detailed and precise. They were handed down in person by Defense Minister Ahmed Wahidi, Revolutionary Guards Chief Gen. Ali Jafari, the Al Qods Brigades commander, Qassem Soleimani, and a select group of Iranian intelligence experts on the Israel. Those orders were presented in the language of commands and brooked no argument. Tehran had two goals:
1. To leave no leeway for the Egyptian Muslim Brotherhood, of which the Palestinian Hamas is an offshoot, to veto the pledges Hamas signed in Tehran. The Palestinian Hamas was put on notice that the group was now under contract to defer to Tehran in military matters ahead of Cairo.
2. Iran, Hizballah and Syria instructed Hamas to stop obstructing Jihad Islami's activities in the Gaza Strip and be ready to operate in harmony with Iran's Palestinian proxy against Israel. In a potential outbreak of war, both must take their orders from Iran's Middle East command. For placing itself under Tehran's jackboot, Hamas was assured of the resumption of Iranian economic aid and fresh supplies of missiles, advanced hi-tech war equipment to improve the accuracy of its rocket attacks on Israel, which rarely hit their targets, and anti-air weapons systems.
Iran had been keeping Hamas short pending the guarantees and pledges of allegiance A Zahar carried to Tehran and Beirut in the round trips he made between Sept 8 and 13. Even then, to make sure there were no loopholes in their accords, the Iranians forced the Hamas delegation to break its journey home to the Gaza Strip in Beirut, repeat their commitments to Tehran to Hizballah leader Hassan Nasrallah and re-sign the documents in his presence. Failing to honor the deal, they warned, would elicit the immediate cutoff of Iranian aid and supplies.
Debkafile's military analysts report Hamas' decision to unreservedly hitch its star to the Iranian wagon produced immediate fallout, especially on Egyptian-Israeli relations and counter-terror operations in Egyptian Sinai. Friday, Islamist terrorists breached the Egyptian-Israeli border from Sinai, shot dead IDF Corp. Netanel Yahalomi and injured a second soldier, before the IDF killed three of the gunmen in a shootout. In the last year, Sinai has become the stamping ground for al Qaeda cells and allied Islamic terrorists. Egypt's new rulers have proved unequal to the job of controlling the territory.
At the same time, Cairo is demanding the revision of the 1979 peace treaty's military clauses. President Mohamed Morsi said Sunday, Sept 23, that his government would uphold the peace pact with Israel only if US commits to helping the Palestinians attain self-rule.
Israeli leaders are now asking what guarantees is President Morsi offering for offsetting any Iranian-orchestrated Hamas war operations from Gaza in line with the accord they have just signed in Tehran and Beirut. Furthermore, they ask, what happens to the al Qaeda cells and other military groups rampant in Sinai? Up until now Iran and Hamas ran their ties with those terrorists on separate tracks. Will they now effect a merger? A note of foreboding on this score was struck by Israeli Chief of Staff Lt. Gen. Benny Gantz Sunday, Sept. 23, when he toured the scene of the last shootout with Sinai terrorists. "The Sinai border will continue to present us with a challenge," he said. "We have made a colossal effort in the last two years to seal off the Egyptian border and it will be done. But even then, the threat will not disappear."
Muslim Brotherhood Has Infiltrated US Agencies
Sept. 24….(WND) The Muslim Brotherhood is a radical Islamist organization that has successfully penetrated both political parties and the delicate areas of defense and national security. Retired US Army Lt. Gen. William "Jerry" Boykin, executive vice president of the Family Research Council, told WND's Greg Corombos that people with connections to the Muslim Brotherhood are in vital positions within every significant area of the US government. He specifically cited high security clearances for such people in the Pentagon and the Department of Homeland Security. He said neither Republicans nor Democrats want to protest too loudly over concerns of being branded intolerant.
Boykin said Republicans proved their weakness on the issue by roundly condemning Rep. Michele Bachmann, R-Minn., for sounding the alarm on this issue and specifically wondering about the Brotherhood ties of Huma Abedin, a top assistant to Secretary of State Hillary Clinton. He also slammed the sequestration plan that has the military on course for an additional $500 billion in cuts over the next decade, saying that will weaken every branch of the service and that a naive rationale is behind it all.
Gen. Boykin said President Obama and other leftists have a vision where the US takes a smaller role on the world stage so they think our military will not need to maintain its current size and won't be pumping money into the Middle East. The general said that's nonsense, pointing out that as long as oil and Israel are in the Middle East we'll need to maintain a presence there.
WEEK OF SEPTEMBER 16 THROUGH SEPTEMBER 22
Muslims Worldwide Rise in Hatred of US & Israel
| | |
| --- | --- |
| | (FOJ) Do these people look as if they have any reverence for God, or anything with holiness? All you see in their eyes is hatred. Hatred of America, hatred of Israel, and hatred of the God that was historically behind the establishment of those two countries. In truth, they are inspired by another god, a god who hates Israel! |
Sept. 21….(AP) Protests by tens of thousands of Pakistanis infuriated by an anti-Islam film descended into deadly violence on Friday, with police firing tear gas and live ammunition in an attempt to subdue rioters who hurled rocks and set fire to buildings in some cities. Three people were killed and dozens injured on a holiday declared by Pakistan's government so people could rally against the video. Thousands of Muslims protested in at least half a dozen other countries, many burning American flags and effigies of President Barack Obama.
In the Pakistani city of Peshawar, police fired on rioters who were torching a cinema. Mohammad Amir, a driver for a Pakistani television station, was killed when police bullets hit his vehicle at the scene, said Kashif Mahmood, a reporter for ARY TV who was also sitting in the car at the time. The TV channel showed footage of Amir at the hospital as doctors tried to save him. A protester who was shot during a demonstration in the city also died, said police officer Rohhullah Khan. In Karachi, armed protesters among a group of 15,000 fired on police, killing one and wounding another, said police officer Ahmad Hassan. The crowd also burned two cinemas and a bank, he said. Clashes between police and stone-throwing protesters also occurred in Lahore and Islamabad, the Pakistani capital. Police fired tear gas as well as warning shots in an attempt to keep them from advancing toward US missions in the cities. At least 55 people, including nine police, were injured in the nationwide unrest, according to police and hospital officials. Protesters shouted "Allahu Akbar" (Allah is greatest) and held up signs denouncing the film, America and Jews. One placard read: "Obama, our patience has its limit. Don't blame us if your citizens die. Blame yourself.
Supposedly, depending on whose explanation you believe, the film denigrating the Prophet Muhammad, "Innocence of Muslims," has sparked unrest in many parts of the Muslim world over the past 10 days, and the deaths of at least 33 people, including the US ambassador to Libya, have been linked to the violence. Much of the anger has been directed at the US government even though the film was privately produced in the US and American officials have criticized it for insulting Muslims.
In Iraq, about 3,000 protesters condemned the film and caricatures of the prophet in a French satirical weekly. The protest in the southern city of Basra was organized by Iranian-backed Shiite groups. Some protesters raised Iraqi flags and posters of Iran's supreme leader, Ayatollah Khamenei, while chanting: "Death to America." Protesters burned Israeli and American flags and raised a banner that read: "We condemn the offences made against the prophet."
In the Sri Lanka capital of Colombo, about 2,000 Muslims burned effigies of President Barack Obama and American flags at a protest after Friday prayers, demanding that the United States ban the film. In Bangladesh, over 2,000 people marched through the streets of the capital, Dhaka, to protest the film. They burned a makeshift coffin draped in an American flag and an effigy of Obama.
Thousands gathered in Lebanon's Bekaa valley for the latest in a series of protest rallies organized by the Shiite militant group Hezbollah. Protesters carried the yellow Hezbollah flag. Hezbollah appears to be trying to ensure the gatherings don't become violent, planning them only in areas where Hezbollah has control. None of the rallies targets the heavily fortified US Embassy in the hills outside Beirut.
Pakistan has experienced nearly a week of violent rallies against the film in which five people have died. The government declared Friday to be a national holiday, "Love for the Prophet Day," and encouraged peaceful protests. In Peshawar, several hundred protesters set ablaze two cinemas and the city's chamber of commerce, and damaged shops and vehicles. Police beat demonstrators with batons. Later in the day, tens of thousands of protesters converged in one of the city's neighborhoods and called for the maker of the film, an American citizen originally from Egypt, to be executed. The US Embassy in Islamabad, in a bid to tamp down public rage over the film, is spending $70,000 to air an ad on Pakistani television that features President Barack Obama and Secretary of State Hillary Rodham Clinton denouncing the video, and apologizing for any insult. Their comments, which are from previous public events in Washington, are in English but subtitled in Urdu, the main Pakistani language. Pakistani Prime Minister Raja Pervaiz Ashraf called on the international community Friday to pass laws to prevent people from insulting the Prophet Muhammad.
FOJ Note: Have you ever seen Christians marching in the streets of America, burning Arab flags, and shouting slogans like "death to Arabs and Muslims?" No, that has never happened, and it sure isn't because of the lack of brutality and torture that Christians daily suffer in places like Iran, Egypt, Nigeria and Saudi Arabia, to name just a few. Have you ever seen Christians protesting against Islam for its hideous belittlement of the Son of God, and the last prophet? No, it has never happened, and that is because the God of Christianity is longsuffering in his love for all people, and wishes that all come out of their blindness and discover the matchless grace of the one true God who commands that "Thou shalt not kill," and rather to pray for your enemies! The god of Islam, and this is no disrepsect to those who adore Allah, but he is not the same GOD as the great I AM, for the god and prophet of Muslims is calling upon his followers to KILL.
Israel Rejects US-Backed Arab Plan for Nuclear-Free Mideast
Sept. 20….(Ha Aretz) Israel expressed its strong opposition on Wednesday to an Arab initiative, supported by the Obama administration, to hold a conference that would debate the possibility of a nuclear-free Middle East. The conference would take place in Helsinki toward the end of 2012, or early in 2013. Brig.Gen. (Res.) Shaul Horev, director of the Israeli Nuclear Energy Committee, who reports directly to Prime Minister Benjamin Netanyahu, immediately trashed the idea.
US Warns Israel Yhat Strike on Iran Will Cause Egypt, Jordan to Sever Ties
(Current Arab protests only a 'preview' for what will happen after an attack on Iran's nuclear facilities)
Sept. 20….(Times of Israel) The US has recently warned Israel that an Israeli strike on Iran will likely cause Egypt and Jordan to annul their peace agreements with Israel and sever ties, according to a senior Israeli official quoted by the Hebrew daily Yedioth Ahronoth on Thursday. "These days, Arab leaders don't rule their people. Rather, the street rules its leaders," the official was quoted as saying. "An Israeli strike is exactly what the Iranians need: the entire Arab and Muslim street will go out to demonstrate."
The Israeli official reportedly linked between the anticipated Arab reaction to an Israeli strike and the current rage-fueled wave of anti-Western protests in the wake of the publication of a trailer for a new film, "Innocence of Muslims," that denigrates Islam's Prophet Muhammad. "What we've been seeing with the anti-Muhammad film is nothing but a preview for what's going to happen if Israel attacks," the official was quoted as saying. The comments come after weeks of speculation about a possible Israeli strike on Iran's nuclear facilities. Israel has argued that due to its security concerns and reluctance to "outsource" its security to another country, even the US, it cannot afford to let Iran reach a breakout point in its nuclear program, meaning the stage at which manufacturing an atomic weapon becomes merely a matter of time. The US and Israel have recently become embroiled in a standoff after US Secretary of State Hillary Clinton and President Barack Obama publicly said they would not set "red lines" for Iran's nuclear program, beyond which military force would be deployed.
Prime Minister Benjamin Netanyahu has called for such measures as a means of calming Israeli apprehensions and, he says, of reducing the likelihood of conflict by making it clearer to Iran that the US is prepared to use force. On Wednesday, a senior Israeli official warned Iran to stop its "direct and blunt threats" against Israel, telling a 155-nation nuclear conference that Israel was ready to defend itself against any nation that menaces its existence. Still, nuclear chief Shaul Chorev avoided any suggestion that Israel was contemplating a military strike on Iran's nuclear facilities. Alluding to Iranian statements questioning Israel's right to exist, Chorev warned that Israel "does not remain indifferent in view of such direct and blunt threats." "Israel is competent to deter its enemies and to defend itself," he told the meeting. On Monday, Iran's nuclear chief told the same IAEA conference in Vienna that his country's nuclear facilities could now survive enemy attack
Iran Pours Troops into Syria, Ready to Target Israel from Syria and Lebanon
Sept. 20….(DEBKAfile Special Report) Iran continues to fly military personnel and quantities of weapons into Syria by civilian aircraft which cut through Iraqi airspace, American intelligence sources disclosed early Thursday, Sept. 20. UN Secretary General Ban ki-Moon also said that, "Unfortunately, both [Syrian] sides, government and opposition forces, seem to be determined to see the end by military means." Clearly, Iran is augmenting its military involvement in the constantly escalating Syrian civil war, broadening it into a multinational conflict which threatens to drag Lebanon in, by means of the Iranian-Syrian ally, Hizballah. The UN Secretary General's statement implying that the two Syrian sides are determined to fight to the bitter end is echoed in Iran's resolve to fight to the bitter end for Assad, on Syrian soil.
Tehran is not hiding its actions. Sunday, Sept. 16, Iranian Revolutionary Guards (IRGC) Commander Gen. Ali Jafari said openly that Al Qods Brigades units were present and operational in both Syria and Lebanon. No comment on this revelation has come from the US, Israel or Israel's military (IDF) chiefs, notwithstanding its menacing import, namely, that Tehran is no longer hanging about and waiting for its nuclear program to be attacked in order to punish Israel, but is getting ready for a pre-emptive operation.
Still, Prime Minister Benjamin Netanyahu and Defense Minister Ehud Barak have chosen silence in the face of what any other nation would regard as a casus belli: the open deployment of enemy forces on its northern and eastern borders. This must have been the catalyst for the IDF's surprise two-division strength drill Wednesday on Israel's Golan border with Syria. But the IDF spokesman sounded almost apologetic when he explained that the exercise had nothing to do with the events in Syria or with Hizballah, and that it was no more than a routine drill for testing preparedness.
Debkafile's military sources say that, in the current climate, no military operation by any army on the Syrian border, especially one of this magnitude may be regarded as "routine." Only a week ago, the Golani Brigade concluded a large military exercise in northern Israel including the Golan. That sort of frequency must have operational connotations: The IDF is evidently keeping the army on the move and in a constant state of readiness to fight a real war without delay on terrain made familiar by repeated war games. IDF Chief of Staff Lieutenant General Benny Gantz has a penchant for expressing himself through symbols, his method of overcoming the restrictions placed on his tongue by military and other constraints.
The Generals presence at the Golan exercise, and the exercise itself, was a warning to Iran, Hizballah and Syria that they will be disappointed if they hope to catch Israel unready, as it was by the surprise attack which almost overcame the IDF 39 years ago before the tide of war was turned back against Egypt
Libyan Embassy Attack Was A Terrorist Attack
Sept. 20….(FOX) The Sept. 11 attack on the US consulate in Benghazi was in fact "a terrorist attack" and the US government has indications that members of al Qaeda were directly involved, a top Obama administration official said Wednesday morning. "I would say yes, they were killed in the course of a terrorist attack on our embassy," Matt Olsen, the director of the National Counterterrorism Center, said Wednesday at a hearing of the Senate Homeland Security Committee, in response to questioning from Chairman Joe Lieberman (I-CT) about the attack that killed Ambassador Chris Stevens and three other Americans.
As for who was responsible, Olsen said it appears there were attackers from a number of different militant groups that operate in and around Benghazi, and said there are already signs of al Qaeda involvement. "We are looking at indications that individuals involved in the attack may have had connections to al Qaeda or al Qaeda's affiliates; in particular, al Qaeda in the Islamic Maghreb," he said. The US government just isn't sure yet whether the terrorist attack was pre-planned or whether it was an example of terrorists taking advantage of protests against an anti-Islam film, Olsen said. "It appears that individuals who were certainly well-armed seized on the opportunity presented as the events unfolded that evening and into the morning hours of September 12th. We do know that a number of militants in the area, as I mentioned, are well-armed and maintain those arms. What we don't have at this point is specific intelligence that there was a significant advanced planning or coordination for this attack," he said.
His statements go further than those of the White House Press Secretary Jay Carney, who said last week that the protests in Cairo and Benghazi were a reaction to the video and not a pre-planned attack.
Muslims Are Spreading Hatred
Sept. 20….(YNET) The Muslim impulse to resort to violence whenever the prophet Mohammed or any other Islamic saint is criticized did not disappoint this time either. It had to crush and burn everything in its path over something that appeared Western enough to be hostile to Islam as well. Just as Theo van Gogh was murdered in Amsterdam in 2004 after criticizing Islamic society in his movie "Submission," and just as the publication of prophet Mohammed caricatures in Denmark (2004) sparked violent riots that claimed the lives of more than 1,000 people worldwide, it is only natural that an amateurish film such as "Innocence of Muslims," produced by a Coptic Christian, serves as a good enough excuse for the Muslims to murder, torch embassies and riot in 2012. But even if the Arab-Islamic riots subside soon and Obama, Clinton and other senior officials in the US and Europe continue to condemn the violence, still only a few of them will be willing to shed the naïveté within their ranks and take a closer look at the Islamist-fundamentalist incitement and its sources of inspiration, at the violent character of Arab-Muslim society and at the anti-Semitic and anti-Western propaganda in its newspapers, books and television broadcasts. The same society that turns violent whenever its holy figures are disparaged, revels in the horrific portrayals of Jews and Judaism in Arab media, particularly during the holy month of Ramadan. Movies such as the Iranian-produced "Saturday Hunter" and the Egyptian television series "Horseman Without a Horse," as well as the TV series "Al-Shatat" (which was cancelled in Jordan after 22 episodes due to American pressure) and the Turkish mini-series "Valley of the Wolves," all contain hateful anti-Semitic motifs that the Muslim viewer "eats up" enthusiastically.
Biting the Feeding Hand
(Op-ed: Islamists who rose to power with Obama's help want US out of Mideast)
Sept. 20….(YNET) Obama's failures in the Middle East continue. During the latest one, thousands of Salafis surrounded American diplomatic missions in Libya and Egypt and would have destroyed them completely had they been given the opportunity to do so. The message was clear: Leave and don't come back. In Benghazi an angry mob stormed the US Consulate and killed the ambassador and three other staff using rockets. In Cairo thousands of Salafis surrounded the US Embassy, scaled its walls and burned the American flag. Dozens of armored security vehicles and police squad cars prevented the mob from storming the building. The riots continued for hours. Wait a second. But this is Libya, where Obama and NATO directly assisted the rebels with weapons and bombardments on Gaddafi and his regime. So how is it that these same "rebels" are now attacking their "liberator"?
These rebels are members of dozens of militant Islamist groups, some with links to al-Qaeda. Gaddafi curbed them, but now they can operate freely. They fight each other and also attack the Americans. These Salafis are not hiding their intent to drive western forces, headed by the Americans, out of the Middle East.
In Cairo, Mohammed Morsi's regime allowed thousands to riot through the night outside the US Embassy while burning the American flag. Was it not the US that pushed for the establishment of an "Islamic democracy" in Egypt? And was it not the US that maintained contact with the Muslim Brotherhood and the Salafis? This was not a terror attack carried out by a few people; it was initiated by thousands who wanted to convey the message that they do not want the Americans around. This is how they are trying to get rid of the Americans, who helped them rise to power.
Just as former President Jimmy Carter's single term ended with the abduction of American diplomats in Tehran, Obama is now facing the collapse of his policy of support for the Islamic groups. He also has to deal with questions surrounding the fiasco in Benghazi. When Salafis attacked the Israeli embassy in Cairo, Prime Minister Netanyahu was up all night speaking on the phone with the Americans and Egyptians to ensure the Israeli diplomats' safety. Where was the US Administration on the night the American ambassador to Libya was murdered? Could he have been saved? Over the past two years, the Obama Administration's Mideast policy ousted the old regimes and turned the Arab countries into Afghanistan: Flooded with militias, extremist armed groups and severe violence - all under the auspices of the sacred democracy. And is there any doubt that if a Palestinian "state" is established it will become a source of existential danger to its neighbors Israel and Jordan? Another uncontrollable Salafi stronghold? Do we not see what is going on in Gaza, which is already undergoing a process of Salafization?
Now the Obama Administration may finish the job by overthrowing Bashar Assad and turning Syria into a new Afghanistan, easy prey for ethnic militias and armed terrorist gangs; a country of anarchy and despair.
Top Muslim Calls for UN to Ban Free Speech
Sept. 19….(WND) One of the world's most influential Muslims is now calling on the United Nations, in light of the YouTube movie blamed for violent protests across the Mideast, to impose international restrictions on free speech, criminalizing any statement that impugns Islam. Sheikh Abdullah Bin Bayyah, a professor at King Abdul Aziz University in Saudi Arabia, is a member of several international organizations, including the Centre for Studying the Aims of Sharia in the UK, as well as serving as the vice chairman of the International Union of Muslim Scholars. The Royal Islamic Strategic Studies Centre ranked bin Bayyah No. 31 on its list of the 500 most influential Muslims in the world for 2011.
In a public declaration issued to several Islamic bodies, including the All Dulles Area Muslim Society, one of the largest Muslim mosques in the DC metro area and the US, bin Bayyah called upon "people of reason and understanding" to put a legal stop to statements that would offend Muslims and thereby threaten world peace. "We ask everyone to ponder the ramifications of provoking the feelings of over one billion people by a small party of people who desires not to seek peace nor fraternity between members of humanity," bin Bayyah wrote. "This poses a threat to world peace with no tangible benefit realized. Is it not necessary in today's world for the United Nations to issue a resolution criminalizing the impingement of religious symbols? We request all religious and political authorities, as well as people of reason to join us in putting a stop to this futility that benefits no one."
Bin Bayyah's statement was titled a "Declaration Regarding the Offensive Video to Muslims," a clear reference to the YouTube film, "Innocence of Muslims," which has been widely, if controversially blamed for inciting riots against embassies in the Middle East and the resulting death of four US diplomats. The Obama administration had similarly asked Google, the parent company of YouTube, to review whether "Innocence of Muslims" violates its terms-of-use policies. Thus far, Google has refused to remove the video from YouTube, though it blocked access in some sensitive countries. Pundits from a wide spectrum of news outlets have agreed the video is protected by free speech rights in the US.
Bin Bayyah further stated that we are extremely concerned with a small active minority in your countries that seeks to perpetuate a state of conflict and war. "We estimate that such objectives do not serve the general interest. Therefore, it is our hope that you reconsider and criminalize the denigration of religious symbols, as such provocations do not serve the principles of free speech, principles that you and us both seek to uphold."
Mohamed Morsi, the Muslim Brotherhood president of Egypt (who denies that al-Qaida attacked the US on 9/11), directed the Egyptian Embassy in Washington to 'take legal action' against the movie's producers. "Morsi doesn't seem to understand American First Amendment protections." Egyptian Prime Minister Hisham Qandil asked for similar action 'within the framework of international charters that criminalize acts that stir strife on the basis of race, color or religion.' This is a direct appeal to hold Americans accountable to the UN blasphemy resolution Hillary Clinton, along with the Islamic bloc, has championed, despite its repressive controls on free speech." Ms. Clinton supports the "defamation against religion" resolution the Organization of Islamic Cooperation has been pushing at the UN every year since 1999. Last year, Clinton worked with the OIC to pass a revised version, Resolution 16/18, which included both the usual condemnation of defaming speech and a paragraph affirming "the positive role that the exercise of the right to freedom of opinion and expression" plays in "strengthening democracy." Critics of the defamation resolutions fear they could be used to outlaw valid and critical scrutiny of Islamic teachings, as some OIC states do through controversial blasphemy laws at home. The Clinton compromise version, though still roundly criticized, enjoyed more popularity at the UN itself and was adopted by consensus.
FOJ Note: How is it that an unelected US official can negotiate away any American's basic freedom of speech right? It seems as if the progressive politicians of America's left are working in tandem with Islamists to destroy American sovereignty.
Amid unrest, Clinton to lobby lawmakers on Mideast aid
Sept. 19….(Reuters) Secretary of State Hillary Clinton will lobby lawmakers this week on the need to keep billions of dollars in aid flowing to Egypt and other countries caught up in a spasm of violent anti-American protests across the Muslim world. The State Department said Clinton intended to meet with Congress later this week to discuss the protests, which saw US diplomatic missions attacked and the US ambassador to Libya killed amid fury over a film produced in the United States that many saw as an insult to Islam..
Republican lawmakers are calling for an investigation into the attacks amid suspicions in Republican circles that the Democratic administration is trying to tamp down inquiries about the events as the November 6 presidential election looms. Sec. Clinton also plans to stress the importance of continued US support, which includes $1.3 billion for Egypt's military; proposals for up to $1 billion in debt relief for Cairo; and a further $800 million in economic assistance for other countries in the region. The explosion of anti-American anger, which saw embassies attacked in Yemen, Tunisia, Sudan, Egypt and elsewhere, has presented US President Barack Obama with an unexpected foreign policy crisis as he heads into the final months before the November presidential election.
It also looks likely to fuel debate in Congress about the future of US aid to the region, which already was being questioned as lawmakers ponder widespread cuts to deal with the ballooning federal budget deficit. Even before last week's attacks on US diplomatic missions, Ros-Lehtinen had blocked nearly $26 million in US economic aid from being spent in Egypt and Representative Kay Granger had placed a "hold" on $18.3 million of the same funds, congressional aides said.
US aid to Egypt, where the Islamist Muslim Brotherhood rose to power in elections following the ouster of strongman Hosni Mubarak, has been repeatedly caught up in politics as the United States seeks to maintain its leverage with Cairo. The Obama administration in March allowed $1.3 billion in military aid to Egypt to continue despite misgivings among prominent lawmakers over the role of the country's military in the democratic transition, and it is now finalizing a debt relief package of up to $1 billion to help the country's new Islamist leaders stabilize their badly wounded economy.
The Obama administration also has proposed an $800 million fund for fiscal 2013, which starts in October, to help other countries swept by "Arab Spring" revolutions, many of which in recent days have seen crowds of protesters take to the streets to denounce the United States. But the House appropriations committee last spring refused to provide a separate fund for supporting Arab spring reforms. Final decisions for spending in fiscal 2013 have not been made.
FOJ Note: Why don't our politicians just give all of our money to the Muslim Brotherhood, and let them tell us what we can say or not say. Maybe then they will stop burning our flags, and calling us the great Satan. (sic) Then all we Americans can convert to Islam and do away with freedom in this country, and just let Mohammad have the place. (sic)
Al Qaeda-led Salafis Attack 3 Egyptian Sinai Bases
Sept. 18….(DEBKA) Salafi Bedouin and al Qaeda bands Sunday, Sept 16, expanded their Sinai offensive to three Egyptian bases along a 70-kilometer front three days after they raided the US-led Multinational Force base south of El Arish in northern Sinai and hoisted the black Islamist flag. debkafile's military sources report that at dawn, a small group managed to creep up to the northern Sinai Egyptian command center in al Arish and plant a large bomb against its walls. Because of the total Egyptian blackout on the episode, there is no information on casualties or damage. The explosion was followed by a horde of heavily armed gunmen firing rocket grenades and heavy machine guns swooping on the center and seizing the rooftops of surrounding buildings to pin down the Egyptian commanders inside the compound. By the end of the day, the Salafi-al Qaeda gangs were in control of El Arish, the key town of northern Sinai. At a distance of 40 kilometers, a fierce battle erupted at another site, Sheikh Zuwaid, 3 kilometers from the MFO's northern base which was attacked Friday. The raiders captured the local school and took dozens of children hostage. Using them as human shields, the terrorists advanced on the local police station shooting anti-tank rockets, rocket grenades, automatic weapons and fire bombs.
To repel this attack, the Egyptian army deployed combat helicopters which struck the invaders with missiles and heavy machine guns. One chopper was reported shot down. Due to the Egyptian news blackout, there is no word on the fate of the children, the helicopter crew or whether it was downed by an anti-air rocket or machine gun fire, The Salafi-al Qaeda terrorists next turned to the Egyptian special forces base at Rafah abutting the Gaza Strip and just across the Israeli border. This is the same base which Salafi Bedouin and al Qaeda gunmen attacked on Aug. 5 killing 16 Egyptian troops and crashing through the frontier barrier into Israel. Debkafile's military sources report that the broad al Qaeda-led offensive Sunday marks a major and dangerous escalation in the Islamist terrorist coalition's war plans for Sinai. It carried four messages:
1. It is a military force to be reckoned with: The jihadi terrorists first displayed their military prowess on Aug. 5, when they took on two armies at once. Sunday, they attacked three military targets along a 70-kilometer front, a feat which even the Afghan Taliban has not mastered.
2. This feat puts the Sinai Army of Islam at the forefront of the violent Islamist protest against the United States sweeping across the Middle East and Asia over a film mocking the Prophet Muhammad. Because it is beyond the horizon of international attention and the Western media, Washington, Cairo and Jerusalem have been able to keep its true impact under wraps.
3. More than 1,000 MFO peacemakers including hundreds of American officers have been under Salafi-Al Qaeda-Bedouin siege for three days since their Al Ghora base was raided Friday. They have a fleet of helicopters and small reconnaissance aircraft with American crews, but they don't dare take off because it is feared that al Qaeda gunmen will shoot them down with FIM-92 Stinger anti-air missiles smuggled into Sinai from Libya.
4. The IDF high command is tensed now for the jihadis to again turn their guns and rockets on Israel.
Libyan Leader, Obama Disagree on Embassy Attack (Somebody's Lying)
Sept. 18….(Fox News) An intelligence source on the ground in Libya told Fox News that there was no demonstration outside the US Consulate in Benghazi prior to last week's attack, challenging the Obama administration's claims that the assault grew out of a "spontaneous" protest against an anti-Islam film. "There was no protest and the attacks were not spontaneous," the source said, adding the attack "was planned and had nothing to do with the movie." The source said the assault came with no warning at about 9:35 p.m. local time, and included fire from more than two locations. The assault included RPG's and mortar fire, the source said, and consisted of two waves. The account that the attack started suddenly backs up claims by a purported Libyan security guard who told McClatchy Newspapers late last week that the area was quiet before the attack. "There wasn't a single ant outside," the unnamed guard, who was being treated in a hospital, said in the interview.
These details appear to conflict with accounts from the Obama administration that the attack spawned from an out-of-control protest. The Libyan president also said Sunday that the strike was planned in advance. US officials, in response to the claim that there was no demonstration at the time of the attack, told Fox News there was a small protest earlier in the day, but they did not dispute that there was no significant or sizeable demonstration at the time.
But a senior Obama administration official told Fox News on Monday morning that the Libyan president's comments are not consistent with "the consensus view of the US intelligence community," which has been investigating the incident, and are accordingly not credible. "He doesn't have the information we have," the US official said of Libyan President Mohammed el-Megarif. ""He doesn't have the data collection potential that we have."
The Libyan leader told CBS News' "Face the Nation" on Sunday that the government in Tripoli harbors "no doubt" that the Sept. 11 attack that killed US ambassador Chris Stevens and three other Americans was "preplanned, predetermined." That assessment conflicted directly with the preliminary conclusion offered on Sunday by UN Ambassador Susan Rice, who appeared on all five Sunday morning talk shows. There, Rice maintained that the Benghazi incident "was a spontaneous reaction to what had just transpired in Cairo, as a consequence of the video," and that after the protest outside the US consulate gathered steam, "those with extremist ties joined the fray and came with heavy weapons."
Iraq Letting Iran Ferry Arms to Syria
Sept. 17….(Reuters) Iran is using Iraqi airspace to fly supplies to Syrian President Bashar al-Assad's forces and thousands of Iraqi militia fighters have crossed into Syria to support his troops, Iraq's fugitive vice president said on Sunday. Tareq al-Hashemi, who fled Iraq in December and was sentenced to death a week ago by an Iraqi court, said the government of Prime Minister Nuri al-Maliki was failing to stop ammunitions and armaments reaching Assad's forces. "My country is unfortunately becoming an Iranian corridor to support the autocratic regime of Bashar al-Assad, there is no doubt about that," Hashemi told Reuters in an interview in Istanbul. "It is not only the airspace. It is thousands of militia now inside Syria, supporting Bashar al-Assad and killing Syrian innocent people," he said, citing reports he had received from Iraq's Anbar province, which borders Syria, and from members of the Syrian opposition. He said Iraqi militia fighters had been detained inside Syria by members of the Syrian opposition. A senior adviser to Maliki rejected the accusations, saying Iraq was committed to not siding with any party in the Syrian conflict. "The prime minister is always confirming that Iraq will not allow any state to use its airspace to transport arms to Syria," said Ali al-Moussawi, Maliki's media adviser.
Hashemi, a senior Sunni Muslim politician and fierce critic of Maliki, a Shi'ite, fled Iraq after the authorities issued a warrant for his arrest in December, a step that risked shredding a fragile power-sharing agreement among Shi'ite, Sunni and Kurdish blocs. An Iraqi court sentenced him to death by hanging last Sunday after a trial on charges that he ran death squads. Hashemi says the case is politically motivated and is built on testimony extracted under torture.
Although Maliki's government has said it backs neither side in the Syrian conflict, Iraqi Shi'ite leaders fear that if Assad falls, Syria would splinter along sectarian lines and this would bring about the rise of a hardline Sunni government likely to upset Iraq's fragile security and Shi'ite-Sunni mix. Assad's forces have been battling out-gunned but increasingly effective rebel fighters seeking his overthrow in Syria for the past 18 months, an uprising in which activists say 27,000 people have been killed.
The mainly Sunni Muslim rebels are supported by Gulf Arab states and neighboring Turkey in their struggle to topple Assad, whose minority Alawite faith is an offshoot of Shi'ite Islam. Shi'ite Iran has been Assad's staunchest ally. The commander of Iran's Islamic Revolutionary Guards Corps (IRGC) said on Sunday IRGC members were providing non-military assistance in Syria and Iran may get involved militarily if its closest ally comes under attack. Western countries and Syrian opposition groups have long suspected Iran has troops in Syria. Iran has denied this.
Hashemi said Iraq had been allowing Iran to get around US-led economic sanctions aimed at forcing the Islamic Republic to give up its nuclear program. He said Iranians, faced with a sharp deterioration of the rial, were using banks in Iraq to buy US dollars which they then smuggled back into Iran. He said Iraq's government had also failed to enforce sanctions against Syria. "It is not only prolonging the life of Assad's regime but at the same time deepening the poverty of Iraq, because we are still in need of every single US dollar," he said.
Hashemi's accusations raise questions about the extent of US influence in Baghdad, nine months after US troops left. President Barack Obama withdrew the last US troops in December, after almost nine years of war. Critics say the move has diminished US influence in Baghdad despite massive investment in the country. Maliki's government has said it wants good relations with the United States, but also has close ties with US foe Iran.
Pres. Obama, Sec. Clinton; Time to Wake Up and Smell the Global Jihad
Sept. 17….(Christian Whiton) When the men who killed our ambassador to Libya were in the final stages of their preparation, Hillary Clinton was in the Cook Islands, being regaled by locals in traditional dress. Her seemingly endless world tour has prioritized symbolism and pageantry over substance. So too has the administration of her boss, Barack Obama, and the costs are now becoming clear. This explains why Obama's chief diplomat said of the Libya attack: "I asked myself, how could this happen? How could this happen in a country we helped liberate, in a city we helped save from destruction?"
Madam secretary, it is time for you and your boss to wake up and smell the global jihad. There are people in this world, and not a small number of them, who share the vision bin Laden had and have the will and means to act. No amount of apologizing for America, embracing our adversaries or mistreating our allies will change that.
It is worth recalling that Cairo, the city where a mob entered the US embassy compound and burned an American flag, was the epicenter of what critics call Obama's "apology tour." It was there that he apologized for critical steps American officials took in the Middle East to defend against the Soviets eight years before Obama was born. It was there that he criticized his own nation's response to 9/11. That was the reason US diplomats in Cairo instinctively put out an apologetic condemnation of those who "hurt the religious feelings of Muslims." They were simply channeling the Obama view of the world.
Sec. Hillary also said that the attack was the result of a "small and savage group." Wrong again. Viewed correctly, the attack was perpetrated by a very large group. Terrorism as we have known it since 9/11 is but the violent vanguard of the Islamist political ideology. This ideology unifies diverse terrorists from Jemmah Islamiyah in Indonesia to Al-Shabaab in Somalia to Boko Haram in Nigeria to the Muslim Brotherhood in Egypt to the Haqqani network in Afghanistan and Pakistan. While the groups are diverse and at times antagonistic toward each other, their hatred of America unites them, and they work toward a generally common goal. Behind them is a large body of people who cheer on and support Islamists, a minority of Muslims perhaps, but hardly a body of people we should ignore.
The American people have instinctively understood this threat since Islamists took over Iran and took our diplomats hostage there in 1979. Our political class never has never understood this. Instead, our foreign policy establishment, led by presidents of both parties, has spoken of "violent extremists" as if they had no common thread or clear ideological motivation. More recently, President Obama has thumped his chest about killing Al Qaeda's founder and implied that Al Qaeda is our only real enemy. This is convenient and politically correct—but it is wrong. If we killed everyone in Al Qaeda tomorrow, we would still have a problem that Obama, Hillary and the Washington foreign policy establishment refuse to recognize. There is a tyrannical political force in the world that is waging war on us wherever it can, both politically and militarily.
On Obama's watch, the Islamists have done very well. They have taken over Egypt and are set to take over Syria and its chemical weapons arsenal without a change in US policy. They look ahead to the day US forces leave Afghanistan, which Obama has conveniently announced to them. And in the country where modern Islamism first came to life at the nation-state level, Iran, the government is set to gain a nuclear weapons capability, another Obama legacy. Hillary ought to park the plane and understand that diplomacy, or more accurately statecraft, ought to be about recognizing and fighting these problems. Pageantry, apologies and photo ops are obviously not getting it done.
FOJ Note: And a note to the President……….No more apology tours to the Arab world!
Al Qaeda Attacks US-led Sinai Peacekeeping Forces
Sept. 17….(DEBKAfile Special Report) There are unconfirmed reports of at least four peacekeepers hurt when scores of Salafi Bedouin linked to al Qaeda stormed the Multinational Force's camp in northern Sinai with grenades, mortars and automatic guns Friday night Sept. 14. The casualties were transferred to the Israeli hospital in Beersheba. The number of casualties and their nationality has not been confirmed. Debkafile's military and Egyptian sources report that the gunmen drove up to the camp in 50 Toyota pickups, first blocking the roads to the Al Ghora base southwest of El Arish, then knocking over two guard posts. They faced heavy resistance from the international force before torching the facility, plundering its arms and ordnance stores and hoisting the black al Qaeda flag. A second band of 60-70 gunmen then arrived and the firefight continued although an Egyptian force arrived on the scene with 11 armored personnel carriers.
This was the second al-Qaeda-instigated assault on a primarily US target in the Middle East in four days after the murder of four US diplomats including Ambassador Chris Stevens in Benghazi, Libya Tuesday. The 1,500 troops from the United States and other countries have been posted in Sinai to monitor the 1979 peace accords between Egypt and Israel.
Armada of US & British Naval Power Massing in the Persian Gulf
(An armada of US and British naval power is massing in the Persian Gulf in the belief that Israel is considering a pre-emptive strike against Iran's covert nuclear weapons program.)
Sept. 17….(The Telegraph) Battleships, aircraft carriers, minesweepers and submarines from 25 nations are converging on the strategically important Strait of Hormuz in an unprecedented show of force as Israel and Iran move towards the brink of war.
Western leaders are convinced that Iran will retaliate to any attack by attempting to mine or blockade the shipping lane through which passes around 18 million barrels of oil every day, approximately 35 per cent of the world's petroleum traded by sea. A blockade would have a catastrophic effect on the fragile economies of Britain, Europe the United States and Japan, all of which rely heavily on oil and gas supplies from the Gulf.
The Strait of Hormuz (shown on map) is one of the world's most congested international waterways. It is only 21 miles wide at its narrowest point and is bordered by the Iranian coast to the north and the United Arab Emirates to the south. In preparation for any pre-emptive or retaliatory action by Iran, warships from more than 25 countries, including the United States, Britain, France, Saudi Arabia and the UAE, will today begin an annual 12-day exercise.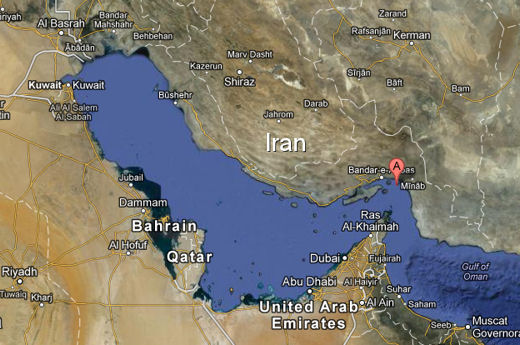 In the event of war, the main threat to the multi-national force will come from the Islamic Revolutionary Guards Corps navy, which is expected to adopt an "access-denial" strategy in the wake of an attack, by directly targeting US warships, attacking merchant shipping and mining vital maritime chokepoints in the Persian Gulf. The exercise is being showcased as the biggest air defence war game in the Islamic Republic's history, and will be its most visible response yet to the prospect of an Israeli military strike. The Strait of Hormuz has long been disputed territory, with the Iranians claiming control of the region and the entire Persian Gulf.
Rear Admiral Ali Fadavi of the Iranian Revolutionary Guard Corps recently boasted that "any plots of enemies" would be foiled and a heavy price exacted, adding: "We determine the rules of military conflict in the Persian Gulf and the Strait of Hormuz." But Leon Panetta, the US defence secretary, warned that Iranian attempts to exercise control over the Strait of Hormuz could be met with force. He said: "The Iranians need to understand that the United States and the international community are going to hold them directly responsible for any disruption of shipping in that region, by Iran or, for that matter, by its surrogates." (terrorist networks)
Israeli Foreign Ministry Says US Has Head in Sand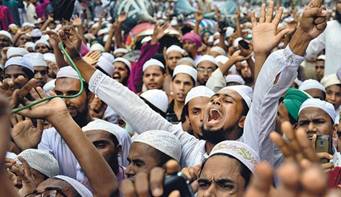 Sept. 17….(Ha Aretz) An Israeli Foreign Ministry official speaking on the signs of 'radicalization' in Arab world stated: 'We knew what was happening, but the Obama Administration preferred to find excuses.' For months before the most recent attacks on US embassies in North African states, Foreign Ministry and US State Department officials had been arguing over developments in these countries. Senior figures in Jerusalem claimed that Washington was burying its head in the sand and ignoring the increasing radicalization in states such as Tunisia and Egypt. The Obama administration, which since the beginning of the Arab Spring has aided, directly or indirectly, the forces that brought down the dictatorial regimes in Egypt, Tunisia, Yemen and Lybia, now finds itself in a position of helplessness.
Iran: 'Nothing Will Remain of Israel if it Attacks'
(In unusually strongly worded, detailed statement, Revolutionary Guard Chief Mohammad Ali Jafari warns Israel against consequences of proceeding with military strike against Tehran's nuclear program)
| | |
| --- | --- |
| | (FOJ) Even with a nuclear weapon, Iran will not succeed in wiping Israel off the map. Concerning Israel and God's heritage, the Lord made this statement: (Isaiah 54:17 No weapon that is formed against thee shall prosper; and every tongue that shall rise against thee in judgment thou shalt condemn. This is the heritage of the servants of the LORD, and their righteousness is of me, saith the LORD.) |
Sept. 17….(YNET) The top commander in Iran's powerful Revolutionary Guard warned Sunday that "nothing will remain" of Israel if it takes military action against Tehran over its controversial nuclear program. General Mohammad Ali Jafari said Iran's response to any attack will begin near the Israeli border. The Islamic Republic has close ties with terrorists in Gaza and Lebanon, both of which border Israel. Iran has in the past made reference to the destruction of Israel but his comments at a Tehran news conference were unusually strongly worded and detailed. He also said that Iran warned that oil shipments through the strategic Strait of Hormuz will be in jeopardy if a war breaks out between Iran and the United States. Iranian officials have previously threatened to close the waterway, the route for a fifth of the world's oil, but less frequently in recent months.
General Jafari also told a news conference in Tehran Sunday that if it is attacked, Iran will no longer be committed to the Nuclear Non-Proliferation Treaty, under whose terms UN inspectors visit Iranian nuclear sites. He said however that this does not mean that Iran would build a nuclear weapon.
The US and Israel have both left open the possibility of a strike on Iran if diplomacy fails to stop what it says is a push for a nuclear weapon. Tehran says its nuclear program is for peaceful purposes.
Gen. Jafari however said that Iran believes the United States won't attack Iran because it is very vulnerable and its military bases in the Middle East are within the range of Iran's missiles. Jafari also said Israel is very unlikely to take unilateral action. The commander of Iran's Revolutionary Guards also noted that members of his elite special operations unit, the Quds Force, are present in Syria and Lebanon.
Netanyahu You Want Fanatics to Have Nuclear Weapons?
Sept. 17….(YNET) In attempt to curb flood of criticism against possible military strike against Tehran, Prime Minister Benjamin Netanyahu tells Meet the Press 'Iran puts zealotry above survival', explains why containment strategy won't work
Netanyahu responded: "I think Iran is very different, they put their zealotry above survival, they have suicide bombers all over the place, I wouldn't rely on their rationality."
According to Netanyahu: "Since the advent of nuclear weapons you've had countries that have had access to nuclear weapons who always made a careful calculation of cost and benefit but Iran is guided by a leadership with an unbelievable fanaticism. "It's the same fanaticism that you see storming your embassies today. You want these fanatics to have nuclear weapons?"
Netanyahu then responded to the slew of recent criticism expressed in US newspapers towards his plans for a military strike on Iran: "I heard some people suggest…I actually read this in the American press, they said 'well you know if you take action that's a lot worse than having Iran with nuclear weapons.' "Some have even said that Iran with nuclear weapons would stabilize the Middle East. Stabilize the Middle East! I think that the people who say this set a new standard for human stupidity."
FOJ Note: During the Cold War, the US and the Soviet Union remained aloof from the threat posed by nuclear weapons because of the MAD philosophy. The MAD concept rested upon the "Mutually Assured Destruction" ideal that would certainly result in the event that one side used a nuclear weapon. With Iran, that rationale no longer exists, especially with Iran's tactic of asymmetrical warfare.
WEEK OF SEPTEMBER 9 THROUGH SEPTEMBER 15
Pres. Obama, Sec. Clinton; It's Time to Wake Up and Smell the Global Jihad
Sept. 14….(Christian Whiton) When the men who killed our ambassador to Libya were in the final stages of their preparation, Hillary Clinton was in the Cook Islands, being regaled by locals in traditional dress. Her seemingly endless world tour has prioritized symbolism and pageantry over substance. So too has the administration of her boss, Barack Obama, and the costs are now becoming clear. This explains why Obama's chief diplomat said of the Libya attack: "I asked myself, how could this happen? How could this happen in a country we helped liberate, in a city we helped save from destruction?"
Madam secretary, it is time for you and your boss to wake up and smell the global jihad. There are people in this world, and not a small number of them, who share the vision bin Laden had and have the will and means to act. No amount of apologizing for America, embracing our adversaries or mistreating our allies will change that.
It is worth recalling that Cairo, the city where a mob entered the US embassy compound and burned an American flag, was the epicenter of what critics call Obama's "apology tour." It was there that he apologized for critical steps American officials took in the Middle East to defend against the Soviets eight years before Obama was born. It was there that he criticized his own nation's response to 9/11. That was the reason US diplomats in Cairo instinctively put out an apologetic condemnation of those who "hurt the religious feelings of Muslims." They were simply channeling the Obama view of the world.
Sec. Hillary also said that the attack was the result of a "small and savage group." Wrong again. Viewed correctly, the attack was perpetrated by a very large group. Terrorism as we have known it since 9/11 is but the violent vanguard of the Islamist political ideology. This ideology unifies diverse terrorists from Jemmah Islamiyah in Indonesia to Al-Shabaab in Somalia to Boko Haram in Nigeria to the Muslim Brotherhood in Egypt to the Haqqani network in Afghanistan and Pakistan. While the groups are diverse and at times antagonistic toward each other, their hatred of America unites them, and they work toward a generally common goal. Behind them is a large body of people who cheer on and support Islamists, a minority of Muslims perhaps, but hardly a body of people we should ignore.
The American people have instinctively understood this threat since Islamists took over Iran and took our diplomats hostage there in 1979. Our political class never has never understood this. Instead, our foreign policy establishment, led by presidents of both parties, has spoken of "violent extremists" as if they had no common thread or clear ideological motivation. More recently, President Obama has thumped his chest about killing Al Qaeda's founder and implied that Al Qaeda is our only real enemy. This is convenient and politically correct—but it is wrong. If we killed everyone in Al Qaeda tomorrow, we would still have a problem that Obama, Hillary and the Washington foreign policy establishment refuse to recognize. There is a tyrannical political force in the world that is waging war on us wherever it can, both politically and militarily.
On Obama's watch, the Islamists have done very well. They have taken over Egypt and are set to take over Syria and its chemical weapons arsenal without a change in US policy. They look ahead to the day US forces leave Afghanistan, which Obama has conveniently announced to them. And in the country where modern Islamism first came to life at the nation-state level, Iran, the government is set to gain a nuclear weapons capability, another Obama legacy. Hillary ought to park the plane and understand that diplomacy, or more accurately statecraft, ought to be about recognizing and fighting these problems. Pageantry, apologies and photo ops are obviously not getting it done.
FOJ Note: And a note to the President……….No more apology tours to the Arab world!
Al Qaeda Attacks US-led Sinai Peacekeeping Forces
Sept. 14….(DEBKAfile Special Report) There are unconfirmed reports of at least four peacekeepers hurt when scores of Salafi Bedouin linked to al Qaeda stormed the Multinational Force's camp in northern Sinai with grenades, mortars and automatic guns Friday night Sept. 14. The casualties were transferred to the Israeli hospital in Beersheba. The number of casualties and their nationality has not been confirmed. Debkafile's military and Egyptian sources report that the gunmen drove up to the camp in 50 Toyota pickups, first blocking the roads to the Al Ghora base southwest of El Arish, then knocking over two guard posts. They faced heavy resistance from the international force before torching the facility, plundering its arms and ordnance stores and hoisting the black al Qaeda flag. A second band of 60-70 gunmen then arrived and the firefight continued although an Egyptian force arrived on the scene with 11 armored personnel carriers.
This was the second al-Qaeda-instigated assault on a primarily US target in the Middle East in four days after the murder of four US diplomats including Ambassador Chris Stevens in Benghazi, Libya Tuesday. The 1,500 troops from the United States and other countries have been posted in Sinai to monitor the 1979 peace accords between Egypt and Israel.
Nadarkhani Free, but Iran's Jails Hold Many More Christians
Sept. 14….(Fox News) Pastor Youcef Nadarkhani made international headlines and eventually won his freedom after being imprisoned and sentenced to death by an Iranian court, but several other Christians remain in the Islamic nation's prisons simply because of their faith. Advocates of the men and women who refuse to renounce their Christian beliefs in a nation where they are vastly outnumbered by an often hostile population say their best chance for freedom is international pressure. Less than 1 percent of Iran's population is comprised of people of non-Muslim faith, according to CIA's World Factbook, and Christians, Jews and Hindi face relentless persecution.
Iran has amped up its systematic persecution of Christians over the last year, closing churches, burning Bibles, imprisoning believers, and using threats and intimidations tactics to suppress religious expression," said Tiffany Barrans, International legal Director for the American Center for Law and Justice (ACLJ), which waged a successful campaign for Nadarkhani's release. Nadarkhani's dramatic release after three years in prison came Sept. 8, after an international campaign of diplomatic and online pressure prompted a judge to reduce his sentence to time served for downgraded charges of "evangelizing to Muslims." But other Christian ministers still languish in Iranian prisons with deplorable conditions simply for professing their faith.
Pastor Farshid Fathi has been locked up in Iran's notorious Evin prison since December 2010 for what the ACLJ describes as practicing his Christian faith. In Fathi's case, his Christian activity was framed as being "criminal political offenses" by the court. The regime in Iran equated his activities as "actions against national security," based on evidence the pastor unlawfully distributed Bibles printed in Iran's language of Farsi.
Another Christian minister, Pastor Behnam Irani, is serving six years in Ghezal Hezar prison for alleged "actions against the state," after he preached to a group of converted Christians in a house church as well as sharing his faith with Muslims. Irani was originally arrested in December 2006, convicted and given a five-year suspended prison sentence. He was arrested again in April 2010.
Supporters of the persecuted Christians say Nadarkhani's release shows Iran will bow to international pressure, if enough people and governments are involved. "Pastor Youcef's recent release is certainly something to celebrate, but amidst the celebration we must remember that many others remain in prison in Iran solely for their faith," said Barrans. "Iran is at a critical juncture both politically and diplomatically. We must use this moment, while the world is listening, to draw attention to Iran's many abuses of human rights."
Anti-US Protests Ignite Hatred of America Across Mid East
Sept. 14….(Fox News) Anti-American protests have erupted in the Middle East over a crudely made film mocking the prophet Muhammad, resulting in violent embassy protests around the Middle East and heightened security at US facilities abroad. US officials are bracing for possible protests across the Muslim world over an anti-Islam film blamed on the attack in Libya that killed a US ambassador and three other Americans. With angry protests already occurring in Egypt and Yemen, the US has put all of its diplomatic missions on high alert. And Secretary of State Hillary Rodham Clinton has denounced the anti-Islam video in hopes of pre-empting further turmoil.
In Libya on Tuesday, the storming of the US Consulate in Benghazi killed the American ambassador, Chris Stevens, and three other embassy staff members. Libyan officials say the attack in Benghazi was a planned operation by heavily armed militants that may have been timed to mark the 11th anniversary of the 9/11 terror attacks on the US and that the militants used civilian protesters as cover for their action.
In Egypt, angry youths climbed the walls of the US Embassy on Tuesday in Cairo and brought down the flag. In Yemen's capital of Sanaa, hundreds of protesters chanting "death to America" and "death to Israel" stormed the US Embassy compound and burned the American flag on Thursday. In Iraq, several hundred Shiite hardliners protested Thursday in Baghdad's Shiite stronghold of Sadr City, and the leader of an Iranian-backed Shiite militia, Asaib Ahl al-Haq, threatened anti-US attacks. And in Iran, about 50 protesters shouted, "Death to America" outside the Swiss Embassy, which looks after US interests there.
Life in US Would be Unsustainable After an EMP Attack
Sept. 14….(WND) Congress today was told that the Department of Homeland Security hasn't identified an electromagnetic pulse, or EMP, event as a serious national security threat to the nation's grid system even though testimony revealed it could making living in the United States "unsustainable" for 70 to 90 percent of the population. And the few billion dollars it would cost to harden systems against such an occurrence is hardly the tens of billions or hundreds of billions it could cost to repair the damage. Rep. Trent Franks, R-Ariz, who is on the House Armed Services Committee, also testified that the military is highly vulnerable to an EMP event, since it relies some 99 percent on the national grid to accomplish its functions. Franks is sponsor of H.R. 668, known as the Shield Act, which provides authority to protect transformers. "The potential threat is damage to the transformers" either from a solar storm or the effects of an electromagnetic pulse from a high-altitude nuclear explosion.
The legislation has passed the House of Representatives, but no action is planned at this writing in the US Senate. At the time the legislation was introduced in February 2011, Franks said that it was vital to secure the high-voltage electrical infrastructure from lethal damage. "The threat of an electromagnetic pulse weapon represents the single greatest asymmetric capability that could fall into the hands of American enemies," Franks warned at the time. "Should a nuclear weapon from a rogue state such as Iran be detonated in Earth's atmosphere at a sufficient height above the continental United States, the blast of electromagnetic energy could immediately cripple America's electric power grid. "Currently, the vast majority of the United States' infrastructure is unsecured and exposed," he said.
Muslim Brotherhood Calls for More Protests Against US
(America, Israel warned their demise is definite and very soon)
Sept. 14….(WND) It was reported yesterday that just last month, US intelligence agencies monitored a meeting between officials of the Egyptian and Iranian intelligence ministries, raising the specter that the newly installed Muslim Brotherhood government in Cairo could be secretly backing terrorism worldwide. Members of the anti-Muslim Brotherhood opposition believe Barack Obama has signed off on a covert agreement to support the Morsi government. At the same time the Organization of the Mobilization of the Oppressed, the Basij of the Islamic regime in Iran, put out a statement urging Muslims throughout the world to show their anger against America.
The statement declared that, in revenge, the "filthy regime of America" because of its repeated defeats from the great Islamic front, has insulted the sanctity of Islam, hurting the feelings of the Islamic world. Referring to the video ridiculing Prophet Muhammad, the Basij called it an act of conspiracy to insult Muslims to incite a religious war in Egypt. The statement praised the Egyptian Muslims for understanding the motives of the "Great Satan," and in showing their anger toward America. Basij then warns America and Israel that their demise and destruction is definite and very soon and that nothing will stop their ultimate fate. The statement continues that these acts will only raise awareness worldwide toward the truth about what it calls "The Islam of Muhammad" and the oppressors will unite under the flag of Islam to take revenge against the murderous regimes (Israel and America).
In conclusion the statement urges all Muslims to show their hatred and anger against America and urges God to hasten the coming of the last Islamic Messiah in defense of Islam. It is important to note that these protests come after Egyptian President Mohamad Morsi's recent visit to Iran on Aug. 30 when he attended the meeting of the None Aligned Movement.
FOJ Note: I guess that next thing will be that the Obama Administration, and the corrupt politicians in Washington will conclude that the American taxpayers need to send more billion of dollars of aid to these enemies, thereby financing a better environment for freedom and democracy. (Egypt and Libya really seem to have appreciated all the aid we supplied so they could try democracy…sic) And another thing, why isn't there an outcry of protests anywhere against the Muslim countries for all the atrocities they are committing against Christians and Jews? Afterall it is their holy book that calls for our deaths!
A Story For Dog Lovers
Sept. 14….(Yahoo) An extremely dedicated dog has continued to show its loyalty, keeping watch on its owner's grave six years after he passed away. Capitan, a German shepherd, reportedly ran away from home after its owner, Miguel Guzman, died in 2006. A week later, the Guzman family found the dog sitting by his grave in central Argentina.
Miguel Guzman adopted Capitan in 2005 as a gift for his teenage son, Damian. And for the past six years, Capitan has continued to stand guard at Miguel's grave. The family says the dog rarely leaves the site. "We searched for him, but he had vanished," widow Veronica Guzman told LaVoz.com. "We thought he must have got run over and died. 'The following Sunday we went to the cemetery, and Damian recognized his pet. Capitan came up to us, barking and wailing as if he were crying." Adding to the unusual circumstances, Veronica says the family never brought Capitan to the cemetery before he was discovered there. "It is a mystery how he managed to find the place," she said.
Cemetery director Hector Baccega says he and his staff have begun feeding and taking care of Capitan. "He turned up here one day, all on his own, and started wandering all around the cemetery until he eventually found the tomb of his master," Baccega said. "During the day he sometimes has a walk around the cemetery, but always rushes back to the grave. And every day, at six o'clock sharp, he lies down on top of the grave, stays there all night."
But the Guzman family hasn't abandoned Capitan. Damian says the family has tried to bring Capitan home several times but that he always returns to the cemetery on his own. "I think he's going to be there until he dies, too. He's looking after my dad," he said.
FOJ Note: I love dogs, maybe you do too. This story touches my heart. Even the animal world suffers under the curse of a sinful world, but someday God will rectify even this condition. (Romans 8:21-22 Because the creature itself also shall be delivered from the bondage of corruption into the glorious liberty of the children of God. For we know that the whole creation groaneth and travaileth in pain together until now.)
Al-Qaeda-Linked Group Behind Killing of US Ambassador to Libya
(Gunmen, reportedly marking 9/11 anniversary, used protest over anti-Islam film to foment chaos, take revenge for slain terror operative, officials believe; warships, marines en route to Libya)
(FOJ Note: Obama rejects denigrating religious beliefs of Muslims)
Sept. 13….(Times of Israel) The attack on an American consulate building in Libya that left the ambassador and three other Americans dead may have been a planned operation by a group linked to al-Qaeda timed to coincide with the anniversary of the 9/11 terror attacks, sources in the US and Libya said Wednesday. Sources in Libya told CNN that al-Qaeda operatives carried out the attack in revenge for a slain terrorist operative, using the release of an anti-Islam movie as a pretext for the chaos.
Protesters stormed the US Consulate in Benghazi late Tuesday night, setting fire to the building and killing Ambassador Chris Stevens as well as three other staffers. The four were reportedly killed when fired at by a rocket-propelled grenade, part of a planned attack on the compound by two waves of gunmen. US officials said some 50 Marines were being sent to Libya to reinforce security at US diplomatic facilities. The Marines are members of an elite group known as a Fleet Antiterrorism Security Team, or FAST, whose role is to respond on short notice to terrorism threats and to reinforce security at embassies. The Marines, sent from a base in Spain, were headed initially to the US Embassy in Tripoli, not to Benghazi, according to US officials, who spoke on the condition of anonymity because they were not authorized to talk to the press.
Officials also said the Pentagon decided to move two warships toward the Libyan coast. Officials say one destroyer, the USS Laboon, moved to a position off the coast Wednesday, and the USS McFaul is en route and should be stationed off the coast within days. The officials say the ships, which carry Tomahawk missiles, do not have a specific mission. But they give commanders flexibility to respond to any mission ordered by the president.
According to Israel's Channel 2 news analyst Ehud Yaari, the attack was planned to coincide with September 11, the anniversary of al-Qaeda's attack on the US 11 years earlier, and was carried out in revenge for the killing of Abu Yahya al-Libi by US forces in June. US officials say the Obama administration is also investigating whether it was a planned terrorist strike to mark the anniversary of 9/11. Intelligence officials said the attack on the Benghazi consulate was too coordinated or professional to be spontaneous, according to a US counterterrorism official who spoke on condition of anonymity because he was not authorized to discuss the incident publicly.
Hours before the attack, al-Qaeda leader Ayman al-Zawahiri released a video confirming Libi's death and calling for his blood to be avenged. Yaari added that Zawahiri's brother Mohammed, recently released from an Egyptian prison, may have had a hand in planning the attack as well. Stevens was a career member of the US Foreign Service specializing in the Middle East, and served at various diplomatic posts around the region, including a stint as political section chief at the US Consulate in Jerusalem. US sources told CNN that the attacks were pre-planned, but were unable to confirm whether the protest over the film, a low-budget affair that depicts the Muslim prophet Mohammad in a harsh light, was part of the attack, or whether the terrorists merely took advantage of it. Imprisoned Omar Abdul Rahman Brigades is suspected to be behind the attack. The little-known terror group, with links to al-Qaeda, has claimed responsibility for other attacks on international forces near Benghazi in the past.
In Unusual Snub, Obama Avoiding Meeting Netanyahu
Sept. 13….(Reuters) In a highly unusual rebuff to a close ally as tensions escalated over how to deal with Iran's nuclear program, the White House said on Tuesday President Barack Obama would not meet Benjamin Netanyahu during the Israeli prime minister's US visit later this month. The apparent snub, coupled with Netanyahu's sharpened demands for a tougher US line against Iran, threatened to plunge US-Israeli relations into crisis and add pressure on Obama in the final stretch of a tight presidential election campaign. An Israeli official, who declined to be identified, said the White House had refused Netanyahu's request to meet Obama when the Israeli leader visits the United States to attend the UN General Assembly, telling the Israelis, "The president's schedule will not permit that."
With US-Israeli differences increasingly laid bare and allies of Republican presidential challenger Mitt Romney seizing the chance to slam Obama over his Israel policy, the president phoned Netanyahu on Tuesday night. Netanyahu has had a strained relationship with Obama, but they have met on all but one of his US trips since 2009. The president was on a foreign visit when the Prime Minister came to the United States in November 2010. By withholding a meeting, the Democratic president could alienate some Jewish and pro-Israel voters as he seeks a second term in the November 6 election. Romney has already accused Obama of being too tough on Israel and not hard enough on Iran.
Obama's avoidance of a face-to-face meeting could signal US displeasure with Netanyahu's intensifying push a specific ultimatum to Iran. Obama aides say privately they believe Netanyahu favors Romney, a fellow conservative, although the Israeli leader has been cautious to avoid being seen interfering in the election campaign. Word that the two men would not meet came on the same day that Netanyahu said the United States had forfeited its moral right to stop Israel from taking action against Iran's nuclear program because it had refused to be firm with Tehran itself.
Sens.John McCain and Lindsey Graham, Republican senators and critics of Obama's foreign policy, said in a joint statement: "It is puzzling that the president can't make time to see the head of state of one of America's closest allies in the world." "If these reports are true, the White House's decision sends a troubling signal to our ally Israel about America's commitment at this dangerous and challenging time," they said. Netanyahu's relations with Obama have been tense because of Iran and other issues, such as Jewish settlement building in the occupied West Bank. But he has never framed his differences with Obama, who has pledged he will "always have Israel's back" and has not ruled out military action against Iran if all else fails, in moral terms. While seeking to put Netanyahu in his place might not go down well with pro-Israel voters, the White House may also be trying to avoid an embarrassing encounter. When the two men met in the Oval Office in May 2011, Netanyahu lectured Obama on Jewish history and criticized his approach to Israeli-Palestinian diplomacy. Netanyahu's office had offered a solution to the leaders' scheduling problems by having him visit Washington before his UN speech on September 28, but the White House did not accept the idea, the Israeli official said.
Al Zawahri Ordered Al Qaeda to Murder US Ambassador Stevens
Sept. 13….(DEBKAfile Exclusive Report) The US Ambassador to Libya Chris Stevens and three staff members at the US consulate in Benghazi were deliberately murdered Tuesday night Sept 11 just after memorial ceremonies were held in America for the victims of the 9/11 outrage. Debkafile's counter-terror sources report exclusively that far from being a spontaneous raid by angry Islamists, it was a professionally executed terrorist operation by a professional Al Qaeda assassination team, whose 20 members acted under the orders of their leader Ayman al Zawahri after special training. They were all Libyans, freed last year from prisons where they were serving sentences for terrorism passed during the late Muammar Qaddafi's rule.
In a video tape released a few hours before the attack, Zawahri called on the faithful to take revenge on the United States for liquidating one of the organization's top operatives, Libyan-born Abu Yahya al-Libi in June by a US drone in northwestern Pakistan. Its release was the "go" signal for the hit team to attack the US diplomats in Benghazi. To mask their mission, they stormed the consulate on the back of a violent protest by hundreds of Islamists against a film said to insult Prophet Muhammed produced by a Florida real estate agent called Sam Bacile, who has been described as of Israeli origin. The operation is rated by terror experts as the most ambitious outrage al Qaeda has pulled off in the last decade. According to our sources, the gunmen split into two groups of 10 each and struck in two stages:
1. They first fired rockets at the consulate building on the assumption that the ambassador's bodyguards would grab him, race him out of the building and drive him to a safe place under the protection of the US secret service;
2. The second group was able to identify the getaway vehicle and the ambassador's armed escort and lay in wait to ambush them. The gunmen then closed in and killed the ambassador and his bodyguards at point blank range.
Debkafile's intelligence sources report that the investigation launched by US counter-terror and clandestine services is focusing on finding out why no clue was picked up of the coming attack by any intelligence body and how al Qaeda's preparations for the attack which took place inside Libya went unnoticed by any surveillance authority.
Israel Angered by Clinton's Kid-Glove Approach to Iran
| | |
| --- | --- |
| | (FOJ) Washington's refusal to set red lines regarding Iran's nuclear program will only encourage the Islamic Republic to press on, and eventually not only acquire nuclear weapons, but also use them, warn Israeli officials. |
Sept. 12….(Israel Today) Israeli officials were taken aback on Monday when the Obama Administration, which had previously vowed to prevent Iran from attaining nuclear weapons, insisted that it would set no deadlines for Iranian compliance with international demands. "We're not setting deadlines," US Secretary of State Hillary Clinton told reporters after being asked how Washington would respond to Israeli Prime Minister Benjamin Netanyahu's insistence that the West must do more to halt Iran's defiant nuclear program. Clinton's spokesperson, Victoria Nuland, later added, "it is not useful...to be setting deadlines one way or the other, red lines." "Without a firm and clear red line, Iran won't stop its race for a nuclear weapon," an unnamed Israeli government official told The Times of Israel. "Words like these don't only not deter Iran, they calm it."
The official's remarks echoed Netanyahu's warning earlier this week that the lack of international determination was only encouraging Iran to continue its quest for nuclear arms. I think what is important to realize is that Iran will not stop unless it sees clear determination by the democratic countries of the world and a clear red line," Netanyahu said in an interview with Canadian Broadcasting Corporation (CBC) after Canada became the first Western power to sever ties with Iran over its threatening nuclear ambitions. A recent report by the International Atomic Energy Agency (IAEA) backed up Netanyahu's assessment, noting that in recent years Iran's nuclear research and achievements had accelerated, and that there was evidence Iran intends to build nuclear warheads.
Speaking to Israel's Arutz Sheva radio station, former Israeli ambassador to the US Zalman Shoval said it was time for Israel to realize that, "as usual, we are alone" in dealing with this new threat.
US marks 11th anniversary of Sept. 11 attacks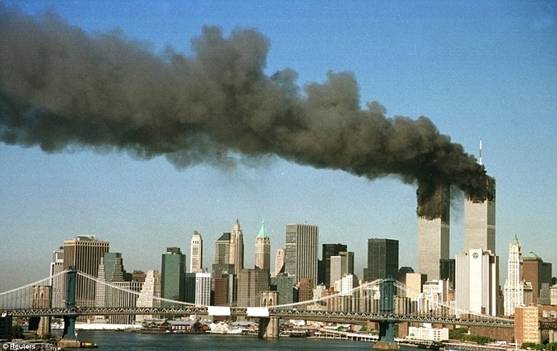 A changed city: The skyline rises over Lower Manhattan on the eleventh anniversary of the attacks.
Freedom tower, which remains under construction, rises above the city.
Obama and Netanyahu Sparring Over Iran Ahead of Final Talks Sept 28
Sept. 12….(DEBKAfile Exclusive Analysis) The wrangling over Iran between the offices of the US President Barack Obama and Israeli Prime Minister Binyamin Netanyahu Monday, has been reduced essentially to a battle for the agenda of their meeting in New York on Sept. 28: Netanyahu will be pressing for a US commitment to military action if Iran crosses still-to-be-agreed red lines, while the White House rejects red lines, or any other commitment for action, as neither necessary nor useful. Israel's latest rebuttal came Monday, Sept. 10 from former Military Intelligence chief, Amos Yadlin, who argued that even without agreed red lines, Israel was quite capable of coping with its enemies without the United States.
The sparring appeared to have reached a point of no return, leaving Obama and Netanyahu nothing more to discuss. However, just the opposite is true. For both leaders their upcoming tête-à-tête is vital. It is the US president's last chance to prevent an Israeli attack on Iran's nuclear program before he faces the American voter on Nov. 6, while the prime minister will not forego any opportunity to harness the US to this attack. He needs to prove - not just to the anti-war camp ranged against him at home, but also to assure the military, which has been falsely reported as against an attack, that he bent over backward to procure US backing.
Netanyahu does not feel that even if he fails to talk Obama around (more likely than not), he has lost American support; he counts on the US Congress to line up behind Israel's case for cutting down a nuclear Iran which is sworn to destroy the Jewish state, as well as sections of the US public and media and some of he president's Jewish backers, including contributors to his campaign chest. Those are only some of the reasons why the last-ditch US-Israeli summit cannot be avoided and indeed may be pivotal, both for their participants' personal political destinies,and for the Middle East at large. Debkafile's Washington and political sources disclose that their dialogue will have two levels according to current planning:
1. In New York, Obama and Netanyahu will try and negotiate a common framework;
2. At the Pentagon in Washington, defense chiefs Leon Panetta and Ehud Barak will be standing by to render any agreements reached in New York into practical, detailed plans which would then be referred back to the two leaders for endorsement.
The heated dispute between US and Israeli officials over "red lines" was therefore no more than sparring over each of the leaders' starting-points for their New York dialogue and therefore their agenda and final understandings. Behind the clash of swords, US and Israeli diplomats are working hard to negotiate an agreed starting point. They are putting just as much effort into preventing the row deteriorating into a total rupture before Sept. 28. Netanyahu discussed another red line Monday when he interviewed President Shimon Peres in Jerusalem, their first meeting in three months. Although the Israeli presidency is a largely titular function, Peres has elected himself senior spokesman for the opponents of an Israeli military operation against Iran. While their advisers sought to establish agreed lines between them ahead of Netanyahu's meeting with Obama, debkafile reports that the confrontation between the two Israeli politicians ended inconclusively, because Peres kept on demanding that the prime minister bend to the will of the White House.
Netanyahu: If US Refuses Red Lines on Iran, US cCn't Give Israel Red Light
(Israeli PM Netanyahu launches unprecedented attack on Obama administration)
Sept. 12….(Ha Aretz) Prime Minister Benjamin Netanyahu on Tuesday launched an unprecedented verbal attack on the US government over its stance on the Iranian nuclear program. Two days after secretary rules out Iran deadline, Netanyahu says: 'The world tells Israel to wait because there is still time. And I ask: Wait for what, and until when? Prime Minister Benjamin Netanyahu on Tuesday said that countries that refused to set deadlines for Iran to give up its nuclear program have no right to tell Israel to hold back on taking preemptive military action to thwart the regime's nuclear ambitions. His comments constituted an explicit and bitter rebuttal of comments made by US Secretary of State Hillary Clinton, who said on Sunday that the US will currently not set deadlines or give ultimatums regarding Tehran's refusal to curb its nuclear program. "The world tells Israel to wait because there is still time. And I ask: Wait for what? Until when? Those in the international community who refuse to put red lines before Iran don't have a moral right to place a red light before Israel," Netanyahu said. "If Iran knows that there is no red line or deadline, what will it do? Exactly what it is doing today, i.e., continuing to work unhindered toward achieving a nuclear weapon."
US, Israel Still Disagree Over Iran 'Red Line'
Sept. 11….(Reuters) Prime Minister Benjamin Netanyahu said Israel and the United States were in talks on setting a "clear red line" for Iran's nuclear program, but the two allies remained at odds on Monday over whether to spell out a clear threshold for military action against Tehran. The Israeli leader, who has been pressing President Barack Obama for a tougher line against Iran, again signaled that a sharper US ultimatum for Tehran could deter it from developing nuclear weapons and mitigate the need for a military response. Netanyahu's recent calls for world powers to set clear markers that would show they were determined to stop Tehran's nuclear drive has suggested a growing impatience with the United States, Israel's main ally.
Washington, which has resisted the idea of laying down red lines for Iran in the past, has urged the Israeli leader to give diplomacy and sanctions imposed on the Islamic Republic more time to work to rein in Iran's nuclear work peacefully. But Obama has not ruled out military action if all else fails. Recent heightened Israeli rhetoric has stoked speculation that Israel might attack Iran before the US elections in November, believing that Obama would give it military help and not risk alienating pro-Israeli voters. In his latest call for an unambiguous message on boundaries that Tehran must not cross, Netanyahu said in interview with Canada's CBC television aired late on Sunday: "We're discussing it right now with the United States." But he has yet to define publicly what he wants. Senior US officials offered no sign that the United States and Israel were any closer to narrowing their differences.
Secretary of State Hillary Clinton made comments that were interpreted by Israeli media as rejecting Netanyahu's call for a red line and drew admonishment from a senior Israeli official. In an interview with Bloomberg Radio, Clinton was asked about Netanyahu's demand that a red line be set and also whether she thought a time limit should be put on negotiations with Iran over its nuclear program. Clinton responded only to the second part of the question, saying, "We're not setting deadlines." Israeli media seized on those comments as a rejection of Netanyahu's red-line demand. The Israeli official said: "These statements will not stop Iran's centrifuges from spinning." Obama, who has had a strained relationship with Netanyahu, is facing accusation from Republican presidential nominee Mitt Romney that he is lax in his support for Israel and not hard enough on Iran.
White House spokesman Jay Carney dodged questions on whether Obama was ready to offer new red-line assurances to Israel. "The line is the president is committed to prevent Iran from acquiring a nuclear weapon, and he will use every tool in the arsenal of American power to achieve that goal," he told reporters, reiterating Obama's position. Asked whether that meant the United States would act only if Iran began building a bomb, Carney said: "It is not fruitful as part of this process to engage in that kind of specificity."
Netanyahu has faced opposition at home to any go-it-alone attack. Opinion polls show a majority of Israelis do not want their military to strike Iran without US support. "I don't think that they (Iran) see a clear red line, and I think the sooner we establish one, the greater the chances that there won't be a need for other types of action," Netanyahu told CBC, apparently referring to military steps. "If Iran saw that, there's a chance, I won't say it's guaranteed, but there's a chance they might pause before they cross that line." Israeli newspaper Haaretz said on Monday that Netanyahu had told German Foreign Minister Guido Westerwelle that if Iran enriched uranium above 20 percent, that would provide a red line, proving Tehran had chosen to exceed the level of refinement suitable for civilian energy and "break out" with an atom bomb. Enrichment to 90 percent fissile purity is the typical threshold for weapons-grade nuclear fuel. Haaretz said Netanyahu stressed that from the moment Iran decided to make a nuclear bomb, it would need only six weeks to enrich to 90 percent. Many independent analysts say, however, that Iran would need additional time, from several months to a year or more to fashion weapons-grade material into a nuclear warhead and fit it onto a missile capable of delivering the payload.
Netanyahu is scheduled to travel to the New York and address the UN General assembly about Iran later this month. A meeting with Obama, who is deep in his re-election campaign and due to speak to the forum two days before Netanyahu arrives, has not been finalized, the Israeli official said.
Former Ambassador: Israel Alone Again, As Usual
(Israel needd to get used to the idea that they are alone on Iran, former Israeli ambassador to the US Zalman Shoval says)
Sept. 11….(Arutz) Israelis need to get used to the idea that they are alone when it comes to dealing with Iran, and that they should not expect that the US will fight Israel's battles for it. In an interview with Arutz Sheva, former Israeli ambassador to the US Zalman Shoval said that Israeli and US interests diverged when it came to Iran. "We need to get used to the fact that, as usual, we are alone," he said. The current situation, he said, was reminiscent of the situation before the Six Day War, when Israel received no support from the US, and indeed, was told point-blank by the Johnson administration that if Israel took the initiative and actively attacked Egypt, it would have to suffer the consequences itself, despite the fact that Egypt committed an act of war by closing off the Straits of Tiran.
The US, he said, will stand behind Israel if it appears necessary, if Israel, for example, appears to be losing, but when it comes to decisions on how to defend itself, Israel should not expect the US to make recommendations. The US interest in the events in the Midldle East surrounding Iran go far beyond Israel's concerns over a nuclear-armed Iran, Shoval said. Until the election, the question of how an Israeli attack will affect his campaign is the number one interest of US President Barack H. Obama, but Obama finally seems to have decided that he needs to take care of America's economy, Shoval said, and if reelected, that domestic agenda will be far more important to him than a nuclear Iran.
With that, he added, the US understands that it must act to prevent Iran from going nuclear, not necessarily to save Israel, but to save its strategic position in the world, and in the Middle East in particular. Eventually the US will act, he said, but by the time the US is ready to move, it may be too late. "The US wants to put off the confrontation for a year or two, but every delay gives the Iranians another advantage," Shoval said.
In the end, he added, it will be up to Israel to decide what is best for its interests. "Of course, we must do this in a way that does not dismiss or disdain our friendship with the US," he added.
Iran: We'll Strike US If Israel Attacks
Sept. 10….(Newsmax) An Iranian military official said Iran will retaliate against American interests as well as Israelis if Israel launches an attack on the Islamic Republic's nuclear facilities. Ali Fadavi, a naval commander in the Islamic Revolutionary Guard Corps, was quoted by the Fars news agency as saying on Wednesday: "The Zionist regime separated from America has no meaning, and we must not recognize Israel as separate from America. "On this basis, today only the Americans have taken a threatening stance toward the Islamic Republic. If the Americans commit the smallest folly they will not leave the region safely." His threat came after an Israeli news report claimed President Obama was negotiating with Iran to keep the United States out of a future Israel-Iran war. The White House denied the report.
Iran has missiles that could reach US targets in the region, as well as Israel. Hezbollah leader Hassan Nasrallah also said Iran will attack American targets in the Middle East if Israel launches a military strike against Iran's nuclear facilities. The radical Shiite leader, whose group is often viewed as an Iranian proxy in Lebanon, warned that if Israel attacks, Iranian officials have told him that "the retaliation will be huge." "Iran will not forgive a strike against its nuclear facilities," Nasrallah said in an interview with the Beirut-based channel Al-Mayadeen. "The Zionist entity will not be the only target. American bases in the region will be targets, too." Iran has launched an attack against Israel on another front, asserting that Israel "spreads homosexuality" across the globe to pursue its goal of world domination, the Jerusalem Post reported. Mashregh News, a state-controlled Iranian paper, claimed that the United States and Britain are using money from Jews to spread homosexuality, and described Tel Aviv as the gay paradise on earth.
Iran Pastor Youcef Nadarkhani Acquitted of Apostasy, Released From Jail
Sept. 10….(Christian Post) Youcef Nadarkhani, the Iranian pastor who captured the hearts of millions as he stood firm in his faith while facing execution, has been acquitted of apostasy. Two organizations that have closely been monitoring the case and have sources in Iran reported Saturday that Nadarkhani, who went on trial early Saturday, has been released from prison and is at home with his family. "Thank you to everyone that has supported me with your prayers," Nadarkhani said, according to Present Truth Ministries. Though acquitted of apostasy, the Iranian pastor was found guilty of evangelizing Muslims. He was sentenced to three years imprisonment but was released because he already served this time. "We give thanks to God for His deliverance and the answer to our prayers," Jason DeMars, founder of Present Truth Ministries, said in a statement. Christian Solidarity Worldwide also confirmed the pastor's release. Nadarkhani, pastor in a network of house churches, was arrested on Oct. 13, 2009, after protesting the government's decision to force all children, including his own Christian children, to read the Quran.
He was initially charged for protesting but the charges were later changed to apostasy and evangelism to Muslims. In 2010, he was sentenced to death and the ruling was upheld by the Supreme Court of Iran last year. According to Islamic Sharia Law, an apostate has three days to recant. The Christian pastor had refused to recant his faith. Christians around the world have prayed and appealed for Nadarkhani's release. A Twitter campaign advocating for his freedom reached more than 3 million.
Worries Intensify over Syrian Chemical Weapons
Sept. 10….(Washington Post) Western spy agencies suspect Syria's government has several hundred tons of chemical weapons and precursor components scattered among as many as 20 sites throughout the country, heightening anxieties about the ability to secure the arsenals in the event of a complete breakdown of authority in the war-torn nation, US and Middle Eastern officials say. Officials are monitoring the storage sites, but they expressed growing fear that they have not identified every location and that some of the deadly weapons could be stolen or used by Syrian troops against civilians. The collapse of government control in several Syrian provinces has prompted heightened scrutiny of the weapons depots by the United States and its allies in the region. It also has hastened preparations for securing the sites with foreign troops, the US and Middle Eastern officials said.
Drawing from recent intelligence assessments, the officials believe that the Syrian arsenal contains several hundred tons of chemical weapons and precursors, including sizable quantities of battlefield-ready sarin, the deadly nerve agent. The stockpile appears to be larger and more widely distributed than originally suspected, according to two officials who have seen the intelligence reports. They said the most dangerous chemical stocks are kept in bunkers in about a half-dozen locations, while as many as 14 other facilities are used to store or manufacture components.
A former US intelligence official said North Korea and Russia have assisted Syria over the decades in constructing weapons facilities that are well-fortified and shielded from spy satellites. "They are masters at concealment," the former official said. In August, a Syrian Foreign Ministry spokesman, Jihad Makdissi, said the Damascus government would never use chemical arms against its people, but he warned that it would unleash the weapons against what he called foreign invaders. He said the military was guarding the stockpile.
In response, President Obama cautioned the Syrian government that any deployment of its chemical weapons would cross a "red line" and invite an immediate response by the West. Syria is thought to possess the world's third-largest stockpile of chemical weapons after United States and Russia, whose Cold War arsenals are being dismantled and destroyed. Syria's weapons, predominantly deadly nerve agents that can be delivered by artillery rockets, shells and aircraft munitions, were developed for use in a war against Israel. The increased focus on Syria's stockpile is driven in part by the government's de facto retreat from large portions of the countryside as forces loyal to President Bashar al-Assad concentrate on driving rebels from Damascus, Aleppo and other key cities. Despite setbacks, the opposition Free Syrian Army says that up to half of the countryside is in rebel hands, a claim that underscores concerns that weapons depots could be abandoned or overrun.
US and Israeli officials fear that the chemical sites could be looted, leading to weapons being sold or given to radical Islamists or to Iranian-backed Hezbollah fighters. A single crate of artillery shells or a few barrels of chemical precursors would contain enough lethal poisons for a series of terrorist attacks, weapons experts say.
Mitigating the risk somewhat is the fact that the most of Syria's stockpile consists of chemical precursors that must be combined and loaded into shells or bombs. Amateurs who attempt to mix ingredients for sarin gas run a strong risk of killing themselves instead of their intended targets. Still, the terrorism risk has prompted extensive contingency planning by the United States and regional allies, including Israel, Jordan and Turkey, said the US and Middle Eastern officials.
DNC Rejected God, And Even Rejected Christian Gift Baskets
Sept. 10….(By Todd Starnes) The Democratic National Committee banned dozens of Charlotte churches from distributing gift baskets to delegates because the congregations hold values that are contrary to the party platform, according to local religious leaders. "They told us our views on women's rights are contrary to the Democratic party platform," said David Benham, the lead organizer of the Charlotte714 religious movement. Charlotte714 is a group of more than 100 churches across the region that mobilized to pray for the Democratic National Convention. More than 9,000 people gathered last Sunday for a time of worship and prayer in advance of the convention. Yet, a gathering of some 200 Muslims praying in Charlotte was given extensive national coverage. (Benham said the groups name references an Old Testament passage in 2 Chronicles 7:14 – calling the nation to prayer.) He said 56 churches wanted to "Adopt-a-Delegation." They put together gift baskets featuring Carolina Pralines and a letter welcoming them to the city and offering assistance in transportation, childcare or spiritual matters. "We were just trying to display Southern hospitality," he said. "We wanted them to know we were happy to serve them."
However, DNC officials conveyed to city leaders that the Christians would not be allowed to present their gift baskets. "I got a call from the mayor's office speaking on behalf of the convention and they asked us not to participate," he said. "They told us our views on women's rights are contrary to the platform."Benham said he was shocked because all the churches involved are mainline denominations ranging from Baptists and Methodists to Assembly of God. "I was blown away and could not believe it," he told Fox News. So instead of gift baskets, Benham asked if they could send welcome letters to the delegates. Again, he said the DNC refused, because the churches hold pro-life values. "They responded back and said no because our views on women," he said. "They would not allow it." Benham said it is true that all the churches are pro-life, but the baskets did not include a single political or pro-life message. They just wanted to give them regional candies and a welcome letter. A spokesman for the city of Charlotte referred comments to the DNC. The DNC did not return numerous calls seeking comment.
WEEK OF SEPTEMBER 2 THROUGH SEPTEMBER 8
Russia Warns US and Israel Against Attacking Iran over Nuclear Fears
Sept. 7….(Reuters) Russia has starkly warned Israel and the United States against attacking Iran, saying Moscow sees no evidence that Tehran's nuclear program is aimed at developing weapons, the Interfax news agency reported on Thursday. "We warn those who are no strangers to military solutions that this would be harmful, literally disastrous for regional stability," Interfax quoted Deputy Foreign Minister Sergei Ryabkov as saying. An attack on Iran "would set off deep shocks in the security and economic spheres that would reverberate far beyond the boundaries of the Middle East region," Ryabkov was quoted as saying.
Russian officials have issued similar warnings in the past, but Ryabkov's remarks appeared to underscore Moscow's concern about the possibility that Israel might attack Iranian nuclear facilities. Heightened Israeli rhetoric about the facilities, which Western powers believe are part of a program to develop a nuclear weapons capability, has stoked speculation that Israel may attack Iran before the US presidential election in November. Ryabkov said there were no indications of a military nuclear program and suggested monitoring by the UN nuclear agency was a strong guarantee. "We, as before, see no signs that there is a military dimension to Iran's nuclear program. No signs," Interfax quoted Ryabkov, Russia's point man for diplomacy on Iran's nuclear program, as saying. "We see something different, that there is nuclear material in Iran that is under the control of inspectors, specialists of the International Atomic Energy Agency. "This nuclear material is not being shifted to military needs, this is officially confirmed by the (IAEA)."
His remarks appeared to be at odds with mounting concern voiced by the UN atomic watchdog about possible military dimensions to Iran's nuclear program. The IAEA said last week that Iran had doubled the number of uranium enrichment centrifuges in an underground bunker in a few months, showing it continued to expand its nuclear program despite sanctions and the threat of an Israeli attack. The new machines are not yet operating, it added. It also said that in the last decade, it had become "increasingly concerned about the possible existence in Iran of undisclosed nuclear-related activities involving military related organizations". Nuclear proliferation expert Mark Fitzpatrick, director of the International Institute of Strategic Studies think-tank and a former senior US state department official, said that on one level Ryabkov's remarks were in line with Western views. "If he means (Russia sees) no evidence that Iran is aiming to cross the threshold from capability to weapons production, then Ryabkov's statement is the same as the collective view of the United States and its European allies. "But Ryabkov goes too far in giving Iran the benefit of the doubt when he says Russia sees no signs of a military dimension. Maybe he means that the evidence is not yet confirmed. But there are certainly ample 'signs'," he said. "Surely Russian intelligence is not so blind."
While Russia is a partner of the United States and four other powers in diplomatic efforts to ensure Tehran does not acquire nuclear weapons, it says the West is undermining those efforts with sanctions and the threat of attack. "In recent times the tendency to use sanctions to achieve aims that are beyond reach in principle by means of pressure has become a passion that politicians on both sides of the Atlantic cannot overcome," Interfax quoted Ryabkov as saying. A permanent UN Security Council member with veto power, Russia says it opposes further sanctions beyond the measures approved in four Security Council resolutions, the most recent in 2010.
If Obama Keeps Promises, 'Israel May Not Attack Iran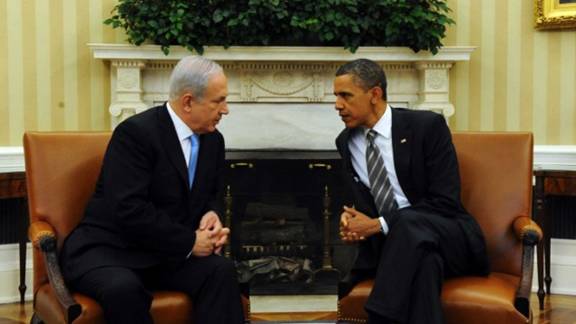 Sept. 7….(Times of Israel) Israel will not attack Iran this year, provided that President Barack Obama sets out his "red lines" and offers certain other promised assurances to Prime Minister Benjamin Netanyahu at a meeting between the two tentatively scheduled for Thursday, September 27, Israeli TV reported Thursday. Citing sources "very close" to Netanyahu, Israel's Channel 10 News said an Israeli attack on Iran is becoming "less and less likely." The station reported that the two leaders will meet the day after the Jewish High Holiday of Yom Kippur (which falls on September 26), when Netanyahu will be in New York to address the UN General Assembly. "If Obama gives Israel the promised 'red lines' and his personal commitments, Israel will not attack Iran," the report detailed.
On Monday, after the New York Times reported that the administration was considering setting out certain red lines that, if crossed by Iran in its nuclear drive, would trigger a resort to military force, Netanyahu welcomed the idea. "The greater the resolve and the clearer the red line, the less likely we'll have conflict," he said. US efforts to dissuade Israel from a resort to force appeared to be continuing Thursday, with a visit by Admiral James A. Winnefeld, Jr., the vice chairman of the Joint Chiefs of Staff. Winnefeld met with Defense Minister Ehud Barak in Tel Aviv, having arrived in Israel earlier in the week for talks focused on Iran and other defense issues, on a trip that was initially kept secret.
After their talks, Barak said the US and Israel "face the same challenge on Iran but the clocks are ticking at different paces." He said "Israel reserves the right to make sovereign decisions. The US respects this. Israel and Israel alone will take the decisions that affect its future and its security." Winnefeld visited an Iron Dome anti-missile battery near Ashkelon Wednesday and, as a guest of IDF Deputy Chief of the General Staff Maj. Gen. Yair Naveh. He also took part in security meetings that addressed "the cooperation between the two armies," Army Radio said Thursday. Also Thursday, former MK and minister Tzachi Hanegbi, who in July left the Kadima party to re-join Likud, said in an interview with Makor Rishon that Israel is now "in the most fateful 50 days in Israeli history since the Yom Kippur War." Hanegbi, who used to head the Knesset's Foreign Affairs and Defense Committee, said that every decision that Prime Minister Benjamin Netanyahu must make will come at a price. "The practical result of accepting a nuclear Iranian will be a nuclear arms race throughout the entire Middle East," Hanegbi warned.
Last Thursday, General Martin E. Dempsey, the chairman of the US Joint Chiefs of Staff, said rather scathingly that Israel had the power to "clearly delay but probably not destroy Iran's nuclear program." He also warned about the counter-productive consequences of such a strike, and took the highly unusual step of adding, "I don't want to be complicit if they choose to do it."
'Obama Only Put Jerusalem Back in Democratic Platform for Votes'
Sept. 7….(Jerusalem Post) The addition of Jerusalem as Israel's capital to the Democratic platform does not make up for the party's original intentions, Knesset Speaker Reuven Rivlin said on Thursday. "I have no doubt that US President Barack Obama only put Jerusalem back in his party's platform out of political and electoral considerations and because of the sharp criticism from Israel and the US," Rivlin stated. Democrats amended the party platform Wednesday afternoon to include language supporting Jerusalem as the capital of Israel. The last-minute change came in the wake of mounting criticism from Democratic members of Congress incensed that the 2008 platform's declaration backing Jerusalem as the capital of Israel had been removed from the 2012 text. Sources close to the platform drafting process said Obama personally intervened on reinstating the Jerusalem language. The Knesset Speaker said that the DNC did not remove Jerusalem from the platform "by mistake or because of forgetfulness," and the change was not a coincidence that can be explained away by not paying attention. "This is a problematic sign, indicating the gradual reduction of the American government's strategic commitment to Israel," he explained.
Cistern Dated to First Temple Period Found in Jerusalem
(A public water cistern found adjacent to the Temple Mount in Jerusalem sheds new light on the city's water supply more than 2,500 years ago)
Sept. 7….(Times of Israel) Archaeologists have discovered a large public cistern from the time of the First Temple in Jerusalem's Old City, the Israel Antiquities Authority said Thursday, offering new insight into the city's water supply more than 2,500 years ago. The cistern, which held 250 cubic meters of water, was discovered adjacent to the western side of the Temple Mount during an ongoing excavation at the site, the IAA said in a statement. The discovery shows that the city's water supply at the time did not rely solely on the Gihon Spring, Jerusalem's only natural water source, but rather included large man-made reservoirs of the kind now uncovered, according to the IAA. The unique size of the cistern, the largest of its time to be discovered in the city, and its location suggest the possibility that it played a part in the ritual activities at the Temple, according to archaeologist Tsvika Tsuk of the Israel Nature and Parks Authority. "It is possible that the large cistern found next to the Temple Mount was used in the daily operation of the Temple itself, and also served the pilgrims who came to the Temple and needed water for washing and drinking," Tsuk said, according to the IAA statement. The cistern was waterproofed with a yellowish plaster typical of the period, with handprints still visible on the walls, Tsuk said.
The First Jewish Temple was built around 950BC, according to the biblical record, and destroyed by a Babylonian army in 586AD. Construction of the Second Temple commenced some 50 years later. The Temple Mount as it currently exists dates to an expansion and renovation of the compound by Herod the Great five centuries after that, about 2,000 years ago. The Second Temple was destroyed by Rome in 70AD.
Iran Sends Elite Troops to Aid Assad Regime
(Iran is intensifying its support for the regime of Bashar al-Assad by sending 150 senior Revolutionary Guards commanders to Syria to help repel opposition attempts to overthrow the government.)
Sept. 7….(Times of Israel) Western intelligence officials say that Iran's president, Mahmoud Ahmadinejad, has personally sanctioned the dispatch of the experienced officers to ensure that the Assad regime, Iran's most important regional ally, survives the threat to its survival. In addition, Iran has shipped hundreds of tons of military equipment, including guns, rockets, and shells, to Syria through the regular air corridor that has been established between Damascus and Tehran. Intelligence officials believe the increased Iranian support has been responsible for the growing effectiveness of the Assad regime's tactics in forcing anti-government rebel groups on the defensive. In the past few weeks, pro-Assad forces have seized the offensive by launching a series of well-coordinated attacks against rebel strongholds in Damascus and Aleppo. The Iranian operation to support Mr Assad is being masterminded by Qassem Suleimani, the head of the Guards' Quds force which is responsible for overseeing Iran's overseas operations. The decision to increase Iran's support for Syria was taken after the Syrian defence minister and Assad's brother-in-law were killed in a suicide bomb attack at Syria's national security headquarters in July, together with a number of other senior defense officials.
Iran Has Sent Terror Squads Into Turkey
Sept. 7….(WND) Members of the Quds Forces' elite Unit 400 have been activated inside Turkey to attack US and Israeli interests and to support the Kurdish separatist movement PKK with violence as needed. A source within the Revolutionary Guards confirmed the presence of the Iranian assets in Turkey as Iran increases pressure on the Turkish government to stop its support of the rebels against Bashar al-Assad in Syria. The assets are to attack Western interests in Turkey should war break out against either Syria or Iran and at the same time work to destabilize Turkey as a warning for it not to interfere in Syria's affairs.
Iranian leaders have continuously warned Turkey, Saudi Arabia and even America about any interference in Syria, that Assad's regime is their red line. According to the Turkish newspaper Today's Zaman, an Iranian spy was arrested on Sept. 1 while collaborating with the Kurdish separatists. In the ensuing investigation, he confessed to being an Iranian operative within the Revolutionary Guards. The same paper revealed recently that nine spies have been arrested in Turkey, two of them Iranian nationals and the other seven of Turkish descent. The spies provided information on Iranian contacts with the PKK fighters and their mission in identifying strategic targets within Turkey.
At one time Iran and Turkey collaborated in fending off attacks by the Kurdish separatists both in Turkey and Iran, but now Iran, in order to destabilize Turkey, reportedly is supporting PKK guerrilla attacks inside Turkey. During the last month, PKK fighters have attacked a military convoy and a police station, set off bombs and kidnapped Turks to create an environment similar to Syria's. Turkish security experts said that not only has Iran stopped intelligence collaboration on the Kurdish fighters with Turkey but also that the Islamic regime is actively collaborating with the fighters, the report added.
Iran has warned Turkey that its interference in Syria will have unwanted consequences and that should it get militarily involved in confronting the Assad regime, Iran will attack Turkey to protect a fellow dictator. But even before such a history-changing event, it is increasing its support to Assad by shipping military equipment to Syria over Iraqi airspace. n a meeting last March with Turkish Prime Minister Recep Tayyip Erdogan, the Iranian supreme leader, Ayatollah Ali Khamenei, stated that, "The Islamic Republic will defend Syria because of its support for the resistance front against the Zionist regime (Israel) and is vehemently opposed to any intervention by foreign forces in Syrian internal affairs."
Last week, the commander of the Revolutionary Guards, Gen. Salar Abnoush, in a statement at the University of Ghazvin, declared that, "Today we are in an all-out war militarily in Syria, as well as a cultural one." Another commander of the Guards, Mohammad Ali Assoudi, warned on Saturday, "If America were to attack Syria, Iran, along with Syria's allies, will take action, which would amount to a fiasco for America." Ever since the uprising in Syria started, the Islamic regime's Revolutionary Guards have collaborated with the Assad regime's suppression of its own people, which so far has killed more than 20,000 people, including women and children.
It is ironic that while Turkey is suffering terrorist attacks, Iran is warning against any interference in the events in Syria and that Turkey should reevaluate its position toward the Assad regime. For Iran, it's do or die as the fall of Assad could culminate in much more pressure on the Islamic regime, disconnect the supply line to Hezbollah and provide an opportunity for the West to confront Iran without it worrying that such confrontation would expand to all of the Middle East. However, the Iranian regime is determined to continue its illicit nuclear program despite much international pressure. Iran is determined to protect Assad and come out of its current confrontation with the West and regional powers like Saudi Arabia and Turkey as the leader of the worldwide Islamic movement. It is determined to reshape the geopolitics of not only the region but the world.
Jerusalem Takes Center Stage in Obama-Romney Election
Sept. 6….(Israel Today) No foreign entity has played so large a role in American presidential elections as the tiny Jewish state, and that phenomenon has only grown as President Barack Obama and his challenger, Mitt Romney, head into the home stretch ahead of the November poll. Republican critics sounded an alarm this week as the Democratic National Convention (the major party event preceding the election) got underway, noting that Obama's party had removed from its official platform a number of pro- Israel provisions.
In his 2008 campaign for the presidency, Obama openly stated that Jerusalem is the capital of Israel, that so-called "Palestinian refugees" cannot be settled in Israel proper, and that Hamas will not be accepted as a negotiating partner until it denounces its goal of destroying Israel. None of those provisions were on the policy agenda as the Democrats gathered in Charlotte, North Carolina, and instead made do with a vague "unwavering commitment to Israel's security." That bolstered assertions made last week by Romney at the Republican National Convention that Obama had "thrown Israel under the bus."
But Jewish Democratic activists fired back, noting that no one who had actually sat in the Oval Office had been able to keep his promise to move the American Embassy to Jerusalem, including Republican presidents. "President Bush signed waivers 16 times to avoid moving the US Embassy in Israel to Jerusalem," David Harris of the National Jewish Democratic Council told The Times of Israel, referencing a six-month national security loophole that every American president has abused since Congress decided in 1995 that the US Embassy be moved from Tel Aviv to Jerusalem.
Jerusalem And God Re-Vote Gets Booed At Democrat Convention
Sept. 6….(Real Clear Politics) Needled by Mitt Romney and other Republicans, Democrats hurriedly rewrote their convention platform Wednesday to add a mention of God and declare Jerusalem the capital of Israel after President Barack Obama intervened to order the changes. The embarrassing reversal was compounded by chaos and uncertainty on the convention floor. Most delegates and members of the Democratic party booed after former Gov. Ted Strickland (D-OH) discussed God and moved to recognize Jerusalem as the capital of Israel. Convention chairman Antonio Villaraigosa, mayor of Los Angeles, had to ask for the Yea and Nay vote several times before declaring the motion passed. C-SPAN cameras captured the dissatisfaction among members after the motion passed. Many in the audience booed after the convention chairman, Los Angeles Mayor Antonio Villaraigosa, ruled that the amendments had been approved despite the fact that a large group of delegates objected. The episode exposed the immense tensions on the subject of Israel within the party. For decades, Republican and Democratic administrations alike have said it is up to the Israelis and Palestinians to settle Jerusalem's final status, a position reiterated earlier Wednesday by the White House. Both sides claim Jerusalem as their capital, and the city's status has long been among the thorniest issues in Mideast peace talks. The US has its embassy in Tel Aviv, although numerous Republicans, including Mitt Romney, have vowed to move the embassy to Jerusalem.
* FOJ Note: (Zechariah 12:2-3 Behold, I will make Jerusalem a cup of trembling unto all the people round about, when they shall be in the siege both against Judah and against Jerusalem. And in that day will I make Jerusalem a burdensome stone for all people: all that burden themselves with it shall be cut in pieces, though all the people of the earth be gathered together against it.)
US Taxpayers Subsidize Monthly Payments to Terrorists
Sept. 5….(Stand For Israel) In 2002, two weeks after a suicide bomber blew up my neighborhood bar, killed 11 of my neighbors, and effectively ended my first year in seminary, I travelled from Jerusalem to my brother's home in a Tel Aviv suburb for seder on the first night of Passover. My nephew, who will soon be 11, was an infant, and my sister-in-law's whole wonderful family came for the celebration. After the seder, someone turned on the television and the celebratory mood ended as we watched the horrifying scenes being shown from the Park Hotel in Netanya. As many hotels in Israel do, the Park had hosted a Passover seder for its mostly older guests. With 250 people in attendance, a male suicide bomber disguised as a woman checking into the hotel passed the security guard, walked into the dining hall, and detonated a suitcase full of explosives. Thirty people died and 140 were wounded. Most of those killed were in their 70s and 80s.
The man who planned that bombing, Abbas al-Sayyeed, sits in an Israeli prison. For services rendered, he receives a $3000/month salary from the Palestinian Authority (PA). In fact, he's one of many mass murderers sitting in Israeli prisons who receives a salary. Surviving family members of suicide bombers also receive monthly payments. According to the above-linked article, the PA spends 6% of its annual budget on such payments. They spend $4.5 million monthly on jailed terrorists and $6.5 million monthly incentivizing future suicide bombers by paying the families of past ones. $11 million dollars per month is $132 million per year.
Incidentally, for FY '13, the PA is getting $370 million in Economic Support Funds from US taxpayers, and $70 million in security training funds. In other words, American taxpayers are helping to subsidize a practice that encourages people to become terrorists and suicide bombers. Most of our aid money goes to health, education, social services, and economic development programs. Obviously, if the PA has enough cash for a terrorist rewards program, they shouldn't require as much help from the American taxpayer.
Democratic Party Platform Erases Key Pro-Israel Policy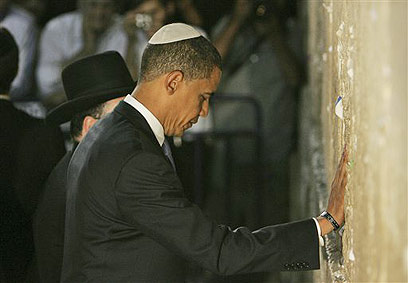 (President Obama's and Democrats refuse to acknowledge that Jerusalem is Israel's capital)
Obama at the Western Wall
Sept. 5….(Times of Israel) he Democratic Party's 2012 platform is missing key pro-Israel provisions that were in the 2008 platform, but have apparently now been removed, Republicans charged Tuesday. The 2008 platform had expressly said that "Jerusalem is and will remain the capital of Israel," but the 2012 platform carried no mention of Jerusalem, according to a reading by the Republican Jewish Coalition (RJC). Similarly, the 2008 platform demanded "the isolation of Hamas until that organization renounces terrorism and accepts other requirements of the peace process," insisted that "any settlement of the so-called 'refugees' question in a final settlement make a future Palestinian state, not Israel, the destination for Palestinian 'refugees,'" and noted "that it's not realistic to expect [the] outcome of negotiations to be a full and complete return to the armistice lines of 1949," the RJC noted. All those provisions were missing from the 2012 platform, the RJC said.
The Obama campaign and the National Jewish Democratic Council could not be reached for comment. Republican presidential candidate Mitt Romney responded quickly to news of the platform changes on Tuesday, charging that it was "unfortunate" that "the entire Democratic Party has embraced President Obama's shameful refusal to acknowledge that Jerusalem is Israel's capital. Four years of President Obama's repeated attempts to create distance between the United States and our cherished ally have led the Democratic Party to remove from their platform an unequivocal acknowledgment of a simple reality. As president, I will restore our relationship with Israel and stand shoulder to shoulder with our close ally."
According to RJC Executive Director Matt Brooks, the removal of the provisions showed that "this administration is painfully out of touch with the mainstream of the Jewish community, which knows that Jerusalem is the capital of Israel, and that it must remain the undivided capital of the Jewish State of Israel." "Before this platform, the Obama administration had already taken the Palestinians' side on a number of issues related to the peace process, on borders, on settlements, and on Jerusalem," according to Noah Pollak, executive director of the Emergency Committee for Israel, a conservative group that has been sharply critical of Obama's policies toward Israel.
Democrats Drop 'God' From Party Platform
Sept. 5….(CBN) Guess what? God's name has been removed from the Democratic National Committee platform. This is the paragraph that was in the 2008 platform: "We need a government that stands up for the hopes, values, and interests of working people, and gives everyone willing to work hard the chance to make the most of their God-given potential."
Now the words "God-given" have been removed. The paragraph has been restructured to say this: "We gather to reclaim the basic bargain that built the largest middle class and the most prosperous nation on Earth, the simple principle that in America, hard work should pay off, responsibility should be rewarded, and each one of us should be able to go as far as our talent and drive take us."
The Brody File has calls into DNC to explain why God's name has been dropped from the platform. Some critics will suggest that when you have planks in your platform that support abortion rights and gay marriage then it's no wonder that God's name would be dropped as well.
Dems Unveil Platform Supporting Gay Marriage, Abortion Rights
Sept. 5….(Fox News) Democrats unveiled a party platform at their national convention Monday that echoes President Obama's call for higher taxes on wealthier Americans while backing same-sex marriage and abortion rights. Delegates will vote Tuesday to adopt the platform that reflects the president's argument that his work is unfinished and he deserves another four years to complete the job. The document is a sharp contrast from the Republican blueprint that the GOP adopted at its convention last week. The Republican plan would ban abortion and gay marriage, repeal Obama's health care overhaul law and shift Medicare into a voucher-style program. Democrats acknowledged that divergent views. "This election is not simply a choice between two candidates or two political parties, but between two fundamentally different paths for our country and our families," the Democrats said.
The Democratic platform states that it "unequivocally" supports Roe v. Wade, the Supreme Court decision that made abortion legal, and "supports a woman's right to make decisions regarding her pregnancy, including a safe and legal abortion, regardless of ability to pay." The platform states: "Abortion is an intensely personal decision between a woman, her family, her doctor and her clergy; there is no place for politicians or government to get in the way." The Republican Party platform bans abortion in all cases, even rape, incest and when the life of the mother is endangered. Republicans say "the unborn child has a fundamental individual right to life which cannot be infringed." It opposes using public revenues to promote or perform abortion or to fund organizations that perform or advocate abortions.
The Democratic platform supports the movement to get equal treatment under the law for same-sex couples. The platform says: "We also support the freedom of churches and religious entities to decide how to administer marriage as a religious sacrament without government interference." The platform opposes "federal and state constitutional amendments and other attempts to deny equal protection under the law" to same-sex couples. The Republican Party platform affirms the rights of states and the federal government not to recognize same-sex marriage. It backs a constitutional amendment defining marriage as the union of one man and one woman.
FOJ Note: No wonder the Democratic Party wishes to drop any mention of God from their platform, and therein lies the reason the Obama Administration does not wish to assist Israel in its fight to survive!
Unprecedented Low in US-Israel Relations
Sept. 5….(Israel Today) Israel's largest daily newspaper, Yediot Ahronot, on Tuesday cited Israeli officials who claimed relations between Israel and Washington had reached an unprecedented low over the two nations' differing views regarding the urgency of the Iran nuclear threat. According to the sources cited, coordination between American and Israeli security forces has been reduced, while the New York Times reported that US President Barack Obama is looking at a number of new policies aimed at preventing Israel from taking unilateral action against Iran's nuclear facilities.
The same Yediot report may provide insight into one of those new Obama policies. The newspaper reported that in recent weeks Washington sent a message to Iran via two European nations stating clearly that the US would not take any part in an Israeli strike on Iran, and therefore requesting that Iran not retaliate for such a strike by hitting American assets in the region. Officials on both sides continue to insist that relations between Jerusalem and the White House are as good as ever, but anyone willing to see past the public pronouncements of politicians can see the obvious tension.
Prime Minister Benjamin Netanyahu, who has grown increasingly frustrated with the international community's foot-dragging on Iran, reiterated on Sunday that Obama must set clear red lines. Speaking to a gathering of wounded Israeli and American combat veterans on Monday, Netanyahu hinted that if Obama would issue a clear ultimatum to Iran, Israel could put any possible attack plans on the back burner: "Iran's is a brutal regime that is racing ahead with its nuclear program, because it doesn't see a clear red line from the international community. And it doesn't see the necessary resolve and determination from the international community. The greater the resolve and the clearer the red line, the less likely we'll have conflict."
US Debt Tops $16 Trillion
(So who do we owe most of that money to?)
Sept. 5….(Fox News) The national debt topped $16 trillion on Tuesday, adding fuel to Republican's criticisms of President Obama's deficit spending just as the Democrats are kicking off their national convention. Mitt Romney lamented "the enormous debt" being handed the nation's children, while House Speaker John Boehner called it a "sad reminder of President Obama's broken promise to cut the deficit in half."
But if you thought China's been doing most of the bankrolling, you might be surprised to learn who really holds our federal mortgage. Fully two-thirds of the national debt is owed to the US government, American investors and future retirees, through the Social Security Trust Fund and pension plans for civil service workers and military personnel. China, it turns out, holds less than 8 percent of the money our government has borrowed over the years. "It is true that China is the largest foreign owner of our debt," said Josh Gordon, policy director of the Concord Coalition, a Virginia-based nonprofit that advocates getting the nation's debt under control. "But the vast majority of our debt is held by us."
Just under $5 trillion of the national debt is owed to the Social Security Trust Fund and federal pension systems. A little more than $11 trillion is owed to foreign and domestic investors and the Federal Reserve, which buys up treasuries in order to drag down interest rates through quantitative easing. China has actually decreased its holdings of US debt over the past year, dropping from $1.31 trillion in June 2011 to $1.16 trillion a year later, according to the Treasury Department. Japan holds nearly as much, at $1.12 trillion. Those countries are by far the biggest foreign holders, but dozens of other nations, including Brazil, Russia, Taiwan, Switzerland and the United Kingdom hold trillions more.
John Bolton Confirms: Israel Is Alone
Sept. 4….(Breitbart) John Bolton, former US Ambassador to the UN, the most honest and clearheaded person in foreign policy, is saying that Israel should not wait to attack Iran because Barack Obama will never come to Israel's aid. In an interview published in Maariv, Bolton stated: There is no way at this stage to prevent Iran from going nuclear without use of force. It is very unfortunate in my opinion, but I see no possibility that Obama will use military force, and therefore it falls upon Israel. I think that even though the Administration says that containment is not its policy, it will become its policy the day after Iran possesses nuclear weapons.
They won't like it, but they do believe that a nuclear Iran can be contained, just as we contained the nuclear Soviet Union during the Cold War. Iran is not in a race for building one or two bombs. I think they believe that time is on their side and they will continue with what seems like a well thought-out plan, mostly because they believe that the United States under Obama's leadership will do nothing. And of course, they are afraid of Israel, but I think they trust Obama to pressure Israel not to do anything, and until now this has proved right. I think Israel, like any other country, has a legitimate right to self defense. Israel has twice attacked enemies that were developing nuclear weapons, and it has the right to do so in this case as well. Interviewed by the Intermountain Jewish News, Bolton said that Israel attacking Iran is not the best option: he would rather see the US attack Iran:
The US has much greater military capabilities than Israel. That's why Israel wants the US to do it. I believe the US should do it because we'll get blamed anyway. Therefore, we might as well make sure it gets done right. Bolton was unsparing in his criticism of both George W. Bush and Barack Obama: I blame not only Obama, but the Bush administration. Sanctions are only good if they are comprehensive, swiftly applied and rigorously enforced. Obama has met none of those conditions.
And Bibi Netanyahu just warned US Ambassador Dan Shapiro that time is running out. Meanwhile, Barack Obama warmly welcomes the fundamentalist Arab Spring. Bolton is undoubtedly correct; shamefully for the United States, Israel will have to go it alone. But after all, the U.S. President is the same man who has disparaged the Old and New Testaments while calling the Muslim call to prayer "one of the prettiest sounds on earth."
Egypt Creating Sinai Islamists Militia in Sinai
Sept. 4….(DEBKAfile Exclusive Report) To keep the truce with the Islamist terrorist networks in Sinai in place, while avoiding a large-scale military operation to suppress them, Egypt is now releasing dozens of jailed Salafist gunmen in batches every few days, so feeding the Islamists a steady supply of reinforcements. Cairo is also in negotiation with Bedouin tribal elders to grant a body of 6,000 Al-Qaeda-linked Salafi gunmen the status of an approved, independent militia. Armed with up-to-date Egyptian weapons, this militia is to be charged with responsibility for maintaining security in the peninsula. This may be a neat way out for Egypt and let the Morsi government off the hook of grappling with the violent Islamist networks infesting Sinai. But it leaves Israel squarely face to face with a whole new terrorist outfit which has the freedom to choose between operating in the service of Al Qaeda or Cairo – or playing both sides.
Israeli security circles on the southern front familiar with the Sinai security situation explain that the Egyptian army's claim Monday, Sept. 3 that it pulled "another 20 tanks" out of the peninsula, marking the tail end of its putative counter-terror military offensive, was therefore the reverse of welcome news for Israel. All the same, out of certain diplomatic considerations, Israelis officials are collaborating with the US and Egypt in drawing a veil over this dangerous downturn in security along its southwestern border.
Defense Minister Ehud Barak said: "The Egyptians must combat terror and if they need to bring extra military strength into Sinai [for this purpose], we should let them."
As he spoke, Egyptian spokesmen claimed the tanks, illegally deployed in breach of the peace treaty with Israel, were being withdrawn at the end of a "successful military offensive" to root out the terrorists. This statement, say Debkafile's counter-terror sources, contains at least two untruths: The tanks were falsely presented as backing a fictitious Egyptian operation, just as the Cairo communiqué pretended that large numbers of terrorists were killed and wounded "in action" or detained. There were no terrorist casualties because the entire operation was made of whole cloth, a Sinai desert mirage. That the Netanyahu government and defense chiefs went along with this fiction is the real issue. They have committed Israel to accepting the entry of Egyptian military forces into Sinai for the stated purpose of combating terror, a stipulation the Cairo government under the Muslim Brotherhood has demonstrated it has no intention of upholding. Just the reverse: The Egyptian troops positioned in Sinai are ordered to keep their powder dry and stand by as the terrorist cells of the "Mujaheddin Brigades in the Jerusalem Vicinity," which is closely allied to Al Qaeda in the Arabian Peninsula, goes from strength to strength.
The only action the Morsi government has taken on the quiet is to place a security buffer strip along the Egyptian-Israeli border off-limits to civilian traffic. Our military sources report this strip has been dubbed "The American Highway" of Sinai, because its 260 kilometers were paved in secret by US military engineers. It runs from the MFO peacekeepers' Mediterranean base at Sheikh Zuweid in northern Sinai down to Taba, providing a safe route for the peacekeepers, most of them members of the US 82nd Airborne Division, between their northern base and their headquarters at Sharm el-Sheikh. Large sections of the American Highway run parallel to Israel's Route 12 from Nitzana to Eilat, Israel's southernmost town. Egypt no doubt intended this buffer strip to serve additionally for keeping terrorists at a distance from its border with Israel. But IDF observers in that area see very little Egyptian military activity for keeping it sterile and closed to hostile movements. Once the Salafis are organized in a militia and formally recognized as such by Cairo, it will be that much harder to keep them from breaching the buffer strip abutting the Israeli border.
Egypt Prof: Israel Will be Gone by Next Year
(Ex-MP Gamal Zahran tells Iranian TV station that, Allah willing, Jewish state will be annihilated)
Sept. 3….(Times of Israel) An Egyptian political science professor told an Iranian TV station that, with Allah's help, "Israel will be annihilated" by 2013. In an interview with Iran's state-run Arabic news channel Al-Alam last week, Professor Gamal Zahran, head of the political science department at Egypt's Port Said University and a former Independent MP, said: "Jerusalem is at the heart of the Palestinian cause, and the Palestinian cause is the cause of all Arabs and Muslims. The elimination of the Zionist entity is beyond debate, and the only question has to do with the circumstances."
Zahran added that "the Arab revolutions, which broke out in Tunisia, Egypt, Libya, and Yemen, as well as in Bahrain and elsewhere, generate the people's hope that one day, Jerusalem and Palestine will return to them." The interviewer interjected: "Why keep it only as a hope? Why not act on it? Zahran responded that "the revolutions have not reached the throne of power. It is difficult to transform this hope into reality until these revolutions come to the forefront." He went on: "We are constantly keeping the memory alive among the younger generations, so that they will realize that the Palestinian cause is an essential one. The hope and the memory will later turn into action. By next year, Allah willing, Israel will be annihilated."
Abbas Asks Ahmadinejad to Help Establish 'Palestine'
(PA Chairman meets Iranian President in Tehran, asks him to help establish a Palestinian state along the pre-1967 borders.)
Sept. 3….(Arutz) Palestinian Authority Chairman Mahmoud Abbas asked Iranian President Mahmoud Ahmadinejad to help establish a Palestinian state along the pre-1967 borders, PLO negotiator Saeb Erekat said Friday. The Bethlehem-based Ma'an news agency reported that Abbas and Ahmadinejad met in Tehran on Thursday for what Erekat described as "frank and productive" talks. Erekat told Ma'an that Abbas had indicated to Ahmadinejad that the "Palestinian" diplomatic quest was to establish a state along the pre-1967 borders with Jerusalem as its capital. Abbas said that the mission had been approved by both the Arab Peace Initiative and the foreign affairs summit in Tehran in 2003.
Ahmadinejad called on Abbas to implement reconciliation between his Fatah party and Hamas immediately, Ereket told Ma'an, adding that Abbas reassured the Iranian leader that national unity was his "top priority." The PA recently announced its intention to turn to the UN General Assembly for recognition as a state.
In September 2011, Abbas applied for full UN membership at the UN Security Council. Israel and the US staunchly opposed the bid, which failed due to a lack of support in the 15-member council. Abbas' meeting with Ahmadinejad took place on the sidelines of the summit of the 120-nation Non-Aligned Movement. Earlier this week, he threatened to pull out after Hamas's Prime Minister in Gaza, Ismail Haniyeh, announced he had also received an invitation to the summit. Haniyeh later pulled out of the trip, citing a desire not to damage reconciliation efforts. Sources told Ma'an that the debacle started when Supreme Leader Ali Khamenei invited Haniyeh, while Abbas was invited officially by Ahmadinejad. Erekat told Ma'an that Abbas reassured Ahmadinejad that neither the PLO nor the Palestinian Authority objected to Iran or any other country inviting Hamas leaders to visit. However, Abbas said that inviting Haniyeh to the Non-Aligned Movement summit without consulting the PLO was considered a snub to the legitimacy of the PLO as the sole representative of the Palestinian people.
US Disowns Israel Over Iran Strike: No Weapons or Military Backup
Sept. 3….(DEBKAfile Exclusive Analysis) US Gen. Martin Dempsey's assertion Thursday, Aug. 30 that the US would not be "complicit" in an Israel strike against Iran, together with the drastic reduction in the scale of next month's joint US-Israeli war game disclosed by TIME, add up to a blunt message from US President Barack Obama to Israel: You are on your own! See how you manage without special US weapons and US military backup, including a shield against missile counter-attack, if you decide to defy us and go through with a military operation against Iran. Instead of the 5,000 US troops originally assigned for Austere Challenge 12, the annual joint exercise, the Pentagon will send only 1,200 to 1,500 service members. The missile interception systems at the core of the joint exercise will be reduced in number and potency: Patriot anti-missiles will come without crews and maybe one instead of two Aegis Ballistic Missile Defense warships, according to the magazine.
The Obama administration has put Israel on harsh notice that an attack on Iran to disrupt or delay its nuclear armament will be refused US missile backup, both in the course of the operation and to cover Israel's back in the event of a counter-strike widening into a general Middle East conflict. The Netanyahu government will bear full and exclusive responsibility for the consequences of attacking Iran. Obama, who has repeatedly pledged his commitment to Israeli security, is the first American president to cut Israeli adrift against a major threat to its security explicitly posed by Iran. The US president has put his campaign for reelection next month at great albeit calculated risk. His rival Mitt Romney will not doubt follow up on the charges he made during his acceptance speech to the Republican convention Thursday that Obama threw "allies like Israel under the bus" and failed utterly to stop Iran's centrifuges spinning. Obama may find the Jewish vote and campaign contributions fading. For Romney an incumbent president throwing Israel to the wolves against the ayatollahs is a dream come true.
In the last month, Obama has undergone a change of face: The top US soldier and ambassador Dan Shapiro were told to start treating Israel like a pest and telling its leaders that the administration is fed to the teeth with their clamor for action on Iran. This change did not come out of the blue. Debkafile's Washington and Moscow sources report it evolved from three events:
1. During this month, President Vladimir Putin severed Russia's military ties with Iran and Syria as Debkafile reported earlier: Obama reciprocated by cutting Israel down to size. Moscow informed Tehran and Damascus that there would be no more Russian arms supplies after the delivery of the last items in the pipeline. Putin therefore left both Iran and Syria high and dry amid war dangers in return for Obama cutting Israel off from advance military hardware at a time of peril. The Russian and American leaders thus put in place the first bricks of an accord for resolving their disputes over a nuclear Iran and the Syrian crisis by the device of slashing the military capacity of Iran, Israel and Syria. The Russian president took another step as a gesture to Obama: He pulled Russian warships out of the Syrian base of Tartus and the eastern Mediterranean, leaving only a floating dry dock. In return, he counted on Washington forcing Israel to abandon any plans to strike Iran.
2. But this exercise in symmetrical reciprocity ran into a major snag: Obama found a tough nut in Jerusalem: Binyamin Netanyahu held out for a pledge of US military action against Iran as his price for holding back. Despite the massive pressure Obama threw at the Israeli government, both through the highest ranking US political and military channels and by mobilizing the government's most vocal opponents and anti-war circles at home, Netanyahu and Barak did not budge. They understood, despite Obama's concealment, that the secret US-Russian deal would in fact preserve Iran's nuclear program at a point at which Iran's leaders could have a weapon assembled and unsheathed at any moment. The also realized that as long as Israel's military option against Iran was alive, the Obama-Putin deal was stuck, because both Iran's Ali Khamenei and Syria's Bashar Assad would likewise refuse to fall into line. When Romney said he would give America's friends "more loyalty" and Putin "a little less flexibility and more backbone," he was referring to President Obama's request from Putin on June 18, at the G20 conference in Mexico, for more time against his promise to the Russian leader of "more flexibility" later. To keep his deal with Putin in motion, the US president will have to tighten his squeeze on Israel's leaders to forego an attack on Iran.
3. The Netanyahu government, for its part, committed three tactical errors: One: They dragged out the dialogue on Iran with the US administration for far too long, three years or more, and come away for it empty-handed. If their purpose was to persuade the United States to carry the can against Iran, as many Israelis believed, they failed. No Israeli leader has the right to procrastinate to this extent on action affecting its fundamental security, if not existence. Netanyahu fell into the trap of crying wolf by shouting year after year that Iran must be stopped – and doing nothing.
Two: Israel's deterrent capacity, already sapped by inaction, was further eroded by US General Martin Dempsey's assertions that Israel lacks the capacity to destroy the Iranian nuclear program.
Three: They failed to act expeditiously to prevent the political opposition using a campaign against an attack on Iran as a stratagem for bringing the government down. It has been four weeks since the former Mossad director Ephraim Halevi said that if he was an Iranian, he would be worried in the next twelve weeks. That was on Aug. 2. Thursday, Aug. 30, Halevi said: "It is important for Israel's military threat to be credible." He was throwing down the gauntlet for Netanyahu and Barak to show they were serious about striking Iran, or else back down completely. His timeline gives them another eight weeks to show their mettle. During that time, they will be under heavy bombardment from Washington.
Netanyahu Slams Obama over Iran Nukes
Sept. 3….(Israel Today) Israel was abuzz over the weekend with news that a recent meeting between Prime Minister Binyamin Netanyahu and US Ambassador Daniel Shapiro became heated after the Israeli leader criticized US President Barack Obama for not doing enough to thwart Iran's nuclear program. The Netanyahu-Shapiro meeting took place behind closed doors two weeks ago. Last Friday, Israeli newspaper Yediot Ahronot cited unnamed sources present at the meeting as saying "sparks and lightning were flying" when the two men discussed the Iran situation.
According to the sources, Netanyahu openly blasted what he called Obama's ineffectual policies vis-a-vis Iran's nuclear program, which Israel views as an existential threat considering the Iranian leadership's very public declarations that it wishes to annihilate the Jewish state. Netanyahu and many other Israeli leaders have been vocal in their criticism of Obama and the entire international community for punishing Iran with little more than words while the Islamic Republic has continued its defiant nuclear program with only minor hindrance. Netanyahu reportedly told Shapiro that instead of worrying about whether or not Israel will strike Iran, Obama should focus on the root of the problem and put some real pressure on Tehran. At that point, Shapiro was said to have broken diplomatic protocol and snapped back at Netanyahu, insisting that the Israeli leader was misrepresenting Obama's position. Shapiro then reiterated Obama's promise to not allow Iran to attain nuclear weapons, to which Netanyahu responded, "Time is running out."
Israeli cabinet ministers who spoke to Yediot's Internet portal, Ynet, said they believe Obama will make Netanyahu pay if the former is reelected as America's president in November. At present, Obama cannot risk being seen as creating a rift between America and Israel, lest he lose the votes of most Jews and many Christians. But after the election, Obama will have no such constraints. "The US elections are in two months, and there is no doubt that President Barack Obama, if he is reelected, will make Netanyahu pay for his behavior. It will not pass quietly," one minister told YNET. Already there are indications that Obama is taking a more hostile position toward Israel. For instance, next month Israel and the US were scheduled to hold their largest ever joint military exercise, which was to be largely focused on confronting a major ballistic missile threat (read: Iran). But over the weekend, the Pentagon suddenly and significantly downsized American participation in the exercise. "Relations between Israel and the US have soured" as a result of differing views on the urgency of the Iran situation, concluded another cabinet minister.
---