WEEK OF NOVEMBER 25 THROUGH DECEMBER 1
UN Votes For Palestinian Statehood
Nov. 29….(YNET) Palestinian Authority President Mahmoud Abbas has won the approval of the United Nations General Assembly for 'Palestine' as a nonmember state, a dramatic move that may have wide-reaching implications. Though Israel and the US vociferously opposed the move, it passed by a wide margin. he U.N. General Assembly voted Thursday in favor of Palestinian statehood, after the Palestinians asked it to recognize a non-member state of Palestine in the Israeli-occupied West Bank and east Jerusalem, and the Hamas-ruled Gaza Strip.
The resolution upgrading the Palestinians' status to a nonmember observer state at the United Nations was approved by a more than two-thirds majority of the 193-member world body, a vote of 138 to 9, with the US and Israel among those who opposed. There were 41 abstentions. Real independence, however, remains an elusive dream until the Palestinians negotiate a peace deal with the Israelis, who warned that the General Assembly action will only delay a lasting solution. Israel still controls the West Bank, east Jerusalem and access to Gaza, and it accused the Palestinians of bypassing negotiations with the campaign to upgrade their UN status.
The United States immediately criticized the historic vote. "Today's unfortunate and counterproductive resolution places further obstacles in the path peace," UN Ambassador Susan Rice said. And US Secretary of State Hillary Rodham Clinton called the vote "unfortunate" and "counterproductive."
Israeli Prime Minister Benjamin Netanyahu called the speech by Palestinian President Mahmoud Abbas to the General Assembly shortly before the vote "defamatory and venomous," saying it was "full of mendacious propaganda" against Israel. Abbas told the General Assembly that it was "being asked today to issue the birth certificate of Palestine." Abbas said the vote is the last chance to save the two-state solution. After the vote, Netanyahu said the UN move violated past agreements between Israel and the Palestinians and that Israel would act accordingly, without elaborating what steps it might take.
Just before the vote, Israel's UN ambassador, Ron Prosor, warned the General Assembly that "the Palestinians are turning their backs on peace" and that the UN can't break the 4,000-year-old bond between the people of Israel and the land of Israel. The vote had been certain to succeed, with most of the member states sympathetic to the Palestinians. Several key countries, including France, this week announced they would support the move to elevate the Palestinians from the status of UN observer to nonmember observer state.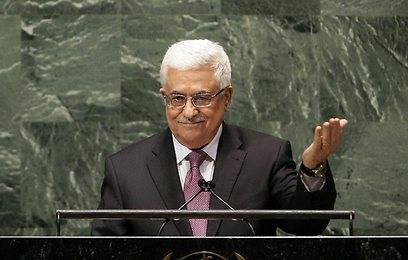 The vote came on the same day, Nov. 29, that the UN General Assembly in 1947 voted to recognize a Jewish state in Palestine, with the jubilant revelers then being the Jews. The Palestinians rejected that partition plan, and decades of tension and violence have followed. The vote grants Abbas an overwhelming international endorsement for his key position: establishment of a Palestinian state in the West Bank, Gaza Strip and east Jerusalem, the territories captured by Israel in the 1967 Mideast war. With Netanyahu opposed to a pullback to the 1967 lines, this should strengthen Abbas' hand if peace talks resume. The overwhelming vote also could help Abbas restore some of his standing, which has been eroded by years of standstill in peace efforts. His rival, Hamas, deeply entrenched in Gaza, has seen its popularity rise after an Israeli offensive on targets linked to the Islamic militant group there earlier this month.
Earlierat the UN, Palestinian President Mahmoud Abbas called on the Assembly "to issue a birth certificate of the reality of the State of Palestine." Greeted with thunderous applause, he said that Palestine has come to the UN because it believes in peace. Abbas opened his speech by commenting on Operation Pillar of Defense and denouncing Israel for killing many Palestinians and causing great damage to infrastructure in Gaza. Referring to the "Nakba" events of 1948, Abbas claimed that Israel committed modern ethnic cleansing in Gaza. The Palestinian president also rebuked Israel for failing to "save the peace process" and came out against military strikes and settler attacks. He accused Israel of colonizing Palestine and continuing its aggression. Abbas said that the Palestinians will never accept anything less than an independent state with east Jerusalem as its capital on all territories occupied in 1967 and a solution to the refugee issue.
Another Christian Convert Brutally Murdered in Somali by Muslims
Nov. 30….(Worthy News) Islamic militants from al-Shabaab beheaded a Christian in the Somalian city of Barawa Friday, accusing him of both being a spy and forsaking Islam. A crowd watched as Farhan Haji Mose's body was split in two and then dumped near the beach, according to Morning Star News. Mose's family didn't immediately recover his body for fear that the Islamists would kill them as well. Mose, who had a small cosmetics shop in Barawa, often traveled to Kenya on business where he converted to Christianity in 2010. With a population of 545,000, Barawa is now under control of al-Shabaab militants fighting the government; the militants have already killed dozens of Christian converts from Islam since launching a campaign to rid the African nation of Christianity while seeking to impose a strict version of shar'ia over all of Somalia. Al-Shabaab was one of several Somalian groups that arose from the power vacuum created after Ethiopian forces toppled the Islamic Courts Union back in 2006.
Islamic Terrorists Causing Strife in Kenya
Nov. 30….(Worthy News) Religious violence is on the rise in Kenya following a series of explosions in Nairobi's predominately Somali neighborhood. In the latest attack, a male attacker disguised in a shawl threw an explosive device into a minibus, blowing it apart. In retaliation to the bus bombing, youths armed with machetes and stones sought out Somalis, accusing them of carrying out the Sunday bombing of a minibus that killed 10 and injured 30.
The terrorist's intention is to cause friction between Christians and Muslims," said Kenyan Vice President Kalonzo Musyoka. Scores of Christians have been injured or killed in attacks by Muslim extremists from Somalia. Many Kenyans are suspicious of many of the Somalis that have left their country, and have accused the refugee community of shielding al-Shabab, the militant Islamist group who threatened to attack Kenya after it sent troops into Somalia last year.
As Fatah Fades, UN Recognition of Palestine May Benefit Hamas
Nov. 30….(DEBKAfile Exclusive Analysis) Thursday night, Nov. 29, the UN General Assembly grants Palestine non-member observer status within 1967 borders by a majority vote. Israeli Prime Minister Benjamin Netanyahu has tried dismissing this upgrade as meaningless, awarding its initiator Mahmoud Abbas (Abu Mazen) nothing more than a small town sheriff's badge. But the fact remains that this status and those borders are on the books, no matter which Palestinian government is in power, Abbas's Fatah which rules the West Bank from Ramallah or the extremist Hamas in the Gaza Strip. And Israel now has a new headache, especially if the Palestinian entity seeks membership of the International War Crimes Court in The Hague.
Compared with the aggressive Hamas, PA Chairman Abbas, at 77, is increasingly regarded as a spent force in the Palestinian and Arab arenas. His Fatah party and the Palestinian Authority are worn out by infighting and becoming increasingly irrelevant, except as a ball for batting among Israeli politicians. Abbas is using the Arafat case and his UN initiative to show he still has muscle, if not legitimacy. Elected president seven years ago, his term ran out, according to the Palestinian constitution, in 2009. The same goes for the Palestinian Legislative Council, which was elected in 2006 in a vote that gave Hamas a majority. Since then, Abu Mazen has suspended the Council's work. There is frequent talk in Ramallah of new elections but nothing comes of it, partly for fear of giving the rival Hamas another chance to gobble up the West Bank as well as the Gaza Strip.
So the Palestinian president and prime minister holding court in the seat of government in Ramallah lack legal authority for ruling the West Bank or representing the Palestinian people to the outside world. They are only kept in power by seven battalions of special forces financed by the US. Their corrupt administration runs day to day affairs only with the help of donations from Western and Arab governments and Israeli economic aid. Without regular Israeli cash infusions in recent months, Abu Mazen's regime would not have covered the payroll for the members of his bloated administration and security services. All Abbas and his Fatah have to show for the many billions of dollars which world powers showered on them over the years to make the dream of a sustainable Palestinian state come true is a failed Palestinian entity ruled by a corrupt bureaucracy, with no standing in the Arab arena.
The UN farce
It is to this entity that the UN General Assembly, which itself is losing relevance as a player in international affairs, has voted to extended a measure of legitimacy on the world stage. The Palestinian UN Ambassador may now get a bigger office at UN Center in New York with a view of the East River. But in Ramallah, after the well-orchestrated celebrations in honor of Abu Mazen are over, nothing will change. But the real hub of Palestinian affairs has moved from Ramallah to Gaza City. On December 8, Turkish Prime Minister Tayyip Erdogan pays his first visit to Gaza. He will be accompanied by the deposed Hamas leader Khaled Meshaal. So far, he has not persuaded Hamas prime minister Ismail Haniyeh to welcome Mahmoud Abbas as a token of Palestinian unity. Erdogan will therefore not make Abbas's company a precondition for his own Gaza visit. Most of all, it signifies his recognition of Hamas at the expense of Fatah in Ramallah as part of the burgeoning Sunni Muslim Middle East axis, which is strongly though silently endorsed by the US and Israel.
No Arab leader or foreign minister has been seen in Ramallah for some time. However, in his declining years, Abbas has left UN endorsement of Palestinian nonmember observer status ready on the shelf to be collected at some future date by Hamas should those extremists qualify for a place in the new US-backed Sunni Middle East grouping in formation by Egypt, Turkey and Qatar. At some future point, the dormant Middle East Quartet may wake up and revive its stipulation for Hamas to give up terrorism and its ambition to eradicate Israel, the key points of its "resistance" posture, in order to buy international acceptance.
A Day That Ended Nothing
(On November 29, 1947, United Nations delegates voted to partition Palestine. Sixty-five years later, the UN is still carving up the Promised Land)
Nov. 29….(Times of Israel) One day in 1947, the members of a new organization called the UN convened in a building that had once been a skating rink and changed the world by holding a vote. Precisely 65 years later, members of the same organization, the United Nations, will hold another vote very much linked to the first. Less is at stake this time. But Thursday's vote on upgrading the Palestinians to observer state status, a small but significant alteration of their international standing, demonstrates to what extent Saturday, November 29, 1947, is a day that has never really ended. Witness accounts of the momentous vote in 1947 describe the delegates' cars pulling up outside the gray building at Flushing Meadow, outside New York, on a cold November afternoon, the crowds gathered outside, an electric excitement inside. People all over the world listened to a live radio broadcast. The vote was to decide whether to partition the British Mandate territory of Palestine into two states, one for Jews and one for Arabs. To pass, the motion needed a two-thirds majority. The Jews were in favor, the Arabs opposed. Feverish international lobbying by both sides had preceded the vote.
A Brazilian diplomat, Oswaldo Aranha, presided over the meeting from a high table. Next to him was the secretary general, the Norwegian Trygve Lie. In front of them stood a glass water pitcher and microphones that looked like metallic hard-boiled eggs. Behind them was an enormous painting of the globe. 'As he spoke, a feeling that grips a man but once in his lifetime came over us. High above us we seemed to hear the beating of the wings of history'. The two men faced a "wide semicircle of delegations with table signs, and the packed galleries," according to an account written by the Zionist delegate David Horowitz. Footage of the vote, and the discussions that preceded it, was preserved by the Spielberg Jewish Film Archive and is available online. The grainy film still conveys the remarkable drama of that day. A roll call began. Each country's delegate shouted from the floor, "Yes," "No," or "Abstention."
When it was France's turn, the auditorium held its breath; most expected the French to abstain. When their delegate said "Yes," the Zionist supporters who filled the galleries erupted into cheers. "Excitement," Horowitz wrote, "became a physical pain." "The president rapped sharply for order and warned the public against demonstrations." Voting resumed. When it was over, the president rapped his gavel again and read out the tally: Thirty-three in favor, thirteen against, eleven abstentions. The motion had passed. "As he spoke," wrote Horowitz, "a feeling that grips a man but once in his lifetime came over us. High above us we seemed to hear the beating of the wings of history."
The Arab states were shocked and furious. The representatives of Syria, Lebanon, Iraq, Saudi Arabia, Yemen and Egypt, wrote Lie, the secretary-general, immediately "rose and filed out of the Assembly hall." Violence erupted in Palestine the next morning, the first shots in what would eventually become known as Israel's War of Independence or, to the Arab world, as the "Nakba," the catastrophe. The results of the vote, however, were not perhaps as final as they might have seemed. In 2012, increasingly powerful segments in both Palestinian and Israeli society do not accept what the United Nations accepted that day.
The most important player among Palestinians today is now Hamas, (founded by the Muslim Brotherhood) which has always rejected the idea of partition as a betrayal of Islam. Hamas's popularity is on the rise because it is seen to be brave in confronting Israel militarily, as it did in the most recent round of fighting triggered by Palestinian rocket fire from Gaza.
In 1947, under the pragmatic leadership of David Ben-Gurion, the Zionist movement embraced partition as the realization of a 2,000-year dream of a national revival in the Jews' historic homeland. Revionist Zionists, led at the time by Menachem Begin, opposed the compromise. But Begin's political heir, Likud party leader and current prime minister Benjamin Netanyahu, has said in recent years that he now accepts it.
After the 1947 vote ended at Flushing Meadow, "Jewish Agency delegates, friends, press correspondents, and a great throng of reveling Jews milled in the halls and corridors," Horowitz wrote. "There was dancing and merrymaking in the streets." In Jerusalem, the staff of a local winery rolled a barrel into the middle of a downtown street and gave out free drinks. The Zionist leader Golda Meyerson, later to be Prime Minister Golda Meir, addressed the crowds from the balcony of the Jewish Agency building. "For two thousand years we have waited for our deliverance. Now that it is here it is so great and wonderful that it surpasses human words. Jews," she cried, "Mazel tov!"
Six and a half decades have passed since that night in 1947. The partition of Palestine remains on the table, the final results of the voting still unclear, and the conflict goes on.
Israel Braces for Palestinian Statehood Bid at UN
Nov. 29….(Israel Today) Israel today is bracing itself, diplomatically, for the scheduled UN General Assembly vote a day later on recognizing "Palestine" as a non-member observer state, and the impact it could have on the peace process. Israel had originally threatened to respond to the unilateral motion, which is a violation of the Palestinian Authority's signed agreements with Israel, by nullifying the so-called "Oslo Accords" and launching negotiations with other groups claiming to represent the Palestinian Arabs. But on Tuesday Israeli officials said it had been decided to instead take a "low profile" approach to the vote in the hopes that the Palestinian Authority's abandonment of bilateral negotiations would speak for itself.
Considering the international community's track record when it comes to the Israeli-Arab peace process, that seemed a foolishly optimistic approach. Meanwhile, the vote was resolution to recognize "Palestine" was expected to pass by a large margin, despite spirited opposition from Israel, the US, Canada and several other nations. Among those nations supporting the motion were France, Spain and Switzerland. Britain was considering voting in favor, too.
General Assembly votes are non-binding, so the resolution would have little directly legal meaning. However, it would allow the Palestinian Authority to apply for membership at the International Criminal Court and at the International Court of Justice, where the Palestinians would be certain to file regular lawsuits against Israel. Having "Palestine" recognized by the UN would also complicate the peace process, as it would put even more leverage in the hands of the Palestinian Authority, and would present a major obstacle to Israel acting against terrorist threats in Palestinian-controlled territories.
The Gaza Operation: Not a War; Just An Anti-Iran Coup
Nov. 29….(DEBKA) The eight-day Gaza duel between Israel and Hamas was the showcase. Behind it, a coup went forward, masterminded by at least three intelligence wizards: Israel's Mossad Direct Tamir Pardo, Turkish National Intelligence Organization – MIT chief, Hakan Fidan and the Qatari Prime Minister Sheikh Jassim al Thani, who also heads the emirate's intelligence service. The CIA was in close touch. Their aim was to abort the military ties Tehran was cultivating with Hamas before the Gaza Strip is grabbed as Iran's springboard to Cairo. To this end, wave upon wave of multiple missile assaults on Israel were provoked.
The coup action was designed as Part One of US President Barack Obama's overall plan, which is to harness the Arab Spring to key US objectives. His partners were, and are, Egyptian President Mohamed Morsi, Turkish premier Recep Tayyip Erdogan and Israeli Prime Minister Binyamin Netanyahu. Obama's next stop is Syria where matters are coming to a head on several fronts.
The plan, if Israel's Operation Pillar of Defense worked, was to chart a new future for the radical Hamas terrorists by their transformation into the legitimate voice of the Palestinian people for which they still need some grooming and more than a touch of the airbrush. Hamas has the advantage of being the most popular boy on the Palestinian block, which is why the Fatah leader and Palestinian Authority chairman Mahmoud Abbas has avoided an election for six years.
In the short term, the Israeli mini-war was meant as a vivid lesson for Tehran about the fate awaiting its Arab allies. Hizballah is advised to watch what happened to Hamas before its leader Hassan Nasrallah looses tens of thousands of rockets with which Iran filled its armory against Israel. For these objectives, Israeli ground action was not necessary at any stage of the Gaza operation. Its opening shot was a bull's eye, eliminating Hamas's military commander, the pro-Tehran Ahmed Jabari and Iran's kingpin in Gaza. Israel's Iron Dome stole the show by knocking out most of the 1,000 missiles launched from Gaza before they hit town centers. Israel lost six dead. Many of the injured were shock victims.
So was the coup strategy played out in Gaza a success? Time will tell; Israel has meanwhile begun easing its land and sea blockade on the Gaza Strip. Turkey and Qatar are committed to major investments in the Gaza economy to make it more prosperous than the rival West Bank. And the US and Egypt have undertaken a joint effort to stem the flow of Iranian arms to Gaza through the smuggling routes of Sinai. A million things could go wrong along the way. However, the same coalition has meanwhile shifted it sights from Gaza to Syria. NATO is about to post Patriots with American crews on the Turkish-Syrian border and the rebels are finally beginning to hem Assad's military resources in.
More Explosions in Damascus, Kills Christians
Nov. 29….(Voice of America) Twin car bombs Wednesday ripped through a suburb of Syria's capital populated mostly by Christians and Druze, killing at least 34 people. Syrian state television showed firefighters hosing down the burning wreckage of several vehicles and nearby buildings after two car bombs exploded in the main square of Jaramana, outside Damascus. One unidentified witness said the explosions came in succession. He said a car filled with explosives blew up before a second explosion occurred near a school. State media accused "terrorists," the government's term for opposition forces. But several top opposition figures said that the government was behind the attacks.
Hamas: Killing Jews is Worship of Allah
Nov. 29….(Worthy News) Although a tense cease-fire is in effect, the friction is far from over. On Al-Aqsa TV, Hamas' official media outlet continued its call to kill Jews and such acts were a form of worshiping Allah according to Palestinian Media Watch. "Killing Jews is worship that draws us close to Allah," one of the music videos played during the recent conflict is translated as saying. The same song, by Hamas' Al-Qassam Brigades, going on to praise "the martyr's blood" and the act of "terrifying the Jews."
Here are more of the lyrics:
"Bless Hamas' Al-Qassam men, guardians of Palestine
Oh pride of Salah Shahada, oh wisdom of Immad Aqel (Hamas leaders killed by Israel)
Oh the explosives of Yahya] Ayyash, (Hamas bomb maker killed by Israel), Martyrdom,
oh lovers of the trigger:
Killing the occupiers is worship that Allah made into law.
(Arabic text: "Killing Jews is worship that draws us close to Allah")
Arise, oh determined men.
The color of the Martyr's blood protects the land.
Oh masked one wearing a keffiyeh (Arab head scarf), terrifying the Jews…
call out in Zionism's face: 'Muhammad's army has begun to return.'
US-led NATO Intervention Begins in Syria
Nov. 28….(DEBKAfile Exclusive Report) The Middle East military spotlight swung around from Gaza to the Syrian war with steps for the start of US and NATO intervention in that conflict. Without spelling this out, a game changer began unfolding when a joint Turkish-NATO team began making a site survey for the deployment of Patriot Air and Missile Defense Systems, manned by American military teams. The team, said the statement from Ankara, will assess where to station the missiles and how many would be needed. It reiterated that the system is "for defensive purposes" and not for a "no-fly zone or offensive operations," but just for use "against an air or missile threat from Syria." However, the Patriots in combination with already installed elements of the missile shield, will command an area beyond the Turkish-Syrian border - all of northern Syria up to and including the embattled towns of Aleppo and Homs, Debkafile's military sources report. Their presence will impede the operations of Assad's most effective and lethal means of war against the rebels in that region, air force bombardment.
The positioning of US anti-missile missiles in Turkey coincides with the rebels' success in destroying the Assad regime's key air and radar stations in southern Syria and along the Jordanian border. The two thrusts add up to a coordinated military effort in northern and southern Syria to seize control of the skies in both regions from Assad's control and push his forces back into central Syria. A part of the US-Turkish plan affects Israel. Monday, debkafile reported exclusively that in a resounding blow to Bashar Assad's ability to fight external enemies, Syrian rebels had destroyed the Assad regime's most important electronic warning radar station facing Israel, M-1, Monday, Nov. 26. This Russian-built station monitored Israeli warplanes' takeoff and landing activities at air bases in the Negev and Hatzerim in the south and tracked them up to the Syrian border. The facility was designed to guide Syrian missiles targeting any point on the Israeli map, in sync with air defense facilities south of Damascus and on the Golan Heights. The radar's range also covered naval movements in Mediterranean waters off the shores of Israel and Lebanon.
Western military sources told Debkafile that the destruction of this vital facility has blinded the two eyes which Syrian air, air defense and missile forces had trained on Israel. It has therefore crippled, though not completely dismantled, Bashar Assad's ability to got to war against Israel, Jordan or Saudi Arabia. M-1 radar also swept all parts of Jordan and northern Saudi Arabia where the important Tabuk air base is situated. Deployed there in addition to the Saudi Air Force are French fighter-bombers ready to go to war against Syria. M-1 also relayed current data on Israeli military movements to Hizballah and would have been a vital source of intelligence in a potential Lebanese Shiites offensive against the Jewish state.
The Syrian ruler and his spokesmen have frequently threatened since the eruption of the popular insurrection that if Assad had his back to the wall, the entire Middle East would go up in flames, especially Israel. In the last two days, the Syrian rebels have made additional gains: They were able to capture areas abutting on the Jordanian border, excepting only the Ramtha border crossing. They also seized the Marj al-Sultan military air field southeast of Damascus and adjoining Syrian Army 4th Brigade bases. Most of the men of the 82nd Infantry Brigade guarding M-1 were killed in the fighting, fled or were taken prisoner.
Our military sources notes that after M-1, the Assad regime still retains two key radar stations: M-2 in Shanshar south of Homs, which covers central and northern Syria; and M-3 near Latakia which keeps an eye on the northern region up to the Turkish border and the eastern Mediterranean up to Cyprus. All three radar stations were linked to the Syrian general staff, air force, air defense, missile and navy operations rooms and fed them the essential real-time intelligence data needed for decision-making at the highest level. However, the loss of M-1 seriously hampers the Syria army's capacity to take on Israel or Jordan.
Following Gaza 'victory,' Hamas sets its sights on the West Bank
(Haniyeh says Palestinian territory, historically controlled by rival Fatah, central to 'struggle with the occupation')
Nov. 28….(Times of Israel) Less than a week after reaching a ceasefire agreement with Israel, Hamas's Gaza prime minister on Tuesday outlined the movement's next goal in its struggle: the West Bank. After eight days of intense fighting in Israel, the strip's Islamist rulers emerged in the Palestinian narrative as victorious against Israel, even managing to sideline Palestinian Authority President Mahmoud Abbas on the Arab street and reignite talks of unification between the factions.
Hamas has historically been only a marginal force in the West Bank, but with its newfound popularity, Gaza Prime Minister Ismail Haniyeh said his group was looking to expand its reach into the Palestinian heartland in its bid to lay claim to the land. "The West Bank will be central in deciding the struggle with the occupation," Ismail Haniyeh declared during a ceremony honoring the victims of Operation Pillar of Defense in Gaza. "The West Bank is central for its historic and geographic value, as well as its proximity to the enemy's occupied cities." Delegations from Israel and Hamas arrived in Cairo Monday to discuss, through the mediation of Egypt's General Intelligence Service, the details of a ceasefire reached on November 21. Moussa Abu-Marzouq, deputy head of Hamas's political bureau, told London-based daily A-Sharq Al-Awsat that while negotiations revolve around easing the closure of Gaza, Hamas has never committed to disarming. "The skies remain open if the ceasefire agreement is breached in any way," Abu-Marzouq told the daily, referring to the possibility of resuming rocket attacks against Israel.
Haniyeh, the Hamas prime minister, reassured his audience that while the ceasefire may last "for days or years," Hamas's strategic choice remains armed struggle. "When we say that things will calm down for days or years, this is part of a wider vision. This action requires us to adopt resistance as a strategic choice, and give ourselves a long breath." Haniyeh defined the present days as an intermediate stage between two historic phases; the first including "preparation and development" and the second characterized by "mobilization and liberation of our land and our Jerusalem." The land in question, Haniyeh stressed, is not merely Gaza, the West Bank and Jerusalem, a subtle reference to PA President Mahmoud Abbas's recent interview in which he acknowledged all land beyond the Green Line as "Israel," but rather "Palestine as we know it, whose borders were drawn by our heroes from Ras Al-Naqoura to Rafah and from the Mediterranean Sea to the Jordan River."
Meanwhile, London-based daily Al-Quds Al-Arabi shed new light Tuesday on Syria's move to shut Hamas's offices in Damascus earlier this month.According to Palestinian sources living in Syria, the Assad regime decided to crack down on Hamas based on intelligence information indicating that a large number of fighters belonging to the "Grandchildren of the Prophet," an opposition group active in south Damascus and the Yarmouk refugee camp, were Hamas loyalists. Hamas's leadership left Damascus in January citing its objection to the Assad regime, but has never admitted to actively assisting the Syrian opposition.
Morsi's Second Muslim Brotherhood Coup: Obama Backed Wrong Side
Nov. 28….(Frank J. Gaffney Jr.) During the so-called "Arab Spring," the Obama Administration insisted that the United States risked being on the "wrong side of history" if it remained aligned with secular despots like Egypt's Hosni Mubarak. Recent events have made it clear there is a wrong side for freedom in the Middle East and, thanks to Team Obama's embrace of the Muslim Brotherhood, we're on it. Take, for example, the cease-fire between Israel and the Muslim Brotherhood's Palestinian franchise, the designated terrorist organization Hamas. Mohamed Morsi, the man the Muslim Brotherhood selected to replace Mr. Mubarak as president of Egypt, brokered the deal and has been lionized for doing so. Far from representing a real contribution to peace, this truce is a coup for the Islamists. It blocked Israel from launching ground operations aimed at cleaning out terrorist strongholds, weapons caches and infrastructure in Gaza. Pursuant to the cease-fire's terms, the Jewish state is even supposed to refrain from continuing to target Hamas leadership figures from the air.
Yet the Morsi-brokered cease-fire imposes no impediment to the jihadists in the Gaza Strip rearming for the next round of attacks on Israel. The deal creates the expectation that the only practical bar to such rearmament, namely, the Israeli blockade of Gaza, will be eased. The credit given Morsi by the Obama administration and others for engineering so manifestly one-sided an accord ignores a central reality: The Brotherhood is simply buying time to achieve what the Soviets would call "a more favorable correlation of forces." Once that is accomplished, the mother ship in Egypt and its affiliates in Gaza and elsewhere will be delighted to abandon the latest truce and renew their decades-long effort to "drive the Jews into the sea."
The over-the-top endorsements of Morsi also may have encouraged him to announce immediately thereafter sweeping political changes in Egypt that suggest he is not interested in a functioning liberal democracy in his own country any more than he wants a durable peace with Israel. Team Obama claims to have been "dismayed" by this second Morsi coup, in this case, effectively a coup d'etat in Cairo. It should not have been surprised. Mr. Obama, after all, has been engaging and emboldening the Muslim Brotherhood from early in his presidency. This was one purpose of his much ballyhooed June 2009 visit to Egypt, in which he insisted that its representatives be allowed to attend the first Obama "outreach to the Muslim world" speech. Moreover, in the months since, the Muslim Brotherhood has engineered Mr. Mubarak's overthrow with almost immediate and strong support from the US administration and has worked assiduously to take control of all of the reins of government in Egypt and to make Shariah the law of the land. The problem for Team Obama is that Egyptians who did not intend to have a secular tyrant replaced by an Islamist one are beginning to find their voice. It is far too early to say whether the fractious Egyptian opposition that has just begun to coalesce under the banner of the National Salvation Front will be able to pose a real challenge to the Muslim Brotherhood and other Salafists. With luck, they will do so, starting with large public demonstrations this week that could make possible a systematic rollback of the Islamists and their efforts to dictate Egypt's future.
Unfortunately, if experience in Iran is any guide, the Obama administration will align itself with the jihadist oppressors rather than their anti-Islamist opponents. It will try to thwart any congressional effort to restrict further engagement with the Morsi regime, for example, by cutting off or conditioning foreign aid and military sales. Team Obama probably also will try to protect the Egyptian Muslim Brotherhood's bids for additional financial assistance through billions of dollars' worth of international loans and debt relief.
To what extent are individuals with ties to the Muslim Brotherhood who are working in or serving as advisers to the Obama administration contributing to these clearly counterproductive national security policies? Five Republican members of Congress, Rep. Michele Bachmann, Rep. Louie Gohmert, Rep. Trent Franks, Rep. Lynn A. Westmoreland and Rep. Thomas J. Rooney, presciently raised this concern last June and were roundly criticized for doing so (including by some in their own party). They appear to have been vindicated in their warnings that such influence operations are putting us on the wrong side of history. We cannot afford to remain there, to the benefit of our enemies and their jihadist agenda.
Many Egyptians Challenge Morsi 's Power Grab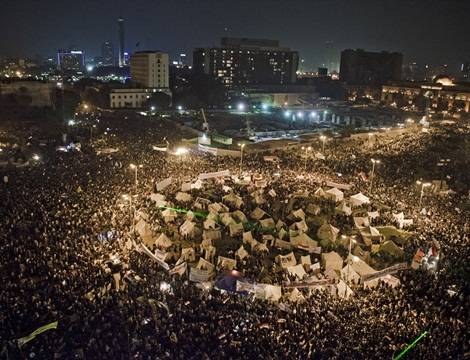 Nov. 28….(Fox News) The same chants used against Hosni Mubarak were turned against his successor Tuesday as more than 200,000 people packed Egypt's Tahrir Square in the biggest challenge yet to Islamist President Mohammed Morsi. The massive, flag-waving throng protesting Morsi's assertion of near-absolute powers rivaled some of the largest crowds that helped drive Mubarak from office last year. "The people want to bring down the regime!" and "erhal, erhal", Arabic for "leave, leave," rang out across the plaza, this time directed at Egypt's first freely elected president. The protests were sparked by edicts Morsi issued last week that effectively neutralize the judiciary, the last branch of government he does not control. But they turned into a broader outpouring of anger against Morsi and his Muslim Brotherhood, which opponents say have used election victories to monopolize power, squeeze out rivals and dictate a new, Islamist constitution, while doing little to solve Egypt's mounting economic and security woes.
"Power has exposed the Brotherhood. We discovered their true face," said Laila Salah, a housewife at the Tahrir protest who said she voted for Morsi in last summer's presidential election. After Mubarak, she said, Egyptians would no longer accept being ruled by an autocrat. But violence could not overshadow the show of strength by the normally divided opponents of Islamists in power, posing Morsi with the biggest challenge in his five months in office. "The people want to bring down the regime," protesters in Tahrir chanted, echoing slogans used in the 2011 revolt. Protesters also turned out in Alexandria, Suez, Minya and other Nile Delta cities. Tuesday's protest called by leftists, liberals and other groups deepened the worst crisis since the Muslim Brotherhood politician was elected in June, and exposed the deep divide between the newly empowered Islamists and their opponents.
Egypt Pitches US 'Strike 2' on Arab Democracy
(Morsi's power grab is "Strike 2" for US efforts to make democracy safe for the Middle East. Seven years ago, Hamas won US-backed elections)
Nov. 28….(Arutz) The US State Dept is dancing on pins and needles in an attempt to avoid saying that "democracy" has failed in Egypt following Egyptian President Mohammed Morsi's latest power grab, which bars the judiciary from challenging his decisions. Morsi's Islamic fundamentalist Muslim Brotherhood party, outlawed in the days of Hosni Mubarak, was elected in democratic elections encouraged by the United States after it helped usher Mubarak out of power last year.
Morsi indicated Monday he is willing to soften his decision to take almost absolute power, but a spokesman's statement that only "acts of sovereignty' would take precedence over judicial power is not likely to appease increasingly vocal opponents. The events in Egypt are "Strike Two" for American attempts at introducing democracy to Israel's neighbors. Seven years ago, Secretary of State Condoleezza Rice was exuberant over the first democratic elections in the Palestinian Authority. "Strike One" came in the middle of the night, when a phone call woke her up and she was informed that Hamas had won. Ironically, but perhaps not coincidentally, Strike Two involves the Muslim Brotherhood, which created Hamas. Nevertheless, the Obama administration is forever hopeful. A reporter at Monday's daily press meeting said that Morsi seems to be "basically saying, 'Trust me; it'll work out the good way.' And this money and US support would be contingent on that. At heart, do you trust him that it'll come out the good way?"
On Feb. 11, 2011, addressing the success of Egypt's revolution, which he himself enthusiastically supported, President Barack Obama stood in the Grand Foyer of the White House and triumphantly declared, "The people of Egypt have spoken, their voices have been heard, and Egypt will never be the same." But the fruit of this change quickly became bitter to the Egyptian people. It is now becoming clear that the Egyptian people have traded a more secular autocrat for an Islamist dictator. As Americans everywhere stopped to celebrate Thanksgiving Day, Egyptian President Morsi appeared on Egyptian television and shocked the nation, issuing a presidential decree effectively banning all challenges to his decrees, laws and decisions. The decree stated: "The president can issue any decision or measure to protect the revolution. The constitutional declarations, decisions and laws issued by the president are final and not subject to appeal." The decree also stated that the courts have no authority to dissolve the country's Constituent Assembly, which is now rewriting the constitution. Disparate groups within and outside of Egypt have expressed their alarm.
Within Egypt's Constituent Assembly, various secularist opponents to Morsi have quit, including Coptic Christians and representatives of the April 6 Youth Movement, the very group that initiated the revolution in Egypt. Mohamed El Baradei, another opponent of Morsi, accused the president of establishing himself as "a new pharaoh." In a typically toothless statement released Friday, the European Union "urged" Morsi to "respect the democratic process."
In Tahrir Square thousands have gathered to protest what they are referring to as a "coup" carried out by Morsi. Thousands of others are counter-protesting. Violent clashes have broken out in a few cities. Of course, seizing an ever-increasing level of power under the guise of democracy would be the most natural path for Morsi, with Turkey's Prime Minister Recep Tayyip Erdogan to the north having already demonstrated how it's done. In fact, Egypt's Muslim Brotherhood in many ways has modeled itself after Turkey's Islamist political party.
Israel Develops New Misssile Defense System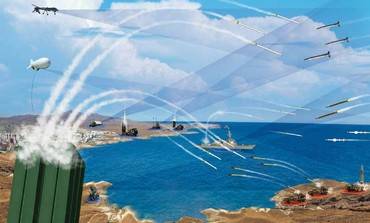 Nov. 27….(Times of Israel) A new mid- to long-range missile interceptor being developed by Israel successfully shot down a rocket in its first test Sunday, taking a major step toward completing Israel's missile defense shield, the Defense Ministry said. The David's Sling, with an operational range of 70-200 kilometers, will complement Israel's Iron Dome short-range and Arrow long-range missile defense systems.
The Iron Dome system became the darling of Israel last week as it shot down hundreds of rockets, often in quick succession, during the country's eight-day engagement with the Gaza Strip.
The David's Sling system, designed by Rafael Advanced Defense Systems and Raytheon, is to be capable of taking down missiles with warheads of up to half a ton. The test was conducted the same day that Hezbollah leader Hassan Nasrallah threatened to rain down missiles on the entirety of Israel, "from Kiryat Shmona to Eilat." The Lebanon-based group is thought to have an arsenal of thousands of rockets and missiles, many of them supplied by Iran via Syria, that would threaten much of the country in a war.
The Israel Missile Defense Organization and the US Missile Defense Agency completed the first phase of the development of the David's Sling Weapon System, by conducting a successful interception test.
This test included for the first time a successful interception by the Stunner Missile of the DSWS. The test was conducted by Rafael Advanced Defense systems at a test range in the southern part of Israel. The DSWS is designed to provide an additional layer of defense against ballistic missiles by adding additional opportunities for interception to the joint US-Israel Arrow Weapon System, resulting in an improvement in the State of Israel's defense architecture against missile threats.
One major difference between the new system and the much-hailed Iron Dome is that David's Sling, named after the famous weapon in the biblical David and Goliath story, fires interceptor missiles that can be redirected in mid-flight, correcting for changes in the trajectory of their targets.
Another advantage lies in David's Sling's ability to hit faster-moving targets than the relatively crude rockets fired by Hamas and other groups in Gaza. These abilities would enable the system to counter the missiles held by Hezbollah, many of which can fly faster than Hamas rockets, have a greater range, covering pretty much the entirety of Israel, and even contain guidance systems. But the threat goes beyond Hezbollah, Gabriel Scheinmann, a visiting fellow at the Jewish Institute for National Security Affairs in Washington, told the Boston Globe. "There is also the threat of Scud missiles, especially if you are looking at what is going on in Syria."
Egypt Headed Towards Another Civil War?
Nov. 27….(Israel Today) Downtown Cairo was once again engulfed by revolutionary fervor over the weekend after President Mohammed Morsi of the Islamist group Muslim Brotherhood granted himself far-reaching, almost dictatorial, powers. Demonstrations marking the 2011 ouster of former dictator Hosni Mubarak began the middle of last week. But on Thursday they intensified greatly when Morsi announced that he had granted himself immunity from scrutiny by Egypt's courts. Just days after playing his role in the Hamas-Israel ceasefire, and being praised the world over for it, Morsi decided that Egypt's court can no longer hear appeals on his executive decisions. The decree gives Morsi near-absolute power.
Morsi also banned the courts from dissolving the committee currently working on Egypt's new constitution. The committee is dominated by the Muslim Brotherhood and other Islamists, and many Egyptians fear the result will be a constitution that imposes Sharia Law.
The hundreds of thousands of demonstrators who converged on Cairo's now-famous Tahrir Square said they had mistakenly replaced one dictator with another. "A street war is looming," read the headline of Egypt's independent daily Al-Masry Al-Youm. An Egyptian source close to Israel today said the same thing, warning that civil war could be just around the corner.
Syria's Opposition Leader, Israel, Zionism is 'a Cancer
(FOJ Note: Surprise, surprise, yet another Muslim cleric rising in another country to wage Jihad against Israel)
Nov. 27….(Times of Israel) The new leader of Syria's opposition coalition, presented by international media as a moderate Islamic cleric, has called Zionism a "cancerous movement" and praised Saddam Hussein for "terrifying the Jews." Mouaz al-Khatib made the "cancerous" reference in an essay published last year titled "The role of international politics in inciting sectarian strife," in which enumerated the possibility of coexistence between Syria's Sunni majority and the country's religious minorities. In it, Khatib includes a chapter titled "Jews in the eyes of the Islamic civilization society." "The Islamic civilization clearly draws a clear distinction between Zionism as a cancerous movement and the Jews as the followers of a religion greatly respected in Islam," Khatib wrote, but then, contradicting that statement, acknowledged "the historic enmity between Muslims and Jews since the early days of the call to Islam."
Khatib has been described by international media as a moderate religious figure, capable of counterbalancing the growing influence of Islamic extremists within the ranks of the Syrian opposition. "My brothers, we lived all our lives, Sunnis, Shiites, Alawites and Druse as a one-hearted community, and with us lived our dear brothers who follow Jesus, peace be upon him," he told a crowd of supporters in a Damascus suburb in April 2011, only one month into the uprising.
But it would seem that Khatib holds a different opinion concerning the Jews. In an essay published in January 2007 in which he criticizes the regime of Saddam Hussein, Khatib nevertheless mentions a few of Hussein's achievements, including "building a massive army; terrifying the Jews; and creating an excellent educational system." A former Imam at the Ummayad mosque in Damascus, Khatib has repeatedly called for unity among Syria's religious groups. Arrested four times since the outbreak of the revolution in March 2011, Khatib finally fled Syrian in the summer of 2011.
Syrian Islamists Declare Independence
Nov. 27….(Israel Today) Just as with Egypt, Syria's "Arab Spring" revolution is looking as though it will end with the creation of a new Islamic state. On Monday, the more radical of the Islamist factions taking part in Syria's civil war posted a video online in which they declared the northern city of Aleppo to be independent from the regime in Damascus. "We are the representatives of the fighting formations in Aleppo and we declare our rejection of the conspiratorial project, the so-called national alliance," said the rebels, referring to the Western-backed Syrian National Coalition. "We have unanimously agreed to urgently establish an Islamic state," the video concluded. The rebels fear that just as in Egypt, Libya and elsewhere, Western powers are trying to use the Arab Spring to turn Syria into a Western-style democracy that is in line with American and European interests. But, just as in Egypt, Libya and elsewhere, the West initially underestimated the influence of Islamist groups in Syria and the major role they are playing in the battle against the current dictator. Across the border in Israel, the concern is that, again like Egypt, Syrian dictator Bashar Assad will simply be replaced by a more radical Islamist ruler.
Minority Christians & Atheists Propelled Obama to Victory
Nov. 27….(CNN) President Barack Obama's victory relied largely on two dramatically different religious coalitions, minority Christians and those with no religion, according to a survey released Thursday. One-in-four Obama voters were religiously unaffiliated, the second-largest "religious" demographic in the president's coalition, according to the study (PDF). Minority Christians, consisting of black, Asian, Hispanic and mixed-race Americans, made up 31% of Obama's coalition, the largest religious group. The Public Religion Research Institute numbers flesh out exit polls released after Election Day. According to those numbers, 70% of the religiously unaffiliated supported Obama, compared with 26% who backed Romney. Ninety-five percent of black Protestants voted for Obama, according to the exit polls, while 75% of Hispanic Catholics supported the president. The rise of the religiously unaffiliated has been a major recent trend. A survey by Pew Forum on Religion and Public Life released this year found that the fastest-growing "religious" group in America is made up of people with no religion at all. According to the survey, 20% of adult Americans have no religious affiliation.
Brezinski Laments Derailing of New World Order
Nov. 27….(Infowars) Former US National Security Advisor Zbigniew Brzezinski warned fellow elitists that a worldwide "resistance" movement to "external control" (FOJ Note: popular elitists euphemism for Totalitarian Super President of the World / Antichrist) driven by "populist activism" is threatening to derail the move towards a New World Order. Brzezinski concluded that, "persistent and highly motivated populist resistance of politically awakened and historically resentful peoples to external control has proven to be increasingly difficult to suppress." His remarks were made at an event for the European Forum For New Ideas (EFNI), an organization that advocates the transformation of the European Union into an anti-democratic federal super-state, the very type of bureaucratic "external control" Brzezinski stressed was in jeopardy in his lecture. In this context, it must be understood that Brzezinski's point about "populist resistance" being a major hindrance to the imposition of a new world order is more of a warning than an acclamation. Bresinski said "the technotronic era involves the gradual appearance of a more controlled society. Such a society would be dominated by an elite, unrestrained by traditional values. Soon it will be possible to assert almost continuous surveillance over every citizen and maintain up-to-date complete files containing even the most personal information about the citizen. These files will be subject to instantaneous retrieval by the authorities," wrote Brzezinski. "In the technotronic society the trend would seem to be towards the aggregation of the individual support of millions of uncoordinated citizens, easily within the reach of magnetic and attractive personalities exploiting the latest communications techniques to manipulate emotions and control reason," he wrote in the same book.
Brzezinski's sudden concern about the impact of a politically awakened global population isn't born out of any notion that he identifies with their cause. Brzezinski is the ultimate elitist insider, the founder of the powerful Trilateral Commission, a Council on Foreign Relations luminary and a regular Bilderberg attendee. He was once described by President Barack Obama as "one of our most outstanding thinkers". This is by no means the first time Brzezinski has lamented the burgeoning populist opposition to external domination by a tiny elite.
Obama and The Morsi Dictatorship
(A president who says he wants peace and democracy in the Middle East is now acting as if the Islamists that run Turkey and Egypt are his new best friends while continuing to treat the head of the only democracy in the region as a nuisance)
Nov. 27….(Jewish World Review/Jonathan Tobin) Egyptian President Mohamed Morsi has had quite a week. He helped broker a cease-fire between his Hamas ally and Israel to the acclaim of the international community as well as the United States and his new friend President Obama. He followed that triumph up by issuing new decrees that effectively give him dictatorial powers over Egypt. In less than year in office, Morsi has amassed as much power as Hosni Mubarak had in his time in office as the country's strongman and he has done it while getting closer to the United States rather than having his Islamist regime being condemned or isolated by Washington.
The full implications of Morsi's ascendancy are not yet apparent. But we can draw a few rather obvious conclusions from these events. The first is this makes the region a much more dangerous place and peace even more unlikely. The second is that the much ballyhooed Arab Spring turned out to be an Islamist triumph, not an opening for democracy. And third, and perhaps most disconcerting for Americans, it looks like the Obama administration has shown itself again to be a band of hopeless amateurs when it comes to the Middle East. This episode is more proof of the gap between his foreign policy instincts and a rational defense of American interests.
The first point to be made about the cheering for Morsi's role in brokering the cease-fire is misplaced. It cannot be emphasized too much that the reason why Hamas felt so confident about picking a fight with Israel that it could not possibly win militarily is the fact that Egypt and fellow regional power Turkey were treating it as an ally rather than as terrorist regime that needed to be isolated and controlled. While Morsi has sought to exercise some influence over Gaza by keeping the border crossings to Sinai closed (more as a result of concern over the violence spilling over into Egyptian territory than a desire to restrain terrorism), the support for the legitimacy of the illegal Hamas regime on the part of the Muslim Brotherhood government has been a game changer.
More than ever before, Hamas now has the whip hand over the Fatah-controlled Palestinian Authority. That makes the already nearly non-existent chances of peace between Palestinians and Israelis even smaller. Though it can be argued that the ability of Hamas to preserve its rule over Gaza following the last bout of fighting with Israel in January 2009 already made it clear that it was a force to be reckoned with, the backing of Egypt and Turkey and the tacit approval of the United States in the cease-fire means there can be no doubt that Hamas truly is the face of Palestinian nationalism these days as well as the owners of an independent Palestinian state in all but name. With Cairo and Ankara backing them up and Iranian missiles in their arsenal, Hamas's strength makes the standard liberal talking point about it being necessary for Israel to make more concessions to Fatah even more absurd than ever.
If the blockade of Gaza is now to be weakened even further to allow "construction materials" as well as the food and medicine that has never ceased flowing into the area from Israel, then it must be acknowledged that Hamas is more powerful than ever and well placed to make mischief in the region whenever it likes. Rather than applauding Morsi's role in the cease-fire, Americans should be asking why the Obama administration has acquiesced to having one of their nation's primary aid recipients being an ally of Hamas. They should also be wondering about what exactly it is that passed between Obama and Morsi during their phone conversations and what promises, if any, were made by the United States about future pressure on Israel.
Morsi's consolidation of dictatorial power also should not have taken Washington by surprise, as it seems to have done. For several months, the State Department has been acting as if it bought the argument that the Muslim Brotherhood government was basically moderate in nature and more interested in economic development than pursuing ideological goals. But Morsi's actions, in which he has sidelined every competing power base that might have acted as a check on his ambitions, makes it apparent that his real purpose is to make his movement's control of the country permanent. Any hope that democracy was coming to Egypt or the rest of the Arab and Muslim world was misplaced. And any idea that the United States can bribe Morsi or any other Islamist into playing ball is sheer folly.
That leads us to the final point about the Obama administration's utter lack of skill in dealing with the realities of the Middle East. Even if we were to concede that the president's motives were pure and that he wanted nothing more than to bring peace to the region and democracy to Arab nations that have never known it, virtually everything that the administration has done has made the achievement of these goals even less likely than before.
The president might not be personally responsible for the collapse of an unsustainable Mubarak dictatorship. But he did nothing to aid the cause of the few Egyptian liberals who actually want democracy. Worse than that, he undercut the efforts of the Egyptian military to act as a brake on the rise of the Muslim Brotherhood. Instead of seeking to use the billions that Egypt gets from the US as a lever with which he could restrain Cairo from backing Hamas and the Brotherhood from seizing more power, Washington has embraced Morsi. That emboldened Hamas and led to the recent fighting. Though the president said all the right things about backing Israel's right to self-defense, his diplomatic maneuvering not only helped set the stage for more violence but made it more difficult for Israel to exercise that right. A president who says he wants peace and democracy in the Middle East is now acting as if the Islamists that run Turkey and Egypt are his new best friends while continuing to treat the head of the only democracy in the region as a nuisance. In doing so, President Obama has helped make the world a lot more dangerous that it might otherwise have been.
FOJ Note: President Obama, who praised Egyptian President Mohamed Morsi for brokering a cease-fire between Israel and Hamas, has not spoken to the Islamist since his alarming power grab. Why not? Unquestionably, President Obama is quite satisfied with the building power of the Muslim Brotherhood throughout the Middle East.
Morgan Stanley: Major Recession Coming
Nov. 27….(In The Days) Morgan Stanley's economics team forecasts a full-blown recession next year, under a pessimistic scenario, with global gross domestic product (GDP) likely to plunge 2 percent. "More than ever, the economic outlook hinges upon the actions taken or not taken by governments and central banks," Morgan Stanley said in a report. Under the bank's more gloomy scenario, the US would go over the "fiscal cliff" leading to a contraction in US GDP for the first three quarters of 2013. In Europe, the bank's pessimistic scenario assumes a failure of the European Central Bank (ECB) in cutting rates and a delay of its bond-buying program. Morgan Stanley isn't alone in warning about a recession next year. Noted bear, Nouriel Roubini warned on Monday that certain key developments would exacerbate the downside risks to global growth in 2013. "Until now, the recessionary fiscal drag has been concentrated in the Euro zone periphery and the UK. But now it is permeating the Euro zone's core," Roubini wrote. "And in the US, even if President Barack Obama and the Republicans in Congress agree on a budget plan that avoids the looming "fiscal cliff," spending cuts and tax increases will invariably lead to some drag on growth in 2013, at least 1 percent of GDP."
UN Seeking Control of the Internet
FOJ Note: This is obviously an attempt by the UN to eradicate Christian teaching via the world wide web. Ministries such as FOJ would be killed by such UN controls)
Nov. 27….(The Weekly Standard) Next week the United Nations' International Telecommunications Union will meet in Dubai to figure out how to control the Internet. Representatives from 193 nations will attend the nearly 2 week long meeting, according to news reports. "Next week the ITU holds a negotiating conference in Dubai, and past months have brought many leaks of proposals for a new treaty. US congressional resolutions and much of the commentary, including in this column, have focused on proposals by authoritarian governments to censor the Internet. Just as objectionable are proposals that ignore how the Internet works, threatening its smooth and open operations," reports the Wall Street Journal. "Having the Internet rewired by bureaucrats would be like handing a Stradivarius to a gorilla. The Internet is made up of 40,000 networks that interconnect among 425,000 global routes, cheaply and efficiently delivering messages and other digital content among more than two billion people around the world, with some 500,000 new users a day. "Proposals for the new ITU treaty run to more than 200 pages. One idea is to apply the ITU's long-distance telephone rules to the Internet by creating a 'sender-party-pays' rule. International phone calls include a fee from the originating country to the local phone company at the receiving end. Under a sender-pays approach, US-based websites would have to pay a local network for each visitor from overseas, effectively taxing firms such as Google and Facebook. The idea is technically impractical because unlike phone networks, the Internet doesn't recognize national borders. But elitist authoritarians are pushing the tax, hoping their citizens will be cut off from US websites that decide foreign visitors are too expensive to serve." Even Google has already come out against the ITU. "The ITU is the wrong place to make decisions about the future of the Internet," says Google. "Only governments have a voice at the ITU. This includes governments that do not support a free and open Internet. Engineers, companies, and people that build and use the web have no vote." "The ITU is also secretive. The treaty conference and proposals are confidential," adds Google.
Egypt Has A New Islamic Dictator
Nov. 26….(WND) Christian human-rights analysts warn the expanded powers seized by Egypt's president means more anti-Christian persecution to come. In a set of legal maneuvers this week, Muslim Brotherhood-anointed President Mohamed Morsi moved to sidestep the courts and make his office immune to judicial oversight. With no constitution to restrain him, Morsi holds broad executive and legislative authority. Middle East analyst Theodore Shoebat's concern is what Morsi's power grab means for Egypt's Christians. He references two regimes, one ancient, one modern, to illustrate what happens when leaders opposed to Christianity take control. "Before Nero inflicted a full persecution on the church, he at first seized full control of the Roman government," Shoebat said. "In order for us to comprehend how Christians will be eventually persecuted under a Muslim Brotherhood Egypt, we must look to North Sudan, a country also run by a member of the Muslim Brotherhood, Omar al-Bashir," he continued. "Bashir has committed a genocide of millions of Christians all in the name of jihad. And he, like Morsi, also believes that the Quran must be the constitution of his country," Shoebat said. Shoebat said he sees no reason to believe Morsi will not follow the model of both Nero and al-Bashir. "The same will happen in Egypt. Once Morsi makes sure that he is officially a dictator, then a full out persecution of the Copts will occur," Shoebat said.
In a report issued Friday, Shoebat, calling former UN Atomic Energy Agency head Mohamed ElBaradei the father of the revolution and a background player in the Muslim Brotherhood's ascendancy to power in Egypt, said there is nothing to prevent the full implementation of Shariah in Egypt, and afterwards the full eradication of Christians in Egypt.
The Coming Sharia State of Egypt
Nov. 26….(Theodore Shoebat) Egypt has now a modern pharaoh, named Muhammad Mursi, and with him as the sole ruler, the country will ultimately become an official Sharia state. Sharia is already enforced in some degree, but now that the Muslim Brotherhood is expanding its power, it will implement the edicts of its constitution, the Koran, to is fullest capacity. This was foreshadowed months ago when counter-revolutionaries were crucified in front of the presidential palace, since these type of executions are demanded in the Koran where it states that "The punishment of anyone who fight against Allah and His apostle and do mischief in the land is to be killed or crucified or to have their hands and feet from opposite ends or be banished from the land." (Quran: The table spread)
That Egypt will become a Sharia state is most clearly shown in Egyptian politics itself. In September of this year, Egypt's justice Hossam Ghariani, President of the Supreme Judicial Council, said in a video that the Egyptian people were demanding for Sharia, and that to enforce it would be the correct choice: The country did not have a desire to enforce Islamic Sharia, ok you want Islamic Sharia then elect the ones who will enforce it. Do the Egyptian people want the law man to enforce Islamic Sharia? Yes, the majority of the Egyptian people want to enforce Islamic Sharia. There were conferences that were held to put into the law [Shariah] edicts. The previous government was foreign to us, it did not want to enforce Sharia. Why? Do the enforcers of Sharia want to rob the country? This is not correct. Let us then fix the Egyptian Constitution without worry. We trust the Egyptian people to do the right thing, Allah willing.
Middle East in High Suspense for Gaza Sequel
Nov. 26….(DEBKAfile Exclusive Analysis) While Israel's Pillar of Cloud was still in full spate over the Gaza Strip and southern Israel, the United States, Russia, Iran, Israel and Turkey were each respectively putting their next moves in place in a broader radius, Debkafile reports. America acted to shore up its naval and Marine forces in the region. Washington gave its approval for NATO to post Patriot anti-missile batteries in Turkey opposite the Syrian border together with advanced AWACs electronic warning aircraft. Both weapons systems are to be manned by US military crews. Next, the USS Iwo Jima Amphibious Ready Group took up position opposite the Israeli and Syrian shores, adding another section to the menacing ring forming around Syria. Moscow, Iran and Damascus, for their part, decided that the same coalition that laid a trail of disaster for its allies in the Gaza Strip, Hamas and Jihad Islami, were now about to pounce on Iran's best friend, Bashar Assad, by moves to enforce protected asylums and no-fly zones in Syria.
In Tehran and Moscow, the Gaza offensive was not perceived as a lone Israeli operation but rather as the ground-breaker for a broader offensive by the US, Turkey and Qatar and the product of their combined intelligence brains rather than of military war planners. Iran had been systematically building up the Gaza Strip as its "southern front" to fight enemies who attacked its nuclear facilities. The obliteration of a large portion of the military infrastructure Hamas and Jihad Islam had accumulated left this plan in shambles. Moscow and Tehran fully expect Washington to next turn the attention of the intelligence team which engineered the dashing of Iran's hopes in Gaza to Syria and Hizballah, exploiting Tehran's momentary weakness.
Moscow reacted by posting the Russian Black Sea Fleet's naval task force opposition the Gaza, i.e. Israeli coast Friday, Nov. 11, purportedly to rescue distressed Russian citizens "should the Israeli-Palestinian fighting worsen in Gaza." Their arrival was announced Nov. 23, two days after a cease-fire went into effect in Gaza. The Russian task force includes the missile cruiser Moskva, the destroyer Smetlivy, the large landing ships Novocherkassk and Saratov, the tugboat MB-304 and the large oil tanker Ivan Bubnov. Debkafile's military sources say its real mission concerns forthcoming events in Syria rather than a worsening of hostilities in Gaza. Indeed it has been stationed facing the USS Iwo Jima which is in position opposite the Israeli and Syrian coasts.
As for Tehran, Saturday, Nov. 24, President Mahmud Ahmadinejad phoned the Hamas Prime Minister of the Gaza Strip, Ismail Haniya, and Jihad Islami leaders to assure them that Iran will continue to supply them with munitions as before and refill their depleted arsenals within weeks. This assurance was widely publicized by Tehran as deterrence for the US-Egyptian-Israeli plan to shut down Iran's arms smuggling routes through Sinai to the Gaza Strip. The promise by US President Barack Obama to send US troops to Sinai for this mission finally persuaded Prime Minister Binyamin Netanyahu to suspend Israel's operation in the Gaza Strip last Thursday, Nov. 21 after eight days and accept a ceasefire. The week ahead holds three major events, Debkafile's military sources report.
1. Iran is not expected to let its Gaza debacle go by without response, probably by some act of military or terrorist violence. Israeli intelligence closely watched Iranian parliamentary speaker Ali Larijani putting his head together on how to go about punishing Israel with Bashar Assad in Damascus on Friday, Nov. 23, and with Hizballah's Hassan Nasrallah in Beirut the next day.
2. A fresh war escalation is on the cards in Syria in response to the deployment of US-manned Patriots and AWACs on Turkey's border with Syria. Syria may decide to vent its ire against Israel.
3. Egypt's pro-democracy, liberal and anti-Muslim Brotherhood forces are arrayed for a major battle against President Mohamed Morsi for his assumption of extraordinary powers. This contest has the potential for undoing the fragile ceasefire reached between Israel and Hamas in the Gaza Strip. Part of the deal was for Morsi to personally monitor and arbitrate the implementation of the secret understandings for Gaza and Sinai that were negotiated between the US, Egypt and Israel in order to open the door to the cease-fire.
Lebanon's Hezbollah Threatens Israel With 1000's of Missiles
Nov. 26….(CTV News) Sheik Hassan Nasrallah's warning came days after an eight-day Israeli offensive against Gaza ended with a truce. Nasrallah said Gaza militants had won "a clear victory" against Israel with their rocket bombardment. Hezbollah, like Hamas and other Gaza militant factions, maintains a rocket arsenal and regularly threatens to use it. It fought an inconclusive 34-day war with the Jewish State in 2006 that left 1,200 Lebanese and 160 Israelis dead.
Hezbollah leader Sheik Hassan Nasrallah speaks to a crowd of tens of thousands of supporters, not shown, during a rally denouncing an anti-Islam film that has provoked a week of unrest in Muslim countries worldwide, in the southern suburb of Beirut, Lebanon on Monday Sept. 17, 2012. The Gaza war marked the first use by Palestinian factions of a longer ranged Iranian-made rocket, the Fajr-5. It caused no casualties but did trigger air raid warnings in the heartland cities of Tel Aviv and Jerusalem, which, unlike cities closer to the Lebanese and Gaza borders, have not experienced any sustained missile attack since Iraqi Scuds were fired in the 1991 Gulf War.
Hezbollah fired at least one long-range rocket ineffectually in the 2006 war. But Israeli intelligence now believes the militant group has the capability to strike anywhere in the country, although Israel now deploys air defense systems designed to counter the threat. In the Gaza conflict, Israeli aircraft launched some 1,500 strikes on targets linked to the Palestinian territory's Hamas rulers and other groups, while Gaza militants fired roughly the same number of rockets into Israel. Nasrallah said in a speech in Beirut that the Fajr-5 attacks "shook Israel." He asked: "How is it (Israel) going to stand thousands of rockets that will fall on Tel Aviv and other areas if it launches an aggression against Lebanon?" Nasrallah spoke via a video link from a secret location to tens of thousands of supporters in Beirut who gathered to mark Ashoura, the annual Shiite commemoration of the 7th-century death of Imam Hussein, the Prophet Muhammad's grandson.
Hezbollah fired nearly 4,000 rockets at Israel during the 2006 war and is believed to have upgraded its arsenal since then. Nasrallah did not say how many missiles and rockets his group possesses, although in the past he said they have more than 20,000. Israel estimates the number at several times that. "The battle with us is going to be all over occupied Palestine," the black-turbaned Nasrallah said. "From the border with Lebanon to the frontier with Jordan to the Red Sea." "The Israelis should listen well to me. From Kiryat Shemona to Eilat," Nasrallah said referring to a northern Israeli town near the border with Lebanon to the southern resort town of Eilat on the Red Sea. Since the 2006 war ended, both Israeli and Hezbollah officials have been warning each other that the next battle between the two groups will be more destructive.
Some Israeli generals had spoken of the "Dahiya doctrine," named after the Beirut suburbs considered a Hezbollah stronghold where Israel turned dozens of buildings to piles of debris in 2006. In August, Nasrallah said Hezbollah will transform the lives of Israelis to "hell" if Israel attacks Lebanon, adding that the group would not hesitate to hit targets that would leave tens of thousands of Israelis dead. Hezbollah was created in 1982, weeks after Israel invaded Lebanon. Israel withdrew in 2000 to a border drawn by the UN, but Lebanon says Israel still occupies a slice of its territory.
WEEK OF NOVEMBER 18 THROUGH NOVEMBER 24
Egyptian Muslim Brotherhood Urges Holy War Against Israel
Nov. 23….(AP) The top leader of Egypt's Muslim Brotherhood denounced peace efforts with Israel and urged holy war to liberate Palestinian territories on Thursday, one day after the country's president, who hails from the movement, mediated a cease-fire between Israelis and Palestinians to end eight days of fierce fighting. "The enemy knows nothing but the language of force," said Mohammed Badei. "Be aware of the game of grand deception with which they depict peace accords," he said in a statement carried on the group's website and emailed to reporters.
His statement was a sharp deviation from the role played by President Mohammed Morsi in the last week. Egypt's role in brokering the deal has been hailed by US officials. The Brotherhood sometimes delivers conflicting messages, depending on its audience. There are also ideological and generational divisions within the movement, with older leaders like Badie often seen as more conservative. The Muslim Brotherhood doesn't recognize Israel and, at least officially, its members refuse to hold direct talks with Israeli officials.
Israelis Baffled by Unilateral Gaza Ceasefire
Nov. 23….(Israel Today) The government of Prime Minister Benjamin Netanyahu on Wednesday baffled many Israelis by bringing a sudden end to the military campaign to end the Hamas missile threat against southern Israel. To demonstrate that Israel had not met that overriding goal, Hamas and its allied terror groups continued firing missiles into southern Israel long past the 9 PM start of the ceasefire. At least 20 missiles hit southern Israel overnight, though by morning a tense calm had settled over the region. Just two days earlier, Netanyahu had issued an ultimatum that Hamas either cease the rocket fire, or face a ground invasion. IDF soldiers told Israel's Ma'ariv newspaper that they were twice ordered to march on Gaza this week, only to be turned around at the last second both times.
Despite the fact that this conflict saw many red lines crossed, including the targeting of Tel Aviv and Jerusalem, Netanyahu insisted that Israel does not seek violence, and would therefore give the truce a chance. Netanyahu warned that if Hamas did not keep its end of the bargain, Israel would respond more harshly than before. (Despite Hamas continuing to fire after 9 PM, the ceasefire was purportedly bilateral, having been brokered by Egypt.) But with Netanyahu's earlier ultimatum being so easily flaunted, most Israelis, and certainly all of Hamas, were unconvinced by the Israeli leader's new threat. In fact, many Israelis were furious. Though Netanyahu and the IDF touted the number of terrorist missiles destroyed during the campaign, Israelis know the entire situation is going to repeat itself a few years down the road.
Seventy percent of Israelis polled by Channel 2 News said they oppose the ceasefire, and want the IDF to finish the job of removing the Hamas threat. Residents of southern Israel were even more irate, noting that in the intermittent years between now and the next war, they will continue to sustain a steady stream of rocket attacks on their communities. Over 12,000 rockets have hit southern Israel over the past nine years.
Another concern is that the way this war ended has drastically altered the dynamics of the region. There are reports that Netanyahu agreed to the unfavorable ceasefire under pressure from US Secretary of State Hillary Clinton, who convinced the Israeli leadership that a ground invasion of Gaza would result in a mobilization of Egypt's army. In other words, Hamas now has its own "Iron Dome" against future destruction in the form of Egypt's new Muslim Brotherhood regime. Meanwhile, the international community lavished praise on Egyptian President Mohammed Morsi for his role in brokering the ceasefire. Israel's willingness to step down before ending the threat to its people for the sake of peace and quiet was hardly mentioned.
The threat of a broader war, whether it came from Egypt or Lebanon or Syria, might have been very real. Days before the ceasefire, three US Navy amphibious assault ships were turned around on the western end of the Mediterranean and sent to Israel for a possible evacuation of American citizens. There would be no need to evacuate Americans if the fighting was contained to Gaza and the surrounding areas.
Hamas is the Big Winner in the War With Israel
Nov. 22….(WND) Israel's military operation in the Gaza Strip may have had the unintended consequence of turning Hamas into a player on the international diplomatic scene. In the grand scheme of things, while both sides sustained losses and experienced some gains, Hamas emerges the victor of this latest conflict.
While Hamas was firing rockets into central Israeli population centers, the group's politburo chief, Khaled Meshaal, was in Cairo negotiating a cease-fire through Egypt with both US and Israeli officials. This after Israel and the Obama administration previously pledged not to engage in such dialogue with Hamas unless the Islamic group first recognized the Jewish state and renounced violence. During the height of the fighting, Arab delegations from Sudan, the Arab League and even the US-aided Iraqi government went on solidarity visits to Hamas in Gaza. This was not the diplomatic scene during previous Israeli operations of either Gaza or the Fatah-dominated West Bank.
The fighting further served to solidify Hamas' position as the dominant Palestinian faction waging jihad against Israel, relegating Palestinian Authority President Mahmoud Abbas to the role of bystander from his isolated compound in Ramallah, where he occasionally spattered off anti-Israel rhetoric to stay relevant. This theme may help explain why Abbas' Al Aqsa Martyrs Brigades was quick to take credit for today's bus bombing in Tel Aviv. The attack may have served as Fatah's last-minute attempt to insert itself into the Israel-Hamas war. To be sure, Hamas this last week suffered a major blow to its terrorist and military infrastructure inside Gaza. Yet throughout Israel's campaign, Hamas was able to maintain daily rocketing of Israel's central and southern population centers, including reaching Tel Aviv and Jerusalem for the first time
That rocket-fire establishes a new deterrent posture for Hamas, with Tel Avivians and Jerusalemites understanding that any future military incursion into Gaza will result in missiles at Israel's major population centers and not just the Jewish communities near Gaza. Just as it did after Israel's 2008 war in Gaza, Hamas will now set out to rearm itself and rebuild its destroyed infrastructure in Gaza, no doubt with help from its Iranian patrons. While an initial cease-fire was reached today, the agreement only serves as the basis for further talks between Israel and Hamas on such issues as the status of borders and international involvement in the region. According to Middle East security sources familiar with the particulars of the continued, long-term truce being discussed, the issues that are near agreement include:
A. Hamas would get a permanent official presence at the Rafah border crossing, which lies on the international border between Egypt and the Gaza Strip. Officially, the Palestinian Authority and Egypt largely have controlled the crossing, although on the ground Hamas has been involved in monitoring and controlling the area.
B. Hamas is asking for international guarantees against a further Israeli military incursion inside the Gaza Strip under the condition rocket attacks from the territory cease. Any such deal would likely enhance Hamas' diplomatic position internationally.
C. Israel is demanding a 30-meter buffer zone along the Gaza Strip border with the Jewish state. Such a buffer could be important in stopping cross border attacks but would not affect Hamas' ability to fire rockets into Israel since most rockets are launched from deep inside Gaza.
D. Israel is demanding a total halt to rocket attacks from Gaza.
E. Hamas is demanding an end to Israel's naval and land blockade of the Gaza Strip. This is a point that Israel will likely not cede. However, the security sources said Israel is ready to scale back parts of the blockade after a period of quiet to be determined. Israel says it maintains the blockade to ensure against weapons smuggling into Gaza.
Cease-Fire Announced in Israel-Gaza Conflict
| | |
| --- | --- |
| | (FOJ) A supposed cease-fire was reached today in the bloody clash between Israel and Hamas in Gaza, Egyptian and American officials announced after a meeting between Egyptian President Mohamed Morsi and US Secretary of State Hillary Clinton. Ms. Clinton, shown here with PA leader Abbas has garnered a feather in her cap for a 2016 run for President. |
(The deal was brokered by the new Islamist government of Egypt, solidifying its role as a leader in the quickly shifting Middle East)
Nov. 22….(Stratfor) US Secretary of State Hillary Clinton and Egyptian Foreign Minister Mohamed Kamel Amr announced a cease-fire between Israel and Hamas during a Nov. 21 news conference in Cairo. The cease-fire is expected to begin at 9pm local time. Israeli Prime Minister Benjamin Netanyahu reportedly told US President Barack Obama that he is willing to give the Egyptian-brokered cease-fire a chance. This cessation of violence is likely highly tenuous. Israel will only agree to a truce if it has guarantees from Egypt, overseen by the United States, that the Palestinian arsenal of Fajr-5 long-range rockets will be neutralized and that measures will be taken to prevent future weapons transfers to Gaza. It remains to be seen what details surface on this core Israeli demand, especially given its incompatability with Hamas' demand for the blockade on Gaza to be lifted.
There is also the outstanding issue of Iran, which Israel has pointed to as the center of gravity in the conflict. The Fajr-5 rockets are Iranian-made, and Iran facilitated the movement of those weapons into Gaza. Iran may have an interest in prolonging the conflict and could try to use militant levers in Gaza to derail the truce. Israel must also contend with the broader dilemma of future Iranian attempts to smuggle advanced weaponry into Gaza. This is where Egyptian cooperation with Israel on border security becomes crucial. If the cease-fire holds, Hamas is within reach of a major symbolic victory. It will have avoided devastation of the group in Gaza and can claim a capability to strike the Israeli heartland. We must watch now if Hamas honors the cease-fire and if the organization will have the authority to enforce the cease-fire among other groups, namely the Palestinian Islamic Jihad. Until Israel has a guarantee on the Fajr-5s and a cessation of rocket fire, it is unlikely to forgo the option of a military ground operation.
Return of the Bus Bombings
Nov. 22….(Stand For Israel) With this morning's terrorist bombing of a bus in Tel Aviv, it appears that the operation in Gaza has taken yet another twist, a most unwelcome and, frankly, unforeseen one. Since the end of the Second Intifada (which didn't so much end as it was ended by the reoccupation of parts of the West Bank by the IDF and the construction of the security fence). suicide attacks like this have been made pretty much extinct. Getting into Israeli territory with explosives was made extremely difficult by the extensive Israeli military presence and, especially, by the fence. That a terrorist was able to get into the heart of Tel Aviv, and so close to the Kirya, the Israeli version of the Pentagon, is a significant escalation of the situation.
Add to that yesterday's rocket attack on an apartment building in Rishon Letzion, a very large Tel Aviv suburb, and the whole point of terrorism, the spread of terror among a civilian population, seems likely to occur. The year I lived in Jerusalem, during the height of the Second Intifada, a heightened sense of awareness (and, eventually, fear) came to dominate even a simple trip to the grocery. I learned to look at everyone on a bus, in line at the store, or on the street. Was anyone wearing too large a coat? Was anyone acting strangely? Even after I returned to the US, it was a difficult habit to unlearn.
Palestinians Bomb Tel Aviv Bus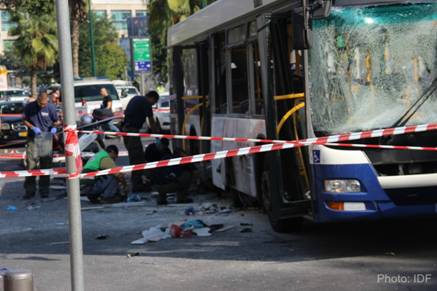 Nov. 22….(Reuters) A Palestinian terrorist bomb exploded on a bus in central Tel Aviv on Wednesday, wounding 15 people in what Israeli officials said was a terrorist attack that could complicate efforts to secure a cease-fire in the Gaza Strip. Celebratory gunfire rang out across Gaza as the news spread and the territory's Islamist rulers Hamas praised the bombing, but no one claimed immediate responsibility. The blast shattered windows on the bus as it drove along a tree-lined street next to Israel's huge defense ministry headquarters. Israel's ambulance service said four people suffered moderate-to-severe injuries and 11 were lightly hurt. Police said it was not a suicide attack and suggested that someone might have left the device on the number 142 bus.
The bombing happened on the eighth day of an Israeli offensive against the Gaza Strip and coincided with intensive diplomatic efforts to secure a lasting truce. Hamas spokesman Sami Abu Zuhri hailed the explosion. "Hamas blesses the attack in Tel Aviv and sees it as a natural response to the Israeli massacres...in Gaza," he told Reuters. "Palestinian factions will resort to all means in order to protect our Palestinian civilians in the absence of a world effort to stop the Israeli aggression." Sweet cakes were handed out in celebration in Gaza's main hospital, which has been inundated with wounded from the round-the-clock Israeli bombing and shelling. "You opened the gates of hell on yourselves," Hamas's armed wing, the al-Qassam brigades, said on Twitter. "Oh Zionists, you have to drag yourselves out of hell, go back home now, go back to Germany, Poland, Russia, America and anywhere else."
The last time a bomb blast hit Israel's commercial capital was in April 2006, when a Palestinian suicide bomber killed 11 people at a sandwich stand near the old central bus station. Hamas militants have fired at least four rockets at the laid-back Mediterranean metropolis over the past week, but they scored no direct hits and caused no casualties.
Israel launched its air offensive with the stated aim of halting all missile launches out of the Gaza Strip, which lies some 70 km (40 miles) south of Tel Aviv, a cosmopolitan city renowned for its nightlife and vibrant beach culture.
Hamas had warned when the latest conflict flared that it would not confine itself to unleashing rockets. "This was a terror attack. There is a massive preparedness within the police and security forces. We must keep awareness to a maximum. These are not normal times," said Israel's Police Chief Yohanan Danino. UN Secretary-General Ban Ki-moon denounced the attack, saying nothing justified the targeting of civilians.
The United States, Israel's main ally, also condemned the bus bombing. "These attacks against innocent Israeli civilians are outrageous," the White House said. More than 140 Palestinians, more than half of them civilians, have died so far in Israel's Gaza offensive. Five Israelis, including one soldier, have also been killed.
US Secretary of State Hillary Clinton, trying to calm tensions over Gaza, flew from Israel to Cairo to meet Egyptian President Mohamed Mursi, who is spearheading cease-fire negotiations.
Surprises From Sudan
Nov. 22….(Washington Free Beacon) Sudan has played a key role in arming Hamas militants with sophisticated Iranian-made rockets, experts said. The Israeli Defense Forces' (IDF) principal objective in Gaza is to rid Palestinian terrorists of sophisticated Iranian-produced rockets that are capable of striking deep into Israel's heartland, including Jerusalem and Tel Aviv. These rockets originated in Sudan and were then smuggled into Gaza with Iran's help, sources said. The existence of these advanced Fajr-5 rockets reveals the deepening ties between Iran and its terrorist proxies in Gaza and Sudan, where the rockets were housed before shipment. "To put it simply, it was Iranian-made Fajr-5s, imported via Sudan, that prompted this war," said Jonathan Schanzer, vice president for research at the Foundation for the Defense of Democracies. "Iran's fingerprints are all over this."
Hamas terrorists in Gaza were provided around 100 Fajr-5 rockets by Iran. The rockets are capable of travelling nearly 50 miles, putting both Jerusalem and Tel Aviv within their reach. These missiles differ drastically from the crude rockets typically fired by Hamas terrorists. The Fajr-5 missiles are believed to have been smuggled from Sudan into Gaza via Egypt's porous Sinai region. Sudan, a longtime ally of Iran, acted as a "key transit point" for these weapons, Schanzer said. The Sudanese capital of Khartoum has long been a transit point for Iranian-made rockets to Gaza," he said. "The smuggling route goes up through Egypt and across the Sinai [desert] into the tunnels and into Gaza."
Israel was the prime suspect after a weapons facility in south Khartoum mysteriously exploded in late October. The Jewish state's attack on the Yarmouk military manufacturing facility was preventive in nature, experts said. "I am convinced that the October bombing of an IRGC weapons factory in Khartoum was part one of this operation," Schanzer said. "The Israelis learned of a large cache of Fajr-5s and destroyed it there." "But it appears that around 100 of them had already made it into Gaza," he added. "This prompted the Israelis hunt down the Fajrs during this latest round of fighting." Several of the Fajr-5 missiles have landed near Jerusalem in the last week. Others have crashed by Tel Aviv, forcing more than a million Israelis to take refuge in bomb shelters.
Smuggling has become easier and less restricted in Gaza following the fall of former Egyptian President Hosni Mubarak, who was known to bar the passage of sophisticated weaponry such as the Fajr-5 missiles. "One of the main ways that Hamas acquires weapons is via an extensive network of tunnels under the Gaza-Egypt border," the Israeli Defense Forces stated in a report earlier this month. "Since Hamas seized power in the Gaza Strip in 2007, the terrorist group's smuggling efforts have increased. With funding from Iran, Hamas has improved its stockpile of weapons."
Israeli Ambassador Michael Oren condemned Iran's arming of Hamas in a recent interview with Fox News. "Our problem is not our border with Gaza," Fox News quoted Oren saying on Monday. "Among the rockets being fired at us are the Fajr-5 rockets, which come directly from Iran. We know that Hamas terrorists have trained with the Iranians. There's a strong connection." Terrorists in the Gaza Strip have also made use of Iranian-made M-75 rockets, which have reached areas near Jerusalem. The long-range rockets are believed to have been assembled with Iran's help. It was believed that Iran pulled funding for Hamas as economic sanctions and other factors lightened Tehran's purse. "There's a prevailing assumption in Washington that Iran has been on the out with Hamas and that is absolutely wrong," Schanzer said. "Iran likely never left because it probably took months to smuggle these weapons in, and the surprise here is that Iran is still very much a player in Gaza"
Many believe Israel's campaign in Gaza is a prelude to an attack on Iran. The IDF has launched more than 1,300 air assaults on targets in Gaza. "The last 6 days of fighting may in fact be a prelude to what looks like an increasingly inevitable military strike against Iran's nuclear program," said Jennifer Griffin of Fox News on Monday. Iran's increased presence in Gaza creates a new reality for Israel.
Gaza Conflict Aids Syrian-Iranian Axis
Nov. 21….(WND) The renewed conflict between Israel and Hamas in the Gaza Strip has become a welcome reprieve, if only temporary, from the conflict in Syria, according to a report from the conflict in Syria. The Gaza crisis, however, could jeopardize help to the Syrian opposition from a number of Gulf Arab countries because of continued bombing of Gaza by Israel, which is viewed as the opponent by all the Middle East players.
The Gaza conflict also takes attention away from Iran's interest in maintaining its own influence in the Levant. In effect, Hamas' actions against Israel also can help Iran, even though their relationship over the past year has been somewhat strained. Both Syria and Iran will encourage any action that continues to keep Hamas in the forefront of military action against Israel, if it has the desired effect of being a continued distraction from Iran's interests in maintaining the preservation of the regime of Syrian President Bashar al-Assad.
Sources here close to Iran and Hezbollah say that Iran is so determined to keep Assad in power that it could send in troops to assist in fighting the Syrian opposition in an effort to maintain its influence to the Mediterranean Sea and, if need be, become involved in taking over the functions of the Syrian government itself. Sources say Iran also hopes that the focus on the crisis in Gaza will stir world attention away from the growing crisis over its nuclear program, which has been the subject of sanctions by the United Nations and unilateral sanctions by the US and the European Union.
The latest attacks also may help Iran reinforce its position not only with Hamas but the Islamic Jihad in Gaza, which also is backed by Iran. Similarly, Iran is a major backer of Lebanon's Hezbollah, which supports Hamas and will continue to give public support. Sources here, however, say that the resistance group, which the US and Israel regard as a terrorist organization, will not undertake any military action unless Israel attacks Lebanon. The sources add that Hezbollah will want to keep a low profile and focus more on applying its resources more subtly to preserve Assad's regime and prevent the Syrian opposition from extending military action into Lebanon due to Hezbollah's backing of Assad.
Sources say that the Islamic republic is the supplier of many of the rockets and now missiles that Hamas has been using against Israel, particularly the Fajr 3 and the Fajr 5, which can reach the most populated centers in Israel. The rockets used previously cannot.
Sources say that Hamas' possession of missiles capable of reaching almost all of Israel was the basis for the Jewish State's initial attacks that led to the assassination of Hamas' military commander, Ahmad Jabari.
Israeli officials also were aware of the cache of Fajr missiles in Hamas' possession and sought to eliminate them as a threat. For Iran, Hamas' use of these missiles now has turned into a distraction from the conflict in Syria. "It now has done that, at least temporarily," according to a report by the open intelligence company Stratfor. "Iran also needed to revise its relationship with Hamas and demonstrate that it retains leverage through militant groups in the Palestinian territories as part of its deterrence strategy against a potential strike on its nuclear program," the report said.
A Potential Cease-Fire and the New Regional Dynamic
Nov. 21….(Stratfor) The proliferation of players in the current Israeli-Hamas cease-fire negotiations highlight the major shift in the regional strategic environment since the fall of former Egyptian President Hosni Mubarak, calling into question the sustainability of any potential truce.
US Secretary of State Hillary Clinton will be in Israel overnight Nov. 20 and rumors are rapidly spreading of an imminent cease-fire agreement. Egyptian President Mohammed Morsi has also confidently claimed Nov. 20 that "the war will end today," but statements out of Israel have been far more reserved. The Times of Israel, citing Egyptian intelligence officials, reported that Israel has rejected the cease-fire draft and that there will no news conference announcing a cease-fire tonight. The core dilemma remains: If Hamas or any other Palestinian entity can threaten Israel's major population centers with long-range Fajr-5 rockets, what guarantees can Egypt or another third party make to neutralize that supply and prevent further shipments? The fact that another Fajr-5 rocket was fired at Jerusalem on Nov. 20 while thousands of Israeli troops remain forward-deployed in preparation for a ground invasion adds urgency to this question.
Stratfor has learned that the Egyptian cease-fire proposal that Clinton will be studying with the Israelis entails an agreement by the major Palestinian factions to cease rocket attacks against Israel. In return, Egypt would send monitors to Gaza to enforce the cease-fire, though no details were provided on whether Egypt would secure or remove the remaining rockets from Gaza and what Egypt would do to prevent replenishments from entering Gaza if the border is reopened. Israel would discontinue its policy of targeted killings and, at a later stage, would allow the opening of the Rafah crossing on a regular basis. Rumors continue to percolate on the terms of the cease-fire proposal, and the above claims could not be verified, but these terms do fit with the likely parameters of the negotiation.
The problem is that Israel does not trust the Muslim Brotherhood-led government in Egypt to enforce the cease-fire agreement. As a result, the United States is taking a more active role in the negotiation. Egyptian diplomatic sources are claiming that the Palestinian Fajr-5 rocket arsenal is dwindling, but will the United States play a role in verifying the Egyptian figures and removing the rockets from Gaza? What role, if any, will the United States play in monitoring the Sinai-Gaza border for future weapons shipments? That much remains unclear. The role of Egyptian intelligence and military figures from the Mubarak era is critical in these negotiations. Though the Egyptian Muslim Brotherhood has been in the diplomatic spotlight, there are indications that Egyptian intelligence chief Mohamed Raafat Shehata has been heavily involved in the negotiations with Hamas, Palestinian Islamic Jihad and Israel behind the scenes. Shehata is reportedly delivering a news conference this evening, at which point a truce may be announced. There is also another layer of complexity to factor in. Hamas is not the sole representative of the Palestinians in Cairo. Egyptian mediators have been negotiating with Hamas and the Palestinian Islamic Jihad. The latter, which has much closer links to Iran (which likely has an interest in prolonging the conflict), has claimed responsibility for firing several Fajr-5 rockets and is allegedly part of a joint military command with Hamas that is controlling the long-range rocket attacks.
Stratfor sources in Egypt say that Hamas and Palestinian Islamic Jihad have separately claimed that Palestinian Islamic Jihad is in control of at least some of the Iranian-made Fajr-5 rockets and launchers. If this is true, and Palestinian Islamic Jihad is not simply serving as a convenient front for Hamas, then Hamas' commitment to a cease-fire must involve Palestinian Islamic Jihad. To this end, Palestinian Islamic Jihad chief Ramadan Abdullah Mohammed Shallah has been in Cairo for negotiations over a cease-fire and has been dealing with both Hamas and Egypt. An Egyptian source claims that Morsi has held frequent meetings with Shallah in trying to obtain guarantees on a cessation of rocket attacks. For now, it appears those talks are bearing fruit and Hamas and Palestinian Islamic Jihad are on the same page in moving toward a cease-fire. The questions now are whether Israel feels a ground operation is still necessary and whether it has exhausted the diplomatic negotiations to move ahead.
Gone are the days when Egyptian intelligence could mediate a truce between Israel and Hamas alone. The shifting dynamics over the past year, from the rise of the Muslim Brotherhood in Egypt to Hamas' decision to publicly distance itself from Iran and position itself in the Muslim Brotherhood orbit while receiving Iranian weapons transfers, to Iran's attempts to maintain leverage in the Levant through groups such as the Palestinian Islamic Jihad, seem to be greatly complicating an already trying negotiation effort.
Hamas Leader Mashaal Dares Israel to Invade Gaza
Nov. 20….(New York Times) The top leader of Hamas dared Israel on Monday to launch a ground invasion of Gaza and dismissed diplomatic efforts to broker a cease-fire in the six-day-old conflict, as the Israeli military conducted a new wave of deadly air-strikes on the besieged Palestinian enclave, including a second hit on a 15-story building that houses media outlets. A volley of rockets fired from Gaza into southern Israel included one that hit a vacant school.
Speaking at a news conference in Cairo, where the diplomatic efforts were under way, the Hamas leader, Khaled Meshal, suggested that the Israeli infantry mobilization on the border with Gaza was a bluff on the part of Prime Minister Benjamin Netanyahu of Israel. "If you wanted to launch it, you would have done it," Mr. Meshal told reporters. He accused Israel of using the invasion threat as an attempt to "dictate its own terms and force us into silence."
Rejecting Israel's contention that Hamas had precipitated the conflict, Mr. Meshal said the burden was on the Israelis. "The demand of the people of Gaza is meeting their legitimate demands, for Israel to be restrained from its aggression, assassinations and invasions, and for the siege over Gaza to be ended," he said. A militant leader said Tel Aviv, in the Israeli heartland, would be hit "over and over" and warned Israelis that their leaders were misleading them and would "take them to hell."
Israeli officials said 135 rockets were fired from Gaza at Israel on Monday, of which 42 were intercepted by Iron Dome, Most of the others landed in open areas. The Israel Defense Forces said overnight targets included "underground rocket launchers, terror tunnels, training bases, Hamas command posts and weapon storage facilities." Brig. Gen. Yoav Mordechai, the spokesman for the Israel Defense Forces, said there had been a reduction of up to 40 percent in rocket fire from Gaza, while Israeli forces had launched 40 attacks on tunnels between Egypt and Gaza, both at the entrances and along the road leading to them.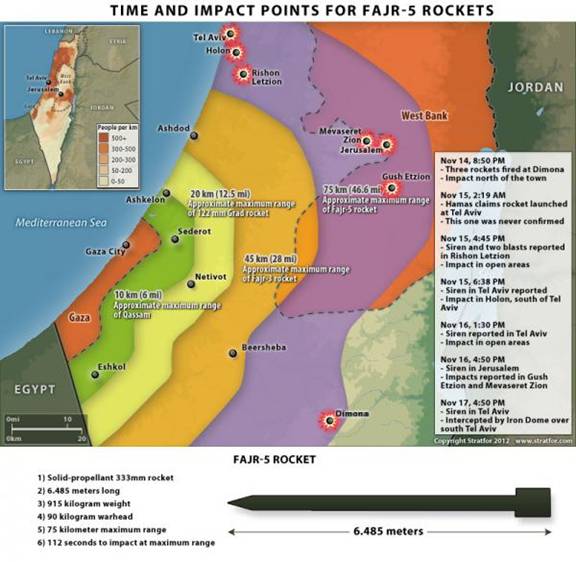 Egypt Blames Israel for Gaza Conflict
Nov. 20….(New York Times) While holding itself out as an honest broker for truce talks between Israel and Hamas over the Gaza conflict, Egypt's new government sought on Monday to plunge into the battle over international public opinion on behalf of the Palestinian cause, an arena where the Israelis, more experienced in the world of the free press and democratic politics, have historically dominated. In Egypt's most concerted effort to win more global public support for the Palestinians, advisers to Egypt's President Mohamed Morsi, a former leader of the Muslim Brotherhood who has been an outspoken supporter of Hamas, invited foreign correspondents in Cairo to a background briefing at which a senior Egyptian official sought to blame Israel for the conflict while at the same time maintaining Egypt's role as an intermediary pressing both sides for peace.
Speaking on condition of anonymity to avoid upsetting the talks with the Israelis, the Egyptian official argued that the West, which supports Israel's right to defend itself against rocket attacks from Gaza, was essentially blaming the victim. "It is so strange people are talking about the rights of self-defense," he said. "The self-defense of whom? Of the occupied people? Of the besieged people? Of the hurt people? No, the self-defense of the most powerful state in the region and the self-defense of the occupying force of Gaza and Palestine.
US Sends Warships to Israeli Coast (Evacuations?)
Nov. 20….(DEBKA) The US has ordered three amphibious warships with 2,500 Marines aboard back to the eastern Mediterranean to remain on standby off Israel's shore in case they are needed to evacuate American citizens. The USS Iwo Jima, the USS New York and the USS Gunston Hall, were sailing west of Gibraltar on their way to back to Norfolk, Virginia, when they were turned around.
The United States have never before evacuated American citizens from Israel. The US notice does not say whether a possible evacuation would include the US forces posted in American bases in Israel. A mass evacuation would entail a Marine shore landing in order to lead the evacuees to the amphibious craft. The Iwo Jima is a helicopter carrier, while the New York, one of the newest vessels of its kind in the US Navy, is a primary class of amphibious transport dock. Although a decision to evacuate nationals was defined in the CNN report as a "remote contingency," our sources stress that it is extreme enough to be taken only when a war situation is envisaged capable of endangering Americans. This step negates the expectation articulated widely in Israel Monday, Nov. 19, that a ceasefire with the Hamas is within reach. It rather indicates that Washington sees the situation surrounding the Gaza Strip in a far different light, more like a situation holding the threat of a general conflagration beyond the confines of the Israel-Hamas contest in Gaza.
According to the same report, the US military also maintains three to four ships off the coast of Israel that are capable of shooting down ballistic missiles. That deployment has stretched for some months in the face of a potential ballistic threat from Iran.
Hamastan, Israel's Reward for "Land for Peace"
Nov. 20….(FOJ) Remember when Israeli Prime Minister Ariel Sharon was coerced by US President George W. Bush to forcibly extract Israeli citizens from the Gaza Strip? That was back in 2005. It was known as Sharon's Disengagement Plan. Sharon's plan has been welcomed by both the Palestinian Authority and Israel's left wing as a step towards a final peace settlement. All those Israeli citizens living in Gaza who refused to accept government compensation packages and voluntarily vacate their homes prior to the August 15, 2005 deadline, were forcibly evicted by Israeli security forces over a period of several days. Current PM Netanyahu blamed the Israeli government for moving "blindly along" with the disengagement by not taking into account the expected upsurge in terrorism.
But not long after the Israeli disengagement from Gaza, the Palestinians in Gaza forsook the Palestinian Authority leadership, to which Mr. Bush and Mr. Sharon ceded power in Gaza to, and elected Hamas as the Palestinian government. The Disengagement Plan was supposed to be a test-case to show how the "Land for Peace" formula for an expanded further land-for-peace deal in the West Bank would work.
Ironically, today, instead of dealing with a "so-called peace partner" in Mahmoud Abbas, (Palestinian Authority) Israel is forced to deal with yet another terrorist enclave on its doorstep. The Gaza land-for-peace formula has played right into Iran's hands. And that adds another point of foolishness to the whole idea of the so-called Arab movement towards democracy, and the old Bush Middle East Doctrine that Muslims would choose democracy and freedom over dictatorships. Dictators are not the problem in the Arab/Muslim world, its their religion of Hate, specifically their perpetual hatred of Israel, and the God that chose them 3000 years ago
Israel Prepares for Gaza Invasion as Truce Talks Falter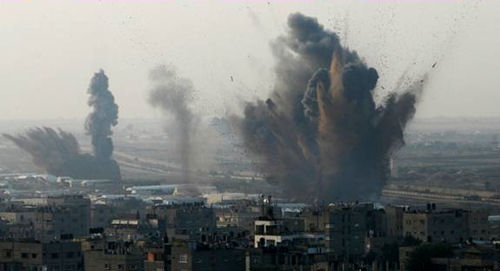 Nov. 20…(Newsmax) Israel bombed dozens of targets in Gaza on Monday and said that while it was prepared to step up its offensive by sending in troops, it preferred a diplomatic solution that would end Palestinian rocket fire from the enclave. Mediator Egypt said a deal for a truce to end the fighting could be close. The leader of Hamas said it was up to Israel to end the new conflict it had started. Israel says its strikes are to halt Palestinian missile attacks.
After an overnight lull, militants in the Hamas-run Gaza Strip fired 45 rockets at southern Israel, causing no casualties, police said. One damaged a school, but it was closed at the time. Among targets struck in Gaza on Monday, Israeli missiles blasted a tower block housing international media for the second straight day. One person was killed there, described by a source in militant groups Islamic Jihad as one of its fighters.
Khaled Meshaal, exiled leader of Hamas, the Islamist group that rules the coastal strip, said Israel had failed to achieve its objectives. A truce was possible, but Hamas would not accept Israeli demands. Israel must first halt its strikes and lift its blockade of the enclave, he said. "The weapons of the resistance have caught the enemy off guard," he told a news conference in Cairo. "Whoever started the war must end it," he said, adding Israeli Prime Minister Benjamin Netanyahu had asked for a truce, an assertion that a senior Israeli official dismissed as untrue. Although 84 percent of Israelis supported the current Gaza assault, according to a Haaretz poll, only 30 percent wanted an invasion, while 19 percent wanted their government to work on securing a truce soon.
Egypt, where newly-elected President Mohamed Mursi has his roots in the Muslim Brotherhood seen as mentors to Hamas, is acting as a mediator in the biggest test yet of Cairo's 1979 peace treaty with Israel since the fall of Hosni Mubarak. Egyptian negotiators could be close to achieving a deal between Israel and the Palestinians to stop the fighting, said Mursi's Prime Minister Hisham Kandil, who visited Gaza on Friday in a show of support for its people. Egypt has been hosting leaders of both Hamas and Islamic Jihad, a smaller armed faction.
Israeli media said a delegation from Israel had also been to Cairo for truce talks. A spokesman for Netanyahu's government declined comment on the matter. "Israel is prepared and has taken steps, and is ready for a ground incursion which will deal severely with the Hamas military machine," a senior official close to Netanyahu told Reuters. "We would prefer to see a diplomatic solution that would guarantee the peace for Israel's population in the south. If that is possible, then a ground operation would no longer be required. If diplomacy fails, we may well have no alternative but to send in ground forces," he added.
That language echoed that of US President Barack Obama, who said on Sunday it would be "preferable" to avoid a move into Gaza, but that Israel had a right to self-defense and no country would tolerate missiles raining down on its citizens. United Nations Secretary-General Ban Ki-moon was also due to arrive in Cairo to weigh in on ceasefire efforts. Egypt's foreign minister is expected to visit Gaza on Tuesday with a delegation of Arab ministers.
In scenes recalling Israel's 2008-2009 winter invasion of Gaza, tanks, artillery and infantry have massed in field encampments along the sandy, fenced-off Gaza border and military convoys moved on roads in the area. Israel has also authorized the call-up of 75,000 military reservists, so far mobilizing around half that number. The Gaza fighting adds to worries of world powers watching an already combustible region, where several Arab autocrats have been toppled in popular revolts for the past two years and a civil war in Syria threatens to spread beyond its borders. In the absence of any prospect of permanent peace between Israel and Islamist factions such as Hamas, mediated deals for each to hold fire unilaterally have been the only formula for stemming bloodshed in the past.
Listing Israel's terms, Vice Prime Minister Moshe Yaalon wrote on Twitter: "If there is quiet in the south and no rockets and missiles are fired at Israel's citizens, nor terrorist attacks engineered from the Gaza Strip, we will not attack." Yaalon also said Israel wanted an end to Gaza guerrilla activity in the neighboring Egyptian Sinai peninsula.
Israel bombed some 80 sites in Gaza overnight, the military said, adding in a statement that targets included "underground rocket launching sites, terror tunnels and training bases" as well as "buildings owned by senior terrorist operatives". Netanyahu has said he assured world leaders Israel was doing its utmost to avoid causing civilian casualties.
Israel's declared goal is to deplete Gaza arsenals and force Hamas to stop rocket fire that has hit Israeli border towns for years. The rockets now have greater range: several projectiles have targeted Tel Aviv and Jerusalem. None hit the two cities. Some were shot down by Israel's Iron Dome interceptor system.
Hamas and other groups in Gaza are sworn enemies of the Jewish State, which they refuse to recognize and seek to eradicate, claiming all Israeli territory as rightfully theirs. Hamas won legislative elections in the Palestinian Territories in 2006 but a year later, after the collapse of a unity government under President Mahmoud Abbas, the Islamist group seized Gaza in a brief civil war with Abbas's forces.
Iranian Ships Improved Fajar Missiles To Gaza
Nov. 20….(DEBKAfile Exclusive Report) An Iranian 150-ton freighter departed Bandar Abbas port Sunday, Nov. 18, with a cargo of 220 short-range missiles and 50 improved long-range Fajar-5 rockets for the Gaza Strip, debkafile's intelligence sources report. The ship turned toward the Bab al-Mandeb Straits and the Red Sea. The new Fajar-5s have a 200-kilo warhead, which packs a bigger punch than the 175 kilos of explosives delivered by the rockets in current use with the Palestinian terrorists in the Gaza Strip. To extend their range to cover the 85 kilometers from Gaza to Tel Aviv, Hamas removed a part of their payloads to make them lighter.
Tehran is sending the fresh supply of disassembled rockets to replenish the stocks its allies, the Palestinian Hamas and Jihad Islami, depleted in their round-the-clock attacks on Israel since Nov. 10. To throw Israeli surveillance off the trail, the ship started its voyage called Vali-e Asr owned by the Islamic Republic of Iran Shipping Lines, and was quickly renamed Cargo Star and hoisted the flag of Tuvalu. This South Pacific island nation, which lies between Hawaii and Australia, has a tiny population of 11,000, most of them Polynesians. Iran provides most of its revenue since earlier this year when Prime Minister Willy Telavi agreed to register Iran's entire tanker fleet of 22 vessels to Tuvalu, to help Tehran dodge the US-EU oil embargo.
Our intelligence sources have learned that four big Sudanese shipping boats sailed out of Port Sudan early Monday and are waiting to rendezvous with the Cargo Star and offload its missile cargo in mid-sea. The Sudanese will then be told by Tehran whether put into Port Sudan with the missiles, or turn north and sail up the Red Sea to the Straits of Tiran to link up with Egyptian fishing boats which regularly ply this waterway in the service of Palestinian-Iranian smuggling networks. They would unload the missile cargo in a quiet inlet on the Sinai coast. From there, it would be carried to the smuggling tunnels running from Sinai under the border into the Gaza Strip.
Palestinian teams assisted by Iranian and Hizballah technicians in the Gaza Strip would then assemble the new rockets and make them operational. Through most of the voyage, two Iranian warships, the Khark heliicopter carrier and Shahid Naqdi destroyer, which are posted permanently in the Red Sea, escorted the arms ship until the cargo changed hands. Debkafile's Iranian sources also disclose that the Jihad Islami leader Ramadan Abdullah Shelah was sharply remanded by Tehran for meeting Egyptian President Mohamed Morsi in Cairo Sunday to discuss terms for halting Israel's counter-missile operation in Gaza now in its sixth day.
Iran bankrolls these Palestinian extremists and has no intention of letting Shelah bow to Cairo's wishes, which run counter to Tehran's plans and interests. While Egypt's new Islamist leaders are intent on carving out for themselves a responsible role in the region by restoring order, solving crises and restraining radicals, radical Iran has its own fish to fry and is bent on escalating war tensions in the Middle East.
Judge Moore: America Needs to Wake Up
Nov. 20….(WND) As the newly elected chief justice of the state supreme court in Alabama, Judge Roy Moore, who for some 10 years has run the Foundation for Moral Law, says he's looking forward to educating judges, lawyers and others on the constitutional foundation of America. That focuses on, in a phrase, the fact the rights of US citizens come from God, and not Washington, and government needs to acknowledge that. "Without an understanding of God," he told WND in a recent post-election interview, "you can't understand the Constitution."
Moore, many will remember, was the judge who was removed from the same position he's now assuming 10 years ago for refusing a federal court's order to remove a Ten Commandments monument from the state judicial building in Alabama. He's explained repeatedly that he has no plans to bring that back, because the monument became a distraction from the real issue: the acknowledgement of God as explained in the national and state constitutions. And he says there's no possibility of true justice without that. He said he will be sworn in on the promise to uphold the Constitution of the United States as well as the Alabama Constitution. "The only way you can do that is acknowledge that morality and law does come from God," he said. It's not really that complicated, he noted. Human beings unrestrained by law misbehave, so the Constitution is set up with the goal of restraining human excesses, specifically in government. "The whole basis of the Constitution is the restraint of human power," he said.
He cited the state of the United States now, following the 2012 election, as an example of things gone wrong. "No president has the power to violate constitutional restraints of power," he said. "The members of the legislature don't and neither does the Supreme Court." Yet, he said, Barack Obama has violated its standard by bombing Libya, when the Constitution provides only Congress shall declare ware. "The Constitution is the rule of law, and my job is to uphold is to uphold the rule of law," he said. "I get criticized for my professions that God is the basis of all rights or liberties," he told WND, "and yet, the rule of law, being the Constitution, and its companion, the Declaration of Independence, organize the laws of our country on [the premise that] our rights come from God." Government's job, he said, is to secure and protect those rights. "We have got to become educated again to the constitutional republic in which we live, what got us here," he said. That's a long road, he said, noting that most contemporary calendars no longer even recognize Constitution Day, Sept. 17.
Turkey Leader Calls Israel a Terrorist State
Nov. 20….(YNET) A day before his foreign minister arrives in the Gaza Strip, Turkish Prime Minister Tayyip Erdogan continued his verbal attacks on Israel on Monday. In a conference of the Eurasian Islamic Council in Istanbul held on Monday, the Turkish prime minister accused Israel of carrying out "terrorist acts" in Gaza. He further added, "those who associate Islam with terrorism close their eyes in the face of mass killing of Muslims, turn their heads from the massacre of children in Gaza". "For this reason, I say that Israel is a terrorist state, and its acts are terrorist acts," he added.
On Saturday, Erdogan spoke firmly against Israel. In a speech given at Cairo University he accused Israel of "turning the region into a blood swamp. Every drop of Palestinian blood is pouring from the veins of all Muslims and every tear dropping from their eyes is our tear too." He also decried Israel's air-strikes on Gaza on Friday as a pre-election stunt in which innocent people are being killed. "Before this election they (Israel) shot these innocent people in Gaza for reasons they fabricated," he told reporters in Istanbul.
Syrian Islamist Rebels Declare Aleppo Islamic State
Nov. 20….(Fox News) A group of extremist Islamist factions in Syria has rejected the country's new opposition coalition, saying in a video statement they have formed an "Islamic state" in the embattled city of Aleppo to underline that they want nothing to do with the Western-backed bloc. The video appears to be a reaction to the Syrian National Coalition for Opposition and Revolutionary Forces, formed Nov. 11 in Qatar to unify groups trying to topple the regime of President Bashar Assad. The coalition is led by a popular Muslim cleric and is seen as a way to counter the growing influence of Islamic extremists in the 20-month old rebellion that has claimed more than 36,000 lives. The statement by 13 radical factions that was posted on a militant website late Sunday suggested the extremist elements, including the Al Qaeda-inspired Jabhat al-Nusra, are suspicious of the new coalition. They rejected what they said was a "foreign project" and declared the northern city of Aleppo, where many radical groups have been fighting, an "Islamic state."
Many Syrians, particularly those in the capital Damascus where fighting and demonstrations have been relatively light, fear the Islamic extremists. Along with Russia and China, Iran has been an ally of Damascus during the conflict.
Hamas Sacrifices Civilians as a Military Tactic
Nov. 20….(Alan Derschowitz) As the rockets continue to fall in Israel and Gaza, it is important to understand Hamas's tactic and how the international community and the media are encouraging it. Hamas's tactic is as simple as it is criminal and brutal. Its leaders know that by repeatedly firing rockets at Israeli civilian areas, they will give Israel no choice but to respond. Israel's response will target the rockets and those sending them. In order to maximize their own civilian casualties, and thereby earn the sympathy of the international community and media, Hamas leaders deliberately fire their rockets from densely populated civilian areas. The Hamas fighters hide in underground bunkers but Hamas refuses to provide any shelter for its own civilians, who they use as "human shields."
This unlawful tactic presents Israel with a tragic choice: simply allow Hamas rockets to continue to target Israeli cities and towns; or respond to the rockets, with inevitable civilian casualties among the Palestinian "human shields."
Every democracy would choose the latter option if presented with a similar choice. Although Israel goes to great efforts to reduce civilian casualties, the Hamas tactic is designed to maximize them. The international community and the media must understand this and begin to blame Hamas, rather than Israel, for the Palestinian civilians who are killed by Israeli rockets but whose deaths are clearly part of the Hamas tactic.
Every reasonable commentator has agreed with President Obama that Hamas started this battle by firing thousands of rockets at Israeli civilians. Every reasonable commentator also agrees with President Obama that Israel has the right to defend its citizens. But many commentators fault Israel for causing Palestinian civilian casualties. But what is Israel's option, other than to simply allow rockets to be aimed at its own women and children? As President Obama observed when he went to Sderot as a candidate: "The first job of any nation state is to protect its citizens. And so I can assure you that if somebody was sending rockets into my house where my two daughters sleep at night, I'm going to do everything in my power to stop that. And I would expect Israelis to do the same thing."
Israel should continue to make every effort to reduce civilian casualties, both because that is the humane thing to do and because it serves their interests. But so long as Hamas continues to fire rockets from densely populated civilian areas, rather than from the many open areas outside of Gaza City, this cynical tactic, which constitutes a double war crime, will guarantee that some Palestinian women and children will be killed. And the Hamas leadership prepares for this gruesome certainty by arranging for the dead babies to be paraded in front of the international media. In one such case, the Palestinian radicals posted a video of a dead baby who turned out to have been killed in Syria by the Assad government, and in another case, they displayed the body of a baby who had been killed by a Hamas rocket that misfired, falsely claiming that it had been the victim of an Israeli rocket.
As Richard Kemp, the former commander of British forces in Afghanistan has said, the Israeli Army does "more to safeguard civilians than any army in the history of warfare." This includes dropping leaflets, making phone calls and providing other warnings to civilian residents of Gaza City. But Hamas refuses to provide shelter for its civilians, deliberately exposing them to the risks associated with warfare, while it shelters its own fighters in underground bunkers.
The Hamas tactic is also designed to prevent Israel from making peace with the Palestinian Authority. Even Israeli doves are concerned that if Israel ends its occupation of the West Bank, Hamas may take over that territory, as it took over Gaza shortly after Israel ended its occupation of that area. The West Bank is much closer to Israel's major population centers than Gaza. If Hamas were to fire rockets from the West Bank at Jerusalem and Tel Aviv, Israel would then have to respond militarily, as it has in Gaza. Once again, civilians would be killed, thus provoking international outcry against Israel.
What we are seeing in Gaza today is a replay of what happened in 2008 and 2009, when Israel went into Gaza to stop the rocket fire. The result was the Goldstone Report, which put the blame squarely on Israel. This benighted report, condemned by most thoughtful people, and eventually even critiqued by Goldstone himself, has encouraged Hamas to go back to the tactic that resulted in international condemnation of Israel. This tactic will persist as long as the international community and the media persist in blaming Israel for civilian deaths caused by a deliberate Hamas tactic.
Israel Returns Fire From……..
Syria
Nov. 19….(Reuters) Israel fired artillery into Syria in response to gunfire aimed at its troops in the Israeli-controlled Golan Heights, and may have killed Syrian soldiers, Israel's army said on Sunday. There were no reported injuries on the Israeli side from the shootings, which occurred on Saturday, the third case this month of violence seen as a spillover of civil unrest in Syria that has also alarmed other neighbors such as Lebanon and Turkey. "There was small arms fire (at Israeli forces), there was a response and from what I hear over Arab media it appears Syrian soldiers were killed," Brigadier-General Yoav Mordechai, Israel's chief military spokesman, told Army Radio. He said Israel was trying not to be dragged into battles between Syrian President Bashar al-Assad's forces and rebels. The chaos of the 20-month-old insurgency often makes independent assessment of casualties within Syria difficult. "Our trigger finger is very stiff, not light," Mordechai said. "Under no circumstances do we accept any shooting on the State of Israel's territory, but nor do we intend to heat up the area." Israel captured the Golan area in the 1967 war and later annexed it in a move never recognized internationally. Israel lodged a complaint with the United Nations over Saturday's incident. The UN has a peace-keeper force in the area monitoring a cease-fire that has been in place since the 1970s.
Obama Sends Nearly One Billion in Aid to Hamas
FOJ Note: (President Obama is literally sending US money to assist a terrorist organization that is in turn launching attacks on Israel. As usual, most of the money will be siphoned off by Hamas for the repurchase of missiles.)
Nov. 19….(WND) Hamas is "very happy" with a pledge received just this week from the Obama administration to provide $900 million in aid for rebuilding the Hamas-controlled Gaza Strip, a spokesman from the Islamist organization told WND. "We are very happy with this decision," said Hamas spokesman Fawzi Barhoum, speaking by cell phone from Gaza. "In the first place, this money will go toward reconstructing efforts." Barhoum said he expects the money to be tightly controlled. He said the funds are likely to be delineated to the Palestinian Authority and to the United Nations Relief and Work Agency, or UNWRA, which administers aid to millions of Palestinian "refugees" in the Gaza Strip and West Bank.
Hamas has a close relationship with UNWRA; the agency openly employs a large number of Hamas members, including some of the group's most senior terrorists. The US aid has not yet been officially approved by Congress. The package is expected to be formally announced by Secretary of State Hillary Clinton when she attends an international Gaza donors conference in Egypt next week. A US official reported the money will not reach Hamas but will go instead to nongovernmental organizations, most notably UNWRA. Still, the terrorist organization controls the Gaza Strip. Any reconstruction efforts in the territory are likely to bolster Hamas.
Hamas, UNWRA closely linked
From 1990 until today, teachers affiliated with the Islamic Bloc, which is formally associated with Hamas, have won elections as representatives of the teachers' section of the UNRWA union. By 2003, they held all seats and fully constituted the executive committee of this section of the union. The publication of UNWRA school books in Gaza is coordinated with Hamas. Saeed Siam, Hamas former interior minister and one of the leaders of the group's so-called military wing, taught in UNRWA schools from 1980 to 2003 and served as a representative to the UNWRA union. He was killed during an Israeli air strike last month. Sheik Ahmed Yassin, the man who founded Hamas and has been immortalized by it, worked as a UNRWA teacher from 1967 to 1994.
On July 6, 2001, Hamas convened a conference in the UNRWA school in the Jabalya refugee camp in Gaza, with students, teachers and school administrators in attendance. Yassin presented his ideology, and then an official named Saheil Alhinadi, who represented the teaching sector of UNRWA, praised students who had recently carried out suicide attacks against Israel, declaring "the road to Palestine passes through the blood of the fallen, and these fallen have written history with parts of their flesh and their bodies."
A 2002 report from the Intelligence and Terrorism Center at Israel's Center for Special Studies, a think tank associated with Israeli intelligence, documented how a number of wanted terrorists were found hiding inside schools run by UNRWA. "A large number of youth clubs operated by UNRWA in the refugee camps were discovered to be meeting places for terrorists," said the report.
Muhammad Ali Hassan, a Hamas terrorist arrested in February 2002, confessed he had carried out a sniper shooting from the school run by UNRWA in the al-Ayn refugee camp near Nablus, or biblical Shechem. He also reportedly told his interrogators that bombs intended for terrorist attacks were being manufactured inside the school's facilities.
Nidal Abd al-Fattah Abdallah Nazzal, a Hamas activist from Kalkilya, was arrested in August 2002. He had been employed as an ambulance driver by UNRWA. He confessed during his interrogation that he had transported weapons and explosives in an UNRWA ambulance to terrorists.
Additional information about arrests of UNRWA employees by Israel came in 2003 from the US General Accounting Office, which was charged with conducting an investigation of UNRWA operations. The office found that in three instances Israeli military courts convicted UNRWA employees of involvement with explosives. More recently, in the time leading up to and since the Hamas takeover of Gaza in the summer of 2007, there has been concern in Jerusalem about UNRWA camps being used for the manufacture, storage, and launching of rockets and mortars into Israel. Also, camp residents have been suspected of active involvement in launching missiles and infiltrating shooters and suicide bombers into Israel.
Obama Knew Benghazi Was A Terrorist Attack
Nov. 19….(Washington Guardian) US intelligence told President Barack Obama and senior administration officials within 72 hours of the Benghazi tragedy that the attack was likely carried out by local militia and other armed extremists sympathetic to Al-Qaida in the region, officials directly familiar with the information told the Washington Guardian on Friday. Based on electronic intercepts and human intelligence on the ground, the early briefings after the deadly Sept. 11 attack on the US consulate in Libya identified possible organizers and participants. Most were believed to be from a local Libyan militia group called Ansar al-Sharia that is sympathetic to Al-Qaida, the official said, while a handful of others was linked to a direct al-Qaida affiliate in North Africa known as AQIM. Those briefings also raised the possibility that the attackers may have been inspired both by spontaneous protests across the globe on the 11th anniversary of the Sept. 11, 2001 attacks and by a desire to seek vengeance for the US killing last summer of a Libyan-born leader of Al-Qaida named Abu Yaya al-Libi, the officials said, speaking only on condition of anonymity because they were discussing intelligence matters.
The details from the CIA and Pentagon assessments of the killing of Ambassador Chris Stephens were far more specific, more detailed and more current than the unclassified talking points that UN Ambassador Susan Rice and other officials used five days after the attack to suggest to Americans that an unruly mob angry over an anti-Islamic video was to blame, officials said.
FOJ Note: The President, and some members of his cabinet intentionally led the American people to believe that a minute little you-tube video criticizing Islam was the rationale for the incident in Libya. The President further made issue of the video to castigate the American people for insulting Islam, and thereafter creating a stir in political circles about freedom of speech. US intelligence officials said Friday, however, the assessment that the tragedy was an attack by extremists with al-Qaida links was well defined within 48 to 72 hours, and in some cases as it was happening. Among the early evidence cited in the briefings to the preisdent and other senior officials were intercepts showing some of the participants were known members or supporters of Ansar al-Sharia, the al-Qaida-sympathizing militia in Libya,-and the AQIM, which is a direct affiliate of Al-Qaida in northern Africa. FOJ reiterates here, that based upon all the evidence, President Obama is in violation of his oath as President, and should be impeached.
Muslim Brotherhood Seeking to Overturn Jordan Monarchy
Nov. 19….(WND) Following successful campaigns in Egypt, Libya and other Middle East and North African nations, the Muslim Brotherhood now is trying to destabilize and possibly overthrow Jordan's government, according to reports. The Saudi-owned news channel Al-Arabiya, citing leaked files, reported the embattled regime of Syrian President Bashar al-Assad and his allies have sought to destabilize neighboring Jordan by manipulating peaceful demonstrations there and turning them into deadly violence. Jordan is the latest target in the gun sights of the Muslim Brotherhood and other radical jihadist elements.
Jordan's anti-government riots aimed ultimately at removing King Abdullah from power are so severe that the government has turned 10,000 of its soldiers into riot police. Religious Freedom Coalition President and Founder William Murray said the ruthlessness of the rioting prompted the move. "The king has given police uniforms to 10,000 soldiers to try to maintain order," he said. Those soldiers-turned-police are not the only ones guarding the king. Terrorism analyst and Act for America President Brigitte Gabriel said there are US troops on the ground in Jordan. "We have actually positioned troops in Jordan to protect King Abdullah," she said. "We've said that the Americans in Jordan are just there in case something happens in Syria so we can be close." Gabriel also said the situation has grown more intense: "The reality is, we have placed troops in Jordan so we can protect the royal family in case of an uprising which we are now witnessing before our own eyes." Gabriel, who is a native of Lebanon, said the violence is no surprise, and "the Muslim Brotherhood is rising in Jordan." She warned that the king's position is in danger.
"King Abdullah is hanging by a thread," she said. "He has 20 percent approval in the country. The Muslim Brotherhood sees this as their opportunity to rise up after what they saw happen in Egypt, Libya, Tunisia and now Syria." However, the king's decline in approval is a recent development. International Christian Concern Middle East analyst Aidan Clay said most Jordanians support the king. "The king remains fairly popular and the king is still a seasoned politician who may be able to offer concessions that the Muslim Brotherhood accepts," he said. "However, it is also true that every Jordanian is fed up with the widespread corruption within the government. "Moreover, the economy is quickly declining, unemployment is rising, and there is a great rift between the rich and poor. The MB is highlighting these widespread concerns in their pursuit of 'democratic reform,' which resonates with nearly all Jordanians, whether they are MB sympathizers or not."
Clay said the cover for many of the "Arab Spring" movements was the call for democracy. The Muslim Brotherhood's use of the "democracy" line, he said, could tip the balance in their favor. "Of most concern is that the MB is among the primary groups calling for political reform," he explained. "If that continues to be the case, then many Jordanians may decide to back the MB, whether or not they agree with the Muslim Brotherhood's religious ideology. Free elections, ending corruption, higher wages, and other claims all sound great, no matter who's leading the campaign, whether it's the MB or liberals. "Many Jordanians just want change and some are willing to join whatever movement promises political reform."
Gabriel said the uprising in Jordan is the product of America's previous actions in Egypt and Libya. "We are seeing a reawakening of radical Islam all over the Middle East empowered by the weakening American perception throughout the Muslim world," she explained, adding that another factor intensifying the protests is the perception that King Abdullah is a Western pawn. "King Abdullah is perceived by the radicals as too secular and a puppet of Western powers. They loathe him also because of the peace treaty with Israel," Gabriel said. "Most Jordanians are Palestinians who favor Hamas-style leadership instead of Abbas' negotiating with Israel and trying to be a friend of America."
Thoughts On Negotiations in the Israeli-Hamas Conflict
Nov. 19….(Stratfor) The Israeli-Hamas conflict has entered into a negotiation phase. Both sides want talks. Hamas wants them because any outcome that prevents an Israeli ground assault gives it the opportunity to retain some of its arsenal of Fajr-5 rockets; the Israelis want them because the cost of an invasion could be high, and they recall the political fallout of Operation Cast Lead in 2008, which alienated many European and other governments. No matter how much either side might want to avoid ground warfare, negotiations are unlikely to forestall an Israeli assault because Hamas' and Israel's goals leave little middle ground.
One of Hamas' main goals in this current round of fighting is to retain enough Fajr-5 rockets to allow it to threaten the Israeli heartland, the Tel Aviv-Jerusalem corridor. If they succeed, Hamas will have gained a significant lever in its relations with the Israelis. The Israeli goal is to deny Hamas these rockets. The problem for the Israelis is that this requires a ground assault in order to have any chance of success. The Israelis may think they know where the rockets are, but they cannot be certain. Airstrikes can target known facilities, at least those where rockets are not stored in hardened underground bunkers. But only by going in on the ground with substantial force will the Israelis have the opportunity to search for and destroy the rockets.
Finding middle ground will be difficult. The retention of the Fajr-5 both dramatically improves Hamas' strategic position and gives Hamas the chance to further weaken the Palestinian National Authority. Hamas cannot agree to any deal that takes the rockets away, or that does not at least leave open the possibility that it could have them. Meanwhile, Israel simply cannot live with the Fajr-5 in the hands of Hamas.
Israel cannot allow Hamas a weapon that threatens the Israeli heartland. This situation is too serious for the parties to reach an agreement that ends the hostilities for now but in reality simply pushes back the issues to be addressed later. No one is eager to mediate a failure. UN Secretary-General Ban Ki Moon has said he will go to Gaza in the coming week, but he will not be in a position to find middle ground.
Israel will not budge on this. Hamas could be compelled to relent under threat from its core financial supporters in the Arabian Peninsula, but these states, such as Qatar, are all far more concerned with the threat posed by Iran. The fact that these rockets likely originated with Iran ought to give them incentive to lean on Hamas. It is important to bear in mind that the war is already under way. Israeli airstrikes are intense and continuous. Hamas is firing rockets at Israel. What has not yet happened is a direct ground attack on Gaza by the Israelis, although they have been mobilizing forces and should now be in a position to attack if they so choose.
Franklin Graham: 'US Has Turned its Back on God'
Nov. 18….(Newsmax) The Rev. Franklin Graham charged in an exclusive Newsmax TV interview that America is in a deep economic quagmire because "we have turned our backs on God." "The more we turn our backs on God, the bigger our problem becomes," Graham, the son of world-renowned evangelist Billy Graham, tells Newsmax in a wide-ranging interview. "I didn't hear any of the candidates say that we needed to call our nation to prayer. I didn't hear any of the candidates say that we needed to ask God for help. "We still think that we can work our way out of this problem, and I don't think we can," Graham added. "I don't have confidence in the Republican Party right now, and I don't have confidence in the Democratic Party. "I don't believe there is leadership in Washington that can solve this problem. We just deal with it as issues for the day, and it kicks the can further and further down the road. We need God's help to solve this problem – we can't go without God."
Last week's election results, which sent President Barack Obama back to the White House for another four years, put the nation further along a "path of destruction," Graham said. "There is no question that America has been a nation that has been blessed by almighty God. There is no other nation in the history of mankind that has done what his nation has done, and it's because of God's hand and his blessing. "In the last four years, we have begun to turn our backs on God," Graham reiterated. "We have taken God out of our education system. We have taken him out of government. You have lawyers that sue you every time you mention the name of Jesus Christ in any public forum. "What has happened is we have allowed ourselves to take God out everything that we do, and I believe that God will judge our nation one day." And, "maybe God will have to bring our nation to our knees, to where that we just have a complete economic collapse" to do that, Graham said. "Maybe at that point, people will again call upon the name of almighty God."
Graham is the president and CEO of the Billy Graham Evangelistic Association. The association's tax-exempt status is under threat from a complaint filed with the Internal Revenue Service by the Freedom From Religion Foundation. The foundation, based in Madison, Wis., contends that the Graham association's "vote biblical values" ad campaign during the election season violated IRS rules regarding religious groups and political campaigning, according to news reports. "It's ridiculous," Graham charged. "The African-American churches do this all the time. Candidates go to their churches and stand in the pulpits and give political messages and sermons. Why can't we do the same? "We didn't tell anybody how to vote for a candidate. We told them how to choose candidates, and made that plural, who backed Biblical principles. There are a lot of Republicans, Tea Party people, Democrats that we focused these ads on. "We wanted people to remember that, as they were going into the voting booth, that there were political decisions, no question, but there also were moral issues," Graham added. "At every level, we need to think about who we are voting for and encourage Christians, especially, to vote for candidates who support biblical values."
The move by the Wisconsin group, Graham said, reflected a broader push by the far left. "They want to shut the mouths of evangelicals. They want to shut the mouths of Christians. "One hundred years ago, political leaders in every community were the pastors. They were the voices that were heard. They were the voices that had the influence. Politicians know that and the government knows that, and they are trying to shut the mouths of especially evangelicals. "I'm going to continue to speak out," Graham vowed. "I'm not afraid. I'm not worried." While the US has as many as 35 million evangelicals, Graham said, "It's hard to pin down what it means to be an evangelical today. It's been diluted quite a bit. It is a powerful voting bloc, no question, but they're liberal as well as conservative – and they're made of Latinos, blacks, whites. "It is a unique group of people and, this time, many of them did not vote," he added. "They stayed away from the polls. I don't agree that they turned out in record number. I don't think they did." And they did not vote because "There was not a candidate that they just got excited about," Graham said. He called GOP candidate Mitt Romney "a very good man, and I like the man very much, but I don't think he was exciting or charismatic enough. And, of course, the Mormon issue was an issue for many people. Not for me, but for many people that was, unfortunately."
And, now that Obama has another term in the White House, "I would encourage everyone to pray for the president," Graham said. "That's our duty. God commands that we're to pray for those in authority. The election is now over. The president is our president. We need to get behind him. We need to rally behind him. We need to bathe him in prayer. "Not that we have to support positions that would be immoral positions or wrong positions," Graham cautioned. "I'm not saying that you have to agree with the position, but you have to understand that he is our leader, he's our president, and God commands that we are to pray. "I would recommend everyone to pray for this man. He needs our prayers." In other comments in his exclusive Newsmax interview, Graham said:
David Petraeus was right to step down as CIA director because of an extramarital affair. "He is a man of honor, a man of integrity. He made a great big mistake. He knows he did. He has not blamed anybody else. He has taken full responsibility, and he has stepped aside. That's the honorable thing to do. I respect him for that."
He hopes President Obama truly addresses Iran and its threat to Christianity in his next term. "In his speeches, he certainly has talked tough. But the Iranian people, they need to be free. They want to be free from these ayatollahs, from these fanatics. There are many wonderful Iranian people, but that country is being held prisoner by radical Islam."
His father, the Rev. Billy Graham, turned 94 the day following the election. The elder Graham backed Romney. "He likes the president personally. But it's the people around the president, and it's the radical left, that have taken over the White House. This is a concern to my father, and we just prayed that, again, that God, the Lord, will work in the president's heart and will change his heart on some of these issues."
IDF Readying For Ground War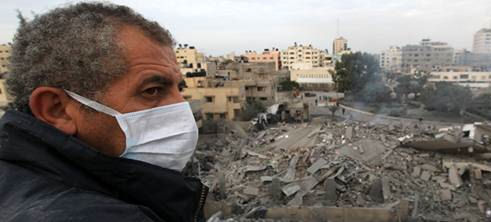 Nov. 18….(Stratfor) Israel appears to be positioning itself for a ground operation, perhaps as early as the night of Nov. 17. The Israeli Cabinet on Nov. 16 approved Defense Minister Ehud Barak's request to call up 75,000 reservists, significantly more than during Operation Cast Lead in 2008-2009. The Israeli army meanwhile has also sought to strengthen its presence on the borders with Gaza. Primary roads leading to Gaza and running parallel to Sinai have been declared closed military zones. Tanks, armored personnel carriers, self-propelled artillery and troops continue to stream to the border, and many units already appear to be in position. Still the Gaza conflagration has stirred the pot of a Middle East already boiling from two years of Arab revolution and a civil war in Syria that threatens to spread beyond its borders.
One major change has been the election of an Islamist government in Cairo that is allied with Hamas, potentially narrowing Israel's maneuvering room in confronting the Palestinian group. Israel and Egypt made peace in 1979.
Obama Arms Policy Fueled Benghazi Attack
Nov. 18….(Newsmax) The Sept. 11 attacks on the US Consulate in Benghazi that killed for Americans is "sort of a microcosm" of an underlying scandal stemming from the Obama White House's alleged funneling of weapons to Syrian opposition groups through Libya, former assistant defense secretary Frank Gaffney tells Newsmax TV. "If it is the case that the Obama administration, was in fact, in the person of Christopher Stevens and the CIA operation in Benghazi, taking arms that had been bought from people who had liberated them from Gaddafi's weapons caches and sending some of those to people who we know include Islamists of the most radical stripe, which include al-Qaida, that is a scandal that will make Iran-Contra look like a day at the beach," Gaffney, the founder and president of the Center for Security Policy, tells Newsmax. "What we're doing now is putting fuel into the Jihadist fire at a moment when these guys already think they're on the cusp of victory. That is an exceedingly dangerous thing to be doing. A scandal of the first order."
Gaffney, who served as Ronald Reagan's assistant defense secretary, has written that the Obama administration has been arming such rebels since as early as March 2011. Such groups include the Muslim Brotherhood, as well as the Libyan Islamic Fighting Group, which has ties to al-Qaida. "This means that we are in fact, I'm afraid, watching this threat metastasize dramatically. And short of dramatic action to undo it, it will continue to dog us for the years to come. It is evidence of how misbegotten the whole Obama policy has been in terms of embracing these Islamists. "That's really the underlying scandal here," he added. "It is a particularly sordid example of what can happen, but it's just the beginning of the kinds of costs that we're going to find associated with this wrongheaded and downright dangerous policy of the administration." The threat is far more acute now, Gaffney said, because of perceived lukewarm support of Israel by the United States. "What's different, and this is a very important difference, is that for the first time these enemies have reason to believe that the United States will not support Israel as it has in the past. That changes dramatically what the Soviet Union used to call the correlation of forces. "And, more importantly, it changes the calculation, now, as to whether or not what has failed again and again and again in the past will now be possible. And you don't need to give these folks who think it's God's will that they triumph much encouragement to believe that this is the moment to see in order for them to go at it. "We were worrying, and rightly so, about the existential threat that Iran with nuclear weapons will pose to the Jewish state. That's coming. What is shaping up now is an encirclement of Israel by Islamists. This is the kind of correlation of forces that can be perilous and extreme for Israel. "Whether they actually bet on that is to be determined, but that there is evidence that President Obama has signaled as much, repeatedly, is indisputable," Gaffney added. "And that's what's so troubling. It won't be a stretch for Israel's enemies to calculate that they've got a friend in the White House –or, at least, that Israel does not."
Hezbollah Watching Israeli Operations in Gaza for Opening in North
Nov. 18….(Stratfor) While Hamas is preparing for an Israeli ground assault into Gaza, Hezbollah's movements on Israel's northern frontier bear close watching. Iranian Defense Minister Ahmad Vahidi on Nov. 17 called on the Muslim world to retaliate against Israeli actions in Gaza. Naturally, many are looking in the direction of Lebanon, where Hezbollah, Iran's most capable militant proxy, could open a second front against Israel.
Though Iran would welcome the opportunity to demonstrate the spectrum of its militant proxy strength, especially after supplying Hamas with the long-range Fajr-5 rockets that have been targeting Tel Aviv and Jerusalem, Hezbollah will likely be extremely cautious in deciding whether to participate in this war. The group's fate is linked to that of the embattled regime of Syrian President Bashar al Assad; should Syria fracture along sectarian lines, Lebanon is likely to descend into civil war, and Hezbollah will have to conserve its strength and resources for a battle at home against its sectarian rivals. Indeed, Hezbollah has already been preparing for such a scenario by seizing control of villages along the Orontes River Basin in order to maintain connectivity with Syria's Alawite community.
At the same time, if Hamas is able to bog down Israeli ground forces by drawing them into a war of attrition in densely populated Gaza City, Hezbollah may see a political opportunity to burnish its credentials as the region's leading "resistance" movement. In this case, Hezbollah would likely monitor the situation until it could be assured that Israeli forces are sufficiently constrained on the Gaza front before it begins attacks on the northern front. Hezbollah is not looking for a major confrontation with Israel, and the tens of thousands of additional Israeli reservists called up compared to Operation Cast Lead suggest that Israel is already preparing for a two-front contingency. If Hezbollah does decide to participate in the war, it would be carefully timed to drive an already embattled Israel toward a cease-fire so that Hezbollah could claim a largely symbolic victory at relatively little cost.
With Hezbollah uncertain how the Israeli-Hamas battle will play out, the group appears to be taking a cautious approach. Stratfor has received indication that Hezbollah has prevented radical Palestinian groups in southern Lebanese refugee camps from firing rockets into northern Israel. In addition to an increase in the number of patrols by the Lebanese army and the United Nations Interim Force in Lebanon, Hezbollah has been deploying numerous operatives in plainclothes along the border to monitor the situation. Hezbollah has also installed cameras around the Ain al Hilweh Palestinian refugee camp near Sidon to monitor traffic from the camp to its outside environs. Whereas Hezbollah completely controls movement into and out of Palestinian refugee camps in the deep south, Ain al Hilweh lies completely within a Sunni neighborhood. For this reason, Hezbollah has rented a number of apartments around the camp, especially in al Ta'mir area, to keep a close watch there.
For now, Hezbollah appears intent on not allowing the battle in Gaza to spill into southern Lebanon. It remains to be seen whether that calculus would shift should Hamas succeed in wearing down Israeli ground forces.
WEEK OF NOVEMBER 11 THROUGH NOVEMBER 17
Iran is Pulling the Strings in Gaza
Nov. 17….(WND) As the conflict between Israel and the Palestinian Hamas faction is escalating and rockets are hitting Tel Aviv and Jerusalem, Iran announced Friday that its missiles were being used against the Jewish state. Rockets hit Tel Aviv Thursday for the first time since the 1991 Persian Gulf War when Iraqi scuds threatened the city. On Friday, Jerusalem also came under rocket fire from Hamas militants in the Gaza Strip. According to a source in the Revolutionary Guards intelligence division, Iran has large stockpiles of chemical and microbial weapons and it has armed the Lebanese terrorist group Hezbollah with them. It also has Quds Forces in Gaza and other Palestinian territories to help Hamas and Islamic Jihad in setting up underground rocket facilities while training and supervising the Palestinians in launching attacks on Israel.
The escalation of the Gaza conflict was ordered by the highest authority in Iran, the source added, and rockets targeting Tel Aviv and Jerusalem are in fact a warning to Israel that its Iron Dome missile defense system cannot thwart Iran's ballistic missiles and tens of thousands of rockets and missiles in the hands of Hezbollah. On the day that the International Atomic Energy Agency announced that Iran is set to sharply expand its uranium enrichment in an underground site after installing all the centrifuges it was built for, the message was clear: An attack on Iran's nuclear facilities will have destructive consequences for Israel.
"A Cry from Iran: The Untold Story of Iranian Christian Martyrs" reveals what the Islamic regime really is like. The missiles fired by the Islamic Jihad that hit Tel Aviv were Iranian Fajr 5 missiles, according to the Islamic regime's media outlet Nimrooz, which is close to Mohammad Bagher Ghalibaf, the mayor of Tehran and a possible candidate for president. The outlet cited a recent quote by Ayatollah Ali Khamenei, the supreme leader of the Islamic regime: "From now onward, we will support and help any nation, any groups fighting against the Zionist regime across the world, and we are not afraid of declaring this."
The outlet said targeting the capital of the "Zionist regime" with this advanced technology is a big victory for the Palestinians and the resistance front, Iran, Syria and Hezbollah. It quoted anonymous military analysts that the Fajr 5 has the longest range compared to other missiles launched from Gaza and then warned that Israel should expect bigger surprises. And the Fars news agency, the media outlet for the Revolutionary Guards, said Friday that 20,000 Basij forces are prepared to fight alongside the Hamas militants, even as Israel called up thousands of reserves for a possible ground operation.
Last month an Iranian drone launched by Hezbollah was shot down over Israel. The Islamic regime claimed that the drone flew hundreds of kilometers into Israeli airspace and got very close to the Dimona nuclear plant. It also claimed that the regime now possesses images of Israel's sensitive sites. As reported in August, an alarming commentary by Mashregh, a media outlet for Iran's Revolutionary Guards, claimed that Iran not only has WMDs but has armed its terrorist proxies with them. The commentary recalled the doctrine of the founder of the Islamic revolution, Ayatollah Ruhollah Khomeini: "If they stand against our religion, we will stand against their world. If all this bloodshed is to provide a better future for Israel, we will destroy their world."
Mashregh said that in an all-out confrontation with Israel, "groups armed with weapons of mass destruction will surely target Tel Aviv." Iranian analysts believe America does not wish a confrontation with Iran and that Israel is on its own. President Obama in his press conference on Wednesday stated that there is still time for a diplomatic solution on Iran's nuclear program and again reiterated that Iran can enjoy "peaceful nuclear power." But Friday's IAEA quarterly report demonstrates that the Islamic regime is continuing its headlong approach to building nuclear weapons.
Gaza Ground War Coming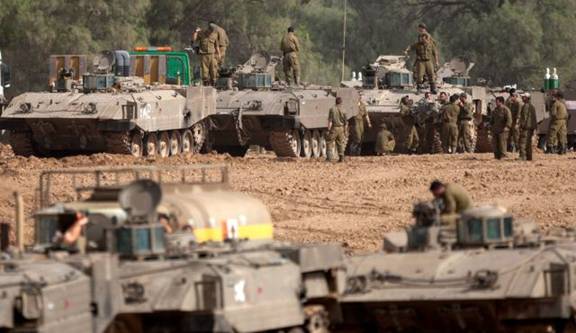 Nov. 17….(Ha Aretz) As Operation Pillar of Defense enters its fourth day, the Israel Defense Forces continues to prepare for a ground invasion of Gaza, drafting thousands of army reservists. The IDF struck dozens of targets in the Gaza Strip overnight, including the office building of Hamas Prime Minister Ismail Haniyeh and a police building.
Home Front Command asks local authorities to prepare for seven-week fighting period: In discussions held between Home Front Command Chief Major-General Eyal Eisenberg, regional commanders and heads of local authorities in the center and in the south, authorities have been instructed to prepare for a seven-week period of combat as part of Operation Pillar of Defense and to prepare emergency supplies, accordingly. The Home Front Command estimates that terror organizations in the Gaza Strip are still capable of launching long-range rockets, even further than a 75-kilometer range.
The Home Front Command sharpened instructions for the Tel Aviv metropolitan area and southern residents and, accordingly, communities located in a range of between 40-75 kilometers from the Gaza Strip must enter nearby, protected spaces the moment blasts or sirens are heard. If there is no protected space in the vicinity, residents should enter the nearest structure or stairwell. In light of the long-range rockets fired over the past few days, these instructions apply to all communities within a 75-kilometer range and not only in the Tel Aviv metropolitan area. Thousands of reservists have received emergency enlistment orders and, over the past few hours, have been trickling into the gathering and enlisting point in the south. Hundreds of military trucks with supplies, ammunition, water and gasoline, alongside tank-carriers, armored-personnel carriers and jeeps are filling the Gaza vicinity.
In total, Palestinian terrorists have fired 700 rockets toward the Jewish state.
Rockets Fired from Egypt Hit Israel
Nov. 17….(The Weekly Standard) Two major Israeli newspapers are reporting that rockets fired from Egypt have hit Israel. "Terrorists in the Sinai Peninsula launched rockets into Israel Friday night," reports the Jerusalem Post. "The rockets fell near an Israeli village on the southern border, causing some damage, but no injuries." The Israeli daily Haaretz reports, "Rockets fired from direction of Egypt toward Eshkol Regional Council." It appears no damage was reported in connection with the rocket fire from Egypt. Earlier today, the Egyptian prime minister visited Gaza to express solidarity with the Palestinians there. This new front comes a day after a rocket landed near Tel Aviv and on the same day Israel's capital Jerusalem was the target of rocket fire. Those attacks were courtesy of Hamas in the Gaza Strip. "After Tel Aviv metropolitan area, capital under fire too: An air raid siren was sounded in Jerusalem and surrounding communities early Friday evening. After residents reported hearing blast sounds, security forces confirmed that one rocket had landed in the Gush Etzion area near a Palestinian village," Ynet reports. "There were no reports of injuries or damage. This was the first air raid siren sounded in the area since the IDF launched Operation Pillar of Defense in the Gaza Strip. Air raid sirens were sounded in southern communities throughout the day and a barrage of missiles hit the area."
Liberated Iraq Calls on Arabs to Use Oil as 'Weapon' Against US
Nov. 17….(Fox News) A top Iraqi diplomat urged Arab states to "use the weapon of oil" against the United States because of its alliance with Israel, raising more questions about the Middle Eastern nation's allegiance to the country that freed it from a ruthless dictatorship. The shocking statement from a democratic government in power only after the US and allies ousted murderous dictator Saddam Hussein in a costly and bloody war laid bare the Middle Eastern nation's true allegiance. Iraq will invite Arab ministers to use the weapon of oil, with the aim of asserting real pressure on the United States and whoever stands with Israel." "The economic weapon is the strongest one to be put into effect now, to assure of standing by the Palestinian people, in light of there being no military power that can stand in the face of Israel at the present time," he added.
The US freed Iraq from Sadaam Hussein, ending his bloody, 30-year reign in 2003 in the midst of a controversial and costly war. Nearly 4,500 American service members were killed and more than 32,000 wounded in a war that has cost US taxpayers at least $750 billion. That figure could top $1 trillion given future health costs incurred by veterans injured in the fighting.
The oil-rich nation has by some measures the world's third-largest reserves and, along with Arab nations such as Saudi Arabia and Libya, provides the US only about 13 percent of its oil, according to the Energy Information Administration. But Arab oil producers wield tremendous influence on world prices through OPEC. Iraq is standing with Hamas and Palestinians in the ongoing strife between them and Israel. The fighting accelerated after Israel launched its operation "Pillar of Defense" last week, aimed at stopping frequent rocket attacks that rain down from Gaza. At least 422 rockets from Gaza have been fired at Israel, whose Iron Dome defense system has intercepted 130, according to the Israel Defense Forces said. The al-Qassam Brigade, Hamas' military arm, said on its Twitter feed that it had shot 527 projectiles at Israel in that time.
Iraqi Prime Minister Nouri al-Maliki has at times been critical of the US, and has in recent years raised alarms over his increasingly close relationship with Iran. The sharp words from the Iraqi diplomat came just as Iraq released a commander of the Lebanese terror group Hezbollah, despite assurances to US it would not do so. Florida Rep. Gus Bilirakis, (R-Fla.), who sits on the House Foreign Affairs Committee, said the statement shows the US must stand by Israel while working toward energy independence. "As sirens sound over Israel, we must not forget the millions of Israelis who live under the constant threat of rocket attacks from Gaza. Israel's right to defend itself is fundamental, and US policy must continue to support this," Bilirakis said. "I have long advocated for energy independence in the United States, and I firmly believe this to be more true now than ever before."
FOJ Note: Maybe we (US) should bring some more "democracy" to these nations (sic)
Hamas Fires Rockets Into Jerusalem
Nov. 17….(Times of Israel) Jerusalem hasn't been hit with rocket fire since 1970, when two Katyushas were fired from the Palestinian village of Batir.) The M-75s (or Fajr-5 missiles, depending on the report) that landed in an open space south of Jerusalem on Friday, in Kfar Etzion, were labeled by Hamas as "surprises." This is Hezbollah terminology. In Hezbollah leader Sheikh Hassan Nasrallah's hands, the psychological potency of his threats have often been enormous. During the first days of the 2006 Second Lebanon War he, too, promised surprises, and shortly thereafter on July 14 Hezbollah fired a C-802 surface-to-sea missile, striking and nearly sinking an Israeli Navy missile ship.
Hamas, however, stripped of most of its long-range weapons and of its supreme commander, appears to be flailing (though not cowed, by any means). The "surprises" landed in open space approximately 8 miles shy of Jerusalem, the very extreme limit of Hamas's rocket range. The rockets proved that Hamas is willing to fire at a city holy to Islam and at an area where many Muslims live but, as opposed to Hezbollah, it was unable to inflict damage. More encouragingly, it is increasingly fabricating achievements. Three hours before the rockets were fired, the organization claimed to have hit the Knesset, Israel's parliament. Thursday witnessed a flurry of false claims, including the killing of several soldiers on a jeep. "This is a positive sign," said Lt. Col Avital Leibovich of the IDF Spokesperson's Office, noting that it spoke to a sense of desperation and a dearth of true achievements. That said, Friday's fire is also a show of defiance and an escalation.
Terror organizations, when facing the IDF, have a comparatively infinitesimal weapons supply. Their strategic goal, therefore, in terms of their ability to deter the IDF, is to use those weapons wisely, ratcheting up the pressure with each increase in range. This is why Nasrallah promised to hit targets "ba'ad, ba'ad Haifa" (beyond, beyond Haifa) toward the end of the Second Lebanon War. This enabled him to respond to each massive Israeli increase in pressure by snaking his fire ever-further south, toward Tel Aviv.
Hamas seeks a similar achievement, to be able to continue firing rockets throughout the conflict, and in that way to deny Israel a tangible success, and to remain armed with at least one more escalation at all times. Its fire on Jerusalem Friday, as Jews around the country prepared to light Shabbat candles, was an unsuccessful expression of that desire.
Palestinian Rockets Hit Jerusalem, Tel Aviv, Reserve Call-up Expanded
Nov. 17….(DEBKA) Signs of an approaching full-scale war increased Friday afternoon, Nov. 16. The IDF obtained government approval to call up reserves in addition to the 30,000 already approved. Hospitals across the country were placed on emergency footing and patients not needing urgent treatment were sent home. The security cabinet meets urgently after 550 Palestinian rockets fired in three days. Jerusalem and Tel Aviv were targeted Friday by Hamas which reported firing two "homemade M-75" missiles each at Israel's capital and commercial hub. There were no casualties in either town.
The Jerusalem siren was heard in outlying towns Mevaseret Zion, Motza Ilit, Beitar Ilit, Kibbutz Maaleh Hahamisha, Ora and Har Adar.
Israeli ground forces continue to stand by on the Gaza border awaiting government orders to go in. Debkafile reported earflier Friday: As Hamas government officials greeted Egyptian Prime Minister Hesham Kandil on his arrival for a short visit to the Gaza Strip, Friday morning, Nov. 16, Palestinian rocket crews stepped up their barrage against Israel. After Israeli Prime Minister Binyamin Netanyahu acceded to Cairo's request to suspend military action for the visit, air strikes were resumed over northern Gaza to counter Palestinians fire across the South: Dozens of rockets exploded in Beersheba, Ashdod, Hof Ashkelon, Ashkelon, Shear Hanegev, Ofakim, Sderot, Eshkol and Kiryat Malachi. There were several panic victims and direct hits to houses. Thursday night, long-range Fajr rockets exploded in Greater Tel Aviv region, Israel's urban and commercial heartland (3 million population) two landing near Bat Yam or the sea and one or two between Rishon Lezion and Palmachim.
IDF armored, artillery and mechanized infantry units continued to stream to the Gaza border Thursday and Friday, gathering at jumping-off positions for crossing into the enclave in the next stage of the operation. Reservists are reporting for duty on the orders the defense minister issued for 30,000 call-ups. They are reporting at schools in various towns which were converted to registration stations. The IDF is rushing forward the completion of the fifth Iron Dome battery after the first four stopped some 150 incoming rockets in the last 48 hours.
Chief of Staff Lt. Gen. Benny Gantz and the high IDF command are pushing for the ground operation, Stage B of the Pillar of Cloud operation, to start without delay. The prime minister and defense minister prefer to wait. The Israeli Air Force intensified its action, conducting 250 strikes across the territory, supported from the Mediterranean by the Israeli Navy. They targeted rocket-launching positions, stores, silos, arms and ordnance dumps and the eight tunnels snaking under the border fence for use in terrorist attacks and exploding booby-traps. A generator was hit near the residence of Hamas Prime Minister Ismail Haniyeh.
Egypt's Morsi Warns Israel will Pay Heavy Price
(Egyptian president sharpens his tone against Israel, threatening: 'If I see the homeland in danger, I won't hesitate to take unusual steps.' He vows that his country will 'stop this brutal aggression')
Nov. 17….(YNET) Egyptian President Mohamed Morsi sharpened his tone against Israel on Friday, while Palestinian terrorists continued to fire rockets into southern Israel and Tel Aviv. After concluding the Friday prayer at a mosque in Cairo, Morsi warned Israel of the consequences of its strikes in Gaza. According to the al- Shorouk newspaper, Morsi tweeted on his Twitter page: "We have the power to uproot the aggressiveness just like it uprooted exploitation. Morsi said earlier that "Gaza will not remain alone as it was," adding that the aggressors "know they will pay a heavy price is they continue their aggression."
He further said that the post-Mubarak Egypt was completely different and that all Egyptians were determined to stop the offensive on the Gaza Strip. According to Morsi, "The blood spilled over there will not get the other side peace and will serve as a curse on them. It will incite all the people of the region against them." Morsi added that the Egyptian prime minister's visit to Gaza stressed the message stressed by revolutionary Egypt and will "stop this brutal aggressiveness." He also said that "the Egyptians throughout their history were not an aggressive people, but they are capable of stopping any attack." The Egyptian president also said that "Egypt doesn't want to fight and constantly calls for peace, but real peace is not just for one side at the expense of another side, so that one side enjoys the good life while the others suffer from attacks and ongoing killing."
Russian President Vladimir Putin said in a phone conversation with Morsi that he supports an end to airstrikes in Gaza. Putin also said that he expected the region to go back to normal and that military operations leaving civilians dead should be stopped.
Israel Calls Up 75,000 For Gaza Ground War
Nov. 17….(YNET) Prime Minister Benjamin Netanyahu convened his nine top ministers for a special discussion Friday evening, on the third day of Operation Pillar of Defense in Gaza. Meanwhile, Cabinet Secretary Zvi Hauser conducted a telephone survey among the government ministers to approve the call up of 75,000 soldiers. According to a state official, "We are going to significantly aggravate the operation." At the same time, Air Force planes attacked a rocket-launching cell in the Gaza Strip. According to the Palestinians, four terrorists were killed, one of the identified as Ahmed Abu Jalal, a district commander in Hamas' military wing. Southern communities were bombarded with rockets throughout the day, and several rockets were also fired at Tel Aviv and the Jerusalem area. Shortly after the surprising air raid siren in Jerusalem, security forces confirmed that one rocket had been located in the Gush Etzion area, closer to a Palestinian village than to the settlement's houses. This was the first air raid siren sounded in the area since the IDF launched Operation Pillar of Defense in the Gaza Strip. Air raid sirens were sounded in southern communities throughout the day and a barrage of missiles hit the area.
On Friday afternoon, an air raid siren sounded in Tel Aviv, followed by an explosion caused by a missile landing in an open area. Meanwhile, thousands of reserve forces are flocking to southern Israel. Hundreds of military trucks carrying supplies, ammunition, water and fuel, as well as tanks, armored personnel carriers and jeeps filled the Gaza vicinity's roads. Shortly after the air raid siren sounded in Jerusalem, Hamas' military wing, the Izz al-Din al-Qassam Brigades, claimed responsibility for the rockets fired at the capital area. according to the organization, it fired a homemade rocket called Qassam M76. The rocket Hamas fired at Tel Aviv is nicknamed Qassam M75. Abu Ubaida, spokesman for the 'Izz Al-Din Al-Qassam Brigades, said: "We are conveying a short and simple message – not a single Zionist on Palestinian soil is safe, and we are planning additional surprises."
At the same time the rockets were fired at Jerusalem, a factory in the Shaar Hanegev Regional Council in southern Israel sustained a direct hit. Later, a rocket hit the backyard of a house in the Be'er Tuvia Regional Council. There were no reports of injuries in both incidents. Since the start of the operation, the IDF attacked 613 terror targets in the Gaza Strip. The Iron Dome system intercepted 197 rockets, 99 of them on Friday.
Egypt, Jordan, Turkey and Russia Lead Condemnation of Israel
Nov. 17….(Times of Israel) In day two of Operation Pillar of Defense, Israel was getting strong support from several Western countries, led by the United States, while Egypt, Jordan, Russia and Turkey condemned the resort to force as disproportionate and overly aggressive. "It is obvious that Israel has a legitimate right to defend itself and protect its own citizens against rocket attacks from the Gaza Strip," German Foreign Minister Guido Westerwelle said Thursday. "Now it is necessary that everyone contributes to deescalating the situation. Everybody needs to understand that we need to prevent worse things from happening. We call upon all parties to act wisely and in a deescalating manner," Westerwelle said at press conference in Paris.
The United States was the first nation to express full solidarity and support for Operation Pillar of Defense. "There is no justification for the violence that Hamas and other terrorist organizations are employing against the people of Israel," the State Department said in a statement released on Wednesday. "We call on those responsible to stop these cowardly acts immediately. We support Israel's right to defend itself, and we encourage Israel to continue to take every effort to avoid civilian casualties."
Both Prime Minister Benjamin Netanyahu and President Shimon Peres spoke to US President Barack Obama on Wednesday, briefing him on Operation Pillar of Defense. Netanyahu has since also spoken to President Francois Hollande of France, United Nations Secretary-General Ban Ki-moon, European Union foreign policy chief Catherine Ashton and Middle East Quartet representative Tony Blair. "I want to thank them for their understanding of Israel's need to defend itself, and Israel's right to defend itself," Netanyahu told foreign reporters Thursday afternoon.
Other nations were less understanding of Israel's use of force in Gaza. "The attacks on southern Israel, as well as Israel's disproportionate shelling of targets in Gaza, are entirely unacceptable," Russian Foreign Ministry spokesman Alexander Lukashevich said Thursday. "We urge all sides to end the military confrontation immediately and to prevent a new round of bloodshed in the Gaza Strip."
Turkey, meanwhile, condemned Operation Pillar of Defense. "We harshly condemn Israel's offensive and it must be stopped immediately," a statement released by Ankara's foreign ministry said. Jerusalem's campaign in Gaza was the latest incident that proves Israel's "hostile policies," the statement read. Turkish Foreign Minister Ahmet Davutoğlu told reporters that he had spoken with senior Hamas officials and promised them to pressure the international community to do more to stop Israel's "aggressive positions," according to the Today's Zaman newspaper. This additional hostility to Israel's policies closes all doors on negotiations and the achievement of political arrangement'
Significantly. the two Arab neighbors with which Israel has peace treaties also denounced Jerusalem for its use of force. "Israel's aggressive policy placed the area again in a cycle of violence and instability," Jordan's information minister Sameeh Maaytah said. "This additional hostility… closes all doors on negotiations and the achievement of political arrangements. Israel deprives the Palestinian people of their political and national right to create an independent state… Israel's aggression needs to be stopped and the Palestinian people need to be protected."
Egypt was bitterly critical. The country's Islamist President Mohammed Morsi spoke with Obama, and Foreign Minister Mohammed Kamel Amr spoke with his American counterpart, Hillary Clinton, late Wednesday night, asking them for immediate US intervention "to stop the Israeli aggression," Cairo said in a statement. Egypt also recalled its ambassador in Tel Aviv to protest Israel's military campaign.
The Muslim Brotherhood's political arm, the Freedom and Justice Party, strongly condemned Israel's assassination of Hamas's military chief Ahmed Jabari on Wednesday. In a statement, the party called the targeted killing a "crime which should see a fast Arab and international response to stop a wave of similarly bloody massacres against the Palestinian people besieged in the Gaza Strip, and which are being used by the Israeli government for leverage in political conflicts raging within Israel." Israel seeks to drag the Middle East into "instability, confusion and chaos," the statement continued. "But Israel should be warned that the changes recently witnessed in the Arab region, especially in Egypt, cannot allow Israeli aggression against the Palestinian people to go unpunished as in the past."
Egypt's New President: Israel's Gaza Operation a 'Blatant Aggression'
FOJ Note: Egypt's new president, Mohammad Morsi, who became president by way of President Obama's covert assistance is showing that he is blatantly anti-American, and a vehicle for jihad against Israel, unlike former President Mubarak.
Nov. 17….(Arutz) Egyptian President Mohammed Morsi on Friday described Israel's Operation Pillar of Defense in Gaza in as a "blatant aggression against humanity," the official MENA news agency said. "Egypt will not leave Gaza on its own, and what is happening is a blatant aggression against humanity," he said, as his prime minister, Hisham Qandil, visited Gaza vowing to boost efforts to secure a truce to end the bloodletting. Earlier on Friday, Qandil told reporters in Gaza, "Egypt will not hesitate to intensify its efforts and make sacrifices to stop this aggression and achieve a lasting truce," according to AFP. He spoke after visiting casualties in Gaza's Shifa Hospital from Israel's Pillar of Defense counter-terror campaign. On Friday morning, there were reports that Prime Minister Binyamin Netanyahu had agreed to halt the military operation on terror sites in Gaza during Qandil's visit.
An official said that Egypt requested the ceasefire and that the visit is supposed to last three hours. However, while Israel stopped firing during Qandil's visit, Hamas terrorists continued to fire rockets at Israel. Friday's rocket barrages continued to hit southern Israel but also were directed at Tel Aviv, for the second time in two days, and also at Jerusalem.
Israel's Operation Pillar of Defense, which began with the targeted killing of top Hamas terrorist Ahmed Jaabari on Wednesday, sparked a furious response from Morsi, who promptly recalled Cairo's envoy to the Jewish state.
Petraeus Scandal Reveals Massive Islamic Infiltration In Obama Administration
Nov. 17….(Debbie Schlussel) Jill Khawam Kelley was the hand-picked lobbyist for Muslim nations and their agenda at Central Command. Kelley, who is part of the soap opera that the Petraeus scandal spawned, was in charge of hosting parties and social events to push the Islamic agenda of Middle Eastern countries. She was seen by Muslim Mid-East nations, especially Hezbollah-controlled Lebanon, as the "go to" woman to push their agenda on top American generals. She was a lobbyist for their cause and, yet, wasn't required to register as a lobbyist, like all others who host lavish parties for top American officials, like she did, in an attempt to influence US policy in the Middle East.
Kelley, a dhimmi Christian Arab of Lebanese descent, was well known in the Muslim Arab embassies of Washington for doing their bidding and hosting their parties at and near MacDill Air Force Base in Tampa, where our nation's top generals are based. It's where Central Command–the US Armed Forces' leadership over wars and military personnel Middle East–is headquartered. When a friend of mine said that he thought the financially troubled Khawam sisters, Kelley and Natalie Khawam, were spies for Lebanon and the Arab world, I originally expressed skepticism. I believed that these twin sisters with obvious twin nose jobs were merely bimbo gold diggers in slutty outfits, who used their Delilah ways to first nab rich husbands, and then nab idiotic top American generals to participate in Lifetime-Channel-worthy bitter child custody disputes. But then I learned that Ms. Kelley, who was until this week under the radar, was quietly involved in pushing the agenda of Muslim Arab nations on our nation's top generals with whom she'd grown close by design. I don't think it's a coincidence that Ms. Kelley got her hooks into our two top generals in the Middle East, David Petraeus and John Allen. I'm now convinced that my friend, lawyer Gary Welsh of Advance Indiana, who has excellent instincts, was correct.
I've long written about the infiltration of Central Command at MacDill Air Base in Tampa by Islamic terrorists. Islamic Jihad founder and convicted Islamic terrorist, Sami Al-Arian, was an instructor on the Middle East to our top generals at MacDill Air Force Base AT THE VERY SAME TIME that he was planning mergers and terrorist attacks in Israel with "the brothers of HAMAS" and while he was bringing Muslim illegal alien Islamic terrorists to the U.S. Al-Arian's friend and co-conspirator, Ramadan Abdullah Shallah (one of those Al-Arian brought here), who became the Secretary-General of the worldwide Islamic Jihad terrorist group, was also a lecturer at MacDill and also taught our top generals his poisonous views on the Middle East and Israel. FBI and INS agents who investigated Shallah and Al-Arian were alarmed at the influence these two top Islamic terrorists had over CentCom. They were also alarmed to find many books on the inner workings of MacDill in Shallah's house when they raided it.
So when people ask me how I think these women were able to insert themselves into top generals' lives and topple them (along with, apparently, the men they married), I think back to the fact that our top generals gladly allowed top terrorists to infiltrate Central Command as alleged "professors" on the Middle East. And when generals like Petraeus and Norman Schwarzkopf, Jr. openly attack Israel and America's relationship with Israel, people like Jill Khawam Kelley and Al-Arian and Shallah are the reason why. Khawam Kelley isn't an innocent socialite. She's an agent of influence for Arab Muslim nations. Middle Eastern diplomats in Washington also knew Ms. Kelley, who came from a Lebanese immigrant family and who helped arrange social activities when dignitaries from the region visited Tampa, diplomats said. She also sometimes attended parties at Washington embassies.
I guarantee you that Jill Khawam Kelley wasn't hosting visits from dignitaries from Israel. And, other than those from Israel, every single "Middle Eastern diplomat" in Washington is a Muslim, most of them Muslim Arabs. And all of them Muslims with an agenda that is anti-Israel and anti-Western. And definitely not in America's best interests. They come to Tampa for one reason and one reason only–to ingratiate themselves with the top military brass at CentCom at MacDill. And Jill Khawam Kelley was their social director in that mission.
Kelley's sister, Natalie Khawam, was married to a top Bush administration official, Grayson Wolfe, Director of Broader Middle East Initiatives and Iraqi Reconstruction at the Export-Import Bank of the United States, and frequently accompanied him on trips to the Middle East, including to Pakistan. Before that position, Wolfe was the Bush-installed Manager of the Private Sector Development Office of the Coalition Provisional Authority in Baghdad, Iraq. How many of the Khawam's insider Arab Muslim friends did he give sweetheart contracts to? Before It's News has more and asks more questions about the consulting and contracting firm that Wolfe now heads. Although they are now embroiled in a bitter custody fight over their son, you have to wonder what influence Khawam had on him and what was done in the Middle East. She recently sued her former employer, a Jewish lawyer, Barry Cohen, but gave up after her lawsuit was shown to be phony. Cohen struck back and found that Khawam engaged in bankruptcy fraud. My friend wasn't so far-fetched when he insisted the Khawam chicks are modern day Mata Haris for the Muslim Arabs.
Pentagon Says 75,000 US Troops Might Be Needed to Seize Syria Chemical Arms
Nov. 17….(Washington Times) The Pentagon has told the Obama administration that any military effort to seize Syria's stockpiles of chemical weapons would require upward of 75,000 troops, amid increasing concern that the militant group Hezbollah has set up small training camps close to some of the chemical weapons depots, according to senior American officials. The estimated size of the potential effort, provided to the White House by the military's Central Command and Joint Staff, called into question whether the United States would have the resources to act quickly if it detected the movement of chemical weapons and forced President Obama, as he said in August, to "change my calculus" about inserting American forces into Syria. So far Mr. Obama has avoided direct intervention into the most brutal civil conflict to emerge from the Arab Spring uprisings, and the Pentagon assessment was seen as likely to reinforce that reluctance. The White House on Thursday declined to comment on the Defense Department's assessment.
The Pentagon has not yet been directed to draft detailed plans of how it could carry out such a mission, according to military officials. There are also contingency plans, officials say, for securing a more limited number of the Syrian chemical weapons depots, requiring fewer troops. The discovery that Hezbollah has set up camps close to some of the depots, however, has renewed concern that as the chaos in Syria deepens, the country's huge chemical weapons stockpiles could fall into the wrong hands. Hezbollah fighters have been training at "a limited number of these sites," said one senior American official who has been briefed on the intelligence reports and spoke on the condition of anonymity. "But the fear these weapons could fall into the wrong hands is our greatest concern."
So far, there is no evidence that Hezbollah, which is based in Lebanon but has become increasingly active in protecting the government of President Bashar al-Assad, is making any effort to gain control over the chemical weapons. Its decision to train fighters close to the major chemical sites, some officials speculate, could be rooted in a bet that their camps will not be bombed if the West believes there is a risk of hitting the stockpiles.
Mr. Assad has openly threatened to retaliate beyond his country's borders if outside forces try to break the current stalemate to unseat him, and there is renewed concern about whether he or his proxies might use the chemical weapons as their last shield. Officials say that attacks along the borders with Turkey and Israel have forced the administration to consider the risks of Syria's troubles spreading in the region.
Mr. Obama has been clear for more than a year that he would resist direct American intervention, but in August he said one circumstance would cause him to revisit that position. "A red line for us is we start seeing a whole bunch of chemical weapons moving around or being utilized," he said at a news conference. "That would change my calculus." Obama brought those concerns up again in a news conference on Wednesday, saying that the United States was in close contact with Turkey and Jordan "and obviously Israel, which is having already grave concerns as we do about, for example, movements of chemical weapons that might occur in such a chaotic atmosphere and that could have an impact not just within Syria but on the region as a whole." The American concerns have been heightened by another sign that Mr. Assad may be arming himself to strike out — Syria's continued imports of missile technology, even at a time when the Assad government is reeling under sanctions. Syria already has a vast arsenal of missiles able to reach Turkey or strike Israel, and in the past it has provided Hezbollah with missiles. But American officials voice concern over even modest improvements in Syria's missile stockpiles.
American intelligence and security officials, in interviews in recent days, said that the United States had picked up evidence that North Korea had resumed providing Syria with some missile technology, including assistance with Scud missiles.
General Petraeus Says Al Qaeda Involved in Libya
FOJ Note: The General and former CIA director's comments reveal that President Obama intentionally used Ambassador Rice to deceive the American people about Libya, and to cause blame to be inflicted upon anybody who dared to criticize Islam! Again, this President should be impeached!)
Nov. 17….(Fox News) Former CIA Director David Petraeus stoked the controversy over the Obama administration's handling of the Libya terror attack, testifying Friday that references to "Al Qaeda involvement" were stripped from his agency's original talking points, while other intelligence officials were unable to say who changed the memo, according to a top lawmaker who was briefed. Petraeus' testimony both challenges the Obama administration's repeated claims that the attack was a "spontaneous" protest over an anti-Islam video, and according to King conflicts with his own briefing to lawmakers on Sept. 14. Sources have said Petraeus, in that briefing, also described the attack as a protest that spun out of control. "His testimony today was that from the start, he had told us that this was a terrorist attack," King said, adding that he told Petraeus he had a "different recollection." Still, the claim that the CIA's original talking points were changed is sure to stoke controversy on the Hill. "The original talking points were much more specific about Al Qaeda involvement. And yet the final ones just said indications of extremists," King said, adding that the final version was the product of a vague "inter-agency process." King said a CIA analyst specifically told lawmakers that the Al Qaeda affiliates line "was taken out." A congressional source familiar with this week's testimony also told Fox News that the language in the CIA talking points about Benghazi was changed from "Al Qaeda-affiliated individuals to extremist organizations," which had the effect of minimizing the role of terrorists in the attack.
Egypt, Gaza and the Sinai Peninsula
Nov. 17….(Stratfor) The conflict in Gaza comes at an interesting time in Egyptian-Israeli relations. Cairo recently saw the Muslim Brotherhood candidate assume the Egyptian presidency, while in the past two years Israel has approved two Egyptian military increases "in the Sinai Peninsula above levels set in the Camp David Accords. The disposition of the forces in Sinai coupled with the presence of the UN-mandated Multinational Force and Observers mean at present, Egyptian forces do not pose a significant threat to Israel. How Egypt will respond to the conflict between Israel and Hamas in the Gaza Strip remains to be seen, but should the Morsi government or Egypt's military decide to support Gaza, such support would likely consist of turning a blind eye toward militant activities and smuggling in the Sinai Peninsula.
Egypt is one of Israel's most powerful neighbors. Initially hostile to Israel, the two countries have been at near peace for nearly 40 years. Following the 1973 Yom Kippur war, the 1978 Camp David Peace Accords between Israel and Egypt established guidelines for what Egypt could do in the Sinai Peninsula in a bid to keep the peace. Strategically, the peace agreement made the peninsula a buffer between Israel and Egypt. It permitted only enough forces in Sinai to enforce security.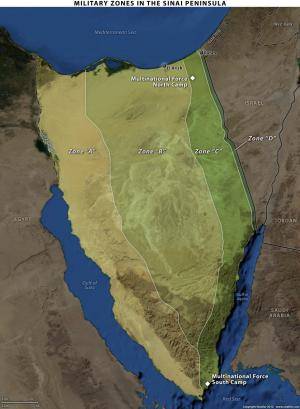 The agreement divided the Sinai Peninsula into four zones of increasing neutrality. Egypt is allowed an entire mechanized or infantry division in Zone A, which abuts the Suez Canal. In Zone B, its armed presence is limited to municipal police and border patrol. 1,600 international peacekeepers are spread out across 32 bases in the east of Zone C, and Israel is allowed a limited presence in Zone D. Periodically, Israel allows Egypt to increase the number of troops east of Zone A for temporary missions with goals like combating militants and criminal smugglers. In 2011, Israel allowed Egypt to send 2,500 troops and 250 armored personnel carriers into the normally demilitarized zones B and C as part of Operation Eagle, a mission to provide security during the power transition from then-recently fallen Egyptian President Hosni Mubarak. Operation Eagle was joined by Operation Sinai, which came in response to a militant attack against an Egyptian border post Aug. 5 that killed 16 border guards. Together, the two operations increased the total troop count by more than 2,500, the exact troop count of Operation Sinai was in the low hundreds, added 80 vehicles and, with Israeli Cabinet approval, at least two attack helicopters. Egypt also was allowed to deploy armed fighter jets to El Arish to assist its ground forces in Sinai. Significantly, Israel approved all of these deployments, which are monitored by the 1,600 foreign troops that make up the UN Multinational Force and Observers stationed throughout Zone C. Israel did so because it is not in its interest to have unrest in Sinai, whether political protests or militant violence.
Much of the previous militant violence on the Sinai Peninsula has been directed against Israel or Israeli tourists at Sinai beach resorts. Such violence continues, as attested by the four rockets fired at southern Israel from the border town of Rafah on Nov. 14 shortly before Israel announced it had killed Ahmed Jaabari. Like Gaza militants, Egyptian militants are believed to possess Qassam and Grad rockets. Israel is content to allow Egypt to secure Sinai to eradicate these threats.
Egypt's expanded force structure in Sinai is designed to deny militants sanctuary by bringing more force to bear than the municipal police alone can provide. Many of the new forces are stationed in the northeast of Sinai along the Egyptian border with Gaza. The official crossing at Rafah and the many illegal tunnels linking Gaza to Egypt together serve as a significant smuggling corridor along which people, supplies and contraband like drugs and weapons move. Egyptian soldiers have set up roadblocks and checkpoints to monitor and inspect traffic transiting the Sinai Peninsula to counter this smuggling. Egypt has an interest in limiting migrants moving between Egypt and Gaza, as Egypt fears the risk of instability from taking on too many Palestinian refugees. They also fear Israeli retaliation against militants in the Sinai Peninsula should Israel decide Sinai was becoming a militant haven: The Egyptian military has no interest in giving Israel a reason to become involved in Sinai.
The number of troops Egypt has in the Sinai Peninsula now does not pose a direct threat to Israel. If Israel in fact viewed the Egyptian military presence as a threat, it would likely ask Egypt to draw down the expanded troop presence. In fact, the biggest threat the Egyptian military could pose to Israel would be by becoming less involved in Sinai.
Unlike during Operation Cast Lead in 2008, when Egyptian border guards kept the Rafah border crossing closed and even engaged in skirmishes with the Palestinians, Egypt announced Nov. 15 that it would open the border crossing to allow injured persons to seek medical attention in El Arish. It reversed course and closed the border Nov. 16, reflecting the limit on Egyptian humanitarian sentiments when it comes to Rafah and taking into account Egypt's fear of a wave of refugees and militants seeking sanctuary.
If Egypt changes course from 2008 and does not keep the border closed during a ground invasion of Gaza, Israel would have to send troops to the Philadelphi route in Gaza along the border with Egypt to cut the Palestinian territory off from Egypt. This would put Israeli and Egyptian troops closer than they have been for decades, heightening the risks for both sides.
The Rafah Crossing will illustrate Egypt's thinking with regard to the current Israel-Gaza conflict. If Egypt allows the Rafah Crossing to stay open, and especially if it leaves the border open if the fighting in Gaza escalates, Egypt would have decided to oppose Israel, even though it would also be going against its interest to avoid a wave of refugees. Any evidence of Egyptian noncompliance to an Israeli request to draw down the added troops would even more clearly show a rift between the two regional powers.
Combating Terrorism from Gaza
Nov. 16 (Eli E. Hertz) United Nations Security Council (UNSC) resolutions and International treaties define crimes against humanity as the "participation in, and knowledge of, a widespread or systematic attack against a civilian population, and the multiple commissions of such acts against any civilian population." These international binding instruments go-on to impose uniform mandatory counter-terrorist obligations on all states to "bring to justice the perpetrators, organizers, and sponsors of terrorist attacks and stresses that those responsible for aiding, supporting or harboring the perpetrators, organizers and sponsors of these acts will be held accountable.
There is no escape clause, UNSC repeats "its unequivocal condemnation of all acts, methods and practices of terrorism as criminal and unjustifiable, regardless of their motivation, in all their forms and manifestations, wherever and by whomever committed." Terrorist organizations such as Hamas that kidnap Israelis, blow up and destroy public buses, murder young people at cafés and discos, and school outings, alongside indiscriminate around-the-clock shelling of hundreds of Katyusha, Qassam, and Grad rockets targeting civilian populations in Israel, are clearly committing Crimes Against Humanity, acts of terrorism for which the UNSC under Chapter VII of the UN Charter directs everyone to fight terrorism by all means.
International law leaves no room to question Israel 's right to defend its citizens against systematic and sustained terrorist attacks launched from Gaza, by Hamas. Israe 's reaction to aggression is nothing more than a measured, fair response designed "to effectively terminate the attacks" upon it by terrorists supported by Iran, Syria, and Lebanon , in order to "prevent its recurrence." Israel is far from using all means in fighting terrorism, as required by UNSC.
IDF Pummels Gaza, Orders Call-up For Ground War
(Rockets hit Gush Dan area for first time since 1991 Gulf War; Israel suffers first three fatalities after rocket hits residential building in Kiryat Malachi; three soldiers injured by mortar fire; 274 rockets fired into Israel since start of operation)
Nov. 15….(Times of Israel) The IDF Spokesperson announced on Thursday evening that 30,000 reservists were being called up as Israel prepared for a possible extended ground incursion into Gaza as part of Operation Pillar of Defense. The large-scale call up is Israel's first since Operation Cast Lead in 2008, and represents a major escalation of the two-day old operation, which is aimed to put a halt to rocket fire on Israel. "IDF Chief of General Staff Benny Gantz has authorized the army's regular units to prepare for a ground operation," IDF Spokesman Brig.-Gen. Yoav Mordechai told Channel 2 earlier in the day. Some of those called up for reserves would be dispatched to replace those units in their routine duties. Mordechai said it was "far too early to talk about a cease-fire," and that the army planned to continue its attacks on terror targets until the operation's goals were met.
Prime Minister Benjamin Netanyahu on Wednesday night announced the onset of a broad aerial and naval bombardment of Hamas targets in the Gaza Strip, and said the country's military was ready to widen its operations until its objectives were reached. Netanyahu's national security cabinet also announced it had tasked the Israel Defense Forces with calling up extra reserve units, should the need arise, a possible precursor to a wider ground operation. The military said it was ready, if necessary, to send ground troops into Gaza. The defense officials who said a ground operation was likely in the coming days spoke on condition of anonymity because they were discussing sensitive military plans.
The prime minister reiterated the IDF's report that Israeli Air Force planes had "damaged strategic targets of Hamas in a precise fashion" and "substantially damaged the launch capabilities of rockets from Gaza" at central and southern Israel. "The terror organizations hurt our citizens with premeditation, while they deliberately conceal themselves behind their own citizens," he said.
Hamas Missiles Rain on Tel Aviv
Nov. 16….(DEBKAfile Special Report) The first three Palestinian missiles reached the Tel Aviv conurbation, Gush Dan, Thursday night, Nov. 15 shortly after a long-range missile exploded in Rishon Lezion southeast of Tel Aviv and sirens sounded in outlying towns of Holon, Ness Ziona, Gan Raveh and Beer Yacov. None report casualties or damage. Defense Minister Ehud Barak has ordered 30,000 army reservists drafted. The IDF spokesmen earlier reported units of the elite paratroop and Givati Brigades were mustering outside the Gaza Strip on the second day of Israel's counter-terror operation Pillar of Cloud.
From Debkafile's earlier report Thursday: As the rockets kept coming through Wednesday night, and the first three fatalities Thursday morning, Nov. 15 - the cautious lift in Israeli spirits generated by the death of Ahmed Jabari, who fashioned Hamas into a paramilitary machine of terror, and the destruction of dozens of missile sites in Gaza, gave way to resignation for a long haul before southern Israel is free of its decade-long rocket nightmare. Thursday morning, a rocket from Gaza killed three Israelis in Kiryat Malachi. By then, some 120 rockets, mostly targeting the major towns of Beersheba and Ashdod, but also smaller locations, had followed Jabari's death. Iron Dome intercepted 27.The first reserve units had been mobilized for possible ground action in Gaza to supplement the air offensive against the Palestinian missile arsenal.
But Operation Pillar of Cloud's first part showed a favorable balance: Palestinian missile fire was as erratic as ever, although intense; Iron Dome filtered out the rockets aimed at Israel's major towns; Israeli casualties were relatively low though painful; and the enemy in Gaza was decapitated for now. But most of all, the Palestinians and their allies in Tehran and Hizballah suddenly discovered that the old IDF had come roaring back.
In the only former major Israeli operation in Gaza, Cast Lead (late 2008, early 2009), the IDF was slow, unwieldy and unfocused. Its counter-terror offensive was foreshortened by heavy diplomatic pressure before achieving anything, owing to the government's lack of resolve. In the 2006 Lebanon War, the army was stalled before developing an effective tactical offensive. The IDF of 2012 is in a different class, recalling its rapid-fire performance in the Six-Day War then fought on multiple fronts. In just a few hours late Wednesday, Nov. 14, Pillar of Cloud achieved more than Cast Lead managed in weeks: It was driven by clockwork, integrated intelligence by the Shin Bet and Military Intelligence, precise, surgical air force strikes and a command-and-control with fast reflexes which recalled Israel's military skills of 45 years ago. The rapid destruction of scores of Fajr-3 and Fajr-5 rockets, whose respective ranges of 45 and 75 kilometers placed Israel's heartland in line of Palestinian strikes, compared with the destruction of the Egyptian air force on the ground in the early hours of the 1967 war, rather than the bombardment of Hizballah's long-range missiles in 2006 which failed to draw its sting.
In 1967, the Egyptian army had to fight in Sinai without air cover. In 2012, the Hamas rulers of the Gaza Strip were stripped of their key commander and terror strategist and lost substantial, though not all, its missile arsenal. Wherever Operation Pillar of Cloud goes next, and the IDF is preparing for a long, hard haul, Prime Minister Binyamin Netanyahu, Defense Minister Ehud Barak and Chief of Staff Lt. Gen. Benny Gantz deserve kudos for their performance thus far. It may be said that Israel's Gaza operation did in fact start on Oct. 24 in Sudan with the attack on the Yarmouk complex manufacturing Iranian missiles near Khartoum. Former Military Intelligence chief Amos Yadlin Wednesday confirmed Debkafile's exclusive report that the factory had housed the emergency reserve stocks of the Palestinian Hamas and Jihad Islami in the Gaza Strip. Its destruction contributed to their loss of infrastructure. The tough part of the Israeli operation to eliminate the terrorist war peril hovering over southern Israel from the Gaza Strip is still to come. For now, Hamas is at a loss for a strategic answer to the IDF offensive, unless one is provided by Tehran or Hizballah coming to its rescue.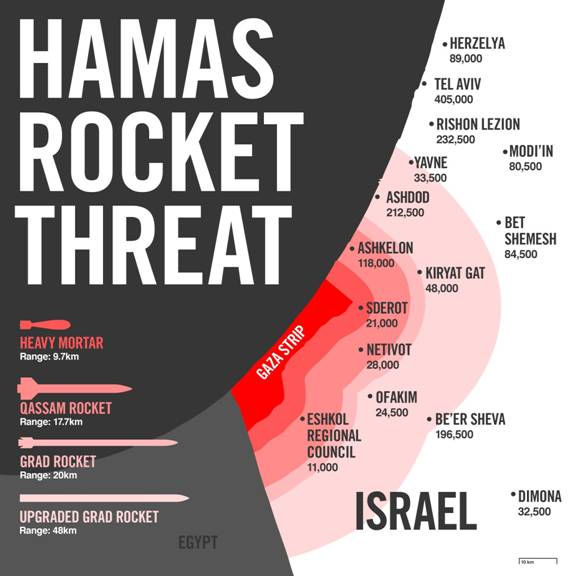 Iran's Revolutionary Guard Overseeing Gaza Attacks
Nov. 15….(WND) Advisers from Iran's Revolutionary Guard Units are in the Gaza Strip helping to oversee the firing of long-range rockets by jihadist groups there, according to informed Middle Eastern security officials. The information comes as the Iranian-backed Islamic Jihad group today claimed responsibility for what it said was missile fire at Tel Aviv. The organization has claimed it fired Iranian Fajr-5 missiles aimed at Tel Aviv. Earlier today, one rocket launched from the Gaza Strip landed in Rishon Letzion, some seven miles south of Tel Aviv. About three hours later another explosion was heard in the Tel Aviv area. No casualties were reported in either Tel Aviv or Rishon Leztion.
Since yesterday, Israel's Iron Dome anti-missile defense system has intercepted 105 rockets, while 274 rockets have struck Israel, mostly in cities near the Gaza Strip. The escalation began last week, when Hamas fired more than 120 rockets and mortars into Israel in a four-day period. Yesterday, Israel eliminated Ahmed Jabari, the head of Hamas' so-called military wing. Israel also launched dozens of surgical strikes in Gaza targeting the Hamas militant infrastructure. IDF spokesperson Yoav Mordechai addressed the media regarding Operation Pillar of Defense. "The IDF continues to operate surgically in the Gaza Strip – precise strikes, not against outposts, not against police stations, but against rocket-launching sites," he said. "So far, a very harsh blow has been dealt to the long-range fire of Hamas and Islamic Jihad."
Putin Urges Netanyahu to Avoid Escalation
(Russian president calls on Israel to 'do everything to return situation to its normal course')
Nov. 16….(YNET) Russian President Vladimir Putin on Thursday urged both Israeli Prime Minister Benjamin Netanyahu and the Palestinians to avoid escalating Gaza violence that has killed 15 Palestinians and three Israelis. "The president of Russia called on the parties to exercise restraint and avoid the path of escalating violence, whose victims include civilians, and to do everything to return the situation to its normal course," the Kremlin said following a telephone conversation between Putin and Netanyahu. Earlier, Russia strongly condemned Israel's "disproportionate" use of force in air strikes on the Gaza Strip while calling on Palestinian terrorists to halt firing rockets at the Jewish state. "Attacks on the south of Israel and the disproportionate strikes on Gaza, especially when civilians are killed on both sides, are completely unacceptable," foreign ministry spokesman Alexander Lukashevich told reporters. The Russian official stressed that the violence was especially dangerous because it came against the backdrop of existing regional instability linked to the conflict in Syria and last year's war in Libya. Lukashevich said Israel and the Palestinians were now pursuing a course that could lead to still further bloodshed between them while threatening to degenerate into a broader conflict.
Iran's Gaza Gamemanship
Nov. 16….(FOJ) The Gaza situation has once again raised its ugly missile head. Iran's proxy terror networks in Gaza routinely harass the daylights out of Israel's southern cities. They regularly indiscriminately fire missiles at Israeli schools, houses, and communities. Most of the time it is intended to be a nuisance, but there is always a method to their madness. They seem to be gauging their missile accuracy, and also gauging what they can get away with in relation to the leadership in Israel.
But another interesting strategy hidden in all these rocket attacks seems to be a plan for a future strike on Israel's nuclear facility at nearby Dimona. Iran usually calls the shots from its distant perch in Teheran, and compares notes with its other terrorist proxy networks to Israel's north, in Lebanon, and Syria, while planning for a future assault on Israel from multiple fronts. Iranian leaders are very devious, and will utilize any number of assymetrical components as cannon fodder for its quest to destroy Israel.
Make no mistake about it, Iran (Hamas, Hezbollah, Islamic Jihad) and its many terror affiliates are coordinating a regional geo-political scheme to relieve the current pressure on the Assad regime in Syria, which is being pummeled by the Muslim Brotherhood, and certain conniving Western powerbrokers seeking to bring their New World Order to fruition in the Middle East. (the latter factor is infuriating Russia and China)
There are many competing interests at play in the current Gaza gamemanship being played out. The old prophecy from Genesis regarding Ishmael's descendants is very obvious throughout the region. (Genesis 16:11-12 And the angel of the Lord said unto her, Behold, thou art with child, and shalt bear a son, and shalt call his name Ishmael; because the Lord hath heard thy affliction. And he will be a wild man; his hand will be against every man, and every man's hand against him; and he shall dwell in the presence of all his brethren.) Everywhere you look in the Arab Middle East, we see violence and conflict, and most of that mentality is due to the religious teaching of Islam that dominates the Arab world. Islamic fundamentalism promotes the perpetual hatred of Israel, and deep within its own system, there exists numerous schisms at war with each other vying for supremacy. One of these days, their maniacal ways will cause the Middle East to explode, and you can look for Damascus to be front and center in that explosion.
US, Russia Clash Over Mideast WMD Talks
Nov. 15….(Global Security Newswire) US and Russian diplomats continued to clash this week over drafting an announcement on postponing an international conference on banning weapons of mass destruction from the Middle East, according to diplomatic sources and experts. Israel has not yet said whether it would or would not take part in the Helsinki gathering, which had been tentatively slated for mid-December. That has left the designated "facilitator" for the conference, Jaakko Laajava, without a commitment to attend from all states in the region, which was a prerequisite set in 2010 when the event was envisioned.
Lacking an affirmative signal from the Israelis, UN Secretary General Ban Ki-moon agrees with Obama administration officials that the conference must be postponed at least until 2013, said sources close to the matter. Ban will not issue invitations to the event without knowing in advance that all key nations in the region will participate, said Chen Kane, a senior research associate at the James Martin Center for Nonproliferation Studies.
Over the past few weeks, Russian envoys have indicated that they believe the conference can go forward even without Israeli attendance. Along with the United States and the United Kingdom, Russia plays a key role in convening the conference, as sponsors of 1995 and 2010 Nuclear Nonproliferation Treaty review conference resolutions to work toward creating a special Mideast zone. Moscow cannot act alone in making the UN-supported gathering happen, though, so now the focus is on negotiating the wording of a joint statement. A key unknown is whether the delay announcement will include a date or time frame in which the conveners now hope the conference will occur.
A spokeswoman for Thomas Countryman, the US assistant secretary of State for international security and nonproliferation, on Tuesday declined comment on any conference postponement or acrimony with Moscow over the matter. Countryman has served as the US lead envoy in preparing for the possible Mideast WMD gathering and has met "regularly" with his Russian counterpart on the issue, according to one diplomatic source. "
Indications are that failing to hold the conference in 2012, as projected by the NPT review conference two years ago, would be a huge disappointment for Egypt and other Arab states that strongly advocated for the event. Members say more time is needed to find common ground between Israel and the other regional participants regarding specific terms of reference, agenda and outcome for the formal discussions on creating a zone free of nuclear, chemical and biological weapons.
By holding out for prearranged terms of how the summit will play out, Israeli leaders hope to avoid any possibility that the conference would devolve into a finger-pointing session in which their nuclear stockpile is singled out for criticism. Israel is not a member of the nonproliferation treaty and maintains an officially unconfirmed nuclear arsenal numbering an estimated 100 or more warheads.
Iran last week announced it would participate in the December conference. Yet, by some accounts, Tehran was only ready to declare its interest in attending the Helsinki forum after it became clear that the event was unlikely to occur, and that Israel would take the blame.
Israel is one of 23 governments not party to the Biological Weapons Convention. Egypt and Syria have signed but not ratified the accord, which prohibits making or stockpiling disease-based arms. US officials want to avoid pressing Israel prior to its Jan. 22 elections to "adopt a public stance" on attending the conference, Potter said, because candidates to lead the Middle Eastern state might lock themselves into a policy that would "make it even more difficult for Israel to attend the conference in the future." After next year's Israeli elections, the Obama administration "may well exert more pressure on Israel" to commit to taking part in WMD-free-zone talks, he said.
A Note From the Desk of Billy Graham
Nov. 15….(Billy Graham) All of us care a great deal about our country. The intensity of opinions and feelings during the long political campaign showed the depth of that concern. Now with the votes counted, it is important to remember that whether we are personally pleased with the outcome or not, God wants us to pray for those chosen to be our leaders, at the national, state, and local levels. The Bible urges us to do so with both respect and thanksgiving (see 1 Peter 2:17; 1 Timothy 2:1–3).
We must also remember that no election will ever solve America's most basic problems. That is because the trouble, at its root, is in the human heart, and the only path to true restoration, for a person or for a nation, is through repentance. The Bible says, "Repent therefore, and turn back, that your sins may be blotted out, that times of refreshing may come from the presence of the Lord" (Acts 3:19–20, ESV). Only the Gospel, God's Good News, has the power to change lives, heal hearts, and restore a nation.
Israel Kills Top Hamas Terrorist Leader
(Israel braces for terror attacks and rockets on country's central region as Operation Pillar of Defense commences against Hamas)
Nov. 15….(Times of Israel) he Israeli Air Force on Wednesday launched a series of airstrikes in Gaza City, killing Ahmed Jabari, the head of Hamas's armed wing, the equivalent of an army's chief of staff, and his son, Mohammed al-Homs. Palestinian sources put the death toll at up to nine by evening. Following the air-strikes, Palestinians launched some 17 rockets at Beersheba, two rockets at the coastal city of Ashkelon, and two more at the Eshkol region. Some of the rockets were intercepted by the Iron Dome defense system. There were no immediate reports of injuries or damage. Residents within range of rocket fire from Gaza were requested to remain within 15 seconds of a shelter. School was called off for Thursday throughout the south, including in Beersheba, Ashdod and Ashkelon. The police raised alert levels amid fears of terror attacks.
The army confirmed the airstrike on Jabari and said that it had launched a "widespread campaign on terror sites and operatives in the Gaza Strip, chief among them Hamas and Islamic Jihad targets." The IDF Spokesperson's Office told The Times of Israel that the campaign was being referred to as "Operation Pillar of Defense." "By nature of his position, Jabari has been responsible over the past decade for all anti-Israel terror activity emanating from the Gaza Strip," the Shin Bet security agency said in a statement. Israeli military officials, speaking on condition of anonymity under army regulations, said Jabari was identified by "precise intelligence" gathered over several months. Hamas's armed wing warned that in assassinating Jabari, Israel "had opened the gates of hell on itself."
Hamas Threatens "Gates of Hell to be Unleashed"
Nov. 15….(The Telegraph) Hamas says that the Israeli air strike in Gaza which killed Ahmed Jabari, the head of its military wing, "has opened the gates of hell". Jabari, who is the most senior Hamas official to be killed since an Israeli invasion of Gaza four years ago, was killed in an air strike on a vehicle, in a dramatic resumption of Israel's policy of assassinating Palestinian militant leaders. Jabari has long topped Israel's most-wanted list, the Associated Press reported, and was blamed for in a string of attacks, including the kidnapping of Israeli soldier Gilad Schalit in 2006. His son was also reportedly killed in the targeted air strike, according to Osama Hamdan, a Hamas representative in Lebanon, talking to Al Jazeera in Doha. Avital Leibovitch, an IDF spokesman, confirmed that Jabari was targeted. "The first target we targeted was Ahmad Jabari. A short time ago we completed another phase in the operation which included 20 different targets of rocket launcher pads," Leibovitch said. "Israel is exercising its right to protect itself, and Jabari has a lot of Israeli blood on his hands." sraeli officials had said in recent days that they were considering assassinating top Hamas officials following a wave of heavy rocket fire from the Hamas-ruled Gaza Strip. The Israeli army said that the military was prepared for a ground operation in Gaza, with a spokesman saying: "All options are on the table."
Another Israeli military spokesman, Brigadier-General Yoav Mordechai, said the aerial assault on the Gaza Strip on Wednesday could draw cross-border Palestinian rocket attacks and stretch into days of fighting. "The days we face in the south will, in my estimation, prove protracted," he told Channel 2 TV. "The homefront must brace itself resiliently." Asked if Israel might send ground forces into Gaza, Mordechai said: "There are preparations, and if we are required to, the option of a entry by ground is available."
The Qassam Brigades issued a furious communique in response to Jaabari's death, saying Israel had "opened the gates of hell on itself." Columns of smoke rise following an Israeli air strike in Gaza City. And Fawzi Barhum, a spokesman for the political wing of the ruling Islamist movement said it was tantamount to a "declaration of war." "The occupation committed a dangerous crime and crossed all the red lines, which is considered a declaration of war," he said in a statement. "The occupation will pay dearly for this and we will make it regret the moment they thought about it."
Meanwhile, witnesses reported seeing dozens of Israeli tanks massed along the border east of Gaza City. Egypt's foreign ministry condemned the strikes while the UK Foreign Office urged restraint from both sides. Egytian state television later said the country had withdrawn its ambassador from Israel.
Palestinian President Mahmoud Abbas called for an urgent Arab League meeting, according to Egyptian news agency MENA. "Barakat al-Fara, the Palestinian ambassador in Cairo and the Palestinian representative in the Arab League, announced that based on instructions from President Mahmoud Abbas, the Palestinian state had asked for an urgent meeting of the Arab League to discuss the Israeli offense on Gaza strip," MENA said. Earlier in the day, an Israeli official said they may try to topple Abbas if he carries out a plan to ask the United Nations this month to upgrade the status of the Palestinian Authority. Newspaper reports say Israel instructed its ambassadors to warn it may revoke all or part of the 1993 Oslo Accords between Israel and the Palestine Liberation Organisation, which set up the Palestinian Authority under an interim peace agreement.
Obama Silent as Egypt's Muslim Brotherhood Backs Hamas
Nov. 15….(Breitbart) Today, Egypt's Freedom and Justice Party, the political wing of the Muslim Brotherhood, a party formerly headed by current President Mohammed Morsi, announced that Egypt would get involved if Israel continued to kill terrorists in the Gaza Strip. Such Israeli action, said the party, would prompt "swift Arab and international action to stop the massacres." The party also warned that Israel "must take into account the changes in the Arab region and especially Egypt. Egypt will not allow the Palestinians to be subjected to Israeli aggression, as in the past." The question now is whether the Obama administration will be able to prevent Egypt from attempting overt or covert intervention on behalf of Hamas in the Gaza Strip. If the United States leads from behind, or worse, if they show daylight with Israel – Israel's security will be in grave danger. Even as dozens of rockets are fired at Israel, the Obama administration has yet to say anything. The Obama administration, by contrast, couldn't shut up about a YouTube video even as Americans were slaughtered in Benghazi. And Obama continues to tout the Arab Spring as an awakening for freedom and liberty rather than for Islamism. No wonder Israel's neighbors in the north (Syria) and south (Gaza and Egypt) are getting aggressive. They have a friend in the White House.
Obama: I Sent Susan Rice to Talk to the American People About Benghazi
Nov. 15….(Weekly Standard) President Barack Obama revealed at his press conference this afternoon that he is responsible for sending UN ambassador Susan Rice to speak to the American people a few days after the September 11 Benghazi terror attack. "As I said before, she made an appearance at the request of the White House in which she gave her best understanding of the intelligence that had been provided to her," Obama said at the press conference, defending the statements the ambassador to the UN made regarding the Benghazi attack. Rice has been widely criticized for giving misleading statements about Benghazi. She maintained that the killing of four Americans stemmed for a spontaneous protest that got violent. Later evidence, however, revealed that US officials had real-time updates from Americans on the ground in Benghazi, and that terrorists were immediately suspected. "When they go after the UN ambassador, apparently because they think she's an easy target, then they've got a problem with me," Obama said today. Earlier today, Senators John McCain, Lindsey Graham, and Kelly Ayotte said they would oppose any move by Obama to make Rice the next secretary of state. That is what Obama was responding to today.
FOJ Note: There you have it. President Obama sent Ms. Rice out to tell the American people a bold-faced lie about Libya, and to further lay the blame at America's doorstep for not respecting ISLAM. This President should be impeached tomorrow.
Egypt Recalls Ambassador to Israel after Jabari Hit
(Cairo recalls ambassador from Israel, urges Security Council to hold emergency meeting, presidential spokesman says. Iran says Israeli strike another sign of 'Zionist regime's barbarity')
Nov. 15….(YNET) Egypt has recalled its ambassador in Israel, Yasser Ridha, following the assassination of top Hamas military commander Ahmed Jabari, Egyptian TV reported Wednesday. It is still unclear whether the envoy is being called back for consultations or for a longer period. Earlier on Wednesday, Egyptian Foreign Minister Mohamed Kamel Amr condemned Israel's airstrikes in Gaza remarking that "the Israeli escalation comes at a critical point in the Middle East which threatens to harshly exacerbate matters." "President Mohamed Morsi has followed the Israeli brutal assault in which a number of martyrs and sons of the Palestinian people were killed," presidential spokesman Yasser Ali said in a statement on television and on his Facebook website. "On this basis he has recalled the Egyptian ambassador from Israel; has ordered the Egyptian representative at the United Nations to call for an emergency meeting at the Security Council ... and summoned the Israeli ambassador in Egypt in protest over the assault," the statement added.
Morsi also called on the Arab League's secretary general to convene an emergency meeting of Arab foreign ministers and conveyed Egypt's condolences to the people of Gaza. Foreign Minister Amr had demanded that Israel immediately stop its strikes in Gaza "and avoid any act that might escalate matters further." He also warned Israel of the negative consequences of the escalation on peace and security in the region. Meanwhile, the Muslim Brotherhood's Freedom and Justice Party issued a statement condemning Jabari's assassination. "This crime warrants a swift Arab and international move in order to stop the acts of carnage against the Palestinian people in Gaza which Israel's government uses as bargaining chip as part of the political conflict in Israel," the statement said. It was further noted that "the return to the policy of targeted killings of Hamas senior officials illustrates that the Israeli occupation wants to drag the region to a state of instability but the occupation state must realize that that the change in the Arab world, and especially in Egypt, won't allow the Palestinian people to be subjected to Israeli aggression as in the past." Egypt's ruling party also offered its condolences to the "leaders of the Palestinian resistance, Hamas and the Palestinian people."
Mustafa a-Ranimi, a member of the Muslim Brotherhood, announced that the group is imploring Egyptian leaders to take a strong position against the Israeli aggression in Gaza. He told the Anatolia news agency that the group is calling for the Egyptian ambassador to be recalled and the Israeli envoy in Egypt to be expelled.
Iran also condemned the Israeli strike in Gaza. Foreign Ministry spokesman Ramin Mehmanparast said that the act is another sign of the "Zionist regime's barbarity." He remarked that "one of the goals of these crimes is to cover for the Zionists' domestic troubles."
Egypt Makes Move Toward Diplomatic War Against Israel
Nov. 15….(DEBKA) Palestinian Hamas and other terrorists fired 50 more rockets from Gaza Wednesday night, Nov. 14, after an Israeli air assault killed the Hamas military chief Ahmed Jabari and destroyed a long list of missile sites. Iron Dome intercepted 17 of the incoming rockets against Beersheba (three salvoes), Ashdod and Eshkol. None caused casualties. Egyptian President Mohamed Morsi, after some hesitation, decided not to issue a statement on the Israeli operation. Instead, he recalled his ambassador from Tel Aviv and decided to call a UN Security Council session to stop "Israeli aggression." The Israeli ambassador was summoned to hear Egypt's foreign ministry. So far, Cairo has not acted to sever relations.
After confirming the death of the master-terrorist Ahmed Jabari, commander of Hamas's military arm, Ezz e-din al-Qassam, Hamas announced: We are now at war with Israel. Jabari, 52, was killed by a targeted Israeli air attack in Gaza City. A key figure in the radical Palestinian Hamas movement, he was caught driving in a black Mercedes in Gaza City. Hamas has announced a general call-up and threatened to respond not just with rockets but suicide attacks inside Israel. Its leaders warned that their Fajr-5 rockets had a range of 75 kilometers and could reach locations north of Tel Aviv.
Israeli sources say the air operation called Pillar of Cloud aimed at targeting more Hamas leaders, degrading its military infrastructure and demolishing its rocket stocks, especially the long-range Fajrs. The Israeli Navy joined the air force in striking Palestinian missile sites in southern Gaza from the sea. In their first report on progress, Wednesday night, Prime Minister Binyamin Netanyahu reported that the wave of Israeli air strikes over Gaza had seriously degraded the Hamas terrorists' ability to conduct missile attacks on central Israel, despite a major effort to avoid harming civilians. "We are set to expand out counter-terror operation if necessary." He said.
Defense Minister Ehud Barak said that most of Hamas's Fajr rockets and their silos had been hit as well as many other strategic sites. Operation Pillar of Cloud had four objectives, said Barak: restoring Israel's deterrence; seriously reducing the terrorists' rocket arsenal; harming their high-profile leaders and restoring peace to southern Israel.
The IDF spokesman reported that reserve units are standing by in case a ground operation is called for by a Palestininan escalation. Special police units are on the ready in all parts of Israel for possible terrorist attacks. Locations within 40 kilometers range of the Gaza Strip were advised to stand ready to take rocket attacks from Gaza until the Operation Pillar of Cloud was over. All schools within rocket range of the Gaza Strip will remain closed Thursday and emergency services are on high alert. The million Israeli civilians suffering perennial Palestinian rocket assaults are advised to stay close to shelters for the duration of the operation.
Nuclear Iran Seeks An Apocalyptic Holy Man
Nov. 15….(Sharon Sebastian) President Barack Obama knows who the enemy is. September 11, 2012 was clear evidence that the killing of Osama Bin Laden was not a fait accompli when it comes to ending the terrorist threat. Obama is reluctant to openly admit that radical Islam's open declaration of war presents a danger to America. The state of Israel shows no such hesitancy. Israeli Prime Minister Benjamin Netanyahu recently stood before the United Nations and warned of a medieval war of civilizations that is set to erupt global security. A nuclear armed Iran is far different, Netanyahu pointed out, than a nuclear armed Russia.
Netanyahu emphasized the distinction between the two ideologies of Iran and Soviet Russia: "Militant Jihadists behave very differently from Secular Marxists. There were no Soviet suicide bombers. Yet, Iran produces hordes of them. Deterrence worked with the Soviets because every time Soviets chose between their ideology and survival, they chose survival. But, deterrence may not work with Iranians when they get their nuclear weapons."
Netanyahu went on to explain that the difference between the two aggressors is the value placed on life. Iran anticipates its own destruction as a price to pay for bombing the globe into chaos: "A great scholar of the Middle East, Bernard Lewis, put it best: 'For the Ayatollahs of Iran, mutual assured destruction is not a deterrent, it's an inducement. Iran's apocalyptic leaders believe that a medieval Holy Man will reappear in the wake of a devastating holy war, thereby insuring that their brand of radical Islam will rule the earth.' Now, that's not just what they believe, that is what is guiding their policies and their actions."
Americans and nations worldwide must recognize the seriousness and inflexibility of Iran's goal towards mutual destruction and the Obama administration's role to date in the rapidly developing global crisis. Inexplicably to many, Barack Obama unleashed uprisings in the Middle East while implementing a radical Socialist agenda to "transform America" back home. The overall intent is not as bifurcated as it may appear. The radical Islamists are waging a war of religion while the radical left is waging a war of ideas. The mutual goal is the toppling of a republic based, Judeo-Christian founded and Constitutionally-grounded America. Jihadists want America to become an Islamic state like Iran, whereas the left wants a "transformation of America" to a Socialist nation. Both systems devour individual rights and freedoms. Key to both movements is total elimination of all belief systems counter to their own. Were they to succeed, as natural enemies, Islamists and Socialists will eventually target one another. Radical Islam condemns to death all that reject a belief in Allah. Socialists constitute much of America's Progressive-Left and have consistently legislated God out of American society, seeking to become god to the masses.
President Obama is the titular head of the Progressive-Left. President Obama understands Islam having studied the Koran in Indonesia. Part of the curriculum was that The Twelfth Imam or Twelfth Mahdi is the Islamic savior — its Islamic messiah. Islam requires that in order for the Twelfth Imam to reveal himself, the world must be in global war. Iran's President Mahmoud Ahmadinejad reportedly believes that he has the divine mission to "hasten the return" of the 12th Mahdi. Destroying Israel, then America, erupts the world into the chaos needed for the Mahdi's return.
Some 600 years before Islam, Christ appeared during His first coming as God-incarnate. The Christian Messiah is the Savior Jesus Christ. Islam reveres Jesus as a lesser prophet and not God, which puts Islam at inextricable odds with Christianity. Iranian President Ahmadinejad believes the "Mahdi" or "Twelfth Imam" will appear publicly during a time of great disaster, with Jesus at his side, to bring peace to a war-torn world. It is said that the 12th Mahdi will take Jesus to Mecca to replace the Bible with the Koran so that Christians worldwide will convert to Islam. A "Muslim anti-Christ" is also to surface in the world and falsely convince Jews that he is their "Jesus the Messiah" that they have long awaited.
An "Islamic Jesus," it is said, will kill all Jews and behead anyone worldwide who does not accept Islam as the only true religion. The Islamic Mahdi will set-up his kingdom in Jerusalem, establish a worldwide Caliphate, along with Shariah Law, and rule the world. Homosexuals will be killed and women will remain as property and oppressed. Such belief is a driving force of today's war on non-Islamic nations; an ancient war based on fundamental Islam that has entrenched the globe in a war on terror. Those who identify themselves as moderate Muslims declare that only extremists hold such beliefs.
The funding by Iran of the upheaval in the Middle East, the positioning of radical Muslim groups in governments across the region from Lebanon to Egypt cannot simply be dismissed as a war of ideologies between the West and the Muslim world. By Ahmadinejad's admission, Iran's role in the turmoil in the Middle East is to set the stage for the return of the Twelfth Imam. Obama's years studying Islam should have taught him that he cannot schmooze leaders like Ahmadinejad, gain their favor, and unmoor them from what they believe is the only reason they exist on the planet. Islamic radicals seek world chaos targeting first Israel and then the United States. For Barack Obama to in anyway diminish the radical Islamist threat prioritizes his personally held biases that jeopardize America's safety.
Benjamin Netanyahu has recognized the danger and has openly warned of it for more than 15 years: "Shockingly, some people have begun to peddle the absurd notion that a nuclear armed Iran would actually stabilize the Middle East. Yeah, right. That's like saying a nuclear armed Al-Qaeda would usher in an era of universal peace. I speak about it now because the Iranian nuclear calendar does not wait for anyone or anything. I speak about it now because the hour is getting late, very late. I speak about it now because when it comes to the survival of my country, it is not only my right to speak, but my duty to speak. And, I believe that this is the duty of every responsible [world] leader who wants to preserve peace." Netanyahu warned that it is not just Israel and the United States, but the world at large that is being targeted: "Militant Islam has many branches, from the rulers of Iran with their Revolutionary Guards to Al Qaeda terrorists to the radical cells lurking in every part of the globe. But, despite their differences, they are all rooted in the same bitter soil of intolerance. That intolerance is directed first at their fellow Muslims, and then to Christians, Jews, Buddhists, Hindus, secular people, anyone who doesn't submit to their unforgiving creed, and their Prophet."
Foreign Aid to Palestinians: Where Has the Money Gone?
Nov. 14….(Israel Today) The Jerusalem Institute of Justice (JIJ) has conducted research revealing that since the signing of the Oslo Accords in 1995, the Palestinian Authority has been the recipient of 25 times more financial aid per capita (considering current inflation) than the citizens of Europe received under the Marshall Plan following World War II. For those who know their history, the Marshall Plan financially enabled Europe to successfully rebuild following the most devastating war in history. And yet, having been handed 25 times more cash and resources than post-war Europe, the Palestinian Authority continues to complain of unemployment, a faltering economy and destitute living conditions. Oh, and guess what Americans and Europeans, it's your money primarily that has been sunk into the economic black hole that is the Palestinian Authority. "Poverty in the Palestinian areas could have been eradicated years ago," wrote JIJ founder and director Calev Myers. "The Palestinian people should be outraged by this. So should Americans and Europeans."
Sadly, that does not seem to be the case. Myers pointed out that under the Obama Administration, American financial aid to the Palestinian Authority has increased 600 percent. It has long been argued that the most tragic and irresponsible move in the ongoing peace process was to hand the reins of the Palestinian Authority to Yasser Arafat's PLO. The equivalent today would be inviting Al Qaeda to rule a newly democratic Iraq. Under the PLO, the Palestinian Authority is a repressive, corrupt and hopelessly mismanaged regime from which the Palestinians now have little hope of being freed.
Obama Reelected: Netanyahu's Worst Nightmare
Nov. 14….(excerpt/In The Days) The astonishment that seized Prime Minister Benjamin Netanyahu and his advisers on Wednesday morning, as President Barack Obama crossed the threshold of 270 electoral votes needed to return him to the White House, was as absolute as it was authentic. Netanyahu was utterly convinced that the presidency was in the pocket of the candidate of his choice, his old buddy Mitt Romney. In private conversations, he ridiculed anyone who advised him not to rule out a scenario in which the other candidate was the winner. The day after the election, Netanyahu went into battle mode. Cabinet ministers were instructed not to talk about Obama. Members of the prime minister's close circle mobilized to rebuff allegations that their boss had intervened in the American elections. "What, we intervened? No way," the confidants shot back angrily. "Show us one specific place of intervention. It's an allegation people are concocting to hurt the prime minister. Both US candidates used the prime minister in their election campaign. Both candidates debated which of them has closer ties to Israel and with the prime minister." Netanyahu's key mistake with regard to Obama in recent months, a hypersensitive period, was to sharpen the critical message about him in connection with Iran and to draw the "red lines." In the case of Iran, Netanyahu went out of his way to send a message to American Jewry that a second term for Obama would be bad news for Israel. For that he will have to pay a price, at a rate, time and place to be chosen by Mr. Obama.
Many States Moving Towards Seceding from US
(Movement started day after election, spreading like wildfire)
Nov. 14….(WND) Residents in the state of Louisiana are petitioning to secede from the US, and residents in over 30 more states have filed requests with the White House to peaceably break from the union. Furthermore, the Louisiana petition has topped 27,000 signatures, exceeding the threshold needed after which the White House has pledged to respond. And for Texas, one of the new states to join the fray, the signature count now tops 60,000.
The White House's We the People website explains that once a petition reaches 25,000 signatures, it will be placed on a queue for response from the administration. The website also maintains a page for previous petitions that have received a White House response. Joining Louisiana now are Alaska, Utah, Wyoming, California, Delaware, Nevada, Kansas, Ohio, South Dakota, West Virginia, Nebraska, Pennsylvania, Arizona, Oklahoma, Arkansas, South Carolina, Georgia, Missouri, Tennessee, Michigan, New York, Colorado, Oregon, New Jersey, North Dakota, Montana, Indiana, Mississippi, Kentucky, Florida, North Carolina, Alabama and Texas.
The Louisiana petition, which has served as a pattern for many of the new states, reads as follows: "We petition the Obama administration to: Peacefully grant the State of Louisiana to withdraw from the United States of America and create its own NEW government." It continues, "As the Founding Fathers of the United States of America made clear in the Declaration of Independence in 1776: 'When in the Course of human events, it becomes necessary for one people to dissolve the political bands which have connected them with another, and to assume among the powers of the earth, the separate and equal station to which the Laws of Nature and of Nature's God entitle them, a decent respect to the opinions of mankind requires that they should declare the causes which impel them to the separation.'"
The petition concludes with a further quote from the Declaration of Independence: "'Governments are instituted among Men, deriving their just powers from the consent of the governed, that whenever any Form of Government becomes destructive of these ends, it is the Right of the People to alter or abolish it, and institute new Government.'" So far, the President has not commented on the petition and there is no guarantee that he will. The terms of participation give the president some loopholes. The US constitution contains no provisions for states to secede from the union. The last time states officially seceded, the US Civil War followed.
Egypt's Muslim Brotherhood Blames Israel over Gaza Strikes
(Egyptian ruling party accuses Israeli leaders of heating up conflict with Gaza factions to score political points ahead of elections; Brands Israel as 'racist state')
FOJ Note: How dare Israel keep forcing the Gaza terrorists to fire rockets into Israel. What a joke! (sic)
Nov. 14….(YNET) Egypt's powerful Muslim Brotherhood sharply criticized Israeli leaders on Tuesday over air-strikes in the Gaza Strip, accusing them of heating up the conflict to score political points ahead of elections. The latest round of violence began Saturday, with rocket attacks from Gaza militants and Israeli air-strikes on the Strip. More than 100 rockets have exploded in Israel since the weekend. The exchanges appeared to die down on Tuesday. In its statement, the Brotherhood's Freedom and Justice Party referred to Israel as a "Zionist occupier" and a "racist state," placing Prime Minister Benjamin Netanyahu and Foreign Minister Avigdor Lieberman on the "fringes" of the "far right." "In the framework of elections that Israel is witnessing is a recent military escalation against occupied Gaza and the occupied Golan Heights," the statement said. Israel has set parliamentary elections for Jan. 22. The Brotherhood's party called on Arab and Muslim governments "to stop the Zionist war that is operating under electoral calculations for personal gain far from humanitarian calculations for peace, security and stability."
The Muslim Brotherhood itself released a separate statement shortly after its party's, sharpening the criticism and accusing Israel of following a policy that tries to appear opposite itself "and God knows they are liars." "The killing of tens of our innocent Palestinian brothers is part of a link in a chain of oppression and Judaization that seeks to impose itself on the ground, and that will never materialize with God's will," it said. The harsh pronouncements followed a small demonstration in Cairo Monday and open letter signed by several liberal parties and revolutionary groups denouncing the Israeli strikes on Gaza.
The statements by both the Brotherhood and its political party highlight decades of tensions between neighbors Israel and Egypt, despite a 1979 peace treaty. The Islamists, repressed in Egypt under the regime that was ousted last year, have emerged as the most powerful group since last year's popular uprising. They won parliamentary elections and the presidency.
Last month, the group's supreme leader, Mohammed Badie, released a fiery tirade against Jews, accusing them of spreading corruption, slaughtering Muslims and desecrating holy sites. The comments were denounced by Israeli officials and a leading anti-Semitic watchdog group. Unlike his predecessor, the ousted Hosni Mubarak, President Mohammed Morsi has not met Israeli officials since his election in June. He has also not mentioned Israel by name in official statements, in line with longstanding Brotherhood policy.
Syrian Opposition Gains Recognition From Arabs & West
Nov. 13….(In The Days) Mouaz Alkhatib, a former Muslim imam of a Damascus mosque, flew to Cairo to seek the Arab League's blessing for a new assembly, the day after he was unanimously elected to lead it. He made a concerted effort to address the sectarian and ethnic acrimony underlying 20 months of civil war that has killed 38,000 people. "We demand freedom for every Sunni, Alawi, Ismaili, Christian, Druze, Assyrian, and rights for all parts of the harmonious Syrian people," he said, calling on Syrian soldiers to desert and all sects to unite. His new Syrian National Coalition for Opposition and Revolutionary Forces received the endorsement of the six Sunni Muslim-ruled kingdoms of the Gulf Cooperation Council as the "legitimate representative of the Syrian people". Washington also promised to back the new body "as it charts a course toward the end of Assad's bloody rule and the start of the peaceful, just, democratic future". Rebels and opposition politicians formed Alkhatib's new opposition coalition after days of wrangling in Qatar under intense US and Qatari pressure.
Backers hope the new body will give rebels inside Syria more clout and reassure religious and ethnic minorities, after a Syrian National Council (SNC) made up mainly of exiled Islamists proved ineffective as the main opposition voice. Western and Arab opponents of Assad want the coalition to attract support from minority sects who had been alienated from the opposition by the prominence of well-organised Sunnis from the Muslim Brotherhood. They also hope to rein in Islamist fighters, some of whom they believe are linked to al Qaeda. "Alkhatib is a dynamic, progressive Islamist, popular in Damascus and the rest of Syria," said Mazen Adi, a prominent Syrian human rights defender who worked with Alkhatib before the revolt. "He is not a trigger-happy Jihadist, and he can play a role in containing the extremist groups."
Alkhatib met Arab League chief Nabil Elaraby before the gathering of Arab foreign ministers in Cairo. European foreign ministers are due to join them on Tuesday. An Arab League official said any recognition of the opposition would probably avoid describing it as the sole legitimate representative of the Syrian people, because some Arab states were still reluctant to jettison Assad altogether. "There are still Arab states like Iraq and Lebanon that are not fully supportive of the Syrian revolt," the official said, also on condition he not be identified. Alkhatib, in his early 50s, was jailed several times for criticizing Assad before fleeing into exile this year. He has long promoted a liberal Islam tolerant of Syria's Christian, Alawite and other minorities. Hassan Hassan, a Syrian commentator based in the United Arab Emirates, said Alkhatib, as an independent cleric, would be a counterweight to growing influence of the Muslim Brotherhood. Russia, which with China has foiled UN action on Syria and views Assad's opponents as pawns of the West, urged the new body to negotiate and to reject outside meddling.
NATO Will Defend Turkey Against Syria
Nov. 13….(Al Arabia) NATO will defend alliance member Turkey, which struck back after mortar rounds fired from Syria landed inside its border, the alliance's Secretary General Anders Fogh Rasmussen said at a meeting in Prague on Monday. "NATO as an organization will do what it takes to protect and defend Turkey, our ally. We have more plans in place to make sure that we can protect and defend Turkey and hopefully that way also deter so that attacks on Turkey will not take place," he said. Rasmussen also welcomed a weekend agreement by Syrian opposition groups to put aside differences and form a new coalition.
Netanyahu Warns World: We are Being Forced to Re-enter Gaza
Nov. 13….(Times of Israel) Prime Minister Benjamin Netanyahu on Monday started taking steps to shore up international support for a possible military ground operation into Gaza that would aim to quell the ongoing rocket fire from the strip. "The world must understand that Israel has the right and obligation to defend its citizens," he told some 50 ambassadors in Ashkelon. "We will not sit idly in front of recurrent attacks that occur almost daily, against our citizens and our children. "More than one million citizens have to live in a reality where within 15 or 30 seconds they need to find shelter against terrorists who shoot at civilians, while the terrorists themselves hide behind civilians. That's a double war crime. None of your governments would accept such a situation. We do not accept such a situation, and I as prime minister of Israel am not prepared to accept this situation, and we will act to stop it."
The rocket fire continued for a third day Monday, albeit initially at a slower pace; as of early Monday afternoon, some 150 rockets and mortar shells had hit Israel since Saturday. Twenty-six people were treated for shock after a direct hit on a home in Netivot on Monday morning. "Netanyahu wants to make sure that the international community will understand the reasons if Israel is forced to act," a government official said Monday ahead of the prime minister's meeting with the senior diplomats.
The government official, who spoke on the condition of anonymity, neither denied nor confirmed reports that Israel was planning a ground invasion into Gaza. "Different options are being looked at," he told The Times of Israel. "It's more than possible that there will be a need to reassert Israeli deterrence," the official said. Education Minister Gideon Sa'ar said Sunday that an extensive ground operation for Gaza was being planned.
Meanwhile, European Union foreign policy chief Catherine Ashton said she condemned the firing of rockets and mortars into Israel and called on both sides "to refrain from exacerbating the situation." "Further regrettable loss of life and injury must be avoided. I support the mediation efforts by Egypt and reiterate that there is no place for violence in the Middle East. It is only through resumed negotiations that the legitimate aspirations of both Palestinians and Israelis will be met, through a two-state solution," Ashton said in a statement. The French Foreign Ministry similarly condemned the rocket fire into Israel and called, asking both sides to exercise " great restraint to avoid any additional escalation."
During Sunday's weekly cabinet meeting, Netanyahu said Israel was prepared to "intensify" its response to the ongoing rocket fire. "The IDF is operating, and will operate, aggressively against the terrorist organizations in the Gaza Strip, which are taking heavy blows from the IDF. The world needs to understand that Israel will not sit idly by in the face of attempts to attack us. We are prepared to intensify the response.
Defense Minister Ehud Barak said Israel would not hesitate to reenter Gaza: "If we are forced to go back into Gaza in order to deal Hamas a serious blow and restore security for all of Israel's citizens, then we will not hesitate to do so."
FOJ Note: Residents of southern Israel said they have suffered long enough at the hands of Gaza-based terrorists. Over 150 rockets and mortars had hit communities across southern Israel over a 36-hour period. Local residents told The Jerusalem Post that after 10 years of suffering such attacks they have had enough, and many just want to leave the area, which, of course, is precisely the aim of the terrorists - to drive the Jews of lands they consider to be Muslim territory. Ruvik Danilovich, the mayor of the large southern town of Beersheva, said that it was time for the government to take decisive action and end what is becoming a war of attrition. Israeli military officials have been saying for over a month now that another ground invasion of Gaza was only a matter of time, as the only way to truly stop the rocket fire is to root out the terrorists in house-to-house combat. But many Israelis remain skeptical of their leaders' threats, remembering that the government, fearing international condemnation, is usually forced to back-step from any real solution.
Salafists Keep up Missile Fire From Gaza
Nov. 13….(DEBKAfile Special Report) Most Palestinians organizations led by Hamas convened in Gaza City Monday night, Nov. 12, to approve the cessation of their three-day rocket offensive against Israel brokered by Egypt. The meeting was shunned by the Salafists, who instead signaled their repudiation of a truce by firing 5 heavy Grad rockets against the Israeli towns of Netivot, Beersheba and Ofakim. Debkafile's counter-terror sources report that the Salafist extremists, some affiliated with al Qaeda, were behind most of the missile attacks during Monday, topping up the 300 assorted rockets fired against the southern Israeli population from Saturday.
So while, the IDF refrained from striking the rocket teams during the day in expectation of a ceasefire, and instead scattered leaflets reminding Gazans to stay 300 meters back from the Israeli border fence, the Salafists were busier than ever taking delivery of a fresh load of Grad rockets through the smuggling tunnels from Sinai to sustain their continuous barrage against Israel.
The easternmost point of those tunnels, the intersection of the Israeli, Egyptian and the Gaza Strip borders, is just out of reach of the Israeli army. For a strike to effectively stop the flow of smuggled hardware, Israel would have to hit the key section which runs through Egyptian territory. Hamas can't reach those tunnels either, because the Salafist groups which control the southern section of the Gaza Strip bar their access. But the Jihad Islaic is a different matter. This Iranian proxy does play ball with the Salafists and in fact shares with them some of its own Grad supplies. The Jihad thus plays both sides against the middle, cooperating with Hamas and Egypt to enforce a cease-fire, on the one hand, and helping the Salafists scupper it, with the other.
Gaza's Palestinian terrorist organizations, including the ruling Hamas, have never upheld any truce for long, only reducing rocket fire to a trickle for long enough to stall a major Israeli attack, and reviving it full blast after a few weeks, The difference this time is that Jihad Islamic holds the key to the truce. If Tehran, Damascus and Hizballah wanted a ceasefire to hold up, they would order Jihad to withhold its assistance from the Salafists. But this has not happened. The view in the high IDF command, which handed its recommendations to the defense minister and prime minister Monday, is that even if the Salafists play along with the Egyptian truce bid for a couple of days to keep the Israeli military off their backs, when things quiet down, they will go back to shooting rockets. Their purpose is to keep Israel on the hop and its Prime Minister Binyamin Netanyahu on the horns of a dilemma.
FOJ Note: Salafist jihadism combines " a respect for the sacred texts in their most literal form, with an absolute commitment to jihad, whose number-one target is America, and perceived as the greatest enemy of the faith, after Israel. Salafist jihadists distinguish themselves from salafis they called "sheikist", so named because they had (according to the jihadists) forsaken adoration of God for adoration of "the oil sheiks of the Arabian peninsula, with the Al Saud family at their head. Salafists also is an "extreme form of Sunni Islamism that rejects any concept of democracy. Salafists also believe that the Muslim Brotherhood is not Jihadic enough in the quest to supplant democracy and incorporate strict Islamic law.
Israel Faced With 2-Front Escalating Wars
FOJ Note: For first time since the Yom Kippur War, the IDF has fired into Syrian territory: The IDF's Artillery Corps fired a missile at a post in Syria after a 120mm mortar shell landed in the eastern Golan Heights on Sunday morning. This was the first time that the Israeli army has fired at Syria since 1973.
Nov. 12….(DEBKAfile Special Report) Israel's deteriorating security situation erupted simultaneously on two fronts Sunday, Nov. 11. The IDF fired a Tamuz precision guided missile against a mortar position 4 kilometers inside Syria after a stray mortar hit the IDF Golan defense post at Tel Hazaka. It was the fourth incident of cross-border violence from the Syrian conflict in 10 days and the first time Israel had fired across the Golan border since the 1973 war. The Tamuz was developed by RAFAEL and is operated from specially modified M-113 Hafiz armored personnel carriers. At the same time, on the southern front, Palestinians fired Grad missiles from Gaza at the city of Beersheba after loosing a barrage of 60 missiles in less than 24 hours against multiple Israeli civilian locations. Iron Dome intercepted one of the missiles.
Four Israeli soldiers were wounded Saturday, two seriously by an anti-tank missile which set their jeep on fire. Four civilians were injured in their homes and hospitalized Sunday. The shot fired at Syria was described by the IDF spokesman as a warning to Damascus, backing up the Defense Minister Ehud Barak warning last week that spillovers from the Syrian war would not be tolerated and would elicit a military response.
Israel's military command expects the military confrontation on the Gaza front to escalate. Israel's emergency services have been elevated to maximum C-level preparedness in the South and also further north, in case Hamas expands its rocket offensive to central Israel as well. The Palestinian Gaza terrorist grades are now firing Multiple-Launch Rocket Systems (MLRS) "Katyshas" supplied by the Lebanese Hizballah and 120-mm bunker-busting mortars in their current offensive against Israeli towns, villages and troops, Israeli lawmaker Shay Hermesh revealed Sunday, Nov. 11 after 6 civilians sere hospitalized. The civilians injured Sunday in intense rocket fire aimed at Sderot, Shear Hanegev and the Eshkol district were apparently caught by concentrated Katyusha fire rather than the hit-or-miss Qassams or Grads.
Violence spewed out of the Gaza Strip again Saturday night, Nov. 10, with a rocket attack on an IDF Givaty Brigade jeep on a routine task some distance from the border, injuring four Israeli soldiers – one critically, two in moderate condition. This time Hamas' contractor was the Palestinian Popular Front. After Israeli tanks and helicopters fired back, the Palestinians fired rockets against the Eshkol and Shear Hanegev districts, followed by Grad rockets aimed at Ashkelon, Ashdod and Gan Yavneh. Iron Dome intercepted two. Locations north of Ashdod as far north as Gedera went on missile alert. No more casualties are reported thus far.
Thursday, Nov. 8, Palestinian terrorists detonated by remote a tunnel packed with explosives against a group of Israeli soldiers. None were hurt. The soldiers were searching for bombs rigged as booby-traps for use against their comrades. IDF units in the Gaza sector have been on high alert since before then as Palestinian attacks have kept on coming in an escalating spate, eight from Oct. 8 until this Saturday. But before that, on Oct. 6, two days after an Iranian stealth drone flew over Israel, Hamas loosed its heaviest barrage ever of 60 rockets and missiles against the Eshkol district. The IDF made no response this outrage.
On Oct. 13, after an Israeli air strike killed the jihadist Majlis Shura's commander, Hisham Saidani, Israeli civilians in Beersheba, Netivot and other locations suffered two running days of Palestinian rocket fire on their homes. On Oct. 19, an IDF patrol was hit by a roadside bomb near Ein Hashlosha. For three days, Oct. 22-25, rocket salvoes descended on Ashkelon and other locations. This time, the Palestinians began firing for the first time mobile 120mm multiple-firing "Katyusha" systems. Another roadside bomb near Kissufim seriously injured a senior IDF officer, blowing off both his arms. There was a further escalation after the Israeli bombardment of an Iranian missile plant near Khartoum, one of Hamas' arms suppliers. On Oct. 28, Palestinian Grad missiles were again fired at Beersheba and the regional area of Dimona where Israel's nuclear reactor is situated.
Obama Win Paving Pathway For Antichrist?
Nov. 12….(Christian Post) A Texas megachurch pastor recently claimed that President Barack Obama's re-election victory would lead to the rise of the Antichrist. Robert Jeffress, senior pastor at the First Baptist Church in Dallas, made remarks on Sunday before the election that should Obama win, his victory would lead to the reign of the Antichrist. "I want you to hear me tonight, I am not saying that President Obama is the Antichrist, I am not saying that at all. One reason I know he's not the Antichrist is the Antichrist is going to have much higher poll numbers when he comes," said Jeffress. "President Obama is not the Antichrist. But what I am saying is this: the course he is choosing to lead our nation is paving the way for the future reign of the Antichrist." Jeffress would go on to say that "it is time for Christians to stand up and to push back against this evil that is overtaking our nation."
IDF Striking Hard Against Gaza Terrorists
Nov. 12….(Israel Hayom) Israel will continue to strike back decisively against terrorist groups in the Gaza Strip, Prime Minister Benjamin Netanyahu said on Sunday. Netanyahu spoke at the weekly cabinet meeting as ongoing violence around Gaza left eight Israelis wounded, four soldiers and four civilians. Five Palestinians have been killed and 25 wounded in the latest round of escalation. "The IDF is operating, and will operate, aggressively against the terrorist organizations in the Gaza Strip, which are taking heavy blows from the IDF," Netanyahu said. "The world needs to understand that Israel will not sit idly by in the face of attempts to attack us. We are prepared to intensify the response." Defense Minister Ehud Barak warned on Sunday that Israel would not allow terrorists in the Gaza Strip to "change the rules." "The main fight is on the Gaza Strip]border fence, where Al Qaeda is known to operate. The IDF says it holds Gaza's Hamas rulers responsible for the violence and that it will "not tolerate" terrorist activity emanating from Gaza.
In a text message to reporters, Hamas spokesman Fawzi Barhoum threatened to respond to Israeli military operations. The violence began on Saturday afternoon, when Palestinian terrorists fired an anti-tank missile at an Israeli army patrol vehicle on the Israeli side of the Gaza security fence. The missile scored a direct hit, and four Israeli soldiers were wounded, one seriously.
Israeli tanks immediately responded by bombarding selected terrorist installations in Gaza. A short while later, missiles and mortar shells started landing on Israeli towns and villages across the southern Negev region. At least 60 missiles and mortars were fired into southern Israel over the course of Saturday night. Three Israeli civilians were wounded in the night-long barrage, and widespread damage was reported. Israel responded with air strikes on additional targets in Gaza. Both Hamas, which rules the Gaza Strip, and its allies in Islamic Jihad claimed credit for taking part in the attacks. Israeli officials said they would be sorry for doing so. Israel last entered Gaza in force during the winter of 2008-2009. Despite the massive escalation in terrorist rocket fire that forced Israel to take action, the international community predictably blamed Israel for the conflict and its casualties.
Hamas: No Compromises With Israel on Anything, Ever
(Hamas reiterated its mantra - no compromise on any issue with Israel, until the 'last inch of Palestine is liberated')
Nov. 12….(Arutz) In response to statements by Palestinian Authority chief Mahmoud Abbas that he would not demand the "right of return" for PA Arabs to the homes that their grandparents and great-grandparents abandoned in the State of Israel, statements Abbas later reneged on, Hamas has issued its own document on the matter. Even if the PA as a matter of policy were to agree not to demand that nearly all the Jews of Israel be thrown out of their homes to accommodate the descendants of "refugees," Hamas said it wold never agree to such a plan, and any concessions Israel makes in return for the removal of the "right of return" from PA demands would be irrelevant, as far as the Gaza terror group was concerned. In an interview with Channel Two, Abbas said last week that he was "a Palestinian refugee from Tzefat. I would like to visit there but I don't want to live there. All we want is to establish an independent Palestinian state in the areas Israel occupied in 1967 with East Jerusalem as its capital."
The statement raised a firestorm in Arab media for its implied concession on the "right of return," the demand that PA Arabs be allowed to return to the homes and land their ancestors abandoned in 1948, when the State was established. Abbas later backtracked, saying that the statement was a "personal point of view," but that he had never intended to give the impression that he was compromising on demands that the descendants of refugees have the right to evict Jews from their homes in Israel and take them over.
The Hamas statement said that "the territory of Palestine is 27,027 square kilometers," an area that takes into account the entire Land of Israel, including the State within the 1948 armistice lines, and the lands Israel liberated in the 1967 Six Day War. "No one has a right to compromise on any part of Palestinian territory, which is part of the great Arab homeland, and whose liberation is an obligation of Palestinians, Arabs, Muslims, and the forces of liberalism in the world."
The statement adds that the descendants of Arabs who left the State in 1948 "have the right to return to their original homes in Palestine without any conditions, and they also have the right to compensation for their suffering and stolen property. No one has the right to surrender any of these rights, to compromise them, or to conduct negotiations on them." In addition, the statement says that Jerusalem is wholly Muslim, and no compromise on the its status as a Muslim city is possible, either.
Finally, says the statement, "The Zionist enemy in Palestine is the only enemy of the Palestinian people, and struggling against it using any and every means is a national obligation, until the last inch of Palestine is freed."
WEEK OF NOVEMBER 4 THROUGH NOVEMBER 10
Muslim Brotherhood-Backed Syrian Rebels Killing Christians
Nov. 10….(WND) Reports from Syria indicate members of the Free Syrian Army have started executing Christians while claiming they're shooting Syrian soldiers. A video of a Nov. 1 attack in which black-clad Syrian rebels reportedly killed 28 men has been posted on Youtube.com. An Agence France-Presse story on the attack identified the victims as Syrian soldiers. But Religious Freedom Coalition President William Murray said two of the victims were associated with his cooperating organization in Syria, which distributes aid. The victims were not soldiers, he said, but civilians from the same neighborhood, "so they were all probably Christians." He argued that even a brief review of photos of the attack indicates the victims were civilians. "They were not armed and never were combatants," Murray said. A human rights activist working in Syria whose name has been withheld for security reasons said two of the men were Christians. "Two of the men I am sure were Christians and were first kidnapped from their neighborhood, then taken out and shot," the activist said.
Act for America President and Founder Brigitte Gabriel said it's well known that the Syrian rebels are executing Christians. "The Syrians without a doubt are executing Christians. They are notorious for their tactical torture of their enemies," Gabriel said. "Those people rising against Assad and being crushed are all Muslim Brotherhood whom Bashir Assad's father, Hafez Assad, crushed 30 years ago in Hama," Gabriel said. Gabriel added that the rebels feel empowered, which only fuels their hatred of Christians. "Now they are feeling empowered after what they saw in Egypt, Libya and Tunisia. They feel this is their opportunity. They despise the Christians living in Syria and would love to either convert them or kill them," Gabriel said.
Obama Complicit in Muslim Brotherhood Ops in Syria
The strategy the United States is pursuing in Syria began by assigning Ambassador Christopher Stevens to operate a weapons pipeline from Libya to Syria by way of Turkey. WND reported recently that Stevens' purpose for being in Libya was to move weapons to Syria. Stevens' involvement in Libya goes back over a year, when intelligence analysts reported that he was appointed initially as the official US representative to the rebel army. He was only elevated to the ambassadorship after the overthrow of Libyan strongman Moammar Gadhafi.
In Libya, Stevens' major mission reportedly was to funnel weapons, including RPGs and other bigger weapons, to Syria. WND reported in the same story that Stevens' mission put him in direct contact with al-Qaida and other jihadist groups. Center for Security Policy Senior Fellow Clare Lopez said that Stevens and top administration officials knew that Libya's opposition movement was populated by elements of several radical jihadi groups including al-Qaida, Ansar al-Shariah and the Libyan Islamic Fighting Group.
Christian Pastor: The Church is Hopelessly anti-Semitic
Nov. 10….(Israel Today) At an interfaith conference bringing together Jewish leaders and Protestant Christian pastors outside Jerusalem this week, several of the Christian representatives painted a very worrying picture about the future of relations between Israel and the mainstream Church. While an estimated tens of millions of individual Christians around the world love and support the Jewish state, many of the mainline Protestant churches have been actively boycotting Israel, encouraging pro-Palestinian activism and demanding that Western governments stop sending aid to Jerusalem.
One of the main Christian representatives at the conference was Rev. Paul Wilkinson, associate minister at Hazel Grove Full Gospel Church in Stockport, England. Over the past few years, Wilkinson has studied up close the phenomenon of what he calls "Christian Palestinianism," a politicized movement that seeks to eliminate Christian support for Israel and transfer it to Palestinian nationalists. Wilkinson said he is "completely pessimistic in terms of believing that I, we, are going to overturn 2,000 years of erroneous theology that has manifested itself in all kinds of diatribes and anti-Semitic factions" within the Church. Wilkinson said that what stands behind Christian Palestinianism is classic Replacement Theology, which he called a "Goliath of theology in the church."
Rev. Andrew Love of the United Church of Canada agreed with Wilkinson that exaggerated humanitarian concern for the Palestinian Christians is being as the "rationalization for ultimately what I believe to be anti-Semitic ideas and anti-Semitic policies." Wilkinson lamented that this hatred for Israel, which harks back to millennia of hatred for the Jews, is rooted "deep in the heart of the Protestant Church," and is unlikely to be uprooted.
Christian Pastors Issue Dire Warnings After Obama Win
(God 'Will Judge Sin' & 'It Won't Be Pretty')
Nov. 10….(The Blaze) Evangelical preachers who came out strongly for Republican presidential candidate Mitt Romney (and even some who didn't endorse) have voiced their angst in the wake of President Barack Obama's re-election victory. But in addition to showcasing their personal dissatisfaction with the results, they also issued warnings of Biblical proportions.
On Wednesday, the Rev. Franklin Graham, son of famed evangelical leader Billy Graham, was candid about his fears for America's future. After celebrating his father's 94th birthday, Graham issued some apocalyptic-esque warnings to the American electorate. On the issues front, many evangelicals are fearful moving forward regarding what, exactly, a second Obama term will mean for issues like gay marriage and abortion. Southern Baptist Theological Seminary president R. Albert Mohler Jr., in the wake of the president's re-election victory, said that evangelical Christians "must see the 2012 election as a catastrophe for crucial moral concerns."
Ed Stetzer, president of LifeWay Research, also touched upon this theme when he outlined some of the lessons and considerations that believers may need to embrace in the wake of Obama's presidential win. Among his claims, he provides the hard-to-swallow (for evangelicals, anyway) notion that Christians may be on the losing side of the nation's culture war: "We must face the reality that we may be on the losing side of the culture war. For decades, the 'religious right' has focused its energies on winning the day through political means. But this year, voters in more than one state appear to have clearly passed referenda supporting gay marriage. This marks the first time for any state to legalize same-sex marriage by the expressed will of the people rather than through court rulings or legislation. While this certainly does not mean we should stop legal or political efforts completely, it does mean that we should begin thinking about what it looks like to be the church in a 'post-culture war' era. We need to be prepared to defend the protection of religious liberty as we move into the future." "Unless we're willing to repent for our sins, we will stand in God's judgment," he proclaimed. "I want to warn America: God is coming around. He will judge sin, and it won't be pretty." Graham also proclaimed that America may be risking God's blessings, seeing as the Lord purportedly "brings bedlam when countries turn their back on him." The faith leader warned that the Almighty may "withdraw his hand of protection."
Then there's Fred Luter, the first African American president of the Southern Baptist Convention. While he reiterated his belief that Christians should be praying for the nation's leader, regardless of party affiliation, he also claimed that America is "in trouble." "As citizens of the United States, it's now time for us to put away our yard signs and buttons and pray for our president," Luter said in a Baptist Press interview. "Our nation is in trouble, and we need Believers to pray God's will be done in America. We need to understand it's only going to happen because the people of God start praying for revival in America.
Obama Aims to Start Nuclear Talks With Iran Next Month
Nov. 9….(DEBKAfile Exclusive Report) After winning a second White House term, US President Barack Obama aims to start direct, fast-track nuclear talks with Tehran as soon as December, even before his January swearing-in, on the assumption that Iran's window of opportunity is very narrow, just three months, Debkafile's Washington sources disclose. White House go-betweens with the office of Iran's supreme leader Ayatollah Ali Khamenei warn that Iran's campaign for the June 14 presidential election gets going in March. After than, it is estimated in Washington, that Khamenei, whose ill health keeps his working-day short, will be fully absorbed in a struggle to purge Iran's political hierarchy of President Mahmoud Ahmadinejad and his clique. But Tehran would prefer nuclear diplomacy to be delayed for eight months until after that election. "We waited for the US election campaign to be over, so why shouldn't the Americans wait for ours?" a senior Iranian official asked rhetorically.
For now, the supreme leader is looking for a suitable candidate for the presidency. This time, the supreme leader is not expected to make the mistake of choosing a charismatic, ambitious and competent figure like Ahmadinejad, but rather one who is satisfied with acting as a representative titular figure and play second fiddle to Khamenei whose bureau will administer the executive branch of government.
The supreme leader is believed in Washington to be weighing another alternative: having parliament abolish the post of president and transferring its powers to the new post of prime minister, who would be chosen from among the 290 Majlis lawmakers. Speaker Ali Larijani and his brother, head of the judiciary Sadeq Larijani, have in the past year performed the spadework of sidelining Ahmadinejad's parliamentary faction. Ali Larijani himself is a front-runner for the job of Revolutionary Iran's first prime minister.
The view in Washington today is that if nuclear talks do start in December and roll on into March, Khamenei will be compelled to cut the process short to escape potential accusations led by Ahmadinejad that he is handing to America concessions excessive enough to stall Iran's nuclear aspirations. The supreme leader can't afford to have the Iran's military establishment, the Revolutionary Guards and the street turn against him on this issue. But in the last few days, Tehran appears to have taken a large step back from direct negotiations with Washington in principle. Just hours after Obama's election victory was announced on Nov. 7, the official Iranian news agency quoted Sadeq Larijani as condemning US sanctions as "crimes against the Iranian people." He said relations with America "cannot be possible overnight" and the US president should not expect rapid new negotiations with Tehran. "Americans should not think they can hold our nation to ransom by coming to the negotiating table," was the Iranian judiciary head's parting shot for Obama.
The gap between Washington and Tehran is as wide as ever: Obama wants the talks to last no more than three months and end in an agreed settlement of the nuclear dispute, whereas the ayatollah prefers a low-key process to be dragged out past the eight month-month period while also gaining more time for Iran's nuclear program to race forward. This tactic would additionally help Tehran erase yet another Israeli red line, the one set by Prime Minister Binyamin Netanyahu in his UN September speech when he said that the spring or early summer of 2013 would be the critical date for Israel to act.
Muslim Brotherhood: Obama Needs To 'Accept Shariah Law'
Nov. 9….(CBSDC) Islamists in the Middle East are speaking out following President Barack Obama's re-election Tuesday night. The Egyptian Muslim Brotherhood feels that the only foreign policy change Obama can bring is by "accepting the will of the Arab people." "We must rely on ourselves and on our resources and build our country," Issam Al-Aryan, a top Muslim Brotherhood official, said, according to The Times of Israel. "In the absence of direct American influence, Egypt can affect and lead the process of building a democratic and constitutional regime that will become a dream for African and the southern hemisphere."
Egypt's Muslim Brotherhood wants to make Shariah Law the main source of the country's new constitution. The terror group Hamas is calling for Obama not to be "biased" toward Israeli interests during his second term. "We heard moderate speech from Obama following his first term victory, but his policy was inconsistent with the speeches he gave in Egypt and Turkey," Taher Nunu, a Hamas government spokesman, said, according to The Times of Israel. "He now has an opportunity to implement those promises to the nations of the region, far from pressures by the Israel lobby and politicized money."
For its part, Iran wants Obama to force Israel to get rid of its nuclear weapons.
Obama Reelection Signals new Phase in Syria War
Nov. 9….(Times of Israel) Within hours of President Barack Obama's re-election the deadlocked Syrian conflict moved into a new phase Wednesday, with Britain's prime minister urging the US to join him in working directly with Syrian rebels and Turkey saying Washington has discussed protecting a safe zone inside Syria with Patriot missiles. The changes would mark a profound shift in Western efforts to oust Syrian President Bashar Assad, and indicate that leaders have been waiting for the result of the US presidential election before embarking on a new strategy to end the civil war that has killed more than 36,000 people.
British Prime Minister David Cameron, visiting a camp for Syrian refugees in Jordan, said the US, Britain and other allies should do more to "shape the opposition" into a coherent force and open channels of communication directly with rebel military commanders. Previously, Britain and the US have acknowledged contacts only with exile groups and political opposition figures inside Syria. The foreign ministry official, who spoke on condition of anonymity because of ministry prohibitions on contacts with the news media, said planning for the safe zone had been put on hold pending the US election. He said any missile deployment might happen under a "NATO umbrella," though NATO has insisted it will not intervene without a clear United Nations mandate. "There is an opportunity for Britain, for America, for Saudi Arabia, Jordan and like-minded allies to come together and try to help shape the opposition, outside Syria and inside Syria," Cameron said. "And try to help them achieve their goal, which is our goal of a Syria without Assad."
America Going Liberal with Gay Marriage, Abortion and Marijuana
Nov. 9….(Worthy News) US states backed legalising marijuana for recreational use, allowing gay marriage and rejected a call to ban public funding for abortions, in a swathe of statewide ballots Tuesday. The generally liberal moves were decided among more than 170 ballot initiatives and referendums held across the country, as it re-elected Democratic President Barack Obama for four more years. President Obama came out in favor of gay marriage months before the election, which pitted him against Republican rival Mitt Romney, who insists that marriage should be reserved for a relationship between a man and a woman. During his first four-year term Mr. Obama had also fulfilled a pledge to repeal the controversial Don't Ask Don't Tell (DADT) law banning openly gay servicemen and women from serving in the US military. Three states voted Tuesday to legalize same-sex marriage, including Maine, which voted in a referendum against it in 2009, but reversed that decision with 54 per cent in favour to 46 per cent against.
Israel Down, But Not Out With Obama Win
Nov. 8….(Israel Today) Israeli government officials belonging to the ruling right-wing parties had a difficult time hiding their disappointment over Barack Obama's victory in the US presidential election, but remained determined to keep Israel-US ties tight and secure. Deputy Knesset Speaker Danny Danon, a rising start in Prime Minister Benjamin Netanyahu's Likud Party, offered his congratulations to Obama, but said it was important to remember the incumbent American president had not been good to Israel during his first term. "It is my hope, and that of many Israelis, that the president resets his course relating to Israel and our region for the next four years," Danon said. "Rather than dictating ill-advised policies that endanger the well-being of America's only true ally in the Middle East, now is the time for President Obama to return to the wise and time-honored policy of 'zero daylight' between our respective nations." Danon said it was long past time for Obama to visit Israel, something he conspicuously avoided during his first term. Knesset Member Arieh Eldad of the National Union Party insisted Obama was "the most hostile president to Israel in recent decades" and cautioned that his reelection would not bode well for the Jewish State.
Netanyahu himself only thinly veiled his preference for challenger Mitt Romney to win the election in the months leading up to the poll. But Netanyahu's former bureau chief, Uri Elitzur, wrote that the lack of chemistry between Netanyahu and Obama may not be a bad thing for Israel. "It is not healthy for Israel to be in a situation in which the president of the United States is hugging our prime minister and pouring love on him," explained Elitzur. "When a big and small figure are good friends, the small one fulfills every request of the big one because it is unpleasant to refuse him." On the other hand, Elitzur pointed out, "when a big figure and small figure carry out negotiations in an atmosphere of distance and reservations, it is easier for the small figure to take a stand, defer proposals, make conditions and sometimes refuse."
Looking at the recent history of US-Israel relations as regards the peace process, for instance, Elitzur's analysis makes sense. It was Bill Clinton, who had great chemistry with both Israeli leaders and the public, who hoisted the doomed "Oslo Accords" on the Jewish state, and it was George W. Bush, the Israel-supporting Evangelical Christian, who presided over Israel's ill-fated surrender of the Gaza Strip.
Israel We Will Not Capitulate to Obama
(Warns president's reelection means Jewish state must 'take care of its own')
Nov. 8….(Klein on Line) The state of Israel will not capitulate before President Obama, whose "naive" leadership has hurt the US, stated Danny Danon, deputy speaker of Israel's Knesset. Danon, a Knesset member from Prime Minister Benjamin Netanyahu's ruling Likud party, was reacting to the reelection of Obama. Danon told KleinOnline: "Obama's victory demonstrates that the state of Israel must take care of its own interests. We cannot rely on anyone but ourselves. Obama has hurt the United States by his naïve leadership in foreign policy, which prefers the Arab world over the Western world, along with Israel. The state of Israel will not capitulate before Obama. "
Earlier this week, KleinOnline quoted a senior Palestinian Authority negotiator claiming that if Obama secures another four years in office, he will use his second term to target Netanyahu as the main party to blame for the collapse of Mideast peace talks. The negotiator further claimed that Obama quietly pledged to the Palestinians a campaign at the United Nations to renew UN Security Council Resolution 242, which calls for a Palestinian state to be established in the West Bank, Gaza Strip and eastern Jerusalem.
The PA negotiator said the White House had asked the Palestinians to slow their drive for the unilateral declaration of a state at the UN General Assembly. The negotiator further said Obama had promised the PA that the establishment of a Palestinian state will be one of the main priorities for a second term. "We were told that the negotiations for a Palestinian state will be a main goal for Obama," said the negotiator. "Netanyahu will be declared the main person responsible for the collapse of the peace process."
America Re-Elects Barack Obama: Mid East faces Nuclear Iran, Brotherhood Grip
Nov. 8….(DEBKAfile Exclusive) Barack Obama has won re-election as President of the United States, according to all the projections of the Nov. 6 vote, albeit ahead of the final count of ballots. The prospect of another four years of Obama in the White House fills some Middle East nations, including the Persian Gulf and Israel, with trepidation. They envisage a foreign policy that continues to focus on hitching US influence in the Muslim world, Sunni and Shiite alike, on to a wagon led by Iran as the first Islamic Shite Muslim nuclear power and the sponsorship of Muslim Brotherhood rule of Sunni Arab nations. For Israel, this policy translates bleakly into American backing for the two most forbidding ideological foes it has faced in all its 63 years: Iran, whose leaders call openly for Israel's extinction - even from the UN platform, although this is achievable only by nuclear aggression; and the hostile Muslim Brotherhood.
Only four days ago, senior Israeli Defense Ministry official Amos Gilead called the Brotherhood-ruled Egyptian government "a terrible dictatorship." After years of close ties with Egyptian rulers and military chiefs, Gilead said: "There is no official contact between the top tiers of Egyptian and Israeli government, and I don't think there will be." According to Debkafile's military and intelligence sources, Gilead offered a glimpse of a grimmer prospect which Israeli leaders are discussing behind close doors: They fear that the second Obama term will usher in a nuclear-armed Shiite Iran which will quickly reach out to the Sunni Muslim Brothers, starting with Egypt, for a joint bid to terminate the life of the Jewish state.
Before dismissing this scenario as paranoid hyperbole, it is worth taking a look at an opinion poll conducted in Egypt in late August of this year by the Greenberg Quinlan Rosner Research Institute. It aimed at canvassing popular ratings of Iran after the Muslim Brotherhood took power in Cairo. Stanley Greenberg, who is close to Democratic Party leaders, was recently hired by Israel's Labor Party as senior campaign strategist for the Jan. 22, 2013 election. This American pollster found that 61 percent of the Egyptians surveyed approved of Iran's nuclear weapons program, compared with 30 percent who disapproved. In 2009, the comparable figures were 40 percent for and 34 percent against a nuclear Iran.
The same poll in 2012 found 65 percent of Egyptians in favor of resuming the long-severed diplomatic ties with Tehran, as against 30 who were against. The undisguised discord between Barack Obama and Israel's Binyamin Netanyahu is usually presented as sparked by their falling-out over military action for preempting Iran's nuclear weapons program. This is both simplistic and misleading. Their differences are far broader in scope: Netanyahu and most other Israeli leaders contest Obama's signature Middle East objective of bringing the Muslim Brotherhood to power in Egypt, Tunisia, Libya, and ultimately Syria, by presenting the MB as a moderate movement with whom America can do business and conduct a balanced Middle East policy.
This goal actuated the Arab Revolt, or Spring, which erupted in December 2010. It has condemned Israel to an ever-tightening Islamist noose around its borders with worse to come: The last gap will be filled after the Brothers attain power in Damascus and ultimately set their sights on Jordan as the springboard to Saudi Arabia. Whenever he is confronted with this allegation, Obama answers undeniably that he has done more than any American president for Israel's security and raised US-Israeli military and intelligence cooperation to an unmatched level. This cannot be gainsaid, but in the view of debkafile's military and intelligence experts, it is only one aspect of the general picture: While bolstering Israel militarily, the US president has also bolstered its worst Middle East enemies and enhanced their ability to strike at the foundations of Israel's national security. The emergence of a nuclear-armed Islamic Republic, which Israel may soon despair of thwarting, would nullify all the military or intelligence assistance the Obama administration has rendered the Jewish state to guarantee its survival.
No Israeli leader, political or military, is willing to go further than Amos Gilead and publicly admit that Israel is laboring under a dual compulsion; It is being forced to contemplate active measures for extinguishing Iran's nuclear program while at the same time standing ready to challenge Egypt over Sinai which has swung out of Cairo's control and deteriorated into a lawless terrorist springboard against both countries.
For Obama and Netanyahu, 4 More Years of Mutual Dislike
Nov. 8….(Times of Israel) second term for President Barack Obama is the last thing Benjamin Netanyahu was hoping for. Ever since he moved into the Prime Minister's Office in March 2009, three months after Obama was inaugurated, Netanyahu was waiting for the day he could govern without Obama on his back. There was never any love lost between the two, and no one should expect the relationship between the two of them to improve in January if, or almost certainly when, Netanyahu matches Obama and gets reelected.
Still, what exactly a second Obama term means for Israel is not as clear as some may believe. The critics argue he will pay less heed to Israeli concerns about Iran, and tighten the screws on the Palestinian front, possibly forcing Jerusalem to make dire concessions regarding the stalled peace process. Others doubt he will significantly change course. But one thing seems certain: Obama's victory will shake up domestic Israeli politics.
Let's first look at how, if at all, Washington-Jerusalem relations will change as Obama enters his second term. It needs to be said, first, that the commander-in-chief is not the only decision-maker when it comes to US foreign policy. And in Congress, staunch support for Israel is a bipartisan matter of course. "The Oval Office is extremely important, but so is the Congress and more than anything else the public on both sides, the Israeli nation and the American nation," said Yoram Ben-Zeev, who for many years was in charge of Israel-US relations at the Israeli Foreign Ministry's North America department. "I don't think that personal relations between two leaders can constitute the anchor for the relations between the two nations."Still, some pundits fear a reelected Obama will seek revenge on Netanyahu. Revenge for the obstinacy on the peace process, revenge for being too pushy on the Iranian question, revenge for openly challenging him during a heated election campaign, and revenge, of course, for Netanyahu's alleged meddling in the US elections politics, by being overly warm to Mitt Romney.
After all, these pundits argue, Obama only played nice to Israel during his first term (and "nice" is a relative term) because he knew he would never stand a chance of reelection if he vexed the powerful pro-Israel camp. But now that Obama has a free hand to do as he pleases, no longer dependent on voters, the fear is that he could seek to justify the Nobel Peace Prize he received in 2009 and increase pressure on Israel to make difficult concessions to restart the peace process. The Oval Office is extremely important, but so is the Congress and more than anything else the public on both sides, the Israeli nation and the American nation.' "Things are going to be tough between Jerusalem and Washington, because of the personal mistrust and animosity Obama feels toward Netanyahu, but also because there are going to be some sharp disagreements, for example about Iran," said Bar-Ilan University's Eytan Gilboa, an expert on American-Israeli relations and US Middle East policies.
Soon after the elections, the White House will enter direct negotiations with the Islamic Republic over its nuclear program, Gilboa said. "Israel is quite concerned about these negotiations, because it thinks the Iranians are going to manipulate the Americans and perhaps even get an agreement that would allow them to continue with a nuclear-weapons program, under one disguise or another."
On a personal and on a political level, the relationship between Obama and Netanyahu was always frosty and at times even almost hostile. It seemed that one meeting was more awkward than the next, when there were meetings scheduled at all. During Netanyahu's last trip to the US this September, Obama cited scheduling issues in explaining why he couldn't find a few minutes to receive the Israeli prime minister. Back in 2010, Netanyahu left Washington humiliated after talks about the stalled peace process and a possible settlement freeze ended without results. According to media reports, Obama walked out on a meeting with Netanyahu to have dinner and did not pose for a photo-op with his Israeli guest, which was widely seen as a diplomatic snub.
In May 2011, Netanyahu humiliated Obama, in turn, when he delivered what The Wall Street Journal called a "rare public rebuke" of the president, subjecting him to a personal history lesson in the Oval Office. Obama had said that the "borders of Israel and Palestine should be based on the 1967 lines with mutually agreed swaps." Netanyahu rebuffed the president's idea, declaring flatly that Israel "cannot go back to the 1967 lines, because these lines are indefensible."
Later that year, Obama was overheard speaking to the then-president of France, Nicolas Sarkozy, who said he couldn't stand Netanyahu. "You are fed up with him, but I have to deal with him even more often than you," Obama replied. Then, last summer, at the height of a public debate about a possible Israeli military strike on Iran's nuclear facilities, two things happened that made a bad relationship even worse. In July, Netanyahu welcomed his old friend Romney with such overt warmth that some considered it an improper meddling in the US politics. Netanyahu never explicitly took sides in the presidential race. But whoever wanted to read between the lines could easily discern that Netanyahu preferred the Republican challenger to the incumbent.
Fearing Tehran would soon reach a nuclear weapons capability, Netanyahu then publicly demanded the administration set red lines which, if crossed by the regime, would prompt a military response. But the White House rejected his call, insisting that sanctions are still the best way to stop Iran. "We're not setting deadlines," Secretary of State Hillary Clinton insisted, leading Netanyahu to utter a sentence, on September 11 in Jerusalem, that further highlighted the troubled relations: "Those in the international community who refuse to put red lines before Iran don't have a moral right to place a red light before Israel." The diplomatic tensions between Washington have subsided somewhat in recent weeks, as the US election came closer and Netanyahu announced, at the United Nations General Assembly in September, that there was still some time, until spring or "at most by next summer," before Iran would be able to build a nuclear weapon.
What about the peace process? While Romney was caught on tape saying he believes peace between Israelis and Palestinians is "almost unthinkable," it is not outlandish to think Obama might want to initiate another attempt at ending the conflict. "Obama would like to restart Israeli-Palestinians negotiations and could demand from Israel to make some concessions that would bring Palestinian Authority President Mahmoud Abbas to the table," Bar-Ilan University's Gilboa said. But Iran and the peace process may not be the only areas where the prime minister and the president are likely to clash. "Obama will probably try to intervene in the Israeli elections," which take place on January 22, one day after the presidential inauguration.
With Obama remaining in the Oval Office, the former Kadima leaders may be encouraged to throw their hats in the ring. Expect announcements soon. Olmert this week slammed Netanyahu over his handling of the Iranian question. While Netanyahu says Israel has the right to defend itself and dare not entrust its future to others, even to the United States, Olmert mockingly asked which military equipment Israel intends to use for any attack on Iranian facilities, hinting that US aid and coordination are crucial to the IDF's ability to wage war. So is Obama's reelection good for Israel? Many left-leaning Israelis will celebrate, while many to the right will mourn. But history shows that the complexities of the Middle East often defy simplistic and stereotypical notions.
Many Israelis would describe Jimmy Carter, for example, as one of the most pro-Arab presidents in history. Today, Carter, the author of "Palestine: Peace Not Apartheid," endorses the Palestinians' unilateral bid for statehood and is one of the fiercest critics of Netanyahu's government. Yet his defenders would argue that it was that same Jimmy Carter who, during his time in the White House, urged Menachem Begin to sign a peace treaty with Egypt in 1979, a milestone regarded as one of the most important diplomatic and strategic achievements in Israel's history.
George W. Bush, on the other hand, is hailed by many right-wingers as one of the friendliest presidents to Israel. However, one could argue, his political legacy vis-à-vis Israel is rather meager. During his two terms, peace was as elusive as ever, and his war in Iraq destabilized the region, allowing Iran to strive for regional hegemony. He opposed the 2007 strike on Syria's nuclear reactor. And he didn't halt Iran's nuclear drive..
Netanyahu Vows to Stop Iran, Even in Defiance of the United States
Nov. 8….(Times of Israel) Israel's Prime Minister Benjamin Netanyahu vowed on Monday night to put a stop to Iran's nuclear program by whatever means necessary, even in outright defiance of American objections, if neither sanctions, nor other international action, achieves that goal. "There is no doubt about Iran's intention to destroy us," Netanyahu said. "I won't be reconciled to that." Asked in an interview whether, if reelected in January, he would "pledge that Iran won't have a nuclear program by the end of your next term," Netanyahu said simply, "Yes." When it was put to him that the US has opposed a unilateral Israeli resort to force, Netanyahu said President Barack Obama had stated that Israel has the right to defend itself as it sees fit, and that Israel dare not entrust its future to others, even to the United States. Israel's prime ministers had ignored US disapproval in establishing the country in 1948 and preempting the Arab attack in the 1967 war, he noted. Netanyahu was interviewed as part of an investigative TV report that traced Israel's efforts over the past decade to thwart Iran's march toward the bomb. The documentary, which included interviews with several serving and former top politicians and security chiefs, detailed sabotage, assassinations of scientists and other measures used by Israel, as reported in foreign publications, to slow the Iranian program. It described the 2007 air strike that destroyed Syria's nuclear reactor as "a general rehearsal for an attack" on Iran.
Asked whether he believed Netanyahu had the guts to order a strike on Iran, the prime minister's former national security adviser, Uzi Arad, said he had "no doubt." Vowing that Israel "is ready to act" against Iran, Netanyahu said he was watching the Islamist regime "advancing step by step toward producing nuclear bombs." When the Jews were being murdered by the Nazis, they were unable to save themselves, he said. But he, as Israel's prime minister, did have the capacity to protect the Jewish nation. "When we didn't have a state, we begged others" to defend the Jews, he said. "Today, we're not begging, we are preparing."
Israel Warns Damascus Against Golan Overflights
Nov. 7….(DEBKAfile Exclusive Report) Israel has given Damascus a final warning that a military response would be forthcoming if its fighter aircraft infringed the airspace over the Golan demilitarized zones, Debkafile's military sources report.. The warning was relayed through the UN Disengagement Observer Force in an effort to contain any spillover of the Syrian civil war across Israel's border. Ratcheting up border tensions, Damascus was warned to desist from the following actions:
1. Ordnance of any kind must not be allowed to fly across the border, including shells and bullets.
2. Syrian forces entering the demilitarized zones straddling the Israel-Syrian Golan border would get the same treatment as infiltrators crossing into Israel proper. Israel cited the three Syrian tanks which Saturday, Nov. 3, approached the no-go zone in the course of a battle with rebels around the Circassian village of Beer Ajam. This must not be repeated, Damascus was warned.
3. Syrian fighter-bombers and combat helicopters may not infringe the airspace over those zones, and certainly not Israel's Golan and Galilee skies.
Debkafile has covered four days of evolving tension on Israel's Golan border with Syria in detail. On Monday, Nov. 5, we reported that Syrian small-arms fire from 1 kilometer over the Golan border hit the jeep of the Golani Brigade's Patrol Battalion commander on a routine border patrol. There were no injuries. The jeep was badly damaged. Debkafile's military sources: The incident occurred after a gunfight between Syrian troops and rebels over the Golan town of Quneitra ended in the town falling to the rebels. Israeli air force planes are patrolling the Golan and Galilee skies of northern Israel after the Syrians were observed preparing aircraft and helicopters to fly to the aid of their defeated ground forces in Quneitra. After the Syrian army's 90th Brigade was forced to retreat, Damascus is reported by Western sources about to send reinforcements over to the Golan to recover Quneitra. IDF contingents on the Golan and the Israeli-Lebanese border are high alert in case the Syrian combat spills over the border.
On Sunday, Nov. 4, we reported Israeli warplanes flew over the divided Golan in a show of strength and as a deterrent against the Syrian civil war seeping across the border, Debkafile's military and Western intelligence sources report. In Paris, President Francois Hollande vowed Sunday that "France would oppose with all its strength any bid to destabilize Lebanon. Lebanon must be protected." He spoke regardless of the 5,000 Lebanese Shiite Hizballah fighters who have poured into Syria from their Beqaa Valley stronghold of al-Harmel to fight Bashar Assad's war. Our sources reveal that these Lebanese fighters have now advanced 50-60 kilometers deep into southwestern Syria, up to the outskirts of the embattled town of Homs.
On the Golan, further to the east, Israel's chief of staff Lt. Gen. Benny Gantz visited the IDF contingent stationed there to reinforce the message broadcast by the IAF. Hizballah is now openly flaunting the presence of its regular troops in Syria. They are armed with heavy artillery and Chinese WS-1 multiple-launch rocket systems made in Iran. These "Katyushas," shoot 302mm rockets at targets up to 100 kilometers away and can operate in the rugged mountain terrain of Lebanon, Syria and Israel and in harsh weather conditions, including snow. Hizballah fighters are reported by our sources to have already used this weapon with deadly effect in a battle with Syrian rebels over the town of Quseir opposite the Lebanese Beqaa Valley. It ended in Hizbalah's capture of the town.
Coordination is tight: Hizballah forces on the ground get in touch with Iranian command headquarters in Beirut and Damascus to call up Syrian helicopters for air cover. The Hizballah commander in Syria is Ibrahim Aqil, a veteran of the Hizballah militia and one of the most trusted by Hassan Nasrallah and Tehran. Aqil took part in the 1983 assault on US Marines Beirut headquarters in which 241 American troops were killed, the highest death toll in a single event after World War II. In the year 2000, Aqil, then commander of the southern Lebanese front against Israel, orchestrated the kidnap from Israeli territory and murder of three Israeli soldiers, Benny Avraham, Adi Avitan and Omar Sawad. Hizballah's expeditionary force in Syria has been assigned three missions:
1. To seal off the routes used by the rebels to smuggle fighters and arms from Lebanon into Syria, most of which run through the Beqaa Valley. This mission is near completion.
2. To defend the clusters of Syrian Alawite and Shiite villages in the area of Hizballah control.
3. To provide a strategic reserve force for the Syrian units defending the main hubs of Syrian highways running west to east from the Mediterranean coast to the Syrian-Iraqi border and crisscrossed from north to south by the route running from the Turkish border up to Damascus. Control of these hubs makes it possible for the Syrian army to move military forces between the different warfronts at high speed.
Secret War Against Iran Rages in Various Places
Nov. 7….(Jerusalem Post) From a suspected Israeli airstrike in Sudan to cyber warfare in the Gulf and a drone shot down over Israel, the largely hidden war between Iran and its foes seems to be heating up and spreading. Despite months of speculation, most experts and governments believe the risk of a direct Israeli strike on Tehran's nuclear program stirring regional conflict has eased, at least for now. But all sides, it seems, are finding other ways to fight.
For the US and European powers, the main focus remains on oil export sanctions that are inflicting ever more damage on Iran's economy. But the Obama administration and Israel have also allocated resources towards covert operations, a campaign that now appears to have prompted an increasingly sophisticated Iranian reaction.
With Iranian hackers suspected of severely damaging Saudi oil facility computers and a suspected Hezbollah drone shot down over Israel, tactics and tools once seen as the sole purview of the United States are now clearly being used on both sides.
The mounting body count in Syria, some believe, is also in part a consequence of the proxy war being waged there. Covert confrontation itself is, of course, nothing new. Foreign intelligence agencies have battled for decades to stop Iran and other states obtaining nuclear material, while Tehran has long used proxy battlegrounds, particularly in Lebanon and the Palestinian territories, to attack Israel. But it does seem to be escalating. The penetration of Israeli airspace by an unmanned drone apparently operated by Lebanese militant group Hezbollah, a long-term Iranian ally, was, perhaps, one of the clearest examples so far. The drone was shot down by Israel's military in the vicinity of its main nuclear facility at Dimona.
Iran has long been believed to be putting resources into a drone program and may have gathered useful tips after a classified US Sentinel stealth drone came down in the country last year. While the Hezbollah drone was unarmed, an attack with multiple drones laden with explosives might prove harder to stop.
The dramatic spike in suspected Iranian cyber attacks this year also has some in the US distinctly worried. While direct denial of service attacks on US banks, widely seen as retaliation for US sanctions and attempts to freeze Iran from the international financial system, were seen relatively simplistic, attacks on US allies in the Gulf were more complex. The most worrying, experts say, were those on Saudi oil firm Aramco and Qatari gas export facilities. Last month, US Defense Secretary Leon Panetta described the Saudi attack as the most sophisticated yet launched on a private company, effectively destroying tens of thousands of computers, although he stopped short of blaming Tehran directly. Iranian officials have tended to deny involvement. But they say they have continued to come under cyber attack themselves with systems at Iran's own oil facilities, communications and infrastructure firms suffering problems last month. "The problem is that these are secret forms of warfare that are rarely, if ever, discussed publicly," a veteran former CIA official and now a senior fellow at the Brookings Institute told an event last month. "And yet the implications could be colossal. What do we do, for example, if it turns out the Iranians can shut down the entire Saudi oil production." In the absence of direct face-to-face negotiations, such actions can also be a diplomatic tool in their own right.
Damascus Rocked by Bombing
Nov. 6….(Worthy News) Muslim-backed Syrian rebels launched a devastating car bomb attack Monday that killed 50 pro-regime fighters, a watchdog said, as air strikes pounded rebel positions and the opposition met for talks on an overhaul. The suicide car bomb attack on a military post in the central province of Hama struck early Monday, killing at least 50 government troops and loyalist militiamen, the Syrian Observatory for Human Rights said. A bomb exploded near army and security compounds in Damascus, Syrian television reported, and fractured opposition groups seeking to topple President Bashar al-Assad began unity talks abroad to win international respect and arms supplies. The 50-kilogram (110-pound) bomb, near a large hotel in a heavily guarded district, was described by state media as an attack by "terrorists," the government's term for insurgents in the 19-month-old uprising against Assad. Opposition activists said Sunday's blast appeared to be the work of the Ahfad al-Rasoul (Grandsons of the Prophet) Brigade, an Islamist militant unit that attacked military and intelligence targets several times in the last two months. The mainly Sunni rebels have carried out a series of bombings targeting government and military buildings in Damascus this year, extending the war into the seat of Assad's power.
The Syrian conflict has aggravated divisions in the Islamic world, with Shi'ite Iran supporting Assad, whose Alawite faith derives from Shi'ite Islam, and US-allied Sunni nations such as Saudi Arabia, Turkey and Qatar backing his foes.
Syrian Christians Fleeing as Homes Destroyed
(Islamist rebels invade Christian communities, force government to shell neighborhoods)
Nov. 5 ….(WND) Islamist rebels are invading Christian communities in Syria, fighting to capture Aleppo's mostly Christian neighborhoods of al-Syriaan al-Jaddie and al-Syriaan al-Qadime. Reports from Middle East analysts say the battle for the Christian neighborhoods started last week. Religious Freedom Coalition President William Murray said there's a reason the Free Syrian Army chose to fight over the Christian neighborhoods. "The Islamist rebels invaded Christian neighbors to force government troops to destroy homes there," Murray said. "They want the government troops to shell the neighborhoods in an effort to recapture it." Murray said this is a familiar tactic. "I have seen this tactic in the so-called West Bank during the Intifada," he said. "Muslims would fire mortars from a Christian neighborhood to draw Israeli fire there. This is a win-win for the Islamist rebels supplied by Turkey. Syrian government troops can be fired on and Christian homes get destroyed."
Although International Christian Concern Middle East analyst Aidan Clay said accurate information on Syria is limited, he's confirmed the fighting in several Aleppo enclaves. "Reports indicate that rebels have advanced into several central neighborhoods, including Christian areas, of Aleppo in recent weeks," Clay said. He said Aleppo is rapidly becoming a hub for rebel forces. "Aleppo is now quickly becoming a stronghold for the opposition's Free Syrian Army (FSA)," Clay said. "This has raised concerns among Christians living in the city." He continued, "While Syrians from every political, ethnic and religious background are suffering in the city, Christians have found themselves in a very unique and frightening situation, having widely chosen not to take up arms or to openly support either the rebels or the regime." Clay added that the opposition forces are comprised of more than ethnic Arabs. "The FSA, which now controls most of Aleppo, is very diverse," he explained. "Among rebel fighters and their supporters are many Syrians who truly desire free elections and other reforms that come with democracy. "Yet, also among the FSA are extremist factions that are openly calling for an Islamic state ruled by Shariah. Even within the FSA there is division between many Arabs and minority Kurds who are fighting against the regime for different reasons. If Assad were to be deposed, the rebels' common goal of overthrowing the regime will end and fighting will undoubtedly commence among rebel groups and within the FSA."
The schism Clay talked about is already happening. Analysts report that a rift has developed between ethnic Kurds and the ethnic Arabs in the coalition to topple Bashir Assad's government. Clay added that there are also competing agendas among the various rebel factions. He said the various groups are speculating on how much freedom they will actually gain by overthrowing Assad. "Kurds, Christians, Alawites and Shiites are asking themselves what rights they will be given when 75 percent of the population in Sunni," he said. "It's unlikely, to say the least, that reform under a Sunni-led government will be 'democratic' by any means."
Clay also said Christians are experiencing the most hardship because they have the most to lose if Assad is overthrown. "While many Christians have publicly denounced the brutality of President Assad and by no means support the regime, many Christians still desire greater freedoms and political reform to be enacted by the current government," Clay said. However, Christians' hopes for reform are growing dim. "That, of course, will never happen as Assad has chosen time and again to use brutal force in response to peaceful protests, killing thousands of civilians," Clay said. "At the same time, however, most Christians see little hope in an alternative government which, they fear, will be led by Islamists who will hinder or outright abolish the religious freedoms long experienced by Christians in Syria. "Due to ongoing violence and fears of radical Islamic factions, church leaders in Aleppo have reported that many Christians have already fled the city.
According to Agence France-Presse, Syrian rebels have openly stated their goal of transforming Syria into an Islamic state while proclaiming that Christians have no connection to the country. "Again, this view is not shared by all FSA fighters and supporters, but the idea is so prevalent that a large number of Christians are talking about leaving their homeland for good if Assad is ousted." Clay added that many Christians fear Aleppo will become like the already looted city of Homs. "They vividly remember what happened in Homs earlier this year when most of the Christian community fled the city, often by force," he said. "A similar story is beginning to unfold in Aleppo where there have been several bombings in Christian-majority neighborhoods, a few Christian kidnappings and an Armenian church that was reportedly set on fire by rebels on Monday.
As Syria's civil war continues without resolution, there is grave concern that Syrian Christians will follow the path of other ancient Christian communities throughout the Middle East: In Iraq, after the US-led invasion in 2003, more than half the Christian population, which witnessed more than 60 church bombings and hundreds of cases of Christians being murdered, raped and tortured, fled the country."
Egypt's Christian community has also experienced an increase in persecution. Clay cited the persecution numbers since the ouster of former President Hosni Mubarak. "In Egypt, reports indicate that since March 2011, following the political rise of Islamic parties, including the Muslim Brotherhood, at least 93,000 Christians have sought visas to Western countries," he said. "Many Syrian Christians fear they are next, and some are already preparing to leave."
Murray said rebels are already targeting Christian clergyman, and he cited the recent capture and murder of an Orthodox priest. "The attacks on Aleppo are on the heels of the kidnapping and torture death of an Orthodox priest by the Islamist rebels just a few days ago," Murray said. He accused President Obama of being "100 percent behind the Islamists in this fight."
Israeli Warplanes Fly Over Golan as Hizballah Fighters Pour into Syria
Nov. 5….( DEBKAfile Exclusive Report) Israeli warplanes flew over the divided Golan Sunday, Nov. 4, in a show of strength and as a deterrent against the Syrian civil war seeping across the border, Debkafile's military and Western intelligence sources report. In Paris, President Francois Hollande vowed Sunday that "France would oppose with all its strength any bid to destabilize Lebanon. Lebanon must be protected." He spoke regardless of the 5,000 Lebanese Shiite Hizballah fighters who have poured into Syria from their Beqaa Valley stronghold of al-Harmel to fight Bashar Assad's war. Our sources reveal that these Lebanese fighters have now advanced 50-60 kilometers deep into southwestern Syria, up to the outskirts of the embattled town of Homs.
On the Golan, further to the east, Israel's chief of staff Lt. Gen. Benny Gantz visited the IDF contingent stationed there to reinforce the message broadcast by the IAF. Hizballah is now openly flaunting the presence of its regular troops in Syria. They are armed with heavy artillery and Chinese WS-1 multiple-launch rocket systems made in Iran. These "Katyushas," shoot 302mm rockets at targets up to 100 kilometers away and can operate in the rugged mountain terrain of Lebanon, Syria and Israel and in harsh weather conditions, including snow.
Hizballah fighters are reported by our sources to have already used this weapon with deadly effect in a battle with Syrian rebels over the town of Quseir opposite the Lebanese Beqaa Valley. It ended in Hizbalah's capture of the town. Coordination is tight: Hizballah forces on the ground get in touch with Iranian command headquarters in Beirut and Damascus to call up Syrian helicopters for air cover. The Hizballah commander in Syria is Ibrahim Aqil, a veteran of the Hizballah militia and one of the most trusted by Hassan Nasrallah and Tehran. Aqil took part in the 1983 assault on US Marines Beirut headquarters in which 241 American troops were killed, the highest death toll in a single event after World War II. In the year 2000, Aqil, then commander of the southern Lebanese front against Israel, orchestrated the kidnap from Israeli territory and murder of three Israeli soldiers, Benny Avraham, Adi Avitan and Omar Sawad. Hizballah's expeditionary force in Syria has been assigned three missions:
1. To seal off the routes used by the rebels to smuggle fighters and arms from Lebanon into Syria, most of which run through the Beqaa Valley. This mission is near completion.
2. To defend the clusters of Syrian Alawite and Shiite villages in the area of Hizballah control.
3. To provide a strategic reserve force for the Syrian units defending the main hubs of Syrian highways running west to east from the Mediterranean coast to the Syrian-Iraqi border and crisscrossed from north to south by the route running from the Turkish border up to Damascus. Control of these hubs makes it possible for the Syrian army to move military forces between the different warfronts at high speed.
PA: Obama Promised Statehood and No Netanyahu
Nov. 5….(WND) A senior Palestinian Authority negotiator has told WND that if President Obama secures another four years in office, he will use his second term to target Israeli Prime Minister Benjamin Netanyahu as the main party to blame for the collapse of Mideast peace talks. The negotiator further claimed that Obama quietly pledged to the Palestinians a campaign at the United Nations to renew UN Security Council Resolution 242, which calls for a Palestinian state to be established in the West Bank, Gaza Strip and eastern Jerusalem. The PA negotiator said the White House had asked the Palestinians to slow their drive for the unilateral declaration of a state at the UN General Assembly. The negotiator further said Obama had promised the PA that the establishment of a Palestinian state will be one of the main priorities for a second term. "We were told that the negotiations for a Palestinian state will be a main goal for Obama," said the negotiator. "Netanyahu will be declared the main person responsible for the collapse of the peace process."
The claims come as Palestinian Authority President Mahmoud Abbas was blasted by the rival Hamas group yesterday for his statements to the Israeli media last week calling for a Palestinian state in what is known as the 1967 borders – the West Bank, Gaza and eastern Jerusalem. Hamas has stated the "liberation" of the entire land of Israel is their goal.
---