WEEK OF DECEMBER 23 THROUGH DECEMBER 29
Israel Operating in Syria, US Preparing to Join
Dec. 28….(Israel Today) Various Western, Arab and Israeli media reports have been claiming for over a month now that Israeli special forces are on the ground in Syria in an effort to keep tabs on its chemical weapons stockpile. Those reports mesh well with news that Prime Minister Benjamin Netanyahu visited neighboring Jordan this week to discuss with King Abdullah a possible air strike on the bulk of Syria's weapons of mass destruction. Such an air strike would require targeting groups to be on the ground.
On Thursday, Israeli Minister of Strategic Affairs Moshe Ya'alon said that American forces were also gearing up for possible intervention in Syria should the embattled regime of dictator Bashar Assad employ chemical weapons against rebels. US President Barack Obama has already stated that the use of chemical weapons by Assad would be a "red line."
Despite a flurry of reports earlier this week that Assad's forces had in fact used chemical weapons against rebels in several battles, Ya'alon told Israel Radio that there was no evidence of this being true. More likely, the reports were an attempt to elicit attacks on Assad's regime by outside forces.
For Israel, the real fear is that Syria's sizable chemical weapons stockpile will fall into the hands of the rebels, who are turning out not to be the "good-guy freedom fighters" many in the West portray them as. "It is enough that only a tiny percentage of Syria's chemical weapons fall into the hands of elements that are part of the Global Jihad organizations and find a way outside of Syria to create an unprecedented terror threat," wrote security expert Amir Rapaport in the journal Israel Defense.
On Sunday, the Jordan-based leader of one of the Syrian rebel groups said that after toppling Assad, Syria's new rulers will turn their guns on Israel. "We tell Benjamin Netanyahu, get ready. The army of the Prophet Mohammad is coming your way," declared Abed Shihadeh, who added that after "taking Damascus" his group and its allies will "head for Tel Aviv." These are the same groups that, as they fight against Assad, are also threatening and persecuting local Christians. For instance, this week a rebel group posted a video on the Internet warning the Christian towns of Mharda and Sqilbiya to stop permitting Syrian government forces to take up positions there (as if they have a choice) or face a merciless rebel attack.
The Syrian Observatory for Human Rights noted that the two threatened towns used to have populations in the tens of thousands, but that most locals have already fled. A UN investigation concluded this week that Syria's civil war is becoming increasingly sectarian, and that minority groups, like Christians, are in more danger than ever. Top rebel leaders rejected that assessment and insisted that the revolution is "neither bloody nor sectarian." However, Egyptian television recently aired an address by one Syrian rebel leader, Ahmad Al Baghdadi Al Hassani, who warned that Syria's Christians are "friends of the Zionists" and must choose between "Islam and death."
Iran, Hizballah Setting up Terror Squads to Perpetuate Syrian War Post Assad
Dec. 27….(DEBKAfile Exclusive) Tehran is developing its own plans for continuing the Syrian war and maintaining its grip on the country, even as Washington and Russia press on with secret discussions on the fate of Syrian president Bashar Assad, backed by UN-Arab League envoy Lakhdar Brahimi's mediation efforts in Damascus. Tuesday, Dec. 25, the envoy said after meeting Assad that he would stay on for another six days in the hope of persuading the parties to end their bloody hostilities. At the same time, Iran is putting its military and intelligence assets in place ready for the day after Assad's departure.
Debkafile reports: In the opinion of Saudi intelligence chiefs who attended the two-day GCC summit in Manama Monday and Tuesday, Iran has drawn up plans to sabotage any deal Washington and Moscow may pull off between Assad and the rebels for ending their war and incapacitate any transitional regime set up to replace the Assad presidency. Those sources report that Supreme Leader Ayatollah Ali Khamenei has already issued directives to Gen. Qassem Soleimani, head of the Al Qods Brigades (Iran's external intelligence and terrorist arm), for perpetuating the Syrian conflict by means of a terrorist network spread across the country and operating in conjunction with local militias. "These militias," said one Saudi intelligence source, "all depend on Hizballah for their supplies of weapons, explosives, funds and intelligence." Their task together with the terrorist cells will be to keep Syria in a constant state of warfare and so prevent any central government in Damascus from exercising its authority after Assad's exit. There will be one secure island in the havoc: a fortified enclave in the capital. This setup will resemble the fortified palace compound in Kabul where Afghan President Hamid Karzai is barricaded, or Baghdad's Green Zone in which Iraqi Prime Minister Nouri al Maliki is protected.
Iran's Hizballah design for Syria borrows heavily from Soleimani's al Qods program for Iraq in the years 2003-2007. Then, Tehran used its terrorist squads under Hizballah's guidance to systematically derail US control of the country. They generated violent mayhem for the purpose of rendering any pro-Western regime rising in Baghdad unsustainable and forced it to make way for a government dependent on Tehran. Today, Iraq's prime minister is reduced to a measure of dependence that leaves him powerless to stop the Iranian airlift bound for Syria transiting his country's airspace and sends him running to Tehran for approval before every change of policy.
The Supreme Leader is believed by Saudi intelligence to have condemned post-Assad, post-war Syria to a version of this scenario and blocked any chance for the US and the West to extricate the country from Iran's clutches, whether the Syrian ruler stays or goes. Five years after performing for Tehran in Iraq, Hizballah has been recast for the return show in Syria, the only difference being the change in a key role. In Iraq, Al Qods benefited from the services of Hizballah's late military chief Imad Mughniyeh, who was assassinated in Damascus in February, 2008. His successor is Wafiq Safa, a kinsman of Hizballah Secretary General Hassan Nasrallah, who is already working in Syria with the commander of Iranian forces in Lebanon, Gen. Hossein Mahadavi.
Saudi intelligence is deeply pessimistic about the next stage of Syria's future. They envisage Bashar Assad sticking it out in Damascus and pretty soon giving the order to launch chemical and biological warfare against the insurgency and Syria's close neighbors.
Egypt Officially Under 'Sharia Law'
Dec. 27….(Israel Today) Egyptian President Mohammed Morsi on Wednesday officially signed into law a new constitution drafted by his own Muslim Brotherhood and other Islamist groups, and which critics say has effectively placed Egypt under strict Sharia Law. Two referendums were held on the new constitution. The results of the second were announced on Tuesday: 63.8 percent of the small number of those who voted were in favor of the document.
Morsi said now that the new constitution is in place, he can focus on fixing Egypt's internal problems. But others say it will only exacerbate internal divisions and transform Egypt into a pariah state on par with the Islamic Republic of Iran. While Morsi claims the new constitution contains rights and protections for all Egyptians, its vagueness in certain areas and overt Islamic flavor has lead many to fear that radical Muslim clerics are going to play an increasingly influential role in Egypt, while minority groups and women will suffer. "It's a disaster," female Egyptian lawyer Nihad Abu El Konsam told German media. "There isn't a single article in the draft constitution that mentions the rights of women." "This constitution will set Egypt 100 years back," added Abu El Konsam, noting that the Muslim Brotherhood had purposely left "open doors" that will result in Egyptians being placed under an extremist form of Islamic rule.
Hamdeen Sabahi, an opposition leader who placed third in Egypt's presidential election, said the Muslim Brotherhood and other Islamists have "stolen" Egypt's pro-democracy revolution, but he remains hopeful that they can be toppled. In the meantime, "Morsi may have been elected democratically, but he is not governing democratically," charged Sabahi in an interview with the Associated Press. Evidence of that was seen in Morsi's reaction to ongoing opposition to his new constitution even after it passed the referendum. The president issued a thinly-veiled warning that public demonstrations against his rule must end, because the people were tired of it.
Morsi tried to accuse all who oppose him of being responsible for the nation's continuing economic woes, a tried and true tactic used by all of recent history's most successful despots. The threats seemed to be working. While the run-up to the referendum saw hundreds of thousands protesting daily in central Cairo and even marching on the presidential palace, now that it has been signed into law very few are taking to the streets.
The Gift of God ………… Salvation Through His Son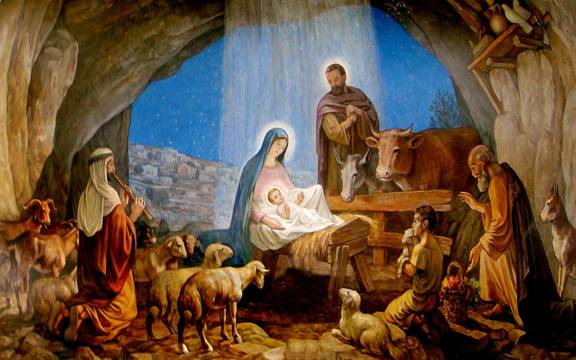 Luke 2:11-14 For unto you is born this day in the city of David a Savior, which is Christ the Lord. And this shall be a sign unto you; Ye shall find the babe wrapped in swaddling clothes, lying in a manger. And suddenly there was with the angel a multitude of the heavenly host praising God, and saying, Glory to God in the highest, and on earth peace, good will toward men.
Christianity 'Close to Extinction' in Middle East
(Christianity faces being wiped out of the "biblical heartlands" in the Middle East because of mounting persecution of worshippers by Muslims, according to a new report)
Dec. 25….(The Telegraph) The study warns that Christians suffer greater hostility across the world than any other religious group. And it claims politicians have been "blind" to the extent of violence faced by Christians in Africa, Asia and the Middle East. The most common threat to Christians abroad is militant Islam, it says, claiming that oppression in Muslim countries is often ignored because of a fear that criticism will be seen as "racism". It warns that converts from Islam face being killed in Saudi Arabia, Mauritania and Iran and risk severe legal penalties in other countries across the Middle East. The report, by the think tank Civitas, says: "It is generally accepted that many faith-based groups face discrimination or persecution to some. "A far less widely grasped fact is that Christians are targeted more than any other body of believers." It cites estimates that 200 million Christians, or 10 per cent of Christians worldwide, are "socially disadvantaged, harassed or actively oppressed for their beliefs." "Exposing and combating the problem ought in my view to be political priorities across large areas of the world. That this is not the case tells us much about a questionable hierarchy of victimhood," says the author, Rupert Shortt, a journalist and visiting fellow of Blackfriars Hall, Oxford. He adds: "The blind spot displayed by governments and other influential players is causing them to squander a broader opportunity. Religious freedom is the canary in the mine for human rights generally."
The report, entitled Christianophobia, highlights a fear among oppressive regimes that Christianity is a "Western creed" which can be used to undermine them. State hostility towards Christianity is particularly rife in China, where more Christians are imprisoned than in any other country in the world, according to the report. It quotes Ma Hucheng, an advisor to the Chinese government, who claimed in an article last year that the US has backed the growth of the Protestant Church in China as a vehicle for political dissidence. "Western powers, with America at their head, deliberately export Christianity to China and carry out all kinds of illegal evangelistic activities," he wrote in the China Social Sciences Press. "Their basic aim is to use Christianity to change the character of the regime in China and overturn it," he added.
But by far, the "lion's share" of persecution faced by Christians arises in countries where Islam is the dominant faith, the report says, quoting estimates that between a half and two-thirds of Christians in the Middle East have left the region or been killed in the past century. "There is now a serious risk that Christianity will disappear from its biblical heartlands," it claims. The report shows that "Muslim-majority" states make up 12 of the 20 countries judged to be "unfree" on the grounds of religious tolerance by Freedom House, the human rights think tank. It catalogues hundreds of attacks on Christians by religious fanatics over recent years, focusing on seven countries: Egypt, Iraq, Pakistan, Nigeria, India, Burma and China. The early twenty-first century has seen a steady rise in the strife endured by Christians," the report says. The 2003 invasion of Iraq left Iraqi Christians "more vulnerable than ever," highlighted by the 2006 beheading of a kidnapped Orthodox priest, Fr Boulos Iskander, and the kidnapping of 17 further priests and two bishops between 2006 and 2010.
There is Still "NO ROOM" For Jesus in Bethlehem
Dec. 25….(Israel Today) It is Christmas Eve in Bethlehem in 2012. Tonight on Manger Road, in Manger Square and on all its thoroughfares, Bethlehem is lit with many-colored lights. Like rivulets they stream down the city's face, falling in-between vibrant shapes of snowmen and Santas, stars and trees. Why does Bethlehem weep luminescent tears disguised as twinkling strings of light?
Until one week ago there was not a single place in its public square that even gave a hint of the reason for this pagan day's redemptive transformation into a holy day. No manger scene, no God-incarnate baby boy. No creche, no cradle, no cross. Even the Church of the Nativity was decorated only by a single large tree. Two thousand years after his birth there is still no room for Jesus in Bethlehem!
Early this month Shari Khoury brought this observation to her husband's attention. Dr. Khoury, who has lived in Bethlehem the past 32 years, has always experienced opposition to the gospel of Jesus in Bethlehem. There have been threats and muggings, fire bombs and murder. Many Christians have fled the city, but the Khoury's remain.
On December 5, Steven Khoury made a decision. He composed brief words, commissioned graphic art, hired a printer. In the middle of the night and into next day's early morning light, workmen hung the composition on the city's largest billboard. Across an expanse of 1200 square feet, in Arabic and English too, it reads: Jesus: born to die and rose again. Invite him in to your heart so that you too might live. And the response? Two days later, Pastor Khoury received a call. Officials from the city of Bethlehem were on the line, informing him that they were being asked (by PA authorities) to remove the sign. The message was clear: take Jesus down.
WEEK OF DECEMBER 16 THROUGH DECEMBER 22
Of UN's 26 Resolutions in 2012, 22 Were Against Israel
Dec. 21….(Algemeiner) By the end of this week the current 2012 UNGA session will have adopted 22 country-specific resolutions targeting Israel, and only four on the rest of the world combined, one each for Syria, Iran, North Korea and Burma, according to UN Watch. On Tuesday alone The UN General Assembly adopted nine resolutions on "Palestinian rights and the Golan," sharply criticizing Israel yet making no mention of Sunday's massacre of Palestinian Arabs by Syrian warplanes firing missiles into a mosque in a refugee camp near Damascus.
On the UN Watch's website Hillel Neuer, executive director of UN Watch, underscored the absurdity of the resolution tally. "The UN's disproportionate assault against the Jewish state undermines the credibility of what is supposed to be an impartial and respected international body, and exposes the sores of politicization and selectivity that eat away at its founding mission, eroding the UN Charter promise of equal treatment to all nations large and small," he said. "With more than 40,000 killed in Syria, and millions of Syrian refugees suffering now in the cold of winter, it ought to shock the conscience of mankind that the UN will devote more than 80 percent of this session's resolutions to Israel, and just one, on Thursday, to Syria." Today the UN is set to adopt a resolution ratifying all of the 2012 resolutions and decisions of its subsidiary, the 47-nation Human Rights Council.
Iranian Shiites Hoping to Exalt the Mahdi
Dec. 21….(The Trumpet) Tension is rising in the Middle East again. The civil war in Syria is worsening, Western sanctions on Iran are intensifying, large-scale military exercises by both Tehran and the West are on the cards. This is all worrying and cause for alarm. Yet, it is an unprecedented, largely ignored national address by Iran's supreme leader that is most alarming. On Friday, a number of Iranian state-run media outlets ran stories highlighting remarks by Ayatollah Ali Khamenei. In his address, Khamenei warned his people all over the world that Iran must prepare for war, and that we are now living in "the end of times."
More specifically, Khamenei warned of the imminent return of the Mahdi, or the 12th imam. "The issue of Imam Mahdi is of utmost importance, and his reappearance has been clearly stated in our holy religion of Islam," he said. "We must study and remind ourselves of the end of times and Imam Mahdi's era. We must prepare the environment for the coming so that the great leader will come."
The belief of a returning Mahdi, or 12th imam, is a defining doctrine within the most populous group of Shiites known as Ithna Ashari, or "Twelvers." In addition to Iran's supreme leader, President Mahmoud Ahmadinejad also belongs to this influential group. According to Twelver theology, the Mahdi's return will be precipitated by planet-engulfing wars, the likes of which will destroy one third of the world's population, and another third as a result of widespread hunger, disease and social unrest. Finally, the destruction will be capped with the annihilation of the Jewish State and the killing of all infidels, after which the seed of Islam will be planted in the four corners of the Earth.
Assad: 'If I Go, None of Syria Will Remain'
Dec. 21….(Shofar Ministries) Syrian dictator Bashar Assad has privately pledged to "fight to his last bullet" in his ancestral hometown of Qardaha, vowing, "If I go, none of Syria remains." The daily pools of blood spilled by his madmen cause hearts to be warmed by signs of Assad's impending fall, but one Syrian Christian opposition activist is loudly warning that light is not waiting at the end of the tunnel. Islamist hordes are. Michel Kilo is no friend of the Assad regime, though most of his Syrian Christian brethren fear what awaits them once it falls. He is a long-time and well-known opposition activist. His joy over Assad's defeat comes with an honest and bleak reality check. The fight against Assad will be followed by a fight against foreign-backed Islamists.
A democratic future that felt certain has now become nothing more than a vague promise, which might not be kept by the Islamist groups known for their lies, lust for power and cooperation with foreign powers," Kilo urgently writes about "our hijacked revolution." "It is very likely that we will be dragged into a deep pit of chaos, violence and civil war, and that serious efforts will be deployed to prevent any evolution toward democracy by stifling the voices of free, secular forces," he says. The same disappointment can be heard in the words of Riad al-Assad, the secular defector who originally started the Free Syria Army. "I talked with America, Europe, and the media that they needed to support the leadership of the FSA. [Free Syria Army] If there is no support for the FSA, new groups would appear and the work will fall apart, because then we wouldn't be able to control what was happening on the ground. He indicated that the original assault on Aleppo was launched by fighters who aren't under his command. He said, "It was the wrong decision by the people who took it." On the ground, Islamist militants including Al-Qaeda-linked terrorists are the ones taking the lead. An infantry base in Aleppo has just fallen to the Al-Tawheed Brigade. It is described as an "Islamist faction" even though it fights under the FSA name. It is unclear if the Free Syria Army affiliated with Riad al-Assad incorporated it into its ranks or if the Al-Tawheed Brigade Islamists decided to unilaterally use the popular name.
Jabhat al-Nusra, a branch of Al-Qaeda in Iraq, is also growing. It makes up about nine percent of the rebel forces, and after the US designated it as a Foreign Terrorist Organization, 29 rebel groups responded by declaring their allegiance to the Al-Qaeda affiliate. The Telegraph acknowledges that this group is independent of the FSA, but the time available to build the FSA as an alternative force is slipping away. "Many FSA leaders now recognize its strength and order their forces to cooperate with it," it reports. The Islamists are sidelining the secular Free Syria Army on both the military and the political levels. Earlier this month, Islamist rebels left the FSA out of a new joint command established in Turkey. The FSA said the 30-member council is controlled by the Muslim Brotherhood and is beholden to "external will." A delegate said that two-thirds of the officials are members of the Brotherhood or are aligned with it. He described the body as a creation of Qatar and Turkey.
The newly formed National Coalition for Syrian Revolutionary and Opposition Forces, recognized by the US as the "legitimate representative" of the Syrian people, is going to bypass the FSA networks in delivering humanitarian aid. Of course, it's willing to use FSA bodies and bullets to make sure it arrives. The original opposition umbrella body, the Syrian National Council, lacked support on the ground and was widely seen by secularists as a vehicle for the Islamists.
Al Qaeda Grows Powerful in Syria as Endgame Nears
Dec. 21….(Reuters) Having seen its star wane in Iraq, al Qaeda has staged a comeback in neighboring Syria, posing a dilemma for the opposition fighting to remove President Bashar al-Assad and making the West balk at military backing for the revolt. The rise of al Qaeda's affiliate in Syria, al-Nusra Front, which the United States designated a terrorist organisation last week, could usher in a long and deadly confrontation with the West, and perhaps Israel. Inside Syria, the group is exploiting a widening sectarian rift to recruit Sunnis who saw themselves as disenfranchised by Assad's Alawite minority, an offshoot of Shi'ite Islam that dominates Syria's power and security structures. Al-Nusra appears to have gained popularity in a country that has turned more religious as the uprising, mainly among Sunni Muslims, has been met with increasing force by authorities. It has claimed responsibility for spectacular and deadly bombings in Damascus and Aleppo, and its fighters have joined other rebel brigades in attacks on Assad's forces. Members of the group interviewed by Reuters say al-Nusra aims to revive the Islamic Caliphate, which dates back to the Prophet Mohammad's seventh century companions, forerunners of the large empire that once stretched into Europe. That prospect alarms many in Syria, from minority Christians, Alawites and Shi'ites to traditionally conservative but tolerant Sunni Muslims who are concerned that al-Nusra would try to impose Taliban-style rule.
Fear of religion-based repression has already prompted Kurds to barricade their quarter of Aleppo city and was behind fierce clashes between Kurdish and al-Nusra fighters in the border town of Ras al Ain in November. The ideas of al-Nusra are also at odds with a new Syrian opposition coalition that was recognized last week by dozens of countries as an alternative to Assad and is committed to establishing a democratic alternative to Assad's rule. Opposition sources said many Syrians who facilitated the transfer of jihadis from Syria to al Qaeda in Iraq at the height of its campaign against US forces there were now fighting for Nusra, while jihadis in Iraq had reversed their roles, arranging for transfer of personnel and bomb-making know-how into Syria. The source of Nusra funding is unclear, though that, too, may come from Iraq.
Western intelligence agencies are realizing that the Nusra is the biggest threat in a post-Assad Syria and are devoting more resources to deal with the threat. As a result, for the first time al Qaeda is within striking distance of Israel. "Many are realizing that the best that could be done for now is to contain them in north Syria, even if the area risks becoming an Islamist emirate of sorts, while trying to build a civic form of government in and around Damascus."
Iraqi Muslims Declare War on Christians
Dec. 21….(Worthy News) A Muslim cleric has issued a fatwa threatening Iraqi Christians unless they convert to Islam, but the country's prime minister urged them to stay. On Egyptian television last week, Ahmad Al Hassani Al Baghdadi called Christians "friends of the Zionists" and said "their women and girls may legitimately be regarded wives of Muslims". Al Baghdadi's fatwa casts a cloud over the re-opening of the Baghdad church that was the scene of a massacre where nearly 60 were killed and more than 100 injured by militant lslamists affiliated with al-Qaeda. At the inauguration ceremony, Iraqi Prime Minister Nuri al-Maliki urged EU countries to refrain from encouraging Iraqi Christians to emigrate; he then asked Christians to remain in Iraq "so the East will not be emptied of Christians just as the West is not emptied of Muslims". Iraq's Christians have been subjected to kidnappings and murders following the US-led invasion in 2003. As a result, thousands of Christians have fled the nation: their numbers have fallen from 1.5 million in 1990 to less than 400,000 today. Many Christians have left for the autonomous region of Iraqi Kurdistan where Christians are relatively well-treated.
American Pastor Imprisoned While Visiting Family in Iran
Dec. 20….(Fox News) A 32-year-old Iranian who is a US citizen and a Christian convert has been imprisoned without notice of any formal charges while visiting his family in Iran, according to his wife and attorneys in the US, who are now hoping that a media campaign will help set him free. Rev. Saeed Abedini, who lives in the US with his wife and two young children, was making one of his frequent visits to see his parents and the rest of his family in Iran, his country of origin and where he spent many years as a Christian leader and community organizer developing Iran's underground home church communities for Christian converts. On this last trip, the Iranian government pulled him off a bus and said he must face a penalty for his previous work as a Christian leader in Iran. He is currently awaiting trial at Iran's notoriously brutal Evin Prison, where he has been incarcerated since late September. "When he became a Christian, he became a criminal in his own country. His passion was to reach the people of Iran," Naghmeh, his wife, said in an exclusive interview with Fox News. "He comes from a very close-knit family, and he loved evangelizing and passing out Bibles on the streets of Tehran. This was his passion," she said.
In July, Abedini left his wife and kids to go to Iran to visit family and continue a humanitarian effort he began years ago to build an orphanage. After a short visit to a nearby country, Abedini was traveling back into Iran to catch his flight back to the US when members of the Iranian Revolutionary Guard stopped his bus near the Turkey-Iran border and pulled Abedini from the bus, confiscating his passports and subjecting him to intense interrogation, according to his wife. The family remains under house arrest, according to Naghmeh.
Abedini is the father of a house church movement in Iran, a community of underground places of worship for former Muslims who convert to Christianity and are not allowed to formally pray in recognized churches. Over the course of his involvement, his home church movement had about 100 churches in 30 Iranian cities with more than 2,000 members. "It was just growing so fast. They see the underground churches as a threat and they see Christianity as a tool from the West to undermine them," Naghmeh said. "They think if the country becomes more Christian, they are no longer under Islamic authority. That's why it's a threat." But "Christianity saved his life," Naghmeh says of her husband, who converted at the age of 20, after becoming severely depressed from undergoing suicide bomber training by a radical Muslim group. Abedini was recruited in high school and taken to the mosque to be trained, she says. The more he sought to be a devout Muslim and the deeper he went into training, the more depressed he became.
Under Shariah, or Islamic law, a Muslim who converts to Christianity is on a par with someone waging war against Islam. Death sentences for such individuals are prescribed by fatwas, or legal decrees, and reinforced by Iran's Constitution. During the many rounds of interrogations, Abedini has informally been told he will be charged for threatening the national security of Iran and espionage, due to his involvement with Christian house churches and foreign Christian satellite TV ministries.
Israeli Expert: Egypt's Muslim Brotherhood Wants to Destroy Us
Dec. 20….(Israel Today) A leading analyst at Israel's Begin-Sadat Center for Strategic Studies says Western leaders are naive if they believe the Muslim Brotherhood has abandoned its quest to destroy Israel merely because of its leadership role in Egypt. Dr. Liad Porat agreed with the assessment of many Western and Israeli leaders that Egypt's Muslim Brotherhood overlords either won't be able to or won't desire to start a direct military conflict with Israel in the coming 10 years. "The Brotherhood recognizes Israel's military and technological advantage and doesn't want to start a war," wrote Porat. But that doesn't mean the Brotherhood won't encourage and facilitate hostile activity directed at Israel. "The possibility of a security threat emanating from Egypt in the near future cannot be dismissed," noted Porat, especially considering the Brotherhood's active efforts to demonize Israel in the eyes of average Egyptians.
Since its recent rise to power, the Muslim Brotherhood "has influenced the Egyptian street to think that Israel is no longer a stabilizing factor in the region," Porat explained. "The Brotherhood has convinced the Egyptian public that a treaty with Israel harms Egyptian national security and threatens internal Egyptian stability." Just last month, as world leaders were praising Egyptian President Mohammed Morsi for his role in brokering a truce between Israel and Gaza-based terrorists, Morsi's boss and the Muslim Brotherhood's spiritual leader, Mohammed Badie, was reiterating that it was "obligatory" for all Muslims to wage jihad against the Jewish state.
And that brings us to Porat's point, which is that the West has an opportunity to nip this threat in the bud years before it has the chance to blossom into violent conflict. America has an interest to financially assist Egypt as an actor that is still considered moderate in the Middle East," concluded Porat. However, "it should look more closely at the Brotherhood's true intentions before providing future aid." Failure to do so is almost certain to bring about the realization of fears that Egypt is transforming into a Sunni version of Iran's Islamic Republic.
Assad Readies For Last Stand
Dec. 20….(DEBKA) On Dec. 5, the first American, Dutch and German Patriot missiles landed in Turkey. Within hours, three Russian warships had put into Syria's Tartus port, the Novocherkassk and Saratov landing craft and the MB-304 supply vessel. Aboard were 300 marines. And not only fighting men. They also delivered a fearsome weapon for Assad's army and a game changer in the Syrian conflict: 24 Iskander 9K720 cruise missile systems, designed for theater level conflicts. While NATO unpacked the Patriots in Turkey, a dozen mobile batteries, each carrying a pair of Iskander missiles, were fixed into position opposite Turkey, and another dozen, opposite Jordan and Israel. At all their stations, the Russian missiles pointed at US military targets. So while the West was gripped with alarm over Assad's poison sarin gas shells and bombs and gearing up for missile attacks on Turkey, the Russians were injecting into the Syrian war field the most sophisticated weapon of death thus far. The West and Israel have no answer for the Iskander's hypersonic speed of more than 1.3 miles per second with a 280 mile-range and a 1,500-pound warhead which destroys targets with pinpoint accuracy. It is also nuclear-capable.
Russian President Vladimir Putinhad promised two US presidents, George W. Bush and Barack Obama, not to let the Iskander reach the hands of Syria or Iran. Moscow has no illusions that once in Syria, the lethal cruise missile will pretty soon reach Iran's supreme leader Ayatollah Ali Khamenei. Iran's chief of staff Gen. Hassan Firouzabadi warned that the Patriot missiles in Turkey portended world war. He was referring to the missile-versus-missile face-off in Syria. By giving Assad the Iskanders, Moscow has plumped itself squarely in the Tehran-Damascus-Hizballah camp, whereas President Obama is carefully holding back from an unreserved commitment to the Syrian insurgency. Some Western circles see Russia's military intervention in the Syrian conflict as presaging Bashar Assad's early downfall. The reality, according to Debkafile's sources, is that before he falls, the Syria ruler is getting ready for desperate measures, first by unleashing chemical warfare and, after that, using the deadly Iskanders for a last throw against his enemies.
Muslim Brotherhood Steals Egyptian Constitution Referendum
Dec. 19….(Israel Today) The situation in post-revolution Egypt appeared to be deteriorating faster than most expected in the wake of last week's referendum on a new and overtly Islamic constitution. In fact, Egypt appears to be headed towards another revolution less than two years after ousting its former dictator. The new constitution was a topic of violent debate even before it came to a vote. Drafted exclusively by the Muslim Brotherhood and other parties affiliated with a Sharia-based outlook, critics said it would turn Egypt into a new Islamic Republic and do tremendous harm to minority groups, especially Christians. But that's precisely what the Muslim Brotherhood likely had in mind, and so the group took great pains to make sure the referendum was a success.
According to reports out of Egypt, women not wearing veils (thereby marking them as not being pious Muslims) were denied the right to vote on the referendum. Egyptian opposition groups said that Christians were also turned away at polling stations. At the end of the day, a mere one-third of Egyptians voted on the new constitution, but that didn't stop the Muslim Brotherhood from celebrating a 57 percent victory. Opposition groups charged that there had been widespread ballot fraud, and demanded a fresh referendum. They were unlikely to get their wish. To drive home the point of their victory, Islamic groups allied with the Muslim Brotherhood firebombed the main opposition headquarters in Cairo immediately following the referendum, and a leading Brotherhood official stated on Egyptian television that the group might start arming its members.
Essam al-Erian, deputy chief of the Muslim Brotherhood's Freedom and Justice Party in the Egyptian Parliament, told Mehwar TV that for the first time the group is considering setting up armed "youth brigades" to quell any anti-government demonstrations. Is anyone seeing the resemblance to Nazi Germany and its "brown shirt" youth groups?
Many in Israel and abroad predicted that while the Muslim Brotherhood was by no means good for Egypt or the region, it would take at least a decade for it to impose Sharia Law and do anything too unpredictable. It would seem those assessments are a bit off, and the situation is spiraling out of control faster than most people imagined. In the meantime, average Egyptians are in need of prayer as they live through what for many is likely a frightening reality.
In Spite of No Peace Partners, Israeli's Still Believe in Two State Solution
Dec. 18….(Israel Today) Two new public opinion polls reveal that in the wake of the recent Gaza war, Palestinians are even more in favor of violence against Israel, and would hand Hamas the reins of the Palestinian Authority if elections were held today. A poll conducted by the Ramallah-based Arab World for Research & Development found that an overwhelming 87.7 percent of Palestinian Arabs either agree or strongly agree that "armed struggle, as adopted by Hamas, is the best means of achieving Palestinian independence." These numbers are up after the eight-day conflict in and around Gaza last month, which saw Israel hastily agree to a ceasefire even as Hamas was still bombarding Israeli cities. As the rulers of Gaza, Hamas immediately claimed victory, and has been reaping the benefits every since.
A second poll conducted by the Palestinian Center for Policy and Survey Research found that if elections were held today, Hamas would again win a majority in the parliament and Gaza-based leader Ismail Haniyeh would defeat Western-backed Mahmoud Abbas for the presidency of the Palestinian Authority. Even in the so-called "West Bank," which is Abbas' power base, Haniyeh would win an equal number of votes as the current Palestinian leader. The results of these polls again shows how the Palestinian Authority's failure to educate its population for peace has set the stage for perpetual conflict. Even if a peace agreement can be signed, the public has been conditioned to rally around any leader or group that can prove an ability to harm Israel.
In a survey conducted by New Wave ahead of the upcoming Israeli general election, 62.4 percent of respondents said there is no genuine and viable partner for peace on the Palestinian side. The Israeli public's view contradicts that of the international community and even some Israeli leaders, like President Shimon Peres, who insist that Palestinian leader Mahmoud Abbas is a true peace partner, despite his cozying up to Hamas. But, while Israelis have a grim outlook on the prospects for peace, they still believe in the idea of a two-state solution. Still over 62 percent of Israelis support the creation of a Palestinian Arab state, and 58 percent believe such a state will come into existence in the near future. But the poll also showed that attitudes are shifting the longer the conflict drags on. Among younger Israelis, the Palestinian leadership is increasingly seen as dishonest and manipulative, and as such only 42 percent of respondents between the ages of 18-29 still support a two-state solution.
Blasphemy and Islam
Our fundamental rights are under attack.
Dec. 17….(National Review) In Cairo on Wednesday, a Coptic Christian blogger named Alber Saber was convicted of blasphemy and "contempt of religion." There's a tragic irony: As any of the country's Christians can tell you, contempt of religion is not merely permitted but encouraged in the new, post-Mubarak Egypt. What is criminal, what has become increasingly perilous, is any criticism of Islam.
Nor is truth a defense. Another Egyptian court recently upheld the blasphemy conviction of Makarem Diab, also a Coptic Christian. Diab had gotten into a discussion with a Muslim acquaintance, Abd al-Hameed, who, in the course of mocking Diab's faith, insisted that Jesus was a serial fornicator. Diab countered Hameed's baseless taunt with an assertion most Islamic scholars regard as accurate: namely, that Mohammed had more than four wives. Yet, because the context of Diab's assertion evinced an intention to cast Islam's prophet in an unfavorable light, Diab was prosecuted for "insulting the prophet" and "provoking students." He was sentenced to six years' imprisonment.
This is now everyday life in Egypt. It is also certain to be the future of Egypt. The overwhelmingly Islamist population, having first elected Islamic supremacists led by the Muslim Brotherhood to top leadership positions, is now poised to adopt a constitution that is founded on sharia, Islam's totalitarian legal framework, and that expressly enshrines these blasphemy standards. But the problem is not just sharia in Egypt. Sharia is here.
About three weeks ago, another Egyptian court sentenced seven people to death after convicting them in absentia on blasphemy charges. Most of the seven are in the United States. Most of them are Coptic Christians; one is a Florida-based pastor who is a blistering critic of Islamic scripture. The charges relate to the defendants' alleged involvement in "Innocence of Muslims," an obscure amateur video that Islamists have frivolously cited as a pretext for their latest round of international mayhem, and that the Obama administration has fraudulently portrayed as the catalyst of a massacre in Benghazi in which jihadists killed four Americans, including our ambassador to Libya.
So how has President Obama responded to the Egyptian government's human-rights violations, its failure to protect the Copts from persecution (indeed, its willing participation in that persecution), and its provocations against Americans, which now include ordering their killing, through a kangaroo-court process that flouts our due-process standards, over their engagement in activity that is expressly protected by our Constitution? Well, the president has announced that not only will he continue funding Egypt's Islamist government, but he intends to include in that US aid the provision of 20 F-16 fighter jets. Moreover, Obama is continuing his administration's collaboration with the 57-government Organization of Islamic Cooperation on the "Istanbul Process." That is the OIC's campaign to impose sharia's repressive blasphemy standards.
The most recent aggression in this blasphemy enterprise, a years-long, carefully plotted OIC campaign to snuff out American free-speech rights under the guise of "defamation of religion," is UN Human Rights Council Resolution 16/18. It calls on Western governments to outlaw "any advocacy of religious hatred against individuals that constitutes incitement to discrimination, hostility or violence."
Secretary of State Hillary Clinton has zealously colluded with the OIC in seeking the implementation of 16/18. Notwithstanding her contortions, it is a gross violation of the First Amendment. Our law permits the criminalization of incitement to violence only when an agitator willfully calls for violence. Our Constitution does not abide what the resolution is designed to achieve: the heckler's veto and, worse, the suppression of speech predicated on mob intimidation, the legitimation of barbaric lawlessness.
Nor does the Constitution's guarantee of free expression tolerate the outlawing of speech that prompts discrimination, much less hostility. And contrary to administration hairsplitting, it makes no difference that the resolution would not "criminalize" expression that prompts discrimination or hostility. To quote the First Amendment, "Congress shall make no law" suppressing protected speech. It does not say "Congress shall make no criminal law." No law means no law, no civil law, rule, regulation, guideline, etc.
As the framers understood, virtually everything we actually need a government for can be handled, more responsively and thus more responsibly, at the local and state level. There is one essential reason for having a federal government, and one principal reason for the creation of the office of President of the United States: to protect our citizens in the exercise of their fundamental rights from hostile foreign forces. Our fundamental rights are now under attack. As far as that is concerned, it is of little moment that the Egyptian government, joined by its Islamist confederates, threatens our lives and our liberties through court orders and resolutions, through lawfare rather than violent jihad. We are every bit as much under siege.
What is of great moment is that the president has joined the hostile forces against us, against Americans whose protection is the sole reason for the federal government's existence. If that is to be Washington's posture, what do we need it for? It is bad enough when Leviathan cannot tell America's friends from America's enemies. But what is the point of a federal government that cannot tell America's enemies from America? Or that can tell perfectly well, but chooses to fight for the wrong side?
After Assad, The Real Bloodbath
Dec. 17….(Israel Hayom) As we speak, the key rejectionist groups who are united in opposition to Bashar Assad's government in Syria are meeting in Morocco. This is the fourth summit convened by the Syrian opposition-in-exile, which for the last 18 months has had limited success in achieving the ultimate goal of removing the Alawite regime from power. Will the next leader of Syria emerge from one of these organizations? Do the rebels on the ground who are currently engaged in battle with the Syrian army take their orders from the political leadership of these groups that are now operating from various points in the West and the Arab world? Why hasn't the United Nations or the European Union taken action to stop the ongoing massacre that has thus far claimed over 40,000 victims? Why does Iran support Syria? How do the events currently unfolding across the border affect us in Israel?
We have invited five research fellows from the Jerusalem Center for Public Affairs to provide a synopsis of the competing interests at play as well as an overview of the chaos that has gripped our neighbor to the northeast. The think tank, which is headed by Dr. Dore Gold, is an independent academic institution active for the last 35 years. It specializes in researching the central themes that dominate the Israeli diplomatic, strategic, and judicial agendas. Next week, the JCPA will host a conference whose guests include Dennis Ross, the former Middle East peace envoy who has worked for a number of US administrations. The gathering will focus on discussing the most burning topics that are most affecting the region. "What may look like the regime's final days could end up lasting many months," said Brig. Gen. (ret.) Dr. Shimon Shapira, a JCPA research fellow. "To this day, Assad has held on, and it's been 18 months. Ehud Barak, an old intelligence hand, predicted at the outset that Assad's regime would fall within two weeks, so the inaccuracy of these forecasts just goes to show the difficulty in assessing and prognosticating how things will turn out for these regimes, particularly for those in our part of the world." "Nonetheless, it would appear that the process is moving toward Assad's end," he said. "We are now seeing the initial signs that the last pillars holding up the regime are beginning to give way." "Still, you have Iran, China, and Russia backing the Assad regime. If Iran is providing the military and moral support, Russia and China are the diplomatic anchors and the last line of defense against a major upheaval. You could also argue that on the domestic front, Assad is not falling apart. There is no collapse of the Syrian chain of command. There is no en masse desertion of brigadier commanders or generals from the Syrian General Staff."
"The stability of regimes is also measured by the cohesion demonstrated by the security services," Shapira said. "Most of the personnel in the higher echelons of these agencies are of Alawite origin. The Syrian system is built on an alliance of minorities which also integrates the Druze and the Christians. There is constant tension between the urban elites and those in the rural hinterland, yet even these elements haven't totally ripped apart."
A coalition of organizations
The Syrian opposition is comprised of a coalition of four groups who share a few common interests. First, they are all desirous of seeing a Sunni Islamist government arise in Syria. One of the organizations, Jabhat al-Nusra, shares ties with al-Qaida. This week, the US government placed the Syrian group on its list of terrorist organizations. Alongside its terrorist operations against the Assad regime, Jabhat al-Nusra also provides assistance to the local population, a fact which further complicates US and Western attitudes toward the Syrian opposition. Despite Jabhat's status, the massacre that Assad is committing against his citizens and the desire to act against Iran has compelled the US and 130 other countries to recognize the Syrian opposition and its relevant components in the coalition as "legitimate."
In order to understand the forces at work, one needs to grasp the regional and global calculus. The Muslim world is comprised of Sunnis (90 percent of the Islamic world) and Shiites (who make up the remaining 10%). The Syrian opposition is wholly Sunni. Followers of al-Qaida, a Salafist group, are also Sunnis. The Iranian and Syrian regimes are run by Shiites or ethnicities that are related to Shiah Islam (the Alawites are an offshoot of Shiah Islam). "There is still no shadow government in exile," Shapira said. "There is no organized body that could seamlessly replace Assad tomorrow if the regime collapses now. What we have at the moment is a coalition of organizations that do not see eye-to-eye on the ultimate goals of the uprising. I wouldn't count on this current crop of leaders to guide Syria into the future. Their joint interest now is to topple Assad. After the regime falls, there will be a war among the rejectionist groups as to which one gains control of the country, and there is likely to be further bloodletting over there."
The key player — Hezbollah
Acting on the direct orders of Tehran, Hezbollah has thrown its full weight behind the effort to help Assad. Within the Lebanese-based group, however, there are serious disagreements regarding why an organization founded upon hatred of Jews and Israel is now being asked to murder Muslims and die as Iranian mercenaries. While the Syrian rejectionist front is convening for a summit in Morocco, Hezbollah, an organization that normally stages large-scale rallies and conferences once every three years, has put off its planned event for months. This is the conference in which the organization updates its ideological manifesto and extends a renewed mandate to its secretary-general. The man who has ordered the conference to be put on hold is none other than the secretary-general, Hassan Nasrallah, who is wary that the gathering will offer opponents of the Shiite militia's current policy of aiding Assad a platform to vent their frustrations.
"Hezbollah's reputation has taken a huge hit because of its support for Assad," Shapira said. "The extent of the damage is particularly evident in the steep drop in popular support for Nasrallah all across the Arab world. There is also a crisis in morale among Nasrallah's fighters who every day are seeing the dead bodies of their friends return from across the Syrian border for burial. The application of jihad against Sunnis is not as effective as waging war against the Jews." Lt. Col. (res.) Michael Segall, another veteran of Israel's intelligence apparatus who is also a research fellow at JCPA, explains why the Iranians are so eager to come to Assad's aid. "From Iran's standpoint, Syria is perceived as an important element in its rejectionist front against the West in general, and Israel in particular," he said. "The Iranians refer to Syria as 'the golden link,' because for years Syria has played host to terrorist organization and it has allowed the free flow of weapons from Iran to Hezbollah in Lebanon."
Now this link is in danger. It is losing its grip, so the Iranians are acting with a sense of urgency. Iranian advisers are being dispatched to assist Assad and his military. Operatives belonging to the Al-Quds Force, a crack, para-military outfit belonging to the Revolutionary Guards which is responsible for carrying out special operations abroad, have been sent to undertake subversive actions against neighboring states while promoting Iranian interests, just as they have done in the Gulf region as well as in North Africa.
The Al-Quds Force is known to be active in Syria. It is providing the regime with advanced technological equipment in hopes of eventually breaking the spirit and the strength of the Syrian opposition. According to Segall, Iran is opposed to the widely held view that the events in Syria are an outgrowth of the Arab Spring. Instead, Tehran believes the anti-Assad uprising is the latest effort to thwart the resistance movement against the West, which Iran views as "the Great Satan," and against Israel, or "the little Satan." "The Iranians are operating out in the open," he said. "Just like nobody is trying to conceal the fact that aid for the rebels is coming from Sunni states like Saudi Arabia and Qatar, Iran is also making no effort to hide its role in helping the Syrian regime." "Iran is a state whose goal is to gain strategic depth," he said. "It views the campaign around Damascus as something much more than just saving Syria itself. This is an important outpost for Iran as it relates to its struggle against the Western world, and that is why it is heavily invested there." Segall added that the ayatollahs are pursuing their policies despite domestic criticism from the opposition, which would much prefer to see money poured into the fragile Iranian economy rather than bombs designated for Syria and Hamas. This criticism is likely to grow more ferocious the longer the Syrian civil war continues and the more burdensome Western sanctions against Iran become.
Conversely, the Syrian opposition groups are not bound to anyone, according to Lt. Col. (ret.) Jonathan D. Halevi, a JCPA research fellow who spent his career at Military Intelligence. "[The Syrian opposition factions] owe nothing to the West, and this will have ramifications in the future," he said. "Today, most of the rebel arms come from Syrian military bases that they conquered, or from deserters from the Syrian army. Many of the rebels went AWOL from the Syrian army, so they are skilled at using arms, including advanced weapons like tanks and anti-aircraft missile batteries." Halevi points to the Syrian military's gradual loss of control on the ground, a predicament starkly reflected by the increasing use of aerial strikes. This tactic is necessitated by the Syrian army's inability to hold onto territory against the rebels. As such, the military is forced to deploy other threatening means. "We are not talking about the destruction of just two tanks, but a massive number of planes," he said. "The rebels say that they have destroyed 100 jets, including planes on the ground. The sense among the rebel groups (including one of them with which Halevi is in contact) is that Assad's days are numbered.
The decisive battle will be in Damascus. They will try to take advantage of the momentum they have amassed in order to make one large push on Damascus. Then, there will be large-scale acts of revenge and massacres in the area outside of Damascus. We are talking about war crimes that will eventually reach the level of genocide." "The opposition is joining forces along two fronts," Halevi said. "They established a headquarters that has divided Syria into 15 combat zones. The organization that has gained control of the funds flowing in from Qatar and Saudi Arabia is the Muslim Brotherhood, which in turn is transferring the money to their operatives inside Syria. The money is not coming directly from Saudi Arabia, but rather through the Turkish border."
Between Iran and Turkey
Dore Gold, the current president of the JCPA, once served as ambassador to the UN and is a top diplomatic adviser to Prime Minister Benjamin Netanyahu. He said that the international community's failure to take real action against Syria can be attributed to Russia. "The key to any UN decision is in the Security Council," Gold said. "Decisions are made in the Security Council whenever there is unanimous agreement or consensus, so that whoever doesn't support it will reconcile with it and will not prevent it." "With Syria, the situation is different. Here, Russia decided to provide full support to Assad. The Russians are fearful of Assad's downfall and the bolstering of the Sunni position in the regime. The way they see it, their main rival on the Islamic side is the Sunni camp. That is who they've been fighting in Chechnya, and that is the situation in Tajikistan and in the Caucuses. In these areas, the actors operating against them are Sunnis who receive funding from states and organizations in the Persian Gulf supported by the Muslim Brotherhood. That is why they are backing the Iranian-Shiite camp."
According to Gold's analysis, the opposition forces now control wide swaths of Syrian territory. "The big question is who will gain control of Syria after Assad is gone. Will it be all sorts of politicians who are now based in world capitals? Or will it be military forces active on the ground? In the meantime, it seems that the people on the ground are not taking their orders from any political entity." The former ambassador shines a spotlight on Iraq, which in the post-Saddam Hussein era is being run by a Shiite regime that is for all intents and purposes beholden to Iran. If Assad falls, the Iranians will lose their foothold in Syria. Nonetheless, we can expect that just across the border separating the Golan Heights from Syria, an extremist Sunni regime will arise.
Col. (ret.) Jacques Neriah is also a research fellow at JCPA. Neriah, who once served as a diplomatic adviser to the late Yitzhak Rabin, believes that Iran will not let up in its efforts to impose its influence on what is taking place in Syria. He raised the possibility of an altogether different scenario taking shape: an independent Kurdish entity in the north, which would then invite Turkish intervention that in turn would trigger a more active Iranian involvement. "Syria can find itself under the rule of militias, just like Libya," he said. "While the central government is weak, an independent, Kurdish-run entity could come about in the northeast. There the Kurds would enjoy de facto autonomy, and they would link up with their brethren in Iraq. This would create a problem for Turkey. Before, Turkey had to contend with a 400-kilometer 'Kurdish frontier.' Now, they will have a 1,200-kilometer border with the Kurds. From the Turkish perspective, this is an untenable situation. In such a scenario, there is a potential for [Turkish] intervention." "Either way, we have not reached the end of the Syrian quagmire," he said. "After the fall of Assad, we are in for a long period of constant instability. This will be felt in Lebanon and perhaps in Jordan as well, the two countries that share a border with Syria. If Turkey intervenes, Iran will also intervene. There are a number of variables at work here."
How will all of this impact Israel? "Perhaps the ruler that succeeds Assad, or the organizations that take over the country, will initially be preoccupied with rebuilding the country and will thus drop the Golan Heights issue from the agenda. To the same extent, however, they may need to find an issue that offers them a goal that they could all unite around, and conflict with Israel certainly fills this need," Neriah said.
Huckabee: Schools 'A Place Of Carnage' Because We 'Systematically Removed God'
Dec. 17….(TPM) Former Arkansas governor Mike Huckabee attributed the mass shooting at Sandy Hook Elementary School in part to restrictions on school prayer and religious materials in the classroom. "We ask why there is violence in our schools, but we have systematically removed God from our schools," Huckabee said on Fox News, discussing the murder spree that took the lives of 20 children and 6 adults in Newtown, CT that morning. "Should we be so surprised that schools would become a place of carnage?" "We've made schools a place where we don't want to talk about eternity, life, what responsibility means, accountability, that we're not just going to have be accountable to the police if they catch us, but one day we stand before, you know, a holy God in judgment," Huckabee said. "If we don't believe that, then we don't fear that." He said those suffering from a crisis from faith should look to God in the community's response to the violence. But he added that "Maybe we ought to let God in on the front end and we wouldn't have to call him to show up when it's all said and done at the back end."
Damascus and Assad
Dec. 17….(Fox News) With rebels trying to penetrate Syria's capital, Damascus, President Bashar Assad may appear to be heading for a last stand as his weakened regime crumbles around him. But the Syrian leader is not necessarily on his way out just yet. He still has thousands of loyal troops and a monopoly on air power. A moribund diplomatic process has given him room to maneuver despite withering international condemnation. And the power of Islamic extremists among the rebels is dashing hopes that the West will help turn the tide of the civil war by sending heavy weapons to the opposition. "The West, for all its rhetorical bombast, has restricted the flow of important weapons," said University of Oklahoma professor Joshua Landis, who runs an influential blog called Syria Comment. "They have not brought down this regime because they are frightened of the alternative."
There is no appetite for intervening actively against Assad, as NATO did against Moammar Gadhafi in Libya, and run the risk of having him replaced by an Islamist regime hostile to the West. Those concerns have deepened after the attack on the US Consulate in Benghazi, Libya, and political turmoil in Egypt where a bid to promote an Islamist agenda threatens to tear the nation apart. Also working in Syria's favor is its alliance with Russia, which could be losing faith in Assad but will probably not abandon him. Russia has been Syria's key protector at the UN Security Council, where Moscow has used its veto power to shield Damascus from world sanctions. On Friday, Russia distanced itself from a statement by its Middle East envoy, who said a day earlier that Assad is losing control and the rebels may win.
During a reign of more than 40 years, the Assad family has built a powerful military and paramilitary force controlled by fellow members of their Alawite sect who are committed to maintaining the once-marginalized religious minority and its allies in power. While the opposition is making significant gains, the forces propping up the regime are far from spent. For many of them, defeat would mean not only the end of Assad but an existential threat by vengeful rebel forces. Some observers believe the die-hard loyalists around Assad, a man who has vowed to live and die in Syria, despite the uprising, may not allow him to abandon ship, even if he wanted to. "Assad has effectively held his community hostage and convinced them to go down this road, which could very well lead to horrible retribution," Landis told The Associated Press. "He cannot leave them defenseless by swanning off."
So far, air power has been the regime's most potent tool against the rebels, who remain largely helpless in the face of jets and attack helicopters that drop bombs from the sky. The rebels have managed to seize large swaths of territory in the north, overrun military bases and expand their control on the outskirts of the capital. But rebels admit there is little to do about the threat from above, even though they appear to have shot down a few aircraft in recent months. The airstrikes, which often kill civilians, have in some cases turned residents off the rebellion by making them angry that insurgent fighters are effectively bringing the fight to their doorsteps.
A slow-moving and so-far ineffective diplomatic process also plays directly into Assad's hands. The US has warned the Syrian leader not to cross a "red line" and unleash chemical weapons against the rebels, but beyond that threat there is no clear sign that Washington or its allies want to get involved by sending troops or arming the rebel forces. That stance may have the unintended consequence of giving Assad broad leeway to continue cracking down in other ways, short of a chemical attack, without any fear of retribution.
The US and NATO last week accused Assad's forces of firing Scud missiles at rebel areas, but the regime has denied that. The government also has been careful not to confirm it even has chemical weapons, while insisting it would never use them against its own people. Syria is believed to have a formidable arsenal of chemical weapons, including sarin and mustard gas, although the exact dimensions are not known. While the conflict drags on, there are widening fears that the civil war will ignite neighboring countries, including Lebanon, where pro and anti-Assad forces have clashed. Many rebel fighters are bitter that the US and others have not intervened to stop Assad's air force as they did in Libya against Gadhafi. The fractious nature of the opposition and the increasing power of Islamic extremists among the rebel fighters have been a boon for the regime, as well.
On Wednesday, the US, Europe and their allies recognized the newly reorganized opposition leadership, giving it a stamp of credibility though it remains to be seen if the new bloc holds much sway with fighters on the ground. Those fighters are a growing problem for the West. Some of the rebels' greatest battlefield successes have been carried out by extremist groups with links to al-Qaida. The West, of course, does not want see such organizations wielding any power in the region, much less running Syria. Moreover, the opposition appears split over how much to embrace the Islamist fighters.
The president of the new opposition coalition, Mouaz al-Khatib, has disagreed publicly with the US decision to blacklist Jabhat al-Nusra, an al-Qaida-linked force that has proved to be one of the most successful fighting groups in the war against Assad. Support for al-Nusra appears to be gaining traction among those who support the rebellion, no doubt alienating many Syrians who hope for a secular future. On Friday, according to amateur video footage posted online, some crowds calling for the downfall of the regime rejected the US designation of al-Nusra as terrorists and carried signs that said: "We are all Jabhat al-Nusra."
The threat of Islamic extremism resonates deeply in Syria, a country with many ethnic and religious minorities. The Assad dynasty has long tried to promote a secular identity in Syria, largely because it has relied heavily on its own Alawite base in the military and security forces in an overwhelmingly Sunni country. Assad has warned repeatedly that the country's turmoil will throw Syria into chaos, religious extremism and sectarian divisions. The opposition has so far failed to put forth a credible alternative to Assad, a shortcoming which has kept many Syrians on the fence even as he appears increasingly to be losing control. "The opposition is not a government," Landis said. "They do not offer social security or retirement payments or a pension. There are millions of Syrians who depend on that government. Can this new coalition that America just recognized step in and take their place?"
Texas Public Schools Teaching "Allah is Creator God"
Dec. 17….(In The Days) In the 70 percent of Texas public schools where a private curriculum has been installed, students are learning the "fact" that "Allah is the Almighty God," charge critics of a new online curriculum that already is facing condemnation for its secrecy and restrictions on oversight. The program, called CSCOPE, is a private venture operating under the umbrella of the Texas Education Service Center Curriculum Collaborative, whose incorporation documents state its independence from the State Board of Education of the Texas Education Agency.
Other reports previously have raised alarm over the curriculum's depiction of the Boston Tea Party as a terrorist act on par with the 9/11 attack. According to documentation that has leaked out, the program describes the Boston Tea Party this way: "A local militia, believed to be a terrorist organization, attacked the property of private citizens today at our nation's busiest port. Although no one was injured in the attack, a large quantity of merchandise, considered to be valuable to its owners and loathsome to the perpetrators, was destroyed. The terrorists, dressed in disguise and apparently intoxicated, were able to escape into the night with the help of local citizens who harbor these fugitives and conceal their identities from the authorities. It is believed that the terrorist attack was a response to the policies enacted by the occupying country's government. Even stronger policies are anticipated by the local citizens."
There also have been reports that the curriculum, contrary to recent Supreme Court rulings, says the Second Amendment to the US Constitution, the right to bear arms, is limited to state-run organizations. "The collective right's advocates believed that the Second Amendment did not apply to individuals; rather it recognized the right of a state to arm its militia. It recognized limited individual rights only when it was exercised by members of a functioning, organized militia while actively participating in the militia's activities."
Now come concerns about what critics describe as a definitively pro-Islam bias. The critics say the studies border on proselytizing. In one scenario, students are asked to study the tenets of Islam, and critics say the materials provided exceed impartial review of another faith, extending into requirements of conversion and moral imperatives. A computer presentation utilized as part of a study of Islam includes information on how to convert, as well as verses denigrating other faiths.
According to excerpts, under the heading, "Who Is Allah?" students are told: "Allah is the Almighty God." "Allah alone is the Creator. He alone deserves our devout love and worship." Muhammad is described as having become "disillusioned with the corruption in the city and the growing gap between the urban dwellers and the Bedouins (nomadic herders)." But there is no mention of his documented sex activities with a child or his penchant for beheading entire indigenous people groups.
'First Damascus, Then Tel Aviv'
(Salafist leader warns that once rebels topple Assad's regime they will set their sights on Israel; says 'We won't rest until Palestine is liberated')
Dec. 17….(YNET) The leader of the radical Salafist movement in Jordan, whose organization actively supports the Syrian rebels' efforts to topple President Bashar Assad's regime warned Sunday that once the Damascus opposition achieves its primary goal, it will set its sights on Israel. The group's leader, Abed Shihadeh, who is also known as Abu Muhammad al-Tahawi, spoke at the funeral of a Jihadist who committed a suicide attack in Amman last week. "We tell Benjamin Netanyahu, the (Israeli) prime minister, get ready. The army of the Prophet Mohammad is coming your way." Shihadeh added: "Those carrying explosives in Syria, Iraq, Afghanistan and Pakistan will find you, Allah willing," he added. "The next fight is between us and you."
The jihadist leader further pledged to "Take over Damascus and then head to Tel Aviv. As far as we are concerned, Palestine stretches from river to sea, from Rafah to a-Nakura. We will not rest until Palestine is liberated." Commenting on the United States' decision to add the al Qaeda-linked Syrian rebel group Jabhat al-Nusra to its terror watch list, Shihadeh said that "Allah blesses the heroes of Jabhat al-Nusra. "America is the mother of all terror in the world," he added, further blaming the US for "standing by Assad and the Jews."
Merry Christmas to FOJ Readers
Greetings to Phoenix, Arizona, Alamogordo, New Mexico, Alexandria, Louisiana, Pensacola, Florida, Witter, Arkansas, Perth, Western Australia, Australia, Gig Harbor, Washington, Blossom, Texas, Myrtle Beach, South Carolina, Schenectady, New York, Connellsville, Pennsylvania, Kabel, Nordrhein-Westfalen, Germany, and Santa Rosa, California
WEEK OF DECEMBER 9 THROUGH DECEMBER 15
Syrian Rebels Pledge Allegiance to Al-Qaeda & Kills US Troops
Dec. 14….(Infowars) A new petition posted on the 'We The People' section of the WhiteHouse.gov website demands that the Obama administration cease all funding and support for terrorists and extremist rebels in Syria, as news emerges of 29 different Syrian rebel groups pledging allegiance to the Al-Qaeda affiliated Nusra Front, a group responsible for killing US troops in Iraq and one that is currently the primary fighting force in the NATO-backed bid to topple President Bashar Al-Assad.
Entitled Cease All Funding and Support for Al-Qaeda Terrorists and Extremist Rebels in Syria, the petition states; Hillary Clinton has admitted that Al-Qaeda is supporting the Syrian rebels, who are backed by the Obama administration with $200 million dollars in aid. According to McClatchy Newspapers one of these groups, Al Nusra Front, an Al-Qaeda affiliate, is now conducting "the heaviest frontline fighting" in Syria and has been responsible for terrorist attacks. Impartial observers such as Dr. Jacques Beres say the majority of rebels in Syria are foreign extremists whose goal is to impose Sharia law. These rebels have also been filmed burning US flags and chanting anti-American slogans. Funding terrorists is a crime under the National Defense Authorization Act. Such activity has had disastrous consequences in the past, such as 9/11. We demand all support direct or indirect to cease immediately.
The petition is timely given that 29 different Syrian opposition groups this week pledged their allegiance to Al Nusra, an Al-Qaeda-affiliated group which, as the New York Times reported on Saturday, "killed numerous American troops in Iraq," dismissing the notion that Al Nusra is merely is one "bad apple" amongst the rebels. In reality, the United States is backing an uprising that has placed the imposition of Sharia law and the ultimate destruction of the United States at the core of its long term agenda once Assad is deposed.
A recent Syrian rebel quoted by McClatchy Newspapers was overheard to remark, "When we finish with Assad, we will fight the US!" Other militants have appeared in You Tube videos speaking of their desire to see the Al-Qaeda flag fly over the White House once the rebels are victorious across the region. Syrian rebels have been responsible for a plethora of atrocities, from terrorist attacks and massacres, to forcing people to become suicide bombers, to attacks on Christian churches and making children carry out grisly beheadings of unarmed prisoners.
Somewhat ludicrously, the US State Department today blamed the Assad regime itself, which has been fighting against the Al-Qaeda linked group, for allowing the Nusra Front to gain a foothold in the country. The United States today announced that it would designate Al Nusra as a terrorist organization and place sanctions against the group. The other opposition groups in Syria who almost universally support Al Nusra and preach the same extremist doctrine are however set to receive more financial support, with direct NATO military intervention on their behalf also "imminent," according to some sources.
In continuing to fund an uprising that is being led and executed by known terrorists while being supported by their rebel allies, the United States is breaking its own law, the National Defense Authorization Act, which specifically criminalizes support for any "associated forces" of terrorists. Infowars is encouraging all American citizens to sign this petition and force the Obama administration to at least address the issue of why it is backing Islamic extremists in Syria with taxpayer money given similar disastrous policies in Libya that led to the attack on the Benghazi consulate and the death of Ambassador Chris Stevens.
Syria's Muslim Brotherhood Slams US Terror Label on Al-Nusra
Dec. 14….(Arutz) Syria's Muslim Brotherhood chapter has slammed the United States State Department for adding the Al-Nusra group to its list of outlawed terrorist organizations. An official in the Brotherhood said Tuesday the US had made a "very wrong" decision by designating the Al-Nusra Front rebel group as a terrorist organization. The radical Islamist Syrian opposition group, which allegedly has ties to the international Al-Qaeda terrorist organization, was designated as a "foreign terrorist organization." The, group which appears to be connected with the Al-Qaeda branch in Iraq, has claimed responsibility for numerous suicide and other bombings in Aleppo, Damascus and Homs.
Al-Nusra is a leading member of a group of 13 radical Islamic groups that issued a statement posted on a jihadist website declaring Aleppo to be a new, independent Islamic state in Syria. The group is also referred to as Jabhat al-Nusra, and as Ansar al-Jebhat al-Nusra li-Ahl al-Sham ("Supporters of the Front for Victory of the People of Syria.") Al-Nusra has referred to the United States and Israel as the "enemies of Islam" and has attacked the religious beliefs of non-Sunni Muslims in Syria, including Alawites.
Syrian Rebels Are 'Exclusively' America-Hating Jihadists
Dec. 14….(WND) While the Obama administration reportedly is moving toward recognizing the recently formed and supposedly "inclusive" Syrian National Coalition as the legitimate representative of the Syrian people, recent reports from in and around the embattled Syrian city of Aleppo make clear that Syrian rebel forces on the ground consist virtually exclusively of jihadists, including self-avowed veterans of the al-Qaida-led insurgency against American forces in Iraq.
Thus, in a report that appeared last week in the French leftist daily Libération, correspondent Jean-Pierre Perrin describes visiting with one of the rebel militias that have infiltrated Syria's largest city and erstwhile economic hub. The name of the group? The "Lords of Tawhid Battalion." Tawhid is a core Islamic notion signifying the unity and indivisibility of God, a concept that Islamists contrast to the Christian Trinity. The term is frequently employed by jihadist groups. For instance, the original name of the late Abu Musab al-Zarqawi's notorious Iraqi al-Qaida affiliate was the "Tawhid and Jihad Group" [Jama'at al-Tawhid wal-Jihad].
The names of some of the other rebel militias present in and around Aleppo include The Aleppo Islamic People's Brigade [Liwa Halab ash-Shahba ul-Islami], The Islamic Dawn Movement [Harakat Fajr ul-Islami], The Battalions of Islam [Kataa'ib ul-Islam], The Army of Muhammad Brigade [Liwa Jaish Muhammad], The Sultan Muhammad Battalion [Katiebat as-Sultan Muhammad], The Shield of Islam Brigade [Liwa Dara' ul-Islam], and The Pearls of the Ummah [Liwa Dur ul-Ummah]. The Ummah is the Arabic expression for the Islamic community.
The names are given in a video statement that was issued by the rebel groups in November. In the statement, the groups rejected the authority of the Syrian National Coalition and pledged to establish an Islamic State or caliphate. In Aleppo, Libération reporter Perrin spoke with the commander of the Lords of Tawhid Battalion: one Hajj Abdou. Perrin notes that Abdou is "no newcomer to holy war." He confides that he has already participated in holy war in Lebanon, fighting with the Palestinians against Israel, and in Iraq: notably, in Fallujah and Ramadi, cities that are emblematic of the Sunni uprising against the American army.
Details like this from the European press are particularly telling, since as a rule the reporters and their editors make no secret of their sympathies for the Syrian rebellion. Thus Perrin's report in Libération is heroically titled "With the Resistance Fighters of the Old City of Aleppo." The stylization of the rebels into the "resistance," with its echoes of the French resistance to German occupation during WWII, is especially dubious in the case of Aleppo. Rebel groups slipped into Aleppo in July, thus, in effect, pressuring government forces to attack a city whose inhabitants were known to be largely Christian or loyal to the regime. Syrian components of the rebellion are as committed to Islamist/jihadist ideology as the "immigrants" or muhajiroun who have rallied to their cause. Thus, for instance, Hajj Abdou, the veteran of the Iraqi jihad and commander of the Lords of Tawhid Battalion, is identified in Jean-Pierre Perrin's Libération report as a native Syrian.
Not only rebel militias, but even anti-regime demonstrators in Syria have persistently flown the black banner of jihad with the shahada or Islamic declaration of faith inscribed on it. A video clip that recently emerged is said to show demonstrators in the region of Idlib, a rebel stronghold. The demonstrators wave the black jihadist flag and repeatedly chant: "Islamic, Islamic, Our revolution is Islamic.
Merry Christmas to FOJ Followers
Dec. 14….(FOJ) Stillmore, Georgia. Fort Huachuca, Arizona. Colorado Springs, Colorado. Portland, Oregon. Emmett & Moscow, Idaho. Traverse City, Michigan. New Port Richey, Florida. Alexandria, Louisiana. Davison, Michigan. Fresno, California. Calgary, Alberta, Canada. Mrsta, Stockholms Lan, Sweden. La Courneuve, Ile-de-France.
Assad Firing Scuds to Stop Al Qaeda

Syrian Scud Missle
Dec. 14….(DEBKAfile Exclusive) By the blacklisting Tuesday, Dec. 11, of the Jabhat al-Nusra group fighting in Syrian rebel ranks as "a foreign terrorist organization" and affiliate of al Qaeda in Iraq, Washington faces four quandaries:
1. The 10,000 fighters of this al Qaeda affiliate are the best-trained and most professional component of the Syrian rebel front.
2. Jabhat al-Nusra fields 3,000 fighters out of the mostly Free Syrian Army's 14,000 rebels fighting in and around Aleppo. They also constitute the assault force's spearhead.
3. The Islamists are at the sharp front edge of the rebel force battling for control of the Syrian army's biggest chemical weapons store at Al Safira, near Aleppo. Thursday morning, Dec. 12, they were just a kilometer from the base's northwestern perimeter fence and advancing fast. By week's end, Jabhat al-Nusra jihadis may have smashed into the base and seized control of the chemical stocks and Scud D planes standing there armed with chemical warheads. The imminence of this peril forced Bashar Assad's hand into sending Scud jets against rebel-held areas in an effort to stop their advance on the base.
4. This al Qaeda affiliate is also better armed and equipped than any other Syrian rebel force, thanks to the generous financial and logistical aid laid on by Persian Gulf sources, especially in Saudi Arabia, Qatar and Kuwait.
The difficulty here is that those three Gulf Arab states are also American allies in the war against Assad and the most important contributors to the US-sponsored Friends of Syria, a forum which met in Marrakesh Wednesday, and formally recognized the umbrella Syrian opposition coalition of exiled groups as the legitimate government of Syria.
Debkafile's military sources point to the next crisis looming ahead: If Assad fails to stop the al Qaeda fighters from reaching Al-Safira and its poison gas stores, and an al Qaeda affiliate succeeds for the first time in arming itself with chemical weapons, the United States will have to mount an air assault, not on Assad's army but on the Syrian rebel forces fighting him, because if they do manage to seize control of the base, rebel fighters may decide to send the chemicals-tipped missiles against Assad regime centers in Damascus. The fall of al Safira would then transform the Syrian civil conflict into a chemical missile war.
Syria's Assad Facing His Last Days
Dec. 14….(WND) Two lingering headaches in America's foreign policy took on new dimensions this week as North Korea fired a missile over Japan and launched a satellite and the US formally recognized the Syrian opposition in its battle against President Bashar al-Assad. Retired US Army Maj. Gen. Paul Vallely was deputy commanding general for the Pacific and also returned from consultations with military officials from the Syrian opposition. He told WND Assad's days are numbered. "Assad will fall. The information I got from the Syrian generals is that he'll either be evacuated with his family to Russia or probably most likely to Iran," said Vallely, who estimates Assad will be gone within 30-60 days. He said the rebels are successfully attacking airfields and have essentially shut down the main airport in Damascus, although Iranian planes are still getting in to provide much needed supplies to the beleaguered regime.
One of the complicated aspects for the US in this war is the odd combination of partners in the Syrian opposition, which ranges from those truly seeking a freer, more stable society to verified elements of al-Qaida, the Muslim Brotherhood and other radical groups. Vallely confirmed those Islamist elements are part of the mix, but he's confident the good parts of the coalition are in position to assume control when Assad falls. In his meetings with some 75 opposition leaders, Vallely said he came away feeling good about what will replace Assad. "Nine of those were Syrian generals, high-level generals that worked for Assad who defected and now control the Free Syrian Army, which controls about 65 percent of the opposition forces," Vallely said. "So you've got a number of groups over there, Islamists, radicals, but you also have members of the Free Syrian Army who are looking for freedom and looking for a future Syria."
Vallely said he was very impressed with the people he met, and those people are representative of the vast majority of the Syrian opposition. "I felt very comfortable with the commanders that I met with," he said. "They're not Islamist or radicals. They detest Hezbollah. They detest al-Qaida." Nonetheless, Gen. Vallely said the radical minority elements of the opposition will try to assert themselves when Assad falls, and it is imperative that they fail. He said this has gotten more complicated in just the past few days as money is now pouring in to support an effort by radicals to take control."I got word yesterday that one of the reasons Qatar and Saudi Arabia are supporting the Muslim Brotherhood is because if they can take over like they've tyaken over in Egypt, they can control a whole new pipeline across Syria into the Mediterranean near the port of Tartus and Latakia," he said. "That has not been exposed yet. The first time I've exposed that is on your show today, so that's new information."
Vallely said the opposition is worried that Assad may deploy chemical and biological weapons as his grip on power continues to slip. He said Assad is already bombing hospitals and other population centers. Approximately 40,000 people have died, and another 200,000 have fled the country.
On North Korea, Vallely said we're seeing the same story play out that we saw in the Clinton and Bush administrations. He said while the Western nations try to negotiate with a communist regime willing to starve its own people, the North Koreans are establishing themselves as more serious players on the international stage, all with the full blessing of China. "They're a proxy of China. Everything that they do China knows about and basically supports them in what they're doing," Vallely explained. Vallely said the successful launch will also tighten the North Korean relationships with Russia, Iran and the current Syrian government. He said what's also clear is that US is not willing to do much of anything about an increasingly dangerous and competent regime. "We're pretty much a paper tiger when it comes to threats like North Korea," he said. "So it's trying to influence the international community, that they can stand up and be a missile power and develop nuclear weapons. At the same time, the West is very weak when it comes to standing up to a lot of threats today, including our government. Just coming back from over in the Middle East, you know we just have no credibility anymore.
Muslim Brotherhood Advising Obama to Engage Hamas
Dec. 14….(WND) The Egyptian government is leading diplomacy with the US and European Union aimed at opening official Western dialogue with Hamas, according to informed Middle Eastern security officials. The officials said Muslim Brotherhood-dominated Egypt is pushing for the continued flow of international aid in the event of a future Hamas-led Palestinian government. Hamas, an offshoot of the Muslim Brotherhood, is expected to do well in any upcoming Palestinian elections. There is also a drive by Egypt, Turkey and Qatar to wean Hamas entirely off of Iranian money to help rid the Gaza Strip of Shiite Islamic influence, the officials said. Hamas believes distancing itself more from Iran could prompt a crisis with the Iranian-backed Islamic Jihad group in Gaza, added the officials.
Islamic Jihad and Hamas are quietly discussing creating a united political front following future elections, the officials said. However, Islamic Jihad set as a precondition for joining any Hamas coalition that such a future government cannot recognize the existence of Israel. Regarding US dialogue with Hamas, the State Department has several times iterated a set of preconditions: Hamas first must recognize Israel, renounce violence and abide by previous Israeli-Palestinian agreements. Hamas has several times claimed it talked with US surrogates about eventually establishing open relations. Sources within Hamas previously disclosed to WND a June 2009 meeting with former US diplomat Thomas Pickering. The sources claimed the meeting was about opening future talks with the West. The gathering allegedly took place in Geneva with two Hamas leaders, Bassem Naim and Mahmoud al-Zahar. Naim is Hamas' health minister, while al-Zahar is one of the main Hamas leaders in Gaza. Pickering's meeting with Hamas in 2009 served as an "important step" to open eventual dialogue between the Islamic group and the Obama administration, Hamas' chief political adviser in Gaza, Ahmed Yousef, told WND that year.
At the time, the State Department told the Jerusalem Post the meeting between Pickering and Hamas was not sanctioned by the White House. State Department spokesman Ian Kelly stressed Pickering acted as a private citizen. Kelly said he was unaware of any prior US governmental coordination with the former diplomat about the meeting with Hamas. Pickering is currently President Obama's lead investigator on the Benghazi attacks.
Also in February 2009 there were reports Sen. John Kerry, now a favorite for secretary of state, accepted a letter for President Obama from Hamas leaders in Gaza. Kerry had visited Gaza to tour United Nations camps there.
Obama Sending US F-16 Fighter Jets to the… Muslim Brotherhood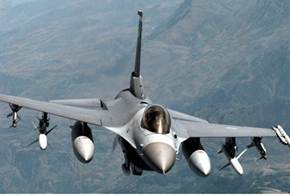 Dec. 12….(DEBKA) The Obama administration took a careful look at the political calendar before announcing that the first four F-16 fighter planes, of the 20 approved in a $1 billion US foreign aid package to Egypt, would be delivered Jan. 22. The announcement came Tuesday, Dec. 11, as Cairo and other Egyptian towns were set for massive rival demonstrations for and against President Mohamed Morsi's decision to hold a referendum on a pro-Islamist constitution Saturday. It therefore came in for rising criticism in Washington of the wisdom of sending the jets to an unstable Egypt in the grip of a strong political confrontation.
A broad range of opposition groups, pro-democratic, liberal, secular, women and Christian, are demanding that President Morsi cancel the referendum. The Muslim Brotherhood is mobilizing its supporters to counter this protest. As the first anti-Morsi groups began gathering in Tahrir Square Tuesday, nine were hurt by masked gunmen. The opposition has clipped President Morsi's wings once by making him annul the near-dictatorial powers he gave himself. Forcing him to forego the referendum would further undermine his authority. So the president fought back by authorizing the military to secure state buildings and arrest civilians in the incendiary days leading up to Saturday's referendum. Debkafile's military sources report that Monday, six Egyptian Air Force F-16 fighters flew symbolically over Cairo. However, the 2nd and 9th Divisions stationed around Cairo stayed in their barracks and the only uniformed personnel visible on the street were the Republican Guard troops on permanent duty in the capital's center.
By approving another 20 F-16 jets for Muslim-ruled Egypt on the day of the competing demonstrations, President Obama showed the Egyptian people that he stands foursquare behind President Morsi and that more US military aid is on the way. The first four jets will arrive in Egypt the day after Barack Obama's Jan. 21 swearing-in for a second term as US president at the Capitol, and not by chance. That date also coincides with Israel's Jan. 22 general election. Obama is therefore using those warplanes as a signpost for the Muslim-Arab Middle East, and the Israeli voter, to show them that he is sticking unswervingly to his policy of support for the region's Muslim Brotherhood, and especially the new Egyptian president, even if Morsi did slip up by a grab for sweeping powers that alienated most of the opposition.
The US promise of new fighter planes was also a recommendation to the Egyptian army to pick the right side and opt for President Morsi if they wanted US military assistance to keep coming. Washington was also ready to consider providing them with more high-tech items in addition to those already supplied. At all events, President Obama has made his choice, opting for Egypt's Islamists against the pro-democracy and liberal opposition, a choice that he might have found embarrassing when he campaigned for his second term.
Israel had a dark premonition of what was coming. Obama began laying the background for his strong alignment with Islamist Egypt last month with the dramatic announcement of a ceasefire in Cairo on Nov. 20, that was delivered jointly by Morsi and US Secretary of State Hillary Clinton. By this announcement, and by maneuvering Israel into abstaining from a ground operation in the Gaza Strip to complete its air operation against Palestinian terrorist targets, Obama pulled the Egyptian president out of his hat as a fully-fledged international figure ready to jump to the top of his newly-minted Sunni Muslim Middle East coalition. In addition to Egypt, its chosen members were to be Turkey, Qatar and the Palestinian Hamas. Israel was to be a secret partner and contributor of high-grade intelligence. Prime Minister Binyamin Netanyahu was forced to fit into the role cast Israel by the US president. He therefore chose to hold back from a ground incursion in the Gaza Strip and then agreed to the radical Hamas leader Khaled Meshaal visiting Gaza last week. His reward came at the same time as Washington's announcement of the 20 F-16 fighters for Egypt: The US has appropriated $650 million worth of ordnance to refill the Israeli arsenals depleted by the massive Pillar of Defense air offensive in Gaza.
Obama Recognizes Syria's Rebels
Dec. 12….(Fox News) President Barack Obama declared Syria's main opposition group the sole "legitimate representative" of its country's people Tuesday, deeming the move "a big step" in the international diplomatic efforts to end Syrian President Bashar Assad's embattled regime. Obama said the newly formed Syrian Opposition Council "is now inclusive enough" to be granted the elevated status, which paves the way for the greater US support for the organization. "Obviously, with that recognition comes responsibilities," Obama said in an interview Tuesday with ABC News. "To make sure that they organize themselves effectively, that they are representative of all the parties, that they commit themselves to a political transition that respects women's rights and minority rights."
Recognition of the council as the sole representative of Syria's diverse population brings the US in line with Britain, France and several of America's Arab allies, which took the same step shortly after the body was created at a meeting of opposition representatives in Qatar last month. Obama's announcement follows his administration's blacklisting of a militant Syrian rebel group with links to al-Qaida. That step is aimed at blunting the influence of extremists amid fears that the regime may use or lose control of its stockpile of chemical weapons. US recognition of the opposition council is expected to be a centerpiece of an international conference on the Syria crisis in Morocco this week.
Nelson Mandela 'Proven' to be a Member of the Communist Party
Dec. 12….(The Telegraph) For decades, it was one of the enduring disputes of South Africa's anti-apartheid struggle. Was Nelson Mandela, the leader of the African National Congress, really a secret Communist, as the white-only government of the time alleged? Or, as he claimed during the infamous 1963 trial that saw him jailed for life, was it simply a smear to discredit him in a world driven by Cold War tensions? Now, nearly half a century after the court case that made him the world's best-known prisoner of conscience, a new book claims that whatever the wider injustice perpetrated, the apartheid-era prosecutors were indeed right on one question: Mr. Mandela was a Communist party member after all.
The former South African president, was awarded the Nobel Peace Prize in 1993 by western progressives, has always denied being a member of the South African branch of the movement, which mounted an armed campaign of guerrilla resistance along with the ANC. But research by a British historian, Professor Stephen Ellis, has unearthed fresh evidence that during his early years as an activist, Mandela held senior rank in the South African Communist Party, or SACP. He says Mandela joined the SACP to enlist the help of the Communist superpowers for the ANC's campaign of armed resistance to British rule.
Merry Christmas From FOJ
Dec. 12….Merry Christmas to FOJ followers in Olive Hill, Kentucky. Morning View, Ky. Mountain View, California. Johnson City, Tennessee. Plano, Texas. Louisville, Tennessee. New Bern, North Carolina. Bixby, Oklahoma. Greenville, South Carolina. Harold, Kentucky.
Israel Will Act if Hezbollah Gets Syrian WMD's
Dec. 11….(Jerusalem Post) Israel will act if Syria passes chemical weapons into Hezbollah's hands, Israeli ambassador to Washington Michael Oren warned on Sunday. "We have a very clear red line about those weapons passing into the wrong hands," Oren told Fox News. "Were those weapons to pass into the wrong hands, into Hezbollah's hands for example, that would be a game changer for us." Armed with chemical weapons and a large cache of rockets, Oren said, the terrorist group could kill "thousands of people."
Syria has one of the world's largest chemical weapons arsenals, according to Leonard Spector, executive director of the James Martin Center for Nonproliferation Studies based in Washington. Syria's arms cache includes "traditional chemical agents, such as mustard, and more modern nerve agents, such as sarin, and possibly persistent nerve agents, such as VX," he told the BBC on Tuesday. While Damascus has never confirmed that it has chemical weapons, it has insisted that it would never use them against its own people.
The Israeli red lines differ from those set by US President Barack Obama, who issued a warning to Syrian President Bashar Assad on Monday not to use such weapons against opposition forces. Addressing the presence of al-Qaida elements in the Syrian opposition, Oren said, "The jihadi presence is big and getting bigger, and the longer the conflict goes on there, the bigger it will get."
US Ambassador to Syria Robert Ford warned on Thursday that extremists were gaining influence in the Syrian opposition, saying such groups had "little by little been gaining influence among the armed opposition." Extremist elements, which are still a minority among the opposition, pose "an obstacle to finding the political solution that Syria needs," he said. On Saturday, British Foreign Secretary William Hague said he has seen "some evidence" that Assad's regime is preparing to use chemical weapons against the rebels, AFP reported. "We have seen some evidence of that," Hague said to reporters in Manama at a regional security conference. "We and the US, as I said in parliament this week, have seen some evidence of that and that is why we have issued strong warnings about it. We have done so directly to the Syrian regime," AFP quoted him as saying.
Sources in Iraq say Assad's inner circle is engaged in "intensive debate" between those who advocate using chemical weapons as a last resort and those who warn of the dangers of such a step, Kuwaiti daily Al-Seyassah reported on Thursday. US intelligence officials also intercepted one communication within the last six months they believe was from the Iranian Revolutionary Guard Corps's elite extraterritorial unit, the Qods Force, according to the Washington Post. That communication reportedly urged Syrian regime members to use its supplies of Sarin nerve gas against rebels and the civilians supporting them in Homs.
Tehran, which has much to lose if Assad falls, has been accused by the US in the past week of continuing to ship arms to the Syrian regime via Iraqi airspace. The Syrian opposition has also accused the Revolutionary Guards of providing military assistance to Assad.
Assad May Have Passed Chemical Weapons to Hizballah
Dec. 11….(DEBKA) There is growing concern that some of the chemical weapons the Assad regime has been pushing out of the Damascus area in the last few days were sent across the border to Hizballah strongholds in the Lebanese Beqaa Valley to keep them out of rebel hands. Syrian army officers who recently defected report that containers were last week removed from Syrian bases at Jabal Kalamon and loaded on vehicles camouflaged as commercial trucks. On the Lebanese side, the consignment is thought to have been split up and hidden at different Hizballah bases to make them harder to attack.
Israel's US Ambassador Michael Oren, asked by a FOX TV interviewer Saturday Dec. 8, if he could confirm this, said he could not, but warned that any evidence of chemical weapons being passed from the Assad regime to extremist groups like Hizballah would be a "game-changer," and a "red line" for Israel. "We have a very clear red line about those chemical weapons passing into the wrong hands. Can you imagine if Hizballah and its 70,000 rockets would get its hands on chemical weapons? That could kill thousands of people." Syria's chemical weapons are deployed in at least five air force bases, with evidence of preparations to use them.
1. US military sources explained early Monday, Dec. 10, that the nerve gas sarin is effective up to 60 days after its precursor chemicals are mixed. Placing the weaponized material in close proximity to warplanes indicates an intention within that timeline to drop the poison gas bombs from the air. After that, sarin must be destroyed in controlled conditions lest its poisons escape into the environment. No one knows if the Syrians have the necessary scientific manpower to take responsibility for this process.
2. The battle around Al Safira, site of Syria's biggest chemical weapons store and Scud D missiles fitted with chemical warheads, is fierce and fluid: the base changes hands every few hours in heavy fighting between Syria army and rebel forces. Saturday, the base's capture by the rebels triggered a warning from the Assad regime against throwing chemical weapons into the battle. Sunday, Al Safira was recaptured, but the rebels are sweeping through the surrounding villages and closing in on three sides. For now, Syrian forces control the road connecting Al Safira to Aleppo, but the rebels have seized parts of Sheikh Suleiman, the biggest air base near that city, and are getting close to that highway. Its fall would snap shut the rebel siege on Al Safira. Control of Al Safira would place the big chemical weapons stores in the hands of rebel forces in that sector, many of whom belong to Jabhat al-Nusra, the roof organization of the al Qaeda elements fighting in Syria against the Assad regime.
3. In the estimate of Western and Israeli intelligence agencies, Assad has already directed his troops fighting in and around Damascus to use chemical weapons if the rebels get near to seizing any part of Damascus international airport.
Assad Issues Last Warning to Rebels Before Using Chemical Weapons
(US, West, Israel on high preparedness)
Dec. 10….(DEBKAfile Exclusive Report) The danger that Syrian ruler Bashar Assad will now resort to chemical warfare shot up Saturday afternoon, Dec. 8, after the rebels captured the "chloride factory" at Al Safira east of Aleppo. This is a codename for the Syrian army's biggest chemical weapons store and base, which also houses Syrian Scud D missiles armed with chemical warheads adjusted to fire at Israel. Assad's warning to the rebels not to fight with chemical weapons is taken as a means of justifying his own resort to chemical weapons and brought this threat closer than ever before. The West, Israel and Syria's other neighbors have gone on elevated preparedness. The fall of Al Safira into rebel hands crosses a red line and places the Assad regime in direct peril. Possession of the chemical-tipped Scuds gives the rebels their strongest weapon for forcing the Syria army to capitulate.
British Foreign Secretary William Hague said Saturday that the UK and the US have seen evidence that Syria is preparing to use chemical weapons. There was enough evidence from intelligence sources to know "that they need a warning," he said at a security conference in Bahrain. "The President of the United Sates warned of serious consequences and he meant it," said the British minister. British intelligence sources told the BBC that Syria's chemical weapons are concentrated at five air bases and are being closely watched. They said contingency plans have been drawn up if they show signs of being readied to be loaded and used as weapons. Debkafile reported this week that US British and French air, sea and marine forces are concentrated opposition Syrian shores and across its Turkish and Jordanian borders.
Egypt's Predictable Unraveling
Dec. 10….(By Andrew C. McCarthy) As Egypt under the heel of Mohamed Morsi unravels, here's the late-breaking news: The Muslim Brotherhood is the enemy of democracy. This has always been obvious to anyone who took the time to look into it. Nevertheless, it has not been an easy point to make these many years. Even as the Justice Department proved beyond any doubt in court that the Brotherhood's major goal in America and Europe, its self-professed "grand jihad," is "eliminating and destroying Western civilization," to have the temerity to point this out is to be smeared as an "Islamophobe." That's the Islamophilic Left's code for "racist."
Nor is it just the liberal Left. Like the transnational progressives who hold sway in Democratic circles, many of the neo-conservative thinkers who have captured Republican foreign-policy making encourage "outreach" to "moderate Islamists," a ludicrously self-contradictory term. The idea is to collaborate in the construction of "Islamic democracies." That's another nonsensical term. Yet, to argue the chimerical folly of the sharia-democracy experiment is to be demagogued as an "isolationist." It is as if the Right can no longer fathom an engaged foreign policy that concentrates solely on vital US interests and treats America's enemies as, well, enemies.
Of course, it is neither Islamophobic nor isolationist to observe that Islamic supremacism is derived from literal Muslim scripture; that it is a mainstream interpretation of Islam whose adherents, far from being limited to a "violent extremist" fringe, number in the hundreds of millions and include many of Islam's most influential thinkers and institutions. These are simply facts. Nor is it Islamophobic or isolationist to contend that any sensible engagement with Islamic supremacists, very much including the Muslim Brotherhood, ought to be aimed at their marginalization and defeat, not their cultivation and empowerment. This is not a popular view with progressives. But following it would strengthen pro-Western Muslims while promoting an American global engagement that is essential, effective, and affordable. That is the very antithesis of Islamophobia and isolationism.
The central contention here has been that the Muslim Brotherhood is an innately, incorrigibly Islamic-supremacist outfit. Wherever it establishes a presence, it seeks, as gradually as indigenous conditions require, and as rapidly as they allow, to implement its repressive construction of Sharia. Wherever it gets the opportunity to rule, it uses its power to impose this Sharia, despite resistance from the society's non-Islamist factions. This is not a mere theory. Egypt, the world's most important Arab country, is violently convulsing before our eyes in direct reaction to the suffocation that is Islamist rule. So, will we finally take the lesson? Will we finally come to understand why democracy and Islamic supremacism cannot coexist?
Western democracy has Judeo-Christian underpinnings. At its core is the equal dignity of every person. This sacred commitment, ironically, enables our bedrock secular guarantee: freedom of conscience. It is anathema to the Muslim Brotherhood. As their guiding jurist, Sheikh Yusuf Qaradawi, teaches: "Secularism can never enjoy general acceptance in an Islamic society." This is because "the acceptance of secularism means abandonment of Sharia."
Now, maybe you doubt this. Maybe you think "Islamic democracy" enthusiasts like Hillary Clinton and President Obama, know more about Sharia than Sheikh Qaradawi does. The Brothers really do believe what they say. They especially believe what Qaradawi says. Obama officials tirelessly portray the Brotherhood as a normal, "largely secular" organization. Other Western progressives nod their heads in unison. Even with Egypt aflame over Morsi's aggressive constitution gambit, the fulfillment of his campaign promise of a constitution that would reflect "the Sharia, then the Sharia, and finally the Sharia," liberals enforce the idea that the Brotherhood is a "moderate, regular old political force" that "just wants to win elections." The Brothers, you are to conclude, are just an Islamic analogue to Europe's Christian Democrats. This is worse than lunacy. It is the most irresponsible brand of willful blindness.
The Muslim Brothers goal is stated by then: "Allah is our objective, the Prophet is our leader, the Koran is our law, jihad is our way, and dying in the way of Allah is our highest hope." Islam, in this ultimate vision, cannot tolerate secular democracy because sharia, the "Koran is our law". Sharia is a "comprehensive system" of "legislation" derived directly from "Allah's injunctions. Imposition of Allah's divine guidance is the Brotherhood's raison d'être. As explained after Mubarak's fall by Khairat al-Shater, the Brothers' strategic leader and Morsi's patron, "we will subjugate people to God on earth," "to organize our life and the lives of the people on the basis of Islam," that is "our main and overall mission as Muslim Brothers."
The draft constitution the Brothers are currently trying to force on Egyptians elucidates their idea of the "basis of Islam" to which people must be subjugated. The new empowers the Islamist state to "entrench moral values" in society by enforcing the Islamist ideal of "family values." It denies freedom of conscience by refusing many religious minorities the right to worship. Although Christianity is not outlawed, the finances of Christian churches are placed under government control, enabling the creation of a Communist-style national church, subject to Islamist domination. It denies freedom of expression by adopting Sharia's repressive blasphemy laws, under which any criticism of Islam is brutally punished. It deletes the former constitution's express guarantee of equality for women "in the fields of political, social, cultural, and economic life." Phony "teachable moments" abound in the era of Obama moralizing, but this one is worth our attention: Egypt is the Brotherhood unleashed. This week's despotic bloodletting is the natural, logical, entirely predictable end of the Brotherhood's machinations, not just in Egypt but everyplace the Muslim Brothers operate. That includes the United States, where our government takes their counsel, invites them to shape our national-security policy, and gives them a veto over the content of materials used to train our law-enforcement, military, and intelligence agents. It is long past time to realize that this is not a game. The Muslim Brothers are playing for keeps in Egypt.
WEEK OF DECEMBER 2 THROUGH DECEMBER 8
Mashaal: Palestine is our Homeland, From the Sea to the River
(A large model of a M75 long-range missile is seen as hundreds of thousands attend a rally to commemorate the 25th anniversary of the Hamas terrorist organization (founded by the Muslim Brotherhood) in Gaza city)
Dec. 8….(Times of Israel) "Palestine is our homeland from the sea to the river, from north to south, and we cannot give up any part of it," said Hamas chief Khaled Mashaal Saturday at a rally marking the 25th anniversary of the establishment of the terrorist group. "We are all one," said Mashaal, referring to Palestinians residing in the West Bank, the Gaza Strip and inside Israel. "We are all united in the way of resistance." Mashaal entered the Strip on Friday, for the first time ever and after a long exile from Palestinian territory, to attend the mass rally. Hundreds of thousands of Palestinians gathered in Gaza on Saturday to commemorate the 25th anniversary of the establishment of Hamas. Thousands of Hamas supporters, some of them flashing victory signs, were braving the rain to attend the event. Some parents brought children dressed in military uniforms. Palestinian sources reported that the terror organization's supporters from throughout the region had arrived in Gaza to participate in the festivities. In a special message released in honor of the anniversary, Hamas leaders vowed to continue the path of resistance and jihad "to liberate Palestine." "The great crimes perpetrated against us by the Zionist occupation only fuel our desire to resist and fight," read the message.
Russia Has Armed Syria With Ballistic Missiles!
*FOJ Note: Syria's Assad has threatened to hit Israel as a Last Stand against Rebels. The situation in Syria (Damascus) is very serious folks, and it potentially has Tribulation era setting ramifications!
Dec. 8….(WND) Hours after NATO agreed on Tuesday to send Patriot missiles to Turkey because of the crisis in Syria, Russia delivered its first shipment of Iskander missiles to Syria. The superior Iskander can travel at hypersonic speed of over 1.3 miles per second (Mach 6-7) and has a range of over 280 miles with pinpoint accuracy of destroying targets with its 1,500-pound warhead, a nightmare for any missile defense system.
According to Mashregh, the Iranian Revolutionary Guard media outlet, Russia had warned Turkey not to escalate the situation, but with Turkey's request for Patriot missiles, it delivered its first shipment of Iskanders to Syria. Reporting today, Mashregh said the handover occurred when Russian naval logistic vessels docked at Tartus in Syria. The Iskandar is a surface-to-surface missile that no missile defense system can trace or destroy, Mashregh said. Russia had earlier threatened that should America put its missile defense system in Poland, it would retaliate by placing its Iskander missiles at Kaliningrad, its Baltic Sea port.
Russia's delivery of Iskanders to Bashar Assad's embattled regime clearly shows that the security and stability of Syria remains Russia's red line, Mashregh said. It is unknown how many of these missiles have been delivered but the numbers given are sufficient to destroy any Patriot missiles in Turkey, it said. The delivery of the missile not only threatens the security of Turkey but also Israel, which would have to recalculate its strategy with its defensive and offensive capabilities.
Iran's Islamic regime also sees the toppling of the Assad regime as its red line and has 170 ballistic missiles targeting Tel Aviv in underground missile silos, some with biological warheads. In August, a commentary in Mashregh, representing the Syrian regime's views, warned America and Israel that further instability in Syria would spark a pre-emptive attack on Israel in which the use of weapons of mass destruction, biological, chemical and even nuclear bombs, won't be off the table. It stated that certain groups (proxies, such as Hezbollah) have been armed with WMDs and that Israel will be their target.
The Mashregh commentary charged that Israel is one of the conspirators behind the Syrian crisis in order to strategically change the geopolitics of the region and defeat one of the main players in the Islamic world's "resistance front" (Iran, Syria and Hezbollah). It warned Israel that with the direction it has chosen, "There is a dead end, and the threat of mass killing awaits." The Islamic regime in Iran for its part continues to ship arms to Syria via Iraq both by air and ground while its Quds Forces help the Assad regime in killing its own people. To date, over 40,000 people, including many women and children, have died since the Syrian uprising began in March of 2011.
Reports indicate that Assad has decided to use chemical weapons on his own people (revolutionaries) as a last attempt to save his rule. Speaking in Prague on Monday, US Secretary of State Hillary Clinton warned Syria that the use of chemical weapons would be a red line, indicating that America would retaliate.
Meanwhile, Iran's supreme leader, Ayatollah Ali Khamenei, has ordered the Guards and its Quds Forces to use all of their capabilities to protect Assad and has threatened war against those helping the rebels in Syria, primarily Saudi Arabia and Turkey, according to a source who had served in the Revolutionary Guards intelligence unit but who has since defected. The source added that the recent Gaza conflict was a warning to America and Israel that the Islamic regime in Iran can destabilize the region further should the push in Syria continue to topple Assad. The region will witness terrorist attacks, assassinations and incitement for uprisings in countries allied with America as the situation in Syria further deteriorates, the regime has promised, according to the source.
Muslim Brotherhood Inheriting US War Gear
(Egypt's Muslim Brotherhood-dominated government will receive more battle tanks and jet fighters from the United States, thanks to the Obama Administration's lack of concern over the Muslim Brotherhood)
Dec. 7….(Washington Times) For Egypt's Muslim Brotherhood-dominated government, more battle tanks and jet fighters are on their way from the United States. Cairo's military link to Washington has remained intact, meaning the US will continue to modernize the biggest military in Africa, even as President Mohammed Morsi has decreed near-absolute power for himself and his supporters and opponents battle outside his palace. Analysts say Egypt's military buildup presents risks for Washington, and Israel, with the growing influence of the Brotherhood, whose overriding goal is to establish Shariah, or Islamic, law worldwide. A Pentagon statement to The Washington Times on Thursday said: "We are always reviewing our foreign assistance to make sure foreign assistance advances U.S. objectives and is being used for the right purposes."
For now, under the Obama Administration, Egypt is due 200 M1A1 Abrams battle tanks, the same mechanized firepower manned by American soldiers, bringing Egypt's inventory to a robust 1,200. Also in the pipeline is a squadron of the Air Force F-16 Falcon, a multipurpose warplane able to dogfight and drop ordnance. The government awarded Lockheed Martin Corp. a contract in March 2010 for 20 F-16s, the last to be delivered next year. That would increase Egypt's total fleet to 240, according to a company press release at the time. "Egypt has far and away the largest army in Africa," said Egypt analyst Robert Springborg, a professor at the Naval Postgraduate School in Monterey, Calif. The billions of dollars in US military aid, in annual $1.3 billion stipends, have made the Egyptian air force the fourth-largest F-16 operator among 25 countries. Egypt's 4,000 tanks, including the 1,000 or so M1A1s, make it the world's seventh-largest tank army.
Meanwhile, Frank Gaffney, a senior defense policymaker in the Reagan administration, has been warning about the rise of the Brotherhood as it relates to the US. "My principal concern with the Obama administration's approach to Egypt is they seem oblivious to the fact it is now in the hands of a regime that is deeply hostile to the United States and certainly poses an immediate threat, I believe, to our friends in Israel," said Mr. Gaffney, who runs the Center for Security Policy. "Under those circumstances, it is alarming that they are continuing to arm Egypt in a way that can only exacerbate the threat." Mr. Morsi, a Brotherhood leader before his election, relies on the global fraternity as a power base. "There are two things that are troubling," Mr. Gaffney said. "One is the sheer quantity of the weapons that these enemies of the United States have inherited, let alone those they will be getting if we continue to make arms sales with them. The second is the quality of these weapons."
"Egypt is a pivotal country in the Middle East and a longtime partner of the United States. Its well-being is important for the region as a whole. We have continued to rely on Egypt for more than 30 years to support and advance US interests in the region, including peace with Israel, confronting Iranian ambitions, and supporting Iraq. Preserving peace in the Middle East is a top regional priority as we look to support Egypt through its transition." The political landscape in Cairo was far different in 1979, when Washington began arming Egypt with some of its best weapons. Egypt signed the 1978 Camp David peace accords with Israel and moved squarely into the US camp on major national security issues. Though at peace, Egypt's generals decided they wanted big-ticket items just in case the nation went to war again with Israel. In 1988, Washington and Cairo entered a deal to produce the Army's most lethal armored vehicle, the Abrams tank.
In November 2011, the Pentagon continued the arrangement by awarding a $395 million contract to supply 125 more M1A1 "kits" for final tank assembly in Egypt. The Congressional Research Service calls the M1A1 contract the "cornerstone" of U.S. assistance, which goes deeper than tanks and airplanes. The Pentagon has supplied more than 30 of the Army's front-line attack helicopter, the Apache. It also transfers to Egypt excess military gear valued at hundreds of millions of dollars each year.
Could US-produced F-16s, manned by Egyptian pilots, one day attack Israel? That is a valid concern, given the ideological goals of the Muslim Brotherhood and its leader. Mr. Morsi. Egypt is the second-largest recipient of U.S. military aid; Israel is first. Most of Egypt's assistance is in the form of weapons, such as tanks and fighters, bought with US tax dollars through a program called Foreign Military Sales.
Egypt's Muslim Brotherhood President Morsi Says Will Keep Power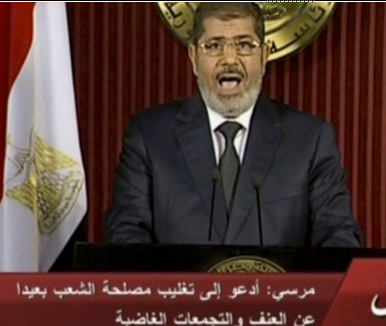 Dec. 7….(Times of Israel) Egyptian President Mohammed Morsi addressed the country for the first time since mass protests began earlier this week, defiantly standing his ground on the issue of the draft constitution, the upcoming national referendum, and his immunity from oversight. Morsi said in a televised speech that if the controversial constitutional draft is rejected by the Egyptian people in the December 15 referendum, he will form a new constituent assembly to draft a new version of the constitution. Yet Morsi also angrily accused some of the opposition protesters of serving remnants of the old regime and vowed never to tolerate anyone working for the overthrow of his "legitimate" government. Morsi said that the controversial decrees he issued last month granting him immunity from legal oversight are non-negotiable!
Earlier in the day, the Egyptian army sealed off the presidential palace with his American made tanks and barbed wire, a day after fierce clashes between supporters and opponents of the Islamist leader over a disputed constitution killed at least seven people. Compounding Morsi's woes, another member of his 17-person advisory panel resigned in protest of his handling of the crisis, bringing the total to seven in the past two weeks. Rafik Habib, the only Coptic Christian adviser, was the latest to resign. Protesters defied a deadline to vacate the area, demanding that Morsi rescind his Nov. 22 decrees giving himself near-absolute power and withdraw the disputed draft constitution passed by his Islamist allies that is headed for a Dec. 15 referendum. But the situation was calm throughout the day.
Thousands of Morsi supporters camped overnight outside the palace after driving away opposition activists who had been staging a sit-in there, prompting the wild street battles that spread to upscale residential areas nearby. The Muslim Brotherhood called on its members to head to the presidential palace to stand up against what a statement termed as attempts by the opposition (advocates of democracy) to impose its will. The Brotherhood erected metal barricades and manned checkpoints chanting "as if they are in a holy war against the infidels. "I don't want Morsi to back down," said Khaled Omar, a Brotherhood supporter who had camped out. "We are not defending him. We are defending Islam, which is what people want."
Paris: NATO-Arab Syria Intervention Imminent
Dec. 7….(DEBKAfile Special Report) Sources close to the French Defense Ministry reported Friday, Dec. 7, that a Western-Arab military intervention against the Assad regime is due to begin shortly with the participation of the US, France, Britain, Turkey, Jordan and other anti-Assad Arab nations. debkafile: The reference is to Saudi Arabia, the UAE and Qatar's special forces.
Our military sources add that the French aircraft carrier Charles De Gaulle carrying a complement of marines is deployed in the Mediterranean, having joined the USS Eisenhower Carrier Strike Group and at least five British warships which are also carrying a large marine force. In the second and third weeks of November, British and French naval forces, plus 2,600 special ops combatants from both nations, performed landing-and-capture exercises against fortified locations on the coast and mountains of Albania as practice for potential operations against similar terrain in Syria, where the Alawite Mountains loom over the coastal towns of Latakia and Tartus.
The troops landing there would head for the Alawite Mts. to prevent Assad and his loyal units from retreating to his mountain stronghold and fighting on from there - as he plans to do if he is forced to flee Damascus. French sources told Le Point magazine that the NATO mission for Syria, including the UK and the US, would be modeled on the Western intervention in Libya in 2011. It would combine an aerial blitz with ground action by special forces for destroying Assad's chemical weapons stocks, his air force and his air defense systems.
Why Obama is Lying About Benghazi?
Dec. 7….(WND) The Obama administration may be trying to use the al-Qaida terror attacks on US operations in Benghazi, Libya, to advance a growing global movement to protect Islam from criticism, according to one expert. The issue is the "defamation of religions" resolution pending at the United Nations. It was introduced by Islamic nations and coalitions to criminalize any negative reference to Islam or Muslims.
Clare Lopez, a senior fellow at the Center for Security Policy, as well as a Senior Fellow at the Clarion Fund, said that after the attack that killed Ambassador Chris Stevens and three others, the Obama administration made an impromptu decision to advance the Islamic agenda item it already had endorsed. "The Obama administration, and especially the Department of State led by Secretary of State Hillary Clinton, are coordinating closely with the [Organization of the Islamic Conference] to achieve implementation of UN Human Rights Commission Resolution 16/18, which despite some cosmetic wording changes, remains the vehicle through which the OIC is determined to work toward the criminalization of the criticism of Islam in US law," she said.
The original Obama narrative on the Benghazi attack, quickly proven to be false, was that the violence was caused by a spontaneous crowd protesting an anti-Islam YouTube video called "Innocence of Muslims." Lopez said the Obama administration's "stubborn adherence to the false narrative of the YouTube film, 'Innocence of Muslims,' for so long after the 11 September 2012 attack on the Benghazi mission is inexplicable except in the context of a globally coordinated campaign through the OIC and US Muslim Brotherhood affiliates to advance the anti-free speech agenda of UN Resolution 16/18."
Lopez said the administration's aim not only is to support the passage of UN Resolution 16/18 but to attempt to move Middle East policy in a direction that favors jihadist states. "Official US policy under the Obama Administration is to assist al-Qaida, the Muslim Brotherhood and other jihadists to overthrow what have been termed 'unfaithful Arab/Muslim rulers' who failed to enforce Islamic law (shariah) and to replace them with jihadist Muslim Brotherhood leadership that has pledged its commitment to re-establishment of the Caliphate and strict implementation of Shariah," she said. Lopez said the change in policy is a consequence of infiltration of Islamist operatives in the United States government.
Muslim nations would use the UN resolution it as an endorsement of their attacks on Christians for statements as simple as their belief in the divinity of Jesus Christ, which Muslims consider an affront. It has been speculated abroad that the resolution will be used to eradicate Christianity in the United States
Iran's Revolutionary Guard is Alive and Well inside the US
(US law enforcement officials ignore them at their peril, according to former US Air Force officer Steven O'Hern)
Dec. 7….(WND) O'Hern says that the Revolutionary Guard, long an influential factor in the radical Islamic regime in Iran, does most of its surveillance and intelligence gathering through its proxy force, Hezbollah, considered by many to be a terror group. "In the United States, the Revolutionary Guard uses more than one approach. Hezbollah operatives and sympathizers are present in large numbers in many parts of the United States and actively conduct reconnaissance missions that develop information, photographs, and diagrams of federal buildings, and infrastructure targets," O'Hern said. "Those targets include such things as water utilities or electrical substations, and other potential targets to give the Guard the ability to quickly order a terrorist strike in our homeland," O'Hern said. He explains that the Revolutionary Guard is working through Shi'a mosques around the United States as well as the nation's Lebanese immigrant communities.
WND previously reported that a former Iranian official who has knowledge of Iran's terror network estimated there are more than 40,000 of the regime's security, intelligence and propaganda forces in the West, largely in friendly South American nations. Muslims are using mosques, including some in the United States, as terror command centers. It is the Guards' intelligence office that runs financing, recruiting and other strategies through Islamic centers and mosques, including some in New York and Ohio. And as early as several months ago, the Guard threatened to bring its war to the shores of the United States.
O'Hern, who has written "Iran's Revolutionary Guard," about the issue, said the primary mission of the Iran Revolutionary Guard and its Hezbollah proxy is to weaken the US national security. "In the United States, the Revolutionary Guard and Hezbollah have a long-term mission of gathering intelligence on homeland targets and maintaining the capability to deliver multiple terrorist attacks if the IRGC chooses to do so," O'Hern said. "I say 'maintain' because the Guard has already developed it." He said attacks could be ordered in retaliation if Iran's nuclear program is hit, or, "Sleeper cells could even be ordered into action if economic sanctions were so successful that the regime was in danger." "Attacks against the US homeland are only one place where the IRGC can strike, it also can attack US troops and facilities in Afghanistan, Africa, Europe, all of which are closer," O'Hern said. O'Hern's findings are affirmed by the analysis of a former Defense Department analyst who has asked not to be named for security reasons. The analyst points to the major Arab-American communities in the major cities, especially in Dearborn, Mich., and the San Francisco Bay area. "It is my sense that IRGC will rely more on Hezbollah in the US than having their own operatives here. The reason for that is the Hezbollah presence is primarily through the concentration of the Arab-American communities, mainly Lebanese, throughout the US, such as in Michigan and elsewhere," the source said.
Former FBI counter-terrorism officer and Islam analyst John Guandolo agrees that the Revolutionary Guard has a presence in the United States, and it operates through the major Shi'a communities. "This is the Iranian government's military activity in the US, he said. Guandolo, who established Guandolo and Associates in 2012, says that when it comes to working to undermine non-Muslim countries, Shi'a and Sunni Muslims work together. "We do know the Sunni and Shi'a groups that are hostile to the United States are working together. In Lebanon, Iraq, and other places we see Hezbollah, by Iran, and Hamas with al-Qaida, working together on the ground," Guandolo said. "In the United States, the largest Muslim Brotherhood organization, the Islamic Society of North America, put forth the ISNA Code of Honor which says Sunni Muslims will not challenge other Muslims, the Shi'a, on their Takfiri, their legitimacy," Guandolo said. "All Muslims are focused on a similar goal. In other words, the Muslim world is working towards one goal right now and they have written agreements and are working on the ground around the world together," Guandolo said, "So, yes, Hamas, CAIR works with Hezbollah, which is basically the IRGC."
The former Defense Department analyst says the Revolutionary Guard operates the same way worldwide. "That is similar in Africa and Latin America. Like Iran, Hezbollah is mainly Shi'a, although it will have some Sunnis and even some Christian Lebanese who are sympathetic here," the former Defense Department analyst said. "There is a major Hezbollah contingent, for example, in Canada. It would be much easier for Iran to work through them and the extensive Lebanese communities throughout the US than to seek to establish a major independent presence," the Defense Department analyst said. Still, he said, it's possible that the IRGC itself may have operational units working in the United States. "However, I don't doubt that IRGC may have some operatives here acting as liaison with the Hezbollah elements here. In Lebanon, the IRGC presence is more open with representatives working out of the Iranian embassy in Beirut," the Defense Department analyst said.
A former CIA station chief agrees, concluding that in the final analysis, Muslims will work together in combating their major enemy, the United States. "Like al-Qaida in Sunni mosques, any Lebanese Shi'a or Hezbollah member here is a de facto Iranian Revolutionary Guard Corps terrorist. Some 20 percent of all mosques in the US are Shi'a, therefore they are de facto representatives of the Revolutionary Guard," the former CIA station chief said. O'Hern says that the IRGC and Hezbollah fund their operations through a set of illegal activities. "Hezbollah harvests large amounts of money from the United States to support its operations, millions of dollars from criminal enterprises such as narcotics trafficking, the sale of counterfeit goods, and financial crimes are sent back to Hezbollah from our country every year," O'Hern said.
WND reported in September 2011 that IRGC proxy Hezbollah had been suspected of funding operations by raising money through the network of US Shi'a mosques located in cities with large Lebanese immigrant populations. Former Air Force and State Department security officer Dave Gaubatz says it appears the reason for raising money is to give money to Hezbollah. The FBI and the IRS were unavailable for comment on this story. Congressional representatives and federal regulatory agencies also contacted about the issue either referred WND to another office or refused comment.
US Shaping Contingency Options for Syrian Chemical Arsenal
Dec. 7….(Global Security Newswire) US and allied officials have spent increasingly long hours over the past several days planning intensely for potential military and diplomatic responses in the event that the Syrian chemical weapons threat heightens, according to government sources and experts. "There are essentially about 10 plans now in the works, each having a different flavor, each focusing on a different aspect of conflict, each committing the president to different options," one defense expert with ties to Capitol Hill said this week. Details of the contingency plans are highly classified.
President Obama and his national security team, including his top military commander for the Mideast region, sources said, want to avoid US armed intervention in the ongoing Syria civil war unless embattled President Bashar Assad unleashes his chemical arsenal. Barring a poison gas incident that would cross a "red line" laid out by Secretary of State Hillary Clinton in public comments this week, "General James Mattis has strongly recommended against using any military forces, strongly," said this defense expert. At the same time, the Marine Corps general is taking the lead in planning how US troops would respond if conditions in Syria demand it, according to sources.
On Thursday, NBC News reported that Syrian gravity bombs were observed being loaded with sarin nerve gas. "There are clearly options available to the president regarding military capabilities," said retired Lt. Col. Anthony Shaffer, a former Army intelligence officer. "There is always the need, and always consideration of worst-case scenarios." Neither Obama nor his secretary of State has spelled out all of the scenarios that might trigger US or allied military intervention. What is clear, though, is that a verified chemical attack by Assad's forces against rebel fighters, the Syrian people or neighboring nations could draw Washington into the conflict after months of largely remaining on the sidelines.
"The world is watching," Obama said in a warning to Assad during a Monday speech at National Defense University. "The use of chemical weapons is and would be totally unacceptable. And if you make the tragic mistake of using these weapons, there will be consequences, and you will be held accountable." Clinton on Wednesday alluded to other conditions in Syria, including the diversion of deadly arms to other actors, that could also prompt direct US involvement."Our concerns are that an increasingly desperate Assad regime might turn to chemical weapons, or might lose control of them to one of the many groups that are now operating within Syria," she said after meeting with other NATO foreign ministers in Brussels. "We have sent an unmistakable message that this would cross a red line and those responsible would be held to account."
Israel, deeply concerned about this possible proliferation, was reported to have recently sought Jordanian assent for possible military strikes against Syrian chemical weapons facilities. "Israel will have no choice if the United States or someone else doesn't" eliminate the Syrian chemical threat, said Charles Freilich, a former Israeli deputy national security adviser. At the same time, he acknowledged concerns that any "major confrontation" between Israel and Syria "potentially broadens to others, as well." Israel "can't afford to allow chemical weapons to fall into hands of Hezbollah, jihadis or whomever," he told Global Security Newswire.
Syria is believed to retain among the most sophisticated chemical-weapon capabilities in the Middle East, including stocks of sarin, mustard gas and possibly VX nerve agent. Roughly a dozen chemical arms production and storage facilities have been identified in Syria, though experts suspect toxic agents and their delivery systems also have been widely dispersed to smaller sites throughout the nation. Damascus is one of just six capitals that have neither signed nor ratified the Chemical Weapons Convention, a 188-member pact calling for elimination of all arms that carry mustard blister agent, sarin nerve gas or similar compounds.
Obama administration leaders see enormous risk in committing US troops in yet another Mideast conflict. The loss of life and treasure in Iraq, Afghanistan and Libya have loomed large, while the benefits of stability in these nations, and close partnerships with them have remained somewhat elusive. Concern is also widespread that a US-led fight for Damascus could spark a broader war involving antagonists across the region. However, the intelligence would have to be extraordinarily timely and solid before Obama would authorize pre-emptive military action following costly missteps in Iraq and elsewhere, according to a number of issue experts. Following the Iraq experience, in which weapons of mass destruction suspected by the Bush administration were never found, "it comes down to the reliability of intelligence," the issue specialist said.
Any detected attempt to move special weapons to Lebanon or Iran, or to hand them off to Hezbollah or other terrorist groups, could prompt a limited interception strike. Chemical arms in terrorist hands "is something we're very worried about," officials said. Despite Western support for Syrian opposition fighters, many capitals would be concerned if chemical arms fell under their control, according to Mideast watchers. An estimated 75,000 soldiers might be needed for a mission to secure Syria's chemical weapons infrastructure. That figure likely assumes that Assad's military remains viable and foreign forces could not easily reach the facilities. Should there be a catastrophic failure of the central government in Syria, you have to be ready to take extraordinary measures to make certain that chemical weapons do not fall into terrorist hands," said a senior fellow at the Center for Advanced Defense Studies. If rebel forces gain control over the nation, US forces or UN peacekeepers might be invited in to help secure the sensitive sites, he said.
NATO Positions Missiles on Turkish-Syrian Border
Dec. 7….(AP) As fears grow in the West that Syrian President Bashar Assad will unleash chemical weapons as an act of desperation, NATO moved forward Thursday with its plan to place Patriot missiles and troops along Syria's border with Turkey to protect against potential attacks. Assad's regime blasted the move as "psychological warfare," saying the new deployment would not deter it from seeking victory over rebels it views as terrorists. The missile deployment sends a clear message to Assad that consequences will follow if he uses chemical weapons or strikes NATO member Turkey, which backs the rebels seeking his ouster. But its limited scope also reflects the low appetite in Western capitals for direct military intervention in the civil war.
The US and many European and Arab countries called for Assad to step down early in the uprising but have struggled to make that happen. Russia and China have protected Assad from censure by the UN Security Council, and the presence of extremists among the rebels makes the US and others nervous about arming them.
In Dublin, Ireland, US Secretary of State Hillary Rodham Clinton joined Russia's foreign minister and the UN peace envoy to the Arab country for three-way talks that suggested Washington and Moscow were working toward a common strategy as the Assad regime weakens. The diplomatic efforts to end the civil war come days after NATO agreed to post Patriot missiles and troops along Turkey's southern border with Syria after mortars and shells from Syria killed five Turks.
In Washington, US Defense Secretary Leon Panetta said Thursday that intelligence reports raise fears that an increasingly desperate Assad is considering using his chemical weapons arsenal, which both the US and Russia agree is unacceptable. The Assad regime said the NATO deployment would not make Assad change course, calling the talk of chemical weapons part of a conspiracy to justify future intervention. Analysts say the missile deployment sends a message to Assad to keep the war in his own country.
Syria Mixes Weapons into Bombs, as Fighting Spills into Lebanon
Dec. 6….(Fox News) Syria has loaded chemical weapons into bombs and are ready to use them, Fox News confirms. A senior US official told Fox News that bombs were loaded with components of sarin gas, a deadly nerve gas. They have 60 days to use these bombs until the chemical mixture expires and has to be destroyed. According to NBC News, who first reported this information, bombs filled with a sarin component have not yet been loaded onto planes, but that the Syrian military is prepared to use these chemical weapons against civilians pending orders from President Bashar Assad. Gunmen loyal to opposite sides in Syria's civil war battled Wednesday in the streets of the Lebanese city of Tripoli. The fighting has killed six people and wounded nearly 60 since Monday, security officials said. The bloodshed is a sign of just how vulnerable Lebanon is to getting sucked into the Syrian crisis. The countries share a porous border and a complex web of political and sectarian ties that is easily enflamed. The Lebanese men killed in Syria were Sunni Muslims, like the majority of rebels trying to overthrow Assad's regime. Assad and much of his inner circle belong to the Alawite sect, which is an offshoot of Shiite Islam. The fighting in Lebanon comes at a time of deep uncertainty in Syria, with rebels battling government troops near Assad's seat of power in Damascus.
In Brussels, US Secretary of State Hillary Rodham Clinton reiterated concerns that "an increasingly desperate Assad regime might turn to chemical weapons" or lose control of them to militant groups. She also said NATO's decision on Tuesday to send Patriot missiles to Turkey's southern border with Syria sends a message that Ankara is backed by its allies. The missiles are intended only for defensive purposes, she said. Turkish Foreign Minister Ahmet Davutoglu was quoted Wednesday in the Turkish newspaper Sabah as saying that Syria has about 700 missiles, some of them long-range.
Syria has been careful not to confirm it has chemical weapons, while insisting it would never use such weapons against its own people. But as the regime wobbles, there are fears the crisis will keep spiraling outside its borders. Fighting has spilled over into Turkey, Jordan and Israel since the uprising began more than 20 months ago, but Lebanon is particularly susceptible. Seventeen times bigger than Lebanon and four times more populous, Syria has long had powerful allies there, including the Iran-backed militant group Hezbollah. For much of the past 30 years, Lebanese have lived under Syrian military and political domination.
Meanwhile, the unrest inside Syria shows no sign of slowing down. The uprising began with peaceful protests in March 2011 and later escalated into a civil war that the opposition says has killed more than 40,000 people. Besides the violence roiling the capital, Damascus, there was growing speculation about the fate of a top Syrian spokesman who has become a prominent face of the regime. Lebanese security officials have said Foreign Ministry spokesman Jihad Makdissi flew Monday from Beirut to London. But it was not clear whether Makdissi had defected, quit his post or been forced out. Syria has had no official comment on Makdissi, who has defended the regime's crackdown on dissent.
USS Eisenhower Aircraft Carrier Arrives off Syria
Dec. 6….(DEBKAfile Special Report) The USS Eisenhower Strike Group transited the Suez Canal from the Persian Gulf Saturday, Dec. 1, sailing up to the Syrian coast Tuesday in a heavy storm, with 8 fighter bomber squadrons of Air Wing Seven on its decks and 8,000 sailors, airmen and Marines. The USS Eisenhower group joins the USS Iwo Jima Amphibious Ready Group which carries 2,500 Marines. Facing Syria now are 10,000 US fighting men, 70 fighter-bombers and at least 17 warships, including the three Iwo Jima amphibious craft, a guided missile cruiser and 10 destroyers and frigates. Four of these vessels are armed with Aegis missile interceptors.
This mighty US armada brings immense pressure to bear on the beleaguered Assad regime after it survived an almost two-year buffeting by an armed uprising. Its presence indicates that the United States now stands ready for direct military intervention in the Syrian conflict when the weather permits. Left behind in the Persian Gulf is just one US aircraft carrier, the USS Stennis and its strike group. Welcoming NATO's decision Tuesday, Dec. 4, to deploy Patriot missile batteries in Turkey, Foreign Minister Ahmet Davutoglu said Wednesday: "The protection from NATO will be three dimensional; one is the short-range Patriots, the second is the middle-range Terminal High Altitude Air Defense [THAD] system and the last is the AEGIS system, which counters missiles that can reach outside the atmosphere." Debkafile's military sources: While the Patriot is land-based and will be deployed on the Turkish-Syrian border, the THAD and the Aegis have just reached the Syrian coast aboard the USS Eisenhower strike group. "With this integrated system," said Davutoglu, Turkey will have maximum protection." He added: "The Syrian regime has 700 missiles," and their location, storage method and holders are no secret to Ankara. This was the first time Ankara had made threats to destroy Syrian missiles, including any carrying chemical warheads.
Egypt and the Strategic Balance
Dec. 6….(Stratfor) The Arab Spring was seen by some observers to be a largely secular movement aimed at establishing constitutional democracy. The problem with this theory was that while the demonstrators might have had the strength to force an election, it was not certain that the secular constitutionalists would win it. They didn't. Morsi is a member of the Muslim Brotherhood, and while there were numerous claims that he was a moderate member, it was simply not understood that he was a man of conviction and honor and that his membership in the Brotherhood was not casual or frivolous. His intention was to strengthen the role of Islam in Egypt and the control of the Muslim Brotherhood over the various arms of state. His rhetoric, speed and degree of Islamism might have been less extreme than others, but his intent was clear.
The move on the judiciary signaled his intent to begin consolidating power. It galvanized opponents of the Muslim Brotherhood, which included secular constitutionalists, Copts and other groups who formed a coalition that was prepared to take to the streets to oppose his move. What it did not include, or at least did not visibly include through this point, was the Egyptian military, which refused to be drawn in on either side.
The Egyptian military, led by a young army officer named Gamal Abdel Nasser, founded the modern Egyptian state when it overthrew the British-supported monarchy in the 1950s. It created a state that was then secular, authoritarian and socialist. It aligned Egypt with the Soviet Union and against the United States through the 1970s. After the 1973 Arab-Israeli war, Egyptian President Anwar Sadat, who was later assassinated by Islamists, shifted Egypt into an alliance with the United States and signed a peace treaty with Israel.
This treaty was the foundation of the regional balance of power until now. The decision to end the state of war with Israel and use Sinai as a demilitarized buffer between the two countries eliminated the threat of nation-to-nation war between Arabs and Israel. Egypt was the most powerful Arab country and its hostility to Israel represented Israel's greatest threat. By withdrawing from confrontation, the threat to Israel declined dramatically. Jordan, Syria and Lebanon did not represent a significant threat to Israel and could not launch a war that threatened Israel's survival.
Egypt's decision to align with the United States and make peace with Israel shaped the regional balance of power in other ways. Syria could no longer depend on Egypt, and ultimately turned to Iran for support. The Arab monarchies that had been under political and at times military pressure from Egypt were relieved of the threat, and the Soviets lost the Egyptian bases that had given them a foothold in the Mediterranean.
The fundamental question in Egypt is whether the election of Morsi represented the end of the regime founded by Nasser or was simply a passing event, with power still in the hands of the military. Morsi has made a move designed to demonstrate his power and to change the way the Egyptian judiciary works. The uprising against this move, while significant, did not seem to have the weight needed either to force Morsi to do more than modify his tactics a bit or to threaten his government. Therefore, it all hangs on whether the military is capable of or interested in intervening.
It is ironic that the demands of the liberals in Egypt should depend on military intervention, and it is unlikely that they will get what they want from the military if it does intervene. But what is clear is that the Muslim Brotherhood is the dominant force in Egypt, that Morsi is very much a member of the Brotherhood and while his tactics might be more deliberate and circumspect than more radical members might want, it is still headed in the same direction.
For the moment, the protesters in the streets do not appear able to force Morsi's hand, and the military doesn't seem likely to intervene. If that is true, then Egypt has entered a new domestic era with a range of open foreign policy issues. The first is the future of the treaty with Israel. The issue is not the treaty per se, but the maintenance of Sinai as a buffer. One of the consequences of Mubarak's ouster has been the partial remilitarization of Sinai by Egypt, with Israel's uneasy support. Sinai has become a zone in which Islamist radicals are active and launch operations against Israel. The Egyptian military has moved into Sinai to suppress them, which Israel obviously supports. But the Egyptians have also established the principle that while Sinai may be a notional buffer zone, in practice the Egyptian military can be present in and responsible for it. The intent might be one that Israel supports but the outcome could be a Sinai remilitarized by the Egyptians.
A remilitarized Sinai would change the strategic balance, but it would only be the beginning. The Egyptian army uses American equipment and depends on the United States for spare parts, maintenance and training. Its equipment is relatively old and it has not been tested in combat for nearly 40 years. Even if the Egyptian military was in Sinai, it would not pose a significant conventional military threat to Israel in its current form. These things can change, however. The transformation of the Egyptian army between 1967 and 1973 was impressive. The difference is that Egypt had a patron in the Soviet Union then that was prepared to underwrite the cost of the transformation. Today, there is no global power, except the United States, that would be capable of dramatically and systematically upgrading the Egyptian military and financially supporting the country overall. Still, if the Morsi government succeeds in institutionalizing its power and uses that power to change the dynamic of the Sinai buffer, Israel will lose several layers of security.
A New Regional Alignment?
A look at the rest of the region shows that Egypt is by no means the only country of concern for Israel. Syria, for example, has an uprising that, in simple terms, largely consists of Sunnis, many of which are Islamists. That in itself represents a threat to Israel, particularly if the relationship between Syria and Egypt were revived. There is an ideological kinship, and just as Nasserism had an evangelical dimension, wanting to spread pan-Arab ideology throughout the region, the Muslim Brotherhood has one too. The Syrian Muslim Brotherhood is also the most organized and coherent opposition group in Syria. As Morsi consolidates his power in Egypt, his willingness to engage in foreign adventures, or at least covert support, for like-minded insurgents and regimes could very well increase. At a minimum Israel would have to take this seriously. Similarly, where Gaza was contained not only by Israel but also by pre-Morsi Egypt, Morsi might choose to dramatically change Egypt's Gaza policy.
Morsi's rise opens other possibilities as well. Turkey's Islamic-rooted Justice and Development Party is also engaged in a careful process of reintroducing Islam into a state that was militantly secular. There are fundamental differences between Egypt and Turkey, but there is also much in common. Turkey and Egypt are now engaged in parallel processes designed to create modern countries that recognize their Islamic roots. A Turkish-Egyptian relationship would both undergird the Egyptian regime and create a regional force that could shape the Eastern Mediterranean.
This would, of course, affect American strategy, which as we have said in the past, is now rapidly moving away from excessive involvement in the Middle East. It is not clear how far Morsi would go in breaking with the United States or whether the military would or could draw a line at that point. Egypt is barely skirting economic disaster at the moment because it is receiving a broad range of financial aid from the West. Moving away from the United States would presumably go well beyond military aid and affect these other types of economic assistance.
The fact is that as Egypt gradually evolves, its relationship with the United States might also change. The United States' relationship with Turkey has changed but has not broken since the Justice and Development Party came to power, with Turkey following a more independent direction. If a similar process occurred in Egypt, the United States would find itself in a very different position in the Eastern Mediterranean, one in which its only ally was Israel, and its relationship with Israel might alienate the critical Turkey-Egypt bloc.
Prior to 1967, the United States was careful not be become overly involved in protecting Israel, leaving that to France. Assuming that this speculation about a shift in Egypt's strategic posture came to pass, Israel would not be in serious military danger for quite a while, and the United States could view its support to Israel as flexible. The United States could conceivably choose to distance itself from Israel in order to maintain its relationships with Egypt and Turkey. A strategy of selective disengagement and redefined engagement, which appears to be under way in the United States now, could alter relations with Israel.
From an Israeli point of view, it should be remembered that Israel is the dominant power in the region, a shift in Egypt would create significant uncertainty on its frontier. It would now face uncertainty in Egypt, Syria and Lebanon, and while unlikely, the possibility of uncertainty in Jordan. Where previously it faced hostile powers with substantial military capabilities, it would now face weaker powers that are less predictable. However, in an age when Israel's primary concern is with terrorist actions and uprisings in Gaza and the West Bank, this band of uncertainty would be an incubator of such actions. The worst-case scenario is the re-emergence of confrontational states on its border, armed with conventional weapons and capable of challenging the Israeli military. That is not an inconceivable evolution but it is not a threat in the near term.
UN Calls on Israel to Open its Nuclear Facilities
(General Assembly approves resolution calling on Israel to open its nuclear program for IAEA inspection, join NPT)
---
READERS ALERT / *FOJ Note: / The Obama Administration is Pressuring Israel to open up its nuclear program. This issue (NPT & nuke-free Mideast) is the issue that will vault the Antichrist to prominence in these Last Days, and lead directly to the confirmation of the Covenant of peace spoken of by Daniel!
---
Dec. 5….(YNET) The UN General Assembly overwhelmingly approved a resolution Monday calling on Israel to quickly open its nuclear program for inspection and backing a high-level conference to ban nuclear weapons from the Middle East which was just canceled. All the Arab nations and Iran had planned to attend the conference in mid-December in Helsinki, Finland, but the United States announced on Nov. 23 that it wouldn't take place, citing political turmoil in the region and Iran's defiant stance on nonproliferation. Iran and some Arab nations countered that the real reason for the cancellation was Israel's refusal to attend.
The resolution, approved by a vote of 174-6 with 6 abstentions, calls on Israel to join the Nuclear Nonproliferation Treaty "without further delay" and open its nuclear facilities to inspection by the International Atomic Energy Agency. Those voting "no" were Israel, the US, Canada, Marshall Islands, Micronesia and Palau. Resolutions adopted by the 193-member General Assembly are not legally binding but they do reflect world opinion and carry moral and political weight.
Israel has always refused to confirm or deny it has nuclear bombs though it is widely believed to have a nuclear arsenal. It has refused to join the Nuclear Nonproliferation Treaty, or NPT, along with three nuclear weapon states, India, Pakistan and North Korea.
The Arab proposal to create a weapons-of-mass-destruction-free zone in the Mideast, and to pressure Israel to give up its undeclared arsenal of perhaps 80 nuclear warheads, was endorsed at an NPT conference in 1995 but never acted on. In 2010, the 189 parties to the 1970 treaty called for convening a conference in 2012 on the establishment of a WMD-free zone in the Middle East. The resolution, which was approved by the assembly's disarmament committee before the conference was cancelled, noted the decision to hold it "with satisfaction." But Israel has long said there first must be a Mideast peace agreement before the establishment of a Mideast zone free of weapons of mass destruction. The region's Muslim nations argue that Israel's undeclared nuclear arsenal presents the greatest threat to peace in the region.
Just before Monday's vote, Iranian diplomat Khodadad Seifi told the assembly "the truth is that the Israeli regime is the only party which rejected to conditions for a conference." He called for "strong pressure on that regime to participate in the conference without any preconditions." Israeli diplomat Isi Yanouka said his country has continuously pointed to the danger of nuclear proliferation in the Mideast, singling out Iran and Syria by name. "All these cases challenge Israel's security and cast a dark shadow at the prospect of embarking on a meaningful regional security process," he said. "The fact that the sponsors include in this anti-Israeli resolution language referring to the 2012 conference proves above all the ill-intent of the Arab states with regard to this conference," Yanouka said.
Syrian diplomat Abdullah Hallak told the assembly his government was angry that the conference wasn't going to take place because of "the whim of just one party, a party with nuclear warheads." "We call on the international community to put pressure on Israel to accept the NPT, get rid of its arsenal and delivery systems, in order to allow for peace and stability in our region," he said.
The conference's main sponsors are the US, Russia and Britain. British Foreign Office Minister Alistair Burt has said it is being postponed, not cancelled. While the United States voted against the resolution, it voted in favor of two paragraphs in it that were put to separate votes. Both support universal adherence to the NPT, and call on those countries that aren't parties to ratify it "at the earliest date." The only "no" votes on those paragraphs were Israel and India.
So, You Think Islam is a Religion of Peace
Dec. 5….(WND) A little less than every five hours, somewhere around the world a Muslim is carrying out a fatal jihadist attack. These are not the regular beatings and vandalism against Christians, Hindus and Buddhists but religion-oriented attacks in which someone dies at the hand of a member of the so-called "religion of peace." A website called "The Religion of Peace" has listed more than 20,000 such fatal attacks since Sept. 11, 2001.
As of today, the total was 20,022. The 20,000th came a few days ago when a Jewish woman was cut in pieces in Iran by religious radicals "intent on expanding a mosque." Some 1,800 deadly Muslim terror attacks happen each year, amounting to about 150 a month and five a day. The purpose of the website, according to operator Glen Roberts, a pseudonym, is to put the level of violence being inflicted by Muslims in perspective. "I started watching the Council on American-Islamic Relations in the months after 9/11," said Roberts, "and I was astonished by the self-absorption. Each day people are maimed and killed explicitly in the name of Islam while this organization complains about headscarves and hurt feelings. "I thought," he said, "that maybe if I started documenting the violence, it would inspire a sense of moral perspective on their part. "I was wrong, of course."
He said he monitors acts of Muslim violence from a range of news sources that are reliable, when "it can be reasonably inferred that the perpetrator was motivated to some degree by their Islamic faith." "I do not post anything that I believe to be false," he said. "This is not to say that mistakes haven't been made, but they are unintentional and relatively rare." Fatal attacks that are reported to him only are posted when they can be verified with a reference to a news sources that he would consider reliable. He said while he's not been able to convince Muslims that their faith is violent, he hopes others take notice. "Critics seem to assume that I'm trying to convince others that they are in mortal danger or that Muslims are bad people because they are Muslim. This is not true, of course," he told WND.
The evidence presented by TheReligionofPeace.com is meant to drive home the message that Islam is not like other religion," he said. "It is openly supremacist and more vulnerable to violent interpretations. When one religion inspires over 1,500 faith-motivated acts of violence each year while other religions contribute practically none, then it should be obvious that there are unique problems, and it should be OK to say so." He wrote that Islam continues to be "an open threat" to Western liberal values, including freedom of conscience. "There is already pressure against free speech rights, particularly in Europe. We should be highly concerned about the logical path of the current trend regardless of whether or not the full consequences of Muslim immigration and deference to the increasing volume of Muslim demand will be experienced in our lifetime," he said. "Judging by the one-way flow of immigration, even Muslims find Islamic countries less livable. What sense does it make to continue importing and catering to an ideology that doesn't work elsewhere, particularly when Islamic immigrants as a group are the most notoriously resistant to integration and acceptance of Western values?" He said Muslims in the West who say that Islam is a religion of peace are generally sincere. "They want to believe that their religion is superior, which wouldn't be the case if it brought violence instead of peace," he said. "Therefore, they convince themselves and others that Islam is really just the Judeo-Christian value system an Arabic vocabulary."
Roberts wrote: "On a week in which two suicide bombers slaughtered over 54 Christian and Druze and Sunni extremists massacred nearly 200 Shiites in Iraq, TROP recorded our 20,000th Islamic terror attack since 9/11. It happened to be the stabbing and dismemberment of a Jewish woman in her Iranian home by religious radicals intent on expanding a mosque." Her Muslim neighbors had been trying to drive her family from their home and confiscate the property. They broke into her home, tied up her two sisters who were living with her, and repeatedly stabbed her to death," said the report.
The site explains the Quran has at least 109 verses that "call Muslims to war with nonbelievers for the sake of Islamic rule." "Some are quite graphic, with commands to chop off heads and fingers and kill infidels wherever they may be hiding." The site says there are 10 reasons Islam is not a "religion of peace." One is the thousands of terror acts committed in the name of Islam, while acts committed in the names of other religions have been minimal. More people are killed by Muslim terrorists each year than in all 350 years of the Spanish Inquisition. The daily Muslim terror toll is more than the Ku Klux Klan killed in 50 years. Not a week goes by that Islamic fundamentalists do not attempt to kill Christians, Jews, Hindus and Buddhists explicitly in the name of Allah," the site explains. In one recent week, Nov. 24-30, there were 53 Islamic jihad attacks resulting in 272 dead bodies and 743 with injuries.
Obama's Dismantling of American Might Have Worldwide Repercussions
Dec. 5….(Frank J. Gaffney Jr.) In an impromptu conversation with Joe the Plumber during the 2008 presidential campaign, candidate Barack Obama famously acknowledged his support for redistributing the nation's wealth. He has been hard at it ever since gaining the White House.
President Obama has yet to cop to another, arguably even more radical agenda: redistributing the nation's power. We are nonetheless beginning to witness the poisonous fruits of his efforts to enhance the relative might of America's adversaries while degrading our own. Call it Mr. Obama's global makeover. The most obvious example is in the Middle East, where each day brings fresh evidence of how the Obama administration's disastrous policy of embracing Islamists is transforming and destabilizing the region. Of particular concern is the Muslim Brotherhood's accelerating domination of the Egyptian government, which is turning the Arab world's most populous nation, one that sits astride the strategic Suez Canal and wields a formidable, American-supplied arsenal, into a Shariah-adherent, Islamic supremacist state. This is a formula for mass repression in Egypt, war in the Middle East and increased jihadist terrorism elsewhere.
Less obvious, but potentially even more problematic, is the effect on communist China of the Obama-facilitated redistribution of power. The Chinese have not been fooled by the president's putative strategy of "pivoting" to Asia. They understand that his administration is eviscerating American military power, a process that will become even more draconian (and perhaps substantially irreversible) as a result of Mr. Obama's determination to impose a so-called sequestration round of a half-trillion dollars in additional cuts on a Pentagon already reeling from nearly $800 billion in previously approved reductions. Then there is Mr. Obama's rash effort to rid the world of nuclear weapons, starting with ours. A State Department advisory committee made up of rabid disarmers has just issued a recommendation that the United States make still further, deep reductions in its nuclear stockpile through negotiated agreements with Russia, if possible, and unilaterally if President Vladimir Putin will not go along.
This panel, like the Obama administration, which is expected to embrace its recommendations, seems indifferent to the growing evidence that China may have substantially more deployed nuclear weapons than we do. Unlike ours, theirs are on modern launch vehicles, many of which seem to be hidden in 3,000 miles of hardened tunnels. Meanwhile, Team Obama is ensuring that there will be no modernization of the US arsenal and that its weapons, and the industrial complex vital to their future deterrent value and readiness, will continue to atrophy. Mr. Obama is redistributing power, all right, and thereby is giving the globe a strategic makeover. Think of it as his "fundamentally transforming the United States of America" by diminishing its power and upgrading that of its enemies.
Obama Behind European Pressure Against Israeli Settlements
Dec. 5….(Israel Today) Israel on Monday responded to international condemnation over its earlier approval of more Jewish apartments in Jerusalem, Judea and Samaria by announcing that an additional 1,600 housing units will now be constructed. In addition to the 3,000 units approved on Sunday, Israel will now add another 1,600 apartments to the northern Jerusalem neighborhood of Ramat Shlomo, which was at the center of a previous major dispute between Israel and the US over Israel's right to build anywhere in its own capital. The uncharacteristic hardening of Israel's position in the face of international pressure was sparked by last week's UN vote recognizing "Palestine" as a sovereign state outside the framework of a negotiated peace settlement. Israel feels that the world's response to that stunt, which most agree was unhelpful in achieving peace, has been grossly hypocritical.
While the Palestinian motion at the UN was a clear violation of its signed agreements with the Jewish State, Israel's punitive approval of more Jewish housing in areas claimed by the Palestinians is not prohibited by those same documents. Nevertheless, the world immediately backed off criticizing the Palestinian leadership, while accusing Israel of having dealt a "death blow" to all hopes of peace. (That despite the fact that the peace process had been conducted for over 10 years while the Jewish population in Judea and Samaria was growing.)
All major Western European countries summoned the Israeli ambassadors stationed there for rebuke, and Britain and France were reportedly considering sanctions of some sort against the Jewish State. Though most of the negative response came from Europe, Israeli officials were convinced the Obama Administration was behind it. "This is a masked threat orchestrated by Washington," a senior Israeli diplomat told Israel's Yediot Ahronot newspaper.
Following Sunday's decision to build new Jewish housing in response to the Palestinian statehood bid, Chicago Mayor and former Obama chief of staff Rahm Emanuel has launched a serious of vicious verbal attacks against Prime Minister Benjamin Netanyahu. First Emanuel called Netanyahu's behavior "unfathomable," then he accused the Israeli leader of repeatedly "betraying" Obama. There is growing concern in Israel that Obama, via Emanuel, will attempt to influence Israel's upcoming election in order to oust Netanyahu from office. While that is a long-shot, the White House could succeed in making it nearly impossible for Netanyahu to form a stable coalition following the election.
Nigerian Islamic Terrorists Continue Killing Christians
(FOJ Note: When will the world, UN, USA, or anybody ever condemn these attacks?)
Dec. 4….(JWR) Ten Christians had their throats slit and militants killed two police officers during attacks on churches and border posts in a fresh wave of violence in northern Nigeria, officials reported Sunday. The Islamist group Boko Haram was thought to be behind the slaughter of the Christians late on Saturday in the northern town of Chibok, local officials said. "The attackers came in around 9:00 pm chanting 'Allahu Akbar', which made us suspect they are Boko Haram," said a local government official on condition of anonymity. "They moved into selected homes in the predominantly Christian part of the town and slaughtered 10 people like sheep," the official added. "They came armed with guns but decided to butcher their victims."
Local resident Ezekiel Damina said: "The men came in large numbers and went into homes which... were carefully selected, and slaughtered 10 people while shouting 'Allahu Akbar' (God is Greatest). "They then set houses in the area on fire. They just sacked the neighborhood." The Islamic terror group is also suspected of being behind a series of attacks Sunday on churches and border posts in northeastern Nigeria, which according to residents left at least two policemen dead. Around 50 gunmen in cars and on motorcycles carried out attacks on three churches and border posts with neighboring Cameroon, opening fire on police, residents said.
Boko Haram has often targeted churches in its bloody insurgency, as well as police and other symbols of the establishment in Nigeria. On November 25, 11 people were killed in twin suicide bombings targeting a church at a military barracks in the northern town of Jaji. Violence linked to the Boko Haram insurgency in northern and central Nigeria is believed to have left some 3,000 people dead since 2009, including killings by the security forces.
Boko Haram, which can be loosely translated from the northern Hausa language as "Western education is a sin", has claimed many attacks in northern and central parts of Nigeria, Africa's most populous country and top oil producer. Nigeria's population of some 160 million is roughly divided between the mainly Muslim north and the predominantly Christian south.
US, Israel, Turkey, Jordan to Strike if Assad Uses Chemical Weapons
Dec. 4….(DEBKAfile Special) US forces in the region, Israel, Turkey and Jordan were all braced Monday night, Dec. 3 for action against Syria in case Syrian President Bashar Assad ordered his army's chemical warfare units to go into action against rebel and civilian targets his own country. None of the Middle East capitals are talking openly about this eventuality to avoiding causing panic. However, oblique references to the peril and preparations for action came from US officials during Monday. White House spokesman Jay Carney said: "We have an increased concern about the possibility of the regime taking the desperate act of using its chemical weapons." Such a move "would cross a red line for the United States." Without going into specifics, Carney added: "We think it is important to prepare for all scenarios. Contingency planning is the responsible thing to do."
US Secretary of State Hillary Clinton in Prague was slightly more specific: Syrian action on chemical weapons remains a "red line" (Remember Netanyahu's red line at the UN) for the Obama administration, she said, and "would prompt action from the United States." Regarding contingencies, Debkafile's military sources report that the American force in Jordan and Jordanian units, who have been training for two months in tactics against Syrian chemical warfare units, are on a high state of preparedness. So, too, are the three special US command centers set up in Turkey, Jordan and Israel for coordinating such operations. An American official "with knowledge of the situation" told Wired Magazine that "engineers working for the Assad regime in Syria have begun combining the two chemical precursors needed to weaponize sarin gas."
Anchored opposite the Syrian shore is the USS Iwo Jima Amphibious Ready Group with 2,500 Marines. Facing it is the Russian Black Sea Fleet's naval task force which too has hundreds of marines on its decks. Debkafile's sources quote high-ranking officers in the Israel Defense Forces' Northern Command as saying: "The coming hours and days are extremely critical for Syria. The situation on our northern front could blow up any moment."
In Istanbul, meanwhile, Russian President Vladimir Putin told reporters at the end of his one-day visit: "What we are concerned about is Syria's future. We don't want the same mistakes to be repeated in the near future." He went on to say: "We shall remember how some regimes supported the militants in Libya and how the situation ended with the killing of the American ambassador in Libya." This was meant by the Russian president as a warning to the US not to get involved in the Syrian crisis as it did in Libya.
Incitement Against Israel in PA is Getting Worse
Dec. 4….(Jerusalem Post) Incitement and inflammatory language against Israel in the Palestinian Authority is at the worst level since Jerusalem began systematically measuring it in 2009, Strategic Affairs Ministry director-general Yossi Kuperwasser told the cabinet Sunday. Kuperwasser was asked to give a briefing on the "incitement index" following PA President Mahmoud Abbas's speech to the UN General Assembly on Thursday. Prime Minister Binyamin Netanyahu termed that speech, where Abbas painted Israel in demonic colors, as "dripping with poison."
Commenting after Kuperwasser presented his quarterly findings, Netanyahu said, "This is additional proof that we are not talking about a disagreement over territory, rather about the rejection of Israel's existence." Netanyahu said the failure of the Palestinians to accept Israel's existence within any border is the "root of the conflict." He noted that Palestinian maps consistently showing "Palestine" as the entire area from the Jordan River to the Mediterranean illustrate a lack of acceptance of Israel's right to exist. "The Palestinians are not prepared to enter a process that will come to grips with the existence of Israel," Netanyahu said. "It is poisoning the Palestinian public. As long as the Palestinian Authority educates the younger generation to hatred, how is it possible to even speak about peace?" The Prime Minister said the Palestinians want to "use the diplomatic process to bring about the end of the State of Israel." "Going to the UN for statehood last week is part of this," he said, adding that the Palestinians were raising a generation of children on hatred of Israel and terrorism. "There is no discussion that paves the way to coexistence," he said. "The discussion is about hatred and the destruction of the State of Israel."
Mahmoud Abbas in Ramallah: We Have a State
Dec. 3….(Jerusalem Post) PA president vows to pursue efforts to end the split between Gaza, West Bank, dedicates UN "victory" to late PA president Arafat. Palestinian Authority President Mahmoud Abbas Sunday vowed to pursue efforts to end the split between the West Bank and Gaza and thanked Hamas and all Palestinian groups for supporting his statehood bid at the UN.
Abbas, who was speaking to thousands of supporters in Ramallah during a rally organized by the PA to celebrate the UN General Assembly's vote in favor of upgrading the status of the Palestinians to non-member observer state, said he would focus his efforts now on "restoring unity of the Palestinians and their lands and institutions." The crowd, which consisted mostly of PA civil servants and Fatah activists, responded by chanting, "We want national unity!" and "With blood and soul, we redeem Abu Mazen [Abbas]." In the coming days, Abbas said, "We will study accelerating moves to achieve reconciliation [with Hamas]." Abbas hailed the outcome of the UN vote as an "historic achievement," adding that November 29 has become a "decisive turning point in our national struggle."
Noting that more than 75% of the UN members had voted in favor of the statehood bid, Abbas said that most of the countries that had abstained congratulated the Palestinians on their achievement. "The message to us is very clear," he said. "We are not alone. History is with us. The future belongs to us and God is with us." Abbas said he decided to go to the UN despite pressure and warnings from several parties. "They told us that if we go the world would explode," he added. "They asked us to postpone the move. Finally, they told us to change our policy and project. But we remained steadfast and triumphed because the world heard the voices of our people."
Abbas said he was presenting the UN "victory" as a gift to the "soul of the late leader Yasser Arafat." He said that the Palestinians would continue to march in the footsteps of Arafat. Abbas said the Palestinians would continue their struggle until the Palestinian flag is raised over the walls of Jerusalem's Old City and churches. He said that Jerusalem was the "eternal capital of the State of Palestine." Abbas said he was also presenting the UN "victory" to Palestinian prisoners in Israeli jails for their "legendary sacrifices and steadfastness."
Abbas boasted that the UN vote has both provoked and isolated Israel in the international arena." Abbas concluded his speech by telling Palestinians to "raise your heads high because you are Palestinians and you have proven that you are stronger than occupation and settlements." Hamas responded to Abbas's call for unity by calling for "urgent meetings" between the two sides to solve their differences. Hamas representative Salah Bardaweel pointed out that Abbas did not set pre-conditions for ending the dispute during his speech in Ramallah.
Abbas 'Victory Speech': Jerusalem 'Eternal Capital of Palestine'
| | |
| --- | --- |
| | PA Chairman Mahmoud Abbas Sunday promised someday the PA flag would fly over "Jerusalem, eternal capital of the state of Palestine." |
Dec. 3….(Arutz) Thousands of people greeted Abbas rapturously upon his return from the United Nations, where the General Assembly granted the PLO, representing the PA, upgraded status as a nonmember observer state. "Raise your heads high, because you are Palestinians!" Abbas told the joyous crowd, waving PA flags in the PA capital of Ramallah, located in Samaria. "You have proof that you are stronger than the occupation, because you are Palestinians... stronger than the settlements, because you are Palestinians. "We were threatened with punishment and sanctions from various sides," Abbas continued, in a reference to attempts by the United States and Israel to dissuade him from proceeding with the application. "And if we had listened to those threats we wouldn't have gone to the UN. "One day, a young Palestinian will raise the Palestinian flag over Jerusalem," he vowed, "the eternal capital of the state of Palestine!"
Iran: If Attacked by Israel, We'll Attack the US
Dec. 3….(CBS) A senior commander in Iran's powerful Revolutionary Guard warned that Iran will target US bases in the region in the event of war with Israel, raising the prospect of a broader conflict that would force other countries to get involved, Iranian state television reported Sunday. The comments by Gen. Amir Ali Hajizadeh, who heads the Guard's aerospace division, came amid tension over Iran's nuclear program and Israel's suggestion that it might unilaterally strike Iranian nuclear facilities to scuttle what the United States and its allies believe are efforts to build a bomb. Tehran says its nuclear program is for peaceful purposes.
Hajizadeh said no Israeli attack can happen without the support of its most important ally, the United States, making all US military bases a legitimate target. "For this reason, we will enter a confrontation with both parties and will definitely be at war with American bases should a war break out," Hajizadeh said in remarks that were posted on the website of Iran's state Al-Alam TV. US facilities in Bahrain, Qatar and Afghanistan would be targeted, he said. "There will be no neutral country in the region," Hajizadeh said. "To us, these bases are equal to US soil."
The Iranian warning appears an attempt to reinforce the potential wider consequences of an attack by Israel. The message is not only intended for Washington, but to its Gulf Arab allies that are fearful of a regional conflict that could disrupt oil shipment and cripple business hubs in places such as Dubai and Qatar's capital Doha. Iran has also warned that oil shipments through the strategic Strait of Hormuz will be in jeopardy if a war breaks out between Iran and the United States. Iranian officials had previously threatened to close the waterway, the route for a fifth of the world's oil, if there is war.
Israel believes that any attack on Iran would likely unleash retaliation in the form of Iranian missiles as well as rocket attacks by Iranian proxies Hezbollah and Hamas on its northern and southern borders. Israeli Prime Minister Benjamin Netanyahu says international diplomatic efforts and economic sanctions against Iran have failed to deter its nuclear ambitions, and he has urged President Barack Obama to declare "red lines" that would trigger an American attack on Iran's nuclear facilities, coupling his appeals with veiled threats of an Israeli attack.
President Obama has rejected these calls, saying diplomacy and US-led sanctions must be given more time and that Iran will never be allowed to obtain nuclear weapons. American officials have pressed Israel not to attack Iran unilaterally, a move that could set off regional mayhem.
Israel Rejects 'Palestine State"
Dec. 3….(Israel Today) Israel's government on Sunday voted to officially reject last week's UN General Assembly vote recognizing "Palestine" as a sovereign state, and took several punitive measures such as withholding tax revenues and approving more Jewish "settlement" housing. The resolution passed by the Israeli cabinet insisted that despite what a majority of the UN member states say, the Jews have a legal and historic claim in Judea and Samaria, and those territories will remain disputed. "The Jewish people have natural, historical and legal rights to its homeland with its eternal capital Jerusalem," the resolution stated. "The State of Israel as the state of the Jewish people has rights and claims to areas that are under dispute in the land of Israel."
Finance Minister Yuval Steinitz told his fellow ministers that he would be withholding more than $100 million in tax revenues collected by Israel on behalf of the Palestinian Authority in response to the UN vote. Steinitz noted that the Palestinian Authority owes Israel an even larger amount in unpaid electrical bills, so he will put the money toward covering that debt.
Prior to the cabinet meeting, Prime Minister Benjamin Netanyahu confirmed that he had approved the construction of 3,000 new apartments in so-called Jewish "settlements" following the Palestinian leadership's diplomatic effort to unilaterally wrest control of Judea and Samaria. "Israel will not allow Judea and Samaria to become a terror base from which rockets will be launched into Israeli towns," said Netanyahu. Israel fully surrendered the Gaza Strip to the Palestinians seven years ago, only to have the coastal enclave transformed into a haven for terrorist activity and a launchpad for thousands of missile attacks against southern Israel.
Netanyahu also indicated that he is still ready for a negotiated peace settlement that includes the real establishment of a Palestinian Arab state, but only after Israel's conditions are met: "There will be no Palestinian state until Israel is recognized as a Jewish state alongside a resolution to end the conflict." The Palestinian leadership has for years rejected Israel's demands that it recognize Israel as the one and only Jewish state and that any signed agreement mark the official conclusion of the Israeli-Arab conflict.
Netanyahu and other Israeli officials warned that last week's Palestinian stunt at the UN would severely complicate the ability to ever reach such final status peace deal, and would therefore indefinitely prolong the conflict. Indeed, many believe that the Palestinians now have no incentive at all to negotiate, and, having been indirectly identified by the UN as a sovereign state under occupation, can now wait upon the international community to right that perceived wrong without giving any concession.
Egyptians Fear Muslim Brotherhood Rule
(Non Muslims warn, Morsi is no friend to US)
Dec. 3….(NBC) This was the place where the revolution began: the roundish square where Egyptians celebrated Mubarak's fall. This is where they are shouting on bullhorns again, outraged because they say the Muslim Brotherhood has stolen the revolution and is railroading though a constitution that could lock in Muslim Brotherhood rule for 50 years, bringing more Islamic law. They cry, not against Islam, but that an extremist interpretation is being forced down their throats by a president who critics say is acting every part the tyrant.
This is also a warning, they claim, of what may happen across the Middle East. The era of the Muslim Brotherhood appears to have arrived. President Obama has hailed the Brotherhood's President Mohammed Morsi as a pragmatist who helped end the Gaza crisis. Egyptians here think the Brotherhood has conned Washington, just like it conned them. "President Obama is supporting a terrorist," a man told me amid chants of "Leave! Leave!" in Tahrir Square and "Down, down with the rule of the Muslim Brotherhood's spiritual leader."
Imagine if, after five months in office, an American president announced that he could pass any law he pleased regardless of Congress or the US Supreme Court. Imagine if he said his decisions were final and inspired by God. Egyptians were shocked that Morsi would make such an obvious and, according to Egyptian judges, blatantly illegal move. It's clear now, as some analysts have long feared, that the brotherhood is making sure it doesn't lose power by taking control of Egypt's constitution. Looking back now, it all seems so obvious, yet many Egyptians refused to see it coming. In fact, many of the secular revolutionaries backed the Brotherhood, arguing they were better allies than the hated military. The Muslim Brotherhood played its cards well. Yet the United States, under Obama has remained mostly silent on all this, urging both sides to stay calm and work it out. Washington's policy seems to be that what's going on is simply democracy in progress as Egyptians learn to use their new rights. But in Tahrir Square people seem convinced the Muslim Brotherhood isn't simply testing its fledgling wings. They say Morsi knows exactly what he's doing, Washington be damned.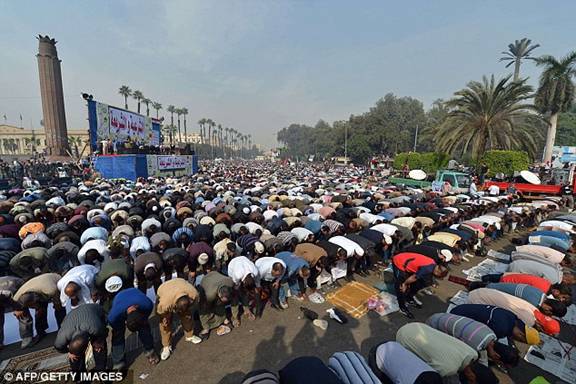 (Muslim Brotherhood supporters perform a prayer for Islamic rule)
The Muslim Brotherhood in Egypt has drummed up its Muslim adherents to show that the public supports Morsi's efforts to push through a constitution. Muslim Brotherhood activists in several cities handed out fliers calling for people to come out and "support Islamic law". A number of Muslim clerics in Friday sermons in the southern city of Assiut called the president's opponents "enemies of God and Islam".
Christians Being Systematically Eradicated From Syria
Dec. 3….(WND) A pair of car bombs that killed 38 people and reportedly injured 83 more in the mostly Christian and Druze town of Jaramana, Syria, has led some to allege the government is using the ruse of attacking "rebels" to cover a more sinister campaign of slaughtering Christians. In a statement issued by Open Doors, USA, the human rights group reports that the Syrian government is placing the blame for the attack on "terrorists." Yet the statement also says the residents of the Damascus suburb haven't joined the fighting on either side. An Open Doors spokesman says, "Isn't it obvious these bombing acts are disproportionately against Christians? The claims that the government does this to eradicate support for rebels, labeling them as extremists, are ludicrous," he said. He also has some harsh words for US foreign policy makers. "It's a cop out," he said. "We simply allow the Gulf nations and Turkey to dictate our policy and altogether ignore the real elements behind this supposed uprising. "This is the Muslim Brotherhood taking control like in Egypt, and they are certainly willing to use extremists. Their ideology isn't all that far apart. This is the path now taken," the Syrian-American said. He has a grim forecast for the future of Christians in the Middle East: "We can expect that few Christians will remain in the Holy Land in the coming years.
Particularly worrying is the growing presence of foreign radical Islamic fighters in the country and the many Islamist brigades within the opposition Free Syrian Army. Islamist rebels have been invading Christian neighbors to force government troops to destroy homes there," he said. "They want the government troops to shell the neighborhoods in an effort to recapture it." "I have seen this tactic in the so-called West Bank during the Intifada," he said. "Muslims would fire mortars from a Christian neighborhood to draw Israeli fire there. This is a win-win for the Islamist rebels supplied by Turkey. Syrian government troops can be fired on, and Christian homes get destroyed."
---