WEEK OF JANUARY 27 THROUGH FEBRUARY 2
Syria, Iran Threaten Retaliation Against Israel
(Deputy Iranian foreign minister says alleged Israeli strike will have 'serious implications' for Tel Aviv while Syrian envoy threatens to launch 'surprise attack'. Meanwhile Syria summons UN Golan commander to protest attack)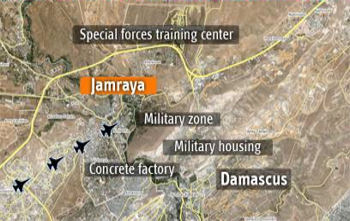 Feb. 1….(YNET) Syria and Iran have threatened to retaliate for an alleged Israeli air raid near the capital Damascus. Syrian Ambassador to Lebanon Ali Abdul-Karim Ali says Damascus has "the option and the surprise to retaliate." He said he cannot predict when the retaliation will be, saying it is up to relevant authorities to prepare for it. "Israel, the Americans and the Arab regimes that have conspired together know that Syria will defend its sovereignty and its land," he said. "The Zionist aggression exposes Israel's part in the war against Syria.
Ali further noted that the bombed center had been the target of repeated takeover attempts by rebels "and other terrorists." Meanwhile, Syria summoned the head of a United Nations mission in the Golan Heights to protest against the air raid which Damascus said is a violation of a disengagement accord that followed the last major war between the two countries. State media said Major General Iqbal Singha, head of the UNDOF peacekeeping force, was summoned to the Foreign Ministry where the protest was delivered. In Iran, the semi-official Fars news agency quoted Deputy Foreign Minister Hossein Amir Abdollahian on Thursday as saying the raid on Syria will have significant implications for the Israeli city of Tel Aviv. Iranian Foreign Minister Ali Akbar Salehi said, "There is no doubt that this aggression is consistent with the policy of the West and Zionists to overshadow the achievements of the Syrian people and government to bring stability and security in this country." He condemned the "brutal aggression of the Zionist regime." Salehi also slammed the Syrian rebels remarking that they "align themselves with the Zionists' goals."
US officials said Israel launched a rare airstrike inside Syria on Wednesday, targeting a convoy believed to contain anti-aircraft weapons bound for Hezbollah. The Syrian military denied the existence of any such shipment and said a scientific research facility outside Damascus was hit. Last week, Iran threatened that should Syria be attacked Tehran would retaliate as if the attack had been against Iran itself.
Meanwhile, Russia said on Thursday it was very concerned about reports of an Israeli attack in Syria and that any such action, if confirmed, would amount to unacceptable military interference in the war-ravaged country. "If this information is confirmed, then we are dealing with unprovoked attacks on targets on the territory of a sovereign country, which blatantly violates the UN Charter and is unacceptable, no matter the motives to justify it," the Russian Foreign Ministry said in a statement. Moscow has repeatedly warned against any foreign interference in Syria, especially military action.
UN: Israel Must Withdraw From Judea, Samaria
(United Nations demands Israel withdraw all of its citizens from the regions of Judea and Samaria.)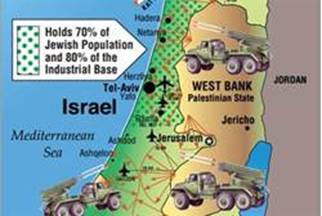 Feb. 1….(Arutz) The United Nations says Israel must withdraw all of its citizens from the regions of Judea and Samaria. The recommendation came in a report issued Thursday by the U.N. Human Rights Council, which has a history of passing numerous biased resolutions condemning Israel for various alleged 'crimes' each year. "Israel must, in compliance with Article 49 of the Fourth Geneva Convention, cease all settlement activities without preconditions," the report said in part. "It must immediately initiate a process of withdrawal of all settlers from the occupied Palestinian territories." Israel's Foreign Ministry responded in a fiery statement immediately to the report, which claimed that Jewish settlement activity only "hampers peace efforts."
In response, Foreign Ministry spokesman Yigal Palmor said, "The Human Rights Council has sadly distinguished itself by its systemically one-sided and biased approach towards Israel. "This latest report is yet another reminder of that," he added. At least half a million Israelis live in Judea, Samaria and areas of Jerusalem restored to the capital during the 1967 Six Day War.
Al Qaeda Pledges Attacks on US Heartland
Feb. 1….(Washington Times) A jihadist website posted a new threat by al Qaeda this week that promises to conduct "shocking" attacks on the United States and the West. The posting appeared on the Ansar al Mujahidin network Sunday and carried the headline, "Map of al Qaeda and its future strikes." The message, in Arabic, asks: "Where will the next strike by al Qaeda be?" A translation was obtained by Inside the Ring. "The answer for it, in short: The coming strikes by al Qaeda, with God's Might, will be in the heart of the land of non-belief, America, and in France, Denmark, other countries in Europe, in the countries that helped and are helping France, and in other places that shall be named by al Qaeda at other times," the threat states. The attacks will be "strong, serious, alarming, earth-shattering, shocking and terrifying." Under a section of the post on the method of the attacks, the unidentified writer said the strikes would be "group and lone-wolf operations, in addition to the use of booby-trapped vehicles." US counter-terrorism actions over the past 10 years have prevented al Qaeda from conducting major attacks. However, US officials warn that the group continues to be dangerous, despite the killing of its top leaders in drone strikes and special operations. A US official said the threat is being taken seriously by the US government.
Hizbullah Already Has Syrian Chemical Weapons
(Syrian rebels said that Hizbullah had already received numerous advanced weapons from Syria – including chemical weapons)
Feb. 1….(Arutz) As reports and analyses of what was said to be an Israeli attack on advanced Russian missiles dispatched from Syria to Hizbullah terrorist bases along the border with Lebanon, Syrian rebels said that Hizbullah had already received numerous advanced weapons from Syria, including chemical weapons. A report in a Saudi newspaper quoted Syrian rebel groups as saying that Syria had already last year transferred chemical weapons to Hizbullah.
Israel has said that transfer of such weapons would be a "red line" which Jerusalem could not ignore, essentially a declaration of war by Syria and Hizbullah against Israel. The report in the Al-Wattan newspaper quoted a rebel spokesperson as saying that the transfer took place over a 40 day period in February and March 2012. The shipment included at least two tons of mustard gas, along long range missiles that could reach within 300 kilometers into Israel that were capable of carrying chemical weapons.
On Wednesday, western media reported that Israel had attacked a convoy carrying Russian-made SA-17 anti-aircraft missiles from Syria to Hizbullah terrorist bases along the border with Lebanon. The US later said that Israel had confirmed this. But in a statement, Syria denied that Israel had struck the missiles, but that it had hit a military research center in a Damascus suburb. Israel has yet to make a public statement on either allegation.Reports in the American media said that the convoy that was targeted by Israel carried conventional weapons, not chemical weapons. The Washington Post quoted an unnamed American government official as saying that there was "no connection" between Israel's declared intolerance of Syrian chemical weapons and Wednesday's attack.
Russia Slams Israeli Attack on Syria. US Forces in Jordan on Alert
Feb. 1….(DEBKA) The Syrian announcement of an Israeli air strike on a military site near Damascus Wednesday, Jan. 30, drew strong condemnation from Moscow the next day: "Such action if confirmed would amount to unacceptable military interference in the war-ravaged country," said the statement issued by the Russian Foreign Ministry Thursday. "If this information is confirmed, then we are dealing with unprovoked attacks on targets on the territory of a sovereign country, which blatantly violate the UN Charter and is unacceptable, no matter the motives to justify it."
Israel has made no comment on the Damascus statement which described in detail an Israeli air strike against a "military research institute" near the capital. Witnesses say it was a plant for manufacturing "unconventional weapons." The facility was destroyed and two staff members killed.
Lebanese sources later reported a Russian Mig-31 fighter had crossed over Sinai Wednesday in the direction of Israel. It veered west over the Mediterranean after encountering an Israeli warning not to intrude into its air space and continued flying over Lebanon.
Debkafile's military sources say that the only external military force in the eastern Mediterranean region is a fleet of 18 Russian warships, which includes landing-craft, among the largest in the Russian Navy, with 2,000 marines aboard. According to various Middle East sources, the Syrian report of an Israeli air strike has touched off high military alerts across the region. Syria has put its Golan forces on the Israel border on combat readiness and the Lebanese and Jordanian armies are on alert. So too are the Russian fleet opposite Syria and the Lebanese army.
Our military sources report that Turkish units on the Syrian border are on high preparedness although Ankara played down the reports of the Israeli air strike in Syria, uncomfortable over the fact that the Israeli Air Force was the first external power to intervene directly in the Syrian conflict. So too are the US air force units stationed at the Turkish Incerlik air base, the US special forces deployed at the Jordanian Mafraq air facility and the American, German and Dutch Patriot missile interceptors deployed in Turkey opposite Syria. Israel has been on high alert since last week.
The prevailing estimate in military and intelligence circles in Washington and NATO capitals is that the Israeli air attack on the Syrian military site near Damascus was but the opening shot for the coming round of military blows they expect to be exchanged in the near future between Israel, Syria and Hizballah, with Iran possibly waiting in the wings for a chance to pitch in.
Israeli jets reportedly attack convoy on Lebanon-Syria border
Jan. 31….(Israel Hayom) Israeli warplanes attacked a target on the Lebanese-Syrian border overnight Tuesday, foreign media reported on Wednesday. While some reports said the purported strike was carried out on the Syrian side of the border, according to one source the target was a weapons convoy that had crossed from Syria into Lebanon. The reports come amid rising concern in Israel and the West regarding the sizable chemical weapons stockpile in the hands of an increasingly embattled Syrian regime. Lebanese officials said a dozen Israeli warplanes violated Lebanese airspace on Tuesday and overnight into Wednesday, flying close to the ground in several sorties over southern Lebanon. The Israeli military and the Prime Minister's Office had no comment.
A Lebanese army statement said the last of the sorties was at 2 a.m. Wednesday. It said four warplanes, which flew in over the southernmost coastal town of Naqoura, flew for several hours over villages in south Lebanon before leaving Lebanese airspace. The Lebanese army said similar flights by eight other warplanes were conducted Tuesday, but added that it had no knowledge of an airstrike. Reuters cited an unnamed Western diplomat and anonymous security source saying the planes had attacked a target near the Lebanese border with Syria. "There was definitely a hit in the border area," the source told the news agency. The target of the attack was a weapons convoy, the French agency AFP reported, citing an unnamed security source.
Israel has been deeply concerned that chemical weapons from Syria could make its way into the hands of the south-Lebanon-based Hezbollah terror group due to the chaos of the Syrian civil war, and has said on several occasions that the transfer of chemical weapons to non-state actors, especially Hezbollah, would be a casus belli. Another chief fear among Israeli security officials is that Hezbollah could get its hands on Syrian SA-17 anti-aircraft missiles. If that were to happen, it would change the balance of power in the region and greatly hinder Israel's ability to conduct air sorties in Lebanon.
Israel believes that Damascus obtained a battery of SA-17s from Russia after an alleged Israeli airstrike in 2007 that destroyed an unfinished Syrian nuclear reactor. Israel Military Intelligence Chief Aviv Kochavi is in Washington for consultations at the Pentagon, including with Joint Chiefs of Staff head Martin Dempsey. Vice Prime Minister Silvan Shalom said Sunday that such transfer of arms to Hezbollah "would be crossing a line that would demand a different approach."
The Lebanese army report did not mention if the planes entered Syrian territory, although the area of Lebanon where the flights reportedly took place borders southern Syria. The report of the flights was not corroborated by an Israeli source. Israeli violations of Lebanese airspace are not uncommon, but Beirut officials say they have increased in the past few days. On Tuesday, Air Force chief Amir Eshel said Israel needed to be wary of both conventional and non conventional weapons finding their way out of Syria. "There is in Syria an enormous arsenal of weapons, some state of the art and some non-conventional. All of it could find its way to our borders and not just to our backyards," he said.
Israel Hits SA-17 Missile Shipment From Syria to Lebanon
(News agency quotes US and regional security officials as saying Israel conducted airstrike inside Syria hitting convoy of trucks; officials estimate target was SA-17 missiles which would be 'game-changing' in hands of Hezbollah)
Jan. 31….(YNET) Israel conducted an airstrike inside Syria overnight near the border with Lebanon, hitting a convoy of trucks, US and regional officials said Wednesday. The regional officials said Israel had been planning in the days leading up to the airstrike to hit a shipment of weapons bound for Hezbollah in Lebanon. They said the shipment included sophisticated, Russian-made SA-17 anti-aircraft missiles, which would be strategically "game-changing" in the hands of Hezbollah. A US official said the strike hit a convoy of trucks. SA-17 missiles are self-propelled and have the capacity to hit jets at a low altitude. The system's portability makes it harder to trace and enables it to surprise jets within its range. These attributes could jeopardize IAF jets should they operate against Hezbollah in Lebanon. A former senior security official in Lebanon told the Washington Post that the attack involved a missile fired by an unmanned Israel aircraft at a truck the Lebanon-Syria border. There were no casualties, according to him. The strike was on the Syrian side of the border, said the former official, who still has close ties to Lebanon's senior security team and said he was told about the attack by a high-ranking official. He said the truck was carrying weapons, although it was unclear what kind of weapons. It also was not immediately clear whether the truck was being used by the Syrian military or by Syrian rebel forces, who have been locked in a brutal, bloody civil conflict for almost two years.
Earlier on Wednesday, foreign and Arab media sources said Israeli forces attacked a target on the Syrian-Lebanese border overnight adding that 12 IAF jets breached Lebanon's airspace on Tuesday. The US-based Al-Monitor website quoted Lebanese sources as saying the target was a weapons convoy traveling near Syria's border with Lebanon. If Israel indeed conducted an airstrike, it may have been signaling to Bashar Assad that Jerusalem would not tolerate the transfer of weapons to Hezbollah. It is likely Syria is not interested in locking itself into a conflict with Israel for fear it would cause the Assad regime to collapse. Israel on its part, is not interested in engaging Hezbollah either. Analysts estimate that Assad's regime has a clear interest in transferring advanced "game-changing" weapons to Hezbollah in order to repay it for its assistance in Syria's war against the rebels and to prevent the weapons from falling into rebels' hands. Hezbollah in turn could use the long-range Scud-D missiles to threaten Israel's hinterland and defend itself against an Israeli airstrike.
Israel's intelligence community has been tracking convoys of trucks that were bringing what appeared to be missiles and warheads from Syria's Latakia region to Lebanon. Officials said the convoys were unloading the suspected weapons at Hezbollah warehouses in Lebanon's Bekaa Valley. "When we said we mustn't let terrorists lay a hand on Syrian weapon, we meant it," Former Mossad Chief Danny Yatom told Ynet Wednesday. According to Yatom, if foreign reports of an Israeli attack near the Syrian-Lebanese border are true, it means that Israel had a clear indication that Hezbollah had crossed a line. Various Israeli sources spoke out recently, insisting that Israel would do anything to stop ammunition owned by Assad forces from making its way into the hands of terror organizations.
IAF Chief: 'Huge Weapons Arsenal' in Syria
Speaking just before the strike against an arms convoy, Maj. Gen. Eshel explained what the IDF is up against.
Jan. 31….(Arutz) Maj. Gen. Amir Eshel, Commander of the IAF, described the chaotic threat facing Israel from its neighbors Tuesday, just hours before jet fighters under his command reportedly hit a major weapons convoy between Syria and Lebanon. "The example in the north, in Syria, is the most glaring one, of a state that is in a process of disintegration, about which none of us has a clue as to what will be there on the day after," Eshel said. "Add to that a huge weapons arsenal, some of which is state-of-the-art, some of it unconventional, and all of this is happening, I can't call it our back yard, but on our borders. So we have challenges here ranging from the limited ones to the very large ones. "What do we see in terms of military challenges? We need to deal with a wide range of enemies and rivals, from states to semi-states to organizations, terror etc. We are dealing with the range between sub-conventional to unconventional. From the knife to the nuclear bomb. We are dealing with very short ranges as well as very long ranges. The size of our sphere of interest and action has grown exponentially compared to 10, 15, 20 years ago. "We are dealing with weapons of every variety and we may have to deal with an even wider arsenal, with advanced western weapons, eastern weapons, and locally made weapons. There are local manufacturers who are active. Some copy and some invent. It's all out there. "Whereas we used to deal with threats and challenges on our borders, the situation today is completely different. The direct challenges that we need to prepare for can come from the front lines or from the distant depth, to the front line and to Israel's own depth, to the extent that we have such depth."
Israeli Jets Attacked Arms Depot Near Damascus
Jan. 31….(DEBKA) Israeli warplanes carried out overnight sorties up until Wednesday, Jan. 30 against missile and arms convoys standing ready in southern Syria for transfer to Hizballah in Lebanon, according to Western sources. Debkafile's military sources report that the consignments were destroyed. The Lebanese army reported the heavy presence of an approximate 12 Israeli jets over its territory during the night up until 0200 hours Wednesday. Our sources report that it was suspected in Israel that Syria and Hizballah would take advantage of the rainy and overcast weather conditions in the last 24 hours to push advance weapons systems across the border from Syria into Lebanon.
The operation aimed at giving teeth to Israel's longstanding threat ever since 2011 to hit military targets in Syria if necessary to prevent the handover of sophisticated missiles to Hizballah. It also underlined the warning that Israel was ready to take action again in the event of Syria's chemical weapons or any kind of nerve gas weapons being used and to make sure they never reached the hands of Hizballah or any other terrorist groups.
Tuesday, Israeli Air Force Commander Maj. Gen. Amir Eshel warned that Syria is falling apart and no one knows what the next day may bring: "War may not break out tomorrow," he said, "but we stand ready for any eventuality." Last week, Israeli posted two Iron Dome anti-missile batteries near its northern border and in Haifa.
Morsi Aide: Holocaust a US Hoax
(Muslim Brotherhood figure: 'The myth of the Holocaust is an industry that America invented')
Jan. 30….(YNET) A key figure in Egyptian President Mohammed Morsi's government called the Holocaust a hoax cooked up by US intelligence operatives and claimed the 6 million Jews who were killed by Nazis simply moved to the US, FoxNews reported Tuesday. "The myth of the Holocaust is an industry that America invented," Fathi Shihab-Eddim, a senior figure close to President Morsi was quoted as saying. According to Fox News, Shihab-Eddim is responsible for appointing the editors of all state-run Egyptian newspapers.
The Egyptian official was further quoted as saying that "US intelligence agencies in cooperation with their counterparts in allied nations during World War II created it (the Holocaust) to destroy the image of their opponents in Germany, and to justify war and massive destruction against military and civilian facilities of the Axis powers, and especially to hit Hiroshima and Nagasaki with the atomic bomb."
Fox News said that Israeli experts had expressed concern at the harsh statements. Efraim Zuroff, Israel Director of the Jerusalem-based Simon Weisenthal Center told FoxNews.com the remarks show a dangerous, but common, mindset. "Obviously, if a person in that position makes that ridiculous claim it is of concern," Zuroff said. "The sad truth is that these views are relatively common in the Arab world and are the result of ignorance on one hand and of government-sponsored Holocaust denial on the other hand." The statement comes on the heels of the much-publicized comments made by President Morsi in 2010, that Jews are "the descendants of apes and pigs," remarks that Morsi insists were taken out of context.
Syria Chemical Arsenal Within Hezbollah Reach
Jan. 30….(Israel Hayom) Israel continued to warn the world on Monday of the potentially devastating outcome if Syria's chemical arsenal falls into the hands of rebels, or worse, Hezbollah, as Lebanese media outlets reported that the Lebanese terror group had already obtained some chemical weapons and long range missiles. Prime Minister Benjamin Netanyahu, who on Sunday met with a delegation from the US House of Representatives led by Rep. Rob Wittman, expressed his concern over the developments in Syria, and said the outcomes facing Israel were "bad, bad and worse." The prime minister was briefed on the Syrian situation over the weekend and multiple meetings were held to discuss possible options.
US Ambassador to Israel Dan Shapiro said that Israel and the US were working in full cooperation on the Syrian issue, and on Monday Netanyahu's adviser and National Security Council chief Yaakov Amidror visited Moscow and spoke with Russian President Vladimir Putin on the matter. According to Lebanese TV, Hezbollah fighters helping Syrian President Bashar al-Assad fight the Sunni rebels in Syria have now taken over army bases throughout the country. Hundreds of armed fighters from the Shiite group were seen accompanying personnel from the Syrian military's unconventional weapons program, as well as taking position inside Syrian bases where chemical weapons were stored. The Syrian military has been fighting rebels to keep control of the al-Safira compound south of Aleppo, where chemical weapons are produced and stored. Arab media reported that after days of pitched battles the army succeeded in repelling the rebel attack and regaining control of the territory around the base.
Egypt, Syria are Falling Apart – An Israeli Nightmare Unfolds
Jan. 30….(DEBKA) Israeli Air Force Commander Maj. Gen. Amir Eshel warned Tuesday, Jan. 29, that Syria is falling apart and no one knows what the next day may bring: "War may not break out tomorrow," he said, "but we stand ready for any eventuality." If war is not expected tomorrow, why have Israel's armed forces, including the air force, been on their highest level of preparedness since Friday, Jan. 25? The Syrian crisis may not technically fit the description of a state of war. However, the violent turbulence in that country may at any time spill over the border into hostilities in some shape or form. The "no comment" stance on the Syrian civil war, long held by Prime Minister Binyamin Netanyahu and Defense Minister Ehud Barak is untenable and pointless, especially after the latter cut short an overseas family trip to be flown home in a hurry Saturday.
No one believes the official explanation that the three Iron Dome anti-missile batteries stationed over the weekend in northern Israel, in the sight of many thousands of local dwellers - are there for a preplanned routine test, least of all after a senior Israeli officer told AFP that large Hizballah forces are parked at Bashar Assad's chemical weapons stores poised ready to seize them. If this happens, said the officer, "A decision to attack Syria or Lebanon will need to be implemented immediately."This is beginning to sound as though the politicians and the generals are not on speaking terms.
Gen. Eshel's comment came hard upon the grave warning issued earlier Tuesday by Egypt's army chief Abdel-Fattah el-Sissi, who is also the defense minister. "The political strife is pushing the state to the brink of collapse," he said on the sixth day of turbulent protests across the country at the cost of more than 60 lives. Gen. El-Sissi reacted to the chaos and lawlessness engulfing Egypt. The government headed by President Mohamed Morsi and the Muslim Brotherhood is no longer a functioning administration. They have been reduced to the single task of fighting to hang onto power. None of the forces of law and order, the army, internal security, police, are willing to clash head-on with the opposition protesters rampaging on the streets of the main cities including Cairo. Some towns have descended into chaos and some outlying areas in this country of 90 million are no longer receiving regular food and water supplies. The Egyptian defense minister's warning may be taken two ways:
1. As a last warning to the Muslim Brotherhood and the opposition on the streets that this is the eleventh hour and if they don't step back from their confrontation, the military will be forced to seize power to save the country.
2. Alternatively, that the army will not interfere and will stand aside for now, while warning that a civil war in Egypt would be more extensive and calamitous than the vicious conflict bringing Syria to ruin in the last two years.
As the two countries teeter on the brink of catastrophe, Gen. Eshel's dry forecast of doom correctly noted that no one knows what tomorrow will bring. However, Israel is coming face to face with its worst fear: being hemmed in by a blazing ring of hopeless conflicts just across its borders: Syria and Lebanon in the north; Egypt in the west and south; and Jordan under threat.
Israel Warns of Pre-Emptive Chemical Weapons Strike in Syria
Jan. 29….(CBS News) Israel could launch a pre-emptive strike to stop Syria's chemical weapons from reaching Lebanon's Hezbollah or al Qaeda inspired groups, officials said Sunday. The warning came as the military moved a rocket defense system to a main northern city, and Israel's premier warned of dangers from both Syria and Iran. Israel has long expressed concerns that Syrian President Bashar Assad, clinging to power during a 22-month civil war, could lose control over his chemical weapons.
Vice Prime Minister Silvan Shalom said Sunday that Israel's top security officials held a special meeting last week to discuss Syria's chemical weapons arsenal. The fact of the meeting, held the morning after a national election, had not been made public before. Shalom told the Army Radio station that the transfer of weapons to violent groups, particularly the Iranian-backed Lebanese Hezbollah, would be a game changer. "It would be crossing a line that would demand a different approach, including even action," he said. Asked whether this might mean a pre-emptive attack, he said: "We will have to make the decisions."
Israel has kept out of the civil war that has engulfed Syria and killed more than 60,000 people, but it is concerned that violence could spill over from its northern border into Israel. Israel deployed its Iron Dome rocket defense system in the northern city of Haifa on Sunday. The city was battered by Hezbollah rocket fire during a war in the summer of 2006. The military called the deployment "routine."
Iron Dome, an Israel-developed system that shoots down incoming short-range rockets, was used to defend Israeli cities during a round of hostilities with Hamas militants in the Gaza Strip, on Israel's southern flank, last November. Yisrael Hasson, a lawmaker and former deputy head of Israel's Shin Bet intelligence agency, said Israel was closely following developments in Syria to make sure chemical weapons don't "fall into the wrong hands." "Syria has a massive amount of chemical weapons, and if they fall into hands even more extreme than Syria like Hezbollah or global jihad groups it would completely transform the map of threats," Hasson told Army Radio. "Global jihad" is the term Israel uses for forces influenced by al Qaeda. Syria's rebels include al Qaeda-allied groups.
Syria has rarely acknowledged possessing chemical weapons. Prime Minister Benjamin Netanyahu referred to threats from Syria and Iran at a Cabinet meeting Sunday. Iran is Syria's main regional ally. "We must look around us, at what is happening in Iran and its proxies and at what is happening in other areas, with the deadly weapons in Syria, which is increasingly coming apart," he said. Israel views Iran as an existential threat because of its nuclear and missile programs and support for violent anti-Israeli groups in Lebanon and Gaza, as well as repeated references by Iranian leaders to Israel's destruction. Iran denies it is seeking to build atomic weapons, insisting its nuclear program is for civilian purposes.
On Friday, Israeli Channel 2 TV broadcast an interview with a former Iranian diplomat who defected to the West in 2010. He warned that if Tehran gets nuclear weapons, it would use them against Israel. He did not provide evidence. Part of Mohammad Reza Heydari's job was to draft foreign scientists to work on Tehran's nuclear program and he brought many from North Korea into Iran, the report said. Heydari spoke from Oslo, where he has received political asylum.
Obama's Secret Pledge to Divide Jerusalem
Jan. 28….(WND) Now that he has secured his second term, President Barack Obama has already secretly pledged to the Palestinians he will press Israel into a new round of so-called land-for-peace negotiations, a top Palestinian Authority negotiator told WND. The negotiator said top members of the Obama administration told the Palestinians the US president will renew talks aimed at creating a Palestinian state in the so-called 1967 borders, meaning in the West Bank, Gaza Strip and, notably, eastern Jerusalem. The negotiator further revealed when it comes to dividing Jerusalem, Obama wants to rehash what is known as the Clinton parameters. That formula, pushed by Bill Clinton during the Camp David talks in 2000, called for Jewish areas of Jerusalem to remain Israeli while the Palestinians will get sovereignty over neighborhoods that are largely Arab.
WND previously reported how Palestinians are building illegally in Jewish-owned areas of Jerusalem, changing facts on the ground and resulting in Arab majorities on certain neighborhoods. This is not the first time the Palestinians are claiming Obama will push for new talks during a second term. Just before November's presidential election, a senior PA negotiator claimed to WND if Obama secures another four years in office, he will use his second term to target Israeli Prime Minister Benjamin Netanyahu as the main party to blame for the collapse of Mideast peace talks. The negotiator further claimed Obama quietly pledged to the Palestinians a campaign at the United Nations to renew UN Security Council Resolution 242, which calls for a Palestinian state in the "1967 borders." The negotiator further said Obama had promised the PA that the establishment of a Palestinian state will be one of the main priorities for a second term. "We were told that the negotiations for a Palestinian state will be a main goal for Obama," said the negotiator. "Netanyahu will be declared the main person responsible for the collapse of the peace process."
Obama: Two-State Solution Cannot Wait
(Though officially waiting for Israeli coalition to form, US is implying two-state solution cannot wait; negotiations must resume)
Jan. 28….(YNET) The Obama Administrastion is patiently waiting until an Israeli coalition is formed, but is nonetheless sending out a clear message to Israel: Do not neglect the Palestinian issue. US State Department spokeswoman Victoria Nuland stressed Friday that the US intended to work on bringing the Israelis and the Palestinians back to the negotiating table. "We are at the stage now… where we're going to have to wait and see what the makeup of the Israeli government is going to be and how it approaches the longstanding critical issues that we share," Nuland said. "We know where we want to go and we know where we believe they also want to go. If we can be helpful, we will continue to try." While hoping for a moderate Israeli government that will renew talks with the Palestinians, Washington stresses its support of Israel. Nuland stated that "Israel continues to be a democratic beacon out there in the world and to have a very vibrant system and process for ensuring that the people's voices are heard in the political process." "But how that's going to translate in terms of either government formation or government policy," she added, "is to be determined."
Nuland's statement joins a Thursday statement by US Secretary of State nominee John Kerry, who also expressed hope that Israeli-Palestinian peace talks be renewed. "My hope is that perhaps this can be a moment where we can renew some kind of effort to get the parties into a discussion to have a different track than we have been on over the last couple of years," Kerry said. Kerry insisted that President Barack Obama was determined to resolve the conflict and grant Israel the security it deserves and the Palestinians the independence they deserve. Robert Serry, US Special Coordinator for the Middle East peace process stated last week, "We are entering a critical period ahead, in which concerted action will be vital if we are to salvage the two-State solution." "Israeli and Palestinian leaders have stated, like us, that they are convinced the two-State solution is the only path toward a durable peace. But they should realize that absent serious engagement, the peace process will remain on life-support and stability on the ground will be put at risk even further," Serry said. "The consequences for inaction could be dire for everyone," he warned.
Jordan's King Abdullah reflected US sentiments Friday, saying "If we're not too late, the two-state solution will only last as long as Obama's term; if it doesn't happen by then I don't think it will happen." Speaking in front of the World Economic Forum in Davos, Abdullah said that in order to achieve security in the Middle East, the Israeli-Palestinian conflict must end and that regardless of Israel's election results, peace and security must be a top priority for Israelis.
Ahmadinejad: Muslims Should Unite to Destroy Zionism
Jan. 28….(IRMA) President Mahmoud Ahmadinejad said on Sunday that all Muslims should mobilize their resources to uproot Zionism. He made the remarks in his speech to the 26th international conference on Islamic Unity. He said that the prime goal of the Muslims should be terminating the issue of Zionism. ''World Muslims should forge unity in their struggle with bullying powers and by the time that the Zionist usurpers commit crimes through occupation and vandalism. It is not advisable to sit idle and take no action.'' Elsewhere in his speech, he said that it is not possible to attain unity without having a unique leadership. The only leader who can guide Muslim World is the guidelines of Prophet Mohammad (PBUH), he underlined. "All differences and discords among Muslims have roots in our misunderstanding of Holy Quran and guidelines of Prophet Mohammad (PBUH). Today we need leadership similar to the Prophet to get the Muslim World united."
Criticizing management of the global economy led by the US, he said the US has taken helm of global economy which aims to transfer the wealth of world nations into the pockets of certain governments. US budget deficit stood at dollars 1,600 billion, he said adding that the US Federal Reserve is printing banknotes without reserve which creates worsening poverty around the globe. "Enemies of humanity claim they are administering the world. They claim to be advocates of freedom and democracy around the world but under such circumstances, they should not say that they advocate freedom of Muslims. They must call for liberation of all world nations as well as the US people from rein of Zionists."
Report: Iran Nuclear Facility Destroyed?
Jan. 28….(Israel Today) Reports are circulating that an important nuclear facility in Iran has been at least partially destroyed in a massive explosion. The news comes just days after an ex-Iranian diplomat who defected to the West warned that if Iran obtained a nuclear weapon, it would use that weapon against Israel. The explosion reportedly took place at the Fordo nuclear facility near the city of Qom. Fordo is buried deep under a mountain, making it nearly immune to aerial assault, and therefore a perfect location for a significant portion of Iran's uranium enrichment activities.
According to reports in the American news website World Net Daily, which cited a former Iranian defense official who fled to the West, the explosion caused a collapse of the elevators that descend nearly 300 feet into the mountain facility, trapping some 240 personnel inside. Tehran is said to be blaming the explosion on sabotage. Both Israel and the US are known to have taken various measures against Iran's defiant nuclear program over the past several years. Though Israel did not officially respond to speculation that it was behind the blast, Home Front Defense Minister Avi Dichter told Yediot Ahronot that "any explosion in Iran that doesn't hurt people but hurts its assets is welcome."
The debate over whether or not to take decisive action against Iran's nuclear program has been intensifying, especially after Iran's former consul in Oslo, Mohammed Reza Hedyari, told Israel's Channel 2 News that Iran is only one year away from fielding a nuclear weapon, which it will turn on Israel. "If Iran is given more time, it will acquire the knowledge necessary to build a nuclear bomb within a year," Heydari told Israeli television viewers last Friday. "If Iran gets to the point where it has an atomic bomb, it will certainly use it, against Israel or any other enemy state."
The former diplomat suggested that it was a grave mistake for Western leaders to think that the Iranian leadership will be pragmatic with its nuclear weapons, in the way former Soviet leaders were. Iran's leaders "are busying themselves with ideological preparations for the arrival of the 'hidden Imam' (a kind of Muslim messiah)," he said. "For this purpose, they are willing to spill much blood and destroy many countries."
Iranian-Hezbollah Convoy Blown up on Israeli Border
Jan. 28….(DEBKA) At least eight officers were killed in a mysterious twin-car bomb explosion Friday, Jan. 25 at Syrian regional intelligence headquarters in Quneitra on the Syrian side of the Golan Heights. Some of the fatalities were Syrian, but Western intelligence sources disclosed to debkafile that most were high-ranking Iranian Al Qods Brigades and Hizballah officers. The blasts sent tensions shooting up on the Israeli and Jordanian borders with Syria. Israeli, Jordanian and US Special Forces posted in the kingdom went on high alert. Heavy Syrian reinforcements were seen streaming toward the two borders. Syrian regime sources said the explosive devices were attached to the intelligence command building's outer walls. But the Western sources report that two large bomb cars were lying in wait on both sides of the road leading to the Syrian HQ and were detonated as the two-car convoy of Iranian and Hizballah officers drove by. There were no survivors.
Those sources also refute reports that the al-Qaeda linked Jabhat al-Nusrah fighting with the Syrian rebels claimed responsibility for the attack. This was a rare occasion when no Syrian opposition group issued any statement at all, they said. The speed with which Syrian army helicopters flew in to remove the casualties indicated their high rank.In the view of a Jordanian military source, this attack by an unknown hand has delayed Bashar Assad's advanced preparations for an all-out armored offensive to finally crush the revolt against his regime. His first targets were to have been the rebel-held villages along the Israeli and Jordanian borders. The Syrian ruler was working to a plan of operations his generals had drawn up with Iranian Al Qods Brigades strategists.
Saturday, Ali Akbar Velayati, an aide to Supreme Leader Ayatollah Ali Khamenei, warned that Iran would consider any attack on Syria an attack on itself: "Syria has a very basic and key role in the region for promoting firm policies of resistance against Israel. For this reason an attack on Syria would be considered an attack on Iran and Iran's allies."
Meanwhile in Iran itself, the Fordo underground uranium enrichment plant was again reported targeted for sabotage, according to an unconfirmed report published by Reza Kahlil, who is described as a former Iranian Revolutionary Guards officer who worked under cover as a double agent for the CIA until he escaped to the United States. Kahlil reported that at 11:30 a.m., Monday, Jan. 21, the day before Israel's general elections, a large explosion occurred 100 meters deep inside the underground plant, trapping 240 nuclear staff in the third centrifuge chamber. Among them, he said, were Iranian and Ukrainian technicians. There was no information about casualties or the extent of damage to the 2,700 centrifuges which have been turning out 20-percent enriched uranium.
Iran Contemplating a Syrian Invasion into Israel
Jan. 28….(WND) Tehran is looking seriously at a limited Syrian-Lebanese clash of arms with Israel, possibly using Bashar Assad's chemical weapons as a trigger, Debkafile's military and intelligence sources disclose. Reacting to this news, Israel announced Sunday, Jan. 27, the deployment of Iron Dome anti-missile batteries some days ago to reinforce security in northern Israel and the key Haifa port. The Iranians see three strategic benefits in embroiling Israel in a limited war with its two allies, Syria and Hizballah:
1. A new outbreak of armed violence would direct world attention away from the Syrian civil war:
2. Israel would be sidetracked from a possible strike against Iran's nuclear facilities, even a "surgical operation" such as Defense Minister Ehud Barak spoke of over the weekend, by being thrown into multiple battles with Iranian forces in Syria and Lebanon, the Shiite Hizballah and the Palestinian Hamas and Islamic Jihadi in the Gaza Strip. The clash would be programmed to end without winners or losers like Israel's war against Hizballah in 2006 and its two anti-terror operations the Gaza Strip in 2009 and 2012. But meanwhile Israel would have its hands too full with threats on three borders to pursue military action against a nuclear Iran.
3. Tehran would buy another year's delay for spinning out its talks with the Six Powers (US, Russia, France, Britain, China and Germany) on their nuclear controversy.
At the weekly cabinet meeting in Jerusalem Sunday, Prime Minister Binyamin Netanyahu said "Israel faced some of the gravest threats in its existence" and they continue to run riot "in the east, the north and the south."
Behind his words, was an immediate neighborhood beset in last couple of weeks by al Qaeda's advance in Mali, now checked by French intervention; the Algerian gas field hostage siege; and the discovery of the strong interface among the various African Al Qaeda branches, including Egypt, in operations, logistics, shared arms suppliers and the pooling of jihadist manpower in the different arenas. Israel's prime minister and security chiefs are clearly troubled by the perceived danger of the jihadist networks based in Egyptian Sinai and al Qaeda affiliates fighting in Syria joining up to attack Israel from two directions, the north and the south. This would be in keeping with the multiple, multinational terrorist threats surfacing in Africa.
With regard to Syria's chemical weapons, after convening an expanded security-diplomatic cabinet meeting last Wednesday, Jan. 23, the day after Israel's general election, Netanyahu remarked: "We have to look around us at what's happening in Iran and the lethal weapons in Syria, which is falling apart…" He left the specifics to Deputy Prime Minister Sylvan Shalom, who said Sunday that if chemical weapons reached Hizballah or Syrian rebel hands, "Such a development would be a crossing of all red lines that would require a different approach, including even preventive operations." But even Shalom did not specify where the red lines would be, the handover of Syrian chemical weapons to Hizballah? And against whom would Israel take preventive action, Syria, Hizballah or both? And if they reached Syrian rebel hands, would Israel hit them or go straight for the poison gas arsenals?
Neither Netanyahu nor Shalom responded to the Iranian warning issued Saturday by Ali Akbar Velayati, a close adviser to Iranian leader Ayatollah Ali Khamenei, that an attack on Syria would be tantamount to an attack on Iran. This warning was intended to drive home to Israel the message that an offensive against Syria would be treated as a direct confrontation with Iran. This warning aimed at holding Israel back from a military strike against Syria, and not the Assad regime. This is because an Israeli attack on Syrian rebels armed with chemical weapons would also serve Tehran's purpose very well: Iranian forces in Syria and Lebanon would use the opportunity to unite the Syrian army and the rebels against the common enemy, Israel, and so start the process of winding down the anti-Assad revolt. Velayati also avoided mentioning Iran's key ally in Lebanon, Hizballah. In his warning, he said: "Syria has a very basic and key role in the region for promoting firm policies of resistance against Israel. For this reason an attack on Syria would be considered an attack on Iran and Iran's allies."
This high-ranking Iranian figure took care not to draw attention to Hizballah because, according to Debkafile's military sources, parts of the Syrian chemical arsenal have already reached Hizballah and are stashed away in fortified bunkers in the terrorist militia's Beqaa Valey strongholds, along with a lethal array of long- and medium-range ground-to-ground rockets that too were smuggled secretly across the Syrian border.
Some western intelligence sources, especially American, now believe Syrian chemical weapons were secreted to Hizballah during 2012. They were sent over in small packages to avoid attracting US or Israel notice. By now Hizballah is thought to have accumulated a substantial supply of poison weapons. Our military sources report that Israel's military planners have long-range logistical plans ready for dealing with new situations such as this one. It has expanded its undercover penetration of Syria and Lebanon and is making rapid progress in erecting a sophisticated 57-kilometer security force along the Syrian border. This project may take months to complete. But meanwhile, Iran is working on its own plans for jumping the gun before it is finished with a military adventure.
WEEK OF JANUARY 20 THROUGH JANUARY 26
Thousands of Al Qaeda-Linked Jihadists Pouring into Syria
Jan. 25….(WND) Al-Qaida-linked jihadist rebels are streaming into Syria via the Turkish border at a rate of thousands per month, according to informed Middle Eastern security officials. The officials said Russia and Iran have been compensating for the increased jihadist influx by providing more weapons to Syria, including advanced protections for Syria's missile arsenal. The officials said neither Russia nor Syria see an immediate end to the insurgency targeting the regime of Syrian President Bashar al-Assad. The information comes as the Obama administration faces accusations of arming the anti-Syrian rebels whose ranks include al-Qaida-linked terrorists.
During the Senate hearing on Benghazi on Wednesday, outgoing Secretary of State Hillary Clinton claimed she did not know whether the US special mission attacked on Sept. 11 was involved in gun-running. The exchange on the subject took place with Sen. Rand Paul, R-Ky. Paul asked Clinton: "Is the US involved with any procuring of weapons, transfer of weapons, buying, selling, anyhow transferring weapons to Turkey out of Libya? "To Turkey?" Clinton asked. "I will have to take that question for the record. Nobody has ever raised that with me." Continued Paul: "It's been in news reports that ships have been leaving from Libya and that may have weapons, and what I'd like to know is the annex that was close by, were they involved with procuring, buying, selling, obtaining weapons, and were any of these weapons being transferred to other countries, any countries, Turkey included?" Clinton replied, "Well, senator, you'll have to direct that question to the agency that ran the annex. I will see what information is available." "You're saying you don't know?" asked Paul. "I do not know," Clinton said. "I don't have any information on that."
That section of the exchange with Paul was almost entirely ignored by media, which instead focused on the Republican senator's earlier statement that if he were president he would have relieved Clinton of her post. WND has filed numerous reports quoting Middle East security officials who describe the mission in Benghazi as a meeting place to coordinate aid for the rebel-led insurgencies in the Middle East.
In September, WND also broke the story that the slain US ambassador, Christopher Stevens, played a central role in recruiting jihadists to fight Bashar al-Assad's regime in Syria, according to Egyptian security officials. In November, Middle Eastern security sources further described both the US mission and nearby CIA annex in Benghazi as the main intelligence and planning center for US aid to the rebels that was being coordinated with Turkey, Saudi Arabia and Qatar. Many rebel fighters are openly members of terrorist organizations, including al-Qaida.
Among the tasks performed inside the building was collaborating with countries, most notably Turkey, on the recruitment of fighters, including jihadists, to target Assad's regime, the security officials said. According to the 39-page report released last month by independent investigators probing the attacks at the diplomatic facility, the US mission in Benghazi was set up without the knowledge of the new Libyan government, as WND reported. "Another key driver behind the weak security platform in Benghazi was the decision to treat Benghazi as a temporary, residential facility, not officially notified to the host government, even though it was also a full-time office facility," the report states. "This resulted in the Special Mission compound being excepted from office facility standards and accountability under the Secure Embassy Construction and Counterterrorism Act of 1999 (SECCA) and the Overseas Security Policy Board (OSPB)." The report, based on a probe led by former US diplomat Thomas Pickering, calls the facility a "Special US Mission."
During the Libyan revolution against Moammar Gadhafi's regime, the US admitted to directly arming the rebel groups. At the time, rebel leader Abdel-Hakim al-Hasidi acknowledged in an interview that a significant number of the Libyan rebels were al-Qaida fighters, many of whom had fought US troops in Iraq and Afghanistan. He insisted his fighters "are patriots and good Muslims, not terrorists," but he added that the "members of al-Qaida are also good Muslims and are fighting against the invader."
Rabbi Warns Obama of Judgement on America
Jan. 24….(WND) Rabbi Jonathan Cahn, author of "The Harbinger," the startling New York Times bestseller that suggests the US is in the shadow of judgment from God for its rejection of Him, stood at the podium for this year's Presidential Inaugural Prayer Breakfast in Washington on Inauguration Day. Amid weeping, praying and the sounding of shofars from the audience, Cahn said the US has chosen a path that takes the nation away from God, and he pleaded with its leaders to return. "What we once knew to be immoral, we celebrate," he said. "What we once knew to be right, we war against." And he warned that no level of political correctness can change right and wrong. "A thousand apostate ministers swearing on a thousand Bibles will not change one jot or tittle of the word of God," he said. Just hours later, Barack Obama rose behind another podium and gave his vision for the next four years in America, speaking of advancing "gay" rights and referencing the "Stonewall Uprising as a great American event we should honor," Cahn told WND.
The conflict, he said, continues, between what the Bible prescribes for a nation seeking God's blessing, and the nation that America appears to have become. "The address at the Presidential Inaugural Prayer Breakfast was another example. It was strange. That morning, in Washington, DC, President Obama gave his vision for the next fours years and I gave the message of 'The Harbinger,' a call of prophetic warning. "I spoke of America's moral apostasy, and Obama spoke, for the first time in any inauguration, of advancing gay rights and of the Stonewall Uprising as a great American event we should honor. "Both tracks are continuing, America's spiritual departure from God, and the warnings of judgment given," he said. He said the reaction to his message at the prayer breakfast was overwhelming. "The prayer event erupted in an explosion of prayer and worship. People were weeping. People were shouting. Some were on their knees. Some were sounding shofars. Others were cheering and praising the Lord. There was at attempt to have the program continue, but it couldn't. God was there. It was just too powerful to do anything but stand in His presence," he said. "Even now the word is spreading. Just as an inauguration is, by definition, a beginning, I believe, somehow, that the giving of that speech in that place on that day was the beginning of something. Even now the word is spreading. I pray it's the beginning of awakening," he said. He told the gathered crowd that when people pray for America, they should remember that, "We have to pray according to His will. We pray for blessing, but true blessing only comes at the will of God. The truth must be spoken as well."
He said the ancient kingdom known as Israel was founded on God's word, and was blessed. "But the people made a fatal mistake. They turned away from their God, removed Him from their lives, their culture, government, economy, public square, out of the instruction and lives of their children." "They made themselves strangers to the God of their fathers, and as God was driven out, their idols were brought in," he said. Those were immorality, materialism, carnality. Warnings from God were not needed, and the nation fell into captivity, he said.
Then there is another civilization founded on God's word. "From its very inception America, those who came to these shores and founded a civilization, dedicated it to God. America was to be a city on a hill, a civilization to which others would look," he said. "But something happened. We, too, as a nation turned from God. We, too, have removed Him from our lives, step by step. We, too, have made God a stranger." His presence was replaced by intolerance, immorality, profanity and blasphemy, he said. Cahn told WND his "call to the nation" was a direct appeal for America to return to God. Even a calling to the President, in which I asked him, how he can place his hands on the word of God to be sworn into office and then act against the very things the word of God clearly declares."
Netanyahu Narrowly clings to Victory in Israeli Election
Jan. 23….(Fox News) In a stunning setback, Prime Minister Benjamin Netanyahu's hard-line bloc fared worse than expected in a parliamentary election Tuesday, exit polls showed, possibly forcing the incumbent Israeli leader to invite surprisingly strong moderate rivals into his government and soften his line toward the Palestinians. TV exit polls showed the hard-liners with about 61 seats in the 120-seat parliament, a bare majority, and the counts could change as actual votes are tallied.
The unofficial TV results had Netanyahu winning only 31 seats, though he combined his Likud Party with the far-right Yisrael Beitenu for the voting. Running separately four years ago, the two won 42 seats. He expected to increase that total by running together, but the combined list's poll results dipped steadily throughout the three-month campaign. Netanyahu was also expected to receive stronger backing because his fragmented opposition did not post an agreed candidate against him. If they hold up through the actual vote counting, the unexpected results could be seen a setback for Netanyahu's tough policies. The coalition-building process could force him to promise concessions to restart long-stalled peace talks with the Palestinians.
Addressing cheering supporters early Wednesday, Netanyahu pledged to work for a broad-based government. Also he said, he would show "responsibility in striving for a genuine peace." Netanyahu made a quick phone call to a newcomer on Israel's political stage, Yair Lapid, whose centrist party debuted with a strong showing of 19 seats, making it the second-largest party after Netanyahu's. Nearly 67 percent of Israel's 5.5 million eligible voters took part, more than in previous elections, apparently giving boosts to the centrists, especially Lapid's new "Yesh Atid" or "There is a future" party, which nearly doubled results predicted by polls before the election. Lapid's surprise showing could make him a key Cabinet minister should he decide to join Netanyahu's government.
A Likud official said Netanyahu phoned Lapid after the results and told him, "We have the opportunity to do great things together." Lapid and other centrist parties have said they would not join Netanyahu's team unless the prime minister promises to make a serious push for peace with the Palestinians.
Obama in Guns To Jihadists Terrorists Cover Up?
Jan. 22….(WND) Sen. Rand Paul, R-Ky., raised questions during a radio interview today about whether the Obama administration was smuggling guns to jihadist rebels in a possible "international Fast and Furious" that the White House has tried to cover up. Speaking on "Aaron Klein Investigative Radio" on New York's WABC Radio, Paul said the guns scheme could help explain the reason for the coordinated attacks against the US special mission and CIA annex in Benghazi last September. Stated Paul: "There is also some concern about whether or not Libyan arms are being ferried through Turkey into Syrian rebels and whether or not that had something to do with the cover-up that came out of the administration when the administration was saying that, 'Oh, this attack in Benghazi had something to do with a film.' "Maybe that was to cover up that there was some kind of gun smuggling going on over there, some kind of international fast and furious was going on in Libya and that this was a cover-up," Paul continued. "These are some of the questions that we are going to have for Hillary Clinton when she comes before our committee. "I am very concerned about the president giving arms to Syrian rebels," Paul told Klein.
The politician, who will serve on the Senate Foreign Relations Committee, said the US-backed rebels in Syria include jihadists tied to al-Qaida. "There's about a million Christians in Syria, one of the largest populations of Christians is in Syria. They are not necessarily siding with the rebels because many of the rebels are extremist radical Islamists such as Al-Nusra elements of al-Qaida. And there is concern that the Christians will not be tolerated, will be wiped out if the rebels win," Paul said. Many rebel fighters are openly members of terrorist organizations, including al-Qaida.
Immediately following the Benghazi attacks, President Obama and other White House officials notoriously blamed supposed anti-American sentiment leading to the violent events on an obscure anti-Muhammad video on YouTube they claimed was responsible for supposedly popular civilian protests that they said took place outside the US mission, protests, they claimed, that devolved into a jihadist onslaught. However, vivid accounts provided by the State Department and intelligence officials later made clear no such popular demonstration took place. Instead, video footage from Benghazi reportedly shows an organized group of armed men attacking the compound, officials said.
WND has filed numerous reports quoting Middle East security officials describing the mission in Benghazi as serving as a meeting place to coordinate aid for the rebel-led insurgencies in the Middle East. Among the tasks performed inside the building was collaborating with Arab countries on the recruitment of fighters, including jihadists, to target Bashar al-Assad's regime in Syria, the officials said. According to the 39-page report released last month by independent investigators probing the attacks at the diplomatic facility, the US mission in Benghazi was set up without the knowledge of the new Libyan government, as WND reported. "Another key driver behind the weak security platform in Benghazi was the decision to treat Benghazi as a temporary, residential facility, not officially notified to the host government, even though it was also a full-time office facility," the report states. "This resulted in the Special Mission compound being excepted from office facility standards and accountability under the Secure Embassy Construction and Counter-terrorism Act of 1999 (SECCA) and the Overseas Security Policy Board (OSPB)."
The report, based on a probe led by former US diplomat Thomas Pickering, calls the facility a "Special US Mission." During the Libyan revolution against Moammar Gadhafi's regime, the US admitted to directly arming the rebel groups. At the time, rebel leader Abdel-Hakim al-Hasidi admitted in an interview that a significant number of the Libyan rebels were al-Qaida fighters, many of whom had fought US troops in Iraq and Afghanistan. He insisted his fighters "are patriots and good Muslims, not terrorists," but he added that the "members of al-Qaida are also good Muslims and are fighting against the invader."
WEEK OF JANUARY 13 THROUGH JANUARY 19
Raised On Hatred
Jan. 18….(New York Times) Egypt's newly elected president, Mohamed Morsi, was caught on tape about three years ago urging his followers to "nurse our children and our grandchildren on hatred" for Jews and Zionists. Not long after, the then-leader of the Muslim Brotherhood described Zionists as "bloodsuckers who attack the Palestinians," "warmongers" and "descendants of apes and pigs." These remarks are disgusting, but they are neither shocking nor new. As a child growing up in a Muslim family, I constantly heard my mother, other relatives and neighbors wish for the death of Jews, who were considered our darkest enemy. Our religious tutors and the preachers in our mosques set aside extra time to pray for the destruction of Jews.
For far too long the pervasive Middle Eastern qualification of Jews as murderers and bloodsuckers was dismissed in the West as extreme views expressed by radical fringe groups. But they are not. In truth, those Muslims who think of Jews as friends and fellow human beings with a right to their own state are a minority, and are under intense pressure to change their minds.
All over the Middle East, hatred for Jews and Zionists can be found in textbooks for children as young as three, complete with illustrations of Jews with monster-like qualities. Mainstream educational television programs are consistently anti-Semitic. In songs, books, newspaper articles and blogs, Jews are variously compared to pigs, donkeys, rats and cockroaches, and also to vampires and a host of other imaginary creatures. Consider this infamous dialogue between a three-year-old and a television presenter, eight years before Morsi's remarks.
Presenter: "Do you like Jews?" Three-year-old: "No."
"Why don't you like them?" "Jews are apes and pigs."
"Who said this?" "Our God." "Where did he say this?" "In the Koran."
The presenter responds approvingly: "No parents could wish for Allah to give them a more believing girl than she, may Allah bless her, her father and mother."
This conversation was not caught on hidden camera or taped by propagandists. It was featured on a prominent program called "Muslim Woman Magazine" and broadcast by Iqraa, the popular Saudi-owned satellite channel.
It would be a major step forward for a sitting US administration and leading American newspapers to unequivocally condemn Morsi's words. But condemnation is just the first move.Here is an opportunity to acknowledge the breadth and depth of the attitude toward Jews in the Middle East, and how that affects the much desired but elusive peace process between Israel and the Palestinians. So many explanations have been offered for the failure of successive US administrations to achieve that peace, but the answer is in Morsi's words. Why would one make peace with bloodsuckers and descendants of apes and monkeys?
Millions of Muslims have been conditioned to regard Jews not only as the enemies of Palestine but as the enemies of all Muslims, of God and of all humanity. Arab leaders far more prominent and influential than Morsi have been tireless in "educating" or "nursing" generations to believe that Jews are "the scum of the human race, the rats of the world, the violators of pacts and agreements, the murderers of the prophets, and the offspring of apes and pigs." (These are the words of the Saudi sheik Abdul Rahman al-Sudais, imam at the Masjid al-Haram mosque in Mecca.)
In 2011, a Pew survey found that in Turkey, just 4 percent of those surveyed held a "very favorable" or "somewhat favorable" view of Jews; in Indonesia, 10 percent; in Pakistan 2 percent. In addition, 95 percent of Jordanians, 94 percent of Egyptians and 95 percent of Lebanese hold a "very unfavorable" view of Jews. In recent decades Israeli and American administrations negotiated with unelected Arab despots, who played a double game. They honored the formal peace treaties by not conducting military attacks against Israel. But they condoned the Islamists' dissemination of hatred against Israel, Zionism and Jews. As the Islamists spread their influence through civil institutions, young people were nursed on hatred.
In the wake of the Arab Spring, as the people take a chance on democracy, they and their new leadership want to see their ideals turned into policy. For too many of those who fought for their own liberation, one of those ideals is the end of peace with Israel. The United States must make clear to Morsi that this is not an option. This is also a crucial opportunity for the region's secular movements, which must speak out against the clergy's incitement of young minds to hatred. It is time for these secular movements to start a counter-education in tolerance.
Netanyahu: Israel Will Continue to Build in Settlements
(Ban Ki-moon issues harsh critique of PM's plan, saying it would be an 'almost fatal blow' to prospects of a two-state solution)
Jan. 18….(Mmaster) Prime Minister Benjamin Netanyahu on Sunday defended his government's plans to approve thousands of new housing units in the West Bank by saying he was taking a page out of the playbook of the country's most revered dovish leader. Netanyahu told his cabinet that by approving 3,000 new homes in East Jerusalem and the West Bank, Israel was following in the footsteps of former prime minister Yitzhak Rabin, who in 1975 approved construction in response to a UN conference equating Zionism with racism. "The response to the attack on Zionism and the State of Israel must reinforce and underscore the implementation of the settlement plan in all areas in which the government decides regarding settlement," Netanyahu said, quoting Rabin verbatim. "These are not my words. Today we are building and we will continue to build in Jerusalem and in all areas that are on the map of the strategic interests of the State of Israel."
Rabin, remembered as a hero of Israel's left for signing the Oslo peace accords before his assassination in 1995, approved a number of settlements during his first stint as prime minister in the 1970s. Netanyahu's statement seemed to confirm suspicions that the move was a punitive measure following the Palestinian Authority's receipt of an upgrade for "Palestine" to nonmember observer state at the United Nations on Thursday. Israel came under intense international criticism after plans were announced Friday to build the 3,000 new housing units.
UN Secretary-General Ban Ki-moon's spokesperson criticized the move, saying it "risks completely cutting off East Jerusalem from the rest of the West Bank" and that "it would represent an almost fatal blow to remaining chances of securing a two-state solution." Ban repeated his call for all parties to "resume negotiations and intensify efforts towards a comprehensive, just and lasting peace and urges the parties to refrain from provocative actions." European Union Foreign Policy chief Catherine Ashton said Sunday that she was "extremely concerned The European Union has repeatedly stated that all settlement construction is illegal under international law and constitutes an obstacle to peace." She called on Israel not to go through with the planned construction. Ashton said that after the UN vote last week, she urged Israel and the Palestinians to resume "direct negotiations without delay or preconditions," and therefore is "extremely worried by the prospects of settlement expansion on such a scale."
The building announcement was also heavily criticized by the US, the UK and France, among others. Also on Sunday, Finance Minister Yuval Steinitz said Israel would withhold NIS 450 million in Palestinian tax revenues to offset a debt to the Israel Electric Corporation, a move widely seen as punishment for the upgrade.
Israel rejected the United Nations upgrade, saying it impeded the peace process and was in contravention of the Oslo peace accords. "The unilateral move by the Palestinian Authority at the UN General Assembly constitutes a flagrant violation of agreements signed with the Israeli government," Netanyahu said. "The Israeli government rejects the decision of the General Assembly."
The cabinet on Sunday also passed a resolution saying it would not negotiate on the basis of the UN General Assembly's recognition of a state of Palestine in the West Bank, east Jerusalem and Gaza Strip.
The Palestinians say the UN upgrade was needed to give them greater leverage in talks with Israel. Steinitz defended the move to approve settlement housing on Sunday, telling Channel 10 that the Palestinian UN bid was a "provocation" and an attempt to be granted a state "without recognizing Israel, demilitarization or security arrangements."
Egyptian Court Sentences Christian Family to 15 years for Converting From Islam
(FOJ : So much for Mr. Morsi's pledge to protect religious freedom in Egypt. Morsi's version of Egypt has no semblance of democracy! Where is Mr. Obama's outrage and calls for Morsi to step down?)
Jan. 17….(Fox News) The 15-year prison sentence given to a woman and her seven children by an Egyptian court for converting to Christianity is a sign of things to come, according to alarmed human rights advocates who say the nation's Islamist government is bad news for Christians in the North African country. A criminal court in the central Egyptian city of Beni Suef meted out the shocking sentence last week, according to the Arabic-language Egyptian paper Al-Masry Al-Youm. Nadia Mohamed Ali, who was raised a Christian, converted to Islam when she married Mohamed Abdel-Wahhab Mustafa, a Muslim, 23 years ago. He later died, and his widow planned to convert her family back to Christianity in order to obtain an inheritance from her family. She sought the help of others in the registration office to process new identity cards between 2004 and 2006. When the conversion came to light under the new regime, Nadia, her children and even the clerks who processed the identity cards were all sentenced to prison.
Samuel Tadros, a research fellow at Hudson Institute's Center for Religious Freedom, said conversions like Nadia's have been common in the past, but said Egypt's new Sharia-based constitution "is a real disaster in terms of religion freedom." "The cases will increase in the future," Tadros said. "It will be much harder for people to return to Christianity."
President Mohamed Morsi, who was elected last June and succeeded the secular reign of Hosni Mubarak, who is now in prison, pushed the new constitution through last year.
Tadros said the constitution limits the practice of Christianity because "religious freedom has to be understood within the boundaries of Sharia." He added that the constitution prescribes that the highest Sunni authority should be referred to as an interpreter of the religion clause contained in the constitution.
"Now that Sharia law has become an integral part of Egypt's new constitution, Christians in that country are at greater risk than ever," said Jordan Sekulow, executive director of the American Center for Law and Justice. "This is another tragic case that underscores the growing problem of religious intolerance in the Muslim world. To impose a prison sentence for a family because of their Christian faith sadly reveals the true agenda of this new government: Egypt has no respect for international law or religious liberty."
Morsi has been under fire for failing to take action against rising violence inflicted on Egypt's Christians. In August, the roughly 100-family Christian community in Dahshour was forced to flee after Muslim neighbors launched attacks against the Christians' homes and property. Morsi said the expulsion and violence was "blown out of proportion." Radical Salafi preachers, who have formed alliances with Morsi and the Muslim Brotherhood, called for Muslims to shun Christians during Christmas. Sekulow urged US diplomatic intervention in Egypt to promote religious freedom. Morsi is scheduled to meet with President Obama, possibly in March.
Netabyahu: Israel Will Determine Israel's Best Interests
(Commenting on harsh criticism by US President Obama, Netanyahu says that past four years have seen Israel 'face tremendous diplomatic pressure')
Jan. 17….(YNET) "Only the Israeli people will determine who best represents the State of Israel's vital interests," Prime Minister Benjamin Netanyahu said Wednesday. The statement was made as a comment on harsh criticism by US President Barack Obama, who, in closed doors briefings, told associates that "Israel doesn't know what its own best interests are." The American president also said that Netanyahu's policies are leading Israel down a path of near-total isolation within the international community. Obama's remarks were reported by Bloomberg columnist Jeffrey Goldberg, who is considered to have highly reliable sources in the White House.
Speaking during a tour of the Gaza vicinity sector, Netanyahu said that "Over the past four years Israel has withstood tremendous diplomatic pressures" by the United States and the international community. "They insisted that we curb our demand for action on Iran; that we withdraw back to the 1967 lines; that we divide Jerusalem, that we stop building in Jerusalem. "We fought against those pressures. I will continue to safeguard Israel's vital interests, for its security," he said. The American president reportedly leveled criticism at the Israeli premier following the government's announcement that it will pursue various construction plans in the contested E1 area, despite the US and international community's stark opposition.
Israel announced its construction plans for the area, which includes east Jerusalem and parts of the West Bank, immediately after the UN upgraded the Palestinian Authority's status to that of a nonmember observer state. Goldberg reported that Obama was unfazed by Israel's reaction to the UN's decision, adding that the president told close advisors that he "had gotten used to such destructing impulses by Israel."
Netanyahu and Obama's relationship has been strained for years and some US analysts have wondered aloud if the growing acrimony would have a detrimental effect on Israel's all-important relations with the US. Such a clash would come at a tense time when regional developments appear to be working against Israel.
Israel and the US are seen as disagreeing over how and when to deal with Iran's suspect nuclear program, and Islamist parties that Israel perceives as hostile are gaining clout in the Middle East. As the world deals with those issues, even Israel's close allies are getting increasingly fed up with what they see as defiant Israeli settlement construction on lands the Palestinians want for a state. While the US will not cut off aid to Israel or waver on its commitment to stop Iran from developing nuclear weapons, Goldberg wrote, Israel might not be able to count on US vetoes at the UN Security Council, as it has in the past, when the world lines up against it.
The White House did not deny the harsh sentiments Goldberg put in Obama's mouth. The tone and timing of column suggested the US leader might be readying to play hardball with Netanyahu if the prime minister is re-elected, or conversely, wash his hands of the Israeli-Palestinian conflict altogether.
Obama: Netanyahu Doesn't Know What's Good For Israel
(Obama reportedly slams Netanyahu as political coward, says Israeli leader doesn't know what are best interests of his own country)
Jan. 16….(Times of Israel) US President Barack Obama, frustrated with continued construction in Israeli settlements in the West Bank, has reportedly become "inured" to the issue and has begun telling colleagues that Israel is acting against its own best interests. If accurately reported, such comments, expressed by the head of state of the country Israel considers its closest ally, may represent a new low in relations between this US administration and Jerusalem, which in recent years have suffered strains over the Palestinian and Iranian issues. According to the report by Bloomberg columnist Jeffrey Goldberg published Tuesday morning, Obama last month began repeating the mantra that "Israel doesn't know what its own best interests are."
Israel recently ramped up settlement construction plans, approving thousands of homes in the West Bank and East Jerusalem in response to the Palestinian Authority's successful gambit to gain nonmember observer state status from the UN in November. Israel considers East Jerusalem part of its sovereign territory, but had imposed a de facto construction freeze in 2010 after the US balked at building plans there. In December, the government said it would go ahead with the construction of some 3,000 homes in parts of the city lying over the Green Line, as well as pushing ahead with plans to build on a controversial strip of land east of the city known as E1.
The US joined much of the rest of the world in strongly condemning the move, which critics say will cut off Palestinian neighborhoods and make a contiguous Palestinian state in the West Bank nearly impossible. According to Goldberg, though, the White House has stopped getting in a huff over the moves, wearily regarding the settlement building as Prime Minister Benjamin Netanyahu's harmful modus operandi. Obama told several people that this sort of behavior on Netanyahu's part is what he has come to expect, and he suggested that he has become inured to what he sees as self-defeating policies of his Israeli counterpart," Goldberg wrote.
Israel considers the US its closest ally, relying on Washington for defense aid, help in thwarting Iran's nuclear ambitions and political shelter on the world stage. The two countries briefly tussled during the summer over the timetable for using military action against Iran's nuclear program. That public fight, coupled with differences over settlement building, exposed fraying ties between the two capitals, and especially between Netanyahu and Obama. The two leaders will have to deal with each other for several more years, should Netanyahu cruise to an election victory on January 22 as expected.
Obama, Netanyahu: Bad Blood Between Leaders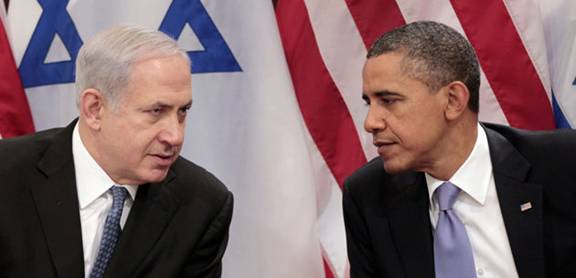 Jan. 16….(Worthy News) President Barack Obama heads into his second term weighed down by an American government snarled in partisan gridlock, but also by an unproductive relationship with the leader of Israel, the bedrock US ally in the tumultuous Middle East. And the puzzle that is the US-Israeli relationship under Obama and Prime Minister Benjamin Netanyahu is only growing more complex. "It's troubled. It's the greatest dysfunction between leaders that I've seen in my 40 years in watching and participating," said Aaron David Miller, a scholar at the Woodrow Wilson Center who served under six secretaries of state in both Republican and Democratic administrations. He was deeply involved in negotiations involving Israel, Jordan, Syria and the Palestinians. "I don't think we are headed for a showdown," he said, "but the relationship will continue to be dysfunctional."
Even so, the United States routinely backs Israel when much of the world is deeply critical of the Jewish state. For example the US was among the few nations opposing the Palestinians' successful bid for upgraded status at the United Nations and did not criticize Israel's bombardment of Gaza late last year in retaliation for rocket attacks from the tiny Palestinian enclave. Netanyahu likely will win re-election on Jan. 22, two days after Obama is sworn in for a second term. Netanyahu is a hardliner on making peace with the Palestinians, a goal that Obama said was foremost on his foreign policy agenda at the beginning of his first term. Beyond that, Netanyahu has been pressing Washington to adopt policy specifics that would trigger a military strike if Iran does not pull back on its nuclear program, widely believed to be aimed at building an atomic bomb. Iran claims its program is for generating electricity.
A further complication is Obama's nomination of former Republican Sen. Chuck Hagel as defense secretary. Known as a maverick when he represented Nebraska in the Senate, Hagel is viewed by many in Washington and Israel as insufficiently supportive of the Jewish state. He has castigated what he called the "Jewish lobby" in the US, prompting some to label him anti-Semitic. While he voted for billions in aid for Israel, he has also called for engagement with its Hamas and Hezbollah enemies. What's more, he opposed unilateral American sanctions on Iran's nuclear program, which the Netanyahu government believes is an existential threat to Israel.
The bad blood between Obama and Netanyahu began early. In their first public appearance together at the White House in 2009, Netanyahu pointedly rebuffed Obama's call for Israel to stop building Jewish housing on land the Palestinians want in a future state. Obama dropped the issue after it became obvious that it was a waste of political capital at home and that Netanyahu would not budge. Netanyahu's government has continued to announce plans for new settlements in the Palestinian West Bank. During the presidential campaign, Netanyahu hosted Obama opponent Mitt Romney in Israel as if he were already a world leader. Netanyahu denied backing either candidate, but his words and actions clearly showed favoritism for Romney. On Iran, Netanyahu called at the United Nations in September for the United States to draw a "red line" on Iran's nuclear program, beyond which Iran would face military action. Obama continues to insist there is time for diplomacy, but has said he would not countenance a nuclear-armed Iran.
Reports: Syria Ordered to Attack Israel if Assad Falls
Jan. 15….(Israel Today) Embattled Syrian dictator Bashar Assad has ordered his military chiefs to launch ballistic missiles at Israel if he is killed by rebel forces, according to sources in Damascus cited by Israeli media this week. The online newspaper Inyan Merkazi reported that Assad met with his top generals recently to express concerns that he could be taken out by advanced American missiles recently provided to rebel forces, or by a violent mob similar to the one that violently murdered former Libyan dictator Muamar Gaddafi. Should either of those scenarios become reality, Assad reportedly told the generals to unleash Syria's considerable missile arsenal on Israel and Egypt.
The reason for attacking Israel is obvious. Syria is officially in a state of war with Israel and hosts numerous terror groups dedicated to the Jewish state's demise. Even with all the regional hostility toward him, Assad would secure a positive legacy by making his final act the destruction of Israeli cities. Assad is angry at Egypt because of the new Muslim Brotherhood-controlled government's support for Syrian rebel groups, many of which are fellow Islamists. Last year, when the Syrian rebellion was first heating up, Assad warned that if his rule were truly threatened, he would ignite the powder keg that is the Middle East. That threat remains a very real concern.
Only 0.6% of World's Christians Now Live in Middle East
(Pew study finds fewer than 13 million Christians, out of 2.2 billion adherents worldwide, still in the region where faith was born)
Jan. 15….(Times of Israel) Christianity may have been founded in the Middle East but few Christians remain in the region, a study by the Pew Forum on Religion and Public Life revealed.
According to Pew's newly released December 2012 "Global Religious Landscape Study," just 0.6 percent of the world's 2.2 billion Christians now live in the Middle East and North Africa. Christians make up only 4% of the region's inhabitants, drastically down from 20% a century ago and marking the smallest regional Christian minority in the world. Fully 93% of the region is Muslim, and 1.6% is Jewish. The study is based on an analysis of country-specific data from more than 2,500 national censuses, large-scale surveys and official population registers. It measures self-identification.
The world's largest single Christian country by share of the global Christian population is the United States, with 11% of the world's Christians, followed by a list that reflects the religion's global reach: Brazil (8%), Mexico (5%), Russia (5%), the Philippines (4%), Nigeria (4%), China (3%), the Democratic Republic of the Congo (3%), Germany (3%) and Ethiopia (2%). These 10 countries account for roughly half of all Christians, though 157 of the 232 countries surveyed have Christian majorities.
Islam, which has some 1.6 billion adherents worldwide, is more concentrated in Asia and the Middle East, the report found. Some 62% of Muslims live in Asia and the Pacific region, while 20% live in the Middle East and North Africa. The four largest national Muslim populations are all in Asia: Indonesia, India, Pakistan and Bangladesh. The fifth is Nigeria, in West Africa. Muslims are the youngest religious affiliation worldwide, with a median age of 23, followed by Hindus (26), Christians (30) and Buddhists (34). Jews are the oldest at median age of 36.
Among the study's other findings, fully 1.1 billion people, or 16% of humanity, are religiously unaffiliated, including atheists, agnostics and those who decline to identify with a religion.
Netanyahu Monitoring Syrian Rebels on its Northern Border
(Netanyahu tours Syria border, briefed on advances of Islamists, Salafists in country;
says Israel monitoring movement of Syria's chemical weapons)
Jan. 14….(Jerusalem Post) Syrian rebel forces have taken up positions along the border with Israel, with the exception of the Quinetra enclave which is still in the hands of the Syrian army, senior IDF officials told Prime Minister Binyamin Netanyahu as he looked out across the Syrian border on Sunday from the IDF outpost on Mount Avital. "The big question is when the big Syrian flag in Quinetra will be changed," one IDF officer told Netanyahu, who spent the afternoon in the North and was briefed on the advances the Islamists and Salafists were making in Syria. Netanyahu, who last week toured the border with Egypt, said Israel was interested in creating a physical barrier with Syria similar to the one recently constructed in the South. "We are monitoring the changes taking place in Syria, and there are many changes taking place, and they affect Israel's security," he said.
The prime minister was checking on the security fence being erected from Mount Avital south to the point where the Israeli, Syrian and Jordanian borders meet on the southern Golan Heights. "I would like to examine the possibility of extending this fence [north] up to Mount Hermon so that there will be a strong buffer along the length of our border with Syria," Netanyahu said, adding that Israel was also carefully monitoring what was happening beyond the buffer inside Syria, both regarding the rebels taking control and any movement of Syria's chemical weapons. The New York Times reported last week that Israel's top military commanders discussed with the Pentagon in November satellite imagery showing what appeared to be Syrian troops mixing chemicals, probably the nerve gas sarin, at two storage sites and filling dozens of 500-pound bombs.
According to the report, this resulted in a "remarkable show of international cooperation" that included a public warning by US President Barack Obama and sharp private messages to Syrian leaders through Russia, Iraq, Turkey and possibly Jordan that stopped the chemical mixing and bomb preparation.
EU Working on New Mideast Peace Plan
(British, French FM's preparing plan to restart talks between Israel, Palestinians to be presented in March. 'It will drive us into a corner,' say Israeli officials)
Jan. 14….(YNET) The European Union is working on a detailed plan meant to restart Israeli-Palestinian negotiations and establish an independent Palestinian state based on the 1967 borders with east Jerusalem as its capital, Yedioth Ahronoth quoted Israeli diplomatic sources as saying. The plan will set a clear timetable for a discussion on all core issues over the course of 2013. It will likely be presented in March after a new Israeli government is formed. Efforts are being made to internationalize the plan: The EU's High Representative for Foreign Affairs Catherine Ashton is examining the possibility of making the plan an all-European proposal.
Similar efforts have been made in a Quartet meeting in Amman, Jordan, where the EU's representatives have asked to discuss their proposed peace plan. However, the US requested to delay the discussion until after the Israeli elections and the Obama inauguration. Several reports revealed that the plan will also include a basis for a regional Middle Eastern committee with the participation of Egypt, Jordan and the Gulf states. Such a committee will marginalize Israel, but a refusal to join it will be perceived as a general rejection of the peace process. The Palestinians have already said they will accept the invitation if issued.
WEEK OF JANUARY 6 THROUGH JANUARY 12
Fatah, Hamas Meet, PM Vows Not to Cede Anymore Land
Jan. 11….(Jerusalem Post) Netanyahu slams Abbas for meeting "terrorists trying to annihilate Israel," asserts Hamas would seize any territory Israel evacuates. As rival Palestinian factions Fatah and Hamas met in Cairo to discuss reconciliation on Wednesday, Prime Minister Binyamin Netanyahu said he would not cede any more land to the Palestinians. Earlier this month, Netanyahu indicated that he believed Hamas could overthrow the Fatah-run Palestinian Authority in the West Bank.
PA President Mahmoud Abbas and Hamas leader Khaled Mashaal were expected to meet in Cairo on Wednesday to discuss ending a long-running dispute between their rival political factions, Fatah and Hamas. "We see the dangers clearly," Netanyahu said. "Today Abu Mazen (Abbas) is in Cairo together with the head of Hamas. They are looking into a possible unity deal between Fatah and the terrorists who have been trying to annihilate the state of Israel, and who have fired rockets at our cities." He continued: "We know that any territory we evacuate will be seized by Hamas and Iran, and we will not let that happen."
EU Funding Continued Mideast Conflict
(European governments funding Palestinian annihilation campaign against State of Israel)
Jan. 11….(YNET) Before going on their end-of-the-year vacation, the heads of the Dutch Foreign Ministry were asked to respond to a series of questions from members of parliament's foreign affairs committee regarding their office's budget for 2013. The procedure is routine, but this time the members of parliament asked questions regarding the essence of the financial aid the Dutch government has been granting the Palestinian Authority and the refugee organization UNRWA for decades. The Foreign Ministry heads managed to dodge the questions about the continued funneling of funds collected from the tax payers to the Palestinians, through various channels, despite the continued terror activity and anti-Semitic and anti-Israel incitement. They also avoided answering questions regarding the perpetuation of the refugee problem by assisting UNRWA. So, the Dutch, like the rest of their European colleagues, will continue to finance the continuation of the Israeli-Arab conflict next year as well, despite their mounting economic problems.
The European Union prides itself on being the single largest donor to the Palestinians. According to official data, between the years 1994 (beginning of implementation of the Oslo Accords) and 2011 the EU transferred five billion Euros to the Palestinians. Additional funds were transferred to the Palestinians by national and private European bodies in various frameworks. Members of the European Parliament failed in their repeated attempts to determine how these funds were used and whether they were used to finance terror and incitement against Jews and Israel. An internal report drafted by the European Union on the matter was shelved. There is no need for an in-depth investigation in order to draw the following conclusions:
1) The European Union, including all its member states and the organizations that are funded by it, is the main contributor to the process in which the Palestinian nation is becoming chronically dependent on foreign aid.
2) Europe is actively supporting a policy that perpetuates the Palestinian refugee problem, which the Arab countries are trying to take advantage of in order to bring about the demise of the State of Israel.
3) The Europeans are supporting the Palestinians while completely disregarding the Palestinians' lack of commitment to the "two-state" solution and their refusal to recognize Israel as a Jewish state, despite the fact that UN resolutions obligate them to do so. Furthermore, European governments continue to transfer funds to the Palestinians despite being well-aware that the Palestinian Authority, which is headed by Fatah and Hamas, is educating generations of young people to continue the struggle against Israel until it is annihilated. And all this while social and economic chaos threatens the entire Old Continent.
Now Europe is intervening in the Israeli elections by issuing threats and condemnations in order to secure the establishment of a Palestinian state in the near future, despite the Palestinians' refusal to negotiate with the elected Israeli government. By becoming a patron of the Palestinian annihilation campaign against Israel, Europe is knowingly joining Israel's enemies. If and when a third intifada breaks out, it will be Europe's fault, and the Israeli citizens will suffer.
America's National Cathedral Starts Gay Marriages
Jan. 10….(AP) The Washington National Cathedral had been ready to embrace same-sex marriage for some time, though it took a series of recent events and a new leader for the prominent, 106-year-old church to announce Wednesday that it would begin hosting such nuptials. The key development came last July when the Episcopal Church approved a ceremony for same-sex unions at its General Convention in Indianapolis, followed by the legalization of gay marriage in Maryland, which joined the District of Columbia. The national church made a special allowance for marriage ceremonies in states where gay marriage is legal.
Longtime same-sex marriage advocate the Very Rev. Gary Hall took over as the cathedral's dean in October. Conversations began even before he arrived to clear the way for the ceremonies at the church that so often serves as a symbolic house of prayer for national celebrations and tragedies. The Episcopal bishop of Washington, the Rt. Rev. Mariann Edgar Budde, authorized use of the new marriage rite in December. Each priest then decides whether to marry same-sex couples. The cathedral's congregation and leadership include many gays and lesbians. The church was just waiting for the right moment and the right leader. "This was something that was brewing in the cathedral. "It would have been inconceivable for the Cathedral to call somebody who was not in favor of full equality for gay and lesbian people." Cathedral officials said the church will be among the first Episcopal congregations to implement a new rite of marriage adapted from the blessing ceremony for gay and lesbian couples that was approved last year by the Episcopal Church's national governing body.
Hall said performing same-sex marriages is an opportunity to break down barriers and build a more inclusive community "that reflects the diversity of God's world." (sic) "I read the Bible as seriously as fundamentalists do," Hall told the AP. "And my reading of the Bible leads me to want to do this because I think it's being faithful to the kind of community that Jesus would have us be."
As the nation's most prominent church, the cathedral has long hosted presidential inaugural services and funerals for Ronald Reagan and Gerald Ford. The Rev. Martin Luther King Jr. delivered his last sermon there in 1968. It draws hundreds of thousands of visitors each year. The move is also a chance to influence the nation, beyond the Episcopal Church. "As a kind of tall-steeple, public church in the nation's capital, by saying we're going to bless same-sex marriages, conduct same-sex marriages, we are really trying to take the next step for marriage equality in the nation and in the culture," Hall said.
Same-sex marriage is now legal in nine states and the District of Columbia. Legislators in Illinois and Rhode Island are set to take up bills to possibly join them.
Barack Obama Intentionally Trying to Bankrupt the United States?
(Jerome R. Corsi claims President Obama's Intends to Bankrupt the USA)
Jan. 10….(WND) On May 2, 1966, two Columbia University sociologists, Professor of Social Work Richard A. Cloward and his then-research associate Frances Fox Piven, wrote a pivotal article in The Nation, articulating "a strategy to end poverty." The solution to ending poverty, Cloward and Piven argued, required expanding the government welfare state beyond providing Social Security, Medicare, Medicaid, unemployment insurance and food stamps. They sought to establish a "guaranteed annual income" of at least $100,000 a year as a constitutional right. Having concluded that a capitalist system would never apply capital fairly to fulfill the needs of workers, the two Columbia University-based sociologists concluded that a progressive strategy of voting ever-expanding social welfare programs could push the capitalist system to the breaking point.
Cloward and Piven both taught sociology at the Columbia University School of Social Work when Obama was registered as an undergraduate student at Columbia. "Barack Obama and the radical left activists now in control of the Democratic Party see the Cloward-Piven theory as predicting a welfare state expanded to the point where the accumulated national debt bankrupts the USA," Corsi said. "The Cloward-Piven theory predicts capitalism will collapse such that the USA can be reconstructed as a truly socialist state dedicated to the elimination of private property and the creation of 'social justice' achieved by redistributing income from the 'haves' to the 'have-nots.'" "Saul Alinsky's tactics of power politics explain why Obama continually fans the flames of class warfare," Corsi said. "In his 2012 presidential campaign, Obama followed the Saul Alinsky playbook chapter and verse, campaigning on the theme to 'tax the rich.' When the accumulated US debt causes a credit downgrade in Obama's second term, Obama and the radical left will continue to blame capitalism and 'the rich.'"
In the last stages of credit default and technical bankruptcy, the Cloward-Piven theory explains why Americans will abandon the US Constitution in favor of establishing a socialist state. "Understanding Obama's plan to intentional plan to bankrupt the USA is essential to any plan to return the USA to financial solvency by reducing government spending and containing the expansion of the welfare state," Corsi emphasized.
Obama Propping Up Jordan With US Tax Dollars
Jan. 10….(WND) Congress and the Obama administration have averted, for now, plunging the nation over the so-called "fiscal cliff" by postponing spending cuts and raising taxes on American families by $620 billion and confirming plans to try to bill taxpayers for another $1 trillion. Now the White House is spending millions collected from those same taxpayers to avoid another "fiscal cliff," this time in the Hashemite Kingdom of Jordan. The payments are going to contractors who are tasked with keeping Jordan and other similarly situated nations from falling off those financial precipices. Part of the solution rests in more privatization of government services as well as in the creation of Public-Private-Partnerships, according to the US Agency for International Development.
In Jordan, for example, citizen uprisings have led the government to run a budget deficit of nearly $1.5 billion, equivalent to about 12 percent of its GDP, the agency says. The US has proposed that Jordan "merge, eliminate, or reclassify 22 autonomous public institutions" as a cost-saving measure. The Obama administration sees itself having a stake in this reform because, as the Congressional Research Service describes that relationship, Jordan is a critical ally in light of its role in the Arab-Israeli peace process. Additionally, its geographic position, "wedged between Israel, Syria, Iraq, and Saudi Arabia, has made it vulnerable to the strategic designs of its more powerful neighbors," CRS says in a 2012 report made public by the Federation of American Scientists, "but has also given Jordan an important role as a buffer between these potential adversaries." Maintaining the stability of Jordan's monarchy, CRS says, "is a key US policy priority, particularly as political change makes the region less predictable."
The US is about to provide an additional $360 million in assistance to Jordan this year. That federal infusion includes $184 million in cash devoted to relieving Jordan's "fiscal pressures" and another $29 million "to support King Abdullah's vision for political development. The US sends Jordan about one billion dollars per year.
Syrian Uranium at Risk in Syrian War
Jan. 10….(Global Security Newswire) There are concerns about the security of as much as 50 metric tons of nonenriched uranium in civil war-wracked Syria, the Financial Times reported on Tuesday. Issue specialists believe that Damascus would have required roughly that amount of material to operate a suspected unfinished nuclear reactor plant destroyed in a 2007 Israeli airstrike. The Assad government has said the Dair Alzour facility was a military installation not involved in atomic operations.
International Atomic Energy Agency inspectors in 2008 discovered traces of anthropogenic natural uranium at Dair Alzour. They have not been allowed to return to the razed site. "There are real worries about what has happened to the uranium that Syria was planning to put into the Dair Alzour reactor shortly before the reactor was destroyed in 2007," said David Albright, head of the Washington-based Institute for Science and International Security. "There's no question that, as Syria gets engulfed in civil war, the whereabouts of this uranium is worrying governments. There is evidence to suggest this issue has been raised by one government directly with the IAEA." Uranium-hungry Iran, suspected by the United States and other nations of seeking a nuclear-weapon capability, could be trying to acquire the material, according to certain government sources. "Syria is almost certainly in possession of good quality uranium of the type that Iran has been trying to acquire on the international market for years.
Egyptian Muslim Brotherhood Empowered in Obama Administration
Jan. 9….(WND) An Egyptian magazine claims that six American Islamist activists who work with the Obama administration are Muslim Brotherhood operatives who enjoy strong influence over US policy. The Dec. 22 story published in Egypt's Rose El-Youssef magazine suggests the six turned the White House "from a position hostile to Islamic groups and organizations in the world to the largest and most important supporter of the Muslim Brotherhood. The six named people include: Arif Alikhan, assistant secretary of Homeland Security for policy development; Mohammed Elibiary, a member of the Homeland Security Advisory Council; Rashad Hussain, the US special envoy to the Organization of the Islamic Conference; Salam al-Marayati, co-founder of the Muslim Public Affairs Council (MPAC); Imam Mohamed Magid, president of the Islamic Society of North America (ISNA); and Eboo Patel, a member of President Obama's Advisory Council on Faith-Based Neighborhood Partnerships.
Alikhan is a founder of the World Islamic Organization, which the magazine identifies as a Brotherhood "subsidiary." It suggests that Alikhan was responsible for the "file of Islamic states" in the White House and that he provides the direct link between the Obama administration and the Arab Spring revolutions of 2011.
Elibiary, who has endorsed the ideas of radical Muslim Brotherhood luminary Sayyid Qutb, may have leaked secret materials contained in Department of Homeland Security databases, according to the magazine. Elibiary also played a role in defining the Obama administration's counter-terrorism strategy, and the magazine asserts that Elibiary wrote the speech Obama gave when he told former Egyptian President Hosni Mubarak to leave power but offers no source or evidence for the claim.
According to Rose El-Youssef, Rashad Hussain maintained close ties with people and groups that it says comprise the Muslim Brotherhood network in America. This includes his participation in the June 2002 annual conference of the American Muslim Council, formerly headed by convicted terrorist financier Abdurahman Alamoudi. He also participated in the organizing committee of the Critical Islamic Reflection along with important figures of the American Muslim Brotherhood such as Jamal Barzinji, Hisham al-Talib and Yaqub Mirza.
Regarding al-Marayati, who has been among the most influential Muslim American leaders in recent years, the magazine draws connections between MPAC in the international Muslim Brotherhood infrastructure. Magid heads ISNA, which was founded by Brotherhood members, was appointed by Obama in 2011 as an adviser to the Department of Homeland Security.
Palestinian Mothers Urged to Raise Terrorists
Jan. 9….(Times of Israel) The wife of a Hamas member of parliament hailed the role of Palestinian mothers in preparing their children to kill themselves in acts of terrorism against Israel. Encouraging her children to "wage Jihad for the sake of allah" is "the most glorious thing a woman can do," she said. In an interview on Hamas's Al-Aqsa TV channel, Umm Osama, wife of Hamas MP Khalil Al-Hayya, said that she, her husband and her children all prayed that Allah would grant them martyrdom. "Women in Palestine play a great role in raising their children and in encouraging them to wage Jihad for the sake of Allah," she told the Gaza TV channel, in comments broadcast last month and recorded, reposted and transcribed Monday by the MEMRI (Middle East Media Research Institute) watchdog. "This is absolutely the most glorious thing a woman can do. Women play their role and are not inferior to men. When a man goes to wage Jihad, his wife does not say 'Don't go' or try to stop him. She encourages and supports him. She is the one who prepares his equipment, bids him farewell, and welcomes his Jihad." The mother "instills in her children the love of Jihad and martyrdom for the sake of Allah," she went on. "If every mother were to prevent her son from waging Jihad for the sake of Allah, who would wage Jihad? Who would support Palestine? Palestine is dear to us, and its price is paid with our body remains and our lifeblood. Is not Allah's reward precious? Allah's reward is Paradise. Paradise requires from us our blood, our body remains, and our efforts for its sake."
She added: "I am constantly praying: 'Allah, make the end of our days be in martyrdom.' I pray for this even for my husband and my children. None of us want to die in our beds. We pray that Allah will grant us Paradise." Hamas MP Al-Hayya told Al-Hayat newspaper two years ago that "Palestine is Islamic, and not an Islamic emirate, from the river to the sea, that unites the Palestinians. Jews have no right in it, with the exception of those who lived on the land of Palestine before World War I."
Iran's Nuclear Program is Completed
Jan. 8….(WND) Iran successfully has built a nuclear bomb with the help of Russia and North Korea and has enough weapons-grade uranium and plutonium for more, according to a source in the Revolutionary Guards intelligence unit. The source, who has access to Iran's nuclear program, said the Islamic regime is working out of seven nuclear sites, most unknown to the IAEA, and that its nuclear bomb program is complete. North Korea has provided the regime with plutonium for nuclear warheads, the source verified, and the last obstacle to overcome is arming missiles with those warheads. The source, who revealed the existence of the regime's microbial plant and its effort on biological weapons as published on Jan. 1 by WND exclusively, now has provided information on two of the seven secret sites.
The first is in the town of Khondab near the city of Arak in central Iran where Iran's heavy-water plant reactor is located, which, once operational, will provide enough plutonium for several bombs just in its first year. WND will soon publish information on the second secret nuclear site, which has direct Russian participation involving laser technology for uranium enrichment. The Khondab site, according to the source, expands on the activity at Iran's previously secret site in Fordo, about 80 miles away. When the existence of Fordo was revealed in September 2009, much of the nuclear bomb research and equipment was later transferred to Khondab. The new site, in the belly of a mountain, is immune to airstrikes. It has three levels accessible by three elevators. The first level is security, where personnel check in, cell phones, arms and other items are confiscated, IDs are checked and passage allowed. The second level houses the centrifuges and the third level the lab, where work is ongoing on both uranium and plutonium bombs.
The uranium enrichment on the second level is in two phases: The first phase has eight cascades of centrifuges into which uranium hexafluoride gas has been fed for enrichment; the second phase has 12 cascades with six already operational and six more being readied. The planning of the site was approved under former president Mohammad Khatami, but the project was approved by the current president, Mahmoud Ahmadinejad, and completed over two years ago.
Pry said that Russia, China and North Korea are helping Iran's nuclear and missile programs and that it is probably no accident that Iran's underground facilities closely resemble those countries' setups, which were intended to deceive the West during and after the Cold War. "The discovery of previously unknown underground facilities of such size and potential significance in Iran is further proof that the US is probably underestimating the advancement and sophistication of Iran's nuclear weapons program," Pry said. "The present policy of negotiation until Iran is caught red-handed moving toward nuclear weaponization is a policy doomed to fail, probably already has failed inside one of Iran's underground nuclear installations." The site is supervised by Mohsen Fakhrizadeh-Mahabadi, the father of Iran's nuclear bomb program. Ayatollah Ali Khamenei's representative, former defense minister Ali Shamkhani, routinely visits the site.
'Russian Ships Gathering off Syria to Deter West'
(Russian diplomat as says Russian marines being deployed to Syria to deter ground ops)
Jan. 7….(Jerusalem Post) Russia has concentrated five landing ships in the eastern Mediterranean in a show of force meant to deter Western nations from intervening militarily in Syria, The Sunday Times quoted a Russian diplomat as saying. According to the report, the ships are carrying military vehicles and hundreds of Russian marines, and are being accompanied by combat vessels. While officially Russia has claimed the ships have been deployed to partake in an exercise to "improve the management, maintenance and testing of the interaction of naval forces," the Times quoted the diplomat as saying the marines were meant to deter the West from deploying ground forces in the uprising against Syrian President Bashar Assad. "Russia should be prepared for any developments, as it believes the situation in Syria might reach its peak before Easter," the Times quoted the diplomatic source as saying.
The report came as Assad was set to make his first public speech on the uprising against his rule in months. With insurgents fighting their way closer to the seat of his power, state media said in a statement that Assad would speak on Sunday morning about the "latest developments in Syria and the region", without giving details. Since Assad's last public comments, in November, rebels have strengthened their hold on swathes of territory across northern Syria, launched an offensive in the central province of Hama and endured weeks of bombardment by Assad's forces trying to dislodge them from Damascus's outer neighborhoods. Syria's political opposition has also won widespread international recognition. But Assad has continued to rely on support from Russia, China and Iran to hold firm and has used his air power to blunt rebel gains on the ground.
The United States military said US troops and equipment had begun arriving in Turkey on Friday to oversee the deployment of US and European Patriot surface-to-air missile batteries to the Turkish-Syrian border.
Turkey and NATO say the missiles are a safeguard to protect southern Turkey from possible Syrian missile strikes. Syria and allies Russia and Iran say the deployments could spark an eventual military action by the Western alliance.
Syria's Assad Speaks to His Nation
Jan. 7….(My Way) Syrian President Bashar Assad on Sunday outlined his vision for a road map to end nearly 22 months of violence in Syria but also struck a defiant tone, calling on his countrymen to unite against "murderous criminals" whom he said are carrying out a foreign plot seeking to tear the nation apart. Assad has rarely spoken since the uprising against his rule began in March 2011, and his speech Sunday was his first since June.
In a one-hour speech to the nation in which he appeared confident and relaxed, Assad ignored international demands for him to step down and said he is ready to hold a dialogue but only with those "who have not betrayed Syria." He offered a national reconciliation conference, elections and a new constitution but demanded regional and Western countries stop funding and arming rebels trying to overthrow him first. The proposal, however, is unlikely to win acceptance from Syria's opposition forces, including rebels on the ground, who have repeatedly said they will accept nothing less than the president's departure, dismissing any kind of settlement that leaves him in the picture. On top of that, Assad's new initiative is reminiscent of symbolic changes and concessions that his government made earlier in the uprising, which were rejected at the time as too little too late.
Speaking at the Opera House in central Damascus, Assad told the hall packed with his supporters that "we are in a state of war. We are fighting an external aggression that is more dangerous than any others, because they use us to kill each other." As in previous speeches, Assad said his forces were fighting groups of "murderous criminals" and jihadi elements and denied that there was an uprising against his family's decades-long rule. He stressed the presence of religious extremists and jihadi elements among those fighting in Syria, calling them "terrorists who carry the ideology of al-Qaeda" and "servants who know nothing but the language of slaughter." He struck a defiant tone, saying Syria will not take dictates from anyone and urged his countrymen to unite to save the nation. As in previous speeches and interviews, he clung to the view that the crisis in Syria was a foreign-backed agenda and said it was not an uprising against his rule. "Is this a revolution and are these revolutionaries? By God, I say they are a bunch of criminals," he said.
Israel to Build 43-Mile Security Fence in Golan Heights
(Israel is to build a 43-mile security fence along the armistice line of the occupied Golan Heights to prevent incursions by Islamist militants currently fighting against President Bashar al-Assad's regime in Syria.)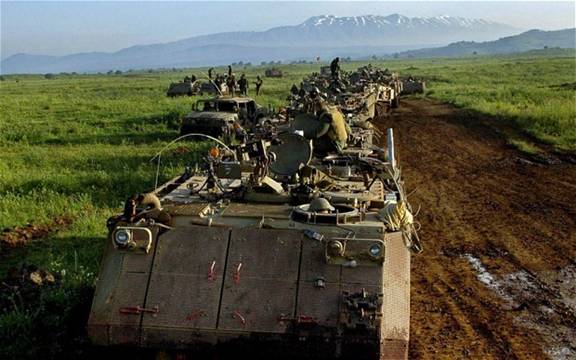 (Israeli troops during military maneuvers on the Golan Heights)
Jan. 7….(The Telegraph) The Israeli prime minister, Benjamin Netanyahu, announced the move four days after another barrier, aimed at keeping out illegal migrants from Africa, was completed along Israel's frontier with Egypt. "We intend to stretch an identical fence, with some necessary changes due to the different conditions, along the Golan Heights," he told the weekly Israeli cabinet meeting. "We know that on the other side of our border with Syria today, the Syrian army has backed off, and global jihad operatives have taken its place," Netanyahu said. "We must therefore protect this border from infiltrations and terror, as we have successfully been doing along the Sinai border." Calling Assad's regime "very unstable", he reiterated Israeli fears over Syria's chemical weapons arsenal falling into the hands of Islamist groups. "The question of chemical weapons here worries us and we are coordinating our intelligence and readiness with the US and others so that we might be prepared for any scenario and possibility that could arise," he said.
Last month, Netanyahu said Israel was making preparations for the collapse of Assad's regime, which he predicted was imminent. Building a barrier in the Golan Heights would consolidate Israel's hold on territory it seized from Syria in the 1967 Six-Day War and annexed in 1981 in a move that has never been internationally recognized. Successive rounds of negotiations over a possible peace deal that would lead to Israeli withdrawal have led nowhere. In 2009, Netanyahu said returning the territory, which contains several Arab towns as well as Israeli settlements, would turn it into "Iran's front lines which will threaten the whole state of Israel".
Abbas: 'Mufti Husseini Was My Hero'
(Palestinian Authority chief Mahmoud Abbas spoke glowingly last Friday of the "legacy" of infamous Nazi collaborator Hajj Amin al-Husseini)
Jan. 7….(Arutz) Palestinian Authority chief Mahmoud Abbas spoke glowingly last Friday of the "legacy" of the infamous Hajj Amin al-Husseini, who was a collaborator with the Nazis, and was prepared to conduct the mass murder of the Jews of the Land of Israel in the event of a Nazi invasion. The Mufti, Abbas said, was a great man whose ways should be emulated by all PA Arabs, and was worthy of great praise.
Speaking to Arutz Sheva, David Bedein, the director of the Makor Yisraeli news agency and the Center for Middle East Research, said that Abbas made the comments during a Fatah march in Gaza last Friday. It was the first time in years that Fatah terrorists had been given permission by Hamas to march, and Abbas spoke to the marchers via video feed.
Abbas, Bedein said, wrote his doctorate at the University of Moscow on how the World Zionist Organization, not the Nazis, was responsible for the destruction of European Jewry. Given this, Abbas's praise of the Mufti, the ultimate "Arab Nazi," was very serious, and needed to be publicized, he said. The Mufti was also the antecedent of Fatah, which Abbas is currently chairman of.
After the Mufti was forced by the British to leave Mandatory Palestine, he took up residence in Europe, and met Hitler in Italy. The two agreed that Hitler would murder the Jews of Europe, and that he, the Mufti, would organize the murder of the Jews of the Middle East, when the time was ripe. During the war, the Mufti broadcast pro-Nazi propaganda in Arabic from Berlin. Later he reached Cairo, where he was one of the founders of the Arab League, which adopted the pact between the Mufti and Hitler as a basic document of the organization.
Bolstered by 16 Russian Warships, Assad Blames "Western Puppets"
Jan. 7…..(DEBKAfile Special Report) With a buildup of 16 Russian warships carrying thousands of marines on the Syrian coast "to deter the West from deploying ground forces in Syria," Syrian Bashar Assad could afford to brazen it out in his first public speech in seven months. Speaking at the Damascus opera house, Sunday, Jan. 6, Assad said Syria no longer takes dictation from anyone and called on Syrian citizens to defend the country against "a war fought by only a handful of Syrians and many foreigners."
He rejected dialogue with the opposition which he referred to as "puppets fabricated by the West."
Both Washington and Moscow may be encouraging the rush to Syria of al Qaeda and other radical Islamist fighters so as to put them in harm's way on the Syrian battlefield instead of their staying home to make trouble in Asian, European and other Middle East countries. On this point, Assad remarked: "The West tried to get rid of these terrorists by drawing them into conflicts in Iraq, Afghanistan and other places, but were unsuccessful. Now they are sending them to Syria. " The Syrian ruler went on to maintain that it would not be too hard to get rid of them, if "all citizens are mobilized against these outside forces." It was important, too, he said, to fight the terrorists' ideas, before they permeated Syrian society. He vowed to fight terror "so long as a single terrorist remains in the country" and to combat the rebels fighting to overthrow his regime, whom he called "terrorists" and "criminals" who "harbor al Qaeda's extremist ideology."
Assad's emphasis on this point indicates he counts on his war against Islamist terrorism as a long-term insurance policy for bolstering his regime's survival. In Moscow, a senior military spokesman announced that Russian vessels, including battleships and landing craft carrying marines and military vehicles, would remain in Syrian waters until Easter. He said quite candidly that the presence of Russian marines near Syrian waters "will deter the West from deploying ground forces in Syria." The Russian flotilla and marines are intended to be the counterweight to the six NATO Patriot missile interceptors, the US, Germany and Holland have installed on the Turkish-Syrian border. Russia along with Iran, is providing Assad with a strong military shield, which is supplemented by Chinese diplomatic support.
The Syrian ruler's speech Sunday was therefore far more upbeat than his last address in June. Then, he defended himself against pressing international demands to step down by vowing to "live and die in Syria." In this speech, he makes no mention of resigning or throwing in the towel. In contrast to current predictions of his downfall, to be found in Western and Israeli media, Assad felt secure enough to set out his blueprint for ending the Syrian conflict. The first stage of a political solution would require that "the regional powers stop funding and arming the opposition," a reference to Qatar, Saudi Arabia, the United Arab Emirates and Western powers. He then invited "those who have not betrayed Syria" to a conference of reconciliation, followed by a referendum on a new constitution, the formation of a government and an amnesty. He rejected the Syrian opposition movement as "puppets fabricated by the West," and said that Syria wanted to negotiate with the "master not the servants."
WEEK OF JANUARY 1 THROUGH JANUARY 5
Mideast Christians Persecuted All Over Muslim World
(Analysis: Assault on region's Christian communities stems mostly from process of Islamization)
Jan. 4….(YNET) The Middle East's Christian population has been gradually dwindling and is on the defensive with respect to its identity, and even its very existence. In the early 20th century Christians made up some 20% of the Middle East's population. Today they amount to less than 5% of the population. Some of the reasons for the Christians' crisis in the region is related to their success as a modern group with low growth rate and free immigration to Western countries. But most of the crisis is because of the assault on the Christians in their home countries from the processes of Islamization, which pushes them away from the Arab collective.
If not so long ago the Christians considered themselves an integral part of the Arab nation, things have changed dramatically over the past few decades. The Christians were proud of their loyalty to the Arab nation and of the fact that Christian Arabs played a key role in shaping the Arab national identity, which is free of religious preferences.
But the Arab-national vision that includes the Christians does not exist anymore, not even in theory. In traditional Arab countries, such as Saudi Arabia, the Christians have lost their place entirely. But their situation has deteriorated in other countries as well. Hardly any Christians remain in Algeria, Tunisia and Libya, where in the past they were almost the majority. The Christians' situation in Iraq took a turn for the worse following the fall of Saddam Hussein, who used them against the Shiite majority.
Over the past decade repeated attacks on Christian communities have lead to the mass migration of Christians to Australia, Europe and even the US. The Islamization processes in Egypt are resulting in the departure of thousands of Coptic Christians from the country, and the new constitution will only increase the pressure and deep concern among this minority. A sharp drop in the number of Christians has also been recorded in Gaza and the West Bank and, naturally, Hamas' vision does not bode well for them.
In Lebanon, where Christianity was dominant, the Christians have recently lost their status and are currently trying to find their way amid the rise of Hezbollah. During his visit to Beirut in 2012 the pope tried to instill some hope among his followers in the Middle East, but the Catholic Church is aware that the era of Christianity in the region is under an existential threat.
Syria's Christians are probably in the worst situation of all. Assad's regime protected them for many decades as part of the attempt to present itself as secular and pluralist. The civil war has dramatically affected the Christians, who found themselves caught in the test of loyalty to the Assad regime and to the Arab nation and have become a persecuted minority that is seeking asylum in Lebanon and several other countries. Thousands of Christians are fleeing Syria. Terry Waite, who was held captive by Hezbollah for about five years, was sent to Lebanon a few weeks ago due to the persecution of the Christians in the country. He told The Guardian of the Christians' dire situation and said the "Arab Spring" is being used as an excuse to persecute Christians.
The world's relative silence in the face of their plight serves as another warning sign to those who believe the enlightened world is willing to lend a hand at times of crisis.
THE FIRST MUSLIM PRESIDENT
Jan. 4….(WND) Since Barack Obama has been president, he's been showered with many such accolades, most recently when Newsweek crowned him "The First Gay President" for his election-year abandonment of his opposition to same-sex marriage. But the elite media, to commemorate other Obama affinities and policy positions, have also dubbed him "The First Hispanic President," "The First Asian-American President," "The First Jewish President," and even "The First Female President."
But there's one "first" label conspicuously absent from all the media homage paid to the 44th president, perhaps, ironically, because there's more truth to it than the press is comfortable admitting, and that's the title Whistleblower magazine confers on Barack Obama in its blockbuster January 2013 issue: "The First Muslim President." Barack Obama's relationship with Islam has long been one of the most radioactive questions surrounding his presidency. Before the 2008 election, it was considered impolite in the extreme even to mention publicly Obama's middle name, "Hussein," a name given only to Muslim babies. And despite repeated polls showing a significant percentage of voters, one in three conservative Republicans and almost one in five of all voters, believe the president is currently a Muslim, those who dare bring up the issue are mercilessly scorned as ignoramuses and bigots.
Yet, there's a side to Obama's life, from his Muslim childhood, schooling, Quran studies, mosque attendance and prayer in Indonesia, to his bewilderingly pro-Muslim policies today as president that has been carefully concealed from the public by the "mainstream media." If you've wondered why the current US president seems so supportive of the Muslim Brotherhood, consider the following:
1.) that most American Muslims oppose the most basic principles of the US Constitution, as do most liberal politicians and social progressives.
2.) that veteran FBI agents disclose that penetration of the US government by radical Islamist agents is much worse than previously thought.
3.) that Obama's Mideast policy includes arming jihadists, and that there is stunning evidence that the White House was supporting al-Qaida operatives who ended up killing the US ambassador to Libya
4.) that Obama's natural family was busted in Kenya for working to drive Christianity out of Kenya and replace it with Shariah Islam.
5.) that numerous Islamist experts have presented overwhelming evidence that the president of the United States, who claimed before his election in 2008 that he was never a Muslim, was indeed "born and raised a Muslim"
Jordanian Minister Says Israel Wants to Rebuild Temple
(Islamic Endowments Minister Abdul Salam Abadi says Israel wants to partition the Temple Mount)
Jan. 4….(The Temple Institute / Elhanan Miller) A Jordanian minister accused Israel on Wednesday of planning to partition the Al-Aqsa Mosque compound in Jerusalem and the Temple Mount plaza surrounding it in order to erect the third Temple. Islamic Endowments Minister Abdul Salam Abadi told a visiting clerical delegation from Australia that he received instructions from the "Hashemite leadership" to safeguard the Arab and Islamic identity of Jerusalem, Jordanian media reported. Abadi said Israel was planning to divide the mosque from its courtyards with a 144-dunam structure.
Jordan, which extended its sovereignty to East Jerusalem and the West Bank in 1950, continues to administer the Islamic holy sites on the Temple Mount. Abadi told the Australian delegation that his ministry employs 600 civil servants in Jerusalem and oversees 40 Jerusalem schools. According to the independent Jordanian daily Al-Ghad, Abadi stressed the need to support the residents of Jerusalem "in their steadfastness in the face of the repeated Israeli attacks on the holy Al-Aqsa Mosque and the Islamic holy sites in Jerusalem." He did not expand on what he meant. Jordan and Israel signed a peace agreement in 1994.
Jews are banned from praying on the Temple Mount by the Jordanian department of endowments, known as the Waqf, which administers the plaza surrounding the Al-Aqsa Mosque and the Dome of the Rock.
Jewish World Population Reaches 14 Million
Jan. 3….(YNET) An extensive survey from the Pew Forum on Religion and Public Life has found that the worldwide Jewish community numbers some 14 million, which equates to 0.2% of the overall global population, a figure dwarfed by the Muslim community of 1.6 billion. Fifty-nine percent of Jewish people in the world also live in countries where they are a minority group, compared to just 3% of Hindus, 13% of Christians and 27% of adherents to Islam.
Judaism faces the additional pressure of its followers having the highest average age, at 36 years old, which is eight years higher than the global average and 13 above the figure for Islam, meaning that the Jewish population is likely to have the lowest growth forecasts for the years to come. According to the Pew Forum, of the 2010 world population of 6.9 billion, some 5.8 billion hold some form of association to a recognized religion, while 16% state that they are not affiliated with any faith.
FOJ Note: Roughly 4 out of every 7 people in the world are either Catholic or Muslim. Yet, in spite of these statistics, the world and the UN (per UN resolutions and condemnations) apparently believes that the 0.2% of the Jews in the world are responsible for about 95% of the world's problems. How absurd is that?
Syrian Rebels Behead Christian Man
Jan. 2….(Israel Today) As Western-backed Syrian rebels celebrated victories in cities across the north of the country, they also reportedly took revenge on minorities who had failed to fully side with them against embattled dictator Bashar Assad. Agnes-Mariam de la Croix, a Syrian nun, told foreign media that in one instance a taxi driver was pulled from his vehicle by rebel fighters and beheaded, his body thrown as food to stray dogs. The man's crime? His brother had been overheard complaining about the behavior of the rebel forces. Sister Agnes-Mariam says it was that, combined with the fact that the victim, Andrei Arbashe, was a Christian that made him a target for the rebels. Sister Agnes-Mariam fled Syria over the summer after being warned that the rebels intended to abduct her. Since then, she has been speaking out over the atrocities committed by Syrian rebels, atrocities that are being all but ignored by the mainstream media and the Western governments supporting the Free Syria Army and its satellite groups. "The uprising has been hijacked by Islamist mercenaries who are more interested in fighting a holy war than in changing the government," she recently told The Sunday Times, adding, "Christians are paying a high price."
In another interview, Sister Agnes-Mariam noted that many of the rebel fighters are being imported from outside Syria and told that they are battling against Israeli/Zionist forces, thereby igniting their fervor to kill everything in their path. There have also been threats by rebel leaders that once they are finished toppling the Syrian regime, they plan to turn their forces loose on Israel. Sister Agnes-Mariam said she was not necessarily advocating in favor or Assad, but insisted that if the radical Muslim rebel forces succeed in taking over, there will be no future for Christians in Syria.
Israel Today reported in our print magazine earlier this year that most minority groups in Syria actually prefer Assad, for all his faults, to the supposedly pro-democracy rebels. Assad himself is from a minority group, and his regime has for the most part protected minority rights.
Israel Has A Historic Right to Judea and Samaria
(Dr. Alan Baker, an expert on international law, says that legally Israel has a perfect right to build anywhere in Judea and Samaria)
Jan. 2….(Arutz) Dr. Alan Baker, an expert on international law and a member of the committee headed by Judge Edmond Levi recommending the extension of Israeli law to Jewish towns in Judea and Samaria, said at a conference discussing the matter Tuesday night that Israel would be fully in its rights to do so. "The task of the Levi Committee was to look at the construction situation in Judea and Samaria and make the appropriate recommendations on how to proceed," Baker said at the event sponsored by the Women in Green organization. The recommendation to authorize all construction in Judea and Samaria made by the committee was a very important one, he said.
Until very recently, the guiding document for governments in Israel had been a 2004 report authored by leftist attorney Talia Sasson, who recommended the dismantling of many new communities, termed "outposts," in Judea and Samaria. Sasson later ran for Knesset on the far-left Meretz party list. Baker said that much of the trouble relating to these communities was due to Sasson's bad faith in preparing the report. She had been asked by then-Prime Minister Ariel Sharon to prepare a report on "unauthorized outposts, but when she produced the report she termed them 'illegal' outposts." The government, Baker said, had no choice but to act on removing the communities, because "she turned anyone who builds there into criminals."
Because of that report, Presidents Bush and Obama also adopted the attitude that the communities were illegal, Baker said. This attitude was mistaken, he claimed. "Not having authorization is not a crime. Our mission was to clarify the situation and make appropriate recommendations." The committee examined the rights of Israel to build in Judea and Samaria altogether. Leftist groups, said Baker, attempted to prove that only Arabs had the right to build on non-privately owned lands in the region, but those proofs were rejected by the committee, he said. "After and extensive investigation, we determined that Judea and Samaria were not legally 'occupied.' It was not under legal control of any entity," including Jordan, whose declaration of sovereignty over the region was never recognized by international organizations like the UN, said Baker. As a result, "building by Israel in Judea and Samaria does not violate the Geneva Convention."
In contrast, Israel, as the representative of the Jewish people, could claim an historic right to build in Judea and Samaria. "No one can deny this historic right. There are no pacts, treaties, or any other documents that attribute Palestinian rights to the region."
Muslim Brotherhood: Israel Will Cease to Exist Within Decade
(Deputy head of the Muslim Brotherhood's political arm in Egypt says that Israel would cease to exist by the end of the decade)
Jan. 2….(Arutz) Deputy head of the Muslim Brotherhood's political arm in Egypt, the Freedom and Justice Party, announced Tuesday that Israel would cease to exist by the end of the decade. Essam el-Erian, who serves an advisor to Egyptian president Mohammed Morsi, had attempted to dispel a recent controversy over comments he made in an interview last week, in which he invited Egyptian born Jews to return to the country. In an interview with the Saudi-backed newspaper Al-Sharq al-Awsat, Erian said that the "ideology of Zionism" had ended in failure and denounced Israel as "Palestine's occupiers." "Jewish occupiers of the territory of historic Palestine are an obstacle to the Palestinians' right of return," he said. "Anyone who can read the future can see that this project has a decade, less than a decade to go, and it is our faith that the people of Palestine can then return to Palestine." "There will be no such thing as Israel very soon," he continued, "instead there will be Palestine which will be home to Jews, Muslims and Druze and all the people who were there from the start." "Those who want to stay will stay as Palestinian citizens.
IDF and Syrian Rebel Officers Meet Clandestinely in Jordan
Jan. 2….(DEBKAfile Special Report) Israeli officials have been holding talks in Jordan with Syrian opposition officials "in advance of a possible Israeli-US operation in Syria to protect the Golan Heights," Western intelligence sources reported Tuesday, Jan. 1. There was no further information about this operation or how rebel commanders were involved in military plans "to protect the Golan Heights." Altogether, the goings-on on the Israeli and Jordanian borders with Syria are in deep hush. But European intelligence sources, some of them French and Russian, reveal nightly clashes taking place between US, Jordanian, Israeli special forces and Syrian rebels, on the one hand, and Syrian special forces, on the other. Debkafile's military sources disclose what they are fighting for:
1. Each of the four is jockeying both for control of the buffer strips along those borders and for keeping their opposite numbers from establishing intelligence-gathering posts there. US forces, the IDF and the Jordanian army have a major tactical interest in keeping Syrian observation posts from settling in the border sectors, where they would be in position to mark out military and civilian targets if the Syrian conflict spilled over.
2. The Assad regime has two special interests in gaining a foothold in Jordan's border area. The first is to block the path of Syrian rebels heading back into the country and joining the various warfronts. At least five military facilities in Jordan are training special units of the Syrian opposition. They are managed by American, British, French, Czech and Polish military instructors. They are imparting tactics for capturing Syrian military chemical weapons caches and combating Syrian units armed with chemical or biological weapons.
3. Extensive preparations are secretly afoot by US special forces, the IDF and the Turkish and Jordanian armies ready for President Bashar Assad to hand down the order to his army chiefs to launch a chemical war offensive on the military concentrations of Syrian rebels and their allies in the lands neighboring on Syria. Jordan's training facilities for rebels are seen as likely to be Assad's initial targets. Western military sources explain that, for this purpose, the Syrian ruler requires maximum control of Jordan's borders, including the section abutting the Israeli side of the Golan Heights.
Christianity Disappearing From Mideast
Jan. 1….(YNET) A new study warns that Christianity is at the risk of being wiped out in the biblical heartlands of the Middle East. According to the London Daily Telegraph, which cites the study, 10% of Christians worldwide, approximately 200 million, are socially disadvantaged, harassed or actively oppressed for their beliefs. With over 2.3 billion Christians around the world, the study notes that Christians face the most persecution in the region of the world where Christianity first originated, the Middle East. The pace of this assault is now intensifying with the rise of militant Islam in countries such as Egypt, Iraq and now with the civil war, Syria," states the report, entitled Christianophobia.
Published by a leading independent British think tank, Civitas, the report stated that Western politicians and media generally ignore widespread persecution of Christians in the Middle East and elsewhere in the world "because they are afraid they will be accused of racism." On Christmas day last week, Iran imprisoned for the second time, Pastor Youcef Nadarkhani, 35, who had been previously jailed for nearly three years for practicing Christianity and rejecting to provide an Islamic education for his children. His attorney has also been imprisoned, according to Fox News. The study states that Christians more than any other religious group are the most likely to be persecuted or discriminated against and "are particularly at risk in Muslim-dominated societies. "Oppression is magnified by anti-Americanism and the false belief that Christianity is a 'Western' creed, even though it originated in the Middle East and has been an integral part of that region's belief systems for 2000 years," indicates the report which was written by journalist Rupert Shortt, who is also the religion editor of the Times Literary Supplement.
The author cites that somewhere between half and two-thirds of Christians have left the Middle East or have been killed over the past century. In the early 1900s, Christians made up 20% of the Middle East's population while, today, Christians make up no more than 5% of the population. However, the study also points out that much of Christianophobia phenomenon has nothing to do with militant Islam and names Buddhist societies in Sri Lanka and Burma, as well as China and North Korea as societies where Christians are persecuted. Shortt also says that other factors play a role in Christian persecution including Western interference in the Middle East, Africa, and Asia. The author emphasizes that he "does not endorse talk about a supposed 'clash of civilizations.'"
The report addresses in detail seven Muslim and non-Muslim countries where Christian persecution dominates: Egypt, Iraq, and Pakistan, Nigeria, Burma, China and India. One area in the Middle East, however, where the Christian population is thriving is in Israel. According to Israel's Central Bureau of Statistics (CBS), there are 158,000 Christians living in Israel, which represent two percent of the population. Approximately 80% of Christians in Israel are Arabs, who reside mainly in the northern areas of the country, while the rest are immigrants from the Soviet Union. The Christian Arab sector in Israel also has the highest number of high school graduates, according to the report, with 64% earning a high school diploma, compared to 59% for Jews, and 48% for Muslims.
Over 3.5 million Christians from across the world visited Israel in 2012, up four percent from last year, with the USA as the largest single country of incoming tourists, followed closely by Russia according to the Israel Ministry of Tourism.
Israeli Population Now Totals 7,981,000
Jan. 1….(Israel Hayom) This past year also saw the most babies born in Israel's history: about 170,000 according to the Central Bureau of Statistics, which released these numbers to coincide with the secular New Year. The number of people who died in 2012 was 41,938. Overall, the population of Israel grew by 1.9 percent in 2012, an increase of 145,000 people. About 75.4% of the population of Israel are Jews, a little over 6 million people. About 320,000 Israeli citizens are people who made aliyah at some point under the Law of Return but are not registered with the Interior Ministry as Jews. Most of these are new immigrants from the former Soviet Union. 20.6% of the country's population are Arabs, about 1.6 million people. About one-tenth of the country's population lives in Jerusalem, a total of 804,400 people, making Jerusalem Israel's most populous city. Tel Aviv has a population of 404,400 people. Haifa is in third place with 270,300 people. Rishon Letzion has surpassed Ashdod and Beersheba, and is now in fourth place with 232,400 people. Israel's fifth largest city is Ashdod with 212,300 people. Petach Tikva's population has grown rapidly in recent years and has ascended to sixth place with 210,400 people. The population of Israel has increased tenfold since the establishment of the state. According to forecasts, by the year 2030, the population of the State of Israel will be between 9.6 million and 10.6 million people, including 7.2 million Jews and 2.4 million Arabs.
Al Qaeda Has Taken Over Mali
Jan. 1….(Fox News) Deep inside caves, in remote desert bases, in the escarpments and cliff faces of northern Mali, Islamic fighters are burrowing into the earth, erecting a formidable set of defenses to protect what has essentially become Al Qaeda's new country. They have used the bulldozers, earth movers and Caterpillar machines left behind by fleeing construction crews to dig what residents and local officials describe as an elaborate network of tunnels, trenches, shafts and ramparts. In just one case, inside a cave large enough to drive trucks into, they have stored up to 100 drums of gasoline, guaranteeing their fuel supply in the face of a foreign intervention, according to experts. Northern Mali is now the biggest territory held by Al Qaeda and its allies. And as the world hesitates, delaying a military intervention, the extremists who seized control of the area earlier this year are preparing for a war they boast will be worse than the decade-old struggle in Afghanistan.
Al-Qaeda's affiliate in Africa has been a shadowy presence for years in the forests and deserts of Mali, a country hobbled by poverty and a relentless cycle of hunger. In recent months, the terror syndicate and its allies have taken advantage of political instability within the country to push out of their hiding place and into the towns, taking over an enormous territory which they are using to stock arms, train forces and prepare for global jihad. The catalyst for the Islamic fighters was a military coup nine months ago that transformed Mali from a once-stable nation to the failed state it is today. On March 21, disgruntled soldiers invaded the presidential palace. The fall of the nation's democratically elected government at the hands of junior officers destroyed the military's command-and-control structure, creating the vacuum which allowed a mix of rebel groups to move in. Turbaned fighters now control all the major towns in the north, carrying out amputations in public squares like the Taliban did. Just as in Afghanistan, they are flogging women for not covering up. Al-Qaeda in the Islamic Maghreb, known as AQIM, operates not just in Mali, but in a corridor along much of the northern Sahel. This 4,300-mile long ribbon of land runs across the widest part of Africa, and includes sections of Mauritania, Niger, Algeria, Libya, Burkina Faso and Chad. Al Qaeda Islamists have inherited stores of Russian-made arms from former Malian army bases, as well as from the arsenal of toppled Libyan leader Muammar Qaddafi, a claim that military experts have confirmed. Those weapons include the SA-7 and SA-2 surface-to-air missiles, according to Hamaha, which can shoot down aircrafts. His claim could not be verified, but Rudolph Atallah, the former counter-terrorism director for Africa in the Office of the Secretary of Defense, said it makes sense. "Gadhafi bought everything under the sun," said Atallah, a retired US Air Force lieutenant colonel, who was a defense attache at the US Embassy in Mali. "His weapons depots were packed with all kinds of stuff, so it's plausible that AQIM now has surface-to-air missiles."
Obama Supporting Jihadists in Overthrow of Syria?
Jan. 1….(WND) Turkey is facilitating the transport of thousands more Islamist militants into Syria for what the Turkish military believes is a final round of confrontations against Bashar Assad's embattled regime, a senior Syrian official has charged. The Syrian official, speaking to WND on condition his name be withheld, claimed the US and NATO are fully aware of Turkey's movement of more jihadists into Syria to fight for the so-called rebels under the banner of the Free Syrian Army. Reports of jihadists comprising the Syrian opposition, including the US-supported Free Syrian Army, are not new. There have been scores of reports worldwide that al-Qaida and other jihad groups are among the Free Syrian Army ranks. It is well established that jihadists dominate the Syrian opposition and various Free Syrian Army branches.
Furthermore, WND reported last week how the lawyer now raising money in the US to fund the Free Syrian Army previously served as director of Muslim outreach for President Obama's 2008 campaign. Mazen Asbahi, a Chicago lawyer, resigned from Obama's first presidential campaign after the Wall Street Journal reported that he sat on the board of an Islamic investment group called the Allied Assets Advisors Fund. Also on the board was Jamal Said, an unindicted co-conspirator in the prosecution of the Holy Land Foundation, the Texas-based group that raised millions of dollars for the Hamas terrorist organization. The Allied Assets Advisors Fund was itself a subsidiary of the North American Islamic Trust, which is directed by the Islamic Society of North America, or ISNA.
ISNA was established in 1981 by activists from the Muslim Brotherhood-affiliated Muslim Students Association. ISNA was also named as an unindicted co-conspirator in the Holy Land terrorism financing case and was the subject of a terrorism investigation in December 2003 by the Senate Finance Committee, which looked into possible links between nongovernmental organizations and terrorist financing networks. Now Asbahi is back in the spotlight as the lawyer for the Syrian Support Group, which is raising money to fund the rebels attacking Syrian President Bashar al-Assad's regime. The Free Syrian Army received a major diplomatic boost last week when President Obama recognized the affiliated leading Syrian opposition coalition as the legitimate representative of Syria in the place of Assad's regime.
---