WEEK OF FEBRUARY 24 THROUGH MARCH 2
US Warned: Al Qaeda Coming to America
March 1….(WND) A senior Iranian Revolutionary Guard commander has warned America and Europe that al-Qaida operatives will soon attack them. And a source in the Islamic regime's Intelligence Ministry told WND that another terror team is about to enter the United States. Should the West not accept Iran's rights to its nuclear program within six months, the terrorists will attack, he said.
The potential targets in the US include high-voltage towers to create blackouts, cell towers, water supplies, public transportation and various buildings belonging to the Defense Department and military. The source said six US politicians who have promoted tougher measures against the regime are on the hit list, along with such targets as the Washington National Cathedral and Lincoln Memorial in DC and the Metropolitan Museum of Art in New York. Two days of negotiations between Iran and the 5+1 countries (the five permanent members of the UN Security Council plus Germany) have just ended in Kazakhstan over Iran's illicit nuclear program. The two parties agreed to meet again in March and April.
The source said an April deadline has been set for Iran to resolve issues over its nuclear program, one of which is to halt activity at Fordow and take concrete measures not to resume enrichment there. Iranian media are avoiding mentioning enrichment at Fordow in the wake of reports that explosions occurred there. The source said that proves explosions rocked Fordow and the West is now urging the regime not to restart enrichment at that site, which is deep underground and immune to conventional air strikes. According to Fars News Agency, a media outlet run by the Revolutionary Guards, the regime's armed forces deputy chief of staff, Brig. Gen. Masoud Jazayeri, last Thursday stated that, "Al-Qaida groups and other services which operate for the interest of America will soon change the region of their operations and thereafter create new problems for America and Europe." Jazayeri warned that the operatives have technological resources to threaten America and that, "if the people of America and Europe do not confront the aggressive policies of their governments, they cannot then remain far from the possible future events (terror attacks)."
WND reported exclusively on Dec. 11 and Dec. 18 that Islamic regime terror teams are not only ready to attack France and Germany but also the US. Iran has been training, arming and funding al-Qaida elements for years. The regime's supreme leader, Ayatollah Ali Khamenei, and Quds Force commanders have held several meetings in Tehran with al-Qaida leaders in which a plan was devised to attack the West.
The source told WND that a six-member team, including an explosives specialist, is to join 10 Quds Force commanders who already have a cell of 50 terrorists in the US Collaboration with al-Qaida serves Iranian leaders well, the source added, as al-Qaida attacks will not leave behind a link to Tehran. This information has been shared with US intelligence agencies, which have followed suspected terrorists through three countries so far. The source is working with US authorities to verify the information, though it has yet to be validated. While Israel and the West have set their eyes on covert operations and increased sanctions to pressure the regime into ending its illicit nuclear program, the regime has its eyes on completing its nuclear bomb program by overcoming the last obstacle of arming its ballistic missiles with nuclear warheads, according to the source.
The plan is, the source said, that if in the next six months America does not accept Iran's nuclear program and does not ease sanctions or a military confrontation occurs, the terrorist assets have been ordered to carry out their missions.
US & Russia Drawing Ceasefire Lines for Ending Syrian War
March 1….(DEBKAfile Exclusive Report) Incoming US Secretary of State John Kerry, on his first foreign trip, set forth what sounded like a new Obama administration policy for Syria in his remarks in Paris Wednesday, Feb. 27. They were accompanied by reports that the US was stepping up its support for the Syrian opposition. It would cover training rebels at a base in the region and non-lethal assistances and equipment, such as vehicles, communications equipment and night vision gear. But Kerry's remarks did not reflect a new policy but merely recycled old definitions which confirmed US disengagement from Syria, rather than "stepping up support" for the Syrian opposition "for the first time." US supplies of nonlethal assistance to Syrian rebels date back to early last year. The US has moreover been training Syrian rebels in Jordanian bases near the Syrian border for more than a year to carry out three missions:
1. To seize control of Bashar Assad's chemical weapons arsenal;
2. To create a pro-Western core command structure as a factor in post-Assad government;
3. To ward off the takeover of the revolt command by Islamist factions, including groups associated with al Qaeda.
It turned out that none of these three missions was actually achieved. The chemical weapons remained firmly in the hands of Assad and his army, which never used them, contrary to rebel claims; factions close to Al Qaeda have grown stronger; and their role in the rebel command expanded as they were seen to be the best-armed and trained of any Syrian rebel faction.
The Obama administration finally came to the conclusion that the only way to contain Islamist forces and retain a modicum of American control over the rebels was to catch a ride on Russian President Vladimir Putin plans for Syria, even through they entailed preserving Bashar Assad in power through to 2014.
Debkafile's military and Russian sources reveal here for the first time that those plans hinge primarily on establishing armistice lines dividing the country into separate sectors and determining in advance which will be controlled by rebel factions and which by Assad loyalilsts. This is the first practical basis to be put forward for an accord to end the two-year old civil war between Assad and the Syrian opposition and it is designed to go forward under joint Russian-American oversight. Our sources add that the teamwork between Washington and Moscow in pursuit of this plan is close and detailed. They have agreed to get together on the types of weapons to be supplied to each of the rebel groups and are sharing costs.
That is the real new American policy for Syria: It is based on Washington's recognition of the new situation unfolding in Syria and the need to cooperate with Moscow, including acceptance of Assad's rule, in order to salvage remnants of American influence within the Syrian rebel camp. French President Francois Hollande showed he was quick on the uptake. No sooner had the Secretary Kerry departed Paris for Rome Wednesday, than Hollande was on his way to Moscow to scout out a role for France.
Obama to Visit Temple Mount?
(Hamas warns of 'diplomatic catastrophe')
March 1…(WND) Neither Israel nor the Palestinian Authority say they have any information President Obama plans to visit the Temple Mount amid Palestinian rumors that such a trip is in the works. The rumors received a boost earlier this week when Hamas issued a statement warning the Obama against the idea, calling such a visit "a diplomatic catastrophe." The statement further called Obama's rumored visit to the Al-Aqsa Mosque on the Mount "an imminent danger which the Al-Aqsa Mosque and Jerusalem have never faced." Officials in the PA and Israel reported yesterday they don't have any information about a planned trip to the Temple Mount. The office of Adnan Ghaleb al-Husayni, the governor of the Waqf, or Islamic custodians of the mount, further told WND that no such visit to the sensitive site was requested. An official in Husayni's office said the idea of Obama's ascent to the Mount is "insane." The Temple Mount is the holiest site in Judaism. Muslims now claim it is their third holiest site, although their stake changed several times throughout history.
The First Temple was built by King Solomon in the 10th century BC It was destroyed by the Babylonians in 586 BC. The Second Temple was rebuilt in 515 BC after Jerusalem was freed from Babylonian captivity. That temple was destroyed by the Roman Empire in AD 70. Each temple stood for a period of about four centuries.
According to the Talmud, the world was created from the foundation stone of the Temple Mount. It's believed to be the biblical Mount Moriah, where Abraham fulfilled God's test of his willingness to sacrifice his son Isaac. The Temple Mount has remained a focal point for Jewish services for thousands of years. Prayers for a return to Jerusalem and the rebuilding of the Temple have been uttered by Jews since the Second Temple was destroyed, according to Jewish tradition.
The Al-Aqsa Mosque was constructed in about AD 709 to serve as a shrine near another shrine, the Dome of the Rock, which was built by an Islamic caliph. Al-Aqsa was meant to mark what Muslims came to believe was the place at which Muhammad, the founder of Islam, ascended to heaven to receive revelations from Allah. Jerusalem is not mentioned in the Quran. It is mentioned in the Hebrew Bible 656 times.
The Temple Mount was opened to the general public until September 2000, when the Palestinians started their Intifada, or "uprising," by throwing stones at Jewish worshipers after then-candidate for prime minister Ariel Sharon visited the area. Following the onset of violence, the new Sharon government closed the Temple Mount to non-Muslims, using checkpoints to control all pedestrian traffic for fear of further clashes with the Palestinians. The Temple Mount was reopened to non-Muslims in August 2003. It's been open to non-Muslims only during certain hours, and not on any Christian, Jewish or Muslim holidays or other days considered "sensitive" by the Waqf. During "open" days, Jews and Christians are allowed to ascend the Mount, usually through organized tours and only if they conform first to a strict set of guidelines, which include demands that they not pray or bring any "holy objects" to the site. Visitors are banned from entering any of the mosques without direct Waqf permission. Rules are enforced by Waqf agents, who watch tours closely and alert nearby Israeli police to any breaking of their guidelines.
Covert Auctions in Egypt Giving Libyan Arms to Terrorists
March 1….(Fox News) The weapons that helped Libyan rebels oust dictator Muammar Qaddafi are turning up for sale at clandestine auctions in Egypt's lawless Sinai Desert, where shadowy buyers purchase firearms for Al Qaeda and Hamas operatives, sources told FoxNews.com. The illicit sales take place in the barren Sinai peninsula, where Moses is believed to have wandered with the children of Israel for 40 years. Auctions announced through the grapevine bring caravans of foreigners, all with huge sums of money at their disposal and all with the same mission, Israel Defense Force sources told FoxNews.com.
The vast and rugged desert area inhabited by an estimated 250,000 Bedouins has borders with Egypt, Gaza and Israel, as well as a long coastline on the Red Sea. While the location makes it easy for buyers to come from various regions, it also combines with the impromptu nature of the auctions to make them almost impossible to stop. "There are more and more contacts between Al Qaeda and the small groups in Sinai," a senior source in the Israel Defense Force told the Washington-based Investigative Project on Terrorism.
The hosts of these auctions aren't just doing it for the money, the source said. Al Qaeda-linked jihadists are becoming more and more influential in the region, and playing a large role in who shows up for the auctions and who leaves with the bombs, anti-tank missiles, rocket-propelled grenades and automatic weapons that are peddled there. "If at the beginning we saw these tribes supporting terror cells for the sake of money, now we see it becoming more an ideological support, and we see more and more cases that these groups of Al Qaeda-influenced extreme jihadists are becoming more powerful than the tribes," the source said.
With Libya rendered an unstable tribal nation rife with internal power struggles between secular moderates and radical Islamists in the wake of Qaddafi's ouster, accountability for weapons in the north African country is impossible. The US, which denies directly supplying arms to the Libyan rebels, is concerned about weapons being sold in the region. "The potential for proliferation and smuggling of unsecured small arms and weapons in the region is a concern to the US government and the international community," a US State Department official told FoxNews.com.
The New York Times reported in December 2012 that the Obama administration secretly gave its blessing to arms shipments to Libyan rebels from Qatar, only to express alarm when evidence mounted that Qatar was turning some of the weapons over to Islamic militants. Qatar, strong supporters of the Muslim Brotherhood and Hamas, may well have been playing both sides of the game, as the US official strongly hinted to The New York Times. The weapons being auctioned in the Sinai desert almost certainly include many sent by Qatar to Libya, a disturbing consequence that had been flagged early by some American officials.
Gaza Rains Missiles on Southern Israel, Again
Feb. 27….(Israel Today) For the first time since last November's Gaza war, Palestinian terrorists operating out of the Gaza Strip fired a missile into southern Israel on Monday. The missile, a medium-range Grad-type projectile, landed on the outskirts of the coastal city of Ashkelon, causing no injuries or damage.
Israel halted its anti-terror operation against Gaza terrorists last November on condition that Hamas would cease and prevent all mortar and missile fire at Israeli towns and villages.
Monday's attack was carried out by the Al Aqsa Martyrs Brigade, a "military wing" of Palestinian leader Mahmoud Abbas' Fatah faction. Spokesmen from the group said the attack was a demonstration of solidarity with the Palestinian rioters clashing with Israeli soldiers in Judea and Samaria. UN officials said they were "deeply troubled" by the attack and called for a cessation of cross-border hostilities. But Hamas indicated that it intends to further up the ante by abducting more Israeli soldiers in the near future.
Iran's Fars news agency reported that at a rally in Gaza this week, a senior Hamas official urged activists and operatives to kidnap Israeli soldiers to use as bargaining chips to obtain the freedom of jailed Palestinian terrorists.
Muslims Massacre Christians in Nigeria
Feb. 27….(Worthy News) In one the worst incidents since Thursday, February 21, suspected Muslim attackers used machetes and guns to murder 10 members of the same Christian family in Plateau state, with half the victims under the age of six, the military and government confirmed. "A Christian family of 10 were murdered" by Muslim Fulani herdsmen said Pam Ayuba, the governor's spokesman, in published remarks. "Five little children including a two-month-old child were slaughtered." Members of the mostly Christian Berom ethnic group, who consider themselves the state's indigenous people, have previously accused the military of involvement in violence on behalf of the Fulani.
Nigerian President Goodluck Jonathan, a Christian from the south, has come under pressure from Christians and rights activists to do more to tackle Islamic extremism. His government claims it takes the threats seriously by sending additional troops to key trouble spots. The country of 150 million people and Africa's largest oil producer is divided between the mostly Muslim north and largely Christian south.
Sudan Muslim Extremists Murdering Christians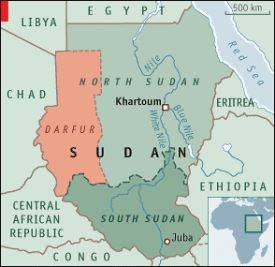 Feb. 27….(Worthy News) Dozens of Sudanese Christians were thought to be trapped in a Sudanese prison as violence raged in renewed fighting between two Arab tribes, killing scores of people. At least 55 Christians were detained by the government of Sudan over two weeks ago on "false accusations" of allegedly receiving money from foreign countries, including Israel, according to Christians with close knowledge about the case. At least 60 Christians were killed on Saturday, February. 23, in what the state news agency called "the worst" Islamic attacks on Christians since a cease-fire in January after 100 Christians were murdered.
Advocacy group Christian Solidarity Worldwide (CSW) said the group, which has no political affiliations and includes church leaders, was jailed as part of a wider crackdown on Christians in the volatile Islamic country. "CSW is deeply concerned at these arbitrary arrests" of 55 Christians and the wider news "of an escalating crackdown on Christian citizens in Sudan. Besides detaining church leaders and other devoted Christians, authorities reportedly closed down several Christian-affiliated schools, colleges and training centers.
Additionally, some 100 foreign workers were deported in recent weeks, including Christians, according to aid groups. The repression has been linked to a state-run media campaign against "Christianisation" of the country. CSW said it has been concerned about increasing pressure on churches in Sudan, since the creation of South Sudan as a separate state in 2011. Sudan's President Omar al-Bashir had reportedly pledged to make his African nation's new constitution 100 percent Islamic.
Obama & Europe Considering Arms to Syrian Rebels
(FOJ Note: US aid could be acquired by terrorist forces, such as Al Qaeda)
Feb. 27….(AP) The Obama administration, in coordination with some European allies, is for the first time considering supplying direct assistance to elements of the Free Syrian Army as they seek to ramp up pressure on Syrian President Bashar Assad to step down and end nearly two years of brutal and increasingly deadly violence. Officials in the United States and Europe said Tuesday the administration is nearing a decision on whether to provide non-lethal assistance to carefully vetted fighters opposed to the Assad regime in addition to what it is already supplying to the political opposition. A decision is expected by Thursday when US Secretary of State John Kerry will attend an international conference on Syria in Rome that leaders of the opposition Syrian National Coalition have been persuaded to attend, the officials said. The officials spoke on condition of anonymity because the shift in strategy has not yet been finalized and still needs to be coordinated with European nations, notably Britain. They are eager to vastly increase the size and scope of assistance for Assad's foes. Kerry, who was a cautious proponent of supplying arms to the rebels while he was chairman of the Senate Foreign Relations Committee, has been consulting with European leaders on how to step up pressure on Assad to leave power. The effort has been as a major focus of his first official trip abroad as America's top diplomat. On the first two stops on his hectic nine-nation tour of Europe and the Middle East, in London and Berlin, he has sought to assure the Syrian opposition that more help is on the way.
Meanwhile, Kerry visited Berlin where he met his Russian counterpart, Sergei Lavrov, for the first time in his new post, spending more than an hour discussing the Syria conflict. Russia has been a strong supporter of Assad and has, along with China, repeatedly blocked efforts at the United Nations to impose global sanctions against the Assad regime
Assad's Army has Fled Entire Area Bordering Israel'
(Rebels now control the whole Syrian side of the Golan)
Feb. 26….(Times of Israel) The Syrian villages along the border with Israel have been taken over by anti-Assad rebels, and forces loyal to President Bashar Assad have fled, an activist on the Israeli side of the Golan Heights told The Times of Israel on Monday. The Quneitra border crossing is still being held by the Syrian regime, he added, but only because the rebels prefer not to take control if it, given the political sensitivities of such a move.
Aiman Abu-Jable, an anti-Assad activist from Majdal Shams who edits the Arabic news website Jawlan.org, said that according to information he has received from the Syrian side, Assad's army has vacated the entire border area with Israel and fled to the Damascus region, where intense fighting is underway. In fact, "the regime wants the rebels to take control of all villages on the border area so that Israel intervenes in the conflict, and then Assad can accuse Israel of conspiring against him," Abu-Jable said.
US Oil Imports From Middle East Have Increased
Feb. 26….(Financial Times) The US was more reliant on the Middle East for its oil imports last year, underscoring the critical importance of the politically unstable region for the country despite the growing energy independence its shale gas revolution is bringing. That domestic production boom has triggered intense debate over whether the US would still guard the world's critical sea lanes, such as the Strait of Hormuz in two decades' time, or whether China, whose dependence on Middle Eastern crude imports is rapidly rising, would replace it. However, recent oil import trends from the Gulf region suggest why the US might continue to play a critical security role in the region. While domestic production increased the most in 150 years last year, Washington will confirm later this week that oil imports from the Gulf region continued to rise.
By the end of November the US had already imported more than 450m barrels of crude from Saudi Arabia, more than it imported from Riyadh in the whole of 2009, 2010 or 2011, according to figures from the US energy department. For the first time since 2003, Saudi imports accounted for more than 15 per cent of total US oil imports. The Gulf as a whole accounted for more than 25 per cent, a nine-year high. Other Gulf exporters are also seeing unusually strong US demand. By the end of November, Kuwait had shipped more oil to the US than in any year since 1998.
New extraction techniques, most notably hydraulic fracturing, or fracking, and horizontal drilling, have unlocked huge hydrocarbon resources in the US previously thought unrecoverable, raising expectations that over time US dependence on Middle East oil will drop. These developments triggered debate about the long-term commitment of Washington to security in the Gulf, where the US Fifth Fleet has operated since 1995.
Carlos Pasqual, co-ordinator for international energy affairs at the US State Separtment, highlighted that oil was a global fungible commodity, saying Washington would remain involved in Middle Eastern oil security. "When there is instability or insecurity in any part of the world, it drives up the global prices of those commodities." Oil produced in shale fields like the Bakken in North Dakota and the Eagle Ford in Texas is of a light high-quality variety. But Gulf oil is still vital for the US because many US refineries are set up to process heavier crude oils. So while imports of light crudes from countries such as Nigeria have fallen dramatically, demand for Gulf crudes has not.
An expansion of the Motiva refinery in Texas has provided a fillip to US demand for Saudi oil. Motiva, which is now the largest refinery in the US by capacity, is jointly owned by Royal Dutch Shell and the Saudi national oil company, Saudi Aramco. Part of Motiva's expanded plant was temporarily shut down for repairs in the second half of 2012, but is expected to restart imminently. Although oil imports from the Middle East have been rising, overall US demand for crude oil has declined slightly since 2004 because of a combination of efficiency measures, increasing use of natural gas and the US financial crisis.
Obama Urges Supreme Court to Kill Defense of Marriage Act
Feb. 25….(Fox News) Edith Windsor, a California resident, was married to her female partner in Canada in 2007 but was required to pay roughly $360,000 in federal estate taxes because the marriage is not recognized under DOMA. The law "denies to tens of thousands of same-sex couples who are legally married under state law an array of important federal benefits that are available to legally married opposite-sex couples," Verrilli's brief in part states. House Republicans also purportedly filed a brief Friday, arguing for the right to defend DOMA.
Obama's move comes as no surprise, considering he said during his first term that he personally is in favor of gay marriage. And he ended the US military's "don't ask, don't tell" policy, opening the way for gays to serve openly. More recently, during Obama's second inaugural address, he hinted at further action. "Our journey is not complete until our gay brothers and sisters are treated like anyone else under the law, for if we are truly created equal," he said. Twenty-nine other states have constitutional amendments banning gay marriage, while nine states and Washington, DC, recognize same-sex marriage.
Public opinion has shifted in support of gay marriage in recent years. In May 2008, Gallup found that 56 percent of Americans felt same-sex marriages should not be recognized by the law as valid. By November 2012, some 53 percent felt they should be legally recognized.
Obama Unmoved by Iran's Crossing of Netanyahu's Red Line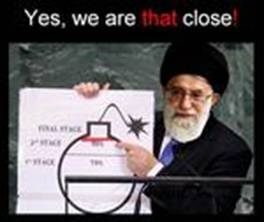 Feb. 25….(DEBKA) The Obama administration was unmoved by the IAEA finding that Iran had installed 180 advanced centrifuges had been installed at Natanz. Indeed, the White House said Thursday, Feb. 21 that "a diplomatic solution is still possible" for resolving nuclear issues with Iran. The International Atomic Energy Agency report came out the next day: The new IR-1m centrifuges installed in Natanz were said to enrich uranium three times faster than the outdated machines used at Natanz until now, considerably shortening Tehran's path to a nuclear bomb. The IAEA also noted faster than expected progress in setting up the Arak plant for producing plutonium. These findings mean that the red line drawn by Israeli Prime Minister Binyamin Netanyahu before the UN General Assembly last September, when he said Iran must not be permitted to stock 250 kilos of near weapons-grade uranium of 20 percent purity, is approaching faster than the "late-spring-early summer" deadline he set for stopping Iran before it can build a nuclear bomb.
Yet, in the response to the IAEA finding of Thursday, Netanyahu's office said only, that the report's findings "prove that Iran continues to advance quickly to the red line" and "Iran is closer than ever to achieving enrichment for a nuclear bomb." Administration sources report that the US is continuing to push Iran for one-on-one talks after the six powers face Iran in Kazakhstan on Feb. 26, even though a secret round a couple of months ago was a flop. Gary Samore, the Obama aide who set it up, has since quit the White House and moved over to Harvard University. Yet Barack Obama stands by diplomatic engagement and "increased pressure" (sanctions) as the sole means of preventing Iran obtaining a nuclear weapon.
Iran's supreme leader Ayatollah Ali Khamenei has put the US president on the spot, Debkafile's intelligence sources report: He is calling in a debt. He respected Obama's request to refrain from spoiling his campaign for reelection in November and held back from delivering the "October surprise" widely predicted by US media. Now, Tehran faces a presidential election in June and Khamenei wants to be sure that the US doesn't upset his plans. His foremost aspiration is to block the path of the retiring president Mahmoud Ahmadinejad's in-law to the presidency and replace him with a nondescript, uncharismatic figure handpicked by himself who is also a competent administrator and qualified to haul Iran out of its economic morass. Not all of Iran's troubles are caused by sanctions; Ahmadinejad's reign has seen plenty of dysfunction and corruption. Extreme violence is already bedeviling the Iranian campaign up to and including threats of assassination. The supreme ruler is bidding the Obama administration for some peace on quiet on the diplomatic front.
According to our sources, Iran's stormy election campaign will hold Tehran back from any real diplomatic breakthrough or progress toward definitive nuclear weaponization until a new president is elected and forms a government, some time in the fall. At the same time, the ayatollah is playing a complex double game by keeping diplomatic tensions high and avoiding any real dialogue with Washington. Indeed, he may even welcome tougher sanctions and military threats for boosting his candidate for president and letting Ahmadinejad's candidate in for punishment at the hands of the suffering Iranian voter.
Hence, the crossed signals from Washington, Europe, Israel and the IAEA. On the one hand, alarm over Tehran's rapid advance toward a nuclear weapon capability, while on the other, insistence on doing nothing substantial beyond futile palaver to stop it. All four are playing into the ayatollah's hands.
Erdoğan: Assad a 'Mute Devil' for not Defying Israel
Feb. 25….(Times of Israel) Turkey's prime minister denounced Syria's leader Sunday, calling him a "mute devil" for carrying out attacks on his own people but not standing up to Israel's occupation of Syrian territory. Recep Tayyip Erdoğan received several rounds of applause at a government communications forum in the United Arab Emirates, which has joined other Gulf nations in backing Syrian rebels seeking to topple President Bashar Assad. "We will not remain silent in the face of the cruel dictator, the mute devil, who mercilessly carried out massacres against his own people, but who has remained silent and unresponsive toward those who have occupied his own territories for decades," Erdoğan told the gathering in Sharjah, just north of Dubai.
Israel captured the strategic Golan Heights plateau in 1967. Despite hostility between the two countries, Israel and Syria have not gone to war since 1973 and the border region has been generally without major tensions for decades.
Erdoğan, whose nation watches over teeming Syrian refugee camps, urged world leaders to denounce attacks on civilians by the Syrian regime, saying "we must to stand up to cruelty and aggression." The comments came just hours before the new US Secretary of State John Kerry was scheduled to begin his first official overseas trip that will include talks with NATO allies, including Turkey, on ways to end nearly two years of bloodshed in Syria that has claimed at least 70,000 lives. The US and Western allies have resisted rebel appeals to supply heavy arms, fearing the weapons could escalate the civil war and possibly fall into the hands of Islamist militant factions that have joined the fight against Assad.
PA Officials Warn Obama Over Visiting Al-Aqsa
(PA leaders: Obama should not visit the Al-Aqsa mosque in a way that might compromise its "Muslim sovereignty".)
Feb. 25….(Arutz) Political and religious leaders in the Palestinian Authority on Sunday stressed that US President Barack Obama should not visit the Al-Aqsa mosque compound in Jerusalem in a way that might compromise what they called its "Muslim sovereignty," AFP reports. Obama will be arriving in the region in the spring, and PA media has been speculating that he will visit the site of the mosque. The White House, however, has announced neither the dates of Obama's visit nor its itinerary.
Sheikh Akrameh Sabri, head of the higher Islamic council and former Grand Mufti of Jerusalem, said that Obama must enter through a gate that was not under Israeli auspices. "Any visitor is welcome to Al-Aqsa, but they should follow the regulations of the Waqf and enter through the Lions' Gate and not through Mughrabi Gate, to ensure Muslim sovereignty," he said at a press conference and was quoted by AFP.
Hatem Abdel Qader, who heads the Jerusalem portfolio of the Fatah movement, said that Obama's visit should be coordinated with the PA and with the Jordanians. "The visit shouldn't have a political theme to it because Al-Aqsa belongs to Muslims only and it is their place of worship and we refuse that any Israeli official accompanies the visitor," said Sabri.
Israel liberated the Temple Mount during the 1967 Six Day War, leaving the Waqf in charge of the compound. The Waqf, in return, has removed every sign of ancient Jewish presence at the Jewish holy site. At the entrance to the Temple Mount, a Waqf sign says, "The Al-Aqsa Mosque courtyard and everything in it is Islamic property."
Israeli Police, in an attempt to appease the Waqf, discriminate against Jews. They limit the number of Jewish worshippers allowed on the Temple Mount at one time in order to prevent conflict with Muslim worshippers. They often close the Mount to Jews in response to Muslim riots, despite evidence that Muslim riots have been planned in advance for the specific purpose of forcing Jews out. Arabs continuously accuse Israel of "Judaizing" the Temple Mount, sometimes resorting to ridiculous propaganda such as accusing Israel of using chemicals to erode the foundations of the mosque in order to cause it to collapse.
At the same time the Waqf consistently destroys Jewish antiquities on the Temple Mount in a direct violation of a ruling by the Supreme Court. Last week, an Israeli Arab group, "The Al-Aqsa Heritage Institute," issued a statement demanding that Israel halt its plans to bring more Jews to the Kotel, (Western Wall) which, the group claims, is holy not to Jews, but to Muslims. In fact, the group says, Israel is "defiling the holiness of the site" by conducting Jewish prayers there.
Ronald Reagan Warned Us About This
(Gipper revealed why nation 'can't expect God to protect us in a crisis')
Feb. 25….(WND) The Bible is shunned from classrooms, prayer is banned at graduations and atheists have worked to remove any mention of God from public life. Meanwhile, the nation is rocked with ongoing wars and horrific violence, and the innocent blood of children is shed in our schools. The out-of-control federal government, oblivious to the nation's real problem, believes the solution is to disarm law-abiding citizens and further limit their freedom. What is happening to our beloved nation? Why aren't Christians winning the battle for hearts, souls and freedom in America?
In 1982, then-President Ronald Reagan warned, "We can't expect God to protect us in a crisis and just leave Him over there on the shelf in our day-to-day living. I wonder if sometimes He isn't waiting for us to wake up, He isn't maybe running out of patience." America has turned from God and has forgotten right from wrong.
In an effort to help awaken believers and non-believers alike to "the wickedness and evil that abound in our country," WND founder Joseph Farah has launched a dramatic new national billboard campaign featuring the Ten Commandments. "The problem is America is not limited to atheists, agnostics, cults and non-believers," says Farah. "In fact, the biggest problem America has is with those who call themselves believers but who act no differently than the worldliest individuals on the planet. You can call these people backslidden. You can call them false converts. Or you can call them undisciplined, nominal believers. What they all have in common is they are not in obedience to God. They are not even trying to follow the most basic moral law, as Jesus and the prophets all instructed."
With that in mind, Farah is planning to erect hundreds of Ten Commandments billboards around the country in a move that is sure to annoy the American Civil Liberties Union and the organized atheists with the help of like-minded and like-spirited partners. "The goal is two-fold," Farah says. "I want to prick the consciences of believers and non-believers alike, and I want Americans to see the basis of all our laws as handed down by God at Mount Sinai in hopes they will repent of their sins and turn back to their Creator." America has never needed a campaign like this so badly, he says. "The Ten Commandments have been banished from our schools," says Farah. "They've been banished from our courtrooms and law schools. They've even been banished from some of our churches and synagogues. Look what has become of America since. Maybe it's time to roll them out on highways and byways, in big cities and small towns so no one is without excuse as to the moral code the One True God gave us to govern ourselves."
WEEK OF FEBRUARY 17 THROUGH FEBRUARY 23
Hizballah on High Alert, Militarily & Diplomatically
Feb. 22….(DEBKAfile Exclusive Report) Hizballah forces went on alert Thursday, Feb. 21, upon the expiry of a 48-hour ultimatum slapped down by Syrian rebels to halt the Lebanese group's military support for Bashar Assad, in particular, its artillery and mortar backing for Syrian troops from bases in Lebanon. Debkafile's military sources report that relevant to this chain of events is the Syrian claim that its anti-aircraft missiles downed an Israeli drone Wednesday over the Lebanese village of Deir al-Aachayer in the Rashaya region. Those events were touched off by the onset in Moscow of preparations for a political process between Syria's warring parties for determining the country's future. Representatives of Bashar Assad and the Syrian opposition will be facing each other under the Russian aegis, but Hizballah and Israel are also involved and the Lebanese group is bidding for a strong voice in the process on three issues:
1. Will the HIzballah-ruled Lebanese Beqaa Valley continue to serve Assad and his army as their strategic hinterland?
2. Will the Syria-based Hizballah units, especially those securing the Shiite villages around Homs, stay there under accords reached between Assad and the rebels?
3. Will the ceasefire deals on which talks are due to begin soon in Moscow apply to HIzballah?
The general wisdom in the West and Israeli media is that Assad's fall is inevitable and imminent. The facts on the ground tell a different story. Debkafile's military sources report that Assad goes into political talks with his army controlling enough of the country to keep his regime in power for another two years at least, until the next presidential election expected to take place in 2014.
The Syrian ruler will seek to have Hizballah covered by a Syria ceasefire, hoping for Moscow's backing on this point. Inclusion of this ally would strengthen his standing and boost his army. It would also keep Tehran in the picture and gain its acquiescence to any deals struck in the Moscow talks. Assad understands that Iran will want to be sure Hizballah's interests are protected and is fully capable of torpedoing any accords that throw its proxy to the wolves.
The downing of the Israeli drone Wedneday over the Beqaa Valley was a move by the Syrian ruler to push Israel out of any discussion on the future role of Hizballah and the Beqaa Valley, as well as putting a stop to Israeli Air Force flights over the Beqaa and the Lebanese-Syrian border. Israel has not so far responded to this step, but that doesn't necessarily mean it will remain passive or stop its Lebanese overflights. This chain of events could culminate over the weekend in the Syrian rebels making good on their ultimatum and attacking Hizballah targets. The Syrian civil war would then be thrust into the byway of a Sunni-Shiite showdown athwart the Syrian-Lebanese border. Militarily, the rebels can't stand up to Hizballah's far more organized and professional capabilities. If they do decide to go on the offensive, they are liable to suffer heavy losses.
Pentagon Informs Congress of plans to Furlough 800,000 DOD Civilians
Feb. 21….(Fox News) The Pentagon notified Congress on Wednesday it will furlough its civilian workforce of 800,000 employees if sequestration goes into effect March 1. Defense officials have warned lawmakers that sequestration will devastate the military and lead to a hollow force, but the civilian furloughs will be one of the first major impacts felt by the across-the-board cuts. The Pentagon furloughs will affect civilians across the country. Pentagon officials have said that civilians could face up to 22 days of furloughs, one per week, through the end of the fiscal year in September. The employees would receive 30 days notice before being furloughed. "We are doing everything possible to limit the worst effects on DOD personnel, but I regret that our flexibility within the law is extremely limited," Defense Secretary Leon Panetta wrote in a message to the department. "The president has used his legal authority to exempt military personnel funding from sequestration, but we have no legal authority to exempt civilian personnel funding from reductions." The Joint Chiefs also testified before both the House and Senate last week to lay out the dangers of sequestration, as the Pentagon has taken a much more proactive approach to the cuts than when they were set to hit in January.
Obama Gives Pakistani Nationals "Free" Healthcare
Feb. 21….(WND) The Obama administration is preparing to give free health care to Pakistanis even as Americans who cannot get health insurance because of pre-existing conditions soon will be rejected by domestic programs due to a lack of funds. Pakistani nationals working at several US embassies soon could get a boost in health care benefits as the US State Department has begun shopping for top-tier services. Their paychecks will not see so much as one Pakistani rupee deducted as they receive a broad variety of medical services, according to a solicitation WND located via routine database research. The document also made clear that the selected vendor "shall insure that health care under this contract does not exclude HIV/AIDS care, or preexisting conditions."
The US State Department will subsidize an estimated 1,222 family plans and 190 single-employee plans. The family plans cover children of Pakistani employees to age 18, or age 23 if a full-time student and unmarried. Meanwhile, Obama administration officials said, according to the Washington Post, that the state-based "high risk pools" set up under Obamacare will be closed to new applicants over the next few days because funding is running low.w.
The Washington Times reported Obamacare will push 7 million Americans out of their job-based insurance coverage due to limited funding. The report said the incentives for businesses to provide health care are being minimized, so more employers are expected to choose to pay a penalty to the government and not provide health care. At the same time, there are reports the lowest cost health plan for a family soon will cost $20,000, and the Obamacare mandate fine for Americans is hitting $695 soon.
Obama Defense Nominee Hagel: Netanyahu is a Radical
Feb. 20….(Washington Beacon) Secretary of defense nominee Chuck Hagel said Israel is on its way to becoming an apartheid state during an April 9, 2010, appearance at Rutgers University, according to a contemporaneous account by an attendee. Hagel also accused Israel of violating UN resolutions, called for US-designated terrorist organization Hamas to be included in any peace negotiations, and described Israeli Prime Minister Benjamin Netanyahu as a "radical," according to the source. Hagel is quoted as saying that Israel had violated every UN resolution since 1967, that Israel has violated its agreements with the quartet, that it was risking becoming an apartheid state if it didn't allow the Palestinians to form a state. He said that the settlements were getting close to the point where a contiguous Palestinian state would be impossible." The Free Beacon is working to obtain transcript and video of Hagel's comments during the question and answer sessions at Rutgers in both 2007 and 2010, and is continuing to speak to others who attended both events. A representative for Hagel did not respond to a request for comment by press time.
Republicans in the US Senate succeeded in delaying the vote to confirm Chuck Hagel for secretary of defense to the week of February 26 but did not yet succeed in defeating his nomination. If the vote will proceed, Hagel will need only a simple majority of 51 votes to be confirmed. The Democrats have 55 senators supporting Hagel including 11 Jewish senators. If only five of the 11 senators will stop their blind worship of President Obama and decide to abstain, the nomination will be defeated.
Assad Retreats from Golan, Leaving Islamist Rebels On Israeli Border
Feb. 20….(DEBKA) President Bashar Assad has evacuated most of the troops of his 5th Army Division from their permanent bases on the Golan opposite Israeli forces and transferred the unit along with its artillery to Damascus, Debkafile's military sources report. The Syrian ruler's step had three purposes:
1. To reinforce his Damascus defenses;
2. To carve out a buffer zone along the Israeli border and leave it under rebel control.
3. To provide the jihadists fighting in rebel ranks with access to the Israeli border fence.
Senior officers in the IDF's northern command believe it is just a matter of time before these al Qaeda-associated fighters hurl themselves at the border fence to break through, or target Israeli military targets from across the Syrian border. Assad first practiced this stratagem on Syria's northern frontier with Turkey. Six months ago, he opened the door of his border region to let armed bands of the separatist PKK (Kurdish Workers' Party) through from Iraq and set up new strike bases opposite Turkey's back door, to which they could flee after attacks. The PKK took full advantage of this opportunity. Indeed, to curb the Kurdish offensive, Ankara was forced to enter into negotiations with PKK leaders for a settlement of their claims, although they are still poised in Syria to resume their attacks.
Israel does not have that option because most of the Islamists fighting with the Syrian rebels are associated with al Qaeda and committed to jihad against the Jewish state.
Debkafile reports that Saturday, Feb. 16, Israeli government and military leaders were at odds over whether to extend medical treatment to seven Syrians injured in battle on the Golan. In the event, they were allowed to cross the border and transferred to hospital in Safed. But because of the argument, the official communiqué said only that the decision was taken on humanitarian grounds but omitted to specify whether the injured Syrians were soldiers or rebels. However, there was never any doubt that they were in fact Syrian conscripts wounded in the course of their unit's withdrawal from the Golan. The argument against giving the soldiers medical treatment was that they were Bashar Assad's troops and looking after them was tantamount to endorsing Assad's hostile schemes and therefore unacceptable. It was settled by avoiding identifying the wounded men.
China Plans to Wipe Out House Churches
Feb. 20….(Christianity Today) China's Christians felt a noticeable rise in persecution in 2012 as the Communist government began the first of a three-phase plan to eradicate unregistered house churches, a new report says. Incidents of persecution of Christians rose by about 42 percent last year compared with 2011, according to the report by human rights group China Aid. Many of these incidents involved groups of Christians. In total, the number of individual persecuted Christians rose by roughly 14 percent and total individual detentions increased by nearly 12 percent. China Aid said overall total persecution in six categories was about 13 percent worse than in 2011, though China Aid termed its statistics just "the tip of the iceberg." At least 132 incidents of persecution affecting 4,919 Christians, 442 of whom were clergy, were reported in the country last year, according to China Aid's annual report. The Texas-based group tracked detention of at least 1,441 Christians, the sentencing of nine of them, and the abuse (verbal, mental and physical, including beatings and torture) of 37 Christians.
The continued rise of persecution is not the only dynamic raising serious concerns; authorities have targeted unregistered house churches in a planned manner, according to the China Aid report. In 2012, a new three-phase approach was adopted to wipe out unregistered house churches, which the government saw as a hostile group of dissenters, and force them to join the official Three-Self Patriotic Movement (TSPM) church system. In the first phase, from January 2012 to June, the State Administration for Religious Affairs (SARA) secretly investigated house churches across the country and created files on them, the report says. This was followed by a wave of crackdowns on house churches, which has continued into 2013, as part of the second phase. The second phase will also entail strongly encouraging unregistered churches to become part of the TSPM, at which point they would become known as "house gatherings," with the government banning the term "house churches."
What if the Next Pope is the Last One?
Feb. 20….(Ron Gaff) The retirement of Pope Benedict XVI will have a stunning effect. A document that has been known to prophecy scholars for some time is about to become common knowledge, and is sure to cause a great deal of speculation and debate. The document is the "Prophecy of the Popes," supposedly written by Saint Malachy, a Bishop in Armagh, Ireland in 1139. It is a list of 112 future Popes from his time to the present... and just beyond.
The shocking thing is that the present Pope is next to last in the list. Now he has announced his resignation. The next Pope will the last one on the list and the prognostication for his reign is not encouraging. A translation of the prophecy says, "In the extreme persecution of the Holy Roman Church, there will sit Peter the Roman, who will nourish the sheep in many tribulations; when they are all finished, the City of Seven Hills will be destroyed, and the dreadful judge will judge his people. The End."
Malachy's vision does not carry the weight of Bible prophecy. It is more like the Quatrains of Nostradamus. Some people claim that it has been about 80% accurate. Admittedly, that success rate has been achieved by a little creative explanation from its proponents, again, like the writings of Nostradamus. It also may have been a forgery since the other scholars of his own era did not leave any historical mention of the list. In 1595 it was "discovered" and published by a Benedictine named Arnold de Wyon in his history book Lignum Vitae . Skeptics note that the prophecies about the Popes in the list before 1595 were more accurate than the ones since that time. This suggests that the earlier ones were written after those Popes had lived. But the prophecies about Popes since then could not have been changed, and their fulfillment still turned out to be quite remarkable.
Bible prophecy teachers have been cautiously covering this subject for a couple of decades. I say, "cautiously" because it is not from the Bible. We expect Bible prophecy to be 100% true. People do have dreams and visions, but they are not on a par with the Scriptures, and only time will tell whether or not their prophecies were right. We also have been warned by Jesus not to try to set dates for prophetic events. Too many writers have been discredited by making that mistake.
Hal Lindsey wrote about this Malachy prophecy a few years ago, before Pope Benedict XVI was chosen. Last year a big book was written with this prophecy in mind. It was Petrus Romanus by Thomas Horn and Chris Putnam. I wrote a favorable review of their work because they were careful to stress that they "do not claim to know" and that they are, "not prophets or apocalyptic date-setters, just researchers and commentators."
It will be interesting to see what Catholic scholars and commentators say about this development. In Petrus Romanus, the authors say that The Roman Catholic Church has had over four hundred fifty years to reject the prophecies, but it never has. It is likely that some Catholics will dismiss the prophecies outright, but others will explain the vision as a valiant attempt by the next Pope to counter the apostasy of the times in which we are living. Other teachers might consider him a failure in that effort, so that the Beast of the Apocalypse (Antichrist) will be able to rise to power. Some may even promote the idea that many have held before, that this Pope would actually become the False Prophet who will directly assist the Beast. Personally, I doubt that this scenario will develop, but only time will tell.
Is this Catholic-bashing? It is not meant to be. The Bible most definitely teaches that there will be a great apostasy, or falling away from the truth, in most denominations in the days leading up to the Tribulation. It also teaches that an amalgamation of religious groups will empower the Beast in his dictatorial drive. Apostasy is a problem in all churches. But the reality is that the Roman Catholic Church is the largest and oldest branch of Christianity, and history shows that it has had some unfortunate lapses in the past, and is currently struggling with serious scandals.
And remember that during the Tribulation, when all of this comes to a head, born-again believers from all churches, including Catholics, will have been taken by the Rapture to be with the Lord Jesus Christ. Their absence will be the cause of the radical upsurge of immorality and violence during that time. That is why what is left of the Church would be willing to join with other faiths in a one-world religion that will empower the evil world dictator.
So, what should we do with this information? First, let's not put too much emphasis on the Prophecy of the Popes. It won't matter if it doesn't come to pass. It is not from the Bible. And prophecy observers will not know if it is true or not as long as the next Pope is alive. Let's just add it to the "big picture" of end times events and not discredit Bible scholarship by making irresponsible statements.
Al Qaeda Ready to Attack in USA, With Iranian Help
Feb. 19….(WND) In an agreement between al-Qaida and the Islamic regime, three camps have been set up within Iran to train terrorists, WND has learned. Al-Qaida members are trained to attack NATO forces in Afghanistan and collaborate with the Islamic regime on terrorist activities against Israel, the United States and some European countries, according to a source within the Revolutionary Guards intelligence division. The camps are in the Sistan and Baluchestan provinces of Iran bordering Pakistan, where the al-Qaida members are trained in terrorism and guerrilla-warfare tactics.
The al-Qaida members, under the pretext of conducting commerce, enter Iran through local bazaars along the Pakistani-Iranian border, the source said. After completing the course, each al-Qaida member is paid the equivalent of $12,000 in appreciation of their participation and further collaboration with the regime's Quds Forces. Three training bases have been set up:
· The Revolutionary Guards base of the 763rd Infantry Division, close to the airport and near Azadi Square in the city of Zahedan. It is equipped with a unit for bomb-making and explosives.
· Zaboli, a camp built in the desert adjacent to the city of Zabol. It has a harsh 45-day training program.
· The third site is south in the city of Nikshahr, though recently it was transformed into a type of hospital. It's not clear what kind of activity occurred there.
Pakistan has collaborated with Iran for well over a decade on the terrorism training, according to the source. He said officials from the Pakistani Consulate across from the 763rd Infantry Division base routinely watch the training. Nicknamed Abu Sharif, Zamani was a key figure early on after the Islamic Revolution in the formation of the Revolutionary Guards. At one time he served as Iran's ambassador to Pakistan. Another figure, Mohammad Faghir Gomshadzehi, is active in transferring explosives into Pakistan from border villages. But the source believes the activity is outside the Pakistan-Iran agreement and is being done without the knowledge of the Pakistanis.
The source named five other Guard commanders involved in the training of al-Qaida members: Capt. Hassan Tanabandeh, Lt. Ejdar Hashemi, Lt. Mohammad Hassan Nik Pey, Lt. Rasool Assadollahi and Lt. Kamal Ahmadi.
Khamenei has repeatedly warned America that should war break out, not only will Iran destroy Israel but it also will attack the US homeland. The source said the regime, through its terrorist proxies such as Hezbollah and al-Qaida, is preparing terror attacks to destabilize the West if sanctions become unbearable for the regime or if a military confrontation takes place over its illicit nuclear program.
The Coming War in the Middle East
Feb. 19….(by Lieutenant Colonel Joel Rayburn) In the days of the Ottoman Empire, British diplomats referred to the Arabic-speaking territories of the empire as "Turkish Arabia." It was these Arabic-speaking lands that Britain and France, in the aftermath of the First World War, divided into the modern Arab states we know today: Syria, Iraq, Jordan, and Lebanon. Those arbitrary colonial boundaries have endured for the better part of a century, but the people within them have never fully acknowledged the legitimacy of the lines that British and French officials drew for them. Tribal confederations that span the borders, adjacent river towns, minority co-religionist communities, in these places, people have continued to live as they had done for centuries, intermarrying, trading, fighting, and migrating with light regard for the political borders of the states in which, by an accident of history, they happened to be residing. It is for this reason that political and social developments in one part of the former "Turkish Arabia" can spread so quickly to another, as they have done at key points in modern Arab history such as the revolutionary year of 1958. Today, Turkish Arabia is at another such point in its history, as political forces unleashed in one region are spreading to others. The revolt that began in Syria in early 2011, itself inspired by events elsewhere in the Arab world, is on the verge of becoming a sectarian war spanning the entirety of Turkish Arabia. The most powerful of the Syrian revolutionary forces, the Nusrah Front, has been formed around a core of what we have previously known as Al Qaeda in Iraq, the insurgent and terrorist organization once led by the Jordanian Abu Musab al-Zarqawi.
In its battle against the Iraqi government and the US military from 2004 to 2011, Al Qaeda in Iraq relied on a deep support network of fixers, safe houses, financiers, and radical religious figures in Syria, who helped to push thousands of jihadists in Iraq to kill and maim tens of thousands of Iraqis.
Al Qaeda Takes Root in Syria
Now, the operational and support networks have been reversed, so that the operatives of the Nusrah Front in Syria draw upon an extensive support base in Iraq. Syrian observers report increasing numbers of Iraqis and Jordanians in the Nusrah Front's ranks, experienced fighters who have brought with them the skills they honed against US and Iraqi troops. Just as Al Qaeda in Iraq has ostensibly been fighting to free Baghdad from what it calls heretical "Persian," read "Shia," domination, the Nusrah Front today fights to free Syria from the supposedly heretical rule of the nominally Shia Alawite regime of Bashar al Assad.
For Al Qaeda in Iraq, then, the Iraqi and Syrian conflicts are one theater of war, where Al Qaeda and its allies seek a common objective of beating back the forces of what its leaders consider an Iranian-led coalition of Shia sectarian parties from Iraq, the Assad regime, and Lebanese Hizballah. What is the next stage in this conflict? It is not hard to predict if we recall how the Nusrah Front behaved in Iraq in its earlier Al Qaeda in Iraq incarnation. Initially welcomed into Iraq in 2004 and 2005 by more nationalist Sunni insurgent groups who were glad of reinforcements, Al Qaeda quickly moved to take command of the entire Iraqi rebellion itself and transform an insurgency into a sectarian war.
Al Qaeda leaders, well-provisioned by wealthy Gulf financiers, could easily outspend their local Iraqi nationalist rivals, hiring away the labor pool of young Sunni fighters who were the foot soldiers of the Iraqi Sunni insurgent groups. Al Qaeda's leaders then installed a reign of terror in Sunni territories, murdering Iraqi tribal and community leaders who defied them, imposing Taliban-style Islamic law, and forcing Iraqi tribes to surrender their daughters into marriage with Al Qaeda commanders. Having established bases in Iraq, Al Qaeda also sought to expand its jihad beyond the country's borders, launching massive attacks against hotels in Amman, Jordan, with the aim of opening a war against the Jordanian monarchy (though the effort backfired when it horrified the Jordanian population). Eventually, Al Qaeda leaders even attempted to become the political alternative to the Iraqi state, declaring themselves the government of an "Islamic State of Iraq" in 2006. Al Qaeda's overbearing treatment of Iraqis ultimately resulted in the local backlash known as the "Awakening," and, by 2007, the terrorist organization was in a full-blown war with the Iraqi Sunnis that had originally welcomed them.
In retrospect, Al Qaeda in Iraq did these things because it could not help it. It is in this totalitarian organization's nature to attempt to bring its narrow religious ideology into reality on the ground. In its current guise of the Nusrah Front, we can expect them to do the same. Having been welcomed into Syria by hard-pressed rebels who were eager to see the arrival of well-armed, well-trained, well-financed reinforcements, we will increasingly see Nusrah commanders use their Gulf cash to hire away the foot soldiers of other non-jihadi rebel groups.
As the Nusrah Front conquers more and more territory from the Syrian regime, we will see Nusrah commanders imposing strict Islamist rule over their local fiefdoms, and it will not be long before some grouping of Nusrah commanders declares the "Islamic Emirate" or this or that sub-region of Syria, probably beginning with an emirate in the vast desert area of the Jazeera or Deir ez-Zour in eastern Syria, adjoining the Iraqi provinces of Anbar and Ninewa that were longtime Al Qaeda strongholds. The creation of such Islamist enclaves will be a relatively easy matter for Nusrah if Syria continues to break into warring communal pieces, a la Yugoslavia, as it appears to be doing.
Are Jordan, Iraq, and Lebanon Next?
We are told by journalists and Syrian observers that the Nusrah Front contains in its ranks a large contingent of Jordanians, just as Al Qaeda did. Once Nusrah has confidently established some territorial bases in Syria, Nusrah fighters will likely begin to branch into Jordan, as Al Qaeda in Iraq's Zarqawi unsuccessfully attempted to do in 2005. This time, Nusrah fighters will find a more amenable situation awaiting them. To begin with, Jordan's radical Salafi community has grown in strength in recent years, and will offer a ready pool of fighters and other supporters. And the Jordanian state, which rose firmly to Zarqawi's challenge in 2005, is far more vulnerable now, with a long-running protest movement and popular discontent over the government's perceived corruption having greatly weakened the state's legitimacy. Indeed, evidence that such plots are already underway emerged just weeks ago, when Jordanian police foiled a "Mumbai-style" plot in which Al Qaeda operatives planned to "bring Amman to its knees" by killing as many people as possible.
Simply put, to Nusrah's eyes, the shaky Hashemite monarchy probably looks ripe for the picking. Nor will Nusrah and its fellow travelers ignore the rest of Turkish Arabia. At Al Qaeda in Iraq's peak in 2005-2007, the organization's line of supply and manpower in Syria extended into northern Lebanon as well, where the jihad enjoyed a base of support among Lebanese Salafis and radicals in the Palestinian camps. Today northern Lebanon, where angry Sunnis and Alawites face each other in a tense sectarian standoff, is like a stack of dried wood awaiting the kind of match that Nusrah has shown it can strike. Another sectarian faceoff looms in Iraq, where Nusrah's original version, Al Qaeda in Iraq, has never ceased its campaign against the Iraqi government. For most of the last five years, Al Qaeda has been eclipsed by Iraq's mainstream Sunni political parties, which largely eschewed violence after the Sunni population broke with Al Qaeda in 2007. But today, the Iraqi Sunnis that rejected Al Qaeda are turning against the government in great numbers, enraged by their perception that Nuri Maliki and his allies mean to turn Sunnis into a permanent underclass in a Shia-dominated country. The tens of thousands of Sunnis marching in the streets of Iraq's Sunni cities in recent weeks have shouted the same slogans that Syrians shouted in Deraa and Hama in early 2011 ("The people want the fall of the regime") and waved the flags of the Free Syrian Army. Indeed, the deadly clashes between Sunni protesters and government troops in Fallujah recently have had the distinct feel of the early days of the Syrian rebellion.
The Sunnis of Iraq and Syria also share an angry perception that Iraq's Shia parties are intervening in the Syrian conflict. Indeed, reports from Syria tell us that Iraqi Shia militants are arriving in increasing numbers to "defend" the Shia shrine of Zaynab (daughter of the Imam Ali) by fighting alongside the Assad regime against Sunni rebels. In this polarized atmosphere, Al Qaeda in Iraq and its Nusrah branch will have a wide open window of opportunity to step up attacks against the Iraqi government, and the Iraqi Shia community, for that matter, from the bases that Nusrah is establishing inside Syria. When they do, they will likely find a high level of popular support in an Iraqi Sunni community that is moving ever closer to revolt against the Maliki government.
Turkish Arabia's Coming War
We can envision, then, a sectarian war raging across the whole of the Fertile Crescent, drawing in all the former territories of Turkish Arabia. The prospect will be a frightening one for the region's major powers. Both Turkey and Saudi Arabia could one day find chaos rather than functioning states on their permeable borders. If Al Qaeda/Nusrah can establish a base in Jordan, Saudi Arabia will find itself threatened by Al Qaeda franchises on both north and south that will be well-positioned to resume the pursuit of Al Qaeda's core goal of toppling the Saudi monarchy and "liberating" the holy cities of Mecca and Medina.
The Saudis showed great resiliency in defeating a serious Al Qaeda insurrection in 2004-2008, but that was a strictly internal threat that lacked a real foreign base. Simultaneous Al Qaeda bases in Jordan and Yemen would pose a more serious, if not an existential, threat to Saudi rule. If watching the fall or near-fall of half a dozen regimes in the Arab Spring has taught us anything, it should be that the Arab states that appeared serenely stable to outsiders for the past half century were more brittle than we have understood. The implosion of Turkish Arabia would test those regimes to the limit, and we cannot assume that the rulers of Jordan, Saudi Arabia, and Kuwait would be any better equipped to defeat the potential challenge than Muammar Qaddhafi and Bashar al-Assad were.
The rulers of Turkey, Saudi Arabia, Iraq, and Iran are surely not blind to this nightmare scenario. As the situation in Turkish Arabia continues to unravel, those regional powers will be compelled to become ever deeper involved in an attempt to keep the tide of war from breaking on their own lands. This conflict could very well touch us all, perhaps becoming an engine of jihad that spews forth attackers bent on bombing western embassies and cities or disrupting Persian Gulf oil markets long before the fire burns out.
And what of Turkish Arabia in the long run? One eminent scholar of the Middle East assures me that the borders drawn by the British and French were artificial, yes, but now have staying power. The people of the region are too used to the lines to erase them, even if they don't love them. I don't doubt him, and I am sure that whatever else happens, there will continue to be a Syria, a Lebanon, a Jordan, and an Iraq. But those countries are about to pass through a crucible, a painful test in which their peoples will be sorted by sect; driven from traditional homelands; starved, taxed, or pressed into service by warlords; terrorized by militant Islamists; forced to witness their ancient heritage destroyed by bombs; and live without the rule of law. It will be terrible to watch, and we will not be left unsullied in our watching.
Obama/UN to Endorse Khamenei's Nuclear Fatwa? Shock in Jerusalem
Feb. 18….(DEBKAfile Special Report February) President Mahmoud Ahmadinejad declared Iran was a "nuclear state" during his Cairo visit two weeks ago. Saturday, Feb. 16, supreme leader Ayatollah Ali Khamenei shed more light by saying, "Iran is not seeking nuclear weapons but no power could stop Tehran's access to an atomic bomb if it intended to build it. " Iran's leaders are therefore quite frank about the state of their nuclear program: the components of a nuclear weapon have been procured, defying Israeli Prime Minister Binyamin Netanyahu red lines, but Tehran has not yet crossed the threshold to assemble it, although this could be done modularly. And if the Islamic Republic has acquired the components and knowledge for surreptitiously building one bomb, it stands to reason that three or five would be no object.
On Feb. 12, Debkafile revealed that Iranian scientists attended the latest North Korean atomic test. Six days later, the Sunday Times repeated the story, naming Mohsen Fakhrizade-Mahabadi, the senior Iranian scientist of Iran's nuclear weapons program, as the official present. Our Iranian sources strongly doubt that Mahabadi was there because he is too afraid of kidnapping or assassination to ever leave Iran. We also revealed how the Iranian-North Korean nuclear partnership worked and the division of clandestine labor between them. Their arrangement, to which Washington and Jerusalem prefer to turn a blind eye assigns to Iran the development of small nuclear warheads for delivery by missiles and to North Korea the development of ballistic missiles able to land a warhead at any point on the planet. The two governments work smoothly in tandem, regularly pooling the data obtained from advances in their respective programs.
One such advance was Iran's successful launch of a monkey into orbit at an altitude of 120 kilometers on Jan. 28 and its apparent return it to earth. Washington tried hard to throw cold water on the Iranian feat, but Tehran countered by citing Western sources as confirming the launch. A gap still remains in their accounts: Washington does not question the launch of a space capsule, only the monkey aboard. However, the North Korean test of a "miniature nuclear device," combined with Iran's ability to launch a capsule with a monkey payload into orbit, add up to their having achieved a nuclear warhead capacity through shared technology.
After registering these menacing strides, officials in Jerusalem were dismayed to learn that instead of planning to cut them short, US President Barack's Obama's circle in Washington was studying a bizarre plan for the opposite objective. It surfaced in an article published Tuesday, Feb. 12, by Ambassador Thomas Pickering, a veteran American diplomat who is influential in the framing of Obama's Iranian policy. This is what he wrote: "In years past, Khamenei issued a fatwa condemning nuclear weapons. Washington could take advantage of this fact by drafting a UN Security Council resolution endorsing the fatwa. This could be a small step toward boosting Khamenei's international profile while simultaneously pressuring Iran to follow its own religious decree." Instead of dismantling these rogue nuclear programs, Pickering was proposing to legitimize Iran's possession of a nuclear bomb capacity that only stopped one step short of assembling a bomb.
For the Shiite republic, UN endorsement as a nuclear power would be an epic triumph with ramifications for many years to come on its standing and the shape of the Middle East and Persian Gulf. It would also endow Khamenei's fatwa with false religious value, and not just for Sunni Muslims. Khamenei has neither the authority nor the erudition for issuing a binding Shiite fatwa either. Yet Pickering proposes extending the supreme leader a religious honor denied him by the leading Shiite clerics of Qom. This fatwa has always been dismissed until now as a piece of propaganda designed to disguise the military aspects of Iran's nuclear program and support Tehran's claim that it was purely for peaceful use and research.
The stratagem floating around the White house for buttering up Khamenei and granting his edict international legitimacy just weeks before President Obama's March 20 visit to Jerusalem is causing consternation among his Israeli hosts. It is a worrying pointer to the direction in which Obama's Iran policy is heading.
Khamenei Denies Iran Seeks Nuclear Weapons
Feb. 18….(Voice of America) Iran's supreme leader says his country is not seeking nuclear weapons, but if it wanted to, no country could stop it from doing so. Ayatollah Ali Khamenei, who has the final say in all state matters in Iran, said Saturday that Iran supports the elimination of nuclear weapons. Khamenei said in comments posted on his website that, "We believe that nuclear weapons must be eliminated. We don't want atomic weapons." But he went on to say that if Iran intended to have such weapons, no country could stand in its way. Iranian officials have said that a religious decree by Khamenei banning nuclear weapons is binding on the Islamic Republic. The West suspects Iran is developing a nuclear weapons capability under the guise of a civilian atomic energy program, a charge Iran rejects. Tehran says its nuclear program is only for peaceful purposes. The US and some other countries are due to meet Iranian officials in Kazakhstan later this month to discuss Tehran's nuclear program. The UN has placed sanctions on Iran.
Divided Damascus Confronted by All-Out War
Feb. 18….(Yahoo) MiG warplanes roar low overhead to strike rebels fighting to oust President Bashar al-Assad on the fringes of Damascus, while artillery batteries pound the insurgents from hills overlooking a city divided between all-out war and a deceptive calm. Whole families can be obliterated by air raids that miss their targets. Wealthy Syrians or their children are kidnapped. Some are returned but people tell grim tales of how others are tortured and dumped even when the ransom is paid. People also tell of prisoners dying under torture or from infected wounds; of looting by the government's feared shabbiha militias or by rebels fighting to throw out the Assad family. That is one Damascus. In the other, comprising the central districts of a capital said to be the oldest continually inhabited city in the world, the restaurant menus are full, the wine is cheap and the souks are packed with shoppers. Employees report for work, children go to school and shops are open, seemingly undeterred by the din and thud of war. The two cities exist a few miles apart - for now.
For Damascus and its outskirts are rapidly descending into civil war and everything that comes with it, lawlessness, looting, kidnapping and revenge killings. Like the rest of the country, the capital and its suburbs are crawling with armed gangs. The war has not yet reached the heart of the capital, but it is shredding the suburbs. In the past week, government troops backed by air power unleashed fierce barrages on the east of the city in an attempt to flush out rebel groups. Most of central Damascus is controlled by Assad's forces, who have erected checkpoints to stop bomb attacks. The insurgents have so far failed to take territory in the center. Just as loyalist forces seem unable to regain control of the country, there looks to be little chance the rebels can storm the center of Damascus and attack the seat of Assad's power.
For most of last week the army rained shells on the eastern and southern neighborhoods of Douma, Jobar, Zamalka and Hajar al-Aswad, using units of the elite Republican Guard based on the imposing Qasioun mountain that looms over the city.The rebels, trying to break through the government's defense perimeter, were periodically able to overrun roadblocks and some army positions, but at heavy cost.
Jobar and Zamalka are situated near military compounds housing Assad's forces, while Hajar al-Aswad in the south is one of the gateways into the city, close to Assad's home and the headquarters of his republican guard and army. Since the uprising began two years ago, 70,000 people have been killed, 700,000 have been driven from Syria and millions more are displaced, homeless and hungry. No section of society has been spared, whether Christians, Alawites or Sunnis, but in every community it is the poor who are suffering most.
Ordinary Syrians are convinced their ordeal is nowhere near over. While they believe Assad will not be able to reverse the gains of the rebels, they cannot see his enemies prevailing over his superior firepower, and Russian and Iranian support. "The regime won't be able to crush the revolution and the rebels won't be able to bring down the regime," said leading opposition figure Hassan Abdel-Azim. "The continuation of violence won't lead to the downfall of the regime, it will lead to the seizure of the country by armed gangs, which will pose a grave danger not only to Syria but to our neighbors"."Right now no one is capable of winning," said a Damascus-based senior Arab envoy. "The crisis will continue if there is no political process. It is deadlock."
Other diplomats in Damascus say the United States and its allies are getting cold feet about arming the rebels, fearing the growing influence of Islamist radicals such the al-Nusra Front linked to al-Qaeda, banned last year by Washington. Loyalty to Assad is partly fed by fear of the alternative. Facing a Sunni-dominated revolt, Syria's minorities, including Christians and Assad's own Alawites, an offshoot of Shi'ite Islam, fear they will slaughtered or sidelined if the revolution succeeds and Sunni fundamentalists come to power.
Many Christians are already trying to emigrate to countries such as Sweden, diplomats say. "The minorities have every right to be frightened because no one knows what is the alternative. Is it a liberal, civic, pluralistic and democratic state, or is the alternative an Islamist extremist rule that considers the minorities infidels and heretics?" said Abdel Azim.
The government tells the minorities the only alternative to Assad is Islamism. Loyalist brutality against the Sunni majority is in danger of making this a self-fulfilling prophecy, by sucking in jihadi extremists from Libya to Saudi Arabia. "I am not with the regime but we are sure that if Bashar goes the first people they will come for are the Alawites, then the Shi'ites and then us Christians. They are fanatics," said George Husheir, 50, an IT engineer. At the Saint Joseph Church in Bab Touma, the old Christian quarter of Damascus, Christians in their dozens, mostly middle-aged and older couples, gathered for mass on a Friday morning. "We don't know what the future holds for us and for this country," said the priest in his sermon. "The Christians of Syria need to pray more."
WEEK OF FEBRUARY 10 THROUGH FEBRUARY 16
Vatican: Catholic Church is Only True Church
Feb. 15….(WND) The Vatican issued a document Tuesday restating its belief that the Catholic Church is the only true church of Jesus Christ. The 16-page document was prepared by the Congregation for the Doctrine of the Faith, a doctrinal watchdog that Pope Benedict used to head. Formulated as five questions and answers, the document is titled "Responses to Some Questions Regarding Certain Aspects of the Doctrine on the Church." It says although Orthodox churches are true churches, they are defective because they do not recognize the primacy of the Pope. "It follows that these separated churches and communities, though we believe they suffer from defects, are deprived neither of significance nor importance in the mystery of salvation," it said.
The document adds that Protestant denominations, called Christian Communities born out of the Reformation, are not true churches, but ecclesial communities. "These ecclesial communities which, specifically because of the absence of the sacramental priesthood, cannot, according to Catholic doctrine, be called 'churches' in the proper sense," it said. The document is similar to one written in 2000 by the Pope, who was Cardinal Joseph Ratzinger at the time, sparked an angry reaction from Protestant groups.
FOJ Note: I am proud to say that I am not a Catholic, and would never even consider being one. I do not recognize the Pope as anything other than a misguided fallible man. The notion that the Pope and his ecclesiastical hierarchy of priests are necessary for salvation and or the interpretation of scripture is insulting and disgusting. It is also un-Biblical, as Jesus said; (Matthew 18:4-5 Whosoever therefore shall humble himself as this little child, the same is greatest in the kingdom of heaven. And whoso shall receive one such little child in my name receiveth me.) Small children, because of humility and faith can have enough common sense and spirituality to know more about Jesus than any of the Pope's elitist priests. In fact, the Pope and his arrogant Magisterium confuse more people and obstruct the door into Heaven more than any scheme of Satan!
Barack Obama Calls for More Redistribution of Wealth
Feb. 15….(The Telegraph) President Barack Obama on Wednesday night called for more redistribution of wealth to America's working poor, as part of an unapologetic plan to use government activism to revive the US economy in his second term. After delivering his first State of the Union address since winning re-election, Obama pledged to restore the country's "basic bargain", starting with an almost 25 per cent rise in the minimum wage. "Corporate profits have skyrocketed to an all-time high," Mr Obama said in a speech in North Carolina. "But it's also true that for more than a decade, wages and incomes haven't gone up at all." His proposal was part of an ambitious second-term domestic agenda laid out hours earlier by the president in his annual remarks to the US Congress, which remains sharply divided along political lines. He offered "modest reforms" to reduce spending on expensive benefit schemes for the elderly and the poor that are scheduled to further increase America's $16 trillion national debt in the coming years.
Islamic Terrorists Killing Christians Everywhere
Feb. 15….(Worthy News) Christians in Kenya were mourning the death of two Somali pastors who were reportedly murdered by suspected Islamic militants. Abdi Weli and another unidentified Christian were shot dead in a main market of the eastern city Garissa late Wednesday, February 7, local Christians and rights activists told Worthy News. Both were active pastors among Somali immigrants in Kenya, explained International Christian Concern (ICC), an advocacy group with close ties to the local Christian community. Weli, who became a Christian in 1990, was ordained as a pastor in 2004, Christians said.
Local Christians blamed fighters of the militant Shabab group, who openly opposes Christianity. There was no immediate claim of responsibility. Al-Shabab, which currently controls much of neighboring Somalia and is active in several parts of Kenya, demands a form of Sharia, or Islamic, law that calls for the execution of Muslims that leave Islam, including Christians. Proponents of Sharia are also known to assassinate those who convert Muslims away from Islam, according to ICC investigators. "This story illustrates the very serious situation that Kenya is facing, as militant Islamists from Somalia have infiltrated and control several areas of Kenya," ICC President Jeff King told Worthy News in a statement. "Kenya must deal with this reality or ignore it at their peril," he added. The killings came after reports that al-Shabab uses converts from religious Christianity to Islam to carry out deadly attacks against churches in Kenya as part of what they call a "holy war", or Jihad. Somali Christians have endured crushing persecution since the rise of al-Shabab. Any country or culture contemplating the implementation of Sharia should take note of this incident and countless others like it that demonstrate a complete lack of civility and human respect," the Christian noted.
Iran: Nothing Can Save Israel From Destruction
Feb. 14….(Israel Today) A senior member of Iran's parliament on Saturday vowed that no amount of offensive or defensive capabilities will save Israel from destruction at the hands of its Muslim neighbors. Speaking to Iranian media, MP Abbasali Mansouri Arani scoffed at efforts to bolster Israel's northern defenses with Iron Dome and American-made Patriot anti-missile batteries. "The US seeks, in every possible manner, to prevent the destruction of the cancerous tumor it has created in the region in order to fulfill its own ominous interests," said Arani, who serves on the Iranian parliament's National Security and Foreign Policy Committee.
The lawmaker stated that the Muslim nations of the Middle East remain resolved to destroy the Jewish state, and will eventually succeed. In service to that ultimate goal, Iran is looking to ensure Syria remains a base for hostility, if not open warfare, against Israel. There is some fear that the regime of dictator Bashar Assad could lose its civil war with Sunni Muslim rebel forces, and so Iran and its Shiite Hezbollah allies in Lebanon are reportedly busy establishing a network of militias in Syria.
Middle East sources told The Washington Post that at present these militias are fighting alongside Assad's government forces, but should the Assad regime fall, they will look to set up sectarian enclaves from which they can continue harassing Israel.
Russia Sends More Arms to Prop Up Syria's Assad
(Moscow is continuing its export of military hardware to the regime of Syrian President Bashar al-Assad)
Feb. 14….(Arutz) Moscow is continuing its export of military hardware to the regime of Syrian President Bashar al-Assad, state arms exporter Rosonboronexport director Anatoly Isaikin confirmed Wednesday. "We are continuing to carry out our obligations on contracts for the delivery of military hardware," Isaikin told reporters at a news conference in Moscow, adding there were no attack weapons among the hardware, such as helicopters or planes. There were, he said, anti-missile air defense systems being sent to Assad's forces, a shipment, which he insisted did not violate any resolutions by the United Nations Security Council, or international laws.
UN Human Rights Council head Navi Pillay strongly criticized the Security Council on Tuesday for its failure to end the killings of civilians in the savage civil war wracking the country. Nearly 70,000 people have died, Pillay said in opening remarks at a Council session, adding, "the lack of consensus on Syria and the resulting inaction has been disastrous, and civilians on all sides have paid the price. "We will be judged against the tragedy that has unfolded before our eyes," Pillay warned. "This council, as well as those of us in key positions within the UN will be rightly asked what we did." She called on the Council to refer Syria to the International Criminal Court at The Hague for investigation on allegations of war crimes and crimes against humanity. "This would send a clear message to both the government and the opposition that there will be consequences for their actions, and could have a very significant preventive effect," she said. Russia and China have both repeatedly blocked the Council from passing resolutions that would enable the international body to refer the matter to the ICC.
North Korea and Iran – Partners in Nuclear and Missile Programs
Feb. 14….(DEBKAfile Special) There is full awareness in Washington and Jerusalem that the North Korean nuclear test conducted Tuesday, Feb. 12, brings Iran that much closer to conducting a test of its own. A completed bomb or warhead are not necessary for an underground nuclear test; a device which an aircraft or missile can carry is enough.
Mahmoud Ahmadinejad's boast this week that Iran will soon place a satellite in orbit at an altitude of 36,000 kilometers, and Tehran's claim on Feb. 4 to have sent a monkey into space, highlight Iran's role in the division of labor Pyongyang and Tehran have achieved in years of collaboration: the former focusing on a nuclear armament and the latter on long-range missile technology to deliver it. Their advances are pooled. Pyongyang maintains a permanent mission of nuclear and missile scientists in Tehran, whereas Iranian experts are in regular attendance at North Korea's nuclear and missile tests. Since the detonation of the "miniature atomic bomb" reported by Pyongyang Tuesday, which US President Barack Obama called "a threat to US National security," Iran must be presumed to have acquired the same "miniature atomic bomb" capabilities, or even assisted in the detonation. Word of the North Korean atomic test reminded US officials of Ahmadinejad's boast only a couple of days ago about the forthcoming launch of an Iranian satellite into orbit. The two events clearly hang together as probably coordinated between Tehran and Pyongyang.
Ahead of the UN Security Council emergency session later Tuesday, Kim Jong Un's government warned of "stronger actions" after the nuclear test. Its diplomat warned the UN disarmament forum that his country will "never bow to any resolutions." The nuclear threat is not the only unconventional warfare peril looming closer. In Damascus, Syrian rebels are nearer than ever before to crashing through the capital's last lines of defense. Tuesday, they were only 1.5 kilometers short of the heart of Damascus.
Western and Israeli military sources believe that if the Syrian rebels reach this target, the Syrian ruler Bashar Assad will have no qualms about using chemical weapons for the first time in the two-year civil war to save his regime. Both the US and Israel have warned him that doing so would cross a red line.
Debkafile's military sources report that Syrian rebel forces, spearheaded by an Al Qaeda-allied Islamist brigade, gained entry Tuesday to the 4th Division's (Republican Guard) main base in the Adra district of eastern Damascus and are fighting the defenders in hand to hand combat for control of the facility. Other rebel forces are retaking parts of the Damascus ring road in fierce battles, thereby cutting off the Syrian army's Homs units in the north from their supply lines from the capital. These two rebel thrusts, if completed, would bring the Syrian army closer than ever before to collapse. Assad is therefore expected to use every means at his disposal to cut his enemies down.
Israel, Syria, Rebels Playing A Dangerous Game
Feb. 11….(DEBKA) The Syrian rebels' hyped up "Great Confrontation" to capture Damascus the capital has ended in a draw with Bashar Assad's army like all their previous offensives in recent months. They failed to break through to the heart of the capital past the powerful Syrian army's 4th Division standing in their path under the command of Gen. Maher Assad, the president's brother. The rebels also lost their position on the Damascus-Aleppo highway. But amid heavy battles with the division's troops, the rebels are still clinging to the southern suburbs of Damascus.
The Syrian capital (1.9 million inhabitants) is therefore the second city after Aleppo (2.3 million) to be divided between the combatants. Debkafile's military sources report that, notwithstanding the bitter fighting, the flow of refugees fleeing Syria has slowed down substantially, as many choose life in war zones over the wretched conditions prevailing in Turkish, Lebanese and Jordanian refugee camps, where rudimentary essentials such as food, clean water, heating and basic medical services are lacking for the hundreds of thousands of dispossessed Syrians. Adding to these horrors, some Syrian families are said to be selling their daughters for food.
The Syrian outward refugee movement now tends to be internal, people in embattled areas seeking asylum in regions outside the war zones, such as the Druze Mountains southeast of the Golan and Kurdish areas in the north.
Since the Israeli air strike on the Syrian military complex of Jamraya on Jan. 30, Syria's warring sides have been looking over their shoulders to assess Israel's moves before embarking on the next stage of their contest because of two considerations:
1. Debkafile's military sources report that when the rebels first looked like breaking through to the heart of Damascus in the early part of their offensive, and so forcing Syrian President Bashar Assad to flee the capital, he ordered his army's 4th Division tanks and short-range surface missiles to be armed with chemical weapons. They were to be used if the city's defenses were breached. This would have made the battle for Damascus the first Syrian war engagement to deploy chemical weapons in combat. The only military force close enough to prevent this happening and destroying the forces wielding chemical arms was the Israel Air Force. Its intervention would have been critical in giving the rebels victory.
2. Ever since the Jamraya episode, Lebanon military sources report Israel Air Force fighters and surveillance planes are conducting over flights almost every day.
According to our military sources, the Israeli aircraft are densely deployed over Syria's borders with Israel, Jordan and Lebanon, to guard against two eventualities, which the Netanyahu government is bound to preempt:
a) Information has reached US and Israeli intelligence that Bashar Assad has vowed to his close circle that he will make Israel pay for Jumraya.
b) Iran's supreme leader Ayatollah Ali Khamenei has directed the Syrian ruler to make every possible effort to transfer to Hizballah in Lebanon the batch of Iran-supplied sophisticated weapons stored in Syria. This directive was handed to Assad by Iran's National Security Director Saeed Jalilee when they met in Damascus last Sunday, Feb. 3.
All the parties concerned understand that Israel is just as determined to block this transfer as Tehran and Damascus are resolved to get it through.
In view of these challenges and their potential for an armed clash, Israel is keeping an eagle eye on every twist and turn of Assad's forces in Damascus for any indications of the onset of chemical warfare or traffic on the move toward the Lebanese border with Hizballah's weapons.
The Syrian ruler for his part is busy hatching schemes for keeping this arms traffic out of the electronic sight of the Israel Air Force, whereas the Syrian rebels are laying plans for provoking a clash between the Syrian army and the Israeli air force to provide them with an opportune moment for bringing their "great confrontation" in Damascus to a successful conclusion.
WEEK OF FEBRUARY 3 THROUGH FEBRUARY 9
Boy Scouts USA Delays Decision on Gays
Feb. 8….(Washington Times) Boy Scouts of America governing board members have decided to delay their decision on whether to admit gays or not, according to breaking news reports from NBC. Leaders said more deliberation is needed, NBC reports. "In the past two weeks, Scouting has received an outpouring of feedback from the American public," the organization said in a statement, reported by NBC. "It reinforces how deeply people care about Scouting and how passionate they are about the organization. After careful consideration and extensive dialogue, the volunteer officers of the Boy Scouts of America's National Executive Board concluded that due to the complexity of this issue, the organization needs time for a more deliberative review of its membership policy."
The decision comes amid a wave of national outpouring, including pleas and prayers from conservative and traditionalist sectors for BSA to maintain the status quo. The Southern Baptist Convention, in particular, has taken a leading role in calling the nation to plead for higher power intervention. "We should never confuse prayer as a substitute for human action," Southern Baptist Convention Executive Committee president Frank Page wrote at Baptist Press. "But neither should we treat human action as if it were equal in effect to prayer. Let us pray like never before."
Meanwhile, President Obama on Sunday stated that the Boy Scouts of America should end its ban on gay members and scout leaders. With the venerable national organization weighing whether to lift its prohibition of gays, Obama was asked in a "Super Bowl" pre-game interview with CBS's Scott Pelley whether the Boy Scouts should be open to gays. Obama gave a one-word answer: "Yes."
Pressed to elaborate, Obama said, "I think that my attitude is that gays and lesbians should have access and opportunity the same way everybody else does in every institution and walk of life." Last August, the White House said Obama disagreed with the Boy Scouts' ban on gay members, but Sunday's interview was the first time Obama publicly addressed the issue since the Boy Scouts said last week it would consider lifting the ban.
FOJ Note: President Obama should be ashamed, and further that that, He should be impeached! This President stands for immorality like no other leader in American history! Sadly, as I have stated before, our nation is reaping a whirlwind of seeds that we have sown. (If the Boy scouts should be forced to ban gays in its ranks, then why in the heck is the former Penn State football coach in jail tonight? He would just be an example of what the Boy Scouts would become!)
Israel Braces For Fall of Damascus
Feb. 7….(FOJ) Israel this week further bolstered its anti-missile defenses in the north of the country amid growing concerns that either Hezbollah or Syrian forces will attack the Jewish state. A third Iron Dome anti-missile battery was deployed to the north on Tuesday. Just last week, Israel launched an air strike against a convoy transporting advanced missiles and possibly chemical weapons from Syria to Hezbollah. Israel braced for a retaliatory strike as both Iran and Syria issued threatening statements. The Syrian regime insists that the rebel forces it is battling are in league with Israel, and therefore the Syrian army's successes against them are really successes against the Jewish state.
The Syrian conflict, in which majority Sunni-led rebels are trying to oust the minority Alawite-dominated regime of Assad, has further hardened longstanding sectarian tensions between Sunnis and Shiites. Shiite Iran is the main backer of Assad, whose Alawite sect is an offshoot of Shiite Islam, while Sunni states such as Saudi Arabia, Qatar and the Muslim Brotherhood-led Egypt strongly back the rebels. Morsi urged Iranian President Mahmoud Ahmadinejad to stop backing the Syrian regime, in a meeting Wednesday that included Turkish President Abdullah Gul.
Meanwhile, Syrian rebels and regime forces fought their most intense clashes in weeks inside the heavily guarded capital of Damascus on Wednesday, activists said, with the sounds of shell blasts echoing through the downtown area and keeping many children home from school while residents hid in their houses. The military of President Bashar has focused on securing the capital, and the dozens of rebels groups that have established footholds in Damascus suburbs have failed to form a united front, each fighting for its own area with little or no coordination with others.
Much of Wednesday's fighting was sparked by a push by a number of rebels groups in the northwestern neighborhood of Jobar, which is bisected by the Damascus ring road. Rebels, who control the area east of the road, launched attacks on army checkpoints in the regime-controlled western part to try to seize the road, one of the capital's most important thoroughfares. They dubbed the operation "The Battle of Armageddon.
Heavy fighting engulfed Damascus as opposition forces launched an offensive against President Bashar al-Assad's forces, breaking a lull in the conflict, opposition activists said. Assad's forces also came under attack in the east of the country, where a suicide car bomb struck a military intelligence compound in the city of Palmyra, causing dozens of casualties, they said.
Ahmadinejad: Iran Ready to 'March on Israel, Wipe It Out'
(Iran is ready to march on Israel and "wipe it out" if Jewish state strikes, Ahmadinejad said in his latest anti-Semitic diatribe)
Feb. 6….(Arutz) The Iranian people are ready to march on Israel to "wipe it out" if the Jewish state attacks the Islamic republic, President Mahmoud Ahmadinejad said in his latest anti-Semitic diatribe, published Wednesday by Egypt's state news agency. "The people of Iran are ready to march on Israel to wipe it out if it launches into an adventure against Tehran" and attacks the country, the Iranian president told Egyptian media, according to excerpts published by MENA. "The Zionists hope to aggress Iran and attack it, but they are very afraid of the Iranian reaction and of the consequences of such an attack," he said in the Arabic transcription of the comments made during a visit to Egypt, cited by AFP. "Our defense forces are capable of dissuading any aggressor and making him regret his act," Ahmadinejad said.
Israeli President Shimon Peres said on Tuesday that the threat of a nuclear-armed Iran was growing under the "terrifying dictatorship" ruling the Islamic republic. "The Iranian danger has grown," Peres said at the opening of the newly-elected Israeli Knesset. "It threatens our existence, the independence of the Arab states, the peace of the whole world.
Ahmadinejad, known for his notorious anti-Israel and anti-Israel tirades, is visiting Egypt in the first of an Iranian president since the 1979 Iranian revolution ruptured diplomatic ties between the two countries over thirty years ago.
Assad Set on Arms Transfers to Lebanon; Israel Responds with No-fly Zone
Feb. 5….(Debka Exclusive Report) Syrian ruler Bashar Assad has ordered the resumption of weapons transfers to the Lebanese Hizballah, debkafile's exclusive military and intelligence sources report. This was agreed with Iran's National Security Director Saeed Jalilee, who arrived in Damascus after Israel's reported air strike last Wednesday, Jan. 30, inter alia, on Syrian trucks preparing to ferry to Lebanon for Hizballah the sophisticated Iran-supplied arms stored at the Jamraya military complex north of Damascus. The Syrian ruler assured the Iranian official that he would not be deterred by what he called acts of "aggression." It was up to Syria and Iran to put their heads together to find a safe method of getting the hardware across to Hizballah without exposing it to Israeli attack in truck convoys on the open road. Jalilee is still in Damascus. He arrived Saturday to discuss with Syrian and Hizballah how to activate against Israel the secret mutual defense pact binding Iran, Syria, Hizballah and Hamas.
According to our sources, Israeli military tacticians believe that as winter weather starts clearing up, Syria and Iran will devise crafty methods for outwitting Israel and getting the weapons to Lebanon, for example, disassembling the missiles and launchers and disguising them as non-lethal merchandize. They could then be spirited across from Syria to Lebanon in small packages by the smuggling rings regularly operating on their common border. In anticipation of such tricks, the Israeli Air Force has in recent days thrown a round-the-clock blanket over the border area. It is constantly monitoring the traffic moving across and is ready to prevent any arms traffic. Without going through any formalities, Israel has thus effectively imposed a no-fly regime over a buffer zone straddling the Syrian-Lebanese border and placed it under the control of its air force.
Israeli officials have been warning for months that the IDF will not allow the transfer of advanced Syrian weapons, including chemical and biological weapons, to terrorist groups such as Al-Qaeda affiliated Al-Nusra Front and Hezbollah. Without directly confirming the Israel attack on the Jamraya military compound, defense minister Ehud Barak told the Munich security conference Sunday "what happened in Syria several days ago, that's proof that when we said something we mean it, and we say that we don't think it should be allowed to bring advanced weapons systems into Lebanon." Israel's actions to this end, including over flights by its air force which are widely reported by the Lebanese media, were undertaken after Assad was seen to be bent on testing Israel's resolve to prevent arms transfers to Hizballah. These transfers were expressly prohibited under UN Security Council Resolution 1701 which ended the Israeli-Hizballah war in 2006.
Iran Sends Saudi Arabia a Warning
Feb. 4….(WND/Stratfor) Iran has watched as Saudi Arabia has incited Sunnis to create instability in neighboring Iraq and Riyadh has launched concerted efforts to overthrow the Iranian-backed Shi'ite Alawite regime of Syrian President Bashar al-Assad Now the chairman of the Iranian joint chiefs of staff, Brig. Gen. Hasan Firouzabadi, says he wants to avoid a sectarian war between Sunnis and Shi'a, but he also issued a veiled threat against Riyadh. He accused the Saudi kingdom of using jihadists to undermine Shi'ites in the region, given increasingly unsettling events in Iraq and in Syria. Firouzbadi has spoken out given the growing concern that the rising Sunni turmoil in Iraq poses a security threat to Iran.
For some time, however, that has been the strategy of Saudi Arabia, which has decided to undertake an independent course of action from the restraint urged by the United States out of concern that Iran is spreading its influence in the Gulf Arab countries which are controlled by monarchies. To date, the US has not criticized Saudi Arabia for its support for jihadists in other countries that are attempting to arouse Sunnis in the Middle East. This is due to the close ties the US has with the Saudi kingdom, long considered a key element of cohesion among the Gulf Arab countries on which the US relies to maintain its security interests in the region. And US support for the Saudis continues despite the knowledge that the Saudis actively are using jihadists as proxies to enforce their own security interests.
According to Ali Akbar Velayati, who is Supreme Leader Ayatollah Ali Khamenei's top international affairs adviser, Saudi use of jihadists to press the collapse of the al-Assad regime by Saudi Arabia is considered a "red line." "Those remarks were a message to the Saudis that the kingdom is looking at a major regional sectarian conflict if it continues to support the dozens of jihadist militias fighting the Syrian regime," according to a report in the open intelligence group Strafor. Velayati then suggested that the best approach was for a negotiated settlement between Iran and Saudi Arabia.
The response from Saudi Prince Saud al-Faisal was telling. He said that a political solution to the Syrian crisis wasn't going to happen, which Stratfor said was a signal that Riyadh wasn't interested in negotiations. This position may be due to Riyadh seeing this being the time to push Iranian influence back now that its previous positions in Iraq and Syria are increasingly tenuous. They want to take advantage of the large blocs of Sunnis in Iraq and in Syria where Sunnis constitute some 60 percent of the population.
Sources believe Saudi use of jihadist proxies is due to the lack of enthusiasm by nationalists and other secular forces to openly fight Iran and the Shi'a who back al-Assad. The jihadists are all too eager to carry the fight against the Shi'ites in Iraq and Syria, especially given the financial and logistical backing from Riyadh.
Just as Iran has called attempts to overthrow al-Assad a "red line," sources see Iran bringing in its own insurgents to fight the Sunni jihadists. At the same time, Tehran wants to show how the Saudi kingdom is more prone to use jihadists as opposed to Sunni Turkey or Qatar, who don't necessarily agree with Riyadh's use of them. These countries fear that Riyadh can't or doesn't control the jihadists outside the kingdom, making their own governments prone to potential jihadist attacks.
The US, however, equally is concerned over the use of jihadists and al-Qaida, especially in Iraq and Syria, due to the geopolitical changes that would sweep the region should they prevail. "Washington will cautiously use the sectarian fault line running through the region to try to maintain a difficult balance of power," the Stratfor report said. "What this means is that a major, long-term geopolitical conflict along the northern rim of the Middle East is highly likely."
Assad Has Already Transferred Chemical Weapons to Hezbollah
('Al-Watan' reports Syrian regime passed non-conventional weapons to the group in 2012, including missiles, mustard gas.)
Feb. 4….(Jerusalem Post) The Saudi-based newspaper Al-Watan on Thursday reported that the Syrian regime has transferred non-conventional weapons to Hezbollah. Al-Watan, quoting unnamed sources from the Syrian opposition, reported that Syrian President Bashar Assad has been transferring weapons to Hezbollah since the beginning of 2012, including two tons of mustard gas and long-range missiles capable of carrying chemical warheads and traveling 300 kilometers. The Syrian opposition sources also claimed that the transfer to Hezbollah lasted 40 days, from mid-February to March 2012, the Saudi daily reported.
The chemical weapons transfer to Hezbollah was carried out under the supervision of a senior Syrian officer of Assad. The Syrian source said that it observed these transfers since the beginning of last year. The tankers drove through Damascus, Zabadani, and Serghaya, carrying the chemical weapons in blue barrels labeled "Chlorine Acid." They took the material to "Hezbollah warehouses and delivered it to a person nicknamed "Abu Talal," who was subordinate to the party leadership." Brigadier Ghassan Abbas oversaw the transfer operation of chemical weapons from the Syrian side. The report also said that some of the chemical weapons were stored in a warehouse at the Mezze military airport as well as other locations around Syria.
---