WEEK OF MARCH 24 THROUGH MARCH 30
Saudi Arabia Sending Heavy Weapons to Syrian Rebels
March 29….(DEBKAfile Exclusive Report) Syrian rebels fighting for control of the Syria's biggest town, Aleppo, have obtained their first heavy weapons, 220-mm MLRS rocket launchers, through a large-scale supply operation run by Saudi intelligence chief Prince Bandar bin Sultan, according to Debkafile's exclusive intelligence sources. His agents scoured the Balkans nations of Serbia, Bosnia, Croatia and Kosovo and for large wads of cash snapped up Russian-made MLRS (Smerch) and Hurricane 9K57 launchers capable of firing scores of 220-mm rockets to a distance of 70 kilometers.
The Saudis hope to expedite the rebel capture of the big Syrian Nairab air base attached to Aleppo's international airport. The Saudi prince has personally taken the Nairab battle under his wing, convinced that it is the key to the conquest of Aleppo, once Syria's national commercial and population center, after more than a year's impasse in the battle for its control. The fall of this air base would also substantially reduce the big Iranian and Russian airlifts to Assad's army.
Russia brings down its cargo planes loaded with weapons and replacement parts for the Syrian army at Nairab after the air facilities around Damascus were targeted by rebel fire. Moscow has since warned the rebels that if they attack incoming or outgoing Russian planes at Nairab, Russian special forces will come in to wipe out their strength around the base and take over its protection themselves.
Of late, Russian and Iranian arms lifts to Nairab were doubled, after rebels seized many Alawite villages in the Aleppo and Idlib regions of northern Syria. Members of Bashar Assad's Alawite sect, their inhabitants, mainly women and children, have been fleeing en masse from their homes in fear of rebel retribution. They are making for the coastal towns of Tartus and Latakia which are still under regime control. The question is for how long. In the third week of March, Russian warships stopped docking at the naval port of Tartus after finding its piers and facilities crowded with Alawite refugees who came up to the Russian seamen begging for food, water and medical aid.
From March 21, Russian warships on the Mediterranean were ordered to avoid Tartus and relocate their visits to Lebanon's Beirut port.
The Saudi operation for shipping heavy rocket launchers from the Balkans to Aleppo is complicated. The rockets are fixed to vehicles weighing 43.7 tons each. The rockets themselves are 7.6 meters long and weigh 800 kilograms. To arrange the transfer of this heavy artillery to the rebels in Aleppo, Prince Bandar contacted Hakan Fidan, head of the MIT-Turkish National Intelligence Organization. They agreed to set up an overland route from the Balkans via Turkey and across the Syrian border to Aleppo, under the protection of the Turkish army.
Our sources report that Ankara's initial refusal of cooperation was overcome with a sharp reminder by Prince Bandar of the scale of Turkish exports to Saudi Arabia and the damage to the Turkish economy of their potential suspension. The news that Saudi Arabia was supplying Syrian rebels with heavy weapons stunned the Arab League summit taking place in Doha, Qatar this week, bringing it to a clamorous end, debkafile's intelligence and Middle East sources reveal. Saudi and Qatari delegates were heard hurling shrill abuse at one another and exchanging blows in private meeting rooms down the corridors of the assembly hall. The conference proceedings were abruptly halted as Arab delegation members pitched in to separate them. A total blackout was quickly drawn down on the summit as it broke up in disarray.
The Saudi royal rulers and Qatar's Hamad bin Khalifa Al Thani have been at extreme loggerheads over the Syrian civil conflict. Riyadh, and Prince Bandar in particular, accuses the Qataris of conspiring to bring the Muslim Brotherhood to power in Damascus, including radical groups tied to Al Qaeda. Qatari Prime Minister and Secret Service Chief Sheikh Hamad bin Jassem has shot back with the charge that Saudi Arabia is maneuvering for control of the Syrian rebel movement. The Saudis condemn Turkish Prime Minister Erdogan's close ties with Qatar's ruling family which they say eggs on Doha's schemes for Syria. For this reason, too, Bandar insisted on Turkey taking active part in facilitating the Balkan heavy arms route to Aleppo.
Israel Now Home to Most of World's Jews
March 29….(International Business Times) During Passover, the Jewish population of Israel has passed the symbolic 6 million mark, the same number of Jews who were believed to have been killed during the Nazi Holocaust, while the country's total population is now 8 million. Israel now has the world's largest community of Jews, replacing the US (5.5 million, with 2 million in New York City alone), France (500,000, mostly in Paris) and Canada (380,000, primarily in Toronto). Britain has 290,000 Jews, most of them concentrated in London. According to the Interior Ministry, Israel's non-Jewish population comprises about 1.6 million Arabs and 350,000 non-Arab Christians and others (mostly immigrants from the Soviet Union whose religion has not been listed or registered by the ministry). Another half-million Israeli citizens live abroad, the Ynet newspaper reported.
However, a leading expert on demography warns that overall the world's Jewish population is declining. "In the world today there are 13,800,000 Jews," Professor Sergio Della Pergola, of Hebrew University in Jerusalem, told the Yedioth Ahronoth newspaper. "Israel has indeed experienced a growth in the number of Jews last year, but world Jewry outside Israel did not fare so well. On the contrary, world Jewry has experienced negative growth."
Indeed, prior to 1939, the global Jewish population amounted to some 18 million. Nonetheless, for Israel to reach and pass the 6 million figure is significant. "Six million is absolutely a symbolic number but still most Jews live outside Israel," Tom Segev, an Israeli historian and author, told the Daily Telegraph. "But within five, seven or 10 years, you might be able to say that most Jews in the world live inside Israel and it will be legitimate to use the cliché that for the first time in 2,000 years, the Jews are in Israel. Then the question will be, what do you do with the Zionist ideology?
Within Israel itself, an interesting pattern of migration is occurring, people are moving in huge numbers to Tel Aviv, the Mediterranean coastal city and economic and cultural capital. Haaretz newspaper reported that by 2025, an estimated 80 percent of Israel's population will live in the greater Tel Aviv area. "The Israeli nation is congregating on the central plain, in the greater metropolitan Tel Aviv area," Arnon Soffer, professor emeritus of geography and environmental sciences at the University of Haifa, told the newspaper. "There are many figures attesting to Jews leaving the Galilee [in northern Israel]. All the development towns in the periphery are emptying."
Creationist Stakes $10,000 on Contest between Bible and Evolution
(Creator of Literal Genesis Trial believes people who argue in favor of evolution are at a scientific disadvantage)
March 29….(The Guardian) A California creationist is offering a $10,000 challenge to anyone who can prove in front of a judge that science contradicts the literal interpretation of the book of Genesis. Dr Joseph Mastropaolo, who says he has set up the contest, the Literal Genesis Trial, in the hope of improving the quality of arguments between creationists and evolutionists, has pledged to put $10,000 of his own money into an escrow account before the debate. His competitor would be expected to do the same. The winner would take the $20,000 balance.
The argument would not be made in a formal court, but under an alternative dispute resolution model known as a minitrial. Mastropaolo said he would present the argument in favor of a literal interpretation of the creation story once he had found a willing scientist to argue that a non-literal interpretation of Genesis is more scientific. "They [evolutionists] are not stupid people, they are bright, but they are bright enough to know there is no scientific evidence they can give in a minitrial," Mastropaolo said.
A minitrial differs from a regular trial because it does not need to be held in a courthouse and does not require the presence of traditional court figures. Mastropaolo plans to have a bailiff and court reporter in attendance, along with the judge. Contest rules state that evidence must be scientific, which means it is "objective, valid, reliable and calibrated".
Mastropaolo believes that evolution cannot be proved scientifically. "It turns out that there is nothing in the universe that is evolving, everything is devolving, everything is going in the opposite direction," he said. Mastropaolo started making public arguments in favor of creationism about 13 years ago, after reading an article about evolution in the newspaper. He has a PhD in kinesiology and taught biomechanics and physiology at a California university for more than 25 years. He is now a contributing writer at the Creation Science Hall of Fame, which is collaborating with him for the minitrial. The Creation Science Hall of Fame is a website, launched in February 2012, that honors those who have made contributions to creation science.
A majority of scientists disavow creationism, but a June 2012 Gallup poll showed that 46% of Americans believed in a literal interpretation of the biblical version of creation. Legislation to allow students to be taught religious versions of the creation of life is currently being considered in four states.
Possible Muslim Approval For Third Jewish Temple
March 28….(Khouse) As reported in The Jewish Press on March 14, 2013, there is a new call for something previously unthinkable. Sinem Tezyapar, a Muslim TV producer in Turkey, has called for the rebuilding of the "Prophet Solomon's" Temple. She assures her fellow Muslims that they need not be nervous because: "There is a broad expanse of land around the Al-Aqsa Mosque and the Dome of the Rock. The land there is quite convenient in that respect, and the Temple can be placed just a little way from Qubbat As-Sakhrah, and a little ahead of Masjid el-Aqsa."
There are overtones of wanting peace and togetherness with the Jewish people in her statements as well. This is a very interesting development and would be easy to dismiss as just one secular Muslim's simplistic idea. Unfortunately, the fact that she is a woman in the Muslim world makes the idea even less feasible. However, this is not the first time this idea has come from the lips of a Muslim. According to an article in Word Net Daily, an influential Muslim leader by the name of Adnan Oktar in Turkey is described as making the same proposal, to rebuild the Jewish Temple, calling it the "Palace of Solomon."
The Jewish people have longed for their Temple to be rebuilt. In an article about the rebuilding of the Temple, Hassidic writer and publisher Mordechai Housman, describes the first and primary obstacle as being political, and second being safety reasons due to Muslims. If a significant Muslim leader would declare that Solomon's Temple should be rebuilt, then if the Muslim community would follow, it is likely the Jewish people would jump at the opportunity and be able to overcome whatever ceremonial obstacles also lie in the path.
This is very significant prophetically, because the Jewish Temple must be standing at the mid-point of the time period commonly known as the Tribulation. The Apostles John and Paul, the Prophet Daniel, and Jesus Himself make references to this Temple standing.
Daniel 9:27a says: "And he shall confirm the covenant with many for one week: and in the midst of the week he shall cause the sacrifice and the oblation to cease." The "HE" spoken of here is the coming world leader, known as the Antichrist. The "one week" is the seven years of the Tribulation period.
In Matthew 24:15–16, Jesus references this very passage: "When ye therefore shall see the abomination of desolation, spoken of by Daniel the prophet, stand in the holy place, (whoso readeth, let him understand:) Then let them which be in Judaea flee into the mountains:" This "Abomination of Desolation" is set up in the Most Holy Place, which is well known to be the Holy of Holies in the Jewish Temple. Thus this Temple must be standing in order for the "Abomination of Desolation" to happen.
Paul writes in 2 Thessalonians 2:3–4: "Let no man deceive you by any means: for that day shall not come, except there come a falling away first, and that man of sin be revealed, the son of perdition; Who opposeth and exalteth himself above all that is called God, or that is worshipped; so that he as God sitteth in the temple of God, shewing himself that he is God." Here also is a reference to the Antichrist (the man of sin) declaring himself God inside the Temple of God. This also is the Jewish Temple.
In Revelation 11:1–2, John tells us: "And there was given me a reed like unto a rod: and the angel stood, saying, Rise, and measure the temple of God, and the altar, and them that worship therein. But the court which is without the temple leave out, and measure it not; for it is given unto the Gentiles: and the holy city shall they tread under foot forty and two months."
Forty-two months is also equivalent to half of seven years. In other words, the Temple which John refers to is standing, not only in the middle of the Tribulation, but it has been standing for the entire first part of the Tribulation. There are several big milestones that students of prophecy are waiting for. One of those is the construction of the Third Jewish Temple for it does indeed seem to be a prerequisite to the beginning of the Tribulation period. If not a prerequisite, then it does definitely need to be standing by the midpoint of the Tribulation. With hints that the Muslim world might be agreeable to its construction, it would seem this particular milestone might be nearer than many think.
Mainstream Media Celebrates Turning US Culture Against Judeo-Christian Heritage
March 28….(WorldTribune) On the eve of Tuesday's "March for Marriage" in Washington and Supreme Court consideration of court cases on homosexual rights, more evidence of the media bias driving the campaign to change America's culture and Judeo-Christian foundations has emerged. Speaking at a "gay journalists" event in New York City last Thursday night, Natalie Morales of the NBC Today Show declared, "Many of us here in this room, the media, we are responsible for opening the world's eyes to these issues and the stories that have brought about such change. When you think 18 years ago when this organization was founded, think of where the country was back then. And now, 50 percent, according to the Pew poll that we talked about on the news today, support gay marriage, and some other polls put that number even higher. This reflects a change in attitudes in this country."
My associate Peter LaBarbera and I covered the homosexual rights fundraiser, held in New York City under the auspices of the National Lesbian & Gay Journalists Association (NLGJA), and saw first-hand that it was a "who's who" of media stars from every major news organization in the U.S. They also included Matt Lauer and Savannah Guthrie of NBC, Gayle King of CBS News, Christine Romans of CNN, Amy Robach of ABC News, and Amanda Drury of CNBC. Contessa Brewer, formerly an anchor at MSNBC, was a major star, posing for pictures before declaring her support for homosexual rights and homosexual marriage and denouncing opponents of such as the equivalent of racists. She wanted my associate Peter LaBarbera to know, in a brief interview captured on camera, that she felt this way even though she was the daughter of a Baptist preacher.
Arab League Approves $1Billion plan to 'Islamicize' East Jerusalem
(Israel FM in response: 'Objecting to 'Judaisation of Jerusalem,' so to speak, is absurd and is equitable to an objection to the Catholic nature of the Vatican or the Islamisation of Mecca.')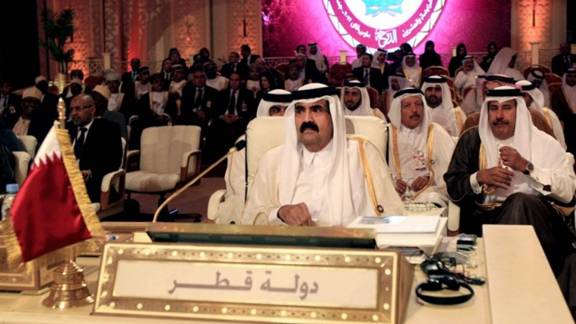 March 27….(Ha Aretz) The Arab League on Tuesday approved a Qatari proposal to set up a $1 billion fund for Arab East Jerusalem, which Palestinians want as the capital of an independent state under any peace deal with Israel. Arabs say that Israeli settlement-building on land captured in the 1967 Middle East war, including Arab East Jerusalem, has made a two-state solution backed by the United States unfeasible.
Qatar's emir, Sheikh Hamad bin Khalifa Al-Thani, said his country will contribute $250 million to the fund, which he called for in an opening speech to an Arab summit in Doha that focused on the crisis in Syria and stalled Israeli-Palestinian peace efforts. "The summit calls for setting up a fund to support Jerusalem to the value of $1 billion to finance projects and programs that would maintain the Arab and Islamic character of the city and reinforce the steadfastness of its people," the draft resolution said. The Islamic Development Bank, based in Saudi Arabia's Red Sea city of Jeddah, will manage the fund, it said.
Palestinian President Mahmoud Abbas welcomed the fund to help protect the Arab character of the city and urged Arab states to contribute to it. "The Israeli occupation is working in a systematic and hurried way to Judaise East Jerusalem, change its features and uproot its Palestinian inhabitants, attacking the al-Aqsa Mosque and its Muslim and Christian holy sites," Abbas said in a speech at the summit.
Israeli Foreign Ministry spokesman Yigal Palmor said the initiative was "a badge of shame" for Qatar. "Objecting to 'Judaisation of Jerusalem,' so to speak, is absurd and is equitable to an objection to the Catholic nature of the Vatican or the Islamization of Mecca, it is naturally unthinkable," Palmor said. The fate of Jerusalem has proved one of the thorniest sticking points in past Middle East peace negotiations. Citing Jewish biblical ties to the holy city, Israel annexed the Arab eastern half and its surroundings in 1980 in a move rejected by the United Nations Security Council.
The Palestinian Authority, which administers parts of the Israeli-occupied West Bank, is in deep financial crisis. On Friday the United States promised $500 million in aid to the PA, and Israel pledged to resume transferring $100 million in monthly tax revenue it collects on the Palestinians' behalf. Qatar's emir did not say if the proposed Arab fund would be channeled to the PA, whose writ does not run in East Jerusalem. About 200,000 Israelis live in the annexed Arab part of Jerusalem, including more than 1,000 in and around the mostly Arab Old City.
Palestinian officials are skeptical of Arab aid pledges, as few Arab countries carried through on promises last year to cover a Palestinian funding gap aggravated by Israeli sanctions. Last year Arab donations, including $200 million from Saudi Arabia, constituted almost half the PA's foreign aid, with the United States and European Union providing around $330 million. "As we've have seen many times before, unfortunately decisions in Arab summits often do not materialize on the ground," said Ghassan Shaka, a senior member of the Palestine Liberation Organization. "Financing is just a means, political help is the important thing," he said. "The Arab world must convince and apply pressure so the world knows what's required for peace."
US Christians' Views on the Return of Christ
March 27….(Pew Research Center) Easter is one of the most important religious holidays of the year for many Christians, a time to celebrate the Resurrection of Jesus Christ. According to a 2010 Pew Research Center survey, roughly half (48 percent) of Christians in the US say they believe that Christ will definitely (27 percent) or probably (20 percent) return to earth in the next 40 years. Somewhat fewer (38 percent) say this definitely will not happen (10 percent) or probably will not happen (28 percent).
Syria and Lebanon Being Taken Over By Terrorists
March 27….(WND) Iran and Hezbollah have effectively taken over Syria, guiding the nation's military operations and functions of government, as the Lebanese resistance group's fighters have begun to flood into the Damascus area, reveals a well-placed source in the Syrian capital. To make a "long version really short, Syria no longer exists," the source told WND. The government of Syria and the running of the Syrian military are no longer are under the command of the Syrians, he explained. "Lebanon also is no more," the source added. Like Syria, "it's now in the sphere of Iran and Hezbollah" who "run everything now." The knowledgeable and well-situated source was referring to ongoing military operations against Syrian opposition forces. Rebel ranks have been infiltrated by Sunni al-Qaida-linked militants, including the al-Nusra Front, which sources say is affiliated with a similar group from Lebanon called Ansar Bayt al-Maqdis.
Because of direct Hezbollah involvement in fighting against anti-Syrian government fighters, militants have threatened to attack Hezbollah strongholds in Lebanon, a prospect that could quickly spread the sectarian Sunni-Shia fighting inside Lebanon. Pitched battles already are taking place in the northern Lebanese city of Tripoli, a Sunni stronghold. Sunni opposition forces have been engaging Hezbollah fighters who have aligned themselves with Shiites and Shiite Alawites in the region. Syrian opposition positions near Tripoli and the immediate area recently were bombed by Syrian government forces. The area is one of the main avenues for infiltration of arms and foreign opposition fighters into Syria. The other conduit is Turkey.
If Syrian opposition forces attempted to descend into Lebanon, they would need to go through the Beqaa Valley, which is under Hezbollah's control. The area is a virtual armed camp, which has been a deterrent to date from the chaos in Syria spilling over too far into Lebanon.
The issue of Iranian and Hezbollah control over military operations and government functions in Syria comes as separate reports reveal they have moved a 50,000-strong force into Syria to fight alongside Syrian government troops. Sources say there are plans to increase that number to some 100,000 Hezbollah fighters. "The Hezbollah guys are here (in Damascus), not near Maroun el Ras," one source said, referring to the influx of Hezbollah fighters into Syria. Maroun el Ras is a Lebanese village in southern Lebanon about a kilometer from the border with northern Israel. In the 2006 war between Hezbollah and Israel, Maroun el Ras, which is at an elevation of almost 3,000 feet and overlooks Israeli villages, was a focal point. It was the scene of a major confrontation between the two in which the village's occupation changed hands during the 34-day conflict. However, Israeli forces never fully occupied the village which ultimately remained in the hands of Hezbollah.
Shiite Iran and its Lebanese proxy, Hezbollah, openly are backing the survival of the embattled regime of Syrian President Bashar al-Assad, who is a Shiite Alawite, fighting a sectarian civil war against Sunni opposition fighters, most of whom are foreigners financed and primarily armed by Sunni Qatar and Saudi Arabia.
The latest reports reveal that the US Central Intelligence Agency is assisting in funneling Qatari and Saudi arms into Syria. In addition, the Iranian Revolutionary Guard Corps' elite Quds Force also is advising Syrian commanders, a development which sources say is under the command of Qassem Suleimani, who is overseeing operations out of the Syrian capital, Damascus. Sources suggest that the reason for direct Iranian and Hezbollah involvement is not only to assist in the fighting but to maintain control over Syria should the government of Assad fall. Hezbollah also is reportedly training fighting forces which would come under Iran's control should Assad fall from power. Iran and Hezbollah are undertaking this direct involvement because of the geostrategic significance Syria is to both entities.
With Syria, Iran has extended its influence from the Middle East to Central Asia. Syria also is a conduit to transfer weapons to Hezbollah in Lebanon. The interest of Hezbollah involvement in Syria became apparent last October when Hezbollah Secretary-General Sayyed Hasan Nasrallah first signaled the involvement of the resistance movement in Syria. It was around that period that first reports of dead Hezbollah fighters were being returned from Syria. At the time, Nasrallah had denied reports of such fighting but didn't rule out the prospect of Hezbollah fighters engaging the militant fighters in the future. "As of now," Nasrallah said at the time, "we have not fought alongside the (Assad) regime. We don't know about the future."
Al Qaeda Brigade Captures Syrian-Israeli-Jordanian Border Junction
March 26….(DEBKAfile Exclusive Report) The highly strategic intersection of the Syrian, Israeli and Jordan borders, just east of the Golan, was captured by the Al Musanna Brigade of al Qaeda's Syrian arm, Jabhat al-Nusra on Passover Eve, Monday, March 25, debkafile's exclusive sources report. This puts the jihadists directly opposite 14 Israeli southern Golan villages and at a distance of 5-6 kilometers from one of Israel's earliest kibbutzim, Ein Gev, on the shores of the Sea of Galilee. Debkafile's military sources report that this sensitive area fell to al Qaeda in a fierce battle waged with the Syrian army's 5th Division in the village of Sham Al-Jawla. Control of this village has opened the way for the jihadists to reach the Syrian Golan sector from the south and for direct access to the Syrian-Israeli-Jordanian borders.
On a second front, al Qaeda fighters have seized control of Wadi ar-Ruqqad, a 70-kilometer long waterway which forms the Golan's eastern boundary. This wadi rises at a point north of Quneitra on the Syrian side of the Golan, flows south through a shallow gulch to become a waterfall which drops south west into a 20-kilometer basalt tunnel of which 6 kilometers run through Israeli territory. Ar Ruqqad waters then flow into the Yarmuk River up to the point where the Syrian, Israeli and Jordanian borders connect. It is not the first time that the jihadists fighting with Syrian rebels have occupied positions abutting on Israeli soil, but this time they have gained control of one of its precious sources of water.
Israel and Jordan share out the Yarmouk waters under a pact they concluded which also covers the ar-Ruqqad tributary. While most media attention in the West and Israel has been drawn to the threat posed by Syria's chemical arsenal, al Qaeda's descent on new, highly strategic ground affecting three nations has been ignored.
US President Barack Obama and Secretary of State John Kerry discussed at length in their talks in Jerusalem, Amman and Ankara the danger of chemical weapons falling into Islamist terrorist hands fighting with the rebels in Syria. Until a few hours ago, the two American visitors, Prime Minister Binyamin Netanyahu and King Abdullah were not fully apprised of al the Jabhat al Nusra's rapid advance. Before he left Amman for home Saturday, Obama received information that the Iraqi Al Qaeda front had begun preparing Chlorine gas-CI trucks ready to push across the border into Syria for the use of its Jabhat al Nusra partners.
This poisonous gas was used more than once for jihadist terrorist attacks inside Iraq. And this peril brought John Kerry hurrying over to Baghdad Sunday, March 24. He was not able to persuade Iraqi Prime Minister Nuri al-Maliki to discontinue the Iranian airlift of weapons and troops to Assad through Iraqi skies, but he left al-Malilki with a grave warning that Washington would hold Baghdad responsible if any of the chorine gas trucks reached Syria.
US Treasury Sued to Remove 'God' from Currency
March 26….(Worthy News) The Freedom From Religion Foundation is suing the US Treasury Department to remove "In God We Trust" from all its currency. A nonprofit organization that represents atheists and agnostics, the FFRF claims the motto is "offensive" to the nonreligious. In February, the FFRF and 19 plaintiffs filed a civil suit in New York claiming the motto violates the First and Fifth Amendments of the Constitution; they also claim it forces atheists, agnostics and secular skeptics to impart a religious message they all decry whenever using US currency, resulting in a false declaration of their own religious views.
Dan Barker, co-president of the Wisconsin-based FFRF, also believes the motto sends a religious message to everyone who uses US currency. "[In God We Trust] is indeed considered to be a religious phrase," Barker told The Christian Post. "The message belongs in churches, private institutions and can be shared by missionaries, but who is the 'we' representing, if not all of us trust in a God?" Barker said the purpose of the motto, first proposed in the 1950s, was to proselytize Christianity whenever Americans exchange currency overseas. "The idea was that 'as our money goes around the world, we are sharing our Christianity.'"
Barker told the Post that the plaintiffs are not advocating the motto be replaced, just removed. "We are not suggesting that the motto should be changed to 'There Is No God,' or 'We Don't Believe In God,' because that would be offensive and the government should be neutral, and shouldn't promote, or attack either side." Three previous attempts to legally remove "In God We Trust" from American currency in the past have proved unsuccessful.
Israel Engages Syrian Forces on Golan Border
March 25….(Israel Today) Fire from Syrian forces hit Israeli army positions twice over the past 24 hours, prompting a harsh response from Israel that left two armed Syrians wounded. Last Saturday night, at least one bullet fired from the Syrian side of the border hit an Israeli army patrol jeep. On Sunday morning, heavy gunfire hit a nearby Israeli army outpost. Army officials said it was still difficult to determine if the gunfire was deliberately directed at Israel, or was simply spillover from fighting between pro-government and rebel forces in Syria.
Either way, Israeli officials said cross-border fire cannot be tolerated, and Israeli soldiers on Sunday responded by launching an anti-tank missile at the source of the gunfire, wounding two Syrians. It is believed that both incidents of gunfire over the weekend came from sources loyal to embattled Syrian dictator Bashar Assad. However, most of the rebel forces fighting to oust Assad are allied with or part of terrorist organizations that are equally committed to Israel's destruction. New Israeli Defense Minister Moshe Ya'alon said defense along the border are being beefed up, and that Israel will continue to respond to each and every violation of its sovereignty.
Syria Claims Rebels Trying to Draw Israel Into War
March 25….(WND) It was the Syrian opposition and not the Syrian government behind the firing Sunday and yesterday at the Israeli border, a top Syrian official claimed to WND. The Syrian official accused the jihadist opposition of attempting to draw Israel into the conflict to aid the rebels by targeting the regime of Syrian President Bashar al-Assad. "Why would we fire at Israel?" asked the official, speaking on condition his name be withheld. "We have no interest in getting Israel to attack the Syrian military." The rebels are backed by the U.S. and international community.
The border incidents began Saturday, when a round of gunfire coming from the Syrian side hit an Israeli Defense Forces jeep on routine patrol in the northern Golan Heights. Another round was fired from Syria targeted the same area in Israel today. The gunfire came from a region on the Syrian side of the border where rebels have been attempting to seize control of a border town these last few days.
Israel Sunday responded with a missile attack that destroyed a Syrian army machine-gun position despite questions about whether the Syrian army was behind the fire into Israel. Defense Minister Moshe Ya'alon made clear he views Assad bearing the ultimate responsibility for any attacks from his side of the border. Ya'alon's office released this statement: "We view the fire from Syria last night and this morning at IDF troops in Israeli territory as severe. The IDF responded in accordance with government policy. Every breach of Israeli sovereignty and each firing from the Syrian side will be met with an immediate response to silence the source of fire as we identify them. We see the Syrian regime as being responsible for every violation of our sovereignty." Today's round of violence comes as the rebels are reportedly being fingered in last week's alleged chemical attack in the Syrian town of Khan al-Assal, west of Aleppo.
In the wake of the "Arab Spring" across northern Africa, Islam has been on the rise throughout the continent, and with it, violent persecution against Christians.
Rise of Islam in Africa
March 25….(WND) Christians in Tanzania, for example, are on alert after an Assemblies of God pastor was killed while attempting to stop Muslim youth from killing two Christian meat cutters. Pastor Mathayo Kachili died on the scene from injuries sustained during the brutal beating by the Muslim teenagers. International Christian Concern says that this attack set off a two-week string of violent anti-Christian attacks in Tanzania's northwestern Geita region. Only days after the pastor was killed, Muslim militants on the island of Zanzibar killed a Father Evarist Mushi, a Catholic priest.
International Christian Concern's Africa analyst William Stark told WND in an interview that the priest's murder links violence in Africa to terrorist activity throughout the region. "After a Catholic priest was shot and killed, a text message was sent out tying the attackers to Somalia, thus proving the link of radicalization between Zanzibar and Somalia. It is likely that many of the attackers have been trained in Somalia by al-Shabaab, but that is pretty hard to prove," Stark said.Stark adds that the Muslims in Tanzania are radicalizing at a rapid rate. "I would agree that the latest series of attacks is likely the beginning of a trend," Stark said. "Radicalized Muslim youths are being used to commit terrible acts of violence in both Kenya and Tanzania. "Much of this radicalization can be traced back to Somalia, which seems to be the epicenter of Christian persecution in East Africa," he continued. "The persecution in Tanzania tends to focus around Zanzibar, an island off Tanzania's eastern coast that is predominately Muslim." Stark further warns that Islamic violence is drawing fuel from nationalist fervor. "The island has always been somewhat autonomous, but now that radical Islam is starting to take root, Muslims youths are turning to violence in order to separate Zanzibar from the rest of Tanzania," Stark said. "Unfortunately for Christians, pastors and other Christians make an easy target."
Eritrea
Earlier this month, the Christian advocacy and aid group Open Doors reported to Worthy News that in Eritrea, an African nation that borders Ethiopia and the Red Sea on the Horn of Africa, authorities arrested, detained and publicly beat 125 Christians. "Open Doors understands that police arrested these church members from homes and workplaces during broaddaylight and then marched them through town to the police station while beating them," the group said. Reports say Eritrean President Isaias Afewerki denies wrongdoing, yet human rights groups estimate that Eritrea continues to imprison between 1,500 and 2,000 Christians.
Nigeria
Last week, a bomb attack in the mostly Christian Sabon Gari district of Kano, Nigeria, killed 25 and wounded 60 others. No group has claimed responsibility for the attack, but in a statement to the press, World Watch Monitor says the attack bears the marks of Islamic terror: "The manner of attack is, however, similar to previous ones by the Islamist Boko Haram group. Its scale prompted Christian, Muslim and political leaders to urge the federal government to take urgent measures to avert a major crisis." The attack comes at the same time a Nigerian Catholic priest lashed out against Boko Haram's attacks that have destroyed 50 churches in his diocese.
Libya
In Libya, there are reports from earlier this month that four more Egyptian Christians have been detained for allegedly proselytizing. The arrests came only days after a report that an Egyptian Christian died in prison from wounds receiving while being tortured. The four were allegedly arrested at a security checkpoint outside the Libyan city of Misrata.
Sudan
In the East African nation of Sudan, meanwhile, Christians are fleeing in droves. The Christian human rights group Barnabas Aid reported this past week that another 1,500 Christians have been safely airlifted from Khartoum to the recently formed nation of South Sudan. The airlift is part of Barnabas Aid's Exodus Project, which has taken over 3,500 Christians to safety. In a statement for the press, International Director for Barnabas Fund President Patrick Sookhdeao says he's pleased with the progress, but asks for help. "It has been a great privilege for us to be able to help suffering Christians begin a new life in a place where they can be free to practice their faith in peace and have opportunities to improve their circumstances," Sookhdeo said. "There are thousands of others who need rescuing, so please do support our Exodus campaign and help us to change many more lives."
WEEK OF MARCH 17 THROUGH MARCH 23
Temple Mount Group Practices For Temple Sacrifices
March 23….(Arutz) Jewish groups held a mock Passover sacrifice on Thursday opposite the Temple Mount in Jerusalem. The ritual slaughter was not merely a historic reenactment, but, they say, practice in advance of the reconstruction of the Temple. The practice sacrifice has been held annually for the past several years. This year organizers were unpleasantly surprised by a veto from Israel's Veterinary Services, which refused to authorize the event. Organizers took the matter to court, and were able to quickly get a ruling permitting the ritual. The various groups involved in the event were represented by Rabbi Yehuda Glick, who told Arutz Sheva that the ritual was carried out with as much Biblical accuracy as possible. "We took the goat, as the Torah commands, we had an altar built like the real one, and a cooking pit built according to halacha [Jewish law]," he said. "We slaughtered the goat with Leviim singing and priestly clothing, just like in the real Passover sacrifice." Leviim are Jews belonging to the Biblical tribe of Levi, whose members took part in Temple services. The ritual was emotionally moving, Rabbi Glick reported. "The symbolism of standing opposite the Temple Mount and preparing for the real Passover sacrifice, it was without doubt a special moment," he said.
Pope Urges Dialogue With Islam
March 23….(Newsmax) Pope Francis urged the West on Friday to intensify dialogue with Islam and appealed to the world to do more to combat poverty. The new pontiff made his appeal in an address to diplomats accredited to the Vatican, sending a message through them to the leaders of the more than 170 countries with which the Vatican has diplomatic relations.
Speaking in Italian, he also made another impassioned appeal for the defense of the poor and of the environment, saying richer countries should fight what he called "the spiritual poverty of our times" by re-forging links with God. "How many poor people there still are in the world! And what great suffering they have to endure!" he told the diplomats in the Vatican's frescoed Sala Regia.
He urged them to help keep religion central in public life and promote inter-religious dialogue as a catalyst for efforts to build peace. "In this work (peace building), the role of religion is fundamental. It is not possible to build bridges between people while forgetting God," he said. "But the converse is also true: it is not possible to establish true links with God while ignoring other people. Hence it is important to intensify dialogue among the various religions, and I am thinking particularly of dialogue with Islam."
Francis, the former Cardinal Jorge Mario Bergoglio of Argentina, said he was grateful that many Muslim religious and civilian leaders attended his inaugural Mass on Tuesday.
Fighting poverty, both material and spiritual, building peace and constructing bridges: these, as it were, are the reference points for a journey that I want to invite each of the countries here represented to take up," he said.
He underlined the importance of protecting the environment when he explained why he had decided to take the name of St. Francis of Assisi, who is associated with austerity, help for the poor, and love of nature. "Here too, it helps me to think of the name of (Saint) Francis, who teaches us profound respect for the whole of creation and the protection of our environment, which all too often, instead of using for the good, we exploit greedily, to one another's detriment," he said.
FOJ Note: Pope Francis is promoted as a benefactor of the poor, yet this Pope is notoriously anti-free enterprise and anti-capitalistic. Pope Francis is a strong advocate of Socialism and Environmentalism.
Once Gay Marriage is Legalized, Polygamy Will Come Next
March 23….(Baptist Press) Redefining marriage to include same-sex couples would jettison the rationale and logic behind prohibitions on polygamous marriages, according to several friend-of-the court briefs urging the US Supreme Court to uphold the traditional definition of marriage. "Ultimately, there is no principled basis for recognizing a legality of same-sex marriage without simultaneously providing a basis for the legality of consensual polygamy or certain adult incestuous relationships," reads one of the briefs, filed by the Christian legal group Liberty Counsel. "In fact, every argument for same-sex marriage is an argument for them as well."
California's Proposition 8 and a section of the federal Defense of Marriage Act (DOMA). Prop 8 is a state constitutional amendment defining marriage as between a man and a woman in California, while the DOMA section in question defines marriage in federal law in the traditional sense. If both are overturned, then gay marriage likely would be legalized in all 50 states.
A friend-of-the-court brief signed by 18 state attorneys general also briefly warns about the potential legalization of polygamy if gay marriage is legalized. The brief, which supports Prop 8, says the traditional definition of marriage is tied to the fact that only a man and woman can reproduce, thus continuing society's very existence. The state has an interest, the brief says, to see that children are raised, ideally, by the mother and father who beget them. A mother and father in each home is "optimal for children and society at large." "Once the natural limits that inhere in the relationship between a man and a woman can no longer sustain the definition of marriage, the conclusion that follows is that any grouping of adults would have an equal claim to marriage," the attorneys general brief states, arguing that marriage no longer would be about the needs of children but about the desires of adults.
A friend-of-the-court brief supporting Prop 8 by three academians, including Harvard's Robert P. George, says there is a movement in the United States to see group relations recognized by the government. "Nor are such relationships unheard of: Newsweek reports that there are more than five hundred thousand in the United States alone," the brief signed by George reads.
Liberty Counsel's brief quotes 19th century Supreme Court cases that upheld the federal government's ban on polygamy in Utah. Among them were Reynolds v. United States (1878) and Murphy v. Ramsey (1885). In the 1885 case, the justices affirmed the traditional definition of marriage, writing that laws are "wholesome and necessary" when they are established on the basis of the idea of the family as "consisting in and springing from the union for life of one man and one woman in the holy estate of matrimony." The court called traditional marriage "the sure foundation of all that is stable and noble in our civilization."
Liberty Counsel asserted that "when the traditional definition of marriage as that between one man and one woman is reversed to include other marriages, the state is left with little, if any, justification for other laws restricting marriage." "For example," the Liberty Counsel brief warns, "some might argue that larger family groups (of 3 or more adults) would provide an even stronger private support network than the two-adult model. Or, marriage between certain close relatives would minimize the number of legal heirs, potentially minimizing disputes over property distribution upon death. At a minimum, there is nothing inherent in polygamous or certain incestuous relationships (e.g., consenting adults who are related, but not by blood) that makes those unions less worthy of state recognition under such criteria."
In passing Prop 8, the state of California could have rationally concluded that marriage is "society's way of recognizing that the sexual union of one man and one woman is unique, and that government needs to regulate and support this union for the benefit of society and its children," Liberty Counsel said. California also could have concluded that despite "the personal fulfillment of intimate adult relationships, marriage laws are not primarily about adult needs for approbation and support, but about the well-being of children and society." "This court," the brief says, "has long understood the importance of the marriage union as between one man and one woman."
FOJ Note: And once polygamy is legalized, next will come beastialty!
Obama in Jerusalem: 'Occupation Must End'
(In historic Jerusalem speech, US president tells hundreds of Israeli university students 'peace is possible; put yourselves in Palestinian people's shoes)
| | |
| --- | --- |
| | (FOJ) Directing his remarks to the primarily young crowd at the Israel International Convention Center in Jerusalem, Obama urged them to push for peace, saying that only when the people demand action do the leaders act. Obama vigorously used his old mantra, CHANGE |
March 22….(YNET) President Barack Obama delivered an impassioned appeal Thursday for Israel to recognize that compromise will be necessary to secure peace and lasting security for the Jewish state. Telling a lively audience of some 600 university students that the United States is their country's best friend and most important ally, Obama, who began his address ahead of schedule, at 4:39 pm, said the US will never compromise in its own commitment to Israel's defense, particularly against threats such as the one posed by Iran and its nuclear program. But he also stressed that Israel must make peace with the Palestinians if it is to ensure its survival and long-term viability as a homeland for the Jewish people. Israeli occupation of areas that the Palestinians claim for their state must end, he said. "The Palestinian people's right to self-determination and justice must be recognized," he said at Jerusalem's International Convention Center. "Put yourself in their shoes, look at the world through their eyes. It is not fair that a Palestinian child cannot grow up in a state of her own, and lives with the presence of a foreign army that controls the movements of her parents every single day. It is not just when settler violence against Palestinians goes unpunished. It is not right to prevent Palestinians from farming their lands; to restrict a student's ability to move around the West Bank; or to displace Palestinian families from their home. Neither occupation nor expulsion is the answer. Just as Israelis built a state in their homeland, Palestinians have a right to be a free people in their own land," Obama said.
Obama's historic Jerusalem speech
"Meanwhile, Palestinians must recognize that Israel will be a Jewish state, and that Israelis have the right to insist upon their security. Israelis must recognize that continued settlement activity is counterproductive to the cause of peace, and that an independent Palestine must be viable– that real borders will have to be drawn. I've suggested principles on territory and security that I believe can be the basis for talks. But for the moment, put aside the plans and process. I ask you, instead, to think about what can be done to build trust between people. "Four years ago, I stood in Cairo in front of an audience of young people. Politically, religiously, they must seem a world away. But the things they want, they're not so different from you. The ability to make their own decisions; to get an education and a good job; to worship God in their own way; to get married and have a family. The same is true of the young Palestinians that I met in Ramallah this morning, and of young Palestinians who yearn for a better life in Gaza. "That is where peace begins, not just in the plans of leaders, but in the hearts of people; not just in a carefully designed process, but in the daily connections that take place among those who live together in this land, and in this sacred city of Jerusalem. Speaking as a politician, I can promise you this: Political leaders will not take risks if the people do not demand that they do. You must create the change that you want to see.

'You must create change.'
"Only you can determine what kind of democracy you will have," the president told the hundreds of university students on hand. "But remember that as you make these decisions, you will define not simply the future of your relationship with the Palestinians, you will define the future of Israel as well. As Ariel Sharon said, 'It is impossible to have a Jewish, democratic state and at the same time to control all of Eretz Israel. If we insist on fulfilling the dream in its entirety, we are liable to lose it all.' Or, from a different perspective, think of what David Grossman said shortly after losing his son, as he described the necessity of peace, 'a peace of no choice' he said, 'must be approached with the same determination and creativity as one approaches a war of no choice.' "Of course, Israel cannot be expected to negotiate with anyone who is dedicated to its destruction. But while I know you have had differences with the Palestinian Authority, I believe that you do have a true partner in President Mahmoud Abbas and Prime Minister Salam Fayyad. Over the last few years, they have built institutions and maintained security on the West Bank in ways that few would have imagined a decade ago. So many Palestinians, including young people have rejected violence as a means of achieving their aspirations. "Which leads to my third point: Peace is possible. I know it doesn't seem that way. There will always be a reason to avoid risk, and there's a cost for failure. There will always be extremists who provide an excuse to not act. And there is something exhausting about endless talks about talks; the daily controversies, and grinding status quo," Obama continued to say. "Negotiations will be necessary, but there is little secret about where they must lead, two states for two peoples. There will be differences about how to get there, and hard choices along the way. Arab States must adapt to a world that has changed. The days when they could condemn Israel to distract their people from a lack of opportunity are over. Now is the time for the Arab World to take steps toward normalized relations with Israel.
Meanwhile, Palestinians must recognize that Israel will be a Jewish state, and that Israelis have the right to insist upon their security. Israelis must recognize that continued settlement activity is counterproductive to the cause of peace, and that an independent Palestine must be viable, that real borders will have to be drawn. I've suggested principles on territory and security that I believe can be the basis for talks. But for the moment, put aside the plans and process. I ask you, instead, to think about what can be done to build trust between people. Obama said the United States continues to oppose the construction of Jewish housing on land claimed by the Palestinians but stressed that issues of disagreement between the two sides should not be used as an "excuse" to do nothing.
Obama's Mixed Message: Jews Should Leave Biblical Heartland
March 22….(Israel Today) When he arrived in Israel on Wednesday, US President Barack Obama clearly and unequivocally reaffirmed the historical and biblical connection of the Jewish people to this land. A day later, he stood at the podium at the Palestinian Authority headquarters in Ramallah and stated that allowing Jews to build homes and live in the biblical heartland of Judea and Samaria was "problematic" and "not constructive" to achieving peace in the region.
So, which is it? Do the Jews have an ancient connection to this land that entitles them to live here, or don't they? Obama, like the rest of the West, tries to draw a dividing line between the so-called "West Bank" and the rest of Israel, asserting that it is perfectly normal for Jews to dwell in the latter, but taboo for them to build in the former. But most of us living here on the ground know better. Judea and Samaria are every bit as much a part of the biblical land of Israel as Tel Aviv. In fact, even more so. It was in Judea and Samaria that the bulk of the events chronicled in the Bible took place. Even much of Jesus' recorded ministry took place in areas where Obama and others are now telling Jews they cannot live..
If the historical and biblical rights Obama spoke of on Wednesday do not extend to Judea and Samaria, then they do not include Tel Aviv, either. That is not to say Israel won't compromise those rights for the sake of what it hopes will be lasting peace (though many are warning against doing so). In fact, Israel has already agreed to compromise. But for there to be any hope of a genuine peace, Israel understands that everyone must first acknowledge that the Jewish connection extends to Judea and Samaria, because Israel knows that the Arabs know that devoid of a recognized connection to Judea and Samaria, the Jewish claim to any other part of the land becomes all but null and void.
When Obama speaks of Jewish settlements, he would do well to pay attention to official Palestinian media, which also identifies as settlements the cities of Tel Aviv, Haifa, Beersheva, and so on.
Muslims Are Chasing Christians Out of Iraq
March 22….(Fox News) The head of the Chaldean Catholic Church in Iraq says that the number of Christian houses of worship there has dwindled alarmingly in the decade since the U.S. invaded and ousted Saddam Hussein from power. There are just 57 Christian churches in the entire country, down from more than 300 as recently as 2003, Patriarch Louis Sako told Egyptian-based news agency MidEast Christian News. The churches that remain are frequent targets of Islamic extremists, who have driven nearly a million Christians out of the land, say human rights advocates. "The last 10 years have been the worst for Iraqi Christians because they bore witness to the biggest exodus and migration in the history of Iraq," William Warda, the head of the Hammurabi Human Rights Organization told the news agency.
Many Christians live in the provinces of Baghdad, Nineveh, and Kirkuk, and Dohuk and Erbil, which are both in the autonomous region of Kurdistan. Warda said some 1.4 million Christians lived in Iraq prior to Hussein's ouster. Under the democratically-elected government that now oversees the war-torn, but oil-rich nation, Islamic extremists have been able to operate more freely. "More than two-thirds of Iraq's Christians have emigrated out of Iraq," Warda noted. One byproduct of regime change in the Middle East, whether at the hand of the US military and its allies or demonstrators in the streets, has been a decline in tolerance for other religions, say experts.
In Egypt and Libya, where demonstrators overthrew dictators in recent years, Christians have come under heavy persecution, say concerned advocates. "What is clear is that the mass exodus of Christians in the Middle East, including Iraq, has been caused by radical Islam, whether by Islamic governments, terrorist organizations, or extreme Islamists," said Tiffany Barrans, international legal director of the American Center for Law and Justice. "We examined the issue in Iraq in a 2011 report from our European affiliate. At that time, we determined that Al Qaeda had been strategically targeting Iraqi Christians, even issuing a warning to all Christians to leave the country.
One of the most dramatic cases of Christian persecution came in late October of 2010, when Al Qaeda members laid siege to Our Lady of Deliverance Church in Baghdad, killing 58 and wounding 78 in a bloodbath Pope Benedict XVI denounced as "ferocious." Prime Minister Nouri al-Maliki also condemned the attack, calling it an attempt to drive more Christians out of the country. "This tragic event sent a powerful message to Christians in Iraq, they are in grave danger and should leave the country," Barrans said. "Iraq's hostility toward Christianity is well documented. Tragically, Iraq is another example of a country where the government does not tolerate Christians or other religious minorities."
Khamenei: Iran Will Destroy Tel Aviv and Haifa
(As nuclear talks remain stalled Iran's supreme leader threatens: 'Zionist regime threaten to launch a military invasion, but they know Islamic Republic will raze Tel Aviv and Haifa to the ground')
March 22….(YNET) Iran's clerical supreme leader said on Thursday the Islamic Republic would destroy the Israeli cities of Tel Aviv and Haifa if it came under attack from the Jewish state. "At times the officials of the Zionist regime (Israel) threaten to launch a military invasion but they themselves know that if they make the slightest mistake the Islamic Republic will raze Tel Aviv and Haifa to the ground," Ayatollah Ali Khamenei said in an address to mark the Iranian new year.
Syrian Chemical Weapons Came From Saddam Hussein
March 22….(WND) Retired US Army Maj. Gen. Paul Vallely says he has confirmation that Syrian forces have used chemical weapons against rebel forces and civilians, and those weapons are likely stockpiles received from Iraq prior to the US-led invasion 10 years ago. Vallely has met twice in the region with military commanders for the Free Syrian Army, which he describes as the largest and much more moderate faction among the rebels, which also include elements of al-Qaida and the Muslim Brotherhood. He also gets regular reports from a Canadian medical team. Vallely told WND that team is certain that a chlorine gas weapon was used in recent strikes. "From what I received from the Canadian medical team who works out of Aleppo is that is was chlorine and that what you saw were the reactions on those videos that were put out within the last week," Vallely said. "The chlorine, the choking, the skin, depending on the density of the chlorine will cause skin irritation. If it's mixed with other types of gases too, then it could have an even more enhanced effect on the human body, not only breathing but on the skin."
Vallely believes the chemical weapons are clearly the work of the Assad regime and that the regime will try to pin the blame on the rebels. He said this is not the first time that the beleaguered government has turned WMD on its own people and that he has evidence of a similar attack last summer. "We had photos and pictures of that which I provided the Defense Department as well as other people in our intelligence organizations," he said.
But Vallely's more stunning revelation is that he is virtually certain that Syria is in possession of Saddam Hussein's old arsenal of weapons of mass destruction and some of those may be on display in this civil war. "If you go back to January through March of 2003, we had intelligence in the Defense Department that the Russians helped move, by convoy, a lot of the chemical and biological weapons into two locations in Syria and one in the Bekaa Valley in Lebanon," Vallely said. "We think Russia and Iran have enhanced their inventory. The vast majority of those chemical and biological weapons were from Iraq."
The general said he is 95 percent sure Iraq's stockpiles are in Syria, and there is additional evidence of that which never came to light in the previous administration. "After the takedown of Saddam in 2003, there was a big survey done by US forces all throughout Iraq. Basically, as far as I know, all of the bio and chemical weapons had been moved. They found semblance of a growing nuclear development program, but it was not an aggressive program by any means," Vallely said. "So the fact is that he had them, used them on his own people. He knew he had to get them out of there, and there was a big cover-up and deception in how he moved them over there. We did know about them, but the Bush administration never came forth and explained to the American people that situation."
Vallely said the arsenal now in Syria's possession most likely includes Serrin and VX nerve gas in addition to chlorine, and the likely shelf life of the weapons means they would still be usable. He said the range of a chlorine gas strike depends largely upon how the weapon is delivered. "It depends on the warhead or whether it's dispersed in canisters and sprayed on the ground, much like they do with tear gas. So, it can range all the way from a tank hanging off an aircraft, which would be a fairly big load that could cover several miles. By artillery, you're probably talking about the same thing (as) with rockets and missiles. The close-in stuff, you're talking 100-200 yards," Vallely said.
There are also reports of secret arms shipments flowing into the region to help topple the Assad regime. During the investigation of the terrorist attack in Benghazi, Sen. Rand Paul, R-Ky., questioned then-Secretary of State Hillary Clinton about weapons from the Ghaddafi regime in Libya being smuggled to the Syrian rebels through Turkey. Vallely was less certain about reports of weapons being moved in to help the rebels. "We have a high degree of confidence that there were gun systems, particularly shoulder-fired missiles. Ghaddafi had a tremendous inventory of weapons, machine guns, rifles, pistols, ammunition," Vallely said. "I believe, from I have received so far, that there was something there going on and supplying those weapons up to Syria. Where they ended up, I don't know."
Despite the use of chemical weapons, Vallely still believes Bashar Assad will fall within months, based on continued defections from the Syrian Army and the dwindling amount of territory still in government control.
Obama, Netanyahu: Vast Differences on Iran, Syria
March 21….(DEBKAfile Special Report) President Barack Obama was greeted on his arrival in Israel midday Wednesday, March 20 with unprecedented ceremonial honors and fanfare, but after the handshakes and the drive through the sunny, flag-draped streets of Jerusalem, he and Prime Minister Binyamin Netanyahu were to sit down for tough talk on their yawning differences on three issues: nuclear Iran, Syria and the first use of chemical weapons, and the Palestinians. Expressions of devout commitment to a historic alliance and the president's unshakeable commitment to Israel's security will be left outside the door in the public domain. Obama is to be confronted with the fallout for Israel of the policies he pursued in his first term, especially his backing for the Arab Revolt which erupted in December 2010.
1. Since then, Iran has been allowed to reach a point just short of the development of two types of nuclear bombs, one fueled by enriched uranium and the other by plutonium.
2. Regardless of repeated fruitless endeavors, President Obama still holds to diplomacy and sanctions for achieving a breakthrough with Iran over its nuclear program. Circles in Washington and Jerusalem maintain that the gap between Washington and Jerusalem is over nothing more than the timeline estimated for Iran to attain a nuclear bomb capacity. But this is just a US-Israeli maneuver for giving their diplomats and intelligence officials space to pour honey and pretend the two governments can still sort out their differences.
This maneuver has been used by self-styled "nuclear experts" in both capitals as a PR exercise to cover up a very real rift. They criticize the Netanyahu government as intransigent for insisting on Iran's total cessation of 20 percent uranium enrichment (a step before weapons grade), the shutdown of its Fordo enrichment plan and removal from the country of low-enriched uranium.
Israel must give way on these demands for the sake of an accommodation with Tehran, they say. This view is supported by the "strategists" who maintain Israel is not up to the military challenge of preempting a nuclear Iran and must rely on US cooperation. Therefore, it is important to trust President Obama when he declares that his administration will not allow Iran to attain a nuclear bomb. So firmly has this viewpoint taken root in the mass media, that deviant opinions are discredited as mistaken, even when they come from highly regarded and well-informed individuals like Military Intelligence chief Maj. Gen. Aviv Kochavi and one of his predecessors, Maj. Gen. Amos Yadlin, which they support with a whole battery of updated facts and educated evaluations.
3. The infamous Iranian-Syrian-Hizballah alliance has not suffered the slightest crack despite Obama's promise to work it loose. Many Middle Easterners find it is stronger than ever. For instance, whereas before the Syrian war, Hizballah commanded a well-trained 30,000-strong army which held the whip hand in Beirut, this former militia has expanded into a veritable Shiite army of 50,000 combat-seasoned troops who are fighting in Syria for Bashar Assad alongside the Iranian Al Qods Brigades. The Hizballah militia has grown into a formidable army.
4. President Obama, who long held the belief that Assad's fall was "imminent," no longer mentions this possibility. Indeed, before he set out on his Middle East trip, US sources in Washington were whispering the latest intelligence forecast that Syrian rebels would control half of Damascus by the end of the summer and so replicate the Aleppo partition.
5. In the 48 hours leading up to the president's arrival in Israel, the Syrian Air Force for the first time bombed targets inside Lebanon (March 18) and fired a Scud missile armed with a chemical warhead which exploded in Aleppo on March 19. While Israel is acutely concerned by this escalation just across its frontiers, the Obama Administration has not reacted, evidence of another major gap between Washington and Jerusalem.
6. Israel feels it has been dropped in the middle of a dangerous vortex set up by the US-backed Arab Revolts in Tunisia, Libya and Egypt and gaining in momentum from the bloody tumult in Syria. The Jewish state is now beset with hostile Islamist regimes in which al Qaeda and Iran are increasingly embedded. If King Abdullah's throne in Jordan succumbs to the wave of unrest set up by the Muslim Brotherhood there too, Israel will be completely surrounded.
7. On peace talks with the Palestinians, the Obama administration has made no headway for bringing the Palestinians to the negotiating table.
In short, the omens at the outset of the US president's talks in Israel are not encouraging. The US mainstream media campaign to discredit Israeli intelligence findings and estimates on Iran's nuclear progress has not abated and indeed intensified in time for the Obama visit. Furthermore, in the absence of an administration reaction, Israeli officials made a point of confirming the onset of chemical warfare in Syria. This contingency the Obama administration had pledged would bring forth US intervention.
Russia Prepping Military To Fight War Against US
March 21….(Before It's News) The Russian military doctrine adopted in 2010 after the "reset" with the Obama administration considers the US and the North Atlantic Treaty Organization, or NATO, the main threats Moscow must be prepared to fight. This is the assessment of Alexei Arbatov, a former Duma, or parliament, deputy and currently head of the Center for International Security of the Russian Academy of Sciences. Recent events have underscored the prospect due to the firing of Russian Defense Minister Anatoly Serdyukov, who served under then-President Dmitry Medvedev, who now is the Russian prime minister.
Russian President Vladimir Putin replaced Serdyukov with Sergei Shoigu, who is more in line with Putin's outlook on the future role and capabilities of the military. Under Medvedev, Serdyukov had a different approach, which was to more closely work with the West in an effort to obtain Western technologies and know-how to modernize not only Russian infrastructure but also the military. All of that went away with Putin's more confrontational approach with the US and his efforts to blunt American influence in Central Asia, which Moscow claims is in its sphere of influence.
Putin also aims to recreate a post-Soviet empire by incorporating the former Soviet republics into a Eurasian Union, a duty-free zone that he sees rivaling the European Union in years to come. According to Arbatov, Russia's defense and foreign policies now reflect that Russia is surrounded by enemies led by the US. Moscow is concerned that the US and its NATO allies will invade Russia at any time. Arbatov said the US is using the pro-democracy opposition inside Russia to subvert Putin's regime and intends to use that opposition to invade Russia. To offset NATO's eastward expansion, Moscow intends to bolster its security arrangement under the Shanghai Cooperation Organization, or SCO, which is comprised of China, Kazakhstan, Kyrgyzstan, Russia, Tajikistan and Uzbekistan.
Planet Earth is Undergoing Seismic Stresses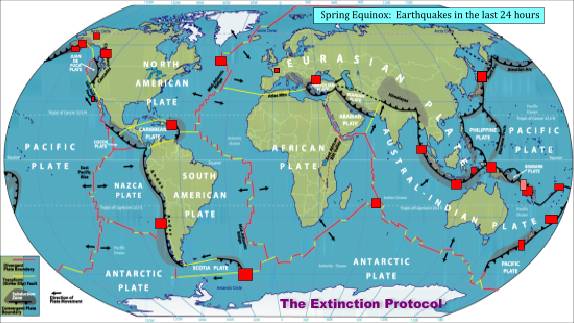 March 21….(The Extinction Protocol) The planet is currently reeling from a dense spectrum of moderate to light tremors, which have struck along major tectonic plate boundaries over the last 18 hours. As a precursor to this seismic dynamism; we have seen elevated activity at many of the world's volcanoes, including hotspots in Hawaii, Etna, and the Canary Islands. The latest spat of seismic activity across the globe has every indication of being a precursor to a major seismic stress release, which I have forecasted since last week. This event could be hours, or even days away. The window of elevated hazard risk, at present, extends through March 23, and is annunciated by the spring equinox.
Chemical Weapons Used in Syria Attack
(Israeli source confirms that chemical weapons were used Tuesday in attacks in Syria. Obama, Netanyahu to discuss)
March 20….(Arutz) An Israeli source confirmed Tuesday that chemical weapons were used in attacks on the cities of Aleppo and Damascus in which 25 people were killed and dozens more injured. Both Syrian rebels and the Assad regime had claimed that chemical weapons were used, but there had been no conclusive proof. Each side is accusing the other in the early morning attack. Prime Minister Binyamin Netanyahu and United States President Barack Obama are expected to discuss the volatile situation during Obama's visit to Israel this week.
According to The Guardian, Netanyahu will ask Obama to support an attack on Syria if it is discovered that Assad is sending weapons to Hizbullah. He is reportedly particularly concerned about the possibility that Hizbullah will obtain long-range missiles. Syrian rebels say Assad's regime has already sent chemical weapons to Hizbullah. An Israeli expert made similar claims in March, and warned that Syrian rebels pose a greater threat.
US President Barack Obama boarded Air Force One on Tuesday night and departed for Israel. Obama is scheduled to arrive Wednesday just after noon, making the Jewish state the first overseas destination of his second term and giving him the opportunity to speak directly to the Israeli people. A number of Israeli officials, as well as many of the country's supporters abroad, have been lobbying for years to put Israel on Obama's travel itinerary, saying his failure to visit during his first term sent the wrong message both to Israel and other countries in the region. Obama's passing over Israel during his first term, while visiting Egypt, Turkey and Saudi Arabia, became a hot issue in the recent US elections.
Regarding Syria, Israel is closely coordinating with the US on this matter. There is a joint concern that as Syria fragmented, the humanitarian crisis there could turn into a strategic crisis as chemical weapons or advanced weapons systems fall either into the hands of Hezbollah, which was supporting President Bashar Assad, or radical Sunni Islamic forces like al-Qaida, who were among those fighting against him.
Chemical Weapons Being Used in Syria?
March 20….(DEBKA) Extensive preparations by Syrian army units for launching chemical weapons against rebel forces have been sighted in the northern town of Homs, Western intelligence agencies told Debkafile's military sources Tuesday, March 19. Damascus paved the way for resorting to unconventional weaponry with an accusation run by the state news agency SANA Tuesday that Syrian rebels had fired a rocket containing chemical substances in the Khan al-Assal area of rural Aleppo, allegedly killing 15 people, mostly civilians. Rebels quickly denied the report and accused regime forces of "firing a chemical weapon on a long-range SCUD, after which 20 people died of asphyxia and poisoning." Neither of the accusations could immediately verified.
But a Reuters photographer said he had seen people come into two Aleppo hospitals with breathing problems after the attack. They claimed people were suffocating on the streets. Western intelligence sources reckoned that for the Assad regime, Homs, the scene of fierce battles between government and rebel forces in recent days, is likely to be the first place where the Assad government resorts to chemical warfare. A rebel victory there would be a grave setback for the regime because it would sever the main highway linking the Syrian military forces fighting in the towns of Damascus, Latakia, Aleppo and Idlib.
Monday and Tuesday, therefore, heavy government reinforcements from the South and Damascus were piled onto the embattled town, along with large numbers of warplanes and attack helicopters, in an all-out effort to cut short the rebel advance. Debkafile's military sources report that the importance Assad attaches to carrying the day in Homs is represented by the elite units he has assembled in and around the city: Heavy armored forces of the 4th and 5th Republican Guard Divisions were imported from Damascus and the 18th and 19th Divisions are there too, issued in the last few hours with chemical warfare gear. Syrian ruler Bashar Assad can not account afford to be defeated in the key town of Homs just when US President Barack Obama is scheduled to arrive in the Middle East Wednesday. He will therefore use whatever it takes to prevent this happening, even chemical weapons if they are the only answer.
The allegation that the rebels have resorted to chemical warfare strongly points to an Assad ploy to go there himself and maintain it was only after the opposition went first. The emergence of dread unconventional weapons on the Syrian battlefield during the US president's stay in the region is bound to dominate his talks with its leaders. It may even have the effect of altering his schedule and affect his itinerary.
Obama White House Labels "Jerusalem as Not Being in Israel"
March 20….(WND) The White House has released what it says is a map of Israel. The only problem is that Jerusalem, Judea, Samaria and the Golan Heights are missing. An Obama administration video highlighting the president's plans for his Mideast trip depicts Jerusalem, the Golan and the West Bank, also known as Judea and Samaria, as non-Israeli territory. The Washington Free Beacon, which first reported the discrepancies, noted the video shows the Golan Heights as part of Syria; Jerusalem is depicted as part of the West Bank; and northern Israel is shown as part of Lebanon. WND reported in August 2012 when the White House refused to name the capital of Israel, not once, but twice, as the two most senior White House correspondents cornered Obama's press secretary, doggedly questioning him on whether the Obama administration considered Jerusalem or Tel Aviv to be the capital of the Jewish state.
The itinerary on the White House website further implies that Jerusalem is not Israel's capital or even part of Israel, reported the Free Beacon. Obama's schedule lists two stops in "Tel Aviv, Israel" and one in "Amman, Jordan," while his trip to Israel's capital city is identified as taking place only in Jerusalem. The officials disclosed the Obama administration told both sides the talks would be aimed at creating a Palestinian state in what is known as the 1967 borders, meaning yet another Israeli retreat from more parts of the strategic West Bank and possibly some eastern sections of Jerusalem.
Why has Obama's State Department Left an American Pastor Behind in Iran?
March 19….(Fox News) On Monday, March 11, at a crucial moment, the State Department turned its back on an American pastor imprisoned in Iran. In September of last year, Saeed Abedini, a US citizen from Idaho, was arrested by Iran's jihadist Revolutionary Guard when he was in Tehran helping build an orphanage. He was tortured, tried, convicted, and sentenced to eight years in Iran's most brutal prison simply because of his Christian faith. In other words, he's an American hostage.
At the American Center for Law & Justice, we represent Pastor Saeed's wife and two young children, and we've launched a national and international effort to pressure the Iranian regime to release Pastor Saeed. More than 100 members of Congress have issued strongly bipartisan calls for his release, spokespersons from the White House and State Department have called for his release. Yet as welcome as those comments were, none of them were directly addressed to the Iranian regime. Because we long ago broke off diplomatic relations with Iran, American opportunities to speak to Iran are rare.
But in Geneva this week, just such an opportunity arose. On Monday, the United Nations Human Rights Council held meetings that directly addressed the human rights crisis in Iran. Before the meeting, the ACLJ launched a petition calling for international intervention on Pastor Saeed's behalf, and more than 425,000 people from the US and across the world signed in the weeks leading up the meetings. The international community responded.
The Report of the UN Special Rapporteur on human rights in Iran mentioned Pastor Saeed by name. The Council permitted our ACLJ affiliate, the European Centre for Law and Justice, to address the Council on Pastor Saeed's behalf twice. Australia spoke out for Pastor Saeed.
Critically, the European Union, representing collectively the largest economic entity in the world, called for Pastor Saeed's release by name: "We deplore the systematic harassment of members of religious minorities. We call on the Iranian authorities to refrain from such practices and to ensure respect for freedom of religion and belief. We call for the immediate release of prisoners of conscience, including Pastors Behnam Irani, Farshid Fathi and Saeed Abedini and the leaders of the Baha ́i community."
Roughly five minutes after the EU presentation, after a strong international statement on behalf of a US citizen, it was the US representative's turn at the microphone. Here is what the United States said about its imprisoned and tortured citizen, Pastor Saeed. I quote in full: Nothing. The US said nothing about Pastor Saeed. Not one word!
The president and Secretary of State need to engage this case personally, and to use their influence and the full weight of the US government to secure Saeed's release. But until then, there is only this sad reality: In March, when it mattered, the Obama administration left an American behind in Iran.
Assad's Army Attacks Inside Lebanon
March 19….(DEBKA) The Syrian conflict spread in earnest to Lebanon Monday, March 18, when the Syria Air Force carried out bombing runs over Syrian rebel jumping-off bases inside Lebanon that are used for their attacks on government forces. Debkafile's military sources report that the warplanes also bombed Lebanese border valleys used for smuggling men and arms into Syria. The targets, between one and five kilometers inside Lebanon, were the town of Arsal, where many of the Sunni Muslim inhabitants support the Syrian rebellion, and the outskirts of the towns of Khirbet Younin and Wadi al-Khayl in Arsal's barren mountains. No casualties were reported. Debkafile can disclose exclusively that Saturday, March 16, Syrian ruler Bashar Assad sent an ultimatum to Lebanese President Michel Sleiman through intelligence channels consisting of three stipulations:
1. Sack Lebanese army chief Gen. Jean Kahwaji without delay. Assad accused the general of refusing to deploy the Lebanese army for cracking down on Syrian rebel bases of operation in Lebanon and so stemming the flow of rebel strength into the embattled country.
2. The Lebanese president, himself a former army chief, was required to take responsibility for army action to purge the Lebanese border region of rebel forces.
3. President Sleiman was given 48 hours to order the Lebanese army into operation against the Syrian rebels. When this did not happen, Assad made good on his threat. As soon as his ultimatum expired Monday afternoon, he sent his air force into action across the border into Lebanon.
Debkafile's military sources estimate that the air strike Monday was not a one-off event. Lebanon is probably in for expanding Syria air operations against its territory in the coming days. It appears that the Syrian ruler timed his war action against Lebanon to coincide with President Barack Obama's visit to Israel and Jordan, starting Wednesday, March 20. He may be planning further escalation as the week goes on. According to some forecasts, Assad may be expected to launch attacks on Syrian rebel targets in Jordan as well as Lebanon.
Obamacare to Add $6.2 Trillion to National Deficit
March 18….(Christian Post) The Patient Protection and Affordable Care Act, passed three years ago with President Obama saying it would not add one dime to the federal deficit, is now projected to add $6.2 trillion to the deficit and inflict severe cuts to Medicare and Medicaid payments to hospitals and physicians. When Obamacare passed in March 2010, many Americans believed they would soon receive the same lifetime healthcare benefits as every member of Congress, and without incurring additional costs for themselves, their families or their businesses. The truth, however, is the Government Accountability Office (GAO) anticipates the Obamacare entitlement program will place a heavy burden on the US economy, which currently has a national debt of $16.7 trillion.
According to the American Enterprise Institute (AEI), a conservative think tank, patients and their physicians are going to feel the full impact of the costs associated with Obamacare, and not only by adding $6.2 trillion to the national debt, but in ways that are far more tangible to families, and especially senior citizens.
FOJ Note: Is it just me, or does anybody else think that President Obama is intentionally trying to destroy and bankrupt our country?
China Has Aborted Half a Billion Unborn Babies
March 18….(Simon Rabinovitch) Chinese doctors have performed more than 330m abortions since the government implemented a controversial family planning policy 40 years ago, according to official data from the health ministry. China's one-child policy has been the subject of a heated debate about its economic consequences as the population ages. Forced abortions and sterilisations have also been criticised by human rights campaigners such as Chen Guangcheng, the blind legal activist who sought refuge at the US embassy in Beijing last year. High quality global journalism requires investment. China first introduced measures to limit the size of the population in 1971, encouraging couples to have fewer children. The one-child rule, with exceptions for ethnic minorities and some rural families, was implemented at the end of the decade. Since 1971, doctors have performed 336m abortions and 196m sterilizations, the data reveal. They have also inserted 403m intrauterine devices, a normal birth control procedure in the west but one that local officials often force on women in China.
In the US, where the population is 315m or about one-quarter the size of China's, an estimated 50million abortions have been performed since the landmark Roe vs Wade Supreme Court decision legalized abortion in 1973.
WEEK OF MARCH 10 THROUGH MARCH 16
New Pope Begins Pontificate Praying to Mary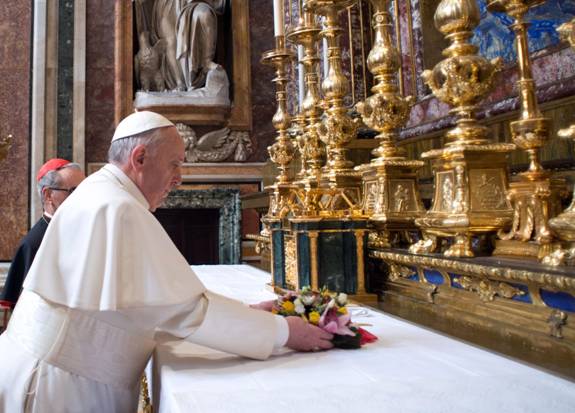 March 15….(FOJ) The former archbishop of Buenos Aires, Cardinal Jorge Bergoglio, began his first day as pope making an early morning visit in a simple Vatican car to a Roman basilica dedicated to the Virgin Mary and prayed before an icon of the Madonna.
(The famed icon of Mary, the mother of Jesus, is known as the Salus Populi Romani, or Protectress of the Roman People) He told a crowd of some 100,000 people packed in rain-soaked St. Peter's Square just after his election that he intended to pray to the Madonna "that she may watch over all of Rome."
Like many Latin American Catholics, Francis has a particular devotion to the Virgin Mary, and his visit to the basilica was a reflection of that. He prayed before a Byzantine icon of Mary and the infant Jesus, the Protectress of the Roman People. "He had a great devotion to this icon of Mary and every time he comes from Argentina he visits this basilica," said one of the priests at the basilica, the Rev. Elio Montenero. "We were surprised today because did not announce his visit."
He then also went into the main altar area of the basilica and prayed before relics of the manger in Bethlehem where Jesus is said to have been born, an important pilgrimage spot for Jesuits. While Latin America is still very Catholic, it has faced competition from aggressive evangelical churches that have chipped away at strongholds like Brazil, where the number of Catholics has dropped from 74 percent of the population in 2000 to 65 percent today.
Like Europe, secularism has also taken hold in North and South America where more and more people simply no longer identify themselves with any organized religion. Pope Francis was elected Pope because he was a Jesuit, which makes him a theological expert in waging war on Protestantism and Secularism.
Praying to Mary or any other presumed saint is useless, and a mockery to the priesthood of Christ. Jesus Christ is actually the only intercessor we need to be being praying to, as "He alone" (and not Mary) was the one that lived a sinless life and was God's foreordained sacrificial lamb to assuage mans sins. He rose from the grave, being the first-fruits of the resurrection, and today he sits at the right hand of his heavenly Father to give heed to our prayers. So, the Pope's act of praying to an icon of Mary is a supreme blasphemy to God!
World Jews Welcome Pope Francis
(Jorge Mario Bergoglio of Argentina hailed as close friend of Jewish community in Buenos Aires. 'He is a man of dialogue, a man who is able to build bridges with other faiths)
March 15….(YNET) Jorge Mario Bergoglio of Argentina, who was elected Wednesday to be the new leader of the Roman Catholic Church on Wednesday, is said to be a close friend of the global Jewish community, and the Argentinean community in particular. Jewish organizations worldwide welcomed his election and expect to see him strengthen the relationship between the Jewish community and the Vatican and continue the work of Pope Benedict XVI, who spoke against anti-Semitism and Holocaust denial. Bergoglio, who took the name Francis I, has a long history with the Jewish community in Buenos Aires from the time he served as the city's archbishop. According to the Jewish Telegraphic Agency (JTA), in September 2007 he attended Rosh Hashana services at the Benei Tikva Slijot synagogue in the Argentinean capital. Rosen added that after the bombing of the AMIA Jewish community center in Buenos Aires in 1994, Bergoglio "showed solidarity with the Jewish community."
According to JTA, in 2005 Bergoglio was the first public personality to sign a petition for justice in the AMIA bombing case. In June 2010, he even visited the rebuilt AMIA building to talk with Jewish leaders. The World Jewish Congress congratulated Bergoglio as well, referring to him as "a man of dialogue." WJC President Ron Lauder said that he had met Pope Francis in Buenos Aires in 2008. "Pope Francis I is no stranger to us. In recent years he attended many interfaith events co-organized by the WJC and our regional affiliate, the Latin American Jewish Congress," Lauder wrote. He praised the new pope as "an experienced man, someone who is known for his open-mindedness, a man of dialogue, a man who is able to build bridges with other faiths. "We look forward to continuing the close relationship that has been fostered between the Catholic Church and the Jews over the past two decades." Lauder added that he believed Pope Francis would continue Popes John Paul and Benedict's work for Catholic-Jewish relations. "We are convinced that the new pontiff will continue on this path, that he will speak out against all forms of anti-Semitism both within and without the Catholic Church, that he will take action against clerics who deny or belittle the Holocaust, and that he will strengthen the Vatican's relationship with Israel."
Rabbi Marvin Hier, dean and founder of the Simon Wiesenthal Center, told the Jewish Press website: "We have every reason to be confident Pope Francis I will be a staunch defender of the historic Nostra Aetate, the declaration on the relation of the Church with Non-Christian Religions of the Second Vatican Council, which forever changed the relationship of the Catholic Church and the Jewish people."
Mideast Rebels to Turn Against Israel Next?
(Major concern over Obama-aided opposition attacking Jewish state)
March 15….(WND) Israel has information that elements of the so-called Syrian rebels are seeking to establish cells to attack the Jewish state's borders, according to informed Middle Eastern security officials. The security officials said the rebels are planning for future rounds of fighting should the regime of Syrian President Bashar al-Assad collapse.
The officials divulged a series of meetings in recent days in Cairo between Israeli and Egyptian security officials in which Israel inquired about information on al-Qaida groups acting on the Syrian-Israeli borders.
Israel also asked Egypt to look into whether there is evidence of any collaboration between jihadist cells in the Egyptian Sinai and militias stationed near the Israeli-Syrian borders, the officials told WND. According to information that Israel received from Saudi Arabia, there is evidence al-Qaida groups in Syria are forming new networks in preparation for future rounds of fighting if Assad falls, the officials said. The al-Qaida groups are studying how to establish cells to attack the Israeli borders. The information follows reports of heavy fighting yesterday in an area between Damascus and the Israeli Golan Heights in what could become a new battlefront between Syrian troops and rebels uncomfortably close to the Jewish state's borders.
Concern over Syrian rebels attacking Israel also comes amid reports of stepped-up US support for those very rebels. Earlier this week the German weekly Der Spiegel reported how US is training Syrian rebels in Jordan, a story first exclusively exposed by WND 13 months ago. Quoting what it said were training participants and organizers, Der Spiegel reported Sunday it was not clear whether the Americans worked for private firms or were from the army, but the newspaper said some organizers wore uniforms. The training in Jordan reportedly focused on use of anti-tank weaponry. The magazine reported some 200 men received such training over the past three months with US plans to provide training for a total 1,200 members of the Free Syrian Army in two camps in the south and the east of Jordan.
Britain's Guardian newspaper also reported that US trainers were aiding Syrian rebels in Jordan along with British and French instructors. Reuters reported a spokesman for the US Defense Department declined immediate comment on the Der Spiegel report. The French foreign ministry and Britain's foreign and defense ministries also would not comment to Reuters. While Spiegel quoted sources discussing training of the rebels in Jordan over the last three months, WND was first to report about that training as far back as February 2012. At the time, WND quoted knowledgeable Egyptian and Arab security officials claimed the US, Turkey and Jordan were running a training base for the Syrian rebels in the Jordanian town of Safawi in the country's northern desert region.
Any training of the Syrian rebels would be considered highly controversial. A major issue is the inclusion of jihadists, including al-Qaida, among the ranks of the Free Syrian Army and other Syrian opposition groups. While the training has not yet been confirmed, Secretary of State John Kerry has been making the case for sending weapons to the Free Syrian Army. Also last week it was announced the US would provide $60 million on nonlethal aid to the Syrian rebels.
FOJ Note: Isn't it amazing that President Obama can find no resources to sustain the tasks of the US Defense Department, (sequestration) but yet he can find enough money to finance Al Qaeda rebels, train Syrian rebels, and ship weapons from Libya to Jihadists forces opposing the Syrian leadership. Could it be that President Obama is enabling sinister forces throughout the region to encircle Israel, and force it to comply with further land transfers to a new Palestinian State.
Future Temple Mount Battles Brewing
(FOJ) Whoever proposes that giving up the heart of Jerusalem, the Temple Mount will bring peace, is fatally mistaken, Prime Minister Binyamin Netanyahu declared on Monday evening.

Netanyahu said that taking the Temple Mount out of Israeli hands, would bring decline, and the rise of radical Islam in the region and in the world.
March 14….(Times of Israel) On Tuesday of this week, the struggle of Jewish women fighting to worship with prayer shawls at the Western Wall in Jerusalem received renewed attention when protesters at the holy site were joined by several new members of Knesset, spotlighting Israel's ongoing policy of imposing Orthodox practice on all worshipers at the wall. But in the coming years a different battle over Jewish prayer, one unfolding a few paces away, is likely to be of more significance, a growing debate over whether Jews should be allowed to pray on the Temple Mount itself. The desire to pray on the Mount, also the site of Islam's third-holiest shrine, has found more acceptance among mainstream rabbis in Israel over the past decade, spreading gradually from a tiny fringe to a broader religious public. The numbers of Jews actually visiting the Mount for religious reasons is still tiny, no more than several thousand a year, according to police estimates, but inching upward, and the sacred enclosure is slowly gaining in importance as an issue of religious and political meaning for religious Zionists, a group with outsize ideological and political clout in Israeli society. That could make it a flashpoint inside Israel and an inflammatory issue for local Muslims and the entire Islamic world.
If the issue comes to the fore, it will be in part thanks to the activities of Moshe Feiglin, once a figure from the margins of the Israeli right and now a member of Knesset from the ruling party, Likud. On the way to his swearing-in ceremony at parliament last month, Feiglin went to the Temple Mount, where he had been detained by police in January for violating the prohibition on Jewish prayer. Early this month he was there again, freshly armed with parliamentary immunity, striding around the sacred enclosure with the purposeful air of a landlord and causing a stir when he tried to go into the Dome of the Rock, where entry is limited solely to Muslims. He has promised to be back.
Few places on earth are as potentially explosive as the Temple Mount. The shrine has been especially tense in recent weeks, with protests erupting twice after communal Friday prayers. Riots on the Mount have tended to involve protesters throwing rocks and chairs, but last week, for the first time in memory, a Palestinian threw a Molotov cocktail, pitching it from inside the al-Aqsa mosque and setting a policeman's leg on fire. The officer was lightly wounded.
Muslims believe the Mount is where the Prophet Muhammad ascended to heaven in a mystical night journey recounted in the Koran, and call it the Noble Sanctuary. The day-to-day functioning of the site is in the hands of the Islamic Waqf, and Israeli governments have been stringent about maintaining the status quo. The enclosure, with its cypress trees and open stone esplanades, generally has the air of a peaceful urban park. But because of its importance to Muslims and the inherent tension of such a place being under the control of Israel, any violence there resonates across the Islamic world and has the potential for deadly results.
In an interview this week, Feiglin promised he would be visiting the Mount regularly as a lawmaker, and said he would bring others. The interview, part of a fundraising telecast for the Temple Institute, a group that says it is making practical preparations to rebuild the Temple, was broadcast Sunday, on what the institute dubbed its Fourth Annual International Temple Mount Awareness Day. The webcast was aimed at the institute's supporters among evangelical Christians in the United States, and a 1-800 number was given for donations. The webcast's hosts addressed the camera in front of a painting showing modern construction cranes erecting the Third Temple. "Every Jew that goes to the Temple Mount puts another stone in the building of the Temple, and is making another step to fulfill Jewish sovereignty on the Temple Mount," Feiglin told viewers. That is precisely what makes Muslims nervous.
Feiglin and other committed Temple activists have replaced the idea of Jewish renewal as represented by a powerful symbol, the Temple in Jerusalem, with the idea that if an actual building, a temple, is built on an actual site, the Temple Mount, Jews will somehow plug into a spiritual power source they have lost and restore themselves to greatness. The opposition of Muslims and other nations to Jewish practice at the site fits into their narrative: The nations know this, and don't want it to happen. At the moment, Israeli police and Waqf guards keep close tabs on visitors identifiable as religious Jews. If someone is seen moving lips in prayer, or prostrates themselves on the smooth stones of the shrine, they are expelled and detained. The status quo on the Mount is the result of a convergence of religious and political interests after 1967. Rabbis decided early on that religious law forbade visiting the site because of fears one might tread on the location of the Holy of Holies, the focus of ancient ritual, where people were forbidden to enter.
Rome Has A New "Jesuit Pope"
March 14….(FOJ) Newly elected Pope Francis is unique not just for being the first Latin American pope. (Italian descent) He's also the first Jesuit pope, possibly signaling a renewed emphasis on traditional Catholic theology by the church. Jorge Mario Bergoglio, an Argentine cardinal of Italian family descent, was elected by the conclave to be the next leader of the world's 1.2 billion Roman Catholics as Pope Francis I. The tens of thousands of people gathered in St. Peter's square exploded in cheers as the 76-year-old stepped out onto the balcony before St. Peter's square in Rome wearing the all-white vestments of the Catholic leader. Jorge Mario Bergoglio may have chosen to name himself Francis I after the patron saint of Italy, St. Francis of Assisi, but His Holiness is not a Franciscan. He is a Jesuit, the first member of the Society of Jesus to be elected pope.
The Jesuit Order was organized "to stop Protestantism from spreading and to preserve communion with Rome and the successor of Peter." Jesuit members are also known colloquially as "God's Marines", these being references to founder Ignatius of Loyola's military background and members' willingness to accept orders anywhere in the world and live in extreme conditions. Ignatius' plan of the order's organization was approved by Pope Paul III in 1540. The Jesuit Society participated in and anchored activities in the Counter-Reformation and later in the implementation of the Second Vatican Council in the Catholic Church. The Society of Jesus is consecrated under the patronage of Madonna Della Strada, a title of the Blessed Virgin Mary. As part of their service to the Roman Church, the Jesuits encourage and teach people to continue their obedience to scripture as interpreted only by Catholic doctrine! Jesuit schools played an important part in winning back to Catholicism a number of European countries, which had for a time been predominantly Protestant. Jesuit priests repressed and annulled varying protestant reformations against the Roman Catholic Church. Pope Paul III gave formal approval to St. Ignatius of Loyola to lead this particular order. This order was the most influential, intellectual Counter Reformation by the catholic Church. They were most notably marked by their ability for intellectual influence and debate among the aristocracy of Europe, and are known as the military-religious order of the Roman Pope.
The word "Jesuit" has become synonymous through the centuries with political scheming, and their fame is widely known for being politically shrewd operators
Syria Rebels Vow to 'Liberate Golan Heights' after Assad Falls
(Syrian rebels operating near Israeli border criticize Assad regime for not fighting Israel in recent decades)
March 13….(Israel Hayom) Syrian rebels operating in the region near the border with Israel threatened on Sunday to fight to regain the Golan Heights from Israel following the toppling of Syrian President Bashar Assad. In a video published online, a rebel fighter, filmed against the backdrop of the Golan Heights, said "we are in the occupied Golan Heights, which the traitor Hafez Assad sold to Israel 40 years ago. These lands are blessed and the despicable Assad family promised to liberate them, but for 40 years the Syrian army did not fire a single bullet. We will open a military campaign against Israel. We will fire the bullets that Assad did not and we will liberate the Golan." The Israel-Syria border has been mostly quiet since 1974.
A spokesman for the Foreign Ministry has voiced his concerns about the potential for radical Sunni elements to take power in a post-Assad Syria. "There is a great concern that uncontrolled elements at the service of extremist ideas will manage to take over smaller or bigger separate territories inside the Syrian borders," Yigal Palmor told the Turkish Hürriyet Daily News in an interview in Jerusalem. "The 'Somalization' of Syria is a great concern. We hope that this war ends as quickly as possible, with a central power emerging that will rule all Syria," he said. "We don't have any pretext to militarily intervene in what is going on in Syria. Nobody wants us to do that and we don't want to do that. We stay on the sidelines, except where our vital security interests are threatened. We reserve our right to limited intervention," Palmor said.
In the interview with the Turkish newspaper, Palmor revealed that Israel had coordinated with the Red Cross to send humanitarian aid into Syria, but Israel was told that the refugees refused to receive aid from Israel. Private aid organizations in Israel are already working with Jordan for human assistance to Syrian refugees, Palmor said, adding, "this shows that the Israeli public wants to help Syrians no matter what politics dictates."
In July 2012, Israel Defense Forces Director of Military Intelligence Maj. Gen. Aviv Kochavi warned that global jihadists have moved into Syrian territory bordering the Golan Heights and could soon use the area to stage attacks on Israel. In a briefing to the Knesset Foreign Affairs and Defense Committee, Kochavi said that Islamic terrorists have taken advantage of the chaos created by the Syrian civil war to approach the Golan area. Kochavi told lawmakers that a power vacuum has created a possible arena in the Golan Heights for anti-Israel operations, similar to what was happening in Egypt's Sinai region, where the government in Cairo is finding it hard to impose its authority on the desert peninsula. "The Golan area is liable to become an arena of operations against Israel in much the same way the Sinai is today, and that's a result of the increasing entrenchment of global jihad in Syria," he said.
In Dec. 2012 a senior Israeli intelligence official told Channel 2 TV that global jihad groups have been preparing near the border with Israel, and are "stockpiling huge amounts of lethal weapons for a fight with Israel." "The main problem is not the local rebel groups but fighters coming from outside Syria. Hundreds of fighters have begun streaming into Syria from Jordan and Iraq. They come from countries like Saudi Arabia, Iraq, Libya, and many other countries. We're talking about very dangerous people with experience fighting the U.S. army in Iraq as well as fighting the regime in Libya. We estimate that there are between 3,000 to 4,000 rebel fighters belonging to radical Salafist groups who all belong under the al-Qaida umbrella," the official said. "We expect these rebels to stockpile a large amount of rockets, a situation which will return the northern Israeli communities into the line of fire. We assess that once the foreign rebels have finished fighting Assad's army they will all turn their attention to the border with Israel. There is no question about it. Once the Assad regime falls, we will start seeing incidents on our border. I assess that it will start with a trickle of incidents, like we see on the Egyptian border, and further down the line we'll start seeing the firing of anti-tank missiles at IDF vehicles, roadside bombs against patrols, and these are only the incidents I can reveal. I believe we will see much worse things," the official said.
Meanwhile, the German Der Spiegel magazine reported on Sunday that the United States is secretly providing military training in Jordan to Syrian rebels. According to the report, some 200 rebel fighters have already received training in recent months and there are future plans to train a total of 1,200 members of the Free Syrian Army at two camps in southern and eastern Jordan. The US State Department declined to comment on the report. Arab media on Sunday reported fierce, ongoing battles between rebels and the Syrian military throughout the country. More than 150 people were reportedly killed over the past day.
UN High Commissioner for Refugees Antonio Guterres warned on Sunday that there could be three million Syrian refugees by the end of 2013, if the violence in the country continues. According to reports on Al-Arabiya and Al-Jazeera, Free Syrian Army fighters captured a Syrian military aerial defense base in the Deir el-Zour region of northeastern Syria near the Iraqi border. Rebels flaunted a large cache of anti-aircraft missiles taken from the base and accused the Iraqi military of helping Assad's forces.
Also on Sunday, the deputy head of Hezbollah, Sheikh Naim Qassem, said in an interview with a Kuwaiti newspaper that the Assad regime has the situation under control in Syria and is close to subduing the rebels. Qassem denied reports that he was recently injured in a Syrian rebel ambush of a convoy travelling from Beirut to Damascus. Qassem also warned Israel not to attack Lebanon, saying, "if the Israelis grossly violate Lebanese sovereignty and penetrate Lebanon via the air, sea and land. We reserve the right to respond to any Israeli action in Lebanon as we see fit."
Four Asteroids Buzz Earth in One Week
March 13….(Fox News) In the last seven days, an asteroid the size of a city block and three smaller space rocks have zoomed safely by Earth, the latest demonstration that we live in a solar system that some scientists have dubbed a "cosmic shooting gallery." All four asteroid flybys occurred between March 4 and Sunday, March 10. The asteroids were also all discovered this month, some just days ago.
The biggest space rock encounter occurred Saturday, when the asteroid 2013 ET passed just inside 600,000 miles of Earth. That asteroid is about 460 feet long and approached within 2.5 times the distance between Earth and the moon. "The scary part about this one, of course, is that it's something we didn't even know about," said Patrick Paolucci, president of the online Slooh Space Camera during a live webcast of 2013 ET's flyby. The asteroid was first discovered on March 3 by the Catalina Sky Survey at the University of Arizona.
Also on Saturday, a smaller asteroid called 2013 EC20 (discovered on Thursday, March 7) came even closer to Earth, passing at a range of about 93,000 miles, less than half the distance to the moon. It was about 23 feet across. Had asteroid 2013 ET actually hit the Earth, instead of zipping safely by, it could have destroyed a large city, Slooh Space Camera engineer Paul Cox said in the webcast. Cox controlled the remotely operated Slooh telescope in the Canary Islands, off the west coast of Africa, as the asteroid zoomed by Earth at a speed of 26,000 mph.
The asteroid flybys came a few weeks after a 55-foot meteor exploded over Russia on Feb. 15 with the force of about 500 kilotons, injuring more than 1,200 people in the city of Chelyabinsk and causing extensive damage to city buildings. Later on Feb. 15, the larger asteroid 2012 DA14 passed within 17,200 miles or Earth, closer than many communications satellites. The asteroid 2012 DA14 flyby, which was closely tracked by NASA and astronomers, prompted planetary scientists Bruce Betts of the Planetary Society to remind the public that Earth is in a "cosmic shooting gallery" where asteroids are concerned.
Syrian Rebels May Target Israel Next
March 13….(Israel Today) Israeli army chief Gen. Benny Gantz on Monday warned that the Syrian rebel groups that America and Europe are now helping to arm and train might turn their hostility toward Israel after ousting the regime of dictator Bashar Assad. "The situation in Syria has become unstable and incredibly dangerous," Gantz said at the 2013 Herzliya Conference. "Although the likelihood of war with Syria is low, the terrorist organizations fighting against Assad may see us as their next challenge."
Since the start of the Syrian civil war, Israel has warned that most of the rebel groups are backed by or branches of radical Islamist groups, including Al Qaeda, and their victory would only increase tensions along the Israel-Syria border. Indeed, just last week Syrian rebels abducted 21 of the UN peacekeepers deployed to keep the Israel-Syria border quiet for the past 41 years. Those peacekeepers were subsequently released, but many more fled into Israel before they, too, could be taken.
On Saturday, Syrian rebels opened fire on UN troops, prompting a "very active review" into the safety of UN peacekeepers in the area. Israel's concern is that the UN will decide to pull the peacekeepers out just when they are needed most. The entire situation is being viewed in Jerusalem as just another example of how Israel cannot trust international guarantees regarding its security, and therefore must not make major concessions that would compromise the safety of its citizens.
New Muslim Vision for Temple Mount
(Devout Muslim dreams of seeing people of all faiths praying together at Jerusalem holy site)
March 13….(YNET) The unique importance of the Temple Mount to Judaism and to Islam makes the location vulnerable to tensions and conflicts between Jews and Muslims. Usually, these incidents originate in rumors such as: "The Jews are coming today to bomb the mosques and build their Third Temple." Obviously, false accusations and baseless suspicions such as these turn the site from a holy place of prayer and love into a site of violent political demonstrations. The potential escalation of tension brings on more restrictions and discomfort to all. Who benefits from this? Certainly not the worshippers.
While the Israeli government ensures limited public access to the Temple Mount regardless of religious beliefs, only Muslims are allowed to pray at the site, which is known to Muslims as Haram al-Sharif. The Israeli government has prohibited everyone except Muslims from worshipping there since 1967, due to security concerns.
Nevertheless, Muslims too are occasionally restricted. The Jordanian waqf, which administers the site, has restricted non-Muslims from entering the Dome of the Rock and the Al-Aqsa Mosque since the year 2000. What is more, non-Muslim religious symbols are not also allowed to be worn while entering the site. Freedom of worship is an essential issue. The Temple Mount is the holiest place to the people of Israel; the place where the First and Second Temples stood. However, it is no less holy to both Muslims and Christians. Since this is a location that God designated as a "house of prayer for all nations," it should be a place of festivity for all believers. As all those who pray to the God of Abraham are brothers, Jews and Christians should be able to offer prayers there in dignity and peace along with Muslims. To cast believers out from such a place, to prevent worship there, is a heinous and cruel policy which insults Islam. God Himself condemns anyone who forbids worship: "And who is more unjust than he who forbids that in places for the worship of God, God's name should be celebrated?-whose zeal is (in fact) to ruin them? It was not fitting that such should themselves enter them except in fear. For them there is nothing but disgrace in this world, and in the world to come, an exceeding torment." (Koran 2:214)
Likewise, the Bible declares the will of God to make this unique spot a common sanctuary where all people learn to coexist and pray together: "For then will I turn clear language to the nations, that they may all call upon the name of God, to serve Him shoulder to shoulder." (Zephaniah 3:9)
Wherever one prays to God is a house of prayer. Therefore, it is an atrocious thing to forbid anyone from praying at the Temple Mount. The longings of Bnei Yisrael to pray at the Temple Mount can never be an offense to a Muslim. On the contrary, it is very pleasant to see Jewish people praying at the Temple Mount. Indeed, all the faithful people should be able to pray there. As a matter of fact, in Istanbul's Blue Mosque, Hagia Sophia and others houses of worship, foreign tourists often come and pray. Some perform their religious obligations according to their own faith, and it is something quite beautiful to see. As a devout Muslim, I take pleasure in seeing Jews pray to God, anywhere in the world. It would please me very much if they would be able to pray at the Temple Mount as well. As a devout Muslim, it would be a joy for me to see King Solomon's Temple rebuilt as well. No, you did not hear me wrong. King Solomon's Temple being rebuilt in all its magnificence and glory would be a great delight for me, as it would be for any Muslim. Under different circumstances, in an atmosphere of trust, love and brotherhood, Muslims would welcome this with enthusiasm. The Temple of Solomon is also a historically important place, and rebuilding it would be a wonderful occasion for all believers. Every Muslim, every believer will want to experience the spirit of those days again, and strive to bring the beauty of those days back to life. Actually, it is everyone's aspiration for that city to be adorned, to be beautified, and to regain the magnificent glory it had in the days of King Solomon.
Solomon's Temple being rebuilt does not entail any harm to these shrines. So I beg my Muslim brothers and sisters not to take my words the wrong way. They should not be concerned, because the al-Aqsa Mosque and the Dome of the Rock will remain standing, as they are protected by God. There is a lot of space around the Al-Aqsa Mosque and the Dome of the Rock. The Temple can be built not far from Qubbat As-Sakhrah and Masjid el-Aqsa.
King Solomon is loved by Muslims as well. He had a superior understanding of beauty and aesthetics, and no doubt, rebuilding his Temple in its original form would be a splendid undertaking. Decorated exactly as it was, with the same beautiful ornaments, covered in gold, adorned with fruit trees and beautiful gardens, and restored to its former glory, would be splendid!
The very thought of Christians, Jews and Muslims cooperating to rebuild this house of worship, hand in hand, and worshipping there together, is uplifting. Think of the waste of energy and resources due to the conflict between Arabs and Jews. This energy could be used to beautify these holy places. There is plenty of space, and there are overwhelmingly sufficient resources for everyone to live there in peace and tranquility and enjoy their freedom of worship. How have we allowed these unending wars, sporadic clashes, security walls, unnecessary discrimination and restrictions to bar us from being able to embrace each other as brothers? Why do we assume that we are obligated to perpetuate these senseless conflicts? Why does everyone simply presume this is the way things are meant to be? We all want suffering to end and peace to prevail in the region. Obviously we cannot achieve this peace as long as we lack the spirit of unity.
The Jews have the exact same vision, with the Third Temple being a center for all believers, not only for Jews: "And the foreigners who join themselves to the Lord, to minister to him, to love the name of the Lord, and to be his servants, everyone who keeps the Sabbath and does not profane it, and holds fast my covenant - these I will bring to my holy mountain, and make them joyful in my house of prayer; their burnt offerings and their sacrifices will be accepted on my altar; for my house shall be called a house of prayer for all peoples." (Isaiah 56:6-7) Other prayer houses should be rebuilt as well, and Christians, Muslims and Jews should be allowed to visit them at the same time.
The main entrance to the Old City is the Jaffa Gate. This gate was built by Sultan Suleiman the Magnificent in 1538. The name in Arabic, Bab el-Halil, or Hebron Gate, means "The Beloved," and refers to Abraham. In the entrance hall of the gate there is a stone on which the following text is engraved: "There is only one God and Abraham is his friend." It is written this way because Jews and Christians were also using this gate along with Muslims, and the text refers to our common belief in Abraham. So this should be the spirit in this site: We all worship the same God and we are all children of Abraham. Let us embrace each other with respect and love. Let us envision better days in which we can all pray, and unite in celebration and brotherhood in King Solomon's house of prayer.
Temple Mount Is Not in our Hands
(Jerusalem holy site, once a source of national pride, now viewed by Israeli decision-makers as a national problem)
March 13….(YNET) "The Temple Mount is in our hands," Lieutenant General Mordechai 'Motta' Gur called out upon entering the plaza beneath the golden mosque during the Six Day War. Gur, who was secular, was referring to secular sovereignty, the kind that can plant a flag, rule and fight. In a way, Gur's declaration symbolized the connection between Judaism and Zionism. Without Judaism the Jews would not have necessarily chosen to come to Zion. Without Zionism they would not have built a state, conquered a capital and fought for territory and sovereignty.
Rabbi Goren, the shofar and the prayers symbolized the return of the religious divine presence (shechina) to the Temple Mount. The paratroopers, Gur and the calls over the radio symbolized the secular divine presence that took over the Temple Mount. Since those days in June of 1967, the secular divine presence has departed from the Temple Mount. The Israelis' excitement upon hearing recordings of Gur's famous words and seeing the Israeli flag being waved at the Temple Mount faded. All that remained was the religious presence. The Temple Mount, once a source of national pride, has become a national problem in the eyes of the decision-makers – a "powder keg."
This week police banned a group of female Bnei Akiva youth movement members from calling out "The Temple Mount is in our hands!" or holding up signs with the slogan during a demonstration they planned to hold in the Old City. The slogan Gur repeated three times is now viewed by Israel Police as "incitement." The only ones who seemed to be unnerved by this were members of the religious-Zionist movement, religious parties and right-wing activists. Israel did not shake, and the press was not particularly interested.
Despite its historic importance, the evolution of the Temple Mount has led to a situation whereby the only people who care about it today belong to the school of the religious divine presence. Their ambitions are religious, as is their reasoning. Unfortunately, secular Zionism has yet to produce a successor to Motta Gur, a successor with secular divine presence who will speak of the meaning of the slogan "The Temple Mount is in our hands."
The State of Israel repeatedly declares its sovereignty over the Temple Mount, and no ruling party has ever called publicly to transfer control over the site to another entity. But in practice, 45 years on, in modern Israel, there is no sovereignty over the Temple Mount. The waqf is the sole ruler and it decides what is permitted and what is forbidden. A state within a state.
During the battle for the Old City, Gur asked soldiers who had entered the Rockefeller Archaeological Museum to be careful not to damage anything, to preserve history. Today, in the same place that he conquered, infrastructure work is destroying archeological treasures. There is no supervision by the Israel Antiquities Authority or police. There is no preservation of history. Moreover, freedom of worship, a cornerstone of any liberal and democratic country, is non-existent on the Temple Mount when it comes to Jews who wish to pray there. The waqf decides, the potentially explosive situation dictates. And so, when the Bnei Akiva members wanted to convey a message, police preferred calm. It is not the fault of Israel Police. Its actions are a product of Israel's policy, or rather the continued lack of policy vis-à-vis the Temple Mount.
Native American Chiefs Pledge Support to Israel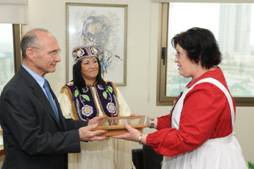 March 12….(Israel Today) Chief Anne Richardson of the Rappahannock Tribe in Virginia and Kathy Cummings-Dickinson, head of the Lumbee tribes in North Carolina, donned traditional tribal clothing for their recent meeting with Israeli Energy and Water Minister Dr. Uzi Landau. "We are here to deliver a message to residents of Israel: Stand firm and united against the threats and pressure," said the two female chiefs. "We want to encourage Israel and the newly elected Knesset not to give in to those who try to pressure them to give up parts of the homeland. Surrender to this pressure is not a recipe for peace, but rather war. We stand beside you."
Chief Richardson also quoted from the Book of Ruth: "We'll go wherever you go, your people will be our people and your God will be our God." This was the second meeting between Landau and Chief Richardson, who is the first female leader of her tribe since 1705. During Sukkot 2009, Richardson visited Israel and presented Landau with a declaration of loyalty to the tribes of Israel. Cummings-Dickinson presented Landau with a likeness of a known tribal icon cut from the trunk of an ancient tree, stating, "This ancient tree has strong and deep roots, like my tribe to our land, and as with your people to the land of Israel." The Native American delegations told their Israeli host that they intend to bring other tribes who wish to express support for Israel. Landau thanked his guests and said: "I am aware of your strong stance and your actions on behalf of Israel, as well as on behalf of the Native American tribes in the US, some are not aware that we are all in the same boat. There is a large shadow in the form of radical Islam overshadowing all Western culture. Israel stands on the front line, but all lovers of democracy and freedom must face this together."
In recent decades there have been efforts by Islamic groups to bring Native American tribes in line with Muslim animosity for the US and Israel.
North Korea Cancels 1953 Armistice
March 12….(Newsmax) North Korean state media said Monday that Pyongyang had carried through with a threat to cancel the 60-year-old armistice that ended the Korean War, as it and South Korea staged dueling war games amid threatening rhetoric that has risen to the highest level since North Korea rained artillery shells on a South Korean island in 2010. Enraged over the South's joint military drills with the United States and recent UN sanctions, Pyongyang has piled threat on top of threat, including vows to launch a nuclear strike on the United States. Seoul has responded with tough talk of its own and has placed its troops on high alert. The North Korean government made no formal announcement Monday on its repeated threats to scrap the armistice, but the country's main newspaper, Rodong Sinmun, reported that the armistice was nullified Monday as Pyongyang had earlier announced it would. The North has threatened to nullify the armistice several times in times of tension with the outside world, and in 1996 the country sent hundreds of armed troops into a border village.
Part of what North Korea wants is a formal peace treaty to end the Korean War, instead of the armistice that leaves the peninsula still technically in a state of war. It also wants security guarantees and other concessions, direct talks with Washington, recognition as a nuclear weapons state and the removal of 28,500 US troops stationed in South Korea.
UN Peace Keepers Abandon Golan
March 12….(DEBKA) The flight of hundreds of UN Disengagement and Observers Force (UNDOF) soldiers, Indian, Austrian and Filipino, in trucks and APC's from the Syrian side of Golan into Israel was in full swing early Monday, March 11. Debkafile quotes them as telling Israeli officers manning the Israeli side of the enclave that their commanders urged them to get out when they could because "We can no longer vouch for your safety." Many more UN troops are expected to make their way during the day to refuge in IDF camps across the border. Their officers, they said, had already placed their belongings aboard waiting vehicles ready to move across as soon as they received permission from their governments in Vienna, New Delhi and Manila or the UN Secretariat in New York.
Our military sources report that this mass exit signals the breakup of the 1,000-strong UNDOF which for 39 years manned the 8 sq. km separation zone between Syria and Israel. It was set up in 1974 to end the war of attrition fought in the sequel to the Yom Kippur War between the IDF and Cuban armored brigades flown in from Angola by the Soviet Union to support the Syrian army. The UN force's collapse began with the Croatian government's recall of its 100 troops last week. As the peacemakers flee, Russia is today hardly likely to interfere with who gets to control the Golan separation zone which was split between Syria and Israel. Debkafile reports three potential candidates are eying the sliver of land for different reasons:
1. The Martyrs of Yarmuk Islamist militia force of the Syrian rebel movement, which staked its claim last week by kidnapping 21 blue-and-white helmeted Filipino observers on the Golan and later releasing them in Jordan. It is feared in Washington, Jerusalem and Amman, that Al Qaeda-associated forces will waste no time in overrunning the highly strategic patch of Golan borderland, armed with chemical weapons and even Scud D missiles captured from Syrian army bases. They may even be plotting an attack during President Barack Obama's visits to Jerusalem and Amman, starting March 20. Debkafile's military sources report that in sync with the UN observers' escape, Israeli military reinforcements are massing on the Golan Syrian border.
2. US, Jordan and/or Israel may step in to keep the Islamists out, using either large special forces units for ground raids or a swarm of armed drones.
3. Hizballah militia units were spotted Sunday night on the move from south Lebanon toward the Lebanese-Syrian border areas abutting on the Golan separation zone.
Bolton: Israel has 'Short Time' to Strike Iran
(Warns Tehran will soon possess nuclear weapons beyond reach)
March 12….(WND) Israeli Prime Minister Benjamin Netanyahu has a "very short period of time" to decide whether to strike Iran's nuclear infrastructure before Tehran possesses nuclear weapons, warned former United Nations Ambassador John Bolton in a radio interview last night. "Obviously, in the short term, Israel is focused on forming its own government," stated Bolton. "But I think, assuming it's Prime Minister Netanyahu forming that government, he has a very short period of time in which to determine whether Israel will use military force, knowing that the United States will not, or whether Israel is prepared to allow Iran to get to the point where it has nuclear weapons." Bolton said he doesn't know what Netanyahu's decision will be but warned "every day that goes by allows Iran to put its nuclear capabilities beyond Israel's powers to destroy."
Bolton was speaking last night on Aaron Klein Investigative Radio" on New York's WABC Radio. The former diplomat told Klein he doesn't believe the Obama administration will take any military action against Iran. "I don't think it will come from the United States, that's for sure," Bolton said. "The question is whether at some point Israel acts in its own self defense as it has twice before when it struck Saddam Hussein's reactor in 1981 and the Syrian reactor in September of 2007." Bolton's comments come a week before President Obama is slated to visit Israel, with the topic of Iran likely to dominate discussions with Israeli officials.
Godless, Churchless, Faithless Lifestyle Weighing Hard on Women?
March 12….(Instant Analysis) In light of a study suggesting the life-span of women has decreased, one conservative thinks she understands the problem and has a solution. Though women have historically lived longer than men, the latest data from the Centers for Disease Control and Prevention shows that gap closing. And a new study, released last week by the journal Health Affairs, shows declining life expectancy for women in about 43 percent of the nation's counties, many in rural areas of the South and West.
The researchers, David Kindig and Erika Cheng of the University of Wisconsin, reportedly looked at federal death data and other information for nearly all 3,141 US counties over ten years and calculated what is sometimes called "premature death rates" for women age 75 and younger. According to Fox News, experts cannot explain the "disturbing trend." Dr. Christopher Murray, who led a similar study a couple of years ago, blamed smoking, abuse of Oxycontin and other drugs, and the fact that fewer women in the South received a high school diploma for the decline in that region of the country. He also speculated that the healthier women were migrating out of rural areas
But Janice Crouse of Concerned Women for America (CWA) points out that things are no longer like they were in the past, when women typically lived longer. "Women are not getting married. They are under far more stress than they used to be under, and the lifestyle that is so typical today, that is godless and churchless and faithless, is particularly hard on women," she submits. Crouse also points to the sexual promiscuity of today, including skyrocketing STDs. And she recalls that some leading thinkers in the country have suggested that what America needs is an old-fashioned John Wesley-type revival and another Great Awakening. "We need to come back to the biblical truth that the parameters under which people do really, really well in life, they're not there to harm us, or to hinder us, or to keep us from doing the things that are fun and exciting; instead, they're there to shape us into the kind of image that God created us to be," the CWA spokesperson contends. She believes that if society, male and female, child and adult, were to return to those principles, people would be much better off today.
Hizbullah Training Thousands in Bekaa Valley to Fight in Syrian War
March 12….(World Tribune) Sunni rebels have asserted that the Iranian-sponsored Hizbullah was organizing another major military expedition in Syria. The Free Syrian Army said Hizbullah was training thousands of fighters to quell the two-year revolt against the regime of President Bashar Assad. FSA said Hizbullah intends to deploy another 5,000 troops to the central Syrian city of Homs in March 2013. "They are preparing to send between 4,000-5,000 fighters to Syria via Homs over the next few days," FSA said.
In a statement on March 5, FSA reported Hizbullah training of new forces for the Syrian campaign. The statement said Hizbullah training was taking place in Lebanon's Bekaa Valley near Mashghara. "They are establishing reconnaissance positions and deployment centers, some of them near the eight Syrian border towns occupied by the party, with the aim of providing protection and controlling the international highway connecting Damascus, Homs and the Syrian coast," FSA said. FSA as well as other rebel groups have reported a massive escalation in the Hizbullah presence in Syria over the last three months. The rebels said more than 10,000 Hizbullah personnel were deployed in Syria, including participating in Syrian Army and Shabiha militia operations. "Over the past three months, Hizbullah conducted ethnic cleansing operations in several border towns, especially Jousiyeh, while dozens of houses were torched and thousands of residents were expelled," FSA said.
Hizbullah has acknowledged that its fighters were operating with the Assad regime. Hizbullah secretary-general Hassan Nasrallah said the focus of operations were in Shi'ite villages in Syria near the Lebanese border. FSA also said Hizbullah was firing Iranian- and Syrian-supplied artillery toward rebel strongholds in Syria. Hizbullah targets were said to have included villages around Qusair, a leading supply station of the Shi'ite force. The statement came amid a series of successes by Assad's military and security forces in capturing rebel-held positions. The rebels acknowledged that they did not have sufficient weapons and munitions to hold on to strategic facilities, including major army and air force bases.
Israel Prepares for War with Hezbollah
March 12…(Worthy News) As the Syrian civil war intensifies, military planners are growing increasingly jittery that the fighting could spill over into Israel, potentially dragging the Islamic militant group that is allied with President Bashar Assad into the fray. After battling Hezbollah to a stalemate in 2006, the Israeli military says it has learned key lessons and is prepared to inflict heavy damage on the group if fighting begins again.
The Israel-Lebanon border has remained largely quiet since that last war. But Hezbollah has since replenished its arsenal and has waged a shadow war with Israel around the world. The fall of the Syrian leader or alternatively an Israel strike against Hezbollah's other main patron, Iran, could spark another full-fledged war. "There is an increase in tension because of Syria," a senior commander in the military's northern command said about a possible battle with Hezbollah. The commander, who traveled south to observe Thursday's exercise here, spoke on condition of anonymity in line with military protocol.
In 2006, weeks of Israeli air raids killed more than 1,000 people, including hundreds of Hezbollah fighters, and key infrastructure was destroyed. But the heavy onslaught failed to prevent Hezbollah from firing some 4,000 rockets into Israel, and the fighting ended in a UN-brokered truce. While the truce has largely held, Israel says Hezbollah has systematically restocked its arsenal with tens of thousands of even more powerful rockets and missiles capable of striking virtually anywhere in the Jewish state. Israeli military officials frequently say it is only a matter of time before the next war erupts.
In the meantime, Israel and Hezbollah have fought a covert war outside the borders of their countries. In 2008, Hezbollah's top military commander Imad Mughniyeh was killed in a car bombing in the Syrian capital of Damascus, an attack widely thought to be the work of Israeli agents.
Hezbollah, for its part, is thought to be responsible for a bus bombing in a Bulgarian resort town last July that killed five Israeli tourists and their Bulgarian driver, as well as failed attempts to bomb Israeli diplomats in Thailand, India and Georgia.
Israeli military officials believe that Hezbollah, which is preoccupied with its own domestic problems and the precarious position of its Syrian ally, has no desire to reignite hostilities. But they say the Syrian civil war, as well as Israel's tensions with Iran, could easily upset the fragile balance.
As Assad's grip on power weakens, Israeli military planners fear that Syria, backed by Hezbollah, might try to open a new front in order to deflect attention. Israel also fears that sophisticated Syrian weapons, including a chemical arsenal, could be transferred to Hezbollah. Israel has all but confirmed it carried out an airstrike in Syria in January that destroyed a shipment of anti-aircraft missiles allegedly bound to Hezbollah. Likewise, an Israeli attack on Iran would almost certainly draw a Hezbollah reprisal. Israel has repeatedly hinted it is prepared to attack Iran's nuclear installations if it determines that international sanctions and diplomacy have failed to curb the Iranian nuclear program. Israel and much of the West believe Iran is developing a nuclear weapon, a charge Iran denies.
Earlier this week, Israeli Prime Minister Benjamin Netanyahu warned of the potential link between Iran and Hezbollah. "A nuclear-armed Iran would dramatically increase terrorism by giving terrorists a nuclear umbrella," he told members of the pro-Israel lobbying group American Israel Public Affairs Committee, known as AIPAC. "That means that Iran's terror proxies like Hezbollah will be emboldened to attack America, Israel and others because they will be backed by a power with atomic weapons."
Hezbollah's leader, Hassan Nasrallah, has warned that anyone who thinks Hezbollah is vulnerable because of Syria's civil war is mistaken. He also said the group has all the weapons it needs in case war breaks out with Israel, and it would not need to import them from allies Syria and Iran. "The resistance will not be silent regarding any aggression against Lebanon," Nasrallah said last month.
Israel is also taking a fiercer tone, saying it will act with far less restraint than it did in 2006, when it took out electric grids, roads and city blocks during the month-long war that was sparked by a deadly cross-border raid by Hezbollah. Military officials say entire villages that host Hezbollah's arsenal would be considered fair targets.
Obama Will Push for More Targeted Military Cuts
March 12….(Newsmax) With the Pentagon facing $46 billion in mandatory spending cuts, President Obama plans to use the sequester to argue for still more deeper cuts in military programs he has long wanted to scale back. According to The New York Times, President Barack Obama will visit Capitol Hill Tuesday to push for a deficit reduction deal that would replace across-the-board cuts with more targeted ones.
On the president's wish list, the Times reported, are base closings, further reductions in deployed nuclear weapons and weapons stockpiles, a restructuring of the military medical insurance program, and a scaling back of next-generation weapons programs, including the F-35 warplane.
American Reportedly Training Syrian Rebels in Jordan
March 11….(Times of Israel) Americans are involved in training Syrian rebels how to fight against regime soldiers, the German weekly Der Spiegel reported Sunday, citing participants in the program. It is not clear if the Americans are members of the US armed forces or are part of a private contracting firm, but the trainers wear uniforms, the paper reported. It added that the training, which also involves Jordanian intelligence officers, had been going on "for some time," and that the rebels were being taught how to use anti-tank weaponry.
The US has refused to provide the rebels with arms and only last week approved an aid package that would supply opposition fighters with non-lethal aid, such as medical equipment. If true, the report would mark a major escalation in international involvement in the two-year-long civil war. According to the German weekly, two training camps have been set up in Jordan for the fighters, 200 of whom have already been trained. Another 1,000 fighters are expected to be trained in the coming months. The US declined to comment on the report.
On Saturday, Britain's Guardian newspaper reported that US forces in Jordan were leading a joint British-French team in training secular rebels as a bulwark against Islamic fighters. The trained soldiers will form the backbone of about a dozen units stationed in Syria's south, comprising some 10,000 rebels fighters, the German paper reported. Opposition forces have been involved in a bloody two-year war attempting to oust the regime of Syrian President Bashar Assad, with some 70,000 casualties and over a million refugees due to the fighting, according to United Nations figures. Rebels have made gains in some areas around the country, but have had trouble contending with better armed and trained regime forces.
Opposition leaders have made calls for supplies of arms from the West, but have had little luck making their case to countries skittish about pumping more weapons into the war-sundered region.
Rome Braces for Huge Crowds Eager to Meet New Pope
March 11….(Fox News) You're expecting hundreds of thousands of guests. You don't know where they're coming from, or when they'll arrive. You don't even know the date of the celebration. And heaven only knows the name of the man being feted. Planning for the moment when the next pope is proclaimed to the world, and for the installation ceremony a few days later, is a big-time guessing game. And that adds up to an ungodly logistical headache for the city of Rome.
When white smoke pours out of the chimney atop the Sistine Chapel, throngs of Romans will drop what they're doing and race to St. Peter's Square to cheer the new pope when he steps out onto the balcony of St. Peter's Basilica. If the next pontiff hails from somewhere in Italy, thousands can be expected to pack trains to the capital. Then there are all the foreigners flying into town to capture the historic moment, an influx that may become overwhelming if cardinals break with tradition and elect the first pope from Latin America, home to 40 percent of the world's Catholics. A tented field hospital will go up in a square near the Vatican by the eve of the start of the conclave on Tuesday, ensuring that emergency medical treatment will be just around the corner if any pilgrim feels ill or stumbles in the rush to glimpse the new pope.
While there are no other special plans for the conclave itself, Rome authorities have a detailed game-plan for the papal installation that takes place a few days after the pope is elected. The audience for that momentous event in St. Peter's Square will include presidents, prime ministers, religious leaders and tens of thousands of pilgrims, along with the throngs of accidental tourists who happen to be in town. The most mentioned date for the new pope's installation Mass in St. Peter's Square is Sunday, March 17, exactly a week before Palm Sunday begins Holy Week.
Obama's Israel Visit is on - to Sweeten Pill of Nuclear Iran
March 11….(DEBKAfile Special) President Barack Obama will visit Israel later this month, the 20th, even if Israeli Prime Minister Binyamin Netanyahu fails to put together a governing coalition beforehand. "We're going," White House spokesman Josh Earnest said at a briefing for reporters Friday, March 9. In answer to a question, he said, "The formation of the Israeli government is the responsibility of Prime Minister Netanyahu and other senior officials of the Israeli government."
Secretary of state John Kerry thought otherwise when he skipped a visit to Israel as not worthwhile until a government is in place. (Netanyahu's deadline for forming a government has been extended to March16.) Debkafile reports from its Washington sources that President Obama's calculations for making the trip are a lot more complicated than Kerry's. According to some Israeli circles, none of them are good news for their country. He arrives less than a month after the last Six-Power (US, Russia, UK, France, China and Germany) nuclear discussions with Iran ended in Kazakhstan. After those talks, US and Western media trumpeted "an unusual sense of optimism" or more cautiously allowed "a faint and perhaps fleeting light at the end of one of the world's most durable tunnels."
Western sources predicted on the strength of these assessments that the follow-up to Kazakhstan in April, shortly after Obama's talks in Jerusalem, would be devoted to "cementing that progress," which translated into rewarding puntative nuclear concessions by Iran with the easing of economic sanctions. However, according to Debkafile's military and intelligence sources, this diplomatic fluff, while representing elation in Washington, London, Moscow, Paris and Berlin, caused serious disenchantment in Jerusalem, which viewed it as a smokescreen for concessions to, and not by, Iran. They have found that the "fleeting light" appearing at the end of the Iranian nuclear tunnel obscures three dangerous US concessions to Tehran:
1. President Obama has given in to the Iranian Fordo uranium enrichment plant continuing to operate instead of shutting down, as demanded by Israel, even though its function is to turn out 20 percent pure (near-weapons grade) uranium;
2. He has even consented to the Iranians continuing to manufacture uranium to that level;
3. Washington has dropped its insistence on Iran sending out of the country its stocks of 3.5-5 percent enriched uranium. With these gains, the Iranian negotiators must have been laughing all the way home from their talks with the six big powers on 26-27 of February and crowing over what one Israeli official called "Tehran's huge success and Israel's total defeat."
Conscious of how these concessions to the Islamic Republic are received in Jerusalem, it is no wonder that President Obama brushed off the invitation to address the Israeli Knesset, where lawmakers would likely put him on the spot. He has chosen instead to deliver a speech at Jerusalem's Convention Center, so as to deliver his message straight to the Israeli public. By going over the heads of Israel's government and parliament to face a less informed audience, he believes he can get away with sweet-talking his surrender to a nuclear Iran. Former military intelligence chief, Amos Yadlin stepped in with a timely comment last week when he said that an Israeli strike against Iran's nuclear facilities would be no more than a one-night operation.
So when Air Force One lands in Israel March 20 and Israeli dignitaries push forward to greet the US president, a small group of anonymous Israeli Air Force pilots will be watching from a distance, waiting for the order to fly out and carry out their mission in a single night.
After Jerusalem, President Obama continues to the Palestinian Authority and then Jordan.
Obama's 'Make America Hurt' Plan
(Rep. Gohmert: Sequestration prompting 'temper tantrum,' 'decision to punish people')
March 11….(WND) President Obama vowed that allowing sequestration cuts to proceed would be painful, but revealing emails and his actions, such as canceling White House tours, are revealing that it may have been a political move rather than a regrettable decision. The Secret Service estimates that the indefinite cancellation of White House tours would save about $74,000 per week. School groups are disappointed to hear their spring break trips to the White House have been scrapped.
In another move that raised eyebrows, an Agriculture Department official was instructed not to find ways to lessen the impact of sequestration. He was told by email, "You need to make sure you are not contradicting what we said the impact would be." Rep. Louie Gohmert, R-Texas, told WND this clearly reveals the Obama sequestration strategy. "It is just incredible that anybody would think like that. 'Gee, we're being cut so let's make America hurt, make them suffer so they'll give us more of our money,'" Gohmert said. "In the last four years, the executive branch budget has gone up over 20 percent, and they can't stand to have that increase lowered to 18 percent increase? It is outrageous." President Obama wants the American public to suffer until he gets the full amount of spending proposals that he desires. Observers suggest the Obama administration is giving the impression that the sequestration cuts are severe in order to improve its leverage for bigger fights over funding the government and the debt ceiling in the coming weeks. "If Obama doesn't get his way, then he wants to make the American people hurt so they'll demand Congress give him the money what he wants to spend the way he wants."
Muslims Burn Christian Homes in Pakistan
March 11….(France 24) Thousands of angry protesters on Saturday set ablaze more than 100 houses of Pakistani Christians over a blasphemy row in the eastern city of Lahore, officials said. Over 3,000 Muslim protesters turned violent over derogatory remarks against Prophet Mohammed allegedly made by a young Christian, Sawan Masih, 28, three days earlier, police official Multan Khan said.
The exact number of houses in Joseph Colony, a Christian neighborhood in Badami Bagh area, were not immediately known (estimates say over 100 Christian homes were burned) but police and rescue officials said they belonged to low to middle-class families from the minority community. Police arrested Masih, not the Muslim mobs that burned his house. The arrest was made when Masih's barber friend Shahid Imran complained that he had made blasphemous remarks about Prophet Mohammed.
Blasphemy is an extremely sensitive issue in Pakistan, where 97 percent of the population are Muslims, and allegations of insulting Islam or the Prophet Mohammed can prompt violent outbursts of public anger, even when unproven. The laws came under the international spotlight in August last year when 14-year-old Christian girl Rimsha Masih was held for three weeks in a high security prison for allegedly burning pages from the Koran.
Christians in Muslim Eritrea Arrested for Being Christian
(Only Catholicism is recognized in most of these anti-Christian countries)
March 11….(Worthy News) Over 125 Eritrean Christians were "beaten and detained" in western Eritrea as part of a new government campaign against Christians worshiping outside the state-backed churches, rights investigators said. At least 85 of them were arrested over the last week, said Open Doors, a major Christian advocacy and aid group. Among them are 45 men and women who were arrested February 27 for worshiping "outside the Orthodox, and Catholic Churches," the group said. All of those detained since January are members of an evangelical denomination in the south-western town of Barentu, according to Open Doors investigators. "Open Doors understands that police arrested these church members from homes and workplaces during broad daylight and then marched them through town to the police station while beating them," the group said. Eritrea's autocratic President Isaias Afewerki has denied any wrongdoing.
Muslims Siege Egyptian Church in Search for Convert
March 11….(Worthy News) A mob threw firebombs and rocks at police Friday as dozens of Muslims attacked a church in southern Egypt that was suspected of harboring a woman convert to Christianity. Officials said about 24 were wounded during the siege of a Coptic Church in Kom Ombo, a town 600 miles south of Cairo. The violence was triggered by a rumor about a missing Muslim woman who was supposedly seen outside the church with a Christian friend, causing some residents to believe she converted to Christianity and was hiding inside the church; others suspected she was forced to convert and was being held inside against her will. Similar mob violence over rumors started by Muslims against Egypt's Coptic minority has risen sharply in the wake of the Arab Spring that ousted President Hosni Mubarak.
WEEK OF MARCH 3 THROUGH MARCH 9
Hamas: Obama Visit to Temple Mount - A Declaration of War
(Hamas and Islamic Jihad say that a visit by Obama to the Temple Mount will be a declaration of war on the Islamic world.)
March 9….(Israel Today) The Hamas and Islamic Jihad terror groups threatened on Friday that a visit by US President Barack Obama to the Temple Mount during his upcoming visit to Israel will be a declaration of war on the Arab and the Islamic world. A Hamas representative in the Al-Aqsa mosque, Mushir al-Masri, even called for a third intifada (uprising) and for Egyptian assistance in the "resistance" if Obama chooses to visit the Temple Mount.
According to the Bethlehem-based Ma'an news agency, the Gaza-based terrorist organizations made the threats during a protest march on Friday over the riots that broke out earlier in the day on the Temple Mount. According to the report, Khalid al-Batash, a senior Islamic Jihad member, also called to prevent Obama from visiting the compound.
Obama will be arriving in the region later this month, and PA media has been widely speculating that he plans to visit the site of the Al-Aqsa mosque. However, Washington is not planning such a visit. Political and religious leaders in the Palestinian Authority have stressed that Obama should not visit the Al-Aqsa mosque compound in a way that might compromise what they called its "Muslim sovereignty."
Sheikh Akrameh Sabri, head of the higher Islamic council and former Grand Mufti of Jerusalem, said that Obama must enter through a gate that was not under Israeli auspices. "Any visitor is welcome to Al-Aqsa, but they should follow the regulations of the Waqf and enter through the Lions' Gate and not through Mughrabi Gate, to ensure Muslim sovereignty," he said.
Israel liberated the Temple Mount during the 1967 Six Day War, leaving the Waqf in charge of the compound. The Waqf, in return, has removed every sign of ancient Jewish presence at the Jewish holy site and has consistently destroyed Jewish antiquities on the Temple Mount in a direct violation of a ruling by the Supreme Court. Several Israeli police officers and Muslim worshippers were injured during the Temple Mount riots on Friday afternoon.
China Attempting to Impose Bretton Woods Reversal
March 8….(King World News) With continued volatility in the gold and silver markets, today acclaimed money manager Stephen Leeb told King World News the Chinese accumulated a remarkable 1,500 tons of gold last year, and they are preparing to demand a second Bretton Woods type meeting. This is a stunning interview because it lays out how the bulls will win the gold war, and how China will force that victory. Here is what Leeb had to say in this exclusive interview, which is his most powerful ever: "The flow of power and gold is going from West to East. China may have accumulated a staggering 1,500 tons of gold last year alone. China's growth is now picking up steam as well. What is really stunning is how much the yuan has increased in terms of international transactions."
Stephen Leeb continues: "The usage of the yuan in international transactions has been increasing at an unbelievable 170% per year. That's how fast the yuan has been increasing in terms of international transactions. So goes the gold, so goes the power, and you can see it in the prominence the yuan is gaining. The Chinese definitely have a plan here and that is to get control of gold. "We are headed for another Bretton Woods. It is unsustainable for currencies to continue to lose their purchasing power while median incomes, especially in the US, continue to go down in the West.
At a certain point the Chinese will say, 'It's time to have another equivalent of Bretton Woods.' That will challenge the BIS, and quite possibly lead to some sort of gold standard. What Bretton Woods did was reestablish the gold standard as the Second World War was coming to an end. Countries had gone off of the gold standard during the Great Depression and subsequent war, and nations wanted a new monetary standard. At that time the US had 20,000 tons of gold. So the US set up Bretton Woods and established the gold standard and the dominance of the US dollar globally.
The gold standard worked pretty well until the US got out of control in the late 1960s and early 1970s with all of the spending. The kind of unbridled prosperity the US experienced after Bretton Woods was amazing. From the end of World War II to the early 1970s, those really were the 'Golden Days' for the US economy. I could prove to you that purchasing power and well being were higher in the early 1970s as we were going off of the gold standard than they are today. Since the US was taken off of the gold standard, inflation has been dramatically understated in this country. As a result, growth has been overstated and standards of living have been overstated. My point here is that it is hard to make an argument against some form of a gold standard. I think that's where we are headed. The reality is that the US was able to impose a gold standard on Britain and the rest of the world because they had all of the gold.
The reality of a 'Second Bretton Woods' would be China will play the part of the United States, and the United States is probably going to end up playing the part of Britain. That's not good. It doesn't mean our economy and everything are going to crash, but it will cement a 'New World Order.' And the new king of that world order is likely to be China.
By the time China has 10,000 or 12,000 tons of gold, whatever the number is, they are going to have a lot more gold than we will have, and this will take place within the next 2, 3, or 4 years. There is very little doubt about that. The US has already gone from 20,000 tons, to supposedly 8,000 tons, but it's probably a lot less than 8,000 tons. There is enough documentation that proves this conclusively. Why does it take 7 years to ship 300 tons of gold to Germany? Go figure that one out if the US has so much gold on hand. So that is where we are headed, to another gold standard. It is now a question of when it will happen, not if it will happen."
North Korea Threatens to Nuke USA
March 8….(In The Days) North Korea amplified its threatening rhetoric as the UN Security Council approved new sweeping sanctions, vowing to launch a first-strike nuclear attack against the United States and threatening to engulf Washington in a "sea of fire." An unidentified spokesman for Pyongyang's Foreign Ministry said the North will exercise its right for "a preemptive nuclear attack to destroy the strongholds of the aggressors" because Washington is pushing to start a nuclear war against the North.
At a mass rally in Pyongyang on Thursday, Army Gen. Kang Pyo Yong told the crowd that North Korea is ready to fire long-range nuclear-armed missiles at Washington. "Intercontinental ballistic missiles and various other missiles, which have already set their striking targets, are now armed with lighter, smaller and diversified nuclear warheads and are placed on a standby status," Kang said. "When we shell (the missiles), Washington, which is the stronghold of evils, will be engulfed in a sea of fire." White House spokesman Jay Carney said at a briefing that the US is fully capable of defending itself after a North Korean missile attack.
The provocative statement comes weeks after the country conducted underground nuclear tests which caused a massive earthquake. America's west coast cities of Los Angeles and San Francisco are feared to be in Kim's sights. A foreign ministry spokesman said: "Since the United States is about to ignite a nuclear war, we will be exercising our right to pre-emptive nuclear attack against the headquarters of the aggressor in order to protect our supreme interest." The nuke warning from North Korea was put out by the country's official news agency and accused the US of leading the calls for the crippling sanctions. However experts doubt the country's ability to produce a warhead capable of being fitted to a long-range missile.
On Tuesday North Korea threatened to scrap the armistice that ended the 1950-53 war with South Korea. And it criticized military exercises between the US and South Korea. Pyongyang said it was shutting off a military hotline with the US and South Korea. North Korea's KCNA agency quoting a military source said: "We will completely nullify the Korean armistice".
Jesus Christ' Banned from Council Prayers in Cities Across America
March 8….(WND) The mayor of a Washington town has directed pastors to stop invoking the name "Jesus Christ" in city council invocations. Don Jensen, the mayor of Longview, Wash., told the Kelso-Longview Ministerial Association that prayers mentioning Christ were not acceptable because they could expose the city to a lawsuit. The decision has sparked controversy in the city, located about 50 miles north of Portland, Oregon. Mark Schmutz, who pastors the Northlake Baptist Church, said if they can't speak the name Jesus Christ, association ministers will no longer provide the invocation. "We need to be able to speak Jesus' name," he told The Daily News. "They're asking us not to do what we're called to do. This is the one and only true God. We're not trying to be against anybody, we're just being clear about what we're for. Local ministers have been leading City Council invocations for more than 50 years, and until recently there had never been any complaints. That changed when resident Dan Smith started raising concerns about the constitutionality of prayers that include the name of Christ and whether it was appropriate for the ministerial association to be responsible for the prayers. Smith describes himself as a "comfortable atheist," and called the longtime prayers an embarrassment.
FOJ Note: Longview, Washington isn't the only city across America where the name of Jesus Christ is not welcome. My own hometown of Danville, Kentucky recently banished the name of Jesus from any prayers in the civic meetings for the city. In Danville, another lone atheist (Boyle County native Ricky Smith) stopped a practice of Jesus prayers that had endured for many decades! It seems it only takes one single atheist to prohibit prayers to Jesus Christ and the Biblical God in America anymore. I hope some day people will wake up and discover that America is not only bankrupt financially, but also bankrupt morally and spiritually! Danville's traditional practice of opening its meetings with prayer was declared unconstitutional because prayers were addressed to Jesus, Christ, Jesus Christ, or the Savior. Danville concluded that "a moment of silence" however would satisfy its lone atheist.
Muslims Prevent Jews, Bibles From Temple Mount
March 7….(Israel Today) Groups of Jewish visitors were prevented from ascending the Temple Mount (Judaism's holiest site) by a mob of hostile Muslim women on Wednesday morning. Like very day, the Jewish groups lined up below the Temple Mount's Mughrabi Gate, where police checked to make sure they weren't committing the heinous crime of trying to bring a Bible into the premises. The Muslim authorities forbid the presence of Jewish and Christian holy items, and, out of fear, Israel plays along.
As the groups began to move through the gate, a group of Muslim women blocked their path and began hurling insults at the Jews. Police officers managed to disperse the women, only to then be confronted by an even larger group of angry Muslim men. In order to avoid any violence, Israeli police decided to close the Temple Mount to non-Muslim visitors and ordered the Jewish groups to leave.
A similar incident occurred on Monday, when new Knesset member Moshe Feiglin (Likud) attempted to use his parliamentary immunity to enter the Temple Mount, but was turned away by security officials afraid of a confrontation with the Muslims. Feiglin said it was "a clear admission of the loss of Jewish sovereignty on the Mount."
In related news, Arab Muslim leaders have again warned US President Barack Obama to avoid visit the Temple Mount during his upcoming trip to Israel. Obama would almost certainly ascend the holy site with Israeli representatives or security, and Muslim leaders say this would legitimize what they call the Israeli "occupation" of the Temple Mount. "We warn Obama not to cause damage to Palestinian interests or our holy sites," said a representative of the local Islamic Movement.
Obama Machine Trying to Unseat Netanyahu
March 7….(WND) Israeli Prime Minister Benjamin Netanyahu has just two weeks left to forge a new coalition government, but the Obama administration is working feverishly to prevent him from succeeding and force him from office, according to Middle East expert Dr. Michael Evans. Evans is the author of numerous books about the various crises in the Middle East, including "Atomic Iran: Countdown to Armageddon" and the book he wrote with WND's Jerome Corsi, "Showdown with Nuclear Iran." He told WND it's very clear why Netanyahu hasn't put a new government together. "The biggest stumbling block is the Big O, Mr. Obama. Mr. Obama's got his team over there. They've been over there a couple weeks, and they're meeting with the opposition leaders," Evans said. "This is fairly existential. Obama doesn't dislike Netanyahu. He hates him. He hates him. Netanyahu has been able to succeed against Obama. How did he do it? He went directly to the House of Representatives and got 18 standing ovations. He went to the US media. But now he's come to power weakened. Obama's come into power strengthened."
Evans said the argument made by Obama emissaries to Israeli lawmakers is that Netanyahu won't last much longer in power so Israelis would be smart to go with a new leader now so as to forge a better working relationship with the US. Evans said that's just a smokescreen. "Obama's people don't want Netanyahu back in office. Obama's people want a divided Jerusalem. They want a Palestinian state. They want Judea and Samaria settlements to stop, etc., etc.," he said. "Anything they can do to weaken Netanyahu, they're doing and they're succeeding at it."
While Obama's efforts are working for the moment, Evans believes Netanyahu will cobble together a government in the coming days, but not as strong of one as he would like. "I think ultimately Bibi's going to put his cabinet together. It won't be strong. He wants it to have a broad coalition of maybe 75-80 out of 120 (seats in the Israeli Knesset). I don't think he's going to get that. I think he's probably going to get something in the high fifties or, maximum, in the low sixties," Evans said. "It's possible that within a year or two, former Prime Minister Ehud Olmert will run again and try to defeat him."
If Netanyahu cannot build a coalition government within the next two weeks, Israeli President Shimon Peres will invite second-place finisher Yair Lapid to forge a group that would make him the new prime minister. If he also fails, new elections would be called. "I think it's very likely that Netanyahu will be able to put a coalition together, but here's the problem: Right now, to put a coalition together, he's going to have to compromise on his core values. What he compromises to gain he will ultimately lose," said Evans, noting that Netanyahu will feel pressured by the US to make concessions toward Palestinian statehood and those concessions will mean the crumbling of the coalition. But Netanyahu will also feel pressure to accommodate Obama on statehood because of the specter of diminished US foreign aid to Israel. Evans said Obama will use the current sequestration fight and other looming fiscal debates to force Netanyahu's hand by threatening air defense assistance and other vital programs. "It's an existential dilemma for the prime minister. Any direction he goes, he falls on his own sword," Evans said.
According to Evans, Obama has already made it clear that he views Israel as the problem when it comes to the Mideast crisis. "Obama gave his addiction speech in his first term, declaring that the greatest instability in the Middle East was al-Qaida. The second greatest was Israel," Evans said. When pressed to clarify when and how Obama made that contention, Evans pointed to the president's highly touted speech in the region early in his presidency. "It was the speech he gave in Cairo at the university in his first term that he talked about instability in the Middle East. He talked about the Palestinian crisis as the second most significant cause of instability and Israel gets blamed," Evans said. "There isn't any Arab regime, no thugocracy wants to solve the Palestinian crisis because to have an army you need an enemy, and Israel is perfect for the family owned corporations called countries to blame for all their problems as opposed to blaming themselves. So Israel's got to be the tar baby."
As for the Israeli public, Evans said most people are willing to take steps to resolve the Palestinian crisis, but there's a limit to what they'll approve to make nice with the Obama administration. "They can't support a Palestinian state that has an army, that has airspace and has treaties. An army, airspace and treaties with a Palestinian state would be an existential threat against the state of Israel and would be its downfall, because that Palestinian state could bring in Iran and other nations that hate Israel," Evans said. "This is a very serious crisis for the Jewish people," he said.
Obama Admin Wants to Deport Christian Home Schoolers
March 7….(Human Events) The Romeike family fled their German homeland in 2008 seeking political asylum in the United States, where they hoped to home school their children. Instead, the Obama administration wants the evangelical Christian family deported. The fate of Uwe and Hannelore Romeikie, along with their six children, now rests with the Sixth US Circuit Court of Appeals, after the Dept. of Homeland Security said they don't deserve asylum. Neither the Justice Dept. nor the Dept. of Homeland Security returned calls seeking comment. "The Obama administration is basically saying there is no right to home school anywhere," said Michael Farris, founder of the Home School Legal Defense Association. "It's an utter repudiation of parental liberty and religious liberty."
The Justice Dept. is arguing that German law banning home schooling does not violate the family's human rights. "They are trying to send a family back to Germany where they would certainly lose custody of their children," Farris told Fox News. "Our government is siding with Germany." Farris said the Germans ban home schools because "they don't want to have religious and philosophical minorities in their country." "That means they don't want to have significant numbers of people who think differently than what the government thinks," he said. "It's an incredibly dangerous assertion that people can't think in a way that the government doesn't approve of." He said the Justice Dept. is backing that kind of thinking and arguing 'it is not a human rights violation." Farris said he finds great irony that the Obama administration is releasing thousands of illegal aliens, yet wants to send a family seeking political asylum back to Germany. "Eleven million people are going to be allowed to stay freely in the US, but any Christian Homeschoolers cannot be allowed in the country!
Uwe said he was extremely disappointed that their petition to seek asylum in the US was appealed by the Obama administration.
Syrians Topple Hafez Assad Statue
(Rebels seize city of northeastern city of Raqqa; resident says 'hundreds braved the fighting, marched on the main square and took down statue of president's father')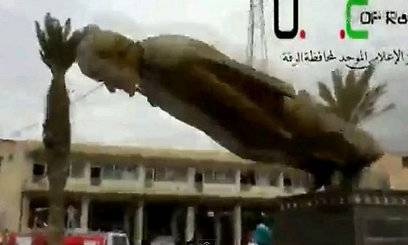 March 6….(YNET) Syrian opposition fighters captured the northeastern city of Raqqa on Monday and crowds toppled a statue of President Bashar Assad's father, opposition sources and residents said. The fall of Raqqa on the Euphrates River would be a significant development in the two-year-old revolt against Assad. The rebels do not claim to hold any other provincial capitals. Rebel fighters said loyalist forces were still dug in at the provincial airport 60 km (40 miles) from Raqqa and they remained a threat. A resident said that a Syrian military intelligence compound in the town was not in rebel hands but was surrounded by anti-Assad fighters.
On Monday the civil war burst into neighboring Iraq, where officials reported that gunmen had killed at least 40 Syrian soldiers and government employees as they headed home after fleeing a Syrian rebel advance last week. Around 65 Syrian soldiers and officials had handed themselves over to Iraqi authorities on Friday after rebels seized the Syrian side of the border crossing at the Syrian frontier town of Yaarabiya. Iraqi authorities were taking them to another border crossing further south in Iraq's Sunni Muslim stronghold, Anbar province, when gunmen ambushed their convoy, a senior Iraqi official told Reuters. No group has claimed responsibility.
At the United Nations on Monday, Israel warned that it could not "stand idle" as the Syrian conflict spilled over borders. Israel's UN ambassador complained to the 15-member Security Council about shells from Syria landing in Israel. Syria's rebels are mostly Sunnis fighting to topple Assad's government, dominated by Alawites, an offshoot of Shiite Islam that has controlled Syria since the 1960s.
Video footage taken by opposition activists showed youths climbing on the Hafez al-Assad statue in Raqqa's central square and tying a rope around its head. "A crowd of hundreds braved the fighting and marched on the main square and took down the statue," said one of the residents, himself a refugee from the city of Deir al-Zor. One video showed rebels guarding the city's museum, housed in a French colonial era palace, which, along with the city's horseshoe shaped wall, give a glimpse of Raqqa's past. Raqqa, founded by Alexander the Great, once acted as a Byzantine front line against Persia. It was designated by Al-Mansour, the founder of the Abbasid empire, as the second Arab capital after Baghdad.
Russia Activates Massive Nuclear Drill, Pentagon Alarmed!
March 6….(Washington Times) Russian nuclear forces conducted a major exercise last month that tested the transport of both strategic and tactical nuclear weapons near Europe, according to United States officials. The exercise raised concerns inside the Pentagon and with the US European Command because it was the largest exercise of its kind in 20 years and involved heightened alert status of Russian nuclear forces. The nuclear drills were part of other military maneuvers in Russia carried out between Feb. 17 and Feb. 21. The exercises followed a recent surge in Russian strategic bomber flights that include a recent circling of the US Pacific island of Guam by two Tu-95 Bear bomber and simulated bombing runs by Tu-95s against Alaska and California in June and July.
Pentagon spokesman Lt. Col. Wesley P. Miller sought to play down the nuclear exercise but declined to comment on the movement of nuclear weapons and whether nuclear forces went on a heightened state of alert. "We don't comment on intelligence matters," he said. Miller said the nuclear forces maneuvers were "nothing to be concerned about because the Russians, like us, have routine exercises and inspections."
However, a US official said the exercise was a concern within the US national security community because of the scale of the exercise and the number of weapons being moved. "Certainly it's a concern when you have this kind of exercise going on," this official said. The official said another worry is that Russia appears to be increasing the readiness of its nuclear forces at a time when the US nuclear complex is in urgent need of upgrading and the military is facing sharp automatic defense cuts that could affect US nuclear forces readiness in the future. According to the officials, the exercise involved Russia's secretive 12th Main Directorate of the Defense Ministry, known by its acronym as 12th GUMO, the main military unit in charge of all nuclear weapons. Arms control experts say the Russians are required to notify the United States under the New START treaty of major strategic nuclear exercises that involve bomber flights.
Contractors and employees of the National Nuclear Security Administration, which runs the nuclear weapons complex, were notified of possible furloughs under automatic spending cuts that went into effect March 1, the Hill reported Thursday.
Phone Call Links Benghazi Attack to al Qaeda Commander
March 6….(CNN) Shortly after the attack on the US diplomatic compound in Benghazi last September, a phone call was placed from the area. Whoever made the call was excited. "Mabruk, Mabruk!" he repeated, meaning "Congratulations" in Arabic. Two sources with high-level access to Western intelligence services have told CNN the call was made to a senior figure in al Qaeda in the Islamic Maghreb, or AQIM. There is no proof that the call was specifically about the attack, in which US Ambassador Chris Stevens and three other Americans were killed, but the sources say that is the assumption among those with knowledge of the call. One of the sources says the phone call was discovered when a Western intelligence service trawled through intercepts of communications made in the wake of the attack. That source told CNN that the call was made specifically to Moktar Belmoktar, leader of an al Qaeda faction based in northern Mali. If the call was made and subsequently detected, it could fuel an already partisan debate in Washington over the Obama administration's initial public characterization of the Benghazi attack, and what information US intelligence officials had about who was involved.
Obama Will Strong-arm Netanyahu on Palestinian State
March 6….(Israel Today) According to an unconfirmed report citing Israeli sources, US President Barack Obama's first order of business when he visits Israel later this month will be to extract a firm commitment to uproot the Jews living in Judea and Samaria in preparation for the birth of a Palestinian state. Obama has already messaged Prime Minister Benjamin Netanyahu that he wants to see a firm timetable for a unilateral Jewish withdrawal when he arrives, reported the news website World Tribune. One of the quoted sources told the website that "the implication is that if Israel won't give Obama something he can work with, then he'll act on his own." But not everyone is so certain Obama's focus will be a Palestinian state.
Former Israeli Ambassador to the US Zalman Shoval on Sunday noted that a recent important foreign policy symposium in Washington had not at all focused on the Israeli-Palestinian conflict. The opposite would certainly be the case were Obama preparing to make a major diplomatic push on that front, explained Shoval. Shoval, who is a regular informal adviser to Netanyahu, believes the visit will focus much more on the Iranian threat.
It might be that Obama and his administration have realized, like outgoing Israeli Defense Minister Ehud Barak, that the chances of concluding a genuine, long-lasting peace deal with the current Palestinian leadership are next to nil. Barak told the annual AIPAC conference in Washington that while he continues to advocate a two-state solution, reaching such an agreement together with the Palestinians at this time is "impossible."
Hezbollah Already Has Chemical Weapons
March 6….(Arutz) If Syria's chemical weapons fall into the wrong hands, the world may begin to experience terrorist attacks using chemical weapons, researcher Yiftah Shapir of the Institute for National Security Studies warned in an interview with Arutz Sheva. Perhaps surprisingly, Shapir said that Hizbullah is not the biggest threat.
Hizbullah already is in possession of most of the chemical weapons and other unconventional means of attack that it could get from Syria, he explained. While there have been reports of some such weapons reaching the group in light of Syria's internal conflict, the new weapons do not change the terrorist group's capabilities, he said. Hizbullah cannot use its current supply of chemical weapons for two reasons, he explained: first of all, the group lacks a delivery system, and secondly, it fears the international backlash that would follow use of unconventional weapons.
Syria may transfer chemical weapons to Hizbullah not for use in attacks, but rather for safekeeping, he noted. Hizbullah would then return the weapons if Syrian President Bashar Assad regains control of the country. One scenario that would pose a real threat would be if Hizbullah got SA-17 missiles, Shapir stated. The missiles would allow Hizbullah to target Israeli planes, which would severely impact Israel's tactical edge. According to some reports, an Israeli airstrike in Syria in January targeted a shipment of SA-17 missiles headed for Lebanon.
The biggest threat is the possibility that Syria's chemical weapons will fall into the hands of rebel fighters, Shapir warned. Rebels would be unable to use the weapons because they lack airplanes or other means of delivery, he said. Instead, many rebels would seek to sell the weapons to terrorist groups, and would trade with whoever offered the highest price. In such a scenario the world would soon see chemical terrorism hitting various parts of the world. Shapir said it is not clear what the current situation is in Syria. "Since the crisis began, whoever says he knows what is happening in Syria is lying," he declared. Even the Syrian regime is not sure what is happening, he added.
Russia and Israel Each Warn Trouble Building up on Golan Border
March 6….(DEBKAfile Special Report) At UN Center in New York, Israeli and Russian delegates separately warned Monday, March 4, of a dangerous situation developing in the area of separation on the Golan captured by Israel in the 1967 war. Syrian troops were forbidden to enter this area under a cease-fire formalized in 1974 between Syria and Israel.
Israeli UN Ambassador Ron Prosor complained to the Security Council about five shells fired from this very area which landed in Israel Saturday, March 2. "Israel cannot be expected to stand idle as the lives of its citizens are being put at risk by the Syrian government's reckless actions," Proser wrote in a Note to the council. "Israel has shown maximum restraint thus far."
Russia's UN Ambasador Vitaly Churkin then spoke of "a very new and dangerous phenomenon" of armed groups operating in the Golan area of separation. "It's something which potentially can undermine security between Syria and Israel," said Churkin, who is acting Security Council president for March. He pointed out that the UN peacekeeping force is unarmed and unable to cope with this new situation. Israel and Syria are technically in a state of war. Debkafile's military and intelligence sources note that the exchange of warnings between Israel and Russia touched two sensitive nerves:
1. It occurred the day before definitive talks open in Moscow between the Syrian government and opposition. The Russians fear Israel might embark on military action in response to the round of shells fired from the Syrian Golan Saturday, and force a delay in the talks. The last time this happened, in late January, Israel reacted with a cross-border attack on Syrian military installations.
2. Saturday, too, debkafile exposed the no-man's lands unfolding along Syria's borderlands with Israel and Jordan following the withdrawal of the bulk of Syrian forces from these areas. Moscow fears additionally that Israel's armed forces will seize strategic points in the abandoned territory to clear out armed bands of the pro-al Qaeda Jabhat al Nusra, which are believed responsible for the latest round of shelling into the Israeli Golan. Churkin's warning referred to "armed groups" as the potential troublemakers, but he was also cautioning Israel to desist from fighting back so as not to upset Moscow's diplomatic initiative for resolving the Syrian civil war.
Obama Running Guns to Jihadist's (Terrorists) Cover Up
March 6….(WND) In a radio interview, Sen. Rand Paul, R-Ky, questioned whether the Obama administration may be covering up the role played by the CIA annex in Benghazi in a possible scheme to run guns to rebels in the Middle East. The annex was attacked Sept. 11 along with the special US mission in Benghazi.
Charged Paul: "There has been a lot made of the political cover up of President Obama's administration saying this (Benghazi attack) had something to do with a homemade film from some guy in Los Angeles. But in reality the question is, or the secondary quotation is, why would they do a cover up? What are they covering up?" Paul said he has "a feeling that it had something to do with the CIA annex." "You know, a week before the ambassador was killed in Libya, a ship left Libya and docked in Turkey, and it actually interviewed the captain of that ship who said there were arms on board and that he actually witnessed the rebels taking the arms and disputing over who got what," he said. "That there were grenade launchers; that there were significant arms being transferred. Paul said it doesn't prove the CIA was involved but raised the question of the purpose of the annex. "The Libyan government is said not to have known that they were there," he noted. "And is that the reason for the cover up? So there are a lot of unanswered questions." Any arming of Middle East rebels would be considered highly controversial. Widespread reports have documented that Syrian and Libyan rebels consist in large part of jihadists, including members of several major al-Qaida groups.
It was not the first time Paul publicly raised suspicions on alleged gun running in Benghazi. In a Senate hearing on the Benghazi attacks last month, Paul asked outgoing Secretary of State Hillary Clinton: "Is the US involved with any procuring of weapons, transfer of weapons, buying, selling, anyhow transferring weapons to Turkey out of Libya?" "To Turkey?" Clinton asked. "I will have to take that question for the record. Nobody has ever raised that with me."
Continued Paul: "It's been in news reports that ships have been leaving from Libya and that may have weapons, and what I'd like to know is the annex that was close by, were they involved with procuring, buying, selling, obtaining weapons, and were any of these weapons being transferred to other countries, any countries, Turkey included?"
Clinton replied, "Well, Senator, you'll have to direct that question to the agency that ran the annex. I will see what information is available."
"You're saying you don't know?" asked Paul.
"I do not know," Clinton said. "I don't have any information on that."
That section of the exchange with Paul was almost entirely ignored by media, which instead focused on the Republican senator's earlier statement that if he were president he would have relieved Clinton of her post. The alleged weapons transfers to the rebels in Syria would not be the first time the Obama administration reportedly coordinated weapons shipments to Middle Eastern rebels. In December, the New York Times reported the Obama administration "secretly gave its blessing to arms shipments to Libyan rebels from Qatar last year, but American officials later grew alarmed as evidence grew that Qatar was turning some of the weapons over to Islamic militants, according to United States officials and foreign diplomats."
The Times reported the weapons and money from Qatar "strengthened militant groups in Libya, allowing them to become a destabilizing force since the fall of the Qaddafi government." Last week the US announced $60 million in nonlethal aid to Syrian rebels, while the White House continues to deny it was involved in coordinating arms shipments to Syrian fighters.
According to informed Middle Eastern security officials speaking to WND, the US has been coordinating Arab arms shipments for months now to the Syrian rebels. At issue is that the rebels consist in large part of al-Qaida-linked jihadists, according to scores of news reports. The Middle Eastern security officials further described the US mission in Benghazi and nearby CIA annex attacked last September as an intelligence and planning center for US aid to the rebels in the Middle East, particularly those fighting Assad's regime. The aid, the sources stated, included weapons shipments and was being coordinated with Turkey, Saudi Arabia and Qatar. Days after the Benghazi attacks, WND broke the story that late Ambassador Christopher Stevens himself played a central role in recruiting jihadists to fight Assad's regime in Syria, according to Egyptian and other Middle Eastern security officials. Stevens served as a key contact with the Saudis to coordinate the recruitment by Saudi Arabia of Islamic fighters from North Africa and Libya. The jihadists were sent to Syria via Turkey to attack Assad's forces, said the security officials.
Poking further holes in the Obama White House denial of supporting that plan, (and therefore pushing the LIE that a video caused the attack) it was revealed in testimony last month the arms-to-rebels plan had been endorsed by the leaders of the CIA, Pentagon and State Department.
Locust Plague hits Egypt Weeks Before Passover
March 5….(Israel Today) As if we hadn't already seen enough Biblical events this year, a plague of over 30 million locusts swarmed over Egypt's cities and farms just three weeks before Passover begins. But put your apocalyptic fears to rest. This happens every year as part of the locusts' natural migration pattern, though this year's swarm is especially large. That doesn't mean Egyptians aren't freaked the heck out by millions of nasty bugs buzzing through the air at all hours of day and night, possibly descending upon the agriculture fields where they're known to destroy entire crops, just like in the actual Passover story.
The Biblical feast of Passover commemorates events in ancient times which included a "plague of locusts" in Pharoanic Egypt during the time of the Hebrew enslavement there. Israel's Agriculture Ministry is warning farmers in the Jewish State to be on the alert for a spillover infestation and stockpiled pesticides in the event they are needed. Meanwhile, the even more ancient evil of intracommunal violence struck in the Suez Canal city of Port Said on Sunday, as at least one police officer was killed and hundreds of other people were wounded in clashes between protesters and security forces. On Sunday, Egypt's Constitution Party chief Mohamed ElBaradei posted a statement that the "decay of state authority" and "spiraling" violence has shown the Islamist government of president Mohammed Morsi is "inept," and "unable to restore law and order."
Despite the turmoil, US Secretary of State John Kerry announced during a press conference in Cairo on Sunday that Washington will continue to assist Morsi. "In light of Egypt's extreme needs and President Morsi's assurance that he plans to complete the IMF process, today I advised him the United States will now provide the first $190 million of our pledged $450 million in budget support funds," Kerry said in a statement after meeting Morsi. He described the funds as "a good-faith effort to spur reform and help the Egyptian people at this difficult economic time."
FOJ Note: Where is the help for Americans at this difficult economic time? It's OUR money that he is giving away!
Israel Bracing for the Effects of Sequestration
March 5….(YNET) Israeli Finance Minister Yuval Steinitz said at Sunday's weekly cabinet meeting that "The economic difficulties in the United States worry us. I hope that we will not be hurt by them." He was referring to the across-the-board budget cuts known as "sequestration" which went into effect just after midnight on 1 March, and will, if not amended by government action, lead to as much as $85 billion in cuts to the US Federal Budget. As previously reported, some of those cuts could affect military and industrial cooperation between the US and Israel, as well as other programs of interest to the Jewish State. "Israel understands the difficult budget challenges the Americans are dealing with," Israel's ambassador to the US Michael Oren told Globes over the weekend. "We are prepared to bear our share of the burden, while trying to protect critical projects for Israel's security and integrity, including Iron Dome."
FOJ Note: Israel is bracing for cuts from the US because of sequestration, but Egypt and the PA (and other Muslim countries) continue to rake in the American taxpayer's hard earned money! What is going on here? Give our money to enemies, and cut money to our allies…..insanity!
Egyptian Christians Arrested in Libya, Besieged in Egypt
March 5….(Israel Today) The plight of Egypt's 8-10 million Christians continues to worsen as the Arab Spring-turned-Islamic Revolution continues to bring Sharia Law more into the mainstream across the region. Over the weekend, Dr. Ashraf Ramelah, director of Voice of the Copts, an organization that seeks to highlight the suffering of Egyptian Christians, reported that 100 Egyptian Christians working in neighboring Libya had been arrested on charges of sharing their faith with local Muslims.
Israel Today interviewed Ramelah in our latest issue, where he explained that such persecution is not unusual, even if it is grossly underreported. Ramelah explained that the arrests in Libya followed an attack on a Coptic Christian church in that country. Ramelah acknowledged that it is illegal for Christians to openly share their faith in Libya, but maintained that evidence that these 100 detainees had done so was spurious. What is more likely, suggested Ramelah, is that Libyan Muslims are following up their church attack by trying to fully eliminate the presence of Christians in their area.
Now more than a week in captivity, Ramelah is unsurprised that the Egyptian regime has done nothing to free these Christians, though he hopes the international community will live up to its claims of justice. "Silence from Egyptian authorities regarding this incident is only expected since its Islamist government is known to degrade minorities inside Egypt," wrote Ramelah. "Voice of the Copts requests western leaders and human rights organizations around the world to intervene to ascertain fair hearings for the Egyptians as soon as possible." Backing up Ramelah's charges of mistreatment, news broke on Sunday that hundreds of Muslims had besieged a church in southern Egypt after being told that a local Muslim woman had converted to Christianity and was holed up inside.
Muslim rioters stormed the Coptic church in Kom Ombo and injured 12 Christians and 11 police officers sent to intervene. Egyptian officials were only able to calm the situation after announcing that the woman had been found elsewhere, and that she in fact had not converted to Christianity. Whether that is true or not remains unknown, but the impunity with which local Muslims accused and carried out their own brand of justice against their Christian neighbors attests to the very real danger under which Egypt's Christians currently live.
Kerry Finds Morsi Preoccupied with Islamizing Egypt, But Unloads US Dollars
March 5….(Debka) When visiting US Secretary of State John Kerry sat one-on-one with Egyptian President Morsi in Cairo, Sunday, March 3, he talked at length about Egypt's calamitous economic straits, relations with Israel, democratization and essential reforms. He had hoped to find the Egyptian president amenable to getting to grips with his country's fast approaching bankruptcy. In the event, Morsi nodded politely but, Middle East sources report, he was far more preoccupied with pushing forward the three-point plan he and the Muslim Brotherhood's supreme leader Mohammed Badie have begun implementing:
1. The Muslim Brotherhood will not settle for a parliamentary majority in the coming general election, most likely in April or June; it is aiming for 100 percent of the seats.
2. To set the stage for this campaign, the Brothers have installed their loyalists in the governates of Egypt's 19 provinces. The spreading of Brotherhood values in the national constituency is going full steam ahead across Egypt. The MB turned to this course when they saw they had no hope of exercising total control over the restive capital and the protest movements springing up regularly in Tahrir Square. So they decided to build up their support in the country at large in the hope of making Cairo an isolated Island in the predominantly Islamist country.
3. To boost their popularity in the coming election, Morsi and Badie decided they could not afford the painful measures required by the International Monetary Fund for a $4.8 billion loan to tide the economy over its current crisis - spending cutbacks, downsizing the vast Egyptian civil service, reducing food subsidies and cutting away dead wood. Instead, they dropped their credit application to the IMF altogether and so avoided mass unemployment and widespread hardship in the months leading up to the election.
However, the US Secretary of State sternly called the Egyptian president's attention to three major concerns which need to be addressed with the utmost urgency:
a) Egyptian foreign currency reserves continue to bleed dangerously and no one knows how to stop the disastrous drain. By April, it is predicted that no more than $4 billion will be left to sustain a population of 80-90 million souls.
2. Egypt's industrial plants are working at just 50 percent capacity because fuel is scarce and the money to buy it even scarcer.
3. Gas for powering electricity is running out. More and more areas no longer receive regular electricity, some none at all. The water supply is also affected.
Debkafile's sources report two conflicting approaches on how to resolve Egypt's calamitous economic emergency: The Morsi Badiah upbeat approach which maintains that Egypt can keep going for three or four months until parliamentary elections. The Brotherhood will win 100 percent of the house and can then safely impose the necessary harsh economic measures that would hurt every part of the population, but hope to put the economy on its feet.
This pie-in-the-sky approach has Washington up in arms. They don't believe the Egyptian economy can wait another three to four months before tough remedies are put in place. They warn that a delay that long will see the Muslim Brotherhood and President Morsi crash and Egypt slump into a failed state. Whichever approach is realistic, the Egyptian people will very soon be faced with extreme hardship and a heavy price tab for their revolution, and less democracy.
Syrian No-man's Land Bordering Israel and Jordan Taken By Terrorists
March 5….(DEBKAfile Exclusive) The four Syrian mortar shells exploding on the Israeli side of the Golan Saturday, March 2, flashed a signal to Israeli Prime Minister Binyamin Netanyahu that the moment is at hand to step in and decide how to dispose of the expanse of southern Syrian bordering on northern Israel. This urgency sent Defense Minister Ehud Barak flying to Washington Friday March 1, to meet new US Defense Secretary Chuck Hagel next Tuesday.
At the top of their agenda for discussion this time will not be Iran but, debkafile's military sources report, the disappearance, except for scattered military units, of Bashar Assad's ruling presence and army from the Syrian areas abutting on Israel and Jordan. The collapse of Assad's defense lines on these two borders generates a new strategic situation of major import. Most Israelis, including their media, are too deeply engrossed in the ins and outs of Netanyahu's struggle to form a coalition government to notice that a no man's land has opened up on the Syrian Golan, the Horon province (where the Syrian uprising first erupted two years ago), and the Yarmuk River dividing Syria from Jordan. At the same time, the Assad army is all but gone from there and the Syrian rebels are constrained from moving into the abandoned territory by three considerations:
1. They are short of the manpower for seizing and holding it;
2. Their commanders have evidently not caught onto the brilliant international, strategic opportunity waiting to drop in their laps;
3. The Druze community in their mountain fortresses overlooking the territory is poised to prevent any outsider takeover.
Israel is confronted with a choice between leaving the long-menacing areas overlooking the Sea of Galilee and its north-eastern regions to an unknown fate - or asserting control itself. At this point, Israel's armed forces still have three options:
a) Directly capturing dominant points in those no-man's land areas as guarantees of a say in who eventually dominates them.
b) Military support for a Druze land grab.
c) Military collaboration with Jordan to control the fate of the abandoned lands abutting both their borders.
There is still time to pre-empt developments that would be detrimental to Israel's security: One such development would be a deal being reached on how to dispose of the abandoned territory between the Assad government and Syrian opposition in the talks opening in Moscow Tuesday, March 5. This deal would open the door for ensconcing on the Israeli border Muslim extremists, such as the pro-Al Qaeda factions fighting with the Syrian rebels. Barak's mission to Washington is to align Israel-US positions on these and other urgent topics with the new US defense secretary. debkafile's Washington sources are skeptical about his chances of success in view of the Obama administration's decision to pass the resolution of the Syrian question to Russian President Vladimir Putin. This leaves the initiative up to Netanyahu. He has shown exceptional skill of late in ducking clear decisions on such matters. However, indecisiveness at this moment could cost Israel dear in the future.
Whatever Happened With Nidal Hassan, The Ft. Hood Killer?
March 5….(WND) Are you one of those Americans who wonders what happened to the Islamist terrorist who massacred US soldiers at Fort Hood more than three years ago? Or maybe you're one of those Americans who assumes Maj. Nidal Hasan long ago assumed room temperature after being summarily executed for murdering 13 and wounding more than 32, while screaming "Allahu Akbar," or "Allah is greatest." There hasn't been much news on the case. The Big Media would obviously like Americans to forget about this case. The government would like you to forget about it, too. In fact, Attorney General Eric Holder declined to press terrorism charges against Hasan, inexplicably labeling the worst terrorist attack in America since 9/11 as a case of "workplace violence." As a result of this callous, politically motivated and criminally devious decision, the victims of Hasan's shooting spree will not be entitled to the benefits of soldiers wounded or killed in the line of duty.
There is some news on the Nidal Hasan front. Last week, the Army psychiatrist's attorneys asked the judge in the case to move his murder trial off the Fort Hood post. They also want changes in the military jury pool. Since, under military judicial rules, one cannot plead guilty to a capital offense, Hasan's attorneys are asking whether the judge would permit him to plead guilty to lesser charges that would not carry the death penalty.
Are you as confused as I am why this monster has not yet faced trial?
Are you as confused as I am why this mass-murdering enemy of America is still breathing?
Are you as confused as I am about why he's being treated with kid gloves rather than speedy justice?
Consider this: The same administration that characterized Hasan's murderous rampage and bloodbath against unarmed soldiers as "workplace violence" targeted for assassination one of his accomplices in crime in a drone attack in Yemen, even though he was technically an American citizen entitled to due process and trial by a jury of his peers just like Hasan. For at least six months prior to Hasan's attack on Fort Hood, which amazingly was "gun-free zone" virtually inviting such an assault, the Army psychiatrist was behaving bizarrely enough to have been considered a threat. In postings on the Internet, he likened a suicide bomber who kills women and children to a soldier who throws himself on a grenade to give his life in a "noble cause."
Intelligence officials also intercepted at least 18 emails between Hasan and the radical American-born cleric Anwar al-Awlaki. Hasan told al-Awlaki in one of the emails, "I can't wait to join you" in paradise. He also asked al-Awlaki whether it was appropriate to kill innocents in a suicide attack, when jihad was acceptable and how to transfer funds without attracting government notice. It was al-Awlaki who was summarily dispatched to meet Allah in the Yemen drone attack. Isn't there something bizarre about the different forms of "justice" applied to these two jihadi friends and cohorts?
Al-Awlaki was accused of killing no one. But he was targeted for assassination. Hasan murdered in cold blood 13 and attempted to kill 45 and he's been sitting in a comfortable jail cell for more than three years since shocking the Nov. 5, 2009, massacre. He's been treated deferentially by Col. Tara Anderson, the new judge in the case. Hasan sports a traditional Islamic beard, which is against Army regulations. But the judge said she would not force Hasan to comply with the same rules that apply to every other soldier who hasn't murdered 13 and attempted to murder 45. Before the shooting attack, Hasan was clean shaven. Only after the massacre has Hasan claimed he has the right to wear a beard, in direct contradiction of Army regulations which require a soldier to be clean shaven unless there is a medical reason. Hasan told the previous judge in the case: "Your honor, in the name of almighty Allah, I am a Muslim. I believe that my religion requires me to wear a beard." The judge ruled against Hasan's right to wear a beard. He was summarily replaced as the judge in the case. The rules are bent for Hasan, but not for his victims.
Staff Sgt. Shawn Manning was shot six times in the attack, yet he is denied the same benefits a soldier shot in a similar action overseas would receive, thanks to Holder's designation of the massacre as a matter of "workplace violence." Fellow soldiers that day "were killed and wounded by somebody who was there that day to kill soldiers, to prevent them from deploying," Manning said. "And if that's not an act of war, an act of terrorism, I don't know what is." But it gets worse: Survivors and their family are forced to watch while Hasan continues to receive a paycheck and medical benefits from the military.
Col. John Eidsmoe, a former JAG officer and author of "Historical and Theological Foundations of Law," told WND military justice normally moves much swifter. "It is definitely not normal for capital cases in the military to take three years to come to trial," Eidsmoe said. "In the civilian realm, criminal defense attorney may have 100 or so cases they are working on at any given time. In the military you maybe have half a dozen you working on. This gives you more time to devote to the cases you working on, making the whole system move much faster."
For instance, on Dec. 13, Army Sgt. Vincinte Jackson was convicted and sentenced to life in prison for killing 28-year-old Spc. Brandy Fonteneaux, a fellow soldier at Fort Carson in Colorado. The murder occurred on Jan. 8, 2012.
In July 2011, Sgt. Anthony Silva was shot to death in Denver. Silva was spending the evening at a motel and was waiting for his father to pick him up. Silva was shot and killed by Ricky Scott, who was convicted on one count of first-degree murder on Dec. 14, a year and a half after the shooting.
Why is Hasan getting the benefit where there is no doubt? That's the way the wheels of justice roll under Barack Obama. Things are just a little unpredictable. One jihadi murders 13 and attempts to murder 45 American soldiers and is treated like a prince. Another jihadi American citizen who killed no one is ordered to be killed by Obama in a drone attack. Go figure.
Obama Administration Gives Egypt Millions More US Dollars
| | |
| --- | --- |
| | (FOJ) Even as the Obama Administration enforces cuts on the American defense machine, it is releasing millions more of taxpayer dollars to a benign enemy of our nation. Mr. Morsi and the Muslim Brotherhood do not deserve one cent of American taxpayer money. They do not support freedom for Christians in Egypt, and do not support the peace agreement with Israel. |
March 4….(AP) New US Secretary of State John Kerry on Sunday rewarded Egypt for President Mohammed Morsi's pledges of political and economy by releasing $250 million in American aid to support the country's "future as a democracy." "The path to that future has clearly been difficult and much work remains," Kerry said in a statement after wrapping up two days of meetings in Egypt, a deeply divided country in the wake of the revolution that ousted longtime President Hosni Mubarak. Egypt is trying to meet conditions to close on a $4.8 billion loan package from the International Monetary Fund. An agreement would unlock more of the $1 billion in US assistance promised by President Barack Obama last year and set to begin flowing with Kerry's announcement. "The United States can and wants to do more," Kerry said. "Reaching an agreement with the IMF will require further effort on the part of the Egyptian government and broad support for reform by all Egyptians. When Egypt takes the difficult steps to strengthen its economy and build political unity and justice, we will work with our Congress at home on additional support."
Kerry cited Egypt's "extreme needs" and Morsi's "assurances that he plans to complete the IMF process" when he told the president that the US would provide $190 million of a long-term $450 million pledge "in a good-faith effort to spur reform and help the Egyptian people at this difficult time." The release of the rest of the $450 million and the other $550 million of the $1 billion that Obama announced will be tied to successful reforms, officials said. Separately, the top US diplomat announced $60 million for a new fund for "direct support of key engines of democratic change," including Egypt's entrepreneurs and its young people. Kerry held out the prospect of US assistance to this fund climbing to $300 million over time.
Catholics Prepare to Elect a New Pope
March 4….(Newsmax) Cardinals from around the world have descended on Rome to discuss some of the major problems facing the Catholic Church ahead of the conclave to elect Benedict XVI's successor as pope. Topping the agenda: Vatican scandals, Benedict's remarkable decision to resign and efforts to keep Christianity relevant in today's world.
The first pre-conclave meeting is scheduled for Monday morning, headed by the dean of the College of Cardinals, Cardinal Angelo Sodano. Preparations for electing Roman Catholicism's new leader begin in earnest on Monday as the College of Cardinals opens daily talks to sketch an identikit for the next pope and ponder who among them might fit it. The idea is to have the new pope elected during next week and officially installed several days later so he can preside over the Holy Week ceremonies starting with Palm Sunday on March 24 and culminating in Easter the following Sunday.
The general congregations, closed-door meetings in the interregnum between a papacy and the conclave to choose the next one, will hold morning and afternoon sessions in an apparent effort to discuss as much as possible in a short time. The list of challenges facing the crisis-hit Church could take weeks to debate, but the Vatican seems keen to have only a week of talks so the 115 cardinal electors, those under 80, can enter the Sistine Chapel for the conclave next week. High on the agenda will be Church governance after last year's Vatileaks scandal exposed corruption and rivalries in the Vatican's Curia bureaucracy. Cardinals expect to be briefed on a secret report to the pope on the problems it highlighted. Most cardinals say the new pope could come from outside Europe, but it is not clear if the conclave, which has a slight majority of European cardinals, will break the long-standing tradition of choosing only men from the continent.
Netanyahu: Iran Using Nuclear Talks to 'Buy Time' for Bomb
March 4….(Newsmax) Renewed international efforts to negotiate curbs on Iran's disputed nuclear program have backfired by giving it more time to work on building a bomb, Israeli Prime Minister Benjamin Netanyahu said on Sunday. His remarks on the inconclusive Feb. 26-27 meeting between Iran and six world powers signaled impatience by Israel, which has threatened to launch preemptive war on its arch-foe, possibly in the coming months, if it deems diplomacy a dead end.
Senior US diplomat Wendy Sherman flew in to brief Israel about the Kazakh-hosted talks, in which Tehran, which denies seeking nuclear arms, was offered modest relief from sanctions in return for halting mid-level uranium enrichment.There was no breakthrough. The sides will reconvene in Almaty on April 5-6 after holding technical talks in Istanbul. "My impression from these talks is that the only thing that is gained from them is a buying of time, and through this time-buying Iran intends to continue enriching nuclear material for an atomic bomb and is indeed getting closer to this goal," Netanyahu told his Cabinet in remarks aired by Israeli media.
Extrapolating from UN reports on Iran's enrichment of uranium to 20 percent fissile purity, a short technical step from weapons-grade, Netanyahu has set a mid-2013 "red line" for denying the Islamic republic the fuel needed for a first bomb.
US Warned: Al Qaeda Coming to America
March 1….(WND) A senior Iranian Revolutionary Guard commander has warned America and Europe that al-Qaida operatives will soon attack them. And a source in the Islamic regime's Intelligence Ministry told WND that another terror team is about to enter the United States. Should the West not accept Iran's rights to its nuclear program within six months, the terrorists will attack, he said.
The potential targets in the US include high-voltage towers to create blackouts, cell towers, water supplies, public transportation and various buildings belonging to the Defense Department and military. The source said six US politicians who have promoted tougher measures against the regime are on the hit list, along with such targets as the Washington National Cathedral and Lincoln Memorial in DC and the Metropolitan Museum of Art in New York. Two days of negotiations between Iran and the 5+1 countries (the five permanent members of the UN Security Council plus Germany) have just ended in Kazakhstan over Iran's illicit nuclear program. The two parties agreed to meet again in March and April.
The source said an April deadline has been set for Iran to resolve issues over its nuclear program, one of which is to halt activity at Fordow and take concrete measures not to resume enrichment there. Iranian media are avoiding mentioning enrichment at Fordow in the wake of reports that explosions occurred there. The source said that proves explosions rocked Fordow and the West is now urging the regime not to restart enrichment at that site, which is deep underground and immune to conventional air strikes. According to Fars News Agency, a media outlet run by the Revolutionary Guards, the regime's armed forces deputy chief of staff, Brig. Gen. Masoud Jazayeri, last Thursday stated that, "Al-Qaida groups and other services which operate for the interest of America will soon change the region of their operations and thereafter create new problems for America and Europe." Jazayeri warned that the operatives have technological resources to threaten America and that, "if the people of America and Europe do not confront the aggressive policies of their governments, they cannot then remain far from the possible future events (terror attacks)."
WND reported exclusively on Dec. 11 and Dec. 18 that Islamic regime terror teams are not only ready to attack France and Germany but also the US. Iran has been training, arming and funding al-Qaida elements for years. The regime's supreme leader, Ayatollah Ali Khamenei, and Quds Force commanders have held several meetings in Tehran with al-Qaida leaders in which a plan was devised to attack the West.
The source told WND that a six-member team, including an explosives specialist, is to join 10 Quds Force commanders who already have a cell of 50 terrorists in the US Collaboration with al-Qaida serves Iranian leaders well, the source added, as al-Qaida attacks will not leave behind a link to Tehran. This information has been shared with US intelligence agencies, which have followed suspected terrorists through three countries so far. The source is working with US authorities to verify the information, though it has yet to be validated. While Israel and the West have set their eyes on covert operations and increased sanctions to pressure the regime into ending its illicit nuclear program, the regime has its eyes on completing its nuclear bomb program by overcoming the last obstacle of arming its ballistic missiles with nuclear warheads, according to the source.
The plan is, the source said, that if in the next six months America does not accept Iran's nuclear program and does not ease sanctions or a military confrontation occurs, the terrorist assets have been ordered to carry out their missions.
US & Russia Drawing Ceasefire Lines for Ending Syrian War
March 1….(DEBKAfile Exclusive Report) Incoming US Secretary of State John Kerry, on his first foreign trip, set forth what sounded like a new Obama administration policy for Syria in his remarks in Paris Wednesday, Feb. 27. They were accompanied by reports that the US was stepping up its support for the Syrian opposition. It would cover training rebels at a base in the region and non-lethal assistances and equipment, such as vehicles, communications equipment and night vision gear. But Kerry's remarks did not reflect a new policy but merely recycled old definitions which confirmed US disengagement from Syria, rather than "stepping up support" for the Syrian opposition "for the first time." US supplies of nonlethal assistance to Syrian rebels date back to early last year. The US has moreover been training Syrian rebels in Jordanian bases near the Syrian border for more than a year to carry out three missions:
1. To seize control of Bashar Assad's chemical weapons arsenal;
2. To create a pro-Western core command structure as a factor in post-Assad government;
3. To ward off the takeover of the revolt command by Islamist factions, including groups associated with al Qaeda.
It turned out that none of these three missions was actually achieved. The chemical weapons remained firmly in the hands of Assad and his army, which never used them, contrary to rebel claims; factions close to Al Qaeda have grown stronger; and their role in the rebel command expanded as they were seen to be the best-armed and trained of any Syrian rebel faction.
The Obama administration finally came to the conclusion that the only way to contain Islamist forces and retain a modicum of American control over the rebels was to catch a ride on Russian President Vladimir Putin plans for Syria, even through they entailed preserving Bashar Assad in power through to 2014.
Debkafile's military and Russian sources reveal here for the first time that those plans hinge primarily on establishing armistice lines dividing the country into separate sectors and determining in advance which will be controlled by rebel factions and which by Assad loyalilsts. This is the first practical basis to be put forward for an accord to end the two-year old civil war between Assad and the Syrian opposition and it is designed to go forward under joint Russian-American oversight. Our sources add that the teamwork between Washington and Moscow in pursuit of this plan is close and detailed. They have agreed to get together on the types of weapons to be supplied to each of the rebel groups and are sharing costs.
That is the real new American policy for Syria: It is based on Washington's recognition of the new situation unfolding in Syria and the need to cooperate with Moscow, including acceptance of Assad's rule, in order to salvage remnants of American influence within the Syrian rebel camp. French President Francois Hollande showed he was quick on the uptake. No sooner had the Secretary Kerry departed Paris for Rome Wednesday, than Hollande was on his way to Moscow to scout out a role for France.
Obama to Visit Temple Mount?
(Hamas warns of 'diplomatic catastrophe')
March 1…(WND) Neither Israel nor the Palestinian Authority say they have any information President Obama plans to visit the Temple Mount amid Palestinian rumors that such a trip is in the works. The rumors received a boost earlier this week when Hamas issued a statement warning the Obama against the idea, calling such a visit "a diplomatic catastrophe." The statement further called Obama's rumored visit to the Al-Aqsa Mosque on the Mount "an imminent danger which the Al-Aqsa Mosque and Jerusalem have never faced." Officials in the PA and Israel reported yesterday they don't have any information about a planned trip to the Temple Mount. The office of Adnan Ghaleb al-Husayni, the governor of the Waqf, or Islamic custodians of the mount, further told WND that no such visit to the sensitive site was requested. An official in Husayni's office said the idea of Obama's ascent to the Mount is "insane." The Temple Mount is the holiest site in Judaism. Muslims now claim it is their third holiest site, although their stake changed several times throughout history.
The First Temple was built by King Solomon in the 10th century BC It was destroyed by the Babylonians in 586 BC. The Second Temple was rebuilt in 515 BC after Jerusalem was freed from Babylonian captivity. That temple was destroyed by the Roman Empire in AD 70. Each temple stood for a period of about four centuries.
According to the Talmud, the world was created from the foundation stone of the Temple Mount. It's believed to be the biblical Mount Moriah, where Abraham fulfilled God's test of his willingness to sacrifice his son Isaac. The Temple Mount has remained a focal point for Jewish services for thousands of years. Prayers for a return to Jerusalem and the rebuilding of the Temple have been uttered by Jews since the Second Temple was destroyed, according to Jewish tradition.
The Al-Aqsa Mosque was constructed in about AD 709 to serve as a shrine near another shrine, the Dome of the Rock, which was built by an Islamic caliph. Al-Aqsa was meant to mark what Muslims came to believe was the place at which Muhammad, the founder of Islam, ascended to heaven to receive revelations from Allah. Jerusalem is not mentioned in the Quran. It is mentioned in the Hebrew Bible 656 times.
The Temple Mount was opened to the general public until September 2000, when the Palestinians started their Intifada, or "uprising," by throwing stones at Jewish worshipers after then-candidate for prime minister Ariel Sharon visited the area. Following the onset of violence, the new Sharon government closed the Temple Mount to non-Muslims, using checkpoints to control all pedestrian traffic for fear of further clashes with the Palestinians. The Temple Mount was reopened to non-Muslims in August 2003. It's been open to non-Muslims only during certain hours, and not on any Christian, Jewish or Muslim holidays or other days considered "sensitive" by the Waqf. During "open" days, Jews and Christians are allowed to ascend the Mount, usually through organized tours and only if they conform first to a strict set of guidelines, which include demands that they not pray or bring any "holy objects" to the site. Visitors are banned from entering any of the mosques without direct Waqf permission. Rules are enforced by Waqf agents, who watch tours closely and alert nearby Israeli police to any breaking of their guidelines.
Covert Auctions in Egypt Giving Libyan Arms to Terrorists
March 1….(Fox News) The weapons that helped Libyan rebels oust dictator Muammar Qaddafi are turning up for sale at clandestine auctions in Egypt's lawless Sinai Desert, where shadowy buyers purchase firearms for Al Qaeda and Hamas operatives, sources told FoxNews.com. The illicit sales take place in the barren Sinai peninsula, where Moses is believed to have wandered with the children of Israel for 40 years. Auctions announced through the grapevine bring caravans of foreigners, all with huge sums of money at their disposal and all with the same mission, Israel Defense Force sources told FoxNews.com.
The vast and rugged desert area inhabited by an estimated 250,000 Bedouins has borders with Egypt, Gaza and Israel, as well as a long coastline on the Red Sea. While the location makes it easy for buyers to come from various regions, it also combines with the impromptu nature of the auctions to make them almost impossible to stop. "There are more and more contacts between Al Qaeda and the small groups in Sinai," a senior source in the Israel Defense Force told the Washington-based Investigative Project on Terrorism.
The hosts of these auctions aren't just doing it for the money, the source said. Al Qaeda-linked jihadists are becoming more and more influential in the region, and playing a large role in who shows up for the auctions and who leaves with the bombs, anti-tank missiles, rocket-propelled grenades and automatic weapons that are peddled there. "If at the beginning we saw these tribes supporting terror cells for the sake of money, now we see it becoming more an ideological support, and we see more and more cases that these groups of Al Qaeda-influenced extreme jihadists are becoming more powerful than the tribes," the source said.
With Libya rendered an unstable tribal nation rife with internal power struggles between secular moderates and radical Islamists in the wake of Qaddafi's ouster, accountability for weapons in the north African country is impossible. The US, which denies directly supplying arms to the Libyan rebels, is concerned about weapons being sold in the region. "The potential for proliferation and smuggling of unsecured small arms and weapons in the region is a concern to the US government and the international community," a US State Department official told FoxNews.com.
The New York Times reported in December 2012 that the Obama administration secretly gave its blessing to arms shipments to Libyan rebels from Qatar, only to express alarm when evidence mounted that Qatar was turning some of the weapons over to Islamic militants. Qatar, strong supporters of the Muslim Brotherhood and Hamas, may well have been playing both sides of the game, as the US official strongly hinted to The New York Times. The weapons being auctioned in the Sinai desert almost certainly include many sent by Qatar to Libya, a disturbing consequence that had been flagged early by some American officials.

---