Follow Focus on Jerusalem on 'Twitter'
(FOJ note) You can actively follow hourly news, comments and articles on the Twitter link posted above.The Newsroom will continue as always, but the Twitter link provides quick hot-button alerts.
WEEK OF NOVEMBER 6 THROUGH NOVEMBER 12
Trump Wins Presidency, Defeats Clinton in Historic Election Upset
Nov. 9….(Fox News) Donald Trump, defying the pundits and polls to the end, defeated Hillary Clinton in Tuesday's presidential election and claimed an establishment-stunning victory that exposes the depth of voter dissatisfaction, and signals immense changes ahead for American policy at home and abroad.
Seventeen months after the billionaire tycoon's Trump Tower entrance into the race, the first-time candidate once dismissed by the political elite will become the 45th president, Fox News projects.
Speaking to cheering supporters early Wednesday morning at his victory party in New York City, the Republican candidate and now president-elect said Clinton called to congratulate him, and Fox News confirms she has conceded. Despite their hard-fought campaign, Trump praised Clinton for her service and said "it is time for us to come together as one united people." "I will be president for all Americans," Trump vowed, after a brief introduction by running mate Mike Pence.
TRUMP'S AGENDA: WHAT HIS ELECTION MEANS FOR AMERICA
Sounding a call to "reclaim our country's destiny," Trump declared: "The forgotten men and women of our country will be forgotten no longer. America will no longer settle for anything less than the best." Trump will be the oldest president in US history, entering the Oval Office at age 70. With her defeat, Clinton falls short in her second bid to become the first female president of the United States.
Though Clinton called Trump, her campaign initially did not concede defeat. Earlier, her campaign chairman John Podesta addressed supporters nearby in New York and said several states were "too close to call." Clinton herself did not appear at the rally. Podesta had urged supporters to "head home" and said they would not have "anything more to say tonight."
Prime Minister Benjamin Netanyahu on Wednesday congratulated Donald Trump on his election as the 45th president of the United States. "President-elect Trump is a true friend of the State of Israel," Netanyahu said on Wednesday. "I look forward to working with him to advance security, stability and peace in our region." Netanyahu lauded the "ironclad bond between the United States and Israel," which he said "is rooted in shared values, buttressed by shared interests and driven by a shared destiny." Netanyahu lauded the "ironclad bond between the United States and Israel," which he said "is rooted in shared values, buttressed by shared interests and driven by a shared destiny."
WEEK OF OCTOBER 30 THROUGH NOVEMBER 5
Clinton and Trump Offer Diverse ME Scenarios
Nov. 2….(DEBKA) Whoever is elected US president on Nov. 8, he or she will land in the middle of a foreign policy shambles and face a pressing need to rebuild America's fences in most parts of the world, including the war-ridden, messy Middle East. The Democratic candidate Hillary Clinton and her Republican rival Donald Trump, whose approaches are so different in every respect, will both find it impossible to isolate America from the Middle East.
Debkafile's military and intelligence experts postulate divergent developments in response to the alternative results of the Nov. 8 presidential election, depending on the winner.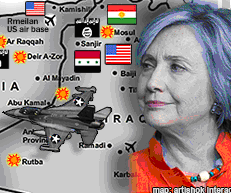 If it is Hillary Clinton, then
Russia will deepen its expansion in the region, including in Syria and Iraq. The Russian naval units speeding to the Mediterranean at this moment are part of Moscow's ramped up deployment in readiness for Clinton's entry to the White House. Vladimir Putin will not forgive the Democratic candidate in a hurry for her anti-Russian campaign gimmicks of depicting Donald Trump as his friend and alleging that Russian intelligence hacked DNC emails to turn the race against her.
The Russian leader is not the forgiving sort when it comes to his reputation - and still less so when Russian intelligence, his alma mater, is impugned. The high tensions expected to prevail between the Kremlin and the Clinton White House may well ignite a limited military conflagration between US and Russian forces in the Middle East.
Syrian rebels are counting on Clinton giving them arms and funds, in contrast to Barack Obama, and are therefore tenaciously holding out, despite their inferior resources against Russian-backed Syrian and pro-Iranian forces. They see her focusing on Bashar Assad's ouster and, even more, on empowering the rebels to hamper Russia's military designs in Syria. In this, she will find support from her friends in the Gulf emirates. The Syrian opposition believes that the sharper the tensions between Washington and Moscow, the better for their cause.
Clinton has a dilemma with regard to Iran. As co-author of the nuclear deal, she will also try to improve relations with Tehran. But by doing so, she risks alienating her friends, the Arab Gulf leaders. She will soon discover that Iran's rulers and military chiefs have no wish to cozy up to Washington, certainly not at the expense of their highly profitable ties with Moscow and Beijing. Clinton will no doubt try to repair the damage to US relations with Israel that piled up during Obama's term of office.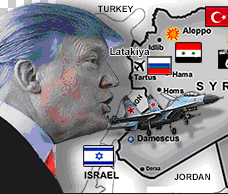 If it is Donald Trump, then –
He will go for a US-Russian summit with Vladimir Putin to lay out a new world power order for the distribution of spheres of influence in different world regions, including the Middle East. He may make the summit trilateral by inviting Xi Jinping of China. This summit will also seek economic understandings, a prospect which is already unnerving international markets. Trump will ask the Russian and Chinese leaders to share wholly or partly in the plans he put before the voter for strengthening the American economy.
The Republican candidate has said repeatedly that he would be glad to leave the war on ISIS in the Middle East to Putin and Tehran. In any case, his military advisers, led by Ret. Army Gen. Mike Flynn, perceive Moscow as already in control of the current military situation in consequence of Obama's policies. This policy however will put the Trump administration at odds with the Arab world, the Gulf emirates and Israel, all of which fear Iran's continued drive for expansion across the Middle East under a supportive Russian umbrella. He may try to compensate for this lack of equilibrium by taking a strong line against Tehran, even revoking the nuclear deal, which the outgoing president saw as his crowning foreign policy achievement. This could spark a US-Iranian showdown in the Gulf region. On the other hand, Iran is perfectly capable of dumping the nuclear accord on its own initiative.
During Trump's first year as president, the traditional US-Saudi partnership for political, military and economic policies may start crumbling, especial on oil pricing. This alliance between the royal house of Saud and the US dates from the first encounter between President Franklin Roosevelt and King Ibn Saud 71 years ago. Debkafile's Saudi experts estimate that after some initial rough patches, Donald Trump and King Salman will be able to find common ground and so put relations on a firmer footing than before. This would repair the discord with Riyadh engendered by the Obama administration and during Clinton's term as Secretary of State. Trump will endeavor to improve ties with Israel. In so doing, he will try and contain Binyamin Netanyahu's ongoing understandings with Putin on the Middle East