WEEK OF NOVEMBER 25 THROUGH NOVEMBER 30
Arafat, al-Qaida linked by new attacks?

Nov. 29..(World Net) While the apparently well-coordinated terrorist attacks today in Kenya and Israel are being blamed by most analysts on Osama bin Laden's al-Qaida network, claims of responsibility link them with Yasser Arafat's Al-Aqsa Martyrs Brigade and Hezbollah's Army of Palestine. At least four Israelis were killed and over 20 injured this afternoon in an attack by two terrorists who opened fire on people voting in the Likud leadership primary at the party branch in the northern town of Beit She'an. Thirteen people were in serious condition and seven sustained moderate wounds. The Al Aqsa Martyrs Brigade - which is linked to Yasser Arafat's Fatah faction - claimed responsibility for the attack. Meanwhile, in simultaneous attacks, a car bomb exploded today at a hotel frequented by Israelis, killing 14 people, and at least two missiles were fired at - but missed - an Israeli charter jet that had just departed this popular destination for tourists and trade. A little-known group called the Army of Palestine claimed responsibility. The group said it carried out attacks on Israelis in Kenya to mark the anniversary of the 1947 United Nations resolution partitioning Palestine between Arabs and Jews. In a statement faxed to Reuters, the previously unheard-of group said it had sent two groups of attackers to Kenya to "make the world hear once again the voice of Palestinian refugees, and to cast light on Zionist terrorism in the West Bank and Gaza." It said the attacks were intended to mark the 55th anniversary of "the ill-fated (U.N.) resolution to partition Palestine tomorrow, November 29, 2002" and followed "the accusation of terrorism against courageous resistance movements in occupied Palestine and Lebanon." The Army of God, described in many reports as a previously unknown terrorist group did, however, also claim responsibility for one other major, high-profile act of terrorism last April in the Israeli community of Adora on the West Bank. At that time, intelligence sources linked the group with the Lebanon-based terrorist group Hezbollah - an organization that is allied with al-Qaida. Assuming the attacks today were coordinated at the operational level, it indicates, say intelligence sources, that Arafat, Hezbollah and al-Qaida are all working together to plan terrorist attacks throughout the world. Hezbollah receives direct funding and support from Iran and Syria. Arafat's organization receives direct funding from Saudi Arabia and many other Arab countries, as well as direct taxpayer support from the U.S. and the European Union.

Palestinian Failure on Bush Statehood Proposal

Nov. 28….(FOJ) On June 24, 2002, President Bush set forth conditions that the Palestinians must fulfill in order to merit U.S. support for the creation of a Palestinian Arab State. Among the major obligations are that the Palestinian Arabs must "dismantle the terrorist infrastructure in their territories," and "end the incitement to terror," and "elect new leaders not compromised by terror," and also unequivocally embrace democracy and free market economics.

I. "Dismantle the Terrorist Infrastructure"

What They Must Do: President Bush said that the Palestinian Arabs must "engage in a sustained fight against the terrorists and dismantle their infrastructure." Those terms were previously defined in the Oslo and Wye River accords as including arresting and imprisoning terrorists; shutting down bomb factories; seizing terrorists' weapons; extraditing terrorists to Israel; punishing factions of the PLO that engage in terrorism; and outlawing terrorist groups. The Bush administration has also said that in rebuilding its police and security forces, the PA must reform them so that they fight against terrorists instead of taking part in terrorism. The training, under the supervision of U.S., Egyptian, and Jordanian security officials, began on September 19, 2002; however, Israel has protested the fact that at least 100 of the 150 PA security officers participating in the course "were involved in attacks on Israeli civilians."

PA action on Terror to date:

A. No Terrorists Arrested: There hasn't been a single case of terrorists being arrested or imprisoned by the PA.

B. No Terrorists Extradited: The PA continued to ignore Israel's 45 requests for the extradition of terrorists.

C. No Terror Groups Outlawed: The PA has not outlawed Hamas, Islamic Jihad, Fatah, or any other terrorist groups within PA jurisdiction.

D. No Terrorists' Weapons Seized: There have been zero acts of the PA seizing terrorists' weapons. By contrast, Israeli forces on November 17 raided a PA Preventive Security Services camp in Gaza, where they found Kassam missiles, anti-tank rockets, mortar launchers and mortars, anti-tank grenades, landmines and other weapons.

E. No Closing of Bomb Factories: There have been no instances of the PA shutting down any bomb factories.

F. No Punishing of PLO Terror Factions: There have been no reports of the PLO leadership punishing PLO factions that are engaged in terrorism, such as the Popular Front for the Liberation of Palestine (PFLP) and the Democratic Front for the Liberation of Palestine (DFLP).

II. "Building Democracy Based on Tolerance and Liberty" What They Must Do: President Bush said that the Palestinian Arabs must "build a practicing democracy based on tolerance and liberty," with "a new constitution" and "a truly independent judiciary. He said they must "confront corruption," and "the Palestinian parliament should have the full authority of a legislative body." They must implement "market economics," and create "a vibrant economy where honest enterprise is encouraged by honest government." In addition, there must be "an externally supervised effort to rebuild and reform the Palestinian security services" with "clear lines of authority and accountability with a unified chain of command."

The PA continues to claim that it is in the process of implementing what it describes as its "reform plan," but there as yet have been no changes. Of note is the fact that the aspiring members of the PA parliament that have advocated reform have been replaced by Arafat's hand-picked cadre of terrorists. Yet in spite of the overwhelming lack of compliance with President Bush's conditions for supporting Palestinian Statehood, the US continues to work in league with the Quartet (UN, EU, Russia, US) to manufacture a mythical democratic Palestinian State by next year.

Bush Names Kissinger to Lead 9/11 Probe

Nov. 27….(AP) President Bush has named former Secretary of State Henry Kissinger to lead an independent investigation of the Sept. 11 attacks on America and said the probe "must uncover every detail and learn every lesson" of the terrorist strikes. Kissinger pledged to "go where the facts lead us." "We are under no restrictions, and we will accept no restrictions," Kissinger told reporters at the White House. Kissinger, 79, will lead an investigative commission created under a bill Bush signed authorizing intelligence activities in the 2003 budget year. "This commission will help me and future presidents to understand the methods of America's enemies and the nature of the threats we face," Bush said at a White House ceremony with lawmakers, survivors and victims' families. "This investigation should carefully examine all the evidence and follow all the facts wherever they lead," said Bush, who was initially cool toward creating an independent commission. "We must uncover every detail and learn every lesson of September the 11th." Kissinger spoke briefly to family members before talking with reporters after the ceremony. "To the families concerned, there's nothing that can be done about the losses they've suffered, but everything must be done to avoid that such a tragedy can occur again." Kissinger is one of the best known diplomats of the 20th century. He was secretary of state to Presidents Richard M. Nixon and Gerald R. Ford. He won the Nobel Peace Prize in 1973 with North Vietnam's Le Duc Tho for cease-fire negotiations during the Vietnam war. Kissinger also made a determined peacemaking effort in the Middle East and made repeated trips to the region. In addition to serving as secretary of state, Kissinger also was national security adviser for Nixon and Ford from 1969-75. He made history in July 1971 when he made a secret trip to China, ending a Sino-American estrangement that had lasted for more than two decades. The KissingerCommission will have a broad mandate, building on the limited joint inquiry conducted by the House and Senate intelligence committees. The independent panel will have 18 months to examine issues such as aviation security and border problems, along with intelligence. Bush called on members to report back more quickly than 18 months, saying the nation needed to know quickly how it can avoid terror attacks in the future.

Russian Oil Coming to the US Market

Nov. 27….(Reuters) Russia's top oil firms teamed up in a multi-billion-dollar deal Wednesday to build a giant export terminal in Russia's only ice-free Arctic port, a move that should help the U.S. cut its dependency on the Middle East. The planned deal comes as Russia seeks new markets outside Europe while the United States, the world's biggest oil consumer, wants to diversify its sources of oil away from more traditional but politically turbulent suppliers. It is extremely important that Russia-U.S. relationship is developing in a constructive way. It convinces us that we will secure access to U.S. oil market and U.S. oil firms will gradually join our production projects," Russia's second largest oil firm Yukos CEO Mikhail Khodorkovsky told reporters. "Russian firms could supply up to 13 percent of the United States' total crude oil imports by 2010 it was reported. The memorandum of understanding was signed by executives from Lokoil, Yukos, Tyumen Oil Co (TNK) and Sibneft, which together account more than half of Russia's eight million barrel per day (bpd) output. Russia is the world's second largest oil exporter, but lacks warm water ports to ship their oil. Russian President Putin, on behalf of Russian oil companies is also negotiating with King Abdullah of Jordan to construct a pipeline from Iraq to the Mediterranean Sea. Russia is expecting a windfall of oil revenues after an American extraction of Saddam Hussein from Iraq.

Iraqi Weapons Inspections Begin


Nov. 27….(Reuters) U.N. arms inspectors completed their first field mission in Iraq in four years Wednesday, the opening move in their search for banned Iraqi weapons of mass destruction. U.N. Secretary-General Kofi Annan, asked by France's Europe 1 radio about the start of the inspectors' mission, replied "I think it got off to a rather good start." Baghdad has been given until December 8 to declare any nuclear, chemical or biological weapons in an initial report to the United Nations Security Council. Iraq denies having any such weapons. But Washington is convinced that Iraq does have them, and President Bush has warned that Saddam would be entering his "final stage" were he to stick to such a blanket denial. The inspectors gave up their post-Gulf War quest in 1998 in the face of Iraqi obstruction -- notably over access to numerous "presidential sites." The heads of the inspection teams said Tuesday they would leave no stone unturned on their missions and that, unlike their predecessors, they had a strong mandate to look inside Saddam's own, sprawling palace compounds at any time. Under the new resolution, the inspectors must give their first report to the Security Council by Jan. 27.

Iraq: UN must disarm Israel, not Iraq

Nov. 27….(Ha Aretz) Iraq's state-run press accused the United Nations of double standards in dealing with Iraq and Israel as UN weapons inspectors completed their first field mission in Iraq in four years. If the Security Council is really serious about peace and security in the region, then it has to disarm the weapons of mass destruction owned by Israel," said the daily al-Thawra. "Israel is the real source of the threat of weapons of mass destruction and is the rogue state in violation." Israel has missiles that can reach thousands of miles and all Arab and Islamic capitals, said al-Thawra, the mouthpiece of the ruling Baath Party. "Israel is the only one that has absolute authority to manufacture and store weapons of mass destruction and missiles that can deliver them," al-Thawra said. "Other Arab states are slandered, pursued, and punished just on the suspicion they have got the technology to build.such weapons." "Everyone in the Security Council...knows that it is America and not Iraq which threatens international peace and security," al-Jumhuriya said. "America, with its actions and words, tells the world that it does what it wants."

Hussein/Bin Laden Looking at Saudi Arabia?

Nov. 27….(Debka) Like a fox that hears the baying of the hounds, Saddam Hussein is reported to be in indirect negotiation with Osama bin Laden over a bolt-hole for a quick escape. He believes that no one but the Islamist terrorist can provide him with an extra-territorial base complete with a partnership to continue fighting the Americans and their allies after they install a new regime in Baghdad. The leader of the Al Qaeda Islamic terrorist network is alive and, with his close associates and family, at safe anchorage in the Empty Quarter fringing Saudi Arabia, Yemen, Oman and the United Arab Emirates. Those same sources now report that Bin Laden leads the camp advocating the deepening of the network's penetration of Saudi tribes, clergy, security forces, intelligence and cities. He believes that planting new cells in every branch of the oil kingdom's ruling establishment and every corner of the country will in the space of a year or two create the conditions for overthrowing the Saudi royal house and replacing it with a Wahhabist Islamic republic. Bin Laden and Hussein together may be plotting the overthrow of the Saudi Royal House, and inflaming the Muslim world against America.

Saudi Royal Family Financing Al Qaeda?



Nov. 27….(Debka) Devastating reports have been published about the failure of the Bush administration to stem the flow of Saudi moneys to al Qaeda, despite their enormous efforts in different parts of the world. Saudi Interior Minister Prince Naif, appears to be jockeying to become the next-in-line position for Crown Prince after his older brother, the defense minister Sultan, follows the incumbent crown prince, Abdullah. To this end, he has been currying favor with the more hard-line elements of the kingdom's Muslim clergy. What worries Americans most about Prince Naif is not his bid for radical allies but his role as the custodian of the multi-billion dollar Dawa , or "Invitation to Islam" missionary fund. This fund derives its income from donations from worthy Muslims intent on furthering the dissemination of Islam. Secretary of State Colin L. Powell, traveling in Mexico City, told reporters that the administration has "made it clear" that some Saudi financial practices, such as the funding of charitable organizations that may have links to terror, have concerned U.S. officials. But, he added, "in our concern and in our desire to protect ourselves, we should not go to the point where we rupture relations with a country that is a good friend of the United States for many years and is a strategic partner." The National Security Council task force is recommending to President Bush that a plan to force Saudi Arabia to act against terrorist financiers or face unilateral U.S. action against the suspects be enacted. The report quoted U.S. officials as saying the United States would present the Saudis with evidence against individuals and businesses suspected of aiding al Qaeda and other terrorist groups, along with a demand that they be put out of business.
Pakistan and North Korea: Secretly Dealing Nukes?

Nov. 26….(Worthy) Last July, American intelligence agencies tracked a Pakistani cargo aircraft as it landed at a North Korean airfield and took on a secret payload: ballistic missile parts, made by North Korea. The shipment was brazen enough, in full view of U.S. spy satellites. But intelligence officials who described the incident say the transport was also a slap at Washington: the Pakistani plane was a Lockheed-built C-130 made in the United States. The plane was part of the military force that Pakistan's military ruler, General Pervez Musharraf, told President George W. Bush last year would be devoted to hunting down the terrorists of Al Qaeda, one reason the administration was hailing its new cooperation with a country that it labeled a rogue state only a year before. But several times since that new alliance was cemented, U.S. intelligence agencies watched silently as Pakistan's air fleet conducted a potentially deadly barter with North Korea. In transactions that intelligence agencies are still unraveling, North Korea provided Musharraf with missile parts that he needed to build a nuclear arsenal capable of reaching every strategic site in India. And Pakistan provided North Korea with many of the designs for gas centrifuges and much of the machinery that it needs to make highly enriched uranium for the country's latest nuclear weapons project, one intended to put at risk South Korea, Japan and 100,000 American troops in Northeast Asia. The Central Intelligence Agency told members of Congress this month that North Korea's uranium enrichment program, which it discovered only this summer will produce enough material to produce nuclear weapons in two to three years. In interviews over the last three weeks, officials and experts in Washington, Pakistan and Seoul described a relationship between North Korea and Pakistan that now appears much deeper and more dangerous than the United States and its Asian allies first suspected. The accounts raise disturbing questions about the nature of the uneasy American alliance with Musharraf's government. The officials and experts described how, even after Musharraf sided with the United States in defeating the Taliban in Afghanistan and hunting down leaders of Al Qaeda, the A.Q. Khan Nuclear Research Laboratories in Pakistan continued its murky relationship with the North Korean military. It was a partnership linking an insecure Islamic nation and a failing Communist one, each in need of the other's expertise. Pakistan was desperate to counter India's superior military force but was confronted by years of U.S.-imposed sanctions, so it turned to North Korea. North Korea, increasingly cut off from Russia and China, tried to replicate Pakistan's success in developing a nuclear arsenal based on enriched uranium, which is one of the few commodities that North Korea has in plentiful supply. While the United States has put tremendous diplomatic pressure on North Korea in the last two months to abandon the project, and has cut off oil supplies to the country, it has never publicly discussed the role of Pakistan or other nations in supplying that effort. American and South Korean officials say the reason is obvious: The Bush Administration has determined that Pakistan's cooperation in the search for Al Qaeda is crucial, especially since some reports indicate that Osamma bin Laden is in Pakistan.

America's Muslim Stamp Reappears

Nov. 26….(Philadelphia Inquirer) The Islamic stamp, first issued last year bearing the phrase, "Eid Mubarak," in homage to Eid al-Fitr, the end of Ramadan, the month-long period of fasting and prayer that will conclude this year on Dec. 6, and Eid al-Adha, a celebration during the pilgrimage to Mecca in February. The U.S. Postal Service first issued the stamp 10 days before the terrorist attacks on the World Trade Center and the Pentagon. Last month, it reprinted the stamp as part of its permanent holiday series. That stamp became a symbol to many American's with many American Muslims saying, "Yes, we're a part of America." The stamp verifies that fact. "As an American, I'm proud of it," one Muslim said. "It sent a good message out to world, a message that American is a diverse country, that believes in coexistence and tolerance, and the gods of other religions besides its own.

FOJ Note: It is a dangerous thing to accommodate gods that are not God! In a time when America has turned its back on God's (Jehovah) Ten Commandments, we find America following the adulterous pathway of ancient Israel, accepting the false gods of her neighbors! (Jeremiah 2:11 Hath a nation changed their gods, which are yet no gods? but my people have changed their glory for that which doth not profit.) (Deuteronomy 6:14Ye shall not go after other gods, of the gods of the people which are round about you) (Deuteronomy 11:16 Take heed to yourselves, that your heart be not deceived, and ye turn aside, and serve other gods, and worship them) (Deuteronomy 28:14 And thou shalt not go aside from any of the words which I command thee this day, to the right hand, or to the left, to go after other gods to serve them.) (Hebrews 10:31 It is a fearful thing to fall into the hands of the living God.) (Exodus 34:14 For thou shalt worship no other god: for the LORD, whose name is Jealous, is a jealous God:)
Preachers Need to Stick to Gospel

Nov. 25….(Agape Press) A well-known Bible teacher and author is calling on pastors to confront false beliefs from the pulpit. John MacArthur says no epoch in history has witnessed the rise of as many dangerous belief systems as the 20th century. In a recent address to students and faculty at the Southern Baptist Theological Seminary in Louisville, Kentucky, MacArthur recounted scores of dangerous teachings that had dotted history, from pre-reformation sacramentalism to current day post-modernism and inclusivism. All of these, he said, run contrary to biblical truth. MacArthur's stated, "This is not a time for weak men in weak pulpits in weak churches preaching weak messages." MacArthur says the aim of good Bible teaching is to conform church members to Christ's image (not conform the church to the world). According to MacArthur, shallow preaching produces shallow worship. With that in mind, he says he can walk into a church and listen to the music for 15 minutes and tell how profound the people's understanding of God is because it will be reflected in their music. Dr. R. Albert Mohler, Jr., President of Southern Baptist Theological Seminary joined MacArthur bycommenting that many pastors focus more on entertainment than on conveying biblical information, or "theological evasions," he calls them. Pastors are avoiding some of those texts that would require them to preach some of those doctrines that might cause offense in the contemporary world," Mohler observed. MacArthur agreed, saying that too often, pastors take "a man-centered approach" and let the culture dictate their message. That sort of preaching, he said, gives the message a biblical allusion , but in the end "prostitutes the intent of Scripture."

FOJ Note: Timothy 4:2-4 Preach the word; be instant in season, out of season; reprove, rebuke, exhort with all longsuffering and doctrine. For the time will come when they will not endure sound doctrine; but after their own lusts shall they heap to themselves teachers, having itching ears; And they shall turn away their ears from the truth, and shall be turned unto fables.

Ossuary Suggests Mary Wasn't a Perpetual Virgin

Nov. 25….The discovery of a limestone box believed to have held the bones of Jesus's brother James may force a re-evaluation of key Christian beliefs, including the Catholic doctrine that Mary was a perpetual virgin. The burial box, known as an ossuary, is inscribed with words in Aramaic, the language of first-century Israel, saying "James, son of Joseph, brother of Jesus." Experts among the 8,000 biblical scholars gathered in Toronto for meetings of the American Academy of Religion and related biblical and archeological societies say although it is impossible to be certain, the odds are high that the ossuary did once contain James' bones. The New Testament makes several references to James as the brother of Jesus, and to Jesus's brothers and sisters, while one Christian tradition suggests Jesus had four brothers and two sisters. The Catholic church teaches that Mary conceived a child by a divine miracle and was a perpetual virgin. It also interprets the Biblical passages about Jesus's brothers and sisters as referring to cousins of Jesus.

The Bush-Putin Summit on Terrorism

Nov. 25….(Debka) US President George W. Bush made a point of calling on Russian President Vladimir Putin directly after the NATO summit in Prague, to solicit his support for direct US military action against Iraq. However, Putin was not mollified by Bush's reassurances about Russian interests in post-Saddam Iraq. Instead, he took the US President to task over the way the global war on terror was being handledm, brushing aside the capture of al Qaeda's Gulf operations chief, Abd al-Rahim al Nashiri, as marginal to the issue. To underscore his point, Putin asked some tough questions. Where had Osama bin Laden taken refuge? he asked rhetorically, adding in a pointed dig at Saudi Arabia: "We should not forget about those who finance terrorism." Putin went on to question if Pakistani President Musharraf had done enough to stabilize the area. (Pakistan and North Korea have been implicated in a joint nuclear program) The allusion to the Saudis as financiers of al Qaeda was not lost on Bush; nor was the suggestion that the Pakistan ruler is secretly promoting Islamic terrorist operations in Kashmir. Russian intelligence, like many other undercover agencies, do not rule out the possibility of Pakistan's nuclear arsenal, military strength and weapons falling into the hands of al Qaeda in certain circumstances. Putin's query, translated in terms of the concerns in Jerusalem, would be: What if Saddam Hussein hands over weapons of mass destruction to al Qaeda or the Palestinians? The Russian leader's blunt words to Bush were undoubtedly aimed at making his war in Chechnya more acceptable to the West. He is also worried about the damaging effect of the Iraqi war to the frail Russian economy. At the same time, Putin put his finger on a disturbing point: The roots of terror are being allowed to flourish, especially in Pakistan and Saudi Arabia, while America focuses on fighting Saddam Hussein, instead of coming to grips with both menaces.

Cases in Point:

1. In January 2002, al Qaeda fighting contingents, mostly Saudis and Yemenis, were rescued from Afghan War arenas by an airlift financed by Riyadh and carried out by Pakistan.

2. No progress has been made in efforts to stem the flow of Saudi cash oiling al Qaeda wheels in the Middle East, the Balkans, Chechnya, Pakistan, Central Asia and the Far East.

3. Signs are proliferating of collaboration among the terror machines of Iraqi military intelligence, al Qaeda, the Iranian Revolutionary Guards, the Lebanese Shiite Hizballah and Palestinian Authority security bodies.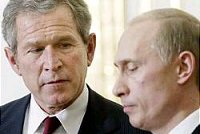 Yasser Arafat's key conduit to these groups runs primarily through the Gaza Strip "Preventive Security" organization headed by Muhamed Dahlan and his deputy, Rashid Abu Shbak. Military sources report that the surprise raid Israeli troops carried out on this organization's command, training and manufacturing facility in Gaza City, on Sunday, November 16, yielded a major haul of documentary evidence exposing Palestinian operational relations with Iran's Revolutionary Guards and al Qaeda going back seven years. Dahlan was recently appointed Arafat's "national security adviser" under the "reforms" executed in the Palestinian authority. The documents uncovered in Gaza attest to his longstanding personal ties with Islamic radical cells world-wide. These facts point to the threats in store for the Middle East before, during and after America's removal of Saddam Hussein and its installment of a pro-US regime in Baghdad. Overthrowing the Iraqi ruler and disarming his country is Washington's primary goal. But achieving it will not break up the new military-terror menace taking shape in the region and made up of dedicated anti-Western Iranian, Saudi, Palestinian and Lebanese Shiite elements. Saddam Hussein with his back to the wall may well hand over unconventional weapons to these elements, rather than letting them fall into the hands of UN arms inspectors or an invading US army, thereby boosting their mischief-making capabilities immeasurably. By holding off determined military action against rampant terrorism outside Iraq, focusing on and growing in Saudi Arabia, Israel, Lebanon and Pakistan, so as not to detract from the anti-Saddam assault, the Bush administration is storing up fresh trouble for tomorrow, if not sooner.

In Afghanistan, the Taliban and al Qaeda were put to flight at the end of 2001 and early 2002, only to regroup in new bases in Pakistan, Yemen and Saudi Arabia. Saddam could well take a leaf out of their book and continue the war against America outside his country in conjunction with friendly terrorist groups. The Bush administration's insistence on holding off the war on terror in order to promote the war on Iraq places in doubt all its gains thus far in the global offensive against terror and threatens the recurrence of the bane with redoubled ferocity and more powerful weapons. In these circumstances, Israel's Sharon government may well be advised to reverse its tactics. At present, Washington is translating its economic and strategic support for Israel by holding it back from all-out military action against Arafat for as long as the Iraqi war is in the offing.

Iraq Oil at Center of Gathering Firestorm

Nov. 25….(Guardian) All the players in the current quarrel can agree on one thing, Iraq has the potential to become a great oil nation again. There is a huge gap between the trickle of oil coming out of Iraq today and its capabilities. According to Opec, the entire world's known oil reserves run to 1,000bn barrels. Iraq claims a 10th of this, just over 100bn barrels. However, in an interview before the current conflict, Taha Hmud Moussa, then Iraq's deputy oil minister, said the oil "will exceed 300bn barrels when all Iraq's regions are explored". If true, this means Iraq has a quarter of the world's oil. The UK's North Sea reserves are 5bn barrels and we are the EU's largest oil producer. Iraqi's oil is not miles offshore under a treacherous sea. This makes it cheaper than the $3 to $4 barrel oil Britain produces. Petrel oil company of Britain is keen to develop unexplored oilfields. This oil could cost as little as 97 cents a barrel. Last month, behind the closed doors of the Royal Institute of International Affairs, leading oilmen, exiled Iraqis and lawyers held a meeting entitled "Invading Iraq: dangers and opportunities for the energy sector". One delegate said the entire day could be summarized with: "Who gets the oil?" If America changes the regime you might expect US companies to get it. But it may be more complicated than that.

History can reveal much of how this may end. Iraq's oil was originally developed through a consortium called the Iraq Petroleum Company, (IPC) split roughly a quarter share to BP, Shell, and the forerunner to Total, with the remainder owned mainly by Standard Oil and Mobil. But, in 1972, it was nationalized by the revolutionary Iraqi regime. Negotiations over nationalization were fierce, and Geoffrey Stockwell, who headed the IPC team, had some extraordinary clashes with both Saddam Hussein and Iraq's vice-president, Salih Mahdi Ammash. Ammash said Iraq would "go through any battle with the companies that was necessary", and resort to "all means necessary". The companies would also "lose Saudi Arabian and Kuwaiti oil because if their Arab brethren did not stand by Iraq, they would use force to stop this oil flow". After a painful battle, the IPC finally signed the nationalization agreement on February 28 1973. Today, if "regime change" happens, we could see three of the world's largest public companies, BP, Shell and Exxon-Mobil fighting for their old IPC possessions. The OIL stakes are high as Iraq could be produce 8m barrels a day within the decade. The dollars could be impressive, 8m times 365 at $30 per barrel or $87.6bn a year. The stakes are equally high for the French, Russians and Chinese. It is striking that the three countries which delayed America's new UN Iraq resolution all have potentially massive oil pacts there. Saddam is believed to have offered the French company Total Elf Fina exclusive rights to the largest of Iraq's oil fields, the Majnoon, which would more than double the company's entire output at a stroke. Meanwhile, Russia and China have sought various deals on the super-giant West Kurna and Rumaila fields respectively. Russian oil company Lukoil has been assured it will not lose its stake in the 20bn barrel West Kurna field. Former CIA director James Woolsey, who is close to the Iraqi opposition groups, recently told the Washington Post: "It's pretty straightforward. France and Russia have oil companies and interests in Iraq. They should be told that if they are of assistance in moving Iraq towards decent government, we'll do the best we can to ensure the new government and American companies work closely with them. If they throw in their lot with Saddam, it will be difficult, to the point of impossible, to persuade the new Iraqi government to work with them. "The idea that all the Iraqi oil industry is now going to be sold to Exxon, or BP is not going to work." "Regime change does not change the acquired rights companies have in the area," says Doak Bishop, vice-chair of the Institute of Transnational Arbitration. "If the Russians and the French have legal rights in those fields, then a regime change would not oust them of those rights, but it could well get pretty messy." Should "regime change" happen, one thing is guaranteed - shortly afterwards there will be the mother of all OIL-legal battles.

China Anxious to Control Far East

Nov. 25….(World Net) Military analysts say China could likely be waiting for the United States to commit much of its remaining military forces to an attack against Iraq before launching an invasion of its own against Taiwan. Should the Iraqi war turn sour, for instance, and Saddam pulls his most loyal troops into Iraq's cities to force a drawn-out, street-to-street fight, the U.S. might be forced to pour additional troops into the battle, taking away the forces in other arena's of concern. There are strong indications that China is preparing to capitalize on the growing American military commitments in the Middle East by invading the island nation of Taiwan! China's post-9-11 strategy as a 'radical departure' from their historical diplomatic pattern and indicative of a 'policy of intervention and naval adventurism seeking the subservience of mainland Southeast Asia to Chinese national need. Some Pentagon's analysts "have likewise expressed concern at the apparent refocusing of Chinese military doctrine to a strategy of 'pre-emptive and surprise attacks, in the manner that America has recently done. China has been engaged in modernizing and upgrading its military for a number of years, including high-tech jet fighters, naval vessels and ballistic missiles. Such weapons would give Beijing a great deal of power, especially if combined into a massive surprise attack. That would fit into current strategy, and it could be accomplished before the U.S. has a chance to defeat Iraq's forces, which shouldn't take long, military analysts predict. In March, the Los Angeles Times said it had obtained a classified Pentagon report that said the military had been asked to devise plans to use nuclear weapons against China, Iran, Iraq, Libya, North Korea, Russia and Syria.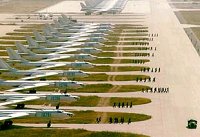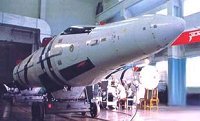 The Defense Department envisioned three scenarios where it would consider nuclear responses: targets able to withstand non-nuclear attacks, in retaliation for an attack with nuclear, biological or chemical weapons, and "in the event of surprising military developments." The paper said one of those "developments" was a conflict between China and Taiwan. China has test-fired a new sea-launched cruise missile that struck a target 155 miles away. China's long-term goal is to become one of the world's great powers! Its leaders envision that, at some point during the first half of the 21st century, China will be securely established as the leading economic and political power in the Far East. The struggle for Taiwan is at the core U.S. foreign-policy issue of the new century, in the Far East, and should Taiwan remains free and democratic, the U.S. has little to fear from China. But on the on the hand, if Taiwan is absorbed by a totalitarian China, then the 21st century will see the eclipse of American influence and the ideals of freedom.

White House Backing Saudi Probe

Nov. 25….(ABC) The White House on Saturday defended the FBI's handling of a diplomatically sensitive investigation into reports that Saudi Arabia provided money that helped support two of the Sept. 11 hijackers. A spokesman for the Saudi embassy said the allegations that the wife of the Saudi ambassador supported terrorists are "untrue and irresponsible." Nail al-Jubeir, the spokesman, said Princess Haifa al-Faisal is fully cooperating with the FBI. "She wants her name cleared," al-Jubeir said. In its defense of the FBI, the Bush administration also denied another contention of some lawmakers that the bureau has not done enough to examine fully the financing of the 19 hijackers, 15 of whom were Saudi citizens. Questions about the investigation could become troublesome for the Bush administration, which is seeking the Saudis' help for a possible military campaign against their neighbor, Iraq. Saudi Arabia has been noncommittal, torn between its friendship with the United States and anti-war sentiment among the Arabs. U.S. presidents have been long reluctant to criticize Saudi Arabia, a major oil producer and a crucial Arab ally. Others have aired suspicions about Saudi ties to the terrorists. A $1 trillion federal lawsuit filed by relatives of the Sept. 11 victims accuses members of the Saudi royal family, the government and Saudi banks and businesses of financing the plot. In an appearance Friday with President Bush, Russian President Vladimir Putin hinted of a Saudi financial link to terrorists. "We should not forget about those who finance terrorism," he said, then immediately noted that most of the Sept. 11 hijackers were Saudi.

Pakistan-North Korea Dismiss Nuclear Deal Reports

Pakistan, through its Presidential spokesman Major-General Rashid Qureshi has strongly denied a report that it had helped North Korea develop its nuclear weapons program in return for missile technology that would strengthen its hand against India. The New York Times accused North Korea of providing Pakistani President Pervez Musharraf with missile parts allowing him to build a nuclear arsenal able to reach "every strategic site in India." In return Islamabad provided North Korea with designs for gas centrifuges and machinery needed to make highly enriched uranium for the country's latest nuclear weapons project.
WEEK OF NOVEMBER 18 THROUGH NOVEMBER 24
Peace Roadmap: Israel Forfeit Rights to Self Defense

Nov. 22….(IMRA) Under the peace road map being proposed by the Quartet, (US, EU, UN, and Russia) Israel would have to immediately forfeits its right to defend itself either physically by military operations or in the world court of public opinion. The Government of Israel would have to cease to publish or distribute information that puts the Palestinian Authority in an unfavorable light. Under the road map, Israel also forfeits its right to determine that the Palestinians have failed to honor their obligations and instead relies on the judgement of the "Quartet" with the US having veto rights. Over the course of Oslo the United States has consistently taken the position that for the sake of "progress" in the "peace process" it is necessary for the United States to declare that the Palestinians have complied come-what-may. Muzzling Israel is a critical element of the revised plan since it cripples Israel's ability to even attempt to bring public and congressional pressure to bear on the U.S. government not to give the Palestinian Authority an automatic pass. According to the new draft, the Israeli leadership will be required to publish a declaration expressing its commitment to "the two-state vision," and the establishment of an "independent, viable, sovereign" Palestinian state that will live in peace and security beside Israel. The Israeli declaration, says the new draft, will also call for "an immediate end to violence against Palestinians anywhere," and an end to "actions undermining trust," expulsions, harm to civilians, and destruction of Palestinian property. All official Israeli institutions will be required to "cease incitement against the Palestinians." The Israeli declaration, not mentioned in the original draft of the road map is meant to be issued simultaneously with a Palestinian declaration about Israel's right to exist and an immediate, unconditional end to the armed intifada and all violent activity against Israelis, everywhere. The new draft also intensifies the demand for a settlement freeze, including a freeze on settlement expansion resulting from natural growth. Now Israel is required to make a top priority out of freezing projects that disrupt Palestinian territorial contiguity, including in the Jerusalem area. The Palestinians are required to begin focused efforts to dismantle the terrorist infrastructure in the first stage of the program. The closed Palestinian institutions will be reopened, but only in accordance with agreements between the sides. The new draft rejects Israel's opposition to an international Quartet (the U.S., UN, EU and Russia) monitoring team, which will determine whether the conditions have ripened sufficiently to move to the next stage in the program. But in the new draft, the Quartet's decisions must be unanimous, and the U.S. can apply a veto and block pressure from its partners who may want to accelerate the implementation of the plan. American officials sent a message to Israel that the latest draft is an interim version that has not yet received the White House's blessings. They said the final version will be brought to the Quartet foreign ministers on December 20, after first receiving U.S. Administration approval. The original draft was personally vetoed by President George W. Bush. He told reporters that in any case there was no point in discussing it as long as the "Palestinian dictator," a reference to Palestinian Authority Chairman Yasser Arafat remains in office.

* 2004-2005: A permanent arrangement. The new draft says the purpose of the agreement is an end to the Israeli-Palestinian conflict. In early 2004, a second international conference is convened, to welcome the new state with its temporary borders and to formally launch the negotiations for a final status agreement. The new draft also has a special section on Jerusalem, not included in the original. It says that a negotiated settlement of Jerusalem's status will take into account "the political and religious concerns of both sides and will protect the religious interests of Jews, Christians and Muslims throughout the world."

Nigerian Muslims Attacking Christians

Nov. 22….(Worthy) On the 3rd day of the riots, hundreds of Muslim youths have gone on the rampage in Nigeria's capital, Abuja, following their Friday prayers. Muslim people armed with sticks, daggers and knives set fire to vehicles and attacked anyone they suspected of being Christian. The northern city of Kaduna is now quiet after 2 days of rioting in protest at the Miss World beauty contest, which left at least 100 people dead and more than 500 seriously injured, according to Red Cross officials. The protests began after a newspaper suggested that the Prophet Mohammed would have probably chosen to marry one of the Miss World contestants if he had witnessed the beauty pageant. Thousands of Muslim youths went through the suburbs of Kaduna, putting up barricades of burning tires, setting fire to buildings, and attacking churches.

"Bethlehem First" Agreement Blows Up



Nov. 22….(Jerusalem Post) The "Bethlehem first" understanding, in which the IDF pulled back from the city in exchange for Palestinian Authority assurances of quiet, is now "null and void," a senior Defense Ministry official said Thursday night. He made the comment after security deliberations among Prime Minister Ariel Sharon, Defense Minister Shaul Mofaz, Internal Security Minister Uzi Landau, and top security officials following the suicide bombing in Jerusalem. According to the official, Mofaz said from now on Bethlehem will be treated no differently from other West Bank cities that have turned into hotbeds of terrorism. The suicide bomber came from the Bethlehem area.. "Ever since we left Bethlehem, the city has turned into a refuge for terrorists," the official said. "Terrorist nests have sprouted up in Bethlehem. Three days ago we stopped a suicide bomber coming from Bethlehem. Yesterday, we stopped another one; today we didn't have the same success." He said Israel will now "do what we need to do" in Bethlehem, disregarding the agreement. A senior official in the Prime Minister's Office said the current wave of terrorism is part of an attempt by Iran, Syria, and Hizbullah to escalate the situation within the territories to disrupt the US's campaign against Iraq. "We pointed out several weeks ago that as the US campaign seems more likely, there will be an escalation of the terrorism here to create another point of friction and bring about an escalation that would then ease the pressure on Iraq," the source said.

Palestinian girls wear green Hamas bandanas and carry copies of the Koran, the Muslim holy book, during a Hamas march in Jabalya refugee camp in Gaza Strip November 22, 2002. Hamas has claimed responsibility for latest bus bombing in Jerusalem which killed 11 people. Hamas justifies the suicide killings from verses in the Koran.

Russia: US Gave us Oil Deal on Iraq?

Nov. 22….(Washington Post) President Bush is using the lure of money to persuade a reluctant Russia not to stand in the way of a U.S.-led war with Iraq. Russian officials say they have reached an understanding with the Bush administration on Russia's economic interests in Iraq. While vigorously denying that there has been a specific agreement, U.S. officials say they are aware of Russian concerns and are taking them into account in planning for a post-Hussein Iraq. President Putin has focused his attention on gaining U.S. assurances of respect for Russian economic interests in Iraq, most of which center on the country's future as the largest Middle East oil producer, after Saudi Arabia. At the top of Putin's list of economic concerns is the fear of collapsing oil prices once U.N. trade sanctions against Baghdad are removed and Western investment begins to pour into the neglected Iraqi oil sector. According to an estimate by Celeste Wallander of the Washington-based Center for Strategic and International Studies, a $6 fall in the price of a barrel of oil would slash Russian economic growth in half. If the price fell to $13 a barrel, most Russian oil companies would no longer be profitable. Russian and U.S. officials said Putin is also anxious to protect the contracts of Russian oil companies in Iraq, including a $3.5 billion deal for the state-owned Lukoil to develop a giant oil field in southern Iraq, and would like to recover up to $12 billion in old Iraqi debts. One possibility believed to be under discussion is to use a portion of Iraqi oil proceeds to pay off part of the Russian debt. A high-ranking Russian foreign ministry official involved in negotiations with the United States over the U.N. resolution told an American visitor to Moscow this week that a "gentleman's agreement" had been reached with Washington on Iraq. He said the deal centered on maintaining a price of oil at around $21 a barrel, the price used by Russian government planners for long-term budget estimates. Oil prices have been hovering around $25 a barrel for much of this year. While acknowledging that discussions have taken place with the Russians over the price of oil, U.S. officials dismissed suggestions that the United States can influence the market very much. They added, however, that they have tried to allay Russian concerns about plummeting oil prices in the wake of a U.S. victory in Iraq, concerns that are described as exaggerated by many American experts. Iraq produces around 2.4 million barrels of oil a day, compared with Saudi daily output of around 7.4 million barrels. Estimates of Iraqi production by 2010, in the event of large-scale foreign investment and a lifting of sanctions, vary from around 4 million barrels a day to 7 million or even 8 million. By addressing Russian concerns about falling oil prices, the United States would also be looking after the interests of Saudi Arabia, a key U.S. ally in any future Persian Gulf conflict. In the short term, however, the low cost of extracting Saudi oil means that Riyadh is much better positioned than Moscow to ride out a period of low prices. In the past, analysts note, the Saudis have deliberately used low oil prices as a weapon for forcing other producers out of the market. Russian officials have painful memories of the way in which the Saudis used their excess capacity to flood world oil markets in 1985, the year that Gorbachev came to power, causing prices to drop by more than half to a low of $12 a barrel. Combined with declining Soviet oil production, plummeting prices effectively destroyed Gorbachev's hopes of reinvigorating the Soviet economy, leading directly to the breakup of the Soviet Union.

Since Putin took office in 1998, by contrast, Russian oil exports have jumped sharply from 3.8 million to 5.4 million barrels a day, providing a ray of light in an otherwise gloomy economic picture. By drawing up a concrete economic wish list on Iraq, Putin is following a different strategy from Gorbachev, who dreamed of a "grand bargain" with the United States under which the Soviet Union would receive large-scale economic assistance in return for sweeping economic reforms. As it was in 1990, "Both sides risk making promises that they can not come through on,, and that could be dangerous!"

FOJ Note: Christians needs to be cognizant of the fact that Russia will one day invade the Middle East, by assaulting Israel at the behest of her complicity with Persia, and other allies. Oil will likely play a key role in that invasion. The geo-politics of the Iraq situation and its direct implications from this "gentleman's agreement" could set the stage for an estranged relationship between Russia and the US that one day could result in the prophesied Ezekiel scenario.
Christian Missionary Murdered in Lebanon

Nov. 21….(Fox) An American missionary was shot and killed Thursday morning at a Christian center that provides medical care and aid to Palestinian refugees in southern Lebanon. Bonnie Penner, 31, was shot 3 times in the head as she opened the Unity Center, which houses a chapel and a clinic, police said. It was believed to be the 1st targeted killing of a U.S. citizen in Lebanon in more than a decade. A colleague found Penner in a pool of blood, police said. "Bonnie died because she loved the people of Sidon," he told reporters outside the center. "May God forgive them," Dagher said of the attackers. Muslim clerics have criticized the Unity Center in the past, accusing it of preaching Christianity and trying to indoctrinate Sidon's Muslim youth. Penner is the 1st American known to have been killed in Lebanon in the past 10 years. Lebanon, which shares borders with Syria and Israel, saw many attacks against Americans during its civil war in the 1980s. Earlier this year, during a visit by Secretary of State Colin Powell, thousands of Lebanese and Palestinians protested, burning U.S. and Israeli flags and shouting, "Death to America! Death to Israel!"

Suicide Bombers Father Expresses Joy

Nov. 21….(Jerusalem Post) The father of the suicide bus bomber who took 11 lives and wounded 50 in Jerusalem this morning has nothing but praise for his son. Israeli Police have identified the bomber as Nael Abu Hilail, 23, from Bethlehem. Abu Hilail's father, Azmi, said he was pleased with his son. "Our religion says we are proud of him until the day of resurrection," Abu Hilail said. "This is a challenge to the Zionist enemies." Several of Nael Abu Hilail's friends said he was a supporter of the Islamic Jihad group. The Hamas military wing, claimed responsibility for the suicide bombing.

Suicide Bomber Kills 11 in Israel


Nov. 21….(AP) A suicide bomber blew himself up on a crowded Jerusalem city bus during morning rush hour, killing himself and 11 passengers and wounding dozens, police sources said. Many school children were on the bus, officials said. A charred torso of one of the victims hung out of the bus's window as rescue workers wheeled stretchers to the bus door and scoured the vehicle for more wounded. Most of the bus's windows were blown out from the force of the blast. Israeli police identified the bomber as a 26-year-old Palestinian from Bethlehem, which is five kilometers (3 miles) from the scene of the terror attack. A short time later, Israeli military sources said the bomber's brother and uncle had been arrested in the village of Dura near Hebron. Jerusalem Mayor Ehud Olmert said Israeli authorities have prevented an average of 10 terror attacks, or bombings, shootings and suicide attacks every night. Olmert blamed Arafat for Thursday's terror attack. "The bombing's not going to stop as long as Yasser Arafat wants it to continue," Olmert said. "He wants to cover the political process in Israel in blood." "There is nothing that he wants more than to hopefully, from his point of view, put down Ariel Sharon."

Syria Helps Iran Arm Hezbollah

Nov. 21….(Geostrategy) Syria is supplying Iranian-backed Hezbollah with hundreds of new short-range rockets for attacks on northern Israel, reports Geostrategy, the global intelligence news agency. It has a range of 75 kilometers and is said to be a product of Syria's defense industry. Military sources say Syria's new rocket is not very accurate. Damascus has reportedly been working on improving the launcher and developing a more stable version. ''Syria is developing Hezbollah into a military force that can fight Israel from Lebanon.'' For nearly 20 years, Hezbollah has been armed and trained solely by Iran, while Syria provided the group a haven in southern Lebanon and the Bekaa Valley. According to the report, this is the first time Syria has directly supplied Hezbollah with significant weaponry. It marks a new policy toward the Shi'ite group, which is on the U.S. State Department list of terrorist organizations. ''This opens a potential second front against Israel in the north and also allows Syria to effectively use a proxy rather than fight Israel directly.'' Israel considers Hezbollah a paramilitary group incapable of sustained conventional warfare despite a force of an estimated 1,000 combatants and reserves of several thousand more

Bush to Russia: NATO is Not a Threat

Nov. 21….(Moscow Times) U.S. President George W. Bush said he'll assure President Vladimir Putin this week that Russia "has nothing to fear" from NATO expansion into territory once claimed by the Soviet Union. "Russia is not a threat, and therefore the military strategies of NATO need to be changed to recognize that new reality," Bush said Monday, previewing his trip in a round-table interview with eastern European reporters. Bush offered support to Putin for his handling of last month's hostage crisis in a Moscow theater. "He made some very tough decisions. People try to blame Vladimir, they ought to blame the terrorists," Bush said. "They're the ones who caused this situation, not President Putin." The President noted that al-Qaida leader Osama bin Laden in his recent audio-taped message was "praising these Muslim attacks," including the one in Moscow, and mentioned Chechnya. "To the extent that there are al-Qaida members infiltrating Russia, they need to be dealt with, they need to be brought to justice," Bush said. At the two-day Prague meeting starting Thursday, the Cold War-vintage North Atlantic Treaty Organization is bringing into its fold three Baltic nations, Estonia, Latvia and Lithuania, once claimed by Moscow as republics of the Soviet Union. Three other soon-to-be NATO members, Bulgaria, Romania and Slovakia, were tied to the Soviet Union through the Warsaw Pact, the Kremlin-dominated alliance signed in 1955 to counter the U.S.-led NATO formed six years earlier. The other prospective new member, Slovenia, was formerly part of non-aligned Yugoslavia. Former Warsaw Pact members Poland, Hungary and the Czech Republic joined NATO in 1999. "The Warsaw Pact no longer exists," Bush said. "As a matter of fact, the Warsaw Pact is becoming NATO, slowly but surely." He praised Russia for helping to draft the strong resolution on weapons inspections in Iraq that was ultimately adopted by the UN Security Council. Asked if he ever envisioned Russia as a full-fledged NATO member, Bush said, "Time will tell. The key thing is to make sure the relationship works the way it should, which really says to Russia that an expanded NATO on your border is not a threat to you or your future."
Al Qaeda and Hezbullah Coordinating Efforts?

Nov. 20….(Arutz) New terrorist alerts were issued this week on sites ranging from railways to hospitals after the release of two threats linked to Al-Qaida. One of these threats is believed to have come from Osama Bin Laden himself, proving that he is still alive and a dangerous threat. The other, an unsigned, six-page document, called on Americans to stop supporting Israel and warned other governments that are supporting U.S. efforts. The paper also called on Americans to convert to Islam. Reports that Al-Qaida has been holding meetings with Hezbollah to work together against U.S. interests are adding teeth to the threats. It is believed the two organizations have begun working on the coordination of explosives and tactics training, money laundering, weapons smuggling and acquiring forged documents. However, there is real concern that Hezbollah's role in supporting Al-Qaida may go beyond these efforts and that the organization may be helping Al-Qaida plan future terrorist attacks. A report earlier this month suggested that Hezbollah operatives have begun identifying potential targets in the United States. The information was contained in a Justice Department letter to a Senate committee that included the FBI's concerns about Hezbollah activity in America. According to the letter "FBI investigations to date indicate that many Hezbollah subjects based in the United States have the capacity to attempt terrorist attacks here, should this be a desired objective of the group." Unlike Al-Qaida, Hezbollah has never attacked Americans on U.S. soil. However, it has conducted several operations against Americans overseas, most notably the attack in 1983 on the Marine barracks in Beirut which killed 241 soldiers. Although Hezbollah has long had a presence in the U.S., it has mainly been used to raise funds for its operations in Lebanon. The fear now is that those years of building relationships and an infrastructure in the U.S. could easily be used to help Al-Qaida facilitate attacks.

Quartet Working on Peace Road-Map

Nov. 20….(Jerusalem Post) Jordan announced today that the U.S.-led international mediators would announce a Middle East "road map" to peace on December 20. Foreign Minister Marwan al-Muasher said a quartet of international powers was still working on a finalized text. The US is the leading member of the quartet, along with the European Union, Russia and the United Nations, which has been trying to secure Israeli and Palestinian agreement on a 3-year plan leading to Palestinian statehood. U.S. envoy David Satterfield was in the region recently discussing the "roadmap" to peace, which prescribes reciprocal measures leading to a Palestinian state in 2005. Palestinians have accepted the plan in principle but say it lacks enforcement clauses. Israel says it is short on provisions to rein in Palestinian militants.

A Damascus Wake-Up Call

Nov. 20….(Jerusalem Post) Anyone who thought that Syria's recent support for UN Security Council Resolution 1441 on Iraq heralded a change in its policy on terrorism was in for a rude awakening Tuesday. In an unusually blunt statement issued by the Foreign Ministry, Bashar Assad's regime flatly rejected a US demand that it shut down the Damascus office of Islamic Jihad. The declaration came in response to a letter sent over the weekend by Secretary of State Colin Powell after the massacre of 12 Israelis in Hebron on Friday. Ignoring Powell's charge that Islamic Jihad is engaging in acts of terror, the Syrians invoked of all things freedom of speech to justify the presence of the organization's headquarters in their capital. That Syria has long been a regional troublemaker is nothing new. The US State Department has for years berated Damascus for its systematic trampling of human rights, and Syria still bears the label "state sponsor of terrorism." It continues to wage a proxy war against Israel through its support of Hizbullah in southern Lebanon, and its regime remains a tightly-controlled dictatorship, one whose rule is based more on fear than fidelity. What is new, however, is Washington's growing impatience with Syria's antics. For too long, Damascus has been able to get away with occupying Lebanon, fomenting anti-Israel violence, and promoting the international drug trade through its cultivation of illicit narcotics in the Bekaa Valley. In his June 24 speech on the Middle East, President George W. Bush put Syria on notice, saying, "Syria must choose the right side in the war on terror by closing terrorist camps and expelling terrorist organizations." It was the first time in a long time that an American president had publicly singled out Syria for its methodical misconduct, and for that alone Bush is to be applauded. But if such stark words are to have any lasting effect on Syrian behavior, they will have to be backed up by greater pressure on the Assad regime. As long as Assad is convinced that he can act with impunity, he will continue to push the envelope.

FOJ Note* (Isaiah 17:1 Behold, Damascus is taken away from being a city, and it shall be a ruinous heap)

Bush Warns Saddam, Builds Iraq Coalition


Nov. 20….(Reuters) President Bush warned Iraqi leader Saddam Hussein on Wednesday that he would be entering his "final stage" if he denied having weapons of mass destruction. "We now call an end to that game of deception and deceit and denial. Saddam Hussein has been given a very short time to declare completely and truthfully his arsenal of terror," Bush said in a keynote speech on the eve of a NATO summit. "Should he again deny that this arsenal exists, he will have entered his final stage with a lie, and deception this time will not be tolerated. Delay and defiance will invite the severest consequences." Bush ratcheted up the rhetoric against Iraq as NATO leaders converged on Prague for a meeting dedicated to enlarging the 19-nation Atlantic alliance and transforming it to meet 21st century security threats. Bush linked disarming Iraq with NATO's future relevance, comparing the perceived threat from Saddam to the Cold War challenges. Bush said, The Soviet Union is gone, but freedom still has enemies...We're threatened by the spread of chemical and biological and nuclear weapons, which are produced by outlaw regimes and could be delivered either by missile or terrorist cells."

U.S. to Be More Dependent on Imported Oil

Nov. 20….(Reuters) The United States will become more dependent on crude oil and natural gas imports to meet its energy needs over the next two decades, the government forecast on Wednesday. U.S. crude oil imports are expected to soar to 68 percent of domestic daily demand in 2025, up from the current 55 percent, while natural gas imports will jump to 22 percent of daily demand from this year's 16 percent, according to the Energy Information Administration. Natural gas demand is expected to increase 54 percent over the next two decades to 35 trillion cubic feet in 2025 from the current 23 trillion cubic feet a year, primarily to fuel new power plants. Growth in natural gas demand depends on more natural gas production in the Rocky Mountain region and construction of an Alaskan pipeline to deliver gas supplies to the lower 48 states, EIA said. Total U.S. gas production is forecast to increase to 26.8 trillion cubic feet by 2025 from the current 19.2 trillion cubic feet. Separately, U.S. oil demand is forecast to jump from 19.8 million barrels per day (bpd) to 29.2 million bpd in 2025, led by growth in the transportation sector that will account for 75 percent of petroleum demand. Domestic crude oil production is expected to fall to 5.3 million bpd by 2025, declining at an average annual rate of 0.4 percent. OPEC will continue to supply the U.S. with crude, as the cartel's oil production more than doubles to 60.1 million bpd from the current 28 million bpd, EIA said.

Muslim-Americans asked Bush to Defend Islam

Nov. 20….(Arab News) President Bush's recent show of support of Islam and Muslims has been praised for his rebuff of right-wing evangelical leaders who made a series of offensive, ignorant and racist statements against Islam and Prophet Mohamed. It now appears the president's statement came after a series of serious nudgings by the Muslim-American community, who felt Islam was being deliberately slandered. "Basically we have been seeing this rising tide of anti-Muslim rhetoric in the US — from right-wing commentators and evangelical Christian leaders – and there has been a barrage of anti-Muslim hate speech. "There was a resounding silence from the president and other elected officials — and we felt that their silence equaled acceptance. On several occasions, we asked the president to speak out on this issue, and he, and Secretary of State Colin Powell, finally did," said Ibrahim Hooper, national communications director at CAIR, the Washington-based Council on American Islamic Relations. "I think it was clear that this rhetoric was so damaging to America's image around the world, that they just had to do something," said Hooper. He said he didn't know if the president would continue to speak out in defense of Islam.
Iraq Promises to Meet U.N. Deadline

Nov. 19….(AP) Iraq has pledged to meet a Dec. 8 deadline to disclose all information about its mass destruction weapons programs. Al-Saadi, asked if Iraq was prepared to grant inspectors unfettered access, replied: "Yes, as stipulated in the resolution and as we have agreed with them." The inspections are considered President Saddam Hussein's last chance to avoid war with the United States. Washington has said toppling Saddam might be the only way to contain the threat it believes Iraq poses to the world with nuclear, chemical and biological weapons. The United States is anxious for intrusive inspections to determine as soon as possible whether Iraq is serious about cooperating. Hans Blix, the 74-year-old Swedish diplomat, favors a more cautious approach aimed at building trust with the Iraqis, who resent the entire inspection program. In Moscow, Iraq's ambassador to Russia repeated Baghdad's long-standing contention it no longer has weapons of mass destruction, saying it would not be possible to hide them in presidential palaces and mosques, sites to which inspectors are now permitted free access.

Powell Wants More Muslims in U.S.

Nov. 19….(AP) Secretary of State Colin Powell said Monday that he is trying to expand programs to bring educators, journalists and political and religious leaders from Islamic countries to the United States. "We are committed to ensuring that our programs reach out to Muslims in all walks of life," Powell told a gathering of Muslim-Americans at an Iftaar, the end-of-the-day meal that breaks daylong fasts during the holy month of Ramadan. Powell said the United States also is committed to enhancing understanding by building hope. "From the mountains of Afghanistan to the valleys of Bosnia to the plains of Africa to the forests of Asia and around the world we are on the ground working with our Muslim partners to expand the circle of peace, the circle of prosperity, the circle of freedom," he said. Describing religious extremism and violence as America's greatest enemies, Powell said, "We must not listen to the siren song of the bigots, religious extremists who cloak themselves in false spirituality in an attempt to divide and to weaken us."

FOJ Note: The United States does not need more Muslims, nor the incorporation of the gods of any other religion except the one true God of Holy Scripture. The U.S.A. needs to return to the full knowledge and grace of Jesus Christ alone. The United States needs more Christians, and the kind of Christians that uphold the gospel/doctrine of Gods Word! (Exodus 20:3 Thou shalt have no other gods before me.) Like Israel of old, the USA today is guilty of tolerating the pagan gods of her neighbors. (Deuteronomy 8:19 And it shall be, if thou do at all forget the Lord thy God, and walk after other gods, and serve them, and worship them, I testify against you this day that ye shall surely perish.)

Islamic Cleric Says OK to Kill Americans

Nov. 19….(World Net) A London-based Muslim cleric has been caught on film urging his followers to kill non-Muslims, particularly Americans and to commit other acts of terrorism in the name of Allah! Sheik Abu Hamza, affiliated with London's Finsbury Park mosque, told an audience that non-believers should be killed or sold into slavery. If a kafir person (non-believer) goes in a Muslim country, he is like a cow," explains Hamza. "Anybody can take him. That is the Islamic law." "If a kafir is walking by and you catch him, he's booty," he says in his video-tape sermon. "You can sell him in the market. Most of them are spies. And even if they don't do anything, and if Muslims cannot take them and sell them in the market, then we should just kill them. It's OK with Allah."
Alabama Chief Justice Ordered to Remove 10 Commandments Monument

Nov. 18….(Rapture Ready) A federal judge ruled Monday that a 10 Commandments monument in the rotunda of Alabama's judicial building violates the Constitution's ban on government promotion of religion. U.S. District Judge Myron Thompson gave Alabama Chief Justice Roy Moore, who had had the 5,300-pound granite monument installed in the state building, 30 days to remove it. Moore testified during the trial that the commandments are the moral foundation of American law. He said the monument acknowledges God, but does not force anyone to follow his conservative Christian religious beliefs.

U.S. Demands Closure of Islamic Jihad in Damascus

The United States ambassador to Israel, Dan Kurtzer, spoke Monday with Prime Minister Ariel Sharon and Foreign Minister Benjamin Ben-Eliezer, and updated them on strongly-worded message that the U.S. had sent to Syria following Friday's ambush in Hebron in which 12 IDF soldiers were killed. According to Kurtzer, the message included a demand that Syria close the offices of the Islamic Jihad terrorist organization located in Damascus. The American demand to close the radical Islamic organization's Damascus offices was first raised in December 2001. Assistant Secretary of State for Near-Eastern Affairs, William Burns, visited Syria, and demanded that Syrian President Bashar Assad clamp down on the activities of the many terror groups operating in the country. At first, Syria refused to respond to the demand, but some two weeks later, announced that it would be willing to examine ways of closing terror groups' offices and halting their activity. The headquarters of a dozen or so Palestinian opposition groups are located in Damascus, including Islamic Jihad and the armed wing of Hamas. The Syrians also allow the transfer of weapons from Iran to Hezbollah in Lebanon.

Bin Laden Warns of Spectacular Attacks

Nov. 18….(Worthy) Homeland Security Director Tom Ridge on Sunday dismissed as "nothing new" the latest threat from al- Qaida that warned of more attacks in New York and Washington unless the United States stops supporting Israel and converts to Islam. The written statement came via an Arab TV reporter, Yosri Fouda, correspondent for the satellite station Al-Jazeera and known for his good contacts with Osama bin Laden's terror organization and on the heels of an FBI warning that al-Qaida may attempt a "spectacular" attack intended to kill many people and damage the U.S. economy. Fouda, speaking by telephone from London, said the statement called on Americans to stop supporting Israel and other governments that "oppress" Muslims or face more attacks. The statement also called on Americans to convert to Islam, he said. "Stop your support for Israel against the Palestinians, for Russians against the Chechens, for corrupt leaders in our countries, and leave us alone or expect us in Washington and New York," Fouda quoted the statement as saying. He added the statement demanded U.S. troops leave the Arabian Peninsula, and justified the killings of American civilians because they pay taxes that finance military operations. "The American people are the financiers of the attacks against us; they are watching, through their elected senators, the spending of taxes that pay for planes bombing us in Afghanistan, armies occupying our land, especially the land of Palestine!

El Al Hijacker Planned Sept 11-Like Attack

Nov. 18….(Jerusalem Post) An Israeli Arab accused of trying to hijack an El Al Airlines flight wanted to copy the September 11 suicide attacks on the United States and fly the aircraft into a public building in Tel Aviv, according to early interrogative reports. Israeli sky marshals overpowered the passenger, identified by Turkish authorities as 23-year-old Tawfiq Fukra, who was armed with a pocketknife and tried to storm the cockpit of an El Al flight from Tel Aviv to Istanbul on Sunday. None of the 170 passengers was hurt. "He tried this action strictly to make heard the voice of the Palestinian people," a senior Istanbul police official was quoted as saying by the state-run Anatolian news agency. "He expressed that the action he imagined would be like the September 11 attacks carried out against the United States." Fukra allegedly told police he planned to force the El Al crew to turn around over Istanbul and fly the aircraft back to Tel Aviv where he intended to target an undisclosed public building for a suicide attack. The suspect is being brought to Israel to be questioned by the Shin Bet security service. Israel's El Al airlines is widely regarded as the best-protected airline in the world, but also one of the most threatened. From the late 1960s into the 1980s, El Al planes and passengers were subjected to shooting attacks, hijacking and bombing attempts.

Iraq: Hit Us - We Hit Israel!

Nov. 18….(Independent) Tariq Aziz, Iraq's Deputy Prime Minister, gave his clearest warning yet yesterday that Baghdad would launch strikes against Israel if it was attacked by Britain and America. Mr. Aziz's threat came as he repeated his government's denial that it was developing weapons of mass destruction and said full access would be given to UN weapons inspectors. His remarks followed a prediction by Jack Straw, the Foreign Secretary, that Saddam Hussein would be "making the mistake of his life" if he failed to comply with the latest UN resolution on disarmament. Mr. Aziz said that any military action against Iraq would endanger not just Britain and America but also their allies such as Israel.

Saddam Pays Gaddafi $3 Billion for Safe Haven

Nov. 18….(The Times) Saddam Hussein has made secret plans for his family and leading members of his regime to be given political asylum in Libya in the event of a war with America or a successful internal coup in Baghdad. The extraordinary steps taken by the Iraqi leader to provide an exit strategy for key relatives and associates, which includes paying $3.5 billion (£2.3 billion) into Libyan banks, provide the first evidence that Saddam is now facing up to the prospect of being toppled from power. Even as he makes public statements of defiance and vows to defend his country against an American invasion, The Times has learnt that Saddam's secret emissaries have been visiting Libya and Syria to ensure that there is an escape route for his family and top cronies

Congress, White House Discuss Future Of Saudi Ties

Nov. 18….(Middle East News Line) The Bush administration has engaged Congress in a quiet dialogue over future U.S. relations with Saudi Arabia. The dialogue concerns how Washington should treat Saudi Arabia in such areas as military ties, human rights, religious freedom. Those familiar with the dialogue said the consultations are not meant to determine short-term relations between Riyad and Washington. U.S. officials said one move could be to declare Saudi Arabia a "country of particular concern" in regards to Riyad's failure to grant religious freedom.

Close Jihad offices in Syria

Nov. 18….(Jerusalem Post) Foreign Minister Binyamin Netanyahu called on the diplomatic corps Sunday to demand Syria close the offices of Islamic Jihad and other terrorist organizations in Damascus as part of the international campaign against terrorism. "Only a clear cut and coherent position by the international community can contribute to putting pressure on the regimes Palestinians, Syrian, Iranian and others who are supporting this wave of terror. If we are to win the war against terror we have to address these problems indivisibly," Netanyahu said. Netanyahu reminded the diplomats, many of whom continuously press Israel to relieve the humanitarian hardships of the Palestinians, that the attack came after the government decided to vacate positions in Hebron in order to relieve the pressure on the civilian population. "In response, what we got was the massive attack that we have now. Unfortunately this is the pattern. We make gestures, we make accommodations, and what we get in return is an escalation of terror. This is an abuse of the willingness of Israel to act in a humanitarian fashion."
WEEK OF NOVEMBER 12 THROUGH NOVEMBER 17
Israeli's Killed by PLO Snipers!

Nov. 15….(Jerusalem Post) bulletin….A group of Palestinian militants standing on top of a hill shot at a group of Jews on their way to prayer services Friday in the West Bank city of Hebron Israeli media are reporting that at least 11 people were killed, and 15 wounded. Approximately 450 Jewish settlers live in the city of Hebron, (where Abraham is buried) surrounded by 130,000 Palestinians.

Hu Jintao: China's New Leader

Nov. 15….(Debka) On Thursday, November 14, Chinese President Jiang Zemin and five other leaders resigned their posts in a well-choreographed transfer of power to the "fourth generation" of Chinese leaders, as the Chinese Communist party Congress drew to a close in Beijing. Prime Minister Zhu Rongji and Party Number Two Li Peng also stepped down, while vice president Hu Jantao stepped forward into the limelight as the new ruler of the most populous country on earth. Today, the new Central Committee will hold its first session to choose the new Politburo and the select group that will act as China's next supreme governing council. The enigmatic profile of China's next ruler, 59-year old Vice-President Hu Jintao will be examined under a magnifying glass in most world capitals. The worlds super-powers watching closely to see how he will address the hottest dilemma facing China: How much longer that great country can continue to play the double game of maintaining a fast-growing open capitalist economy within the context of a closed, illiberal political system. Last year, after Hu, the youngest of China's top five, was tipped as the coming man, it was found necessary to begin urgent repairs on a major hole in his grooming: his lack of experience in foreign affairs. China's new leader has never been known to travel, and has had nothing clear to say on democracy, human rights, the global economy or other thorny issues, such as Taiwan, weapons proliferation and religious and political freedoms. President George W. Bush, during his two-day visit to China, February 21-22, was not allowed meeting with the new leader. Hu is reported to have supported the military crackdown on the Tiananmen Square uprising in 1989. He is quoted as issuing strong anti-American statements, warning that the United States meant to put China down as a world power.

Iraq Showdown - December 8th

Nov. 15….(New York Post) Still defiant, Iraq yesterday said it will "deal with" the new tough U.N. resolution, but then set the stage for a real showdown on Dec. 8 by denying that it has any weapons of mass destruction. "Iraq has not developed weapons of mass destruction, whether nuclear, chemical or biological, as claimed by evil people," insisted the letter signed by Iraqi Foreign Minister Naji Sabri. The U.N. resolution requires that Saddam Hussein, by Dec. 8, list all Iraq's programs to make weapons of mass death, and identify their locations and sub-components, as well as all chemical, biological and nuclear programs that aren't aimed at making weapons. If Iraq sticks to the claim it has no weapons of mass death, it will be a very short list, which could mean it's headed for confrontation with President Bush who yesterday stressed Iraq won't get any wiggle room. "Zero tolerance. About as plain as I can make it. We will not tolerate any deception, denial, or deceit. Period," Bush said.

U.S. Monitors Syria For Nuke Smuggling

Nov. 15….(Middle East News Line) The United States has quietly monitored Syria for efforts to smuggle nuclear material to Iraq. U.S. officials said government teams have been placed on Syria's border with Turkey to monitor trade and determine whether fissile material is being smuggled to the regime of Iraqi President Saddam Hussein. The officials said the effort is in cooperation with Turkey. "We've deployed radiation detection systems on the Turkish border with Syria, Iran and Iraq," Assistant Secretary of State John Wolf said. "We're working to interdict weapons of mass destruction, missile- related shipments," by monitoring Syria and other neighbors of Iraq."

Powell Attacks Christian Right

Nov. 15….(Guardian) Colin Powell, the US Secretary of State, condemned America's Christian right yesterday for propagating hatred against Muslims, in what appeared to be a coordinated White House campaign to confront anti-Islamic rhetoric from a constituency that includes some of the Bush Administration's staunchest supporters. Days after televangelist Pat Robertson said on his Christian Broadcasting Network that "what the Muslims want to do to the Jews is worse" than the Holocaust, Mr. Powell told a gathering in Washington: "This kind of hatred must be rejected." The escalation in anti-Muslim comments from conservative Christians includes a recent claim by Jerry Falwell, the country's leading rightwing Baptist, that the prophet Mohammed was "a terrorist".

FOJ Note: On Thursday night President George W. Bush hosted a dinner and gave a speech to honor the beginning of Ramadan. His speech (written by his speech writer) gave evidence of our continued need to pray for the President's (and his speech writer's) enlightenment on some key Biblically based positions. In my humble opinion, the most troubling comments from President Bush's speech were the following: "Ramadan is a special time of prayer and fasting, contemplation of God's greatness, and service to those in need. According to Muslim teachings, this season commemorates the revelation of God's word in the holy Koran to the prophet Muhammad. Today this word inspires faithful Muslims to lead lives of honesty and integrity and compassion. "In hosting tonight's Iftaar, I send a message to all the nations represented by their ambassadors here tonight: America treasures your friendship. America honors your faith. "We see in Islam a religion that traces its origins back to God's call on Abraham. We share your belief in God's justice, and your insistence on man's moral responsibility." (President Bush wasted no time, following the Sept. 11 terrorist attacks, in exonerating Islam and reminding Americans that the violence had been committed by freedom haters. Islam, the religion the terrorists claimed to represent while carrying out their attacks, actually stood for peace, the president insisted. Fourteen months after the attacks, the 19 hijacker/terrorists are still considered heroes by certain elements of the Islamic community around the world. Therefore, it is the opinion of FOJ that the U.S. is not prepared to fight the war on terrorism because our nation has simply failed to understand the true nature of Islam, or to identify its enemy. Even our leaders are intent on insisting that the war on terrorism has nothing to do with Islam, when in fact it has everything to do with Islam. It stands to reason that when you are engaged in a conflict and you can't even identify the true nature of your opponent, you are at a tremendous disadvantage and subject to subtle internal supernatural consequences.)

Franklin Graham on Islam

Nov. 15….(Reuters) Christian evangelist leader Franklin Graham said on Thursday he did not view the U.S. counter-terror campaign as a war on Islam, a day after President Bush criticized anti-Islamic remarks by conservative Christian leaders. "I agree with the President that 'our war against terror is a war against individuals whose hearts are filled with hate.' This is not a war against Islam," Graham said in a release. Graham, who gave the sermon at Bush's inaugural church service in 2001, is the son of evangelist Billy Graham. He is president of the relief organization Samaritan's Purse and also of the Billy Graham Evangelistic Association. Franklin Graham has drawn criticism for comments on Islam, including remarks on a Fox Television show in August in which he said the Koran preaches violence. "If you buy the Koran read it for yourself, it's in there. The violence that it preaches is there," he said. Such comments by Graham and other conservative Christian leaders in the wake of last year's Sept. 11 attacks have drawn protests by American Muslims and calls for Bush to repudiate them. American's Christian right constitutes an important source of political support for Bush. On Wednesday, Bush, said anti-Islamic comments were at odds with the views of most Americans. "Some of the comments that have been uttered about Islam do not reflect the sentiments of my government or the sentiments of most Americans," Bush said in remarks White House officials said were aimed at countering statements by the Christian leaders. Graham said on Thursday: "I understand that George W. Bush, as President of the United States, represents all Americans of all faiths, and I fully support him. Any comments I have made on this subject were shaped by years of relief and development work in Islamic regimes around the world." "I have stated my views and have not purported to speak for any other groups or people," he said.
Egypt's Grand Mufti Praises Terrorism

Nov. 14….(World Net) The grand mufti of Egypt, the highest religious authority in Egypt and a man who has the power to issue fatwas and interpretations of Shari'a law, has defended Palestinian suicide bombings and called the Rev. Jerry Falwell a terrorist because of his views on Islam. Today, attorneys of the American Islamic movement began a lawsuit against Rev. Falwell. As in most other Arab countries, the Egyptian State appoints the grand mufti. President Hosni Mubarak named Sheikh Ahmad Al-Tayyeb to the post earlier this year after his predecessor issued a ruling in favor of suicide bombings by Palestinians. Al-Tayyeb repeated in excruciating detail his reasoning for encouraging Palestinians to kill innocent civilians through suicide attacks. Palestinians, he said, are justified in killing Israeli civilians ''because they are defending their land and have no other weapons at their disposal.'' The grand mufti pointedly condemned as a traitor any Palestinian who refuses to take such a step. Al-Tayyeb also offered his own definition of terrorism. He explained that Jerry Falwell, an influential leader in the American Christian community, is a terrorist because his views about Islam have offended Muslims. ''Why do the Americans always speak about Islamic terrorism? Why don't they speak about the extreme right-wing Christian terrorists?'' he asked. When asked who is a terrorist, he explained: I'm talking about those Christians in America that seek to influence Western foreign policy in favor of Israel. The grand mufti says openly that Palestinian suicide bombers who strap explosives around their waists and enter restaurants, pool halls, discotheques and shopping malls to murder innocent women and children, the young and the old, Israelis and foreign tourists and whoever else happens to be around, are doing God's work and should be treated as heroes of the resistance.

Kofi Annan: Israel Must Give Up All Territory for Peace!

Nov. 14….(AP) U.N. Secretary-General Kofi Annan denounced Israel as an expropriator of Arab land and said it must give up "nearly all of the territory" for peace with the Arabs. Annan, in a speech at the University of Maryland, also accused the Israeli government of imposing "condition upon condition" to block peace negotiations. Palestinian farmers have been shot dead by extremist settlers intent on robbing them of their olive harvest and are trying to drive them off the land to which the Palestinians are entitled, Annan said Wednesday. The tone was different at the State Department. Spokesman Richard Boucher said he did not have "any particular comment" on the biggest Israel sweep on the West Bank in months. Responding to the slaying of five Israelis, troops stormed into Nablus, a hotbed of militants, with dozens of tanks and and armored vehicles and rounded up 30 suspected terrorists. Boucher condemned the slaying of the Israelis and said Israel has a right to defend itself and to take action against terrorists. At the same time, the U.S. official said Israel should be careful not to harm civilians. Annan, who met with President George W. Bush later at the White House, drew applause from students assembled in a university field house as he repeatedly criticized Israel and its policies. FOJ Note: Yesterday FOJ reported the that Kofi Anan stated that the UN would never allow Israel to be destroyed, and today he asserts that Israel must relinquish its possession of Biblical lands. His messages seem to parallel the exact scenario depicted in Bible Prophecy for the Last Days. (Israel cannot have its Promised Land, and must accept the world's guarantee for her security)

Bush Takes on Christian Right Over Anti-Islam Words

Nov. 14….(Reuters) President Bush took on the Christian right core of his political base yesterday, denouncing anti-Islamic remarks made by religious leaders including evangelist Pat Robertson. Bush said such anti-Islamic comments were at odds with the views of most Americans. "Some of the comments that have been uttered about Islam do not reflect the sentiments of my government or the sentiments of most Americans," Bush told reporters as he began a meeting with U.N. Secretary-General Kofi Annan. "By far, the vast majority of American citizens respect the Islamic people and the Muslim faith. After all, there are millions of peaceful-loving Muslim Americans," Bush said. "Ours is a country based upon tolerance, and we're not going to let the war on terror or terrorists cause us to change our values." Bush did not identify conservative Christian leaders as his target, but White House officials said he was prompted by the anti-Islamic remarks of some of them, particularly religious broadcaster Pat Robertson, who reportedly said this week Muslims were "worse than the Nazis." "He (Bush) wanted a clear statement," a senior White House official said.

FOJ Note: It is certainly admirable and proper for Christians to extend Christ's love to those of other religions, through tolerance and friendship, but at the same time we should never turn a blind eye to the onslaught of Satanic inroads being made against true Christianity, and against our Christian heritage. President Bush is obviously highly concerned about protecting the civil rights of Arab/Muslim Americans as our country pursues the elements of evil within the religion of Islam that attacked America, and rightfully so.

Iran and Syria at Crossroads over Iraq

Nov. 14….(Geostrategy) Relations between Iran and Syria have become strained because the countries can't agree on a joint policy of how to respond to a possible U.S.-led war against Iraq, reports Geostrategy, the global intelligence news agency. Syria insists that no help be given to the U.S. military while Iran has not ruled out limited cooperation with the U.S. ''The dispute has been sharpened by high-level contacts between Iran and the United States over the war against Baghdad and the future of Iraq,'' a diplomatic source said. ''The Syrians have been left out of this and feel vulnerable.'' The rift became public last week when a leading Syrian media representative acknowledged that Damascus and Tehran are growing apart. Ibrahim Hamidi, a Syrian writer regarded as the leading unofficial spokesman of Syria in the Arab world, said the possible U.S.-led war against Iraq has resulted in a gulf between Iran and Syria, which cooperate in developing missiles and weapons of mass destruction. According to the Geostrategy report, Hamidi says the regime of Syrian President Bashar Assad believes that Iran and the United States have reached an agreement to allow U.S. warplanes to use Iranian air space for attacks on Baghdad. In exchange, the United States would not threaten Iranian interests, including Tehran's sponsorship of groups on the State Department's list of terrorist organizations. The purported agreement resembles that of the U.S.-led war in Afghanistan. Iran provided logistical support and intelligence help for U.S. troops authorized to destroy the Taliban regime. ''There is Syrian concern that Iran will be pressed into the same role that it had during the war in Afghanistan,'' Hamidi wrote. According to the report, Iran agreed to cooperate with the United States against Iraq within the past month. The decision was a result of concern over Syrian cooperation with Washington in the war against al-Qaida. About 200 FBI and CIA agents are in Damascus monitoring al-Qaida's movements from Iran toward the Middle East, according to sources. ''We are not talking about a break in relations between Iran and Syria,'' one source said. ''What we are seeing is a Syrian signal that it does not want to be the only Arab country to pay a price for supporting Iraq.'' Iran and the United States have reportedly been holding quiet negotiations regarding Iraq through European intermediaries, including Britain. A recent visit by British Foreign Secretary Jack Straw focused on Iran's role in any war against the Iraqi regime. ''The public expression of Syrian concern regarding Iran is new,'' diplomatic sources said. ''Syrian Foreign Minister Farouk A-Shaara has not been happy with Iran's increasing willingness to help the Americans as the U.S. military is demonstrating more aggressiveness toward Damascus.''

FOJ Note: Ironically, Syria's feeling that it is being isolated from Iran is further demonstration of the playing out of Bible Prophecy in these Last Days. The wedge being driven between these two nations by the American war on Terror portends the Biblical scenario which foretells that Syria will not be among the allies of Russia and Persia when they assault Israel in the Tribulation era.
Powell Regaining Central Role


Nov. 13….(Reuters) Secretary of State Colin Powell said today that the United Nations had proved its relevance through its unanimity on Iraq and would be instrumental in judging whether Iraq complies with U.N. demands to disarm. Powell's announcement comes just eight weeks after President Bush told the United Nations that it ran the risk of irrelevance if it failed to enforce disarmament resolutions dating back to the end of the Gulf War in 1991. But Vice President Dick Cheney and Defense Secretary Donald Rumsfeld said earlier that they doubted that U.N. inspectors could rid Iraq of weapons of mass destruction. With the U.N. debate over, Secretary Powell has started to give the UN Security Council a bigger role than the United States was willing to concede during the complicated negotiations. On Sunday, Powell said that if Iraqi President Saddam Hussein fails to comply with the resolution, the United States would seek Security Council support for "all necessary means," diplomatic code for military force.

Saddam Accepts UN Resolution on Inspections!

Nov. 13….(Fox News) Saddam Hussein has accepted a tough new U.N. resolution that will return weapons inspectors to the country after nearly four years, Iraq's U.N. ambassador said. The acceptance, which was stated in a letter to Secretary-General Kofi Annan's office, came two days ahead of the Friday deadline set by the U.N. A rejection could have triggered a U.S. attack on Iraq. "The letter says that Iraq will deal with Security Council resolution 1441 despite its bad contents," Ambassador Mohammed Al-Douri said Wednesday. "We are prepared to receive the inspectors within the assigned timetable," he said. "We are eager to see them perform their duties in accordance with international law as soon as possible." In the letter, Iraq reiterates that it has no weapons of mass destruction, Al-Douri said. "We explained in the letter the whole Iraqi position saying that Iraq ... has not and will not have any mass destruction weapons, so we are not worried about the inspectors when they will be back," he said. Iraq's acceptance would clear the way for the arrival of an advance team of U.N. inspectors on Monday. The team will be led by U.N. chief inspector Hans Blix, who is in charge of biological and chemical inspections, and Mohamed ElBaradei, head if the International Atomic Energy Agency, which is in charge of nuclear inspections. Al-Douri said Iraq hopes its acceptance of the resolution will avoid the threat of war.

Predicting Saddams War Strategy?

Nov. 13….(Jane's Intelligence) Iraqi President Saddam Hussein is likely to order chemical and biological attacks on Israel if a US-led force invades Iraq to impose regime change, according to a report in the authoritative London-based journal Jane's Terrorism & Security Monitor. During the 1991 Gulf War, Saddam authorized the commanders of his missile forces to launch biological and chemical weapons at Israel if US-led coalition forces marched on Baghdad. In the Jane's Terrorism and Security analysis of the current conflict, if the US were to invade Iraq to enforce a change of regime, Saddam could give such apocalyptic orders again." Saddam might decide to take the extreme step of assisting Islamist terrorists in conducting an attack using weapons of mass destruction against the US in his last chance to exact vengeance by taking a large number of victims with him," states the report.

Kofi Annan: UN Will Not Permit Destruction of Israel

Nov. 13….(Jerusalem Post) UN Secretary-General Kofi Annan pledged that the United Nations would never permit the destruction of Israel. Terror attacks have caused Israelis to lose faith in the Palestinians' desire for peace, Annan said. For their part "the Palestinians are just as firmly attached to their land as Israelis are to theirs," he said. "They too, have a right to their own state, supported by the United Nations and by public opinion worldwide," Annan said. The only solution, he said, is for Israel to relinquish the land the Arabs lost in the 1967 Mid-east War and to live side by side with a Palestinian State. The two sides would negotiate the precise location of the borders, Annan said. "Somehow, we have to restore hope to both peoples by patiently rebuilding their trust in each other," Annan said.

FOJ Note: The coming Antichrist, with the logistical base of the ten kings of the Final Empire, and the Last Days World Security apparatus will guarantee Israel's security. It will be a false covenant, and the Antichrist will turn against Israel to destroy her.

Arafat: We are all Potential Martyrs

Nov. 13….(Jerusalem Post) Threats and killings will not sway or intimidate us. We are all potential martyrs," Palestinian Authority Chairman Yasser Arafat declared Tuesday. "I am a president who was democratically elected," Arafat said in an interview with the Lebanese magazine Monday Morning. "Palestine is not a number in Prime Minister Ariel Sharon's pocket or anyone else's, nor are we pawns in a chess game. The Palestinian people will never capitulate. Asked whether he really believed that Sharon would kill him, Arafat said: "I am a believer and God has said: Nothing will happen to you, save what is willed for you by the Almighty. Thus, we are determined to continue in the defense of our land, our holy places, and our masses until the end of time." Arafat was interviewed in his office in Ramallah by the magazine's editor-in-chief, Milhem Karam. Arafat on Tuesday denied that his Fatah movement was involved in the terrorist attack on Kibbutz Metzner on Sunday night, in which five people were shot dead, including two young boys and their mother. Arafat's Aksa Martyr's Brigade of his loyal Fatah movement claimed responsibility for the attack, saying it was in revenge for the killing of Iyad Sawalah, a former Fatah Tanzim who joined Islamic Jihad. The IDF on Tuesday destroyed the home of Muhammed Naifeh, a senior leader of the Aqsa Martyr's Brigade in Tulkarm, charging that he dispatched the gunman to Kibbutz Metzer. Arafat lashed out at Sharon's government, which, he said, has endangered the peace process. "Indeed, Sharon has openly declared the end of the Oslo Accords, which was signed at the White House in September 1993," he said in the magazine interview. "Furthermore, he has attacked us with all the military force he possesses, even with weapons prohibited by international law. "But our people will never submit to the arrogance of the occupation, and a military solution will bring no peace, security or stability so long as our land is occupied, as long as our people are besieged and settlements are maintained on our soil." Arafat said the Palestinian people have "no choice other than to continue their national resistance until the creation of an independent Palestinian state and a settlement of the cause of the Palestinian refugees in conformity with UN Resolution 194."

The House of Saud and the Iraq War

Nov. 13….(FOJ) The Saudis have always been publicly opposed to the war on Iraq, as evidenced by last week's announcement that the US would be denied any bases on Saudi soil. But, with the passage of the UN Security Council resolution last week, the Saudis may soon face a difficult decision. Do they capitulate and get behind the American war plans, or do they increase their efforts to stymie an attack on Iraq? The Saudis greatest fear is that the installation of a western-styled democratic government in Iraq would lead to uprisings and an upheaval among the Saudi people, and the entire fundamental Islamic world. Specifically, al Qaeda factions in Saudi Arabia have threatened to instigate and lead such an uprising among the Saudi people if the House of Saud caves in and backs America's war on Iraq. Osama bin Laden may have even returned to the Saudi homeland to lead such a charge. In the Gulf War in 1990, when Saudi Arabia assisted the US, the Saudi rulers rejected Osama bin Laden's offer to raise an Islamic army to defend Saudi territory from the US. This drove a crucial wedge between bin Laden and the House of Saud that eventually evolved into al Qaeda's current jihad. Ever since, al Qaeda has been seeking a trigger to mobilize the Saudi population and military against the House of Saud, and Bin Laden might see his chance during the American-Iraq campaign. The Saudi's other major concern can be summarized as follows. If the US and its coalition partners install a "pro-America" government in Iraq, that would insure a steady flow of oil to the US and reduce dependence on Saudi oil. More significantly perhaps, the Saudis are most alarmed at the possibility of new US military being established in the new Iraq. Why? Because the Saudis fear that the next phase of the War On Terror might be Saudi Arabia! The House of Saud leadership knows absolutely that the Saudi people would revolt if the US military sweeps into Saudi Arabia in search of al Qaeda, from military bases in Iraq. That could mean the end of the House of Saud. Meanwhile, the US is probably content with Saudi Arabia's public stance of opposition to the Iraq war, but the last thing the Bush administration wants is to see a major revolt in Saudi Arabia at the same time we are prosecuting the war on Iraq. If the Saudi royalty were swept out of power, the country and all its oil could fall into the hands of al Qaeda. The US could not allow this to happen, given its ominous implications for the global economy.
Netanyahu: I Would Expel Arafat!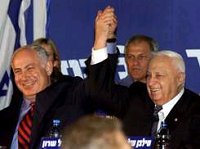 Nov. 12…..Israeli Foreign Minister Benjamin Netanyahu, trying to outflank Prime Minister Ariel Sharon on the right, vowed on Tuesday that if he were elected prime minister he would expel Palestinian leader Yasser Arafat. The hawkish ex-premier, vying for leadership of the right-wing Likud for a January 28 election, told party members Arafat was "head of the murderers" behind a raid on a kibbutz that killed five Israelis, including a mother and her two sons. A militant group linked to Arafat's Fatah movement claimed responsibility for the shooting attack.

US: War on Iraq May Start Before Christmas

Nov. 12….(CNN) President Bush issued a tough new warning to Saddam Hussein yesterday as administration officials said that a war could begin before the end of the year. In a series of Veterans' Day memorial services, Mr. Bush said he was ready to take his country to war. Unless President Saddam Hussein fully disarmed, "America will lead a coalition to fully disarm him. "I have no greater responsibility than protecting the American people. Should military action become necessary for our own security, I will commit the full force and might of the United States' military, and we will prevail," he said. Colin Powell, the American Secretary of State, told CNN: "We're not going to wait until February to see whether Iraq is co-operating or not.''

Putin: West in Mortal Danger from Islam

Nov. 12….(London Telegraph) Islamic radicals are pursuing the systematic annihilation of non-Muslims, President Vladimir Putin claimed yesterday. The Russian leader said at a European Union summit in Brussels that western civilization faced a mortal threat from Muslim terrorists, and claimed that they had plans to create a "worldwide caliphate". Mr Putin said the world no longer faced isolated acts of terrorism but a "concerted effort and program" by a global network bent on slaughter, perhaps with nuclear weapons. He said the West should face up to the reality that Chechen terrorists were religious extremists in league with al-Qa'eda, rather than a separatist movement seeking a breakaway republic. If the West failed to deal with the Chechen terrorist threat, he said, there would be repeats of the Moscow theatre siege and the Bali bombing "all over the world". Mr. Putin secured a joint EU-Russian action plan to fight terrorism at the mini-summit, but he was firmly warned that Europe would not give Russia carte blanche in its fight against terrorism, particularly after reports that fragmentation bombs were being used widely against civilians in Chechnya. Privately, EU diplomats said Mr. Putin was playing the al-Qa'eda card for all it was worth, seeing it as a useful way to create a sense of common purpose with the West and heighten the strategic value of Russia.

Iran: We Have Cruise Missiles!

Nov. 12….(Middle East News Line) Iran reports that it has developed a range of cruise missiles. Officials said the Nur cruise missile was successfully launched earlier this year. The cruise missile was then manufactured. Teheran has already procured a naval and ground version of the Nur. The range of the missile was not disclosed. Iran has obtained technology for its cruise missile program from China and Russia, Western intelligence sources. They said China helped launch Iran's cruise missile program while Russia provided greater aid to Teheran's ballistic missile development. A Congressional Research Service report said China has exported the C-802 anti-ship cruise missile to Iran. The report, released earlier this month, said China transferred 15 naval vessels to Iran equipped with the cruise missile.

Pope: Charismatic Renewal Is Sign of Hope

Nov. 12….(Zenit) John Paul II encouraged those involved in the Catholic charismatic renewal to be "living signs of hope" witnessing to the presence of the Holy Spirit. The papal message, published Saturday by the Vatican Press Office, was sent to the Catholic Fraternity of Charismatic Covenant Communities and Fellowships, attending a congress in Rome, to celebrate the 35th anniversary of the phenomenon. The congress runs through Wednesday. The Catholic Fraternity, as it is generally known, came into being in 1990 at the initiative of several charismatic communities of Australia and elsewhere. The Pontifical Council for the Laity has recognized it as a "Private Association of Faithful." It has some 50 communities with 30,000 members around the world. It is part of the Catholic charismatic movement, which today has some 80 million Catholic followers worldwide.

Iraq Army Being Warned

Nov. 12….(Debka) While international attention was fixed on the UN Security Council vote last week in favor of the US-UK-Ireland ultimatum to Iraq to disarm, US aircraft dropped hundreds of thousands of leaflets over Iraqi troop concentrations that are building up in southwest Iraq, calling on them not to fire on US and British forces. The leaflets fluttered down over a 250-mile strip along the Iranian borde, from the big Iraqi land and air base at Al Kut, 135 miles southeast of Baghdad in the north, to the Shatt al Arb port city of Basra, Iraq's only outlet to the Persian Gulf, in the south.

PLO Terrorists Strike Israeli Kibbutz

Nov. 12….(Jerusalem Post) Sunday night, two or more Palestinians burst into an avowedly pacifist rural kibbutz, shot dead its secretary Yitzhak Dori, 44, and a visitor from Moshav Eliachin, Tirza Damari, 42. They then burst into a home and murdered Revital Ochayon and the two small sons, Matan 5 and Noam, 4, she sheltered with her body, before disappearing into the night. They struck hours after the Israeli military pullback from the Palestinian city of Jenin. Israeli tanks and troops swept into a refugee camp in the West Bank Tuesday after a Palestinian militant shot dead five Israelis, including two children in their beds, in an attack on a kibbutz. In the village of Shweike, north of Tulkarm, Israeli troops demolished the house of Mohammed Naifeh, described as a senior activist from the armed wing of Palestinian President Yasser Arafat's Fatah movement. The army said Naifeh was responsible for Sunday's attack. The al-Aqsa Martyrs Brigades, an armed offshoot of Fatah, said it carried out the attack to avenge Israel's killing of an Islamic militant commander and vowed "more martyrdom attacks until occupation leaves our land."

Hamas to Fatah: Let's Join Forces

Nov. 12….(Jerusalem Post) Hamas yesterday lauded the terrorist attack in Kibbutz Metzer as a "legitimate resistance operation" and urged Fatah to step up its struggle against Israel. Hamas representatives participating in talks with Fatah leaders in Cairo described Metzer as a "settlement that was built on Arab land usurped by the Zionist enemy in 1948." They said the attack, carried out by Fatah's armed wing, Aksa Martyrs' Brigades, is "an indication that the Palestinian street wants the resistance to continue its strikes." The talks are being held under the auspices of the European Union, which is urging both parties to halt suicide attacks inside Israel. EU representatives hope Fatah would be able to persuade Hamas to end such attacks as a first step towards turning the intifada into a popular movement of resistance. But Khaled Masha'al, the head of Hamas's central committee, on Monday denied EU and Egyptian claims that the purpose of the Cairo talks was to stop suicide attacks against Israeli civilians. "These reports are untrue," Masha'al told the London-based Al-Hayat newspaper. "Perhaps the other side [Fatah] has put the issue of suicide attacks on its agenda, but we tell them already that we will never agree to stop the resistance operations. Hamas cannot agree to meet with Fatah under the motto of halting the resistance." Hamas says the talks are focused only on ironing out differences with the Palestinian Authority and Fatah following a series of events that have marred relations between the two sides. According to Palestinian sources, the Hamas representatives told Fatah's negotiators that it was time the two sides joined hands in the fight against Israel. The sources said the Hamas representatives also said that there is no reason to halt their attacks against Israeli civilians while Fatah's gunmen were themselves carrying out attacks inside the Green Line. On Monday night, PA Chairman Yasser Arafat phoned Egyptian President Hosni Mubarak to discuss the Hamas-Fatah talks and the latest developments following the Metzer carnage. Arafat reportedly asked Mubarak to intervene with Israel to prevent it from carrying out a massive military operation in retaliation for the Metzer killings. Ahmed Ghuneim, a member of the Fatah delegation to the Cairo talks, was barred Sunday by Israel from traveling to Cairo. Ghuneim said he was turned back from the Allenby Bridge. Another Fatah delegate, Samir Mashrawi of Gaza City, was also prevented by Israel from leaving for Egypt.
WEEK OF NOVEMBER 4 THROUGH NOVEMBER 10
UN Security Council Gives Saddam US-Ultimatum

Nov. 9..(Independent) Backing the determination of Washington and London to overturn more than a decade of defiance by Saddam Hussein, the UN Security Council voted unanimously yesterday for a stiffly worded resolution that gives Iraq a "final opportunity" to rid itself of weapons of mass destruction or face certain war. The watershed 15-0 vote, which followed eight weeks of tortured negotiation, opens the next and potentially explosive chapter in the confrontation between Iraq and the western powers. It gives UN inspectors sweeping authority to hunt down Iraq's outlawed weapons programs and demands that Iraq co-operates to the full. To avert war, Iraq, as a first step, must declare its intention to comply with the resolution within seven days. After a period of 30 days it must fully disclose the extent of its weapons programmes. Any mis-steps by President Saddam now will invite US-led aggression. President George Bush and Tony Blair, who were the co-sponsors of the resolution, quickly voiced their satisfaction. In a blunt warning to the Iraqi leader, Mr Blair declared: "Defy the UN's will and we will disarm you by force. Be in no doubt whatever over that." Appearing in the Rose Garden just moments after the vote was taken in New York, Mr Bush said: "The outcome of the current crisis is already determined. The full disarmament of weapons of mass destruction will occur. The only question for the Iraqi regime is to decide how. His co-operation must be prompt and unconditional or he will face severest consequences."
Israel to Expand Sea Defense

Nov.8 ….(Middle East News Line) Israel is reviewing proposals to deploy strategic military assets at sea to protect them against an Arab or Iranian missile strike or a Palestinian insurgency attack. Officials have argued that the Israeli use of the Mediterranean Sea is vital because of the nation's limited territory, the emergence of the Palestinian Authority in the West Bank and Gaza Strip and the vulnerability of Israeli military bases from Hizbullah rockets along the Lebanese border. Israel is said to possess up to 200 nuclear weapons. The discussions include whether Israel's military should focus on building a more powerful navy at the expense of the air force after the procurement of 102 F-16 Block 52 multi-role fighters. Proponents argue that Israel has exploited its air potential given its small air space and the improving capability of Arab and Iranian surface-to-surface missiles.

Suicide Bombers Against Americans?

Nov. 8….(AP) Muslim extremists are planning new terrorist strikes against US interests overseas, including possible suicide attacks, the State Department has warned. "The US government continues to receive credible indications that extremist groups and individuals are planning additional terrorist actions against US interests," the department said in a worldwide caution issued late Wednesday. "Such actions may include, but are not limited to, suicide operations."

Muslims Begin Ramadan Feast


Nov. 8….(Jerusalem Post) Over 50,000 Muslims worshippers are attending worship services today, the first day of Ramadan on the Temple Mount. Yesterday Palestinians shopped for food at a Hebron market stall as the start of the Muslim holy month of Ramadan began. (There has been genuine concern that the large crowds on the Temple Mount during Ramadan could cause a rupture in the Temple Mount retaining walls)

Russia and America Seek Oil Deal


Nov. 8….(MSNBC) Last month, President Bush and Russian President Vladimir Putin brought together top oil executives from both countries to meet in the U.S. oil capital, Houston. Russia proposed at the meeting that the US begin buying oil from Russian companies instead of Middle East sources. The Tyumen Oil Co., Russia's fourth-largest, has even proposed that the United States use Russian oil to replenish its strategic oil reserve. Yukos, another Russian oil firm, has started delivering tanker loads of crude to the Texas Gulf Coast. The convergence of Russian and American oil interests comes at a crucial time: As Washington seeks international approval for a war with Iraq, Russia holds a key bargaining chip. The Kremlin fears that if Washington successfully topples the Iraqi dictator, American companies will take over the world's second-largest oil reserves, and billions of dollars worth of contracts that Russian oil companies have signed with the current Iraqi regime will be annulled. Though Moscow denies as much, analysts say the future of Iraq's oil and an estimated $8 billion in Soviet-era debt owed by Baghdad are partially behind Russia's refusal to go along with tougher U.N. terms on Iraqi arms inspections, let alone a full-blown war with Saddam. The way out? Experts say the United States can win Kremlin backing, in the form of a Russian abstention from a Security Council vote on war with Iraq, by moderating its own position on disarming Baghdad and offering assurances that Russian IOUs will be honored and that future Iraqi oil deals will include the Kremlin as a key player.
American Election: Stronger Support for Israel

Nov. 7….While congressional support for Israel has been overwhelmingly strong in recent years regardless of which party controlled Congress, pro-Israel lobbyists celebrated the Republican sweep in Tuesday's mid-term election. "This new Congress is very supportive and is likely to be the most pro-Israel Congress that we've seen," said one Jewish official who tracks the Israel issue on Capitol Hill. It appeared the strong Republican showing in the House and Senate rates would bolster President Bush as he pursues regime change in Iraq. He has already won an endorsement from the outgoing Congress for war if diplomatic efforts fail. "This has empowered Bush to go forward with his foreign policy, his battle against terrorism and Saddam Hussein, and his strong stance against the Palestinians," said Jack Rosen, President of the American Jewish Congress. Rosen added that he believed the American people wanted to help Bush solidify support on Capitol Hill for his foreign policy agenda, and the support of Israel in general.

America Put Syria Under Terror Microscope

Nov. 6..(Ha Aretz) Recently, America has decided to come up with an additional list of wayward states that pose a risk to the United States only slightly less than does the "axis of evil," Iran, Iraq and North Korea. In a aggressive and no-holds-barred recent lecture, John Bolton, the U.S. Under Secretary of State for Arms Control and International Security, put Syria, Libya and Cuba on the new list. Speaking about these three, he said: "Beyond the axis of evil, there are other rogue states intent on acquiring weapons of mass destruction, especially biological weapons. Given our vulnerability to attack from biological agents, as evidenced in the anthrax releases, it is important to carefully assess and respond to potential proliferators." These words would be warmly welcomed in Israel. The administration had decided to add to its list of threats two Middle Eastern states that Israel has been warning about for some time. Nevertheless, some analysis might shed light on the real problem that Israel faces along its northern border. The inclusion of Syria on a list of states threatening the U.S. is critical, and ominous. Perhaps the reason for this inclusion is intelligence assessments that indicate the inherent dangers Syria's support for Hezbollah. The real target therefore would be the Shi'ite organization itself, not necessarily Syria. Although he devoted a significant portion of his remarks to Syria's efforts to get weapons of mass destruction, Bolton did not reveal any new information. He did say Syria has a stock of sarin nerve gas, and is engaged in research and development of the nerve gas VX. He added that Syria "is able to produce small amounts of biological warfare agents." However, Israel has had this information for over a decade. The danger posed by Syria does not necessarily lie in any weapons it is developing, but rather in its patronage of many terrorist organizations.

Arafat's Commanders Lets Support Hamas, Jihad

Nov. 6..(World Tribune) Arafat's ruling Fatah movement is split over whether to resume attacks within Israel. Palestinian sources said the dispute pits those around Palestinian Authority Chairman Yasser Arafat, who want Fatah to limit attacks to Israeli targets in the West Bank and Gaza Strip, and field commanders who want to expand their operations to the Jewish state. Meanwhile, Hamas and Islamic Jihad continue their attacks inside Israel. The sources said most of Fatah, particularly the junior- and mid-level membership support a return to attacks inside Israel. These Fatah members argue that the limitations placed on the movement in July has resulted in a loss of support. These members also call for cooperation with Hamas and Jihad in attacks against Israel.

Netanyahu Renews Call to Expell Arafat

Nov. 6..(Jerusalem Post) Benjamin Netanyahu, sworn in as the new Israeli Foreign Minister today reiterated his view that Arafat should be expelled from the West Bank. He also gave an official voice to recent Israeli media speculation that such a time could come during a US strike against Iraq. "I think the most appropriate time to exile Arafat will be when Saddam Hussein is thrown out. Responding to Netanyahu, Arafat said: "No one can deport me from my homeland, They have to remember that they are dealing with Yasser Arafat."
Sharon: Attack Iran the Day Iraq War Ends

Nov. 5..(Jerusalem Post) Israel's Prime Minister Ariel Sharon has called on the international community to target Iran as soon as the imminent conflict with Iraq is complete. In an interview with The Times, Mr Sharon insisted that Tehran, one of the "Axis of Evil" powers identified by President Bush, should be put under pressure "the day after" action against Baghdad ends because of its role as a "center of world terror".

Rumsfeld: U.S. Will Deter' Attack on Israel

Nov. 5..(Ha Aretz) The United States will act to "dissuade and deter" Iraq from attacking Israel during any U.S.-led military campaign against Saddam Hussein's regime, Defense Secretary Donald Rumsfeld said Monday. It was the clearest public statement to date by a high-level U.S. official of an American commitment to defend Israel. President George W. Bush has reportedly assured Prime Minister Ariel Sharon of U.S. efforts to prevent an Iraqi attack on Israel. "We're sensitive to the risks," Rumsfeld told reporters at the Pentagon. "They [the Israelis] live in a difficult neighborhood. And needless to say, our interest and their interest would be in avoiding any attack on Israel. And we intend to do, as they intend to do, those kinds of things that would deter and dissuade that from happening."

Sharon Dissolves Knesset, Elections To Follow

Nov. 5..(Ha Aretz)Prime Minister Ariel Sharon announced Tuesday that President Moshe Katsav had acquiesced to his request to dissolve the Knesset and call elections for early February, 2003. Sharon, who held an early-morning meeting with Katsav, told a nationally-televised press conference that his reluctant conclusion was that early elections were inevitable, adding that dissolving the 15th Knesset is the least damaging of available options. "Elections are the last thing this country needs right now," said the prime minister, "the political blackmail of the far right has left me no option." Sharon did not set an exact date for the new elections, but said they should be held in the first days of February. Asked about February 4, a date mentioned in media reports, Sharon said: "I'm being told that this is the date." Earlier, Katsav told a press conference at the President's Residence in Jerusalem that, "The prime minister told me that he is unable to form a stable coalition, and I was persuaded by the prime minister and was convinced that the conditions demand early elections." At his press conference, Sharon accused the Labor Party, which resigned en masse from the national unity government last week, of "political whimsy," but vowed that he would not allow the new situation to destabilize the country.
Suicide Bomber Hits Israeli Mall

Nov. 4….(Jerusalem Post) A bomb went off Monday evening in the crowded Arim shopping center in the coastal town of Kfar Saba, apparently the work of a suicide bomber. Israel's Channel One Television reported that one Israeli was killed and 20 injured in the attack, including two infants. Two off the injured were in a serious condition with the rest in a moderate to light condition. They have been taken to the Beilinson, Meir and Hasharon hospitals for treatment. The explosion occurred in an electrical goods store. Witnesses said that the blast caused wide scale devastation. The body of the bomber was still at the scene of the blast. A witness who identified himself as Eitan told Israel Radio that he arrived two minutes after the blast to see the site filled with smoke. "There was a smell of burning in the air and all the windows have been blown out. There was no immediate claim of responsibility, but Abdel Aziz Rantisi, a spokesman of the Islamic militant group Hamas, said that "the Palestinian people will not stop their resistance until the defeat of the Israeli occupation."

Amnesty International Cites Israel


Nov. 4…..(Jerusalem Post) Israel committed "war crimes," including unlawful killings, in Jenin and Nablus during a broad military offensive in those West Bank cities in April, the human rights group Amnesty International said Monday. The Israeli military said the offensive was launched in self-defense, in response to Palestinian terror attacks on Israeli civilians. Back in July, Amnesty issued a report that said the Palestinian suicide attacks were "crimes against humanity." Many of those bombers came from Jenin and Nablus. In a latest report, titled "Israel and the Occupied Territories: Shielded from Scrutiny - IDF violations in Jenin and Nablus," Amnesty said there is "clear evidence that some of the act committed by the Israel Defense Forces ... were war crimes." Israeli carried out "unlawful killings, torture and ill-treatment of prisoners, wanton destruction of hundreds of homes," according to Amnesty International. Israel accused the Palestinian fighters of using residential neighborhoods and ambulances for cover during the fighting. Jenin was the site of the heaviest fighting - more than 50 Palestinians and 23 Israeli soldiers were killed. But the preliminary charges brought to AI by the Palestinian Authority claimed that over 500 Palestinians were killed in Jenin. The United Nations opened an investigation into the Jenin fighting after Palestinians alleged Israel had committed a massacre in the refugee camp. The UN ruled that there was no evidence to support the Palestinian claims, but said both Israeli forces and Palestinian militants violated international law.

Palestinian leader Yasser Arafat, third left, walks of his office on his way to meet supporters in the West Bank town of Ramallah, Monday Nov. 4, 2002. Speaking to reporters, Arafat stressed the importance of an Amnesty International report, released Monday and which accuses Israel of war crimes last Spring in Nablus and Jenin.

Iranian People Caught in Grip of Ayatollah's

Nov. 4….World Net) Millions of ordinary citizens in an "axis of evil" nation want the U.S. to bring about a regime change in their land, according to a Middle East expert. While that sentiment may exist in Iraq and North Korea, only in Iran, dubbed the birthplace of the modern jihad movement, has the voice of the people been so carefully calculated. More than 74 percent of Iranians in Tehran support the re-establishment of relations with the "Great Satan," the U.S., according to a recent survey by Iran's state-controlled National Institute of Opinion Polls, notes Fereydoun Hoveyda, who served as Iranian ambassador to the United Nations for eight years prior to the Islamic revolution of 1979. Nearly half of the Iranians polled indicated at least partial acceptance of the U.S. stance toward Iran, meaning they agree with the inclusion of the theocratic regime in the "axis of evil," maintains Hoveyda. The demise of theocracy in Iran will substantially weaken all militant Islamic terrorist movements in the world, asserts Hoveyda, whose brother Amir Abbas Hoveyda, a former prime minister of Shah Reza Pahlavi, was executed by Ayatollah Khomeini's revolutionary forces in April 1979. But Hoveyda contends that Western nations have adopted a flawed policy that focuses on support of President Mohammad Khatami's reform movement rather than on a secular, democratic movement led by students. He adds that while Arabs in many lands danced in the streets in praise of the Sept. 11 attackers, "ordinary Iranians were the only Muslims to openly condemn them and express sympathy to the American people." Hoveyda says the Iranian president, whose government is under the authority of ruling clerics led by Ayatollah Ali Hoseini-Khamenei, "thinks that because of the general discontent in the country, it is better to accomplish some reforms in order to appease the general population and save the regime." Hoveyda believes the U.S. and Europe are searching in vain for "moderate mullah" allies in Iran. "They don't exist," he said. "The phrase 'moderate mullah' is oxymoronic. It is a contradiction. The mullahs around the regime cannot be moderate because the regime is not moderate." 89 percent of Iranians identify as Shi'a Muslims and about 10 percent as Sunnis, the stream of Islam with the majority of Muslims in the world. The remaining 1 percent are counted as Zoroastrian, Jewish, Christian and Baha'i. Iran has a population of 70 million with about half under 25 years of age. Hoveyda said that most Iranians despise Arabs and that while there are true believers among Iranians, the people "don't feel at ease with Islam in general," noting the ancient Persian kingdom's adherence to Zoroastrism. "In Iran, we don't care about spreading Islam around the world," he said, in contrast to "super-fundamentalists" like Ayatollah Khomeini and Osama bin Laden's Wahhabi sect and "mainstream" Muslims like the Grand Sheik of Al-Azhar, Egypt's leading Islamic authority.


Iran's reigning Ayatollah is President Mohammed Khatami, who advocates the nuclear destruction of Israel.




The late Iranian Ayatollah Khomeini founded the Islamic Revolution and turned Iran into a fundamentalist Islamic State, hellbent on destroying Israel.



Saudi Arabia: America, No Bases!

Nov. 4….(CNN) Saudi Arabia, a key U.S. regional ally, said on Sunday it would not allow the United States to use its facilities for any attack against neighboring Iraq even if a strike was sanctioned by the United Nations. "We will abide by the decision of the United Nations Security Council and we will cooperate with the Security Council. But as to entering the conflict or using facilities, that is something else," Saudi Foreign Minister Saud al-Faisal said. The prince's remarks were the strongest Saudi rejection of any assistance to a possible U.S. attack on Iraq. Prince Saud has in the past indicated the United States could use bases in Saudi Arabia for an attack on Iraq if it was sanctioned by the United Nations. Saud told CNN the kingdom wanted a political resolution to the Iraq crisis and that Baghdad had made a "very clear and unambiguous promise" to Arab states that it would abide by U.N. resolutions. "Saudi Arabia's position is a position to support the political settlement of this issue because we think it is feasible," Saud said.

Settlements at Heart of Government Breakup

Nov. 4….(David Dolan) The coastal plain of Israel is the Labor Party's political heartland, while Jerusalem, Beersheba and Jewish settlements in and around Hebron are heavily pro-Likud. Labor Party leader Binyamin Ben Eliezer said he pulled his party out of Sharon's coalition reasons relative to settlement building. The Defense Minister complained that the 2003 state budget grants too much financial aid to controversial settlements in Judea, Samaria and the the Gaza Strip. Labor's departure has brought the issue of the disputed settlements into the international spotlight once again. Governments around the world echo the sentiment of Israel's Labor Party politicians in terming them "obstacles to peace." With world leaders and media outlets regularly talking this way, the average citizen of planet Earth might be excused for thinking that the notorious settlements are comprised of millions of radical Jews who have illegally occupied vast stretches of Arab lands. The truth is slightly less dramatic. Around 200,000 Israelis live in some 160 communities in the disputed areas. Most are located inside of Judaism's biblical center, the hills of Samaria and Judea north and south of Jerusalem , a small parcel of land that averages about 80 miles in length and 30 miles in width. It turns out that around 40.3 percent of the territory in settler hands is totally undeveloped land, meaning no Jewish homes, farms or factories are located there. Most of the land is hilly, rocky terrain, not eminently suitable for settlement, farming or other civilized activities. Arab shepherds are allowed to use portions of the undeveloped land to graze their animals. So it turns out that a mere 1.7 percent of the land that has supposedly been gobbled up by greedy settlers is actually used by them, while the rest is completely open and under the control of various councils and communities that are subject to Israeli government supervision. The truth is that the infamous settlements, which are supposedly behind the collapse of Sharon's unity government, sit on less than 2 percent of the disputed territories. Although a few of them straddle Arab towns, obstructing Arab growth in their direction, this is hardly a monumental land grab by anyone's standards, unless one agrees with the likes of Bin Laden and Saddam Hussein and Yasser Arafat that Jews have no right at all to live in their ancient spiritual heartland.

Sharon Faces Political Showdown

Nov. 4….(Middle East News Line) Israeli Prime Minister Ariel Sharon hoped to survive a parliamentary no-confidence vote on Monday with the help of a far-right party, but pressure was building for him to call early elections. Legislators were due to begin debate at 1400 GMT on the no-confidence motion brought by the left-wing opposition Meretz party. Sharon was ditched by his Labour partner last week in a row over funding for Jewish settlements in territory where Palestinians seek a state. He is now trying to build a narrow right-wing government to rule until elections, which must be held by October 2003. Political turmoil threatening Sharon's 19-month-old tenure, and possibly a U.S.-led international initiative for a peace deal with Palestinians, also loomed in the form of his hawkish Likud party rival, former Prime Minister Benjamin Netanyahu. Netanyahu, who plans to challenge Sharon for the right-wing Likud's leadership in an as yet-unscheduled party primary, on Sunday set early elections as a condition for accepting Sharon's offer of the post of foreign minister. Netanyahu also demanded a government commitment to oppose Palestinian statehood and remove Palestinian President Yasser Arafat. Both conditions would clash with a U.S. "roadmap" for peace envisaging a Palestinian state co-existing with Israel. Israeli media said Sharon was leaning toward rejecting Netanyahu's terms. Sharon has assured Washington there would be no fundamental change in policy under a narrower government. An early ballot would likely be held by May. But Sharon is thought to be loath to throw Israel into elections before any U.S.-led military action against Iraq was complete. Mid-winter has been mooted for the launch of a campaign against Iraq.
Share this page with your friends.











This free script provided by
Website Abstraction