WEEK OF JANUARY 26 THROUGH JANUARY 31
Russia Planning Nuclear War Exercise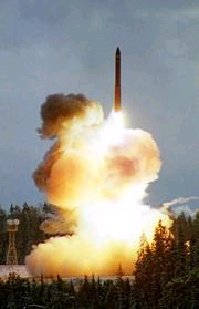 Jan. 31….(Washington Times) Russia's nuclear forces reportedly are preparing their largest maneuvers in two decades, an exercise involving the test-firing of missiles and flights by dozens of bombers in a massive simulation of an all-out nuclear war. President Vladimir Putin is expected to personally oversee the maneuvers, which are apparently aimed at demonstrating the revival of the nation's military might and come ahead of Russian elections in March. The business newspaper Kommersant said the exercise was set for mid-February and would closely resemble a 1982 Soviet exercise dubbed the "seven-hour nuclear war" that put the West on edge. The chief of Russia's Strategic Missile Forces, Col.-Gen. Nikolai Solovtsov, was quoted by the Interfax-Military News Agency as saying the planned maneuvers would involve several launches of intercontinental ballistic missiles in various regions of Russia, but he wouldn't give further details. Kommersant said the maneuvers would involve Tu-160 strategic bombers test-firing cruise missiles over the northern Atlantic. Analysts describe such an exercise as an imitation of a nuclear attack on the United States. Other groups of bombers will fly over Russia's Arctic regions and test-fire missiles at a southern range near the Caspian Sea, the newspaper said. As part of the exercise, the military is planning to conduct several launches of intercontinental ballistic missiles, including one from a Russian nuclear submarine in the Barents Sea, the Kommersant report said. Russia's system warning of an enemy missile attack and a missile defense system protecting Moscow will also be involved in the exercise, it added. Putin has repeatedly pledged to rebuild Russia's military might and restore pride to the demoralized service. Moscow has notified Washington about the exercise, describing it as part of efforts to fend off terror threats even though it imitates the Cold War scenario of an all-out war. "The exercise follows the old scenario, and casting it as anti-terror is absurd. Putin's support for the United States following the Sept. 11, 2001 terror attacks bolstered relations with Washington and helped broker a new U.S.-Russian nuclear arms reduction deal and a Russia-NATO partnership agreement in 2002. But the U.S.-Russian honeymoon has soured lately over Moscow's criticism of the war in Iraq, U.S. concerns about authoritarian trends in the Kremlin's domestic policy, and Russia's perceived attempts to assert its authority over ex-Soviet neighbors.
U.S. Intel: Iraqi WMD Went to Syria
Jan. 30….(Geostrategy-Direct) The U.S. intelligence community has found evidence Syria received Iraqi missiles and WMD in late 2002 and early 2003, U.S. officials said, according to Geostrategy-Direct, the global intelligence news service. The evidence includes satellite photographs of Iraqi convoys believed to be bringing missiles and WMD into Syria as well as assertions from Iraqi officials that ousted leader Saddam Hussein ordered such a transfer. Still, the agencies fail to agree that sufficient evidence has been obtained to press the issue with the Syrian regime of President Bashar Assad. Importantly, CIA Director George Tenet shares this view, officials said. As a result, the Bush administration and senior members of Congress have reached different conclusions over whether Syria obtained Iraqi WMD. The administration has determined the intelligence evidence remains insufficient, while senior staffers and members of Congress said the evidence is enough to press Syria to open its facilities to inspection. "I think that there is some concern that shipments of WMD went to Syria," Senate Intelligence Committee Chairman Pat Roberts, R-Kan., said. David Kay, who resigned last week from the CIA-sponsored Iraq Survey Group, went further. Kay said Iraqi officials told his investigators that WMD was sent to Syria before the war in Iraq. "We are not talking about a large stockpile of weapons," Kay told the London Daily Telegraph. "But we know from some of the interrogations of former Iraqi officials that a lot of material went to Syria before the war, including some components of Saddam's WMD program. Precisely what went to Syria, and what has happened to it, is a major issue that needs to be resolved." In his State of the Union address on Jan. 20, President George W. Bush did not identify Syria as a U.S. adversary or a country having missiles and WMD programs. The president did cite Iran and North Korea, both of which have supplied systems to Damascus. In December, Bush signed into law the Syria Accountability Act. The law calls for a virtual trade embargo on Syria for its occupation of Lebanon, WMD program and harboring of terrorist groups. But Vice President Dick Cheney said Iraq had assembled WMD on portable platforms, a development that would have enabled the transfer of assets to other parts in or outside the country. Cheney did not cite Syria as receiving weapons from Saddam, saying only, "we've found a couple of semi-trailers at this point, which we believe were in fact part of a WMD program." "I would deem that conclusive evidence, if you will, that he did in fact have programs for weapons of mass destruction." So far, National Security Adviser Condoleezza Rice and Secretary of State Colin Powell have rejected the prospect that Iraqi biological and chemical weapons or missiles were sent to Syria. They echoed U.S. assessments that Saddam would not have trusted Assad with Iraq's missile and WMD assets. "I have seen no hard evidence to suggest that is the case, that suddenly there were no weapons found in Iraq because they were all in Syria," Powell said. "I don't know why the Syrians would do that, frankly, why it would be in their interest. They didn't have that kind of relationship with Iraq."
FOJ Note: The Iraqi "weapons of mass destruction" cat and mouse games continue. It appears as though the US government is afraid of finding them, for fear of having to go to Syria and becoming entangled with the Hezbollah terrorist organization again, and further exasperating the Israeli-Palestinian controversy. Yasser Arafat has developed close ties to Hezbollah, (as with Saddam Hussein) as evidenced this week in the prisoner release. (ala 1982-Beirut) The UN hopes that the US will just leave the Middle East altogether, and forget about WMD and September 11th and submit itself to the 2000 Millennium Summit's goals of globalization, and building a new world order.
Annan Worried PA May Collapse Unless Int'l Aid Sent
Jan. 29….(Ha Aretz) The Palestinian Authority could collapse unless there is urgent extra international aid to relieve the plight of the Palestinian people, UN Secretary-General Kofi Annan said yesterday. "We are our concerned about the economic, social and humanitarian situation of the Palestinians," Annan said after talks with Irish Foreign Minister Brian Cowen, whose country holds the rotating European Union presidency. "I appealed for additional support for them, because I am afraid that if the situation continues, we will see real despair and perhaps even partial collapse of the Palestinian Authority," Annan told reporters. He said United Nations and the EU were extremely concerned about the situation in the Middle East and a stalemate hindering progress on a peace "roadmap" drafted by a Quartet in which they are joined by the United States and Russia.
FOJ Note: Mr. Annan will complain and worry himself to death over the fall of the corrupt PA, because he is keenly interested in Israel being expelled from the Promised Land. (Perhaps Mr. Annan would like to ride an Israeli bus to take the PLO terrorists some more money!)
Arafat Unleashes His Bombers Again
Jan. 29….(FOJ) In his way of saying thank you to Israel for releasing over 400 Palestinian terrorists, Yasser Arafat sent another of his suicide bomber's to blow up another bus in Jerusalem to celebrate the occasion. The bombing killed 10 people and wounded at least 50 about and was just a block away from Prime Minister Ariel Sharon's official residence. Arafat's militant Al Aqsa Martyrs' Brigades, a group under direct command of Yasser Arafat's Fatah movement, claimed responsibility for the attack. Palestinian security officials said later that the bomber was a member of the Palestinian police, from the West Bank city of Bethlehem. The bomber was Aali Jarrah, a 25-year-old Palestinian man. He came from the Aida refugee camp in the West Bank town of Bethlehem and was a member of the Al Aqsa Martyrs Brigades. The blast peeled the roof of the bus back like a tin can and catapulted passengers through the windows and down the street. Body parts could be found strewn along the rooftops of buildings.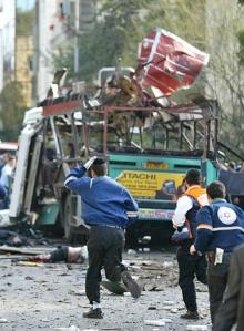 The explosion was timed to coincide with a German-brokered prisoner swap between Israel and the Lebanese guerrilla group Hezbollah. Sharon's spokesman, Raanan Gissin, said the bombing illustrated why Israel is building a contentious separation barrier in the West Bank. Israel says the structure is needed to keep bombers out of Israel. "The rest of the world should sit back and let us do what we need to do to defend ourselves," Gissin said. Meanwhile, Palestinian Authority officials publicly condemned the bombing, (even though the PLO carried it out) and even though the bombing was intended as a slap at renewed Roadmap peace talks. "This vicious cycle can only be broken by renewal of a "meaningful" (surrender) peace process," said Palestinian negotiator Saeb Erekat. "Otherwise, violence will breed violence, bullets will breed bullets." The bombing comes just as U.S. envoy John Wolf met this week with Israel and Palestinian officials in an attempt to revive a U.S.-backed peace "road map" stalled by violence.
Mideast Misconceptions of Kerry and Dean
Jan. 29….(By Ariel Natan Pasko) Both Democratic wanna-be presidents, John Kerry and Howard Dean, proved recently how out of step with the rest of America they are in regard to U.S. policy vis-á-vis the Israeli-Palestinian issue. The leading U.S. Democratic presidential contender, John Kerry, reportedly said that the government in Israel currently lacks someone - i.e. Sharon, who can provide the goods in everything connected to negotiations with the Palestinians. Yet, according to a poll commissioned by the Zionist Organization of America (ZOA) and carried out by the firm of McLaughlin & Associates during mid-January of 2004, the poll questioned 1,000 Americans from throughout the United States. It showed that 67.4% of Americans say that the Palestinian Arabs have not met U.S. President Bush's conditions for statehood, such as fighting terrorism, halting incitement to murder, and respecting human rights. So why blame the Israeli government?
Kerry, who spoke at a political rally ahead of the New Hampshire primary, criticized the settlement policy of the Israeli government, i.e. building homes for Jews in their ancestral homeland. He said that it was a mistake to increase building there at this time. When will it be a good time? When Palestinian Arabs stop hating Jews and being racist?
Yet, 66.6% of Americans disagree with the Arab position that all Jewish residents of Judea and Samaria, the West Bank, and Gaza should be expelled from their homes. Most Americans see Jews continuing to live in all parts of their ancient homeland; even after a peace deal is made.
John Kerry called for strengthening the Palestinian Authority so that it will be stronger than Hamas. Here, Kerry's main rival, former front-runner Howard Dean, agrees with him. Dean said at a campaign event recently, that America should increase resources for the Palestinian Authority in order to persuade the Palestinians to relinquish the right of return.
I guess they haven't heard about how Arafat and his cronies have embezzled most of the donor money they've been given till now. That's hundreds of millions of dollars, and the reason that even the pro-Palestinian European Union has curtailed funding to the Palestinian Authority.
Yet, 65.2% of Americans say the Palestinian Authority "cannot be trusted to fulfill peace agreements that it signs with Israel." That means most Americans don't believe the Palestinian Arabs will stop terror or give up the right of return. And even more Americans, 73.6% say the U.S. should stop sending the $200-million each year to the Palestinian Arabs, that it does send. So why exactly do Howard Dean and John Kerry want to waste American taxpayer dollars?
Dean called on Israel to demonstrate flexibility in regard to final borders in order to allow the creation of a Palestinian state. Yet, 55.7% of Americans say that the Palestinian Arabs' goal is "the eventual destruction of Israel"; only 21.3% say their goal is "to have a small state living in peace alongside Israel." And here, Americans are right on target again, and the Democratic candidates are way out of touch.
Hamas leader Abdel Aziz Rantisi not long ago said, "We will continue with our holy war and resistance until every last criminal Zionist is evicted from this land. By G-D we will not leave one Jew alive in Palestine. We will fight them with all the strength we have. This is our land, not the Jews."
Finally, John Kerry promised that if elected president, he would ask former U.S. presidents Bill Clinton or Jimmy Carter to serve as a special envoy to the region. Clinton's foreign policy failures are well known. His peace-making efforts in Northern Ireland and the whole Oslo peace process have gone nowhere. He coddled Saddam Hussein for eight years, need I say more. As for Jimmy Carter, other than receiving a Nobel Prize, what good has he done lately? Both have been soft on terror, the Palestinians, the Iranians, every evil dictator and regime in fact. Their re-involvement in the Israeli-Palestinian issue would be disastrous.
As ZOA National President Morton A. Klein recently said, "It is a myth that American public opinion supports creating a Palestinian Arab state or expelling the Jewish residents of Judea-Samaria and Gaza. An overwhelming majority of Americans oppose creating what would be a new terrorist state, and oppose the racist, un-American concept of kicking people Jewish "settlers" out of their homes and towns on the basis of their religion or ethnicity." If these pronouncements by candidates Kerry and Dean are as "wise" as they get, then (1) It's clear they are out of step with the American people and, they need to go back to school and learn a lot more about the Middle East. (or maybe they need to pick up a Bible and really study it)
Arafat Pays Tribute to Hezbollah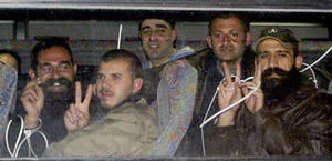 Jan. 29….(Arab Press) Dozens of Palestinians freed by Israel as part of an exchange deal with the Hezbollah were met by Yasser Arafat who thanked the Lebanese militia for securing their release. The veteran Palestinian leader broke off a meeting with the visiting head of the Anglican Church, the Archbishop of Canterbury Rowan Williams, to salute a group of around 60 ex-detained terrorists. "This is not the first time that Palestinians and Arabs have managed to free prisoners held by Israel," Arafat later told reporters. "We thank Hezbollah for having insisted on the liberation of our Palestinian brothers and we hope that we can free all our prisoners in Israel." After briefly wishing the group gathered in a large room in his Muqataa headquarters in the West Bank town of Ramallah, they in turn pledged their loyalty to the 74-year-old symbol of Palestinian resistance. "We sacrifice our blood and our souls to you, Abu Ammar," they chanted, using Arafat's nom-de-guerre.
Hamas Adopts The PLO's Phased Plan
Jan. 28….(JNEWSWIRE) The Muslim Hamas terrorist organization this week indicated its readiness to go along with the PLO's plan to destroy Israel in phases by accepting first a sovereign Palestinian state in Judea, Samaria and the Gaza Strip. Hamas co-founder Abdel Aziz Rantisi admitted to reporters Sunday his group had concluded it was too difficult to conquer all the Jewish state militarily at this time. Hamas would instead offer to temporarily halt its terrorist campaign against Israel and accept a truncated Palestinian state until the Palestinians were strong enough to resume their war, Rantisi said. Meanwhile, PLO chief Yasser Arafat has once again invited some of the Palestinian terrorist fugitives most wanted by Israel to take up refuge in his Ramallah headquarters. The Hamas terrorist organization this week offered to declare a 10-year halt to its attacks against Israel in return for a complete Israeli withdrawal to the 1967 borders and the immediate establishment of a Palestinian state in Judea, Samaria and Gaza.
Speaking to reporters from Gaza Sunday, Hamas spokesman and co-founder Abdel Aziz Rantisi admitted his group was unable to "liberate all our land at this stage, so we accept a phased liberation." "We accept a state in the West Bank, including Jerusalem, and the Gaza Strip. We propose a 10-year truce in return for Israel's withdrawal and the establishment of a state," Reuters quoted Rantisi as saying. The terror chief was careful to point out the deal would not include official recognition of Israel's right to exist, nor would it spell an end to Hamas' violent conflict with the Jewish State. Rantisi's comments "appeared to strengthen signs of a big political shift by a faction sworn to destroy Israel." Observers in Israel, however, noted that the Hamas leader was simply aligning himself with a plan of phased destruction of Israel adopted by the PLO decades ago. On June 8, 1974, the Palestinian National Council, which was transformed (along with the PLO) into the Palestinian Authority by the Oslo Accords adopted a resolution outlining a 10-step plan for the phased destruction of Israel. According to the plan, the Palestinians would first establish a state on any chunk of land vacated by Israel as a result of a "peace" agreement, international pressure or war. From this rump state, the Palestinians would then mobilize a general Arab assault on a far less defensible Israel. The 1974 decision became known as the "Phased Plan", and has been invoked by Arafat on numerous occasions since his signing of the Oslo Accords in 1993.
Jews Looking to Temple Mount
Jan. 28….(Arutz) Dov Lior, the top rabbi in Israel, is calling on Jews to place a greater emphasis on the Temple Mount and the Jewish laws. Lior, who heads the Council of Yesha Rabbis, said during a rabbinical conference sponsored by the Ariel Institute and the Chief Rabbinate that ascending the Temple Mount while adhering to the Torah laws governing such a visit can "save us from our enemies." Rabbi Shar Yashuv Cohen, chief rabbi of Haifa and a member of the Chief Rabbinate Rabbinical Council said the ban on Jews and other non-Muslims ascending the Temple Mount no longer exists although the Chief Rabbinate has yet to officially "endorse" such visits. The compound is known to Jews and Christians as the Temple Mount, having been the site of the two biblical Jewish temples. (Solomon and Zerrubabel) To Muslims it is the Haram al-Sharif, or Noble Sanctuary. Within the complex today is the Dome of the Rock, and Al Aqsa mosque.
The UN-Iraq WMD Shell Game
Jan. 28….(FOJ) Did Saddam Hussein have weapons of mass destruction or didn't he? The question has become the political shell game of the year. Last Friday, David Kay, the chief of the Iraq Survey Group's weapons inspection team for the Bush Administration resigned and suggested that Iraq had no weapons of mass destruction program. His assertion has serious implications for not only President Bush, but also for America. Before taking the nation to war, President said that he had no doubt that Iraq had weapons of mass destruction, and in speech after speech he said if Iraq would not disarm, then the U.S. would lead a coalition that would disarm Iraq. In last year's State of the Union, President Bush called Saddam a "dictator who is assembling the world's most dangerous weapons." When asked yesterday by reporters about Kay's assertions, Mr. Bush didn't say that the banned weapons would eventually be discovered: "We know from years of intelligence, not only our own intelligence services, but other intelligence gathering organizations that he had weapons, after all, he had used them in the past." David Kay and others have blamed looting immediately after the war on the difficulties in obtaining the truth. But Kay also has said that flawed intelligence from 1998 forward, when United Nations inspectors withdrew from Iraq contributed to the mistakes.


Still, the former chief U.S. arms hunters conclusions that Iraq had no stockpiles of biological and chemical weapons, is a potential embarrassment for President Bush and ammunition for his election-year Democratic rivals. The United Nations' top nuclear watchdog said that he was not surprised at Kay's conclusion. "I am not surprised about this," International Atomic Energy Agency Chief Mohamed ElBaradei says. "We said already before the war, that there was no evidence of this, so this is really not a surprise." Kay's statements leave President Bush open to attacks not only from the field of Democratic candidates vying for the right to take on Bush in November, but also from UN officials and international leaders. The UN objected to the administration's motives for launching the war. From the viewpoint of FOJ, it appears that the UN has been heavily involved in covering for Iraq while it disbanded its weapons programs, and in framing the Bush Administration as an illegal aggressor. FOJ has documented that part or all of Saddam Hussein's banned weapons were transferred from Iraq to neighboring Syria. Even David Kay says this potential status has yet to be resolved. Dr Kay said that he had uncovered evidence that unspecified materials had been moved to Syria shortly before the start of the Iraq war in March last year. United Nations secretary-general Kofi Annan says that the latest statement by the outgoing chief US arms hunter Dr. David Kay that Iraq had no stockpiles of weapons of mass destruction should be taken seriously. Mr. Annan told reporters that Dr Kay, who led a fruitless hunt for illegal weapons after the US-led invasion of Iraq last year, was credible, and that the US must explain why it went to war. Mr. Annan further stated that the UN Security Council did not approve the American military action in Iraq because the United States failed to convince a majority of UN members of an imminent threat from Iraqi weapons of mass destruction, and now its own investigation teams have corroborated the UN's position.
FOJ has consistently called for the Bush Administration to tie Iraq into the September 11th attacks on America. This is the real case that has always needed a thorough explanation by President Bush as to why America should have gone to war in Iraq. The UN is notoriously anti-American, and America's survival in the war on terror is something the UN could care less about. In fact, the UN might be America's real enemy in Iraq.
Kerry Says Sharon Can't Provide Goods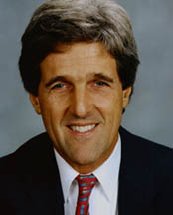 Jan. 27….(FOJ) Democratic Presidential candidate and Massachusetts Senator John Kerry said yesterday while speaking in New Hampshire that the government in Israel currently lacks someone who can provide the goods when it comes to negotiations with the Palestinians. He was also quoted as saying that he believed the Palestinian Authority needed to be strengthened in order to overcome a power struggle with Hamas. Kerry promised that if elected president, he would ask former U.S. presidents Bill Clinton and Jimmy Carter to serve as special envoys to the region. Kerry's proposal sparked shock and anger in the Jewish community, especially in view of former President Carter's perceived anti-Israel stance at the latest "peace summit" in Geneva. After receiving heavy criticism from the American Jewish community, Kerry today said that he thought Sharon wanted to make a peace deal. Kerry's original comments display the fact that he is opposed to the tough stances Israel is taking with regard to the PLO. Kerry obviously would support the peacenik political camp in Israel as embodied in the Labor Party, just as President Clinton did, and would coerce Israel into concession after concession in the pursuit of a false peace.

Americans say 'No' to Palestinian State

Jan. 27….(JNEWSWIRE) A new poll published at the weekend revealed an overwhelming majority of Americans oppose the establishment of a Palestinian Arab state on Israel's God-given homeland. According to the survey, nearly 70 percent say the PA has failed to fulfill the conditions necessary to be given their own state. The survey was sponsored by the Zionist Organization of America and carried out by McLaughlin & Associates over the past several weeks. It showed that an overwhelming majority of Americans are opposed to the creation of a sovereign Palestinian Arab state on the lands given to the Jewish people by God. When asked if the Palestinian Arabs had fulfilled the conditions for statehood set out for them by the international community, 67.4 percent of those polled said they absolutely had not. Nor do most Americans believe they ever will. Sixty five percent of respondents agreed with the notion that the PA "cannot be trusted to fulfill peace agreements that it signs with Israel." A majority, 55.7 percent believes the Palestinian still seek the total destruction of the Jewish state, and a full 73.6 percent feel Washington should stop sending $200 million each year to the PA. Responding to the results, ZOA President Morton Klein said it is a "myth that American public opinion supports creating a Palestinian Arab State. An overwhelming majority of Americans oppose creating what would be a new terrorist state." Most Americans feel that the land in question is the Jews land. Participants in the survey were also asked whether or not they agree with the Arab demand that Judea, Samaria and Gaza be emptied of Jews as part of any final peace arrangement. More than 66 percent of Americans rejected the idea that the Jews should ever be expelled from those lands. Judea and Samaria form the core of the ancient biblical nation of Israel, and it was on these lands that the God of Israel made his covenant with Abraham, Isaac and Jacob.

Hatred of Israel: The Opium of the Arab world

Jan. 27….(FOJ) The Arab-Israeli conflict, along with anti-Americanism, because of America's traditional support of Israel continues as the opiate of the Arab world. Hatred of Israel is the drug that causes the entire Arab world to be addicted to the submissive acceptance of the intolerable conditions they suffer under their own dictatorial leaderships. The average Arab man on the street explains that they don't care how many Iraqis Saddam may have killed or tortured. They continue to revere Saddam simply because he supported the Palestinians and opposed the US. Most Arabs view the Israeli-Palestinian problem as the number one issue in their lives, superseding economic issues. While Americans continue to believe in the political spin, "it's the economy stupid," Arabs tend to appreciate leaders that hate Israel and attack America. Little do they seem to realize that by hating Israel, they are destroying their own futures. Thus for many dictators in the Mid-east, the hatred of Israel is an issue too useful to abandon. Regimes need it to justify and continue their maniacal hold on power. It seems as if the entire Arab/Islamic world has been injected by a drug that causes them to hallucinate on blaming Israel for all the evil and shortcomings in their world. Indeed God foretold that the descendants of Ishmael and Esau would carry this hatred with them. The prophet Jeremiah even foretold that God is using that hatred as a "wine cup" of his fury. (Jeremiah 25:15-16 For thus saith the Lord God of Israel unto me; Take the wine cup of this fury at my hand, and cause all the nations, to whom I send thee, to drink it. And they shall drink, and be moved, and be mad, because of the sword that I will send among them.) That cup of wine has passed unto all the Arab nations, and from there it is working to intoxicate all the nations of this world against Israel. (Jeremiah 25:19-26)





Syria Scoffs at U.S. Claim It Has Iraqi Weapons

Jan. 26….(Telegraph) Syria brushed aside Sunday U.S. accusations that it has Iraqi weapons of mass destruction as a cover story for what it called U.S. failure in Iraq. "This (allegation) is meant to mislead (the public opinion). So long as there were no weapons of mass destruction (found) in Iraq itself how can they be in Syria?" Information Minister Ahmad al-Hassan told reporters. U.S. Senate Intelligence Committee Chairman Pat Roberts said Wednesday there was some concern Iraqi weapons of mass destruction had gone to Syria. David Kay, the leader of the U.S. team in charge of the search for banned weapons in Iraq who resigned Friday, told Britain's Sunday Telegraph newspaper that he had uncovered evidence that unspecified materials had been moved to Syria shortly before the war to overthrow Saddam Hussein. "We are not talking about a large stockpile of weapons," he told the newspaper. "But we know from some of the interrogations of former Iraqi officials that a lot of material went to Syria before the war, including some components of Saddam's WMD program. Precisely what went to Syria, and what has happened to it, is a major issue that needs to be resolved," Kay said. Dr Kay's comments will intensify pressure on President Bashar Assad to clarify the extent of his co-operation with Saddam's regime and details of Syria's WMD program. Mr. Assad has said that Syria was entitled to defend itself by acquiring its own biological and chemical weapons arsenal. Syria, which vehemently opposed the U.S.-led war in neighboring Iraq, has repeatedly denied U.S. charges it has its own weapons of mass destruction programs. "They are seeking to cover their failure," Hassan said after a meeting with a delegation of Iraqi journalists and artists in Damascus. Bush, seeking re-election in November with Iraq high on the campaign agenda, ordered U.S.-led forces to oust Iraq's former president after accusing Saddam of possessing chemical and biological arms and trying to build a nuclear weapon. However, Kay said when he resigned Friday he had concluded there were no Iraqi stockpiles to be found.

U.N. Is Biggest Threat to U.S.

Jan. 26….(Newsmax) President Bush's labor secretary warned a gathering of conservatives that Americans must pay more attention to the United Nations and its related organizations, which she noted were chipping away at U.S. sovereignty and threatening freedoms. Labor Secretary Elaine Chao, making her charges late Thursday at the Conservative Political Action Conference, explained that powerful tax-exempt organizations were applying pressure through the U.N. to have the world body make decisions for Americans' lives without any input from U.S. citizens. These efforts are being made without the knowledge of most Americans, she pointed out. Secretary Chao cited not only labor organizations but also groups in other areas of concern, such as Environmental Policy Institute and self-described human rights groups that have used their tax-exempt status to try to bring the U.S. into line with their worldview, without a single American vote being cast or even an awareness on the part of most U.S citizens. The long list of accredited left-of-center NGOs, she said, have become "key players in laying the groundwork for international law" and, she fears, "one day, the U.S. will be pressured to adopt" the globalist agenda without a single vote being cast. The internationalist-minded NGOs, the secretary observed, are encouraging the U.N. and its offshoot agencies to pressure the United States into policies mandating "gender neutrality" and "reallocating defense expenditures for other" left-favored causes. "Conservatives who ignore the U.N. do so at their peril," Chao declared. DeWeese said the international tentacles of the NGOs reached down to local governments around the country. He said they were working with city and county governments to use familiar programs to forge ahead with such ideas as "sustainable development." Tom DeWeese, president of the American Policy Center, charged that the goal of this unholy alliance was to "erase national boundaries," redistribute wealth on an international scale and steer decisions on American affairs from representative government to the "global village," with all of us as "global citizens." If you love liberty," the American Policy Center president told CPAC, "sustainable development is your enemy." The World Court and the International Criminal Court are building blocks to the control of the American people," he said. He praised President Bush for his State of the Union statement that the U.S. did not need a permission slip from foreigners to defend its own interests. Moreover, he cited polls showing near unanimity among the American people in agreement with that. Yet the pressure for world governance continues unabated. Panelist Tom Kilgannon noted that Kofi Anan is no friend of the American people, and the U.N. is no ally of the Untied States," he declared.

Pope Says All Great Religions Must Unite For Peace

Jan. 26….(EWTN) At a "concert for reconciliation," held in the Vatican's Paul VI auditorium on January 17, Pope John Paul II said that the world needs the combined witness of Jews, Christians, and Muslims in support of peace. "The history of relations among Jews, Christians, and Muslims shows both lights and shadows, and unfortunately some sad moments," the Pope said. In today's dangerous world, he continued, there is an "urgent need" for the world's great religions to come together, in light of their "common desire that all men be purified of the hatred and evil that always threaten peace."

Nuclear War Danger Highest Ever?

Jan. 26….(World Net Daily) The threat of nuclear war is greater today than ever before, says the head of the U.N. nuclear agency, Mohamed El Baradei, in an interview in today's edition of the German magazine Der Spiegel. "An atomic war will come upon us if we do not agree on a new system of international controls," he said. El Baradei said new controls are needed to prevent the black-market trade in nuclear materials and knowledge by "smart nuclear experts, unscrupulous companies and possibly state organs." "Never was the danger as great as today," he told the weekly newsmagazine. "An atomic war draws nearer if we do not start thinking about a new international control system." He said he was "extremely concerned" about the nuclear weapons program in North Korea. "I worry that the memory of Hiroshima and Nagasaki is beginning to fade," said El Baradei, the director of the International Atomic Energy Agency. "I worry that atomic weapons will fall into the hands of dictators or terrorists. I worry also about the nuclear arsenal of democratic states, because as long as these weapons exist there is no absolute guarantee against the catastrophic consequences of theft, sabotage or an accident." El Baradei voiced particular concern on what he said was the expanding traffic in nuclear technology by savvy traders in a well-oiled network. "An atomic black market has been born, propelled by a very sophisticated intelligence network. One country draws up the plans, another produces the centrifuges that are then transported by boat from a third country – and the final destination could be anywhere," he said. Singling out Libya and Iran, the IAEA head warned such trafficking was orchestrated by "nuclear experts who know how to do business, unscrupulous firms, probably state institutions." "Libya and Iran used this network widely, and Iran was clearly ahead of Libya," he said.

European Poll: Israel Should Not Exist

Jan. 26….(Ha Aretz) A poll of nine European nations was released today found that 46 percent of respondents said Jews in their nations were "different," and 35 percent said Jews should stop "playing the victim" for the Holocaust. Some 9 percent of the respondents said they "don't like or trust Jews," and 15 percent said, "it would be better if Israel didn't exist." The poll by the Ipso research institute for Italian newspaper Corriere della Sera was conducted in Italy, France, Belgium, Austria, Spain, the Netherlands, Luxembourg, Germany, and Britain. The poll released a day before many European countries mark a day of remembrance for Holocaust victims was the latest pointing to what Jewish leaders see as a worrying trend.





WEEK OF JANUARY 19 THROUGH JANUARY 24

Arabs Slam U.S. over Democracy

Jan. 23….(Reuters) Arab and Muslim leaders have slammed the United States' campaign for democracy in the Middle East as hypocritical, saying Washington should first end its "double standards" in the Israeli-Arab conflict. At a public debate at the World Economic Forum in Davos, senior figures from Saudi Arabia, Egypt and Iran accused the Bush administration of ignoring Israeli weapons of mass destruction and human rights abuses towards Palestinians while pressuring Arab and Muslim states to disarm and democratize. "Democracy or any semblance of wider participation will have to come from within societies," said Prince Turki al-Faisal, a senior member of the Saudi ruling family. He complained that the United States talked about promoting democracy in the Middle East yet refused to recognize one of the few democratically elected leaders in the region, Palestinian President Yasser Arafat. While Washington had put pressure on Iran, Syria, Libya and Iraq over their alleged weapons of mass destruction programs, it never mentioned Israel, which had not only nuclear but also biological and chemical weapons, Prince Turki said. Egyptian President Hosni Mubarak's influential son, Gamal, supported calls for reform, multi-party democracy and a more open society in the Arab world, including his own country. But he said Washington's failure to tackle the Palestinian issue undermined Arab reformers. "The core problem in the Middle East is the Arab-Israeli problem, and the Palestinian problem.
FOJ Note: The US is experiencing tremendous difficulty in helping to establish a democracy in Iraq. While the US strongly supports the Iraqi Governing Council and open elections, the US is vitally concerned about a strong Shiite presence and influence over most of Iraq. A democratic Iraq would likely elect a fundamentalist Shiite leader and transform Iraq into yet another Iran. The most powerful and popular leader in Iraq has proved to be Ayatollah Ali Sistani, the supreme spiritual leader of Iraq's Shiites.
CIA officials reportedly warned this week of a mounting danger of civil war in Iraq, between the Kurds, and the Sunni and Shiite sects. America is finding that democracy is not exactly what Iraq needs. Iraq really needs to hear the Gospel of Jesus Christ.

An Iranian-9/11 Connection?

Jan. 23….(Frontpage Magazine) A surprise witness testified Thursday in the Hamburg trial of an alleged 9/11 conspirator Abdelghani Mzoudi that Iran was involved in the devastating terrorist attack. Abdelghani Mzoudi, a Moroccan, was an associate of 9/11 suicide pilots Mohammed Atta; Marwan Alshehhi; Ziad Jarrah; and other Islamist radicals that participated in the September 11th attacks on the US. He is presently on trial in Germany. The Iranian witness, who fled Iran last July and whose identity remained concealed, said he is a former agent in the Iranian intelligence service, from which experience he makes his claim that Iran was the author of 9/11. The witness also claims that the accused, who spent three months in Iran as well as time in Afghanistan before 9/11, was employed in the logistics side of the September 11 tragedy, collecting information and sending it on to associates. He has confirmed in court that Iran's intelligence service worked closely with al-Qaeda. According to the witness, Iranian intelligence contains a "Section 43", which plans and executes terrorist strikes against US targets. Several al-Qaeda leaders, wanted by the United States, are also known to currently reside in Iran, which refuses to extradite them.

Red Sea Parting was Possible

Jan. 23….(UPI) Russian mathematicians have determined the legendary parting of the Red Sea that let the Jews flee Egypt was possible, the Moscow Times reported. The study, published in the Bulletin of the Russian Academy of Sciences, focused on a reef that runs from the documented spot where the Jews escaped Egypt, which in Biblical times, was much closer to the surface, according to Naum Volzinger, a senior researcher at St. Petersburg's Institute of Oceanology, and a colleague based in Hamburg, Alexei Androsov. The mathematicians calculated the "strong east wind that blew all that night" mentioned in the Bible needed to blow at a speed of 67 miles per hour to make the reef, said Volzinger, who specializes in ocean phenomena, flooding and tidal waves. "It would take the Jews, there were 600,000 of them, four hours to cross the 4.2-mile reef that runs from one coast to another. Then, in half an hour, the waters would come back," he said. The Egyptian army that followed them drowned in the sea. "I am convinced that God rules the Earth through the laws of physics," Volzinger said.

UN's Anan Warns of Anti-Globalization

Jan. 23….(Reuters) U.N. Secretary-General Kofi Annan said Friday it was time to "rebalance" the international agenda after the war in Iraq to prevent the fight against terrorism from worsening global divisions. His warning at the World Economic Forum was a rebuke to a call by U.S. Attorney General John Ashcroft for the "entirety of the world community" to help eliminate terrorism and establish freedom in Iraq. Annan said the world faced a combination of security threats and economic dangers that put the entire international order in jeopardy. Annan said terrorism and the global war against it threatened to undermine human rights and split the world along cultural, religious and ethnic lines. In just a few short years, the prevailing atmosphere has shifted from belief in the near-inevitability of globalization to deep uncertainty about the very survival of our tenuous global order," Annan said. Collective security and the role of the world body itself are under serious strain, the U.N. chief added. Annan appealed directly to heads of the world's leading companies to use their influence with governments to bring about fairer trade and enhance security. He said business must play a vital part in averting conflicts which were often related to struggles to control natural resources. On the sidelines US Attorny Genral John Ashcroft acknowledged that the U.S.-led coalition faced problems in postwar Iraq. "It's not easy to establish freedom in the midst of terror," he said. "Freedom has never been free." Yet he noted how the world overcame "many inefficiencies and difficulties" in helping Europe recover after World War II and called for the same commitment to rebuilding Iraq. "We need the help of the entirety of the world community in the war against terror and in the war to replace the rule of terror with the rule of law," he added. Anan however warned about the dangers of a single-minded focus (US unilateralism) on security at the expense the global order. International terrorism "has the potential to exacerbate cultural, religious and ethnic dividing lines," Annan said.
FOJ Note: Although the Tribulation era "ten kings" (Rev. 17:12-13) will help to establish the Global power of the Antichrist, Daniel 2:42-43 reveals that that geo-political world order will not "cleave" together. Revelation 18 depicts the business aspect of that universal order that Mr. Anan is referring to.

The Unmaking of A Terrorist

Jan. 23….(World Net Daily) Walid Shoebat, born in Bethlehem, began attacking Israelis when he was 8 years old, throwing stones and Molotov cocktails. He was, Shoebat says now, an Islamic terrorist in the making – a product of his environment, including schools, media and mosques that preached hatred of Jews. "I never actually met any Jews," he said. "But in school we were taught from the Quran that they were pigs and monkeys.'' By 15, he had already served time in a Jerusalem prison for participating in an anti-Israel riot. While there, he was recruited into the Palestine Liberation Organization. At 16, he was chosen to take a loaf of bread, packed with explosives, to blow up the Bethlehem Bank Leumi. His instructions were to place it in a garbage can near the door of the building. But seeing Arab children playing nearby, he decided to throw the bread on the roof where it did less damage. He once blinded a man during a fight and was "so happy" to learn he was a Jew. He was also involved in the near-lynching of an Israeli soldier. Though Shoebat and his friends took the soldier's gun and beat him, he managed to escape. His motivation? "I wanted to die as a martyr," said. "We were indoctrinated to look forward to heaven.' Shoebat's parents, however, had something else in mind for their son.
Fearing he would wind up dead or in prison, they sent him to the United States for college at the age of 18. But that didn't stop Shoebat's anti-Israeli activism. He continued his recruitment for the PLO on campus. He was the representative for thousands of Palestinian students in Chicago, raising funds, purchasing military uniforms and sending students to fight in Lebanon. His deep-seated revulsion of Jews and Israelis continued until he married a Christian woman in 1993. Though he was determined to convert her to Islam, Maria converted him instead. "She challenged me to find any mistakes in the Bible," he recalls. "So I set out on a six-month journey to do just that, to find the errors and convert her." Instead, he says, after reading the Bible from cover to cover, he determined it was the truth.
It was an unlikely twist for the grandson of the mukhtar of Beit Sahour and a close friend of the grand mufti of Jerusalem, Haj Amin al-Husseini, an old associate of Adolph Hitler. But that was hardly the end of the journey for Walid Shoebat, now age 43. To test his new faith he took a trip to Israel. "I had still never talked to a Jewish Israeli," he said. "On the plane there, I sat next to a Jewish woman and talked to her. She began crying. I asked her why. She said that she loved her daughters and was worried about them serving in the military. I asked her how they felt killing Palestinians. She replied that they hated killing. I saw a sincerity there that touched me." Now Shoebat has turned his activism in a completely different direction. He calls himself a Christian Zionist, giving speeches around the country and in Canada, where he made an appearance this week. His ultimate dream, he says, is to go to Israeli prisons to teach Palestinian youngsters Jewish history, a dream he understands is fraught with danger from the people who think as he once did. Even his own father calls him a traitor. "He still calls me at 2 o'clock in the morning and tells me I should be killed," he said. "He hates me." Now Shoebat speaks at churches and synagogues and to radio talk-show hosts fascinated by his story. He now operates a Christian Ministry called Abrahamic Faith. (a link on FOJ's link page) "That's my mission now, to go to Americans and churches and anywhere I can go and explain God's plan for the state of Israel, and how God intended Israel to be a light unto the nations, and how all of our hatred toward Israel is really evil," he says. Shoebat grew up in the West Bank when it was under the control of Jordan. He recalls the 1967 Six-Day War vividly.
"The Jordanian and Egyptian radios were ordering all Arabs to leave because they were going to kill all the Jews," he says. "But we locked ourselves in our bathroom for the six days of the war. My father refused to leave because he thought that my mother's American passport would protect us.'' During the war, Shoebat's family listened to the Arab radio station announcing victory over the Israelis. They were amazed to find Israeli soldiers in place of Jordanian soldiers when they emerged from hiding. What was life like on the "occupied West Bank" under Israeli control? "Beautiful,'' he says. "Prices were low. We had no problems.''





Intifada Is Not a Popular Revolt

FOJ Note:

This is a candid interview with a Palestinian Arab man whose voice truly expresses the plight of the Palestinians. The Palestinians are being subjugated to even more horrendous lives than the Israeli's. That horror is being perpetrated upon them by Yasser Arafat, and his terrorist Jihad machine. Arafat is being allowed to operate as a tool of UN and EU geo-political-religious conspiracy against Israel.
Jan. 22….(JNEWSWIRE) In a recently published interview providing insight into how many ordinary Arabs in the PA areas may feel, a Palestinian man described as "very influential" castigated Israel for not seizing the opportunity to end Yasser Arafat's reign of terror. The man, whose identity has been kept secret, also criticized the government of Ariel Sharon for sending mixed signals to those Palestinians who wanted out from under Arafat's tyrannical rule by, on one hand, deciding to get rid of him, and on the other conducting negotiations with his appointees. If Israel were to return to Judea, Samaria and Gaza and destroy Arafat's power, he said, he would introduce the Israeli government to 500 Palestinian men of influence who would support a peace plan that would not involve the creation of a Palestinian state. Unable to speak freely for fear of his life, despite no longer living in "the territories," the man (whom we shall call Ali) spoke on condition of anonymity to the executive director of the First Annual International Jerusalem Summit, Dimitry Radyshevsky. Ali asserted that Israel had won the first intifada (1987-1991) before the administration of George Bush Sr. pressured Israel into attending the Madrid Conference. "The Palestinians were exhausted," he said. "Arafat, who had publicly supported Saddam Hussein was at his lowest point in Tunisia. At that time Israel could have imposed any solution, and the Palestinians would have accepted it." Instead, Israel went to Madrid and then to Oslo "without consulting with either Arabs in the territories or in Jordan." When they saw that, "the Palestinians concluded that Arafat had won."
The Arafat Gang
While the Palestinians had been ready to accept the status quo with Israel in charge, Israel simply "imposed the Arafat Gang on them. This caused the rejection of any peace with Israel," Ali said. Arafat flew into Gaza in 1994, preceded and accompanied by most of the top PLO leadership, and moved rapidly to consolidate his grip on power, securing his rule against any and all opposition. Ali: "The first thing that the PLO did upon return was to close down the opposition newspapers and fire every independent journalist. "After Oslo, Palestinians thought we would have lightly armed police to keep public order. But when we saw these guys with submachine guns, we exclaimed: 'This is not police, this is fedayeen.' "The Arafat Gang made it clear right away: We came back to wage Jihad against Israel. It was more convenient to fight Israel from Gaza than from Tunisia, and the world accommodated Arafat.'" Arafat's "police" installed a dozen armed structures, all in the business of robbery, rape, and extortion," Ali said. The IDF's Operation Defensive Shield, launched in March 2002, had "made Palestinians more free by putting the PA security services out of business, which reduced the number of rapes, acts of extortion, and torture."
Israel misled us
Ali said the Sharon government was misleading the indigenous Palestinian Arabs by sending them "wrong signals." "They say Arafat is no longer a partner, but Sharon is about to meet with Abu Ala [Ahmed Qureia], and Omri Sharon often meets with Arafat-appointed Security Chief Jibril Rajoub. But among the Palestinians everybody knows them as Arafat's people. And so the Palestinians think that in fact Israel is plotting to make Arafat stronger. Israel should either acknowledge that it is working with Arafat or get rid of his gang once and forever. Ali said Palestinian Arabs living in Jerusalem wanted to retain their Israeli permanent resident status. "They see what is going on in the West Bank and what Arafat has done to them." Israel could turn them into an example for other Arabs by showing them that if they were loyal permanent residents, they could live as well as Israelis do. "Palestinians only want to go back to the pre-1987 situation, when one could travel from Ramallah to Ramat Gan, to earn money and go back home, without Arafat or check points." It iss imperative that Israel move to disarm all of the PA's armed forces and leave only a civilian administration in place. "If you don't do it now, Arafat will be followed by thousands more 'arafats,'" Ali said. He insisted that the indigenous Palestinians, those who had not come from Tunis, would not fight for Arafat. "Intifada is not a popular revolt; it's a war conducted by several armed terrorists groups. Israel should enter the territories, disarm all the 'PLO security services', and stay there. If you let the people know you are there to stay, that you will not allow the jihadists to return and multiply, people will believe in you and help you. "The only other alternative you have is to go back and hide behind the 1967 borders, and then prepare for the worst: Hamas in the Old City and French Hill, and a total war for the destruction of Israel and peaceful Palestinians.

Saudi Arabia Gearing up for the Hajj
Jan. 22….(Washington Times) Muslims are converging on Mecca for the hajj, Islam's annual pilgrimage that has been plagued by fires, stampedes and occasional riots. The risks are even greater this year, with Saudi authorities also worried about diseases and terrorism. More than 2 million Muslims are expected for the pilgrimage that will climax late this month, a devotion required once in the lifetime of every able-bodied Muslim who can afford it. In a ritual lasting four to six days, pilgrims circle the Kaaba, the big stone structure that Muslims face during their five daily prayers; pray at Mount Arafat; throw pebbles at three pillars symbolizing the devil; and slaughter a camel, sheep or cow to mark the beginning of Eid al-Adha, the Feast of the Sacrifice. Saudi Arabia has been struck by two terrorist bombings in the past year that killed 51 people. Saudi authorities are concerned about possible anti-American riots because of the U.S.-led wars in Afghanistan and Iraq following the Sept. 11 terrorist attacks. Many Muslims consider the U.S. wars a campaign against their faith. "The hajj has historically been a period of potential trouble and instability, and my sense is that Saudi authorities are taking the security challenges before them very seriously," said Daniel Benjamin, a terrorism expert at the Center for Strategic and International Studies in Washington who recently visited Saudi Arabia. In 1987, 402 people, mostly Iranian pilgrims, were killed and 649 wounded when Saudi security forces clashed with Iranians staging anti-U.S. demonstrations. The Saudis later broke off relations with Iran, but the two nations restored ties after reformist Mohammad Khatami became Iran's president in 1997. With the ouster of Saddam Hussein's regime in Iraq, some 30,000 Iraqis are expected to make the pilgrimage this year, the largest contingent in 35 years..





China Developing Huge Thirst for Oil

Jan. 21….( ) China's fast-growing economy has overtaken Japan to become the world's second largest consumer of crude oil after the US, according to the International Energy Agency (IEA) and the Chinese government. Latest IEA estimates say China consumed 5.46m barrels a day last year, compared with Japan's 5.43m b/d. In the last quarter of 2003, the IEA says, China was the "main driver of global oil demand growth". The US remains by far the biggest oil user, consuming more than 20m b/d. The growth in Chinese demand is expected to continue this year, at a time when OPEC has little room to boost oil output and US commercial oil inventories are at their lowest levels since 1975, creating tight conditions in the global oil market. Benchmark US crude futures hit $35.95 a barrel yesterday, their highest level since US-led forces invaded Iraq last March. The latest figures underline China's thirst for natural resources to fuel its industrial revolution. Yesterday, China reported economic growth of 9.9 per cent for the fourth quarter of 2003, taking full year growth to 9.1 per cent. They also confirm that the Chinese economy, to the dismay of the ruling Communist party, is becoming ever more dependent on energy imports

, mainly from the Middle East!

Quartet Being Coerced to Adopt Geneva Accords!

Jan. 21….(JNEWSIRE) Far from fizzling into oblivion, the Geneva Accords could soon be adopted by the so-called Quartet, consisting of the US, UN, EU and Russia, according to Palestinian Authority representative at Geneva, Yasser Abed-Rabbo. Despite the terrible price paid by their fellow Jews as a result of the disastrous Oslo Process, non-governmental Israelis responsible for spawning that initiative are actively pursuing their clandestine efforts to push forward a pro-Palestine blueprint for Middle East peace. According to Abed-Rabbo, a former PA Cabinet member and one of the coordinators of the secret meetings that birthed the Oslo Process, France has committed to working on the rest of the Quartet to officially adopt the Geneva plan. Abed-Rabbo dropped this bombshell after meeting in Paris Monday with French Foreign Minister Dominique De Villepin. (remember him at the UN) Present also was chief Israeli Oslo architect and Geneva co-author Yossi Beilin. During their meeting, De Villepin reportedly said that his country "greets with enthusiasm the Geneva Accord and will call upon the European Union to officially adopt the accord in the first meeting at the ministerial level." France, one of the most anti-Semitic countries on the Continent, has an openly pro-Arab, anti-Israel Middle Eastern policy. The EU, UN and Russia have all been working to take Middle East peacemaking out of the controlling hands of the Americans. UN Secretary-General Kofi Annan also said he would raise the Geneva Accords issue at the next meeting of the Quartet. In the Geneva Accord, Israel would be forced to return to the pre-1967 borders and permit the immediate creation of a Palestinian state called Palestine on the biblical heartland of the Jewish people, and in the Gaza Strip. Israel would straightaway, and irreversibly, recognize the State of Palestine. All settlements in the new Palestine would be evacuated of their Jewish inhabitants and handed, intact, to the Arafat Authority. Jerusalem would be divided and become the capital of both states. The Temple Mount, holiest site in all of Judaism, would be surrendered to the Palestinian Arabs, forever. Meanwhile, a series of events in Israel has given rise to the suspicion that the rest of the gang behind the devastating Oslo Accords are working round the clock to regain the initiative and push forward their land-for-peace agenda. Prime Minister Ariel Sharon revealed earlier this week that he had obtained details of a unsanctioned secret meeting held at the home of Norwegian Ambassador to Israel Mona Juul. Attending the gathering were all the key players behind the Oslo Process, including Juul, her husband Terje Roed-Larsen, who is the UN's special envoy to the Middle East, Palestinian Authority Prime Minister Ahmed Qureia, Israeli Labor Party leader Shimon Peres and two of his closest assistants from the past, Uri Savir and Avi Gil. Helping this secret band of unelected promote the Geneva Accords are some of the most influential people in the world including former US President Jimmy Carter.

What Yasser Arafat Is Really After

Jan. 21….(FOJ) Yasser Arafat's terrorist agenda against Israel has never altered since the days when he was openly recognized as the world's leading terrorist figure. Instead of beating war drums in the hopes of inciting yet another united Arab offensive to militarily wipe out Israel, the undaunted king of terror is now working to obliterate the Jewish state in a deluge of Arab immigration and selective terror campaigns.
Arafat is looking to the current terrorist campaign to help coerce Israel and the West into accepting the return of millions of so-called "Palestinian refugees" into the land west of the Jordan River. Arafat's new game rather than obtain outright military victory, is to drown Israel in a wave of Arab immigration and demographically erase the Jewish State, using terror as a means to keep the international diplomatic heat on Israel. "Yasser Arafat has often stated that the future of the conflict will be decided in the womb of the Palestinian mothers. Thus the scheme for suicide human bombers! Arafat is seeking to win international and Israeli political support for the hotly contested Palestinian "right of return," which would open the door to Israel being inundated with more than 3 million Palestinian Arab "refugees." Added to Israel's already 1.5 million Arab population, the Jewish State would be left with only a slim demographic majority inside sovereign Israel. Combined with the millions of Arabs already living in Judea, Samaria and the Gaza Strip, the Palestinians would constitute an outright majority west of the Jordan River. The demographic struggle is part of the land struggle. Another major wave of Jewish immigration could forever dash Arab hopes of out breeding their Jewish neighbors. Thus Arafat utilizes the terror card to deter more Jewish immigration, and to stunt Israel's economic growth. Arafat's "strategy of bringing about demographic change is simply more and more terror. Israel's mindset is that the only way to end terrorism is to appease those who sit atop its and has led Israel to cross many of its former "red lines," the division of Jerusalem, a demilitarized Palestinian state, not negotiating under fire, etc. But to the Arab mind, the side that offers concessions for peace is typically viewed as the defeated. Such behavior would naturally whet the appetite of those who feel that if they continue pushing, they can ultimately get all they want and more. Thus, while Israel today may be vehemently opposed to a Palestinian "right of return," Arafat believes that by continuing to stoke the flames of terrorism that he will eventually coerce Washington and the Israeli political left to accept concession after concession in return for a promised end to the terror. But the terror never ends! Just listen to the words of PLO Political Department Chief Farouk Kaddoumi from January 19, 2004. The Oslo Accords simply "made possible the entrance of tens of thousands of armed Palestinians into the disputed territories." The Geneva Accords will allow us to stage the next wave of attacks.

Sharon In A Fight for Political Survival
Jan. 21….(FOJ) In an ongoing political and legal confrontation, Israeli Businessman and Likud Party political financier David Appel was indicted in the Tel Aviv Magistrate's Court yesterday for allegedly bribing Prime Minister Ariel Sharon and his deputy, Ehud Olmert. State prosecutors will decide within a few months whether to indict Israeli Prime Minister Ariel Sharon himself. Political analysts have said that if Sharon is indicted, he would likely have to step down as Prime Minister. It is obvious to FOJ that the international geo-political machinery that influences Israeli politics is targeting Sharon. The Liberal Peace Now movement in Israel( Beilin-Peres/Labor) are apparently working with its Geneva Plan and EU partners that are conspiring to dislodge the US from a position of preeminence in the Middle East Peace Process. What better way to accomplish that than to discredit the architect of the West Bank settlement plan, and the icon of military security, Ariel Sharon.
America's Has False Sense of Security
Jan. 21….(FOJ) President Bush asked Americans to continue to rise to meet "great responsibilities" in a State of the Union address that also focused on progress in Iraq, increasing security at home and the effect of tax cuts. After launching the war on terrorism and laying the groundwork for the war in Iraq in the last two State of the Union addresses, Bush urged Americans on Tuesday night to stay the course as the economy continues its comeback and the war begins to show peace dividends. "America this evening is a nation called to great responsibilities. And we are rising to meet them," Bush said. "We have not come all this way through tragedy and trial and war only to falter and leave our work unfinished. "America is on the offensive against the terrorists, and our greatest responsibility is the active defense of the American people", the President said. "Twenty-eight months have passed since Sept. 11, 2001, over two years without an attack on American soil, and it is tempting to believe that the danger is behind us. That hope is understandable, comforting, but false," he said. The President made no mention of the Middle East Roadmap and Geneva Plan peace processes that highlight Palestinian Statehood for this year.
Atoning For Adultery With Martyrdom
Jan. 20….(Washington Times) A Palestinian mother of two small children, who killed four Israelis by blowing herself up at a border crossing, reportedly carried out the suicide bombing to atone for having committed adultery. The attack last week marked the first time the militant group Hamas had used a female bomber, part of an evolving belief that women who are disgraced by sexual activity outside marriage can "purify" themselves by becoming "martyrs," Israeli security officials said. The officials, who closely monitor the evolving ideology of the Islamic militant organization, spoke to reporters in the wake of Wednesday's attack by 22-year-old Reem Raiyshi. Raiyshi left her 18-month-old daughter, Doha, and her 3-year-old son, Obedia, and blew herself up at the Erez crossing between the Gaza Strip and Israel, killing three soldiers and a private Israeli security guard. The woman was apparently compelled to carry out the attack as atonement for betraying her husband with another man. A few hours after the suicide attack, Hamas released the videotape of the 22 year old mother of two. In her last statement, with a beatific smile on her face, a rifle in one hand and a Koran in the other, al-Reyashi proudly proclaimed that "I always wanted to be the first woman who sacrifices her life for Allah. My joy will be complete when my body parts fly in all directions." She said her fondest wish was to "knock on the doors of heaven with Zionist skulls." However, information regarding the circumstances that led al-Reyashi to carry out her attack, based on Israeli security sources, suggests a very different motivation: not anti-Zionist motivation or Islamic fervor but a fatal love triangle. She apparently became involved in an extramarital affair with a Hamas man. When her husband, a wealthy owner of a battery factory, found out, he reached an arrangement to have her sent on the suicide mission. She was compelled upon by Hamas to sacrifice herself to clear her name and the "honor" of her family. It is not uncommon for Palestinian women accused of adultery, or of having sex before marriage, to be killed by their families trying to rid themselves of perceived disgrace. (Honor killing) The officials told AP on condition of anonymity that Raiyshi's illicit lover recruited her, giving her the suicide bomb belt. Palestinian security officials said her husband drove her to Erez to carry out the attack. After the bombing, Raiyshi's family refused to speak to reporters, a rarity in these cases, and did not set up a mourning tent for her. Hamas spiritual leader Sheik Ahmed Yassin told reporters in the Gaza Strip yesterday that the militant group would look to women to step up and fulfill their "obligations." He suggested male bombers were increasingly being held back by Israeli security measures. Hamas had in the past referred women volunteering for suicide missions to other organizations like Islamic Jihad. Recently, however, the Hamas leadership has come to support such use in the case of women who have "desecrated family honor." A new theology is emerging about female suicide bombers among some Palestinian Muslim clerics. Male "martyrs" who blow themselves up in suicide attacks are already promised a place in paradise alongside 72 dark-eyed virgins. According to Arab affairs analyst Ehud Ya'ari, the women are promised to dwell forever alongside the husband or fiance they have left behind. Sheikh Yassin said that al-Reyashi would lead a generation of female suicide bombers from his organization.
The Michael Jackson Situation
Jan. 20….(FOJ) Like many of you, I have watched the developing Michael Jackson pedophile-charges case with a measure of curiosity. You may wonder why a prophecy ministry would bother to write about this media frenzied circus, but I foresee some astonishing parallel developments coming out of this high-profile judicial proceeding. In an election year, wherein we already are seeing the issue of "gay marriage" gaining a prime debate position in the political arena, might we also begin to see pedophile-civil rights" being propagated and popularized in the great American cultural war? I am beginning to expect that the Michael Jackson case will be more of a media circus and cultural battlefront than the OJ Simpson trial ever approached being. With Mr. Jackson reaching out to the Nation of Islam for support, It is easy to imagine that the Jackson legal camp could bring a tremendous amount of political and religious leverage to bear against the American judicial system. At a time when our nation is mightily confused about the radical nature of Islam, and the identity of its 9-11 enemies, it is easy to see the demonic hordes of evil gathering momentum within and around the Jackson camp for a media onslaught against traditional American values. The Nation of Islam advocates the overthrow of the American Republic. Islamic organizations have already dedicated themselves to making the USA a predominantly Islamic nation by 2020. Michael Jackson should be considered innocent until proven guilty of course, but there is undoubtedly a lot of questionable conduct in this man's lifestyle. In today's depraved culture, it sadly looks like there is a tremendous momentum building on the side of anti-Christian lifestyles, and the Jackson situation could prove to be very dangerous for America.


Return of the Nuclear Threat
Jan. 19….(World Net Daily) Fear of a nuclear attack on American soil is back – and with good reason.
The signs are everywhere:
Congressional hearings on "dirty bombs" and "suitcase nukes."
Reports of stolen "radioactive warheads" and Osama bin Laden purchasing Soviet-era nuclear weapons on the black market.
Recent deployments of "Nuclear Incident Response Teams" to scour Las Vegas, Los Angeles, New York, Washington, D.C., and other cities for nuclear terror weapons.
The Department of Homeland Security's distribution of radiation detectors to police in Chicago, Detroit, Houston, San Diego, San Francisco and Seattle – as well as to Bureau of Customs and Border Protection agents nationwide – to screen for terrorist activity, whether a dirty bomb, suitcase nuke, or other source of radiation.
Vice President Dick Cheney's chilling assessment that nuclear terror is "the major threat" facing America: Calling a WMD attack on the U.S. "one of the most important problems we face today," Cheney added: "To contemplate the possibility of them unleashing that kind of capability – of that kind of weapon, if you will, in the midst of one of our cities – that's a scary proposition."
And that's just the terror threat. Across the oceans loom other gorgon's-heads of the nuclear monster – perhaps even more threatening. Where once the nuclear club was very elite – comprising the U.S., U.S.S.R., China, France and just a few others, today, laments International Atomic Energy Agency chief Mohamed ElBaradei, the number of nations now believed by the IAEA to be able to create nuclear weapons "is estimated at 35 or 40." And among the furthest along, unfortunately, are the world's most notorious terror-sponsor and pariah states , Iran, North Korea, Syria, Saudi Arabia, and Pakistan among them.
CIA: Saudi Arabia Will Go Nuclear
Jan. 19….(World Net DAILY) The U.S. intelligence community has concluded Saudi Arabia intends to acquire nuclear weapons, the intelligence newsletter Geostrategy-Direct reports. The assessment is contained in a report by the National Intelligence Council, a group under CIA director George Tenet. The council has released a report, called "NIC 2020," that envisions trends in the Middle East and other global regions over the next two decades. The intelligence community regards Saudi Arabia as being next in line to acquire nuclear weapons, the report said. The council asserted the United States would have more difficulty in handling Saudi Arabia, a leading exporter of crude oil, than it would have with Libya and Syria.
WEEK OF JANUARY 12 THROUGH JANUARY 18
Only Half Of Protestant Pastors Have A Biblical Worldview
Jan. 17….(Barna Research) In his recently released book and a subsequent research report on worldviews, author and researcher George Barna made waves by citing statistics showing just 9% of all born again adults and just 7% of Protestants possess a biblical worldview. That information pricked people's curiosity regarding the worldviews of the nation's religious leaders, prompting Barna Research to conduct a national survey on that topic among Protestant pastors. The numbers are now in – and the outcome may again shock many people. Based on interviews with 601 Senior Pastors nationwide, representing a random cross-section of Protestant churches, Barna reports that only half of the country's Protestant pastors – 51% - have a biblical worldview. Defining such a worldview as believing that absolute moral truth exists, that it is based upon the Bible, and having a biblical view on six core beliefs (the accuracy of biblical teaching, the sinless nature of Jesus, the literal existence of Satan, the omnipotence and omniscience of God, salvation by grace alone, and the personal responsibility to evangelize), the researcher produced data showing that there are significant variations by denominational affiliation and other demographics. "The most important point," Barna argued, "is that you can't give people what you don't have. The low percentage of Christians who have a biblical worldview is a direct reflection of the fact that half of our primary religious teachers and leaders do not have one. In some denominations, the vast majority of clergy do not have a biblical worldview, and it shows up clearly in the data related to the theological views and moral choices of people who attend those churches." An example of the gap among churches is reflected in the outcomes related to the nation's two largest denominations, the Southern Baptist Convention and the United Methodist Church. (Of the nation's 320,000 Protestant churches, more than 42,000 of them are Southern Baptist and more than 35,000 are United Methodist; these two denominations alone account for roughly one-quarter of all Protestant churches in the U.S.) The Southern Baptists had the highest percentage of pastors with a biblical worldview (71%) while the Methodists were lowest among the seven segments evaluated (27%). Among the other segments examined, 57% of the pastors of Baptist churches (other than Southern Baptist) had a biblical worldview, as did 51% of non-denominational Protestant pastors, 44% of pastors of charismatic or Pentecostal churches, 35% of pastors of black churches, and 28% of those leading mainline congregations. The survey brought to light some unexpected differences based on pastoral background. The most intriguing of those relates to theological training. Educationally, the pastors least likely to have a biblical worldview are those who are seminary graduates (45%). In contrast, three out of five pastors who have not attended seminary operate with a biblical worldview (59%). The largest gap related to gender. Whereas 53% of male pastors have a biblical worldview, the same can be said for just 15% of female pastors. Overall, just 6% of all Protestant Senior Pastors are women. Another huge gap was based on race. White Senior Pastors were nearly twice as likely as black Senior Pastors to have a biblical worldview: 55% versus 30%, respectively. Age and experience entered the picture. The youngest pastors in the nation (those under age 40) are more likely to have a biblical worldview than are their older peers (56% versus 50%). Similarly, pastors who have five years or less experience in leading churches have a higher rate of biblical worldview possession (58%) than do other pastors. Even geography is related to worldview. Fewer than half of all Senior Pastors in the Northeast (43%) and Midwest (49%) have a biblical worldview, compared to majorities in the South (57%) and West (58%). In fact, of the nine geographic divisions defined by the Census Bureau, the one with the highest proportion of pastors giving evidence of a biblical worldview was the Pacific division – California, Oregon and Washington. Although the people in those states are among the most liberal in the nation, nearly two-thirds of Protestant pastors there (64%) have such a moral and spiritual compass in place. A biblical worldview must be both taught and caught – that is, it has to be explained and modeled. Clearly, there are huge segments of the Christian body that are missing the benefit of such a comprehensive and consistent expression of biblical truth. "The research also points out that even in churches where the pastor has a biblical worldview," he continued, "most of the congregants do not. More than six out of every seven congregants in the typical church do not share the biblical worldview of their pastor even when he or she has one. This intimates that merely preaching good sermons and offering helpful programs does not enable most believers to develop a practical and scriptural theological base to shape their life. Our research among people who have a biblical worldview shows that it is a long-term process that requires a lot of purposeful activity: teaching, prayer, conversation, accountability, and so forth. Based on our correlations of worldview and moral behavior, we can confidently argue that if the 51% of pastors who have a biblical worldview were to strategically and relentlessly assist their congregants in adopting such a way of interpreting and responding to life, the impact on our churches, families and society at-large would be enormous."
Israel Seeks Return of Temple Artifacts
Jan. 16….(World Net Daily) Israel's chief rabbis will meet with Pope John Paul II today to seek permission to search the Vatican storerooms for artifacts such as the huge golden menorah that stood in the Temple in Jerusalem 2,000 years ago. Vatican officials have confirmed that the meeting would take place but declined comment on the rabbis' request. Rabbii's Yehuda Metzger and Shlomo Amar are to have an audience with Pope John Paul, the first by Israel's chief rabbis in the Vatican. The pope met Israel's previous chief rabbis during his visit in 2000. Amar, spiritual leader of Israel's Jews of North African origin, told Israeli army radio that when he received the invitation, he brought up the issue of the artifacts. When the Romans sacked Jerusalem in AD 70, they took Temple treasures with them. Legend has it that religious articles from the Temple, including the menorah, were among them, and are kept in Vatican storehouses. Amar said the Vatican has already denied the menorah is there.
| | |
| --- | --- |
| | This enclosed picture of the Pontifex Maximus (Pope/Roman Emperor) and the Jewish High Priest really caught my eye. It reminded me of another time, 2000 years ago when the Romans and the High Priest counciled together amongst themselves to plot the crucifixion of Jesus. |
Temple Mount Most at Risk from Quake
Jan. 16….(Ha Aretz) The Temple Mount of the Old City would be the worst hit parts of Jerusalem if a serious earthquake were to strike the capital, according to the first geological survey of kind. Among the other neighborhoods that were described as high-risk areas are the city's southeastern regions, including Emek Refaim, Abu Tor, Bakaa and East Talpiot. Several Arab villages on the outskirts of the capital were also included in the danger zones. These areas have a highly sensitive geological location, as well as problematic infrastructure that could destabilize the land during an earthquake. The survey was commissioned by the Jerusalem municipality and carried out the by Israel Geological Institution. Quakes are often felt, but rarely cause damage, several times a year in Israel. All the experts are certain, however, that an earthquake of at least the same magnitude as the one that devastated the Iranian city of Bam last month will, sooner or later, hit Israel.
Why Today's Youth Culture Has Gone Insane
Commentary: David Kupelian, World Net Daily
Jan. 16….Remember in the classic, biblical epic films of the 1950s, how Sodom and Gomorrah were portrayed? Drunken men with multiple piercings and bright red robes, with one loose woman under each arm, cavorting in orgiastic revelry against a background of annoying, mosquito-like music? Maybe a bone through the nose as well? Hollywood took pains to depict these lost souls in the most debauched and irredeemable manner, to justify their subsequent destruction with fire and brimstone as punishment for their great sinfulness. Guess what? Those Hollywood depictions don't even begin to capture the shocking reality of what is going on right here in America's culture today – I mean, they're not even close. First of all, there's sex. Very simply, there seem to be neither boundaries nor taboos any more when it comes to sex. Anything goes, from heterosexual to homosexual to bi-, trans-, poly-, and you-don't-want-to-know sexual experiences. Sex has become a ubiquitous, cheap, meaningless quest for ever-greater thrills. Moreover, with the evolution of online pornography, every type of sexual experience has literally been shoved under the noses of millions of Americans against their will, who find their e-mail in-boxes filled with hard-core sexual images. As a result, a recent urgent plea from well-known evangelist Chuck Swindoll lamented that one out of two American churchgoers today is caught up with Internet pornography. What about body piercing? (ala Dennis Rodman) It has progressed from traditional earrings for females, to earrings for males (eager to display their "feminine side" which the '60 cultural revolution sold them), to multiple piercings for both males and females in literally every part of the body, the tongue, nose, eyebrow, lip, cheek, navel, breasts, genitals, and again, things you don't really want to know.
It's the same progression to extremes with tattooing. But why stop with "conventional" piercing and tattooing? Ritual scarification and 3D-art implants are big. So are genital beading, stretching and cutting, transdermal implants, scrotal implants, tooth art and facial sculpture. How about tongue splitting? How about branding? How about amputations? That's right, amputations. Some people find these activities a real "turn-on." There are no bounds, no lower limits. Whatever you can imagine, even for a second in the darkest recesses of your mind, know that someone somewhere is actually doing it, praising it, and drawing others into it via the Internet. Strangest of all is the fact that any behavior, any belief, no matter how obviously insane is rationalized so it sounds reasonable, even spiritual. Satanism itself, and especially its variant, the worship of Lucifer (literally, "Angel of Light") can be made to sound almost enlightened, of course, only in a perverse way. But if you were sufficiently confused, rebellious and full of rage, if you had been set up by cruelty or hypocrisy (or both) to rebel against everything "good," the forbidden starts to be mysteriously attractive.
Arafat's Billions
Jan. 16….(Arutz) "Yasser Arafat is rich," reports the New York Daily News, "but his Palestinian Authority is going broke." Despite, or because of - Arafat's wealth, PA Economy Minister Maher Masri is quoted as saying, "If this situation continues, we will not be able to provide salaries next month." The paper writes that though his people have grown poorer, Arafat himself has amassed a fortune estimated by Forbes at $300 million to $1 billion, putting him in sixth place on the list of richest world leaders. Israel says his real net worth exceeds $1 billion. Other analysts place the figure at closer to $3 billion. The Palestinian Authority has received $6.5 billion in foreign aid over six years, yet Josh Block of the pro-Israel lobby group AIPAC says that the PA is broke. This, he says, is because Arafat has been lining his pockets and those of his personal terrorist organizations, with much of the foreign aid money for years. While nearly half the PA-area population is unemployed, Arafat's wife and daughter live in Paris on a monthly allowance of $100,000. Arafat is said to own a $55 million cement firm that controls most of the PA cement market, and holds a 23% stake in a $28.5 million casino in Jericho, and receive profits from all gasoline imported into the PA. His money is stored in several Swiss bank accounts.
FOJ Note: Recently it has become documented that Arafat has actually been sub-letting his recruited suicide bombers out to other terrorist organizations in order to divert tracking. Arafat routinely confiscates all foreign aid from the PA to finance his personal terror machine. One such case of terror sub-contracting is the incident this week of a female suicide bomber that Arafat leased to Hamas. In a severe blow to the widely advanced Western assertion that Palestinian terrorism is driven by frustration and despair, the wealthy 22-year-old mother sacrificed herself for the sake of Allah. The attack was made possible by the killer's masterful performance as an ailing Palestinian woman. In a video left behind as a memento of her crime, the female bomber said she loved her children dearly, but had dreamt of becoming a "suicide" bomber most of her life. "I was hoping to be the first woman, where parts of my body can fly everywhere," she said. "I'm taking revenge against the Jews, she says" Rayashi was not the first female Palestinian bomber, but she was the first mother to carry out such an attack. She leaves behind a three-year-old son and an 18-month-old daughter. "God gave me two children and I loved them so much," the killer said before leaving her own children motherless and robbed four Israeli mothers of their children. Rayashi further broke the Western mold of what kind of person becomes a "suicide" bomber in that she was part of a very well-to-do family from an upscale neighborhood in Gaza City. Western observers and officials alike have repeatedly insisted that the economic despair the Palestinians live in as a result of Israel's "occupation" is what drives people to blow themselves up in order to murder men, women and children. Obviously that is mere propaganda. Witnesses later saw Rayashi's husband sitting and crying after receiving the news of what his wife had done. He was reportedly unaware of her plans to become a human bomb.
PA: We Could Stop the Terrorism if We Wanted To
Jan. 16….(JNEWSIRE) After more than 3 years of denying its ability to prevent "suicide" bombings and other acts of terrorism against Israelis, the Palestinian Authority admitted Wednesday it could prevent attacks if it wanted to. It would not do so, however, until Israel first stopped its war on Palestinian terror or, as the PA termed it, its "attacks on Palestinians." And in a further indication of a hardening of attitudes on the Palestinian side, the PA refused to issue even its traditionally ambiguous condemnation of Wednesday's terrorist murder of 4 Israelis & wounding of 12 others at the Erez Crossing from the Gaza Strip. Instead, the PA condoned it. Changing tune? (Showing their old true colors again.) Since September 2000, when PLO chief Yasser Arafat launched his pre-planned terror war - the Oslo War - against Israel, and Israel responded militarily, the Palestinian Authority has claimed and maintained that it is unable to stop the terrorism because Israel has destroyed its capacity to do so. This message changed. Thursday morning, when the PA's so-called foreign minister, Nabil Sha'ath, told The Jerusalem Post the PA was indeed able to put an end to "suicide" bombings, but would not do so until Israel had stopped attacking Palestinians. Israel is conducting a war against the terror coming from PA-controlled areas. Speaking shortly after the attack, Arafat's "prime minister," Ahmed Qureia, departed from the PA's by now mechanical "condemnation" (for public show) of the murders, saying he would not condemn it because attacks and restrictions on the Palestinian Arabs were causing "more escalation on both sides."
World Must Oust Syria from Lebanon
Jan. 15….(Ha Aretz) Israeli Foreign Minister Silvan Shalom said yesterday that it was time "the whole world takes it upon itself to get Syria out of Lebanon." "It's time to liberate Lebanon from the Syrian occupation, which has lasted since 1976," Shalom accused the Syrians of exploiting Lebanon's wealth and resources for their own purposes. A million Syrians work in Lebanon and the profits from the thriving Lebanese narcotics industry is intended solely for the purposes of the Syrian Ba'ath people," he said. The U.S. has demanded that Syria fulfill its commitments to Secretary of State Colin Powell in his visit to Damascus in May 2003, including dismantling the terror headquarters, closing the training camps, and stopping the arms to Hezbollah and closing the joint border between Syria and Iraq.
Palestinians Prefer Terrorism to US Financial Aid
Jan. 14….(FOJ) Palestinian organizations are refusing to accept U.S. foreign aid this year, rather than sign a pledge promising that the money will not be used to support terrorism. The PA's Non-Governmental Organization's Network (PNGO), an umbrella organization comprised of 92 Palestinian aid groups, is urging its members to refuse to sign the pledge. Since the 1993 Oslo Accords the United States has donated $1.3 billion for Palestinian programs throughout the West Bank for humanitarian and economic assistance. In spite of the American gesture of aid and political assistance in helping the Palestinians achieve Statehood, the Palestinian society, due to fundamentalist Islam remains largely anti-American.
The Relentless Assault by Multi-Culturalism
Jan. 14….(Newsmax) America is the one place where it is sadly taboo to be proud of your culture, which is ironic given America's record as the freest, most prosperous and most benevolent society in world history. But we are not supposed to be patriotic, if patriotism means honoring and preferring our culture and way of life above others in the world. The theology of multiculturalism requires that you renounce allegiance to any particular culture as superior to any other. All cultures are supposed to be equally respected. The Pledge of Allegiance and the National Anthem are out. The United Nations, the World Court and oppressive global climate initiatives are in. But beneath the slick packaging of UN promoted "multiculturalism" and "diversity" we find that what they really stand for is the denunciation of Western civilization and America. All civilizations are equally wonderful in the world cultural mosaic, except those arising out of Western civilization, especially America. What many opponents of loose immigration policies fear is not the influx of foreigners in American society, nor the immigrants themselves, who can't be blamed for wanting a better life and who would likely welcome assimilation into our culture. Rather, it is the deliberate destruction of the unique American culture and American civilization by "multi-culturalism." This isn't about race or ethnicity. Americans have always been of different races and ethnicities, and proudly so. It's about assimilation and acculturation. Many, but certainly not all, of the people who support a radical softening on immigration laws are the same ones who discourage a distinct American culture. They often oppose those values and traditions that many believe are responsible for making America great. It's difficult enough to absorb millions into your culture when you are trying hard to assimilate them and make them fit in smoothly and comfortably. It's nearly impossible when a huge portion of society (through no fault of the would-be immigrants) discourages loyalty to America, stands in the way of assimilation and promotes segregation, multiple cultures and languages, and the dilution of American culture and the English language.
Arafat Forming Ramallah-Damascus Axis?
Jan. 14….(FOJ) Palestinian Authority Prime Minister Ahmed Qurei has "given up" on running the PA in the face of Chairman Yasser Arafat's absolute "concentration of power," or at least that is the assessment of Israeli OC Intelligence Maj.-Gen Aharon Ze'evi. Prime Minister Qurei is afraid to do anything that might upset Arafat. Arafat, for his part, is "foot-dragging," waiting for what he hopes might be a change of government in the US and Israel, Ze'evi told the Knesset Foreign Affairs and Defense Committee. Arafat's goal is to prove that nothing can be done without him. Arafat is the cause for President Bashar Assad's proposal to launch negotiations with Israel. He is also the subject of a "rift" in the Syria-Iran-Hizbullah front. Assad has learned via International pressure brought to bear on Damascus, and through the US war on Iraq and through Israel's attack on terrorist bases in Syria, that he "must do something in order to survive. Meanwhile, Arafat has been trying to mend the old breach between the house of Assad and Yasser Arafat which dates back to the days of Bashar's late father Hafez Assad. In 1983, Arafat and his PLO leadership were sent packing from Beirut and spent ten years in Tunisian exile. Palestinian refugees were strictly confined to camps in the south by Assad. Continuing the feud, Assad junior has consistently refused to welcome the Palestinian leader in Damascus. But since the Iraq war the Syrian leader has embarked on two reconciliatory steps with Arafat:
1. For the first time in 21 years, Arafat's mainstream Fatah has been permitted by Lebanon's overlord in Damascus to open up a base in the Lebanese capital.
2. Arafat's close confidant and emissary Hani al-Hassan, a member of Fatah's central committee, has been received in Beirut to open a dialogue with pro-Syrian elements and Syrian military intelligence officers in Lebanon. Syria's initial exchanges with Arafat's representative have already had an unsettling effect in Lebanon and the Palestinian organizations which enjoy Syrian patronage. The Lebanese people have not forgiven the pivotal role played by Arafat's legions in its 15-year long civil war. The return of a Palestinian official presence in Beirut revives the bad blood. As for the PLO hard-liners, they fear the Assad-Arafat rapprochement will cost them the favored status that they enjoy in Damascus, which is derived from traditional Syrian backing for the anti-Arafat movement. Washington has been in touch with Assad for weeks now, using visiting US congressmen and senators as intermediaries. The White House has come to believe that Assad's talk of peace moves and apparent cooling towards Iran and Hizballah are stratagems to deceive the US demands that he withdraw from anti-American activities in Iraq. For the Bush administration, severance of the collaboration between Syria and the Sunni triangle in Iraqis of utmost importance. The US has done everything it can to hold out an olive branch to Damascus, but the creation of a new Damascus-Ramallah axis may well be seen in Washington as an act of defiance. Assad, feeling threatened may be intent on building yet another terrorist track out of Damascus, one that utilizes Arafat to offset the perceived American threat. Assad may therefore be in the process of remaking himself as leading champion of the Palestinian cause. This would make him a key player in any practical attempt to forge an Israel-Palestinian peace.
Female Suicide Bomber Strikes Israel
Jan. 14….(Jerusalem Post) The Palestinian militant group Hamas said it sent a woman suicide bomber to counter Israeli security precautions and vowed to escalate attacks in a more than three-year-old uprising. "For the first time (Hamas) used a female fighter and not a male fighter and that was a new development in resistance against the enemy," Hamas founder Sheikh Ahmed Yassin told Reuters, referring to a bomber who struck at Erez crossing point on the Gaza Strip boundary with Israel, killing four Israelis. Hamas and the Al-Aqsa Martyrs Brigades, an armed offshoot of Palestinian President Yasser Arafat's Fatah movement, jointly claimed responsibility for the attack, identifying the bomber as a 22-year-old mother of two from Gaza City. They identified the bomber as Reem Raiyshi. Hamas spiritual leader Sheik Ahmed Yassin said the use of a woman bomber was unique, but added that holy war "is an obligation of all Muslims, men and women."


The Erez crossing is intended to better the lives of Palestinians to allow them to work in Israel. It just goes to show that Palestinian terrorists are more bent on attacking Israelis than bettering the lives of their own people," said David Baker, an official in the Israeli Prime Minister's Office. The suicide bombing came on the heels of a West Bank ambush late Tuesday in which Palestinian gunmen killed a Jewish settler in a car at the entrance to the Talmon settlement near the West Bank city of Ramallah. The 28-year-old victim was the father of five, including triplets born two months ago. Again, Arafat's Al-Aqsa Martyrs' Brigades claimed responsibility for that attack.
The Dream of Greater Israel is Fading
Jan. 13….(FOJ) After Israel's lightning quick victories in the 1967 war for survival, Israel came into unexpected possession of a vast amount of territory that once upon a time actually constituted the commonwealth of Israel. Soon thereafter, Israeli's began moving into the areas that today are known as the West Bank, the Gaza Strip, and even the Sinai, and the Golan Heights. The Zionist dream of the recreation of ancient Israel when it enjoyed the greatest extent of geography is today little more than a wishful mirage with the forceful ongoing implementation of the Roadmap process. Israel is being coerced into a systematic uprooting of the settlements that have been built in the disputed territory since 1967. To make matters all the more ironic, Ariel Sharon who was the father of the community building program has determined that Israel can no longer dream the Zionist vision of Greater Israel. It has become increasingly clear that Yasser Arafat's terror machine has succeeded in taking a toll on all the present Israeli policy makers, and in influencing Western geo-political thought. Still more emphatic are the demographic realities of an Arab population West of the Jordan River that are overwhelming the vision of a greater Israel. Even the most cherished goals of the Jewish State, including the unity of Jerusalem are fading away. At present there are 10 million people living in the stretch of land between the Jordan River and the Mediterranean Sea. Some 5.4 million are Jews and 4.6 million are Palestinians (including Israeli Arabs). Given the current trends in population growth, the number of Palestinian Arabs will overtake the number of Jews in the next six to ten years. Even if there is a further Aliyah of one million Jews from the Diaspora, there is an inevitability about the current population trends which threaten the very existence of a Jewish state. As a result, the Israeli government has all but conceded that "dividing the land' and creating a new State of Palestine is in Israel's best interests in the long term. The vision of Greater Israel, which once seemed at hand, will have to wait until the Lord returns. And then and only then can Israel know true peace and fulfill its destiny to be a blessing to the world.
U.S. Deems Insufficient Intel On Iraqi WMD In Syria
Jan. 12….(Middle East News Line) The White House says that it has for now put to rest reports that Iraqi weapons of mass destruction were smuggled out of the country by way of Syria in the months before the U.S. began its assault on the regime of Saddam Hussein. However the language used by National Security Adviser Condoleezza Rice on Friday made clear that the administration is still investigating the reports. "We're going to follow every lead on what may have happened here," Ms. Rice said. Rice said the United States has not obtained what she termed credible and firm evidence that Iraqi WMD was smuggled to Syria in the weeks prior to the U.S.-led war in March 2003. With that assessment the United States has determined that it does not have sufficient evidence that Iraq transferred weapons of mass destruction to Syria in early 2003. The Bush administration issued the assessment as the United States is withdrawing thousands of government personnel authorized to search for WMD in Iraq. After nine months of efforts, the American team did not find biological, chemical or nuclear weapons inside Iraq. National Security Adviser Condoleezza Rice said the United States has not obtained what she termed firm evidence that Iraqi WMD were smuggled into Syria. Last year, the U.S. intelligence community said it had suspicions of such smuggling activities. "Any indication that something like that happened would be a very serious matter," Ms. Rice said on Friday. "But I want to be very clear: We don't, at this point, have any indications that I would consider credible and firm that that has taken place. But we will tie down every lead." The National Security Advisor's assessment differed with that of the National Imagery and Mapping Agency, renamed the National Geospatial-Intelligence Agency. Agency director Lt. Gen. James Clapper, responsible for mapping and satellite images and analysis for the intelligence community, said the United States monitored a series of suspicious Iraqi vehicle convoys in late 2002 and early 2003 that could have been transporting WMD. "We certainly feel there were indications of WMD activity," Clapper said in a briefing on Oct. 28. Last week, Syrian opposition sources identified Iraqi WMD arsenals in Syria. The sources said the Iraqi nonconventional weapons were stored in Syrian Air Force facilities in the central part of the country.
FOJ Note: Just last week FOJ reported on the continuing pile-up of evidence that Iraq's weapons of mass destruction have been relocated to Syria. Syrian defectors have added to that rumor. Sometimes it seems like the US doesn't want to find the WMD, especially if it means broadening the war on terror into Syria or Iran. (Axis of real Evil—not Iraq)
Bush's Advisers Debating Military Force Against Syria
Jan. 12….(Knight-Ridder) Senior aides to President Bush are vigorously debating what to do about Syria as evidence mounts that the government in Damascus is stepping up support for the terror group Hezbollah and allowing anti-American insurgents to reach Iraq, according to U.S. officials. Civilians in Defense Secretary Donald Rumsfeld's office are pushing for military action and have drawn up plans for punitive airstrikes and cross-border incursions by U.S. forces, according to three officials. But Bush's White House advisers, backed by the Joint Chiefs of Staff and the State Department, are arguing against a new military venture with much of the U.S. military tied down in Iraq and a presidential-election year under way. That view appears to have prevailed, for now. "We've got all we can handle, and then some, in Iraq, and our military is either stretched to the breaking point," said a senior administration official. U.S. officials say the government of Bashar Assad continues sponsoring anti-Israeli and anti-American terror groups, despite U.S. demands that it cease. Iran, using Syria as a conduit has resumed deliveries of supplies to Hezbollah, the radical Lebanese-based Shiite group responsible for bombing the U.S. Embassy and Marine barracks in Beirut in the 1980s, the senior official said. Nor has Assad made good on a promise to Secretary of State Colin Powell last summer to close the Damascus offices of Palestinian terrorist groups, numerous officials said. Damascus also is resisting returning about $1 billion in Iraqi assets that Saddam had moved into Syrian banks, officials said. Rumsfeld has charged that insurgents are continuing to cross unhindered from Syria into Iraq to attack U.S. troops. Some of Bush's hard-line advisers have argued for two years that Syria's regime should be the next U.S. target after Iraq. Assad recently told a visiting American delegation that he has bent over backward to accommodate U.S. pressure to patrol the border and to crack down on terrorist financing.
The U.N. and Babylon
Jan. 12….(Israel Today) After World War I, in which some 10 million lives were lost, the nations of the world created an international body to ensure world peace. In 1920, 32 member states founded the League of Nations. In 1926, Germany was accepted into the League, but when Hitler rose to power in 1933, Germany withdrew, clearing the way for his dictatorship and the proliferation of his war machine. The League of Nations proved to be a paper tiger that could not prevent World War II, which cost more than 55 million lives. On June 26, 1945, in San Francisco, 51 nations came together to create the United Nations as the successor of the League of Nations. In an attempt to address the League's failure, the UN was given more authority. But it's clear that the UN is also a paper tiger: 21of the 191 member nations are at war and the UN is unable to do anything to end the hostilities. The United States' unilateral initiative to launch the Iraq war without a UN mandate is seen around the world as the most explicit example of the UN's impotence. Today, the nations of the world want to empower the UN police force, imposing world geo-political order militarily. UN headquarters sit on 4.5 acres in Manhattan Island in New York City. It has 23,000 employees that work in crowded conditions. But there's little possibility for expansion because the US has been less than enamored with the UN for years and would probably like nothing better than for it to leave New York City altogether. Triggered by the Iraq War, informed sources say that the international Quartet of world powers (the US, UN, European Union and Russia) has drafted a proposal to transfer the seat of the United Nations to Baghdad (ancient Babel or Babylon)! The move would relieve the space constraints of the New York headquarters, while also freeing it from the physical jurisdiction of the US. It would also serve to centralize the headquarters of the world body, by placing it near the center of the Euro-Asian continent. Though it's only a draft of the Quartet, plans appear to be in the works to establish a third and perhaps final worldwide organization. The new UN may even have the power to levy taxes and field an army.
The Longest Hatred
Jan. 12….(Graham Barrett) Picture the devastation as Iran tries to recover from its latest earthquake, with tens of thousands of casualties and little or no local provision for assistance. A call for help goes out to the world: aid will be accepted from any country except Israel, despite its expertise in emergency rescue. What has been called the "longest hatred" appears to be burgeoning again in a new and troubling form that blends antipathy towards Israel with anti-Semitism in general. I has reached pathological proportions across the Arab and parts of the wider Islamic world. While hatred is lavished on the lamentable Ariel Sharon, it is ignored that his presence is the reaction to the rejection by the Palestinian leadership of his predecessor's offer to relinquish more than 95 per cent of the West Bank and all of Gaza plus East Jerusalem to a new Palestinian state. Instead of grasping an extraordinary offer of peace, one that made many Israelis gasp, the Palestinians responded with suicide bombers. Sharon's hour arrived as Israelis turned in desperation to the one leader they thought could defend them. The result is a televised feed of the Israeli military seeking and killing extremists, and many innocent men, women and children in the process - demolishing the houses of suicide bombers, building a wall around the West Bank and otherwise exhibiting extreme measures in search of security. Sharon, in other words, is a gift to those seeking a case against Israel and the Jews in general. The veteran Palestinian leader, Yasser Arafat, who has dedicated his life to eradicating Israel rather than negotiating a settlement, has been able to wrestle from the Jews what the philosopher Bertrand Russell called the "superior virtue of the underdog".
The late Palestinian intellectual Edward Said put it in a similar way, calling his people the "victims' victims". This is what plays in a world where image is reality. If Sharon didn't exist, Yasser Arafat would have to invent him. In some measure, he did. Until 1967, when Israel launched a successful pre-emptive war against massing Arab armies, Israel wore the title of victim, as a plucky little state created by the United Nations 20 years earlier, only to be invaded by its neighbours with the intention of driving fledgling Israelis into the Mediterranean. They failed in this and succeeding efforts, and Egypt and Jordan eventually chose a negotiated peace. What endures is a ritual anti-Zionism and a rampant anti-Semitism, employed across the Arab and Islamic world to mask the failures of many of these societies and their autocratic governments to meet the needs and aspirations of their people. The Middle East is a region in serious distress and decline, as Arab scholars have chronicled in a revealing UN study. Israel, with a per capita gross domestic product 20 times that of its neighbors, is everything that Arab states are not: a prosperous democracy with a free press, lively debate and an adaptive temperament. In looking at Israel, many Arabs see not a country that is unusually well placed to help them out of their troubles, but a reflection of their own failings. The Jewish State is the excuse, the scapegoat, the explanation for all those angry young people without jobs or prospects, those feeble economies, unrepresentative political systems, corruption and other afflictions. The Iranians would sooner see their earthquake victims die than be rescued by Israelis. In seeking to make sense of the complexities of the Middle East, many Europeans and others now attach themselves to the specter of Sharon as a device for rationalizing a resurgence in anti-Semitic as well as anti-Zionist emotions. What few remember is that Palestine in 1948 was not simply handed over to the Jewish minority. It was partitioned between Jews and Palestinians after a vote in favor of the creation of a Jewish state by the UN General Assembly. By immediately assaulting Israel, the Arab armies scotched at the outset what will, one day, emerge as a two-state solution. All the violence, hatred, failure, suffering and revenge will have been for nought. Everyone in the Middle East is a victim of that early decision by the Arabs to eschew the sharing of an ancient land, a rejection that is still in force today. "For the Palestinians," as Bill Clinton's Middle East envoy, Dennis Ross, has put it, "victim-hood is too often not just a condition, but also a strategy and sadly a self-fulfilling prophecy." At a time when even Sharon is now talking of concessions, including the demolition of at least some of those provocative illegal settlements in the West Bank, the plight of the Palestinians will endure as long as their leaders are resistant to negotiation and compromise. Their only reward will be in relishing the growth of anti-Israeli and anti-Jewish sentiments in a wider world that is again at risk of losing its perspective.
WEEK OF JANUARY 5 THROUGH JANUARY 11
US Defense Dept. Eyeing Lebanon
Jan. 9….(Middle East News Line) U.S. Defense Secretary Rumsfeld and the U.S. Defense Department is said to be considering a plan for multi-pronged attacks on insurgency strongholds in such countries as Lebanon and Somalia. U.S. defense sources said the proposal is part of a plan for an expanded offensive against Al Qaida and affiliated terrorist organizations. Over the last six months, the Pentagon has increased the U.S. military presence along the Iraqi-Syrian border to halt the flow of Islamic insurgents into Iraq. U.S. officials said American troops and helicopters have fought the insurgents along the Syrian border and in several cases entered Syrian air space and territory. Next week, U.S. troops are scheduled to launch an exercise with Kenya's military in the Red Sea, Middle East Newsline reported. U.S. defense sources said the exercise could mark the start of the U.S. military strike against Somalia, regarded as a key base for Al Qaida. The plan calls for a multi-pronged attack on insurgency strongholds in such countries as Lebanon and Somalia. "The global war on terror is continuing, and it will for the foreseeable future," said Rumsfeld. Rumsfeld never mentioned it by name, but it is widely regarded that the US is closely scrutinizing the Bekaa Valley where the Hezbullah terrorist organization is known to operate.
Howard Dean is Distorting Christianity!
Jan. 9….(FOJ) Democratic front-runner Howard Dean says that his decision as Vermont's governor to sign the bill legalizing civil unions for gays was influenced by his Christian views. Dean is seeking to promote the secularists agenda in the American cultural war by focusing the election on the issue of homosexuality, gay marriage and the Bible's view of it. "From a religious point of view, if God had thought homosexuality is a sin, he would not have created gay people, says Mr. Dean. Dean's comments come as gay marriage is emerging as a defining social issue of the 2004 elections. Dean, who is a member of the Congregationalist Church, which preaches a liberal brand of Christianity, falls on the side of Episcopal leaders in the United States who recently stirred international controversy by ordaining a gay bishop, and the millions of Americans who do not consider homosexuality as a sin. Mr. Dean is intentionally pitting Christians who look at the Bible less literally and argue that the Gospels never quote Jesus talking specifically about homosexuality against the more conservative fundamentalist Christians who take a more literal approach and point to scripture in the New and Old Testaments that they believe forbids homosexuality. For instance, Leviticus 18:22, according to the King James version of the Bible, says, "Thou shalt not lie with mankind, as with womankind: it is abomination." If Mr. Dean wins the Democratic presidential nomination, strategists from both parties predict it will become a major issue in the 2004 campaign. Mr. Dean is fooling himself if he thinks that the Bible condones homosexuality and gay marriage. While Mr. Dean is trying to parade himself to segments of the country that he is a Christian, he is demonstrating that that he is not the wise owl that he thinks he is, but rather in fact he is a fool. Romans 1:22-28 Professing themselves to be wise, they became fools, And changed the glory of the uncorruptible God into an image made like to corruptible man, and to birds, and four-footed beasts, and creeping things. Wherefore God also gave them up to uncleanness through the lusts of their own hearts, to dishonour their own bodies between themselves: Who changed the truth of God into a lie, and worshipped and served the creature more than the Creator, who is blessed for ever. Amen. For this cause God gave them up unto vile affections: for even their women did change the natural use into that which is against nature: And likewise also the men, leaving the natural use of the woman, burned in their lust one toward another; men with men working that which is unseemly, and receiving in themselves that recompense of their error which was meet. And even as they did not like to retain God in their knowledge, God gave them over to a reprobate mind, to do those things which are not convenient;
America Hunting for 'Dirty' Bombs
Jan. 8….(Newsmax) The US was reportedly on the lookout for radioactive "dirty bombs" during the Christmas and New Year holidays. Last moth the government deployed nuclear scientists to 5 cities with large-scale celebration events, the Washington Post reports: Washington, New York, Las Vegas, LA and Baltimore were the cities closely scrutinized during the alert. Nuclear experts from the Department of Energy carried sophisticated radiation detectors in briefcases and golf bags to detect any radiation from dirty bombs. Hundreds of scientists are still on high alert at military bases and are ready to fly to any trouble spots, according to the Post. Security officials fear that a terrorist might try to detonate a "dirty bomb."
Al Qaeda Says Zero Hour is Coming
Jan. 8….(Northeast Intelligence News)The US federal authorities' announcement early last week that raised the state of alert to a higher level, "orange color", in anticipation of terrorist attacks coincided with new assertions by al-Qaeda organization that the zero hour for the anticipated attack inside US territories has been set. Abu-Muhammad al-Ablaj, an al-Qa'ida leader, said in his new message: "I was talking with the brothers around the Shaykh Usama Bin Ladin, and they asked me to confirm that the strike would break the back of America, and that it would upset the balance of power in the world. He hinted that the attack would consist of several qualitative and simultaneous strikes inside US territories and other countries he did not name. He said: "We will set them off soon." The US authorities deployment last week of specialized US military units to look for nuclear and biological weapons in addition to chemical ones in New York, which suffered severe damages on 11 September, and in other US cities reveals that there are real US fears that al-Qa'ida will resort to the use of non-conventional weapons in the anticipated attack inside US territories. This is consistent with the threats that al-Qa'ida officials had repeatedly made that the next strike would exceed in scale the New York and Washington attacks of 9-11.
Iran Funds Islamic Jihad via Damascus
Jan. 8….(Jerusalem Post) In an attempt to hide its traces, the Islamic Jihad terrorist organization based in Damascus, Syria transfers thousands of dollars to the West Bank territories to fund terrorism. It deposits money in bank accounts opened by the wives of senior Islamic Jihad members. Captured Islamic Jihad terrorist Sheikh Bassam Sa'adi, a senior Islamic Jihad commander in Jenin, (West Bank) was indicted by Israel for transferring funds to operate terrorist activities and belonging to an illegal organization. Security officials indicated that Sa'adi is responsible for setting up the terrorist infrastructure in Jenin that was responsible for several suicide bombings in Israel. Saadi and many other terrorists were arrested during Operation Defensive Shield, an operation by the IDF which revealed the existence of an institutionalized transfer system of large sums of money transferred by Iran via these organizations operating under its patronage, and which use the Syrian and the Palestinian banking systems. Financial transfers were made to Islamic Jihad, Hamas, and indirectly to the Arafat's own Aksa Martyrs Brigades. The questioning of Ali al-Sa'adi and Thabet Mardawi, senior Islamic Jihad commanders in the Jenin cells arrested during Operation Defensive Shield, revealed that they were constantly in touch with Islamic Jihad headquarters in Damascus, which in turn was continually in touch with Iran.
Analysis: Sharon Chooses the Roadmap over God
Jan. 8….(JNewswire) Israeli Prime Minister Ariel Sharon told a convention of his Likud Party this week that Israel has have no choice but to "relinquish some Jewish settlements" in the context of a final "peace" arrangement with the Palestinians. In taking this political decision to please President Bush and the Roadmap sponsors, a number of Israeli settlements will have to go, given that the Palestinians' starting point is the demand that they all be uprooted. But even if the Palestinians don't play ball, Sharon reiterated his intention to uproot many "illegal" outposts as well as at least some fully legitimate settlements in the implementation of his "territorial disengagement plan." Both routes would lead to a sovereign Palestinian state rising on Israel's ancient heartland, and in effect cutting the heart right out of Israel. Even if the Palestinians don't play a peace partners role, they will still receive a state at. It will either be before a glittering international signing ceremony, or it will come unilaterally as Israel vacates great chunks of Judea, Samaria and Gaza, leaving a vacuum to be grabbed and filled by any of the Palestine terrorist organizations! For Bible-believing Jews and Christians, the overriding concerns about Sharon's decision is that the man who long championed Israel's right and duty to settle its biblically deeded land appears now to have taken God and His promises right out of the equation. Sharon's decisions are obviously driven by political expediency. Sharon has pledged to President Bush that he will uproot settlements and cooperate with the US plan to establish a political State in Palestine this year! The Prime Minister is playing a perilous game, trying to outwit the devil by gambling with the right of future generations of Jews to live on their God-given land. And he is playing an even more dangerous game by ignoring the commands and promises of his God. The situation has seldom appeared bleaker. But believers who want to ensure that the Word of God is not forgotten by the wayside should remember that "defeat" in the short-term always becomes the Almighty's victory in the long. Just as Theodore Herzl, the Father of political Zionism who died 24 years before Sharon was born, who even though he was an atheist, was mightily and effectively used by God to prepare the way for Israel's physical rebirth, so too is the heart of this Prime Minister in the hands of One greater than he, the God of Israel Who remains fully committed to and in control of His people's destiny.
Just Thinking About Leadership
Jan. 7….(FOJ) Former President Harry S. Truman (1948-1952) was once asked about political leadership and how he picked people that worked for him in his administration. On one occasion a man's name was presented to him for nomination to a high position within his cabinet. The man was a noted scholar that held coveted credentials. But President Truman, upon a further character check into the man's background discovered that the man was a noted adulterer, and that he not only hid the matter from his wife, but lied to her about his affairs. After rejecting the nominee for recommendation to a high office, President Truman was asked why he would turn down such a high profile protegee for high office for the seemingly insignificant matter of a private and personal misdeed. Mr. Truman responded that if the man in question would lie to his wife about adultery, then what would keep him from lying to the President about difficult issues. Ironically and sadly, President Truman's logic about a person's private character has become lost on today's generation. President Clinton lied to his wife numerous times about his personal life, and then went on to continually lie to the entire nation about his indiscretions. So whereas President Truman was concerned about someone lying to the President, today we think nothing about a lying President. If we as a nation today can excuse a lying President about a private personal issue, then what could keep a habitually dishonest President from lying to the nation about political and or international issues? Character and integrity are always important. A person's honesty and accountability to his own responsibilities helps to build his reputation and in turn loans to him his real credibility. A man's word used to be his personal bond, because he knew that final accountability belonged to his maker. (1 Corinthians 8:3 But if any man love God, the same is known of him.) A tree is know by its fruit, said the Lord, and the fruit of truthfulness and righteousness is what makes a good leader. (Luke 6:45 A good man out of the good treasure of his heart bringeth forth that which is good; and an evil man out of the evil treasure of his heart bringeth forth that which is evil: for of the abundance of the heart his mouth speaketh.)
Pakistan-Musharraf: A Teetering Domino
Jan. 7….(FOJ) Recently there were two separate terrorist-related assassination attempts targeting Pakistani President Pervez Musharraf. An attempt on his motorcade near the capital city of Islamabad failed to kill the president by a matter of seconds. Had the terrorists timing been just a little better, Pakistan would now be in chaos and all of southwestern Asia would feel the shocks of an impending nightmare. Instead, Musharraf and Indian Prime Minister Vajpayee are beginning meetings to try to settle the border dispute between their two countries. And that is a prospect that the Islamic terrorists like Osama Bin Laden would not want to see happen. Make no mistake about it, Pakistan is a big domino in the war on terror and evil. It has a huge army, a real air force, and advanced missile technology. Foremost of all, it has the Bomb. Yes the nuclear bomb, and the technology that goes with. For years, the world has fretted over the prospect of an Arab/Islamic nuke, and Pakistan is the domino that could make it happen over night. While our political leaders still debate whether Iraq had or sought nuclear capabilities, in Pakistan it's a done deal. And while they examine and re-examine the alleged links between Hussein and al Qaeda, in Pakistan the links already exist. Elements within that country helped finance and maybe plan the 9/11 terrorist attacks and, if he is still alive, are most likely sheltering Osama bin Laden. Most Americans don't know this, due to an extensive media and governmental blackout on the subject. President Musharraf, who seized power in a coup in 1999 and holds his office only because of the rather tenuous backing of the military, is the United States' best friend in Pakistan. He is apt to be all that stands between a relatively pro-Western tilt and a takeover by fundamentalist Islamic militants. Opposing Musharraf and a likely suspect in the attempts to terminate his Presidency "with prejudice" is the powerful Pakistani Inter-Service Intelligence (ISI). This entity has close ties to al Qaeda, and was the conduit for money and military supplies to the former Taliban. It is to them that the government has traced $100,000 paid to Mohamed Atta, mastermind of 9/11, and a recent book has implicated them as accomplices in the murder of Wall Street Journalist Daniel Pearl. If Musharraf were to be assassinated, radical anti-American Islamists would likely succeed him. Pakistan is a domino in the war with the terrorists, and everybody knows it.
Israel is Begging For Security!
Jan. 6….(FOJ) Israel is following the Bush Administration's demand to carry out its Road Map obligations even though the Palestinian Authority does not. This roadmap is being forced upon Israel even despite the Israeli Knessett's Cabinet decision of May 2003 that determines that Israel only follow through with settlement uprooting after the PA confronts the terrorist infrastructure within its jurisdiction. It was learned today that the Israeli Defense Ministry has been ordered to prepare a list of no fewer than 28 established and populated outposts that it can uproot and destroy, and whose residents must be expelled. Prime Minister Ariel Sharon said last night that Israel has no choice but to concede territory and uproot settlements immediately in order to participate in the Roadmap process. Ariel Sharon was heckled and booed by members of his own party yesterday as he pledged to stick with his plan for a partial withdrawal from the occupied territories and the dismantling of some Jewish settlements. At one point, the Israeli prime minister's speech was interrupted as scuffling broke out in the Tel Aviv hall where thousands of Likud members were gathered. The raucous meeting that laid bare the rift within the ruling party created by Mr Sharon's announcement last month that he will unilaterally pull out of some of the West Bank and Gaza if talks with the Palestinians do not bear fruit soon. "My disengagement plan is the best security plan. It is my plan and I will get it passed," he said. The angriest barracking of the Prime Minister came when he repeated his assertion that Israel would have to abandon some Jewish settlements in the occupied territories. Some party members shouted that he was a traitor to Zionism. Sharon, who is known as the architect of the settlement construction, was booed when he said that his plan to disengage from the Palestinians was the best plan for Israel from a security standpoint. "If we receive security, we will give, and give a lot," Sharon said. "If the terrorist infrastructures can be dismantled from the root, if t he incitement stops, then the government of Israel will do anything for security guarantees! "If it turns out that no peace-partner can be found on the Palestinian side, we will cut ourselves off from them both politically and physically," he said. For Israel, the issue of security, and its "guarantee" is imperative. The Big question is; Who can guarantee security for Israel? The Antichrist will entice Israel with a false offer of peace and security! (1Thessalonians 5:2-3 For yourselves know perfectly that the day of the Lord so cometh as a thief in the night. For when they shall say, Peace and safety; (safety means security) then sudden destruction cometh upon them, as travail upon a woman with child; and they shall not escape.)
American Girls Embracing Bisexuality?
Jan. 6….(Richard Luscombe) Some see it as the latest cool trend among girls in America's high schools. Others claim it is just teenagers doing what they do best, being rebellious. Either way, a wave of 'bisexual chic' is sweeping the United States. Emboldened by such images as Madonna kissing Britney Spears and Christina Aguilera on a TV awards show, girls are proudly declaring their alternative sexualities at a younger age than ever before. 'It's a countrywide thing,' said Jessie Gilliam, a project manager for the Washington-based gay and lesbian support group Youth Resource. Denise Pell, president of BiNet USA, a network for bisexuals, says it has become more acceptable for younger girls to experiment with their sexual identities well before their college years. 'I don't think it's possible statistically to say it's increasing, but it seems more girls are comfortable to identify themselves as bisexual,' she said. 'For some, it may be what they really feel; others may be questioning themselves and their sexualities; and it's possible that some are doing it because they think it's chic. It doesn't necessarily mean these kids are sexually active, but they are learning about themselves, not just in their sexualities but in their lives in general. And that should only be encouraged.' The 'chic chick on chick' phenomenon seems to be particularly prevalent at teenage and college parties, where it is common to find two or more girls kissing each other, often egged on by a rowdy, supportive group of males. Guys usually think it's a turn-on. It's more of a teasing thing. At parties, girls randomly kiss and guys think, "Oh, that's awesome".' A recent study by the South Florida Sun-Sentinel revealed that many girls think this way. 'I liked the attention,' declared one 17-year-old, who admitted 'experimenting' with another girl because she liked the way her boyfriend reacted. The parties emulate scenes captured on commercially available videos, such as the best-selling Girls Gone Wild series, in which soft-porn actresses pose as college students and are paid to kiss, fondle and stroke each other and flash their breasts at gathered male students, who are often drinking heavily. 'It's a bisexuality that's focused on heterosexuality, in that it's still focused on pleasing a man. Images of lesbian or bisexual females in the mainstream media are playing a big part in the trend too, some experts say. The Madonna-Britney clinch at last year's MTV Music Awards has been constantly replayed, and it helps to influence young people's minds. 'Obviously if you are seeing pop icons or role models doing this, and they are OK with it, then you will feel more comfortable with it yourself.
Syria Is Hiding Saddam's WMD
Jan. 6….(DEBKA) Nizar Najoef, a Syrian journalist who recently defected from Syria to Western Europe and is known for bravely challenging the Syrian regime, said in a letter Monday, January 5, to Dutch newspaper "De Telegraaf," that he knows the three sites where Iraq's WMD are kept. The storage places are:
1. Tunnels dug under the town of al-Baida near the city of Hama in northern Syria. These tunnels are an integral part of an underground factory, built by the North Koreans, for producing Syrian Scud missiles. Iraqi chemical weapons and long-range missiles are stored in these tunnels.
2. The village of Tal Snan, north of the town of Salamija, where there is a big Syrian airforce camp. Vital parts of Iraq's WMD are stored there.
3. The city of Sjinsjar on the Syrian border with Lebanon, south of the city Homs. Najoef writes that the transfer of Iraqi WMD to Syria was organized by the commanders of Saddam Hussein's Special Republican Guard, including General Shalish, with the help of Assif Shoakat, Bashar Assad's cousin. Shoakat is the CEO of Bhaha, an import/export company owned by the Assad family.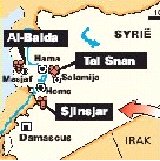 Another source indicating that Syria is hiding Iraq's WMD stocks is a relative of Syrian President Bashar Assad. He also says that Syria is hiding Iraqi weapons of mass destruction in three locations in Syria. The weapons were smuggled in large wooden crates and barrels by Zu Alhema al-Shaleesh, known for moving arms into Iraq in violation of U.N. resolutions and for sending recruits to fight coalition forces. One weapons-cache location is a mountain tunnel near the village of al-Baidah in northwest Syria, he said. The tunnel is known to house a branch of the Assad regime's national security apparatus. Two other arms supplies are reported to be in west-central Syria. One is hidden at a factory operated by the Syrian Air Force, near the village of Tal Snan, between the cities of Hama and Salmiyeh. The third location is tunnels beneath the small town of Shinshar, which belongs to the 661 battalion of the Syrian Air Force. The nephew of Zu Alhema al-Shaleesh, Assef al-Shaleesh, runs Al Bashair Trading Co., a front for the Assad family involved prior to the war in oil smuggling from Iraq and arms smuggling into the country. Al-Bashair has offices in Damascus, Beirut and Baghdad. In an exclusive interview yesterday with the London Telegraph, Assad came close to admitting his country possessed stockpiles of weapons of mass destruction. Assad told the London paper that Syria rejects American and British demands for concessions on weapons of mass destruction, insisting Damascus is entitled to defend itself by acquiring its own chemical and biological deterrent. He said Israel must agree to abandon its undeclared nuclear arsenal in order for Syria to consider any deal with the U.S.
Assad: We Won't Scrap WMD Uless Israel Does
Jan. 6….(Ha Aretz) Backing away from Damascus's customary denial of a weapons of mass destruction arsenal, Syrian President Bashar Assad has rejected U.S. and British demands for curbs on non-conventional arms. We are a country which is partly occupied and from time to time we are exposed to Israeli aggression," Assad said in an interview with the British paper, referring to Israel's presence on the Golan Heights. "It is natural for us to look for means to defend ourselves. "It is not difficult to get most of these weapons anywhere in the world and they can be obtained at any time." Assad said Libyan leader Muammar Gaddafi's surprise decision last month to scrap his nuclear and chemical weapons programs was a "correct step," calling on the international community to support the proposal that Syria presented to the United Nations last year for removing all WMD from the Middle East, including Israel's widely suspected nuclear stockpile. "Unless this applies to all countries, we are wasting our time," Assad said. The Syrian president also said Palestinian suicide bombings attacks had become "a reality we cannot control" and blamed them on "the Israeli killings, and the Israeli occupations".
Europe Wants to Rival US as Military Superpower
FOJ Note: This article is very enlightening. It reveals what FOJ has been reporting for years now concerning the EU and the Israeli-Palestinian Conflict. The EU, with a submissive USA will probably forge the stage for the emergence of the future Antichrist leader. The building geo-political drama, especially as it involves the Israeli-Middle East Crisis between the EU and the US is setting in place the political logistics for the rise of an EU Super-President, and perhaps the seat of the Antichrist.
Jan. 5….(CNS News) European Union support for the Palestinian Authority against Israel is part of Europe's "hidden war" against the United States to become a world superpower, a European parliamentarian said in Jerusalem this week. Washington has often backed Israel's position against the Palestinians, particularly in its war on terrorism over the last three years. The United State is also perceived by the Arab world to be pro-Israel. The EU has argued that it is a neutral observer. But Israel has rejected direct EU participation in the peace process fearing that what it considers the EU's pro-Palestinian bias would tip the peace negotiating scales in favor of the Palestinians. The EU has backed the Palestinian Authority since the beginning of the Oslo process in 1992, becoming one of its main financial supporters and giving the PA hundreds of millions of Euros since then. EU parliamentarian Ilka Schroeder charged that EU backing for the PA goes beyond support for the Palestinian cause and is actually part of a secret agenda to gain power in the world. "For me it is obvious that the Middle East has become one of the most important fields of European military superpower ambitions," Schroeder said. "The primary goal of the EU is the internationalization of the Israeli-Palestinian conflict in order to underline the need for its own mediating role. The longer the conflict continues and the deeper it gets, the more evident is the incapability of the U.S. to moderate the peace process," Schroeder told diplomats and journalists at the Institute for Contemporary Affairs in Jerusalem this week. "The need for a solution only exists as long as war continues. This is why the EU does not want the conflict to end before it gains a major geo-political role in Mid-east affairs. And this is why the EU does not wish the PA to give up too early and why the EU is strengthening the PA. "The EU is basically stirring up the Israeli-Palestinian conflict that it supposedly wants to see resolved by financing one side, for the purpose of offsetting Israel as the primary ally of the US. The Palestinians are thus playing the ugly role of cannon fodder of Europe's hidden war against the U.S." Schroeder charged. Schroeder, who has served in the European parliament since 1999, is currently an independent member of the Confederal Group of the European United Left/Nordic Green Left. She started an initiative in the European parliament several years ago to investigate the possible PA misuse of EU funds when Israel put a freeze on the transfer of tax revenues to the PA, fearing that those monies would then be used to fund terror attacks against Israel. At the time, the EU dismissed Israeli allegations as propaganda. After Israel raided Arafat's Mukata headquarters compound in Ramallah in 2002 and removed truckloads of official PA documents, Israel confronted the EU with the charge that funds it was transferring to the PA were being used to finance terrorism. Despite the fact that more than 170 European parliamentarians have now joined Schroeder's initiative for an investigation, she said, it has "pretty much failed." "The European parliament does not intend to verify whether European taxpayers money could have been used to finance anti-Semitic, murderous attacks," she said.
'Road Map' is an EU Diplomatic Success Story
According to Schroeder, although the current Israeli-Palestinian peace plan, known as the "road map," was supposedly derived from Bush's peace plan for the region, the EU considers it a big success that the plan was enshrined as U.S. Middle East policy. This road map was a German invention that is now in a modified version a part of the official policy of the U.S. The recent Geneva Plan was a scheme to compel the US to adopt the Roadmap as the official policy of the U.S. government.
Iran: World Should Pressure Israel to Disarm
Jan. 5….(Jerusalem Post) The world should put pressure on Israel to forsake nuclear weapons, Iranian Foreign Minister Kamal Kharrazi said Saturday in Damascus. "International pressure should be applied to Israel to eradicate its weapons of mass destruction, as this would be in the interest of the whole region," Kharrazi said. Syria has proposed that the UN Security Council should declare the Middle East a nuclear free zone. The Security Council is divided on the question of taking up Syria's proposal. The feeling in Jerusalem is that despite what is sure to be pressure from the Arab countries to focus world attention on Israel's nuclear program, it is unlikely to gain much traction because "the US won't sign on." However, just as the Arabs succeeded in throwing the fence issue to the International Court of Justice in the Hague, Israel must prepare itself diplomatically to "fend off coordinated offensive to push Israel into the corner" on this matter, one source said. Israel's official position on nuclear arms is that it will not be the first to introduce them to the region. Recently government officials have added to this nearly four-decade old mantra the statement that weapons of mass destruction in and of themselves don't cause harm if they are in the hands of countries with democratic regimes, and that they are only dangerous in the hands of rogue regimes with radical ideology and no proper checks and balances.
An earthquake in Israel is a certainty;
it's just a question of when...
Jan. 2….(Israel Insider) The Haifa Bay area is a ticking bomb, which will explode if and when an earthquake occurs," said Geological Institute Director Amos Bein yesterday. A former study by the Geophysical Institute of Israel found that a 7.0 Richter scale earthquake at Beit Shean would bring down buildings in Tel Aviv and Haifa. Israeli relief organizations vowed to send aid to earthquake victims in Iran, despite Iran's unwillingness to accept it. "Nearly the whole of Israel is along the fault line," said Chairwoman of the Knesset Science and Technology Committee MK Meli Polishook-Bloch (Shinui) yesterday. "An earthquake is a certainty; it is just a question of when. It could be in five minutes or 50 years. The whole area is sensitive. (Zechariah 14:3-4 Then shall the LORD go forth, and fight against those nations, as when he fought in the day of battle. And his feet shall stand in that day upon the mount of Olives, which is before Jerusalem on the east, and the mount of Olives shall cleave in the midst thereof toward the east and toward the west, and there shall be a very great valley; and half of the mountain shall remove toward the north, and half of it toward the south.) (Revelation 6:12 And I beheld when he had opened the sixth seal, and, lo, there was a great earthquake; and the sun became black as sackcloth of hair, and the moon became as blood;)
Pope Calls For Global Order For Peace

Jan. 1….(Reuters) The world needs a "new international order" to solve its conflicts and ensure peace, Pope John Paul said in his New Year's Day address Thursday. "More than ever we need a new international order which draws on the experience and results of the United Nations (news - web sites)," the 83-year-old pontiff said at a mass in St. Peter's Basilica. "An order which is capable of finding adequate solutions to today's problems, based on the dignity of human beings, on integrating all society, on solidarity between rich and poor countries, on the sharing of resources and the extraordinary results of scientific and technological progress," he added.
Share this page with your friends.










Powered by Bravenet