WEEK OF APRIL 26 THROUGH APRIL 30

Take The Name of Jesus

April 30….(FOJ) This week Florida Senate President Jim King apologized to Jewish legislators after an Orlando minister invoked the name of Jesus Christ in the Senate's opening prayer. Dr. Clayton Cloer, senior pastor of the First Baptist Church of Central Florida, gave the invocation, giving thanks for God for the "freedom for people to believe in Jesus Christ." Cloer, a guest of Sen. Daniel Webster, R-Winter Garden, concluded by invoking the "name of Jesus." Seconds later, a frustrated King took the Senate podium and said that ministers who lead the Senate in daily prayer are supposed to deliver a nondenominational blessing, and take the name of Jesus out of their prayers because it was offensive to many. He then reached out to the Senate's six Jewish members. "To those of you who were offended or feel hurt, I apologize," King said.
Also this week a US Congressman highlighted the "under God" controversy sweeping liberal America. Every day the US House of Representatives is in session, one of its membership leads the chamber in a recitation of the Pledge of Allegiance. When it came to Rep. James McDermott's turn on Tuesday, he chose not to place his hand over his heart, and he omitted the words "under God" in the pledge.
And last year Council members in a South Carolina town ruled that the name of Jesus Christ cannot be intoned in prayers during their meetings. Across the country towns are deciding that it is a violation of the First Amendment of the U.S. Constitution to use the name of Jesus Christ in prayers offered before or after meetings. Yet this week, a Michigan town approved a public Islamic loudspeaker call to Muslim prayers. It seems that anything goes in America today except the offensive name of Jesus. His name we can slander and abuse in curses, but ne'er shall it be used in honor of God, not in public, for heaven sake! But let me reiterate scripture concerning the name of Jesus: (Romans 9:33 As it is written, Behold, I lay in Sion a stumblingstone and rock of offence: and whosoever believeth on him shall not be ashamed. Philippians 2:9-11 Wherefore God also hath highly exalted him, and given him a name which is above every name: That at the name of Jesus every knee should bow, (sooner or later) of things in heaven, and things in earth, and things under the earth; And that every tongue should confess that Jesus Christ is Lord, to the glory of God the Father.)

Marines Find Faith Amid the Fire

April 30….(LA Times) On Monday, Echo Company battled insurgents for two hours. One Marine was killed and 15 were wounded in the latest and bloodiest of numerous skirmishes. Then four Marines, from the battle-hardened company, part of the 2nd Battalion, 1st Regiment of the 1st Marine Division, asked a Protestant chaplain to arrange a battlefield baptism. "I've been talking to God a lot during the last two firefights," said Lance Cpl. Chris Hankins, 19, of Kansas City, Mo. "I decided to start my life over and make it better." To give the occasion even greater significance, the Marines chose to have Wednesday's baptism in the courtyard of a bullet-riddled school that they used in their fight with insurgents. Battlefield baptisms are not unusual among front-line troops, said Navy Lt. Scott Radetski, the battalion's Protestant chaplain. So many service personnel on deployment request to be baptized that the military even has a two-page sheet on how to create a battlefield baptismal font, called the Field Immersion Baptismal Liner Instructions. Radetski said he performed one ceremony in Kuwait when Marines were waiting to move into Iraq. Three Marines at another encampment in Falluja also have asked to be baptized. "When chaos shows its head," Radetski said, "we need an anchor for our faith. You need that rock that God promises to be. Insurgents are holed up in houses a few hundred yards away, their weapons aimed at the school, hoping to kill Marines with a well-timed shot. Still, the four Marines thought that the courtyard was the ideal spot to make a public profession of their religious belief. "What better place to do this than here, in the middle of hell," said one marine.

Israeli Chief of Staff: Syria may have hidden Iraqi WMD

April 30….(World Tribune) Israel's military leader has for the first time publicly asserted that Iraqi weapons of mass destruction might have been sent to neighboring Syria. Israeli Chief of Staff Lt. Gen. Moshe Ya'alon explained the failure of the U.S.-led coalition to find WMD in Iraq by saying Saddam Hussein's biological and chemical weapons might have been transferred to Syria. "Perhaps they were transferred to a neighboring country, such as Syria," Ya'alon told the Israeli daily Yediot Aharonot on Monday. "We very clearly saw that something crossed into Syria." Ya'alon said another possibility was that Iraq buried its WMD arsenal, Middle East Newsline reported. He said he would have conducted the search for Iraqi WMD differently, but did not elaborate. It was the first time a high-level Israeli military official asserted that Iraqi WMD could have been transferred to Syria. Last year, a similar assertion was issued by the head of the U.S. National System for Geospatial-Intelligence, Lt. Gen. James Clapper.
FOJ Note: FOJ has consistently documented this story for a year. Recently Sudan interrupted Syrian WMD exports to that African nation out of a fear that the US would catch on to the scheme to transfer the sought after Iraq weapons from Syria into Sudan.

Ex-Iraqi Officer ties Saddam to Al-Qaida

April 30….(Geo-Strategy) A former Iraqi intelligence officer has disclosed new information about Saddam Hussein's ties to the al-Qaida-related terrorist group Ansar al Islam. The Iraqi intelligence agent, who currently is in the Al Suleimaniya prison, told interrogators he served as coordinator between the Iraqi Special Security Department and the hardline Kurdish fundamentalist groups, including Ansar al Islam. Arabic press reports identified the officer as Haydar al Shammari, who used the pseudonym Abd al Rahman al-Shammari. Shammari said that Ansar "was originally set up as a branch of al-Qaida organization in Kurdistan, and had strong ties with Iraqi intelligence that exerted great efforts to bring the extremist Islamic elements in Kurdistan together and help them form a new organization in the name of Jund-al-Islam that later turned into Ansar al-Islam." Iraqi intelligence opened several training camps for Ansar members to learn how to use explosives, conduct kidnappings and carry out suicide bombing attacks, according to the former officer. Shammari revealed he met frequently with Arabs from Afghanistan who crossed into Iraq from Jordan and Syria. The Arab Afghans included "a number of the best experts in explosives and booby-trapped vehicles and also in making chemical weapons," he said.
FOJ Note: The liberal American press, and the Democratic party would have us believe that Al Qaeda was not connected to Saddam Hussein. Yesterday, World Net Daily also ran a story on the ongoing gradual discovery of weapons of mass destruction in Iraq, which is posted below.

Arab Americans To Vote For Kerry

April 30….(Islamonline) A majority of Arab Americans in four battleground states would vote for democratic candidate John Kerry if presidential elections were held Thursday, April 29, a poll unveiled. The poll, conducted by the Washington-based Arab American Institute, found that 49 percent of all Arab-American voters in Florida, Michigan, Ohio and Pennsylvania, all swing states in the November election, would vote for Kerry, while 30 percent would vote for incumbent Republican President George W. Bush. The poll results indicate a shift in the choice of Arab Americans in the four states that supported Bush in the 2000 presidential elections. The anger among Arab-Americans towards Bush is palpable," he stressed. Shortly after the 9/11 attacks, which Washington blamed on Saudi dissident Osama bin Laden, the administration introduced a number of repressive measures through antiterrorism laws deemed by human rights groups as a constitutional threat allowing arrests of "terror suspects". The Patriot Act, passed by Congress a few weeks after the events of 9-11, grants the FBI powers to secretly obtain a variety of information about ordinary Americans, as a crucial weapon in the war on terrorism. Nearly 57 percent of American Muslims polled by an Islamic organization in 2002 say they have experienced bias since the attacks and 87 percent know of a fellow Muslim who experienced discrimination. Feeling ostracized and betrayed by these laws, Arab Americans are trying to show they can be a political force and key player in this year's presidential election. James Zogby said that 72 percent of those polled considered the Arab-Israeli conflict "very important, and a reason to vote for Kerry." Arab Americans also say that President Bush had triggered worldwide wrath by saying, with Israeli Premier Ariel Sharon at his side in a press conference, that Palestinian refugees could not return to land lost in 1948 and that Israel could retain occupation of lands in the West Bank. The UN and the European Union have rebuked the President's policy.

PLO: US Will Pay if Israel Kills Arafat

April 30….(Jerusalem Post) The PLO's representative in Lebanon has warned the US that America will pay dearly if Israel were to assassinate PA Chairman Yasser Arafat. America's interests would be in danger all over the world, Sultan Abu Einen said Friday. "All our people all over the world will turn into time bombs if this thing happens," Einen said at a rally in the al-Rashidiya refugee camp in southern Lebanon. Prime Minister Ariel Sharon said last week he had freed himself of a pledge he had made to US President George W. Bush to not harm the Palestinian leader. Israel is keeping Arafat holed-up in his Ramallah compound, and accuses the PA Chairman of starting and maintaining a terror war.
FOJ Note: Why are we helping these terrorists to obtain a State? The PLO is still wielding Arafat's old UN "olive branch or freedom fighters gun" ploy to blackmail and threaten people. And just exactly who is "all their people" around the world that will turn into bombs? Is this a subtle reference to international terrorists, such as Al Qaeda?





Assad Defends Anti-U.S. Attacks in Iraq

April 29….(My Way) Syrian President Bashar Assad described armed attacks against U.S.-led troops in neighboring Iraq as legitimate "resistance" against foreign occupation. His remarks, aired Wednesday on the Qatar-based pan-Arab al-Jazeera satellite station, are likely to strain already tense U.S.-Syrian relations. Assad, whose country strongly opposed the U.S.-led war on Iraq, said anti-American resistance was widespread in Iraq, where most people opposed the U.S. occupation. "The public reaction (in Iraq to the U.S. occupation) gives legitimacy to the resistance," Assad said, adding that Iraqi opposition stems from the killing of Iraqi civilians by American-led soldiers. Assad also compared militant Palestinian factions fighting Israeli occupation of Palestinian lands to the Iraqi insurgents seeking to end the U.S.-led occupation of Iraq. "Is it logical that all these hundreds of thousands and millions (of people) who are resisting occupations in different forms, are all al-Qaida, or all supporters of the Saddam Hussein regime, as they (U.S. forces) say," Assad asked in the interview, monitored by The Associated Press in Lebanon. Since early April, U.S. forces have been locked in fierce battles with Sunni fighters in Fallujah, near Baghdad, and with militiamen of a radical anti-U.S. Shiite cleric in southern Iraq. More than 115 U.S. soldiers have been killed in combat this month, the bloodiest of the conflict to date. At least 725 U.S. troops have died in Iraq since the war began in March 2003. Up to 1,200 Iraqis also have been killed this month. Assad's defense of anti-U.S. attacks in Iraq comes at a time when Syrian ties with America are strained over Iraq and Washington's view that Damascus supports regional terrorism. Syria has been on the State Department's list of terror-sponsoring nations for supporting anti-Israel groups like Hamas and Hezbollah. Damascus says such groups are legitimate resistance fighters and not terrorist, and it has an interest in fighting Islamic extremist groups like Osama bin Laden's al-Qaida network. Washington also accuses Syria of allowing foreign fighters cross its borders into Iraq and hindering the war on terror. In December, President Bush approved the Syria Accountability and Lebanese Sovereignty Restoration Act, which accuses Syria of hosting militant Palestinian groups and seeking biological and chemical weapons. Syria denies the weapons claims.

Terrorists Cheer Kerry's Rhetoric

Officials think al-Qaida will plan attacks in U.S. to help Kerry force out Bush

April 29….(World Net Daily) Sen. John Kerry's increasingly shrill challenge of President Bush is grinding down the image of the United States abroad and playing directly into the hands of anti-U.S. extremists. Exploiting the liberties of free societies, terrorists are using the mass media to sow divisions among and within the democracies, terrorism experts report. The March bombing of the Madrid subway proved that low-budget terrorist attacks could be used to influence democratic elections and, by virtue of Spain's sudden military withdrawal from Iraq, to drive wedges between the staunchest allies in the international antiterrorism coalition. Senior Spanish and U.S. officials now believe al-Qaida will plan more attacks in the United States to try to force President Bush from office. Playing directly into the terrorists' hands is Bush's increasingly shrill challenger, Kerry. Democracies long have been vulnerable to manipulation by hostile foreign powers. President George Washington foresaw this in his Farewell Address of 1796. Though the popular notion is that the main point of the address was to warn against entangling alliances, the most persistent theme of Washington's speech was to warn against foreign subversion of America's democratic process. Specifically, Washington feared that foreign adversaries would use the new democratic system to turn Americans against themselves. Even now, external enemies are attacking the political fortress of the United States and its democratic allies through propaganda by word and deed. In his taped statement aired on the Wahhabi satellite TV network Al-Jazeera on April 15, Osama bin Laden not only sought to divide Europe from the United States by offering a "truce" with European countries that pull out of the coalition in Iraq, the al-Qaida leader also explicitly feasted on the feeding frenzy among bickering American politicians about whether President Bush was to blame for the Sept. 11, 2001, terrorist attacks. Good propagandists will turn their enemies' words against them, and the best will sow suspicion and division among them. This is happening now in the United States, where the terrorist enemy and its allies are using the rhetoric of the current presidential campaign in their jihad against the nation.

Previous cautions against rash campaign words that provide aid and comfort to the enemy were thrown out the window long ago. Kerry steadily has become more and more shrill in his denunciations of the president as a leader, a man and a politician. Straying from legitimate policy differences with Bush or a healthy national debate about how best to fight the terrorist enemy, the Democratic nominee in waiting has yanked off the safety and fired full auto at the president. Al-Jazeera and other anti-U.S. propaganda outlets have been quick to magnify whatever Kerry says in an attempt to show what a failure the United States has become under the Bush presidency. Kerry's increasingly strident and careless statements on the campaign trail reverberate abroad. With near-daily doses of extreme and careless quotations from the anti-Bush camp, Arab audiences are led to believe the worst about U.S. intentions and policies in the war on terrorism. Rather than helping the war effort with positive alternatives to counter-terrorist policies they consider flawed, Kerry and other politicians are fanning the flames of hostility in the Islamic world. The Kerry campaign, meanwhile, is reported to have e-mailed messages to foreign media outlets, pledging to "repair the damage" that President Bush allegedly has inflicted on the world. The Tehran Times, an English-language newspaper in the Iranian capital, reported Feb. 8 that unnamed Kerry staffers sent an e-mail to the Tehran-based Mehr News Agency apologizing for the conduct of the United States in the war on terrorism.

The Madrid model

Al-Qaida may be planning to influence the American presidential elections this November, replicating the "Madrid model" of staging bloody terrorist attacks to intimidate voters into ousting leaders who aggressively fight terrorism.

Some observers believe that its March 11 train bombings in Madrid, which created an electoral backlash against Spanish Prime Minister Jose Maria Aznar three days later, validated a model by which the terrorists could influence democratic societies to get rid of their tough-on-terrorism leaders. Among the United States' staunchest European allies, Aznar was one of the original European supporters of ousting Saddam Hussein. All pre-electoral polls showed his party winning re-election against Socialist Party candidate Jose Luis Rodriguez Zapatero. But the subway bombings, which killed nearly 200 and injured more than 1,800, shook the confidence of the Spanish people and was the single largest factor in Zapatero's surprise victory. "The terrorists won," according to Bob Brinker, a financial analyst and host of the syndicated radio program MoneyTalk. Watching how political events shape the markets, Brinker coined the term "Madrid model" in expectation of future attacks designed to manipulate the outcome of elections. In Brinker's view, under the Madrid model the terrorists attack a democratic society, change the government and gain a military victory in Iraq by helping democratic antiwar politicians come to power. Brinker calls Zapatero an "al-Qaida-installed Prime Minister." "Can you imagine the empowerment that al-Qaida feels today?" Brinker said on his April 18 program. He predicted a repeat performance for the U.S. presidential election in November: "This is the last thing in the world you want to see happen." Neither Kerry nor his ally Kennedy seems to have learned from his own Vietnam experiences, say critics, when both used extremist rhetoric to sow defeatism at home even though U.S. and South Vietnamese forces were destroying the communist enemy on the ground. As in Vietnam, the Kerry camp seems not to care. The very day bin Laden's tape was broadcast, Kerry stood in East Rutherford, N.J., accusing the president of manipulating the war for personal political gain. "Everything he did in Iraq, he's going to try to persuade people it has to do with terror even though everybody here knows that it has nothing whatsoever to do with al-Qaida and everything to do with an agenda that they had preset, determined," Kerry said. Islamist forces are not alone in using Kerry's words against the United States. North Korean dictator Kim Jong-il, whose regime is on the State Department's list of state sponsors of terrorism, also favors a new American president. The regime's mouthpieces, including the Communist Party daily Rodong Sinmun, have been using Kerry's statements as propaganda to discredit the U.S. government. "North Korea has been paying keen attention to the U.S. presidential election in recent weeks, reporting Democratic presidential primaries and various opinion polls through its state media," the English-language Korea Times, published in Seoul, reported in February. "Most of the reports are focusing on the criticism against Bush and Sen. John Kerry's surge as viable presidential candidate." Rebecca MacKinnon, former Beijing bureau chief for CNN and now a media fellow at Harvard University's John F. Kennedy School of Government, says that North Korea's state-controlled media have been portraying Kerry "in a positive light." As the Financial Times reported in February, "In the past few weeks, speeches by the Massachusetts senator have been broadcast on Radio Pyongyang and reported in glowing terms by the Korea Central News Agency, the official mouthpiece of Mr. Kim's communist regime. 'Senator Kerry, who is seeking the presidential candidacy of the Democratic Party, sharply criticized President Bush, saying it was an ill-considered act to deny direct dialogue with North Korea,' said the news agency. Pyongyang's friendly attitude toward Mr. Kerry contrasts with its strong anti-Bush rhetoric." Like other wartime enemies of the United States, al-Qaida is relying on presumably unwitting allies in the international peace movements. In his April 15 tape, bin Laden called the antiwar demonstrations a "positive interaction" and cited "opinion polls, which indicate that most European people want peace." He appeared to view the Spanish public's ouster of conservative Prime Minister Jose Maria Aznar in favor of an anti-U.S. socialist, Jose Luis Rodriguez Zapatero, as a sign of weakness in the West. That component of strategy is nothing new. The North Vietnamese regime relied heavily on American antiwar protesters to undermine the national will and defeat the U.S. military through political means, in ways that Hanoi could not win on the battlefield. The present North Korean regime is following suit, propaganda specialists say. Providing the ideological inspiration for a strong section of the antiwar movement through its loyal political allies in the United States and elsewhere, the regime of Kim Jong-il continues to use the old Soviet active-measures model of international political warfare. The Workers World Party, a small, numerically insignificant but organizationally superior group based in New York City, slavishly supports the policies of the North Korean government, and its leaders frequently visit Pyongyang. One of its front groups, International ANSWER, coordinates the largest peace protests in the United States. Pyongyang continually exhorts the peace movement around the world. On Feb. 4 the official North Korean Communist Party paper Rodong Sinmun said, "The antiwar struggle is the main form of the struggle for world peace at present and its principal target is the United States." The paper continued, "It is impossible to avert a war and achieve the world peace without a struggle against the U.S. imperialists. The people of all countries of the world should lift their antiwar, anti-U.S. voices and bind Yankees hand and foot to keep them from starting a war." Later in February, in a more subdued tone, Rodong Sinmun cited Kerry as a more preferable leader than Bush. U.S. national-security leaders have long recognized how the terrorists exploit our democratic system, but have been slow to counter it effectively. Insight obtained a copy of a US Army intelligence briefing titled "Al-Qaida's Use of the Mass Media in Infowar/Netwar." Referring to information warfare, (IW) the use of information and information systems as instruments of conflict, and the social or societal IW medium called netwar, the Army report is based on two years of assessments of more than 200 documents. Little secret intelligence is needed to understand al-Qaida's strategy. Open-source information can meet up to 85 percent of the terrorists' intelligence-information needs, according to the report. Public information "provides understanding of strategic plans and intentions [and is] especially useful in forecasting cultural turmoil and societal upheavals, and in planning/conducting IW operations," according to the Army briefing. "AQ [al-Qaida] is familiar with the art of war, but U.S. military has ignored past lessons in favor of technology, and is ignorant of its current foe," the report says. Part of al-Qaida's "counter-propaganda strategy," according to the Army report, is to "turn people's eyes toward their leaders to put enemy [U.S. and coalition partners] on defensive, and take the initiative to affect public opinion." That is nothing new to students of history and statecraft. George Washington devoted much of his Farewell Address to the need to defend the country against foreign subversion designed to corrupt the national identity. Washington recognized the difficult situation that "real patriots" who resist foreign intrigues "are liable to become suspected and odious," while those espousing "pretended patriotism," what he called "tools and dupes" of foreign interests, "usurped the applause and confidence of the people, while at the same time surrendering their interests."





Sabeel Ecumenical Liberation Theology Conference Challenges Christian Zionism

*FOJ Note

: (Very Important Bulletin) This anti-Zionist anti-Biblical conference being held in Jerusalem is an ecumenical world religious drive to undermine the Biblical teaching of the Abrahamic Covenant, and the Biblical worldview of Christian Zionism, and the significance of the miraculous 1948 return of the Jewish remnant to Israel. This Global religious movement is endeavoring to slander and discredit Christian Prophecy Ministries such as Focus on Jerusalem. They are serving the interests of global religion, religious harmony and unity, and ultimately the interests of the False Prophet and finally the coming Antichrist. God has returned Israel once again to the world stage to begin the Divine process to bring his providential plan for Israel about! The following article reflects the fact that Satan has targeted true Biblical prophecy ministries for defamation in order to undermine the Judeo-Christian support for Israel, and to promote a religious diatribe that will bring about the "peace of the Antichrist."
April 28….(Over 600 (so-called) Christian bible scholars, religious leaders and peace activists representing 32 countries, gathered in Jerusalem's Notre Dame Center April 14-18 for The Sabeel Ecumenical Liberation Theology Center's conference, entitled, "Challenging Christian Zionism: Theology, Politics, and the Palestine-Israel Conflict." The conference theme of "Christian Zionism" addresses a worldwide theological and political movement that embraces what the Conference labels "extreme ideological positions" based on selected scriptural texts and which, according to conference presenters, form a worldview that is detrimental to a just peace in the Holy Land. Sabeel Jerusalem director, Rev. Canon Naim Ateek, said Christian Zionism "is a worldview where the Gospel is identified with the ideology of empire, colonialism, and militarism." Over 20 presentations by international theologians, political scientists and legal experts covered a range of topics. Catholic theologian Rosemary Radford Ruether, who is Carpenter Professor of Feminist Theology at the Graduate Theological Union in Berkeley, California, and co-author with her husband Herman Ruether of The Wrath of Jonah: The Crisis of Religious Nationalism in the Israeli-Palestinian Conflict, criticized what she sees in Christian Zionism as the "language of apocalyptic warfare and messianic nationalism" which she believes is an "enormously dangerous" theology that should be rejected. The Rev. Dr. Stephen Sizer, an Anglican and Chairman of the International Bible Society in the UK who is author of Christian Zionism: Justifying Apartheid in the Name of God, to be released this fall, helped to define Christian Zionism, stating that at its simplest it is a "political form of philo-Semitism" or just "Christian support for Zionism," meaning the political and expansionist aims of the State of Israel, its policies and its military. Christian Zionists believe the Jewish people have "a divine right to posses the land of Palestine," Sizer stated. He added that Christian Zionism can be considerably more complex, with some leading agencies committed to both a prophetic plan as well as an evangelistic plan for the Jewish people." Sizer named groups such as Jews for Jesus, Churches Ministry Among Jewish People (CMJ), and the International Christian Embassy in Jerusalem, which sees Biblical Zionism as cutting edge theology for "the Last Days." Sizer claims that Christian Zionism has become the most powerful and destructive force at work in America today, shaping foreign policy on the Middle East and inciting hatred between Jews and Muslims. Central to Christian Zionism is a literal reading of the Book of Revelation, popularized by the Left Behind series of fictional apocalyptic thrillers written by Tim LaHaye and Jerry Jenkins about events following the Second Coming of Christ and the "rapture" in which Christians are taken up to heaven. Conference presenter Barbara R. Rossing, Associate Professor of New Testament at Lutheran School of Theology at Chicago, and author of The Rapture Exposed: The Message of Hope in the Book of Revelation, says the rapture is theologically "all wrong." Rossing explored the bible sources of rapturist theology in her presentation as "modern literalist interpretations based on selective passages of the bible taken out of context." Other presenters included Donald Wagner, professor of the Middle East studies at North Park University in Chicago; Dr. Gary Burge, professor of New Testament at Wheaton College and Graduate School in Chicago; Gershom Gorenberg, associate editor of The Jerusalem Report and founder of the Israeli religious peace movement, Netivot Shalom; Marc Ellis, Director of the Center for American and Jewish Studies at Baylor University in Waco, Texas; Father Peter DuBrul, an American Jesuit teaching Scripture, Philosophy, and Cultural Studies at Bethlehem University, West Bank; and Father Michael Prior, CM, professor of the Bible and Theology at St. Mary's College, University of Surrey, U.K. who is author of Zionism and the State of Israel: A Moral Inquiry. Palestinians from the West Bank could not participate in the Jerusalem conference because of military closures, so organizers scheduled presentations in Ramallah and Bethlehem to take the conference to them. Outcomes of the conference included participants' commitment to return to their respective countries to help pursue a political solution to the conflict in the Holy Land based on the enforcement of existing international law and United Nations resolutions. A conference statement is to be distributed by all participants in their respective localities explaining objections to Christian Zionism and calling upon Christians to liberate themselves from ideologies of militarism and occupation and instead to pursue the healing of the world. And discussions have begun among the Sabeel leadership to form an international institute for the study of Christian Zionism. Sabeel's international patron is South Africa's Archbishop Desmond Tutu.

Sadr Threatens US Troops with 'Fire of Hell'

April 28….(Middle East Online) Iraqi Shiite Muslim cleric Moqtada Sadr warned the US military in an interview published on Monday that American troops would feel the "fires of hell" if they carried out their threat to kill or capture him. "The Americans should know that the people will unleash the fires of hell against them if anything happens to me," he told the Rome daily La Repubblica in a telephone interview from the Shiite holy city of Najaf, south of Baghdad. The top US administrator for Iraq, Paul Bremer, said that "a dangerous situation is developing in Najaf, where weapons are being stockpiled in mosques and shrines and schools," and that "this explosive situation threatens the general population there." Sadr confirmed a previous threat to use suicide bombers if US forces entered Najaf, or another holy city, Karbala. Sadr said that "public opinion in countries belonging to the (US-led) coalition would do well to persuade their governments to withdraw their troops

Americans Sour On U.N.

April 28….(World Net Daily) A new poll shows Americans' view of the United Nations in the last year has taken a significant nosedive. Just 38 percent of likely voters have a favorable opinion of the U.N., while 44 percent have an unfavorable view, according to a poll conducted by Rasmussen Reports. Feelings about the U.N. are considerably more negative from a year ago. Leading up to the Iraq war, 48 percent of Americans had a favorable opinion of the body, with just 31 percent holding an unfavorable view. Those describing themselves as liberal voters had the highest opinion of the U.N., with 60 percent giving the agency thumbs-up. Just 20 percent of conservatives had a positive view, while nearly two-thirds, 62 percent, frowned on the global body. Two-thirds of those who say they'll vote for President Bush in November have a negative impression of the U.N., whereas 59 percent of Kerry supporters view it positively.

China Preparing to Bounce US Out of Far East

April 28….(Asia News) China's military buildup is causing renewed concerns in the United States as the Asian giant arms itself to deter any separation moves by Taiwan or American involvement in a cross-strait conflict. Compounding the concerns is a prospective European plan to lift a 15-year embargo on arms deliveries to China that US experts fear could exacerbate the military imbalance in Asia and speed up Chinese capability to manufacture even more powerful weapons systems. China's military prowess increasingly appears to be shaped "to fit a Taiwan conflict scenario and to target US air and naval forces that could become involved," officials from a key bipartisan panel warned at a Congressional hearing last week. Roger Robinson and Richard D'Amato, the chairman and vice chairman respectively of the US-China Economic and Security Review Commission, said "a significant component" of China's defense modernization strategy was to develop capability to deter US military involvement in any flareup over Taiwan. "The United States cannot wish away this capacity," warned the two officials from the commission. We cannot assume China will stay its hand because it has too much at stake economically to risk military conflict over Taiwan," they said in a joint statement. The United States is Taiwan's biggest ally and arms supplier and is bound by law to provide weapons to help Taiwan defend itself if the island's security is threatened. But Washington also acknowledges Beijing's position that Taiwan is part of China. Taiwanese President Chen Shiu-Bian has recently angered the Chinese leadership with his persistence in wanting to give the island a new constitution, a move Beijing fears will lead to independence. China claims Taiwan as part of its territory despite a split 55 years ago at the end of a civil war, and has said it will invade if the island declared independence or descended into chaos. China already has 500 to 550 short range ballistic missiles deployed opposite Taiwan and Fisher said "land attack cruise missiles will be deployed against the island, if not already, at least by next year." "Taiwan is the near term objective, the longer term objective is hegemony in Asia and removing the American military network from Asia.
FOJ Note: And then for the US there is the "coincidental" nuclear threats emanating from the Korean Peninsula. Does anyone think for a moment that China or Russia is really concerned about nuclear threats from North Korea? Not in the least, China is using the North Korean nuclear threat along with the Taiwan issue to force America out of the Far East, and all of these Far Eastern theatre issues are programmed for implementation as the US risks over-stretching itself in the war-on-terror in the Middle East.





Hamas Turns to Hezbullah and Iran

April 27….(FOJ) Israeli military intelligence chief Aharon Ze'evi has conveyed to the Knesset Foreign Affairs Committee that the targeted assassinations of Yassin and Rantisi had "significantly weakened" the Islamic organization, producing "shock and anarchy" among its remaining members. But he also warned that the twin deaths had caused Hamas to plead for urgent emergency military and economic assistance from the Lebanese Hizbullah militia and its main sponsor Iran, which could pose new threats to Israel and the turbulent Middle East.

Hillary to Arab paper:
Bush endangers Mideast!
April 27….(World Net Daily) Speaking to an Arab-language newspaper, Sen. Hillary Clinton, D-N.Y., charged President Bush's "stubborn" policies are endangering the stability of the Middle East. The President does not fully understand the situation in Iraq and has no plan, Clinton told the London-based Arab-language daily Asharq al-Awsat. The Bush administration has not been "frank" with the American people about Iraq's financial and human toll, she asserted. The former first lady, whose remarks were published throughout the Middle East and Muslim world, said the "stubborn and arrogant" Bush administration has refused to admit mistakes which are endangering the lives of Iraqis and American soldiers and threatening stability in the region. Clinton told the paper, according to AFP, the U.S. is in trouble because it can't abandon Iraq but is unable to provide the necessary manpower to run the country because of its inability to garner international support. After a December visit to Baghdad during which she sharply criticized the Bush administration, Clinton was accused of giving aid and comfort to the enemy. Clinton insisted she had come to Iraq to tell the troops "Americans are proud" of them, but she said back home "many question the administration's policies." She then criticized President Bush for having been "obsessed with Saddam Hussein for more than a decade." Al-Jazeera, the Qatar-based satellite news channel, broadcast her remarks immediately in Arabic translation. Former New York City police captain Bernard Keri, was asked about the effect of blasts against U.S. leadership by Democratic presidential contenders. "Our enemies all have satellite television and they are watching," When they hear this kind of thing, they think they are winning."
Bork: Court's Gay Marriage is a Sin
April 27….(Newsday) One-time Supreme Court nominee Robert Bork told a religious gathering Sunday that legal justification for gay marriage is a "judicial sin" that exists beyond the U.S. Constitution. Speaking to about 300 Catholic clergy, judges and lawyers at a breakfast, Bork criticized the Massachusetts Supreme Judicial Court's ruling in November legalizing gay marriage, The Advocate of Stamford reported in editions prepared for Monday. "Many of our courts are guilty of that judicial sin, that is willingness, even eagerness, to reach results announcing principles that have no plausible relation to any constitution," Bork said. "If each person defines meaning for themselves, that means there are no allowable moral truths," said Bork, a former U.S. Appeals Court judge. "If decisions like those I've been discussing are the waves of the future, our culture will slide into chaos and self-government will be a shrunken remnant of what we once aspired to."
Muslim Prayer Calls on Loudspeakers -
In America?

April 27….(Agape Press) A Michigan woman says as a Christian, she is offended that the city council in her small community is poised to approve an ordinance that would allow local mosques to broadcast calls for prayer over loudspeakers. The City Council of Hamtramck, Michigan, has given preliminary approval to a mosque's plans to send out the Muslim call to prayer on loudspeakers. The Bangladeshi al-Islah mosque wants to air the Arabic call to prayer via loudspeakers five times a day, but has agreed not to air them between 10:00 at night and 6:00 in the morning. The Detroit suburb's city council is expected to give its final approval at its April 27 meeting; if approved, the ordinance would take effect on May 26. Some Muslims say the call to prayer is the equivalent of church bells. But opponents argue that church bells have no religious significance and that allowing the Arabic call, which lasts less than two minutes, unfairly elevates Islam above other religions. Some Christian residents, like Joanne Golen, resent the city allowing Muslims to impose their religion on everybody else. Golen feels her rights are being violated. "Allah is not my god, my God is Jesus Christ, who is the Son of God," she says. "And I feel it's against my constitutional rights to have to hear this at sunrise, four more times at sunset, which may be ten o'clock, blaring in my ears, telling me about their god." Golen considers it offensive for her and other Christians to have to hear chants from a mosque. "I do not impose Jesus on them because He's quiet," the Hamtramck resident says. "Jesus calls in a quiet, gentle voice, He doesn't have to blare over a PA system to call His followers. "We know when it's time to go to church; we pray constantly, we don't need a call to prayer. My life is a prayer, and I resent this." Golen says if the situation was reversed and a local Christian church asked permission to broadcast over a loudspeaker, they would be turned down immediately. She and her husband says they plan to carry on the fight to head off the ordinance. Estimates are that about one-third of the population in Hamtramck is Muslim.
FOJ Note: Well now if this story isn't an eye popper and a sad indictment on our culture, then I have never seen one! But this is the natural course of declining events for a nation that has cut its Judeo-Christian roots.
Hezbollah Deploying Missiles to Iraq?
Iran-backed group assisting anti-U.S. insurgency
April 27….(Geo-Strategy) The Iranian-backed terrorist group Hezbollah has tripled its rocket and missile arsenal in Lebanon since 2001 and could transfer these assets to fight the U.S. military in Iraq, says Geostrategy-Direct, the global intelligence news service. A new report says Hezbollah has acquired an advanced anti-aircraft missile and long-range rockets capable of striking deep inside Israel. "Hezbollah's rocket arsenal was tripled in size and augmented by hundreds of long-range rockets capable of striking targets deep in the civilian and industrial heartland of Israel," the report by the Middle East Intelligence Bulletin said. "Construction crews worked around the clock converting caves into underground bunkers to house the weapons." The report, authored by analyst Gary Gambill, said Hezbollah might have acquired the SA-18 surface-to-air missile. The SA-18, regarded as the most advanced of the Soviet-origin shoulder-fired missiles, has a range of 5.2 kilometers and is guided by optical and infrared guidance systems. Gambill said Hezbollah could use its military capabilities in the insurgency war against the U.S. in Iraq. The report said Hezbollah Secretary-general Hassan Nasrallah could help incite a Shiite uprising against U.S. forces in Iraq. "Scores of Hezbollah militants have been sent to Iraq over the last 10 months and the group has reportedly opened offices in Basra and Safwan," the report said. "According to American intelligence reports, Hezbollah operatives have focused mainly on establishing lines of communication with Iraqi Shiite leaders and distributing anti-American propaganda, but the groundwork is clearly being laid for incitement of violence in the future."
Israel Backs off Threat to Assassinate Arafat
April 27….(Ha Aretz) Israel's Deputy Prime Minister says there are no immediate plans to kill the Palestinian Authority chairman, Yasser Arafat, despite a new threat issued by the Prime Minister, Ariel Sharon. Mr Sharon told Israel's Channel Two on Friday he had told President George Bush during their meeting in Washington on April 14 that Israel no longer felt bound by its promise to the US not to kill Mr Arafat. "I release myself from that pledge," Mr Sharon said. Yesterday his chief deputy, Ehud Olmert, appeared to backtrack on Mr Sharon's threat, which had led to strong protests from foreign governments and warnings from the US. Joining the chorus of disapproval was the opposition leader, Shimon Peres, who said: "The declarations are a mistake, because they rally the Palestinians around Arafat and mobilise the Americans in favour of his immunity".
FOJ Note: Arafat has always enjoyed total immunity from any of his terrorist activities, and from his corrupt financial practices. In my opinion Yasser Arafat has been utilized by the Global Order elitists as a tool to preempt Israel from acquiring all of the Promised Land, and especially the Temple Mount in Jerusalem. Arafat and his handlers are serving the logistical and geo-political interests of the eventual Antichrist.
New Evidence Unveils Chemical, Biological, Nuclear, Ballistic Arms
April 27….(World Net Daily) New evidence out of Iraq suggests the U.S. effort to track down Saddam Hussein's missing weapons of mass destruction is having better success than is being reported. Key assertions by the intelligence community widely judged in the media and by critics of President Bush as having been false are turning out to have been true after all. But this stunning news has received little attention from the major media, and the president's critics continue to insist that "no weapons" have been found. In virtually every case, chemical, biological, nuclear and ballistic missiles, the United States has found the weapons and the programs that the Iraqi dictator successfully concealed for 12 years from U.N. weapons inspectors.
Israel Angry With Anan Envoy "Poison Comment"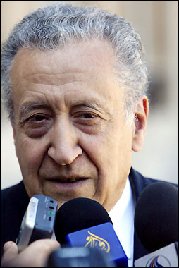 April 27….(Ha Aretz) Israel pressed UN Secretary General Kofi Annan to take action over his top envoy to Iraq, Lakhdar Brahimi, who last week said the Jewish state was sowing "poison in the region." In a letter to Annan, Israeli ambassador Dan Gillerman said Brahimi's remarks "put in doubt the objectivity of UN staff" and that the UN chief should put his envoy on alert over the remarks. "It is highly inappropriate for a senior UN official to attack member states in such an unjust manner, especially using unbalanced, caustic language," Gillerman said. "This is particularly true in this case given that Israel's situation is not a part of Mr. Brahimi's responsibilities, and it is improper for him to use the stature provided by his UN office to vent his personal opinions," he said. Speaking with CNN on Monday, Annan said he believed Brahimi was commenting on the impact the Israeli-Palestinian crisis was having on his work in Iraq. "The way he explained it, he was trying to convey reactions from the region," said Annan, who was to meet Monday with Brahimi before his envoy addresses the UN Security Council on Tuesday. Brahimi is a former foreign minister of Algeria. Mr. Brahimi said he was expressing his personal views, whereas the official position of the United Nations on such matters is that set out by the Secretary General. Brahimi told France Inter radio on Wednesday: "There's no doubt that the great poison in the region is this Israeli policy of domination and suffering imposed on the Palestinians." He also decried the "unjust" US support for Israel. Brahimi, a highly respected veteran diplomat, has been tapped to help set up an interim government in Iraq by June 30 and prepare for the country's first post-Saddam Hussein elections early next year.
Saudi FM Sounds 'Alert' on State of Relations with US
Warns US on Iraq

April 27….(World Watch) Saudi Arabian Foreign Minister Prince Saud al-Faisal warned that US-Saudi relations were being dangerously undermined by misconceptions about alleged Saudi support for militant groups. Separately in an interview published by The Wall Street Journal on Tuesday the Prince also said the planned hand-over of power in Iraq will not work unless the country's new rulers have an army with real power. In a speech to the Foreign Policy Association in New York, Prince Saud said he wanted to "sound the alert that the harmony of our (Saudi-US) long and fruitful relationship is threatened." Blaming elements of the media for demonizing his country, the foreign minister cited a recent clutch of books that sought to portray Saudi Arabia's internal social and political makeup as one that nurtures extremism and feeds terrorism. "Nothing could be further from the truth," he said. "After last week's events in Riyadh, I don't think any reasonable person can cast doubts about our commitment to waging a relentless war on terrorism." A car bomb devastated a security forces building in the Saudi capital last Wednesday, leaving five people dead and 145 wounded. A radical Islamist group with links to Al-Qaeda claimed responsibility for the blast. Saudi Arabia has been seeking to rehabilitate its name since it came out that 15 Saudi men were among the 19 hijackers involved in the September 11, 2001 attacks on New York and Washington. Equating the actions and ideologies of the hijackers with those of the Saudi people as a whole was, Prince Saud argued, not only erroneous but also counter-productive in the war against terrorism. "It is ironic that those who most vociferously attack Saudi Arabia are unwittingly serving the purposes of al-Qaeda," he said. "The attacks lead to undermining a country that is probably most capable of not only waging the war against (al-Qaeda), but also in preventing (al-Qaeda) spreading their cultist ideology in the Islamic world." Saudi-US relations strengthened after the 1991 Gulf War when the Saudis were grateful that the elder George Bush stopped Saddam Hussein's army moving to invade the kingdom.. Prince Saud also advised the US-led coalition to move swiftly against radical Shiite cleric Moqtada al-Sadr, even if his seizure might further inflame his followers. The United States should understand that it is difficult to "be an occupier who is loved by the people you are occupying," the Saudi foreign minister said.





Israel to destroy Iran nuke plant?
Jerusalem considers pre-emptive strike by summer's end
April 26….(World Net Daily) While Iran announced plans to begin building a heavy-water reactor that can produce weapons-grade plutonium, Israel began drawing up plans to demolish it, much as it destroyed an Iraqi nuclear facility more than a decade ago. Sources in Israel say the attack could come before the end of summer, according to Joseph Farah. While Tehran insists the facility is purely for research, the decision heightens concern about Iran's ability to produce nuclear aims. The 40-megawatt reactor could produce enough plutonium for a nuclear weapon each year, according to sources. While construction is set to begin in June, Iran already had previously announced plans to build such a reactor last year to the U.N. nuclear watchdog agency.
FOJ Note: Iran has already announced its intention to use nuclear weapons to destroy Israel.

The Mess in Iraq
(FOJ Note: An interesting article for your review)
April 26….(Paul Krugman )On April 11 last year, just after U.S. forces took Baghdad, I warned that the Bush administration had a "pattern of conquest followed by malign neglect," and that the same was likely to happen in Iraq. I'm sorry to say those worries proved justified. It's now widely accepted that the administration "failed dismally to prepare for the security and nation building missions in Iraq," to quote Anthony Cordesman of the Center for Strategic and International Studies - not heretofore known as a Bush basher. Just as experts on peacekeeping predicted before the war, the invading force was grossly inadequate to maintain postwar security. And this problem was compounded by a chain of blunders: doing nothing to stop the postwar looting, disbanding the Iraqi army, canceling local elections, appointing an interim council dominated by exiles with no political base and excluding important domestic groups. The lesson of the last few weeks is that the occupation has never recovered from those early errors. The insurgency, which began during those early months of chaos, has spread. Iraqi security forces have walked off their jobs, or turned against us. Attacks on convoys have multiplied, major roads have been closed, and reconstruction has slowed where it hasn't stopped. Deteriorating security prevents progress, lack of progress feeds popular disillusionment, and disillusionment feeds the insurgency. Why was it predictable that Iraq would go wrong? The squandered victory in Afghanistan was an obvious precedent. But the character flaws in the Bush administration that led to the present crisis were fully visible in the months that followed the Sept. 11 attacks. It quickly became apparent that President George W. Bush, while willing to spend vast sums on the military, wasn't willing to spend enough on security. And 9/11 didn't shake the administration's fanatical commitment to privatization and outsourcing, in which free-market ideology is inextricably mixed with eagerness to protect and reward corporate friends. Sure enough, the administration was unprepared for predictable security problems in Iraq, but moved quickly to impose its economic vision. Last month Jay Garner, the first U.S. administrator of Iraq, told the BBC that he was sacked in part because he wanted to hold quick elections. His superiors wanted to privatize Iraqi industries first - as part of a plan that, according to Garner, was drawn up in late 2001. Meanwhile, the administration handed out contracts without competitive bidding or even minimal oversight. It also systematically blocked proposals to have congressional auditors oversee spending, or to impose severe penalties for fraud. Cronyism and corruption are major factors in Iraq's downward spiral. This week the public radio program "Marketplace" is running a series titled "The Spoils of War," which documents a level of corruption in Iraq worse than even harsh critics had suspected. The waste of money, though it may run into the billions, is arguably the least of it - though military expenses are now $4.7 billion a month. The administration, true to form, is trying to hide the need for more money until after the election; Cordesman predicts that Iraq will need "in excess of $50-70 billion a year for probably two fiscal years." More important, the "Marketplace" report confirms what is being widely reported: that the common view in Iraq is that members of the U.S.-appointed Governing Council are using their positions to enrich themselves, and that U.S. companies are doing the same. Bush's idealistic language may be persuasive to Americans, but many Iraqis see U.S. forces as there to back a corrupt regime, not democracy. Now what? There's a growing sense of foreboding, even panic, about Iraq among national security experts. "This is an extremely uncertain struggle," says Cordesman, who, to his credit, also says the unsayable: We may not be able to "stay the course." But on Thursday Condoleezza Rice gave Republican lawmakers what Senator Rick Santorum called "a very upbeat report." That's very bad news. The mess in Iraq was created by officials who believed what they wanted to believe, and ignored awkward facts. It seems they have learned nothing.





WEEK OF APRIL 19 THROUGH APRIL 25

PA Official Admits it Seeks Israel's Destruction

April 23….(JNEWSWIRE) PLO "foreign minister" Farouk Kaddoumi Thursday told a Jordanian newspaper that when his boss, Yasser Arafat, calls for continuing the "struggle" for "Palestinian" independence, he is talking about perpetuating the terrorist offensive against the Jewish state. And Israel and the US can "go to hell" for demanding an end to that terror, Kaddoumi said. He also admitted that the PLO charter - which calls for the destruction of the Jewish state - was never officially changed, despite Western insistence that it was. Especially hostile articles of the PLO charter were ostensibly nullified during a 1996 Gaza City ceremony attended by then-US President Bill Clinton. When Yasser Arafat speaks of the need to pursue the "struggle" against Israel and for "Palestinian" independence - and he does so often - the PLO chief is calling for a continuation of the terrorist offensive targeting Israel's Jews. So said Tunisia-based PLO "foreign minister" Farouk Kaddoumi in a Thursday interview with the Jordanian newspaper Al-Arab. "There is no struggle other than the armed military struggle," he said. Kaddoumi's acknowledgement of this violence as primary and ongoing "Palestinian" policy marks a gross violation of the PA's signed agreements with Israel, which all demand the Palestinian Arabs forgo violence against the Jewish state in their quest for statehood. His statement also appeared to sharply contradict the long-held Western position that Arafat's virulent diatribes were merely his "Arabic" way of "peacefully" pushing for independence. When asked what he thought of Israeli and US demands that the "Palestinians" halt their terrorist offensive as a condition for resuming peace negotiations, Kaddoumi responded venomously: "They can go to hell!" Against the protestations of many Israelis, who insisted the PLO Charter had never been amended, the West in general and the Clinton administration in particular maintained that 28 of the charter's articles that blatantly deny Israel's right to exist and call for the destruction of the Jewish state were nullified during a special 1996 meeting of the Palestinian National Council in Gaza. Kaddoumi. "The Palestinian national charter has not been amended until now. It was said that some articles are no longer effective, but they were not changed." One of the pivotal conditions for Israel accepting the original "Oslo Accord" more than a decade ago was that Yasser Arafat and the PLO would officially denounce their dream of driving the Jewish state into the sea.

Agnostic Arrogance of the 'Liberal Elite'

April 23….(Hal Lindsay)

So what is this "great moral failure"? President Bush dared to disregard the mythical "wall separating church and state" and prayed for God's guidance regarding the war on Iraq. He has compounded this transgression by continuing to ask for God's wisdom in how to conduct the war in Iraq and Afghanistan. Bob Woodward quoted the president as saying that "When I decided to go to war with Iraq, I went out on the circle in back of the White House and prayed to God that I would be a good messenger of His will." The liberal-dominated media and liberal politicians act as if the mere proclaiming of "such gross violations of the Executive Office" will cause most of America to rise up and throw him out of the White House. To Woodward's credit, he did say that this was normal behavior for a Christian. But Ralph Nader jumped on the condemnation bandwagon and added his astute analysis of Bush's real character in the light of his prayer action. He called Bush a "Christian militarist." This incident reflects how far out of touch much of the liberal establishment is with the American people. Polls show that a vast majority of Americans believe in God and believe that He is an essential part of the founding of our country. There is a real division growing in the United States. There is a powerful minority in strategic places who are trying to rewrite the history surrounding the creation of the Constitution. They are trying to cover up the consistent history of what our greatest leaders are on record as saying regarding the place of Christianity in our country. They are trying to use the judiciary to rewrite the meaning and intentions of the Founding Fathers. Talk about a violation of the principle of the separation of powers! Just listen again to some of the statements they wrote: George Washington, founding father and first president: "It is rightly impossible to govern the world without God and the Bible." Samuel Adams (1722-1803), a major founding father and signer of the U.S. Constitution said: "Our unalterable resolution would be to be free. They have attempted to subdue us by force, but God be praised! in vain. Their arts may be more dangerous then their arms. Let us then renounce all treaty with them upon any score but that of total separation, and under God trust our cause to our swords." Patrick Henry (1736-1799), courageous politician, a founding father and a contributor to the Constitution wrote: "It cannot be emphasized too strongly or too often that this great nation was founded, not by religionists, but by Christians." Thomas Jefferson, founding father and third president, also the man to whom the doctrine of the "wall separation between church and state was falsely attributed said: "My views ... are the result of a lifetime of inquiry and reflection, and very different from the anti-Christian system imputed to me by those who know nothing of my opinions. To the corruptions of Christianity I am, indeed, opposed; but not to the genuine precepts of Jesus himself. I am a Christian in the only sense in which He wished any one to be; sincerely attached to his doctrines in preference to all others." Jefferson also wrote: "Can the liberties of a nation be thought secure when we have removed their only firm basis, a conviction in the minds of the people that these liberties are of the gift of God?" John Quincy Adams (1767-1848), sixth president of the U.S. wrote: "Is it not that the Declaration of Independence first organized the social compact on the foundation of the Redeemer's mission upon earth? That it laid the cornerstone of human government upon the first precepts of Christianity?" In the modern era, Presidents Franklin D. Roosevelt, Harry S. Truman, Ike Eisenhower, John F. Kennedy, Lyndon B. Johnson, Ronald Reagan, Jimmy Carter, et. al, invoked God's help before the American people. Bible verses are etched in the stones of virtually all of our federal buildings in Washington, D.C., especially in the Supreme Court building. If the anti-God crowd wants to eliminate all public expression of Christian conviction, then they must do so in defiance and contradiction of the clear history of this country. But they will succeed in doing so unless the Christians of this country don't stop singing "Standing on the promises" and just sit on the premises. Christians need to rise up and drive these scoundrels out of places of authority before we are robbed of the freedom to do so.

UN's Anan Envoy to Iraq Calls Israel A Poison

April 23….(Ha Aretz) United Nations special envoy for Iraq, Lakhdar Brahimi, claims there is a clear tie between the escalation of the situation in Iraq and Israeli policy, which he called "the biggest poison in the region."
The biggest poison in the region is the policy of Israeli power and the suffering of the Palestinians," Brahimi was quoted as telling a French radio station. The UN envoy, who is from Algeria, reportedly said many people both in the Mideast and outside it agree with the statement. Brahimi was also quoted as blaming Washington for supporting Israeli policy.
FOJ Note: UN Secretary General Kofi Anan said the remarks by his Iraq envoy did not reflect his personal views, but a quick review of Anan's record, and indeed the UN's record on Israel reveals that both are virulently anti-Israel, and anti-Zionism.





President Bush: Iran 'Will Be Dealt With'

April 22….(Washington Post) President Bush told newspaper editors in Washington yesterday that Iran "will be dealt with, starting through the United Nations" if it does not stop developing nuclear weapons and begin total cooperation with international inspectors. Bush said he will encourage allies to insist to the Iranians that they live up to commitments to cooperate with U.N. inspectors and end any enriching and reprocessing of uranium. "The Iranians need to feel the pressure from the world that any nuclear weapons program will be uniformly condemned, it's essential that they hear that message," he said. "The development of a nuclear weapon in Iran is intolerable! Earlier this month, Iran pledged to speed up cooperation with the United Nations' International Atomic Energy Agency, but called for an end of inspections by June. The language was reminiscent of comments Bush made about Iraq long before the war, and to admonitions he has issued to Syria. Iran, along with Iraq and North Korea, was part of the "axis of evil" in his State of the Union address in 2002. Bush said last July that Iran and Syria "will be held accountable" if they failed to cooperate more fully with the administration's campaign against terrorism. Bush warned the editors that the United States "is a battlefield in the war on terror" and said he can understand public fears of a terrorist attack before the November election. "This is a hard country to defend," he said. "Our intelligence is good. It's just never perfect, is the problem. We are disrupting some cells here in America. We're chasing people down. But we've got a big country." On Tuesday evening, Bush told Republican congressional leaders during a meeting at the White House that it was all but certain that terrorists would attempt a major attack on the United States before the election, according to a congressional aide. The leaders were struck by Bush's definitiveness and gravity, the aide said.

The Message Must Be Clear

April 22….(Robert Stewart) When Hamas leader Abdel Aziz Rantisi was killed in an Israeli missile strike Saturday, Israel's actions were rebuked by the European Union, the British foreign secretary and leaders of other free nations. This, despite the fact that Rantisi leads an internationally recognized terrorist organization and has vowed recently that Hamas "will not leave one Jew in Palestine." Those opposed to Rantisi's killing claim his death will forestall the peace process. Israel, they claim, should spend more time at the negotiating table and in diplomatic salons rather than resort to military force. This is an untenable position for nations whose stance is "we will never negotiate with terrorists." When al-Qaeda recently offered a truce to European nations that do not "carry out an onslaught against Muslims or interfere in their affairs," those nations wisely declined. Citing the inanity of treaties with terror, every nation that was offered the truce rebuffed the appeal. But if American forces kill al-Qaeda leader Osama bin Laden while that appeal is still pending, will European leaders accuse the Bush administration of sabotaging the peace process? Will America be guilty of state-sponsored terror and be decried for not first using every available diplomatic option for dealing with bin Laden? Of course not, yet similar charges are now being leveled against Israel by those in Europe and elsewhere who should know better.

Saudi Cleric Denounces Suicide Bombing

April 22….(AP) Saudi Arabia's top cleric on Thursday condemned a suicide bombing that gutted a national police building in the capital as "one of the greatest sins."A shadowy Islamic extremist group, the purportedly al-Qaida- inspired al-Haramin Brigades, released a statement on at least two Islamic Web sites claiming responsibility for Wednesday's attack. Grand Mufti Abdul-Aziz al-Sheik, the kingdom's highest religious authority, denounced the bombing in a statement carried by the official Saudi Press Agency. "God revealed the criminality of this wayward group, which harms Islam and the nation," al-Sheik said. "Instead, it aims at destabilizing security, terrorizing the people and killing Muslims." "Whoever kills an (Islamic) believer on purpose will be punished by being burned in hell, punished by God's anger and will be cursed and suffer great pain," he said. While visiting the wounded in a hospital, Interior Minister Prince Nayef said the "terrorists are not targeting foreigners; they are targeting the nation," adding that Saudis should not cooperate or sympathize with militants "because those who do will be considered criminals." Saudi U.S. ambassador Prince Bandar bin Sultan said in Washington that the attack was aimed at "the Saudi people and the royal family and officials of the government." Bandar, who met Wednesday with national security adviser Condoleezza Rice, pledged "there will be no compromise" in the fight against terrorism.
FOJ Note: I had to run this story since it marks the first time I have seen an Islamic cleric denounce suicide bombings. Golda Meir once said in response to this question, "Will there ever be peace between the Palestinians and the Israel's," …."there will be peace only when the Palestinian and Arab people love their children more than they hate us." At least 16 children were among the 68 killed and 238 wounded when five suicide car-bombers staged a coordinated attack on police stations in the southern Iraqi city of Basra, Iraq yesterday. One suicide blast destroyed a van carrying kindergartners while another van with middle-school girls on board was bombed, burning the children beyond recognition. In another a minibus full of children on fire resulted in 15 of the 18 passengers killed and three being badly wounded." The tactics against America and freedom in Iraq sound only too muck like the strategy of children suicide bombers that Yasser Arafat employs. It is apparent that the Arab-Islamic world still does not love their own children more than they hate Israel.

Muslim Nations Condemn US Policy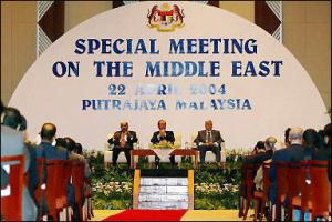 April 22….(Arab Press) Meanwhile, Palestinian Prime Minister Ahmed Qureia on Thursday urged U.S. President George W. Bush to reconsider his tacit recognition of some settlements in the West Bank. The OIC statement also demanded that the United Nations play a key role in the territories as well as Iraq, saying that security in the region was increasingly unstable. It urged the UN Security Council to deploy a peacekeeping force in Gaza and the West Bank to monitor implementation of the road map. "The situation in the region, especially in Palestine and in Iraq, has become extremely alarming," Malaysian Prime Minister Abdullah Badawi told an emergency meeting of the 57-state organization. Malaysian Prime Minister Abdullah Badawi compared Israel's treatment of the Palestinians with atrocities suffered by the Jews in the past. The meeting of the OIC was due to be held next month, but Palestinian leader Yasser Arafat called for it to be brought forward after US President George W Bush backed Israel's plan for the Middle East. Under the plan, Israel would dismantle Jewish settlements in the Gaza Strip but retain some of the West Bank land captured in the 1967 war. Mr Abdullah told the meeting in Putrajaya that the blueprint contradicted "the essence of the way to peace". The plan has also been fiercely criticized by Palestinian leaders, who say any settlement must be negotiated on the basis of UN resolutions. Palestinian leaders are dismayed by Bush's new policy. Palestinians claim all of the West Bank and Gaza, along with the right of refugees and their descendants to return to Israel.
American Jewish Groups Back Bush, Sharon
April 22….(AP) Major American Jewish organizations are praising President Bush's support for Israeli plans to withdraw from Gaza and maintain some settlements in the West Bank. President Bush has been blunter than his predecessors in supporting Israel on settlements, borders and the Palestinian refugees' right to return to homes they lost in Israel's 1948 war for independence. Arabs are outraged, saying it confirms their view that the United States isn't an unbiased go-between in the conflict. Among American Jewish groups, Bush's critics are few but vocal. Lewis Roth of Americans for Peace Now, linked to the Israeli group Peace Now, says Bush scuttled chances for the United States to be an effective peace broker. The Zionist Organization of America, on the other hand, condemned the whole idea of removing Jewish settlements, saying it rewards terrorism and drives Jews from their homes.
Abraham H. Foxman, national director of the Anti-Defamation League called Bush's new position, set down in a letter to Israeli Prime Minister Ariel Sharon, "a bold and historic step." In 2002, Bush broke taboos by endorsing Palestinian statehood, and now he has broken taboos by saying the Palestinians will not get everything they want, Foxman said. "I believe we'll get closer to peace when we're politically honest," he said. Foxman said he sees overwhelming support for Bush and Sharon in the American Jewish community but expects Israel to be just one of many issues for Jewish voters in the November presidential election.
Bracing For The Iranian Bomb
April 21….(ICEJ) Meanwhile, the US and Israel are planning to tighten their intelligence cooperation in the context of the struggle against the Iranian nuclear program. According to (Yediot Ahronot) President George W. Bush and Prime Minister Ariel Sharon held a private conversation on the subject in Washington last week, agreeing that if Iran succeeds in arming itself with weaponry of this sort, this will constitute a threat not only to the states in the region but also to America. According to the report, Bush also stated during lunch with Sharon that "an attack on Israel is like an attack on the United States. This is what Israelis must know, and this is what the world must understand." Iran has successfully tested a long-range ballistic missile capable of striking Israel, and has openly declared its objective to destroy the Jewish State. Intelligence sources believe the Iranians could have an operational nuclear warhead as early as this summer.
Hamas Terrorism Since Sept. 2000
April 21….(FOJ) While the world reacts in condemnation at Israel's targeting killing of Hamas terror leaders, the facts are that Sheik Yassin and Abdul Rantissi were cold-blooded murder masterminds. Just since the beginning of the current 3 year long conflict, the Hamas terrorist organization has claimed responsibility for carrying out 425 various terrorist attacks which resulted in the killing of 377 innocent citizens and the wounding of 2,076 Israeli citizens and soldiers. The Hamas terrorist organization has carried out 53 suicide attacks killing another 289 Israelis and injuring 1,649. Where is the outcry from the UN over these mutilations?
Politicizing Our National Security
April 21….(Gary Halbert—Investors Insights) So, have you been watching the 9-11 Commission hearings recently? The 9-11 Commission hearings have ranged from highly energized exchanges to utter boredom. The Commission's public hearings have included an embarrassing amount of grandstanding and partisan spectacles, especially on the part of the Democrats. It is clear that some of the commissioners are jockeying for positions in a Kerry administration should he be the next president. The 9-11 Commission has turned into the Blame Game, and it is becoming increasingly clear that a majority of the members of the Commission wants to lay the blame for the 9-11 tragedy on President Bush. One of the biggest controversies arising from the 9-11 Commission hearings, which is also not new news, has to do with the so-called "wall" between the CIA and the FBI, which prevented the sharing of information. 9-11 commissioner Jamie Gorelick, who served as Deputy Attorney General under Janet Reno in the Clinton administration, came under fire from the current Attorney General John Ashcroft. Ashcroft made public a classified memo that Gorelick sent to the FBI and others in the intelligence community, warning the agencies about sharing information. Attorney General John Ashcroft summarized his testimony before the Commission this way; "the simple fact of September 11 is this: We did not know an attack was coming because for nearly a decade our government had blinded itself to its enemies. Agents were isolated by government-imposed walls, handcuffed by government-imposed restrictions, and starved for basic information technology. The old national intelligence system in place on September 11 was destined to fail."
The truth of the matter is that the Foreign Intelligence Surveillance Act was signed into law in 1978 by President Jimmy Carter. It placed restrictions on the sharing of so-called "foreign intelligence" (such as the CIA allegedly had on certain of the 9-11 hijackers) with other government agencies and/or law enforcement, and that wall of blindness was built even higher by the Clinton Administration.
Former President Bill Clinton was interviewed in private by the Commission in early April. Had I been on the Commission, I would have asked him about the following events:
"February 1993 - A massive van bomb explodes in the underground parking garage of the World Trade Center killing six and wounding 1,042. The operation was carried out by four Islamist extremists and was masterminded by Ramsey Yousef. Yet following that disaster, there was no 'shake-up' in the government intelligence community. President Clinton did not even visit the World Trade Center. Clinton was (reportedly) the first modern president to not take daily intelligence briefings, and this practice reportedly continued even after the WTC attack.
1995- Airliners as Missiles: Intelligence sources in the Philippines uncovered a plot to hijack multiple US commercial airplanes and crash them into buildings. This was called "Project Bojinka," and it was again masterminded by Yousef and reportedly funded by Osama bin Laden. This was the first link to Al-Qaeda. Other evidence found was used to link Yousef to the 1993 WTC bombing and convict him. Elements of the Clinton administration became increasingly concerned with future terror attacks, yet the President still did not take daily intelligence briefs. The CIA Director (reportedly) could not even get a meeting with Clinton.
1996- Gore To Investigate: Finally, after additional pressure from his Cabinet and the National Security Agency, who feared additional terrorist attacks, Clinton assigned VP Al Gore the task of reviewing airline and airport security. Though there were several good suggestions and improvements placed on the table, in the end, few if any were actually implemented in order to fix the airports or the airlines. Yet the effort was heralded as a success.
1996- Torricelli Guts CIA/FBI: In this same year, Sen. Robert Torricelli proposed legislation that would 'scrub' the US intelligence agencies of supposed human rights violations. Specifically, it barred them from recruiting 'thugs' or 'unsavory characters' within the bad guy networks around the world. This resulted in the hobbling of the 'HUMINT' (human intelligence) capabilities of our intelligence agencies. The Clinton administration supported it whole-heartedly.
1996- Sudan Offers Up Bin Laden: The government of Sudan (reportedly) offered to arrest Osama bin Laden and turn him over directly to the US, but the Clinton administration declined on the grounds they feared we did not have enough direct evidence to indict him.
After Clinton declined the first offer, Sudan (reportedly) even offered to arrest bin Laden and deport him to a mutually agreed upon third country, where the US could take him into custody and do whatever we would with him. Again, Clinton declined the offer, after which Sudan forced bin Laden to find another host country. He went to Afghanistan. We know the rest of the story." There were other terrorist attacks against the US overseas which were admittedly the work of Osama bin Laden and al Qaeda. The Khobar Towers in June 1996; the US embassies in Nairobi and Tanzania in August 1998; and the USS Cole in October 2000. Hundreds were killed including dozens of US citizens and service men and women. Still there was no major overhaul of national security or our intelligence agencies. We did bomb an aspirin factory in Sudan and a deserted al Qaeda camp in Afghanistan in 1998 at the height of the Monica Lewinski scandal. The Democrats on the Commission clearly want to lay the blame for 9-11 on the Bush administration. Clinton would get a "pass" if they have their way. It would have been next to impossible for the Bush Administration to have prevented 9-11. Yet from what we read, the final report from the 9-11 Commission may indeed lay much of the blame on President Bush and his advisors. Richard Clarke's testimony before the 9-11 Commission is cited as being perhaps the most damning evidence of the Bush administration's lack of concern about national security and a terrorist attack. Apparently Clarke expected Bush to do in eight months what he himself had failed to do in his long career as the nation's counter-terrorism czar, and even in spite of the fact that in August 2002, Clarke praised the Bush Administration for not only continuing the anti-terrorism policies and strategies of the Clinton administration, and accelerating them, but also for increasing funding for covert anti-terrorism activities by five-fold.
As I have written before, the Democrats and the liberal media are in an all-out effort to see that Bush is not re-elected. The politicization of the 9-11 Commission, sadly, is little more than a last-ditch effort to bring Bush down. As a result, most of the rhetoric you hear coming from this Commission is much ado about nothing. It is more about defeating Bush at all costs and about advancing their personal agendas.
The truth is, there have been security failures and lapses in all recent administrations. I would argue that the most egregious failures occurred on Bill Clinton's watch, but we will never hear that admitted (or even hinted) by the 9-11 Commission or the media.
US Sees Syria Facilitating Insurgency
April 21….(Washington Times) Syria is "facilitating" the movement of foreign fighters into Iraq and helping supply them with arms, according to U.S. military officials with access to intelligence reports. The sources said the reporting has not been clear on whether hard-line Syrian President Bashar Assad is involved directly in ordering the aid. But they say he has much to lose if Iraq becomes a pro-U.S. democratic country. Foreign fighters from Syria have become a major stumbling block to stabilizing Iraq and turning over sovereignty by June 30. The bloody fighting in Fallujah, for example, is inspired, in part, by well-armed foreign jihadists who crossed the Syrian border and have committed some of the most gruesome attacks against Americans and their allies. Officials said Syrian help includes facilitating their border crossing, arming them and allowing them to return for fresh supplies. Asked how conclusive U.S. intelligence is on Syrian aid, one official said, "No doubt about it." It is not clear, however, whether Damascus is actively organizing the influx. Osama bin Laden, leader of al Qaeda, has urged his followers to travel to Iraq through Syria to kill Westerners. Publicly, the Bush Administration has stopped short of accusing Mr. Assad's socialist Ba'ath Party regime of facilitating the terrorists' migration. But it has accused Syria of inaction in stopping the flow of foreigners along its 600-mile border with Iraq. Secretary of State Colin L. Powell last week sent a strong message to Mr. Assad through the U.S. ambassador in Damascus. "It urged Syria to work closely with the rest of the international community to promote a stable Iraq," said State Department spokesman Richard Boucher. It is not in Syria's interest to be seen as a base from which infiltrators can come across to kill innocent Iraqis or to kill coalition troops, Powell said. For nearly 25 years, the United States has labeled Syria a state sponsor of terrorism. Syria gives help to the Lebanon-based Hezbollah, a Shi'ite terror group set up and sustained by Iran, which also is accused of sending agents into southern Iraq to help radical cleric Sheik Muqtada al-Sadr. Officials said Syrian agents are aiding the Iraqi insurgency because it is not in Damascus' interest to have a pro-U.S. country on its border. Mr. Assad fears that a free Iraq could spur a wave of democracy in his country, jeopardizing his rigid socialist rule. The 1st Marine Expeditionary Force last month took over control of western Iraq from the 82nd Airborne Division. The Marines promptly committed more troops to the Syrian border area and have engaged in a series of deadly firefights in the border town of al Qaim and at other points. The United States has also sent military personnel into Syria on reconnaissance missions. The State Department's yearly report on global terrorism states, "Syria and Iran are supporting Hezbollah activities in the south Lebanon, as well as Palestinian terror groups."
Congress Will Kill Marriage Amendment
April 20….(American Family Assoc.) It appears that an attempt to pass a constitutional amendment to define marriage as being between one man and one woman is about to die in committee. Most members of Congress simply don't want to deal with this issue, either because they support homosexual marriage or they fear a backlash from the homosexual community. Dying in committee accomplishes exactly what those who support homosexual marriage want. They will leave it to an un-elected judge to declare homosexual marriage legal. That will keep Senators and Representatives from having to go on record for or against, which is exactly what they want. Of course, that will also mean the end of marriage as it has been defined since the beginning of recorded history, and ultimately, the end of the family as the basic unit in society.
Hamas Real Leader is in Damascus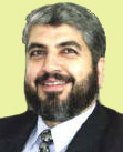 April 20….(JNEWSWIRE) Hamas sources have revealed the terror group's new leader, and by so doing probably placed him fair and square in the crosshairs of an IAF gun-ship pilot. Quoted by World Tribune, the sources said the overall Hamas leader, Damascus-based Khaled Mashaal has picked Dr. Mahmoud A-Zahar to succeed Abdel Aziz Rantisi as the group's Gaza chief. Rantisi was liquidated by Israel last Saturday evening, less than one month after taking over the reins from Hamas founder Ahmed Yassin, who on March 22 was vaporized in a pinpoint missile strike in Gaza City. Following Yassin's demise, the government of Ariel Sharon said it had decided to eliminate the entire Hamas leadership. Officials in Washington responded by saying the Bush Administration would like to see Hamas "put out of business." Mashaal tried to keep Zahar's promotion a secret, fearing another Israeli assassination, which the pompous terror group seems powerless to prevent. Most "Palestinians" assumed Dr. Mahmoud A-Zahar, a trained physician had taken over Hamas' Gaza operations following the execution of Rantisi. The Damascus-based Mashaal, who remains the group's overall leader, reportedly handpicked the 53-year-old Zahar. For the past month, Zahar, the last remaining founding member of Hamas, served as Rantisi's deputy. US State Department Spokesman Richard Boucher said that liquidation job of Hamas should be left to the Palestinian Authority, which under the terms of its various signed agreements with Israel is obligated to dismantle terror groups like Hamas. Likud Minister Gideon Ezra earlier in the week said Israel would also take out Khaled Mashaal as soon as the opportunity to do so presented itself.
FOJ Note: Focus on Jerusalem has documented for its readers for years the dramatic significance of Damascus in the Last Days. The Burden of Damascus may soon be on the horizon! (Isaiah 17, Jeremiah 49:23-27) Meshal was nearly assassinated by Israel in Amman, Jordan back in 1997. The Damascus-Hamas leader recently met in Cairo, Egypt with Yasser Arafat's PLO deputy, Mohammed Dahlan.
The World Supports the Terrorists
April 20….(FOJ) Hamas terrorist leader Khaled Meshaal today urged Arabs and Muslims to join forces to defend themselves and come together to fight against the United States and Israel and support the Palestinians in their worsening conflict with the Jewish state. Khaled Mashaal, the political chief of the Palestinian militant group, described America and Israel as "the leading dangers" confronting Arabs and Muslims around the world. Arabs and Muslims have to join together in order to stand against the arrogance of the Zionists and the Americans," Mashaal said. The Arab governments have to stop the Zionist-American plan to control the Arab world," Mashaal said. "The Palestinians have done their duties and offered martyrs in Palestine, and now the Arabs have to unite with the Palestinians." In an interview with The Associated Press on Sunday, Mashaal blamed Washington for Rantisi's death, saying the Bush administration's endorsement of Israel's proposal to hold onto West Bank Jewish settlements encouraged Sharon to give the go-ahead for the Hamas leader's killing. In December, President Bush signed legislation calling for sanctions against Syria if it maintains its purported support of militant groups and terrorists involved in the insurgency in Iraq, and maintains its ties to Hamas.
Elsewhere students in Pakistan and Kuwait (two US allies) burned US and Israeli flags to protest the killing of Hamas leader Abdel-Aziz al-Rantissi. Meanwhile, Egyptian President Hosni Mubarak says that Arabs in the Middle East hate the United States more than ever following the invasion of Iraq and Israel's assassination of two Hamas leaders. Mubarak said that today there is hatred of the Americans like never before in the region," he said in an interview given during a stay in France, where he met President Jacques Chirac Monday. Mubarak says the Arab world hates America because of the traditional U.S. support for Israel. "People have a feeling of injustice. What's more, they see (Israeli Prime Minister Ariel) Sharon acting as he pleases, without the Americans saying anything. He assassinates people who don't have the planes and helicopters that he has." Mubarak said the assassination of Rantissi could have "serious consequences" and that instability in Gaza and Iraq would not serve U.S. or Israeli interests. "The despair and feeling of injustice are not going to be limited to our region alone. American and Israeli interests will not be safe, not only in our region but anywhere in the world," he said.

The king of Jordan, one of America's closest allies in the Middle East, snubbed a White House meeting with President Bush and openly questioned the US commitment to ending the Israeli-Palestinian conflict. The snub from King Abdullah II is the most recent expression of Arab anger at Bush for endorsing an Israeli proposal to withdraw unilaterally from all of the Gaza Strip but from only parts of the West Bank. The Abdullah-Bush meeting was canceled "until discussions and deliberations are concluded with officials in the American administration to clarify the American position on the peace process and the final situation in the Palestinian territories, especially in light of the latest statements by officials in the American administration," according to the palace statement. Bush's statement after a White House meeting with Israeli Prime Minister Ariel Sharon last week constituted a historic shift in U.S. policy, and Palestinian leaders accused the administration of undercutting the possibility of a negotiated settlement. Jordan is considered a key moderate ally of the United States and is one of only two of Israel's Arab neighbors to have a peace treaty with the Jewish state. But some Jordanian citizens question their government's relationship with the United States, which they accuse of siding with Israel against the Palestinians. Roughly half of Jordan's 5.1 million population is composed of Palestinian families who fled or were forced out of their homes in 1948 and 1967 Mid-east wars. The rift between the Bush Administration and its moderate Arab allies (Egypt and Jordan) over Bush's statement on Israeli settlements is one of the worst to emerge in years, and has exacerbated the already tense relations between the United States and Arab countries over the war in Iraq. Arab leaders have accused the administration of essentially taking away from the Palestinians their primary negotiating levers in any final peace deal, the disputes over whether Israel must remove all settlements from the West Bank, and whether Israel must allow back some Palestinian refugees. The United States is Jordan's largest Western aid donor, with contributions estimated at $456 million this year. The United States gave Jordan $1.1 billion last year to offset the kingdom's losses because of the war on Iraq. The US also sends Egypt billions of dollars in foreign aid each year.
Meanwhile US Secretary of State Colin Powell stressed that Washington had not abandoned the roadmap, which calls for recpirocal Israeli and Palestinian steps leading a two-state solution, with its embrace of Israeli Prime Minister Ariel Sharon's plan to unilaterally withdraw from Gaza but maintain some Jewish settlements in the West Bank. In endorsing the plan, President Bush said it would be unrealistic for Israel to return to its pre-1967 borders and implicitly rejected the long-held Arab demand for the right of Palestinian refugees to return to land they fled or were forced from when Israel was created in 1948. Powell said those "realities" had to be faced but insisted that Washington had taken no formal position that would prejudge or interfere with with future Israeli-Palestinian negotiations on the borders of the two states or the status of the refugees. "The fact of the matter is the president is absolutely committed to (the) creation of a Palestinian State," he said.
United Nations Condemns Israel/USA
The United States deputy ambassador to the United Nations, James Cunningham, warned the UN Security Council on Monday that a draft resolution circulated its during emergency talks on the Middle East would likely be subject to a U.S. veto if it did not mention acts of terror committed by Hamas. More than 40 countries spoke, and virtually all but the U.S. condemned Israel, including close U.S. ally Britain. In the Palestinian territory, in the Arab nation and in the Muslim world, emotions are high and distress and frustration are deep," Baali warned. "If no action is taken, and Israel gets away again with these horrendous crimes, the situation might very rapidly deteriorate and go ultimately out of control."
The U.S. used its veto power on March 25 to quash a resolution condemning Israel for killing Yassin. U.S. diplomats said the measure failed to mention the militant group's record of bombings and shooting attacks during 3 1/2 years of Israeli-Palestinian violence. Nasser Al-Kidwa, the Palestinian observer to the UN, said Security Council action to promote peace and prevent further bloodshed is long overdue.
He blamed the US for allowing Israel "to continue acting beyond the parameters of international law. Israel's UN Ambassador Dan Gillerman said that the focus of the UN council should be the "acts of terror" perpetrated by Hamas, which has called for the destruction of Israel, and that if there is something 'extrajudicial' here it is the total refusal of the Palestinian leadership, for years to act against terrorism."
Israel Nails New Hamas Leader Rantisi
April 19….(JNEWSWIRE) As the Hamas terror organization struggled to unleash it's promised "earthquake" response to the March 22 killing of its founder, Ahmed Yassin, Israel Saturday evening eliminated its new Gaza-based leader, Abdel Aziz Rantisi. Less than an hour after IAF helicopter gun ships fired missiles into his car, Rantisi was pronounced dead at Gaza City's Shifa Hospital following failed life saving efforts. His driver and a bodyguard were also killed in the pinpoint strike. Israel executed the blood-soaked Yassin less than one month ago as the venerated terror chief left a Gaza mosque. At the time, Rantisi vowed to "open the gates of hell" in response. But on Saturday, those gates opened for him. Tens of thousands of "Palestinians" took to the streets of Gaza City Sunday for Rantisi's funeral, calling for revenge against Israel. Rantisi took over Hamas' Gaza power base less than a month ago, after his mentor, Yassin, was incinerated by an IAF missile as he rolled out of a Gaza mosque in his wheelchair.
Even prior to Yassin's demise, Rantisi had been Hamas' most recognizable face, acting as its venomous spokesman following every bloody attack the group carried out against Israeli Jews. He vowed to "open the gates of hell" upon Israel in retaliation for Yassin's execution. The promised revenge never came, and Rantisi spent the past three weeks bellowing words of hatred at Israel and the US. "America declared war against Allah. Sharon declared war against Allah and Allah declared war against America, Bush and Sharon. ... The war of Allah continues against them, and I can see the victory coming up from the land of Palestine by the hand of Hamas," Rantisi said at a university gathering in Gaza last month. Abdel Aziz Rantisi was one of the original six founding members of Hamas - a group dedicated to the total annihilation of the Jewish state. He remained fanatically devoted to Hamas' ultimate goal of "liberating" all of "Palestine," and constantly justified bloody terror attacks against Israeli civilians, while referring to the Jews as the "sons of monkeys and pigs." In 1992, five years after helping to establish Hamas, Rantisi was deported to Lebanon along with 416 other Hamas and Islamic Jihad terrorists. He was allowed to return to Israel in 1993 as part of the Oslo "peace" agreements. He was immediately jailed by Israel, and remained incarcerated until 1997. In that year, Rantisi and Yassin returned to Gaza and reestablished the Hamas leadership. Rantisi was arrested by the Palestinian Authority several times for criticizing Yasser Arafat and his handling of the land-for-peace process with Israel. While he and Arafat remained bitter foes, the PLO chief never fulfilled his peace agreement obligation to bring Rantisi and others like him to final justice. Following Yassin's death last month, Rantisi vied with Mashaal for overall control of Hamas, but in the end appeared to settle for taking over the group's Gaza operations.
Hamas Vows Revenge, PA Blames U.S.
April 19….(Ha Aretz) Palestinian Authority leaders pointed a finger of blame at the United States last night and Hamas vowed revenge after Israel assassinated Abdel Aziz Rantisi, the movement's leader in the Gaza Strip. Rantisi was killed by a missile strike on his car in Gaza City. Palestinian Authority Prime Minister Ahmed Qureia said the assassination was a result of encouragement from the United States. "The Palestinian cabinet considers this terrorist Israeli campaign is a direct result of American encouragement and the complete bias of the American administration towards the Israeli government," he said. "Israel will regret this. Revenge is coming," said a senior Hamas leader at the Gaza hospital where Rantisi was pronounced dead. "This blood will not be wasted. It is our fate in Hamas and it is our fate as Palestinians to die as martyrs. The battle will not weaken our determination or break our will," Hamas official Ismail Haniya told reporters in Gaza. But Israel said it had killed a "mastermind of terrorism" by assassinating Rantisi and vowed to keep up strikes on militant leaders. A U.S. State Department official urged Israel to consider the consequences of its actions, saying Washington had not changed its policy of opposing targeted assassinations, and denied it had given the green light for the deadly missile strike as many Arabs have alleged about other similar attacks. "There's been no change in our policy. We think Israel should bear in mind the consequences of what its doing and we also think the Palestinians should get a handle on terrorism," said the official, who asked not to be named. The British government on Saturday termed the killing illegal and counter-productive. "The British government has made it repeatedly clear that so-called `targeted assassinations' of this kind are unlawful, unjustified and counter-productive," British Foreign Secretary Jack Straw in a statement. Palestinian leaders angrily condemned the assassination. "We condemn in the strongest possible terms this Israeli crime and state terror. It is evident now to the world that the Palestinian people need international protection more than ever," Palestinian Minister Saeb Erekat said. Erekat expressed concern that Israel would now target PA Chairman Yasser Arafat. Palestinian Foreign Minister Nabil Sha'ath also attributed the decision to assassinate Rantisi to what the Palestinians believe is a forgiving American attitude toward Israel. "I completely condemn this Israeli crime of cold-blooded killing in front of the whole world, while America gives it bits of our land and our refugees' rights. The mercy of God upon Rantisi... Israel commits crimes and is rewarded by the American president. When it commits state terrorism, it gets promises." "Israel has been given a free hand [by the United States] to continue its policy of destruction, of siege, of assassination," said Palestinian lawmaker Hanan Ashrawi. "Right now what is happening is very dangerous. You are closing off all options. You are saying to the Palestinians you have no political recourse, no recourse to the law, no justice anywhere."
Hamas: Volcano of Revenge Coming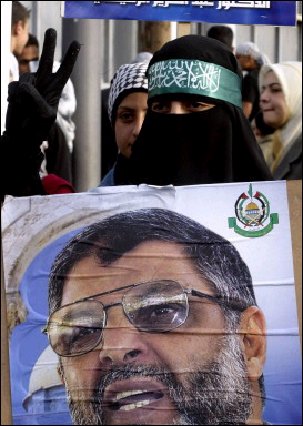 April 19….(Arab Foreign Press) Hamas threatened a "volcano of revenge" against Israel as some 200,000 Palestinians packed the streets of Gaza for the funeral of the Islamic movement's assassinated leader Abdelaziz Rantissi. But Prime Minister Ariel Sharon warned that Israel will strike at anyone threatening the Jewish state as the country began two days of ceremonies in memory of the six million Jews killed in the Nazi Holocaust. Overnight a Jewish settler was wounded when Hamas fired five home-made rockets at Israeli targets from the Islamic movement's Gaza Strip stronghold, an Israeli military source said Monday. One Qassam rocket landed on Israeli territory just north of the border with Gaza, without causing any damage, while the other four landed in and around Jewish settlements in the north of the Strip. A resident of the Nissanit settlement was seriously injured but his condition was not thought to be life-threatening, the source added. Rantissi's killing late Saturday prompted a chorus of international condemnation, except in the United States, and sparked anti-Israeli and anti-US protests in Arab countries such as Lebanon, Egypt, Jordan, Iraq, Kuwait and Tunisia. US National Security Adviser Condoleezza Rice denied any advance knowledge of the attack. "The Israelis of course don't tell us that they're about to do something," she told Fox News. The US government warned Americans in Jordan to stay away from the demonstrations, noting widespread suspicion that US officials had signed off on the slaying. Rantissi was killed when an Israeli helicopter fired rockets into his car in Gaza City, less than a month after Hamas spiritual leader Sheikh Ahmed Yassin was killed in a similar attack. Fearing that Rantissi's successor as head of the movement in the occupied territories could also be targeted by Israel, Hamas announced it had chosen a new leader but his identity would not be disclosed for security reasons. Israeli Prime Minister Ariel Sharon vowed that the targeting of "the leaders of terrorist organisations" would continue, while one of his ministers warned that Hamas' Damascus-based politburo chief Khaled Meshaal, now the movement's undisputed number one, would meet "an identical fate". Later Sunday at ceremonies commemorating the Nazi genocide of the Jews, Sharon said Israel was aware of hatred against it and would strike would-be murderers. "We will never allow the murderers of today, nor those of tomorrow to harm our people. Whoever dares will be struck," Sharon said at the Holocaust memorial at Yad Vashem. "The state of Israel does not forget. It knows what hatred of Israel generated in the past. It is aware of the hatred around and knows how to cope," the premier said. "We are oriented toward peace, because that is our dream and our will, but we will not put back the sword of our defense to the sheath," said Sharon. A crowd of some 200,000 Palestinians took to the streets as close supporters carried Rantissi's flag-draped body from Gaza City's Shifa hospital on a stretcher to his family home and then to the main Al-Omri mosque. "When the opportunity presents itself, we will deliver a widescale response. It will come," top Hamas figure Mahmud al-Zahar told mourners. Palestinian leader Yasser Arafat said in a statement he "vigorously condemned" the killing and phoned the Hamas leadership on Sunday to offer condolences. Ahead of the funeral, the Ezzedine al-Qassam Brigades vowed to "explode a volcano of revenge" in retaliation. "Our revenge will come a hundredfold for the blood of Rantissi and Yassin," a statement said.
EU Slams Israel For Rantissi Killing
April 19….(Reuters) Israel's killing of top Hamas leader Abdel-Aziz al-Rantissi was unlawful and "not conducive to lowering tension," European Union foreign policy chief Javier Solana said Saturday. "The European Union has consistently condemned extrajudicial killings," Solana said in a statement issued during talks between EU and Asian foreign ministers in Ireland. "Israel has a right to protect its citizens from terrorist attacks, but actions of this type are not only unlawful, they are not conducive to lowering tension."
U.S. Bracing For Terror Before Election
April 19….(Fox News) The United States is bracing for possible terrorist attacks before the November presidential election, national security adviser Condoleezza Rice said Sunday. The opportunity for terrorists to try to influence the election, as was the case last month in Spain, appears to be an opportunity that would "be too good to pass up for them," Rice said. "I think that we do have to take very seriously the thought that the terrorists might have learned, we hope, the wrong lesson from Spain," Rice told "Fox News Sunday." "I think we also have to take seriously that they might try during the cycle leading up to the election to do something," she said. "We are actively looking at that possibility, actively trying to see - to make certain that we are responding appropriately," she said. Jose Maria Aznar, outgoing prime minister of Spain and a strong U.S. ally in the war in Iraq, says he has warned President Bush that he believes terrorists will try to affect the U.S. election as they did in Spain. On March 11, terrorists blew up a rail line in Madrid, killing 191 and injuring 1,800 others. "I told George Bush, and (British Prime Minister) Tony Blair and other political leaders to be extremely careful before elections ... and to be very vigilant," Aznar told Fox.
Aznar's Popular Party was favored to win the election until the four commuter trains were attacked. "It is obvious that these attacks were looking for a political effect," he said. Socialist leader Jose Luis Rodriguez Zapatero, who succeeded Aznar, announced on Sunday that he was ordering Spanish troops out of Iraq "in the shortest time possible." Earlier, Zapatero said he would pull the 1,300 Spanish troops by June 30 unless the United Nations took over political and military control of the occupation.
Abdullah: Great Animosity To U.S. In Middle East
April 19….(Ha Aretz) Jordan's King Abdullah warned that the invasion and occupation of Iraq and the Israeli-Palestinian conflict have created widespread animosity against the United States among ordinary citizens across the Middle East. "They turn on the TV and they see an Israeli tank in a tank battle with ordinary Palestinians. The program changes and they see an American tank facing Iraqis," he said in a speech to the Commonwealth Club in San Francisco. "This has created for the first time that I have felt in the Middle East... some sort of animosity that I never felt or heard about toward the United States." Abdullah said he was deeply concerned about how images of the Iraq war affected the man in the street. "The feeling that is being felt toward the United States around the region and around the world is not a healthy one," he said. "At the end of the day, you're being held responsible, rightly or wrongly." "As a friend of yours and as one who cares about many, many people in this country, I am very, very worried about the perception toward America and Americans." The way to undo these sentiments is to resolve the situation in Iraq and to make progress in the Israeli-Palestinian conflict, the monarch said. "You have to go the roots of these problems," Abdullah said. "Until we solve the Israeli-Palestinian, the Israeli-Arab issue, then none of us will ever be safe."
UN: Emergency Meeting on Mid-East
April 19….(Reuters) The UN Security Council scheduled emergency consultations on the Middle East on Monday at the request of Arab nations following Israel's assassination of a top Hamas leader and a major policy shift by President Bush. The 15-nation council was to meet in closed-door session at noon EDT, a UN spokesman said. Bush, breaking with decades of U.S. policy, announced last week that Israel would retain some of the West Bank land it captured in the 1967 Middle East war. He also rejected any right of return of Palestinian refugees to what is now Israel.
WEEK OF APRIL 12 THROUGH APRIL 18
Israel Concerned Over Egypt, Saudi Power
April 16….(Middle East News Line) Israel has become increasingly concerned over the growing strength of Egypt and Saudi Arabia. A report asserted that Israel cannot ignore the growing military strength of Cairo and Riyad. The two Arab countries were said to have been building their forces with advanced U.S. platforms and technology. "The last decade has seen a very sharp rise in military expenditures in Egypt, beyond the amounts that poor country gets from the United States annually," the report by the Jerusalem-based Institute for Contemporary Affairs, said. "Up to now, Egypt has received more than $30 billion in military aid from the United States. Israel has received slightly more in the last 22 years, but we have had to spend much of it on war -- against Palestinian terrorism, against Hizbullah in the north, against the Iraqis who in 1991 struck Israel with Scud missiles, and other military campaigns Israel was forced to conduct." The report, entitled "The Growing Threat to Israel's Qualitative Military Edge," was authored by Yuval Steinitz, chairman of the powerful Knesset Foreign Affairs and Defense Committee. Steinitz has long warned of Egypt's U.S.-supplied military.
Arafat, Arabs in Disarray
April 16….(JNEWSWIRE) The Palestinian Authority was seemingly reeling with rage Thursday at US President George W. Bush's strong endorsement of Israel's plan to unilaterally pull out of the Gaza Strip. After demanding an Israeli withdrawal for 36 years, the "Palestinians" appeared to have been out maneuvered. Apparently they never expected Israeli prime Minister Ariel Sharon to follow through on his threat to unilaterally "disengage" from them. Instead of rejoicing at the prospect of soon having Gaza to themselves, they were left protesting and voicing violent threats. An apparently furious and defiant Yasser Arafat told the world Thursday terrorism (he called it "resistance") would increase until all Jews had been forced off what he has always falsely claimed to be "Palestinian" land. What got the PLO leader's goat was Bush's public recognition of Israel's right to retain control over large Jewish communities in Judea and Samaria, and his rejection of the notion that millions of "Palestinian" refugees would be allowed to flood sovereign Israel under the "right of return." The American leader's position - which the world press without exception spun as "a major policy shift" - in fact followed the guidelines of UN resolution 242 - a document often misrepresented as calling for a complete Israeli retreat to the country's 1949 borders. Like a plotter whose scheme has been unexpectedly frustrated, Arafat appointee Ahmed Qureia made protesting noises about resigning as "Palestinian" prime minister, and echoed his boss's sentiment that the Middle East "peace" process was effectively doomed. For once, it appeared as if the PLO leadership had been effectively sidelined, its decades of terror-driven planning and strategizing suddenly left with nowhere to go. The wider Arab world too spluttered in indignation, with the Arab League openly accusing the Bush administration of adopting Israel's position in the conflict.
U.S. Intel: Syria Funding Iraqi Uprising
Damascus has become key opponent of new Baghdad government.

April 16….(Geo-Strategy) Recent intelligence reports indicate that Syria is funding operations against U.S. and coalition targets in Iraq, U.S. officials said. The reports indicate several Iraqis tied to opposition groups have been linked to Syrians in Damascus who supply cash, says Geostrategy-Direct, the global intelligence news service.
The officials did not elaborate on whether the money is provided by Syrian officials or possibly from exiles associated with the regime of former Iraqi leader Saddam Hussein. Syria has become a key opponent of the new government in Iraq. Scores of former Iraqi officials are believed to be in Syria, despite appeals from the U.S. government to turn them over. Officials said it is not clear how the funding affects the operations against coalition forces in Iraq. "Iraq is awash in weapons," one official said. U.S. Marines in Ramadi last week encountered an unusual assault by armed Iraqis who were well trained and well organized – something that has not been seen since the end of major combat operations a year ago. The attackers were equipped with AK-47 assault rifles and attacked in groups of 10 to 15.
Bin Laden Entices Europe to Abandon US
April 15….(FOJ) In a recording broadcast on Arab satellite networks Thursday, a man who identified himself as Osama bin Laden offered a "truce" to European countries that withdraw from Muslims countries. Great Britain, Germany and Italy quickly spurned what appeared to be an attempt by Bin Laden to drive a wedge between Europe and America. The tape, which ran more than seven minutes, also vowed revenge against America for the Israeli assassination of a militant Palestinian leader Yassin. The Al Qaeda terrorist message said that American policy ignores the "real problem," which is "the occupation of all of Palestine." Obviously, Al Q aeda feels that it can count on isolating America from European nations, and thus weaken American resolve in the war on terror. Surely Al Qaeda and Bin Laden are much encouraged that they can change American war strategies as they listen to politicians like John Kerry, and Socialists like Jacque Chirac. By attempting to demoralize support for President Bush and the war in Iraq, and continuing to castigate him as a foreign policy bungler, the EU and the UN can easily appease the terrorists by changing American foreign policy as it relates to Israel. And that is what is in the cards here with this so-called truce with Europe.
Iran and Syria Confounding US in Iraq
April 15….(FOJ) America's top soldier in Iraq yesterday admitted the fact that Syria and Iran are interfering in the internal affairs of the new Iraq. General Myers, in Baghdad for a strategy conference with Iraqi front commanders, reported that terrorist forces continue to stream in from Syria and Iran and foment the insurrection and unrest that is presently ongoing in certain cities in the Sunni Triangle, west and North of Baghdad. FOJ has regularly documented the fact that the Damascus-Teheran Axis are in fact coordinating terrorist activities, not only in the Mid-east, but throughout the world. Damascus sponsors, trains, equips and harbors a multi-pronged terrorist front against Israel, while Teheran finances, recruits, and employs clerical Jihadists for Holy War. Iran is actively engaged in a covert activity to develop nuclear weapons to employ against Israel. Iran and Syria will never sit by and accommodate a democratic State sitting between them, and especially not one that is friendly to the US. A Democratic State in Iraq is a cornerstone of the Bush Doctrine to defeat the terrorism. However, I would point out that democracy has never taken root and sprouted in any part of the world that hasn't first been fed the precepts of Christianity. Christianity fosters the zeal for freedom and liberty. That is something that the religion of Islam does not and cannot do. When we read stories of Iraqi soldiers who will not even fight for the developing democratic government in Baghdad, we have to remember that the rank and file population of Iraq may have a hard time comprehending that liberty has a high price tag. President Bush eloquently stated in his address to the American press Tuesday night that freedom and liberty are a gift not of the US, but a gift of the almighty. But we must always know that the almighty is not Allah, the god of Islam that denies god has a Son, and teaches hatred of Israel. Rather he is the great I AM, Jehovah, the revealed god of Israel, the God that sent his only begotten Son into the world to redeem the world. So since Islam will continue to be the only tolerated religion of the new Iraq, as it most assuredly will be, it will be next to impossible to erect a democracy in Iraq. And thus it appears that Iran and Syria always be around to confound the US efforts to bring a stable democracy to the region, unless America takes it war on terror to Damascus and Teheran. And we know the UN will not stand for that.
President Bush and Israel's Sharon Meet
April 15….(FOJ) US President George W. Bush and Israeli Prime Minister Ariel Sharon met yesterday in Crawford, Texas to discuss the Israeli-Palestinian Conflict and the peace roadmap. President Bush referred to the 1949 Armistice Lines in a formal statement on the Middle East conflict. President Bush said that realities on the ground have changed over the decades since 1949. In the light of those changes, including already existing major Israeli population centers, it is unrealistic to expect the outcome of final status negotiations will be a full and complete return to the 1949 armistice lines. Final frontiers should be mutually agreed on the basis of these changes. The US President solemnly reaffirmed his steadfast commitment to "Israel's self-defense capability including its right as a "vibrant Jewish State" to defend itself against terror. But, it is very important, President Bush stressed, for a Palestinian state to emerge "in which we have confidence, in which any Prime Minister of Israel has confidence, and that it will be a peaceful partner. (good luck on that one) President Bush and Prime Minister Sharon agreed to the following basic details:
Acceptance of Prime Minister Sharon's plan to withdraw from Gaza.
* Commitment to a "viable, contiguous, sovereign" Palestinian state.
* Israel's responsibilities: "The barrier being erected by Israel should be a security rather than political barrier, should be temporary rather than permanent, should not prejudice any final status issues including final borders, and should take into account, consistent with security needs, its impact on Palestinians not engaged in terrorist activities."
* The Road Map is still the plan of choice, under which the Palestinians must stop terrorism and incitement.
* Israel will continue to control airspace, territorial waters, and land passages in Gaza, "pending agreements on other arrangements."
* "It seems clear that an agreed, just, fair, and realistic framework for a solution to the Palestinian refugee issue as part of any final status agreement will need to be found through the establishment of a Palestinian state, and the settling of Palestinian refugees there, rather than in Israel." [Ed. note: Some commentators feel that the word 'rather' indicates the lack of an absolute rejection of the 'right of Arab return' to Israel.]
* "In light of new realities on the ground, including already existing major Israeli populations centers, it is unrealistic to expect that the outcome of final status negotiations will be a full and complete return to the armistice lines of 1949..."
Hardly had the President made his comments before Palestinian Authority Chairman Yasser Arafat declared in Ramallah that the Palestinian people will not retreat from their goal of achieving liberty, national sovereignty and a state with "Holy Jerusalem" as its capital. He stressed that the Palestinians have the right to return to "their homeland" inside Israel, despite Bush's declaration that refugees would only be able to return to a newly-created Palestinian state. Arafat said, "Israeli crimes will be faced with more resistance to force Israeli occupiers and herds of settlers to leave Palestinian land." He cautioned that "Israel will not achieve security through occupation, arrogance and assassinating our leaders." Palestinian Prime Minister Ahmed Qureia accused the United States of total bias against the Palestinians in a phone call with Secretary of State Colin Powell. Qureia on Wednesday harshly criticized the U.S. president's stand. "He is the first president who has legitimized the settlements in the Palestinian territories when he said that there will be no return to the borders of 1967," he said. "We as Palestinians reject that, we cannot accept that, we reject it and we refuse it." The political fallout from Wednesday's Washington meeting continued on Thursday, with the European Union insisting there could be no unilateral change in Middle East borders. Arafat attempted to rally the world against President Bush's decision to break with longtime U.S. and international policy to say Israel could keep parts of the West Bank captured in war. UN Secretary-General Kofi Annan criticized Bush for ignoring the wishes of Palestinians, while the European Union emphasized it would not accept border changes. Arafat said bluntly that Bush had killed the peace process with this meeting! Hallelujah!
Apparently Arafat's war of terror that he waged against innocent people in buses and café's was not enough to kill the peace process! It took American and Israeli resolve to fight the terrorists to kill the peace process! I guess it wasn't Arafat's PA/PLO-Hamas-Islamic Jihad-Al Aqsa martyrs brigades, Tanzim militia, and all the other branches of Palestinian killing machines that killed the peace process. Had Arafat's peace process been allowed to continue there would have soon ceased to be any place called Israel. Oh gosh, I forgot, that's the whole idea. Now I guess Arafat and his fellow Middle East terrorist comrades will return to undisguised warfare. Remember Arafat's motto at the UN. "I come bearing an olive branch and a freedom fighters gun." "Do not let the branch fall from my hand," he said, meaning if you do not appease me through peace processes and finances, I will use my gun! President Bush has called Arafat's hand and the American war on terror, being a two-theatre war, (Israel and Iraq) now clearly has Arafat in its gunsights.
Here We Go Again; UN Condemns Israel
April 15….(FOJ) As it regularly does the UN has once again condemned Israel for defending itself. The United Nations Human Rights Commission issued three condemnations of Israel yesterday over its treatment of Palestinians and the occupation of the Golan Heights. By a 31-7 vote, the UN Human Rights Commission overwhelmingly backed a resolution on violations in Palestinian territories, citing assassinations, bombing of civilian areas, blockades, demolition of homes and destruction of farmland. It also criticized the construction of the West Bank separation fence. The resolution charged that the barrier disrupts the lives of thousands of Palestinians by cutting them off from their land, jobs and schools, and constitutes a land grab since it cuts deep into the West Bank at several points. The UN esolution was proposed by the Organization of the Islamic Conference. Only the United States, Australia, Germany, Hungary, the Netherlands, Italy and Britain voted against it. Ambassador Richard Williamson, who heads the U.S. delegation to the commission, also said the resolution was "one-sided."
"It ignores the fact that Israeli actions take place in the context of Palestinian terror attacks on Israeli civilians," effectively endorsing terrorism and undermining peace efforts, he said. But Palestinian delegate Nabil Ramlawi said the UN commission must increase scrutiny of Israel's "new methods of violation," in particular the West Bank barrier, because U.S. President George W. Bush had given Israel a green light to "steal as much Palestinian land as possible."
(An Urgent Read for FOJ Followers)
Bush Faces Critical Decisions on Israel
April 14….(JNEWSWIRE) When, in 1991, he came out in support of Arab claims to parts of the land of Israel, US President George H.W. Bush - who had been riding high in the polls after kicking Saddam out of Kuwait, dramatically lost his re-election bid. The same could happen to his son. President George W. Bush will today announce whether or not his nation backs Israeli Prime Minister Ariel Sharon's plan to pull all Israelis out of the Gaza Strip. If he supports Sharon, the American leader will play a major role in securing victory for the 1.3 million Arabs who demand the ethnic cleansing of all 8000 Jews from their midst. A White House endorsement could help secure a "yes" vote in the scheduled May 2 Likud Party referendum on the plan, giving Sharon the green light to move ahead. Millions of evangelical Americans believe it was God Who restored the Jewish presence to the Gaza Strip in 1967. For many of these believers, Bush's support of Sharon's retreat plan would constitute taking a stand against God's restoration plan for the Jews. Sharon has apparently chosen to gamble Gaza in an attempt to ensure the survival of settlements in Judea and Samaria, home to nearly a quarter of a million Israelis.As demonstrated by the Oslo Process, conceding parts of the territory the "Palestinians" assert is their land only affirms the Arabs in their belief that they will ultimately obtain it all. And such concessions further legitimize their false claim in the eyes of the world, which overwhelmingly supports this Arab land grab. The international community has made it clear it will not stand for any Israeli settlements remaining on any of these lands, no matter what Sharon does in Gaza. Sharon arrived in the US Tuesday night in time to prepare for his meeting with Bush at the White House Wednesday. The Israeli leader is in Washington seeking American support for his plan to uproot all 21 Jewish communities from the Gaza Strip, something demanded by the Palestinian Arabs and the world at large. But while Israel's foes want to see the Jews driven out of all "the occupied territories," Sharon's unilateral pullout plan is interpreted as a bid to secure American approval for a continuing Israeli presence in parts of Judea and Samaria, the ancient heartland of the Jewish people. Before leaving for the US, the premier told his countrymen Israel would insist on keeping a number of settlement blocs in these areas. Reports out of the US indicate Bush is prepared, with some reservations, to put his stamp on Sharon's plan. According to Fox News, however, the president will not endorse Israel's actual holding onto any settlements. While President George W. Bush is reportedly better situated for re-election than his father was in the run-up to 1993, evangelical voters, who comprise a hefty bloc of his supporters, are warning him not to repeat Bush the elder's fatal mistake of siding against Israel. America's success in Operation Desert Storm saw the senior Bush riding high in the polls, with a stunning 89 percent giving him their approval. But after liberating Kuwait, Bush Sr. moved against Israel, a tiny nation that, in order to aid the US-led effort against Saddam , absorbed 39 scud missile attacks from Iraq without retaliating at all. Together with then Secretary of State James Baker, Bush brought enormous pressure to bear on Israel to attend the Madrid conference, a move that left Israel virtually helpless in the face of the overwhelming international efforts to divide up its land. Within a year, the high-flying president crashed at the polls, losing to democratic challenger Bill Clinton. Today's President Bush has already moved into similarly dangerous territory by, following his victory against Saddam, becoming the first US president ever to endorse the creation of a Palestinian state on historically Jewish lands. Meanwhile, less than a month after criticizing Israel's targeted execution of Hamas founder Sheikh Ahmed Yassin, the United States is itself preparing to go after a Muslim cleric in its own war on terror. A US force of 2,500 men was massing Wednesday outside Faluja, Shi'ite Islam's most sacred city, where US-hating Mukhtar Al Sada was believed holed up. One year after securing victory over Saddam Hussein, America has learned first hand about roadside and "suicide" bombs, terror-instigating "holy" men, and the need to set up roadblocks and carry out searches on a sullen "occupied" population. To date, however, the Bush administration has refused to see a parallel between its war against terrorists in Iraq and Afghanistan, thousands of miles from America's shores, and Israel's war against the terrorists in its midst.
Arafat Was Behind Terror Attack on US
April 14….(Arutz) The United States has determined that Yasser Arafat approved a terrorist attack on a U.S. embassy convoy in which three Americans were killed in 2003. Middle East Newsline reports in the name of U.S. diplomatic sources that an American investigation into the Gaza bombing last October indicated Arafat's clear role. The sources said that Arafat did not draft or approve the details of the attack, but rather agreed to a proposal relayed by one of his high-level aides for the Palestinians to "send a message" to the United States. The idea for the attack came at a time when some Fatah officials complained that American policy towards the PA and the Arabs was unfair. In the attack, which took place at the Beit Hanoun junction in northern Gaza on Oct. 15, 2003, three American security personnel were killed: John Branchizio, 37, of Texas; John Linde, Jr., 30, of Missouri, and Mark Parsons, 31, of New Jersey. The PA recently released four "suspects" in the attack, after having put them on speedy trial two months ago. The trial aroused suspicion from the outset, coming only two days after the United States offered a reward of $5 million for information leading to the capture of the murderers, and less than two weeks after an American threat to freeze aid to the PA unless the matter was resolved. Until then, the PA had refused to cooperate with American law enforcement officials in attempting to find the guilty parties. State Department officials informed the PA at the time that the closed-door trial was unacceptable, and that they demanded "justice," not a mock trial against four defendants whom the Americans believed to be innocent. "We are very concerned, and demand a true investigation that will bring the guilty parties to justice," said the U.S. statement.
Freeh: Al-Qaida Declared War On U.S. In '96
April 14….(Newsmax) Former FBI director Louis Freeh, in testimony before the Tuesday before the commission investigating the Sept. 11 attacks, said al-Qaida declared war on the U.S. in 1996 when Osama bin Laden issued his first fatwa. That was followed, Freeh said, by a more specific fatwa in 1998, where bin Laden directed his followers to kill Americans anywhere, and preceded by the 1992 attacks against soldiers in Yemen, the subject of an indictment returned in 1998 prior to the attacks on U.S. embassies in East Africa. Freeh said the attacks on soldiers in Somalia were sponsored and directed by al-Qaida, the first such overt act "publicly identified in the New York City indictment with respect to bin Laden." The former FBI director said that before 9/11 his department had limited resources to "neutralize and incapacitate not just bin Laden, but many of his operatives."
FOJ Note: President Clinton turned a blind eye to the Jihadist War on America, and focused on pressuring Israel to appease their and our enemies! The blame for 9-11, other than Al Qaeada, rests primarily with Bill Clinton, no two ways about it. But the UN-EU western democratic Socialists want to place the blame of President Bush. (This is the reason the elite-media keeps asking Mr. Bush if he has any apologies to make to the American people, or if he wishes to admit his mistakes)
Ashcroft Nails Clintonite for 9-11
April 14….(World Net Daily) September 9-11 Commission member Jamie Gorelick wrote a 1995 memo that established a "wall" between the criminal and intelligence divisions, hindering the ability of the U.S. government to detect the Sept. 11, 2001, plot, according to testimony today by Attorney General John Ashcroft. The document by Gorelick, who served as deputy attorney general (Janet Reno) under President Clinton, helped establish the "single greatest structural cause" for September 11th, which was "the wall that segregated criminal investigators and intelligence agents," Ashcroft said in his prepared statement Gorelick was a Democratic appointee to the commission probing how the government handled the threat to terrorism leading to the 9-11 attacks. "Government erected this wall," Ashcroft said. "Government buttressed this wall. And before September 11, government was blinded by this wall." The attorney general, who declassified the document for the commission, said he believed panel members were not aware of it, even though it was written by one of their own. "Although you understand the debilitating impact of the wall, I cannot imagine that the commission knew about this memorandum, so I have declassified it for you and the public to review," he said. "Full disclosure compels me to inform you that its author is a member of this commission." The memo, entitled "Instructions on Separation of Certain Foreign Counterintelligence and Criminal Investigations," contained orders to FBI Director Louis Freeh and others. It said: "We believe that it is prudent to establish a set of instructions that will more clearly separate the counterintelligence investigation from the more limited, but continued, criminal investigations. These procedures, which go beyond what is legally required, will prevent any risk of creating an unwarranted appearance that FISA is being used to avoid procedural safeguards which would apply in a criminal investigation." Ashcroft said that by 2000, "the Justice Department was so addicted to the wall, it actually opposed legislation to lower the wall. Finally, the USA Patriot Act tore down this wall between our intelligence and law enforcement personnel in 2001. And when the Patriot Act was challenged, the FISA Court of Review upheld the law, ruling that the 1995 guidelines were required by neither the Constitution nor the law." Ashcroft insisted that had he known a terrorist attack was imminent in 2001, he would have "unloaded our full arsenal of weaponry against it, despite the inevitable criticism." "But the simple fact of September 11 is this: We did not know an attack was coming because for nearly a decade our government had blinded itself to its enemies." Ashcroft said U.S. agents "were isolated by government-imposed walls, handcuffed by government-imposed restrictions, and starved for basic information technology.
President Bush: Staying the Course in Iraq!

April 14….(FOJ) President Bush vowed Tuesday night to continue the war in Iraq regardless of the commitment in troops, additional resources needed or plummeting popularity polls at home. "Now's the time to talk about the war on terror. Now's the time to make sure the American people understand the stakes," Bush said in an hour-long, prime-time news conference. "We will stay the course and complete the job." President Bush said three groups, Saddam Hussein backers, insurgents, including those backed by radical Shiite cleric Muqtada al-Sadr, and foreign terrorists, (from Iran and Syria) are seeking to drive out the U.S.-led coalition. President Bush acknowledged there have been "tough weeks" in Iraq and said voters "may decide to change" in November and "that's democracy," but that he did not think they would. Many of Bush's fellow Republicans fear spiraling violence in Iraq could cost him the election as he competes in a tight race with Democrat John Kerry for the White House in November. "I don't plan on losing my job. I plan on telling the American people that I've got a plan to win the war on terror and I believe they'll stay with me. They understand the stakes," he said. The success of free government in Iraq is vital for many reasons. A free Iraq is vital because 25 million Iraqis have as much right to live in freedom as we do. A free Iraq will stand as an example to reformers across the Middle East. A free Iraq will show that America is on the side of Muslims who wish to live in peace, as we have already shown in Kuwait and Kosovo, Bosnia and Afghanistan. A free Iraq will confirm to a watching world that America's word, once given, can be relied upon, even in the toughest times. Above all, the defeat of violence and terror in Iraq is vital to the defeat of violence and terror elsewhere; and vital, therefore, to the safety of the American people. Now is the time, and Iraq is the place, in which the enemies of the civilized world are testing the will of the civilized world. The violence we are seeing in Iraq is familiar. The terrorist who takes hostages, or plants a roadside bomb near Baghdad is serving the same ideology of murder that kills innocent people on trains in Madrid, and murders children on buses in Jerusalem, and blows up a nightclub in Bali, and cuts the throat of a young reporter for being a Jew. We've seen the same ideology of murder in the killing of 241 Marines in Beirut, the first attack on the World Trade Center, in the destruction of two embassies in Africa, in the attack on the USS Cole, and in the merciless horror inflicted upon thousands of innocent men and women and children on September the 11th, 2001. The servants of this ideology seek tyranny in the Middle East and beyond. They seek to oppress and persecute women. They seek the death of Jews and Christians, and every Muslim who desires peace over theocratic terror. They seek to intimidate America into panic and retreat, and to set free nations against each other. And they seek weapons of mass destruction, to blackmail and murder on a massive scale. The President said that the consequences of failure in Iraq would be unthinkable.
Berkeley Lecturer Urges 'Uprising' Against U.S.
April 13….( ) A University of California at Berkeley lecturer speaking at an anti-war rally Saturday called for a Palestinian-style intifada, or uprising, against the United States in response to American actions in the Middle East. Hatem Bazian, a native Palestinian with a Ph.D. in Islamic studies, stirred up a San Francisco crowd, asking three times, to resounding affirmations, "Are you angry?" An estimated 2,000 to 3,000 people attended the "emergency" action organized by the radical anti-war group International A.N.S.W.E.R. in response to the increased fighting in the Iraqi city of Fallujah. The International A.N.S.W.E.R. coalition is an umbrella group connected to the World Workers Party, a Marxist organization that supports authoritarian regimes and communist dictatorships. Bazaian continued: "Well, we've been watching the intifada in Palestine, and we've been watching an uprising in Iraq, and the question is that what are we doing in America? How come we don't have an intifada in this country? It seems to me, that we are comfortable where we are watching CNN, ABC, and NBC giving us a window to the world while the world is being managed from Washington and New York. America has Chevron, Bechtel, Carlyle Group, Halliburton; every one of those lying, cheating, stealing, deceiving individuals in our country and we're sitting here and watching the world pass by, people being bombed, and it's about time that we have an intifada in this country that changes fundamentally the political dynamics here. And we know they will say the Palestinians are being too radical, well you haven't seen radicalism yet!" Bazian teaches courses on Islam, Islamic law, Sufisim, Arabic, and politics of the Middle East at U.C. Berkeley as well as at San Francisco State University, Berkeley Graduate Theological Union and Diablo Valley College. At the rally Saturday, Bazian said the Vietnam War will be regarded as "child's play" compared to the US experience in Iraq: they need to understand that what took place in Vietnam will be child's play to what will take place in Iraq." A Berkeley student at the rally expressed support for Iraqi attacks on U.S. troops, charging "the occupation is a source of tremendous violence against Iraqis." "In light of that, you know, I think we've got to support the resistance; we've got to say that we support attacks against the occupying forces," he said. Another said that it was an inspiring thing for people in Palestine facing down the barrel of a US-supplied gun fighting. Seeing the people of Palestine and Iraq fight back, that's what we need." An unidentified speaker encouraged attacks on US troops worldwide.
Gay-Lesbian Network Targets US Kids
April 13….(TVC) The gay-lesbian-straight education network (GLSEN) is targeting America's children for recruitment into the homosexual lifestyle as well as cross-dressing/sex change operations through GLSEN chapters that sponsor hundreds of Gay Straight Alliance (GSA) clubs on junior high and high school campuses across the United States. GLSEN gets into schools by claiming that "homosexual" and "transgender" students need to feel safe and encouraged; and that so-called "homosexual/transgender" teens have high rates of suicide and need a support group. When this tactic fails, GLSEN then threatens legal action against school districts that refuse to allow these recruitment clubs on campus. The American Civil Liberties Union has volunteered to serve as the enforcement arm of GLSEN to impose a homosexual agenda on the nation's public schools. In January, 2004, for example, the ACLU/GLSEN coalition won a major legal victory over the Morgan Hill, California, school district. The ACLU won a settlement from the school district for failing to protect six homosexual students from harassment. As part of this settlement, the school district is now forced to impose pro-homosexual sensitivity training in all school officials. Beginning in the 2004-2005 school year, the school is also forced to indoctrinate all 9th graders to develop positive attitudes about homosexuality. The policy also includes enforcement of training on "gender identity," which is code for cross-dressers and transsexuals (individuals who believe they are actually the opposite gender). GLSEN is pushing for the recruitment of so-called transgender youth as part of its efforts to recruit sexually confused individuals.
Fallujah Terrorists Threaten Christians
April 12….(World Net Daily) Islamic terror groups in the embattled Iraqi town of Fallujah issued an Easter threat to begin killing Christians and destroying churches if the US led coalition forces didn't lift the siege of the city. In addition, kidnappers of a American citizen Thomas Hammil in Iraq have threatened to kill him, the Al Jazeera satellite television station reported yesterday, showing footage of the hostage. The Brigades and Mujahideen called on Pope John Paul and the United Nations to stop what it termed the US siege. Al Jazeera said the threats came in a fax it received from a group in Fallujah called "Saraya wal Mujahideen," which translates to Brigades and Mujahideen.
Sadr Tells Bush to Withdraw or face Revolution
April 12….(Mid-east Online) Outlawed Shiite Muslim radical leader Moqtada Sadr has branded US President George W. Bush an "enemy" of Iraq and told him to withdraw his troops from Iraq or face a revolution. "I address my enemy Bush. You are now fighting an entire nation, from south to north, from east to west, and we advise you to withdraw from Iraq," Sadr said in a message read at the main mosque in Kufa. "I call on America not to confront the Iraqi revolution," (it is an Iranian-Shiite revolution) the Shiite cleric told worshippers gathered for the main weekly prayers in this Sadr stronghold. Sadr also announced that he and his followers "have laid the founding stone of the state of the Mehdi" a reference to Al-Mehdi Al-Montazer, or the "promised Mehdi", the 12th and last revered leader of the Shiite Muslims who disappeared in 907 AD. A central belief of Shiites, who make up the majority in Iraq, is that Mehdi is the sole legitimate ruler (Messiah) and no political action should be taken in his absence. In his message to the worshippers, Sadr warned Bush that unless he removed his troops from Iraq, "you will lose the (November presidential) elections (something the Socialist democrats hope Iraq can help with) you are now struggling for." He also warned that Iraqis who failed to heed his call to fight the US-led occupation would "burn in hell". "All faithful Iraqi men and women who have heard my call to join the struggle and do not heed it, will burn in hell, and will be an outlaw," his message said. Sadr also accused the members of the US-appointed Iraqi Governing Council of being "traitors." As Sadr's sermon was read hundreds of worshippers in the mosque's courtyard interrupted him with deafening cries of "Long live Sadr" and "America and the Council are atheists". A banner on the mosque wall read: "No to the Great Satan America".
Iranian Leader says US 'vulnerable' in Iraq
April 12….(World Net Daily) Providing yet more evidence that Iran is actively supporting the Shiite guerrilla forces battling U.S.-led coalition, former Iranian President Ayatollah Akbar Hashemi-Rafsanjani said the American military forces are vulnerable, describing them as a "wounded monster," and suggesting defeat would provide a "valuable lesson" for the West. Rafsanjani, chairman of the powerful Expediency Council in Iran, says America's vulnerability in Iraq makes Iran stronger. During Friday prayers, broadcast live by Iranian radio, Rafsanjani said deep relations between the people of Iran and the people of Iraq are causing problems for America. (Iraq andIran fought each other in the 80's) "America had entered the region in order to set up a base right outside our borders, but such a base will no longer materialize," he said. "We have small accounts with the Americans which we must settle one day and bring the issue to a close." Rafsanjani praised Moqtada Al-Sadr's "heroic" Mahdi militia. Rafsanjani's speech confirms earlier reports showing that Iran is deeply involved in the Iraqi uprising and has been planning it for more than a year. On Tuesday, the London Arabic daily Al-Hayat noted in the previous two days there had been "repeated talk in the Governing Council of Iraq about the major Iranian role in the events that took place in the Iraqi Shiite cities," according to the Washington, DC based MEMRI. Rafsanjani said the Americans "are now in the region as a very effective target. Of course Iran does not wish to get involved in acts of adventurism. We do not intend to become involved in clashes. We do not intend to interfere. We helped in the case of Afghanistan, we helped in the case of Iraq and we are still helping in security and other issues, but America has become vulnerable." Rafsanjani also paid tribute to President Bush's political opposition in the upcoming presidential election. "Some of the American politicians explicitly accuse him of treachery," Rafsanjani said. "Some say that he is a war criminal and has to face trial. The presidential candidate from the Green Party says that he must face trial as a war criminal because he dragged America into a war without obtaining permit (of the U.N. Security Council) and inflicted so many losses on the country. He says that America is incurring heavy costs and is losing its prestige. The biggest criticism they raise against Mr. Bush is that he undermined credibility of the international organizations by bypassing them. He failed to obtain and endorsement for a job that required international approval." Rafsanjani added that if the US is defeated in Iraq, the America will demise as a world power.
Jimmy Carter Calls President Bush A Failure and A Liar
April 10….(Houston Chronicle) Former President Carter called the Bush Administration's decision to wage war against Iraq "ill-advised and unnecessary," adding that the resulting campaign "has turned out to be a tragedy." "President Bush's war is ill-advised and unnecessary and based on erroneous statements, and has turned out to be a tragedy," Carter said. "And my prayer has been that brave young American men and women, and others who are there, that their lives will be spared and there will be some peaceful resolution of the war." Carter, who won the Nobel Peace Prize in 2002, also blamed what he called Bush's pro-Israel policies for engendering animosity against America. "The prime source of animosity towards the United States is the lack of progress in dealing with the Palestinian issue," Carter said, adding that past U.S. administrations since Harry Truman's have maintained a "balanced position" in dealing with the rights of the Arab population within the Jewish nation. "The present administration has not done so at all. We have been exclusively committed to the policies of Prime Minister Ariel Sharon and Israel, and have made no effort to try to have a balanced negotiating position between Israel and the Palestinians," Carter said. Carter, who brokered the historic 1978 Camp David accords that led to peace between Israel and Egypt, noted that President George H.W. Bush threatened to halt foreign aid when Israel began building settlements in Palestinian territory. "In the meantime, of course, the Israelis have established hundreds of settlements all over Palestinian land with no critical comment ever coming from the present Bush administration," Carter said.
FOJ Note: Jimmy Carter is a useful idiot to those who despise America, and is an absolute disgrace to this nation. I can't say it any plainer. He has never understood the world from a Biblical perspective. He parades around the globe presenting himself as a Christian humanitarian, when in reality he doesn't have the foggiest idea of what our nation's Judeo-Christian foundation is all about. He would prefer to appease and reward the warmongering demonic Christian and Jew hating Middle East terrorists than lend any support to the only democracy in the entire Middle East fighting for its mere survival. He does not care that the so-called occupied territory is in truth the Jewish Promised Land, and that the Arafat-Islamic thugs are hell-bent on the extermination. He has never read Genesis 12:1-3! His foreign policy is one that would surrender anything anytime the Arab terrorists complain. As he says above, we must not engender their animosity, but rather we should force Israel to give the terrorists as much as they request, and go out of our way to not upset them. Carter and Brezinski have been going out of their way lately to lambast the Bush Administration because they perceive that Bush is a stumbling block to their Socialist Democracy Global Order ideology. Carter, Clinton, Kerry, Gore, together with an endless list of well-placed political elites are in essence working to undermine US sovereignty and reform our nation into a world government in league with the EU and UN. These global Socialists are serving the logistical geo-political strategems of the coming Antichrist perfectly! If America travels down the suggested foreign policy path of Jimmy Carter with respect to Israel, America can expect God's judgment upon our country. Jimmy Carter is unwittingly helping Iran incorporate Iraq into the fanatical Islamic Fundamentalist Empire, but then, Jimmy Carter did the same thing for Iran back in 1979. Iran had been an ally of the US until the Carter-Brezinski foreign policy allowed for the Shah to be overthrown, setting the stage for today's geo-political scenario in the Middle East.
One Iraqi Battalion Refuses to Fight
April 12….(Washington Post) A battalion of the new Iraqi army refused to go to Fallujah earlier this week to support U.S. Marines battling for control of the city, senior U.S. Army officers here said, disclosing an incident that is casting new doubt on U.S. plans to transfer security matters to Iraqi forces. It was the first time U.S. commanders had sought to involve the postwar Iraqi army in major combat operations, and the battalion's refusal came as large parts of Iraqi security forces have stopped carrying out their duties. The 620-man 2nd Battalion of the Iraqi Armed Forces refused to fight Monday after members of the unit were shot at in a Shiite Muslim neighborhood in Baghdad while en route to Fallujah, a Sunni Muslim stronghold, said U.S. Army Maj. Gen. Paul Eaton, who is overseeing the development of Iraqi security forces. Eaton said members of the battalion insisted during the ensuing discussions: "We did not sign up to fight Iraqis." The refusal of the battalion to perform as U.S. officials had hoped poses a significant problem for the occupation. The cornerstone of the U.S. strategy in Iraq is to draw down its military presence and turn over security functions to Iraqis
FOJ Note: The lack of a "will" for regular Iraqi's to fight for freedom in Iraq is a bad sign for America. As I have stated before, Democracy is not the solution in Iraq. Freedom and Liberty have historically only taken root in a culture that has first become grounded in Biblical Christianity. The Gospel of Jesus Christ is the Big Need in Iraq, not more Islamic enslavement.
Iran Informant: Iran Fomenting Revolution
April 12….(Arab News) An Iranian defector claims Iran spends $70 million a month on activity in Iraq, according to the London Arabic-Language Daily Al-Sharq Al-Awsat. The paper quoted extensively a former Iranian intelligence official in charge of activities in Iraq, identified as Haj Sa'idi, who recently fled from Iran. He told the paper the Iranian presence in Iraq is not limited to the Shiite cities. "Rather," he said, "it is spread throughout Iraq, from Zakho in the north to Umm Al-Qasr in the south." The defector said "the infiltration of Iranian Revolutionary Guards and the Al-Quds Army (Jerusalem Brigades) into Iraq began long before the war, through hundreds of Iranian intelligence agents, amongst them Iraqi refugees who were expelled by Saddam Hussein in the 1970s and 1980s to Iran, allegedly because of their Iranian origin, and who infiltrated back into Iraq through the Kurdish areas that were out of the Iraqi Baath government control.." After the war, he said, Iranian intelligence sent its agents through the uncontrolled Iraq-Iran border, some of them as students and clerics and others as belonging to the Shiite militias. Haj Sa'idi said that the assassination last summer of Ayatollah Muhammad Baqir Al-Hakim, who headed the Supreme Council of the Islamic Revolution in Iraq, was a "successful operation carried out by the intelligence unit of the Iranian Al-Quds Army." He also revealed to the paper a failed attempt on the life of the highest Shiite Marja', Ayatollah Ali Al-Sistani, at the Eid Al-Adha holiday last year. Haj Sa'idi claimed some of the Iranian intelligence officers in Iraq are known to everybody, but the real threat comes from those that are unknown. Among them are 18 Shiite charities in Kazimiya, in Al-Sadr city in Baghdad, in Karbala, Najaf, Kufa, Nasiriyah, Basra, and other cities with a large Shiite majority. In those offices, new agents are recruited every day, under the guise of financial aid, medicine, food, and clothing for the poor, he said. Haj Sa'idi said the Iranian plan to turn Iraq into another Iran is a wide-ranging plan, involving the recruitment of thousands of young Shiites for the next stage, which will take place with the first parliamentary elections in Iraq.
Pope: End 'Logic of Death' in Mideast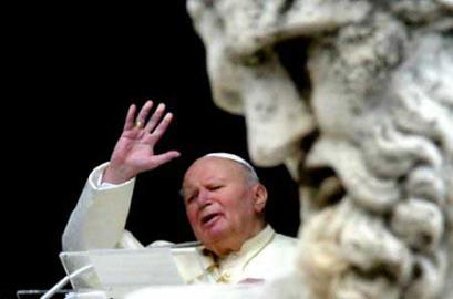 April 12….(Reuters) Amid some of the tightest security ever seen at the Vatican, Pope John Paul issued an Easter condemnation of terrorism Sunday and urged world leaders to bring peace to Iraq and other flash-points. Speaking to tens of thousands of people in St Peter's Square and tens of millions of television viewers and radio listeners, he railed against "a logic of death" pervasive in the world. "May (humanity) find the strength to face the inhuman, and unfortunately growing, phenomenon of terrorism," he said in his "Urbi et Orbi" (to the city and the world) message. The long shadow of the conflict in Iraq reached as far as St Peter's Square this year with an Easter season that has been marked by unprecedented security for fear of an attack. The Pope painted one of the bleakest pictures of the world that he ever has in his 26 Easters as Roman Catholic leader. He said the international community had its work cut out for it in trying to deal with conflicts and asked God to sustain world leaders "in their efforts to resolve satisfactorily the continuing conflicts" in Iraq and the Holy Land. He reminded Christians, Jews and Muslims that they are all children of Abraham and so should "rediscover the brotherhood that they share" and work for peace together.
America Faces Israel Styled Terrorist Campaign
April 12….(FOJ) Palestinian gunman from Yasser Arafat's Fatah movement hold their assault rifles next to a poster of the former Iraqi leader Saddam Hussein, Sunday, April 11, 2004 during a demonstration against the US-led war in Iraq in the Jabaliya refugee camp in the Gaza strip. Yasser Arafat and his PLO terrorist machine have supported Saddam Hussein in each of the Iraq-Gulf Wars. Now with the Iran-Islamic insurgency-guerrilla campaign being waged against the US in Iraq, the Palestinian terrorist infrastructure is once more openly showing solidarity with the Al Quds army of the Sunni-Shiites. But then, Arafat has his own Palestinian Al Quds army with which he wages terrorism against Israel! If America employs its own advice of how to battle terrorism in Iraq that it has given to Israel to combat terrorism, then America will probably concede to the terrorists demands and leave Iraq, or else find itself under a mountain of UN condemnations.
WEEK OF APRIL 5 THROUGH APRIL 11
Syria Smuggles Missles & WMD to Sudan to Hide Them
April 9….(Middle East News Line) Syria's Defense Ministry has been smuggling missile and weapons of mass destruction components to Sudan in an apparent effort to conceal them from Western inspection. Western intelligence sources said the regime of Syrian President Bashar Assad has been flying shipments of Scud C and Scud D extended-range missiles as well as WMD components to warehouses in Khartoum since at least January 2004. The sources said the Syrian shipments to Khartoum were placed on civilian airliners but authorized and directed by the Defense Ministry. "There is widespread concern in the Syrian regime that Damascus will be the next to face heavy U.S. and international pressure to open its WMD facilities in the wake of the Libyan example," a senior intelligence source said. "The Syrians have decided that they want to take some of their assets out of the country."
The two-front insurgency in Iraq continued unabated yesterday as kidnappers seized more than a dozen foreign hostages in an ominous new tactic aimed at weakening the resolve of U.S. coalition partners.
Terrorists in Iraq Using Kidnapping
April 9….(Harpazo) As Marines fought in the Sunni Triangle city of Fallujah for a fourth day and Shia militiamen controlled all or part of three southern cities, the military announced five new American deaths. A Marine was killed in Fallujah, and three 1st Infantry Division soldiers were reported dead from Sunni attacks Wednesday and yesterday, though the military did not give the circumstances. Another soldier died after being wounded last week. Across Iraq, Koreans, 'Japanese, Arabs from Israel, a Canadian and a Briton were kidnapped. The Arabic satellite network Al-Jazeera aired portions of a video of the Japanese hostages released by a previously unknown group calling itself the "Mujahedeen Squadrons." It showed the Japanese moaning in terror as their captors held knives to their throats, shouting, "God is great" in Arabic. "We tell you that three of your children have fallen prisoner in our hands, and we give you two options: withdraw your forces ... or we will burn them alive and feed them to the fighters," the group said. Japan's government called the abductions in southern Iraq "unforgivable" but said it would not bend to the demands. News of two Arab aid workers' kidnapping came in video footage shown on Iranian television.
Iran Operates 18 Spy Centers in Iraq
April 9….(Middle East News Line) Iranian intelligence has been operating at least 18 covert centers in Iraq as well as targeting Shi'ites deemed as aligned with the United States in a nearly $1 billion effort to prevent the spread of democracy in that Arab country. A former Iranian official in Teheran's intelligence community publicly disclosed the first details on Iran's intelligence presence in Iraq. The defector said Iran has bolstered its intelligence presence throughout Iraq where Teheran has sought to exacerbate ethnic tensions and encourage a nationwide revolt against the United States. The centers have been located in Baghdad, Basra, Karbala, Najaf, Nasseriya and Suleimaniya, the Iranian defector said. The centers, operating under the cover of charities, have also been used to recruit Iraqis to spy for Iran. The defector, identified as Haj Saidi and who fled Iran in late 2003, told the London-based daily A-Sharq Al Awsat on April 3 that Iran has sent hundreds of intelligence agents into Iraq over the last 18 months. Many of them came under the guise of Iranian pilgrims and Iraqi refugees. He said more than 300 Iranian agents -- benefiting from about 2,700 safe houses in 14 cities -- were operating in Iraq.
War politics: God help us!
April 9….(Hal Lindsay) Criticism of the Bush administration has reached a fever pitch – no criticism is too unfair, no accusation too vague, no innuendo too outrageous. And anyone who attempts to straighten the record is automatically attacked as a "right-wing partisan" – as if Bush were the embodiment of the "right wing." You'd certainly get an argument about that from the right wing, who think Bush is too far to the left. Some of the attacks are as contradictory in nature as they are dishonest. Like, "Bush lied to start an Iraq war so he could steal Iraqi oil." This followed by John Kerry's current charge of the this week, "Bush is responsible for higher oil prices because he treated the Saudis with kid gloves." If it was wrong for Bush to clobber Saddam to steal his oil, then how can it be right for Kerry to advocate clobbering the Saudis to keep oil prices low? I was intrigued by the uproar generated last month when the Bush campaign released a campaign ad that contained a two-second snippet of Ground Zero. The entire country (according to the press coverage) was repulsed to the point of regurgitation by "Bush's shameless politicization of the 9-11 catastrophe." On the other hand, the 9-11 Commission's mission of determining what went wrong and how to prevent future attacks was turned into a partisan free-for-all about which administration bore the greatest blame. Richard Clarke came forward to advance his view that Bush did nothing to prevent the attacks, especially when compared to "the tireless efforts of the Clinton administration." Since the Bush administration had less than seven months – on the heels of a truncated transition period – whereas the Clinton administration had eight years, it wasn't too surprising that the commission degenerated into a partisan finger-pointing session. What was surprising, however, were Democratic charges that "it was the Bush people who politicized the tragedy for political gain." And they said so with straight faces. In any case, what was supposed to be a bipartisan investigation aimed at plugging future holes in the system is no more. We now have and irresistible vortex into which actual information is sucked in, spun and regurgitated as partisan propaganda. Nobody's minds will be changed. Those who blamed Bush before will blame Bush still. Those who blamed Clinton before will blame Clinton still. And nobody will come away blaming al-Qaida or Osama bin Laden. As in the case of Saddam Hussein, the war was deployed as a political weapon against the Bush administration before the first shots were fired. John Kerry had already begun flip-flopping to his current position that he voted for the war, but was against the conflict. But the war in Iraq isn't being waged to provide interesting political theater. These are real Americans, engaged in real combat and shedding real blood, while the politicians at home tell them they are dying for Iraqi oil, instead of for Iraqi freedom. What must be even more disconcerting to our troops is Kerry's promise that, if elected, he would send them to die for Saudi oil, instead.
Politics is one thing, but when politicians like Ted Kennedy tell the country that Iraq is George Bush's Vietnam, he is also telling the troops in Iraq that they are fighting for a losing cause. Winning the White House by talking down the war in Iraq and talking down the economy might be smart politics, but it doesn't make it right. In the mean time, the essential point is being lost: We are in a war that threatens our survival. We are fighting against a globally dispersed enemy that is inspired by its religion to fanatical acts of terrorism. This enemy is hidden in our midst. He will gladly give his life to kill as many of us as possible.
Preachers and Porn
April 8….(MSNBC) Alone in his study at a church in suburban Dallas, Pastor Bernie Anderson toiled on his sermon. Searching for the proper message for his Seventh-Day Adventist flock, the preacher turned to the computer. He clicked on sites for theological essays, stories of Christian history, Hebrew translations. On the wall was a symbol of his mission: a portrait of Jesus bearing the cross. But temptation beckons all, even the man who stands behind the pulpit. Fingers trembling, he clicked on another site. The key word: sex. "It was very raunchy stuff, but I couldn't stop," says Anderson, an earnest and soft-spoken man. He was racked with guilt. "You feel like, 'I'm a pastor. I'm not supposed to have this problem'."As a pastor with a weakness for porn, he is scarcely an oddity. Some 40 percent of clergy have acknowledged visiting sexually explicit Web sites, according to a 2000 survey conducted by Christianity Today and Leadership magazines. The results surprised some pastors, says Eric Reed, the managing editor of Leadership, a magazine aimed at Protestant clergy. "They said, 'Wow, I'm surprised the numbers are so low'." After hearing from so many pastors battling obsession with porn, the conservative Christian group Focus on the Family launched a Web site offering help: pureintimacy.org. Treatment groups like Stone Gate Resources, based in Larkspur, Colo., offer help with intensive counseling at residential retreats. Pastors watching racy videos is a far cry from the scandals of the Roman Catholic Church, the hundreds of documented cases of priests preying on minors. These clergymen tend to be looking for escapist sexual thrills in an anonymous cyberworld. They are, after all, no less human than their followers in the pews. But a religious leader can scarcely browse the local erotic book store or visit a gentlemen's club—or even share sexual fantasies with friends—without risking career ruin. "They're surrounded by people, but they're lonely all the time," says Doug Boudinot, a former Presbyterian minister who left the church after his own struggles with porn and now counsels pastors overwhelmed by an appetite for lurid images. "So they start looking for connection and intimacy."
America's 2004 Internal War
April 7….(FOJ) News that eight American troops were killed in Baghdad, as fighting erupted between Coalition troops and followers of Muqtada al-Sadr, revealed that there is an absolute division in America between liberals and conservatives that goes far beyond politics. Hearing the news from Iraq, Senator Edward Kennedy (Democrat-Mass.) declared Iraq to be "George Bush's Vietnam." Evening-news anchors question whether this weekend's violence marked the start of a Shia revolution that will turn America's incursion into Iraq into a quagmire that could explode beyond the scope of 9-11. CBS news anchor Dan Rather interviewed General Mitchell and the two quickly concerted that the Iraq situation SHOULD be turned over to the UN. Obviously, the secular-liberal political-media establishment in the US is hoping that the situation in Iraq becomes a bloody experience for US troops as our country nears its November election. Recently Jimmy Carter and Zibbigniev Brezinski joined the long list of former big political names in castigating President George Bush as a warmonger, a liar, and a foolish cowboy that has betrayed America, and is leading it to destruction. Personally, I think America is squarely in the eyes of a Satanic onslaught. That assault isn't confined to overseas enemies either. I believe that time is short for Christians here on this earth. Satan is quickly getting his logistical geo-political ducks in a row around the world, and he is furious that the US is still supporting Israel's right to exist. Furthermore, Satan and his demonic hordes are busy pushing a "spiritual guerilla campaign" right here in the United States via the culture war and a political war that is designed to remove every last vestige of Christian values and our traditional Judeo-Christian roots. (For more on Judeo-Christian roots—see FOJ Library article)
U.S. Cautions Arafat Against Including Hamas in Leadership
April 7….(Ha Aretz) The United States has warned the Palestinian Authority against inviting Hamas to join a unified leadership group, saying that it opposes any cooperation with the militant Palestinian organization. But in an interview Palestinian Authority Chairman Yasser Arafat expressed support for the inclusion of the militant organization in the Palestinian leadership. Asked if he supported Hamas' integration into the PA, Arafat replied: "Yes. They [Hamas] were there from the beginning, even if they did later break away." But a State Department spokesman Tuesday voiced American opposition to such a move, calling for Hamas to be ostracized and stripped of any power and influence as an organization. If Arafat's plan succeeds, Israelis may soon have a real-life "Palestinian" terror state seething on their border. Reports in Israel on Tuesday, the first day of Passover, disclosed that Arafat himself had brazenly confessed his desire to retrieve Hamas "back" alongside his PLO. While Washington has warned the PA not to invite Hamas into its ranks, reports out of the US indicate that President George W. Bush has decided to come out in support of Sharon's plan to unilaterally abandon Gaza. Hamas and the PIJ have sworn that, after Israel leaves the Strip, they will continue their violent efforts to drive the Jews out of all the land of Israel. The PLO remains committed to its 1974 Phased Plan, in which it committed itself to using any part of the land over which it gains control as an attack base from which to "liberate" the rest of "Palestine." Yasser Arafat, who has consistently refused to abide by his commitments under the Oslo and Road Map agreements to crush the terrorist organizations operating out of areas under his control, has welcomed the opportunity to form a unified leadership movement with Hamas and the PIJ. So, Palestinian leader Yasser Arafat agreement to form a unified leadership of all Palestinian factions including Hamas, is nothing more than a step forward in the PLO plan to destroy Israel altogether. Who will lead the new PLO-Hamas terrorist union in Sheik Yassin's absence? Yasser Arafat.
Israeli-Palestinian Conflict Delaying Al Qaida Defeat
April 7….(Ha Aretz) Al-Qaida will not be defeated until there is a peaceful resolution to the Israeli-Palestinian conflict, Miguel Angel Moratinos, Spain's new foreign minister and former European Union envoy to the Middle East, told the Financial Times in an interview published Monday. Spanish police have arrested several Moroccans in connection with the attacks and a manhunt for more bombers ended on Saturday when five suspects blew themselves up after a gunfight with police in a Madrid suburb. Police believe the Madrid bombers had ties to Osama bin Laden's Al-Qaida network. Moratinos told the paper that he does not know whether there are more Al-Qaida operatives in Spain and added that it would be "irresponsible to say that the danger is over."
Muslim Cleric Justifies Eenemy Mutilation
April 7….(Arutz) A popular Islamic online site, quoting a European sheikh, justifies the mutilation of the bodies of enemies when it is part of retaliation, reports. The subject arose this week on IslamOnline's interactive feature on fatwas following the murders of four U.S. civilians in Fallujah, Iraq. The Americans, who were providing security for food deliveries in the violent Sunni triangle, were killed by militants, their bodies dismembered, burned and hanged on display. Sheikh Faysal Mawlawi in responding to a specific question about Islam's view of mutilating bodies of enemies in wartime, deputy chairman of the European Council for Fatwa and Research, wrote "it is permissible to mutilate the dead in case of retaliation.
Television pictures broadcast outside the United States showed the incinerated body of one of the four contractors being kicked and stamped on by people in a jubilant Muslim crowd in Fallujah, while another body was dragged down the road by its feet. Two bodies also were temporarily hung from a bridge.
Iran, Hezbollah Support al-Sadr
April 7….(DEBKA ) Sheik Muqtada al-Sadr, the fiery Iraqi Shi'ite cleric who ordered his fanatical militia to attack coalition troops, is being supported by Iran and its terror surrogate Hezbollah, according to military sources with access to recent intelligence reports. Sheik al-Sadr's bid to spark a widespread uprising in Iraq comes at a particularly pivotal time. The United States is conducting a massive troop rotation that leaves inexperienced troops in some locations, including Fallujah, which is west of Baghdad and where Sunnis have mounted another series of rebellions. Defense Secretary Donald H. Rumsfeld said yesterday that he will consider more U.S. forces for Iraq if his top commander there, Gen. John Abizaid, requests them. There are about 130,000 U.S. troops in Iraq, and the force strength is scheduled to shrink by 15,000 once the rotation is completed. Sheik al-Sadr, who has traveled to Iran and met with its hard-line Shi'ite clerics, is an ardent foe of the United States who wants all foreign troops to leave. The United States suspects that his goal is to create a hard-line Shi'ite regime in Iraq modeled after Tehran's government.
Military sources said Sheik al-Sadr is being aided directly by Iran's Revolutionary Guard, which plays a large role in running that country, and by Hezbollah, an Iranian-created terrorist group based in Lebanon. One of the sources said these two organizations are supplying the cleric with money, spiritual support and possibly weapons. "Iran does not want a success in Iraq," the source said. "A democratic Iraq is a death knell to the mullahs." Sheik al-Sadr upped the ante during the weekend by calling for his 3,000-strong militia, the Army of the Mahdi, to begin attacking coalition forces. His fiery words touched off attacks throughout southern Iraq. The Coalition Provisional Authority in Baghdad announced on Monday that an Iraqi judge months ago had issued an arrest warrant for Sheik al-Sadr on a charge of murdering a moderate Shi'ite cleric. The question for U.S. commanders is how to arrest Sheik al-Sadr without further enraging his small but violent group of followers. The U.S. military is trying new tactics to try to quell insurgents in Fallujah, avoiding time-consuming house-to-house sweeps in favor of targeted raids based on hard intelligence.
In the last 24 hours, Shiite radicals of Baghdad and southern Iraq have gone on the warpath, vying with the Sunni Triangle's al Qaeda and Baathist guerrillas in anti-US violence. One year after ending the combat phase of the Iraq war, the US-led coalition finds itself fighting therefore on the two fronts. Monday, April 5, US forces opened a major offensive called Vigilant Resolve against Iraqi guerrilla-al Qaeda strongholds in Falluja and Ramadi, leaving many casualties. The real cause underlining the Sadr rebellion is brought to light by DEBKAfile's intelligence and counter-terror sources. They stress that it was far from spontaneous. Indeed it was prepared well in advance to at the behest of Tehran, with the collaboration of Damascus and the Hizballah, by the Shiite master terrorist Imad Mughniyeh. Its purpose: to trigger Iran's Spring Offensive against the Americans in Iraq. Sunday night, the young radical cleric al Sadr told cheering followers in Kufa: "From now on we are the beating arm of the Hizballah and Hamas in Iraq. Military analysts read this as a battle cry, not only to launch the young Shiite cleric's bid for power in the whole of Iraq, but also for spreading the unrest around the Middle East at large. The Lebanese Hizballah, which controls the most effective military-terrorist force in the region and is heavily armed with an array of missiles and artillery, will not want to sit on the sidelines; likewise the Hamas and its Gaza-based "military arm", Izz e-Din al-Qassam. However, both must be guided in their next steps by the Iranian leadership topped by Ali Khamenei and the Syrian president Bashar Assad who have been holding separate emergency round the clock conferences in the last few hours. A decision by the two governments, collaborators thus far, to continue to operate together will be bad news for the spiraling Iraqi crisis. In March 2003, days after the American invasion of Iraq, Tehran sent al-Sadr into the country, well-padded with Iranian weapons, intelligence, combatants and cash. According to DEBKAfile's sources in Tehran, the ayatollahs will be guided by two considerations:
1. Will the violence incurred until now push Washington hard enough to abandon its international campaign against Iran's nuclear program? What Tehran is after is US assent to its continuing enrichment of uranium for military purposes up to the point where all the components of a nuclear bomb are in hand but left disassembled. If the Bush administration agrees to let this pass, Tehran will call al-Sadr and his militia to heel and instruct him to come to an arrangement with the Americans for calm.
2. The Mehdi Army is riddled with hundreds of Iranian Revolutionary Guards officers and agents, dominated by the most extremist and belligerent elements in the Iranian regime. If ordered to hold their fire, these fire-eating combatants may well switch their loyalties to the most implacable factions of the Revolutionary Guards to which Mughniyeh also belongs. The decisions facing the Assad regime are equally complex. While Tehran may believe it has acquired a nuclear bargaining chip in the Sadr rebellion, Damascus may use it as leverage to fend off US economic sanctions and force Washington to accept the Hizballah and Palestinian terrorist organizations based in Damascus as legitimate arms of a national liberation movement, rather than terrorists. If that acceptance is forthcoming, Bashar Assad could promise once again, to seal its Lebanese and Iraqi frontiers and not permit Hizballah contingents to cross into Iraq and join the Mehdi Army offensive against the coalition. He might even offer to prevent the Hizballah from opening a new front against Israel.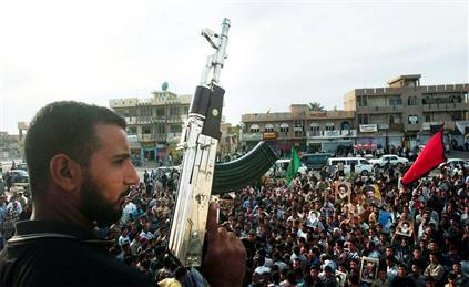 However, the Syrian ruler is not a free agent. In the summer of 2003, he allowed Mughniyeh to cross Syria into Iraq from his hiding place in Lebanon to program the Shiite offensive. Last November, he was allowed to return by the same route. With the onset of the Shiite uprising, Mughniyeh took command of Hizballah forces, pushing Hassan Nasrallah into second place. Damascus can therefore no longer act on its own. In the first hours of what looks like an evolving second Iraq war, it is impossible to predict how the combat will develop or where the coalition and the radical Shiites are heading. The fact that the US Iraq command decided despite the Shiite flareup to go ahead with Operation Vigilant Resolve in the Sunni Triangle to avenge the Fallujah lynching of four Americans and attack that killed 5 US marines Wednesday, March 31, indicates that the United States is determined both to fight the Sunnis and to clamp a tight lid down on the Shiite threat to kindle the flames of civil war. The big question is: why did the Bush administration and US command fail to heed the operational bond developing for ten months between Iran, Syria and the Hizballah and the deployment of one of the world's most vicious troublemakers, Imad Mughniyeh, in Shiite Iraq last fall? The transfer of Saddam Hussein's weapons of mass destruction to Syria between January 10 to March 10 2003 was ignored in the same way with unfortunate consequences.
The Fraud and Danger of the 9/11 Commission
April 7….(excerpt from Lawrence Auster) Here are one person's not-so-random thoughts on Richard Clarke, the 9/11 Commission, and our nation's continuing refusal to come to grips with the lessons of September 11:
1. Out of some unseemly combination of Bush-hatred, self-love, and monetary greed, Richard Clarke, a once-honorable civil servant, turned his earlier non-partisan criticisms of the Clinton and Bush administrations into a hit-job aimed at the current president, a hit-job delivered in the midst of a war, no less. For a former official of the National Security Council to use the inside knowledge and the cachet accruing from his career service to try to destroy the administration he worked for, and while it is still in office, is an unheard-of act of betrayal, not just against Bush, but against our entire national security apparatus, which rests on trust and discretion in its inmost councils.
2. The Commission was supposed to conduct a search for the truth about the most urgent issue facing our country, our failures to stop the terrorist attacks of September 11, and thus our vulnerability to possible future attacks as well. Instead, the Commission has become a partisan circus. The fact that it provided Clarke a platform to carry out his self-aggrandizing vendetta against the President, with his appearance co-ordinated with the publication of his book, and with the Democrats and the liberal media, like a chorus of shrieking Maenads, backing up this most unlikely liberal hero, renders the Commission a fraud.
3. In response, the Bush Administration just wants to make the partisan attacks go away. So they're willing to accept a moral equivalence: everyone was equally at fault, or rather, everyone was equally faultless. Thus eight years in which Bill Clinton kept complacently blinking in the face of terrorist attacks on this country is equated with Bush's seven months in office before 9/11. The view being advanced by the Bushites is that "nothing" could have been done to prevent 9/11—by either administration. This concession is a huge victory for the Clintonites, lifting from their backs the blame for eight years of craven avoidance and surrender. How different was Bush, who, as soon as America was attacked on his watch, resolutely invaded and defeated the country from which the attack had come, an exercise of leadership and courage that it is impossible to imagine if Clinton or Gore or Kerry had been in the White House on September 11.
4. More fundamentally, this result is not without justice because Bush himself never uttered a single critical word about Clinton's inadequate anti-terror actions. True, after Bush became president, he made one cutting remark, in private about his intention not to repeat Clinton's odd habit of firing cruise missiles at camels. But that was it. As a presidential candidate in 2000 and as president prior to 9/11, Bush never took issue with the Clinton approach of treating terrorist attacks as discrete crimes rather than as part of a war against the United States. Indeed, Bush didn't disagree with any aspect of Clinton's foreign policy, with the exception of his short-lived opposition to nation-building.
5. An example of the Clinton mindset that left America defenseless was the rule prohibiting federal investigators from conducting surveillance on a terrorist suspect in the absence of evidence of criminal activity by that person. The fact that a man belonged to a terrorist group was not enough to give the FBI the legal authority to investigate him; he had to be suspected of having personally done something criminal. This goes to the heart of the difference between viewing terrorism as a crime and viewing it as a war.
6. Similarly, like Clinton, Bush mistakenly and actively pursued friendships with terror-supporting Moslem lobbying organizations such as CAIR, inviting them over and over to the White House both before and after 9/11, (even celebrating Ramadan) repeating on every possible occasion his unctuous mantra that Islam is a "religion of peace".
7. Commission chairman Thomas Kean has indicated that his investigation has found official errors that made the 9/11 attack possible. But if the Commission's proceedings and the whole tenor of modern American politics are any indication, the government failures Kean will note in his report will most likely be of a technical and bureaucratic nature, not relating to the underlying moral and political attitudes by which we have freely allowed our deadly foes to enter and reside inside this country.
14. Beyond the specific fraud perpetrated by Richard Clarke, the larger fraud of the 9/11 Commission is that it is covering up the refusal of our whole society and political system to respond to the terrorists and terror supporters among us, both prior to 9/11 and today. Americans today need to know that a large part of the Moslem world is not only very different from us, but that they are also dangerous to us. On September 11, 2001, our UN adopted ideology of tolerance was carried to its ultimate extreme and made 9-11posible.
Al Qaeda Absent from Final Clinton Terror Report
April 6….(FOJ) The final policy paper on national security that President Clinton submitted to Congress, over 45,000 words long, makes no mention of al Qaeda and refers to Osama bin Laden by name only four times. The scarce references to bin Laden and his terror network undercut claims by former White House terrorism analyst Richard A. Clarke that the Clinton administration considered al Qaeda an "urgent" threat. Several high-ranking Bush administration officials, and the president himself, have faulted the Clinton administration for treating global terrorism as a law enforcement issue and not recognizing that bin Laden declared war on the United States in 1998.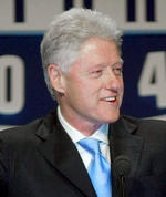 In Mr. Clarke's best-selling book "Against All Enemies," he writes that during a transitional briefing in January 2001, Miss Rice's "facial expression gave me the impression that she'd never heard the term al Qaeda before." But the Clinton administration's final national security document, written while Mr. Clarke was a high-level national security adviser, never mentions al Qaeda. "Clarke was on the job as terrorism czar at that point," said a senior Bush administration official who spoke on the condition of anonymity. "He played a significant role. His concerns should have been well-known." High-ranking Bush administration officials, including Secretary of State Colin L. Powell, have testified that Mr. Bush wanted to stop "swatting at flies" and take a more aggressive approach to terror. The Bush administration official noted that the planning of the September 11 attacks happened while Mr. Clinton was in power, and said the commission's probe has turned into a search for blame.

He Was Given A Mouthpiece

April 7….(excerpt by: Jack Kinsella) And there was given unto him a mouth speaking great things and blasphemies; and power was given unto him to continue forty and two months. And he opened his mouth in blasphemy against God, to blaspheme His Name, and His tabernacle, and them that dwell in heaven. (Revelation 13:5-6) The Bible says that during the seven-year Tribulation Period, a political leader will emerge from the ashes of the Roman Empire, seize control of the reigns of global power, and then use that power to unleash a world-wide persecution of Christians and Jews that will result in the deaths of millions.
Control is power. Absolute control is absolute power. And absolute power corrupts absolutely. These are undeniable equations that have been proved to be true in every generation in history. That is what makes propaganda so deadly. Whoever controls what you see and hear and are told controls what you think. It sounds like a lead-in to the Twilight Zone, but it is more true today as at any time in previous history. For the past two decades, control of the media has been centralizing itself until today, most of what we see, hear and think is controlled by seven global media conglomerates, who between them, control the major US television networks and the majority of America's newspapers. Propaganda in and of itself can be benign, or it can be malignant. Propaganda campaigns can change the public's mind about anything. When a propaganda campaign is disguised as impartial news, that is a malignancy that history pronounces a terminal disease. The fact that the major media is now openly manipulating the news to advance a particular political propaganda is an open secret. Whether liberal spin or conservative spin, its still all spin. 'Spin' is the new politically correct term for propaganda. On NBC's Today Show, Katie Couric asked Jimmy Carter a question that would have made Nazi Propaganda Minister Josef Goebbels green with envy: "President Carter, as perhaps our country's most revered ex-President, your words carry a lot of moral weight. Surely everyone noticed when you told reporters recently that President Bush's war on Iraq was based on a campaign of quote, 'lies and misinterpretations.' How many lies do you think the President told to drag us into war? I mean, were they little white lies or really gigantic whoppers? Does this button sum it all up for you, 'Bush Lied, People Died'?" On the allegedly 'authoritative' political news program, 'Face the Nation' (also CBS) Bob Schieffer set up Defense Secretary Don Rumsfeld with the 'question': "I've heard some say that Richard Clarke provided a beacon of love to the 9/11 families with his apology last week, while you and President Bush have simply caused heartbreak and distress with a jingoistic foreign policy that has only angered the world. It seems to me this might be a good time for you to apologize to the French and Germans. After all, they've been proven prophetic, haven't they, by the quagmire we're seeing in Iraq?" Look at the implied 'facts' in that alleged 'question'. Richard Clarke is a 'beacon of love' shining against Bush's 'heartbreak and distress' as a consequence of Bush's 'jingoistic' foreign policy. It is Bush's 'jingoism' (and not negative media propaganda) responsible for global anger at the US. The French and the Germans were right. And Iraq is a 'quagmire'. The only question in there that I can find is, 'should we apologize to the French' for opposing the Iraq war? In his 'Closer Look' segment on ABC News, Peter Jennings took a page right from 'Mein Kampf', disguising his poisoned message as a piece of candy. Here's the exchange, as recorded by the folks at the Media Research Center: Peter Jennings: "Tonight we take A Closer Look at feelings of oppression. Na'eem Yassin came to the United States seven months ago, The hardest day for her, she says, was when she sat in the immigration office waiting to meet with her case officer." Na'eem Yassin: "I saw the picture of Bush on the wall, and I got scared. I love America, you know, but I am very scared of Mr. Bush. He is a warmonger." Jennings: "Just a few years ago, the United States was one of the most admired nations on earth. Now, after nearly three years of unceasing war against Muslims, it is one of the most despised.
The Bible says that when the Antichrist comes on the scene, power will be handed to him. He will be a master of propaganda, one with 'a mouth speaking great things and a look more stout than his fellows', as Daniel describes him in Daniel 7:20.
FOJ Note: The Antichrist hasn't appeared yet, but he certainly has a logistical base of operations in the world media for his sudden and dramatic rise!

Al Qaeda Targets Christians & Jews

April 6….(FOJ) Al Qaeda has issued its priority list for attacks. It lists as its number one target, missionaries in Islamic countries, where they try to convert Moslems to Christians. Second on the list are Reverends, priests, rabbis and any religious personality that attacks Islam or Moslems such as an American reverend that curses the prophet, Mohammed. Our primary targets will be Jews and Christians who have important status in the Islamic countries. We have to target Jews and Christians. We have to let anybody that fights God, his prophet or the believers know that we will be killing them. There should be no limits and no geographical borders. We have to turn the land of the infidels into hell as they have done to the land of the Moslems. Therefore, all the cells all over the world should not look to geographic borders but should try to make the infidel countries theaters of operations and get them busy with that and themselves. They have made the Moslem lands, experiment fields for their weapons and inventions, we must turn their places into hell and destruction and the sons of the Islamic nation are capable of that.





World Comes to Arafat's Defense

April 5….(JNEWSWIRE) The Nations of the world over the weekend jumped to the defense of the man responsible for the brutal murders of thousands of innocent civilians over the past half-century, PLO chief Yasser Arafat. They found cause to unite behind the blood-soaked "Palestinian" leader after Israeli Prime Minister Ariel Sharon last Friday suggested the Jews' arch-nemesis could find himself the target of an IDF assassination operation in the near future. While the condemnations of Sharon's comments were rank with hypocrisy, America's continued insistence that not one hair on the aging butcher's head be harmed elicited special criticism from one Israeli official. Public Security Minister Tzahi Hanegbi noted that Washington was tying Israel's hands in the war on Islamic terror even as US forces had for the past several years assassinated terrorist and national leaders at will. During a series of interviews with the Israeli press prior to the Passover holiday, Sharon commented that Arafat "doesn't have an insurance policy" and could one day find himself in the crosshairs of an IDF sniper. "I wouldn't suggest either Arafat or Hizballah chief Hassan Nasrallah feel immune because anyone who kills a Jew or harms an Israeli citizen, or sends people to kill Jews, is a marked man. Arafat responded to Sharon's threat by saying that he is busy caring for my people, for our children, for our women, for our students." (by sending them to their deaths) The PLO chief has reportedly beefed up his personal security following Israel's execution of Hamas leader Ahmed Yassin. According to reports, his security detail asked the CIA to guarantee Arafat's safety. The Americans refused to do so. Arafat's Fatah organization issued a statement at the weekend saying Israel would pay a "heavy price" for any attempt on their leader's life. The world reacted with indignation that Sharon would dare to threaten the man that has killed more Jews than anyone since Hitler. Jordanian government spokeswoman Asma Khader told Reuters that "killing Yasser Arafat would be an escalation with hard to predict consequences," and said doing so would be a "deliberate crime" on Israel's part. Russia chimed in next, labeling "unacceptable" any "announcements containing direct threats to Yasser Arafat." Russian Foreign Ministry spokesman Alexander Yakovenko said his nation opposed the "practice of extra-judicial executions" as violations of "international law" that threaten to perpetuate the "cycle of violence."
Washington also waited no time at all following Sharon's comments to let its feeling be known. "Our position on such questions, the exile or assassination of Yasser Arafat is very well known. But the condemnations were thick with hypocrisy for many observers. Some thirty years ago, Jordan's previous monarch, King Hussein, attempted to wipe out Arafat and all his followers after the PLO wreaked havoc on the Hashemite Kingdom. Russia, for its part, remains engaged in a relentless military campaign against Chechen separatists and Muslim terror groups. The government of Vladimir Putin has repeatedly rejected attempts by the international community to get involved and negotiate some kind of peace settlement. It was Washington's continued double standard in the war on terror, however, that really raised the ire of at least one Israeli lawmaker. Public Security Minister Tzahi Hanegbi told Israel Radio Saturday that the Bush administration should be the last to preach to Israel "about how to implement our right to self-defense." Hanegbi reminded listeners that US forces had killed numerous terrorist leaders in Afghanistan and Iraq, "some of whom haven't touched a hair on the head of any American in the United States." He made special note of America's "extra-judicial" killing of Saddam Hussein's sons last year

Pope: Israel - Palestine Key To World Peace

April 5….(EWTN) The Holy see is convinced that the Israeli-Palestinian crisis is the mother of all the crises in the Middle East. The French-born cardinal said that the situation in the Holy Land was "at the center of all the conversations that John Paul II, his Secretaries of State, and their colleagues have had with American authorities in recent years." Cardinal Tauran said that Israeli and Palestinian leaders must resume negotiations, with the help of the international community. If a successful peace agreement could be concluded, he said, it would "transform the region and the whole world entirely." It would also stop the exodus of Christians from the Holy Land, he remarked.

'The Passion' a Hit Among Arabs

April 5….(AP) Hanan Nsour, a veiled, 21-year-old Muslim in Jordan, came out of "The Passion of the Christ" in tears and pronounced her verdict: Mel Gibson's crucifixion epic "unmasked the Jews' lies and I hope that everybody, everywhere, turns against the Jews." An Islamic leader says it reveals Jewish "crimes." European Jewish leaders are troubled by it. Israeli theaters don't plan to show it. For many around the world, as in the United States, the core issues of the film are the blood-soaked depiction of Christ's last hours, and the emphasis on Jews clamoring for the Romans to crucify him. The Quran, though, says Jesus's crucifixion never happened. Such are the contradictions that are welling up as the Arab world deals with "The Passion," even as the film draws large audiences in Jordan, Syria, Lebanon and other Arab countries that have approved it for screening. In the Arab world, openly voiced anti-Semitism, and by extension the warm reception for "The Passion" is bound up in the Arab conflict with Israel. Palestinian leader Yasser Arafat, after watching the film at his compound in the West Bank, was quoted by an aide as likening Jesus' suffering to the Palestinians'. Jesus is also viewed as a prophet by the Muslims, yet they usually do not allow their prophets to be depicted in film. But "The Passion" has been was OK'd by Arab governments and most Islamic clerics. Kuwait bans any movies depicting any of the prophets recognized by Islam, but one of its top Shiite clerics, Ayatollah Mohammed Baqer al-Mehri, has urged an exception for "The Passion" because it "reveals crimes committed by Jews against Christ." The Quran, Islam's holy book, is unequivocal in Sura (chapter) 4, verse 157: "They said "We killed Christ Jesus the son of Mary, the Messenger of Allah, but they killed him not, nor crucified him". But so it was made to appear to them. And those who differ therein are full of doubts with no knowledge, but only conjecture to follow, for of a surety they killed him not." Muslims believe another man was crucified in Jesus's place.
FOJ Note: The Muslims teach that Jesus Christ was a mere prophet, and that he was not crucified, or raised from the dead, yet they are totally willing to teach that the Jews killed Christ, and that they (Jews) should be hated for having done so. What a religion!

Iraqi Shiites Stir Civil War in Iraq

April 5….(Reuters) The top U.S. administrator in Iraq declared a radical Shiite cleric an "outlaw" Monday after his supporters rioted in Baghdad and four other cities in fighting that killed at least 52 Iraqis, eight U.S. troops and a Salvadoran soldier. The fiercest battle took place Sunday in the streets of Sadr City, Baghdad's largest Shiite neighborhood, where black-garbed Shiite militiamen fired from rooftops and behind buildings at U.S. troops, killing the eight Americans. Meanwhile, U.S. troops on Monday sealed off Fallujah ahead of a major operation code named "Vigilant Resolve," aimed at pacifying the city, one of the most violent cities in the Sunni Triangle, the heartland of the insurgency against the American occupation. U.S. commanders have been vowing a massive response after insurgents killed four American security contractors in the city, west of Baghdad, on Wednesday. The insurgency that has plagued U.S. troops in Iraq for months has been led by Sunni Muslims. But Sunday's clashes in Baghdad and three other cities threatened to open a dangerous new front: a confrontation with Iraq's powerful Shiite Muslim majority, which has until now largely avoided violence with the Americans. Hundreds were wounded in Sunday's violence in Baghdad, Najaf, Nasiriyah and Amarah. The riots were ignited by the arrest of an aide to anti-American cleric Muqtada al-Sadr. Followers of al-Sadr also took over the offices of the governor in the southern city of Basra.
In response, L. Paul Bremer, the top U.S. administrator in Iraq, declared al-Sadr an "outlaw" who threatens Iraq's security. "Effectively he is attempting to establish his authority in the place of the legitimate authority. We will not tolerate this. We will reassert the law and order which the Iraqi people expect," Bremer told a security team meeting convened to discuss how to respond to Sadr. Bremer did not say if U.S. authorities would move to arrest al-Sadr, but the declaration stepped up the confrontation with the 30-year-old firebrand cleric, who fiercely opposes the U.S. occupation and is backed by a militia known as the "Al-Mahdi Army." Al-Sadr has demanded an immediate U.S. withdrawal from Iraq. Al-Sadr's followers in Baghdad said they interpreted this as a call for armed resistance against U.S. forces.
FOJ Note: The Muslims are expecting their version of the Messiah (Al Mahdi) to return in the near future just as Israel is eagerly anticipating the 1st arrival of their Messiah. Sadly they are both mistaken and will both be deceived by the coming Antichrist. I have said it before in FOJ, but lets highlight once again the fact that the Great Tribulation (Day of the Lord) will be fueled and gain its impetus from "trouble" in the Valley of the Euphrates. (Jeremiah 46:10 For this is the day of the Lord GOD of hosts, a day of vengeance, that he may avenge him of his adversaries: and the sword shall devour, and it shall be satiate and made drunk with their blood: for the Lord GOD of hosts hath a sacrifice in the north country by the river Euphrates.)

Temple Mount Faithful &Pesach Sacrifice on Mount Olives

April 5….(Ha Aretz) Members of the Temple Mount Faithful movement held a Passover sacrifice ceremony Monday morning, near the Temple Mount in Jerusalem. Police on Sunday rejected their request to hold the ceremony on the Temple Mount, and the movement instead held the ceremony, in which a kid goat was to be slaughtered, on Mount of Olives, which overlooks Temple Mount. Each of the ceremony participants will roast a portion of the animal and place it on their Seder plate. The group also wants to hold a rally on the Temple Mount on Thursday, to express their devotion to the land of Israel and to protest Prime Minister Ariel Sharon's disengagement plan.

Iran Declares War on U.S.

April 5….(Joseph Farah)

Nobody else is saying it, so, once again, it is left to me to explain what really happened in Iraq yesterday. Iran declared war on the U.S. The signs have been there for a long time. I don't know if they have been intentionally ignored by U.S. forces in Iraq, or whether there is some master plan at the Defense Department to deal with this scenario. All I can tell you is we are now fighting a regional war. Our local opposition in Iraq is being trained, armed and directed with foreign support, by neighboring Iran. The uprising yesterday was treated in many initial news accounts as a spontaneous uprising directed by Najaf cleric Moktada al-Sadr. What the other news accounts left out was one significant, but well-established fact: Al-Sadr works for Iran . He is an Iranian agent. His authority comes from Iran Last April, an Iranian cleric, Kadhem al-Husseini al-Haeri, issued a religious edict and distributed to Shiite mullahs in Iraq, calling on them "to seize the first possible opportunity to fill the power vacuum in the administration of Iraqi cities." The edict, or fatwa, issued April 8, 2003, showed that Shiite clerics in Iraq are receiving significant direction from Iran. The edict said that Shiite leaders have to "seize as many positions as possible to impose a fait accompli for any coming government." People have to be taught not to collapse morally before the means used by the Great Satan if it stays in Iraq," the fatwa read. "It will try to spread moral decay, incite lust by allowing easy access to stimulating satellite channels and spread debauchery to weaken people's faith."
The fatwa also instructed the cleric's followers to "raise people's awareness of the Great Satan's plans and of the means to abort them." On April 7, the day American troops effectively toppled Hussein's government by seizing its main seats of power in Baghdad, al-Haeri sent a handwritten letter to the city of Najaf, appointing Moktada al-Sadr as his deputy in Iraq. Iran has also armed and trained over 40,000 Shiite Iraqi's, (most former prisoners of war captured during the Iran-Iraq war) and sent them to Iraq to foment an Islamic revolution. This small army represents the vanguard of Iran's effort to subvert the U.S.-led liberation of Iraq and use the toppling of Saddam Hussein's regime for its own ends. "Ayatollah Mohammed Bakir Khakim is on record pledging more than once to his followers a plan to impose Islamic rule over Iraq with the help of Iran." The coalition that liberated Iraq is seen by the Iraqi Shiite militants and their Iranian sponsors as a tool for handing Iraq over to them without the need to use a massive force of their own." Iran has clear objectives in Iraq. The only question is whether the United States still has clear objectives in Iraq, and whether Washington recognizes that this war front just got wider.



The Truth is Not in Them

April 2….(Phil Brennan-Newsmax) In case you haven't noticed, you are being deceived, lied to, misinformed, kept in ignorance of the facts and led around by the nose by a shameless propaganda machine known as the mainstream media. This is serious business. The very future of the nation is at risk thanks to the socialist elite who dominate the mainstream media. They have an agenda, one that begins with an all-out effort to defeat George W. Bush as a first step in putting the United States back into the hands of one of the most sinister and malignant political forces ever to seek power over the American people. What passes for the once honorable Democrat party is now firmly in the hands of a corrupt socialist elite. These people despise George Bush because he has the gall to be on the opposite side from them in the culture war now being waged by the secular-barbarian left against the majority of Christian Americans. That is George Bush's cardinal sin, and he must be cast into the outer darkness for his offenses against the great god of socialist liberalism. They fear not only his re-election but also a potential Republican landslide in the congressional elections, which would give the president the power to reverse the secularist programs to drive God completely out of public life and legitimize the worst offenses against the laws of nature and nature's God. They fear that a second Bush administration buttressed by clear majorities in the House and Senate will take steps to outlaw abortions, gay marriage, curb out-of-control judicial activism, appoint judges wedded to the Constitution, reassert the nation's belief in our Creator so solidly expressed by the Founding Fathers, further reduce taxes and cut the nation loose from an increasingly authoritarian federal government. In pursuit of their goals, the media elite are embarked on a campaign to vilify the president, sanctify John Kerry and his fellow socialists, and prevent the public from knowing the truth. George Bush is not running against John Kerry alone. He is running against a corrupt media elite, who will go to any lengths to promote their candidate and smear the president. The truth is not in them, and the nation is in peril as the result of their dishonesty.

Abortionist Admits Dismemberment Horror

April 2….(Newsmax) A doctor at the partial birth abortion hearings in New York testified that a fetus sometimes does not immediately die after limbs are pulled off." Pro-abortion reporters and editors don't like to dwell on reality, and the technical details of how abortion kills. So here's some slightly less horrific testimony that the media will guard from U.S. District Court in Manhattan. "Does a fetus feel pain?" Judge Richard C. Casey asked abortionist, Dr. Timothy Johnson, a plaintiff in one of three lawsuits challenging the Partial-Birth Abortion Ban Act

Dr. Johnson: "I guess ..."
Judge Casey: "Simple question, doctor. Does it cross your mind?"
The abortionist said that it did not.
Judge Casey: "It Never crosses your mind?"
Johnson: "No."
Judge Casey: "So you basically tell the mother that the arms and legs just pulled off? I mean, that's what I want to know. Do you tell her what actually happens?"
Dr. Johnson: "We tell her the baby, the fetus, is dismembered as part of the procedure, yes."
Judge Casey asked if abortionists admitted to the mother about "sucking the brain out of the skull" of the baby and that some settling of contents may occur
Dr. Johnson: "I don't think we would use those terms. I think we would probably use a term like 'decompression of the skull' or 'reducing the contents of the skull.'"
Judge Casey: "So you make it nice and palatable so that they wouldn't understand what it's all about?"
Dr. Johnson: "Well, we try to do it in a way that's not offensive or gruesome or overly graphic for patients."

EU to Israel: Don't Kill Terrorists

April 2….(Ha Aretz) European lawmakers Thursday accused Israel of perpetrating State terrorism, and threatened to suspend the current Israel-EU trade agreement if any more "Palestinian" terrorist leaders were vaporized by IAF helicopter gun ships. A resolution presented to the European Parliament called for the immediate suspension of Israel's Association Agreement in response to the execution of blood-soaked Hamas leader Ahmed Yassin. The resolution failed to gain majority support. Two compromise articles were passed, however, the first of which called on the body to fully suspend the trade agreement, which elevates Israel's trade status with Europe, should Jerusalem carry out any more "extra-judicial" killings. The second accused Israel of engaging in "acts of terror" by launching anti-terror military operations that on occasion result in collateral damage among the largely terror-supporting "Palestinian" population. And in a bizarre twist, Europe absolved itself of any culpability in "Palestinian" terror, claiming there was absolutely no evidence that any of the millions of dollars it had given PLO chief Yasser Arafat had found their way into the pockets of terrorists. One Israeli minister said the evidence tells a contrary story. The second of the two articles passed Thursday called on the European "Council and Commission to consider acting in full compliance of article 2 of the association agreement with Israel in case of continuation of the policy of extra-judicial killing." In other words, if Israel kills any more "Palestinian" terror chiefs, Europe will curb trade relations with the Jewish State. At the same time, the EU is scrambling to form a united front against international terrorism in the wake of the Madrid bombings. The Europeans have failed to formulate a solid plan for dealing with the threat, but have for the most part deplored the American and Israeli practice of actually eliminating the terrorists before they have a chance to kill more innocents. It is difficult for most to imagine Europe threatening to suspend trade relations with the US should Washington succeed in killing Osama bin Laden. Meanwhile, in a classic case of truth and reality being turned on their heads, Europe insisted that the millions of dollars it gives to Yasser Arafat's PLO do not find their way into the coffers of recognized terror groups. (although the Tanzim and the Al Aqsa Martyrs Brigades are actually part of Arafat's PLO-ruling Fatah organization.) Europe is the PA's biggest donor, handing over tens of millions of euros to Arafat every month. Strangely, most "Palestinians" still live in squalor, PA-controlled towns are ruinous, and public sector employees are rarely, if ever, paid. Regarding the funding of terrorism, Israeli Health Minister Danny Naveh strongly disagreed with the European Parliament findings. "We know for sure" that Arafat is siphoning off money to fund terrorist activity against Israelis.

US Says it Opposes Killing Arafat

April 2….(Haaretz)The United States repeated on Friday that it opposes the assassination of Palestinian Authority Chairman Yasser Arafat after Prime Minister Ariel Sharon appeared to threaten the long-time Palestinian leader. Our position on such questions, the exile or assassination of Yasser Arafat is very well known. We are opposed to the killing of Arafat, and we have made that very clear to the government of Israel," U.S. Deputy Secretary of State Richard Armitage told reporters. Sharon said that Arafat and Hezbollah leader Sheikh Hassan Nasrallah could become targets for assassination. The PA on Friday said that Sharon's threats against Arafat endanger the peace process in the Middle East. (I guess terrorism doesn't threaten the process) "With these threats, Sharon is threatening the future of the peace process in the region," said Arafat aide Nabil Abu Rdeneh. Sharon warned that both leaders were insurance risks. "I wouldn't suggest either one of them should feel secure. I wouldn't propose that any insurance company give them coverage," the Prime Minister said. "Anyone who kills a Jew or harms an Israeli citizen, or sends someone to kill Jews, is a marked man. Period." Palestinian cabinet minister Saeb Erekat said of Sharon's remarks that the alternative to Arafat would be "chaos, extremism and anarchy" in the West Bank and Gaza Strip. (as if that doesn't already exist) Israel declared last September that Arafat should be "removed". But Arafat, 74, has scoffed at such threats, saying he would welcome "martyrdom." (bring on martyrdom for Yasser)

Saudi Priorities Driving Oil Prices

April 2….(FOJ) Oil prices are being driven increasingly by the demographic and political needs of Saudi Arabia, the world's largest oil exporter and the most influential member of the Organization of Petroleum Exporting Countries. The OPEC cuts in oil production yesterday came at Saudi Arabia's insistence, and a growing fear of Al Qaeda influence in the kingdom. Facing a domestic struggle against suspected al-Qaeda militants and with little economic growth outside the oil sector, Saudi Arabia is increasingly reliant on high oil revenues to maintain domestic stability. Last year Riyadh earned $85 billion from oil, the most in 21 years. The Saudis are pre-emptively keeping markets tight to accommodate jumps in supply from non-OPEC sources. Goldman Sachs, the US-based investment bank, calculates that OPEC countries will need oil prices between $35-$40 within the next five to 10 years, in large part because of their growing populations. That demographic pressure is especially strong in Saudi Arabia where 2/3 of the population are under the age of 30, and are strong admirers of Osama Bin Laden. Eighty per cent of the world's oil reserves lie in the Middle East and 60 per cent of the world's oil is within the boundaries of Middle Eastern OPEC members.

War on Terror Highlights Battle Between Liberty and Global Unity/Security

April 2….(FOJ)

According to Zbigniew Brzezinski, (former President Jimmy Carter's national security advisor) America has two choices. As the world's lone remaining superpower, America can either plot a self-isolating course toward national egoism or, with the help of political allies, participate in a global community. In other words, if America doesn't embrace the Globalist mindset, it will find itself more and more in the crosshairs of Middle Eastern terrorism! Brzezinski says that in an insecure post-September 11 world that America most needs allies, particularly enduring allies, based not just on convenience but also conviction. But I have to ask, "what conviction is it that the rest of the world possesses that is grander than the concept of Freedom and Liberty that America's founding Father's designed into the American Republic"? The 9-11 terrorist attacks on New York compelled the Bush Administration, to adopt what has become known as the Bush Doctrine of pre-emption, a new vision of national security based upon the idea that since terrorists have access to WMD, that they must be routed before they can use such devastating weapons. Brezezinski states in his theory that unchecked American military might used unilaterally is an affront to the rest of the world. He says, by invading Iraq with no evidence of any threat to U.S. security, the Bush administration squandered the good will of countries that would have otherwise been America's natural allies. Brzezinksi offers a competing foreign policy to the Bush Doctrine. Rather than adopt what he calls a "you're either with us or against us (Bush) stance, the United States should engage its allies to build an increasingly formalized "global community of shared interests." The very expression "war on terror," he argues, is a nonsensical phrase in that it is impossible to wage war on the concept of terrorism. The Bush Administration could more effectively adjust to this new era of insecurity, he says, if it were to drop the good-versus-evil rhetoric and address the political circumstances that gave rise to terrorists' grievances. Brzezinski argues that there has to be a shared diagnosis of what is happening in the world and some shared strategic direction, (Global Government) and that while the strongest nation can influence both, it should not impose (surrender its sovereignty) its will (defense) on others. Brezenski faults the Bush Administration for casting the terrorists as demonic hordes of evil. He says American foreign policy under President Bush is arrogant, and shows intolerance to the rest of the world. The "if you're not with us, you're against us" policy attitude is a prescription for generating world hostility toward us.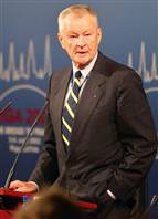 Brezinski is in effect saying that it is America's fault that the terrorists hate America, and that our foreign policy is driving up the wave of hatred for America around the world.
The Brezezinski Method, in accordance with the European Socialist Unity model of foreign Policy rightly asserts that the root of the war on terrorism is grounded in the fundamental problems of the Middle East. (The problem in a nutshell is the existence of the State of Israel) The European model states that the best way to defeat terrorism is to appease the terrorists by resolving the geo-political dynamic of the Israeli-Palestinian Conflict. By alleviating the terrorists list of grievances concerning Israel, we can undercut, and effectively eliminate the terrorist threat.
Brezinski even has the gall to assert that the US inclination to embrace Israeli suppression of Palestinian terrorism is a case in point for further insecurity for America. (Bush:"Israel has a right to defend itself") He maintains that the Bush Administration's "unwillingness to force Israel to negotiate in spite of the PLO terror threat" only serves to increase the insecurity in America. The Global Unity foreign policy that Brezinski espouses calls for regarding America's involvement in the Middle East is basically one that spanks freedom and liberty and rewards terrorism, in the vain hopes that pragmatic humanism will prevail upon the terrorists mind once Israel is subdued.
Brezinzski also says that the American led war on Iraq was launched on the pretense of WMD destruction with the added argument that it will help eliminate terrorism and promote the Israeli-Palestinian peace process. In fact he says, Iraq had no weapons of mass destruction, so America is waging an illegal war! He then argues the current line that is being promoted by the Globalist ideologues; (before the 9-11 Commission—the reason for Clarke vs Rice testimony) that Bush has set back the war on terror, and made it more problematic because there are many more hostile terrorist groups now than there were a year ago. He further states that as a result of pursuing terrorists and invading Iraq that America has dropped the ball on the Israeli-Palestinian peace process, and thereby made America more susceptible to terrorist attacks!
The EU Globalist foreign policy model designed for American consumption by the Brezinski theatre of foreign policy advocates is one that would never alienate our so-called European allies, and promote the rise of the UN-EU agenda and propel the rise of the one-world order of the Antichrist. The Globalist ideology manipulates American foreign policy to where American sovereignty is diminished so that may the US will be more inclined to consult and engage Europe in a more serious strategic dialogue about enforcing a World Peace and Security pact in the Middle East.
The Globalist geo-strategic policies of the EU-UN have no regard for the American Republic's 1776 ideals of freedom and liberty. In reality, the Globalist foreign policy experts are constructing a World Government that refutes Christianity and Liberty, and the American dream. The Globalists believe that only a World government that multi-laterally guarantees peace and security through a Central entity is the answer for the world's survival. More importantly, (the forces of the Antichrist) everyone knows that the key is Israel!



Bush-Sharon: Engaging Roadmap

April 1….(Ha Aretz) The United States has assured Israel that it will not have to withdraw inside the Green Line in a future permanent settlement with the Palestinians. The promise appears in a letter of guarantees drafted by the Bush Administration in exchange for Prime Minister Ariel Sharon's Gaza disengagement plan. The U.S. rejected Israel's request to recognize the future annexation of the large settlement blocs in Ma'ale Adumim, Ariel and Etzion. Instead of referring explicitly to the settlements, the Americans propose a vaguely worded letter, which Israel would be able to present as implied recognition of the settlement blocs. The American draft also says the Palestinian refugees will be able to return to a future Palestinian State, which will be established in keeping with President George Bush's vision for a two-State solution. Sharon said that in exchange for the disengagement, the U.S. will state in writing that it is against any plan that endangers Israel, that "does not condition progress on eliminating terror." Sharon said the withdrawal from Gaza would "deprive the Palestinians of the historic excuse that the Israeli presence is preventing them from acting against terror." Prime Minister Ariel Sharon presented a sweeping defense of his plan to remove Israeli troops and settlers from the Gaza Strip and parts of the West Bank, saying he has to fend off increasing international pressure, protect Israel and prevent a Palestinian humanitarian disaster. In his speech, Sharon warned that the status quo is untenable. "The world will not allow us to remain in some of these disputed areas". A deadlock will bring sooner or later proposals that are dangerous for Israel," he said. Sharon said Israel must draw its own security line, which would mean "withdrawal from areas that it is clear will not be under Israeli control in any permanent agreement to be signed in the future. Sharon said he had high hopes for the US backed "road map" peace plan when it was unveiled last year, but soon felt the Palestinians were not serious about the plan, particularly a requirement that they crack down on militants. Thus, Israel did not meet its requirement to dismantle dozens of settlement outposts. "As soon as we saw that there is not a Palestinian peace partner we moved on to a totally different situation, but there's no possibility of reaching an agreement and so Israel now must act alone," he said. Sharon said he proposed his "disengagement plan," because the other options, to annex the West Bank and Gaza, to completely pull out of the areas or to do nothing would be disastrous for Israel.

Al Qaeda Managing Iraq Insurgency

April 1….(FOJ-Debka) The Nine Americans that were butchered in Fallujah yesterday in a horrendous spasm of blood-letting exposed Americans to the daily plight of every Israeli citizen. Israeli's live with this threat of demonic bloodletting every day in their own land and their own homes. It was a scene reminiscent of the lynching of 2 Israeli national guardsman in Ramallah 3 years ago. Screaming Islamic slogans, the Islamic terrorists dragged the bodies of the victims through the city, then dismembered and decapitated them and finally hanged them by their feet. The Fallujah Sunni male residents then joined in the dancing celebrations of bloodletting. This was a calculated vicious action executed by al Qaeda to remind Americans of the Mogadishu debacle October 1993. Fallujah is the most extreme Sunni Muslim city in Iraq. Some of the Islamic Medressas that were closed down in Afghanistan and Pakistan ended up in Fallujah and Damascus. It has become the obvious launching pad for the threatened al Qaeda spring offensive against the US presence in Iraq. Moroccan psychiatrist Dr. Abu Hafiza, a member of the tight Osama bin Laden-Ayman Zuwahiri elite that rules al Qaeda and tactical mastermind of the Madrid rail bombings, compiled a strategic blueprint to govern Al Qaeda's steps in 2004. He predicted that the Madrid rail attacks would scar the Spanish psyche sufficiently to turn the electorate away from the Aznar government and set off a domino effect that would rebound on Britain's Tony Blair, Italy's Silvio Berlusconi and eventually US President George W. Bush. "After knocking over one domino after another," Hafiza wrote, "We will stand face to face with the key domino, the United States." Iraq, he said, will be al Qaeda's main battle arena and its direct confrontation with the United States is ordained to take place on Iraqi soil. Al Qaeda is using guerrilla warfare to try to bog America down in a politically demoralizing experience. Al Qaeda is also attempting to establish a dense network of terrorist cells in the main Shiite cities of, Karbala, Najef, Basra and parts of Baghdad, while using the Sunni sects to the north to forge a vice against Americans around Baghdad. Meanwhile, President Bush vowed yesterday that the U.S. mission to create a free and democratic Iraq would not be derailed by the savage slaying of four American security guards. "America will never be intimidated by thugs and assassins," the president said. "We are aggressively striking the terrorists in Iraq. We will defeat them so we do not have to face them in our own country." Bush said that the savages "would rather go on killing the innocent than accept the advance of liberty. They know that a free Iraq will be a major defeat for the cause of terror." White House officials promised there would be no repeat of the aftermath of the infamous 1993 "Black Hawk Down" incident, when mobs dragged the body of a U.S. soldier through the streets of Mogadishu, Somalia, in 1993, an action that prompted the Clinton administration to simply withdraw.






Share this page with your friends.










Powered by Bravenet