WEEK OF DECEMBER 27 THROUGH DECEMBER 31
Earthquakes –Tsunami's Occurring in Divers Places
FOJ Note: The massive earthquake energized tsunami that has caused so much devastation and death in the southern Asian Indian Ocean region this weekend should serve to remind us that our world is totally dependent upon God, the Creator. That same God conveyed in his prophetic word that these kind of massive geo-physical events will increase in their intensity and frequency in the Last Days. (Matthew 24:7-8 For nation shall rise against nation, and kingdom against kingdom: and there shall be famines, and pestilences, and earthquakes, in divers places. All these are the beginning of sorrows.) (Luke 21:11 And great earthquakes shall be in divers places, and famines, and pestilences; and fearful sights and great signs shall there be from heaven.) The word "divers" is from the Greek word "kata" which refers to the idea that these events will occur in various places around the world, but especially deep down in the earth's crust, (kata means down and to the uttermost) and that their intensity will have worldwide repercussions, giving further rise to the distress of nations. (Luke 21:25 And there shall be signs in the sun, and in the moon, and in the stars; and upon the earth distress of nations, with perplexity; the sea and the waves roaring;) Revelation 16:18-20 and Zechariah 14:5 each speak of a coming earthquake that will completely alter the landscape of the world. This gigantic earthquake occurs at the coming of the Lord as he comes to battle the god of this world. It is as if the world itself reacts in upheaval and fear at the thought of Christ's coming.
Dec. 29….(AP) The tsunamis that claimed tens of thousands of lives across the Indian Ocean are the deadliest great waves in more than a century and probably in modern history. More than 36,000 people were killed by tsunamis following the explosion of the volcano Krakatau in the Sunda Strait near Java on Aug. 27, 1883. The earliest description of a tsunami-type wave comes from 479BC in the northern part of the Aegean Sea. (between Greece and Turkey) Similar waves have been reported worldwide, though they are more common in the Pacific, with its earthquake-prone perimeter. Many historians believe the explosive eruption of Santorini in the Aegean Sea in 1500BC caused a tsunami that brought widespread devastation to the eastern Mediterranean and Crete. Thousands of coastal residents in Spain, Portugal and North Africa were killed by waves spawned by an earthquake at Lisbon, Portugal, in 1755. Over the centuries, Japan has been the land most plagued by tsunamis, with at least 66,000 deaths recorded there since 684AD. Among the deadliest tsunamis ever was one that struck Honshu, Japan, in 1896, killing an estimated 27,000. Indonesia has seen more than 50,000 deaths in more than 30 destructive tsunamis over the centuries, not including this weeks disaster. On April 1, 1946, a Pacific-wide tsunami was generated by a magnitude 7.8 earthquake near Unimak Island in Alaska's Aleutian Island chain. That tsunami reached the Hawaiian Islands about five hours later, obliterating Hilo's waterfront and killing 159 people. As a result of this wave, two years later the United States established a Pacific Tsunami Warning Center in Hawaii. Other notable tsunamis have included:
_Aug. 16, 1976: A tsunami generated by a quake on Mindanao in the Philippines killed between 5,000 and 8,000 people in the Moro Gulf region.
_March 28, 1964: A magnitude 8.4 quake in Alaska generated tsunamis that caused damage in southeastern Alaska, in Vancouver Island, British Columbia, and in the states of Washington, California and Hawaii.
_May 22, 1960: The largest earthquake, (magnitude 8.6) of the 20th century occurred off the coast of south central Chile. It generated a Pacific-wide tsunami, which was destructive locally in Chile and throughout the Pacific Ocean. The tsunami killed an estimated 2,300 people in Chile. Waves damaged the waterfront in Hilo, Hawaii, and killed 61 people there.
_Nov. 4, 1952: A strong earthquake off the coast of Russia's Kamchatka Peninsula generated a great, destructive Pacific-wide tsunami. Its waves struck the Kamchatka Peninsula, the Kuril Islands and other areas of Russia's Far East, causing considerable damage and loss of life. There was also damage in Hawaii, Peru and Chile.
_Jan. 31, 1906: A strong tsunami struck the coast of Ecuador and Colombia, submerging half of Tumaco, Colombia, and washing away half of a nearby island. The death was estimated at between 500 and 1,500.
_Aug. 13, 1868: A massive wave struck Chile, carrying ships as far as three miles inland at Arica. Deaths totaled 25,000 or more.
_April 2, 1868: A locally generated tsunami swept over the tops of palm trees and claimed 81 lives in Hawaii.
This weeks Indian Ocean earthquake unleashed deadly tidal waves on Asia was so powerful it made the Earth wobble on its axis and permanently altered the regional map, US geophysicists said. The 9.0-magnitude temblor that struck 250 kilometers (155 miles) southeast of Sumatra island Sunday may have moved small islands as much as 20 meters (66 feet), according to one expert. "This earthquake has changed the map," US Geological Survey expert Ken Hudnut told AFP. "Based on seismic modeling, some of the smaller islands off the southwest coast of Sumatra may have moved to the southwest by about 20 meters. That is a lot of slip." The northwestern tip of the Indonesian territory of Sumatra may also have shifted to the southwest by around 36 meters (120 feet), Hudnut said. In addition, the energy released as the two sides of the undersea fault slipped against each other made the Earth wobble on its axis, Hudnut said. "We can detect very slight motions of the Earth and I would expect that the Earth wobbled in its orbit when the earthquake occurred due the massive amount of energy exerted and the sudden shift in mass," Hudnut said. Another USGS research geophysicist agreed that the Earth would have got a "little jog," and that the islands off Sumatra would have been moved by the quake. However, Stuart Sipkin, of the USGS National Earthquake Information Center in Golden Colorado, said it was more likely that the islands off Sumatra had risen higher out of the sea than they had moved laterally. "In this case, the Indian plate dived below the Burma plate, causing uplift, so most of the motion to the islands would have been vertical, not horizontal."
WEEK OF DECEMBER 20 THROUGH DECEMBER 27
Merry Christmas From FOJ
Dec. 23….(FOJ) Focus on Jerusalem would like to take this space to wish all of its readers a very Merry Christmas. Focus on Jerusalem Prophecy Ministry will not have any further updates on the web-site after today in its news postings until January 3, 2005. FOJ just recently posted its newest article entitled, "The Reality of the Resurrection" for your enjoyment through the Christmas season. As we celebrate the birth of Jesus Christ at this time of year, we do well to recall that Jesus was born, to DIE for our sins, and to confirm a way for all to enter into Heaven. Jesus is that way! (FOJ will soon present its, "Expose on Ezekiel 38/39")
Luke 2:1-14 And it came to pass in those days, that there went out a decree from Caesar Augustus, that all the world should be taxed. And this taxing was first made when Cyrenius was governor of Syria.) And all went to be taxed, every one into his own city. And Joseph also went up from Galilee, out of the city of Nazareth, into Judaea, unto the city of David, which is called Bethlehem; (because he was of the house and lineage of David:) To be taxed with Mary his espoused wife, being great with child. And so it was, that, while they were there, the days were accomplished that she should be delivered. And she brought forth her firstborn son, and wrapped him in swaddling clothes, and laid him in a manger; because there was no room for them in the inn. And there were in the same country shepherds abiding in the field, keeping watch over their flock by night. And, lo, the angel of the Lord came upon them, and the glory of the Lord shone round about them: and they were sore afraid. And the angel said unto them, Fear not: for, behold, I bring you good tidings of great joy, which shall be to all people. For unto you is born this day in the city of David a Savior, which is Christ the Lord. And this shall be a sign unto you; Ye shall find the babe wrapped in swaddling clothes, lying in a manger. And suddenly there was with the angel a multitude of the heavenly host praising God, and saying, Glory to God in the highest, and on earth peace, good will toward men.
Micah 5:2-3 But thou, Bethlehem Ephratah, though thou be little among the thousands of Judah, yet out of thee shall he come forth unto me that is to be ruler in Israel; whose goings forth have been from of old, from everlasting. Therefore will he give them up, until the time that she which travaileth hath brought forth: then the remnant of his brethren shall return unto the children of Israel.
I Timothy 1:15 This is a faithful saying, and worthy of all acceptation, that Christ Jesus came into the world to save sinners; of whom I am chief.
It's all about Him
Dec. 23….(Greg Laurie) A little girl noticed that her mom was getting really stressed out around Christmas. Everything was bothering her mom, and she was very irritable. Evening came when the mom bathed the little girl, got her ready for bed, put her under the covers, and had her say her prayers. She would usually pray the Lord's Prayer. But on this particular evening, she amended it a little bit. Her petition went something like this: "Father, forgive us our Christmases, as we forgive those who Christmas against us." That is what happens when we lose focus of the real meaning of Christmas, isn't it? We get so caught up in the busyness of the season that sometimes we forget the wonder of it all: that deity took on humanity, that God became a man. Scripture sums it up well in 2 Corinthians 8:9, which says: "For you know the grace of our Lord Jesus Christ, that though He was rich, yet for your sakes He became poor, that you through His poverty might become rich" (NKJV). Jesus literally went from the throne of Heaven to a simple little cave or stable. Can you imagine what must have gone through Mary's mind that day when the angel Gabriel appeared to her and told her she would be the mother of the Messiah? Her head must have been swimming. "What about Joseph? What are people going to say?" But God had it all put together, because the time was just right in every way. But there was one small detail: The Messiah was to be born in Bethlehem, as Scripture prophesied (see Micah 5:2). So the Lord touched a little man who was big in his own mind. His name was Caesar, and at this particular time in history, he was the most powerful man on Earth. One day, Caesar gave a decree that all of the world should be taxed. In reality, he was nothing more than a pawn in the hand of God. The Lord needed Mary and Joseph in Bethlehem, so He moved events. So Mary and Joseph had to make the difficult journey to Bethlehem, which was especially perilous for a woman who was as far along in her pregnancy as Mary was. But they did make it, and there, the miraculous birth of Christ took place, just as Scripture said it would. This little baby grew up quickly, and although we would love to know more about his boyhood, the Bible offers only a few details. But one day in the synagogue in Nazareth, as the custom was, the time had come for Jesus to read. He walked to the front of the synagogue, opened up the scroll, and began to read from Isaiah: "'The Spirit of the Lord is upon Me, because He has anointed Me to preach the gospel to the poor; He has sent Me to heal the brokenhearted, to proclaim liberty to the captives and recovery of sight to the blind, to set at liberty those who are oppressed; to proclaim the acceptable year of the Lord'" (Luke 4:18). When He had finished, He sat down and said, "Today this Scripture is fulfilled in your hearing" (verse 21). He had declared himself the Messiah. His public ministry had begun. This One who was sent from God was always in perfect synch with the Father. While He spoke with the learned spiritual leaders, He always had time for the outcasts of society; people like the woman at the well and the tax collector, Zacchaeus. People like you. People like me. His ministry on Earth was only a few years, and then He was crucified. You can be sure that as He hung there on the cross, where all of the sin of humanity was placed upon Him, that this was God's most painful moment. But then it was finished. He rose again from the dead, and after a time, ascended back into Heaven, promising to come back to this earth. And we eagerly await that day. This Jesus who was born in a manger, who walked this earth, who was crucified, and who rose again, is not some mere historical figure, although He was that. He is alive, and He is still in the business of changing lives. That is the reason He came: to put us in touch with God, to forgive us of all of our sins, and to give our lives purpose and meaning.
US Increases Intel Against Israel
FOJ Note: At a time when US Intelligence has proven itself a disgrace and unable to penetrate the dark shadows that makeup the covert tentacles of the Middle East terrorist organizations, the last thing the US needs to be doing is increasing its intelligence expenditure on Israel. Most of the shortcomings and setbacks that America is undergoing in the war in Iraq is due to the malfunctioning arm of the American intelligence capability. The best resource that America has for re-positioning itself in a better stance against the terrorists is Israel. When will America learn that Israel is our only ally in this war.
Dec. 23….(MENL) The United States has increased intelligence operations against Israel as part of an effort to prevent a war in the Middle East. Western diplomatic sources said that over the last two years the US intelligence community has increased monitoring of Israel's military and government. The sources said the move was ordered by the White House as part of an effort to prevent an escalation of the war with the Palestinians or a regional war that could begin with an Israeli attack on Syria. "There's been concern that Israel would pull a surprise on the United States with either an offensive against Hizbullah in Lebanon or a massive attack on the Gaza Strip," a diplomatic source said. "Washington doesn't want to be surprised and would rather know this information in advance and first hand." The sources said the result has been increased US satellite monitoring of Israel to determine military movements, import and export of weapons, weapons tests and construction of housing in Israeli communities in the West Bank and Gaza Strip. They said the United States has also expanded the interception of signals communications from Israeli government and military facilities.
America Pumping Hundreds of Millions to the 'Palestinians'
When Arafat's successor is still hell-bent on destroying Israel
Dec. 22….(Daniel Pipes) Yasser Arafat died last month. This month, his death is prompting plans for a foreign aid bounty of $500 million to $1 billion a year for the Palestinians. That's the scoop Steven R. Weisman published in the New York Times on Dec. 17. He revealed that Western, Arab, and other governments plan to add a 50 to 100 percent bonus to the $1 billion a year they already direct to 3.5 million Palestinians in the territories, contingent upon a crackdown on terrorist groups and the holding of credible elections in January 2005. Aid-wise, residents of the West Bank and Gaza have hardly been neglected until now. They receive about $300 per person, making them, per capita, the world's greatest beneficiaries of foreign aid. Strangely, their efforts to destroy Israel have not inspired efforts to crush this hideous ambition but rather to subsidize it. Money being fungible, foreign aid effectively funds the Palestinians' bellicose propaganda machine, their arsenal, their army, and their suicide bombers. This, however, does not faze international aid types. Nigel Roberts, the World Bank's director for the West Bank and Gaza, blows off past failures. Addressing himself to donors, he says, "Maybe your $1 billion a year hasn't produced much, but we think there's a case for doing even more in the next three or four years. "Roberts is saying, in effect: Yes, your money enabled Arafat's corruption, jihad ideology, and suicide factories, but those are yesterday's problems; now, let's hope the new leadership uses donations for better purposes. Please lavish more funds on it to enhance its prestige and power, then hope for the best. This la-la-land thinking ignores two wee problems. One concerns the Palestinians' widespread intent to destroy Israel, as shown by the outpouring of grief for arch-terrorist Arafat at his funeral, the consistent results of opinion research, and the steady supply of would-be jihadists. The other problem is blaming the past decade's violence and tyranny exclusively on Arafat, and erroneously assuming that, now freed of him, the Palestinians are eager to reform. Mahmoud Abbas, the new leader, has indeed called for ending terrorism against Israel, but he did so for transparent political reasons, not for strategic reasons, much less for moral ones. Abbas is not a moderate but a pragmatist. Unlike Arafat, consumed by his biography and his demons, Abbas offers a more reasonable figure, one who can more rationally pursue Arafat's goal of destroying Israel. In this spirit, he has quickly apologized to the Kuwaitis and made up with the Syrians; compared to this, reaching out to the Americans is easy. But, no less than his mentor Arafat, Abbas remains intent on eliminating Israel. This is evident, for example, from his recent comments insisting that millions of Palestinian "refugees" be permitted to enter Israel so as to overwhelm it demographically. To give additional money to the Palestinians now, ahead of their undergoing a change of heart and accepting the permanent existence of the Jewish state of Israel, is a terrible mistake, one that numbingly replicates the errors of the 1990s' Oslo diplomacy.
Blair: End of Terror is A Prerequisite

Dec. 22….(Jerusalem Post) British Prime Minister Tony Blair met for two hours Wednesday morning with Prime Minister Ariel Sharon and afterwards issued an unequivocal statement that ending terrorism is a precondition for the diplomatic process to move ahead. "There is not going to be successful negotiations or peace without an end to terrorism," Blair said. "The world is changed in these past few years," he continued. "What is necessary for people to understand is that if there is proper security measures taken, then Israel does stand ready to implement the roadmap. The important thing is to make sure the absence of terrorism then can create the situation where a proper negotiated settlement can take place," Blair told reporters at a joint press conference with Sharon. After meeting with Sharon, Blair traveled to Ramallah to meet with interim Palestinian leader Mahmoud Abbas, who is running to replace Arafat in Jan. 9 elections. After arriving at Arafat's former compound for the meeting, Blair walked toward Arafat's tomb, nodded slightly in respect and then walked on. The Palestinians had hoped Blair would lay a wreath at the tomb. During his joint press conference with Blair, Sharon reiterated that he intends to carry out the disengagement plan according to schedule, and that if the Palestinians act against the terrorist infrastructure it will be possible to move through to the road map. Sharon welcomed Blair's intention of convening an international conference in London next year in order to further Palestinian reform, but said that it was agreed with the British that Israel need not take part. Blair made it clear that he did not see the meeting as an international peace conference but rather as a step towards preparing the Palestinians for disengagement. He said the meeting is intended to help the Palestinians achieve adequate democratic, security, and economic reform so that after disengagement there will be a viable Palestinian partner and it will be possible to move into the road map. Blair situated his conference within the context of recent events. "The first step was to set out the overall vision that people want to get to, which is the two state solution and that we did. The second is that there should be free and fair elections for the new Palestinian president. That is now underway and I thank Prime Minister Sharon for what he said about doing all that Israel can to enable that to happen. "The third step was then to make sure, prior to disengagement actually happening, that there was a clear plan for the Palestinian side in respect to the measures necessary for the political institutions, economic transparency, and security that ensures that we could indeed have proper partners for peace on either side. Everybody wants to see that overall vision of Israel confident of its own security and a viable Palestinian state put in place. But viability cannot just be about territory, it also has to be about proper democratic institutions, proper security, and proper use of the economy. In other words, the viability has to be that of a state that is democratic, that is not giving any succor or help to terrorism, and that uses the help that is given from the outside in a proper and transparent way.
Bush: Iraqi Troops Not Ready for Security Duties
Dec. 21….(MSNBC) President Bush pointedly acknowledged Monday that US-trained Iraqi troops are not ready to take over their country's security, and cautioned that next month's elections there are only the beginning of a long process toward democracy. I certainly don't expect the process to be trouble-free," Bush said at a year-end news conference in which he signaled tough spending cuts to come and declined to offer specific solutions to Social Security's solvency. President Bush accused insurgents in Iraq of trying to "disrupt the democratic process" and urged the American people to remain patient well beyond the Jan. 30 elections as Iraqis craft a constitution and strengthen their security forces. "The elections in January are the beginning of a process and it is important for the American people to understand that," he said. Critics have raised questions about whether enough US troops are in Iraq to bring security for the elections. More than 1,300 American troops have died since the war began in March 2003. Also, soldiers have complained about long deployments and a lack of armored vehicles and other equipment. President Bush said "I would call the results mixed" on a US effort to put Iraqi security in the hands of its own people. "There have been some cases where, when the heat got on, they left the battlefield, that is unacceptable," he said. "We are under no illusion that this Iraqi force is not ready to fight in toto." Essential to the American strategy for withdrawing its troops from Iraq is the effort to train Iraqi forces for security and combat. But doubts have been raised from several quarters about the effectiveness of the effort and the reliability of Iraqi security forces.
FOJ Note: America cannot hope to win the war on terror, much less the war in Iraq if the Iraqi people and the Iraqi army do not take up the lead in fighting for their own freedom. Freedom always has a cost, and if the people do not fight for it, it will not become a reality. The US experience in Iraq will fail or win based upon the integrity of the Iraqi people and their zeal for true liberty. And lets understand this, liberty is a derivative component that comes from the inculcation of sharing the Gospel of Christ. Elections notwithstanding, democratic forms of government is only what the people make it. Iran and Palestine are each slated for democratic styled elections next month.
Iran Missiles Pose Threat to US in Iraq
Dec. 21….(World Tribune) A senior US official said Iran and Syria have developed ballistic missiles that can destroy US targets in Iraq as well as in nations aligned with Washington. "Iran and Syria can currently reach the territory of US friends and allies with their ballistic missiles," Assistant Secretary of State for Arms Control Stephen Rademaker said. "Ballistic missiles from Iran can already reach some parts of Europe, and, of course, Iranian and Syrian ballistic missiles threaten our coalition forces deployed in the Middle East," he said. The United States has also been examining the deployment of ground-based interceptor launchers and forward-based radar in states adjacent to the Middle East, according to a report by Middle East Newsline. Rademaker told a missile defense conference held by the Washington-based American Foreign Policy Council that both countries have received significant assistance from North Korea, which has sought to sell complete missile systems to the Middle East. Iran is developing space launch vehicles as a building block for an intercontinental ballistic missile which could be completed within a few years, he said. "These systems could be ready for flight-testing in the middle to latter-part of the decade," Rademaker said. He said it is important to recognize that the limited accuracy and targeting capabilities of emerging ballistic missile threats by Iran suggests that such missiles likely would target the population and territory of our friends and allies rather than their military forces and facilities."
Bush Promises To Bring Peace to Middle East
Dec. 20….(London Telegraph) US President George W Bush yesterday predicted that he would bring peace between Israel and the Palestinians during his second term in office, making a strikingly bold assessment of his foreign-policy goals for the next four years. "I want you to know that I am going to invest a lot of time and a lot of creative thinking so that there will finally be peace between Israel and the Palestinians," Mr. Bush told the Israeli newspaper Yedioth Aharonoth. I am convinced that, during this term, I will manage to bring peace. President Bush entered the White House determined not to follow the path of his predecessor, Bill Clinton, who devoted much of his presidency to an ultimately fruitless search for an end to the conflict. But as he prepares for the start of his second term next month, Mr. Bush sees the elusive quest as a principal ambition of his presidency. Washington regards the Palestinian elections on Jan 9 as a crucial first step to consolidate the leadership of Mahmoud Abbas, a moderate with whom Washington believes it can work, following the death last month of Yasser Arafat. At the same time, the Israeli Prime Minister, Ariel Sharon, is forcing through his plan to withdraw soldiers and settlers from the Gaza Strip next summer. "Next year is very important, as it will bring peace," said Mr. Bush. "Sharon understood this. It is very important that the Palestinians also understand that peace is not something that is arrived at through words, but through deeds." The White House had previously shunned the Palestinian leadership because it regarded Mr. Arafat as a terrorist. But President Bush endorsed his successor, saying: "I have a basis for believing the new Palestinian leadership is also working in the right direction." However, according to Yedioth, he shrugged off peace overtures by President Bashar Assad of Syria, saying he would have to wait for the Palestinian track to be completed. It quoted him as saying: "Syria is a very weak country, and therefore it cannot be trusted. For now, Assad should wait; first peace between Israel and Palestine, and then we will see what should be done with Syria." In an interview with Time magazine, which yesterday named him its "Person of the Year", President Bush was more cautious about his chances in the Middle East, saying "we've got a shot" for peace. Nevertheless, his comments appear to reflect optimism that the Israeli-Palestinian conflict may be turning a corner. If next month's elections in Iraq pass off reasonably well, the Bush Administration believes it could begin to democratize the Middle East. "One of the great ironies of life will be that a Palestinian State and Iraq became the catalyst for change in a part of the world that needs change.
FOJ Note: This is quite a brash statement for the President to be making. Of course we all hope for peace everywhere and especially in the Middle East, as this region is well known to be the tinder-box of the world. But whenever we hear the worlds political leaders talk about peace, we have to remember that the world's idea of peace is always based upon some kind of political treaty that they all think will negate the threat of hot-war. FOJ has noted that the absence of Yasser Arafat from the Palestinian picture will indeed open a window of opportunity for a humanistic crafted peace deal. But Bible prophecy conveys that the world's peace drive to divide Jerusalem is nothing more than a ticking time-bomb. (I Thessalonians 5:3 For when they shall say, Peace and safety; then sudden destruction cometh upon them, as travail upon a woman with child; and they shall not escape.)
WEEK OF DECEMBER 12 THROUGH DECEMBER 19
Astrologers Have Bad Year
Dec. 17….(Assist News) It was a bad year for astrologers. The Society for Scientific Research of Para-Sciences in Rossdorf near Darmstadt, Germany, examined 90 predictions about the year 2004; none of them came true. One astrologer predicted in 2003 that US-President George W. Bush would be assassinated. Los Angeles was due to be destroyed by asteroids. German Chancellor Gerhard Schroeder should have handed in his resignation and would have been replaced by opposition leader Angela Merkel according to astrological forecasts. "Clairvoyants usually turn out to be failures," says mathematician Michael Kunkel of the Society. He recalls that astrologer Patricia Bahrani predicted a terror attack on Berlin and Anton Tewes even predicted a nuclear attack on New York. Forecasts about the fate of celebrities also turned out to be false. Astrologers foresaw the death of 84-year-old Pope John Paul II. He is still alive though in weak health. Others said that Michael Jackson would commit suicide, he is still awaiting his trial for child abuse.
FOJ Note: The only resource for knowing anything about the future is God, and he has revealed all the information that he ever intends to convey through his Holy prophets. Jesus Christ was the last prophet of God, and since Christ, God has resorted to the exposition of his Holy Word (be it prophecy or other subject fields) to teach men about all things. (Hebrews 1:1-2 God, who at sundry times and in divers manners spake in time past unto the fathers by the prophets, Hath in these last days spoken unto us by his Son, whom he hath appointed heir of all things, by whom also he made the worlds;) Satan however still leads people astray and causes confusion by inciting false prophecies.
Sharon Links Palestinian State to Peace
Dec. 17….(Jerusalem Post) Declaring 2005 a year of opportunity, Prime Minister Ariel Sharon held out the prospect of an independent state for the Palestinians if they stop violence and said he is ready to coordinate a Gaza pullout with them. Sharon's speech was strikingly optimistic, a sign of change in the post-Yasser Arafat era, but Palestinian leaders said it fell short of expectations. Addressing an academic conference Thursday evening, Sharon said Arafat had been the main obstacle to peace and his death in November turned 2005 into a "year of great opportunity." Sharon has signaled he would work with Arafat's successor, likely to be PLO chief Mahmoud Abbas, the front-runner in Jan. 9 presidential elections. Sharon said he would do his utmost to allow the vote to proceed, including re-deploying troops. "We stand before a unique window of opportunity. Who knows when we will have this opportunity in the future," Sharon said. Sharon said he is determined to go ahead with the planned withdrawal from Gaza and four West Bank settlements in 2005, "with conviction and without hesitation." Sharon is in negotiations with the moderate Labor Party to join his coalition as a buffer against threats from hard-liners to bring him down. The withdrawal is set to start July 3 and to be completed within three months. Addressing the Palestinians, he said: "We have no desire to rule over you. We have no desire to run your affairs." When Arafat was still alive, Sharon insisted on a unilateral pullback, saying he had no Palestinian partner. On Thursday, he said he is ready to coordinate the withdrawal with the new Palestinian leadership. Palestinian Cabinet minister Saeb Erekat said Sharon should have negotiated the Gaza plan with the Palestinians, but that the Palestinians welcome any withdrawal. "If Sharon wants to leave Gaza or any part of the West Bank we're not going to stop him and we stand fully ready to assume our responsibilities there," Erekat said. Erekat also said negotiations on a final peace deal should resume quickly. The Palestinians fear that despite the conciliatory tone, Sharon will try to dictate the pace and delay the resumption of peace talks. Sharon has said he envisions a long-term interim deal with the Palestinians. Sharon on Thursday held out the prospect of Palestinian statehood, provided the Palestinians stop militant groups from attacking Israel and carry out reform. "For their part, the Palestinians can then also live in dignity and freedom in an independent state," he said without giving a timeframe. Sharon also said Israel would seek to annex large Jewish settlements in the West Bank and keep all of east Jerusalem, the sector captured by Israel in the 1967 Mideast war and claimed by both Israel and the Palestinians as a capital. The Palestinians want all of the West Bank, Gaza and east Jerusalem for their state. Hamas spokesman Sami Abu Zuhri said Sharon's speech was a declaration of war "against the rights of the Palestinian people," and that the militant group would keep fighting occupation. Sharon praised Egypt for its intention to cooperate with the Israeli pullout from Gaza. He said if Egypt makes a concerted effort to stop Palestinian arms smuggling from Egypt into Gaza through tunnels under the border, Israel would withdraw from the patrol road, a key flash-point in the conflict.
Jimmy Carter to Supervise PA Elections
Dec. 17….(Jerusalem Post) Former US president and Nobel Peace Prize laureate Jimmy Carter will head the supervising committee for the Palestinian elections set to be held on January 9, Israel Radio reported. Carter was invited by senior members of the Palestinian Authority to participate in the supervision of the elections. Carter will head a 90-member committee that will be responsible for assuring proper election procedures and will remain in the election areas up to three days.
Bush To Iran & Syria: Don't Mess With Iraq!
Dec. 16….(Washington Times) President Bush yesterday told Syria and Iran to stop meddling in Iraq, as the Iraqi defense minister accused his nation's two neighbors of aiding a terrorist insurgency to disrupt elections set to take place in six weeks. "We will continue to make it clear to both Syria and Iran that meddling in the internal affairs of Iraq is not in their interests," the president told reporters in the Oval Office at the end of a meeting with Italian Prime Minister Silvio Berlusconi. Mr. Bush called on Iraq's neighbors to work with the interim Iraqi government to enforce border security ahead of elections scheduled for Jan. 30. "We expect there to be help in establishing a society in which people are able to elect their leaders, and that we expect people to work with the Iraqi interim government to enforce the border and to stop the flow of people and money that aim to help these terrorists," the president said. "We made that very clear, and we'll continue to make it clear." Syrian Foreign Minister Farouk Shara agreed during a September meeting with Secretary of State Colin L. Powell to step up cooperation with the United States and Iraq along the border and stop terrorists from using Syrian soil as a base for operations in Iraq. An agreement with the Iraqi government on how to implement the pledge was reached in October. Mr. Bush also said that despite the religious split in Iraq, other nations, especially Iraq's neighbors should be working to ensure a future in which all religions can peacefully coexist. "For the good of the area, there ought to be a peaceful country where the different religions can come together," Mr. Bush said. The president's comments came after Hazem Shaalan, the defense minister in Iraq's interim government, accused Iran and Syria of aiding al Qaeda terrorist Abu Musab Zarqawi and former agents of Saddam Hussein to promote an Islamist insurgency in Iraq. Iran and Syria deny any links with the Iraqi guerrillas. While both Iran and Syria have rejected US and Iraqi claims that they support Iraq's insurgency, the State Department considers each a state sponsor of international terrorism. "Iran remained the most active state sponsor of terrorism in 2003," the department said on its annual "Patterns of Global Terrorism" report. " Syria, the department says, continues "to provide political and material support to Palestinian rejectionist groups," but "has cooperated with the United States and other foreign governments against al-Qaida
Saudis Imprison Christian Converts
Muslim kingdom bars citizens from forsaking Islam.
Dec. 16….(WND) Saudi religious police arrested a 30-year-old citizen who converted from Islam to Christianity.
Emad Alaabadi, who has a wife and four children, is in prison in Jeddah after his Nov. 29 arrest in the town of Hufus, reports International Christian Concern, a Washington, DC-based human-rights group. Alaabadi was driving his children home from school Nov. 29 when he was intercepted by police. The police escorted him home to drop off the children then took him to prison in Hufus before being transferred to Jeddah. The Saudi man made contact Dec. 4 with his mother in Australia, who said he sounded very weak. ICC said if Alaabadi's case is like others, he probably has been tortured as the religious police attempt to reconvert him to Islam. Saudis are forbidden by law from converting to another religion. The kingdom bars all public expression of religion, except for its strict Wahhabi interpretation of Islam. No church buildings are allowed, and religious police have cracked down at times on worship in private homes. For the first time, Sept. 15, the US State Department named Saudi Arabia a "country of particular concern," subjecting it to possible sanctions for egregious and ongoing violations of religious freedom. The State Department's annual report says that in Saudi Arabia "religious freedom does not exist" and non-Muslim "worshippers risk arrest, imprisonment, lashing, deportation and sometimes torture for engaging in religious activity that attracts official attention."
Iraq Defense Chief: Iran is 'Number One Enemy'
Dec. 15….(MSNBC) Iraq's defense minister today accused neighboring Iran and Syria of supporting insurgents in his war-ravaged country. Hazem Shaalan also accused Iran of backing the al-Qaida in Iraq terrorist group headed by Jordanian militant Abu Musab al-Zarqawi and said his country's opponents want "turbaned clerics to rule in Iraq." Shaalan said Iraqi authorities obtained information about Iran's role in Iraqi's insurgency after last month's arrest of the leader of the Jaish Mohammed (Mohammed's Army) terrorist group during US-led operations in Fallujah. When we arrested the commander of Jaish Mohammed we discovered that key to terrorism is in Iran, which is the number one enemy for Iraq," Shaalan told reporters in Baghdad. On Nov. 15, Iraq's interim Prime Minister Ayad Allawi said American forces detained Jaish Mohammed members, including the organization's leader, Moayad Ahmed Yasseen, also known as Abu Ahmed, during the military operation to uproot insurgents based in Fallujah, west of Baghdad. Allawi has said the group was known to have cooperated with Jordanian terror mastermind Abu Musab al-Zarqawi and al-Qaida and Saddam loyalists and has claimed responsibility for killing and beheading a number of Iraqis, Arabs and foreigners in Iraq. The US military has said in the past that Jaish Mohammed appears to be an umbrella group for former intelligence agents, army, security officials, and Baath Party members. Shaalan accused Iranian and Syrian intelligence agents, plus operatives of deposed leader Saddam Hussein's security forces, of "cooperating with the al-Zarqawi group to run criminal operations in Iraq," adding that Syria and Iran was providing funds and training. Both countries have previously rejected US and Iraqi claims that they are supporting insurgents in Iraq. Damascus, however, has said it is unable to fully close its long, porous border with Iraq. "They are fighting us because we want to build freedom and democracy and they want to build an Islamic dictatorship and have turbaned clerics to rule in Iraq," he said, providing no further details.
Russian Oil Company Yukos Files for Bankruptcy in US
Dec. 15….(MSNBC) In an eleventh-hour move, the Yukos oil company has filed for bankruptcy in a United States Court and is demanding the cancellation of an auction of its main production unit slated for Sunday. While the filing is a dramatic challenge to the Russian government to enter arbitration proceedings, analysts doubt the appeal will stay what is being called a Kremlin-sponsored carve-up of the nation's largest oil producer. Yukos filed for bankruptcy under Chapter 11 in Houston on Tuesday, the company said. Yukos is asking the court for a temporary restraining order halting the planned Sunday auction of Yuganskneftegaz by Russian authorities." The Russian campaign against Yukos and its owners, including former CEO Mikhail Khodorkovsky, has been seen as a Kremlin-inspired effort to punish Khodorkovsky's perceived political ambitions, including his funding of opposition parties. President Vladimir Putin has cast the case as part of official crackdown on shady bookkeeping and corruption. Khodorkovsky, who has been in jail for 14 months, is being tried on charges including fraud and tax evasion.
FOJ Note: Russia's largest oil company files bankruptcy in the US and in Houston, Texas no less. (America's oil capitol) This story really intrigues me, from a prophetic standpoint, in lieu of Ezekiel 38.
US Muslims Hail Khomeini
Dec. 15….(WND) A Texas Muslim organization held a special event honoring the late Iranian leader Ayatollah Khomeini, advertised as a "tribute to the great Islamic visionary." With the aim of cultivating "the unity of the Muslim ummah [brotherhood] around the globe," the Metroplex Organization of Muslims in North Texas, a Shia group, invited prominent local and national Muslim leaders to the seminar Saturday, including Mohammad Asi, the former Imam of the Islamic Center in Washington, DC, who has been monitored by US law enforcement for ties to Tehran's radical regime. Asi wrote in a 1994 public letter to Khomeini's successor, Ayatollah Ali Khamenei: "I swear allegiance to you as leader of the Muslims. The leader of Iran's Islamic revolution in 1979, Khomeini famously viewed the US as the "Great Satan."
America's Coastlands, In Harms Way
Dec. 14….(FOJ) Working in the engineering field, I often come across engineering related magazines. This month I came across the December issue of Homeland Security. In it was several items detailing the networking of security ideas between Israel and America. I was drawn to an article from the US Coast Guard about their efforts to interrupt shipping containers to the US. It detailed how Homeland Security is attempting to "push out" our borders by preempting suspicious cargo abroad before it arrives at American ports. The article conveyed that 75% of the US population lives within 100 miles of a coast. (219,250,000 Americans live near coastal areas) The word "coasts" is mentioned quite often in Bible Prophecy, and it usually refers to an end-times nation of people that lives luxuriously and without fear near coastal areas. Ironically, Ezekiel conveys that in the days when Magog leads a coalition of nations against Israel, that a fire will also fall up on the nation that dwells securely in the isles. The word isles in also translated as meaning, "those who dwell near coasts". (Ezekiel 39:6 And I will send a fire on Magog, and among them that dwell carelessly in the isles: and they shall know that I am the Lord.) Jeremiah 25:22 defines these coastal people as also being a nation that is beyond the sea. (the kings of the isles which are beyond the sea) Could this be a prophecy concerning the United States? I believe there is a connection, and soon (January-February, 05) FOJ will post its expose on Ezekiel 38 and 39 (Expose on Ezekiel 38/39) detailing this coastal connection and the timing of the Magog invasion of the Middle East. The following article also reveals that the great Russian coalition against Israel may well have its coordination plotted in timing with the invasion of the Kings from the East. (China) If so, it shows you how close we may well be to the Tribulation era. Given the fact that Iran (Persia) is already flaunting its venom towards Israel and developing nuclear weapons, can Russia be far behind on the Ezekiel stage?
China, Russia to Hold Collaborative War Games
Dec. 14….(FOJ) China and Russia will hold their first joint military exercise next year, the Chinese government said Monday, as President Hu Jintao called for an expansion of the rapidly growing alliance between the former Cold War rivals. The announcement came during a visit to Beijing by Russian Defense Minister Sergei Ivanov, who was expected to discuss expanding the Kremlin's multibillion-dollar annual arms sales to China. The exercises are to take place on Chinese territory, the official China News Service said. But that report and other government statements didn't say when they would take place or what forces would be involved. "We want to promote the development of the two countries' strategic collaborative relationship (FOJ Note: The Russia-China relationship is a counter strategy to US preeminence in the Middle East and will become a significant factor in the Armageddon scenario to counter the movements of the empire of the Antichrist) in order to safeguard and promote regional and world peace," CNS quoted Hu as telling Ivanov. Beijing and Moscow have built up military and political ties since the Soviet collapse in 1991, driven in part by joint desire to counterbalance US global dominance. They are partners of the six-nation Shanghai Cooperation Organization, formed to combat what they consider the common threat of Islamic extremism and separatism. The other members are the former Soviet republics of Uzbekistan, Kazakhstan, Kyrgyzstan and Tajikistan. (FOJ Note: these nations represent Togarmah of Ezekeil 38:6) The announcement of military exercises comes two months after Beijing and Moscow settled the last of their decades-old border disputes that led to violent clashes in the 1960s and '70s. The agreement was signed during an October trip to Beijing by Russian President Vladimir Putin, who said relations had reached "unparalleled heights." That visit also produced a pact to jointly develop Russian energy resources, an urgent issue for Beijing, which is trying to avert fuel shortages in its booming economy. The frontier where at one point 700,000 Soviet troops faced 1 million Chinese soldiers is now a bustling cross-border market. China has become the Russian arms industry's No. 1 customer, and is expected to buy $2 billion in weapons this year. Russia is a key supplier for the Chinese military's effort to modernize its arsenal and back up frequent threats to invade Taiwan, the self-ruled island that Beijing claims as its territory. The United States and the European Union have banned weapons sales to China since its bloody 1989 crackdown on pro-democracy protesters. But Moscow has supplied Beijing with high-performance Su-27 fighters and other top-of-the-line arms.
US Stages Simulated Attack on Iran
Dec. 13….(MENL) The US Defense Department was said to have completed simulated war games to determine the feasibility of destroying Iran's nuclear weapons program. The Atlantic Monthly magazine reported in its latest issue that the Pentagon held simulations of a US military strike on Iranian bases and nuclear facilities. The magazine said the recent war games also included a ground invasion of Iran. The simulation envisioned a three-phase war against the Islamic republic. The first phase was composed of air strikes against bases of the Iranian Revolutionary Guard Corps, believed to control Iran's nuclear and missile programs. US intelligence sources were quoted as saying that such a strike would require one day and comprised the easiest part of any military campaign.
Clinton Calls on World to Help Palestinian Leadership
Dec. 13….(Ha Aretz) Former US president Bill Clinton has called on the world to help the Palestinian leaders who will be chosen in elections next month make peace with Israel, build their economy and fight crime and terrorism. There are many extraordinary leaders among the Palestinians. But they are beginning a long journey and they need our support," Clinton said as regional and international leaders met to discuss the challenges facing the Middle East. Yasser Arafat's death last month has been seized on by many observers as an opportunity to advance the long stalled Palestinian-Israeli peace process. The Americans, who along with the United Nations, the European Union and Russia are the main sponsors of the roadmap to Middle East peace, had argued they could not trust Arafat as a negotiating partner. Israel had also refused to deal with Arafat. Prince Turki al-Faisal, Saudi Arabia's ambassador to the United Kingdom, was pessimistic, saying that he believed any opportunity Arafat's death may have created for progress in Middle East peace talks was offset by America's pro-Israeli stance. "As long as the world remains passive and America remains a strong supporter of Israel that offers any form of support requested, and accepts anything from any prime minister of Israel regardless of his or her extremism, then Israel will never seek to compromise or to reach a settlement," the prince said in what appeared to be the first official Saudi assessment of post-Arafat prospects for peace. The Saudis can lend important weight to any possible settlement because of both their wealth and their status as guardians of Islam's holiest sites. Clinton has close experience with the difficulties of Middle East peacemaking. He has said Arafat "missed an opportunity" for a settlement at Israeli-Palestinian peace talks that the former president convened at Camp David in 2000. Clinton siad he believed America "has to balance our spending on security with investment and economic and human development, especially in Gaza and the West Bank, to facilitate not only the peace process but in order to secure the success of a Palestinian State.
FOJ Note: Have you ever noticed how hard it is to get rid of some people? Usually, former Presidents fade with dignity into the sunset of life, and leave the complexity of current world issues to the successors of the US Presidency. But for whatever reason, Bill Clinton, and his fellow globalist ideologues just won't shutup and let the current President be President. This weekend alone, I watched CNN parade Jimmy Carter on camera to voice his displeasure with President Bush. Then, another network had Brent Scowcroft and Zibigniev Brezinski on and they each lent their voices to discrediting the Bush Administration, even going so far as to label him as a mere puppet of Ariel Sharon. Mr. Scrowcroft even said the Israeli Prime Minister had the President tied around his thumb. Later, Carter added that Ariel Sharon had no intention of relinquishing area in the West Bank, and that President Bush was nothing more than Sharon's little lapdog.
US-European Discord over Iran is Deepening
Dec. 13….(International Herald tribune) Despite a renewed American effort to repair relations with Europe, a disagreement between the Bush Administration and European leaders over how best to persuade Iran to abandon its suspected nuclear weapons program has deepened in recent weeks, diplomats on both sides say. The diplomats said the disagreement focused on what Europeans maintained was the crucial next step in their drive to persuade Iran to move beyond its recently agreed upon voluntary suspension of uranium enrichment activities to the point of abandoning them outright. Envoys from Britain, France and Germany gained Iran's agreement to suspend a vital part of its nuclear program last month. The accord was later endorsed by the 35-nation board of the International Atomic Energy Agency, the United Nations' nuclear monitoring agency. Both the European and Iranian officials who negotiated the accord said it was voluntary and temporary. Permanent cessation is subject to further talks in which economic and political benefits for Iran are to be discussed. But in recent interviews, European diplomats said that to gain a permanent cessation, the Bush Administration must participate in talks with Iran and signal a willingness to be a part of an eventual final accord involving economic incentives and a discussion of security guarantees for Iran.
"We have a deal with Iran that is not perfect," said a European diplomat. "We have to develop it into a permanent suspension. We will not obtain a comprehensive deal on Iran without the United States." A diplomat from a different European country said the "biggest carrot" that could be offered Iran would be a discussion about an eventual normalization of relations with the United States, including possible guarantees that Iran would not be attacked or subverted. A senior US official said the administration was "deeply worried" about the entire European approach because it could lull the United States into a false sense of security. Any such deal, he said, could easily be subverted or circumvented, much as North Korea did after it agreed in 1994 to freeze its production of weapons-grade fuel at one reactor, only to renege on the accord and embark on what the United States charges is a plan to produce weapons-grade fuel at another, clandestine location. Another senior administration official said there was also no confidence within the administration in the ability of the International Atomic Energy Agency to monitor Iran's compliance even with the accord hammered out by the Europeans. European diplomats, responding to these criticisms, said that while their deal with Iran was flawed, it represented the best hope for reaching an accord that would be accepted by the rest of the world, particularly Russia and China, two players with economic ties to Iran.
To some US officials, the European attitude may be well intentioned but also naive and based on a fundamental misreading of Iran's intentions. What is needed, they contend, is a unified willingness to demand action and to threaten sanctions against Iran. Bush administration officials add that while bombing Iranian nuclear sites or taking other sorts of military action are not being contemplated now, they are not ruled out for the future.
"What is needed," he said, "is for the entire international community, the Europeans, the Chinese, and the Russians to join the United States, to tell the Iranians to make a deal on this or face the consequences. US officials say, however, they are suspicious of any partial deals that do not encompass an end to Iran's support of insurgents in Iraq and to groups that carry out attacks on Israeli citizens, including Hamas, the Palestinian Islamic Jihad and militant factions within the Palestine Liberation Organization.
US Steps Up Pressure for IAEA Chief's Departure
Dec. 13….(My Way) The Bush Administration has stepped up pressure on International Atomic Energy Agency chief Mohamed ElBaradei to leave his post, amid reports that US officials were scrutinizing his telephone calls with Iranian diplomats. The White House reiterated its support for a term-limit for UN organization chiefs that would require the 62-year-old Egyptian diplomat to step down as head the IAEA when his second term expires next year. "The United States government has always supported the policy that heads of UN organizations should stay no more than two terms," said White House spokeswoman Suzy DeFrancis. She was responding to a Washington Post report that US officials were combing through intercepted phone conversations between ElBaradei and Iranian diplomats for evidence of missteps that could be used to force his ouster. DeFrancis declined to respond to accusations of eavesdropping, saying she could not comment on intelligence matters. ElBaradei, who has run the UN watchdog agency since 1997, angered members of the Bush administration by questioning US intelligence on Iraq and later by adopting a cautious approach to Iran's nuclear program. Some Administration insiders believe the telephone conversations show ElBaradei lacks impartiality because he tried to help Iran to navigate a diplomatic crisis over its nuclear programs. The United States accuses Tehran of seeking to develop nuclear weapons under cover of its atomic energy program.
US Action Against Iran Can't be Ruled Out
Dec. 13….(Jerusalem Post) The US hopes that Iran will follow Libya's lead in abandoning its nuclear program, but nobody should rule out the possibility of military action against Teheran's nuclear sites if it does not, US Under Secretary of Defense for Policy Douglas J. Feith told The Jerusalem Post in an exclusive interview. Feith stated that the US is now concentrating on "a process to try to get the existing international legal mechanisms, the nonproliferation treaty and the International Atomic Energy Agency, to work, to bring the kind of pressure to bear on Iran that would induce the Iranians to follow the path that Libya took in deciding that they were actually better off in abandoning their WMD [weapons of mass destruction] programs." Feith stressed that the Americans are interested in seeing whether the suspension of uranium-enrichment activities that the Iranians agreed to last month in a deal with France, Germany and Britain "can get turned into a permanent abandonment." But strikingly, whereas British Foreign Secretary Jack Straw last month ruled out any possibility of military action against Iranian nuclear sites should the diplomatic path lead to failure, Feith said that "I don't think that anybody should be ruling in or ruling out anything while we are conducting diplomacy." In the wide-ranging interview conducted on Friday, Feith, told the Post that democratic reform of the Arab world, including in US-allied Egypt, Saudi Arabia and Jordan, will be the linchpin of Bush's foreign policy in the next four years. He was speaking a day before outgoing Secretary of State Colin Powell told a conference of Islamic leaders in Morocco that the Arab world had to implement political and economic reform and stop "pointing to the deadlocked Middle East peace process as a pretext for delay." Feith recalled that "the president has said over and over again that he believes that the world will be a better place, there will be a better treatment of people and there will be a more secure international environment if there is a development of representative, democratic-type institutions in the Middle East." The undersecretary said he saw signs that Bush's democratization platform was having an effect on the public discussion now taking place in countries like Egypt, Saudi Arabia and Jordan about democracy, dialogue that barely existed before Bush began discussing the issue in 2002. As a principal architect of the US war on terrorism in Iraq and Afghanistan, Feith is one of the most controversial members of the Bush administration. Disliked in liberal circles in the US and internationally, Feith, a staunch supporter of Israel, began his government career in 1981 as an assistant to Soviet expert Richard Pipes at the US National Security Council in the Reagan administration. In that position, as he does today for the Middle East, Feith advocated the advancement of the cause of democracy and human rights in the former Soviet bloc as a means of bringing about the end of the Cold War and the collapse of the Soviet Union.
Anan Supported by Anti-American World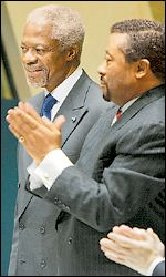 Dec. 13….(FOJ) The UN is broke, ineffective and corrupt. It is nothing but an international stage for stabbing America in the back, and does so with America's own money. Such exasperation with the UN, while a recurring theme, is on the rise in Congress again, where a growing chorus has been calling for Mr. Annan's resignation. Last week 19 members of Congress sponsored a resolution calling for Mr. Annan's departure over the oil-for-food scandal in Iraq. That followed on the heels of another resignation demand from Sen. Norm Coleman (R) of Minnesota, who heads a separate congressional investigation into growing evidence of fraud and corruption in the multibillion-dollar program. The program was designed to supervise what were supposed to be limited sales of oil by Saddam Hussein's Iraq in exchange for food and medicine. Some Republicans are even calling for the US to withhold its UN dues, a favored tactic of anti-UN forces, unless the international body provides proof of full cooperation with oil-for-food investigations. So far estimates indicate that Anan overlooked a UN fraud scheme of Iraqi oil sales reaching up to $20 billion, what the conservative National Review calls "the largest corruption scandal in the history of the world." That alone, critics say, is sufficient cause for Annan to resign as the UN Secretary General. While Anan maintains that he was ignorant of the Iraqi oil for food scandal, it seems ironic that his policy regarding Iraq was that Saddam should have remained in power, and that America's war-on-terror into Iraq is by UN definition an illegal action. Last week, the nations of the world (many of whom profiteered under the UN oil-for-food scandal) clapped their hands in support of Mr. Anan in a show of support against the United States. It was an obvious display of anti-Americanism!
WEEK OF DECEMBER 6 THROUGH DECEMBER 12
Alabama's Judge Moore Calls America Back to God's Law
FOJ Note: Former Alabama Chief Justice, Roy Moore is absolutely right in his treatise on the Ten Commandments, and his call for America to regain its sensitivity to God's Natural Law is a fundamental stepping stone to returning America back to the one true God. If America's judicial war is lost, the hope for the American cultural war is also lost. Barring another miraculous move of the Holy Spirit on the scope of the Great American Awakening during the 1700's, America will continue down the slippery slope of hedonism.
Dec. 10….(Times Daily) Former Alabama Chief Justice Roy Moore has weighed in on a Ten Commandments case before the US Supreme Court, urging the justices in a legal brief to acknowledge God as the source of all laws. Justices are expected to hear arguments early next year from two Kentucky counties that contend they should be able to display the Ten Commandments in their courthouses as a way to educate the public about history and celebrate the country's heritage. In his brief, Judge Moore said the request doesn't go far enough and that critics of the Ten Commandments have undercut the First Amendment through "ad hoc judicial gerrymandering." Judge Moore argues that God is the intrinsic source of all laws, dating back to the nation's founding documents, and that no further explanations or excuses for displaying the Commandments are needed. "You can't reach the right result if you base it on the wrong premise," Moore said Thursday in an interview with The Associated Press. "If the premise is you can do something as long as you surround it with enough premise that it's meaningless, then you've defeated the whole purpose of the Ten Commandments."
The Rev. Barry Lynn, executive director of Americans United for Separation of Church and State, said he expected the court would largely ignore Moore's brief regardless of which way it rules. "Roy Moore's legal arguments are so far out that they will have absolutely no effect on this case," Lynn said. "His view has already been rejected on multiple occasions." On Wednesday, the Bush Administration also announced its support for the two Kentucky counties to be able to display the Ten Commandments on government property. The American Civil Liberties Union won its lawsuit against McCreary and Pulaski counties in lower court, claiming the displays represented an unconstitutional promotion of religion. The counties added other documents, such as the Magna Carta and the Declaration of Independence, after the ACLU challenged the courthouse displays. The Supreme Court has banned the posting of the Ten Commandments in public schools, but the Bush Administration's top Supreme Court lawyer, Paul Clement, argued that courthouses should be different because they are "historic symbols of law." Moore says both sides in the case are missing the point. "They want to keep the Ten Commandments as a historic symbol, but they're willing to sacrifice the fact that our nation was based on belief in God, and in his law." "The acknowledgment of God is not foreign or forbidden by the US Constitution. That's the whole point."
Nobel Peace Prize Judges Stand by Arafat
Dec. 10….(Jerusalem Post) Exactly 10 years after Yitzhak Rabin, Shimon Peres and Yasser Arafat were awarded the Nobel Peace Prize, members of the Norwegian awards committee are adamant that they made the right choice, and that the assassination of Yitzhak Rabin, rather than Palestinian terrorism, was the prime factor in the collapse of the Oslo process. On the eve of today's 2004 award ceremony, four of the five Norwegian Nobel Committee members, including the chairman and his deputy, as well as the committee's permanent secretary, contacted by the Post, said they still consider Arafat to have been a worthy peace-prize winner. The other committee member, whom The Jerusalem Post was unable to reach, has previously expressed disappointment in Shimon Peres's post-1994 support for the policies of Ariel Sharon and issued no reported criticisms of Arafat. By contrast, Kaare Kristiansen, who resigned from the committee in protest against the award to Arafat, told the Post he is "more convinced than ever that I did the right thing," and that "in their hearts" his former colleagues must recognize that they did not. He also claimed that the committee broke its own statutes in pressing ahead with the award despite his resignation, asserting that Alfred Nobel "laid down a rule saying that the decision must be unanimous." The committee's secretary, Geir Lundestad, denied this, and said that no committee member has a right of veto. Prime Minister Rabin considered the whole Nobel process to be premature.
Man Will Live Forevermore
Dec. 8….(FOJ) (www.focusonjerusalem.com) Christmas is a great time of year. What a pleasure it is at this time of year to listen to the many great Christmas songs, and to reflect on the birth of Jesus Christ. Truly the birth of Jesus was a historic event, and it is great to commemorate His birth, (albeit his birth was not on December 25) because it was an event long anticipated by virtue of the promise made by the Heavenly Father to send the world a Savior and to send a King unto Israel.
As I was writing and editing an article to soon be published on the FOJ web-site about the resurrection, I was listening to Christmas music on my computer. As I was intently listening to a wonderful Christmas song, sang so masterfully by Harry Belafonte, I was struck by some of the lyrics. The song, "Mary's Boy Child," contains the following line; "trumpets sound and angels sing, listen what they say, that man will live forever more because of Christmas Day."
In truth, man only has an opportunity to live forevermore, not because of Jesus birth, but because of His Resurrection. Prior to that wonderful Sabbath morning 2000 years ago when the massive grave-stone rolled away from the entryway into the tomb of Jesus of Nazareth, death and the grave had proven to be invincible. But thanks be to God who raised his Son Jesus Christ from the dead man may live forever more.
But to live forevermore, a person must by "faith alone" (see Charles Strong's web-site: www.bibleone.net) accept the atoning work of Christ's life and death, before he can ever know the power of Christ's Resurrection! Then after accepting God's Christmas gift, you too can confidently look forward to your own orderly victory over death in His resurrection and enter into the Heavenly domain of eternal life. Merry Christmas
US: Iraqi Rebels Aided by Sources in Syria
Dec. 8….(Washington Post) US military intelligence officials have concluded that the Iraqi insurgency is being directed to a greater degree than previously recognized from Syria, where they said former Saddam Hussein loyalists have found sanctuary and are channeling money and other support to those fighting the established government. (this is old, old news—FOJ reported Syrian complicity even before the war began) Based on information gathered during the recent fighting in Fallujah, Baghdad and elsewhere in the Sunni Triangle, the officials said that a handful of senior Iraqi Baathists operating in Syria are collecting money from private sources in Saudi Arabia and Europe and turning it over to the insurgency. In some cases, evidence suggests that these Baathists are managing operations in Iraq from a distance, the officials said. A US military summary of operations in Fallujah noted recently that troops discovered a global positioning signal receiver in a bomb factory in the western part of the city that "contained way-points originating in western Syria." Concerns about Syria's role in Iraq were also expressed in interviews The Washington Post conducted yesterday with Jordan's King Abdullah and Iraqi President Ghazi Yawar. "There are people in Syria who are bad guys, who are fugitives of the law and who are Saddam remnants who are trying to bring the vicious dictatorship of Saddam back," Yawar said. King Abdullah noted that the governments of both the United States and Iraq believe that "foreign fighters are coming across the Syrian border that have been trained in Syria." Defense Secretary Donald H. Rumsfeld and other US officials have previously complained about Syria's covert role in Iraq, (as in Lebanon) but officials said the latest intelligence has given impetus to new efforts aimed at curbing the activities of Syrian backed Hussein loyalists there. The Syrian ambassador to the United States emphatically rejected the accusations as unfounded. "There is a sinister campaign to create an atmosphere of hostility against Syria," said Imad Moustapha, the envoy. He said his government "categorically" denies that Iraqi Baathists are taking refuge in his country.
FOJ Note: Recent reports also indicate that Iran is mobilizing hundreds of thousands of Iranian resident Shia members to cross the Iran-Iraq border and participate in Iraq's scheduled January elections. Iran is hoping to use the "democratic process" to win the war for Iraq. So, as you can see, democracy is not the great panacea for the world's problems. Oh yes, democracy is a much better political system than dictatorship, but it is the light of the Gospel of Christ that brings liberty, and creates the underlying framework for freedom to be prevalent. The US enjoys liberty and freedom because of the Great Awakening that took place within its shores in the early 1700's, and not because America discovered the enlightenment of democratic idealism.
Is Palestinian Democracy Key to Middle East Peace?
Dec. 8….(CBN) The death of Yasser Arafat is triggering possible US re-engagement in the quest for Middle East peace, by the first American president to call for a Palestinian state. But for the past two years, George W. Bush has refused to meet with Arafat because of his failure to take on terrorism. It is a stark US policy shift that Israeli cabinet member Natan Sharansky noted during a Bush press conference in April 2002. President Bush said, "The Palestinian people deserve peace and an opportunity to better their lives. They deserve a government that respects human rights and a government that focuses on their needs, education and health care, rather than feeding their resentments." Sharansky said, "Finally, a leader, the leader of the free world, said that peace must be connected to the question of democracy among Palestinians, and that's a huge change." Sharansky, a champion of linking foreign policy to the human rights issue, is a former Soviet dissident, imprisoned for nine years in a KGB gulag. His latest book, "The Case for Democracy," argues that a democratic Palestinian government is the only hope for Mideast peace, and for Palestinians, he says, who suffer under a repressive regime. President Bush has been reading Sharansky's book and has recommended it to his staff. Bush also recently invited Sharansky to the White House. Sharansky commented, "We had a long conversation, about an hour; I could see how deep is the conviction of the President, is the determination of the President, to strengthen peace by promoting and broadening democracy." Sharanksy's views seem to be peppered throughout the President's speeches, like his premise that the desire for freedom is universal. Bush has said that, "freedom is not the gift of America to the world, but of God to mankind." And that free societies help make the world safer. Another time, Bush said, "The reason why I'm so strong on democracy is democracies don't go to war with each other." Sharansky says Bush's stand is unpopular with those skeptical of freedom's power to transform authoritarian regimes. Sharansky said, "I told him then, you know, Mr. President, you're the real dissident because politicians think about the polls and what is more popular, and what is less popular. You believe in this idea, and you go ahead with it." Bush dismisses critics who say Arabs are unsuited for democracy. The same was said about Russia, Germany and Japan. Sharansky remarked, "I believe, as they are wrong about all these people, they will be wrong about Arabs, because given a choice between living in a free society or in a fear society, or living in society where you can freely express your opinions and defend opinions and not go to prison, people always choose to live in freedom." The pressure is rising as Palestinian elections, slated for January 9th, offer the first test of the President's doctrine. Bush has said, "Two states living side by side in peace and security can be reached by only one path, the path of democracy, reform, and the rule of law." Sharansky says Bush is making it clear that the new leadership must embrace reform or lose American support. "That's a very important line," Sharansky said, "different than the line of many leaders of Europe today." Sharansky contends that the same Western influence that helped liberate Russia can bring reform to the Middle East. Sharansky also warns against past failures in the peace process, blaming the West's coddling of Arafat as a "moderate" who promised to fend off Hamas. He remarked, "And the free world supported Yasser Arafat, supported corrupt dictatorship, transferred public money belonging to the Palestinians, to the personal account of Yasser Arafat, hoping Arafat would fight terror. How much was that? Tens of millions, about $25 to 30 million every month. Can you imagine?" With Arafat now out of the picture, Sharansky says the West should follow the example of President Ronald Reagan, who challenged the Soviet regime, branding it the "Evil Empire." Finally a Western leader called a spade a spade." And Sharansky says that Reagan brought moral clarity back to international policy. He believes President Bush shares Reagan's instincts and his willingness to speak the truth about corrupt regimes. "And he is willing to support, not dictators who bring us stability," said Sharansky, "but the dissidents who want to bring freedom to their people. And I believe if he will stay with this course, the world has a real chance to become free from dictatorship."
Approaching Horsemen
Dec. 7….(By David Dolan) (www.ddolan.com) I was privileged to attend portions of the second annual "Jerusalem Summit" held last week at the elegant King David Hotel, which sits regally perched above the biblical Hinnon Valley across from the walled Old City. The setting was appropriate since the international gathering of prominent conservative shakers and movers was designed to generate "New Ideas from the Old City," as a banner hanging above the summit podium proclaimed.
Featured speakers at this year's conclave included American talk radio host Dennis Prager and Colorado Republican Congressman Bob Beauprez, who brought greetings from President Bush. Many renowned experts on radical Islam were seated around the solid oak summit table, including US Institute of Peace director Daniel Pipes and noted British author David Pryce Jones. Several Muslims, aptly termed brave by summit organizers, delivered lectures at the conservative think-fest. They included Jordanian Professor Mohanna Yousuf Haddad, who called for "increased Islamic tolerance" of the non-Muslim world. San Diego State University Professor Khaleel Mohammad explained that the Quran actually foretold an end-time Jewish return to the Holy Land. As enlightening as they were, neither speaker adequately dealt with the dreadful contemporary situation in the mainly Muslim Middle East, where popular Islamic loathing and rejection of Israel and its American ally continues to metastasize. That was left to a bold Egyptian-American woman, Nonie Darwish, who spelled out how the 9/11 Al Qaida attacks propelled her out of the kitchen and into the public spotlight. The intriguing title of her stirring message said it all: "The Daughter of a Shahid Speaks Out For Change." And speak out she did, resulting in the summit's only standing ovation. Nonie Darwish recalled that she had lived as a young girl with her Muslim parents in the pre-1967 Gaza Strip. It was there that her father, serving in the Egyptian Army, was killed during a clash with Israeli soldiers. Despite her tragic personal loss, Darwish testified that today she is "full of love for the Jewish people and this beautiful holy land." She went on to castigate the sustained hostility toward Israel from many in her native Egypt, despite the 1979 Camp David peace treaty between the neighboring countries. Darwish also lashed out at the Islamic world's general refusal to examine its own sins before throwing stones (or worse) at others, especially at her "beloved adopted homeland," the USA. She bluntly added that "terrorism is never honorable, and should be abandoned as a so-called political tool" in the bitter Arab/Israeli conflict. Several relatively optimistic assessments of the current regional situation were proffered at the Jerusalem Summit, all tied to Yasser Arafat's overdue exit from the blood-stained Mideast stage. But these were more than countered by examinations of the grim situation in post-Saddam Iraq, and of Iran's determined quest for nuclear weapons. Daniel Pipes was among several experts who doubted that Iraq was ready to hold successful national elections, given the ongoing flood of insurgent violence washing over the land. The most chilling words at the august gathering came from Yossef Bodansky, the former director of the US Congressional Task Force on Terrorism and Unconventional Warfare. He warned that Islamic terrorists are currently "tying up the knots" for another massive assault upon America, this time deploying devastating non-conventional weapons. Bodansky explained that Al Qaida has not carried out a second major attack on US soil until now for "internal psychological and ideological reasons." However he warned that the President's lopsided reelection victory prompted a "green light from Islamic elites" for such an atrocity to proceed. American voters are now widely judged as "deserving of death" because a majority of them chose to endorse Bush's detested war on terror. With Bodansky's ominous warning still ticking like a time bomb in my brain, it was interesting to read in Sunday's New York Times "Weekly Review" section that the world "does not share America's obsession" with its ongoing struggle against the death-dealing forces of evil. Not that this was actually news to me: I have traveled to many countries since 9/11 and realize that the chattering classes at least tend to see George W's response as a long march beyond the brutal pale. I was hardly convinced that a ground invasion of Iraq was the best way to deal with the vile Butcher of Baghdad, given the widespread Arab-Islamic propensity to view American and British "crusaders" as scheming, oil gobbling infidels. It was therefore predictable that coalition forces would receive a lukewarm reception at best, and a downright hostile greeting from Saddam's Sunni surrogates, supported by a plethora of Islamic regimes and terror groups who regard American-style democracy as far worse than the plague. But I still found it rather ironic to read that world opinion considers the number one contemporary problem to be struggling national economies, not destructive terrorism. According to the NY Times report, most people regard the United States as a terror-obsessed Big Bully that lobs its hefty weight around the globe like a drunken marine, flattening anyone who gets in its way. True, high unemployment, deepening debt and spreading poverty are perennial issues in Africa, South America and much of Asia, as they increasingly are in Europe and North America. Despite this fact, it should be apparent to anyone with a primary education that a terrorist nuclear strike on Manhattan, even one involving a small device, would unleash a swift and devastating financial panic upon the entire planet, if not the four horsemen of the biblical apocalypse. If anyone thinks the conductors of the world's main economic engine are being overly paranoid in reaction to Bin Laden's videotaped annihilation harangues, they should think again. The United (Against America) Nations will not celebrate for long if Yossef Bodansky's predictive eight ball turns out to have been crystal clear.
House Republicans Call for Annan to Resign
Dec. 7….(World Net Daily) House Republicans yesterday called for UN Secretary-General Kofi Annan to resign in light of the oil-for-food scandal and threatened to withhold funding from the United Nations unless it fully cooperates with investigators. "The UN oil-for-food program is a scandal of enormous proportions, and it may reach into the highest levels of leadership at the UN," said Rep. Roger Wicker, the Mississippi Republican who introduced a resolution yesterday calling for Mr. Annan to resign. "I don't think we'll get all the facts as long as Mr. Annan is remaining at the helm," Mr. Wicker said. Nineteen Republicans and one Democrat, Rep. Gene Taylor of Mississippi had signed the resolution, as of late yesterday. Calls for Mr. Annan to step down already have come from Sen. Norm Coleman, the Minnesota Republican who is heading the main congressional inquiry into accusations of fraud, bribery and corruption in the United Nations' administration of the Iraq oil-for-food program. Mr. Coleman's Senate inquiry already has determined that Iraqi dictator Saddam Hussein's regime skimmed billions of dollars from the program, which allowed Iraq to sell small amounts of oil to pay for food and humanitarian assistance while it was under UN sanctions. A separate group of Republicans led by Rep. Jeff Flake, Arizona Republican and member of the House International Relations Committee, yesterday pushed legislation that would tie the United States' UN funding to the organization's cooperation with investigators. The corruption accusations have prompted numerous investigations, including several congressional inquiries, a US Treasury Department investigation and a UN commissioned inquiry conducted by former Federal Reserve Chairman Paul Volcker. But Mr. Flake and other Republicans say the United Nations is not cooperating with investigators, is withholding information, and has denied Mr. Volcker's investigation any subpoena power to get information. "I'm convinced that the only way we can ensure the UN's full cooperation is with the threat of withholding our funding," Mr. Flake said. "We want to shine the light of day on the UN," said Rep. Scott Garrett, New Jersey Republican. Under Mr. Flake's bill, which has 77 co-sponsors, Congress would withhold 10 percent of its UN funding in fiscal 2005 and 20 percent in fiscal 2006, until President Bush certifies that the United Nations has agreed to certain standards laid out in the bill. "Kofi Annan must go," said Rep. Dan Burton, Indiana Republican. "I think its time we get someone up there that's responsible, who we can trust." Mr. Garrett added, "The larger question is whether he should be in jail." Mr. Burton added that some of the billions of dollars Saddam skimmed from the program was given to terrorists and, as a result, "people were killed." He said it is high time that Congress stop complaining about the United Nations and do something.
"I hope the Congress of the United States will finally act on this issue," he said. President Bush has demanded "full disclosure" from the United Nations on the oil-for-food scandal but so far has stopped short of calling for Mr. Annan's resignation.
Most Palestinians Would Leave West Bank for Money
Dec. 7….(World Net Daily) In a scientific survey conducted face-to-face with Palestinians in the West Bank, 71 percent specified one or more material factors that would induce them to emigrate permanently. The poll, which queried a random sample of 528 people Nov. 15-21, showed about half would consider leaving permanently for life in another land if they had the wherewithal and ability. The survey asked, "If today you had the wherewithal and ability to leave and live permanently in another country would you?" A total of 50 percent would consider it, with 33 percent saying "maybe" and 17 percent yes. Forty-one percent said no. The poll indicated 42 percent have considered leaving permanently. The Arabic-language survey was conducted by Maagar Mohot Interdisciplinary Research and Consulting Institute in Israel in collaboration with the Palestinian Center for Public Opinion, reported Independent Media Review. The Palestinian center carried out the sampling and interviews while the questionaire design, data input, statistical processing and formulation of the final report were done by the Israeli firm. Asked what would make you permanently move to another country, the respondents answered:
15 percent – Nothing would make me leave
16 percent – Guarantee of a good job overseas
12 percent – Situation here gets worse
10 percent – Generous financial assistance
9 percent – Financial guarantee equal to average wages in the West Bank today for life
8 percent – Guarantee of good housing
6 percent – Guarantee of good education for the children
5 percent – On condition that the entire family goes with me
2 percent – Supportive community in the new place
17 percent – Other.
Asked whether they believe the Palestinian Authority is doing enough today to improve their lives, 53 percent said no, 33 percent yes, and 14 percent "other." A plurality of 46 percent said they believe the PA is corrupt, while 35 percent said it was not, and 14 percent had another response.
CIA: 33 Groups Preparing for WMD Terror
Dec. 7….(Geo-Strategy Direct) According to a new CIA report, the threat that terrorists will use chemical, biological, radiological and nuclear weapons "remains high," says Geostrategy-Direct, the global intelligence news service. "Many of the 33 designated foreign terrorist organizations and other non-state actors worldwide have expressed interest in using CBRN," the semi-annual report on arms proliferation stated. "However, most attacks probably will be small-scale, incorporating improvised delivery means and easily produced or obtained chemicals, toxins or radiological substances." Most groups will continue to use proven attack methods such as bombings and shootings. However, the discovery in January 2003 of a plot by Islamist terrorists to use ricin toxin show active plotting for chemical and biological attacks, according to the report which was made public last week. "Al-Qaida is interested in radiological dispersal devices [RDDs] or dirty bombs," the report said. "Construction of an RDD is well within its capabilities as radiological materials are relatively easy to acquire from industrial or medical sources." The report said al-Qaida documents found in Afghanistan show that the group is focusing on biological weapons such as anthrax for "mass casualty attacks." Regarding nuclear arms, the report said that outside experts, including Pakistani nuclear engineer Bashir al-Din Mahmoud, have helped al-Qaida. Bashir met with Bin Laden and discussed information concerning nuclear weapons, the report said. "We are alert to the very real possibility that al-Qaida or other terrorist groups might also try to launch conventional attacks against the chemical or nuclear industrial infrastructure of the United States to cause panic and economic disruption," the report said. A video aired by al Jazeera in September 2002 stated that senior al-Qaida terrorists considered striking nuclear power plants in the United States in selecting targets for what became the September 11 attacks.
December 7th, 1941, "A Day of Infamy"
Dec. 7….(FOJ) In 1941, President Franklin Roosevelt called the surprise attack by the Empire of Japan on Pearl Harbor a day that will live in infamy. The word infamy refers to an event that is so evil that it requires a designation relegating its act into the pit of infamous deeds, a designation so hideous that it must be kept separated from the famous category. That exactly where the event of September 11, 2001 also belongs.
On the morning of September 11th, I received a phone call from a local news director informing me of the first plane hitting the WTC. He was well aware of my interests in terrorism, and Bible prophecy. He thought I would have some insights into the event. I immediately informed him that the plane was a terrorist attack on the proportions of the Japanese attack on Pearl Harbor. Being a meticulous newsman, he wanted more verification. Then, while we continued to talk on the phone about the aspect of terrorism, and Middle East hatred for America primarily because of American support for Israel, a second plane hit the other WTC tower. (He had his confirmation) Indeed, this time, on this day, there was no way for governmental agencies to deny, or cover up the fact that America had been attacked. It was an infamous act of evil!
Today, many Americans will commemorate the tragedy of Pearl Harbor, and the loss of so many lives that perished in a sneak attack. I salute the brave men and women of my parents generation that stood tall in the 40's and beat back the forces of evil. Today, Japan is a good friend of America, and in defeating the evil influences upon Japan in 1945, America did not simply become Japan's occupying master, but rather we helped Japan become a nation that enjoys its freedom. Today, Japan is a partner with the US in trying to make liberty available to the people of Iraq. I salute the good people of Japan, and thank them for their friendship!
But, today as I reflect on 1941, I also realize that America is now facing the darkest forces of evil that it has ever encountered. Today, I am praying for my country as never before, but I am also praying for many other countries, because the war-on-terror that America is fighting today cannot be won alone. Unless more countries around the world come to terms with the fact that Middle East Islamic terrorism is demonic in its nature, America will not win this war. And if America does not repent and return to its God, (the God of Holy scripture) then America will not be spared from the onslaughts of more infamous evil days.
Iran's Nuclear Smoking Gun
Dec. 6….(World Net Daily) While Iran continues to deny its nuclear program is for anything other than peaceful purposes, Tehran has bought massive amounts of beryllium, a metal vital to the process of initiating the chain reactions needed to create nuclear weapon, according to a report in Joseph Farah's G2 Intelligence Bulletin. While beryllium has civilian uses, G2 Bulletin's intelligence sources say, because of the amounts secured by Iran and what they know about Iran's civilian research needs, there is absolute certainty this metal is being used in a nuclear weapons development program. Beryllium can also be combined with polonium-210, a substance Iran is known to have, to initiate the chain reaction needed to detonate a nuclear weapon. Diplomatic sources, meanwhile, say they were aware of Iran's purchases of beryllium. They also said the United Nations nuclear chief Mohamed El-Baradei knew about the acquisition but had withheld the information from his own board of governors. US intelligence and military sources tell G2 Bulletin this is more evidence El-Baradei is covering up for Iran, soft-pedaling the country's abuses. There is a growing clamor, they say, to oust El-Baradei from this sensitive post. Beryllium has a long list of innocent uses, such as in spark plugs and X-ray equipment. However, the amounts obtained, which were undisclosed by G2 Bulletin sources, were said to be far in excess of possible civilian uses by Iran. Furthermore, Iranian officials have claimed in the past that they have never worked with beryllium. Meanwhile, the powerful former president of Iran, Akbar Hashemi Rafsanjani reaffirmed Iran will resume enriching uranium after a maximum of six months, emphasizing in the clearest terms possible Tehran's freeze on nuclear fuel cycle work is only temporary. "The last word is after this period, which I do not assume will exceed six months, we must seriously and firmly follow enrichment programs and use the very important advantages of nuclear technology," he said. "So far, we have reached the point that we accept to suspend parts of our activities for a period that was not necessary at all. Earlier this week El-Baradei's International Atomic Energy Agency spared Iran the fate of being referred to the United Nations Security Council for possible sanctions after Tehran agreed in a deal with Britain, France and Germany to suspend its uranium enrichment program.
Religion: The Birth of Jesus
Dec. 6….(Newsweek Magazine) Roughly 2,000 years ago, according to the Gospel of Luke, in Nazareth of Galilee, a young woman found herself in the presence of Gabriel, the angelic messenger of the Lord whose name was known to Jews of the day as the mysterious figure who had granted Daniel his prophetic visions. The woman, Luke writes, was "a virgin espoused to a man whose name was Joseph, of the house of David," and her name was Mary, Luke's Greek form of the Hebrew Miriam, the sister of Moses and the first great prophetess of Israel. "Hail, thou that art highly favored, the Lord is with thee," Gabriel said, "blessed art thou amongst women," terrifying Mary, who "was troubled at his saying." Stunned and confused, Mary made no reply, her face apparently betraying anxiety and awe. Sensing her confusion and fear, Gabriel was reassuring: "Fear not, Mary: for thou hast found favor with God." Then the angel said: "And, behold, thou shalt conceive in thy womb, and bring forth a son, and shalt call his name Jesus. He shall be great, and shall be called the Son of the Highest, and of his kingdom there shall be no end." In other words, Mary was to bear the Messiah, the fabled and long-promised figure who, in the words of the prophet Jeremiah, would "reign as king and deal wisely, and shall execute justice and righteousness in the land." Mary was silent, then finally found her voice: "How shall this be, seeing I know not a man?" Gabriel's reply, that "the Holy Ghost shall come upon thee," raised more questions than it answered, not only for Mary but for Joseph, for the early Christians and, two millennia later, for us. In Luke's account, Mary absorbed the tidings of her child's miraculous origin and mission and "pondered them in her heart," still puzzled and still overwhelmed. In the Gospel of Matthew, Joseph, knowing nothing about Gabriel's appearance, is humiliated by the news that his future wife is pregnant, and "was minded to put her away privily." In later years Christians had to contend with charges that their Lord was illegitimate, perhaps the illicit offspring of Mary and a Roman soldier. Now, at the beginning of the 21st century, some scholars treat the Christmas narratives as first-century inventions designed to strengthen the seemingly tenuous claim that Jesus was the Messiah. And so the story of the birth of Jesus of Nazareth is, fittingly, as riven with complexity and controversy as Christianity itself. This month more than a billion Christians will commemorate their Lord's Nativity. Amid candlelight, carols and the commingled smells of cedar and incense, the old tale will unfold again: Gabriel's visitation, the journey to Bethlehem, the arrival of the baby in a stable, the glorious announcement to the shepherds in the night, the star in the East, the mission of the Magi. Yet, as with so many other elements of faith, the Nativity narratives are the subject of ongoing scholarly debate over their historical accuracy, their theological meaning and whether some of the central images and words of the Christian religion owe as much to the pagan culture of the Roman Empire as they do to apostolic revelation. The clash between literalism and a more historical view of faith is also playing out in theaters and bookstores. This year Mel Gibson's hugely successful movie "The Passion of the Christ" provoked a national conversation about Jesus' last days. With 9 million hardcover copies in print, Dan Brown's thriller "The Da Vinci Code," one of the most widely read books of our time, is partly built around the assertion that the early church covered up important facts about Jesus in order to manufacture Christian creeds. Like the Victorians, we live in an age of great belief and great doubt, and sometimes it seems as though we must choose between two extremes, the evangelical and the secular. "I don't want to be too simplistic, but our faith is somewhat childlike," says the Rev. H. B. London, a vice president of James Dobson's conservative Focus on the Family organization in Colorado Springs. "Though other people may question the historical validity of the virgin birth, and the death and resurrection of Jesus Christ, we don't." London's view has vast public support. A Newsweek Poll found that 84 percent of American adults consider themselves Christians, and 82 percent see Jesus as God or the Son of God. Seventy-nine percent say they believe in the virgin birth, and 67 percent think the Christmas story, from the angels' appearance to the Star of Bethlehem is historically accurate.
FOJ Note: This article by Newsweek raises good questions. What do you think? Was Jesus born of a virgin, as the Bible indicates? Was Jesus the Son of God, as he himself claimed? Was he the Messiah? Everyone must determine an answer for themselves to these questions about Jesus. According to the Newsweek poll, apparently 1/3 of American adults have determined in their minds that the Biblical account of Jesus birth is a delusion. When Jesus states, "no one comes to the Father but by me," then accounting for one's estimation of the truth of his birth is a serious matter! No where in the Bible does it instruct the Christian to commemorate Jesus birth, but rather it points to the gift of salvation that is given to mankind because of his death, and resurrection. Jesus was God's gift to mankind. What will you decide about with him? (If you find it difficult to accept that Jesus was born of a virgin, you will likely find it difficult that rose from the dead also.) Merry Christmas!
Share this page with your friends.