WEEK OF FEBRUARY 28 THROUGH MARCH 6
Syria's Bloody Plans for Lebanon 'Retreat'
(Damascus political shakeup signals Hezbollah terror to be turned loose)
Feb. 28….(WND) While Syrian President Bashar al-Assad is telling the world his military forces will leave Lebanon, a political shakeup in Damascus signals his army won't be leaving without a fight, Middle East intelligence sources tell Joseph Farah and his G2 Bulletin. With increasing international diplomatic pressure to withdraw troops, as well as a mounting popular uprising in Lebanon, Assad has appointed a family member to the No. 1 intelligence post and given him sweeping new powers meant to maintain the Assad dynasty at any cost. It was the threat of a Lebanon crisis, sparked by the assassination of Lebanese Prime Minister Rafik al-Hariri, that prompted Assad's sister, Bushara Chawkat to approach her brother with a plan of ascension for her husband. She requested him to grant more authority to her husband, Assaf Chawkat, so that they would be able to avoid an end to their family dynasty begun with the rise to power of their father, Hafez al-Assad, in 1969. The Assad dynasty is worried that a retreat from Lebanon will signal the end of the Assad regime. They are feeling the pressure of eroding US-Syria relations over the death of Hariri, for which Damascus is widely believed responsible, as well as allegations Syria is holding sensitive Iraqi weapon systems sent there by Saddam Hussein prior to the US invasion of Iraq. In addition, Syria is believed to be supporting terrorists in Iraq. Gen. Assaf Chawkat has long been responsible for maintaining close ties with Hezbollah, monitoring and controlling its activities and connections with Iran. Chawkat immediately took steps to assure Iran regarding the future of Hezbollah should Syria be forced to move out of Lebanon. General Chawkat is a firm believer in the use of force and in using the Hezbollah as a tool to settle certain Syrian political or military scores. He also gave the Iranians verbal assurances Damascus would not restrain Hezbollah should the US or Israel attack Iran's nuclear assets. This calculated variant to use Hezbollah in a direct anti-US campaign fully correlates with tactical theories developed by Chawkat. Syria, under Chawkat plans to permit Hezbollah to confront the US and Israel as an Iranian sub-contracted military tool, giving Syria plausible deniability for such attacks. Against the backdrop of growing tension in Beirut, Chawkat is leading the so-called "Lebanon lobby," a group of active or retired Syrian intelligence generals and Baath Party extremists who are contemplating using Hezbollah to stir up a new Lebanese civil war. In his new position, the president's brother-in-law is now also in charge of the Iraq desk, which includes control over Syria's share in the Iraqi guerrilla and terror scene. Therefore, Syria's alliance with Iran places Chawkat in an important position to influence the Shiite-Iraqi scene through Tehran. An early intelligence report on Chawkat's Iraq tactics suggests he instigated the allocation of a special multimillion dollar budget to finance anti-coalition terrorist activity in Iraq. He is also willing and able to take the campaign outside of the Middle East, through the sponsorship of foreign terrorist attacks.
Suicide Bomber Kills at Least 106 in Iraq
Feb. 28….(AP) A suicide car bomber attacked a crowd of police and Iraqi National Guard recruits south of Baghdad on Monday, killing at least 106 and wounding 133, police said. It was one of the deadliest insurgent attacks since President Bush declared the end of major fighting in May 2003. Dozens of bodies could be seen laying on the ground after the blast, and half a dozen ambulances ferried casualties to a nearby hospital, witnesses said. The huge blast damaged nearby shops and parked cars, and sent panicked people fleeing. "People were queuing up to be checked medically in order to become policemen. A second car bomb exploded at a police checkpoint in Musayyib, about 20 miles north of Hillah, killing at least one policeman and wounding several others, police said on condition of anonymity. Iraqi security forces have been regularly targeted by insurgents who see them as collaborating with US forces and want to undermine Iraq's American-backed government. The twin attacks came a day after Iraqi officials announced that Syria had captured and handed over Saddam Hussein's half brother, a most-wanted leader in the Sunni-based insurgency, in the latest in a series of arrests of important insurgent figures that the Iraqi government hopes will deal a crushing blow to violent opposition forces. The arrest of Sabawi Ibrahim al-Hassan also ended months of Syrian denials that it was harboring fugitives from the ousted Saddam regime. Iraq authorities said Damascus acted in a gesture of goodwill. Sabawi Ibrahim al-Hassan, who shared a mother with Saddam, was nabbed along with 29 other fugitive members of the former dictator's Baath Party in Hasakah in northeastern Syria, 30 miles from the Iraqi border, the officials said Sunday on condition of anonymity. Syria is under intense pressure from the United States, the United Nations, France and Israel to drop its support for radical groups in the Middle East, to stop harboring Iraqi fugitives and to remove its troops from Lebanon. A week ago authorities grabbed a key associate and the driver of Jordanian-born terror leader Abu Musab al-Zarqawi, leader of al-Qaida in Iraq and believed to be the inspiration of the ongoing bombings, beheadings and attacks on Iraqi and American forces. Iraqi officials said they expect to take al-Zarqawi soon.
White House Weighs Offers to Iran
Feb. 28…(MSN) The Bush Administration is close to a decision to join Europe in offering incentives to Iran, possibly including eventual membership in the World Trade Organization, in exchange for Tehran's formal agreement to surrender any plans to develop a nuclear weapon, according to senior US officials. The day after returning from Europe, President Bush met Friday afternoon with the principal members of his foreign policy team to discuss requests made by German Chancellor Gerhard Schroeder and French President Jacques Chirac in particular. The White House wants to move quickly to finalize a list of incentives to offer Tehran as part of European talks with Iran, officials said. The new willingness to engage, even if indirectly, marks a significant change from a position that Iran deserved no rewards for actions it is legally bound to take under terms of the Nonproliferation Treaty. But Bush's talks last week convinced him that a united front, in offering carrots now and a stick later if Iran does not comply, would be more effective. The reason we're comfortable considering this tactically is because strategically, when the President was in Europe, he found them solid on the big issue: that Iran can't have a nuclear weapon. Having found them firm on the strategic issue, he's more willing to consider the tactical aspects with the Europeans. During Bush's first term, the administration was deeply divided over what to do about Iran, effectively leaving the White House without a formal policy. The debate ranged from adopting the Iraq model of promoting government change to the North Korean model of containing a government and creating incentives to use in diplomatic talks on disarmament. Now, the administration appears willing, at least in the short term, to hold out the prospect of tentative engagement with Iran down the road to get the Islamic republic to cooperate in controlling its nuclear energy program, and ensuring it is not subverted for military use. The White House meeting also reflects an interest in demonstrating to the Europeans that the US effort to heal the transatlantic rift extends beyond tone to substance, over the issue that most urgently and widely divides the allies.
Bombing in Israel Came on Orders From Syria
Feb. 28….(FOJ) There was another suicide bombing in Israel over the week-end. This one occurred in Tel Aviv near a teenage disco, and killed four people. The Damascus-based leadership of the militant Palestinian Islamic Jihad Saturday claimed responsibility for the attack. Israel has gathered intelligence information that the orders for the attack came from the Islamic Jihad based in Damascus, Syria. A source from Prime Minister Sharon's office said, "We know where the orders for the attack were issued, we know where they were sent, and we know Syrian intelligence was involved and provided logistical support. An Islamic Jihad cell in Jenin recruited the bomber from Tulkarm under orders from Damascus. "Although we know for a certainty that the orders came from Islamic Jihad elements in Syria, that fact is not enough to absolve the PA of its responsibility for the departure of the terrorist and of its obligation to act against his partners in the crime," Prime Minister Sharon said. He added that; "The State of Israel has been showing restraint in order to facilitate diplomatic progress, but it is clear that if the Palestinians do not begin to take vigorous action against terrorism, Israel will be compelled to step up military activity that is designed to protect the lives of Israeli citizens. Sharon told US Secretary of State Condoleezza Rice on Sunday that Palestinian Authority Chairman Mahmoud Abbas had not taken any practical measures against terror. He said that without active steps on the part of the Palestinians, there would be no transition towards implementing the first stage of the Roadmap. Shin Bet (Israel Security Agency) chief Avi Dichter told the cabinet that the timing of the attack was set by Islamic Jihad officials in Syria to send a message to Abbas's new government. He said intelligence officials had enough information about the bombing even to know where the bomb was made. Islamic Jihad of Damascus receives millions of dollars from Iran. Their headquarters in Damascus sends instructions to operatives in the West Bank regarding the type of attack and how it should be planned. Local operatives then begin preparing the explosives and plot the route and recruit the suicide bomber who will carry out the mission. The entire operation from beginning to end is funded by Iran," an Israeli official said. In a videotape made prior to the Friday suicide bombing that killed four people in Tel Aviv, the bomber Abdullah Badran declared that the attack was intended to do harm to the Palestinian Authority, which he said served the interests of the United States. Badran was a resident of a Tul Karm-area West Bank village located adjacent to Israel's security fence.
WEEK OF FEBRUARY 21 THROUGH FEBRUARY 27
Annan: Security Council May Act Against Syria
Feb. 25….(Ha Aretz) UN Secretary General Kofi Annan on Thursday called on Syria to withdraw from Lebanon by April, when he is due to present a report on the issue to the Security Council. Annan told it in an interview he was referring to a full withdrawal, not a redeployment of troops within Lebanon. The United States and France sponsored a UN resolution adopted in September that demanded a Syrian pullout from Lebanon. UN Secretary-General Kofi Annan appointed Terje Roed-Larsen as his special envoy to oversee implementation of the measure. "He cautioned that the Security Council may take measures against Syria if it does not comply with the resolution." A three-member UN team led by Irish Deputy Police Commissioner Peter Fitzgerald arrived in Beirut to report on last week's assassination of former Lebanese premier Rafik Hariri, witnesses said. At the instructions of the Security Council, Annan appointed the team last week to urgently report on "the circumstances, causes and consequences of the assassination". International pressure on Syria to pull out its 14,000 troops and relinquish its political grip on its tiny neighbor has increased since assassination amid allegations of Syrian involvement in the killing. Israel welcomed Thursday a Syrian announcement that Damascus will pull back its forces from Lebanon, said Foreign Ministry spokesman Mark Regev. "Israel supports implementation UN Security Council 1559, which calls for the withdrawal of foreign forces and the disarming of all the militias, including Hezbollah," Regev said. Syria has said that it is ready to work with the United Nations to implement a Security Council resolution requiring Syrian troops to leave Lebanon. Syria has occasionally re-deployed its troops in Lebanon in agreement with the Taif Accord. The Taif Accord that ended Lebanon's 1975-90 civil war called for a redeployment of Syrian troops to eastern Lebanon, followed by agreement on a timetable for a full withdrawal, but Syria has continued to dominate Lebanon now for 30 years. US President George W. Bush said on Wednesday he would wait for Syria's response to the international calls before seeking possible UN sanctions against Damascus. Syria says faster troop withdrawals depends on moves to strengthen Lebanese security forces to fill the vacuum.
US Wants Syria out of Lebanon by May
Feb. 25….(WND) The US led war against terrorism and its advances in Iraq and Afghanistan have enhanced the climate in the Middle East and will enable the international community to force Syria to withdraw its troops from Lebanon likely by May, former Lebanese Prime Minister Michel Aoun told World Net Daily today in an exclusive interview. "The US and EU are backing us in our movement to free Lebanon," said Aoun, speaking to WND from France. "They are interfering through diplomacy and threats of sanctions, and the situation is such today that Syria must comply. If the US and Europe follow through, Syria will be obliged to withdraw before Lebanese elections in May." Without offering a timeline, Syria announced Wednesday it will withdraw its troops from Lebanon to the eastern Bekaa Valley on the Syrian border in accordance with a 1989 agreement that requires Damascus to remove its nearly 20,000 soldiers. The decision followed increased international pressure on Syria amid a mass civil uprising to free Lebanon from Syrian occupation launched after the assassination last week of former Prime Minister Rafiq Hariri, an advocate of Lebanese independence. Many opposition figures have said they are skeptical of the Syrian withdrawal announcements, particularly because Damascus has not offered a timetable. Aoun, who was Lebanon's Prime Minister when the 1989 withdrawal agreement was signed, told World Net Daily the climate in the Middle East now requires Syria to comply. "The US efforts in Iraq and Afghanistan have changed the Middle East. Not only the attacks to oust the rulers of those countries, but the consequences of the attacks changed things as well. They are democratizing the region and this will put pressure on Syrian President Bashar Assad to follow through," said Aoun.
"All these changes in the Middle East make obsolete the previous ways of Syria in dealing with Lebanon and Syria's involvement with political terrorism, which is not accepted anymore." Aoun is no stranger to revolt against Syria. While Prime Minister in 1989, he launched a "war of liberation" against Syrian military forces which had earlier invaded Lebanon. The war was highly popular with Lebanese citizens, but failed to garner the international opposition needed to successfully oust Syrian troops. It ended in a cease fire and the signing of the American and Saudi backed Ta'if accord, which required Syria to re-deploy its troops to the Bekaa valley and confer with Lebanon on further redeployments. Following the Iraqi invasion of Kuwait in August 1990, the American government garnered Syria's participation in the US-led coalition against Baghdad, and critics charge in return the previous Bush administration gave Damascus a green light to complete its conquest of Lebanon, allowing it to launch an invasion of East Beirut and the surrounding areas controlled by Aoun's government. The invasion forced Aoun into exile in France. But the former prime minister said this time Syria will withdraw. "The situation today is totally different. The US and the international community are in our side." Assad largely depends on Lebanese trade to fuel the Syrian economy, and has used Hezbollah militants, who maintain over 3,000 missiles on the Lebanese-Israeli border, to threaten the Jewish State and solidify Syrian regional power.
Putin and Bush Play "Russian Roulette
Feb. 25….(Jan Markell Olive Tree Ministries, Inc. - www.olivetreeviews.org)
Many delusions abound today and one of them is that with the "fall of Communism," the Russian bear is now a pussycat. First of all, Communism didn't "fall." It was thrown off course thanks to Ronald Reagan and its plan of action had to be put on the back burner. It's put on a smile since 1989 but it is still "the evil empire." To believe anything differently is wishful thinking and a trip down a hole into deception. What President Bush's real thoughts about Russia are may only be known to him and his top advisors. It is hard to imagine anyone "looking into the soul" of Vladimir Putin as the president claims he did, and seeing a man he can trust. The "soul" of a Communist is pretty bankrupt because they all remain godless Communists. The photo taken of the handshake between Putin and the newly-elected Ukrainian President Yushenko said it all. Putin was clearly gritting his teeth with a painted-on half smile. He was clearly livid that the attempted poisoning of Yushenko, a Christian, had failed. Putin may have succeeded in vaporizing Chechnya, but Ukraine was going to be free and not a puppet of Moscow as he had hoped. Russia is stirring up trouble around the globe with arms aid and nuclear aid to rogue nations. She helped Iran build and complete their nuclear reactor at Bushehr and now has offered to assist with more. In fact, Russia is eager to equip just about anybody with weapons of mass destruction, including other Middle Eastern nations. She is very involved with the Baathist regime in Syria and is causing insurgency problems in Iraq. All of this is to reduce the influence of America and our superpower status. She is also getting involved in post-Arafat politics which means nothing but more conflict in that region. So why does our State Department cater to Putin, whose empire is greatly shaped by the Russian mafia? Do they think that the "KGB" stands for the "Kinder, Gentler Boys"? It's because we accept the lie that Russia is helping us and the world with the war on terror, when in reality, it is aiding it. We are playing Russian roulette with the "bear", and the corrosive ideology behind them is completely at odds with America. The administration needs to do a "reality check." Russia is on a race to fulfill Bible prophecy. Most prophecy scholars would agree that the reference in Ezekiel 38-39 to Gog and Magog is a reference to Russia and her leader. The genealogy can be traced in Genesis 10. Russia and her Islamic allies, including Iran (Persia), will "think an evil thought" and invade Israel to seize her wealth. The exact timing of this is uncertain. Is this just another classic case of "evil being called good" (Isaiah 5:20) as the US deals with Vladimir Putin? I feel that it is, and there could be terrible consequences if we don't deal realistically with Russia. She remains a bitter foe to freedom and America. Awaiting His return, Jan Markell
US Congress Moves Against Iran
Feb. 24….(MENL) The US Congress has decided to support efforts to overthrow the Islamic regime in Iran. A bill has been introduced in the Senate that would support the opposition in Iran. The legislation, termed the Iran Freedom and Support Act, would require that the United States work to ensure a referendum in Iran on the type of regime sought by the people. The legislation was introduced by Sen. Rick Santorum, a Pennsylvania Republican and a member of the GOP leadership in the Senate. Santorum has served as chairman of the Republican Conference and the third-ranking member of the Senate Republican leadership. In a statement, Santorum said Iran has been linked to strikes against US military personnel in Saudi Arabia in 1996 and Al Qaida attacks against civilians in Saudi Arabia in 2004. The United States has never blamed Iran for Al Qaida's campaign in Saudi Arabia.
FOJ Note: The US Congress already has enacted the Syria Accountability Act, an act which is tantamount to economic warfare against a terrorist sponsoring State. Iran and Syria are both receiving massive shipments of weapons from Russia, including nuclear expertise.
World Council of Churches Calls for Divestment From Israel
Feb. 24….(Ha Aretz) The World Council of Churches, the main global body uniting non-Catholic Christians, encouraged members Tuesday to sell off investments in companies profiting from Israeli control of the West Bank and Gaza Strip. The Council's Central Committee, meeting in Geneva, praised the United States Presbyterian Church for examining the possibility of divestment in Israel similar to the financial boycott it used against the apartheid regime in South Africa two decades ago. The Presbyterian threat, which echoes divestment debates at some U.S. universities, has set off a wave of dissent in the church and angered American Jewish leaders. But the Central Committee, in a document approved at a week-long meeting at WCC headquarters that ended on Tuesday, highlighted the divestment push and encouraged other member churches to consider doing the same. "This action is commendable in both method and manner, uses criteria rooted in faith and calls members to do the 'things that make for peace'," it declared, quoting St. Luke's Gospel. "Economic pressure, appropriately and openly applied, is one such means of action." It was not clear how many of the WCC's 342 Protestant and Orthodox member churches would heed the call. In reaction to the council's call, the New York-based Anti Defamation League expressed its dismay by the decision. "We are deeply dismayed that the World Council of Churches has endorsed a divestment policy against Israel. The Council's call for divestment is based on a biased, one-sided interpretation of the Israeli-Palestinian conflict," the ADL said in its statement. The occupation is at the center of the cycle of violence in the region, whether it is suicide bombings or the displacement caused by the occupation, and it impedes a peaceful solution to that conflict," the committee now selecting possible divestment targets said recently.
FOJ Note: Ironic is it not, that while the US Congress is waging economic warfare against the terrorist sponsoring States of Syria and Iran, the WCC is waging economic warfare against Israel in support of a budding terrorist State on the West Bank.
Arab Leader Reverses View of Iraq War
(Now sees it as catalyst for democracy across Mid-east)
Feb. 24….(WND) The leader of the Lebanese opposition, a sharp critic of Washington foreign policy, says he's changed his view of the U.S. war in Iraq, seeing it now as a catalyst for democratic change across the Arab world. Druze Muslim leader Walid Jumblatt, who is calling for an uprising against Lebanon's Syrian occupiers, is almost sounding like a neoconservative, says Washington Post columnist David Ignatius, who interviewed him in Beirut Monday. "It's strange for me to say it, but this process of change has started because of the American invasion of Iraq," Jumblatt told the Post columnist. "I was cynical about Iraq," Jumblatt said. "But when I saw the Iraqi people voting three weeks ago, 8 million of them, it was the start of a new Arab world." Jumblatt said this spark of democratic revolt is spreading. "The Syrian people, the Egyptian people, all say that something is changing," he said. "The Berlin Wall has fallen. We can see it." Jumblatt blamed the assassination of former Prime Minister Rafiq Hariri on Lebanese security officials backed by Syria. Jumblatt said Hariri told him in a meeting two weeks ago he felt they both were in danger. The Druze leader told WND he is calling for an "uprising for independence" demanding Damascus withdraw its nearly 30,000 troops from the country and urging the current pro-Syrian government to step down. "We ask all in Lebanon to claim independence from Syria peacefully and democratically," said Jumblatt.
Chirac Defies Bush on China Arm Sales
Feb. 24….(BBC) US President George W Bush voiced his "deep concern" about European plans to lift an arms embargo on China, putting him at odds with the French President Jacques Chirac. Chirac said it was "no longer justified" to have the arms embargo, and that Europe and the US should agree on conditions for lifting it. Earlier, Presient Bush warned that arms transfers to Beijing would "change the balance" of China-Taiwan relations. "There is deep concern in our country that a transfer of weapons would be a transfer of technology to China," Bush said. He voiced a willingness to consider safeguard clauses, but he hinted that the US Congress could still take action against any move by the Europeans. The EU imposed a ban on exports of military equipment to China in 1989, following the crackdown on democracy activists in Tiananmen Square. The Pentagon is worried that at some point it might be called upon to defend Taiwan from Chinese attack. In a positive signal for the White House, Chirac, a staunch opponent of the US-led invasion of Iraq, said France would join the NATO mission to train Iraqi forces. "Europe and the United States are true partners," he told the NATO summit, urging more dialogue. Bush said NATO was the "cornerstone" of the West's transatlantic relationship. There are 26 NATO member countries.
Putin Pledges To Combat Nuclear Terrorism
Feb. 24….(MSN) Seeking common ground amid sensitive differences on democracy, President Bush and Russian President Vladimir Putin agreed today on new efforts to keep nuclear arms away from terrorists as well as sovereign nations like Iran and North Korea. "We agreed that Iran should not have a nuclear weapon. I appreciate Vladimir's understanding on that," Bush said. "We agreed that North Korea should not have a nuclear weapon." As the leaders opened talks at a castle overlooking the city and the Danube River, aides inked an agreement designed to counter nuclear terrorism, in part by restricting the availability of shoulder-fired missiles capable of bringing down aircraft."We agreed to accelerate our work to protect nuclear weapons and materials both in our two nations and around the world," Bush said. Bush said the two discussed their differences, but stressed that countries in the 21st century will only be secure and prosperous if they have strong democracy and freedom. The two countries announced an agreement designed to restrict the availability of shoulder-fired missiles that could be used to bring down aircraft. Under the agreement, both nations would share information, take inventories of such weapons, destroy "excess and obsolete" ones, and coordinate efforts to keep them out of the hands of terrorists. The possession of the shoulder-fired missiles in the hands of criminals or terrorists pose a threat to both passenger and military aviation, a White House statement said. Approximately 1 million of these weapons have been produced worldwide, and thousands of them may now be in the hands of "non-state actors." For their part, Russian officials dislike what they see as US meddling in their internal affairs and in former Soviet republics where Moscow's influence is waning as some new leaders look westward. Putin has sent mixed signals, offering conciliatory talk aimed at boosting Russia's international standing and its chances for membership in the World Trade Organization, but at other times saying America has double standards on terrorism and is seeking to spread a dubious form of democracy.
FOJ Note: Democracy and Totalitarianism are continuing to contend for world supremacy. The Ten Kings of the Tribulation Era, will temporarily resolve this political debate, when they agree to convey world authority to the Antichrist. (Rev 17:12 And the ten horns which thou sawest are ten kings, which have received no kingdom as yet; but receive power as kings one hour with the beast.---Rev 17:17 For God hath put in their hearts to fulfil his will, and to agree, and give their kingdom unto the beast, until the words of God shall be fulfilled.)
Bush Says America and Europe Will Never be Divided
Feb. 22….(EU Observer) President Bush gave a conciliatory message Monday to European leaders who opposed the Iraq war by saying that "no passing disagreement of governments, no power on Earth will ever divide us." The President then called the alliance between Europe and North America "the main pillar of our security in a new century." Bush's visit to Europe highlights several complex issues that the US and Europe are facing. Among them: the nuclear ambitions of Iran and North Korea, Syria's role in the Middle East and renewed hopes for peace between Israelis and Palestinians. President Bush called peace in the Middle East "our greatest opportunity and our immediate goal." Bush said that "America supports Europe's democratic unity for the same reason we support the spread of democracy in the Middle East: because freedom leads to peace." "And America supports a strong Europe because we need a strong partner in the hard work of advancing freedom." Bush's use of the phrase "strong Europe" is particularly aimed at Chirac and Schroeder. Both want to increase Europe's clout by empowering the European Union. Chirac has called for a "multipolar" world that would limit the United States' influence. Schroeder said this month that dialogue with the United States about global security should shift from NATO to the EU, which could develop an independent military force. The economies of the EU's 25 members rival the USA's $11 trillion economy. In an interview Friday, a European reporter told Bush that "many in Europe are keen to see the EU become something of a counterbalance to America." Bush replied, "One should not fear a strong partner. One should welcome a strong partner, because the values are long-lasting and will endure."
Earthquake Rocks Central Iran

Feb. 22….(AP) A powerful earthquake flattened villages and collapsed mud-brick homes in central Iran on Tuesday, killing at least 270 people and injuring nearly 1,000. Officials warned the toll could rise to 350. The magnitude-6.4 quake was centered on the outskirts of Zarand, a town of about 15,000 people in Kerman province 600 miles southeast of Tehran, according to the seismological unit of Tehran University's Geophysics Institute. It struck the mountainous region at 5:55 a.m., damaging at least 40 villages with a total population of about 30,000 people, Iran is located on seismic fault lines and is prone to earthquakes. It experiences at least one slight earthquake every day on average. (The earthquake occurred only about 200 miles north of Bushehr, where Iran is building its nuclear facility)
Bush Calls for Territorially Contiguous Palestinian State

Feb. 22….(Jerusalem Post) US President George W. Bush, speaking in Brussels, repeated his stance that the future Palestine must be a democracy, and that Palestinian territory in the West Bank must be "contiguous, and that a state on scattered territories will not work." Peace between Israel and the Palestinians based on a two-state solution is now within reach, Bush said.
Israeli-Palestinian peace efforts and Palestinian reform could give momentum to changes throughout the Middle East, he said. He emphasized that the creation of a contiguous Palestinian State was essential for peace and again urged Israel to freeze settlement activity and help create a Palestinian democracy. Bush's call for a contiguous Palestinian State suggested Washington would be troubled if Palestinian areas were not linked and easily traversable. Bush described Middle East peace as Europe and America's "greatest opportunity and immediate goal." He devoted several minutes of his speech to prospects for Palestinian-Israel peace. His optimism, and declared US commitment to helping the process, was greeted with applause by his European audience. "After many false starts, and dashed hopes, and stolen lives, a settlement of the conflict between Israelis and Palestinians is now within reach," Bush said. "America and Europe have made a moral commitment: We will not stand by as another generation in the Holy Land grows up in an atmosphere of violence and hopelessness." Bush said the US and Europe shared the "strategic interest" of helping to resolve the Israeli-Palestinian conflict since doing so would "remove an unsettled grievance that is used to stir hatred and violence across the Middle East." Bush urged Syria to leave Lebanon, a called backed by Europe, and especially France. Washington ramped up its rhetoric for a Syrian pullout from Lebanon following the murder of former Lebanese Prime Minister Rafik Hariri, who was an advocate of a Lebanon free of Syrian forces and political control. Bush said a Syrian withdrawal before Lebanese parliamentary elections this spring would "be another milestone of liberty" in the Middle East.
Israel Must be Prepared for Air Strike on Iran
Feb. 22….(Ha Aretz) Israel Air Force Commander-in-Chief Major General Eliezer Shakedi said Monday that Israel must be prepared for an air strike on Iran in light of its nuclear activity. When asked whether Israel has a plan for the Iranian nuclear program, Shakedi replied, "You know that for obvious reasons, I won't say even a word." But when asked whether he was confident the air force could provide the answer to the Iranian threat, Shakedi replied, "I must be prepared for everything." The Israeli air force commander also discussed the fluid situation in neighboring Lebanon. The assassination of former Lebanese PM Rafik Hariri "can create a new picture in Lebanon," Shakedi said. With Syria, Hezbollah guerrillas and Hezbollah's Iranian benefactors all operating in Lebanon, "we understand who has interests" in Hariri being out of the picture, he said. Asked whether the IAF has changed its deployment since the assassination, he replied, "Of course we won't let the other side hit us." "We have a job to protect the citizens of Israel," Shakedi said. "I hope that there won't be a war, but you know, no one knows."
Lebanese Protestors Demand that 'Syria Get Out'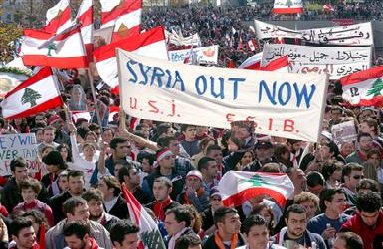 Feb. 21….(MSN) Tens of thousands of opposition supporters shouted insults at Syria and demanded the resignation of their pro-Syrian government in a Beirut demonstration Monday, marking a week since the assassination of former Prime Minister Rafik Hariri. Beating drums and waving Lebanese flags, those of their own parties and portraits of past leaders killed during the 1975-90 civil war, the protesters gathered at the site where Hariri was killed Feb. 14 in a bombing that the opposition blames on Damascus. Some in the crowd yelled "Syria out!" and "We don't want a parliament that acts as a doorkeeper for the Syrians," competing with loud insults shouted against Syrian President Bashar Assad. In Damascus, Arab League chief Amr Moussa said Syria will "soon" take steps to withdraw its army from Lebanese areas in accordance with a 1989 agreement. It was not clear whether that meant Syria would completely leave Lebanon as demanded by the international community. Moussa spoke after a meeting with Syrian President Bashar Assad. Syria itself has made no announcements about troop withdrawals. Protesters wore scarves of red and white, the colors of Lebanon's flag, which have become the symbol of the opposition's "independence uprising," described as a peaceful campaign to dislodge the pro-Syrian government and force the Syrian army out of Lebanon. Some protesters carried banners reading, "Independence," and chanted, "The government of puppets must fall" and "Enough blood, leave us alone." Many held pictures of Hariri and sang patriotic songs. Some protesters held a copy of the Quran in one hand and the cross in another hand to signify Muslim-Christian national unity. Hariri's killing shook Lebanon and sparked an outpouring of sympathy for the man credited with rebuilding the country from the destruction of civil war, cutting across the sectarian divide. Hariri was one of the architects of the 1989 Taif agreement that ended Lebanon's civil war, which started in 1975. It called for Syrian forces, which had entered Lebanon ostensibly to separate between the warring sides, to withdraw within two years to the eastern Bekaa Valley near the Syrian border. A total withdrawal was to be discussed between the Lebanese and Syrian governments at a later stage. Syrian forces have re-deployed several times since 2000, leaving Beirut and the coastline. Syria currently maintains about 15,000 troops in Lebanon. Syria's critics in Lebanon have said the withdrawals were tactical and demanded a total pullout and an end to Syrian military intelligence involvement in the country's politics.
Bush, in Brussels Issues Forceful Words to Iran, Syria
Feb. 21….(USA Today) President Bush, on a trip to thaw relations with Europe, prodded Russia not turn its back on democratic advances. He also demanded that Iran give up its nuclear ambitions and told Syria to withdraw its troops from Lebanon. "The world must not rest until there is a just and lasting resolution to this conflict," Bush said Monday in Brussels. Bush's speech, during his five-day trip to Belgium, Germany and Slovakia, was aimed at both US and European audiences. "In a new century, the alliance of America and Europe is the main pillar of our security," he said. He uses the word "alliance" 12 times in the speech to underscore his aim to repair relations with Europe that were frayed over the war in Iraq. But not all his speech was conciliatory. The president has been pushing Russian President Vladimir Putin, some say not strongly enough, to work toward, not away from, democratic reforms and transparency in government. "We recognize that reform will not happen overnight," Bush said, just three days before he meets with Putin in Slovakia. "We must always remind Russia that our alliance stands for a free press, a vital opposition, the sharing of power and the rule of law. The United States should place democratic reform at the heart of their dialogue with Russia." He also had direct words for Syria, calling on leaders in Damascus to withdraw its forces from Lebanon. As Bush spoke, thousands of opposition supporters in Beirut shouted insults at Syria and demanded the resignation of Lebanon's pro-Syrian government, marking a week since the assassination of Rafik Hariri, Lebanon's most prominent politician. "The Lebanese people have the right to be free, and the United States and Europe share an interest in an independent, democratic Lebanon," he said, adding that if Syrians stay out of Lebanon's parliamentary elections in the spring, the vote "can be another milestone of liberty." On Iran, Bush said the United States was working with European allies Britain, France and Germany in the "early stages of diplomacy." Bush did not, however, note that the United States is not fully backing the Europeans' approach to offer Iran economic and political incentives not to develop nuclear arms. "The results of this approach now depend largely on Iran," Bush said. "The time has arrived for the Iranian regime to listen to the Iranian people and respect their rights and join in the movement toward liberty that is taking place all around them." The president also had pointed advice for two pivotal US allies in the Middle East: Saudi Arabia and Egypt. "The government of Saudi Arabia can demonstrate its leadership in the region by expanding the role of its people in determining their future," Bush said, urging greater move toward giving Saudi more political freedom. "The great and proud nation of Egypt, which showed the way toward peace in the Middle East, can now show the way toward democracy in the Middle East," Bush said.
Even though the United States forged ahead with war in Iraq without the support of some of its European allies, Bush asked for help to build Iraq's democracy. "Some Europeans joined the fight to liberate Iraq, while others did not," Bush said. "All nations now have an interest in the success of a free and democratic Iraq, which will fight terror, which will be a beacon of freedom and which will be a source of true stability in the region." Belgium Prime Guy Verhofstadt, said that working to solve the long-running conflict between the Palestinians and Israelis creates an opportunity for the United States and Europe to forge future cooperation and "raise the flag of a free Palestine." "The world must not rest until there is a just and lasting resolution to this conflict," Bush said. Bush said a future Palestinian State must be "contiguous." "A state on scattered territories will not work," he said. This appeared to signal Israeli Prime Minister Ariel Sharon that he may have to be more forthcoming on giving up Israeli settlements in the West Bank when peace negotiations on a Palestinian state reach their final stage.
Israel Pushes US on Iranian Nuke Soultion
Feb. 21….(Washington Times) Israel has been privately pressing Washington to solve the Iran nuclear problem in a hint that Tel Aviv may be left with no choice but to bomb Iranian nuclear facilities, defense officials say. Military analysts say the United States "would have no problem" taking out Iran's major nuclear facilities should it decide to launch a pre-emptive strike. The defense officials say Israel isn't putting its concerns about Iran in the form of a "you attack or we do" ultimatum to the United States. But they said senior Israeli officials often have raised the Iran problem during visits to Washington in the past 18 months. Tel Aviv's concerns are one reason the Bush Administration in the past year has ratcheted up its rhetoric and its intelligence collection on Iran's clandestine program to build nuclear weapons, including surveillance flights by unmanned US planes. The officials said they think President Bush, who has adopted a policy of pre-emption to prevent terrorists from obtaining atomic arms, is on a course to take military action before he leaves office in 2009. One US option is air strikes, unless Iran's Islamist rulers renounce nuclear weapons and allow intrusive inspections. The United States has designated Iran as a terror-sponsoring state, and Mr. Bush has labeled it part of an "axis of evil." "He doesn't have any choice," said retired Air Force Lt. Gen. Thomas McInerney, a military analyst. "He understands [the Iranians] are the king of terror right now. They are striving for nuclear weapons that can get into the hands of terrorists, and then it's too late." The Washington Times reported in 2003 that Israel had developed options for bombing Iran's nuclear sites. Members of the Israeli parliament publicly have called for pre-emptive strikes now, which Tel Aviv used in 1981 to take out a nuclear reactor being built for Saddam Hussein's Iraq. But the greater distances and the more mature Iranian program mean any Israeli mission would be far tougher than the one-target strike on the Osiraq plant. Iran has developed a ballistic missile, the Shahab III, capable of reaching Israel. A secret Defense Intelligence Agency (DIA) report, a copy of which was obtained by The Times, estimates Iran will have nuclear weapons before the end of this decade. Israel has a nuclear arsenal of about 85 warheads, the DIA states. Vice President Dick Cheney raised the Israeli attack scenario on Inauguration Day back in January during an interview with radio host Don Imus. Said Mr. Cheney: "One of the concerns people have is that Israel might do it without being asked, that if, in fact, the Israelis became convinced the Iranians had significant nuclear capability, given the fact that Iran has a stated policy that their objective is the destruction of Israel, the Israelis might well decide to act first, and let the rest of the world worry about cleaning up the diplomatic mess afterwards." The vice president added, "You look around the world at potential trouble spots, Iran is right at the top of the list." The United States' increased intelligence collection includes the CIA's operating Predator spy drones over suspected nuclear sites for the past year, an operation first reported by The Washington Post. A defense source said the Predator has special sensors that analyze the air to detect radiation levels consistent with uranium enrichment. The US intelligence community does not think Iran has produced a nuclear weapon because it lacks the needed fissile material, either weapons-grade uranium or plutonium. Iran has at least three sites, including a plant at Bushehr on the Persian Gulf for which Russia is supplying a light-water reactor, which could produce fissile material. The plant surely would be on a US target list along with perhaps a dozen other sites thought to be involved in building a bomb. "Iran is likely continuing nuclear weapon-related endeavors in an effort to become the dominant regional power and deter what it perceives as the potential for U.S. or Israeli attacks," Vice Adm. Lowell E. Jacoby, director of the DIA, told the Senate Select Committee on Intelligence last week. "We judge Iran is devoting significant resources to its weapons of mass destruction and ballistic missile programs. Unless constrained by a nuclear non-proliferation agreement, Tehran probably will have the ability to produce nuclear weapons early in the next decade." The earlier DIA written report said Iran would have a nuclear capability before the end of this decade. Gen. McInerney, a Vietnam War fighter pilot, said B-2 stealth bombers, armed with the huge penetrating bombs commonly called "bunker busters," would be able to pierce Iran's aging air defenses and hit 20 or more sites. "They have not updated that very, very old air defense system," he said. General McInerney said that as a colonel in 1977 he went to Iran and conducted a war exercise against various Iranian targets during the rule of the United States' ally, the Shah of Iran. "They were not very good then, and they have clearly just gotten worse," he said. "I can tell you from my personal experience we would have no problem there." John Pike, director of GlobalSecurity.org, said that any mission likely would include F-117 strike fighters, as well as B-2s, prepositioned at airfields in the region. "As some of the facilities are still under construction and not yet active, the United States may have a window of opportunity that would allow it to destroy those locations without causing the environmental problems associated with the destruction of an active nuclear reactor," Mr. Pike said. "The window of opportunity for disarming strikes against Iran will begin to close in 2005." For now, Mr. Bush is allowing European nations to spearhead negotiations with Iran's mullahs, and for the International Atomic Energy Agency to handle inspections. The President told European journalists on Friday, "First of all, you never want a president to say never, but military action is certainly not, is never the president's first choice." He said: "I hear all these rumors about military attacks, and it's just not the truth. We want diplomacy to work." Lt. Gen. Lance Smith, the deputy commander of US Central Command, which runs military operations in the Persian Gulf region, told reporters earlier this month that the command routinely is updating war plans, including the one for Iran. "We are in that process, that normal process, of updating our war plans," he said.
Lebanon Is on the Brink, Syria Begins Arming its Supporters
Feb. 21….(Debka) Lebanon's political climate has been charged with latent violence since the assassination Monday, February 14, of Lebanese former prime minister Rafiq Hariri, and his funeral two days later. Sparks began flying when the opposition unveiled their "peaceful democratic uprising for independence" Friday, February 18, and, as revealed by DEBKAfile's intelligence sources, Syrian forces began distributing weapons to groups supporting Damascus and the 1.4 million expatriate laborers in the country. The resignations of President Emil Lahoude and the Karame government were forcefully demanded by the opposition leader, Walid Jumblatt, head of the Lebanese Druses who speaks for a rare multiethnic coalition made up of his own community, Christian factions endorsed by Maronite Catholic Archbishop Nasrallah Sfeir, and Sunni Muslims led by the dead billionaire's oldest son, Bahaa Hariri, with the blessing of the Sunni Muslim Mufti of Lebanon. Saturday, February 19, Omar Karame, who succeeded Rafiq Hariri as prime minister, accused this group of attempting a coup d'etat. The belligerent Hizballah leader Hassan Nasrallah warned that "popular agitation against Syria's grip on the country following the killing of Rafiq Hariri could plunge Lebanon into civil war again. Backed solidly from Damascus and Tehran, he exhorted the 100,000 Shiites massed in Beirut to mark the Ashura festival not to forget the real enemy. "Death to Israel!" they roared after him. All three uprisings launched in the Middle East in five years were steeped in violence. In 1991, after the first Gulf War, Iraq's Shiites rose up against the Saddam regime. Thousands were savagely mowed down by his tanks. Syria's Kurdish community challenged Assad in 2003, only to lose thousands of dead and many more thrown into Syria's prisons. The Palestinian confrontation with Israel has left 5,000 Palestinian and 1,300 Israelis dead since 2000. The sparks will fly in earnest when government and Syrians move into aggressive mode to crush the opposition, which will become increasingly inflamed by multiplying leads to Syria and its Lebanese minions as Hariri's assassins. Our sources report that US, French and Israeli intelligence have already gathered solid evidence that General Rostum Ghazallah of Syrian military intelligence orchestrated the murder on orders from Damascus with the aid of Lebanese general intelligence and its chief General Jamil al-Sayad. The Damascus-backed government in Beirut and its masters has no intention of going quietly. Bashar Assad desperately needs the political and economic benefits he extorts from Lebanon to prop up his regime. Monday, February 21, presidents George W. Bush and Jacques Chirac meet in Paris. With Lebanon at the forefront of their agenda, they will have to look hard at some tough questions. How to handle the situation if Assad orders his Syrian troops in Lebanon to march on Beirut in defense of his puppet government? And worse still, what if the full weight of the Syrian army is sent across the border to squash the uprising? Will the two Western leaders dispatch a joint US-French force to repulse the Syrian onslaught? If they did, it would be the most drastic event to hit the Middle East since the March 2003 US-led invasion of Iraq. The second American invasion of an Arab land might this time be partnered or endorsed by a European power. To force the hands of the American and French presidents, the leaders of the Lebanese uprising are preparing a spectacular event to coincide with their summit.
American Foreign Policy Plays Into the Hands of End-time Prophecy
Feb. 21….(World Watch) Iran and Syria are tremendous hot spots for United States foreign policy as negotiations gear up to establish a Palestinian state on Israel's land. Both nations, along with their Palestinian allies, support terrorism and deny outright the right of Israel to exist, potentially bringing entire groups of nations into a conflict that threatens the long-term existence of the US. Behind the conflict is the specter of both Russia and China. These two nations, more than any others, represent a clear and present danger to the United States; yet the Bush Administration and the institutional diplomats at the US State Department appear oblivious. Suspected of continual aiding and abetting terrorist organizational command and control against US and coalition forces in Iraq, Syria is an excellent example. Therefore, the US has pressured Syria to cooperate in the war on terror. Sanctions have been unilaterally applied. Pressure exerted on allies to support American foreign policy objectives with Syria has proven ineffective. The European Union, for example, has embraced Syria as a trading partner and believes that through special treatment (many would call it appeasement), the Syrian question can be managed. The assassination of long-time Lebanese politician and billionaire, Rafik Hariri, who died in a car bomb attack earlier this week, was the apparent last straw. The Bush Administration recalled its ambassador to Syria and is considering other diplomatic steps. But here is where the Bush White House seems to be missing the point: The President, as well as his press secretary and all the public affairs folk at the State Department, insists that "Syria's out of step with the progress being made in a greater Middle East, democracy's on the move and this is a country that isn't moving with the democratic movement." Press Secretary Scott McClellan told reporters Thursday that Syria and Iran do not have a problem with the United States: Their problem is with the international community and not upholding their commitments to the nations of the world. Trouble is, Syria is not receiving signals from the European Community or from military allies such as Russia and China that anything is terribly amiss. Perhaps it is the Bush Administration that's misreading the problem. Russian President Vladimir Putin has notified Israel that Russia intends to go ahead with sophisticated missile sales to Syria. Mr. Putin says he will not sell Syria the shoulder-fired missiles that are the preference of Hezbollah and al Qaeda terrorists. And he says he has assurances from Syria that the missiles will not fall into the hands of terrorists. The United States and Israel appear to be the only nations committed to the concept that Syria is a state sponsor of terrorism. Discussing the matter with a representative of the State Department, KIN asked why Russia, which is behind both the disruption with Iran as well as with Syria, gets a pass. The answer was that every nation is considered on its own merits and its own contribution to the objectives and goals of US foreign policy. Russia, it appears, has favor with the US because it cooperates with the US counter-terrorism plans and is a strong trading partner, so much so, that the US may waive legal requirements to sanction Russia if it sells the missiles to Syria, because it is in the best interest of the US to do so. China, which has embarked on such a massive military build-up funded by the trade surplus with the United States, is also a strong trading partner of the US and helps the US with its counter-terrorism efforts. In fact, the US has relied heavily on China to keep North Korea in line with regard to its rogue nuclear program. On the surface, at least, China has assisted the Bush Administration by urging North Korea to do the right thing, although unsuccessfully. But it appears that China has also been given a pass on assisting terrorist-sponsoring Iran and Syria with missile technology and weapons materials. Yet, before the open hearing of the Senate Intelligence Committee, Central Intelligence Agency Director Porter Goss named Russia and China almost in the same breath with al Qaeda in his testimony of the state of world affairs. He said that "Improved Chinese capabilities threaten American forces" and that "Russia remains an important source of weapons technology, material and components for other nations. The vulnerability of Russian WMD materials and technology to theft or diversion is a continuing concern." Nevertheless, China and Russia are not the targets of US displeasure with regard to Iran and Syria. The White House pays little public attention to the weapons deals proffered by China and Russia to countries in the Middle East. Ezekiel says that Russia and Iran, along with Libya, Ethiopia and the other nations of the world, will come against Israel. There is no mention of the United States or any other great Western nation standing beside Israel in this massive onslaught. Could it be that the blind eye cast toward Russian and Chinese activities to prop up Israel's enemies by this current Administration will result in the downfall of the United States? The US seems oblivious to the world opinion against her. The European Union bucks US foreign policy in dealing with terrorist states and sponsors of terrorism such as Iran, Saddam Hussein's Iraq, the Palestinians, Syria and others. Russia and China are moving rapidly into position as powerhouses in the Middle East and East Asia, openly supporting state sponsors of terror, yet the United States does nothing to thwart their efforts except after the fact. For example, the world community knows Iran is building a nuclear weapons program. It has Russian engineers helping to build missile systems capable of carrying nuclear warheads. Chinese missile technology is used to give Iran an extra edge in time and materials. The nuclear plants Russia is building for Iran make it much easier to process weapons grade uranium. Yet, the US still relies on the UN International Atomic Energy Agency to police Iran's nuclear program. The IAEA has said that unless it sees physical evidence of weapons and delivery systems being integrated, it considers there to be no weapons program in place. The recent announcement of Russian missile sales to Syria is another example. The State Department has refused to publicly discuss sanctions against either country because "they are still negotiating, and no lethal military equipment has yet been exchanged." The US will wait until after the fact before any action is taken, ruling out preventative measures. Since Russia and China are assisting the US in other areas in line with American foreign policy objectives, they are afforded ample opportunity to build lethal alliances and prop up terrorism without US reprisal. The cunning of China and Russia may well be exposed when the US finds itself in the untenable position of facing an expanded nuclear club that includes North Korea, Iran, Pakistan, Russia, China and quite possibly Egypt and Syria, all pointing toward Israel and points west.
Sharon Says Jerusalem is Non-Negotiable
Feb. 21….(Jerusalem Post) Jerusalem will remain united as the eternal capital of the Jewish people. It will not be divided," Prime Minister Ariel Sharon pledged on Monday at the conclusion of a meeting with President Moshe Katsav. Sharon, who was responding to a journalist's question, said that he was aware that there were rumors circulating that following disengagement from Gaza, Jerusalem was next in line for withdrawal.
"There is no foundation for such rumors," he asserted. "There is absolutely no truth to them. Jerusalem has been the capital of the Jewish people for 3,007 years; it is a united capital and it will not be divided." Sharon said that he has consistently made this clear to world leaders who had visited Israel, and he had reiterated it during his own visits abroad. Sharon was responding in part to comments made earlier Monday by MK Uzi Landau, leader of the so-called Likud rebels, who accused Sharon of softening too much in his gestures towards the Palestinian Authority, including the disengagement plan. Asked what would happen if peace was not forthcoming after completion of the disengagement plan and if Palestinians would launch a third intifada, Sharon said that Israel is not powerless and that Israeli security forces have many achievements to their credit. Sharon said he had told every world leader he had met with, as well as the Palestinian leadership, that while Israel is ready to make painful compromises, such concessions would not be made at the expense of the security of the people of state of Israel. Israel would not be willing to take dictations from others regarding the country's security needs, he said. "We will not compromise on security, not today nor in future," said Sharon.
WEEK OF FEBRUARY 14 THROUGH FEBRUARY 20
Putin Denies Iran is Building Nukes
Feb. 18….(My Way) President Vladimir Putin said today that he was convinced Iran was not trying to build a nuclear weapon and that Russia would press ahead with nuclear cooperation with the Islamic Republic. Putin's defense of Iran, where Russia is building a nuclear power plant, comes in the face of US concerns that Tehran could be using Russian know-how to covertly build a nuclear weapon. "The latest steps by Iran convince Russia that Iran indeed does not intend to produce nuclear weapons and we will continue to develop relations in all sectors, including peaceful atomic energy," Putin told Iran's top nuclear negotiator, Hassan Rohani. "We hope Iran will strictly stick to all agreements with Russia or the international community," Putin said at the start of talks with Rohani at the Kremlin. The United States has criticized Moscow for pressing ahead with construction of a 1,000-megawatt reactor at Bushehr in southern Iran. Russia's top nuclear officials are due to travel to Iran next week to finalize the final technicalities of its start-up later this year. The question of Russia's nuclear ties with Iran is certain to figure in a summit between Putin and President Bush in the Slovak capital Bratislava on Feb. 24. Bush said Thursday he would use diplomacy to convince Iran it would be unacceptable to develop nuclear weapons. He said he would use his trip next week to Europe to develop "joint" strategies to deal with Tehran's nuclear ambitions. Iran has denied it seeks nuclear weapons and says it wants atomic technology solely to generate electricity. Rohani, addressing Putin, said Moscow could play a significant role in Iran's talks with Britain, France and Germany, the EU states taking the lead in the search for a diplomatic solution. "We think that Russia's role can be useful in this process," he said. "Under current international circumstances, development of ties with Russia is in the interests of both our countries and will be a factor of stability in the region," he said.
Japan to Join US Policy on Taiwan
Feb. 18….(Washington Post) The United States and Japan will declare Saturday for the first time in a joint agreement that Taiwan is a mutual security concern, according to a draft of the document. Analysts called the move a demonstration of Japan's willingness to confront the rapidly growing might of China. The United States has long focused attention on the Chinese government's threat to use military force against Taiwan if the island, which China views as a renegade province, moves toward independence. Until now, Japan has been content to let the United States bear the brunt of Beijing's displeasure. But in the most significant alteration since 1996 to the US-Japan Security Alliance, which remains the cornerstone of US interests in East Asia, Japan will join the Bush Administration in identifying security in the Taiwan Strait as a "common strategic objective." Set for release after a meeting of Secretary of State Condoleezza Rice, Defense Secretary Donald H. Rumsfeld and their Japanese counterparts in Washington on Saturday, the revisions will also call for Japan to take a greater role in conjunction with US forces both in Asia and beyond, according to a draft copy obtained by The Washington Post. Although it is likely to anger China, the move is being welcomed by Taiwan, which, despite having been occupied by Japan from 1895 to 1945, maintains an empathy for the Japanese that is rare in Asia. Taiwan's special representative to Japan, which since 1972 has had formal relations with China but not with Taiwan. "We're relieved that Japan has become more assertive." Japan's constitution, drafted by the United States at the end of World War II, prohibits the country from going to war. But there is strong pressure to revise the constitution so that Japan's Self-Defense Forces can act as a real military. Along with the threat of North Korea, which declared itself a nuclear-armed nation last week, the rise of China has become the primary concern fueling Japan's shift away from nearly six decades of pacifism. Japan has generally been inclined to sidestep conflict with China. But in recent years, China has dramatically modernized its military while expanding its sphere of influence in Asia on the strength of its booming economy. Last year, China surpassed the United States as Japan's number one trading partner, while massive investments by Japanese companies in search of cheaper labor and larger markets have become a driving factor behind China's blistering 9.5-percent annual growth rate. China andJapan have also battled over the route of a trans-Siberian pipeline for Russian oil and territorial rights in an East China Sea island chain known as the Senkaku in Japanese and the Diaoyu in Chinese. Makoto Yamazaki, director of the Japan Youth Association says, "It is time Japan began protecting what is ours." "If our sovereignty is being threatened, we have a right to defend ourselves." The idea of Japanese military cooperation with the United States in the sea lanes north of Taiwan has particularly rankled Chinese diplomatic and military planners because it goes to the heart of their Taiwan strategy. On the one hand, diplomats and other specialists say, the Chinese military has embarked on a buildup of short-range missiles, naval vessels and electronics-aided aircraft to enable it to threaten the island militarily if President Chen Shui-bian should take what China considers an unacceptably decisive step toward independence. On the other hand, they added, China has set out to improve and extend its maritime and airborne might in the sea lanes north of Taiwan, with the goal of forcing the United States to think twice about military intervention. Within the next five years, according to US estimates, the Chinese navy is expected to have more than 20 modern attack submarines, including half a dozen nuclear-powered vessels. Japanese officials said that the official position advocating a peaceful resolution of the Taiwan issue has not changed. They said the constitution limits the level of assistance that Japan could offer in the event of a US confrontation with China over Taiwan. But the joint statement on Saturday could help lay the groundwork for the Japanese to extend as much cooperation as they legally can, including logistical support such as transportation and medical rescue operations behind the lines of combat, officials said. "We consider China a friendly country, but it is also an unpredictable country," a senior Japanese government official said. "If it takes aggressive action, Japan cannot just stand by and watch."
Syria-Iran Courting Saudi Arabia to Form Coalition Against US
Feb. 18….(FOJ) After announcing a mutual defense pact with Iran this week to join forces to counter US interests in the Mid-east region, Syria announced today that is lobbying Saudi Arabia for further support against the US. Saudi Arabia is already looking to sell more of its oil to China, and is entertaining Russian overtures for the acquisition of more military hardware. It is obvious to the trained geo-political eye that both Russia and China are making multi-pronged strategic moves with many Arab countries to destabilize the US predominance in the region and to use that counter balance to offset the American support for Israel, as the Quartet begins to focus on the so-called Peace Roadmap. Russia and China each view the Roadmap as a means to eradicate the US superpower status in the region.
Quotation by President Bush on Iran and Israel
Feb. 18….(FOJ) When asked how US would react if Israel attacked nuclear-armed Iran, President Bush responded thusly: "We are trying to solve the problem diplomatically. But if I was Israel's leader and heard the ayatollahs' statements about destroying Israel, I would be concerned too." Israel is our ally and we will support Israel if its security is threatened. We hope to develop with Europe and Israel a strategy for this issue. President Bush added: I would like to see progress on a democratic Palestinian State so that there will be peace with Israel.
CIA Issues Warning on China's Military Efforts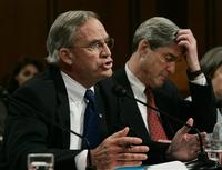 Feb. 18….(by Edward Alden in Washington) The director of the US Central Intelligence Agency has warned that China's military modernization is tilting the balance of power in the Taiwan Strait and increasing the threat to US forces in the region. Delivering the agency's annual assessment of worldwide threats on Wednesday, Porter Goss, a former Republican congressman who was named in September to head the CIA, dropped any mention of the co-operative elements of the US-China relationship that characterized recent CIA statements. Instead, he said China was making determined military and diplomatic efforts to "counter what it sees as US efforts to contain or encircle China". Mr. Goss's statements on China were a small part of testimony that highlighted the threat Islamic terrorism poses to the US and emphasized concerns over Iran and North Korea. He has also said that he wants to refocus the agency on its traditional mission of assessing threats and avoid statements that could be interpreted as setting US policy. But the statement on China indicated the CIA is paying growing attention to what it considers potential military threats amid China's growing economic ties with its neighbors and the US. Mr. Goss referred to US concerns over the increase in Chinese ballistic missiles deployed across the Taiwan Strait and the improvements in China's nuclear and conventional capabilities. The change in tone was notable given US concerns over Europe's plan to end its embargo on arms sales to China. Experts on China said that, while warnings about China's military capabilities were not new, the CIA had in the past underscored the co-operation between the US and China. In testimony last year, George Tenet, former CIA head, praised China for co-operation in the war on terrorism and for its participation in the nuclear talks with North Korea. In 2003, Mr. Tenet described US-Taiwan relations as relatively placid and said China was trying to assert its influence through "economic growth and Chinese integration into the global economy.
The director of the US Central Intelligence Agency has warned that China's military modernisation is tilting the balance of power in the Taiwan Strait and increasing the threat to US forces in the region. Delivering the agency's annual assessment of worldwide threats on Wednesday, Porter Goss, a former Republican congressman who was named in September to head the CIA, dropped any mention of the co-operative elements of the US-China relationship that characterised recent CIA statements. Instead, he said China was making determined military and diplomatic efforts to "counter what it sees as US efforts to contain or encircle China". Mr Goss's statements on China were a small part of testimony that highlighted the threat Islamic terrorism poses to the US and emphasised concerns over Iran and North Korea. He has also said that he wants to refocus the agency on its traditional mission of assessing threats and avoid statements that could be interpreted as setting US policy.
But the statement on China indicated the CIA is paying growing attention to what it considers potential military threats amid China's growing economic ties with its neighbours and the US. Mr Goss referred to US concerns over the increase in Chinese ballistic missiles deployed across the Taiwan Strait and the improvements in China's nuclear and conventional capabilities. The change in tone was notable given US concerns over Europe's plan to end its embargo on arms sales to China. Experts on China said that, while warnings about China's military capabilities were not new, the CIA had in the past underscored the co-operation between the US and China. In testimony last year, George Tenet, former CIA head, praised China for co-operation in the war on terrorism and for its participation in the nuclear talks with North Korea. In 2003, Mr Tenet described US-Taiwan relations as relatively placid and said China was trying to assert its influence through "economic growth and Chinese integration into the global economy". James Lilley, a former US ambassador to China, said that, while it was appropriate for the CIA to focus on longer-term threats, the growing economic ties between China and Taiwan were making conflict less likely.
US Closely Watching Russia, Syria Missile Exchange; Sanctions Possible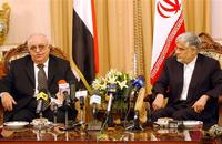 Feb. 17….(By Bill Wilson) The United States is closely watching the developing missile exchange between Syria and Russia, which are still in negotiations, but sanctions are possible against both nations if "lethal military equipment" is transferred to Syria, a state-sponsor of terrorism," according to Edgar Vasquez, spokesman for the US Department of State. "As yet no sanctioned transfer has taken place because the parties are still negotiating, but lethal military equipment exchanging hands could trigger sanctions," Vasquez told KIN. Vasquez said that if Russia transferred missiles to Syria sanctions could possibly be leveled at both countries. But, he said, the law also provides a discretionary waiver if it is in the best national interest of the US to do so. Russia has been tied recently to assisting both Syria and Iran in building up weapons capability, both countries are considered state sponsors of terrorism by the US government. Russia and Syria are negotiating a military alliance and Russia has been supplying Iran with both nuclear technology and assistance on missile design. (FOJ Note: And reports from MENL today reveal that Russia is also preparing to sell Saudi Arabia various multiple weapons systems) The US State Department's hands are tied somewhat because unless an actual lethal weapons transfer can be proven, then no sanctions can be considered. Recently, Mohamed ElBaradei, head of the United Nations International Atomic Energy Agency, said that unless he sees that Iran has converted nuclear ingredients to a nuclear weapon or has developed a missile system capable of delivering a nuclear warhead, then he does not consider that Iran has a nuclear weapons program. This approach toward diplomacy allows nations such as Russia and China pretty much free reign to support the enemies of the United States through puppet regimes such as Syria and Iran. The general disposition of both Russia and China toward the US with cooperation on the North Korean nuclear situation, trade with the US, and general cooperation on counter-terrorism measures makes it difficult to sanction these nations although they are assisting and propping up state sponsors of terror. Members of the Bush Administration seem reluctant to discuss openly the double standard for large trading partners with formidable militaries such as China and Russia as compared with developing, but disruptive rogue nations such as Iran and Syria. Perhaps the US is in a difficult situation. The Administration is trying to keep open and positive relations with China and Russia. And these countries are using the good will of the US to hold the world superpower at bay, while they attempt to counterbalance the US by aligning with and arming nations hostile to the US and its policy objectives in the Middle East. Both China and Russia appear to be making a play in the Middle East with Arab nations hostile to Israel while at the same time by placating both the US and Israel through strengthening trade relations and minimal diplomatic cooperation where it is in their interests. The big question is, will the US wake up one day and find that it has been outflanked by a ruthless and skillful Russia or China?
Russia is Challenging US in Mid-East
(Syria and Iran Form Defense Pact)
Feb. 17….(Koenig International) Within hours this week Russia, Syria and Iran embarked on a landmark strategy to isolate Israel and to challenge United States Middle East foreign policy. Russia announced that it will sell sophisticated missiles to Syria, which have the ability to reach deep into the heart of Israel, and Iran and Syria unveiled intentions to present a united front against Western aggressors such as the United States and Israel, events both that bring into clearer focus end time prophecies in Ezekiel that point to a large military confrontation against Israel by Russia, Persia and other nations of the Middle East Iran and Syria, who both are facing pressure from the United States, said Wednesday they will form a "united front" to confront possible threats against them, state-run television reported. "In view of the special conditions faced by Syria, Iran will transfer its experience, especially concerning sanctions, to Syria," Mohammad Reza Aref, Iran's first vice president, was quoted as saying after meeting Syrian Prime Minister Mohammad Naji Otari. "At this sensitive point, the two countries require a united front due to numerous challenges." Otari concurred, saying, "The challenges we face in Syria and Iran require us to be in one front to confront all the challenges imposed (on us) by others." The report did not specifically mention the challenges, but both countries are under US economic sanctions and the targets of intense American pressure. Iran, which President Bush had labeled an "axis of evil" with North Korea and prewar Iraq, was named an "outpost of tyranny" last month by Secretary of State Condoleezza Rice.
Jewish Sanhedrin is Reconstituted
Feb. 17….(excerpt from Hal Lindsay) Two remarkable developments took place recently that are extremely relevant to students of Bible prophecy. For the first time in 1,600 years, the Israeli Sanhedrin was re-established. It occurred in Tiberius, the site of the Sanhedrin's last meeting in AD 425. The Sanhedrin, a religious assembly that convened in one of the Holy Temple chambers in Jerusalem [before AD 70], comprised 71 sages and existed during the Tannaitic period, from several decades before the Common Era until roughly 425CE. These religious authorities believe it was necessary to re-establish the Sanhedrin because only this properly ordained body of sages can authenticate a Messiah when he comes. There is a growing expectation of the long-awaited Messiah to appear among devout Jews. The rebirth of the Jewish state and recapture of Jerusalem has increasingly influenced this conviction. On Feb. 9, just a few weeks after the Sanhedrin's re-establishment, another enormously important development took place. The religious sages began to consider the rebuilding of the Temple and reinstitution of ancient animal sacrifices as prescribed in the Law of Moses. The first step toward facilitating this monumental endeavor was to seek to determine the exact location of the Temple's foundation. Sanhedrin spokesman Rabbi Chaim Richman told Arutz-7:
It is appropriate that the Sanhedrin convened to discuss this lofty matter of the Temple's location this week ... the Sanhedrin continues to move toward strengthening the nation of Israel. As all these things happen all around us, the Sanhedrin is researching ways to renew the deepest roots of our faith – to renew Temple service, reunite Jewish legal tradition and inspire the Jewish people to aspire to greatness. Our people have one path before us, and we will continue to march toward our destiny.
Sanhedrin member Rabbi Yisrael Ariel is the most ardent believer that the Temple is to be rebuilt in this generation. He is the former Yeshiva head, founder of the Temple Institute, and one of the paratroopers who took part in the 1967 liberation of the Temple Mount. He said:
People today ask, "Who are we in this generation to even consider building the Temple?" But in this week's Torah portion we see that the commandment to build a Temple was given to Jews who had just sinned and committed idolatry in the Sin of the Golden Calf. The fact is that what God requires in this world is for regular people to do their best. That is what we are trying to do.
The fact that a re-established Sanhedrin is now considering the rebuilding of the Temple after 2,000 years is extremely important to students of Bible prophecy. I believe that we are very near the final climactic events that end with the Second Coming of Christ.





Iran & Syrian Missiles Targeting US Interests

Feb. 16….(MENL) Iran and Syria have acquired the missile capability to target US interests in the Middle East. A senior U.S. official said Iran and Syria have developed ballistic missiles that can destroy US targets in Iraq as well as in nations aligned with Washington. The official said both countries have received significant assistance from North Korea, which has sought to sell complete missile systems to the Middle East. "Iran and Syria can currently reach the territory of US friends and allies with their ballistic missiles," Assistant Secretary of State for Arms Control Stephen Rademaker said. Rademaker told a missile defense conference by the Washington-based American Foreign Policy Council that Iran was developing space launch vehicles as a building block for an intercontinental ballistic missile. He said an ICBM could be completed within a few years. Russia and Syria are presently finishing a deal for Syria to gain so-called Super weapons, as Assad continues shopping in Moscow for Russian missiles.

FOJ Note: Iran and Syria have just announced that the two countries will join forces to oppose US interests in the Middle East region, and that they will form a mutual defense pact in the event that either nation is attacked. Earlier this morning, an unknown aircraft reportedly fired a missile today in an Iranian province that maintains a large nuclear plant suspected by the US of producing illicit nuclear materials. The US has been conducting routine drone surveillance of Iran's suspected nuclear sites. Israel has denied it was involved in the suspicious blast. US Vice President Dick Cheney said last month, that if the Israelis become convinced the Iranians had developed a significant nuclear capability, and given the fact that Iran has a stated policy that their objective is the destruction of Israel, the Israelis might well decide to act first and let the rest of the world worry about cleaning up the diplomatic mess afterwards."

Putin to Sharon: Russia Will Sell Anti-aircraft Missiles to Syria

Feb. 16….(Ha Aretz) Prime Minister Ariel Sharon received a letter Tuesday from Russian President Vladimir Putin, informing him of Russia's decision to go ahead with the sale of advanced anti-aircraft missiles to Syria.
Israel has been waging a diplomatic battle against the deal; Sharon wrote Putin that the missiles could undermine Israel's security as the missiles could "leak" to Hezbollah and other terror groups. Putin told Sharon in the letter that the weapons were not shoulder-missiles favored by the terror organizations, but rather they would be mounted on vehicles, and therefore they would not endanger Israel. Putin said Syria could oversee the placement of the missiles so as not to upset the balance of power in the area. (Oh what a relief that is) The European Union is scheduled to meet today in Brussels to discuss Israel's request to place Hezbollah on the European list of terror organizations. The meeting comes in the wake of wide-ranging diplomatic efforts by Israel over the past few weeks, including the publicizing of statements by senior Palestinians on the danger represented by Hezbollah. Israel based its request to the EU on the threat both to itself and to the Palestinian Authority from Hezbollah's initiating and financing of terror activities in the territories. The French are the main stumbling block to an affirmative response to Israel's request. In talks with Foreign Minister Silvan Shalom on Monday, French President Jacque Chirac reiterated France's objection to adding Hezbollah to the list.

War Clouds Forming in Iran

Feb. 16….(World Net Daily) Washington arrives at work this morning as a report breaks that an unknown airplane fired a missile in the outskirts of Dailam in the Bushehr province, near the nuclear reactor just completed for the Iranians by the Russians. Israel denies any involvement in an attack. What's happening? A "shot across the bow" fired by the US or Israel despite denials? A false report generated by the mullahs to win sympathy for their posturing as victims of another US-led pre-emptive war? In the first minutes after the report, the only clear conclusion is that the world is on edge anticipating war in Iran. An attack by Israel is the exact scenario warned by no one less than Vice President Cheney, clearly signaling to the mullahs that the US and Israel are serious. Yesterday, Silvan Shalom, Israel's foreign minister told a London audience that the mullahs were six months away from having an atomic bomb, not six years, six months. The question is not if the Iranians will have a nuclear bomb in 2009, 10 or 11," Shalom said. "We believe that in six months from today they will end all tests and experiments," that the "nightmare scenario" would be on the West by the end of this summer. Most likely, Secretary of State Condi Rice let the Europeans know in words of one syllable that the US was in no mood to accept another bogus agreement which in reality was a formula for the mullahs to cheat and lie. The mullahs believe enriching uranium is within their rights as a nation. Truly, the mullahs believe having atomic weapons also falls within that right, no matter what they say to cover their positions. The mullahs in the final

analysis are terrorists and terrorists lie by nature. The other signs of war are clear in Lebanon, where Former Lebanese Prime Minister Rafik Hariri was assassinated by a massive car bomb in Beruit and the US pulled its ambassador out of Syria. The mullahs have sworn death to Israel, and they mean it. Tehran has no intention of releasing the Syrian hold on Lebanon or relinquishing their murderous direction of Hezbollah. A newly announced Syrian-Iranian alliance is the not-so-subtle response to the American toughening of the EU-3 negotiating position. What is the message from the mullahs? Attack us and you will fight both Syria and Iran. Will this deter President Bush or Prime Minister Sharon? Most likely not. The stakes are too high. One atom bomb exploded over Tel Aviv destroys Israel as a viable nation. Israel has sworn "never again," and the Israelis mean it. Today's report of a possible missile strike near Bushehr is unlikely to be the start of war against Iran, but that day is rapidly approaching.

Syria Blames Israel for Hariri Assassination

Feb. 16….(World Net Daily) Reacting to the near unanimous Western blame landing on Syria's doorstep for the assassination of former Lebanese Prime Minister Rafiq Hariri, Damascus yesterday went on the defensive and fingered Israel for the blast that killed Hariri and 17 others Monday. In a clear sign the Bush administration believes Syria was involved in the assassination, the US yesterday called its ambassador to Syria Margaret Scobey back to Washington for "urgent consultations." State Department Spokesman Richard Boucher said the US is expressing its "deep concern, as well as our profound outrage, over this heinous act of terrorism. Official Damascus press, considered a mouthpiece for Syrian President Bashar Assad's regime, condemned the murder as an "odious crime," and blamed Israel for seeking to create instability in Lebanon with the killing of Hariri. "What happened was an attempt to shatter national unity in Lebanon, to sow anarchy and divisions which lead to a climate of civil war," said the government newspaper Tishrin. The Jewish State "continues to work to sabotage Lebanon's achievements to try to bring anarchy to the country and to be able to continue its occupation of the Shebaa Farms," a strip of land along the Israeli border that Hezbollah says it is trying to reclaim, according to Tishrin. The editor-in-chief of Syria's official Ath-Thawra newspaper, Fayez Sayegh, said the attack on Hariri "targeted national unity and civil peace in Lebanon." Sayegh insisted Damascus "always welcomed Hariri as one of its sons and as a major Lebanese figure." But Hariri, a billionaire businessman who resigned from his government post last year and had recently joined calls by opposition leaders for Syrian troops to vacate Lebanon in the run-up to a general election in May, was close to many in the Israel government. Hariri was reportedly working behind the scenes the past few months to push for official Lebanese recognition of the Jewish state, and was involved in multiple business ventures with Israeli and Jewish businessmen.. The assassination "is about the biggest thing that can be done to send a warning message to reformists in Lebanon," a source told WND yesterday. "It is a very sophisticated attack against a man who became the symbol of change and progress there." The US and Israel have been seeking to isolate Syria for its support of the insurgency against American troops in Iraq and harboring of Palestinian terror groups, including Hamas. The US congress in May passed the Syria Accountability Act, banning all American exports to the Arab country, except food and medicine, and forbidding direct flights between Syria and the United States. American officials have said they are contemplating further action against Damascus. There have been some reports the US has been considering military incursions into Syria to stop the flow of arms shipments and insurgents into Iraq.





United States Recalls Ambassador to Syria!

Feb. 15….(Jerusalem Post) US Secretary of State Condoleezza Rice has ordered US Ambassador Margaret Scobey home from Syria amid rising tensions over the assassination of Lebanese former Prime Minister Rafik Hariri in Beirut, a US official has confirmed. Before departing, Scobey delivered a stiff note, called a demarche in diplomatic parlance, to the Syrian government, said the official. State Department spokesman Richard Boucher, announcing the move, said it reflected the Bush Administration's "profound outrage" over Hariri's assassination. Boucher did not accuse Syria of being involved in the bombing Monday in Beirut. "I have been careful to say that we do not know who committed the murder at this time," he said. But he said the deadly attack illustrated that Syria's strong military and political presence in Lebanon was a problem and had not provided security in the neighboring country. "It reminds us even more starkly that the Syrian presence in Lebanon is not good," Boucher said. "It has not brought anything to the Lebanese people." Boucher refused to describe Syria's reaction to Scobey's diplomatic messages in Damascus. Syria has not yet taken any reciprocal action, such as withdrawing its own ambassador to Washington. White House spokesman Scott McClellan, apparently referring to the note Scobey delivered to the Syrian foreign ministry, said the United States has "made it clear to Syria that we expect Syria to act in accordance with the United Nations Security Council resolution calling for the withdrawal of all foreign forces and the disbanding of militias," Also, McClellan said, "we also made it clear to Syria that we want them to use their influence to prevent the kind of terrorist attack that took place yesterday from happening." The administration had earlier condemned the killing of Hariri, a billionaire construction magnate who masterminded the recovery of his country, and insisted that Syria comply with a UN resolution calling for the withdrawal of Syrian troops from Lebanon. Also on Tuesday, European Union foreign policy chief Javier Solana said that he sees no immediate need to change EU relations with Syria over the assassination of former Lebanese Prime Minister Rafik Hariri. In an interview with The Associated Press, Solana said he would also support an international investigation into the bombing. Asked if Hariri's killing would change EU relations with Syria, Solana said: "At the moment we have not any reason why it should." "I hope very much that no country, no state has been involved in that terrible criminal act," he added. Solana backed a French call for an international investigation into the killing. "That would be a good idea," he said, adding that he expected the issue to be discussed soon at the UN Security Council. Earlier on Tuesday, Israeli Defense Minister Shaul Mofaz pointed a finger at Syria, blaming Damascus for being behind the assassination of former Lebanese premier Rafik Hariri. Speaking after a briefing with the IDF Northern Command at an army base near the Lebanon border, Mofaz said the attack was launched by "a pro-Syrian terror organization, which, from what we know, is apparently supported by Syria." "The attack (on Hariri) was intentional," Mofaz reportedly said in a closed meeting. "The organization wanted to strike him because he opposed the Syrian presence in Lebanon. Syria is using terror not only in Lebanon but also in Iraq against coalition forces." Asked if the assassination could ignite the northern border, Mofaz said, "We will have to wait and learn more on this incident. The Europeans' harsh condemnation of the attack teaches us that the pressure against Syria is only increasing." In response to Monday's assassination of Hariri, Syria's ambassador to the United States, Imad Moustapha, said, "The assassination is an atrocity aimed at destroying Lebanese national unity and might reverberate negatively throughout the Middle East." Interviewed by CNN's Wolf Blitzer, Moustapha said Syria condemned the killing, and added: "We disagree with anyone who would say that Rafik Hariri was an opponent of Syria. Actually, it's the other way around." He said that in the past three weeks, Syria was reaching out to the opposition in Lebanon and Hariri was "asking them to calm down and stop the rhetoric." Moustapha said Syria had never heard of Support and Jihad in Lebanon and Syria, the group that claimed responsibility for the attack in a video aired on Al-Jazeera television station. "What is needed in Lebanon now is reconciliation and national unity. This is a dangerous threat [to that]," the Syrian ambassador said. Lebanon's opposition accused Syria, the main power broker in this country, and its allied Lebanese government of being behind the assassination and demanded the Syrian army withdraw from Lebanon. President Jacques Chirac of France, a friend of Hariri, demanded an international investigation, saying Hariri represented "the indefatigable will of independence, freedom and democracy" for Lebanon. Also in France, Lebanon's most prominent exile, former army commander Gen. Michel Aoun, said Tuesday that he suspects Syria was behind the assassination. The Syrians "totally control the country," Aoun said on France-Info radio. "Nothing moves without it being controlled by the Syrians." Aoun said Hariri's killing was a challenge to the international community and he asked for help from the United Nations "because the Syrians can repeat their crimes."

Kill a Jew--Go to Heaven"

Feb. 15….(Weekly Standard) Natan Sharansky's timing was perfect. On January 25, Sharansky, the ex-Soviet dissident and current Israeli cabinet member, presented a detailed report on the Palestinian Authority's promotion of anti-Semitism and genocide in its official media. He did so amidst the 60th anniversary of the liberation of Auschwitz and Israel's National Day Against anti-Semitism. A day later, one of the co-authors of the report, Itamar Marcus, explained his findings to foreign diplomats in the Israeli parliament. The disturbing report compiled by the Palestinian Media Watch, titled "Kill a Jew-Go To Heaven," illuminates what Sharansky calls the PA's "culture of hatred." After Marcus delivered his briefing, Sharansky seized on the Auschwitz anniversary in a statement to reporters, declaring that anti-Semitic propaganda poisons Palestinian society as it once did in Nazi Germany.
Is that an exaggeration? Not after perusing "Kill a Jew-Go to Heaven." The 20-page report outlines the three phases of anti-Semitism found in various PA-run media, including newspapers, radio, crossword puzzles, political cartoons, and school textbooks. The first phase depicts Jews as subhuman. "The foundation stage defines Jews and presents them as different from others, possessing inherently evil traits," the report explains. This hatred is even disseminated to children. "Treachery and disloyalty are character traits of the Jews and therefore one should be aware of them," the Palestinian textbook Islamic Education for Ninth Grade says. When such content was brought to the PA's attention in 1999, the US government offered to fund the reprinting of that book and others. But the PA refused. The report also contains 20 segments from interviews with various individuals on Palestinian television who compare Jews to animals. Jewish traditions are maligned in this phase as well. A PA daily newspaper, while blaming the drug problem in the PA on Israel, ran a cartoon of the Jewish menorah, replacing the seven flames with seven syringes. The second phase portrays Jews as a threat to the existence of Palestinians in particular and the Arab world in general. "The second phase shows that these traits are not a private Jewish matter, but have ramifications for the entire world," the report reads. "Jews are planning and executing heinous crimes. If unchecked these crimes constitute a mortal danger, not only to all Muslims and Arabs, but to all of humanity." This phase also teaches that Jews control all media, which "they learned from the protocols of the elders of Zion," as one Palestinian newspaper wrote. It is also taught that murder is a part of the Jewish religion and Jews are responsible for all catastrophes on Earth. Most recently, Jews were blamed for the Indian Ocean tsunami. Particularly disturbing are references to the Holocaust. The Al Hayat Al Jadida newspaper has blamed Jews for starting the Second World War and the Holocaust. One children's musical that ran on PA television last May claimed that the Jews built ovens during the Holocaust to kill Palestinians. The third phase involves eliminating the threat of Jews by genocide. The PA promotes this as being both an act of self-preservation and for the good of the Arab world. "Kill them all, we won't leave a single Jew here," a Palestinian girl told PA TV in October 2000. As the authors of the report point out, these calls for genocide are "neither the strategy of a fringe PA sect, nor the haphazard ramblings of private individuals behind doors." Mahmoud Abbas, the new Palestinian president, has met with the state-controlled media and asked that they stop broadcasting anti-Semitic material. There has been some slowing, but the report demonstrates that such Nazi-like propaganda continues to be shown. At the January 25 press conference, Sharansky dismissed the notion of any progress, and stressed that the PA needs to cease promoting all anti-Semitic themes: "The PA should pursue a policy of zero tolerance of any and all anti-Semitism and anti-Zionism in Palestinian media to promote a detoxification of Palestinian society and enable a public acceptance of our two nations living side by side."

War Crisis!
Hizballah, Palestinians, Poised to Support Pro-Syrian Lebanese Government

Feb. 15….(DEBKA Exclusive Update) Just hours after former Lebanese Prime Minister Rafiq Hariri was murdered in a massive car bomb explosion outside the five-star Saint Georges Hotel on Beirut's seafront Monday, February 14, enraged Lebanese Muslim, Christian, Druse opposition leaders declared the pro-Syrian Karame government illegal, and demanded its resignation and pointed the finger of blame at Damascus. Riots erupted in Beirut and Hariri's home town of Sidon. French President Jacques Chirac, a close friend of the dead Lebanese politician, bluntly accused Syria and its Lebanese stooges of orchestrating his assassination and demanded an immediate international probe. As the opposition begins to fight back for the brutal slaying, the whiff of war hangs over the country that was wracked for 15 years by civil bloodshed up until 1991. The dead leader, who made billions as a building contractor in Saudi Arabia, did more than any other to rebuild the ravaged country and restore it to normal life. DEBKAfile's Beirut sources report that anti-government leaders have begun discussing appointing Hariri's sister Bahaya in his place as their joint candidate for ruler of the country. Her power base is the town of Sidon in the south, the Sunni Muslim Hariri clan's home town where Rafiq was born. Monday night, Sunni Muslim militias took control of Sidon and cut off its main road link to Beirut. This step pre-empted the deployment of the Lebanese army and security forces, which had been swiftly mobilized and posted at key points in the capital and across the country. An anti-government general strike was declared for today. Hariri will be laid to rest tomorrow. Government representatives have been barred from attending the funeral. Syrian troops were ordered to stay in their barracks for the time being. DEBKAfile's Middle East sources report: If hostilities erupt and the government looks like it is falling, these troops, some 13,000, will be called out. The Hizballah and Palestinians will back them alongside pro-government Lebanese troops to shield the Syrian presence in Lebanon against the fury of opposition Christian and Druse militias backed by pro-Hariri Sunni loyalists from the south. If such a full-blown crisis develops, Palestinian leader Mahmoud Abbas will face the dilemma of having to decide which side the Palestinian Authority supports: the anti-US, pro-Syrian coalition, accused of a terrorist act against a leading pro-Western politician, or the opposition forces ranged against that line-up. In the first case, he risks losing even more ground with the Hamas, Jihad Islamic, al Aqsa Brigades and Palestinian "Fronts" which will sympathize with the Lebanese factions supporting Damascus. If he opts for the latter, he breaks loose from the reconciliation process begun at Sharm el Sheikh on February 8.

(FOJ Note) Also, FOJ can report that President Bush has recalled US ambassador Margaret Scobey from Damascus "for consultations" amid rising tensions over the Hariri assassination. Before Ambassador Scobey left Damascus, she delivered a stern note to the Syrian government from the Bush White House. US State Department spokesman Boucher says the Bush administration is profoundly outraged over the murder of Hariri. FOJ readers should be alerted to the prophecy concerning the Burden of Damascus that is spelled out in Isaiah 17 and Jeremiah 49. The Damascus scenario is not related to the Great Russian coalition invasion against Israel with Persia. (Iran) FOJ has regularly warned about the imminent prophetic event concerning Damascus, as it precedes the Russian theatre, and could likely set the stage for the emergence of the Antichrist, and his false peace agenda that will finalize a covenant with Israel.





What Happened to Daily Suicide Bombings in Israel?

Feb. 15….(FOJ) Why has here been a dramatic cessation of suicide bombings in Israel? We are still seeing suicide bombings in Iraq, and elsewhere, but all of a sudden we notice that there has been a downturn in what had become weekly suicide bombings in Israel under Yasser Arafat during his Tempe Mount Intifada. Is it due to America's incursion into Iraq? Is it the pressure stemming from the Bush Doctrine? Is it because of the new Palestinian Prime Minister Mahmoud Abbas? None of these are the true answer. In fact, it is precisely Israel's aggressive counterattack against the Palestinian terrorists, coupled with the building of the much maligned security fence that has brought about the dramatic decline in suicide bombings. As the security fence is went up, the bombings came down! And what was the world's reaction? The world held court proceedings at The Hague to denounce Israel's security fence!
Apparently, the world is loathsome to the idea of Israel having a semblance of security. Even the Palestinians have seen their strategic option of terrorism gradually disappearing, and now under Abbas see the need to pursue negotiations, first to remove the fence, and to gain a new State with borders so that Israel cannot build walls on the land. Moreover, Israel's successful military offensive demonstrated to the Palestinians that the premise of Arafat's intifada was a failure.
Arafat's Temple Mount intifada was fought under the old land-for-peace slogan that the PLO-led terrorists like to brandish against Israel. (remember Arafat's olive branch and freedom fighters gun) Namely, it said, the terrorism will stop only when Israel agrees to full territorial withdrawal to the 1949 lines, a Palestinian State, refugee rights of return, and of course, Jerusalem as the capital of Palestine. The Palestinians got none of this, and instead obtained more death and destruction and a devastated economy. So, now Mr. Abbas needs a new strategy, and one that mimics on the front to the Bush Doctrine of democracy. So now, Abbas wants a cease-fire. And what do the Palestinians demand from Israel in return for a cease-fire? They would ask Sharon to stop hunting down and killing terrorist leaders, and to dismantle the security fence.
Sources: Terror Elements in Syria Behind Blast
( Assassination attack coordinated with desperate Damascus)
Feb. 15….(WND) A massive car bomb that killed former Lebanese Prime Minister Rafik al-Hariri and nine others, including two former cabinet ministers and six bodyguards, was carried out by militants who received direction from elements in Damascus, security sources told World Net Daily. The blast, at an exclusive Mediterranean waterfront location yesterday, raised fears of a return to the decades-long violence that plagued Lebanon in its conflict with Syria, which maintains nearly 30,000 troops in the country. The assassination is already prompting nationwide calls for Lebanon to elect reformist leaders and achieve full independence from Syria. Hariri, a billionaire businessman who resigned from his government post last year, had recently joined calls by opposition leaders for Syrian troops to vacate Lebanon in the run-up to a general election in May. In a video broadcast on Al-Jazeera, a turban-clad, bearded man read a statement claiming responsibility for a previously unknown group called Victory and Jihad, declaring the bombing a "just punishment" for Hariri's close ties to the Saudi government. Syrian President Bashar Assad "condemned this horrible criminal action," Syria's official news agency SANA reported. But security sources told WND information received indicates the attack was coordinated by terrorist elements in Syria in conjunction with militants on the ground in Lebanon. They say it is suspected that a Palestinian operative living in Beirut with possible ties to al-Qaida was involved in the attack. Sources say Assad has been feeling increasingly isolated, largely as a result of the US campaign to punish Damascus for its support of the insurgency against American troops in Iraq and harboring of Palestinian terror groups, including Hamas. Assad considers his influence in Lebanon a key factor to his position in the Middle East, sources say, and a successful campaign to drive Syrian troops from Lebanon would devastate the Assad regime. "This is about the biggest thing that can be done to send a warning message to reformists in Lebanon," said a source. "It was a very sophisticated attack against a man who became the symbol of change and progress there." At the same time, sources warned initial information does not directly link Assad himself to the assassination. "We are talking about elements in power in the Syrian military infrastructure, with satellites in Lebanon." The Lebanese opposition yesterday blamed Syria for the assassination and demanded the current pro-Syrian Lebanese government resign. Syrian officials denied their government was involved with any aspect of the assassination. In May, the US Congress passed the Syria Accountability Act, banning all American exports to the Arab country, except food and medicine, and forbidding direct flights between Syria and the United States. American officials have said they are contemplating further action against Damascus. There have been some reports the US has been considering military incursions into Syria to stop the flow of arms shipments and insurgents into Iraq.
Assassination Spurs Call for Syrian Regime Change
Feb. 15….(WND) A US nonprofit group pushing for regime change in Syria is pointing to yesterday's killing of a former Lebanese prime minister as further reason the dictatorial government of President Bashar Assad needs to be replaced. "Enough is enough!" shouts the web-site of the Reform Party of Syria. "Regime change in Syria is the only way we can save ourselves from terrorism in the region." Syria maintains an occupation force in Lebanon of 30,000 troops. Last fall, al-Hariri moved toward the anti-Syria camp and eventually resigned over a dispute with Damascus. The Reform Party of Syria has posted an online petition addressed to President Bush and French President Jacque Chirac, asking the leaders to change their "timid" policies and push for regime change in Syria.
Syria is inciting civil war in Lebanon in a gesture of ultimate instability for the region in order to 'justify' their presence. When the world, after 9-11, is seeking stability and reason, we find in the Baathists of Damascus the apogee of instability and terror." Yesterday, White House spokesman Scott McClellan commented on the killing of the former Prime Minister. "This murder today is a terrible reminder that the Lebanese people must be able to pursue their aspirations and determine their own political future free from violence and intimidation and free from Syrian occupation," he told reporters. A public opinion poll published in June showed 56 percent of Lebanese reject Syria's occupation of the country. Only 40 percent said the presence of Syrian troops was "legitimate and provisional," the terms favored by the country's puppet regime that serves at the pleasure of Damascus.
Shiites Win Most Seats in Iraqi Election
Feb. 14….(Worthy News) Clergy-backed Shiites and independence-minded Kurds swept to victory in Iraq's landmark elections, propelling to power the groups that suffered most under Saddam Hussein and forcing Sunni Arabs to the margins for the first time in modern history, according to final results released Sunday. But the Shiites' 48 percent of the vote is far short of the two-thirds majority needed to control the 275-member National Assembly. The results threw immediate focus on Iraqi leaders' backdoor deal-making to create a new coalition government, possibly in an alliance with the Kurds, and on efforts to lure Sunnis into the fold and away from a bloody insurgency. Interim Prime Minister Ayad Allawi, the secular Shiite chosen by the United States to lead this country for the last eight turbulent months, fared poorly, his ticket finishing a distant third behind the religious Shiites and Kurds. "This is a new birth for Iraq," election commission spokesman Farid Ayar said, announcing results of the Jan. 30 polling, the first free election in Iraq in more than 50 years and the first since Saddam fell. The Shiite-dominated United Iraqi Alliance ticket received 4,075,295 votes, or about 48 percent of the total cast, officials said. The Kurdistan Alliance, a coalition of two main Kurdish parties, finished second with 2,175,551 votes, or 26 percent. And the Iraqi List headed by Allawi stood third with 1,168,943 votes, or nearly 14 percent. Parties have three days to lodge complaints, after which the results will be certified and seats in the new Assembly distributed. Seats will generally be allocated according to the percentage of votes that each ticket won. It appeared only 12 coalitions would take seats. The Shiites stand to gain up to 140 seats with the Kurds could end up with about 75. " Shiite leader Abdul-Mahdi told al-Arabiya the next Iraqi government is burdened with "difficult and complicated responsibilities that require national unity and the wide support of the national assembly," and the presidency. He said his alliance is "seeking to realize a wide national harmony in choosing" for those positions. The election results highlighted the sharp differences among Iraq's ethnic, religious and cultural groups, many of whom fear domination not just by the Shiites, estimated at 60 percent of the population, but also by the Kurds, the most pro-American group with about 15 percent. The results also draw attention to the close and longtime ties between now-victorious Iraqi Shiite leaders and clerics in neighboring Iran. The Shiite ticket owes its success to the support of Iraq's clerics, including Iranian-born Grand Ayatollah Ali al-Sistani. In contrast, many Sunni Arabs, who make up an estimated 20 percent of the population, stayed home on election day, either out of fear of violence or to support a boycott call by radical clerics opposed to the US military. Overall, national turnout was about 60 percent, the commission said, but only 2 percent of the eligible voters cast ballots in Anbar province, the Sunni insurgent stronghold that includes Ramadi and Fallujah.
How Syria Fooled US on Terror Cooperation
Assad trained operatives for 'al-Qaida' to attack America, then turned some of them in.
Feb. 14….(World Net Daily) In international relations, things are not always what they seem to be. For instance, back in 2003, Syrian President Bashar Assad came up with what he thought was a great idea to curry favor with the US and stave off threats of sanctions and even invasion for its support of international terrorism, including in neighboring Iraq. Syrian intelligence chief Ghazi Kanaan came to the dictator with a plan to run an operation against US intelligence, according a to a report in Joseph Farah's G2 Bulletin. The plan called for Syria to recruit and train some mujhadeen to work on behalf of Osama bin Laden in an attack on the US. The Syrian intelligence officials easily found two willing participants, who never understood they were actually being used as pawns by Damascus.
The pair was trained for three months in weapons, explosives, engineering (for bringing down bridges, buildings, etc.) and other espionage activities, in addition to setting up a number of accounts, credit cards, and how to use discard cell phones so they could not be traced. The Syrians launched the players into action, ordering them to go to the US through Athens. Then Syria double-crossed their dupes, tipping off the Greeks and the Israelis, informing them two al-Qaida operatives were on their way to the US. Syria also tipped off the chief of mission in Damascus.
Of course, the Central Intelligence Agency gets tips from three different sources, Syria, Greece and Israel. The CIA assumed the information was golden. The FBI was alerted that these operatives were en route. Eventually, the two betrayed Mujahadeen were nabbed in Heathrow Airport in London and interrogated vigorously by the British. They cracked and told everything they knew, that they had been trained by al-Qaida for a mission against the US, because that's what they believed. The CIA congratulated itself. The FBI congratulated itself. The congressional intelligence subcommittee congratulated itself. An announcement was made that an al-Qaida plot against the US has been foiled.
And, shortly aferward, Colin Powell traveled to the Middle East to meet with Assad, thank him for his help and to press him for more concessions, such as closing down the offices of Palestinian terrorist groups in Damascus. Of course, Assad pledged continuing support. Powell announced Syria was now cooperating in the war on terror. Powell went on to say that Assad listened carefully to his concerns for three hours "and in every instance the president said he wished to consider the point of view I presented." In exchange for his "cooperation," Powell offered Assad something he wanted, a commitment by the White House to seek a "comprehensive" Middle East peace settlement that would include negotiations on the return of the Golan Heights, captured by Israel during the 1967 Six-Day War. It was at least the second time Assad had betrayed, and fooled the US and the former secretary of state. In 2001, Assad promised to close an oil pipeline from Iraq to Syria that Saddam Hussein was using to evade United Nations sanctions. The illegal oil, which accounted for as much as 20 percent of Syria's foreign-trade revenue, continued to flow until 2003 when US forces shut it off.
Syrian Military Intelligence Eliminates Hariri/ Reform Hopes for Lebanon
(FOJ Note) Hariri had challenged new PM and Syria. Hariri's death is grave setback to Bush Administration Middle East policy goals. After Iraq and Palestinian elections, Hariri was the key leader designated to carry out reforms of the Lebanese system of government after spring elections.
Feb. 14….(DEBHA) Rafiq Hariri, five times Lebanese Prime Minister, multibillionaire, and builder of a country devastated by 15 years of civil war, was assassinated by a huge car bomb that ravaged the Lebanese capital's seafront. Two ministers in his party and 6 of his bodyguards, including its chief Yahya Al Arb, were among the dead. Efforts to save his life at the American Hospital to which he was carried in critical condition were unavailing. The attack is described as the most brutal since the civil conflict ended in 1991. Last year, Hariri stepped down in protest against the extension of pro-Syrian president Emile Lahoud's presidency and was about to take the lead of the opposition. A towering figure in Lebanese politics, Hariri was expected to fight the election due to take place in April or May. The Lebanese hammer blow that came down on the Bush administration from Beirut set back its plans to bring democratic reforms to the Middle East. US officials were still digesting the import of Iraq's general election the day after its results were released in Baghdad. They were also still waiting for Palestinian leader Mahmoud Abbas to come up to scratch in fighting terrorism. Its impact will be regional in magnitude, affecting the next stage of Iraqi insurgency and the chances of a Palestinian-Israeli accommodation. According to DEBKAfile's intelligence sources, the assassination was staged by Syrian military intelligence headed by General Rostum Ghazala. It capped two years of attempts by the Bush administration to engage Assad by diplomacy. On February 14, the confrontation between Washington and Bashar Assad's regime abruptly shot up to a new level: the Syrian president had decided to resort to the vicious tactics of Iraq and Lebanon's ugly past, finally impelled by a circumstance that DEBKA-Net-Weekly 193 revealed on February 1: For the first time in the annals of the Arab-Israeli dispute, Lebanon's senior opposition politicians are pressing for the government in Beirut to recognize Israel and sign a separate peace treaty with the Jewish State, without reference to Damascus. DEBKA-Net-Weekly's Middle East sources report that the move was initiated this week by former prime minister Rafiq Hariri, Druze leader Walid Jumblatt and the Christian Maronite archbishop Nasrallah Sfeir, acting on a signal from Washington. The demand for Lebanon's divorce from Syria for the purpose of making peace with Israel is the direct consequence of the January 29 UN Security Council resolution drafted by France and adopted by all 15 Council members, which ruled that the controversial Shabaa Farms along Israel's northern border was part of Syrian Golan prior to the 1967 War, and not Lebanon. That resolution was supported by Washington to knock the stuffing out of the Shiite terrorist group Hizballah's main justification for attacking Israel and to free Lebanese leaders to start talks with Israel. With that issue out of the way, the Lebanese trio maintained that Beirut has no further territorial or border quarrel with Israel and had nothing to do with the Syrian-Israel dispute or the Golan issue. There was no bar therefore to the two neighbors establishing normal peace and economic relations. This action was meant to supplement the February 8 Israel-Palestinian cease-fire accord in Sharm el-Sheikh and deflect some of the popular ire directed against Israeli prime minister Ariel Sharon over his evacuation plan. Above all, the Assad regime and the Hizballah would have found themselves isolated in a corner. Washington followed it up by presenting Damascus with a fresh demand. DEBKA-Net-Weekly's sources report that for Washington, Assad's most important test now is no longer Syrian implementation of Security Council 1559 on Lebanon, or even the evacuation of Syrian troops. Both are important but not the key, which is the dismantling of the Syrian-Lebanese intelligence outfit which our intelligence sources reveal is composed of the Syrian Reconnaissance Service and Lebanese General Intelligence commanded by General Jamil al Sayad. This is the mechanism that controls Lebanese politicians, including members of parliament. As long as it is active, there is little to be gained by pulling Syrian troops out of the country; Damascus will continue to pull the strings in Beirut. Hariri's subsequent murder shows how just that demand was. These moves by the Bush administration were contingent on Hariri, Jumblatt and Sfeir winning a spring election in Lebanon and rounding out a cycle of three democratic elections in the Middle East. Although Lebanese politicians were still squabbling over the territorial lines of constituencies, the vote was clearly going ahead. Assad is reported to have complained to his aides that the Americans were planning to run an airlift to the home country of hundreds of thousands of Lebanese expatriates from the United States, Latin American and Europe, in order to win seats away from pro-Syrian candidates. It was time to stop them, he said. Hariri's assassination is one up for all the violent forces at work in the Middle East, for Assad as sponsor of terrorism and for the pro-Syrian government in Beirut. It is bound to have a negative effect on the Sharon-Abbas reconciliation strategy and their hopes with American encouragement of bringing Palestinian terrorist groups round to reducing their attacks, much less a truce. The Palestinians will conclude that the gun and the bomb bring results and will stick to this line, especially when convinced that Abu Mazan will never raise a finger to bring them to heel.
WEEK OF FEBRUARY 7 THROUGH FEBRUARY 13
The State of the Palestinian Pawns
Feb. 11….(FOJ) Just a mere 48 hours after the announcement of a cease-fire by Mahmoud Abbas, the Hamas terrorist organization shelled Kassam rockets into an Israeli village. Then today, Palestinian Authority Chairman Mahmoud Abbas vowed that he would go to Gaza to take action against any future Palestinian cease-fire violations. Abbas convened an emergency meeting of his Fatah party's central committee to discuss the shelling, and at the end of the meeting, the committee announced a "general alert and state of emergency among the Palestinian security services. He ordered the Fatah movement to deal with the PA security violations, and said such incidents only serve to undermine the Palestinian Authority's acceptance in the eyes of the democratic world. Israel announced that it would refrain from any military response to the shelling for now.
Many times in writing about the Israeli-Arab Conflict, Christian writers forget that the Palestinian people are caught in a power struggle. There are in fact a number of Palestinian Christians, and they live very difficult lives. In reality, the Palestinian people of the West Bank are being used as pawns by the Arab world as cannon fodder for the decades long war against Israel's right to exist. In the pre-1967 world of the Palestinian region, Jordan occupied the West Bank and dominated every aspect of life in the region. Egypt occupied the Sinai and the Gaza Strip, and Syria occupied the Golan Heights. There was no Palestinian State, and there never has been. It was only after the Arab nations lost the 1967 and 1973 wars against Israel that the geo-political clamor began for a Palestinian State. That clamor was begun by the Arab League, who in turn helped aid the terrorist leader of the PLO, Yasser Arafat. Today, Israel is labeled as an illegal occupier in these lands, and the UN has mandated that Israel relinquish these territories, whereas it is simply land Israel that acquired by defending itself. Go to Egypt, Lebanon, Syria, or any other Arab nation, and you will find that the Palestinian people living there live in squalid refugee camps. The Arab countries do not care about the plight of the poor Palestinians. The Arab League constantly complains that the US doesn't provide enough money or enough anything to the Palestinians. But we never see the Arab countries provide anything for the Palestinians except Islamic venom that tells them to hate Israel, and that it is their duty do die as martyrs so Allah and the Arab/Islamic empire can drive Israel into the sea.
Allah and Jesus; the Same; No Way!
Feb. 11….(by Rick Mathes) Last month I attended my annual training session that's required for maintaining my state prison security clearance. During the training session there was a presentation by three speakers representing the Roman Catholic, Protestant and Muslim faiths who explained their belief systems. I was particularly interested in what the Islamic Imam had to say. The Imam gave a great presentation of the basics of Islam, complete with a video. After the presentations, time was provided for questions and answers. When it was my turn, I directed my question to the Imam and asked: "Please, correct me if I'm wrong, but I understand that most Imams and clerics of Islam have declared a holy jihad [Holy war] against the infidels of the world. And, that by killing an infidel, which is a command to all Muslims, they are assured of a place in heaven. If that's the case, can you give me the definition of an infidel?" There was no disagreement with my statements and without hesitation he replied, "Non-believers!" I responded, "So, let me make sure I have this straight. All followers of Allah have been commanded to kill everyone who is not of your faith so they can go to Heaven. Is that correct?" The expression on his face changed from one of authority and command to that of a little boy who had just gotten caught with his hand in the cookie jar. He sheepishly replied, "Yes." I then stated, "Well, sir, I have a real problem trying to imagine Pope John Paul commanding all Catholics to kill those of your faith or Pat Robertson or Dr. Stanley ordering Protestants to do the same in order to go to Heaven!" The Imam was speechless. I continued, "I also have problem with being your friend when you and your brother clerics are telling your followers to kill me. Let me ask you a question. Would you rather have your Allah who tells you to kill me in order to go to Heaven or my Jesus who tells me to love you because I am going to Heaven and He wants you to come with me?" You could have heard a pin drop as the Imam hung his head in shame. One quick look into John 3:16 reveals why all Muslims should take a closer look at Jesus! The god of Islam commands his subjects to do evil, (kill infidels) and it shows that Allah desires to keep men from the Light, (Jesus) because His deeds are evil.
(John 3:16-21 For God so loved the world, that he gave his only begotten Son, that whosoever believeth in him should not perish, but have everlasting life. For God sent not his Son into the world to condemn the world; but that the world through him might be saved. He that believeth on him is not condemned: but he that believeth not is condemned already, because he hath not believed in the name of the only begotten Son of God. And this is the condemnation, that light is come into the world, and men loved darkness rather than light, because their deeds were evil. For every one that doeth evil hateth the light, neither cometh to the light, lest his deeds should be reproved. But he that doeth truth cometh to the light, that his deeds may be made manifest, that they are wrought in God.)
North Korea Claims It Already Has Nuclear Bombs!
Feb. 10….(MSNBC) North Korea announced today for the first time that it has nuclear arms and rejected any moves to restart disarmament talks anytime soon, saying it needs the weapons as protection against an increasingly hostile United States. The communist state's pronouncement dramatically raised the stakes in the two-year-old nuclear confrontation and posed a grave challenge to President Bush, who started his second term with a vow to end North Korea's nuclear program through six-nation talks. "We have manufactured nukes for self-defense to cope with the Bush Administration's ever more undisguised policy to isolate and stifle the (North)," the North Korean Foreign Ministry said in a statement carried by the state-run Korean Central News Agency. The claim could not be independently verified. North Korea expelled the last UN nuclear monitors in late 2002 and has never tested a nuclear bomb, although international officials have long suspected it has one or two nuclear bombs and enough fuel for several more. Since 2003, the United States, the two Koreas, China, Japan and Russia have held three rounds of talks in Beijing aimed at persuading the North to abandon nuclear weapons development in return for economic and diplomatic rewards. No significant progress has been made. A fourth round scheduled for last September was canceled when North Korea refused to attend, citing what it called a "hostile" US policy.
North Korea's Emperor God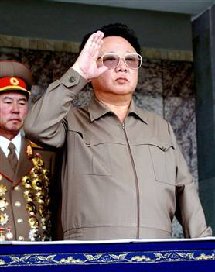 Feb. 10…. (FOJ) Kim Jong Il is the dictator of the Communist State of North Korea. He is sadistically adored and revered as a God within the isolated northern peninsula portion of the Korea Peninsula. His image is everywhere, and his word is the law. Kim, as his father before him has enslaved the North Korean people and turned the country into a puppet State of Communist geo-political theatrics. Unlike the South Koreans, North Koreans have no freedoms. (unless you are a devote' to the Communist state-god) Kim Jong Il has made North Korea a missile and nuke components weapons salesman to the Middle Eastern states. This armament exchange is designed t help China offset the strategic balance of power, not only on the Pacific rim, but also in the volatile and oil rich region of the Middle East. North Korea has assisted and benefited from the weapons-information trade with Iran, Saudi Arabia, Pakistan, and Syria. In a nutshell, Emperor Jong Il has made the North Koreans to be an expendable people to further the ambitions of China and Russia in the Mid-east. The US has always wrongly assumed that China and Russia would use their political leverage with North Korea to compel them to forego their nuclear ambitions. But, as you see from North Korea's claim of nuclear might, the only threats emanating from North Korea is aimed solely at the United States, and the goal of their nuclear technology exports is to empower the anti-Israel and anti-American terrorist sponsoring states in the Middle East. When President Bush identified three Axis of Evil nations in his post 9-11 national address, (Iran, Iraq, North Korea) he failed to see that the real powers behind the Axis of Evil were China and Russia, who in turn had ideological companions in the EU.
North Korea: The War That Never Ended
Feb. 10…. (FOJ) From 1950-1953, the United States carried the burden and made up the brunt of the fighting force that constituted the first ever United Nations coalition of forces to attempt to check a hostile regime. That war ended in an armistice, with China coming to the assistance of North Korea. The US led that UN-sanctioned war to check the spread of Communism. Although the US was able to detain the Communist agenda in Korea in 1953, the political war between democracy and totalitarianism spread the world over during the Cold War. (the raging enmity between Western democracy and Eastern Socialism continues and is part of the prophet Daniel's prophecy for the end times…Dan chapter 2) There is still a 6-mile wide de-militarized zone running across the mid-section of the Korean Peninsula today near the 38th parallel. The North Korean war is often regarded as the forgotten war. It remains, well, unfinished. China is waiting for just the right time to release North Korea into action to test the mettle of the US, South Korea, and Japan. It is part of the Kings of the East strategy to retake Taiwan and make China the superpower of the Far East. In the Last Days, near the end of the Tribulation era, China will lead a coalition from the Far East into the Middle East, and ultimately to Israel where the Antichrist has exalted himself as god in Jerusalem. Scholars of Bible Prophecy debate about whether or not Russia and her allies of Ezekiel 38 will be included in this theatre of assaults. Daniel 11:44 tends to point to the fact that the Kings of the East invasion is timed in conjunction with the Russian-Magog invasion, for this is the bad news that troubles the Antichrist. China and Russia, in an effort to counter the power of the United States have been planning, plotting, and coordinating just such a scenario for years. The only difference at Armageddon is that instead of countering the US, they will be countering the Antichrist, who will rise from his new stage in the EU, and by that time have amalgamated the US into his mighty empire. The US will not be around to support Israel in their time of Trouble!
Rice: Russia Must Improve Democracy for Better Ties
Feb. 9….(Jerry Robinson.org) Russia must do more to show it is committed to "the basics of democracy" if it wants deeper relations with the West, Secretary of State Condoleezza Rice, a former Soviet specialist said yesterday after meeting with her Russian counterpart Sergei Lavrov in Turkey. "Obviously we have concerns, it is important that Russia make clear to the world that it is intent on strengthening the rule of law, strengthening the role of an independent judiciary, permitting a free and independent press," Rice told a news conference in Warsaw, during a stopover en route to Turkey. "These are all the basics of democracy." Rice also said that Moscow needed to support democratic trends in its neighborhood, an apparent reference to last year's US clash with Russia over rigged elections in Ukraine. "This is not just about democratic developments in Russia. It is about democratic developments in the whole of Europe and all of the neighbors of Russia." President Bush has vowed this year to spread democracy around the world in a pledge that political analysts say could complicate relations with Russia, which typically balks at US criticism of its internal affairs. Last year, the United States began voicing its concern over what it called Russia's "backsliding," and during a 10-stop, eight-day tour of Europe and the Middle East Rice said she would keep expressing those concerns in hopes of improving ties. "We really do believe a more democratic foundation in Russia will indeed strengthen, underscore and put a real sort of substance into a deepening relationship with the democracies of Europe, and the United States." But Rice also stressed US co-operation with Russia in areas such as counter-terrorism and trade, and said Washington's diplomacy had resolved a clash with Russia over Ukraine. Recently, Putin supported the winner of the rigged presidential election in Russia's neighbor, but US pressure helped force a rerun which was eventually won by the West-leaning candidate who had angered Moscow. Rice cited Ukraine, along with Afghanistan, Georgia and Iraq, as places that were building the institutions of democracy, and said America and Europe should work together in "the great cause of the spread of freedom and liberty." "What we're hearing from Europe is a desire to move on to the next chapter in the history of this great alliance. That is a chapter that should be devoted to the opportunities to try and sustain the momentum toward a Palestinian-Israeli resolution of that long-standing conflict," Rice said. Russia opposed the US invasion of Iraq but has also slowly sought to ease tensions over the war. Moscow cautiously welcomed Sunday's elections in Iraq in comments US officials said was a sign it wanted to focus on the future. Rice will also press Russia to keep on hold a fuel supply deal for an Iranian reactor, in a bid to thwart what Washington calls the Islamic Republic's drive to build a nuclear bomb.
FOJ Note: In Daniel's vision of the great image in Daniel chapter two, we are presented the perspective of the great images feet and its ten toes. In Revelation 17, we are further informed that these ten toes are also ten crowns, which symbolize ten kings of the Last Days that will empower the Antichrist. Daniel's vision conveys that the ten kings are made up of iron and clay. These prophetic pictographs symbolize the division between regional power structures of democracy and totalitarianism in the Last Days. These kings will set aside their differences for a while, and place all authority in the hands of the Antichrist, but in the end, they (Kings of the East and the Magog led coalition will counter the Western Antichrist) confront each other in Jerusalem, and they will all be destroyed by the coming Lord.
PA TV: Goal is Israel's destruction
(Amid cease-fires and peace talks, message to Arab people in Arabic doesn't change)
Feb. 9….(WND) As Israel and the Palestinians agree to a cease-fire setting the stage for peace talks, official Palestinian Authority television continues to communicate the ultimate goal of eliminating the Jewish State. In the official Friday sermon broadcast last week, senior Muslim figure Ibrahim Mudyris explained that the diplomatic process can only achieve a return to the borders Israel had before the 1967 war. The final stage, he said will be the destruction of Israel "the way Muhammad returned there as a conqueror." Itamar Marcus of Palestinian Media Watch, an Israel-based monitor, said that in its Arabic messages, the Palestinian Authority always has denied Israel's right to exist and often has presented the peace process as a tactic leading to the Jewish state's destruction. That approach was repeated last Friday, Marcus said. In his sermon, Mudyris declared that all of the land encompassing Israel belongs to Muslims. "We tell you Palestine, we shall return to you, by Allah's will, we shall return to every village, every town, and every grain of earth which was quenched by the blood of our grandparents and the sweat of our fathers and mothers," he said. "We shall return, we shall return." Mudyris said the willingness of Palestinians to return to the 1967 borders does not mean they have "given up on the land of Palestine." It might take diplomacy to return to the 1967 borders he said, but diplomacy will not lead to a return to the "1948 borders," a reference to the land before Israel was established as a state. The ceasefire does not mean that we have given up on Jerusalem and Haifa, Jaffa, Lod, Ramla, Natanyah and Tel Aviv. Never." Mudyris said "our grandfather's blood" and "father's blood" demands a return to the entire land, "and their blood shall curse anyone who will concede a grain of earth of those villages." "Our approval to return to the 1967 borders is not a concession for our other rights," he said. "No! This generation might not achieve this stage, but generations will come, and the land of Palestine will demand that the Palestinians will return the way Muhammad returned there, as a conqueror."



Israel and PA Agree to a Ceasefire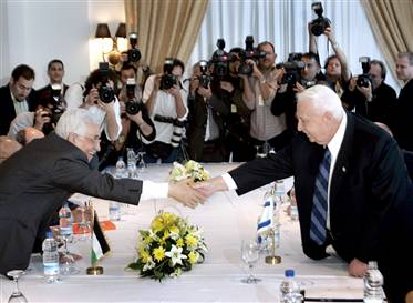 Feb. 8….(FOJ) Israeli Prime Minister Ariel Sharon, right, and Palestinian Authority President Mahmoud Abbas, left, shook hands at the Red Sea resort of Sharm el-Sheik, Egypt, yesterday and as easy as that the Quartet sponsored Peace Roadmap was back at the forefront of the Middle East regional agenda.
Israeli Prime Minister Ariel Sharon and Palestinian leader Mahmoud Abbas pledged to each other and to their roadmap sponsors that they would stop all military or violent activity against each other, and ended their statements by adding that they hoped the cease-fire would help break the four-year cycle of violence and get peace talks back on track. Abbas said: "We have agreed on halting all violent actions against Palestinians and Israelis wherever they are." Sharon made a similar pledge: "Today, in my meeting with chairman Abbas, we agreed that all Palestinians will stop all acts of violence against all Israelis everywhere, and, at the same time, Israel will cease all its military activity against all Palestinians everywhere." The Palestinian leader said it is time for the Palestinian people to regain their freedom. Egyptian President Hosni Mubarak, acting as the Quartet's middleman, said there was now also fresh hope for the Syrian-Lebanese peace track. Israeli-Syrian peace negotiations have been frozen since early 2000.
"Our goal is lasting peace in the Middle East, therefore, our movement will be followed by other moves to revive both the Syrian and Lebanese tracks," he said. In Jerusalem, a senior Israeli official said that Sharon had even invited Abbas to his ranch in southern Israel, and the Palestinian leader accepted.
But let me point out something that is being completely ignored in the implementation of this so-called cease-fire. A cease-fire is nothing but a truce to suspend hostilities that is usually advantageous to one or both sides in a conflict. In the case of the PA, Abbas has managed to sell the Hamas and Islamic Jihadists on the idea of gaining more territory from Israel to establish a Palestinian State that would in turn acquire all the tangible assets that come with Statehood. (rights to trade, commerce, inter-global transport, military exchanges, defense alliances etc.) And in the final analysis, the so-called "cycle of violence" was instigated by the Arafat-led terrror campaign since Camp David 2000. The violence is not a cycle at all. The terrorism led to retaliation by Israel, and that's where the Roadmap will be another dead-end, as far as peace goes
Secretary Rice: US is Back on the Roadmap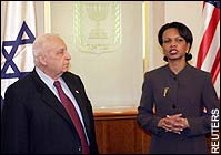 Feb. 7….(FOJ) The United States is asking Israel to make "hard decisions" in an effort to revive the Roadmap Peace Process as it moves toward renewing peace-talks with the Palestinians. US Secretary of State Condoleezza Rice said both sides must live up to their promises Sunday during her first trip to the Middle East as Secretary of State. Rice's two-day visit to Israel and the West Bank headquarters of the newly elected Palestinian government is meant to nudge both sides to take hold of what Rice called "a time of opportunity" and end four years of war. It comes as Israel backed off its long-standing refusal to release Palestinian prisoners accused of violence against Israelis and the Palestinian mainstream Fatah movement declared it would be prepared for a cease-fire with Israel. Rice met privately Sunday with Israeli Prime Minister Ariel Sharon. Today she visited with the PA' new president, Mahmoud Abbas. She announced that the Bush Administration will be active in getting the two sides back to the road map peace process, she pledged. The meeting between the two was held in the former headquarters of the late PA chairman Yasser Arafat, whom the United States had shunned as a leader tainted by terrorism. Unlike other visiting officials, Rice did not pause at Arafat's grave as she entered the walled compound. The United States pledges to give the Palestinian Authority $40 million over the coming 90 The US government will send the PA a total of $340 million in the coming year, Rice said. As first reported by the Jerusalem Post on February 1, the secretary of state confirmed on Monday that Washington intends to dispatch a high-level "security coordinator" to the region. Later in the day, she named US Gen. William Ward, formerly the head of the NATO-led peacekeeping force in Bosnia, as the new American coordinator. The US intends to help revive the Palestinian economy and rebuild the PA security forces, she said. Addressing the PA's challenge in cracking down on terror organizations, Rice responded: "One can't expect to have a timetable on security; however, there has already been faster progress under Abbas than we have seen in quite a long time. It will be a long road towards the reformation of security forces, but the Roadamp is a reliable guide, and both Abbas and Sharon have said they are committed to this process." days as part of a quick-action program to aid and ease the lives of Palestinians in the West Bank and Gaza Strip. "We will ask of our partners and our friends here in Israel that Israel continue to make the hard decisions that must be taken in order to promote peace and help the emergence of a democratic Palestinian State," Rice said Sunday. Rice did not go into specifics. But among the major challenges are what to do about Israeli outposts on land that Palestinians eventually would control; the fate of the contentious separation barrier Israel is building between itself and the West Bank; and new security arrangements with the Palestinians. In addition, the Palestinians hope to make east Jerusalem the capital of an independent state, while Israel claims the entire city as its capital. Sharon greeted Rice warmly, telling her in English, "you are among friends." "Her visit, I believe, will contribute to the peace process that we so much want to advance," Sharon said in Hebrew. Rice and Sharon later had a 90-minute dinner meeting, which State Department spokesman Richard Boucher said included a discussion of the initial steps from the new Palestinian government to end violence, and Israel's response. Rice also outlined "a possible security mechanism to help Palestinians build effective security forces that fight terrorism and help Palestinians and Israelis in cooperating to end the violence." Boucher did not give details, but the Bush administration is working on ways to monitor or enforce a cease-fire. In a boost to peace prospects, the mainstream Palestinian movement Fatah said Sunday it would agree to a cease-fire with Israel in the West Bank and Gaza. Fatah also ruled out attacks against civilians inside Israel. A lasting peace deal for Israel and creation of a Palestinian democracy are chief foreign policy goals for the United States in President Bush's second term. For now, though, the United States is taking a low-key approach.
As Rice visited European capitals last week, she repeatedly said that Israel and the Palestinians should control their own path to peace, with help from the United States, Europeans and others. In Turkey earlier Sunday, Rice said the United States has no immediate plans to name a special envoy for Middle East peace. Rice is making an eight-day trip through Europe and the Middle East, her first overseas diplomacy since taking over from Colin Powell at the State Department. Rice's schedule is carefully laid out to balance Israeli and Palestinian sensitivities. She will be the most senior US official to see Abbas since his election last month. It is also the first time in years that a senior American official has gone to Ramallah, site of former Palestinian leader Yasser Arafat's crumbling compound. Arafat's death in November has caused a reinvigoration of the peace. Rice was to return to Europe on Monday for meetings with Italian, French and other leaders. Her stops there are helping pave the way for Bush's own meetings with European and Russian heads of state later this month. After her arrival from Turkey, Rice stopped at Yad Vashem, the Israeli memorial for the 6 million Jews killed in the Nazi Holocaust of World War II. She laid a wreath and signed a memorial book. She said her inscription read, "This is a place that causes all to remember those who perished and to accept that it must never happen again, but will if good men and women do not act." With Sharon at her side later, Rice smiled as she summed up the current situation. "This is a hopeful time, but it is a time also of great responsibility for all of us to make certain that we act on the words that we speak," Rice said.
Iran Rejects What It Calls Rice's 'Threats'
Feb. 7….(My Way) Iran said on Sunday it was impervious to remarks by Secretary of State Condoleezza Rice who accused Tehran's "unelected mullahs" of a dismal human rights record and covering up efforts to build a nuclear bomb. In remarks on Thursday, Rice made clear Washington was unwilling to become involved in European negotiations, which resume on Tuesday, to broker a deal that would offer economic incentives to Iran if it agreed to drop nuclear fuel production. "Such threats will not have much effect on the Islamic Republic and we will continue our path of sovereignty, independence and saying no to hegemony," Foreign Ministry spokesman Hamid Reza Asefi told a news conference., Rice broadened her attack against the Islamic Republic from atomic bombs and human rights to Iran's support for Palestinian militia. Secretary of State Rice said, "One of the most important barriers to getting to the Middle East peace roadmap is the activity of Palestinian rejectionist groups and of groups like Hizbollah. Iran is the key supporter of these rejectionist groups," she said. Iran insists that it only offers moral support to Palestinians. Rice declined to comment on whether Washington would give Israel the green light to bomb nuclear targets in Iran but said it was up to Tehran to avert such an attack. "Anything that would lead to conflict in this region would be a terrible, terrible thing. And the Iranians need to live up to their international obligations so we don't face any such point."
Military Strike on Iran Would be a 'Mistake': EU's Solana
Feb. 7….(EU Observer) A shock military strike against Iran's nuclear facilities would be a "mistake," the European Union's foreign policy chief Javier Solana said Sunday in a British television interview. Speaking on ITV's Jonathan Dimbleby program, the EU's high representative for foreign and security policy said that such unilateral action would be counter-productive. Asked about US Vice President Dick Cheney's warning last month that Israel might attack Iran's nuclear facilities without warning, Solana said: "I think that would be something I would not like to see taking place. That would be a mistake. That will complicate enormously the situation." "Unilateral action of that nature I don't think will contribute to what is the aim of everybody," he added. "I don't think at this point in time that it is worth thinking about that." Asked if he agreed with British Foreign Secretary Jack Straw that US military action against Iran is "inconceivable", Solana replied: "I think at this point in time military action is very difficult to conceive." "I don't think that the United States has at this point of time the wish or the will or the capability to do that." Last week in London, US Secretary of State Condoleezza Rice insisted that a military strike against Tehran was "simply not on the agenda". Britain, France and Germany have been involved in diplomatic efforts to get Iran to abandon any military nuclear programme in return for co-operation with civilian projects. Asked whether he agreed with US President George W. Bush's description of Iran as "the world's primary state sponsor of terror", Solana said: "Well it's very difficult to say who is the first, or the second, or the third, but there is no doubt that Iran has in its territory and financially it helps organizations which are terrorist inclined," he said, adding: "I don't know that is being done directly by the most important people in the country."
EU Central Bank Leaders Warn US over Massive Deficits
Feb. 7….(Jerusalem Post) Some the world's major central bankers have warned the United States that the international community could be running out of patience with the massive US budget and trade deficits that have pushed the dollar lower and increased the cost of their exports in America. But US Federal Reserve Chairman Alan Greenspan said before the official opening of the Group of Seven finance ministers meeting that factors including the weaker dollar and tougher budget discipline in Congress may finally start to restrain the growth of the trade gap.
America's own campaign to push China to untie its currency from the dollar as quickly as possible appeared to make little headway. European Central Bank president Jean-Claude Trichet said at a conference of business leaders and government officials on Friday that it was unacceptable for developed countries (US) to run long-term current account deficits. "The industrialized world as a whole is in deficit, there is a current account deficit, and there is no offsetting of the US current account deficit by the other industrialized countries," Trichet said. "That of course means that we are structurally asking the rest of the world to finance us. It doesn't seem to me that this is an acceptable and sustainable long-term feature of the present functioning of the global economy." The US deficits are expected to be a significant item of discussion during talks Saturday among the ministers from the G-7 nations, Britain, Canada, France, Germany, Italy, Japan and the United States.
Rice's "Viable Palestinian State" Shrinks Israel out of Jordan Valley and Most of West Bank
FOJ Note: The new push by the US and the other Roadmap sponsors will in effect slice Israel in half and serve to establish geographical connecting links from terrorist outposts like Syria, Lebanon, and the Gaza sea and tunnel funneling system from Iran. It will render America's drive into Iraq as having been largely useless in the broad-ranging war-on-terror. And lets remember the most important thing here; the war on terror is really all about Israel, and American support for Israel.
Feb. 7….(DEBKAfile Special Analysis) New US secretary of state Condoleezza Rice's visit to the Middle East this week has galvanized the region's leaders into a frenzied round of travel and summit consultations. The centerpiece summit will bring together Israeli Prime Minister Ariel Sharon, Egyptian President Hosni Mubarak and Palestinian leader Mahmoud Abbas at Sharm al Sheikh next Tuesday. Jordan's King Abdullah has also been invited. Rice will take the place of President George W. Bush, who attended the last such forum, the 2003 Aqaba summit. There are other differences. Abbas will be coming from fruitful talks with Russian President Vladimir Putin in the Kremlin and Tayyep Erdogan in Ankara. Abbas will have an Iranian invitation to Tehran in his pocket as well as Moscow's offer of military aid at some future date, including helicopters, to "counterbalance" US-British defense support for the Palestinians.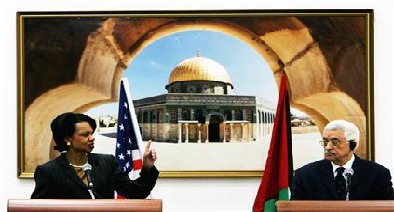 Secretary Rice has said, "Without a viable and contiguous Palestinian state that represents the aspirations of the Palestinian people, meaning enough land to function well, there will be no peace for either Palestinian people or Israelis." This statement does not address the troubling problem of Jerusalem. Answering senators' questions on January 18, she had this to say about her perception of a viable Palestinian state, and by definition Israel's future borders: "There are several ways to think about viability. One is that it (the Palestinian State) has to have territory that makes it viable. It cannot be territory that is so broken up that it can't function as a state. It has to have economic viability, and there it probably needs to have economic viability in relationship to other states around it, to Jordan, Israel and others. Viability, I think, also has a political and democracy dimension." She went on to say, "we have to recognize that the parties are going to determine their borders; that it is not for us to prejudge what those borders might be. There has been a lot of negotiation, I think they will need to look at what has been looked at before." State department officials who briefed the American press afterward interpreted Rice's statement as meaning: the territorial contiguity of a Palestinian state with a common border with Jordan. Israeli leaders failed to react to the new US secretary's words or ask for much needed clarifications. DEBKAfile's sources in Washington, however, after some analysis find room for Israel to be concerned on the following scores:
1. The Americans have been shouting from the rooftops for some time that any cluster of Israeli West Bank communities, including major towns, that obstruct Palestinian territorial contiguity must be removed. Back on December 24, we quoted Elliot Abrams, appointed by President George W. Bush this week as deputy chairman of the national security council, as saying on November 30 in Washington and in New York on December 20, that "all of the Israeli settlements east of the existing sections of the West Bank security barrier will be dismantled and evacuated".
2. Establishment of a common frontier between Jordan and a Palestinian State to ensure the latter's economic viability would entail Palestinian control of the Jordan Valley and also of Israeli-Jordanian border crossings. Since Israeli communities in the Jordan Valley are located east of the security fence, they are destined by the Bush Administration for removal.
3. In the longer-term, Rice's comments on contiguity are also pertinent to other countries bordering on the projected Palestinian State, Egypt to the south and Syria to the north. They means Israel will be required to withdraw from the Philadelphi Corridor on the Gaza-Egypt border, an issue now at the heart of its talks with Washington and Cairo. With Israel out of the way and the buffer zone gone from the border, a Palestinian State will gain territorial contiguity between the Gaza Strip and Egypt's northern Sinai peninsula. Further down the road, after Israel returns the Golan Heights, a Palestinian State will have a common border with Syria. (a state sponsor of terrorism) Rice's core message to Jerusalem is clear: she looks to Israel to grant the Palestinians territorial connectivity and all the land they need, along with all the accoutrements of sovereignty such as control of its borders and air and sea ports. To make it so, Israel is expected to continue pulling out of large tracts of the West Bank in addition to its volunteered evacuation of four settlements in the northern part of the territory and pullback from 21 Gush Katif locations in the Gaza Strip. If the Bush Administration is advocating a territorial link between a Palestinian State and Jordan and Egypt, it is hardly likely to forego a land link for the West Bank and the Gaza Strip. All of these statements from the incoming US Secretary of State are in glaring contrast with Ariel Sharon's understanding with President Bush in which the president said that Israel would not be asked to return to the pre-1967 Middle East war borders under any permanent peace agreement with the Palestinians.
WEEK OF JANUARY 31 THROUGH FEBRUARY 6
Elections in Iraq may Render US as Impotent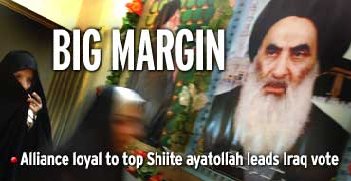 Feb. 4….(FOJ) Early Iraqi election returns as released by election officials indicate that candidates backed by Shiite Muslim clerics in Iraq's southern provinces are continuing to roll up a strong lead over other political tickets, including one headed by interim Prime Minister Ayad Allawi. The United Iraqi Alliance, which has the endorsement of Iraq's top Shiite clerics, including the widely revered Grand Ayatollah Ali al-Sistani, has won more two-thirds of the 3.3 million votes counted so far, the election commission said. Allawi's ticket was running second, with more than 579,700 votes. The new election figures are based on votes cast at 35 percent of the country's polling stations, said Hamdiyah al-Husseini, an official with the electoral commission. They represent partial returns from 10 of the 18 provinces, all 10 of which have heavy Shiite populations. The Alliance's leader, Abdul-Aziz al-Hakim, and others among its top candidates spent years of exile in Iran, helping build a movement against Saddam Hussein and building ties with the regime there. Although many clerics are on the ticket, its officials have said they do not seek to impose Islamic law in Iraq. (sure, right….and if you want some nice swamp land..) You can see for yourself by the attached photo above that the icon of the Shiite grab for power remains Ayatollah Khomeinei. Ironically, Khomeinei spent many years in exile from Iran during the Shah'sreign in Karbala and Najaf, the Islamic bastions of Shiite domain in Iraq. It is the speculation of FOJ that the Shiite majority of Iraq will in fact manufacture Iraq into a Muslim styled theocratic-democracy, something on the order of what exists in Iran. And once this political dance is over, the US will not have a legitimate complaint against the Iraqi government. The Bush Doctrine espouses that by developing democracies in the Middle East, it will in turn create the panacea to cure the worlds terrorist threat against Israel and the US. The Prince of Persia, that ancient prince of the spiritual underworld is geo-politically endeavoring in the region to annex all the territory of ancient Persia, ahead of the prophesied Russian-led coalition of allies against Israel, and perhaps igniting the Armageddon scenario. The presence of a supposedly functioning democracy in Iraq that is also Iran–friendly will change the balance of power in the Middle East, and spell the downturn of American prestige in the world. Iraq is a must win case for America in the war on terrorism, and this war will take a turn in the coming months either into Iran or Syria, but not both. Soon and very soon, we Bible Prophecy watchers may witness an unfolding drama that will divulge much about the Last Days, and how the Antichrist could possibly emerge! Keep Focusing on Jerusalem, and keep looking up!

America is Sailing into Stormy Seas

Feb. 4….(FOJ) In his State of the Union address on Wednesday night, US President George W. Bush could give no clearer warning to Syria and Iran regarding terrorism: "we expect the Syrian government to end all support for terror and open the door to freedom…We are working with European allies to make clear to the Iranian regime that it must give up its uranium enrichment program and any plutonium reprocessing, and end its support for terror." But the Presidents speech, as does American foreign policy since 9-11 appears to totally turn a blind eye to the fact that there are two nations that are helping to embolden the terrorist sponsoring states known as the Axis of Evil. China and Russia are empowering Syria and Iran with weapons and technology that threaten the very livelihood of Israel, and both countries are helping the Arab/Muslim world gain nuclear capability. Then, this week comes a public announcement that Russia and China are holding joint-security discussions and exploring techniques and strategies to counter balance the US presence in the Middle East. These new accounts read like a preview for Armageddon! As America coerces Israel back onto the so-called Peace Roadmap, it isn't only Israel's security that will be impaired this time, (as with the Oslo process) it will be America's security! America's complicity in the Roadmap while engaged in a war-on-terror is destined to backfire. It is in the prophetic cards. (Genesis 12:1-3 and Zechariah 12:1-3)

The Peacemongers are Back!

Feb. 4….(By Caroline B. Glick) (Jewish World Review)
Speaking with State Department personnel on Monday, US Secretary of State Condoleezza Rice gave form to the Palestinian state that now stands at the center of American Middle East policy. "The Israelis," she said, "were going to have to recognize that there was going to have to be land for, contiguous land for the Palestinian state to exist on." Contiguous land? Well, how can there be contiguity between Judea and Samaria on the east and the Gaza Strip on the west unless Israel is split in two? It's simple geography. Either Israel will separate two sections of the Palestinian State or the Palestinian State will divide Israel in two. And now we know where America stands on the issue. The contiguity statement also bodes ill for Israeli sovereignty over Jerusalem and the Jordan Valley. After all, Israel's control of Jerusalem cuts off the Hebron and Bethlehem areas from Ramallah. And Israeli sovereignty over the Jordan Valley would cut Jericho off from the rest of the Palestinian cities in Judea and Samaria. The most amazing aspect of Rice's statement is that it was made before Israel and the Palestinians have even begun to negotiate. Then again, since the so-called roadmap is the only plan in town, we already know that America has joined Europe, the UN, Yossi Beilin and Vice Premier Shimon Peres in believing that at the end of the day, Israel will enable the establishment of a sovereign Palestinian state. That state will share borders with Egypt and Jordan (and after Israel gives the Golan Heights to Syria, with Syria); will encompass all of Judea, Samaria and the Gaza Strip; and will have its capital in Jerusalem. In addition, there will be foreign

troops in the areas to prevent Israel from defending itself. On Tuesday, Secretary Rice made clear that now that America has joined the bandwagon of those calling for Israel's disembowelment, it should be able to patch up its relations with the EU. In her words, "This great alliance that has faced very grave threats now faces really remarkable opportunities in the world." The first opportunity she mentioned was "the opportunity to support the parties in the Israeli-Palestinian conflict to try and find a two-state solution." It is odd that the US, in trying to patch up its relations with Europe, has preferred to give in to Europe's Palestinian fetish over say, building on common interests. (FOJ Note: like partitioning Israel) As Robin Shepherd from the Center for International and Strategic Studies wrote in The Washington Post last week (the article also appeared in Tuesday's Jerusalem Post), the core of Europe's rift with America is Europe's emotional and irrational antipathy for Israel. And, as he warned, "Americans should now be aware that on one crucial issue, at least [i.e., Israel], it is Europe, and not America, that needs to clean up its act." All the same, it is hard to feel too betrayed by America when the charge to strengthen Palestinian terrorists at the expense of Israel's national security is being led today, just as it was in 1993, by the Israeli government itself. Thursday, the "security cabinet," stacked with security geniuses like Shimon "Arafat's Great" Peres and Haim "Israel is Bad" Ramon, decided to release 900 Palestinian terrorists from prison. This is just the latest of the Israeli payoffs to the democratically elected PA leader Mahmoud Abbas. And what has Abbas done to deserve such largesse? He has purportedly reached an agreement with Hamas, Islamic Jihad and Fatah that involves these terrorist groups temporarily ceasing their attacks. During this temporary cessation of terrorist attacks, the terrorists will not be disarmed. Those would be the same security services to which Russia pledged to donate helicopters; to which Turkey has asked to donate uniforms and guns; which Rice says America will train; and which President Bush wishes to finance. (with 350 million dollars) And, if terrorists are dissatisfied with the pace of Israeli withdrawals or other appeasement measures, Abbas promised them that they can always go back to murdering Israelis. In addition to his mollification of terrorists, Abbas announced a ban on illegal weapons. Perhaps most indicative of Abbas's intentions is his acceptance of Iran's invitation to conduct a state visit. This willingness to truck with global terrorists who are pursuing nuclear weapons aligns nicely with Abbas's visits to Syria and Lebanon, where he was mollycoddled by dictators and terror masters while campaigning for the office he won in a largely uncontested, highly corrupt election. It stands, of course, to reason, in the Orwellian world that so characterizes Israel when it is peace-drunk, that our leaders would look at all that Abbas has done and say, "Wonderful, let's give this guy a state!" In addition to rushing to embrace Abbas, Israel is doing everything it can to shore up Egyptian dictator Hosni Mubarak in the hope that he will protect us after we run away from Gaza. Crowned with legitimacy as a peacemaker after he and his security chief, Omar Suleiman, have spent the better part of two weeks getting Hamas and Islamic Jihad to agree to absolutely nothing, according to Hamas chieftain Khaled Mashal, Mubarak next Tuesday will host a peace party in Sharm e-Sheikh, where peace-drunk Israeli politicians and media flacks will gush, and Palestinians will demand that Israel take down the security fence and the roadblocks and release still more murderers from jail in order to give them confidence to make "hard steps" toward peace sometime later on down the line. American supporters of both Bush and Israel are now backing Sharon's plan to withdraw from Gaza and northern Samaria and Bush's plan for Palestinian statehood, claiming the world has changed since Oslo. They promise that Bush is going to cause a democratic revolution in the Arab world that will change the entire strategic balance in Israel's favor. What they don't seem to remember is that the world had also changed after the fall of the Soviet Union and the 1991 Gulf War. Then, as now, there was an expectation that the Arabs would be forced to change the way they treated Israel and America. Then, as now, the reactionary forces in the region were saved by one thing, the peace process with Israel. Back in 1992 at Madrid and in 1993 at Oslo, the Arabs learned that the way to ensure the longevity of their authoritarian, terror-supporting and jihad-engendering regimes was by attacking Israel with olive branches. These earn legitimacy from the Jewish State and gratitude from the White House. Since peacemakers are of course indispensable, all thought of democracy must be put aside in the furtherance of a greater good. So, here we are again, at the dawn of a new peace process which will bring no peace; will legitimize terrorists and the authoritarian regimes that support them; will weaken Israel's democratic institutions while endangering its citizenry; and will engender scorn for America and faith in Israel's eventual destruction in the hearts of millions of people who today waver between support for freedom and support for terror.

Rice: US Attack on Iran Not on Agenda

Feb. 4….(My Way) Secretary of State Condoleezza Rice said on Friday a US attack on Iran "is simply not on the agenda at this point," despite the United States' continued criticism of Iran's human rights record and suspected nuclear weapons ambitions. Deputy Secretary of State Richard Armitage has expressly said that regime change in Iran is not the US goal. But Rice would not say whether the United States supports a change of government. Speaking to reporters on the plane as she began her weeklong trip, Rice said Iran's approach to human rights and its treatment of its own citizens were loathsome. "I don't think anybody thinks that the unelected mullahs who run that regime are a good thing for the Iranian people and for the region," she said Thursday. On Friday, she referred to Iran's leaders as "an unelected few." In London, first stop on a tour of European capitals, Rice said there is broad international agreement that Iran cannot be allowed to use a civilian nuclear power project to conceal a weapons program. After a meeting with British Foreign Secretary Jack Straw, Rice was asked directly whether the United States might attack Iran. Doing so could presumably head off the threat that Iran could use a nuclear device against Israel or other nations. "The question is simply not on the agenda at this point," Rice said at a news conference. Rice said, "We believe particularly in regard to the nuclear issue that while no one ever asks the American President to take all his options, any of his options off the table, that there are plenty of diplomatic means at our disposal to get the Iranians to finally live up to their international obligations." She called the Iranian human-rights record "abysmal." Earlier, Rice said the Iranian regime's behavior in that area and others "is something to be loathed." Rice is scheduled to visit many European capitals and the Vatican, with a weekend side trip to see the Israeli and Palestinian leaders.





Secretary Rice Warns EU over China Arms Ban

Feb. 3….(Worthy News) US Secretary of State Condoleezza Rice warned Europe against sending "the wrong signal" to China by ending an arms embargo on the country. UK Foreign Secretary Jack Straw said last week that the European Union might drop the embargo within six months. It was imposed in 1989 after Chinese troops opened fire on protesters around Beijing's Tiananmen Square. Washington has warned that if the blockade is lifted, China could embark on an arms-buying spree. The US fears any weapons it buys could be used to threaten Taiwan, which Beijing considers as a renegade province of China. The EU decided in December against lifting the embargo immediately, but the proposal is still under discussion. France and Germany, both major arms exporters, back the move to lift sanctions. However Ms Rice indicated she did not think the matter was settled yet, saying the US had a "good dialogue" with Europe over the issue. At this point we need to continue to discuss it and see what we can come up with," she said. She said China's human rights record still needed to improve. "I have to say that in a circumstance in which the embargo was levied because of human rights concerns out of Tiananmen, one has to be very careful not to send the wrong signal about human rights," she said.

FOJ Note: China's arms buildup is a detail that should be anticipated by Prophecy scholars. Europe's affinity for assisting in China's military buildup bodes ill for the future of the United States. China, once known as the sleeping giant, has awakened, and is making great inroads in every sphere of the world, and will likely move to supplant the US as the mover and shaker in the Far East. And the timing of China's rise is coming right in conjunction with the geo-political struggle over the Middle East and its terrorist sponsored campaign against Israel, and Israel's lone true friend, America. Europe is anticipating winning this power struggle at the expense of the US!

Iran Says It Will Never Scrap Nuke Program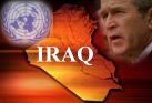 Feb. 3….(My Way) Iran will never scrap its nuclear program, and talks with Europeans are intended to protect the country's nuclear achievements, not negotiate an end to them, an Iranian official said Wednesday. The remarks by Ali Agha Mohammadi, spokesman of Iran's powerful Supreme National Security Council, are the latest in a hardening of his country's stance amid ongoing talks with European negotiators. They also reflect Tehran's possible frustration at the lack of progress. Europe is pressing Iran for concessions on its nuclear program, which the United States claims is aimed at producing atomic weapons. In exchange for nuclear guarantees, the Europeans are offering Iran technological and financial support and talks on a trade deal. "We have the power to negotiate because we keep our (nuclear) achievements in our hands and we are negotiating to protect them," Mohammadi said Wednesday. "It's definite that we will protect our scientific achievements as a basic pillar, whether talks make progress or not." Mohammadi's comments came a day after Iran's vice president, Gholamreza Aghazadeh, called on the Europeans to speed up the talks, amid reports that negotiations are deadlocked. Aghazadeh, who also serves as head of Iran's atomic energy organization, suggested Iran was not happy with the progress of the talks, telling reporters: "We have to take the negotiations seriously and accelerate them." European officials acknowledged the complexity of the negotiations, but said talks were going at a good pace and a diplomatic solution remained on track. The talks have been carried out against a backdrop of US warnings. In January, President Bush reaffirmed his support for a diplomatic settlement, but said he would not take any option off the table, including a possible military strike. A summary of the negotiations that was leaked last week showed Europe had made little progress in convincing Iran to make permanent its temporary suspension of uranium enrichment activities, although negotiators said the atmosphere at the talks has improved recently. Uranium enriched to low grades is used for fuel in nuclear reactors, but further enrichment makes it suitable for atomic bombs. The United States and other countries fear Iran seeks to enrich uranium not to the low level needed to generate power, as it claims, but to a weapons-grade that could become the core for a nuclear warhead. While not prohibited from enrichment under the Nuclear Nonproliferation Treaty, Iran suspended uranium enrichment and all related activities in November to build trust, reduce international suspicions and avoid UN Security Council sanctions. Tehran has said it will decide within three months whether to continue its suspension, which is monitored by UN nuclear inspectors.
Syria Renews Soviet-Era Alliance
Feb. 2….(Koinoia House) Syria has become increasingly isolated by the US and the EU, primarily because of its ongoing support for terrorism, however it has strengthened its relationship with its former Soviet ally. In a recent diplomatic meeting between Russian President Vladimir Putin and Syrian President Bashar Assad the two leaders made plans to increase diplomatic and military cooperation. Russia has written-off nearly 75%, approximately 10 billion dollars, of Syria's Soviet-era debt. Putin has also said the proposed sale of surface-to-air missiles to Syria is still under discussion despite US and Israeli opposition. The missiles are some of the most sophisticated shoulder-held anti-aircraft missiles on the market and Israel is concerned the weapons may fall into the hands of Palestinian terrorists. Russian President Vladimir Putin has called on Israel to withdraw from all the occupied Arab lands back to the June 4, 1967 border. Putin also stressed the necessity of a complete Israeli withdrawal from Golan Heights. Israeli Prime Minister Ariel Sharon has said that in order for peace negotiations between Israel and Syria to take place, Syria must end its support of Palestinian terrorists. Syria is on the US State Department's list of countries that sponsor terrorism because Syria gives "substantial amounts of financial, training, weapons, explosives, political, diplomatic, and organizational aid" to terrorist groups such as Hezbollah and Hamas. Syria supports various radical Islamic and Palestinian organizations, many of which are headquartered in Damascus. From their headquarters in Syria these organizations are able to plan and coordinate terrorist attacks against Israel. Syria fought Israel in 1948, 1967, 1973, and 1982 and still does not recognize the Jewish State. However in April 2002, Syria signed onto an Arab League peace proposal, pushed by Saudi Arabia, that would trade "normal relations" with Israel for an Israeli pullback to its 1967 borders, a return for Palestinian refugees, and a Palestinian state. Peace negotiations between Israel and Syria fell apart in January of 2000. Perhaps the most controversial issue was the occupation of Golan Heights. Israel captured Golan Heights from Syria during the 1967 six-day war. Syria tried to recapture the Golan Heights during the 1973 Middle East war, but was unsuccessful. Both nations signed an armistice in 1974 and an UN observation force was put into place along the cease-fire line. Israel annexed the Golan Heights in 1981, but that action has not received international recognition. The Golan Heights is located in southwestern Syria, in an area that carries significant political and strategic significance. It is a plateau that overlooks northern Israel and southern Syria. The heights give Israel an excellent vantage point for monitoring Syrian movements and the topography provides a natural buffer against any military action. The area is also a key source of water. Syria wants a full Israeli withdrawal to the pre-1967 border. This would give Damascus control of the eastern shore of the Sea of Galilee, which is Israel's main source of fresh water. There are also more than 30 Jewish settlements on the heights which would have to be dismantled if Israel agreed to give control of the region back to Syria. Many experts believe that a large-scale confrontation between Syria and Israel could be on the near horizon. Which makes Syria's growing relationship with nations such as Iran and Russia more concerning.
Rice: No Peace Deal Without Viable Palestinian State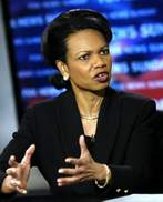 Feb. 1….(Ha Aretz) New US Secretary of State Condoleezza Rice said today that Israel must recognize that the Palestinian state, which she said was "within our grasp," must be viable and contiguous, meaning with enough land to function well, Rice said in a conversation with State Department employees. "I don't think any of us doubt that without a Palestinian state that is viable, that can meet the aspirations of the Palestinian people, there really isn't going to be a peace for either the Palestinian people or the Israelis," she said. She called on Arab states to stop incitement to violence, but her emphasis was on Israel yielding territory and "creating conditions in which a new Palestinian state could emerge." Miss Rice is due in Israel and the West Bank for talks next Monday. Her remarks in a State Department auditorium preceded a meeting with Ariel Sharon's closest adviser, Dov Weisglass, who was in Washington to bring Rice up to date on the prospects of Sharon holding talks with Palestinian leader Mahmoud Abbas and on chances of a cease-fire. Weisglass then turned to focus on the developments since the election of Palestinian Authority Chairman Mahmoud Abbas on January 9, including the PA police's deployment in the Gaza Strip and the planned transfer of control on several West Bank cities. Weisglass also reiterated Israel's demand that all the militant groups should be dismantled unconditionally. Rice said that according to the Quartet's Roadmap to peace in the Middle East, those groups need to be disbanded. Weisglass also reviewed the regional developments, including the situation in Iraq, Iran and Syria, and their direct influence on the attacks of Lebanon's Hezbollah guerilla movement along Israel's northern border as well as its activity in the territories. He told Secretary Rice the US had to press Syria and isolate Hezbollah. The Sharon-Abbas summit planned for next next week now appears to be shaping up as a discussion of security concerns, and will not immediately plunge into political negotiations, according to sources in Abbas' entourage as he visited Moscow Monday.

FOJ Note: The Bush Administration, beginning its second term is beginning to place an emphasis on jumpstarting the Israeli-Palestinian Peace process under the auspices of the Quartet-sponsored Peace Roadmap. The quartet is comprised of the US, UN, EU, and Russia. This diplomatic endeavor, although a seeming pragmatic undertaking within the Bush Doctrine of spreading democracy in the Middle East is fraught with many dangers. Those dangers not only include the quagmire of the terrorist war, but it also includes the prophetic dynamic of compromising the Promised Land and offending Jehovah God's designs for Israel and the world. The partitioning of Palestine into TWO states is not a strategy that finds blessings from the Lord, in fact it carries a curse.

Iraqi Christian Voters Hope for Security

Feb. 1….(AP) Edward Ishak Shamoun cast his ballot Sunday as a rebuke to the insurgents and as a vote for a peaceful future. We see voting as the main road to security," said Shamoun, a member of Iraq's tiny Christian minority. "We want a strong government and I hope that Iraq will soon be a secure place. We came here to defy the terrorists." Shamoun, his wife and dozens of other Christians came to Nidhamiyah High School for Boys to vote for a 275-member National Assembly and Baghdad's provincial council. Most said they backed the ticket headed by interim Prime Minister Ayad Allawi, a secular Shiite Muslim. They considered other tickets, such as one endorsed by the Shiite clerical hierarchy, to be too closely identified with religious groups even though top Muslim leaders disavowed any talk of establishing a clerical government in Iraq. For Munira Boulos, a Christian housewife who arrived with her son Amer, 20, a vote for Allawi meant "choosing a strong leader who does not differentiate between Iraqis of any religion." Allawi promised during his campaign that if he remained Prime Minister after the election, he would concentrate on ending the 21-month-old insurgency that has killed thousands of people and on reviving the economy. The local polling director, Basil Saadi, said 65 percent of the 3,000 registered voters at his station in central Baghdad were Christians. During a reporter's visit at midafternoon, he said about 1,600 of them had voted so far. Christians, mainly Chaldean-Assyrians and Armenians, make up just 3 percent of Iraq's 26 million people. Iraqi officials estimate as many as 15,000 Christians have left the country since August, when four churches in Baghdad and one in the northern city of Mosul were attacked in coordinated car bombings that killed 12 people and injured 61. Another church was bombed in Baghdad in September.

Israel Openly Warns Iran it will not be Permitted to Build a Bomb

Feb. 1….(Jerry Robinson News+) Israeli Defence Minister Shaul Mofaz has told French lawmakers that Iran is at "the point of no-return" on building nuclear weapons, and warned openly in London to EU leaders that Iran would not be permitted to build a nuclear bomb. Mofaz said that Israel has operational plans in place for a strike against Iranian targets. Mofaz told the French National Assembly's defense commission that "he ardently hoped that a recourse to military action would not be necessary" in Iran. But he said that to avoid this, there would have to be careful inspections aimed at removing any ambiguity about the existence of a military nuclear project. Even if Iran recognized Israel's existence, Mofaz said "the possession of a nuclear weapon by an extremist regime is not acceptable." "The danger is great," he said. "The possession of non-conventional weapons could allow Iran to carry out terrorist actions with complete impunity and destabilize the free world." Iran's Revolutionary Guards warned earlier this week that any attack against the country would be met with an "astonishing" retaliation. The Islamic republic also responded to the Israeli allegations that it was close to developing a nuclear weapon, saying the latest accusations were designed to shift attention away from Israel's own weapons and its "terror" against Palestinians. While Iran insists its nuclear activities are strictly peaceful, Britain, France and Germany have been engaged in diplomatic efforts to secure long-term guarantees that the Tehran regime will not seek the bomb. Mofaz, an outspoken and hawkish former IDF army chief-of-staff who was responsible for adopting increasingly tough measures against the Palestinian intifada, told the Israeli defense commission that controls on Iranian nuclear activities by the International Atomic Energy Agency were "largely insufficient."

Latest Saudi Assault on America

Feb. 1….(Daniel Pipes) Those of us following the nascent career of Islam in America have for years worried about the unhealthy influence of Saudi money and ideas on this community. We watched apprehensively as the Saudi government boasted of funding mosques and research centers; as it announced its support for Islamist organizations such as the Council on American-Islamic Relations; as it trained the imams who became radicalized chaplains in American prisons; and as it introduced Wahhabism to the university campuses via the Muslim Student Association. But through the years, we lacked information on the contents of Saudi materials. Do these water down or otherwise change the raw, inflammatory message that dominates religious and political life in Saudi Arabia? Or do they replicate the same outlook? Now, thanks to excellent research by

Freedom House (a New York-headquartered organization founded in 1941 that calls itself "a clear voice for democracy and freedom around the world") we finally have specifics on the Saudi project. A just-published study, "Saudi Publications on Hate Ideology Fill American Mosques," provides a wealth of detail. The picture of Saudi activities in the United States is not a pretty one. Freedom House's Muslim volunteers went to fifteen prominent mosques from New York to San Diego and collected over two hundred books and other publications disseminated by the Kingdom of Saudi Arabia (some 90 percent in the Arabic language) in the mosque libraries, publication racks, and bookstores. What they found can only be described as horrifying. These writings, each and every one of them sponsored by the kingdom, espouse an anti-Christian, anti-Semitic, misogynist, jihadist, and supremacist outlook. For example, they:
Reject Christianity as a valid faith: Any Muslim who believes "that churches are houses of G-d and that G-d is worshipped therein … is an infidel."

Insist that Islamic law be applied: On a range of issues, from women (who must be veiled) to apostates from Islam (who "should be killed"), the Saudi publications insist on full enforcement of the Shari'a in America.

See non-Muslims as the enemy: "Be dissociated from the infidels, hate them for their religion, leave them, never rely on them for support, do not admire them, and always oppose them in every way according to Islamic law."

See the United States as hostile territory: "It is forbidden for a Muslim to become a citizen of a country governed by infidels because this is a means of acquiescing to their infidelity and accepting all their erroneous ways."

Prepare for war against the United States: "To be true Muslims, we must prepare and be ready for jihad in Allah's way. It is the duty of the citizen and the government."
Arabs and Holocaust Denial Sixty Years Later
Feb. 1….(Jewish World Review) To mark the 60th anniversary of the liberation of the Nazi concentration camps, the UN held a special session on January 24, 2005. It was reported that over 100 nations, including Arab states such as Egypt and Saudi Arabia, supported holding the session. Syria, on the other hand, was among the few countries not to support holding the UN special session. To understand the official Syrian position on the Holocaust one needs to read what is said in its government-controlled media. Discussing the "myth" of the Holocaust in the September 6, 2000 edition of The Syria Times, Mohammad Daoud wrote: "The most famous myth is that of the so-called Holocaust… We strongly believe that gas chambers were not used for burning of Jews." Arab religious leaders also frequently espouse Holocaust denial. Saudi Sheikh 'Adel Bin Ahmad Bana'ma said at a mosque in Jeddah on October 22, 2000: "Today, they [the Jews] disseminate everywhere the lie of the Holocaust and claim that Hitler killed six million Jews in gas chambers, this is pure falsehood." A cleric from Egypt's prestigious Al-Azhar University, Mahmoud Muhammad Khadhr, published an article titled "In Defense of Hitler" on May 27, 2001: "It is hard to believe that the Europeans and Americans cannot address the false Holocaust, whose numbers and scope they have exaggerated until it has reached the level of the merciless destruction of six million Jews." Palestinian religious leaders also frequently deny the Holocaust. A sermon by Sheikh Ibrahim Mahdi on September 21, 2001, stated: "One of the Jews' evil deeds is what has come to be called 'the Holocaust'... However, revisionist [historians] have proven that this crime, carried out against some of the Jews, was planned by the Jews' leaders." The Mufti of Jerusalem, Ikrima Sabri, is Imam of the Al-Asqa mosque and the highest religious authority in Palestinian Islam. Sabri gave an interview to the Italian newspaper La Republica on March 24, 2000, and stated: "Six million Jews dead? No way… Let's stop with this fairytale." And new Palestinian President Mahmoud Abbas' 1982 doctoral dissertation was based on Holocaust denial and discussed "the secret ties between the Nazis and the Zionist movement leadership." In the introduction to its first Arabic publishing, well-known Holocaust deniers were referenced, the total number of Jews murdered was formulated to be probably "less than a million," and doubts were raised that gas chambers really existed. The Palestinian newspaper Al-Manar routinely praises French intellectual Roger Garaudy who says: "Nobody in the West dares to stand up, when the subject is the fictitious Nazi Holocaust against the Jews of Europe. The caliber of the 'Holocaust' lie, is the greatest lie in History." To date, there have been only a handful of prominent Arabs who have spoken against Holocaust denial.
Al Qaeda Vows to Fight on in Iraq
Feb. 1….(My Way) Al Qaeda vowed to pursue "holy war" in Iraq Monday after failing to wreck a historic election in which millions of people flocked to the polls. Al Qaeda's affiliate in Iraq slammed the election, which was hailed around the world as a success, denouncing it as an American game. "We in the al Qaeda Organization for Holy War in Iraq will continue the jihad until the banner of Islam flutters over Iraq," said the statement posted on an Islamist Web site. Earlier, interim Prime Minister Iyad Allawi had urged the country's rival ethnic and religious groups to forge unity after Iraq's first multi-party election in half a century. "The whole world is watching us. As we worked together yesterday to finish dictatorship, let us work together toward a bright future, Sunnis and Shi'ites, Muslims and Christians, Arabs, Kurds and Turkmen." But he warned in a televised speech that violence had not ended.
'Voice of Freedom' is Heard in Iraq
Jan. 31….(FOJ)President Bush, speaking about yesterday's election in Iraq, said, "Today the people of Iraq have spoken to the world, and the world is hearing the voice of freedom from the center of the Middle East. In great numbers, and under great risk, Iraqis have shown their commitment to democracy. By participating in free elections, the Iraqi people have firmly rejected the anti-democratic ideology of the terrorists. They have refused to be intimidated by thugs and assassins. And they have demonstrated the kind of courage that is always the foundation of self-government.
Iraq's opportunity for freedom has been purchased at the cost of some 1,400 American lives, not to mention the countless numbers of Iraq's own countrymen, Iraqis yesterday participated in their country's first democratic election in more than 50 years. And although at least 35 Iraqis, plus 8 suicide bombers, died in election-day terror attacks around the nation, the election was also marked in some polling places by dancing and singing. Iraqi officials were very upbeat, with Interim Prime Minister Ayad Allawi calling it "the first time the Iraqis will determine their own destiny and National Assembly candidate Ahmad Chalabi saying, "We have defeated the terrorists today, and the winds of freedom are sweeping across Iraq." The emergence of democracy in Iraq serves as another shot-heard-round the world, (in the language of the American Revolution) and its echoes should ring loudly in Iran and Syria, not to mention Saudi Arabia. America has geographically encircled Iran with lab-experiments of democracy in Afghanistan and Iraq, and these two test cases are the frontlines in wining the war on terror. However, there is a backside to these national tests of democracy. That backside is the Palestinian equation. Will democracy actually emerge in the West Bank and Gaza Strip now that Yasser Arafat is gone? All these questions will determine the outcome of the war-on-terror, and America's survivability.
Allawi: Election Proves Terrorists Can't Win
Jan. 31….(WND) With unofficial estimates indicating nearly 60 percent of Iraq's 14 million eligible voters cast ballots Sunday, leaders from around the world, including France and Germany, called the elections a mandate by the people of Iraq. Iraq's interim leaders lost no time moving forward with that mandate. In his first news conference since polls closed, interim Prime Minister Iyad Allawi said the "terrorists now know they cannot win." Despite fears of growing violence, the nation was calm Monday as vehicles again wove their way down Baghdad's streets after an election-day ban on most traffic. Final results of the election weren't expected for days, but the country was already focusing on goals almost as challenging as the election itself: forming a new governing coalition, writing a constitution and winning popular trust. The electoral commission said it believed, based on anecdotal information, that turnout overall among the estimated 14 million eligible Iraqi voters appeared higher than the 57 percent, or roughly 8 million, that had been predicted before the vote. But it would be some time before any precise turnout figure was confirmed, they said. Allawi urged factions within Iraq to come together, aiming his comments at Iraq's Sunni minority, a large percentage of whom avoided the polls Sunday. "We are entering a new era of our history and all Iraqis, whether they voted or not, should stand side by side to build their future," he said. "Now is a suitable time for us to work together so that the whole world can watch the capabilities of this great country." The election will almost certainly bring to power the country's long-suppressed Shiite Muslims, who make up 60 percent of Iraq's population, boosting the sect's influence and worrying neighboring countries with Sunni majorities. Security just after the ballots are counted will be crucial, because once the winners are announced, they will likely become terrorist targets. Not even the country's frequent power outages could stop the electoral process, the first free vote in a half-century. It is still unclear if the successful vote would deal a significant blow to the insurgents, or rather lead to a short-term rise in violence. The militants might need time to regroup after the spate of attacks they launched in the weeks before the vote. The election was hailed as a success around the globe, with President Bush declaring: "The world is hearing the voice of freedom from the center of the Middle East." Australian Foreign Minister Alexander Downer said Iraqis showed "the courage to stand up to violence and we should support them." In Europe, both opponents and supporters of the Iraq war came together to praise the election. Yesterdays historic election came only seven months after Iraq's interim government took over from a US-led coalition, and less than two years after Saddam's ouster.
Across the largely authoritarian-ruled Arab world, where dislike and distrust of US power and American intentions dominates the public debate, some dismissed the poll as a US-orchestrated sham, while others hoped it might prove a catalyst for a region-wide democratic push.
Hamas, Hezbollah Vow to Continue Terror
Jan. 31….(WorldNetDaily) Hamas and Hezbollah agreed to continue to use terrorism against Israel in spite of US and Israeli pressure and a UN resolution calling for the dismantlement of the terror groups, a Hezbollah statement said yesterday. The agreement was produced after a meeting between Hamas leader Khaled Mashal, who resides mostly in Syria, and Hezbollah leader Sheik Hassan Nasrallah at a Hezbollah office in south Beirut. The meeting focused on "pressure to which the resistance and steadfastness forces in Syria and Lebanon are subjected through [UN] Resolution 1559 and in Palestine through the continuing [Israeli] aggression on the Palestinian people," said the Hezbollah statement. "Agreement was reached that the resistance and steadfastness option is the only option in confronting the current pressure," it said. UN Resolution 1559, passed in September with strong American backing, calls for the dismantling of Hezbollah and armed Palestinian groups, including Hamas, and a complete withdrawal of Syrian troops from Lebanon. Hezbollah criticized the resolution as an Israeli ploy to destroy the group. It was not immediately clear whether the two terror groups discussed calls by PA Prime Minister Mahmoud Abbas for a temporary cease fire with Israel. There have been reports Hamas had agreed to the ceasefire if Israel stopped military incursions into Palestinian territories to combat terrorism. Hezbollah has been used by Iran and Syria to funnel money to finance Palestinian terror against Israel, security sources told WND. They said Iran and Syria have been financing Palestinian terrorist factions, including Popular Front and Al Aqsa Martyrs Brigades, by passing money through Hezbollah accounts in Europe and the Arab world. There has been much documentation, including traced bank accounts and admissions from Palestinian and Iranian leaders, that money passed through Hezbollah was earmarked for specific terror attacks. Meshal told reporters after meeting with Nasrallah his group's "resistance program is making progress in various fields, making successes and winning the support and confidence of our Palestinian people inside and outside (Palestinian areas)." Meshal said Hamas' relationship with Hezbollah was "strong. We are partners in this march of confronting a common enemy. In the same way south Lebanon was liberated, we have hope that all of Palestine will be liberated."
Through Arms to Syria, Putin Challenges US in the Middle East
Jan. 31….(DEBKAfile Exclusive Military Report) Disturbing reports were coming out of the Russian capital Wednesday, January 12, about Russian president Vladimir Putin's plan to accede to Syria's request for advanced weaponry during president Bashar Assad's visit to Moscow on January 24. DEBKAfile's US and Israeli security sources quickly contradicted reports that 18 Iskander-M or SS-X-26 surface-to-surface missiles were on the table. The items for sale, they revealed, are advanced SA-10 air defense systems of the type that protects Moscow and shoulder-held SA-18 anti-air missiles, whose transfer to the Hizballah and/or Iraqi guerrillas would move at least two sets of goal posts in the Middle East balance of strength. The SA-10 is an effective defense against Israeli warplanes and missiles, including cruise missiles. Its presence in Syria would therefore knock a serious hole in Israel's deterrent ability against Assad and the Hizballah. The Kremlin's willingness to sell these items to Israel's northern neighbor and backer of Iraqi insurgents is a rocket from the Putin to the White House in Washington, a declaration that he has had enough of sitting on the sidelines and watching US move the January 30 election pieces around the Iraq board and tilt the Palestinian ballot in favor of Mahmoud Abbas (Abu Mazen) as Yasser Arafat's successor. The Russian president's exasperation boiled over when he what he determined was Washington's hand in the Ukraine presidential election stirring up the anti-Moscow Orange Revolution that brought opposition leader Viktor Yushchenko to office, and, again, in the sale of the Russian oil concern Yukos. The Russian leader felt he had been made the target of a well-orchestrated campaign for undermining him personally and politically. Israeli Prime Minister Ariel Sharon is also put on notice that Washington's backing alone does not lend him the status of unilateral player for disengagement in the Palestinian arena. The Russian leader has another large bone to pick with Sharon. He has complained often on the basis of intelligence received that Israel provides a backstairs rendezvous venue for Jewish Russian oligarchs conspiring against him, among them Berizovsky who lives in London, and Khodorovsky, founder of the oil giant YUKOS who sits in a Moscow jail. Each of those moneyed plotters, he charges, maintains a representative in Israel to look after the transfer of his wealth to Israeli banks. More than once, the Russian president asked Sharon to put a stop to this activity. When the Israeli Prime Minister informed him that the Law of Return forbids prosecution or extradition unless laws are broken, Putin was disbelieving. He later sneered to his aides that he had not known that the Law of Return applied to members of the Russian Christian Orthodox Church, a veiled reference to the Russian oligarchs' hired personnel who relocated with them to Israel. The Kremlin's decision to supply advanced SA-10 and SA-18 missiles to Syria constitutes a direct threat to Israel. But it is also a shot across Washington's bows. DEBKAfile's Russian and Israeli military experts described the SA-10 as an advanced surface-to-air missiles system capable of seriously limiting Israel's aerial activity over Syria and Lebanon. It can engage more than one target and counter low and high-flying aircraft, cruise missiles and ballistic missiles. "Grumble" can outperform the US Patriot anti-missile missile system supplied to Israel and counter the aircraft and most of the missiles in the Israel Air Force's arsenal, to the detriment of its deterrent capabilities. The SA-18 is a highly effective shoulder-held missile. If it reaches Iraqi guerrillas it will constitute a direct threat to US troops. In Hizballah hands, it would add to US troubles in Lebanon..
Share this page with your friends.