WEEK OF MARCH 28 THROUGH APRIL 2
Iran warns 'Great Satan' US
Vows defeat if Americans use force to stop atomic program
April 1…..(World Watch) Amid fears Iran is developing a nuclear weapons program, the country's hard-line Revolutionary Guards issued a warning to the "Great Satan" United States of certain defeat if Washington decides to attack. "Brave Iranians, disregarding the yells of the White House and arrogant media, will not hesitate for a moment in pursuing their objectives in various fields including nuclear energy," the statement said, according to Reuters. "With alertness and iron-like will, [Iran] will inflict serious and repeated defeats on the Great Satan's camp." The threat come as an Iranian resistance group reports that last year, Iran's Supreme Leader Ayatollah Al Khamenei allocated $2.5 billion to obtain three nuclear warheads, information that bolsters the claims of a new book about Tehran's ambitions. Author Jerome Corsi says in "Atomic Iran: How the terrorist Regime Bought the Bomb and American Politicians," that since 1998, Iran has opened an estimated 10 uranium mines, capable of producing a quantity "sufficient to make about five crude nuclear weapons." The U.S. is skeptical of Iran's claim that it is developing nuclear fuel only for electrical power and other peaceful purposes and has not ruled out use of force. In a separate statement, Iran's armed forces also vowed it would "not disperse in the face of threats from the world's arrogance [the United States]." The statement coincides with today's Islamic Republic Day, marking the establishment of the radical, cleric-led regime in 1979. The command declared the "complete readiness of the Islamic Republic of Iran's Armed Forces, under the leadership of the supreme leader Ayatollah Khomenei, for a full defense of the sacred system of the Islamic Republic and its valuable achievements."
Pope Clings to Life As His Health Worsens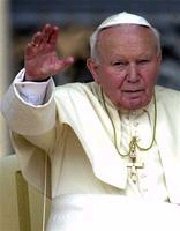 April 1….(My Way) Pope John Paul II was clinging to life Friday as his condition deteriorated further, and the Vatican said his breathing was shallow and his kidneys were failing after complications from a urinary tract infection. Millions of faithful around the world prayed for the fading life of the pontiff. "The general conditions and cardio-respiratory conditions of the Holy Father have further worsened," the Vatican said in a statement. "The clinical picture indicates cardio-circulatory and renal insufficiency." The shallow breathing is totally consistent with severe failure of the blood vessels to provide blood to all the key organs," said Dr. Peter Salgo, associate director of the intensive care unit at New York Presbyterian/Columbia University Medical Center. "Eventually you run out of reserve." Thousands stood vigil on St. Peter's Square outside, many tearfully gazing up at his third-floor window, and millions more around the world paused to pray for him. The White House said President Bush and his wife were praying for the pope and that the world's concern was "a testimony to his greatness." "The pope's faith is so strong and full and the experience of God so intensively lived that he, in these hours of sufferance ... already sees and already touches Christ," Cardinal Camillo Ruini, the pope's vicar for Rome, told hundreds who packed a Rome basilica Friday evening for a special Mass for the pontiff. In his first update on the pope's condition Friday, Navarro-Valls said John Paul suffered massive heart problems and was in "very grave" condition but was lucid and spent the morning celebrating Mass and receiving top aides. The pope asked one to read him the biblical account of Christ's Crucifixion and burial. John Paul's health declined sharply Thursday when he developed a high fever brought on by the infection. The pope suffered septic shock and heart problems during treatment for the infection, the Vatican said, denying an Italian news report that he was in a coma. Septic shock involves both bacteria in the blood and a consequent over-relaxing of the blood vessels. The vessels, which are normally narrow and taught, get floppy in reaction to the bacteria and can't sustain any pressure. That loss of blood pressure is catastrophic, making the heart try harder and harder to compensate for the collapse. "The chances of an elderly person in this condition with septic shock surviving 24 to 48 hours are slim - about 10-20 percent, but that would be in an intensive care unit with very aggressive treatment," said Dr. Gianni Angelini, a professor of cardiac surgery at Bristol University in England. The pope received the sacrament for the sick and dying on Thursday evening. Formerly called the last rites, the sacrament is often misunderstood as signaling imminent death. It is performed both for patients at the point of death and for those who are very sick - and it may be repeated.
FOJ Note: Pope John Paul II dedicated his Papacy to Mary, the Queen of Heaven. His motto was Totus Tuus, the way to Jesus is through Mary. The utmost in blasphemy!
Mississippi Passes "Ten Commandments" Bill

March 30….(Worthy News) The Mississippi Senate voted yesterday to allow the Ten Commandments, the motto "In God We Trust'' and excerpts from Jesus' Sermon on the Mount to be posted in all public buildings. A few senators argued against the bill, saying it crossed the boundary between church and state. They also said Mississippi has a diverse culture, and people who are not of the Christian faith, including Muslims, could be offended. But Sen. Gary Jackson, R-French Camp, who's a Baptist minister, said the Decalogue is a historical document and the basis of laws for the United States. Since 2001, Mississippi has had a law requiring the motto "In God We Trust'' to be posted in every public school classroom.
FOJ Note: Way to go Mississippi, maybe your courageous stand and example can help lead our nation back to its Christian roots. While we as a nation can befriend all people, we must absolutely stop pandering to other gods.
China Military Expansion Worries US Commander
March 29….(AP) Commander of US forces in the Pacific, Admiral William J. Fallon has voiced apprehension about China's military expansion and its intentions toward Taiwan, while promising "whatever assets we may have" to Southeast Asian allies fighting terrorism. Fallon said his priorities as head of the largest of nine US military commands, (an area stretching from the US West Coast to across the Pacific and Indian Oceans) would be fighting the war on terror and building regional military cooperation so "we can put ourselves in a position where we can respond quickly." He also noted China's increasing military presence and called the repercussions for Taiwan, the second-most dangerous flash-point in the region after the Korean Peninsula. "China is becoming a significant power in the region," Fallon said. They have huge resources and lots of needs. I believe they are beginning to look outward, and toward the Middle East for their energy needs. "They're working their way into becoming a super power, and we recognize that. The issue would be how they plan to position themselves, what are the objectives, what is the motivation behind this pretty obvious building of military power?" Fallon said that last year, China acquired "a lot of high-tech military equipment that doesn't particularly seem defensive to me." He also called China's anti-secession law aimed at Taiwan, which the mainland views as a renegade territory, "unhelpful" in defusing the tension across the Taiwan Strait. The United States is bound by the Taiwan Relations Act to help Taiwan defend itself if China attacks.
US Ambassador Says Israel Can Keep Settlement Blocs
March 28….(Prophecy Update) The US says Israel will not have to return to the 1967 borders as demanded by the Palestinians and Arab states. Reiterating a promise from President Bush last year, US Ambassador Dan Kurtzer said Israel can hold on to some settlement blocs in Judea and Samaria under any peace deal with the Palestinians, but cannot do any expansion construction. "Any final status resolution of this conflict must reflect the new realities on the ground," Kurtzer told Israel Radio. Prime Minister Ariel Sharon's strategy is to withdraw from the Gaza Strip this summer, while tightening Israel's grip on the Biblical heartland of Judea and Samaria. Sharon is under fire from hawks who oppose the Gaza pullout, and the ambassador's statement is clearly aimed at giving the Prime Minister a boost in standing from the US. While the US is endorsing Israel's right to keep some settlement blocs, it rejects Israeli plans to build in them! Secretary of State Condoleezza Rice has criticized Israel's plans to build 3,500 new housing units to connect the big settlement bloc of Ma'ale Adumim to Jerusalem. In an interview with the "Los Angeles Times," Rice said the construction plan is "at odds with American policy" and "not really a satisfactory response." The Quartet-backed "roadmap" peace plan calls for an Israeli settlement freeze.
FOJ Note
: President Bush has given credence to the 2-state solution, and to the idea that the new State of Palestine must have contiguous borders. That scenario would seem to dispel the idea of US ascension for Jewish settlement enclaves inside the Judea-Samaria countryside. The President has insisted on the PA incorporating democracy as a pretext for statehood, but that program has not been realized, and in fact the PLO has enforced its connections to the Damascus-Hezbollah-Teheran Axis of terrorism. It is the opinion of FOJ that the war on terror is primed to explode around the perimeter of Israel in the very near future, and that the push for democracy in Lebanon will likely see a terrorist backlash against Israel. I would reiterate that the curse of compromising the Promised Land is in these Last Days is a decision which will have serious consequences for the US. The Lord is watching how the nations of this world treat his people, and he will judge those nations accordingly.
Terrorism, Oil, China And Russia; The Future Siege Of Israel And Her Allies
March 28…..(Commentary from Prophecy Update) Russian and Chinese demand for oil could result in an unholy alliance where terrorism is tolerated. Hostile Middle Eastern nations are armed and oil will be used to squeeze the economic life out of Israel and the United States and prepare the way for a cataclysmic confrontation as prophesied in the Bible book of Ezekiel chapter 39. There is a long history between Russia and the Arab world, but last year Saudi Arabia and Russia signed a long-term gas and oil development and exploration agreement. Saudi Arabia, though a traditional supplier of oil to the United States, harbors some of the most dangerous terrorists. Russia, however, has also embarked upon a strategy to supply Europe (60% of the natural gas market), Japan and several other Asian nations, most notably China. Meanwhile, Russia continues to sell arms into the Middle East, especially to Iran and Syria, and is chummy with China's military, holding their first ever-joint military maneuvers this year. China, however, is making a huge play for oil, stretching its tentacles around the world. The deals with Russia and Iran are public knowledge for oil supplies. But less public are China's deals with Western Hemisphere countries. China has committed to invest some $100 billion in Latin American oil development. It already has deals with Venezuela and Canada. China appears to want to distinguish herself from America by becoming an ally and supplier of weapons to countries that oppose US foreign policy. Amy Myers Jaffe, a fellow at the James A. Baker III Institute for Public Policy at Rice University, told the New York Times that the Chinese "tend toward countries where the US has sanctions like Sudan, Iran and Iraq." China also seems to approach countries that are key suppliers of the oil to the United States. And China already has relationships with Iran and Saudi Arabia for both arms and oil. Russia, China, and the Arab-Persian nations are natural enemies of Israel and have been traditional enemies of the United States. So long as the US looks upon each nation in a case-by-case basis for determining whether they are an enemy, there is a very dangerous route ahead for foreign relations. The US, for example, wants to trade with China. And so long as China is helping keep North Korea in line with regard to nuclear weapons, there will be only rhetoric against human rights violations and China's threats against Taiwan. Russia is supposedly helping the Bush Administration with the war on terror, which seems to excuse a host of sins against the United States and Israel, chief among them supplying Iran with missile and nuclear technology. But the US is beginning to feel the squeeze on its economy from skyrocketing oil prices caused by a steady supply and an increasing demand. The future is not difficult to predict when Israel and the US are on the outside of weapons and oil trade between Russia, China and the radical Islamic elements who run many of the Middle Eastern nations.
WEEK OF MARCH 21 THROUGH MARCH 27
US, France Teaming up to Undermine Assad's Regime
March 25….(Geostrategy-Direct) Western diplomatic sources and analysts said the United States and France have agreed to cooperate in a policy meant to significantly weaken the regime of Syrian President Bashar Assad. They said the US-French strategy called for support of opposition groups in Lebanon and Syria as well as pro-US elements within Syria's ruling Baath Party and encouraging Kurdish separatism. The policy has also sought to create fissures between the Iranian-backed Hizbullah and Damascus, the sources said. Hizbullah, which maintains a dialogue with France, has been the leading ally of Damascus in maintaining the Syrian occupation of Lebanon. The diplomatic sources said France and the United States have encouraged elements within the Assad regime to question the president's competency and seek an alternative leader. Neither country envisions an immediate overthrow of Assad, but rather a process in which his authority could be eroded. Washington has urged the US intelligence community to invest greater efforts in understanding the Assad regime and its vulnerabilities. But before the Assad regime falls, America and its local allies are sure to suffer tactical defeats and nightmarish moments.
FOJ Note: It is highly ironic that France would work with the US on anything, so one must wonder why France would cooperate with the US in undermining the Assad regime in Syria. It should be noted that one reason may have to do with the fact that the EU is hell-bent on incorporating Syria and Lebanon into the EuroMed. The Syrian-Hezbollah-Iran time-bomb may hold dire consequences for the US, and provide a geo-political vacuum for the rise of the European Man of Peace. (antichrist) Lebanon and Syria were created from the French Mandates after WWI.
Oil Refinery Blast in Texas
March 24….(FOJ) An explosion and fire at a sprawling BP oil refinery in Texas City on Wednesday killed at least 14 workers and injured more than 100 others. The blast took place in a part of the plant that makes components to boost the octane of gasoline. The cause of the explosion was unclear and was being investigated. The blast left a gaping hole in the earth, mangled offices and covered cars and trucks in an employee parking lot with ash and chunks of charred metal. Witnesses said the blast was felt as far as 5 miles away. Federal investigators had been dispatched, said Daniel Horowitz, director of public affairs for the US Chemical Safety and Hazard Investigation Board. BP spokeswoman Annie Smith said terrorism "is not a primary focus of our investigation." BP's Texas City plant has 30 refinery units and processes 433,000 barrels of crude oil a day. The plant, one of five BP refineries in North America, produces 30% of BP's North American gas supply and 3% of the US supply, according to the company's Web site. Texas City is the site of the worst industrial accident in US history. In 1947, a fire on a ship at the city's docks led to an explosion that killed 576 people. This explosion is at least the second explosion that has occurred in Texas City since the 9-11 terror attacks on America, and on each occasion the investigation teams have rushed to say that although they did not know the cause of the incident, that it was not related to terrorism. FOJ has regularly documented the fact that the Texas City area is a top priority target of terrorists, and that Texas is highly vulnerable to the illegal alien nightmare and possible Al Qaeda crossings from the Mexican border.
King Abdullah: Syria, Hezbollah Encourage Terrorism in Israel
March 23….(Ha Aretz) Jordan's King Abdullah II told American Jewish community leaders Tuesday that Syria and Hezbollah were encouraging militants in the West Bank to carry out terror attacks in Israel. He said Syria and Hezbollah were trying to shift international attention away from calls for Syrian withdrawal from Lebanon, and accused Syria, Iran and Hezbollah of endangering stability in the Middle East. The king also said at the Washington meeting that Jordan has lately been making a great effort to prevent would-be terrorists from crossing into Israel via Jordan. He said Jordanian security forces have managed to thwart several such attempts. King Abdullah said he has recently spoken with Prime Minister Ariel Sharon and told him that if another terror attack takes place, Sharon should carefully investigate its source before reacting. The king hinted that any future attacks were likely to be caused by Hezbollah militants. Those who participated in the meeting also said King Abdullah described his meeting last week with US President George W. Bush, in which the king said the success of the Israeli-Palestinian peace process would weaken Hezbollah and Hamas, while its failure would strengthen them. The king said Israeli-Jordanian relations were good and that he would work toward accelerating joint projects. King Abdullah also described a Jordanian initiative to fight anti-Semitism in the Arab world. He said his country has called on Muslim countries to struggle against the phenomenon and that Jordan will work with Jewish and Egyptian groups in the US toward that end. The king said removing the religious element from the Israeli-Arab conflict will help in calming tension and finding a solution.
Israel, US Coordinate Plans Against Iran
March 23….(MENL) Israel and the United States have been cooperating in developing a missile defense architecture against Iran's Shihab-3 intermediate-range missile. Officials said the Israeli and US militaries have sought to pool their missile defense resources to provide a regional defense against a Shihab-3 attack. They said the effort called for the linking of such US assets as the PAC-3 lower-tier system, the upgraded PAC-2 and the Aegis sea-based missile defense system. Israel would contribute the medium-tier Arrow-2 system. Israel and the United States have deployed most these missile defense assets during the current Juniper Cobra exercise, which began in Israel on March 10. The exercise, meant to end on March 31, has been based on a scenario that envisioned an Iranian missile attack on Israel or US forces in the Middle East. Officials said Juniper Cobra has sought to define the role of each of the Israeli and US missile defense assets. They said the Arrow-2, with a reported range of 100 kilometers, would be responsible for the outer tier of defense against an intermediate-range missile.
Showdown: Battle Groups Head for Mideast
March 23….(Jerome Corsi) Three carrier battle groups are converging on the Persian Gulf. The aircraft carrier USS Carl Vinson has departed Singapore and is currently crossing the Indian Ocean, en route to the Middle East. The aircraft carrier USS Theodore Roosevelt is also on the move, crossing the Atlantic Ocean, reportedly headed toward the Mediterranean. Reports are also circulating that the US Navy has dispatched ships containing nuclear armaments to reinforce the battle groups. This will be the first time since February 2004 that the US has had three major carrier groups stationed on or around the Middle East. Each of the carrier groups are armed with 85 aircraft capable of delivering precision-guided munitions. The air refueling capabilities of the aircraft allow them to operate from long distances. Each carrier battle group will include nuclear submarine protective cover. The battle groups can act independently and can stay on station indefinitely. The US military air bases in Turkey, Qatar, the United Arab Emirates, the Indian Ocean island of Diego Garcia, not to mention those recently established in Iraq and Afganistan, give the US formidable muscle in the area. In addition, we have more than 150,000 battle-hardened Army and Marine forces on the ground in the region, capable of responding to any threat we face. What's going on? Looks like it's showdown time with both Iran and Syria. President Bush has said in words of one syllable that Iran will not be allowed to develop nuclear weapons. He has also demanded that Syria completely withdraw its military and intelligence forces from Lebanon. Nor will George W. Bush rest quietly until the mullahs quit funding Hezbollah. How many times do the president and the secretary of state need to say that we have not taken the military option off the table? The world by now should be getting the point. The President has also repeatedly said that he will respect Israel's right to protect itself. Vice President Cheney has said very clearly that Israel could be expected to attack Iran the minute Israel decides that the mullahs have reached the "point of no return" and have everything they need to make an atomic bomb. Neither the president of the United States nor the prime minister of Israel want to find out that the mullahs have nuclear weapons by seeing a mushroom cloud over Tel Aviv. On 9-11, we all had that type of rude awakening when we saw the second plane crash into the World Trade Center. The President must have privately sworn his own form of "never again" in pledging that he would not permit the US to find out our enemies had shipped an improvised nuclear device into America by waking up one fine day to see a mushroom cloud over New York City or Washington, D.C. Is it too late for diplomacy? No. But it is too late for more lies by the mullahs. Yes, the Europeans can continue their diplomacy. Yet the president has demanded more than words. If the mullahs do not intend to build an atomic bomb, then let them destroy their centrifuges and their heavy-water plant. The only purpose of the centrifuges is to enrich uranium to weapons grade. The only point of the heavy-water plant is to produce weapons-grade plutonium. Anything else the mullahs say is just another attempt by them to play the world for a fool. George Bush is no fool. Nor does he have infinite patience. The president would clearly prefer to see freedom come to Iran and Lebanon by peaceful means. But, if all else fails, we have three nuclear-armed carrier battle groups in the region that are more than capable of resolving the problem.
Putin to Visit Israel - a First for Russia
March 23….(Newsday) Russian President Vladimir Putin will visit Israel at the end of April, the first visit ever by a Russian leader to the Jewish State, Israeli officials said Tuesday. Israeli-Russian relations have improved greatly in the past 15 years since the fall of the Soviet Union, which supported Israel's Arab enemies. Prime Minister Ariel Sharon, who is of Russian descent, has visited Moscow three times since taking office in 2001. Sharon, who learned Russian from his parents, has spoken with Putin on the phone. Putin will arrive in Israel on April 27 for a two-day visit, officially as a guest of President Moshe Katsav, said Ron Ben-Yishai, an aide to Katsav. Kremlin officials could not confirm the plan. Katsav invited Putin during a meeting in Poland earlier in the year at commemorations to mark the 60th anniversary of the liberation of the Auschwitz Nazi death camp, and Putin has now formally accepted, Ben-Yishai said. Former Soviet President Mikhail Gorbachev and Russian chief of state Boris Yeltsin visited Israel after they left office. During the historic trip Putin will meet with Sharon and other senior Israeli officials for talks on advancing Middle East peace talks, Ben-Yishai said. Katsav, who holds a largely ceremonial position, will host a state banquet for Putin. Russia is a member of the so-called Quartet of international mediators for the Middle East peacemaking, along with the United States, the United Nations and the European Union. The Quartet sponsored the 2003 "roadmap" peace plan, a three-stage program for creating a Palestinian state. Neither Israel nor the Palestinians carried out the initial requirements, and the plan has stalled. It was not clear if Putin would also meet with Palestinian officials. Ties between the two countries have been strained in recent months over a Russian decision to supply Israel's arch-foe, Syria, with advanced missiles.
Arab League: No Normalization with Israel
March 22….(Ha Aretz) Israel should not expect Arab nations to normalize ties "without anything in return," Arab League Secretary General Amr Moussa said Tuesday at the start of the Arab Leaugue's two-day summit in Algiers, Morocco. Amr Moussa said Israel expects that "Arabs will make concessions and even normalize without anything real in return. "It should be commitment for commitment," he said. (as if Israel hasn't tried to accommodate the Arabs) "Then we can reach a balanced peace and close the issues of the conflict in order to establish relations in parallel with the withdrawal and the establishment of a Palestinian State." After lengthy negotiations, it was decided that the League pass a resolution stating that normalization of ties with Israel will not take place before Israel withdraws to the 1967 borders and a Palestinian state is established. The summit, planned to once again ratify the Saudi peace initiative of 2002, began with a moment of silence for late Palestinian Authority chairman Yasser Arafat. At pre-summit deliberations, a Jordanian proposal that attempted to soften conditions for normalizing relations was rejected. Syria, Lebanon, Sudan and Yemen led the fight to reject the Jordanian proposal. Instead, the summit will endorse a text reaffirming a Saudi peace initiative approved at a 2002 Beirut summit. That initiative said Arab states were prepared to establish full diplomatic relations with Israel in exchange for the country's full withdrawal from occupied Arab territory, the creation of a Palestinian state and a settlement of the Palestinian refugee issue. Jordan's King Abdullah II is staying away from the summit, apparently angered by the dismissal of his proposal. His government had argued that a new stance would encourage Israel to make concessions in the peace process.
Russia Helped al-Qaida, Still Arming Iranians
Intelligence sources show Moscow, Baghdad supported bin Laden before 9-11 attacks
March 22….(WND) There is new evidence connecting Saddam Hussein to support for al-Qaida before the Sept. 11 attacks, but even more disturbing links between the terrorist network and Russian intelligence, reports Joseph Farah in his G2 Bulletin. According to the report in the premium, online intelligence weekly published by the founder of WorldNetDaily, Moscow is playing a dangerous and duplicitous chess game aimed at shortening the US military occupation of Iraq. In addition to the covert intelligence support provided to al-Qaida, sources say Russian intelligence personnel met in early January with their Iranian and Indian counterparts to discuss frankly and candidly ways to get the US out of the region as quickly as possible. According to intelligence sources, some of the talks included the acquisition by Iran of more powerful and modern weaponry to use in attacks on US-led coalition forces in Iraq. But Russia's undermining of US interests in the area go even deeper, say these sources. Iraqi Interior Minister Falah al-Naqib has reportedly discovered a memo archived by the Saddam Hussein regime that shows Baghdad was supporting Abu Musab al-Zarqawi, the al-Qaida terrorist thought to be leading the insurgency in Iraq today. Other support of al-Qaida is also discussed in the memo. Some suggest this memo could prove to be the smoking gun to prove Hussein's support for Osama bin Laden's network leading up to 9-11 and thereafter. But, not only Hussein was supporting al-Qaida, according to the memo, so was Libya's Moammar Gadhafi. Many of the Sunni clerics in Iraq and throughout the Mideast were, too. And Russian intelligence was also lending its support. This discovery also explains why Zarqawi has pledged to kill al-Naqib. Two weeks ago, two car bombs exploded near the interior ministry, killing at least five policemen in what al-Qaida's local wing said was a twin suicide attack meant to assassinate the minister. The group, led by Zarqawi, vowed to pursue al-Naqib, part of its campaign of violence to bring down the U.S.-backed interim government and stall efforts to form a new cabinet. But, in this case, he is not just another high-ranking Iraqi official. He's a man who has got the goods on Zarqawi and some of his most important sponsors, including Russian intelligence, say G2 Bulletin's sources. In another meeting in late January or early February, intelligence officials from Russia, North Korea and Iran discussed ways to reduce US influence in the Middle East. Russia's main motivation is not anti-Americanism, say G2 Bulletin sources. It is economic. Moscow sees big potential in the arms market in both Iran and Iraq, but only if the US is out of the picture.
Iran's Nuclear mad Mullahs
March 22….(Jerome R. Corsi) Recently a partial strike took place in Iran's petroleum industry. Workers stopped the oil flow for several minutes at refineries and oil production facilities across the country, including Abadan, Tehran, Hemedan, Ahwaz, Mashad, Esfahan, and Tabriz. This was despite heavy security measures imposed by the country's repressive intelligence organization, Herrassat. What were the workers protesting? Simple, the looting of the country's oil industries by the corrupt clerics ruling Iran. The mullahs have created a web of illegal kickback and skimming contracts with their European partners that have made their own personal enrichment, and the enrichment of their European friends, a lesson in international high-dollar crime. In clear violation of their own Islamic law, the mullahs have entered into a patchwork quilt of classified and otherwise non-public contracts with the Europeans involving screen or offshore shell companies formed by the mullahs to rake off a percentage of the approximately $200 million a day in windfall oil profits Iran is now receiving. The scheme concocted by the mullahs, if we could ever bring it to the light of day, was probably the model Saddam Hussein worked off when he created the "oil for food" scandal that has rocked the United Nations. The mullahs drive around the country in tinted-window, air-conditioned, European-built limousines, while millions of ordinary citizens struggle to exist on incomes that barely reach $1 per day. These criminal clerics have stashed away countless millions in countries such as the United Arab Emirates where the mullahs, their families and their adult children live in multi-million dollar high-rise apartments with water views; apartments so lavish that they can drive their automobiles into elevators and park them in security in high-rise garages right outside their doors. The mullahs are nothing but a mafia. They rake off huge percentages of the oil action so they can live in style, all the while building one of the largest clandestine nuclear technology enterprises the world has ever seen. If the mullahs refuse to eliminate their centrifuge farms and their heavy-water plant, they are making nuclear weapons, no matter what lies they try to peddle to the world. The only purpose of their centrifuge farms is to produce weapons-grade uranium, and the only purpose of their heavy-water plant is to produce weapons-grade plutonium. President Bush is allowing diplomacy some time to work, but his patience; and the patience of Israel; will come to an end if the mullahs are only willing to give more worthless promises not to build nuclear weapons. Just remember, the next time you fill your car with gasoline and pay $2 or more per gallon, you are paying into a system that allows the mullahs to sell their oil to the Europeans, the Indians, the Chinese and the Japanese at prices that put billions into their personal clandestine bank accounts and give them all the revenue they need to buy the world's top nuclear weapons technology. If we don't stop the mullahs soon, we should put our own names on the improvised nuclear device these mad terrorist clerics smuggle into the US to destroy New York or Washington.
US Catches China Transferring WMD Tech to Iran
March 21….(World Tribune) The United States has charged that China continues to supply unconventional weaponry and dual-use technology to Iran, despite numerous appeals. China has transferred components and expertise to Iran's weapons of mass destruction and missile programs, officials said. They said some of the Chinese components have arrived via Pakistan, another key ally of Beijing. "Unacceptable proliferant activity continues," Assistant Secretary of State for Arms Control Stephen Rademaker told the US-China Economic and Security Review Commission on March 10. "We are particularly concerned about continued transfers of CBW-and missile-related technology by Chinese entities to Iran, despite the imposition of sanctions." The components were said to have included dual-use missile components, raw materials, and expertise to Iran's solid-fuel missile program. Officials said Beijing has also supplied dual-use chemical weapons-related production equipment and technology to Iran. A key Chinese supplier to Iran has been identified as QC Chen, a Chinese national under US sanctions since 1997. Officials said Beijing has failed to stop Chen, who has sold components to Iran's chemical weapons program. Another leading Chinese proliferator to Iran and Sudan has been identified as China North Industries Corp., or Norinco. Officials said Beijing has not taken any steps to stop missile and WMD exports by Norinco to the Middle East. Officials said China has sold major weapons and components to oil-producing countries in the Middle East banned from receiving Western defense systems. They said Beijing has rebuffed US appeals to halt the weapons supplies. In 2000, Congress formed the commission to investigate and report on national security implications of trade and economic relations between the United States and China. Since 2001, the United States has imposed 60 sanctions on Chinese entities in connection with missile and WMD sales to Iran. Norinco was said to have supplied advanced weapons systems to Sudan as well as military training to quell the rebellions in the south and in the Darfour province. Norinco was a leading exhibitor at IDEX-2005, which took place in the United Arab Emirates in February. "Norinco has been particularly active in WMD-related transfers to Iran, resulting in the imposition of US sanctions five times," Rademaker said. In 2004, China became a member of the Nuclear Suppliers Group and announced the imposition of penalties on two companies that violated Beijing's missile export regulations. China has also pledged to refrain from providing nuclear supplies to any country that does not honor safeguards of the International Atomic Energy Agency. "China needs to do a consistently better job in identifying and denying risky exports, seeking out potential violators, and stopping problematic exports at the border," Rademaker said. "These issues matter to us because China's success in ending proliferation by Chinese entities is critical to ensuring that weapons of mass destruction do not end up in the hands of terrorists or rogue states prepared to use them."
Rice: European Nations Must Not Arm China
March 21….(My Way) Secretary of State Condoleezza Rice suggested Sunday that European governments are irresponsible if they sell sophisticated weaponry to China that might one day be used against US forces in the Pacific. "It is the United States, not Europe, that is defending the Pacific," Rice said. She spoke in Seoul, the penultimate stop on her weeklong tour of Asia. South Korea, Japan and the United States are all Pacific powers and all contribute resources to keep the Asia-Pacific region stable, Rice said. The European Union may soon lift an arms embargo on China that was imposed after the deadly 1989 crackdown on pro-democracy protesters in Tiananmen Square. Lifting the embargo would allow sale of technology and weapons that China badly wants to modernize its creaky military. China has recently gone on a military spending spree that Rice said concerns the United States. The European Union should do nothing to contribute," to the possibility that Chinese forces might turn European technology on Americans, Rice said after meetings with the South Korean president and foreign minister. Rice has earlier said that China's recent statements about a possible invasion of Taiwan should give the Europeans pause. China passed a law this month codifying its intention to use military force against Taiwan should the island declare formal independence. Rice said she would raise US objections to the Taiwan development with Chinese officials in two days of talks, along with long-standing concerns over Chinese human rights practices and violations of intellectual property rights. Rice will also ask China for more help to persuade communist North Korea to return to international nuclear disarmament talks.
Israel Plans Jerusalem Construction
March 21….(FOJ) In a move that is sure to anger the Palestinian Community, and much of the world, Israel has announced a municipal plan to expand construction of residential subdivisions around Jerusalem. Israel plans to build 3,500 new homes for Jewish settlers on the eastern side of the city, in areas the world terms as occupied territory. Israel is building these settlements as the natural expansion of the burgeoning city, which is experiencing a population boom, and perhaps also to help cement its political hold on Jerusalem. The blueprint for construction between the Maaleh Adumim settlement and Arab East Jerusalem clashes with the Quartet-backed peace "roadmap." Israel has shown a willingness to dislocate its citizens from the Gaza Strip, and other West Bank areas, but the city of Jerusalem remains an area that Israel views as its own, and is the one city that Israeli's desire to live near. The Palestinian Authority will undoubtedly raise this construction issue to a world level, and instigate an uprising against it. The Quartet sponsored road map requires a halt to Jewish settlement expansion in the West Bank and Gaza Strip, captured by Israel in the 1967 Middle East war and sought by Palestinians for a future state. The Palestinians also demand Jerusalem for their capitol. President Bush said in 2004 that Israel, which intends to quit occupied Gaza this summer, could expect to keep some West Bank settlement blocs under a final peace accord. However, Bush has also expressed support for establishment of a Palestinian state that is viable and contiguous. In tandem with the home construction, Ariel Sharon also ordered construction of a new highway to bypass the municipal area and link the Palestinian-ruled cities to the north and south of Jerusalem, Ramallah and Bethlehem, Israeli government sources said. "The Prime Minister's office said the new bypass will enahnce the Palestinians territorial contiguity." As part of the Abbas-Sharon cease-fire, Israel agreed to return security control of five West Bank cities to the Palestinians. The handovers were seen as a gesture to Abbas after he won a commitment from Palestinian militants to extend a de facto truce until the end of this year, although it fell apart after only 2 days, and the terrorist groups were never disarmed by Abbas. The first city, Jericho, was handed over last week.
EuroMed Assembly Seeks to act as Mediator in Israeli-Palestinian Conflict
March 21….(Euro Parliament) Ten years after the Barcelona EuroMed process was first launched, closer relations between the two shores of the Mediterranean are still being hampered by a major obstacle, namely the Israeli-Palestinian conflict. By fostering dialogue between the parties, all of which are represented within the Assembly, the Euro-Mediterranean Parliamentary Assembly (EMPA), has been giving a new impetus to the parliamentary dimension of the partnership and has called on partner countries to take advantage of the new climate of cooperation brought about the Barcelona process. With a view to putting a joint text to the vote on Tuesday, the members of the EP delegation have made a major effort to draft compromise amendments on the Middle East situation that have been accepted by all parties. The resolution of the Assembly's Political Committee proposes the establishment of a working party on the Middle East, with responsibility for improving dialogue for peace and security in the region. The Political Committee will focus on relations between the EU and its Mediterranean partners. The members from the EU Member States and the 10 partner countries (Morocco, Tunisia, Algeria, Egypt, Israel, the Palestinian Authority, Syria, Lebanon, Jordan and Turkey) also discussed immigration and the dialogue between cultures. The plenary sitting, focusing mainly on the European Strategic Partnership and the European Neighborhood Policy, will involve discussions between Assembly members and leading EU, Egyptian and Arab League figures.
OPEC Says it has Lost Control of Oil Prices
March 21….(MSN) Despite a pledge by OPEC ministers to increase oil production, don't expect much of a break on oil prices. With crude oil prices hitting a record $56 a barrel Wednesday, OPEC ministers meeting in Iran have been grappling with a problem they haven't confronted in the cartel's 45-year history. In the past, OPEC tried to cool overheated prices by pumping more when supplies got too tight. But most OPEC producers say they're already pumping as fast as they can. And despite the high cost of a barrel of crude, world demand shows no signs of slowing. To help stop the surge in prices, OPEC ministers agreed to pump an extra half million barrels of oil a day beginning April 1. OPEC said it would consider pumping more later if the extra oil doesn't push prices lower. But even before the decision was announced, some ministers had openly expressed doubts that the move will do any good, saying they've run out of options in trying to rein in the price of crude. Global oil demand has taken up most of the slack in extra OPEC capacity. Consumption is now believed by many analysts to be pressing up against the limits of what the world can produce. Saudi Arabia is the only country believed to have any surplus production left, and even then the Saudis are pumping close to 90 percent of capacity, according to the US Department of Energy.
"There is not much we can do," Algerian Oil Minister Chakib Khelil told reporters Tuesday in Isfahan, Iran, the site of Wednesday's meeting. "OPEC has done all it can do." Qatar Oil Minister Abdullah al-Attiyah said. "This is out of the control of OPEC."The oil markets seem to agree. After word came that OPEC pledged to pump harder, oil prices surged Wednesday on concerns about the latest weekly reports on inventories. Crude for April delivery rose $1.41 to settle at $56.46 a barrel Wednesday, the highest price for the commodity on the New York Mercantile Exchange since it introduced crude oil futures trading in March 1983. Crude prices soared after the EIA reported that domestic gasoline stocks in the March 11 week fell 2.9 million barrels to 221.4 million barrels, nearly three times the decline forecast by analysts. A year ago, gasoline stocks stood at 202.4 million barrels. And even as President Bush expressed concern Wednesday about rising oil prices, he cited tight global supplies, not OPEC policies, for the price surge. "I think if you look at all the statistics, demand is outracing supply and supplies are getting tight. And that's why you're seeing the price reflected," Bush said. OPEC's admission that has lost control of oil prices hasn't eased political pressure on the cartel. On Tuesday, several oil ministers said they had received calls from US Energy Secretary Sam Bodman. Sen. Ron Wyden (D Ore.) said Tuesday he's not convinced that OPEC's hands are tied by global demand reaching the limits of production capacity. "This is their claim," said Wyden. "But the fact of the matter is that nobody knows what their capacity is." Though data on OPEC's oil production capacity have always been hard to come by, there's little disagreement on the rapid growth of global consumption, especially in China and India. That's little solace to energy consumers, who are watching rising crude oil prices push pump prices to record levels.
One Picture Tells A Lot About PA Police
March 21….(FOJ) President Bush seems to think that democracy will work inside the new State that is being fashioned by the Quartet sponsored Roadmap, and being granted to the Palestinian Authority. The Bush Doctrine is based upon the assumption that by conforming the Middle East to democratic ideals, the peoples of the region will rise to overthrow the despot dictators that embrace terrorism, and learn to live peaceably with Israel under democratic institutions. But this picture shows how the PA police salute their leaders. It ominously reminds me of the Hail Hitler salute of the Nazi's, who conspired with another infamous Palestinian of the 1940's to fashion the Final Solution. Bible prophecy seems to indicate that Socialist democracy and totalitarianism may unite for a short time in the near future (Tribulation) to bring about another Jewish Holocaust.
America Tracking Arafat's Plundered Billions
March 21….(DEBKA) A part of Yasser Arafat's secret hoard from foreign aid, $4 billion dollars, has been documented and accounted for in a painstaking project undertaken by Nigel Roberts, the World Bank's country director for the West Bank, and Palestinian finance minister Salam Fayyad. They have obtained partial information about another $1-2 billion and found a further three to four billion invested on Arafat's behalf by two individuals, his chief financial adviser Mohammed Rashid, and Palestinian-born international tycoon Samer Khoury. US secretary of State Condoleezza Rice told Palestinian leader Mahmoud Abbas recently after he asked Washington for further donations, to go back to Ramallah and assume immediate control of the Palestinian Investment Fund (PIF) where the bulk of Arafat's money was stashed, or forget about receiving a single aid dollar from American donors. Arafat kept an iron grip on all the moneys flowing to the Palestinian Authority after it was established by the 1993 Oslo Accords. World donors contributed at least $8 billion towards the creation of jobs and building infrastructure, schools, medical facilities, water works and roads in the West Bank and Gaza. Unfortunately for the Palestinian people, none of this infrastructure was ever completed. According to the Los Angeles Times, the PA was awarded "one of the most expensive development programs ever granted on a per-capita basis." In 2002, world aid givers began demanding guarantees that that their contributions were not being spent to fuel the Palestinian terrorist war against Israel then raging in its third year. The Palestinian Investment Fund was set up to provide "responsible stewardship" for Palestinian Authority assets and holdings and ensure they were used to stimulate economic growth, – not buy guns, which is exactly what Arafat did. Most of the billions financed terrorism, went for arms purchases, training, subsistence and pay-outs to families left bereaved by suicide bombings and other casualties. A portion of the profits supported Arafat's corrupt entourage of cronies, hangers-on and their life style. Not much was left over for creating jobs or building hospitals. Abu Mazen's close allies have warned him that without control of the moneys stashed in the PIF, he will never be more than a figurehead, and never be able to control the terrorist infrastructure that Arafat created.
WEEK OF MARCH 14 THROUGH MARCH 20
"Preparing "The Way Of The Kings From The East"
March 17….(Bill Wilson) There are many elements forming at the base of prophecy as US Secretary of State Condoleezza Rice heads into perilous diplomatic waters upon a week long trip to meet with heads of state in Asia. Prophecy points most particularly to China, where trade deficits, military expenditures, oil needs, and rhetoric combine to mark the beginning of fulfilling the curious words of Revelation 16:6, "so that the way of the kings from the east might be prepared." Rice will visit India, Pakistan, Afghanistan, Japan, South Korea and China during her trip that ends March 21. She travels amid ongoing political positioning in the news media by leaders in North Korea, China and even in India, and all of it relates back to the Middle East and either directly or indirectly with Israel. For example, there is tremendous need for oil and gas resources in India and China, the two most populous nations on earth. Both are in need of energy to support their growing economies. Ahead of Rice's visit to India, that country's Petroleum Minister Mani Shankar Aiyar said the 1,600 mile-plus pipeline between India and Iran should be extended to China through Myanmar. The US has opposed the India-Iran pipeline because it serves to financially benefit a state sponsor of terrorism. India, however, believes it can profit from huge transit fees to China. Meantime, China announced that it would receive priority treatment from Russia on a planned Siberian pipeline. China is striving to keep up with its energy needs, as it is the world's third largest importer of oil, buying some 35% of its energy needs from other countries. New US trade deficit figures were released by the US government indicated that the annualized trade deficit with China could reach $183.6 billion, up over $20 billion from 2004. This raises a wary eye toward China who is becoming an increasingly aggressive power in Asia and the Middle East. China is rapidly expanding its military at a pace of over $25 billion per year, largely funded by the US trade deficit. CIA Director Porter Goss recently told the US Senate Select Committee on Intelligence, "Improved Chinese capabilities threaten US forces in the region. China continues to develop more robust, survivable nuclear-armed missiles, as well as conventional capabilities for use in regional conflict."(words that were not lost on Secretary Rice) On the plane to Asia, Rice told reporters, "the military spending is concerning because it is taking place at a time when China has not, when the Cross-Straits issue is not still resolved and in which the United States has certain commitments to a peaceful resolution of that Cross-Straits situation." She said that the US strategy to keep China peaceful was one of engagement, "our goal is to enhance the chances for a constructive role for China through engagement with China on security issues like the six-party arrangement, to engage with China when we can on other global issues." Likewise, Rice is concerned with North Korea, who this week blamed the US for the breakdown in the six-nation talks (led by China) to resolve N. Korea's nuclear threat. The N. Koreans said that the US was at fault because it was conducting joint military exercises with South Korea and that action was aggressive against the North. North Korea, as well as China has been engaged with state sponsors of terror. China has assisted Iran with its missile technology and North Korea allegedly has transferred weapons and missile technology to Syria. China is the linchpin in Asia. Its population of 1.3 billion makes it a huge force to deal with politically and it will continue to increase its appetite for oil and other consumables. Its strong military growth is also a concern. But even more are its human rights violations and population control efforts. China's abortion policies favor male children. Revelation 9:16 speaks of an army of 200 million gathering force against Israel. Only China and India (1.06 billion) have the current population to remotely attempt to field an army of 200 million. Both countries favor birthing males and have an imbalance of male to female population ratios. In India there are 105 males to every 100 females. In China there are 112 males to every 100 females. This combined with a tremendous thirst for oil, points toward the Middle East. Certainly, heavy male dominated population growth plus demand for food and oil plus a large, aggressive military could lead to trouble for anyone who stands in the way of the policy objectives of such a giant. China has already approached the Middle East with a counterbalancing influence to the United States with the creation of anti-Israel allies.
Democracy Is No Cure
March 16….(Trumpet Sounds by Bob Westbrook) Democracy is being touted as the great hope for the transformation of the Middle East. Is this realistic, given the mindset that prevails in those nations? Specifically, can we anticipate Israel's nasty neighbors will suddenly become nice through the magic wand of democracy? Antipathy for Israel is endemic in the entire Arab/Muslim world. Rare is the voice that speaks the slightest amiable word about the existence of the Jewish State. Despite the spurious "peace process", peaceful attitudes towards Israel are not in evidence in the "Arab street". The following statement, compiled from various Muslim sources, is representative of the prevalent regional attitudes towards Israel:
The land of Palestine is an Arab, Islamic land that has been usurped by force at the hands of Zionist Jews and it can only be restored by force. In Islam, if your enemy occupies a small piece of your land, then you have to declare jihad against the enemy. Palestine is occupied by the enemy. The occupation of Palestine is an Islamic obligation, because occupation of any Islamic land is a violation to the sovereignty of the Islamic world. Jihad in Palestine is a legitimate right for the Palestinian people. It is a compulsory duty on all Muslims, males and females. It is a grave injustice to describe such a right as terrorism on the part of enemies of Allah.
Listen to the voices from around the region and you will hear widespread agreement with such statements. The question of whether this is a "legitimate" interpretation of Islam is a moot one. The issue is not theological (their "theology" is preposterous anyway) but pragmatic. Does it matter if this viewpoint represents "legitimate" Islam when the masses in the Middle East are prepared to kill and die for it? Contrary to wishful thinking of pro-democracy advocates, radical Islam is not some fringe movement in places like Cairo, Amman, Beirut, Damascus, and Ramallah. The Islamist sentiments against Israel have become embedded into society. A very dangerous misconception exists in the West that the terrorism mentality is not the norm in the Middle East. Of course, not everyone is ready to strap a bomb to his or her chest, but do not the majorities cheer those who do? Among Israel's neighbors, jihadist Islam is indeed a pervasive ideology, one made even more pernicious because it is supposedly sanctioned by a "god". Hatred of Israel is the rancid mother's milk in the Arab world, a befouled anti-Zionist potion that nearly everyone drinks . Democracy cannot become a magic powder sprinkled in to purify that foulness. Last week's events in Lebanon are evidence of that. For a short time, many of the pro-democracy pundits were giddily celebrating the "people power" in Lebanon. The daily anti-Syria rallies were pointed to as evidence the new Bush policies are practicable. But when the Iranian-backed terrorist group Hezbollah organized a counter-rally that drew half a million people, dwarfing the others, it demonstrated the grim reality of what democracy Middle East style could look like. The aim of democracy is to represent the will of the people. But what if the will of the people is not benevolent, but malevolent? What if the radical Islamists, like Hezbollah, are the ones chosen to lead the people? What if the US throws a democracy party, but it becomes a "Party of Allah?" What if black-hooded jihadists best represent the aspirations of the masses? In the Middle East, the consensus of the populace of all of the nations is remarkably united in one issue: their extreme enmity for Israel. If genuine regime changes were to take place that would empower the people to carry out their common will, it might not lead to peace in the region at all. It could lead to just the opposite. Radical Islamists, even worse than the current governments, could conceivably gain power in places like Syria, Jordan, Saudi Arabia. The primary problem in the Middle East is not a handful of corrupt leaders who suppress the good intentions of their citizens. No, it is those very intentions of their citizens which are not good at all regarding Israel. In fact, in some countries, the governing officials are widely despised because they are considered too conciliatory towards Israel! It is naive to think that just giving people the right to vote and determine their own political future will metamorphose deeply-ingrained hatred of Zionism. Hamas and Hezbollah are Islamic terror groups that have as their official stated policies the destruction of Israel. Yet Hamas in the West Bank, and Hezbollah in Lebanon both enjoy widespread support of the people. Both are well-integrated into their societies, and both have representatives chosen during election processes. A "democratic Palestine", President Bush's vision, could conceivably become a Hamas state. The effort to remake the Middle East according to a democratic model may have noble intentions. But it will not bring peace to a region obsessed with inveterate contempt for Israel. The very existence of the Jewish State is still considered "nakba" (disaster) for the Arab world. Their fanatical religion of conquest insists "the end of the Zionist entity is a Quranic necessity; there is no place for the Jews no matter how long it takes." Democracy cannot cure that permeating malady.
FOJ Note: Only Jesus Christ can cure the malady of the Middle East, and indeed of our whole world!
Israel Warns Of War With Hezbollah
March 16….(World Watch) A prominent Israeli general has warned of a war between Israel and the Syrian/Iranian-backed Hezbollah between now and the year 2007, bringing into clearer focus an Isaiah 17 prophecy about the destruction of Damascus. General Benny Gantz, Chief of the Israeli Defense Forces Northern Command, said that Syria, under pressure to quit Lebanon, was likely to approve an Iranian-Hezbollah campaign against Israel. General Gantz said that Hezbollah has become a threat to Israel because it has over 15,000 rockets and missiles (supplied by Russia) pointed at Israel from the Lebanon border. He said that Hezbollah has become increasingly supportive of Palestinian terrorist cells in the West Bank and Gaza Strip. General Gantz was speaking at the 2nd International Warfare in Low Intensity Conflict Conference in Tel Aviv, a meeting of military leaders where Israeli Defense Forces experts share strategies and doctrines about how to fight the type of warfare they have experienced in the conflicts with Islamic fundamentalists and other hostile Arab neighbors. Gantz told the conference that he did not envision a conventional attack by Syria against Israel, but rather a scenario whereby Iran or Damascus would use Hezbollah for a proxy war. Military sources said Gantz's warning was the latest by several senior officers who envision a major war with Syria by 2007. They maintain that Iran and Syria have used Hezbollah to weaken Israel strategically and erode its morale. The comments come at a time when many believe that Syria is withdrawing from Lebanon amidst demands by the United States and the United Nations for a complete and thorough withdrawal. However, sources within Israel believe that even though the Syrian army is pulling back, Syria is working furiously behind the scenes to ensure Hezbollah will be the major military and political force in Lebanon. America's pressure on Syria to leave Lebanon and clear the way for democratic elections is playing well into the hands of prophecy. Isaiah 17:1 prophesies: "Behold, Damascus will cease from being a city, and it will be a ruinous heap." General Gantz told the conference if Hezbollah attacked Israel, Israel "can drive Lebanon and Syria 50 years back." The United States, in its efforts to stabilize the Islamic world with the spread of democracy, appears to be accelerating the march of prophecy by solidifying the end time alignments between Iran, Syria, Russia, Libya and others. So long as America does not waiver in her support of Israel, she will remain in God's favor. Pray for our leaders and strengthen your heart toward Christ.
WEEK OF MARCH 7 THROUGH MARCH 13
Europe's Globalists Disparage US Anti-Terror Strategy
March 9….(AFP) The US anti-terrorism strategy has come in for sharp criticism at an international conference that opened in Spain. The Conference is prepared to commemorate the one-year anniversary of the deadly train bombings in the Spanish capital. (FOJ Note: Spain withdrew its troops from Iraq and elected a Socialist as President after the terrorist attacked It----Had the US followed Spain and Europe's model, democracy would be on the retreat in the Middle East and militant totalitarianism would prevail) Several members of the Club of Madrid, the body organizing the three-day symposium on terrorism and democracy, and other participants warned that the United States' use of force and curbs on civil liberties risked being counterproductive. The comments reflected a trend of thought at the event, which is bringing together leaders and top officials from dozens of countries and international institutions under heavy security. Attendees over the course of the three days include UN chief Kofi Annan, King Juan Carlos of Spain, European Commission President Jose Manuel Durao Barroso, EU foreign policy supremo Javier Solana, NATO Secretary General Jaap de Hoop Scheffer and UN nuclear agency chief Mohamed ElBaradei. Club of Madrid chief and former Brazilian president Fernando Henrique Cardoso said states must not take a "the-end-justifies-the-means approach. "One can resort to the use of force if it is necessary, but it must strictly adhere to international law," he said. Mary Robinson, a former Irish president and former UN high commissioner for refugees who is now Vice-President of the Club of Madrid, warned of "a knock-on effect of a lowering of (democratic) standards" by some countries. (a slam at the US) She cited the US Patriot Act, a controversial piece of legislation that curbs civil liberties in the name of enhanced security in the United States, and the US military detention camp in Guantanamo as examples. George Soros, the billionaire US financier who spent millions last year trying to stop President George W. Bush's reelection, was the most direct, saying Washington's strategy was creating anger and resentment around the world. Soros added that Iraq was more dangerous for Americans now than before the US-led war on that country to stop supposed weapons of mass destruction falling into the hands of terrorists.
FOJ Note: All of these Globalist European leaders meeting in Madrid, are extremely anti-American, and ironically enough, virulently anti-Israel. The European Globalist Socialist ideologues labor for a one-world superstructure that cooperates with Totalitarianism.
Hezbollah, Hamas, and PLO's Fatah Work Hand-in Hand
March 9….(DEBKA) Yesterday afternoon, key events took place that were highly relevant to the landmark speech on global terror President George Bush was delivering to the National Defense University in Washington. President Bush said, "the Lebanese people are demanding a free and independent nation". In the words of one Lebanese observer, 'Democracy is knocking at the door of this country and, if it's successful in Lebanon, it is going to ring on the front doorsteps of every Arab regime.'" Almost to the moment, a huge crowd of Lebanese, modestly estimated at 200,000, packed Beirut central Beirut in support of Syria and roared after Hizballah's Hassan Nasrallah: "America out! Thank you, Syria!" and "Death to Israel, chanted the mob." Nasrallah yelled back: "We are not Ukraine! We are not Georgia! We are Lebanon!" Nasrallah said, "Sharon, Mofaz, Shalom, forget your Lebanese dreams! Lebanon belongs to the Lebanese!" Nasrallah can easily whip up a mass audience several times a year. This time he was ably assisted by hundreds of Lebanese, Syrian and Iranian secret agents who were determined to rebuff the US president in the most dramatic way possible. Again, Bush's address was punctuated by the breaking news of the death of Chechen rebel leader Aslan Maskhadov at the hands of elite Russian troops in a special operation at Tolstoy-Yurt in northern Chechnya. The report was delivered to Russian president Vladimir Putin from the North Caucasian special counter-terror command. As the American president wound up his speech, Russian State TV aired photos of Maskhadov's dead body with bared torso. Then, as dark fell, the terrorist pendulum swung back to the Middle East. Palestinian leader Mahmoud Abbas held his first conversation since the Sharm al-Sheikh summit with a high-ranking Israeli official defense minister Shaul Mofaz at Gaza Strip's Erez border terminal. They met to try and revive the bilateral security dialogue cut off by the Palestinian suicide attack that killed five Israelis at a Tel Aviv night club February 25. On the agenda was Israel's offer to start handing five West Bank towns to Palestinian security responsibility. They agreed that Tulkarm and Jericho would be transferred within days – Jericho first, possibly the following day, March 9. Weaving round these happenings, Bush said: "The bombing in Tel Aviv is a reminder that the fight against terrorists is critical to the search for peace and for Palestinian statehood." The US president then added a phrase left out of the text the White House published later. Sourcing the attack to Damascus and attributing its implementation to radical Palestinian organizations, Bush concluded that this strategy had a good chance of recurring. The four interconnected events occurring on a single afternoon graphically illustrated the huge obstacles still facing the United States in the global war on terror. President Bush demanded the exit of all Syrian troops including intelligence agents from Lebanon by early May. Even if Damascus obeys him to the letter, Iranian Revolutionary Guards units will remain in Hizballah bases. These forces will ascertain that nobody in Lebanon can disarm Hizballah or the radical Palestinian organizations based in Lebanon in compliance with the same Security Council resolution 1559 that calls for Syrian withdrawal, certainly not if the radical Shiites assume a dominant role in Lebanese politics. That same epic Tuesday saw Hizballah stepping out from under Syria's wing and taking the lead of Lebanon's anti-American front and the Middle East terrorist movement at large. Nasrallah turned President Bush's democracy argument against him. If democracy and the majority government are to rule Lebanon, then, fine, Hizballah's Shiite following has proved it outnumbers the pro-American, anti-Syrian opposition and it proposes to fight its way to power through the ballot box without renouncing the bullet. Hezballlah's threat is broad and manifold. Rated by DEBKA counter-terror sources as the best organized and trained armed terrorist militia targeted by the US-led war on terror, bar none, including al Qaeda, it controls a strong territorial base with the solid logistical, strategic and financial backing of Iran. The Hizballah is the Iraqi guerrillas' senior recruiting agent in Lebanon and Syria. Its intelligence network runs efficient cells from Latin America to West and East Africa and the Persian Gulf; its operatives are dug in deep among the Palestinians of the Gaza Strip and the West Bank and Israeli Arabs. Hizballah maintains active ties with al Qaeda in Europe, Iran, Pakistan and Chechnya. The Palestinian terrorists are following a similar route. Groups like Hamas and Fatah-al Aqsa Brigades go along with a non-binding form of truce because Abu Mazen has promised to let them stand in the Palestinian general elections on July 17. The anti-Abbas rebellion in their ranks is meanwhile swelling. Once they are entrenched in the Palestinian political establishment, who will disarm them or dismantle their organizations? Hamas and the Hizballah work hand in glove, and Palestinian terrorist operations against Israel is likely to run along parallel lines to the Hizballah's anti-American drive in Lebanon.
Pro-Syrian/Hezbullah Supporters Demonstrate in Beirut
March 8….(MSN) Tens of thousands of pro-Syrian protesters gathered in a central Beirut on Tuesday, answering a nationwide call by the militant Shiite Muslim Hezbollah group for a demonstration to counter weeks of massive rallies demanding Syrian forces leave Lebanon. Loudspeakers blared songs of resistance and organizers handed out Lebanese flags and directed the men and women to separate sections of the square. Black-clad Hezbollah guards handled security, lining the perimeter of the square and taking position on rooftops. Trained dogs sniffed for bombs. Large cranes hoisted two giant white and red flags bearing Lebanon's cedar tree. On one, the words "Thank you Syria" were written in English; on the other, "No to foreign interference." At least 50,000 Hezbullah demonstrators had gathered and more were expected to arrive. The square was just a few blocks from another downtown square where opposition protesters have been demanding Syria's withdrawal from Lebanon. Hezbullah, mobilizing its followers from across the country for the protest, also meant to denounce a UN resolution that, in addition to its demand for Syrian withdrawal, called for dismantling militias, a point Hezbollah sees as aimed at its well-armed military wing. In the outlying heavily Shiite regions of the Bekaa and the south, loudspeakers urged followers to travel to Beirut for the protest. A newspaper reported that convoys of Syrians were being brought across the border in buses to take part in the demonstrations. Hezbollah was founded by Iran and is backed by Syria. On Monday, in the biggest demonstration yet of anti-Syrian furor, more than 70,000 Lebanese shouting "Freedom! Sovereignty! Independence!" thronged central Beirut. The demonstrators waved Lebanon's cedar-tree flag and thundered, "Syria out!"
FOJ Note: Bible Prophecy is coming into play very quickly with the Syrian-Lebanese situation. Democracy and Totalitarianism (ten kings of Revelation and Daniel) are waging a world-wide struggle for control of this world. Terrorism is a tool of the Totalitarianism ideology, and it gets support from the anti-Semitic Globalist movement. Someday, the Antichrist will agree in concept with the anti-Semitic wave, and act to appease the Middle East Islamic fervor to destroy the State of Israel. The Bible conveys that Syria is a key player in the setting of the geo-political stage for the false peace of the Antichrist to be crafted between Israel and the Arab world. The infamous missing WMD in Iraq is likely to be found in Lebanon or Syria, and that component, coupled with the fact that Russia (France and Germany) were the suppliers of these weapons makes Lebanon a key pawn in the war on terrorism. Damascus, which is the central headquarters of the terrorist networks, is prophesied to meet a bad end, as it gets caught red-handed in the middle of the Middle East super-power struggle. We may be nearing this eventual scenario, and if events continue to play in that direction, then time for Christians on this earth is shorter than we dare imagine.
Bush: Democracy Key to Combating Terrorism
March 8….(AP) President Bush says his drive to spread democracy and freedom is the best way to combat terrorism and calls this a hopeful time in the Middle East. President Bush soon plans "to update the American people on the progress that we're making in the war on terrorism and to talk about the remarkable developments that are taking place in the broader Middle East," said White House press secretary Scott McClellan. In particular, he cited elections in Iraq, the Palestinian territories and Afghanistan and pressures in Lebanon for Syria to withdraw its troops. Bush's speech marks a return to the trademark theme of his successful re-election campaign. President Bush, in his Jan. 20 inaugural address, emphasized his goal of spreading freedom and democracy "with the ultimate goal of ending tyranny in our world." "That is how we will win the war on terrorism." McClellan said in a preview of Bush's remarks.
"We're making tremendous progress in the Middle East toward freedom and democracy," the president's spokesman said. "But this is a generational commitment, one that is difficult and requires determination and resolve. Our objective will not be achieved easily, nor will it be achieved all at once." President Bush has described Iraq as the front line in combating terrorists.
Assad Secretly Deploys Joint Iranian-Syrian Units in Lebanon
March 8….(DEBKA) Syrian ruler Bashar Assad gave nothing away on Lebanon in his unscheduled address to parliament in Damascus Saturday, March 5. Repeatedly contradicting himself, he said: "We will not stay one day if Lebanese consensus asks us to leave". He then added: but we cannot desert the Lebanese president to whom we have a commitment. Assad's decision to redeploy Syrian troops eastward to the Beqaa Valley up to Syrian border sidestepped the issue. The Syrian ruler did not promise to pull a single Syrian troop or secret agent out of Lebanon. He also declared for good measure that Syria's role in the country would not end with a military withdrawal (which he did not promise.) Assad joked about the international and Arab clamor to quit Lebanon: "I know that the minute I finish this speech, they will say it is not enough. So I say it now: It is not enough." He burst out laughing and the chamber roared with him. Disappointed Lebanese opposition leaders predictably rejected Assad's statement. We want him to "re-deploy" on the other side of the Syrian border, they said. Even for the relocation of the Syrian army in the east, he has set no timetable; nor has he mentioned the removal of his secret agents. As a result, the Bush administration has decided to act for Syria's total international isolation. US National Security Council head Stephen Hadley notified European Washington-based envoys of moves to cut off Damascus' international banking ties and the flow of international funds to and from Syria through Lebanese banks. The volume of these transfers is such that it could bankrupt Syria. Hadley told the Europeans that UN Middle East envoy Terje Roed-Larsen would take off Sunday on a 12-day tour of Europe, Saudi Arabia, Egypt and Gulf emirates to finalize the US-Arab-European consensus on international sanctions against Syria. On March 17, Larsen will visit Damascus to give Assad his last chance to implement Security Council resolution 1559 in full, or else face up to UN sanctions. Even France's Chirac has already ordered French ties with Damascus severed at all government levels. DEBKAfile's Middle East sources account for the Syrian president's confident bearing when he sidestepped all demands to remove Syria's overbearing presence from Lebanon by the fact that he was acting out a pre-planned strategy. On February 25, DEBKA-Net-Weekly 195 exposed the key move he had set in motion to help him stand up to any military threat. Realizing he could not count on Arab support, Assad furnished himself with an alternative ally. Sunday, February 20, as US Air Force One was ferrying President George W. Bush between meetings with European leaders, Iranian military transports were putting down in Damascus military airport. They were the tail end of the biggest military airlift Iran has launched in the Middle East to date. Its objective was to set up shared Iranian-Syrian safeguards against attacks on the Islamic Republic's nuclear installations and/or Syrian strategic targets. The fleet of Iranian military transports secretly offloaded complete elite units for operating, maintaining and guarding a sophisticated system of Iranian electronic warning stations, radar networks and anti-aircraft missiles to be deployed in Syria and Lebanon. More than 1,000 Iranian soldiers and technicians and 600 Revolutionary Guards commandos took up positions on the South Lebanese border with Israel, along the Syrian-Israeli Golan frontier to the south and up Syria's Mediterranean coastline to the west. The incoming Iranian forces quickly assumed the command and control of electronic and radar systems at Syrian early warning stations in Syria and Lebanon, supplemented by elements of Signal Intelligence and Human Intelligence. Stationed alongside Syrian units, they have undertaken shared operational responsibility. The two chains of command have been merged except in units where Iranian officers have taken command. Assad believes he is gaining on the United States in their duel over Lebanon and holds the winning cards.
The things he left out of his speech to parliament were significant. In announcing the redeployment of his troops on the Syrian border, he omitted mention of the disposition of Syrian intelligence agents and even more pointedly of the early warning stations and the Iranian units who will stay on to man them in Lebanon. With Iranian backing and the presence of Iranian Revolutionary Guards in the south, Syria will retain its grip on Lebanon.

Assad saw no need to mention the mixed Syrian-Iranian units scattered in Lebanon since President Bush has only called for Syrian personnel to leave the country.

Should the US or Lebanese governments decide to get rid of Iranian forces, they will have to turn to Tehran and the Hizballah. Damascus will be off the hook.
The Syrian ruler exploited American pressure on the Lebanon issue to invoke his secret military cooperation pact with Tehran and quietly install Iranian forces, including intelligence units, on the borders of Israel, thereby upgrading Syria's and the Hizballah's defenses and bolstering the Iranian umbrella over Hizballah's missile emplacements facing Israel. This strengthened structure also signaled the spreading Palestinian opposition to Mahmoud Abbas' leadership that aid is available from a strong Syrian-Syrian-Hizballah across the border.

No Israeli response was forthcoming to the new Iranian deployment in Syria and Lebanon, aside from intelligence messages speeding from Tel Aviv to Washington. This has left the Assad regime ecstatic with a sense of achieving yet another coup after pulling off the February 14 assassination of the primary threat to Syria's domination of Lebanon, Rafiq Hariri.
Iran Funding for Fatah Tied to Continued Jihad Against Israel
March 8….(Jerusalem Post) The ruling Fatah movement of the PLO has sought support from Iran amid international efforts to bolster the Palestinian Authority. Palestinian sources confirm that Iran has been discussing the prospect of increasing aid to the Fatah movement to ensure the continuation of the four-year war against Israel. Iran is preparing to finance recruits and weapons purchases, and wants Fatah to defy the cease-fire declared by PA Chairman Mahmoud Abbas and to renew suicide bombings and other attacks against the Jewish State. [On Saturday, PA police staged their first raid of a suspected weapons cache in the West Bank in nearly five years. PA sources said the raid resulted in the capture of rifles and bombs in Dura, south of the West Bank city of Hebron. At least 16 people were arrested.] The sources said Iran has been financing Fatah squads in Jenin and Nablus and ordered operatives to continue attacks against Israel and defy the PA. Last week, Fatah gunmen engaged in a shootout with PA police in Nablus, in which at least five people were injured. Fatah chief Farouk Khaddoumi has welcomed Iranian aid and termed Teheran a close ally of the Palestinians. Khaddoumi acknowledged Hizbullah and Iranian aid to Palestinian groups, including the use of Hizbullah trainers for insurgency attacks against Israel. "If you say [Iranian] infiltration [of Fatah], then we welcome it because this is good," Khaddoumi said in a recent interview with Al Jazeera television. "It means that they are extending support for the Palestinians because they support the Palestinian people and the Palestinian cause and the liberation of Palestine. We welcome all the Arab and Islamic countries to come and infiltrate us with such support." The Saudi-owned daily Al Watan reported that Fatah has received $5 million from Iran. The newspaper said Khaddoumi obtained the money during his tour of Iran and Syria in late 2004. Khaddomi pledged to continue the war against Israel, and has called for strengthening Palestinian relations with Iran and Syria. In December, Abbas, who is also chairman of the PLO, completed his first visit of Syria and received an invitation to visit Iran.
FOJ Note: And the West thinks Abbas is democracy-friendly! We better think again, as Abbas is closely working with Syria and Iran, and the Hezbullah-Hamas axis.


China Warns US, Japan About Taiwan Military Pact
March 7….(AP) China warned the United States and Japan against including Taiwan in their military pact, while also seeking to calm fears that the lifting of an EU arms embargo would lead to an attack against the island. Foreign Minister Li Zhaoxing said Beijing sought better ties with both Washington and Tokyo, China's two largest trading partners, but he warned increasing US-Japan military cooperation should be strictly bilateral and not encompass Beijing's arch-rival Taiwan. "Any part of putting Taiwan directly or indirectly into the scope of Japan-US security cooperation constitutes an encroachment on China's sovereignty and interference in China's internal affairs," Li said. "The Chinese government and people are firmly against such activities." Li characterized the military alliance between Japan and the United States as a "bilateral arrangement" that came about during the Cold War. Any expansion of such a relationship to include Taiwan, Li warned, could cause problems in the region. Beijing has been increasingly wary of Washington and Tokyo's close strategic partnership, seeing it as a potential obstacle to its firm goal of eventually reunifying with the island of Taiwan, by force if necessary. In a joint statement last month, Washington and Tokyo said easing tensions in the Taiwan Strait was part of their "common strategic objectives" and urged China, which has 600 missiles amassed opposite the island, "to improve transparency of its military affairs." This angered Beijing, which slammed the allies' move as "inappropriate." China considers Taiwan, which has been ruled separately since the end of a civil war in 1949, as a part of its territory awaiting reunification. While asserting that the Taiwan issue was the "most sensitive" and core obstacle facing Sino-US ties, Li nonetheless sought to dispel fears China was planning to attack the island. "We have always stood for the peaceful resolution of the Taiwan issue," Li said. He reiterated China's call for the lifting the EU's 15-year weapons embargo, saying it amounted to "political discrimination". Opponents have voiced concerns that an end to the weapons embargo, imposed after China's crushing of pro-democracy protests in 1989, could result in Beijing arming itself with advanced weapons to retake Taiwan. The EU is poised to lift the embargo as early as June.
Hezbollah Mobilizes Supporters for Syria
March 7….(AP) The militant (FOJ Note: Lets call this group what they are…Terrorists) group Hezbollah, largely on the fence since anti-Syrian protests erupted in Lebanon last month, threw its weight behind Syria and its allies, calling for massive rallies in Beirut to show loyalty to Damascus. The move by Hezbollah's powerful and politically savvy leader, Sheik Hassan Nasrallah, could prove crucial: The Iranian-founded, anti-Israeli Shiite Muslim group, which the United States calls a terrorist organization, has emerged as a key player during Lebanon's latest slide into political instability, capable of tilting the balance either in favor of the pro-Syrian government or the anti-Syrian opposition. Although Hezbollah is backed in part by Syria, the opposition had been courting the militia's support in its efforts to oust Syrian troops. Opposition leaders had said Hezbollah would not be forced to disarm if Syria leaves, while also warning that if the group tilted toward Syria, it would lose the support of many Lebanese. But as the Syrian army is being driven out of Lebanon under international pressure led by the United States, the 23-year-old Hezbollah movement, whose name means The Party of God, is clearly feeling the heat, believing it could be the next target. (about time) Among other things, its existence as a military force could be at stake after the dizzying changes in recent weeks, which culminated Saturday with Syrian President Bashar Assad's announcement of a two-step withdrawal of his 14,000 troops after nearly 30 years in Lebanon. A Lebanese official said Sunday that Syrian troops will start moving toward the eastern Lebanon near the Syrian border in a pullback that will take two or three days. The withdrawal will begin right after a meeting in Damascus of the presidents of the two countries. Nasrallah called for a massive peaceful demonstration Tuesday in central Beirut to show loyalty to Syria. The protest, he said, was to denounce international interference, show support for resistance movements and foil any attempts to make a peace deal with Israel. The protests also, despite his denials, are apparently designed to show Hezbollah's political strength. Hezbollah is the best-armed terrorist group in Lebanon. It is widely admired both within Lebanon and across the Arab world for driving Israeli forces out of the country's south. It also has the organizational capability and party discipline to mobilize massive street protests, drawing its strength from the Shiite Muslim community, Lebanon's largest religious sect with 1.2 million people. Hezbollah rejects the demands of UN resolution 1559 saying it was Israeli-inspired. The pro-Syrian Lebanese government backs up Hezbollah, which has thousands of fighters armed with rockets and mortars, maintains positions along the Lebanese-Israeli border and occasionally shoots at Israeli soldiers in a disputed area. Syria and Iran uses Hezbollah as a card in the geo-politics of Lebanon. Nasrallah has already made clear the group will not disarm, a position he repeated on Sunday. "As long as Lebanon needs protection, it needs the resistance," he said. Washington links Hezbullah to pro-Iranian groups that carried out the 1980s suicide bombings of US Embassy compounds in Lebanon and the Marine base at Beirut airport, killing about 270 Americans, as well as kidnapping of Americans and other Westerners in Beirut during the chaotic days of the 1975-90 civil war.
Israeli Arab Explodes Mideast 'Lies'
March 7….(WND) A Lebanese-born woman who later lived in Israel told a Columbia University forum today the Muslim Arab world's hatred of the Jewish state is blinding it to reason. Brigitte Gabriel, founder of American Congress for Truth, recalled being raised on "a steady diet of lies poisoning our attitudes toward the Jews. Israel, Aaesrael, Israel is the devil. Al-Yahud shayateen, The Jews are evil. Sarakou Al-Ard Al Arabiyah. They stole Arab land. Al Wakt al wahid allazi yassir endana salam huwa lamma naqtul kul al yahud wa narmihum bil bahr, The only time we'll have peace in the Middle East is when we kill all the Jews and drive them into the sea. Every time Israel was mentioned it was attached to the phrase, Al adew al Israeli. The Israeli enemy." "My country and others saw nothing wrong with practicing this form of mind abuse," she said. "Of taking a generation hostage, molding them into misguided weapons; some willing to be martyred in the name of Islam or Palestinian nationalism. It's a form of mental child abuse taking place in every Arab country." Gabriel told the audience that only a personal experience with the Israelis allowed her to see through the lies she was taught throughout her childhood. "My eyes were opened when I spent 22 days in a hospital in northern Israel in the early 1980s," she recalled. "I watched unbelievably as Israeli doctors treated my mother wounded by an artillery shell before he treated the wounded Israeli soldier lying next to her. They treated Lebanese Muslims and Palestinian militia fighters on a par with wounded IDF (Israeli Defense Forces) soldiers. I was shocked that this enemy, hated by the Arabs, treated us all with utmost courtesy, compassion, and respect. It was a transforming experience countering the lies and all the propaganda that I had been indoctrinated in as a child. Ultimately, I made a commitment to leave my home country and move to Israel to be with these people whose values I respected." Later she became an Israeli newscaster. "As a Middle Easterner brought up on this patent 'Israel is a racist state' propaganda, I discovered it is total hate-inspired nonsense," she said." I've seen with my own eyes what kind of society Israel is. I consider Israel to be one of the most multi-racial and multi-cultural countries in the world. There are no racial restrictions on becoming a citizen of Israel like there are in many Arab countries. Remember, Jews can't live in the neighboring Arab Kingdom of Jordan or in the Kingdom of Saudi Arabia." She explained that more than 100 different countries of the world are represented in the population of Israel. "Consider how the Israeli government spent tens of millions of dollars airlifting more than 40,000 black Ethiopian Jews to Israel in 1984 and 1991," she said. "Since 2001 Israel has reached out to help others taking in non-Jewish refugees from Lebanon, the Ivory Coast, Sierra Leone, Vietnam, Liberia, Congo and even Bosnian Muslims. How many such refugees have the 22 states in the Arab league taken in? The Arab world won't even give Palestinian refugees citizenship in their host countries." She added that more than 1 million Arabs are full Israel citizens, that an Arab sits on the Supreme Court of Israel, that there are Arab political parties expressing views inimical to the state of Israel sitting in the Knesset, that women are equal partners in Israel and have complete human rights. "Show me an Arab nation with a Jew in its government," she challenged. "Show me an Arab country with half as many Jewish citizens as Israel has Arab citizens. I'll borrow some of your academic freedom now and say that Arab nations are the real racist and oppressive states." Gabriel also charged this kind of hatred is infiltrating US college campuses like Columbia. "These ideologues know that they are teaching students who have no background or prior knowledge of the Middle East situation," she said. "What they are doing is an extension of what is taking place in schools in Palestinian and Muslim madrasses across the Islamic crescent. Repeat a lie enough and it becomes truth. You listen to what we say, they teach. If you don't there will be consequences."
Russia Moved Iraqi WMD!
Moscow Moved Weapons to Syria and Lebanon
FOJ Note: This article by Charles Smith, which appeared in the March 5 Washington Times is very informative about the Iraqi WMD controversy and the now budding Syria-Lebanon scenario. Russia just recently sold Syria billions of dollars worth of missiles and anti-aircraft defense systems. It is assumed that Hezbullah will acquire much of this military hardware.
March 7….(by: Charles R. Smith/Washington Times) According to a former top Bush administration official, Russian special forces teams moved weapons of mass destruction out of Iraq to Syria. "I am absolutely sure that Russian Spetsnatz units moved WMD out of Iraq before the war," stated John Shaw, the former deputy undersecretary for international technology security. According to Shaw, Russian units hid Saddam's arsenal inside Syria and in Lebanon's Bekka valley. "While in Iraq I uncovered detailed information that Spetsnatz units shredded records and moved all WMD and specified advanced munitions out of Iraq to Syria and Lebanon," stated Shaw during an exclusive interview. "I received information from several sources naming the exact Russian units, what they took and where they took both WMD materials and conventional explosives. Moscow made a 2001 agreement with Saddam Hussein to clear up all Russian involvement in WMD systems in Iraq," stated Shaw. Shaw's assertions match the information provided by US military forces that satellite surveillance showed extensive large-vehicle traffic crossing the Syrian border prior to Operation Iraqi Freedom.
Moscow is Paranoid About WMD
Shaw's information also backs allegations by a wide variety of sources of Russia's direct involvement in Iraq's weapons of mass destruction program. One UN bioterrorism expert announced that Russia has been Iraq's "main supplier of the materials and know-how to weaponize anthrax, botulism and smallpox." Writing in the Wall Street Journal, Robert Goldberg cited former UN weapons inspector Richard Spertzel, who stated that Moscow supplied Baghdad with fermentation equipment to produce biotoxins. According to Spertzel, the Russians on the UN inspection team in Iraq were "paranoid" about his efforts to uncover smallpox production. Goldberg noted that no country has "done more to rebuild" Saddam's chemical and biological weapons programs or "been more aggressive in helping hide the truth" than Russia. It is a fact that Saddam Hussein rose to power backed by Russian weapons and Russian money. Saddam was in debt to Moscow for over $8 billion for the arms he purchased from Russia when he was captured by US forces. The primary Iraqi chemical weapons were VX nerve gas and mustard gas, a blistering agent, both obtained from Russia. According to the book "Russian Military Power," published in 1982, "It is known that the Soviets maintain stocks of CW (chemical weapons) agents." The two primary Russian chemical weapons in the 1982 Soviet inventory were the nerve agent "VX" and "blistering agents, developments of mustard gas used so effectively in World War I."
Russian Chemical Weapons in Iraq
Iraq did most of its WMD killing using Russian-made MiG and Sukhoi aircraft equipped with chemical sprayers. In addition, Saddam used French-made artillery and helicopters to dump gas on Iranian troops and Iraqi Kurds. Iraq obtained Russian delivery systems and the same inventory of Russian-made chemical weapons at the same time. Iraqi SU-22 Fitter attack jets were armed with Warsaw Pact-designed bombs filled with chemical weapons. Iraq used these Russian jet fighters to drop chemical weapons on Iranian troops during the Iran-Iraq war. Iraq tried to use these SU-22 jets during the 1991 Gulf War, but they were detected and destroyed on the ground before they could launch a deadly chemical attack. Other Russian weapons found with chemical weapons include the FROG-7 missile, 122 mm rockets, 152 mm artillery and the M-1937 82 mm mortars. All the Iraqi artillery missiles, rockets, shells and mortar rounds filled with chemical weapons are of Russian design. Iraqi forces were trained by Russians in the use of chemical weapons and equipped by Russia with anti-chemical suits. The Iraqi armed forces were trained, equipped and supplied with the proper logistics to perform chemical warfare by Russia.
Lebanon and Syria
The arming of Iraq with such weapons has a direct impact on events today in the Middle East. The presence of former Iraqi WMD systems in Lebanon raises serious questions surrounding the Feb. 14 assassination of former Prime Minister Rafik Hariri. Many blame Syria for Hariri's murder. However, the possibility that Hariri discovered the location of the Iraqi WMD systems inside his country lends some credible backing to a Syrian assassination effort to silence him. In addition, the sudden sale of advanced missile and other weapons to Damascus by Moscow also supports the allegation that Syria is hiding something for Russia. Russian weapons makers have previously insisted on hard, cold cash payments for their missiles, especially after the fall of Saddam and the collapse of credit deals done with Baghdad. More importantly, the Syrian economy is in bad shape, making it difficult for Damascus to come up with the required money for advanced Russian weapons. Instead, it now appears that Moscow has extended both very good terms and no down payment required to Syria for an extensive purchase of advanced missiles and weapons. This is in contrast to weapons sales to other "good" Russian customers such as China, which can afford to pay up front for weapon systems.
CIA Failed
There is no question that the Russian effort to remove Iraqi WMD systems was the most successful intelligence operation of the 21st century. The Russians were able to move hundreds of tons of chemical, biological and nuclear materials without being discovered by CIA satellites or NSA radio listening posts. "There is a clear sense on how effective they were," noted Shaw. "The fact that the CIA did not know shows just how successful the Russian operation was," he concluded.
WEEK OF FEBRUARY 28 THROUGH MARCH 6
Iran Threat: Attack by West Risks Al 'Middle East Oil'
March 4….(World Tribune) Iran has warned that Gulf Arab oil would be endangered by any US attack on the Islamic republic. In the first such threat, a leading Iranian official raised the prospect of Iranian retaliation against Middle East oil exports. The official said such Gulf oil states as Kuwait and Saudi Arabia could be threatened, Middle East Newsline reported. "An attack on Iran will be tantamount to endangering Saudi Arabia, Kuwait and, in a word, the entire Middle East oil," Iranian Expediency Council secretary Mohsen Rezai said on Tuesday. About 40 percent of the world's crude oil shipments passes through the two-mile wide channel of the strategic Straits of Hormuz. Iranian forces are deployed at the head of the channel. Oman and the United Arab Emirates are located on the other side. Teheran could easily block the Straits of Hormuz and use its missiles to strike tankers and GCC oil facilities, according to the new edition of Geostrategy-Direct. Within weeks, the rest of the world would be starving for oil and the global economy could be in danger. The US Energy Information Administration projects that oil tanker traffic through the Straits of Hormuz will rise to about 60 percent of global oil exports by 2025. Rezai, a former commander of the Islamic Revolutionary Guards Corps and a candidate for president, told the Fars News Agency that any Western attack on Iran would send oil prices rocketing to $70 per barrel. He said such a significant increase in oil prices would also be sparked by international sanctions on Teheran.
Arab Leaders Urge Syria to Leave Lebanon
March 4….(AP) Arab leaders are growing increasingly impatient at Syria's resistance to a quick, complete withdrawal of its troops from Lebanon, with Saudi leader Crown Prince Abdullah sharply telling Syria's president on Thursday to start getting out soon or face deeper isolation, according to a Saudi official. The unusually tough message came when Syrian President Bashar Assad met Abdullah and other Saudi leaders in the kingdom's capital. Arab League foreign ministers, meeting in Cairo on Thursday, added to the pressure, expressing support for the diplomatic push by Saudia Arabia and Egypt. Syria has resisted Arab pressure to withdraw, saying in behind-the-scenes diplomacy in recent days that it wants to keep 3,000 troops and early-warning stations in Lebanon, according to an Arab diplomat in Cairo. Abdullah reportedly told Assad the kingdom insists on the full withdrawal of all Syria's 15,000 troops and intelligence forces from Lebanon and wants it to start "soon," the Saudi official said. Assad replied only that he would study the possibility of carrying out a partial withdrawal before an Arab summit scheduled for March 23 in Algeria, the official said. The Syrian leader insisted he is doing everything he can to resolve the problem but that not everything is up to him, the official said. Saudi officials replied that the situation was his problem and warned that if Damascus refuses to comply, it would lead to tensions in Saudi-Syrian ties, the official said. In a further sign of their impatience, the Saudis rejected a Syrian request that the upcoming Arab summit officially ask Damascus to withdraw its forces, which would give any pullback an Arab endorsement, the Saudi official said. Saudi Arabia is said to be angry with Damascus over the Feb. 14 assassination of former Lebanese Prime Minister Rafik Hariri, who also held Saudi citizenship and was close to the Saudi royal family. Assad returned Thursday night to Damascus. Damage in relations with Saudi Arabia would deepen Syria's isolation after its traditional allies, Russia and France, joined the United States and United Nations in demanding a full pullout. Saudi Arabia, a close ally of Washington, often presents Syria's point of view to US officials. Egypt and Saudi Arabia fear that unless Syria removes its troops quickly from Lebanon, where it has held control for decades, the United States and other Western countries will start taking concrete action to force it to do so.

Iran's Primary Threat is Geostrategic

March 4….(GeoStrategy-Direct) The United States has a dilemma regarding a military option to terminate Iran's nuclear weapons program. Even if US fighter-jets destroyed every single nuclear facility, Iran still could threaten global oil supplies. The reason: Iran's dominance of the Straits of Hormuz. About 40 percent of the world's crude oil shipments pass through the two-mile wide channel. Iranian forces are deployed at the head of the channel. Oman and the United Arab Emirates are located on the other side. The result is that Gulf Cooperation Council states would be at Iran's mercy, since Teheran could easily block the Straits of Hormuz and use its missiles to strike tankers and GCC oil facilities. Within weeks, the rest of the world would be starving for oil and the global economy could be in danger. What's worse is that the longer the United States waits, the more of a hold Iran will have on the Straits of Hormuz. The US Energy Information Administration assesses that oil tanker traffic through the Straits of Hormuz will rise to about 60 percent of global oil exports by 2025. The Iran Policy Committee believes it has an answer. In a policy paper presented in Washington, the committee, composed of leading retired military offices and national security experts, urged the Bush administration to drop the idea of a military strike against Iran. Instead, the panel called for Washington to pursue regime change in Teheran while increasing economic pressure on Iran. The pressure could include a U.S. naval blockade on Iranian exports leaving the Straits.





Bush Demands Syria Vacate Lebanon !

March 2…. (AP) -- President Bush today demanded in blunt, no uncertain terms that Syria get out of Lebanon, saying the free world is in agreement that Damascus' authority over the political affairs of its neighbor must end now. He applauded the strong message sent to Syria when Secretary of State Condoleezza Rice and French Foreign Minister Michel Barnier held a joint news conference on London on Tuesday. "Both of them stood up and said loud and clear to Syria, "You get your troops and your secret services out of Lebanon so that good democracy has a chance to flourish." The world, Bush said, "is speaking with one voice when it comes to making sure that democracy has a chance to flourish in Lebanon." The president's words, taken with those from Rice and others in the Bush administration this week, amount to the strongest pressure to date on Syria from Washington. "Syria knows the concerns of the international community, and they know what they need to do to change their behavior and become a constructive member of the region and the international community," White House press secretary Scott McClellan said earlier Wednesday. Meanwhile, Turkish ambassador Osman Faruk Logoglu urged the Bush Administration to offer trade and other economic and diplomatic incentives to Syria. "The chances of Syria withdrawing are greater than ever before," Logoglu told reporters. " Secretary Rice, in London to attend an international conference on Palestinian security and government reform, said that Syria is "out of step" with a growing desire for democracy in the Middle East. US Deputy Assistant Secretary of State David Satterfield, on Capitol Hill after a trip to Lebanon, was dismissive of what he called the "rhetoric" out of Damascus. "Neither this government nor the people of Lebanon will believe anything other than what we see with our eyes," Satterfield told the Senate Foreign Relations Committee. Separately, on the issue of Iran's nuclear program, Rice indicated that the administration was working with European leaders on a plan to offer Iran economic incentives in exchange for abandoning its nuclear ambitions. The United States has accused Iran of developing nuclear weapons, a charge Tehran denies. "We are designing, I think, an important common strategy with Europe so that Iran knows there is no other way," Rice said. European leaders urged Bush to join them in offering incentives such as possible membership at some time for Iran in the World Trade Organization and the White House suggested Bush would consider that route.

US High Court Hears Ten Commandments Cases

March 2….(WND) For the first time in history, the US Supreme Court will hear arguments today in two cases involving the public posting of the Ten Commandments. The justices are scheduled to hear the case McCreary County v. ACLU of Kentucky and Van Orden v. Perry, and will decide whether or not the public display of the Decalogue is a violation of the Establishment Clause of the Constitution's First Amendment. Mathew Staver, president and general counsel of Liberty Counsel will present oral arguments in the Kentucky case, arguing that the Commandments "played an important role in the development of American law and government and thus do not constitute a government endorsement of religion when exhibited in public displays," said a statement from the law group. The Supreme Court's decision will affect every Ten Commandments display in the country and may well set the future course for other governmental acknowledgments of religion. Liberty Counsel hopes the high court will adopt a new test for judging such cases. It's proposed test "would find a permissible governmental acknowledgment of religion if the activity 1) comports with history and ubiquity, 2) does not coerce participation in a religious exercise or activity, and 3) does not discriminate among sects based upon religious character alone." Such a test would make a clear distinction between an acknowledgment of religion, which the Constitution permits, and an establishment of religion, which the Constitution forbids. The phrase "In God We Trust" passes such a test, Liberty Counsel notes. Commented Staver yesterday: "Tomorrow, when I walk through the double doors leading to the Supreme Court's chambers, I will see the Ten Commandments. The engraved Ten Commandments on the Court's double wooden door entrance and the bronze gates to the side exits, or Moses holding the Ten Commandments in Hebrew script inside the chambers, have not established a religion. The Ten Commandments are a universally recognized symbol of law that has influenced our laws, our government and even our common vernacular. Displaying them in a courthouse is a permissible acknowledgment of religion and of the role religion has played in shaping our nation." Concerned Women for America said it was cautiously optimistic the high court would rule in favor of the Decalogue. "The Supreme Court should be able to see straight through the bogus arguments of special interest groups whose only motivation appears to be erasing any recognition of God from our public life," said Jan LaRue, CWA's chief counsel. "Setting the Ten Commandments on public display is an acknowledgement of the cultural and legal history of the United States. It is light years from establishing a national church, which is what the First Amendment prohibits. "Hopefully, the court will affirm the 5th Circuit's ruling in Van Orden v. Perry and reverse the ruling by the 6th Circuit in the McCreary case. If it fails to do so, the next sound we hear may be that of a hammer and chisel on the Ten Commandments in the Court's own building."

Revived Sanhedrin discusses Temple

March 2….(By Hal Lindsey) Two remarkable developments took place recently that are extremely relevant to students of Bible prophecy. For the first time in 1,600 years, the Israeli Sanhedrin was re-established. It occurred in Tiberius, the site of the Sanhedrin's last meeting in AD 425. On Jan. 20, IsraelNN.com reported: A unique ceremony, probably only the second of its kind in the past 1,600 year is taking place in Tiberius today: The launching of a Sanhedrin, the highest Jewish-legal tribunal in the land of Israel. The Sanhedrin, a religious assembly that convened in one of the Holy Temple chambers in Jerusalem [before AD 70], comprised 71 sages and existed during the Tannaitic period,

from several decades before the Common Era until roughly 425 CE. Organizers' announced their intention to convene 71 rabbis who have received special rabbinic ordination as specified by Maimonides. These religious authorities believe it was necessary to re-establish the Sanhedrin because only this properly ordained body of sages can authenticate a Messiah when he comes. There is a growing expectation of the long-awaited Messiah to appear among devout Jews. The rebirth of the Jewish State and recapture of Jerusalem has increasingly influenced this conviction. On Feb. 9, just a few weeks after the Sanhedrin's re-establishment, another enormously important development took place. The religious sages began to consider the rebuilding of the Temple and reinstitution of ancient animal sacrifices as prescribed in the Law of Moses. The first step toward facilitating this monumental endeavor was to seek to determine the exact location of the Temple's foundation. Sanhedrin spokesman Rabbi Chaim Richman told Arutz-7: It is appropriate that the Sanhedrin convened to discuss this lofty matter of the Temple's location this week, The Sanhedrin continues to move toward strengthening the nation of Israel. As all these things happen all around us, the Sanhedrin is researching ways to renew the deepest roots of our faith, to renew Temple service, reunite Jewish legal tradition and inspire the Jewish people to aspire to greatness. Our people have one path before us, and we will continue to march toward our destiny. Sanhedrin member Rabbi Yisrael Ariel is the most ardent believer that the Temple is to be rebuilt in this generation. He is the former Yeshiva head, founder of the Temple Institute, and one of the paratroopers who took part in the 1967 liberation of the Temple Mount. He said: People today ask, "Who are we in this generation to even consider building the Temple?" But in this week's Torah portion we see that the commandment to build a Temple was given to Jews who had just sinned and committed idolatry in the Sin of the Golden Calf. The fact is that what God requires in this world is for regular people to do their best. That is what we are trying to do. The most difficult problem is to determine with certainty exactly where the previous Temple's foundations are. Muslims have not allowed Israeli archeologists to do archeological research on the Temple grounds. As a matter of fact, the Muslim custodians of this area, which they believe is their Third Holiest site, have systematically sought to destroy and remove any archeological evidence of Israel ever having a Temple there. The Sanhedrin determined that there are only two viable theories as to where the Temple stood. One teaches that the Temple stood on the same basic site on which the Muslim mosque known as the Dome of the Rock was built. The second theory is that the Temple was built north of the Dome of the Rock. Dr. Asher Kaufman developed this theory, using certain archeological evidences that he found before the Muslim's destroyed them. However, the most important archeological sign is the position of the Eastern Gate. According to ancient accounts of the Temple, its east-west centerline passed through the center of the Eastern Gate. We have absolute evidence as to where the ancient Eastern Gate stood. The fact that a re-established Sanhedrin is now considering the rebuilding of the Temple after 2,000 years is extremely important to students of Bible prophecy. I believe that we are very near the final climactic events that end with the Second Coming of Christ.



China is Emerging as a Major Economic Power

March 1….(Newsweek) Ask a party bureaucrat in Beijing about China's foreign ambitions these days, and the reply may sound like a beauty contestant's doe-eyed promise to work for world harmony. "Peaceful resolution of global problems is both our aim and our style," asserts one official involved in international affairs. China has no interest in becoming a military superpower, he insists. "A power, yes, but not a superpower," he says. "We don't want to be enemies with anyone." Don't laugh. One of the hottest topics among foreign-policy specialists is China's rapidly growing "soft power." The term, coined 15 years ago by Harvard political scientist Joseph S. Nye Jr., refers to influence arising from attraction and persuasion rather than threats and force. Nye was talking about the global reach of American arts and ideas, and about the danger of overplaying US weaponry while neglecting the country's cultural and intellectual clout. Back then, Beijing had scant international leverage aside from its nuclear arsenal and its huge but threadbare Army. Today China is an economic giant, reshaping the landscape of world trade. In February the Washington-based Earth Policy Institute announced that China has surpassed the United States as the world's biggest consumer of meat, grain, coal and steel. Has prosperity tamed the People's Republic? The European Union seems to think so. Its members are eager to end the arms-sale ban they declared after the bloody 1989 Tiananmen Square crackdown. "A trade-driven soft power without a military threat" is how Europeans see China now, according to Willem van der Geest, head of the European Institute for Asian Studies in Brussels. But George W. Bush and his advisers aren't so sure. As he made the rounds in Europe last week, the American president voiced "deep concern" over the lifting of the weapons embargo. With or without the EU ban, it's far too late to keep China from modernizing its military. The Chinese have been using their new wealth for years to buy top-of-the-line weaponry from Russia and Israel. Neither country ever joined the embargo. And in most places China clearly wants to make money, not war. What scares the Bush Administration is the risk of armed conflict between China and Taiwan. That fear is more than just a neocon thing; it's shared by observers like Kenneth Lieberthal, the top Asia hand at the National Security Council during the Clinton years. "The fundamental reason to worry is that these two sides neither trust nor under-stand each other," he says. Last year he and David Lampton, director of China studies at the Johns Hopkins School of Advanced International Studies, issued a joint warning: "Unless an improved framework for PRC-Taiwan relations is adopted, war across the strait will become increasingly probable!"

Bin Laden Urges Zarqawi to Hit US

March 1….(Fox News) Recent communications between Usama bin Laden and Abu Musab al-Zarqawi indicate that bin Laden has "encouraged Zarqawi and his group to focus on attacks inside the United States," multiple US officials told FOX News on Monday. The sources would not get into detail about how the communication was made or how it was intercepted by the United States. They also said that there is nothing specific in the message, such as maps or references to particular cities or buildings. Rather, the communication simply encourages a "focus" on attacks inside US borders, sources said. The Homeland Security Department issued a classified bulletin to officials over the weekend about the intelligence. The US has no immediate plans to raise its national alert level, however, the intelligence "reiterates the desire by Al Qaeda and its associates to target the homeland," a spokesman said. Zarqawi, the leader of Al Qaeda in Iraq and believed to be the inspiration of the ongoing bombings, beheadings and attacks on Iraqi and American forces, pledged his alliance to bin Laden last year and changed the name of his group in Iraq to reflect his ties to Al Qaeda. Iraqi officials said they expect to take Zarqawi soon; they recently nabbed a key associate and driver of the Jordanian-born terror leader. US officials say Zarqawi has "his hands full" trying to stay out of US or Iraqi custody in Iraq and they question whether Zarqawi's group would have the ability to pull off an attack inside America. Also, officials are wondering aloud what this means about Al Qaeda and whether if the group is reaching out to its central leader because they are under significant pressure.

Pressure Mounts on Syria After Lebanon Government Collapse

March 1….(Reuters) Jubilant opposition supporters in Lebanon have vowed to carry on with their protest in central Beirut in a bid to drive Syrian forces from the country after the collapse of the Damascus-backed government. The pro-Syrian government of Prime Minister Omar Karami resigned on Monday after two weeks of protests, piling more pressure on Damascus, already under fire from the United States and Israel. Thousands of demonstrators turned Beirut into a sea of Lebanese flags and exploded into riotous celebration when the government unexpectedly quit after a parliament debate on the killing of former prime minister Rafik al-Hariri. "This is just the first step. We are staying here to make sure they don't set up a new government that is just the same. We are staying until we have independence," said Carla Khoury, draped in a Lebanese flag. Many also demanded the resignation of Lebanon's Syrian-backed President Emile Lahoud. Syria plays a dominant role in Lebanon and maintains 14,000 troops there. Pressure has been growing within Lebanon and from abroad for a complete military withdrawal. Protesters have gathered in Beirut's central Martyrs' Square, which they dubbed Freedom Square, ever since Hariri's assassination on Feb. 14 to demand the withdrawal of Syrian troops and the resignation of all top pro-Syrian political and security officials. Washington said the resignation of the government provided "an opportunity" for the election of a new government representative of Lebanon's diversity and repeated that Syria must quit the country. White House spokesman Scott McClellan said Syria should comply with UN Security Council resolutions. "That means Syrian military forces and intelligence personnel need to leave the country. That will help ensure the elections are free and fair," he said. Syrian President Bashar al-Assad, who has expressed concerns Washington might eventually resort to military action against his country, said a total Syrian troop withdrawal must be linked to peace with arch-foe Israel.

The Assad Regime is on Hot Seat

March 1….(Knight-Ridder) Syrian President Bashar Assad, under mounting pressure from a string of political setbacks over Lebanon and Iraq, is facing tough choices that leave him vulnerable to internal challenges. There are no assurances that such challenges would move Syria toward democracy, though, as sought by the Bush administration. A change in leadership also could set off a political upheaval that would breed more chaos and anti-American terrorism in the Middle East. In Lebanon, the collapse Monday of the pro-Syrian government lent new energy to political factions that blame Syria for the Feb. 14 slaying of former Prime Minister Rafik Hariri and are demanding that it pull thousands of its troops and intelligence agents out of the country. Meanwhile, Syria's surrender to Iraq on Sunday of deposed dictator Saddam Hussein's half-brother and 29 other former Iraqi Baathists has cast doubt on Assad's denials that his regime has been harboring leaders of Iraq's anti-US insurgency. "We really have to confront Syria on allowing these groups to operate out of Syria," said Sen. Sam Brownback, R-Kansas in a telephone interview with the Wichita Eagle during a flight home from a visit to Iraq. "The ties to command-and-control of these operations go back onto Syrian soil." The Bush Administration made clear Monday that it has no intention of easing up on Assad, saying it was closely following developments in Lebanon. It also announced that President Bush plans to meet next month at the White House with the patriarch of the country's Maronite Christians, one of the main anti-Syrian factions. The Bush Administration and the US Congress had already imposed economic

sanctions on Damascus. Assad also must watch the hard-liners of his own Alawite sect. If he bows to demands to quit Lebanon and to arrest more Iraqi insurgents, they might see him as capitulating to US-led pressure. The Alawites have ruled Syria through violence and intimidation for more than three decades. To maintain their power, the hard-liners could replace Assad with a leader with a greater reputation for ruthlessness. Assad's replacement by another member of the Alawites, a secretive sect that comprises 12 percent of Syria's 18 million people, could trigger a destabilizing backlash by majority Sunni Muslims, which are also causing havoc in Iraq. "The Syrian regime's life is on the line," said Walid Phares, a Middle East expert with the Committee for the Defense of Democracies, a conservative policy institute. Lebanon has been an important source of income for the ruling Alawite elite and the Syrian government. Syria's state-controlled economy is essentially closed to outside investment and has been languishing for years. The Syrian government and top officials are believed to maintain accounts containing billions of dollars in hard currency in Lebanese banks and to receive illegal commissions from Lebanese government contracts. A forced withdrawing from Lebanon also would cost Assad leverage that his regime has over Israel. Syria provides support to Hezbollah, a powerful Shiite Muslim militant group that controls southern Lebanon's border with Israel. Without the threat posed by Hezbollah to northern Israel, Damascus would lose a major way to pressure Israel into abandoning the Golan Heights, strategic high ground that Israel captured from Syria in the 1967 Middle East war and annexed in 1981.

Ex-Lebanon PM to World: Force Syria Out
(Exiled Lebanese leader says Damascus won't budge without 'stronger measures')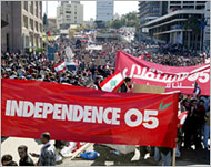 March 1….(WND) Even after the fall yesterday of Beirut's pro-Damascus government following a civil uprising, Syria likely will keep its troops in Lebanon unless stronger measures are employed, former Lebanese Prime Minister Michel Aoun told World Net Daily this morning in an exclusive interview. We are not hearing that [Syria] will withdraw," said Aoun, speaking to WND from France. "We have no confidence in Syrian declarations. They have been saying that they will leave Lebanon for 30 years and nothing has been accomplished. The international community needs to use stronger means to pressure Syria." Aoun said he was not specifically advocating force to remove Syria's nearly 20,000 troops from Lebanese soil, but said "Syria has to feel that they are being immediately kicked out by the world. This is the only thing that can work." Lebanese Prime Minister Omar Karami yesterday announced the resignation of his government during a parliamentary debate about the assassination of former Prime Minister Rafiq Hariri for which Syria has been blamed. The dramatic announcement followed nearly two weeks of mass protests in which tens of thousands assembled daily in Beirut holding prayer vigils and marching on the site of Hariri's assassination, some chanting "Syria out!" and "Down with the government!" Aoun said he was not surprised by Karami's resignation. "It was a direct consequence of what is happening on the streets in Beirut and what we are doing," Aoun said. "The people are applying pressure and the government realized things cannot continue." It was not immediately clear what effect the fall of the pro-Syrian Lebanese government would have on Damascus and its continued occupation of Lebanon. Syria offered no official response after the fall of Karimi's government, although in published comments yesterday, Syrian President Bashar Assad said his soldiers will remain in Lebanon until he receives what he called a guarantee of peace. "Under a technical point of view, the withdrawal can happen by the end of the year," Assad told the Italian newspaper La Repubblica. "But under a strategic point of view, it will only happen if we obtain serious guarantees. In one word: peace." Syrian officials said last week troops would withdraw from mountain and coastal areas in Lebanon in line with a 1989 agreement, but there has been no sign of such a redeployment. Many analysts agree Syrian President Bashar Assad considers his influence in Lebanon a key factor to his position in the Middle East and that a successful campaign to drive Syrian troops from Lebanon would devastate the Syrian government. Assad largely depends on Lebanese trade to fuel the Syrian economy and has used Hezbollah militants, who maintain over 3,000 missiles on the Lebanese-Israeli border, to threaten the Jewish State and solidify Syrian regional power. Israel yesterday blamed Syria for backing a suicide attack Friday at a nightclub in Tel Aviv that killed five and injured over 50. Israel also said a major bombing that was averted last night after soldiers seized a car bomb rigged with hundreds of kilograms of explosives was directed by Syria. Security sources said both incidents were funded and directed by Hezbollah forces, which at the direction of Syria has created a terror apparatus of Palestinian militants in the West Bank receiving full-time salaries from the Lebanese group. Aoun told WND Hezbollah is creating an "issue" for the region and its tactics need to be debated.
Syria's Bloody Plans for Lebanon 'Retreat'
(Damascus political shakeup signals Hezbollah terror to be turned loose)
Feb. 28….(WND) While Syrian President Bashar al-Assad is telling the world his military forces will leave Lebanon, a political shakeup in Damascus signals his army won't be leaving without a fight, Middle East intelligence sources tell Joseph Farah and his G2 Bulletin. With increasing international diplomatic pressure to withdraw troops, as well as a mounting popular uprising in Lebanon, Assad has appointed a family member to the No. 1 intelligence post and given him sweeping new powers meant to maintain the Assad dynasty at any cost. It was the threat of a Lebanon crisis, sparked by the assassination of Lebanese Prime Minister Rafik al-Hariri, that prompted Assad's sister, Bushara Chawkat to approach her brother with a plan of ascension for her husband. She requested him to grant more authority to her husband, Assaf Chawkat, so that they would be able to avoid an end to their family dynasty begun with the rise to power of their father, Hafez al-Assad, in 1969. The Assad dynasty is worried that a retreat from Lebanon will signal the end of the Assad regime. They are feeling the pressure of eroding US-Syria relations over the death of Hariri, for which Damascus is widely believed responsible, as well as allegations Syria is holding sensitive Iraqi weapon systems sent there by Saddam Hussein prior to the US invasion of Iraq. In addition, Syria is believed to be supporting terrorists in Iraq. Gen. Assaf Chawkat has long been responsible for maintaining close ties with Hezbollah, monitoring and controlling its activities and connections with Iran. Chawkat immediately took steps to assure Iran regarding the future of Hezbollah should Syria be forced to move out of Lebanon. General Chawkat is a firm believer in the use of force and in using the Hezbollah as a tool to settle certain Syrian political or military scores. He also gave the Iranians verbal assurances Damascus would not restrain Hezbollah should the US or Israel attack Iran's nuclear assets. This calculated variant to use Hezbollah in a direct anti-US campaign fully correlates with tactical theories developed by Chawkat. Syria, under Chawkat plans to permit Hezbollah to confront the US and Israel as an Iranian sub-contracted military tool, giving Syria plausible deniability for such attacks. Against the backdrop of growing tension in Beirut, Chawkat is leading the so-called "Lebanon lobby," a group of active or retired Syrian intelligence generals and Baath Party extremists who are contemplating using Hezbollah to stir up a new Lebanese civil war. In his new position, the president's brother-in-law is now also in charge of the Iraq desk, which includes control over Syria's share in the Iraqi guerrilla and terror scene. Therefore, Syria's alliance with Iran places Chawkat in an important position to influence the Shiite-Iraqi scene through Tehran. An early intelligence report on Chawkat's Iraq tactics suggests he instigated the allocation of a special multimillion dollar budget to finance anti-coalition terrorist activity in Iraq. He is also willing and able to take the campaign outside of the Middle East, through the sponsorship of foreign terrorist attacks.
Suicide Bomber Kills at Least 106 in Iraq
Feb. 28….(AP) A suicide car bomber attacked a crowd of police and Iraqi National Guard recruits south of Baghdad on Monday, killing at least 106 and wounding 133, police said. It was one of the deadliest insurgent attacks since President Bush declared the end of major fighting in May 2003. Dozens of bodies could be seen laying on the ground after the blast, and half a dozen ambulances ferried casualties to a nearby hospital, witnesses said. The huge blast damaged nearby shops and parked cars, and sent panicked people fleeing. "People were queuing up to be checked medically in order to become policemen. A second car bomb exploded at a police checkpoint in Musayyib, about 20 miles north of Hillah, killing at least one policeman and wounding several others, police said on condition of anonymity. Iraqi security forces have been regularly targeted by insurgents who see them as collaborating with US forces and want to undermine Iraq's American-backed government. The twin attacks came a day after Iraqi officials announced that Syria had captured and handed over Saddam Hussein's half brother, a most-wanted leader in the Sunni-based insurgency, in the latest in a series of arrests of important insurgent figures that the Iraqi government hopes will deal a crushing blow to violent opposition forces. The arrest of Sabawi Ibrahim al-Hassan also ended months of Syrian denials that it was harboring fugitives from the ousted Saddam regime. Iraq authorities said Damascus acted in a gesture of goodwill. Sabawi Ibrahim al-Hassan, who shared a mother with Saddam, was nabbed along with 29 other fugitive members of the former dictator's Baath Party in Hasakah in northeastern Syria, 30 miles from the Iraqi border, the officials said Sunday on condition of anonymity. Syria is under intense pressure from the United States, the United Nations, France and Israel to drop its support for radical groups in the Middle East, to stop harboring Iraqi fugitives and to remove its troops from Lebanon. A week ago authorities grabbed a key associate and the driver of Jordanian-born terror leader Abu Musab al-Zarqawi, leader of al-Qaida in Iraq and believed to be the inspiration of the ongoing bombings, beheadings and attacks on Iraqi and American forces. Iraqi officials said they expect to take al-Zarqawi soon.
White House Weighs Offers to Iran
Feb. 28…(MSN) The Bush Administration is close to a decision to join Europe in offering incentives to Iran, possibly including eventual membership in the World Trade Organization, in exchange for Tehran's formal agreement to surrender any plans to develop a nuclear weapon, according to senior US officials. The day after returning from Europe, President Bush met Friday afternoon with the principal members of his foreign policy team to discuss requests made by German Chancellor Gerhard Schroeder and French President Jacques Chirac in particular. The White House wants to move quickly to finalize a list of incentives to offer Tehran as part of European talks with Iran, officials said. The new willingness to engage, even if indirectly, marks a significant change from a position that Iran deserved no rewards for actions it is legally bound to take under terms of the Nonproliferation Treaty. But Bush's talks last week convinced him that a united front, in offering carrots now and a stick later if Iran does not comply, would be more effective. The reason we're comfortable considering this tactically is because strategically, when the President was in Europe, he found them solid on the big issue: that Iran can't have a nuclear weapon. Having found them firm on the strategic issue, he's more willing to consider the tactical aspects with the Europeans. During Bush's first term, the administration was deeply divided over what to do about Iran, effectively leaving the White House without a formal policy. The debate ranged from adopting the Iraq model of promoting government change to the North Korean model of containing a government and creating incentives to use in diplomatic talks on disarmament. Now, the administration appears willing, at least in the short term, to hold out the prospect of tentative engagement with Iran down the road to get the Islamic republic to cooperate in controlling its nuclear energy program, and ensuring it is not subverted for military use. The White House meeting also reflects an interest in demonstrating to the Europeans that the US effort to heal the transatlantic rift extends beyond tone to substance, over the issue that most urgently and widely divides the allies.
Bombing in Israel Came on Orders From Syria
Feb. 28….(FOJ) There was another suicide bombing in Israel over the week-end. This one occurred in Tel Aviv near a teenage disco, and killed four people. The Damascus-based leadership of the militant Palestinian Islamic Jihad Saturday claimed responsibility for the attack. Israel has gathered intelligence information that the orders for the attack came from the Islamic Jihad based in Damascus, Syria. A source from Prime Minister Sharon's office said, "We know where the orders for the attack were issued, we know where they were sent, and we know Syrian intelligence was involved and provided logistical support. An Islamic Jihad cell in Jenin recruited the bomber from Tulkarm under orders from Damascus. "Although we know for a certainty that the orders came from Islamic Jihad elements in Syria, that fact is not enough to absolve the PA of its responsibility for the departure of the terrorist and of its obligation to act against his partners in the crime," Prime Minister Sharon said. He added that; "The State of Israel has been showing restraint in order to facilitate diplomatic progress, but it is clear that if the Palestinians do not begin to take vigorous action against terrorism, Israel will be compelled to step up military activity that is designed to protect the lives of Israeli citizens. Sharon told US Secretary of State Condoleezza Rice on Sunday that Palestinian Authority Chairman Mahmoud Abbas had not taken any practical measures against terror. He said that without active steps on the part of the Palestinians, there would be no transition towards implementing the first stage of the Roadmap. Shin Bet (Israel Security Agency) chief Avi Dichter told the cabinet that the timing of the attack was set by Islamic Jihad officials in Syria to send a message to Abbas's new government. He said intelligence officials had enough information about the bombing even to know where the bomb was made. Islamic Jihad of Damascus receives millions of dollars from Iran. Their headquarters in Damascus sends instructions to operatives in the West Bank regarding the type of attack and how it should be planned. Local operatives then begin preparing the explosives and plot the route and recruit the suicide bomber who will carry out the mission. The entire operation from beginning to end is funded by Iran," an Israeli official said. In a videotape made prior to the Friday suicide bombing that killed four people in Tel Aviv, the bomber Abdullah Badran declared that the attack was intended to do harm to the Palestinian Authority, which he said served the interests of the United States. Badran was a resident of a Tul Karm-area West Bank village located adjacent to Israel's security fence.
Share this page with your friends.