WEEK OF MAY 23 THROUGH MAY 30
Memorial Day Week: A Time to Remember
May 30…..The Focus on Jerusalem Prophecy Ministry and its Newsroom section will be taking the Memorial Day week off. FOJ will return to active duty and service for the Lord on Monday, June 6. On Memorial Day, it is of course customary in America to commemorate our fallen soldiers, and to recall our lost family members and loved ones.
America has been very fortunate to have had so many heroic men and women stand bravely to defend our Christian homeland, and face the ultimate sacrifice to offer their lives so that we can continue to live in liberty. Liberty and freedom are the hallmarks of a perpetual Christian society. I pray that America can continue to know these blessings of God. On this Memorial Day, I will recall the death of my baby girl, Kendra Young. She was born on December 15, 1989, and was pronounced as a stillborn to me the same day. She is in Heaven. She has been there ever since I heard those awful words. That is how it is for every Christian upon the occasion of death. To be absent from this earthly tabernacle is to be immediately present in heaven with our Lord. So, relying on that promise of God, I rest assured that I will see Kendra again, in a short while, up in Heaven.
Also, I am reminded that the wonderful Bride of Christ, the whole membership of the Christian body of the ages is for the most part, already up in Heaven. They are all up there, and waiting for the arrival of those of us who remain in ambassadorship down here in this world. Also, I am cognizant of the fact that God's Holy Spirit is in the transitional windup phase of the Church Age's functioning here on this earth. In these Last Days, it seems like the Devil is completely winning out on all fronts. It seems like everything that is Biblical right, is now labeled as wrong by the world, and everything that is wrong by God's measuring stick, is what the world calls right. It seems that there are fewer and fewer devout Christian soldiers manning the trenches. Sometimes, it seems like Christ has called for our retreat in this world. But, I have peaked over the horizon (through Bible prophecy) and I know that the Day of the Lord is approaching, and that Jesus is coming soon, and I know that he will win in the Day of Battle. Things do look bad in the world today, and the signs of the times point to some very ominous storm clouds gathering. But, that's when I take comfort in the words of Christ; (Luke 21:28 And when these things begin to come to pass, then look up, and lift up your heads; for your redemption draweth nigh.) Memorial Day is a good time to remember the promises of the Lord.
Keep Focusing On Jerusalem…………………………………….The King is Coming!
Coming Soon in FOJ…………………Where is the Promise of His Coming? (II Peter 3)
Darrell G. Young
America Is On A Collision Course With the God of the Bible
May 27….(FOJ) The very astute prophetic news writer, Bill Wilson of Koenig International News, provided the following paragraph about the Bush-Abbas meeting that was held at the White House on May 26. ("President George W. Bush could be rapidly moving himself and our nation on a collision course with God over Israel's covenant land. His peace efforts and personal commitments on the surface sound good but they are biblically wrong. He is calling for a contiguous Palestinian state from Ramallah to Gaza, which will divide Israel. Additionally, his plan to put a Palestinian state on God's covenant land and replace Jews with Palestinian terrorists is incomprehensible. The whole peace process is built on lies, deception, misperceptions and unfairness. President Bush's efforts could very well lead Israel into a civil war and further division. He will be responsible for the forceful evacuation of Jews by Jews off the land God gave to Abraham, Isaac and Jacob and their descendants. If his policies are implemented, Israel will be living with indefensible borders. Palestinian President Mahmoud Abbas stated, "We must immediately move to permanent status negotiations to deal with the issues of Al-Quds, East Jerusalem as a capital of the future state of Palestine, the issues of refugees, settlements, borders, security, and water, on the basis of President Bush's vision, and on the basis of UN resolutions, and the basis of the Arab Initiative.") Mr. Wilson is absolutely correct in his observations for the long term. America is treading upon thin ice in the Middle East. The Islamic-Arab world has no affinity for the democracy movement that the Bush Administration is branding as a new hope for peace in the region. While democracy is a much better and hopeful system than what most Arab states offer their peoples today, it is not the panacea to the regions problems. The only hope for Peace in the Middle East is to demolish the Islamic Curtain, and usher in the gospel of Jesus Christ to the masses of deceived and enslaved people of the region. Today the entire Islamic world is staging a "Day of Protest" against America for an alleged incident that a copy of the Quran was disrespected by a US guard. Islamic imams have created a holy stink over this suspect incident, and are using it to vilify America, Israel, and Christianity. In a quick public relations recovery plan, the US is busy apologizing to every Muslim leader, and vowing to review the whole incident and reshape its policies in regard to Islamic sensitivities. Now, I am all for tolerance of others and respecting people for their beliefs, but let's review just what is going on in the American culture. America basically has declared war on the God of the Bible. America is a country that has turned its back on the Holy Word of God, kicked it out of its public venue, and renounced any affiliation for anything to with God and his Holy Bible in its secular discourse and governing function. But, whereas America has become extremely tolerant of other gods, and other supposed Holy books, it holds little respect for the book that made America the great Christian Republic that it once was. America threw the Bible in the toilet a long time ago, and now it leaps with all due haste to apologize to Allah (a false god) for an incident that never happened. On top of that, Allah in his unholy book, and as determined by Muslim clerics, calls for the destruction of America. America, by compromising the Promised Land, and the Holy city of Jerusalem is begging for the curse of Zechariah 12:1-3 to be exacted upon it by the god of the Holy Bible. But, then, America does not know the God of the Holy Bible. (Zechariah 12:3And in that day will I make Jerusalem a burdensome stone for all people: all that burden themselves with it shall be cut in pieces, though all the people of the earth be gathered together against it.)
Bush Rejects Abbas Call for Final-Status Talks
| | |
| --- | --- |
| | Palestinians are watching America very closely. The entire Arab and Muslim world is pushing at America, and at the Bush Administration to see what retreats from Israel the US will take before reverting to local terrorism. Palestinians may become meshed into the broader war on terror and its tentacles aimed at Israel. |
May 27….(Ha Aretz) An official in Prime Minister Ariel Sharon's office said late Thursday that United States President George W. Bush rejected a demand made by Palestinian Authority Chairman Mahmoud Abbas at their meeting in Washington yesterday to skip the road map's intermediate phase and move directly to final-status talks. Phase two of the road map calls for establishing a Palestinian state with temporary borders, and this is supposed to precede the start of final-status negotiations. Bush also gave American backing to a key Palestinian negotiating demand, declaring at a press conference following their White House meeting that any border deviations from the 1949 armistice lines would have to be by mutual Israeli-Palestinian consent. And he made only vague, general statements about the need to fight terror. Bush, who referred to Abbas consistently as "Mr. President," did not give the Palestinian leader any written pledges, but his speech at the press conference was a clear statement of American policy regarding a final-status agreement, and it delighted his Palestinian guests. Officials in Abbas's entourage expressed particular pleasure over Bush's statements on the settlements and his explicit mention of Jerusalem as one of the issues on which Israel must not prejudice final-status negotiations. While Bush's call for a halt to settlement expansion was not new, his explicit mention of Jerusalem in this context was, and reflects American concern over Israeli building plans in West Bank settlement of Ma'aleh Adumim and the greater Jerusalem area. With regard to borders, Bush said explicitly that "any final status agreement must be reached between the two parties, and changes to the 1949 armistice lines must be mutually agreed to." This statement was aimed at assuaging Palestinian concern over his letter to Sharon last year, in which he stated that "in light of new realities on the ground, including already existing major Israeli population centers, it is unrealistic to expect that the outcome of final status negotiations will be a full and complete return to the armistice lines of 1949." The president then added: "A viable two-state solution must ensure contiguity of the West Bank, and a state of scattered territories will not work. (FOJ Note: The Antichrist will rise to power on the heels of a plan to "divide" the Promised Land. The land division will allow the Antichrist to exalt himself. Daniel 11:39 Thus shall he do in the most strong holds with a strange god, whom he shall acknowledge and increase with glory: and he shall cause them to rule over many, and shall divide the land for gain.) President Bush also announced that Secretary of State Condoleezza Rice will go to Jerusalem and Ramallah prior to the disengagement from Gaza to discuss Israeli-Palestinian coordination of the withdrawal and "the way back on the road map." Bush did not make any specific demands of Abbas at the press conference regarding the need to fight terror, merely stating that "all who engage in terror are the enemies of a Palestinian state, and must be held to account." Instead, he praised Abbas for his stance on terror, saying: "The United States and the international community applaud your rejection of terrorism." (I must have missed this pronouncement by Abbas)
President Bush Greets Abbas at the White House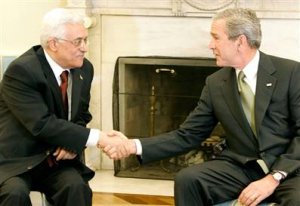 May 26….(Fox News) President Bush welcomed Mahmoud Abbas, the democratically elected leader of the Palestinian people, to the White House today and commended the leader for agreeing that terror against Israelis must end in order to create a two-state solution in the Middle East. "I believe the time has come for all parties to move beyond this (animosity) and work for the cause of peace," Bush said in a Rose Garden ceremony. President Bush told Abbas, "we will work with "you" to help realize the dream of a free and democratic Palestine." Palestinians voted against violence and for sovereignty because only the defeat of violence can (enable) sovereignty," Bush said, adding that terrorists are against a Palestinian state and "must be held to account." The Bush Administration is channeling tens of millions in additional dollars directly to the Palestinian Authority, overcoming some opposition in Congress in hopes of boosting Abbas' political fortunes as his ruling Fatah party goes to parliamentary elections in July against the terror group Hamas, which performed well in recent local elections. Abbas is seen by White House officials as a leader they can work with, unlike the late Yasser Arafat. The last time a head of the Palestinian Authority was in the Oval Office was in January 2001, when Arafat saw former President Clinton just days before Bush took office and closed the White House to Arafat. Bush made several demands on Israel as Abbas stood by his side, saying all were necessary to allow the "road map" for peace to proceed. Among them, he said he wanted roadblocks removed and clear access lines between the West Bank and Gaza Strip opened up. Abbas also called the security barrier that Israel is building to protect against terrorism a prison wall that is in violation of road map obligations. (FOJ Note: but the wall has stopped the terrorism, and the so-called cycle of violence) "Time is becoming our greatest enemy. We must end the Palestinian-Israeli conflict before it is too late," Abbas said. Bush said the United States would help to reconstitute the Palestinian security forces and he announced that the United States would give $50 million to the Palestinians to help with housing and infrastructure projects in Gaza. The money would be timed to Israel's summer withdrawal from the territory it captured from Egypt in 1967. The money is part of a $150 million request Bush is requesting from Congress in addition to the $275 million it approved this year. The vast majority of US aid to the Palestinians has been channeled through other groups, and just $40 million has gone directly to the authority over the past two years. The additional funds would go directly to the Palestinian Authority. The Abbas meeting is a delicate balancing act for Bush. With Israel refusing to return to the negotiating table with the Palestinians until Abbas does more (more, what has he done?) to reign in terrorist groups, Bush was pushing Abbas to tackle the tough job of dismantling all Palestinian terror groups. Israel also has said it won't resume talks on the internationally backed road map peace plan until it completes its plan to withdraw settlements this summer from the Gaza Strip and part of the West Bank. Amid those developments, Bush has embarked on a fresh drive to invigorate the search for peace in the long-running Israeli-Palestinian dispute. Last month, Bush brought Israeli Prime Minister Ariel Sharon, as well as Saudi Crown Prince Abdullah, to his Texas ranch. Abbas was elected as part of "the democratic wave that is sweeping the Middle East," White House press secretary Scott McClellan said. "This is a hopeful moment in the Middle East," he said. Asked if Abbas was doing enough to stop terror, Bush responded that he knows Abbas is committed to democracy. "Our position on Hamas is very clear, it's a well known position and it hasn't changed. Hamas is a terrorist group," Bush said, adding that he wants everyone to participate in elections but the party of peace is more likely to win over the party of violence. "I don't think they are going to get elected because I think Palestinian moms want their kids to grow up in peace just like American moms want their kids to grow up in peace," Bush added. Former deputy special Mideast coordinator Aaron Miller told FOX News that transparency in the use of aid will be essential for Abbas, who must also quell terror and make sure Gaza is a first step in the peace process, and not the last. He added that support for Abbas over Hamas is critical. "Either Hamas is going to deliver the goods to the Palestinian people or the Palestinian authority under the direction of Mahmoud Abbas is going to. We have a fundamental stake to make sure it's Abbas and not Hamas that delivers the goods," Miller said. In the Oval Office, Abbas showed Bush maps of Israel's continued expansion of Jewish settlements in the West Bank to demonstrate the threat it poses to Palestinians' hopes for a viable state. He also was touting the reforms he has made in his government and security forces and the truce, albeit informal and shaky, he secured between militant groups and Israel. "We are committed to democracy. We believe that negotiations are the path to peace. We are committed to the two-state vision: a Palestinian state and an Israeli state," Abbas told reporters Wednesday night after meeting with Secretary of State Condoleezza Rice.
Abbas Meets Bush: Asks For Direct Aid
May 26….(CNN) President Bush will offer tens of millions of dollars in direct aid to Palestinian Authority President Mahmoud Abbas during their planned meeting Thursday, administration sources told CNN Wednesday. Most previous pledges of aid have been funneled through nongovernmental organizations to sidestep questions of corruption. Saying he did not know how much assistance he would receive, Abbas told CNN Wednesday he will ask that any US aid be sent directly to the Palestinian Authority's Ministry of Finance. "The Ministry of Finance now enjoys a great deal of transparency and accountability," he said through a translator after meeting with US officials in Washington, where he arrived Tuesday night for a three-day visit. (The United States has disbursed only a small portion of the 350 million dollars it earmarked this year for the Palestinian Authority, fearing the money would be siphoned off by corrupt officials.) Thursday's meeting with Bush will be the first between US and Palestinian leaders since Middle East peace talks broke down in 2000.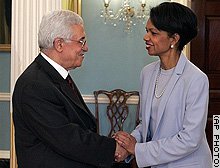 Abbas had a working dinner Wednesday evening with Secretary of State Condoleezza Rice. He arrived in Washington after meeting with Jordan's King Abdullah II to coordinate efforts to restart an international peace plan known as the "road map." That plan is sponsored by the so-called Mid-east Quartet of the United States, Russia, the United Nations and the European Union. Bush had refused to meet with Abbas' predecessor, Yasser Arafat, accusing him of supporting terrorism. But US officials welcomed Abbas' election, after Arafat's death in November, as a chance to renew the Middle East peace process. Secretary Rice traveled to the Middle East in February, meeting separately with both Abbas and Israeli Prime Minister Ariel Sharon. "This is the most promising moment for progress between Palestinians and Israelis in recent years," she said at the time.
Hezbollah: All of Northern Israel is in Range of our Rockets
May 26….(Ha Aretz) Hezbollah leader Sheikh Hassan Nasrallah Wednesday acknowledged for first time that his Lebanese guerrilla group has more than 12,000 rockets and that all of northern Israel is within reach. "All of the north of occupied Palestine, its settlements, airports, seaports, fields, factories and farms is under the feet and hands of the Islamic resistance," Nasrallah said. Nasrallah also said that Hezbollah, under mounting international pressure to disarm, would fight anyone who tried to take away its weapons. "Any hand that reaches out to our weapons is an Israeli hand that will be cut off," Nasrallah told supporters on the fifth anniversary of Israel's witdhrawal from southern Lebanon. "If anyone, anyone, thinks of disarming the resistance we will fight them like the martyrs of Kerbala," he said, referring to a battle in Islamic history central to Shi'ites. The largely Shi'ite Muslim residents of the southern suburbs of Beirut, a Hezbollah stronghold, celebrated Nasrallah's words with fireworks and cheering, witnesses said. Nasrallah told thousands of supporters in the town of Bint Jbeil, part of a southern strip Israel occupied for 22 years, that Hezbollah has over 12,000 rockets capable of hitting the whole of northern Israel. But he added that Hizbollah, backed by Syria and Iran, would only use its weapons in defense of Lebanon. "We do not want to drag the region into a war...We want to protect our country..." he said. "Any thought of disarming the resistance is madness." A United Nations Security Council resolution adopted in September demanded that Syrian forces pull out and all militias in Lebanon disarm. Damascus withdrew its forces in April.
Al-Qaeda Coming to Gaza
FOJ Note: While PA President Mahmoud Abbas visits and lobbies Washington and President Bush for more US foreign aid and concessions, the Islamic terrorist machines of the anti-Israel Middle East Axis of Evil terror-sponsoring nations are working right under his nose to covertly establish a prospective southern frontline of terror nests in conjunction with the Iranian-backed Hezbollah threat on Israel's northern border.
May 26….(Frontpage) In an article published last November, Israeli Major-General Yaakov Amidror and David Keyes argued there was a strong possibility that after Israeli disengagement, Gaza would become not just "Hamastan" but an Al-Qaeda sanctuary. They cited the facts that in the past "Al-Qaeda sought to establish itself wherever there was a security vacuum, in remote mountain areas or in economically weak, failed states"; and that Hamas has an "affinity for groups that are part of the Al-Qaeda network"; that Hamas and Al-Qaeda have the same funding sources; and that they invoke the same religious authorities to legitimize suicide bombing. "Al-Qaeda-Linked Terrorists in Gaza" was the title of a Jerusalem Post report last Friday by Khaled Abu Toameh. It cites Palestinian Authority security officials saying that a new terrorist group called Jundallah, or "Allah's Brigades," composed mostly of former Hamas and Islamic Jihad members, has already started operating in Gaza. Officials said Jundallah "has close ties with Al-Qaeda in Afghanistan, Pakistan and Iraq." Abu Abdallah al-Khattab, identified as the spokesman for Jundallah in Gaza, denied the group was part of Al-Qaeda or any other international terror organization. At the same time, he implied that Jundallah has plans to target US interests in the region: "Our people will not remain idle in the face of American crimes in Muslim countries." The story was picked up on Sunday by Annette Young of The Scotsman. Ra'anan Gissin, an aide to Prime Minister Ariel Sharon, told her that "There is some evidence of links between militants in Gaza and al-Qaeda. We are watching such developments very closely." Dr. Ely Karmon, a senior researcher at Israel's International Policy Institute for Counter-Terrorism noed that "this information about Jundallah is a great concern for Israel if al-Qaeda should get a foothold in the Palestinian territories. Unlike Hamas and other local groups who face direct consequences once they carry out a terrorist operation, al-Qaeda are ready to sacrifice many Muslims to further their cause." He seemed to be saying that whereas Hamas could be fought and deterred with retaliation, Israeli counterstrikes would be close to meaningless with the externally directed, mass-suicidal al-Qaeda. Similarly, Israel's withdrawal from southern Lebanon in 2000 has not created concern or "understanding" for the grave threat Israel now faces from thousands of Hizbullah missiles along that border. And once Israel has vacated Gaza, there will be nothing to stop ever more lethal weapons from reaching ever more lethal hands in Gaza.
Vendyl Jones, "I've Found the Ark!"

May 25….(Tzemach) The famous Baptist preacher turned archeologist Vendyl Jones, who's life's pursuit was the inspiration for the Stephen Spielberg film "Raiders of the Lost Ark" (Indiana Jones) has recently announced that he knows the location of the lost Ark of the Covenant. The ark is a wooden chest overlaid with pure gold that housed the original tablets of the Ten Commandments penned by God Himself.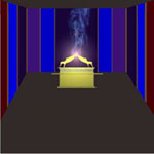 The lid of the chest is called the mercy seat and constitutes the very throne of God. A part of it is the carving of two Cherubim facing each other with wings spread out nearly touching. In the small space between the wings the Lord Himself was manifested in the form of fire and smoke. This phenomena occurred in the tabernacle built by Moses, the tent erected by King David, and the temple built by King Solomon. It is believed that the prophet Jeremiah hid the ark prior to the Babylonian conquest and the destruction of the First Temple in 586 BCE. The Talmud (Hebrew commentary) identifies that the Ark is hidden in a secret passage that Jones says extends from under the Temple Mount in Jerusalem 18 miles southward into the Judean desert. Dr. Jones divides his time between Israel and Texas, but has been in Israel since March 9th awaiting the blessing of known and anonymous Rabbis and Kabbalists who this week agreed that the time is right. He plans next month to drill a hole into a subsurface chamber, drop a tiny camera into it, and in his words "turn the world right side up." If the location is correct he plans to unveil the Ark for the first time in over 2,500 years on Tisha b'Av (the ninth of the Hebrew month Av), the day of the destruction of both the First and Second Temples.
The Pipeline That May Change the World
FOJ Note: I don't know the authors of this news story, but their article is very interesting. It may have political leanings and tendencies, but its storyline does reflect the fact that the Central Asian-Caspian Sea region is becoming a hot-bed of geo-political intrigue between Russia and the West. The Caspian Sea oil pipeline is intended to lessen the West from its reliance on Middle Eastern oil. This pipeline may prove to be a factor in the rise of the Russian-Iranian led invasion of Israel, and also to counter the moves of the Antichrist in the region, as described by the prophet Ezekiel.
May 25….(By Daniel Howden and Philip Thornton) The first drops of crude will snake their way along a pipeline that traverses some of the most unstable and war-ravaged countries on earth. This is the oil flow that was meant to save the West, and this morning the taps were turned on. Only 42 inches wide, the Baku-Tbilisi-Ceyhan was supposed to alter global oil markets forever. The 1,000-mile project has transformed the geopolitics of the Caucasus and its impact is now being felt in the vastness of central Asia. Output is supposed to reach one million barrels a day, more than 1 per cent of world production, from an underground reserve that could hold as many as 220 billion barrels. Its architects and investors claimed the pipeline would shore up energy supplies in the US and Europe for 50 years, protecting our gas-guzzling way of life and easing our reliance on the House of Saud.
The goal of the ambitious project, which makes its tortuous way from the Caspian in Azerbaijan, through Georgia to the Mediterranean coast of Turkey, is to ease the reliance of the West on the Organization of Petroleum Exporting Countries (OPEC) and bring cheaper fuel to our filling stations. The pipe threads its way through the region in a seemingly modest private corridor only 50 yards wide but nothing has been allowed to stand in its way. From forests to labour laws and endangered species to democracy protesters: all have given way to the costliest and most significant pipeline ever built. The project, known as BTC, has driven a wedge between the US and Russia, triggered political unrest in the countries it passes through and their neighbors and sparked concern at extensive damage to the environment. Since the 11 September 2001 terrorist attacks in the US, concern at the West's dependence on Persian Gulf oil has intensified. For Washington, the opening is a cause for celebration. "We view this as a significant step forward in the energy security of that region," said Samuel Bodman, the American energy secretary, who stood next to the three heads of state at today's ceremony. With him at the pumping station controls was the president of the tiny former Soviet republic of Azerbaijan. The BTC has allowed Ilham Aliev to become a firm friend of the West while overseeing a government condemned for human rights abuses and sitting at the head of an administration placed 140 out of 146 in Transparency International's global corruption index. The politics of the pipeline have also changed the face of Georgia, where the battle for control with Russia saw immense US influence deployed in support of the so-called "Rose Revolution". The popular protest ushered the American-educated Mikhail Saakashvili into power two years ago. Washington's new ties with Tbilisi were amply demonstrated when George Bush became the first US president to visit the country earlier this month. In the long-term, US ally Turkey, where the pipeline crucially delivers its oil direct to the Mediterranean, bypassing the tanker-clogged Bosphorus straits, it is no accident that it does so right next to the American airbase at Incirlik. When big oil companies turned their attentions to the potential Caspian energy reserves released from behind the collapsing walls of the Soviet Union, the region was billed as the "new Middle East." If the reserves could be securely transported from the landlocked sea to the Mediterranean, the West would be gifted a vital alternative to the volatile Persian Gulf and the region would be freed from the iron grip of Russia, which had previously monopolized the export routes of their former Soviet satellites. Once the Soviet empire fell, the Caspian Sea oil found itself surrounded by five nation states, Azerbaijan, Iran, Kazakhstan, Russia and Turkmenistan. The region's supply of cheap oil and key position on the historic border between the West and the East meant that countries quickly moved into position like pieces on a chessboard. Three rival plans were drawn up, a northern route through Russia, a southern alternative through Iran and the central option through the Caucasus to the Mediterranean. The winner could be in little doubt: the middle road was the only one which guaranteed Washington and its corporate allies a corridor of control. US Vice-President Dick Cheney, who was then chief executive of oil services giant Halliburton, was among the first to be swept away in the excitement. "I cannot think of a time when we have had a region emerge as suddenly to become as strategically significant as the Caspian," he said in 1998. Now, more than a decade and $4bn (£2.2bn) later, almost three quarters of which came from bank loans which were underwritten by government agencies and £320m in taxpayers' money, the pipeline is open. But this chapter of what Rudyard Kipling called the "Great Game," the secret battle to dominate central Asia, has only reached the end of its first phase. The fanfare at the British oil giant BP's gleaming new terminal at Sangachal in Azerbaijan may yet prove to be premature. Stripped of the American hype of the 1990s, the crude that began a very modest flow this morning is the first installment of a reserve many analysts are now convinced is actually only 32 billion barrels, equivalent to that of a small Gulf player such as Qatar. The game now moves to the transCaspian pipeline and to the immense plains of Turkmenistan and the political cauldron of Uzbekistan, Afghanistan and beyond.
The PA Comes Calling But What Has Changed?
May 24….Jan Markell (excerpt from Olive Tree Ministries, Inc.) The Palestinian Authority (PA) leader Mahmoud Abbas will visit with President Bush on Thursday, May 26. Yaser Arafat was never permitted such a privilege. I have to keep asking, "What has changed?" Why meet with Abbas, Arafat's right hand man? With Arafat's passing, it's not a "new day for peace." According to the Center for Near East Policy Research, the invective, incitement, paranoia, false accusations, and inflammatory sermons in the PA mosques and media are still the same. There have been over one hundred attempted terror attacks on Israelis since the January election of Abbas. Does Mahmoud Abbas not have control of PA TV? It can't get much more hostile to both Israel and America. On "Good Morning Jerusalem" (over which Abbas will demand control when speaking to President Bush) calls were taken from PA viewers who berated Jews and Americans with approval of the show's hosts. Palestinian Sheik Muderis said in a recent sermon as reported by the Palestinian Media Watch, "Allah has tormented us with the people most hostile to believers....Jews and polytheists (Christians.) The Jews are behind all the strife and suffering in the world. We have ruled the world before, and by Allah, the day will come when we rule the entire world again. The Jews are like the AIDS virus. The stones and trees will want the Muslims to finish off every Jew." Does Abbas protest such inflammatory sermons and media outrage that are ongoing daily? Not a chance. Will Abbas be challenged about the fact that he has never disarmed terror groups? How about the fact that he wrote his doctoral thesis on the denial of the Holocaust? Will he be rewarded with aid and other benefits even though Abbas planned the 1972 slaughter of Israeli athletes in Munich? Will he be chastised for dedicating his January election victory to the soul of Arafat and the PA "shahids" or martyrs? Or the "pretend arrests" that go on daily: Arrest terrorists but let them out the back door of the jail? On Israel's Independence Day, May 14, 2005, Abbas and associates called this day a "catastrophe" and were in mourning. As Daniel Pipes said in the May 19 "Jerusalem Post", "How do things look a half year after Arafat's death? About as awful as anyone might have expected. Abbas is leading the Palestinians to war with Israel after the Israel retreat from Gaza and the territories." Israel's Gen. Ya'alon says, "Immediately after the disengagement, we can expect a burst of terrorism." Will this come up in the discussions? Will Abbas be told he must stick hard and fast to the rules of the "Road Map" or he gets his walking papers, too, and is shut out of the Oval Office as was Arafat for his violations? Mahmoud Abbas is calling on the president for hundreds of millions of more dollars to rebuild his empire, but most of it will be pocketed by his corrupt leadership. America has already given hundreds of millions to one of the most corrupt regimes in history. The failure of the Clinton administration in this regard was the refusal to hold Arafat accountable for these issues and more. President Bush needs to let Abbas know in no uncertain terms that he won't be getting a free pass on the above violations and incitement of hate speech towards both Jews and Christians. Condoleeza Rice insists that "We are not going down that road again." She insists the Oslo-era tolerance of PA noncompliance is over. President Bush's White House guest is dangerous and will further destablize the region but with the world in strong delusion, they see it as a "new day" for peace in the Middle East. Abbas is not looking for peace! He and the rest of the Arab world are looking for opportunities to annihilate Israel.
Protesters Surround Laura Bush at Jerusalem Mosque
May 23….(CNN) First lady Laura Bush, on a political fence-mending tour of the Middle East, found herself the target of a tense protest in Jerusalem at one of Islam's holiest sites. After a brief tour of the Dome of the Rock mosque, about 40 or 50 protesters surrounded Bush and her US Secret Service detail as they departed, pushing to get closer and shouting: "How dare you come here" and "You don't belong in this mosque." Security closed in tightly around the first lady as the angry Muslim protesters, many expressing fury at the United States, came very close to Mrs. Bush. As Secret Service agents shadowed her, Israeli security guards linked arms and forced a pathway for the first lady's entourage through the crowd to Bush's motorcade. At one point, a boy made his way up to the first lady, and one guard momentarily pointed his gun at the boy, who ran away.
During a visit to the Church of the Resurrection on Monday Bush said she was not surprised by the protesters. "The protests were very expected. If you didn't expect them, you didn't know what it would be like when you got here," Bush said. "Everyone knows how the tensions are and, I was very, very welcomed by most people." Videotape of the incident shows Mrs. Bush appearing unperturbed by her surroundings and chatting amiably with officials as they move away from the mosque. Once down off the hill, Secret Service agents whisked the first lady into her limousine, which departed for her next stop. The site she visited on Sunday is Islam's third-holiest, and is built on a hill in Jerusalem known to Jews as the Temple Mount and to Muslims as the Haram al-Sharif, or the Noble Sanctuary. The hill also is believed to contain the ruins of Judaism's holiest temple. Not far from the mosque, protesters forced Bush into another tight squeeze earlier Sunday at Judaism's holy Western Wall. While the first lady passed through a narrow walkway set up for her to reach the wall, dozens of protesters pushed against Bush's guards. The demonstrators demanded the release of Jonathan Pollard, an American imprisoned for passing security information to Israel. Secret Service spokesman Jonathan Cherry said in a statement there was "nothing out of the ordinary regarding the first lady's trip overseas." Speaking to reporters later in Jericho, Mrs. Bush said, "As you can tell from our day here, this is a place of emotion, everywhere we went, from the Western Wall to the Dome of the Rock to here. "This is such a crucial point in our world and has been for forever, really," she said. "We're reminded again of what we all want, what every one of us prays for." She said the Israeli and Palestinian women she met with Sunday wanted peace, and that both sides must come to the table. "The chance that we have right now to have peace, to have a Palestinian state living by a secure and safe Israel, both living in democracy, is as close as we've been in a really long time," she said. She continued, "The United States will do what they can in this process." Bush said that as a Christian it was "very emotional and very moving to be here to see these sites."
Laura Bush Temple Mount Visit Fuels Jewish Group's Anger
(First lady's ascent to holy site called measure 'to honor Islam')
May 23….(WND) A group that led a Jewish protest at the Temple Mount last month in hopes of reclaiming the site from its Islamic custodians has expressed disappointment that US First Lady Laura Bush visited the Mount, and thereby to honor Muslim tradition. Laura Bush, touring Jordan earlier, arrived in Israel yesterday as part of a wider Middle East tour aimed at advancing regional peace and encouraging Israeli-Palestinian negotiations in accordance with the US-backed road map. US officials said Mrs. Bush had requested activities to honor Israel's three religions during her Israel visit. She toured the Western Wall to pay respects to Judaism, then visited a church in Jericho to honor Christianity, and ascended the Temple Mount to express good will toward Islam, said an official. But David Ha'ivri, director of Revava, a Jewish Temple Mount activist group, said he is concerned Mrs. Bush's visit will be perceived as official American recognition of Islamic control of the Mount. "It's a major misconception," Ha'ivri told WND. "Many think the Temple Mount is the holy place of Muslims and the Kotel (Western Wall) is the holy place for Jews. No, the Kotel is only holy because it's part of a retaining wall for the Temple Mount, which itself is the holiest place for Jews. It was the location of our first and second Temples, and will be the site of our third." Ha'ivri continued: "On her visit to the most holy place on earth for Jews, the Temple Mount, we are calling on Mrs. Bush to demand freedom of access to Jewish worshipers and open a dialogue to return the Temple Mount to its rightful owners, the Jews." Ha'ivri last month sparked international dialogue when he announced plans to bring 10,000 Jews to the Temple Mount, prompting Muslims throughout the Middle East to hold demonstrations against Jewish claims to the site. On the protest day, only about 200 Jewish protesters were allowed past intense security, which included over 3,500 Israeli police stationed at checkpoints and entrances throughout the Old City, the walled section of Jerusalem that encompasses the Temple Mount. The Temple Mount was opened to the general public until September 2000, when the Palestinians started their planned intifada by throwing stones at Jewish worshipers after then-candidate for prime minister Ariel Sharon visited the area. Following the onset of violence, the new Sharon government closed the Mount to non-Muslims, using checkpoints to control all pedestrian traffic for fear of further clashes with the Palestinians. The Temple Mount was reopened to non-Muslims in August 2003, but only on Sundays through Thursdays, 7:30 a.m. to 10 a.m. and 12:30 p.m. to 1:30 p.m., and not on any Christian, Jewish or Muslim holidays or other days considered "sensitive" by the Waqf, the Muslim custodians of the Temple Mount. During "open" days, Jews and Christian are allowed to ascend the Mount, usually through organized tours and only if they conform first to a strict set of guidelines, which includes demands that they not pray or bring any "holy objects" to the site. Visitors are banned from entering any of the mosques without direct Waqf permission. Rules are enforced by Waqf agents, who watch tours closely and alert nearby Israeli police to any breaking of their guidelines. "The situation is simply intolerable," said Ha'ivri, who promised future protests. "This is a Jewish state. The Temple Mount is the most holy Jewish site. We're not going away until Jews can once again pray there unrestricted."
Laura Bush at The Wailing Wall
May 23….(Jerusalem Post) Protesters besieged Laura Bush during her visit Sunday to two of Jerusalem's holiest sites, with Israeli police locking arms to restrain the crowd and Secret Service agents packed tightly around America's first lady. Mrs. Bush, who is on a tour intended partly to help defuse anti-American sentiment in the region, placed a note in the Western Wall, Judaism's holiest shrine. She wrote the note on the flight Sunday from Jordan to Israel, but wanted to keep the contents private, a spokeswoman said. Dozens of protesters stood nearby, shouting, "Free Pollard now." Jonathan Pollard, an American Jew who is serving life sentence in a US prison for spying for Israel, was a civilian intelligence analyst for the US Navy. The first lady was mobbed by protesters and local reporters, and Secret Service agents and Israeli police had to physically hold back the crowd as she approached the wall. She then went to the Dome of the Rock, a mosque on a hilltop compound known to Muslims as Haram as-Sharif and to Jews as Temple Mount. As she left the mosque, one heckler yelled, "How dare you come in here?" and "Why do you hassle our Muslims?" Mrs. Bush removed her shoes as she entered the mosque and walked barefoot on the red carpet. She held a black scarf tightly around her head as she gazed up at the gilded dome and the colorful mosaics on the marble walls. Some of the women studying inside the mosque were clearly annoyed at the intrusion and waved their fingers at the US entourage. Despite the chaos at both sites, Mrs. Bush kept smiling and said little.
PM Sharon to US Jewish Leaders: I Won't Compromise on Jerusalem
May 23….(Ha Aretz) Prime Minister Ariel Sharon, speaking at a meeting with Jewish leaders in New York, said he refused to compromise on Jerusalem in a peace deal with the Palestinians. "I will never negotiate on Jerusalem," the prime minister said in his
speech on Sunday night. Earlier on Sunday, the prime minister was heckled by anti-pullout protesters as he gave a speech defending his planned withdrawal from Gaza. As he spoke, several protesters stood up in the audience at Baruch College in Manhattan; one exposed a T-shirt with the Gush Katif slogan and shouted, "Jews don't expel Jews!" Several of those present booed the protesters and shouted profanities but the interruptions grew louder and the prime minister had to pause, as the demonstrators, many also wearing orange T-shirts, the color adopted by disengagement opponents, were escorted out of the auditorium. The prime minister, who later received a standing ovation from much of the audience, called the plan to withdraw from Gaza "the most difficult decision" he has ever made and warned that "the coming period will be one of the most difficult the State of Israel has known since its establishment." He insisted that the plan was necessary to preserve Israel's Jewish majority, encourage the peace process and "make certain that important parts of the cradle of the Jewish people would remain part of Israel forever
WEEK OF MAY 16 THROUGH MAY 22
Russia Threatens War if US Militarizes Space
(China also denounces US plan for defense initiatives)
May 20….(excerpt from WND) A senior Russian embassy official is threatening to use force if necessary to prevent the US from deploying combat weapons in space. Vladimir Yermakov, senior counselor at the Russian embassy in Washington, said his country is urging the US through diplomatic channels against any plans for space militarization. But he told a space conference that Russia would have to react, possibly with force, if the US successfully put a "combat weapon" in space. In an interview yesterday with the Financial Times, Yermakov emphasized that Russia's priority was to solve the problem diplomatically, pointing out that Russia has voluntarily declared it will not be the first country to place weapons in space. Russia and China oppose any weaponization of space, partly out of concerns that it would lead to an extremely expensive post-Cold War arms race.
Saudi Arabia: Wahhabism Oppresses Christians And Muslims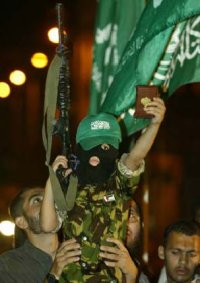 May 20…..(By Elizabeth Kendal/ASSIST News Service) In the 7th and 8th Centuries, Arab armies vanquished civilizations and captured territory from the Arabian Peninsula through Palestine and the Middle East to Persia and India. They swept across North Africa into Spain and France, swallowing up much of the Pax Romana and claiming it for Islam. In the 15th Century the Ottoman Turks moved into Europe, capturing Constantinople (now Istanbul), then the Balkans. But in 1683 the Muslim advance was blocked at the gates of Vienna, and from that point on, the Islamic Empire stagnated and declined, while the post-Reformation Christian West rose. During the early 18th Century, Muhammad ibn Abdul Wahhab concluded that Islam declined due to its corruption by foreign influences. He believed that to regain its ascendancy, Islam had to wage war on 'shirk' (polytheism, including Christianity) and be reformed, purified of all the pagan and foreign influences that had infiltrated over the centuries. In 1744, Muhammad ibn Abdul Wahhab and Muhammad ibn Saud, the tribal ruler of Diriyah (near Riyadh) covenanted that ibn Saud would protect ibn Abdul Wahhab and spread the Wahhabi creed. In return, ibn Abdul Wahhab would legitimize ibn Saud's rule over an expanding circle of tribes subdued through a new jihad. This 18th Century pact still underpins the Saudi state today. Wahhabi clerics protect and legitimize the rule of the liberal Saudi royal family, in exchange for total control of religious and education ministries and an agreement that the state will protect and spread Wahhabism's reformed, puritanical Islam worldwide. The doctrine of Islamic holy war (Jihad) is a central tenet of Wahhabism and has been an instrument for Arab and Islamic imperialism since the 7th Century. Because Wahhabi clerics control Saudi Arabia's education system, Saudi youths are indoctrinated from their earliest days as to the necessity of Islamic jihad and the glory of 'martyrdom' in the cause of Allah. Terrorism experts note that around half of all 'martyred' suicidal jihadis in Iraq have been Saudi. Many are not driven by unemployment or poverty, but by the Wahhabi ideology of hate and empire pumped into them. In the last 30 years, Saudi Arabia's population has grown from 6 million to 24 million, with 60 per cent now under 20 years of age. Instead of having hearts filled with youthful, hopeful dreams of future life, they are filled with hate and dreams of death. Meanwhile, Christians with the exhilarating, liberating Good News of salvation through Christ and abundant life in Christ are silenced in the Saudi kingdom. All non-Muslim expression is strictly forbidden. The Constitution mandates that a Saudi citizen be Muslim. Those whom Islam declares to be apostates are executed. Armed with an AK-47 and a Koran, many young Muslims in the Arab world grow up hating Christians, and eager to kill for Allah.
Bush's Palestinian Tightrope
May 19….(Newsweek) It's hard to overstate how much the White House is betting on the next several months of the Israeli-Palestinian conflict. President George W. Bush's national-security officials suggest that if all goes well with Israel's withdrawal from Gaza, and if an effective and peaceful Palestinian state emerges there, the administration will find new diplomatic openings across the region, the broader Muslim world and even across Europe. That's not entirely wishful thinking, even if it relies on two big "ifs." On Bush's recent trip to Europe, it was Palestinian politics that featured more prominently than any subject other than Russia itself. In Moscow, President Vladimir Putin recounted at length his recent trip to the region, agreeing with Bush on the need to support both the Palestinian and Israeli leaders. Even in Maastricht, Dutch Prime Minister Jan Peter Balkenende mentioned the Middle East peace process ahead of the broader war on terror and the prospects for Iraq. Those sky-high expectations will meet their first test when Mahmoud Abbas visits the White House next week in his first meeting as the Palestinian president with Bush, an opportunity that was denied to his predecessor, Yasir Arafat. How Bush handles Abbas will come under intense scrutiny across the Middle East, posing by far the trickiest challenge for the US president in terms of awkward foreign leaders. Even more than his handling of Crown Prince Abdullah of Saudi Arabia in Crawford, Texas, last month, Bush faces competing pressures from both ends of the political spectrum. On one side, the White House needs to demonstrate its support for Abbas and help deliver real improvements on the ground for Palestinians, something that failed to happen when Abbas was prime minister in 2003. On the other side, the White House needs to reiterate its basic demand for Abbas to deliver on security for the Israelis.
In case he needs any advice, Bush's favorite writer on the region offered his own prescription in Washington this week. Natan Sharansky, the former Soviet dissident, authored "The Case for Democracy" (a book described by one of the president's confidants as Bush's manifesto) and quit as an Israeli minister in opposition to the Gaza withdrawal. Sharansky's stated reason for quitting was the lack of linkage between Palestinian democracy and the pullout from the settlements. His demands from Abbas are clear. "It's difficult to stop terror," Sharansky told reporters on Wednesday, "but it's not difficult to stop incitement in schools. The new Palestinian school books are worse than the old books. But the real question is whether we should demand from Mahmoud Abbas as a precondition to withdrawal that he will star, I emphasize not end, but start to dismantle the networks of terror. He's declared already he won't do it.
Syria is Al Qaeda's Terror-Staging Ground
May 19….(Ha Aretz) Syria is the main conduit for foreign militants fighting for al Qaeda-ally Abu Musab al-Zarqawi in Iraq, a senior US administration official said on Wednesday. "We're concerned that Zarqawi is supported by a foreign fighter network that gets foreign fighters largely through Syria," the official said to a small group of reporters on condition of anonymity. Syria is conduit for Al-Qaida militants to Iraq. Syria has taken "some cosmetic steps" to address the concerns of Iraq and the United States about the infiltration of foreign fighters into Iraq, but "not nearly what they ought to be doing," the administration official said. The Bush Administration has made building democracy and stability in the Middle East a top priority but has had little success in its efforts to engage Syria. "There are locations in Syria where foreign fighters and money and logistics come together and then transit to Iraq, and those foreign fighters and money come from elsewhere in the Muslim world. That's really been the Zarqawi connection we have been most focused on," the official said. Jordanian-born Zarqawi is a main figure behind the bombings, kidnappings and other attacks which have disrupted US efforts to stabilize Iraq since the 2003 US-led invasion which ousted President Saddam Hussein. "They are a major disruptive force, they are disruptive in Iraq, they are disruptive of the efforts between Palestinians and Israelis to come up with a Middle East peace," he said.
The United States has also appealed to Syria to stop interfering in Lebanon, and let elections move forward and stop supporting militant groups like Hamas and Hezbollah, (terror groups backed by Iran) the official said. "Syria has been a source of instability in the region, and it is time for them to make a strategic choice and get on the other side on these issues," the official said.
Anglicans Invited to Adopt Catholic View of Mary
May 19….(Times On Line) Members of the Anglican church are being asked to accept that controversial Roman Catholic teachings regarding the Virgin Mary are "authentic expressions of Christian belief". Mary: Hope and Grace in Christ was launched at a Roman Catholic Mass in Seattle by the Anglican-Roman Catholic International Commission (Arcic). It is to be published in the UK at Westminster Abbey on Thursday. The long-awaited document, published after six years of discussion, effectively seeks to backtrack on centuries of Anglican dissent over the place of Mary in the Catholic Church by giving new credence to dogmas that helped inspire the Reformation. It states that there is "no continuing theological reason for ecclesial division" over the role of the Virgin Mary. "We do not consider the practice of asking Mary and the saints to pray for us as communion dividing," it says. The document also describes private devotions inspired by apparitions of Mary as "acceptable". In the passage likely to cause most dissent, the document says the infallible dogmas of the Immaculate Conception and the Assumption, the teachings that Mary was herself conceived "without sin" and that on death she was "assumed" body and soul into Heaven, are "consonant with the teaching of the Scriptures". The document is not intended itself to be authoritative but to be a basis for discussion, yet its authors admit openly to the hope that the Roman Catholic Church and the Anglican Communion will recognize a "common faith" concerning Mary as outlined in the paper. The Catholic Bishop of Nottingham, Malcolm McMahon OP, one of 18 delegates from ten countries who served on Arcic, said the document showed that Mary need no longer be considered an obstacle to unity between Anglicans and Catholics. He said: "What we have done is put down a paving stone on the road to Christian unity." Pope John Paul II, was noted for his devotion to Mary. Recently, the American Anglican church consecrated the openly homosexual Gene Robinson as Bishop of New Hampshire. Pope Benedict XVI, in his previous incarnation as the Vatican's doctrinal enforcer dismissed Protestant communities as not "proper" churches, because of their anti-Roman doctrinal stances regarding Mary, as well as doctrinal issues. The Mary document will reinforce growing fears among evangelicals that the Catholic Church is prepared to consider unity with the Anglicans once more, but strictly on its own terms. The Reverend Rod Thomas, a leading evangelical cleric who acts as spokesman for the Reform conservative grouping, said the document represented an attempt to "shoehorn into Scripture" the Marian dogmas of the Immaculate Conception and the Assumption. He said: "If Mary has been wholly and completely assumed into Heaven and we are able to pray to her, it goes completely against the grain of Jesus Christ being our great high priest who intercedes on our behalf with the Father."
Zarqawi Terrorists Met in Syria to Plot Iraqi Insurgency
May 19….(680News) Iraq's top terrorist, angered by a post-election lull in violence, ordered insurgents a month ago to intensify attacks and his lieutenants began plotting their deadly mission during a secret meeting in Syria, a top US military official said Wednesday. The Syrian meeting, attended by Abu Musab al-Zarqawi himself, has led to one of the bloodiest periods since the US-led invasion two years ago. Nearly 500 Iraqi's have been killed since the country's new Shiite-dominated government was announced April 28. The Jordanian born al-Zarqawi, who heads "al-Qaida in Iraq," and his key militant leadership have met at least five times in foreign countries during the conflict, most recently during the past 30 days in Syria, according to the senior US military official, who briefed reporters on condition he not be named. He said the military obtained information during questioning of insurgent prisoners, from Iraqi military sources and field intelligence in determining that the most recent meeting had taken place in Syria. Al-Zarqawi himself attended the talks, the U.S. official said. "He (al-Zarqawi) allegedly was not happy with how the insurgency was going, the government was getting stronger and coalition forces not being defeated," the official said. "Some intelligence reports from captives showed that al-Zarqawi directed people to start using more vehicle-borne devices and (to) use them in everyday operations." In response to al-Zarqawi's call, there had been 21 car bombings, mostly suicide attacks, in Baghdad during May, compared with 25 such attacks in all of 2004, the official said. Nearly 130 car bombs have exploded or been defused since late February, he said. In one of the latest bombings, all that was found of the attacker was his foot taped to the car's accelerator, the official said, indicating he'd been forced to carry out the suicide mission. "The spike (in violence) is a result of the meeting in Syria," the official said. In Washington, Gen. John Abizaid, commander of US forces in the Middle East, said he couldn't confirm or deny reports that the meeting had occurred but noted that "insurgent-inspired" activities are "clearly" taking place in Syria, though without Syrian government collusion. "It's very important that the Syrian government do everything within its power to keep violence from migrating or being planned in Syria into Iraq," Abizaid said on Capitol Hill. Asked if he thought Damascus was doing enough, he replied: "No, I do not think the Syrian government is doing enough." During a recent weeklong offensive near the Syrian border, more than 1,000 U.S. forces killed 125 al-Zarqawi-linked insurgents, the military said. Nine US marines died in the campaign that targeted ancient smuggling routes crossing the Syrian-Iraqi border, believed to be now used for slipping foreign fighters and weapons into the country. Secretary of State Condoleezza Rice blamed Syria on Monday for complicating efforts by Iraq's new government to quell violence and appealed to Syria's Arab neighbors to force Damascus to close its borders. Al-Zarqawi is Iraq's most-wanted terrorist, responsible for beheadings, assassinations and spectacular bombings, and has a $25 million US bounty on his head, the same as for Osama bin Laden. A chilling, rambling Internet audiotape purportedly by al-Zarqawi and posted Wednesday denounced Iraq's Shiites as US collaborators and called this country's leaders traitors to Islam.
FOJ Note!: Focus on Jerusalem Prophecy Ministry ran a story on May 17 about the April meeting between President Bush and Saudi King Abdullah in Texas. According to the DEBKA intelligence source, President Bush pledged to abstain from any action that would cause internal instability for the Damascus regime of Bashar Assad. (Assad is supported by Russia) Last weeks US operation Matador, which saw US forces corner Islamic terrorist fighters along the Syria-Iraq border town of Al Qaim was quickly called off and labeled a success. It appears the US backed off the hot-pursuit of Syrian-infiltrating terrorists as a fulfillment of the Presidents pledge to the Saudi King in return for increased oil production, and subsequent lower gas prices in the US. Apparently the President also pledged to the Saudi's to push Israel further down the so-called Peace Roadmap. FOJ has regularly documented that the post-Saddam terrorist problem in Iraq is fueled by the Teheran-Damascus led Axis of Middle East terrorist operations. FOJ also has documented that the Iraqi WMD debate is nothing but a political show, which has covered up the fact that Russia aided in the transfer of Saddam's WMD arsenal out of Iraq and into Syria prior to the US invasion. FOJ has also noted the hesitancy of the US to target the covert Syrian connection in this whole scenario, and now it appears that the reason for the mystery about US-Syrian-Hezbollah-WMD relations has to do with the broader regional geo-political and economical situation that finds the US much too dependent on Saudi oil. The Bible clearly indicates that Damascus will play a pivotal role in end-time geo-political events, perhaps leading to the rise of the Antichrist. The geo-political shenanigans going on presently in the Middle East clearly point to the fact that we are very close to a major power-shift in Bible Prophecy. We must keep watching this multi-lateral track of Prophecy very closely, for it could be a signal of how close the Rapture truly is.
Official PA Sermon: Muslims Will Rule America
May 18….(WND) An Islamic preacher on the payroll of the Palestinian Authority gave a fiery sermon broadcast on PA television in which he vowed Muslims would rule America and called Jews an AIDS-like virus that will soon be finished off. "Allah has tormented us with 'the people most hostile to the believers,' the Jews," said Sheik Ibrahim Mudeiris in his Friday sermon, which is viewable on the Middle East Media Research Institute website. Mudeiris said that with the establishment of the state of Israel, "the entire Islamic nation was lost, because Israel is a cancer spreading through the body of the Islamic nation, and because the Jews are a virus resembling AIDS, from which the entire world suffers. "You will find that the Jews are behind all the civil strife in this world. The Jews are behind the suffering of the nations." Mudeiris then recounted how nations have tortured and driven out Jews over the centuries, insisting it was deserved in each case due to provocation. He referred to Britain in the sixth century, France at the time of Louis XIX, Portugal, Czarist Russia and finally Nazi Germany. "It was the Jews who provoked Nazism to wage war against the entire world, when the Jews, using the Zionist movement, got other countries to wage an economic war on Germany and to boycott German merchandise," he said. "They provoked Russia, Britain, France and Italy. This enraged the Germans toward the Jews, leading to the events of those days, which the Jews commemorate today." The sheik said Jews are committing "worse deeds than those done to them in the Nazi war." They have inflated their suffering, he said, "in order to win over the media and gain the world's sympathy." Mudeiris said Allah has made all of the great superpowers in the past disappear, and "he who made them disappear will make America disappear too, God willing. He who made Russia disappear overnight is capable of making America disappear and fall, Allah willing." "We have ruled the world before, and by Allah, the day will come when we will rule the entire world again," he said. "The day will come when we will rule America. The day will come when we will rule Britain and the entire world, except for the Jews." The sheik said: "The Jews will not enjoy a life of tranquility under our rule, because they are treacherous by nature, as they have been throughout history. The day will come when everything will be relieved of the Jews, even the stones and trees which were harmed by them. Listen to the Prophet Muhammad, who tells you about the evil end that awaits Jews. The stones and trees will want the Muslims to finish off every Jew."
FOJ Note: From reading the Sheik's interpretation of the Koran, it is quite obvious that Allah is spinning a message that is in complete compatibility with the strategy of the Great Red Dragon of Revelation chapter 12. Allah and Satan have a lot in common for some reason, do they not? They both hate Israel with a passion, and desire to exterminate the Jews. The Sheik's mantra against America is also compatible with Satan's conspiracy to bring the whole world under the authority of His Antichrist. So, considering that the PA advocates that Islam will one day rule America, why is the American government seeking to help the Palestinian terrorists gain statehood, and a firmer toehold against Israel?
British Lawmaker Blasts US in UN Oil For Food allegations
FOJ Note: This is an excerpt from an MSNBC story dealing with the ongoing US investigation into the UN oil-for-food scandal. You will note in this article that the accused not only denies the allegations, but makes a snide reference to Israel. The story demonstrates perfectly how everything comes back to the dilemma that is presented to the world by the existence of Israel. The world hates Israel with a passion, and its geo-political hacks stop at nothing to degrade Israel, and those who take the Christian stance of supporting Israel.
May 17….(MSNBC) Ripping into the Bush administration and a senator who called a hearing on the Iraq oil-for-food scandal, British lawmaker George Galloway rejected charges he profited from the UN-sanctioned program and called the allegations "the mother of all smokescreens." Galloway was a witness before the committee that is examining how Saddam used oil to reward politicians, particularly from Russia, France and Britain, under the United Nations oil-for-food program. He called the Bush administration's reasons for going to war in Iraq "a pack of lies" and said investigators should instead focus on US companies that dealt with Saddam. "The real sanctions busters were your own companies," he told senators. Galloway, a maverick kicked out of the British Labour Party for his fervent opposition to the Iraq war and for personal attacks on Prime Minister Tony Blair, has dismissed allegations by the committee that he benefited from the program. The committee last week released documents it said showed Saddam gave Galloway the rights to export 20 million barrels of oil under the defunct humanitarian program. Pursued by a crowd of British journalists, Galloway arrived at the hearing just minutes before it began reviewing testimony. "This group of neocons (neoconservatives) is involved in the mother of all smokescreens," he said of the committee. "I want to turn the tables on this neocon, pro-Israel, pro-war, Republican lynch mob." He earlier told Reuters that he had "no expectation of justice from a group of Christian fundamentalist and Zionist activists under the chairmanship of a neocon (President) George Bush who is pro-war."
Saudi Oil and Backing for US Are Contingent on Israeli Concessions
May 17….(DEBKA) Israeli prime minister Ariel Sharon is due in Washington Monday May 23 to address the pro-Israeli lobby AIPAC's annual conference. So far, DEBKAfile's political sources know of no appointments set up for him with any Bush administration officials. Palestinian leader Mahmoud Abbas is tentatively scheduled to arrive three days later on May 26. After telling his confidants "Nothing will come of the visit," Abbas is making sure that something does. The first move he pulled off was to persuade the White House to make sure Sharon was out of the capital before he arrived.
The Palestinian leader is meanwhile spinning out a complicated globe-girdling itinerary. He went to Brazil last week for the first Latin-American Arab conference (where he worked hard on anti-American and anti-Israel resolutions that denounced the American occupation of Iraq and the Israeli occupation of the West Bank and Gaza Strip.) This week he touches down in China, Japan and India. If for some reason, the prime minister prolongs his stay in the United States, Abbas will draw out his Far East travels until Sharon is gone. How was Abbas able to manipulate the Bush administration's timetable and marginalize Sharon's presence in the US capital? DEBKAfile reveals that it was the Saudi Crown Prince Abdullah who set the maneuver up for him when he visited US president George Bush at the presidential ranch in Texas on April 25. DEBKAfile's Washington sources report exclusively that the US and Saudi leaders ended their talks with understandings that restored the Saudis to a dominant role Washington's Middle East policies. Bush agreed to enlarge US-Saudi arms deals, out in the open now, not under wraps as in the last three years; Saudi capital for investment and the purchase of US government bonds would flow back to the United States; and most of the post 9/11 restrictions would be lifted on the entry of Saudi businessmen and students to the United States.
Abdullah promised to pump up oil production from 10 barrels per day to 12.5 million short term and 15 million long term. But he insisted his immediate priority for the royal purse was the promotion of reforms and better education, health and social welfare systems for his subjects. Therefore investment in expanding oil production would take some time, but it would come about. Abdullah then laid down his price for "opening a new chapter in US-Saudi strategic relations."
One, Ariel Sharon must be pushed towards keeping step with Abbas and meeting his demands, to continue propping the Palestinian leader up and to do nothing that might hasten his downfall.
Two, Sharon must be urged into serious negotiations with Syria.
Three, The Bush administration must avoid any action that might topple Bashar Assad or bring about the demise of the Assad regime in Damascus. The Saudi prince put it this way: We did as much as you to force Syria to pull its troops out of Lebanon. It is now your turn to meet us halfway. Neither Assad nor Syria must be humiliated any further.
DEBKAfile's sources have not discovered the US president's response to these demands. More tellingly, neither has the Israeli prime minister's office. The blackout Bush has ordered on the conversation is dense. But, upon his return from Washington, Abdullah lost no time in visiting neighbors to brief them on his achievements at Crawford. He saw Egyptian president Hosni Mubarak, Assad and King Abdullah of Jordan. For Israel, these achievements are major setbacks:
1. If the Bush administration is not briefing, let alone consulting with, Jerusalem on key elements of its Middle East policy, then the special Israel-US strategic relations are far from being all the Sharon government has cracked them up to be.
2. If Bush accedes to Abdullah's request on Abbas, then Sharon and defense minister Shaul Mofaz might as well abandon their efforts to achieve accords with the Palestinian Authority on the evacuations of the Gaza Strip and the northern West Bank. All the Palestinians will need to do is make their demands known. For example, Israel will be required to demolish abandoned homes against its will because that is what Abbas wants. He is also demanding that the Gaza Strip be turned over complete with international border crossings to Egypt and full sovereignty over Gaza's air space and sea waters, all this without spending a minute on the road map or peace talks.
Israel will also have to turn a blind eye Abu Mazen's refusal to disarm the Islamist radical Hamas and Palestinian terrorist units at large. Instead, Abbas will be allowed to integrate them with their weapons into the Palestinian security forces.
3. Ahead for the Sharon government is a uniquely polarizing, painful and costly withdrawal that makes a free gift to the Palestinians after five years of terrorism. It is hard to see any Israeli leader being in any state soon to plunge into a peace process with Syria that would entail a pullback, be it even in stages, from the Golan. On the other hand, the Syrians, cheered on by the Saudis, will no doubt maintain that if Israel is capable of one unilateral withdrawal, why not another? Israeli military experts believe that the three days of Hizballah rocket fire last week at Israeli positions guarding the disputed Shaaba Farms area were aimed more at pointing up Syria's case for talks with Israel than jockeying for position in Lebanese politics. Syria will make full use of Hizballah and its belligerence to keep the heat on Israel before and during any talks. In the coming months, the Sharon government will therefore be faced with radical policy adjustments to the new reality generated by the Saudi ruler's enhanced standing in the Bush White House.
Iraqis Say Russians Got Millions in Oil
May 17….(New York Times) Former top officials in Saddam Hussein's government have told Congressional investigators that they provided millions of dollars worth of oil allocations to Russian leaders in hopes of ending United Nations penalties against Iraq. Mr. Hussein's vice president, Taha Yasin Ramadan, told investigators that the allocations were "compensation for Russian support," according to a report released today by the Senate Homeland Security and Governmental Affairs investigations subcommittee. Russia's Foreign Ministry declined comment on the report. The ministry said it would be "unethical to make any statements" until the United Nations-appointed commission investigating the oil-for-food program released its third report this summer. The US Senate investigators said their interviews and documents from the former Iraqi government added to evidence in previous investigations linking Russian officials to abuses in the UN oil-for-food program. Among the officials implicated are Aleksandr Voloshin, former chief of staff to President Vladimir V. Putin, and ultranationalist lawmaker, Vladimir V. Zhirinovsky.
Muslim Double Standard on Religious Desecration?
May 17….(WND) With Muslims worldwide protesting a now-retracted Newsweek report that claimed US Army interrogators at Guantanamo Bay had flushed a Quran down the toilet, the father of a rabbi who was murdered while trying to defend a Jewish holy site from Palestinian rioters blasted Muslim leaders yesterday in an exclusive WorldNetDaily interview. Rabbi Zevulun Lieberman, whose son Hillel died trying to save Joseph's Tomb in the West Bank city of Nablus from Muslim rioters, told WND he is "sickened by this Muslim outcry when Muslims have shown the world they don't have any respect for religion whatsoever. They lost the right to protest about disrespect for religion and holy objects a long time ago." Accusing Muslim leadership of using the Newsweek story to create "anti-American incitement," Lieberman asked, "Where were the protesters when Muslims desecrated Joseph's Tomb and other sites?" In an issue dated May 9, Newsweek reported US military investigators found evidence that interrogators placed copies of Islam's holy book in washrooms and had flushed one down the toilet to get inmates to talk. The report prompted demonstrations across the Muslim world, with thousands rallying in Afghanistan, Pakistan Indonesia and Gaza City to denounce America. At least 15 people died in riots in Afghanistan alone. Yesterday, Newsweek officially retracted the story. Lebanon's most senior Shiite Muslim cleric said the alleged desecration is part of an American campaign aimed at disrespecting and smearing Islam. Spiritual leaders in Afghanistan gave the US three days to respond to the accusations. The 22-nation Arab League issued a statement saying if the allegations panned out, Washington should apologize to Muslims. Qazi Hussain Ahmed, a hard-line Pakistani Islamist leader and opposition lawmaker, said Islamic groups in Pakistan, Egypt, Malaysia, Britain, Turkey and other countries would hold more rallies to protest the alleged desecration. In its retraction, Newsweek stated, "Based on what we know now, we are retracting our original story that an internal military investigation had uncovered Quran abuse at Guantanamo Bay." In a note to readers in its current issue, Newsweek Editor Mark Whitaker said the magazine's information came from "a knowledgeable US government source," who, he said, later could not be sure he had read about the alleged Quran incident in the report that was cited.
In October 2000, after Israeli troops evacuated the city of Nablus as a peacemaking gesture, scores of Palestinians stormed into the Joseph's Tomb compound and destroyed the site believed to be the burial place of the biblical patriarch Joseph, the son of Jacob who was sold by his brothers into slavery and later became the viceroy of Egypt. The 1993 Oslo Accords put Joseph's Tomb under Israeli jurisdiction, but on Oct. 7, 2000, then-Prime Minister Ehud Barak ordered a unilateral retreat, based on a Palestinian agreement to protect the site. Within hours of the Israeli withdrawal, smoke was seen billowing from the tomb as an Arab crowd burned Jewish prayer books and other holy objects. Palestinians used pickaxes, hammers and later bulldozers to tear apart the stone building. The dome of the tomb was painted green, and a mosque was subsequently erected in its place.
Destroyed gravestone at traditional burial site for biblical patriarch Joseph.
Rabbi Hillel Lieberman, who lived nearby, headed by foot to the tomb when he heard of its desecration, hoping, his family said, to save any Torah scrolls or other holy objects that might have been left intact. Lieberman disappeared. His bullet-ridden body was found the next day in a cave. "[Hillel] was unarmed, wearing a tallit (Jewish prayer shawl), and he was brutally murdered by our enemies who want to erase our existence," said Yehudit Tayar, spokeswoman for the Council of Jewish Communities in Judea, Samaria and the Gaza Strip. Hillel's father, Zevulun, a religious instructor at Yeshiva University, told WND: "If indeed the Quran was flushed down the toilet, that is despicable. But now they protest? The religion that actually desecrated the grave of Joseph, the great-grandson of Abraham? "Nowhere in the parameters of humanity is it tolerable to destroy a holy site. The Muslims did something even an animal wouldn't do. Only humans who are completely sick with no sense of reason can do such a thing. And only a religion that is beyond the pale of humanity can sit back and not protest such an act." Lieberman accused Islamic leaders of using the Newsweek article to spur anti-American incitement: "These leaders, who have no conscience, they aren't upset for religious reasons. It's just an excuse."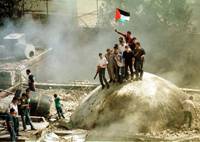 Building at Joseph's Tomb site after Palestinian Authority took control.
Susan Roth, director of the Eshet Chayil Foundation, one of the main benefactors of the biblical matriarch Rachel's Tomb, to which surviving artifacts of Joseph's Tomb were recently transferred, told WND: "There was almost total silence in the Muslim world when Palestinians blew up Jews at their Passover seder, when Joseph's tomb was desecrated." Roth was referring to a Hamas suicide bombing March 2002 that killed 30 and injured 140 when a bomb was exploded in the midst of a Passover seder at an Israeli hotel. Nathan Katz, professor of religion at Florida International University, told WorldNetDaily: "Joseph's tomb is one of many, many examples of a lack of Muslim respect for religious sites and objects, and the silence of Islamic leaders following such desecrations." He cited the desecration of the Church of the Nativity in Bethlehem by Palestinian gunmen in April 2002. Israeli archeologists say they have convincing documentation of the authenticity of Joseph's Tomb's, dating to biblical times. The book of Joshua says, according to the New International Version, "Joseph's bones, which the Israelites had brought up from Egypt, were buried at Shechem (Nablus) in the tract of land that Jacob bought for a hundred pieces of silver from the sons of Hamor, the father of Shechem. This became the inheritance of Joseph's descendants." Said Daniel Pipes, director of the Middle East Forum: "This sequence of events reflects badly on everyone concerned: Newsweek, a stalwart of mainstream media, that can neither get its facts right nor its apology convincing; the US government, which talked about the 'Holy Quran,' thereby falling into its old pattern of promoting Islam; and the Muslim masses, which took to the streets in lethal anger on nothing more than unconfirmed (and latterly rescinded) hearsay. This episode contains within it many lessons; let us hope they are properly learned." "Either Muslims respect religion," Leiberman said, "and they protest their own intolerable and repeated desecrations, or they don't. They can't have it both ways."
Saudi Arabia Denies Access to Jailed Christians
May 17 (Compass) Five East African Christians arrested at a private Christian worship service three weeks ago are being refused any access to visitors at the interrogation center where they are jailed in the Saudi Arabian capital of Riyadh. An expatriate friend who attempted to visit the three Ethiopians and two Eritreans last week was refused permission by prison officials of the Mabahith, an internal security force under the Saudi Ministry of Interior. When the inquiring friend went to the prison facility on May 10, he was told the five Christians would only be allowed visitors after one month. The five prisoners were elders in a small house church of Ethiopians and Eritreans which had met quietly without incident in Riyadh for more than four years. At least 35 men, women and children in the 60-member congregation were present when the muttawa (Islamic religious police) raided their worship service on April 29, declaring such gatherings were "forbidden" in Saudi Arabia. (See Compass Direct, "Saudi Police Raid Another House Church," May 4, 2005.) According to local sources, the muttawa who led the African house church raid were accompanied by regular Saudi police, totaling at least 20 officials. The muttawa have authority to detain suspects for only 24 hours on alleged violations of the kingdom's strict Islamic code. But local laws extend regular police detentions for a maximum five days, after which suspects must be released if formal charges are not filed. "However in practice, persons [are] held weeks or months and sometimes longer," the US State Department's 2004 human rights report on Saudi Arabia notes, "and the law gives the Minister of Interior broad powers to detain persons indefinitely." According to a local source who was an eyewitness to the April 29 raid, the latest crackdown against Christian worship was directed by a muttawa sheikh named Abdul Aziz, reportedly based out of a mosque in Riyadh's Sulaymaniyeh district just north of Al-Olaya. Earlier in April, a congregation of 40 Pakistani Christians gathered in a Riyadh home for a joint Catholic-Protestant prayer service were also arrested and ordered to stop meeting. Except for two men held for questioning until the following night, the detained adults and children were all released the same day. Named last September to the US State Department's blacklist of "countries of particular concern" for its severe violations of religious freedom, Saudi Arabia prohibits the public practice within its borders of any religion other than Islam.
FOJ Note: It should be noted that 15 of the 19 hijackers in the 9-11 attacks on America were Saudi Muslims, and that 50% of the terrorist attacks in Iraq are perpetrated by Saudi Muslims. The facts seem to show that the Saudi Islamic Wahabbi State is waging war on the US, and upon Christianity.
Muslims React as Satan Would Prefer
May 17….(FOJ) We are constantly being informed that the god of Islam is the same God as Jehovah of the Bible. Yet, everywhere we turn in the world we find that Allah is teaching, and inspiring his followers to act in the opposite manner as what Jehovah declares to be His ways. From Indonesia to Morocco, Islamic fundamentalists are waging Jihad against anyone who has the audacity to believe differently from them. If you don't submit to Allah, then it is off with your head, ya filthy pig! This is Allah's will, we are told, and that the Quran teaches that this behavior is appropriate, in the waging of Jihad against the nasty ignorant infidels. Muslims worldwide rioted and protested against the US because of a false story printed in a magazine. They ranted, looted, rioted, and murdered about 18 people, all in the name of their god. I gotta ask, how is this behavior square with the following teaching of Jehovah from His Son: Matthew 5:21-22 Ye have heard that it was said by them of old time, Thou shalt not kill; and whosoever shall kill shall be in danger of the judgment: But I say unto you, That whosoever is angry with his brother without a cause shall be in danger of the judgment: and whosoever shall say to his brother, Raca, shall be in danger of the council: but whosoever shall say, Thou fool, shall be in danger of hell fire. Oh, I forgot, the Muslims don't believe that God sent His only begotten son to the world to save men from such evil, because the Quran says god has no son.
If I had heard that some people were flushing the Holy Bible down the toilet, it would have upset me, and made me realize that people are deceived by Satan into believing many, many lies. I already know from studying the Bible that Satan hates Gods Truth, and seeks to pervert God's Word, and endeavors to keep men in blindness. But the behavior of lunatics does not cause me to want to go out and start murdering people. The reason that I don't behave in a maniacal way the way these Muslims are behaving is because my God doesn't inspire me to go nuts and Kill people simply because they are blind and enslaved by a false god, and totally deceived by the teachings of Satan. No wonder Islamic Imams across the globe can indoctrinate their enslaved masses to love death through a so-called martyrdom for Allah. Satan's hatred of the one true God of the Holy Bible causes DECEIVED people to LOVE DEATH. (Proverbs 8:35-36 For whoso findeth me (Jehovah God) findeth life, and shall obtain favour of the LORD. But he that sinneth against me wrongeth his own soul: all they that hate me (Jehovah) love death.
'Suicide Bombers' In Iraq are Mostly Saudis
May 16….(Washington Post) Before Hadi bin Mubarak Qahtani exploded himself into an anonymous fireball, he was young and interested only in "fooling around." Like many Saudis, he was said to have experienced a religious awakening after the Sept. 11, 2001, attacks on the United States and dedicated himself to Allah, inspired by "the holy attack that demolished the foolish infidel Americans and caused many young men to awaken to Holy Jihad" according to a posting on a jihadist Web site. On April 11, he died as a suicide bomber, part of a coordinated insurgent attack on a US Marine base in the western Iraq city of Qaim. Just two days later, "the Martyrdom" of Hadi bin Mubarak Qahtani was announced on the Internet, the latest requiem for a young Saudi man who had clamored to follow "those 19 heroes" of Sept. 11 and had found in Iraq an accessible way to die. Hundreds of similar accounts of suicide bombers are featured on the rapidly proliferating array of Web sites run by radical Islamists, online celebrations of death that offer a wealth of information about an otherwise shadowy foe at a time when US military officials say that foreign fighters constitute a growing and particularly deadly percentage of the Iraqi insurgency. The account of Qahtani's death, like many other individual entries on the Web sites, cannot be verified. But independent experts and former government terrorism analysts who monitor the sites believe they are genuine mouthpieces for the al Qaeda-affiliated radicals who have made Iraq "a melting pot for jihadists from around the world, a training group and an indoctrination center," as a recent State Department report put it. Who are the suicide bombers of Iraq? By the radicals' account, they are an internationalist brigade of Arabs, with the largest share in the online lists from Saudi Arabia and a significant minority from other countries on Iraq's borders, such as Syria and Kuwait. Many of the Arabs, according to the postings, were drawn to fight in Iraq under the banner of al Qaeda in Mesopotamia, the group run by Jordanian militant Abu Musab Zarqawi that has taken credit for a gruesome series of beheadings, kidnappings and suicide attacks, many of them filmed and then disseminated on the Internet in a convergence between the electronic jihad and the real-life war. In recent days, the US military in Iraq has stepped up its campaign against the Zarqawi network, launching an offensive in western Iraq in an area where foreigners are believed to be smuggled across the Syrian border. At the same time, Iraq has been hit by a wave of suicide attacks causing about 400 deaths over the last two weeks, one of the deadliest periods since the US invasion in 2003.
China Ignores US Sanctions as Missile Sales to Iran Thrive
May 16….(World Tribune) China has dismissed US sanctions and apparently believes it can more than compensate for lost US business by continuing to export missile components and technology to Iran. US officials said Beijing, despite 80 US sanctions on Chinese companies, continues to allow exports critical for Iran's intermediate-range missile program. They said Chinese technology and components have bolstered Iran's new solid-fuel missile and rocket projects. From January 2001 through April 2005 the State Department has sanctioned foreign companies 115 times regarding violations of controlled export shipments, Middle East Newsline reported. The Chinese exports to Iran have been part of increasing strategic ties between the two countries, officials said. China, one of the largest importers of oil, has increased imports from Iran and Gulf Arab states. "We don't believe they're taking adequate account of the risk that the item they're approving is actually going to end up in a program for weapons of mass destruction or missiles," a State Department official said. Chinese state-owned companies have also been exporting components for Iranian and North Korean biological, chemical and nuclear weapons. Officials said the deliveries have continued despite export regulations published by the government in Beijing. "They're threatened by the destabilization of the world economy if there's a CBW [chemical-biological weapons] war in the Middle East that disrupts the world's oil supply," the State Department official said. "It's in their interest to make sure that Chinese companies are part of the solution rather than part of the problem." Over the last year, officials said, Beijing has halted several WMD shipments to Iran and North Korea. They said China has also abided by their commitments to employ dual-use advanced technology imported from the United States for legitimate uses. The dual-use exports have been controlled by the Commerce Department, permitted by China to verify end-users stipulated in license applications. "They realize that if there's some question or suspicion about items that have gone to them being misused or diverted or the products of those items being misused or diverted, that ultimately will probably hurt them," another official said. Officials said the most resistant to Commerce Department end-user verification has been Chinese companies affiliated with Beijing's military or security forces. They said China could be using technology gained from the United States and the West for weapons exported to the Middle East. Still, officials assert that China has used US technology to develop strategic missiles. They said Beijing would deploy the DF-31 and DF-31A mobile intercontinental ballistic missiles and the JL-2 submarine-launched ballistic missile by 2015 as part of China's military buildup in the Straits of Taiwan. "Strategic force modernization is a continuing priority, and China will likely field three new strategic missiles, more mobile, survivable and capable, within a decade," David Gordon, chairman of the National Intelligence Council, told a May 2 hearing of the Defense Base Realignment and Closure Commission. "Beijing has undertaken an impressive program of military modernization that is tilting the balance of power in the Taiwan Straits and improving China's capabilities to threaten US forces in the region." The State Department has sought to avoid harming US trade with Beijing in which the United States exports $36 billion a year. Of that figure, about $525 million regards US controlled exports to China. "While some US officials have grown more confident that the PRC is changing its proliferation policies, congressional and other critics charge that such confidence is misplaced," the Congressional Research Service said in a report in March 2005. "They point out that for years reputable sources have reported China to be selling ballistic missiles and technology for weapons of mass destruction in the international market, primarily in the Middle East." "The PRC has had close relationships with all three countries [Iran, Iraq and North Korea] in the past, including sales of military equipment that could threaten US forces in the region and missiles that could enhance a nuclear weapons capability, by Middle Eastern countries against the US.
Al-Qaida Likely has Nukes
May 16….(WND) There's a 50-50 chance al-Qaida already has nuclear weapons, says a top intelligence analyst based on an analysis of the findings and the methodology of the US WMD Commission. Lt. Col. Joseph C. Myers, an infantry and foreign area officer who has served at US Southern Command and as the chief of the South America Division at the Defense Intelligence Agency, writes in the current issue of Joseph Farah's G2 Bulletin that he was alarmed after analyzing the final report of the Commission on the Intelligence Capabilities of the United States Regarding Weapons of Mass Destruction. Myers writes that the report "not only indicates that the state of our knowledge is worse than previously understood; but reading the commission's own evaluation of the intelligence analysis, information and circumstances in Afghanistan pre and post invasion actually leads me to raise the probability that al-Qaida has a nuclear weapon from low to a moderate probability, 50-50. Far from allaying my fears, it heightened them." Documents found at sites used by al-Qaida operatives in Afghanistan indicated that the group was interested in nuclear device design," said the report. "In addition, al-Qaida had established contact with Pakistani scientists who discussed development of nuclear devices that would require hard-to-obtain materials like uranium to create a nuclear explosion. In May 2002, technical experts from CIA and the Department of Energy judged that there remained no credible information that al-Qaida had obtained fissile material or acquired a nuclear weapon." The report adds: "Analysts noted that collection efforts in Afghanistan had not yielded any radioactive material suitable for weapons, and that there were no credible reports of nuclear weapons missing from vulnerable countries." "These are the most controversial lines in this chapter and where the commission report flounders," explains Myers. He believes an alternative, equally valid, but less rosy conclusion based on the same data would be that "a select group of al-Qaida members, with support from nuclear weapons experts from somewhere were being trained on how to store, handle, transport, employ and detonate finished nuclear devices." "Under this theory there would be no weapon development materials or radioactive traces found anywhere in Afghanistan," he writes. "These guys aren't physicists; they're operatives who needed only to know enough about the weapon to safely handle, employ and detonate it. The 'radiological material,' in the nuclear warhead, is of course, somewhere else." While the commission concluded that the war in Afghanistan "confirmed two key intelligence judgments made before the September attacks: al-Qaida did not have a nuclear device, nor did it have large-scale chemical and biological weapons capabilities," Myers strenuously disagrees. "Al-Qaida may not have had a nuclear weapon stored in Afghanistan," he explains. "But it does not confirm that they do not have access to a nuclear weapon stored elsewhere, for which their operatives inside Afghanistan were undergoing basic training for its use, being supported by outside experts." Myers illustrates his alternative theory that al-Qaida operatives may have been training for use of an already existing nuclear device with an analogy. As WND previously reported, an al-Qaida memo discovered by Pakistani authorities said if suicide bombers come to America, they are likely to be carrying biological, chemical or nuclear weapons with them. In October 2002, WND first broke thestory of Al Qaeda's purchase of suitcase nukes. Paul Williams, an FBI consultant on international terrorism said then bin Laden's al-Qaida terrorist network purchased 20 suitcase nuclear weapons from former KGB agents in 1998 for $30 million. His book, "Al Qaeda: Brotherhood of Terror," also says this deal was one of at least three in the last decade in which al-Qaida purchased small nuclear weapons or weapons-grade nuclear uranium. Williams says bin Laden's search for nuclear weapons began in 1988 when he hired a team of five nuclear scientists from Turkmenistan. These were former employees at the atomic reactor in Iraq before it was destroyed by Israel, Williams says. The team's project was the development of a nuclear reactor that could be used "to transform a very small amount of material that could be placed in a package smaller than a backpack." "By 1990 bin Laden had hired hundreds of atomic scientists from the former Soviet Union for $2,000 a month, an amount far greater than their wages in the former Soviet republics," Williams writes. "They worked in a highly sophisticated and well-fortified laboratory in Kandahar, Afghanistan." Yossef Bodansky, author of "Bin Laden: The Man who Declared War on America" and the US Congress' top terrorism expert, concurs that bin Laden has already succeeded in purchasing suitcase nukes. Former Russian security chief Alexander Lebed also testified to Congress that 40 nuclear suitcases disappeared from the Russian arsenal after the collapse of the Soviet Union.
WEEK OF MAY 9 THROUGH MAY 15
Knock, Knock. Knocking On Heaven's Door
May 14…. (FOJ) A sick and dying man turned to his doctor, and as he was preparing to leave the examination room he said, "Doctor, I am afraid to die. Please, tell me what lies on the other side of death." Very quietly, the doctor said, I don't know. You don't know! You're a Christian man, and you do not even know what is on the other side?
The doctor was holding the handle of the door; and on the other side there was a sound of scratching and whining, and as he opened the door, his dog sprang into the room and leaped on him with an eager show of fondness and gladness. Turning then to his patient, the doctor said, did you notice my dog? He had never been in this room before. He didn't know what was inside, but he knew I was in here. He knew nothing about anything in this room except that his master was in here, and when the door opened, he sprang in without any fear. No, I know very little about what is on the other side of death, but I do know one thing for sure. I know my Master is there and that is enough for me.
Jesus stands at the doorway of every individual's heart, and beckons to be allowed in. As every individual approaches the inevitable day of passing from this life, he must ponder of what lies on the other side of death's door for him. If you have by faith, received Jesus as your Lord and Master, then he will open the door of Heaven to you.
(II Corinthians 5:8 We are confident, I say, and willing rather to be absent from the body, and to be present with the Lord.) (Revelation 3:20 Behold, I stand at the door, and knock: if any man hear my voice, and open the door, I will come in to him, and will sup with him, and he with me.) (Matthew 7:7 Ask, and it shall be given you; seek, and ye shall find; knock, and it shall be opened unto you:)
What is Russia Up To?
May 13….(Jerry Robinson) World events are becoming rather comical, aren't they? I do not mean to infer that they have grown humorous in the normal sense of the word, but rather that they have taken on a strange irony that watchers of prophecy are rightly perceiving as a peculiar joke. So we read that Russian President Vladimir Putin is excited about helping usher in a new 'Mideast peace.' Remember that prior to the collapse of communism in 1991, the former Soviet Union held much power over Arab nations in the Middle East. But much of that power was lost after communism's demise. Through a series of recent strategic deals, Putin appears to be seeking to exert more influence in this region, thereby returning Russia to its former 'glory.' Putin, in his most recent State of the Nation address, said the Soviet collapse was "a genuine tragedy" for Russians. Putin went on to call the demise of the Soviet Union, "the greatest geopolitical catastrophe of the century." According to Mikhail Margelov, a presidential advisor to Putin and chairman of the Federation Council International Affairs Committee, "A new Middle East policy is an important part of Russia's mission in Eurasia." Are you piecing this together yet? For the sake of clarity, let us briefly examine some of Russia's recent policy moves toward 'peace' in the Middle East:
 President Vladimir Putin has promised help for the Palestinians
This includes rebuilding the Palestinian infrastructure and security forces, providing military helicopters, and delivering economic aid for the Palestinian economy.
 Putin has made plans to sell short-range missiles to Syria
This includes upgrading Syria's military and transferring higher tech missiles to Damascus. Yet Putin has been quick to point out that the deals do not threaten the security of the Jewish state.
 Putin has agreed to supply nuclear fuel to Iran
Recently, while in Jerusalem and Ramallah, Putin reiterated that Russia was vehemently opposed to Iran obtaining nuclear weapons. "We are not planning to do anything that would upset the balance of forces in the region," Putin stated according to an AFP report. In an unrelated story, last week the highly reputed German magazine, Der Spiegel, reported that a German company sold and delivered missile technology (rocket-building technology) to Iran. The magazine said the German technology 'was intended for use in Iran's Shahab, or Shooting Star, medium-range missile program that can carry a nuclear warhead and reach Israel and various US military bases in the region.'.'
 Russia has planned to resume arm sales to Iraq
According the Mideast Newsline, a range of weapons and ammunition will be provided to Baghdad on a cash basis in the near future.
 Putin has offered to provide nuclear expertise and technology in helping Egypt reboot its nuke program
 Russian Military Currently Spending Largest Sum on Arms Since Collapse of Soviet Union
Russia is rearming its troops "to fight terrorism," Russian Defense Minister Sergei Ivanov said. Russia has also been working to create weapons that no other country possesses, Ivanov said in a recent interview. "Not a single partner or ally of ours knows anything about" the secret weapons and "nor will they until they are tested." In fact, Ivanov recently boasted that there is no missile defense system in the world capable of repulsing the new nuclear missiles that are being developed in Russia.
 Russia is Staging Joint War Games with China!
The two countries are expected to hold their joint military exercises in late summer or early fall of 2005. These exercises will include the army, navy, air force units and submarines. This Was Foretold...
In light of all of these developments, President Bush, on Sunday, graciously thanked Russia's Vladimir Putin for help on Iran and the Middle East and said "there's a lot we can do together." Moscow remains one of the four sponsors of the Middle East peace roadmap plan, which seeks to create a Palestinian state alongside a secure Israel. Additionally, this week the EU reportedly urged Russia to seize the 'window of opportunity' to join the World Trade Organization by 2006. Despite how things appear on the surface, God's Word has foretold these events and those who understand their Bibles know what things must come about from these disturbing developments. According to Ezekiel 38-39, Russia will align herself with a group of Islamic nations who will attempt to destroy Israel in a surprise attack. This attack will occur when Israel is dwelling in a relative peace as Ezek. 38:11 states that Israel will be a land dwelling safely with 'unwalled villages.' This is hardly the case today. Sadly, the world is vastly unaware of what is coming upon it. This ignorance of the ever imminent return of Christ reminds me of a parable by one of my favorite philosophers, Soren Kierkegaard: Kierkegaard tells a parable of a theater where a variety show is proceeding. Each show is more fantastic than the last, and is applauded by the audience. Suddenly the manager comes forward. He apologizes for the interruption, but the theater is on fire, and he begs his patrons to leave in an orderly fashion. The audience thinks this is the most amusing turn of the evening, and cheer thunderously. The manager again implores them to leave the burning building, and he is again applauded vigorously. At last he can do no more. The fire raced through the whole building and the fun-loving audience with it. "And so," concluded Kierkegaard, "will our age, I sometimes think, go down in fiery destruction to the applause of a crowded house of cheering spectators.""Watch therefore [give strict attention, be cautious and active], for you do not know in what kind of a day [whether a near or remote one] your Lord is coming."-- Matthew 24:42
China Rules Out Using Sanctions on North Korea
May 13….(Geostrategy-Direct) China has ruled out applying economic or political sanctions to pressure North Korea to abandon its nuclear weapons program, appearing to undercut a crucial element of the Bush administration's evolving North Korea strategy. The announcement comes just as American intelligence agencies are trying to determine whether North Korea is preparing for a nuclear test. Liu Jianchao, China's Foreign Ministry spokesman, said Tuesday that China rejected suggestions that it should reduce oil or food shipments to North Korea, calling them part of its normal trade with its neighbor that should be separate from the nuclear problem. "The normal trade flow should not be linked up with the nuclear issue," he said. "We oppose trying to address the problem through strong-arm tactics." Beijing's apparent unwillingness to go along with Mr. Bush's backup plan to squeeze North Korea takes away the crucial pressure point that Mr. Bush's aides have been counting on. It also suggests that the strategy of threatening to go to the United Nations Security Council - which Secretary of State Condoleezza Rice has begun to discuss - could fail. China's statement came just days after officials said at least one American intelligence agency had picked up signs that North Korea might be preparing for its first test of a nuclear weapon at Kilju in the northeastern part of the country.
US Offensive Intensifies at Syrian Border
May 13….(My Way) American fighter jets flattened a suspected insurgent safe house near the Syrian border, the US military said Friday, as hundreds of US troops searched remote desert villages house by house for followers of Iraq's most wanted militant leader Abu Musab al-Zarqawi. American forces have met little resistance since the first two days of Operation Matador, aimed at clearing a region believed to be a haven for foreign terrorist-fighters slipping over the border from Syria, the military said in a statement Friday. The US offensive, one of the largest since militants were forces from Fallujah six months ago, comes amid a surge of militant attacks that have killed more than 420 people in just over two weeks since Iraq's first democratically elected government was announced. The US military said information gained from a "senior terrorist" captured during the operation near the Syrian border led Marines to the safe house Thursday in Karabilah, a village about 200 miles northwest of Baghdad. As Marines approached, at least four gunmen fired on them from the building, the military statement said. US F-18 Super Hornet jets destroyed the building with a combination of bombs and rockets, the statement said. The offensive was launched after US intelligence showed large numbers of insurgents had moved into the northern Jazirah Desert following losses in Fallujah and Ramadi, further east. The area is believed to be a staging ground for foreign fighters, who receive weapons and equipment there to launch attacks in Iraq's main cities. The US military said it was receiving intelligence from local residents, fed up with the presence of foreign fighters in the region.
Russia Accuses Foreign Agencies of Spying
May 13….(AP) Russia's security chief accused US and other foreign intelligence services Thursday of using non-governmental organizations (NGO's) that promote democracy to spy on Russia and bring about political upheaval in former Soviet republics. The remarks by an ally of President Vladimir Putin reflect concern in the Kremlin over its waning regional clout following the ascent of pro-Western governments on its borders. "Along with classic forms of influence on political and economic processes, foreign intelligence agencies are ever more actively using non-traditional methods," including working through "various non-governmental organizations," Federal Security Service chief Nikolai Patrushev told lawmakers. "Under cover of implementing humanitarian and educational programs in Russian regions, they lobby the interests of the states in question and gather classified information on a broad spectrum of issues," he said. Patrushev reiterated claims by Russian officials who have accused the United States and other Western nations of using government-funded groups to aid opposition forces that have brought down governments in former Soviet republics in the past two years. White House press secretary Scott McClellan said he was not aware of the accusations by Russia's security chief. "I have not seen those comments and I have no idea what he is referring to," McClellan said. Just this week, President Bush visited Georgia, site of the 2003 Rose Revolution, first of the uprisings against entrenched leaders in ex-Soviet republics that later spread to Ukraine and Kyrgyzstan. On Monday, Bush stood beside Putin in Red Square for a ceremony marking the 60th anniversary of the defeat of Nazi Germany. "Our opponents are steadily and persistently trying to weaken Russian influence in the Commonwealth of Independent States and the international arena as a whole," Patrushev said. "The latest events in Georgia, Ukraine and Kyrgyzstan unambiguously confirm this." With Bush joining domestic critics who question Putin's tightened control over electoral processes in Russia and pointedly advocating democracy in visits to Russia's neighbors, the Kremlin is sensitive about foreign influence as elections approach in 2007 and 2008. Russian politicians have claimed that US government money, funneled through NGOs that promote democracy, was a major force behind the protests that swept Western-leaning opposition leaders to power in Georgia and Ukraine, and was also a factor in Kyrgyzstan. Patrushev's comments underline the wariness of foreigners among Russian security officials who have gained influence under Putin, a longtime KGB officer and former FSB chief.
FOJ Note: A "mysterious power" in the West is greatly agitating the big Russian Bear! This is the reason that Mr. Putin has undertaken steps to cultivate military and diplomatic alliances with several Middle Eastern Islamic regimes (Iran and Syria) that are anti-American, and the reason that Russia is countering American strategic interests in the Middle East, and around the world. Russia is doing exactly what Ezekiel predicted that it would do before it launches its invasion against Israel in the Last Days. (Ezekiel 38:7 Be thou prepared, and prepare for thyself, thou, and all thy company that are assembled unto thee, and be thou a guard unto them.)
European Nuclear Talks With Iran Will Fail

May 12….(Jerusalem Post) Israeli Defense Minister Shaul Mofaz said Wednesday that he believes European efforts to persuade Iran to give up its nuclear program will fail and called on the United States to play a greater role. France, Britain and Germany are in fragile negotiations with Iran, trying to reach a deal ensuring Iran's nuclear program is peaceful. Mofaz said these talks were ineffectual. "The dialogue with Iran today is being held with the European troika. I do not think they will manage to halt the Iranian nuclear arms effort," Mofaz said in an interview with Israel TV. Mofaz said Iran posed the greatest threat to Israel's existence with its combination of nuclear aspirations and long-range missiles. On Monday Iran said it was lifting a suspension on uranium reprocessing activities. Reprocessing is an early step in preparing uranium for conversion into the materials necessary to produce fuel for energy, as Iran says its program is designed for. It also can be used to create nuclear weapons, as the United States accuses Tehran of intending to do. Mofaz said the US needed to take a greater role in pressuring Iran. "The US, as the only superpower in the world, will have to lead the efforts against the Iranians. To bring it to the security council, to use diplomatic methods, to implement sanctions and demand greater more effective inspections," Mofaz said.
FOJ Note: Surprise, surprise! Iran has made it clear in absolutely no uncertain terms that its intentions with its nuclear program is to annihilate the State of Israel, and by so doing, erase the Arab/Muslim catastrophe of 1948. Is a democratic State such as Israel supposed to sit idle and watch a bellicose neighbor prepare for a nuclear assault against it? What has Israel ever done to Iran, anyway? The whole nuclear chess game is a dangerous and cataclysmic scenario. But because the world is infested with evil and sin, the world can never be safe (nations cannot feel secure from perceived threats) until the Prince of Peace (Jesus) comes and establishes peace on the earth. (Micah 4:3-4 And he shall judge among many people, and rebuke strong nations afar off; and they shall beat their swords into plowshares, and their spears into pruninghooks: nation shall not lift up a sword against nation, neither shall they learn war any more. But they shall sit every man under his vine and under his fig tree; and none shall make them afraid: for the mouth of the LORD of hosts hath spoken it.) The world's peace and security diplomatic braintrusts are desperately in search of a means to minimize the threat of nuclear holocaust, but in their endeavors, they do not consult the God of Creation, (who is the God of Israel) and rely wholly upon humanistic craftmanship. Therefore, their efforts are in vain. The word of God says, that because the world is in league with the Devil, that they will be helpless in avoiding the Conflict of the Ages, as mentioned in this opposite scriptural analogy of the Armageddon scenario taken from the prophet Joel. (Joel 3:9-14 Proclaim ye this among the Gentiles; Prepare war, wake up the mighty men, let all the men of war draw near; let them come up: Beat your plowshares into swords, and your pruninghooks into spears: let the weak say, I am strong. Assemble yourselves, and come, all ye heathen, and gather yourselves together round about: thither cause thy mighty ones to come down, O Lord. Let the heathen be wakened, and come up to the valley of Jehoshaphat: for there will I sit to judge all the heathen round about. Put ye in the sickle, for the harvest is ripe: come, get you down; for the press is full, the fats overflow; for their wickedness is great. Multitudes, multitudes in the valley of decision: for the day of the Lord is near in the valley of decision.)
Israel Set To Celebrate its 57th Birthday
May 12….(FOJ) Although many leaders around the world, and in the US and Israel have praised Palestinian Authority president Mahmoud Abbas as a democratic reformer willing to make peace with Israel, (as they did Arafat) the PA yesterday announced it will mark the "catastrophe" of the Jewish state's founding with a siren and anti-Israel demonstrations. The head of the PA's Refugee Department announced it will mourn Israel's Independence Day, which falls on Sunday with protests and the sounding of a siren to mourn what Palestinians call the "Al Nakba," or the great catastrophe, that Arabs call the formation of Israel on May 15, 1948. "We will sound a siren for one minute in all our areas to express our grief on this painful occasion," PA official Zakariya al-Agha said. How is it that the world expects that the Palestinians might be satisfied with statehood on the West Bank when it wasn't satisfied with the same geographical arrangement in 1948, and in 1967? And how can anyone in their right mind believe that the Palestinian terrorist machines will settle for statehood in the West Bank when they view the birth of Israel as a great catastrophe?
EU, Russia Sign Landmark Accord
May 10….(CNN) Russia and the European Union have signed a landmark cooperation agreement ranging from economic ties mutual security, according to Russian news agencies. The accord was signed Tuesday at an EU-Russian summit in Moscow. Many of the details had been agreed to during pre-summit talks a day earlier. CNN Moscow Bureau Chief Jill Dougherty said the so-called "road map to the future" touches on four main areas, the economy, human rights, security, and education and culture. The accord is aimed at defusing years of tension that followed the EU's enlargement to include former members of the Soviet Union. "The process of forming a great Europe following the fall of the Berlin wall continues," Putin said at the opening of summit. "We want a Europe without dividing lines." Dougherty said one issue still to be resolved is that of visas. The two sides plan to continue on easing visa regulations with the goal of eventually allowing visa-free travel between Russia and the 25-member bloc. Russia is expected to take responsibility for the repatriation of illegal immigrants who have left Russia to seek entry into the EU, in accordance with EU practice. The two have shared a border in several places since the EU expanded last year to include a string of Baltic and East European nations, formerly part of the Soviet sphere of influence. Agreement came a day after world leaders gathered in Moscow to celebrate the 60th anniversary of the end of World War Two in a spectacular show of Red Square pageantry, reminiscent of the Soviet Union's heyday as a world superpower. The EU is Moscow's largest trading partner with over half of Russia's exports going to the bloc. Russia supplies the EU with around one fifth of its oil and gas needs. Russia also has a chance to join the World Trade organization in 2006 if democratic and economic reforms are implemented in Russia.
Lebanese Leader: No peace with Israel
Opposition's Jumblatt also doesn't favor disarming Hezbollah
May 10….(WND) With leaders in Israel celebrating Syria's reported withdrawal of troops from Lebanon last month, hoping for future relations with the neighboring country, Lebanese opposition leader Walid Jumblatt told WND in an exclusive interview yesterday there will be no peace with the Jewish state anytime soon.

"I'm not in favor of peace with Israel as long as the Palestinian problem is not settled and as long as the Israeli-occupied Golan Heights is not returned back to Syria," said Jumblatt, the Druze leader who commands a large following and was responsible for many of the mass anti-Damascus demonstrations in March that urged for the removal of Syrian forces from Lebanon. Syria withdrew the last of its troops April 26, ending nearly 30 years of direct military occupation and fueling hopes here that a new era of cooperation between Israel and Lebanon could begin. "This is an historic process," Maj. Gen. Yisrael Ziv, the Israel Defense Forces' outgoing chief of operations, said in response to the Syrian withdrawal, adding events could eventually lead to a regional peace. Israeli Deputy Prime Minister Shimon Peres said, "The whole world is crossing its fingers. After the Syrian occupation of Lebanon comes to an end, we hope to see the Hezbollah occupation end as well, and that we will see a free and democratic Lebanon living in peace and prosperity next to us." Jumblatt told WND in spite of UN resolutions demanding the dismantlement of all Lebanese militia groups, he will not immediately call for the disarming of Hezbollah, the Lebanese militia backed by Syria and Iran that Israel has blamed for recent terror attacks. "Maybe later we can incorporate Hezbollah's weapons inside the Lebanese army. For now, though, we are focused on the political process," said Jumblatt. "If you are to speak about disarming Hezbollah in the future, it must be through dialogue, not force." Hezbollah recently vowed it would not give up its weapons, and said it would continue "resistance" against Israel. "Hezbollah will not disarm," the party's political bureau spokesman, Ghaleb Abu Zeinab, said last month. "Hezbollah's arms are here to protect Lebanon from any Israeli attack and create a balance of terror in the face of Israel." Senior Lebanese political sources told WND Jumblatt recently pledged to Hezbollah leader Hassan Nesrallah full support for the continued arming of Hezbollah in exchange for the group's backing of Jumblatt's party in the upcoming Lebanese elections. Former Lebanese Prime Minister Michel Aoun, seen by many in Lebanon as a symbol of resistance against Syria, returned to Beirut Saturday and has been jockeying for Prime Minister. Aoun was exiled to France in 1991 after he led an unsuccessful military coup to force Syria out of Lebanon. Aoun blasted Jumblatt's call for the continued arming of Hezbollah. "Hezbollah needs to be disarmed. Period. We don't need any more resistance groups in Lebanon. Israelis are not occupying anymore. Syria removed its troops. It's time now to start building a country," Aoun told WND. Jumblatt's reluctance to formalize relations with Israel has disappointed some here. Reuven Erlich, director of Israel's Center for Special Studies, a think tank associated with Israeli intelligence, told WND: "If you look at recent history, Syria always succeeds in preventing any peace agreement or arrangement between Israel and Lebanon. Even now, with Syria still continuing its destructive influence in Lebanon, including the continued leadership of pro-Syrian politicians, no Lebanese leader dares to do anything unless Syria gives the green light." Druze Israeli Knesset member Ayoob Kara told WorldNetDaily: "Jumblatt's linking peace to first settling the Palestinian problem or dealing with the Golan is a nonstarter. Maybe he says all these things because he is still afraid of Syrian power. Also, people in Lebanon are concerned about the Palestinians, so it's just a popular thing to say. If Lebanon continues to move toward independence and if there is a true coalition between the different populations in Lebanon, there is no reason at all for Israel and Lebanon not to be at peace."
US Raids Area Near Syrian Border
May 9….(AP) American troops backed by helicopters and war planes launched a major offensive against insurgents in a remote desert area near the Syrian border, the US military said Monday, and a Marine commander told NBC News that at least 100 militants have been killed so far. The troops were conducting the offensive in an area north of the Euphrates River, in the al-Jazirah Desert, a known smuggling route and sanctuary for foreign insurgents, the military said. The targets were described as small bases and safe houses that foreign and Iraqi insurgents use to rest, receive training, weapons and religious instruction before fanning out across Iraq to carryout attacks. The high number of insurgent causalities stems from the fact that they "could not escape," the commander said. They could not blend into the local population in these remote areas. "They could not run and hide," he said, "so they were killed." A Chicago Tribune report, by a journalist embedded with the US forces, said the offensive "was seeking to uproot a persistent insurgency in an area that American intelligence indicated has become a haven for foreign fighters flowing in from Syria."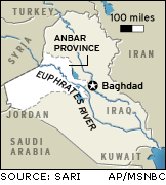 Some US forces were north of the Euphrates, but most were stuck south of the waterway as engineers tried to build a pontoon bridge there Sunday, the Tribune said. The report quoted some Marines as saying residents of one riverside town had turned off all their lights at night, apparently to warn neighboring towns of the approaching US troops. US and Iraqi forces appear to have stepped up raids on suspected insurgent hideouts in recent weeks, including some near the Syrian border, where US officials say foreign militants are entering the country to attack coalition forces. On Sunday, the US military said coalition forces killed six insurgents and detained 54 suspects in raids targeting the country's most feared terror group, al-Qaida in Iraq, in Qaim, a Syrian border town about 200 miles west of Baghdad.
World Leaders Come "Together" in Moscow
May 9….(FOJ) World leaders whose countries faced off on the battlefields of World War II paid tribute today to the millions of fallen soldiers and millions more of civilian dead. The Summit of world leaders joined Russian President Vladimir Putin on Red Square for a lavish military parade celebrating the 60th anniversary of the Allied victory over 1940's Nazi Germany. Fighter jets screamed high over the former Communist venue, streaming smoke in the white, blue and red colors of Russia's flag. Soldiers belted out patriotic wartime songs, and Putin emphasized the Soviet Union's sacrifice in a speech during a pageant that recalled the days of communist might. Standing beside US President Bush, French President Jacques Chirac and German Chancellor Gerhard Schroeder, Putin said his country would never forget the debt owed to the millions of Soviet citizens who died to defeat Nazism. He called the Allied triumph over the Nazis a "victory of good over evil." While Russians have often complained that the Soviet role is not fully appreciated in the West, Putin said that "we have never divided the victory between ours and theirs, and we will always remember the help of the allies." Putin thanked the Soviet Union's allies for their role and called for unity among the former Soviet republics, and for unity in the world. "I'm convinced that there's no alternative to our fraternity, our friendship with our close neighbors. And Russia is prepared to build such ties with the rest of the world, that are strengthened not only by lessons of the past, but also by aspirations to our common future," he said. Putin also drew a parallel between the war and the present-day threat of terrorism, saying today's generation is "obligated to remain true to the memory of our fathers, obligated to build a new world order based on security and justice, and not to allow a repeat of either cold or hot wars." (II Thessalonians 5:2-4 For yourselves know perfectly that the day of the Lord so cometh as a thief in the night. For when they shall say, Peace and safety; then sudden destruction cometh upon them, as travail upon a woman with child; and they shall not escape. But ye, brethren, are not in darkness, that that day should overtake you as a thief.)
| | |
| --- | --- |
| | How is it that US President Bush and Chinese President Jintao can walk arm in arm, even though China is pushing North Korea to become a nuclear threat to the US in the Far East? China is also assisting the Sudan Muslim killing machine by bankrolling the Sudan oil infrastructure. Do you suppose that Mr. Bush is aware that China and Russia are cooperating to geo-politically counter the US presence in EurAsia and the Middle East? Why are the world's leaders cozying up to each other on the anniversary of VE day? France, Germany, Russia, US, China, and many others have all come together for more than just a memory! |
US President George W. Bush, left, and Chinese President Hu Jintao, right, walk holding flowers as they arrive at a wreath laying ceremony at the Tomb of the Unknown Soldier at the Kremlin wall in Moscow, Monday, May 9, 2005 on the occasion of the celebrations of the 60th anniversary of the end of WW II in Europe.
| | |
| --- | --- |
| | Mr. Putin and Mr. Bush have always acted like the best of buddies. Does Mr. Bush condone the fact that Russia is helping to proliferate the spread of Nukes in the Middle East by arming Iran and Syria? Do all these world leaders think they can actually build a New World Order based upon a Global system of Peace and Security? Who will they trust for the implementation of this vision for a New Secular World Order of Peace?? |
Russian President Vladimir Putin talks with US President George W. Bush, right, during a parade at the Red Square in Moscow, Monday, May 9, 2005. World leaders whose countries fought each other in World War II paid tribute to the fallen soldiers and millions of civilian dead, joining Russian President Vladimir Putin on Red Square for a lavish military parade celebrating the 60th anniversary of the Allied victory over Nazi Germany. It is ironic to me that as President Bush and Mr. Putin sat side by side, that their respective countries are competing against each other in the Middle East for preeminence in the Peace Roadmap and geo-strategic position for domination of the Middle East oil venues. Putin has just re-armed Syria with new weaponry and perhaps even armed the terrorist insurgents as the US launches an offensive near the Syrian border. Russia has enabled Iran to be a nuke threat in the region, which is a huge counter block against the US role in support of Israel. And yet, all these leaders think peace and security can be achieved, somehow. It is easy to point out other nations geo-political intrigues, but when it comes to the light of Bible Prophecy, and in the nature of geo-political chess board moves, it must be remembered that the US itself is also practicing a deadly foreign policy gambit as well, by compromising the Promised Land, and playing illicit games in world of geo-strategic-power-economics.
Bush, Putin Commemorate WWII "VE" Day
(World Leaders attend V-E Day rally in Moscow after closed-door talks)
May 9….(My Way) Despite contentions over Moscow's commitment to democracy, President Bush thanked Russia's Vladimir Putin yesterday for help on Iran and the Middle East and said "there's a lot we can do together." Bush and Putin aso discussed Iraq, North Korea, Afghanistan and Iran, among other issues. Russia is building a nuclear reactor in the Iranian city of Bushehr and the United States fears this could held Teheran develop nuclear weapons. However, US officials accept for now Russian assurances that no enrichment or reprocessing will take place, and that any spent fuel rods will be returned to Russia. Secretary of State Condi Rice said the two leaders also discussed a recent speech by Putin in which he talked about internal reforms in Russia and said the demise of the Soviet Union was "the greatest geopolitical catastrophe of the century." Rice said the candid talk between Bush and Putin underscored that theirs is a relationship "where they can talk about any subject. Before his arrival in the Russian capital, Bush celebrated Nazi Germany's defeat and the end of World War II 60 years ago at an American cemetery in Margraten in the Netherlands, emphasizing the themes of democracy and freedom. "The world's tyrants learned a lesson: There is no power like the power of freedom and no soldier as strong as a soldier who fights for that freedom," Bush told a crowd of thousands, including many white-haired war veterans who wore plastic rain ponchos on a raw spring morning. "On this day we celebrate the victory they won," Bush said, "and we recommit ourselves to the great truth that they defended: that freedom is the birthright of all mankind." Relations between Bush and Putin have soured of late amid US unhappiness with Russian missile sales to Syria and crackdowns on business and Moscow's complaints of American meddling in its traditional sphere of influence. Even before Bush's arrival, Putin appeared increasingly irritated at Bush's criticism of Russia's treatment of its former republics and his push for democracy along Russia's borders. Bush said at an earlier stop in Latvia that Russia should acknowledge the Soviet Union's domination of Central and Eastern Europe and its harsh occupation of the Baltic country. "This is not an issue of lecturing Russia," Rice told reporters as Air Force One was en route. "It is that the United States and Russia have a deep and broad relationship. We'd like it to get deeper and broader. And the issue of common values and how Russia's democracy progresses is one of the issues on the agenda, an important issue on the agenda." She took issue with Putin's assertion regarding the collapse of the Soviet Union. "I'm not going to try to second guess President Putin on this," Rice said. "I do know it was traumatic for many people to see the Soviet Union collapse. Quite clearly the fall of the Soviet Union has led to some very good things including democracies throughout Eastern Europe and Central Europe and free Baltic states." The United States has expressed repeated concern that Putin is quashing dissent and consolidating power. Putin said in an American television interview that the United States should question its own democratic ways before looking for problems with Russia's. Putin also told CBS'"60 Minutes" that the United States shouldn't try to export its democracy, as it is trying to do in Iraq. The Russian leader said there are drawbacks to America's own brand of democracy. The Russian leader also has rebuffed calls from Bush and others for an apology for the Soviet occupation of Estonia, Latvia and Lithuania. In his remarks Saturday in Latvia, Bush said Putin should not fear the growth of democracy on Russia's borders and that "no good purpose is served by stirring up fears and exploiting old rivalries in this region." Moscow has not disguised its unhappiness that Bush's four-nation trip was planned to bracket his stop in Russia with visits to two former Soviet republics, Latvia and Georgia.
Second-guessing Franklin D. Roosevelt, President Bush said Saturday the United States played a role in Europe's painful division after World War II, a decision that helped cause "one of the greatest wrongs of history" when the Soviet Union imposed its harsh rule across Central and Eastern Europe. Bush said the lessons of the past will not be forgotten as the United States tries to spread freedom in the Middle East. "We will not repeat the mistakes of other generations, appeasing or excusing tyranny, and sacrificing freedom in the vain pursuit of stability," the president said. "We have learned our lesson; no one's liberty is expendable. In the long run, our security and true stability depend on the freedom of others." Bush singled out the 1945 Yalta agreement signed by Roosevelt in a speech opening a four-day trip focused on Monday's celebration in Moscow of the 60th anniversary of Nazi Germany's defeat as a contributing factor to the Cold War.
FOJ Note: May 8, 1945 marked the official end of World War II in the European theatre. It also marked the beginning of what became known as the Cold War, which in fact was WWIII, a war waged by the West and the Soviet Communists for world control. The two sides waged that war through puppets and proxies, and via ideology. That war was a precursor competition to the iron vs. clay world antagonism that the prophet Daniel conveyed in his prophecies. (Daniel 2:41-43 And whereas thou sawest the feet and toes, part of potters' clay, and part of iron, the kingdom shall be divided; but there shall be in it of the strength of the iron, forasmuch as thou sawest the iron mixed with miry clay. And as the toes of the feet were part of iron, and part of clay, so the kingdom shall be partly strong, and partly broken. And whereas thou sawest iron mixed with miry clay, they shall mingle themselves with the seed of men: but they shall not cleave one to another, even as iron is not mixed with clay.) The competition amongst the elite world powers is still ongoing as can be seen in the democracy vs. totalitarianism struggles, and their geo-strategic maneuverings, particularly in the Middle East.
WEEK OF MAY 1 THROUGH MAY 8
Syrian Intelligence Moves to Palestinian Camps in the Bekaa Valley
May 6….(Geostrategy-Direct) Syria's intelligence units have relocated to Palestinian refugee camps and military bases, which remain off limits to Lebanese authorities. Lebanese parliamentarians said Syrian intelligence units have moved agents and equipment into buildings in several Palestinian refugee camps and military bases. The parliamentarians said the bases were controlled by the Syrian-sponsored Popular Front for the Liberation of Palestine-General Command (PFLP-GC) in the Bekaa Valley. Western diplomatic sources have confirmed the parliamentarians' report. They said Syrian military officers began to transfer Syrian units from their headquarters in Beirut to Palestinian bases as soon as heavy pressure began for a withdrawal from Lebanon. The United Nations has sent a team to verify Syria's withdrawal. So far, the parliamentarians said, Syrian intelligence officers have established a presence in at least two Palestinian insurgency bases. They were identified as Haret Al Naameh and Qusaya, bases controlled by the PFLP-GC. The PFLP-GC was founded and has been led by Ahmed Jibril, a Syrian military officer.
Saudi Muslim Police Raid Another House Church
May 6….(by Barbara G. Baker/Compass) One week after arresting 40 Pakistani Christians, Saudi Arabia's vigilante religious Islamic police broke up another private worship service of expatriate Christians in Riyadh last Friday. Five elders of an East African house church were arrested after a group of muttawa (Islamic religious police) raided their gathering in Riyadh's central Al-Olaya district on April 29. Accompanied by high-ranking Muslim sheikhs, muttawa officers burst into a congregation of 60 Ethiopians and Eritreans who had gathered for group prayers at 4 p.m. on Friday. "Don't ever come again to meet in this place," the officials warned the men, women and children in attendance. According to local sources, the muttawa confiscated 40 of the worshippers' personal Bibles in the Amharic and Tigrinya languages. Five of the Christians have reportedly been transferred to prison facilities of the Ministry of Interior, where they are being held incommunicado. The group of East Africans had met for prayer and worship in Riyadh for the past four years, a local source confirmed. It was the second crackdown in Riyadh within a week, following the April 22 arrest of 40 Pakistani Christians participating in a joint Catholic-Protestant prayer service. The Saudi kingdom prohibits the public practice of any religion other than Islam within the country, although government officials insist that non-Muslims are allowed to practice their beliefs privately, within their own homes. In the summer and fall of 2001, several Ethiopians and Eritreans were among 14 foreign Christian nationals arrested and then detained for up to eight months in the Saudi port city of Jeddah for their involvement in private house-church gatherings. Before their deportation, three of the Ethiopians were given 80 lashes in front of 500 other prisoners for allegedly "preaching against Islam" among their detention center cellmates.
Sharon at Birkenau: Remember How World Stayed Silent as Jews Died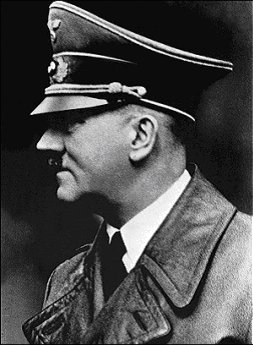 May 5….(Ha Aretz) Prime Minister Ariel Sharon marked Holocaust Remembrance Day in Poland on Thursday, where he was heading the March of the Living at the Auschwitz-Birkenau extermination camp. Sharon, accompanied by some 16,000 Jewish youths from around the world, participated in the central March of the Living ceremony at Birkenau Thursday afternoon. A total of some 18,000 people were participating in the event. Sharon called on people to remember that the world stood silent while six million Jews were murdered by the Nazis. Remember the victims and remember the murderers," he said at Birkenau ceremony. "Remember how millions of Jews were led to their deaths and the world remained silent. The world stood aside then in silence. Remember. You are free Jewish youth," he said. Sharon was to later return by vehicle to Auschwitz, where he was to affix a mezuzah at the Jewish pavilion and light a memorial candle in the crematorium. Upon arriving in Poland earlier in the day, Sharon said "with all the intention to move forward in the peace process, we should always remain vigilant and trust no one but ourselves. Jews can only rely on themselves." Holocaust Remembrance Day opened in Israel on Wednesday evening with a government ceremony at the Yad Vashem Holocaust museum in Jerusalem, attended by Sharon and President Moshe Katsav. Jews will never again be without a home, without a safe refuge, without protection," Sharon said at Wednesday's ceremony. "We will never again be caught unprepared. Never again."
FOJ Note: When will the Jews come to rely on Jesus Christ, their only hope for survival in this world? The world is preparing to send them another person of evil that is far worse than Hitler!
Sharon: Abbas Working to Strengthen Terrorists
May 5….(JNEWSWIRE) PLO chief Mahmoud Abbas's recent actions will serve to strengthen the ability of "Palestinian" terror groups to launch future attacks against Jewish men, women and children, Prime Minister Ariel Sharon told visiting US senators Monday. "Instead of working to disarm the terror organizations, he is working to strengthen them. He is not willing to fight them and is not willing to dismantle their infrastructure," Ha'aretz quoted Sharon as saying. Abbas has on numerous occasions made public his aversion to combating terrorists and forcibly disarming them, preferring instead to hold negotiations with the killers and offer them jobs as Palestinian Authority security officers. "His course is not the right one, and contrary to the Road Map," Sharon told senators Bill Frist and Joseph Lieberman. Sharon noted that Abbas is clearly interested in maintaining the current relative calm, which the PLO chief tells "Palestinians" will enable him to extract further Israeli concessions, "but is refraining completely from taking significant steps against the terror organizations." Phase one of the Road Map obligates the PA to "disarm and dismantle" the terrorist infrastructure operating out of territories under its control.

Mahmoud Abbas's Palestinian Authority has no intention of honoring its commitment to disarm terrorist organizations operating out of territories under its control, PA security chief Rashid Abu Shabak said Wednesday. "The Palestinian Authority won't touch the weapons of the resistance groups," he told reporters in Gaza City. While every peace agreement signed over the past decade obligates the PA to dismantle the terrorist infrastructure, the "Palestinians" regularly claim groups such as Hamas and Fatah's Al Aqsa Brigades are part of the "resistance" to the Jewish presence on biblical lands, and not terrorists. Nevertheless, the so-called "Oslo Accords" require the PA to put an end to such "resistance" in favor of diplomatic negotiations, and disarm any armed groups besides its own security forces, whether it sees them as terrorists or not. Abbas has sought to bypass that stipulation by putting wanted terrorist gunmen on the PA payroll. The PLO chief this week also banned any Palestinian Arabs who are not part of the security forces from publicly bearing arms, a move seen largely as a means to deflect increasing Western pressure. In a meeting with businessmen and academics at his office in Ramallah Tuesday, Abbas accused Israel of being thirsty for "Palestinian" blood by continuing to insist that the PA combat terror. "The Israelis want to see Palestinian blood being spilled, and this is completely unacceptable; we have red lines," The Jerusalem Post quoted him as saying. Despite his own non-compliance with signed agreements, Abbas maintains Israel must surrender fully to current Arab demands. "We won't accept anything less than a full Israeli withdrawal to the pre-1967 borders," he said.
A Pre-Emptive 1st Strike on Iran Is Gaining Momentum
(Report urges US, Israel to consider pre-emptive attack against Tehran)
May 4….(WND) With Tehran announcing it will shortly resume some nuclear activities in spite of ongoing negotiations with European countries, a private report that was issued to Prime Minister Ariel Sharon urging an American or Israeli pre-emptive strike against Iran has been gaining some steam here. "Iran is determined to pursue all legal areas of nuclear technology, including (uranium) enrichment, exclusively for peaceful purposes," Foreign Minister Kamal Kharrazi told a United Nations conference yesterday. He was the fourth Iranian official to make such remarks the past few days. An EU negotiation team represented by Germany, France and the UK, which has been seeking guarantees Iran will not use its nuclear program to develop weapons, said if Tehran follows through with the threat to enrich uranium it could refer the country to the UN Security Council for punitive action. Reports continue to stream in that Iran, with the assistance of Russia has been moving ahead with its nuclear program. Several reactors with advanced production capabilities have been built, and Russia has been contemplating providing Teheran with rods that are able to enrich uranium, a deal that was first reported last September. Russia also recently trained a group of senior Iranian nuclear scientists and has installed a mobile anti-missile system to protect Iran's Bushehr nuclear reactor, with similar systems allegedly in the works for other Iranian nuclear facilities, including a facility in central Iran. Top Iranian officials have repeatedly warned they would use nuclear missiles to threaten the Jewish state. Iran's Supreme Leader Ayatollah Khamenei has many times stated he would "vaporize the Zionist entity" if Iran obtained a nuclear bomb. In response to the growing Iranian threat, a panel of foreign policy and military experts delivered to Sharon last year a series of recommendations entitled "Project Daniel: Israel's Strategic Future," regarding Israeli pre-emptive action. The authors of the plan, first reported by Joseph Farah's G2 Bulletin, a premium online intelligence newsletter, told World Net Daily this week their report has been gaining traction in certain high-level military circles. "Decision-makers at the very highest levels of government in Jerusalem and Washington, as well as in NATO have been briefed on Project Daniel. Project Daniel recommends that with Tehran now developing the infrastructure that could allow the country to go nuclear, the United States or Israel should strike pre-emptively against Iran's nuclear installations if the diplomatic track fails. "The group suggests strongly and unequivocally that conventional Israeli pre-emption against selected enemy nuclear infrastructures now in development be executed as early as possible and, wherever possible, in collaboration with the United States. Where America may be unable or unwilling to act proactively against these infrastructures, it is essential that Israel be able and willing to act alone," says the report. Project Daniel urges Israel to strike Iran's nuclear facilities using covert operations, conventional weaponry and, if it can be reasonably assured of success, by targeting Iran's regime leadership. "Pre-emption may be overt or covert, and range from 'decapitation' to full-scale military operations," says the report. Co-author Yoash Tsiddon-Chatto, a former Knesset member and the former chief of planning for the Israeli Air Force, told WND military action should include "striking all known Iran nuclear facilities, including hidden facilities, underground tunnels, covert operations, such as the killing of scientists ... whatever is necessary." "Today, more than ever before, the state of Israel must include appropriate pre-emption options in its overall defense strategy. Vastly more vulnerable to catastrophic first-strike aggressions than the United States, Israel must deal now with existential harms in every available fashion." He said pre-emption should only be used before Iran acquires a nuclear weapon. "Attempts at pre-emption against an enemy that had already been allowed to go nuclear may be too risky and could invite an existential retaliation." Iran signed the Nuclear Nonproliferation Treaty and has obligated itself to random inspections supervised by the International Atomic Energy Agency. But the treaty allows Iran to produce nuclear material as long as it can plausibly claim the production is for "peaceful purposes." Experts warn that Iran can build the infrastructure needed to make nuclear weapons while telling inspectors they need the material for "energy and nuclear medicine research," and then kick out the inspectors, renounce the treaty and quickly assemble a nuclear arsenal, as did North Korea, which is now said to have ten nuclear warheads. If Iran obtains a nuclear device, the report recommends Israel should disclose selected elements its own nuclear program. "The essence of deterrence lies in the communication of capacity and will to those who would do Israel great harm," says the report. Israel currently maintains a policy of nuclear ambiguity, holding as secret the number, configuration and targeting capabilities of nuclear weapons it possesses. Should a nuclear Iran make a first-strike threat, the Project Daniel group urges Israel to immediately deter Tehran by threatening to use nuclear bombs to target Iranian population centers. "To meet its ultimate deterrence objectives, that is, to deter the most overwhelmingly destructive enemy first-strikes, Israel must seek and achieve a visible second-strike capability to target approximately 15 enemy cities. Ranges would be to cities in Libya and Iran, and recognizable nuclear bomb yields would be at a level sufficient to fully compromise the aggressor's viability as a functioning state," says the report. All enemy targets should be selected with the view that their destruction would promptly force the enemy to cease all nuclear/biological/chemical exchanges with Israel." Israel has been saying publicly it will not carry out a pre-emptive strike against Iran. Raanan Gissin, chief spokesperson for Sharon, told WND yesterday, "Israel will not be the pit bull of the world. The nuclearization of Iran is a threat to world security, not just Israel. We support a coalition of democratic, free countries, led by the US to bring Iran to the Security Council if it fails to comply with the international community." Sharon himself said last month: "Ultimately, I don't think there will be any alternative but to bring Iran to the UN Security Council and to take diplomatic and economic steps as pressure to stop this nuclear effort." At the same time, there has been a behind-the-scenes debate within the ranks of Israel's military and top diplomatic circles about the possibility of striking Iran. "Israel will not, I repeat, will not, allow Iran to go nuclear," said a top IDF official who talked on condition his name be withheld. "Right now, we are giving diplomacy a try, but if it becomes clear that Iran is going nuclear and will not be deterred, even by sanctions, we will not sit by and do nothing. The question though is whether we act, or America acts." The official said Israel would prefer that the US carry out any military action. "It's more acceptable diplomatically for America to act. We will take more heat. Also, the missions are difficult for us. It's further, we have problems of refueling in the air. American controlled aircraft carriers are much closer, and the US has a launching base from Iraq." Uzi Arad, the former head of Mossad's foreign intelligence, previously told WND if the U.S. or Israel attacks Iran, operations would not be limited to the targeting of Tehran's suspected nuclear sites. "From a hypothetical point of view, one shouldn't assume any attack would only target nuclear facilities. Other targets of significance to the Iranians could be attacked, including military bases, oil facilities and certain industrial facilities," said Arad. "The Iranians shouldn't make the assumption that just because they hide a few nuclear sites they are safe. There are enough targets to exact a very heavy price on Tehran, so much so that it should render their entire nuclear exercise a losing proposition," Arad said. But the senior IDF official warned that Israel should only act if it can be assured of a near 100 percent success rate. "If Iran is attacked, and the attack fails to get rid of the facilities, it will unite the Iranian street against us, and will make Iran even more determined to go nuclear. The results will be very bad."
Iran Vows to Pursue Nuke Plans, Slams US, Israel
May 4….(Ha Aretz) Iran vowed on Tuesday to press ahead with nuclear activities that could be used to make weapons and accused the United States and Israel of threatening international peace with their own atomic arsenals. "Iran is determined to pursue all legal areas of nuclear technology including (uranium) enrichment, exclusively for peaceful purposes," Foreign Minister Kamal Kharrazi told a conference to review the 1970 Nuclear Nonproliferation Treaty. In Washington, US Secretary of State Condoleezza Rice told reporters Iran could not have access to dangerous nuclear technology and reiterated that the issue may be referred to the UN Security Council, which could impose economic sanctions. "They can't have access to certain kinds of technology that can, that have, proliferation risk," Rice said. Iran attacked the United States, which accuses Tehran of using its nuclear program as a front for developing arms, for not scrapping its own arsenal as required by the NPT. "Unilateral nuclear disarmament measures should be pursued vigorously," Kharrazi said. It was also "abhorrent that the dangerous doctrine of the use of nuclear weapons against nonnuclear states and threats was officially proclaimed by the United States and NATO." Without naming it, nuclear power China's chief delegate, Zhang Yan, also criticized the United States for adding "destabilizing factors" to the global security situation. He said those included "sticking to the Cold War mentality, pursuing unilateralism, advocating pre-emptive strategy, listing other countries as targets of nuclear strike and lowering the threshold of using nuclear weapons, research and developing new types of nuclear weapons for specific purposes." Iran also had a few words to say about Iran's other enemy, Israel, whose assumed nuclear arsenal he said "has endangered regional and global peace and security." "Israel has continuously rejected the calls by the international community, to accede to the NPT," he said. Egypt's ambassador, Ahmed Fathalla, told the conference there could be no credible assessment of the pact's impact in the Middle East "without real progress toward the accession of Israel as a non-nuclear weapon state to the NPT." Israel, which neither admits nor denies having the bomb, is estimated to have about 200 warheads.
Nuclear Fears Raise Tensions at UN Conference
May 3….(NewsMax) Amid rising nuclear tensions, more than 180 nations convened yesterday to review the nonproliferation treaty, hearing calls from many sides for concessions by Iran and North Korea, America, Russia and others to move toward a world free of the nuclear threat. "Ultimately, the only way to guarantee that they will never be used is for our world to be free of such weapons," Secretary-General Kofi Annan said in opening the monthlong conference. The UN chief urged non-weapons states like Iran to renounce potential bomb technology, in return for international guarantees of nuclear fuel. But he also challenged Washington and Moscow to slash their nuclear arsenals. The US representative rejected such criticism and made clear the United States would seek, instead, to focus the conference on Iran and North Korea and their nuclear-fuel programs. Under the 35-year-old Nuclear Nonproliferation Treaty (NPT), states without nuclear arms pledge not to pursue them, in exchange for a commitment by five nuclear powers, the United States, Russia, Britain, France and China to move toward nuclear disarmament. Three other nuclear states, Israel, India and Pakistan, remain outside the treaty. The NPT is reviewed every five years at conferences whose consensus political commitments are not legally binding, like a treaty, but give valuable support to nonproliferation initiatives. In his keynote address, Annan said all nations must work toward "a world of reduced nuclear threat and, ultimately, a world free of nuclear weapons." The nuclear powers must find ways to rely less on nuclear deterrence. The Iran question hinges on the NPT's Article IV, which guarantees non-weapons states the right to peaceful nuclear technology, including uranium enrichment equipment to produce fuel for nuclear power plants. That same technology, with further enrichment, can produce material for nuclear bombs, and the United States alleges that's what Iran is planning. Mohamed ElBaradei, director-general of the International Atomic Energy Agency, called for a moratorium on new fuel-cycle facilities while international controls are negotiated. ElBaradei proposed putting nuclear fuel production under multilateral control by regional or international bodies. Speaking for the European Union, Luxembourg's foreign minister, Jean Asselborn, cited its endorsement of international guarantees of access to nuclear fuel, on one hand, and at the same time said the EU "expects further reductions in the Russian and US arsenals." Malaysia's foreign minister, representing the 116-nation Non-Aligned Movement, said a "lack of balance" in the US emphasis on nonproliferation over disarmament, "threatens to unravel the NPT regime." "The nuclear weapons states continue to believe in the relevance of nuclear weapons," said Syed Hamid Albar. "We must all call for an end to this nuclear madness. North Korea, which pulled out of the NPT in 2003, said in February it has already built nuclear weapons. The review conference is not expected to focus heavily on this first NPT defector, however, in order not to complicate efforts, via now-suspended six-party talks, to draw Pyongyang back into the treaty fold.
FOJ Note: It should be noted that the EU wants the US and Russia to abandon their nuclear capacity and Europe is likely the theatre wherein the Antichrist will emerge. Russia and China have long charged the US with assisting in the development of Israel's nuclear program, in order to maintain its strategic advantage in the Middle East. FOJ believes that Russia and China, using proxies have assisted in helping North Korea and Iran develop nuclear weapons programs in order to destablize the strategic balance advantage the West (US) has not only in the Middle East, but the Far East as well. The EU would like nothing better than to see the US fall from its strategic advantage in the world, so that it could assume absolute leadership in the West.
Annan Seeks World Nuclear Arms Restraint
May 2….(Worthy News) At a time of growing nuclear tensions in the world, UN Secretary-General Kofi Annan on Monday urged non-weapons states like Iran to step back from the nuclear temptation, and America and Russia to cut back more sharply on their arsenals. All must work toward "a world of reduced nuclear threat and, ultimately, a world free of nuclear weapons," the UN secretary-general said. Annan called on Washington and Moscow "to commit themselves, irreversibly to further cuts in their arsenals, so that warheads number in the hundreds, not the thousands. "Under the 2002 Moscow Treaty, the United States and Russia are to cut back to between 1,700 and 2,200 warheads by 2012. But the agreement has been criticized for not requiring destruction of excess warheads, and for not providing for open verification of ongoing reductions. "Unless all states recognize that disarmament, like nonproliferation, requires action from everyone, the goal of general and complete disarmament will remain a distant dream," Annan told the delegates. The 35-year-old nonproliferation treaty obliges 183 states to forswear nuclear arms in exchange for a pledge by five nuclear powers, the United States, Russia, Britain, France and China, to move toward nuclear disarmament. Three other nuclear-armed states, Israel, India and Pakistan remain outside the treaty. Treaty reviews take place every five years, and at the 2000 conference the consensus final document committed the five NPT nuclear states to take 13 "practical steps" toward disarmament. Many non-nuclear states now want the 2005 conference to address what they say is the Bush administration's failure, by rejecting the nuclear test-ban treaty, for example, to meet that commitment. For its part, the Bush administration says the conference should focus on what to do about Iran and North Korea, which was able to withdraw from the treaty, and purportedly build atomic weapons, without penalty.

Israel Angered by Plans to Further Arm PLO

May 2….(JNEWSWIRE) Israel has expressed firm opposition to US and Russian proposals to further arm the Palestinian Authority after PLO chief Mahmoud Abbas claimed he could not fulfill his obligation to restore peace and security without additional weapons. Visiting Russian President Vladimir Putin, last week promised his hosts in Ramallah future deliveries of military equipment and vehicles. "We will give the PA technical help by sending equipment and training people. We will give the PA helicopters and also communication equipment, "Putin said during a joint press conference with Abbas. Earlier last week, US envoy Lt.-Gen. William Ward informed Israel that the "Palestinians" his men are currently training needed more weapons in order to carry out their duties. The response from Jerusalem was that the PA would have plenty of weapons if it fulfilled its decade-old peace obligation to disarm the terrorists operating out of territories under its control. But far from disarming them, Abbas has made public his intention to incorporate wanted terrorist gunmen into the PA's official security forces. This, too, has met with fierce Israeli opposition, with Jerusalem insisting it is unacceptable that individuals involved in past acts of anti-Jewish terror would now be paid to maintain possession of their weapons. In 1993, the government of former Prime Minister Yitzhak Rabin agreed to arm the PLO's "security" forces under the condition that the guns provided would never be turned on Israeli Jews. Rabin told skeptical Israelis to "stop being afraid. There is no danger," the weapons we are giving the Palestinian Arabs "will never be used against us." They [the Palestinian Arabs] know very well that if they use these guns against us once, at that moment the Oslo Accord will be annulled and the IDF will return to all the places that have been given to them," he stated. Israel's defense establishment has documented innumerable cases where this Oslo tenet of peace was broken.

Ayatollah Says US Needs A Punch in Mouth

May 2….(WND) The spiritual leader of Iran, Ayatollah Ali Khamenei, is warning the US to stay out of his country's business, and, in particular, its nuclear program, which is set to resume this week. Speaking on a tour of southeast Iran, Khamenei called the US "arrogant," "rude" and said the US "deserved a punch in the mouth." He also said Iran's presidential elections in June would not make any difference to its nuclear policy. Khamenei said it was not up to the US to decide which countries needed nuclear technology. Iran announced yesterday it is likely to resume uranium enrichment-related activities next week, following a breakdown in negotiations between the Shiite regime and the European Union. Tehran's announcement after talks in London with European negotiators yielded no results. France, Britain and Germany, acting on behalf of the 25-nation European Union, were seeking guarantees from Iran that it will not use its nuclear program to make nuclear weapons. Washington agreed to support the EU effort but signaled that Iran, which Secretary of State Condoleezza Rice last month labeled an "outpost of tyranny," should quickly accept it or face harsh Security Council sanctions. The breakdown in talks between Iran and Europe puts Tehran's nuclear program back in the international spotlight and is likely to force Washington to react. There is increasing concern within the administration and Congress over Iran's missile program, which has been determined by a commission of US scientists to pose a serious threat to US security. A report first published in Joseph Farah's G2 Bulletin, a weekly, online, premium, intelligence newsletter affiliated with WND, revealed last week that Iran has been seriously considering an unconventional pre-emptive nuclear strike against the US. An Iranian military journal publicly floated the idea of launching an electromagnetic pulse attack as the key to defeating the US Congress was warned of Iran's plans last month by Peter Pry, a senior staffer with the Commission to Assess the Threat to the United States from Electromagnetic Pulse Attack in a hearing of Sen. John Kyl's subcommittee on terrorism, technology and homeland security. In an article titled, "Electronics to Determine Fate of Future Wars," the journal explains how an EMP attack on America's electronic infrastructure, caused by the detonation of a nuclear weapon high above the US would bring the country to its knees. "A nuclear missile concealed in the hold of a freighter (or shipping container) would give Iran or terrorists the capability to perform an EMP attack against the United States homeland without developing an ICBM and with some prospect of remaining anonymous," explained Pry. "Iran's Shahab-3 medium range missile mentioned earlier is a mobile missile and small enough to be transported in the hold of a freighter. We cannot rule out that Iran, the world's leading sponsor of international terrorism might provide terrorists with the means to executive an EMP attack against the United States."

Ex-CIA Chief Warns of EMP Nuke Threat

May 2….(WND) Former CIA chief James Woolsey affirms the work of a special commission investigating the threat of a nuclear-bomb generated electromagnetic pulse attack on the US by rogue states or terrorists and is urging the country to take steps necessary to protect against the potentially devastating consequences. In testimony before the House International Terrorism and Non-Proliferation Subcommittee, chaired by Ed Royce, R-Calif., Woolsey, director of the CIA from 1993 through 1995, referred to the nuclear EMP threat, characterized in intelligence circles, he said, as "a SCUD in a bucket." That is a simple ballistic missile from a stockpile somewhere in the world outfitted on something like a tramp steamer and fired from some distance offshore into an American city or to a high altitude, thereby creating an electromagnetic pulse effect, which could well be one of the most damaging ways of using a nuclear weapon," he said. Woolsey commended the Commission to Assess the Threat to the United States from EMP Attack for its years of work on the subject and for its dire report concluding that it is a means of attack that could lead to the defeat of the US by a much smaller enemy and utter devastation of the country. "That is a very serious threat," he told the committee. Woolsey, like the commission, specifically mentioned the new dimension a nuclear Iran would add to the risk of such an attack. "We do not have the luxury of assuming that Iran if it develops fissionable materials, for example, would not share it under some circumstances with al-Qaida operatives," he said. "And we don't have the luxury of believing that just because North Korea is a communist state, it would not work under some circumstances to sell its fissionable material to Hezbollah or al-Qaida."

FOJ Note

: North Korea test-fired a missile this weekend in the Sea of Japan, and has been boasting that it has missiles that can reach the borders of the US. North Korea and Iran have been sharing missile technology for decades, and both possess a vehement hatred for the US.



Share this page with your friends.