WEEK OF JULY 25 THROUGH JULY 31
China Stocking Nukes as Anti-US Tactic
July 29….(Bill Gertz) China is building up its nuclear forces as part of a secret strategy targeting the United States, according to a former Chinese diplomat. China's strategy calls for "proactive defense," and senior Chinese Communist Party leaders think that building nuclear arms is the key to countering U.S. power in Asia and other parts of the world, said Chen Yonglin, a diplomat who defected to Australia two months ago. A recent comment by a Chinese general shows that Beijing's leaders are prepared to launch "a pre-emptive attack on the country considered a huge threat to China," Mr. Chen said. Chinese Maj. Gen. Zhu Chenghu told reporters two weeks ago that China is prepared to use nuclear weapons against "hundreds" of US cities if a conflict breaks out over Taiwan. The former diplomat, who until recently was posted to the Chinese Consulate in Sydney, said the number of Chinese nuclear warheads is a closely guarded secret. Asked about a Pentagon report revealing that China has 20 nuclear warheads that can reach almost all of the United States, Mr. Chen said, "We don't know the exact number." "Everything about nuclear weapons is held in check by a very limited number of people," he said. "Even sometime vice ministers may not know because it is strictly controlled by the general staff and central party leaders." The Pentagon report to Congress made public last week stated that China is "qualitatively and quantitatively improving its strategic missile force." "It is fielding more survivable missiles capable of targeting India, Russia, virtually all of the United States and the Asia-Pacific theater as far south as Australia and New Zealand," the report said. China's nuclear weapons are developed and built in secret under the direction of a company Mr. Chen identified as the Nuclear Energy Company. The company builds both civilian nuclear-power stations and warheads for missiles and bombers. "It sounds like a nongovernment company, but it is totally top secret," he said.
Mr. Chen, who is visiting the United States and testified before a House committee last week, said that during internal discussions among Communist Party and government leaders and military commanders, military leaders often have urged going to war against Taiwan, a self-governing island, also known as the Republic of China, that broke with the mainland in 1949. I've heard a lot about the results of those meetings, and most of the military forces leaders advocate the use of force the earlier the better to solve the Taiwan issue," Mr. Chen said. He said China's long-term strategy toward the United States was outlined by the late communist leader Deng Xiaoping in the phrase "hide our capabilities; bide our time." "That means don't draw any attention of the Western world, and especially the United States, to what China is doing," Mr. Chen said. China's leaders fear the current US policy of engagement with China could shift to one of "containing" China, he said.
Vatican Fires Back at Israel
July 29….(Jerusalem Post) Referring to criticism about pope's neglecting to condemn Palestinian terrorism, the Holy See says it will not take 'lessons or instructions from any other authority on the tone and content of its own statements. The Vatican told Israel on Thursday that it would not take orders from anyone, as a diplomatic row boiled over into the biggest challenge yet to face to Benedict's 100-day-old papacy. In an unusually stern statement, the Vatican also rejected claims that Pope Benedict and his predecessor had failed to condemn Palestinian terrorist attacks on Israelis over the years. The Holy See cannot take lessons or instructions from any other authority on the tone and content of its own statements," the Vatican said. Earlier this week, Israel demanded the Vatican explain why Pope Benedict failed to mention a deadly Palestinian attack in a speech voicing sympathy for other nations struck by Islamist suicide bombers. Addressing the faithful last Sunday, Pope Benedict deplored the "Death, destruction and suffering in countries including Egypt, Turkey, Iraq and Britain," And asked God to "stay the hands of assassins ... Driven by fanaticism and hate." The Israeli Foreign Ministry said it summoned the Vatican ambassador to ask why the sermon had not mentioned a July 12 suicide bombing by the Islamic Jihad that killed five Israelis. "The Pope's omission of this incident cries out to the heavens," the ministry statement said. But today, the Vatican said that the Pope didn't infer anything about the terrorist attacks perpetrated against Israel because Israel is guilty of occupying land that is not theirs and of oppressing the Palestinians. An Israeli Foreign Ministry official responded, telling the Jerusalem Post that the Vatican's lack of condemning terrorism in Israel had been Vatican policy for years.
Muslim Nations Throttle UN Terror Resolution
July 28….(WND) Islamic United Nations representatives blocked an attempt to have the world body condemn killing in the name of religion. The International Humanist and Ethical Union said it submitted the request to the UN Human Rights Commission in Geneva in response to moves by Islamic clerics to legitimize the current wave of terror attacks. IHEU representative David Littman tried to deliver a prepared text in the names of three international NGOs, the Association for World Education, the Association of World Citizens and the IHEU, but was blocked by the "heavy-handed intervention" of Islamic representatives of the panel. Littman said that after repeated interruptions, he was unable to complete his speech. The Muslims members said they saw the text as an attack on Islam. The IHEU argued Littman's speech was a report on recent critical comment on Islamist extremism by a number of notable Muslim writers. The intent was for the UN Human Rights Commission "to condemn calls to kill, to use terrorism or to use violence in the name of God or any religion." The text referred to recent decisions by high-ranking Muslim clerics to confirm that those who carry out suicide bombings remain Muslims and cannot be treated as apostates. A Saudi cleric, for example, issued a fatwa saying that innocent Britons were a legitimate target for terrorist action. Also, Yusuf al-Qaradawi, dean of the College of Sharia and Islamic Studies at Qatar University, who has visited Britain, said terror attacks are permissible. Roy Brown, president of IHEU, said the censorship is "part and parcel of the refusal by the Islamic representatives at the UN to condemn the suicide bombers, or to accept any criticism of those who kill innocent people in the name of God."
'Today Gaza, Tomorrow Jerusalem' – Qureia
July 28….(JNEWSWIRE) Palestinian Authority Prime Minister Ahmed Qureia Wednesday said Israel's planned withdrawal from the Gaza Strip would eventually lead to its surrender of the Jews' ancient capital – Jerusalem. "We are telling the entire world, today Gaza and tomorrow Jerusalem. Today Gaza and tomorrow and independent Palestinian state with Jerusalem as its capital," Qureia said while reviewing PA security forces in Gaza. He insisted the Palestinian Arabs would never agree to end their hostility towards the Jews until the holy city was relinquished to their control. "Without Jerusalem there will be no peace," said Qureia a day earlier, amid reports Israel planned to build a new Jewish housing structure in the so-called "Muslim Quarter" of Jerusalem's Old City. Israeli leaders from both the right and left of the political spectrum have for decades stated Israel would never agree to re-divide its "eternal capital." Pointing to the looming Gaza-Samaria withdrawal, however, members of Israel's ruling Likud Party are now warning that Prime Minister Ariel Sharon could be the one to attempt such a move in a misguided push for peace. Last month, Sharon's deputy, Ehud Olmert, put forward the idea that the predominantly Arab neighborhoods of eastern Jerusalem could be surrendered to PA control.
Will America's Drug Culture Cause its Own Destruction?
July 27….(FOJ) For decades the drug culture in America has served as a malady on the American society. Hollywood movie stars and Rock musicians have glamorized its usage, and made it seem cool to indulge in drugs. The government's war-on-drugs has been about as successful as a Texas cowboy trying to lasso a Texas twister. And when one observes the futile war on drugs that the US has waged for 25 years, one must wonder how in the world the government can wage a successful war on terror. Recently World Net Daily ran an article on the prospect of Al Qaeda operating a drug-terrorist-cartel out of Afghanistan. The White House expressed concerns about the reports of Osama bin Laden's control of Afghanistan's poppy fields to finance his nuclear terrorism, said White House spokesman Scott McClellan in response to a question by WND. "That is a concern, and it's something that we continue to urge the government of Afghanistan to move forward on." Joseph Farah, who operates WND and the G2 Bulletin service has reported that bin Laden has spent billions of dollars on the successful purchase and development of nuclear weapons, money his al-Qaida terrorist network earned by directing poppy cultivation in the fields of Afghanistan, right under the noses of US and Afghani forces. Scott McClellan noted that President Bush discussed the issue with Afghan President Karzai in a recent White House visit. The two leaders "talked about the steps they're taking to crack down on the trafficking in illegal drugs, and to crack down on the drug trafficking networks inside Afghanistan," McClellan said. But the vast drug fortune already has aided al-Qaida in smuggling nuclear weapons, along with thousands of sleeper agents, over the Mexican border with the help of the MS-13 criminal street gang, according to Farah's G2 Bulletin sources and journalist Paul L. Williams, who documents the stunning revelation in his upcoming book, "The Al Qaeda Connection: International Terrorism, Organized Crime and the Coming Apocalypse. Williams quotes sources estimating that the revenues from the Afghan poppy harvest garners somewhere between $5 billion and $16 billion annually. How ironic is it that America's drug addiction, that is propagated by the debased Cultural warlords of music, movie, and pornography may in fact be serving to finance the terrorist networks that are planning to destroy America.
Abbas Pre-Blames Israel for Coming Global Terror
July 27….(JNEWSWIRE) PLO chief Mahmoud Abbas Wednesday attempted to preemptively blame Israel for all future Islamic terror attacks on the international community in an interview with the United Arab Emirates-based newspaper al Khaleej. If Prime Minister Ariel Sharon does not follow up his planned "disengagement" from Gaza and northern Samaria by capitulating to all Arab demands, he alone "would be held responsible for disturbances that would ensue in the region and all around the world," Abbas insisted. Earlier this month, the G8 Summit in Gleneagles, Scotland released a statement suggesting Israel's failure to conclude a final peace agreement with the PLO was a root cause of the recent Islamic terrorist assault on London. Abbas said his regime was opposed to prematurely declaring a Palestinian Arab state in Gaza following the Israeli pullout, and was holding fast to its demand that Gaza and the "West Bank" be forged into "one geographical unit." US Secretary of State Condoleezza Rice supported the idea of a land bridge between Gaza and Judea during her meeting with Abbas at the weekend. Physically connecting Gaza and PA-controlled Judea would effectively cut Israel in half, an objective the Arab world sought but failed to achieve in three full-scale wars against the Jewish state. Many Israelis fear the open Gaza borders Washington is insisting on and the free flow of "Palestinian" traffic through sovereign Israel will bring an unprecedented level of terrorism.
FOJ Note: Is it just me, or does Mr. Abbas's statement not only sound like a threat, but is a threat of terrorism that he personally already has knowledge of the actual planning? I think Mr. Abbas is privy to information and details of coordinated terrorist planning on a world-wide scale, and the basis of his threats is to provide a voice in Palestine signaling that the terror will continue as long as Israel exists.
Iraqi Minister Blasts Syria on Terror
July 26….(CNN) Iraq's defense minister criticized Syria today for ignoring Iraqi demands "to stop the infiltration of terrorists." The official, Saadoun al-Dulaimi, singled out Iraq's western neighbor as among states that are slack on stopping the flow of militants into his country. "When the lava of the exploding volcano of Iraq overflows, it will first hit Damascus," al-Dulaimi warned during a news conference to discuss an upcoming nationwide security plan. He said militants are coming into Iraq from Syria via three routes, with the intent of targeting the Baghdad region. The first one is in the far north, passing through Tal Afar, south into Baiji and Kirkuk and then into Baghdad.The second route is along the Euphrates River, from the border town of Qaim into Falluja, west of the capital. From there, fighters proceed to other places, such as Abu Ghraib on Baghdad's western outskirts and the "Triangle of Death" towns south of the capital, Yusifiya, Latifiya and Mahmoudiya. The third course is near Iraq's border with Syria and Jordan. Al-Dulaimi said most car bombers use this route, a desert stretch easy to penetrate.
Shin Beit: Al Qaeda's Creeping Approach to Israel from Sinai
July 26….(Debka) Ahmed Fuleyfel, a Palestinian from the Northeast Sinai town of El Arish, (Sinai-near Gaza Strip) has been named as the suicide bomber who drove the bomb-rigged truck into the Ghazaleh Gardens Hotel of Sharm el-Sheikh, causing the deaths of 83 tourists at the Red Sea resort. DEBKAfile's counter-terror sources report that Fulayfel's brother, Suleiman was the suicide bomber in the Taba attacks. It is also known that the Fulayel brothers received 9 Pakistani adherents from Al Qaeda to join forces with the Sinai terrorist cell. This collaboration brings out the close-knit collaboration that has developed between al Qaeda's Middle East command and the northern Sinai locals. The Pakistanis traveled on Jordanian passports, all of which were found to be high-class forgeries. Egypt and Israeli are fully aware that Palestinians linked to al Qaeda also operate the massive arms smuggling traffic from Sinai into Israel and the Gaza Strip. Yet until now they have preferred to treat the lawless volatility on their border as a purely Israel-Palestinian issue and set aside its potential as an al Qaeda door into the Gaza Strip. But Tuesday, July 26, Shin Beit chief Yuval Diskin, addressing the Knesset Foreign Affairs and Security Committee, voiced deep concern that Al Qaeda was creeping ever closer to Israel from Sinai. The security chief was putting the lawmakers on notice that after Israel's pull-out next month, Al Qaeda will have terrorist teams operating in the Gaza Strip along side the Hamas and Islamic Jihad. Indeed, this open gate will offer the international Islamist terrorists their best opportunity ever to launch terror attacks inside Israel. The latest Islamist group to claim responsibility for the Sharm el-Sheikh bomb attacks, the Tawhid and Jihad Group in Egypt, said it was waging a war to expel "Zionist and crusaders from Muslim Lands." Its name is similar to the one formerly used by Abu Musab al-Zarqawi in Iraq. The goal it sets out the same as the Palestinian Hamas and Jihad Islami's goals. Both are dedicated to achieving the Jewish state's extinction by means of terror and violence.
Abbas and the Gaza Disengagment
July 26….(Arutz) A rocket fired from the Gaza Strip hit a house in the village of Nativ Haasara, killing an Israeli woman in her 20s this weekend. "A Palestinian militant group, the Al-Aqsa Martyrs' Brigades, said the rocket attack was retaliation for the killing of a fugitive militant hours earlier in a West Bank raid by Israeli forces." To understand the above, it is necessary to translate the word "militant", which the Western press invariably uses for terrorists who kill innocent Jewish civilians. Thus translated, we learn that when the IDF kills an Al-Aqsa Martyrs terrorist, the Al-Aqsa terror group says it "retaliates" by killing another innocent civilian. But retaliation is what the IDF does in response to acts of terrorism. Second, it is important to point out that the Al-Aqsa Martyrs' Brigade is part of Al-Fatah, which controls the PLO and the Palestinian Authority (PA). At the top of Al-Fatah, the PLO and the PA sits Mahmoud Abbas, and he presides over a perfectly authoritarian structure with terrorist underpinings. What this means is that the above-mentioned attack by Al-Aqsa Martyrs, which is to say, by Fatah, requires authorization from Mahmoud Abbas. So, why does the West and Israel's government continue to express confidence in Abbas? Abbas is about to receive Gaza, cleansed of its Jews courtesy of the Israeli government, and yet he is the leader of the same organization that is killing Israeli civilians as the date of the Disengagement approaches. Moreover, the above is hardly an isolated incident. This is from July 15th: "Terrorists, including those from the PA's Fatah party military arm, the Al-Aqsa Martyrs' Brigade, recently have attacked Jewish communities in the western Negev and Gaza with almost 100 shells and rockets every week." It is easy to demonstrate, therefore, that the PLO under Mahmoud Abbas is no more inclined to make peace than it was under Yasser Arafat. In fact, Sharm El-Sheikh cease-fire was broken by a terrorist attack ordered by Mahmoud Abbas.
None of this should be surprising, really. After all, shortly before the election of Mahmoud Abbas, the most committed Fatah terrorists (including those of Al-Aqsa Martyrs' Brigades) pledged themselves publicly to go on killing Jews, and it was precisely these people who advocated most passionately that Mahmoud Abbas inherit Arafat's job. What does all this show? It shows that the representation of Mahmoud Abbas as the 'partner for peace,' in supposed contrast to the Hamas and other groups supposedly not affiliated with the PLO - is a total sham.
Israeli's Oppose Dividing the Land
July 26….(FOJ) Many Israeli's are voicing their opposition to the Roadmap's formula for Israeli disengagement from the Gaza Strip. The formula, as being implemented by the Sharon government of Israel as a first step of goodwill, is seen by Israeli's as a critical step that will eventually "divide" the land of Israel in half. Indeed the second phase of the Roadmap calls for Israel to broker a passageway from the Gaza Strip to the West Bank territory to help enable the projected Palestinian State to have contiguous borders. The Roadmap in essence will divide the state of Israel into northern and southern segments, leaving Israel without contiguous borders. The dividing of the land of Israel is a peace process that will eventually be accomplished by the Antichrist. (Daniel 11:39 Thus shall he do in the most strong holds with a strange god, whom he shall acknowledge and increase with glory: and he shall cause them to rule over many, and shall divide the land for gain.) Who would stand to gain by dividing the land of Israel? Certainly not Israel, for the Palestinians and their Arab cohorts will never settle for just a division. The only one that can gain from dividing the land of Israel is the Antichrist himself, for He will use the conflict settlement to exalt himself.
Pope's Terror 'Snub' Angers Israel
July 26….(AFP) Israel has summoned the Vatican's ambassador to explain why the Pope left the country off a list of those recently hit by terrorism. Pope Benedict XVI on Sunday deplored attacks in "countries including Egypt, Turkey, Iraq and Britain." Israel pointed out that he had failed to mention terrorism against Israel. The Israeli foreign ministry said it would be interpreted as "granting legitimacy to terrorist attacks against Jews". "We expected that the new Pope, who on taking office emphasized the importance he places on relations between the Church and the Jewish people, would behave differently," the ministry said in a statement. The Vatican embassy declined to comment. Pope Benedict has accepted an invitation to visit Israel but has yet to comment on the Israeli-Palestinian conflict in public since taking office in April.
Peres: No chance of Clinching Peace Without Dividing Jerusalem
July 25….(Ha Aretz) Vice Premier Shimon Peres (and leader of the Peres Peace Center) said yesterday that there was no chance of Israel ever reaching a "conclusive agreement" with the Palestinians unless Israel partitioned Jerusalem and ceded the West Bank city of Hebron. Peres, the Labor Party chairman said he believes "there is no chance of reaching a peace agreement with the Palestinian Authority without dividing Jerusalem." Labor has been Prime Minister Ariel Sharon's key political ally in his bid to implement the current Gaza disengagement plan. During the Labor premiership of Ehud Barak in the late 1990s, it was reported that Barak had put out feelers to the Palestinians over possible ways to divide Jerusalem, the eastern half of which Palestinians envisage as the capital of a future independent Palestine.
US Sees Possible Hamas Takeover in Gaza
July 25….(JNewswire) As the Hamas terrorist organization continues to gain strength in Gaza, US Secretary of State Condoleezza Rice over the weekend spelled out her expectations of Israel, which she apparently hopes will shore up the purportedly shaky Palestinian Authority in the Strip. According to reports in the mainstream Israeli press, Rice, who visited with Israeli leaders and Arab officials, said the US wants the Jewish state to support Mahmoud Abbas "against" Hamas, and to supply Abbas's forces with ammunition. To bolster the PA chief in the eyes of his people, Rice said she was looking for Prime Minister Ariel Sharon to agree that the Gaza Strip would be physically connected to Judea and Samaria, and that the Palestinian Arabs would enjoy freedom of movement between these territories, and into Jordan, after implementation of the "disengagement" plan. The international consensus is that once the Arabs have the beginnings of a contiguous area under their control, a State of Palestine will be recognized by the world and thus come irreversibly into being. As the US continues the enormous diplomatic effort to jumpstart its stalled land-for-peace process, Secretary Rice is also "very worried" that Abbas would collapse and Hamas would take over in Gaza, thereby sabotaging the plan. "Therefore, Rice said, a way must be found to strengthen Abbas by shoring up the Palestinian forces." The American's solution appears to disregard these facts: The PA and Hamas (and other terrorist forces) have had a working relationship throughout the Oslo process and since the so-called second "Al Aqsa Intifada" was launched in September 2000. Rifles and ammunition supplied to the Arab side by Israel under the Oslo Accords have been used by PA "policemen" to kill Israeli Jews in acts of terror. The creation of a land corridor between Gaza and Judea (the southern part of the "West Bank") would divide the country of Israel in half. Freedom of movement for the Arabs would facilitate the flow of explosives and arms such as Kassam and other missiles between Gaza and the to-be-relinquished parts of Samaria, which is the high ground overlooking the dense Israeli population and industrial centers of the coastal plain. Rice's requirements also set a precedent for demands an ascendant Hamas will likely make on Israel after the Jews are pulled out. Nonetheless, the signs are that Sharon is prepared to begin fulfilling these expectations. Before Rice left Sunday, Defense Minister Shaul Mofaz informed her that Israel would resume coordination talks with the PA at all levels in the coming days, and that he, personally, would meet with the senior PA security official in Gaza, Mohammed Dahlan. This latter meeting would take place even though Dahlan is believed, by Israel, to be personally responsible for ordering a number of terrorist attacks, including the bombing of a school bus in Gaza that maimed three children in one family, and killed two of their teachers.
PA Reaction Portends dark Future for Gaza
July 25….(JNEWSWIRE) In an indication of what lies ahead for Israel after "disengagement," America's publicly voiced support for PLO chief Mahmoud Abbas's "security efforts" was followed at the weekend by a callous "Palestinian" response to the terrorist killing of an Israeli couple. An Israeli couple, Dov and Rachel Kol, Jerusalem residents, were killed and seven were wounded, one seriously, by Palestinians terrorist shooters west of the Kissufim crossing. The Kols, aged 58 and 53 respectively, were driving home after spending the Sabbath in the Gaza settlement of Ganei Tal when Palestinian terrorists ambushed and fired at their vehicle, killing them and later injuring seven more Israelis who had rushed to try and help them. They left behind three children and a first grand-daughter born just last month. They are to be buried this afternoon. While Abbas issued an unsympathetic "condemnation" of the attack citing its poor timing, Palestinian Authority-controlled media Sunday hailed the killers as "heroic martyrs." Earlier Saturday, US Secretary of State Condoleezza Rice had praised Abbas for his "ongoing efforts to enforce the rule of law, and the Palestinian leadership's commitment to ensuring security and tracking down those who perpetrate violent attacks." That kind of American approval despite the PA's ongoing non-compliance with decade-old commitments to root out terror and effectively condemn the violent murder of Israeli Jews will only make such aggression more commonplace, warned analysts.
Iraqi Citizenship: Anyone but Israelis
July 25….(FOJ) What is America helping to give birth to in Iraq? Surely President Bush's vision of a democracy in Iraq didn't take into account that he was helping to build yet another anti-Israel State. I guess democracy can be cool anywhere, unless you are a Jew outside of Israel. Nevertheless, the draft of Iraq's new constitution specifically excludes Israelis from obtaining citizenship. The Iraqi drafted Constitution specifically says: "Any individual with another nationality (except for Israel) may obtain Iraqi nationality after a period of residency inside the borders of Iraq of not less than ten years for an Arab or twenty years for any other nationality, as long as he has good character and behavior, and has no criminal judgment against him from the Iraqi authorities during the time of his residency on the territory of the Iraqi republic. The draft bill of rights also says an Iraqi can have more than one citizenship "if the nationality is not Israeli."
The Terror of the Lord
July 25….(FOJ) Terrorism is in the news a lot these days. Terror is defined as a state of intense fear or dread. The terrorists that are perpetrating the horrendous attacks around the world today are doing so to inflict a state of terror inside the hearts and minds of the people of the countries in which they commit atrocities. The terrorists hope that by inflicting terror in people's hearts that the foreign policies of nations can be overturned. But there is also another kind of terror that is more dangerous than the demonical acts of human terrorists. The apostle Paul referred to the Second Coming of Christ as being the "terror of the Lord," and that is exactly what it will be for those who have not professed Christ as Savior and Lord when He comes someday. (II Corinthians 5:10-11 For we must all appear before the judgment seat of Christ; that every one may receive the things done in his body, according to that he hath done, whether it be good or bad. Knowing therefore the terror of the Lord, we persuade men;) Therefore, it is incumbent upon all Christians to share the Gospel of Christ to the purpose of persuading men to accept his salvation before the dreadful Day of the Lord. Ironically, the one thing most nations do not want to hear today is the Gospel of Christ. The Islamic nations do not permit the teaching of Christianity in their lands, and thus the absence of the Gospel in their lands has served to give incubation to the rise of suicidal terrorism in the name of a false god. But, the Gospel is also being clamped out in many other lands as well. This is just one reason that God will soon gather all nations together, around Israel, for the Judgment of the nations. One of the signs of the Last Days is a rise in geo-political turmoil among nations with perplexity, and fearful hearts among men for fear of looking after those things that are coming upon the world. (Luke 21:9 But when ye shall hear of wars and commotions, be not terrified: for these things must first come to pass; but the end is not by and by. (25-26) And there shall be signs in the sun, and in the moon, and in the stars; and upon the earth distress of nations, with perplexity; the sea and the waves roaring; Men's hearts failing them for fear, and for looking after those things which are coming on the earth: for the powers of heaven shall be shaken.) But as the world awaits the soon coming of the Lord and his judgment of the nations, it is wise for Christians to realize that judgment begins at the House of the Lord, and with His own people. This fact should give cause to alarms throughout America and its Churches, for we, unlike many other nations are a nation that has forgotten God. Christians have long taken a back seat in the great cultural war that has raged within America for decades, leaving our land nearly devoid of the knowledge of God and his law. I cringe when I read the words of Paul to the Galatia church, "God is not mocked, for whatsoever a man soweth, that shall he also reap." God is allowing the modern phenomenon of assymetrical terrorism in conjunction with the WMD threat to bring judgment to All nations, including the USA. God is sending out His Last Call for national repentance, but the continued rejection of his counsel by our land will result in our great fall. (Proverbs 1:24-33 Because I have called, and ye refused; I have stretched out my hand, and no man regarded; But ye have set at nought all my counsel, and would none of my reproof: I also will laugh at your calamity; I will mock when your fear cometh; When your fear cometh as desolation, and your destruction cometh as a whirlwind; when distress and anguish cometh upon you. Then shall they call upon me, but I will not answer; they shall seek me early, but they shall not find me: For that they hated knowledge, and did not choose the fear of the Lord: They would none of my counsel: they despised all my reproof. Therefore shall they eat of the fruit of their own way, and be filled with their own devices. For the turning away of the simple shall slay them, and the prosperity of fools shall destroy them. But whoso hearkeneth unto me shall dwell safely, and shall be quiet from fear of evil.)
America, and the Church worldwide must rest in the assurances of the Psalmist, and in the promises of God to deliver his own from the snares of the enemy. (Psalms 46:1-11 God is our refuge and strength, a very present help in trouble. Therefore will not we fear, though the earth be removed, and though the mountains be carried into the midst of the sea; Though the waters thereof roar and be troubled, though the mountains shake with the swelling thereof. Selah. There is a river, the streams whereof shall make glad the city of God, the holy place of the tabernacles of the most High. God is in the midst of her; she shall not be moved: God shall help her, and that right early. The heathen raged, the kingdoms were moved: he uttered his voice, the earth melted. The Lord of hosts is with us; the God of Jacob is our refuge. Selah. Come, behold the works of the Lord, what desolations he hath made in the earth. He maketh wars to cease unto the end of the earth; he breaketh the bow, and cutteth the spear in sunder; he burneth the chariot in the fire. Be still, and know that I am God: I will be exalted among the heathen, I will be exalted in the earth. The Lord of hosts is with us; the God of Jacob is our refuge. Selah.)
When Jesus Christ comes and makes this world his footstool, Israel will become the head of the nations. I hope and pray that as terrorists invade our land that America will remember who their help in times of trouble truly is.
WEEK OF JULY 17 THROUGH JULY 24
Oh, Those Heavy Handed Israeli's
July 22….(FOJ) Palestinian terrorists opened fire today on some Israeli citizens in the ancient Biblical city of Hebron. The IDF from a nearby army post responded to the fire and in the ensuing gun battles, killed one terrorist, and wounded another. The pictures here show a critically wounded Palestinian named Ihshan Abu Hamdeia receiving first aid from Israeli soldiers after the shootout. It is quite a contrasting picture from the way the world's press constantly depicts Israel as an overreacting big bully. One can imagine what would have happened to an IDF soldier taken alive by the Palestinian authorities. He certainly would not have been given medical treatment, and most likely would have been hung on the nearest pylon.
The One Essential Weapon Needed for Victory
July 22….(except from Bill Just commentary for WorldNetDaily) No one can doubt the fierce commitment of radical Islamists who are willing to kill themselves in waging this war of terror on America. But as the war heats up, both in the Middle East and here at home where terror attacks are expected, the world will be watching to see if average American citizens can demonstrate a similar will to fight. Experts know the odds are against us. Ironically, despite our "superpower" status, military authorities worldwide consider us an underdog in this battle of wills, something made clear by former military history professor Lt. Col. Anthony Kern (USAF, Ret.) in his famous "Open Letter to Americans," written right after the Sept. 11 attack and later quoted by the Defense Department. In it, Kern warns Americans that the post 9-11 "flag waving and patriotism" could end fairly quickly in the face of continued terrorism. "It is generally acknowledged that America lacks the stomach for a long fight," says Kern. "We need only look as far back as Vietnam, when North Vietnamese Gen. Vo Nguyen Giap (also a military history teacher) defeated the United States of America without ever winning a major tactical battle. American soldiers who marched to war cheered on by flag waving Americans in 1965 were reviled and spat upon less than three years later when they returned." The "soft underbelly" of the United States is public opinion, and it is stoked by media opinion, which in turn is led by a liberal agenda. So we must ask ourselves: When the terror really begins (and make no mistake, it's coming), will we have the necessary determination to achieve victory, no matter what the sacrifice? No one really knows the answer, because no one really knows just how ugly the battle will get. We can only guess. Whatever the nature of the coming terrorist attacks that most experts consider inevitable, the resulting political/media dissemination of the war is also a pivotal factor. Our enemies know this, and we must come to realize it. It not only factors into their plan, it is their plan. Thus, everything they do will focus on the goal of dividing to conquer. They cannot win any other way. They can't beat our military, so they must beat our people. Thus the American character is being tested as the world waits and watches to see the results. Those jealous of our power are eager to watch us fall. And we might fall if our people don't stand firm. Ironically, that is also our most powerful weapon, the one truly capable of being decisive. A steely, unified America is the one thing our enemies fear. It is not enough to have brave leaders and a brave military. The people themselves must be brave. This war on terror will not be won without "true grit" on the part of the American public, and a passionate desire to win. Otherwise, the inevitable "party wars" and media hysteria will freeze the public's will to act against our enemies. Although the Vietnam War showed our enemies how to defeat us, we can now show them that we learn from history. Effective homeland security must focus both on convincing our enemies that they can never win, and convincing the American people not to give up no matter what we suffer. Our military personnel, who put their lives continually on the line, have a right to expect no less a commitment from us. America needs to avoid divisiveness and retain its resolve to defeat terrorism if it to win this war.
The Security of Israel
July 21….(FOJ) The creation of the State of Israel in 1948 was preceded by more than 50 years of efforts by Zionist leaders (such as Thomas Herezel) to establish a sovereign nation as a homeland for the Jewish people. The desire of Jews to return to what they consider their rightful homeland was first expressed during the Babylonian exile and became a universal Jewish theme after the destruction of Jerusalem by the Romans in 70 AD and the world-wide dispersal that followed. After World War II, and the near-extermination of European Jewry by the Nazis, international support for Jews seeking to settle in Palestine overcame British efforts to restrict immigration, (White Papers) and laid the foundation for the establishment of the present Jewish state. On 14 May 1948, David Ben Gurion announced that the new State of Israel was a reality. The following day, armies from five neighboring Arab nations attacked the new fledgling state that was carved out of only 23% of the original British Mandate. Ever since, Israel has struggled to defend itself against overwhelming odds. The State of Israel has always had a single defense goal, to ensure the continued existence of Israel and the security of its citizens. Israel is extremely tiny when compared to its surrounding Arab neighbors. More pointedly, it lacks strategic depth. Strategic depth can be defined as having a sufficient amount of territory to absorb an initial setback from an assault while you regroup to counter attack and recover what was lost. Israel is unable to field a large standing force compared with those it faces, since it is so small, and must rely on its reserves. To make up for quantitative disadvantages, Israel maintains as large a qualitative lead in its military and intelligence capabilities as they possibly can. Israeli national security strategy is founded on the premise that Israel cannot afford to ever lose a single war. Because the best way to avoid losing a war is to not fight it in the first place, Israeli strategy begins with the maintenance of a maximum credible deterrent posture, which includes the willingness to carry out preemptive strikes. Should the deterrence tactic fail, Israel seeks to prevent conventional war fare escalation by responding forcefully to determine the outcome of war quickly and decisively, and also because it needs to save its manpower. Since it lacks strategic depth, Israel must prevent the enemy from encroaching upon its small piece of territory, and must try to quickly transfer the battle to the enemy's territory. Since Israel has had such a successful conventional military defense policy, and since the fall of the Soviet Union, its Arab enemies have turned to terrorism as the means of harassing Israel. The Arab's have always been especially deterred from conventional attack, because of the lack of a nuclear capability, but even this scenario is changing as Iran marches towards becoming a nuclear power.
Israel applies its nuclear weapons to all levels of its strategic defense formula. Strategically, Israel uses its long-range missiles and nuclear-capable aircraft to deter both conventional and unconventional attacks, or to launch "the Samson Option", an all-out attack against an adversary should defenses fail and population centers be threatened by WMD attacks. In addition, despite Israel's insistence that it "will not be the first to introduce nuclear weapons into the Middle East," its nuclear systems have in the past represented an effective preemptive strike force. Nuclear weapons need not be detonated to be used as a deterrent. Early in the 1973 Yom Kippur war, Israel went on a nuclear alert, partly in the knowledge that it would be detected by the United States and the Soviet Union. The Soviets, Israel assumed, would restrain their Arab allies while the Americans would speed up resupply efforts. Israel does not have an overt nuclear doctrine beyond its insistence that it will not introduce nuclear weapons into the region. Instead, it follows a policy called "the nuclear opacity," visibly possessing nuclear weapons while denying their existence. This has allowed Israel to enjoy the benefits of being a nuclear weapons state in terms of deterrence without having to suffer the international repercussions of acknowledging their arsenal, and being subjected to UN inspections. Israel also has a strong commitment to preventing its potential adversaries in the region from becoming declared nuclear weapon states, as evidenced by Israel's 1981 raid on Iraq's Osirak nuclear installation. The big question these days is, "Will Israel use the Osirak option against Iran?" Israel has also developed very long range Jericho-2 missiles, perhaps as a system to deter Soviet intervention in the region. Russia has always been among the primary targets of Israel's nuclear force, as Israeli assumptions hold that no Arab nation would attack Israel without Soviet support. Ironically, this scenario reflects exactly the prophecies of Ezekiel.
London Shaken Again By Attacks
July 21…(AP)Explosions struck three London Underground stations and a bus at midday Thursday in a chilling but less deadly replay of the suicide bombings that killed 56 people two weeks ago. Only one person was reported wounded, but the lunch-hour explosions caused major shock and disruption in the capital and were hauntingly similar to the July 7 bombings by four attackers. London's police commissioner confirmed Thursday that four explosions took place in what he described as "a very serious incident." "We've had four explosions or at least four attempts at explosions," Metropolitan Police Commissioner Ian Blair said outside police headquarters at Scotland Yard. Dummy explosions of detonators rather than bombs were utilized in the four London Underground stations and on a double-decker bus, exactly two weeks after a major terrorist attack killed 56. Officials said the explosive device on the bus appears to be the same type used in the July 7 bombings in London. Police were said to be searching for a man with a blue shirt with wires protruding. Scotland Yard reported two arrests, one at Downing Street and one at greater Scotland Yard. Officials emphasized, however, the arrests may not be related. A man on one of the trains told Sky News he spoke to a man who witnessed an explosion. ''He told me he had seen a man carrying a rucksack which suddenly exploded. It was a minor explosion but enough to blow open his rucksack. Everyone rushed from the carriage. People evacuated very quickly. There was no panic. ''I didn't see anyone injured but there was shock and fright. ''There was a smell of smoke.''
The incidents come exactly two weeks after bombs on three Underground trains and a bus killed 56 people and injured about 700. White House spokesman Scott McClellan said President Bush was briefed on the London incidents and US officials are "monitoring the situation closely.'"
A Nuclear Iran Could Destroy Israel
July 20….(MENL) Israel's Defense Ministry has determined that Iran could destroy the Jewish state with just two atomic bombs. Officials said the ministry and the Israel Defense Forces have conducted simulations of an Iranian nuclear attack for damage assessment and response. They said authorities have determined that two nuclear bombs that explode in the center and north of Israel would destroy most of the population and all vital infrastructure. The assessment was issued at a conference on Iran and its nuclear program. Deputy Defense Minister Zeev Boim said two Iranian missiles tipped with a nuclear warhead could destroy Israel. Boim said even one nuclear weapon could cripple the country.
FOJ Note: The Iranian leadership has boldly and loudly proclaimed that after acquiring a nuclear bomb, that they will indeed hit Israel. But, at the nuclear negotiating table with the UN's IAEA, Iran insists it is only seeking nuclear energy for peaceful purposes.
Russia and Turkey Forming Military Alliance
July 20….(MENL) Russia and Turkey have resumed defense cooperation efforts. Officials said defense cooperation was discussed during the summit between Russian President Vladimir Putin and Turkish Prime Minister Recep Erdogan. The two men, who began their meeting on Monday in the southern Russian resort town of Sochi, planned to cement military and security relations. The two countries have participated in naval exercises in the Black Sea. Ankara has been examining a range of Russian platforms for the Turkish military. They have included the Ka-50-2 attack helicopter, anti-aircraft batteries, main battle tanks and satellites. Unlike Western contractors, Russia has offered technology and production transfers to Turkey. "Military cooperation has been developing dynamically," Turkey's ambassador to Russia, Kurtulush Tashkent, said.
FOJ Note: Is Russia adding another member to its Ezekiel 38 alliance? Russia is already equipping Iran for an assault on Israel.
Tensions Building Between Lebanon, Syria
July 20….(World Tribune) For the first time in decades, the militaries of Lebanon and Syria have been moving toward the brink of military confrontation. Lebanese officials have reported border clashes between their security forces and those of Syria over the last week. They said Syria's military has sealed its border with Lebanon in an attempt to prevent goods and people from leaving or entering that country. The clashes have also been at sea, Middle East Newsline reported. Lebanese police have battled Syrian smugglers in the Mediterranean. At the same time, the Syria Navy has detained at least nine Lebanese fishermen accused of entering Syrian territorial waters. On July 17, Lebanese security officers engaged suspected Syrian smugglers in a gun battle near the border village of Qaa, about 100 kilometers northeast of Beirut. Officials said Lebanese authorities increased patrols along the Syrian border to stop smugglers. On late Monday, the eastern Lebanese city of Kosbaya, near the Syrian border, was rocked by a huge explosion. Witnesses said a munitions warehouse under the control of the Syrian-sponsored Popular Front for the Liberation of Palestine-General Command blew up. The PFLP-GC has rejected Lebanese demands to dismantle the group's military installations. Officials said the border tension has stemmed from the Syrian military withdrawal from Lebanon in April 2005. They said the regime of Syrian President Bashar Assad has sought to sever the flow of goods and people to and from Lebanon until Beirut provides Damascus with special privileges. The United States has encouraged Lebanon to bolster security along the border with Syria. The Bush administration has been discussing the prospect of increased exercises, training as well as the export of the first lethal equipment to Lebanon's military in more than a decade. The administration has also been encouraging the Syrian opposition to undermine the Assad regime. The Washington-based Reform Party of Syria, financed by the US Defense Department, has scheduled its first student rally in Damascus for July 20 in Aleppo, Syria's second largest city.
Israeli's Sadly Pitted Against Each Other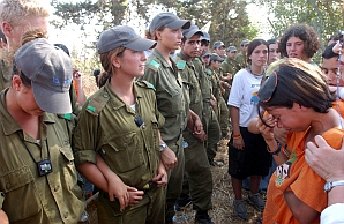 July 20….(FOJ) Sadly, many young Israeli soldiers today are faced with the unfortunate task of uprooting their fellow citizens from their homes in the Gaza Strip, and preempting a political upheaval against the Quartet's "Gaza-first" formula for peace in the Middle East. The picture below showing young Israeli police facing off young Israeli Gaza settlers defies explanation. It tells a sad story, a story that demonstrates that these young Jews find themselves wondering how in the world they can live anywhere in peace. Today, Israeli's are pitted against each other in another political endeavor to appease the World's powerbrokers to negotiate with terrorists. About 8,500 Israeli's live within the Gaza Strip, surrounded by about 1.3 million Palestinians. The Hamas terrorist organization rules the roost in the Palestinian sector of the strip, and is labeling the Israeli good-will withdrawal gesture as just another victory for terrorism, and that Israel's disengagement is evidence that terror pays off in the long-run. It is apparent that President Bush's vision for two states living side-by-side in peace is a political pipedream. This is clearly demonstrated by the geo-political disaster in the Gaza Strip. The Palestinian terrorists will not abide Jews living anywhere. If the world and the West in particular think that by coercing Israel into appeasement in Gaza and the West Bank will bring peace to the world, then they might as well prepare to be subjected to more of what Israel has had to endure for the last 57 years. The movements of Palestinianism, anti-Zionism and Anti-Semitism are rooted in Satan and the world's hatred for God's providence in Jerusalem. The Roadmap for Peace is nothing more than a roadmap to war!
London Mayor Blames Bombings on West
July 20….(This is London) London Mayor Ken Livingstone has blamed Western foreign policy in the Middle East for creating the conditions for terrorist attacks such as the July 7 bombs in the British capital. Mr. Livingstone said that Western interventions to maintain control of oil supplies in Arab countries, dating back to the First World War, had produced the Islamist terrorism of extremists including Osama bin Laden's al Qaida network. He said that many young people in Britain were outraged by the double standards in Western foreign policy, reflected in America's support for Israel and detentions without trial in the Guantanamo Bay prison camp in Cuba. The mayor said he condemned all suicide bombings, but indicated that he understood why Palestinians may resort to the tactic in Israel. He defended a photograph published in the Press, showing him with Omar Bakri Mohammed and Anjem Choudary of the militant al-Muhajiroun group, insisting that posing for a picture with them did not imply he agreed with their opinions. Asked what he blamed for the rise of Islamist radicalism and terrorism, Mayor Livingstone did not specifically mention Britain's involvement in the Iraq War, which he opposed. But he told BBC Radio 4's Today program: "I think we have just had 80 years of Western intervention in predominantly Arab lands because of the Western need for oil. "We have propped up unsavory government, we have overthrown ones that we didn't consider sympathetic. "And I think the particular problem we have at the moment is that in the 1980s the Americans recruited and trained Osama bin Laden, taught him how to kill, to make bombs and sent him off to kill the Russians in Afghanistan and they didn't give any thought to the fact that once he had done that, he might turn on his creators." He said that if British people had been forced to live in the conditions suffered by the Palestinians in the occupied territories, they too might have resorted to suicide attacks.
Atta's Father Praises London Terror Attack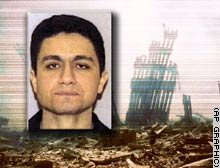 July 20….(CNN) The father of one of the hijackers who commandeered the first plane that crashed into the World Trade Center on September 11, 2001, praised the recent terror attacks in London and said many more would follow. Speaking to CNN producer Ayman Mohyeldin Tuesday in his apartment in the upper-middle-class Cairo suburb of Giza, Mohamed el-Amir said he would like to see more terrorist attacks like the July 7 bombings of three London subway trains and a bus that killed 52 people, plus the four bombers. Displayed prominently in the apartment were pictures of el-Amir's son, Mohamed Atta, the man who is believed to have piloted American Airlines Flight 11 into the north tower of the World Trade Center as part of the attacks on the United States. El-Amir said the attacks in the United States and the July 7 attacks in London were the beginning of what would be a 50-year religious war, in which there would be many more fighters like his son. He declared that terror cells around the world were a "nuclear bomb that has now been activated and is ticking."
Al Qaeda Warns European Nations to Quit Iraq
July 19….(AP) The Al-Qaeda terror network warned European nations to pull their troops out of Iraq within a month or face more attacks like the deadly London bombings, according to an Internet statement. "This message is the final warning to European states. We want to give you a one-month deadline to bring your soldiers out from the land of Mesopotamia (Iraq)," said the statement signed by Al-Qaeda group the Abu Hafs al-Masri Brigades and dated July 16. After August 15, "there will be no more messages, just actions that will be engraved on the heart of Europe. "It will be a bloody war in the service of God," said the statement, the authenticity of which could not be verified. "It's a message we are addressing to the crusaders who are still present in Iraq, Denmark, the Netherlands, Britain, Italy and those other countries whose troops continue to criss-cross Iraqi territory. "These are our last words. The mujahedeen, who are on the lookout, will have other words to say in your capitals." A statement issued in the name of the "Europe Division" of the same Al-Qaeda group claimed responsibility for the July 7 bombings on London's public transport system which killed at least 56 people and wounded some 700.
The same group also claimed the 2004 train bombings in Madrid and the 2003 attacks in Istanbul. "After the laudable strikes that have shaken London and the cities of other Crusaders still present in Iraq, we have renewed the ultimatum that we had given," the statement said. "We give you all one month to reflect carefully on your policy towards Islam and Muslims. "We're giving you this deadline so that you stop running behind the United States and the Zionists, without paying attention to the blood that has been shed and continues to be shed in the land of Islam, in Iraq, Afghanistan and Palestine." The statement came amid intense debate in Britian over the role the 2003 invasion of Iraq played in spurring the four British suicide bombers to carry out the deadly attacks. In a Guardian/ICM poll published Tuesday, two-thirds of respondents said they saw a link, while three-quarters said they considered further attacks likely. But the government of Prime Minister Tony Blair has continued to deny that the war left Britain more vulnerable to terror attacks, despite a damning report from the respected think-tank, the Royal Institute of International Affairs.
Withdrawal Protestors Mass for Gaza March
July 19….(WND) In what is being billed the "greatest protest in Israeli history," tens of thousands tonight made it to an overnight rest stop on their way to Gaza after breaching a barrier of thousands of security forces and running across thorny fields. The protest aims to halt next month's evacuation of Jewish communities from Gaza and parts of the West Bank. Nearly 100,000 people have poured into a central meeting site, near Nativot, several miles south of Gaza for a massive protest rally against next month's Gaza evacuation.
One of two protest sites in Nativot, Israel (photo: WND)
The Yesha settlers council last month called for tens of thousands to meet for a rally today in the southern town of Nativot and walk the 20 miles to the main entance to Gush Katif, the large slate of Jewish neighborhoods in Gaza. Thousands streamed into Nativot, completely filling a field that police estimate could hold about 40,000 people. A second adjacent field that could hold about 30,000 was nearly filled and a line of protesters could be seen walking to the rally from a quarter mile away. The rally kicked off with a prayer service led by Israel's former Chief Rabbi Mordechai Eliyahu and other religious leaders. Speeches were given by Yesha heads and by former Knesset Speaker Dov Shilanksy.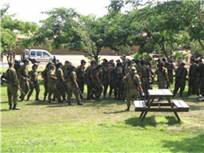 Soldiers, police await protesters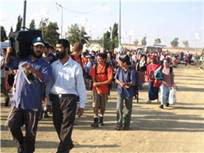 Protesters stream in to Nativot, Israel (photo: WND)
The police today granted a permit for the Nativot rally but deemed the march illegal. More than 20,000 soldiers and troops now are deployed along the route. Police commanders warned the marchers would be stopped. Yesha leader Bentzi Lieberman told WND, "The march may have been declared illegal, but it will take place. We will get into Gush Katif."
Lieberman said the police do not have the necessary manpower to stop the march. Army leaders said this week they might not be able to halt the protest if more than 100,000 participate in the march.
The marchers encountered heavy roadblocks forcing them off the road onto empty fields, where they were greeted by a massive force of about 10,000 Israeli soldiers and police officers. A senior leader of the Yesha Council, which organizes the march, told WND, " We will march on to our besieged brothers in Gush Katif." The leader said the number of marchers would have been higher if police had not stopped protest vehicles reaching the area. Yesha leaders have called for marchers to use non-violent means to disassemble a large tent city erected earlier this month to house tens of thousands of soldiers who will take part in the August 17 Gaza evacuation. There are some concerns of terrorist attacks against the marchers, particularly if they reach the Kissufim Crossing, the main checkpoint leading into Gush Katif. There have in the past been a number of shootings and attempted bombings at the checkpoint. Hamas and Islamic Jihad are active in the area. Summing up the evening's events, Yesha leader Bentzi Lieberman, who was with the crowd, told WND, "What the world is witnessing is history in the making. The people of Israel are speaking. And we are saying 'no' to the immoral disengagement. We will soon say 'no' in Gaza, where we will arrive, determined as ever." The showdown loomed against a backdrop of resurgent Israeli-Palestinian violence and fresh clashes in Gaza between Hamas militants and Palestinian security men, developments that could complicate next month's evacuation of Gaza settlers. Polls show most Israelis support the Gaza pullout, the first from settlements on land that Palestinians want for a state, and Washington sees it as a possible step toward reviving talks on a stalled "road map" for Palestinian independence. The withdrawal, which Sharon has billed as "disengagement" from conflict with the Palestinians, has however angered rightists who say Israel is giving up a biblical birthright and rewarding a Palestinian uprising. About 8,500 Jews live cloistered among 1.3 million Palestinians in the Gaza Strip. The Hamas terrorist organization, which controls Gaza City is proclaiming the Gaza withdrawal as a victory for Palestinians, and as fruit from the tool of terror.
US May Strike Northern Syria
July 18….(MENL) The United States has been considering attacking Sunni insurgency centers in Syria. Western diplomatic sources and analysts said the US Defense Department and Central Command have been warning of the increasing activity of a Sunni insurgency network in northern Syria. They said the Pentagon has been discussing a US strike that could end the network's operation. "The Syrians appear to be encouraging some of this activity," a diplomat said. "It's clear that diplomacy hasn't worked and Washington is considering other ideas." The insurgency network was said to be based in Aleppo, the sources said. They said fighters from such countries as Algeria, Egypt, Jordan, Kuwait, Morocco, Lebanon, Sudan and Tunisia arrive in Aleppo and undergo recruitment and training by Sunni insurgency groups linked to Abu Mussib Al Zarqawi, head of Al Qaida in Iraq.
Saudi Arabia Continues Funding to Al Qaeda
July 18….(MENL) The United States has determined that Saudi Arabia continues to allow citizens to finance Al Qaida, including its insurgency campaign in Iraq. US officials said that despite numerous appeals the Saudi kingdom has not arrested financiers of Al Qaida or related groups. They said the kingdom has also failed to freeze the assets of leading Saudi financiers of Islamic insurgency groups. "Wealthy Saudi financiers and charities have funded terrorist organizations and causes that support terrorism and the ideology that fuels the terrorists' agenda," Treasury Undersecretary Stuart Levey said. "Even today, we believe that Saudi donors may still be a significant source of terrorist financing, including for the insurgency in Iraq." It was the first time a senior Bush administration official asserted that Saudi nationals have been financing the Sunni insurgency in Iraq. Over the last two years, the Bush administration has blamed Syria for the flow of insurgents and funding into Iraq.
Weekend of Slaughter Propels Iraq Towards Civil War
July 18….(WND) Iraq is headed toward a civil war, a Shia leader declared yesterday, as a devastating onslaught of suicide bombers slaughtered more than 150 people, most of them Shias, around the capital at the weekend. One bomber killed almost 100 people when he blew up a fuel tanker south of Baghdad, an attack aimed at snapping Shia patience and triggering the full-blown sectarian war that al-Qaeda has been trying to foment for almost two years. Iraq's security forces have been overwhelmed by the scale of the suicide bombings, 11 on Friday alone and many more over the weekend, ordered by the Jordanian terrorist Abu Musab al-Zarqawi. "What is truly happening, and what shall happen, is clear: a war against the Shias," Sheikh Jalal al-Din al-Saghir, a prominent Shia cleric and MP, told the Iraqi parliament. Sheikh al-Saghir is close to Grand Ayatollah Ali al-Sistani, the supreme Shia spiritual leader and moderate who has so far managed to restrain powerful Shia militias from undertaking any outright attack on Sunni insurgents. His warning suggests that the Shia leadership may be losing its grip over Shias who in private often call for an armed backlash against their Sunni assailants. The sheikh also cautioned Sunni clerics supporting the insurgency against American forces and the Shia-Kurdish Government elected in January. "I am very keen to preserve the Sunni blood that would be shed due to the irrational acts of some of their leaders, who do not see that they are leading the country into civil war," he told the national assembly. On the streets of Baghdad, al-Zarqawi's al-Qaeda organization in Iraq unleashed one suicide bomber after another and promised no respite. "The Hassan Ibrahim al-Zaidi attack continues for the second day in a row, with rigged cars, martyrdom attacks and clashes," an al-Qaeda internet statement said. "We warn the enemies of God of more to come." One of the suicide bombers, a Libyan, was arrested at the mass funerals of 32 Shia children killed last week by a car bomber. But the worst attack occurred in the mixed town of Musaib, in the area south of Baghdad known as the Triangle of Death, when a fuel tanker blew up in a crowded market near a mosque on Saturday evening. The death toll rose to 98 yesterday, making it one the deadliest attacks yet. Two dozen more people died yesterday in four suicide bombings targeting US and Iraqi security forces. At least one desperate parliamentarian called for the population to form local militias to defend their neighborhoods, a move that many see as prelude to a sectarian war.
Al-Qaida's US Nuclear Targets
July 18….(WND) Al-Qaida's prime targets for launching nuclear terrorist attacks are the nine US cities with the highest Jewish populations, according to captured leaders and documents. As first revealed last week in Joseph Farah's G2 Bulletin, Osama bin Laden is planning what he calls an "American Hiroshima," the ultimate terrorist attack on US cities, using nuclear weapons already smuggled into the country across the Mexican border along with thousands of sleeper agents. The series of attacks is designed to kill 4 million Americans, destroy the economy and fundamentally alter the course of world history. At least two fully assembled and operational nuclear weapons are believed to be hidden in the United States already, according to G2 Bulletin intelligence sources and an upcoming book, "The al-Qaida Connection: International Terrorism, Organized Crime and the Coming Apocalypse," by former FBI consultant Paul L. Williams. The cities chosen as optimal targets are New York, Miami, Los Angeles, Philadelphia, Chicago, San Francisco, Las Vegas, Boston and Washington, D.C. New York City and Washington top the preferred target list for al-Qaida leadership. Bin Laden's goal, according to G2 Bulletin sources, is to launch one initial attack, followed by a second on another city to simulate the US bombing of Hiroshima and Nagasaki. The optimal dates for the attacks are Aug. 6, the anniversary of the Hiroshima bombing, Sept. 11 and May 14, the anniversary of the re-creation of the state of Israel in 1948. No specific year has been suggested, however, this Aug. 6 represents the 60th anniversary of the Hiroshima attack. The captured terrorists and documents also suggest smaller attacks may take place on American soil before the nuclear incidents. They may include some involving automatic weapons at schools and shopping malls, but will not include any airplane hijackings. Why? Because bin Laden does not want any failed efforts to overshadow "the success of Sept. 11." There will also not be any attacks on US nuclear power plants. The rationale? The nuclear power plants can act as force multipliers when the weapons of mass destruction are detonated. Another requirement dictated from the top at al-Qaida is that the attacks take place in daylight, so that the whole world will be able to see the images of a mushroom cloud over an American city. One of the sources for the information is Khalid Sheikh Mohammed, the chief planner of the Sept. 11 attacks, who is now in US custody. As previously reported by G2 Bulletin, al-Qaida has obtained at least 40 nuclear weapons from the former Soviet Union, including suitcase nukes, nuclear mines, artillery shells and even some missile warheads. In addition, documents captured in Afghanistan show al-Qaida had plans to assemble its own nuclear weapons with fissile material it purchased on the black market. US military sources also say there is evidence to suggest al-Qaida is paying former Russian special forces, "Spetznaz" troops to assist the terrorist group in locating nuclear weapons planted in the US during the Cold War. Osama bin Laden's group is also paying nuclear scientists from Russia and Pakistan to maintain its existing nuclear arsenal and assemble additional weapons with the materials it has invested hundreds of millions in procuring over a period of 10 years. Al-Qaida sources indicate they would prefer to use Russian-made weapons for symbolic reasons. The plans for the devastating nuclear attack on the US have been under development for more than a decade. It is designed as a final deadly blow to the US, which is seen by al-Qaida and its allies as "the Great Satan." At least half the nuclear weapons in the al-Qaida arsenal were obtained for cash from the Chechen terrorist allies. But the most disturbing news is that high level US officials now believe at least some of those weapons have been smuggled into the US for use in the near future in major cities as part of this "American Hiroshima" plan. According to Williams, former CIA Director George Tenet informed President Bush one month after the Sept. 11, 2001, attacks that at least two suitcase nukes had reached al-Qaida operatives in the US. "One suitcase bore the serial number 9999 and the Russian manufacturing date of 1988. According to the author, the news sent Bush "through the roof," prompting him to order his national security team to give nuclear terrorism priority over every other threat to America. However, it is worth noting that Bush failed to translate this policy into securing the US-Mexico border through which the nuclear weapons and al-Qaida operatives are believed to have passed with the help of the MS-13 smugglers. He did, however, order the building of underground bunkers away from major metropolitan areas for use by federal government managers following an attack. Bin Laden, according to Williams, has nearly unlimited funds to spend on his nuclear terrorism plan because he has remained in control of the Afghanistan-produced heroin industry. Poppy production has greatly increased even while US troops are occupying the country, he writes. Al-Qaida has developed close relations with the Albanian Mafia, which assists in the smuggling and sale of heroin throughout Europe and the US. Some of that money is used to pay off the notorious MS-13 street gang between $30,000 and $50,000 for each sleeper agent smuggled into the US from Mexico. The sleepers are also provided with phony identification, most often bogus matricula consular ID cards indistinguishable from Mexico's official ID, now accepted in the US to open bank accounts and obtain driver's licenses. According to Williams' sources, thousands of al-Qaida sleeper agents have now been forward deployed into the US to carry out their individual roles in the coming "American Hiroshima" plan.
WEEK OF JULY 10 THROUGH JULY 17
Top Chinese General Warns US Over Attack
July 15….(The Financial Times) China is prepared to use nuclear weapons against the US if it is attacked by Washington during a confrontation over Taiwan, a Chinese general said on Thursday. "If the Americans draw their missiles and position-guided ammunition on to the target zone on China's territory, I think we will have to respond with nuclear weapons," said General Zhu Chenghu. Gen Zhu was speaking at a function for foreign journalists organized, in part, by the Chinese government. He added that China's definition of its territory included warships and aircraft. "If the Americans are determined to interfere then we will be determined to respond," said Gen Zhu, who is also a professor at China's National Defense University. "We will prepare ourselves for the destruction of all of the cities east of Xian. Of course the Americans will have to be prepared that hundreds of cities will be destroyed by the Chinese." Gen Zhu is a self-acknowledged "hawk" who has warned that China could strike the US with long-range missiles. But his threat to use nuclear weapons in a conflict over Taiwan is the most specific by a senior Chinese official in nearly a decade. However, some US-based China experts cautioned that Gen Zhu probably did not represent the mainstream People's Liberation Army view. "He is running way beyond his brief on what China might do in relation to the US if push comes to shove," said one expert with knowledge of Gen Zhu. "Nobody who is cleared for information on Chinese war scenarios is going to talk like this," he added. Gen Zhu's comments come as the Pentagon prepares to brief Congress next Monday on its annual report on the Chinese military, which is expected to take a harder line than previous years. They are also likely to fuel the mounting anti-China sentiment on Capitol Hill. In recent months, a string of US officials, including Donald Rumsfeld, Defense Secretary, have raised concerns about China's military rise. The Pentagon on Thursday declined to comment on "hypothetical scenarios". Rick Fisher, a former senior US congressional official and an authority on the Chinese military, said the specific nature of the threat "is a new addition to China's public discourse". China's official doctrine has called for no first use of nuclear weapons since its first atomic test in 1964. But Gen Zhu is not the first Chinese official to refer to the possibility of using such weapons first in a conflict over Taiwan. Chas Freeman, a former US assistant secretary of defense, said in 1996 that a PLA official had told him China could respond in kind to a nuclear strike by the US in the event of a conflict with Taiwan. The official is believed to have been Xiong Guangkai, now the PLA's deputy chief of general staff.
Remembering Gen. MacArthur's Warning
July 15….(FOJ) After the surrender documents were signed and the Japanese delegation had departed, General Douglas MacArthur stepped to a microphone on the US Missouri and broadcast the following radio message to the world: ("Today the guns are silent. A great tragedy has ended. A great victory has been won. As I look back upon the long, tortuous trail from those grim days of Bataan and Corregidor, when an entire world lived in fear, when democracy was on the defensive everywhere, when modern civilization trembled in the balance, I thank a merciful God that he has given us the faith, the courage and the power from which to mold victory. We have known the bitterness of defeat and the exultation of triumph, and from both we have learned there can be no turning back. We must go forward to preserve in peace what we won in war. A new era is upon us. Even the lesson of victory itself brings with it profound concern, both for our future security and the survival of civilization. The destructiveness of the war potential, through progressive advances in scientific discovery, has in fact now reached a point which revises the traditional concepts of war. Men since the beginning of time have sought peace, military alliances, balances of power, leagues of nations, all in turn failed, leaving the only path to be by way of the crucible of war. We have had our last chance! If we do not now devise some greater and more equitable system, Armageddon will be at our door. The problem basically is theological and involves a spiritual recrudescence and improvement of human character that will synchronize with our almost matchless advances in science, art, literature and all material and cultural development of the past two thousand years. It must be of the spirit if we are to save the flesh.)
General MacArthur was exactly right in his assessment of the affairs of this world. Furthermore, Bible Prophecy portends that mankind has not learned the lesson of his spiritual debasement, and therefore today, as at no time before, the world stands on the threshold of an Armageddon scenario. But as Christians, we need not be disheartened, for it portends the soon coming of Jesus Christ, and He must come, else mankind will use his WMD and evil genius to destroy the whole world. We now live in an era in which nations can use terrorist organizations to create chaos in the world, and the asymetrical threat of human bombers now is as big a danger to civilization as the A-bomb. (Matthew 24:21-22 For then shall be great tribulation, such as was not since the beginning of the world to this time, no, nor ever shall be. And except those days should be shortened, there should no flesh be saved: but for the elect's sake those days shall be shortened.) The next great world-war will not be a Cold War, because as General MacArthur stated, we have had our last chance.
Gaza Disengagement by the Numbers
July 14….(FOJ) In June of 1967, the combined armies of Egypt, Jordan, Syria and Lebanon, with backing from several other Arab countries, (such as Saudi Arabia and Iraq) amassed on Israel's borders in a bid to totally wipe out the state of Israel. In response, Israel launched a pre-emptive attack and unexpectedly gained control over a massive amount of land including the entire Sinai, the Gaza Strip and the entire West Bank, including the city of Jerusalem. Israel later relinquished about 90 percent of the territory it captured when, to try to make peace with Sadat's Egypt, Israel evacuated the Sinai Peninsula. After numerous fruitless bids to find a partner for peace with the Palestinians, in August 2005 Israel will carry out its disengagement initiative as part of the Quartet sponsored Peace Roadmap. Israel will soon hand over all of Gaza and part of the West Bank to the Palestinians, making it the first country in modern history to give up land acquired in a defensive war. Soon the following numbers will become a reality, and the eventual price tag may become yet another defensive war. Nevertheless, Israel is a bid to appease the Quartet( US, UN, EU, and Russia) will evacuate all Jewish settlers from the Gaza Strip, as it is a very difficult place for Israel to defend, being surrounded by a plethora of terrorist organizations. It may be recalled that the Gaza Strip became the headquarters of Yasser Arafat, upon the insistence of the Oslo peace sponsors back in 1991. It has proven to be one of Israel's most drastic errors in political judgment. But, as is usual the case when a nation like America is engaged in compromising the Promised Land, the cost of the Gaza relocation will cost the American taxpayer an estimated 2-3 billion dollars, and perhaps, in the long run, yet another September 9-11.
100% of the Gaza Strip will be evacuated and handed over to the Palestinians.
300 square miles of the West Bank will be evacuated.
21 Israeli settlements will be uprooted in the Gaza Strip.
4 Israeli settlements will be uprooted in the West Bank.
48 graves in the Gush Katif Cemetery, including six graves of area residents murdered by terrorists, will be uprooted.
9,000 is the approximate number of Israelis, including 1,700 Israeli families, currently living in the Gaza Strip and northern West Bank. All of them will be moved out as part of the withdrawal.
10,000 people employed in agriculture and related industries in Gush Katif, including 5,000 Palestinians, will need new employment.
$870 million is the approximate cost for Israel to facilitate the resettlement of former West Bank and Gaza residents elsewhere in the country.
$500 million is the amount of money Israel's security establishment will spend to relocate Israel Defense Forces bases outside the Gaza Strip and build new border crossing facilities.
430,000 West Bank Palestinians will be able to move freely within and between Palestinian controlled areas.
0 Israelis, dead or alive, will remain in Gaza.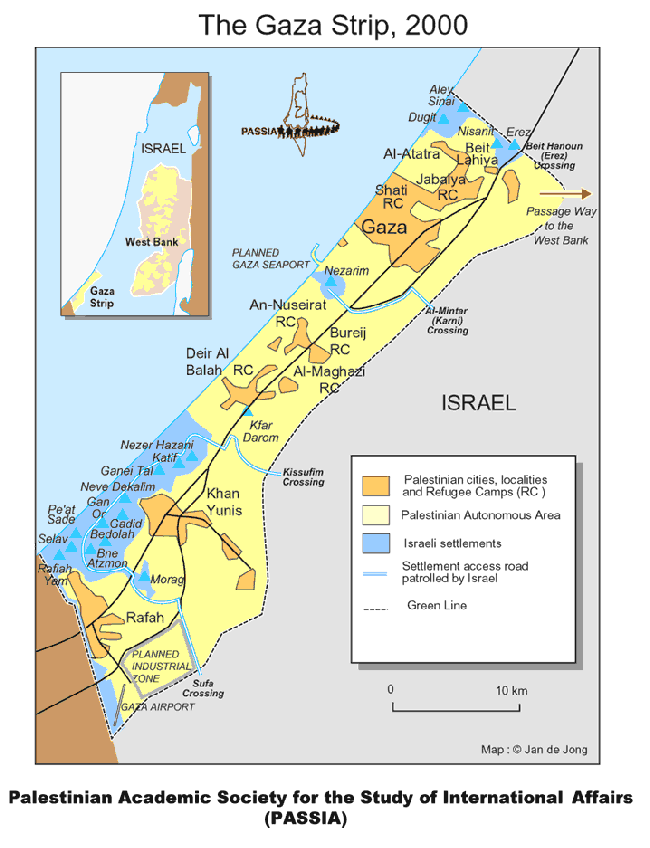 US: Iran, Syria attacking Israel via terror
July 14….(YNET) US Secretary of State Condolezza Rice sent a sharp message to Damascus Wednesday evening, telling Syria to stop hosting terrorist organizations who orchestrate attacks which "harm the hopes of the Palestinians, Lebanese, and Iraqi people." (not to mention the Jewish people) Rice also demanded that the Palestinian Authority track down and bring to justice those responsible for the suicide bombing attack in Netanya on Tuesday in which four people were murdered. "I condemn in every way possible the murderous terrorist attack in Netanya which was claimed by the Islamic Jihad. This is an attack on Israeli civilians and also against the aspirations of the Palestinian people," said Rice. She turned to Syria, saying it was "essential that Syria end its support for terror organizations, especially those who receive support in Damascus, like Islamic Jihad." While Rice pointed an accusatory finger at Syria, US Secretary of Defense Donald Rumsfeld said he thought Iran was also responsible for the Natanya terror attack. In a Pentagon press conference, Rumseld said, "regarding the terrorist attack in Israel, we know that Iran is on the terror list. We know that Iran is helping Hizbullah and other terrorist organizations by supplying them with equipment and people through Damascus, via Beirut, and to attack positions against Israel, for many years now." Although Rumsfeld said he did not have information tying Iran to the Netanya attack, he emphasized that "this is Iran's stance, to harm Israel."
Sharon Establishes Closure for Gaza Disengagement
July 14….(Jerusalem Post) Marking the apparent beginning of the end of Israel's controversial 38-year presence (1967) in the Gaza Strip, Prime Minister Ariel Sharon on Wednesday morning ordered the Gush Katif settlement bloc and the entire strip closed indefinitely to Israeli non-residents. The closure order, which caught pullout opponents off-guard, effectively launched the Disengagement Plan wherein Israel is to evacuate 25 settlements and permanently cede territory it conquered in the 1967 Six Day War. Chief of General Staff Lt. Gen. Dan Halutz said that the IDF might be more generous in issuing temporary guest permits if the situation permitted in coming days, as long as Gush Katif residents did not abuse that privilege by smuggling in right-wing activists, but that the formal closure order would remain in place through to the completion of the pullout. The decision to lock down the settlement bloc nearly a month earlier than anticipated was spurred by fears that a cascade of right-wing activists would flood the area during what organizers are billing as a 30,000-person march on Gush Katif slated for Monday. In hopes of sparing Gush Katif residents undue hardship, the government had set August 10 as the target date for closing the Strip. According to Halutz, the swelling ranks of anti-disengagement activists smuggling themselves into Gush Katif, "whose sole aim is to deter the IDF from fulfilling its mission," led the IDF "to close the strip." Shortly after news of the closure broke, furious settlers and anti-disengagement activists blocked roads, scuffled with police outside Gush Katif, and some even physically prevented the Defense Ministry Director-General Amos Yaron, on a visit to the Gush Katif settlement of Kfar Darom, from leaving for a while. The main settlement body, the Council of Jewish Communities in Judea, Samaria and Gaza, wasted no time in lashing out at the decision. "This is the first time that a Jewish prime minister declared a siege on Jewish communities," read a statement released by the council, which also accused Sharon of pushing for a "Jew-free" Gaza.
China's Push for UNOCAL
July 14….(FOJ) China's unprecedented attempt to seize control of one of America's most important energy assets suggests that China is preparing to make strategic moves to solidify its presence in Central Asia and the Middle East. China's thrust towards acquisition of UNOCAL also suggests that China is ready for a confrontation with the US over Taiwan. China is not only aggressively pushing forward with a bid to buy one of the country's largest oil companies, but it has also warned the American government to keep its hands off the deal-making. This is a dire threat coming from a country that permits absolutely no foreign company holdings in China. Unocal controls major oil and gas fields in Alaska, the Gulf of Mexico, and, of course, Central Asia. Unocal also has key technologies that could be adapted for military use. A Chinese takeover of Unocal would follow China's purchase of IBM's personal computer business despite US national security concerns. China's overseas expansion is nothing less than a bold attempt to supersede the United States as the world's preeminent military and economic power, particularly on the Pacific Rim, and causing security alarms to go off in Japan. The Chinese are obsessed with long-term energy security, and assuring that. And they're making investments all over the world in companies and in oilfields. Almost 60 percent of Unocal's proven reserves are in Central Asia, or China's back yard. China is also making big oil deals with Iran and Saudi Arabia, and is building a massive naval terminal in Pakistan to guard its investments in the Persian Gulf. China just in the last 3 years became an importer of oil, and is experiencing a middle class boom, thus its energy and oil demand continue to increase very rapidly. The UNOCAL acquisition is also part of a greater strategy for China's rise as a global power, as China wants the energy to run its factories, fuel its economy and finance its ever expanding military, and the purpose of that buildup is to shove the United States out of the Eastern and Middle Eastern geo-political arena. In other words, the Kings of the East are preparing logistically for their march across the Euphrates! (Revelation 9:14 and 16:12) Ironically, the Chinese Dragon has awakened at the same time that the Prince of Persia has prodded Iran and Russia into covert geo-political action in the Middle East. All these factors point to the fact that the Ezekiel 38 prophetic scenario is becoming more noteworthy with every passing day. That can only mean that the time is ripe for the coming of the Lord.
The Jewish State-icide
July 13….(Jewish World Review) Suddenly, the world is seized with the danger of ignoring the Islamofascists in our midst. Lengthy front-page articles in Sunday's New York Times and Washington Post describe how British authorities allowed this virulent ideology-masquerading-as-a-religion to establish, and metastasize, into a veritable "Londonistan" in the years preceding last week's murderous attacks on the host community. The complacency shattered by the four bombs in London has been replaced with hard questions about the threat posed to other West societies. The French, Dutch, Germans and Italians are suddenly seized with the prospect that their own Londonistans are festering Islamist breeding grounds, sores that can at any time subject transportation and other soft targets in these democracies to the sort of bloodletting seen over the past fifteen months in Spain and Britain. Here in America, political correctness still compels the conversation to focus mostly on the vulnerabilities of our infrastructure and what is, or is not, being done to mitigate them. There is, however, a growing appreciation post-London that we can no longer ignore the fact that Islamofascists are hard at work here as well, seeking to dominate their co-religionists as the prerequisite for forcing the rest of us to submit to a new, global Caliphate under an unforgiving religious law called Shari'a. The one place we apparently are indifferent to the rising power of the Islamists is in the would-be state of "Palestine." There, the establishment of an Islamofascist Gazastan is not only being tolerated by the West. It is being enabled by the government of Israel, the G-8 and the Bush Administration. To be sure, the government of Ariel Sharon (which is determined to unburden itself next month of Palestinian populations in Gaza and parts of the West Bank), the leaders of eight industrial nations (who last week pledged $3 billion for Palestine) and President Bush (who has been a steadfast supporter of Israel and opponent of terror) have something different in mind. They envision a democratic Palestinian state living peaceably side-by-side with Israel. Unfortunately, this prospect is no more likely at the moment than was that of an Islamofascist Londonistan living side-by-side in peace with its non-Islamist neighbors. If anything, it is less likely since the West's behavior can only be seen as a reward for Palestinian terror. Alan Dershowitz put it well in Front Page Magazine on July 8: "The Palestinian Authority, and its leaders, are the godfathers of international terrorism. They developed airplane hijacking into a high art. They invented the high-profile murder of athletes and other prominent public figures. Were it not for their employment of terrorism, the Palestinian cause would today be regarded as the fifth-rate human rights issue that it rightfully is. But because the Palestinian leadership has always used terrorism (from the 1920's on) as the tactic of first resort, their cause has received worldwide recognition." Now, that recognition will be extended to a Palestinian terrorist state. Such will be its character whether the Islamofascists' ally, Mahmoud Abbas, the Palestinian Authority's recently elected president, somehow manages to hold onto power or, as seems more likely, his ruling clique is soon replaced by the Islamists of Hamas. (Abbas celebrated the London bombings in Damascus, where he was the guest at a festive meal hosted by Syrian dictator Bashir Assad, along with Hamas' Khaled Mashal, Islamic Jihad's Ramadan Abdullah Shallah and Ahmed Jibril, head of the Popular Front for the Liberation of Palestine, all designated as terrorist organizations by Britain and the United States.) The emergence of a new Arab state-sponsor of terror that is flush with Western cash and enjoys the protection of the international community will, of course, be a mortal threat to Israel. Having enhanced the stature of terrorists determined to destroy the Jewish State, Israelis will find the Islamists making a redoubled effort to do just that from their new safe-havens. The existential threat to Israel is made all the greater by the deep domestic divisions now evident over Sharon's so-called "disengagement" plan. There is serious talk that a civil war may ensue over that initiative, which is now opposed by a majority of Israelis. Such a conflict is being fueled, in part, by secular Jews who seek to destroy the political power of their religious countrymen. Should anything approaching a civil war eventuate, Israel's Arab enemies must be expected to exploit what would thus be afforded: the best chance ever to realize their unrequited ambition to "drive all the Jews into the sea," especially if, as is now being proposed, Israel were to allow Egyptian and Jordanian/Palestinian armies to return to Gaza and the West Bank, respectively. Gazastan will be a terrible menace for the United States, too. Such an Islamofascist state will not only threaten the very existence of Israel, our closest, democratic ally in the Middle East. Given the Palestinians' record of past treachery towards other Arabs, it should be expected to undermine the Bush strategy of bringing to power moderates elsewhere in the region. The creation of a new Palestinian safe-haven for terrorist recruitment, training and planning will also endanger Americans and their interests in Iraq, Europe, Asia and here at home. The fact that such terrorists will benefit from the counter-terrorist training, funding and arms we are giving the Palestinian Authority will only exacerbate this threat.
For states as for individuals, the rule should be that friends don't let friends commit suicide. It's not too late for the US to discourage Israel from doing just that by abandoning Gaza and parts of the West Bank under present circumstances, and the lessons of Londonistan make clear that we must.
Russian WMDs Hidden in US?
(New evidence suggests al-Qaida is after them)
July 13….(WND) It was little more than a rumor during the darkest days of the Cold War. Did covert agents of the Soviet Union conceal nuclear and biological weapons of mass destruction inside the US and other western cities? New evidence suggests they did, and that Osama bin Laden's al-Qaida terrorists network is determined to find them and use them with the help of bribed Russian spies or special forces soldiers who have maintained their secret locations for all these years. According to a report by Gordon Thomas and David M. Dastych in the latest issue of the Polish news and opinion weekly Wprost, US authorities searched in vain for the nuclear devices in New York City the day after the Sept. 11, 2001, al-Qaida attacks. They had been tipped off about the possible existence of Russian "suitcase nukes" in the area by officials in Poland and the Czech Republic, according to the report. No nuclear weapons were found Sept. 12, 2001, or thereafter. But, more recently, US intelligence services have become concerned about efforts by terrorists to buy off former Soviet and current Russian agents with knowledge of the weapons. The report also cites the work of Paul L. Williams, an investigative reporter, former FBI consultant and author of several books, including "Osama's Revenge: The Next 9/11," which claims al-Qaida sleeper agents have already stashed suitcase nukes in several major US cities as well as Rappahannock, Va., where the US government maintains an underground bunker as a command-and-control center for wartime or national emergency. World Net reported yesterday about how Al Qaeda has already purchased some post-Soviet mini-nukes and hired Russians to help operate them. Williams predicted in his book that a nuclear attack by al-Qaida could be launched before the end of 2005. Several US officials have alluded to the threat recently.
Suicide Bomber Attacks in Netanya, Israel
July 12….(Yahoo News/Middle East) Israeli police experts are shown surveying a body following a suicide bomb attack in the city of Netanya, July 12, 2005. A Palestinian suicide bomber killed at least three people at an Israeli shopping mall today in the first suicide bombing attack for nearly five months. An 18-year-old Palestinian blew himself up among young Israelis at a busy junction outside a shopping mall killing himself and two others in. About 30 people were wounded, three seriously, police said. A unit of the Palestinian militant group Islamic Jihad claimed the attack on the coastal city of Netanya, which lies 12 km (8 miles) from the West Bank and has been a frequent target for Palestinian suicide bombers during an uprising that began in 2000.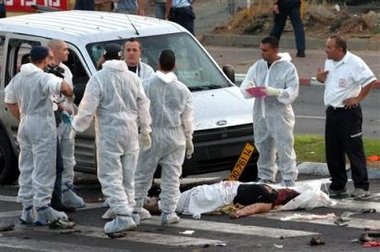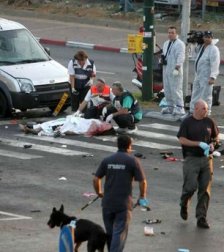 5 Years in Jail for Teaching Sunday School?
July 12….(WND) Three Christian housewives in Indonesia have been charged with endangering children and face a possible five years in prison after teaching a kids Sunday School class, a human-rights group reports. According to International Christian Concern which helps persecuted believers worldwide, the criminal charges stem from three Sunday School lessons the women, Rebecca Laonita Z, Rama Mala Bangun and Etty Pangesti, taught in 2003 and 2005. The activities the women led included: telling stories and teaching from the Bible, teaching Christian prayers, providing prizes like pencils for memorizing Bible verses, giving children towels with a picture of Jesus, and giving kids blue sport shirts that bore a cross and the logo of their church. The women also allegedly invited a child to attend a church service and lent a girl a Bible to read, International Christian Concern reported. While most of the children involved went to the women's church, the kids had invited some of their Muslim friends to the classes, and that's when the trouble began. Indonesia has a child-protection criminal statute that states: Any person who purposely uses deception, lies or enticement to make a child choose another religion not of his own free will, will be prosecuted by imprisonment for five years and/or a fine of Rp.100,000,000. In the last several years, Indonesia has seen the destruction of entire Christian villages by Muslim mobs. Indonesia is the world's largest Muslim nation. ICC is asking its supporters to contact the Indonesian Embassy in Washington, DC, to protest the prosecution of the Christian women.
PA Radio Praises London Attack
July 12….(Gamla) The Gaza based Sut Al Quds radio station, which identifies itself with Palestinian Islamic Jihad, has praised the London terrorist atrocities. The broadcast was carried live on Saturday evening, two days after the attack. The radio station was broadcasting a sermon, in which a preacher was inciting listeners against Israel and the Palestinian Authority. The preacher criticized Israel's planned Gaza withdrawal, saying that Jerusalem was not part of the program. The Palestinian Authority was described as vile for opening up a casino in Jericho. Also in the same broadcast, Osama Bin Laden was praised as were the succession of explosions in London. The Muslim preacher welcomed the "blessed acts" that took place recently in Iraq and Britain, and highlighted their proximity to the selection of an Olympic host for the 2012 games. "The sounds of happiness were heard in London, and Osama Bin Laden came and redrew the map. He made sure that the voice of the surrendered will be heard in every place," the mosque's preacher said. Hamas has several cells inside the United Kingdom and is capable of attacking the country, a senior Israeli security said. The official spoke in response to a sermon, broadcast live on Palestinian television earlier this month, in which a cleric associated with Hamas threatened terror attacks against Britain. Sheikh Ibrahim Mudeiras, a popular Palestinian Islamic leader, said in a live sermon broadcast May 13: "We take this opportunity to hold Britain accountable and say there is revenge we can never forget. We cannot forgo the revenge we want to exact from Britain. We hold Britain responsible for what happened in Palestine. Britain is the cause, 'til this very minute, of every drop of blood dripping into this land." Mudeiras, who was lamenting Israeli Independence Day celebrations, continued: "I say to you: You must look at our situation with an outlook of confidence in Allah's victory! Help Allah (spread Islam), Allah will bring you victory. We once ruled the world and the day will come when, by God, we will rule the entire world. The day will come when we will rule the United States, the day will come when we will rule Britain, we will rule the whole world (and all will live in peace and comfort under our rule) except the Jews." Palestinian television regularly broadcasts hour-long speeches by Mudeiras, who usually laces his sermons with anti-Israel and anti-American invectives. But the speech, lashing out against Britain and threatening attacks against the country, was unusual, say Middle East media monitors, especially now in light of the London terrorist attacks. Great Britain occupied Palestine until Israel was created in 1948, and was largely responsible for the League of Nations Mandate, which called for the establishment of a "Jewish national home" in what eventually became the Jewish State.
Al-Qaida Nukes Already in US
(Terrorists and bombs smuggled across Mexico border by MS-13 gangsters)
July 12….(WND) As London recovers from the latest deadly al-Qaida attack that killed at least 50, top US government officials are contemplating what they consider to be an inevitable and much bigger assault on America, one likely to kill millions, destroy the economy and fundamentally alter the course of history, reports Joseph Farah's G2 Bulletin. According to captured al-Qaida leaders and documents, the plan is called the "American Hiroshima" and involves the multiple detonation of nuclear weapons already smuggled into the US over the Mexican border with the help of the MS-13 street gang and other organized crime groups. Al-Qaida has obtained at least 40 nuclear weapons from the former Soviet Union, including suitcase nukes, nuclear mines, artillery shells and even some missile warheads. In addition, documents captured in Afghanistan show al-Qaida had plans to assemble its own nuclear weapons with fissile material it purchased on the black market. In addition to detonating its own nuclear weapons already planted in the US, military sources also say there is evidence to suggest al-Qaida is paying former Russian special forces Spetznaz to assist the terrorist group in locating nuclear weapons formerly concealed inside the US by the Soviet Union during the Cold War. Osama bin Laden's group is also paying nuclear scientists from Russia and Pakistan to maintain its existing nuclear arsenal and assemble additional weapons with the materials it has invested hundreds of millions in procuring over a period of 10 years. The plans for the devastating nuclear attack on the US have been under development for more than a decade. It is designed as a final deadly blow of defeat to the US, which is seen by al-Qaida and its allies as "the Great Satan." At least half the nuclear weapons in the al-Qaida arsenal were obtained for cash from the Chechen terrorist allies. But the most disturbing news is that high level US officials now believe at least some of those weapons have been smuggled into the US for use in the near future in major cities as part of this "American Hiroshima" plan, according to an upcoming book, "The al-Qaida Connection: International Terrorism, Organized Crime and the Coming Apocalypse," by Paul L. Williams, a former FBI consultant. According to Williams, former CIA Director George Tenet informed President Bush one month after the Sept. 11, 2001, attacks that at least two suitcase nukes had reached al-Qaida operatives in the US. "Each suitcase weighed between 50 and 80 kilograms (approximately 110 to 176 pounds) and contained enough fissionable plutonium and uranium to produce an explosive yield in excess of two kilotons," wrote Williams. "One suitcase bore the serial number 9999 and the Russian manufacturing date of 1988. The design of the weapons, Tenet told the president, is simple. The plutonium and uranium are kept in separate compartments that are linked to a triggering mechanism that can be activated by a clock or a call from the cell phone." According to the author, the news sent Bush "through the roof," prompting him to order his national security team to give nuclear terrorism priority over every other threat to America. However, it is worth noting that Bush failed to translate this policy into securing the US-Mexico border through which the nuclear weapons and al-Qaida operatives are believed to have passed with the help of the MS-13 smugglers. He did, however, order the building of underground bunkers away from major metropolitan areas for use by federal government managers following an attack. Bin Laden, according to Williams, has nearly unlimited funds to spend on his nuclear terrorism plan because he has remained in control of the Afghanistan-produced heroin industry. Poppy production has greatly increased even while US troops are occupying the country, he writes. Al-Qaida has developed close relations with the Albanian Mafia, which assists in the smuggling and sale of heroin throughout Europe and the US. Some of that money is used to pay off the notorious MS-13 street gang between $30,000 and $50,000 for each sleeper agent smuggled into the US from Mexico. The sleepers are also provided with phony identification, most often bogus matricula consular ID cards indistinguishable from Mexico's official ID, now accepted in the US to open bank accounts and obtain driver's licenses. The Bush Administration's unwillingness to secure the US-Mexico border has puzzled and dismayed a growing number of activists and ordinary citizens who see it as the No. 1 security threat to the nation. According to Williams' sources, thousands of al-Qaida sleeper agents have now been forward deployed into the US to carry out their individual roles in the coming "American Hiroshima" plan. Bin Laden's goal, according to the book, is to kill at least 4 million Americans, 2 million of whom must be children. Only then, bin Laden has said, would the crimes committed by America on the Arab and Muslim world be avenged. There is virtually no doubt among intelligence analysts al-Qaida has obtained fully assembled nuclear weapons, according to Williams. The only question is how many. Estimates range between a dozen and 70. The breathtaking news is that an undetermined number of these weapons, including suitcase bombs, mines and crude tactical nuclear weapons, have already been smuggled into the US, at least some across the US-Mexico border. The future plan, according to captured al-Qaida agents and documents, suggests the attacks will take place simultaneously in major cities throughout the country, including New York, Boston, Washington, Las Vegas, Miami, Chicago and Los Angeles. In response to the G2 Bulletin revelations, Chris Simcox, founder of the Minuteman Civil Defense Corps, a citizen action group demanding the US government take control of its borders, said an immediate military presence on the borders is now imperative "to stop the overwhelming influx of unidentified, potentially hostile and seditious persons coming across at an alarming rate." "Terrorists have carte blanche to carry practically anything they want across our national line at this time," he said. "As ordinary citizens have warned this government for years, the only surprising part about the new information reported here is that nothing apocalyptic from Mexican-border weapons trafficking has yet happened. Terrorism has reared its ugly head in London again these past few days, and as we know all too well we are not immune in this country. At this point, the next attempt to attack America at home is just a matter of 'when,' not 'if.' And our unsecured borders have surely contributed to this threat, yet our government officials continue to fiddle while our nation's margin of security and safety burns away.
Forecast in Israel: Raining rockets
July 12….(WND) Hamas has announced a new strategy to destroy Israel, replacing suicide bombers with Qassam campaign. Hamas will begin the next phase of its war to destroy the Jewish state by launching Qassam rockets at Jerusalem, Tel Aviv and West Bank communities instead of focusing on suicide bombings, the terror group explained on its website. Hamas and Islamic Jihad have been launching an average of three rockets or mortars per day at Gush Katif, the largest area of Jewish communities in Gaza scheduled for evacuation Aug. 15. The Israeli army has done little to stop the rocket attacks. Now Hamas has published an article on its website stating it will extend its Qassam manufacturing and firing capabilities to the West Bank. It warned it will launch a rocket onslaught against Israeli cities, including Jerusalem and Tel Aviv, until the Jewish state is destroyed. "Should the Zionist army partially withdraw from the cities of the West Bank, Afula, Hadera, Beit She'an, Netanya, Tel-Aviv, Jerusalem and other cities will all fall within the range of the Qassam rocket. The implication is that this rocket, which was previously looked upon with disdain by many, will serve as the weapon of choice in the coming period of time, as the acts of suicide martyrdom served as the weapon of choice during all the previous years," stated the Hamas article, translated by the Intelligence and Terrorism Information Center at the Center for Special Studies in Israel. Hamas admitted Israel's West Bank security barrier has diminished its ability to infiltrate Israeli cities and carry out suicide attacks, but it explained the rockets cannot be stopped. The terror group scoffed at any Israeli attempt to establish a buffer between Israeli and Palestinian population centers. Israeli security sources say Hamas has been using time gained from a cease-fire agreement signed in February by Palestinian leader Mahmoud Abbas and Israeli Prime Minister Ariel Sharon to stockpile weapons and extend its Qassam manufacturing capabilities to the West Bank.
US May Begin Iraq Troop Drawdown in '06
July 12….(My Way) Major reductions in US troop levels in Iraq next year appear increasingly likely, although Pentagon officials said Monday it is too early to predict the specific size and timing. The Pentagon is eager to pull some of its 135,000 troops out of Iraq in 2006, partly because the counterinsurgency is stretching the Army and Marine Corps perilously thin as casualties mount and partly because officials believe the presence of a large US force is generating tacit support for anti-American violence. It appears highly unlikely that any significant numbers will be withdrawn before the end of the year. US commanders expect the insurgency to remain at or near its current strength at least until after a scheduled October referendum on a new Iraqi constitution, followed by December elections for a new government. Attempts by US officials to predict the course of the insurgency have been off the mark, and officials have been forced more than once to scrap plans to reduce the US force in Iraq. The force peaked at about 160,000 in January, when extra troops were needed to bolster security for the elections. Anthony Cordesman, a defense analyst who closely follows progress in Iraq and visited the country last month, said in an interview that he agrees with US commanders that troop reductions next year are a reasonable goal. Bryan Whitman, a senior Pentagon spokesman, declined to comment directly on a leaked British military assessment that raises the possibility of drastically cutting British troop strength in Iraq by the end of next year as well as sharply cutting the overall number of US and allied troops by the middle of next year to 66,000. At the White House, spokesman Scott McClellan told reporters that President Bush is relying on commanders in Iraq to judge when the time is right to adjust the level of US forces, based in part on an assessment of how capable the US-trained Iraqi government forces are of fighting the insurgency on their own. Michael O'Hanlon, a defense specialist at the Brookings Institution think tank, said the training of Iraqi forces has progressed to the point when they will be capable of taking on a greater part of the responsibility. O'Hanlon said he is hopeful that the 135,000-strong US force could be cut by as much as 50 percent by mid-2006. Defense Secretary Donald H. Rumsfeld has made the point recently that ultimately it will fall to the Iraqis themselves to defeat the insurgency. "Insurgencies by their nature need to be defeated by the country, the people of the country," he said in a radio interview July 5. "A foreign occupying force really can't do that as effectively."
Muslim Scholar: Killing Civilians is OK
July 12…(The Independent)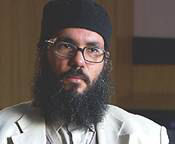 Responding to questions about the terrorist attack on London, a Muslim scholar in the British capital of London asserted Islam makes no distinction between civilians and military targets. "The term 'civilians' does not exist in Islamic religious law," said Hani Al-Siba'i, head of the Al-Maqreze Centre for Historical Studies in London. Al-Siba'i, in an interview with the Arab news channel al-Jazeera, elaborated, "There is no such term as 'civilians' in the modern Western sense. People are either of Dar Al-Harb or not." Dar Al-Harb refers to the Muslim concept of the world being divided into two "houses," the House of Islam and the remaining territories, the House of War, or Dar Al-Harb. Al-Siba'i even speculated that a Western nation could have been responsible for the attack, but he acknowledged it could have been carried out by Osama bin Laden's terrorist organization, according to a transcript provided by the Middle East Media Research Institute, or MEMRI. "If al-Qaida indeed carried out this act, it is a great victory for it," he said. "It rubbed the noses of the world's eight most powerful countries in the mud." Asked whether he considered bin Laden a religious scholar who issues fatwas or the head of al-Qaida, Siba'i said, "First of all, he is one of this (Islamic) nation. We have no clergy or a pope, or anything like this. Anyone can carry out his religious duty, even if he is by himself." The host argued that the religious law assembly in Mecca at the end of last month issued a fatwa forbidding the killing of civilians. "Should we follow it or Osama bin Laden?" the host asked. Al-Siba'i said, "These assemblies resemble the assemblies of the church. These assemblies forbid young people from going to Iraq to fight the jihad. The Higher Religious Authority (in Saudi Arabia) are the ones who allowed the presence of Crusader forces in the Land of the Two Holy Places (Saudi Arabia)."
Hamas: Israel Must Eventually Disappear
July 12….(Ynet news) A Senior Hamas leader tells Italian newspaper pullout plan a temporary solution; says Palestine will become a Muslim state. Hamas will not compromise on one inch of Greater Palestine, Hamas leader Mahmoud al-Zahar told an Italian newspaper earlier this week. Speaking to the Corriere Della Sera newspaper, al-Zahar said Hamas would "definitely not" be prepared for coexistence with Israel should the IDF retreat to its 1967 borders. It can be a temporary solution, for a maximum of 5 to 10 years. But in the end Palestine must return to become Muslim, and in the long term Israel will disappear from the face of the earth." In Israel, Foreign Minister Silvan Shalom provided a translation of part of the interview and parts of the Hamas consitution Foreign Minister Silvan Shalom for European Union envoy Javier Solana, in an attempt to explain Israel's rejection for negotiations with Hamas. The Ministry has also embarked on a campaign to discourage Europeans from dealing with Hamas, including an English translation of Hamas's convention, to be distributed to diplomats in a bid to illustrate the movement's radical and dangerous character to the attention of decision makers throughout the world. "Now, when Europe has offered to recognize Hamas on a political level, al-Zahar provides clear statements of what to expect from the organization," Ministry officials told Ynet. "He does not even attempt to speak ambiguously in an attempt to please Europe and finds it difficult to hide the group's happiness at the London bombings."
Israel and Holocaust
July 11….(by: Rabbi Dov Greenberg) Nobel Peace Laureate Elie Weisel was once asked whether the world had learned anything from the Holocaust. Wiesel responded, "Yes, that you can get away with it." If Wiesel is right ­ and the international fury against the collective Jewish existence in Israel in recent years seems to confirm his words ­ then for Jews, the lesson must be the exact opposite: never again will we allow a Holocaust to happen. That means first and foremost that Israel must be strong, spiritually, morally and militarily. Between 1939 and 1945, the Nazi regime, with help from millions of other Europeans, murdered almost every Jew on the continent of Europe. Had there been an Israel in the 1930s, an untold number of Jews could have been saved. Here's why. At first, Hitler wanted merely to expel the Jews; only later did he decide to slaughter them. When the nations of the world gathered in Evian, France in 1938, fully aware of the danger facing European Jewry, one country after another declared: We have no room for the Jews. From the beginning of World War II, the world was divided into two types of countries: those that expelled or murdered Jews, and those that rejected the Jews who had been expelled or who had fled from elsewhere. Had there been an Israel, there would have been a country willing to take in the Jewish refugees when America, Britain and the other nations refused. A second reason the magnitude of the Holocaust would have been diminished is that, unlike the Allies, who could not find it in their power to spare a few airplanes to bomb the tracks to Auschwitz and other death camps, Israel would have.
In his book A Durable Peace, Benjamin Netanyahu put it simply: "Until I stood there at Birkenau, I never realized how tiny and mundane the whole thing was. The factory of death could have been put out of operation by one pass of a bomber. Indeed the Allies had been bombing strategic targets a few miles away. Had the order been given, it would have taken but a slight shift of the bomber pilot's stick to interdict the slaughter. Yet the order was never given." When Pope Paul VI criticized Israel's "fierceness" during a private audience with Golda Meir, she replied: "Do you know what my earliest memory is? A pogrom in Kiev. When we were merciful and when we had no homeland and when we were weak, we were led to the gas chambers." While visiting Israel, a teacher of mine encountered an American minister who started badgering him with hostile questions and comments about Israel, and finally asked him, "What is it that you Jews really want?" My teacher responded with the following story: At Stolpce, Poland, on September 23, 1942, the ghetto was surrounded by German soldiers. Pits had been prepared outside a nearby village where the Jews would be led and then shot. The Germans entered the ghetto, searching for the Jews. A survivor by the name of Eliezer Melamed later recalled how he and his girlfriend found a room where they hid behind sacks of flour. A mother and her three children had followed them into the house. The mother hid in one corner of the room, the three children in another. The Germans entered the room and discovered the children. One of children, a young boy, began to scream, "Mama! Mama!" as the Germans dragged the three of them away. But another of them, only four years old, shouted to his brother in Yiddish, "Zog nit 'Mameh.' Men vet ir oich zunemen." ("Don't say 'Mama.' They'll take her, too.") The boy stopped screaming. The mother remained silent. Her children were dragged away. The mother was saved. "I will always hear that," Melamed recalled, "especially at night. 'Zog nit Mameh' ­ 'Don't say Mama.' And I will always remember the sight of the mother. Her children were dragged away by the Germans. She was hitting her head against the wall, as if to punish herself for remaining silent, for wanting to live." After concluding the story, my teacher told the minister, "What do we Jews really want? Well, I'll tell you what I want. All I want is that our grandchildren should be able to call out 'Mama' without fear. All we want is that the world leave us alone." Jews detest wars. Perhaps no other people prays so often and so passionately for peace. But in an unredeemed world, we sometimes have to take up arms to defend life itself.
G8: Israeli-Arab Conflict Source of World's Ills
July 11….(JNEWSWIRE) Israel's conflict with the Arabs over lands promised to the Jews by the Almighty but later claimed by Islam is the primary reason for the lack of global harmony, the leaders of the world's eight wealthiest nations declared at the weekend. "A comprehensive resolution of the Middle East conflict is critical to peace in the world and prosperity in the region," a statement released by the participants in the G8 Summit in Gleneagles, Scotland read. "In this context, our common goal remains a final settlement of the Israeli-Palestinian conflict based on the creation of a viable, democratic Palestinian state" and a "universally recognized Israel." The statement was released following and as a reaction to Thursday's series of terrorist attacks against the residents of London. British Prime Minister Tony Blair suggested the unresolved Israeli-Arab conflict was the root cause for the assault, and indeed all global Islamic terrorism. While Prime Minister Ariel Sharon ordered Israeli government officials not to make political statements regarding the London bombings, several Jerusalem sources blasted Blair for his "hypocrisy." "It is a widespread approach in Europe," one Israeli diplomat told Ynetnews. "They really believe we are responsible for all their problems." "Blair's comments are an attempt to calm things down, to tell British Muslims, 'it's not you, it's the Mideast conflict,'" another source said. The unnamed diplomats said Blair's reaction to the bombings was another sign Europe had yet to wake up to the dangers of radical Islam. At least one world leader, Pope Benedict XVI, took a seemingly opposing tack to that of Blair and the G8 by calling the attacks "anti-Christian." A Vatican source told reporters the pope continued to see Christianity, Christian values, and the Christian way of life, particularly in Europe, as the direct and intentional targets of Islamic terrorism.
FOJ Note: Umm! Israel, and more specifically, the city of Jerusalem represents the critical mass issue for the world's ills, and the reason for the threat of Islamic terrorism, according to many of the world's leaders. Sounds a little like Bible Prophecy, doesn't it?
The Israeli dilemma is causing a certain perplexity for the world's leaders. (Luke 21:25-26 and upon the earth distress of nations, with perplexity; the sea and the waves roaring; Men's hearts failing them for fear, and for looking after those things which are coming on the earth:) (Zech 12:2-3 Behold, I will make Jerusalem a cup of trembling unto all the people round about, when they shall be in the siege both against Judah and against Jerusalem. And in that day will I make Jerusalem a burdensome stone for all people: all that burden themselves with it shall be cut in pieces, though all the people of the earth be gathered together against it.)
WEEK OF JULY 4 THROUGH JULY 10
Iran Could Destroy Israel With 2 Nukes
July 9….(MENL) Israel's Defense Ministry has determined that Iran could destroy the Jewish state with two atomic bombs. Officials said the ministry and the Israel Defense Forces have conducted simulations of an Iranian nuclear attack for damage assessment and response. They said authorities have determined that two nuclear bombs that explode in the center and north of Israel would destroy most of the population and all vital infrastructure. The assessment was issued at a conference on Iran and its nuclear program. Deputy Defense Minister Zeev Boim said two Iranian missiles tipped with a nuclear warhead could destroy Israel. Boim said even one nuclear weapon could cripple the country.
Washington Reaches Out to India in Strategic Alliance
July 9….(Global Times) When cries grow louder in the US political circle for construction of an Asian allies network to guard against China, US Defense Secretary Donald Rumsfeld signed his visiting Indian counterpart Pranab Mukherjee an eye-catching defense cooperation agreement in the Pentagon on June 28. The ten-year agreement focuses on cooperation in weaponry manufacturing and missile defense. The United States has recently made several moves in its Asian strategy, and the hand-shaking of the two defense ministers this time is regarded as another important step it made in Asia, which is partly intended to diminish China's influence in this region and to safeguard and expand US strategic interest in Asia. this agreement entitled "New Framework for the US-India Defence Relationship", the United States grants India a series of "ally" treatments: joint weaponry production, cooperation on missile defense to be strengthened and a promise to lift soon US ban on export of sensitive military technologies to India. The United States pledged to conduct strategic talks with India, help India develop missile defense and other security facilities and cooperate with India in multiple fields such as science and technology, economy and energy. Many of such offers were once cancelled due to India's nuclear test in 1998. In the statement afterward, the United States adopted a warm rhetoric it never used on this region, saying the US-India relations have "entered a new era". "We are transforming our relationship to reflect the principles and national interests we share." The statement says, the cooperation between the two countries has reached "an unprecedented level" and the two sides agree to set up a "defense procurement and production group" , which will be responsible for national defense cooperation such as joint military research, development and test, as well as the training of naval navigator. It is reported that the group will focus on joint production of F-16 or F-18 fighter jets, a cooperation only reserved for US allies. What should be noted is that according to the agreement, the United States will recommend to India the "Patriot III" anti-missile system to fight back short-range ballistic missiles. this agreement entitled "New Framework for the US-India Defense Relationship", the United States grants India a series of "ally" treatments: joint weaponry production, cooperation on missile defense to be strengthened and a promise to lift soon US ban on export of sensitive military technologies to India. The United States pledged to conduct strategic talks with India, help India develop missile defense and other security facilities and cooperate with India in multiple fields such as science and technology, economy and energy. Many of such offers were once cancelled due to India's nuclear test in 1998. In the statement afterward, the United States adopted a warm rhetoric it never used on this region, saying the US-India relations have "entered a new era". "We are transforming our relationship to reflect the principles and national interests we share." The statement says, the cooperation between the two countries has reached "an unprecedented level" and the two sides agree to set up a "defense procurement and production group" , which will be responsible for national defense cooperation such as joint military research, development and test, as well as the training of naval navigator. It is reported that the group will focus on joint production of F-16 or F-18 fighter jets, a cooperation only reserved for US allies. What should be noted is that according to the agreement, the United States will recommend to India the "Patriot III" anti-missile system to fight back short-range ballistic missiles. Analysts say it is obvious that the United States intends to draw India into its global strategic framework. Three months ago, a high-ranking official from the Bush administration said that the United States had mapped out a plan to enhance US-India relation in an all-round way ¨C a "new step of strategic partnership", which is aimed to "help India become a world major power in the 21st century". On June 24, Assistant Secretary of State William Burns told media in New Delhi that India was an "ideal candidate" for a permanent seat in the UN Security Council, implying US support.
Scenes That Speak Loudly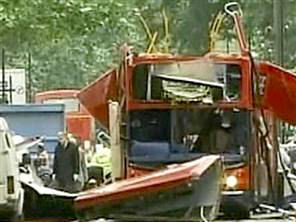 July 8….(FOJ) The picture of the red double-decker bus that was blown to bits in London yesterday was a striking scene that is all too familiar in Israel. It has been reported that 10-15 people riding in the top level of the bus were dismembered by the blast from an Al Qaeda attack. Had I not read the headlines, I would have immediately supposed there had been yet another bus-bombing in Israel. The three scenes below show a bus-bombing in Israel that occurred just 2 years ago. Ironically, this bus was transported to Europe and the United States so that people in the West could see what the Islamic terrorists in the West Bank were all about. It should have been a stern warning to American and British leaders that the appeasement of terrorism being waged against Israel will only come to our own shores unless we eradicate their existence in the West Bank and Israel. But, no the US and the Quartet, including Mr. Blair emphatically repositioned themselves behind the world's (UN) resolve to Divide the Promised Land.
G-8 will Grant PA $3 Billion Aid Package
July 8….(FOJ) You think terrorism doesn't pay, or might you suppose the US and Great Britain and the G-8 nations really have a handle on the war-on-terror? British Prime Minister Tony Blair today announced that the G-8 countries had agreed on a $3 billion package in aid for the Palestinian Authority. Mr. Blair, speaking at the end of the G-8 summit, said, the G-8 has agreed on a substantial package of help for the Palestinian Authority, amounting to up to 3 billion US dollars for the years to come so that two states, Israel and Palestine, two peoples and two religions can live side by side in peace."
The Bush Administration and some in the G-8 are banking on Mr. Abbas to forge a democratic government in the proposed new peace-loving state of Palestine, and yet the PA has already pleaded with the Hamas terrorist organization to join the government, because Hamas enjoys popular support among the West Bank Palestinians. Hamas has already rejected that invitation because it knows full well that it can take over the new State, and govern it as a terrorist entity, with full Al Qaeda, Syrian and Iranian support. The bottom line in this aid package is that the 3 billion dollars will go to Hamas, just like all the other billions in aid went to Yasser Arafat, and his terrorist machine!
Assad: Gala Banquet for Palestinian Terrorist Leaders after London Bombings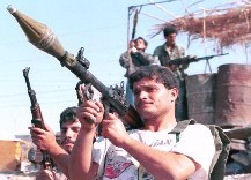 July 8….(DEBKAfile Exclusive) Syrian leader Bashar Assad threw a gala banquet for Palestinian terrorist leaders after the London bombing. Thursday night, July 7, as London counted the victims of four terrorist bombings, Syrian president Hafez Assad entertained a group of hard-line Palestinian terrorist leaders at a banquet in Damascus. Although he claims to be a close friend of Britain, it did not cross his mind to call off the occasion or remove from its guest list the heads of organizations which Britain as well as the United States have listed as proscribed terrorist groups. Present were Hamas leaders Khaled Mashal and Abu Marzouk, Jihad Islamic chief Ramadan Shalah, Ahmed Jibril, of the PFLP-General Command, Maher al Tarah of the Population Front and their senior operations officers. They had just spurned an appeal from PA Prime Minister Mahmoud Abbas, who was also there, to join his government and ensure that their organizations hold their fire for Israel's pull-back from the Gaza Strip and the northern West Bank. All they would promise was to escalate their attacks on Israel. Friday morning, July 8, Abbas left Damascus for Beirut for another impossible mission, to persuade the Palestinian militias in Lebanon to disarm. Abu Mazen is under heavy pressure from the Bush Administration to prove himself the leader of all Palestinians as was Yasser Arafat, but to do so in a way that would incourage Democracy in the proposed new Palestinian State. Abbas will be meeting Lebanese leaders to coordinate steps for the Palestinian militias, especially in the Ain Hilwa camp near Sidon to surrender their weapons. At least 5,000 Palestinians there are thought to bear arms. But according to DEBKAfile's Palestinian sources, Abbas has as little hope of getting the Lebanese Palestinians to disarm as he has in the areas directly governed by the Palestinian Authority. Abu Mazen will come out of Beirut spouting the same meaningless assurances as he does in Washington, Jerusalem and Ramallah, and perhaps only he knows if he is really trying to promote the peace process as Washington hopes that he is.
The Bombers were likely Suicide Killers
The bombing attacks on London's Underground railway and a double-decker bus Thursday, July 7, were the work of a team of 6-8 terrorists wearing explosive vests. This is the first conclusion drawn by DEBKA-Net-Weekly's terror experts from the type and strength of the explosives used and they way the bombers, in three out of the four attacks, were able to deliberately spread the damage to secondary vehicles outside their primary targets. The explosion on the trains at Kings Cross and Edgware Road stations, and the bomb that wrecked the bus at Tavistock Square, were also aimed at hitting passing trains and cars to maximize the casualty toll. To accomplish this, the bomber needed to watch out for moving vehicles and judge the exact moment for detonating the explosive with zero chances of surviving the blast. The bombs were not large, smaller than the ones that were planted on the Madrid trains in March 2004, because they had to be worn on the terrorists' bodies without arousing suspicion. In Madrid they were left in bags. At the big Kings Cross station, two trains were caught in the blast; at Edgware Road station, three trains were hit. As for the bus, two suicide bombers sat at the back of the bus well separated, ready to detonate their vests as soon as they saw a second bus came close through the rear window. They then both tripped the cords on their bombs. The bus's upper deck was ripped off and hurled in the air. Had there been one bomber, only one side of the bus would have been wrecked. These details are vital leads for the investigation. Scotland Yard and British anti-terrorist agencies must determine how a large team of suicide killers reached central London without prior warning from the British and foreign intelligence agencies engaged in the war on al Qaeda. There could be three explanations:
1. A home-grown covert Muslim cell that escaped the notice of the anti-terrorist intelligence network that was spread across Britain after the 9/11 al Qaeda attacks in America.
2. It was the work of an al Qaeda suicide team which had never been to the UK before and had no previous ties with local terrorist cells. They simply mingled with the stream of summer tourists entering the country. This team would have been made up of three groups, one to collect intelligence, select targets and transport the killers to the scenes of attack; one to smuggle in the bomb-vests and finally, the actual suicide bombers.
3. The terrorists arrived in London singly without attracting attention and found an intelligence infrastructure and explosives already set up by a local cell unknown to the British security authorities. More than a few British Muslims have spent time in Arab countries studying at religious institutions whose curriculum includes military training and bomb-making instruction. Two such British Muslim suicide killers, Asif Mohammed Hanif and Omar Khan Sherif, were dispatched to Tel Aviv to blow up the American embassy on April 30, 2003, When they saw the building was a fortress, they switched to an attack on the neighboring Mike's Bar.
When Will the World Wakeup?
July 8….(FOJ) The terrorist attacks on London yesterday highlighted a particular point. When will the nations of the world wakeup and see the need to commit themselves to waging a full-scale war on the terrorists, and their sponsors? (remember Bush's speech about those nations that harbor terrorists and provide sanctuary and support) The answer is likely to be never, because the identity of this enemy in the so-called war-on-terror has never been correctly identified. The politically correct ideology prevents most of the western world from making the obvious connection to the religion of Islam, and the radical war of fundamentalism that is raging within its geo-religious parameters. The crux of the world-wide terrorist threat emanates from the demonic venom preached from Islamic quarters that calls for the annihilation of Israel. Sadly, much of the rest of the world has little regard for Israel, and because there is so much spiritual blindness concerning the role of Israel in world affairs, the world has become indoctrinated by the spirit of anti-Semitism and anti-Zionism. The terrorists are waging Jihad against the prevailing powers and geo-political overseers of the Middle East, in an all-out effort to coerce the geo-political theatre that will effectuate the destruction of the State of Israel. The USA is target number one on the terrorist's Jihadic list because America continues to support Israel's right to exist! Great Britain, siding with the US because America assumed the leadership role in the Middle East in its stead after WWII, and wanting to maintain a semblance of its power base in the Central-Mid-east oil rich region, thus is also a target of the Islamic terrorists. Obviously, the terrorists hoped to effect a Spain-like falling-domino from the Coalition against terrorism throughout Great Britain. Al Qaeda issued further threats against the Netherlands and Italy. But, the world will never join together in a sincere campaign against terrorism, because the powerbroker-leaders that run the major nations in the world all see the terrorist threat as a means for the dethroning of the US-British role in the Middle-East, and a chance for Russia, China, and or the greater EU, or some other multi-polar structure to control the world. (And, Oh, yeah, Bible Prophecy portends that this structure would likely be the rise of the Ten Kings that will exalt the kingdom of the Antichrist.) I recall in the days succeeding the take-down of Saddam Hussein in Iraq, Prime Minister Tony Blair visited the White House to compel upon his ally President Bush to return his attention to the Middle East Peace Process, and encouraged the President to adopt the two-state solution to the Israeli-Palestinian Conflict. Now, today, we see the curse of compromising Israel's God-mandated land coming back upon Britain. Albeit, the prospect of the same tragedy awaits the US because we are ignorantly and foolishly helping to establish an Al-Qaeda-Hamas terrorist State in Gaza, and the West Bank!
London Rocked by Terrorist Attacks
July 7….(AP) Seven near simultaneous explosions rocked the London Underground transportation network subway and tore open a double-decker bus during the morning rush hour today in the capital city, killing at least 40 people and injuring hundreds of others. Bloodied survivors were seen emerging from stations and receiving treatment on sidewalks. A group calling itself "The Secret Organization of al-Qaida in Europe" has posted a claim of responsibility for the attacks on a website popular with Islamic extremists, reports Der Spiegel magazine in Berlin. The statement claims the bombings were in retaliation for Britain's involvement in Iraq and Afghanistan. Prime Minister Tony Blair called the attacks a ''barbaric'' terrorist attack timed to disrupt the G8 summit. ''It's important, however, that those engaged in terrorism realize that our determination to defend our values and our way of life is greater than their determination to cause death and destruction to innocent people and a desire to impose extremism on the world,'' an emotional Blair said in a televised address. ''Whatever they do, it is our determination that they will never succeed destroying what we hold dear in this country and in other civilizations in the world.'' The explosions came a day after London was awarded the 2012 Olympics and as the G8 summit was getting under way in Scotland.
President Bush after speaking with Prime Minister Tony Blair vowed, "we will not yield to the terrorists". "The war on terrorism goes on," he said from Gleneageles, Scotland, where he was attending the Group of Eight summit. "We will not yield to these people, we will not yield to the terrorists." Minutes before, British Prime Minister Tony Blair had read a joint statement from all the leaders gathered at the summit being held at a posh resort here. "I was most impressed by the resolve of all the leaders in the room," Bush said. "Their resolve is as strong as my resolve." Blair then rushed to London, and Bush said the British leader would "carry a message of solidarity" with him from his fellow world leaders. The president offered the "heartfelt condolences" of the American people to the victims and their families in London.
Iran Has 40,000 Human 'Time Bombs'
(Suicide 'Martyrdom' movement recruits suicide attackers against US)
July 7….(WND) An Iranian movement says it now has recruited 40,000 human "time bombs" to carry out suicide attacks against Americans in Iraq and Israel. The movement, called the World Islamic Organization's Headquarters for Remembering the Shahids says the volunteers want to carry out "martyrdom operations to liberate Islamic lands," according to a report broadcast by Al Arabia TV and translated by the Middle East Media Research Institute, or MEMRI. Last year, Insight Online magazine reported the movement, which at the time claimed 10,000 recruits, was signing up shahids to wage war on the US on the internet. In the July 2 television feature, spokesman Mohammad 'Ali Samedi said that since the movement's beginning a year and a half ago, he has been busy signing up recruits, organizing conventions and training members for martyrdom operations. Supporters of the movement include members of parliament and Revolutionary Guards officers, but Samedi insists it is not a government organization and is not supported by the Iranian regime. But as MEMRI reported, Iranian political leader Ali Khamenei and Revolutionary Guards Gen. Shabani praised the culture of martyrdom and jihad in speeches to students, urging them to become martyrs themselves in order to resist enemies, particularly the United States. The July 2 program includes an interview with a female member named Vesaly. "We are first and foremost Muslims and it is our duty to defend our brothers and sisters throughout the world," she says. "We don't need permission from anybody. This has to do with our religious duty and responsibilities. This is our choice, and we have no fear. We adhere to the legacy of our late leader, Imam Khomeini." In the broadcast, the reporter says, "These young women have forsaken the temptations of life, and have taken the hard way. Indeed, they have chosen martyrdom as a way of liberating the Islamic lands. "We all sacrifice for the sake of Islam." The reason they are sacrificing, the reporter says, is "what America has done in the holy places of Najaf and Karbala" in Iraq. He says a "young mother from Palestine, who sacrificed her life and blew herself up at an Israeli checkpost, is a role model for the movement's members, who believe this is the only way to liberate the Palestinian lands, and especially the Al-Aqsa Mosque." Firooz Rajai, a movement leader, says members will "not allow the Zionists to build their Solomon Temple in the place where the Al-Aqsa Mosque stands." "We are willing to sacrifice our bodies and souls to defend the Al-Aqsa Mosque," he says. "Our goal is to achieve martyrdom by way of true jihad." Rajai says the movement maintains relations with groups supporting the "Palestinian cause," such as Hamas and the Islamic Jihad. Ali Samadi, another movement leader, says that Israel only understands "the language of force" and, therefore, "our new weapon of martyrdom operations is bound to change the balance of power." "We are not afraid of the American fleets or the British weapons in Iraq," he says. "We vow to become time bombs in the event of every aggression on our land."
Bush Set on Toppling Syrian Baath Too
July 6….(DEBKA) US Republican foreign policy strategist Richard Perle said the Bush administration is as determined to overthrow the Bashar Assad's Baathist regime in Damascus as he was to oust the Baathists of Iraq. Perle was addressing a meeting of Syrian opposition leaders in Washington which decided to set up a Syrian national council in exile.
Israel Wants US to Pay for Gaza Pullout
July 6….(AP) Israel will ask Washington for hundreds of millions of dollars to help pay for next month's pullout from the Gaza Strip and four West Bank settlements, an Israeli official said Wednesday. Prime Minister Ariel Sharon ordered faster work on building Israel's separation barrier, particularly around Jerusalem. International pressure to resume Mideast peace talks is expected to intensify after the Gaza pullout and the completing of the barrier around Jerusalem would establish facts on the ground regarding the fate of the city, which Israel also claims as its capital and which will be a key issue in final settlement negotiations. Israel says it is building the barrier of concrete slabs, electronic fences and trenches to keep out Palestinian attackers. But because it incorporates about 8 percent of the West Bank on the "Israeli" side, Palestinians call it a land grab. Palestinian leader Mahmoud Abbas said in an interview with the London-based Arabic newspaper Asharq Al-Awsat that he and Sharon might hold a summit before the pullout, set to begin in mid-August. They last met in June but failed to resolve several major issues. On Tuesday, the main settlers group called on its followers to migrate en masse to the Gaza settlements on July 18. Sharon aide Raanan Gissin said the government was considering sealing the area before the march, and that Sharon, Defense Minister Shaul Mofaz and Internal Security Minister Gideon Ezra would have final say. Gaza was sealed briefly last week before the military stormed an abandoned hotel to remove 150 Jewish extremists barricaded inside. Most were from outside Gaza. Israeli government officials will head to Washington next week to ask for money to relocate military bases and develop the Negev Desert in southern Israel, where most of the uprooted settlers are expected to move, said a senior Israeli official, speaking on condition of anonymity because the request has not been formally made. The delegation will ask for "several hundreds of millions of dollars," the official said, refusing to be more specific. With just six weeks until the evacuation, Mofaz told lawmakers Tuesday that Israel plans to send 45,000 soldiers and police to evacuate the 9,000 Gaza and West Bank settlers. The massive deployment reflects expectations of widespread resistance, some of it possibly violent. The World Bank, meanwhile, is promoting a "sunken" road linking the noncontiguous territories of Gaza and the West Bank, and foreign security inspectors at Gaza's future airport and seaport, to give Palestinians freedom of movement while keeping Israelis safe after Israel's pullout. Gaza aid is to be among items to be discussed at this week's G-8 summit of the world's richest nations.
Hamas and PA in Showdown in Gaza
July 6….(FOJ) Hamas and the Palestinian Authority appear to be headed toward an all out territorial war over the Gaza Strip as Israel relinquishes control of the area later this summer. Hamas insists that it should receive a portion of the land, but PA officials have rejected their request. With mid-August rapidly approaching, both entities are vying for control of the valuable land, not to mention the infrastructure Israel is being forced to leave behind. Hamas has also rejected an invitation from PA Prime Minister Abbas to join the PA government. Apparently the Hamas terrorists expect that they can gain the upper-hand in Gaza and eventually gain popular support throughout the West Bank, and effect a takeover of the Palestinian Authority itself. So much for the Bush thrust for democracy in the projected Palestinian State!
Israel Will Permit Egyptian Military Port in Sinai
July 6….(Ha Aretz) Israel has agreed to allow Egypt to place a movable military port on the El Arish coast in the northern Sinai for the use of guard boats meant to prevent weapons smuggling for terrorists in the Gaza Strip after the Israeli withdrawal. Israel is demanding that Egypt take responsibility for preventing arms smuggling between Egypt and Gaza. (although Egypt already over looks terrorists smuggling operations via under ground tunnels from Egypt) The port deal is part of a draft agreement between the two countries that would see Egyptian forces deployed along the Philadelphi route on the Gaza-Egypt border. The "portable pier," as the port is being called in a compromise term, can be dismantled and so is not considered a permanent port, to which the Israeli negotiation team had objected. Building a military port would requires changes to the 1979 Israel-Egypt peace treaty, which bans military deployment in the El Arish region.
Israel wants to avoid changing the military appendix to the 1979 peace treaty, preferring to use a military protocol signed by Israeli and Egyptian officers. The government hopes that leaving the treaty intact will enable it to avoid bringing the issue to the Israeli Knesset for approval.
Japan Suspects Iran-North Korea Cruise Missile Link
July 6….(Khaleej Times) Japan is worried that technology for a long-range cruise missile that can carry nuclear warheads may have been leaked to North Korea from Iran, a Japanese daily said on Sunday. At issue is technology used in cruise missiles known as Kh-55s that Ukraine (Russia) exported to Iran in 2001 under former Ukrainian President Leonid Kuchma, the Sankei Shimbun daily said, quoting Japanese government and ruling party sources. "They are linked by a network beneath the surface regarding the development of weapons of mass destruction," Sankei quoted a Defence Ministry source as saying about Iran and North Korea. The possible leak of technology was conveyed to Japan by a US intelligence agency, said Sankei, a conservative daily. Developed in the late 1970s in the former Soviet Union, the Kh-55s have a range of 3,000 km (1,864 miles), long enough to hit any part of Japan if deployed by North Korea, Sankei said. Ukraine said in March that cruise missiles capable of carrying nuclear warheads had been "smuggled" out of the country to Iran, but denied a report they had been exported with official sanction. Britain's Financial Times newspaper had quoted Ukraine's prosecutor-general Svyatoslav Piskun as saying a total of 18 X-55 cruise missiles, also known as Kh-55s or AS-15s, were exported to Iran and China in 2001. But none of them were exported with nuclear warheads. Japan has made inquiries with Ukraine and has expressed concern to Iran about the possible leak of missile technology and urged it not to hand over such missiles to North Korea, Sankei said. The only reply from the Ukrainian and Iranian governments so far has been that the issue is being investigated by Ukrainian authorities, the newspaper said. Japan has grown increasingly concerned about the nuclear and missile programs of North Korea, which declared in February that it possesses nuclear weapons. Worries increased after North Korea shocked the world in 1998 by firing a ballistic missile across Japan, prompting Japan's decision in December 2003 to buy a US-made missile defense system. It is expected to be partially deployed from 2007. Such missile defense systems, however, are aimed at thwarting ballistic missiles and are not designed with low-flying cruise missiles in mind, Sankei said.
New Oil Fear: $100/Barrel by Winter
(Analyst warns of worst-ever crisis, surging demand to keep prices high)
July 5….(WND) The surging price of oil has world leaders fretting as analysts predict another gush in prices in the coming months, with some estimates between $80 and $100 per barrel. "We could be at $100 by this winter," Texas oil analyst Matt Simmons told Britain's Observer. "We have the biggest risk we have ever had of demand exceeding supply. We are now just about to face up to the biggest crisis we have ever had." Simmons warns the skyrocketing price could plunge the world into war. Prices of crude jumped to $60 levels last week, but fell back, raising hopes of easing back to more moderate levels. This morning, crude futures hovered at $58-$59, due to fears of short supply of heating oil not meeting winter demand. Tensions between the US and Iran over Tehran's nuclear program also are causing worry about disruptions on the supply of oil from the Middle East. The volatility is pushing a plan to control soaring oil prices to the top of the G8 summit agenda in Scotland. "In the discussions on the global economy, I think there are bound to be discussions about oil, because oil prices and oil-price rises is clearly of fundamental importance to all the G8," Michael Jay, head of the UK diplomatic service told reporters. "There are discussions going on too at the moment on the global economy and oil, it is something which is of huge importance to a number of G8 leaders. While some analysts expect higher output of fuel in the coming year with prices boosting investment by energy firms, Simmons is warning of a shortage of drilling rigs due to years of underinvestment. "Many of these projects are aspirations," he told the Observer. "Many of them won't create peak production in the first year, and many of them within five years will be in decline." Not all forecasts are so gloomy. The Economist Intelligence Unit is predicting prices will peak by year's end, and drop 10 percent next year as demand is reduced by an expected slowdown in China's economy.
Pentagon Weighs Strategy Change to Deter Terror
July 5….(WND) The Pentagon's most senior planners are challenging the longstanding strategy that requires the armed forces to be prepared to fight two major wars at a time. Instead, they are weighing whether to shape the military to mount one conventional campaign while devoting more resources to defending American territory and antiterrorism efforts. The consideration of these profound changes are at the center of the current top-to-bottom review of Pentagon strategy, as ordered by Congress every four years, and will determine the future size of the military as well as the fate of hundreds of billions of dollars in new weapons. The intense debate reflects a growing recognition that the current burden of maintaining forces in Iraq and Afghanistan, along with the other demands of the global campaign against terrorism, may force a change in the assumptions that have been the foundation of all military planning. The concern that the concentration of troops and weapons in Iraq and Afghanistan was limiting the Pentagon's ability to deal with other potential armed conflicts was underscored by Gen. Richard B. Myers, chairman of the Joint Chiefs of Staff, in a classified risk assessment to Congress this spring. But the current review is the first by the Pentagon in decades to seriously question the wisdom of the two-war strategy. The two-war model provides enough people and weapons to mount a major campaign, like the Persian Gulf war of 1991 or the invasion of Iraq in 2003, while maintaining enough reserves to respond in a similar manner elsewhere. An official designation of a counterterrorism role and a shift to a strategy that focuses on domestic defense would have a huge impact on the size and composition of the military. In a nutshell, strategies that order the military to be prepared for two wars would argue for more high-technology weapons, in particular warplanes. An emphasis on one war and counterterrorism duties would require lighter, more agile forces, perhaps fewer troops, but more Special Operations units, and a range of other needs, such as intelligence, language and communications specialists. Civilian and military officials are trying to decide to what degree to acknowledge that operations like the continuing presence in Iraq, not a full-blown conventional war, but a prolonged commitment, may be such a burden that it would not be possible to also fight two full-scale campaigns elsewhere. In effect, the unusual mission in Iraq, which could last for years, has not just taken the slot for one of the two wars; it has upended the central concept of the two-war model. It is neither a major conventional combat nor a mere peacekeeping operation. It does not require the full array of forces, especially from the Navy and the Air Force, of a conventional war, and it takes far more troops than peacekeeping ordinarily would. The force of 138,000 troops in Iraq is only 13,000 smaller than it was at the height of the offensive on Baghdad two years ago, yet the administration describes the campaign not as a major conventional war, but as the leading effort in the nation's fight against terrorism. "The war in Iraq requires a very large ground-force presence," said Loren Thompson, an analyst at the Lexington Institute, a policy research center in Arlington, Va. "War with China or North Korea or Iran, the other countries mentioned in the major review scenarios, would require a much more capable Navy and Air Force." Mr. Thompson added that "what we need for conventional victory is different from what we need for fighting insurgents, and fighting insurgents has relatively little connection to stopping the spread of nuclear weapons. We can't afford it all." The Pentagon's sweeping study, called the Quadrennial Defense Review, is not due to be completed until early next year, when it will be submitted to Congress with the administration's annual budget request. Yet debate over the review cannot ignore the mounting costs of the war in Iraq, approximately $5 billion a month. The current military strategy is known by a numerical label, 1-4-2-1, with the first number representing the defense of American territory. That is followed by numbers representing the ability to deter hostilities in four critical areas of the world, and to swiftly defeat two adversaries in near-simultaneous major combat operations The final number stands for a requirement that the military retain the capability, at the same time, to decisively defeat one of those two adversaries, which would include capturing a capital and toppling a government. "We have 1-4-2-1 now, and we are going to look at that," said Ryan Henry, who serves as principal deputy under secretary of defense for policy. Asked where the military's heavy commitment to the fight against terrorism fits into the current strategy formula, Mr. Henry said, "It wasn't there when they came up with 1-4-2-1." If a new strategy emerges from the review, he said, it might be "something that doesn't have any numbers at all." Several officials involved in the review characterized the debate as "an effort to create a construct that will bring a better balance" among domestic defense, the antiterrorism campaign and conventional military requirements. After years of saying American forces were sufficient for a two-war strategy, "we've come to the realization that we're not," said another Defense Department official involved in the deliberations, who was granted anonymity because he could not otherwise discuss the talks, which are classified. "It's coming to grips with reality." Senior leaders are trying to develop strategies that will do a better job of addressing the requirements of antiterrorism and domestic defense, while acknowledging that future American wars will most likely be irregular, against urban guerrillas and insurgents, rather than conventional. Under Gordon R. England, nominated to succeed Paul D. Wolfowitz as deputy defense secretary, more than 150 questions that the review should address have been sorted into 36 major themes. They include such things as balancing reserve and active-duty forces; the role of other agencies in domestic security; combat medicine; the ability of foreign coastal powers to keep American forces at a distance; and the ability to attract people with important skills, such as a knowledge of the Arabic language. The review is analyzing in detail what would happen if the United States had to fight China, North Korea or Iran.
FOJ Note: It should be noted that America's 1-4-2-1 defense strategy places the point of emphasis primarily on defending America's interests in the Middle East region. The Homeland gets a One, the Middle East, the Pacific Rim, Central Asia and Europe requires the Four, with our deterrence capabilities netting a Two.
China, Russia Warn of World Domination
July 4….(AP) Russia and China warned other nations Friday against attempts to dominate global affairs and interfere in the domestic issues of sovereign nations in what appeared to be a veiled expression of their irritation with US policy. Presidents Vladimir Putin and Hu Jintao signed a joint declaration after two days of talks calling for a stronger United Nations role in global affairs and opposing attempts "to impose models of social and political development from outside." The two leaders also urged other states to renounce "striving for monopoly and domination in international affairs and attempts to divide nations into leaders and those being led." While the declaration did not identify any specific country, it echoed similar veiled hints by Moscow and Beijing about US policy in global affairs. After decades of rivalry, Moscow and Beijing have developed what they call a strategic partnership since the 1991 Soviet collapse, pledging their adherence to a "multipolar world," a term that refers to their opposition to US domination. China and Russia share a concern about increased US influence in Central Asia since the Sept. 11, 2001, attacks, which led to American troop deployments in Uzbekistan and Kyrgyzstan for operations in neighboring Afghanistan. While Russia remains a US ally in fighting terror, relations often have been strained by US concerns about backtracking on democracy under Putin and Moscow's worries about what it sees as US meddling in ex-Soviet republics. Russia also bristles at western calls for peace talks with rebels in Chechnya. Beijing is unhappy about US ties with Taiwan. Beijing claims Taiwan as part of its territory and says the island has no right to conduct foreign relations. "We reinforced our mutual support on key issues like Taiwan and Chechnya which concern our vital interests," Hu said after the talks. The two leaders gave an upbeat assessment on Russian-Chinese relations, which have flourished in recent years and were cemented in a border treaty ratified this year. "We have set a solid foundation for friendship, trust and cooperation for Russia and China for a long time to come," Putin said Friday. Moscow and Beijing dominate the Shanghai Cooperation Organization, a regional security grouping that also includes the ex-Soviet Central Asian nations of Uzbekistan, Kazakhstan, Kyrgyzstan and Tajikistan. Uzbekistan's President Islam Karimov, facing Western criticism for his government's bloody suppression of a May uprising, has found staunch support in Moscow and Beijing. After their meetings in Moscow, Putin and Hu were due to meet again Tuesday at the SCO summit in Kazakhstan. "We are increasing coordination and cooperation on important regional and international issues, such as guaranteeing stability in Central Asia, the SCO, reform of the United Nations and the nuclear problem of the Korean Peninsula," Hu said. The Russian and Chinese militaries are due to hold their first joint maneuvers later this year, which some observers have seen as Russia's response to cooling relations with the US and other Western nations. China has purchased billions of dollars worth of fighters, missiles, submarines and destroyers after the Soviet collapse, becoming the main customer for struggling Russian defense industries. Now it is eager to tap into Russian oil and gas to fuel its booming economy, and has lobbied hard for priority access over Japan to an oil pipeline carrying Siberian crude to Asian markets. Russian-Chinese trade amounted to about $20 billion last year, and Hu told the ITAR-Tass news agency that it could reach between $60 billion and $80 billion by 2010.

Iran Urges Worldwide Islamic Revolt
July 4….(MENL) Iran's president-elect has called for an Islamic revolution throughout the world. In the first such statement by an Iranian president in nearly 20 years, Mahmood Ahmadinejad said his election would mark what he termed a new Islamic revolution. Ahmadinejad said such a revolution would spread throughout the world. "Thanks to the blood of the martyrs, a new Islamic revolution has arisen and the Islamic revolution of 1384 [the current Iranian year] will, if God wills, cut off the roots of injustice in the world," Ahmadinejad was quoted by the official Iranian news agency as saying. "The era of oppression, hegemonic regimes, tyranny and injustice has reached its end."

Russia Wants To Build 6 More Iranian Reactors
July 4….(MENL) Russia plans to bid for an Iranian project to construct six nuclear reactor. Russian Atomic Energy Agency director Alexander Rumyantsev said Iran has decided to construct six nuclear reactors over the next decade. Russia was contracted to complete Iran's first nuclear reactor at Bushehr in 2006. "When Iran declares new tenders to construct new nuclear energy reactors, we shall take part," Rumyantsev said. Officials said the six proposed Iranian nuclear reactors supposedly would comprise of light-water facilities with a capacity to generate 1,000 megawatts of electricity. They said Iran could launch the project by 2007.
China Supplies Arms To Iran, Sudan
July 4….(MENL) The United States has determined that despite numerous requests China has become a major supplier of weaponry to Iran and Sudan. Officials said China has sold major weapons and components to oil-producing countries in the Middle East banned from receiving Western defense systems. They said Beijing has rebuffed US appeals to halt the weapons supplies. China has supplied components and expertise to Iran's weapons of mass destruction and missile programs, officials said. They said some of the Chinese components have arrived via Pakistan, another key ally of Beijing. The components were said to have included dual-use missile components, raw materials, and expertise to Iran's solid-fuel missile program. Officials said Beijing has also supplied dual-use chemical weapons-related production equipment and technology to Iran.