WEEK OF OCTOBER 30 THROUGH NOVEMBER 5
Iran's Supreme Leader says Israel will be defeated

Oct. 31….(Iran Focus) Iran's Supreme Leader Ayatollah Ali Khamenei called on the country's officials to be united in one front against the "common enemy" as he reaffirmed that the state of Israel would eventually be toppled, state-run dailies reported on Monday. Khamenei told a meeting of senior Iranian officials that they had a duty to avoid falling into the "traps and plans of the enemy". He said that the "enemy had put immense effort in recent years to create divisions and cracks" among the country's rulers. "Fortunately, certain officials were vigilant and stood up against this plan", the Supreme Leader said. Khamenei highlighted the fact that the heads of Iran's three power branches, the government, the Majlis (Parliament), and the judiciary, had become unified in their stances. Iran's Majlis is dominated by ultra-conservatives including some 90 former Islamic Revolutionary Guards Corps (IRGC) officials. Hard-line President Mahmoud Ahmadinejad, who has himself been a senior Revolutionary Guards commander, has a cabinet filled with former IRGC and Ministry of Intelligence officials. Iran's judiciary frequently comes under scrutiny from international human rights organisations for handing down sentences hands contrary to basic human rights principles. Khamenei called on officials to identify threats by "the enemies of the state". "By recognizing precisely these plans, we must tackle them wisely and astutely defend the nation and national interests and identity". He warned countries such as Egypt, Saudi Arabia, and Jordan that the United States was seeking to create a new world order in the region and would turn on them after dealing with Lebanon and Syria. He said that "continuous commotion" over Iran by the United States was because of the Islamic Republic's strategic location in the Middle East. He defended the recent position taken against Israel by Ahmadinejad, who had called for the Jewish state's destruction, and denounced the international community's defense of Israel as "shameful". "It is the resistance in Palestine which will undoubtedly lead to the fall of the Zionist regime", Khamenei said.
FOJ Note: Iran's leader is coincidentally pointing out a real distinct possibility. That possibility is that the Antichrist (New World Order) may very well emerge from the present strategies of the West in contending with terrorism in the region.
Prince Charles Targets US Attitude Toward Islam
Oct. 31….(Washington Times) Prince Charles will try to convince President Bush of the merits of Islam this week because he thinks the United States has been too intolerant of the religion since September 11, 2001. The Prince, who arrives today for an eight-day tour of the United States, has voiced private concerns over Washington's "confrontational" approach to Muslim countries and its failure to appreciate what he regards as Islam's strengths. The prince raised his concerns when he met senior Muslims in London in November 2001. The gathering took place two months after the attacks on New York and Washington. "I find the language and rhetoric coming from America too confrontational," the prince said, according to one leader at the meeting. It is understood that Prince Charles did not, and does not, believe that the actions of 19 hijackers should tarnish the reputation of hundreds of millions of law-abiding Muslims around the world.
"His criticism of America was a general one of the Americans not having the appreciation we have for Islam and its culture," said Khalid Mahmood, a Labor Party member of Parliament who attended the meeting. Prince Charles has done more than any other member of the royal family in history to understand Islam. He said in 1994 that when he became supreme governor of the Church of England, he would rather be "defender of faiths" than "defender of the faith." A year earlier Prince Charles made a speech, acclaimed throughout the Arab world, on relations between Islam and the West. He urged the West to overcome its "unthinkable prejudices" about Islam and its customs and laws. He spoke warmly of what he called the West's debt to the culture of Islam and distanced moderate Muslims from militants. "Extremism is no more the monopoly of Islam than it is the monopoly of other religions, including Christianity," he said. A senior aide to Prince Charles said Saturday: "The prince has never promoted political messages around religion. He has simply said that he wants a greater tolerance and understanding of each other's religions, which will, in turn, promote better relations between faiths."
FOJ Note: Maybe Prince Charles should preach his message of tolerance to the Muslims!
US May Have to Attack Iran
Oct. 31….(Jerusalem Post) If Iran reaches the point of no return in its drive for a nuclear capability, America will have to resort to a military option to thwart it, the former head of the Shin Bet (Israel Security Agency), Avi Dichter, said on Sunday. Speaking at a conference of the AIPAC pro-Israel lobby in Los Angeles, Dichter said he saw no prospect whatsoever of Iran abandoning its nuclear program of its own volition. Only "western pressure," led by the United States, could halt Teheran's nuclear drive. Dichter recalled that the entire international community condemned Israel for bombing Iraq's nuclear facility at Osiraq in 1981, only to subsequently recognize how crucial Israel's action had been in blocking Saddam Hussein's push for nuclear weapons. Similarly, he said, if Iran were to reach "the irreversible point," America would have to do in Iran what Israel had done in Iraq. ''The next meeting of the International Atomic Energy Agency (IAEA) is a crucial meeting (Nov 24), because there is only so much time until (Iran) will have full knowledge of how to develop a nuclear bomb. Prime Minister Ariel Sharon informed Washington in a special letter that Iranian nuclear arms would threaten the safety of Israelis more than any other nation. The PM reportedly said Israel would consider postponing military action against Teheran out of consideration for the US, but added Israel would not "wait forever." According to al-Watan, Israel made it clear that it would only be able to wait until a certain date next year and would strike at Iran if no progress is made by that time.
FOJ Note: The US is faced with the prospect of facing two more enemies at the same time, Syria and Iran. With America's socialist liberal politicians already decrying the venture into Iraq, it makes one wonder how America can undertake still another campaign against these real sponsors of terrorism.
India on High Alert After Terror Attack
Oct. 31….(VOA) Security forces are on high alert in the Indian capital New Delhi as authorities search for those responsible for three bombs that rocked the city late Saturday, killing at least 61 and injuring more than 180 others. The bombs exploded within minutes of each other, one on a bus and the other two in market places crammed with holiday shoppers preparing for the Hindu festival of Diwali and the Muslim celebration of Eid later this week. Police sifted through the debris for clues to the identity of the bombers and say they have detained 10 people in connection with the attack. Prime Minister Manmohan Singh condemned the bombs and called an emergency cabinet meeting to review security in the capital and across India. "These terrorists wish to spread a sense of fear and suspicion amongst our peace-loving people," said Mr. Singh. "These blasts have been timed to create disaffection during the festival season when people of all communities are celebrating our national festivals. We shall defeat their nefarious designs and will not allow them to succeed." India is no stranger to terrorist attacks. Many are blamed on separatist Kashmiri militants, who are fighting to force India to leave the roughly two-thirds of the region under its control. The militants want predominantly Muslim Kashmir to merge with Pakistan or to become independent. Control of Kashmir has long been a source of tension between India and Pakistan, which have fought two wars over the region. India accuses Pakistan of supporting the militants who cross into India to carry out attacks, charges Pakistan denies. For nearly two years the two countries have been engaged in peace talks that have shown signs of reducing tensions. And on Sunday, in a landmark decision, India and Pakistan agreed from November 7 to open five points along the heavily militarized Line of Control that divides Kashmir. The goal is to improve the flow of humanitarian aid and reunite divided families following the October 8 earthquake that devastated communities on both sides of the disputed border. More than 55,000 people died in the quake and hundreds of thousands were left homeless as winter approaches.
Muslims Desecrate Bibles in Hebron
Oct. 31….(JNEWSWIRE) The Taliban's 2001 destruction of ancient Buddhas and this year's alleged desecration of numerous Korans by American soldiers at Guantanamo Bay in Cuba made international headlines and became incidents of global impact. But, last weeks spiteful desecration of bibles and Jewish prayer books by "Palestinian" Muslims visiting the biblical Cave of the Patriarchs in Hebron, however, went virtually unnoticed.
Photographs taken by outraged members of Hebron's Jewish community and posted online showed the torn pages unceremoniously dumped behind the Gutnick Center, which stands in front of the compound built by King Herod over the burial place of Abraham, Isaac and Jacob. The official website of the Jewish Community of Hebron noted the desecration occurred on a day the site was closed to Jews to allow Muslim worshippers to mark the impending conclusion of the Islamic holy month of Ramadan. The Muslims also revere Abraham as their father, and have claimed the Cave of the Patriarchs as their own. David Wilder, a spokesman for the community, told The Jerusalem Post that as local Jews "searched the area for the ripped pages, Arab residents looked on with enjoyment." The desecration and the Arabs' response was ignored by most of the local and all of the international press. "One can only imagine the response had" the roles been reversed and the "Arabs discovered desecrated Korans" at the site, an official statement by the Jews of Hebron read. Muslims in this region, however, are accustomed to having their intolerance and disdain for all things Jewish and Christian go unanswered.
Syria and Iran Ordered Recent Suicide Bombing in Israel
Oct. 31….(WND) The suicide bombing north of Tel Aviv that killed five Israelis and wounded more than 30 last week was directly backed by Syria and Iran, security sources said. Meanwhile, a member of a terrorist groups reportedly involved in the blast told WND a Palestinian terror leader in Damascus demanded the suicide attack be carried out. "The reaction of Islamic Jihad leader Ramadan Abdullah Shallah from his base in Damascus [to Israel's killing earlier of a senior Jihad member] was a clear demand to the Palestinian resistance, especially to Islamic Jihad to take revenge," said Abu Carmel, a West Bank leader of the Al Aqsa Martyrs Brigades, the military wing of Palestinian Authority President Mahmoud Abbas' Fatah Party. Israeli security sources say the Islamic Jihad terrorist infrastructure responsible for directing suicide bombings is largely located in Damascus, where the group would need to have the tacit approval of the Syrian leadership before carrying out suicide attacks against the Jewish state. Jihad chief Shallah operates openly from Syria, where he gives media interviews and makes public appearances. "The Palestinian terror leadership, especially Islamic Jihad, has their main organizational infrastructure in Syria, where attacks are directed from," said a senior security official. "They know they have a safe haven there, where they think they are free from Israeli retaliation." Security sources say the Islamic Jihad cell responsible for the bombing is also involved with Syrian-backed Hezbollah. Sources said Hezbollah forces at the direction of Syria have created a terror apparatus of Palestinian militants in the West Bank consisting mostly of Jihad members who receive full-time salaries from the Lebanese group. Palestinian security previously had intercepted a series of communications, including phone calls and e-mails, between Hezbollah and West Bank terrorists indicating Hezbollah had been trying to recruit suicide bombers to carry out attacks, sources say. One official said intercepted bank transactions previously suggested Hezbollah had raised its cash offers to Palestinian terrorists and now is willing to pay $100,000 for a suicide bombing operation. In the past, information indicated Hezbollah would pay $20,000 for such attacks. The security officials say that while Syria allows Palestinian terrorists to operate from their country, Iran is largely behind the terror financing. Major-General Yaacov Amidror, former head of Israel's military intelligence, told WND, "The money comes straight from Iran. At one point, we had information Iran once told Islamic Jihad if they didn't carry out a suicide attack within 60 days, they would cut back their funding. That just illustrates the kind of relationship Tehran has with them, and with Hezbollah." Said a senior security official, "Both Syria and Iran are under mounting international pressure. They need a distraction and they need a conflict somewhere else. They know suicide bombings force Israel to respond."
Fatah Is Deeply Implicated in the Palestinian Terrorist Coalition
(Egyptian Military Collaboration Also Present)
Oct. 31….(DEBKAfile Special Report) The major battle fought through Sunday night, Oct. 30, against a Jihad Islami cell in Qabatiya, near Jenin, only partially addressed the Palestinian terror threat creeping in from the Gaza Strip to the West Bank. The al Aqsa Brigades, a wing of Palestinian Authority chairman Mahmoud Abbas' ruling Fatah, either led or took active part in all the terrorist strikes of late. This holds true for the Oct. 16 drive-by shooting that murdered three young Israelis at the Gush Etzion hitchhiking post, the suicide bombing that killed another five Israeli civilians in the Hadera open market ten days later, the frequent shooting and bombing attacks on West Bank roads and the Qassam missile barrages from the Gaza Strip. The last volley was launched Sunday night, Oct. 30, hours after Palestinian spokesmen claimed consent to halt this offensive. DEBKAfile's intelligence sources point to the evidence that the Gush Etzion strike and a synchronized attack further north at Ely were the work of two Fatah gangs from Nablus and Bethlehem. Yet the Israeli army was not sent into action against Fatah, only later against the Jihad Islami cell that ordered the Hadera attack. This situation recalls the Israeli government's tactics in 2001 and the first half of 2002, when Ehud Barak and Ariel Sharon, who succeeded him as prime minister, cherished the illusion that Yasser Arafat would rein in his Fatah and uphold his commitments under the Oslo Accords. Those vain hopes had the same results as today's twice-weekly exhortations aimed by Israel and America at Abu Mazen. Then the suicide bombings of buses and crowd centers carried out by the Fatah-Tanzim and al Aqsa Brigades were usually pinned on the Hamas. Today, the favorite culprit is Jihad Islami. The Hamas is fully occupied with a huge operation to import enough weapons to equip several armies into the Gaza Strip and moving them on into the West Bank. It suits the Hamas at this moment to feign non-participation in the Fatah-Jihad Islami pact. However, the capture on Oct. 5 of three Qassam missile engineers on their way to set up a missile factory in Jenin gave the game away. The Hamas was exposed as a senior partner in the Palestinian terrorist coalition, although it tried to hide behind the Popular Committees. This coalition is not working in a vacuum. The Shin Beit reconstruction of their mission and route deeply implicated Egyptian special troops who were assigned in lieu of Israeli forces to guard the Philadelphi border route between Sinai and Gaza against arms smuggling. It transpired that these troops, deployed as a pre-condition for Israeli withdrawal from Gaza, can be bought for the trifling sum of NIS200 (less than $50), and have been from Day One of their deployment last month. With Egyptian connivance, the three Palestinian weapons pros used one of the forbidden arms smuggling tunnels to cross into Sinai from Gaza, picked up a Hizballah disk containing instructions on how to construct a missile workshop in Jenin, and then infiltrated southern Israel through the Egyptian border. What is more, picked up with the three Palestinian "engineers" was an Egyptian "guide," familiar enough with the southern Israeli Negev region to shepherd them to Mitzpe Ramon, where they were intercepted by Israeli security police. This discovery floored Israeli security experts who would have expected Palestinians to guide Egyptians inside Israel, not the reverse. They were appalled to find an Egyptian terrorist cell supporting al Qaeda and Palestinians operations in Sinai had planted a tentacle deep inside Israel's southern and central Negev regions, as a branch of the Sinai organization. All these disturbing developments have occurred since the Israeli pullback from the Gaza Strip in mid-September and are therefore glossed over by Sharon government spokesmen. The serious security deterioration can be summed up by:
1. The influx of a huge, illegal war arsenal from Sinai into Palestinian Gaza;
2. Al Qaeda-Sinai's establishment of a Gaza cell;
3. The ascending spiral of Palestinian terrorist attacks in and from the West Bank, supported from a logistical base in Gaza;
4. Intense Palestinian preparations for a Qassam missile and mortar offensive against densely populated central Israel.
Terror Escalates as Mideast Tensions Rise
Oct. 31….(David Dolan)
The always volatile Middle East erupted in fresh turmoil during October as several grave developments signaled that a new round of conflict could be brewing in the region. Palestinian terrorists opened fire south of Jerusalem in mid-October, killing three young Israeli civilians and wounding several others. This led to renewed travel restrictions on Arabs residing in the area and the temporary suspension of security talks between Israeli and Palestinian officials. Twelve days later, an Islamic Jihad suicide terrorist slaughtered five customers at a falafel stand in the Israeli coastal town of Hadera. The attack prompted the Sharon government to halt all contacts with Palestinian officials while launching a new military offensive against the radical group and its allies. Just hours before the Hadera atrocity, Iran's new hard-line president called for Israel to be wiped off the face of the earth. Israeli officials replied that the nuclear-bomb-seeking Islamic regime should be expelled from the United Nations. They also warned Damascus that it must close down Islamic Jihad offices in the Syrian capital or risk possible Israeli reprisals. Meanwhile fresh Palestinian missile strikes were launched into sovereign Israeli territory from the Israeli-evacuated Gaza Strip. Israeli artillery and air strikes replied to the rocket firings while army forces prepared for a possible ground offensive into the small coastal zone. Just before the new terrorist onslaught began, Israeli government leaders expressed serious concern over escalating Palestinian unrest in the Gaza Strip in the wake of the unilateral Israeli civilian and military withdrawals from the area. Palestinian militants fired dozens of Kassam rockets and mortar shells into Israeli towns and farming communities around the Gaza Strip during October, with one landing on Sharon's Negev farm. The barrage came on the heels of a full week of such firings that began soon after Israeli military forces completed their final withdrawal from the Gaza Strip on September 13th. The senior Islamic Jihad commander in the southern Gaza Strip, Muhammad Khalil, was targeted and killed by Israeli missiles, along with his personal bodyguard. Islamic Jihad leaders said it was the fifth time Khalil had been caught in the crosshairs of IDF fire; having survived four other attempts to eliminate him.
The top Islamic Jihad commander in the contested territories, Muhammad al Hindi, reacted to the slayings by vowing to step up deadly homicide bombings: "There is no longer any talk of a truce with the Zionist enemy. There is only room for war." The army later issued a statement confirming that it had carried out the air operation, detailing the attacks that Khalil's Muslim terror cells had perpetrated in recent years which left 17 Israelis dead and many other wounded, most of them civilians. Palestinian Authority officials finally got the message that they faced a humiliating military defeat, if not the collapse of their overall rule, if they did not immediately reign in the radical Muslim forces operating like rogue armies in their midst. They worked overtime to secure a commitment from Hamas and Islamic Jihad commanders to halt rocket firings upon Israeli civilian centers. This came after the United States and several other nations called upon the elected Palestinian leadership to stop the illegal firings forthwith or risk massive Israeli retaliation, which they indicated they would at least sympathize with, if not actively support. PA officials had earlier received a severe wake up call when radical militiamen brazenly murdered General Musa Arafat, a senior PA Gaza Strip security official and a well known nephew of the late PLO chairman. He was physically dragged out of his home and shot at point blank range as outnumbered PA forces watched in horror. Musa Arafat's son was then captured and reportedly murdered after being taken to another location. Still, in the wake of internal Palestinian clashes that rocked the Gaza Strip in late September, Abbas took no further action to suppress the terrorist groups. Internal Palestinian tensions reached a fever pitch soon after Hamas released a horrific video taken just before a kidnapped Israeli worker from Jerusalem was murdered in cold blood by the group. In the footage, the bound and blindfolded victim was seen being questioned in front of a large Hamas flag about his alleged "spying" activities on Israel's behalf. The Al Qaida style video deeply angered Israeli authorities and the general public. The ugly action added to Israeli security warnings that Hamas was planning a new terrorist offensive in the run-up to Palestinian legislative elections, currently scheduled for January 25th. Hamas commander Fathi Hamad gave a stirring speech in which he adamantly rejected PA calls for the Islamic fundamentalist group to disarm, instead pledging to build up illegal weapons arsenals for eagerly anticipated future clashes with the detested "Zionist enemy." Another Hamas leader warned Abbas that he would not come out on top in any armed contest with the militant group, adding mockingly that even Israel could not dismantle Hamas terrorist units when it controlled the Gaza Strip. Just before Abbas departed for an October 21st meeting with George Bush at the White House, where the President portrayed the PA leader as "devoted to peace," PA security chief Jibril Rajoub revealed that Abbas "has not called for disarming anyone," adding that "There is no decision to collect so-called illegal weapons, and we have taken no steps in that direction." The candid announcement caused dismay at the State Department, which has long championed Abbas as a 'moderate' politician who would finally put paid to Palestinian terrorist attacks upon Israeli civilians. Following the Hadera homicide attack, Hamas leaders brazenly declared that they would now join their Islamic Jihad comrades in launching a new round of terror assaults against Israeli civilians.
New Mideast Conflict Looming?
Syria's ruling Baathist regime was pounded by international condemnations during October after the release of a United Nations preliminary report linking top Syrian officials to the Valentine's Day car bomb slaying of former Lebanese premier Rafik Hariri. The report concluded that the assassination was carried out under direct orders from Damascus, naming the Syrian intelligence chief, who is a brother in law of the dictator Bashar Assad, as a leading suspect in the plot. The United States and France were among several countries that called for possible UN sanctions against Syria as a result of the vicious political murder. Meanwhile tensions intensified between Israel and Syria following the Hadera terror attack. Israeli officials repeated earlier demands that Assad shut down Islamic Jihad offices in Damascus or risk Israeli military action to do so. This came as US officials once again demanded that Assad's regime immediately halt the infiltration of insurgent Sunni fighters into blood-soaked Iraq. Assad earlier appeared on CNN to contend that he could not stop the flow of jihad fighters into neighboring Iraq despite the known fact that many Mideast insurgents enter Syria via the
international airport in Damascus. Syria's close ally, Iran, raised the temperature in the region by several degrees when President Mahmoud Ahmadinejad publicly declared that "the Zionist State must be wiped off of the map." Despite a torrent of rebukes from many nations, the Shiite Muslim leader later defended his call while marching with anti-Israel demonstrators in Teheran. Israeli officials said they were concerned that the horrific statement, coming just hours before Iran's puppet Palestinian terror group launched its deadly attack in Hadera, may signal a new wave or Iranian-sponsored violence against Israeli civilians, if not an major offensive by its proxy Hizbullah force in southern Lebanon. They warned that any significant Hizbullah action could spark a new Mideast conflict pitting Israel against the outlaw Lebanese militia, and with Syria and the Palestinians, which could easily draw in other countries. October's disturbing Mideast developments should serve to remind us that the Lord's return to Jerusalem is drawing closer every day. May His people all around this troubled planet look upwards and declare with the saints of all time: "Come Lord Jesus! (Revelation 22:20)
WEEK OF OCTOBER 23 THROUGH OCTOBER 30
For Big Oil, Pricey Gas Means Big Profits
Oct. 29….(ABC) While Americans were stung by historically high gas prices this fall, the world's biggest oil companies saw their profits skyrocket. On Tuesday, ExxonMobil, the world's largest publicly-traded oil company, announced net income of $9.9 billion for the most recent quarter, eclipsing analyst expectations and dwarfing the $5.68 billion reported for the same quarter a year ago. It was the largest quarterly profit ever for a US company. ExxonMobil wasn't alone. Royal Dutch Shell said today that profits grew 68 percent, to $9.03 billion, last quarter. Earlier in the week, BP announced profits at 34 percent above last year's levels, and ConocoPhillips saw revenue jump 43 percent. The reason? High gas prices. "The recent hurricanes in the US have impacted our results. However, underlying performance is strong, amplified by high but volatile prices of oil, gas and products," BP Chief Executive Lord Browne said in a statement announcing the company's performance. Despite temporary interruptions to refinery and delivery operations after Hurricanes Katrina and Rita ravaged the Gulf Coast, an accompanying surge in crude oil prices and prices at the pump allowed oil companies to bolster their earnings. Crude oil represents more than 50 percent of the cost of gasoline, and many oil companies were able to capitalize when the cost of a barrel of crude climbed above $60. "What might have been lost in terms of production and refining capacity was more than made up for by the hurricanes driving oil prices up a couple dollars a barrel," said John Parry, an analyst with John S. Herold. The oil giants' windfall is a stark contrast to the ugly scenes around US gas stations in September, hours-long lines of drivers desperate to fill up, despite prices that often topped $3 per gallon. Some politicians are questioning why oil companies profited so much while consumers struggled to fill their tanks. Consumers have been equally unhappy, with many suspecting price gouging after the recent hurricanes. In a September ABC News poll, 72 percent of respondents said they believed the rise to $3 gas was a result of oil companies and gas dealers taking unfair advantage of the post-hurricane situation.
Both Bashar Assad & Mahmoud Abbas Are Teetering
Oct. 29….(DEBKAfile Special Analysis) The Syrian leadership has gathered itself in for the next shock after the UN Hariri investigation's findings drawn up by UN investigator Detlev Mehlis implicated President Bashar Assad's close family circle in the assassination of Lebanese leader Rafiq Hariri last February. They expect the UN Security Council to condemn Damascus for violating Security Council resolution 1559 which ordered foreign forces to quit Lebanon and the dismantling of militias in the country. The UN report will expose Syria as continuing to maintain military intelligence agents in Lebanon and derailing efforts to start decommissioning the Hizballah. The presidential palace in Damascus has set up an emergency response team to ward off these hammer blows. It is made up of officials of the presidency, the foreign ministry, the security services and legal experts. But this official framework is only a façade; it does not affect the turmoil raging inside the close Assad family circle or pacify the top military brass. The Assads are dominated by four figures: the president, his sister Bouchra (regarded as the toughest and most corrupt), her husband Assef Shawqat, head of general intelligence, who is a reputed professional hitman, and Maher Assad, Bashar's younger brother. Close enough to be seen as part of the Assad clan is the Syrian tycoon Rami Makhlouf. He is the ruling family's moneybags whose financial dealings, including transactions with Iraq, have filled the ruling Assad coffers with billions of dollars which are invested outside the country. Makhlouf is especially close to Bouchra. The first crack in the family's cohesion was forced by interior minister Ghazi Kenaan and his death (whether murder or suicide). Kenaan provided the cement for the strong bond between the president and brother-in-law Shawqat. Hariri's assassination convinced Kenaan to pull away from that partnership. This made him a liability and his days were numbered. Then came the traumatic night of Oct. 20, when the unrevised Mehlis report on the Hariri murder handed to the UN secretary implicated Maher Assad and Shawqat by name. Because of the universal assumption that the pair would never have performed a deed of this magnitude without the president's knowledge, the ugly cloud moved over his head, even before any proof was adduced that could stand up in court. This foursome is now locked together in stifling proximity. Given the slightest hint that any formation of the three is willing to sacrifice the fourth member to save themselves will tip the group over into a life-and-death struggle. That is the moment the Assad clan's enemies are watching and waiting for. Rifat Assad, the president's uncle, is waiting in the wings for his chance to seize the Syrian presidency. Washington and Paris are also biding their time. They all judge the Assad family as being on the brink of imploding, which is why condemnation rather than sanctions will come out of the Security Council and why Condoleezza Rice spoke of accountability, but not punishment. This waiting game is also a game of hazard. The Assad family may hold up through its vicissitudes, only to be overthrown in a military coup; or by another branch of the Assad clan, such as the one led by Rifat. He may opt for violence to topple his nephew's regime and save the dynasty. The violent removal of Syria's ally in Beirut, President Emil Lahoud, whom the UN Hariri report places under grave suspicion, would also shake the Assad presidency to its core.
The situation of the Palestinian Authority's Chairman Mahmoud Abbas is no less shaky. As though synchronized with the mortal UN findings against Damascus, Abbas called on the White House on Oct. 20 only to make the disturbing discovery that he was no longer President George W. Bush's blue-eyed boy. Washington would back economic measures to improve the lives of ordinary Palestinians, but Abu Mazen's refusal to crack down on the terrorists had cost him the White House's support for his leadership. In an effort to disguise the fiasco, Abbas went around proclaiming the great success of his talks with the US president. He claimed he had convinced him of the wisdom of allowing the Hamas to take part in the Palestinian general election next January 15. He was also completely confident that a Palestinian state could be achieved before Bush left office, contradicting the US president's public statement in the Rose Garden after their meeting. Abu Mazen was clearly aware of his disastrous situation. Lacking a solid domestic power base from the start, he lasted in office for most of a year, only because he was propped up by Washington and Jerusalem. The Palestinian organizations, including Fatah, found him useful as their external diplomatic face for only as long as the Americans and Israelis accepted him. Without the American crutch, his own ruling Fatah may find it has no more use for him, especially as he has proved incapable of holding the leadership primary on time and is moving to postpone the event from October 27 to November 9. Abu Mazen also lacks the authority to carry through his order, issued Sunday Oct. 23 by Prime Minister Ahmed Qureia, to place all the Fatah factions, including the al Aqsa Martyrs Brigades, under a single roof-command, ostensibly the Palestinian security forces. This was intended to satisfy the American demand to disarm terrorists. In reality, the consolidated body would have given Fatah a new unified military wing. But Al Aqsa chiefs refused on the spot to relinquish control of their regional commands, much less to disarm. Breathing down the back of his neck are the radical Fatah political bureau chief Farouk Kadumi in Damascus and his ambitious civil affairs minister Mohammed Dahlan, who has established an interim headquarters in Montenegro. Both keenly eye Abbas' job and will topple him at the drop of a hat. The only party who wants him to stay in power is Hamas, which used him to gain control of the Gaza Strip; were it not for Israel's mass detentions of its senior operatives, Hamas would be well on the way to seizing the West Bank as well. Abu Mazen is therefore insisting on letting the Hamas participate in the January election as his main life belt. He is counting on the only political and military instrument left to him to force his opponents in the Fatah to keep their heads down. Mahmoud Abbas in October 2005 is placed in a position analogous to the late Yasser Arafat in August 2000.
Abbas faces three options:
1. To bow to Washington's will;
2. To emulate Arafat and choose the path of terror and war;
3. To do nothing, and fall
Syrian president Assad also faces three similar options:
1. To obey Washington, namely, to cooperate with the Hariri inquiry by sacrificing the members of his family implicated in the crime.
2. To raise war tensions on Syria's borders with Lebanon and Israel, either directly by employing his own army or through proxies, Palestinian terrorist groups or Hizballah.
3. To do nothing, and fall
Thousands of Iranians Stage Anti-Israel Demonstrations
Oct. 28….(CNN) Thousands of Iranians staged anti-Israel protests across the country Friday and repeated calls by their ultraconservative president demanding the Jewish state's destruction. President Mahmoud Ahmadinejad was among the protesters as Iranian officials tried to play down his comments. Ahmadinejad made his comments Wednesday during a meeting with protesting students at Iran's Interior Ministry. He quoted a remark from Ayatollah Khomeini, founder of Iran's Islamic revolution, that Israel "must be wiped out from the map of the world." On Friday, Iran's Moscow embassy, often used by Tehran to issue statements on foreign policy,-said Ahmadinejad did not mean to "speak up in such sharp terms." The Iranian embassy, in the first official reaction to criticism of the president's remarks from world leaders, said Ahmadinejad "did not have any intention to speak up in such sharp terms and enter into a conflict." "It's absolutely clear that, in his remarks, Mr. Ahmadinejad, president of the Islamic Republic of Iran, underlined the key position of Iran, based on the necessity to hold free elections on the occupied territories," Reuters quoted the embassy statement as saying. Ahmadinejad's comments drew swift and harsh reaction from governments in Europe and North America, as well as from UN Secretary-General Kofi Annan. Israeli Prime Minister Ariel Sharon, in remarks issued Thursday by the Israeli government press office, said he believed any country that calls for the destruction of another cannot be a member of the United Nations. Meanwhile, a day after the global condemnation, thousands of Iranians rallied in Tehran and other cities as part of al-Quds, Jerusalem Day protests. Demonstrators held banners with anti-Israeli and pro-Palestinian slogans. One banner read "Death to Israel, death to America," The Associated Press reported. The state-organized rallies were first held in 1979 after Shiite Muslim clerics took power in Iran. One of the strongest reactions to Ahmadinejad's remarks came from British Prime Minister Tony Blair, who said they were "completely and totally unacceptable." "I felt a real sense of revulsion at those remarks," said Blair, who spoke Thursday at a press briefing after a European Union summit near London. "There has been a long time in which I've been answering questions on Iran with everyone saying to me 'tell us you're not going to do anything about Iran,'" he said. "If they carry on like this, the question people are going to be asking us is, 'When are you going to do something about this,' because you imagine a state like that with an attitude like that having a nuclear weapon." Also Thursday, Annan expressed "dismay" over the Iranian president's comments urging the destruction of Israel. In a statement, Annan reminded "all member states that Israel is a long-standing member of the United Nations with the same rights and obligations as every other member." "Under the United Nations Charter, all members have undertaken to refrain from the threat or use of force against the territorial integrity or political independence of any state," the statement said. In Washington, US State Department spokesman Sean McCormack said Ahmadinejad's views "underscores our concern and the international community's concerns about Iran's pursuit of nuclear weapons." Ottawa also issued a strong rebuke, with Canadian Foreign Minister Pierre Pettigrew saying: "We cannot tolerate comments of such hatred, such anti-Semitism, such intolerance. These comments are all the more troubling given that we know of Iran's nuclear ambitions." European Commission President Jose Manuel Barroso said Thursday he condemned the Iranian statement "absolutely." "It is a completely unacceptable statement, of course. We should respect borders and respect the integrity of Israel, and we want Israel to live in peace with its neighbors," he told BBC radio. Asked whether he believed that Iran should be expelled from the UN, Barroso said: "I condemn absolutely that statement, but I will not make any concrete proposal now."
Arab League Opposed to Sanctions Against Syria
Oct. 28…,(Israel News) The Arab League on Wednesday released a statement opposing the position of America and France, both favoring imposing sanctions on Syria. The Arab League joins Russia in opposing such a move. The Arab League statement questioned the "logic and legitimacy" of such a move, adding the UN report does not provide adequate proof to justify taking such actions against Damascus.
Ahmadinejad Stands by "Destroy Israel" Remarks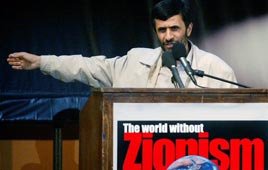 Oct. 28….(YNET) Iranian President Mahmoud Ahmadinejad on Friday confirmed he is standing by earlier remarks that Israel should be "wiped off the map," adding that his controversial remark was "right and just". "It is natural that if a word is right and just it will provoke a reaction," he was quoted as saying by the official news agency IRNA. "My words are the exact words of the Iranian people."
Ahmadinejad went on to criticize "international Zionism and the expansionist policies of the world arrogance," terminology usually used to refer to the United States and Israel. Turning his attention to the US and Israel, the Iranian leader said "They are cheeky humans, and they think that the entire world should obey them. They destroy Palestinian families and expect nobody to object to them." In Lebanon, the Hizbullah also expressed some harsh anti-Israel sentiments. The international community is not interested in Palestinian interests and invests all its efforts in realizing the interests of the United States and Israel, Hizbullah leader Hassan Nasrallah said during a speech to mark al-Quds (Jerusalem) day. "World nations are pushing the Palestinians into a civil war to appease Israel," he said. Meanwhile, tens of thousands of Iranians staged anti-Israel protests across the country Friday and repeated calls by their ultraconservative president demanding the Jewish state's destruction. Iranians staged multiple protests in the capital, Tehran, and other cities such as Mashad in Iran's east, holding banners carrying anti-Israeli and pro-Palestinian slogans. "Death to Israel, death to America," Read many placards.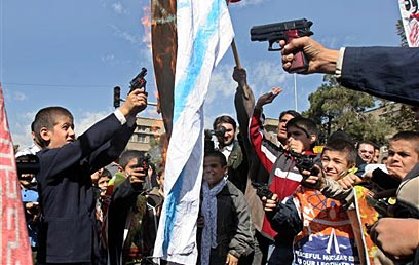 The demonstrations are being held as part of annual al-Quds - Jerusalem - Day protests, which were first held in 1979 after Shiite Muslim clerics took power in Iran. The state-organized rallies are expected to grow throughout the day ahead of midday prayer mosque sermons across Iran. Hundreds of thousands of Iranians have attended previous protests. Late Thursday, Iranian Foreign Minister Manouchehr Mottaki said the massive demonstrations would illustrate the anger of the Islamic world over the Jewish state's existence. "The comments expressed by the president are the declared and specific policy of the Islamic Republic of Iran," Mottaki told state-run television. "We don't recognize the Zionist regime and don't consider it legitimate." Countries from Britain and Russia denounced Ahmadinejad's comments. The United States said the Iranian leader's hostility underscored Washington's concern over Iran's nuclear program. Israel said the Persian state should be suspended from the United Nations. Iran's seven state-run TV stations devoted coverage Friday to programs condemning the Jewish state and praising the Palestinian resistance since the 1948 creation of Israel. Three stations also showed live coverage of crowds of people gathering early Friday in streets throughout Tehran. One man appearing to be aged in his 30s carried a placard saying: "The late Khomeini said Israel should be wiped off the map." After Khomeini toppled the pro-Western Mohammad Reza Shah Pahlavi in 1979, he declared the last Friday of the Muslim holy month of Ramadan as an international day of struggle against Israel and for the liberation of Jerusalem. The Iranian government organizes a central demonstration annually in Tehran, while other rallies demanding Israel's destruction are held around the world. Lebanon's Hezbollah is expected to stage a mass military parade in Beirut on Friday.
Islamic Jihad Vows War on Israel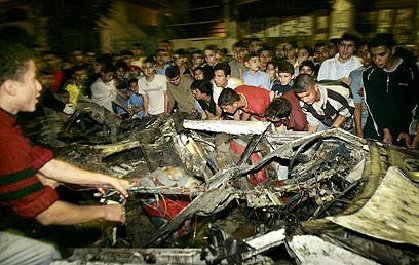 Oct. 28….(YNET) In response to a suicide bombing and continued Qassam rockets attacks from Islamic Jihad terrorists, Israel launched it retaliatory targeted killing of terrorist leaders in Palestinian areas. On Wednesday night IAF aircrafts fired at non-residential areas from which Qassam rockets have been launched at Israel. IAF aircraft have also struck a traffic route near the town of Beit Hanoun in northern Gaza, In a bid to prevent terrorists' access to launching areas. Also on Wednesday, IDF forces arrested 11 wanted terrorists in the West Bank. Three Islamic Jihad activists and another suspected terrorists were apprehended in Qabatiya, south of Jenin; two Jihad members were arrested in Tul Karem; three Hamas members were detained in Hebron, and another two wanted terrorists were arrested near Hebron and Jenin. Meanwhile, Hamas, al-Aqsa Martyrs' Brigades, and Islamic Jihad terrorists are threatening to exact their revenge following the killing of a senior Jihad member in Gaza Thursday evening. The terrorists called on their colleagues to respond "in the West Bank and also within the Green Line."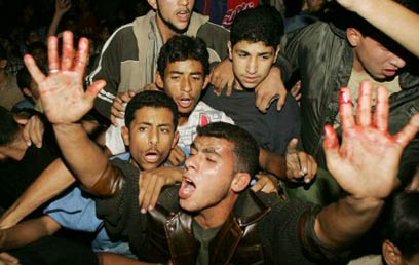 Israel has "opened the gates of hell" by killing a senior Islamic Jihad terrorist in Gaza, al-Aqsa Martyrs' Brigades commander Abu Udai said in response to the attack. All Palestinian terror groups are expected to respond to the killing, he said, adding the organizations "are no longer committed to the pathetic lull." Seven people, including senior Islamic Jihad terrorist Shadi Mohanna, were killed Thursday when an IAF aircraft fired a missile at a vehicle in the Jabalya refugee camp in north Gaza. Mohamed Kandil, another leading member of the Islamic Jihad in the Strip was also killed in the strike. Representatives of the Palestinian organizations convened Thursday to discuss their response to the assassination. Meanwhile, IDF sources claimed that the high number of casualties in the blast was a result of explosives Mohanna carried in his car, which detonated following the missile strike. Mohanna was a commander at the al-Quds Brigades, the Islamic Jihad military wing in Gaza. IDF sources reported that Mohanna was behind several deadly terror attacks on Israel, including the firing of Qassam rockets.
'Peace Impossible with Abbas Government'
Oct. 28….(Jerusaelem Post) Defense Minister Shaul Mofaz criticized Palestinian Authority Chairman Mahmoud Abbas in an interview in Friday's Yediot Aharonot daily, expressing despair with the PA leader. "Abu Mazen [Abbas] is a one-man show, and there is nothing backing him," Mofaz told the paper. "We will not reach peace with the current Palestinian leadership, we have to wait until the next generation," he added. He went on to say that for the time being, the best that could be expected was another round of interim agreements between the sides rather than any final peace agreement. Vice Premier Shimon Peres responded harshly to Mofaz's statements, telling Army Radio on Friday morning that despite the escalation of terror, it would be a mistake to entirely dismiss the current Palestinian leadership. Palestinian negotiator Saeb Erekat said Mofaz' statements were symptomatic of Israeli contempt for Palestinian institutions, bred by years of Israeli occupation. "I don't think Israel's problem is with this generation or that generation of Palestinians or this person or that person, Israel's problem is with the whole Palestinian people," he said. "My call to Mr. Mofaz is that he should respect the democratic structures of the Palestinians. I believe that Israel as a State should stop the occupation and leave the West Bank to the Palestinian people (as they did with Gaza). Giving the full control of the land, the sky and the sea to the PA. It's essential to give the Palestinians the right of having a Palestinian State, independent and free from Israel.
Rice to Abbas: Please Control Terrorist Group
Oct. 28….(YNET) US Secretary of State Condoleezza Rice lodged a new appeal Thursday with Palestinian leader Mahmoud Abbas to prevent terror attacks on Israel and dismantle the groups that carry them out. With little prospect that Israel's withdrawal from Gaza in August will spur peacemaking, as she had hoped. Rice balanced her request to Abbas with appeals to Israel to resume contacts with the Palestinians. "She urged the Palestinian Authority to act against terrorist groups," State Department spokesman Sean McCormack said after Rice's telephone conversation with Abbas. On the Israeli side of the anxious standoff, the spokesman said, "We certainly encourage more contact, rather than less contact, to work through issues, to work through problems, to resolve them." Assistant Secretary of State C. David Welch bolstered Rice's efforts with his own talks with Palestinian and Israeli officials, and also with officials of the "quartet," McCormack said. He was referring to the European Union, Russia and the United Nations, which joined with the United States in producing the road map for peacemaking. As Israel went about its retaliatory actions, McCormack said, "Israel, of course, has a right to defend itself." "That's well-known and well-understood," he said. But McCormack added that Israel should consider "the consequences of its action on achieving the overall goal that all share, and that, is two sides living side by side in peace and security." Rice conveyed that message to Sharon's senior adviser, Dov Weisglass, and in her telephone call also gave him a summary of her conversation with Abbas about a need to dismantle terror groups, McCormack said later.
Arab States Mum on Iran's Israel Remarks
Oct. 28….(AFP) Arab governments remained silent Thursday as international condemnation grew over a call by Iran's new president for Israel to be destroyed. Despite the silence, analysts in the region said Tehran's Arab rivals may quietly be pleased to see the radical regime further isolated by its extremism. In newspapers across the Middle East, Wednesday's speech by Ahmadinejad went without comment, many of them on their front pages. Egyptian Foreign Ministry and Cabinet officials said Cairo would have nothing to say on the address. Jordanian Deputy Prime Minister Marwan Muasher also declined comment, apparently to avoid further aggravating relations with Iran, which the kingdom has accused of interfering in Iraq to strengthen the Shiite influence in the Middle East. Analysts said Ahmadinejad's uncompromising line highlighted Iran's differences with other Middle East governments and will make it easier for the international community to take a tough line against Iran for its defiant nuclear policy. Mohammed Wahby, a former diplomat and member of the Egyptian Council on Foreign Affairs, said it was a mistake to remain quiet about the speech, which he said undermined Mideast peace prospects. "Recognizing Israel as an integral part of the Middle East is no longer in doubt," he said, saying Iran was only encouraging hard-liners on both sides. Mustafa Hamarneh, head of the Strategic Studies Center at the University of Jordan, agreed that Ahmadinejad was out of step, especially with the Palestinians. "He's an ideologue who shot from the cuff; it was not a studied statement," Hamarneh said. Iran's threatening stance also was counterproductive to its own interests, said Wahby. It reinforces the notion that its nuclear program is aimed at developing weapons despite claims that it is meant exclusively for peaceful power generation. "Such statements by Tehran will encourage Israel to cling to its nuclear arsenal," Wahby said. In Iran, most newspapers covered Ahmadinejad's statement, and some ran stories covering the subsequent protests from other countries. But hundreds of thousands of Iranians are expected to denounce Israel and back Ahmadinejad's comments across the country Friday during the annual al-Quds, or Jerusalem Day protests. "The world will see the anger of the Islamic world against this regime" in Israel, state-run television quoted Iranian Foreign Minister Manouchehr Mottaki as saying. Mustafa Alani, an analyst from the Gulf Research Center in Dubai, said Arab states will see Ahmadinejad's speech as showing up the Iranian regime to be "illogical, irrational." "The Arab countries have benefited," Alani said. "They will never issue a statement, but they are happy that he proved the Iranians, on the regional level, are not rational." Hidayat Nur Wahid, speaker of Indonesia's People's Consultative Assembly, said Ahmadinejad's comments are a reflection of the pressure Iran is under from the United States and others over its nuclear program. "America has launched an anti-Iranian nuclear campaign, but on the other hand it allows Israel to have its own nuclear (program). America has never criticized Israel and even is always protect it by vetoing UN resolutions criticizing Israel," said Wahid. Ahmadinejad also directed his wrath at countries like Egypt and Jordan which have formal relations with Israel, and other Islamic countries moving toward accommodation. "Anybody who recognizes Israel will burn in the fire of the Islamic nation's fury," he said at a "World Without Zionism" conference.
Israel Sternly Raises "Syrian-Iranian Issues" With Russia
Oct. 27….(MED) Israeli Prime Minister Ariel Sharon and Israeli Vice Premier Shimon Peres used a meeting today with visiting Russian Foreign Minister Sergey Lavrov to seek information on a new Iranian satellite, Israel Radio reported. According to the report, Iran plans to send up a Russian-manufactured satellite in the near future, which it says is for research purposes, but which Israel suspects will be used for espionage. Lavrov brushed off Israel's call for quick international action against Iran over its nuclear program, saying the matter is "too serious to be guided by politics." Lavrov also suggested that Russia will not pursue UN sanctions against Syria. Israeli officials have long considered Iran to be the biggest threat to their country, and accuse the Teheran government of pursuing nuclear weapons and missile technology that could be used against Israel. At a joint news conference with Lavrov, Foreign Minister Silvan Shalom said Israel believes Iran is "very close" to obtaining the knowledge to produce a nuclear bomb. "That is why all of us should be very determined to move the Iranian issue to the Security Council," he said. Lavrov said that Russia will follow the lead of the International Atomic Energy Agency, which is investigating the Iranian nuclear program, and believes that talk of sanctions is premature. The US has been leading the international effort to pursue sanctions against Iran. (this is the real reason that Russia is against UN action on Iran or Syria) "We rely on the professional assessment of the International Atomic Energy Agency, Lavrov said. "All our assessments do no substantiate the allegations that we have a clear and present danger coming from Iran." "This issue is too serious to be guided by politics," he added. (an obvious slap at overall US strategy in the Mid-east region) Israeli Prime Minister Ariel Sharon took advantage of the meeting with the Russian foreign minister in order to convey an unequivocal message to Palestinians following Hadera bombing: If the terror situation continues, I shall not meet with Mr. Abbas. Prime Minister Ariel Sharon took advantage of the photo opportunity at the beginning of the meeting to send an unequivocal message to the Palestinians, "yesterday we faced a severe act of terror. Unfortunately, the Palestinian Authority is not taking any serious measures in order to fight terror, and therefore we have decided to run the battle through a full-scale operation." "Our operations will be comprehensive and nonstop until we bring terror to an end," he added. Sharon told Lavrov that "If the PA should not take serious and significant measures against terror there will be no progress, and that is a shame." "In such a situation I will not meet with Abbas, and thus the Palestinians will lose all their national dreams," he added. During the meeting Sharon also noted that "We are not happy to conduct military operations, but the fact that Abbas condemns the attack does not assist us." The Russian foreign minister said that he had met with Abbas on Wednesday, and added that Abbas had asked him to pass his condemnation of the attack to Sharon. Lavrov added that he believes "Abbas is serious in his intentions to take action and is waiting for his security forces to become stronger." (The PA has had about 12 years longer that the new Iraqi forces) According to Lavrov, "Abbas is ready for concrete steps, (finally?) and we believe that he must continue to receive support throughout the way, both politically and materially." In the meeting, Sharon referred to the Iranian president's call on Wednesday to "wipe Israel off the map." Jerusalem interpreted the remark as a call for the destruction of Israel, and Sharon said "I have still not heard Russia's response."
The Russian foreign minister responded that Moscow had summoned the Iranian ambassador and asked him for explanations on the Iranian President's remarks. He noted that these were very serious words that were unacceptable also to Russia. Sharon also took the opportunity to join in on the foreign ministry's demand to remove Iran from the United Nations. "A state that calls for the destruction of another people cannot be a member of the UN Such a country, which possesses nuclear weapons, constitutes a danger not only for Israel and for the Middle East, but for Europe as well," he added. On the Syrian issue Lavrov promised Sharon that Russia will demand from Syria to keep Assad's promise to Russian President Vladimir Putin, to remove the terror headquarters from its territory. Lavrov spoke in response to Sharon's claim that the orders for executing the recent Islamic Jihad terror originated in Damascus.
India Announces it is Against Referring Iran to UN
Oct. 28….(Moscow Interfax) Indian Foreign Minister Natwar Singh said Delhi is against referring Iran's nuclear dossier to the United Nations Security Council. India wants the issue of Iran's nuclear program addressed within the framework of the International Atomic Energy Agency (IAEA), Singh said at the MGIMO on Thursday. Asked about India's attitude towards possible US military actions against Iran, Singh said that India hopes the United States will not repeat the mistake it made in Iraq.
FOJ Note: Is this ironic or not? India is apparently joining forces with the emerging Russia-China East Asia development alliance. You will notice this announcement became public from Moscow.
Sharon: PA Has Dead-ended Roadmap
Oct. 28….(FOJ) Israeli troops entered the West Bank town of Jenin today and arrested a local leader of the Islamic Jihad terrorist group, as Israel pushed forward with an offensive against the Palestinian militant group following a suicide bombing that killed five Israelis. About 35 jeeps, backed by Apache helicopters, entered Jenin in the afternoon, and troops surrounded the home of Abdel Khalim Izzadin. After a brief standoff, Izzadin and three other men surrendered to troops, witnesses said. Prime Minister Ariel Sharon had promised a "broad and nonstop" response to the terrorist bombing. The offensive will include airstrikes and artillery attacks in Gaza and arrest raids in the northern West Bank, where Wednesday's bomber came from, a military official said on condition of anonymity under military regulations. As a last resort, Israel could re-enter Gaza, which it evacuated last month. Israeli media reported that troops would also retake Palestinian towns, and conduct house-to-house searches. The threatened Israeli response to the bombing in the central town of Hadera ratcheted up pressure on Palestinian leader Mahmoud Abbas to confront militant groups. Abbas has refused to crack down on armed groups such as Islamic Jihad, supposedly fearing a civil war. In reality, Mr. Abbas fears assassination, and knows full well that any crackdown on the multitude of terrorist organizations, some of which hare under his direct control, and some which are not, would lead to his own death.) Ariel Sharon said the Israeli military operation against Islamic Jihad was necessary because of Abbas' refusal to take action and said it would be impossible to resume Roadmap peace talks until the Palestinians rein in the militants. "Unfortunately the Palestinian Authority has not taken any serious action to battle terrorism," Sharon said before meeting with visiting Russian foreign minister, Sergey Lavrov. It should be noted that Russia has sent weapons and supplies to the PA, that have mysteriously matriculated into the hands of terrorists. "We will not accept under any circumstances a continuation of terrorism. Therefore our activities will be broad and nonstop until they halt terrorism." "The state of Israel would very much have liked to move roadmap peace efforts forward," he added. "To my regret, as long as terror continues we shall not be able to move forward as we would have wished." Israeli officials accused archenemies Iran and Syria of assisting the attackers, noting that Islamic Jihad is funded by Tehran and is headquartered in Damascus. The attack came hours after Iranian President Mahmoud Ahmadinejad praised suicide bombings and said Israel should be "wiped off the map." Sharon called for Iran to be tossed out of the United Nations for the president's comments, which drew wide international condemnation. Sharon said that a state which calls for the destruction of another people cannot be a member of the United Nations." Sharon said that Islamic Jihad has declared war on every Israeli civilian and of course we're 100 percent entitled to take the appropriate action to defend our civilians." "Ultimately, Israel still hopes the Palestinian Authority will follow through on their commitments to disarm these groups and that will make the necessity for Israeli action superfluous.
UN Report: Syrian Arms Still Flow into Lebanon
(Supply of weapons to militants (terrorists) cited as obstacle to gaining full sovereignty)
Oct. 27….(MSNBC) Palestinian militants in Lebanon are continuing to get weapons from Syria, one reason why the Lebanese government has made no significant progress in disbanding and disarming Palestinian militias that operate with impunity inside its borders, a UN report said Wednesday. The report said that despite some positive steps, Lebanon still has not achieved full "sovereignty and political independence" more than six months after Syria withdrew its troops and intelligence apparatus from its neighbor following a 29-year occupation. That conclusion could be a powerful tool for the United States, France and Britain, which have proposed a Security Council resolution that threatens sanctions if Syria doesn't cooperate with a separate probe into the assassination of Lebanon's former prime minister. Diplomats reaffirmed that they hope the foreign ministers of the 15-nation council will adopt the draft in a meeting Monday, but stressed it was still early and differences remain. China and Russia in particular could oppose sanctions from being imposed on Syria. In the report to the council, Secretary-General Kofi Annan highlighted the difficulties of controlling the Lebanon-Syria border and reports of "an increasing influx of weaponry and personnel from Syria" to some militia groups in Lebanon. "The government of Syria has informed me that smuggling of arms and people across the Syrian-Lebanese border does indeed take place, albeit in both directions," he said. The report, prepared by UN envoy Terje Roed-Larsen, was assessing the implementation of Security Council resolution 1559, which called for Syria to withdraw all military forces and intelligence operatives as well as the disarmament of all militias in Lebanon. It noted important progress because of recent elections and the April troop withdrawal, and said there was no "visible or significant Syrian intelligence" still in Lebanon. But Hezbollah, a pro-Syrian guerrilla group with a strong political faction, has almost complete control in southern Lebanon where it clashes frequently with Israeli troops on the two countries' border. Lebanese authorities generally stay out of Palestinian refugee camps, where many of the weapons from Syria end up. The report praised Lebanon for making some efforts to clamp down on the Palestinian militant groups, some of which have headquarters in Syria. It urged the Lebanese government to extend its authority throughout southern Lebanon and disarm the militias, (terrorists) praising recent talks in Paris between the Lebanese and Palestinian prime ministers (Abbas) on the issue.
Lebanese Army Besieges Palestinian Terror Bases
Oct. 27….(AP) Lebanese commandos manned positions near Palestinian terrorists bases in this rugged region for the second day Thursday while soldiers blocked smuggling routes along the mountainous border with Syria as Lebanon tried to strengthen control over its territory amid heightened tensions with Syria. Hundreds of Lebanese troops, backed by tanks, have deployed to pro-Syrian Palestinian terrorist camps in Sultan Yacoub, a village some 5 kilometers from the Syrian border, and the nearby town of Helweh. Lebanon blames the Fatah Uprising group for shooting dead a Lebanese civilian army contractor this week at Helweh, claims which the group denies. The Popular Front for the Liberation of Palestine-General Command, another heavily armed Palestinian terror organization, is linked to weapons smuggling from Syria. The Palestinian terror organizations, who have long been based in Lebanon and supported by Syria, (FOJ Note: and Iran) warned Lebanon against escalating tensions in the region. North of Sultan Yacoub, Lebanese troops in armored vehicles and trucks climbed slopes of the Anti-Lebanon Mountain range to raid roads and depots used by smugglers to bring in cheaper goods, and some claim, weapons from Syria. Army bulldozers trashed fuel tanks where smuggled goods were being stored and erected earthen mounds on major smuggling routes along a 16-kilometer stretch north of Hermel, a town in northeastern Lebanon where mountains rise to a height of up to 1,400 meters. Sultan Yacoub and Helweh are in a strategically important region for Lebanon, falling in a border area jutting into Syria and just 20 kilometers from the Syrian capital of Damascus. Large parts of the Lebanese-Syrian border have not been demarcated since both countries gained independence from France in 1943. The UN envoy to Lebanon and Syria, Terje Roed-Larsen, said in his report to the Security Council that Lebanon has made no significant progress in disbanding armed organizations, in part, because more weapons were coming into their possession from neighboring Syria. But disarming Hezbollah, a popular Shiite Muslim group, is a sensitive issue for Lebanese authorities, who regard it as a legitimate resistance movement opposing Israel. Iran and Syria also back Hezbollah. Fatfat, who opposes Syrian interference in Lebanon, said disarming Hezbollah is an internal matter that Lebanon can solve through dialogue. He also said the Security Council hasn't taken into account Lebanon's concern over the need to disarm Hezbollah.
Israel's Peres: Iran Should be Expelled From United Nations
Oct. 27….(AP) Iran should be expelled from the United Nations after its new president said Israel should be "wiped off the map," Israeli Vice Premier Shimon Peres said Thursday. "Since the United Nations was established in 1945, there has never been a head of state that is a UN member state that publicly called for the elimination of another UN member state," Peres told Israel Radio. "There has never been such a scandal. It is impossible to ignore this and close your ears," said Peres, a Nobel peace laureate, adding there is no place in the world body for such a country. In a speech Wednesday, Iranian President Mahmoud Ahmadinejad said "there is no doubt that the new wave (of attacks) in Palestine will wipe off this stigma (Israel) from the face of the Islamic world." Ahmadinejad spoke during a Tehran conference called "The World without Zionism." The comments drew widespread international condemnations. Britain's Foreign Office said Thursday it intended to summon an Iranian diplomat to protest Ahmadinejad's remarks, calling them "deeply disturbing and sickening." Other world governments on Wednesday issued statements criticizing the Iranian's remarks, including Britain, Canada and Germany. In Madrid, Spanish Foreign Minister Miguel Angel Moratinos summoned Iran's ambassador to protest Ahmadinejad's comments. French Foreign Minister Jean-Baptiste Mattei also condemned the remarks "with the utmost firmness." Israeli Foreign Ministry spokesman Mark Regev said Israel protested Iran's comments Wednesday at the United Nations but has not decided whether to ask officially for Iran's removal. Peres said he would discuss the Iranian threat with Russia's visiting foreign minister, Sergey Lavrov, later Thursday. Israel accuses Iran of developing nuclear weapons and wants the UN Security Council to consider sanctions against the Tehran government. Iran says its nuclear program is peaceful. Lavrov on Wednesday brushed off Israel's calls for Security Council action, saying the matter is "too serious to be guided by politics." Lavrov said that Russia will follow the lead of the International Atomic Energy Agency, which is investigating the Iranian nuclear program, and believes that talk of sanctions is premature. Russia is one of the five permanent members of the Security Council, with veto power over all resolutions considered by the body.
FOJ Note: Earlier this morning, FOJ learned that Russian President Putin has finally issued a statement today saying the remarks by Iranian President Ahmadniejad calling for Israel to be wiped of the map are unacceptable. It would seem to me that his remarks should be more than unacceptable, and belies the fact that Russia simply wishes the Iranian President would stop advertising Iran's true intentions about it nuclear program!
Iran 'Lets al-Qaeda Roam Freely'
Oct. 27….(The Australian) Iran is permitting around 25 high-ranking al-Qaeda members to roam free in the country's capital, including three sons of Osama bin Laden, a German monthly magazine reports. Citing information from unnamed Western intelligence sources, the magazine Cicero said in a preview of an article appearing in its November edition that the individuals in question are from Egypt, Uzbekistan, Saudi Arabia and Europe. They are living in houses belonging to Iran's Revolutionary Guards, the report said. "This is not incarceration or house arrest," a Western intelligence agent was quoted as saying. "They can move around as they please." The three sons of Osama bin Laden in Iran are Saeed, Mohammad and Othman, Cicero reported. Another person enjoying the support of the Revolutionary Guards is al-Qaeda spokesman Abu Ghaib, the report said.
Iran first said late last year that it had arrested and would try a number of foreigners suspected of having links to al-Qaeda, a loose network of military groups that Washington blames for the attacks of September 11, 2001 and bomb attacks in Spain, Indonesia, Egypt and elsewhere. The report in Cicero also accused the Revolutionary Guards' secret service of offering logistical support and military training to senior al-Qaeda leaders. Iran has repeatedly denied any link to or support of al-Qaeda.
Britain and the United States suspect Iran of supporting insurgents in Iraq, a charge Tehran has vehemently denied.
Israel Worried About Another Russia-Syria Arms Deals
Oct. 26….(Ha Aretz) Israel has expressed deep concern over Russia's intention to sign yet another new arms deals with Syria, following the already completed deal to provide Syria with SA-18 anti-aircraft missiles. Foreign Minister Silvan Shalom, who is scheduled to meet Russian Foreign Minister Sergey Lavrov today, will tell him of Israel's objection to the sale of more weapons to Syria, a political source in Jerusalem said Tuesday. The source said Israel supports imposing sanctions on Syria and Iran. "We believe sanctions should be imposed on any state that supports terror," he said. But Russian Foreign Ministry spokesman was quoted as saying Wednesday that Russia will do all it takes to block any attempt to slap economic sanctions against Damascus. "Russia will do everything necessary to stop attempts to introduce sanctions against Syria," spokesman Mikhail Kalmynin told Interfax news agency and other Russian media on the sidelines of Lavrov's trip to Israel. The Jerusalem source, meanwhile, said Syria was undermining the stability in the area. "Any cooperation with Syria, especially when it comes to sensitive issues such as the supply of weapons, will cause more instability," the source added. The source said Syria was still providing arms to Hezbollah and Ahmed Jibril's Popular Front for the Liberation of Palestine organization in Lebanon. "Weapons sold to the Syrians could reach the terror organizations in Lebanon," the source said. The Israeli cabinet has yet to discuss the report released by UN investigator Detlev Mehlis about the assassination of Lebanese leader Rafik Hariri and the debate in the UN Security Council on Tuesday. Sharon advocates keeping a low profile and not intervening in the crisis. Israel welcomes pressure on Syria, which may change its conduct and even lead to the closure of Hamas and Islamic Jihad headquarters in Damascus. However, Israel's leadership is at odds over whether Syrian President Bashar Assad's continued rule would serve Israel's interest or whether Israel should strive to topple his regime. Sharon is also expected to tell the Russian foreign minister on Thursday that Israel supports imposing sanctions on Iran due to its nuclear plan. He will warn Lavrov of the grave threat that an Iranian nuclear bomb would pose to Israel.
FOJ Note: Bible prophecy reveals that Russia will become embittered over the Syrian situation. Russia is supplying all the "Axis of Evil" nations with weaponry. The question is why? Russia is preparing for its destiny. (Ezekiel 38:7-8 Be thou prepared, and prepare for thyself, thou, and all thy company that are assembled unto thee, and be thou a guard unto them. After many days thou shalt be visited: in the latter years thou shalt come into the land that is brought back from the sword, and is gathered out of many people, against the mountains of Israel,) The "mountains" in question in this prophecy are the Golan Heights, which are the stumbling block to the Syrian track of the Middle East Peace Process.
Russia Reiterates Support for Iran Nuclear Ambitions
Oct. 26…..(Moscow News) Russia has reiterated its support for Iran's controversial nuclear program and said all questions about it should be handled by the international nuclear watchdog agency in Vienna, AFP reported. "Our common position is that we have to continue to deal with all the questions raised through the IAEA," the International Atomic Energy Agency, Russian Foreign Minister Sergei Lavrov said after holding talks here with his Iranian counterpart, Manouchehr Mottaki. Lavrov said, "Iran's nuclear aims should not be politicized," he said, adding: "All Iranian nuclear questions should be resolved through the IAEA."
FOJ Note: Moscow continues to discount reports that Iran is seeking to develop nuclear bombs, explaining to Western leaders that it will check the spent fuel rods to insure that nuclear bombs are not produced. I imagine Moscow also has a explanation for why the Iranian President has indicated that Israel should be wiped off the map, and that Iran intends to use a nuclear bomb on Israel once it attains one.
Palestinian Suicide Terrorist Bomber Strikes In Hadera Market
Oct. 26….. A Palestinian Arab suicide bomber made his way into the market in the northern city of Hadera today and detonated explosives he carried on his person. Four people were pronounced dead at the site of the attack, while the fifth victim died on the operating table at Hillel Yaffe Hospital in Hadera. The many wounded, five of whom are listed in very serious condition, were evacuated to local hospitals. The Islamic Jihad has claimed responsibility for the murderous attack in Hadera. Though the organization has said it would avenge last week's killing of top terrorist Luis Saadi, it is doubtful whether such an attack could have been arranged on such short notice. It is therefore assumed that this attack against Israel was in planning long before Saadi's death. This was at least the 4th murderous terror attack in Hadera since the Palestinian Authority instigated the Oslo War five years ago. Previous attacks in the city: In Nov. 2000, two people were killed by a car-bomb in the city. In Oct. 2001, four women were killed by PA policemen from Jenin who opened random fire on a crowded street from inside a car. In Jan. 2002, a terrorist entered a Bat Mitzvah celebration and opened random fire, killing six. Several bombs were detonated in the city during this period, but without murderous results. In May 2001, for instance, a car bomb exploded on a crowded Hadera street, but the only person killed was the driver of the car bomb himself. In other terrorism incidents over the holiday in Israel, two 20-kilogram (44-lb.) explosives were found and neutralized near the fence surrounding northern Gaza. An IDF position was fired at from southern Gaza. For the third time in several weeks, terrorists fired at an IDF position near N'vei Tzuf, in the Binyamin region. Two firebombs were hurled at an Israeli car near the Tapuach junction. Extensive devastation was reported at the scene of today's suicide bombing attack, at the corner of Herbert Samuel and Rothschild streets. About 20 people were hurt in the explosion, including six who sustained serious wounds, the Magen David Adom ambulance service said. Security forces across the nation have stepped up operations and boosted the alert level in the wake of the bombing. Senior Islamic Jihad figure Abu al-Muamen told Ynet the attack came in response to the killing of the group's West Bank terror leader Louie Sa'adi earlier this week. He said the attack was only an initial response and added his group and other Palestinian organizations are expected to respond with more attacks. However, the sources said another organization may have cooperated with the Islamic Jihad in carrying out the attack. The Islamic Jihad vowed to "shake up Israel" in retaliation for Sa'adi's killing. Israeli's at the scene were angry, asking, Where is the security? The ministers should come here and personally protect us," one said. Defense Minister Shaul Mofaz said upon his return from meeting Egyptian President Hosni Mubarak: "This morning the Egyptian president said that the Islamic Jihad and Hamas are planning attacks. Israel blamed the terror bombing in Hadera that took the lives of five people on the Palestinian Authority's failure to crack down on armed groups. David Baker, an official in the Prime Minister's Office, told Haaretz: "The attack in Hadera was enabled and greatly encouraged by the remarks made by the Iranian President Mahmoud Ahmadinejad as well as Hamas spokesman Mahmoud Zahar in which they called for the destruction of Israel. Here we see the immediate link and the very short time-span between murderous rhetoric and murderous deeds. "The Palestinian Authority should once and for all disarm and dismantle the terror organizations."
Iran President Wants Israel 'Wiped off the Map'
(Iranian President Ahmadinejad says new wave of Palestinian attacks will destroy Israel)
Oct. 26….(Jerusalem Post) Iran's hard-line president called for Israel to be "wiped off the map" and said a new wave of Palestinian attacks will destroy the Jewish state, state-run media reported Wednesday. Iranian President Mahmoud Ahmadinejad also denounced attempts to recognize Israel or normalize relations with it. "There is no doubt that the new wave of attacks in Palestine will wipe off this stigma (Israel) from the face of the Islamic world," Ahmadinejad told students Wednesday during a Tehran conference called "The World without Zionism." "Anybody who recognizes Israel will burn in the fire of the Islamic nation's fury, any (Islamic leader) who recognizes the Zionist regime means he is acknowledging the surrender and defeat of the Islamic world," Ahmadinejad said. Ahmadinejad also repeated the words of the founder of Iran's Islamic revolution, Ayatollah Ruhollah Khomeini, who called for the destruction of Israel. "As the Imam said, Israel must be wiped off the map," said Ahmadinejad, who came to power in August. Ahmadinejad referred to Israel's recent withdrawal from the Gaza Strip as a "trick," saying Gaza is part of the Palestinian territories and the withdrawal was meant to make Islamic states acknowledge Israel.
Bush Says UN Must Act on Syria
Oct. 26….(Herald Sun) US President George W. Bush has accused Syria of destablizing Lebanon and backing terrorists saying the United Nations must hold Damascus accountable. "Syria is destablizing Lebanon, permitting terrorists to use its territory to reach Iraq, and giving safe harbour to Palestinian terrorist groups," he said today in a speech at Washington's Bolling Air Force Base. "The United Nations has passed strong resolutions against terror. Now the United Nations must act," said Mr. Bush, who pointed to a UN report by German magistrate Detlev Mehlis implicating Syria in the February assassination of former Lebanese premier Rafiq Hariri. "Syria and its leaders must be held accountable for their continuing support for terrorism, including any involvement in the murder of prime minister Hariri," said the US president. US Secretary of State Condoleezza Rice, on a trip to Canada, said Washington wanted to send a "very strong message to Syria, first of all, that they should not, as they have so far, be dismissive of this Mehlis report". The attitude of the Syrian government towards the Mehlis report should be one that they recognise that the international community expects them to take it seriously and cooperate," Ms Rice said. "Secondly, the Syrians need to understand that no one will tolerate efforts at, or means of, intimidation of the Lebanese people in response to this report," she said. Mr. Mehlis addressed the UN Security Council in New York overnight and urged greater cooperation from Syria. Noting his probe had been extended until December 15, Mr Mehlis said "the Commission is of the view that this would provide yet another opportunity for the Syrian authorities to show greater and meaningful cooperation and to provide any relevant substantial evidence on the assassination". Mr. Mehlis, who led the four-month UN probe, released a 54-page report last week that concluded senior Syrian security officials were implicated in the massive bomb blast that killed Mr. Hariri and 20 others in Beirut. The US, Great Britain, and France are prepared to bring Syria before the UN Security Council this week!
Officials: Jihad in Syria Ordered Rocket Strikes
Oct. 26….(YNET) The order to fire Qassam rockets at Israeli communities in recent days came from the Islamic Jihad's headquarters in Syria, Israeli security officials say. Following the killing of the group's West Bank terror leader Louie Sa'adi earlier this week, Jihad leaders in Syria exerted heavy pressure on terrorist cells in Gaza to respond by directing mortar and rocket fire at Israel, at any cost. This time around, Syrian officials cannot pretend they had no idea what was happening right under their noses, because Israel relayed messages to Damascus, through various sources, informing the Syrians about the rocket attacks about to follow. Some officials in Israel thought Syria, which is already facing intense international scrutiny, might push the Islamic Jihad to curb its attacks, but Syrian officials did not act. Meanwhile, Israel also informed the Palestinian Authority hours before the Qassam strikes that terrorists are planning to launch rocket attacks. PA officials were asked to take steps in a bid to prevent the fire, but Palestinian security officials did not even pretend to be acting on the information. Gaza's Karni and Erez crossings were reopened Wednesday morning following a situation assessment by the IDF. The crossings were closed following the Qassam rocket attacks. Despite the IDF's work to prevent rocket attacks, a Qassam rocket was fired close to midnight (Israel time) at Sderot. No injuries have been reported. On the eve of Simchat Torah (Monday night), at least five Qassam rockets were fired at the city. Sderot's level of alert has been raised due to fears that Palestinian organizations would try to take revenge for the killing of Islamic Jihad commander Louie Sa'adi. Moshe Ben Sheetrit, a 29 year-old resident of the city, told Ynet: "The Red Dawn (alert system) siren was heard. Usually, there are 20 seconds to run to a protected structure, but before I got there, I heard a boom; it was less than 20 seconds. The children are asleep, thank God." In response to Monday night's rocket salvo, the IAF hit targets in northern Gaza, and IDF forces fired artillery shells at Qassam rocket launching pads. An IAF combat helicopter also struck two buildings in Gaza. Palestinian doctors said that a Palestinian woman and two of her daughters were injured by shrapnel from the air strike in southern Gaza. On Tuesday Sderot Mayor Eli Moyal told Ynet that the IDF's "soft" response to Monday's barrage of Qassam rockets at Sderot encourages the Palestinians to continue attacking us, on Tuesday. "The IDF should not respond to their (rocket-launchers) attacks, but rather immobilized them completely," Moyal said. "People are angry, and I can understand them," he said. "My home is located about one kilometer (1.6 miles) from Beit Hanun and Beit Lahia (Gaza). A senior IDF officer told Ynet, "We expected the Palestinian Authority to prevent the Qassam fire, but as it has not done so, we responded harshly after the initial barrage.
Russia, China Forming 'NATO of the East'
Oct. 26….(The Christian Science Monitor) Russia and China could take a step closer to forming a Eurasian military confederacy to rival NATO at a Moscow meeting of the six-member Shanghai Cooperation Organization (SCO) Wednesday, experts say. The group, which started in 2001 with limited goals of promoting cooperation in former Soviet Central Asia, has evolved rapidly toward a regional security bloc and could soon induct new members such as India, Pakistan, and Iran. One initiative that core members Russia and China agree on, experts say, is to squeeze US influence, which peaked after 9/11, out of the SCO's neighborhood. "Four years ago, when the SCO was formed, official Washington pooh-poohed it and declared it was no cause for concern," says Ariel Cohen, senior researcher at the Heritage Foundation in Washington. "Now they're proven wrong." Wednesday's meeting is expected to review security cooperation, including a spate of upcoming joint military exercises between SCO members' armed forces. It may also sign off on a new "Contact Group" for Afghanistan. That would help Russia and China, both concerned about increased opium flows and the rise of Islamism, develop direct relations between SCO and the Afghan government. While this will be highly controversial given the presence of NATO troops and Afghans' bitter memories of fighting Russian occupation throughout the 1980s, the Russians have an "in" because they still have longstanding allies in the country. In attendance Wednesday will be prime ministers of member states Russia, China, Kazakhstan, Kyrgyzstan, Uzbekistan, and Tajikistan, as well as top officials from several recently added "observer" states, including Indian Foreign Minister Natwar Singh, Pakistani Prime Minister Shaukat Aziz, and Iranian Vice President Parviz Davudi. The SCO's swift rise has been fueled by deteriorating security conditions in ex-Soviet Central Asia, as well as a hunger in Moscow and Beijing for a vehicle that could counter US influence in the region. "Moscow is seeking options to demonstrate to Washington in the first place, that Russia is still an important player in this area," says Fyodor Lukyanov, editor of Russia in Global Affairs, a partner of the US bimonthly journal Foreign Affairs. "China's ambitions are growing fast, and it also wants to turn the SCO into something bigger and more effective." Russian leaders blame the Bush administration, with its emphasis on democracy-building, for recent unrest, including revolution in Kyrgyzstan and a putative Islamist revolt in Uzbekistan. "Washington wants to expand democracy, which it sees as a panacea for all social and geopolitical evils," says Sergei Karaganov, head of the Council for Foreign and Defense Policies, which advises the Kremlin. "But it is clear to us that any rapid democratization of these countries (in Central Asia) will lead to chaos."
A SCO summit last June demanded that the US set a timetable to remove the bases it put in Uzbekistan and Kyrgyzstan with Moscow's acquiescence in the wake of 9/11. In July, Uzbek leader Islam Karimov ordered the US base at Karshi-Khanabad to evacuate by year's end. But two recent visits to Kyrgyzstan by Secretary of State Condoleezza Rice appear to have secured the US lease on that country's Manas airbase indefinitely, albeit with a sharp rent increase. "There is nothing to cheer about," says Cohen. "Washington has signaled to the Russians that we won't be seeking any new bases in Central Asia. Basically, we are doing nothing to counter the moves against us." In joint maneuvers last August, Russian strategic bombers, submarines, and paratroopers staged a mock invasion of a "destabilized" far eastern region with Chinese troops. This month, Russian Defense Minister Sergei Ivanov proposed holding the first Indian-Chinese-Russian war games under SCO sponsorship. "In principle, this is possible," he said. "The SCO was formed as an organization to deal with security issues." Should states like India and Iran join, the SCO's sway could spread into South Asia and the Middle East. "India sees observer status in the SCO as a steppingstone to full membership," says a Moscow-based Indian diplomat who asked not to be named. But he added that India, which has recently improved its relations with the US, does not want to send an anti-US message. "We would hope the Americans would understand our desire to be inside the SCO, rather than outside," he says. While the SCO's potential looks vast on paper, experts say internal rivalries would preclude it from evolving into a NATO-like security bloc. "What kind of allies could Russia and China be?" says Akady Dubnov, an expert with the Vremya Novostei newspaper. "The main question for them in Central Asia is who will gain the upper hand." Still, the idea of a unified eastern bloc has strong appeal for some in Moscow. "It's very important that regional powers are showing the will to resolve Eurasian problems without the intrusion of the US," says Alexander Dugin, chair of the International Eurasian Movement, whose members include leading Russian businessmen and politicians. "Step by step we're building a world order not based on the unipolar hegemony of the US."
Bush: Military Action Against Syria 'Last Option'
Oct. 25….(MSNBC) President Bush said military action was a last resort in dealing with Syria and he hoped Damascus would cooperate with a probe into the killing of former Lebanese premier Rafik al-Hariri. "A military (option) is always the last choice of a president," he told Al Arabiya television in an interview aired on Tuesday when asked about a UN investigation that implicated Syrian officials in the killing of Hariri. "I am hoping that they will cooperate. It (military action) is the last, very last option," he said. "But on the other hand, you know, and I've worked hard for diplomacy and will continue to work the diplomatic angle on this issue." Bush said Syria had to meet a set of demands from the international community, including expelling Palestinian militant groups, preventing insurgents from crossing its borders into Iraq to fight US forces, and ending Syrian interference in Lebanon. "Nobody wants there to be a confrontation. On the other hand, there must be serious pressure applied," he said. "In other words, there are some clear demands by the world. And this UN) report, as I say, had serious implications for Syria, and the Syrian government must take the demands of the free world very seriously." Hariri and 20 others were killed on Feb. 14 by a bomb in Beirut. The UN report by German investigator Detlev Mehlis said the decision to kill Hariri "could not have been taken without the approval of top-ranked Syrian security officials" colluding with counterparts in Lebanon. Syria has vigorously denied the accusations. Diplomats said the United States and France were working on a resolution demanding Syria cooperate with the investigation but may not seek to impose sanctions immediately. Bush would not be pinned down on what action Washington would take if Syria does not comply. "I certainly hope that people take a good look at the Mehlis report. There's clear implications about Syrians involvement in the death of a foreign leader," he said. "The United States was willing to help, work with other countries, and we will, to make sure that out of the United Nations comes a clear message," Bush said. Asked if the United States would support a call by Hariri's son Saad for an international court to try his father's killers, Bush said the decision lay with the United Nations. "Well, we want people to be held to account. And I'd be glad to talk to other leaders to determine whether or not that's the best course of action. But certainly, people do need to be held to account. And the first course of action is to go the United Nations," he added.
Israel Drops Bid to Ban Hamas from Elections
Oct. 25….(Fox News) Israel has dropped its campaign to ban the violent Islamic Hamas from Palestinian parliamentary elections, a senior official said Sunday, acknowledging defeat after President Bush pointedly skipped repeating the demand in a public appearance with the Palestinian leader last week. In another election-related development, the Palestinian prime minister said a program is under way to disarm a militant group (the Al Aqsa Martyrs Brigade, which is directly under the PA) and bring its gunmen into the security services, a possible pattern for dealing with Hamas as it turns political after nearly two decades of deadly attacks against Israelis. Israel never made specific threats against the Palestinians in connection with Hamas candidates in the January election, but hinted it would refuse to remove roadblocks and ease other travel restrictions vital to carrying out a free elections campaign. Israel says it is still strongly opposed to Hamas participation because its charter calls for destruction of the Jewish state, but it will take no steps to stop it. "Are we going to go to war on this issue or interfere on this issue? No," the senior official said. Also, Israel said if Hamas took part in the Palestinian government, there would be no hope for peace talks. That threat still hangs in the air. "This organization will not be a legitimate partner for peace," another official said. "It's Hamas or us." During the last five years, Hamas has carried out dozens of suicide bombing attacks that have killed hundreds of Israelis. The officials spoke on condition of anonymity because they were not authorized to make official policy statements. The turning point in the Israeli position came last Thursday, when Palestinian leader Mahmoud Abbas met with Bush at the White House. While warning Abbas that violent Palestinian groups could undermine the democratic Palestinian state-in-the-making, Bush did not mention Hamas by name nor call for its exclusion from the election, a sign that despite Israel's strong feelings, the US was not going to press the point. In three rounds of local elections earlier this year, Hamas did well, forecasting significant inroads into the power of Abbas' Fatah Party when Palestinians vote for a parliament in January. This is the first time Hamas is running candidates for parliament. Hamas skipped the only other election, a decade ago, complaining that the parliament itself is part of an interim peace accord with Israel, a pact Hamas rejects on religious principle. Rebuffing Israeli demands to confront Hamas and disarm its cadres, Abbas prefers to achieve calm by persuasion and inclusion in political life. Since Al Aqsa is close to Fatah, failure to bring its gunmen into the official fold would bode ill for similar efforts toward Hamas, the main Fatah rival.
FOJ Note: Allowing a terrorist organization to participate in elections is a recipe for disaster. Why not just allow Al Qaeda to run a candidate in Iraq and Afghanistan? President Bush is overlooking Mr. Abbas's long association with terrorist entities. Abbas was a founding member of the Fatah terrorist organization with Yasser Arafat. Fatah rose to prominence, and overtook the PLO through the use of guerilla styled terrorism against civilians in the 50's and 60's. Abbas was the financing manager of the 1972 Olympic terrorist attacks against Israeli athletes in Munich, Germany. When Abbas says it is best to allow Hamas to participate in PA elections, you can rest assured that he has not abandoned terror as a means to an end.
US Accepts Hamas Participation in PA Election
Oct. 25….(Arutz) It's now official: Though the US considers Hamas a terrorist organization, it will take no active steps to prevent Hamas from running in the upcoming Palestinian Authority elections. State Department Spokesman Sean McCormack, at his official Daily Press Briefing on Thursday, said clearly that Palestinian politics is exclusively up to the "Palestinian people." At the same time, McCormack emphasized that the American and Quartet position has not changed regarding "terrorist organizations operating outside of the rule of law" - though he did not elaborate. He said that in the view of the US, "Hamas is a terrorist organization." However, McCormack added in a lengthy explanation, "It is also the case that how the Palestinian political process unfolds and evolves is a question for the Palestinian people. And I think that President Abbas is at the forefront, saying that there can only be one rule, one gun and one authority. And you heard he and President Bush speak just a short while ago, about the fact that President Abbas was elected on a platform of bringing peace and security to the Palestinian people. And we are working with him and other members of the Palestinian Authority to see that the Palestinian Authority is able to live up to its obligations under the roadmap. Those obligations are that they not only have to stop acts of terrorism and violence, but they have to act to dismantle terrorist groups." McCormack praised a recent Palestinian Authority law that forbids "armed displays in mass demonstrations," indicating that this could soften the damage done by Hamas' participation in the elections. Both the US and Abbas seem to prefer pushing off a clash with Hamas until an unspecified later date. American officials explained that Bush believes there is no advantage to staging a frontal confrontation with Abbas just a few months prior to the January elections, Haaretz reported. Abbas, too, said he has no intention of barring any Palestinian faction from running, explaining this would be "counterproductive." He said that the "consent" of Hamas and other terrorist organizations to maintain a period of no attacks is proof that there is no need for a clash at present. Abbas believes that only the new democratically elected legislature will have the necessary legitimacy to disarm terrorist organizations. In a recent op-ed for the Washington Post, former Deputy Defense Minister, Ephraim Sneh of the Labor Party wrote that three facts about Hamas must be remembered: "First, the aim of the Hamas movement is not the end of Israeli occupation, nor is it the establishment of an independent Palestinian state. Hamas' aim is to take over Palestinian society and impose Islamist rule. For this reason, Hamas poses a greater threat to Palestinian secular parties than it does to Israel. "Second, Hamas is not just a terrorist organization. It is a movement supported by many in Palestinian society, though still a minority, as the recent Palestinian municipal elections proved. "Third, even if Hamas does win many seats in the Palestinian parliament, it will not cease to be a terrorist organization. We must not delude ourselves into thinking that government responsibility will lead to Hamas' self-moderation. With this type of radical Islamist movement, there is no distinction between armed and political actions, which serve the same goal. At the core of this movement is a terrorist ideology that denies the rights of another people and coerces an entire society into a fundamentalist Muslim lifestyle. Whenever it serves its cause, Hamas will use terrorism against Israel and the Palestinian government. "Anyone who wishes for Israeli-Palestinian peace and a democratic Palestinian state must also wish for the downfall of Hamas."
FOJ Note: The United States is ignorantly helping to create a "terrorist state" in the West Bank. While the Bush Administration is taking its war-on-terror to the enemy in Iraq, it is at the same time undermining the same war by strapping its most important ally in the Global war on terror, Israel, down with a new and more dangerous threat. The decision to allow a terrorist enclave such as "Hamastan" to develop on Israel's belly, the US is demonstrating that it is willing to compromise in the war on terror. Al Qaeda has already made new inroads into Gaza and the West Bank, and is already planting roadside bombs along the so-called peace Roadmap.
Israel, US at Odds over Timing of Disarming Palestinians
Oct. 25….(Ha Aretz) Israel and the United States are in disagreement over when the Palestinian terror organizations should be disarmed. Contrary to the Israeli stance, the US administration has accepted the position of Palestinian Authority Chairman Mahmoud Abbas (Abu Mazen) that the right time to confront Hamas and its disarmament is after the Palestinian elections in January. The US believe Abu Mazen should first be allowed to deal with the chaos in the PA and the Fatah before the elections and not begin a forceful confrontation with Hamas now. Washington believes it is of paramount importance that Abu Mazen be in a strong position before the elections, and to this end is putting pressure on Israel to make concrete concessions to the Palestinian population to assist him. At the same time, Washington officials have stressed to Abu Mazen that he will have to ensure there is "one PA, one law and one army." But the US is not yet putting pressure on him to do so. The officials have also accepted Abu Mazen's view that it is impossible to prevent Hamas from participating in the January elections and that, therefore, it is best for Israel not to make problems. Israel has been demanding that Abu Mazen confront Hamas now because it has created a "second authority" that is posing a threat to the PA and Abu Mazen's future. Israel is also opposed to Hamas' participation in the January elections, but because of Washington's position has said it will not interfere in the elections, but will not promise to help.
Bush to Abu Mazen: The Palestinians Must Start Helping Themselves
Oct. 24….(DEBKAfile Exclusive Report) The Palestinian leader Mahmoud Abbas did not get much chance to lay down his usual list of demands and gripes in his talks at the White House with US president George W. Bush Thursday, Oct. 20. Instead, in contrast to the jovial mood of their joint news conference, Bush crushed his visitor's hopes of a Palestinian state in the foreseeable future. "Not during my term," the president declared firmly, according to DEBKAfile's Exclusive sources Washington. Abu Mazen is described as coming out of the meeting pale and shaken, with nothing to show for his Washington trip. Most of their 45-minute conversation was one-sided. Bush scarcely let Abu Mazen get a word in edgeways, cutting him short several times. According to our sources, the US president laid down a new set of rules, unfamiliar to the Palestinians. In a word, no one will help the Palestinians if they don't help themselves, and that goes for me, the US President, too. If you think you can disarm Hamas by letting them take part in elections, go ahead, but you are on your own. We think you are making a big mistake, but we don't interfere. But there is a price to pay. A regime dominated by terrorists cannot expected to be treated as a democracy. He reminded Abbas that he was the first American president to envision an independent Palestinian state and make it a strategic goal of his foreign policy, but the Palestinians had not risen to the challenge. He informed Abbas that to achieve statehood, they must meet three categorical conditions:
A. A Palestinian state must live in peace with Israel.
B. Peace alone is not enough. The Palestinians must demonstrate they are capable of being good neighbors.
C. The Palestinian state must be clean of terrorism.
As matters stand now, said Bush, I see no prospect of Palestinian statehood coming into existence before I leave the White House.
The US president said he continued to support the Palestinian leader. However, his terms were the reverse of what Abbas wanted to hear.
1. Final-status negotiations must not begin yet. (This knocked on the head Abbas' most cherished goal which is to skip the road map preliminaries and jump to the final stage.)
2. Washington is holding back the timeline for progress towards Palestinian independence. (This was a stunning setback for Abbas' plans and his standing at home.)
3. The Middle East road map for peace will not for now be activated. It will remain on paper as long as Palestinian "armed gangs" are in charge.
Abu Mazen tried to put in a word on Palestinian demands, such as the unresolved status of the Egyptian-Gaza border crossings, a direct, sovereign Gaza-West Bank link, a halt on the Israeli defense barrier and various complaints, but Bush brushed him off, saying he is familiar with the problems and he leaves them to advisers, "Jim Wolfensohn," or "General Ward." He gave some ground on the Palestinian demand for weapons and ammunition to arm their security forces, but said this would have to wait until a new military coordinator takes over from General Ward. The US president said he was still looking for a suitable candidate, a military man with the right intelligence background who worked well with the CIA. He also agreed to raise the granting of more economic concessions with Ariel Sharon. All in all, the meeting ended without results or decisions. Outside, when they both faced reporters, President Bush took advantage of a question put by a Palestinian correspondent to drive home his new message. Asked if a Palestinian state would come about during his term as president, he replied: My purpose is to lay the foundations for a state. Whether it comes about or not is not my problem; it is up to the Palestinians. Clearly the US president has taken several steps back from his first concept of Palestinian statehood as a top American policy goal. He is leaving it to the Palestinians to make the running. For the first time, they have been put clearly and firmly on notice that as long as they harbor terrorists, they can forget about attaining their own state.
Hamas Slams Bush for Dropping Statehood Timetable
Oct. 24…..(AFP) The Palestinian resistance movement Hamas slammed US President George W. Bush yesterday for dropping any concept of a fixed timetable for the creation of a Palestinian state and warned against pressure to disarm "resistance" factions.
Hamas said Bush broke his promise a day after he hosted Palestinian President Mahmoud Abbas at the White House for their first meeting since Israel withdrew from the Gaza Strip last month. "Bush said he wanted to see a Palestinian state, but without a timetable," Hamas spokesman Sami Abu Zuhri said in Gaza City. "He went back on his last promise," Abu Zuhri said, referring to comments made by the US leader when he was re-elected last November. Standing next to Abbas on the lawn of the White House, Bush said he believed his two-state vision was possible but acknowledged he did not know if a Palestinian state would be created by the time he left office in January 2009.
"I can't tell you when it's going to happen. It's happening," he said of the state he had once said would come into being by the end of this year. "If it happens before I get out of office, I'll be there to witness the ceremony. And if doesn't, we will work hard to lay that foundation so that the process becomes irreversible," Bush said.His comments were at odds with remarks made in November 2004, when he said: "I would like to see it done in four years. I think it is possible." Palestinian officials in Ramallah played down Bush's reluctance to adhere to a timetable. "It is the first time that President Bush has said he would use his influence for the formation of a Palestinian state," chief negotiator Saeb Erakat said. "The deadline is not important when he uses such strong words."
The Hamas spokesman also took a swipe at Bush's call for Abbas to crack down on "armed gangs", and urged the Palestinian Authority to resist international interference in Palestinian affairs.
Israeli Dig to Spark Temple Mount Violence?
(Al Aqsa leader warns of deadly riots, busing supporters to mosque)
Oct. 24….(WND) A senior Al Aqsa leader whose group has been accused of associations with Hamas told WorldNetDaily yesterday recent Israeli digs near the Temple Mount and a plan to construct an underground visitors center near the Western Wall are really Jewish designs to destroy the mosque, potentially sparking deadly riots. The group, which has previously been involved with Temple Mount violence, has been sending buses the past few weeks to Israeli Arab neighborhoods asking Muslims to "swarm" the Al Aqsa Mosque to protect it from "Jewish attacks," WND has learned. "The truth is these digs and plans are political in character and goal. It is part of the Israeli occupation and of the Israeli big plan to hurt Al Aqsa," Sheik Kamal Hatib, vice-chairman of the Islamic Movement, told WND. "These diggings endanger the basis of the mosque. The Israelis want and hope that these works will contribute and hasten the destruction of the mosque. In that way they think they will not be accused that they have directly destroyed Al Aqsa." Hatib was responding to a new archeological site near the Mount recently unveiled by Israel, and Israeli plans announced last month to open an underground tourist center that will snake around pathways under the Western Wall. Discoveries at the new site include a ritual bath from the period of the second Jewish Temple, destroyed in 70 AD, and a wall archaeologists say dates to the first Jewish Temple, destroyed in 586 BC. The findings were widely reported by the media as strengthening Jewish ties to the Temple Mount. The visitors center, which opens next month, is built around the new findings and includes large glass windows that look into recently excavated sections of the Western Wall. Israel hopes the center, which also features a music and light show, will become a major tourist attraction. But Hatib blasted the center and dig, warning, "The plans endanger the mosque. Al Aqsa is close to the hearts and is important to all the Palestinians, the Arabs and the Muslims all over the world and even to those who are not religious and are not members of Islamic movements. Every attack or any try to hurt the mosque will result in 1.5 billion Arabs and Muslims rushing to defend Al Aqsa." And Hatib is not just talking. The Islamic Movement the past few weeks has been sending buses to Jaffa and other Israeli Arab neighborhoods offering free trips to the Al Aqsa Mosque to "defend" the structure from "Jewish attacks," Jaffa residents told WND. "Oh holy Muslims swarm to Al Aqsa to defend it from the evil Jews who are attacking our holy mosque," said a voice yesterday being blasted from a loudspeaker attached to a private bus in Jaffa, a witness said. "The Jews are trying to destroy our Al Aqsa." The Islamic Movement has been directly involved with violence connected to the Temple Mount. In 1996, the Movement was involved in riots in which 80 people were killed, erupting after Israel opened an archaeological tunnel alongside the Mount compound. The Movement was also reportedly involved in inciting Palestinians to throw stones at Jewish worshipers after then-prime ministerial candidate Ariel Sharon visited the Temple Mount in 2000. Hatib told WND the recent Israeli archeological findings are "nonsense. Finding pieces of one centimeter is nothing near our historical right that counts thousands of years before Israel and before Moses. I suggest to the Israeli and Jewish fanatics and to the Christian groups in America who support them to think about how to support peace and not war." In an interview with WND this weekend, Hatib said Jews have no historic connection to the Temple Mount. "We absolutely believe that Al Aqsa, all its different parts, all its walls, all its courts, and everything down the mosque or up it, all these fully belong to the Muslims. Only to them. No one other than the Muslims has any right over Al Aqsa, or even over any grain of its sand." "About the Kotel (the Western Wall), we deny any relation between the Temple and the Al Aqsa Mosque. We believe that the Western Wall is part of the mosque and not the Wall of Lamentation, as the Jews say, the Western wall is an inseparable part of the mosque. Warned Hatib: "Any attack or any try to hurt the mosque will create an extraordinary situation in the Arab and the Muslim states. I believe that this will change the map of the whole Middle East, and the Israeli side will be the one to lose."
'Russia's Trying to Save the Syrians'
Oct. 24….(YNET) While the Americans are considering which steps to take against Syria in the UN Security Council session on Tuesday in which the U.N. report on the murder of Hariri will be presented, a senior diplomatic source in New York told Ynet that "the toughest nut to crack is Russia, which is trying to save the Syrians." A senior diplomat has told Ynet that the Russian government is attempting to rescue the Syrians from the potentially devastating consequences of a UN report on the assassination of former Lebanese prime minister, Rafik Hariri, which has tied senior Syrian officials to the murder. Ahead of the UN Security Council session on the report, and on which steps to take against Syria, the toughest nut to crack has been Russia, which is trying to save the Syrians. Their excuse is that the report is intermediate, and that the final report of the investigation committee must come out before further steps are considered," a senior diplomat in New York told Ynet. Senior American government officials are weighing up which steps to take ahead of Tuesday's Security Council session, in which the German judge leading the investigation team, Detlev Mehlis, will present his report. The United States is applying international pressure to ensure that the Council passes a decision calling on Damascus to cooperate with the international community in the investigation. According to various reports, Washington will demand that Damascus turn in senior Syrians involved in the assassination, including Mahar Assad, brother of President Basher Assad. Other suspects include Asaf Shawkat, the president's right-hand man, as well as a number of Syrian intelligence officials. If Syria doesn't respond to the request, the US plans on imposing aggressive international economic sanctions on Damascus, similar to those imposed on Libya following the Lockerbie attack. US Secretary of State Condoleezza Rice called on the international community to weigh its next steps regarding Syria in light of the UN report, saying that the accusations were extremely serious, and urging the UN not to leave the report "on the table."
Muslim Leader: Messiah Not Coming to Israel
Oct. 24….(JNEWSWIRE) A prominent Israeli-Arab Muslim leader at the weekend blasted Evangelical Christian support for Israel as a misguided effort to hasten the return of the Messiah. Speaking to World Net Daily's Aaron Klein, Islamic Movement Vice-Chairman Sheikh Kamal Hatib said the "crazy" Christian support "is based on their faith that the return of the Messiah...would be in Israel." [Ed. Note – Muslims in general accept that Jesus is the "messiah," but do not regard him as mankind's savior. Nor do they accept that he was a Jew, but rather a "Palestinian" adherent of Islam.] Therefore," Hatib continued, "[the Christians] support Israel, because they believe that the continuation of Israel to exist hastens the arrival of the Messiah." "Allah forbid!" the sheikh exclaimed. He surmised that this belief has led these Christians to desire "a war of civilizations" between themselves and Islam, which George W. Bush, a born again Christian, is currently leading. Ignoring that the Bush-led war on terror began as a direct result of unprecedented Islamic attacks on the United States, Hatib condemned what he saw as the true Christian rationale for the conflict. "The Messiah can never be the reason for war," he stated. Readers of the Bible know that the Book of Revelation tells of a time when Messiah himself will engage in unparalleled acts of warfare prior to establishing his rule from Jerusalem. (Revelation 19:21) The Bible also indicates Messiah will only return following the rebuilding of Israel's temple to the Almighty (Malachi 3:1, Ezekiel 43:2-5), something Hatib insists the Jews have no right to do atop Jerusalem's Temple Mount. The sheikh echoed discredited Muslim claims that the mosques currently occupying the Temple Mount have been in existence since the time of Adam, and that the children of Israel never had a temple atop Mount Moriah. "We the Muslims believe that Al Aqsa was built since the time of Adam – Allah bless him," Hatib said. "There is a very clear historical event mentioned in the Koran concerning the mosque that was built by Adam and where all our prophets prayed." The Koran in fact does not once mention Jerusalem, where, at the time of the Koran's writing, the Temple Mount was occupied by a Byzantine Christian trash dump rather than a mosque. That did not stop Hatib from insisting the "Al Aqsa [literally 'the furthest mosque'] of the Koran is the same Al Aqsa of our days, not any other mosque." As for the Jewish temples, "we believe that they existed, but we deny they were built near Al Aqsa," in other words, on Jerusalem's Temple Mount. "When the First Temple was built by Solomon, Allah bless him, Al Aqsa was already built," said Hatib. "We don't believe that a prophet like Solomon would have built the Temple at a place where a mosque existed." Islam, of course, had its beginnings some 1,500 years after the time of Solomon. Klein noted that what the sheikh was saying "contradicts reality. There is no serious scholar or archeologist in the world who argues Al Aqsa was built before the Jewish Temples." Hatib's Islamic Movement is the largest Muslim organization in Israel. It's top leader, Sheikh Raed Salah, has spent time in an Israeli prison for using the organization to fund raise for Hamas.
WEEK OF OCTOBER 16 THROUGH OCTOBER 23
Assad Is In Trouble
Oct. 21….(YNET) The United States and France, rather than Israel, are leading the campaign against Syria, political sources told Ynet Friday, adding that after 30 years of Syrian interference in Lebanon, "the work of the righteous is done by others." Officials in Jerusalem declined comment on the United Nations report tying Damascus to the killing of former Lebanese PM Rafik al-Hariri, saying "this is a matter for the international community and the UN, and they are the ones that should respond." However, despite the refusal to issue an official response, political sources said "today the free world sees the results of the Syrian involvement in Lebanon, things we knew about all this time, the Syrian intelligence involvement in everything that happens in Lebanon, the murders, and the sudden "suicides." "This time around, the Hariri murder was one murder too many. Later, the witnesses had to be silenced, Godfather-style," one source said. "Former Syrian Interior Minister Ghazi Kenaan could have revealed quite a few things to the UN, and his staged suicide is clear," the sources said in reference to Kenaan's reported "suicide." "We see what happens to dictatorial regimes these days. The possibility of top Syrian intelligence officials being put on trial before an international tribunal is a good reason to keep Syrian leaders sleepless," one source added. "Saddam Hussein is on public trial, and now the Syrian regime is also on the witness stand. Later, this may lead to a shock, and a fundamental change in the Middle East." The sources also said the "rope is tightening" around Syrian leaders' neck. "Whether Assad knew, or says it was done without his knowledge, this doesn't improve his position," they said. And what will President Bush do? Sources in Jerusalem estimate that he will try to push for significant sanctions against Syria in the Security Council. "It is difficult to assume that the regime will be brought down like in Iraq and that an all-out war will be launched. America has enough of that in Iraq and Afghanistan. We might assume that all possible pressures will be exerted on Assad. He may be forced, by additional measures, to block the border with Lebanon in order to lead to the complete removal of Syria from Lebanon, including from the Lebanese intelligence establishment," a source said. On the other hand, MK Talab el-Sana (United Arab List) responded to the international investigation committee's report, saying that it is "politically tailor-made in order to provide the US with a reason to interfere in Syria's internal business." El-Sana claimed that this is not "Out of concern to find out the truth about the criminal murder, which only serves as an excuse in the eyes of the Americans." "The Arab League must become involved and take initiative in order for the area not to suffer from another military adventure," he added. The European Union, meanwhile, expressed its concern in light of the investigation committee's findings. Emma Udwin, a spokeswoman for the EU, said Syria must cooperate in the next stages of the investigation. However, Udwin added that for the time being, it is unclear whether the EU will take practical steps against Syria.
A Palestinian Perception of Abbas: "He Dances with Wolves"
Oct. 21….(DEBKAfile Special Analysis) The Palestinian Authority chairman Mahmoud Abbas aka Abu Mazen keeps himself afloat by braggadocio. He slaps down demands and stipulations as though he has a handful of aces. In actual fact, he arrived in Washington Thursday, Oct. 20 for talks with President George W. Bush and secretary of state Condoleezza Rice, with the barest hold on Palestinian government. If the Bush administration's new pro-US leaders were to be graded by their control of government, Abu Mazen would go to the bottom of the class, far below Iraqi prime minister Ibrahim Jaafari, Lebanese prime minister Fouad Siniora or Afghan president Hamid Karzai. Yet, after a year of administrating artificial respiration to a non-starter, Washington, Cairo, London, Brussels and Jerusalem are still not ready to give up. They continue to ply him with political favors as well as financial, military and intelligence assistance. None of this avails him at home where he is incapable of arresting his people's hopeless descent into a failed society. Armed gangs roam the streets without concealment and even al Qaeda operatives do not bother to disguise their presence. This week, a distinguished Palestinian researcher Khaled Duzdar voiced the gloom engulfing his people in a letter to his friends published on October 14. Under the heading "He Dances with Wolves," Duzdar asserts that Abu Mazen's appeasement of armed groups who maraud Palestinian streets night after night and prey on the innocent and each other will plunge the people in yet another calamity. Palestinian towns and villages have been reduced by the anarchy and lawlessness to a simulacrum of Somalia, he says. DEBKAfile's Palestinian experts are quite sure after watching Abbas perform that he is not genuinely feeble; he plays the weakling man to advantage. He works on the principle that the greater the chaos in the areas he rules, the more he can squeeze out of America, Europe and Israel and the less they will demand of him. In Washington, therefore, Abu Mazen continues to plug the message which has brought the Palestinians to their sorry state: Hamas and terrorist groups must be absorbed into government rather than dismantled, and international aid and Israeli concessions are the precondition for his survival, regardless of continuing terrorist attacks. His favorite tactic is to put Israel in the wrong, especially after murderous Palestinian on Israelis. On the day of his White House talks, Abbas used an interview with the Wall Street Journal to accuse Israel of aiding his opponents. (Might they be the "wolves" he is accused of dancing with?) The mayhem engulfing Palestinian society today was first generated deliberately by Yasser Arafat in 2000 as part of his war strategy against Israel. Under the noses of the CIA agents who helped set up the Palestinian preventive security machinery, he broke its regional components down and reassigned them to duties with the radical organizations dedicated to his suicide terror campaign. Five years later, Abu Mazen's policies have degraded Palestinian forces of law and order still further. Even the terrorist organizations are losing their grip and becoming swallowed up by an ungovernable assortment of warlords and criminal gangs. One of Abbas's closest associates, the civil affairs minister Mohammed Dahlan, who until recently met almost daily with Israeli defense minister Shaul Mofaz for a semblance of security coordination, has given up on the mess contrived and put plenty of distance between himself and his boss. DEBKAfile's Palestinian sources located him in Montenegro where he has settled with his family and gone back to his business activities. He tells visitors he has washed his hands of Abu Mazen for good. The US president and Secretary of State may be expected to play out the ritual of praising Abu Mazen for his (non-existent) efforts to rein in the terrorists, pouring out reconstruction financing for the Gaza Strip and reprimanding Israel. They will all keep up the pretence that Abbas and his Palestinian Authority are in charge, rather than the Hamas, the Jihad Islami, Hizballah, Al Qaeda and lawless armed groups. Israel's leaders, Ariel Sharon, Shimon Peres, Shaul Mofaz and Silvan Shalom, will also do their bit by trotting out the standard demand that Abbas crack down on the terrorists. The Palestinian leader is perfectly willing to make all the constructive promises the Bush administration, the Sharon government and the international community are so willing to believe, while at the same time continuing his dance with the wolves.
The Stage is Being Set in Syria
Oct. 21….(FOJ) The UN investigation into the assassination of former Lebanese President Rafik Hariri, coupled with US pressure on Syria to plug up the insurgency flood gates pouring into Iraq out of Syria has placed the Assad regime in Syria on thin ice. Ironically, the US has found an ally in France in bringing about the fall of the Assad regime. Syria was once a French Mandate, you may recall, and the French (EU) desires for Syria to become incorporated into the greater EU. New leadership in Syria would also make possible for a renewed optimism on the Israeli-Syrian track of the Middle East peace process, and serve to alleviate the terrorist sway and threat in the projected new State of Palestine, since so much of that backing now comes from Damascus. The new twist of events in Syria, which was recently forced to backpedal out of Lebanon, are setting the stage for the greater likelihood that the comprehensive peace of the Antichrist can emerge in the not too distant future. Should the US-led democracy push in Iraq prove to be even mildly successful, and the Syrian regime change comes about, and we witness Syria and Lebanon both being absorbed into the Greater EU, the geo-political environment for the rise of the prophesied Antichrist would take a giant step forward. It would leave Iran isolated from the terrorist network around Israel, and more reliant upon Russia for countermeasures against the Western led peace confederacy. FOJ continues to carry a lot of news stories regarding events related to Syria because we feel that the burden of Damascus prophecy is a vital key to the ensuing events of the Tribulation era. Syria is not mentioned on the listing of the great Gog-Magog led alliance that includes Iran, against Israel, and today, geo-political twists are playing out that tend to point to the fact that present strategies in the region are playing themselves out in such a way to prepare Israel for a great deceptive enticement of peace with security.
UN Report: Syria Involved in Hariri Assasination
Oct. 21….(WND) The UN investigation report into the assassination of former Lebanese prime minister Fafik Hariri says there exists 'converging evidence' of both Syrian and Lebanese involvement in the killing, and that the crime had been prepared over the course of several months. The probe into the February 14 killing of Hariri led by veteran German prosecutor Detlev Mehlis has established "that many leads point directly toward Syrian security officials as being involved with the assassination," according to the investigation report submitted to the UN Security Council. Because of this, it is now incumbent on Syria "to clarify a considerable part of the unresolved questions" facing investigators, the report said. Meanwhile, political sources in Jerusalem refused to address the United Nations' report. "The Syrians want to turn this into an Israeli affair in order to serve their own objectives," one source said. "This is a matter for the international community and the UN, and they should be the ones responding. The Mehlis commission said its findings to date indicated that the truck bombing that killed Hariri and 20 others in the streets of Beirut was carried out by a group "with an extensive organization and considerable resources and capabilities." "The crime had been prepared over the course of several months," it said. The report was handed over to UN Secretary-General Kofi Annan on Thursday morning, and Annan transmitted the report to the 15-nation Security Council and the Lebanese government on Thursday evening.
Tensions have been high in Lebanon in the build up to the much-anticipated report, with rumors spreading that if the report directly implicates Syria in the murder a civil strife my hit the streets of Beirut. The assassination of Hariri in February plunged the country into its worst-ever political crisis since 1990, when the civil war there ended. Lebanese soldiers have been positioned in the streets of Beirut for fear that the report's findings might set off political and social uproars. The Lebanese Interior Ministry has raised the level of alert to an all-time high. President Bashar Assad has refuted Syria's involvement in the assassination, telling the German daily Die Zeit, "We are 100 percent innocent." Pressure on Syria has been mounting since Mehlis launched the investigation which has so far led to the arrest of four senior pro-Syrian Lebanese security officials for their alleged involvement in the assassination. In an interview with the French daily Le Figaro, Deputy Foreign Minister Walid Moallem charged that "the US is preparing a regime change in Syria." "The Americans and the French have a plan to intensify pressure on Syria. Mehlis' report is nothing but a means to achieve this goal. Speculations surrounding the UN probe have been flowing in the Arab world, the latest of which was a report in the Saudi daily al-Watan which named four senior Syrian officials mentioned in Mehlis' report as prime suspects, including Assad's brother-in-law and head of military intelligence, Major-General Assef Shawkat, and the former intelligence chief in Lebanon Rustom Ghazaleh. The US has already voiced it support for holding an international tribunal to try Hariri's murderers. In a meeting with Annan, Secretary of State Condoleezza Rice pressed the UN Secretary General to formulate proposals that will allow the international body to help Lebanon bring the perpetrators to justice. Annan has appointed two international judges to explore the legal possibilities available for the UN to try the suspects, al-Watan reported.
Bush: Palestine is Upon Us
Oct. 21….(JNEWSWIRE) US President George W. Bush Thursday declared that the dream he shares with the Arab world of birthing a Muslim state on the ancient Jewish lands of Judea, Samaria and Gaza is closer to reality today than ever before. He vowed to use America's considerable influence to help "realize that shared vision." Speaking at a joint press conference in Washington, Bush heaped praise on visiting PLO chief Mahmoud Abbas, despite the latter's refusal to honor his primary peace commitment to disarm and dismantle anti-Jewish "Palestinian" terrorist organizations. For Israel, Bush had a warning: You will be "held to account" for any actions that hinder Washington's "peace" efforts and burden the lives of the Palestinian Arabs. Bush also admonished Abbas, telling him that "the way forward is confronting the threat armed gangs present to the creation of a democratic Palestine." He said it is time for the Palestinian Authority to "earn the confidence of its neighbors by rejecting and fighting terrorism." The tone of his remarks indicated the president had accepted Abbas' assertion that the Palestinian Arabs are "committed to peace" and that his regime has already taken steps to impose the rule of law. But Abbas made it clear his policies do not include the forced disarmament of those dedicated to Israel's demise. "We are following a policy I believe is successful," he said. "All terrorist organizations accepted the temporary truce." Likud MK and Knesset Foreign Affairs and Defense Committee chairman Yuval Steinitz, however, warned that if Abbas did not act in accordance with signed agreements, he could find himself isolated in his Ramallah headquarters, like Yasser Arafat before him. "Either he fights terror and disarms the organizations, or Israel will behave toward him as it did toward his predecessor and isolate him in the Muqata," the Itim news agency quoted Steinitz as saying. Steinitz reacted with fury to an editorial published earlier in the day that Abbas had penned for The Wall Street Journal, in which the Arab accused Israel of acting to strengthen the more radical elements of "Palestinian" society in an effort to see his rule fail. "It's clear that there is no end to audacity," Steinitz said. "The man who is personally making it possible for Hamas and the other terror organizations to hold onto their weapons and prepare for another round of bloodshed is accusing Israel of strengthening them." In the editorial, Abbas claimed to have created "a climate of peace" since his assumption of power in January, and suggested the only thing preventing regional harmony were the obstacles "Israel has created."
Hamas: Bush Promotes Palestinian Conflict
Oct. 21….(AP) The anti-Israel group Hamas charged Thursday that President Bush is trying to set Palestinians against each other with his call to move against militant groups in a White House meeting with Palestinian leader Mahmoud Abbas. Bush praised Abbas for making progress toward an orderly Palestinian state, but he warned, "The way forward is confronting the threat armed gangs present to creation of a democratic Palestine." Israelis noted that Bush did not call publicly for Hamas to be excluded from Palestinian parliamentary elections, set for January, but Hamas spokesman Sami Abu Zuhri was furious with the US leader's call for a crackdown on militants. "We consider this as serious American interference in our internal affairs aimed to create an internal conflict," he said. Hamas does not recognize a Jewish state in the Middle East and has claimed responsibility for dozens of suicide bomb attacks that have killed hundreds of Israelis during the last five years of conflict. Abbas has been reluctant to force a confrontation with the militants, preferring to negotiate an end to attacks on Israelis and draw Hamas and other extremist groups into the political process. At a joint news conference with Bush outside the White House, Abbas noted that all Palestinian factions could take part in the January election. Palestinian negotiator Saeb Erekat told Israel's Channel 2 TV that once Hamas takes a political role in elections and the parliament, it amounts to the first step toward giving up its weapons. "The Palestinian election law is clear, no one can use guns and no one can incite verbally and no one can use mosques," Erekat said, "No one can get their political goals through the means of force. So the election law provides that those persons and those parties and those factions who run for elections must understand that only through peaceful means can they make changes." Abu Zuhri also rejected Bush's intention to appoint a new security envoy to replace Gen. William Ward, who has been advising Abbas about restoring order, curbing lawlessness and reducing violence. "We are waiting for the American administration to send an envoy to dismantle the Israeli occupation and the occupation network working against our people," he said.
Analysis: Assad's Fate in US Hands
Oct. 21….(Ha Aretz) There is insufficient evidence to put the Syrian president on trial, Professor Eyal Zisser says; but America must make strategic decision, are they interested in toppling Assad, or cutting deal with him, he says. The next decision on Syria's fate will be taken in the White House and by the United Nations Security Council, Tel Aviv University professor and prominent Syria expert Eyal Zisser told Ynet Friday. In the wake of the UN report on the killing of former Lebanese Prime Minister Rafik al-Hariri, 'the rope is getting closer to President Bashar Assad, but he still has room for maneuver," Zisser says. The evidence gathered so far is insufficient in order to bring Assad before an international tribunal, he says. At this time it is hard to exaggerate the fears in Syria in the wake of the report. The investigative team cast a dark shadow on officials who are very close to President Assad, including his brother Maher and his right-hand man and brother-in-law, General Asef Shawkat. Their names may have been kept out of the report at this point, but investigators suspect the two, as well as other senior Syrian and Lebanese figures, are behind the Hariri assassination and held several meetings in Damascus before the killing took place. Meanwhile, recent reports show the US has received an official Syrian pledge to hand over suspects whose names are designated by the investigative team. Some observers believe this may even assist Assad by removing some powerful officials around him, thus allowing him further establish his rule. However, professor Zisser casts doubt on that possibility: "They are the pillars of the regime, and Shawkat is the number one man in the Syrian security establishment. He is not a person one sacrifices. Assad claims he didn't know about the murder, which leaves us with two possibilities, he either lied, or he really didn't know, and the truth is likely somewhere in the middle." Prof. Zisser says that "The report is more than a warning for Syria. It gives the US and France some ammunition, but it is not the ax many expected. With this kind of report one cannot come to an international court, because Russia and China would not agree. If, nonetheless, the matter does reach an international court, Syria will only become more entangled and will face the choice to make a Libya-style deal. In any case, each one sees in the report what he wants to see, Syria's supporters claim that it is political and that Bashar was not mentioned in it, while Syria's opponents see it as proof to its involvement in the killing." The Security Council will convene on Tuesday, and according to recent reports, two American proposals for decisions against Syria are pending. US Secretary of State Condoleezza Rice already said this week that Washington has initiated a diplomatic move against Damascus. "It all depends on how much the Russians and Chinese are willing to sweat for Assad, because without them the US will not be able to lead a procedure of sanctions against Syria," Zisser says. "Currently, sanctions similar to those imposed on Libya would be significant and difficult move for Damascus, but for that Russia and China have to be convinced, and this would probably only be made possible if and when the final report that clearly points to Syria is submitted," he says. "Right now, the report says there is cumulative circumstantial evidence and not more. However, in Lebanon, everywhere you dig you will find something." So, what will happen in the next stage? In the meantime it seems the next step, as well as the fate of Damascus, will be determined, as was the case so far, in the US. "The Americans have to make a strategic decision, whether they are in favor of bringing Bashar down or in favor of cutting a deal with him. Then there's a tactical decision, whether to suffice with the existing report or wait for the final report. A final report could indeed uncover direct Syrian involvement and satisfy Russia and China. However, even then there would be enough room for a deal with Assad," Zisser says. "Assad, on his part, has so far not shown that he is capable of reading the map and has not indicated that he is ready for a deal. However, when a regime has to survive it is willing to pay a heavy price, and therefore this should not be rejected out of hand. In any case, we must wait and see what the US will do in the Security Council and what decision it will make regarding its conduct opposite Syria," he adds.
Abbas: Israel is Bolstering My Opponents
Oct. 20….(Wall Street Journal) Ahead of his Thursday meeting with US President George W. Bush, Palestinian Authority Chairman Mahmoud Abbas accused Israel of strengthening Palestinian factions other than the ruling Fatah movement by isolating the Gaza Strip after the disengagement and expanding settlements in the West Bank. "Israel's lack of regard for the road map is having a powerfully negative effect on Palestinian society at an extremely critical time in our democratic development," he wrote in a piece published by The Wall Street Journal on Thursday. "There is a struggle under way for the hearts and minds of the Palestinian people between the moderates and the fundamentalists," Abbas wrote. He said he had created "a climate of peace" since his January election and that polls consistently show a majority of Palestinians wanted to live in a state at peace beside Israel. "Yet this climate of peace needs the help of the US and the international community: For without sustained pressure on the Israeli government to sit down and negotiate, Israel will only bolster those within Palestinian society who do not share the majority's desire for peace," he wrote. "Unfortunately, Palestinians cannot pursue the Road Map alone," he said, referring to a US-devised peace plan calling for Palestinian statehood in Gaza and the West Bank beside a secure Israel. "Israel has created obstacles in the face of a full and unconditional return to the negotiating table and acted as if Israel can resolve the Middle East conflict unilaterally." Abbas met with US Secretary of State Condoleezza Rice on Wednesday night to prepare for his meeting with Bush. Secretary Rice demanded that Abbas bring order to the Gaza Strip. The Abbas-Bush meeting, set to take place in the White House, is expected to focus on Hamas participation in PA elections, the continued building of Palestinian institutions, law and order in Palestinian territory and negotiations related to the economic development of the Gaza Strip.
FOJ Note: Mr. Abbas is a shrewd terrorist leader. He is an expert in presenting a case for something that is the very opposite of the truth. Abbas clearly has done nothing about terror groups in his territory, and has indicated that he never will, then he flies off to Spain to meet with the Spainish President and tells him that he is doing all he can to thwart terror cells in the West Bank. Israel has had to quash the terror leadership in the PA controlled territories because the PA under Arafat and Abbas reneged on their Oslo pledge to abandon terror, and root out its infrastructure.
US to PA: Ban Terrorists From Elections
Oct. 20….(YNET) US officials are insisting that the PA must begin working to dismantle terror organizations' infrastructure, and dictate laws to prevent participation of extremist politicians in the parliamentary elections. PA leader Mahmoud Abbas is expected to hear similar words from Bush, who aims to solve the dispute between Israel and the PA regarding Hamas' participation in the political process, which Israel objects to. The US is against any attempt by Israel to disrupt the elections in case members of Hamas take part in them, but accepts Israel's demand that the PA dictate regulations separating democracy from terror. During a Senate Foreign Relations Committee meeting Wednesday, Secretary of State Rice dismissed allegations made by Senator Lincoln Chafee (R), who claimed that Israel is not complying with the US demand to dismantle the illegal outposts in the West Bank. However, the secretary of state added that the US is concerned over the situation in Maale Adumin, adding that Israel has been told that construction in the area is violation of US policy.
US Officials: Bush still committed to two-state solution
White House spokesperson Scott McClellan said Wednesday that Israel's withdrawal from the Gaza Strip presents a real opportunity for the Palestinians to achieve aspirations for a democratic state, which necessitates a sound government capable of implementing law and order. The Palestinians will present the US administration with a list of Israeli policies in the West Bank and Gaza that they consider an obstacle to the peace process, yet apparently President Bush is not expected to buy the claims. Bush is of the opinion that it is the Palestinians' turn to take drastic measures to revive the peace process, namely the disarmament of Palestinian terror organizations, now that Israel has taken the bold step of withdrawing from Gaza. Ahead of Abbas' much-anticipated visit to Washington, US officials have reiterated Bush's commitment to a two-state solution to the Israeli-Palestinian conflict. The realization of this solution hinges on the Palestinian Authority's willingness to enforce law and order and disarm terror groups, US officials said.
FOJ Note: Isn't it about time that the shoe was put on the other foot. It is indeed high time for the PA to show some initiative if it truly desires peace and statehood. But, of course, these ideals are not the true PA agenda.
Syria: Israel Turning US Against Us
Oct. 20….(YNET) Syrian source tells Qatari newspaper el-Watan, 'Damascus' relations with previous American administrations have been good, and it is the current US administration that has created the crisis with Syria due to Israeli pressure'; comments made amid recent reports of discrete talks between Damascus and Washington.
Damascus is willing to cooperate with any international organization interested in obtaining proof regarding the inaccuracy of US allegations that Syria is interfering in Lebanese and Iraqi affairs, a Syrian source told the Qatar-based el-Watan newspaper. Damascus' relations with previous American administrations have been good, and it is the current administration that has created the crisis with Syria due to Israeli pressure, which is being applied in order to realize the goals and interests of the Zionist lobby," the source said. He said the Bush administration has rejected a number of Syrian initiatives to hold constructive dialogue between the sides, so that an amicable solution to the current disagreements may be reached. The comments were made amid recent reports in the Arab press regarding discrete talks between Washington and Damascus. The source said Israel is playing a "dangerous role" to preserve the tension between the US and Syria, and mentioned Foreign Minister Silvan Shalom's statement that the Sharon government encouraged the US and France to pass Security Council Resolution 1559, which calls for a full Syrian withdrawal from Lebanon. This proves the US is committed to backing Israel's ambitions to obstruct peace and stability in the region, the source said. He added that UN Secretary-General Kofi Annan has assured Syria that he does not intend to make political use of the UN investigation team's report on the Hariri assassination, which is expected to be filed on Friday. According to the source, this means the UN would not blame Syria directly for the killing of the former Lebanese prime minister. Meanwhile, a Kuwaiti newspaper reported Tuesday that former Syrian Interior Minister Ghazi Kenaan did not commit suicide as confirmed by Syrian officials, but was assassinated. According to al-Qabas newspaper, a group of armed men was sent to Kenaan's office to liquidate him. Kenaan was found dead in his office last week shortly following a phone interview with a Lebanese radio station during which he dismissed rumors that he had received bribes from Hariri. Syrian Foreign Minister Farouk Sharaa has openly said that Kenaan committed suicide due to the great amount of mental strain he had suffered from smears circulating in the Lebanese media.
FOJ Note: It would seem from listening to the Arab leadership in the Middle East, most notably Syria and the PA, that Israel has goaded the Arab world into 5 wars so that they can win land, just to negotiate it away. Syria, under the Assad regime has been a state sponsor of terrorism for decades, and is more corrupt than was the Saddam Hussein regime in Iraq.
Bush Welcomes Abbas to White House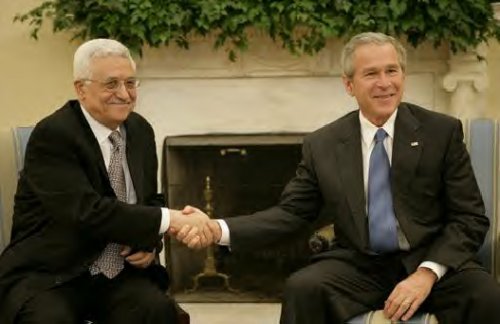 Oct. 20….(World Watch) President George W. Bush welcomed Mahmoud Abbas, President of the Palestinian Authority, to the Oval Office Thursday, Oct. 20, 2005. In the meeting, Palestinian Authority President Mahmoud Abbas asked President Bush during his White House meeting today to pressure Israel into releasing from prison the alleged architect of the 2000 intifada and founder of one of the most deadly Middle Eastern terror groups. Abbas asked [Bush] for several things, including the freezing of Israeli settlement activity and to help with the release of our prisoners," said the official, speaking just minutes after the conclusion of the White House meeting. "A special request was made for Israel to release [convicted terrorist Marwan] Barghouti." Abbas met Bush for one hour today in a summit many say was designed to boost the Palestinian leader's popularity ahead of January legislative elections in which Hamas is expected to run. During a joint news conference after the meeting, Bush heaped praise on Abbas, saying he was a "heck of a lot more confident" of peace prospects with Abbas in charge. Bush also called on Abbas to disarm Palestinian terror groups he said are threatening the "creation of a democratic Palestine" and said Israel should halt construction of new Jewish communities in Judea and Samaria. The Palestinian official said Bush agreed to take into consideration the request to pressure Israel into releasing Barghouti and other Palestinian prisoners. Barghouti, a founder of the Al Aqsa Martyrs Brigades, is serving multiple life terms in an Israeli prison for his role in the killings of four Israelis and a Greek monk. Israel accuses Barghouti of planning the Palestinian intifada that erupted in 2000 after PLO leader Yasser Arafat turned down a comprehensive Israeli peace offer at Camp David that year. Barghouti is suspected of planning dozens of suicide bombings and shooting attacks. Barghouti this week announced from prison his plans to run in the upcoming Palestinian elections.
President Bush, in a post-summit meeting said Israel should not undertake any activity that contravenes its roadmap obligations, referring to a blueprint for peacemaking approved by the United States, the United Nations, the European Union and Russia. Without elaboration, the president said Israel would be "held to account" for any actions that hamper peacemaking or burden the lives of Palestinians. But Bush said he was a "heck of a lot more confident" of peace prospects than when he first took office five years ago. Both Abbas and Prime minister Ariel Sharon are committed to making peace, he said. Abbas, in response, insisted on Israel lifting curbs on Palestinian travel on the West Bank, saying they had turned the lives of Palestinians into "Hardship and humiliation." The Palestinian leader also criticized Israel's security wall, particularly its location in Jerusalem, where the Palestinians intend to establish the capital of a Palestinian state. Earlier Abbas met with US Secretary of State Condoleezza Rice to prepare for his summit meeting Bush. During the session, Abbas found himself going on the defensive regarding the chaos in the Gaza Strip following the Israeli withdrawal, as well as the continuation of terror attacks. The Palestinian Authority should maintain law and order in the Strip to demonstrate its ability to exercise leadership, Rice told Abbas. The Palestinian leader, in turn, said that Israel's pullout from Gaza was not sufficient and pushed for a return to the negotiations table following a five-year hiatus. Another issue prominently discussed in the meeting was the question of Hamas participation in upcoming Palestinian elections scheduled for January 2006, an issue Israel has hotly contested. Abbas told Rice, and also Meretz-Yachad leader Yossi Beilin who is currently in Washington, that undermining the elections because of Hamas would constitute a "blow to the emerging Palestinian democracy." In a Wall Street Journal article published hours before the White House talks Bush, Abbas said he had done his part to pave the way to peacemaking by starting security reforms and generally maintaining a truce by terrorists. "Unfortunately, Palestinians cannot pursue the Road Map alone," he wrote, referring to the US-devised peace plan calling for Palestinian statehood in Gaza and the West Bank beside a secure Israel. "Israel has created obstacles in the face of a full and unconditional return to the negotiating table and acted as if Israel can resolve the Middle East conflict unilaterally." The PA leader also mentioned the expansion of the Israeli settlements as a factor that may obstruct peace in the region. He claimed Israel's policies only encourage extremism "during this critical time when a battle is being waged for the hearts of the Palestinians, who are torn between progress and fundamentalism."
Rice Won't Rule Out Armed Action Against Syria, Iran
Oct. 20….(Boston Globe) Secretary of State Condoleezza Rice refused yesterday to rule out military action against Syria and Iran, two countries she accused of supporting the insurgency in Iraq. Rice, speaking before the Senate Foreign Relations Committee, said that President Bush would not need to ask Congress for authorization to use military force against Iraq's neighbors. ''I don't want to try and circumscribe presidential war powers," Rice said in response to a question on whether the administration would have to return to Congress to seek authorization to use military force outside Iraq's borders. ''I think you'll understand fully that the president retains those powers in the war on terrorism and in the war in Iraq." Secretary Rice, in her three hours of testimony, painted an upbeat picture of political progress in Iraq. But she also described the war as part of a long-term struggle that might last more than a decade. The war on terrorism, she said, would be won only after change spreads across the entire Middle East. ''Syria and indeed Iran must decide whether they wish to side with the cause of war or with the cause of peace," Rice told senators. Rice described a two-pronged strategy against Syria: First, military action in towns along the Syrian border with Iraq to flush out insurgents; second, stepped-up diplomatic efforts in Europe and the Arab world to isolate the Syrian government. Rice appeared to show more flexibility toward Iran, however; this could open the door to the possibility that the US ambassador to Iraq, Zalmay Khalilzad, could initiate direct discussions with his Iranian counterparts, as he has done with Afghanistan. Inside Iraq, Rice said, the administration would begin to use joint military and aid missions known as ''Provincial Reconstruction Teams." These have been used in Afghanistan to create goodwill, development, and a more friendly image for the US military. But she declined to provide even an approximate time frame for withdrawing US forces from Iraq, saying only that it would be after the insurgency no longer poses a threat to the government. When Senator Paul S. Sarbanes, Democrat of Maryland, asked if Rice thinks the same number of US soldiers will be in Iraq 10 years from now, Rice said: ''Senator, I don't know how to speculate about what will happen 10 years from now, but I do believe that we are moving on a course in which Iraqi security forces are rather rapidly able to take care of their own security concerns." ''Under the Iraq War Resolution, we restricted any military action to Iraq," Senator Lincoln Chafee, a moderate Rhode Island Republican, reminded Rice. ''So would you agree that if anything were to occur on Syrian or Iranian soil," Chafee said, ''you would have to return to Congress to get that authorization?" Rice replied that the president did not need new authorization. Democrats said that the administration had originally used weapons of mass destruction as a rationale for war, not a perceived need to transform the Middle East. They also noted that the administration had said initially that the war would take little time and few resources. Rice asked for patience and resolve. ''A political solution was not going to be born overnight in Iraq," she said. ''That's not what you told America and that's not what you told this committee," Senator John F. Kerry shot back. Some senators suggested that the indefinite US military presence in Iraq was actually fueling the insurgency, not thwarting it. Rice said the Iraqi government wanted US troops to stay, and had set up a committee to study a US withdrawal based on conditions. ''You do not want American forces to leave and then find out that Iraqi forces are incapable of holding their own territory," Rice said. In her testimony, Rice said that the only real solution in the war against terror is the transformation of the Middle East into a region of stable democracies. Rice used ''malignant" or ''malignancy" four times to describe the region. ''The Middle East was a malignant place that produced an ideology of extremism so great that people flew airplanes into our buildings one fine September morning," Rice said. She said: ''American children and grandchildren, they're not going to live in fear of this extremist ideology which has its roots in this very malignant water."
Bush Tells PA: 'Don't Worry, I'll Sway Israel'
FOJ Note: This report by the Bloomberg News and reported by Arutz, if true, is a serious situation for America. If President Bush thinks he can coerce Israel into more and more concessions for the creation of a Palestinian State, he just might find that he has made the biggest mistake of his life. The PA, under Abbas is doing absolutely nothing about terror organizations in the West Bank and Gaza, and the President is ignoring that fact, and it will sooner or later blow up in America's face! In today's summit meeting with Mr. Abbas, President Bush asked Abbas to do more about terrorism. Bush noted that the Palestinian Authority would have to reject and fight terrorism in order to "earn the confidence of its neighbors," a clear reference to Israel's skepticism about Abbas' ability to control terrorist factions. "The way forward must begin by confronting the threat that armed gangs pose to a genuinely democratic Palestine," said Bush.
Abbas said he was doing his best to end the violence. Mr. Abbas used his redefinition of terror to deceive Bush, as Mr. Abbas has not lifted a finger against terrorists operating under his nose.
Oct. 20….(Arutz) The New York-based Bloomberg News reported that President Bush summoned Palestinian Authority (PA) officials to a 30-minute unscheduled meeting following complaints conveyed by Undersecretary of State Karen Hughes. She told the president that Egypt, Saudi Arabia and Turkey regard his support for a new Arab state in Israel as an empty slogan. When the PA delegation complained to President Bush that expanding Jewish communities, such as the city of Ma'aleh Adumim, might make a new Arab state unacceptable, he eased their fears and said, "Don't worry. I have some political sway with Israel and will use it if need be."
Under the Ramadan Moon
Oct. 19….(commentary by Jack Kinsella) President Bush hosted another dinner this year for Muslim leaders at the White House for the traditional meal that marks the end of a daily Ramadan fast. Hosting Islamic leaders at the White House has become an annual event, one which began in 2001 after Islamic terrorists slammed three aircraft loaded with innocent Americans in the World Trade Center and Pentagon building and crashed a fourth filled with passengers into a field in Pennsylvania. I always thought that an odd tradition to start, given the circumstances. Sort of like hosting an annual Shinto celebration in Washington, starting right after Pearl Harbor. Bush's guest list this year includes prominent Muslim-Americans and ambassadors from large Muslim countries. In previous years, Bush hosted prominent Muslim-American leaders with strong connections with terrorism, like Muzzamil Siddiqi and Abdurahman Alamoudi. Of his guests this year, President Bush noted; "Our distinguished guests represent the millions of Muslims that we are proud to call Americans, and many Islamic nations represented here that America is proud to call friend." Dr. Tom W. Smith, a nationally recognized expert in survey research, is director of the General Social Survey at the National Opinion Research Center of the University of Chicago. He authored a 2001 study entitled, "Estimating the Muslim Population in the United States." "The best adjusted, survey-based estimate puts the total Muslim population at 1,876,000," writes Dr. Smith. "Even if high side estimates based on local surveys, figures from mosques, and ancestry and immigration statistics are given more weight than the survey-based numbers, it is hard to accept estimates that Muslims are greater than one percent of the population, or 2,814,000." Dr. Smith's figures coincide with the 1% Muslim population figure cited by the CIA World Factbook's online edition as well. The National Mental Health Association says that approximately 2.2 million Americans, or 1.1% of the population, suffer from schizophrenia. Another 3.3 millions Americans suffer from obsessive-compulsive disorder. Where are the dinners for them? A survey conducted by the prestigious Roper Poll organization in 1991 concluded that nearly 4.1 million Americans, or one in fifty, believed that they had been abducted by UFOs. So, there are fewer 'millions' of Muslim Americans than there are schizophrenic Americans. There are fewer 'millions' of Muslim Americans than there are bi-polar Americans. And there are at least four times as many 'millions' of Americans who have been abducted by UFO's than there are Muslim Americans. None of America's schizophrenic population have declared holy war on America. None of America's bipolar population are a threat to national security. And our 'millions' of UFO abductees are not only NOT a threat, but having them over would make for some interesting dinner conversation. I know I'd have more fun to listening to a guy in a tinfoil hat talking about his cosmic adventures than a guy wearing a diaper and a fanbelt on his head explaining why the chant, 'Death to America' is a religous expression reflecting 'faith and family'. Indeed, President Bush spoke of Islam as a religion that emphasizes faith and family. And he urged all those in the room to join a number of well-known Muslim scholars in denouncing those who, in his words, commit evil in 'God's name.' What is there about the Ramadan moon that turns the Commander in Chief into America's Theologian in Chief? And while I am asking questions, where the heck are all those 'separation of church and state' guys? (Remember the ACLU?) Here is a prime example of why I've repeatedly said I wouldn't endorse a candidate based solely on his expression of faith. I get a lot of comments about President Bush and whether or not he is a 'true' Christian. Things like; 'I used to think Bush was a Christian, but how could a Christian? I've said before that I believe George Bush is a Christian, because the qualification for being a Christian does not include being 100% in agreement with my understanding of Christianity. The qualification for becoming a Christian is being a sinner in need of forgiveness. The qualification for being a Christian is being a forgiven sinner. Bush's equating 'Allah' with 'God' is an example of his spiritual ignorance. Spiritually ignorant people are capable of being forgiven, as well. Few people, I would wager, first came to Christ with degrees in Christian theology. But Bush's annual Ramadan Moon dinner displays an almost breathtaking ignorance of Islam, one so profound it is difficult to believe that somebody in his administration would have pointed out some of the more salient truths about the religion of 'faith and family'. Sura Anfal:12ff and Sura Muhammad:3ff command the beheading of unbelievers; Sura al-Nisa':34ff allows for beating of one's wives; verses 74ff and 94ff, promise great reward for those who die fighting for Allah; Sura al-Ma'idah:51 says, "Believers, take neither Jews nor Christians for your friends." Prior to Islam's birth in AD 622, the indigenous Arabs weren't sitting around waiting for Mohammed to explain the mysteries of Allah. Like the Greeks and Romans of Jesus' day, they had plenty of religion already. Until Mohammed, the religion of the peoples of the Arabian peninsula involved 360 gods who were believed to live in the Kabah in Mecca. One of their gods was the moon god who was married to the sun goddess. The stars were their children. Worship of the moon god, coincidentally ALSO named Allah, (actually Alliah) involved bowing in prayer toward Mecca several times per day. Pre-Islamic Arab worshippers coincidentally ALSO made a pilgrimage to Mecca. There, they would sacrifice animals at the stone temple called the Kabah. After circling the Kabah seven times, they would throw stones at the devil. During the month of the moon god, worshippers would fast from the appearance of the new moon until the following new moon. The symbol of the moon religion that was the predominant religion of Mohammed's day was the crescent moon. The crescent moon remains the symbol of Islam. The practice of making a pilgrimage to Mecca, running around the Kabah seven times, throwing stones at the devil and fasting from crescent moon to crescent moon is still part of Islamic worship. One can only pray that Bush's ignorance is assumed for the benefit of his guests, using the old axiom; "keep your friends close, but your enemies closer." There is no other way to explain Bush's equation of Allah with God.
Putin Urges Israel, Palestinians to Continue Roadmap Process
Oct. 19….(Ha Aretz) Russia's President Vladimir Putin has warned Israel and the Palestinians against losing momentum given to the peace process by Israel's withdrawal from the Gaza Strip. In letters sent to President Moshe Katzav and Palestinian Authority Chairman Mahmoud Abbas, Putin urged them to continue energetic peace efforts and reaffirmed Moscow's proposal to host an international meeting of experts to discuss further steps in implementing the "road map" peace plan for the region. In a letter to Katzav, Putin said that "without visible changes for the better in the daily life of the Palestinians in the Gaza Strip and the West Bank, the initial euphoria may be replaced by disappointment, something that extremist forces will not fail to take advantage of," the Kremlin said in a statement. "In this context, guarantees of freedom of movement for people and goods on the Palestinian territories, of their contact with the outside world, would accelerate progress along the path to a just and lasting political settlement," Putin said. Putin was obviously criticizing Israel for clamping long-term travel restrictions on West Bank Palestinians, barring them from major roads amid fears that two drive-by terrorist-shootings signaled the start of a new round of Palestinian attacks against Israelis in the territory. The Russian Foreign Ministry said Tuesday that Moscow "resolutely condemns" the latest terror attacks in the West Bank, but also cautioned Israel against "disproportionate use of force" and any actions that would exacerbate the Palestinians' condition. In a letter to Abbas, Putin urged him "not to allow a long pause in the peace process, for otherwise the positive dynamism that was achieved with such difficulties might be lost." Russia is one of the four members of the so-called Quartet of international mediators that drafted the "road map" peace plan. The others are the United Nations, the United States and the European Union.
Bush, Chertoff Declare: Expel all Illegals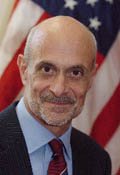 Oct. 19….( ) Faced with deepening divisions in its political base over immigration reform, the Bush administration said yesterday that it would begin pressing ahead with the President's plan to adopt tougher measures to control the borders and crack down on illegal residents, while also pushing to enact a guest worker program that would make it easier for foreigners to enter the United States legally. The US will crack down on illegal immigrants "without exception," President George W Bush has said, after approving a major increase in funds aimed at sending back aliens and improving border patrols. The funding for the drive against illegal aliens forms part of a new budget he signed on Tuesday for the US Homeland Security department, which has a total of $30.8 billion in discretionary spending, $1.8 billion higher than the current year's budget. Of the total, $7.5 billion is committed to fight illegal immigration, which is on the rise. The number of illegal aliens in the US is believed to be up to 11 million. "We are going to get control of our borders. Our goal is clear: to return every illegal entrant, with no exceptions," Bush said after signing the spending bill. "We've got to strengthen security along our borders to stop people from entering illegally... We're going to make this country safer for all our citizens," he added. The Government will also make stronger efforts to search out and deport illegal immigrants already in the country, Bush said. "We must improve our ability to find and apprehend illegal immigrants who have made it across the border. We've got to work to ensure that those who are caught are returned to their home countries as soon as possible." His remarks came after calls for improving guest worker programs for immigrants who cross the borders, mainly from Mexico.
Anyone who enters the United States illegally should be expelled without exception, Homeland Security Secretary Michael Chertoff told a Senate hearing today. "Our goal at DHS is to completely eliminate the 'catch and release' enforcement problem, and return every single illegal entrant, no exceptions," he said. "It should be possible to achieve significant and measurable progress to this end in less than a year." Chertoff said US authorities are immediately returning thousands of Mexicans entering the country illegally, but "other parts of the system have nearly collapsed under the weight of numbers." "The problem is especially severe for non-Mexicans apprehended at the southwest border," he said. "Today, a non-Mexican illegal immigrant caught trying to enter the United States across the southwest border has an 80 percent chance of being released immediately because we lack the holding facilities," Chertoff explained. "Through a comprehensive approach, we are moving to end this 'catch and release' style of border enforcement by reengineering our detention and removal process."
FOJ Note: Duh! What took so long Mr. President? The securing of the American borders should have been a high priority immediately after 9-11. A Zogby poll earlier this year indicated that Americans were not pleased with the Bush administration's handling of illegal immigration, and that the failure to secure our borders has left America vulnerable to a more catastrophic attack.
Defiant Saddam Pleads Not Guilty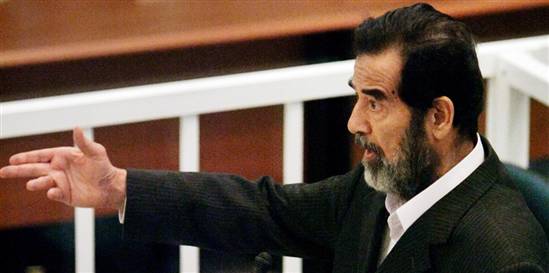 Oct. 19….(MSNBC) Saddam Hussein pleaded innocent Wednesday to charges including premeditated murder and torture, even though moments earlier he had refused to recognize the legitimacy of the court trying him and seven co-defendants. After presiding judge Rizgar Mohammed Amin read the defendants their rights and the charges against them, which also include forced expulsions and illegal imprisonment, he asked each for their plea. He started with the ousted dictator, saying "Mr. Saddam, go ahead. Are you guilty or innocent?" Saddam replied quietly, "I said what I said. I am not guilty."
Police Defy Ruling Allowing Jews to Pray at Temple Mount
Oct. 19….(Arutz) The Jerusalem police station responsible for security on the Temple Mount defied a High Court of Justice ruling permitting Jews to worship on the Temple Mount Wednesday morning. On Monday, the eve of the Sukkot holiday, the High Court of Justice handed down a ruling officially permitting Jews to pray on Jerusalem's Temple Mount on Wednesday, between 7:30-9:00am. The court's decision was in response to a petition filed by the Temple Mount Faithful organization. The ruling stipulated that in order to prevent a confrontation with Muslims, prayers must conclude by 9:00 o'clock, when Islamic worshippers usually arrive. The decision sets a precedent, as it permits Jews not only to visit the Mount but also to pray there. Such a position has not been taken by the court since at least 1976. When worshippers arrived on the scene on Wednesday morning at the appointed time, however, the police did not allow them to enter the area, telling them that they were unaware of the High Court ruling. This was in spite of the fact that according to the conditions laid down by the court, the police do not have the authority to unilaterally decide to cancel the permit based on security concerns, as has generally been the case in previous rulings. "I don't recognize such a ruling at all," stated one of the officers at the Temple Mount police station. In the end, officers allowed only three groups to enter the Temple Mount, but they informed them that prayer was strictly prohibited. One of the visitors later told Arutz Sheva that when he asked a policeman if he could pray at the site, the officer replied, "If you intend to pray, it's better that you don't go up at all because we'll only bring you down again." However, according to some of those present this morning on the Mount, in practice, the police did not interfere when two groups of Jews ascended the Mount in succession and read from printed pages of the morning prayers. Those who were allowed to enter could only do so from 7:45 till 08:15, in contravention of the High Court ruling. When the ruling was issued, Justices Cheshin, Beinish and Jubran agreed with the petitioners that a sweeping decision preventing Jews from praying on the Temple Mount only rewarded terror. However, they felt that it was important to take into account the possible dangers that such a visit could precipitate. When Commander Ilan Franco, police commissioner of the Jerusalem region, pointed out that the Arabs only visit the Temple Mount after 9:00am, the judges therefore ruled that the site could open for Jewish prayer before that time. Originally, the Temple Mount Faithful wanted to visit the Temple Mount from 9:00-10:30am, from where they wished to hold a procession to the Shiloach spring in David's City, where they wanted to hold a gathering. They also wished to lay a foundation stone for the next Temple at the Givati parking lot near the Temple Mount. However, the court accepted police opposition to the laying of the foundation stone due to concerns that this could lead to rioting.
Abbas Has no Intent to Disarm Terror Groups
Oct. 19….(Jerusalem Post) On the eve of Palestinian Authority Chairman Mahmoud Abbas's visit to Washington, the PA announced that it has no intention of disarming Hamas or other armed groups. Mr. Abbas is scheduled to arrive in Washington on Thursday for talks with US President George W. Bush on the latest developments in the West Bank and Gaza Strip in the aftermath of the Israeli disengagement. Sources close to Abbas said earlier this week that he would brief Bush on the PA's plan to confiscate "illegal" weapons that are in the hands of various factions and militias, including Hamas.
However, Abbas's national security advisor, Jibril Rajoub, denied on Tuesday that the PA was planning to disarm Hamas or any other armed group. "We haven't called for disarming anyone," Rajoub said. "There is no decision to collect illegal weapons and we haven't taken any steps in this direction." The weapons of the "resistance" groups, Rajoub added, should remain intact and should not be used on the streets or to terrorize the PA and civilians. He admitted that the PA and its security forces had failed to deal with the state of anarchy that has swept the Gaza Strip after the Israeli withdrawal. Rajoub's remarks came as 12 Palestinian factions signed a "code of honor" in which they vowed to respect the results of next January's parliamentary elections and refrain from using weapons during the election campaign. Hamas was the only group that refused to sign onto the understandings because they included a demand to refrain from using mosques as a platform for the election campaign.
President Hosts Iftaar Dinner in White House
FOJ Note: Here he goes again. President Bush has made it a point every year since 9-11 to invite American Islamic leaders to the White House to observe the Islamic Iftaar breaking of the Ramadan fast. Ramadan is supposed to be the month in which Mohammad received the Koran. Personally, I can think of very few things the President could do to insult the God of the Holy Bible more than observe a pagan celebration! I shudder when I recall the words of Jehovah, "thou shalt have no other gods, and warned his people about whoring after other gods. America may have to learn a lesson from ancient Israel, that there is no god but, the Lord God Jehovah, and that he will not share his glory with another!
Oct. 18….(White House News) Welcome to the White House, said President Bush in his opening remarks to Muslim leaders gathered at the White House to celebrate Iftaar. This is the fifth year in a row that it's been my honor to host an Iftaar in the State Dining Room. Our distinguished guests represent the millions of Muslims that we're proud to call Americans, and many Islamic nations are represented here that America is proud to call friend. We welcome the representatives from many countries with large Muslim populations. I want to thank you all for coming to celebrate an honored tradition of the Muslim faith, and wish you a, "Ramadan Mubarak." Ramadan is the holiest time of the Muslim year. According to Islamic teaching, this month commemorates the revelation of God's word to the Prophet Muhammad in the form of the Koran. For more than a billion Muslims, Ramadan is a time of heartfelt prayer and togetherness. It is a time of fasting and personal sacrifice. It's a time to give thanks for God's blessings through works of charity. One Muslim leader said: "It's a national and Islamic obligation to assist one's neighbors when they are in need." The American people saw that spirit as we recovered from Hurricanes Katrina and Rita. The world sees that spirit, that compassion of Islam, through the countless acts of kindness following the recent earthquake in southeast -- in South Asia. America is fortunate to count such good-hearted men and women among our fellow citizens. We have great respect for the commitment that all Muslims make to faith, family, and education. And Americans of many backgrounds seek to learn more about the rich tradition of Islam. To promote greater understanding between our cultures, I have encouraged American families to travel abroad, to visit with Muslim families. And I have encouraged American families to host exchange students from the Muslim world. I have asked young Americans to study the language and customs of the broader Middle East. And for the first time in our nation's history, we have added a Koran to the White House Library.
US Needs Strong Military Presence in Asia: Study
Oct. 18….(Defense.com) The United States can ill afford cutbacks in military capabilities in Asia, warns a report on regional military needs as Washington plans to reduce dependence on bases and troops overseas. The report by 14 experts assesses how Asian states are modernizing their military programs in response to China's rise as a regional power, counterterrorism, changes in US force posture and local security dilemmas. Highlighting three possible "conflict" scenarios, China-Taiwan war, strife on the Korean peninsula and nuclear catastrophe in South Asia, Michael O'Hanlon, an arms control expert from The Brookings Institution, said the United States and Asian allies "must retain a wide range of military capabilities." They include higher-technology "transformative" assets and large numbers of infantry forces, he said in the report, "Military modernization in an era of uncertainty" compiled by the Seattle-based National Bureau of Asian Research. "The United States will continue to require the use of a wide range of military bases in Asia, and Washington should place a premium on maintaining diversity in such arrangements," he said. Given the great distances necessary in transporting military forces from the United States to the Western Pacific, O'Hanlon said, such base facilities would continue to claim "paramount importance." "Those who argue that defense transformation will radically reduce the need for overseas bases do not make a convincing case," O'Hanlon said. A US military transformation plan was unveiled last year to close up hundreds of American facilities overseas no longer needed to meet Cold War threats and to bring home up to 70,000 uniformed personnel within a decade. It was touted as the most comprehensive restructuring of US forces overseas since the end of the Korean War and aimed at deploying a more agile and more flexible force by taking advantage of modern military technologies. "Whether through defense transformation or changing force posture in Asia, the reshaping of US armed forces should not ignore the wide range of possible and quite demanding scenarios in Asia capable of threatening US security," O'Hanlon said. The possible scenarios: a surprise attack by nuclear-armed North Korea on US ally South Korea, China's seizure of Taiwan by means of an amphibious attack, Pakistan's atomic weapons falling into the hands of the Al-Qaeda terror network or an India-Pakistan nuclear war over Kashmir. The five US treaty allies in Asia are Japan, Australia, South Korea, Thailand, and the Philippines. Singapore, a strong supporter of US military presence in the region, allows American forces use of facilities in the island state. Ashley Tellis, a senior associate at the Carnegie Endowment for International Peace, said in the 461-page report that the United States would be called upon to "maintain or even increase" its role as regional security guarantor for a number of Asian states. "This will require the US to preserve its current military dominance, protect its existing alliances, and develop new ties to major states that are not allied or opposed to Washington," he said. "Not doing so," Tellis said, "would likely lead to military build-ups, increased tension, and even nuclear weapons proliferation." On China, he said although its growing military power dominated the strategic thinking of the United States and other regional powers, Asian states felt explicit security competition with China would "undermine" economic progress. Yet, as a safeguard, many Asian powers are developing military capabilities and outlaying defense expenditures as a safeguard against China's rise, he said.
Bush Administration Mobilizes to Prepare US for Possible Pandemic
Oct. 18….(Knight Ridder) The Bush administration is scrambling to prepare the nation for a possible global rampage by a new flu germ that it fears could kill nearly 2 million Americans, sicken tens of millions more and shatter the economy. The key question is how much preparation can be done before a calamity strikes that, in a worst-case scenario, could make the health system collapse; overwhelm morgues; close schools, airports and harbors; end public gatherings; require strict quarantines; and cripple businesses and vital public services by mass absenteeism. "You're looking at a nation-busting event," warned Tara O'Toole, director of the Center for Biosecurity at the University of Pittsburgh Medical Center. To be sure, it may not happen. But scientists warn that it's frighteningly possible and that governments at all levels must prepare for the worst. Whether such a catastrophe occurs depends upon whether the H5N1 influenza virus now slaughtering birds across Asia and parts of Europe mutates into a form that retains lethal virulence and passes easily among humans. So far it hasn't, and the virus has been around since 1997. But viruses mutate constantly, and most experts agree that the world is statistically overdue for a pandemic. "We must plan for a worst-case scenario," said Michael Osterholm, a public health expert and former adviser to the Department of Health and Human Services, which is leading US preparations. HHS Secretary Michael Leavitt conceded earlier this month that the United States remains unprepared for a pandemic ignited by any new germ that the human immune system isn't programmed to fight. "We could be battling 5,000 different fronts at the same moment," Leavitt told an Oct. 6-7 international conference called by the United States to boost international cooperation on early pandemic detection and containment. The hastily convened meeting was one sign that President Bush and his top lieutenants are giving high priority to a threat that scientists have been urging governments to prepare against for years. Leavitt and other US officials recently toured Asian countries where the H5N1 virus has killed millions of birds and more than 60 people. At an Oct. 4 news conference, Bush expressed concern over a possible pandemic and said the military might have to enforce quarantines. Rex Archer, director of the Kansas City Health Department and president of the National Association of County and City Health Officials, said Washington should be treating preparedness "more like a Manhattan Project," the crash atomic-bomb development program of World War II. Since the Sept. 11, 2001, terrorist attacks, more than $2 billion in federal funds have been spent improving hospitals' capacity to deal with mass casualties caused by terrorists using biological weapons, such as anthrax. But experts say preparations for such attacks, which would be limited to a few locations, are insufficient for a pandemic that would hit many cities and states nearly simultaneously
Israel Suspends Contact With PA After Terror Attacks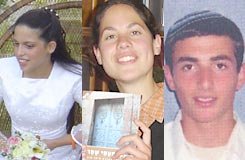 Matat Rosenfeld-Adler (left), Kinneret Mandel (center) and Oz Ben Meir were killed Sunday in a Palestinian terror attack in the West Bank.
Oct. 17….(Ha Aretz) Israel Defense Forces troops on Monday began blocking access routes linking Palestinian communities with Highway 60 between Jerusalem and Hebron in the southern West Bank. The move was in accordance with a government decision on a series of restricting measures on the Palestinian population in response to Sundays drive by terrorist shooting attacks in which three Israeli civilians were killed and six were wounded. Israeli Prime Minister Ariel Sharon spoke with senior defense officials by telephone Sunday night to discuss Israel's response and decided to reimpose various restrictions on Palestinian traffic in the West Bank that had only recently been lifted to accommodate Palestinian workers. The IDF will resume its encirclement of Hebron and Bethlehem, reinstate dismantled checkpoints around Hebron, Bethlehem and Ramallah and forbid private Palestinian cars to travel certain roads.
Oct. 17….(JNEWSWIRE) The Palestinian Authority Monday had the audacity to suggest that Sunday's merciless killing of three young Israelis by Arab gunmen was a justified response to Israel's war on terror. "A spokesman for the Palestinian leadership called for an end to the Israeli policy of assassinations of known terrorists which only leads to the kinds of reactions we saw yesterday in Bethlehem," reported Voice of Palestine Radio. Two young female cousins and a 14-year-old boy, all of whom the PA unsympathetically referred to as "settlers," were gunned down at a bus stop just south of the town of Jesus' birth Sunday afternoon. One of the girls had been married just two months before. Another six people were wounded. The PA, first under Yasser Arafat and now under Mahmoud Abbas, has refused for more than a decade to honor its peace commitments to disarm and dismantle the terrorist organizations operating out of territories surrendered to it by Israel. In the absence of PA compliance, Israel has been left with little choice but to launch preemptive and retaliatory military strikes against the terrorists. Sunday's attack was carried out by gunmen affiliated with PA Prime Minister Mahmoud Abbas' ruling Fatah faction. As Arafat did before him, Abbas and all other "Palestinian" leaders regularly venerate as "martyrs" men like Sunday's cowardly killers. Thus, Israel has suspended security talks with the Palestinian Authority in protest. A security source slammed the PA as having no leadership, saying Chairman Mahmoud Abbas is working in a vacuum and that no force can make him fight terror, Israel Radio reported. "We want to send a very strong and sharp message to the Palestinians, and the temporary suspension of talks is that message." In addition, the IDF was bolstering its forces in the southern West Bank and continue with large-scale arrest operations. It will also fortify some of the hitchhiking posts along major West Bank roads to protect hitchhikers from drive-by shootings such as Sunday's. Nevertheless, IDF officers warned, additional attacks on the roads are possible. Government officials said they feared that Sunday's attacks represent the start of an effort by terrorist organizations to make the West Bank the focus of the violence, now that Israel has withdrawn from Gaza, which used to play this role. One source speculated that the attacks might also be part of the terrorist organizations' efforts to drum up support among the Palestinian public in the run-up to this winter's parliamentary elections. Most Palestinians, he explained, view attacks within the West Bank as more legitimate than attacks within Israel. The Al-Aqsa Martyrs' Brigades, the military wing of the Palestinian Authority's ruling Fatah faction, claimed responsibility for both attacks in two separate phone calls to news agencies in the territories. However, the IDF is skeptical of these claims, and officers speculated that Hamas was behind at least the first, more lethal, attack. Colonel Nitzan Alon, commander of the IDF's Etzion (Bethlehem) Brigade, noted that a significant portion of the attacks in the West Bank in recent months have been perpetrated by Hamas, but the organization has avoided taking responsibility, since it still officially claims to be adhering to the "lull" in the violence. In some of these cases, Fatah-affiliated groups have claimed responsibility in its stead, often in the hopes that Hezbollah will then pay them for the attacks
Venezuela (Like Iran) Seeking Nuclear Technology
Oct. 17….(Washington Times) The Venezuelan government has made overtures to various countries about obtaining nuclear technology, according to US officials, who worry that President Hugo Chavez might be taking the first steps in a long road to develop nuclear weaponry. A Bush administration official monitoring Latin America said the entreaties have included communications with Iran, with whom Venezuela maintains increasingly close ties. Washington has branded Iran a state sponsor of terrorism and accuses it of pursuing nuclear weapons through its atomic industry. "We are keeping an eye on Venezuela," said one senior official, who spoke on the condition of anonymity. "My sense is that Venezuela has not been as successful with its nuclear entreaties with other countries as it would have liked." The administration official said there is no clear evidence that Mr. Chavez wants to develop nuclear weapons. But, the source said, there is consistent intelligence reporting that his government has discussed obtaining technology from other countries. Mr. Chavez, a populist who has ratcheted up anti-US rhetoric as he forges ties with some of America's adversaries, is in the middle of a military buildup that some analysts in the Bush administration fear is a precursor to ending elections. "Chavez would like to have everything. He has the money to do it," said the official, noting Venezuela's vast oil reserves. "He wants new fighter jets. He wants to put a satellite in space." He has formed an alliance with Cuban leader Fidel Castro, who has sent thousands of government officials to Venezuela. Mr. Chavez is forming what Pentagon officials say are neighborhood militias modeled after Cuba's communist apparatus to maintain iron-fisted control. The U.S. administration official said Venezuela has begun taking delivery of more than 100,000 Russian-made AK-47s, some of which will arm the militias. It is also ramping up production of small-arms rounds that the Bush administration fears will be shipped to rebels in democratic parts of Latin America. But more troubling to the Bush administration is Mr. Chavez's close ties to the mullahs in Iran. He visited Tehran last year and held a series of meetings with Iran's ruling mullahs. He then publicly supported Iran's quest for a huge nuclear industry. "They are quite kissy-kissy with Iran," said the US official. "There is a lot of back and forth. Iranians show up at Venezuelan things. They are both pariah states that hang out together." During an interview on Arab-language Al Jazeera television, Mr. Chavez, who had just completed his trip to Iran, was asked about his confrontation with the United States and whether he feared being deposed as Iraqi dictator Saddam Hussein was. "I am on the offensive," Mr. Chavez responded, according to a transcript from the British Broadcasting Corp., because attack is the best form of defense. We are waging an offensive battle. Yesterday, in Tehran, the spiritual guide [Ayatollah Ali] Khamenei told me a true statement: power, power." Mr. Chavez called the US war on terrorism "terrorism itself." Concern in Washington over Mr. Chavez's nuclear ambitions arose this week after the Argentine newspaper Clarin reported Sunday that Venezuela had asked Buenos Aires to sell it a nuclear reactor. Two days later, the Latin News Daily quoted Venezuelan Energy Minister Rafael Ramirez as denying the report. He said Venezuela was merely in talks with Argentina and Brazil to explore the peaceful scientific uses of the atom. Mr. Chavez periodically has expressed an interest in building a nuclear reactor to generate electric power. The senior US official said Washington is confident that Argentina would not sell Venezuela a reactor or any technology that could lead to nuclear weapons. When asked about the issue Tuesday, State Department spokesman Adam Ereli said the US expects all countries to adhere to nonproliferation treaties.

Saddam Hussein Trial Set to Open This Week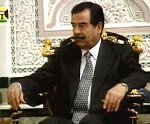 Oct. 17….(VOA) An Iraqi court is to open a trial this week against former leader Saddam Hussein for the massacre of 143 Iraqi civilians in 1982. The trial has encountered repeated delays, while drawing widespread media attention. Saddam's attorney has said he will ask to adjourn the proceedings when they begin on Wednesday, to allow more time to review the case. If convicted, the former Iraqi leader and seven members of his regime also standing trial could receive the death penalty. Britain's Sunday Telegraph newspaper has reported that Iraq's former deputy prime minister Tariq Aziz will testify against Saddam as part of a plea bargain. But a lawyer for Mr. Aziz denied the report. The trial is expected to be a major test for Iraq's new government and may open the door to other proceedings. Saddam has been accused of various other rights abuses, including the 1988 gassing of Kurds in Halabja.
Hamas 'Capable of US Attacks'
(Terrorism experts warning nation potentially at risk from militants)
Oct. 17….(WND) Hamas has cells inside the United States that are technically capable of attacking the country, terrorism experts and senior security officials told WorldNetDaily.
The officials were responding to a WND exclusive interview last week in which Hamas chief Mahmoud al-Zahar warned President Bush actions in the Middle East are "placing America in danger." We have information Hamas agents have been on US soil the past few years and that the group may currently have up to 100 agents operating inside America," said an FBI counterterrorism agent in New York speaking on condition of anonymity since he is not authorized to talk to the media. The comments reaffirm testimony to the US Senate this past February in which FBI Director Robert Mueller stated, "Although it would be a major strategic shift for Hamas, its United States network is theoretically capable of facilitating acts of terrorism in the United States." Mueller described a Hamas network the FBI believes may be operating in the US mostly for fundraising purposes. While many suspected Hamas-linked charities such as the national Holy Land Foundation have been shut down, the FBI suspects others are still functioning in America. Holy Land was one of the largest Islamic charitable organizations in the US, and closed amid accusations the group was a front for Hamas. Intelligence sources said the FBI believes Hamas' current US network includes trained jihadists capable of carrying out advanced attacks. Some of the Hamas agents are suspected of involvement with al-Qaida, the sources said. Yehudit Barsky, director of the Middle East and International Terrorism Center at the American Jewish Committee said, "Hamas does have people in America who are Muslim Brotherhood-oriented who support Hamas and who could carry out attacks. This presence in the US definitely exists." Terrorism expert Steve Emerson, whose research was credited with helping to close Holy Land, told WND, "Hamas has an extensive infrastructure in the US mostly revolving around the activities of fundraising, recruiting and training members, directing operations against Israel, organizing political support and operating through human rights front groups. While Hamas has not acted outside Israel, it has the capability of carrying out attacks in America if it decided to enlarge the scope of its operations." Some analysts and counterterrorism officials are also worried al-Qaida agents Israel says infiltrated the Gaza Strip may be working with Palestinian terror groups to carry out attacks both in Israel and abroad. Israeli Defense Forces military intelligence chief Maj. Gen. Aharon Zeevi Farkash earlier this month confirmed Al-Qaida operatives were present in Gaza, crossing in from its border with Egypt after Israel withdrew from the area. Erick Stakelbeck, a terrorism analyst for the Christian Broadcasting Network, told WND, "Now that al-Qaida has begun to set up shop in Gaza, the operational relationship between the two groups may only increase. This should cause the Bush Administration great concern." The debate about Hamas' capabilities in the US follows Hamas chief al-Zahar's statements to WorldNetDaily about his attitude toward America. "I think Bush is doing an enormous historical crime by fighting against Islam and giving Islam adjectives like fascism and terrorism," said al-Zahar. "I say that Bush puts in danger American interests when he chooses to fight against Islam and describe Islam in a negative way that makes him face 1.3 billion Muslims in the world. It is stupid that a person decides to push the West and Islam into a confrontation. Doing so puts in danger his own interests." Daniel Pipes, director of the Middle East Forum, points out what he says are other Hamas' ideological justifications for attacking America. In 2003, Pipes writes, Hamas declared Bush "Islam's biggest enemy," and in 2004 called him "the enemy of God, the enemy of Islam and Muslims." Pipes also writes that a 2004 Hamas press release announced, "Hamas considers the US as an enemy and as an accomplice to the Israeli enemy aggression against the Palestinians. The US will face responsibility for its position as an accomplice with Israel." Major General Yaacov Amidror, former head of Israel's military intelligence, said he doesn't believe Hamas will attack America anytime soon. "While Hamas may have the ability to attack outside Israel, its creed is to focus its operations only against Israel and within the boundaries of the Jewish State. Partly this is because it doesn't want to deal with the ramifications of being a global terror network. The indications are Hamas is not looking to attack America in the foreseeable future." But Yossef Bodansky, a terror expert who served as director of the Congressional Task Force on Terrorism and Unconventional Warfare, warned Hamas members might participate in an attack inside the US. "Individual terrorists who are members of Hamas have taken active parts in numerous operations all over the world under global flags," Bodansky told WND. "We have seen this starting with the Khartoum-based Armed Islamic Movement to a host of other Islamist-Jihadist movements affiliated with Osama bin Laden. Any spectacular strike in the US will be conducted under an all-Islamic banner. There is no reason why Hamas members will not be part of such an all-Islamic force."
Russian "Military Advisers" In Gaza Strip
Oct. 17….( DEBKA) Jerusalem has not informed of the latest violation of the military protocols Egypt signed with Israel preceding the Gaza Disengagement. Unannounced, Egypt has allowed Russian so-called military advisors to infiltrate the Gaza Strip. The Egyptians and Palestinians deliberately opened the Rafah border crossing from Sinai to Gaza on Yom Kippur Thursday, Oct. 13, this time not just for illicit Palestinian and weapons traffic, but to let in 15 Russian high-intelligence officers. Officially described as "military advisers" to train Palestinian security forces, their secret arrival has floored Israeli leaders. DEBKAfile's military sources say this is a landmark, the first Russian military presence in a Palestinian war zone against Israel. It also represented another flagrant Egyptian violation of its commitments under the new military protocols it signed with Israel to bar the Philadelphi border crossing to foreign military personnel. The Russians arrival was approved a day earlier, Oct. 12, in Ramallah between Palestinian leader Mahmoud Abbas and the Russian Middle East envoy for the Peace Process, Alexander Kalugin. Israel has not reacted to the violation because since its pullout from the Gaza-Egyptian border region a month ago, it has lost all control of the unbridled activity permitted by Cairo in defiance of all the accords it signed with Jerusalem. However the insertion of Russian military advisers to a Palestinian-Israeli flashpoint zone undoubtedly came up in the talks US secretary of state Condoleezza Rice held in Moscow Saturday, Oct. 15. Sources add that the Russian officers were flown in directly from Moscow to Cairo and then overland to the Egyptian side of Rafah where they were welcomed by Egyptian military intelligence officers. No notice was sent to Jerusalem. Moscow is clearly in mid-momentum of a fresh Middle East initiative. Putin has promised the Palestinian Authority in Gaza 1,000 armored personnel carriers. Putin is also going through with the sale of the state of the art Iskander SS-26 surface missiles to the PA, (FOJ-intent is to help PA shoot down IDF helicopter gunships targeting terrorists) as first disclosed by DEBKA-Net-Weekly 224 on Sept 30. The Kalugin talks in Ramallah came on the heels of a visit by senior US official David Welch to wind up details of the Abbas White House visit. The Palestinian leader kept word of the Russian gambit close to his chest. DEBKAfile's intelligence experts recall Abu Mazen's Cold War Russian connections with the former KGB's First Directorate. A graduate of Moscow University, Abbas retains those connections to the present day. Three foreign intelligence missions are now operating in the Gaza Strip, the American CIA, the British MI6 and now the Russian FSB, as well as the Egyptians. They have all failed signally to prevent the Gaza Strip from falling into the clutches of the radical terrorist Hamas and Jihad Islamic or stem al Qaeda's percolation in from the Sinai.
Russia Helping Iran Develop Missile Threat to Europe
Oct. 17….(MosNews) Former members of the Russian military have been secretly helping Iran obtain the technology needed to make missiles capable of hitting European capitals, a British newspaper claimed on Sunday. Citing anonymous "Western intelligence officials", The Sunday Telegraph said the Russians were go-betweens as part of a multi-million-pound (dollar, euro) deal they negotiated between Iran and North Korea in 2003. "It has enabled Teheran to receive regular clandestine shipments of top secret missile technology, believed to be channeled through Russia," the newspaper reported in a front-page article. The allegations came after US Secretary of State Condoleezza Rice feuded openly with her Russian counterpart Sergei Lavrov over Iran's nuclear program while on a brief trip to Moscow on Saturday. The article also emerged as Rice prepared to meet British Prime Minister Tony Blair in London later Sunday. According to the Telegraph, Iran would be able to use its new technology to build a missile with a range of 3,500 kilometers (2,200 miles). "It is designed to carry a 1.2-ton payload, sufficient for a basic nuclear device," the newspaper said. It quoted a senior US official as saying Iran's program was "sophisticated and getting larger and more accurate. They have had very much in mind the payload needed to carry a nuclear weapon. "I think (Russian President Vladimir) Putin knows what the Iranians are doing." Washington has long suspected that Iran is using its nuclear power program as cover to develop the capability to build nuclear weapons, a suspicion Tehran says is unfounded. It insists that its nuclear activities are designed to generate energy purely for civil purposes.
Israel Weighs Unilateral Pullout From 90% of West Bank
Oct. 17….(MENL) The government of Prime Minister Ariel Sharon is examining plans for a multi-stage unilateral withdrawal from as much as 90 percent of the West Bank. Officials said the Israeli withdrawal plans have been discussed with the United States. On Oct. 20, President George Bush was scheduled to meet Palestinian Authority Chairman Mahmoud Abbas, and last week Bush assured a Palestinian delegation that Israel would withdraw from additional areas of the West Bank. Officials said the Defense Ministry and military have been reviewing a range of options for unilateral withdrawal in the West Bank by 2007, Middle East Newsline reported. They said the National Security Council has drafted options for the removal of between 10,000 and 100,000 Jews from the area. "Only unilateral [withdrawal] can work in this era," [Res.] Brig. Gen. Eyval Giladi, a senior adviser to Sharon, said. "Israel determines where, when and how it withdraws." Officials said any unilateral withdrawal plan would be facilitated by the construction of the security wall and fence in the West Bank. "Within months or even weeks, the communities not included in the wall will be isolated and life will become increasingly harder for them," an official said. "In some ways, it will be similar to what took place in [the Jewish settlement bloc of] Gush Katif in the Gaza Strip." Another option drafted by the council was for an Israeli pullout from 90 percent of the West Bank and the removal of more than 100 Jewish communities. Officials said this option has been discussed by Sharon and supported by several senior ministers, including Vice Premier Ehud Olmert. Officials said that by 2007 many of the Jewish communities in the West Bank located outside the wall would either disintegrate or be dismantled by the military. They said the military would also remove Jewish communities in the northern and central West Bank as part of a plan to provide the Palestinians with territorial contiguity from Jenin to Ramallah. By November, officials said, the Defense Ministry plans to begin construction of the wall at 15 points along the Etzion Bloc, which Sharon has vowed to maintain in any peace settlement with the Palestinians. The Defense Ministry has drafted maps for a wall that would encompass a narrow Jewish enclave and exclude Israeli communities in the eastern and southern portion of the region. National Security Council chief Giora Eiland has presented a plan for the removal of 17 Jewish communities in the northern and central West Bank as part of the first stage of the unilateral withdrawal, officials said. They said the communities consisted of 8,000 people. In a speech prepared for delivery at the Likud Party Central Committee in late September, Sharon proposed the evacuation of Jewish communities outside three settlement areas: the Etzion Bloc, the Ariel Bloc and the Jordan Valley. These blocs would be ringed by security zones patrolled by the Israeli military.
US Asks Israel to Keep out of Efforts to Pressure Syria
Oct. 17….(Ha Aretz) The United States has asked Israel to keep out of efforts to bring pressure to bear on Syria, and to leave things to Washington's devices. Messages in this vein have been repeated recently on a number of occasions, with US officials asking Israel to stay out of things whenever their Israeli counterparts have raised the situation in Syria during talks. Government sources said Saturday that they had no knowledge of a so-called "Gadhafi package deal" that the Americans had offered Syria to bring it in from the international cold, as reported in the London Times newspaper. According to the report released Saturday, Syria is required to name - and possibly hand over - those involved in the slaying of former Lebanese prime minister Rafik Hariri; stop its interfering in Lebanon, where a number of Syria's critics have been recently killed in a series of mysterious bombings; and cease its support of militant groups such as Hezbollah, Hamas and the Iraqi insurgents. In return, the report said, the US promises to establish friendly diplomatic ties with Damascus and allow foreign aid and investment into the near bankrupt economy, helping to ensure the struggling regime's survival.
Government sources believe Washington wants to avoid instability in Syria. In the absence of a "reasonable" candidate to replace President Bashar Assad, the Americans would rather he remain in power and follow Libya's Muammar Gadhafi in making key policy concessions. Israel would also prefer a weakened, isolated Assad to upheavals in Syria. The United States has recently stopped Syria from joining the World Trade Organization as part of its isolation policy against Damascus. For its part, the European Union is delaying the approval of the new Syria-EU Association Agreement, which would grant Syria economic and other benefits. The sources said it was difficult to evaluate the findings of Detlev Mehlis, the UN investigator who probed the assassination of Lebanese leader Rafik Hariri. The Security Council is due to review Mehlis' interim report next Tuesday. Mehlis' conclusions are expected to determine the Americans' treatment of Assad and whether the Security Council will make a "presidential declaration" or take actual measures against Syria. Meanwhile, the weapons held by the Palestinian organizations in Lebanon will be the focus of UN envoy to Lebanon Terje Roed-Larsen's report, which will be presented to the Security Council in two weeks.
The issue has become a bone of contention recently, as some Lebanese officials want to disarm the camps and the international community wants to disarm all non-government forces in Lebanon. The Palestinians are concerned by the international pressure on Lebanon in this regard. US Secretary of State Condoleezza Rice on Friday called on Syria to cooperate fully with the United Nations investigation into the Hariri murder, but warned against trying to speculate on the probe's findings. Speaking at a joint press conference with her French counterpart Philippe Douste-Blazy, Rice said that chief investigator Mehlis was "rightly" keeping his findings to himself until they are presented to the United Nations. "I don't think it helps to get out ahead of the Mehlis report and try to prejudge what the Mehlis report will say," she said. France and the United States cooperated last year on a UN resolution, 1559, calling on Syria to pull troops and intelligence agents out of Lebanon. Foreign Minister Silvan Shalom said Thursday that he hoped Wednesday's suicide by Syrian Interior Minister Ghazi Kanaan, who headed Syrian intelligence in Lebanon, would not make Kanaan a scapegoat for Syrian President Bashar Assad. The circumstances surrounding Kanaan's death remain unclear. Damascus is reportedly concerned that the special UN investigation into the assassination of Hariri will link senior Syrian officials to Kanaan's gunshot death. Kanaan was recently questioned by the panel working under Mehlis, and Arab pundits say his suicide raises the possibility that the Syrian regime would accuse him of personal involvement in Hariri's killing. The night before Kanaan died, a Lebanese television station reported that he had been questioned by the Mehlis commission, and that he had admitted receiving millions of dollars from Hariri. However, two hours before his death, Kanaan gave a telephone interview to the Voice of Lebanon radio station in which he denied the report. The Israeli security establishment sees Kanaan's suicide as another serious complication for Assad. Security sources said Thursday that the chain of events that brought about Hariri's assassination jeopardizes the Assad regime. Israel does not discount the possibility that Kanaan took his life after being pressured to do so as a scapegoat, deflecting any blame from Assad.
WEEK OF OCTOBER 10 THROUGH OCTOBER 16
France, US Warn of UN Security Council Action if Iran Refuses Nuclear Talks
Oct. 14….(Ha Aretz) France and the United States urged Iran on Friday to restart talks over its nuclear program and warned that the option of referring Tehran to the United Nations Security Council for possible punishment remains open. US Secretary of State Condoleezza Rice said "we strongly encourage Iran" to seek a diplomatic solution with France, Britain and Germany, which led European negotiations with Iran until it effectively broke off the talks in August. "The Iranians need to get involved in negotiations and restore the confidence of the international community that they are not trying to build a nuclear weapon," Rice said after meetings with French President Jacques Chirac and his foreign minister. The French minister, Philippe Douste-Blazy, said France and the United States agree on the way forward for discussions with Iran. But he also underlined the need for firmness, saying that the threat that Iran could be referred to the UN Security Council is real. He said a civilian nuclear program in Iran should not need to be accompanied by fuel-making facilities, because Russia has offered to supply Iran with nuclear fuel. Washington fears that Iran wants to enrich uranium to make nuclear weapons, not to fuel civilian reactors as it claims. "No civilian nuclear program can justify the fuel cycle," Douste-Blazy said. Rice said the international community "has no reason to trust" that Iran "would deal responsibly with the fuel cycle."
Iran Has Designed Nuke Warhead for Shihab 3
Oct. 14….(MENL) In spite of all its claims of developing nuclear power for peaceful purposes, it is now revealed that Iran has designed a nuclear warhead for the Shihab-3 intermediate-range ballistic missile. The United States has briefed several nations and the International Atomic Energy Agency of an Iranian program to develop a nuclear warhead for the Shihab-3. Diplomatic sources said the US briefers asserted that from 2001 to 2003 Iran designed and developed a circular warhead that could detonate at an altitude meant to ensure optimal damage. An empty nuclear warhead was said to have been installed on the Shihab-3 for two missile tests in mid-2004. The sources said the warhead appeared similar to a Soviet-based intercontinental missile deployed by Moscow in the 1960s. The sources said that in August the US delegation briefed such countries as China, India, Russia, and South Africa ahead of last month's IAEA board of governors meeting in Vienna. They said the briefing helped persuade some members to either support or abstain in the vote on a British resolution to refer the Iranian nuclear file to the United Nations Security Council. India supported the British resolution, which did not set a date for the submission of the Iranian file.
&nbsp
&nbsp
Bush: Syria Poses Risk to 'Peace in the Holy Land'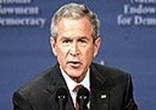 Oct. 13….(Ha Aretz) United States President George W. Bush said Wednesday that he is concerned that Syria may disrupt a chance for peace between Israel and the Palestinians and warned Damascus must not "agitate killers in the Palestinian territory." Bush spoke several hours after Syria reported interior minister and former top man in Lebanon Ghazi Kenaan committed suicide, days before the release of a report on the investigation into the assassination of former Lebanese prime minister Rafik Hariri. "We're making good progress toward peace in the Holy Land," he said, "but one of the areas of concern is that foreign countries, such as Syria, might try to disrupt the peace process through encouraging terrorist activity." Several Palestinian groups have headquarters in Damascus! Bush also said that the United States is expecting many changes in Syria's conduct regardless of whether a UN investigation led by Detlev Mehlis implicates the Syrians in the assassination of Hariri. In an interview to CNN on Wednesday, Assad said Syria was willing to cooperate with the US on Iraq after it accused Syria of doing little to stop the flow of foreign fighters into Iraq. "I don't want to prejudge the report that's coming out," Bush told reporters Wednesday. Nevertheless, he said, "we have a lot of expectations for Syria beyond just the Mehlis report." Public and international reaction to Hariri's assassination forced Syria to end almost three decades of dominance over its neighboring country and withdraw the remaining troops of an occupation force in place since 1976. On Wednesday, after a session with Poland's retiring president Aleksander Kwasniewski, Bush was asked about the consequences for Syria should the Mehlis report link its officials to Hariri's death. The UN Security Council is to discuss the report October 25, which means it will have to have been released by October 24. "I think it's very important for Syria to understand that the free world respects Lebanese democracy and expects Syria to honor that democracy," Bush said. "You know, it's one thing to have been asked to remove troops and all intelligence services. Now the world wants for, expects Syria to honor the democracy in the country of Lebanon." The second demand the United States has of Syria, Bush said, is "to do everything in her power to shut down the transshipment of suiciders and killers into Iraq. We expect Syria to be a good neighbor to Iraq." US officials say many of the foreigners who have joined the Iraq insurgency at least pass through Syria en route to the Iraqi battleground, even flying into the Damascus airport before making the journey east. Assad's government contends its border is too permeable to seal effectively. While awaiting the Mehlis report, Bush said, "we're continuing to work with friends and allies to send a clear message to the Assad government there are expectations involved for countries that want to be accepted in the international community."
Jordan's King Urges Muslim Nations to Unite Against Extremist Muslim Terrorists
Oct. 13….(Fox News) This month's suicide bombings on Indonesia's island are a reminder that Muslim nations must unite against extremists "who are distorting the teachings of Islam," Jordan's King Abdullah II said Wednesday. Islamic militants have launched several attacks in Indonesia, the world's most populous Muslim nation, and in Jordan in recent years. Abdullah made his remarks after meeting with Indonesian President Susilo Bambang Yudhoyono. Both leaders are heralded in the West for being champions of religious moderation. "We reaffirmed the importance of working together to defeat the scourge of terrorism that Indonesia and Jordan have suffered," Abdullah told reporters at a news conference. "The malicious attacks in Bali are a reminder that we need to unite in the struggle to defeat ignorant extremists who distort the teaching of Islam." The Oct. 1 bombings on three crowded restaurants on the resort island killed 23 people, including the three attackers. They have been blamed on the Al Qaeda linked Jemaah Islamiyah terror network, which is also accused in three other attacks in Indonesia since 2002. Yudhoyono said that Indonesia was working to empower liberal Islamic leaders to deprive militants of support, as well as stepping up police and intelligence efforts to smash their networks. "We want to maintain the moderate forces of our social life," Yudhoyono said. "We are doing this, but it is an unfinished agenda." More than 80 percent of Indonesia's 220 million people are Muslims. Most practice a broadly tolerant version of the faith tinged with remnants of Hindu and animist rituals, which predate Islam in the archipelago.
Israelis Seeking God's Face on Yom Kippur
Oct. 13….(JNEWSWIRE) The State of Israel will almost completely shut down from Wednesday afternoon for the biblically-mandated Day of Atonement that annually sees most the country's Jews join in a 24-hour period of fasting, prayer and introspection. Roads across the land will empty and remain largely unused as all public and virtually all private transportation is stopped. No flights will be allowed in or out of the country. Radio and television services will be suspended. All shops and places of entertainment will be closed down. The book of Leviticus records God's command that Israel set aside the tenth day of the Hebrew calendar's seventh month for a day of divine atonement. "It shall be a holy convocation for you; you shall afflict your souls, and offer an offering made by fire to the LORD. And you shall do no work on that same day, for it is the Day of Atonement, to make atonement for you before the LORD your God." (Leviticus 23:27-28) Many Israelis choose to spend much of the period of contrition at local synagogues. This year they will do so under heavy guard as a flood of intelligence warnings have been received of planned "Palestinian" efforts to attack the Jews on their most holy day. Yom Kippur has been exploited before by enemies of this nation. In 1973, while most Israelis were at home or in their places of worship, Arab states lead by Syria and Egypt launched a surprise attack that took many Jewish lives and came close to destroying the Jewish homeland.
Abbas to visit Jordan, Egypt, Vatican, France, US, Israel
Oct. 13….(Ha Aretz) Palestinian officials said Wednesday that Palestinian Authority Chairman Mahmoud Abbas would head for one-day talks in Amman with King Abdullah II of Jordan and Jordanian officials. The sources said that Abbas is scheduled to brief the king and the Jordanian officials on the results of the latest preparations for the summit that would be held on early November between Abbas and Prime Minister Ariel Sharon.
Abbas would then head to Egypt to hold talks with his Egyptian counterpart Hosni Mubarak. Abbas will then pay his first visit to the Vatican.
Al Qaeda Letter Called 'Chilling'
Oct. 12….(CNN) Senior US intelligence officials call a letter from al Qaeda's No. 2 man to its leader in Iraq "chilling" because of how "calm, clear and well argued" it is in urging preparation for a US departure from Iraq. According to a translation of the 6,300-word letter provided by the US government, Ayman al-Zawahiri predicts "the Americans will exit soon" from Iraq and says "things may develop faster than we imagine." US leaders have refused to set a timetable for troop withdrawals, saying such a move would embolden insurgents. Military leaders have suggested a reduction in 2006 is possible, depending on the preparedness of Iraqi security forces. But in the letter, al-Zawahiri is clearly worried that Abu Musab al-Zarqawi, with his televised beheadings of hostages and attacks on Shiites, could lose what he calls a "media battle" for the "hearts and minds" of Muslims. "I say to you: that we are in a battle, and that more than half of this battle is taking place in the battlefield of the media," al-Zawahiri writes. "The Muslim populace who love and support you will never find palatable, the scenes of slaughtering the hostages," he warns al-Zarqawi, self-proclaimed leader of al Qaeda in Iraq. Al-Zawahiri also criticizes al-Zarqawi's attacks on Shiites and reminds him that Shiite Iran is holding more than 100 al Qaeda prisoners, many of them leaders such as Saif al-Adel and Osama bin Laden's son, Saad. "Is the opening of another front now in addition to the front against the Americans and the government a wise decision?" al-Zawahiri asks. "Or does this conflict with Shia lift the burden from the Americans by diverting the Mujahedeen to the Shia, while the Americans continue to control matters from afar?" A senior US intelligence official said he was "absolutely confident" the letter is genuine. This official described the letter's language as that of "an al Qaeda elder to an occasionally hotheaded field commander," language, sources said, that President Bush had seen before he delivered a speech on the war on terror last week.
Syria's Assad Regime Prepares for UN Report
Oct. 12….(Yahoo) Syria's regime is quietly preparing for the possibility that a UN investigation will implicate it in a Lebanese leader's murder, consolidating its power, preparing a public relations counteroffensive and taking steps to guard against sanctions.
The big question is how long President Bashar Assad can last if the probe indicates his government played a part in the death of former Lebanese Prime Minister Rafik Hariri. The regime is not very popular, but it has little opposition and any revolt would likely be pinned on the United States, which Syrians blame for the bloody insurgency in neighboring Iraq. "Syrians do not want to have the same fate as Iraqis," said Yassin Haj Saleh, an outspoken dissident. "One of the regime's strongest points is the weakness of the Iraq model." "Had that model succeeded," he added, "there would have been less hostility toward America and what it could offer." That said, some Syrians believe that the danger could come from within, from someone seizing power in a bloodless palace coup that would keep the minority Alawites in power. Hariri was killed by a bomb in February as his convoy drove through Beirut. Many Lebanese blamed Syria for the attack, which also killed 20 others. The assassination touched off a groundswell of protest in Lebanon and internationally, forcing Syria to withdraw all of its thousands of troops in Lebanon, ending nearly three decades of domination of its tiny neighbor. The United Nations led an investigation into the killing of the billionaire former prime minister and has questioned witnesses here, including officers who served in Lebanon. The findings are due out by Oct. 25. The potential suspects, according to Arab media reports, include senior Syrian security officials, members of Assad's inner circle or even relatives. Some Assad family members hold powerful positions in the intelligence and security services. Assad might turn over officers who served in Lebanon if the report offers irrefutable evidence of their involvement, some observers believe. But he would likely balk at handing over family members. "The Assad family is a red line," said Joshua Landis, a University of Oklahoma professor who is spending the year in Damascus as a Fulbright scholar. "There's no doubt about that." Visitors who have seen Assad recently report he is confident the investigation will not find any criminal evidence against his country. Certainly there is no appearance of alarm: Officials reach out to investors and the Cabinet discusses issues not relevant to its predicament, such as violence against children. "Syria wants to show it has time to think about such issues," said analyst Ayman Abdel-Nour. Still, there are signs the regime is preparing for the possibility the report will implicate Syria. Syria is reportedly planning a diplomatic offensive to discredit the report, which would include reaching out to China, India and Russia to help block a UN resolution and possible sanctions. Abdel-Nour said the regime is consolidating the power of the ruling Baath party, giving it a larger role in the government. The government is also bracing for economic troubles, Syria's minister of economy, Amer Lutfi, told The Associated Press. He did not say what measures are being taken but stressed Syria has achieved "food security." Dennis Ross, a former Middle East mediator for the United States, said Washington's response will depend on whether the blame goes to the top of the regime, or to lower-level Syrian officials who acted on their own. Either way, he said, Syria will have to do more than Libya did after the 1988 bombing of a Pan Am airliner over Lockerbie, Scotland, that killed 270 people, turning over a couple of suspects. "It's in Syria's interest to remove any cloud, any stigma, any questioning about where it's coming from and what it's doing," Ross said. That would include cracking down on Arab militants crossing into Iraq, expelling radical Palestinians and disarming the Lebanese Hezbollah group, which spearheaded the guerrilla war against Israel's occupation of south Lebanon, which ended in 2000. "These cards have not exactly given Syria a very strong hand," said Ross. "The more the regime has tried to play the cards, the weaker they've become."
Palestinian Boy Pressed to Carry out Attack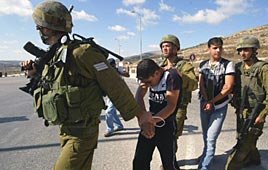 Oct. 12….(YNET) A young Palestinian boy detained by the IDF was threatened by Palestinian terrorists and told he must carry out a suicide bombing in Israel. The Terror suspects forced the youngster to write his will, photographed him with weapons, the Quran, and sent him packed with explosives to commit martyrdom. IDF forces and Shin Bet agents detained the 14-year-old Palestinian at his Nablus home Tuesday night, after receiving an intelligence tip the boy was planning to carry out a suicide attack in Israel. The boy initially refused to carry out the attack, but members of the Tanzim terror organization apparently pressured him and convinced him to perpetrate the attack. Meanwhile, forces also arrested several other wanted terror suspects across the West Bank. In his interrogation, the boy said a wanted Tanzim terror suspect from the Balata refugee camp in Nablus, Rabia Abu Leil, asked him to carry out the attack. The youngster attempted to evade the request to blow himself up by arguing he is an only child. However, the pressures on him continued, and another terror suspect, Jamal Tarawi, also joined in and attempted to convince the boy to strike in Israel. The boy was then taken by the terrorists to an apartment where other terror suspects were staying. There, he was photographed with flags and weapons. After he begged to be let go, he was threatened with murder and told the terrorists will distribute a leaflet accusing him of collaboration with the IDF. When he was asked to write a will, the youngster said he cannot read or write, but eventually wrote the will by himself. Later, he was photographed again, this time wearing a flak jacket and holding a gun and a Quran. The boy was eventually released, and then turned to his relatives and asked that they help him avoid carrying out the attack. Security officials said the latest incident is not isolated, and noted that since the beginning of the year they have seen a marked increase in the number of minors recruited for the purpose of carrying out attacks and military activity, despite the relative lull in violence. The cynical phenomenon of using children is particularly used by Tanzim terror suspects in Nablus, the officials said.
FOJ Note: This is the methodology by which Arafat and Abbas claim the terrorists are just freedom fighters.
Israeli Envoy to US Says Syria Harbors Terror Groups
Oct. 12….(YNET) Israeli Ambassador to the US Daniel Ayalon accused Syria on Tuesday of sheltering 10 or 11 terror groups, which, he said, "is very bad news." Appearing at the Nixon Center, a private policy group, Ayalon said, Israel "is not in the business of regime change." But while indirectly ruling out force to try to topple the Syrian government, Ayalon said, "We would like to see a change in Syrian behavior."
FOJ Note: Bible prophecy portends that the future Antichrist is the one who will bring about the needed regime change in Damascus, and thereby ease the burdens of Israel to be reluctant to enter into a comprehensive peace deal.
Jews Begin Yom Kippur Fast Wednesday Night
Oct. 12….(Ha Aretz) The Jewish Yom Kippur fast begins in Israel on Wednesday night in Jerusalem at 4:35 and in Tel Aviv at 16:50, and will end on Thursday night in Jerusalem at 17:46 and in Tel Aviv at 17:48. Kol Nidrei prayer services will begin on Wednesday at synagogues around the country at around 4:50 P.M., and end Thursday with the Ne'ilah service (Locking of the Gates) approximately an hour and a half before sundown. In community centers and schools around the country, the "Judaism for Everyone" project will be held for Jews who do not want to participate in synagogue services.
US: Israel Should Strengthen Abbas
Oct. 12…..(JNEWSWIRE) It's the same story that has been recurring for the past decade: Washington says it is time to jumpstart the Middle East peace process, and adopts the Arab line that only additional Israeli concessions can accomplish this goal. This despite the fact the process stalled, as it has repeatedly stalled, as a direct result of "Palestinian" non-compliance with their signed undertakings, and their increased anti-Jewish terrorism.
But after just last month surrendering the entire Gaza Strip only to be bombarded with rockets days later, Israel is not in a gift-giving mood, and says it would like to first enjoy a little reciprocity. On Monday, US State Department envoy David Welch met with top Israeli officials in a last-ditch but futile effort to salvage a summit between Prime Minister Ariel Sharon and PLO chief Mahmoud Abbas that had been scheduled for Tuesday. During the meeting, Welch stressed the US belief that it is important for Israel to strengthen the Abbas regime. The American appeared to be suggesting that Jerusalem acquiesce to the numerous demands being made by the Palestinian Authority as a precondition for their attending the meeting. PA officials said Abbas would not meet with Sharon without the guarantee that the Arab could walk away with diplomatic rewards that would help justify to the "Palestinian" street his tête-à-tête with the Jew. Among the "gestures" on the Arabs' list: the release of 20 blood-soaked terrorists currently incarcerated in Israeli jails, and a withdrawal of Israeli forces from several towns that have been used as bases for terrorist operations in Judea and Samaria. In his meeting with Welch Monday, Defense Minister Sha'ul Mofaz said that while Israel was aware of the need for "confidence-building measures and concessions," it was more important for the PA to finally after more than a decade take "real steps, concrete actions against terrorism." [Ed. Note – Oddly enough, no one seems to think its important for the "Palestinians" to implement confidence-building measures to win back the trust of an Israeli Jewish population plagued daily by their openly hostile "peace" partners.] Israel's failure to bow to PA dictates resulted in Tuesday's summit being postponed till November, much to Washington's chagrin. The Bush Administration wanted to be able to demonstrate that there was momentum towards peace prior to Abbas' visit to the US later this month.
Syria Warns 'Gates of Hell Will Open' if US Attacks
Oct. 12….(The Daily Star) In the latest official Syrian comment on the increasing pressure on Damascus, Syrian Premier Naji Otari said "all the gates of hell will open on the US if it attempts to attack Syria." Otari was replying to a report this week in Newsweek magazine revealing that Washington had debated launching military strikes inside Syria against camps used by insurgents operating in Iraq. Citing unnamed government sources, the magazine reported that US Secretary of State Condoleezza Rice had managed to block the proposal during a meeting of senior US officials on October 1. Speaking to reporters in Shanon, Ireland, on a four-nation tour, Rice said: "I am not going to comment on internal deliberations in the administration." Otari also accused Lebanese officials of being unable to make an independent decision, saying they were answerable to the French and US ambassadors to Lebanon. Addressing his Lebanese counterpart Fouad Siniora, the Syrian premier said: "Apparently Siniora forgot all of what we have discussed when he visited Damascus after his recent return from a visit to the US." Siniora had held talks with several officials in Damascus to resolve a border dispute between the two countries in June. The paper quoted unidentified "informed Syrian sources in Damascus" as saying the Assad regime believes Siniora has reneged on promises he made to the Syrian president during a visit on July 31. The regime is particularly outraged over Siniora's allegation in a recent interview with The Washington Post that all of Lebanon is convinced that Syria engineered the Hariri murder. In other related media responses to the mounting pressure on Damascus, Syrian daily Tishrin said in an editorial yesterday that Washington is criticizing Syria to cover its own policy failures in the Middle East. Assistant US Secretary of State David Welch had warned the Assad regime Sunday that it was not heeding calls to change its behavior in Iraq, Lebanon and the Palestinian territories. Welch has been touring the Middle East, meeting with leaders in Egypt and Saudi Arabia. He is expected to hold talks with Lebanese officials today.
Al-Qaida Enters Gaza
Oct.11….(commentary by Hal Lindsey) Israeli military intelligence officials say that al-Qaida operatives have managed to slip into Gaza since Israel's withdrawal left the border with Egypt largely unguarded. A senior Israeli officer acknowledged that the Joint Operations Command established by Egypt and Israel still has not been activated. The Joint Operations Command is supposed to monitor the border between the Sinai Peninsula and the Gaza Strip. It is also intended to coordinate Egyptian and Israeli responses to infiltration and insurgency strikes. Instead, the Egyptians just turned their backs as terrorists streamed across the border into Gaza with weapons strictly forbidden under the terms of the treaty signed with Israel. A senior military source said that over the last 10 days the Palestinian Authority has brought about $1 million worth of weapons and ammunition from Sinai. The source said the PA weapons transfer appeared to be in cooperation with local Egyptian authorities. Some of these weapons threaten Israel's most populated area of Tel Aviv. The situation has become so serious that Israel was forced to issue a terror alert for the Sinai desert after receiving information that Arab terrorists are planning to kidnap Israeli tourists who venture there. Tens of thousands of Israelis often visit Sinai during the Jewish New Year, which began last Monday at sundown. Al-Qaida has established local terror networks in the Sinai, within reach of Israel through the Gaza Strip. In all, al-Qaida is believed to now control nearly one-sixth of the Sinai district. Its operatives have teamed up with local Palestinian jihadists to create a fortified military installation similar to the one they had in Afghanistan at Tora Bora. But Israeli intelligence authorities have determined that this installation is even better fortified. This is an extremely dangerous development. It took waves of carpet bombings by B-52s to clean out Tora Bora. Because Egypt basically turned its back on the terrorists streaming into the Sinai, they have unwittingly created a monster. Al-Qaida is not only a deadly threat to Israel. It is also a threat to Egypt and Jordan. The fanatical fundamentalists of al-Qaida see Egypt as an apostate Muslim nation. They have plans to overthrow Egypt's secular government and stir up the many fundamentalist Muslim gangs in Egypt to help them. Al-Qaida also views the minority of Hashemites ruling Jordan as usurpers installed by the British to rule over the Palestinian majority. The fact that both Jordan and Egypt have peace treaties with Israel is particularly infuriating to the purist Islamic views of the fundamentalist. Al-Qaida also plans to overthrow the royal family of the House of Saud. They believe them be "spiritually" unworthy to rule over the sacred soil of Arabia and the Muslim holiest places of Mecca and Medina. So allowing al-Qaida to establish a strong base and presence in the Sinai poses a peril to the entire region. Egypt, Jordan and Saudi Arabia are surely going to be hit if the al-Qaida stronghold in Sinai is allowed to develop. Their presence in the Sinai also poses an increasing threat to the vital international shipping lanes of the Suez Canal and the Gulf of Aqaba. When the Israelis withdrew from guarding the Gaza borders, Egypt promised to vigorously guard it. Their deliberate inaction to keep terrorists from going into the Sinai and Gaza has backfired on them. Thinking to add peril to Israel, they have also brought peril upon themselves. This is the thanks the Israelis get for allowing themselves to be forced to withdraw from the Gaza. This kind of betrayal by the United Nations, and even the United States, could only happen to Israel. The United States may well reap God's judgment for forcing this situation on Israel as well.
US Resumes Strategic Dialog with Israel
Oct. 11….(Ha Aretz) The United States has resumed its strategic dialog with Israel after a hiatus of close to three years, Foreign Minister Silvan Shalom said yesterday after meeting with US Assistant Secretary of State for Near Eastern Affairs David Welch in Jerusalem. The first round of the renewed dialog is scheduled for the second week of November. A senior political source in Jerusalem said yesterday that the US had apparently agreed to resume the talks following the Gaza disengagement and the end of the crisis between Israel and the US regarding Israeli arms sales to China. That crisis led to the suspension of several forums for security and strategic cooperation. In the past, former minister Dan Meridor coordinated the strategic dialog, holding a few rounds of talks with the American administration on regional strategic issues. After Meridor left his post, Prime Minister Ariel Sharon appointed then-minister Uzi Landau as coordinator, and then Hanegbi. However, American refused to hold such talks with Knesset ministers who opposed the withdrawal from the Gaza Strip and Northern West Bank, which the Bush Administration enthusiastically supported.
FOJ Note: Is this not geo-political blackmail being waged by the Bush Administration, and against our principle ally in the war-on-terror. More succinctly, the war on terror is all about Israel, and the terror implications have bled over from Israelon to the US because the US (as Israel's strategic partner) is likewise being blackmailed by the terrorist sponsoring states of the Middle East who hate Israel.
Pakistan's Earthquake and Musharaff's Relations With Israel
Despite a very public warming of Israeli-Pakistani ties over the last two months, things have still not heated up enough for Islamabad to publicly accept humanitarian aid from the Jewish State, even with the current disaster situation with regard to the Kashmir earthquake. Even though Pakistani President Pervez Musharaf called for international assistance to help his country deal with the massive earthquake that hit his country Saturday, Foreign Minister Silvan Shalom told the cabinet Sunday that Israel's offer of humanitarian aid to both Pakistan and India has as of yet gone unanswered, and in Pakistans' case been turned down. India has even offered aid to Pakistan, its long-time enemy, and yet Pakistan continues to reject any Israeli humanitarian aid. Foreign Minister spokesman Mark Regev said that although no formal channels of communication exist with Pakistan, Israel has let Islamabad know of its willingness to help. He did not provide any details about what type of aid was offered. Israel has in the past used humanitarian aid to strengthen ties with some countries, and try to break the ice with others. Israel and Pakistan's foreign ministers held the first public meeting between officials of the two states in August, and Musharaf shook hands with Prime Minister Ariel Sharon at the United Nations in September. Large-scale Israeli assistance following a massive earthquake in 1999 in northwestern Turkey that killed over 15,000 people, and following a huge earthquake in western India in 2001 that killed some 20,000 people, helped strengthen ties between Israel and those two countries. Following the tsunami in southern Asia in late 2004, Israel airlifted to Indonesia, with which it does not have diplomatic ties, some 75 tons of aid for Indonesian victims. Shalom met with his Indonesian counterpart last month at the UN. Not every country, however, has proven open to these gestures. For instance, Iran refused assistance from Israel following a catastrophic earthquake there in 2003 that killed more than 30,000 people. At the time, a spokesman for Iran's Interior Minister, Jahanbakhsh Khanjani, said, "The Islamic Republic of Iran accepts all kinds of humanitarian aid from all countries and international organizations, with the exception of the Zionist regime." Recently President Musharraf, who has allowed thousands of madrassas (religious schools) to indoctrinate hundreds of thousands of Pakistani youngsters in Jihad education and hatred for Jews and the West, and has allowed terror training camps to operate in his country; and refused to take action against the Taliban; and provided centrifuges useful to nuclear development to Iran spoke before the Zionist Organization of America." In his ZOA Sspeech, Musharaf said that "the relationship between Muslims and Jews had always been wonderful and that the past 6 decades are an aberration in the long history of Muslim-Jewish cooperation and co-existence. He said that it was the re-establishment of Israel six decades ago that caused the problems between Muslims and Jews. This despite the fact that Israel was re-established on only 12% of original Palestine. Jordan was given 78% of Palestine by the British in the early 20's and 10% of Palestine was offered to the Arabs as a State in 1948 but the Arabs rejected this offer and went to war against the fledgling state of Israel. Musharraf also said that "Security for Israel will remain incomplete until the creation of a Palestinian State." (That could be construed as a threat and not simply as a prediction.) Then he said that Israel must "withdraw from the West Bank...and for durable peace and harmony between Israelis and Palestinian, indeed between Israel and the Muslim world. Then he made a more disturbing statement, "any final settlement must respect the international character of Jerusalem as well as international law and the resolutions of the UN Security Councils." It was frightening to hear Musharraf tell a Jewish audience that we must expect "incomplete security" meaning terrorism will continue until there is a Palestinian State and that Jerusalem must be internationalized, and that Israel must fulfill the numerous (anti-Israel) resolutions of the UN. He claimed that the problems Pakistan has with recognizing Israel is the lack of a Palestinian State.
Iran's True Nuke Intentions
Oct. 10….(Bill Wilson) After a meeting with Syrian President Bashar Assad in Damascus, the Speaker of the Iranian Parliament, Ghulam Ali Haddad-Adel revealed Iran's intent to use nuclear energy to "achieve" peace. Was this an apparent "slip of the tongue" or a coded message of truth to the world? Certainly, the United States and Israel believe Iran's intent is to develop nuclear weapons and use them to spread its brand of radical Islamic theocracy to the rest of the world. The United Nations, Russia, China, Syria and other states seem to not understand this basic strategy or have vested interests in it, but Haddad-Adel's words are powerfully revealing in terms of prophecy and Islam.. Haddad-Adel sent a very clear diplomatic message that was coded in language of peace and of war in the very same sentence.
US Weighed Military Strikes in Syria
Oct. 10….(AFP) The United States recently debated launching military strikes inside Syria against camps used by insurgents operating in neighboring Iraq, a US magazine reported. US Secretary of State Condoleezza Rice successfully opposed the idea at a meeting of senior American officials held on October 1, Newsweek reported, citing unnamed US government sources. Rice reportedly argued that diplomatic isolation was a more effective approach, with a UN report pending that may blame Syria for the assassination of former Lebanese premier Rafiq Hariri.. The United States has accused Damascus of allowing insurgents to move arms and fighters across the Syrian border into Iraq and of destabilizing the region. US troops in Iraq have been waging an offensive in recent weeks against insurgents in western towns near the Syrian border. The US ambassador to Iraq, Zalmay Khalilzad, said last month that "our patience is running out" with Syria. The same article also reported that Syria had ended all security and intelligence cooperation with the United States several months ago after growing frustrated with persistent public criticism from Washington. Syria's ambassador to the United States, Imad Moustapha, told Newsweek that his government continued to detain Islamic extremists and remained willing to resume cooperation if the public bashing stopped. "We are willing to re-engage the moment you want but one condition," the magazine quotes Moustapha as saying. "You have to acknowledge that we are helping." Moustapha also confirmed an account from a US intelligence official that Damascus had been angered when Washington exposed one of its operatives. While criticizing Syria in public statements, the United States had privately praised Damascus for handing over the half brother of Saddam Hussein, Sabawi Ibrahim al-Hassan, earlier in the year, the magazine reported. Moustapha said Syria could do more to assist the United States if intelligence was shared as in the past. The magazine reported that some US intelligence officials believed Washington now was losing out on vital information. Syrian cooperation in the last few years allegedly had helped avert two possible attacks against US targets, including a Navy base in Bahrain. One unnamed intelligence official told the magazine that US pressure on the Syrian leadership could prove counter-productive and that Washington may be "radicalizing the country."
'Final Stage - War Against Israel'
Oct. 10….(YNET) A letter found by U.S troops in Iraq sent by Bin Laden's deputy to Islamic insurgent leader in Iraq, reveals al-Qaeda's future strategies; according to the letter, terror against Israel is the final stage of al-Qaeda's plan to take control of the Middle East
Yitzhak Benhorin. Terror against Israel is the final stage of al-Qaeda's plan to take over the Middle East: The US has obtained a letter sent by Osama Bin Laden's deputy Ayman Zawahiri to the leader of Iraq's insurgency Abu Musab al-Zarqawi outlining its future strategies, the Washington Post reported Friday. According to the letter, intercepted during an operation in Iraq, al-Qaeda plans to broaden its activities from Iraq to Egypt, Jordan, Syria, Lebanon and Israel. The 13 page document provides a thorough outline of al-Qaeda's strategies in Iraq and beyond. The document's content was authenticated by numerous sources. Al-Qaeda's four-stage plan is clearly detailed: expelling the US forces from Iraq, creating a caliphate over as much of Iraq as possible, expanding jihad to neighboring countries, specifically Jordan, Syria and Lebanon, and war against Israel. "I want to be the first to bless you on what God has blessed you with - fighting in the heart of the Muslim world that was a battleground for large historic Islamic wars and what is now the place of Islam's greatest war in the present era," Zawahiri said in the letter.
Gaza - Jew-Killing Mecca
Oct. 10….(Stan Goodenough) The desire and ability to kill Jews and swallow up Israel is proliferating rapidly in the recently surrendered Gaza Strip, historic gateway to the Land of Israel. According to various news reports at the weekend, Osama Bin Laden's Al-Qaeda terrorist organization is putting down roots in Gaza, has already launched attacks at Israeli targets from there, and sees all-out war against the Jewish state as the final stage in its plan to assert control over the Middle East. With the achievement of this goal, the way will be open for the next major phase of its plan: an all-out effort to complete the Islamicization of Europe and bring the United States into submission to Allah. Meanwhile up in Damascus, where their Syrian hosts are feeling increasing heat from Washington, the leaders of a number of secularist "Palestinian" terrorist organizations have announced their intention to relocate to the Gaza Strip. And Fatah and Hamas officials meeting in the Syrian capital Friday agreed on the need to end intra-Arab fighting in Gaza and focus their efforts on the "struggle" against Israel. The Washington Post reported Friday on the interception in Iraq of a 13-page letter detailing Al-Qaeda's strategies in the Middle East, including the expulsion of US forces from Iraq, the establishment of a caliphate in as much of that country as possible, the fomenting of jihad in Jordan, Syria and Lebanon, and war against Israel. The letter described the Middle East as "a battleground for large, historic Islamic wars and what is now the place of Islam's greatest war in the present era." Bin Laden's group announced in Gaza Saturday that the organization has begun working towards uniting all Muslims under a single Islamic state. In a report headlined Al-Qaeda raises its head in Gaza, The Jerusalem Post Sunday said Al-Qaeda's "Palestine branch" had distributed a pamphlet in the Strip spelling out its aims. The Israeli paper recalled that masked men claiming to represent Al-Qaeda had claimed credit for firing rockets at Jewish towns in Gaza on the eve of the "Disengagement." While some Gaza Arabs said that Al-Qaeda was "not welcome" there, others voiced appreciation for the group's decision to join the fight against Israel. A Palestinian Authority figure said it was Hamas members who were working for Al-Qaeda in Gaza. Hamas and Al-Qaeda, as well as the Palestinian Islamic Jihad (PIJ) are Muslim groups sharing common goals and strategies. Hamas and PIJ leaders last week announced their intention to relocate from Damascus to the Gaza Strip. But the Islamists are not alone in viewing Gaza as a desirable launching pad for anti-Israel attacks. Secular terrorist organizations like the Popular Front for the Liberation of Palestine – General Command, and the Democratic Front for the Liberation of Palestine (DFLP) are also preparing to move to Gaza, according to reports from Syria. Increasing US pressure on the Syrian regime of Bashar el-Assad may be contributing towards the possibility of such a migration. In the face of growing Syrian-supported violence in Iraq, the Bush administration has been weighing new steps, including military options, to employ against Damascus. While the potential for fighting between "Palestinian" Islamist and secular groups was demonstrated in the clashes that erupted between Hamas and Palestinian Authority members in Gaza last week, Hamas and Fatah leaders meeting in Damascus Friday agreed to end internal disputes and focus their hatred on Israel instead. Traditionally, feuding Arab groups have been able to forget their differences and unite around the cause of Israel's destruction.
Moscow Arms Assad with Top-Flight Surface Missile
Oct. 10….(Debka) Two generals were in Moscow on the same day, September 26: the head of Israel's National Security Council Maj.-Gen (Res.) Giora Eiland and the Syrian chief of staff General Ali Habib. Both also called on the Russian chief of staff, Gen. Yuri Baluyevski. The Syrian general came out of his meeting with a brilliant contract for the sale of the advanced Iskander SS-26 surface missile. The Israeli general ran into a blank wall when he tried to persuade the Russian to withhold the missile from the Assad regime. Last January, when the deal was first broached, the Bush administration stepped in and obtained a promise from president Vladimir Putin to call off the sale, as did Israel's Ariel Sharon during the Russian president's visit in May. Putin has broken those pledges. DEBKA-Net-Weekly 224 revealed in its detailed report on September 30. For a speedy delivery in the first quarter of 2006, the Syrians paid cash.
The value of the transaction is unknown but it certainly runs into hundreds of million dollars, given that Syria has purchased 26 of the most advanced missile of its kind in use anywhere in the world. The United States and NATO have code-named the Iskander SS-26 "Stone." They have nothing in their missile arsenal to match its unique attributes. With a 400-km range and a 480-kilo warhead composed of 54 elements, the missile hits a target within a 20-meter radius. Two missiles with a range of 280km are mounted on each launch pad. The system can be used against small and large targets alike, easily overcoming air defenses. It is almost impossible for existing electronic weapons systems to prevent the Iskander's launch because of its speed and high flexibility. Its targets are found in mid-flight by satellites, accompanying airplanes, conventional intelligence centers or a lone soldier directing artillery fire. Targets may also be found by feeding photos into the missile's computer by means of a scanner. The self-direction device functions even in fog, darkness or storms. The name Iskander is Alexander (the Great) in the Turkoman language. Weighing 3,800 kilos it is operated by a crew of three. It comes in two versions: the 500-kilo version provided the Russian Army and the 280-kilo missile sold to Syria. So impressive is the Russian "Stone", that in 2004, the Americans sought to include it in various treaties signed with Russia for precluding the manufacture and sale of certain weapons. Moscow balked. A Western missile expert says: "Even a small quantity of these missiles is capable of radically changing the balance of strength in local conflicts." It is a strategic weapon for countries with a small area like Syria. Nine months ago, on January 12, 2005, Moscow "leaked" the news of a big new arms deal with Syria that included the following missiles: the Iskander SS-26, SA-10 Grumble ground-to-air, and SA-18 Grouse (Igla 9K38) shoulder-launched anti-air missiles capable of hitting objects at an altitude of 3,600 meters and range of 5,200 meters. Israeli raised the ceiling over this transaction as radically shifting the balance of strength between the Jewish state and Syria. Washington embarked on a quiet diplomatic dialogue to deter Damascus from acquiring the new hardware, maintaining it posed a threat to the US army in Iraq. After weeks of palaver and pressure, president Vladimir Putin and defense minister Sergei Ivanov relented and promised Washington and Jerusalem to withhold the Iskander SS-26 from Syria. The other items would have their aggressive options "neutered" and rendered fit for defensive use alone. It is now clear that Putin's promise to the Americans and Israelis to withhold the missile's sale was no more than a time-winning ploy until an opportunity presented itself to go through with the transaction. DEBKAfile's military experts add four points:
1. Assad had need of a sop to his armed forces if he intends to go through with the exercise DEBKA revealed earlier, to follow in Muammar Qaddafi's footsteps and make his peace with Washington. The Syrian ruler will demonstrated that he is the only Middle East leader capable of providing his army with a weapons system as sophisticated Iskander SS-22. This may divert the generals from plotting to overthrow him if he throws some of his top security officers to the wolves over the Hariri assassination.
2. Putin's motivation in breaking his promises to Bush and Sharon is his fundamental urge to show Washington and Paris they are not the only players in the Middle East and Syrian-Lebanese arena. He hopes by the missile sale to prevent the Assad regime from collapsing.
3. The Bush administration refrained from interceding in the deal this because, as DEBKA revealed before, the White House has not yet decided finally whether to finally topple Assad or let him survive. Washington's silence on the missile sale points to the latter option.
4. Israel's failure to stop the delivery even after the kudos Sharon collected over the pullout from Gaza means that the country's basic security situation and international influence remain unchanged by the sacrifice of its strategic presence in Gaza.
WEEK OF OCTOBER 2 THROUGH OCTOBER 9
Bush, Blair Tighten Screws on Syria and Iran
Oct. 7….(The Daily Star) President George W. Bush implicitly accused Syria and Iran of supporting "terrorist" groups and defended the Iraq war as necessary to prevent Islamic militants from gaining a foothold for a sweeping empire. Further stepping up international pressure on Iran, British Prime Minster Tony Blair said London suspected explosives used to kill British troops in Iraq may have come from the Islamic Republic or its Lebanese Hizbullah allies. Both Iran and Hizbullah denied the accusations as "lies." Trying to reverse a slide in public support for the war in Iraq, Bush said in a major speech on his global anti-terror campaign that Islamic militants have made Iraq their main front in a war against civilized society. In his address before the National Endowment for Democracy, he said: "The militants believe that controlling one country will rally the Muslim masses, enabling them to overthrow all moderate governments in the region and establish a radical Islamic empire that spans from Spain to Indonesia," Bush said. Bush said terrorists are aided by corrupt charities that direct money to terrorist activities and nations, such as Syria and Iran, calling them "allies of convenience" that back terrorists. "State sponsors like Syria and Iran have a long history of collaboration with terrorists and they deserve no patience from the victims of terror. The United States makes no distinction between those who commit acts of terror and those who support and harbor them because they're equally as guilty of murder," he said. In London, meanwhile, Blair was waging an attack on Iran warning it against interfering in Iraq. In a joint news conference with visiting Iraqi President Jalal Talabani, Blair said: "What is clear is that there have been new explosive devices used not just against British troops but elsewhere in Iraq," the British leader told reporters. The particular nature of those devices led us either to Iranian elements or to Hizbullah," Blair said. "However we cannot be certain of this at the present time." Tehran has denied it helps militants in Iraq. "This is a lie," Iranian Foreign Ministry spokesman Hamid Reza Asefi told state television. "The British are the cause of instability and crisis in Iraq," he said, adding that it was in Iran's interests to have a stable neighbor. Hizbullah also rejected any link to the terrorist bombs. "The British accusations that the party is the source of the explosives that have targeted the British occupation are lies," the group said in a statement issued in Beirut. Talabani said the Iraqi government would investigate the charges. However, Iraqi Prime Minister Ibrahim Jaafari rejected accusations from other countries, such as Saudi Arabia, that Iran was interfering in Iraq.
Former FBI Chief Freeh: Clinton Failed America
Oct. 7….(CBS) Elevated to the post of FBI director by President Clinton in 1993, Louis Freeh is now speaking publicly about his terrible relationship with the former president.
Freeh even goes so far as to suggest that America was unprepared for terrorist attacks because President Clinton was preoccupied with his own survival. "We were preoccupied in eight years with multiple investigations," Freeh tells 60 Minutes correspondent Mike Wallace this Sunday. In his upcoming book, My FBI, Freeh writes, "The problem was with Bill Clinton, the scandals and the rumored scandals, the incubating ones and the dying ones never ended. Whatever moral compass the president was consulting was leading him in the wrong direction. His closets were full of skeletons just waiting to burst out." The scandals Freeh mentions include Whitewater, Monica Lewinsky, Paula Jones and Gennifer Flowers. The director sought to distance himself from Clinton because of Whitewater, refusing a White House pass that would have enabled him to enter the building without signing in. This irked Clinton. "I wanted all my visits to be official," says Freeh. "When I sent the pass back with a note, I had no idea it would antagonize the president." Freeh says the most delicate and unsavory of the investigations was the Lewinsky affair, when the FBI needed to obtain a blood sample from the president to match the DNA on the infamous blue dress. "But we did it, very carefully, very confidentially," Freeh says. During a scheduled dinner, the president excused himself to go to the bathroom. Instead of the restroom, he entered another room where FBI medical technicians were waiting to take a blood sample. Aside from scandals and investigations, Freeh says Clinton let down the American people and the families of victims of the 1996 Khobar Towers terror attack in Saudi Arabia. After promising to bring to justice those responsible for the bombing that killed 19 and injured hundreds, Freeh says Clinton refused to personally ask Saudi Crown Prince Abdullah to allow the FBI to question bombing suspects the kingdom had in custody, the only way the bureau could secure the interviews, according to Freeh. Freeh writes in the book, "Bill Clinton raised the subject only to tell the crown prince that he understood the Saudis' reluctance to cooperate and then he hit Abdullah up for a contribution to the Clinton Presidential Library." Freeh also says he was determined to stay on as FBI director until President Clinton left office so that Clinton could not appoint his successor. "I was concerned about who he would put in there as FBI director because he had expressed antipathy for the FBI, for the director," he says. "I was going to stay there and make sure he couldn't replace me."
FOJ Note: Former Attorney General John Ashcroft has also blamed the Clinton administration for leaving America vulnerable to terrorist attack. Ashcroft has stated that the nation was stunned by the Sept. 11 suicide hijackings because "for nearly a decade our government had blinded itself to our enemies."
First Friday Prayers of Ramadan Pass Quietly in Jerusalem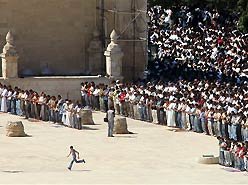 Oct. 7….(Ha Aretz) The first Friday prayers of the Muslim holy month of Ramadan passed quietly in Jerusalem, Israel Radio reported, as some 2,500 police officers deployed in and around the capital's Old City. Police officers were stationed in the alleyways of the Old City and around the Temple Mount and Western Wall in an effort to prevent possible disturbances. They did not, however, restrict the age of worshipers allowed to enter the Temple Mount compound. Israel Radio reported that the Israel Defense Forces had renewed its warning against hitchhiking, citing threats of Palestinian abductions of soldiers and civilians. The Middle East was jittery this week as it headed into Ramadan, the holy month of fasting and spiritual introspection that has become a time of increased attacks by suicide bombers who believe they receive extra blessings. From Iraq to Lebanon to Sinai, the month of prayer and after-dark feasting is now a month of heightened security. Israel urged its citizens not to travel to Egypt's Sinai peninsula during the Jewish holidays, which coincide with Ramadan's start, because Arab militants were planning to kidnap Israeli tourists there. Thousands of Israelis cancelled plans to visit Sinai, travel agents said, after Defense Minister Shaul Mofaz said the threat of attacks was "substantial."In Egypt, an Islamic group that previously claimed responsibility for this summer's attacks at Sharm el-Sheikh vowed Sunday to launch an all-out war against Israelis, Americans and Egyptian police. An Egyptian security official said security was high across the country. Militants have not issued specific Ramadan-related threats, but the spike in violence in recent years, especially suicide attacks in Iraq, has been notable. One possible reason is the belief by some Islamic extremists that those who die in combat for a holy cause during Ramadan are especially blessed.
Lebanon and Palestinian Militants Square off Over Arms
Oct. 7….(Yahoo) Palestinian guerrillas in refugee camps in Lebanon went on alert Friday after Lebanese army units tightened their grip around the refugee slums ahead of a meeting to discuss the fate of Palestinian arms in the country. Both sides played down the possibility of violence and said the measures were linked to fears of an Israeli attack against the camps and did not signal an imminent Lebanese-Palestinian showdown. But the moves came hours after Lebanese Prime Minister Fouad Siniora said there was no need for Palestinian weapons outside the camps. A United Nations Security Council resolution last year that led to the withdrawal of Syrian troops from Lebanon also calls for the disarming of Lebanese and Palestinian armed groups, most of them backed by Syria. Last week, the Lebanese army tightened controls around the posts of a pro-Syrian Palestinian group sparking the group's anger and criticism by some Lebanese groups. Siniora will discuss with representatives of Palestinian factions Saturday their arms amid rising international pressure to disarm in accordance with Resolution 1559. Around 390,000 Palestinians live in 12 refugee camps in Lebanon. Armed Palestinian groups played a key role for most of Lebanon's 1975-1990 civil war. Palestinian fighters, armed mainly with assault rifles, grenade launchers and Katyusha rockets, control the camps where the Lebanese authorities have no presence or authority inside them. Siniora also called on Syria to reign in Palestinian groups which it has large sway over. Some Lebanese politicians fear Syria might use some Palestinian groups to destabilize Lebanon. "I don't want to blame Syria for what is happening but I call on the Syrian leadership to practice in this case the necessary self-restraint through its ties with Palestinian factions," he said. Syria, the main power broker in the country for the past 15-years, ended its 29-year military presence in April following the assassination of former Prime Minister Rafik Hariri.Many Lebanese blamed Syria for the crime, currently being investigated by the United Nations, and a string of bombings and killings which followed. Syria has denied any involvement.The leader of Fatah, the largest Palestinian faction, in Lebanon Sultan Abu al-Ainain said guerrillas went on alert after Lebanese security sources said on Thursday the army was stepping up security around the camps to foil any Israeli attack.
Muslims Mark Ramadan as Jews Observe New year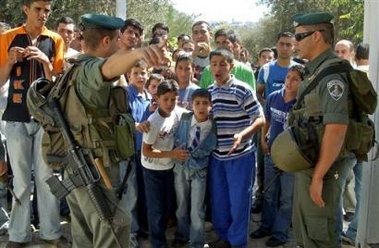 Oct. 7….(FOJ)
Israeli soldiers secure the entrance to the Tomb of the Patriarch in the West Bank city of Hebron, Friday, Oct. 7, 2005, as Palestinians worshippers there ask to enter the site during the first traditional Friday prayers of the holy fasting. Muslims and Jews alike call Abraham, who is buried in the tomb their patriarchal Father.
An Israeli soldier watched on as Palestinians performed Friday prayers outside the Ibrahime mosque on the first Friday of the Muslim fasting month of Ramadan in the West Bank city of Hebron October 7, 2005. Muslims across the world abstain from eating, drinking, and sexual relations from sunrise to sunset during Ramadan, the holiest month in the Islamic calendar.


Israel greatly fears the possibility that a suicide bomber will infiltrate the throngs of Ramadan worshippers and dissect himself from the group and blow up innocent Israeli's, as many Muslims believe it is the highest act of service to Allah to kill a Jew during Ramadan.
Meanwhile, as Muslims are permitted by Israeli soldiers to observe Ramadan, Palestinian Muslims in Gaza are destroying Jewish synagogues. Here, a Palestinian man carries metal from the rubble of the synagogue of the former Israeli settlement of Neve Dekalim near the Palestinian Khan Yunes refugee camp, southern Gaza Strip. He Islamic Waqf continues to deny Jews access to their Holy Places, including the Temple Mount. Jewish soldiers often accompany orthodox Jews to the Wailing Wall for prayers, especially during the Rosh Hashanah-Yom Kippur season.
Israel Hails Bush's Islamist Attack
Oct. 7….(Jerusalem Post) Officials in the Israeli Prime Minister's Office reacted with satisfaction to a Thursday speech by US President George W. Bush denouncing Islamic extremism, and said that Hamas and Islamic Jihad should take note. "These words shouldn't come as any surprise," one official said. "Since September 11 Bush has carried the fight against Islamic terrorism." The official said that after this speech it was unlikely that Bush would show any "leniency or flexibility" to Hamas, Islamic Jihad or Hizbullah as "legitimate partners for peace." Bush, in his address, sent a strong message to Syria and Iran deploring their support to terrorist groups. In a wide-scale speech on the war on terror, he accused the two countries of sheltering and supporting terror organizations and vowed to end this support. "We're determined to deny radical groups the support and sanctuary of outlaw regimes," he said. "State sponsors like Syria and Iran have a long history of collaboration with terrorists and they deserve no patience from the victims of terror." In his speech, which was meant to ready the American public for a long and difficult battle against terror, President Bush said that one of the goals of the terrorists is to destroy Israel, and pointed out that the Israeli presence in the West Bank is used by terror groups as an excuse for attacks. "Over the years, these extremists have used a litany of excuses for violence: the Israeli presence on the West Bank or the US military presence in Saudi Arabia or the defeat of the Taliban or the Crusades of a thousand years ago. In fact, we're not facing a set of grievances that can be soothed and addressed. We're facing a radical ideology with inalterable objectives to enslave whole nations and intimidate the world," said Bush. "No act of ours invited the rage of the killers, and no concession, bribe or act of appeasement would change or limit their plans for murder." The Israeli official said that, in line with this speech, Bush was likely to tell Palestinian Authority Chairman Mahmoud Abbas at their scheduled meeting on October 20 that it was incumbent upon him to join those actively fighting radical Islam. "A very determined and adamant Bush is not someone who will give the Palestinians discounts on these issues," the official said. "Not when his soldiers are getting killed in Iraq, and he sees the killers supported by Syria and Iran." The official said that Bush views the PA and moderate Arab countries, such as Jordan, as part of a "strategic consensus" needed to fight radical Islam. As such, the official said, Bush was likely to tell Abbas that the time has come for him to take up his part of this fight.
High Risk of Nuke Terror this Month, says Expert
Oct. 7….(WND) The threat of an al-Qaida nuclear terrorist attack on the US is especially high this month during the Islamic world's Ramadan observances, suggests an expert on the network's "American Hiroshima" plot. Paul Williams, author of "The Al-Qaeda Connection," says Osama bin Laden's promise of a major "Ramadan Offensive" and a 10-year effort to acquire nuclear weapons and deliver them inside the US for an attack on seven major cities, raises the specter of an imminent "nuclear hell storm." Williams, a former FBI consultant who has written three books on al-Qaida and its nuclear ambitions. Today, Williams follows up with another exclusive in Farah's G2 Bulletin explaining the spiritual significance of Bin Laden to his followers, many of whom consider to be the "mahdi", or the messianic figure of Islam sent by Allah to destroy Israel. Williams points out that, in a communiqué to bin Laden, Abu Musab al-Zarqawi, the top al-Qaida lieutenant in Iraq, mentions the "Great Ramadan Offensive" that will create a "fateful confrontation" with the United States and Israel. "I think that the plans for the next stage of the jihad has reached you or will reach you in a few days," Zarqawi writes in the letter. "O God, make the plans of Osama come to fruition!" The communiqué, dated May 30, was intercepted by CIA officials and remains on the Global Information System database that is accessible only to government officials with high-security clearance. In the message, which was broadcast Aug. 8, al-Zawahiri said: "What you have seen, O Americans, in New York and Washington and the losses you are having in Afghanistan and Iraq, in spite of the blackouts by your media, are only the losses of the initial clashes. You will soon experience horrors that will make you forget the horrors you have encountered in Vietnam." The al-Qaida No. 2 man went on to say: "Jihadist forces have been established in all of Western Europe to defend the powerless within the nation. For the crimes that the Crusaders have committed against the Muslims will be reaped by Christians and Jews throughout the Western world." "Zawahiri's video messages are viewed by intelligence officials as telling signs that a terrorist attack is imminent," says Williams. "His televised message Sept. 6, 2004, took place before the December 6, 2004, bombing of the US consulate in Jeddah, Saudi Arabia, while his message of June 17, 2005, preceded the London bombings." Williams says concerns about an October attack were heightened more by reports that jihadists viewed the ravages of hurricanes Katrina and Rita as signs that Allah was pleased with the plans for "the American Hiroshima." "Allah has punished America with winds and water," one imam is quoted in the GIS report as saying. Another imam reportedly quipped that America, as evidenced by the natural disasters, is "under the curse of the Jews." Williams explores the critical role Ramadan has played throughout Islamic history and the evidence that al-Qaida has already secured the nuclear weapons and delivered them to their intended target areas inside the US, the cities of New York, Washington DC, Miami, Houston, Los Angeles, Las Vegas, and Chicago. Ramadan, he writes, represents the ninth month of the Islamic year, the month in which the Koran was revealed to the Prophet Mohammed. According to Muslim tradition, the actual revelation occurred on the night between the 26th and 27th days of the month. On this "Night of Determination," Allah determines the fate of the world for the coming year. "The fate of the world for the next Islamic year, if bin Laden has his way, will include the nuclear destruction of the United States," says Williams.
Saudis Host Hamas Command Center
Oct. 7….(WND) A senior Hamas activist recently arrested in Jerusalem has revealed to Israeli police the terror group maintains an operations command center in Saudi Arabia that finances suicide bombings and important Hamas campaigns, security sources told WND. While Hamas and other Palestinian terror groups have been known to raise funds in Saudi Arabia, the existence of a Hamas terror control center in the kingdom is "disturbing news," said a security official. Ya'akub Abu Assab, 35, of the eastern Jerusalem neighborhood of al-Souana, was arrested last month in an anti-terror operation. During his interrogation, police officials now expose, Assab detailed the existence of a Hamas headquarters in Saudi Arabia, and said he was a liaison between the terror group's Jerusalem and West Bank offices and its Saudi command center. Assab allegedly told interrogators he received operational instructions from Hamas' headquarters in Saudi Arabia that he was asked to relay to the terror group's West Bank offices. For example, Assab explained, according to the interrogators, he was sent money from senior Hamas officials in the kingdom and told to conduct surveys among Hamas' West Bank operatives about whether the terror group should participate in Palestinian legislative elections scheduled for January. Assab said he was also asked to regularly update the Saudi command center about Hamas' latest activities in the field, and about Israel's construction of its West Bank security barrier and its razing of terrorists' homes. Assab said he also received large sums of money from Hamas in Saudi Arabia. He told interrogators he transferred hundreds of thousands of dollars from Hamas' Saudi headquarters to Hamas institutions in the West Bank, where he said the money was used to provide financial support for the families of suicide bombers and imprisoned operatives, and to finance Hamas attacks. Assab also reportedly transferred money to two eastern Jerusalem Hamas offices Israel has since shut down. Matthew Levitt, director of the Terrorism Studies Program at the Washington Institute for Near East Policy, commented, "Neither the fact that individual Hamas operatives are active in Saudi Arabia nor the fact that Hamas receives significant funding from within the kingdom is news. But the revelation that Hamas operates a command center in Saudi Arabia with close ties to Hamas militants executing attacks and the movement's political and social-welfare operations is remarkable." Levitt noted in the early 1990s it had been known Hamas raised large sums of money in Saudi Arabia. Some Palestinian scholars claimed the kingdom and some Gulf States stepped up their financing of Hamas to strengthen it against the Palestinian Liberation Organization after the PLO supported Saddam Hussein's 1990 invasion of Kuwait. In September 2003, David Aufhauser, general counsel to the US Department of the Treasury, testified to Congress that donating to Hamas was still not a crime in Saudi Arabia despite the kingdom's promises to curb terrorism financing. Levitt pointed out: "Just last month, Saudi television ran a program on the jihad in Palestine that implored viewers to donate funds to the Palestinian intifada. A caption on the screen informed donors that they could send funds through ... [what was described as] a joint account at all Saudi banks. Meanwhile, a speaker instructed viewers, 'Jihad is the pinnacle of Islam.' He explained that the funds would go directly to those waging jihad, where it would, in his words, 'help them carry out this mission.' Dr. Reuven Erlich, director of the Intelligence and Terrorism Information Center at Israel's Center for Special Studies, told WND: "A Hamas control center in Saudi Arabia goes along with the escalations we have seen in financing and the terrorist ideology coming from there. Someone has to influence the Saudis to end this. If Hamas is operating a center in the kingdom, it means State officials are allowing them to act there, and this needs to be stopped."
Arab World Celebrates 32nd Anniversary of Yom Kippur War
Oct. 6….(Ha Aretz) The Arab world commemorated on today the 32nd anniversary of the Yom Kippur War, a war which Egypt and Syria consider a victory despite the Israeli recovery from a surprise Arab attack, and despite the fact that Israel forced Egypt and Syria into retreat. Israel commemorates the anniversary of the war on the Jewish holiday of Yom Kippur, which this year takes place on October 13. Egyptian President Hosni Mubarak marked the war's anniversary, known throughout the Arab world as the October War, by releasing 861 prisoners and telling the nation that success on the battlefield had led to freedom and a better life. "Our victory has moved us from liberating captured land to a similar liberation in our political life and national economy," Mubarak said in a televised speech. "The October victory was, and still is, a watershed in the history of the homeland," he added. (Israel relinquished the entire Sinai, which it won on the battlefield to Egypt as part of the Camp David Peace treaty) Meanwhile, Syrian President Bashar Assad laid a wreath of flowers on the tomb of the unknown soldier in Damascus. Assad was accompanied during the ceremony by the Syrian defense minister, Major General Hasan Turkmany, and the Syrian chief of staff, Ali Habib. The Yom Kippur War began when Egypt and Syria launched a surprise attack on Israel on the Day of Atonement.
Caught off guard, the Israel Defense Forces sustained heavy casualties as Arab armies advanced deep into Israeli territory. However, the IDF soon recovered and pushed the Arab armies back, crossing the Suez Canal in the south and coming within range of artillery fire from Damascus in the north. Despite the Israeli recovery, the war is seen as a victory throughout the Arab world because of the initial gains, which restored Egyptian and Syrian self-confidence.
Iran Military's Nuke Role Worries US
Oct. 6….(Washington Times) Ironically, while Iran claims its nuke program is for peaceful purposes, it has announced that its nuclear program is under the auspices of its military. (umm!) The Bush administration yesterday expressed concern about the role of Iran's military in the country's nuclear programs, saying it raised fresh fears that Tehran is seeking nuclear weapons. State Department spokesman Sean McCormack said the US government shares worries expressed by UN nonproliferation experts about the control of Iran's nuclear programs, which the Islamic regime insists are intended solely for civilian energy uses. "It stands to reason that the one logical conclusion of a military involvement in a nuclear program is they are trying to build a nuclear weapon," Mr. McCormack said in response to a report in yesterday's editions of The Washington Times. "And that has been our concern for some time." The board of governors of the Vienna, Austria-based International Atomic Energy Agency (IAEA), the UN's main nonproliferation agency, concluded last month that Iran had violated past pledges to come clean about its nuclear programs and said the issue could be turned over to the UN Security Council for possible sanctions. Negotiations between Iran and European Union powers France, Britain and Germany, designed to head off a Security Council referral, are on hold. Separately, the official Iranian news service Islamic Republic News Agency reported yesterday that the country's UN ambassador, Mohammad-Javad Zarif, seen as a moderating force in the clash with Washington and the West, had resigned from the Iranian nuclear negotiating team. No reason was given, but some lawmakers in Iran's parliament complained this week that the 2-month-old government of President Mahmoud Ahmadinejad has stamped its hard-line views on the negotiations over Iran's suspect nuclear programs. "Sadly, the first action of the government was to change the nuclear negotiators and deprive itself of their expertise and the trust they built up," said lawmaker Hassan Afarideh, who is considered a moderate.
Mr. McCormack was careful to distance the Bush administration from a new report by the People's Mujahadeen, also known as the Iranian Resistance or the Mujahadeen e Khalq (MEK) in Farsi, that raises the issue of military control of Iran's nuclear program. The Paris-based exile group is vehemently opposed to the Islamic regime in Tehran. The United States and many European governments consider MEK to be a terrorist organization.
| | |
| --- | --- |
| | Iranian marchers in Tehran burn American and British flags in a show of support for the Iraq insurgency, or terrorist effort. And, of course, these lovely peaceniks would never use a nuclear bomb. |
Bush Defends Iraq Policies
Oct. 6….(AP) President Bush sought Thursday to revive waning public support for the war in Iraq, accusing militants of seeking to establish a "radical Islamic empire that spans from Spain to Indonesia" with Iraq serving as the main front.
Islamic radicals are being sheltered by "allies of convenience like Syria and Iran," Bush declared in a speech before the National Endowment for Democracy. He said the United States and its allies had foiled at least 10 plots by the al-Qaeda terror network in the four years since the Sept. 11 terror attacks, three of them in the United States, and he warned other nations not to support or harbor groups with al-Qaeda ties. Polls show declining American support for the war that has thus far claimed more than 1,940 members of the US military. Bush's policy faces a crucial test in Iraq's Oct. 15 referendum on a new constitution, a vote that President Bush has said terrorists will try to derail. In remarks clearly aimed at those seeking a withdrawal of US troops, Bush said: "There's always a temptation in the middle of a long struggle to seek the quiet life, to escape the duties and problems of the world and to hope the enemy grows weary of fanaticism and tired of murder." "We will keep our nerve and we will win that victory," he said. Asked about the president's singling out of Iran and Syria as "allies of convenience," White House spokesman Scott McClellan said, "They continue to move in the wrong direction." Likewise, British Prime Minister Tony Blair said in London that explosive devices that have killed US-led troops were similar to those used by the Iranian-linked militant group Hezbollah. "There is no justification for Iran or any other country interfering in Iraq," Blair said at a news conference with Iraqi President Jalal Talabani. Iran's ambassador in London, Seyed Mohammad Hossein Adeli, said the charges were not supported by evidence and "we are against any kind of action which might jeopardize or destroy the stabilization process of Iraq." At the White House, McClellan was asked about Bush's reference to 10 foiled terror attacks. He said some of the information the president based his remarks on remains classified. McClellan mentioned the conviction of Iyman Faris, a Columbus, Ohio, truck driver who authorities said plotted attacks on the Brooklyn Bridge and a central Ohio shopping mall. Administration officials have previously claimed success in breaking up terror cells in New York, Oregon, Virginia and Florida. Sens. Dick Durbin, D-Ill., and Jack Reed, D-R.I., challenged Bush's remarks at a Capitol Hill news conference. "I believe the president has offered America a false choice, between resolve and retreat," Durbin said. "The real choice is between a strategy of accountability and more vague generalities. We must move beyond policies of fear to a forceful commitment to protect the United States and its values." Bush said Islamic extremists hope to use "the vacuum created by an American retreat" to gain control of Iraq and use it as a base for launching attacks against other countries. "The murderous ideology of the Islamic radicals is the great challenge of our new century," he said. "Like the ideology of communism, our new enemy teaches that innocent individuals can be sacrificed to serve a political vision." "The militants believe that controlling one country will rally the Muslim masses, enabling them to overthrow all moderate governments in the region, and establish a radical Islamic empire that spans from Spain to Indonesia," Bush asserted. "Against such an enemy, there's only one effective response: We never back down, never give in and never accept anything less than complete victory," Bush declared. Sen. Rick Santorum, R-Pa., chairman of the Senate Republican Conference, said the speech was "one he should've made a few years ago. I'm glad he made it now." "I've been saying for a long time the president needs to better define this war," Santorum said. Countering claims that the US military presence in Iraq is fueling radicalism, Bush noted that American troops were not there on Sept. 11, 2001. "The terrorists regard Iraq as the central front in the war against humanity. And we must recognize Iraq as the central front in our war on terror," he said.
| | |
| --- | --- |
| | The mighty Euphrates River Valley, once the home of the earliest civilization is slated in Bible Prophecy to become destabilized enough to allow the Kings of the East to pass through the region to attack Israel. |
Senate to Probe Saudis' Jihad Propaganda
Demands accountability for spreading 'hate' through US mosques
Oct. 6….(excerpt from WND) As the Senate prepares an investigation, the US State Department is demanding Saudi Arabia account for its distribution of hate-filled, jihad propaganda through American mosques. The developments are based on a yearlong study by a Washingtong human-rights group asserting the government of Saudi Arabia is disseminating propaganda through American mosques that teaches hatred of Jews and Christians and instructs Muslims that they are on a mission behind enemy lines in a land of unbelievers. The 89-page report by Freedom House's Center for Religious Freedom, "Saudi Publications on Hate Fill American Mosques," concludes the Saudi government propaganda examined reflects a "totalitarian ideology of hatred that can incite to violence." The report says the fact it is "being mainstreamed within our borders through the efforts of a foreign government, namely Saudi Arabia, demands our urgent attention."
Hamas' West Bank Battle Plan Exposed
Oct. 6….(WND) After declaring Israel's withdrawal from the Gaza Strip a victory for their "resistance operations," Hamas is now planning to focus attacks on the West Bank, where it will fire rockets and carry out guerrilla operations against nearby Jewish towns until Israel leaves the territory, a research center affiliated with Hamas announced in a published study. Hamas will be transporting warfare technologies such as mortars and rockets from the Gaza Strip to the West Bank. These will provide an easy way to bombard Israeli populated areas adjacent to the security fence, and the fence, which is currently under construction, will therefore become useless," stated a recent publication by the Al-Mustaqbal Research Center in Gaza. Al-Mustaqbal is headed by a Palestinian professor and, according to the Intelligence and Terrorism Information Center at Israel's Center for Special Studies, is associated with Hamas and is known to publish surveys and studies that reflect the terror group's attitudes. The study credited Israel's West Bank security barrier with limiting Hamas' ability to infiltrate Jewish cities to perpetuate suicide bombings, but it said, "Carrying out such acts remains an option since Hamas will find methods to circumvent the obstacle built by Israel. The length of the fence and its proximity to populated areas will make the task easier." Al-Mustaqbal said Israel's withdrawal in August from four West Bank towns provides Hamas and other terror groups with a staging ground from which to launch attacks and to transport rockets to other West Bank communities. It said the Gaza and West Bank withdrawals prove Israel will vacate other areas in response to repeated attacks. Following Israel's withdrawal the new warfare technology of Qassams and mortars will be produced, and from there, they will be distributed to other West Bank areas," said the study. Along with rocket fire at West Bank Jewish communities, Hamas will carry out guerrilla attacks against local residents and Israeli Defense Forces positions, the study stated, citing what it said was Hezbollah's success in using such attacks to drive Israel from Lebanon in 2000. "The fighting in the West Bank in the new era after Israel's Gaza withdrawal will be characterized by guerrilla actions carried out by small groups of terrorists as was done in south Lebanon, and by long-distance shooting as was done in the Gaza Strip during the lull in the fighting. These actions will focus on soldiers and settlers, and they will consist of attacks on roads, military bases and settlements," al-Mustaqbal published. Israel last week rounded up over 450 suspected Hamas and Islamic Jihad terrorists in the West Bank, and has been warning that the terror groups are planning to step up operations in the area. A senior security source told WND: "The terror groups will now attempt to step up attacks because they believe they can drive Israel from the rest of the West Bank. Al Aqsa and Islamic Jihad have recently become the dominant players in the West Bank, but signs are Hamas is poised to catch up." Since Israel withdrew its troops from Gaza last month, Palestinian terrorists have fired over 30 mortars and rockets at nearby Israeli Negev towns. So far, there has been no rocket fire in the West Bank. Hamas senior spokesman Sami Abi Zuhri told WND last week the terror group believes it can force Israel from the West Bank with continued attacks. "There is no doubt that Israel's withdrawal from Gaza is a victory for the Palestinian resistance and its operations against the occupation," said Zuhri. "The resistance will be the principal tool to liberate the rest of our other occupied territories.
OU Bomber Tied to Buy Ammonium Nitrate
University student attended same mosque as 9-11's Moussaoui
Oct. 6…..(WND) The student who blew himself up outside a packed Oklahoma University football stadium Saturday night tried to buy large quantities of ammonium nitrate, a key ingredient in the 1995 Oklahoma City bombing, the week before, according to a new report. Also, Joel "Joe" Henry Hinrichs III attended a Norman, Okla., mosque near his university-owned apartment, the same one attended by Zacharias Moussaoui, the only person charged in connection with the Sept. 11, 2001, attacks, according to a report by KWTV-News 9 in Oklahoma City. Furthermore, Hinrichs was a roommate of a Pakistani student, who was not identified in the News 9 report. Though there were few additional details about that relationship, analysts examining all the evidence say it indicates at least a tenuous connection between the suicide bomber and Middle East Muslims.
Sharon, Abbas to Meet in Jerusalem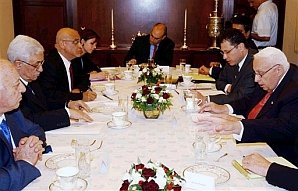 Oct. 6….(Jerusalem Post) Prime Minister Ariel Sharon is scheduled to meet Palestinian Authority Chairman Mahmoud Abbas on Tuesday for their first meeting in nearly four months. The meeting is slated to take place in Jerusalem a week before Abbas is scheduled to fly to Washington for a meeting with US President George W. Bush. A Sharon-Abbas meeting scheduled for October 2 was canceled following a surge of violence in Gaza. Next Tuesday's meeting was first announced by Jordan's King Abdullah II on Wednesday in Amman. A statement issued by the king's press office said the meeting "is in response to the king's efforts to push forward the peace process, as hepledged to President Bush in the White House just last week." Abdullah phoned both Sharon and Abbas on Wednesday. Abdullah, apparently because of the violence in Gaza, canceled a visit to both Sharon and Abbas last week. Sharon, during his conversation with Abdullah, again invited the king to visit Israel, and it was agreed that they would meet "soon." An official in the Prime Minister's Office said that Sharon's top adviser, Dov Weisglass, would meet Palestinian negotiator Saeb Erekat on Friday to work out details of the meeting with Abbas. The official said that Sharon would raise the "law and order issue" with the Palestinians, including the need to stop terror, dismantle Hamas, and bolster security control. The official said Abbas understood that he could not go to Washington for an October 20 meeting with Bush "empty-handed, without some agreement with Israel on the next stage. He will want to lay out for the Americans what he is ready to do." Wadie Abunassar, director of a Haifa-based think tank on Palestinian and Israeli politics called the International Center for Consultations, said that Abbas was likely to ask Sharon for four things:
 The release of some 2,000 Palestinian detainees who have either not been brought before the courts, or whose prison terms are nearly up, or who were arrested for relatively "minor offenses" such as rock throwing;
 Increased permits for work in Israel for Palestinians over the age of 40, a demographic that has not been widely involved in terror incidents inside the Green Line;
 The withdrawal, as called for in the Sharm e-Sheikh agreement, of IDF troops from major West Bank cities;
 Increased Israeli-PA military coordination, as well as increased political dialogue between the two sides, accompanied by press coverage, to demonstrate to the Palestinians that disengagement was not the end of the road.
Although the Sharon-Abbas meeting itself is an indication that Sharon is satisfied with some of the measures Abbas has taken over the last few days to assert PA control in Gaza, officials in his office said that he would not grant concessions such as additional prisoner releases under the threat of violence or kidnappings. Sharon and Abbas last met on June 21 to discuss disengagement from Gaza, and last spoke on Sunday when Abbas called Sharon to extend Rosh Hashana greetings. Although the two leaders have not met in nearly four months, there is constant contact between the two bureaus.
Hamas Leader Khaled Meshaal Rejects Rice Call to Disarm
Oct. 5….(Ha Aretz) Senior Hamas leader Khaled Meshaal, rejecting a strong call by US Secretary of State Condoleezza Rice for the disarming of the powerful Islamic fundamentalist organization, declared that Hamas has the right to simultaneously pursue a policy of armed attacks against Israel and participation in Palestinian Authority elections. Rice, going beyond past US statements on the issue, said Friday that Hamas cannot remain an armed organization and also participate in the PA political process. "Hamas is a terror organization and it has to be disbanded, both for the sake of peace and security in the Middle East and for the sake of the proper functioning of the Palestinian Authority. After all, under the road map, the Palestinian Authority has undertaken to disband militias and armed resistance groups," Rice said in an address. Hamas," she continued, "stands for a one-state solution, not a two-state solution. Hamas therefore stands for the destruction of Israel.
| | |
| --- | --- |
| | Top PLO official Farouk Kaddoumi right, and Hamas chief Khaled Mash'al holding a press conference in Damascus on Tuesday. Damascus is international headquarters for most Mid-east terrorist organizations. Syrian President Assad recently met with the leaders of Hamas and Islamic Jihad, giving them his approval for a 3rd Palestinian Intifada. |
Hamas is an organization that asks Palestinian mothers and fathers to give their children up to make themselves suicide bombers. And it is a real detriment and block to further peace in the Middle East." But Meshaal, speaking at a joint news conference with hardline PLO leader Farouk Kaddoumi, said, "So long as our land is occupied it is the right of the Palestinian people and their factions to combine resistance and political activities. Resistance and its arms are directed against the occupation while political activity is part of re-arranging the Palestinian home." Meshaal and Kaddoumi took leading roles in a meeting of Palestinian factions including rivals Fatah and Hamas, which pledged on Tuesday to refrain from violence in settling Palestinian problems after a firefight between Hamas activists and Palestinian police left three dead. According to Rice, "There are periods of time of transition in which one has to give some space to the participants, in this case the Palestinians, to begin to come to a new national compact. But I cannot imagine, in the final analysis, a new national compact that leaves an armed resistance group within the political space. You cannot simultaneously keep an option open on politics and an option on violence. There simply isn't a case that I can think of internationally where that's been permitted to happen." The U.S. administration had previously avoided taking a clear stand against Hamas' participation in the PLC elections, giving rise to speculation that the US had softened its stand on the organization; and Rice had other US officials had been critical of Sharon's statements that Israel would disrupt elections in the West Bank if Hamas took part. Comparing the situation with Northern Ireland, Rice noted, "In the Good Friday Agreement, it was understood that when Sinn Fein came into politics, eventually the IRA would disarm, and perhaps, hopefully, that process is now underway." With regard to Afghanistan she said, "We did not permit the Afghan warlords to keep their weapons and participate as candidates in politics." According to Rice, "It is absolutely the case that you cannot have armed groups ultimately participating in politics with no expectation that they're going to disarm. Sharon brought up the matter of Hamas and the Palestinian elections with the new US Ambassador, Dick Jones, in a get-acquainted meeting Thursday in Jerusalem. After the meeting, officials said they were under the impression that the United States opposed Hamas' participation in the elections. Former minister Natan Sharansky met in Washington last week Rice, telling her that he was concerned that shoring up Abbas would be at the expense of internal freedom in the Palestinian Authority. European Union officials dealing with the Middle East last week also discussed Hamas' participation in the PLC elections. No decisions were made, and France said the Palestinians had to decide for themselves whether Hamas should be in the government, and there should be no interference. Great Britain proposed that Abbas present "entry requirements" for Hamas. Farouk Kaddoumi, a leader of Fatah, the ruling faction of Palestinian President Mahmoud Abbas, said the exiled leaders of Palestinian groups agreed in Damascus that dialogue should be the only way to solve their disputes. Listing the decisions of their meetings, Kaddoumi said the leaders agreed to "call all Palestinian powers and factions to ban the use of weapons to solve internal differences." Kaddoumi said the leaders also agreed to "refrain from all forms political and media provocations that can harm the interests of our people and their national unity". Hamas politburo chief Meshaal said "we refuse any inclination towards internal feuding because our fixed national principles set Palestinian blood as a taboo," he told reporters after the meeting that also comprised less senior leaders of key factions, the Islamic Jihad and the Popular Front for the Liberation of Palestine-General Command.
Earthquake Shakes Israel
Oct. 5….(JNEWWIRE) Israelis preparing to see out the old year and welcome in the new with the sound of shofar blowing Monday felt their country shaking as a 4.3 scale earthquake struck the region. Originating just after 7 AM near the northern Jordan Valley town of Bet She'an, the quake shook beds and buildings, momentarily frightening people before subsiding as quickly as it had begun. According to the Geophysical Institute of Israel, the tremor was felt in Nahariya, Haifa, Tel Aviv and Rehovot. People in Jerusalem told Jerusalem Newswire they had felt the quake too. No injuries or damages were reported. Israel's location alongside the massive Syrian-African rift means the country frequently experiences earthquakes as two tectonic plates rub against one another. About 400 quakes occur every year, but most are so minor they can only be recorded by a seismograph. Meanwhile, mystery surrounds another earthquake that was reportedly felt throughout the country last Tuesday evening shortly after 10 PM. While visiting friends in the Jerusalem suburb known as Abu Tor, located adjacent to the Hinnom Valley and about a kilometer south of the Temple Mount, this reporter felt the building move and heard a vibrating sound which continued for about eight seconds. Shortly afterwards the SMS Israel news service reported that an earthquake had been felt throughout the country. However, no-one else picked up on and reported the occurrence. Neither the GII nor the Scotland-based Edinburgh Earth Observatory's "World-Wide Earthquake Locator" show any records of the September 27 event. The last strong quake hit Israel on February 11, 2004. Measuring 5.1 on the Richter Scale, it was strong enough to crack the ceiling in the Knesset (Israeli parliament building). An Israeli seismologist subsequently warned a joint session of the Knesset Interior and Environment Committee that between five and ten thousand people could die if an earthquake with a magnitude of 6.5 struck the country. The Knesset annually debates the lack of readiness in Israel for a major temblor that is anticipated sometime in the next few years. Bible readers know that a number of major earthquakes are prophesied to hit Israel, including one in which seven thousand people will be killed (Revelation 11:13) and another which will split Jerusalem's Mount of Olives in two when the Messiah comes to establish His reign on the earth.
Saudi Arabia Charges Iran With Meddling In Iraq
Oct. 4….(Arab Press) The new government of Iraq has angrily rejected Saudi Arabian allegations of increasing Iranian involvement in Iraq, as Arab foreign ministers gathered in Jiddah, Saudi Arabia to discuss a pan-Arab strategy to help restore stability to the war-torn country. Top American diplomats, meanwhile, have stepped up efforts with Arab officials to involve them with endeavors to convince Iraqi Sunni Arabs to accept Iraq's contentious constitution. In a sign of rising tensions, Iraqi Interior Minister Bayan Jabr, a powerful member of the Shiite-led Iraqi government, disputed Saudi accusations that Iran now dominates Iraq, instead accusing the Saudis of being "tyrants" who discriminate against their own Shiites. Iraq's Sunni-dominated neighbors, chiefly Saudi Arabia and Jordan, have expressed concern that too much influence from Iran could empower Iraq's majority Shiites and cause a political shift in the region, including a possible split of the country into a Kurdish north, a Sunni center and a Shiite south. The vast majority of Muslims in the Arab world are Sunnis; while in Iraq they are a 20 percent minority. Last week the Saudi foreign minister, Prince Saud al-Faisal, criticized the United States, saying its strategy in Iraq had deepened sectarianism to the extent that Iraq was effectively being handed over to Iran, its eastern, Shiite-led neighbor. Both the United States and Iran dismissed Prince Saud's charges last week, and Jabr also rejected the charges, calling the Saudis "tyrants who think they are king and God." "Saudi Arabia has other motives to launch such accusations," he said. "Saudi Arabia has its own problems. There are 4 million Shiites who are treated as third-class citizens." That evening, Prince Saud repeated the accusations, without naming Iran, in his opening speech to the foreign ministers' meeting in the Saudi city of Jiddah. "History will not forgive Iraq's neighbors who have exploited Iraq's misery for their shortsighted interest," he said. Iraqi Foreign Minister Hoshyar Zebari said Arabs should help Iraq to crush its insurgency if they want to stop Iran from interfering there. He urged Arabs to stop describing the insurgents as "resistance fighters," saying such terms amounted to incitement. Arab diplomats in Cairo said the ministers are expected to urge Iraqi Sunni Arabs to accept a final draft of the constitution worked out through last-ditch efforts by the US ambassador to Iraq, Zalmay Khalilzad. Khalilzad met Saudi King Abdullah in Jiddah on Saturday night to brief the king on his efforts. Later he flew to the United Arab Emirates for similar talks. Iraq's Sunni leaders are mobilizing to defeat the constitution in the Oct. 15 referendum. In Cairo, another top American diplomat, James Jeffery, the State Department coordinator on Iraq, made similar efforts with Arab League leader Amr Moussa and Egyptian Foreign Minister Ahmed Aboul Gheit. Sunni-dominated Arab countries have expressed concern that the draft constitution gives too much weight to Iraq's ethnic and religious divisions. They say it greatly increases the powers of Iraq's Kurds and Shiites while marginalizing the Sunni minority. In another source of friction between Iraq and its neighbors, Arab nations have been hesitant to send ambassadors to Baghdad, particularly after the al-Qaida in Iraq terror group kidnapped and killed top diplomats from Egypt and Algeria in July.
FOJ Note: Al Qaeda is systematically working to overthrow the Saudi kingdom, and to disrupt the US led push for democracy in Iraq. Al Qaeda may have found a suitable temporary ally in Iran on both of these fronts, and each is likely now to be coordinating a scheme to disrupt the Roadmap Peace Process, by infusing a terrorist campaign between Israel and the PA in the West Bank and in the Sinai against Egypt, with assistance from Damascus. The Arab infighting reminds me of the ancient prophecy concerning Ishmael;
(Genesis 16:12 And he will be a wild man; his hand will be against every man, and every man's hand against him; and he shall dwell in the presence of all his brethren.)
Is Israel Planning Iran Strike?
Oct. 4….(YNET) Apparently, according to reports in Saudi newspapers, Ariel Sharon presented President Bush with satellite intelligence photos on the Iranian nuclear facilities, said told Mr. Bush that Israel would not wait forever before doing something about Iran. Israel has proposed to the United States to strike Iran on several occasions this year, Saudi newspaper al-Watan reported Sunday morning. According to the report, the latest proposal was raised during the Knesset Defense and Foreign Affairs Committee's visit to Washington several days ago, where Committee members apparently attempted to "market one agenda: Launching a war on Iran." The newspaper quoted Knesset Member Arieh Eldad saying that "nothing will restrain Iran aside from the use of force" and adding that Teheran's nuclear project will not end "unless it is convinced it will be destroyed through military force." Meanwhile, Knesset Member Yosef Lapid reportedly said threats of sanctions and isolation have no effect on Iran. "We (Israel) won't accept the fact we need to live under the threat of an Iranian nuclear bomb and therefore we feel we should warn our friends we don't see any solution except for acting on our own," Lapid said according to the Saudi report. The newspaper says this was not the first time Israel demanded permission from the US to strike Iran. President Bush rejected Prime Minister Ariel Sharon's offer to use military force during the latter's latest visit to Washington, the report said. Sharon reportedly presented Bush with satellite photos of Iran's nuclear facilities and asked that the US attack them. The president apparently "coldly" referred him to US Secretary of State Condoleezza Rice, who told the PM the US has chosen to pursue the diplomatic channel, in conjunction with European states, to resolve the problem. Earlier reports said Sharon informed Washington in a special letter that Iranian nuclear arms would threaten the safety of Israelis more than any other nation. The PM reportedly said Israel would consider postponing military action against Teheran out of consideration for the US, (war on terror in Iraq) but added Israel would not "wait forever." According to al-Watan, Israel made it clear that it would only be able to wait until a certain date next year, and after that, if no diplomatic progress has been made, Israel will have no alternative but to strike Iran.
Iran Warns Israel: Don't Attack Us

Oct.4….(YNET) The Speaker of the Iranian parliament told the London-based Arabic-language newspaper al-Hayat, 'Our goal is to establish trust with world and express our true intentions to utilize our nuclear energy to achieve peace; we in Iran will never yield to the arrogance of our enemies, a reference to Israel and the US." Iranian parliament speaker Ghulam Ali Haddad-Adel warned Israel against "folly that would lead it to strike at Iran's nuclear facilities," London-based Arabic-language newspaper al-Hayat reported.
"If Israel realizes its threats and strikes our nuclear facilities, as happened in Iraq in 1981, we'll teach her a lesson she will never forget," the official warned following his recent meeting with Syrian president Bashar Assad in Damascus. Haddad-Adel added, "Our goal is to establish trust with the world and express our true intentions to utilize our nuclear energy to achieve peace. In the past two years more than 1,200 International Atomic Energy Agency inspectors have visited Iran, but they did not find any proof indicating that we are planning to direct our nuclear plan toward producing military weapons." According to Haddad-Adel, should the Iranian nuclear program be referred to the UN Security Council, in accordance with the recent IAEA decision, "we will regard this as certain pressure that is being applied on us. We in Iran will never yield to the arrogance of our enemies." Meanwhile, Iranian sources told al-Hayat that during his recent meeting with the Iranian parliament speaker Assad said the US's "plot" to isolate Syria and Iran has failed as "no one will be able to come between Tehran and Damascus." As to Iran's nuclear program, an Iranian source said, "Assad supported Iran's right to use atomic energy for peaceful purposes and denounced the US's attempt to prevent Iran from upholding this right when it permits Israel to posses weapons of mass destruction."
Meanwhile, President Bush and his administration have been unable to get significant cooperation among the UN Security Council membership for accepting the Iran nuclear case. There has been strong opposition from more than a dozen nations on the board of the International Atomic Energy Agency to a demand for referral of Iran at next week's board meeting. Officials and diplomats, some in Vienna, others elsewhere in Europe demanded postponement of the case and spoke on condition of anonymity because of the delicacy of the negotiations on what tack to take on Iran. Their comments seemed to mirror indications from Secretary of State Condoleezza Rice that Washington was prepared to delay again its drive for Security Council referral. Secretary Rice last week appealed openly to China, Russia, India and other nations to support the United States in threatening Iran with sanctions for refusing to halt its nuclear program. Russia quickly registered its opposition to trying to impose sanctions in the UN Security Council, and the White House acknowledged Wednesday that President Bush was also unable to get a commitment from Chinese President Hu Jintao.
US Hints Russia Should Stop Nuclear Cooperation with Iran
Oct. 4….(Ha Aretz) In an apparent reference to Russia, the United States on Monday urged governments to end nuclear projects with Iran in light of a recent finding that Tehran is not complying with the nuclear nonproliferation treaty. Stephen G. Rademaker, assistant U.S. secretary of state for arms control, told a UN committee that nations must change their policies as a result of a Sept. 24 International Atomic Energy Agency resolution that found Iran in noncompliance because of its past covert activities. We think it's self-evident, for example, that in the face of such a finding, no government should permit new nuclear transfers to Iran and all ongoing nuclear projects should be frozen," Rademaker told a UN General Assembly First Committee session to discuss disarmament issues. Rademaker did not mention Russia by name, but Russia has an $800 million contract to build a nuclear reactor in the city of Bushehr. Russia has trained about 700 Iranian nuclear engineers, and several dozen Iranian experts are in training at a nuclear power plant in the country's southwest. Asked later if he would urge Russia directly to end its cooperation with Iran, Rademaker said "I think the statement I gave today speaks for itself. Russia's UN spokesman, Sergei Trepelkov, said Rademaker's remarks were nothing new and insisted that Russia would not end its cooperation with Iran. The Bush administration has long urged Russia to call off the Bushehr program over concerns that the reactor could help Tehran develop nuclear weapons. Yet US officials had recently accepted Russian assurances that no enrichment or reprocessing would take place, especially after a deal that required any spent fuel rods to be returned to Russia.
Mofaz: US Pressure on Syria Could Topple Assad Regime
Oct. 4….(Ha Aretz) Defense Minister Shaul Mofaz said on Tuesday that USpressure on Damascus may bring about a dramatic change in Syrian government.In an interview to Israel Radio, Mofaz said that Syria's involvement in the assassination of former Lebanon president, Rafik Hariri, and its support of Iraqi insurgents operating from within its territory, will bring about U.S actions that may overthrow Bashar Assad's regime."I won't be surprised if Syria gets a red-card by the US," Mofaz said, using a metaphor taken from soccer terminology. "The US will take actions against Syria, beginning with economic sanctions and moving on to others, that will make it clear to the Syrians that their policies do not comply with UN decisions, the US's new world order or the prohibition of sovereign state's to support terrorism."
Ten Commandments Judge to Run for Alabama Governor
Oct. 4….(Reuters) Former Alabama Chief Justice Roy Moore, who was fired in 2003 for disobeying a federal order to remove a Ten Commandments monument from a courthouse, said on Monday he would be a candidate for governor of Alabama in 2006. Moore, a fundamentalist Christian from northern Alabama who supports school prayer and opposes gay marriage, pledged to fight against higher taxes, tighten restrictions on illegal immigrants and improve education if elected. "It is a crucial time to run for office when rights and liberties are being eroded, taxes climb, the education of our children declines and morality erodes while judges tell children they cannot pray," Moore said at a rally in Gadsden, 63 miles northeast of Birmingham. "I believe that God is leading me to uphold the laws in Alabama and guide its policies," Moore said in an interview after he announced his candidacy. Moore, 58, is attempting to wrest the state's top job from Bob Riley, a pro-business Republican who has seen his popularity drop since 2003, when his tax-restructuring plan was rejected by voters in the conservative state. Riley is expected to announce his re-election bid later this week, setting up a showdown with Moore in the June 6 primary. Elected chief justice of the Alabama Supreme Court in 2000, Moore rose to national prominence in 2003 when he refused to remove a Ten Commandments display from a public area in the state judiciary building in Montgomery. US District Court Judge Myron Thompson had ruled that the 5,000-pound (2.3-ton) stone marker, installed by Moore and his supporters in 2001, violated the constitutional ban on government promotion of religion. Moore contended the order was unlawful because it countermanded his constitutional obligation to acknowledge God. His stand triggered a national debate over the role of religion in public life, prompting thousands of fundamentalist Christians to rally to his side and several state legislatures to consider legislation to protect Ten Commandments displays. But civil libertarians accused Moore and his supporters of trying impose their religious beliefs on others. The standoff ended when state officials intervened and removed the display, which now sits in a church in Gadsden. Moore later was dismissed from his position on Alabama's high court by a specially convened panel of mostly retired judges.
Ahmed Jibril Moving to Gaza
Oct. 3….(Jerusalem Post) Ahmed Jibril, a former captain in the Syrian army and head of the radical Popular Front-General Command group, is planning to move to the Gaza Strip, one of his aides was quoted on Sunday as saying. The leaders of other Palestinian groups, such as Hamas, Islamic Jihad and the Democratic Front for the Liberation of Palestine [DFLP] are also planning to move from Damascus to the Gaza Strip. Last month, Nayef Hawatmeh, secretary-general of the DFLP, announced that he would move to the Gaza Strip soon. Adel Hakim, a senior member of the Popular Front-General Command, said Jibril expressed his desire to move to the Gaza Strip during a recent meeting between the two in Damascus. However, he added that Jibril had set a number of conditions for entering the Gaza Strip, first and foremost that Israel relinquished control over all the border crossings and main roads into the area. Hakim told the London-based Al-Hayat newspaper that it was most probable that Jibril would decide to live in the Gaza Strip permanently after visiting the area. "I don't know exactly what's going on in his mind, but Jibril has a strong bond with the Palestinian cause and people and this may prompt him to stay there," he said. According to Hakim, a senior delegation representing the Popular Front-General Command is expected to visit the Gaza Strip to prepare for Jibril's arrival as soon as the Rafah border crossing is placed under joint Palestinian-Egyptian control. Jibril's group, which consists of several hundred gunmen, broke away from the Marxist Popular Front for the Liberation in 1968, saying it wanted to focus more on fighting and less on politics. Jibril's group, which has close ties with Syria and Iran, remains strongly opposed to the Oslo Accords. Jibril's son, Jihad, was killed by a car bomb in Lebanon in May 2002. Since its establishment the group, which has several training bases in Lebanon, has carried out dozens of attacks in Europe and the Middle East.
PA and Hamas Fight for Gaza Control
Oct. 3….(World Watch) Violent fighting erupted between Hamas gunmen and PA police after Palestinian Authority officers attempted to confiscate weapons from some of Hamas terror groups' gunmen. The Interior Ministry also claimed that the infighting broke out after PA officers attempted to confiscate weapons from gunmen riding a car. "The gunmen started firing at the officers, an incident which caused the outbreak of the violence." Meanwhile, a Hamas source said, "the Interior Ministry's statements serve the Zionist enemy's goals. The ministry is a part of an entire system in the Authority that wishes to eliminate the Hamas and serve the Palestinians' enemies, even in the cost of an internal dispute." Dozens of Palestinian policemen stormed into Gaza's parliament building today to demand a security crackdown on Hamas militants who killed a police commander in yesterday's street battle. The incident occurred as deputies were debating whether to seek the dismissal of President Mahmoud Abbas's government for failing to stamp out factional anarchy after Israel's withdrawal of settlers and soldiers from Gaza completed last month. There was no shooting in the building but shots were fired outside the compound in Gaza City. One armed policeman entered the chamber, briefly interrupting a meeting of Gaza lawmakers participating by video link in a larger session in the West Bank city of Ramallah. There were no reports of casualties in the incident, which lasted no more than 20 minutes. Abbas was in Gaza at the time but not in the building. "The president is absolutely concerned and is following this situation closely," Abbas adviser Diana Bbuttu told Reuters. The police who staged the protest came from a Gaza City precinct where a police commander and two civilian bystanders were shot dead in a gunfight on Sunday. Palestinian police said the violence broke out after a carload of Hamas militants had been stopped for flouting a new ban on weapons displays in public. Policemen who rushed into the parliament building complained they lacked weapons and equipment needed to subdue Hamas and other armed factions and said Abbas's Palestinian Authority seemed helpless.
Al Qaeda in Sinai Has Advanced to Striking Range of the Suez Canal, Israel and Jordan
Oct. 3….(DEBKA) The emphatic advisory to Israeli travelers to stay clear of their favorite Sinai resorts for this year's High Holidays reflects incoming intelligence on the broadening threat posed by al Qaeda today. Since the Taba attacks exactly a year ago, the Islamist terrorist organization has planted a daunting infrastructure amid the inaccessible peaks of the strategic desert peninsula. Egyptian attempts to access their strongholds have been thrown back. DEBKAfile's intelligence sources report the following developments. Al Qaeda has established local terror networks in northern Sina, centering on el Arish, as well as strongholds in the inaccessible central mountains of the peninsula around Jebel Hillal. In all, the jihadists control roughly one-fifth of Sinai total area (61,000sq. km or 23,500sq. miles). Egyptian forces of law and order have learned not to venture into these bastions or into the areas commanded by age-old smuggler clans who currently collaborate with al Qaeda. This leaves about half of the forbidding desert peninsula inaccessible to Egyptian security forces. (area given to Egypt by Israel in 1979) Today, they can only claim to control the main roads routes fringing the vast desert expanse: from Ras Sudeir down to Sharm el Sheikh along the Suez Canal and Suez Gulf shores; from the Suez Canal east to El Arish along the Mediterranean shore and from the Sharm el-Sheikh resort center north along the Gulf of Aqaba to Taba and the Israeli port of Eilat. The spectacular, biblical landscape conceals terrorist bomb traps and roadside devices. Gunmen armed with RPG and anti-tank weapons lurk behind huge rocks in wait for any Egyptian police or security unit daring to step off a main road into one of the dry valleys dissecting the forbidding peaks. The danger increases with the altitude. Al Qaeda has joined up with rebellious Bedouin and Palestinians to recreate the Tora Bora of Afghanistan, where Osama bin Laden's fighters fought US and Afghan forces in November 2001. DEBKAfile's counter-terror sources describe al Qaeda's Sinai 2005 bastion as better fortified than the original Tora Bora. It is peopled with more fighters and is even more impregnable. The paths leading up to peaks, some as tall as 7,500 ft. are barricaded by huge rocks under which explosive snares are concealed. Attempts to move the rocks would set off explosions and start an avalanche. Interspersed among the natural barriers are bomb traps and anti-personnel and anti-tank mines. The caves perforating the slopes are firing positions, some armed with mortars and heavy machine guns. The Egyptian have tried large-scale Assaults on the al Qaeda mountain fastnesses and failed. They were forced to retreat with heavy casualties. According to DEBKAfile's military experts, the only way for Egypt to wrest mastery of the Sinai heartland from the terrorists is by a combined aerial bombardment coupled with helicopter landings of at least two special forces brigades. This in present circumstances is not feasible because:
1. The 1979 Egyptian-Israeli peace treaty demilitarizing Sinai precludes Egyptian air force operations. In theory, Cairo can approach Jerusalem for permission, but in practice this would expose the Mubarak government to widespread Muslim opprobrium for collaborating with the Jewish state in the war against Islamic terror.
2. Egyptian intelligence does not have an exact count of the anti-air missiles in al Qaeda's hands. The passage of a quantity of these weapons from Sinai to the Gaza Strip leads Egyptian intelligence to deduce a fairly sizeable number, enough to cause havoc with a helicopter commando drop.
3. Al Qaeda's smuggling routes crisscross Sinai day and night, freely plied by fighters, weapons, explosives and food. These routes exploit the peninsula's exceptional geography to run between Yemen, Saudi Arabia, Sudan, Egypt, Jordan, Iraq and of late the Gaza Strip. The Egyptians despite every effort have not been able to close down a single smuggling route. This fact ties in with the kidnap alert for Israeli travelers. Should al Qaeda succeed in abducting an Israeli, it has the organization to conceal its victim for a long period in its Sinai mountain bastion or transport him or her to another Arab country, including Iraq.
4. That al Qaeda has established a presence in the Gaza Strip is no longer a matter of speculation. Today, Israeli military intelligence AMAN and the Shin Beit are taking the new manifestation of Al Qaeda-Palestine as an offshoot of Al Qaeda-Sinai with the utmost seriousness. Foreign terrorists have been detected entering the Gaza Strip, welcomed and integrated in to the logistical infrastructures of Hizballah, Hamas, Jihad Islami and the Popular Fronts. This is not a one-way road. Elements of Hizballah, Hamas and Jihad Islami have been heading out of Gaza into Sinai and given the use of al Qaeda's logistical facilities to strike unprotected Israeli holidaymakers at the Sinai resorts. The DEBKAfile Exclusive Map attached to this article illustrates the broad strategic thinking behind al Qaeda's Sinai deployment. It is not just there to nab Israeli vacationers refusing to heed warnings; its terrorist units are within striking distance of the Hashemite Kingdom of Jordan, the Gulf of Aqaba, the Suez Canal and the Egyptian heartland, as well providing terrorist depth for wars in Iraq and Israel.