WEEK OF NOVEMBER 27 THROUGH DECEMBER 4
Hal Lindsey's Prophecy Show Dropped
Christian television network denies decision related to content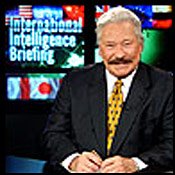 Dec. 2….(WorldNetDaily)
Author Hal Lindsey says his weekly television program has been dropped by the TBN because its message was considered by some officials at the Christian network to be "too pro-Israel and too anti-Muslim." Lindsay's International Intelligence Briefing," a current-affairs style show that focuses on biblical prophecy and its relationship to events in the Holy Land, was removed from the air for the entire month of December and may never be broadcast again, according to Lindsey, a WND columnist. "This is confusing to me because my message is the same as it has been for the entire 12 years of presenting the IIB program," said Lindsey in a website letter to supporters. "It has not changed one iota." John Casoria, general counsel for TBN, confirmed to WorldNetDaily that Lindsey's program won't air during December, but he says that applies only to this month's schedule and insists the decision has nothing to do with content. "That is absolutely, 100 percent false," Casoria said of Lindsey's assertion. Casoria said he has been trying, unsuccessfully, to get in touch today with Lindsey or someone in his office. Lindsey's show normally airs at 5:30 p.m. each Wednesday and is repeated Thursday at 10 p.m. Casoria explained that TBN, as part of its contractual agreement, has the right to pre-empt a network-produced program such as Lindsey's. It's not playing this month, Casoria said, because the network is focusing on Christmas programming. In an interview with WND, however, Lindsey said he was told specifically, through the TBN "chain of command," that his program was being dropped indefinitely, at least through December, because he was "Arab bashing." An evaluation of the program's future is to be made in January, according to Lindsey. He said that after recording this week's program Tuesday afternoon, he was told the show was canceled because of the script. Lindsey wrote in his website letter that this week's program "addressed the tremendous political upheaval in Israel – including the toppling of the government, in the wake of the Gaza withdrawals. It warned about the peril the US faces if we pull out of Iraq and leave the perception that radical Islamic terrorists defeated the world's only superpower." Lindsey said the program included an exclusive interview with former Israeli Prime Minister Benjamin Netanyahu in Jerusalem. "The feeling must be that honestly reporting news on current issues concerning radical Islam is thwarting evangelism to Muslims at large, particularly Palestinians," Lindsey said in his website message. "I personally believe that both Christian Palestinians and moderate Muslims, who are being intimidated and persecuted by the radicals, actually welcome honest reporting on the situation." Lindsey, author of the 1970s best-seller "The Late Great Planet Earth," said he understands how there will be "disagreements about style and aesthetics in programming. But I can't understand how any Christian that is aware of the dangers radical Islam poses to our nation, Christians worldwide and the nation of Israel can issue a mandate to soft-pedal the truth about it." Lindsey said he still "deeply" loves TBN, noting he's been involved with the network from its beginning, three decades ago. He asked supporters to pray for himself and for the "decision makers at TBN." "This could be a disastrous turn in their ministry," Lindsey said.
TBN Admits Concern About Lindsay Offending Muslims
Network revises statement on pre-emption of Hal Lindsey show
Dec. 2….(WorldNetDaily) After insisting the pre-emption of Hal Lindsey's television show had nothing to do with content, a Trinity Broadcasting Network spokesman retracted his statement, admitting officials were concerned, at least secondarily, about offending Arabs and Muslims. As WND, John Casoria, general counsel for the network, responded yesterday to Lindsey's contention that the weekly program "IIB" had been canceled for December, and possibly permanently, because its message was deemed "too pro-Israel and too anti-Muslim." Casoria initially replied, "That is absolutely, 100 percent false." But now, after talking with network programming officials, he says a secondary reason for pre-empting the show was that it "placed Arabs in a negative light." The overwhelming reason, he still insists, is TBN requires all its programming during December to have a Christmas theme. "When a programmer chooses not to do so, they are pre-empted so that TBN can focus its attention on the holidays," Casoria said. "Hal is very well aware of this." Casoria said a "letter generally goes out to all the programmers letting them know this is the case," pointing out at least 20 other programs have been pre-empted because they didn't have a Christmas theme. But Lindsey told WND this was the first time he had been pre-empted for the entire month of December, noting his program previously had been replaced only the week before Christmas. He also pointed out TBN had him come in Tuesday to tape this week's show but informed him afterward, "through the chain of command," to stop production because they didn't like the script. Lindsey said he has to drive 130 miles to the network's studios in Orange County, California, to record the show. Casoria said he could not recall specific examples from Lindsey's programs that were anti-Arab or anti-Muslim, but he expressed the network's concern about how Muslims are portrayed. "TBN is a worldwide ministry; we have an entire channel that airs 24 hours a day, seven days a week in Arabic," he said. "We are trying to reach the Islamic world and open a dialogue with them regarding Christ and Christianity." Casoria explained, "We do not feel that the best witness of Christ is to bash them but rather to show them the nature of Christ, the way Christ said to present himself, and that is through love, understanding and the presentation of the gospel to them." Lindsey argued, however, his program is not shown in the Middle East. "My show is produced for the Western world and for Christians who are at the most risk from radical Islam," he said. Lindsey said that in the show that was canceled this week, he made a clear distinction between Muslims seeking jihad and those who want only a job and normal life for their families. "I cast radical Muslims in a bad light," he said, "showing how they are intimidating and persecuting moderate Muslims in the Middle East." Casoria said he believes the extremists are not Muslims at all but have "hijacked the religion." As a Christian, he sees Islam as a false religion, believing there is only one way to God, through Jesus Christ, but he says Islam basically is peaceful. "That's where we violently disagree," Lindsey said. "Islam is not a peaceful religion; although there may be moderate Muslims, it's because they have not become followers of the Quran. Asked to respond, Casoria said, speaking personally, "Hal Lindsey's program has clearly changed over the last 12 years, as has Hal Lindsey." "If you look at his earlier writings and you look at what he writes today, there is definitely a hard edge," he said. "That's my personal feeling." Lindsey responded, "I doubt if he's read anything I've ever written." "If there is any hard edge to what I'm saying now, it's post 9-11, when the threat from radical Islam has became readily apparent," Lindsey said. "It's been since that time that my program has soared in the ratings." After the program didn't turn up in its usual Wednesday time slot, viewers began contacting the network, and by yesterday afternoon, a flood of calls had shut down the switchboard, Lindsey said. Casoria said "International Intelligence Briefing" would be back on the air in January, but Lindsey claims he was told the show's future would be discussed in the new year. Asked to respond, Casoria said, "If that statement was made by Hal Lindsey, I think it's a little paranoia on his part." Casoria said Lindsey and TBN chief Paul Crouch, who founded the network with his wife Jan, have been friends for a long time. "I'm sure these very reasonable men can resolve these issues," said Casoria, a nephew of the Crouches. Lindsey said he has "no axe to grind." I've been happy with my opportunities at TBN," he said. "I'm happy with the platform I've had."
FOJ Note: Hal Lindsay is a good Bible Prophecy expositor, and although some may not agree with all of his eschatological views, he has steadfastly and faithfully carried the ball for prophecy at the forefront of the public arena for years. It is a travesty that TBN would consider dropping such a vitally important advocate of current Biblical analysis. I believe it reflects the growing spirit in the world to isolate Israel, and give sustenance to the growing movement of ecumenicalism.
Russia Equiping Iran for War
Moscow sells Tehran 29 anti-missile systems, cites secret Al Gore agreement as justification
Dec. 2….(WorldNetDaily) Russia has signed a deal with Iran to sell 29 of its Tor M-1 anti-missile systems, a development that will complicate any planned pre-emptive attack on the rogue nation's nuclear facilities, reports Joseph Farah's G-2 Bulletin The system would theoretically permit Iran to intercept some cruise missiles as well as airborne missiles that US, Israeli or other western countries might use in an effort to keep the terrorist-supporting nation from developing nuclear weapons or using them. The sale was confirmed by a source at the Koupol military factory in Russia who claimed the deal would not violate any international agreement. That's because Moscow made a secret 1995 agreement with Washington known as the Gore-Chernomyrdin protocol, which Russian officials believes permits continued military sales to Iran. Russian sources say the Tor system is "a weapon of defense" and does not represent a danger to the US as long as Washington does not attack Iran. Another Russian source says Iran only seeks "to defend its nuclear thermal power station" that Moscow is building in Bushehr, set for completion in 2007. Washington, meanwhile, along with European nations, claims Iran is attempting to develop offensive nuclear weapons under the pretense of civilian activities. The purchase of the systems Tor M-1 would cost Iran more than $700 million, according to experts on the subject. They say the surface-to-air missiles are capable of knocking down cruise missiles and aircraft bombs launched against a target. The Gore-Chernomyrdin protocol was first disclosed publicly in 2000. It was the result of secret talks between then Vice President Al Gore and Russia's then-Prime Minister Viktor Chernomyrdin. After the revelations in 2000, the State Department acknowledged Gore assured Russia that, under the provisions of the agreement, the US would not sanction the Kremlin for Russian arm sales to Iran, through 1999. Critics of the agreement pointed out it was in violation of the spirit, if not the letter, of the Iran-Iraq Non-proliferation Act, sponsored by then Sen. Gore, that required the imposition of sanctions against countries that made destabilizing arms sales to either Iran or Iraq.
Israel Successfully Tests Arrow Scud Buster
Dec. 2….(Jerusalem Post) The Israeli Air Force held the 14th test of the Israeli-designed Arrow 2 anti-ballistic missile on Friday, successfully intercepting an incoming rocket at a higher altitude than ever before. A day after Prime Minister Ariel Sharon declared that Israel would not tolerate Iranian efforts to get nuclear arms, the test demonstrated Israel's robust interception capability against incoming missiles that may be armed with nuclear or chemical warheads. The Defense Ministry said the routine test, which was scheduled over a year ago, tested improvements made to the Arrow 2 system. The test took place at 10:28 a.m., when the Arrow 2 interceptor was launched from the Palmachim Air Force base south of Tel Aviv. An F-15 fighter jet flying over the Mediterranean dropped a Black Sparrow test missile specially designed to simulate an incoming Iranian Shihab 3 missile headed toward the Israeli shore.
The radar detected the Black Sparrow missile and relayed its data to a battle management center, which issued the command to launch the Arrow 2 interceptor. "The interceptor performed successfully and intercepted the target," a Defense Ministry statement said. "The test's success is a major step in the system's operational improvements to deal with future ballistic missile threats.' Air Force officers carried out the test, but officials from the companies which manufacture the system as well as US officials were also on hand. Air Force Patriot batteries also participated passively in the test, following the incoming missile with their radars and simulating interceptions. This tested the entire missile defense screen of the country, the only nation in the world to have a national missile defense shield. "The success of the test will improve the existing operational capabilities of the Arrow system that will be able to cope successfully with future threats." The Arrow 2 was delivered to the Air Force in 1998 and has been declared operational for over five years.
Analysis on Iran: Little Time Left for Sanctions
Dec. 2….(Jerusalem Post) In September, after a promising move by the International Atomic Energy Agency declaring Iran to be in "non-compliance" with its obligations under the Nuclear Non-Proliferation Treaty, it looked like the US and Europe were finally taking some action. But over two months have passed, and the issue has not even been raised in the UN Security Council. As a result, there is still no serious consideration of sanctions or other pressures that might end Iran's quest short of the finish line. As time runs out, the potential for a military strike is therefore getting more attention. The recent shrill statements by new Iranian President Ahmadinejad threatening to "wipe Israel off the map" and the cross-border attacks by Hizbullah, Iran's Lebanon-based ally, have heightened awareness of the dangers. World leaders and even the UN have said all of the right things in condemnation, but they have not acted. Last week, a new Russian initiative designed to give Iran a graceful way out by agreeing to enrich uranium in Russia was the pretense for yet another delay in bringing the issue to the Security Council. Like the Europeans, Russian and Chinese leaders are finally waking up to the serious threat they would face if Iran becomes a nuclear power, but time is running out. This is also the message delivered this week by OC Intelligence Maj.-Gen. Aharon Ze'evi (Farkash) and reiterated by Prime Minister Ariel Sharon. The diplomatic approach has been tried for years, without results, and the deadline is now here. Ahmadinejad's genocidal rhetoric has demonstrated the futility of hopes for a stable deterrence relationship with a nuclear-armed Iran. In this framework, a limited military option based on air strikes against major targets, possibly via a combined NATO-type force to demonstrate the international support, is slowly gaining currency. A unilateral Israeli operation would only be launched as a last resort, when every other avenue has failed. But in raising the specter of military action, Sharon and Farkash are also telling the major powers that they will have to act firmly and quickly to avoid such a confrontation. There is still a short time in which to try using sanctions, based on concerted action by the Security Council. This may also turn out to have little impact on Iran, but a serious effort needs to be made to avoid the need for the use of force.
King Abdullah: Jordan Will Fight Terrorism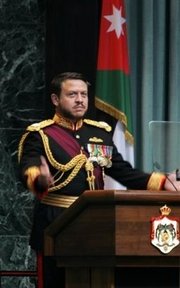 Dec. 1….(AP) King Abdullah II opened the Jordanian parliament today with a vigorous call for a strategy to confront terrorism, saying security and stability were a greater priority than ever following last month's suicide bombings of three Amman hotels. King
Abdullah told his lawmakers the Nov. 9 blasts claimed by the al-Qaida in Iraq group targeted Jordan because of its "location, its message and positions," a reference to his nation's pro-Western outlook, its embrace of moderate Islam and its geographical position lying between Israel and Iraq. "These attacks impose upon Jordan the largest security challenge to ever confront it," he told a joint session of the upper and lower chambers, interrupted by loud applause and cries of "Long live the king!" "Thus, a security strategy capable of dealing with these changed circumstances and containing these challenges is in order," he said. "This requires the drafting of legislation that serves this strategy to ensure that Jordan will remain as it always has been: an oasis of security and stability and a haven for freedom where human rights are respected." Wearing a black and gold military uniform, the King praised the security forces for the way they handled the deadliest terrorist attack in Jordan's history. Three suicide bombers killed 60 people and wounded hundreds of others. "When the hand of the traitors targeted Jordan's security and terrorized its innocent citizens and guests, the country passed, with great success, a critical test of its security and stability," he said. Following the attacks, the king swore in a new government and gave its prime minister, a tough former major general, Marouf al-Bakhit, the task of maintaining a balance between security and freedom. The monarch asked the Cabinet to draft a new anti-terrorism law. In his 15-minute speech, Abdullah appeared to reprimand conservative legislators who have often blocked progressive bills, such as those that would grant increased freedom to women. "We are at a new threshold of the reform and modernization march, and confronting the challenges imposed upon us by difficult regional circumstances requires each and every one of us to rise to the challenge at this moment," he said. "It requires that parliament deal with the government with a sense of responsibility." He reiterated Jordan's support for the Palestinians and said the country would continue to back the Iraqi people "until Iraq is restored to its natural status and its citizens enjoy decent, free and secure life."
Peres Quits Labor Party to Back Sharon
Dec. 1….(World Watch) Longtime Labor leader Shimon Peres quit his party after six decades, saying he wanted to support former rival Ariel Sharon's bid for re-election to help him pursue their common goal of making peace with the Palestinians. Peres cemented the alliance when he announced Wednesday he would back Sharon's new centrist Kadima party in the campaign for March elections. It was the culmination of a dramatic political realignment in the country after Sharon pulled Israel out of the Gaza Strip this summer and then left his hardline Likud to form a more moderate party. The 82-year-old Peres, who led Labor to five electoral defeats and lost a race earlier this month to lead the party into a sixth election, said he believed Sharon was best suited to pursue a peace deal. "I am convinced that he is determined, as I am, to continue with the peace process and restart it immediately after the elections," Peres said in a voice shaking with emotion. "I decided, therefore, to support his election and cooperate with him to realize these goals." Under a reported deal worked out with Sharon, Peres would support Kadima but would not officially join the party and he would not run for a seat in parliament, where he has served since 1959. In return, Sharon, if re-elected, will give Peres a senior post in his next government, possibly putting him in charge of peace talks with the Palestinians and neighboring Arab states. Though Peres cited peace efforts, he is also piqued at Labor members who rejected his bid to become the party's candidate for prime minister again. Peres' defection was an important coup for Sharon. Now both men have left parties they guided for decades, joining forces in a new political lineup. They could emerge from March 28 elections at the head of the first solid parliamentary bloc in favor of compromises for peace with the Palestinians.
Iran Building Ballistic Missiles to Carry Nukes
| | |
| --- | --- |
| | Dec. 1….(FOJ) Iran's upgraded Shahab-3 ballistic missile has a range of at least 2,000 kilometers. (1250 miles) Israeli Prime Minister Ariel Sharon has warned that Israel will never accept a situation where Iran is in possession of nuclear weapons, as Iran has made no secret of the fact that once it acquires nuclear weapons capabilities that it will use that weapon against Israel. The Shihab 3 ballistic missile as shown here in this photo can be transported by truck, and some geo-political analysts even worry that Iran could export these delivery systems to pro-Iranian bases like Gaza and South Lebanon. Albeit, the areas of Western Iran are only 600 miles from Israel |
Israel's Security Barrier in Jerusalem Draws Fire
| | |
| --- | --- |
| | Dec. 1….(FOJ) Shown in this aerial photo is a section of Israel's security barrier as seen from an aerial view separating the outskirts of Jerusalem from the Palestinian city of Abu Dis. Israeli Justice Minister Tzipi Livni, a top ally of Prime Minister Ariel Sharon, said Israel's final border with a future Palestinian state, (a goal of the Roadmap Peace Process, and the primary reason for the new Sharon-Peres political alignment) may closely follow the fence. The UN and Europe are outraged at the idea that the security barrier may become a pretext for an attempt by a prospective new Sharon government to establish a preemptive border. The Bible foretells that the Last Days empire of the Antichrist will compel Israel to remove its wall, and rely on the Safety-Peace alliance crafted by the Abominable One. |
Sharon: Iran's Nuclear Program is Unacceptable
| | |
| --- | --- |
| | Military rally in Iran last week. Banner on bus reads "Israel should be wiped out of the face of the world." |
Dec. 1….(Ha Aretz) Prime Minister Ariel Sharon stressed on Thursday that Israel is watching with growing concern Iran's efforts to achieve nuclear capabilities, and that this situation is unacceptable by Israel. Speaking at the editors' convention at Sokolov House in Tel Aviv Sharon said, however, that "Israel does not spearhead the international struggle against Iran's nuclear arming." In relation to other issues, the prime minister made it clear Likud may have room in a future government led by him. The danger does not relate only to Israel; it risks Israel, Middle Eastern countries and many other countries around the world. Therefore the efforts led by the U.S. today must include free countries that understand this grave danger," the prime minister said. "I said Israel should not lead (these efforts), but it is certainly in close coordination with the countries that run this battle," he stressed. Sharon said the West has the military capabilities to handle Iran, but "before anyone decides on a military step, every effort would be made to pressure Iran to halt this activity. It seems to me such efforts can be fruitful," he said. "I also accept what U.S. President (George W. Bush) said, that Iran's nuclear capabilities cannot be taken off the agenda. It is very much in the center of our attention, and I hope this activity would also bring things to a point whereby Iran faces the UN Security Council and this grave danger is handled." Also Thursday, and only one day after Military Intelligence Chief Aharon Ze'evi Farkash said that after March Israel must be prepared to use means other than diplomacy to halt Iran's nuclear weapons program, Defense Minister Shaul Mofaz echoedSharon's call that the international community should use diplomacy to block Iran from developing nuclear weapons. Mofaz denied that Israel, which bombed an Iraqi nuclear reactor more than two decades ago, was considering attacking Iran. "The position of the state of Israel is that the diplomatic track is the correct way to deal with the Iranian nuclear policies," Mofaz told Army Radio. Israel will make every effort to get the UN Security Council to pass resolutions that would sanction Iran, in order to pressure it to abandon the nuclear program, Mofaz said. Farkash would not detail other options, but sources on the Knesset's Foreign Affairs and Defense Committee, which Farkash was addressing Wednesday said it was clear that Israel would have to consider taking military action against Iran. "In my years here, seeing the data I have seen, I feel it is clear that Iran has passed the point of no return," said committee chairman Yuval Steinitz (Likud). "It is accurate to say that unless Iran encounters a major interference, it will have a functioning nuclear arsenal within one or two years." Iran has produced 45 tons of UF-6 gas that is used in the centrifuge process for producing enriched uranium for nuclear weapons, said Steinitz. "If by the end of March 2006 the international community will have failed to halt Iran's nuclear weapons program, diplomatic efforts will be pointless," said Farkash. "Iran has the upper hand in negotiations with the international community. In order to deflect international attention from its weapons program, Iran has been encouraging Hizbullah to step up attacks on Israel, said Farkash, noting that the recent Hizbullah attacks along Israel's northern border were instigated by Syria and Iran. "The latest flare up in the north was a strategic plan by Hizbullah," Farkash said. "They hoped we would retaliate by firing rockets and hitting civilians. Farkash explained that Syria and Iran were attempting to heat up the situation along the border to deflect international attention on their own policies. Syria is facing a United Nations probe into the assassination of former Lebanese Prime Minister Rafik Hariri in December. More Hizbullah attacks can be expected until the UN report on Hariri's assassination is released on December 15th, said Farkash. In addition, Farkash told the committee that the border between Syria and Iraq had become porous, with Syria enabling terrorists to pass freely. "Syria hopes to see a American failure in Iraq," said Farkash. "The Americans would not have the military or political capacity for another military operation in the region."
President Bush: National Strategy to Win in Iraq
| | |
| --- | --- |
| | President Bush speaks to US Naval Academy midshipmen about the war on terror at the US Naval Academy in Annapolis, Md., Wednesday, Nov. 30, 2005. President Bush, facing growing doubts about his war strategy, said Wednesday that Iraqi troops are increasingly taking the lead in battle but that "this will take time and patience." He refused to set a timetable for withdrawing US forces. |
Nov. 30….(My Way) President Bush countered diminishing support for the US-led Iraq war on Wednesday in a speech outlining what he believes must be accomplished before withdrawing any forces. Meanwhile US and Iraqi troops launched an operation in western Iraq to clear insurgents from a suspected safe area used to make car and roadside bombs, the military said Wednesday. The campaign came as President Bush defended his Iraq policy in a major speech, saying more Iraqi security forces are increasingly taking the lead in battle but that "this will take time and patience." About 1,500 US Marines from the 13th Marine Expeditionary Unit, 500 U.S. soldiers and 500 Iraqi soldiers were taking part in Operation Iron Hammer near Hit, 85 miles west of Baghdad, a US Marine statement said. The forces would concentrate efforts in the Hai Al Becker region, where US and Iraqi troops rarely patrol, it added. "The Hai Al Becker region is suspected to be an al-Qaida in Iraq safe area and base of operations for the manufacture of vehicle car bombs, roadside bombs," the military said. It added that the area is believed to be a stopping point for insurgents traveling down the Euphrates River from Syria into Iraq. President Bush did not indicate whether the terrorists now in Iraq had anything to do with the 2001 terror attacks in the United States, but he powerfully linked the two, saying they "share the same ideology." The President's national strategy for wining in Iraq speech did not satisfy critics who've called for a definitive timetable for troops to pull out, saying it would send the wrong message to terrorists and that certain conditions must be met first. "As Iraqi forces gain experience and the political process advances, we will be able to decrease our troop level in Iraq without losing our capability to defeat the terrorists," Bush said. He rejected calls by some members of Congress that US forces withdraw immediately. "Setting an artificial deadline to withdraw would vindicate the terrorist tactics of beheadings and suicide bombings and mass murder and invite new attacks on America," Bush said. "To all who wear the uniform, I make you this pledge: America will not run in the face of car bombers and assassins so long as I am your commander-in-chief."
China Bidding for Oil and Nuclear Contracts in Iran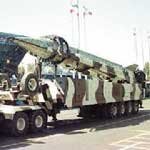 Nov. 30….(Debka) There is a lot going on between China and Iran. Much of it has happened almost unnoticed because of the furor over Tehran's underhand nuclear activities. DEBKA-Net-Weekly's intelligence sources report exclusively that Beijing has marked Tehran as a top strategic target of its oil and foreign policies. Substantial Chinese investments are in the planning for Iran's oil and nuclear industries. The Islamic republic for its part is eyeing expanded Chinese technological input to extend the range of its Shehab-4 surface missile to reach as far as Europe. A Chinese delegation is due soon in Tehran to negotiate contracts for upgrading the obsolete equipment of Iran's oil fields and the construction of 18-20 small nuclear reactors. Many billions of dollars in credit on exceptionally easy terms will be offered the clerical rulers of Iran. Beijing's new Iranian orientation arose out of three developments:
Iran is on the point of issuing tenders for renovating its outdated oil field equipment.

Tehran has also prepared tenders for the construction of a network of atomic reactors across the country.

Iran has decided against awarding Russia any more reactor contracts after Busheir for three reasons: It regards Russian technology as backward; Moscow does not meet its timetables for delivery; and, finally, Moscow's bonds with Washington are believed to run deeper than is readily apparent.
The Chinese believe that if they rush the Iranians off their feet with lavish financial credit terms for modernizing the oilfields, they will also snag the nuclear contracts. DEBKA-Net-Weekly's Tehran sources note another large carrot Beijing is dangling for Tehran, namely, stepped up cooperation in developing long-range surface missiles. Teamwork is already substantial, but China has more technological extras up its sleeve that could speed Iran towards its objective of extending the range of its missiles to Europe, and even as far as the American East Coast. The Islamic republic's missile industry has spread its purchases of technology far and wide, buying from North Korea, Russia, Ukraine, Brazil as well as longstanding ties with China. According to our military sources, Tehran is now hell bent on developing the Shehab-4, which differs from the Shehab-3 in many respects, to a range of 5,000 km that covers Paris and London. The nature and origin of the Shehab-4 is the subject of speculation in the West. Some experts say it is a replica of the North Korean Nodang-2; others that it derives from another North Korean missile, the Taepodong. Both were sired by the Russian SS-4, especially all their guidance systems. This provenance produced the British charge leveled this week, during the London-Tehran spat over alleged British intelligence involvement in two bomb blasts in Iranian Khuzestan, that Russian military experts were helping Iran develop the Shehab-4. The truth is that Iran obtained the relevant Russian missile technology from Chinese firms. Those firms acquired the know-how from Russia in the 1980s mainly by its spy networks laying out heavy bribes. Today, there is no argument among Western experts that Tehran obtained its missile technology from a Chinese firm called Phaanxi, who deals in missile system research. DEBKA-Net-Weekly's military sources disclose that Chinese experts are now helping iron out the guidance system fault. They belong to the Shanghai-based Air and Space Academy and their services come at exorbitant cost. Since the beginning of this year, one of its top experts has been in Iran working with local missile engineers on the recalcitrant element. The fact that they still have not brought the missile to its testing stage indicates that both teams still have their work cut out for them.
Putin to Rice: You've got the wrong address

Chinese assistance in the development of Iran's long-range surface missiles most certainly came up in the US defense secretary Donald Rumsfeld's talks with the Chinese defense minister Cao Gangchuan in Beijing last week. It also figured in US secretary of state Condoleezza Rice's Kremlin meeting with Russian president Vladimir Putin and foreign minister Seregy Lavrov, in the context of Russian support for Iran's nuclear industry. According to our Moscow sources, Putin protested to his American guest that Washington had the wrong address; instead of complaining to Moscow, it should talk to Beijing which was giving Tehran most of its know how for extending the reach of its missiles.
When Will Jewish Aliyah From the West Happen?
Nov. 30….(FOJ) Yesterday was Palestine Day at the United Nations. The day was celebrated as the anniversary of the day the UN adopted the 2-state solution for the Israeli-Palestinian Conflict. Yet in spite of the UN's resolution, God is moving in the affairs of this world to compel Jews to go up to the land of Israel. Aliyah, or the ascent, means the return of Jews to the Promised Land. Something of the power of the concept can be seen from the fact that in Hebrew people 'come up' to 'The Land' (Israel), and 'go down' (i.e. emigrate) from The Land to other countries. Aliyah in Hebrew means: Ascent, progress, advance and immigration to Israel. Aliyah also refers to the history of Zionist immigration to Israel and it also refers to the continuing move to Israel by Jews from across the world. In the 1990's, after the fall of the former Soviet Union, over 1 million Jews from the great northern country went up to Israel. (Jeremiah 30:3 For, lo, the days come, saith the Lord, that I will bring again the captivity of my people Israel and Judah, saith the Lord: and I will cause them to return to the land that I gave to their fathers, and they shall possess it.) In Jeremiah chapters 23 and 31, God even says that the Jews will be drawn back to the Land from the North. (Jeremiah 23:7-8 Therefore, behold, the days come, saith the Lord, that they shall no more say, The Lord liveth, which brought up the children of Israel out of the land of Egypt; But, The Lord liveth, which brought up and which led the seed of the house of Israel out of the north country, and from all countries whither I had driven them; and they shall dwell in their own land.) Jeremiah chapter 31 says that God will also compel the Jews from the coasts of the earth to make the move up to the land of Israel. This analogy probably refers to American Jews. Someday, Jews living in America will be compelled to make Aliyah to Israel. One must wonder what great series of events will come to pass that will cause American Jews to leave, and return to Israel. Most scholars of Bible prophecy envision that an economic collapse in the US will cause the West to give its Jews to the Promised Land. Jews make up only 0.227% of the world population, and North America holds 43.6% of that population.
Top 10 Countries for Jewish Populations
Rank

Country

Jews

% Jewish

% of Total

1

United States

5,914,682

2%

40.5%

2

Israel

5,021,506

80%

34.4%

3

Russia

717,101

0.5%

4.91%

4

France

606,561

1%

4.16%

5

Argentina

395,379

1%

2.71%

6

Canada

393,660

1.2%

2.70%

7

United Kingdom

302,207

0.5%

2.07%

8

Ukraine

142,276

0.3%

0.975%

9

Germany

107,160

0.13%

0.734%

10

Brazil

95,125

0.051%

0.652%
Why Are Old Rivals Forming Political Partnership
Nov. 29….(FOJ) There haven't been any two men in Israeli politics who have epitomized such opposite extremes in the history of the Israeli-Arab Conflict more than Ariel Sharon and Shimon Peres. Yet, these two old political adversaries now seem headed towards a rather strange union. (politics makes for strange bed-fellows) Sharon was once the staunch proponent of Greater Israel, and not only for holding all the conquered territories won in its defensive wars with Arab nations, but was the architect of settling and building Jewish communities in the acquired areas. Sharon won election as Prime Minister of Israel in 2000 based upon the fact that Israeli's had grown tired of contending with negotiating for peace with terrorists and looked to Sharon, their bulldog, to wage war on the terrorists. The Barak government (Camp David 2000 Summit) had demonstrated to most of the Israeli electorate that appeasement policies in the direction of a peaceful-coexistence would not work. Shimon Peres, on the other hand had been a life-long political proponent of the land-for-peace formula hatched in Oslo and Madrid. Peres has usually spared no carrot to offer to the Palestinians in return for a promise of peace, regardless of the terrorist infrastructure being built under Arafat. Now, the two, each on the verge of losing their political careers are positioned to join forces, and their common plank is the dividing of the land of Israel. Peres recently lost the leadership of the Labor when its members ousted him as party chairman earlier this month in favor of union firebrand Amir Peretz. Peres, who also runs the Peres Peace Center (Middle East peace think tank) observed that Ariel Sharon has taken a different direction, and is now working to fulfill President Bush's vision for a Palestinian state, part of his two-state solution concept. Peres sees this direction as evidence that Sharon wants to continue the peace process." (Oslo and the land-for-peace formula) A Sharon spokesman announced last week that Sharon was quitting the hard-line Likud to establish a new centrist political movement, that would seek to fully implement the Quartet's Roadmap process. Meanwhile, the Sharon ally added that the prime minister hopes to clinch a final peace deal with the Palestinians if re-elected, the clearest sign yet of Sharon's agenda for a possible third term. Sharon's new party, Kadima, "will strive in this term to reach a final status agreement with the Palestinians and to set Israel's permanent boundaries." "We understand that to reach a final status agreement, there is no choice, but to create two states for two nations." Sharon obviously quit the Likud Party that elected him, because he was convinced that conservative dissidents opposed to last summer's withdrawal from Gaza would try to stifle further concessions to the Palestinians and quash the eventual creation of a Palestinian State. Sharon and Peres, in essence, have now joined forces to keep each other alive politically, based upon the vision of Dividing the Land of Israel, permanently. This can only mean one thing, the political climate in Israel is being tested, and the emergence of a Super-Sponsor to help divide the land must be on the horizon.
EU Wants to Divide Jerusalem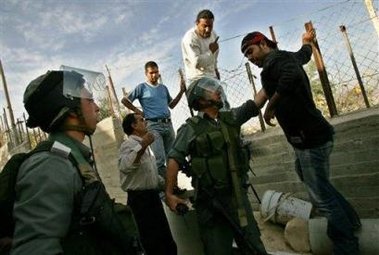 Nov. 29….(FOJ) The EU has accused Israel of a de facto annexation of eastern Jerusalem. The EU conference in Barcelona discussed the issue of Israel's security fence in Jerusalem and agreed with the PA that Israel is seeking to annex Jerusalem inside Israel's final border. A European Union (EU) document, reported in The New York Times and The Guardian, urged member countries to prevent the security fence from "sealing off most of East Jerusalem" and allowing Israel a "de facto annexation" of Jerusalem. The city was re-united after the 1967 Six Day War. The report charges that "Israeli activities in Jerusalem are in violation of both its roadmap obligations and international law." Prime Minister Ariel Sharon and virtually every previous prime minister and leader of major parties have declared that Jerusalem will remain united. The Palestinian Authority (PA) has insisted that its proposed new Arab state will include Jerusalem as its capital. The EU implicitly has sided with the Palestinian Authority against Israel on the status of Jerusalem. Its official policy states, "The EU opposes actions aimed at changing the Palestinian character of East Jerusalem." The EU has blamed Israel for policies that it says "are reducing the possibility of reaching a final-status agreement on Jerusalem that any Palestinian could accept," because the security fence separates 230,000 Arabs from Judea and Samaria. The result is a "de facto annexation of Palestinian land." Seemingly right on que, Palestinians today marched in protest throughout East Jerusalem against the security barrier that Israel is building.
Sharon Visits Israeli Negev-Egypt Border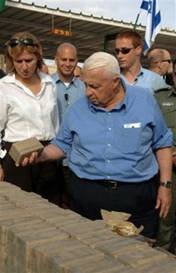 Nov. 29….(FOJ) One day after Palestinian leader Mahmoud Abbas officially opened he Gaza- Egypt border, Israeli Prime Minister Ariel Sharon visited the region just south of the Gaza border to check an Israeli border crossing from Egypt. The attached photo shows Sharon inspecting bricks of hashish confiscated by the Israeli police, during his tour of the Israeli-Egyptian border, in southern Israel. Not only are terrorist and illegal weapons for terrorist operations crossing the Egyptian, border, but drugs are also being pushed into the area.
EU Clinches Terror Code with Israel, Arabs
Nov. 29….(AP) The European Union clinched a last-minute deal with Israel and its Arab neighbors on Monday on a joint code of conduct to fight terrorism, at the end of a lackluster Euro-Med summit from which most Arab leaders stayed away. After hours of wrangling, a final compromise omitted both the EU's insistence that self-determination could not be used to justify terrorism and the Arabs' demand to distinguish between terrorism and the right to resist foreign occupation. "It's as strong a statement as you can possibly have on the unified determination to fight terrorism in all its forms," British Prime Minister Tony Blair, who co-chaired the two-day summit, told a news conference. The first Euro-Mediterranean summit also adopted a five-year work program designed to extend a decade-old economic, political and cultural partnership to such sensitive areas as security and combating illegal migration. Blair noted that it committed the 10 Mediterranean partners, Algeria, Egypt, Israel, Jordan, Lebanon, Morocco, the Palestinian Authority, Syria, Tunisia and Turkey, to extend political pluralism and women's rights and hold free and fair elections. But the leaders were unable to agree on a planned common vision document because of differences over what to say about the Israeli-Palestinian conflict. Instead the presidency issued a statement calling for a just, two-state solution. The Euro-Med summit, which began on Sunday evening, was meant to be the first time that leaders of a group that includes Israelis and Palestinians as well as the 25 EU member countries had met.
FOJ Note: As evidenced by the Euro-Med Summit, and the vision of a Greater EU, the EU is steadily gaining more diplomatic leverage and clout in the overall comprehensive Middle East Peace Process. Should the EU acquire another "abandonment of terrorism" clause from the Arab Euro-Med members like the infamous 1991 Arafat statement renounced terrorism as a means of struggle, then the EU could have immense influence over the crafting of an Israeli-Arab peace agreement. That prospect seems to remain some time away yet, but the surging powerbroker status of the Euro-Med is a prominent sign of emerging political logistics that could one day exalt the Antichrist, for He will confirm a covenant of peace with many nations.
Sharon Looks to Sell Israel's Birthright
Nov. 29….(JNEWSWIRE/Ryan Jones) Emulating the blunder of their patriarch's elder brother Esau, Prime Minister Ariel Sharon's new Kadima Party Monday said Israel has no choice but to sell its birthright for the "bowl of pottage" it believes will ease the nation's current ills."The people of Israel have a national and historical right to all of Israel, and together with that the need for a Jewish majority, and so we must concede part of the land of Israel in order that a Jewish and democratic state may exist," Justice Minister Tzipi Livni said as she read out the party's official platform at its first official meeting as a Knesset faction. The manifesto makes clear reference to a demographic threat that has been proved false by recent studies. Conducted by the American Enterprise Institute for Public Policy Research, one such survey found that population figures quoted by those advocating the establishment of an Arab state west of the Jordan River have been artificially inflated by as much as one-and-a-half million persons. A more detailed look at the numbers showed a Palestinian Arab population numbering no more than 2.5 million persons in Judea, Samaria and the Gaza Strip, giving the Jews a firm 60 percent majority west of the Jordan River. That ratio has remained largely unchanged since 1967 and is not expected to shift in the Arabs' favor any time soon, considering the Jewish birth rate is only slightly lower than that of the Arabs and is constantly augmented by Jewish immigration. Some have argued that the real demographic threat lies in allowing the establishment of a sovereign "Palestinian" entity in Judea and Samaria, which will quickly flood with so-called "refugees," providing the Arabs an indisputable majority between the river and the sea. This state with its rapidly ballooning population will continue to rely heavily on Israeli public services, putting the Jewish state under tremendous strain, and eventually resulting in Israel's Arabs reuniting with their "Palestinian" brothers and demanding the reunification of "their" lands. So says Michael Wise of One State Plan, a movement that advocates a one-state solution under the current Jewish sovereignty. The Kadima platform also insists a government headed by Sharon will preserve Jewish control over a united Jerusalem. But similar declarations in the past regarding issues such as negotiating with terrorists have all been broken down under waves of international pressure. Meanwhile, other voices, such as prominent Chabad Rabbi Shalom Dov Wolpe's, have urged Israel's religious public to more fervently seek the replacement of the "current rule, which is called 'the State of Israel' with the true Kingdom of David."
Iran Moving End-Times Clock Forward
Nov 28…. (By Bill Wilson, KIN Senior Analyst) The past ten days has witnessed the end-times clock moving forward as the European Community has uncovered documents that Iran indeed has blueprints for nuclear weapons; Iran has offered oil and natural gas to North Korea in return for help in building nuclear missiles; and, President George W. Bush has asked Russia, the linchpin in the Ezekiel 38 Gog/Magog prophecy, to intervene in the Iranian nuclear situation. President George W. Bush recently said he would rely on Russian President Vladimir Putin to help bring Iran to its senses regarding its nuclear program. But Russia is neck deep with the Iranians in helping them develop nuclear technology. It seems as though superpowers such as the US and Britain are at a loss on how to handle Iran and are blinded by the obvious relationships already in place. Ezekiel 38 speaks of bringing Gog of the land of MaGog (which is Eastern Russia, Western China), Persia (Iran), Libya and Ethiopia (Both the Northern span of Africa) and other nations against Israel. Those who are named in the Ezekiel 38 Gog/Magog prophecy are deeply involved in helping Iran develop nuclear capabilities, and the West, including America and Europe, is relying on them to resolve the nuclear threat. Meantime, Iranian President Mahmoud Amadinejad has said that the Jews should be wiped off the face of the earth. To this end, Iran has given safe haven to Hezbollah, al Qaeda, and other Islamic terrorist groups.
Euro-Med May be the Stage of the Antichrist
Nov. 28….(FOJ) There has always been historical speculation over the center stage that will provide the dramatic rise of the Biblical Antichrist. Many eschatological scholars routinely point to Europe as the staging area for his sudden and dramatic rise to prominence in world affairs. The Euro-Mediterranean Partnership, (EMP) founded ten years ago in Barcelona, Spain is certainly the most important regional process that currently exists in the Mediterranean as it brings together all 25 of the European Union member states and ten Mediterranean countries, including Morocco, Algeria, Tunisia, Egypt, Jordan, Israel, Syria, Lebanon, the Palestinian Authority and Turkey. At the first Euro-Mediterranean foreign ministerial conference held in Barcelona in November 1995 the original 25 Euro-Med countries established three principal areas of co-operation.
They were:
¤ a political and security partnership with the aim of establishing a common area of peace and stability;
¤ an economic and financial partnership with the aim of creating an area of shared prosperity; and
¤ a partnership in social, cultural and human affairs in an effort to promote understanding between cultures and exchanges between civil societies.
The Barcelona Declaration stresses the strategic importance of the Mediterranean and is founded on a basic understanding that future Euro-Mediterranean relations should be based on comprehensive co-operation and solidarity, in keeping with the privileged nature of the links forged by neighborhood and history. Diplomats of the Euro-Med meeting in Barcelona today have thus far been unable to agree to the definition of terrorism. Foreign ministers of the 35 countries failed at a late-night session to resolve differences over whether to distinguish between terrorism and a right to resist occupation, as it pertains to what to say about the Israeli-Palestinian conflict. Through its Euro-Med neighborhood policy the EU is seeking to secure its borders by promoting a ring of well-governed countries to the East and South of Europe. The overriding goal of this policy will be to ensure that enlargement does not create new dividing lines in Europe. The EU is seeking to project prosperity and resolution of the Arab-Israeli conflict as a strategic priority for Europe. Stability in the Middle East, and a resolution of the Israeli-Arab conflict is paramount to the Euro-Med. Integrating the Mediterranean into the 21st century international system through mechanisms such as the Euro-Mediterranean Partnership and the EU Neighborhood Policy and a sustainable Middle East peace process is the immediate challenge that the international community must confront. Otherwise transnational sources of instability (Islamic terrorism) emanating from the Mediterranean will continue to manifest themselves at a regional and international level.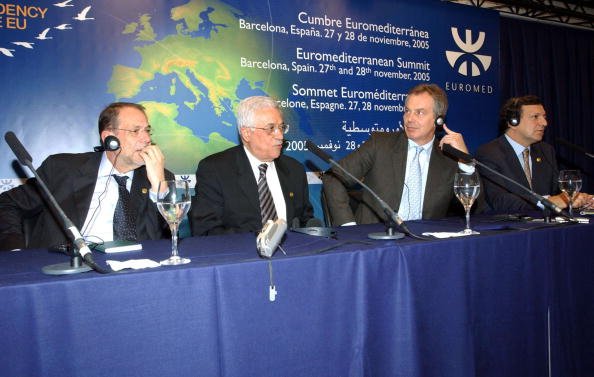 The launching of the Barcelona process was an integral part of Europe's response to the post-Cold War situation and to the rising tide of modern globalization. The Barcelona Euro-Med Process was born out of the hopes of the Oslo peace process. But clearly, the absence of peace between Israelis and Palestinians casts a shadow over the aspirations of the Euro-Med sponsors. The Euro-Med and its proponents have been working nonstop to promote a peace accord between Israel and the Arabs. Europe is far the largest donor to the Palestinians, and is becoming more and more the lead negotiator in the diplomatic process through the Quartet, especially in the area of security. President of the Palestinian Authority Mahmoud Abbas, also known as Abu Mazen, is shown above with European Commission President Jose Manuel Barroso and British Prime Minister Tony Blair during today's Euro-Med summit in Barcelona. The European Union leadership is struggling to get its Arab partners and Israel to endorse a sweeping anti-terrorism declaration as the Euro-bloc tries to link aid to its southern neighbors to democratic and other reforms. The EU had high hopes for the summit that assessed a decade of economic outreach that is widely regarded as having failed to deliver results. The Palestinian uprising, the rise of Islamic terrorism, the Iraq war and the resistance of some Arab nations to enact democratic and economic reforms have left the vision of a peaceful, prosperous Middle East in shambles. In the years ahead, the EU plans to link its aid to economic and political reforms in countries that shed their authoritarian ways. Its aim remains, however, to craft a Euro-Mediterranean free trade zone by 2010. Among our most ambitious goals, a just and lasting peace in the region continues to be our first and oldest priority if we wish to transform the Mediterranean into an area of stability that promotes the development, wellbeing and quality of life of our societies," Spain's King Juan Carlos said in an opening address. He called for reinforced cooperation against new threats to security through "an operational and effective fight against terrorism" and said there was also a need for "an orderly management of migratory flows". Syria and other Arab partners lobbied the Euro-Medto distinguish between terrorism and the right to resist occupation, while Israel opposes any qualification of terrorism whatsoever The coming Antichrist, if he indeed rises out of a revamped former Roman domain, could easily emerge from the Euro-Med arena, as the Bible indicates in several passages that he will be a master crafter of peace and security alliances.
(I Thessalonians 5:1-4 But of the times and the seasons, brethren, ye have no need that I write unto you. For yourselves know perfectly that the day of the Lord so cometh as a thief in the night. For when they shall say, Peace and safety; then sudden destruction cometh upon them, as travail upon a woman with child; and they shall not escape. But ye, brethren, are not in darkness, that that day should overtake you as a thief.)
Egypt Democratic Elections May Concern US
Nov. 28….(AP) For months, the Bush administration has said it is serious about pushing for democracy in the Middle East. It's about to get a serious test of that resolve. Egypt, the world's most populous Arab country, is suddenly roiling with a wide-open, combative election that seems certain to end with the country's main Islamic group, the banned Muslim Brotherhood, as a big winner. Egypt's rulers, longtime American allies, are starting to show signs of panic: Police have barred voters from polls and shot tear gas and thugs have attacked Brotherhood supporters in recent days in an apparent effort to blunt the group's growing momentum. Even before the final round of voting Thursday, Brotherhood loyalists, who run as independents, have increased their seats in parliament fivefold. That's not enough to unseat the ruling party, but is still seen as a harsh slap to President Hosni Mubarak. A scant nine months after Mubarak took the first steps toward reform under US pressure, it is indisputably clear that Egyptians hanker for choice and change, the very roots of democracy. Yet, two things about the elections could prove deeply worrisome for the West: One is the Muslim Brotherhood itself, and what it might do now that it has gained enough power to influence government policy in a secular system it opposes. The second is the turmoil Egypt likely would face during any transition, as the aging Mubarak and his long-ruling elite struggle to decide whether to give up power, and if so, how much and how fast. That second issue hits close to home for American interests. While Bush says it was hypocritical for the US to forgo pressing democratic reform on authoritarian regimes like those in Egypt, Jordan and Saudi Arabia in return for support on other issues, Washington still needs a few Arab allies at a time al-Qaida loyalists are active, Iran is increasingly combative toward Israel, and Iraq continues to be bloody. A chaotic Egyptian government, torn by infighting, would be bad for America, unable or unwilling to help with Arab-Israeli peace or Iraqi reconciliation. Yet a US retreat on the democracy push would reinforce the view of many Arabs who are suspicious of American motives in the region. There is also American discomfort with the Muslim Brotherhood, a group that will almost certainly be less accommodating than Mubarak on issues like Israel.
Saddam Trial Resumes, Postponed Again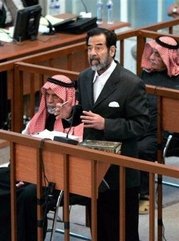 Nov. 28….(AP) The trial of Saddam Hussein for alleged crimes against humanity resumed Monday in a heavily guarded courtroom, with the former Iraqi president trying to take command of the proceedings and angrily complaining about having to walk up four flights of stairs in shackles under what he termed as a foreign guard. After a short session in which the first testimony was read into the record, Chief Judge Rizgar Mohammed Amin adjourned the trial until Dec. 5 to allow time to find replacements for two defense lawyers who were slain and another who fled Iraq after he was wounded. Dressed in black trousers and a gray jacket, Saddam was the last of eight defendants to enter the courtroom, walking with a swagger, appearing confident and acknowledging people with the traditional Arabic greeting, "Peace be upon the people of peace." He also carried a copy of the Muslim holy book, the Quran. Saddam and his co-defendants are charged in the killings of more than 140 Shiite Muslims after an assassination attempt against the former president in the Shiite town of Dujail in 1982. Convictions could bring a sentence of death by hanging. The former leader pleaded innocent to charges of murder, torture, forced expulsions and illegal detentions at the opening session last month. Once inside, Saddam had a brief but heated exchange with Amin, complaining of having to walk up four flights of stairs in shackles because the elevator wasn't working. The judge said he would tell the police not to let that happen again. Saddam snapped: "You are the chief judge. I don't want you to tell them. I want you to order them. They are in our country. You have the sovereignty. You are Iraqi and they are foreigners and occupiers. They are invaders. You should order them." Former US Attorney General Ramsey Clark and former Qatari Justice Minister Najib al-Nueimi sat with the defense team inside the heavily guarded room, along with Saddam's chief lawyer, Khalil Dulaimi. A moment of silence was observed in memory of two defense lawyers assassinated since the trial began. Tight security surrounded the court proceedings. The precise starting time was not announced due to fear of attack by both Saddam's supporters and opponents. Authorities said Sunday that police arrested eight Sunni Arabs for allegedly plotting to kill the judge who prepared Saddam's indictment. The eight were apprehended Saturday in the northern city of Kirkuk, police Col. Anwar Qadir said. He said they were carrying instructions from a former top Saddam deputy, Izzat Ibrahim al-Douri, ordering them to kill investigating judge Raed Juhi, who prepared the case against Saddam. Al-Douri is the highest ranking member of the Saddam regime still at large and is believed to be at least the symbolic leader of Saddam loyalists fighting US forces and Iraq's new government. Ramsay Clark argued that a fair trial for Saddam is impossible in Iraq because of the insurgency and because, they argue, the country is effectively under foreign military occupation. Clark, who was attorney general under President Lyndon Johnson, is a staunch anti-war advocate who met with Saddam days before the 2003 invasion. He has also consulted several times with one-time Yugoslav President Slobodan Milosevic, who is on trial in The Hague on war crimes charges. The trial has unleashed passions in an Iraqi society deeply divided in its judgment of Saddam and his rule. Many of the Sunni Arab insurgent groups include Saddam loyalists, members of the former ruling Baath party and veterans of both Saddam's personal militia and the Republican Guard. The ousted leader, meanwhile, is vilified by Iraq's Shiite Muslim majority and its Kurdish community, which were oppressed during his rule. On Saturday, hundreds of supporters of radical Shiite cleric Muqtada al-Sadr rallied in Baghdad to demand Saddam's execution. Separately, the leader of the biggest Shiite party, Abdul-Aziz al-Hakim, accused the court of "weakness" for not having sentenced Saddam to death already.
PA Upbeat About Sharon's New Political Prospects
Nov. 28….(Washington Times) Palestinians reacted to Ariel Sharon's defection from the Likud Party with uncharacteristic optimism last week, expressing hope that the Israeli prime minister would advance peace negotiations and their goal of establishing a sovereign state if re-elected in March. The aftershock of Israel's political upheaval was keenly felt in the West Bank, where Palestinians expect Mr. Sharon will cede more territory and evacuate additional Jewish settlements. Normally reserved in reacting to domestic Israeli political affairs, Palestinian spokesman Saeb Erekat spoke in dramatic metaphors akin to those heard in the Israeli press. "It's like a sudden eruption of a volcano," he said. "I don't think this is your usual coalition political wrangling in Israel. It's about Palestinians and the peace process. "I hope once the dust clears, the Israeli people will elect a government that is ready to go for the endgame." An Israeli poll published yesterday showed Mr. Sharon's new party starts Israel's four-month election campaign as the front-runner. The Yediot Ahronot newspaper said the new party, tentatively called "National Responsibility," would win 33 seats in the 120-member Knesset. The dovish Labor Party would garner 26 seats and the broken Likud Party only 12 seats. The Palestinian spokesman was careful not to endorse Mr. Sharon, something that Egyptian President Hosni Mubarak was less bashful about. Mubarak telephoned Mr. Sharon to congratulate him on the new political path he has taken, adding that he looked forward to working with Mr. Sharon in the future, and later publicly stating that Sharon was the only Israeli politician that could make peace with the Palestinians. But some Palestinians had mixed feelings about a likely third term for Mr. Sharon. While they acknowledge him as a leader willing and able to give up West Bank territory, they remain critical of his support for the completion of Israel's separation barrier, which they decry as a de facto land grab. Most Palestinians were happy about Mr. Sharon's decision to leave Gaza, but uncomfortable that it was done unilaterally with a minimum of coordination by the sides. The fact that he decided to leave the Likud indicates that in the last days of his political career, he wants to move things." "Israel has seen a lot of important changes in the last two years. It has started to know the limits of its military power and that it cannot impose greater Israel geographically," Erekat said.
Europeans Rebuke Israeli Jerusalem Policy
Nov. 28….(The Guardian) The European Union's diplomatic representatives in East Jerusalem and Ramallah have sharply criticized Israel's policies in East Jerusalem, saying they "are reducing the possibility of reaching a final-status agreement on Jerusalem that any Palestinian could accept." In an unpublished report presented to European Union foreign ministers, the representatives recommend a more aggressive European stance toward Israeli policies in East Jerusalem, whose annexation by Israel has not been recognized by the European Union or the United States. Both the Europeans and the United States oppose any measures that would prejudge the outcome of a peace treaty, including the status of East Jerusalem. The confidential Foreign Office document accuses Israel of rushing to annex the Arab area of Jerusalem, using illegal Jewish settlement construction and the vast West Bank barrier, in a move to prevent it becoming a Palestinian capital. In an unusually frank insight into British assessments of Israeli intentions, the document says that Ariel Sharon's government is jeopardizing the prospect of a peace agreement by trying to put the future of Arab East Jerusalem beyond negotiation and risks driving Palestinians living in the city into radical groups. The document, obtained by the Guardian, was presented to an EU council of ministers meeting chaired by the foreign secretary, Jack Straw, on Monday with recommendations to counter the Israeli policy, including recognition of Palestinian political activities in East Jerusalem. But the council put the issue on hold until next month under pressure from Italy, according to sources, which Israel considers its most reliable EU ally. Israel has described a recommendation for moving EU meetings with the Palestinian Authority from Ramallah to East Jerusalem in recognition of the Arab claim as "negative occurrence". It claims the eastern part of Jerusalem it occupied in the 1967 war is part of its "indivisible capital". Almost all governments maintain embassies in Tel Aviv because they do not recognize the Israeli claim. The document, drawn up by the British consulate in East Jerusalem as part of the UK's presidency of the EU, says Israeli policies are designed to prevent Jerusalem from becoming a Palestinian capital, particularly settlement expansion in and around the city. It says Sharon's plan to link Jerusalem with the large Ma'ale Adumim settlement in the West Bank by building thousands of new homes "threatens to complete the encircling of the city by Jewish settlements, dividing the West Bank into two separate geographical areas". It adds: "Israeli activities in Jerusalem are in violation of both its Roadmap (peace plan) obligations and international law." The Foreign Office also concludes that the vast concrete barrier, which Israel asserts is a security measure, is being used to expropriate Arab land in and around the city. "This de facto annexation of Palestinian land will be irreversible without very large-scale forced evacuations of settlers and the re-routing of the barrier." The document says stringent Israeli controls on the movement of Palestinians in and out of the city are an attempt to restrict Arab population growth. "When the barrier is completed, Israel will control all access to East Jerusalem, cutting off its Palestinian satellite cities of Bethlehem and Ramallah, and the West Bank beyond. This will have serious consequences for the Palestinians," it says. "Israel's main motivation is almost certainly demographic, the Jerusalem master plan has an explicit goal to keep the proportion of Palestinian Jerusalemites at no more than 30% of the total." All of this, the document says, greatly reduces the prospects of a two-state solution because a core demand of the Palestinians is for sovereignty over the east of the city. "Palestinians are deeply alarmed about East Jerusalem," the document says. "They fear that Israel will 'get away with it', under the cover of disengagement. Israeli measures also risk radicalising the hitherto relatively quiescent Palestinian population of East Jerusalem." The Israeli foreign ministry spokesman, Mark Regev, said: "Israel believes that Jerusalem should remain the united capital of Israel. At the same time Israel has committed itself that Jerusalem is one of those final status issues."
Jewish Rabbi: Disengage from State
Nov. 28….(Arutz) A prominent Jewish messianist has called for religious Jews to disengage from the State of Israel due to the evacuation of Jewish communities in the Gaza Strip last summer. In a new book entitled "Between Light and Darkness," Rabbi Shalom Dov Wolpe, a leader of the Chabad Chassidic sect that believes its chief rabbi Menachem Mendel Schneerson is the messiah, says religious Jews should view the secular government as an "administrative body, like the British government who controlled Israel before the country's establishment. Wolpe also says, "The religious Zionist public should prove that the State is unholy, and cannot serve as a means for achieving salvation. It must not pray for the country's wellbeing. We are now in exile and are waiting for the kingdom of the house of David." Wolpe's call represents a sharp change from traditional Chabad-Lubavich thinking and match similar calls by some segments of the national-religious community to disengage from the State in reaction to the Gaza disengagement. While Chabad, like most ultra-orthodox groups, has always been reticent about secular Zionism, group members serve in the army and have rejected insular approach of other orthodox groups in favor of engaging the secular world in order to encourage Jews to observe the mitzvoth, or commandments. The cover of "Between Light and Darkness" carries a picture of the lit Temple's Menorah, and underneath it a darkened picture of the Knesset's building. In the book itself, Prime Minister Ariel Sharon is referred to as a "false Messiah" and as Haman, the historic nemesis of the Jewish people. The bulk of the book is dedicated to the disengagement plan and to the uncertainties it spurred within the religious Zionist public. "So many prayers were said from the bottom of the heart in the last year, in a bid to prevent the eviction and destruction," Wolpe writes. "The heart must wonder, why did God do this to this land? How is it possible that such a wicked man like the prime minister was able to jump over so many political hurdles, until he achieved his goal, the crime of the withdrawal" he asks, and answers: "It is we that gave him the power. We determined that him, his state and his government are the beginning of our salvation. We blessed him before an open bible every Saturday. With such powers, it is no wonder that the false messiah storms forward without stopping, while taking his devotees and the rest of the Israeli people down to the abyss with him."
'Replace Israel with true Kingdom of David'
According to Wolpe, the pullout was a sign from God that there is no relation between the existence of the democratic state and salvation, and that the religious public should therefore cease to believe in the holiness of the State and its institutions. Referring to the religious Zionist teens who forcefully attempted to prevent the disengagement, Wolpe writes that "the Orange youth prays only for one thing: That the current rule, which is called 'the State of Israel,' is abolished and replaced with the true Kingdom of David." In the post-pullout period, Wolpe's ideas are not a rare sight among the rightist public. In a conference held in Jerusalem a few days ago, the participants wholeheartedly supported the principles expressed in the book, and thousands danced to the words of the song, "we do not believe in the rule of the heretics, and disregard their laws."
WEEK OF NOVEMBER 20 THROUGH NOVEMBER 27
US Reveals Details of Iran's Nuclear Ambition

Nov. 24….(London Telegraph) Britain and key European allies are using intelligence briefings to convince major powers that Iran is trying to develop nuclear warheads for its Shahab-3 missiles. The Shahab 3, displayed at a Teheran military parade in September with slogans such as "We will crush America under our feet", has a range of at least 810 miles and is capable of reaching Israel, Turkey, Russia and India. Aware of the damage done by Downing Street's dossier on Iraq's weapons of mass destruction, which turned out to be non-existent, European governments have been careful not to go public with the information. But in private sessions ahead of today's meeting of the governing board of the International Atomic Energy Agency, European officials are stressing they believe US intelligence provides strong evidence of Teheran's determination to build an atomic bomb. US officials have in recent months shared with experts from the IAEA and other countries classified details of tens of thousands of pages of technical information recovered from a stolen Iranian laptop. The documents, written in Farsi and obtained last year, are said to reveal experiments with warhead designs characteristic of nuclear devices. But several countries are treating any US intelligence claim with suspicion, prompting Britain, France and Germany, the so-called EU-3 countries that have led the nuclear negotiations with Iran, to join the US lobbying effort. The Europeans' assessment is very close to that of the Americans," said a western source. "They have gone through all the possibilities, conventional, chemical or biological weapons. But the designs only make sense if they are intended for a nuclear warhead." According to leaks in US papers, the documents include telltale details such as a sphere of detonators of conventional explosives, used to compress fissile material to trigger a nuclear reaction. Iran insists that it wants to build nuclear reactors to generate electricity. But the IAEA says that Iran has failed to co-operate fully with its inspectors after they discovered in 2003 that Iran had lied about its activities. Until now attention has focused on Iran's uranium enrichment program, supposedly intended to produce nuclear fuel. But more recent evidence appears to point to Iran's interest in weapons design. In its latest report, the IAEA revealed that Iran had surrendered a document on how to cast uranium into hemispheres. Iran said the document was "unsolicited", and had been included with other technical material bought from the nuclear black market. European officials say the revelation was one of several "own goals" by an increasingly radical Iranian regime.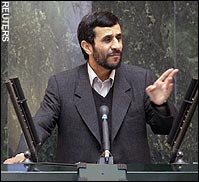 Its hardline new president, Mahmoud Ahmadinejad, provoked international outrage last month after declaring that Israel "should be wiped off the map". The European briefings are part of a diplomatic campaign to draw influential members of the IAEA board, such as Russia, China, India and South Africa, into a more united front to curb Iran's nuclear program. In September, their opposition stopped western countries from pushing the IAEA board to report Iran to the Security Council for possible sanctions. Instead, the board voted on a resolution declaring Iran to be in "non compliance" with the Nuclear Non-Proliferation Treaty.
US pressures UN to condemn Hizbullah
Nov. 24….(Jerusalem Post) Following intense US pressure, the United Nations Security Council on Wednesday issued an unprecedented condemnation of Monday's Hizbullah attacks on northern Israel. This condemnation, slamming Hizbullah by name for "acts of hatred," marked the first time the Security Council has ever reprimanded Hizbullah for cross-border attacks on Israel. The condemnation followed by two days a failed attempt to get a condemnation issued on Monday, the day of the attack, when Algeria came out against any mention of Hizbullah in the statement. When asked what changed from Monday to Wednesday, one diplomatic official replied: "John Bolton," a reference to the US ambassador to the UN. Bolton lobbied vigorously for the passage of the statement. The condemnation expressed "deep concern" over the attack, and called on Lebanon to exercise its sovereignty and authority in the south according to relevant Security Council resolutions. Security Council Resolution 1559, which led to the withdrawal earlier this year of Syrian troops from Lebanon, also calls for the dismantling of the militias in the country, as well as a call to the Lebanese government to extend its control over the entire country, including the Hizbullah dominated south. Israeli officials expressed satisfaction that the statement did not include any attempt to "balance it," referring to Israel's response to the Hizbullah attack, and that for the first time ever it placed full responsibility for the violence on Hizbullah's shoulders. Roni Leshno Ya'ar, the Foreign Ministry's deputy director- general who heads its UN and international organizations division, termed the condemnation a "Security Council warning to Hizbullah to stop its provocations on the northern border." Leshno Ya'ar said this type of condemnation was significant because Hizbullah was "very sensitive" to public opinion, both in Lebanon and abroad. He said the condemnation sent a strong signal that the Security Council was demonstrating "no tolerance toward terrorism." The statement against Hizbullah came just a few weeks after the Security Council condemned Iranian President Mahmoud Ahmadinejad for his call to wipe Israel off the map. That was also a precedent-setting condemnation, marking the first time the UN body ever condemned an Islamic state for statements against Israel.
Iran Tells Baghdad to Push US Out
Nov. 23….(Washington Times) Iran's supreme leader, Ayatollah Ali Khamenei, urged visiting Iraqi officials yesterday to ask US-led forces to leave their country and pledged Tehran's cooperation in restoring security to Iraq. If Iran did intervene militarily in Iraq, the overwhelmingly Shi'ite nation would be expected to assist the Shi'ite majority against a wave of violence perpetrated mainly by the Sunnis, who lost power with the ouster of dictator Saddam Hussein. "Iran considers the United States to be responsible for all crimes and terrorist acts in Iraq and the suffering and misery of the Iraqi people," Ayatollah Khamenei was quoted as saying after a meeting with Iraqi President Jalal Talabani. "The Iraqi people may ask the occupiers to leave Iraq by setting a timetable for them. In the end, Iraq and its neighbors will remain in this region, while the US will only be there temporarily," he said. The reference to a timetable appeared to be an attempt to exploit recent arguments between Democrats and Republicans in Washington and a resolution passed Monday night at a "reconciliation" conference of major Iraqi political factions in Cairo. The latest addition to the dialogue came last night from Secretary of State Condoleezza Rice, who told Fox News Channel in an interview that conditions for reducing the number of US troops deployed in Iraq could be in place "fairly soon." "The President has said that as soon as Iraqi forces are ready, we want to see a reduction in our own forces, and I think those days are going to be coming fairly soon when Iraqis are going to be more and more capable of carrying out the functions to secure their own future," she said. The US Senate last week defeated a Democrat-led effort to set a timetable for withdrawing troops from Iraq, instead voting for a Republican proposal that requires regular updates from the White House until all US troops are withdrawn and the mission is completed. On Friday, the House voted 403-3 against starting immediately a proposal to withdraw from Iraq over six months. On Monday night in Cairo, leaders of Iraq's Shi'ite, Kurdish and Sunni communities issued a communique "calling for the withdrawal of foreign troops according to a timetable, through putting in place an immediate national program to rebuild the armed forces, control the borders and the security situation" and end terror attacks. The conference was attended by Mr. Talabani, who then traveled to Tehran for a three-day official visit. Ayatollah Khamenei, whose country is overwhelmingly Shi'ite, also offered security guarantees to the Iraqis, many of whom fear the outbreak of civil war between Sunnis and Shi'ites if US forces leave too soon. "Your security is our own security, and Iran honors Iraq's independence and power," the official Islamic Republic News Agency quoted him as saying. "We will extend assistance to you in those fields." Mr. Talabani, a Kurd, is the first Iraqi president to visit Iran for nearly four decades, underscoring improving relations since the two countries fought a grueling 1980-1988 war in which hundreds of thousands died. Several leading figures in the Shi'ite-led interim Iraqi government lived in Iran during the rule of Saddam, a Sunni Arab, and retain close ties to the Iranian government. Iraqi Prime Minister Ibrahim al-Jaafari paid a high-profile visit to Tehran in mid-July, and Deputy Prime Minister Ahmad Chalabi, a secular Shi'ite, visited Iran shortly before a visit to Washington this month. Ayatollah Khamenei commented on the religious, cultural and historical affinity between the two countries after the meeting with Mr. Talabani, who also held talks with Iran's new hard-line Prime Minister, Mahmoud Ahmadinejad, and with Akbar Hashemi Rafsanjani.
Analysis: 'Forward' to Division of the Land
Nov. 23….(JNEWSWIRE/Ryan Jones) Prime Minister Ariel Sharon Monday told Israelis his new political party is committed to implementing the Road Map peace plan, and assured those listening that further unilateral withdrawals are not on his agenda. It is a promise Sharon has made before in order to get elected. And judging by the results of a public opinion poll conducted earlier this month by the One Nation movement, the vast majority of Israelis aren't buying it. Some 70 percent of his countrymen believe that Sharon will retreat from large parts of Judea and Samaria in his quest to draw Israel's final borders, a move that will necessitate the removal of at least 80,000 Jews from their homes. Earlier polls all showed widespread opposition to further withdrawals, even in the framework of a final peace agreement with the "Palestinians." Media analyst Dr. Aaron Lerner said Sharon's deliberate softening of what most believe to be his true intentions is likely a ploy to "allow Israelis to feel comfortable voting for his party." "It remains to be seen if such an approach boomerangs as the public resents the insult to their intelligence," Lerner said. Later Monday, the originally-proposed name for Sharon's new party, "National Responsibility," was apparently rejected either by the prime minister's circle of advisers or the national election commission. The name being thrown around Tuesday for the breakaway faction was "Kadima," Hebrew for "forward." It seems a fitting revision considering the aptly-nicknamed "Bulldozer" has proved himself determined to implement his policies, be they responsible or not. Ultra-leftist politician Yossi Beilin summed up the day by noting Sharon's formation of a new party unshackling him from the Likud's "Land of Israel" platform is "a big victory for supporters of sharing sovereignty over the land" with those who deny Israel's historic and biblical right to exist.
Reconstruction Team Launched in Babylon
| | |
| --- | --- |
| | US Ambassador Zalmay Khalilzad speaks to the press in Babylon, Iraq, Monday, Nov. 21, 2005. The U.S. ambassador to Iraq visited the ancient city of Babylon to inaugurate a provincial reconstruction team, a new civilian-led approach to rebuilding Iraq that will focus on developing the new government's ability to help itself and take the onus off the military. |
Nov. 23….(AP) Standing next to the ruins of the ancient city of Babylon, the US ambassador inaugurated a provincial reconstruction team in central Iraq on Monday, launching a civilian-led approach to rebuilding the country that could take the burden off the US military. The teams, made up of US government workers led by a State Department official, are modeled on a program that has been considered a success in Afghanistan, US Ambassador Zalmay Khalilzad's last post. Previously, American military commanders were in charge of coordinating projects in postwar Iraq, such as repairing schools, replacing water mains or ensuring the supply of electricity. Khalilzad said the new teams, known as PRT's, will focus on developing the ability of Iraqi provincial officials to take the lead in rebuilding Iraq. "Our goal in Iraq is to have an Iraq that can stand on its own two feet," Khalilzad said, standing in front of a replica of the Ishtar Gate, part of Babylon's heritage as one of the ancient world's premier cities. "Establishing PRTs is a new addition to our strategy for success in Iraq." Each of Iraq's 18 provinces will eventually have a team made up of 70-100 people. A US diplomat will head each PRT with a senior military officer as a deputy and a membership that includes civil affairs soldiers, experts from the US Agency for International Development and representatives from the departments of justice and agriculture, among others. They will work alongside Iraqis to train police, set up courts, and provide essential services. Khalilzad said the development of governing skills at the provincial level will be critical when Iraq's new government takes over following elections next month. The new government will work under a federal constitution, moving power away from the strong central government in Baghdad. While Secretary of State Condoleezza Rice launched the first two PRTs in the northern city of Mosul during a visit Nov. 11, none of the teams will begin work in earnest until after the Dec. 15 election, officials said. The teams for Babel, Ninevah and Tamim will serve as a test for the rest, which will start work early next year. PRTs were first developed in Afghanistan in early 2003. US military commanders realized that "winning the peace" after the ouster of the Taliban regime required winning acceptance among local people.
Rabbis: Take Back Gaza Strip
Declare Israel's withdrawal, future land deals against Jewish law
Nov. 23….(WND) Israeli Prime Minister Ariel Sharon must immediately take back the Gaza Strip and cease any future land transfers to the Palestinians, a group of prominent rabbis told WorldNetDaily, declaring this past summer's unilateral Gaza withdrawal in contravention to Jewish law. "My function as a rabbi is to declare the word of the Torah as delineated by Jewish law, which forbids giving any land to an enemy that will attack you," said Rabbi Joseph Gerlitzky, a senior Tel Aviv rabbi and chairman of the Rabbinical Congress for Peace, a worldwide coalition of over 1200 rabbinic leaders and pulpit rabbis. "There is no question this is what happened in Gaza," he said. "I am calling for Sharon to take it back now, and not give the Palestinians any more land." Echoing comments he made to Shturem.net, a new online news site for the world Chabad Jewish outreach movement, Garlitsky justified his stance on taking back Gaza using the Code of Jewish Law, a Torah and Talmud-based text considered the most authoritative compilation of Jewish laws and customs. "In the Code's Chapter 329, it states in no uncertain terms that it if you are living in a border town it is absolutely forbidden to give up even one inch of territory to those on the other side who may harm you on the grounds that it will lead to massive bloodshed," explained Garlitsky. "This is not merely a statement on paper but unfortunately has been proven true time and time again. Whenever Israel gave up territory to the Palestinians, they used it as a launching pad to strike at Israel again." Since the Gaza withdrawal, more than 100 rockets have been fired from Gaza into Israeli Negev towns, and Israel says Palestinian groups are transferring rocket technology and heavy weaponry to Judea and Samaria. Hamas leaders say they turned Neve Dekalim, the former Jewish capital of the Gaza Strip, into a "martyr training camp" and have used the territory to launch rockets into Israel. Garlitsky said there are multiple portions of the Torah and Talmud that "state God gave Israel to the Jews, and the land cannot be given up. But some people argue perhaps the Torah is talking about a future time or that certain lands are not included. So my organization cites the Code of Law against giving up land to an enemy. This applies to all territories, whether inside Israel or outside. You can't argue with it." Rabbi Avrohom Shmuel Lewin, executive director of the Rabbinical Council, went on to blast a deal brokered last week by US Secretary of State Condoleezza Rice that gives final veto power to the Palestinian Authority regarding all individuals and vehicles entering Gaza through its crossing with Egypt. "Under the terms of the newly signed arrangements, Israel foregoes almost all control in the area, becoming vulnerable to terrorist threats from Sinai, Gaza, Judea and Samaria. This is absurd and needs to be reversed now along with a complete take back of Gaza as a pre-emptive move against Hamas' declared war to use Gaza to attack Israel." Last week's deal on the Rafah crossing, the scene of previous rampant weapons smuggling, restricts Israel's monitoring abilities of the area to video camera, calls for a European presence at the border and gives the Palestinians final border authority. It also calls for the building of a Palestinian sea port. Morton Klein, president of the Zionist Organization of America, a US based pro-Israel group, told WND "God promised the Jews all of the land of Israel, which includes all of Judea, Samaria and Gaza. I am sure eventually the Jews will have sovereignty over all this territory, but that doesn't mean this would be the right time for Israel to retake the land." Nabin Abu Rudeniah, a senior advisor to PA President Mahmoud Abbas, called the rabbis statements "dangerous. These kinds of sentiments create a negative environment and go against the possibility of creating peace between Israelis and Palestinians."
FOJ Experiencing Mail Backlog
Nov. 22….The Focus on Jerusalem Prophecy Ministry has often experienced mailing sabotage via the internet. Presently, FOJ has encountered another mysterious encounter regarding e-mails, and the setback has caused a backlog in responding to legitimate questions by its readers. While this technical difficulty presents unique problems, and causes delays in responding to questions, let me take this opportunity to inform regular readers of FOJ that I will soon catch back up on the work involved in the questions and answers section.
US, Europe Won't Push for Move on Iran
Nov. 22….(My Way) Washington and its European allies will forgo pushing for Iran's referral to the UN Security Council later this week, giving Russia more time in persuading Tehran to give up technology that could make nuclear arms, diplomats and officials told The Associated Press on Monday. For the Americans and the European Union, the plan holds the promise of success even if Iran continues to reject the proposal that would move its uranium enrichment program to Russia. The acceptance of that plan, in theory, would deprive the Iranians of the chance to enrich uranium to weapons grade, suitable for use in the core of nuclear warheads. But if the Russians fail to win over the Iranians, Washington and the Europeans hope Moscow and other key board members of the International Atomic Energy Agency now opposed to Security Council referral will moderate their opposition. The comments by the diplomats and US and European government officials came three days before the IAEA board meets to ponder options on Iran that at least formally still included a decision on Security Council action. But the diplomats and officials, who spoke on condition of anonymity because the strategy on Iran is confidential, said referral was for now, off the table at the meeting. Instead, they said Washington, as well as Britain, France and Germany, representing the European Union, would probably settle for a statement critical of recent IAEA findings showing the Iranians in possession of what appeared to be drawings of the core of an atomic warhead and of other worrying nuclear activities. In Washington, State Department spokesman Sean McCormack also suggested the focus had shifted from an all-out push for referral, saying: "We're encouraging Iran to get back to the negotiating table with the EU-3 at this point." Iran says it only wants to enrich to lower levels to generate energy. Still, it has resisted the plan to move enrichment to Russia since it was floated several weeks ago, insisting it has the right to all aspects of the nuclear fuel cycle. Iran in August resumed uranium reprocessing, which is one step before uranium enrichment. European Union foreign ministers urged Iran on Monday to live up to "clear obligations" to allow UN inspectors to see its nuclear facilities. On Sunday, Iran's parliament voted to require the government to block any in-depth UN inspections of its nuclear facilities if Iran is referred to the Security Council. EU foreign policy chief Javier Solana said he hoped to avoid a showdown with Tehran. Russia, Iran's key partner in building Tehran's first nuclear power plant, has considerable clout with Tehran, but the officials and diplomats said other considerations also went into the decision to postpone a showdown on referral at the board meeting opening Thursday. Belarus, Cuba and Syria joined Venezuela on the IAEA board in September. With those anti-US nations on board, any vote on referral would be more strongly opposed than the resolution passed at the last board meeting two months ago that cleared the path for hauling Iran before the council by declaring its past activities in violation of the Nuclear Nonproliferation Treaty. A vote with less nations in support of referral than in September "would look like a step backward," the US official said. With President Bush under growing criticism from the war in Iraq, his administration was ready to wait and build international consensus over what to do about Iran rather than settle for the negative implication of a narrow board vote on referral, he suggested. A European diplomat in Brussels also suggested the US-European coalition was willing to wait to see the Russian plan succeed, or if it failed, to hope for extra support for referral from key board nations such as Russia, China, India, Brazil and South Africa and others that now oppose such a move. "They're trying to build a wider coalition," she said of the waiting game. Moscow's support is particularly important. Russia and China wield vetoes on the Security Council, and as such could cripple any attempt to pressure Iran to compromise on its nuclear activities through sanctions or political pressure.
IDF Chief Halutz: Sanctions Won't Deter Iran
Nov. 22….(Jerusalem Post) Economic sanctions won't stop Iran's determined efforts to acquire nuclear weapons and Israel needs to prepare for the worst existential threat in its history, IDF Chief of General Staff Lt.-Gen. Dan Halutz said Sunday. "A state like Iran which has accumulated just in the past two years $150 billion beyond what it planned due to the rise in oil prices is not so sensitive to economic sanctions," Halutz said in an address at Tel Aviv University. "We cannot sit by apathetically in the face of this development," Halutz continued. "We must concentrate all our mental and other faculties so that if we conclude that there is no other way, then we should have in our hands various capabilities to defend ourselves and also to strike back," Halutz said. Speaking at a memorial for the 24th anniversary of the death of former IDF chief and defense minister Moshe Dayan, Halutz said that even if Iran did get the bomb he did not expect them to use it directly against Israel. The concern was that they could pass it on to terrorists. "This needs to concern the entire world," said the former air force commander. "The Iranians pose an existential threat to Israel. This is due to the combination of an irrational leadership with non-conventional capabilities," the IDF chief said. Halutz said this was driven home by the comments of Iranian President Mahmoud Ahmadinejad who declared it was his agenda to destroy the state of Israel. "One could ask: 'Why did he make these statements now since the elections have passed and he doesn't need to win any more votes?'" Halutz said. What this demonstrates about the "fanatical band sitting over there is that they want to wipe Israel off the map and for this they need nuclear weapons," he added. Despite the dire warnings over Iran, Halutz said ironically that Israel is now enjoying one of the most secure periods in its 57-year history. "I believe that our strategic reality at the moment is the best ever for the state," Halutz said, comparing it to the period following the 1967 Six Day War when Israel vanquished the Arab armies. "When I look about, I find it difficult to see an Arab coalition rising against Israel," Halutz said. "There is no unifying interest today for the Arab nations as there [was] in the past." He praised the peace treaties with Jordan and Egypt, regardless of their relative warmth. The Iraqi military was eliminated, he added, and Israel is stronger than any of its enemies with no foreseeable enemy coalition forming against the Jewish state. Israel's main security problem was terrorism and Iranian efforts to get non-conventional weapons, Halutz said.
Annan: Arab Leaders Worried Over Syria
Nov. 22….(AP) Arab leaders are worried Syria could become the next Iraq, Secretary-General Kofi Annan said on his return from a visit to the Middle East. Annan said the issue of Syrian cooperation with an investigation into the assassination of former Lebanese prime minister Rafik Hariri came up in every capital he visited. "They're all concerned and anxious to see Syria cooperate and to see the issue settled diplomatically and not lead to a situation that destabilizes possibly Syria and Lebanon," he said Monday. "They're worried if we are leading to another Iraq situation."
Iraqi Leaders Call for US Exit Schedule
Nov. 22….(AP) Leaders of Iraq's sharply divided Shiites, Kurds and Sunnis called Monday for a timetable for the withdrawal of US-led forces in the country and said Iraq's opposition had a "legitimate right" of resistance. The final communique, hammered out at the end of three days of negotiations at a preparatory reconciliation conference under the auspices of the Arab League, condemned terrorism, but was a clear acknowledgment of the Sunni position that insurgents should not be labeled as terrorists if their operations do not target innocent civilians or institutions designed to provide for the welfare of Iraqi citizens. The participants in Cairo agreed on "calling for the withdrawal of foreign troops according to a timetable, through putting in place an immediate national program to rebuild the armed forces, control the borders and the security situation" and end terror attacks. The conference was attended by Iraqi PresidentJabal Talabani and Iraqi Shiite and Kurdish lawmakers, as well as leading Sunni politicians. Sunni leaders have been pressing the Shiite-majority government to agree to a timetable for the withdrawal of all foreign troops. The statement recognized that goal, but did not lay down a specific time, reflecting instead the government's stance that Iraqi security forces must be built up first. On Monday, Iraqi Interior Minister Bayan Jabr suggested US-led forces should be able to leave Iraq by the end of next year, saying the one-year extension of the mandate for the multinational force in Iraq by the UN Security Council this month could be the last. "By the middle of next year we will be 75 percent done in building our forces and by the end of next year it will be fully ready," he told the Arab satellite station Al Jazeera. Debate in Washington over when to bring troops home turned bitter last week after decorated Vietnam War vet Rep. John Murtha, D-Pa., called for an immediate withdrawal of US troops from Iraq, and estimated a pullout could be complete within six months. Republicans rejected Murtha's position. In Egypt, the final communique's attempt to define terrorism omitted any reference to attacks against US or Iraqi forces
Jesus Said: "It is Finished!"
Nov. 21….(Oswald Chambers) The death of Jesus Christ is the fulfillment in history of the very mind and intent of God. There is no room for seeing Jesus Christ as a martyr. His death was not something that happened to Him, something that might have been prevented. His death was the very reason He came. We should never build a case for forgiveness on the idea that God is our Father and He will simply forgive us because He loves us. That contradicts the revealed truth of God in Jesus Christ. It would make the Cross unnecessary, and the redemption "much ado about nothing." God forgives sin only because of the death of Christ. God could forgive people in no other way than by the death of His Son, and Jesus is exalted as Savior because of His death. "We see Jesus; for the suffering of death crowned with glory and honor . . ." (Hebrews 2:7-10 Thou madest him a little lower than the angels; thou crownedst him with glory and honour, and didst set him over the works of thy hands: Thou hast put all things in subjection under his feet. For in that he put all in subjection under him, he left nothing that is not put under him. But now we see not yet all things put under him. But we see Jesus, who was made a little lower than the angels for the suffering of death, crowned with glory and honour; that he by the grace of God should taste death for every man. For it became him, for whom are all things, and by whom are all things, in bringing many sons unto glory, to make the captain of their salvation perfect through sufferings.). The greatest note of triumph ever sounded in the ears of a startled universe was that sounded on the Cross of Christ, "It is finished!" (John 19:30) That is the final word in the redemption of humankind. Anything that lessens or completely obliterates the holiness of God, through a false view of His love, contradicts the truth of God as revealed by Jesus Christ. Never allow yourself to believe that Jesus Christ stands with us, and against God, out of pity and compassion, or that He became a curse for us out of sympathy for us. Jesus Christ became a curse for us by divine decree. Our part in realizing the tremendous meaning of His curse is the conviction of sin. Conviction is given to us as a gift of shame and repentance; it is the great mercy of God. Jesus Christ hates the sin in people, and Calvary is the measure of His hatred. (John 17:1-4 These words spake Jesus, and lifted up his eyes to heaven, and said, Father, the hour is come; glorify thy Son, that thy Son also may glorify thee: As thou hast given him power over all flesh, that he should give eternal life to as many as thou hast given him. And this is life eternal, that they might know thee the only true God, and Jesus Christ, whom thou hast sent. I have glorified thee on the earth: I have finished the work which thou gavest me to do.)
Vatican Official Refutes Intelligent Design
Nov. 21….(Yahoo) The Vatican's chief astronomer said Friday that "intelligent design" isn't science and doesn't belong in science classrooms, the latest high-ranking Roman Catholic official to enter the evolution debate in the United States. The Rev. George Coyne, the Jesuit director of the Vatican Observatory, said placing intelligent design theory alongside that of evolution in school programs was "wrong" and was akin to mixing apples with oranges. "Intelligent design isn't science even though it pretends to be," the ANSA news agency quoted Coyne as saying on the sidelines of a conference in Florence. "If you want to teach it in schools, intelligent design should be taught when religion or cultural history is taught, not science." His comments were in line with his previous statements on "intelligent design," whose supporters hold that the universe is so complex that it must have been created by a higher power. Proponents of intelligent design are seeking to get public schools in the United States to teach it as part of the science curriculum. Critics say intelligent design is merely creationism, a literal reading of the Bible's story of creation, camouflaged in scientific language, and they say it does not belong in science curriculum. In a June article in the British Catholic magazine The Tablet, Coyne reaffirmed God's role in creation, but said science explains the history of the universe. "If they respect the results of modern science, and indeed the best of modern biblical research, religious believers must move away from the notion of a dictator God or a designer God, a Newtonian God who made the universe as a watch that ticks along regularly." Rather, he argued, God should be seen more as an encouraging parent. "God in his infinite freedom continuously creates a world that reflects that freedom at all levels of the evolutionary process to greater and greater complexity," he wrote. "He is not continually intervening, but rather allows, participates, loves." The Vatican Observatory, which Coyne heads, is one of the oldest astronomical research institutions in the world. It is based in the papal summer residence at Castel Gandolfo south of Rome. Last week, Pope Benedict XVI waded indirectly into the evolution debate by saying the universe was made by an "intelligent project" and criticizing those who in the name of science say its creation was without direction or order. In a 1996 statement, Pope John Paul II said that evolution was "more than just a hypothesis."
FOJ Note: It seems to me that evolution should be taught under the category of science fiction, and that anyone that asserts that the Biblical account of Creation was not an act of extreme intelligent design is someone that is not very, ..well, intelligent.
Gingrich Says Iran Threat to US Like, "Nazi Germany"
Nov. 21….(WND) The threat posed to the national security of the United States by Iran was likened only to the one posed by Nazi Germany in the 1930s, by former House Speaker Newt Gingrich, who suggested Tehran could be planning for a pre-emptive nuclear electromagnetic pulse attack on America that would turn a third or more of the country "back to a 19th century level of development." Gingrich made the stunning statements, which echo warning of other congressional leaders and national security experts, in testimony before a subcommittee of the Senate Homeland Security and Governmental Affairs Committee last week. He said the "extraordinary challenge that the current regime in Iran poses to the safety of the United States" requires "extraordinary measures to meet it." "Not since the failure of the League of Nations in the 1930s to confront the aggression of the dictatorships in Japan, Italy and Germany have we seen the willful avoidance of reality which is now underway with regard to Iran," said Gingrich. "There are lessons to be learned from the 1930s and those lessons apply directly to the current government of Iran." Gingrich pointed with alarm at a report that Iran had tested the firing of ballistic missiles from a merchant ship in which warheads were detonated in midair over the Caspian Sea rather than at a land or sea target. National security experts and scientists commissioned by Congress to study the threat of electromagnetic pulse attacks on the US concluded that Iran was preparing for just such a scenario. So does Gingrich. "In short, a country with a track record of carrying out its murderous ideology may soon have the capability to deliver on its publicly declared and unambiguously stated intentions to inflict mortal harm on the United States on a massive scale," warned Gingrich last Tuesday at the hearing of the Federal Financial Management, Government Information and International Security Subcommittee chaired by Sen. Tom Coburn, R-Okla. "A nuclear tipped intermediate-range Iranian missile launched from a merchant ship off the coast of the United States could do just that. That, or Iran could simply supply its terrorist handmaidens with a small scale nuclear device to use against US targets here at home or abroad." The threat is compounded by recent disclosures by the International Atomic Energy Agency that Iran is in "non-compliance" with its treaty obligations against developing nuclear weapons. Gingrich concluded that:
*Iran is the most dangerous regime in the world and the "single most urgent threat to American national security." The threat can only be understood in the context of "The Long War Against the Irreconcilable Wing of Islam, which is a worldwide war in which the United States and its allies are unavoidably engaged, and in which the US has active campaigns in Iraq and Afghanistan." The US cannot be held hostage or rendered impotent by delays of international bureaucracies in dealing with the threat posed by Iran.
One key to preventing or degrading the Iranian nuclear threat is persuading Russia to stop helping Tehran. The US has no option but to seek regime change in Iran. Gingrich said there are reasons to believe Iran "is testing the capability to launch a surprise attack on the United States from a merchant ship of our coasts." "An attack by a single Iranian nuclear missile could have a catastrophic impact on the United States by causing an electromagnetic pulse (EMP) over a portion of the country," he said. "Such an attack could quickly turn a third or more of the United States back to a 19th century level of development. Electrical transformers and switching stations would fall. Without electricity, hospitals would fail, water and sewage services would fail, gas stations would be unable to provide petroleum, trucks would not be able to distribute food supplies, and essential services would rapidly disintegrate." Gingrich said "this is not idle speculation, but taken from the consensus findings of nine distinguished scientists who authored the Report of the Commission to Assess the Threat to the United States from Electromagnetic Pulse (EMP) Attack, which was delivered to the Congress on June 22, 2004, the same day the 9-11 commission report was published." Gingrich pointed out that such a sneak attack, especially if launched from a merchant ship at sea, could have the added benefit of deniability by Iran. "Contemplating an EMP threat makes more troubling reports that certain Iranian missile tests resulted in missiles that have detonated in flight at or near apogee, which the Iranian press has reported as successful events," explained Gingrich. "Normally, it would be expected that the ability to target specific locations would be the standard for success for ballistic tests. However, if the ability to launch an EMP attack was being tested, detonation at apogee would be the measure of testing success. As noted by the EMP commission, a country with limited nuclear capabilities and few choices as to delivery platforms has only a few options to deliver a deadly blow. An EMP attack would be on such strategy." Most of the US civilian population, military bases and nuclear-weapons assembly plants are within range of missile attacks by terrorists or rogue nations using merchant ships as launching platforms.
FOJ Note: Seventy-five percent of the American population (220,000,000) lives within 100 miles of the coast. The prophet Jeremiah depicted a whirlwind being raised from the coasts of the earth, and being engulfed in the controversy over Jerusalem. Is the "coasts" of the mighty end-times nation that is brought into the drunken volatile mix of the Middle East, the United States? I believe that it is.
Sharon Quits Likud, Asks for Dissolution of Parliament
Nov. 21….(Yahoo) In a bold gamble, Prime Minister Ariel Sharon asked Israel's president Monday to dissolve parliament, pushing for a quick March election just hours after deciding to leave his hard-line Likud Party and to form a new centrist party. Sharon's decision to leave Likud sent shock waves through Israel, redrawing the political map, finalizing his transformation from hard-liner to moderate and boosting prospects of progress in peacemaking with the Palestinians. His confidants say Sharon felt Likud hard-liners, who tried to block this summer's Gaza pullout, were imposing too many constraints and would prevent future peace moves. Palestinian officials expressed hope the political upheaval in Israel would bring them closer to a final peace deal. Asked Monday whether he was comfortable with the decision, Sharon said: "Yes, certainly." Speaking at the start of a meeting with the prime minister of Trinidad and Tobago, Sharon declined to answer further questions. The dramatic events began with Sharon's decision late Sunday, after a weekend of agonizing, to leave the party he helped found in 1973. At midday Monday, Sharon met at his office with 10 breakaway Likud legislators, expected to form the core of the new party, reportedly to be called "National Responsibility." Sharon told the legislators the party would adhere to the US-backed "road map" peace plan, which asks Israel and the Palestinians to negotiate the borders of a future Palestinian state. Sharon said he did not envision unilateral troop pullbacks in the West Bank. At the same time, more than 20 Likud lawmakers held their weekly meeting in parliament. The faction chief, Gideon Saar, announced that Sharon had sent a letter announcing his resignation from the party. The oversized brown leather chair, normally reserved for Sharon at the head of the oval table, was pushed to the side. The acting Likud chairman, Tzahi Hanegbi, said the party would elect a new leader as quickly as possible. The top contender is former Prime Minister Benjamin Netanyahu, a vehement opponent of the Gaza pullout. On Monday evening, Sharon was to announce the split formally in a nationally televised news conference. It appeared increasingly likely the election will be held in March, or eight months ahead of schedule, though there was some wrangling over how the date will be set. Sharon asked President Moshe Katsav on Monday to dissolve parliament, a step that would move the vote to the beginning of March. Sharon's decision set the stage for a turbulent campaign. It would pit a smaller, more hawkish Likud against Sharon and Peretz, a former union boss. Sharon and Netanyahu are bitter political rivals. Peretz rejuvenated the ailing Labor Party with his appeal to Israel's working class and Sephardi Jews of Middle Eastern descent, voter groups that were once was largely out of Labor's reach. One poll Monday indicated that an alliance of Sharon's new party with the moderate Labor and leftist parties would command a comfortable majority in the 120-member parliament. It was seen as unlikely Sharon would seek a coalition with Likud after the election, since hard-liners in the party spent months trying to halt the Gaza pullout, and came close at times to bringing down his government. Palestinian negotiator Saeb Erekat compared the events to the eruption of a volcano. "I've never seen anything of this significance," he said. "I hope that when the dust settles, we will have a partner in Israel to go to the endgame, toward the end of conflict, toward a final agreement." Removed from the constraints of Likud, Sharon would be free to pursue the more moderate line he has espoused in recent years, part of a dramatic turnaround from a fervent supporter of Jewish settlements to the first Israeli leader to dismantle West Bank and Gaza communities.
WEEK OF NOVEMBER 14 THROUGH NOVEMBER 20
Bush Attends Church in China
| | |
| --- | --- |
| | |
| President Bush greets Rev. Liu Hongling at Gangwashi Church in Beijing on Sunday. | President Bush speaks in front of a choir after attending morning services at Gangwashi Church. |
Nov. 19…..(USA Today) My hope is that the government of China will not fear Christians who gather to worship openly," Bush said after attending services at Gangwashi Church with his wife, Laura, and Secretary of State Condoleezza Rice. With Pastor Du Fengying at his side and a white- and red-robed choir behind him, Bush said, "A healthy society is a society that welcomes all faiths and gives people a chance to express themselves through worship with the almighty." Gangwashi is one of 20 state-sanctioned Catholic and Protestant churches in China. There are many more illegal churches, but China continues to try to control the spread of Christianity. Pastor Cai Zhuohua, leader of an underground church community, was sentenced on Nov. 8 to three years in jail for printing and distributing Bibles. Bush tried to send a visible message about human rights across this land of 1.3 billion people by worshipping at the Gangwashi Church, one of five officially recognized Protestant churches in Beijing. On a chilly morning, the president arrived at the church with his wife, Laura. In the church's guest book, Bush wrote "May God bless the Christians of China." Under the president's inscription, the first lady wrote: "And with love and respect, Laura Bush." The State Department cited China this month as one of eight countries of "particular concern" for denying religious freedom. The White House urged China's state-controlled media not to censor news of Bush's visit.
UN: Iran Got Nuclear Info on Black Market
Nov. 18….(AP) Iran obtained detailed instructions on how to set up the complicated process of enriching uranium, which can used to make nuclear arms, from the black market network run by a Pakistani scientist, the UN atomic monitoring agency said Friday. In a confidential report, the International Atomic Energy Agency also said Iran was not giving inspectors access to a sensitive site that could be used to store equipment indicating whether the military is running a secret nuclear program. The five-page report seen by The Associated Press was prepared for Thursday's meeting of the IAEA's 35-nation board, which could decide to refer Tehran to the UN Security Council for possible sanctions for violating an international nuclear arms control treaty. Most board nations are concerned that Iran has resumed uranium conversion, a precursor to enrichment, and has refused to meet all IAEA requests about a nuclear program that was clandestine for nearly 20 years until discovered three years ago. The report said Iran had handed over documents revealing detailed instructions on setting up uranium enrichment that it obtained from the black market network of Abdul Qadeer Khan. The scientist, considered the father of Pakistan's nuclear program, has acknowledged selling secrets to Iran, Libya and North Korea.
Al Qaeda Suicide Bombers Kill 74 at Two Mosques in Iraq
Nov. 18….(AP) As debate rages in Washington over the US military presence in Iraq, suicide bombings killed scores of people Friday in Baghdad and in the eastern city of Khanaqin, near the Iranian border. Suicide bombers killed 74 worshippers at two mosques in eastern Iraq on Friday while in Baghdad two car bombs targeted a hotel housing foreign journalists and killed eight Iraqis. The suicide attackers targeted the Sheik Murad mosque and the Khanaqin Grand Mosque, both homes to Shiite Muslims, in Khanaqin, 140 kilometers (87 miles) northeast of Baghdad, and only five miles from Iran.
PLO Terrorists Parade in Gaza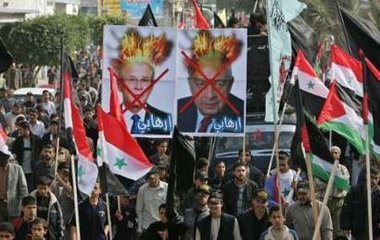 Nov. 18….(FOJ) Although PA President Mahmoud Abbas smilingly shakes hands with President Bush and Israeli Prime Minister Sharon, and accepts millions from the US in foreign aid, he allows the PLO's own Al Aqsa Martyrs Brigade to burn effigies of both leaders by people under his direct authority. Yesterday, Palestinian supporters of the Islamic Jihad paraded in Gaza in support of Syrian President Assad, (in defiance of the US-led investigation of Syrian involvement in terrorism) while holding posters depicting US President George W. Bush and Israel Prime Minister Ariel Sharon being burned to death during a rally in support of the Syrian government. Damascus is headquarters for Hamas, which, since Israel's withdrawal from Gaza, has turned Gaza into a Hamas-Al-Qaeda terrorist state with Mahmoud Abbas's blessings. Masked Palestinian members of Fatah's al-Aqsa Martyrs Brigades (a PLO sub-organization, and PA militancy unit) march next to their national flag during the rally. Mahmoud Abbas was a co-founder of Fatah, along with Yasser Arafat in 1959.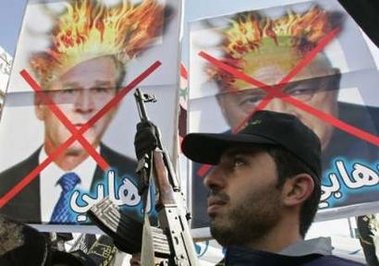 How Terror Scuds Pose Threat to US
Intelligence sources say seaborne attack could wreak mayhem, cripple economy
Nov. 18….(WND) Most of the US civilian population, military bases and nuclear-weapons assembly plants are within range of missile attacks by terrorists or rogue nations using merchant ships as launching platforms, warn counter-terror experts. Both the US military and foreign military forces, including Iran's, have tested missile launches from non-military vessels. At the top of the risk list is the Russian-made Scud family of missiles, all too often found on the weapons' black market, and, according to counter-terror analysts, undoubtedly on the minds of terror organizations such as al-Qaida, which is known to have shown interest in the Scud maritime option. A bird's eye view of US coastlines reveals more than 75 percent of the nation's population, about 290 million people, resides along thousands of miles of shores and up to 200 miles inland. According to information from the Pentagon and from independent sources, three-quarters of US military assets, from naval bases to nuclear-weapons assembly plants, are within these coastlines, posing highly tempting targets, not only for possibly enemy rogue nations such as North Korea and Iran, but also for global jihadi planners. Sources in the maritime industry say there were about 130,000 merchant ships registered in 195 countries at the beginning of 2005. This huge transport system, crisscrossing the world's oceans, with many visiting US ports or sailing close to the US coastline, has been described by counter-terror analysts as a major concern to national security. Undetected merchant vessels have for years been landing thousands of illegal immigrants on Canadian and US shores, proving time and again the vulnerability of North America's coastlines. Terrorists, who by definition do not respect any law or international agreement, naturally disregard international maritime laws. For them the sea, or a country's territorial waters, is an open avenue for terrorist actions, although so far having been used only in a few localized instances, such as Palestinian terrorist landings of on the Israeli coastline and the October 2000 case of the USS Cole in Yemen. In 2004, the Israeli navy intercepted and seized in the Red Sea the Karin-A, a weapons-carrying vessel sailing from Iran, purchased by the Palestine Liberation Organization. This event demonstrates how terror groups can purchase a cargo ship and how easy it is to load it with any type of weapons and explosives and possibly be used even as a huge floating suicide bomb. However, the option of a Scud-carrying ship seems to pose the more imminent threat. Scud missiles were sold by the Soviets to many countries including Sudan and Egypt, and following the disintegration of the Soviet Union, hundreds of these missiles were left unguarded in dilapidated military junkyards. North Korea developed its own Scud version and has supplied the missile to several countries, as was discovered in 2002 when Spanish and US naval units intercepted a North Korean cargo ship carrying a shipment of Scuds en route to Yemen. This dangerous load was later released by the US and apparently reached its initial destination. Some reports indicate the same vessel may have been involved in other delivery missions to unspecific purchasers. The US military has tested Scuds fired from naval platforms as part of a test for anti-missile systems. Similar tests were conducted by North Korea and Iran. According to military analysts, should a 700-kilometer-range Scud-D be fired from the ocean toward a US target it will not matter much whether the aiming and guiding mechanisms are of high quality. In reality a missile launched from a cargo ship, in the correct elevation and direction, can hit a densely populated urban environment as deep as 200 miles inland from the coastal strips. It would be irrelevant, they say, to the terrorists whether such a projectile hits New York City or Newark, N.J. in the east, or inside the 200-mile land stretch from the coast of Los Angeles in the west. The effect of such an attack, even with a conventional warhead, would be enormous, including a devastating blow to the morale of the population. Should any type of weapon of mass destruction be used, whether nuclear waste, chemical or biological substances, total havoc could ensue. Events in the aftermath of hurricane Katrina were well studied by terrorists who can now visualize the horrific results in an urban center struck with a Scud, especially one carrying a weapon of mass destruction. Another even more terrifying component of the threat from the sea is the possibility of a rogue nation or terrorist group successfully firing a Scud armed with a nuclear weapon and timed for detonation above a US population center. As G2 Bulletin and WND reported exclusively earlier this year, government officials are increasingly concerned about the threat of this kind of an electro-magnetic pulse attack that could cripple cities and entire regions of the US by knocking out electrical grids and computer technology. EMP attacks are generated when a nuclear weapon is detonated at altitudes above a few dozen kilometers above the Earth's surface. The explosion, of even a small nuclear warhead, would produce a set of electromagnetic pulses that interact with the Earth's atmosphere and the Earth's magnetic field. G2 Bulletin and WND first reported the shocking findings of the US EMP commission that rogue nations, such as Iran and North Korea, have the capability of launching an undetected, catastrophic EMP attack on the U.S. – and are actively developing plans. "These electromagnetic pulses propagate from the burst point of the nuclear weapon to the line of sight on the Earth's horizon, potentially covering a vast geographic region in doing so simultaneously, moreover, at the speed of light," said Dr. Lowell Wood, acting chairman of the commission appointed by Congress to study the threat. "For example, a nuclear weapon detonated at an altitude of 400 kilometers over the central United States would cover, with its primary electromagnetic pulse, the entire continent of the United States and parts of Canada and Mexico." The commission, in its work over a period of several years, found that EMP is one of a small number of threats that has the potential to hold American society seriously at risk and that might also result in the defeat of US military forces. "The electromagnetic field pulses produced by weapons designed and deployed with the intent to produce EMP have a high likelihood of damaging electrical power systems, electronics and information systems upon which any reasonably advanced society, most specifically including our own, depend vitally," Wood said. "Their effects on systems and infrastructures dependent on electricity and electronics could be sufficiently ruinous as to qualify as catastrophic to the American nation." The commission concluded in its report to Congress earlier this year: "EMP is one of a small number of threats that may hold at risk the continued existence of today's US civil society.'' "The number of US adversaries capable of EMP attack is greater than during the Cold War," said Rep. Roscoe Bartlett. "We may look back with some fondness on the Cold War. We then had only one potential adversary. We knew him quite well." Bartlett pointed out that Iran has tested launched o Scud missile from a surface vessel, "a launch mode that could support a national or transnational EMP attack against the United States." "Iran has conducted tests with its Shahab-3 missile that have been described as failures by the Western media because the missiles did not complete their ballistic trajectories, but were deliberately exploded at high altitude," he said. "This, of course, would be exactly what you would want to do if you were going to use an EMP weapon. Iran described these tests as successful. We said they were a failure because they blew up in flight. They described them as successful. Of course, they would be, if Iran's intent was practicing for an EMP attack." Bartlett added: "Potential adversaries are aware of the EMP's strategic attack option. Ninety-nine percent of Americans may not know very much about EMP, but I will assure you ... that 100 percent of our potential enemies know all about EMP. I think that the American people need to know about EMP because they need to demand that their government do the prudent thing so that we will be less and less susceptible, less and less at risk to an EMP attack year by year. The threat is not adequately addressed in US national and homeland security programs. Not only is it not adequately addressed; it is usually ignored, not even mentioned, and it certainly needs to be considered." "Terrorists could steal, purchase, or be provided a nuclear weapon and perform an EMP attack against the United States simply by launching a primitive Scud missile off a freighter near our shores," he said. "We do not need to be thinking about missiles coming over the pole. There are thousands of ships out there, particularly in the North Atlantic shipping lanes, and any one of them could have a Scud missile on board. If you put a canvas over it, we cannot see through the thinnest canvas. We would not know whether it was bailed hay or bananas or a Scud launcher. You cannot see through any cover on ship. Scud missiles can be purchased on the world market today for less than $100,000. Al-Qaida is estimated to own about 80 freighters, so all they need, is $100,000, which I am sure they can get, for the missile and a crude nuclear weapon." Bartlett revealed Russian, Chinese, and Pakistani scientists are working in North Korea and could enable that country to develop an EMP weapon in the near future. The congressman also raised the question of retaliation, and how an EMP sneak attack could not only go undetected, but that it might be impossible to find out who was responsible after the fact. "If it were launched from the ocean, we would not know who launched it," he said. "So against whom would we retaliate? Even if we knew who launched it, if all they have done is to disable our computers, do we respond in kind, or do you incinerate their grandmothers and their babies? This would be a really tough call. Responding in kind might do very little good. There is no other country in the world that has anything like our sophistication in electronic equipment, and no other country in the world is so dependent as we are on our national infrastructure." Though an EMP attack would not kill people with a blast or with radiation, over time it would likely result in much more death than a nuclear attack on a major city, he said. A candid, recently declassified Justice Department report explained that terrorism represents a greater threat to the US than any other the nation has faced in its history. While the deterrence of mutually assured destruction kept an uneasy peace with the Soviet Union throughout the Cold War, policymakers have recognized that a MAD doctrine is futile against a terrorist whose greatest weapon is the suicide attacker and the fact that he has no traceable address for retaliation. Some answers to this acute problem are in the making through research and development in the U.S. and Israel. Lockheed-Martin is in the process of developing counter-measures and warning systems to find and detect nuclear-armed Scuds, which can be launched from a ship. David Kier, vice president of Lockheed-Martin's Protection Division, told UPI earlier this month: "They don't need international ballistic missiles to attack us. An enemy could put a Scud on a tramp steamer and launch it off the coast." Lockheed-Martin has already received the first part of a Pentagon budget for a five-year development plan. Some analysts say a detection system is important although it should not be limited to nuclear warheads only and that for the time being the US and other nations under terror threat will have to develop an improved maritime reconnaissance system from the air and from the sea.
Bill Clinton Calls Iraq 'Big Mistake'
Nov. 18….(AP) Former President Clinton told Arab students Wednesday the United States made a "big mistake" when it invaded Iraq, stoking the partisan debate back home over the war. Clinton cited the lack of planning for what would happen after Saddam Hussein was overthrown. "Saddam is gone. It's a good thing, but I don't agree with what was done," Clinton told students at a forum at the American University of Dubai. "It was a big mistake. The American government made several errors, one of which is how easy it would be to get rid of Saddam and how hard it would be to unite the country." Clinton's remarks came when he was taking questions about the US invasion, which began in 2003. His response drew cheers and a standing ovation at the end of the hour-long session in Dubai.
FOJ Note: Should it not be considered a treasonous act to go the Iraq war-zone, smack in the heart of the Arab-Muslim Middle East, where American soldiers are fighting and dying, and give this kind of aid and comfort to the enemies of America. It is unconscionable that a former American President could actually say such things in time of war, and in the region where the enemy resides. Can you imagine an President Hoover going to Germany or Italy during WWII and criticizing President Roosevelt over the conduct of WWII?
Bush Said to be Warming to Putin Plan on Iran
Nov. 18….(Yahoo News) President Bush told Russian President Vladimir Putin on Friday that the United States supports a proposal from Moscow that could deny Iran the ability to produce nuclear weapons. "It may provide a way out," National Security Adviser Stephen Hadley said of the Russian plan, discussed during an hourlong meeting between the US and Russian presidents. The Bush-Putin session on the sidelines of the annual conference of the Asia-Pacific Economic Cooperation forum emphasized their shared fight against terrorism, Moscow's aspiration to join the World Trade Organization by the end of the year, and the campaigns to stop North Korea and Iran from developing nuclear weapons. Russia, a key Iranian ally, has refused to support Bush's eagerness to go to the UN Security Council with suspicions Iran is trying to build a nuclear arsenal. Also, over US objections, Russia is building a nuclear reactor for a power plant in Iran and says it believes Iran's assurances the plant is for civilian energy use alone. But Bush praised Putin for several steps Russia has taken that "would reduce the proliferation risks" in Iran, Hadley said. Russia has helped bring Tehran back into European-led negotiations over its enrichment of uranium and reached agreement with Iran that any spent fuel rods from the plant would be sent back to Russia. And Bush expressed support for a Russian plan that would allow Iran to convert uranium but move the enrichment process to a facility to be built for Iran in Russia, Hadley said. In theory, that would deny Iran the capacity to produce weapons-grade uranium needed for nuclear weapons. Though Iran has "not surprisingly" so far rejected the idea, Hadley said: "We think that doesn't end it. This will be an issue we will return to.
| | |
| --- | --- |
| | US President George W. Bush meets with Russia's President Vladimir Putin on the sidelines of the Asia-Pacific Economic Cooperation (APEC) forum in Busan, South Korea, Friday, Nov. 18, 2005. Though their political relationship is strained, President and Russian President Vladimir Putin are trying to speak with one voice about the war on terror and the campaign to stop North Korea's nuclear ambitions. |
Iran Warns of 'Consequences' Over Nuclear Issue
Nov. 17….(Yahoo News) Any move to refer Iran's nuclear program to the United Nations Security Council for possible sanctions would have "unpredictable consequences," the country's representative at the UN atomic agency warned. A European-sponsored resolution adopted by the UN International Atomic Energy Agency (IAEA), paving the way to such action before the Security Council, has "in our view has jeopardized the positive atmosphere existing between both parties," Iranian representative Mehdi Akhondzadeh said at a seminar in Finland. "Any action from interlocutors to further complicate the situation could have unpredictable consequences," he added, speaking in Helsinki. The resolution, drafted by European Union negotiators Britain, Germany and France and adopted on September 24, stated for the first time since the IAEA began investigating Iran in February 2003 that Tehran was in "non-compliance" with the nuclear Non-Proliferation Treaty (NPT), mainly for hiding sensitive atomic activities for almost two decades. A finding of non-compliance is an automatic trigger for taking the matter to the Security Council, which can impose sanctions, but could be difficult to implement because it has no support from Russia or China, which both have veto power on the Council. Akhondzadeh emphasized that Iran was intent on continuing negotiations. "Iran on numerous occasions has announced its readiness for the negotiations with a view to avoid confrontation, which could result in a lose-lose game," he said. "These negotiations should be pursued in good faith with the aim to provide further assurances that Iran's nuclear program remains peaceful," he added. The United States, which views Iran as a state sponsor of terrorism, has long accused the Islamic state of seeking to develop nuclear weapons, although it has backed European efforts to engage Tehran diplomatically. Iran insists that its nuclear program is peaceful and that it has the right to civilian nuclear energy. Tehran on Sunday asked the three European states, known collectively as the EU-3, to reopen stalled nuclear talks, which broke off in August when it resumed uranium conversion in defiance of international calls to maintain a suspension. "Iran will continue the cooperation with the (IAEA) agency based on its safeguard obligation. Of course we have gone beyond this obligation in order to show the good faith of Iran," Akhondzadeh said, claiming that the country had "no hidden activity". He insisted that Iran over the past two years had cooperated and permitted "the most extensive and intrusive IAEA inspections", allowing inspectors to study its nuclear sites "unhindered". The British representative to the nuclear agency, Peter Jenkins, meanwhile deemed that Tehran had not done enough to prove its goodwill and ensure transparency in its nuclear program. "We (the EU-3) came under a lot of pressure from our partners Russia and China to give more time for diplomacy, but if Iran persists with doing absolutely nothing, our patience will run out," he cautioned. "If the IAEA produces further disturbing reports on the Iranian program or if it becomes apparent that the Iranian government cannot be persuaded to abstain from acquiring fissile material production capability then we will have no option but to involve the UN Security Council," he added.
EU Rejects Russian Offer of Talks With Iran in Moscow
Nov. 17….(Forbes) EU negotiators Britain, Germany and France have turned down a Russian offer to host an EU-Iran meeting in Moscow next week over Iran's disputed nuclear program, diplomats said. Russia had proposed the meeting for the European Union and Iran to 'talk about getting back to talks,' a diplomat said, referring to negotiations on winning guarantees Tehran will not make nuclear weapons. The talks collapsed last August when Iran resumed nuclear fuel work that it had earlier suspended in order to make the negotiations possible. Iran on Wednesday began to convert a new batch of uranium ore into the gas that is the feedstock for enriching uranium into what can be reactor fuel or atom bomb material, defying international requests not to do so. The UN watchdog International Atomic Energy Agency (IAEA) had urged Iran in September not to resume uranium conversion, and is to meet on the matter next Thursday in Vienna. 'Moscow is off, so we go to the board without that kind of prelude,' a European diplomat said, referring to the IAEA's board of governors' meeting.
Hindu Radicals Threaten to Burn Christians to Death
Nov. 17….(WND) More than 60 Christian converts in northern India will be burned to death if they refuse to return to Hinduism by Sunday, a group of Hindu extremists has warned. The radical Hindus severely beat the converts' pastor, Feroz Masih, in a Nov. 4 attack in the state of Himachal Pradesh, accusing him of "forcibly converting" Hindus, reported Compass Direct, a news service that monitors persecution of Christians. Masih sustained internal injuries requiring medical treatment and still is recovering. The pastor's son, Ramesh, told Compass Direct the estimated 10 attackers were members of the World Hindu Council and its youth wing Bajrang Dal, which has been blamed for waves of attacks against Christians and other religious minorities since the rise of the Hindu nationalist party BJP in the late 1990s. The attackers forced Masih, 62, to sign a document stating his willingness to participate in a ceremony Sunday in which all of the Christians would convert back to Hinduism, Ramesh said. If the pastor or church members refuse to participate, they will be burned to death, the radicals warned. Masih and his son lead a local congregation related to Believer's Church in India that meets in their home in the town of Baijnath. The radical Hindus said they would come to the house Sunday to read from the Gita, the Hindu scripture, and convert the Christians back to Hinduism. The two church leaders sent a letter of complaint to officials at the local police station in Baijnath and the National Commission for Minorities, Compass Direct said. Masih's son, however, said the beating was inspired by local media reports that claimed his father was forcibly converting Hindus. "We simply preach the message of peace and joy as given in the Bible. All the believers who attend the worship have embraced Christianity out of their own will," he said.
Bush Stands Firm Against N.Korea Nuclear Program
Nov. 17….(AP) President Bush took a hardline stance against North Korea on Thursday, saying the US won't help the communist nation build a civilian nuclear reactor to produce electricity until it dismantles its nuclear weapons programs. With the nuclear dispute with North Korea at an apparent impasse, Bush and South Korean President Roh Moo-hyun put the communist regime on notice that it would not be allowed to keep its nuclear weapons programs. "A nuclear-armed North Korea will not be tolerated," Roh said through a translator. The North has demanded that it be given a light-water reactor, a type less easily diverted for weapons use, in exchange for disarming. US officials once rejected the idea outright and argued North Korea could not be trusted with any nuclear program, but now have left the door open as long as Pyongyang isn't given a reactor as an incentive but only as a reward after it has eliminated nuclear weapons programs. "We'll consider the light-water reactor at the appropriate time," Bush said. "The appropriate time is after they have verifiably given up their nuclear weapons and/or programs. Negotiations between North Korea and the United States, Japan, South Korea, Russia and China in September concluded with Pyongyang's promising to end its nuclear program in exchange for aid, diplomatic recognition and security guarantees. But a disappointing new round of talks ended last week without progress on the difficult next step, how to dismantle existing weapons and verify that the country has really ended all suspicious programs. At Bush's meeting with Roh, like that a day earlier in Japan with Prime Minister Junichiro Koizumi, the leaders made clear they remain committed to ending North Korea's nuclear program.
Abbas: Al-Qaida Not in Gaza, West Bank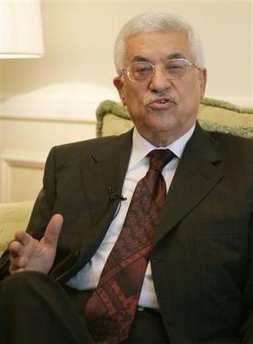 Nov. 17….(AP) Palestinian leader Mahmoud Abbas denied Thursday that al-Qaida cells were operating in Gaza or the West Bank, and he dismissed US and Israeli demands that the militant group Hamas should be barred from running in parliamentary elections. Abbas, speaking to AP Television News in what he said was his first interview in English since taking office a year ago, rejected claims made this week by Israeli President Moshe Katsav that "terror groups, including some al-Qaida cells, have formed" in the Gaza Strip since Israel's pullout in August. Katsav, who spoke in Italy, is the latest senior Israeli official to make that claim. "I don't think that there are cells of al-Qaida in Gaza," he said in an interview on the sidelines of the World Summit on the Information Society. Abbas also said he was optimistic that a new plan on policing Gaza's borders would work, particularly with help from European monitors at the crossings. The deal was sealed Tuesday after 20 weeks of negotiations. The monitors will act as mediators between the Israelis, who will keep tabs on the Gaza-Egypt border via closed-circuit television, and the Palestinians running the crossing. "We can do it if the Israelis help us," he said. Abbas also dismissed US and Israeli objections to members of Hamas running for office in January's Palestinian parliamentary elections. Both nations consider Hamas, which opposes the existence of Israel, a terrorist group. Suicide bombings and other attacks claimed by Hamas have killed hundreds of Israelis during the past five years of violence. Israel, in turn, has repeatedly struck back at the group, killing much of its senior leadership. Israel wants Abbas to disarm Hamas and other militant groups, but Abbas prefers to try to co-opt the radicals by including them in the nascent political process. "We told the Americans and we told the Israelis that Hamas is a part of the Palestinian people and we adopted democracy as a state for our life," he told AP Television News. "Democracies do not pick and choose. The Palestinian people understand they have the right to elect and have the right to be candidates." He said Hamas members seeking office should not be a concern of the United States or Israel. "I don't think Hamas is running for election in Israel or America," he said.
Russia's President Putin Visits Turkey
Nov. 17….(Yahoo) During the Cold War, Turkey's Black Sea coast was the site of US radar stations that looked across the sea into Russia to snoop on the Soviet fleet and nuclear missile tests. Now, Russian gas warms the Turkish capital, and Moscow is this NATO ally's second largest trading partner. Russian President Vladimir Putin visits Turkey's Black Sea coast Thursday for a ceremony to inaugurate a $3.2 billion pipeline, another sign of Russia's growing economic influence in Turkey, ties that are so strong that a Turkish general once proposed that Turkey consider an alliance with Russia instead of the European Union. Italian Prime Minister Silvio Berlusconi will also attend the ceremony. Italy's Eni SpA was a key partner in the construction of the pipeline. Washington had balked at proposals to build the pipeline and has warned Turkey about its dependence on Russia, which now supplies 60 percent of the country's gas and 20 percent of its oil. But Turkish officials say that in a world of tight gas supplies they have little choice but to increase their dependence on Russia, which produces almost as much oil as Saudi Arabia. And being so close to key energy producers is fueling Turkish ambitions to use its strategic location to become a global energy conduit. Thursday's ceremony will officially inaugurate the opening of the Blue Stream pipeline, the world's deepest undersea pipeline, which stretches from southern Russia under the Black Sea to an area outside the port city of Samsun and then on to the capital of Ankara. Prime Minister Recep Tayyip Erdogan plans to lobby Putin to support a Turkish project that would extend that pipeline to the Mediterranean port of Ceyhan, where Russian oil could then be exported to the West, a Turkish official said. The pipeline could even be extended undersea to Israel, a project that the leaders will also discuss.
FOJ Note: Bible prophecy scholars have long debated about how Turkey will ally itself in the Tribulation era. Many scholars speculate that Turkey may be in view as part of the list of allies (Gomer or Togarmah) of Magog listed in Ezekiel 38.
Palestinian Election Platforms: "Keep Terrorizing Israel"
Nov. 16….(WND) As part of their campaign for upcoming Palestinian elections, senior politicians from Palestinian Authority President Mahmous Abbas' Fatah Party have been advocating the past few days continued terror attacks against Israel, including the firing of missiles, until the Jewish state leaves the West Bank and Jerusalem, WND has learned.
The rhetoric comes in spite of a cease-fire signed in February by Abbas and Israeli Prime Minister Ariel Sharon, and Abbas' pledge to the international community to disarm the Palestinian terror groups. The West Bank is still occupied, and resistance is a legitimate right. It is our right to resist, to react and to confront the occupation," PA National Security Adviser Jabril Rajoub said. Rajoub, PA Minister of Civil Affairs Muhammad Dahlan and senior Fatah activist Muhammad Hijazi are all running in Fatah primaries slated for tomorrow, and have been making statements to the Arab media advocating terrorism in interviews highlighting their election campaigns. Rajoub then told the Arabic Al-Arabiya TV he is opposed to disarming Hamas and Islamic Jihad, stating several times during an interview the matter of weapons was an "internal Palestinian issue" that would be dealt with by a dialogue between the PA and the terror organizations. The cease-fire, Rajoub said, was simply to appease international public opinion and put pressure on Israel. During a campaign stop last week in the large Gaza town of Khan Yunis, the Palestinian News Agency reported that Dahlan called on Palestinians "to complete what was achieved in the Gaza Strip. To liberate Jerusalem and the West Bank. The refugees must take by force the right to return to their houses." The "right of return" is widely seen by Israelis as a ploy to flood Israel with millions of Palestinians, thus threatening the country's Jewish character. In an interview with the Al-Bayan newspaper last week, Hijazi, a Fatah activist in Gaza, noted the importance of "the path of jihad and resistance until all Palestinian land has been liberated." Hajiza stated weapons in the possession of Fatah's Al-Aqsa Martyrs' Brigades, a terror group responsible for dozens of suicide bombings and hundreds of shooting attacks, were "legitimate," since the Brigades had "the right to respond to the occupation's crimes." Dr. Reuven Erlich, director of the Intelligence and Terrorism Information Center, noted, "The statements express a basic concept that after the disengagement, the focus of the violent confrontation with Israel should be transferred from the Gaza Strip to the West Bank, while lip service continues to be paid to the lull."
US Will Retain Oversight of Internet
Nov. 16….(Business news) Efforts to replace US oversight of the Internet with an international committee were defeated yesterday during UN-sponsored meetings. Hundreds of government, nonprofit and industry delegates meeting at the World Summit on the Information Society in Tunis, Tunisia, agreed to establish a new international forum to discuss Internet issues, but it would not have any policy-making power. "No new organizations were created," said David Gross, the State Department's Internet policy chief and head of the US delegation. "No oversight mechanisms were established by anyone over anyone. There was also no change in the US government's role in relation to the Internet, and no mechanism for such a change was created. Several US congressmen remain skeptical. Rep. John T. Doolittle, California Republican, with two other members of Congress, has introduced a resolution urging that the US remain in charge of the Internet's day-to-day operations. "Whether they call it a 'board' or a 'forum,' it's clear that the ultimate goal of the UN is still to wrest control of the Internet from the US," Mr. Doolittle said last night. The Internet Corporation for Assigned Names and Numbers (ICANN), a nonprofit based in Marina del Rey, Calif., oversees the Internet's domain-name system under a memorandum of understanding with the US Commerce Department. Many nations, including China, Brazil, Cuba and Iran, have sought to end the US government's oversight role, and the European Union recently proposed phasing out the Commerce Department's oversight of ICANN.
FOJ Note: This topic is of special interest for Christian Ministries and Prophecy enthusiasts, because as Bible Prophecy reveals, the Antichrist will probably acquire control of the world's information systems. It is a certainty that he would want to stop any true Christian ministerial efforts.
Israel's Opening of Gaza Borders Compromises West Bank Security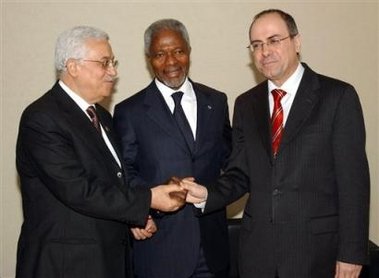 Nov. 16….(FOJ) Palestinian Authority President Mahmoud Abbas, also known as Abu Mazen, left, General-Secretary of the United Nations Kofi Annan, center, and Israeli Foreign Minister Silvan Shalom hold hands for the camera's today in Tunis, Tunisia. The three leaders met in secret to finalize a deal for EU monitoring of the Gaza-Egyptian border. The agreement on opening the borders of the Gaza Strip, which US Secretary of State Condoleezza Rice directly helped negotiate, only serves to allow the Gaza-Hamas-Al Qaeda militants to accelerate the prospects of more suicide attacks in places throughout the West Bank, such as Nablus, where Israeli soldiers today intercepted a group of Palestinian teenagers near the Hawara checkpoint, one of which was carrying a body-belt full of explosives typical of the kind that suicide bombers use when the yare sent by Palestinian terrorist operatives working right under the nose of Mahmoud Abbas. The Israeli security guards arrested the 16 year old teenager, and thoroughly checked the group he attempted to enter an Israeli area with. The IDF reports that there have been hundreds of such interceptions since the construction of Israel's security fence. Undoubtedly, Abbas will continue to turn a blind eye to such attempts taking place under his authority, and will expend no resources to secure his own potential borders with Israel. Most nations share security accountabilities along common borders, and the PA has been required under every single Middle East peace process to show good faith for peace towards Israel by checking terrorist smuggling in areas Israel relinquished to their authority, but even this small, simple gesture has not been reciprocated.
President Bush Urges China to Grant Political Freedoms
Nov. 16….(AP) President George W. Bush prodded China on Wednesday to grant more political freedom to its 1.3 billion people and held up archrival Taiwan as a society that successfully moved from repression to democracy as it opened its economy. In remarks sure to rile Beijing, President Bush suggested China should follow Taiwan's path. "Modern Taiwan is free and democratic and prosperous. By embracing freedom at all levels, Taiwan has delivered prosperity to its people and created a free and democratic Chinese society," the president said. Bush made his remarks in the advance text of a speech that was to be the cornerstone address of his Asian trip. From Japan, he will continue to South Korea, China and Mongolia. In his prepared speech, President Bush said that China's economic growth must be accompanied by more freedoms for its people. "As China reforms its economy," the president said, "its leaders are finding that once the door to freedom is opened even a crack, it cannot be closed. As the people of China grow in prosperity, their demands for political freedom will grow as well." President Bush also lectured China about opening its economy to foreign competition to narrow the expected $200 billion trade surplus with the United States. "China needs to provide a level playing field for American businesses seeking access to China's market," Bush said. Further, he said, China must fulfill its promise to move toward a more market-based currency. Bush's warm words about Taiwan could chill his reception in Beijing later this week when the president, to make a point about religious freedom, also plans to worship at one of five officially recognized Protestant churches in the city. President Bush said Chinese President Hu Jintao has asserted that his vision of "peaceful development" will make the Chinese people more prosperous. "I have pointed out that the people of China want more freedom to express themselves, to worship without state control, and to print Bibles and other sacred texts without state control," Bush said. By talking about Taiwan, Bush was raising an issue that has been a major US-Chinese irritant. Taiwan, 100 miles off China's southern coast, split from the mainland when nationalist leaders fled there in 1949 during China's civil war. Since then, Beijing has threatened repeatedly to use force against the self-governed island that China claims as its own. The island has had de facto independence for more than 50 years, largely because of American support. US officials were taken aback when a Chinese general said last July that Beijing might respond with nuclear weapons if the US were to attack China in a conflict over Taiwan. Maj. Gen. Zhu Chenghu, a dean at China's National Defense University, said that was his personal view and not government policy. While saluting Taiwan's progress and urging China to take more steps, Bush stressed that the United States was not changing its official policy that there is one China, including Taiwan, or its position that there should be no unilateral attempt to change the status quo by either side. The United States continues to stress a need for dialogue between China and Taiwan "that leads to a peaceful resolution of their differences," Bush said.
Rice Signs A Rafah Border Deal Stripped of Adequate Counter-Terror Safeguards
Nov. 15….(DEBKAfile Special Analysis) The White House ordered Secretary of State Condoleezza Rice to stay over in Jerusalem until the deal for the Gaza Strip's international crossings was in the bag. She delayed her departure to join President Bush in South Korea until it was settled down to the last detail at issue between the Israelis and the Palestinians. The breakthrough was announced after she met defense minister Shaul Mofaz Tuesday morning. It was achieved after Israel backed down from virtually all its demands for security safeguards against terrorist incursions. DEBKAfile's political sources analyze some of the agreement's salient features. The Rafah crossing from Gaza to Egypt will reopen on November 25 as a Palestinian-Egyptian facility with a European presence. Video images will be transferred to a control center at the Kerem Shalom crossing which is on Israeli soil. It will be manned by Israelis and Palestinians with a European presence. Israel will not be entitled to demand that suspected terrorists be kept out or detained. The Palestinians will only be required to report on the arrivals of VIPs, diplomats and humanitarian cases, no one else. Mofaz lauded this as "another stage in Egypt's involvement." He made no reference to the failure of Egyptian border police's failure to secure the Philadelphi border enclave against the massive smuggling of arms and terrorists since the withdrawal of Israeli troops. As for the crossings from Gaza into Israel, Israel surrendered the prerogative to shut them down to secure personnel against terror alerts, although these facilities are notoriously prime terrorist targets. Jerusalem has undertaken to first notify the US embassy in Tel Aviv and back up its "request" with specific information, thus parting with its intelligence secrets. It must then wait for permission from Washington, or its refusal, to the closure. Effective preventive action may well be held up by this delay. By surrendering this point, Israeli prime minister Ariel Sharon relinquished a key element of Israel's sovereign right to self-defense and agreed to hamstring its own army's freedom to combat terror. It is now likely that Palestinian "forces" will be let loose on a wide swathe of southern Israel to escort 150 trucks a day bound for Hebron, Ramallah, Jenin and Nablus. The provisions for the Rafah crossing will also be applied to Gaza's deep sea port construction of which begins without delay. Israel has therefore forfeited control and oversight over incoming goods and people to Gaza by sea as well as overland.
'Palestinians': We Require Jerusalem
Nov. 15….(Ryan Jones) With many world leaders in Jerusalem this week to mark 10 years since the assassination of Yitzhak Rabin and discuss prospects for regional peace, the "Palestinians" have worked to ensure that these dignitaries all know that the Arab-Israeli conflict will not end until the PLO flag flies over the ancient Jewish capital. Chief "Palestinian" negotiator Saeb Erekat was quoted by the PLO-controlled news agency WAFA as saying a solution on Jerusalem in line with current Arab demands was necessary for lasting peace. Erekat insisted it was illegal for Israel to impose its law on the city which, he said, the international community views as occupied territory. Jerusalem has had a Jewish majority since long before Israel's rebirth in 1948. From the time the biblical King David declared it his capital more than 3000 years ago, the city has had this status in the heart of all Jews. Until the Palestinian Arabs began laying claim to it after 1967, no other nation ever designated Jerusalem the capital of their empire or state. Following the 1967 reunification of the city under Jewish rule for the first time in over 2,000 years, Israel vowed Jerusalem would remain its united capital forever. PLO chief Mahmoud Abbas, meanwhile, pledged during a ceremony marking the anniversary of Yasser Arafat's death last Friday to "continue on the path that [Arafat] started and exert whatever efforts are needed to raise the flag of Palestine on the walls, the minarets and the churches of Jerusalem." Arafat often swore that untold numbers of his Arabs were willing to "martyr" themselves in order to ensure the achievement of this goal.
How Will a Palestinian State Help Secure Israel?
Nov. 15….(Ryan Jones/Jnewswire) US Secretary of State Condoleezza Rice Sunday told reporters while en route to Israel that the birth of a Palestinian Arab state on the biblical lands of Judea, Samaria and Gaza will bring increased security to the Jewish state. I, for one, would be interested in hearing on what evidence exactly the secretary bases that assessment. It is important to note that a "Palestinian" state will be ruled by the PLO (now more frequently referred to as the Palestinian Authority), which was for decades the "Al Qaeda" of Islamic terrorism. Israel agreed, under tremendous American pressure, to enter into negotiations with and recognize Yasser Arafat's organization as the legitimate representative of all Arabs living in Judea, Samaria and Gaza (Yesha) on the shaky assumption the PLO would deal decisively with all other terror groups vying for position.
To this end, Israel allowed the PLO to import thousands of arms. But since that day, the number of terrorist organizations operating out of those territories has only increased. And those groups are today far better armed than they would ever have hoped to be prior to 1993. One by one, Israel surrendered control over every major Arab population center in Yesha believing (or at least acting as if they believed), just as Rice claimed Sunday, that doing so would provide nearby Israeli towns with greater security since, naturally, the local Arabs' anger would be assuaged by the gesture. Is Greater Tel Aviv today safer now that nearby Kalkilya is under PLO control? Has Netanya been offered respite as a result of handing over Tulkarm? Do the citizens of Haifa and the lower Galilee breath easier knowing armed gangs rule the streets of Jenin? What of the residents of holy Jerusalem? Have they suffered less because Ramallah, Bethlehem and Hebron are under the thumb of the "Palestinians"? Most recently Israel transferred 100 percent of the Gaza Strip to PA control, telling Jewish residents of nearby towns the move would improve their lot and that of their countrymen. The town of Sderot was immediately pummeled in the largest single Gaza-based rocket attack to date, with the promise of more to come. In what can only be called a classic case of understatement, Rice noted correctly that more work needs to be done on the security front. The answer, however, does not lie in reforming the PLO/PA or even amending its deadly charter. Rather, Israel and the US need to recognize that they made a terrible error of judgment in entrusting to a terrorist organization the safety and security of those the terrorists had dedicated their lives to destroying. There is absolutely nothing to suggest that providing the PLO with sovereign rule over Israel's ancient heartland is going to bring any security to the Jewish state. Without exception, all the evidence points to the opposite outcome. The creation of a Palestinian state will lead to the destruction of Israel.
Jordanians Turning Against Terrorism?
Nov. 15….(AP) Less than a week ago, before suicide bombers killed 57 people at Amman hotels, Abu Musab al-Zarqawi was seen by many Jordanians as a homegrown holy warrior battling US troops in occupied Iraq.After the bombings, claimed by al-Zarqawi's al-Qaida in Iraq, thousands of Jordanians took to the streets throughout the kingdom, shouting: "Burn in hell, al-Zarqawi." "All Jordanians, even fanatic Muslims, are changing their minds (toward Islamic extremist attacks) because of what they saw happen to innocent people" in Amman, said Ibrahim Hreish, a jeweler in the Jordanian capital. In Jordan, a close US ally heralded in the West for its moderation, there has been strong support for militant attacks against what Islamist and independent newspapers described as legitimate targets, Israeli soldiers or US troops in Iraq. Jordan is wedged between Israel and the Palestinian territories to the west and Iraq to its east. More than half the country's 5.4 million citizens are Palestinian or of Palestinian descent, and anger is widespread over Israel's 1948 annexation of Palestinian territories and US support for Israel. Jordan's 1994 peace treaty with Israel is still roundly denounced by Islamists. But amid a spiraling of violence in neighboring Iraq and numerous foiled terror plots here in Jordan before Wednesday's strikes, views toward terrorism have started to change. Most of those killed in the triple hotel bombings were Arabs and Muslims, and the targets included a Jordanian-Palestinian wedding reception. TV talk shows and newspaper columnists have been focusing on the suicide attacks and whether Muslims should condone them in part or total. "There has (long) been empathy among Jordanians for insurgent strikes against military targets in Iraq, particularly against US forces," said Mustafa Hamarneh, a researcher who has conducted surveys on domestic attitudes toward suicide bombings. "I believe we will now begin to see a change in how the country's press reports events in Iraq, such as suicide bombings and in public attitudes," he said. Jordan's King Abdullah II, a critic of Islamic militancy, said the battle against terrorists like al-Zarqawi was an "ideological struggle between extremist Muslims that have this perverse view of Islam against the rest of us moderate Muslims." Still, there are many Jordanians who believe that targeting US-led forces in Iraq and or Israeli troops in the Palestinian territories remains legitimate. "We have to differentiate between terrorism and resistance," said Abdul-Latif Arabiyat, a leading member of the hardline Islamic Action Front, Jordan's largest Muslim opposition group. Arabiyat said fighting occupation of Muslim land is sanctioned. Al-Zarqawi arrived in Iraq before the 2003 US-led invasion and has spurred a nationwide insurgency marked by suicide bombings, kidnappings and beheadings. But his ultimate goal has been to create an Islamic caliphate in the region by toppling moderate US-allied regimes.
Iran: Israel Behind Jordan Terror Attack
(Islamic republic blames Jews in spite of al-Qaida's boasting)
Nov. 15….(WND) Despite admissions by Iraq-based Al-Qaida leader Abu Musab al-Zarqawi and a would-be Iraqi female suicide bomber, Iran says Israel was responsible for the deadly blasts that killed 57 people last week at three hotels in Jordan. "The explosions in Jordan are a suspicious matter. Most probably the Zionist regime (Israel) was behind them," Iranian foreign ministry spokesman Hamid Reza Asefi told reporters yesterday. It was a bitter incident. We condemned it and our foreign minister (Manouchehr Mottaki) has phoned his Jordanian counterpart (Faruq al-Kasrawi), to sympathise with the families of the victims and condemn the terrorist acts," Asefi added. The Iranian comments come despite a confession by would-be suicide bomber Sajida Mabruk Atrous Rishawi, who was caught wearing an explosive belt before the attacks.
Clinton's Israel 'Piece' Plan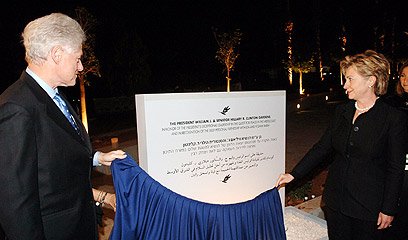 Nov. 15….(Joseph Farah) It's not bad enough that the Israelis evacuated peaceful civilians from the Gaza Strip because the proposed new government there cannot stomach the idea of any Jews living in their country. Now Bill Clinton says Jews should send financial aid and technology to their anti-Semitic terrorist enemies there. That's what the former US president told a group in Jerusalem gathered to mark the 10th anniversary of the assassination of Israel Prime Minister Yitzhak Rabin last weekend. Clinton also referred to the Oslo peace process, by any standard a total and abject failure, "our best chance for a lasting and comprehensive peace." I'm surprised he wasn't booed off the stage. "If you work for peace and fail, fewer people will die than if you do not work at all," he said.
Tell that to Neville Chamberlain. Clinton offered up his new three-point peace plan:
*He suggested Palestinians "use their opportunity in Gaza to do a better job of fighting terror." A better job? How about doing any job at all in this area?
*He suggested Israelis must find a way "to organize their politics" so that "their search for peace can continue." Isn't it time for world leaders to acknowledge that Israelis have done all they can, that they have gone above and beyond the call of duty in working for peace?
*And he suggested that the "most important" step is that Jews around the world, and friends of Israel "have a special responsibility to give financial, moral and technical support to the Palestinian people, to help the Gaza gamble succeed, and that the Israelis need to give them time to sort through their political situation." (This is what passes for deep thinking among world leaders) Suggesting Jews should divert their support to aiding the budding anti-Semitic, terrorist state of Palestine is immoral and unconscionable. It is like suggesting that the best hedge against the rise of Adolph Hitler in the 1930s would have been diverting financial and technical aid to Germany.
As an Arab-American who has covered this part of the world for many years, on this point: No people have done more for the Arab refugees than the Jews. Nowhere in the Middle East do Arabs live freer, more productive lives than in Israel. Their thanks has been in the form unrelenting, unending terrorism and death. I find these comments by Bill Clinton condescending and dangerous. Why do we keep raising the bar of civil conduct higher and higher for Jews? Why are expectations continually lowered for the Arab world? Why do we believe that we can change the moral character of the Arab people in Gaza by throwing money at them? Why do we think that rewarding terrorism is the right thing to do in the Middle East, even though acknowledging it is the wrong approach elsewhere? Why is it that the Jews are expected to pay for the needs of the people in Gaza, even though the Arab states of the Middle East are wealthy and claim to support their struggle? Clinton's piece plan is insanity. Bill Clinton did his level best to destroy Israel during his eight years as president. He twisted Ehud Barak's arm to the point that the former prime minister had virtually given his country away to Yasser Arafat. Only a strange twist of fate, in which Arafat rejected the giveaway, halted the process and saved Israel from the unimaginable horror of being sliced and diced.
FOJ Note: When people like Bill Clinton talks about a "peace plan" for Israel, what they really mean is a "piece plan," in which Israel would be left with only an indefensible piece of its historic land. That's not peace, it's ethnic, religious and cultural suicide in the name of tolerance, and stupid blindness. Now Bill Clinton is galavanting across the world lobbying powerbrokers to join hi Clinton Global Initiative. Apparently, Mr. Clinton is campaigning for some kind of office as World President.
Rice and PM in Sharp Row on Hamas Role in PA Election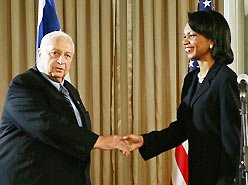 Nov. 14….(Ha Aretz) A sharp dispute arose on Monday between Prime Minister Ariel Sharon and U.S. Secretary of State Condoleezza Rice over the issue of Hamas participation in Palestinian elections slated for January. In a Monday morning meeting in Jerusalem, Sharon said that allowing Hamas to take part in the elections for the Palestinian Legislative Council would be a grave error, and would only weaken Palestinian Authority Chairman Mahmoud Abbas, rather than strengthening him, as Palestinians have argued. "We will not interfere with the elections," Sharon declared, "but neither will we coordinate the elections with [the Palestinians], and will not allow Hamas people to operate and move around differently from what is happening now." According to Sharon, Hamas participation in the election could spell the end of the road map peace plan, that is, if an armed terror group became a political partner to Palestinian rule. "We wholeheartedly support President Bush's moves for democratization, but we will not aid Hamas. We will not aid the murderers of Jews, even if they take part in elections," Sharon said. Rice took issue with Sharon's position, saying that following the election it would be easier to force Hamas to diasarm, since the pressure would be coming from then international community as a whole. The secretary said she respected the Israeli position, and that if Abbas were to fail to disarm Hamas, he would lose the support of the United States and of the world. Rice added that Washington would shun contacts with Hamas and the Islamic Jihad even if they were part of the government.
FOJ Note: It is insidious that the US is pressing Israel to allow a known terrorist organization to practice politics in what is supposed to be a developing democratic state. The US is Israel's friend, but often it seems that America will sacrifice as much of Israel as required to appease the enemies of Israel in search of a peace map charade. Secretary Rice has even coerced Israel to forego security checks on the Gaza-Egypt border, which is tantamount to giving Al Qaeda, and other such groups an open door into Israel's underbelly.
Saudi Imprisoned for Discussing the Bible
Nov. 14….(Washington Times) A court sentenced a teacher to 40 months in prison and 750 lashes for "mocking religion" (Islam) after he discussed the Bible and praised Jews, a Saudi newspaper reported yesterday. Al-Madina newspaper said secondary-school teacher Mohammad al-Harbi, who will be flogged in public, was taken to court by his colleagues and students. He was charged with promoting a "dubious ideology", mocking religion, saying the Jews were right, discussing the Gospel and preventing students from leaving class to wash for prayer," the newspaper said. Saudi Arabia, the birthplace of Islam, strictly upholds the austere Wahhabi school of Islam and bases its constitution on the Koran and the sayings of the prophet Muhammad. Public practice of any other religion is banned. A US State Department report criticized Saudi Arabia last week, saying religious freedoms "are denied to all but those who adhere to the state-sanctioned version of Sunni Islam." The newspaper said Mr. al-Harbi will appeal the verdict. Last year, another schoolteacher was tried for apostasy, and eventually convicted in March of blasphemy; the person was given a prison sentence of 3 years and 300 lashes. A 2003 report by the US Commission on Religious Freedom, the world's only government-sanctioned entity to investigate and report religious-freedom violations, named Saudi Arabia as the world's biggest violator of religious liberties. The commission took the country to task for "offensive and discriminatory language" disparaging Jews, Christians and non-Wahhabi Muslims found in government-sponsored school textbooks, in Friday sermons preached in prominent mosques, and in state-controlled Saudi newspapers. In Saudi Arabia, the public practice of any religion other than Islam is illegal; only Muslims can be Saudi citizens; one of the Saudi king's titles is "custodian of the two holy mosques"; proselytizing for any religion other than Sunni Islam is barred; and Mecca, Islam's holy city, is forbidden to all non-Muslims. For years, Saudi Arabia also imposed restrictions, or persuaded the US government to impose restrictions, on American troops defending the country during and after then-Iraqi dictator Saddam Hussein's 1990-91 occupation of Kuwait. For example, US postal and customs officials have barred mailing materials "contrary to the Islamic faith," including Bibles. The US military also has required female service members to wear a long, black robe called an abaya when traveling off base in Saudi Arabia.
Control of Internet Key Issue of Summit
(Countries raising objections to United States' dominance in online matters)
Nov. 14….(Worthy News) On the global Internet these days, the United States is less trusted and more alone. The worldwide network was born on US shores, but that matters little to the growing number of nations now demanding shared control. An escalating feud over Internet governance is threatening to transform a UN summit in Tunisia this week into an acrimonious showdown between the United States and challengers including the European Union. The debate is over whether Washington, through its oversight of a quasi-independent agency, should continue as the ultimate administrator of all the Web's domains, not only over ".coms" but also the country-specific ones like ".cn" for China. At its essence, the struggle is over an information superstructure that is already the main conduit of world commerce. It is also about free speech and information control. The arbiters of Internet policy could profoundly shape international relations in coming years. Many nations have complained adamantly about the way the internet is being used to proselytize people in foreign countries toward Christianity.
FOJ Note: Focus on Jerusalem Prophecy Ministry receives a great percentage of its feedback and questions from people outside the US. This ministry has reached into the Middle East, Indonesia, China, and many other nations that are not open to Christianity, and especially virulent to attitudes towards Israel. The purpose of Global internet control is to stamp out Christian ministries overseas. Most anti-Christian nations are physically able to prohibit Christian teaching and Biblical worldviews within their borders, but are upset about the fact that Christian internet ministries are reaching their populace with the good news of the Gospel.
Bush Singles Out Israel – Again
Nov. 14….(JNEWSWIRE) For the third time in recent weeks, US President George W. Bush Friday pointed to defense of Israel as a major reason behind American's ongoing global war against Islamic terrorism. With the greater economic and military and political power they seek, the terrorists would be able to advance their stated agenda, to develop weapons of mass destruction, to destroy Israel, to intimidate Europe, to assault the American people and to blackmail our government into isolation." So said Bush in a Veteran's Day address, repeating the exact words used in two previous speeches explaining his determination not to prematurely withdraw from Iraq and relinquish his quest to smash the forces of Islamic terror. President Bush noted that while these goals may seem far fetched, "fanatical and extreme, they should not be dismissed." "Our enemy is utterly committed," the president warned. While Bush correctly and unashamedly identified the enemy as adherents of Islam, he also attempted to paint that religion as a faith of peace and tolerance which a scattered few killers are twisting and exploiting. "These extremists distort the idea of jihad into a call for terrorist murder against Christians and Hindus and Jews and against Muslims themselves who do not share their radical vision." In holding to this position, the president is ignoring that fact that polls and demonstrations throughout the Middle East regularly show widespread, frequently majority, public support for terrorism against the West, and in particular against Israel. Following the September 11, 2001 attacks on New York City and Washington DC, for example, Arab Muslims across this region burst forth in joyous celebration. From Cairo to Damascus to Ramallah, candies were passed out to mark Osama bin Laden's successful strike at the heart of America.
Iraqi Woman Confesses on Jordanian TV

Nov. 14….(Debka) An Iraqi would-be suicide bomber confessed on Jordanian TV to failing to detonate one of the Amman hotel bombs. The fourth bomber, Sajida Mubarak Atrous al-Rishawi, 35, was captured alive by Jordanian police four days after her husband and two other Iraqi suicide bombers killed 57 people in three hotels. She appeared in a white head scarf, black gown and the disabled bomb tied around her waist. "My husband wore a belt and I wore another. He told me how to use it," she confessed. Her capture was announced Sunday, Nov. 13 by King Abdullah. Her testimony and Jordan's deputy prime minister Marwan Muasher report conflicted with the third al Qaeda communiqué on the attacks on several points. Jordan's Dep. Prime Minister Marwan Muasher said Sunday, Nov. 13, she was also the sister of Mubarak Atrous al-Rishawi, a senior aide to Abu Musab al Zarqawi who was killed in Falujja. Addressing a news conference in Amman, Muashar identified all the three Iraqi bombers, as Ali Hussein Ali al-Shamari, from Anbar province, Rawad Jassem Mohammed Abed, 23 and Sefaa Mohammed Ali, 23. The dep. prime minister said the husband and wife, dressed for a party, entered the ballroom at the Radisson where a wedding reception was taking place wearing explosive belts under their cloths. When her husband al-Shamari saw his wife struggling with the primer cord, he told her to leave and then detonated his own. All four were said to have entered Jordan by car on Nov. 5 and rented an apartment in Amman. They took taxis to their targets, the Radisson, the Grand Hyatt and Days Inn. Zarqawi's al Qaeda in Iraq's third communiqué reported that the husband and wife time both blew themselves, and at the Days Inn hotel, not the Radisson. They were also described as detonating a bomb car. The group, said al Qaeda, had spent a month in Amman checking out targets. At the outset of the investigation, Jordanian officials confirmed finding the remains of three males believed to be the attackers, but not a woman. Of the 57 victims killed in the attacks two were Americans, 27 Palestinians including two Palestinian Authority intelligence officers, one Israeli businessman from Umm al Fahm, as well as 6 Iraqis, 2 Bahrainis, at least two Chinese, one Indonesian and one Saudi. Not all the dead have been identified.
WEEK OF NOVEMBER 6 THROUGH NOVEMBER 13
Bush: Radicals want to Destroy Israel
Nov. 12….(YNET) Terror groups seeking more economic, military and political power 'to advance their stated agenda: to develop weapons of mass destruction, destroy Israel, intimidate Europe, assault American people, and to blackmail our government into isolation,' President Bush says. President George W. Bush on Saturday defended his decision to go to war in Iraq in a speech focusing on terrorism, saying that terror groups are exploiting Islam to justify their attacks and "push for the establishment of a totalitarian empire that denies all political and religious freedom." Speaking at the Tobyhanna Army Depot, Pennsylvania, Bush said that the ultimate aim of Islamic radicalism is to destroy Israel, arguing that terror groups seek "greater economic, military and political power" which will enable them "to advance their stated agenda: to develop weapons of mass destruction; to destroy Israel; to intimidate Europe; to assault the American people; and to blackmail our government into isolation." Bush offered no concessions to "these extremists" who "have used a litany of excuses for violence: the Israeli presence on the West Bank, the US military presence in Saudi Arabia, the defeat of the Taliban, or the Crusades of a thousand years ago. In fact, we're not facing a set of grievances that can be soothed and addressed. We're facing a radical ideology with inalterable objectives: to enslave whole nations and intimidate the world." In a clear assault on his critics Bush refuted claims that the war in Iraq has fueled terrorism. He warned that the free world should not underestimate the threat posed by a radical ideology that serves a clear set of evil goals. With his popularity at an all-time low Bush reminded the American people that it is forbidden for the United States to withdraw from Iraq under mounting insurgencies and attacks against Iraqi and US troops. "Against such an enemy, there is only one effective response: We will never back down, we will never give in, we will never accept anything less than complete victory," Bush said. Bush did not fail to touch on Syria and Iran, calling Damascus and Tehran authoritarian regimes, and accusing the two states of harboring terror groups. "The influence of Islamic radicalism is also magnified by helpers and enablers. They've been sheltered by authoritarian regimes, allies of convenience, like Iran and Syria, that share the goal of hurting America and modern Muslim governments and use terrorist propaganda to blame their own failures on the West, on America and on the Jews," he said.
Bush: We Must Defeat 'Murderous Ideology' of Radicals
| | |
| --- | --- |
| | President Bush said Friday that the US must continue to fight in Iraq to prevent it from becoming a failed state from which terrorists would launch attacks on other nations to implement their radical ideology. Bush, speaking at a Veterans Day event in Tobyhanna, Pennsylvania, referred to a letter he said was written by Ayman al-Zawahiri, al Qaeda's No. 2 leader. The letter, according to Bush, said the group's goal is to force the US to leave Iraq, just as it had departed from Vietnam, Beirut and other engagements, after suffering heavy casualties. "They believe they can make America run again, only this time at a larger scale with greater consequences," Bush said. "The terrorists regard Iraq as the central front in their war against humanity," the president said. "We must recognize the Iraq war as our central front against the terrorist." |
Nov. 11….(Fox News) President Bush on Friday reiterated the need to defeat extremists seeking to destroy America and other modern governments, saying the "murderous ideology of Islamic radicals" is the great threat of the 21st century. He also called "baseless" claims from Democrats and others that his administration misconstrued or lied about pre-war intelligence showing that Saddam Hussein did in fact have weapons of mass destruction. "The stakes in the global war on terror are too high for the politicians to throw out false charges," Bush said. "These baseless attacks send the wrong signal to our troops and to an ememy that is questioning America's will." On the day America is commemorating Veteran's Day, Bush said just like heroes of yesterday fought braveley against threats such as Communism and Nazism, today's heroes are fighting the War on Terror against groups led by "evil men" who he likened to brutal men like Adolf Hitler and Joseph Stalin "consumed whole nations in war or genocide." "Today our nation pays tribute to our veterans, 25 million vets who have used the uniform of the United States of America," the commander-in-chief said. "At this hour, a new generation of Americans is defending our flag and our freedom in the first war of this century. This war came to our shores on the morning of Sept. 11, 2001. We know that they want to strike again and our nation has made a clear choice. We will confront this mortal danger to all humanity. We will not tire or rest until the War on Terror is won." He added: "No act of ours invited the rage of killers and no concession, bribe or appeasement will change or limit their plans for murder." Iraq is the central front against this war on terrorism, Bush repeated, noting that Zarqawi himself has said that country serves as "the greatest battle" in Al Qaeda's war against humanity. These terror networks "thrive like a parasite" on the suffering of others and exploit the resentment and disillusionment of young men and women, Bush said, recruiting them through radical mosques and modern technology like the Internet. And those who harbor, help or otherwise enable the terrorists are just as bad as the terrorists themselves, Bush said, specifically citing Syria and Iran as two countries who "share the goal of hurting America" and other modern governments. The president is expected to rather forcefully defend the administration's stance that Saddam Hussein was believed to have weapons of mass destruction in the lead-up to the war. Although many weapons caches have been found and many believe Saddam had enough time to move any chemical or biological weapons he may have had to Syria or elsewhere before his regime was toppled
Evolution in the Bible, Says Vatican
Nov. 11….(News.com) The Vatican has issued a stout defense of Charles Darwin, voicing strong criticism of Christian fundamentalists who reject his theory of evolution and interpret the biblical account of creation literally. Cardinal Paul Poupard, head of the Pontifical Council for Culture, said the Genesis description of how God created the universe and Darwin's theory of evolution were "perfectly compatible" if the Bible were read correctly. His statement was a clear attack on creationist campaigners in the US, who see evolution and the Genesis account as mutually exclusive. "The fundamentalists want to give a scientific meaning to words that had no scientific aim," he said at a Vatican press conference. He said the real message in Genesis was that "the universe didn't make itself and had a creator". This idea was part of theology, Cardinal Poupard emphasized, while the precise details of how creation and the development of the species came about belonged to a different realm, science. Cardinal Poupard said that it was important for Catholic believers to know how science saw things so as to "understand things better". His statements were interpreted in Italy as a rejection of the "intelligent design" view, which says the universe is so complex that some higher being must have designed every detail.
Abbas Exhibits Double Standard on Terror
Nov. 11…..(JNEWWIRE) While "Palestinian" terrorism against Israel's Jews is a tactical error that "harms national interests," the kind of Islamic violence that rocked Amman this week is a "crime against humanity," according to PLO chief Mahmoud Abbas. Following the bombings of three crowded hotels in the Jordanian capital Wednesday evening, Independent Media Review and Analysis (IMRA) compared Abbas' reactions to that attack and similar atrocities perpetrated against Israelis in recent months. According to the PLO news agency WAFA, Abbas phoned Jordan's King Abdullah II to condemn the Amman bombings as a "crime against humanity," convey his deepest condolences, and express the solidarity of all those living under the Palestinian Authority with the Hashemite Kingdom. Several weeks earlier, a "Palestinian" homicide bomber trained and armed by Islamic Jihad without PA interference slaughtered six innocent Israelis at an open air market in the town of Hadera. WAFA reported that Abbas condemned that attack too, but only because "such operations harm the Palestinian people's interests." When a Jerusalem couple were murdered on the roads of the Gaza Strip in July, the response was much the same. A spokesman for Abbas told WAFA, "These operations at the time of Israel's withdrawal from the Gaza Strip do not serve our national unity, threaten our national security and weaken the [PA's] credibility on an international level." The regime of the man Washington insists is a "moderate" dedicated to peace has systematically refrained from extending the same sympathy and solidarity it did to Jordan to its Israeli peace partners. Nor have Abbas or his underlings ever referred to the mass murder of Israeli Jews as a "crime against humanity." Rather, the PLO chief has on numerous occasions embraced the killers as his "brothers."
PA Officers: We´ll Only Target Israel
Nov. 11….(Arutz) In a letter sent this week to PA Chairman Mahmoud Abbas (Abu Mazen), official PA militia officers declare that, even as internal security collapses, they will only point their guns at Israel. In the letter, revealed by UPI, the officers warn that the Palestinian Authority (PA) security apparatus is on the verge of collapse due to widespread corruption and the ongoing state of anarchy that exists in autonomous areas. The authors of the letter to Abu Mazen state that they reject ongoing US and Israeli pressure demanding the disarming of PA terrorist organizations. Instead, the militia officers declared, their weapons will only be pointed at Israel and at Israel's Arab agents fighting terrorism in the PA. Under the shadow of this warning, the PA is preparing for local elections, which will include the Islamist Hamas terrorist group. The Hamas is widely seen among the PA Arabs as representing a turn away from official corruption and neglect. Growing unrest among PA Arabs was reflected in the results of a new poll by the Palestinian Center of Public Opinion, which showed a 20 percent drop in the number supporting a halt to violence against Israel. While the PA officers' letter confirms situation analysis reports from Israeli army intelligence, Chief of Army Intelligence Major-General Aaron Ze'evi-Farkash told cabinet ministers last month that Abu Mazen can take control of the situation if he so chooses. However, former IDF Chief of Staff Moshe Ya'alon contended in a lecture to the Washington Institute for Near East Peace this week that Abbas has decided to exhibit a weak profile, seeking to use this to his advantage in negotiations with Israel.
Al-Qaida in Iraq Threatens to Attack Israel
Nov. 11….(Ha Aretz) A Web statement Friday in the name of al-Qaida in Iraq, claiming the deadly hotel bombings in Amman, Jordan, included a threat to Israel, Jordan's western neighbor. The statement noted that Jordan, which it described as Israel's "buffer zone," was now "within range" and "it will not be long before raids by the mujahedeen come" to Israel itself. The statement said that the attacks in Amman were carried out by four Iraqis, including a husband and wife "who chose to accompany her husband to his martyrdom." Ryan Mauro, geopolitical analyst and author of "Death to America: The Unreported Battle of Iraq," warns Israel that the terror organization responsible for 9/11 is now building a formidable force in the Gaza Strip.
Israel is Target on Al Qaeda's List
Nov. 11….(Jerusalem Post) It is only a matter of time before Israel becomes the target of a large scale attack launched by al-Qaida, Dr. Yoram Kahati, senior research fellow at the Intelligence and Terrorism Information Center at the Center for Special Studies in Glilot told The Jerusalem Post. The well coordinated double suicide bomb and car bomb attack that rocked Amman's hotels on Wednesday night, bear all the hallmarks of al-Qaida, and should be a cause of concern for Israel, he said. "The threat is coming closer. An attack in Jordan should serve as a red light [warning] that an attack in Israel is only a matter of time. Al-Qaida's trademark and strategy is to place more than one bomb at the target site to ensure that if one fails there is a backup. Using suicide bombers is also one of its strategies, as there is no danger of the perpetrators getting caught and executed, Kahati added. While Jordan has a good intelligence network, cooperation with Israel in the security intelligence field has existed for many years, mainly to maintain a quiet border between the two countries. According to Kahati, if Israel had any information concerning plans to attack Jordan, it would have informed the authorities. Kahati, who is also a research fellow at the International Policy Institute for Counter-terrorism at the Interdisciplinary Center in Herzliya, said he could not rule out the possibility that al-Qaida had infiltrated into the Gaza Strip. He bases his assumption on reports in the media by key IDF intelligence officials who assessed that operatives succeeded in entering Gaza via the Philadelphi Corridor during the days following the IDF pullout from Gaza, when the Rafah border crossing was turned into a free-for-all. However, Kahati noted that it is not the first time that al-Qaida cells have attempted to infiltrate Israel. The terrorism expert mentioned that already in June 2000 the Shin Bet (Israel Security Agency) arrested Nabil Oukal at the Gaza border crossing. Oukal allegedly told investigators that he was recruited by al-Qaida to form a network in the Palestinian territories.
Al Zarqawi Branch of Al Qaeda May be Widening Iraq War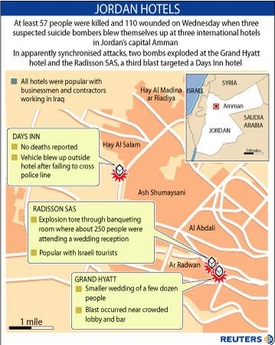 Nov. 10….(MSNBC) A statement posted Thursday on behalf of Al-Qaida in Iraq said that group was behind the three suicide bombings on US-based hotels that killed at least 56 people here, and called Jordan the "backyard garden" for US operations in neighboring Iraq. Hundreds of angry Jordanians later rallied outside one of the hotels, shouting, "Burn in hell, Abu Musab al-Zarqawi!" The Iraq branch of al-Qaida is led by the Jordanian-born al-Zarqawi. The al-Qaida claim said Jordan became a target because it was "a backyard garden for the enemies of the religion, Jews and crusaders, a filthy place for the traitors, and a center for prostitution." Iraqi government spokesman Laith Kubba said the attack should alert Jordan that it needed to stop playing host to former members of Saddam Hussein's regime.
"I hope that these attacks will wake up the 'Jordanian street' to end their sympathy with Saddam's remnants ... who exploit the freedom in this country to have a safe shelter to plot their criminal acts against Iraqis," he said. He also said Iraqis may have had a hand in the attacks. "The al-Qaida organization has become as a plague that affected Iraq and is now transmitted by the same rats to other countries. A lot of Iraqis, especially former intelligence and army officers, joined this criminal cell," Kubba said. Jordan's Deputy Prime Minister Marwan Muasher said shortly after the blasts that al-Zarqawi was a "prime suspect." The Jordanian-born al-Zarqawi is known for his animosity to the country's Hashemite monarchy. The claim of responsibility did not name King Abdullah II but twice referred to him as the "tyrant of Jordan." Al-Zarqawi is most known for the string of devastating suicide attacks launched in Iraq, often against US targets but also against Shiite Iraqis. He has shown a flair for propaganda and has drawn wide support among militants in the region. But outside Iraq, and especially in Jordan, he has been equally active. He was sentenced to death in absentia by a Jordanian military court for the October 2002 assassination of a US diplomat, Laurence Foley, in Amman. His group also is accused of previously trying to blow up the Radisson SAS in Amman as part of the so-called Millennium plot in 1999 and of an attack this August on a US Navy ship in the Jordanian port of Aqaba that killed one Jordanian soldier. The United States has put a $25 million bounty on al-Zarqawi, who comes from a town north of Amman. Jordan is one of two Arab countries that have signed peace treaties with Israel. It helped the United States in the war on Iraq. The hotels, frequented by Israelis and Americans among other foreign guests, have long been on al-Qaida's hit list. Iraq's interior minister said last month that documents found with a slain al-Zarqawi aide revealed a plan to send some foreign militants home to widen the battlefield beyond Iraq. "So you will see insurgencies in other countries," Bayan Jabor told Reuters, adding that hundreds of Islamist fighters had left Iraq in recent months.
FOJ Note: It may be that the recent US military operations in Western Iraq around Haditha and Al Qaim have driven some Al Qaeda elements into Jordan. The recent statements from Iran's President about nations that recognize Israel's right to exist, may also have been a key factor in the Zarqawi strategy against Jordan.
US Intelligence Warns Against Assad Overthrow
Nov. 10….(MENL) The US intelligence community has warned the Bush administration against overthrowing Syrian President Bashar Assad. Administration sources said a report by US national intelligence director John Negroponte warned that Assad could be replaced by an even more anti-US regime. The classified report, said to reflect the view of the CIA and most of the US intelligence community, ruled out a democratic revolution in Syria. "The assessment is that Assad is probably the most sensitive to US needs in the Syrian leadership today," a source familiar with the report said. "Others in his circle who could replace him are more radical and intent in bringing Syria closer to Iran and other US rivals." The report, first disclosed by the Philadelphia Inquirer on Monday, was completed in September 2005, prior to the release of the interim United Nations investigation that called for the interrogation of six senior Syrian intelligence officers. The officers included Assad's brother in-law, military intelligence chief Gen. Assaf Shawkat.
Assad Lashes Out at Israel
(Syrian president claims Israel active in efforts to 'change face of region')
Nov. 10….(YNET) Syrian President Basher Assad, speaking at Damascus University Thursday morning, said that "recent developments in the region prove Israeli involvement." "There are efforts on the political front to change the cultural face of the region and to draw a new map. The Israeli factor was present in all of these attempts," Assad said. He added Syria would cooperate fully with a United Nations probe into the killing of former Lebanese Prime Minister Rafik al-Hariri but held little hope that it would avert pressure on Damascus. No matter what we do and how much we cooperate, the result after a month will be that Syria did not cooperate, but we have to do our duty," Assad said in a televised speech. He also noted Syrian cooperation did not mean Syria was willing to undermine its security and stability and warned that any harm to Syria would destabilize the region. "We support international legitimacy but not at the expense of our national interests," he said. The Syrian president said chief UN investigator Detlev Mehlis had turned down an invitation to visit Damascus to discuss cooperation. Mehlis, investigating the February 14 killing of Hariri in Beirut, wants his team to question six Syrian officials, including Assad's brother-in-law, in Lebanon. Assad did not address Mehlis' request in his speech.
Assad slams Lebanon
In an unprecedented attack on the Lebanese government, Assad said Prime Minister Fouad Siniora had allowed Lebanon become a base for Syria's enemies. "The truth we see today is that Lebanon has become a passageway, a factory and a financier of these conspiracies," he said. Syria, long the main power-broker in Lebanon, ended its three-decade military presence in its neighbor in April amid an international outcry and mass protests over Hariri's killing. Assad accused Hariri's supporters of exploiting his death for political ends, saying the late Hariri had been Syria's main ally in Lebanon. "The truth is those people, or most of them, are blood merchants. They created a market out of Hariri's blood, and now everything has a price," Assad said.
Al-Qaida Claims Jordan Suicide Blasts
(Al-Qaida Claims Responsibility for Suicide Bombing That Killed 57 in Jordan)
Nov. 10….(Debka) Al-Qaida claimed responsibility in an Internet posting Thursday for three suicide attacks on Western hotels that killed at least 57 people, as police clamped down on security and began running DNA tests to try to identify the bombers. The nearly simultaneous attacks late Wednesday also wounded more than 115 people, police said. Several arrests were made overnight, although it was unclear if those arrested were suspects or witnesses. The claim of responsibility, signed in the name of the spokesman for the group Al-Qaida in Iraq, said that "after studying and watching the targets, places were chosen to carry out an attack on some hotels that the tyrant of Jordan has made the backyard garden for the enemy of religion: Jews and crusaders" a stock term for Westerners. The posting's authenticity could not be verified, but it appeared on an Islamic Web site that acts as a clearing house for statements by militant groups. The posting did not name King Abdullah II, but it twice referred to the "tyrant of Jordan," adding he should know that "the backyard camp for the crusaders' army is now within range of the holy warriors." Abdullah chaired a meeting with his security chiefs just hours after returning home from a trip abroad and inspecting the still-smoldering sites. A security official said several people were rounded up overnight, but would not provide other details. He said authorities had tips on suspects who are being hunted down, including possible sleeper cells or individuals who may have assisted the attackers and later fled in a vehicle bearing Iraqi license plates. The official, insisting on anonymity because he is not allowed to speak to reporters, said that DNA tests were being carried out to determine the identity of the perpetrators, including two suicide bombers who blew themselves up in two of the separate hotel attacks. A third suicide attacker used a car to attack the third hotel. The dead and wounded were mainly Jordanians, said Jordan's Deputy Prime Minister Marwan Muahser. Other victims included three Chinese, all from China's elite training university, who were visiting the kingdom and four Palestinians. Maj.-Gen. Bashir Nafeh, the head of military intelligence in the West Bank, and Col. Abed Allun, a high-ranking Preventive Security forces official, were killed in the attack at the Grand Hyatt Hotel, the Palestinian envoy to Amman, Ambassador Attala Kheri, told The Associated Press. Israel's Foreign Ministry confirmed that an Israeli was killed in the bombings, but had no other details. The government was quick to lay blame on al-Qaida's chief in Iraq, the Jordanian-born Abu-Musab al-Zarqawi, who heads the al-Qaida in Iraq group, for the attacks that rocked the US hotel chains Grand Hyatt and Days Inn and the Swedish Radisson SAS late Wednesday, sending smoke billowing into the skies of Amman. While the group al-Qaida in Iraq is based in Iraq, it is part of the al-Qaida network led by Osama bin Laden, and there have been credible reports of correspondence between bin Laden's deputy, Ayman al-Zawahri, and al-Zarqawi. Jordan's Deputy Prime Minister Marwan Muasher said shortly after the blasts that al-Zarqawi was a "prime suspect." Al-Zarqawi is known for his animosity to the Jordanian monarchy. DEBKAfile's counter-terror sources report: Abu Musab al-Zarqawi has been diverting fighting strength from Iraq to terror arenas in Jordan, Syria, Sinai and the Gaza Strip. The suicide attacks on three US-owned five-star hotels popular with Westerners in Amman Wednesday night, Nov. 9, points to four disturbing manifestations:
1. The constant US offensives on al Qaeda sanctuaries in Iraq have not been able to restrict the movements of its activists in Iraq and across its borders.
2. The fact that Zarqawi is able to redirect elements of his Iraqi strength to other points in the Middle East means he is not short of manpower.
3. The ablest Western intelligence agencies are employed in the Middle East to combat al Qaeda, as well as the Jordanian and Israeli services. Yet none have achieved any penetrations capable of forecasting al Qaeda's next moves.
4. There is no evidence to bear out President George W. Bush's assertion that al Qaeda's operational capabilities have been damaged. Since its July 7 transport offensive in London, the group has been on the offensive around the world, in Europe, the Middle East and Asia.
5. Israel's evacuation of the Gaza Strip has opened the door to al Qaeda and brought the international jihadists right up to its borders.
Al Qaeda Suicide Bombers Attack in Amman, Jordan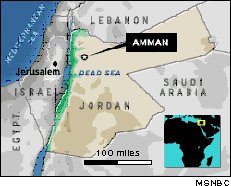 Nov. 9….(YNET) Three suspected suicide bombers blew themselves up at three international hotels in Jordan's capital on Wednesday, killing at least 23 people and injuring scores of others, the official Jordanian news agency said. Reuters correspondents said there had been explosions at Radisson SAS and Grand Hyatt hotels in Amman and the official Petra news agency said there had been a third blast at the Days Inn hotel in the city. The agency said the blasts had been caused by suspected suicide bombers and there were many dead. Police sources earlier told Reuters the Radisson blast had been caused by a bomb placed in a false ceiling. Jordan's interior minister, Awni Yarfas, who was at the Radisson hotel, told reporters: "There were explosions in the Hyatt and the Radisson. Yes, they were bombs." Police threw up roadblocks around the hotels, causing traffic chaos in the city, and Reuters television footage showed a fleet of ambulances and fire vehicles outside the buildings. The blasts appeared to happen at much the same time. A Reuters correspondent at the Radisson said five people were killed there and more than 12 others wounded. Another correspondent at the Hyatt hotel said at least 40 were wounded, some seriously, there. Witnesses said the structure of the Radisson hotel was intact, but there had been extensive damage to ceilings. The explosion ripped through a banqueting room where about 250 people were attending a wedding reception, witnesses said. They said the room was torn apart and bomb seemed to have gone off near a wall that separated it from the bar area. Security sources speculated the bar was the target, rather than the wedding party. The explosion at the nine-storey Hyatt appeared to have struck the lobby, witnesses said. Hyatt General Manager Otto Steenbeek told reporters: "There was an explosion in the bar area of the hotel just before 9 P.M. There are many casualties but we don't have any numbers." The Radisson is known to be popular with Israeli tourists, but there was no confirmation of the nationality of any of the dead or wounded. Witnesses said many Western tourists were staying at the three hotels. Israel's Magen David Adom rescue service said it had offered to send medical aid to Jordan, including transport for any wishing to receive treatment in Israel. Jordan has so far been spared major attacks on foreigners despite its proximity to Iraq, but the authorities had long been braced for trouble. Terror experts have named Jordan as a hub for World Islamic Jihad activity. Last August three Katyusha rockets were launched from a warehouse window in Aqaba; one rocket passed above a US battleship docking in the city's port, and another landed in close proximity to the airport in Eilat, in Israel's southernmost tip. The third landed near an Aqaba hospital. An Al Qaeda affiliated group, the Abdullah Azzam Brigades in Syria and Egypt, said in a statement released immediately after the attack that it was behind the rockets. A group of our mujahideen have targeted U.S. vessels in Jordan and (Israel's) Eilat port with three Katyusha rockets before safely returning to their base," said the group's statement. "Zionists are a legitimate target and we warn the Americans, who are spreading their corruption throughout the world and who have stolen the wealth of the Muslim nation, to expect even more stinging attacks." Last July it was reported that the US had obtained a letter sent by Osama Bin Laden's deputy Ayman Zawahiri to the leader of Iraq's insurgency Abu Musab al-Zarqawi outlining its future strategies. According to the letter, intercepted during an operation in Iraq, al-Qaeda plans to broaden its activities from Iraq to Egypt, Jordan, Syria, Lebanon and Israel.
Persecution of Christians in Indonesia Continues
Nov. 9….(ASSIST NEWS) The Washington-DC based human rights group, International Christian Concern (ICC) has just received news of a second attack on young Christian girls in Poso, Central Sulawesi, Indonesia. They say that Ivon (last name unknown) (17 yrs.) and (Yuli) Siti Nuraini (17 yrs.) were shot in the head in the Gatot Subroto street area (Christian Area) of Poso near a Pentecostal church on Tuesday, November 8, at 7:45 pm local time (11:45 GMT am). AN ICC spokesperson said, "It is reported that two armed men shot the girls point blank in the head with pistols. Ivon was shot through the left cheek and Siti was shot in the right cheek. Both are in coma and in critical condition. "These attacks follow the gruesome beheadings of three Christian High school students at the end of October. It is reported that 10 national-level police officials are in Central Sulawesi heading up the investigation into the beheadings. This latest attack coming right under their noses comes as a complete embarrassment to the central government. "There have been reports that the perpetrators of the beheadings are in custody but have not been formally charged. This latest attack also underscores the level of danger to Christians in the Poso area. This attack comes on the heels of 40 or more attacks against the Christian community, including shootings, killings, and major bombings. There have not been any convictions or arrests in any of these attacks." From 1998 to 2001 the Sulawesi Islands were the scene of sectarian clashes between Muslims and Christians. Many now fear that the new acts of violence might signal renewed inter-religious violence. "Local Muslim and Christian leaders have said that outsiders are responsible for the recent crimes, not local Muslims," said the ICC spokesperson. "They believe that the culprits acted on order by some group bent on reigniting sectarian hatred in the area." ICC is a Washington-DC based human rights organization that exists to help persecuted Christians worldwide.
Ministry Leader: Attack on Christian Girls Shows Islam's True Nature
Nov. 9….(Agape Press) Troops and law officers in Indonesia are on high alert after attackers beheaded three Christian high school girls and seriously wounded two other students. Authorities suspect the attack was carried out by Muslim extremists. Last weekend the machete-wielding assailants ambushed five students as they were walking to their Christian high school, leaving three of the young people dead and the two survivors injured. Jeff King, president of ICC, says although persecution against Christians is common in Indonesia, most of the outside world is sadly unaware of the atrocities being committed. "We are always trying to get the word out about what's going on," King notes, "and you've got any number of reasons why it doesn't happen. For one, the world is news-weary. It takes millions of deaths to really make it to the news." And, he points out, the Indonesian government has made strides against the Muslim terrorist element in Indonesia, "and there might be a reluctance to embarrass them on this front." Nevertheless, King says, "There has been assassination after killing after assassination in this area, going back the last couple of years." Meanwhile, he adds, in recent months Islamic fundamentalists have stepped up campaigns to prevent Indonesia's Christian minority from building more churches, causing anti-Christian violence to escalate further.
The ICC spokesman feels these attacks show the true nature of Islamic fundamentalism. "Within the Koran there are verses about cutting off the heads, smiting the necks of the unbelievers, terrorizing the unbelievers, and how to treat Jews and Christians," he notes. "Most people are not willing to say these things, but it is part and parcel of the Koran." King says while Islam, like other faiths, is characterized by an ongoing battle between the moderates and the fundamentalists, among Muslims "the fundamentalists are not some small, fringe group, they are a huge percentage. It's millions upon millions of people around the world." The head of ICC believes violence is intrinsic to Islamic fundamentalism. And the recent brutal attack on five Christian schoolgirls in Indonesia is proof, he asserts, that these Islamic "true believers" have no plans to curb their violence against Christians and other "infidels."
'Exit Strategy' Idea May Be Catching On Among Southern Baptists
(They Warn of Secular, Pro-Homosexual Worldview Promoted in Gov't-Run Schools)
Nov.9….(Agape Press) A Christian education resolution considered by the Southern Baptist Convention earlier this year, and eventually passed in modified form, seems to have ignited a fire under Christian leaders in several states. Associations of Southern Baptists in as many as 28 states have now introduced measures warning of pro-homosexual policies and material in public schools, and calling on parents to get involved in protecting their children from that influence. Dr. R. Albert Mohler, Jr., is president of The Southern Baptist Theological Seminary in Louisville, Kentucky. In June 2005 he suggested in a column that "responsible" Southern Baptists across the country begin developing an "exit strategy" from the nation's public schools. That strategy, he wrote, would affirm both the "basic and ultimate responsibility of Christian parents to take charge of the education of their own children" and the "responsibility of churches to equip parents, support families, and offer alternatives." Mohler was commenting on a proposed resolution soon to come before the denomination's Resolutions Committee. That resolution, authored by Baptist evangelist Voddie Baucham and attorney Bruce N. Shortt, alleged that the influence of homosexual activists in the public school arena has resulted in curricula and rules that promote the acceptance of homosexuality as a morally legitimate lifestyle. The Baucham/Shortt resolution proposed that, should investigations by local churches unearth pro-homosexual material or involvement in their schools, Southern Baptist parents in the community should be informed of that and encouraged to "remove their children from the school district's schools immediately." The SBC's 2005 Annual Meeting eventually approved a modified version of that resolution, encouraging Baptists to consider alternative forms of education for their children, such as home-schooling or private or Christian schools, if evidence of homosexual influence is discovered. Evidently the Baucham/Shortt resolution struck a chord with Southern Baptists across the country, as it has apparently inspired Baptist leaders in 28 states to introduce similar resolutions. One of those is Roger Moran, a Southern Baptist leader from Missouri who also is a member of the denomination's executive committee. "One of the great tragedies of American Christianity has been the near universal failure of its leaders to boldly proclaim the inherent dangers lurking within America's government-owned and controlled schools," Moran says in a press release. "But now, in the context of Southern Baptist life, that is beginning to change." According to Moran, those in his denomination, and no doubt across the spectrum of American Christendom, Christians are beginning to understand that it "matters supremely" the worldview that is being foisted upon children in the public schools. He says that "secular" worldview has laid the foundation for a "new morality" that, with the help of liberal judges, has cleared the way for homosexual activists to recruit youngsters into the homosexual lifestyle. And in light of Dr. Mohler's comments, resolution co-sponsor Bruce Shortt sees a "sea change" coming in how Christians in general view the nation's public schools. "There can be no better evidence of this change than Dr. Mohler's statement that responsible Baptists should begin developing an exit strategy from the public schools," Shortt says. "Another clear sign of mounting awareness and concern is reflected by the fact that the number of states covered by Christian education resolutions has nearly doubled over last year." And Dr. Baucham feels that Christians are carrying out the Great Commission by "rescuing" children from government-run schools, particularly those from low-income or single-parent families, who he says are often most vulnerable to the messages being delivered by homosexual activists. "Our churches need to intervene to provide those children with a Christian education," he says. "The mission field is not just overseas; it is right here. And this mission effort requires a more serious commitment than just handling out tracts or sharing a testimony." According to Baucham, it is also an issue of accountability: "No passage in the Bible suggests that God is concerned about our churches having large sanctuaries or elaborately produced music. He will, however, hold us accountable for our stewardship of our children." The group Exodus Mandate says most of the Christian education resolutions coming out of state SBC associations, like the Baucham/Shortt resolution, point out the dangers of the homosexual lifestyle, highlight the methods used by schools as they collaborate with homosexual activists, call for parents to investigate their local schools, and then suggest how parents can choose alternative forms of education for their children.
Saudi Ambassador Wants More US Cooperation in Mideast
Nov. 9….(Fox News) Saudi Arabia's ambassador called for more US cooperation on diplomatic efforts in the Mideast as Congress questioned US officials Tuesday about the Saudi kingdom's Al Qaeda connections. Saudi Ambassador to the United States Turk bin al-Faisal, in his first speech since he was tapped for the post last summer, said his country has shown it is an ally to the United States in the War on Terror. He cited the kingdom's efforts to question thousands of people, detention of more than 800 suspects, and the killing or capture of more than 100 known terrorists. "Our security forces are actively tracking and chasing down any terrorist groups or individuals found to be operating within the Kingdom," he said. "These deviants do not represent the Saudis or the Islamic faith," he said. But the ambassador, while praising President Bush for calling for a Palestinian state, also said the Arab-Israeli dispute was an "open wound" that leads to terrorism and criticized the White House for an "uneven handling" of the conflict. Speaking at the annual conference of the Middle East Institute, a private research group based in Washington, DC, the ambassador said the Arab-Israeli dispute "is the cause more than all others" that has led to attacks and violence. However, al-Faisal did not openly condemn recent remarks by Iranian President Ahmadinejad that Israel should be wiped off the face of the Earth. The ambassador said his country prefers to talk to Iran "privately," though he did not specifically say whether it had done so on this issue. In response to an earlier question on Iran, al-Faisal said Riyadh believes it's better to engage Iran than to isolate it, which is the preferred path of the US. "We believe by talking we can achieve more," he said. Meanwhile, lawmakers on Capitol Hill were talking Tuesday about Saudi Arabia's efforts to improve its cooperation in the War on Terror. A US Treasury Department official told the Senate Judiciary Committee that the Saudis have taken steps to change, but "they must also work equally diligently to thwart the funding of Palestinian terrorist groups that undermine peace and stability in the Middle East." Daniel L. Glasper, deputy assistant secretary in the office of terrorist financing, said the infamous "Account 98," a financial pipeline to suicide bombers thought to have been closed, may still be active. He described as troubling a television program aired in Saudi Arabia in August that solicited funds for the Saudi Committee for the Support of the Al Qaeda intifada. "The United States shares Saudi Arabia's concern for meeting the humanitarian needs of the Palestinian people, but it is vitally important for Saudi Arabia to act resolutely against all terrorist organizations and to cut off support for groups like Hamas," Glaser said. Some US officials and lawmakers said they believe that while Saudi Arabia says it is taking steps to respond to Al Qaeda, it still supports terrorists operating in Palestinian areas in Israel. At home, the Saudi government has battled Al Qaeda and its affiliates after car bombings and other attacks on its own people. A series of car bombings in May 2003 killed 23 people, including 12 bombers, at three complexes in Riyadh. Other attacks followed six months later, which killed at least 17 people. Saudi government officials arrested suspected Al Qaeda fugitive Adnan bin Abdullah Al Omari, according to Tuesday's edition of Saudi Arabia's state-run press agency. Al-Omari is one of the kingdom's most wanted men. But some US lawmakers, including Sen. Jon Kyl, R-Ariz., say they want more from the Saudis to shut down terrorist financing. "If changes are not more forthcoming than they have been, then they can fully expect policies to come from the United States Congress," Kyl said. Al-Faisal acknowledged that religious leaders in Saudi Arabia are fundamentalist Muslims, but denied that means they support terror. "It is true that our senior ulama, our religious scholars, follow a fundamental school of Islam. It is true that they lead a morally conservative life. But it is also true that they condemn all suicide bombings and the taking of any innocent life," he said. President Bush met with Saudi Arabia's Crown Prince Abdullah last April at his Crawford, Texas, ranch. The photographs of the two holding hands, an Arab custom, led some critics to say the Bush administration has been too lenient on the Saudis. Secretary of State Condoleeza Rice is scheduled to travel to Saudia Arabia later this week as part of her Middle East trip.
Syria: Israel Doesn't Want Peace
Nov. 9….(YNET) Syria accused Israel on Tuesday of seeking to exploit intense US-led pressure on Damascus to reject calls for peace talks over the Golan Heights. "Israeli officials are trying to exploit the wave of political, media and psychological pressure on Syria in order to express in a rude manner their hostile attitudes toward Syria," Syrian Information Minister Mahdi Dakhlallah said in a statement carried by SANA, the official news agency. He was reacting to a statement attributed to Israeli Prime Minister Ariel Sharon on Monday in which he said that he would not negotiate with Syria on the return of the Israeli-occupied strategic high ground. "I don't intend to enter negotiations with Syria because I don't want to withdraw from the Golan Heights," Sharon told parliament's Foreign Affairs and Defense Committee in Jerusalem, according to lawmaker Yuval Steinitz, head of the committee. In past talks, Syria has demanded the return of the Golan Heights territory, which Israel captured in the 1967 Mid-east war and later annexed. Israel should not extend its hand to Syria when the nation's leaders are isolated internationally, MK Steinitz said Monday. "No one has the illusion that Israel will end the occupation (of the Golan) willingly," Dakhlallah said. "It has always geared its attitudes and policies toward the continued occupation of Arab territories as long as it could do that." He said the Israeli leaders' repeated refusal to withdraw from the Golan "Will not change the fact that the Golan is a Syrian Arab territory." "The Syrians uphold their right to recover and liberate the Golan until the last inch," Dakhlallah said.
Fatah Backs Iran's Call to Wipe Israel Off Map
Nov. 9….(Arutz) The armed wing of Fatah, the ruling party of the Palestinian Authority and of PA chief Mahmoud Abbas, has called for wiping the State of Israel off the map. Fatah's military wing, the Al Aksa Brigades, said in a pamphlet distributed in the Gaza district that "anybody who recognizes Israel will burn in the fire of the Islamic nation's fury. Any [Islamic leader] who recognizes the Zionist regime means he is acknowledging the surrender and defeat of the Islamic world." Harking back to its pre-Oslo days when Fatah, an international terrorist organization, led the Arab struggle against the Jewish state, the group's armed wing has become the first Palestinian organization to publicly identify with Iran's president's Mahmoud Ahmadinejad's recent call to "wipe Israel off the map." Fatah's military wing, the Al Aksa Brigades, said in a pamphlet distributed in the Gaza district that "anybody who recognizes Israel will burn in the fire of the Islamic nation's fury. Any [Islamic leader] who recognizes the Zionist regime means he is acknowledging the surrender and defeat of the Islamic world." Harking back to its pre-Oslo days when Fatah, an international terrorist organization, led the Arab struggle against the Jewish state, the group's armed wing has become the first Palestinian organization to publicly identify with Iran's president's Mahmoud Ahmadinejad's recent call to "wipe Israel off the map." The Fatah group's brazen invective against Israel, however, runs in direct contravention of the Oslo accords. According to those agreements signed by the late Prime Minister Yitzchak Rabin in 1993, the Palestine Liberation Organization, led by Fatah leader Yasser Arafat, formerly recognized Israel's right to exist, somewhere.
| | |
| --- | --- |
| | Goose-stepping Fatah militants strut their stuff, parading in Ramallah and calling for the wiping of Israel off the map. Fatah means the waging of Jihad, and is the organization founded by Yasser Arafat and current PA President Mahmoud Abbas. |
Sharon: No Deal with Syria on Golan
Nov. 8….(Jerusalem Post) Prime Minister Ariel Sharon on Monday reiterated that Israel would sign no peace agreement with Syria, regardless of the outcome the ongoing UN investigation. He added that "talk about retreating from the Golan Heights was a grave mistake." MK Yuval Steinitz quoted Sharon, who spoke to MKs of the Knesset's Defense and Foreign Affairs Committee, as saying that no matter what Syria wanted, "I will not negotiate with Syria because I will never leave that area." Israel retreated slightly from its position on Hamas participation in the upcoming Palestinian Authority elections as Prime Sharon told the MKs that Israel would not interfere with elections, even if Hamas did run. However, the prime minister said that if Hamas were to contend, Israel would not assist in the elections, hinting that it would not lift military restrictions or open border crossings. Asi Shariv, Sharon's media advisor, attempted to clarify the prime minister's comments about the Hamas. He announced that Israel would not interfere with internal Palestinian affairs, but there would be no cooperation that could assist Hamas participation. Shariv added that there would be no joint Israeli-Palestinian committees if Hamas had a part in the Palestinian Authority government.
Europeans Will Train PA Police
Nov. 8….(YNET) The European Union announced Monday that it will launch a three-year mission, starting Jan. 1, to help the Palestinians build up a credible police force, EU officials said. Officials said the decision by the EU foreign ministers will not mean European police officers patrolling the streets of Palestinian cities. The EU plans to provide up to 50 law enforcement experts to advise on how to staff, manage and finance Palestinian police forces, officials said. The EU police mission will be the EU's first security role as part of international efforts to get Israel and the Palestinians to make peace. To date, the Europeans have been consigned to providing economic and financial aid to the Palestinians. Officials said the police mission's first priority would be to provide more security on the streets of Gaza City and Ramallah, followed by Nablus and other Palestinian cities. Also, the ministers will debate an EU role in monitoring the Rafah border crossing point between the Gaza Strip and Egypt. Both Palestinians and Israelis have asked for that. EU officials were in negotiations on the weekend with Israeli and Palestinians officials. The aim is to keep the Rafah border crossing open permanently to cut the travel time between Palestinian areas and Egypt. Israel closed it for security reasons before leaving Gaza in September. Last week, the Israeli Cabinet approved the deployment of EU border inspectors, a major step toward giving Palestinians freedom of movement without Israeli controls for the first time in four decades. But Israel and the Palestinians disagree over how much authority the inspectors should have. The Palestinians want them to be advisers. Israel wants them to have final responsibility. Also, citing security concerns, Israel wants to be able to monitor Rafah traffic via closed-circuit television, something the Palestinians reject.
Netanyahu: Evangelicals are Israel's Best non-Jewish Friends
Nov. 8….(Jerusalem Post) The tens of millions of Evangelical Christians in the United States are the greatest non-Jewish supporters of the State of Israel, Former prime minister Binyamin Netanyahu said Monday. Netanyahu's remarks, directed at prominent American Evangelical leader Pastor John C. Hagee, were indicative of the strengthening relations between Israel and Evangelical Christians around the world. "The greatest support Israel has today is in the United States. And the greatest support Israel has in the US, besides the Jewish community, is that of Evangelical Christians," Netanyahu said at the monthly meeting of the Knesset's Christian Allies Caucus, which hosted Hagee on Monday. "These people support us not because of a shared ethnic identity, but because of a broader partnership based on values," Netanyahu added. His remarks were almost certain to raise eyebrows among certain liberal Jews in the US who are wary of Israel's partnership with the Christian right. "We did not succeed in Israel yet to understand the power the Evangelicals have politically in America," said MK Benny Elon (National Union), who as a former tourism minister was at the forefront of Israel's campaign over the last several years to team up with Evangelical Christian supporters around the world. The Knesset's increasingly-influential Christian Allies Caucus, which was established nearly two years ago and now has 14 parliamentarians from across the political spectrum, aims to garner the support of pro-Israel Christians around the world. In his address, Hagee pledged unequivocal support for the Israel, vowing that 70 million American Evangelicals stand united with Israel. "We believe God has spoken clearly, saying, 'He Who Blesses Israel I will Bless and He Who Curses Israel I Will Curse.' For Evangelical Christians that's clear enough. We stand with Israel through thick and thin," he said. The 65-year-old Texas-based Hagee called the road map "fatally flawed" for advocating further Israeli withdrawals and urged the international community to keep its "hands off" the West Bank and Jerusalem. "If America forces Israel to give away part of the Land of Israel to the enemies of Israel, then the judgment will come to America," he said. Hagee, who has won accolades for his unflinching support for Israel, was in the country this week with his wife Diana on his 21st visit. The conservative pastor serves as president and CEO of Global Evangelism Television, which broadcasts on over 150 television stations in North America, Canada, Europe, Australia and Africa.
Israelis: Withdrawal Won't Bring Peace
Nov. 8….(JNEWSWIRE) After five years of heightened Islamic terrorism, Israel's Jews have reached the conclusion that surrendering key parts of their ancient homeland for the creation of another Arab state will not bring the peace promised by their government and the gentile nations. In a poll conducted by the Peace Index Project last week, 74 percent of respondents said a full Israeli withdrawal from all of Judea and Samaria, an end to what the Arabs calls the "occupation," will not bring an end to "Palestinian" violence, and may even intensify it. Security experts made similar warnings prior to Israel's departure from Gaza, saying the move would encourage the "Palestinians" to increase efforts to score a repeat victory in the "West Bank." In the two months since the Gaza "disengagement" successful terrorist attacks on Israelis have increased for the first time in two years. In light of the current situation, 70 percent of Israelis questioned said they agree with Prime Minister Ariel Sharon's refusal to meet with PLO chief Mahmoud Abbas. A 61 percent majority believes Abbas wants to prevent the ongoing terror attacks, but is unable to do so, calling into question the validity of negotiating with his Palestinian Authority. Sixty percent of respondents said that even if Hamas makes serious gains in upcoming parliamentary elections and receives key government positions, the group will not moderate its position on Israel or lessen its involvement in anti-Jewish terrorism. Hamas' stated desire to annihilate Israel notwithstanding, Abbas has repeatedly defended the group's right to participate in the elections and gain influence both over his government and the "peace" process. Hamas is expected to garner up to 40 percent of the vote.
Palestinians Favor Insurgents More Than PA
Nov. 8….(JNEWSWIRE) A new poll has found that Palestinians trust insurgency (terror) groups more than the Palestinian Authority. Results of the survey of 1,500 Palestinians from the West Bank and Gaza showed the highest level of trust for such insurgency groups as Fatah, Hamas and Islamic Jihad. The poll, conducted in July 2005, reported a much lower level of confidence in PA security agencies, Middle East Newsline reported. The survey was conducted by the Geneva-based Graduate Institute for Development Studies and the Geneva Centre for the Democratic Control of Armed Forces. The highest level of confidence was in Hamas's military wing, with 32 percent of those surveyed expressing a high level of support. Fatah's Al Aqsa Martyrs Brigade received a 27 percent rating. The PA Preventive Security Apparatus, with 5,500 employees, was said to have received the lowest level of support. "Organizations controlled by the Palestinian National Authority, such as the Preventive Security, General Intelligence, National Security and Civil Police scored significantly lower trust levels," the report said. "Preventive Security is the least trusted of all organizations, with 23 percent of respondents having no trust in it at all. Entitled "Palestinian Public Perceptions of Security Sector Governance," the report outlined the failure of PA security forces. The report warned that donor nations must address both Palestinian security and development. The authors suggested that the PA would be unable to improve security in the short-term.
US Striking At Insurgents Near Syrian Border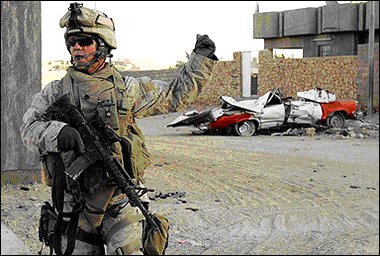 Nov. 8….(Geo-Strategy Direct) The US military has launched its third major counter-insurgency operation in western Iraq in about a month. The US military said more than 1,000 US and Iraqi troops began Operation Sword along the Euphrates River in the Anbar province near the Syrian border. Officials said the operation marked another attempt to halt the flow of insurgents, financing and supplies from neighboring Syria. The latest operation in Al Anbar was launched as President George Bush rejected any revision of US strategy in Iraq. President Bush, reporting the capture or killing of hundreds of foreign fighters, said he would not set a deadline for a US military withdrawal from Iraq. The US has conducted many operations along the Syrian border, trying vainly to impede the flow of terrorists and fighters coming from Syria since the insurgency began.
Iran Offers to Probe French Riots
(Calls on France to work with Tehran on fact-finding commission)
Nov. 8….(WND) Iran's Association of Muslim Journalists, a government-approved association, is condemning the violation of Muslims' civil rights in France and calling on the French government to cooperate with Tehran in establishing a fact-finding commission to investigate the conditions of French Muslims. "We suppose that the French government has carried out the recent discriminatory and anti-human rights acts under the influence of the Zionist lobby in France to limit the social and personal freedoms of the Muslims residing in the country, which is quite unacceptable on the part of a country that claims to be democratic," said the statement carried by Iran's official Mehr news agency. It continued: "The rough treatment of black people whose countries were colonized by France for decades shows that colonialism is still dominant in the policies and the thoughts of the officials of France, who claim to uphold freedom and patience. The Association of Muslim Journalists wishes to express its protest about the organized suppression of poor Muslims residing in the suburbs of Paris, who have been living as second-class citizens and deprived of social and political rights for many years." Rioting by Muslim youth began Oct. 27 in France to calls of "Allahu Akbar" and may be organized from abroad, some intelligence sources say. What started in Clichy-sous-Bois, on the outskirts of Paris, by its eleventh night had spread to 300 French cities and towns, as well as to Belgium and Germany. The current French insurrection is by no means the first instance of a semi-organized Muslim insurgency in Europe, as it was preceded days earlier by a riot in Birmingham, England and was accompanied by others in Denmark. The French press has handled the violence delicately, referring to the "urban violence" as victims of the political system. Mainstream media deny that the violence has anything to do with Islam. President Jacques Chirac declared a state of emergency today, paving the way for curfews to be imposed on riot-hit cities and towns in an extraordinary measure to halt France's worst civil unrest in decades after 12 nights of violence. The violence erupted on Oct. 27 as a localized riot in a northeast Paris suburb angry over the accidental deaths of two teenagers, of Mauritanian and Tunisian descent, (and Muslims) who were electrocuted while hiding from police in a power substation. It has grown into a nationwide insurrection.
FOJ Note: And so now comes word that "Iran" has offered to help France investigate the whole bloody situation. Ummm! And the gracious help comes just as France was about to join the US and Great Britain in bringing Iran before the UN Security Council for scrutiny over its Russian-assisted nuclear development program.
Italian FM Calls for Global Backing of Israel
Nov. 7….(Jerusalem Post) Italy's foreign minister has called on the international community to help guarantee Israel's security and condemned Iran's president for saying the Jewish state should be "wiped off the map." Iranian President Mahmoud Ahmadinejad merely said what many others think "but have not always dared speak with such brutality," Gianfranco Fini also was quoted as saying in an interview published Saturday in Milan daily Corriere della Sera. "Not recognizing Israel's right to exist is an incentive for terrorism because the moment you don't recognize a state's right to exist you don't recognize a people's right to exist," Fini was quoted as saying. "That makes it clear that it is indispensable to guarantee to Israel the commitment of the international community towards its safety," Fini said. During a visit to Israel earlier this week, Fini said Italy wants Iran to be referred to the UN Security Council for possible sanctions on the issue of nuclear weapons. Until then, Fini had rarely spoken in public about Italy's position on the Iranian nuclear issue
Fatah Agrees: Wipe out Israel
Nov. 7….(JNEWSWIRE) A "military wing" of the Palestinian Authority's ruling Fatah faction declared its support Sunday for Iranian President Mahmoud Ahmadinejad's desire to see Israel "wiped off the map." For those unconvinced that the various terrorist organizations that make up the PLO/PA ever truly abandoned their own long-stated aspirations to eradicate the Jewish "stain" from the Middle East, the announcement came as little surprise. In a leaflet published by Fatah's Al Aqsa Martyrs' Brigades, the group stressed its "identification with and overall support of the position and declaration of the Iranian president, who called with all honesty to wipe Israel off the map of the world." Ahmadinejad was correct in labeling Israel a "fictitious Zionist state, which will disappear with the help of Allah," according to the leaflet. The Brigades warned against official recognition of Israel, as doing so "constitutes contempt of the Palestinian people, who sacrifice their blood every day for the sake of freeing Palestine and Jerusalem." The group was referring to daily attempts by its own members and other "Palestinian" terrorists to mass murder Jewish men, women and children. Unnamed PA officials insisted the leaflet did not represent the position of the regime of PLO chief Mahmoud Abbas. "We strongly condemn the leaflet," one told The Jerusalem Post. Attempting to play down the incident, the same official suggested the leaflet "does not even reflect the position of the Aqsa Martyrs' Brigades." The Palestinian Authority is currently working to integrate the Brigades into its official police forces. For the Brigades to openly call for Israel's complete destruction at this time would call into question the wisdom of such a move, and the PA's own intentions for having initiated it. Under the terms of the Oslo Accords and Road Map peace agreements, the PA is obligated to disarm and dismantle groups such as the Al Aqsa Martyrs' Brigades. Abbas hopes that by paying them police salaries, the international community will see that commitment as fulfilled. Washington has indicated it will play along, and is financing the move, PA sources told Middle East Newsline last week. Many members of the group already draw official police salaries, including a top Gaza-based terrorist killed in an IDF missile strike last week after his involvement in numerous Kassam rocket and mortar attacks on Israeli towns.
WEEK OF OCTOBER 30 THROUGH NOVEMBER 5
Hamas: 'Do you surrender yet?'
Nov. 4….(JNEWSWIRE) Sounding as though it had won a great victory over the Jewish state, the Hamas terrorist organization Thursday laid out its terms for ceasing aggression against Israelis. "We are not going to give calm a chance without a price," Gaza-based Hamas leader Mahmoud al-Zahar told Reuters, as the December deadline for renewing the current farcical terrorist truce fast approaches. That price, Zahar said, is the release of all 8,000 terrorists currently jailed in Israel, and a complete halt to Israel's military efforts to defend its citizens from future attacks. Over the past year, Israelis have been treated to the terrorists' idea of "calm," which in the past two months since Israel's retreat from Gaza has actually consisted of an increase in violence. In reality, the terrorists are "on the ropes," as it were, and in no position to be setting cease-fire terms, security officials told The Jerusalem Post's Arieh O'Sullivan. "Each night, security forces fan out across Judea and Samaria and detain suspected fugitives. Nearly 1,000 have been nabbed and brought in for questioning in the past few months. While many were eventually released, the arrest of key terrorists has decimated their ranks, particularly in Hamas," writes O'Sullivan. However, few in Israel expect the terror groups will be completely squashed amid mounting American pressure for Israel to "consider the consequences of its actions."
Secretary Rice: PA Must Fight Terror Now
Nov. 4….(Jerusalem Post) A day before meeting Defense Minister Shaul Mofaz, US Secretary of State Condoleezza Rice told a group of Jewish leaders she understood the difficulty Prime Minister Ariel Sharon is facing in dealing with the settlement issue now and seemed to accept the Israeli view that the Palestinians first act to combat terrorism. In a meeting Tuesday with the leadership of the Israel Policy Forum (a pro-Israel, pro-peace advocacy group), Rice put the onus of moving forward on the Palestinian side and said she would like to see Palestinian Authority Chairman Mahmoud Abbas act against terrorism even before the January PA elections. "The secretary acknowledged that Abbas has to do more, even before the elections, and said that Sharon needs an indication that Abbas is willing to do so, before taking actions himself," said one of the officials who met with Rice. During thier Wednesday meeting, Mofaz told Rice that Israel "wants to deal with President Abbas." "We are waiting to see how the Palestinian Authority will deal with terrorist groups," the minister said.
FOJ Note: I wonder how many times this topic must be reiterated before the PA actually takes some action. We have waited now for 12 years for the PA to take its first step on this very first pledge under the Olso agreements.
UN Inspectors Visit Iran's Parchin Nuke Site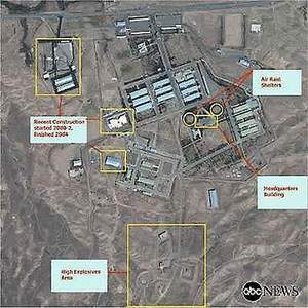 Nov. 3….(The Australian) Iran's hardline Government has opened up its sensitive Parchin military site to international inspectors, the UN nuclear watchdog revealed yesterday. The International Atomic Energy Agency was given access after threatening to refer Iran to the UN Security Council over Tehran's lack of co-operation. The IAEA wants to investigate US claims that tests related to atomic bomb development are taking place at Parchin, 30km southeast of Tehran. Iran has been under intense international pressure over its nuclear program, with the IAEA in September finding Tehran to be in "non-compliance" with the Non-Proliferation Treaty. French Foreign Minister Philippe Douste-Blazy yesterday renewed his country's threat to bring the issue of Iran's nuclear program before the UN Security Council. If Iran did not return to negotiations with the EU-3 group, France, Germany and Britain, "then there will be firmness and there will be a return to (IAEA director Mohamed) ElBaradei's report" to the Security Council, he told the French parliament. Tehran appears to be showing more co-operation in an effort to avoid a referral to the Security Council because it could impose trade sanctions, said diplomats in Vienna, where the IAEA is based. But they said Iran was continuing to defy the international community by pushing ahead with uranium ore conversion, a preliminary nuclear fuel activity, at Isfahan in central Iran. It is to begin processing 37tonnes of uranium ore next week after having already processed the same amount since August. Conversion produces the uranium gas that helps enrich uranium into what can be fuel for nuclear power reactors but also the explosive core of atom bombs. Iran is currently suspending uranium enrichment. Washington claims Iran may be testing high-explosive charges with an inert core of depleted uranium at Parchin as a dry test for how a bomb with fissile material would work. "We are pleased we can confirm that IAEA inspectors got access to buildings at the Parchin site as we had requested," an IAEA spokesman said. Iran's relations with the West have been deteriorating since the shock presidential election win in June of Mahmoud Ahmadinejad, a straight-talking hardliner determined to restore Islamic revolutionary values. The clerical regime is accused of using an atomic energy drive as a cover for weapons development, a charge it denies, and Mr. Ahmadinejad drew international condemnation last week for calling for Israel to be "wiped off the map." This week the Iranian Government announced it was embarking on a major shake-up of its diplomatic corps, a move set to take out top diplomats engaged in key contacts with the West. Foreign Minister Manouchehr Mottaki confirmed yesterday that "some 40 ambassadors or heads of mission," or close to a third of those in such posts, would be heading home in the coming months.
Iran Donates $1 million to Palestinian Terror
(Distribution ceremony sponsored by PA President Abbas)
Nov. 3….(WND) Iran last month distributed $1 million to families of Palestinian suicide bombers and jailed terrorists at a ceremony sponsored in part by Palestinian Authority President Mahmoud Abbas, WND has learned. A speech given on behalf of Abbas at the distribution ceremony called for the liberation of "all" Palestinian lands and a stop to the "Judaization" of Jerusalem, reported the Information and Terrorism Center at Israel's Center for Special Studies. The Al-Ansar Association, a division of the Iranian Martyrs Foundation, based in Tehran, held the ceremony in the Gaza Strip on Oct. 13 to distribute the funds to families of suicide bombers, jailed terrorists and Palestinians whose homes were demolished during Israeli anti-terror operations, usually because a family member committed a terror act or terrorists were allowed to use their homes as shelter. Al-Ansar was founded in 2003 to serve as the Palestinian branch of the Iranian Martyrs Foundation, which, according to the Center for Special Studies, grants money on behalf of Iran. Al-Ansar also operates under the auspices of the Martyr Institution run by Iran-backed Hezbollah operatives in Lebanon. Al-Ansar's Palestinian office is headed by an Islamic Jihad member who is directed by Hezbollah, said the Center for Special Studies. Abbas sent a representative to deliver a speech on his behalf at the $1 million distribution ceremony, which was videotaped and attended by several members of the Palestinian Legislative Council. Abbas was also a sponsor of the ceremony, the Center for Special Studies reports. Giving a speech for Abbas, Minister of Prisoners' Affairs Hisham Abd issued a call to fight against Israel's West Bank security fence and the Judaization of Jerusalem, and he said the PA formulated "national plans" to liberate Palestinian lands. Dr. Reuven Erlich, director of the Intelligence and Terrorism Information Center, told WND Abbas' sponsorship of the ceremony demonstrates the PA president "prefers not to confront the terror organizations." The public ceremony is the latest evidence Iran directly backs Palestinian terrorism. Said Erlich: "Iran considers the generous support it provides to 'charity associations' in the Palestinian Authority-administered territories a means to support the terrorist organizations, mainly the Palestinian Islamic Jihad and Hamas, and an instrument for acquiring influence among the Palestinian population." Senior Israeli security sources told WND last week's suicide bombing north of Tel Aviv that killed five civilians was directed from Syria and funded in part by Iran. They said the Islamic Jihad cell responsible for the bombing was directed by Iranian-funded Hezbollah. Sources said Hezbollah forces using Iranian money have created a terror apparatus of Palestinian militants in the West Bank consisting mostly of Jihad members who receive full-time salaries from the Lebanese group. Palestinian security previously had intercepted a series of communications, including phone calls and e-mails, between Hezbollah and West Bank terrorists indicating Hezbollah had been trying to recruit suicide bombers to carry out attacks, sources say. One official said intercepted bank transactions previously suggested Hezbollah had raised its Iranian-sponsored cash offers to Palestinian terrorists and now is willing to pay $100,000 for a suicide bombing operation. In the past, information indicated Hezbollah would pay $20,000 for such attacks. Maj. Gen. Yaacov Amidror, former head of Israel's military intelligence, told WND, "The money comes straight from Iran."
Arab Nations Press Syria on UN Probe
Nov. 3….(AP) Arab states are quietly pressing Syria to cooperate with an inquiry into the assassination of former Lebanese Prime Minister Rafik Hariri, a sign they support a stern UN warning to Damascus and want to avoid a confrontation with the West. This week's UN resolution, which paves the way for sanctions against Syria if it does not go along, brought near silence from the region's governments. There have been no street protests, no Arab leaders coming together for Syria's defense. Instead, Egypt, Saudi Arabia and Gulf nations have launched behind-the-scenes diplomacy, apparently to send the message that Syria must stop stonewalling, even if that could mean prosecution of top figures in President Bashar Assad's regime over Hariri's slaying. "We are talking about a decision by a legitimate international body, and this decision has to be respected by all," Kuwait's foreign minister, Sheik Mohammed Al Sabah, said Tuesday, according to the state-owned Kuwait News Agency. Incensed by the silence, Syria's state-run Al-Thawra newspaper issued a stinging warning. "Arabs, you are not spectators in the Middle Eastern hall where America is presenting this bloody show nor are you the referee in this savage game," columnist Khaled al-Ashhab wrote. "You are the chorus that utters a word, makes a movement or remains silent." He suggested some governments were silent to curry favor with the United States. "The little that some of you might receive now, you will pay for tomorrow in blood," al-Ashhab wrote. Like other Syrian papers, Al-Thawra reflects government thinking. While opposing sanctions on Syria, Algeria, the only Arab nation currently on the Security Council, voted for the resolution. Egypt has been trying to persuade Assad to cooperate, fearing that otherwise the United States will keep increasing the pressure on Damascus and destabilize the Assad regime, according to Egyptian diplomatic officials in Cairo. The officials spoke on condition of anonymity because of the sensitivity of the talks. At the same time, Egypt, a key US ally in the Mideast, is urging Washington not to push too hard, contending that if Assad is forced out, an Islamic fundamentalist regime could come to power, the officials said. Egyptian President Hosni Mubarak held talks with Assad last week, and on Tuesday he spoke with King Abdullah of Saudi Arabia, who also has been pressing Assad to cooperate. Even Amr Moussa, head of the Arab League, which usually backs any Arab leader in trouble, refused to respond to the resolution, saying, "There's no need to comment on it by welcoming it or giving other details about it." Syria has insisted it is innocent of the assassination and is the target of a Western plot that, after Saddam Hussein's fall in Iraq, now aims to remove Assad's regime because of its anti-Israeli stand. Syria has received support in some papers, on TV talk shows and from some Arab unions. But the response does not match the Arab fury over the Iraq war. The Dubai-based Gulf News said Monday's vote showed the bias of the Security Council. But, the newspaper added, "friends of Syria around the world, call on the Syrian government to handle the case with maximum care and vigilance for the interest of the country and the whole region."
UN Adopts International Holocaust Day
Nov. 2….(Jerusalem Post) It took 56 years, but the UN General Assembly on Tuesday finally passed an Israeli-initiated resolution. After 10-months of preparatory work, two days of discussion and an impassioned speech by Ambassador to the UN Dan Gillerman, the General Assembly unanimously adopted a resolution declaring January 27, the day in 1945 when Auschwitz-Birkenau was liberated, as a worldwide day to commemorate the Holocaust. "I feel moved and privileged to present this historic resolution today, as an Israeli, a Jew, a human being and a child of a family of Holocaust victims," Gillerman said Monday when presenting the resolution. "The United Nations was founded on the ashes of the Holocaust," he said. "The UN bears a special responsibility to ensure that the Holocaust and its lessons are never forgotten and that this tragedy will forever stand as a warning to all people of the dangers of hatred, bigotry, racism and prejudice." The resolution urges individual countries to develop educational programs to try to prevent future acts of genocide. It also rejects any denial of the Holocaust, condemns discrimination and violence based on religion or ethnicity, and calls for the UN to establish an outreach program to encourage the public to engage in Holocaust remembrance activities. This was the first time an Israeli-initiated resolution ever even made it to the floor of the General Assembly for a vote, let alone win resounding approval. The vote came less than a week after the Security Council, in an unprecedented censuring of a Muslim country for statements against Israel, condemned Iranian President Mahmoud Ahmadinejad's call to wipe Israel off the map. US Ambassador to the UN John Bolton made reference to Ahmadinejad's comments in his speech on Monday. "When a president or a member state can brazenly and hatefully call for a second Holocaust by suggesting that Israel, the Jewish homeland, should be wiped off the map, it is clear that not all have learned the lessons of the Holocaust and that much work remains to be done," he said. The resolution was sponsored initially by Israel, the US, Australia, Canada and Russia. Foreign Minister Silvan Shalom termed the vote "historic." "For the first time since the establishment of Israel, the UN General Assembly has adopted an unprecedented Israeli resolution. This is a very significant step, both in the war against anti-Semitism and for the commemoration of the Holocaust, and in promoting Israel's international position," he said. Shalom said the vote showed that the UN, after 60 years, finally realized the importance of acknowledging the lessons of the Holocaust, and finally treated Israel as an equal member in the international community.
Iran Must Be Stopped
Nov. 2….(excerpted Arutz interview with Moshe Feiglin) Moshe Feiglin believes a Muslim country that obtains a nuclear weapon will not hesitate to use it against the Jewish State, and that such a scenario was made nurtured by the Oslo Accords. Not only are we not doing anything about Iran's nuclear plans, we are making the march to destruction move faster by coming up with solutions that not only do not solve the problem, but focus our energies in the opposite direction," Feiglin says. "We are into fences," Feiglin, who opposes the division of Israel via the separation fence, explained. The Arrow Missile, for example, is just another kind of Israeli fence. And, just as effectively as the separation fence prevented the bombing in Hadera last week, the Arrow Missile will be effective against missiles from Iran with nuclear warheads, by taking down two out of three missiles. Yet the Israeli military industry comes up with ideas based on fences and more fences and more fences." Feiglin believes there must be a return to the paradigm originally adopted by Menachem Begin. "One of the good things Begin did was the attack on Iraq's nuclear reactor," he said. "This showed the entire world the way to deal with countries threatening to develop nuclear weapons." Though Feiglin concedes that Iran has learned from the Israeli attack on the Osarik reactor and spread its underground nuclear facilities, Feiglin insists there are ways to deter Iran from pursuing the bomb. "Even if we cannot bomb all of their nuclear locations, we must make them pay a price that will make it not worth it for them to continue with the process. The only way to do this is to make the ruling regime fearful that it will lose power. They won't care if a million Iranian children die, but they care about staying in power." Asked about the scenario, increasingly espoused by western academics, wherein Iran successfully obtains nuclear weapons but a Cold War-type balance is sustained between the Jewish and Islamic states, Feiglin dismissed such suggestions as dangerous and misguided. "I think this is a huge mistake," he said. "We have to understand. An atomic bomb is a bomb that can do what the American bombs did in WW2 in Japan. A nuclear bomb that hits the Gush Dan Tel Aviv area destroys Israel. About 80% of the military resources in Israel are in that region. For Iran, that is not the situation. The first nuclear bomb would destroy a city, but they have plenty more and are willing to lose one or two. Any Islamic dictator who destroys Israel will become the king of the Muslim world, he doesn't care if he loses a few cities. "So those who compare the US and Soviet Union to this situation are inaccurate, neither of those countries could destroy the other in one attack. We are talking about a situation where an Arab country can destroy Israel with one attack and in a certain situation it will be worthwhile for them, we cannot allow this to happen. "There is a saying, 'If there is a gun in the first act of a play, someone will use it in the third act.' Even if they won't use it, just the fact that they have it and are looking to destroy Israel will put us immediately in a situation where I don't know who will even continue to live here. Our whole strategic situation is impossible. It will be like living with a gun to your head and a killer is holding the gun. Now maybe he won't shoot so fast because he doesn't want a bullet in the hand, but eventually there will be pressures, or he will want to become the king of the Muslim world. That is why Nasser started the Six Day War. Look what happened on September 11th, Bin Laden became the hero of the entire Islamic world." To the suggestion that the United States would not allow Israel to be annihilated, Feiglin said he is not willing to bet his life on that assumption. "We can only look out for ourselves," he said. "You see today, nobody is going after North Korea the way they are going after Iraq. Nobody would think of attacking North Korea because they have the bomb already. Counting on the world to save us is the exact same psychology that brought us to count on the Americans to bomb Auschwitz." Eli Stutz asked Feiglin whether the inevitability of some Islamic country eventually acquiring a nuclear weapon does not make achieving peace with Israel's Islamic neighbors as urgent a mission as Labor Chairman and Oslo architect Shimon Peres feels it is, no matter the cost. What really happened due to the Oslo process was that we actually encouraged the Arabs to develop the bomb and the human bombs they have already used, by telling them, 'you are right.' "We lost our justification and our sense of justice when we accepted the idea of a Palestinian state and a Palestinian people. We basically said that our whole 'line,' of Israel belonging to the Jews, was wrong and the real owners of the land are the Arabs, we implied that we are just a bunch of colonialists who came from Europe and took over, and they hate us all the more and are encouraged to use violence more. "We have seen the level of hatred and terror in recent years increase exponentially, and it has spread from the Middle East to the entire world. The twin towers would not have fallen and Bin Laden would not have appeared on the scene if not for the Clinton-Arafat-Rabin handshake in 1993.
Bush: America is Israel's Shield
Nov. 2….(JNEWSWIRE) America must remain resolute in its battle against global Islamic terrorism, or risk serious consequences, including the demise of the Jewish state, US President George W. Bush said in a speech to American troops last week. A perceived US loss in the war on terror would provide the terrorist the means of victory over Israel and eventually the entire Judeo-Christian West, Bush insisted. "With the greater economic, military and political power they seek, the terrorists would be able to advance their stated agenda: to develop weapons of mass destruction, to destroy Israel, to intimidate Europe, to assault the American people, and to blackmail our government into isolation." The president publicly recognized Israel as an ally against and fellow victim of global Islamic terror, citing Al Qaeda-backed attacks against Israelis in Sinai last year and a recent Hamas "suicide" bombing in the coastal town of Netanya. Leftist liberal voices in America have accused the Bush Administration of going to war against Iraq at the behest of Israel and the Jews and in order to protect Jerusalem from further aggression from Saddam Hussein. Those same voices are insisting the president end his efforts to eradicate Islamic terrorism.
Sharon: We'll Implement Road Map, Our Way
Nov. 2….(JNEWSWIRE) Prime Minister Ariel Sharon Monday recommitted Israel to seek a solution to its conflict with the Arabs according to the designs of the Gentile nations of the world, but also resurrected the 14 reservations Jerusalem officially attached to the so-called "Road Map to peace." Speaking at the opening of the Knesset's winter session, Sharon said Israel continues to see the internationally-backed Road Map as "the only political program providing a possibility of peace and hope for both the Israeli and Palestinian people." To date the Road Map, like the Tenet Plan before it and the Oslo Accords before that, has provided Israel with little outside of ongoing and escalating terrorism, and a continuing decrease in its ability to defend its own citizens. Some 304 Israelis have paid with their lives since April 2003 for Jerusalem's decision to tread the path set out by the Road Map, rather than war against and eliminate the terrorist forces threatening them. Hundreds more have been wounded and maimed. But according to Sharon, Israel will not blindly throw out concessions while expecting and receiving nothing in return, as it did during much of the decade-long process attached to the Oslo Accords. For the first time in months, Sharon reminded those listening that Israel only accepted the Road Map together with a list of 14 special reservations. "The government's policy aims for implementation of the Road Map, including the 14 Israeli reservations," the prime minister stated. The first and chief of those attached reservations demands the Palestinian Authority finally combat, disarm and dismantle all terrorist organizations operating out of territories under its control as a condition for moving to Phase Two of the plan. The PA must also demonstrate compliance with its Oslo commitments to end incitement against the Jews and educate the Palestinian Arabs for peace. Most official PA schoolbooks continue to teach local Arab children that Israel will one day be destroyed. Furthermore, Israel insists the PA drop all demands for a "right of return" for millions of so-called "Palestinian refugees" to towns and cities throughout the land, effectively ending the Jewish state. Abbas, however, made that right of return a central plank in his election platform last year. "We must stand united to ward off attempts to exempt the Palestinians from fulfilling their security and political commitments which have not yet been implemented," Sharon told the Knesset.
Disillusioned Palestinian Terrorists Joining Al-Qaida
Nov. 2….(WND) Jailed Hamas members disillusioned with the Palestinian terror group because it's not radical enough for them renounced their Hamas membership and attempted to set up an al-Qaida cell to direct attacks against the Jewish state, Israeli prison officials said yesterday. The revelation is the latest evidence the global terror network has established itself in the Palestinian territories, with Israeli security officials telling WND al-Qaida agents infiltrated the Gaza Strip after Israel's military withdrawal from the area in September. The terrorists in jail were defying Hamas, which they said wasn't radical enough. They wanted to create their own cell of al-Qaida that would be the network's arm in Israeli prison to direct attacks," said a prison official. Israeli security officials said nine jailed Hamas terrorists "with blood on their hands," including two militants trained in Afghanistan and Pakistan, tried to set up the al-Qaida cell last month. Officials said the cell planned to direct attacks on behalf of al-Qaida by sending messages to terrorists outside the Israeli prison. There have been many cases the past few years of Palestinian terrorists planning or directing attacks from within Israeli jails. Prison officials said they began investigating after they intercepted communications between some of the nine prisoners, messages that contained al-Qaida ideology and operational instructions specific to the global jihad group. Said a prison official, "The jailed terrorists renounced their membership in Hamas. They didn't think Hamas was carrying out enough attacks. They thought Hamas was too focused on trying to join upcoming Palestinian legislative elections. So they joined with al-Qaida." Israeli security officials have been insisting the past few weeks al-Qaida members have set up shop in Gaza. "Al-Qaida operatives took advantage of the opened Rafah border with Egypt and entered Gaza," said Maj. Gen. Aharon Zeevi Farkash, chief of intelligence for the Israeli Defense Forces. Farkash added al-Qaida's interest in attacking Israel recently has increased. "Militants linked to Hezbollah, al-Qaida and other international terror groups are now very likely in Gaza," a senior security official told WND. "
Iranians Celebrate 1979 American Embassy Seizure
Nov. 2….(Yahoo) Thousands of Iranians burned flags and chanted slogans against Israel and the United States on Wednesday in the largest demonstration in years outside the former U.S. Embassy in Tehran. More than 10,000 demonstrators shouted "Death to America" and "Death to Israel" in front of the former embassy compound, marking the 26th anniversary of the Nov. 4, 1979 seizure of the embassy by student militants. The demonstration came a week after Iranian President Mahmoud Ahmadinejad called for Israel's eradication, saying the country should be "wiped off the map," comments that caused a flood of international condemnation and criticisms from moderates in Iran that he was needlessly stoking confrontation with the West. Ahmadinejad has stuck by the comments, and on Friday he joined hundreds of thousands of demonstrators marching in Tehran and other cities to denounce Israel in the country's annual Quds, or Jerusalem Day protest. Wednesday's protest was far smaller, but it was still the largest turnout in years for the annual protests organized at the former US Embassy. Demonstrators carried a large picture of Ahmadinejad emblazoned with his quote, "Israel must be wiped off the map." They burned US and Israeli flags and effigies of President Bush and Israeli Prime Minister Arial Sharon. Some wore a traditional Palestinian kaffiyah headdress, symbolizing their readiness to fight Israel. "We have to continue our confrontation with the United States and Israel. This could help the world get rid of the arrogant powers," the hard-line Jomhuri Eslami daily said in an editorial. Since the 1979 Islamic revolution, Iranians have celebrated the Nov. 4 takeover of the embassy by militant students. The students took 52 American diplomats hostage for 444 days. Though the annual protest drew massive crowds during the heyday of the Islamic Revolution in the 1980s, during the lifetime of Ayatollah Ruhollah Khomeini, the past few years they have gotten smaller, drawing several thousand each time. But Wednesday's was the first embassy rally held since Ahmadinejad's surprise victory in June presidential elections, which sealed the decline of Iran's reform movement and solidified the control of hard-liners over the government. The United States, which broke off diplomatic relations with Iran since the embassy takeover, suspects Iran's nuclear program is a front for developing weapons.
White House to Abbas: Act against Islamic Jihad
Nov. 1….(Ha Aretz) Palestinian Authority Chairman Mahmoud Abbas must crack down on Palestinian Islamic Jihad in the wake of last week's suicide bombing in the coastal city of Hadera, White House national security adviser Stephen Hadley said on Monday. "Palestinian President Abbas earned the trust of his people when he was elected on a platform of peace this past January. Now the Palestinian Authority must make good on that promise by fighting terrorism," Hadley said in prepared remarks for the American Israel Public Affairs Committee National Summit 2005 in Los Angeles. "We have made it very clear to him, especially in the wake of the vicious attack in Hadera, that he should begin by acting promptly and forcefully against Palestinian Islamic Jihad," Hadley said. In the speech released by the White House, Hadley emphasized that spreading democracy in the Middle East would make Israel more secure. "If freedom prevails in Iraq, others in the region, including Syria and Iran, will be under greater pressure to open up their repressive political systems," Hadley said. "For Israel should not be condemned, in the name of stability, to live in a region where despots threaten to 'wipe them off the map,'" he said, referring to comments made last week by Iranian President Mahmoud Ahmadinejad.
Syria Angrily Rejects UN Resolution
Nov. 1….(AP) Syria's foreign minister faced off with the UN Security Council, angrily rejecting a unanimous resolution that demands Damascus cooperate fully with an investigation into the assassination of former Lebanese prime minister Rafik Hariri. Diplomats said they were shocked by Farouk al-Sharaa's response on Monday. He said accusing Syrian security forces of having advance knowledge of Hariri's killing was tantamount to saying US officials knew ahead of time about the Sept. 11 attacks, Spain knew about the 2004 train bombings or Britain knew about this summer's London transit bombings. And he went one step further, raising questions about why Britain had trained for similar scenarios soon before the London attacks. "We know that such security organs, particularly the British, were fully aware that such attacks would take place and had prior training to face up to them," al-Sharaa said, jabbing his finger toward British Foreign Minister Jack Straw as US Secretary of State Condoleezza Rice and other foreign ministers looked on. Britain, along with the US and France, co-sponsored the resolution which passed with the support of all 15 nations on the Security Council, including Algeria, the only Arab nation on the council. Al-Sharaa's reaction visibly angered Straw, who called it "the most grotesque and insensitive comparison," "appalling," and "absurd." Rice called his outburst "a tirade which made the most bizarre connection." The resolution threatened "further measures" if Syria does not start cooperating fully with the probe of Hariri's Feb. 14 slaying which also killed 20 other people. The resolution requires Syria to detain anyone considered a suspect by UN investigators. He is likely to seek to question Syrian President Bashar Assad's brother-in-law and chief of military intelligence Assef Shawkat, who has been implicated in the killing as well as the president's brother Maher Assad, who is also under suspicion. Diplomats said al-Sharaa's reaction underscored Syria's isolation and highlighted the necessity for the warning to Damascus. Straw said any council member concerned about adopting the resolution under a UN charter provision which is militarily enforceable should have their misgivings allayed by al-Sharaa's response. "It sends a very strong signal to Syria of its isolation, but of course that signal was simply reinforced by the really unbelievable tirade of Syria's Foreign Minister, Mr. al-Sharaa," Rice told reporters after the council vote. Russia, China, Brazil and others had strongly opposed the sanctions threat. "I would like to say that the message of the Security Council is particularly clear: Syria must cooperate with the Security Council otherwise there will be consequences," France's Foreign Minister Philippe Douste-Blazy said. "Justice shall prevail." The resolution marked the culmination of Security Council pressure for Syria to release its grip on its tiny neighbor in the months since Hariri's assassination. Syria controlled Lebanon for nearly 30 years with a military presence of thousands, and at times tens of thousands, of troops. But Hariri's assassination brought massive anti-Syrian protests by Lebanese coupled with intense international pressure that forced Assad to withdraw all of his troops last spring, just months after the killing. The beleaguered Assad government sought to rally regional support on Monday, calling for an emergency Arab League summit. But Arab diplomats said it was unlikely that many of the 22 member nations would agree to a meeting for fear of harming ties with the US, Britain and France.
Syria Calls for Emergency Arab League Summit After UN Passes Stern Resolution
Nov. 1….(Fox News) Syria called for an emergency Arab League summit in a bid Monday to rally regional support in the face of a stern, unanimously adopted UN Security Council resolution demanding greater cooperation in the probe of the assassination of a former Lebanese prime minister. But Arab diplomats, anticipating lack of broad support for a summit of all 22 members, suggested a smaller gathering of Syria, Saudi Arabia, Algeria, Lebanon and Egypt if others decline out of concern over harming ties with the resolution's prime sponsors, the United States, France and Britain. To win unanimous approval, the three sponsors dropped a reference to sanctions should Syria not cooperate. Veto-holding members China and Russia had refused to accept that language. Speaking at Arab League headquarters in Cairo, the diplomats said Secretary-General Amr Moussa sent a special envoy to Persian Gulf countries informing them of the Syrian request. The diplomats, who were not authorized to speak for publication, said Syria hoped to hold a meeting after Eid el-Fitr, the Muslim religious holiday that concludes the Ramadan month of fasting, either Wednesday or Thursday. Anti-Syrian Lebanese political leader Walid Jumblatt, meanwhile, warned Damascus could face chaos and instability like that roiling Iraq should President Bashar Assad fail to cooperate with the UN probe. "If he acts like Saddam did, yes, we are heading to a situation similar to what happened in Iraq," Jumblatt said. The Syrian leader appears to be in an increasingly isolated and weakened position since initial findings linked his security services and those in Lebanon, where Damascus held dominion until last April, to the Hariri murder. Critics of the drive to further isolate Assad warn Syria could fall into the hands of a radical Islamic regime or another type of leadership far more hostile to the West and Israel. The Security Council vote requires Syria to detain anyone the UN investigators consider a suspect and allow investigators to determine the location and conditions for questioning. While Syria has rejected accusations of its involvement in Hariri's killing, it buckled under international pressure and withdrew its soldiers from Lebanon in April, ending a 29-year presence in its smaller neighbor. It also announced over the weekend that it had formed a commission to carry out its own investigation into the Hariri assassination.
Syrian Bigwigs and Capital Flee under Implied Threat of Military Action

Nov. 1….(DEBKAfile Special Report ) The threat of military action was embedded in the UN Security Council resolution yesterday against Syria. It was reinforced by US Secretary of state Condoleezza Rice when she spoke of "serious' consequences," diplomatic parlance for military action , should Syria fail to cooperate with the final and conclusive part of UN investigator Dehlev Mehlis' inquiry into the murder of Lebanese leader Rafiq Hariri last February. The explicit threat of economic sanctions was deleted from the American-British-French draft demanding Damascus' cooperation. It was dropped for the sake of a unanimous 15-0 endorsement to appease Russian, Chinese and Algerian objections. Instead, the resolution called for unspecific "measures." However the motion was adopted under Chapter VII of the UN Charter, which spells out these measures as being "partial interruption of economic relations and of rail, sea, air, postal, telegraph, and other means of communication, and severance of diplomatic relations." The same chapter permits the use of armed force if those measures fall short of their purpose. Syria is required to detain any suspects named by the UN investigators and hand them over for interrogation at places and in conditions determined by those investigators. The second tough clause states: suspects may be subject to a travel ban and a freeze on their assets. Rice and British foreign secretary Jack Straw both addressed the Security Council session to strengthen the implied phased threats of the resolution. Faced with this torrent of menacing language, Bashar Assad's close associates have already decided that escape is the better part of valor. Influential Syrian VIPs appear to have read the UN resolution carefully last week and are absconding. DEBKAfile's intelligence sources reveal large cash withdrawals from Syrian banks, currency conversions and transfers to banks outside the country. The flight of money was accompanied by an exodus of some of the leading families of Damascus, anxious to beat "the ban on travel and assets freeze" mandated by the UN resolution for suspects in the Hariri murder plot. The largest capital transfer, estimated at $6-7bn, was made by the tycoon Rami Makhlouf who lost no time in removing himself, business and family from Damascus to Dubai. Makhlouf's defection is a mortal blow for Assad and his shrinking circle of supporters. He is not only the manager of the Assad clans' finances, his is also a close kinsman; Bashar's mother is his aunt, sister of his father General Adnan Makhlouf, who served the late president Hafez Assad in a top position of trust as commander of the presidential guard. His huge capital transfer and removal of his business center from the Syrian capital are capable of bringing the national economy crashing down about Assad's ears. His is not the only defection. Several other affluent Syrian businessmen close to the regime have also decamped. The second richest man in the country, Firas Tlas, has moved lock, stock and barrel, to Abu Dhabi. DEBKAfile's sources report the secret flit of General Bahajat Suleiman, head of Syria's intelligence council and virtual overlord of the national clandestine services. Desperate to drum up support from his fellow Arab leaders, Assad demanded an Arab League summit but was informed that a narrow forum was the most that can be convened. UN investigator Mehlis and his team were back at work in Beirut soon after the Security Council resolution was passed Monday night, Oct. 31. Mid-December is his deadline for winding up his probe. Bashar Assad is confronted head-on now with a dilemma: which of his close relative should he surrender as a scapegoat? His young brother Maher Assad, or his sister's husband, Assed Shawqat? Both top the Mehlis list of Syrian suspects in the Hariri murder plot.
Ahmadinejad's Israel Remarks Split Iran
Nov. 1….(AP) Pro-democracy reformers denounced Iran's hard-line president Sunday for calling for Israel's annihilation, saying it harmed the country's international standing. President Mahmoud Ahmadinejad said Wednesday that Israel is a "disgraceful blot" that should be "wiped off the map," prompting international condemnation and an Israeli demand Iran be expelled from the United Nations. On Sunday, Ahmadinejad said his comments represented Iran's long-standing policy toward the Jewish state enunciated by the late Ayatollah Ruhollah Khomeini, who led the 1979 revolution, the Islamic Republic News Agency, or IRNA, said. "These words are the same ones that the late Imam (Khomeini) said," Ahmadinejad said, explaining that he only added one sentence about "the powers of arrogance," seen as a reference to the United States. Iran does not recognize the existence of Israel and Khomeini had repeatedly called for its destruction. But former reformist president Mohammad Khatami criticized Ahmadinejad, saying "those words have created hundreds of political and economic problems for us in the world," IRNA said. It was the first time in a quarter century that there was a clear-cut rift over a major policy position drawn up by Khomeini. "Ahmadinejad's remarks harmed Iran. It was irresponsible and illogical," said Rajabali Mazrouei, a prominent reformer and former deputy. "We can't be more extremist than Palestinians themselves." Morad Veisi, a leading political analyst, said it was the first time that an Iranian head of state was openly calling for the destruction of Israel. "Khomeini was a spiritual leader, not head of government. Ahmadinejad apparently is not even familiar with the world of politics," he said. Extremists, however, were motivated by Ahmadinejad's remarks. About 300 men and women turned up Sunday at the offices of the Headquarters for Commemorating Martyrs of the Global Islamic Movement to volunteer for suicide bomb attacks against Israel. A spokesman for the group said it had signed up more than 45,000 volunteers to undergo training for suicide attacks since it began recruiting in June 2004. "More than 1000 of them have already been trained. Many of them don't need training since they are already members of the elite Revolutionary Guards and paramilitary Basij forces," Mohammad Ali Samadi said. Several senior officials, including presidential adviser Mojtaba Rahmandoust and Parliamentary speaker Gholam Ali Haddad Adel, were at the gathering. "The Iranian nation wants this regime removed from the world map," Rahmandoust told the gathering held at a building owned by the semiofficial Martyr Foundation. In London, Britain said Iran poses a challenge to the international community, citing the call to wipe out Israel and charging Tehran was involved in the Iraqi insurgency and had nuclear weapons ambitions. "Iran has to change its behavior in terms of support for terrorism, in deceit over nuclear weapons and in terms of its relationship and threats to other members of the international community," British Defense Secretary John Reid told the British Broadcasting Corporation on Sunday. Reid said Iran appeared to be trying to confront the international community, which is considering how to respond. Reid said he did not have conclusive proof that the Iranian government was involved in providing weapons to insurgents in Iraq. But he said there was evidence of the involvement of Iranian elements in the Iraqi insurgency.
Iran's Supreme Leader says Israel will be defeated

Oct. 31….(Iran Focus) Iran's Supreme Leader Ayatollah Ali Khamenei called on the country's officials to be united in one front against the "common enemy" as he reaffirmed that the state of Israel would eventually be toppled, state-run dailies reported on Monday. Khamenei told a meeting of senior Iranian officials that they had a duty to avoid falling into the "traps and plans of the enemy". He said that the "enemy had put immense effort in recent years to create divisions and cracks" among the country's rulers. "Fortunately, certain officials were vigilant and stood up against this plan", the Supreme Leader said. Khamenei highlighted the fact that the heads of Iran's three power branches, the government, the Majlis (Parliament), and the judiciary, had become unified in their stances. Iran's Majlis is dominated by ultra-conservatives including some 90 former Islamic Revolutionary Guards Corps (IRGC) officials. Hard-line President Mahmoud Ahmadinejad, who has himself been a senior Revolutionary Guards commander, has a cabinet filled with former IRGC and Ministry of Intelligence officials. Iran's judiciary frequently comes under scrutiny from international human rights organisations for handing down sentences hands contrary to basic human rights principles. Khamenei called on officials to identify threats by "the enemies of the state". "By recognizing precisely these plans, we must tackle them wisely and astutely defend the nation and national interests and identity". He warned countries such as Egypt, Saudi Arabia, and Jordan that the United States was seeking to create a new world order in the region and would turn on them after dealing with Lebanon and Syria. He said that "continuous commotion" over Iran by the United States was because of the Islamic Republic's strategic location in the Middle East. He defended the recent position taken against Israel by Ahmadinejad, who had called for the Jewish state's destruction, and denounced the international community's defense of Israel as "shameful". "It is the resistance in Palestine which will undoubtedly lead to the fall of the Zionist regime", Khamenei said.
FOJ Note: Iran's leader is coincidentally pointing out a real distinct possibility. That possibility is that the Antichrist (New World Order) may very well emerge from the present strategies of the West in contending with terrorism in the region.
Prince Charles Targets US Attitude Toward Islam
Oct. 31….(Washington Times) Prince Charles will try to convince President Bush of the merits of Islam this week because he thinks the United States has been too intolerant of the religion since September 11, 2001. The Prince, who arrives today for an eight-day tour of the United States, has voiced private concerns over Washington's "confrontational" approach to Muslim countries and its failure to appreciate what he regards as Islam's strengths. The prince raised his concerns when he met senior Muslims in London in November 2001. The gathering took place two months after the attacks on New York and Washington. "I find the language and rhetoric coming from America too confrontational," the prince said, according to one leader at the meeting. It is understood that Prince Charles did not, and does not, believe that the actions of 19 hijackers should tarnish the reputation of hundreds of millions of law-abiding Muslims around the world.
"His criticism of America was a general one of the Americans not having the appreciation we have for Islam and its culture," said Khalid Mahmood, a Labor Party member of Parliament who attended the meeting. Prince Charles has done more than any other member of the royal family in history to understand Islam. He said in 1994 that when he became supreme governor of the Church of England, he would rather be "defender of faiths" than "defender of the faith." A year earlier Prince Charles made a speech, acclaimed throughout the Arab world, on relations between Islam and the West. He urged the West to overcome its "unthinkable prejudices" about Islam and its customs and laws. He spoke warmly of what he called the West's debt to the culture of Islam and distanced moderate Muslims from militants. "Extremism is no more the monopoly of Islam than it is the monopoly of other religions, including Christianity," he said. A senior aide to Prince Charles said Saturday: "The prince has never promoted political messages around religion. He has simply said that he wants a greater tolerance and understanding of each other's religions, which will, in turn, promote better relations between faiths."
FOJ Note: Maybe Prince Charles should preach his message of tolerance to the Muslims!
US May Have to Attack Iran
Oct. 31….(Jerusalem Post) If Iran reaches the point of no return in its drive for a nuclear capability, America will have to resort to a military option to thwart it, the former head of the Shin Bet (Israel Security Agency), Avi Dichter, said on Sunday. Speaking at a conference of the AIPAC pro-Israel lobby in Los Angeles, Dichter said he saw no prospect whatsoever of Iran abandoning its nuclear program of its own volition. Only "western pressure," led by the United States, could halt Teheran's nuclear drive. Dichter recalled that the entire international community condemned Israel for bombing Iraq's nuclear facility at Osiraq in 1981, only to subsequently recognize how crucial Israel's action had been in blocking Saddam Hussein's push for nuclear weapons. Similarly, he said, if Iran were to reach "the irreversible point," America would have to do in Iran what Israel had done in Iraq. ''The next meeting of the International Atomic Energy Agency (IAEA) is a crucial meeting (Nov 24), because there is only so much time until (Iran) will have full knowledge of how to develop a nuclear bomb. Prime Minister Ariel Sharon informed Washington in a special letter that Iranian nuclear arms would threaten the safety of Israelis more than any other nation. The PM reportedly said Israel would consider postponing military action against Teheran out of consideration for the US, but added Israel would not "wait forever." According to al-Watan, Israel made it clear that it would only be able to wait until a certain date next year and would strike at Iran if no progress is made by that time.
FOJ Note: The US is faced with the prospect of facing two more enemies at the same time, Syria and Iran. With America's socialist liberal politicians already decrying the venture into Iraq, it makes one wonder how America can undertake still another campaign against these real sponsors of terrorism.
India on High Alert After Terror Attack
Oct. 31….(VOA) Security forces are on high alert in the Indian capital New Delhi as authorities search for those responsible for three bombs that rocked the city late Saturday, killing at least 61 and injuring more than 180 others. The bombs exploded within minutes of each other, one on a bus and the other two in market places crammed with holiday shoppers preparing for the Hindu festival of Diwali and the Muslim celebration of Eid later this week. Police sifted through the debris for clues to the identity of the bombers and say they have detained 10 people in connection with the attack. Prime Minister Manmohan Singh condemned the bombs and called an emergency cabinet meeting to review security in the capital and across India. "These terrorists wish to spread a sense of fear and suspicion amongst our peace-loving people," said Mr. Singh. "These blasts have been timed to create disaffection during the festival season when people of all communities are celebrating our national festivals. We shall defeat their nefarious designs and will not allow them to succeed." India is no stranger to terrorist attacks. Many are blamed on separatist Kashmiri militants, who are fighting to force India to leave the roughly two-thirds of the region under its control. The militants want predominantly Muslim Kashmir to merge with Pakistan or to become independent. Control of Kashmir has long been a source of tension between India and Pakistan, which have fought two wars over the region. India accuses Pakistan of supporting the militants who cross into India to carry out attacks, charges Pakistan denies. For nearly two years the two countries have been engaged in peace talks that have shown signs of reducing tensions. And on Sunday, in a landmark decision, India and Pakistan agreed from November 7 to open five points along the heavily militarized Line of Control that divides Kashmir. The goal is to improve the flow of humanitarian aid and reunite divided families following the October 8 earthquake that devastated communities on both sides of the disputed border. More than 55,000 people died in the quake and hundreds of thousands were left homeless as winter approaches.
Muslims Desecrate Bibles in Hebron
Oct. 31….(JNEWSWIRE) The Taliban's 2001 destruction of ancient Buddhas and this year's alleged desecration of numerous Korans by American soldiers at Guantanamo Bay in Cuba made international headlines and became incidents of global impact. But, last weeks spiteful desecration of bibles and Jewish prayer books by "Palestinian" Muslims visiting the biblical Cave of the Patriarchs in Hebron, however, went virtually unnoticed.
Photographs taken by outraged members of Hebron's Jewish community and posted online showed the torn pages unceremoniously dumped behind the Gutnick Center, which stands in front of the compound built by King Herod over the burial place of Abraham, Isaac and Jacob. The official website of the Jewish Community of Hebron noted the desecration occurred on a day the site was closed to Jews to allow Muslim worshippers to mark the impending conclusion of the Islamic holy month of Ramadan. The Muslims also revere Abraham as their father, and have claimed the Cave of the Patriarchs as their own. David Wilder, a spokesman for the community, told The Jerusalem Post that as local Jews "searched the area for the ripped pages, Arab residents looked on with enjoyment." The desecration and the Arabs' response was ignored by most of the local and all of the international press. "One can only imagine the response had" the roles been reversed and the "Arabs discovered desecrated Korans" at the site, an official statement by the Jews of Hebron read. Muslims in this region, however, are accustomed to having their intolerance and disdain for all things Jewish and Christian go unanswered.
Syria and Iran Ordered Recent Suicide Bombing in Israel
Oct. 31….(WND) The suicide bombing north of Tel Aviv that killed five Israelis and wounded more than 30 last week was directly backed by Syria and Iran, security sources said. Meanwhile, a member of a terrorist groups reportedly involved in the blast told WND a Palestinian terror leader in Damascus demanded the suicide attack be carried out. "The reaction of Islamic Jihad leader Ramadan Abdullah Shallah from his base in Damascus [to Israel's killing earlier of a senior Jihad member] was a clear demand to the Palestinian resistance, especially to Islamic Jihad to take revenge," said Abu Carmel, a West Bank leader of the Al Aqsa Martyrs Brigades, the military wing of Palestinian Authority President Mahmoud Abbas' Fatah Party. Israeli security sources say the Islamic Jihad terrorist infrastructure responsible for directing suicide bombings is largely located in Damascus, where the group would need to have the tacit approval of the Syrian leadership before carrying out suicide attacks against the Jewish state. Jihad chief Shallah operates openly from Syria, where he gives media interviews and makes public appearances. "The Palestinian terror leadership, especially Islamic Jihad, has their main organizational infrastructure in Syria, where attacks are directed from," said a senior security official. "They know they have a safe haven there, where they think they are free from Israeli retaliation." Security sources say the Islamic Jihad cell responsible for the bombing is also involved with Syrian-backed Hezbollah. Sources said Hezbollah forces at the direction of Syria have created a terror apparatus of Palestinian militants in the West Bank consisting mostly of Jihad members who receive full-time salaries from the Lebanese group. Palestinian security previously had intercepted a series of communications, including phone calls and e-mails, between Hezbollah and West Bank terrorists indicating Hezbollah had been trying to recruit suicide bombers to carry out attacks, sources say. One official said intercepted bank transactions previously suggested Hezbollah had raised its cash offers to Palestinian terrorists and now is willing to pay $100,000 for a suicide bombing operation. In the past, information indicated Hezbollah would pay $20,000 for such attacks. The security officials say that while Syria allows Palestinian terrorists to operate from their country, Iran is largely behind the terror financing. Major-General Yaacov Amidror, former head of Israel's military intelligence, told WND, "The money comes straight from Iran. At one point, we had information Iran once told Islamic Jihad if they didn't carry out a suicide attack within 60 days, they would cut back their funding. That just illustrates the kind of relationship Tehran has with them, and with Hezbollah." Said a senior security official, "Both Syria and Iran are under mounting international pressure. They need a distraction and they need a conflict somewhere else. They know suicide bombings force Israel to respond."
Fatah Is Deeply Implicated in the Palestinian Terrorist Coalition
(Egyptian Military Collaboration Also Present)
Oct. 31….(DEBKAfile Special Report) The major battle fought through Sunday night, Oct. 30, against a Jihad Islami cell in Qabatiya, near Jenin, only partially addressed the Palestinian terror threat creeping in from the Gaza Strip to the West Bank. The al Aqsa Brigades, a wing of Palestinian Authority chairman Mahmoud Abbas' ruling Fatah, either led or took active part in all the terrorist strikes of late. This holds true for the Oct. 16 drive-by shooting that murdered three young Israelis at the Gush Etzion hitchhiking post, the suicide bombing that killed another five Israeli civilians in the Hadera open market ten days later, the frequent shooting and bombing attacks on West Bank roads and the Qassam missile barrages from the Gaza Strip. The last volley was launched Sunday night, Oct. 30, hours after Palestinian spokesmen claimed consent to halt this offensive. DEBKAfile's intelligence sources point to the evidence that the Gush Etzion strike and a synchronized attack further north at Ely were the work of two Fatah gangs from Nablus and Bethlehem. Yet the Israeli army was not sent into action against Fatah, only later against the Jihad Islami cell that ordered the Hadera attack. This situation recalls the Israeli government's tactics in 2001 and the first half of 2002, when Ehud Barak and Ariel Sharon, who succeeded him as prime minister, cherished the illusion that Yasser Arafat would rein in his Fatah and uphold his commitments under the Oslo Accords. Those vain hopes had the same results as today's twice-weekly exhortations aimed by Israel and America at Abu Mazen. Then the suicide bombings of buses and crowd centers carried out by the Fatah-Tanzim and al Aqsa Brigades were usually pinned on the Hamas. Today, the favorite culprit is Jihad Islami. The Hamas is fully occupied with a huge operation to import enough weapons to equip several armies into the Gaza Strip and moving them on into the West Bank. It suits the Hamas at this moment to feign non-participation in the Fatah-Jihad Islami pact. However, the capture on Oct. 5 of three Qassam missile engineers on their way to set up a missile factory in Jenin gave the game away. The Hamas was exposed as a senior partner in the Palestinian terrorist coalition, although it tried to hide behind the Popular Committees. This coalition is not working in a vacuum. The Shin Beit reconstruction of their mission and route deeply implicated Egyptian special troops who were assigned in lieu of Israeli forces to guard the Philadelphi border route between Sinai and Gaza against arms smuggling. It transpired that these troops, deployed as a pre-condition for Israeli withdrawal from Gaza, can be bought for the trifling sum of NIS200 (less than $50), and have been from Day One of their deployment last month. With Egyptian connivance, the three Palestinian weapons pros used one of the forbidden arms smuggling tunnels to cross into Sinai from Gaza, picked up a Hizballah disk containing instructions on how to construct a missile workshop in Jenin, and then infiltrated southern Israel through the Egyptian border. What is more, picked up with the three Palestinian "engineers" was an Egyptian "guide," familiar enough with the southern Israeli Negev region to shepherd them to Mitzpe Ramon, where they were intercepted by Israeli security police. This discovery floored Israeli security experts who would have expected Palestinians to guide Egyptians inside Israel, not the reverse. They were appalled to find an Egyptian terrorist cell supporting al Qaeda and Palestinians operations in Sinai had planted a tentacle deep inside Israel's southern and central Negev regions, as a branch of the Sinai organization. All these disturbing developments have occurred since the Israeli pullback from the Gaza Strip in mid-September and are therefore glossed over by Sharon government spokesmen. The serious security deterioration can be summed up by:
1. The influx of a huge, illegal war arsenal from Sinai into Palestinian Gaza;
2. Al Qaeda-Sinai's establishment of a Gaza cell;
3. The ascending spiral of Palestinian terrorist attacks in and from the West Bank, supported from a logistical base in Gaza;
4. Intense Palestinian preparations for a Qassam missile and mortar offensive against densely populated central Israel.
Terror Escalates as Mideast Tensions Rise
Oct. 31….(David Dolan)
The always volatile Middle East erupted in fresh turmoil during October as several grave developments signaled that a new round of conflict could be brewing in the region. Palestinian terrorists opened fire south of Jerusalem in mid-October, killing three young Israeli civilians and wounding several others. This led to renewed travel restrictions on Arabs residing in the area and the temporary suspension of security talks between Israeli and Palestinian officials. Twelve days later, an Islamic Jihad suicide terrorist slaughtered five customers at a falafel stand in the Israeli coastal town of Hadera. The attack prompted the Sharon government to halt all contacts with Palestinian officials while launching a new military offensive against the radical group and its allies. Just hours before the Hadera atrocity, Iran's new hard-line president called for Israel to be wiped off the face of the earth. Israeli officials replied that the nuclear-bomb-seeking Islamic regime should be expelled from the United Nations. They also warned Damascus that it must close down Islamic Jihad offices in the Syrian capital or risk possible Israeli reprisals. Meanwhile fresh Palestinian missile strikes were launched into sovereign Israeli territory from the Israeli-evacuated Gaza Strip. Israeli artillery and air strikes replied to the rocket firings while army forces prepared for a possible ground offensive into the small coastal zone. Just before the new terrorist onslaught began, Israeli government leaders expressed serious concern over escalating Palestinian unrest in the Gaza Strip in the wake of the unilateral Israeli civilian and military withdrawals from the area. Palestinian militants fired dozens of Kassam rockets and mortar shells into Israeli towns and farming communities around the Gaza Strip during October, with one landing on Sharon's Negev farm. The barrage came on the heels of a full week of such firings that began soon after Israeli military forces completed their final withdrawal from the Gaza Strip on September 13th. The senior Islamic Jihad commander in the southern Gaza Strip, Muhammad Khalil, was targeted and killed by Israeli missiles, along with his personal bodyguard. Islamic Jihad leaders said it was the fifth time Khalil had been caught in the crosshairs of IDF fire; having survived four other attempts to eliminate him.
The top Islamic Jihad commander in the contested territories, Muhammad al Hindi, reacted to the slayings by vowing to step up deadly homicide bombings: "There is no longer any talk of a truce with the Zionist enemy. There is only room for war." The army later issued a statement confirming that it had carried out the air operation, detailing the attacks that Khalil's Muslim terror cells had perpetrated in recent years which left 17 Israelis dead and many other wounded, most of them civilians. Palestinian Authority officials finally got the message that they faced a humiliating military defeat, if not the collapse of their overall rule, if they did not immediately reign in the radical Muslim forces operating like rogue armies in their midst. They worked overtime to secure a commitment from Hamas and Islamic Jihad commanders to halt rocket firings upon Israeli civilian centers. This came after the United States and several other nations called upon the elected Palestinian leadership to stop the illegal firings forthwith or risk massive Israeli retaliation, which they indicated they would at least sympathize with, if not actively support. PA officials had earlier received a severe wake up call when radical militiamen brazenly murdered General Musa Arafat, a senior PA Gaza Strip security official and a well known nephew of the late PLO chairman. He was physically dragged out of his home and shot at point blank range as outnumbered PA forces watched in horror. Musa Arafat's son was then captured and reportedly murdered after being taken to another location. Still, in the wake of internal Palestinian clashes that rocked the Gaza Strip in late September, Abbas took no further action to suppress the terrorist groups. Internal Palestinian tensions reached a fever pitch soon after Hamas released a horrific video taken just before a kidnapped Israeli worker from Jerusalem was murdered in cold blood by the group. In the footage, the bound and blindfolded victim was seen being questioned in front of a large Hamas flag about his alleged "spying" activities on Israel's behalf. The Al Qaida style video deeply angered Israeli authorities and the general public. The ugly action added to Israeli security warnings that Hamas was planning a new terrorist offensive in the run-up to Palestinian legislative elections, currently scheduled for January 25th. Hamas commander Fathi Hamad gave a stirring speech in which he adamantly rejected PA calls for the Islamic fundamentalist group to disarm, instead pledging to build up illegal weapons arsenals for eagerly anticipated future clashes with the detested "Zionist enemy." Another Hamas leader warned Abbas that he would not come out on top in any armed contest with the militant group, adding mockingly that even Israel could not dismantle Hamas terrorist units when it controlled the Gaza Strip. Just before Abbas departed for an October 21st meeting with George Bush at the White House, where the President portrayed the PA leader as "devoted to peace," PA security chief Jibril Rajoub revealed that Abbas "has not called for disarming anyone," adding that "There is no decision to collect so-called illegal weapons, and we have taken no steps in that direction." The candid announcement caused dismay at the State Department, which has long championed Abbas as a 'moderate' politician who would finally put paid to Palestinian terrorist attacks upon Israeli civilians. Following the Hadera homicide attack, Hamas leaders brazenly declared that they would now join their Islamic Jihad comrades in launching a new round of terror assaults against Israeli civilians.
New Mideast Conflict Looming?
Syria's ruling Baathist regime was pounded by international condemnations during October after the release of a United Nations preliminary report linking top Syrian officials to the Valentine's Day car bomb slaying of former Lebanese premier Rafik Hariri. The report concluded that the assassination was carried out under direct orders from Damascus, naming the Syrian intelligence chief, who is a brother in law of the dictator Bashar Assad, as a leading suspect in the plot. The United States and France were among several countries that called for possible UN sanctions against Syria as a result of the vicious political murder. Meanwhile tensions intensified between Israel and Syria following the Hadera terror attack. Israeli officials repeated earlier demands that Assad shut down Islamic Jihad offices in Damascus or risk Israeli military action to do so. This came as US officials once again demanded that Assad's regime immediately halt the infiltration of insurgent Sunni fighters into blood-soaked Iraq. Assad earlier appeared on CNN to contend that he could not stop the flow of jihad fighters into neighboring Iraq despite the known fact that many Mideast insurgents enter Syria via the
international airport in Damascus. Syria's close ally, Iran, raised the temperature in the region by several degrees when President Mahmoud Ahmadinejad publicly declared that "the Zionist State must be wiped off of the map." Despite a torrent of rebukes from many nations, the Shiite Muslim leader later defended his call while marching with anti-Israel demonstrators in Teheran. Israeli officials said they were concerned that the horrific statement, coming just hours before Iran's puppet Palestinian terror group launched its deadly attack in Hadera, may signal a new wave or Iranian-sponsored violence against Israeli civilians, if not an major offensive by its proxy Hizbullah force in southern Lebanon. They warned that any significant Hizbullah action could spark a new Mideast conflict pitting Israel against the outlaw Lebanese militia, and with Syria and the Palestinians, which could easily draw in other countries. October's disturbing Mideast developments should serve to remind us that the Lord's return to Jerusalem is drawing closer every day. May His people all around this troubled planet look upwards and declare with the saints of all time: "Come Lord Jesus! (Revelation 22:20)