WEEK OF JANUARY 30 THROUGH FEBRUARY 6
Israel Freezes $45 Million for Palestinians
Feb. 1….(AP) Israel froze this month's transfer of $45 million in tax rebates and customs payments to the Palestinian Authority while it reviews its options following the Hamas victory in last week's parliamentary election, the government said Wednesday. "The transfers will be on hold" while the issue is being reviewed, Israeli Foreign Ministry spokesman Mark Regev said. "The expectation is that automatic transfers will not continue." "There is a concern on our side that the moneys transferred will come back to haunt us in the form of suicide bombings," he added. Palestinian officials said Israel's payment for January already is several days overdue and they may not be able to pay the salaries of 137,000 government workers if Israel does not send the money. Unemployment in the Palestinian areas runs high, and many Palestinian families depend on a government salary. A failure to pay the January salaries could pose the most difficult test yet for Hamas, which has resisted international demands to recognize Israel, disarm and renounce violence. President Bush repeated the demand Tuesday night in his State of the Union address, saying the "leaders of Hamas must recognize Israel, disarm, reject terrorism and work for lasting peace." Moussa Abu Marzouk, the deputy head of Hamas' political bureau in Syria, told The Associated Press that last year's cease-fire with Israel could be renewed to placate the Western powers. But he rejected Bush's call. "These conditions cannot be accepted and the US president should accept the reality, because the Palestinian people have exercised their democratic choice, with mechanisms that are basically Western, and they chose Hamas," Abu Marzouk said, adding Bush "should deal with Hamas as it is. Also Wednesday, Egypt's top intelligence official, Omar Suleiman told journalists that Cairo intends to tell Hamas leaders to recognize Israel, disarm and honor past peace deals, the latest sign Arab governments are pushing the militant group to moderate its views. Suleiman spoke after Egyptian President Hosni Mubarak met in Cairo with Palestinian leader Mahmoud Abbas. In all, the Palestinian Authority needs some $116 million every month to cover the payroll. It has repeatedly borrowed from banks and received additional support from donor countries. However, the Palestinian Cabinet secretary, Samir Hleileh, said it appears unlikely the banks would lend to the government in times of uncertainty. The United States and the European Union also have said millions of dollars in aid, the lifeline of the Palestinian economy, could be in jeopardy unless Hamas changes its policies toward Israel. Western donors funnel about $900 million to the Palestinians each year, most of it designated for reconstruction projects in the impoverished Gaza Strip and West Bank. Osama Hamdan, a senior member of Hamas' exiled leadership, said Tuesday his group is already looking for new sources of funding, especially from the Muslim world. However, Hamas will likely find it difficult to persuade Muslim nations to make up the shortfall, and the threat of no money remains the international community's best weapon to get Hamas to moderate its violent ideology. Israel's monthly tax transfer to the Palestinians totals an average of about $45 million. The funds are from customs and other duties collected by the Israelis on behalf of the Palestinians.
President Bush in his State of the Union Speech Reiterated Leaders of Hamas must Recognize Israel, Disarm, Reject Terrorism and Work for Lasting Peace
Feb. 1….(Debka) The US supports democratic reform across the broader Middle East but elections are only the beginning. The Palestinian people have voted in elections, but now the leaders of Hamas must recognize Israel, disarm, reject terrorist and work for lasting peace. Iran, he went on to say, is a nation now held hostage by a small clerical elite that is isolating and repressing its people. The regime in that country sponsors terrorists in the Palestinian territories and in Lebanon, and that must come to an end. The Iranian government is defying the world with its nuclear ambitions, and the nations of the world must not permit the Iranian regime to gain nuclear weapons.
Bush: US Must Cut Dependence on Mideast Oil
Feb. 1….(AP) President Bush declared Tuesday night that America must break its long dependence on Middle East oil and rebuked critics of his stay-the-course strategy for the unpopular war in Iraq. "America is addicted to oil, which is often imported from unstable parts of the world," Bush said as he sought to drive the election-year agenda in his annual State of the Union address. He declared that the "the state of our union is strong" despite Americans' anxieties about the war in Iraq, the economy, soaring energy costs and rising energy prices. Oil prices are inching toward $70 a barrel, throwing a cloud over the economy and pinching Americans' pocketbooks. As he has in every State of the Union address to some extent, Bush said the United States must curb its reliance on foreign oil imports. He called for more research on batteries for hybrid and electric cars and work on alternative fuels to produce ethanol from wood chips, stalks or switch grass. "Our goal is to make this new kind of ethanol practical and competitive within six years," the president said. "Breakthroughs on this and other new technologies will help us reach another great goal: to replace more than 75 percent of our oil imports from the Middle East by 2025. America's imports of oil and refined product from the Persian Gulf make up less than a fifth of all imports and 11 percent of total consumption, according to Energy Department statistics.
Takeover of Egypt Part of Hamas' Plan?
(Palestinian terrorists have close alliance with neighboring Muslim Brotherhood)
Feb. 1….(WND) Following Hamas' victory by a large margin in last week's Palestinian parliamentary elections, experts watching the terror group closely tell WND it has been aligning itself more than ever with its hard-line Islamic counterpart in Egypt and point to worrying signs the new Palestinian powerbrokers might have designs for an eventual Egyptian takeover. Sources close to the group say a major Egyptian opposition figure has been serving the past year as spiritual leader of Hamas. "If I were Egyptian President Hosni Mubarak, I would look with great concern at the Hamas ascension to power in the territories. This has very dangerous implications for the Egyptian regime. Hamas was founded in 1987 as a military offshoot of Egypt's Muslim Brotherhood, which seeks to create an Islamic theocracy throughout the Middle East and ultimately around the world. Although ideologically connected to the Brotherhood, Hamas' stated goal is mostly focused on the destruction of Israel by "armed struggle." Still, Hamas leaders have long maintained anti-Western attitudes and have talked about the need for secular Arab states to be replaced with Islamic regimes. Egypt is the second-largest recipient of United States financial aid in the Middle East. It signed a peace agreement with Israel in 1979. The US calls Mubarak's government moderate and maintains Egypt is an important strategic ally. Palestinian and Israeli security officials told World Net Daily Mubarak is concerned the ascension of Hamas to power will embolden the Muslim Brotherhood, members of which ran in last year's general elections, to seek a similar power grab in Egypt. Analysts say Mubarak considers the Brotherhood a major challenge to his government. It scored very well in the latest Egyptian elections, winning an unprecedented 20 percent of the Parliament and trouncing all other opposition parties in spite of widespread reports of massive election tampering on the part of Mubarak's National Democratic Party. Mubarak also arrested more than 1,500 Brotherhood activists prior to the elections. An Israeli security official said Egypt is especially concerned by the close proximity of the Gaza Strip, which borders the Sinai Desert. "There is major worry now in Mubarak's regime of losing control in the Sinai. Hamas is already in control of Gaza. There have been indications Hamas has designs for more control of the Sinai along with the Muslim Brotherhood. There is particular concern if they gain any control that al-Qaida cells thought to be in the area will be allowed to flourish and can attack both Egypt and Israel."
Egyptian forces together with Palestinian security officers and European monitors now control the Rafah Crossing at the Gaza-Sinai border after a deal brokered in November by US Secretary of State Condoleezza Rice. Over the past two months, Hamas has numerous times breached the border to allow weapons and terrorists to cross through, one time even ramming a dump truck through the border wall, leaving it open for much of two days. Earlier this month, two Egyptian border guards were killed by gunmen trying again to breach the wall. Also, Egypt from time to time has accused Hamas of involvement in attacks on its soil. Egyptian security reports hinted at possible Hamas involvement in the suicide bombings of tourist centers in Taba in October 2004, killing 34 people, including 11 Israelis. Still, Egypt has seemingly friendly dealings with Hamas leaders and regularly serves as a mediator in brokering deals involving the group. Overall Hamas leader Khaled Meshaal, who resides in Syria, is due to meet with Mubarak later this week to discuss the terror group's formation of a government. "Political life in Egypt at present is controlled by two poles: the regime and its security and military agencies on one side and the Muslim Brotherhood on the other," said Brotherhood leader Abdel Rahman. "Maybe Hamas' win will help Muslim brothers to have a bigger influence on Egypt's foreign policy."
FOJ Note: It is noteworthy to remember that during the Tribulation, the Antichrist will be compelled to enter into Egypt to put down an uprising. After putting own the trouble in Egypt, news from Russia and the Far East trouble him.
(Daniel 11:40-44 And at the time of the end shall the king of the south push at him: and the king of the north shall come against him like a whirlwind, with chariots, and with horsemen, and with many ships; and he shall enter into the countries, and shall overflow and pass over. He shall enter also into the glorious land, and many countries shall be overthrown: but these shall escape out of his hand, even Edom, and Moab, and the chief of the children of Ammon. He shall stretch forth his hand also upon the countries: and the land of Egypt shall not escape. But he shall have power over the treasures of gold and of silver, and over all the precious things of Egypt: and the Libyans and the Ethiopians shall be at his steps. But tidings out of the east and out of the north shall trouble him: therefore he shall go forth with great fury to destroy, and utterly to make away many.)
Putin Touts Russia's Missile Capabilities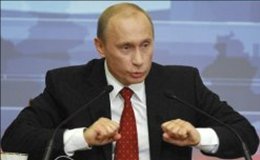 Jan. 31….(Breitbart) President Vladimir Putin boasted Tuesday that Russia has missiles capable of penetrating any missile defense system, Russian news reports said. "Russia has tested missile systems that no one in the world has," the ITAR-Tass, Interfax and RIA Novosti news agencies quoted him as saying at a news conference. These missile systems don't represent a response to a missile defense system, but they are immune to that. They are hypersonic and capable of changing their flight path." Putin said the new missiles were capable of carrying nuclear warheads. He wouldn't say whether the Russian military already had commissioned any such missiles. He said he had shown the working principles of the missile systems to French President Jacques Chirac during a visit to a Russian military facility. "He knows what I'm talking about," news agencies quoted Putin as telling reporters after state-run news channels had cut their live broadcast of the news conference. In April 2004, Chirac became the first Western leader to visit Russia's top-secret Titov space control center, which is also involved in launches of its intercontinental ballistic missiles. Putin said that the new missiles were capable of changing both the altitude and the direction of their flight, making it impossible for an enemy to intercept them. "A missile defense system is designed to counter missiles moving along a ballistic trajectory," Putin was quoted as saying. Putin and other Russian officials have boasted of the new missiles in similar comments in recent years, but they haven't identified them or given any further details other than about their ability to change their flight path on approach to a target. Most analysts viewed the earlier announcements about "hypersonic" missile systems as Moscow's response to US missile defense shield plans.
Moscow Says Iran has a large Nuclear Device in its "Preliminary Stage."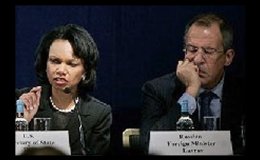 Jan. 31….(Debka) Russian FM Sergei Lavrov put this bit of new information before the five permanent UN Security Council and Germany today. Until today Moscow and Beijing had stood out against the UN nuclear watchdog' referring the Iran dossier to the Security Council. Teheran hit back by saying the decision was unconstructive and the end of diplomacy!
According to Lavrov, Russian intelligence estimates that Iran is now capable of detonating this non-weaponized nuclear device, or in other words carrying out its first nuclear test. This estimate which Russian President Vladimir Putin passed to President George Bush some weeks ago is challenged by US and Israeli nuclear experts, who do not believe Iran is up to the stage of a nuclear device. However, on Jan. 21, the opposition FDI claimed Iran would carry out its first nuclear test before the Iranian new year, which falls on March 20.
Ahead of the IAEA's Thursday meeting in Vienna, a leaked report claimed Iran had last week given the watchdog sensitive documents which apparently showed how to mold highly enriched uranium into the hemispherical shape of warheads, in an effort to stave off referral to the Security Council. At the same time, according to the same unnamed diplomats, the agency passed to Tehran intelligence provided by the US that suggests Iran has been working on details of nuclear weapons, such as missile trajectories and ideal altitudes for exploding warheads. When the IAEA asked Iran for an explanation of the documents, Tehran replied they had been obtained from members of a nuclear black market network. Still ahead of the nuclear watchdog's meeting, Moscow and Beijing dispatched diplomats to Tehran to explain that their support for referral to the Security Council did not mean an end to diplomacy. Referring the issue to the UN would have a "very big effect" on oil prices, Libyan Energy Scretary Fathi Hamed bin-Shatwan said Tuesday at an OPEC meeting in Vienna.
FOJ Note: Up until today, Russian President Putin had faithfully pledged to President Bush that Russia would checkmate any Iranian attempts to develop a nuclear weapon. Today's revelations by President Putin reveals that Russia is not a faithful member of the Nuclear Non-proliferation Treaty, and is moving swiftly ahead with plans to help Iran acquire nuclear weapons. For more on this topic, see FOJ 's Question and Answer # 275. Ironically, Mr. Putin also chose today to announce and brag about Russia's new ICBM capability.
Syria Calls on Arab States to Step in if Western Aid to PA is Cut
Jan. 31…..(Ha Aretz) Syria said on Tuesday it would propose that Arab nations compensate the Palestinians for any aid Western powers might cut after last week's Hamas election victory, the state-run SANA news agency reported. The agency quoted Syrian Foreign Minister Farouq Shara as saying his country would submit the proposal at an Arab summit in March. "The move comes within the framework of the continuous Arab support to the Palestinian people, and the respect of its will and choices," SANA said. Syria is a key Hamas supporter and has been under international pressure to expel the group's leadership from Damascus, including politburo chief Khaled Meshal.
Putin: Don't Cut Palestinian Aid; 'Hamas Win Was Blow to US ME Policies'
Hamas victory debunks US policy in Mideast, Putin says
Hamas's victory in the Palestinian Authority elections is a severe blow to US policy in the Middle East, Russian President Vladimir Putin said Tuesday. Hamas needed to stop making radical statement, recognize Israel as an independent country and cooperate with the international community, he said at a press conference. Stopping aid to the Palestinians would be a mistake, he added.

Jan. 31….(Ha Aretz) The world should not cut off aid to the Palestinians after the Islamic militant group Hamas's shock victory in the Palestinian legislative election, Russian President Vladimir Putin said on Tuesday. "The election of Hamas was a great blow to American efforts in the Middle East. A very serious blow," he told a news conference. "Russia has never declared Hamas a terrorist organization, but it doesn't mean we support and accept everything Hamas has done and all the statements it has made." Putin said Russia, one of the Quartet of Middle East peace sponsors, expected Hamas to recognise Israel's existence and abandon its radical position, but that it would not support cutting off the Palestinians. "A refusal to help the Palestinian people would be mistaken," he said. World powers including the leading donors, the European Union and the United Staes, have suggested they might halt aid to the Palestinian governing institution, the Palestinian Authority, unless Hamas renounces violence and abandons its stated aim of seeking Israel's destruction. Putin called on Hamas to engage in peaceful dialogue, and said Russia's position on the Middle East differed from that of the United States and Europe. UN Secretary-General Kofi Annan, meeting with the Quartet sponsors said yesterday that a Hamas-led Palestinian government must commit to non-violence, recognition of Israel and acceptance of existing peace agreements if it is to maintain its level of financial support. Speaking for the Quartet of would-be peace-making nations after their meeting in London, Annan also said Hamas must set up a government that is committed to the rule of law, to tolerance, reform and sound fiscal management. Shortly after Annan spoke, the Al-Arabiya satellite channel in the Middle East reported that Hamas had rejected demands to disarm and recognize Israel.
FOJ Note: Russia has been making strategic moves throughout the Middle East to counter the US Middle Eastern policy. Russia is equipping Syria and the Palestinians with military hardware to counter Israeli capabilities. Russia has also been instrumental in enabling Iran to develop nuclear weapons.
Hamas Authority: We'll Get our Money Elsewhere
Jan. 31….(JNEWSWIRE) If Washington and Israel stop financially aiding the Hamas Authority (Hamas-led PA), the "Palestinians" will get money from Iran and other Muslim states, and the West can go fly a kite. Palestine Monetary Authority Governor George Abed told media analyst Aaron Lerner Monday Israel and the US cannot block the transfer of funds from Iran, Iraq, Syria or any other regional power via the banking system in PA-controlled Judea, Samaria and Gaza. Earlier, leading Hamas candidate Ismail Haniyah announced his organization was ready to turn to its allies in Tehran, Damascus, Riyadh and elsewhere in the Islamic world.
Dedicated, Unwaveringly, to Israel's Demise
Jan. 31….(JNEWSWIRE) As the largely ignorant international community speculates about whether or not Hamas will change its stripes following its rise to power, and as Western governments pressure it to do so, the blood-soaked terror group is proclaiming loud and clear that its intentions regarding Israel remain unaltered. "Let nobody imagine or delude himself for one moment that Hamas might condemn or obstruct any [terrorist violence] against [the Jewish state], under any circumstances," Hamas Representative in Lebanon Osama Hamdan told ANB TV on January 25. What Hamdan explained, and what the world will not grasp, is that Hamas, and indeed most of the Arabs living in this region, do not view the massacre of Israeli Jews in coffee shops, aboard public buses or at shopping malls as acts of terrorism, but rather defensive actions against what they teach their children is a "brutal occupation." Their concept of what constitutes unacceptable and immoral violence is simply not the same as Western society's. And so Hamdan was able to state without blinking an eye that when speaking about the murder of even unarmed Jews: "We are not talking about aggression. We are talking about defense. We are defending ourselves." As for accepting Israeli sovereignty over any part of the land between the Jordan River and the Mediterranean Sea, the world can forget about it, Hamdan said. "Whoever says that these lands [referring to the Galilee, coastal plain and Negev regions] are not Palestinian, that's his problem." "We in the Hamas movement, and the entire Palestinian people, I believe, are convinced that the land is Palestinian... [and] must be liberated." Hamdan's claim to be speaking for all Palestinian Arabs is today quite valid considering Hamas' overwhelming electoral victory. Directly addressing American and European leaders in a January 29 Al Jazeera interview, overall Hamas leader Khaled Mashaal noted that the Palestinian Arabs, contrary to the predictions of US President George W. Bush, chose his movement despite and probably because of its terrorist policies. "The Palestinian people has chosen Hamas with its known stances. If America wants to negotiate with Hamas, it is most welcome, but based on the positions for which the people chose us." "No one should accuse us of being out of line or singing out of tune" with the public will. Some of the Hamas charter's more salient points: Hamas is one of the links in the Chain of Jihad in the confrontation with the Zionist invasion. The Islamic Resistance Movement aspires to the realization of Allah's promise, no matter how long that should take. The Prophet, Allah bless him and grant him salvation, has said: "The time will not come until Muslims will fight the Jews (and kill them); until the Jews hide behind rocks and trees, which will cry: 0 Muslim! there is a Jew hiding behind me, come on and kill him!" Peace initiatives, the so-called peaceful solutions, and the international conferences to resolve the Palestinian problem, are all contrary to the beliefs of the Islamic Resistance Movement. There is no solution to the Palestinian problem except by Jihad.
Saudis Welcome Hamas Victory
(Saudi Kingdom calls on global community to respect rights of Palestinian people)
Jan. 31….(WorldNetDaily) While much of the rest of the world has viewed the Hamas victory in the Palestinian elections with caution if not outrage, the kingdom of Saudi Arabia officially weighed in on the vote with praise for the terrorist organization. Following a meeting of the Council of Ministers, chaired by Prince Sultan, the Cabinet issued a statement welcoming the Hamas win and warning the international community to respect the rights of the Palestinian people to determine their future through the ballot box. "We look forward to a favorable international response to these developments," said the statement about the elections in Palestine in which Hamas won 74 of the 132 parliamentary seats. The statement also called upon the international community to pressure Israel to follow the road to peace to achieve a just and comprehensive Middle East peace settlement. The warm welcome for the Hamas victory is seen as an indication Saudi Arabia is likely to continue funding the Palestinian Authority under its new direction. Riyadh has pledged $100 million in funding through the next year. While the US has indicated it will not continue funding of the PA under Hamas leadership, Washington has discreetly suggested to Arab nations they should pick up the slack. The Saudi pledge was made to PA leader Mahmoud Abbas when he visited Saudi Arabia last month
Iran: No Legal Basis for UN Sanctions
Jan. 31….(YNET) Iran says the UN Security Council has no legal basis for imposing sanctions on the Islamic republic, in response to a decision by 5 of the council's permanent members to bring Iran's nuclear case for review. Iran said on Tuesday moves to send its nuclear case to the United Nations Security Council were not legally justified and that it would not bow to demands it halt atomic research and development. Vice President Gholamreza Aghazadeh, who is also Iran's nuclear chief, suggested there was still a chance the International Atomic Energy Agency would not go along with the five members. "The biggest problem for the West is that they can't find any legal justification to refer Iran to the UN Security Council," the semi-official Iranian Students News Agency quoted Aghazadeh as saying. The UN nuclear agency is holding a meeting of its 35-nation board in Vienna on Thursday to consider referring Iran's nuclear file to the Security Council, which has the authority to impose sanctions against Iran. Great Britain, China, France, Russia and the United States decided at a meeting of their foreign ministers in London on Tuesday to call on the agency to report Iran to the council. But they also agreed that the Security Council should wait until March to take up Iranian nuclear file after a formal report on Tehran's activities from the atomic agency. Last week Iran sent its top nuclear negotiator, Ali Larijani, to Moscow and Beijing to seek Russian and Chinese support against the Western drive to refer Iran to the Security Council.
Al Qaeda's No. 2 Terrorist: Next Attack on US Soil
Jan. 31….(WND) Al-Qaida's No. 2 man, Ayman al-Zawahiri, says on a new video played by Al-Jazeera satellite television today that the next terror attack will be on US soil. Al-Zawahiri confirms he survived the US air strike targeting him in Pakistan earlier this month and calls President Bush "the butcher of Washington and a failure" with reference to the attack. "The war will be transferred to Bush's soil," al-Zawahiri warns. Al-Zawahiri, an Egyptian doctor by training, says of Bush: "You are not only a liar, but also a failed crusader and a traitor." – a similar message to that of his last video, also broadcast by Al-Jazeera, which predicted Bush's defeat and "the victory of Islam" in Iraq. He appears in his turban and pointing an admonishing finger. "I cannot die if God does not want this," says al-Zawahiri. "My life does not depend on you, but is in God's hands. Do you know where I am now? I am amongst Muslims, who are protecting me." The second part of the message is addressed directly to the American people. Al-Zawahiri reminds them that their president did not accept Osama bin Laden's offer in his video message transmitted by al-Jazeera Jan. 19, a truce in exchange for America's withdrawal from Iraq. "Who has actually withdrawn from Iraq? Which soldiers are currently killing themselves?" al-Zawahiri asks. "When your sons come home in coffins, you should thank Messrs Bush and Blair for this." In the video, al-Zawahiri spoke before a black background. No automatic weapon was visible, unlike past videos. The lion of Islam, Sheik Osama bin Laden, may God protect him, offered you a decent exit from your dilemma. But your leaders, who are keen to accumulate wealth, insist on throwing you in battles and killing your souls in Iraq and Afghanistan and, God willing – on your own land."
UN Pushing to End Nation-States & Sovereignty
Jan. 30….(WND) The UN has a plan to make every Miss America Pageant contestant happy by bringing about "world peace." All it will take, says the draft of a visionary proposal by the UN Development Program, is to getting rid of all the pesky nations of the world. In fact, the plan endorsed by prominent world figures including Nobel laureates, bankers, politicians and economists to end nation-states as we know them is also designed to end health pandemics, poverty and "global warming." The UN says an unprecedented outbreak of co-operation between countries, applied through six specific financial tools, would serve as pretty much a cure-all for the world's ills and generate an extra $7 trillion in economic growth. The authors of the ambitious report don't expect nations to fold up and take the hint any time soon. But the idea is to start the ball rolling, and maybe years or decades from now the world will actually be ready to listen. Most of the focus of the UN plan is on global warming, a climate change phenomenon some consider to be more theory than reality. But it seems to be the central component in the UN's globalization scheme for the future, the very organizing principal behind the push to eliminate borders, sovereign governments and autonomous nation-states. If the scheme seems far-fetched, consider that it already has the backing of the UK, France, Italy, Spain, Sweden and the Bill and Melinda Gates Foundation, according to the London Independent. The UN plan includes six immediate action steps:

1. Reduce greenhouse gas emissions through pollution permit trading;
2. Cut poor countries' borrowing costs by securing the debts against the income from table parts of their economies;
3. Reduce government debt costs by linking payments to the country's economic output;
4. An aggressive campaign of worldwide vaccinations;
5. Tapping into the vast flow of money from migrants back to their home country;
6. Aid agencies underwriting loans to market investors to lower interest rates.
It's not the first time the UN has come out openly to suggest global government is the only solution to the world's problems. "Our Global Neighborhood" was a 410-page final report of the Commission on Global Governance, and was first published in 1995 by Oxford University Press. That 28-member "independent commission," created by former German Chancellor Willy Brandt, developed the following strategy, as reported in the EcoSocialist Review: "To represent a shot-across-the-bow of George Bush's New World Order, and make clear that now is the time to press for the subordination of national sovereignty to democratic transnationalism." Then-UN Secretary-General Boutros Boutros-Ghali endorsed the commission, and the UN provided significant funding. The plan calls for dramatically strengthening the United Nations, by implementing a laundry list of recommendations, including these:

Eliminating the veto and permanent member status in the Security Council;
Authorizing global taxation on currency exchange and use of the "global commons;"
Creating an International Criminal Court;
Creating a standing army under the command of the secretary-general;
Creating a new Economic Security Council;
Creating a new People's Assembly;
Regulating multinational corporations;
Regulating the global commons;
Controlling the manufacture, sale and distribution of all firearms.
And none of those recommendations were new. All had been proposed in a variety of documents for decades by various groups and individuals. However, this did mark the first time the comprehensive plan for global governance was published with the approval and funding support of the United Nations. To justify the sweeping changes proposed by the commission, a new concept of "security" was offered. The UN's mission under its present charter is to provide "security" to its member nations through "collective" action. The new concept expands the mission of the UN to be the security of the people, and the security of the planet. Thus, in their speeches to the UN's Millennium Assembly in 2000, both Secretary General Kofi Annan and President Bill Clinton made reference to this new concept, saying national sovereignty could no longer be used as an excuse to prevent the intervention by the UN to provide "security" for people inside national boundaries. To provide security for the planet, the plan called for authorizing the UN Trusteeship Council to have "trusteeship" over the "global commons," which the plan defines to be: " ... the atmosphere, outer space, the oceans beyond national jurisdiction, and the related environment and life-support systems that contribute to the support of human life."
Rice: US Wants Countries to Cut off Aid to Hamas
Jan. 30….(Ha Aretz) US Secretary of State Condoleezza Rice on Sunday ruled out any American financial aid to a Hamas government in the Palestinian territories and said Washington wants Arab nations and others to cut off money as well. Humanitarian aid to the Palestinians, many of whom are poor and unemployed, is likely on a "case-by-case basis," Rice said. She indicated that the Bush administration would follow through on aid promised to the current, US-backed Palestinian government led by President Mahmoud Abbas. "The United States is not prepared to fund an organization that advocates the destruction of Israel, that advocates violence and that refuses its obligations," under an international framework for eventual Mideast peace, Rice said. Hamas, or the Islamic Resistance Movement, won a decisive majority in last week's Palestinian legislative elections. The group, which has political and militant wings, will now take a large role in governing the Palestinians. The makeup of the new government is not clear. The Islamic militants, who carried out dozens of suicide bombings and seek Israel's destruction, have said they oppose peace talks and will not disarm. Israel refuses to deal with Hamas. Hamas' unexpected electoral victory raised questions about the future of the peace process between the Palestinians and Israel, and how the United States can influence such efforts or help impoverished Palestinians. "We're going to review all of our assistance programs, but the bedrock principle here is we can't have funding for an organization that holds those views just because it is in government," Rice said. The top US diplomat spoke to reporters as she flew to London for a Mideast strategy session with European and Russian leaders and UN Secretary-General Kofi Annan. Rice also will meet separately with other permanent members of the UN Security Council to discuss Iran and an upcoming vote on whether to refer the Tehran government to the council over its nuclear program. Rice was more definitive than President Bush and other administration officials have been about the future of US aid now that Palestinians have voted in Hamas. The US, Europe and Israel list Hamas as a terrorist organization; various Arab governments have contact with the group. "It is important that Hamas now will have to confront the implications of its covenant if it wishes to govern," Rice said. "That becomes a primary consideration in anything that we do." It is not clear that all European nations or the United Nations would cut off aid, let alone Arab governments that do not recognize Israel. "I just think that anyone who is devoted to trying to bring Middle East peace between two states has an obligation now to make sure that anybody that is going to be supported is going to have that same" goal, Rice said. Some in Israel and in the administration would like to isolate and impoverish the new Hamas leadership in hopes of either forcing the group to moderate its policies or hastening disillusionment with the incoming government among Palestinians. US aid is a small part of the $1.6 billion annual budget of the Palestinian Authority. About $1 billion comes from overseas donors, more than half of that from European nations. The rest is a mix of funds from international donor agencies, Arab and Asian governments, and the US, which gave $70 million in direct aid to the Palestinian Authority last year. Separately, the US spent $225 million for humanitarian projects through the US Agency for International Development last year, and gave $88 million for refugee assistance. In the past, USAID money has gone for such projects as sprucing up the Ramallah auditorium where Palestinian leaders hold press conferences. Rice suggested that only the most pressing needs would be considered now. Earlier Sunday, with Hamas' victory discussed on the US talk shows, a Republican senator said cutting US aid to the Hamas-run government could push the Palestinians closer to Iran and create further chaos in the Middle East.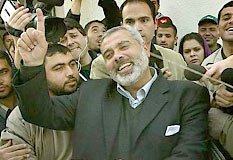 Hamas, meanwhile, asked the international community Monday not to cut aid to the PA in the wake of its win in the Palestinian parliamentary elections last week, pledging that the funding would be used only for social relief and not for violence. "We call on you to transfer all aid to the Palestinian treasury," Hamas leader Ismail Haniyeh told a news conference in Gaza. Addressing international concerns that aid would be used to fund terrorism, Haniyeh said: "We assure you that all the revenues will be spent on salaries, daily life and infrastructure." Asked if suspended funds from Israeli-collected taxes would be diverted to attacks on Israelis and to the armed wing of Hamas, Haniyeh said "No, this money is the people's, and it will go to the people."
WEEK OF JANUARY 22 THROUGH JANUARY 29
Vatican Seeks Catholic-Jewish-Muslim Unity
Jan. 28….(AP) The Vatican is exploring the possibility of expanding its Catholic-Jewish dialogue to include Muslims. Monsignor Michael Fitzgerald, who heads the Vatican's office for interreligious dialogue, spoke in an interview after the World Jewish Congress said its chairman, Rabbi Israel Singer, had discussed the initiative with Fitzgerald and other high-ranking Vatican officials during a visit to Rome. The main point of the talks was to intensify the Vatican's official dialogue with Jews, but they also included "specific possibilities to expand interfaith talks to also include representatives from the Islamic faith," the WJC said in a statement. "It is important to enter into discussions with the third 'Abrahamic child,' Islam," Singer said in the statement. "No one in the meetings has underestimated the difficulties in bringing about a meaningful dialogue. But we all agreed that the principle of mutual respect can override differences that exist between the religions."
US Threatens Aid Cuts to Palestinian Authority
Jan. 28….(Ha Aaretz) In direct reference to Hamas, State Department says Washington does not 'provide money to terrorist organizations,' adding the US will review its aid programs to the Palestinian Authority if the Islamist group joins government after election victory. The United States will review all aspects of its aid programs to the Palestinians if the Islamic group Hamas enters government after its victory in this week's elections, the State Department said on Friday. "To be very clear, we do not provide money to terrorist organizations," said State Department spokesman Sean McCormack. "We will take a look at the full spectrum of our aid programs." McCormack said everyone understood the Palestinians were poor and needed help, but he said US financial assistance had to follow US laws and policies. The aid issue would be discussed, he said, during talks in London on Monday with other members of the so-called Quartet of Middle East mediating powers, the United Nations, the European Union and Russia. Meanwhile, Jacob Walles, the US consul-general in Jerusalem, said the US would not deliver assistance to terror organizations, members of terror organizations or ministries controlled by people belonging to terror organizations. The United States, the European Union and Israel all consider Hamas to be a terrorist group. Hamas won an overwhelming victory in Palestinian legislative elections on Wednesday, capturing 76 of 132 seats. The victory stunned the world and sent Israel, the US and Europe scrambling to figure out how to deal with the sudden rise of the group responsible for dozens of suicide bombings against Israel. The US gave the Palestinian Authority $400 million in direct aid last year and several million more through various UN charities, Walles said. Some of the money was handed directly to Palestinian ministries. "I don't see how we would do that if those ministries were controlled by Hamas," Walles said. "At this point, Hamas has to make a choice. The onus is on them," he added. "If you want to be part of the political process, you need to recognize Israel, you need to disarm and you need to renounce terror and violence. The choice is theirs." Without Western financial aid, the bankrupt Palestinian Authority, which ran a $1 billion operating deficit last year, would almost surely collapse. Foreign donors have poured about $1 billion annually into the Palestinian Authority, financing vast reconstruction efforts in the West Bank and the Gaza Strip. The United States is the single largest donor country, and along with Europe provides the vast majority of the foreign aid to the Palestinians.
Hamas To Form a Palestinian Army
Jan. 28….(Debka) Hamas says it is ready to merge armed factions including its military wing to form an army to defend the Palestinian people, the group's political leader Khaled Meshaal said on Saturday. Meshaal also told a news conference in Damascus that Hamas will honor commitments made by the Palestinian Authority to Israel provided they serve Palestinian interests, despite the group's refusal to recognize Israel. "We are willing to form an army like every country, an army to defend our people against aggression," Meshaal said after the group's sweeping victory in Palestinian elections. We will not recognize the Israeli occupation but we are realistic and we know things are done gradually. Being against occupation does not mean I can cancel Israel in moments." Meshal attacked US and Israeli opposition to the Hamas victory, saying the "world raised the slogan of democracy and now it should respect the results of democracy. If you want to punish the Palestinian people for practicing democracy then the American administration should punish Americans for choosing President George W. Bush." He declared Hamas' determination to reshape the Palestinian authority, coining the phrase: one authority and one law, under one gun. Hamas!
Even before election results were announced, Meshaal, knowing Hamas would win delivered a promise to his Iranian allies at a secret meeting in Damascus on Jan. 20. On that day, Iranian president Mahmoud Ahmanidejad was visiting Damascus. Mashaal met for a half-hour secret down-to-earth discussion with the Iranian Republic Guards Corps' al Quds division commander Gen. Qassam Suleimi, who was in the presidential party. DEBKAfile's counter-terror sources know Gen. Suleimi as the Islamic Republic's supreme commander of Iran's terrorist activities in Iraq, the rest of the Arab world, the Palestinian Authority and Israel. His meeting with the Hamas leader was the follow-up to their talks in Tehran last December, when Mashaal spent three weeks making the rounds of Iran's terror executives. The Hamas leader intends arriving in Palestinian territory in the wake of the victory his movement snatched from the Fatah. One of his first plans is to hoist the Iranian flag over Ramallah's Manara Square. If he sets foot in Israel-controlled territory, he will be arrested, but he can easily reach Gaza through Egypt. DEBKAfile counter-terror sources report that Thursday, Jan 26, the day the Hamas win was declared, Mahmoud Abbas indicated that far from stepping down after his Fatah party's defeat, is collaborating fully with the winning Hamas. During Thursday night, Abu Mazen was on the phone to the real power behind Hamas, the radical Khaled Meshaal, at his Damascus headquarters. The Syrian government on Saturday said Israeli "prevarication and rejection of peace" were behind the Hamas landslide victory in Palestinian elections. Syria, a staunch enemy of Israel, is the home to radical Palestinian factions that oppose making peace with Israel, including Hamas and Islamic Jihad.
Hamas: We Won't Relinquish Jerusalem or Right of Return
Jan. 27….(Ha Aretz) Hamas said Thursday that it would maintain its principals regarding the right of return of the Palestinian people to its land and founding an independent state with Jerusalem as its capital. It added that it will work to form a partnership with Fatah and other organizations on the basis of an agreed political program. Regarding the group's armed struggle against Israel, all he said was: "We will maintain our principles, our objection to the occupation, Jerusalem, the right of return, and the release of all the prisoners." He said that "like the Sykes-Picot Agreement, the Oslo Accords infringed on Arab territory, but have become a fact, and we are not seeking the impossible. There are agreements that are fait accomplis, and should be accepted without recognizing them as legal, and this is what we'll do."
Arab League: Hamas Will Have to Recognize Israel
Jan. 27….(Ha Aretz) Hamas will have to accept the Beirut initiative, which calls for full Arab recognition of Israel, despite its declared stands, Arab League Secretary General Amr Moussa said Friday, following the Hamas victory in the Palestinian legislative elections. Moussa added that the diplomatic process in the Middle East must follow the Beirut guidelines, which include a full Israeli withdrawal from the territories according to UN resolutions 242 and 338. The initiative, approved by the Arab League in 2002 was rejected by Prime Minister Ariel Sharon. Moussa was speaking at a conference on the PA election results held during the World Economic Forum in Davos, Switzerland. Responding to Hamas' victory in the Palestinian Legislative Council elections, Likud Chairman Benjamin Netanyahu said Thursday that, "The state of 'Hamastan' has been created before our eyes - an Iranian satellite state in the image of the Taliban. It was created in close proximity to Jerusalem, Tel Aviv and Ben-Gurion International Airport. We need to do some soul-searching, because the writing was on the wall. A policy of unilateral withdrawal rewarded Hamas terror." Earlier Thursday, Likud said that the Hamas victory was a direct result of the disengagement plan and that Palestinians concluded from the Gaza pullout that terror and violence are the means to achieving diplomatic gains. Former Prime Minister Shimon Peres added that Hamas will have to deal with the termination of international aid to the Palestinians, if it does not recognize Israel's right to exist.
Hamas Leader to Relocate From Damascus to West Bank
Jan. 27….(FOJ) Immediately after Hamas was declared the official winner in Palestinian elections yesterday, Prime Minister Mahmoud Abbas called Hamas leader Khaleed Meshaal in Damascus to congratulate him on the victory and to turn over the reign of power to the Hamas. Hamas Chief Mashaal apparently informed Abbas, that although he does not intend to become Prime Minister, he is planning to relocate from Damascus to the Palestinian territories. In 1996, Hamas opted not to participate in the Palestinian elections, preferring to suffice with an operational agreement with Yassir Arafat. That decision enabled Hamas to preserve its "purity" as a terrorist organization and social movement rather than "dirtying" itself with questions regarding the management of Palestinian relations with Israel and the rest of the world. From a local perspective, two events caused Hamas's strategic shift that brought it to run in Wednesday's elections: Arafat's death at the end of 2004 and Israel's withdrawal from Gaza and northern Samaria last summer. Arafat's death left Fatah without a charismatic, popular leader able to rally Palestinian society behind him and his party. Israel's decision to withdraw from Gaza and northern Samaria without first reaching a peace accord with the Palestinians gave credence to Hamas's view that there is nothing to be gained by recognizing Israel's right to exist, even on the declarative level. At the same time, local dynamics alone do not explain Hamas's decision to change its strategy and run for office. Regional developments also played a major role. These dynamics were what drove Hamas to believe that if it were to run and win, it would also be able to rule in a manner that suits its long term goal of destroying Israel.
Bush: Hamas Must Renounce Terrorist Stand
('Peace is never dead,' he says when asked if he'd rule out relations)
Jan. 26….(MSNBC) President Bush on Thursday did not rule out dealing with Hamas, which won the Palestinian parliamentary elections, but said the militant Islamic group would have to renounce its call for Israel's destruction. "Peace is never dead," Bush said at a news conference when asked if he ruled out ever dealing with Hamas. But he added that "if your platform is the destruction of Israel, it means you're not a partner in peace, and we're interested in peace." Asked in a follow-up question if he was ruling out dealing with a Palestinian government that was made up partly of Hamas, he replied: "They don't have a government yet, so you're asking me to speculate on what the government will look like. I have made it very clear however that a political party that articulates the destruction of Israel as part of a platform is a party with which we will not deal." Bush called the election results a "wake-up call" to the old guard Palestinian leadership, many of whom are holdovers from the days of Yasser Arafat. The Hamas victory "reminds me about the power of democracy," he said. "You see, when you give people the vote, give them the chance to express themselves at the polls and they're unhappy with the status quo, they'll let you know."
Israelis Despair over Hamas Election Victory
| | |
| --- | --- |
| | A Palestinian supporter of the Hamas displays the Muslim holy book of the Quran as he celebrate the victory of his movement in the parliamentary elections in West Bank City of Nablus |
| | |
| --- | --- |
| | Palestinians are shown dancing in the streets, celebrating the election results and waving the green flags of the Hamas Terrorist Organization, and holding placards of terrorists icons. Hamas is headquarted in Damascus, Syria, and enjoys the backing of Iran! |
Jan. 26….(FOJ) Israeli Avi Zana listened with horror on Thursday to news that the Hamas militant group that killed his son had won Palestinian elections. On the streets of the Jewish state, there was grave concern at the victory of the Hamas movement that carried out nearly 60 suicide bombings during a Palestinian uprising and is formally dedicated to destroying Israel. "The Palestinians have shown their true face by electing Hamas," said Zana, 46. "The group does not want control of the Palestinian Authority, it wants control of all Israel." "It is hard not to be even more pessimistic now about peacemaking prospects here," said Shimi Breutman, 22, a travel guide. "We could see this whole place engulfed in even further chaos. Israel has to tread very carefully." Peace talks collapsed in 2000 before the uprising started. United State President George W. Bush's insistence on disarming Hamas constitutes a "blatant interference in Palestinian affairs," Hamas spokesman Sheikh Yasser Mansour told Ynet in an interview Thursday morning. "We completely reject and do not accept Bush's remarks regarding disarming us," Mansour said. "Nobody can force us to disarm." Turning his attention to what is shaping up as an impressive Hamas election victory, the group spokesman said "this great triumph shows the Palestinian people very much support Hamas' diplomatic and politic plan." "The nation supports our positions on all maters related to Palestinian resistance to the occupation.
What and Who is Hamas?
Jan. 26….(FOJ) Hamas started as an offshoot of Egypt's Muslim Brotherhood in the 1970s and was built from the ground up in the Gaza Strip and West Bank, attracting members through preaching and charitable work before spreading its influence into trade unions, universities, professional organizations and local government political races beginning in December 2004. The Muslim Brotherhood, also called Muslim Brethren literally Society of Muslim Brothers is an Islamic organization with a political approach to the expansion of the Islamic Empire. It was founded in 1928 by Hassan al Banna in Egypt after the collapse of the old Ottoman Empire in World War I. Hamas regards the rebirth of Israel in the Middle East as a nachba, or catastrophe, and as an intrusion upon the Islamic Waqf, or religious bequest, which should never be surrendered to non-Muslims. It asserts that Jihad, or Holy War to wrest control of the land from Israel is a religious duty incumbent on every Muslim individually. Their position is more radical than that that was supposedly held by the PLO and the Fatah political party, which in 1988 recognized Israel's sovereignty. Hamas does not recognize Israel as a sovereign state and refers to it as the "Zionist entity", a common hostile term for it in Arab political rhetoric.
| | |
| --- | --- |
| | The Hamas emblem shows two crossed swords, the Dome of the Rock, and a map of the land they claim as Palestine (roughly, present-day Israel, the West Bank and the Gaza Strip). |
Hamas, in Arabic is an acronym for "Harakat Al-Muqawama Al-Islamia," or Islamic Resistance Movement, and is a radical Islamic fundamentalist organization which became active in the early stages of the Palestinian intifada, operating primarily in the Gaza District but also in Judea and Samaria. Hamas was transported into the West Bank in late 1987 as an outgrowth of the Palestinian branch of the Muslim Brotherhood. It was instrumental in coordinating with Fatah under Arafat, Islamic militant extremist activities in the Gaza Strip in 1988, and ignited the first intifada. Various Hamas elements have used both political and violent means, including terrorism, to pursue the goal of establishing an Islamic Palestinian state in place of Israel. Hamas activists, especially those in the Izz al-Din al-Qassam Brigades, have conducted many terrorist attacks, including large-scale suicide bombings against Israeli civilian and military targets. The Covenant of the Islamic Resistance Movement (Hamas) was issued on August 18, 1988, and is a comprehensive manifesto comprised of 36 separate articles, all of which promote the basic HAMAS goal of destroying the State of Israel through Jihad (Islamic Holy War). 'Peace initiatives and any so-called peaceful solutions and international conferences are in contradiction to the principles of the Islamic Resistance Movement. There is no solution for the Palestinian problem except by Jihad. Hamas has set the destruction of Israel as its goal. Between September 2000 and April 2004, Hamas perpetrated 425 terrorist attacks against Israel and murdered 377 Israelis, nine every month. Hamas is responsible for 24 murders before the Oslo Accords, 156 more before the Oslo War began in September 2000, and at least another 377 since then, a total of at least 557. The organization's first mass attack was a car bomb that blew up at a bus stop in Afula in April 1994, murdering 8 and wounding 51.
Iran Hails Hamas Victory, and Palestinian Partners
| | |
| --- | --- |
| | Hamas leader Khaled Meshaal was in Iran last month. Speaking to Hamas leaders in Damascus on Friday, Iranian President Ahmadinejad said that the Middle East conflict has become "the locus of the final war" between Muslims and the West. |
Jan. 26….(FOJ) Iran has congratulated the Islamist Palestinian group Hamas for its election victory and praised voters for choosing "to continue the struggle and resistance against occupation". Hamid Reza Asefi, the foreign ministry spokesman said in a statement on Thursday faxed to journalists:"The Islamic republic of Iran congratulates Hamas and all the Palestinian soldiers and the great Islamic people." Iran and Hamas are allies and declared in December that they represented a "united front" against Israel. "The Palestinians have voted for the resistance and have shown their loyalty," Asefi said. "The result of these elections will reinforce the unity of the Palestinian people in defending their rights. The massive participation of the Palestinians shows their will to continue the struggle and resistance against occupation." Although Iran is a vocal supporter of Hamas, as well as the Palestinian resitance group Islamic Jihad and the Lebanese Shia movement Hizb Allah, the clerical regime denies allegations it finances these groups. Back on 15 December, Khaled Meshaal, the Hamas political chief said during a visit to the Iranian capital that his group would step up attacks against Israel if the Jewish state took military action against Iran over its disputed nuclear program. "Just as Islamic Iran defends the rights of the Palestinians, we defend the rights of Islamic Iran. We are part of a united front against the enemies of Islam," Meshaal said during the visit. "Each member of this front defends itself with its own means in its region. We carry the battle in Palestine. If Israel launches an attack against Iran, we will expand the battlefield in Palestine," he said.
Bush's Vision of a Two-State Solution Backfires & Creates Hamastan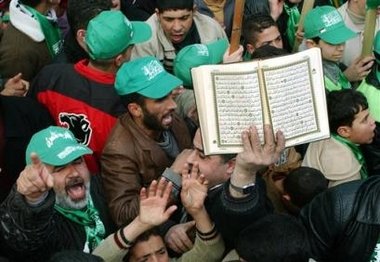 Jan. 26….(FOJ) On June 24th of 2002, President George W. Bush advocated a two-state solution to the Israeli-Arab Conflict. He pointed out the fact that the Palestinian peoples live in squalor and occupation, and if things were to ever change, Palestinians must choose new leadership, and renounce terrorism. President Bush fervently believed that democracy was the cure-all for the Palestinian situation. The President said, and I quote it here again,
"I call on the Palestinian people to elect new leaders, leaders not compromised by terror. I call upon them to build a practicing democracy, based on tolerance and liberty. If the Palestinian people actively pursue these goals, America and the world will actively support their efforts." I've said in the past that nations are either with us or against us in the war on terror. To be counted on the side of peace, nations must act. Every leader actually committed to peace will end incitement to violence in official media, and publicly denounce homicide bombings. Every nation actually committed to peace will stop the flow of money, equipment and recruits to terrorist groups seeking the destruction of Israel, including Hamas, Islamic Jihad, and Hizbullah. Every nation actually committed to peace must block the shipment of Iranian supplies to these groups, and oppose regimes that promote terror, like Iraq. And Syria must choose the right side in the war on terror by closing terrorist camps and expelling terrorist organizations.
The President's vision was fatally flawed from the start, and revealed that the President knows virtually nothing about the prophetic Biblical dynamics underlying this conflict. The Islamic resistance movement (Hamas) is following the script of the Koran, and is working with the enemies of Jehovah to encircle Jerusalem! But as they say in Hamastan and Iran, first the great Satan (America) will find itself in the crosshairs of evil.
Today, Hamastan Was Formed"………………an ally of the Axis of Evil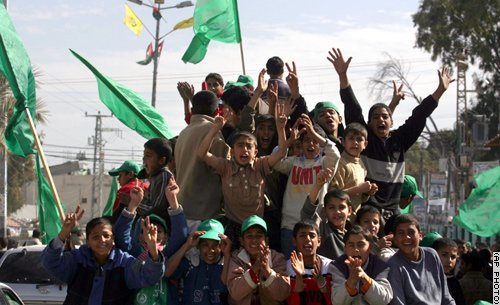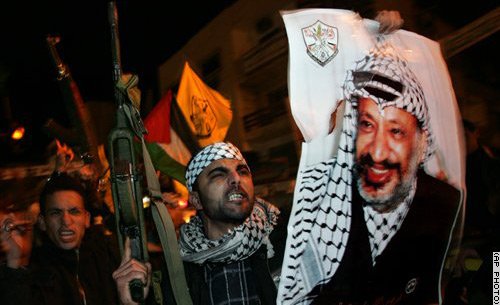 Hamas Wins PA Election!
Jan. 26….(Arutz) Though official results are not yet in, the Hamas terrorist organization has won a majority in almost every one of the 16 districts in the PA-controlled areas, including Jerusalem. At least 70, and possibly as many as 75, seats of the 132-seat legislature will go to Hamas. Fatah Prime Minister Abu Alla has resigned, and PA Chairman Mahmoud Abbas is considering doing the same. According to PA law, Chairman Abbas (Abu Mazen) must turn to the largest party and ask it to form the next government. Hamas leader Mahmoud A-Zahar said, "The armed struggle will continue, and it will cause Israel to make great concessions, and will change the way Egypt and Jordan relate to Israel as well." Iran released a statement of congratulations for the Hamas victory, saying that the path of "continued resistance of Israeli conquest" had won. MK Ehud Yatom (Likud) said, "The Palestinian people decided that terrorism is the tool and the way to implement its strategy for us not to be here in this region. Our government also made its decisive contribution to this development by allowing PA elections in this format." Former Israeli Foreign Minister Silvan Shalom said, "Israel made a very grave mistake when it allowed Hamas to participate in these elections. The international community will now find every justification to have dialogue with Hamas, claiming that they won democratic elections, even though we invested such great efforts to have the world include Hamas on its outlawed list of terror organizations."
Arab World Jubliant at 'Earthquake' of Hamas Victory
Jan. 26….(Ha Aretz) The victory of Hamas in the elections for the Palestinian Legislative Council was greeted with jubilation Thursday across the Muslim world. State-run radio in Iran opened its afternoon news broadcast with the report of Hamas' victory, saying the vote showed that Palestinians support resistance against Israel. Iran's President Mahmoud Ahmadinejad met Hamas and other militant leaders in Damascus last week, though the Islamic cleric-run regime insists it only gives the groups moral support. "The Palestinians gave their vote to the party that gave of its blood," a reference to the suicide bombers that Hamas sent into Israel. Khaled Mashal, the senior Hamas leader who is based in Damascus, Syria, called Palestinian leader Mahmoud Abbas and said Hamas is ready for a political partnership with the defeated Fatah Party. By early Thursday morning in had become clear that Hamas had shocked prognasticators by winning virtually all of the 66 seats in electoral districts.
Hamas & Terror, The Choice of 'Palestinians', and Maybe Iraq Too
Jan. 26….(FOJ) The victory by the Hamas Terrorist organization in Palestinian parliamentary elections has dramatically shaken up the political landscape of the Middle East, elevating yet another band of TERRORISTS who call for Israel's destruction. It also raises questions about the US policy of promoting democracy in the Middle East. US President George W. Bush was wrong. Dead wrong! In fact his entire Middle East doctrine for peace through democracy is a mirage. President Bush bought into the concept proposed by Natan Sharansky that Democracy was the tool that could win the war on terror, but the victory by Hamas shows that hatred of Jews is still the overwhelming issue in the Middle East!. During a joint press conference with PLO chief Mahmoud Abbas in May of last year, Bush insisted Hamas had no chance of winning Wednesday's Palestinian Legislative Council election. "I don't think they're going to get elected, because I think Palestinian moms want their children to grow up in peace just like American moms want their children to grow up in peace," he told reporters at the White House. In October, the American President reiterated his conviction that the "Palestinian" masses would vote for the "party of peace." (FOJ Note: there has never been a party for peace in Palestine!) Based on this firm belief, the Bush Administration pressed Israel to drop any planned action to hinder or thwart the PLC election, despite the participation of recognized terror groups. But during the 12 hours of polling Wednesday, the Palestinian Arabs revealed that Bush's view of them as a people that first and foremost seek peaceful coexistence with the Jewish state is erroneous at best. PA election officials today indicated Hamas had managed to capture all major constituencies in Judea, Samaria and Gaza. A short time later the Associated Press reported that senior Fatah officials had conceded defeat to the terror group, but what difference does switching from one terrorist group to another really matter? Fifteen years ago the US and the world balked at holding peace talks with Arafat's Fatah organization, so Hamas has just been elevated enough by the Palestinians that perhaps it will be mysteriously reclassified from a terrorist organization to a charitable outfit. US President George W. Bush said Wednesday that the United States would not deal with Hamas until the radical Palestinian Islamist group renounces its position for calling for the destruction of Israel. Yasser Arafat supposedly did the same thing in 1991. "A political party, in order to be viable, is one that professes peace, in my judgment, in order that it will keep the peace," the president said Wednesday in an Oval Office interview after an apparently strong showing by Hamas in Palestinian parliamentary voting. "And so you're getting a sense of how I'm going to deal with Hamas if they end up in positions of responsibility. And the answer is: Not until you renounce your desire to destroy Israel will we deal with you." Yasser Arafat did this too, but it did not change his terrorist leanings. Israel is in more danger today than it has ever been. Sharon, its bulldozer is gone, and HAMASTINE with Iranian-Islamic Jihad-Hezbullah and Syrian backing is stronger than ever, and has taken over the Trojan Horse ride into the interrior of Israel!

Abbas Asks Rradical HamasTerrorists to Form a New Government
Jan. 26….(Debka) His defeated Fatah slapped down participation in a Hamas-led coalition. Earlier, Fatah PM and cabinet quit when early results gave Hamas a sweeping 70-75 seats in the 132-seat Palestinian legislature. The first Hamas statement: Negotiating with Israel and recognition are not on our agenda. The armed struggle will continue. Hamas control of Palestinian government is a regional earthquake that will bring the Muslim Brotherhood into power by the ballot for the first time in Middle East history. President George W. Bush says he will not deal with Hamas unless the organization renounces its commitment to fight for Israel's destruction. In Gaza, in answer to a question on policy, Hamas operative Mohammed Rantisi, whipped out the late Yasser Arafat's motto: We shall hold talks as though there is no terror and wage terror as though there are no talks. Other leaders reject negotiations, recognition of Israel or laying down arms. In view of this election upset, some Palestinian sources predict a long wait for final results amid attempts at manipulation, which the Hamas will fight tooth and nail. The Palestinian election sets back critically the underlying objective of the US-led global war on terror: denying terrorists territorial strike bases and keeping them on the run, as manifested in the wars in Afghanistan and Iraq. For Israel, allowing the Hamas terrorists to take part in the Palestinian election, after its takeover of the Gaza Strip, was a fatal blunder. It is now condemned to dealing with the Damascus-based Khaled Mashal and Mahmoud a-Zahar in Gaza, now holding the whip hand in Ramallah.
Behind them lurk sponsors and mentors such as Mahdi Aqaf, leader of the radical Egyptian Muslim Brotherhood, Hamas's parent body, and Sheikh Qardawi, the Qatar-based television preacher. While speaking out against suicide bombers for Western targets, this influential radical ardently advocates Muslim martyrdom for the sacred purpose of killing Israelis. The peace strategy acting Israeli prime minister Ehud Olmert outlined in his policy address the day before the Palestinian election is passé; it was built around negotiations with Abu Mazen and a Fatah regime in Ramallah. He failed to consider the possibility of having to face up to a Palestinian negotiating partner that takes its orders from Cairo, Qatar, Damascus and Tehran.
World Taken by Surprise by Hamas Victory

Jan. 26….(Debka) Amidst reports that Palestinian Authority Chairman Mahmoud Abbas (Abu Mazen) is considering resigning - Prime Minister Abu Ala already resigned this morning - initial contacts are being made for a future PA government. Leading Hamas official Khaled Meshal, who directs the terrorist organization from Damascus, has asked Abbas to stay on and agree to a unity Hamas-Fatah government. This would serve Hamas' interests, as its experience until now has added up only to waging terror attacks and running charity organizations - but not running a state government. Fatah, however, has not shown great enthusiasm in joining such a regime. Acting Prime Minister Ehud Olmert, in one of his first decisions today following the Hamas victory, ordered the ministers in his government not to discuss publicly the developments in the PA. He plans to hold an emergency meeting this evening with Foreign Minister Tzippy Livny and Defense Minister Sha'ul Mofaz to discuss the developments in the Palestinian Authority. The Hamas victory took the world by surprise. Reports about the elections all predicted a Fatah victory, acknowledging only that it might be narrower than thought. Regarding the US, analysts discussed whether or not the Bush Administration would engage in dialogue with Hamas ministers of a Fatah-led government, barely noting the possibility that they might have to consider talking with a government led by Hamas. The Washington Post reported early this week that the US had, relatively secretly, spent $2 million in recent weeks to promote Fatah.
The Hamas Political EARTHQUAKE
Jan. 26….(David Dolan) The apparent Hamas victory in the Palestinian elections will create a political earthquake with far reaching aftershocks.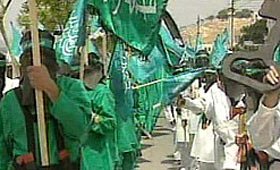 This morning, that earthquake has apparently struck, with Palestinian election officials telling media outlets that the radical Islamic movement has captured a clear majority of seats in the 132 seat Palestinian legislature. The official results will only be released early this evening. If Hamas has indeed triumphed, the militant group will form the next government that will not only rule the entire Israeli-evacuated Gaza Strip, but the town of Bethlehem just south of Jerusalem, the city of Ramallah due north if Israel's capital, and significant territory a few kilometers east of Israel's main urban metropolis situated along the Mediterranean coast, including Tel Aviv and Ben Gurion airport. In other words, one of Israel's worst nightmares is coming true. I was the first Western journalist to write extensively about Hamas in a book, "Holy War for the Promised Land,"published in January 1991 by Thomas Nelson. I began working on it just a few months after the group (whose name is an Arabic acronym for "Islamic Resistance Movement") was formed in mid-1988. I devoted five full pages to the new Muslim group (which is actually an outgrowth of the older, Egyptian-based Muslim Brotherhood movement), quoting extensively from their 1988 founding charter, which spells out in graphic detail the Hamas intention to destroy Israel and replace it with a Palestinian Islamic regime. When the fourth, updated edition of Holy War was published by Broadman and Holman in 2003, I changed very little in the section about Hamas that begins on page 142 under the subtitle "An Islamic Covenant." After all, the five pages (and many other references in subsequent chapters) that I devoted to the extremist Islamic group in my first edition had proved to be a bit prescient, given that Hamas suicide terrorists had effectively destroyed the Oslo peace accords in the meantime with a series of horrendous attacks that began in April 1994. Some of my Jerusalem-based media colleagues, a few of whose names are far more well known than mine, criticized my initial book for supposedly "wasting space" on a small militant group that would "never play any significant role" in the ongoing Arab-Israeli tussle. I argued that, since the group was basing its platform on deeply entrenched Islamic fundamentalist religious teachings and traditions, it was likely to grow in strength and influence as the Islamic revolution that began a decade before in Iran continued to flourish. Unfortunately, the apparent Palestinian election outcome 15 years later seems to have confirmed that contention. I also maintained in my book that Hamas would never significantly alter its central charter goals, given that they were based on a literal reading of the Koran. Although some local Hamas politicians have recently spoken with relative moderation in relation to their charter's call for Israel's complete annihilation, most Israeli experts and officials do not accept this as reflecting a real sea change in the movement's radical positions. Therefore, the already fractured Israeli-Palestinian "land for peace" process will now be recognized by most Israelis as being beyond resurrection. This is despite the fact that all understand the impressive Hamas victory was at least partially a well-deserved Palestinian voter rebuke of the ruling PLO Fatah movement, which faithfully reflected its former leader, Yasser Arafat, in being riddled with violence and corruption. How will the radical, nuclear bomb-seeking Shiite Islamic regime in Iran react to the reported Hamas triumph? What about Tehran's main Arab ally Syria? What can we now expect from Hizbullah, the Iranian-Syrian proxy militia force stationed on Israel's northern border that has given much material and media support to Hamas in recent years? No one can say for sure, but it seems obvious that the Middle East and the entire world are in for more riveting days ahead!
Netanyahu: Kadima Helped Create Terror State
Should Israel negotiate with Hamas? Hamas' stunning elections victory is "direct result of the disengagement and Palestinian realization that terror and violence is the way to achieve political gains," Likud officials say. "Olmert and Kadima are setting up a Hamas terror state that will be a branch of Iran, several kilometers away from Israel's population centers," the Likud charged in the wake of reports Hamas has won the Palestinian elections. Acting Prime Minister Ehud Olmert "brought Hamas to Jerusalem," Knesset Defense and Foreign Affairs Committee Chairman Yuval Steinitz (Likud) charged. "By caving in to international pressures, (Olmert) led Israel's fight against terrorism to a historic nadir," Steinitz said. "If Olmert continues this way, Iran's terror arms will threaten Jerusalem, central Israel, and Ben Gurion airport." Meanwhile, Knesset Member Effie Eitam (National Union) said in "(Hamas leader) Mahmoud al-Zahar should send a large bouquet of flowers this morning to Ehud Olmert and the ministers of his government who preferred to give up on the war against terror." According to former Defense Minister Binyamin Ben-Eliezer (Labor), "we will be ready to talk with anyone who acknowledges our right to live in peace and safety," referring to the possibility of eventual talks with Hamas. "If it will be Hamas – so be it. If it acknowledges that, it will no longer be Hamas," he said. Ben-Eliezer added that "the equation is simple. Whoever recognizes the State of Israel, and I stress, as the Jewish people's state, we will be ready to talk to him." He also explained that according to the Palestinian constitution, the biggest faction is not necessarily the one to form the government. "We must observe and see what has actually happened. The question is not whether Hamas is going to join the government or whether Fatah will join the government. We have to see what the ramifications will be and how the Palestinian plan to organize themselves," he added.
"The results point to one thing: All our fears were realized. We are facing a much more difficult problem, because there is no partner.
Carter Says Palestinian Elections Fair
| | |
| --- | --- |
| | Former US President Jimmy Carter and his wife Rosalyn led a delegation of 80 international observers from 22 countries. The former US President proudly announced that the Palestinians had conducted a fair and democratic election. Carter even had the audacity to say that he hoped Hamas would change its terrorism-murderous ways now that it is a democratically viable entity. |
Jan. 26….Former President Carter said Thursday the Palestinian elections were "completely honest, completely fair, completely safe and without violence."
Carter, who led an international observer team from the National Democratic Institute, also said he hoped that the Hamas Islamic group would act responsibly now that it appears to have been elected to power in Palestinian elections. "My hope is that as Hamas assumes a major role in the next government, whatever that might be, it will take a position on international standards of responsibility," he told a news conference in Jerusalem. Carter helped broker a lasting peace between Egypt and Israel at Camp David in 1978. Hamas has carried out numerous deadly suicide attacks in Israel, whose existence it does not recognize. But Carter was pleased to announce after the elections, that there were no major allegations of fraud from either side.
Iran: We Will Put Israel in a Coma!
Jan. 25….(AP) Were Israel to attack Iran's nuclear facilities, Iran would respond so strongly that it would put the Jewish state into "an eternal coma" like Prime Minister Ariel Sharon's, the Iranian defense minister said Wednesday. Earlier this week, Defense Minister Shaul Mofaz has said Israel would not accept Iran's acquiring nuclear weapons under any circumstances. He stopped short of threatening a military strike against Iran, as Israel destroyed an unfinished Iraqi nuclear reactor in 1981, but he said Israel was preparing for the possible failure of diplomatic negotiations with Iran. A newscaster on Iranian state television read out a response from Iran's minister of defense, Gen. Mostafa Mohammad Najjar, on Wednesday. "Zionists should know that if they do anything evil against Iran, the response of Iran's armed forces will be so firm that it will send them into eternal coma, like Sharon," Najjar said. Sharon suffered a massive stroke on January 4 and has been in a coma ever since. Foreign ministers of the five permanent UN Security Council members and Germany will meet on Monday to seek consensus on Iran's disputed atomic work before a meeting of the UN nuclear watchdog, a senior diplomat said. He said Britain, China, France, Russia, the United States and Germany would strive to overcome differences before the 35-nation board of the International Atomic Energy Agency (IAEA) holds an emergency meeting on Iran in Vienna on Feb. 2. Russia and China are urging caution, preferring something like an IAEA statement of concern about Iran, but without a referral.
Palestinians Await Vote Count
Jan. 25….(AP) Amid tight security and a sea of green and yellow flags, Palestinians turned out in large numbers Wednesday for their first parliamentary election in a decade, a historic vote integrating Islamic militants into politics and determining the future of peacemaking with Israel. One exit poll suggested the ruling Fatah Party had likely won the most votes, with the Islamic militant group Hamas a close second, according to an exit poll conducted by the West Bank's An Najah University. A pollster who spoke on condition of anonymity because the results were to be officially announced later said Fatah won more than 42 percent of the vote and Hamas more than 34 percent, based on a survey of 6,500 voters with a margin of error of 5 percentage points. Unofficial results were expected early Thursday. Voter turnout was 73 percent, the Central Election Commission said. In the West Bank, 70.6 percent of 1.3 million eligible voters cast ballots, and in the Gaza Strip, 76.8 percent of registered voters participated. In the 1996 parliamentary election, turnout was about 75 percent. Long lines formed across the West Bank and Gaza as Palestinians, given a real choice for the first time, eagerly cast their ballots for the 132 parliament seats up for grabs. Palestinian leader Mahmoud Abbas said he is ready to resume peace talks with Israel, even if Hamas joins his government after the vote. "We are ready to negotiate," Abbas told Israeli reporters in the West Bank city of Ramallah. "We are partners with the Israelis. They don't have the right to choose their partner. But if they are seeking a Palestinian partner, this partner exists." Even it doesn't win outright, Hamas is widely expected to make a strong showing that would place the Islamists, responsible for dozens of suicide bombings against Israel, squarely inside the Palestinian political system for the first time. Hamas' success has alarmed Israel and the West, although Abbas has argued that bringing them into the system will tame them, enabling peace moves to go forward. In an apparent sign of pragmatism, Hamas has not carried out a suicide attacks since a cease-fire was declared a year ago. But its top parliamentary candidate, Ismail Haniyeh, said Hamas had no intention of quiting its terrorist ways after the elections. Washington's position on relations with a Palestinian government in which Hamas is represented is ambivalent. US secretary of state Condoleezza Rice said two days ahead of the vote that the US government would not hold talks with Hamas unless it renounces terrorism and recognizes Israel, but will not cut its ties with a Palestinian government in which the terrorist group is present. Washington also put up a $2 million campaign war chest to boost Abu Mazen's electoral chances.
Why Would the West Attack Iran?
Jan. 25….(opinion from Asia Times) Why did French President Jacques Chirac last week threaten to use non-conventional, that is, nuclear, weapons against terrorist states? And why did Iran announce that it would shift foreign-exchange reserves out of European banks (although it has since retracted this warning)? The answer lies in the nature of Tehran's nuclear ambitions. Iran needs nuclear weapons, I believe, not to attack Israel, but to support imperial expansion by conventional military means. Iran's oil exports will shrink to zero in 20 years, just at the demographic inflection point when the costs of maintaining an aged population will crush its state finances. Just outside Iran's present frontiers lies the oil resources of Iraq, Azerbaijan and Turkmenistan, and not far away are the oil concentrations of eastern Saudi Arabia. Its neighbors are quite as alarmed as Washington about the prospect of a nuclear-armed Iran, and privately quite happy for Washington to wipe out this capability. It is remarkable how quickly an international consensus has emerged for the eventual use of force against Iran. (FOJ Note: This was not the case with Iraq!) Chirac's indirect reference to the French nuclear capability was a warning to Tehran. Mohamed ElBaradei, whose Nobel Peace Prize last year was awarded to rap the knuckles of the United States, told Newsweek that in the extreme case, force might be required to stop Iran's acquiring a nuclear capability. German Defense Minister Franz Josef Jung says the military option should not be abandoned, although diplomatic efforts should be tried first. Bild, Germany's largest-circulation daily, ran Iranian President Mahmud Ahmedinejad's picture next to Adolf Hitler's, with the headline, "Will Iran plunge the world into the abyss?" The same Europeans who excoriated the United States for invading Iraq with insufficient proof of the presence of weapons of mass destruction already have signed on to a military campaign against Iran, in advance of Iran's gaining WMD. There are a number of reasons for this sudden lack of squeamishness, and all of them lead back to oil. First, Saudi Arabia and the United Arab Emirates have the most to lose from a nuclear-equipped Iran. No one can predict when the Saudi kingdom might become unstable, but whenever it does, Iran will stand ready to support its Shi'ite co-religionists, who make up a majority in the kingdom's oil-producing east. At some point the United States will reduce or eliminate its presence in Iraq, and the result, I believe, will be civil war. Under conditions of chaos Iran will have a pretext to expand its already substantial presence on the ground in Iraq, perhaps even to intervene militarily on behalf of its Shi'ite co-religionists. What now is Azerbaijan had been for centuries the northern provinces of the Persian Empire, and a nuclear-armed Iran could revive Persian claims on southern Azerbaijan. Iran continues to lay claim to a share of Caspian Sea energy resources under the Iranian-Soviet treaties of 1921 and 1940. For the time being, Azerbaijani-Iranian relations are the most cordial in years, with Iran providing natural gas to pockets of Azerbaijani territory blockaded by Armenia, and Baku defending Iran's nuclear program. As Iran's oil production dwindles over the next two decades, though, its historic claims on the Caspian are likely to re-emerge. Ahmedinejad's apocalyptic inclinations have inspired considerable comment from Western analysts, who note that he appears to believe in the early return of the Mahdi, the 12th Imam. (an Islamic parallel to Christ) I do not know whether Ahmedinejad is mad or sane, but even mad people may be sly and calculating. Iran's prospects are grim. Over a generation it faces demographic decay, economic collapse and cultural deracination. Given Israel's possession of a large arsenal of fission weapons as well as thermonuclear capability, it is extremely unlikely that Iran would attack the Jewish state unless pressed to the wall. Faced with encirclement and ruin, the Islamic Republic is fully capable of lashing out in a destructive and suicidal fashion, not only against Israel but against other antagonists. Whatever one may say about Chirac, he is not remotely stupid, and feels it prudent to warn Iran that pursuit of its imperial ambitions may lead to a French nuclear response. French intelligence evidently believes that Iran may express its frustrations through terrorist actions in the West. By far the biggest loser in an Iranian confrontation with the West will be China, the fastest-growing among the world's large economies, but also the least efficient in energy use. Higher oil prices will harm China's economy more than any other, and Beijing's reluctance to back Western efforts to encircle Iran are understandable in this context. It is unclear how China will proceed if the rest of the international community confronts Iran; in the great scheme of things it really does not matter. Washington will initiate military action against Iran only with extreme reluctance, but it will do so nonetheless, except in the extremely unlikely event that Ahmedinejad were to stand down. Rather than a legacy of prosperity and democracy in the Middle East, the administration of US President George W Bush will exit with an economy weakened by higher oil prices and chaos on the ground in Iraq and elsewhere. But it really has no other options, except to let a nuclear-armed spoiler loose in the Oil Corridor. We have begun the third act of the tragedy that started on September 11, 2001.
Medical Specialists Say Sharon is in Vegetative State
Jan. 25….(Ha Aretz) Prime Minister Ariel Sharon's doctors held talks Wednesday with two specialists from a long-term care facility, a hospital spokeswoman said, but there was no word on whether he would be moved there in the near future. Sharon, who has been hospitalized in a coma since suffering a stroke on Jan. 4, remained in critical but stable condition, said Yael Bossem-Levy, a spokeswoman for Hadassah Ein Kerem hospital in Jerusalem on Wednesday. Although Sharon has responded to pain stimulus, he has shown no signs of waking up, even after being taken off sedatives last week. Two intensive care specialists participated in Wednesday's meeting with Sharon's doctors, Bossem-Levy said. The specialists were Dr. Ben-Zion Khromchensky and Leon Sezbon from the Loewenstein Hospital Rehabilitation Center, a long-term rehabilitation center in Ra'anana. Members from Sharon's family also met with the two specialists. Bossem-Levy did not say if this was an indication that Sharon would be moved to the facility. Israel Radio said there were no immediate plans to do so. Senior physicians not connected to the treatment of Sharon say his condition can now be defined as "a vegetative state." However, they stressed that the possibility of Sharon regaining consciousness cannot be ruled out, and some even said it is possible Sharon will recover some of his physical and mental functioning. Based on the reports from Hadassah University Hospital, Ein Karem, "the implication is that Sharon is in a vegetative state," Dr. Avraham Lazri, a rehabilitation expert who is deputy hospital director and head of the brain injury department at the long-term care facility Reut, told Haaretz. According to an intensive-care expert, "a patient after such a major stroke, who has been unconscious for so long and his condition remains serious and stable, is most likely in a vegetative state." A vegetative state is defined as one in which a patient has a low level of consciousness and seems to be unaware of his surroundings. A vegetative state ranges in various degrees, including patients who breathe on their own with no help from a respirator. Patients maintain a sleep cycle, and may exhibit spontaneous movements that are of no functional significance. A response to pain stimuli, as Sharon has reportedly exhibited, is consistent with a vegetative state.
Bolton: Bush Won't Tolerate Nuclear Iran
Jan. 24….(Jerusalem Post) US President George W. Bush will not accept a nuclear Iran, John Bolton, the US ambassador to the United Nations, said Monday. Bolton, speaking from New York via video hook-up to the Interdisciplinary Center's Herzliya Conference, said that Bush was determined to pursue the issue through peaceful and diplomatic means, "but has made clear that a nuclear Iran is not acceptable." According to Bolton, Bush worries that a nuclear-equipped Iran under its current leadership could well engage in a nuclear holocaust, "and that is just not something he is going to accept." Bolton said that if the International Atomic Energy Agency (IAEA) referred the Iranian nuclear issue to the UN Security Council in early February, it would still be unlikely for the UN to immediately slap sanctions on Teheran. "In the first instance I suspect that if it comes to the Security Council in a few weeks we would look for a statement that essentially calls on Iran to comply with the existing IAEA resolutions," Bolton said. "I think that would be a gut check for the Iranians, and if they don't heed that warning we would have to consider what to do next." Bolton said that referring the issue to the Security Council was a form of pressure on Iran to convince them to make the same strategic decision Libya made in 2004 - that their national interests would be better served, and they would be safer in giving up the purist of nuclear weapons, than in continuing that pursuit. Bolton, who was very critical during his comments of the UN's treatment of Israel, said - in an answer to a question - that the time had come to re-evaluate UNRWA, the UN body devoted to Palestinian refuges. When looking toward a two state solution, Bolton said, "you have to ask why one state, Palestine, has an entire UN agency devoted entirely to it." Bolton asked why the UN Development Program, and other UN programs present in other countries around the world, would not be applicable to a Palestinian state as well. Looking at the future of UNRWA is definitely something we should all be doing, thinking about how to transition to a new UN involvement in the region," Bolton said.
Bush: Nuclear-Armed Iran Could Blackmail the World

Jan. 24….(Debka) Speaking at Kansas State University, the US president saw in Iranian president Mahmoud Ahmadnijed's wish to wipe Israel off the map a sign that Iran sought a nuclear arsenal. The next logical step, said Bush, is for the UN nuclear watchdog to refer the Iranian case to the Security Council for sanctions. An IAEA crisis meeting has been called for February 2, but IAEA director Elbaradai wants it postponed by a month for his report. In a recorded speech to the Herzliya conference, American UN ambassador John Bolton said Monday the threat to wipe Israel off the map is a threat against the world.
US, Israel May Attack Iran Nukes 'Before April'
Pre-emptive strike all but inevitable, say military, intelligence sources
Jan. 24….(WorldNetDaily) A pre-emptive US and Israeli military strike on Iran's nuclear facilities is nearly inevitable, reports Joseph Farah's G2 Bulletin. The incapacitation of Israeli Prime Minister Ariel Sharon has made a pre-emptive attack on Iran more likely in the next nine weeks, Israeli sources tell the founder of WND. It was Sharon who vetoed the nearly unanimous recommendations of Israel's generals that a quick strike was the Jewish state's only chance at preventing Iran from building a significant nuclear arsenal. Meanwhile, in Washington, there is growing concern that Iran's ultimate target is the U.S.
Earlier this month, Iran's Revolutionary Guards conducted a conference on the use of weapons of mass destruction, nuclear, chemical and biological. Included in those briefings were presentations on electromagnetic pulse weapons and other military technologies deemed to be under development for use against the US, rather than Israel or other enemies of the Islamic republic. Even one nuclear weapon, used in an EMP-style attack on the US, would prove catastrophic to the nation, a congressional panel studying the vulnerability of America to electro-magnetic pulse weapons concluded last year. Such an attack would not require Iran to use long-range or intercontinental ballistic missiles, which it does not possess. But a simple Scud missile, with a nuclear warhead, could be fired from offshore and detonated above the US wreaking near total devastation on the country's technological, electrical and transportation infrastructure. It would also have the advantage of offering Iran a degree of plausible deniability, given that "terrorists" armed with one nuclear weapon could achieve the same results.
Iran: UN Sanctions May Lead us to Seal off Persian Gulf
Jan. 24….(AP) A senior Iranian official threatened that Tehran may forcibly prevent oil export via the Straits of Hormuz if the UN imposed economic sanctions due to Iran's nuclear program, an Iranian news Web site said on Monday. This is the first time an Iranian official has made military threats in a public statement on Tehran's recent disagreements with the West. The news site, affiliated with the radical student movement in which President Mahmoud Ahmadinejad was once a member, quoted Mohammed-Nabi Rudaki, deputy chairman of the Iranian parliament's National Security and Foreign Policy Commission. According to the report, Rudaki said that "if Europe does not act wisely with the Iranian nuclear portfolio and it is referred to the UN Security Council and economic or air travel restrictions are imposed unjustly, we have the power to halt oil supply to the last drop from the shores of the Persian Gulf via the Straits of Hormuz." About 25% of the world's oil production passes through the Straits of Hormuz, which connect the Persian Gulf with the Indian Ocean. The meaning of Rudaki's threat is that not only will Tehran stop its oil production from reaching the West, it may also use force to prevent the other oil producers in the region (the United Arab Emirates and Kuwait) from exporting to the West. Raduki also warned that his country might quit from its membership in the International Atomic Energy Agency (IAEA) and withdraw from the Nuclear Non-Proliferation Treaty (NPT).
Saudi Arabia, China Forge Energy Deal
Jan. 23….(MSN) Saudi Arabia and China inked a deal on energy cooperation on Monday, amid efforts by China to secure overseas oil and gas deposits for its power-hungry economy. The agreement was signed during a visit to China by Saudi King Abdullah, the first by a Saudi ruler since the two countries formed diplomatic relations in 1990. Abdullah met with Chinese President Hu Jintao and the two leaders observed the signing of the cooperation agreement covering oil, natural gas and minerals. No financial or other details of the pact were immediately released. China, the world's No. 2 oil consumer, has been aggressively seeking to strengthen relationships with major oil suppliers as it grows more heavily reliant on oil imports. Saudi Arabia accounts for about 17 percent of China's imported oil. Four other agreements were also signed by representatives from the two sides, including one on economic, trade and technical cooperation, and another on avoiding dual taxation. An agreement for an urban development loan to be given to the far western Chinese city of Aksu by the Saudi Arabian Development Bank and a pact to cooperate on vocational training were also signed. Hu told Abdullah during their meeting at the Great Hall of the People in Beijing that the visit would help "write a new chapter of friendly cooperation between China and Saudi Arabia in the new century." "What makes us happy is that since the two countries established diplomatic relations in 1990, our two countries have had fruitful cooperation in many fields," Abdullah said. "We hope this cooperation will develop even more in the future." Reporters were asked to leave the room shortly after the talks began. Total trade between the two countries, much of it Saudi oil bought by China, grew by 59 percent in the first 11 months of 2005 to $14 billion, according to China's Foreign Ministry. Abdullah is also scheduled to meet with No. 2 Communist Party leader, Wu Bangguo, and Premier Wen Jiabao.
Bin Laden-Iran Collaboration Possible, Terror Expert Warns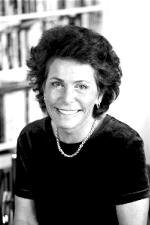 Jan. 23….(Assist News) Dr. Rachel Ehrenfeld is a one-woman tour de force in a personal crusade to expose the dark nether world of terror financing. Growing up in Israel, she personally experienced a hatred fueled by radical propagandists that has only increased today, leaving her very concerned about the future of the US and the Middle East.
"There is a long term strategy started by the Muslim Brotherhood and their affiliates that puts us in great danger," says Dr. Rachel Ehrenfeld, director of the American Center for Democracy. "We've been infiltrated heavily in the United States," she maintains. Dr. Ehrenfeld, author of "Funding Evil; How Terrorism is Financed, and How to Stop it" is a widely sought commentator and consultant on the problem of international terrorism. She's currently working on a new book exposing radical Islam's penetration of the US and other Western economies. Dr. Ehrenfeld believes the release of a new audiotape from Osama bin Laden raises the possibility that bin Laden is collaborating with Iran. "If a dirty bomb or a nuclear device is used in the near future to attack America or its interests, the blame would go to bin Laden, thus, providing Iran with deniability," she says. "The Islamist enemies of the US have the same agenda, to destroy the biggest democracy, freedom and the Judeo-Christian way of life. It is time to acknowledge that they work together and do all it takes to preempt their attacks." Saudi Arabia is often the object of her special interest and attention. "When I read that as a sign of friendship, thousands of more Saudi students are coming here I get really worried," Dr. Ehrenfeld notes. "They have been indoctrinated in Saudi Arabia with the same ideology that the attackers of 911 also practiced," she says. While there are a few in Saudi Arabia who emulate and admire the culture of the West, the vast majority are Wahabi Sunnis holding a much different mindset. Saudi Arabia has one of the world's worst records on religious freedom and human rights. It is one of the least evangelized nations in the world, with Christian workers and Bibles banned. Christians are not even permitted to set foot in Islam's holiest city, Mecca. "Last year in Saudi Arabia they were holding fundraisers for the martyrs of Hamas," Dr. Ehrenfeld observes. While lacking hard numbers, Dr. Ehrenfeld estimates billions of dollars are flowing out of Saudi Arabia to fund terrorism. "It amounts to billions of dollars, but there are many more hundreds of billions they are spending expanding the base of radical Islam around the world, including the US." The Muslim World League coordinates a colossal Islamic missionary effort, with some of the largest printing presses in the world located in Mecca printing tens of millions of Qur'ans for worldwide distribution. Part of the Saudi strategy is to seek weak governments in Third World countries, where they invest heavily building hospitals, schools, and mosques. "They provide services to the population to buy their loyalty, and it's working," Dr. Ehrenfeld notes. The result of their spending campaign also buys antagonism toward the US and Israel. "Look at how much the US is hated in these countries," she says. "All their propaganda efforts are bearing fruit now." Children hear a message of hate in school, they hear it from the imam in the mosque, on the radio, watch it on TV, read it on the internet, and in the books they're reading. In Dr. Ehrenfeld's book, she provides substantial evidence drug money also funds terrorism. "The Saudi and Iranian imams have given fatwahs to allow their believers to use drug trafficking to support their activities," Dr. Ehrenfeld says. Drugs can generate income and clients anywhere in the world. "It's better than cash," she notes. "It corrupts the society you want to attack," Dr. Ehrenfeld says. "So it's a weapon similar to what the communists used." Part of the propaganda message is: 'Look at the enemy; see how drug use caused a degenerate society, these are the corrupt people we need to eliminate.' Because of the dependency of the US on oil from the Middle East, as well as the disinformation campaign directed against the US and the West, Dr. Ehrenfeld sees a future erosion of US loyalty and support for Israel. "When Blair appointed a task force to examine the Muslim population in the UK following the subway bombings in London, it concluded that nothing is wrong with Muslims in Britain. They said what is wrong is Britain's foreign policy toward Israel." With Iran developing nuclear capabilities and displaying a belligerent attitude, and the attitudes of many around the world being shaped by Saudi propaganda, Dr. Ehrenfeld is hardly sanguine about the future. "I want to have hope but I'm very concerned," she says. "It doesn't look very good."
Suspicious Gas Pipeline Explosions in Russia
Jan. 23….(MSN) Georgian President Mikhail Saakashvili accused Moscow of sabotage after explosions early on Sunday knocked out the main pipeline in southern Russia that supplies gas to Georgia and Armenia. Russian officials blamed the blasts on anti-Moscow insurgents in its southern region of North Ossetia. But Saakashvili, who has irritated the Kremlin by pushing his ex-Soviet state closer to the West, said he did not believe the Russian explanation and accused Moscow of cutting gas supplies and triggering an energy crisis just as sub-zero temperatures hit his tiny Caucasus state. Two weeks ago, Russia shut off gas supplies to Ukraine in a price dispute.
US May Shun PA if Hamas is in PA Coalition

Jan. 23….(FOJ) The Bush administration has promised Israel that the United States will not recognize any Palestinian government in which Hamas participates. Israeli defense experts are predicting that Fatah will win by a small margin. However, Israel is also preparing for the possibility that Hamas will participate in a Fatah-led government or even win the elections itself. Ironically, former US President Jimmy Carter was in Israel over the weekend announcing that an election victory by the Hamas terrorist organization should not be viewed as a bad thing. Meanwhile, Hamas operatives are openly brandishing their intimidating power at voting booths to make sure Jimmy Carter's election team can see that democracy is being served!
Iran Plans Nuclear Weapons Test before March 20
(Israeli elections slated for March 28)
Jan. 23….(DEBKA) The FDI adds from Iran: on June 16, the high command of the Revolutionary Guards Air Force ordered Shahab-3 missile units to move mobile launchers every 24 hours instead of weekly. This is in view of a potential pre-emptive strike by the US or Israel. Advance Shahab-3 units have been positioned in Kermanshah and Hamad within striking distance of Israel, reserve launchers moved to Esfahan and Fars. The missile units were told to change positions "in a radius of 30-35 kilometers" and only at night. DEBKAfile's Iranian sources add: FDI reporting has a reputation for credibility. Western and Israeli intelligence have known for more than six months that Iran's nuclear program has reached the capability of being able to carry out a nuclear explosion, albeit underground. It would probably be staged in a desert or mountain region and activated by a distant control center. Tehran would aim at confronting the Americans, Europeans and Israelis with an irreversible situation. At the same time, an explosion of this sort would indicate that Iran is not yet able to produce a nuclear bomb that can be delivered by airplane or a warhead adapted to a missile. The stage Iran has reached is comparable to Pakistan's when it conducted its first nuclear tests in the nineties and North Korea's in 2001. All the same, an Iranian underground nuclear blast, which will most probably be attempted on March 22, would turn around the strategic position of all the parties concerned and the Middle East as whole.
The question now is: will the United States, Israel or both deliver a pre-emptive strike ahead of the Iranian underground test - or later? Or will Washington alternatively use the event to bring the UN Security Council round to economic sanctions? Tehran is already organizing to withstand economic penalties. For Israel, the timing is getting tight in view of its general election on March 28. Acting prime minister Ehud Olmert must take into account that a ruling party which allows an Iranian nuclear explosion to take place six days before the poll would draw painful punishment from the voter. It is prophetically noteworthy to emphasize that former Israeli Prime Minister Ariel Sharon's condition is unchanged, as he remains in a coma and on a respirator 17 days after suffering a massive stroke. His empty seat at the head of Israeli government speaks volumes about Israel's delicate position in the world.
Iran: Israel Engaged in 'Childish Game'
Jan. 23….(AP) Iran said Sunday that Israel would be making a "fatal mistake" if it takes military action against Tehran's nuclear program and dismissed veiled threats from the Jewish state as a "childish game." On Saturday, Israel repeated that it would not accept a nuclear Iran under any circumstances and was preparing for the possible failure of diplomatic efforts. While Defense Minister Shaul Mofaz stopped short of an outright threat of military action, he said Israel "must have the capability to defend itself...and this we are preparing." Iranian Foreign Ministry spokesman Hamid Reza Asefi said Israel was only trying to add to Western pressure on Iran to give up its nuclear program. "We consider Mofaz's comments a form of psychological warfare. Israel knows just how much of a fatal mistake it would be (to attack Iran)," Asefi told reporters. "This is just a childish game by Israel." Israel views Iran as its biggest threat and has joined Washington in accusing Tehran of trying to building nuclear weapons. Israel, whose warplanes destroyed an unfinished Iraqi reactor in 1981, maintains a nuclear monopoly in the Middle East. While it neither acknowledges nor denies nuclear arms, Israel is thought to have about 200 nuclear warheads deployed on ballistic missiles, aircraft and submarines, according to the Washington-based Carnegie Endowment for International Peace. Asefi's threats were not limited to Israel, and he warned European powers to resume talks. "We advise them (Europe) not to choose any path except dialogue. If there is a retribution to be paid, that will include Europe too," Asefi said, adding that Iran plans to continue cooperation with the UN nuclear watchdog, the International Atomic Energy Agency. Last week, European powers drafted a resolution calling for Iran's referral to the UN Security Council to resolve its nuclear issue. The resolution stopped short of calling for sanctions. Several days later, French President Jacques Chirac said France could respond with nuclear weapons against any state-sponsored terror attack, comments seen by some as a reference to Iran. Also Iran on Sunday denied that it was withdrawing foreign currency reserves from European banks. "Iran's foreign currency reserves will be kept in all banks we trust in the world, including European and non-European banks," the Central Bank said. On Friday, Iran's Students News Agency reported that Iran's Central Bank governor said Iran had begun moving its foreign currency reserves to an undisclosed location, a move seen as an attempt by Tehran to protect is resources against possible UN Security Council sanctions. Estimates put Iranian funds in Europe at as much as $50 billion.
Intelligent Design is Not Science: Vatican Says
Jan. 23….(AP) The Roman Catholic Church has restated its support for evolution with an article praising a US court decision that rejects the "intelligent design" theory as non-scientific. The Vatican newspaper L'Osservatore Romano said that teaching intelligent design, which argues that life is so complex that it needed a supernatural creator, alongside Darwin's theory of evolution would only cause confusion. A court in the state of Pennsylvania last month barred a school from teaching intelligent design (ID), a blow to Christian conservatives who want it to be taught in biology classes along with the Darwinism they oppose. The ID movement sometimes presents Catholicism, the world's largest Christian denomination, as an ally in its campaign. While the Church is socially conservative, it has a long theological tradition that rejects fundamentalist creationism. "Intelligent design does not belong to science and there is no justification for the demand it be taught as a scientific theory alongside the Darwinian explanation," said the article in the Tuesday edition of the newspaper. Evolution represents "the interpretative key of the history of life on Earth" and the debate in the United States was "polluted by political positions," wrote Fiorenzo Facchini, a professor of evolutionary biology at Italy's Bologna University. "So the decision by the Pennsylvania judge seems correct." The Church, which has never rejected evolution, teaches that God created the world and the natural laws by which life developed. Pennsylvania Judge John Jones ruled that intelligent design was a version of creationism, the belief that God made the world in six days as told in the Bible, and thus could not be taught without violating a ban on teaching religion in public schools. It was not science, despite claims by its backers, he said. This literal reading of Genesis, the first book of the Bible, is a tenet of faith for evangelical Protestants, a group that has become politically influential in the United States. Many US Catholics may agree with evangelicals politically, but the Church does not share their theology on this point. Intelligent design has few supporters outside the United States.
What if Hamas Wins?
| | |
| --- | --- |
| | Palestinian supporters of Islamic Hamas wave green Islamic flags during a rally in support of candidates in upcoming elections in the West Bank town of Hebron, Monday, Jan. 23, 2006. Palestinians plastered walls with posters, strung up banners, held rallies and cruised the streets with loudspeakers Monday on the final day of campaigning before parliamentary elections Wednesday |
Jan. 23….(AP) Israel, the United States and the international community are bracing for the possibility of a Hamas victory in the Palestinian parliamentary election Wednesday. Here is a rundown of what could happen if the Islamic militant group wins.
Q: Can it win?
A: Polls indicate that Hamas and Palestinian leader Mahmoud Abbas' Fatah movement are running neck-and-neck. Since nine smaller parties are also competing, it's possible that neither Hamas nor Fatah will win an absolute majority, or 67 of 132 seats.
Q: What happens if Hamas wins the largest number of seats?
A: Under Palestinian law, the party that wins the most seats would be asked to form a government. However, Ghazi Hamad, a Hamas ideologue and parliament candidate, said Monday the group does not want to govern alone under any circumstances and would seek to form a coalition, preferably with Fatah.
Q: What role would Hamas seek in such a government?
A: Hamas wants the service ministries, such as health, education and welfare, and would be content to let Abbas handle contacts with Israel, including negotiations. In recent days, Hamas leaders have sent mixed signals, saying they do not rule out talks with Israel, but attach conditions and say they expect little from such negotiations. Hamad said that in a Hamas-Fatah coalition, his group would want to have some say on future negotiations with Israel, but suggested it would not veto Abbas' moves.
Q: Would Israel and the international community deal with a Palestinian government that includes Cabinet ministers from Hamas?
A: Israel, the US and the international community are still trying to come up with an approach. In Israel, disagreements have emerged, with one top security official saying privately that Israel should engage Hamas in hopes of moving the group in a more moderate direction. However, the official line is that Israel will continue boycotting Hamas until it disarms and renounces its call for Israel's destruction.
US officials they will not deal directly with Hamas members of a Palestinian government, but suggest Washington would not shun the entire government. The US and EU have said some foreign aid to the Palestinian Authority would be in jeopardy if Hamas joins the government. British Prime Minister Tony Blair said Monday that Britain would not talk to Hamas unless it renounces terrorism.
Q: Would Fatah agree to become a junior partner in a Hamas-run coalition?
A: Abbas said in a recent interview that he would resign if he cannot pursue his policy of negotiating with Israel after the election. It is unlikely Fatah would join Hamas unless it won assurances the Islamic group would not block Abbas' peace moves.
Q: Will Hamas agree to disarm, as required under the US-backed road map peace plan?
A: No. Hamas, which is pledged to Israel's destruction, says it will not dissolve its armed wing until Israel's occupation has ended. But it does not make it clear what territories it considers occupied, just the West Bank and Gaza, or Israel itself as well.
Q: Will Hamas continue observing an informal truce with Israel, in effect since February?
A: Hamas leaders insist the group has the right to resist Israeli occupation, but it is widely expected that Hamas will continue observing the cease-fire as it tries to win greater political legitimacy.
Q: If Fatah emerges as the largest party and forms the government, would it bring Hamas into a coalition?
A: Palestinian Information Minister Nabil Shaath said this week that Fatah's first choice as a coalition partner are the smaller independent parties. However, if such a coalition is too shaky, Fatah might seek Hamas as a partner, but only if an agreement on future peace moves is reached.
Experts Predicting Hamas Election Victory
Jan. 23….(JNEWSWIRE) Israeli experts are predicting the Hamas terrorist organization will win a commanding 40 percent of Palestinian Legislative Council seats in tommorrow's much anticipated general election, Israel National News reported. A Hamas' victory would give it control of the Palestinian Authority and the "peace" process with Israel. Israel and the West have warned against a Hamas takeover, threatening to cut off contacts with the PA and withhold financial aid if the violent anti-Israel group is the choice of the electorate. As part of an ongoing effort to stave off such measures, Egyptian Foreign Minister Ahmed Aboul Gheit insisted Hamas is prepared to recognize Israel's right to exist and enter into negotiations with the Jewish state. "I am confident that Hamas will recognize Israel's existence, and I trust that it will be capable to live with the idea of negotiating with Israel," Gheit told the London-based Arabic daily Asharq al-Awsat. "I am convinced that in the political realm Hamas will act entirely differently than it has while engaging in armed struggle," he added. Gheit's personal feelings on the matter notwithstanding, Hamas' leading candidates have made it perfectly clear their platform of seeking Israel's destruction will remain unchanged, regardless of the election results. "Hamas' mission upon joining the Legislative Council will be to eliminate the last remnants" of the so-called "Oslo" peace process, Hamas chief Mahmoud al-Zahar told elaph.com in October. "The national interest demands that we not cooperate with Israel in the security, political, or economic spheres," Zahar explained. "The facts should lead us to cut off our relations with the Israeli enemy by all means." More recently, popular Hamas candidate and mother of three deceased terrorists Mariam Farhat screeched on Egypt's Dream2 TV that "peace" in the Middle East "means the liberation of all of Palestine, from the Jordan River to the Mediterranean Sea." Once this goal is realized, the Jews of the region are welcome to make peace with their Arab neighbors. "They may live under the banner of the Islamic state. That is the future of Palestine that we are striving towards," Farhat stated. London's The Guardian reported Friday that Hamas recently hired a public relations firm to convince Western donor states that the group is not opposed to Jewish life, but Jewish sovereignty in the Middle East. Aqtash has advised Hamas leaders to assert they are a peaceful organization that was forced to fight to Israel's rebirth in 1948. As devout adherents of Islam, Hamas is open to Jews living under Islamic rule as second-class citizens, but in accordance with Muslim scripture, cannot accept non-Muslim sovereignty over any land that was at any time under the dominion of Islam. Ultimately, Islam seeks to subjugate the entire world under the banner of Allah.
Swiss Banking Giant UBS AG Stops Doing Business with Iran and Syria
Jan. 23….(DEBKA) UBS AG spokesman Serge Steiner announced yesterday, that all existing business with customers in Iran will be cancelled, except for Iranians in exile. DEBKAfile's financial sources reveal that, under the threat of sanctions over Iran's nuclear program, the ayatollahs and corporate heads as well as the government have begun transferring vast private fortunes out of secret accounts in Europe. The money is being spread out among dozens of banks around the world, including the oil emirates, Hong Kong, Malaysia and Indonesia. DEBKAfile has learned that Iran's spiritual ruler Ayatollah Ali Khameini has transferred his personal fortune of $1.2 bn from the Swiss UBS AG to banks in Singapore and Malaysia. Former president Hashemi Rafsanjani has ordered the removal of two large sums in Canadian dollars, 856 m and 1,425 bn., from Canadian banks to establishments in Beirut, Dubai, Hong Kong and Singapore. Our financial experts estimate that in the last ten days, some $7.5bn dollars have been drained from private Iranian accounts in Germany, Switzerland, France, Britain and Italy and concealed in Southeast Asian banks. That is in addition to the estimated $23bn in governing holdings that Iran has taken out of European banks and deposited in the Bahamas, Hong Kong, Malaysia, Dubai and Singapore. Rumors began circulating at the end of last week that the two European banking giants, LNB in Italy and UBS AG, were about to freeze Iranian assets. DEBKAfile's financial experts calculate the holdings in the two banks as totaling $17bn of oil revenues. The Swiss bank appears to have acted on a tip from Washington and pre-empted Tehran's massive withdrawals which would created havoc on the world currency markets. The UBS AG took advantage of the bank being closed on a Sunday for this action.
US Intensifying Diplomatic Efforts to have Hizbullah Disarmed
Jan. 23….(MENL) The United States is set on Monday to present to the United Nations Security Council a draft resolution calling on Lebanon to implement a past resolution demanding Hizbullah and other militias be disarmed. Issued on September 2, 2004, resolution 1559 calls for the disarmament of armed groups, namely the Hizbullah and Palestinian armed factions, that are piloted by Iran. The move comes in light of the Lebanese government's failure to implement the resolution after the withdrawal of Syrian troops from the country in April 2005, under a clause in resolution 1559, which also demanded all foreign troops leave Lebanon. US and French diplomats are reportedly penning the new resolution. The move comes days after the January, 17, visit to Beirut by US Assistant Secretary of State David Welch, who reported to Washington the readiness of the Lebanese government to comply with the demands of the international community. The disarmament of Hizbullah will allow the Lebanese Army to control south Lebanon, an area from which the Shiite group and Palestinian terror organizations occasionally launch rocket and other attacks at Israel. Israel's defense minister hinted Saturday that the Jewish state is preparing for military action to stop Iran's nuclear program, but said international diplomacy must be the first course of action. "Israel will not be able to accept an Iranian nuclear capability and it must have the capability to defend itself, with all that that implies, and this we are preparing," Shaul Mofaz said.
IDF's Mofaz takes on Ahmadinejad and Assad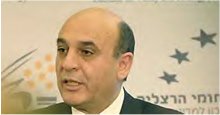 Jan. 22….(Jerusalem Post) Defense Minister Shaul Mofaz fired off a warning to Iranian President Mahmoud Ahmadinejad Saturday night saying that Israel would not accept a nuclear Iran under any circumstance and is preparing for the possibility that diplomacy to stop Tehran's nuclear aspirations would fail. "Thwarting Iran's nuclear aspirations will for now be done by passing this hot potato to the United Nations Security Council," Mofaz said in his speech at the sixth annual Herziliya Conference session on the balance of Israel's national security. "At the same time however Israel is committed to protecting itself and that is what it plans to do." Calling out directly to Ahmadinejad, Mofaz said: "I suggest you take a look throughout history and see what happened to others who tried to wipe out the Jewish people. In the end they brought destruction to their own people. I know the people of Iran and they should know that Ahmadinejad's policies will bring a disaster upon them." Mofaz further accused Iran of financially supporting Palestinian terrorism in the territories. "Money is like fuel for terrorism," the defense minister said. "Iran provides the Hizbullah with $100 million annually some of which reaches Palestinian terror groups. Iran is also the primary supporter for the Islamic Jihad which has carried out most of the suicide bombings in Israel over the past year including the one on Thursday near the old Tel Aviv central bus station." According to Israeli intelligence, Mofaz said, over the past year alone, Iran sent $10 million to the territories to fund the Islamic Jihad as opposed to $5 million in 2004. "This combination of a radical regime with long-range missiles and attempts to obtain nuclear power is a threat not just to Israel but to the entire world," Mofaz said. Moving to the Palestinian front, Mofaz declared that Israel would act independently if the Palestinian Authority failed to meet its obligations according to the US-backed Road Map peace initiative. "If there will be a legitimate and effective Palestinian partner then we will proceed according to the Road Map with the understanding that there are several stages until we reach a final agreement," Mofaz said. "But if we won't find a partner than Israel will need to takes its fates in its own hands." Israel, the defense minister said, would in any case act to "create defensible borders, to strengthen the settlement blocs as well as a united Jerusalem and its surrounding areas." Mofaz added that the disengagement from the Gaza Strip granted Israel unprecedented recognition within the international community and the country now had legitimacy to fight terror that it never had in the past. Turning to Syria, the defense minister said that Bashar Assad had made every possible mistake. "He is an ophthalmologist that can't see far and continues to support terrorism," Mofaz said. "Syria is part of the axis of evil…Israel has an interest in keeping the northern front quiet but if it escalates we will know how to respond."
Mofaz: Either way, We Must Retreat
Jan. 22….(JNEWSWIRE) Israeli Defense Minister Sha'ul Mofaz told the Herzliya Conference Sunday Israel will be watching closely to see if it still has a "Palestinian" peace partner after this week, but that the nation must be prepared to surrender its biblical heartland either way. "If we find a legitimate and effective partner, we should move forward according to the Road Map peace plan, while understanding there are stages on the way to a permanent agreement," Mofaz said of the internationally-backed plan that would see another Arab Muslim state birthed in Judea, Samaria and Gaza. "However," he continued, "If it turns out there is no partner, Israel needs to take its destiny into its own hands" and "establish defensible borders, strengthen settlement blocs, keep Jerusalem undivided, including its surrounding area, and demilitarize the Palestinian territory." The vast bulk of the Judean and Samarian hills, where Israel became a nation, would presumably be relinquished. Mofaz said this policy must be implemented with American support, but Washington has repeatedly refused to publicly guarantee Israel's right to retain the "settlement blocs," including eastern Jerusalem, under any final status agreement. Speaking prior to Mofaz, National Security Advisor Giora Eiland appeared to question the wisdom of solving the current conflict by creating yet another Arab Muslim state that would be almost completely dependent on Israel. Eiland said the world's haste to create a PLO-controlled state is very problematic for Israel, as that new nation would rely wholly on Israel for its economic survival and infrastructure needs. He noted that between Israel and a Palestinian Arab state there are forecast to be 30 million people living between the Jordan River and the Mediterranean Sea by the year 2050. Recent surveys have stated that while current "Palestinian" population figures are grossly inflated, a sovereign PLO state would be expected to immediately open its doors to millions of so-called "refugees." "This issue raises very problematic questions regarding the distribution of resources in this territory, from the distribution of air and water to that of land," Eiland said. He said the paradigm of a two state solution has been largely taken for granted, but questioned whether it is a stable and viable solution in the long term, suggesting alternative paradigms should be sought.
Jimmy Carter Has High Hopes for Hamas
Jan. 22….(JNEWSWIRE) Former President Jimmy Carter expressed optimism Friday over Hamas's participation in next week's Palestinian parliamentary elections, saying that while the group may be terrorists, at least they're not corrupt. Interviewed Friday, Carter said that although Hamas were "so-called terrorists," so far "there have been no complaints of corruption against [their] elected officials." In quotes reported by the Jerusalem Post, Carter did concede that "there is an element within Hamas who deny Israel's right to exist." Citing his own negotiations with Palestinian Liberation Organization chief Yassir Arafat, however, Carter said sometimes you have to learn to work with terrorists. At the time of Carter's Camp David Accords, the PLO was still outlawed as a terrorist organization.
FOJ Note: You would think an idiot would know enough to keep his mouth shut, once in a while.
Netanyahu: Peace Will Require Compromise

Jan. 22….(YNET) A peace agreement with the Palestinians will require Israel to cede territories it currently holds, Likud leader Benjamin Netanyahu said Sunday evening in a speech designed to woo centrist voters. "It's completely clear to me for that a peace agreement requires concessions on both sides, and will include conceding territory on our part, but I will never give up on security," Netanyahu said, speaking at the Herzliya Conference. "Just as there are no free meals in the economy, so too must our policy (towards the Palestinians) be free of free concessions, and certainly not under the pressure of terrorism," he said. Continuing with his moderate tone, Netanyahu vowed to dismantle illegal West Bank outposts and reduce the number of roadblocks in order to boost Palestinian freedom of movement, "which is essential for the economy to develop". "It's completely clear we won't be back to control Palestinian population centers, just as it's clear that our security zones do not include significant Palestinian population," he said. Netanyahu may have discussed compromise, but made clear he would "rule out continuing the policy of unilateral withdrawals without anything in return." "This is a policy that rewards extremists who support terrorism, and weakens the moderates who support peace negotiations. The reason for that is simple: The Arab street understands that Israel withdrew under pressure and this is a fact, because there is no peace agreement accompanying the withdrawal, there is only terror," he said. "The Palestinian public asks: Who is kicking Israel out? Hamas. Who is strengthened? Hamas. Who is weakened? The Palestinian Authority. This is a dynamic which distances peace and security, and strengthens terrorist elements," Netanyahu added. "The policy of unilateral withdrawal with nothing in exchange has a clear replacement: The policy of reciprocity. This is a responsible policy that will lead to peace, and that punishes terrorist activity opposed to peace." The Likud leader and premiership candidate also spelled out his vision of secure borders for Israel. "I believe that the borders of Israel must include the Jordan Rift Valley, the Golan Heights, and the Judea Desert, this is our eastern security strip. Greater Jerusalem and the settlement blocs help protect central Israel, the Jerusalem, Tel Aviv highway, our international airport, and the Trans-Israel Highway. As Prime Minister, I would aim to renew negotiations for a permanent agreement based on these security borders," he said.
Netanyahu's speech comes at a difficult junction for his party: According to the latest poll by Israel's leading newspaper Yedioth Ahronoth and the Dahaf Institute, the Likud will win just 12 Knesset seats. Kadima would receive no less than 43 mandates, with Labor a distant second with 21 seats.
WEEK OF JANUARY 15 THROUGH JANUARY 22
Is Iran already at war with US?
Ahmadinejad called for more than wiping Israel off the face of the earth.
Jan. 21….(WorldNetDaily) Iranian President Mahmoud Ahmadinejad's speech in Tehran last fall, in which he called for Israel to be wiped off the face of the earth, got a healthy amount of coverage by the international media. Yet, despite the number of stories published and broadcast, a key element of that address to 'The World Without Zionism" conference was overlooked, ignored, spiked, if you will, by major press organizations. It wasn't just a world without Zionism and Israel that Ahmadinejad and his friends in Hamas, Hezbollah, Islamic Jihad and other terrorist groups were envisioning. It was a world without the United States of America. They say a picture is worth a thousand words. In this case, it is literally true. Examine for yourself the photos published here of Ahmadinejad addressing the Tehran conference Oct. 26, 2005. Some of them will look very familiar. Those showing the Iranian president gesticulating at a podium showing the name of the conference were published worldwide, from Al-Jazeera to the Associated Press.
But those showing a wider view, and the complete poster for the event, are getting their biggest audience yet. It is worth noting that Ahmadinejad didn't just stroll up to the podium. The Iranian government actually produced the visual aids that you see here. Yes, that is a ball representing the USA cracked at the bottom of that hourglass, with another representing Israel falling later. It wasn't just the imagery of the conference that was overlooked, ignored, unreported and underplayed by the world press. It was also the anti-American substance of Ahmadinejad's speech. "Is it possible for us to witness a world without America and Zionism?" he asked. "But you had best know that this slogan and this goal are attainable, and surely can be achieved." What is he talking about? Iran has developed a strategic "war preparation plan" for what it calls the "destruction of Anglo-Saxon civilization.
Assad Accuses Israel of Assassinating Arafat
Jan. 21….(YNET) Syrian President Bashar Assad accused Israel on Saturday of assassinating former Palestinian leader Yasser Arafat, the cause of whose death 14 months ago remains a mystery. "Of the many assassinations that Israel carried out in a methodical and organized way, the most dangerous thing that Israel did was the assassination of President Yasser Arafat," Assad told a gathering of Arab lawyers. "This was under the world's gaze and its silence, and not one state dared to issue a statement or stance towards this, as though nothing happened." Arafat died in Paris on November 11, 2004 at the age of 75 after being rushed from his West Bank compound to a French military hospital. Israel has denied being responsible for the deterioration in Arafat's health before his death and has denied poisoning him. In his speech Assad also referred to the Palestinian issue, and claimed the current international situation does not allow for peace negotiations to go forward. The president also slammed the so called "New World Order," describing the situation instead as "global chaos." It was not Israel's failure to comply with Arab demands that impeded the peace process, Assad said, but rather the forces operating within the new global order and the international community which backed out on its commitment to peace.
The Syrian president has made his recent statements in wake of a two-day visit by Iranian President Mahmoud Ahmadinejad to Damascus, who arrived in the state on Thursday. During the visit, Assad said Iran had a right to acquire nuclear technology for peaceful means and demanded Israel be stripped of its suspected nuclear arsenal. "We support the right of Iran and any state in the world to acquire peaceful technology," Assad told a joint news conference after the talks. "Countries who oppose this gave no convincing reason, regardless of whether it is legitimate or not." Assad renewed Syria's call for a Middle East free of nuclear weapons and said "the beginning should be with Israel".
Assad and Ahmadinejad Back Hamas, Islamic Jihad

Jan. 21….(YNET) Iranian President Mahmoud Ahmadinejad on Friday met with the heads of Palestinian terror organizations in Damascus, including Hamas and Islamic Jihad chiefs, as part of an official visit to Syria. The meetings come in the wake of a suicide bombing in Tel Aviv on Thursday for which Israel blamed Tehran and Damascus. Ahmedinejad reportedly held talks with Hamas chief Khaled Mashal, Islamic Jihad exiled-head Ramadan Shalah and the head of the Popular Front for the Liberation of Palestine, Ahmed Jibril. Maher Taher of the PLFP told AFP that the Iranian President expressed his full support for the struggle of the Palestinian people against Israel. The heads of a dozen Palestinian factions vowed the continuation of violent attacks against Israel and expressed their solidarity with Syria, under pressure for its failure to cooperate with a UN inquiry in Lebanon, and Iran, which faces the threat of United Nations sanction over its nuclear activities. On Thursday, Ahmadinejad met his Syrian counterpart, Bashar Assad. The meeting was a show of solidarity between Iran and Syria in face of increasing international pressure. The two leaders said they share common views on the situation in Iraq, the Palestinian territories and Lebanon. "As far as the Palestinian issue is concerned we share an absolutely similar position. We believe Palestine is the property of the Palestinians and therefore we will support their struggle. We see their struggle as the only way to expel the enemy and recognize the right of the Palestinian people. In this respect we support the right of return for Palestinian refugees," Ahmadinejad told reporters. The two leaders agreed that Hizbullah should be supported as a resistance movement against Israel but without jeopardizing Lebanon's stability, noting that the issue of Hizbullah should not be given an international dimension. President Assad said talks focused mainly on the Iraq and said Syria suppots Iran's right for peaceful nuclear technology. "We agreed on most issues raised in our talks. As for the Palestinian issue we agreed that the Palestinian people have a legitimate right for a state, and Palestinian refugees have the right to return to their land. We expressed our support for Palestinian resistance against Israel's oppressive actions," Assad said. As for Lebanon, Assad said: "We expressed our support for stability in Lebanon and the continuation of the resistance there. We reject foreign intervention in Lebanon's internal affairs."
Peres: Israel Ready For Final Status Talks with PA
| | |
| --- | --- |
| | (FOJ) Shimon Peres, who has never won a national leadership election in Israel, but he continues to be the driving force inside Israeli politics to coerce Israel into accepting the land-for-peace formula for peace with the Arabs. Israeli voters have soundly rejected Mr. Peres's Oslo and Roadmap in the past, but somehow, Peres continues to be the West's point-man for forcing Israel to concede territory. |
Jan. 19….(Ha Aretz) Shimon Peres said today that Israel would be ready to open negotiations with the Palestinians on a permanent peace accord after it holds elections March 28. The aim, he said after meeting for 45 minutes with Secretary of State Condoleezza Rice, would be to end the conflict between the two sides and establish permanent borders between them. Peres, a Nobel Peace Prize laureate, quit the Labor party late last year to join the centrist Kadima party, founded by Ariel Sharon, who initiated Israel's historic withdrawal from the Gaza Strip and the northern West Bank last September. Implying Israel was prepared to yield more territories, Peres told reporters, "We don't think of Gaza last but Gaza first." Peres said Sharon, who was incapacitated with a major stroke on January 4, "really wanted to make a real try to bring an end to the conflict." He also said that Acting Prime Minister Ehud Olmert, who was named the interim chairman of Kadima, held similar positions to those of Sharon. He said reports that Sharon intended to hold on to most of the West Bank as well as all of Jerusalem were wrong. "My impression is he was ready to go a long way," Peres said.
Iran's Mahdi-Minded President in Damascus to Consolidate Alliance with Syria
Jan. 19….(Ha Aretz) Iranian President Mahmoud Ahmadinejad began a visit to Syria Thursday to consolidate an old alliance made increasingly crucial as both countries face mounting US pressure and the threat of international sanctions. Iran's standoff with the West over its nuclear program and the threat to refer it to the United Nations Security Council, as well as Syria's own troubles over a UN investigation that implicated it in the assassination of a Lebanese politician, were expected to figure high in the talks between Ahmadinejad and Syrian President Bashar Assad. Bilateral economic, industrial and cultural agreements also will be discussed during the two-day visit. Syria is Iran's closest Arab ally. The two countries have had close relations since 1980 when Arab Syria sided with Persian Iran against Iraq, a fellow Arab nation, in the 1980-88 Iran-Iraq border war.
On the eve of the visit, Ahmadinejad described bilateral relations as "strong and good."
Both countries share to a certain extent similar foreign policy objectives: opposition to what they describe as US attempts to dominate the Middle East, hostility toward Israel and support for Palestinian and Lebanese militant groups fighting the Jewish state. Ahmadinejad's visit comes at a very delicate time for both nations and recent events made strengthening ties all the more necessary. Iran's insistence to proceed with its peaceful nuclear activities have raised great concern in the European Union and the United States, which have been pushing for a referral of the issue to the UN Security Council, a first step toward possible sanctions. Syria faces international accusations of failing to fully cooperate with the UN investigation into last year's assassination of former Lebanese Premier Rafik Hariri. The probe has implicated Syrian officials and now wants to interview Assad and his foreign minister. Damascus has denied any role in the Beirut bombing. Syria sits on the 35-nation Board of Governors of the International Atomic Energy Agency, which meets on February 2 for a vote to refer Tehran to the Security Council. Its support of Tehran is sure to bolster the ranks of countries opposed to the decision to refer Iran to the Security Council over its nuclear activities. Ahmadinejad on Wednesday accused the West of acting like the "Lord of the world" in denying his country peaceful use of nuclear energy. But the United States and other countries are suspicious that Iran was planning on develop nuclear arms.
Quran's 'War Verses' at Work
Jan. 19….(Hal Lindsey) The other night on FOX News Channel's "Hannity & Colmes" show, I mentioned that the more a Muslim becomes serious about the Quran, the more radical he becomes. I pointed out that there are approximately 109 verses in the Quran that some scholars have called "the war verses. " They are called this because they teach violence and aggression against the "infidels," which means all people who do not accept Islam. The Houston Chronicle reported Jan. 12 just how effectively those verses are used to radicalize Muslims: Abu Hamza Masri, Britain's most prominent radical Islamic cleric, preached at a London Mosque that Muslims had a "religious duty to kill" Jews and "nonbelievers," a prosecutor told a jury here Wednesday. The trial is the first involving a high-profile imam since July's deadly bombings on the London public transit system. Police said those attacks were carried out by young Muslim men who attended and became radicalized in British mosques. Thank God the majority of Muslims do not become devout followers of all the Quranic verses. But with radical imams interspersed through the increasing numbers of mosques being built in Western countries, young Muslim men, particularly, become potential time bombs ready to be radicalized. You may ask: "Just what do these 'war verses' in the Quran teach that has so radicalized Muslims in virtually every century from the beginning of Islam?" The following is a sample of these verses. They are quoted from a comparison of eight different officially recognized translations of the Quran, with the N.J. Dawood translation being the principle one used: "Strike off their [infidel's] heads. Strike off their finger-tips! … because they defied God and his Apostle [Muhammad]." (Sura 8:12-13) "Make war on them [infidels] until idolatry shall cease and God's religion shall reign supreme." (Sura 2:193) "Seize them and put them to death wherever you find them." (Sura 4:89) "Believers, make war on the infidels who dwell around you." (Sura 9:123) "When the sacred months [Ramadan] are over, slay the idolaters wherever you find them. Arrest them; besiege them; and lie in ambush everywhere for them. If they repent [convert to Islam] and take to prayer and render the alms levy, allow them to go their way." (Sura 9:5) If a Muslim begins to take these verses literally and seriously, as all good Muslims are supposed to do, since they are taught that every verse is directly handed down from Allah, then it is easy to see how they could incite violent behavior toward "nonbelievers."
You may think there are no radical imams in America to be concerned about. Yehudit Barsky recently reported in the Jerusalem Post these disturbing facts: The power of the extremist Wahhabi form of Islam in the United States was created with generous Saudi financing of American Muslim communities over the past few decades. Over 80 percent of the mosques in the United States "have been radicalized by Saudi money and influence." The people now in control of teaching religion to American Muslims are extremists. Author Stephen Schwartz, in his book "The Two Faces of Islam," said the same thing: "The Wahhabi sect, backed by Saudi Arabia, controls 70 to 80 percent of the mosques in the United States." He went on to say, "These imams instruct, indoctrinate and certify the chaplains in the federal and state prison systems and in the military." It is a fact that a disturbing number of inmates in our prisons are converted to Islam – Jose Padilla being one notable example. I do not believe the majority of Muslims have been radicalized. But these imams of the Wahhabi sect look for the Muslims who show signs of increased devotion. These are discipled toward the "war verses." Once radicalized, they encourage them to seek "advanced studies" in the training camps of such "devout groups" as al-Qaida. I am increasingly concerned that a religion that has such a history of violent conquest and forced conversions at the point of the sword is being portrayed as basically a "peaceful religion that has been hijacked by a few radicals." As I said before, most Muslims are not radical and do not want to fight a jihad against America. But it is through no fault of what is taught in the Quran. It is just that they have not embraced all the violent verses that are contained therein ... yet!
Europe Rejects Further Nuclear Talks With Iran
Jan. 19….(AP) Europe, backed by the United States, on Wednesday rejected Iran's request for talks on its nuclear program, cranking up international pressure on Tehran to suspend uranium enrichment. Secretary of State Condoleezza Rice said "there's not much to talk about" until Iran halts nuclear activity.
But Iran's president accused the West of acting like the "lord of the world" in denying his country the peaceful use of the atom. The quick dismissal of Iran's request for a ministerial-level meeting with French, British and German negotiators focused attention on the next step: the US and European push to refer Iran to the U.N. Security Council, which could impose economic and political sanctions. Russia and China, which have veto power on the council, appeared to remain the greatest obstacles. Both nations are opposed to sanctioning a country with which they have strong economic and strategic ties. In recent days, they have expressed reluctance even to the idea of referral. The national security adviser of Israel, which strongly supports hauling Iran before the Security Council, was in Moscow on Wednesday to make his country's case, as was the French foreign minister. Tehran's ambassador to Russia urged the Kremlin to resist what he called pressure from other countries. Even if there were consensus on sanctions, the five permanent Security Council members would be faced with a dilemma. Placing an embargo on Iran's oil exports would hurt Tehran, which earns most of its revenues from energy sales, but also roil world crude markets, spiking prices upward. Europe halted talks after Iran resumed uranium enrichment research this month. The West fears the nuclear program will lead to nuclear weapons, though Iran insists it is only for civilian use. "Iran must return to a complete suspension of these activities," said French Foreign Ministry spokesman Denis Simonneau. He said Iran's decision to resume the research "means that it is not possible for us to meet under satisfactory conditions to pursue these discussions." Simonneau said discussions are not possible either among ministers or "at the level of civil servant" as long as Iran pursues nuclear activities. In Washington, Rice and the European Union's foreign policy chief, Javier Solana, also rejected any return to talks. France, Germany and Britain led the talks with Iran on behalf of the 25-member European bloc. Rice condemned Iran's decision to resume its nuclear program, saying the international community is united in mistrusting Tehran and its present leadership with such technology. Britain, too, refused to consider renewed talks. "Iranian professions of continued interest in negotiations are not credible. The Iranians knew full well that resuming enrichment-related activity would trigger" a halt to talks, and did it anyway, a British Foreign Office spokesman said Wednesday, speaking on condition of anonymity in keeping with government policy. In Vienna, the UN nuclear watchdog, the International Atomic Energy Agency, announced Wednesday that a special meeting of its 35-nation board of governors would be held Feb. 2. The United States, France, Britain and Germany had requested the meeting to consider referring Iran to the Security Council. Solana said that at a meeting in London on Monday, Russia proposed having the Security Council host a debate on Iran's nuclear activities. The proposal would postpone referral by the IAEA to the council for possible action against Iran at least until the agency's meeting in March. But Solana said "we have the votes" now to refer the dispute to the Security Council and that he did not support a delay. Even so, European allies will concentrate in coming weeks on building support among countries with a vote on the IAEA board, another British Foreign Office official told reporters. Egypt, which sits on the board, has balked at a formal referral, even after a direct request from Vice President Dick Cheney in talks Tuesday with President Hosni Mubarak.
German Foreign Minister Frank-Walter Steinmeier met in Cairo on Wednesday with his Egyptian counterpart and said the West's position met with "understanding" from Egypt. For its part, Iran sent a senior official to Cairo to meet Wednesday with Amr Moussa of the Arab League. The United States, Britain, France and Germany have drawn up a draft IAEA resolution that would ask the Security Council to press Tehran "to extend full and prompt cooperation to the agency" in its investigation of suspect nuclear activities, though it stops short of asking the council to impose sanctions. French Prime Minister Dominique de Villepin said the IAEA meeting will be a "very important moment." Speaking in Berlin after talks with German Chancellor Angela Merkel, Villepin said European nations are seeking the "greatest possible consensus to mark clearly the limit of what we can accept." However, neither he nor Merkel would say exactly what steps might be taken against Tehran.
The German leader said Iran "in no way fulfilled expectations" during the two years of negotiations with Europe. President Bush called Merkel on Wednesday to discuss developments in Iran, said White House press secretary Scott McClellan. He said the world's patience with Iran has worn thin. "I think we're long passed the point of talk," McClellan said.
China, Russia Expected to Oppose Iran Oil Sanctions
Jan. 19….(My Way) UN Security Council heavyweights China and Russia have too much riding on Iran's energy sector to let the West slap sanctions on Tehran to punish its nuclear ambitions, experts say, Reuters reported. Fears of supply disruption from the world's fourth largest crude exporter, along with rising tensions in fellow OPEC member Nigeria, sent US crude oil futures to a three-month high near $67 per barrel this week. The United States and three European Union nations are pressing the 15-member UN Security Council to take up the Iranian nuclear issue, which could open the door to potential oil sanctions. But two key UN Security Council members that carry veto powers, China and Russia, have multibillion-dollar oil and natural gas projects hanging in the balance, and China depends on Iran's imports to quench its oil thirst. Iran wants to sign a major oilfield deal to give China's Sinopec a stake in the giant Yadavaran oilfield in southern Iran, which could require investment of at least $2 billion. And Russia's LUKOIL holds a minority stake in the Anaran field in western Iran near the Iraqi border. Iran raised the stakes in its row with the West this month by removing UN seals on equipment that purifies uranium, which can be used for power, or if highly enriched, in bombs. The United States and the European Union's three biggest powers said talks with Iran on the issue were at a dead end, and moved to refer the matter to the Security Council. Teheran denies accusations it is seeking nuclear weapons and says it needs nuclear technology to generate electricity. China has blocked Security Council efforts to sanction countries like Sudan, where China has a huge oil deal. Sudan's Darfur region is beset by widespread violence between fractious rebel groups, government forces and a government-backed militia. China's thirst for oil has made it cordial with nations that have raised US diplomatic hackles, including Iran, Sudan and OPEC member Venezuela. "I think sanctions that impact oil flows from Iran are very unlikely," said Jamal Qureshi, also with PFC Energy. "The Chinese are major importers of Iranian crude and they would not be too happy to see that." China imported about 300,000 barrels per day of Iranian crude in 2005. China's oil demand is expected to grow about 14 percent by 2007 to hit 7.9 million bpd, according to the US Energy Information Administration, versus US demand growth of about 3 percent. Other major buyers of Iranian crude oil include Japan, South Korea, Taiwan and Europe, according to the EIA, the statistical arm of the Department of Energy. If Iran halted exports of around 2.4 million bpd, the rest of the world's spare capacity would not be able to make up the shortfall, making $100 per barrel crude oil prices highly likely in the short term, experts said. Iran has warned that oil prices would rise "beyond levels the West expects" if its opponents pursued punitive sanctions, and says it could repatriate an unknown amount of oil earnings it holds in foreign accounts. Instead of oil sanctions, experts expect a step-by-step application of sanctions that could restrict travel visas, air flights, spare parts, arms sales or gasoline to Iran. "Iran's vulnerability is its gasoline imports," said James Placke, senior associate with Cambridge Energy Research Associates and a former US diplomat. According to the EIA, Iran in 2005 imported about 170,000 bpd, or about a third of its gasoline supplies. Some warn that Iran could retaliate against international pressure and unilaterally rein back its crude oil exports. "Oil is now going to be their weapon of choice," said Fadel Gheit, an oil analyst at Oppenheimer & Co. "If the Security Council ultimately passes a sanctions resolution that has some teeth in it, the Iranians will respond in some way," Placke said. "You can count on it." The US Congress could beat the UN to the punch. The Iran Freedom and Support Act of 2005, which is making its way through Congress, would expand sanctions for doing business with Tehran. The Bush administration has pressed to stall the bill while it pursues a diplomatic solution.
Christians Are Leaving the Middle East
| | |
| --- | --- |
| | If exodus of Christians from Bethlehem continues in the next two or three decades, there may be no clergy left to conduct religious services in Christ's birthplace. |
Jan. 18….(Worthy News) The region where Christianity was born is rapidly losing its Christian population due to low birth rates and emigration. Some analysts warn about the negative consequences for the region.
There are between 12- and 15-million Christians in the Middle East, almost half of them living in Egypt. The exact figures are hard to establish because of the lack of official records and continued migration. Lebanon, with slightly more than one-million Christians, has the highest ratio: about 30 percent of its population is Christian. Most other Middle Eastern countries are less then 10 percent Christian. Demographers say the Christian population has declined noticeably in most Middle Eastern countries since the beginning of the 20th century.
Fred Strickert, professor of religion at Wartburg College in Iowa, says Christians became a minority in the Middle East after the spread of Islam during the 7th Century, but they continued to play an important role, until the decline of the Ottoman Empire. "In 1908, there was an internal revolution. They called it the Young Turks' revolt. A new group of people came into power and many of them were very biased against the Christians," says Professor Strickert. "They were attempting to draft them into the army and things like that. There was a mass migration from all places in the Middle East, Lebanon, Syria, and Jerusalem, and, by then, many of the Christians, partly because of Christian missionaries, had benefited from schools and hospitals, and sought better conditions in the West for economics. And so, there was a large migration at the very beginning of the 20th Century." Professor Strickert says emigration of Christians continued in the second half of the 20th century, due to armed conflicts, economic hardship or persecution. He says many Christians emigrated to the west, because it has been relatively easy for them. Most of them are educated, and, therefore, employable, and they have enjoyed support from Christians in the west. Low birth rates are another important cause of the Christian population decline in the region, says Professor Strickert. For example, he says, Lebanon was more than half Christian in the 1920's and 1930's. Today, Christians account for less than one third of its population.
"In 1930, census was taken in Lebanon, and on the basis of that census, the government was arranged to have a certain percent of Christians, Sunni Muslims, Shi'ite Muslims, etc. and Christians had a significant number there. The Shi'ite Muslims, who were basically in the southern part of Lebanon, grew at a very rapid rate, simply because they had very high birth rate, while the Christians were dropping slowly." Professor Strickert says, there also appears to be a decline in Christian populations in Iraq and territories under Palestinian control. A 2003 Israeli study shows that about 12,000 Christians fled historically Christian Palestinian towns, such as Bethlehem, Beit Sahour and Beit Jala, since the Palestinian uprising began in 2000. Some Palestinians blame the Israeli government's security measures, such as building a security barrier between parts of Jerusalem and the West Bank. "Bethlehem is especially hard hit by the wall," says Philip Farah, a Washington area Palestinian-American who left the region in 1975. "The wall cuts through a lot of people's properties. And if the property is cut by the separation wall, then they stand to lose the part of the property that is on the other side." Philip Farah says the security barrier, as well as Israeli checkpoints make it very hard for Christians from the West Bank and Gaza to maintain business, family and social ties with Christians in Israel. Israelis say the number of Christians in Israel has not declined. There has actually been a slight increase, bringing the total number of Christians close to 120-thousand. When Christians hear that Sharia law is to be introduced in an area, millions of them get up and flee to other parts of the world, where they don't feel threatened."
Hezbollah Organizes Lebanese Political Protest Against US
Jan. 18….(FOJ) Fearing covert political operatives of the US, Hezbollah organized its pro-Syrian supporters in Lebanon to make a show of Lebanese support for Syrian control of Lebanon. Thousands of pro-Syrian Lebanese chanting "Death to America" protested Tuesday near the US Embassy against what they called American meddling in the country's affairs. Three days ago police violently broke up a similar demonstration that coincided with the visit of a key US envoy to the Middle East. Tuesday's protest occurred during a visit to the Middle East by Vice President Dick Cheney, who made stops in Egypt, Saudi Arabia and Kuwait. Students and political activists from 18 pro-Syrian groups, including the militant Hezbollah organization, chanted in unison "Death to America!" and "Beirut is free! Free! America get out!" During the peaceful one-hour protest, demonstrators also chanted support for Syria and Iran, the United States' main opponents in the Middle East. Pro-Syrians accuse the United States of trying to influence Lebanon since Syria was forced to withdraw its troops from the country last April after international and Lebanese pressure over the assassination of former Prime Minister Rafik Hariri. The United States is one of several Western countries that backed a UN Security Council resolution in 2004 that demanded an end to Syrian interference in Lebanon and the disarming of all militias in the country, a reference to the pro-Syrian Hezbollah. Hezbollah, which the United States lists as a terrorist organization, has refused to disarm, saying it is defending Lebanon from Israeli attacks.
Sharon Has Surgery for New Breathing Tube
Jan. 18….(AP) Prime Minister Ariel Sharon had surgery overnight to replace his breathing tube, the hospital where he is being treated said in a statement Wednesday. Sharon, who has been in a coma since suffering a stroke Jan. 4, remains in critical but stable condition, the statement from Jerusalem's Hadassah Hospital said. "The breathing tube was changed overnight due to a technical problem. The successful procedure was conducted in the operating room. The prime minister was taken back to his room in the morning," the statement said. The 77-year-old Israeli leader, who has been on a respirator, underwent a tracheotomy Sunday to help him breathe better. He has been taken off sedatives. Outside experts have said his failure to regain consciousness in recent days bodes poorly for his recovery. After the stroke, Sharon underwent three operations to stop the bleeding in his brain. Medical officials said last week he showed some movement on both sides of his body in response to pain stimuli, but he has shown no signs of improvement since then. Sharon briefly opened his eyes Monday in response to a recording of his grandson's voice, relatives told doctors, but hospital officials warned the movement may have been an involuntary twitch, and there were no signs that the comatose Israeli leader was any closer to regaining consciousness.
All on Death Row, Until Saved by Jesus
Jan. 18….(Rick Michelena) Recently, the media has focused upon a condemned criminal who has been waiting on "death row" for years. Often, the condemned will request clemency from the state governor or the President of the United States. Unless there is some kind of new evidence that would prove the condemned has been mistakenly sentenced to death, the request for pardon is refused. The two recent executions of "Tookie" Williams and Clarence Ray Allen in California can teach all of us "a great spiritual truth." The fact of the matter is that many people today fail to see "the spiritual analogy" of this situation in their own lives. Sadly, the majority of people, who are alive today, are oblivious to the fact that their own personal sins have separated them from God and are themselves on "DEATH ROW." They are completely unaware of the fact that a day of "final judgment and destruction" looms ahead for them unless they are "pardoned" by God. Because of God's love for mankind, He sent His Son, Jesus Christ, to die for sinners. God has declared that any person who would receive His Son, Jesus Christ, will be pardoned! The precious Blood of Jesus Christ is the only way God has provided to receive this (HIS) eternal pardon. It is the Love of GOD that motivated Him to give His Son for the complete, eternal redemption of sinful man. (Romans 6:23 For the wages of sin is death; but the gift of God is eternal life through Jesus Christ our Lord.)
Acting PM Olmert: War Against Unauthorized Jewish Communities
Jan. 18….(Arutz) Israel's acting prime minister, MK Ehud Olmert, has declared war, not against Hamas or the Islamic Jihad, but against unauthorized Jewish communities in Judea and Samaria. Jewish settlers sharply attacked Acting Prime Minister Ehud Olmert's call for the defense establishment to devise a plan to evacuate 20 illegal outposts in the West Bank and to evacuate by force illegal squatters in the Hebron market, saying the order was a "declaration of war" on the settlers. Olmert on Wednesday ordered Defense Minister Shaul Mofaz to devise a plan for the complete evacuation of 20 illegal settlement outposts in the West Bank, and warned that violations of the law by settlers would not be tolerated. Olmert, at a meeting Wednesday afternoon with security officials, ordered the IDF to draw up clear plans to prevent the creation of new outposts and to destroy existing ones. Nearly every community in Judea and Samaria started as or engaged in building projects that were unauthorized at some stage. Israel's ambiguous policies with regard to the future of Judea and Samaria have been blamed for this trend, as various government coalition members and heads of government ministries worked for and against Jewish resettlement of Judea, Samaria and Gaza following the Six Day War. Olmert told the officials that until now the government has not acted with the necessary strength against the phenomenon "of illegal Jewish settlement in Judea and Samaria." Olmert said that the time has come to use overwhelming strength against the communities and instructed the Defense Minister to compile plans for uprooting outposts and declared that the significantly developed town of Amona near Ofra, would be destroyed in the coming days. Olmert angrily called for the immediate expulsion of Jews from the Shalhevet marketplace area in Hevron. He also called for the punishment of various government agencies, local municipality members and civil servants involved in the founding of the outposts. Olmert termed the government's crackdown against the outposts "a struggle for the law in Israel." Olmert said that "undermining the law" has become "a way of life" in Judea and Samaria. Justice Minister Tzipi Livni said that she sees the onslaught against the outposts as "a conflict between settlers and the government in a struggle for supremacy." Land of Israel activists say they won't allow Olmert to carry out his plans to destroy Jewish communities at all. They call us rebellious youth, but we are students, husbands, wives, fathers and mothers who do not intend to go into exile from any part of the Land of Israel."
FOJ Note: These actions by acting PM Ehud Olmert are in keeping with President Bush's insistence that the Israeli leadership continue down the Peace Roadmap. Gaza was step one, and now with Ariel Sharon sidelined, Olmert is showing Washington that he fully intends to follow what he perceived as Sharon's compliance with the Quartet's land-for-peace formula that requires Israel to concede the entire West Bank.
End Time Players Line Up Against West in Iranian Nuke Showdown
Jan. 17….(Bill Wilson) A current diplomatic battle with end time significance is being waged over Iran's nuclear program. The players aligning with Iran include Russia, China, Syria and India, well over a third of the world's population. And they are lining up against the United States, Israel, Britain, Germany and France. At stake are a nuclear Islam and the world's energy supplies. Recognizing that the negotiations with Iran and the EU-3, Britain, Germany and France, fell apart, the United States is now saying that a new diplomatic effort must be initiated. Hence, a meeting between top diplomats of America, Britain, France, Germany, China and Russia took place Monday in London. The objective was to get cooperation from China and Russia for the United Nations International Atomic Energy Agency to refer Iran to the UN Security Council for possible sanctions. Problem is, neither Russia nor China, who has billions of dollars of military and nuclear investment in Iran, want to bring Iran before the Security Council.
Egypt Blasts US for Accepting Israeli as Nuclear Power
Jan. 17….(Reuters) Egyptian President Hosni Mubarak told US Vice President Dick Cheney it supported efforts to stop the spread of nuclear weapons in the Middle East but slammed the West for turning a blind eye to Israel's atomic program, one official said. Cheney was in Cairo as part of a Middle East tour that includes Saudi Arabia and Kuwait. He held talks with Egyptian President Hosni Mubarak on several subjects, including a standoff between the West and Iran over Tehran's nuclear ambitions.
"The last thing we need in the Middle East is a nuclear weapon arms race," presidential spokesman Suleiman Awad said."But we cannot ignore Egyptian and Arab world public opinion (that refuses) to make all this fuss about the Iranian nuclear program while turning a blind eye and a deaf ear to the Israeli nuclear program and arsenal," he added. Israel is widely believed to have nuclear weapons but has never confirmed or denied their existence and is not a party to the nuclear Non-Proliferation Treaty. The West suspects Iran is trying to build nuclear bombs but Iran, one of the world's top oil producers, says it only wants to develop its nuclear capability to produce electricity. The latest crisis was sparked by Iran's decision to resume nuclear research which could have civilian or military uses. The United States and some EU states want the matter referred to the UN Security Council, where Tehran could face sanctions. Egypt, who is a member of the governing board of the UN Nuclear watchdog the International Atomic Energy Agency (IAEA) has said it wants to see the standoff ended by dialogue. Referral to the UN Security Council, which could impose sanctions, depends on a vote by the 35-nation IAEA board. Awad said Cheney's request for Egypt's support was part of an international effort by the United States and Europe. Egypt, which has fought four wars with Israel, has long campaigned for making the Middle East free of nuclear weapons and complains that the West ignores Israel's nuclear capability. Cheney did not speak to reporters in Cairo, but Awad said talks also covered tensions between Syria and Lebanon over last year's assassination of former Lebanese Prime Minister Rafik al-Hariri. A UN probe into Hariri's death has implicated Syrian officials.
Olmert Puts Roadmap at Forefront of Israeli Policy
Jan. 17….(JNEWSWIRE)Acting Prime Minister Ehud Olmert reiterated Israel's support for the US backed Road Map initiative for the Arab-Israeli dispute at a meeting Tuesday with President Moshe Katzav. Olmert said that while he was prime minister, his government would "stick to the Road Map." "It would be a mistake to release somebody from a responsibility whose framework he is obligated to," he said. Olmert said he hoped Israel will start negotiating a permanent status agreement with Palestinian Authority chief Mahmoud Abbas, after elections are held both in Israel and the PA. He said, however, that this would happen "only if he commits himself to disarming the terrorist organizations" that work out of the PA. On the issue of Iran, Olmert said, "I believe that there is a way to ensure that non-conventional weapons don't wind up in irresponsible hands which can threaten world peace." He added that Israel will continue to cooperate with European and American policymakers regarding Iran. "In any event, Israel will not accept a situation in which it is threatened," said Olmert. Olmert, formerly of the Likud, now heads the Kadima party, founded a few months ago by Prime Minister Ariel Sharon, before he was incapacitated with a debilitating stroke.
US, Europeans Stepping Up Pressure on Iran
Jan. 17….(AP) Pressure on Iran intensified Tuesday, with key European countries and the United States moving ahead with plans to refer Tehran to the UN Security Council and Israel vowing not to let the Iranians develop nuclear weapons. But Russia and China, Iran's past backers, urged negotiations instead of confrontation, casting doubt on whether next month's International Atomic Energy Agency meeting will demonstrate a unified political will. A meeting Monday in London produced no agreement among the United States, France, Britain and Germany and Moscow and Beijing on whether to refer the dispute over Iranian nuclear enrichment to the Security Council, which could impose sanctions. Past opposition to such action by Russia and China led the Europeans and the United States to postpone referral. Russia and China have joined Europe and the US in criticizing Iran's resumption of uranium enrichment. But both would prefer to avoid Security Council involvement and are outright opposed to sanctions. A draft text by Britain proposing referral when the IAEA's 35-nation board of directors meets Feb. 2 reflected deference to the Russians and Chinese, stopping short of calls for punitive measures. Instead, the text, read in part to The Associated Press by a European diplomat accredited to the UN nuclear watchdog agency, urges the 15-nation council to press Tehran "to extend full and prompt cooperation to the agency" in its investigation of suspect nuclear activities. It also asks the council to make clear "that additional transparency measures are indispensable" if Iran hopes to prove it does not want to make nuclear weapons. Moscow supports calling on Iran to renew a moratorium on uranium enrichment, a possible pathway to nuclear arms. But asked Tuesday whether Russia would be ready to refer Iran to the Security Council for violating the Nuclear Nonproliferation Treaty, Foreign Minister Sergey Lavrov said other means should be considered first. The Chinese Foreign Ministry took a cautious tone, saying "all relevant sides should remain restrained and stick to solving the Iranian nuclear issue through negotiations." Israel's right to exist has been denied by Iranian President Mahmoud Ahmadinejad. Russia and China are IAEA board opinion leaders whose voice counts with other nations. They also are veto-wielding members of the Security Council that could block harsh action against Tehran, including economic sanctions, an option backed by the Bush administration. European nations have been willing to wait on referral in hopes Tehran's defiance would sway Moscow and Beijing. The United States is the key backer of Security Council sanctions, but has thrown its weight behind the Europeans in hopes that time would work on its behalf in hardening anti-Iran sentiment.
Russia, China Want Talk's Not Sanctions on Iran
Jan. 17….(Reuters) Russia and China, two nations with high priority economic interests in Iran, have made clear that they did not favor UN sanctions to induce Iran to scale back its nuclear program, advocating more negotiations. Their comments revealed a continuing lack of consensus among world powers over whether the UN Security Council should take up Iran's case and what action it should consider. The Council could eventually decide to impose diplomatic or trade sanctions on Iran, though this would depend on the consent of its five permanent members, including Russia and China. "The question of sanctions against Iran puts the cart before the horse. Sanctions are in no way the best, or the only, way to solve the problem," Russian Foreign Minister Sergei Lavrov said. He said years of international sanctions against Iraq had failed to change the behavior of ousted leader Saddam Hussein. Moscow's $1 billion stake in building Iran's first atomic reactor gives it potential leverage over Tehran
Vatican-Mussolini Pact Touted as Model for Jerusalem
Jan. 15….(Ha Aretz) A 1929 accord between the Vatican and Fascist Italy granting 'special status' to several Rome churches could provide a model to resolve the dispute over Israel's control of Jerusalem, a former Israeli ambassador has suggested. Moshe Sasson, Israel's ambassador to Italy from 1973-77, described the Lateran Treaty signed by Benito Mussolini and the Vatican as "a historical precedent that is wonderfully suited to the issue of Jerusalem," in an editorial in Friday's edition of the Tel Aviv daily Haaretz. Sasson argues that by seeking an arrangement similar to the Lateran Treaty, Israel would prevent the partitioning of Jerusalem while satisfying the followers of the world's main three monotheistic religions, Christianity, Islam and Judaism - who all consider the city holy. The Lateran Treaty ended a dispute which began in 1871 when the then newly- constituted Kingdom of Italy took over Rome after centuries of Papal rule. In 1929 Italy granted a "special status under international guarantee" for five basilicas that belong to the Vatican, but which are situated outside the territory that demarcates the tiny state. Sasson says Israel could declare unilaterally, by virtue of its sovereignty, that it is granting a special status to the al-Aqsa Mosque and the Dome of the Rock Sanctuary on the Temple Mount, as well as to other places that are sacred to Judaism as well as those Christians cherish as holy. Israel could grant "free passage to the holy places regardless of religion, gender or race," to anyone wanting to visit Temple Mount for example. Sasson argues that such a move would be welcomed by the international community ensuring that "Jerusalem would remain whole and not divided; each of the three monotheistic religions would be sovereign over the buildings that are sacred to it, would administer them and would be responsible for what happens inside them," he said. Sasson admits that such a move would not necessarily win the approval of Arab governments who he says want to maintain the "supposedly 'religious aspect' of the Arab-Israeli conflict." Still, a compromise solution could be achieved if Israel were to allow Arab governments to establish a small policing force to oversee sacred Islamic sites. This, Sasson argues, would help overcome the present problem whereby Israeli security forces responsible for law and order are seen to impart the "punishment of the other." While the Lateran Treaty model might offer a solution to the dispute over the custodianship of religious sites, Sasson says Israel has another problem that needs tackling - Jerusalem's very large Arab population, which currently numbers 237,100. The growth rate of the Arab population is currently double that of the city's Jewish community, a situation which will over the years result in the "capital of Israel" having mostly Arab inhabitants. To remedy this situation, Sasson urges the Israeli government to implement policies that will "attract Israelis and Jewish immigrants to Jerusalem and to keep its Jewish inhabitants living there and prevent them from abandoning it." Israel defines Jerusalem as its "eternal and undivided capital" a status not recognized by most nations who maintain their embassies in Tel Aviv. Palestinians say Arab East Jerusalem should be the capital of their future state.
WEEK OF JANUARY 8 THROUGH JANUARY 15
Hamastan A Stepping Stone to Hamastine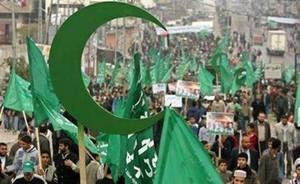 Jan. 13….(FOJ) On January 25, 2006, elections will be held for the Palestinian Legislative Council (PLC), which acts as the legislature of the Palestinian Authority. The PA is basically a political wing of the Palestinian Liberation Organization, formerly headed by Yasser Arafat, and created by the Arab League as a means to strangle the nation of Israel. This years PLC election is the first election to the PLC since 1996. Supposedly, elections have been repeatedly postponed by the PA due to the ongoing Israeli-Palestinian Conflict, but in reality it has been because the PA didn't want to risk losing power. Current plans are for Palestinian voters in the Gaza Strip, West Bank, and East Jerusalem are eligible to participate in the election. The PLC is currently dominated by the old Arafat-led Fatah terrorist movement, which holds 68 of the 88 seats. Fatah is worried that the popular Hamas terrorist party will gain a majority of seats in the PLC, and thereby acquire a controlling foothold throughout the West Bank. The prospect of a PLC dominated by Hamas haseven alarmed Western governments, (especially the US) which almost universally consider Hamas to be a terrorist group, and which provide foreign aid that makes up almost half of the PNA's budget. Palestinian Hamas members already control Gaza, and is keen to expand its Iranian-Syrian-hezbullah terrorist war into the heart of Palestine.

The US Congress has already requested that aid to the Palestinian Authority be reviewed and possibly reduced if it gave Hamas wins governmental control after this month's Palestinian election. Israel's Acting Prime Minister Ehud Olmert, has informed US President George W. Bush that there could be no progress in the Middle East peace process if Hamas entered a Palestinian government, nevertheless Mahmoud Abbas has argued and insisted that Hamas be allowed to participate in elections. Ironically, President Bush, who has pushed hard for democracy in Palestine has had to defer to the PA leaders brand of terrorist ffiliated democracy.
Outer Space Laser Beam Weapons Almost Ready for Battle
(Directed energy could revolutionize warfare, expert says)
Jan. 13….(excerpt/MSNBC) There is a new breed of weaponry fast approaching, and at the speed of light, no less. They are labeled "directed-energy weapons," and they may well signal a revolution in military hardware, perhaps more so than the atomic bomb. Directed-energy weapons take the form of lasers, high-powered microwaves and particle beams. Their adoption for ground, air, sea, and space warfare depends not only on using the electromagnetic spectrum, but also upon favorable political and budgetary wavelengths too. That's the outlook of J. Douglas Beason, author of the recently published book "The E-Bomb: How America's New Directed Energy Weapons Will Change the Way Wars Will Be fought in the Future." Beason previously served on the White House staff working for the president's science adviser under both the Bush and Clinton administrations.
| | |
| --- | --- |
| | A laser fires from space toward Earth in this artistic rendering |
The Air Force Research Laboratory's Directed Energy Directorate is conducting research in a wide variety of laser weapons technologies. After more than two decades of research, the United States is on the verge of deploying a new generation of weapons that discharge beams of energy, such as the Airborne Laser and the Active Denial System, as well as the Tactical High Energy Laser, or THEL. "History has shown that, without investment in high technology, fighting the next war will be done using the 'last war' type of technique," Beason told Space.com. Putting money into basic and long-range research is critical, Beason said, adding: "You can't always schedule breakthroughs." For example, work is continuing in the military's Airborne Laser program. It utilizes a megawatt-class, high-energy chemical oxygen iodine laser toted skyward aboard a modified Boeing 747-400 aircraft. Purpose of the program is to enable the detection, tracking and destruction of ballistic missiles in the boost phase, or powered part of their flight. Directed-energy technologies can offer a range of applications, from botching up an enemy's electronics to performing "dial-up" destructive strikes at the speed of light with little or no collateral damage. Beason said he has a blue-sky idea of his own, which he tags "the voice from heaven." By tuning the resonance of a laser onto Earth's ionosphere, you can create audible frequencies. Like some boom box in the sky, the laser-produced voice could bellow from above down to the target below: "Put down your weapons."
Israel Confident in Attack Any Iran Nukes
Jan. 13….(WorldNetDaily) Israeli military planners have more confidence in the success of an attack on Iran's nuclear weapons facilities and have already begun sending signals to Tehran that it will not be permitted to threatened the Jewish state with annihilation. The new government of acting Prime Minister Ehud Olmert also wants the mullah government in the Islamic republic to understand that the incapacitation of Ariel Sharon will not leave Israel in any less state of military readiness, WND sources say. Yesterday, Secretary of State Condoleezza Rice expressed strong US support for a European move to take the issue of Iran's nuclear program to the UN Security Council. The Secretary accused Iran of deliberately escalating the confrontation over the issue, but said the United States still hopes for a diplomatic solution. The secretary of state endorsed the European decision in a statement to reporters, saying "provocative" Iranian actions in recent days had shattered the basis for further talks between Iran and three European nations. The US is certain that Iran's "civilian" nuclear program conceals an ambitious secret weapons effort. The secretary said it was premature to talk about possible UN sanctions or whether permanent Security Council members Russia and China, which have extensive commercial dealings with Iran, could be persuaded to support them. She plans to speak with Chinese Foreign Minister Li Zhaoxing as part of a far-reaching US diplomatic push on the Iran issue. The secretary said since he came to power last year, President Mahmoud Ahmadinejad has done nothing but confront the international system on the nuclear issue with outrageous statements, the likes of which, she said, "have not been made in polite company" in many years. Ahmadinejad has called for Israel to be wiped off the face of the earth and suggested that the Jewish state be moved to Europe. He also denied the Holocaust ever happened. Israel has no illusions about the UN solving the crisis. WND sources say a recent statement by the Israeli military chief of intelligence, Gen. Aharon Zeevi-Farkash, that March 1 would be the time limit for diplomatic means to deter Iran's plans was actually an implied warning to Iran. Sources in Tel Aviv and in several European capitals, say Zeevi's remarks were based on a military-planned timetable and a possible D-Day to take the Iranian military nuclear plant out of the picture. Gen. Dan Halutz, Israel's chief of staff and former air force commander, intentionally selected to be the first chief of staff to come from the air force, last week said there are several military means to deal with the problem. Although his statement was somewhat vague, Halutz is known for his verbal restraint. Sources say he is certain the Israeli military machine would be as effective against the Iranian project as it was in 1981 against the Iraqi Ossiraq nuclear site. Sources in Israel also believe public disclosures about the Israeli air force's "anti-aircraft imaging unit" are significant. The Israel air force magazine re-published a story in December 2005 under the title: "Know Thy Enemy." It dealt specifically with the anti-aircraft missile threat, which could be the major obstacle in taking out the Iranian system. The special unit's existence was until recently classified as top secret. Since 1996, the air force and the Rafael Weapons Development Authority have been jointly operating a unit of Soviet anti-aircraft systems similar to those in service in the Middle East. The unit, based on thorough knowledge of Russian-made systems, is instrumental in the training of Israeli air force fighter pilots on how to survive anti-aircraft and radar threats, sometimes thousands of kilometers away from base. The unit also operates weapon systems captured from Arab armies, undisclosed purchased equipment and secret computer developments of systems identical to anti-aircraft systems used by Iran, and even systems directly ordered by Iran from the Russians to protect their nuclear assets, a WND G2 Bulletin reported. The Israelis have also received help from former Soviet or Russian anti-aircraft officers who immigrated to Israel. The air force also chose to reveal details of its cooperation with the Turkish air force including the deployment of Israeli fighter jets in Turkey and Turkish squadrons in Israel as part of a joint training program. Even Greece, which for years rejected any cooperation with Israel, recently announced its air force is also fully cooperating with the Israeli air force. This cooperation with regional air forces, especially with Turkey, which borders Iran in the east, is highly significant when mentioned in uncensored air force publications.
China and India Forge Alliance on Oil
Jan. 13….(Financial Times China and India, the world's two fastest growing energy consumers, on Thursday set aside long-standing rivalries and agreed to co-operate in securing crude oil resources overseas. The agreement, aimed at preventing the two nations' competition for oil assets pushing up prices, symbolizes their increasingly assertive role in global energy politics. In an age of growing energy insecurity "it makes sense for India and China to co-operate [rather] than compete. The time of access to easy oil is in the past", said Jim Steenhagen, managing director at PFC Energy, the US consulting firm. The agreement came as fears over a serious threat to oil supplies from Iran began to rattle the market yesterday. Prices rose above $65 a barrel on the New York Mercantile Exchange as Tehran's nuclear ambitions threatened instability at the centre of the world's main oil-producing region. The Sino-Indian agreement was signed in Beijing by Mani Shankar Aiyar, India's petroleum minister, and Ma Kai, the head of the National Reform and Development Commission, China's chief economic planning and energy ministry. The agreement comes after India's Oil and Natural Gas Corp lost out to Chinese rivals in the race to acquire fields in Angola, Nigeria, Kazakhstan and Ecuador. But a recent joint purchase of a stake in a Syrian oilfield by ONGC and the state-owned China National Petroleum Corp could set a pattern for future deals. Mr. Aiyar hailed this as a model. Oil executives said co-operation between China and India could benefit international energy companies by reducing the ferocity of the bidding. Under their agreement, Chinese and Indian oil companies will establish a formal procedure to exchange information about a possible bid target, before agreeing to co-operate formally.
Their memorandum of understanding also covers possible co-operation across the energy industry, from exploration to marketing. But India and China's national oil companies could still compete in third countries. Sceptics say Chinese companies are unlikely to share their real business plans with Indian rivals, especially as they have mostly been able to outbid them. "Governments like to sign pieces of paper, but it often doesn't amount to much," one analyst said. India is more dependent on oil imports than China. Mr. Aiyar believes India's import dependency will increase from 70 per cent of consumption this year to about 85 per cent in 15 years. China imports about half its oil. Li Zhaoxing, China's foreign minister, this week started a trip to Africa that will underpin Beijing's search for energy security.
The Bush Administration is Interfering' In Israeli Governance
Jan. 13….(Jerusalem Newswire Editorial Staff) Despite assurances to the contrary given by a former US ambassador to Israel, the Bush administration has come out in strong support of Acting Prime Minister Ehud Olmert and the Kadima Party two-and-a-half months before general elections are held in Israel. Earlier this week, Martin Indyk told the Israeli news outlet Ynet that President George W. Bush "would not dare interfere with the elections in Israel, like President Bill Clinton did during the 1996 elections." But according to a number of reports in the Israeli media Thursday, US President George W. Bush has decided to do what he can to try and ensure that Olmert, standing in for an incapacitated Ariel Sharon, is elected to be full-time prime minister when Israelis go to the polls on March 28. Reports Thursday said that Secretary of State Condoleezza Rice has invited Olmert to visit Washington DC, probably sometime next month. And on Wednesday evening Bush called Olmert by telephone and told him that he intended to make sure the vision he and Sharon shared of Israel surrendering more land for the sake of "peace" became a reality. Olmert responded that if elected, he would be working side by side with the American to realize the birth of a Palestinian Arab state on the ancient Jewish lands of Judea, Samaria and Gaza. Israeli parliamentarian Yitzhak Herzog, meanwhile, leveled a broadside at the Bush administration for, so he charged, improperly trying to influence the outcome of Israel's elections. "Aside from saying 'Go vote Sharon,' they did everything else," Herzog was quoted as saying by The Associated Press. "I suggest to our friends in the United States to understand that we are in an election campaign and not to interfere in the election process in Israel and to act carefully in this time," the former housing minister from the leftist Labor Party said.
Robertson Apologizes for Sharon Remarks
Jan. 13….(AP) Christian broadcaster Pat Robertson has sent a letter apologizing for suggesting that Ariel Sharon's massive stroke was divine punishment for pulling Israel out of the Gaza Strip. Robertson's comments drew widespread condemnation from other Christian leaders, President Bush and Israeli officials, who canceled plans to include the American evangelist in the construction of a Christian tourist center in northern Israel. In a letter dated Wednesday and marked for hand delivery to Sharon's son Omri, Robertson called the Israeli prime minister a "kind, gracious and gentle man" who was "carrying an almost insurmountable burden of making decisions for his nation." "My concern for the future safety of your nation led me to make remarks which I can now view in retrospect as inappropriate and insensitive in light of a national grief experienced because of your father's illness," the letter said. "I ask your forgiveness and the forgiveness of the people of Israel," Robertson wrote. The 77-year-old prime minister suffered a devastating stroke Jan. 4 and remained hospitalized Thursday in critical but stable condition. The day after Sharon's stroke, Robertson suggested he was being punished for pulling Israel out of the Gaza Strip last summer. The pullout was seen by many evangelical groups as a retreat from biblical prophecy of Jewish sovereignty over the area. "God considers this land to be his," Robertson said on his TV program "The 700 Club." "You read the Bible and he says 'This is my land,' and for any prime minister of Israel who decides he is going to carve it up and give it away, God says, 'No, this is mine.'"
FOJ Note: For FOJ comments on the Pat Robertson controversy over this issue, please see Q/A 273 in the Q/A Section.
Europeans: Refer Iran to UN
Jan. 12….(CNN) Foreign ministers from the European Union's three biggest nations, the so-called EU3, met Thursday following Iran's moves to restart its nuclear program. "Our talks with Iran have reached a dead end," German Foreign Minister Frank-Walter Steinmeier told reporters after meeting with his British and French counterparts, Jack Straw and Philippe Douste-Blazy, and EU foreign policy chief Javier Solana. Straw said the group decided to call for an emergency session of the board of governors of the International Atomic Energy Agency (IAEA) to vote on referring Iran to the UN Security Council. The decision by the EU3 marks the end of more than two years of diplomatic efforts to convince Iran to abandon its nuclear program. Meanwhile, officials in London and Moscow said envoys from the EU3 will meet counterparts from China, Russia and the United States next week in London to discuss the issue further. Russia, which is building a nuclear reactor in Iran, also has expressed "deep disappointment" over Iran's decision, yet Neil Cavuto of Fox News interviewed a Korean expert who claims that Russian President Putin has had numerous secret meetings with Korean leader Kim Jong Il and the Iranian President.
The Phased Plan for Israel's Destruction Alive and Well
Palestinians Prepare for Phase Three
Jan. 12….(Jack Kinsella - Omega Letter Editor) As Ariel Sharon clings to life and Israel's government is forced into a limbo-like state until they can figure out what to do, the Palestinians are making preparations for the final phase of Yasser Arafat's Phased Plan For the Destruction of Israel.
According to most mainstream Middle East analysts, PA Prime Minister Mahmoud Abbas has lost control of the Palestinian Authority and the PA is in political free-fall. Abbas's orders to the security forces are routinely ignored. His policy directives fail to echo through the PA bureaucracy. Even his threats to resign do not cause a ripple. Abbas has done nothing to impose law and order. PA security forces have failed to take any action against groups aligned with the ruling Fatah movement. The forces have refused to crack down on the Islamic opposition as Hamas and Islamic Jihad gunners maintain missile strikes on Israel. In many cases, PA security officers help Hamas and Jihad in attacks against Israel and Palestinians.
Last week, about 100 PA officers stormed the Rafah border terminal along the Egyptian border in a move that prompted the flight of about 70 European Union monitors. The officers took over the terminal to stop a rival Fatah faction from fleeing Gaza to Egypt. Earlier, the Fatah faction attacked a police station in Gaza City and an officer was killed. This week, all eleven major Palestinian terror groups including Fatah and Hamas, announced they would no longer be bound by a so-called "lull" in violence declared in February 2005.
The military wing of Islamic Jihad reported an attempt to manufacture anti-aircraft missiles. A Jihad spokesman said the missiles were designed to strike Israeli fixed-wing and helicopters in the Gaza Strip.
The Fatah-sponsored Popular Resistance Committee has reportedly obtained maps of Israeli army bases north of the Gaza Strip. It's military wing, Nasser Salah Eddin Brigades, is planning to carry out attacks deep inside Israel. There are also new reports that Palestinian terrorists are being trained in Syria, Lebanon and Iran before being smuggled back into the Gaza Strip. Weapons experts have undergone training in camps run by Iran and Hezbollah before sneaking back into Gaza to await orders.
In 1974, the 12th Session of the Palestinian National Council adopted what is commonly known as the Phased Plan for the Destruction of Israel. In 1993, arguing against the Oslo Accords, Benjamin Netanyahu ticked off the three phases, warning that Oslo was Phase One.
Arafat's Phased Plan, adopted by the PLO, remember, in 1974, reads thusly:
1. Through the "armed struggle" (i.e., terrorism), to establish an "independent combatant national authority" over any territory that is "liberated" from Israeli rule. (Article 2)
2. To continue the struggle against Israel, using the territory of the national authority as a base of operations. (Article 4)
3. To provoke an all-out war in which Israel's Arab neighbors destroy it entirely ("liberate all Palestinian territory"). (Article 8)
Hindsight proves Netanyahu was absolutely correct in his assessment of Palestinian intentions when pursuing the Oslo Agreement. Arafat followed the Phased Plan to the letter, using the 1989-1993 terrorist intifada to force Israel into accepting the establishment of the Palestinian Authority ("independent combatant national authority") to govern the land surrendered by Israel in the 'land for peace' agreement hammered out at Oslo.
Arafat died before he could personally bring the plan to Phase 3, but he left his most trusted lieutenants in charge, and they are keeping the faith. (Both Mahmoud Abbas and Ahmed Queria are signatories to the 1974 Phased Plan, as well as co-founders of Fatah and the PLO with Yasser Arafat)
Ariel Sharon's health condition and what it means to their personal visions of the peace process has also paralyzed the various members of the Quartet. Conditions are ripe for Phase Three. Both the United States and Israel are preparing for possible pre-emptive air strikes against Iran's nuclear sites before they become operational. Russia, one of the members of the Quartet is also Iran's nuclear patron. Any strike against Iran would also be a military strike against Russian interests. Such a strike would also likely kill a number of Russian nationals working at the target sites. Any air-strike against Iran would trigger a massive Islamic response, particularly from Syria, who legitimately fears it would be next. A Persian-language Islamic daily hinted in August that Iran has Iranian terrorist cells in place inside the United States as well as in Gaza; "This country's military and intelligence agencies must pay serious attention to such statements, and the country's ability to take preemptive actions against any aggression by its enemies must be improved, " reported Siyasat-e Ruz. "One of the most important defensive means for the Islamic Republic of Iran is the reinforcement of resistance cells in other countries, especially coordination with such cells within the territory of the United States that may be used for rapid and strong responses at critical moments. Regarding new policies made by strategic research centers of the Islamic system, it seems the way is being paved to take the final step in the phased plan. There is an old Chinese curse that says, "May you live in interesting times." The Apostle Paul was more direct: "This know also, that in the last days PERILOUS times shall come." (2nd Timothy 3:1) Let's summarize, shall we? Israel is paralyzed by Sharon's stroke. It has a caretaker government that by law can govern for only 100 days. Since Iran will have by then passed the 'point of no return' the decision to launch rests in the hands of a temporary, caretaker government in the throes of an election. The United States is paralyzed by the Red State/Blue State Civil War. It is unimaginable that the administration could get Congressional authorization for a secret airstrike against Iran before March. Iran, soon to be a nuclear power, has secret agents inside both Israel and the United States. They are trained as both combatants and saboteurs. One of the alleged 'partners' in the Quartet for Peace is in the cross-hairs of any Israeli, US, or NATO attack on Iranian nuclear sites. The Palestinians are preparing to launch an all out war against Israel, timed to coincide with Israel's elections, (and Iran's date with destiny), together with tactical and military aid supplied by Iran, Syria and Lebanon. And every single detail was outlined by the Hebrew prophet Ezekiel, two thousand, five hundred years in advance. Barring some kind of political miracle or direct Divine intervention, it is hard to imagine more perilous times that those facing our world as we go forward into this sixth year of the 21st century.
"And that, knowing the time, that now it is high time to awake out of sleep: for now is our salvation nearer than when we believed." (Romans 13:11)
US Intervenes in Israeli Elections: Administration Backs Olmert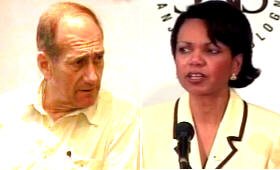 Jan. 12….(Arutz) Acting Israeli Prime Minister Ehud Olmert, who has replaced Ariel Sharon as the Kadima Party's prime ministerial candidate, is to visit Washington in February, just a month before Israel's national elections. Visits of this type invariably add to the invitee's stature in the perception of Israel's domestic public, and this will therefore help Olmert as the elections approach. Olmert is also expected to become Israel's interim Prime Minister in the coming days, when Attorney General Menachem Mazuz declares that Sharon has become permanently incapacitated. In addition, the US has informed the PA and Arab countries that Olmert's stature must be strengthened as the elections approach in order that he "continue the process that Sharon started." So reports the PA's Arabic-language Al-Manar newspaper. US Secretary of State Condoleeza Rice issued a statement last night, commending Olmert on his apparent decision to permit eastern Jerusalem Arabs to participate in the PA elections later this month. Most reports do not note that the Israeli decision stipulates that Hamas ballots will not be allowed into the Jerusalem post offices in which the voting will take place. Olmert informed Rice of this on Tuesday. In any event, the Israeli decision must be finalized at Sunday's Cabinet meeting. Rice, in her statement praising Olmert's decision, stated the United States' view that there is no place in the political process for groups or individuals who espouse violence and reject Israel's right to exist. "To participate in a peace process of Israelis and Palestinians," she said, "the Palestinian partner must at least accept Israel's right to exist. To implement agreements on movement and access for the Palestinian territories, the Palestinian partner must be committed to preventing violence." The Al-Manar newspaper reported that the US is conducting secret contacts with the Palestinian Authority and Arab countries in an effort to have them help strengthen Olmert's stature. The US informed them that it is interested in having Olmert head Kadima and "continue the process that Sharon began to solve the Palestinian-Israel conflict." The paper further reports that the Americans feel that Olmert is a "smart leader who will be able, with his advisors, to lead the peace process and rebuff the political machinations against him." The US even informed Olmert, according to the paper, that it would like him to keep Sharon's advisors on his team, especially Dov Weisglass and Shimon Peres.
Dozens Reported Killed in Muslim Hajj Stampede
Jan. 12….(AP) Muslim pilgrims rushing to complete a symbolic stoning ritual of the Devil on the last day of the hajj tripped over luggage Thursday, and an unknown number of people were killed in the ensuing stampede, the Interior Ministry said. Saudi-state-run television said dozens died or were injured. The stampede occurred as tens of thousands of pilgrims headed toward al-Jamarat, a series of three pillars representing the devil that the faithful pelt with stones to purge themselves of sin. The ritual has seen deadly stampedes in the past, including one in 1990 that killed 1,426 people and another in February 2004 that killed 244. The pillars are located on a large pedestrian bridge, the width of an eight-lane highway over the desert plain of Mina outside the holy city of Mecca. A number of ramps lead up the bridge to give pilgrims access to the site, and the stampede occurred at the base of one ramp. The stampede took place despite Saudi efforts to improve traffic for the massive crowds of pilgrims at the site, where all 2.5 million pilgrims participating in the annual hajj move from pillar to pillar to throw their stones, then exit. The stoning ritual is one of the last events of the hajj pilgrimage to Islam's holiest sites, which able-bodied Muslims with the financial means are required by their faith to do at least once. Many pilgrims had already finished the stoning ritual Thursday and had gone back to Mecca to carry out a farewell circuit around the Kaaba, the black stone cube that Muslims face when they do their daily prayers.
What Happens Now?
Jan. 11….(Koinoia House/Chuck Missler) Barring a major miracle, Israeli Prime Minister Ariel Sharon will most likely not return to politics. Sharon is currently emerging from a drug-induced coma after suffering a massive stroke. He has shown signs of improvement, but it will be several days before doctors know the full extent of the damage. Israeli elections are expected to proceed in March, elections Sharon would most likely have won. Israel and the world now wait to see how a new Prime Minister will affect Jewish-Arab relations and a potential Palestinian state.
A New Prime Minister
In his third term, Ariel Sharon planned to dismantle settlements in the West Bank and map out borders of Israel that were completely separate from the Palestinians. The new Prime Minister could change all that. Three major candidates are expected to run in the March elections - Sharon's temporary successor, Ehud Olmert, former Prime Minister Bejamin Netanyahu, and Labour Party leader Amir Peretz.
Ehud Olmert
Olmert will most likely run in Sharon's place as the Kadima Party candidate. Sharon created the Kadima Party two months ago to break away from the more conservative bloc in his Likud party. Olmert has the same basic agenda as Sharon, but without Sharon's popularity and political sway. He may not be able to make the strong-handed political moves Sharon planned.
Benjamin Netanyahu
Netanyahu is Olmert's greatest competition as a former Prime Minister who is still young and quick-witted. Netanyahu is known for his low tolerance for terror and rejects policies that he believes encourage terrorist groups. (For example, he criticized Sharon over the way the Gaza Strip settlements were dismantled). Netanyahu may be considered too conservative for many Israelis, but they know him and respect his resolve.
Amir Peretz
The Labour leader lags in the rear behind Netanyahu and Olmert. While most Israelis are willing to do what it takes to make peace with the Arabs, they do not have confidence in the Palestinian Authority as a real negotiating partner. Labour's willingness to offer land for peace has not succeeded in bringing peace or security to Israel. (Because large groups of Arabs simply want the end of Israel altogether.)
The Future of Israel
If Olmert wins the elections, he will continue to separate Israelis from Palestinians and will unilaterally push for a Palestinian state. Israel's demographic problem is perhaps the primary motivation behind this agenda. Population trends indicate that Arabs will outnumber Jews in Israel in a few decades. When that happens they will no longer need suicide bombers - they will destroy Israel via the vote. Olmert, however, may not be able to pull off the unilateral separation as easily as Sharon. Netanyahu may continue the separation, but is far less likely to dismantle settlements. He will be reluctant to force West Bank Jewish communities out of their homes. Of all the candidates, he is the one who will insist that the Palestinian government fulfill its obligations. He will most likely refuse to offer concessions unless the PA works to stop terrorism. He is not opposed to a Palestinian state, but wants to keep as much of Israel's current land as possible in the interest of security from her surrounding enemies. The man chosen to replace Ariel Sharon will profoundly influence the geopolitical future of Israel and the Middle East. Ultimately the future is in God's hands. He has a plan for the nation of Israel, just as He has a plan for you and me. We believe there will be no real peace until the Prince of Peace arrives, but that may not be very long off. In the mean time, please continue to pray for the peace of Jerusalem, the apple of God's eye (Psalms 122:6, Zechariah 2:8).
Hal Lindsey Proclaims: Islam Is A Violent Religion
Christian author declares most Muslims don't read Quran very much
Jan. 11….(WorldNetDaily) Christian author Hal Lindsey proclaimed on national television last night that Islam is a violent religion, with many believers becoming more "radical" the more they read the Muslim holy book, the Quran. "When someone becomes devout and they begin to get really into the Quran and they begin to study what it really teaches, they become what we call a fundamentalist or a radical because the Quran itself and the Hadith teaches violence," Lindsey said on "Hannity & Colmes" on the Fox News Channel. "There are 109 verses that we sometimes call war verses, these are the verses that the radicals begin to take seriously and they begin to want to overthrow Western civilization." Lindsey was a guest on Fox after WND broke the story about the best-selling non-fiction writer who is in a dispute with the TBN over the content of his own twice-weekly Christian commentary program, "The International Intelligence Briefing," because of what he considers to be efforts to muzzle his opinions about radical Islam. "After 9-11, I really studied Islam, studied the Quran, and studied what they're teaching and especially why there was a difference between the moderate Muslims and those who were radical," Lindsey said last night. "I saw that there was a tremendous danger facing this country that many Americans really didn't seem to be seeing. So I started warning that radical Islam was at war with the United States, and that the threat was as great as any enemy we'd ever faced." Co-host Alan Colmes asked Lindsey straight out: "Islam is a radical religion in your view?" "It is," Lindsey responded. "It's kind of like most Christians don't read the Bible very much. I believe most Muslims don't read the Quran very much. That's why most Muslims are not radical, but when someone begins to really study the Quran and they begin to read the 109 verses that call for violence and war, they become very, very different. They become radical, they feel that they need to convert people by force." Lindsey, author of "The Late Great Planet Earth" and many other best-selling books has anchored his own program for the last 12 years on the world's largest Christian network, founded by evangelist Paul Crouch, whom Lindsey says remains his friend. As WND reported last week, Lindsey announced he would not go back to his show following an abrupt six-week suspension of the popular TBN-sponsored program by Jan Crouch, TBN's vice president for programming. Though John Casoria, TBN's general counsel first told WND that the show's suspension was simply a traditional hiatus in seasonal programming , a statement that was later revised to confirm that the network believed that Lindsay's show placed Arabs in a bad light." Lindsey responded to this allegation: "I don't have to cast radical Muslims in a bad light. If the intimidation and persecution of moderate Muslims makes radical Islam look bad, that is because it is bad, not that I 'cast' them in a bad light. But I have never cast the Arabs as a race in a bad light." Casoria said he could not recall specific examples from Lindsey's programs that were anti-Arab or anti-Muslim, but he expressed the network's concern about how Muslims are portrayed.
Hal Lindsey Leaves TBN (Refuses to Compromise to Stay on Air)
January 1, 2006 (Dear Paul and Jan,) Paul, Jr. relayed your message to me that you are both in agreement on the policy of nothing negative being said on TBN about Muslims. Hearing that you also warned John Haggee, Perry Stone, Jack VanImpe and others of this policy caused me to realize that your are not going to modify your position. I love and respect you both and know your heart for evangelism of the Muslims. But I don't agree with your reasoning that warning about the dangers of "radical Islam" is a hindrance to the Gospel to all Muslims. The 'Radicals' are intimidating the moderate Muslims, not to mention their terrible persecution of Arab and Palestinian Christians. Jesus confronted false religion (which Islam is) by calling them "whitewashed tombstones", "Brood of vipers", and "sons of hell" in Matthew 23. I am sure of my calling from the LORD. One important part of that calling is to sound a prophetic alarm to America and the world about the dangers of the false religion of Fundamental Islam. It is a "Watchman on the Wall" kind of calling. In addition, the IIB is a news show from a Christian perspective. It is impossible to report the news without mentioning in a 'negative light' the radical Islamists who are wreaking murder and destruction on the Western world daily. It is truthfully reporting the most relevant news that made IIB one the most popular programs on TBN. It is also absolutely unacceptable to me to require my script to be submitted for censorship each week and then to learn whether my program will be aired or not. I don't have much money and it costs me a lot out of pocket to produce each show. When it is rejected or pre-empted, it is a big loss for me. So with regret and grief, I am not returning to TBN. I intend to pursue other avenues of ministry. I thank you for the years of association in the ministry. May God continue to bless you in your pursuit of evangelizing the world. In Christ's grace, Hal Lindsey
Syria Tried to Fuel Holy War in Iraq Against US and Britain'
Jan. 11….(WND) President Bashar al-Assad of Syria secretly incited Iraq's top Shia leader to declare holy war against US and British forces, according to Washington's former administrator in the country. In his new book, My Year in Iraq, Paul Bremer said he heard the explosive intelligence in October 2003 as sectarian tensions soared across the country following the fall of Saddam Hussein. The report came from an extremely senior source, the supreme leader of Iraq's majority Shia community, Grand Ayatollah Ali al-Sistani. According to Mr Bremer, the news was passed to him by Mowaffak al-Rubaie, a senior Shia politician involved in negotiations with the ayatollah. The Syrian leader had apparently recalled the Shia-led uprising against the British in 1920 and urged the Shia to repeat history. The news "stunned" the US administration in Iraq. "This was an act of extraordinary irresponsibility from Syria's president," Mr. Bremer writes. "We had good intelligence showing that many insurgents and terrorists were coming into Iraq through Syria." But the allegation was far more serious, he says. "This message from Assad essentially incited Shia rebellion. If he were to succeed, the coalition would face an extremely bloody two-front uprising, costing thousands of lives." The revelation that Syria's leader was trying to stoke unrest inside Iraq goes some way to explaining Washington's unrelenting hostility towards the Damascus regime ever since. In Europe Mr. Assad has been portrayed as a leader motivated by the desire to stand up to Israel and stay in power. But in Washington he has long been seen as a far more dangerous figure.
Sharon Better, Out of Immediate Danger
Jan. 11….(AP) Ariel Sharon's doctors on Wednesday hoped to remove the prime minister from all remaining sedatives after he moved his left hand for the first time, but hospital officials cautioned against being overly optimistic about his chances for recovery from a massive stroke. Although doctors said Sharon, 77, was no longer in immediate danger, they said it would be days before they could determine the full extent of the damage he suffered Jan. 4 from a brain hemorrhage. Amid the signs of progress, some Israeli media raised new questions about whether doctors' decision to give Sharon blood thinners after a mild stroke on Dec. 18 caused last week's hemorrhage. Hadassah Hospital officials defended their treatment of the prime minister. With Sharon's life out of danger, Israel's political system kicked back into action Wednesday after virtually grinding to a halt in the past week. Officials in Sharon's Kadima Party tossed around the idea of giving him the top spot on the party's list in upcoming elections, while keeping acting Prime Minister Ehud Olmert as its candidate for premier. Although the proposal appeared unlikely to survive, it was a sign that the political situation was slowly returning to normal. As doctors continued to wean Sharon off of sedatives Wednesday, Dr. Yair Birenboim, a senior official at Hadassah, said it was too early to express optimism. "We are pleased that there are small phases of development in the prime minister's condition," he told Army Radio. Doctors began removing the sedatives this week to ease him from an induced coma, and hoped to complete the process Wednesday. Israel Radio said it would take 36 hours for the drugs to exit Sharon's system. But hospital spokesman Ron Krumer said it was impossible to give a precise timetable. Sharon was halfway through the treatment, Birenboim said, but emphasized it could be reversed at any point. "You can stop them for a few hours, get an idea of what is happening and of course immediately retransmit them," Birenboim said. "These are routine things that happen with patients." Ending the sedation is a key step toward determining the extent of the damage Sharon suffered. He underwent three brain operations to halt bleeding in his right brain. Doctors began decreasing the sedatives Monday, and Sharon started breathing on his own and moved his right arm and leg slightly in response to pain stimulation. On Tuesday, he increased his movement on the right side and also moved his left arm in response to stimulation, said Dr. Shlomo Mor-Yosef, the hospital's director. Movement on Sharon's left side could be significant because that part of the body is controlled by the right side of the brain, where Sharon's stroke occurred. Sharon remained in critical but stable condition and had a decent chance of surviving, Dr. Yoram Weiss, one of Sharon's anesthesiologists, said Tuesday. Once the sedatives wear off, doctors can make a final assessment of brain damage. Then a determination would have to be made about whether Sharon can one day return to his post or a replacement must be named.
The War Against Bible Prophecy
Jan. 11….(By Jan Markell / www.olivetreeviews.org) I wasn't born in the Bronze Age so I still recall wonderful prophecy conferences in my Baptist church some twenty years ago. But in the last ten to fifteen years the message that the King is coming has become a downer with implications that the issues surrounding it are "gloom and doom." When did you last hear it preached in your church? When did you last hear radio or TV preachers talk about it unless they were an eschatology-related ministry? Recently a Christian publishing house editor advised me that he had learned that most Christian houses were dropping newly-submitted Bible prophecy books with a few exceptions. LaHaye/Jenkins will likely continue to sell as well as Mark Hitchcock through Multnomah, and sadly, Hannegraff's false Preterism books. Harvest House seems open only to Dr. J. Randall Price on Temple issues. Teachers like Hal Lindsey, Grant Jeffrey, and Dave Hunt have resorted to forming their own publishing houses. I was also informed that some of the finest seminaries and Bible colleges/Institutes that shall remain unnamed but known for true Dispensational belief are backing down. The two most prominent with the spokesmen at the head of these organizations are now suggesting that we cannot know if this is Israel's final re-gathering. Perhaps they will be scattered again. What kind of preachers will these outfits be turning out? Eschatology will finally be thrown on the ash heap of history. But you can be sure they will push the "seeker movement" and "church growth movement" which often downplays prophecy and for that matter, solid Bible teaching of any kind. As my friend Bill Koenig reports on his site, and has had the story posted for months at www.watch.org, one hundred million church attendees in America who are a part of Catholic or Mainline Protestant churches have no understanding of eschatology. The silence in these churches is bad enough but even worse is the fact that false eschatological doctrines emanate out of these denominations: Amillenialism, Replacement Theology, Preterism (all prophecy happened in 70 AD with the destruction of Jerusalem), Dominion/Kingdom Now/Latter Rain, and more. Over the last two to three years I have received hundreds of emails about this. Here are just a couple: "It is surprising to me that there are so many people I have tried to talk to about prophecy who have brushed it off by saying that they consider it 'doomsday talk.' It is difficult to get anyone to even talk about it. Even my family doesn't want to hear about it." "Your Web site is one of the few avenues available to someone like me who has been awaiting the Lord's return since the onset of my Christian walk 28 years ago. My pastor will deal with it, but gets hardly any response. It is demoralizing for him and the 'remnant.'" So here we are likely in the last of the last days and the topic has vanished even though the "signs of the times" are screaming at us. As expressed above, try to share that and expect the ice box treatment. The Bible predicted that in II Peter. In the last days people would scoff and say, "Where is the promise of His coming?" And naturally the devil loathes the topic because eschatology spells out his doom in deadly detail, pun intended. Thus he is waging a war against Bible prophecy to finish off eschatology, make it sound irrelevant, depressing, boring, and more and even many evangelical pastors seem to agree. So hang on to your prophecy resources because if this "ban on Bible prophecy" intensifies as it likely will, you'll have to re-read your old books and articles as new information may be hard to find other than on Internet sites. But don't give up! Keep spreading the truth. If just a few get their eyes opened it will be a victory. The secular world has noticed and is running many prophecy-related TV specials in the last year, particularly since hurricane Katrina. Of course they have the issues all skewed, but isn't it tragic that they have more curiosity than our churches today? In the meantime prophecy lovers, keep looking up, for our Redeemer truly does draw nigh (Luke 21:28).
Bush Makes Decisions for Israel in Sharon's Absence
Jan. 10….(Debka) Sunday night Jan 8, US secretary of state Condoleezza Rice discussed the forthcoming Palestinian elections to the legislative council on the telephone with Palestinian Authority chairman Abu Mazen. Jerusalem was not even briefed. Twelve hours later, the US consul in Jerusalem Jacob Walles visited Abu Mazen's office in Ramallah with an oral message from President George W. Bush. According to our sources, it was a presidential guarantee that all the Palestinian parties running for election on Jan 25 would be allowed to campaign openly in East Jerusalem, eligible voters in the city would be permitted to cast their votes through local post offices, and the voter slips of all Palestinian parties without exception would be available in the balloting booths. The Israeli government was not informed of the extraordinary step taken by Bush over its acting Prime Minister and in respect of Israeli sovereign territory. The step has some disturbing implications:
1. The Bush administration took advantage of Ehud Olmert's having been less than a week in the job of acting prime minister and treated his reluctance to undertake firm decisions, as long as prime minister Ariel Sharon's condition was uncertain as a leadership vacuum in Jerusalem. Without a word, Bush administration officials marked down the goings-on around Hadassah hospital in Jerusalem and Olmert's slowness to rise to the challenge.
2. Olmert's failure to come down decisively on the Jerusalem issue has a serious consequence: Washington's intercession enables the terrorist Hamas group to fly its green flags and hold rallies on Temple Mount with its standard calls for jihad against Israel, as well as piling its voter slips at Israeli government post offices as an option for the Palestinian voter. By this device, the backhanded recognition of a Palestinian terrorist organization sworn to destroy the Jewish state has been thrust down the interim government's throat.
3. The Bush administration showed no consideration for Olmert's efforts to find his feet as the acting head of government, or his bid for the leadership of Kadima party and fight a tough election. Governing circles in Jerusalem were stunned by the White House action. DEBKAfile's sources repeatedly reported that the White House would insist on the Palestinian vote taking place on schedule, even at the price of a Hamas win and regardless of Sharon's indisposition and a transitional administration very much at sea in Jerusalem.
Washington Assists PLO In Dividing Jerusalem
(Netanyahu slams capitulation to US pressure on capital)
Jan. 10….(YNET) Israel's firm position regarding Jerusalem notwithstanding, it appears American pressure will win the day and "Palestinian" parliamentary candidates will campaign for votes among the thousands of Arab residents of the Jewish state's capital. For months the government of Prime Minister Ariel Sharon was adamant that candidates for the Palestinian Legislative Council would not be permitted to campaign in Jerusalem, and that the Arab residents of the city would have to mail in their ballots on January 25, if they were allowed to vote at all. But all that started to change on Monday, when Public Security Minister Gideon Ezra confirmed the government had decided to allow candidates from unarmed "Palestinian" parties to campaign in the city. Media analyst Dr. Aaron Lerner asked Ezra's spokesman, Yehuda Maman, if the ban on "parties that still bear weapons" would include Mahmoud Abbas' ruling Fatah faction, which is known to command two of the largest armed terror groups, the Tanzim and the Al Aqsa Martyrs' Brigades. Maman responded that while Israel would not permit groups such as Hamas to campaign in Jerusalem, there would be no restrictions on Fatah candidates. When Ezra was again interviewed on Israel Radio later in the day, he altered the criteria for allowing parties to campaign in Jerusalem to their acceptance of the Road Map peace plan. The groups' ongoing efforts to mass murder Jewish men, women and children were deemed irrelevant to the issue. Earlier Monday, Palestinian Authority Information Minister Nabil Sha'ath told the Associated Press that American pressure had not only enabled PLC candidates to campaign in Jerusalem, but that Washington had, irrespective of Israeli wishes, assured the city's Arabs they could cast their ballots unhindered come January 25. "I have already been informed by the American government of their assurances that the Israelis will allow campaigning and elections for the legislative council to be held in Jerusalem as well as any other place, on the modalities that were used in 1996," Shaath said. "We have not received anything yet from the Israelis to confirm that, but we will go on this assurance." Likud leader and prime ministerial candidate Binyamin Netanyahu slammed Ezra and Acting Prime Minister Ehud Olmert for apparently capitulating to American pressure on the issue, insisting it would further assist the Palestinian Arabs in their quest to divide the ancient Jewish capital. Shinui MK Eliezer Sandberg echoed Netanyahu's criticism, telling Arutz 7 that the decision represents "the first sign that Olmert intends to cooperate in the Quartet's scheme to divide Jerusalem."
Prophecy and the Passing of The Sharon Era
Jan. 6….(FOJ) It seems entirely clear now that Israeli Prime Minister Ariel Sharon will probably never recover his normal faculties, even if he emerges alive from his medically induced coma. Sharon's doctors have basically acknowledged that he has undoubtedly suffered irreversible damage from his heavy brain hemorrhaging and the nine hours of surgery it took to stem it. It is a sad event for the Sharon family, for Israel, and indeed for all those who love Israel. Ariel Sharon has been present at or involved in nearly every seminal moment in modern Israel's history. From pre-state Israel and Israel's wars of survival, to politics and the disengagement plan, Sharon has played a highly significant role in shaping Israel's future. Ariel Sharon is probably the last of a generation of giants that Israel was fortunate enough to have during its rebirth, and during its decades-long fight for survival in defending its new nation. Ariel Sharon was born on February 27, 1928. He served in the IDF for more than 25 years, retiring with the rank of Major-General. During the 1948 War of Independence, he commanded an infantry company in the Alexandroni Brigade. In 1953, he founded and led the "101" special commando unit which carried out retaliatory operations against Palestinian fedayeen. Sharon was appointed commander of a paratroop corps in 1956 and fought in the Sinai campaign. In 1957, he attended the Camberley Staff College in Great Britain. During 1958-62, Sharon served as Infantry Brigade Commander and then Infantry School Commander, and attended Law School at Tel Aviv University. He was appointed Head of the Northern Command Staff in 1964 and Head of the Army Training Department in 1966. He participated in the 1967 Six Day War as commander of an armored division. In 1969 he was appointed Head of the Southern Command Staff. Sharon resigned from the army in June 1972, but was recalled to active military service in the 1973 Yom Kippur War to command an armored division.
He led the crossing of the Suez Canal which helped secure an Israeli victory in the war and was a major factor in causing Egyptian President Anwar Sadat to concede that Israel could not be defeated in conventional warfare. Sadat eventually sought peace with Israel, but was killed by Islamic terrorists for his noble peaceful-coexistence-with-Israel efforts.
Sharon's brilliance as a military commander made him a hero to most Israelli's. That notoriety led to his opportunity to be elected to the Knesset in 1973, eventually serving as Security Adviser to Prime Minister Yitshak Rabin. In 1981, Ariel Sharon was appointed Defense Minister, serving in this post during the Lebanon Civil War, which led Sharon to ally with the Lebanese Christians fighting against insurgents from hezbullah, and a plethora of Palestinian terrorist groups supported by Syria. Sharon launched his infamous 1981 offensive against the Arafat led PLO, eventually cornering the terrorists band in Beirut, Lebanon, only to see them rescued by American diplomatic initiatives, and relocated to Tunisia. This turn of events would come back to plague Israel in the 90's, as Arafat and his PLO thugs were reinstituted into Palestine via Oslo and the Gaza foothold.
As they say the rest is history. And so now we come to a turning point in history that sees both Arafat and Sharon removed from positions of power within the past year, in this epic Biblical struggle. What will the passing of Ariel Sharon mean in the course of prophetic events surrounding Israel and these Last Days?
Ariel Sharon was elected by the Israeli electorate in February 2001 to take a hardline stance against the Oslo land-for-Peace Process and to wage a war-on-Palestinian terrorism. But after America was hit by Middle Eastern terrorists in 2001, Sharon coddled over to the Bush Doctrine and agreed to cooperate with the US in the Quartet sponsored Roadmap for Peace. Apparently, Ariel Sharon, at the insistence of President Bush began to see that Israel had no answer to terror, and as a prime minister, flying back and forth to meet President Bush, he realized that Israel could not cut itself off from the family of nations, and especially from the US who was now waging a Global war-on-terror, which is in effect a parallel war to the Israeli-Palestinian Conflict. Most of all, Sharon worried that the United States might someday simply impose an accord on Israel to maintain its own regional powerbase through its oil alliances with Arab Sheiks. Thus Sharon caved into political pressure from the West to agree to trade war-won lands to the Palestinian Authority, whom President Bush had pledged to help build a democratic State. Albeit, Sharon sped forward on the Roadmap by instituting the Gaza withdrawal ahead of schedule, presumably to display to President Bush that the democratic process in the Palestinian sector was a charade. This action won Sharon political acceptance in the West, but in reality, Sharon was abandoning his conservative grassroots of support in Israel, and leaning more and more towards the Shimon Peres-led peaceniks that tend to formulate Israeli foreign policy in line with the New World Order policies of the West. Thus the reason for the formation of the new Kadima Party, a political order in Israel created to appear moderate in its form, but one that would push forward with the UN-EU-Quartet Roadmap land-for-peace formula.

The sudden passage of the Sharon era throws the Israeli political scene into one of turmoil. Israel is slated to elect a new government on March 28, ironically about the same timetable that Iran is expected to reach nuclear capabilities. It is the assumption of FOJ that former Prime Minister Benjamin Netanyahu will emerge as the next Israeli leader. Shimon Peres is attempting to shore up support for acting PM Ehud Olmert, who is not very popular among the Israeli electorate, and is seen as a weak leader. It was actually Olmert who guided Sharon away from his Likud base, and into a political affiliation with Peres and the peace movement.

In the event that Netanyahu emerges as the new Prime Minister of Israel, it is likely that he will not be as compliant with the Bush Administration about trading land to the Palestinians for peace. It was Netanyahu that advocated "reciprocity" in the peace process, and demanded that terrorist infrastructure in Palestinian territory be rooted out. FOJ believes Netanyahu will continue this same philosophy after being elected, which in turn, with the new geo-political scenario in the Middle East could likely see the phased escalation of the broader war-on-terror. The Iran nuclear card is timed to play itself out very soon, and the Assad regime in Syria is in serious trouble with the US-led coalition against Middle Eastern terror. Iran is likely to use its agents in Hezbullah and Hamas to wage a three front terror war on Israel (Gaza-Lebanon-West Bank) to counter the diplomatic pressures being brought to bare on Syria and upon own its nuclear program by the West. The West is worried that without Sharon, the Roadmap Process will hit a dead-end, and that renewed anxieties in the Middle East will cause a strategic earthquake in the Global energy arena. The Bible indicates that Iran (Persia) will be a major catalyst in bringing the great Russian bear down from the North in the Last Days. It is well known that Russia and China are both arming Iran and seeking to make inroads into the Middle East energy and geo-political equation, and the West is seeking to dominate the energy rich region. These dynamics portend an eventual climactic showdown in the Middle East. A security sensitive and tough-line minded Netanyahu-led government in Israel will confound the current dynamics and perhaps lead to a confrontation with Hamas-Hezbullah, and the eventual destabilization of Syria. Prophecy scholars are divided about the timing of the Magog scenario, and the fact that Iran is pushing the militant envelope indicates that it is certainly looming on the horizon. Meanwhile, it is the position of FOJ that the Ezekiel 38 scenario will only occur after the Antichrist solidifies a security perimeter for Israel and crafts a regional peace treaty with the Arab world. In the interim, we should look for the war-on-terror to expand out of Iraq in the direction of Israel, and involve Damascus. The passing of the Sharon era, and the re-emergence of Netanyahu at this time would facilitate just such a scenario.
Muslims Pray for Salvation at Mount Arafat
Jan. 9….(AP) More than 2 million Muslim pilgrims from 178 countries prayed for salvation Monday at Mount Arafat, Islam's most sacred site, where Saudi Arabia's top cleric declared the West was conducting a "war against our creed." With hands raised to heaven, the mass of pilgrims converged on the mount, not far from Mecca and the site of the last sermon by Islam's 7th century prophet Muhammad three months before he died in 632. A day earlier, pilgrims from across the globe trekked eight miles through the nearby valley of Mina for the start of rituals, which reached their climax Monday. As they walked under the blistering sun, the crowd chanted "Labaik Alluhumma Labaik!" ("We are coming answering your call, God!") Many pilgrims cried as they offered prayers, overcome with emotion during what is for most a once-in-a-lifetime journey to their faith's most holy places, a pilgrimage they believe cleanses them of sin. Islam requires that all Muslims who are financially and physically able make the hajj at least once. Sheik Abdul-Aziz al-Sheik, the kingdom's grand mufti, said Muslims faced critical challenges, among them accusations of terrorism and human rights abuses and calls for revisions in their school textbooks. "Oh, Muslim nation, there is a war against of our creed, against our culture under the pretext of fighting terrorism. We should stand firm and united in protecting our religion," he said, speaking at a mosque on the plain of Mount Arafat. "Islam's enemies want to empty our religion from its contents and its meaning. But the soldiers of God will be victorious," said al-Sheik, Saudi Arabia's top religious authority. Two years ago, 244 people were trampled to death when the crowd panicked during the ritual stoning of the devil, which happens Tuesday. Saudi authorities, meanwhile, replaced the cover of the Kaba with a new one Monday, an annual ritual at Mecca's Great Mosque. The black cover, called Kiswa, is made of about 658 square yards of silk weighing 1,475 pounds and embroidered with 33 pounds of gold thread. The new Kiswa cost $4.7 million. The old one is usually cut into pieces and given to Muslim dignitaries visiting the kingdom. The Kaba, the huge cube-like edifice, is considered the focal point of the hajj. It also serves as the Qibla, or center of the Islamic world toward which all Muslims turn in prayer. The Quran declares the Kaba was the first place of worship designated by God. Muslims believe that the Kaba was built by Abraham on the foundations of an earlier temple built by Adam, the progenitor of all mankind.
Clinton Urges Israel to Follow Roadmap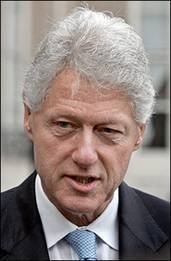 Jan. 9….(FOJ) Never content to let the President of the United States run America's foreign policy, Bill Clinton is continuing to travel around the world and promote his Clinton Global Initiative. The former US president stopped off in Paris for a meeting with French President Jacques Chirac to discuss Global governance. Mr. Clinton emerged from his meeting and urged Israelis to continue the work started by Ariel Sharon, saying the Middle East peace process must keep moving forward despite the prime minister's illness. Clinton undermined the premiership of Benjmain Netanyahu in 1999, when the former Israeli leader balked at the land-for-peace Oslo process.
Pope Says Terror Provokes 'Clash of Civilizations'
Jan. 9….(FOJ) Pope Benedict warned today of a clash of civilizations caused by the "moral perversion" of terrorism, and issued a plea for peace between Israel and Palestinians, and urged nations to begin cuts in arms spending to feed the poor. The 78-year-old German Pope offered his considerations of the international scene in his first "state of the world" address, a traditional new year speech to diplomats accredited to the Vatican from more than 170 countries. Pope Benedict, elected last April, said parts of the world had witnessed "appalling scenes of military conflict" and urged all nations to shun the "law of might" to solve disputes. His French-language speech was delivered in a frescoed Vatican hall amid international anxiety for the health of Israeli Prime Minister Ariel Sharon and its ramifications for Middle East and global peace. He said the Holy Land was a "nerve point of the world scene" and the solution of problems there was vital for international peace. "There, the State of Israel has to be able to exist peacefully in conformity with the norms of international law; there, equally, the Palestinian people has to be able to develop serenely its own democratic institutions for a free and prosperous future," he said. He said peace in the Middle East and elsewhere was possible only when diversity and equality among people was mutually recognized and respected and when all parties in conflict acknowledged their own errors and sought forgiveness.
Acting PM Ehud Olmert, Pledges to Ccarry on Sharon's Policies
Jan. 9….(Ha Aretz) Acting Prime Minister Ehud Olmert promised Sunday to "carry out the wishes" of Prime Minister Ariel Sharon, a pledge meant to signal that Sharon's potential heir would carry on his political legacy. Presiding over the first regularly scheduled Cabinet meeting since Sharon's massive stroke Wednesday, Olmert told ministers that if their ailing leader could speak, he would want everyone to return to work on the country's pressing security, social and economic issues. "This we will continue to do," he said. "We will continue also to carry out the wishes of Sharon, and administer affairs as they should be." Sharon's collapse threw Israel's political establishment into turmoil and cast grave doubts over prospects for resuming long-stalled peace talks. Before the stroke, Sharon appeared headed to win a third term in office at the head of Kadima, the centrist party he formed in November to forge ahead with continued territorial concessions to the Palestinians. Although Sharon's summer withdrawal from the Gaza Strip hasn't provided a springboard to revive peace talks, there had been hope talks negotiations would resume after Israeli elections in March. But with his neurosurgeon asserting that Sharon would not be able to return to his job, the Mideast political stage has been deprived of a hard-charging leader who was the first Israeli prime minister to evacuate lands the Palestinians claim for a future state. Israelis and the international community will look to his successor to finish carrying out the historic task he began of drawing Israel's final borders, but it's unclear whether any of his potential successors will have the stature to assume that mantle. Olmert is the front-runner to succeed Sharon as head of Kadima, a party that had been a one-man show before Sharon collapsed, and was expected to dominate March 28 elections. Although the party is made up of a diverse mix of politicians linked by little more than their loyalty to Sharon, its members have lined up behind Olmert. In the past four years, Olmert had been Sharon's trusted point man, often floating proposals in public that later became policy. Some say Olmert, who had been a right-wing ideologue for most of his political life, embraced the idea of a unilateral withdrawal from some Palestinian-claimed lands before Sharon did, and that if elected prime minister, he could be more amenable to negotiating a peace deal with the Palestinians than was Sharon, who did not trust them. "He is a shrewd lawyer, a very practical man," said Olmert's longtime friend, Moshe Amirav. "If they (the Palestinians) can deliver stability, he will be ready to give up land, and surprise the world with his moderation."
An Update on Ariel Sharon's Condition
Jan. 9….(FOJ) Senior physicians treating Ariel Sharon at Hadassah University Hospital, Ein Karem, said Monday that the prime minister had begun breathing on his own after his sedation was reduced but that his condition remains critical and that he was still hooked up to a respirator. Sharon's doctors started weaning the Prime Minister off the sedatives keeping him in a coma Monday, and the stricken leader immediately began breathing on his own and reportedly moved his right hand. Outside experts said that while independent breathing meant Sharon had better chances for survival, it gave no indication about his other physical or mental capacities in the wake of his massive stroke. Doctors induced the coma Thursday to give Sharon's brain time to heal from the stroke and subsequent surgeries. The process of lifting Sharon, 77, out of that coma could take anywhere from several hours to days, Hadassah Hospital director Dr. Shlomo Mor-Yosef said. Doctors made the decision to lift the anesthesia after a round of consultations Monday. Hadassah Hospital officials would not comment on the Channel 10 TV report that Sharon moved his right hand. It would be more significant if Sharon moved his left hand, since that is controlled by the right side of the brain, where Sharon's stroke occurred. Hospital officials said they would not discuss Sharon's condition until a Monday afternoon briefing. "The level of sedation is to be reduced gradually to gauge Sharon's responsiveness and the extent to which the 77-year-old leader's faculties have been impaired. The process could take hours or even days. The decision to try to awaken Sharon was taken after a brain scan Sunday indicated that that swelling of the brain had gone down, intra-cranial and blood pressure were within normal range, and that cerebral fluid was draining well. Neurosurgeons said early Monday that the extent of Sharon's responses could vary widely, from slight movements of the fingers or opening of the eyes, to a much fuller awakening. They have also cautioned that there is no guarantee that Sharon will awaken from the anesthesia.
The Target is Iran
Jan. 9….(Arnaud de Borchgrave) If anyone has any doubt about the kind of nuclear work Iran has been doing for the past 18 years, it must be a case of naivete compounded by gullibility. Nor should there be any uncertainty about what Iran's mullahocracy would do with a nuclear weapon. All of Iran's leaders since the Ayatollah Rohollah Khomeini replaced the Shah in February 1979 have made it clear the objective is Israel's destruction. In Iran's last presidential race, Western governments and media favored Ali Akbar Hashemi Rafsanjani. He was a "known" quantity and a "moderate." Michael Rubin, editor of the Middle East Quarterly and a resident scholar at the American Enterprise Institute, burst that soap bubble. Four years ago, when he took the podium at Tehran University to deliver the Friday sermon, Mr. Rafsanjani predicted the Islamic world one day would be equipped with nuclear weapons only Israel possesses in the Middle East. At that point, he explained, "the strategy of the imperialists will reach a standstill because the use of even one nuclear bomb inside Israel will destroy everything." And, added the "moderate" former president of Iran, "It is not irrational to contemplate such an eventuality." Another prominent "moderate," courted by Europe's democracies, was former Iranian President Mohammed Khatami. "In the Koran," he declared in a homily Oct. 24, 2000, "God commanded to kill the wicked and those who do not see the rights of the oppressed." The Bush administration argues a small minority of terrorists that have perverted the meaning of Islam has hijacked the religion. But didn't Ayatollah Khatami speak for Shi'ite Islam when he said, "If we abide by the Koran, all of us should mobilize to kill." This is not Osama bin Laden or sidekick Ayman al-Zawahiri or Abu Musab Zarqawi speaking for militant Islam, but a man, who when he invoked the Koran to kill infidels, was regarded in the West as the "moderate" president of Iran. Having a nuclear weapon is fundamental to Islamist belief. No odes to world peace if they do this, or dirges to world catastrophe if they do that, will deflect the mullahs' core belief as dictated by Iran's Supreme Leader Ayatollah Ali Khamenei. Fundamental to Israeli defense doctrine is that no weapon of mass destruction can be tolerated in any Middle Eastern arsenal. Singapore's Lee Kuan Yew, the geopolitical sage of the Orient, said in a UPI interview three months before September 11, 2001, the biggest threat on horizon 2010 is "an Islamist bomb and mark my words, it will travel." Pakistan's nuclear arsenal, now controlled by pro-Western President Pervez Musharraf, was developed by the same man who began assisting Iran's nuclear efforts 18 years ago. A.Q. Khan, also known as Dr. No for the nuclear black market he created to benefit US enemies, began imparting his nuclear know-how to Iran in 1988. Israel believes if Iran resumes weapons-grade uranium enrichment, March 2006 becomes a critical month for acquisition of Iran's first nuclear weapon.
Netanyahu May Have Edge to Succeed Sharon
Jan. 9….(Newsmax) With health on his side, Ariel Sharon was a force of nature capable of remaking Israel's political landscape again and again. Now, clinging to life in an intensive-care unit, his political force is most likely spent. The scramble to succeed the 77-year-old prime minister will be muted at first, out of respect for his grave condition after a massive stroke. But when campaigning gets under way with the bare-knuckled bluster that's typical of Israel's electoral politics, the leading contenders to replace Sharon will be Benjamin Netanyahu, 56, of the Likud Party and Ehud Olmert, 60, of Kadima, the party that Sharon created late last year when he bolted Likud to escape the unyielding influence of its extreme right wing. Labor Party leader Amir Peretz, 53, is also a contender in the early election scheduled for March 28, but analysts give his party little chance of gaining the most votes. For the moment, under Israeli law, Olmert is serving as acting prime minister. He could hold that post for up to 100 days or until after the election. If Sharon were to die, President Moshe Katsav would have 14 days to choose an interim successor. "Netanyahu has the inside track on winning the election and forming the government, by a narrow margin. One of the more likely outcomes is that voters who would have gone with Sharon to Kadima will be less likely to support Olmert. They will come home to Likud," said Gerald Steinberg, a professor of political studies at Bar Ilan University near Tel Aviv. While Netanyahu, who recently won Likud's leadership primary, is the accepted head of an established party with deep roots and a party machine, Olmert sits atop a brand-new party that could prove ephemeral without Sharon. "Olmert is going to have a lot of problems. For the first few days people will rally around the acting prime minister. But Olmert is going to have to show that he has the right stuff, and it's going to be difficult," Steinberg said. Among Olmert's challenges are continuing rocket attacks by Palestinian militants and diplomatic choices concerning Palestinian parliamentary elections scheduled later this month. Israel hasn't yet decided whether to allow Palestinians living in East Jerusalem to vote. Olmert also can expect challenges for the reins of power by competing members of Kadima, including Defense Minister Shaul Mofaz, Justice Minister Tzipi Livni, Israeli statesman Shimon Peres and others touted as potential leaders of the new party. While acknowledging that Kadima has lost its spark plug with Sharon's stroke, Israeli political analyst Reuven Hazan said the party's future wasn't necessarily bleak. It's possible the electorate "is so sick and tired of the traditional right and left in Israeli politics" that Kadima can shape itself into something viable, he said. "A lot will depend on Sharon's medical condition. Under the rosiest scenario, he's in hospital for a week or two and when he gets out he's in a wheelchair, able to be brought around from place to place to say, `Vote for my party. I won't be leading it; I will be advising it,'" Hazan said. "That's a completely different scenario from one in which he dies, or goes back to the farm to sit and watch the poppies grow." In the interest of Kadima party unity, Olmert, Mofaz and Livni, who defected from Likud, and Peres, who defected from Labor, could band together and say, "We worked with Sharon, we built political bridges with him. We know his thinking and will continue his legacy," thereby keeping Kadima's raison d'etre alive. While Netanyahu, a former prime minister, might appear to have the inside track, no one should count out Olmert, even if Kadima starts to flag in the polls, said Uri Dromi, an analyst with the Israel Democracy Institute, a Jerusalem research center. "Don't be misled by the immediate shrinking of Kadima," Dromi said. Watch Ehud Olmert. He does have the advantage of being able to execute the power of the Prime Minister now.
WEEK OF JANUARY 1 THROUGH JANUARY 8
Who follows Sharon?
Jan. 6….(David Dolan) Elected in a landslide just weeks after George W. was sworn in as America's 43rd president, Ariel Sharon began his relationship with his US counterpart on a sour note. As evidence reportedly mounted that Bush was preparing to sacrifice America's main non-Arab Mideast ally in the wake of al-Qaida's horrendous 9-11 attacks, Sharon sternly warned the new White House occupant not to treat Israel like Western leaders treated Czechoslovakia after Hitler's invasion sparked World War II: In 1938, enlightened Europe sacrificed Czechoslovakia for the sake of a temporary, convenient solution. Don't try to appease the Arabs at our expense ... Israel will not be Czechoslovakia. Israel will fight terrorism. Greatly offended at the implied comparison with notorious British lightweight Neville Chamberlain, the Texan angrily rejected Sharon's analogy as "unacceptable." When the portly Israeli premier went on in early 2002 to launch a major military operation in the wake of an unprecedented Palestinian terror blitz that slaughtered over 100 of his citizens in March alone, Bush allowed only five days of Israeli action before he called upon Sharon to halt his counter-offensive. Relations between the two leaders improved immensely one year later. The reason was simple: Sharon suddenly dropped his 2001 campaign pledge to focus almost exclusively on fighting Palestinian terrorism and instead publicly embraced the Bush-promoted Roadmap peace plan. This was amazing given that he realized it mandated quick Israeli civilian and military withdrawals from territory captured from Egypt and Jordan in 1967. Sure, Yasser Arafat was also called upon to immediately disarm and dismantle all Palestinian terror groups. But the sometimes celebrated, often despised ex-Israeli army general had no illusions that anything remotely that sublime was about to happen. Instead, Sharon would use the excuse of American pressure to confound his many astounded Likud party cohorts by agreeing to swiftly evacuate parts of Palestinian-populated land that Israeli officials found the most problematic to control, while apparently preparing to ultimately annex remaining portions of the disputed territories. But the Old Warrior obviously did not succeed in completing that lofty task before he was felled by a massive stroke and cerebral hemorrhaging on Wednesday. And it is highly unlikely that anyone following in his oversized shoes will be able to fulfill his immense goals. Opinion polls reveal that a good portion of Israelis who said they would support Sharon's new Kadima political party in March 28 national elections are traditional Likud voters. This is not surprising given that most Kadima lights used to feed at the Likud's conservative political troughs. With their formidable leader now suddenly out of the picture, an intense succession struggle could well involve several Kadima politicians possessing far less gravitas, especially Acting Prime Minister Ehud Olmert, female Justice Minister Tzipi Livni and Defense Minister Shaul Mofaz. Although an opinion poll taken soon after Sharon suffered his massive stroke showed Kadima would capture some 40 Knesset seats under Olmert's expected leadership, as opposed to several more that had been projected under Sharon, analysts said this was probably an initial "sympathy reaction" that could rapidly wear off. Some added that in the end, many intended Kadima voters will probably return to their familiar Likud home, even though the party's new-old leader, Binyamin Netanyahu, is not exactly their ideal choice to shepherd the troubled nation. In the meantime, Jerusalem's former mayor is finally fulfilling his self-professed dream of claiming the prime minister's chair, even if it might be just for a relatively short season. Olmert is a genuinely good man. But he is hardly the fulfillment of the average Israeli's hope to finally get a chance to sit in peace under their vines and fig trees with no one to make them afraid. Instead, it might well be Olmert's nemesis, Bibi Netanyahu, who will re-conquer the seat he occupied for three years in the late 1990s. He was prematurely tossed out of office in May 1999 after reluctantly acquiescing to Bill Clinton's demand that he evacuate Jews from a portion of Hebron, Judaism's second holiest city. Another Israeli friend pointed out this week that Netanyahu was among seven premiers, beginning with Menachem Begin, who had not remained long in power after withdrawing from disputed lands under international dictates. The most notorious exit was the heinous assassination of Yitzhak Rabin in 1995. My friend noted that the singular prime minister since Begin who "bravely resisted" intense world pressure to hand over disputed lands to Arab control was the Likud's Yitzhak Shamir. He asked me if I thought it was mere coincidence that the demure Shamir was also the only Israeli leader who did not end his time in office either suddenly or prematurely (although he did lose the scheduled 1992 election to Rabin after serving as premier for most of the 1980s). Some political analysts now suddenly view it as entirely possible that Netanyahu will take over the spinning government wheel. If so, the Likud leader insists he will demand that Palestinian officials disarm all terror groups before further land evacuations take place. Since that is as likely as hell freezing over, my friend expects Bibi might just break the mold and actually serve a full term as prime minister.
Sharon Rushed Back Into Operating Room after CAT Scan
Jan. 6….(Jerusalem Post) Prime Minister Ariel Sharon was rushed back to the operating room after a precautionary CAT scan performed on him late Friday morning showed new bleeding in the same area of the brain and an expansion in the cerebral ventricles in his brain. Director General of Hadassah Hospital, Professor Shlomo Mor-Yosef told reporters that Sharon was experiencing an escalation in cranial and blood pressure. "It was decided to bring the prime minister to the operating room in order to deal with these two issues, to drain the bleeding and to decrease the intracranial pressure," he said. On Friday afternoon, after the operation already lasted two hours, medical experts predicted that it would continue for several more hours. Such a procedure usually proceeds for one to two hours. Doctors did not elaborate on Sharon's prognosis, but an aide to Shimon Peres said the veteran Israeli politician's staff was told that Sharon's situation is "not good." The aide spoke on condition of anonymity because only Peres' spokesman was authorized to speak to the media. Following a traumatic day for Israel, in which Sharon nearly lost his life after suffering an initial extensive cranial hemorrhage, the director-general of the hospital reported Friday morning that Sharon's condition remained serious but stable and that his vital signs remained strong. The prime minister continues to be sedated and was being held in the neuro-surgical unit of the hospital.
| | |
| --- | --- |
| | Shlomo Mor Yosef, head of Hadassah University Hospital where Sharon is undergoing treatment, says the prime minister is sedated and on a respirator following a pair of surgeries to drain blood from his brain. Yosef said Sharon will remain under sedation for at least 72 hours. He also said Sharon's pupils are responding to light, "which means the brain is functioning." Doctors have said Sharon's political career is effectively over, due to the extent injury his brain has suffered from multiple strokes. Most analysts have conceded that Sharon is in effect, clinically dead. |
Iran's Leader 'Disgusts' US over Comments on Sharon
Jan. 6….(Washington Post) The US this morning blasted as "hateful and disgusting" remarks by Iran's President Mahmoud Ahmadinejad hoping that Israeli Prime Minister Ariel Sharon does not survive his massive stroke. "This is a man who wraps himself in the cloak of a peaceful religion, Islam, and yet you hear remarks like this coming from him," State Department spokesman Sean McCormack said. The ISNA student news agency in Tehran quoted Mr. Ahmadinejad as wishing Mr. Sharon dead after the Israeli leader suffered a severe brain hemorrhage yesterday. Mr. Sharon, 77, is fighting for his life in a Jerusalem hospital. "I can only say that those remarks are hateful and disgusting. And I think that it is, again, a window into the true nature of this particular Iranian Government," Mr. McCormack said. Mr. Ahmadinejad has already drawn world condemnation for calling for Israel to be wiped off the map and for branding the Holocaust, in which six million Jews died at the hands of the Nazis, a myth. Mr. McCormack said the latest comments on Mr. Sharon were more of the same. "I think this is part of a continuing stream of hateful invective that has come from this president." The US has pressed complaints against Iran on several other fronts, including Tehran's suspected nuclear arms program and its support for Palestinian militants and Iraqi insurgents.
Iran Leader's Messianic Endtimes Mission
Jan. 6….(WND) Iranian President Mahmoud's Ahmadinejad's mystical pre-occupation with the coming of a Shiite Islamic messiah figure, the Mahdi, is raising concerns that a nuclear-armed Islamic Republic could trigger the kind of global conflagration he envisions will set the stage for the end of the world. While Mahmoud Ahmadinejad has been making headlines lately by questioning whether the Holocaust actually happened, by suggesting Israel should be moved to Europe and by demanding the Jewish state be wiped off the face of the earth, his apocalyptic religious zealotry has received less attention. In a videotaped meeting with Ayatollah Javadi-Amoli in Tehran, Ahmadinejad discussed candidly a strange, paranormal experience he had while addressing the United Nations in New York last September. He recounts how he found himself bathed in light throughout the speech. But this wasn't the light directed at the podium by the UN and television cameras. It was, he said, a light from heaven. According to a transcript of his comments, obtained and translated by Joseph Farah's G2 Bulletin, Ahmadinejad wasn't the only one who noticed the unearthly light. One of his aides brought it to his attention. The Iranian president recalled being told about it by one of his delegation: "When you began with the words 'in the name of Allah,' I saw a light coming, surrounding you and protecting you to the end." Ahmadinejad agreed that he sensed the same thing. "On the last day when I was speaking, one of our group told me that when I started to say 'Bismillah Muhammad,' he saw a green light come from around me, and I was placed inside this aura," he says. "I felt it myself. I felt that the atmosphere suddenly changed, and for those 27 or 28 minutes, all the leaders of the world did not blink. When I say they didn't move an eyelid, I'm not exaggerating. They were looking as if a hand was holding them there, and had just opened their eyes, Alhamdulillah!" Ahmadinejad's "vision" at the UN is strangely reminiscent and alarmingly similar to statements he has made about his personal role in ushering in the return of the Shiite Muslim messiah. He sees his main mission, as he recounted in a Nov. 16 speech in Tehran, as to "pave the path for the glorious reappearance of Imam Mahdi, may Allah hasten his reappearance." According to Shiites, the 12th imam disappeared as a child in the year 941. When he returns, they believe, he will reign on earth for seven years, before bringing about a final judgment and the end of the world. Ahmadinejad is urging Iranians to prepare for the coming of the Mahdi by turning the country into a mighty and advanced Islamic society and by avoiding the corruption and excesses of the West. All Iran is buzzing about the Mahdi, the 12th imam and the role Iran and Ahmadinejad are playing in his anticipated return. There's a new messiah hotline. There are news agencies especially devoted to the latest developments. "People are anxious to know when and how will He rise; what they must do to receive this worldwide salvation," says Ali Lari, a cleric at the Bright Future Institute in Iran's religious center of Qom. "The timing is not clear, but the conditions are more specific," he adds. "There is a saying: 'When the students are ready, the teacher will come.'" For his part, Ahmadinejad is living up to at least part of his call to the faithful. According to reports, he lives so modestly that declared assets include only a 30-year-old car, an even older house and an empty bank account. Ahmadinejad and others in Iran are deadly serious about the imminent return of the 12th imam, who will prompt a global battle between good and evil (with striking parallels to biblical accounts of "Armageddon"). An institute set up in 2004 for the study and dissemination of information about the Mahdi now has a staff of 160 and influence in the schools and children's magazines. In Iran, theologians say endtimes beliefs appeal to one-fifth of the population. And the Jamkaran mosque east of Qom, 60 miles south of Tehran, is where the link between devotees and the Mahdi is closest. Ahmadinejad's cabinet has given $17 million to Jamkaran. Shiite writings describe events surrounding the return of the Mahdi in apocalyptic terms. In one scenario, the forces of evil would come from Syria and Iraq and clash with forces of good from Iran. The battle would commence at Kufa, the Iraqi town near the holy city of Najaf. Even more controversial is Ahmadinejad's repeated invocation of Imam Mahdi, known as "the Savior of Times." According to Shiite tradition, Imam Mahdi will appear on Judgment Day to herald a truly just government. Missed by some observers in Ahmadinejad's speech at the UN was his call to the "mighty Lord" to hasten the emergence of "the promised one," the one who "will fill this world with justice and peace." Who stands in the Mahdi's way? A top priority of Ahmadinejad is "to challenge America, which is trying to impose itself as the final salvation of the human being, and insert its unjust state in the region," says Hamidreza Taraghi, head of the conservative Islamic Coalition Society. Taraghi says the US is "trying to place itself as the new Mahdi." This may mean no peace with Iran, he adds, "unless America changes its hegemonic thinking, doesn't use nuclear weapons, or impose its will on other nations."
FOJ Note: Doesn't the ranting and ravings of Irans new President remind you of the following verse? (Revelation 16:13-14 And I saw three unclean spirits like frogs come out of the mouth of the dragon, and out of the mouth of the beast, and out of the mouth of the false prophet. For they are the spirits of devils, working miracles, which go forth unto the kings of the earth and of the whole world, to gather them to the battle of that great day of God Almighty.)
Energy Dispute Clouds Russia's G-8 Chairmanship
Jan. 6….(MSN) This is supposed to be a banner year for Russian diplomacy. On Jan. 1, Russia assumed the year-long chairmanship of the Group of Eight leading industrialized nations with a plan to stress "energy security." The year's highlight is to be a July summit in the white nights of St. Petersburg, Vladimir Putin's home town, at which the Russian president will sit at the head of one of the world's most exclusive tables. As well as Putin, the group includes the leaders of the United States, Canada, Britain, Germany, France, Italy and Japan. But Putin's year in charge and his stated agenda got off to a rocky start when Russia's state-controlled energy company, Gazprom, cut off natural gas supplies to Ukraine on Jan. 1 in a fight over pricing. Reductions in gas entering a pipeline network that extends from Russia to France were felt across Europe, with delivery shortfalls in many countries. The dispute was settled Wednesday, after most supplies had been resumed. Secretary of State Condoleezza Rice on Thursday criticized the cutoff as "obviously political" and said it raised serious questions about Russia's presidency of the G-8 and its role in the global economy. She called it "ironic and not good" that Russia pressured Ukraine on the day it assumed the G-8 presidency. "When you say you want to be part of the international economy and you want to be a responsible actor in the international economy, then you play by its rules," she told reporters at a breakfast in Washington. European Union governments had similar responses. "In many capitals, officials were quite surprised, to put it mildly," said an EU diplomat who was not authorized to speak on the record. "People were expecting, on the first day of its chairmanship, another attitude regarding relations with its neighbors and the West, particularly with regards to this commodity, energy, that's making Russia a world power."
To many people in Western Europe, the business rationale Gazprom cited for its decision was a thin disguise for political action, punishing a new Ukrainian government for its policy of pursuing membership in the EU and NATO. Russia's membership in the G-8 has been controversial since its entry in the late 1990s. Recently, the issue has come back to the fore with the government's legal assault on the oil giant Yukos and a new measure that would bring grass-roots activism under greater government control. "Putin has shot himself in the foot," said Margot Light, a Russia specialist and professor emeritus of international relations at the London School of Economics, after the gas skirmish. "It has tarnished Russia's reputation both as chair of the G-8 and as a reliable energy supplier." Complaints about a democratic rollback under Putin have led to calls, some of them from members of Congress, that Russia be tossed out of the G-8. But such a move appears unlikely to gain traction. "To eject Russia would be an insult of epic proportions," wrote Bobo Lo, author of "Vladimir Putin and the Evolution of Russian Foreign Policy," in an article last June after the founder of Yukos, Mikhail Khodorkovsky, was sent to prison. "It would effectively condemn Moscow as an international pariah, no longer fit to participate in global decision-making and left to rot on the edge of civilization." When Putin's disillusioned economic adviser, Andrei Illarionov, bowed out of the Kremlin late last month, complaining that Russia was no longer a democratic country, he said he was "absolutely sure" that Russia would never be invited today to join the G-8. But in the other member countries, many policymakers still hold to the calculation that first brought Russia into the organization, that it is better to work with Russia for what it might become than to condition membership on the country's actual democratic state. To many in Western Europe, Russia's emergence as a key supplier of energy from its vast reserves of natural gas and oil make it an unavoidable partner regardless of concerns about the direction Putin is taking. Across a spectrum of global issues, including Iran's nuclear program and counterterrorism, engagement with Russia continues.
Jewish Groups Urge: Secede from Israel
Jan. 6….(WND) A new movement is set to be presented next week by residents of Judea and Samaria calling for Jews there to secede from Israel and create their own autonomous Jewish entity in part to head off the possibility of further unilateral Israeli withdrawals from the area. The Judea Initiative, led by northern Samaria resident Yekutel Ben Yaacov, is seeking to gather signatures from Judea and Samaria's nearly 200,000 Jews for a manifesto declaring the creation of a sovereign Jewish authority that would govern itself independently according to Jewish law and would provide its own security. Judea and Samaria are referred to by some as the West Bank, the name coined for the area after Jordan annexed it in 1948. The initiative aims to create the new Jewish authority in any part of Judea and Samaria, even a small settlement, in hopes of eventually ruling the entire territory, Ben Yaacov said, explaining his initiative was prompted by talks of possible Israeli withdrawals from the area. "We can't sit around and wait until Israel sends the bulldozers to take down Jewish communities in Judea and Samaria before attempting to counter the next Israeli withdrawal. We are acting now so we can retain our rightful biblical heritage," Ben Yaacov told WND. Israeli Prime Minister Ariel Sharon withdrew Israel's Jewish communities from the Gaza Strip last summer in spite of fierce opposition from members of his own Likud party. He recently announced he was leaving Likud to start his own "centrist" party, Kadima, prompting new elections currently scheduled for March. Since then, multiple Kadima members have told reporters the new party is looking to change Israel's borders with possible withdrawals from Judea and Samaria. There have been talks of disengagements from parts of Jerusalem as well. It's unclear as yet how Sharon's massive stroke this week and his inability to govern will affect the future politics of Israel. Currently, Judea and Samaria, inhabited by about 2.4 million Palestinians, is considered landlocked territory not officially recognized as part of any country. Israel calls the land "disputed." The United Nations claims Judea and Samaria is "occupied" by Israel, which maintains overall control of most of the area while the Palestinian Authority has jurisdiction in about 40 percent. Judea and Samaria remained under Jordanian rule from 1948 until Israel captured the territory in 1967 after Jordan's King Hussein ignored Israeli pleas for his country to stay out of the Six Day War. Most countries rejected Jordan's initial claim on the area, which it formally renounced in 1988. Ben Yaacov says his Judea Initiative takes advantage of Judea and Samaria's murky legal status to argue for independent Jewish sovereignty. "Legally it's a no-man's land. The Palestinians used that status to create their own authority, so there is absolutely no reason the Jews can't do the same thing." Ben Yaacov's group, Mishalot Israel, is holding a conference next week in Jerusalem's Old City to present the Judea Initiative. It will then begin petitioning both private citizens and entire communities to join. He says already he has garnered interest from local residents and some town leaders. "The plan hasn't even been announced or presented and already I am getting a lot of phone calls from people and at least one town that wants to sign on. They are hearing about it by word of mouth," Ben Yaacov said. "The area is the site of a lot of the Bible and has had a Jewish population for centuries. We will not allow the Israeli government to kick us out." Many villages in the Judea and Samaria area, which Israelis commonly reefer to as the "biblical heartland," are mentioned throughout the Old Testament. The Book of Genesis says Abraham entered Israel at Shechem (Nablus) and received God's promise of land for his offspring. The nearby town of Beit El, anciently called Bethel meaning "house of God," is where Scripture says patriarch Jacob slept on a stone pillow and dreamed of angels ascending and descending a stairway to heaven. In that dream, God spoke directly to Jacob and reaffirmed the promise of territory. And in Exodus, the holy tabernacle rested in Shilo, which is believed to be the first area the ancient Israelites settled after fleeing Egypt. Ben Yaacov said his new Jewish authority would be "governed by Jewish law. Non-Jews, including Palestinians, are more than welcome to live there as long as they accept Jewish sovereign and agree to abide by the Seven Noahide laws, the most basic of biblical dictates." He said the annexed territory would provide for its own security. "A large contingent of Judea and Samaria residents served in the Israeli army. They currently defend their own settlements to a large extent. We would base ours on the same concept as Israeli security. Immediately after Israel was founded, it was attacked on all sides and it won every war because of the help of God and because of the same people we have with us." The initiative states there are three primary reasons to form a Jewish authority in Judea and Samaria: "The new Jewish authority will protect Israel from terror and enhance Israeli security. It is more advantageous to have Jewish autonomy in Judea and Samaria in place of complete Palestinian autonomy, which will give the Palestinian terrorist groups more land from which to fire Qassams and launch attacks. The Jews who remain in the area will be accepting a certain level of self-sacrifice by putting themselves in harms way." "The creation of a Jewish authority will relieve tension and prevent bloodshed between Jew and fellow Jew by halting an Israeli withdrawal from Judea and Samaria. There are hundreds of thousands of Jews in the area, some of whom may use violent resistance in the face of any withdrawal. It will also alleviate some of the tension and rifts that would be created in Israeli society by any withdrawal." "The new Jewish authority will offer appropriate self-determination to fulfil the national aspirations of many religious Jews in Israel. The area will be ruled by Torah law as opposed to the current anti-religious government." Ben Yaacov's Judea Initiative is not the first major push for Jews to secede from Israel. In 1989, the late author and Knesset member Rabbi Meir Kahane, a mentor of Ben Yaacov, attempted to found the State of Judea, a Jewish state in Judea and Samaria. That effort eventually fell through. Reacting to the news of calls for Jews to create their own authority, chief Palestinian negotiator Saeb Erekat told WorldNetDaily, "This is the chaos and lawlessness the Palestinian Authority has warned about. If the Israeli government does not get its act together concerning the settlers, who by the way are armed to the teeth and acting like a parallel authority, the price will be paid in Palestinian blood." Israeli government spokesmen Raanan Gissin and David Baker refused to comment on the issue. Said Ben Yaacov, "There may be resistance at first, but eventually people will come to understand a lot of Jews in Judea and Samaria will not go along with any further withdrawals.
The Most High Rules in the Kingdom of Men
Jan .5….(Stan Goodenough) As I write this, Ariel Sharon is lying on an operating table in a Jerusalem hospital, fighting for his life after suffering a massive stroke and intense cerebral hemorrhaging. The news of his collapse shocked all who heard about it, sending many people to prayer for his recovery and well being. Senior officials close to Sharon have expressed pessimism about whether the prime minister will survive the night. Speculation on all the Israeli and major international news networks is rife, even frenzied, as to the impact Sharon's illness will have on the upcoming Israeli elections in the short term and on the Israeli-Arab peace process in the long term. Sharon is "one of the most important prime ministers Israel has ever had," according to Ha'aretz reporter Ari Shavit. He is "a crucial man at a crucial time," said CNN's Jonathan Mann. His being incapacitated at this time "is sure to throw Israeli politics and Middle East peacemaking into turmoil" predicted one of Mann's colleagues. "All the world's leaders are watching very closely what is happening in Jerusalem," added the network's John Vause. And as expressions of concern for Sharon and for the peace process were being aired from the White House to 10 Downing Street and from Paris to Beijing, expressions of consternation and anxiety were being voiced by many "experts" at the prospect of former Prime Minister Binyamin Netanyahu being returned to power in March. Sky News' Emma Hurd unleashed a stream of negative opinion about Netanyahu, portraying him as an enemy of the "peace process" and the last man anyone with hopes for "progress" in the diplomatic process would want to see win. Leftist Israeli journalist and senior fellow at the Jaffee Center for Strategic Studies Hirsh Goodman described Netanyahu as a man whose policies are diametrically opposed to Sharon's and under whose leadership the Road Map "peace" plan would bog down. Whatever those who influence opinion and policy feel about Sharon and Netanyahu, the irrefutable fact is that on Wednesday morning, according to polls published in the Israeli press, Netanyahu and his Likud were considered almost certain losers in the upcoming elections, while Sharon was believed to be a shoe in; his party enjoying the prospect of a 42 seat majority and being able to move forward largely unimpeded with Sharon's "disengagement" policy. In the matter of just a few hours the whole picture has been transformed, the predictable future has become unpredictable. Sharon is on his way down. Netanyahu is on his way up. In 1991, when this writer first came to live and work in Jerusalem, Ariel Sharon, Israel's greatest warrior was considered unelectable. The shadow of the misnamed Lebanon War (actually Operation Peace for Galilee) and the massacres carried out by Israel's allies in the Sabra and Shatilla refugee camps had made the then Defense Minister loathsome in the eyes of the majority of the electorate, all but assuring that he would never be able to run for the premiership. Back then, and in the ensuing years as the people of Israel were sucked into the Oslo Process, with the resulting erosion of their national security and escalation in terrorism, evangelical Christians in Israel and abroad prayed for the "impossible," that God would keep Sharon in good health and place him at Israel's helm. Surely "the warrior" would shatter the land-for-peace mirage and re-establish Israel's security parameters, extending Jewish rule deep into Israel's biblical land? The "impossible" did happen. Sharon became prime minister in 2001, riding into office on a wave of votes appealing for security after Oslo exploded in the 2ndintifada and funerals for Israeli victims of terrorism went off the charts. High hopes were pinned on Sharon. They were dashed. Last year saw the "father of the Israeli settler movement" abandon the Gaza Strip to the Arabs in what he explained was the beginning of a process of "disengagement" from the "Palestinians." Sharon's willingness to proceed with the forced removal of his people from their homes in Gaza pushed hundreds of thousands of Jews to prayer. God, whose ways are not our ways, did not step in to prevent the expulsion. He has, however, stepped in now. As Prime Minister, Sharon was frequently heard to express his belief that "no one" could tell him how to run the country; "no one" could teach him what he needed to know to provide security for his people; "no one" would tell him what to do. This very afternoon, just hours before he was felled by his second stroke, Sharon declared his intention after the elections he was so sure he would win, to continue to "disengage," letting go great swathes of Judea and Samaria, Israel's biblical heartland, and pulling his nation behind a "security wall" while enabling the State of Palestine to be established on the other side. If the medical and political experts flooding the airwaves tonight are only partially correct in their estimations, this is a policy Sharon will never be able to carry out. He has been unseated; the reins of power have been taken from his hands. As a colleague told me in reaction this evening: "It is hard to ignore the fact that after so many years of being so strong, Sharon suddenly goes down just months after dividing the land and promising to do so again." Who will replace him? This is the question now uppermost in people's minds. Could it be Binyamin Netanyahu? What about Ehud Olmert; Tzipi Livni; Amir Peretz? As the prophet Daniel wrote thousands of years ago, there is One Who will decide:
He removes kings and raises up kings; (Daniel 2:20-21)
"The Most High rules in the kingdom of men, and gives it to whomever He chooses." (Daniel 4:32)
Our faith is in Him, not in man. May God have mercy and show compassion to Mr. Sharon, restoring him to health and strength. And may He raise up the man He purposes to lead Israel into the critical and "uncharted" future.
Vatican Muscling in on Jerusalem
(Says Jews cannot be trusted with ownership of their ancient capital)
Jan. 5…..(commentary by Stan Goodenough) The Roman Catholic Church says the Jewish state cannot be trusted to exercise control over the city of Jerusalem, ancient and eternal capital of the people of Israel. In a statement whose arrogance and contempt he seemingly could not see, the Vatican's legal advisor in Israel, David Jaeger, told an international conference in Haifa Tuesday that Jerusalem was too important a city to leave in the hands of either "Palestinians" or Jews. Jaeger's view was that the status of Jerusalem required the approval of the international community as a whole. Ironically the Vatican, which claims to be spiritual home to one billion of the world's Christians, rejects the biblical stipulation granting everlasting possession of ancient Canaan, inclusive of Jerusalem, to the Jewish people. Since 1947 it has sought to have Jerusalem internationalized, confident that with Rome's massive global constituency the pope will be able to exercise substantial control over the city. Jaeger is historically on solid ground when he says the Palestinian Arabs should have no say over Jerusalem. The city has never been an Arab capital and the "Palestinians" have no historic or national rights to it (or to any other part of Israel's biblical homeland). The Jews, by contrast, have venerated the city as their holiest site for over 3000 years. Israel is the only nation that has ever had Jerusalem as its capital. During centuries of exile, Jews everywhere prayed daily to return to Jerusalem in order to be able to once again worship their God in this place. Jerusalem is described in the New Testament as the "City of the great King," referring to Jesus of Nazareth who also bears the title King of the Jews. The book of Revelation, foretelling Jesus' return to Jerusalem, calls Him the Lion of the Tribe of Judah – i.e. He remains Jewish. In recent history, it has only been while under Jewish administration that Jerusalem has flourished and that protected access to all of its holy places (including Christian and Muslim sites) has been guaranteed.
Between 1949 and 1967, when the Arab kingdom of Jordan occupied the eastern part of the city, the rights of Jews and Christians to visit their holy places was restricted, sometimes denied. The Jewish Quarter of the Old City was left to rot, its synagogues sacked and burned. Despite this, the Vatican believes it should have a say that could deny the right of the Jewish people to keep their beloved capital in their hands.
President Bush Praying For Sharon's Recovery
Jan. 5….(FOJ) United States President George W. Bush was among the public figures from Israel and abroad who responded Wednesday night to the dramatic news that Prime Minister Ariel Sharon had been rushed into surgery at a Jerusalem hospital after suffering a "significant stroke" and a cerebral hemorrhage. "Laura and I share the concerns of the Israeli people about Prime Minister Ariel Sharon's health, and we are praying for his recovery," Bush said in a written statement. Later, President Bush praised Sharon as "a man of courage and peace," saying he and first lady Laura Bush "share the concerns of the Israeli people, and we are praying for his recovery."
Sharon Gravely Ill After Massive Stroke
Jan. 5….(AP) Prime Minister Ariel Sharon fought for his life Thursday following seven hours of emergency surgery to stop widespread bleeding in his brain. The massive stroke made it unlikely that he would return to power. Vice Premier Ehud Olmert was named acting prime minister and convened the Cabinet for a special session, where Sharon's large chair at the center of the long oval table remained empty. "This is a difficult situation that we are not accustomed to," Olmert told the somber ministers. A brain scan after surgery showed that the bleeding had been stopped, and the 77-year-old prime minister was transferred to the intensive care unit, said Dr. Shlomo Mor-Yosef, the director of Hadassah Hospital in Jerusalem. At a midafternoon briefing, Mor-Yosef said Sharon was in serious but stable condition on a respirator in "deep sedation." He will remain sedated for another 24 hours at least, Mor-Yosef said. Sharon's sudden turn for the worse, at the height of his popularity, stunned Israelis, who had relied on the tough ex-general to steer them through turbulent times. Rabbis called Israelis to flock to synagogues and say special prayers. The daily newspaper Yediot Ahronot ran a headline that said: "The last battle." Palestinians followed reports on Sharon's condition with a mix of apprehension and glee, and some officials said they feared the dramatic events would derail Jan. 25 parliament elections in the West Bank and Gaza. Despite his pullout from Gaza last year, Sharon is still widely reviled in the Arab world for his tough actions against Palestinians. Palestinian leader Mahmoud Abbas contacted Israeli officials to express concern over Sharon's health, an Abbas aide said. Close Sharon associates said they did not expect him to return to office. Despite his illness, Israel's elections will be held as scheduled on March 28, Attorney General Meni Mazuz said after the Cabinet meeting. Sharon had been expected to easily win re-election at the head of the moderate Kadima Party he created to free his hands for further peace moves with the Palestinians. Many Israelis see Sharon, an overweight war hero and longtime hawk who changed tack and withdrew from the Gaza Strip last year, as the best hope for achieving a peace deal with the Palestinians. His illness would create a power vacuum in the government and cloud Kadima's prospects.
Mor-Yosef did not give a prognosis, but neurosurgeons not involved in Sharon's treatment said a full recovery was not likely following such a massive stroke. They said it usually takes at least a day after surgery to determine the extent of any damage. "All the parameters are as expected following this type of surgery. Part of the treatment of the prime minister, in order to preserve low pressure in the skull, is sedation and respiration for at least the next 24 hours," Mor-Yosef said. Outside doctors said chances of recovery were slim, especially because of the length of the surgery. "For them to have to go back in twice, that's not good," said Dr. Emil Popovic, a neurosurgeon at Sir Charles Gairdner Hospital in Perth, Australia. "At 77, not too many people make a good recovery from a brain hemorrhage." US National Security Council official Elliott Abrams and State Department official David Welch were to have met with Sharon on Thursday evening, apparently to urge Israel to reverse a decision to ban Palestinian voting in disputed Jerusalem.
Ariel Sharon has been prominent in Israeli life for more than five decades. He first rose to prominence as an army officer in the 1950s, advancing through the ranks and gaining attention during the 1967 war. He left the military for politics, forging the hard-line Likud Party, which came to power in 1977. As defense minister, Sharon directed Israel's ill-fated invasion of Lebanon in 1982 during which an Israeli commission found him indirectly responsible for a massacre of Palestinians in the Sabra and Chatilla refugee camps by Christian Phalangist soldiers. Sharon re-emerged as prime minister in 2001 soon after the outbreak of a new round of Israeli-Palestinian violence, and two years later he reversed his decades-long course of supporting Jewish settlements in the West Bank and Gaza, and pushed through a plan to withdraw from Gaza and part of the West Bank.
| | |
| --- | --- |
| | Major General Ariel Sharon is seen in this photo shortly before the 1967 Middle East War, in this May 29, 1967 file photo. Now-Prime Minister Ariel Sharon is fighting for his life following seven hours of emergency surgery to stop widespread bleeding in his brain. Sharon is a farmer-turned-soldier, a war hero-turned-politician, a hard-charging Israeli who built Jewish settlements on war-won land but didn't shy away from destroying them when they collided with his bigger design. |
Jibril: Sharon Illness is 'God's Gift'
Pan-Arab satellite television broadcasters beamed out largely straightforward, nonstop live coverage early Thursday from outside the hospital where Prime Minister Ariel Sharon struggled for his life. But a radical Palestinian leader in Damascus, the Syrian capital, called Sharon's health crisis a gift from God. "We say it frankly that God is great and is able to exact revenge on this butcher. We thank God for this gift he presented to us on this new year," Ahmed Jibril, leader of the Syrian-backed faction Popular Front for the Liberation of Palestine-General Command, a small radical group, told the Associated Press. He said Sharon's legacy would be one of huge damage inflicted on the Palestinian people. A Palestinian commentator on the Saudi-owned Al-Arabiya network offered Sharon unexpected praise as "the first Israeli leader who stopped claiming Israel had a right to all of the Palestinian's land," a reference to Israeli's recent withdrawal from the Gaza Strip. Ali Badwan, a Palestinian living in Damascus, said Sharon was "the dinosaur of the Israeli political right and his legacy was the bloodiest of any Israeli against the Palestinian people. The Palestinian people would not mourn his passing from the political scene." Palestinian refugee camps were quiet in Syria and Lebanon, with many residents engrossed in television coverage of Sharon's illness.
Sharon Suffers Cerebral Hemorrhage, Fighting For His Life
Jan. 4….(YNET) Israeli Prime Minister Ariel Sharon is presently undergoing emergency surgery at Jerusalem's Hadassah Ein Kerem hospital, after suffering a 'significant stroke.' Sharon is suffering from a massive brain hemorrhage and is undergoing major surgery, Hadassah Ein Kerem Deputy Director Shmuel Shapira announced Wednesday night. Senior health officials said Sharon's condition was life-threatening. The operation will take several hours. His condition is described as grave. Hospital dep. dir. Prof. Shmuel Shapira: the stroke occurred on his way to hospital and his condition deteriorated rapidly thereafter.
Earlier, Hospital Director Shlomo Mor Yosef told reporters the prime minister suffered a "significant stroke" and was being ventilated and anesthetized. Vice Prime Minister Ehud Olmert has been designated as a temporary Sharon replacement and will assume the premiership duties for the time being. Senior officials at the Prime Minister's Office said "the situation is difficult. We are praying the internal bleeding Sharon is suffering can be stopped. We're trying to maintain out optimism but the situation is not looking good." One of the Prime Minister's aides told Ynet: "The situation is not good. We're tense. It isn't easy facing this situation. We're concerned." Sharon's convoy arrived at the hospital around 11 p.m. The Prime Minister was taken into the trauma unit where he underwent tests by a team of experts called in to the hospital. Later, the PM underwent an MRI scan. Earlier, the Prime Minister's doctor was urgently called to the PM's private residence in the South, the Sycamore Ranch, and ordered the prime minister be rushed to Hadassah.
The Vatican Also Wants Jerusalem
Jan. 4….(YNET) A top Vatican envoy says Israel and the Palestinians cannot be trusted to safeguard holy sites. Israel cannot be trusted? The Vatican's legal advisor in Israel, David Jaeger, harshly criticized Israel's policy regarding safeguarding Christian holy sites. Speaking during an international conference at a Haifa University conference Tuesday, Jaeger said Jerusalem is an important city the fate of which should not be left in the hands of Israel and the Palestinians. Any solution to the status of Jerusalem needs the approval of the international community, said Jaeger, adding that the Palestinian Authority has also failed in keeping with international conventions on preserving holy sites. Jaeger said there is a contradiction between agreements signed between Israel and the Vatican on preserving Christian Holy sites and Israeli laws dating from the British mandate in Palestine. The Israeli government took away the courts' authority to deal with issues related to lands and funds belonging to the Roman Catholic Church, causing legal disputes that have been dragging in courts for years, the Vatican envoy said. The conference is a unique opportunity to hold academic discussions of issues pertaining to Jerusalem and holy sites, bring together intellectuals and experts from Israel, the territories and the international community. Dr. Yitzhak Reiter, one of the event's organizers, said: "Our aim is to hold a discussion on the burning issue of Jerusalem, at a time of relative calm, in an attempt to try finding solutions acceptable to all sides. We should remember that the breakthrough that led to the Oslo Accord started with a similar discourse between Israeli and Palestinian intellectuals under international sponsorship."
With Russian Help, Iran Building "Offensive" Military Arsenal
Jan. 4….(Guardian) Iran harbors ambitions of developing a space program, but is currently concentrating on upgrading and extending the range of its Shahab-3 missile, which has a range of 750 miles, capable of reaching Israel, according to the latest western intelligence assessment of the country's weapons programs, published by the London-based Guardian on Wednesday. The 55-page intelligence assessment, dated July 1 2005, draws upon material gathered by British, French, German and Belgian intelligence agencies, the Guardian reported. Iranian scientists are said to be building wind tunnels to assist in missile design, developing navigation technology, and acquiring metering and calibration technology, motion simulators and x-ray machines designed to examine rocket parts, according to the assessment. The next generation of the Shahab ("shooting star" in Persian) should be capable of reaching Austria and Italy, it stated. 'Iran has developed an extensive web of front companies' and has been successfully scouring Europe for the sophisticated equipment needed to develop a nuclear bomb, and scientists in Tehran are also shopping for parts for a ballistic missile capable of reaching Europe, with "import requests and acquisitions, registered almost daily", the report seen by the Guardian said. The warning came as Iran raised the stakes in its dispute with the United States and the European Union yesterday by notifying the International Atomic Energy Authority that it intended to resume nuclear fuel research next week. According to the Guardian, the assessment concludes that Syria and Pakistan have also been buying technology and chemicals needed to develop rocket programs and to enrich uranium, and outlines the role played by Russia in the escalating Middle East arms build-up. The document lists scores of Iranian companies and institutions involved in the arms race. It also details Tehran's growing determination to perfect a ballistic missile capable of delivering warheads far beyond its borders.
Chaos Clouds Palestinian Election Campaign
Jan. 3….(AP) The Palestinian election campaign started Tuesday, with parties posting banners in the streets and holding rallies. "Islam is the solution" and "One hand resists and one hand builds" read some of the Hamas signs. The top Hamas candidate, Ismail Haniyeh, told reporters in Gaza that the election must not be postponed under any circumstances, despite growing pressure by Abbas' Fatah Party to put off the vote. Campaigning began for a Palestinian legislative election clouded by speculation that President Mahmoud Abbas, mired in conflict with Israel and facing a challenge from rival Islamists, could postpone the voting. Abbas's ruling Fatah faction kicked off its campaign at Yasser Arafat's grave, and rival Hamas vowed to root out corruption and an independent candidate squared off in Arab East Jerusalem with Israeli police under orders to ban electioneering in the city at the heart of the Middle East conflict. The January 25 vote is widely seen as a referendum on Abbas's rule following Israel's Gaza pullout last year, which raised hopes of ending fighting and of founding a Palestinian state. But surging chaos in Gaza, and diplomatic deadlock over Israel's designs on the occupied West Bank and East Jerusalem, have sapped support for Fatah, which has been dogged by allegations of corruption and mismanagement. With Fatah divided between veteran members and a young guard vying for influence and support high for Hamas, (a militant/terrorist group dedicated to Israel's destruction) Abbas has come under pressure within his faction to delay the election. Abbas raised the possibility on Monday, citing expectations Israel would bar voting in East Jerusalem, which it annexed in the 1967 Middle East war. Palestinians want East Jerusalem as capital of a state they hope to build in the West Bank and Gaza. Surrounded by news photographers, independent candidate Hanan Ashrawi stood on an East Jerusalem street holding a banner bearing the name of her "Third Way" party. Israeli police officers pulled the banner from her hand, enforcing a ban on Palestinian campaigning in the city.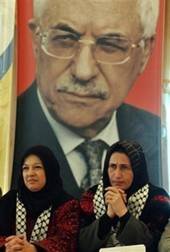 Police did not arrest Ashrawi but detained an aide and another independent candidate for questioning. Commenting on the Israeli action, Veronique de Keyser, head of a European Union observer mission, said: "I am slightly shocked and it is not a very encouraging sign." Israeli government officials, who have voiced concern Israel could be blamed internationally for hindering Palestinian democracy if the election were delayed, said no final decision had been made on whether to permit voting in East Jerusalem. Israel allowed voting in Jerusalem in the last Palestinian parliamentary election in 1996, which Hamas boycotted. In Gaza, where streets were festooned with campaign posters and Islamic flags, clothing store owner Mohammed Zaki gave voice to public doubts the election would go ahead. "Everybody is afraid of Hamas winning, Israel, America and many Palestinians too," he said. Despite Fatah's troubles, Abbas has a big personal stake in ensuring that elections happen on time. His message to Western backers has been that they will strengthen democracy, and also help tame Hamas by bringing it into the political mainstream. Western favor is vital for Abbas in his push to end five years of fighting and win statehood. "There is a Palestinian crisis, and elections are a first step toward resolution," Hamas spokesman Sami Abu Zuhri said in Gaza. "Now we can say that our people are on the threshold of a new era, an era of real change and reform." Hamas is widely seen as less corrupt than Fatah and many Palestinians have welcomed its charity network as much as its suicide bombings. At Arafat's grave in the West Bank city of Ramallah, senior Palestinian official Nabil Shaath formally launched Fatah's campaign and called for honest elections to show the world "we are capable of building our state and institutions." Abbas complained that Israel is balking at allowing Jerusalem's Palestinians to participate. "We all agree that Jerusalem should be included in the elections," Abbas said in Doha, Qatar. "If it is not included, all the factions agree there should be no elections." There are other reasons. Fatah, reeling from internal squabbles, fears an election fiasco. Also, armed gangs, mostly from Fatah itself, are causing mayhem in Gaza, calling into question whether orderly elections can be held. An Israeli ban on Jerusalem voting would make a convenient excuse for delaying the vote, but Israeli officials say they don't want to take the blame and are looking for a compromise. Israel says interim peace accords ban Palestinian political activity in Jerusalem. The new factor is Hamas participation. Israel objects, noting Hamas responsibility for dozens of deadly suicide bombings and its charter calling for Israel's destruction. Prime Minister Abbas, meanwhile, is touring Gulf States, trying to raise money to make up a serious budget shortfall. The appeal to the Arab nations followed a decision by Western donors to freeze funding until the Palestinians carry out promised reforms. "We are in desperate need of Arab aid," said Salam Fayyad, who recently stepped down as finance minister in order to run for parliament. Fayyad said international aid has helped cover about one-third of a $1 billion deficit in the 2005 budget, but Arab states have not fulfilled their pledges.
| | |
| --- | --- |
| | A member of the European Union's observation delegation to the Palestinian Authority's elections stands outside Damascus Gate in Jerusalem's Old City during a campaign rally. Palestinian parties launched their election campaign with banners and rallies amid growing tensions between the Islamic militant group Hamas and Palestinian Authority President Mahmoud Abbas over his suggestion to postpone the Jan. 25 vote. Abbas said for the first time that the vote could be put off if Israel bars Palestinians from voting in the sector of Jerusalem claimed by the Palestinians as a future capital. |
Russia Promises More Gas to Ukraine
Jan. 3….(Yahoo) Russian natural gas monopoly OAO Gazprom promised Monday to boost the amount of gas it ships to European customers through Ukraine, claiming that country was stealing gas intended for the winter-bound continent. The state-controlled company halted deliveries to Ukraine on Sunday because Kiev had refused to meet its demands for a fourfold price increase. Gazprom said after the cutoff to Ukraine that it would continue shipping full supplies to its European customers, about 80 percent of which goes through pipelines crossing Ukraine. Despite that promise, within hours of the reduction of gas going into the pipes, other countries began reporting pressure falloffs. Russia said Ukraine was stealing gas; Ukraine denied that and said the reduced amount of gas in the pipes made the pressure too low. An array of European countries on Monday anxiously called on Russia and Ukraine to work out the dispute as soon as possible. About one-quarter of Europe's gas comes from Russia, 80 percent of that via Ukraine, and the standoff raised fears of serious gas shortages as Europe suffers through a particularly cold winter. Ukrainian Foreign Minister Borys Tarasiuk held telephone talks with European Union foreign policy chief Javier Solana and other officials on the gas dispute and called for international experts to become involved, a ministry statement said.
Gazprom, in a telegram to the Ukrainian natural gas company Naftogaz, accused Ukraine of siphoning off 95 million cubic meters of gas a day and said it would increase the flow by that amount. "We have taken all necessary measures for Europe to receive gas in the full quantity. By tomorrow evening full connections with Europe will be restored," Gazprom deputy chairman Alexander Medvedev said late Monday, according to Russian news agencies. Ukraine's Westward aspirations since President Viktor Yushchenko took office a year ago have clearly irritated the Kremlin and Russian President Putin. Ukraine's Foreign Ministry alleged Sunday that the gas fight is aimed at wrecking the country's economy. Ukraine says it does not oppose Gazprom's argument that higher prices are merited to meet world market conditions, but says an immediate increase from $50 to $230 per 1,000 cubic meters would cripple the energy-intensive heavy industries that are a keystone of its economy. Although Russia claims the dispute is a matter of simple economics, disdain in Moscow for Ukraine and its leadership is clear.
Iran Warns US and Israel
Jan. 2….(Ha Aretz) Iran warned on Sunday of a "crushing" response if its nuclear and military facilities were attacked by the US or Israel. Top nuclear negotiator Ali Larijani said, however, that talk of such an attack most likely was "psychological warfare." "Iran has prepared itself, they will get a crushing response if they make such a mistake," Larijani said on state-run television late Sunday. Larijani said Israel would "suffer greatly" if it launched an attack. "If there is any truth in such talks, Israel will suffer greatly. It's a very small country within our range. Our (defense) preparedness is a deterrence," he said. He also said a Russian proposal that the two nations enrich uranium in Russian territory could not ignore Iran's right to carry out enrichment at home. "It's not logical for a country to put the fate of its nation at the disposal of another country even if it's a friend. You can meet part of your fuel needs from abroad. But is there a guarantee that nuclear fuel producers won't play with you over price or other things? History and experience show that if you don't have technology, you will damage your independence," he said. Larijani's remarks coincided with Tehran's announcement that it had produced equipment for separating uranium from its ore, a fresh development in Tehran's drive to control the whole nuclear fuel cycle, from mining uranium to enriching it for use in atomic reactors. European media have indicated in recent days that the US was preparing its allies for a strike against Iran's nuclear and military facilities with the aim of curtailing Iran's nuclear program. Reports of a strike escalated after comments by Iran's ultraconservative President Mahmoud Ahmadinejad who called Israel a "disgraceful blot" that should be "wiped off the map" and his call to relocated Israel to Europe or North America. Recent visits to Turkey by CIA Director Porter Goss, the head of the FBI, NATO General Secretary Jaap De Hoop Scheffer and US Secretary of State Condoleezza Rice have increased speculations about a possible military strike against Iran. NATO member Turkey is Iran's northwestern neighbor. US President George W. Bush has said his administration would not exclude the possibility of using military force against Iran over its nuclear program, which the United States believes is aimed at producing weapons. US and Europe have backed a Russian proposal to move Iran's uranium enrichment program to Russian territory. The proposal aims to ensure Iran cannot use uranium enrichment to build nuclear weapons. Enrichment is a key process that can produce either fuel for a nuclear reactor or the material for a warhead. Larijani said Iran needed talks with Moscow to clarify what he described as "ambiguities" but said the proposal can't deny Iran of uranium enrichment at home. Larijani is secretary of the Supreme National Security Council, Iran's top security decision-making body that handles Iran's nuclear talks with the international community. He said the Russian proposal will have nothing to do with ongoing nuclear talks between Iran and Britain, France and Germany. The talks last month made little progress, and are to continue later this month.
Putin Shakes Up New World Order With Energy Power Play
Jan. 2….(Telegraph/BBC) Russia took Europe to the brink of a winter energy crisis yesterday when it carried out a Cold War-style threat and halted gas deliveries to Ukraine, the main conduit for exports to the West. With a quarter of its gas supplied by Russia, Europe is facing serious disruption and price rises for as long as the dispute rumbles on. Moscow turned off the tap at 10am after Ukraine refused to sign a new contract with the Russian state monopoly Gazprom quadrupling prices. Critics of the Kremlin say the rise was punishment for the Orange Revolution in 2004 which brought in a westward-leaning government that promised to remove Ukraine from the Kremlin's sphere of influence. The American State Department said that "such an abrupt stop creates insecurity in the energy sector in the region and raises serious questions about the use of energy to exert political pressure". The European Union has called an emergency meeting of energy ministers on Wednesday. The row between Russia and Ukraine over natural gas is the result of a powerful combination of world energy concerns and Russia's desire to exert its influence in its own back yard. It is ironic that as Russia takes over the 12 months chairmanship of the G8 industrial countries, at the top of whose agenda is security of energy supplies, it chooses to reduce the security of its neighbor's natural gas imports. The Russians say this is all a question of economics and that if Ukraine chooses to turn to Western ways, then it will get them, the market will rule and it will lose the old favoritism still shown to Russian friends like Belarus. The Russians also point out that they have never stopped the supply of gas to Western Europe, which started in the days of the Soviet Union and has continued right through the upheavals that followed. Ukraine fears that it is being none too subtly punished for the Orange Revolution and for its pro-Western policies. Whatever the cause, the case illustrates the new world we are entering, one in which new sources of energy became new sources of potential tension and conflict. Of course, there is nothing strange about energy being at the centre of diplomacy and world policies, even war. The Japanese attack on Pearl Harbor had its origins, at least in part, in a decision by the United States to limit oil exports to Japan in 1941 in response to the Japanese invasion of China. Oil played its part in a 1953 coup in Iran, organized by the US and Britain. They overthrew an elected prime minister, Mohammed Mossadegh and installed Shah Reza Pahlavi instead, a move that still reverberates in relations with Iran. The West became interested in the Arab world not because a few diplomats fancied themselves as latter-day Lawrences of Arabia (although some did). It wanted its main source of oil to be secure. We learned from British archives released a couple of years ago that in 1973, the US drew up a plan to seize oilfields in Saudi Arabia, Kuwait and Abu Dhabi in response to the Arab oil embargo. For decades the aim of securing oil has been realized. It is only now, with the drying up of oil a prospect over the next decades, that new worries are coming to the fore. With the rapid growth of China in particular, but also of India and a whole raft of middle-sized economies, the rush for the world's remaining oil is under way. China's need for oil is already influencing its foreign policy. It gets oil in Sudan, therefore anyone wanting sanctions against Sudan over Darfur has to reckon with China. The same goes for Iran, where China is also a buyer. According to a report published by the European Commission, (European Union Energy Outlook to 2020), two-thirds of the EU's total energy requirements will be imported by 2020. Eurogas expects that the EU will also import up to 75% of its natural gas requirements by 2020." No wonder the EU is looking at the argument between Russia and Ukraine with concern.
Abbas and PA Plan Missile Launches Over Israel's Security Wall
Jan. 2….(FOJ) While most politicians in the West continue to believe that Mahmoud Abbas is a genuine peace partner for Israel to negotiate with, the PA under Abbas is planning to take its violation of the peace process a step further by employing offensive missiles in the West Bank. Palestinian terrorists under the direct authority of Mahmoud Abbas are now able to launch missiles from the West Bank into Israel. Debkafile reported 3 weeks ago that the Al Aqsa Martyrs Brigade aimed a newly developed rocket from a point north of Jenin in the West Bank less than 8-9 km from the Israeli coastal cities. IDF military sources reported that the West Bank version of Gaza's Qassam rocket was developed by the ruling Fatah al Aqsa Brigades faction in Jenin, Nablus and Tulkarm, for distribution across the West Bank. The Jenin rocket differs from the Gazan Qassam in two important respects: (1) It does not depend on Gaza-developed technology, but is a West Bank product from start to finish. (2) It is not wielded by Hamas and Jihad Islami like the Qassam but is a weapon of the al Aqsa Brigades, a branch of the ruling Fatah of which Mahmoud Abbas is the titular head, as well as Prime Minsiter of the PA. This new missile development underscores the Abbas/PA plan to use missiles in the West Bank to launch over Israel's Security wall. The Palestinian terror campaign against Israel has been frustrated by the efficiency of Israel's security fence. Once the PA missiles start flying towards Israel's population centers, the security situation in Israel will deteriorate.
US Planning Strike Against Iran?
Jan. 2….(Jerusalem Post) The United States government reportedly began coordinating with NATO its plans for a possible military attack against Iran. The German newspaper Der Tagesspiegel collected various reports from the German media indicating that the North Atlantic Treaty Organization are examining the prospects of such a strike. According to the report, CIA Director Porter Goss, in his last visit to Turkey on December 12, requested Prime Minister Recep Tayyip Erdogan to provide military bases to the United States in 2006 from where they would be able to launch an assault. The German news agency DDP also noted that countries neighboring Iran, such as Saudi Arabia, Jordan, Oman, and Pakistan were also updated regarding the supposed plan. American sources sent to those countries apparently mentioned an aerial attack as a possibility, but did not provide a time frame for the operation. Although Der Spiegel could not say that these plans were concrete, they did note that according to a January 2005 New Yorker report American forces had entered Iran in 2005 in order to mark possible targets for an aerial assault.
Iran: Europe Wants to Complete Holocaust
Jan. 2….(YNET) Hard-line Iranian President Mahmoud Ahmadinejad, who said the Nazi attempt to eradicate Jews in the Holocaust was a "Myth," has now charged that European countries sought to complete the genocide by establishing Israel, a Jewish state in the midst of Muslim countries. "Don't you think that continuation of genocide by expelling Jews from Europe was one of their (the Europeans') aims in creating a regime of occupiers of Al-Quds (Jerusalem)?" the official Islamic Republic News agency quoted Ahmadinejad as saying. "Isn't that an important question?" The Iranian President went on to day that "'Anti-Semitic sentiment was a European tradition'." Ahmadinejad said Europeans had decided to create a "Jewish camp" as the best means for ridding the continent of Jews and said the camp, Israel, now enjoyed support from the United States and Europe in what he termed the slaughter of Muslims. The fiery Iranian president said anti-Semitic sentiment was a strong and long-term European tradition while Jews had lived peacefully among Muslims for centuries. According to the ISNA news agency, Ahmadinejad said the crimes committed by Zionists against the Palestinians were the same as the crimes committed by the Nazis in the Second World War. "The one question to be clarified by the West is what crimes did they commit in those days (World War Two) what the Zionists are not doing today," Ahmadinejad was quoted as saying by ISNA. 'They have shot two targets with a single bullet.' The Iranian president said Judaism should be distinguished from Zionism, asserting that Jews in Islamic countries like Iran have always lived in security with religious freedom and will do so in the future. "Zionism is a western ideology and an imperialistic idea created by the Britons which follows secular aims and fascist methods and is currently killing Muslims with the help and direct lead of the United States and parts of Europe," the president said. Ahmadinejad said that the question is why the Europeans are afraid of holding a debate on the 'human tragedy' and consider it a red line. "Why don't the Europeans who perpetrated the crime pay the price themselves?" the Iranian president asked. President Ahmadinejad said that when he saw the angry reaction of the Europeans to his statement about the Holocaust, he asked himself whether the needle had struck their sensitive nerve, adding that the Europeans, by expelling Jews from Europe and deporting them to occupied Palestine, actually committed an anti-Semitic act. "In fact, the Europeans have practiced ethnic cleansing against the Jews in Europe by expelling the Jews from all the European states," he said. "They have shot two targets with a single bullet: They have built a Jewish camp among the Islamic nations and got rid of the Jews from the whole of Europe. The Zionist regime is a part of Europe, which was broken away from Europe, and is anti-Islamic in nature."
Sharon to Undergo Heart Procedure
Jan. 2….(Arutz) Prime Minister Ariel Sharon, 78, Israel's aging leader who was hospitalized two weeks ago with a minor stroke, is scheduled to undergo a heart catheterization on Thursday. The procedure, to take place at Hadassah Hospital-Ein Karem in Jerusalem, is designed to repair a birth defect that was discovered in the prime minister's heart while he was being treated at the hospital for his Dec. 18 stroke. Sharon's doctors believe that the defect, a small hole in the wall between the upper chambers of his heart, allowed a blood clot to travel to his brain, causing the minor stroke. Doctors will use a catheter to plant a device in the heart to seal the hole, which is less than an inch wide.
'Palestinians Agree': Wipe Israel off Map
(Arab leader claims there's consensus Iran's president correct with solution)
Jan. 2….(WND) A senior Palestinian official says Palestinians share the sentiment of Iran's president that Israel should be "wiped off the map," or at the very least, moved to Europe. The statement from Mahir al-Tahir, representative of the Popular Front for the Liberation of Palestine, was reported by the Islamic Republic of Iran Broadcasting News Network. In November, Iranian President Mahmoud Ahmadinejad threatened to "wipe Israel off the map." Then in December, he suggested European nations should give up some of their territory if they believed the World War II-era Holocaust took place, noting, "certain European countries would have the world go with their stand that Hitler killed millions of innocent Jews in furnaces and have passed laws punishing anyone who says anything to the contrary." "Granting without accepting that the Holocaust did occur, our question to the Europeans is: 'If innocent Jews were indeed butchered by Hitler, why should Palestinians be made to pay the cost in order to seek redress for the occupiers of Jerusalem?'" Ahmadinejad continued: "If the killing of Jews in Europe is true and the Zionists are being supported because of this excuse, why should the Palestinian nation pay the price?" "The Islamic world should give up its policy of passivity and deal with the Palestinian issue more actively," he said. On Friday, al-Tahir of the PFLP stated Ahmadinejad's view is based on historical realities.