WEEK OF MARCH 26 THROUGH APRIL 2
US Concerned About Links Between Iran and Al Qaeda
March 31….(MENL) The US intelligence community has briefed Congress on the increasing cooperation between Iran and Al Qaida. Congressional sources said congressional committees have been told that Teheran has sought to use Al Qaida in any Iranian war with the United States. The sources said Iran has harbored leading Al Qaida operatives and enabled them to plan major attacks that would be launched upon Teheran's approval. "Teheran has been seeking a range of terrorist options against the United States in case it strikes Iran's nuclear weapons facilities," a congressional source said. "Al Qaida has played a role in these options, although it's unlikely to be a leading element." On Wednesday, the United Nations Security Council gave Iran a month to honor a demand to end uranium enrichment and related activities. The council decision was reached after the United States dropped its demand for a two-week deadline for Teheran.
Hamas Assumes Governmental Control, Pledges 'Battle'
March 31….(Jerusalem Post) On the day the Hamas cabinet took office, Khaled Mashaal, the Damascus-based Hamas leader, promised the Palestinians "a dignified and proud life behind the resistance in defense of their honor, their land and their pride." He told Al-Jazeera: "Our battle is only against the Zionist occupation." Hamas ministers entered office after ceremonies at which the outgoing ministers wished them success and promised to help them carry out their duties. "Today Hamas took control of all the ministries," said Minister of State Atef Udwan. "The new ministers will start implementing their policies immediately." Foreign Minister Mahmoud Zahar chose to begin his new career by launching a scathing attack on the US. "The US is biased toward Israel, guilty of crimes against the Muslim and Arab world and is widening the rift between the American people and those of the Middle East," he said. Zahar, who replaced Nasser al-Kidwa, a nephew of former PA chairman Yasser Arafat, said Hamas would not cave in to international pressure to change its ways and that it had no plans to negotiate with Israel. Referring to a statement by US President George W. Bush that Washington would provide no aid to a PA government headed by Hamas unless it changes its extremist policies, Zahar said the comments were in line with American support for Israel in the UN and its massive aid to Israel. "America is committing big crimes against the Arab and Islamic countries," he told The Associated Press. "This new decision will intensify the gap between the American people, American interests and the Middle East in general. America is giving $3 billion annually to expand settlements and to confiscate our rights and our land." He also condemned as "immoral" Canada's decision to cut off aid to the new Hamas government. "Is the Canadian state willing to starve the Palestinian people while the Israelis are committing major crimes against Palestinian industry, Palestinian society, the Palestinian economy, occupying their land," he asked. "Is this is a moral principle according to which Israel should be blessed and supported by the Canadian government and people?" Zahar said Hamas would seek new international alliances beyond its traditional Arab friends. "The new channels will be Africa, Asian countries, including China, and the South American continent, for assistance politically and also financially," he said. Salah Bardawil, spokesman for Hamas in the Palestinian Legislative Council, also attacked the US decision to ban contact with the Hamas cabinet. He said that the US decision would not contribute to stability in the region because it sided with Israel. "This is an unjust decision that would deprive the US of the possibility of acting as a neutral party," he said.
Bin Laden's Former Bodyguard is Certain AL-Qaeda is Planning Attack In the US
March 31….(Drudge Report) In the First Television Interview of an Al-Qaeda Member Close to Osama Since 9/11, Abu Jandal Offers First-Hand Details About the Most-Wanted Man in the World. A former personal bodyguard of Osama Bin Laden says he is certain the al-Qaeda leader is planning an attack on the US In the first television interview with an al-Qaeda member close to bin Laden since 9/11, Abu Jandal tells Bob Simon first-hand details about the world's most wanted man for a 60 Minutes report to be broadcast Sunday, April 2 (7:00-8:00 PM, ET/PT) on the CBS Television Network. Abu Jandal, who was with bin Laden in Afghanistan from 1996 to 2000, says bin Laden's last tape on which he threatened consequences to the US is not a threat, but a promise. "When Sheik Osama promises something, he does it. So I believe Osama bin Laden is planning a new attack inside the United States, this is certain," he tells Simon in the interview conducted in Yemen earlier this month. It's been long speculated that bin Laden is hiding in the tribal areas of Pakistan, but Abu Jandal says Afghanistan is the place. "Not Pakistan. I know the Pakistani tribe along the border very well. Yes, they can be very trustworthy and faithful to their religion and ideology, but they are also capable of selling information for nothing," he says. Even if found, bin Laden will not be captured, says Abu Jandal, whho says the al-Qaeda leader gave him the authority to kill him if he was surrounded. "If he was going to be captured, Sheik Osama prefers to be killed than captured," he tells Simon. "There was a special gun to be used if Sheik Osama bin Laden was attacked and we were unable to save him, in which case I would have to kill him," says Abu Jandal. The closest the Americans came to getting bin Laden before 9/11, recounts Abu Jandal, was the US missile attack on al-Qaeda training camps near Khost, Afghanistan, a retaliatory strike for the al-Qaeda bombing of two US embassies in Africa in 1998. It was luck that saved him the night before the strike. "There was a fork in the road," remembers Abu Jandal, "one road leading to Khost and the training camps and another one leading to Kabul. I was with Sheik Osama in the same vehicle with three guards, he turned to us and said, 'Khost or Kabul?' We told him, 'Let's just visit Kabul.' Sheik Osama said, "Okay, Kabul.'" So the missile strike the next day failed to get bin Laden, but the man they think provided information that led to it was discovered. "It was the Afghan cook," said Abu Jandal. He says he would have killed the man who betrayed bin Laden himself, but bin Laden forgave him and sent him home. "Sheik Osama even gave him money and told him, 'Go provide for your children.'"
Olmert: We Must Evacuate Jews From West Bank
March 30….(WND) Kadima leader Ehud Olmert is now set to become Israel's next prime minister as results showed his party won the most Knesset seats by a slim majority. During his victory speech, Olmert made clear his administration will immediately seek to "evacuate Jews" from most of the West Bank. Kadima officials also have stated the party would seek to give parts of Jerusalem to the Palestinians to form a state. "The people have spoken clearly, they want Kadima," Olmert said in a nationally televised victory ceremony. "A chapter in the history of the country has ended. We're tasked with shaping the future of the state, and before we bring peace with our neighbors we must make peace within." Olmert spoke about the need to renounce the dream of the "Greater Land of Israel and evacuate, with much pain, Jews." The "Greater Land of Israel" usually refers to a Jewish state that includes the Gaza Strip, West Bank and eastern sections of Jerusalem. The leader of the party that wins the most seats becomes prime minister and forms a governing coalition. Traditionally, Israeli government coalitions ruled by a leading party with less than 40 seats, which is now the case with Kadima, tend to be unstable and short-lived. Since Kadima did not win a majority, it will need to form a coalition with several parties. Analysts expect a Kadima-Labor-Pensioners-Shas government with Likud placed in the opposition, although senior sources in Likud told WND the party would consider joining Olmert's new government if Netanyahu is offered the post of minister of finance. Olmert has already hinted that he will move to "change Israel's borders" by withdrawing from most of the West Bank, which is within rocket-firing range of Jerusalem and which military strategists long have estimated Israel must maintain to defend its borders from any ground invasion. About 200,000 Jews live in the West Bank. The security fence, still under construction in certain areas, cordons off nearly 95 percent of the territory from Israel's pre-1967 borders. More than half the West Bank's Jewish residents reside on the side of the fence closest to Israel. About 80,000 more Jews live on the other side of the barrier. Netanyahu earlier this week warned that Kadima and the left (Peres) will divide Jerusalem and once you start dividing, you never know where it's going to end. There is no way to safeguard Jerusalem without the nationalist camp, and there is no nationalist camp without the Likud." Last week, just days before the elections, the Kadima Party in fact revealed that it would indeed divide Jerusalem and allow for a Palestinian Sate to be established with part of Jerusalem as the capitol. "The Old City, Mount Scopus, the Mount of Olives, the City of David, Sheikh Jarra will remain in Israeli hands, but regarding Kafr Akeb, Abu-Ram, Shuafat, Hizma, Abu-Zaim, Abu-Tur, Abu Dis, in the future, when the Palestinian state is established, they will become its capital," said Otniel Schneller, a Kadima member who represented the party at an official debate last week on dividing Jerusalem. The revelation followed months of denials by top Kadima officials that the party would advocate withdrawing from Jerusalem.
Israeli Election May Determine Fate Of Many Nations
March 30….(Bill Wilson) Israel's election will determine the fate of many nations as biblical prophecies take effect in the months ahead when newly elected Israeli Prime Minister Ehud Olmert will come under intense international pressure to abandon Jewish settlements in Judea and Samaria and even give up part of the holy city of Jerusalem to the Palestinians. As ancient biblical prophecies predict the judgment of those who would divide the covenant land of Israel, this election may well determine the fate of many nations. In Zechariah 12:3, the Lord says, "And in that day will I make Jerusalem a burdensome stone for all people: all that burden themselves with it shall be cut in pieces, though all the people of the earth be gathered together against it." Israel is sure to come under even more pressure from the international community to follow the so-called roadmap for peace that requires the Jewish nation to shrink back to pre-1967 borders (UN Resolution 242), when Israel captured Jerusalem, completing the Ezekiel prophecies that the Lord would restore Jerusalem to the Jews and the prophecy by Jesus in Matthew 24 of the fig tree blossoming, which marked the beginning of sorrows—the entering of the nations into the end times. For this reason, the Israeli election is likely the most important in recent history as it has extraordinary prophetic significance. Olmert's task of complying with the "roadmap" will not be easy. Israeli citizens decided not to give the new prime minister a mandate to determine his country's borders by abandoning smaller settlements in Judea and Samaria and consolidating larger ones there. On the other hand, the conservative Likud Party, which would give very little if any of the covenant land to the Palestinians in establishing Israel's borders, was handed a decisive defeat in an election featuring the lowest voter turnout in the history of Israel. Now Ehud Olmert is left to form a coalition of various liberal parties to move ahead with Israel's unilateral disengagement plan. That's not going to be an easy task since his party, Kadima, only won 28 of 120 seats in the Knesset, far short of the 40 it had wanted. Now Olmert is forced to work with the leftist Labor Party, who won some 20 seats, and a handful of other liberals to try to form a working majority. Sure to block his way will be a coalition of conservative minority parties that comprise a solid opposition of 37 seats if they choose to work together. What this means is a strong debate amid even stronger international pressure to abandon covenant land. The inside take here in Tel Aviv is that the Israeli people are tired of fighting and want peace. This, combined with harsh pressure from the United States, the United Nations, Russia, and the European Union to abandon land seized in the 1967 and 1973 wars, has resigned Israeli citizens to acquiesce land in hopes that giving the Palestinians their own nation will end the terrorism. The Israelis believe that a wall between them and the Palestinians, which to date has reduced terror by over 80 percent, will continue in its success as it is completed. Of course, the United Nations, Russia and the European Union are pressuring Israel to stop building the wall. The Israeli people want peace. In this election, they believe they have come closer to peace, but they do not know or understand the prophecies of their own prophets. The Prophet Jeremiah summed up this Israeli election over 2,500 years ago when he wrote, "They have healed also the hurt of the daughter of my people slightly, saying Peace, peace; when there is no peace." Already Hamas is saying it will never accept the Israeli peace overtures and is demanding an independent Palestinian state with Jerusalem as its capitol. Psalm 122:6 tells us to "Pray for the peace of Jerusalem: they shall prosper that love thee." The only true peace comes from the Prince of Peace, Jesus Christ.
Israel Reverses Course And Retreats
March 29….(FOJ) The elections in Israel yesterday reveals that the electorate in Israel has reversed its course from just a few years ago when they elected first Netanhayu and then Ariel Sharon of the Likud Party in a wave of anti-terrorist reactionism. Israeli's then calculated that the Palestinians under Yasser Arafat could not be counted on as a peace partner, and that the only recourse for Israel was to vanquish the terrorists. Under heavy international pressure, Israel withdrew from its pointed and calculated attacks against the Palestinian terror infrastructure, and catered to the Quartet demands to appease the supposed moderate force in the person of Mahmoud Abbas. But Abbas, like Arafat did nothing to confront terror, and so Israel was stumbling around and blindly pursuing a unilateral withdrawal in the hopes of appeasing their enemies. This strategy only served to foster the prevalence of Hamas, an entity of terror (like old Fatah) dedicated to Israel's total destruction, and receiving full support from the Axis of Evil. By turning to the Kadima Party under Ehud Olmert, Israel has reversed course, and has decided to withdraw from the lands God provided to it in its victories over its enemies. The policies of Olmert are based upon a false hope that the Palestinians under Hamas will be placate by Statehood in the West Bank.
Joy in PA Over Likud (Netanyahu) Defeat & Collapse
March 29….(Jerusalem Post) Palestinian leaders on Tuesday reiterated their opposition to Acting Prime Minister Ehud Olmert's plan to unilaterally withdraw from some areas in the West Bank, warning that such a move would complicate the problem and increase tensions in the region. However, several officials in Ramallah expressed satisfaction with the results of Tuesday's election in Israel, especially the fact that the Likud Party had lost much of its power. "We're happy to see that [Binyamin] Netanyahu has suffered a humiliating defeat," a top official told The Jerusalem Post. "We hope that Kadima and Labor will join forces to advance the peace process and end the conflict."
Iran: Hamas Will Win Conflict With Israel
March 29….(Debka) The head of Iran's elite Revolutionary Guards warned that Hamas-led Palestinians would be victorious in any confrontation with Israel under premier-elect Ehud Olmert. "Today we have on one side the revolutionary and Islamic Hamas and on the other the new party of Kadima," General Yahya Rahim Safavi said Wednesday in reaction to Olmert's election win Tuesday and the imminent investiture of the new Hamas administration. "If they confront one another, with the Muslims' support for the revolutionary Palestinians, great victories will definitely be for the Palestinians," he told state television. After Kadima emerged the narrow winner in Israel's election, Olmert claimed a mandate to fix the Jewish state's final borders and issuing an appeal to the Palestinians for peace. Iran does not recognize the existence of Israel and hardline President Mahmoud Ahmadinejad last year triggered international outrage when he called for the Jewish state to be wiped off the map. "Today the Iranians are hand-in-hand with the Lebanese, Syrians, Iraqis and Palestinians initiating a new trend that will free Palestine and will see the defeat of the Zionists and the US's greater Middle East plan," Savafi said. The elite Revolutionary Guards corps is one of the most powerful institutions set up after the 1979 Islamic revolution to defend Iran from internal and external threats.
Olmert (Apparent Winner): Israel has Entered a New Chapter in its History
March 28….(Jerusalem Post) Ehud Olmert, the apparent winner of Tuesday's election in Israel, according to all exit polls, said in a victory speech that the Israeli election marked a new chapter in Israeli history and that he planned to draw the country's final borders in the coming years. Olmert, head of the Kadima Party, did not explicity claim victory, dedicating his speech instead to outlining his governing plans. He said he was ready for new peace talks and was prepared to make painful compromises. "In the coming period, we will move to set the final borders of the state of Israel, a Jewish state with a Jewish majority," he said. "We will try to achieve this in an agreement with the Palestinians." Addressing Palestinian leader Mahmoud Abbas, Olmert said: "We are prepared to compromise, give up parts of our beloved land of Israel, remove, painfully, Jews who live there, to allow you the conditions to achieve your hopes and to live in a state in peace and quiet." "The time has come for the Palestinians ... to relate to the existence of the state of Israel, to accept only part of their dream, to stop terror, to accept democracy and accept compromise and peace with us. We are prepared for this. We want this," he said. Olmert said he would not wait for the Palestinians indefinitely. "It is time for the Palestinians to change their ethos, to accept compromise as soon as possible. If they manage to do this soon, we will sit and work out a plan. If not, Israel will take control of its own fate, and in consensus among our people and with the agreement of the world and US President George Bush, we will act. The time has come to act," he said. Olmert also praised Prime Minister Ariel Sharon, the founder of the Kadima Party who suffered a devastating Jan. 4 stroke. Sharon changed his path and offered Israel an alternative. "Tonight a chapter in Israel's history has been closed."
Olmert, Declaring Victory, Appeals to Abbas for Peace
March 28….(Ha Aretz) Acting Prime Minister Ehud Olmert, declaring an election victory, appealed to Palestinian Authority Chairman Mahmoud Abbas early Wednesday to enter into negotiations over the permanent borders of Israel, but added that Israel would act alone if peace efforts remained stalled. We are ready to compromise, to give up parts of the beloved Land of Israel," Olmert said after in remarks addressed to Abbas, "and evacuate, under great pain, Jews living there, in order to create the conditions that will enable you to fulfil your dream and live alongside us." "If the Palestinians are wise enough to act, then in the near future we will sit together at the negotiating table to create a new reality. If they do not, Israel will take its destiny in hand," Olmert said in a speech to Kadima leaders. "The time has come to act." The total voter turnout was 63 percent, by far the lowest percentage in Israel's history. The previous low was notched in 2003, when 68 percent of eligible voters cast their ballots. There was dejection in the Likud camp, which had difficulty regrouping after the party split late last year into rival factions headed by Sharon and Benjamin Netanyahu. "Although the actual results have yet to arrive, we have no doubt that the Likud has sustained a heavy blow," Netanyahu told party activists. In a direct swipe at Sharon, Netanyahu said the party had already been hard hit when "the former head of the party left it, and left us a broken, shattered movement." top aide to Mahmoud Abbas said that the Palestinian Authority chairman was ready to renew negotiations with Israel immediately. "We're ready to go into direct and immediate negotiations to implement the road map if the Israeli government is ready," said Abbas aide Nabil Abu Rdeneh. "We hope to see an Israeli government ready to implement the road map." Recent statements by Olmert have cast the future of the US-backed road map peace plan in doubt, as he has stated that Palestinian inaction against violence would compel Israel to unilaterally set its border with the West Bank. Hamas, for its part, spoke out against unilateralism. "Let's see how things will develop in the future. At the moment, what we see and what is declared is a unilateral separation plan from Olmert," said Palestinian Prime Minister-designate Ismail Haniyeh, a senior Hamas leader. "This plan is rejected by the Palestinian people." "Our interest is that any party which rules in the occupation state should be brave to recognize the rights of our people in establishing their full sovereign state with Jerusalem as its capital and to free male and female prisoners in their jails and to recognize the right of return."
Arab League Summit Opens in Khartoum
(FOJ--Khartoum is the Sudanese capitol, from where the Sudan Islamic militias wage Genocide against non-Muslims)
March 28….(Jerusalem Post) Arab leaders opened their annual summit today with generous praise for January's Palestinian elections and loud denunciations of Israel and the West for threatening to cut off aid in response to the landslide victory of the militant Hamas group. "We say no to robbing the Palestinian people of their democratic choice, no to punishing the Palestinian people for exercising their right to choose who rules, and no to succumbing to Israel's violations of all the promises it made," Sudanese President Omar al-Bashir, the summit's host, said emphatically, winning a round of applause from the audience of heads of state and delegates. Hamas' election victory has raised fears of a halt in the Mideast peace process, with the United States and European Union threatening to stop direct financial aid vital to keeping the Palestinian Authority running. A resolution to be adopted by the summit will pledge continued Arab funding the Palestinian Authority. "We call on the international community to respect this people and their choices, which came through free and transparent elections praised by international observers," said al-Bashir, an army officer who has been in power since leading a 1989 military coup that toppled a democratically elected government. Al-Bashir also called on the international community to push Israel to respond to international resolutions and stop "state terrorism" against the Palestinians. The annual summit of the 22-member Arab League is contending with complex issues involving Iraq's future, Iran's dispute with the West over its nuclear program and how to deal with a Hamas-led government in the Palestinian territories. Sudan is also hoping to win Arab backing on its position on the Darfur conflict, where it is resisting Western pressure, and a UN resolution, for the African Union peacekeeping force to be replaced later this year by a much bigger UN force. (Sudan is waging genocide against non-Muslims in Darfur) Up to 10 Arab heads of state skipped the Khartoum summit, raising concerns of a lackluster summit in a year where many had hoped to see serious efforts at dealing with regional troubles. Although regional heavyweights Egypt and Saudi Arabia did not send their heads of state, Jordan's King Abdullah II arrived shortly before the meeting began. The gathering opened with a recitation from the Quran, Islam's holy book, and an address by Algerian President Abdelaziz Bouteflika, who rejected calls to isolate a Hamas-led government, saying such attempts would amount to the "punishment of the entire Palestinian people."
FOJ Note: The 22 members of the Arab League doesn't have one single democracy in its membership, yet they act like democracy should be respected in the West Bank.
Assad: Holocaust Extermination Numbers Exaggerated
March 28….(YNET) Syria's Bashar Assad has joined the chorus of Holocaust-deniers in the Middle East, including Iranian President Mahmoud Ahmadinejad. In an interview with American public television, Syrian President Bashar Assad said that while a small massacre of some Jews took place during World War II, the perception in the Middle East is that the number of Holocaust victims was greatly exaggerated. The Syrian leader added that he did not know whether the killing of Jews was carried out through shootings or the use of gas chambers, noting he is not an expert on the matter. The killing method or number of victims is not important, Assad argued, adding that what happened in the Holocaust is the "same thing" that is now happening in Palestine. The shocking comments were made during a nighttime interview on a low-rating channel and were not covered by the US media. Jewish interviewer Charley Rose was invited to hold the rare interview with Assad at his presidential palace in Damascus in a bid to help the Syrian leader improve his pitiful image among Americans. During the hour-long interview, Assad reiterated familiar Syrian positions, a tactic that apparently did not prove effective in advancing his public relations effort in America. When asked about earlier Ahmadinejad comments where the Iranian leader denied the Holocaust, Assad replied by saying that there was a different perception of the Holocaust in the Middle East. The interviewer asked whether Assad believed that there was an exaggeration in the number of those murdered in the Holocaust, but Assad dismissed the question and argued "the numbers are not important" and that it did not matter whether six million or a million Jews perished in the Shoah. The question was not how many people were killed, Assad said, but rather, why do the Palestinians have to "pay the price" for the Holocaust mythology. Addressing a question about whether a Nazi policy of exterminating Jews existed, Assad shot back: What's happening in Palestine is a Holocaust.
'We're On the Eve of World War III'
(Ex-Mossad chief urges West to unite, warns of Muslims imposing ideology)
March 28….(WND) Global civilization is on the verge of "World War III," a massive conflict in which the Islamic world will attempt to impose its ideology on Western nations, according to Meir Amit, a former director of Israel's Mossad intelligence agency. Amit, one of the most esteemed figures in the international defense establishment, warned Islamic nations and global Islamist groups will continue launching "all kinds of attacks" against Western states. He urged the international community to immediately unite and coordinate a strategy to fight against the "Islamic war." "We are on the eve of war with the Islamic world, which will wage a war and all kinds of actions and attacks against the Western world. We already noticed the terrorists hit Spain, England, and France. I call it World War III. Amit served as Mossad chief from 1963 to 1968. He directed some of the most notorious Mossad operations during that time and pioneered many of the tactics currently used by intelligence agencies worldwide. Now in his mid-80s, Amit serves as chairman of Israel's Center for Special Studies. The former intelligence chief referenced recent terror attacks against Israel, Europe and the United States; Iran's alleged nuclear ambitions; the insurgency in Iraq and Afghanistan; and worldwide Muslim riots. "It looks to me like it is a kind of coordinated or contemplated problem to somehow impose the Islamic idea all over the world," Amit said. Israel is routinely attacked by Palestinian terror groups. Since December 2000, 993 Israelis have been killed. Spain in March 2004 was struck by a series of coordinated bombings on its commuter train system, killing 192 people. London was rocked last July by bombings on its transportation system. France has been the scene of violent Muslim riots and attacks. And on Sept. 11, 2001, 2,986 people were killed when the US was hit with coordinated terror attacks. Violent Muslim riots erupted last month in the West Bank, Syria and Lebanon after cartoon images of Muhammad were printed in a Danish newspaper. The riots spread across the Middle East and throughout Europe. At least 40 people were killed yesterday in a blast north of Mosul in Iraq. Iran and Syria have been accused of aiding the insurgency there and in Afghanistan against US and European troops. Amit urged Western nations to "unite and work together. Unfortunately, the world is not uniting. And China and Russia are presenting other problems. Both China and Russia have been aiding Iran's nuclear program, which Tehran claims is intended for peaceful purposes only. Russia last month received a delegation of Hamas leaders, and pledged to maintain diplomatic relations with the terror group in spite of efforts by the US and Israel to isolate the newly elected Hamas-led Palestinian government. Amit said Iran currently poses the most serious threat to the international community. "The Iranians are financing terrorists in Israel and sending them money," Amit said. "This is my country's immediate problem. But I think the most serious problem is Iran developing nuclear power." Amit said Israel should not lead a military attack against Iran's suspected nuclear facilities, instead urging support for the course of diplomacy and sanctions. "The problem of Iranian nuclear armaments is not an Israeli problem; it is a worldwide problem. Your question refers to what Israel can do. It shouldn't do anything by itself. It should maybe throw the idea that this is a world problem and all the Western world should unite, join hands and work together," said Amit. "I am not sure whether a military operation would be the best solution. At least not the first solution. But you can put sanctions on Iran." With regard to his warnings of a new world war, Amit clarified he was not advocating the international community take measures against all Arab countries: "I know very well the Arab world. I have many friends in Arab world leaders. Not all of them think the same. They are also split in different groups. Although I think they will wage an Islamic war against the Western world, we must take into account they are not one piece. Somehow we must learn the differences between different sections and parts of the Arab world."

A 19 kiloton detonation
Doomsday for Islam?
March 28….(WND) The focus on the ports fiasco obviously would pale in comparison to a terror nuke actually detonating in one of our ports. But what about the flipside of that terrible event? What would happen to Islam as a result of a massive nuclear retaliatory counterstrike against Islamic targets? World Net Daily has detailed how Osama bin Laden's terror group plans to bring destruction upon the United States and force it into surrender. Apparently this is more of the same threat that has been circulating for some time that al-Qaida plans to detonate seven nuclear warheads it claims to have acquired from Pakistan and the former Soviet Union in the United States. There have also been accompanying threats that al-Qaida planned to follow up the nuclear attacks with crop-dusting planes that would spread smallpox on American cities. Despite grandiose plans for such an attack on the United States, bin Laden has again failed to understand the nature of the American spirit and the likely vengeance such an attack would unleash from American military strategic nuclear forces. Since the United States entered the era of nuclear weapons technology many decades ago, it has always had detailed contingency plans on how the country would respond in a nuclear crisis. Perhaps best known among those contingency plans is the one drawn up during the Cold War with the Soviets commonly described as "MAD," or Mutual Assured Destruction. Simply, MAD is the doctrine whereby the United States sought to dissuade its adversaries from ever even considering a nuclear attack against our country by assuring that such an attempt would be met with such a hyper-violent nuclear response that would undoubtedly result in the annihilation of not just the United States, but also the enemy that initiated the attack.
For some odd reason, bin Laden and his fanatical associates seem to believe that the United States would back down in the face of a nuclear terror attack. It would seem that their psychotic thought processes have blinded their judgment in a profound and ultimately self-destructive way. Their warped perception leads them to believe that such an attack could not be traced back to their hands and hence the United States would be left with no retaliation targets. They obviously fail to see the difference between tactical and strategic planning and this error may ultimately lead Islam to disaster. Enter what history may someday describe as the Bush doctrine of "Terror-MAD," the likely response to a terror nuke attack on our country. Although no one in government will confirm such a doctrine even exists, simple common sense and past comments by government officials to the press would indicate that, in fact, it does exist. And herein is Mr. bin Laden's very fatal flaw. A terror nuke attack upon the United States would undoubtedly unleash a response by American strategic nuclear forces so violent and so encompassing that the very future of Islamic society around the world would likely be permanently wiped from the face of the planet. Bear in mind the reality of such an attack against the United States. Not only would the United States not be chastised by the international community for such a massive counterstrike, but no one in the American government would likely care about what others think under such circumstances. While we're busy throwing all those retaliatory nukes around, who is going to standup and object? Certainly, it won't be Russia to complain since they have their own serious radical Islam problem to deal with in former republics on its borders. Let's be reminded that there is no provision in any of the Pentagon's war plans or myriad assortment of contingency plans for a national surrender. It would just never happen under any circumstance. Actually, the Pentagon's logic is that for each escalation of attack against us our response would be a vastly increased level of violence against our adversary. And you can be sure, when push comes to shove, whatever weapon is in the inventory will be used, and nothing will be held back. Such a contingency plan is likely contained in the largely still-classified document called the Nuclear Posture Review, the comprehensive war plan for the Pentagon. Unlike bin Laden's shortsighted tactical plans, the Pentagon has an extremely detailed strategic plan for dealing with essentially any circumstance, threat or contingency that may conceivably face our nation. The likely target list for retaliation for a nuclear terror attack against the United States includes Iran, Syria, and Libya as the primary targets. We can supplement those targets with countries such as Saudi Arabia, where most of the 9-11 terrorists came from. Some defense experts have even suggested the US could nuke Mecca in a retaliatory strike. You may recall that Rep. Tom Tancredo, R-Colo., suggested exactly that awhile back, and while his statement met with denials from the State Department, the Department of Defense and the White House were silent on the Tancredo comment. A statement previously released from the Pentagon says, "The Department of Defense continues to plan for a broad range of contingencies and unforeseen threats to the United States and its allies. We do so in order to deter such attacks in the first place. This administration is fashioning a more diverse set of options for deterring the threat of weapons of mass destruction," the Pentagon statement also said. While the Pentagon was busy "cleaning house" our strategic nuclear force would also likely target North Korea just to be certain we don't face any additional threats while we are in a recovery mode from the terror attack. Depending on the circumstances at the time of the attack against us, the Pentagon might even include China on the potential target list since China's own military doctrine (especially "Unrestricted Warfare") could be interpreted as using any advantage such as an already weakened United States to further its own military goals. Simply, our military planners would likely destroy every conceivable real or imagined threat to our country after we are attacked with a nuke. Americans as a whole seem to have tremendous patience, much more so than say Islamic countries. The American flag is burned on a daily basis in many countries during what seem like endless protests against our country and it hardly elicits any response at all here. On the other hand, a few cartoons, even ones showing Muhammad in an unfavorable way, sends masses of violent protestors into the streets in Islamic countries. However, we do have limits to our patience. If we got nuked, there would undoubtedly be a tremendous outcry for massive retaliation. After all, the country quickly united on Sept. 12, 2001, and widely supported President Bush's initiative to attack Afghanistan. According to the portions of the Nuclear Posture Review that are public, nuclear weapons can be used "in retaliation for the use of nuclear, biological, or chemical weapons," or "in the event of surprising military developments." It also recognizes the need for nuclear retaliation in cases of "immediate, potential or unexpected" contingencies against potential adversaries that have "long-standing hostility towards the United States and its security partners" including countries that "sponsor or harbor terrorists, and have active WMD and missile programs." Former US Undersecretary of State John R. Bolton (now US ambassador to the United Nations) said a while back: We would do whatever is necessary to defend America's innocent civilian population ... The idea that fine theories of deterrence work against everybody ... has just been disproven by Sept. 11. National Security Adviser Condoleezza Rice has said that the Bush administration wants to "send a very strong signal to anyone who might try to use weapons of mass destruction against the United States." Further, "The only way to deter such a use is to be clear it would be met with a devastating response," she said.
The Sino-Russian Strategic Romance
March 28….(Townhall) A blossoming Sino-Russian romance is undercutting US global interests on an unprecedented scale. But the relationship is about more than balancing American predominance in the post-9/11 world--Russia and China have their eyes on countering and restraining European and Japanese power, too. A failure to connect the seemingly scattered dots of Russian-Chinese cooperation, and recognize its hazards, could put Moscow and Beijing's power-hungry potentates in distasteful positions of increasing advantage over the US, its friends and allies. Just look at the UN, where Russia and China are hampering US and European Union-led efforts to address Iran's nuclear program. While Iran was reported to the Security Council weeks ago, little progress has been made in, even, condemning Tehran, much less imposing economic sanctions. No surprise: Neither Moscow nor Beijing want to bully their buddy, Tehran. They've way too much at stake. China has billions invested in Iran's oil/gas fields; Russia wants to make its own billions in reprocessing Iranian reactor fuel. Both sell millions in advanced weapons to Iran. In Beijing, China hosts the Six-Party Talks (i.e., U.S., Russia, China, Japan, North/South Korea), aimed at containing and rolling back Pyongyang's nuclear weapons program. Years of diplomatic chitchat have yielded almost nothing due to Russian/Chinese unwillingness to squeeze the defiant North Koreans. While North Korea may be an annoying, needy country cousin for Russia and China, neither minds that it causes nuclear-strength heartburn for Washington, exacerbating festering US-South Korean alliance problems. China certainly doesn't lose sleep over North Korean missiles bore-sighted on Japan, either. The Sino-Russian strategic parallelism is also exemplified by their blatant, anti-American call for the closure of US bases in Central Asia (used for Afghan ops), succeeding in Uzbekistan, but falling short in Kyrgyzstan. Last summer, Russia and China conducted their first-ever joint military exercises, which included 10,000 military, intelligence and internal security forces. Both capitals claimed the drills weren't aimed at any country-not that anyone in the US, Taiwan or Japan believed that. Russia and China also meet annually for bilateral military and technical cooperation talks. Of course, Russia is fueling China's military buildup. In addition to billions of dollars in advanced submarines, fighters, destroyers and missiles, Beijing recently purchased strategic aircraft from Russia for troop movement, air-to-air refueling and AWACS-type duties. Moreover, China and Russia have been cooperating on foreign and military intelligence since the early 1990s, and both are growing counterintelligence problems for the US, Europe and Japan, especially against high-tech and military targets. Facilitated by the end of Cold War-era travel restrictions, Chinese and Russian spooks see open societies as easy pickings. According to the FBI, China is now America's greatest spy threat. But Russian intel operations, under Russian President Vladimir Putin (a former KGB Colonel) are at an all-time, post-Berlin Wall high, too. In fact, just last week, the Pentagon claimed Russia gave US war plans and troop movements to the Iraqis. Chinese espionage rings have also been exposed in Europe; Russia redoubled its efforts there in recent years. With the presence of US forces (of interest to Beijing and Moscow), an advanced scientific-technical base and weak espionage laws, Japan is a spy's happy hunting ground. In a match made in heaven, just last week, the world's second largest energy producer (Russia) signed a slew of energy deals with the world's second largest energy consumer (China, after the US), including building a 3,000 kilometer-long gas pipeline. The pacts allow Beijing, now the world's fourth biggest economy, to feed its insatiable energy appetite, while competing with energy-poor Japan for access to Russian oil/gas resources. For Russia, China will decrease their dependence on the demanding, increasingly "Green" European market. On balance, everything isn't completely rosy between the two capitals: There are trade frictions, mass Chinese migration into resource-wealthy Siberia, latent Russian concerns about China's growing military muscle and a budding Russo-Japanese rapprochement. Sure, China and Russia aren't perfect strategic partners. But, their concerns about American global power, EU/NATO expansion, and Japan's higher international profile, are encouraging the long-time rivals to give each other a second look. Regrettably, neither power is just interested in geopolitical balancing. Putin's Russia is nostalgic for its Soviet glory days; President Hu Jintao's China wants to restore the all-powerful Middle Kingdom, and both are virulently anti-western.
Iran, Iraq's Shiite Moqtada Sadr and Syria Behind Iraq Insurgency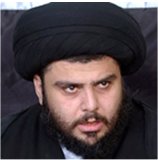 March 27….(DEBKA) Together they have planting a pro-Tehran clandestine front spanning a region stretching from East Afghanistan through Iraq to the Palestinian areas. Such developments are scarcely mentioned in the Israeli media, most of which are wholly absorbed in bolstering the ruling party Kadima's campaign for election on March 28, to the exclusion of negative security events. On a recent visit to Damascus, Debkafile's Middle East sources disclose, the Iraqi Shiite cleric convened the heads of 10 Palestinian terrorist groups based in Syria to discuss the insurgency alliance. He then met each separately to hand out their assignments and tell them how to communicate with their Iraqi guerrilla contacts. The Shiite radical informed the Palestinian terrorist leaders that Iran and Syria are working together to form a united front of Islamic groups combining Shiite and Sunni extremist sects to wage war in Iraq, Lebanon and Palestine. US forces staged two raids Sunday on Iraqi Shiite locations, a Sadrist mosque in which 20 radical gunmen were killed and another secret interior ministry prison. Radical cleric Moqtada Sadr's Mehdi militiamen tried to stop US troops from entering the Mustafa mosque in East Baghdad to arrest the suspected terrorists. US ambassador Salmay Khalilzad said the Shiite sectarian militias must be eliminated if Iraq is to have a unity government and avert civil war. The situation in Baghdad is so volatile that the latest US actions against Shiite militias may have the opposite effect to the one intended by Khalilzad and confront US forces with three active fronts, Sunni, al Qaeda and Shiite. In the Mull Eed village near Baquba, 30 mostly headless bodies were found on the main street, many of them shot. Another 13 bodies were found earlier Sunday in Baghdad. These episodes appear to be part of the sectarian violence raging in Iraq since last month's blast at the Shiite Golden Dome mosque in Samarrah. All these events occurred after US secretary of state Condoleezza Rice said the US plans to pull significant numbers of troops out of Iraq this year.
Israel Will Elect A New Prime Minister Tomorrow
March 27….(FOJ) The head of the right-wing Israeli Likud Party Benjamin Netanyahu, spoke during an election campaign conference in Tel Aviv, yesterday March 22, 2006.
Israel is voting in a general election on March 28, against a political landscape transformed by its withdrawal from the Gaza Strip, Prime Minister Ariel Sharon's incapacitating stroke, and the victory of the Hamas terrorist organization in the January 25 Palestinian election. Interim Prime Minister Ehud Olmert, shown campaigning in Jerusalem is said to be leading in most media polls, but politics in Israel can be unpredictable, as Israeli's will choose once again how they can best survive against their many enemies. Olmert is reportedly agreeable to withdrawing from the entire West Bank and to dividing Jerusalem. Netanyahu would supposedly work to establish a better security situation before ever relinquishing more territory to a Hamas-led Palestinian Authority.
WEEK OF MARCH 20 THROUGH MARCH 27
Russia Tipped Off Saddam on Iraq War Plans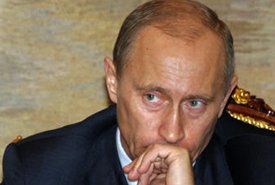 March 25….(Washington Times) Moscow had informants inside US Central Command whose information on the March 2003 invasion of Iraq was relayed to dictator Saddam Hussein days before American troops ousted him from power, according to a Defense Department history released yesterday. And, as US troops encircled Baghdad in April, Russia's ambassador fed information from Moscow's intelligence service to Saddam's regime regarding US troop movements. The new disclosures show that Moscow was working against the Bush administration in private, as it opposed in public the US desire for a United Nations Security Council resolution explicitly authorizing the invasion. The report was produced in book form by US Forces Command, which studies "lessons learned" in military operations. This document, however, focused not on American units, but on how Saddam, his regime and military prepared for the March 19, 2003, attack and tried to blunt it. Titled "Iraqi Perspective Project: A View of Operation Iraqi Freedom From Saddam's Senior Leadership," it is based largely on postwar interviews and seized documents. It is in one of those documents that the Iraqis told of spies inside US Central Command, which planned and executed the invasion. "The information that the Russians have collected from their sources inside the American Central Command in Doha [Qatar] is that the United States is convinced that occupying Iraqi cities are impossible, and that they have changed their tactic," states the Iraq intelligence report. Another part states, "Jordan had accepted the American 4th Mechanized Infantry Division." Although US forces did avoid occupying towns and cities on the march to Baghdad, they did enter Tikrit, Mosul and other large cities. But as for Jordan, the 4th Infantry Division never docked there, instead traveling by sea to Kuwait. The Forces Command report offered no information on whether Central Command ever identified and purged the spies. The report also tells of a seized memorandum from Iraqi's Foreign Ministry. The memo said Russia's ambassador was relaying intelligence reports to Saddam aides, including one memo that stated that allied forces would not enter Baghdad until the 4th Infantry Division arrived. That turned out to be false. In other report findings: The regime planned to restart production of weapons of mass destruction. It continued to hide scientists from UN inspectors right up to the time UN inspectors left and the war began. A seized Dec. 15, 2002, memo, written by an Iraqi intelligence agent posing as a UN escort, states, "Inside Bader WMD inspection site, there are Russian and Turkish scientists. When we visited the site, they were forced to hide from inspectors' eyes." And, Saddam continued to tell his commanders he still had such weapons. "For him, there were real dividends to be gained by letting his enemies believe he possessed WMD, whether it was true or not," the report said. • The quickly assembled air strike on one of Saddam's residences, Dora Farms, in pre-dawn March 19, 2003, never had a chance of succeeding. Saddam had not stayed there since 1995. • There was no evidence that Saddam or his top aides planned the insurgency, now in its fourth year; in fact, Saddam was sure the Americans would never advance on Baghdad. "There were no national plans to transition to a guerrilla war in the event of military defeat," the report states. This fact helps explain why commanders did not predict, nor plan for, the robust insurgency and al Qaeda terrorists now spreading violence. Saddam's misguided belief that he would stay in power in 2003 was fed by the support he got from France and Russia, his top aide, Tariq Aziz, told US investigators. "France and Russia each secure millions of dollars worth of trade and service contracts in Iraq, with the implied understanding that their political posture with regard to sanctions on Iraq would be pro-Iraqi," Mr. Aziz said. "In addition, the French wanted sanctions lifted to safeguard their trade and service contracts in Iraq."
Olmert Would Divide Jerusalem
March 25….(WND) Just five days before national elections here, acting Prime Minister Ehud Olmert's Kadima party revealed yesterday it would divide Jerusalem and allow a Palestinian state to be established in parts of Israel's "eternal capital." The revelation follows months of denials by top Kadima officials that the party would advocate withdrawing from Jerusalem. "The Old City, Mount Scopus, the Mount of Olives, the City of David, Sheikh Jarra will remain in our hands, but [regarding] Kafr Akeb, Abu-Ram, Shuafat, Hizma, Abu-Zaim, Abu-Tur, Abu Dis, in the future, when the Palestinian state is established, they will become its capital," said Otniel Schneller, a Kadima member who represented the party at a debate yesterday on dividing Jerusalem. Several Kadima officials and leaders associated with the party's now comatose founder, Prime Minister Ariel Sharon, previously made statements about dividing Jerusalem that immediately were denied by the party. In December, Sharon's senior campaign pollster Kalman Gayer said in an interview with Newsweek the Israeli prime minister would give up parts of Jerusalem in a peace agreement. Immediately following the publication of Gayer's remarks, Sharon appeared on state-run Israeli television and denied his vision for a Palestinian state includes Jerusalem. Olmert, who served as mayor of Jerusalem from 1993-2003, said in a June 2004 interview with the Jerusalem Post that Israel is contemplating turning parts of Jerusalem over to Palestinian control. "Jerusalem is dear to me, but one must not lose sight of proportions over peripheral areas we do not need," said Olmert, who served as deputy prime minister at the time. He claimed ceding control of eastern Jerusalem neighborhoods to the Palestinians is "needed to maintain a Jewish majority in the Holy City." Olmert was the first Sharon deputy to go public with Israel's plan to evacuate its Jewish communities from the Gaza Strip and four small West Bank communities. That plan was at first denied but later announced by Sharon. Israel withdrew from Gaza and the West Bank towns this past August, claiming there would be no further West Bank withdrawals. Jerusalem first was divided into eastern and western sections when Jordan invaded and occupied Jerusalem and the Old City in 1947, expelling all Jewish inhabitants. Israel built its capital in the western part of the city, while the eastern quarters remained under Jordanian control until Israel captured it, along with the Old City, in 1967 after Jordan's King Hussein ignored Israeli pleas for his country to stay out of the Six Day War.
Is The US Caving in on Iran's Nukes?
March 24….(FOJ) US Secretary of State Condoleeza Rice has resorted to issue warnings to Russia and China over their continuous holdout in the diplomatic impasse at the UN Security Council over Iran's disputed nuclear program. "There can't be any stalling," Rice said in response to a question about US efforts to get Russia and China to sign on to a strongly worded rebuke to Tehran. During the past year, Russia has sold Iran a $1 billion Russian-built mobile missile surface-to-air defense system that it can deploy to defend its nuclear facilities, hardening them to Israeli or US air strikes. China has just concluded a $100 billion deal to develop the oil and natural gas resources of the newly discovered Yadavaran field in southwestern Iran. So, neither of these countries can be expected to agree to any repercussions against their ally, Iran. Given the support Iran has with Russia and China, Iran is using that defensive mechanism to entice the US into direct discussions about the problems the US faces in Iraq. For sometime, Tehran has been proposing that Iran can help the US ensure calm amidst the "insurrection problem," that is causing the Bush Administration so many political problems. Apparently Iran thinks the US may be willing to ignore their nuclear program in exchange for some calming in Iraq so the US military can pullout with a mission accomplished scenario. The problem is that Iran itself is largely responsible for the continuing violence in Iraq. Iran's Revolutionary Guards have been training terrorists in Iraq, financing them and sending them back across the border with advanced improvised explosive devices with which to kill US military and Iraqi security forces on the road. Ironically, it looks like the US does not enough support from Russia and China to thwart Iran's nuclear program (without a military strike) so, the US may be looking for a way to back out of the stressful situation, while at the same time ensuring Israel that it will defend it against any Iranian attacks. It sounds altogether to me as though Iran will acquire (if it hasn't already) nuclear weapons on Bush's watch. Bible prophecy seems to indicate that Iran (Persia) will be around to join Russia in a great assault against Israel. Personally, I foresee that the Ezekiel scenario being a mid-trib to Armageddon timed event, so it would not surprise me to see Iran and Russia stall the US-EU campaign against Iran's nuclear program into nothingness.
Afghanistani Christian Converts Accused of Apostasy
March 24….(Compass) An avalanche of media coverage of an Afghan man facing the death penalty for converting to Christianity has apparently sparked the arrest and deepening harassment of other Afghan Christians in the ultra-conservative Muslim country. Authorities arrested Abdul Rahman, 41, last month for apostasy, a capital offense under strict Islamic laws still in place in Afghanistan, which four years ago was wrested from the Taliban regime's hard-line Islamist control. During the past few days, Compass has confirmed the arrest of two other Afghan Christians elsewhere in the country. This past weekend, one young Afghan convert to Christianity was beaten severely outside his home by a group of six men, who finally knocked him unconscious with a hard blow to his temple. He woke up in the hospital two hours later but was discharged before morning. Several other Afghan Christians have been subjected to police raids on their homes and places of work in the past month, as well as to telephone threats. Rahman was put on trial in Kabul last week for the "crime" of converting from Islam to Christianity and faces the death penalty for refusing to return to the Muslim faith. But news of his case did not break until March 16, when Ariana TV announced it. According to the TV newscaster, Rahman was asked in court, "Do you confess that you have apostacized from Islam?" The defendant answered, "No, I am not an apostate. I believe in God." He was then questioned, "Do you believe in the Quran?" Rahman responded, "I believe in the New Testament, and I love Jesus Christ." Although Islamist militants have captured and murdered at least five Afghan Christians in the past two years for abandoning Islam, Rahman's case is the local judiciary's first known prosecution case for apostasy in recent decades. During Rahman's initial hearing before the head judge of Kabul's Primary Court, he testified that he had become a Christian 16 years ago, while working with a Christian relief organization in the Pakistani city of Peshawar, near the Afghan border. But after his conversion, Rahman's wife divorced him, so their two infant daughters were taken back to Afghanistan, where they have been raised by their paternal grandparents. If Rahman is found guilty of apostasy and given the death penalty, as demanded by prosecutor Abdul Wasi, Afghan law permits him two final appeals, first to the provincial court, and then the Supreme Court. Calling Rahman a "traitor to Islam," Wasi told the court he was "like a cancer inside Afghanistan." Wasi told the Associated Press (AP) that when he offered to drop all the charges against Rahman if he returned to Islam, the defendant refused. "He said he was a Christian and would always remain one," Wasi said. "We are Muslims, and becoming a Christian is against our laws," the prosecutor concluded. "He must get the death penalty."
Afghan Trial of Christian 'Troubles' Bush
March 23….(Washington Times) President Bush yesterday said he was "deeply" troubled by the trial in Afghanistan of a Christian who could face execution for converting from Islam and vowed to pressure the Afghan government on the matter. "It is deeply troubling that a country we helped liberate would hold a person to account because they chose a particular religion over another," Mr. Bush said. Abdul Rahman could face the death penalty for rejecting Islam. He converted to Christianity 16 years ago while working for a Christian aid organization in Pakistan, but it just came to light recently during a custody battle over his two children. While nations such as Italy and Germany lodged strong protests earlier this week against the trial, the US State Department on Tuesday was more tepid, calling the case a matter for Afghan authorities. Yesterday, Mr. Bush took a much firmer stance. "We have got influence in Afghanistan, and we are going to use it to remind them that there are universal values," he said. It appeared yesterday that Afghanistan was looking for a way out of the international furor over the matter. The Associated Press, reporting from Kabul, Afghanistan, quoted a prosecutor as saying Mr. Rahman may be mentally unfit for trial. "We think he could be mad. He is not a normal person. He doesn't talk like a normal person," said the prosecutor, Sarinwal Zamari, while the AP also quoted a religious adviser to President Hamid Karzai as saying that Mr. Rahman will have an exam and that if he is deemed unfit, the case against him would be dropped. Afghan Foreign Minister Abdullah Abdullah on Tuesday said that he understood American concerns but that the matter was a legal one and the government "has nothing to do with it." Prosecutors said the case against Mr. Rahman would be dropped if he converted back to Islam, but he has refused. The state-sponsored Afghan Independent Human Rights Commission has said Mr. Rahman violated Islamic law by converting to another religion and should be punished. The trial has become a cause for Christians worldwide and for conservative groups in the United States, who demanded that the US government intervene. "Americans have not given their lives for Afghan's to enjoy freedom so that Christians can be put to death," said Tony Perkins, president of the Family Research Council.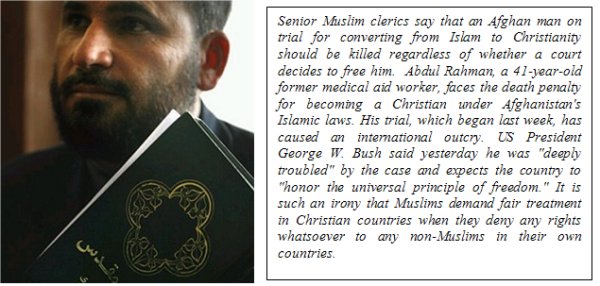 UN Council Stymied on Iran
March 23....(Reuters) The UN Security Council failed to reach an accord on Tuesday on how to respond to Iran's nuclear programs even as President George W. Bush warned Tehran could blackmail the world if it had the bomb. Russia, backed by China, wants to delete large sections of a Franco-British draft statement the Security Council has been studying for nearly two weeks as a first reaction to Iran's nuclear research, which the West believes is a cover for bomb making. Russia is concerned about how deeply the 15-member Council, which has the power to impose sanctions, should get involved in the Iranian crisis. Until now it has been handled by the 35-member board of the International Atomic Energy Agency, the UN nuclear watchdog in Vienna, and negotiators Germany, Britain and France. Bush, who has offered to talk to Iran on what he sees as Tehran's meddling in Iraq, made clear that does not include the nuclear issue. Those talks would be led by the three European Union powers. "Our negotiations with Iran on the nuclear weapons will be led by the EU-3," Bush said. "And that's important because the Iranians must hear there's a unified voice." "If the Iranians were to have a nuclear weapon they could blackmail the world" because "they're not heading toward the international accords, they're not welcoming the international inspections...," Bush added. A closed-door meeting among all 15 council members scheduled for Tuesday was delayed while diplomats negotiate in small groups. Last week members thought a deal was close. Britain's U.N. ambassador, Emyr Jones Parry, told reporters his country and France would not amend the text, which calls for Iran to suspend all uranium-enrichment activities, unless it had a chance of success. "And if there is no prospect of an agreed conclusion we won't be amending the text," he said.
An alternative to a statement would be a Security Council resolution, which carries more weight, and would dare Russia and China to use their veto power. A statement needs agreement from all 15 members while a resolution needs nine votes in favor and no veto from any of the five permanent members. Both Jones Parry and French Ambassador Jean-Marc de la Sabliere said a resolution was not ruled out but they still hoped for agreement on a statement. In Beijing, Foreign Ministry spokesman Qin Gang emphasized that "China and Russia have common views on how to resolve the Iranian nuclear issue." "Our objectives are to solve the issue in a peaceful way through negotiations," he said, as Chinese President Hu Jintao and Russian President Vladimir Putin held talks in Beijing. Moscow has offered to process uranium for Iran in an attempt to break a stalemate but Tehran has so far refused. Russia's objections to the draft statement are many. It wants a provision deleted that mentions "peace and security e Europeans earlier in talks that collapsed, diplomats said. Under a November 2004 agreement with Britain, France and Germany, Iran had agreed to freeze any uranium conversion, enrichment and reprocessing activities in return for economic and political rewards. Before any incentives materialized, Iran restarted uranium conversion in August. In February, Tehran began tests on enriching uranium. The IAEA board agreed to report the issue to the Security Council, which received the dossier on March 8.
An Update on Ariel Sharon

March 22….(FOJ) Ariel Sharon, still lying comatose since suffering a massive stroke in January, will be moved to a long-term care facility after elections later this month, Israeli TV reports. The Israeli prime minister will be moved to the Sheba Medical Center outside Tel Aviv, Channel 10 said, quoting hospital officials. Sharon's doctors have said that every day Sharon, 78, fails to regain consciousness, his chances for recovery diminish. Mr. Sharon has had seven operations, including three brain surgeries, since his January 4 stroke.
A Note From Zola Levitt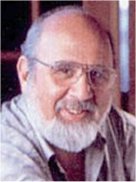 March 22….(Levitt Letter) Dear Friends, I really hate to report this, but I have been diagnosed with metastatic lung cancer. It has gone into the brain and liver, and I have little choice but to proceed with radiation and chemotherapy. With that said, I am maintaining my post as long as possible, making TV programs and otherwise supervising this ministry. I don't particularly feel well—this is a disease that seems to bring on a symptom per day—but I have a kind of spiritual peace about my upcoming death. I will probably be seeing the Lord sometime this spring, and I very much look forward to that. After all, Paul said, For me...to die is gain (Phil. 1:21). I was attended by a nice young man when I was being prepared for an MRI exam in the hospital. After the exam, he helped me again. We had some brief conversation and then he said, "I have been working here for nine years and I have met very angry and bitter people with this awful illness, but you are the happiest man I have ever met." I shared with him about the Lord and the fact that I had nothing to worry about. He shook my hand as I left. I also have kind of a hunch that the Rapture is just around the corner, looking at actions in Iran and also with Hamas in Israel. These greedy societies of thugs may well try to fall upon Israel, each in their own way, and be defeated summarily, but that will bring on the larger invasion called Gog and Magog (Ezekiel 38 and 39). We will be out of here before that invasion takes place, and thus, I think the Rapture is a distinct possibility ahead. I'm not just saying that as a date setter, but as someone who has considered these prophecies for 35 years, talked them over with other teachers, and come to the conclusion that virtually nothing else has to happen before the Lord's coming. And again, it's not wishful thinking. This faith, put to the test, sustains you beautifully. I went through two bypass operations, either one of which could have been fatal, and ended up telling my doctors: "Don't worry. When I awake, I'll either see you or the King." I'll have some problems with speaking engagements, tours, etc., obviously, but work here on the home front continues, and I will go on writing for this newsletter, and editing the articles in it. In all ways, I will attempt to keep a normal schedule and also take these treatments. But I think that is the kind of challenge which I may be unable to overcome. In any case, I really covet your prayers at a time like this. (Zola: You are one in a billion, and we love you…FOJ)
Mofaz: Iran Giving Millions to Terrorism
March 22….(YNET) Israeli Defense Minister Shaul Mofaz has revealed that Iran has increased its funding of terrorism against Israel. "Last month, Iran gave the Islamic Jihad USD 1.8 million, to carry out attacks against Israel," Mofaz told Ynet in an interview. The defense minister said that the figure was a short-term record transfer of cash. His comments came as a terror attack involving a large explosives device was intercepted on Highway 1 connecting Tel Aviv to Jerusalem. With Israel only one week away from elections, it is concerned about the prospect of increased terrorism. Mofaz said the millions being sent to Palestinian terrorists is direct aid from Iran, from which most of the money is transferred through Syria, and from there to the Islamic Jihad in the territories." The Iranians are giving an economic push to create terrorism? "The axis of evil, including Iran, Syria, and Hizbullah, Hamas, and the Muslim Brotherhood, is consolidating their threatening efforts against Israel. Hizbullah is also involved in some of the terror operations here and sends messages, as well as money, which arrives from Iran to the Islamic Jihad, and to Hamas, from other sources. The bottom line is that there is a consolidation of the axis of evil in two senses: One is terrorism, and the second is the Iranian nuclear project."
The Palestinian Terrorists Are A Devious Enemy
March 21….(FOJ) The terrorist killing machines that operate in the West Bank and Gaza are notorious for their devious behavior. They routinely hide in the homes of civilians and use innocent by-standing human beings as body shields to snipe on their Israeli targets. One such occasion was the Arafat backed Palestinian terrorist group that used the Christian enclave in Beit Jala to launch a series of attacks on Israeli citizens. When the IDF came to retaliate, the Palestinian terrorists immediately hid behind the skirts of women and children, knowing the Israeli's reluctance to make victims of innocent people. The picture below speaks a thousand words about the Israeli-Palestinian Conflict.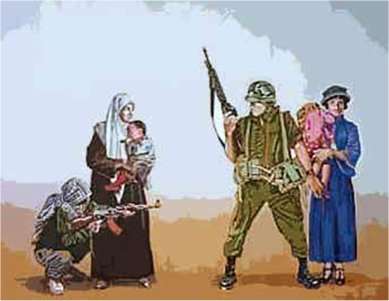 The Dangerous Dreams of Jimmy Carter
March 21….(JNEWSWIRE commentary by Stan Goodenough) But for Jimmy Carter, the Middle East would probably be in far less a mess than it is today. In his case, at least, it is certainly a shame that US presidents retain their titles and continue wielding such enormous prestige and influence after leaving office. Would that this Georgian peanut farmer's ability to damage and weaken Israel had been limited to the single term he enjoyed in the White House between 1977 and 1981. Tragically for the people of our region, it has not. Of course, Carter basks in the light of a totally different perspective. A legend in his own mind, he sees himself as one of the world's premier peacemakers. And nowhere has his "success" been as far reaching as in the Levant. Here he turned the thumbscrews that brought about the signing of a peace treaty between Israel and Egypt. And sown into the lines of his Camp David Agreement were the seductive seeds that would spawn the land-for-peace movement and process for which Israel has for so long paid the bitter price. There is little doubt that, ever since those heady days, Carter has savored each signing ceremony that has seen Israel's security and sovereignty eroded in exchange for empty promises from the Arab side. The 1993 Oslo Agreement between Prime Minister Yitzhak Rabin and Yasser Arafat had America's 39th president beaming broadly on the White House lawn, as the cameras zoomed in on his trademark toothy smile. But Carter's mask has been peeling for decades. Lying behind that smile, and driving his policies and programs, is a fantasy world in which deep and smoldering resentment burns towards the State of Israel. This week a big section of his mask dropped away, revealing the destructive dream dominion in which he lives. In that world his country has the right to impose its will on other lands, one of which is a place called Palestine, an Arab country colonized by Jews. According to an editorial he wrote for an influential Israeli newspaper on Sunday ("Colonization of Palestine precludes peace," Ha'aretz March 19, 2006), Carter was alone in recognizing, confronting and putting a stop to Israeli expansionism and aggression. From his twisted perspective, ever since he was forced to relinquish power to Ronald Reagan, "Israeli policy has been in conflict with that of the United States and the international community." In the Gospel according to Jimmy Carter, it is not Islam-fueled Arab rejection of Israel's right to exist anywhere; not the ongoing state of war that exists between Arab states and Israel; not the mass-murdering and maiming of Israeli Jews through countless Arab acts of violence; not the demonization of Israel that takes place daily across the Arab world, planting hatred deep inside the young minds and hearts of millions; not the Arab penchant for not missing an opportunity to miss an opportunity, none of these realities is responsible for the unending conflict between Arabs and Jews. Nor did the massive terrorism that erupted in 2000 and has led to the murders of over 1,000 Israelis happen because Arafat rejected the Clinton-sponsored Camp David Agreement and launched a war against Israel. No, this "2nd intifada" erupted because "the occupying forces [Israel] imposed tighter controls" on the Arabs. Consistent Carter. In his never-never land it is always and only Israel's fault. For him it is Israel's "occupation of Palestine that has obstructed a comprehensive peace agreement in the Holy Land. Actually, he corrects himself, it is not simply occupation. "The preeminent obstacle to peace is Israel's colonization of Palestine." As I said, the fact that there neither is nor ever has been a state of Palestine is hardly a consideration for this man. In this non-existent land, Israel's obstructionism has been evident "regardless of whether Palestinians had no formalized government, one headed by Yasser Arafat or Mahmoud Abbas, or with Abbas as president and Hamas controlling the parliament and cabinet." Carter finds this a reprehensible and infuriating state of affairs. After all, his "Carter Center" has given its "blue ribbon" seal of approval to the "honest, fair and peaceful" Palestinian elections that took place in January and saw the Hamas terrorist group sweep to power. But now Israel has "announced a policy of isolating and destabilizing the new government." How dare they! Where, I wonder, do these world leaders get their hutzpah? Clearly those that go with Carter's flow suffer from delusions of divinity: "Let there be Palestine," they say and poof! For them it exists. On he dreams, totally ignoring the glaring realities all the people in the Middle East have witnessed through the years: "There is little doubt that accommodation with the Palestinians can bring full Arab recognition of Israel and its right to live in peace. Any rejectionist policies of Hamas or any terrorist group will be overcome by an overall Arab commitment to restrain further violence and to promote the well-being of the Palestinian people." Little doubt? There are mountain ranges of doubt!! I would hate to be in the shoes of these Palestine propagationists when they stand before the Lord one day. Clearly they are sorely lacking in fear of Him. God named one nation "Israel," and gave them the Land of Israel, "forever." Those who would superimpose another nation on the land of the Jews will soon have His fury to contend with. Can someone get this message to Carter and prick his bubble? He really should be warned….. (especially in light of the fact that he is supposed to be a Christian)
Bush: I haven't Considered Apocalypse or Bible Prophecy in light of Global Conflict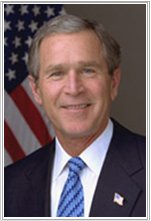 March 21….(WND) President Bush said he hasn't considered the global war on terrorism in light of Bible prophecy. Asked by a questioner following his speech on the War on Terror at the City Club of Cleveland tonight whether the war in Iraq and the rise of terrorism are signs of the apocaplyse, Bush responded, "The answer is, I haven't really thought of it that way." "My question is that author and former Nixon administration official Kevin Phillips, in his latest book, 'American Theocracy,' discusses what has been called radical Christianity and its growing involvement into government and politics," asked an unidentified woman. "He makes the point that members of your administration have reached out to prophetic Christians who see the war in Iraq and the rise of terrorism as signs of the apocalypse. Do you believe this, that the war in Iraq and the rise of terrorism are signs of the apocalypse? And if not, why not?" The president elaborated: "Here's how I think of it. The first I've heard of that, by the way. I vowed after September the 11th, that I would do everything I could to protect the American people. And my attitude, of course, was affected by the attacks. I knew we were at war. I knew that the enemy, obviously, had to be sophisticated and lethal to fly hijacked airplanes into facilities that would be killing thousands of people, innocent people, doing nothing, just sitting there going to work. "I also knew this about this war on terror, that the farther we got away from September the 11th, the more likely it is people would seek comfort and not think about this global war on terror as a global war on terror," he said. I also understand my most important job, the most important job of any president today, and I predict down the road, is to protect America." He continued: "And so I told the American people that we would find the terrorists and bring them to justice, and that we needed to defeat them overseas so we didn't have to face them here at home. I also understood that the war on terror requires some clear doctrine. And one of the doctrines that I laid out was, if you harbor a terrorist, you're equally as guilty as the terrorist. And the first time that doctrine was really challenged was in Afghanistan. And so we acted. Twenty-five million people are now free, and Afghanistan is no longer a safe haven for the terrorists. And the other doctrine that's really important, and it's a change of attitude, is that, when you see a threat, you got to deal with it before it hurts you. Foreign policy used to be dictated by the fact we had two oceans protecting us. If we saw a threat, you could deal with it if you needed to or not. "My most important job is to protect you, is to protect the American people," the president said. "Therefore, when we see threats, given the lesson of September the 11th, we got to deal with them. That does not mean militarily, necessarily. Obviously, the first option for a President has got to be the full use of diplomacy. That's what you're watching in Iran right now. I see a threat in Iran. The threat from Iran is, of course, their stated objective to destroy our strong ally Israel. That's a threat, a serious threat. It's a threat to world peace; it's a threat, in essence, to a strong alliance. I made it clear, I'll make it clear again, that we will use military might to protect our ally, Israel." The president's pledge to protect Israel drew applause from the crowd. "At any rate, our objective is to solve this issue diplomatically. And so our message must be a united message, a message from not only the United States, but also Great Britain and France and Germany, as well as Russia, hopefully, and China, in order to say, loud and clear to the Iranians, this is unacceptable behavior," said Bush. "Your desire to have a nuclear weapon is unacceptable." He concluded: "And so, to answer your question, I take a practical view of doing the job you want me to do, which is how do we defeat an enemy that still wants to hurt us; and how do we deal with threats before they fully materialize; what do we do to protect us from harm? That's my job. And that job came home on September the 11th, for me, loud and clear. And I think about my job of protecting you every day, every single day of the presidency, I'm concerned about the safety of the American people." Asked a similar question in October 1984, whether he believed in Armageddon, President Ronald Reagan answered: "Yes, Armageddon could come the day after tomorrow."
FOJ Note: President Bush needs to become knowledgeable about Bible Prophecy, because the events of our times are most definitely pointing in the direction of Armageddon! The mere fact that Iran has stated in public the long-held position of the Arab world that it intends to wipe Israel off the map should be an indication that the Tribulation era is winging its way ever nearer. If the United States wants Divine protection from its enemies, then knowledge pertaining to Bible Prophecy is a must, and any President needs to acknowledge the fact that God Almighty is working through the regathered nation of Israel to judge the nations of the whole world.
Russia Says Nnyet' to Foreign Militaries in the Caspian
March 21….(Asia Times) Russia, which has significant economic interests in the oil-and-gas-rich Caspian region, is warning against any military buildup in the area, particularly by the United States. Foreign Minister Sergei Lavrov made that clear during a two-day meeting last week of his counterparts from the other four countries that border the Caspian Sea, Iran, Azerbaijan, Kazakhstan and Turkmenistan. He was upset by what he called "efforts by some nations from outside the region to infiltrate the Caspian politically and militarily with ill-defined goals. Lavrov is believed to have been targeting the US, which is thought to be trying to establish a base in Azerbaijan while assisting the country with an overhaul of its navy. Iran has reiterated its readiness to host a Caspian Sea summit, despite growing tensions around its nuclear ambitions. Moscow has used the Iranian nuclear situation to renew attempts to forge a multinational force in the Caspian Sea. Russian Defense Minister Sergei Ivanov suggested in a visit to Azerbaijan this year that his country, Kazakhstan, Turkmenistan, Azerbaijan and Iran should make concerted efforts to deal with security threats in the region. (Israel) That could include defense, border control and intelligence services, he said. His Azerbaijani counterpart Safar Abiyev said his country was ready to cooperate with Russia to launch joint Caspian forces. Russian President Vladimir Putin last July attended an international conference on Caspian security, held on board Russia's Caspian Flotilla flagship naval vessel, Tatarstan. The conference supported an idea of creating a joint naval force of the littoral states, similar to the Black Sea Force and presumably under the Russian aegis. Moscow has also moved to boost its economic clout in the northern Caspian. President Putin recently signed a 55-year production-sharing agreement for the Kurmangazy oilfield in the Caspian Sea. (one of the largest in the world) Russian and Kazakh investment in the Kurmangazy oil deposit could hit US$22 billion to $23 billion. Russia and Kazakhstan also finalized a deal to develop jointly the Khvalynskoye oil and gas field in the northern Caspian. Russia's state-controlled gas giant Gazprom now plans to build a major petrochemical complex in Russia's main Caspian port of Astrakhan, and crude-oil production is expected to start in the Russian section of the Caspian shelf by next year. Moscow is vehemently opposed to outside meddling in the Caspian region!
Bush Warns Iran on Israel
March 21....(Breitbart) US President George W. Bush said he hoped to resolve the nuclear dispute with Iran with diplomacy, but warned Tehran he would "use military might" if necessary to defend Israel. "The threat from Iran is, of course, their stated objective to destroy our strong ally Israel. That's a threat, a serious threat. It's a threat to world peace," the US president said after a speech defending the war in Iraq. "I made it clear, and I'll make it clear again, that we will use military might to protect our ally Israel," said Bush, who was apparently referring to Iranian President Mahmoud Ahmadinejad's call for the destruction of Israel. On the atomic dispute, Bush said he hoped "to solve this issue diplomatically" with a "united message" to Tehran from Washington, London, Paris, Berlin as well as Russia "hopefully" and China. The message would be that "your desire to having a nuclear weapon is unacceptable," he said. Bush also touched on Iran's agreement to discuss Iraq with the UN.
Hamas: Our Spirit and Determination Will Vanquish Zionism
March 20….(Arutz) The leader of the Hamas, Khaled Mash'al, said in a speech in Damascus that Arab determination and spirit will ultimately vanquish Zionism and bring about the liberation of all of Palestine. Mash'al, whom Israel attempted to assassinate in 1997, said the dream of returning millions of Arab refugees to Israel is coming closer to reality as the final battle with Zionism approaches. The real power behind the Hamas, Mash'al is a former resident of Gaza. Israel has barred Mash'al from reentering the country and assuming any role in the new Hamas government of the Palestinian Authority. Speaking at a gathering marking 40 days since the death of the head of the Palestinian National Council, Khaled Alfahom, Mash'al emphasized the importance of the "Palestinian spirit" in winning the historic battle against Zionism. The following are excerpts from his speech: "Ben-Gurion [Israel's first prime minister] hoped that subsequent generations of Palestinians will forget [their defeat in the 1948 War of Independence, commonly referred to by Arabs as] the catastrophe." "Today's followers of Ben-Gurion know that they have to contend with a Palestinian generation that is stronger than its predecessors. They will see future generations of Palestinians and the Arab and Islamic nation waving the banner of Islam." "The liberation of Palestine will come with the help of Allah, until it is attained by the last soldier, woman, and child, despite resistance by Israel and the United States. Jerusalem will become Arab and Muslim again, including all the places holy to Islam and Christianity." "Today, we are close to attaining Palestinian national rights. When a Palestinian child says that his grandfather or father was born in Nazareth, Haifa, or Jaffa, there's powerful human force in that. Can any power on earth erase this memory? How can Nazareth, Haifa, Be'er Sheva, Jaffa, and Akko be erased from the Palestinian memory? Therefore, one who says that Palestinian rights will die out, or that the Palestinians will relinquish or sell their rights and values is living an illusion." "We and the Zionists have been brought together by destiny. If they want a fight, we'll be there; if they want a war we're ready; if they want a conflict we'll be there however long it takes. "We have more determination that Israel. We'll defeat it, with the help of Allah, and we'll liberate the land."
FOJ Note: Destiny has indeed brought about the rise of the Israel-Arab conflict in our day, but it is not Islam nor Allah that will prevail. Jehovah God of Israel is allowing the present geo-political conflict to simmer and engulf all nations of the world, and set the stage for the coming Day of the Lord.
Support for Israel Blamed for US's Woes in World
March 20….(JNEWSWIRE) Dressed up in new academic attire, the centuries-old libel that the Jewish people have somehow taken control of the affairs of the most powerful nations on earth, in this case the United States of America, is again making headlines. America's roughly six million Jews make up a minuscule voting bloc, and neither they nor their brethren abroad hold sway over critical natural resources, such as oil. Yet despite their inferior numbers and lack of significant economic leverage, the pro-Israel Jewish lobby in America, represented primarily by the American Israel Public Affairs Committee (AIPAC), has managed to hijack the foreign policies of the US government, contend two Harvard researchers in a controversial 81-page report. Writing for the Kennedy School of Government at Harvard University, John J. Mearsheimer and Stephen M. Walt argue: "The overall thrust of US policy in the Middle East is due almost entirely to US domestic politics, and especially to the activities of the 'Israel Lobby,' no lobby has managed to divert US foreign policy as far from what the American national interest would otherwise suggest, while simultaneously convincing Americans that US and Israeli interests are essentially identical."In reality, Mearsheimer and Walt insist, supporting Israel is not in America's best interests. "Israel is in fact a liability in the war on terror and the broader effort to deal with rogue states. The United States has a terrorism problem in good part because it is so closely allied with Israel, not the other way around."Seemingly ignoring global Islamic hatred for the US and its Christian-based values, the two "experts" claim open belligerence from Iran, Iraq, Syria and the terrorist proxies directed by those states would simply not be an issue for America if it weren't for Israel. The authors even go so far as to accuse Israel of not being a true democracy and therefore not a suitable ally for the US. It is unclear how they feel about Washington's close ties to brutal dictatorial regimes, such as Saudi Arabia and Egypt, since they chose to spend their time engaged in the more popular pastime of Israel-bashing. Naturally, the report has topped headlines in the leftist international media, and in particular in the Middle East, where no love is lost for either Israel or the United States.
FOJ Note: The day America stops supporting the right of Israel to the rightful possession of its Promised Land in lieu of the persistent blackmail threats from terrorist-sponsoring states in the Middle East is the day that America will find itself truly falling under imminent judgment by God.
WEEK OF MARCH 12 THROUGH MARCH 19
Newly Released Document Links Saddam to al-Qaida
(Indicates regime was cooperating with bin Laden group to strike US)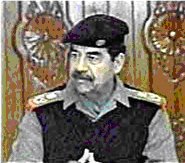 March 17….(WND) Among the pre-war documents posted online yesterday by the Pentagon is a letter from a member of Saddam's intelligence apparatus indicating al-Qaida and the Taliban had a relationship with the regime prior to the 9-11 attacks. The letter by the member of Saddam's Al Mukabarat to a superior, dated Sept. 15, 2001, reports a pre-9/11 conversation between an Iraqi intelligence source and a Taliban Afghani consul. The documents were released yesterday at the direction of National Intelligence Director John Negroponte. Among the first batch of the thousands expected to be declassified over the next several months, as the Al Mukabarat document. Laura Mansfield, an independent Middle East analyst, examined the translation for World Net Daily and said it appears to be accurate. The letter indicated Osama bin Laden and the Taliban in Afghanistan were in contact with Iraq, noting a specific visit to Baghdad, and said the US had proof Saddam's regime and al-Qaida were cooperating to hit a target in the US. The document said the US was aware of such a relationship and could strike Iraq and Afghanistan if the attacks proved to be tied to bin Laden and the Taliban. The translated text is as follows: Our source in Afghanistan No 11002 provided us with information that that Afghani Consul Ahmad Dahestani told him the following:
1. That Osama bin Laden and the Taliban in Afghanistan are in contact with Iraq and it that previously a group from Taliban and Osama Bin Laden group visited Iraq.
2. That America has proof that the government of Iraq and Osama bin Laden group have shown cooperation to hit target within America.
3. That in case it is proven the involvement of Osama bin Laden group and the Taliban in these destructive operations it is possible that America will conduct strikes in Iraq and Afghanistan.
4. That the Afghani Consul heard about the subject of Iraq's relations with the Osama Bin Laden group during his stay in Iran.
Zarqawi a pre-war presence?
Mansfield pointed to another document showing that less than a year after the 9-11 attacks, Saddam's government had discussions with at least one active al-Qaida cell in his country. The document, released only in Arabic, is described by the US government as follows: 2002 Iraqi Intelligence Correspondence concerning the presence of al-Qaida Members in Iraq. Correspondence between IRS members on a suspicion, later confirmed, of the presence of an Al-Qaeda terrorist group. Moreover, it includes photos and names. Mansfield said a translation of the document shows the al-Qaida terrorist Saddam's government had contacts with was Abu Musab al-Zarqawi, who emerged as one of the leading terrorists in post-Saddam Hussein Iraq. The document, dated Aug. 17, 2002, identifies the al-Qaida member as Ahmed Fadil Nizal Al Khalaylah, the real name of Zarqawi, and includes a series of photos. A memo within the document shows that as early Aug. 8, 2002, Zarqawi was identified as a member of "Tanzeem al-Qaida," or the "Al-Qaida Organization". "This document provides startling documentation that at the very least that Saddam Hussein's government knew that al-Qaida was active and functioning in Iraq," Mansfield said. She pointed out that although the document goes on to outline activities of the group, there is no indication the Iraqi government took any steps to stop al-Qaida from operating within Iraq, in clear defiance of international law. Weekly Standard reporter Stephen Hayes, whose reporting has helped move members of Congress to call for release of the documents, nevertheless, has cautioned that they are published with a caveat. The Pentagon website says: "The US Government has made no determination regarding the authenticity of the documents, validity or factual accuracy of the information contained therein, or the quality of any translations, when available." The administration's intent is to allow lawmakers and the public to investigate the documents' claims about controversial issues such as weapons of mass destruction and al-Qaida's relationship to the regime prior to the March 2003 invasion. House Intelligence Chairman Peter Hoekstra, R-Mich., requested the release, and last weekend Negroponte agreed to set up the website. Hoekstra said in a statement he welcomed the opportunity to answer questions critical to the debate over the war. "Whether Saddam Hussein destroyed Iraq's weapons of mass destruction or hid or transferred them, the most important thing is we discover the truth of what was happening in the country prior to the war," he said. In 2003, a 16 page top secret government memo to the Senate Intelligence Committee said bin Laden and Saddam had an operational relationship from the early 1990s to 2003 that involved training in explosives and weapons of mass destruction, as well as financial and logistical support, and may have included the bombing of the USS Cole and the Sept. 11 attacks. "The memo, dated Oct. 27, 2003, reports Saddam's willingness to help bin Laden plot against Americans began in 1990, shortly before the first Gulf War, and continued until the eve of the US-led invasion of Iraq in 2003. It says bin Laden sent ''emissaries to Jordan in 1990 to meet with Iraqi government officials.'' At some unspecified point in 1991, according to a CIA analysis, ''Iraq sought Sudan's assistance to establish links to al-Qaida.''
Pentagon 'Hedge' Strategy Targets China
March 17….(Washington Times) The Pentagon is moving strategic bombers to Guam and aircraft carriers and submarines to the Pacific as part of a new "hedge" strategy aimed at preparing for conflict with China, Pentagon officials said yesterday. Peter Rodman, assistant defense secretary for international security affairs, told a congressional commission that the response to the emerging military threat from China is part of the White House national security strategy made public yesterday. Although US relations with China are good, "both sides understand very well that there is a potential for a conflict, particularly in the Taiwan Strait," Mr. Rodman said during a hearing of the US-China Economic and Security Review Commission. China's arms buildup in recent years altered the US "strategic calculus" for defending Taiwan from a mainland attack and shows that "a prudent hedging policy is essential," Mr. Rodman said. The placement of about 700 Chinese missiles opposite Taiwan has changed the status quo between the non-communist island and the communist mainland, he said. The Pentagon policy calls for watching China's military and "being ready to deal with it, if the worst case should happen," Mr. Rodman said. James Thomas, deputy assistant defense secretary for plans, said key elements of the "hedging" policy are aimed at nations with uncertain futures, including China and Russia. In the China part of the hedging strategy, we're looking at the deployments of bomber elements to Guam on a more routine basis," he said. "We're also looking at making adjustments in our naval posture globally, shifting to six carrier battle groups in the Pacific region, given the shift in global transport and trade, as well as over the next several years shifting approximately 60 percent of our attack submarine fleet to the Pacific." The public term for the strategy is "hedge," but in internal Pentagon discussions the term is "effective preparations to swiftly defeat Chinese aggression," one defense official said. The comments about a conflict contrast with statements by Pentagon officials that have sought to minimize the emerging threat from China. The plan calls for frequent rotations of B-2 strategic bombers to Guam, part of what the Air Force calls its global strike mission to reach crisis areas quickly. Special hangars and other deployment and maintenance facilities are being built on Guam, a US territory about 1,800 miles from the Chinese coast. Three attack submarines are based in Guam, and arms storage there includes long-range air-launched cruise missiles and Joint Direct Attack Munitions. Adm. William J. Fallon, commander of the Pacific Command, has visited Guam and told reporters that the island will become a pivot point for US forces in the Pacific because of the relatively short distances to the Taiwan Strait, South Korea and Southeast Asia.
President Bush Restates Pre-emptive Doctrine
March 16….(AP) Undaunted by the difficult war in Iraq, President George W. Bush reaffirmed his strike-first policy against terrorists and enemy nations on and said Iran may pose the biggest challenge for America.
In a 49-page national security report, the president said diplomacy is the US preference in halting the spread of nuclear and other heinous weapons. "If necessary, however, under long-standing principles of self defense, we do not rule out the use of force before attacks occur, even if uncertainty remains as to the time and place of the enemy's attack," Bush wrote. Titled "National Security Strategy," the report summarizes President Bush's plan for protecting America and directing US relations with other nations. It is an updated version of a report Bush issued in 2002. In the earlier report a year after the September 11 attacks, President Bush underscored his administration's adoption of a pre-emptive policy, marking the end of a deterrent military strategy that dominated the Cold War. The latest report makes it clear the President hasn't changed his mind, even though no weapons of mass destruction were found in Iraq. "When the consequences of an attack with weapons of mass destruction are potentially so devastating, we cannot afford to stand idly by as grave dangers materialize. The place of pre-emption in our national security strategy remains the same," Bush wrote. The report had harsh words for Iran. It accused the regime of supporting terrorists, threatening Israel and disrupting democratic reform in Iraq. Bush said diplomacy to halt Tehran's suspected nuclear weapons work must prevail to avert a conflict. "This diplomatic effort must succeed if confrontation is to be avoided," Bush said. He did not say what would happen if international negotiations with Iran failed. The Bush administration currently is working to persuade Russia and China to support a proposed UN Security Council resolution demanding that Iran end its uranium enrichment program. President Bush had similar words for North Korea, which he said poses a serious nuclear proliferation challenge, counterfeits US currency, traffics in narcotics, threatens its neighbors and starves its people. "The North Korean regime needs to change these policies, open up its political system and afford freedom to its people," Bush said. "In the interim, we will continue to take all necessary measures to protect our national and economic security against the adverse effects of their bad conduct." Bush issued rebukes to Russia and China and called Syria a tyranny that harbors terrorists and sponsors terrorist activity. On Russia, Bush said recent trends show a waning commitment to democratic freedoms and institutions. "Strengthening our relationship will depend on the policies, foreign and domestic, that Russia adopts," he said. The United States also is nudging China down a road of reform and openness. "China's leaders must realize, however, that they cannot stay on this peaceful path while holding on to old ways of thinking and acting that exacerbate concerns throughout the region and the world," Bush wrote. He said these "old ways" include enlarging China's military in a non-transparent way, expanding trade, yet seeking to direct markets rather than opening them up, and supporting energy-rich nations without regard to their misrule or misbehavior at home or abroad. The report is laden with strategies for advancing democracy across the globe, a theme of Bush's second inaugural address. The president said his administration was advancing this goal by holding high-level meetings at the White House with democratic reformers in repressive nations; using foreign aid to support fair elections, women's rights and religious freedom; and pushing to abolish human trafficking. Making no apologies for the war in Iraq, the United States reaffirmed a right to preemptive military action and vowed to confront threats like North Korea and especially Iran. The President stated, "We may face no greater challenge from a single country than from Iran." The preemptive strategy document made clear that Washington does not view the failure to find the weapons of mass destruction (WMD) at the core of the public case for the 2003 invasion of Iraq as a blow against its strategy of preventive war. "The place of preemption in our national security strategy remains the same," it said. President Bush had made former Iraqi dictator Saddam Hussein's alleged possession of chemical and biological weapons and pursuit of nuclear arms the centerpiece of his case for war, but no such weapons have yet been found. "There will always be some uncertainty" about banned weapons programs, the White House said. "We have no doubt that the world is better off if tyrants know that they pursue WMD at their own peril."
Why Iran Will Win in UN Security Council
March 16….(Jerome Corsi/author of Atomic Iran) The Bush administration has now wasted a year working to negotiate with Iran. Right after the second inauguration, the Bush administration changed policy, deciding to allow the EU-3 of France, Germany and the United Kingdom to lead negotiations with Iran. Some 14 months later, Iran is finally before the UN Security Council. But developments since last week's vote of the International Atomic Energy Agency strongly suggest that Condoleezza Rice is once more likely to be outsmarted by the mullahs. Already, Russia and China, both permanent members of the Security Council, have refused to go along with even a simple letter of rebuke to Iran from the Security Council. Russia last year sold Iran $1 billion of a TOR-M1 surface-to-air missile defense system which Iran plans to use to harden nuclear technology sites. China has just solidified a $100 billion deal to buy oil and natural gas from Iran for years to come. This deal promises to make Iran the largest supplier of energy to China. Does any rational person really believe that Russia or China will overlook these ties of alliance with Iran? Arguably, Iran, Russia and China have found an economic basis on which to solidify their anti-American inclinations. Moreover, the mullahs continue to move money into Dubai. Even with the Dubai stock market tanking in recent days, capital continues to flee from Tehran to the United Arab Emirates. With the capital exodus at $300 to $400 billion in recent years, the mullahs have comfortably established Dubai as their safe haven. We could almost gauge the likelihood of an attack on Iran by America or Israel by gathering information on how many mullahs had recently taken passage to Dubai. When ex-prime minister Rafsanjani, reportedly a billionaire, and his buddies take up residence at their Dubai vacation resorts on the beach, the betting in Las Vegas should set the odds in favor of war. Now, Russia and Iran have announced that they have yet set another round of negotiations. These on-again, off-again negotiations have only one point. Iran will agree to enrich uranium in Russia as long as the world agrees Iran can also enrich "a small quantity" of uranium in Iran for "research and development" purposes. This is a loophole big enough to drive an ayatollah through. And even IAEA Director ElBaradei keeps endorsing this time-borrowing strategy. This "deal" ought to be enough to throw the Security Council in disarray. Even with a strong John Bolton as ambassador, the United States is unlikely to get any firm resolution out of the Security Council once Russia states publicly that an agreement with Iran "in principle" is likely to be reached "soon." Iran wins every time the world community is thrown into a "more Russian negotiations" posture. Buying time has been Iran's policy for a dozen years, as their secret nuclear weapons program continues unchecked. Within four months, Iran should resolve all the technical problems involved in getting the centrifuges at Natanz to enrich high-grade uranium. From there, Iran should be able to build an atomic bomb within a few months. President Bush is still licking his wounds after the Dubai Ports World debacle. And Meanwhile, Iran's President Ahmadinejad continues to threaten Israel. We probably cannot blame the failure of the Bush Administration's Iranian gambit After the UN Security Council debate goes soft, what will be President Bush's next move? The President pledged to Israel that Iran would not acquire nukes on his watch, but time is running out, and soon the options will be reduced to calling Jerusalem and asking when the Israelis have finally lost patience. As I wrote in "Atomic Iran," the Sampson Option is the likely outcome, and that will likely mean that Israel's military is likely to strike Iran before 2006 is over.
North Carolina Muslim: I Attacked 'Out of Love for Allah'
March 16….(WND) The North Carolina Muslim who drove an SUV into a group of people at the University of North Carolina has written a letter to a local TV station saying Allah approves of such attacks. "Allah gives permission in the Quran for the followers of Allah to attack those who have raged war against them, with the expectation of eternal paradise in case of martyrdom and/or living one's life in obedience of all of Allah's commandments found throughout the Quran's 114 chapters," wrote Mohammed Taheri-azar in a two-page letter sent to a television reporter and anchor at WTVD-TV, an ABC affiliate in Durham. The US government is responsible for the deaths of and the torture of countless followers of Allah, my brothers and sisters. My attack on Americans at UNC-CH on March 3rd was in retaliation for similar attacks orchestrated by the US government on my fellow followers of Allah in Iraq, Afghanistan, Palestine, Saudi Arabia and other Islamic territories. I did not act out of hatred for Americans, but out of love for Allah instead." Taheri-azar, 22, was charged with nine counts of attempted murder and nine counts of assault after driving a rented Jeep Cherokee through a crowd of people in the Pit area on the Campus Hill campus March 3. Six of the victims were hospitalized. After the attack, the UNC graduate called 911 and surrendered to police saying he wanted to "punish the government of the United States for their actions around the world." He said he had intended to kill the people he struck. An Iranian native, Taheri-azar says he looks forward to defending himself in court to educate the public about "the will of Allah."
Has the US Backed Into A UN Trap on Iran?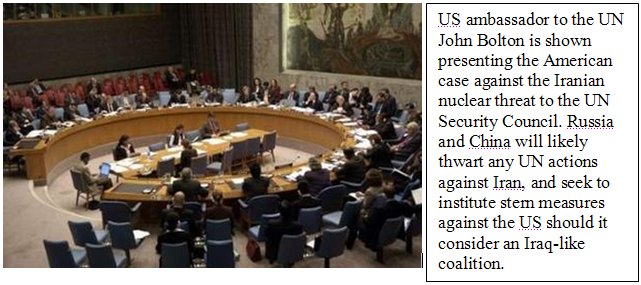 March 15….(FOJ) China and Russia objected today to a tough UN Security Council statement backed by the United States, Britain and France calling for a report in two weeks on Iran's compliance with demands that it suspend uranium enrichment. While the five veto-wielding Security Council members are supposedly united against the idea of Iran developing nuclear weapons, they vehemently disagree on how to get Tehran to comply with demands by the UN's nuclear watchdog agency to stop all enrichment and reprocessing and allow inspections at its controversial nuclear program. Despite public claims that the United Nations is coming to grips with the threat posed by the Iranian nuclear weapons program, the International Atomic Energy Agency resolution that recommended UN Security Council action contained a clause (recommended by Egypt) affirming a nuclear-free Middle East. It effectively mandates the dismantling of Israel's secret defensive nuclear weapons arsenal if anything is eventually done about the offensive Iranian program. The Vienna resolution has been portrayed by world media outlets as a great victory for the US when in reality it is more than likely a diplomatic trap. The Bush Administration talks tough and repeatedly expresses the hope that the "international community" (Russia, China, and the EU) will coerce Iran into submitting to US pressures. But the UN has always been an anti-Israel body and it is apparent that the Security Council will never authorize military action against Iran as along as Israel has its own nuclear weapons program. Those who think the UN is prepared to take action against the Iranian nuclear program, without doing anything about Israel's nuclear program, should think again. Mohamed ElBaradei, the director-general of the UN's International Atomic Energy Agency (IAEA) wrote an article last year for the Financial Times, in which he argued that "all parties" in the Middle East should pursue "a dialogue on regional security" that would ultimately result in "a nuclear weapons free zone." That approach was reflected in the resolution on Iran that came out of the IAEA on February 4. The point is that it has never been UN policy to focus exclusively on Iran. Israel has always been seen by most UN members as the real problem in the region. At the end of the process, it is entirely possible that the Jewish state could end up being forced to embrace a UN plan for Middle East peace that would include its compliance with a nuclear-free Middle East. Israel has repeatedly stated that it cannot allow Iran to have a nuclear weapon, and that if necessary that it would launch a military strike on Iran in its own self-defense. What is abundantly clear is that the UN has never had a plan to single out Iran and actually stop its nuclear weapons program, and in fact Russia has assured the world that it will have to face an Iranian nuclear threat. By assisting the Iranian nuclear program, Russia has positioned herself as a major powerbroker in the Middle East that is also philosophically opposed to US dominance in the region, and also is ideologically inclined to cater to the Islamic criteria of destroying Israel altogether. Bible prophecy portends that Russia will prepare herself and her allies for an assault against. Russia is no fool…she will bide her time, and seek to make this strategic move only after seeing that the Middle East (Israel) has been defanged, nuclearly speaking. Known as Persia until 1935, Iran became an Islamic republic in 1979 after the ruling monarchy was overthrown and the shah was forced into exile. Conservative clerical forces established an Islamic theocratic system of government with ultimate political authority nominally vested in a learned religious scholar. (Ayatollah Khamanei) Iranian-US relations have been strained since a group of Iranian students (including now President Ahmadinejab) seized the US Embassy in Tehran on 4 November 1979 and held it until 20 January 1981. During 1980-88, Iran fought a bloody, indecisive war with Iraq that eventually expanded into the Persian Gulf and led to clashes between US Navy and Iranian military forces between 1987-1988. Iran has been designated a state sponsor of terrorism for its activities in Lebanon and elsewhere in the world and remains subject to US economic sanctions and export controls because of its continued involvement. Iran has openly stated that it intends to destroy the United States and Israel, something that Russia and China wouldn't mind at all. In the great ongoing supernatural struggle over Jerusalem, it is obvious that Satan's strategy presently is for singling out Christian America, and the land of the Jews as his priority targets.
PA Grants Murderer of 4-Year-Old Girl Honorary Citizenship
March 15….(Arutz) According to a report from Palestinian Media Watch (PMW), Palestinian terrorist Samir Quntar was honored. His muder-accomplice Jordanian terrorist Sultan Al-Ajaluni also received honorary citizenship in the same vote. Both terrorists are serving life sentences in Israeli jails.
In 1979 in the coastal town of Nahariya, Lebanese Palestinian terrorist Samir Quntar pictured here murdered Danny Haran and his four-year-old daughter, Einat. Danny's second daughter Yael, aged two, suffocated to death while hiding in a crawl space with her mother. Quntar is serving multiple life sentences totaling 542 years in Israeli prison. Smadar Haran, wife and mother of the murder victims, described the murder in the Washington Post in 2003: "It was a murder of unimaginable cruelty. It had been a peaceful Sabbath day. My husband, Danny, and I had picnicked with our little girls, Einat, 4, and Yael, 2, on the beach. Around midnight, the terrorists burst into our building. Danny helped our neighbor climb into a crawl space above our bedroom; I went in behind her with Yael in my arms. Danny grabbed Einat and was dashing out the front door when the terrorists came crashing into our flat. They held Danny and Einat. I will never forget the joy and the hatred in the terrorist's voices as they swaggered about hunting for us, firing their guns and throwing grenades. As I lay there, I remembered my mother telling me how she had hidden from the Nazis during the Holocaust. "This is just like what happened to my mother," I thought. The terrorists took Danny and Einat down to the beach. There, according to eyewitnesses, one of them shot Danny in front of Einat so that his death would be the last sight she would ever see. Then he smashed our little girl's skull against a rock with his rifle butt. That terrorist was Samir Quntar."
[Smadar Haran Kaiser, Washington Post, May 18, 2003] Various organizations in the Palestinian Authority responded with applause to the announcement of granting honorary citizenship to the two terrorists. The 'Friends of the Prisoners' organization sees the decision, of the present Fatah led government, to award Palestinian citizenship to two Arab prisoners, Samir Quntar from Lebanon and Sultan Al-Ajaluni from Jordan, an act of Palestinian national obligation and in dedication to the honored history that the Arab prisoners have provided to the Palestinian issue."[Al-Quds newspaper, Mar. 7, 2006]
"The Palestinian Liberation Front, through general secretariat member, Dr. Wasil Abu Yusuf, praised the government's decision to award the imprisoned fighters Samir Quntar and Sultan Al-Ajaluni honorary citizenship as an act of dedication to their struggle and their heroic suffering in the occupation's prisons. [Al-Hayat Al-Jadida, Mar. 8, 2006] PMW's Itamar Marcus and Barbara Crook noted, "Societies measure their heroes in different ways. Some societies honor athletes or performers. Others celebrate caregivers and humanitarian workers. The Palestinians, on the other hand, have consistently chosen to honor murderers as their national icons." Documented evidence shows that PA TV and PA leaders have long seen Quntar as a hero. His picture is repeatedly shown on TV, and he was proclaimed the "model warrior," "brave," and a "leader" and "head" of the prisoners. On August 18th, 2004, PA TV termed the murder of the father and girl as an act of bravery: "He was sentenced to 542 years in prison for committing the brave Nahariya action in Palestine. On the same day, Arab demonstrators honored Quntar as a model son of Palestine. We ask of Allah, that there will be 100 more Samir Quntars, 1,000 more Samir Quntars, 1,000,000 more Samir Quntars, that act for the Palestinian issue." The speech was broadcast on PA TV.
Iran's Leader Khamenei: Our First Mission is to Set Israel on Fire
March 15….(Ha Aretz) In response to former Spanish premier Jose Maria Aznar's question on what was the main topic on Iran's agenda, Iran's spiritual leader Ayatollah Ali Khamenei replied without hesitation: "Setting Israel on fire." Aznar, who visited Iran five years ago, told this story on Tuesday to Major General (Res.) Professor Yitzhak Ben Israel. Aznar was the guest of the Interdisciplinary Center in Herzliya, and is to deliver a lecture on "Dealing with the challenge of fundamental Islam and the proliferation of weapons of mass destruction." Aznar was booted out of office in Spain after a mass terror attack on a train station in Madrid. But Khamenei is still Iran's spiritual leader, and considered to be the strongest man in the state. Aznar noted that Khamenei received me politely, and at the beginning of the meeting he explained to me why Iran must declare war on Israel and the United States until they are completely destroyed. I had only one request for him: I asked him when Iran planned the attack." He responded only with, "in Allah's time."
Archaeologists Find Ancient Israeli Tunnels in Cana


| | |
| --- | --- |
| | An aerial view of underground tunnels in Israel dating from 2,000 years ago. |
March 14….(Jerusalem Post) Underground chambers and tunnels used during a Jewish revolt against the Romans nearly 2,000 years ago have been uncovered in northern Israel, archaeologists said Monday. The area of Cana, located north of Nazareth, is revered by Christians as the site where Jesus is said to have performed his first miracle. The settlement being unearthed is thought to have existed as far back as the time of the United Kingdom of King Solomon and the Kingdom of Israel following the split between Israel and Judah, in the 10-9th centuries BC. Following the destruction the ancient Israelite city, the site was abandoned until its ruins were re-inhabited by Jewish settlers in the Early Roman period in the 1st century AD, Israel's top archaeological body said. The identity of these residents as Galilean Jews is already known from previous excavations that were carried out at the site, and from historic information that identifies the settlement as "Kana of the Galilee" which is known from the New Testament as the site where Jesus performed his first miracle by turning water into wine at a Jewish wedding. In the previous excavations at the site a few years ago, which identified the ancient Galilee settlement as Kana of the Galilee, archeologists discovered remnants of buildings, grinding stones, cooking ovens stone vessels and several Jewish ritual purification baths or mikvahs, one nearly 7 feet high with an arched roof. Among the other antiquities discovered at the site include underground pits linked by short tunnels that were apparently built and hewn prior to the Great Revolt by the Jews against the Romans in 66 AD. The pits are connected to each other by short tunnels which apparently were used as underground hiding places ahead of the revolt. The Jews laid in supplies and were preparing to hide from the Romans during their revolt in AD 66-70, the experts said. The pits, which are linked by short tunnels, would have served as a concealed subterranean home. Other refuges found from the time of the revolt are hewn out of rock. The Jewish revolt against Roman rule ended in AD 70, when the Romans sacked Jerusalem and destroyed the Second Temple.
Bush Ties Iran to Roadside Bombs in Iraq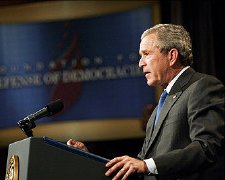 March 14….(Breitbart) US President George W. Bush directly linked Tehran to roadside bombings against US forces in Iraq, stepping up his criticisms of Iran amid a tense standoff over its nuclear program. "Tehran has been responsible for at least some of the increasing lethality of anti-coalition attacks by providing Shia militia with the capability to build improvised explosive devices in Iraq," Bush said in a speech. He cited recent congressional testimony from John Negroponte, the US director of national intelligence. The president's comments came as he launched a public relations offensive to bolster support for the war in Iraq some three years after he ordered the US-led invasion that ousted Saddam Hussein. President Bush also charged that "some of the most powerful IEDs we are seeing in Iraq today include components that came from Iran." "Coalition forces have seized IEDs and components that were clearly produced in Iran. Such actions, along with Iran's support for terrorism and its pursuit of nuclear weapons, are increasingly isolating Iran," he said. "And America will continue to rally the world to confront these threats," said the president, who has previously accused Iran of trying to stir up violence in Iraq. The US military has said in the past that advanced roadside bombs with shaped armor-penetrating explosives and sophisticated triggering devices have been turning up in Iraq. US military intelligence sources said the weapons have been traced to Iran's Revolutionary Guard or Hezbollah, the Iranian-backed militia in Lebanon. Last week, US Defense Secretary Donald Rumsfeld directly accused the Islamic government in Tehran for the first time of sending Iranian Revolutionary Guard into Iraq to make trouble.
Saudi Arabia Promises Hamas-led Government Plenty Money
March 14….(DEKA) Saudi media kept a tight lid on the visit to Riyadh of a five-man Hamas delegation headed by Damascus-based politburo chief Khaled Meshaal. It took place after the Saudi government turned down a request from US secretary of state Condoleezza Rice to cut off aid to a Hamas government, unless its leaders recognize Israel, renounce terrorism and respect previous accords. At the same time, the visitors were given a red carpet welcome by Muslim Brotherhood websites which are popular with the Saudi public. DEBKAfile's sources report that Monday, March 13, those websites released a religious edict, signed by top Saudi clerical, spiritual and academic leaders. Among them were the noted writer and religious ideologue, Ibrahim Jerallah from Riyadh, and Dr. Ahmed Zaharni, rector of the theology faculty of Medina University. None of these eminent persons would have taken this initiative without the say-so of the royal court. The edict consists of five parts:
1. All Palestinians must join a Hamas government without prior conditions or quibbling on terms.
2. Zionist efforts to isolate or bend a Hamas-led regime must be thwarted.
3. All armed Palestinian organizations must line up behind a Hamas government.
4. The Palestinian people should not worry about its future but cooperate with a Hamas government.
5. If the Palestinians follow these decrees, the Palestinian Authority will not lack for funds.
Russia Wooing Muslim World With Guns and Diplomatic Roses
March 14….(Teheran Times) The huge arms deal with Algeria that Moscow announced on Friday demonstrates Russia's determination to resurrect its influence in the Muslim world through weapons exports and challenges to Western-dominated diplomacy, analysts said. Flush with oil and gas revenues and buoyed by its presidency of the Group of Eight, Russia is becoming a significant player, and competitor with the United States, in the Middle East for the first time since the Soviet crash of 1991. The latest sign of President Vladimir Putin's drive to reestablish Russian clout was the announcement of weapons sales worth 7.5 billion dollars (6.3 billion euros) in Algeria. Russia also agreed to cancel Algeria's Soviet-era debt. Weapons are one of Russia's few internationally competitive products. In 2005 the export agency Rosoboronexport announced its best sales for years at 6.1 billion dollars, mostly to China, India and former Soviet client states in the Muslim world and Asia. But Moscow's simultaneous writing off of 4.7 billion dollars of debt reveals the political nature of the arms trade, analysts said. "There has never been a deal like that in the history of Russian military-industrial partnerships," the Kommersant business daily said on Saturday. It suggested that the real value of contracts might not have been more than 5.5 billion dollars. "This visit was part of Russia's general policy in the Middle East," Alexei Malashenko, an analyst at the Carnegie Centre in Moscow, told AFP on Friday. "Russia is coming back. The geopolitical strategy has changed. The rapprochment with the West is over and Russia is taking its own route." That new strategy, kick-started in April 2005 when Putin became the first Kremlin leader to visit Israel and the Palestinian territories, coincides with a distinct cooling of relations between Moscow and Washington. But Russia presents itself less as a competitor than an East-West middleman. As builder of Iran's sole civilian nuclear power plant, Moscow says it can help resolve Tehran's standoff with certain Western countries. In the only compromise plan on the table, Russia would assume responsibility for Iran's uranium enrichment. Russia also ignored Israeli and Western suspicion at the start of March to hold talks with Hamas, arguing that the militant group, which is now the ruling party in the Palestinian territories, should be engaged, not made a pariah. Another Western bugbear, Syria, will be allowed into Russia's diplomatic limelight this week when Foreign Minister Sergei Lavrov and his Syrian counterpart Walid Muallem meet in Moscow. Russia has been at odds with European powers and the United States over how to ensure Syria's cooperation with a UN probe into suspicions of Syrian links to the murder of Lebanese ex-premier Rafiq Hariri. All these initiatives add up to a bold but risky policy that shows that Russia is wooing the Muslim world and making inroads in the Middle East.
Israel's Nuclear Program May be Scrutinized After Iran
March 13….(Jerusalem Post) Israel will not make an issue over British Foreign Minister Jack Straw's statement last week that after the world deals with Iran's nuclear threat it will deal with Israel's. Straw gave a lengthy television interview in Britain Thursday, following the decision to send Iran's nuclear dossier to the UN Security Council for possible sanctions. When asked about a "double standard" regarding Iran, Straw replied: "I want a nuclear-free Middle East. It's the policy of her majesty's government. We've been working to achieve that. We have ensured over the last few years that two of the four countries in the Middle East which posed a nuclear threat, Libya and Iraq, have had their nuclear weapons removed," he said. He then added, "If you want to see a nuclear-free Middle East, you've got to remove that threat from Iran, including the rhetorical threat to wipe Israel off the face of the map, and once you've done that, then we can get on to work at, in respect of Israel." Straw's remarks were analyzed carefully in Jerusalem, but it was decided not to make an issue of them because Straw made clear that Britain remained "on board" on the Iranian nuclear issue. "That is the most important thing," one government official said, saying that Israel did not want to deflect from the Iranian issue by drawing attention to itself and creating a diplomatic issue over Straw's comments. "This isn't the time to discuss this," he said. Besides, he added, Israel has also made it clear that it was in favor of a nuclear-free Middle East, but that discussions about this could only take place in the distant future, after Israel has concluded peace agreements with all the countries in the region. That the Iranian nuclear issue would ultimately spotlight Israel was not something that has been unexpected, and Prime Minister Ariel Sharon has said that US President George Bush's famous letter of April 2004 included a line pledging US commitment to Israel's deterrence capacity. That letter reads, "The United States reiterates its steadfast commitment to Israel's security, including secure, defensible borders, and to preserve and strengthen Israel's capability to deter and defend itself, by itself, against any threat or possible combination of threats." Sharon interpreted this as a US promise to back Israel when there were attempts, which he believed would follow the international community's handling of the Iranian nuclear issue, to dismantle what he referred to as "Israel's deterrence ability."
Iran Prepares For Confrontation With West
March 13….(Telegraph) Iran's leaders have built a secret underground emergency command centre in Teheran as they prepare for a confrontation with the West over their illicit nuclear program, the Sunday Telegraph has been told. The complex of rooms and offices beneath the Abbas Abad district in the north of the capital is designed to serve as a bolthole and headquarters for the country's rulers as military tensions mount. The recently completed command centre is connected by tunnels to other government compounds near the Mossala prayer ground, one of the city's most important religious sites. Offices of the state security forces, the energy department and the Organization of Islamic Culture and Communications are all located in the same area. The construction of the complex is part of the regime's plan to move more of its operations beneath ground. The Revolutionary Guard has overseen the development of subterranean chambers and tunnels, some more than half a mile long and an estimated 35ft high and wide, at sites across the country for research and development work on nuclear and rocket programs. The opposition National Council of Resistance of Iran (NCRI) learned about the complex from its contacts within the regime. The same network revealed in 2002 that Iran had been operating a secret nuclear program for 18 years. The underground strategy is partly designed to hide activities from satellite view and international inspections but also reflects a growing belief in Teheran that its showdown with the international community could end in air strikes by America or Israel. "Iran's leaders are clearly preparing for a confrontation by going underground," said Alireza Jafarzadeh, the NCRI official who made the 2002 announcement. As the United Nations Security Council prepares to discuss Iran's nuclear operations this week, Teheran has been stepping up plans for confrontation. Its chief delegate on nuclear talks last week threatened that Iran would inflict "harm and pain" on America if censured by the Security Council. Mahmoud Ahmadinejad, the hardline president who has called for Israel to be "wiped off the map", also said that the West would "suffer" if it tried to thwart Iran's nuclear ambitions. As the war of words intensified, President George W Bush said that Teheran represents a "grave national security concern" for America. In Iraq, which Mr. Ahmadinejad hopes will develop into a fellow Shia Islamic state, Iran is already using its proxy militia to attack British and American forces, often with Iranian-made bombs and weapons. As tensions grow, Teheran could order Hizbollah, the Lebanese-based terror faction that it created and arms - to attack targets in Israel. The regime is also reviewing its contingency plans to attack tankers and American naval forces in the Persian Gulf and to mine the Strait of Hormuz, through which about 15 million barrels of oil (about 20 per cent of world production) passes each day. Any action in the Gulf would send oil prices soaring, a weapon that Iran has often threatened to wield. The Pentagon's strategic planning is focused on the danger that Iran might try to mine the strait and deploy explosive-packed suicide boats against its warships. In May, American vessels in the Gulf will take part in the Arabian Gauntlet training exercise that deals with clearing mines from the strait, which has a navigable channel just two miles wide. The naval wing of the Revolutionary Guard has in recent years practiced "swarming" raids, using its flotilla of small rapid-attack boats to simulate assaults on commercial vessels and United States warships, according to Ken Timmerman, an American expert on Iran. The Pentagon is particularly sensitive to the dangers of such attacks after al-Qaeda hit the USS Cole off the Yemen with a suicide boat in 2000, killing 17 American sailors. Last month the White House listed two foiled al-Qaeda plots to attack ships in the Persian Gulf and the Strait of Hormuz. US intelligence believes that if Iranian nuclear facilities were attacked by either America or Israel, then Teheran would respond by trying to close the Strait of Hormuz with naval forces, mines and anti-ship cruise missiles. "When these systems become fully operational, they will significantly enhance Iran's defensive capabilities and ability to deny access to the Persian Gulf through the Strait of Hormuz," Michael Maples, the director of the Defence Intelligence Agency testified before the Senate armed services committee last month. A senior American intelligence officer said that the US navy would be able to reopen the strait but that it would be militarily costly. Hamid Reza Zakeri, a former Iranian intelligence officer, recently told Mr. Timmerman that the Iranian navy's Strategic Studies Centre has produced an updated battle plan for the strait. Its most devastating options would be to use its long-range Shahab-3 missiles to attack Israeli or American bases in the region or to deploy suicide bombers in Western cities under its strategy of "asymmetric" response. "The price to the West for standing up to Iran is clear," Gen Moshe Ya'alon, the former Israeli defense chief said last month in Washington. "It includes terror attacks, economic hardship, and consequences resulting from fluctuations in Iranian oil production. Indeed, the regime believes that the West, including Israel, is afraid to deal with it."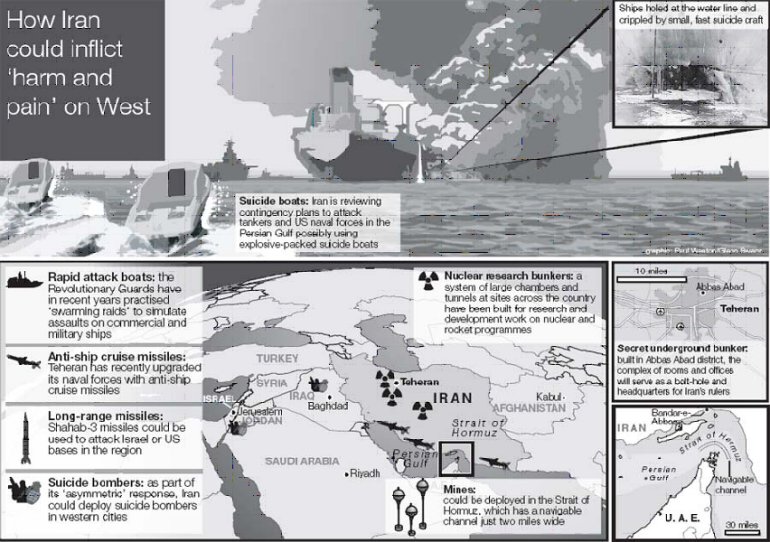 WEEK OF MARCH 6 THROUGH MARCH 12
The Focus is Still on Jerusalem
March 10….(FOJ) The Lord God almighty has a controversy with the nations. The point of the controversy is all about who has the right to reign in Jerusalem. Satan has aspired for millennia to exalt himself above the stars of God, and enthrone a man of his own on the Royal throne of David in the city the Lord chose for his Holy name, Jerusalem. The ages old conflict is coming to a climax in our very day, and that is the sole reason that Jerusalem is a cup of trembling to all the nations of the world. But in the final analysis, God has prepared a new city to accommodate the throne of our beloved King. That city is the foursquare, pure gold city, where the Lamb of God is the source for light, and known in scripture as the New Jerusalem. Satan is presently marshaling his demonic forces amongst the nations of this present world to oppose the Coming King. But his evil stand will fail, and He will be imprisoned, and the world will enjoy a glorious reign with Jesus Christ who will rule with a rod of iron from Mount Zion. But the final focus of our eternal destiny is to live forever in the city wherein no defilement can ever enter.
(Revelation 21:1-4 And I saw a new heaven and a new earth: for the first heaven and the first earth were passed away; and there was no more sea. And I John saw the holy city, new Jerusalem, coming down from God out of heaven, prepared as a bride adorned for her husband. And I heard a great voice out of heaven saying, Behold, the tabernacle of God is with men, and he will dwell with them, and they shall be his people, and God himself shall be with them, and be their God. And God shall wipe away all tears from their eyes; and there shall be no more death, neither sorrow, nor crying, neither shall there be any more pain: for the former things are passed away. )
Origins 101: Worldviews Begin With Beginnings
March 10….(Crosswalk) Nearly a century-and-a-half after Darwin's Origins of the Species was published, and 75 years after the Scopes trial, the argument over life's origins still inflames contentious debate. Today three distinct theories of origins compete for public affirmation. Darwinian Evolution remains entrenched as the orthodox position of the cultural ruling class. Once challenged by Creationism, Evolution's latest contender is a theory known as Intelligent Design (ID). As in the past, the debate regularly surfaces in the context of which theory or theories should be taught in public schools. Even President Bush has weighed in on the issue saying, "Both sides should be properly taught so people can understand what the debate is about." So far that hasn't happened. The result is a largely confused public. The following is offered as a synopsis of Creationism, Darwinian Evolution and Intelligent Design. For a more in-depth study of these theories and the implications of each, see the suggested resources listed at the conclusion of this article.
Creationism
Also called Creation Science, this theory attempts to defend the biblical account of the origins of the universe. Creationists freely admit that their presuppositions are different than evolutionists', and thus, their interpretation of the archeological evidence is often different. In addition, creationists frequently use independent data from the fossil record and from radiometric and carbon-14 dating to make their case. Variations of Creationism include the Young Earth Theory (closest to the literal Genesis account), the Gap Theory and the Day-age Theory.
Darwinian Evolution
Charles Darwin was a 19th century British naturalist who first offered a plausible naturalistic theory for the origin of life in his book On the Origin of the Species by Means of Natural Selection, or the Preservation of Favoured Races in the Struggle for Life. According to Darwin's theory, the universe is without a beginning and life on earth evolved over a span of three to four billion years by the process of natural selection. Natural selection, according to Understanding the Times by David Noebel, is "the process that through competition and other factors such as mutations, predators, geography, and time naturally and randomly allows only those life forms best suited to survive to live and reproduce." Concerning the status of man in the evolutionary process, George Gaylord Simpson, paleontologist and evolutionist, bluntly stated: "Man is the result of a purposeless and natural process that did not have him in mind. He was not planned. He is a state of matter, a form of life, a sort of animal and a species of the Order Primates, akin nearly or remotely to all of life and indeed to all that is material."
Intelligent Design (ID)
The heart of the theory of ID, according to Nancy Pearcey, author of the landmark book Total Truth, is that design in nature can be empirically detected. She writes that ID "formalizes ordinary intuition." For example, we instantly recognize the difference in a landscape formed by wind, rain and erosion and one that includes Mt. Rushmore. That difference is the clear evidence of a designer. It's the same kind of observable science that enables an archeologist to distinguish between a rock and an arrowhead. In presenting their case, proponents of ID often point to recent scientific research in three areas:
(1) The inner working of cells: Scientists are learning that living cells are like a complex assembly line in which each part serves a perfectly timed, specific purpose. If the whole system is not complete and functioning flawlessly, it cannot perform at all. ID proponents argue that this kind of irreducible complexity is clear evidence of a designer.
(2) The origin of the universe: ID proponents say that life is only possible when thousands of variants such as gravitational, nuclear and electromagnetic forces are meticulously set and balanced. Again, they claim this is the perfect working of a designer's plan.
(3) The architecture of DNA: DNA is seen as the most convincing evidence of the work of design. It is often described as remarkably computer-like, with the DNA code analogous to software that directs the DNA molecule (hardware). This information is embedded in the DNA molecule, but is separate from the matter that makes up the molecule itself. The question becomes: "Where did the information come from?" Answer: an intelligent designer.
What's at stake in the debate? In short, everything. "Whatever a culture adopts as its creation story shapes everything else," Pearcey writes. If evolution continues as our culture's official orthodoxy, Christians can only expect the complete secularization in all areas from education to entertainment, from philosophy to politics. And with the natural implications that human beings are neither accountable nor responsible, the future is likely to be one in which raw power rules.But don't give up too quickly. Although it faces an uphill battle, acceptance of ID as a viable theory of origins is growing. At a minimum that could result in the re-establishment of the discarded idea that human life has inherent meaning and purpose. And that could change everything.
Olmert: Israel will Draw its Own Final Borders by 2010
March 10….(World Watch) Israel's acting Prime Minister, Ehud Olmert, has said that Israel will draw its final borders within four years without consulting the Palestinians if Hamas does not recognize the Jewish state, and submit to the Roadmap Peace Process. Olmert, told the Jerusalem Post that by 2010 he intended to "get to Israel's permanent borders, whereby we will completely separate from the majority of the Palestinian population and preserve a large and stable Jewish majority in Israel". He did not specify the route of the new frontier, which he said would be decided after an "internal dialogue inside Israel" and consultations with Israel's foreign allies. But he repeated his intention to annex the main settlement blocks in the West Bank and retain control of the Jordan river area "as a security border", resulting in a Palestinian state entirely surrounded by territory under Israeli control. The plan outlined by Mr. Olmert would require the removal of about 60,000 Israelis from settlements deeper inside the West Bank but leave about 350,000 in the main blocks and East Jerusalem. Mr. Olmert said he would give Hamas a "reasonable" amount of time to meet demands to recognize the Jewish state, renounce violence and accept existing agreements signed by the Palestinian Authority (PA). "We will wait, but I don't intend to wait forever," he said. "If after a reasonable time passes it becomes clear that the PA is not willing to accept these principles, we will need to begin to act. Olmert said the Palestinians will soon need to decide whether they accept the US-brokered Road Map peace imitative. "I will wait for this process to come to fruition, but I have no intention to wait endlessly," Olmert said. "If they prefer to be dragged to the axis of evil of Iran, Syria and Hizbullah, and turn the Palestinian Authority into a branch of the Iranian terror regime, we'll have to take our destiny into our own hands and act without them." "We will change the security fence route westward or eastern in accordance with internal agreement reached in Israel," the acting PM added. "The current fence is a security fence. The fence that will be set up, which in certain sections will be in the form of a wall, will be the borderline separating Israel and the Palestinians." "Israelis will not live beyond the fence," Olmert added.
Hamas political chief Khaled Meshaal responded to Olmert's announcement, saying the Israeli plan amounts to a declaration of war against the Palestinians, and the they would indeed look to their allies in Syria and Iran for help in fighting their Zionist oppressors.
Nearing High Noon on Iran Nuclear Showdown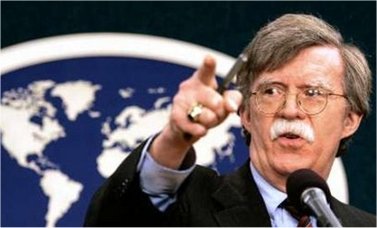 March 10…..(FOJ) Iran's supreme Islamic leader yesterday publicly backed the defiant stand of country's hardline president on Tehran's nuclear weapons program as the Islamic Republic again insisted the West would come off worst in any confrontation. Ayatollah Ali Khamenei, Tehran's ultimate arbiter of power, told Iranian officials not to yield to Western pressure as he prepared Iranians for a possibly "painful" showdown with the United States. If Iran gave ground on the nuclear issue the US would find another excuse to advance its real aim of regime change in Tehran, Khamenei said. Meanwhile at the UN, US Ambassador to the United Nations John Bolton said that the international community should "use all tools at our disposal to stop the threat that the terrorist–sponsoring Iranian regime poses." With the Security Council now set to take up the rogue Iranian nuclear threat. The timetable is likely to be along the following lines: The Security Council begins discussions on the issue beginning 12 March. The hope is that the Council can stand united enough to exert pressure on Iran in an "incremental but reversible way." The council will issue a statement that Iran should comply with the demands already made by the IAEA. There could be a deadline attached to the demand. The US is proposing a 30-day limit, but the IAEA could be asked to report back in two weeks. There could also be a further warning with threats of "consequences." These "consequences" could mean sanctions, although the threat of military confrontation is also on the table, as US Vice President Cheney alluded to yesterday. Secretary Bolton said, "We are going to press for as vigorous a response in the council as we can get, and hope that that gets the Iranians' attentions." "This is a test for the council. And if the Iranians do not back off from their continued aggressive pursuit of nuclear weapons, we will have to make a decision of what the next step will be." Bolton and other senior U.S. officials suggested Thursday that if the Security Council does not take tough action, the United States might look elsewhere to punish Iran, possibly by rallying its allies to impose targeted sanctions. "We're confronted with a threat here as Iran pursues not only nuclear weapons, but the capability through increasingly longer-range and more accurate ballistic missiles, that is obviously very, very dangerous," he said. "So we have a responsibility in the council to try and deal with that threat." Security Council members have indicated they will move slowly, focusing initially on a presidential statement that will likely ask Iran to comply with demands by the International Atomic Energy Agency, the UN nuclear watchdog. Bolton and other officials in Washington have raised the possibility of a Security Council resolution backed by the threat of military force that would demand Iran abandon uranium enrichment and answer outstanding questions about its nuclear program. But Russia and China, which have closer ties to Iran, oppose sanctions on principle. In fact, Russia's Foreign Minister Sergey Lavrov issued a stern warning to the US about military intervention on Iran's nuclear program when he went before camera's and said that the US was proved wrong on Iraq, and therefore should not use the threat of force again on Iran.
| | |
| --- | --- |
| | Iranian demonstrators carry an anti-US banner in a rally to support Iran's nuclear program in front of the Natanz Uranium Enrichment Facility, some 200 miles south of the capital Tehran, Iran, March 9, 2006. Iran said Thursday it won't be bullied into abandoning its nuclear program, rejecting its referral to the UN Security Council as 'unjust.' Both President Mahmoud Ahmadinejad and supreme leader Ali Khamenei were defiant in the face of the mounting international pressure on Iran over its nuclear program, and threatened the US with harm if it interfered in Iran's quest for nuclear might. |
| | |
| --- | --- |
| | Russia's foreign Minister Serei Lavrov, who has been conducting the Russian negotiations with Iran, warned the US to leave Iran alone, as it was already a matter of record that the US was wrong about Iraq WMD programs, and that it had better not expand its threats against Iran unless it had permission from the UN Security Council. |
Part of the geo-political brinksmanship that is within the power move of Russia linked to Iranian nuclear programs is the Russian thrust to be admitted into the WTO. Lavrov charged that the process of Russian accession to the WTO is being dragged out by the US for no clear reason. Lavrob accused the US Congress for adopting an amendment on the Russian WTO inclusion because of "restrictions that existed in the USSR as far as emigration of Jews was concerned. Lavrov insisted that a Jews who wanted to leave Russia, did so long ago. There are no restrictions today," the minister said. There are a lot of people who would like to use any pretext to be stricter with Russia," he said. Lavrov has accused the US of holding up Russia's progession into the World Trade Community, and of seeking to dominate the resource rich Central Asia & Mid-east.
Rice: Iran 'is The Central Bank for Terrorism'
March 9..(MSN) Iran is probably the No. 1 challenge to the United States, Secretary of State Condoleezza Rice said on Thursday after Tehran vowed no compromise in a standoff with the West over its nuclear programs. Rice, who wants the United Nations Security Council this month to start taking action against Iran that could lead to sanctions, also repeated concerns that Washington believes Tehran supports anti-Israel militants and meddles in neighboring Iraq. "We may face no greater challenge from a single country than from Iran, whose policies are directed at developing a Middle East that would be 180 degrees different than the Middle East we would like to see developed," Rice said at a Senate hearing. "This is a country determined to develop a nuclear weapon, and is the central bank for terrorism," she added. IIn response, Iran said that it won't be bullied into abandoning its nuclear program, rejecting its referral to the UN Security Council as "unjust." "The people of Iran will not accept coercion and unjust decisions by international organizations," President Mahmoud Ahmadinejad was quoted as saying by Iranian television during a visit to Iran's western province of Lorestan. "Enemies cannot force the Iranian people to relinquish their rights." "The era of bullying and brutality is over," and our enemies will pay in pain." he added.
Hamas Web Site Encourages Kids to Become ´Homicide Martyrs´
March 9….(Arutz) The Palestinian Authority's ruling Hamas terror group has launched a web site for children, preaching the moral desirability of being a suicide terrorist via cartoons and children's stories. The Hamas-run Al Fateh website glorifies shahada, martyrdom, and presents the deaths of terrorists attacking Israelis as a time of celebration, according to a report by Palestinian Media Watch. One of the stories on the site quotes a mother saying that when she heard her son had become a shahid, a martyr, she bought dates, candies and coffee to give out. An entire section of the site is called "Stories of the Shahids," and the most recently posted story honors Hamas terrorist Naseem Ja'abari, who murdered 16 people when he blew himself up on a bus in Be'er Sheva on August 31, 2004.
The page is egalitarian in its encouragement of martyrdom, with a prominently featured drawing of a religiously garbed girl participating in violent attacks on both the homepage and on a second page. The drawing is accompanied by a poem glorifying Jihad, Islamic conquest, and Shahada. The Hamas terrorist organization won the Palestinian Authority's parliamentary elections in January by a large majority, and refuses to recognize Israel. On the web site, though, according to PMW, "Israel is repeatedly referred to as 'thief' and 'invader,' and its defeat in battle is both desired and anticipated." Though the site shares its name with Yasser Arafat's rival terror group, Al-Fateh, the name means "The Conqueror" and is run by Hamas.
Iranian Special Ops Infiltrated into Israel?
(Elite units reportedly preparing for activation against Israel 'when needed')
March 9….(WorldNetDaily) There have been some indications elite Iranian soldiers infiltrated Israel and established dormant cells in the West Bank to be activated by Iran at a later date, security officials told WND. Israeli and Palestinian security services have searched in the West Bank for the soldiers, who are thought to be members of the Al-Quds Forces, the extraterritorial operations unit of Iran's elite Revolutionary Guards, security officials said. The Iranian agents may have infiltrated as long as three years ago with instructions to set up inactive cells in the West Bank that would become operational later, said the officials, adding they do not suspect the agents are regularly involved in current terror activity or in channeling Iranian funds to Palestinian terror groups. "Their purpose would be to create an infrastructure for the day they are called to act against Israel," said a senior security official. The official said information obtained pointed to the Hebron area as a possible location for the alleged Iranian cells, though he said to date no suspected Iranian soldiers have been found. Although Tehran has long financed Palestinian terror organizations, the infiltration of Iranian soldiers into Israel would mark a significant escalation of Tehran's presence in the Palestinian territories. Israel and the United States have been working with the international community to isolate Iran, accusing it of attempting to develop an illicit nuclear weapons program. There have previously been unconfirmed media reports elite Iranian soldiers, reportedly members of the Pasdaran, a Revolutionary Guards rocket unit, took positions at Hezbollah bases in southern Lebanon close to Israel's northern border. Iran uses the Hezbollah militia as a conduit to channel funds to Palestinian terror groups, including Islamic Jihad, which took responsibility for every suicide bombing since several Palestinian groups agreed to a truce with Israel last year.
Russia and Iran Gathering Against Israel
March 9….(KIN) The opportunity for a new world order in Israel is too tempting to resist by Russia and Iran as both nations have taken steps to solidify their positions in Israel in recent days as Russia has met with Hamas and has suggested Iran be allowed to enrich its own small quantities of uranium; and Iran is setting up shop in Gaza with an eye toward spreading its theology to the Palestinian people. First, there was the meeting between Russian officials and those of the newly elected terrorist group/political party of the Palestinian Authority, Hamas. The Russians, trying to appear the peacemaker, said all the right things, that Hamas needed to recognize Israel's right to exist and become a legitimate political party, spinning off the militant side of the terrorist organization into the so-called Palestinian security forces. But in a hard, cold dose of reality, the Hamas representatives remained steadfast in their position against Israel. Hamas deputy political leader Moussa Abu Marzouk told Reuters, "We believe that Israel has no right to exist." He also said, "It means a negation of the Palestinian people and their rights and their property, of Jerusalem and the holy sites, as well as negation of their right of return. Therefore the recognition of Israel is not on the agenda."
Iran's Leader Directly Threatens US and Israel
| | |
| --- | --- |
| | President Mahmoud Ahmadinejad said on Thursday Western countries were vulnerable and would suffer more than Iran if they continued to try to impede its attempts to develop nuclear technology. Meanwhile, Israeli Defense Chief Mofauz said Israel has contingency plans in case international attempts to stop Iran's nuclear plan fail, defense minister says 'Israel has many drawers, containing all its needs to defend our citizens'. |
March 9….(Jerusalem Post) Iranian President Mahmoud Ahmadinejad continued threatening Western countries Thursday for referring his country to the United Nation Security Council. "The countries of the West are vulnerable and they will suffer more than we will if they try to prevent Iran from developing nuclear capability," he said during a speech in Iran. Meanwhile, Ambassador to the UN Dan Gillerman expressed optimism Thursday morning that the Security Council could prevent Iran from acquiring a nuclear weapons program. "The Security Council has proven in the last several months that it can be very effective," Gillerman said in an interview with Army Radio. "We saw this in the decision to compel Syrian forces to leave Lebanon and in the investigation into the death of [former Lebanese prime minister Rafik] Hariri. If it acts with the same resolve regarding Iran, I believe it can make clear to Iran that she stands on the brink of isolation and joining the international club of pariahs, and maybe this will bring about a change in their tough stance. Gillerman also addressed Russian and Chinese opposition to imposing sanctions on Iran. "I believe that most of the international community understands the clear and present danger that Iran represents, not just to Israel, but to the entire world. We are witnesses to the creation of a new terror pipeline connecting Iran, Syria, Hizbullah and Hamas. The declarations emanating from Iran speak for themselves, declarations to destroy Israel, Holocaust denial, and preparing the next Holocaust." Russia's top diplomat criticized efforts to bring Iran and its disputed nuclear program before the Security Council, suggesting that the United States was too eager to take the issue out of the hands of the world body's nuclear watchdog. In an interview broadcast Thursday on Russian state television, Foreign Minister Sergey Lavrov called Iran's referral to the Security Council an attempt to portray the International Atomic Energy Agency as unable to influence Tehran. "This move is detrimental, and not one real problem can be decided with such a move," he said. "We don't want to be the ones to remind (everyone) who was right and who was not in Iraq, although the answer is obvious," he said. Russia has veto power that could stop passage of a sanctions resolution. Gillerman also addressed the option of a military attack on Iran. "The president of Iran is trying to shift his country's fight against the international community towards a fight against Israel. We don't need to play into his hands. We shouldn't declare Israel's intentions - not diplomatic or any other."
Iran Threatens US With 'Harm and Pain'
March 8….(AP) Iran today threatened the United States with "harm and pain" for its role in hauling Tehran before the UN Security Council over its nuclear program. But the United States and its European allies said Iran's nuclear intransigence left the world no choice but to ask for Security Council action. The council could impose economic and political sanctions on Iran. The meeting in Vienna is in effect the last step before the Security Council begins considering Iran's nuclear activities and international fears they could be misused to make weapons. "The United States has the power to cause harm and pain," said a statement delivered by the Iranian delegation. "But the United States is also susceptible to harm and pain. So if that is the path that the US wishes to choose, let the ball roll." The statement did not elaborate on what Iran meant by "harm and pain," and Iranian officials were not immediately available to comment. But diplomats accredited to the meeting and in contact with the Iranians said the statement could be a veiled threat to use oil as an economic weapon. Iran is the second-largest producer within the Organization of Petroleum Exporting Countries, and a boycott could target Europe, China or India. Iran also could cause more difficulties in southern Iraq. On Tuesday, US Defense Secretary Donald H. Rumsfeld accused Tehran of dispatching elements of its Revolutionary Guard to stir trouble inside Iraq. Iran's statement was unusually harsh, reflecting Tehran's frustration at failing to deflect the threat of Security Council action against it in the coming weeks. Iran also attacked "warmongers in Washington" for what it said was an unjust accusation that Tehran's nuclear intentions were mainly for military use. It also suggested America was vulnerable, despite its strength. "Surely we are not naive about the United States' intention to flex muscles," the statement said. "But we also see the bone fractures underneath." It also threatened broader retaliation, without being specific, saying Iran "will adapt our policy and adjust our approach to conform with the new exigencies." Ahmadinejad's comments, and US and Russian statements the day before rejecting any compromise allowing Tehran to enrich uranium domestically, set the stage for Security Council action once the IAEA board meeting hears about the latest investigations into Iran's nuclear program and debates the issue. Russia and China, which have Security Council vetoes, may use them to foil any resolution in that chamber that would meaningfully increase pressure on Iran, their political and economic ally.
Palestinians Have Bilked US Taxpayers Out of Millions?
March 8….(WND) Congress today will be presented with a new study that documents the Palestinians have inflated their population numbers by over 50 percent and that almost $3 billion in United States taxpayer funds may have been provided as aid to the Palestinians in part based on fraudulent data. "American tax dollars and other international humanitarian aid have been based on inflated population numbers which have been accepted without question by governments and aid agencies. Our researchers pointed out that money has been spent to help Palestinians who were double-counted, never born or not present in the West Bank and Gaza," Bennet Zimmerman, head of the new study, titled "Arab Population in the West Bank and Gaza," told WND. Zimmerman led a team of researchers who found Palestinians have inflated their population by close to 1.5 million, in some cases counting people in some cities twice. He was invited to testify today at a House International Relations Subcommittee on the Middle East chaired by Rep. Ileana Ros-Lehtinen, R-Fla., probing US assistance to the Palestinian Authority. Since 1994, the United States has reportedly given nearly $1.8 billion in direct aid to the PA and nongovernmental organizations operating in the Palestinian territories, usually delineated through the US Agency for International Development. America has also provided more than $1.1 billion to the United Nations Relief and Works Agency, which oversees Palestinian refugee camps in the West Bank and Gaza, according to State Department records. US assistance to the Palestinians last year alone reportedly totaled $282 million. American aid to the PA and Palestinian-related agencies, especially to refugee organizations, is devised largely based on Palestinian population figures, a State Department spokesperson said. Both the US and Israel have based their information regarding the Palestinian population on numbers provided by the PA's Central Bureau of Statistics, which claims a total population in the West Bank and Gaza of 3.8 million. But the new study, led by Zimmerman and researchers Roberta Seid and Michael Wise, puts the current Palestinian-Arab population of the West Bank at 1.4 million and Gaza 1.1 million, for a total of 2.4 million. Zimmerman's team found extreme faults in the methods used by the PA to determine its population, including counting the 230,000 Arab residents of Jerusalem twice and retroactively raising growth and birth rates, which the study contends have been declining. The PA claims a natural growth rate of 4 to 5 percent per year, among the highest in the world, but Palestinian Ministry of Health records published annually since 1996 contradict the PA's own claims by stating growth rates averaging around 3 percent. The PA also projected a net population increase of 1.5 percent per year as a result of immigration from surrounding countries. But Zimmerman's researchers found that except for 1994, when the bulk of the Palestinian leadership and their families entered the territories from Tunis, Palestinian emigration from the area has outweighed immigration by a net negative of about 10,000 per year. "The US and Europeans have for years accepted entirely exaggerated data," Zimmerman said. "Now Congress has some very tough questions to ask, including how its own State Department and the CIA could have been duped and what do to regarding future aid." Ros-Lehtinen recently drafted legislation along with Tom Lantos, D-Calif., calling for a halt to US assistance to the PA following Hamas' victory in January's Palestinian elections. The United States and Israel have been leading an international push to politically and financially isolate the new Hamas government. The PA has for years depended on US and European aid to pay salaries for its nearly 150,000 employees, totaling about $90 million per month. In response to international attempts to isolate his government, Hamas leader Mahmoud al-Zahar claimed last month his terror group doesn't need "satanic" American money. "Those who built their structure on the basis of the Quran cannot budge because of promises from America or a dollar from Europe. I wish America would cut off its aid. We do not need this satanic money," al-Zahar said at a news conference in Cairo. But al-Zahar took quite a different tone in a WND interview just prior to the Palestinian elections in which he lobbied for US aid. Al-Zahar, whose group has openly funded and carried out over 60 suicide bombings and hundreds of rocket and shooting attacks against Israelis, said Hamas would use American aid money to build "factories, agriculture and other real investments in the Palestinian people."
Cheney: US Won't be Party to Terror State
March 8….(Jerusalem Post) US Vice President Dick Cheney Tuesday declared Washington will not be party to the birth of a terrorist state in Judea, Samaria and Gaza, but failed to recognize that America has already laid the groundwork for such an entity. Speaking to a gathering of the American Israel Public Affairs Committee (AIPAC), Cheney said: "The United States will not be a party to the establishment of a Palestinian state that sponsors terror and violence." His words were directed at the Hamas terrorist organization, which in January shattered American assumptions that democracy is the key to Middle East peace when it scored an overwhelming victory in Palestinian Authority general elections. Many would argue that the US has already made itself a party to the establishment of a "Palestinian" terror state by virtue of its long support for Yasser Arafat's PLO. The PLO, now headed by Arafat's former deputy, Mahmoud Abbas, was just 15 years ago still recognized as the world's premier terrorist network, the Al Qaeda of its day. From "Oslo" to Wye to the Road Map, the Unites States more than any other nation has helped to entrench the idea that the Arabs of Judea, Samaria and Gaza are entitled to a separate state, and put them in a position to move ahead aggressively with the establishment of that state. Whether Washington will merely step back and allow the terrorists to use the foundation put in place largely by US diplomatic efforts to establish sovereignty, or actively oppose and help prevent the birth of a Hamas terror state remains to be seen.
Cheney: 'Iran Will Not be Allowed a Nuclear Weapon'
March 7….(Jerusalem Post) In the strongest message to date addressed to the Iranian leadership, US Vice President Dick Cheney warned Teheran that the US is not ruling out any option in preventing Iran from gaining nuclear weapons. "The United States is keeping all options on the table in addressing the irresponsible conduct of the regime", Cheney said to 5,000 Aipac members gathered in Washington for the organization's annual policy conference. Cheney, who received a standing ovation from the crowd after his harsh words towards Iran, added that "the United States joins other nations in sending that regime a clear message: we will not allow Iran to have a nuclear weapon" and that the international community will impose actions that will have "meaningful consequences" if Iran continues to develop its nuclear program. US Secretary of State Condoleezza Rice met with her Russian counterpart Sergey Lavrov and discussed the Iranian nuclear program, making clear that the US would not agree to any proposal which will include uranium enrichment on Iranian soil. The US is still pushing for the UN Security Council to take up the Iranian issue and begin a process of international pressure on Teheran. In his speech at the Aipac conference, Vice President Cheney stressed the US' opposition to the Hamas-led Palestinian Authority and said that if the Hamas wants the help of America and the international community, it must recognize Israel's right to exist. "One thing is certain - the United States will not be a part to the establishment of a Palestinian State that sponsors terror and violence", Cheney said and added that "Israel can count on the United States of America".
Iraq Weapons -- Made in Iran?
| | |
| --- | --- |
| | Many US soldiers, patrolling in Iraq have been killed by roadside bombs. These Iranian supplied IED's coupled with homicide bombers are the foremost of the problems that the US military faces daily. |
March 7….(ABC News) US military and intelligence officials tell ABC News that they have caught shipments of deadly new bombs at the Iran-Iraq border. They are a very nasty piece of business, capable of penetrating US troops' strongest armor. What the United States says links them to Iran are tell-tale manufacturing signatures, certain types of machine-shop welds and material indicating they are built by the same bomb factory. "The signature is the same because they are exactly the same in production," says explosives expert Kevin Barry. "So it's the same make and model." US officials say roadside bomb attacks against American forces in Iraq have become much more deadly as more and more of the Iran-designed and Iran-produced bombs have been smuggled in from the country since last October. "I think the evidence is strong that the Iranian government is making these IEDs, and the Iranian government is sending them across the border and they are killing US troops once they get there," says Richard Clarke, former White House counterterrorism chief and an ABC News consultant. "I think it's very hard to escape the conclusion that, in all probability, the Iranian government is knowingly killing U.S. troops. US intelligence officials say Iran is using the bombs as a way to drive up US casualties in Iraq but without provoking a direct confrontation. John Negroponte, director of national intelligence, testified before the Senate Select Committee on Intelligence on Februrary 2, saying, "Tehran's intention to inflict pain on the United States and Iraq has been constrained by its caution to avoid giving Washington an excuse to attack it."
Israel: Hamas PM Could Be Israeli Target
March 7….(Ha Aretz) Israel's defense minister advised the incoming Palestinian prime minister to fear for his life if Hamas militants start attacking Israel again. Defense Minister Shaul Mofaz's warning to Hamas, recently elected to rule the Palestinian Authority, was the first to identify Hamas' prime minister-designate, Ismail Haniyeh, as a potential target for an Israeli pinpoint attack. Hamas, which is in the process of forming a Cabinet, has rejected international calls to renounce its violent, anti-Israel ideology, but has maintained a year-old moratorium on suicide bombings. On Tuesday, Mofaz warned that Hamas leaders, including the incoming prime minister, Haniyeh, could be targets of pinpointed Israeli killings. Israel's policy of targeted killings has proven effective, and will continue, the defense minister said. "There is no question about its efficacy," Mofaz said. "Look what happened to Hamas in the years it conducted an untrammeled suicide bombing war against us. When we started the targeted killings, the situation changed, he said, referring to Hamas' suspension of attacks. Asked if Haniyeh would be a target if Hamas were to resume attacks, Mofaz replied: "If Hamas, a terror organization that doesn't recognize agreements with us and isn't willing to renounce violence, presents us with the challenge of having to confront a terror organization, then no one there will be immune. Not just Ismail Haniyeh. No one will be immune." Haniyeh brushed aside Mofaz' warnings, and accused Israel of trying to disrupt the formation of a Hamas-led government. "The continued escalation aims to shed more Palestinian blood, confuse the situation and hamper the formation of the Palestinian government," he told The Associated Press at the Palestinian parliament. Hamas headed into a domestic confrontation on Monday by voting to strip Abbas of powers his then-ruling Fatah Party granted him in its last session.
Iran Opens Embassy in Palestinian Territories
(Headquarters to promote Tehran's interests, apocalyptic world battle of 'good' vs. 'evil')
March 6….(WorldNetDaily) Iran has opened an "ideological embassy" in the Palestinian territories to espouse Shia Muslim beliefs, including Islam's waging of a final, apocalyptic battle against "evil," and to help spread Iranian theocracy and rule throughout the West Bank and Gaza Strip, WND has learned. Although Tehran has long financed Palestinian terror organizations, the opening of its office here marks the establishment of Iran's first official agency in the Palestinian areas, senior Palestinian security officials said. "We want the Palestinian people to be exposed to the Iranian heritage and Shia principles. Our goal is to reinforce the relations between the Islamic republic of Iran and the Palestinian people. We are part of the Iranian Islamic project in the Middle East," Muhamad Gawanmeh, director of Iran's new Shia Council in Palestine, said in an interview. Gawanmeh is a member of the Iranian-backed Islamic Jihad terror group and has spent several years in Israeli prisons. He opened the council's headquarters in Ramallah, and said there are plans to expand Iranian offices to several other major Palestinian cities in the West Bank and Gaza with official sanctioning from Tehran. The council, which recently also opened an office in Egypt, claims to already have a membership of several thousand Palestinians. Gawanmeh said Iran's Shia Council will not be involved in "military operations," but will promote Iranian theocracy to the local population and serve as a conduit for Tehran's interests in the area. "We want the council to be a gate for the Palestinian people to receive the help of Iran and the Shiate world. We already have large numbers of members and supporters," Gawanmed said. He said the council seeks to espouse Shia Muslim ideology in the Sunni-dominated Palestinian territories, including the belief in the return of the Twelfth Imam to lead an apocalyptic world battle against "evil." Shia Muslims believe Muhammad's family, the 12 Imams, were the best sources of knowledge about the Quran and Islam and were the most trusted carriers and protectors of Islamic tradition. They believe in a dynasty of Islamic authorities and promote a hereditary class of spiritual leaders they believe have divine powers. Sunni Islam in part follows the teachings of Islamic caliphs who proclaimed leadership after Mohammed's passing but were not blood relatives of Muhammad. The caliphs interpreted important parts of Muhammad's hadith, or tradition that Shias reject. Sunni Muslims make up about 85% of Muslims all over the world. The largest sect of the Shias, called The Twelvers, believe there were 12 imams after Muhammad and that the last one, Imam Mahdi, still lives, but he cannot be seen until Allah determines it is time to prepare the faithful for Judgment Day. The Twelvers count Iranian President Mahmoud Ahmadinejad among their faithful. They believe Imam Mahdi will return to lead the forces of righteousness against the forces of evil in a final, apocalyptic world battle. Some Mideast analysts fear Ahmadinejad may be pursuing nuclear weapons in part to precipitate the final, Mahdi-led battle. In a speech in Tehran in November, Ahmadinejad reportedly said his main mission is to "pave the path for the glorious reappearance of Imam Mahdi, may Allah hasten his reappearance." His cabinet has reportedly given $17 million to the Jamkaran mosque, site of a well at which Shia Muslims believe Mahdi disappeared over a thousand years ago. The council's Gawanmeh went on to credit Hamas leader Khaled Meshaal's recent visit to Tehran with strengthening official Palestinian ties to the Iranian leadership and emboldening Iran to sanction the opening of its new Palestinian office. "Now that Hamas was adopted by Iran, who announced a huge financial support to Hamas and to the Palestinian people, and now that Hezbollah is facing a Zionist-American conspiracy to disarm, we decided that this is the most suitable moment to declare the foundation of our council in Palestine and to start acting publicly," Gawanmeh said. Israel says Iran uses the Lebanese-based Hezbollah militia as a conduit to channel funds to Palestinian terror groups, including Islamic Jihad, which took responsibility for every suicide bombing since several Palestinian groups agreed to a truce with Israel last year. Iran last week pledged financial support to Hamas to replace an expected halt of European and US aid to the new Palestinian government. Media reports said Iran would give as much as $250 million to the PA, but Hamas officials said no actual amount had been discussed. Hamas chief Meshaal, in Tehran eleven days ago for a round of talks with Iranian officials, said Iran would have an increased role with the PA. A senior official from the PA's Fatah-linked intelligence branch told WND: "Iran is playing a very negative role in the PA. Aside from its meetings with Hamas leaders and its financial support, we are worried the new office in Ramallah is Iran's attempt to infiltrate the PA territories through religious organizations that will adopt a very radical Shia Islam."
Iran Nuke Negotiator: We Duped West on Nukes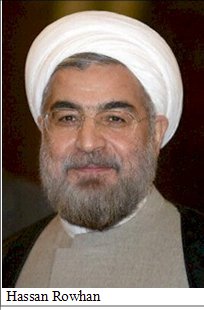 March 6….(WND) Iran's top nuclear negotiator, in a speech to the nation's leading Islamic clerics and academics, has admitted what many in US intelligence have been saying all along, namely, Tehran duped the West on its nuclear program by continuing its development while using diplomatic talks to lull the Europeans into inaction. Hassan Rowhani led talks with the EU3, Germany, France and the UK, until last year and part of his job, reports the London Telegraph, was to play for time after Iran's nuclear program was exposed by dissidents in 2002. At the closed meeting of the Supreme Council of Cultural Revolution, Rowhani boasted that during talks to forestall Iran's nuclear program, which intelligence sources in the US saw as part of an effort to build nuclear weapons, Tehran completed the installation of equipment needed to convert yellowcake at its Isfahan plant. The Europeans, he said, were convinced nothing was occurring at the plant. "From the outset, the Americans kept telling the Europeans, 'The Iranians are lying and deceiving you and they have not told you everything.' The Europeans used to respond, 'We trust them'," he said. Rowhani's frankness, it appears, was motivated by internal criticisms from hardliners that he had negotiated away too much in recent talks with the Europeans. His comments, published in a journal available to the regime's elite, seem designed to defend his performance. "When we were negotiating with the Europeans in Teheran we were still installing some of the equipment at the Isfahan site," he said. "There was plenty of work to be done to complete the site and finish the work there. In reality, by creating a tame situation, we could finish Isfahan." Rowhani's diplomatic skills were severely tested in September 2003 when the International Atomic Energy Agency (IAEA) demanded a "complete picture" of Iran's program. "The dilemma was if we offered a complete picture, the picture itself could lead us to the UN Security Council," he said. "And not providing a complete picture would also be a violation of the resolution and we could have been referred to the Security Council for not implementing the resolution." He also revealed two occasions where the IAEA learned of secret experiments from academic papers published by Iranian scientists. Libya's decision to negotiate with the US and Britain to end its own nuclear program brought to light the proliferation network run by Pakistan atomic scientist A.Q. Khan. Khan's role in supplying nuclear-related equipment to Libya, revealed in surrendered documents, also exposed the fact he had supplied advanced centrifuges to Iran. Revelations of Rowhani's candor come on the eve of tomorrow's IAEA meeting to reassess Iran's banned nuclear operations. According to UN protocol, the IAEA review is the final step before Tehran's case is forwarded to the Security Council, where, if the facts dictate, sanctions may be imposed. Iran has just completed failed talks with Russia, which opposes UN sanctions, to find a way around the impasse. On another matter, the National Council of Resistance of Iran (NCRI), an opposition group responsible for many of the revelations about Iran's secret program, has obtained a confidential parliamentary report revealing that Iran's legislators were unaware of the nuclear project and that it was funded off the books. "Rowhani's remarks show that the mullahs wanted to deceive the international community from the onset of negotiations with EU3," said Mohammad Mohaddessin, the NCRI's foreign affairs chief, "and that the mullahs were fully aware that if they were transparent, the regime's nuclear file would be referred to the UN immediately."
New Port Threat – Nuke on Oil Tankers?
March 6….(WND) With controversy still swirling over America's possible port deal with a company owned by the United Arab Emirates, a major oil power with terror connections, new concerns are being raised among defense and security analysts about the threat of a nuclear weapons being delivered to the US aboard an oil tanker. While the possibility of such a sneak attack has been considered before, new alarms were set off last week when the Saudi Arabian branch of al-Qaida issued a fatwa providing religious justification for its attempt to car-bomb the huge oil-processing plant in Abqaiq. "Targeting of oil interests is legitimate economic jihad," said the 63-page document posted on an Islamist website. "Oil is the basis of modern industry and the backbone of industries in infidel countries." The fatwa serves as a reminder of a specific warning given to the US Congress last year that an oil tanker could be used to transport a nuclear weapon to a port in the US. "The Middle East is the dominant source of anti-American terrorism," explained the report by Jonathan Medalia, specialist in national defense, foreign affairs, defense and trade. "The United States imports an average of more than 2 million barrels of crude oil a day from Persian Gulf nations. "This crude oil is transported by ship, and it would be very difficult to detect a bomb inside a supertanker." The report very specifically is referring to a nuclear bomb. Such a device could not be readily detected by gamma rays because of size of supertankers and the thickness of their steel. Neither could neutron activation detect such a weapon with any certainty because neutrons would be absorbed by the oil, explained the report, titled "Nuclear Terrorism: A Brief Review of Threats and Responses." Not only would this be an ingenious means of getting a nuclear warhead to the US, says the report, but the effects of detonation of the weapon would be magnified by the location. "A bomb in a tanker could devastate an oil port by the blast and by secondary fires in nearby refineries and oil storage tanks," it explains. "A tanker bomb might be used against other maritime targets, such as the Panama Canal. And, if a bomb in a shipping container could lead to the shutdown of container traffic, seriously damaging the world economy, a tanker bomb might by the same token lead to the suspension of crude oil shipments, with similar results." The report raises the distinct possibility that such an attack would, in addition to its killing power and destructiveness upon the primary target, result in "a halt of crude oil shipments worldwide for some time." One of the responses suggested for dealing with such a threat is the construction of offshore inspection ports, much like those proposed by Robert Pfriender of Alliance Development Corp. Pfriender's company put together a comprehensive plan for Customs and Border Protection to develop three offshore cargo container security inspection ports to inspect each and every container prior to it being cleared for entry to the US mainland. The ports would be located 25 miles offshore to mitigate the effects of a detonation and so any fallout (which is minimal over water) would not pass over land. "We offered to develop these ports with private financing and at no cost to the government," he said. "The operation of the ports would generate revenue from a small inspection fee for each container. The fully automated robotic process would add only a slight delay to the container delivery time." Not only did Pfriender ensure the proposal was seen by Customs officials as far back as August 2002, less than a year after the Sept. 11 attacks, he also took the time to see that virtually every member of Congress received this proposal – along with officials in the White House, the Department of Defense, the Coast Guard and the Department of Homeland Security.
The US government has expressed little interest in the plan.
---
Newsletter Archives