WEEK OF APRIL 23 THROUGH APRIL 30
Russia and China Warn UN not to Antagonize Iran
April 28….(Financial Times) Russia and China on Thursday warned the UN against escalating the dispute over Iran's nuclear program. The call came on the eve of an eagerly awaited report on whether the country has met United Nations demands. The US and the European Union believe Friday's report by Mohamed El Baradei, head of the International Atomic Energy Agency, will set the stage for a UN Security Council resolution, since there is little chance that Tehran will meet the council's demand for "full and sustained suspension" of uranium enrichment, which can produce weapons-grade material. But on Thursday Vladimir Putin, Russia's president, warned against too great an intervention by the Security Council, a path Moscow feels could lead to confrontation. "We think that the IAEA must continue to play a key role and it must not shrug off its responsibilities to resolve such questions and shift them on to the UN Security Council," he said at a summit with Angela Merkel, German chancellor. European officials argue that, far from sidelining the IAEA, any action by the council would seek to bolster its authority. The Chinese government also called for restraint. Moscow and Beijing, which have growing energy and economic links with Iran, fear that a UN resolution might be used to justify military action at a later stage. The US has stepped up efforts to assuage such concerns. "Forcible change of the Iranian regime is not the objective of American policy," Philip Zelikow, a top adviser to US secretary of state Condoleezza Rice, told the Financial Times. "Right now, we haven't completed implementing a diplomatic strategy. That diplomatic strategy involves underscoring to the Iranian regime the costs of its behavior." US and EU diplomats hope to win Security Council backing for a resolution on Iran by mid-June. Such a resolution would not involve sanctions but would probably set out a new deadline for Iran to halt nuclear enrichment.
Jihad Coming To America As Foretold By Jeremiah?
April 28….(Bill Wilson) A radical Islamic group broke public last week, hoisting pictures of the White House with the Islamic flag flying above it and calling for the demise of the "Israeli Terrorists," but the demonstration was not conducted by the Islamic factions in Gaza, or Tel Aviv, or Jerusalem or even in the Palestinian territories. This was from a group of demonstrators outside the Israeli consulate in Queens, New York. The Islamic Thinkers Society protested Israel and the United States last Friday. The Society says they are non-violent, but certainly their words were reflective of the extremist Islamic rhetoric that has been heard in Iraq, Iran, the Palestinian territories and from any other militant Islamic congregation. Demonstrators yelled chants of "The mushroom cloud is on its way! The real holocaust is on its way!" and carried signs including "Islam will Dominate" and a picture with an Islamic flag flying over the White House. They screamed, "allah akbar," meaning god is great. And they made the point that Palestine is the Islamic land. They said that liberating an Islamic land is an obligation on all Muslims; that their brothers and sisters are living under the brutal occupation of the terrorists Israelis supported by the United States to the tune of $45 million a day, which is used by the "Israeli terrorists to murder and oppress." They said, "We will never accept the existence of Israel." This may well be one of the first and most public expressions of radical Islam in America, but it is indicative of a growing movement that has been documented by intelligence sources across the country. Muslim clerics are becoming bolder in preaching inflammatory and threatening rhetoric from the sanctity of their mosques from New York to Iowa, from Minnesota to Texas, throughout the United States. And if this treasonous, hate speech is allowed to continue, Americans can expect it to spread to violence. In Jeremiah 51:14, the Lord told a nation that had fallen away from Him, "Surely I will fill you with men, as with locusts, and they shall lift up a shout against you."
Syria Set to Spend Oil Money on Weapons
April 28….(Ha Aretz) Syria is poised to begin talks on major arms purchases in light of expectations of increased revenue due to rising oil prices, Military Intelligence chief Major General Amos Yadlin hinted at a lecture at the intelligence community's heritage center in Glilot, north of Tel Aviv. Yadlin said larger oil producers like Iran and Saudi Arabia were also channeling their oil revenues into arms deals. Some of the Syrian arms purchases are expected to go toward refitting its air force, which stopped buying new planes in the 1980s. Yadlin also said that the Syrians continued to focus their arms production on rockets and longer-range SCUDS. Production, he said, was continuing on 200 to 300 millimeter rockets with a range of dozens of kilometers. Some of these weapons are apparently being transfered to Hezbollah, including the array Hezbollah has deployed along the border between Lebanon and Israel.
'American Hiroshima' Linked with Iran Attack!
(Pakistani journalist who met bin Laden confirms al-Qaida nukes, says they may already be in US)
April 28….(By Paul L. Williams and David Dastych) Al-Qaida has already obtained nuclear suitcase weapons from the Russian black market, weapons tested in Afghanistan in 2000, and they may have already been forward-deployed inside the US, according to the only journalist to interview Osama bin Laden and Ayman al-Zawahiri in the wake of Sept. 11. Last week, Hamid Mir's credibility skyrocketed when he accurately predicted in Joseph Farah's G2 Bulletin and later in WND the imminent release of a new recorded communiqué from bin Laden through al-Jazeera, the Arabic TV network. Two days later, bin Laden's tape was the focus of international news coverage. "If you think that my information and analysis about bin Laden's location is correct," said Hamid Mir, "then please don't underestimate my analysis about his nuclear threat also." Mir said that he met with an Egyptian engineer last week who lost an eye after one of bin Laden's nuclear tests in the Kunar province of Pakistan. The Pakistani journalist said the encounter with the engineer greatly disturbed and depressed him since it provided further assurance that a nuclear nightmare for America is about to dawn. Mir believes that an "American Hiroshima" will occur as soon as the U.S. launches an attack on Iran's nuclear facilities. "Al-Qaida and Iran," he says, "have a long, secret relationship." "American Hiroshima" is the name al-Qaida leaders chose for their long-planned nuclear attack on the U.S. The relationship between Iran and bin Laden dates back to June 21, 1996, when bin Laden attended a terror summit in Tehran. The gathering attracted terror leaders from various places throughout the world, including Ramadan Shallah (the Palestinian Islamic Jihad), Ahmad Salah (Egyptian Islamic Jihad), Imad al-Alami and Mustafa al-Liddawi (Hamas), Ahmad Jibril (Popular Front for the Liberation of Palestine), Abdallah Ocalan (the Kurdish People Party), Muhammad Ali Ahmad (al Qaida), and Imad Mugniyah (Hezbollah). The summit resulted in the creation of the "Committee of Three" that would meet on a regular basis for the "coordination, planning and execution of attacks" against the United States and Israel. The committee members were Ahmad Salah, Imad Mugniyah and bin Laden. Mir's position that al-Qaida's nuclear weapons may have already been forward-deployed to the United States confirms the report of Sharif al-Masri, a key al-Qaida operative who was arrested in Pakistan in November 2000. Al Masri, an Egyptian national with ties to al-Zawahiri, said that al-Qaida had made arrangements to smuggle nuclear weapons and supplies to Mexico. From Mexico, he said, the weapons were to be transported across the border and into the United States with the help of a Latino street gang. Mir also maintains that numerous sleeper agents are in place in major cities throughout the United States to prepare for the nuclear holocaust. Many of these agents, he says, are Algerians and Chechens who obtained European passports and are posing as Christian and Jews. He further says that many of these agents have been in the United States since bin Laden's issuance of his "Declaration of War on Americans Occupying the Country of the Two Holy Places." That fatwa was issued Aug. 23, 1996.
Iran Receives North Korean-Made Missiles
April 27….(AP) Iran has received its first batch of North Korean-made surface-to-surface missiles that put European countries within firing range, Israel's military intelligence chief said in an interview published Thursday. The BM-25 missiles have a range of 1,550 miles and are capable of carrying nuclear warheads, the Haaretz daily reported. The report came as UN members consider slapping sanctions on Iran for refusing to halt its uranium enrichment. The United States, Israel and other Western countries say Iran is trying to get nuclear arms. The UN Security Council has given Iran until Friday to stop enriching uranium, a necessary step for developing nuclear weapons. Israeli Military intelligence chief Maj. Gen. Amos Yadlin warned of the new Iranian missiles in several recent interviews to the media. Iran already has missiles capable of reaching Israel, but the BM-25s are a significant upgrade over its existing top-of-the-line missiles, the Shihab-4 and Shihab-3. Those missiles spurred Israel to develop its Arrow-2 anti-ballistic missile system, which is can intercept the Iranian missiles. Israeli concerns have been heightened in recent months by Iranian President Mahmoud Ahmadinejad's calls to wipe Israel "off the map." Iran has also tested several long-range missiles in recent weeks, including a "top secret" missile capable of being fired from helicopters and jet fighters, Iranian state-run television reported. Iran also tested the Fajr-3, a missile it said can avoid radar and hit several targets simultaneously using multiple warheads. Iran also tested what it calls two new torpedoes. US intelligence officials have said that Iran is at an advanced stage of developing a missile that can carry a nuclear warhead. The United States has informed the International Atomic Energy Agency of the details of the Iranian missile program
Syria, Iran Still Controlling Lebanon
April 27….(Walid Phares) On April 26, 2005, pictures of the supposed "last" Syrian soldiers were seen around the world leaving Lebanon. Today, on the first annual withdrawal of the Syrian regular forces from Lebanon, there are reasons for celebration and other reasons for great concern. While Syrian road blocks have vanished from Beirut and the various regions of Lebanon, many questions are still troubling the minds of most Lebanese and their friends around the world. The truth, the whole truth, is not yet fully out in the open. What caused the abrupt Syrian withdrawal, and is it complete? What is causing the non-fulfillment of UN resolution 1559 which called for the liberation of Lebanon and the disarming of Hezbollah? What can the United States, Europe and the international community do to help Lebanon's civil society, one year after its supposed emancipation, regain its place among democracies? When reviewing the events leading to the Syrian redeployment out of Lebanon in April 2005, and the developments that followed since until April of this year, one can note the following realities: It is thanks to the efforts of the Lebanese Diaspora's lobby and the forces of civil society in Lebanon that Western democracies, led by the United States and France, decided to seize the UN Security Council and issue UNSCR 1559, asking the Syrian regime to pull its forces out of Lebanon, disarm the militias and promote democracy. It is thanks to the UNSCR 1559 and the courageous response of the Lebanese masses on March 14, 2005, to the assassination of former Prime Minister Hariri on Feb. 14, and the pro-Syrian demonstration by Hezbollah on March 8, that the Cedars Revolution broke the wall of fear from Syrian repression, when 1.5 million people submerged downtown Beirut. In response to the Cedars Revolution, it is thanks to the strong warnings by US President George Bush, French President Jacques Chirac, and other world leaders, to the Assad regime in Damascus during the months of March and April 2005 that Syrian forces begun to pull out from the country. The Syrian pull out came as a result of the combined efforts by the US-led international pressures and the popular uprising of the Cedars Revolution. However, a Terrorist campaign has been able to assassinate a number of politicians such as leftwing politician George Hawi, liberal journalist Samir Qassir, democracy leader MP Jebran Tueni, and attempt to assassinate media figures such as May Chidiac. Hezbollah leader Hassan Nasrallah and Syria's allies in Lebanon have been threatening violence against any attempt to pull the remnants of the Syrian occupation, the disarming of their militias and the deployment of the Lebanese army into south Lebanon or along the Syrian-Lebanese borders. Hence, one year after the official withdrawal of the Syrian army, it is fair to state that more freedoms have been acquired in Lebanon, more people have seen their liberties expanding. But at the same time, another Syrian-Iranian controlled "army" remains inside the country and is blocking the recovery of the small nation. Therefore, at the first anniversary of the official pullout, the international community should commit to another series of efforts, perhaps more difficult, aimed at the full implementation of UNSCR 1559. During these very dangerous times, as Ahmadinejad's regime in Tehran is challenging regional and international security with his nuclear ambitions, and as the Assad regime continues to interfere with the political process in Iraq by supporting the terrorists across the borders, and as Hezbollah continues to assist radical groups such as Hamas and Palestinian Islamic Jihad, it is crucial to enable Lebanon's civil society to develop a full democracy in the country. It is then very urgent that the international community extend its support to the forces of civil society, the government and the army in Lebanon to reclaim a pluralist, democratic and sovereign Lebanon.
US Won't Recognize Olmert's Borders
April 26….(Ha Aretz) The United States will not recognize a border created after a unilateral withdrawal from the West Bank as Israel's permanent frontier, senior US administration members said in unofficial conversations. Interim Prime Minister Ehud Olmert, who is due to arrive in the US capital during the third week of May, has not yet presented the administration with a detailed plan for the second withdrawal he promised Israeli voters. However, a number of sources said unofficially that they believed the Bush Administration would probably support such a withdrawal, but would not recognize it as one "after which there would be no more need for negotiation." Senior American government sources told reporters this week that the Bush Administration will not recognize Israeli Prime Minister Ehud Olmert's intended withdrawal lines as Israel's final borders. If accurate, the revelation effectively demolishes the primary plank in Olmert's election platform, the promise to create a new secure reality by 2010 by unilaterally drawing final borders that will ensure Israel's ability to defend itself for decades to come. Olmert knows he cannot implement that plan without the full backing from the United States, so he is scheduled to lobby support from President George W. Bush for his "convergence" plan, which will see Israel voluntarily surrender more than 90 percent of Judea and Samaria to the Hamas-led Palestinian Arabs. One US official quoted by Ha'aretz said American support would be given under the assumption "that any reduction of the occupation is good for both sides, but it certainly won't be support for a new border." Israel's permanent borders would only be set "following future negotiations between Israel and the PA," said another. Bush and his top aides have repeatedly stated that the US will not recognize any resolution of the conflict that does not enjoy the full consent of the "Palestinians." And neither PLO chief Mahmoud Abbas nor the new Hamas government are about to settle for anything less than a 100 percent withdrawal from Judea and Samaria, including eastern Jerusalem, the release of all "Palestinian" security prisoners, and the right to flood the Jewish state with millions of Arab "refugees." As such, Olmert's convergence plan is reduced to a policy that risks Israel divesting itself of its most valuable bargaining chips before final negotiations have even begun, and placing Israel in the most dangerous position it has been in since it came into existence in 1948.
Zarqawi in Videotape Threatens: We will Liberate Jerusalem by Jihad!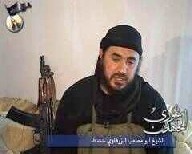 April 26….(DEBKA) Zarqawi showed his face for the first time in more than a decade on an internet tape released Tuesday, the day after three explosions killed 24 people, injured 70, at Dahab in Egyptian Sinai and 48 hours after Osama bin Laden's audiotaped threat to the Crusader-Zionist enemy was aired by Arabic Al Jazeera TV. The combination may herald a fresh al Qaeda cycle of terrorist attacks. Our sources reported Monday that the Egyptian authorities are investigating whether a 10-man cell reportedly held ready by Zarqawi in the Northern Sinai or Gaza for a large-scale attack was responsible for the third Sinai bombing attack in two years. In the new tape, Zarqawi declared: The crusader enemy entered Iraq to extend Zionist rule from the Euphrates to the Nile. He said "the Americans led by Bush, the Jews, the Crusaders and the 'Muslim traitors' will not know a moment's peace as long as our eyes are open." Zarqawi is held responsible for tens of thousands of deaths in Iraq and masterminding the latest al Qaeda terror attacks in Jordan, Aqaba, Eilat, Egypt, Sinai and, most probably, Tuesday's coordinated triple bombing in the Red Sea resort of Dahab.
Tehran Issues Threats in Secret Meetings with Washington
April 26….(DEBKA) Tehran was undaunted when US officials confronted its negotiators in secret talks with news of the steps taken by Saudi Arabia and Egypt to launch their own nuclear weapons programs as a deterrent to the Iranian threat. (The US suggested to Iran that a Middle East nuclear bloc hinging on Saudi Arabia and Egypt would be a threat to Iran) (The US said it could line up a nuclear-armed Middle East front, including Israel, against Iran. Moscow and Beijing might then rethink their support for the Islamic Republic and weigh its worth against lost points in the Arab world and Persian Gulf. Tehran's clerical rulers did not back down in the face of the American ultimatum.) Iran's leaders countered the prospect of a Middle East arms race with a string of barefaced comments and threats against the United States, described by the State Department spokesman Tuesday, April 15, as a serious escalation of the crisis. Iran's president Mahmoud Ahmadinejad said: "There is no need for US-Iranian talks." The next day, Iran's powerful nuclear negotiator and head of its Supreme Security Council, Alil Larijani, said Tehran would suspend ties with the UN nuclear watchdog and speed up its atomic program if the UN Security Council imposed sanctions. Larijani also threatened to hit oil installations in two Central Asian states in reprisal for any American attack. Finally, Iran's supreme ruler, Ayatollah Ali Khamenei, promised the Americans a blow of "double intensity" in response to a US attack on its nuclear installations. According to DEBKAfile's Iran experts, Tehran feels confident enough to adopt a belligerent posture because
1. Although US ambassador Zalmay Khalilzad broke off the Iraq talks with an Iranian delegation in Baghdad, Tehran is confident that its influence in Iraqi politics outweighs Washington's by virtue of its ties with Iraqi parties and Shiite militias and its intelligence network.
2. The threat by Ahmadinejad to quit the Non-Proliferation Treaty, also hinted at by Larijani, is an indicator of Tehran's dissatisfaction with the progress of its secret diplomatic track with Washington, first in the US capital, then at an undisclosed venue in Europe. Iran's negotiating tactics are guided by the presumption that no accord is possible with the United States on the nuclear issue; but diplomacy of any form is to be encouraged to buy time for progress in its program in a better international climate.
3. Tehran is increasingly confident that Moscow and Beijing will continue to block Washington's initiatives for UN Security Council sanctions, as they did in the case of Bashar Assad's Syria.
4. As perceived in Iran, the Bush administration is losing ground in the Middle East, whereas the Islamic Republic is in the middle of a forward thrust, and not only in Iraq. Iran's allies, Syrian president Assad and Hizballah's Hassan Nasrallah, have been able to wriggle off the international hook. The Americans, French and United Nations were not able to make the Shiite terror group give up its weapons and disband; the Palestinian jihadist Hamas is not only in power, but its heads are intensifying the movement's rapport with the Iranian regime, a major coup for Tehran.
Israel Remembers Holocaust Victims
April 25….(YNET) Holocaust Memorial Day: On Tuesday morning at 10 a.m., as Israel remembered those murdered by the Nazis and their collaborators, a two-minute siren blared across the country, bringing life to a halt for a moment of silence. Throughout the day Tuesday memorial ceremonies will be held at all schools and institutions across Israel. Immediately following the morning siren, a ceremony was held at the Yad Vashem Holocaust History Museum and flowers were placed at the memorial for the fighters of the Warsaw Ghetto uprising. President Katsav, Prime Minister Olmert, the Knesset chairman, and High Court Chief Justice Barak among other public figures were expected to attend, as well as Holocaust survivors and others. The ceremony was followed by the reading of names of Holocaust survivors in the remembrance tent, as part of the Every Person Has a Name tribute.
The official ceremony marking the beginning of Holocaust Day was held at the Yad Vashem Holocaust museum in Jerusalem in the presence of President Moshe Katsav and Prime Minister Ehud Olmert. In his speech, Olmert described the "innocent Jew," armed only with his heritage, angering the Nazis because of Jewish moral values. "The lesson of World War II is that appeasement, concessions, and weakness are a recipe for a holocaust," he said. "As a Jew, I always carry in my heart the seal of pain over the Holocaust of my brothers and sisters, but I'm proud for being the archenemy of Nazi evil." President Moshe Katsav said that hatred of Israel still exists, but Israel would not remain complacent against haters of the Jewish state. "Hatred of Israel has not yet passed from the world and it is thriving mainly here on the soil of the Middle East, and is expressed through calls for the destruction of Israel. I call on the free world not to remain complacent in the face of such calls," Katsav said.
Holocaust Day Begins Amidst Calls for Israel´s Destruction
| | |
| --- | --- |
| | Israeli soldiers stand at attention prior to a service marking Holocaust Memorial Day at Yad Vashem in Jerusalem, Tuesday, April 25, 2006. The ceremony marks Israel's annual memorial day for the 6 million Jews killed in the Holocaust of World War II. (Mahmoud Amahdinejab, the Iranian leader says the Holocaust is a myth) |
April 25….(Arutz) As Jews get set to commemorate annual Holocaust Memorial Day in Israel and at sites of Nazi death camps, concrete reminders that the anti-Semitic threat is still extant continue to surface. Meanwhile, this past Friday in New York, the Islamic Thinkers Society held a threatening anti-Semitic rally outside the Israeli Consulate in Manhattan. In addition, the group chanted threatening slogans such as, "Israeli Zionists, What do you say? The real Holocaust is on its way! ... Allahu Akbar!... Israeli Zionists, What do you say? How many women have you raped today? ... Zionists, Zionists You will pay! The Wrath of Allah is on its way! The mushroom cloud is on its way! The real Holocaust is on its way!
Over 5,000 Jewish youth will be taking part in the annual March of the Living in Poland. The three-kilometer march between Birkenau and Auschwitz commemorates the Death Marches that the Nazis forced Jews to take along that very route in the 1940's; tens of thousands of Jews perished in three of these Death Marches. MK Shimon Peres, who is leading the Israeli delegation, visited the birthplace of David Ben-Gurion in Slotzk, Poland, today. The March of the Living was originally initiated by Avraham Hirschson, who has been tapped by Acting Prime Minister Olmert to become Israel's next Finance Minister. The event was designed as a loud proclamation that "Am Yisrael Chai," the People of Israel still live, and many of the young people taking part in the march will travel from there to Israel to take part in Independence Day festivities. This will enable them to experience first-hand the modern-day rebirth of the Jewish People and see the country that arose on the ashes of the European destruction. Some 250,000 survivors of the Holocaust arrived in Israel after the war and enlisted in the effort to establish the State of Israel. Chairman of the Yad Vashem Directorate Avner Shalev issued a statement praising the survivors, who, he said, "fought for their lives in the shadow of death and became eye witnesses and activists, reminding us constantly of our obligation to preserve our own humanity. These survivors, who gave so much to the establishment and growth of the State of Israel, are our example and our model. Israeli society has an ethical duty today to honor the Holocaust survivors, to embrace them and to take care of their welfare in the twilight of their days."
Iran Ready to Transfer Nuclear Know-How
April 25….(AP) Iran's top leader said Tuesday that Tehran is ready to transfer its nuclear technology to other countries. Ayatollah Ali Khamenei made the comments in a meeting with visiting Sudanese President Omar al-Bashir, who said last month that his impoverished, war-torn country was considering trying to create a nuclear program to generate electrical power. "Iran's nuclear capability is one example of various scientific capabilities in the country. The Islamic Republic of Iran is prepared to transfer the experience, knowledge and technology of its scientists," Khamenei told al-Bashir at their meeting. Al-Bashir congratulated Iran for its success in producing enriched uranium for the first time, saying the achievement was a "great success for the world of Islam."
Iran 'Worst Threat to Jews Since Hitler'
April 25….(Telegraph) Iran's nuclear program is the most serious threat faced by Jews since the Nazi holocaust, Israel's defense minister has said. Shaul Mofaz said: "Of all the threats we face, Iran is the biggest. The world must not wait. It must do everything necessary on a diplomatic level in order to stop its nuclear activity." He added: "Since Hitler we have not faced such a threat." Iran insists that its nuclear program is aimed solely at producing energy, and that it has no ambitions to acquire an atomic arsenal. But calls by Iran's president, Mahmoud Ahmadinejad, for Israel to be "wiped from the map" reveals Iran's true intentions. Israel has so far endorsed American efforts to curb Iran's nuclear program through possible sanctions. But earlier today Mr Ahmadinejad said he did not think the US would go through with its threats. "I think it is very unlikely for them to be so stupid to do that," he said. "I think even the two or three countries who oppose us are wise enough not to resort to such a big mistake." Mr. Mofaz said: "Pressure must be applied on the Iranians to ensure that they realize there is no returning from the path they are taking."
Israeli Counter-Terrorism Expert Warns: More Sinai Attacks to Come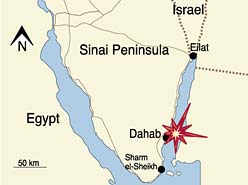 April 25….(Ha Aretz) Egyptian police detained 10 people in connection with the explosions in the resort town of Dahab that killed 23 people, an Egyptian security source said. He gave no further details about those detained. Militants in Egypt's Sinai Peninsula are already plotting their next attack in the popular resort area, an Israeli anti-terrorism expert said, a day after a triple bombing killed at least 24 people and wounded more than 60 others in the resort town of Dahab. Brigadier General Elkana Har-Nof, an official in the prime minister's counterterrorism department, said the Red Sea coast area is a desirable target because it is popular with Israeli and Western tourists, and important for the economy of pro-Western Egypt. Terrorist attacks have killed nearly 100 people at several tourist resorts in the Sinai Peninsula in the past two years, all timed to coincide with major holidays in Egypt. Bombings in the resorts of Taba and Ras Shitan, near the Israeli border, killed 34 people in October 2004, a day before a holiday marking the start of the 1973 Arab-Israeli war. Suicide attackers killed 64 people, mainly tourists, in an attack on the resort of Sharm el-Sheik last July. It happened on the day Egyptians commemorate the 1952 revolution overthrowing the king. The Egyptian government has said the militants who carried out the previous bombings were locals without international connections, but other security agencies have said they suspect al-Qaida. In Jerusalem, Brig. Gen. Elkana Har Nof, an official at the Israel prime minister's counterterrorism department, told Israel Radio that the Sinai coast is likely to continue being targeted, in part because it is a key link in Egypt's economy. "The coast combines all the elements that are a target, especially for global jihad," he said.
Jordan King Abdullah: Israel Must Disarm Its Nukes
April 24….(YNET) Jordanian King Abdullah said his country is interested in a nuclear-free Middle East and urged the international community to pressure Israel to dismantle its nuclear arsenal. "If the world is demanding Iran doesn't develop nuclear weapons it should also demand that countries which possess nuclear weapons disarm," Abdullah said in an interview to Spanish newspaper El Pais. "For peace to be achieved in the region, Israel has to disarm its nuclear weapons." "If there is peace," Abdullah added, "Israel will not need nuclear weapons. If the Israeli-Palestinian conflict is resolved, the Arab-Israeli conflict will also be resolved." The king also stated that Jordan wishes to see the region free from nuclear arms, and that "many states agree on that." In February, the United States agreed to Egypt's demand to introduce a clause into the UN's decision on nuclear energy stating that the Middle East should be a "nuclear weapons-free region," a decision which completely contradicts Israel's stance on the issue. Egypt and other Arab states slammed the criticism directed at Iran over its nuclear program, charging that the world was at the same time turning a blind eye to Israel's nuclear project. Israeli officials were however unworried about the February decision, and said at the time that "this will have no real impact on Israel, and in any case this is not the first time such a reference appears. The same thing happened when Libya decided to sign the Nuclear Non-proliferation Treaty."
Islamist Protest in NY –'Mushroom Cloud On The Way'
April 24….(WND) A New York rally by the Islamic Thinkers Society outside the Israeli consulate yesterday featured chants of "The mushroom cloud is on its way! The real holocaust is on its way!" The demonstration by the Queens-based group was monitored by the Investigative Project on Terrorism whose members noted signs including "Islam will Dominate," and a picture with an Islamic flag flying over the White House. The chants were in Arabic and translated by the Investigative Project on Terrorism, headed by Steve Emerson, a former reporter for CNN. Here are some excerpts from the chants: Leader (in Arabic): "With our blood and our lives we will liberate al Aqsa. The real Holocaust is on its way" "Takbeer!" Response: "Allahu Akbar!" "Takbeer!" Response: "Allahu Akbar!" "Zionists, Zionists You will pay! The Wrath of Allah is on its way! Israeli Zionists You shall pay! The Wrath of Allah is on its way! The mushroom cloud is on its way! The real Holocaust is on its way!" "Israel won't last long. Indeed, Allah will repeat the Holocaust right on the soil of Israel" "Takbeer!" Response: "Allahu Akbar!" According to the Investigative Project on Terrorism, the Islamic Thinkers Society is an offshoot of London's Al-Muhajiroun, a group that celebrated the 9/11 attacks, referring to the hijackers as "the Magnificent 19," and posting a burning picture of the Capitol on its website.
Lebanon in Disarray After US and France Drop Sanctions Campaign Against Damascus
April 24….(DEBKA) When he visited the White House on April 18, Lebanese Prime Minister Fouad Siniora was shocked to discover that president George W. Bush had cooled to the campaign he launched with France against the Assad regime in February 2005, after the assassination of the Lebanese politician Rafiq Hariri. He saw that Bashar Assad and his clique were getting away scot-free from being brought to account as suspects in the crime. Siniora also learned, according to DEBKAfile's Washington and Middle East sources, that the Americans had abandoned their drive to oust Lahoud, disarm the Hizballah, disband Palestinian militias in Lebanon, and impose on them the implementation of a key UN Security Council resolution. As he left the White House, the Lebanese prime minister remarked: "Lebanon is back to square one. We are left with the ruins of the American-French initiative." Our sources in Beirut report that, scenting the new winds blowing from Washington and Paris, all the Lebanese militias, including those linked to al Qaeda, are re-arming and rebuilding their strength. The vacuum left by the withdrawal of the United States and France against Syria's henchmen in Lebanon has sent Lebanon's Sunnis, Shiites and Christians, running back to their armed militias for protection, while Damascus returns to asserting mastery over its small neighbor.
Osama Bin Laden Backs Hamas and Palestinian Authority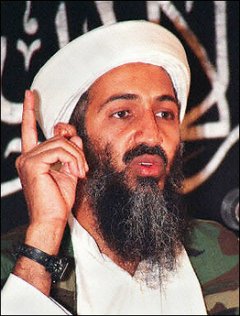 April 24….(JNEWSWIRE) Al-Qaeda terror chief Osama Bin Laden came out behind the Hamas Islamist group currently in control of the Palestinian Authority Sunday, saying it was faced with a "Crusader-Zionist war." Bin Laden made the statement in the most recent recorded statement by the mythic leader of the Global Jihad, which was broadcast by Al-Jazeera satellite television. Bin Laden stressed that all citizens of the West shared responsibility for their countries' "war against Islam," implying that civilians of such countries are legitimate targets of terrorists. The Islamist terrorist also backed the Janjaweed Arab militias in the Sudan who are responsible for the murder, rape and robbery of more than 2 million non-Arab villagers in the region. "I call on mujahideen and their supporters in Sudan, and the Arabian Peninsula to prepare all that is necessary to wage a long-term war against the Crusaders in western Sudan," he said. Bin Laden has often spoken about and called for attacks upon Israel, but this is the first time he has publicly allied himself with Hamas, a move that will make it increasingly difficult for the US State Department to continue to view Palestinian terrorism as disconnected from the Al Qaeda-led global offensive.
Holocaust Memories, and Fears
April 24….(By Stan Goodenough) As they do every year, the people of Israel and many of their Christian friends prepared Monday to commemorate Holocaust Martyrs and Heroes Remembrance Day. For a 24-hour period beginning at sundown, the nation will immerse itself in memories from a little more than 60 years ago; that darkest of the myriad dark nights endured by the Jews. Air raid sirens will sound through the land Tuesday morning, bringing the entire Jewish population to a standstill for two minutes in memory of the millions murdered in the last mass effort to wipe out the nation of Israel. Most Israeli Arabs ignore the event. Even as Israelis braced for this difficult day, they got news Monday that the IDF has elevated the level of its missile watch, ordering personnel at Arrow anti-missile batteries to a heightened state of vigilance in response to the escalating threat from the Iranian regime of Mahmoud Ahmadinejad. A top report carried on The Jerusalem Post's website stated that Israel was now beginning to fear, and prepare for, missile strikes from Iran. Analysts believe that, in the event of an Israeli or US attack on Iran's nuclear facilities, Tehran will respond by firing long-range ballistic missiles at Israel. While Iran apparently has yet to acquire a nuclear military capability, the Islamic Republic has other weapons of mass destruction, including chemical and biological agents. Iran's surface-to-surface missiles are more advanced and accurate than the antiquated SCUDs fired at Israel by Iraq's Saddam Hussein in 1991. Cruise missiles acquired from the Ukraine by Iran in 2002 can carry a nuclear payload 3000 miles, according to military officials. They would put all of Israel within Ahmadinejad's range. The Iranians also recently announced the successful test firing of multiple warhead long-range missiles. Joyfully anticipating what they believe lies ahead, a gathering of Muslims in the United States chanted as they demonstrated outside the Israeli consulate in New York City last Thursday: "Israeli Zionists You shall pay! The Wrath of Allah is on its way! The mushroom cloud is on its way! The real Holocaust is on its way! Israel won't last long ...Indeed, Allah will repeat the Holocaust right on the soil of Israel" As we go to press, Jerusalem has gone on a state of high alert amid reports that a "suicide" bomber may have infiltrated the capital. Exactly one week ago an Arab strapped with explosives blew himself up in Tel Aviv, killing nine people and wounding more than 60. The Hamas-led Palestinian Authority, an entity created by Israel and the United States, called last Monday's attack "justifiable self defense." The new general director of its Interior Ministry, Jamal Abu Samhadana, told London's The Sunday Telegraph at the weekend that the Arabs have "only one enemy, the Jews." "I will pull the trigger at any time I have to defend my nation [sic]," he added. On Sunday, Defense Minister Shaul Mofaz told the Israeli Cabinet the country is in the midst of a "growing terror wave." Meanwhile, Jewish communities in the United States have been placed on alert following threats by Palestinian Arabs to target "Zionists outside Palestine." The questions beg answering: Could it be that the sirens that will wail Tuesday in memory of the Six Million slain in Hitler's Holocaust will soon wail in warning of an Iranian attempt to continue what the Nazis began? And will there ever be an end to efforts to kill Jews and wipe this nation from the face of the earth?
WEEK OF APRIL 16 THROUGH APRIL 23
Olmert: Orders for Tel Aviv Bombing Originated in Syria
April 21….(Jerusalem Post) Interim Prime Minister Ehud Olmert asserted on Friday that Syrian and Iran were behind Monday's suicide bombing in Tel Aviv that killed nine Israelis and wounded dozens. "The order for the Tel Aviv suicide bombing came from Damascus and when the operation was complete the report went back to Damascus," Olmert told a visiting group of US senators, according to his office. He noted that the Iranians, using Syria as a mediator, were funding and guiding terrorism against Israel. He also mentioned the strengthening ties between the two states and Hamas. "There is a channel of communication between Iran, Syria and the Palestinian Authority," claimed Olmert. Addressing the Palestinian front, the interim prime minister said that Israel preferred to deal with them diplomatically, but if the terrorist attacks continued, then Israel would have no choice but to see to its own security using unilateral measures. Olmert warned that it would be the Palestinians who suffered if Israel unilaterally declared its own borders. On the other hand, Hamas Member of Parliament Mushir al-Masri, in an interview to al-Arabiya, warned Israel that defining the final borders on its own would exacerbate the situation in the whole region.
Israel Gears for Possible Reoccupation of Gaza
April 21….(MSNBC) Israel is having to prepare plans to reoccupy parts of the Gaza Strip if the Hamas-led Palestinian government doesn't halt its rocket fire attacks from the area, a senior military commander said in published remarks Friday. Maj. Gen. Yoav Galant, head of Israel's southern command, said he is considering a range of options, including the possibility of re-entering Gaza. "We're talking about more aggressive military activity," Galant told the Maariv daily. "If the price we have to pay becomes unreasonable as a result of increased Palestinian attacks, then we shall have to take all steps, including occupying the Gaza Strip." Israel withdrew from Gaza last summer, ending 38 years of military occupation. Since the pullout, Palestinian militants have continued to fire homemade rockets into southern Israel on a daily basis. Israel is reluctant to go back into Gaza after spending hundreds of millions of dollars to withdraw and overcoming staunch political opposition. In addition, Israel is pleased with the international pressure on Hamas-led Palestinian government to renounce violence and recognize Israel, and fears military action could jeopardize that. Galant said "intolerable" nonstop attacks by Palestinians, or the use of longer-range and more powerful weapons such as Katyusha rockets, could prompt a large-scale ground operation.
Meanwhile, the new Hamas government appointed a noted terrorist leader to a senior security position in the Hamas-led Palestinian government. Jamal Abu Samhadana, high on Israel's most wanted list as leader of the Popular Resistance Committees (PRC), was appointed to supervise the Interior Ministry and set up a new police force from militants to crack down on anarchy and chaos. The 43-year-old leader of a faction that has carried out bomb and rocket attacks against Israel since the Palestinian uprising began in 2000 said his first order of business would be amalgamating militants in the security forces. Samhadana said even though he was now a part of the government, he would not abandon the fight against Israel. The Hamas government tabbed Samhadana, whose Islamic terrorist group has not only attacked Israel, but was also blamed for bombing a US convoy. The US said that the appointment by the new Hamas-led Palestinian government of Jamal Abu Samhadana, seen here in 2005, a top militant wanted by Israel, to a senior post, reflects the true nature of the Hamas government.
Iran Elected to UN Disarmament Commission
April 20….(CNS News) – Although under the threat of United Nations Security Council sanctions for its own nuclear program, Iran has been elected to a vice-chair position on the U.N. Disarmament Commission, whose mission includes deliberations on preventing the spread of nuclear weapons. The commission's deliberations began last Monday and are scheduled to continue until April 28. On the first day of the commission meeting, Iran along with Uruguay and Chile was elected as one of eight vice-chairs, elected to serve for one year. It happened on the same day that Iranian President Mahmoud Ahmadinejad promised his people "good news" about the country's nuclear program. The following day, Iran announced that it had managed to enrich uranium, a key ingredient in the production of a nuclear bomb. On Monday, former Iranian President Akbar Hashemi Rafsanjani said that his country would continue to enrich uranium, and dismissed the idea that the US might attack nuclear facilities in Iran. "We are certain that America will not attack Iran because the consequences would be too dangerous," Rafasanjani was quoted as telling the Kuwaiti parliament. Dr. Dore Gold, former Israeli Ambassador to the UN said that electing Iran to a leadership position on the UN Disarmament Commission was like asking the "cat to guard the milk." "Clearly the Iranians have an interest in establishing disarmament rules that protect their clandestine nuclear weapons program," said Gold, author of Tower of Babble: How the United Nations Has Fueled Global Chaos. The commission was established by a UN General Assembly resolution in 1978 to, among other things, pursue "effective international control of atomic energy" and make sure that atomic energy was used only for peaceful purposes. While Iran's election to the commission is not a "decisive development," Gold said, it is "one link" in the chain that helps Iran use multi-lateral organizations to serve its interests. Prof. Anne Bayefsky, who edits the "Eye on the UN" website, quoted UN Undersecretary-General for Disarmament Affairs, Nobuaki Tanaka, as saying that the commission "played a unique role" with "the advantage of being a fully universal deliberative body." "This is the UN fiction, which brings us close to nuclear war with each passing day," Bayefsky said. "The allusion is to universal democracy, though the majority of voters is non-democratic and includes thugs, racists and war-mongers." As tensions grow over the situation in Iran, Washington has not ruled out the idea of a military option in dealing with Iran, though it has downplayed the idea. The UN's nuclear watchdog, the International Atomic Energy Agency, recently referred Iran to the Security Council, where the US is pushing for sanctions to be leveled against the Islamic Republic. But Gold said that if the UN's dealings with Iraq set a precedent for its dealings elsewhere in the world, then it is not likely that the UN would be an effective body in dealing with Iran. "The UN has long ago forfeited its role as an international body safeguarding international peace and security and this is just the latest proof of why the UN doesn't work," Gold said of Iran's election to vice chair the Disarmament Commission.
Zola Levitt: 'Pray for The Peace of Jerusalem,' Dies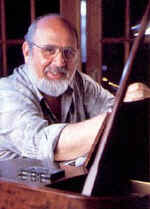 April 20….(FOJ) Jewish Christian preacher and prophecy expositor Zola Levitt died today after battling cancer. Zola Levitt usually finished his programs with the familiar phrase, "Pray for the peace of Jerusalem." Zola Levitt was one of my personal favorites. His long running television program, "Zola Levitt Presents," was a must for any prophecy enthusiast. Zola died at his home in Dallas, Texas, where he led the non-profit Zola Levitt Ministries, Inc. Levitt was diagnosed with cancer Feb. 10, which had spread from his left lung to his liver and brain, according to his son, Mark Levitt, who has regularly posted updates on the ministry website. Mark Levitt said in a recent post that that in response to the illness, his father was "doubling his efforts to produce extra TV programs and create more informative and outspoken newsletters than ever." "What a Christian soldier's testimonial, to stay at his post until called away by Yeshua! Happy is the man whose work is his play," Mark Levitt wrote. Author and columnist Hal Lindsey said he was "greatly grieved that a great defender of Israel has laid down his sword." The Levitt family requests that rather than send cards or flowers, that you show your concern by donating to the Zola Levitt ministry, so Zola's works can continue to be used for the Lord's work. FOJ would like to take this opportunity to salute Zola for his wonderful life lived for our blessed Lord. Surely, Zola now knows the "peace of Jerusalem!"
Russia Defies US on Nuke Construction in Iran
April 20….(Jerusalem Post) Russia on Thursday rejected a US call for Moscow to end its cooperation with Iran in constructing the Bushehr nuclear power plant, the Foreign Ministry said. "The adoption of a commitment on ending cooperation with this or that state in some sphere lies exclusively in the competence of the UN Security Council," Foreign Ministry spokesman Mikhail Kamynin said in a statement. "Up to now, the Security Council has taken no decision on ending cooperation with Iran in nuclear energy." US Undersecretary of State Nicholas Burns told reporters in Moscow on Wednesday that the United States has called on countries to end all nuclear cooperation with Iran, including work on the Bushehr plant. He also said that countries should stop all arms exports to Iran. Kamynin said that every country "has the right to decide with whom and how it should cooperate." Russia's atomic energy chief also reacted negatively to the US call. Speaking in the Kyrgyz capital, Bishkek, Sergei Kiriyenko said that Russia's work in building the US $800 million plant "fully meets all international norms and agreements." "All the spent fuel will be returned to Russia for reprocessing, so this cooperation creates no problems, no threats to the nonproliferation regime," Kiriyenko said in remarks broadcast on state television.
Olmert Opts for Soft Response to Palestinian Suicide Attack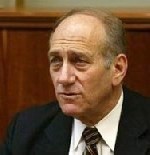 April 20….(DEBKA) For Israelis, Tuesday, the eve of the last day of Passover, was a day of funerals, mourning for 9 Israelis, foreign workers and tourists who lost their lives when a Palestinian suicide bomber blew up a busy shopping corner in Tel Aviv on Monday, April 17. It was the most murderous outrage committed by Palestinian terrorists in 20 months, the first since the Hamas terrorist group took office and a test of the mettle of incoming Prime Minister Ehud Olmert. After the Hamas government justified the attack ludicrously as "self defense," few doubted he would order a swift, punishing blow to the Palestinian government as a deterrent to further outrages. Instead, Olmert, foreign minister Tzipi Livni and defense minister Shaul Mofaz decided to abstain from military action, rejecting the advice of military leaders to declare the Hamas government an enemy authority. The generals and security chiefs argued that without this declaration, their hands were tied in fighting off terror, because of the developing situation whereby the terrorist entity ruling the Palestinian Authority was in the process of taking over its official security organs. After hours of debate, Olmert and his interim cabinet stated that the Hamas government was responsible for Palestinian acts of terror, but nonetheless no military action against its institutions were authorized.
Olmert's 'Non-Response' to Suicide Attack
April 20….(WND) Three days after the deadliest suicide bombing here in three years and the first such attack since Hamas officially took charge of the Palestinian government, Acting Prime Minister Ehud Olmert has not ordered any major anti-terror operation, prompting concerns from some in the defense establishment the new Israeli government will be perceived as weak on terror.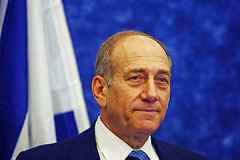 Prime Minister Ehud Olmert
One of the suspected planners of Monday's terror attack, which killed nine Israelis, boasted to World Net Daily he feels he is not under any threat by the Israeli army. A senior Israeli Defense Forces official, speaking on condition of anonymity because he is not authorized to talk to the media on matters of policy, said, "This bombing was Olmert's major test to see how he would respond. Basically, there was no response. Now what the Hamas government will learn is that Israel under Ehud Olmert is not tough against terrorism." A Palestinian suicide bomber Monday blew himself up in a crowded section of Tel Aviv as Israelis celebrated the fifth day of the Passover holiday. The blast ripped through a falafel restaurant just outside Tel Aviv's old central bus station, killing nine and injuring more than 60, at least 10 of them seriously, including an American tourist. The Islamic Jihad and Al Aqsa Martyrs Brigades terror groups took responsibility for the attack. Both groups are openly funded by Iran. Al Aqsa is the military wing of Palestinian Authority President Mahmoud Abbas' Fatah Party. Security sources told WND Islamic Jihad supplied the suicide bomber while Al Aqsa provided the explosive belt and was involved in orchestrating the operation. The attack was the first suicide bombing in Israel since Hamas took over the Palestinian parliament and assumed control of the Palestinian Authority two weeks ago. It was also the deadliest since 2003. The attack took place just hours before Israel's new parliament led by Olmert was due to be inaugurated. The bombing was widely seen here as a test for the new Olmert government. But Tuesday Olmert announced while he holds the Hamas government responsible for the attack, he would not retaliate against Hamas institutions. Olmert also publicly ruled out any large-scale military operation, explaining that what he called his "measured response" is designed to prevent further escalation of violence and will help maintain international pressure on Hamas, which praised this week's suicide bombing as a "legitimate act of self-defense." Abu Ahmed, a spokesman for Islamic Jihad, boasted his terror group is operating at "full capacity" and has a bombers unit consisting of more than 70 men and women ready to strike against Israel. The senior IDF official told WND that military leaders held a closed-door meeting with Olmert following Monday's bombing but that a large scale operation was immediately ruled out. "We knew Olmert wouldn't go for it. But we had to present a large-scale operation as an option anyway," said the official. "Only if we are allowed to go house to house like we did in 2002 during Operation Defensive Shield and really root out the terror cells will we make any difference. Instead we are asked to conduct cosmetic operations. We are weak on terror and we will simply wait for the next bombing."
Iran Has its Eyes Set on Jerusalem
April 20….(FOJ) Members of Iran's Revolutionary guard walk past a mural of the Al-Aqsa mosque, which of course is located in the Temple Mount compound in the Old City of Jerusalem. Pictures of Al Aqsa are depicted throughout Teheran as Iran celebrates the Hamas terrorist victories in Palestine. Jerusalem is front and center in the drive behind Iran's thrust to acquire nuclear weapons, as Iran intends to eliminate any Israeli presence in Jerusalem. (Zechariah 12:2-3 Behold, I will make Jerusalem a cup of trembling unto all the people round about, when they shall be in the siege both against Judah and against Jerusalem. And in that day will I make Jerusalem a burdensome stone for all people: all that burden themselves with it shall be cut in pieces, though all the people of the earth be gathered together against it.)
Iran: Oil Prices Are Not High Enough!
| | |
| --- | --- |
| | An Iranian woman walks past a gas station in downtown Tehran on Wednesday. Iran's President Mahmoud Ahmadinejad said "The global oil price has not reached its real value yet. The products derived from crude oil are sold at prices dozens of times higher than those charged by oil-producing countries." |
April 19….(MSNBC) Oil prices climbed to above $72 a barrel on Wednesday, the third straight record-setting day, as the market digested a US government report that showed shrinking gasoline supplies and weakening demand for motor fuel. Traders were also focused on nuclear tensions between Iran and the international community, as well as supply constraints in Nigeria, the Gulf of Mexico and Iraq.
President Mahmoud Ahmadinejad said Wednesday that the crude oil prices now at record levels still were below their "real value," state-run Tehran radio reported. In his first remarks on the current price of oil, the hard-line Iranian leader also said developed countries were benefiting most from the high prices. "The global oil price has not reached its real value yet. The products derived from crude oil are sold at prices dozens of times higher than those charged by oil-producing countries," the radio quoted Ahmadinejad as saying. He did not say what oil prices should be. Iran is embroiled in a dispute with the West over its nuclear program. Tehran insists its nuclear program is for peaceful purposes, but the United States and some of its allies suspect Iran is trying to develop weapons. The UN Security Council has set an April 28 deadline for Tehran to stop uranium enrichment, which can make fuel for both nuclear energy and nuclear weapons. Earlier this week, President Bush said "all options are on the table," including military action, to prevent Iran from developing atomic weapons. Ahmadinejad stopped short of saying Iran would use oil as a weapon, a tactic much feared by his antagonists on the nuclear issue. Iran is the world's fourth largest oil-producing country and the second in OPEC. Meanwhile, the price of oil futures touched a new high of $72 on Wednesday.
George Orwel, an analyst at the New York-based Petroleum Intelligence Weekly, said he believed Ahmadinejad was not serious but was playing the oil card to resist pressure over his nuclear program. "They are using the oil as a political football, every time there's an issue with Iran, the oil market freaks out," he said in a telephone interview. Earlier this week, as oil prices pushed above a record $70 a barrel, ABN Amro broker Lee Fader said the trigger was "heightened fear about (US) military action" against Iran over its defiance of the West on the nuclear issue. If the United States were to attack Iran, Tehran might try to cripple the world economy by putting a stranglehold on the oil that moves through the Strait of Hormuz, a narrow, strategically important waterway running to Iran's south. While discounting Ahmadinejad's seriousness in his Wednesday comments about the value of oil, Orwel conceded the oil industry could not do without the 2.5 million barrels that Iran exports daily. "Ahmadinejad is trying to show his muscle so that the Bush administration can realize the consequences on the oil market of further confrontation with Iran," Orwel said, adding that he fully expected Iran to threaten to cut off oil supplies if the confrontation with the West continued. Ahmadinejad urged oil-producing countries, both inside and outside the Organization of Petroleum Exporting Countries, to establish a fund to help alleviate the pressure from high oil prices on the developing world.
FOJ Note: Could there be a world-wide conspiracy to jack up the price of Oil, with Iran playing the part of an antagonist that justifies the oil spikes? The Antichrist will eventually (after His rise to world dominance) issue a directive to safeguard Oil and wine. (Revelation 6:6 And I heard a voice in the midst of the four beasts say, A measure of wheat for a penny, and three measures of barley for a penny; and see thou hurt not the oil and the wine.)
Eye of the Storm: Putin's Outlook On Iran
April 19….(Jerusalem Post) President George W. Bush has described his Russian counterpart Vladimir Putin as "a strategic ally" and "a friend we can trust." But as the diplomatic maneuvers to pressure Iran continue, can Washington count on Moscow? Of all the powers involved in the current showdown with the Islamic Republic, only Russia is in a position to tip the balance between a peaceful resolution and war. To start with, Russia, which is building an Iranian power plant near Bushehr, could slow down, or even suspend the project pending a diplomatic resolution of the crisis. Russia has another card to play in the shape of its proposal to set up a special uranium enrichment project for Iran to cover the needs of the Bushehr plant during its entire life-span of 37 years. To make it easier for the Teheran leadership to save face, the Russian proposal could be modified to have part of the enrichment process done in Iranian facilities and with the participation of Iranian technicians. All that, however, may lead nowhere because President Mahmoud Ahmadinejad may actually want a military conflict with the US as the opening shot in his promised "clash of civilizations." Ahmadinejad seems convinced that the US, plagued by bitter internal dissensions, does not have the stomach for a fight with the Islamic Republic and its radical allies. Thus he may want a clash over the nuclear issue, which, thanks to the Goebbelsian presentation of it, is seen by many Iranians as a matter of nationalistic pride. The Russian position at the Security Council is crucial because China, which also has a veto, would not be prepared to isolate itself by siding with Iran if Russia sided with the United States. If Russia vetoes, so will China. If Russia does not veto, the most China might do is abstain. The Bush Administration knows all that. This is why it is beginning to build up pressure on Russia ahead of the next G-8 summit, scheduled to be hosted by Putin in July. The American calculation is that Putin, having won the presidency of the G-8 for the first time, is unlikely to start his tenure by splitting the group to please the mullahs. Nevertheless, it will not be easy for Putin to make an unambiguous choice between Teheran and Washington. Russia needs the Islamic Republic as part of Moscow's effort to curtail US influence in Central Asia, the Caspian Basin and the Middle East. As regional allies, Teheran and Moscow have already succeeded in curtailing American influence in Kyrgyzstan, Uzbekistan and Turkmenistan. In Tajikistan, Teheran - which sided with the US against Russia a decade ago - is now switching back to Moscow. In Trans-Caucasia, Teheran and Moscow have sided with Armenia against Azerbaijan and Georgia, both of which are in the American camp. In Afghanistan, Teheran and Moscow have been working closely for more than a decade and are currently engaged in developing a joint strategy in anticipation of an American withdrawal once Bush leaves office. Moscow also needs Teheran to prevent the US from imposing its proposed model for the exploitation of the Caspian Sea. The US, backed by Britain is proposing a division of the Caspian Sea oil basin among its littoral states so each can conclude separate contracts with foreign nations. Of the five littoral states of the Caspian only two, Azerbaijan and Kazakhstan, are favorable to the US proposed model. Russia and Iran are against. They propose that the Caspian be treated as a single unit in which all activity, including exploitation of energy resources and navigation, require the consent of all littoral states. (The fifth littoral state, Turkmenistan, has tried not to take sides but is closer to Iran and Russia.) Having lost most of its Arab clients of the Soviet era, Moscow also needs Teheran as a bridgehead to the Middle East, the Persian Gulf and the Indian Ocean. The current analysis in Moscow is that once Bush is gone, Iran will emerge as the dominant power in Iraq and will need Russia as a strategic partner in developing such major oil fields as Majnun, which sits astride the Irano-Iraqi frontier. It is also in conjunction with the Islamic Republic that Russia envisages making a comeback in such places as Syria and Lebanon, where Iranian influence is already well-established. The US is not the only strategic rival that Russia has identified. Also looming on the horizon is China, which many Moscow analysts see as a potential threat to Russian interests in Asia and the Middle East. In that context a Sino-Iranian axis could isolate Russia in Western Asia and the Middle East and even shut it out of chunks of Central Asia. Another reason why Moscow needs the Islamic Republic is related to the so-called Islamic time-bomb that is ticking in the heart of the Russian federation. With birthrates among ethnic Russians in free fall, the federation's Muslims, now a fifth of the population, are slated to double by the middle of the century. The Islamic Republic, although a Shi'ite power, could nevertheless play a role in discouraging secessionist tendencies among Russia's Muslims. Conversely, a hostile Iran could use its immense experience in exporting terrorism to make life difficult for Russia. (hooks-in-the-jaw/Ezekiel 38:4) Add to all that the fact that Iran is the biggest market for Russian arms, including aircraft and submarines. The loss of the Iranian orders could force entire lines of Russian weapons industries to close down. The two neighbors have also signed trade contracts worth $80 billion over the next decade. And Russia hopes to build most of the seven nuclear power plants the Islamic Republic wants to set up in the next 10 years. The fact that more than 30,000 Russian technicians work in Iran adds an important human dimension to the relationship. Big power games involving oil, Islam, trade, arms and terrorism are some of the factors that make it hard for Putin to side with the Bush in the coming confrontation with the Islamic Republic. But there is another, perhaps more important, factor: Putin can never be sure that when the crunch comes, Washington, or the West will not strike a deal with Teheran, leaving Moscow in the lurch. (perhaps an impetus for the Russian invasion against Israel)
Saudis to Transfer $92 Million to PA
April 19….(Jerusalem Post) Saudi Arabia announced Tuesday that they would transfer $92 million in aid to the Palestinian Authority. Their declaration of support for the PA comes after Russia said it would transfer $10 million, Iran $50 million, and Qatar an additional $50 million for a total of over $200 million. After meeting with Saudi Arabian Foreign Minister Prince Saud al-Faisal, PA Foreign Minister Mahmoud Zahar said that the Saudis had agreed to give $92 million in aid to the Palestinians. He added that at the meeting the two had also discussed the collapsing Palestinian economy and ways of ending the new Hamas-led government's current international isolation, Israel Radio reported. Earlier Tuesday, mainline Russian newspaper Izbastya reported that a meeting between a Russian foreign ministry official and PA Finance Minister Omar Abad al-Razek led to an agreement regarding the transfer of funds to the PA's coffers, according to Army Radio. The Russian foreign ministry has avoided commenting to news agencies on the matter. The Hamas cabinet is under immense pressure to pay salaries to more than 140,000 civil servants, who are still waiting for their March payments. Policemen in the Gaza Strip have threatened to attack several government buildings on Monday to protest the failure to pay their salaries. Last week dozens of masked policemen occupied a number of public buildings in the southern Gaza Strip. Both the US and the EU have decided to cut off aid to the Hamas-led government until it ceases its support for terror attacks and recognizes Israel's legitimacy. "The Palestinian people do have legitimate humanitarian needs," said White House Spokesman Sean McCormack. But, he added, assistance should be "channeled in such a way that it does not provide any material benefit or support to a Hamas-led government." While cutting off any direct US aid to the Palestinian government, the Bush administration intends to contribute about $600 million in the next few years to Palestinian humanitarian projects.
Hamas and the Axis of Terror
April 19….(Washington Times) Monday's suicide bombing in Tel Aviv, which killed at least nine people, and Hamas's defense of the terrorists who carried it out, will move Israel and the Palestinian Authority one step closer to the inevitable day of reckoning with the terrorists based in Gaza. A Hamas spokesman in Gaza defended the Tel Aviv bombing, calling it "a legal and natural reaction to the Israeli crimes." In Damascus, a senior Hamas official said Israel was to blame for the attack. Israeli UN Ambassador Dan Gillerman, noting the roles of Iran and Syria in supporting terrorism, denounced what it termed a new "axis of terror" that has been formed by Tehran, Damascus and the PA under Hamas' control. Israel is currently fighting a low-level war with Hamas, Palestinian Islamic Jihad, Fatah's al Aqsa Martyrs Brigades and other terror groups operating in Gaza and the West Bank. In the West Bank, where Israel retains a major security presence, its army and police launch continuing security operations to capture fugitive terrorists targeting Israelis. In Gaza, where Hamas and other terror groups are in charge on the ground, Israel uses artillery and aircraft fire against sites where Palestinians launch Qassam rockets into Israel, and Israeli aircraft carry out targeted killings of terrorist leaders, much as Washington has post-September 11. For every terrorist who makes it into Israel, like Monday's Tel Aviv bomber, Israel thwarts dozens of other attempts to carry out such attacks. Since January Israel says it has arrested 90 potential suicide bombers. Still, the security situation in Gaza is moving from dangerous to intolerable: The situation on Israel's border with Gaza is worsening, as Qassam rocket attacks on southern Israel have become a routine event. The Israel Defense Forces say that security has collapsed on the border between Gaza and Egypt, and that members of al Qaeda and Iranian and Syrian terrorists can enter Gaza as they please. On March 28, Israel's Election Day, the PIJ fired a Katyusha rocket, a weapon with up to twice the range of the Qassams, into Israel. The Israeli military says that the organization has brought an unknown number of additional Katyushas into Gaza, potentially putting tens of thousands of additional Israeli civilians into range. In remarks delivered before the UN Security Council on Monday, Mr. Gillerman noted recent calls by Iranian President Mahmoud Ahmadinejad to wipe Israel off the map, and said that by harboring and financing terrorist groups, Tehran, Damascus and Hamas were issuing "declarations of war."
Israel Warns of New 'Axis of Terror'
Israel warned Monday that a new "axis of terror," Iran, Syria and the Hamas-run Palestinian government is sowing the seeds of the first world war of the 21st century. The Palestinians accused Israel of an escalating military campaign using indiscriminate force to kill civilians and entrench its occupation. The Israeli and Palestinian envoys traded charges at an open Security Council meeting held in response to the recent upsurge in Israeli attacks in Gaza. It took place on a day that a Palestinian suicide bomber struck a packed fast-food restaurant in Tel Aviv, killing nine people in the deadliest bombing in more than a year. Recent statements by the Palestinian government, Iran and Syria, including one by Hamas on Monday defending the suicide bombing, "are clear declarations of war, and I urge each and every one of you to listen carefully and take them at face value," said Israel's UN Ambassador Dan Gillerman. "A dark cloud is looming above our region, and it is metastasizing as a result of the statements and actions by leaders of Iran, Syria, and the newly elected government of the Palestinian Authority," Gillerman warned. Gillerman told the Security Council that Monday's "horrific act of terrorism as well as the ones that preceded it are the direct result of the new axis of terror" comprising Iran and Syria and the "terrorist organizations they have been harboring, nurturing, financing and supporting, namely Hamas and Hezbollah." Israel will not sit idly by and allow "human bombs" or rockets to penetrate the country and kill Israelis.
China and US Engaged in Fight For Oil Supplies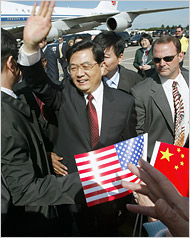 April 19….(New York Times) The competition for access to oil is emerging high on the agenda for President Hu Jintao's visit to the White House this week. President Bush has called China's growing demand for oil one reason for rising prices, and has warned Beijing against trying to "lock up" global supplies. With crude oil selling for more than $70 a barrel and American motorists paying $3 a gallon for gasoline, American officials say the subject cannot be avoided at Thursday's meeting in the Oval Office, as it was sidestepped when Mr. Bush visited Beijing last fall. China's appetite for oil also affects its stance on Iran, where a growing confrontation with the United States over nuclear programs has already unsettled oil markets. China has invested heavily in Iran, and as a permanent member of the Security Council, its position on the question of sanctions is crucial. Even as Mr. Hu arrived in Seattle on Tuesday, Chinese and American negotiators were debating a proposal for the two presidents to announce a joint study of both nations' energy needs as a way to ward off conflict in coming decades, when China's rapidly expanding need for imported energy to sustain its growth may collide with the needs of the United States, Europe and Japan. In 2004 China used some 6.5 million barrels of oil a day and overtook Japan as the world's second largest user of petroleum products. The largest, the United States, consumes about 20 million barrels a day. The administration's focus on China's quest for oil was signaled when it published a revised National Security Strategy last month, approved by President Bush, that contained a pointed new entry about China. That country's leaders, the document declared, are "expanding trade, but acting as if they can somehow 'lock up' energy supplies around the world or seek to direct markets rather than opening them up, as if they can follow a mercantilism borrowed from a discredited era." Mercantilism was a post-feudal doctrine of national economic health through protectionism, foreign trade and exports, but administration officials have repeatedly used it to describe China, just as they once used it in the 1980's to describe Japan's approach to global trade. In the case of China, the term is increasingly employed to paint a picture of a 21st-century version of the Great Game, the 19th-century maneuvering for primacy in Central Asia, in which China's search for oil is merging with its desire for greater influence, from Africa to Latin America to the Middle East. "They are buying long-term supplies wherever they find them, including in unsavory places like Sudan, Iran and Burma, where we won't buy," said Michael J. Green, a Georgetown University professor who directed policy on China at the National Security Council until late last year. "They say it is benign, because they don't interfere with the internal affairs of other nations. And we say it is anything but benign, because it finances these regimes' bad behavior." The public discussion began in September, when the US urged China to become a "responsible stakeholder" on the world stage. US policymakers suggested that China rethink a policy of buying oil from the Burmese or the Sudanese simply because it could. "China's involvement with troublesome states indicates at best a blindness to consequences, and at worst something more ominous. The issue is likely to come to a particular head over Iran. Sinopec, China's state-owned oil giant, signed a $70 billion deal with the Iranians in November 2004 to develop the Yadavaran oil field.
Palestinian Authority Encourages Security Officers to Attack Israel.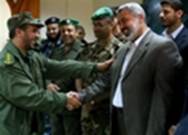 April 19….(FOJ) Hamas leaders of the Palestinian Authority under Prime Minister Ismail Haniyeh and Interior Minister Said Siyyam have met disgruntled PA officers and urged them to join the insurgency war against Israel. The instructions came amid threats against the PA by police and security officers who did not receive their salaries for March. "Under Hamas, the Interior Ministry has told unpaid security officers that the more attacks against Israel, the more money they would get from Iran and other countries," a Palestinian source said.
The PA has about 70,000 police and security troops. Hamas has also been organizing a separate force estimated to comprise about 5,000 fighters.
Hizballah's Gaza-based Terrorist Center Lionizes Suicide Bomber
| | |
| --- | --- |
| | Hamas and the Palestinian Authority in collusion with the network of Terrorist infrastructure headquartered in Damascus and supported by Iran have created a massive program to make Icons of young Palestinian suicide bombers. |
April 19….(DEBKA) Hizballah's 1800 Forward Command's mission was set up to design "quality" terror attacks against Israel. DEBKAfile's exclusive counter-terror sources reveal: The Tel Aviv attack was originally planned to coincide with the finale of the three-day Tehran conference in support of the Palestinian cause. The last pieces were put in place at a four-way meeting last week in the Iranian capital between the Damascus-based Jihad Islami chief Ramadan Shalah, the Jihad Islami Gaza commander Mohammad al Hindi, the Hizballah second-in-command Sheik Ali Qassem and the Iranian Revolutionary Guards chief of the al Quds Brigades and Middle East terror networks, General Kasim Suleimani. The bombing attack at the old Tel Aviv bus terminal Monday was the first known suicide strike against Israel to be planned outside Palestinian territory. Israel's counter-intelligence services had never heard name of the Jihad Islami suicide bomber, Sami Salim Mohammed Hammed, 16, from Tubas, although they were familiar with the network which ran him. They assume he was kept out of sight by Hizballah agents, who went to the West Bank to choose and prepare him for the mission, well away from Israel's ears and eyes in the Palestinian territory. Hammed's departure from his home last Tuesday or Wednesday, April 12-13, was therefore unnoticed. Five hours after the blast in Tel Aviv, Israel forces surrounded Tubas, where they assume he was trained, and carried out arrests. Israeli investigations soon uncovered the fact that the al Aqsa Suicide Brigades of Mahmoud Abbas's Fatah had pre-knowledge, if not more, of the Tel Aviv attack. They keep cells in touch with Hizballah agents. For this attack, they are believed to have been asked to aid in the transportation of the bomber to a point close to his Tel Aviv target, or possibly all the way there.
US: Hamas Response to Bombing Shows Hamas 'True Nature'
April 18....(Haaretz) The US on Monday called on countries seeking to promote Middle East peace to note the praise offered by the Hamas-led Palestinian government for the suicide bombing in Tel Aviv. Nine people were killed and dozens were wounded when a teenaged terrorist from Islamic Jihad blew himself up outside a falafel restaurant in the Neve Sha'anan area of the city. Hamas declined to condemn the bombing, calling the attack "self-defense." Hamas cabinet minister Wasfi Kabha said the attack was "in the framework of the legitimate right for resistance." State Department spokesman Sean McCormack said that the comments reveal "the true nature" of the Palestinian government. US Secretary of State Condeleezza Rice called Foreign Minister Tzipi Livni to condemn the attack, according to Foreign Ministry officials in Jerusalem. In a statement issued by his office, Palestinian Authority Chairman Mahmoud Abbas said the bombing ran counter to Palestinian interests and urged the Quartet of Middle East peace brokers to intervene "to stop the grave deterioration that the region is witnessing now." Hamas official spokesman Sami Abu Zuhri called the attack "a natural result of the continued Israeli crimes against our people." "The Israeli occupation bears responsibility for the continuation of its aggression. Our people are in a state of self-defence and they have every right to use all means to defend themselves," he added. "We think that this operation... is a direct result of the pol so warned that supporting terror or failing to condone it could have a far-reaching impact on Middle East diplomacy. "Defense or sponsorship of terrorist acts by officials of the Palestinian cabinet will have the gravest effects on relations between the Palestinian Authority and all states seeking peace in the Middle East," McClellan told reporters in Washington. McCormack said diplomats who choose to have contact with Hamas should urge the group to abide by the formula outlined by the Quartet of Middle East peace brokers three months ago: renounce violence, recognize Israel and abide by the Palestinian Authority's previous international commitments. "Given the opportunity, the first opportunity to denounce an act of terror, to condemn an act of terror, Hamas has decided to condone it," McCormack said.
Russia Breaks From West With Hamas Aid
April 17….(FOJ) Russia has announced that it had promised emergency aid (reportedly 50-100 million dollars) to the Hamas-led Palestinian Authority, breaking with fellow peace mediators, the EU and Washington which have stopped funding to try to force the terrorist group Hamas to recognize Israel's right to exist. The Foreign Ministry statement by Russia came before the act of terrorism today in Tel Aviv, and highlights one of the reasons that Hamas, or any other terrorist group in power in the PA refrains from claims of responsibility for any terrorist activities. The Russian offer came was announced over the weekend in a personal call from between Russian Foreign Minister Sergei Lavrov and Palestinian President Mahmoud Abbas. "Mahmoud Abbas said that he highly appreciated the foreign aid pledge of Russia to grant the Hamas-led Palestinian Authority urgent financial aid in the nearest time. Russia is a member of the Roadmap Quartet of Middle East mediators searching for an solution to the Israeli-Palestinian conflict, along with the United Nations, the EU and the United States. The United States and the European Union have halted direct aid to the Palestinian Authority because it has not renounced violence, recognized Israel or agreed to abide by interim peace deals. Washington has barred American citizens and organizations from most business dealings with the Palestinian Authority. Israel has also blocked the transfer of customs and tax receipts. Larvov had earlier criticized the halting of aid, though he has urged Hamas to meet the demands of international mediators. He said the only way to make Hamas meet international demands was to work with it, not boycott it. It is wrong to deny aid to the Palestinians "purely because in democratic elections they elected a government made up entirely out of Hamas members, we are convinced that this approach is mistaken," he was quoted as saying last Tuesday. Russia and China are the only major powers to have received Hamas on official visits since its landslide win in Palestinian parliamentary elections in January. Palestinian Prime Minister Ismail Haniyeh said on Friday the "unholy alliance" led by the United States would not bring down the new Hamas government and warned of grave consequences if it did. The pledge of foreign aid comes as Iran announced that it is also sending 50 million in aid to the finance-strapped Hamas.
Palestinian Suicide Bomber Strikes in Tel Aviv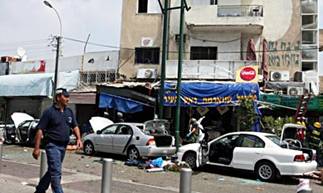 April 17….(Ha Aretz) A Palestinian suicide bomber killed eight people and wounded at least 60 others, seven of them seriously, in an explosion near the old central bus station in southern Tel Aviv on this afternoon. Palestinian sources identified the bomber as Sami Salim Hamad, an Islamic Jihad activist from the village of Qabatiyah, on outskirts of the West Bank city of Jenin. The blast ripped through Falafel Rosh Ha'ir, the same restaurant that was hit by an attack on January 19 in which 20 people were wounded. The restaurant is in the bustling Neveh Sha'anan neighborhood near the bus station. The area is home to large numbers of migrant workers. The attack was the first suicide bombing in Israel since Hamas took over the PA government two weeks ago. Hamas and some other armed groups have been observing a shaky ceasefire with Israel for more than a year, although the new Hamas-led Palestinian leadership has refused to condemn attacks against Israelis.
Large police forces and Magen David Adom rescue teams were dispatched to the area. According to initial estimations, the suicide bomber was sent by one of the terror organizations carried out the attack. According to a tape released by the Islamic Jihad in Jenin, the attack was carried out by Sami Salim Khamad, who came from the West Bank. Fatah's al-Aqsa Martyrs' Brigades also claimed responsibility for the attack. An eye-witness at the scene, Rafi Hayun, told Israel radio that the terrorist was a female, however another indicated that it was a male. Both the Islamic Jihad terror group and the Al Aksa Brigades, the military wing of the Fatah party, have claimed responsibility for the attack, as this is the usual pattern when terror organizations wish to cause confusion in Israel. Fatah, since its political defeat by Hamas may actually have perpetrated the attack, as it views terrorism as the way back into power. Fatah is the party of PLO chief Mahmoud Abbas, and his predecessor, PLO terrorist chieftain Yassir Arafat. The Al Aksa Brigades and the Islamic Jihad have been cooperating extensively to carry out terrorist attacks against Israel, especially since Hamas won a pivotal parliamentary election in the Palestinian Authority last January.
Hamas Praises Palestinian "Jihad Slaughter"
April 17….(JNEWSWIRE) The Hamas rulers of the Palestinian Authority Monday publicly supported as an "act of self defense" the brutal murder of eight Israelis by a Palestinian Arab "suicide" bomber in southern Tel Aviv. At least 60 people were wounded, many badly, in the explosion, which targeted civilians gathered at a popular eating establishment just outside Tel Aviv's old central bus station in the Neve Sha'anan neighborhood. The location has become a new favorite target of "Palestinian" bombers.
The successful attack came despite a full military closure on the PA-controlled areas to protect Israel's Jews from such atrocities during the Passover holiday. Security officials described the bomb as "very large," and images of damaged buildings on Israeli TV attested to the tremendous force of the blast. The Palestinian Islamic Jihad, a close ally of Hamas, claimed credit for the bloody massacre. In March, Hamas Interior Minister Saed Siyam told Reuters that no member of any of the various "Palestinian" terror groups would be punished under his regime for killing Israelis. "The day will never come when any Palestinian would be arrested because of his political affiliation or because of resisting the occupation." Following that statement, defense officials reported a marked rise in attempted "suicide" bombings. The number of terror warnings spiked to over 80 just before the start of Passover last week. An impotent PLO chief Mahmoud Abbas issued a statement condemning the damage Monday's bombing had done to the "Palestinian cause." He expressed no sympathy for the Jewish victims. Assured that the PA will do nothing to bring those responsible for the slaughter to justice or prevent additional attacks, Prime Minister Ehud Olmert warned Israel "will know how to respond."
Iran to Give 50 Million in Aid to Hamas Government
April 17….(WND) Iran has announced that it was giving 50 million dollars in aid to the cash-strapped Hamas-led Palestinian government following a suspension of funding from the United States and European Union. "The government of the Islamic republic invites all countries to help the Palestinian government and nation, and announces the allocation of 50 million dollars to help the Palestinian government and people," Foreign Minister Manouchehr Mottaki announced Sunday. He was speaking at the end of a regime-sponsored conference in Tehran on supporting the Palestinians. Top officials used the gathering to call for Islamic nations to fill the gap in Palestinian authority finances. "We warn that if the aid is cut and if this continues in the near future, this land will witness a humanitarian disaster," Mottaki said. Hamas leader Khaled Meshaal, who was attending the conference, has urged Muslim countries to dig deep. He said on Saturday that the new Palestinian administration, which took office after Hamas's landslide election win in January, has inherited not only an empty treasury, but 1.7 billion dollars in debts. Meshaal said "170 million dollars a month is needed to run the administration, out of which 115 million dollars goes to paying salaries." EU foreign ministers last week formally backed plans for a temporary aid suspension to the Palestinian government, amid demands for Hamas to renounce violence, recognise Israel and to abide by previous Palestinian commitments. The EU gives about 500 million euros (600 million dollars) a year to the Palestinian Authority, about half of it collectively through Brussels and the rest from individual EU governments.
Iran Again Threatens to Destroy Israel
April 17….(JNEWSWIRE) Although Iran claims to be pursuing a peaceful nuclear program, it continues its rhetoric about destroying Israel once it gets the bomb. While Jerusalem continues to downplay the direct and growing threat Iran poses to Israel, Iranian demagogue Mahmoud Ahmadinejad reiterated at the weekend that target #1 of Tehran's belligerence is none other than the Jewish state. Just days after announcing Iran had successfully enriched uranium, a major step towards obtaining nuclear weapons, Ahmadinejad Friday declared at the opening of a conference in support of the "Palestinian cause" that Israel would soon be destroyed by its Islamic enemies. "Like it or not, the Zionist regime is heading toward annihilation. The Zionist regime is a rotten, dried tree that will be eliminated by one storm." Stated ominously the man who will soon have his finger on a nuclear trigger: "Believe that Palestine will be freed soon." The Associated Press last Wednesday quoted IDF Military Intelligence chief Maj.-Gen. Amos Yadlin as saying Iran will certainly have atomic weapons by the end of this decade. Despite the clear and present danger, senior Israeli political and military leaders last week said they were concerned by recent developments and Ahmadinejad's statements, but recommended sitting tight while the international community continues to fumble through vain diplomatic efforts to prevent a nuclear Iran. Demonstrating an undeserved degree of faith in both the ability and willingness of the United Nations to defend Israel, senior politician Shimon Peres told reporters in Jerusalem Saturday: "The United Nations cannot but react. Iran is a member state of the United Nations that is threatening to destroy another member state of the United Nations." But as Jerusalem Post columnist Caroline Glick noted in that paper's weekend edition, Iran has thrown down the gauntlet and it is time for the United States and Israel to decide if they are in this fight to win.
Iran Has 40,000 Human 'Time Bombs'
April 17….(WND) 'Martyrdom' movement recruits suicide attackers against US. An Iranian movement says it now has recruited 40,000 human "time bombs" to carry out suicide attacks against Americans in Iraq and Israel. The movement, called the World Islamic Organization's Headquarters for Remembering the Shahids Martyrs, says the volunteers want to carry out "martyrdom operations to liberate Islamic lands," according to the Middle East Media Research Institute, or MEMRI. Last year, Insight Online magazine reported the movement, which at the time claimed 10,000 recruits. In the July 2 television feature, spokesman Mohammad 'Ali Samedi said that since the movement's beginning a year and a half ago, he has been busy signing up recruits, organizing conventions and training members for martyrdom operations. Supporters of the movement include members of parliament and Revolutionary Guards officers, but Samedi insists it is not a government organization and is not supported by the Iranian regime. As MEMRI reported last year however, Iranian political leader Ali Khamenei and Revolutionary Guards Gen. Shabani praised the culture of martyrdom and jihad in speeches to students, urging them to become martyrs themselves in order to resist enemies, particularly the United States. The July 2 program includes an interview with a female member named Vesaly. "We are first and foremost Muslims and it is our duty to defend our brothers and sisters throughout the world," she says. "We don't need permission from anybody. This has to do with our religious duty and responsibilities. This is our choice, and we have no fear. We adhere to the legacy of our late leader, Imam Khomeini." In the broadcast, the reporter says, "These young women have forsaken the temptations of life, and have taken the hard way. Indeed, they have chosen martyrdom as a way of liberating the Islamic lands. This is what they say." The group does not distinquish between men and women or between Sunnis and Shiites, the reporter says over chants of "We all sacrifice for the sake of Islam." The reason they are sacrificing, the reporter says, is "what America has done in the holy places of Najaf and Karbala" in Iraq. He says a "young mother from Palestine, who sacrificed her life and blew herself up at an Israeli checkpost, is a role model for the movement's members, who believe this is the only way to liberate the Palestinian lands, and especially the Al-Aqsa Mosque." Firooz Rajai, a movement leader, says members will "not allow the Zionists to build their Solomon Temple in the place where the Al-Aqsa Mosque stands." "We are willing to sacrifice our bodies and souls to defend the Al-Aqsa Mosque," he says. "Our goal is to achieve martyrdom by way of true jihad." Rajai says no fatwas, or decrees, are needed for this mission, since "we get our fatwas from the Quran and from all the authorities on Islamic law." "We vow to turn into bombs that will explode at anyone who wishes to desecrate our holy places," he says. The reporter says that while the government occasionally expresses reservations about the movement, it has allowed the use of government buildings for the movement's training. Iranian Member of Parliament Hamid-Reza Haji-Babai says Iran "has so far managed, in a democratic and diplomatic way, to maintain relations with all countries, and preserve its status, despite the American hostility." "The American oppressive, inhuman, and undemocratic behavior in recent years has led to the creation of martyrdom-seeking movements everywhere," he says. The reporter says that after receiving "theory lessons," the volunteers undergo secret training.
But the movement emphasizes it is not a military organization that requires special or complex training. "A few days are enough to train the volunteers," he says. Rajai says movement members are "prepared to report for duty anywhere, any time." "We believe in combining ideology and action," he says. "Our movement is not a symbolic one. Our goal is well known. When the time comes, martyrdom will be inevitable." Rajai says the movement maintains relations with groups supporting the "Palestinian cause," such as Hamas and the Islamic Jihad. "We meet with the representatives of the two movements in Tehran, and we hope this will be successful," he says. Ali Samadi, another movement leader, says that Israel only understands "the language of force" and, therefore, "our new weapon of martyrdom operations is bound to change the balance of power." Samadi says Iranian youth take "pride in the foundation of this movement after the Islamic revolution in order to create a core of resistance against the occupiers in a way that is not marred by flaws, as was the case with the al-Qaida organization, for example." "We are not afraid of the American fleets or the British weapons in Iraq," he says. "We vow to become time bombs in the event of every aggression on our land." The reporter concludes: "Thus, they await death with happiness and joy. In their view, martyrdom for the sake of Allah is the sweetest thing."
Satellite Images Show Reinforcement of Iran's Nuclear Sites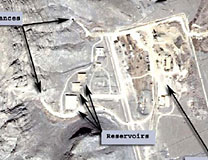 April 17….(DEBKA) The Institute for Science and International Security (ISIS), a US-based think tank, said in an email with commercial satellite photos attached sent to news media that Iran has built a new tunnel entrance at a uranium conversion facility in Isfahan. Just two entry points existed in February, it said. "This new entrance is indicative of a new underground facility or further expansion of the existing one," said ISIS, led by ex-United Nations arms inspector and nuclear expert David Albright. ISIS also released four satellite images taken between 2002 and January 2006 it said showed Natanz's two subterranean cascade halls being buried by successive layers of earth, apparent concrete slabs and more earth and other materials. The roofs of the halls now appear to be eight meters (26 feet) underground, ISIS said. The revelations came one week after Iran announced it had enriched uranium for use in power stations for the first time, stoking a diplomatic row over Western suspicions of a covert Iranian atomic bomb project. Iran says it seeks only nuclear energy for its economy. The former Iranian president said on Monday that talk of US contingency planning for a military attack on Iran were overblown because such a move would be too dangerous. "Reports about plans for an American attack on Iran are incorrect. We are certain that Americans will not attack Iran because the consequences would be too dangerous," former president Hashemi Rafsanjani said in an appearance in the Kuwait parliament. Rafsanjani also said he was certain that Arab countries in the Persian Gulf would not help the United States should it decide to use force. "We are certain that Gulf countries will not help the United States to attack Iran," Rafsanjani, said.
WEEK OF APRIL 9 THROUGH APRIL 16
Iran Issues Stark Military Warning to United States
April 15….(Breitbart) Iran said it could defeat any American military action over its controversial nuclear drive, in one of the Islamic regime's boldest challenges yet to the United States. "You can start a war but it won't be you who finishes it," said General Yahya Rahim Safavi, the head of the Revolutionary Guards and among the regime's most powerful figures. "The Americans know better than anyone that their troops in the region and in Iraq are vulnerable. I would advise them not to commit such a strategic error," he told reporters on the sidelines of a pro-Palestinian conference in Tehran. The United States accuses Iran of using an atomic energy drive as a mask for weapons development. Last weekend US news reports said President George W. Bush's administration was refining plans for preventive strikes on Iran's nuclear facilities. "I would advise them to first get out of their quagmire in Iraq before getting into an even bigger one," General Safavi said with a grin. "We have American forces in the region under total surveillance. For the past two years, we have been ready for any scenario, whether sanctions or an attack." Iran announced this week it had successfully enriched uranium to make nuclear fuel, despite a UN Security Council demand for the sensitive work to be halted by April 28. The Islamic regime says it only wants to generate atomic energy, but enrichment can be extended to make the fissile core of a nuclear warhead -- something the United States is convinced that "axis of evil" member Iran wants to acquire. At a Friday prayer sermon in Tehran, senior cleric Ayatollah Ahmad Janati simply branded the US as a "decaying power" lacking the "stamina" to block Iran's ambitions. And hardline President Mahmoud Ahmadinejad told AFP that a US push for tough United Nations sanctions was of "no importance." "She is free to say whatever she wants," the president replied when asked to respond to comments by US Secretary of State Condoleezza Rice highlighting part of the UN charter that provides for sanctions backed up by the threat of military action. "We give no importance to her comments," he said with a broad smile. On Thursday, Rice said that faced with Iran's intransigence, the United States "will look at the full range of options available to the United Nations." "There is no doubt that Iran continues to defy the will of the international community," Rice said, after Iran also dismissed a personal appeal from the UN atomic watchdog chief Mohamed ElBaradei. The International Atomic Energy Agency (IAEA) chief must give a report at the end of April on Iranian compliance with the Security Council demand. In Tehran he said that after three years of investigations Iran's activities were "still hazy and not very clear." Although the United States has been prodding the council to take a tough stand against the Islamic republic, including possible sanctions, it has run into opposition from veto-wielding members Russia and China. Representatives of the five permanent members of the Security Council plus Germany are to meet in Moscow Tuesday to discuss the crisis. In seeking to deter international action, Iran has been playing up its oil wealth, its military might in strategic Gulf waters and its influence across the region, such as in Iraq, Lebanon and the Palestinian territories. At the Tehran conference, Iran continued to thumb its nose at the United States and Israel. "The Zionist regime is an injustice and by its very nature a permanent threat," Ahmadinejad told the gathering of regime officials, visiting Palestinian militant leaders and foreign sympathizers. "Whether you like it or not, the Zionist regime is on the road to being eliminated," said Ahmadinejad, whose regime does not recognize Israel and who drew international condemnation last year when he said Israel should be "wiped off the map." Unfazed by his critics, the hardliner went on to repeat his controversial stance on the Holocaust. "If there is serious doubt over the Holocaust, there is no doubt over the catastrophe and Holocaust being faced by the Palestinians," said the president, who had previously dismissed as a "myth" the killing of an estimated six million Jews by the Nazis and their allies during World War II. "I tell the governments who support Zionism to ... let the migrants (Jews) return to their countries of origin. If you think you owe them something, give them some of your land," he said. Iran's turbaned supreme leader, Ayatollah Ali Khamenei, also accused the United States of seeking to place the entire region under Israeli control. "The plots by the American government against Iran, Iraq, Syria and Lebanon aimed at governing the Middle East with the control of the Zionist regime will not succeed," Khamenei said. There was no immediate reaction from Washington, but French Foreign Minister Philippe Douste-Blazy severely condemned Ahmadinejad for his latest remarks on Israel. "As I have had occasion to do before, when the Iranian president made similar statements, I condemn these inacceptable remarks in the strongest possible terms," Douste-Blazy said in a statement. "Israel's right to exist and the reality of the Holocaust should not be disputed," he added.
Mashaal: We'll Never Recognize Israel
April 15….(YNET) Hamas political chief Khaled Mashaal warned Saturday that "the Palestinians will never recognize Israel." Speaking in Tehran at International Conference on Jerusalem and Support for the Palestinian People, Mashaal congratulated the Iranian people on the progress in their nuclear ambitions. The conference was attended by a number of terror group heads, including Nayef Khawatme, the secretary-general of the Democratic Front, and Laila Khaled, a leader of the Popular Front for the Liberation of Palestine. Mashaal praised Iran's decision to funnel emergence aid to the Palestinians. "Iran granted aid to the Palestinians at a time when the United States is threatening them. The Palestinians thought the Europeans are wise but it became clear they are influenced by pressure from the US and Israel." he said. About Iran's nuclear program he said: "Acquiring nuclear technology is every nation's right, especially the deprived and exploited." The Islamic Jihad secretary-general Ramadan Abdallah Salah also backed Iran's nuclear ambitions saying, "Every Muslim, Arab and Palestinian will be happy to see a Muslim state realizing its scientific potential. No power in the world has the right to prevent a Muslim nation from building itself or to stop its development." "The only solution to the Palestinian problem is Jihad and resistance. It is impossible to recognize the Zionist entity, even at the cost of our lives. We will not be sidelined and will lead the struggle. We and Hamas will continue the resistance," he added.
Iran Flaunts Low-Level Enrichment to Conceal High-Powered Weaponizaton Plant
April 15….(DEBKA) Hardline President Mahmoud Ahmadinejad's claim of Iranian success in low-level uranium enrichment was more bombastic than frank. Before springing his disclosure at a sacred mausoleum in the northern town of Mashhad on April 11, DEBKAfile's Iranian sources disclose he paid a stealthy visit to Neyshabour in Khorassan, 38 kms to the southeast. There, he inspected a project he omitted to mention in his Mashhad speech about low-level enrichment, namely, a top-secret plant under construction that is designed to run 155,000 centrifuges, enough to enrich uranium for 3-5 nuclear bombs a year. This is Project B, or the hidden face of the enrichment plant open to inspection at Natanz. This plant, due for completion next October, is scheduled to go on line at the end of 2007. According to our intelligence sources, running-in has begun at some sections of the Neyshabour installation, which is located 600 km northeast of Tehran. DEBKAfile's sources reveal too that the Neyshabour plant has been built 150 m deep under farmland covered with mixed vegetable crops and dubbed Shahid Moradian, in the name of a war martyr as obscure as its existence. Already hard at work at Iran's most ambitious nuclear project are hundreds of Iranian engineers, experts and assistants under the instruction of foreign specialists in the technology of centrifuge operation. Neyshabour is guarded day and night by the special Revolutionary Guards Corps elite Ansar al-Mahdi unit. In Moscow Thursday, April 13, US assistant secretary of state on arms control Stephen Rademaker calculated that, with 54,000 centrifuges, the Iranians could produce enough enriched uranium for a bomb in 16 days. He was referring to the statement by Iran's deputy nuclear chief Mohammed Saeed, who said his government planned to expand its enrichment program to 54,000 centrifuges from the 164 used in the small scale process announced Tuesday. According to this reckoning, the Neshabour installation, when ready to go in three years, will have three times the capacity of Natanz and be able to turn out 9-15 bombs a year. The clerical rulers in Tehran have long suspected the Americans or Israelis would eventually bomb Natanz out of existence. Therefore, four years ago, they began constructing its mirror, albeit on a far larger scale, in order to push ahead uninterrupted with enrichment for weapons, regardless of objections from the West, Israel and Arab neighbors. Russian experts completed the initial plans in 2003 and construction began in early 2004. In late 2005, Bulgarian transport planes delivered tens of thousands of centrifuges from Belarus and Ukraine; they were transported directly to Neyshabour. In January 2006, 23 Ukrainian engineers arrived to start installing the equipment, joined in February by 46 Belarusian nuclear experts who are working in shifts to prepare the 155,000 P-1 and P-2 centrifuges for operation. This compares with 60,000 in Nathanz, of which 40,000 are accessible for inspection while 20,000 are hidden in closed subterranean chambers. Neyshabour, however, still needs to undergo experimental stages, according to our Iranian sources. It is far from sure that the Ukrainian and Belarusian experts will be able to put together a well-synchronized centrifuge project that is workable in the long term. The Natanz project was long slowed by serious malfunctions in running the centrifuges purchased from Pakistan. They were only partially overcome lately. Now, Tehran needs three years to work in secret and in peace from outside interference and international inspections to achieve its first N-bomb. Tehran's "success" in enriching uranium, announced with fanfare last Tuesday, actually happened, according to our sources, eight months ago. Ahmadinejad timed his "disclosure" to achieve two goals: One, as a fait accompli that would force the world to acknowledge that Iran had joined the world's nuclear club as its eighth member, and two, to signal that the Islamic republic was close to achieving a nuclear weapon and capable of retaliating forcibly to international threats of penalties. Teheran's grandiose war games two weeks ago were staged for the same purpose. Russian and Chinese sources have their own interpretation of Tehran's motives. They believe the Iranian president's announcement was a knee-jerk reaction to the approaching UN Security Council deadline and the press reports of an approaching US military strike against its nuclear facilities. According to their theory, his bellicose stance was the prelude to a climb-down; Tehran would now announce its national objective has been accomplished and a line could be drawn on further advances. DEBKAfile's Iranian experts dismiss this theory as contrary to the mind-set of the Islamic republic's rulers. They are convinced that Tehran sought the universal condemnation it encountered; it proved to the Iranian public that in a hostile world, Iran is fully justified in its go-it-alone program for arming their country with a nuclear weapon.
Iranian President: Zionist Regime a Threat
April 14….(YNET) Iranian President Ahmadinejad says in conference in support of Palestinians that Israel is a threat burdening Muslim nations in region, calls country 'rotten, dried tree' that will be 'annihilated in one storm'; Palestine will be freed soon, president tells audience. Ahmadinejad also called Israel a "rotten, dried tree" that will be annihilated by "one storm." "Like it or not, the Zionist regime is heading toward annihilation," Ahmadinejad told a conference for supporting the Palestinians that opened in the Iranian capital on Friday. "The existence of the Zionist regime is tantamount to an imposition of an unending and unrestrained threat so that none of the nations and Islamic countries of the region and beyond can feel secure from its threat," Ahmadinejad said. The president provoked a world outcry last October when he said Israel should be "wiped off the map." On Friday, he repeated his previous line on the Holocaust, saying: "If such a disaster is true, why should the people of this region pay the price? Why does the Palestinian nation have to be suppressed and have its land occupied?" The land of Palestine, he said, referring to the British mandated territory that includes all of Israel, Gaza and the West Bank, "will be freed soon." He did not say how this would be achieved, but insisted to the audience of at least 900 people: "Believe that Palestine will be freed soon." His October remarks drew widespread condemnation. Some analysts had said Ahmadinejad might use slightly more moderate language at Friday's conference after announcing Iran had successfully enriched uranium, a step condemned by world powers and which has ratcheted up pressure on the country. The West believes it is part of Iranian efforts to develop nuclear bombs, a charge Iran denies.
West Bank Withdrawal 'Disastrous' for Terror War
April 14….(WND) Prime Minister Ehud Olmert's plan to withdraw from most of the West Bank is against the interests of America's war on terrorism, will prompt a rocket war against major Israeli cities, and will result in Christians and Jews being barred from key West Bank holy sites, warned popular radio host Rusty Humphries. Humphries just returned from a week-long trip to Israel where he met with terror leaders from Hamas and the Al Aqsa Martyrs Brigades, interviewed former Israeli Prime Minister Shimon Peres, and toured several West Bank Jewish communities slated for evacuation. "I thought the civilized world learned its lesson about appeasement from Hitler, but clearly we haven't," said Humphries, speaking to WND from his home in Florida outside Disney World. "The terrorists attacked. Israel retreated and gave them the Gaza Strip. Now Hamas has been propelled to power promising to get the Palestinians the West Bank. Rockets are being launched almost daily from Gaza, which has become a terror sanctuary for even America's enemies, including al-Qaida, according to many reports. Attacks are being stepped up in the West Bank, and in response Israel is planning to retreat next from there." Continued Humphries: "The message being sent loud and clear is that terrorism works. I've talked with the terrorists. They tell me they won't stop until they get Jerusalem and Tel Aviv and all of Israel. And you know what? I believe them. Why should they stop when Israel responds by giving them more territory?" Olmert's Kadima Party won last month's parliamentary elections here. The new prime minister has announced he aims to complete his West Bank withdrawal plan before President Bush leaves office in 2009. The West Bank borders most major Israeli cities and is within rocket firing range of Jerusalem, Tel Aviv and Israel's international airport.
"Originally, I didn't have a dog in the fight," explained Humphries. "I am not Jewish or Muslim. I just wanted to figure out the problems and see if there could be a peaceful solution. So I studied the history and read the news and listened to what the politicians on both sides had to say.
"The Israelis believe if they give up land they will get peace. But listen to the tone of the Palestinian media, education system, leadership and the terrorists. They say the withdrawal from Gaza hasn't made a bit of a difference to them except that it whet their appetites for more. All they care about is the destruction of the Jewish state. They wont be satisfied until that happens," said Humphries.
Humphries predicted Israel's withdrawal from the West Bank will lead to a massive escalation in terrorism.
"The West Bank borders and is above many major Israeli cities. When Israel gets out, the rockets will start flying into Jerusalem, and the violence will get out of hand because the terrorists will believe their tactics got them Gaza and the West Bank so why not Jerusalem and the rest of Israel."
The radio host said he is worried the withdrawal will damage the U.S.-led war against terror:
"I am afraid not just about Israel but also about the rest of Western world. Terrorists all over will take notice. They will see a democratic country retreating in the face of terrorism and it will teach them that terrorism works. It will motivate the terrorists to use the same tactics in other places – that if just the right amount of terrorism is applied in Iraq and Afghanistan and eventually worldwide it will cause the West to retreat."
"The Rusty Humphries Show," live from 9 p.m. to 12 a.m. Eastern, is featured on more than 230 radio stations nationwide, including WDBO in Orlando, WCBM in Baltimore, KSFO in San Francisco, KOKC in Oklahoma City, WNIS in Norfolk, KHBZ in Honolulu and KVI in Seattle.
Humphries last week interviewed Mohammad Abu Tir, the No. 2 Hamas leader in the newly formed Palestinian Authority government. He also met in Bethlehem with gun-toting leaders of the Al Aqsa Martyrs Brigades, currently the most active Palestinian terror group.
He toured a series of West Bank Jewish communities and conducted an interview in Israel's Knesset with former Prime Minister Peres, an architect of the 1993 Oslo Peace Accords and a leading Kadima strategist.
Peres told Humprhies the West Bank withdrawal was necessary "because Israel cannot continue to govern another people. The Palestinians need a state."
"I feel sorry for the man," said Humphries, referring to Peres. "His policies are not thought out long term militarily or diplomatically. You don't cede strategic territory bordering your major cities to an enemy sworn to your destruction. The only emotion I have toward Peres is sadness, because once he gives up the West Bank it will lead to Jerusalem and the rest of Israel."
About 200,000 Jews live in the West Bank. A separation barrier, still under construction in certain areas, cordons off nearly 95 percent of the territory from Israel's pre-1967 borders. More than half the West Bank's Jewish residents reside on the side of the fence closest to Israel. About 80,000 more Jews live on the other side of the barrier. Olmert officials have stated the past few weeks the acting prime minister plans to enforce a withdrawal from all 68 Jewish towns that fall outside the barrier.
Many villages in the West Bank, which Israelis commonly refer to as the "biblical heartland," are mentioned throughout the Torah, including areas now slated for evacuation under Olmert's plan.
The book of Genesis says Abraham entered Israel at Shechem (Nablus) and received God's promise of land for his offspring. He later was buried in the West Bank town of Hebron, home to the Tomb of the Patriarchs, considered the second holiest site to Judaism.
The nearby town of Beit El, anciently called Bethel meaning "house of God," is where Scripture says the patriarch Jacob slept on a stone pillow and dreamed of angels ascending and descending a stairway to heaven. In that dream, God spoke directly to Jacob and reaffirmed the promise of territory.
And in Exodus, the holy tabernacle rested in Shiloh, believed to be the first area the ancient Israelites settled after fleeing Egypt.
Commented Humphries: "Even for people who don't think Jews should have a homeland, every religious Christian out there needs to be concerned that Israel is giving these communities – which contain holy sites – to the Palestinians. The one thing I have seen is that when Jews are in control of Christian sites, I as a Christian can go and visit. But when Muslims have control I am either not allowed or am greatly restricted. Either Muslims have to give up their selfish attitude or they cannot be given any authority over other religions' holy sites."
Humprhies pointed to restrictions placed by the current Muslim custodians of the Temple Mount, which bar Jewish and Christian visitors to the holy site during most hours of the day and during all Christian, Muslim and Jewish holidays. Non-Muslims are also bared from praying aloud on the Mount and cannot bring holy objects to the site.
Humphries also referenced what he called the "sad history" of Palestinians taking over West Bank holy areas.
In October 2000, after Israeli troops evacuated the city of Nablus as a peacemaking gesture, scores of Palestinians stormed into the Joseph's Tomb compound and destroyed the site believed to be the burial place of the biblical patriarch Joseph – the son of Jacob who was sold by his brothers into slavery and later became the viceroy of Egypt.
Within hours of the Israeli withdrawal, smoke was seen billowing from the tomb as a Muslim crowd burned Jewish prayer books and other holy objects. Palestinians used pickaxes, hammers and later bulldozers to tear apart the stone building. The dome of the tomb was painted green, and a mosque was subsequently erected in its place.
Said Humphries: "The withdrawal on all levels is just disastrous. The Palestinians and the Arab world only understand strength and power. When Israel is strong it is respected. But when it is weak and it retreats its enemies will smell fear and they will pounce."
Iran's Ahmadinejad: US Will Burn in Our Fury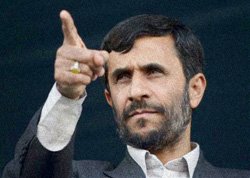 April 13….(FOJ) Unreported in the western media circle is a diatribe delivered by Iranian President Mahmoud Amahdinejab. While his former predecessor and mentor Rafshanjani is in Damascus coordinating efforts with Hezbollah and Syria to cause strife in Iraq for America's soldiers, Ahmadinejab had bold and threatening words for the US. It is obvious from a geo-political strategy standpoint that Russia and China are using both the North Korean and Iranian nuclear situations to repel US security interests in the Far East and in the volatile Middle East. Ironically, the lynchpin and turnkey of the US world power of superstructure is built on the access of Middle Eastern oil, and whether it will continue to support Israel in the war-on-terror! Russia and China are positioning themselves behind the anti-Semitic Arab-Muslim world in the hopes of displacing the US as the lone superpower in the world.
April 13….(Iran Focus) Iran's radical President Mahmoud Ahmadinejad in a fiery sermon demanded that "Iran's enemies,"(US) or the West, bow down before Iran and apologize for having held back Tehran's nuclear program for three years. He also warned the (US) West that it would "burn" in the "fire of the nations' fury." "Those who insulted the Iranian nation and set back Iran's movement for progress for several years must apologize," Ahmadinejad said at a rally in the eastern town of Rashtkhar. His comments were aired on state television and carried by the official news agency. "You must bow down to the greatness of the Iranian nation," he said, addressing the West. He added that if the United States continued to seek to use "bullying" tactics then "every nation of the world" would chant "Death to America" and "Death to Israel". "If you do not return to monotheism and worshipping god and refuse to accept justice then you will burn in the fire of the nations' fury," Ahmadinejad said. He once again accused the (US) West of launching a "psychological war" against Iran. On Tuesday, Ahmadinejad declared that Iran had joined the Nuclear Club. The UN Security Council adopted a "Presidential Statement" unanimously on March 29 giving Iran 30 days to suspend all of its uranium enrichment activities and resume its cooperation with the International Atomic Energy Agency, yet Russia and China continue to bottle up any meaningful UN action against Iran.
Al-Qaeda No. 2: We Must Eliminate Israel
April 13….(YNET) Al-Qaeda's deputy leader Ayman al-Zawahri praised the insurgents in Iraq, particularly Jordanian terrorist Abu Musab al-Zarqawi, and called on all Muslims to support them in a video posted Thursday on the internet. Al-Zawahri, an Egyptian who is Osama Bin Laden's deputy in al-Qaeda and is believed to be hiding in Afghanistan or Pakistan, said he was making the video to mark the fourth anniversary of the December 2001 battle of Tora Bora, in which US Forces besieged bin Laden and al-Qaeda fighters in mountainous caves of Afghanistan. The video, first found on the web by the Alexandria, Va.-based firm IntelCenter, which monitors Islamic sites, was titled "Four Years since Tora Bora, from Tora Bora to Iraq, a lecture by Ayman al-Zawahri." It carried the logo of Sahab Production, a video production group, that Al-Zawahri denounced Bush as the "Caesar of Washington" and accused him of lying about progress in the war on terror. "Bush, son of Bush, eliminating Israel is the duty of every believer," Al-Zawahri said. "The Islamic nation must support the heroic mujahedeen (holy warriors) in Iraq, who are fighting on the very front line for the dignity of Islam," Al-Zawahri said, waving his right hand toward the camera. "And to my brother mujahedeen in Iraq, I say, stay firm. Stay together. Your enemy has begun to falter, so don't stop pursuing him until he flees defeated," he said. He called on Muslims to support his "beloved brother" Al-Zarqawi, who heads al-Qaeda in Iraq. "I have lived with him up close, and have seen nothing but good from him," Al-Zawahri said. "I warn all Muslims in Iraq: Anyone who impedes the jihad against the Crusader occupiers is a traitor to God and his prophet, and a traitor to the rest of the Muslims." Ayman al-Zawahiri urged Hamas to fight on and not to accept agreements between the Palestinian Authority and Israel. Speaking in video footage broadcast on the Arabic television channel Al-Jazeera, Zawahiri described the agreements as "surrender accords" and called on Hamas, victors in the recent Palestinian election, "to continue the armed struggle." The Al-Qaeda number two mentioned specifically the 1993 Oslo peace accords between Israel and the Palestinian Liberation Organization, as well as the current international Road Map peace plan.
Olmert: Convergence to Cost USD 10 billion
April 13….(YNET) PM Olmert informed the Wall Street Journal that he will seek broad international support for his plan to withdraw some 70,000 settlers from the West Bank. On a planned May visit to US, Olmert will ask financial backing for plan, which should be completed within 18 months. In the interview published Wednesday in the Wall Street Journal, Prime Minister Ehud Olmert said his "convergence plan" will cost up to USD 10 billion. Olmert said he plans to visit Washington in May to seek US political and financial backing for his plan. The newly appointed prime minister said he intends on withdrawing 70,000 Jewish settlers from the West Bank, less than a third of the 250,000 currently living beyond the Green Line. In return, Israel will keep hold of large West Bank settlement blocks, where most of the evacuees will be relocated. Olmert will ask for Washington to help him gather international support for plans to draw up final borders with the Palestinians to ensure a Jewish majority in Israel for decades to come. Olmert said although Israel maintains it has no peace partner on the Palestinian side, he intends on providing favorable conditions that will eventually lead to a final peace agreement through negotiations and the establishment of an independent Palestinian state. "The State of Israel will change the face of the region," Olmert told the newspaper of his plan. "I will not miss this opportunity." In the interview, Olmert ruled out the possibility of deviding Jerusalem, but kept open the possibility of handing over Arab neighborhoods in the city to the Palestinian Authority. "Dividing Jerusalem will not bring peace, only more fighting," he said. Olmert estimated he will form a coalition within two weeks, after which he will appoint a team of military, legal, economic and political experts to formulate the convergence plan.
Russia and China Doing a Hypocritical Dance on Iran
April 13….(FOJ) Both Russia and China came out with statements of shock and dismay concerning Iranina President Ahmaddnejab's claim of joining the nuclear club. Russia's nuclear chief said that Iran is still far from being capable of industrial-scale uranium enrichment. Russian Federal Nuclear Energy Agency chief Sergei Kiriyenko said the enrichment facility in the Iranian city of Natanz, equipped with 164 gas centrifuges, could not produce any significant amount of enriched uranium, which can be used to fuel power plants or produce atomic weapons.  "These centrifuges allow Iran to conduct laboratory uranium enrichment to a low level in insignificant amounts," Kiriyenko was quoted as saying. "The acquisition of highly enriched uranium is unfeasible today using this method." Representatives of the five permanent United Nations Security Council member states are scheduled to meet in Moscow next week. Earlier Wednesday, US Secretary of State Condoleezza Rice denounced Iran's successful enrichment as unacceptable to the international community, and said that the UNSC must consider "strong steps" to induce Teheran to change course. Rice also telephoned Mohamed ElBaradei, the head of the International Atomic Energy Agency, to ask him to reinforce demands that Iran comply with its nonproliferation requirements when he holds talks in Teheran on Friday. While Rice took a strong line, she did not call for an emergency meeting of the Security Council. Russian and Chinese diplomats continued to insist that the Iranian nuclear developments do not warrant any actions or sanctions, and warned the US against acting unilaterally to threaten Iran.
Iran's Ex-president Hashemi Rafsanjani Rushes to Damascus
April 13….(DEBKA) The day after the announcement of Iranian success in producing uranium enrichment, Tehran's most adept diplomat, Expediency Council head Hashemi Rafsanjani, arrived in the Syrian capital Wednesday for four days of talks. DEBKAfile's sources report that after publicly declaring Iran's nuclear aims were "purely peaceful", Rafsanjani embarked on secret talks with Syrian leaders on ways of working together to raise war tensions in Iraq and the Lebanese-Israeli border. They describe Tehran's motives as being to try and put the Americans on the spot of having to appeal to its clerical leaders for a key to a political solution and calm in Iraq. Israel is to be taught a lesson by being shown forcefully who controls Hizballah's terrorist campaign and apprised of Tehran's deepening grip on the Palestinians. Iran is seeking to drive home its ability to open yet another front against Israel. These demonstrations come in the wake of Iran's failure to achieve the desired propaganda and deterrent effect sought by its large-scale military maneuvers earlier this month and the daily unveiling of purported new weaponry. Yet another clandestinely procured piece of hardware is promised for next week. A senior military source told DEBKAfile that Iran's "striptease," far from deterring the Americans has made them an intelligence gift of data on Iran's arsenal and its weaknesses. The exhibits displayed thus far appear to be still in stages of development and nowhere near operational.
Russia's Putin is Catering To Iran and its Axis of Terror
April 13….(FOJ) President Vladimir Putin, right toasts the new Palestinian Authority ambassador Baker Abdel Monem, of Hamas, along with Izzat Saad El Sayed of Egypt, in the background, during a ceremony of receiving credentials in Moscow's Kremlin. Foreign Minister Lavrov, who has repeatedly warned the US against taking preemptive measures against Iran without UN Security Council permission, is pictured in the foreground toasting the new Hamas ambassador. Putin took the occasion to chastise the US and the EU for withholding funds from Hamas, saying that it will only serve to isolate Hamas from the international community.
April 12….(Bill Wilson) Communists, Socialists, liberal church organizations as well as Islamic and Hispanic advocacy groups are using the illegal alien issue to assault America and its Judeo-Christian heritage and to oust politicians that do not agree with their anarchist agenda. The Globalist minded media, trying to portray these protests as loosely organized, spontaneous demonstrations of support for illegal aliens, report that religious organizations, human rights groups and labor unions are behind the mass protests. But a closer review indicates organizers of the protests are enemies of the United States. American Values President Gary Bauer investigated a bit further and found "some of the most extreme anti-American groups in the country, including ANSWER (the Act Now to Stop War and End Racism coalition). ANSWER's steering committee includes the following organizations: the Free Palestine Alliance, the Muslim Student Association, the Party for Socialism and Liberation, and the Mexican Solidarity Network, among others."
April 12…..(WND) While debates about guest-worker programs for illegal aliens take place in Washington's corridors of power, in the streets of America's big cities no amnesty is being offered by activists calling for the expulsion of most U.S. citizens from their own country. While politicians debate the fate of some 12 million people residing in the US illegally, the Mexica Movement, one of the organizers of the mass protest in Los Angeles this week, has already decided it is the "non-indigenous," white, English-speaking US citizens of European descent who have to leave what they call "our continent." The pictures and captions tell the story. "This is our continent, not yours!" exclaimed one banner. "We are indigenous! The only owners of this continent!" said another. "If you think I'm illegal because I'm a Mexican, learn the true history, because I'm in my homeland," read another sign. "One of the more negative parts of the march was when American flags were passed out to make sure the marchers were looked on as part of 'America,'" said the group's commentary on the LA rally. Both Rep. James Sensenbrenner, R-Wis., chairman of the House Judiciary Committee and a proponent of tougher border security, and California Gov. Arnold Schwarzenegger were caricatured as Nazis by the group on its posters and banners. The group insists that the indigenous people of the continent were the victims of genocide ­ a campaign of extermination that killed, according to one citation, 95 percent of their population, or 33 million people.
Another citation on the same website claims the toll was 70 million to 100 million. The only solution, says the Mexica Movement, is to expel the invaders of the last 500 years, force them to pay reparations and return the continent to its rightful heirs. The platform of the group illustrates the diverse ­ and sometimes extreme ­ agendas of those participating in the mass mobilizations that have been seen largely as protests against efforts to curb illegal immigration. Some of those involved, including the Mexica Movement, have much bigger goals than stopping a piece of legislation before Congress. A group called "La Voz de Aztlan," the Voice of Aztlan, identifies Mexicans in the US as "America's Palestinians." Many Mexicans see themselves as part of a transnational ethnic group known as "La Raza," the race. A May editorial on the website, with a dateline of Los Angeles, Alta California, declares that "both La Raza and the Palestinians have been displaced by invaders that have utilized military means to conquer and occupy our territories." Others in the coalition hope to see a "re-conquest" of the American southwest by Mexico. This would not likely take place through military action, they say, but rather through a slow process of migration ­ both legal and illegal.
April 12….(excerpt from previous Washington Times article) Few peoples in the world have suffered as much needlessly under tyranny, in this case a theocracy, as have the people of Iran. I say "needlessly" because if Iran were a working democracy and actively seeking solutions to its internal problems, 40 percent of its 68 million inhabitants would not be living below the poverty line. The country might be able to address its air pollution, industrial effluents; overgrazing; deforestation; desertification; oil pollution in the Persian Gulf; wetlands lost to drought; soil degradation (salination); inadequate potable water; and pollution from raw sewage and industrial waste. Known as Persia until 1935 and slightly larger than Alaska, Iran is heir of one of the world's oldest civilizations. The country's resources are enormous. It is the world's fourth-largest petroleum producer. It is blessed with huge natural gas reserves and strategic location on the Persian Gulf and Strait of Hormuz, vital maritime pathways for petroleum. Such good fortune, however, is not enough for the clerical regime which would like to convert the entire Islamic Sunni world into a Shi'ite paradise. To do so, Iran is devoting its resources to establishing its version of an Islamic empire. There was the eight-year war with Iraq at the cost of a million casualties on the Iranian side alone. Facing a new threat, an Iraqi democracy on Iran's borders, Iran's bellicose mullahs are now at war with the coalition forces in Iraq. Why? To create a puppet theocratic regime in that country which would support Shi'ite, not Sunni, Islam. Its fundamentalist leaders wage an undeclared war using suicide bombers against countries Iran defines as enemies. The theocrats operate with confidence that there will be no reprisals by their victims. Thus far, their confidence has been justified. The mullahs have created five major agencies to carry out their global ambitions, the most important of which is the "Quds" (Jerusalem Force). This includes all of Iran's intelligence and extraterritorial agencies numbering some 21,000 personnel, according to the National Council of Resistance, a longtime exile organization whose inside reports have proven remarkably accurate in the past. The Quds headquarters are located on the former site of the US Embassy in Tehran. The great irony is that the West finances Iran's terrorist attacks in Iraq and elsewhere by buying its oil. Iran has financed terrorist operations throughout Iraq and is actively recruiting "suicide bomber" volunteers to be sent not only to Iraq but other Middle East countries. The Ouds headquarters on Aug. 10, 2004, announced enlistment of an incredible 15,000 recruits. Today, they claim to have 40,000 volunteers. Iran denies it is seeking an atomic bomb, but its President Ahmadinejad has called for destroying Israel. Its former President, Ali Rafsanjani stated on Dec. 14, 2001: "If one day, the Islamic world is also equipped with nuclear weapons like those that Israel possesses now, then the imperialists' strategy will reach a standstill because the use of even one nuclear bomb inside Israel will destroy everything in Israel while it will merely harm the Islamic world."
China Prolonging Sudan Genocide Because of Oil
April 12….(Patrick Goodenough/CNSNews) The continuing carnage in Sudan's Darfur region is dragging on because of China's support for the Islamist government in Khartoum, according to Irish celebrity campaigner for Africa, Bob Geldof. "The reason why it has not been resolved is because of China," the Associated Press quoted Geldof as saying in Athens on Monday. "The Chinese protect the Khartoum government, who are killers, and they will not allow a vote in the UN Security Council," he said, attributing Beijing's stance to its oil ties with Sudan. Beijing's state-controlled China National Petroleum Corporation (CNPC) owns 40 percent of Sudan's biggest oil operation. An estimated 6 to 7 percent of China's oil imports come from Sudan, a figure expected to rise as the industry expands after a two-decades-long civil war. US Department of Energy figures now place Sudan third in sub-Saharan Africa for crude oil production, behind Nigeria and Angola. Since a conflict broke out in Darfur between government-sponsored militias and rebel groups three years ago, many thousands of people have perished and two million more have been displaced. The UN has described Darfur as the world's worst humanitarian crisis. As early as July 2004, veto-wielding member China was using its clout in the Security Council to ease international pressure on Khartoum. Resistance from China, together with fellow permanent council member Russia and several of the body's non-permanent members, notably Islamic Pakistan and Algeria, resulted in the US agreeing to drop the word "sanctions" from a draft resolution on Darfur. In the end, the watered-down resolution was passed by a 13-0 vote. Although the sanctions reference had been removed, Beijing could still not support it because, China's envoy Zhang Yishan said, "it still included references to measures that were not helpful and which could further complicate the situation." China abstained, along with Pakistan. In the 21 months since then, the death toll in Darfur has risen from some 30,000-50,000 to an estimated 180,000 today. By February last year, the US and European allies were still struggling to get China and Russia to agree to impose sanctions against Sudan. The State Department said at the time that those under discussion included oil sanctions, as well as an extension of an existing arms embargo, a freeze on assets and travel ban against specified individuals or government officials. Rep. Frank Wolf (R-Virginia), a co-chairman of the bipartisan congressional human rights caucus, said at a press conference on Darfur that month that China and Russia had "repeatedly threatened to veto resolutions that could possibly bring an end to the violence." Wolf, who has visited Sudan five times, is currently pressing Secretary of State Condoleezza Rice to appoint a special envoy to the country, to focus further attention on the Darfur issue. Testifying before the congressional US-China Commission last July, Council on Foreign Relations senior fellow for Africa policy studies Princeton Lyman also linked China's Security Council stance to its oil dealings with Sudan. "China had become its biggest oil customer," he said. "Meanwhile, China has successfully prevented the UN Security Council from serious sanctions or other preventive measures in face of the alleged genocide and crimes against humanity perpetrated in the Darfur region of that country."
Iran A Single Step From Atomic Bomb
(With 3 developments this year, Tehran's pace startling analysts)
April 12….(WorldNetDaily) Confounding the predictions of many Western analysts, Iran's announcement yesterday that it successfully enriched uranium was the third major development this year on the way to producing an atomic bomb, leaving only one more step. That next development, metalizing the enriched uranium to fit it into a warhead, could come as soon as four months from now, says author Jerry Corsi, who has watched the predictions in his book "Atomic Iran" unfold since it was published one year ago. "They have only one more problem to solve," Corsi said. "The world has got to stop thinking about these Iranians as backward, just because Ahmadinejad has a radical religious agenda. They have all the technical knowledge and all the money they need to solve these problems." In February, National Intelligence Director John Negroponte told Congress that Iran was as much as a decade away from producing a nuclear weapon. But Corsi, noting it took just four months to produce enriched uranium, argues Teheran is only trying to solve technical problems to make an atomic bomb, not come up with breakthroughs. With the help of China, Russia and their own scientists, who have received world-class training, they could easily have a bomb by the end of the year, he said. Yesterday, in a nationally televised speech, President Mahmoud Ahmadinejad said that with the production of enriched uranium, "I formally declare that Iran has joined the club of nuclear countries." The audience, which included top military commanders and clerics, broke into cheers of "Allahu akbar!" or "God is great!" In January, Iran successfully tested a missile with solid fuel, and last week, a US official reported Iran now has ballistic missiles capable of carrying nuclear warheads. WND reported one year ago that Iran's Shahab-3 ballistic missiles, capable of carrying a nuclear warhead, were being designed to destroy America's technical infrastructure. Scientists, including President Reagan's top science adviser, William R. Graham, said there is no other explanation for such tests than preparation for the deployment of electromagnetic pulse weapons, even one of which could knock out America's critical electrical and technological infrastructure, effectively sending the continental US back to the 19th century with a recovery time of months or years. While the US always has refused to take the military option off the table in dealing with Iran, new developments indicated Washington had gone from acknowledging the possibility of action to preparing its allies for a strike. In November, Iranian President Mahmoud Ahmadinejad threatened to "wipe Israel off the map." One month later, Israeli officials said then-Prime Minister Ariel Sharon had instructed the Israeli Defense Forces to prepare for a possible military strike against Iran. Ahmadinejad told a crowd of theological students in Iran's holy city of Qom that Islam must prepare to rule the world. "We must believe in the fact that Islam is not confined to geographical borders, ethnic groups and nations. It's a universal ideology that leads the world to justice," Ahmadinejad said Jan. 5, according to Mehran Riazaty, a former Iran analyst for the Central Command of the Coalition Forces in Baghdad. Ahmadinejad, who drew global attention for his contention the Holocaust was a "myth," said: "We don't shy away from declaring that Islam is ready to rule the world." The Iranian president emphasized his that the return of the Shiite Messiah, the Mahdi is not far away, and Muslims must prepare for it. According to Shiites, the 12th imam disappeared as a child in the year 941. When he returns, they believe, he will reign on earth for seven years, before bringing about a final judgment and the end of the world.
Ahmadinejad is urging Iranians to prepare for the coming of the Mahdi by turning the country into a mighty and advanced Islamic society and by avoiding the corruption and excesses of the West. "We must prepare ourselves to rule the world and the only way to do that is to put forth views on the basis of the Expectation of the Return," Ahmadinejad said. "If we work on the basis of the Expectation of the Return of the Mahdi, all the affairs of our nation will be streamlined and the administration of the country will become
Nuclear Iran Now a Regional Power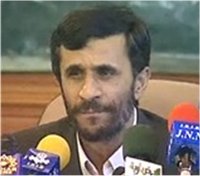 Mahmoud Ahmadinejad
April 12….(YNET) Nuclear weapons in Iran's hands will turn it into the "number one power in the Middle East," Colonel (Res.) Shimon Boyarsky, formerly head of the Iran and Iraq desks in the IDF intelligence branch told Ynet. Boyarsky said that "Iran will have economic abilities in the form of oil, an enormous population of around 75 million people, nuclear weapons, and a fundamentalist regime that will want to spread its revolution. It will feel much stronger and freer than Israel." Theoretically, the real danger of Iranian nuclear weapons in the hands of the Ayatollah regime is an immediate firing of a nuclear bomb at central Israel. But not everyone in Israel sees the Iranian threat as an immediate danger. In other words, allies of the Iranians, like Hizbullah, will work with a freer hand to carry out terror attacks against selected targets in the Middle East and the world, for example, something that will destabilize the situation in the region. Another phenomenon worth thinking about is the danger of a nuclear arms race in the region, headed by the Saudis and Egyptians, who won't want to lose their prominent position to the Ayatollahs in Iran. Boyarsky said, "I believe that Iran is developing nuclear weapons not to destroy Israel but to obtain deterring weapons that can protect the regime against anyone who tries to harm it from outside. They already know how to deal with enemies from home." According to Boyarsky, Iran prefers North Korean model: "They see that the world deals with North Korea with silk gloves and that is their aim." "Nuclear weapons will certainly threaten Egyptian hegemony in the area, Syria's position, they will endanger Kuwait, and maybe even shock Iraq, which may be Shiite, but is Arab and not Persian," Boyarsky says. "There is no doubt that with this weapon, Iran will feel much freer. We've already seen their ability when it comes to terrorist attacks they carried out in the region. There is certainly a possibility that the area will enter an arms race, but it's fair to assume that the countries will first wait to see how the international community will act." Is there significance to the timing of Iran's declaration? Iran's nuclear comments could certainly have been made as a response to reports at the beginning of the week that the US is planning to attack Iran. I have no doubt that the Americans are indeed planning an attack, but I think that President Bush will first try to the diplomatic process and these declarations can definitely help him," Boyarsky says. "In general, I find it hard to see an attack on Iran as long as the American army is treading in Iraq. In my opinion, the president, who ends his term in 2008, won't want to be portrayed as someone who drowned his army and therefore it's hard for me to see him ordering a new attack."
Ahmadinejad: Iran has Joined the Club of Nuclear Nations!
April 11….(Jerusalem Post) Iran has successfully enriched uranium for the first time, a landmark in its quest to develop nuclear fuel, hard-line President Mahmoud Ahmadinejad announced today, although he insisted his country does not aim to develop atomic weapons. In a nationally televised speech, Ahmadinejad called on the West "not to cause an everlasting hatred in the hearts of Iranians" by trying to force Iran to abandon uranium enrichment. The announcement came ahead of a visit to Tehran this week by Mohamed ElBaradei, the head of the UN nuclear watchdog agency, who is trying to resolve the West's standoff with Iran. The UN Security Council has demanded Iran stop all enrichment activity by April 28. Iran has rejected this, saying it has a right to the process. "At this historic moment, with the blessings of God almighty and the efforts made by our scientists, I declare here that the laboratory-scale nuclear fuel cycle has been completed and young scientists produced enriched uranium needed to the degree for nuclear power plants Sunday," Ahmadinejad said. "I formally declare that Iran has joined the club of nuclear countries," he told an audience that included top military commanders and clerics in the northwestern holy city of Mashhad. The crowd broke into cheers of "Allahu akbar!" or "God is great!" Some stood and thrust their fists in the air. The White House denounced the latest comments by Iranian officials, with spokesman Scott McClellan saying they "continue to show that Iran is moving in the wrong direction." Ahmadinejad said Iran "relies on the sublime beliefs that lie within the Iranian and Islamic culture. Our nation does not get its strength from nuclear arsenals." He said Iran wanted to operate its nuclear program under supervision by the International Atomic Energy Agency and within its rights and regulations under the regulations of the Nuclear Non-Proliferation Treaty. The announcement does not necessarily mean Iran is immediately capable of producing enough fuel to run a reactor or develop the material needed for a nuclear warhead. Uranium enrichment can produce either, but it must be carried out on a much larger scale, using thousands of centrifuges. Iran succeeded in enriching uranium to a level needed for fuel on a research scale, using 164 centrifuges, officials said. But the breakthrough underlined how difficult it will be for the West to convince Iran to give up enrichment. Ahmadinejad made the announcement in a richly appointed hall of one of Iran's holiest cities in a ceremony clearly aimed at proclaiming the country's nuclear success. Speaking before Ahmadinejad, Vice President Gholamreza Aghazadeh, the nuclear chief, said Iran has produced 110 tons of uranium gas, the feedstock that is pumped into centrifuges for enrichment. The amount is nearly twice the 60 tons of uranium hexaflouride, or UF-6 gas that Iran said last year that it had produced. Aghazadeh said Iran plans to expand its enrichment program to be able to use 3,000 centrifuges by the end of the year. The IAEA is due to report to the UN Security Council on April 28 whether Iran has met its demand for a full halt to uranium enrichment. If Tehran has not complied, the council will consider the next step. The US and Europe are pressing for sanctions against Iran, a step Russia and China have so far opposed. McClellan told reporters traveling on Air Force One with President Bush that Iran's enrichment claims "only further isolate" Tehran and underscore why the international community must continue to raise concerns about its suspected ambition to develop nuclear weapons. McClellan noted the Security Council clock is now running out on Iran. "This is a regime that needs to be building confidence with the international community," McClellan said. "Instead, they're moving in the wrong direction." US Ambassador to the United Nations John Bolton said the Iranians' announcement "shows that they're not paying any attention to what the Security Council has said." "And it shows why we feel a sense of urgency here that we have make Iran realize the mistaken course it's pursuing." The reported breakthrough came only two months after Iran resumed research on enrichment at its facility in the central town of Natanz in February. The resumption of work there prompted the IAEA to report Iran to the UN Security Council, escalating the standoff. The enrichment process is one of the most difficult steps in developing a nuclear program. It requires a complicated plumbing network of pipes connecting centrifuges that can operate flawless for months or years. The process aims to produce a gas high with an increased percentage of uranium-235, the isotope needed for nuclear fission, which is much rarer than the more prevalent isotope uranium 238. A gas made from raw uranium is pumped into a centrifuge, which spins, causing a small portion of the heavier uranium-238 to drop away. The gas then proceeds to other centrifuges, perhaps thousands of them, where the process is repeated increasing the proportion of uranium-235. The enrichment process can take years to produce a gas rich enough in uranium-235 that it can be used to power a nuclear reactor or produce a bomb.
FOJ Note: The US began its nuclear development program in 1939, (under the auspices of the Manhattan Project during the Roosevelt Administration) and was able to bring WWII to a swift end by using a nuclear weapon (against Imperial Japan) by 1945. History records that Nazi Germany under Adolph Hitler was also close to acquiring an atomic bomb, and intended to use it against the Allies, and thereafter to establish the world-wide Empire of the Third Reich, (and through military might establish the world peace of the Fuhrer) and subsequently implement its pledge to annihilate world Jewry.
Hamas Seeks to Take Over PLO
April 11….(Arutz) After having taken over the Palestinian Authority, Hamas now seeks to anchor its power via elections in all the Palestinian refugee camps throughout the Arab world. Hamas has defined the PLO as its next target for political takeover, demanding elections throughout what the Arabs call the "Palestinian Diaspora." This would mean elections in refugee camps in Lebanon, Jordan and elsewhere, where Hamas feels it has very strong support. A victory in these elections would help Hamas attain positions currently held by PLO figures, such as the observer post in the United Nations, membership in international organizations, material assets, and the like. A Hamas leader-in-exile, Mousa Abu Marzuk, declared recently that the PLO's institutions have essentially stopped working. "The PLO can no longer represent the Palestinian nation until real reforms are carried out within it," he said. Hamas is also demanding that the PLO nullify all agreements it has made with Israel in the past. Abu Marzuk said that Hamas will never accept any agreement made between Israel and Abu Mazen. "If Abu Mazen reaches a diplomatic agreement that is opposed to our principles," Abu Marzuk said, "we will come out against him." The reference is to any agreement that does not force a full withdrawal upon Israel and a complete 'right of return' for all Arabs who left Israel over the past 58 years.
Abbas to Olmert: We Won't Accept Your Borders
April 11….(JNEWSWIRE/Ryan Jones) The Palestinian Arabs want Israel to leave all of Judea, Samaria and eastern Jerusalem, and Prime Minister Ehud Olmert's intention to unilaterally set borders that do not meet that demand rather than capitulate through negotiations will be met by further belligerence, warned PLO chief Mahmoud Abbas at the weekend. Speaking to London's Guardian, Abbas predicted Olmert's "convergence" plan will bring Israel only a temporary respite from all-out Islamic terrorist warfare directed at its Jewish citizens: "The Israelis say: 'OK, we'll impose a unilateral solution,' which means that they will postpone, delay, the struggle and they will not solve the problem. OK, they can postpone it for 10 years. After 10 years our sons will feel it is unfair and they will return back to struggle. Nobody will accept it. The struggle (terror war) will continue." Abbas attempted to give the impression Israel is abandoning bilateral negotiations in a vacuum, ignoring the decade-long failure of his Palestinian Authority to honor even its most basic commitment, to disarm and dismantle those groups engaged in terrorist violence against Israel. Instead, Abbas and his predecessor Yasser Arafat defended and even sanctioned (and Arafat actually arranged) such aggression as a natural reaction to Israel's "occupation" and defense tactics. And now the general Palestinian Arab public has overwhelmingly elected a group unswervingly dedicated to the destruction of the Jewish State to lead them. Most Israelis are waking up to the fact there is little reason to view the "Palestinians" or their leadership as credible peace partners, or to hope that two-way talks with them will lead to a desirable outcome. Still, many in Israel agree with Abbas that Olmert's planned withdrawal is not the solution. The convergence plan will effectively hand the "Palestinians" 90 percent of what they are demanding without Israel receiving anything in return, encouraging groups such as Hamas and their supporters to continue blowing up Jews as they wait to receive the rest. Further confirming he cannot deliver the hoped-for goods with his stated policies, Olmert admitted in an interview with Time Magazine earlier this week that the borders he intends to draw by 2010 will likely not be Israel's final boundaries as promised in his election campaign. The borders "will be very close to what may be the final borderlines, the lines I want to draw are very close to the lines that I believe will become the political borders." They will be nothing of the sort without international backing, which will hinge on "Palestinian" consent that Abbas insists will never be forthcoming. And so, between Olmert and Abbas, Israelis are left with little to hope for but a continuation of Arab efforts to murder their people, a loss of any serious negotiating leverage should bilateral negotiations ever become a reality, and further erosion of their claim to the biblical lands of Judea and Samaria.
Iran Priming Hezbollah for War with US, Israel?
April 11….(WND) Iran is attempting to draw Lebanon into a conflict with the US and Israel and is priming the Hezbollah militia to assault the Jewish state in the event of an attack against Iran's nuclear facilities, Lebanon's Druze leader Walid Jumblatt said in an interview. "Lebanon is being used by the Iranians as a front which could be used if the Americans retaliate against Iran's nuclear facilities. Lebanon is now entangled in a greater axis. It is no longer independent," said Jumblatt, speaking to WND's Aaron Klein and ABC Radio's John Batchelor on Batchelor's national radio program for which Klein serves as a co-host. Jumblatt is the head of Lebanon's Progressive Socialist Party and is largely considered the most prominent anti-Syrian Lebanese politician. He said Syria and Iran have formed an alliance against the US and have the past year tightened their collective grip on Lebanon. "The Syrians feel at ease because of the Iranian connections. Syria-appointed Lebanese President Amil Lahoud is much more confident because of the alliance with the Iranians. The borders between Lebanon and Syria are open. Syria is smuggling into Lebanon weapons, ammunition and fighters. Hezbollah too is the best to destabilize Lebanon against independence," said Jumblatt. Syria last April withdrew tens of thousands of troops it maintained in Lebanon, announcing it was ending its nearly 30-year occupation of the country. The withdrawal was considered a result of mounting international pressure following the assassination in February 2005 of former Lebanese Prime Minister Rafiq Hariri, for which Damascus was widely blamed. But there has been a steady stream of reports Syrian intelligence agents continue to operate in Lebanon. Syrian and Lebanese intelligence agents have been blamed for a series of bombings and political assassinations that have rocked Lebanon since Hariri's murder. Jumblatt said he was unsure of the extent of Syria's intelligence network in Lebanon. He called Lebanese President Lahoud a "Syrian agent, just a puppet of Syrian President Bashar Assad." He blasted the international community for "dropping the ball on pressuring Syria" the past few months. "We heard a lot of talk about pressuring Syria last year, but have not seen much lately," said Jumblatt. "You have to ask for Bashar Assad to go then maybe Lahoud might go. I don't see it possible to change Syria's behavior without changing the regime." Jumblatt warned together with Syria the Tehran regime has been funneling money and weapons to Hezbollah to use against Israel and American interests in the event of an attack against Iran's nuclear sites. Hezbollah reportedly maintains between 12,000 and 16,000 conventional short- and long-range missiles pointed at Israel's northern border, including missiles capable of striking the civilian and industrial heartland of the Jewish state. Security officials say Hezbollah has recently been able to obtain antiaircraft missiles. Israel and United Nations observers have noticed a buildup of Hezbollah militants along the Israeli-Lebanese border the past month. Israeli security officials last month warned Hezbollah was looking to kidnap Israeli civilians and soldiers and escalate violence along the border. Jumblatt's statements concerning Hezbollah come in the wake of a report in London's Daily Telegraph stating Iranian Revolutionary Guard units are now deployed at Hezbollah posts along the Israeli border and are developing an advanced intelligence-gathering network for spying on the Jewish state. A senior Israeli Defense Forces commander told the Telegraph that Hezbollah posts fortified by Iran are "now Iran's frontline with Israel. The Iranians are using Hezbollah to spy on us so that they can collect information for future attacks. And there is very little we can do about it."
Russia Showing Signs of Ezekiel's Prophetic Scenario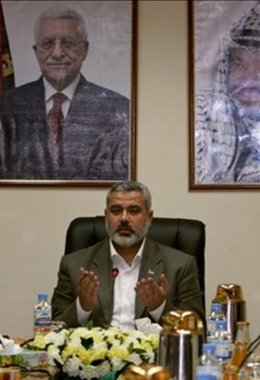 April 11….(FOJ) New (Hamas) Palestinian Authority Prime Minister Ismail Haniyeh, seated under portraits of late Palestinian leader Yasser Arafat, right, and the Palestinian Authority President Mahmud Abbas, recites verses from the Muslim holy Quran during a cabinet meeting in Gaza City today. Haniyeh said that the Israeli offensive against Kassam rocket attacks from Gaza in the northern Gaza Strip is an attempt to 'tighten the siege' on his new government. (it seems to me that Hamas would not initiate, or at least stop the rocket attacks if they truly felt that Israel's retaliation was a siege) Speaking at the start of the PA Cabinet meeting, Haniyeh said his government would not cave in to Israeli and international pressure to moderate its stand that Israel should be destroyed. Meanwhile, Russian Foreign Minister Sergey Lavrov, criticized the withholding of funds to the PA, while his Jordanian counterpart Farouq Kasrawy, listens prior to their meeting in Moscow today. Russia's foreign minister roundly criticized the West's 'boycott' of the radical Palestinian group Hamas, warning that the cutoff of aid to the Palestinians after Hamas' election victory would only destabilize the situation in the region. Lavrov suggested that the US was pro-Israel, and that the Palestinians could rely on Russia for continued help and assistance. Russia has supplied the Hamas with anti-aircraft missiles as a means to help the Hamas terrorist organization's battle against Israeli helicopter gun-ships in their efforts to target terrorist leaders for assassination.

Israel Under Olmert, Set to Sever its Roots
April 10….(JNEWSWIRE) The Israeli election is now behind us, and the clock is ticking. Reports at the weekend revealed that in just over two-and-a-half years, if Kadima leader and Prime Minister-designate Ehud Olmert realizes his goal, 4000 years of history will come to an end. By November 2008, according to the statements of Kadima officials in coalition talks with the Likud Party, Olmert's "convergence plan" will have been executed. Notably, the time frame for its implementation is being tied to the next US presidential elections, with the aim being to completely carry out the plan while President George W. Bush is still in office. "Convergence" calls for:
»The uprooting from their Judean and Samarian homes of 80,000 Jews
»The destruction of those homes
»The voluntary relinquishing, forever, of control over and any claim to 90 percent of the biblical heartland of the Jewish people, and
»The setting of Israel's "final" borders, which will hopefully be recognized as such by the international community.
In short, the Olmert-led administration intends to sever the Jewish nation at its roots and, while so doing, drive even deeper the wedge that is already threatening to tip Israel into violent civil strife deeply in between the two sides. The land at the center of the convergence plan was promised to the Patriarch Abraham about four millennia ago in what he, and all subsequent generations believed to be an eternal and irrevocable covenant. After God confirmed the giving of the land to Abraham's son, Isaac, and to Isaac's son Jacob – who was renamed Israel – it became the national homeland of the Jews and has been so ever since. The heart of this land – today called the "West Bank" by all those who reject Israel's right to it – was the cradle in which the nation of Israel was established and developed. It was not only the land of Abraham, Isaac and Israel, and Israel's 12 sons, but also of Joshua and Caleb, of the Judges, of Kings Saul, David and Solomon and all the subsequent kings of Judah and of Israel. It was the land of the millions of ordinary Israelites who lived out their lives within its borders until the nation split and went into captivity. It was for this land that the exiled Jews sat down by the rivers of Babylon and wept. From their captivity in Persia and Rome and subsequently wherever they were scattered through the ages on the earth, it was to the "West Bank" that they longed to return. The "West Bank" is the land of the Bible, which is the primary and enduring historical record of the Jewish people, the nation of Israel. It is from this land, from their biblical history, and from the focus of their longing that kept the Jews Jewish through centuries of Diaspora history, that Olmert's "convergence plan" would finally sever the remnant of the nation that survived to return to it. By November 2008, the Jewish people would have to finally and forever forget about returning to Eretz Yisrael. And as it has been throughout the "land-for-peace" process the United States, under the presidency of George W. Bush, will be there to oversee the final cut. While the Kadima Party has not spelled out its reasons for wanting to carry out the plan during Bush's presidency, his administration is known to be committed to overseeing a solution to the Arab-Israeli conflict. Bush believes separation of the two parties is essential to bringing this about, even though the US has not wanted to see unilateral Israeli action. Former Prime Minister Ariel Sharon carried out his "disengagement plan" in close consultation with the Bush White House, which for its part did not shy away from expressing its support for a Kadima Party win in the March 28 election. With Kadima and Olmert firmly in place, there is little doubt that the US leadership will be intimately involved in the execution of the "convergence plan" and, thereby, the act of severing Israel at its roots.
Withdrawal Will Net Israel Nothing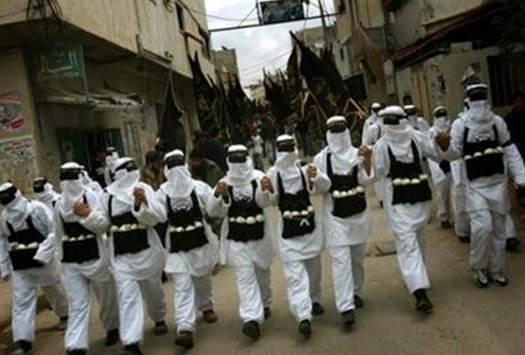 April 10….(FOJ) Newly elected Israeli Prime Minister Ehud Olmert is planning to implement a forced Israeli unilateral withdrawal from the West Bank. The word "unilateral" seems to be a word that causes undue fury amongst the Palestinians. It seems the Palestinians are against the Israeli's giving them more territory without their consent. Hamas and the PLO both complain that by acting unilaterally to withdraw from the West Bank, Israel may be viewed in the international arena as having done all they can to foster peace in the Middle East. The Palestinian's claim that Israel, by voluntarily relinquishing the disputed territory, is acting without agreement with the PA to establish a permanent border between the two peoples. Apparently, in the Israeli-Palestinian Conflict, it is even considered oppressive for the Israeli's to give away land to the PA without their official acceptance. Even as the peace-at-any cost politicians of Israel plan to convey the heart of Palestine to a terrorist government, the Palestinians are still planning to push Israel beyond the 1967 borders and out into the Mediterranean Sea.
WWII history reveals that Haj Al Amin-Husseini secretly plotted with Adolph Hitler and the Nazi's to prevent the formation of the Jewish State altogether, and after WWII to exterminate every remaining Jew in the Middle East. The tactics of Satan and his anti-Semitic forces have never changed and they never will. The Arabs still lament the fact that Adolph Hitler didn't complete the Third Reich-Arab Final Solution Plan. Nevertheless, Satan has not given up on his strategy to pursue Israel and destroy every vestige of God's chosen people. Someday, perhaps even soon, Satan will empower another Fuhrer-type madman that will promise the Arab World to finish the solution to the Jewish Problem
Nazis, Arabs Planned Final Solution for Pre-state Israel
April 10….(JNEWSWIRE/Stan Goodenough) Nazi Germany responding to the pleas of Palestinian Arabs planned to open up a "branch" of the Holocaust in the Land of Israel and exterminate the half-a-million Jews then living in the land in line with Adolph Hitler's plan to rid mankind of its "Jewish problem." According to reports carried in the Israeli press over the weekend, a new study by two German historians has revealed that in 1942 the Nazis created a special SS force, one of its mobile death squads known as "Einsatzgruppe," tasked to do to the Jews in British-mandated Palestine what was being done to them in Poland and other parts of Europe. Called the "Einsatzgruppe Egypt," this Jew-killing force was formed shortly after "Palestinian" leader Haj Amin al-Husseini, the Mufti of Jerusalem, personally visited Hitler in Berlin and offered the services of his people to the cause of the Third Reich. By then nationalism was burgeoning among the Arabs of Palestine who, motivated by their religious beliefs which taught hatred of the Jews and rejection of Jewish sovereignty over any territory previously under Islamic rule, were despairing of their own efforts to prevent the rebirth of the Jewish state. For them, the rise of Nazi Germany was an answer to their daily prayers for help from "Allah and the Prophet." Two years earlier al-Husseini messaged Hitler to congratulate him: "on the occasion of your great political and military triumphs, the Arab nation everywhere feels the greatest joy and deepest gratification on the occasion of these great successes. The Arab people confidently expect the result of your final victory will be their independence and complete liberation. They will then be linked to your country by a treaty of friendship and collaboration." In late 1941 al-Husseini arrived in Mussolini's Rome and, after conversing with Il Duce and the Fuhrer, got the Fascist and Nazi leaders to make a joint pronouncement committing their nations to helping in "the elimination of the Jewish national home in Palestine." Follow-up meetings between the Mufti and Hitler found an understanding, according to the American historian Howard M. Sachar, whereby Hitler's forces would invade Palestine with the goal being "not the occupation of the Arab lands but solely the destruction of Palestine Jewry." According to a report in Ynetnews Saturday, "the director of the Nazi research centre in Ludwigsburg, Klaus-Michael Mallman, and Berlin historian Martin Cueppers say an Einsatzgruppe was all set to go to Palestine and begin killing the roughly half-a-million Jews that had fled Europe to escape Nazi death camps like Auschwitz and Birkenau." This special death squad led by Obersturmbannfuehrer Walther Rauff was attached to Rommel's Africa Korps and was waiting in Athens for the British to be driven from the Levant. Wrote Mallman and Cueppers: "The central plan for the group was the realization of the Holocaust in Palestine." Though he may never have realized the wider impact of his actions, the great British general Bernard Montgomery saved the Jews of Palestine when he hurled Rommel's forces back at El Alamein. The "Einsatzgruppe Egypt" never left Athens. It was the beginning of the end for Hitler, who saw his primary calling and mission as being to "cleanse" the world, not just Europe, but of all Jews. His efforts to do so were facilitated by the centuries of Christian Judenhaas that preceded him, and notably by the teachings of the great reformer Martin Luther, to whose anti-Semitic railings Hitler appealed as he sought to justify the genocide of European Jewry. Even as he saw defeat coming, the Nazi leader frantically increased the efforts to realize his goal. His Einsatzgruppe were ultimately responsible, by their own admission, for killing one million of Hitler's six million Jewish victims. Much to the vexation of al-Husseini and his followers, they did not get to the Jews of Palestine. Nonetheless, the same hatred and religious fervor that drove the Mufti to applaud Hitler and seek to collaborate in his final solution persists in the Arab world today. "The only thing we have against Hitler," wrote popular Egyptian columnist Anis Mansour a number of years ago, "is that he did not finish with the Jews."
Olmert Hopes to Finish Withdrawal Plan in '08
April 10….(AP) Acting Israeli Prime Minister Ehud Olmert hopes to complete his plan to withdrawal from much of the West Bank and draw the country's final borders before the US presidential election in 2008, an Israeli newspaper reported Monday. Olmert, whose Kadima Party won last month's parliamentary election, had previously said he aimed to complete his plan by the end of his term in 2010. But Yoram Turbowicz, who is slated to be Olmert's chief of staff, said it needed to be finished while President Bush remained in office, according to the Yediot Ahronot newspaper. Olmert has said he wants international legitimacy for the borders he plans to draw, and his allies believe that Bush, who has indicated Israel will likely keep large settlement blocs under any final peace deal, would be amenable to his program. "We have a very tight timetable, because we seek the support of the US administration and President Bush. It has to be done by November 2008," Turbowicz was quoted as saying. Turbowicz, who spoke during talks with Kadima's potential coalition partners Sunday, said Israel would not hold a referendum on the plan, according to Yediot. Eyal Arad, a senior Olmert adviser, said there was no new timeframe for the plan, but Israel and the United States would have to agree on the borders several years before it was finalized. "Reaching an understanding with the US on the details is very likely to be done by '07, very roughly. But it is not a deadline," Arad said. Olmert has said he preferred to carry out his plan through peace talks with the Palestinians, but would take unilateral action if necessary. The election of the Islamic militant group Hamas in January Palestinian elections made renewed peace moves unlikely. On Sunday, Israel's Security Cabinet, a small group of top ministers, declared the Hamas-led Palestinian government a "hostile entity" and ruled out contacts with it, including peace talks with moderate Palestinian President Mahmoud Abbas. "The Palestinian Authority is one unit and does not have two heads," a government statement said, adding that Israel will work to undermine the Palestinian government. It also said Israel will boycott diplomats who have contact with Hamas. Palestinian lawmaker Saeb Erekat, an Abbas ally, called the recommendations "unfortunate." "Abbas stands fully ready to resume negotiations if the Israeli government chooses to do so in the future," he said. Israel has refused to deal with Hamas, demanding the militant group halt violence and recognize Israel. Violence between Israel and the Palestinians has also escalated in recent days with militants in northern Gaza launching homemade rockets into Israel and the army responding by pounding suspected launch sites with artillery. Hamas, whose militants have not participated in the rocket fire, said it would not take action to stop the launchings. "Rockets are one of the resistance tools," said Ghazi Hamad, a spokesman for the Hamas government. "Our people have the right to resist the occupation. The occupation is the problem and as long as the problem exists our people have the right to resist."
WEEK OF APRIL 2 THROUGH APRIL 9
The Rise of the Islamist Axis
April 7….(Caroline Glick) Russia's Novaya Gazeta newspaper reported that part of Ukraine's Soviet-era nuclear arsenal may well have found its way to Iran. With the breakup of the Soviet Union, the Ukrainians agreed to transfer the Soviet nuclear arsenal that remained in Ukraine after its independence to Russia. According to Novaya Gazeta, some 250 nuclear warheads never made it to Russia and are thought to have been sent to Iran instead. The report further noted that the warheads will remain operational until 2010. Responding to the report, Gen. Yuri Baluyevsky, Russia's deputy defense minister and the chief of General Staff, said, "Russia's General Staff has no information about whether Ukraine has given 250 nuclear warheads to Iran or not." It is impossible to assess the accuracy of the report. The Ukrainian government has dismissed its allegations. Russia may well have invented the story to shift media attention away from the growing awareness that Russian support for Teheran, Damascus and Hamas effectively places it in the enemy camp in the US-led war against global jihad. But whether this particular report is true or false, there is no doubt that the danger to Israel and the rest of the Western world emanating from Iran and its allies is growing by the day. In recent testimony before the US Congress, John Negroponte, director of National Intelligence, said that the danger that Teheran "will acquire a nuclear weapon and the ability to integrate it with ballistic missiles that Iran already possesses" is a cause "for immediate concern." Also this week, as the Web site Regimechangeiran noted, the American Foreign Policy Council published a report quoting Western intelligence sources as asserting that Iran is in the process of assembling intermediate range ballistic missiles with a range of 4,500 km. The extended range will enable Iran to hit almost all of Western Europe with nuclear warheads. The sources further maintained that Iran is already in possession of at least one nuclear bomb. Even if both Negroponte's testimony and the council's report are perceived by some as alarmist, this week Iran itself continued to make every effort to convince the world that assessments like these are grossly understated. Iran conducted an enormous naval exercise called "Great Prophet" in the Persian Gulf and the Sea of Oman. Almost every day of the exercise Iranian forces demonstrated new radar-evading ballistic missile systems. While Western defense establishments have had tepid responses to Iran's show of force, the regime built on its provocations Wednesday when the supreme commander of its Revolutionary Guards, Maj.-Gen. Yahya Rahim Safavi, issued a thinly veiled threat to close the Straits of Hormuz - the narrow waterway through which 40 percent of the world's oil passes. Iran's recent financial maneuverings also indicate general preparations for global war. The Swiss newspaper Der Bund reported the Iranian regime recently withdrew $31 billion of its gold reserves and foreign exchange from European financial institutions. Additionally, this week Iran renewed its gasoline rationing for the general public. While President Mahmoud Ahmadinejad's poisonous and apocalyptic rhetoric has caused the Western world to step away from him, Teheran is far from isolated. To the contrary, today Iran perceives itself and is perceived by others as the leader of a regional Islamist axis. In February Canada's Globe and Mail published a report in which Hussein Hajj Hassan, a Hizbullah member of the Lebanese parliament, declared that on January 20 the Islamist Axis was formally cemented in Damascus. The parley which brought about the entente was led by Ahmadinejad and attended by axis members Syrian President Bashar Assad, Hizbullah chief Hassan Nasrallah, Hamas chief Khaled Mashaal, Islamic Jihad chief Ramadan Abdullah Shalah and the commanders of PLO breakaway front groups. Iraqi Shi'ite terror chief Muqtada al-Sadr also pledged his allegiance to the axis. The jihad summit took place five days before the Palestinian elections and on the same day a suicide bomb exploded in Tel Aviv. Damascus's response to the establishment of the axis and to Hamas's electoral victory has been dramatic and disturbing. It has harshly curbed all liberal political opposition to the Ba'athist regime. Voices of such dissent were empowered by the firm international position taken against Syria during the UN investigation of the assassination of former Lebanese Prime Minister Rafik Hariri last year. Today many opponents of the regime are in prison. At the same time, Assad's Alewite minority regime, that has been radically secular since its establishment in the 1960s, is beginning to open up to Islamist forces. Michael Slackman, the New York Times correspondent in Damascus, reported the change in the general atmosphere on Wednesday. He explained that current situation reflects "at least in part a growing sense of confidence because of shifts in the Middle East in recent months, especially the Hamas victory in Palestinian elections, political paralysis in Lebanon and the intense difficulties facing the United States in trying to stabilize Iraq and stymie Iran's drive toward nuclear power." So in a nutshell, members of the Islamic axis believe that they are on the march and that America and Israel are on the retreat. Although not present at the January jihad powwow in Damascus, al-Qaida is intimately engaged in this Iran-led Islamist alliance. Britain's Sunday Mirror reported that today al-Qaida forces operate within Iran's Revolutionary Guards units in Iraq. Both the IDF and Palestinian Authority Chairman Mahmoud Abbas admitted last month that al-Qaida units are operating in Gaza. Al-Qaida has carried out attacks against both Jordan and Israel from Jordan and against both Israel and Egypt from its entrenched bases in the Sinai. Its commander in Iraq, Iranian ally Abu Musab Zarqawi, has made it clear that al-Qaida has now made attacking Israel one of its top priorities. This week, the Daily Telegraph reported that Iranian Revolutionary Guard forces now control Hizbullah's posts along the border with northern Israel and are developing an advanced intelligence gathering network for spying on Israel. As senior IDF commander told the paper that Hizbullah posts built and fortified by the Iranians just meters away from the international border are "now Iran's frontline with Israel. Unfortunately, with all due respect to the IDF, Israel's enemies know that the IDF is wholly subordinate to the political leadership, and no longer take its signals seriously. From Gaza to Teheran our (Israel) enemies are acutely aware of the weakness of our political leadership and its unwillingness to contend with them. The policy of the Olmert government is to withdraw into pre-Six Day War boundaries, and hope that the Axis of Evil in Damascus is pacified. For more than two years, the Israeli government and media have told the public that no matter how our enemies threaten us, they can do us no harm because America is protecting us. Protected by America, Israelis are told that we have no reason to fear the consequences of IDF retreats and the transfer of vacated lands to Hamas. Sadly, this promise is largely untrue. The Bush administration today is bogged down in a swamp of strategic paralysis and political distress that prevent it from designing clear policies regarding the war against global jihad. American policy towards the Palestinians is case in point: One day the Bush administration announces that it is cutting its ties with the Hamas-led Palestinian Authority and the next day it demands that Israel keep the borders with Gaza open and promises to find a way to give direct aid to the Palestinians that somehow will not strengthen Hamas. The Wall Street Journal noted that during her weekend pit stop in Baghdad, US Secretary of State Condoleezza Rice came down publicly against Prime Minister Ibrahim al-Jaafari's bid to maintain his position in the next government. Rice and her British counterpart, Jack Straw, announced their governments' support for Finance Minister Adel Adul Mahdi, who serves as the head of the Supreme Council for the Islamic Revolution in Iraq, which is known to have strong relations with Teheran. Rice's heavy-handed interference with Iraq's democratic processes goes hand in hand with the administration's decision to open direct negotiations with Iran for the first time since the Khomeini revolution in 1979. On Saturday, direct US-Iranian negotiations on the stabilization of Iraq are scheduled to begin. And as if the Bush administration's decision to legitimize Iran's destabilizing position as a power broker in Iraq weren't enough, German Foreign Minister Frank-Walter Steinmeier met with Rice in Washington and urged her to open a direct dialogue with Iran on its nuclear weapons program. All of these recent developments demonstrate that the members of the Iran-led Islamist axis are actively pursuing and indeed progressing in their quest to encircle Israel and entrap the US.
Sharing The Resurrection
April 7….(Charles Stanley) Thanks to Jesus Christ's victory over the grave, every believer can anticipate eternal life with God. Our share in the Resurrection also means that we will take part in Jesus' return and His reign. A popular but erroneous theology says that deceased saints experience "soul sleep" and remain in the grave until Christ returns. The truth is that when the trumpet blows, Jesus will bring with Him those souls who have already entered heaven, including every single believer who has died since Adam. As they descend, graves will open and bodies will be gloriously transformed as they rise to meet their spirit selves in the air. Finally, the faithful who remain alive will ascend to join Jesus and the saintly host. (1 Thessalonians 4:13-17) If we pass from this life before Christ comes to earth again, we will not sleep in a casket. We will be with Him! Resurrected believers will remain with Jesus as He reigns and abolishes every other political system and power position. Our responsibility is to live obediently in His kingdom until the Son presents us to the Father as a gift. With us, God will restore His kingdom to what it could have been originally if man had never sinned against Him. One problem believers sometimes face is tunnel vision: if we become focused on our personal problems and needs, we can forget who we are in Christ and what He has in store for us. This world with all its troubles will pass away. Then we will revel in our new positions, as heaven-bound saints and partakers in the return and reign of Christ.
Venezuela Takes on Exxon Mobil in Oil Play
April 7….(AP) Venezuela had a blunt message last week for Exxon Mobil, one of the world's most powerful oil companies: Get off my crude-rich turf. Venezuela is tightening its squeeze on the oil industry, telling oil companies to give the state a greater share of profits, or get out. Venezuela's Oil Minister Rafael Ramirez said Exxon Mobil Corp. was one of the companies that would "prefer to leave, rather than adjust" to recent policy changes. "We said we don't want them to be here then," Ramirez told the state TV broadcaster adding, if "we need them, we'll call them." Exxon Mobil indicated that it had no plans to pull out. "Exxon Mobil de Venezuela continues to have a long-term perspective of its activities in Venezuela," it said in an e-mail to The Associated Press. The flap helped push the price of oil above $67 a barrel on the New York Mercantile Exchange on Thursday as the market reacted to the latest sign of tighter state-control of energy around the globe. Venezuela is taking on Big Oil at a time when rising oil prices, political instability in the Mideast and Nigeria and new buyers in Asia have put the world's fifth-largest oil exporter in a winning position. After snubbing Exxon Mobil, Ramirez said Venezuela has other eager partners, including state companies from Russia, Iran, China, India, as well as traditional oil companies. The government has increasingly sought projects with state-controlled oil companies that it deems fore ideologically friendly. Last year, Venezuela granted exclusive licensing rights to certify and quantify reserves in blocks in the Orinoco tar belt to seven companies, including China's CNPC, India's ONGC and Iran's Petropars. The trend is driven by President Hugo Chavez's distaste for corporate multinationals, which he accuses of looting his country's oil wealth over the years. Since taking office in 1999, his government has passed legislation requiring a majority government stake in all oil production projects, hiked taxes and royalties on oil companies, and begun to collect millions of dollars in what it claims are unpaid taxes from the oil companies. Chavez is a close ally of Cuba's Fidel Castro, and the two leaders are virulently against big American Oil Companies, that they see as big business enterprises that are turning huge profits while robbing their peoples.
Peres Invites Pope to Israel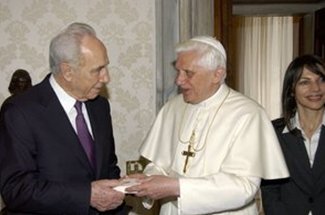 April 7….(Ha Aretz) Pope Benedict XVI is considering visiting Israel in the first part of 2007, Shimon Peres said Thursday after meeting with the pontiff at the Vatican. Peres renewed an invitation, first made last year by Prime Minister Ariel Sharon, for the pope to visit the country. "He indicated that he may do it in the first part of next year," Peres told a news conference. Vatican spokesman Joaquin Navarro-Valls confirmed the invitation had been extended in a statement, but gave no details on the pope's response. Pope John Paul II visited the Israel in 2000, meeting with Israeli officials as well as former Palestinian Authority chairman Yasser Arafat during a stop in the Palestinian territories. Benedict has continued John Paul's outreach to the Jews, visiting a synagogue in Cologne, Germany, during his first trip abroad last year. Navarro-Valls said that Peres' meeting with the pope and the Vatican secretary of state, Cardinal Angelo Sodano, also covered discussions of peace prospects in the region.
Oil Prices Hit Records on Iran, Nigeria Concerns
April 7….(Business Report) Oil analysts have raised their 2006 forecast to a record average price of $63 (R379) a barrel on concern that unrest in Nigeria and the Iran nuclear showdown will reduce exports. The average price of crude oil on the New York Mercantile Exchange would rise $6.30, or 11 percent, from last year, according to the median estimate of 30 strategists in a Bloomberg survey. Analysts taking part in the survey three months ago had predicted that prices would average less than $52 a barrel this year. Oil was at $67.73 a barrel in New York early yesterday morning. Its price has tripled in the past four years. Last year's average price of $56.70 was a record for a full year. Until the past six months, analysts and strategists incorrectly predicted lower prices. Kevin Norrish, the director of commodities research for Barclays Capital, said oil might reach the mid-$70s. Acceleration of the world economy would lead to faster energy demand growth. Oil prices were bolstered in the first quarter by speculation that Iran might cut exports to retaliate against any UN sanctions related to its nuclear program. In Nigeria, the kidnapping of oil workers and other violence in January showed a growing threat to the country's exports. And in Iraq, violence and instability plagued efforts to boost output. Iraqi oil production was about 1.8 million barrels a day in March, or 7 percent below the average output in 2004 and 2005.
Who's Pulling Strings of Illegal Alien Activists?
(CFR globalists, Ford Foundation, Soros among puppeteers)
April 7….(WND) America was stunned by massive rallies of half a million in support of illegal aliens in both Chicago and L.A. But two reports in the latest issue of Joseph Farah's G2 Bulletin suggest no one should be surprised because these movements are well-organized, well-funded and directed by the hidden hands of globalist foundations with a one-world agenda. In fact, three of the four major Hispanic activist groups behind the recent rallies receive massive funding from the Ford Foundation as well as more limited support from Carnegie and Rockefeller. And who is promoting President Bush's plan for even easier and more expedited movement of people between Mexico and the US by 2010? It's the Council on Foreign Relations, a group some consider a shadow government of elitists unaccountable to either the US Constitution or the American people. There are some more likely suspects behind the radical demands for reparations, a sovereign Hispanic state in the southwestern US and even expulsion of non-indigenous people from the Americas, people like George Soros, who financed much of John Kerry's presidential campaign.
Russia Forming Ties With China to Offset Western Clout
April 6….(Washington Times) Russia is boosting its political, economic and military ties with China as both countries look to counterbalance US global influence, analysts say. On a recent visit to Beijing, Russian President Vladimir Putin hailed the burgeoning relationship as a model of international cooperation. "Russia and China are two of the largest powers in the world, and our relations are more than just a factor of geopolitical stability. They are an example of an open international partnership that is not directed against any third country and that helps develop a better and more just world order," Mr. Putin said on Chinese television. Mr. Putin's visit marked the fifth time he has met with Chinese President Hu Jintao in less than a year and led to a Russian pledge to step up energy supplies to China by opening a gas pipeline within five years. Mr. Putin started pursuing this idea of a Eurasian strategic alliance between Russia and China," said Andrei Piontkovsky, an independent analyst and visiting fellow at the Hudson Institute. "He's become obsessed with pushing an anti-Western, and especially anti-American, foreign policy." Russia has been coming under increasing fire from Western governments, including Washington, for backsliding on democracy. Since coming to power in 1999, Mr. Putin has stifled an independent press, cemented Kremlin control over parliament, eliminated elections for regional governments and imposed new restrictions on nongovernmental organizations. At the same time, his support for autocratic leaders in Belarus and Central Asia has strained relations with Western governments seeking to promote democratic reform in the former Soviet Union. Some critics have called for Russia to be expelled from the Group of Eight club of wealthy democracies, of which Mr. Putin is chairman this year. "Russia is moving away from basic Western values and increasingly moving toward the Chinese model, so Putin feels more comfortable dealing with the Chinese," said Yevgeny Volk, head of the Heritage Foundation's Moscow office. "Also, they share the common goal of countering American influence, especially in Central Asia." The Russian economy is largely dependent on oil and gas production, while China is the world's second-largest energy consumer behind the United States. China is the second-largest buyer of Russian weapons after India and last year helped boost Russian arms exports to a record $6 billion. Cooperation between the two countries is moving far beyond business. In August, the two countries held their first joint military exercise, in which nearly 10,000 troops took part in land, air and naval war games. A second round of joint exercises is planned for next year. On the international level, Russia and China have been at odds with Western governments over issues such as imposing sanctions on Iran and meeting with representatives of the radical Palestinian group Hamas.
Israel Wants Peace, But At What Cost?
April 6….(Bill Wilson/KIN) Israeli politicians and citizens alike want peace, but in the long run, they may not be willing to relinquish all that the new Olmert government may want to give in order to attain peace, according to several interviews conducted in Israel by Koenig's International News (KIN). Chemi Doron, a Member of the Knesset who was defeated in the recent elections, told Koenig's International News (KIN) that the new government of Prime Minister Ehud Olmert may initially put together a coalition that wants peace and will work together toward that end. But Doron says Olmert is not Sharon and does not have anywhere near the political standing and strength to move a coalition comprised of the Labor, Shas and other parties into total agreement on disengagement for Judea and Samaria. Doron says the coalition is not steady and will eventually fall apart when the tougher issues of disengagement arise, such as the disposition of Jerusalem and the right of return for Palestinians. In the end, Doron, who intends to run for the Knesset again, says the United States will try to pressure Israel to complete the so-called "roadmap for peace," but will possibly end up with some other agreement. Doron believes disengagement is a "huge mistake" because it will result in a new base of terror. Even some citizens of Israel are skeptical of how they just voted. One typical example is that of an older man from Galilee who said that he was part of the "Peace Now" movement in Israel. He said he had made a wrong choice in the election. He said that he has been talking to many Palestinians since the election and now realizes that Olmert has a big problem on his hands. He said that the forming of a coalition of politicians to lead Israel to establish its borders and to achieve peace will not work. Not because such a coalition can not be formed, but because of the Palestinians. He said that the Israeli government will not be able to talk to, let alone, negotiate with Hamas. He explained that demands to give Palestinians, whoever they are, the right of return; to turn over Jerusalem to establish a Palestinian capitol; and to give up all the land, not just Samaria and Judea are unreasonable. He said that Israel would not be able to establish defensible borders if these three demands were met. And he said that he remembers staring down the barrels of guns held by Jordanian soldiers and that if you give up a kilometer of land, they will demand yet another meter. And if another meter is given up, the Palestinians will insist on another centimeter. Meanwhile, Mark Regev, spokesman for the Israeli Foreign Ministry, said that to date there is no evidence Hamas has moderated its position that Israel must be destroyed. He said that the Palestinian Authority must understand that if they attack from Gaza, Israel will respond. "We will have defend our citizens the we have to," Regev said. "The preference of Prime Minister elect Olmert is to hold out the hand for peace. If the Palestinians do not agree to a process of peace, and at the moment unfortunately the signs are negative, it will be Israel's decision. We'll have to decide, one, we can stay status quo or we can say we will make changes that we think will make Israel stronger and more capable of meeting future challenges." More than several Israeli citizens said it will be impossible to have peace with a band of renegades who want every Jew eliminated because whatever is given, more is expected. Yet the Israeli citizens voted last week to cautiously pursue resetting of Israel's borders by giving up the covenant land God promised them. Why? Because, as they say, "We foolishly hope for peace." Proverbs 17:28 says there is a blessing in this: "Even a fool, when he holds his peace, is counted wise." And Isaiah 48:22 proclaims, "There is no peace, says the Lord, unto the wicked." Intent of the heart, wicked or pure, will determine the physical peace of Jerusalem. But true peace will only come with Jesus Christ
Olmert Fashioning New Israeli Government
April 6….(FOJ) Although he clearly did not win a mandate as Prime Minister of Israel, Israeli President Katsav has requested the majority Kadima Party head to form a new government for Israel. Mr. Olmert, a former mayor of the city of Jerusalem, and a lifelong political bureaucrat was instrumental in persuading Likud Party leader and recent Israeli Prime Minister Ariel Sharon to abandon his staunch positions of maintaining and settling the West Bank territory that Israel acquired in war launched by its Arab neighbors. Sharon was elected as Prime Minister because of his reputation for defending Israel, and for taking actions to drive terrorism from the disputed territory that many Israeli's feel is in fact part of their rightful ancient homeland. It is ironic that Sharon is now sidelined, and Ehud Olmert, a political ideologue of Shimon Peres is now in a position to take over the leadership of Israel. Peres, a peace-now peace-nik, and founder of the Peres Peace Center has always supported a move to trade the precious portions of the Promised Land in a fool-hearty attempt to placate Israel's enemies, ala Neville Chamberlain in the 1930's with Adolph Hitler. Mr. Peres has enjoyed immense political favor internationally because of his willingness to coerce Israel into land-for-false peace compromises. Shimon Peres was noted for dragging Yitshak Rabin down the land-giveaway path, and was rewarded by the Peace at any Price International Globalists with the Nobel Peace Prize along with Yasser Arafat. Peres has never been able to win the Israeli Prime Minister's position in an election, but he more than anyone else in Israel has influenced the politics of he nation. Now, with Olmert in his pocket, Peres is essentially calling the shots (with backing in the international arena) as Israel is forced to travel down the Quartet-sponsored Roadmap to Peace. Politics does indeed make for strange bedfellows. And that is why the Likud and Benjamin Netanyahu are left out in the cold.
Who Owns the Holy Land?
April 6….(Hal Lindsay) The whole world is being drawn into the current conflict over the Holy Land. The Bible predicted that just such a situation would develop in the "Last Days." As predicted, two ancient peoples are at the center of the controversy, the Arabs and the Israelites. The Arabs call the land Palestine. The Israelites call it by its ancient name, Israel. There are unique and extraordinary circumstances in the history of these people, which cause much misunderstanding by most people today. First, they both originated from the same forefather, Abraham, 4,000 years ago. The Israelites, commonly called "Jews" today, descended from Abraham through Isaac and Jacob. The Arabs descended from Abraham through Ishmael and Esau. Second, God chose Abraham's line through Isaac and Jacob to be the recipients of several covenants that established them as his special representatives on earth. Basically they were chosen for the following purposes:
* To receive, write and preserve His Word to man, which we call the Bible.
* To be an example of the blessing that comes from believing in and following the true God.
* To be the physical race through whom the Messiah, the Savior of the world would be born.
* To spread the revelation of how to know God personally.
In order to accomplish these purposes, God made unconditional promises to them that involved making them a unique nation with an everlasting title deed to specifically defined land. Historically, the descendents of Ishmael and Esau have felt that somehow they were cheated. This created an enmity that has smoldered and burst into flames at various times in history. God forewarned the Israelites through Moses that their nation would twice be destroyed for failing to obey Him. The second destruction would be far more severe than the first, the people would be scattered throughout every nation under heaven. They would be persecuted and have no assurance of life. This was literally fulfilled, beginning with the Roman destruction of Israel and Jerusalem in AD 70 (Deuteronomy 28:64-68 and Luke 21:20-24). This dispersion began to draw to a close in May of 1948 when, against all odds, Israel was reborn as a nation. This has created unique problems for the world. Never before has a people been scattered for almost 2,000 years, remained virtually a nation in exile, returned to claim their ancient homeland and then been reborn as a nation. The Arabs and all Muslims say Israel has no right to this land because they took it for Allah by Jihad, or holy war, centuries ago. According to their belief, Mohammed ascended to heaven from Jerusalem. Therefore, it is considered their third holiest place. The secular world, especially Europe, sees the state of Israel as a nuisance that hinders the free flow of oil from the Arab nations. So they mostly side with the Arabs for economic reasons. There are two different attitudes toward Israel's right to statehood in the Holy Land among Christians. One group interprets Bible prophecy in an allegorical sense and says that Israel forfeited its covenant rights when it rejected Jesus as Messiah. A few in this group say that Israel in any event can never be given the land by God until they repent and believe in the true Messiah. Then there are those Christians (and I am one of them) who simply take at face value what God has promised the Israelites. The prophecies of Ezekiel chapters 36 through 39 are one example. They all focus on the present Arab-Israeli conflict, which closely precedes the Messiah's coming to set up God's promised kingdom to Abraham's believing descendents. First, God warns all of the nations that surround Israel, "Thus says the Lord God, 'Surely in the fire of My jealousy I have spoken against the rest of the nations, and against all Edom, who appropriated My land for themselves as a possession with wholehearted joy and with scorn of soul, to drive it out for a prey.'" (Ezek. 36: 5) "Edom" refers to the Arabs descended from Esau. The surrounding nations are all Muslim today. Note that God says, "My Land." The Muslims don't own it, neither do the Jews, God owns it. He gives it to whom He chooses and not on the basis of human merit. Second, God declares to whom and why He is going to give the Holy Land, "Therefore, say to the house of Israel, 'Thus says the Lord God, 'It is not for your sake, O house of Israel, that I am about to act, but for My holy name, which you have profaned among the nations where you went. And I will vindicate the holiness of My great name which has been profaned among the nations, which you have profaned in their midst. Then the nations will know that I am the Lord," And then, "For I will take you from the nations, gather you from all the lands, and bring you into your own land. Then I will sprinkle clean water on you, and you will be clean, I will give you a new heart and put a new spirit within you," (Ezek. 36:22-26) The Bible clearly shows that God is going to give "His Land" to Israel. Not because they deserve it, but because His great name is at stake. God cannot break a promise. It is after this that God will bring the Jews to repentance and give them a new heart. He will accomplish this through delivering them from a coming war that will almost destroy the world. God disciplines His own for disobedience, but He never disowns them. We who are Christians can thank God for that, or we would have all been disowned. God has thrown his gauntlet into the international arena with His promises to Israel. And Hell will freeze over before He fails to fulfill them, though the whole world tries to prevent it.
"THANKS TO AMERICA'S DEFENDERS"
April 5….(FOJ) View this short movie clip.
Israel, US Iranian 'Rope A Dope' Strategy is Prophetically Significant
FOJ Note: This brief article by Bill Wilson is an excellent observation on the Iran-Russia nuclear scenario. The Iranian nuclear threat has direct implications for Tribulation era events. The big questions that must be considered are: "what part does the US play in the interim before Persia pulls Russia down against Israel?" Will the US, as it is presently constituted still be around when Russia moves into the Middle East?
April 5….(Bill Wilson) The United States and Israel are playing into prophetic fulfillment by adopting a strategy to use Russia and China to apply international diplomatic pressure on Iran to freeze its nuclear program while other, more effective options, can be developed. This "rope-a-dope" plan, however, may play into the fulfillment of the Ezekiel 38 prophecy that pits Russia and Iran against Israel in a latter-day military battle. The US and Israel have taken the posture that diplomacy should be exhausted before any military action should be employed in the Iranian nuclear showdown. Iran has also taken the strategy that all diplomacy should be exhausted pertaining to its situation. Both sides are saying that time, not action, breaks in their favor. This, however, is a very dangerous strategy for the West because it favors Iran. Iran believes that if it negotiates long enough, it will stall any United Nations sanctions against it while the rogue nation develops its nuclear program. The US and Israel believe that Russia and China will pressure Iran to freeze its nuclear program. The idea is that, if successful, enough time will be bought to activate another, more viable solution in the future. Spokesman for the Israel Ministry of Foreign Affairs, Mark Regev told Koenig's International News, "If through international pressure, you are not going to change the mindset of that extremist regime, but you are slowing down that process, you are buying time and other things are going to happen. If we could have a diplomatic solution that could freeze the program to slow it down ten years, that's ten years of breathing space and then you could work on other solutions." Regev said, "Politics in the real world is doing what is possible and not waiting for perfect solutions." Regev said that the US and Israel are counting on Russia and China to pressure Iran into freezing its nuclear program. He said he hopes the Europeans, Russians, the Chinese and a strong international coalition will unite and say to the Iranian regime, "either you cease your aggressive nuclear program or you burn your bridges with the organized community of nations." The Russians and Chinese, however, are not on board with intensifying pressure on Iran, although Regev believes that even though the Russians are helping Iran build its nuclear program, Russia does not believe it's in the best interest of Russia that Iran has a nuclear weapon. History, however, would dictate otherwise. Russia always has been a cunning power player in the Middle East and it now wants to re-establish itself to its former Soviet powerbase in the area. While America and Israel may believe Russia doesn't want Iran to have nuclear weapons, Russia may believe that by helping Iran join the nuclear club, Russia will benefit as an ally to Iran. And prophecy would also confirm this strategy because Ezekiel 38 says that Gog, modern Russia, and Persia, modern Iran, will come against Israel. The Lord says in Ezekiel 38:16, "You shall come up against my people of Israel, as a cloud to cover the land; it shall be in the latter days." We are moving closer each day to the fulfillment of this prophecy.
Al-Zahar: We Want 'Palestine State From River to Sea'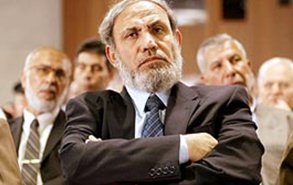 April 5….(YNET) A day after he accepted an invitation to visit China, Hamas new Palestinian Foreign Ministry Chief Al Zahar says Israel should be eradicated altogether. Israel must not be recognized and the Palestinian Foreign Ministry should aim to establish a Palestinian State from the Jordan River to the Mediterranean, in place of the Jewish State, PA Foreign Minister Mahmoud al-Zahar said according to Palestinian media reports. Al-Zahar made the remarks during his first meeting with Foreign Ministry officials and ahead of the first session to be held by the Hamas-led Palestinian government. The Hamas-led government's first session will be held Wednesday in Ramallah and Gaza and be headed by Prime Minister Ismail Haniyeh. The session will be held via satellite, with more than half of the government ministers staying in Ramallah. No diplomatic declarations are expected during the meeting, which will be mostly dedicated to internal Palestinian affairs, and particularly efforts to battle the financial crisis faced by the PA through a three-month emergency plan. Meanwhile, the Palestinian street is closely monitoring the new government's conduct and its chances of survival, while Hamas works to end the growing isolation faced by the government. Elsewhere, London-based Arabic-language newspaper al-Hayat reported that Fatah is considering the establishment of a shadow cabinet that would operate along the Hamas government and be ready to take its place should the official government collapse. Ahead of Wednesday's session, several Hamas ministers met Tuesday with Palestinian Authority Chairman Mahmoud Abbas to discuss ways for the government and PA leader to work together. PA sources estimated that the delays in salary payments would in fact mark the beginning of the government's countdown toward collapse, but Hamas officials said that the movement plans on undertaking all efforts in order to prolong the government's life "for the sake of the Palestinian people
Russia Eyes Lost Oil Contract in Iraq
April 5….(Washington Times) Russia's largest oil company, Lukoil, is looking to the formation of a new Iraqi government as an opportunity to deal itself back into that country's huge West Qurna oil field, regaining a lucrative contract it lost in December 2002 as coalition forces were building up for the 2003 invasion. Iraq's foreign ministry, seeking Moscow's help with some troublesome neighbors, has noted that Russian companies such as Lukoil understand Iraq's oil industry and environment because of their long history in the country. "We hope the formation of a new government in Iraq will allow us in 2006 to start negotiations on recovering West Qurna," Andrei Kuzyaev, president of Lukoil Overseas, said at a conference in London in February. Iraqi Foreign Minister Hoshyar Zebari asked for Russian help in November to end interference in its internal affairs from Syria and Iran, and has said that Lukoil offers Iraq needed technological and financial capabilities. Lukoil and Saddam Hussein's government in 1997 signed the $3.7 billion development and production contract for the giant West Qurna field, one of Iraq's largest with an estimated 11 billion to 15 billion barrels located in North Rumaila, west of Basra. The Iraqis abruptly canceled the contract in December 2002, charging, not without merit, that Lukoil had failed to honor a provision requiring that it spend at least $200 million on the field within the first three years of the contract. However, the energy newsletter Middle East Economic Survey reported at the time that the Iraqis were angry because Lukoil executives were hedging their bets on the expected US invasion, even as Moscow was working at the United Nations to head off the attack. Deputy Prime Minister Tariq Aziz was quoted in Canada's National Post on Dec. 17, 2002, saying, "Lukoil went to Washington to get assurances that their contract will be implemented after the removal of the Iraqi regime. Such conduct cannot be accepted." Despite losing the contract, Lukoil worked at maintaining good relations with Iraqi administrations that succeeded Saddam. During the summer of 2004, it gave Iraq millions of dollars in humanitarian aid and provided training for Iraqi oil specialists at its facilities in Western Siberia and Volgograd, according to the Energy Information Administration, a department of the US Department of Energy. Such aid is a "starting point for Russian companies to begin implementation of oil projects in Iraq," Lukoil President Vagit Alekperov said in September. Now, with a permanent government to be established in Baghdad, Lukoil has reason to hope for the best. The Iraqi oil ministry announced in June that an inter-ministerial committee would be set up to review oil contracts signed under the Saddam regime, and that it would renegotiate existing oil-development contracts with France's Total as well as Russian and Chinese energy firms. The newly elected parliament, meanwhile, is expected to create a petroleum-investment law in line with the new constitution once a government is in place. "The process of negotiation is a joint process between the government and the provinces, but the ownership of the oil is for the Iraqi people," Deputy Prime Minister Ahmed Chalabi said. Lukoil may think its prospects are improved by the participation of US-based ConocoPhillips, which now holds a 17 percent stake in the Russian company and has announced plans to increase its stake to 20 percent. However, US officials say the decision will be made by the Iraqis, not the Americans. "We're not involved in this decision-making," a State Department official said. "Oil policy and decision-making regarding Iraqi oil assets are firmly under the control of the Iraqi government." Jamal Qureshi, lead analyst at the Washington-based energy consulting firm PFC Energy, noted that the United States does have advisers at the oil ministry who assist Iraq in its decision making. "Who will have authority to negotiate these contracts will largely depend on how centralized the government will be," he said. "But with Iraq on the verge of civil war, the prospects are not good. There is a need for a more secure environment." Insurgents from Syria and Iran have attacked pipelines and other oil installations nearly 300 times since 2003.
Discernment of Prophecy
April 4….(FOJ) There is a prevailing spirit of indifference in most of today's churches relative to the study of the prophetic word. Many church members today outright renounce the study of prophecy. Still, another cross-section of church people tends to complain that prophecy is impossible to comprehend, and that it is so impersonal and dull. Sometimes all the sarcasm heaped upon the prophetic word of God makes me wonder if they are even members of the blood bought bride. The opening statement of The Revelation clearly reveals that the prophetic word was conveyed to the servants of our Lord. (Revelation 1:1-3 The Revelation of Jesus Christ, which God gave unto him, to shew unto his servants things which must shortly come to pass; and he sent and signified it by his angel unto his servant John: Who bare record of the word of God, and of the testimony of Jesus Christ, and of all things that he saw. Blessed is he that readeth, and they that hear the words of this prophecy, and keep those things which are written therein: for the time is at hand.) The word for servants from the Greek is "doulos" and refers to the bondsmen or slaves of the Master. The Revelation was conveyed unto us, the servants to show us the future tings that shall come to pass. Therefore, the prophetic word of God should be of immense value to his servants. When people demonstrate a devaluing interest in the prophetic word, it makes me wonder if they are indeed a servant of the Lord. And also, The Revelation makes it clear that "only true servants" of the Lord will be able to discern the prophetic word. Bible Prophecy cannot be comprehended and understood by those who are not taught of the Holy Spirit, or who are not included among the bondservants (friends) of the Lord Jesus Christ!
Hamas Foreign Minister Invited to China
(FOJ Note…..First Russia extends invites to Hamas, now China…no need to guess where Russian and China stand in regards to Middle East terrorists groups, and Israel)
April 4….(AP) The new Palestinian foreign minister from Hamas announced today that he has been invited to China next month for what would be his first trip to a non-Arab country since the Islamic militant group took office. Many countries have said they would shun the new Hamas government, sworn in last week, because the group refuses to recognize Israel and renounce violence. However, Foreign Minister Mahmoud Zahar has received invitations from several Arab countries, including Egypt, which he plans to visit next week. Zahar announced the trip to China after meeting with the Chinese representative to the Palestinians, Yang Wei Guo. Yang was the first foreign diplomat to meet with Zahar since the government was sworn in. Zahar said the trip to China would precede an international conference he is attending in east Asia at the end of May. "The Chinese told us that they are ready to receive a Palestinian delegation at any time," he said, adding that "we highly appreciate this visit, which we consider the first official visit by a foreign diplomat to the new Palestinian government." Yang said that China respects the "democratic" choice of the Palestinians, referring to Hamas' election victory two months ago. "We discussed the joint relations and the bilateral projects and we hope to continue and strengthen the cooperation and friendship in the future," he said. "China will continue to support the Palestinian people in their legitimate struggle to restore their national rights." Zahar was part of the high-level diplomatic team that visited Russia in early March at the invitation of President Vladimir Putin. The trip was the first crack in an international front against Hmas, whose suicide bombers have killed hundreds of Israelis. It provoked anger in Israel and surprise among Russia's fellow members in the Quartet of Middle East mediators, the United States, the European Union and United Nations, which had agreed to withhold international recognition from Hamas until it moderated its stance.
With Friends Like Russia and China, Iran Gets By The UN
April 3….(World Tribune) So far the UN Security Council has failed to even slap the wrist of Iran's Atomic Ayatollahs for their uranium enrichment program. Indeed the Security Council unanimously passed a non-legally binding Presidential Statement calling on Teheran to cease elements of its nuclear research and development and to refer the whole issue back to the Vienna-based International Atomic Energy Agency (IAEA). So after weeks of diplomatic deadlock, the Security Council produced a non-legally binding Presidential Statement, not a resolution, which despite its many references to "serious concern" over Iran's proscribed nuclear proliferation activities, sets no consequences, outlines no sanctions nor places any rhetorical lines in the sand. Still American Ambassador John Bolton, said the vote "sends an unmistakable message to Iran that its efforts to deny the obvious fact of what it is doing, are not going to be sufficient." Islamic Iran for its part took on a characteristically defiant posture with their UN Ambassador stating brusquely that his country was "allergic to pressure and threats and intimidation." Certainly the Security Council underlined the crucial importance of re-establishing full and sustained suspension of all uranium enrichment-related and reprocessing activities, including research and development. Moreover the statement expressed the conviction that Iran's full and verified compliance would guarantee that its nuclear program was for exclusively peaceful purposes. Specifically the statement notes "the particular importance of re-establishing full and sustained suspension of all enrichment-related and reprocessing activities, including research and development, to be verified by the IAEA." Indeed Iran's nuclear development has two elements, Russian reactors for civilian electric production, but beyond that illegal scientific research serving as the building blocks of an atomic bomb. Clearly the Council's five Permanent members have the usual split; the US, United Kingdom and France are well beyond being "seriously concerned" over the Islamic Republic of Iran's nuclear proliferation. The Europeans, especially Germany, are united over thwarting any further tricks from the mendacious mullahs. Over the past three years while Britain, France and Germany talked with Teheran over the nuclear issue, Islamic Republic took the scientific steps such as uranium enrichment which brings the regime closer to producing atomic weapons. Still once this matter went into the Security Council, the game became infinitely more complicated. Russia and the People's Republic of China, both allies of Iran, could and probably would, veto any tough resolution. In the current case they even seriously watered down the statement. Both have deep commercial and energy ties to Iran and neither Moscow nor Beijing wish to see any criticism of Teheran go beyond polite rebukes. That's precisely why earlier drafts of the Presidential Statement which had specific demands upon Iran were also deleted. Russian Foreign Minister Sergei Lavrov, stated "any ideas involving the use of force or pressure in resolving the issue are counterproductive and cannot be supported." Moscow's tough tact over Iran, despite silly optimism of a change in some Western capitals, show that in the final analysis national interests in Russia and China will sufficiently stall, sidetrack or stop the Security Council from taking meaningfully powerful measures against the Islamic Republic of Iran. While Secretary of State Condi Rice stated "Iran is now more isolated than ever," don't be so certain that Washington will get the results it wants. Given that Iran remains the world's second largest oil producer in the Organization of Petroleum Producing countries (OPEC), don't assume that Teheran's radical fundamentalist regime would not be willing to jolt global markets with a few well placed threats. The diplomatic compromise then appears the classic Hobson's Choice, take what you can get as the options are increasingly limited.
Hamas Leader Mahmoud al-Zahar: No Room For Israel
April 3….(YNET) Palestinian Foreign Minister Mahmoud al-Zahar said in an interview to the Chinese news agency: "I dream about hanging a huge map of the world on the wall of my Gaza house, in which Israel will not appear." "I hope that our dream of having an independent state on the entire territory of historical Palestine will be realized one day, and I
am sure that there is no room for the State of Israel on this land," he added. In the interview, al-Zahar did not reject the possibility of Jews, Muslims and Christians living together under the sovereignty of a Muslim state. He defended Hamas' declared goal of destroying the State of Israel, and said that he is convinced the world will eventually understand things. Al-Zahar declared that Hamas will not disarm its military wing, adding that the Hamas government will continue to support armed organizations opposing the Israeli occupation. "Why should we disarm the militants with the Palestinian territories still under occupation? The people have to defend themselves," he said. Sources in Acting Prime Minister Ehud Olmert's office said that Zahar is continuing the strategy initiated by Iranian President Mahmoud Ahmadinejad, who recently called for Israel to be wiped off the map. "The voice is al-Zahar's voice, and the hands are the Iranian president's hands. Anyone who imagines holding negotiations with Hamas should read al-Zahar's interview and understand who we are dealing with," a source said.
Iran Calls Test of New Missile Successful
April 3….(AP) Iran conducted its second major test of a new missile within days on Sunday, firing a high-speed torpedo it said no submarine or warship can escape at a time of increased tensions with the US over its nuclear program. The tests came during war games that Iran's elite Revolutionary Guards have been holding in the Persian Gulf and the Arabian Sea since Friday. On the maneuvers' first day, Iran said it successfully tested the Fajr-3 missile, which can avoid radar and hit several targets simultaneously using multiple warheads. The new torpedo, called the "Hoot," or "whale," could raise concerns over Iran's power in the Gulf, a vital corridor for the world's oil supplies and where the US Navy's 5th Fleet is based. During Iran's war with Iraq in the 1980s, Iranian ships attacked oil tankers in the Gulf, and Iran and the US military engaged in limited clashes.
Iran's state television stopped its normal programs to break news of the torpedo test, showing it being launched from a ship into the Gulf waters, then hitting its target, a derelict ship. Gen. Ali Fadavi, deputy head of the Revolutionary Guards' navy, said the ships that fire the Iranian-made Hoot had radar-evading technology and that the torpedo, moving at 223 miles per hour, was too fast to elude. "It has a very powerful warhead designed to hit big submarines. Even if enemy warship sensors identify the missile, no warship can escape from this missile because of its high speed," Fadavi told state television. The Hoot's speed would make it about three or four times faster than a normal torpedo and as fast as the world's fastest known underwater missile, the Russian-made VA-111 Shkval, developed in 1995. It was not immediately known if the Hoot was based on the Shkval. The new weapon gives Iran "superiority" against any warship in the region, Fadavi said, in a veiled reference to US vessels in the Gulf. It was not immediately clear whether the torpedo can carry a nuclear warhead. Cmdr. Jeff Breslau, spokesman for the US 5th Fleet based on the tiny Arab island nation of Bahrain in the Gulf, said no special measures were taken in reaction to the Iranian war games, even after the latest missile test. He would not comment on whether the new torpedo represents a threat to American forces in the region. "In general terms, no matter where we operate in the world, we're aware of other capabilities that exist and of other countries that aren't as friendly to the US, and we pay attention to those capabilities," he said. The US and Iranian navies have had brush-ups during the past, during the "Tanker War," when US warships moved into the Gulf to guard oil tankers. In 1988, the frigate USS Samuel B. Roberts was badly damaged by an Iranian mine. In response, the US Navy launched its largest engagement of surface warships since World War II. Two Iranian ships were destroyed, and an American helicopter was shot down, killing the two pilots. Iran is now trying to show its strength amid worries of US military action over its nuclear program, which Washington says aims to produce nuclear weapons. Iran denies the accusation, saying it intends only to generate electricity. The UN Security Council has demanded Iran give up uranium enrichment, a crucial part of the nuclear process. Washington is pressing for sanctions if Tehran continues its refusal to do so, though US officials have not ruled out military action as an eventual option, insisting they will not allow Iran to gain a nuclear arsenal. Iran's hard-line president, Mahmoud Ahmadinejad, has warned that the United States will "suffer" if it takes action against its nuclear program. Some have seen that as a threat to increase militant action in the region or turn to the oil weapon, though Iranian oil officials have ruled out any squeeze in supplies. Iran, which views the United States as an arch foe and is concerned about the US military presence in neighboring Iraq and Afghanistan, says the maneuvers aim to develop the Guards' defensive capabilities. The United States and its Western allies have been watching Iran's progress in missile capabilities with concern. Iran already possesses the Shahab-3 missile, capable of carrying a nuclear warhead and hitting US forces in the Middle East. The upgraded version of the ballistic Shahab-3 missile can travel about 1,200 miles, putting Israel within easy range.
US-led Strike Against Iran is Inevitable?
April 3….(Telegraph of London) The paper reports the prospect will be aired at a secret high-level UK defense ministry meeting Monday. DEBKAfile's military sources report: British generals will examine Iran's successful test of a Fajr-3 multiple warhead missile that can reach Israel, that was carried out undetected by US or Israel radar Friday, March 31. It was launched on the first day of a large-scale Iranian exercise in the Persian Gulf and Sea of Oman. Those sources add that the Israeli Arrow anti-missile system has no answer for multiple warhead ballistic missiles. The US hopes for a multinational military operation to destroy Iran's ability to develop a nuclear bomb, if Tehran fail to comply with the UN security council demand to freeze uranium enrichment. But British defense chiefs believe that failing international support, the Bush administration would go it alone or with Israel's assistance. DEBKAfile adds: Last month, former Israel chief of staff Moshe Yaalon estimated that a strike of this kind would be phased, suggesting that each phase would be undertaken by a different armed force. In Blackburn, northwest England, Saturday, US secretary of state Condoleezza Rice said all negotiating options including the use of force remained open for resolving the Iran crisis. Last month, foreign secretary Jack Straw took the opposite stance saying a military attack was inconceivable. According to the Sunday Telegraph, British military chiefs believe an attack would be limited to a series of air strikes against nuclear plants rather than a land assault, tactical Tomahawk cruise missiles fired from US navy ships and submarines in the Gulf, followed by B2 stealth bombers equipped with 8 4,500lb enhanced BLU-28 satellite-guided bunker-busting bombs flying from Diego Garcia, the RAF base in Gloucestershire in the UK and Whiteman USAF base in Missouri. At least eight nuclear sites are known within Iran but there are many more secret ones. The London paper reports Washington fears an Iranian nuclear weapon could be used against Israel or US forces in the region as well as destabilizing the Middle East with Egypt, Syria and Saudi Arabia opting for nuclear weapons programs.
US Attack on Iran Could Prompt Terror
April 3….(MSNBC) As tensions increase between the United States and Iran, US intelligence and terrorism experts say they believe Iran would respond to US military strikes on its nuclear sites by deploying its intelligence operatives and Hezbollah teams to carry out terrorist attacks worldwide. Iran would mount attacks against US targets inside Iraq, where Iranian intelligence agents are already plentiful, predicted these experts. There is also a growing consensus that Iran's agents would target civilians in the United States, Europe and elsewhere, they said. US officials would not discuss what evidence they have indicating Iran would undertake terrorist action, but the matter "is consuming a lot of time" throughout the US intelligence apparatus, one senior official said. "It's a huge issue," another said. Citing prohibitions against discussing classified information, US intelligence officials declined to say whether they have detected preparatory measures, such as increased surveillance, counter-surveillance or message traffic, on the part of Iran's foreign-based intelligence operatives.
Bigger threat than al-Qaeda?
But terrorism experts considered Iranian-backed or controlled groups, namely the country's Ministry of Intelligence and Security operatives, its Revolutionary Guards and the Lebanon-based Hezbollah, to be better organized, trained and equipped than the al-Qaeda network that carried out the Sept. 11, 2001, attacks. The Iranian government views the Islamic Jihad, the name of Hezbollah's terrorist organization, "as an extension of their state. Operational teams could be deployed without a long period of preparation," said Ambassador Henry A. Crumpton, the State Department's coordinator for counterterrorism. The possibility of a military confrontation has been raised only obliquely in recent months by President Bush and Iran's government. President Bush says he is pursuing a diplomatic solution to the crisis, but he has added that all options are on the table for stopping Iran's acquisition of nuclear weapons. Speaking in Vienna last month, Javad Vaeedi, a senior Iranian nuclear negotiator, warned the United States that "it may have the power to cause harm and pain, but it is also susceptible to harm and pain. So if the United States wants to pursue that path, let he ball roll," although he did not specify what type of harm he was talking about. Former CIA terrorism analyst Paul R. Pillar said that any US or Israeli airstrike on Iranian territory "would be regarded as an act of war" by Tehran, and that Iran would strike back with its terrorist groups. "There's no doubt in my mind about that, whether it's overseas at the hands of Hezbollah, in Iraq or possibly Europe, within the regime there would be pressure to take violent action."
History of Iranian Reprisals
Before Sept. 11, the armed wing of Hezbollah, often working on behalf of Iran, was responsible for more American deaths than in any other terrorist attacks. In 1983 Hezbollah truck-bombed the US Marine barracks in Beirut, killing 241, and in 1996 truck-bombed Khobar Towers in Saudi Arabia, killing 19 US service members. Iran's intelligence service, operating out of its embassies around the world, assassinated dozens of monarchists and political dissidents in Europe, Pakistan, Turkey and the Middle East in the two decades after the 1979 Iranian revolution, which brought to power a religious Shiite government. Argentine officials also believe Iranian agents bombed a Jewish community center in Buenos Aires in 1994, killing 86 people. Iran has denied involvement in that attack. Iran's intelligence services "are well trained, fairly sophisticated and have been doing this for decades," said Crumpton, a former deputy of operations at the CIA's Counterterrorist Center. "They are still very capable. I don't see their capabilities as having diminished." Both sides have increased their activities against the other. The Bush administration is spending $75 million to step up pressure on the Iranian government, including funding non-governmental organizations and alternative media broadcasts. Iran's parliament then approved $13.6 million to counter what it calls "plots and acts of meddling" by the United States. "Given the uptick in interest in Iran" on the part of the United States, "it would be a very logical assumption that we have both ratcheted up intelligence collection, absolutely," said Fred Barton, a former counterterrorism official who is now vice president of counterterrorism for Stratfor, a security consulting and forecasting firm.