WEEK OF JULY 24 THROUGH JULY 30
Hezbollah Springs the Qana Trap Again
July 30….(FOJ) The unfortunate South Lebanese village of Qana has been a baited as a place for Israel again and again to be blackballed and to snatch military victory from Israel and vault its international reputation into the jaws of an anti-Zionist world. In 1996, a stray Israeli shell aimed at Hizballah inadvertently killed 100 civilians, bringing a former Israeli counter-terror operation "The Grapes of Wrath" to a dismal, foreshortened, and shadowy end. Hizballah knows from long experience that maximizing Lebanese civilian casualties is the most effective way to disarm Israel and its military, using international political opinion as its instrument. Embedding its combat operations among helpless civilians is an old and proven method that Hezbollah practices incessantly. The poor people at Qana, provided they weren't Hezbollah supporters, probably had little choice but to be used as Hezbollah cannon-fodder. The Prime Minister who first fell into that trap was Shimon Peres. An international world outcry forced Peres back then to bow to Hizballah's terms for a cease-fire then. Apparently, Hezbollah is trying the same old terror-gimic again this time. The Shiite terrorists in 1996 agreed to discontinue its attacks on Israeli civilians (which they never upheld), and it is likely that Hezbollah only wants a cease-fire now so that it can remain intact inside Lebanon, and acquire more control of the country's affairs.
Syrian Downing of Israeli Drone Raises Specter of Syrian Scuds
DEBKAfile Exclusive Military Report
July 29….(DEBKA) The Lebanon war raging between Israel and HIzballah took an alarming detour Friday, July 28, when, according to DEBKAfile's military sources, Syrian air defense batteries ambushed and shot down an Israeli spy drone flying on the Lebanese side of the border with Syria. These drones have been used to "paint" the weapons convoys heading in from Syria, for the Israeli air force to hit them before they can reach their destinations and replenish Hizballah stockpiles. This time, the Syrians knocked the drone out of the sky to allow a large consignment of rocket launchers and truckloads of rockets to cross into Lebanon undetected and safe from Israeli air attack. The pilotless craft crashed on the eastern slopes of Jebel Barukh. The IDF bulletin evaded mention of the Syrian role and reported that a technical fault had caused the crash and the fragments had been destroyed from the air to prevent their falling into the hands of Hizballah. While Israeli leaders reiterate constantly that Israel has no intention of going to war with Syria, Damascus openly supports Hizballah with massive injections of weapons and other aid. Syria has already crossed several red lines.
1. A Syrian weapons system opened fire on an Israeli target for the first time.
2. The ambush of the Israeli drone by Syrian air defenses was a calculated move to clear the way for Syrian convoys loaded with rockets and rocket launchers to roll into Lebanon free of constant bombardment by Israel warplanes.
3. The drone was shot down while flying in Lebanese air space. This was a signal from Damascus to Israel that it would not scruple to target Israeli military forces inside Lebanon when its interests were deemed to be in jeopardy. Earlier this week, the Syrian information minister Buthaina Chabane declared that if Israeli artillery came within 20 km of Damascus, Syria would fight. Israel's official spokesmen and its military held back from answering her, just as the Americans let Syria get away with its hostile interference in the Iraq war. Although Bashar Assad has turned his country into a central hub and highway for fighters, arms, explosives and cash to bolster the Iraq insurgency, Syria has gone unpunished except for a single American air attack on a busload of Hizballah fighters heading into Iraq.
FOJ Note: If the Israeli-Hezbollah war expands to include Syria, it would be an ominous prospect in Bible Prophecy. The Burden of Damascus could be looming in that scenario.
Blair, Bush Seek Multinational Force in Lebanon
| | |
| --- | --- |
| | (FOJ) President Bush called on Iran to give up its nuclear weapons ambitions, and for Syria to abandon the Iranian war and choose to choose the path to peace and prosperity with the Democratic world. |
July 28…(MSNBC) President Bush and British Prime Minister Tony Blair said Friday they want an international force dispatched quickly to the Middle East but said any plan to end the fighting must address long-running regional disputes to be effective. The leaders, standing side by side in the White House's East Room after meeting in the Oval Office, said they want to see a UN resolution aimed at the fighting between Israel and Hezbollah militants introduced next week. Bush announced he was sending Secretary of State Condoleezza Rice back to the region on Saturday to negotiate the terms. Bush said they envisioned a resolution providing "a framework for the cessation of hostilities on an urgent basis and mandating the multinational force." "This is a moment of intense conflict in the Middle East," Bush said. "Yet our aim is to turn it into a moment of opportunity and a chance for broader change in the region." In resisting calls for an immediate, unconditional end to Israel's campaign against Hezbollah militants that effectively control southern Lebanon, Washington and London say any solution must address root causes of the current crisis. They referred particularly to the call contained in a 2004 UN Security Council resolution that Lebanese militias such as Hezbollah be disarmed, something the Lebanese government has been unable and unwilling to do. Bush said Lebanon and Israel are the main two parties that must agree to a force. He said the goal of any international peacekeeping is to help Lebanon be free and be able to govern and defend itself. "One of the things you'll see in discussions there, is how do we help Lebanese army succeed," Bush said. "What does it require? What's the manpower need to be in order to help this force move into the south so the government can take control of the country." US officials say European troops would likely dominate any international peacekeeping force.
Official: Hezbollah Used UN as 'Shield'
(Observer killed in strike wrote e-mail contradicting accusation against Israel)
| | |
| --- | --- |
| | United Nations flag flies along with Hezbollah banner at the UN post that Israel struck. |
July 28….(WND) The United Nations post in Lebanon at the center of controversy over a deadly Israeli attack likely was being used as a "shield" by Hezbollah to fire rockets into the Jewish state, according to a former UN commander in Bosnia. UN Secretary General Kofi Annan has accused Israel of deliberately targeting the post where four officials of the world body were killed in an Israeli airstrike on the southern Lebanese village of El Khiam Tuesday night. But retired Maj.-Gen. Lewis MacKenzie points to an e-mail by one of the observers killed in the attack that backs Israel's claim that it was targeting Hezbollah, reported the CanWest News Service of Canada. The dead observer, Maj. Paeta Hess-von Kruedener, wrote an e-mail last week to the Canadian television network CTV that alluded to Hezbollah's tactics. "What I can tell you is this, we have on a daily basis had numerous occasions where our position has come under direct or indirect fire from both (Israeli) artillery and aerial bombing. "The closest artillery has landed within 2 meters (sic) of our position and the closest 1000 lb. aerial bomb has landed 100 meters (sic) from our patrol base. This has not been deliberate targeting, but rather due to tactical necessity." MacKenzie said Hess-von Kruedener was indicating Israeli strikes were aimed at Hezbollah targets near the post, the Canadian news service reported. "What that means is, in plain English, 'We've got Hezbollah fighters running around in our positions, taking our positions here and then using us for shields and then engaging the (Israeli Defence Forces)," he said. McKenzie said this indicates Hezbollah purposely set itself up near the UN post, a tactic he observed in previous international missions. McKenzie was the first UN commander in Sarajevo during the Bosnia civil war, CanWest reported. The UN has claimed there was no Hezbollah activity in the area of the strike. From his UN post, however, Hess-von Kruedener wrote he had a view of the "Hezbollah static positions in and around our patrol Base." "It appears that the lion's share of fighting between the IDF and Hezbollah has taken place in our area," he wrote, noting later it was too dangerous to venture out on patrols. A senior UN official asked by CanWest about the e-mail denied the world body had been caught in a contradiction. "At the time, there had been no Hezbollah activity reported in the area," he said. "So it was quite clear they were not going after other targets; that, for whatever reason, our position was being fired upon. "Whether or not they thought they were going after something else, we don't know. The fact was, we told them where we were. They knew where we were. The position was clearly marked, and they pounded the hell out of us."
Hizbullah Used Civilians, Mosques in Attack on IDF
(Hizbullah refused to allow civilians to leave their village and used mosques in their ambush on IDF soldiers at Bint Jbeil Wednesday.)
July 28….(Arutz) Hizbullah stored ammunition and weapons in mosques, knowing that the IDF does not attack religious sites. Civilians were not allowed to leave so that Hizbullah could use them as cover. IDF officers said they ordered pilots not to strafe Bint Jbeil in order to spare civilian casualties. A United Nations peace keeping officer from Canada told the Canadian Broadcasting Corp. that Hizbullah used the same tactic to draw fire on the UNIFIL post which resulted in the death of four UN observers. "This is their favorite trick," he said. "They use the UN as shields."
War Council in Damascus Chaired by Syrian President Bashar Assad, Attended by Hizballah's Hassan Nasrallah and Iranian Official Ali Larijani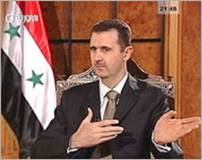 July 28….(DEBKA) "Iran's state news agency confirmed Nasrallah's presence in the Syrian capital "for consultations." DEBKAfile's military sources note that Nasrallah crossed over despite the heavy Israeli air bombardment of Lebanese-Syrian border regions. The war conference was attended also by Hamas leaders Khaled Meshaal and Mussa Abu Marzouk as well as the Palestinian Jihad Islami chief Abdallah Ramadan Shelah. The Palestinian terrorist leaders were invited in their capacity as commanders of the second front against Israel in Gaza. This anti-Israel coalition will no doubt decide on the two fronts' next steps in their war against the "Zionist enemy." The fact that Assad is there and the consultation is taking place in his capital indicates that he and the other participants feel confident enough to decide on a further escalation of the violence. (FOJ Note: Assad's hosting of this War Council could be significant in light of Bible Prophecy, as it directly links Syria to the current war, and its expansion could lead to the annihilation of Damascus as prophesied by Isaiah and Jeremiah) The conference began hours after the Israeli cabinet decided against broadening the campaign against Hizballah or attacking Syria indicating that Tehran, Damascus, Hizballah and the Palestinian terrorists sensed a weakening of Israel's resolve to expand the fight. This sort of soft talk from Jerusalem is not taken on trust but makes the Syrians suspect that Israel is playing a double game. Assad's response may be to redouble their hostilities in the very near future.
Is Iran Preparing to Nuke Israel on August 22
FOJ Note: FOJ doesn't like to carry sensationalistic news articles, but this one carries a measure of concern because it comes from a Syrian source. Read it for what it is worth.
July 27….(Jihad Watch) Iranian President Mahmoud Ahmadinejad has frustrated Western officials by refusing to reply to their offer of various incentives in exchange for Iran's discarding its nuclear program until August 22nd. The Western governments had asked Ahmadinejad to reply by June 29; so why would Tehran need two extra months? Farid Ghadry, the president of the Reform Party of Syria, has suggested a provocative explanation for this delay. He asserts that the Supreme National Security Council of Iran chose the August 22 date "for a very precise reason. August 21, 2006 (Rajab 27, 1427) is known in the Islamic calendar as the Night of the Sira'a and Miira'aj, the night Prophet Mohammed ascended to heaven from the Aqsa Mosque in Jerusalem on a Bourak, while a great light lit-up the night sky, and visited Heaven and Hell also Beit al-Saada and Beit al-Shaqaa (House of Happiness and House of Misery) and then descended back to Mecca. The Night Journey, or Miraj, is central to Islam's claim to Jerusalem as an Islamic holy city. According to Ghadry, Ahmadinejad is planning an illumination of the night sky over Jerusalem to rival the one that greeted the Prophet of Islam on his journey. What the Iranian President says, is that he is "promising the world by August 22 is the light in the sky over the Aqsa Mosque that took place the night before. That is his answer to the package of incentives the international community offered Iran on June 6." Certainly a nuclear attack on Jerusalem or even an all-out conventional assault against Israel by Iran would be consistent with Ahmadinejad's oft-repeated denials of Israel's right to exist and recent predictions that its demise was at hand. He hinted at the use of nuclear weapons in his phrasing when he said that Israel "pushed the button of its own destruction" by finally retaliating against Hizballah's relentless rocket barrage from south Lebanon. "Arrogant powers," Ahmadinejad said, "have set up a base for themselves to threaten and plunder nations in the region. But today, the occupier regime, that is, Israel, "whose philosophy is based on threats, massacre and invasion, has reached its finishing line." Will he attempt to make good on these threats this year on the anniversary of the Miraj, illuminating the night sky over Jerusalem? Who knows what the madman of Iran is planning?
Is Iran Testing Israel Ahead of Confrontation
July 27….(WND) Tehran is using Hezbollah's confrontation with the Jewish state to test the abilities of Iranian weapons and to observe Israeli military capabilities, Lebanon's Druze leader Walid Jumblatt charged in a WorldNetDaily interview yesterday. Jumblatt also said he fears Syria will take advantage of the growing crisis in Lebanon to reassert its influence in the country and convince the international community that Syrian domination of Lebanon is crucial to the stability of the Middle East. He warned Damascus might initiate a wave of terror in Lebanon following Israel's military campaign there to further destabilize the country, including by assassinating the Lebanese Prime Minister. "Iran is bringing into Lebanon sophisticated weaponry," said Jumblatt who is head of Lebanon's Progressive Socialist Party and is largely considered the most prominent anti-Syrian Lebanese politician. "The Iranians are actually experimenting with different kinds of missiles in Lebanon by shooting them at the Israelis. Iran is using this violence to test certain of Israel's abilities." Hezbollah is known to be in possession of Iranian Zalzel missiles, with a range of about 125 miles, making Tel Aviv vulnerable. Earlier this month, an Iranian Silkworm C-802 radar-guided anti-ship cruise missile struck an Israeli naval vessel, killing four soldiers. It was the first time the missile had been introduced in the battle with Israel. Military officials here say the Israeli ship's radar system was not calibrated to detect the Silkworm, which is equipped with an advanced anti-tracking system. Jumblatt said he is worried Syria might try to gain more control of Lebanon following Israel's military campaign. "Syria will likely try to tell the world, 'Look, see, since we left Lebanon the Cedar Revolution and the forces in Lebanon that got our military out through popular support, those forces are not able to control Lebanon. "I would not be surprised if they even try to wiggle their way into a deal by convincing the Americans that Syrian influence in Lebanon will stabilize the region," Jumblatt said. Syria originally sent forces into Lebanon in 1976 during the Lebanese Civil War. It militarily occupied the country until Syrian troops withdrew last year under intense international pressure following the assassination of former Lebanese Prime Minister Rafiq Hariri, for which Damascus was widely blamed. Hundreds of thousands of Lebanese, led by Jumblatt and other anti-Syrian politicians, had staged a "Cedar Revolution" of popular protests demanding freedom from Damascus. Jumblatt predicted Syria will attempt to further destabilize Lebanon to advance the argument of asserting its influence in the country. Syrian President Bashar] Assad made comments last month about al-Qaida infiltrating Lebanon. Now Assad can send into our country the same extremists he has been sending into Iraq to blow themselves up and wreak havoc here and blame it on al-Qaida. Asked if he feared another full-scale Syrian military occupation of Lebanon, Jumblatt replied, "Another? In truth the Syrians never left Lebanon. They triggered this war through their proxy Hezbollah.
Israel Activates 30,000 Reservists as Hezbollah War Rages
| | |
| --- | --- |
| | Soldiers from the Israeli Golani Brigade return to Israel after rescuing the bodies of their comrades killed in battle with Hezbollah guerrillas in Bint Jbail in South Lebanon. |
July 27….(Ha Aretz) Israel's government decided Thursday not to expand its battle with Hezbollah guerrillas in southern Lebanon for now, but authorized the army to call up 30,000 reserve soldiers in case the fighting intensified. US Secretary of State Condi Rice meanwhile said she was "willing and ready" to return to the region to work for a sustainable peace agreement. But President Bush suggested he would support the offensive for as long as it would take to cripple Hezbollah. Bush also sharply condemned Iran for its support of Hezbollah. The events signaled that Israel and the United States were settling in for a much longer battle than had initially been expected, one that could grow far bloodier if Israel decides its air attacks and small-scale invasion into Lebanon is not working and sends in thousands of more ground forces. In recent days, senior Israeli generals urged the government to authorize a broader ground campaign in southern Lebanon, which they said would help the thousands of troops already engaged in bloody battles there. Israel's security Cabinet authorized the army to call up three additional reserve divisions to refresh the troops in Lebanon if they were needed, but rejected the generals' advice to expand the offensive. However, Justice Minister Haim Ramon said that world leaders' failure to call for an immediate cease-fire during a Rome summit gave Israel a green light to carry on with its campaign to crush Hezbollah, an assertion hotly rejected by European Union officials. The conference ended Wednesday in disagreement, with most European leaders calling for an immediate cease-fire and the United States wanting to give Israel more time to neutralize Hezbollah.
Russia Rebuffs US Call to Cancel Billion Dollar Venezuela Arms Deal
| | |
| --- | --- |
| | Russia's move to bolster yet another anti-American dictator should underscore Russia's true intentions! |
July 27…..(Russian News) Russia's defense minister ruled out Wednesday reconsidering a $1billion contracts on supplies of military planes and helicopters to Venezuela. Tom Casey, a deputy spokesman for the US State Department, said Tuesday that President George Bush's administration wanted Russia to review the deals. He said the weapons purchases Venezuela planned exceeded the country's demands and did not contribute to regional stability. But Sergei Ivanov, who is also a deputy Prime Minister of Russia, said, "Reviewing the contract is absolutely out of the question. In my opinion, the 24 planes and the number of helicopters recorded in the contract are not excessive for the defense of a small country such as Venezuela." "We will honor the contract," Ivanov said, adding that Venezuela had no restrictions on arms supplies. The South American country's outspoken president, Hugo Chavez, is touring defense-industry plants as part of a three-day visit to Russia, and has been outspoken in his opinion that the United States should be destroyed.
Al Qaeda Calls For Joint War on Israel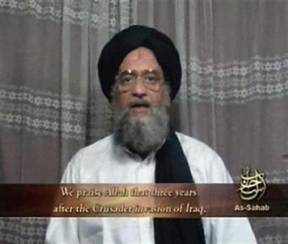 July 27….(MSN) Al-Qaida's No. 2 leader issued a worldwide call Thursday for Muslims to rise up in a holy war against Israel and join the fighting in Lebanon and Gaza until Islam reigns from "Spain to Iraq." In a taped message broadcast by Al-Jazeera television, Ayman al-Zawahri said the terrorist organization would not stand idly by while "these (Israeli) shells burn our brothers. "All the world is a battlefield open in front of us," said the Egyptian-born al-Zawahri, second-in-command to Osama bin Laden. The war with Israel does not depend on cease-fires. It is a Jihad for the sake of God and will last until our religion prevails from Spain to Iraq," al-Zawahri said. "We will attack everywhere." Spain was controlled by Arab Muslims until they were driven from the country at the turn of the 16th century. Al-Zawahri declared that Arab regimes were complicit in Israeli fighting against Hezbollah and the Palestinians. "My fellow Muslims, it is obvious that Arab and Islamic governments are not only impotent but also complicit, and you are alone on the battlefield. Rely on God and fight your enemies...make yourselves martyrs."
US, Russia Call For "New Middle East" But Have Opposing Visions
July 27….(KIN/Bill Wilson) Both the United States and Russia see a "New Middle East" on the horizon, but the two nations, one the world's only superpower and the other moving to regain its superpower influence, have differing views of how the power in the Middle East should be distributed, and both are prophetically significant. US Secretary of State Condoleezza Rice Tuesday said, "Its time for a new Middle East. It is time to say to those that don't want a different kind of Middle East that we will prevail. They will not." In contrast, Russia's new Middle East order focuses on propping up terrorist sponsors such as Iran and Syria which locks in Russia's primary economic market, weapons and weapons technology. The American policy in the region is to spread democracy with the hopes that free elections will bring stability, security and economic growth and prosperity. This policy has had its drawbacks since elections in Lebanon, Afghanistan, Iraq and the Palestinian Authority either elected terrorists or constitutionally adopted radical Islamic laws, which are in total conflict to the principles of Western democracy. The American image has suffered tremendously in the region among Arabs, even the ones who are in power because of the United States policy. Russia also envisions a new Middle East. Once holding great influence over the entire region as the Soviet Union, Russia is now trying to regain its former glory. Oil deals and military sales have been quietly announced over the past two years with Saudi Arabia, Egypt, Turkey, and Jordan. (and yesterday with Venezuela) Not so quiet are the Russian military and military technology sales to Iran and Syria. Russia also has provided military engineers to both Syria and Iran. And Iran has used its Russian expertise to foment a relationship with North Korea and China to share missile technology. Russia and China stand as Iran's protector on the United Nations Security Council. Russia's vision of the Middle East is one of strengthening its own economic and military power. America's vision of the Middle East is one of peace and prosperity in a new form of democracy. Both will lead to an acceleration of radical Islam as the religion of Islam is totally counter to democracy and Russia's evil schemes and killing technologies exploit and play into the hands of the democratically-elected Islamofacists. This is a classic scenario for setting up the fulfillment of end time prophecies.
Hezbollah Invading US From Mexico
July 27….(Fox news) We've had Hezbollah agents that came across the border with Mexico," Jerome Corsi, co-author of "Minutemen: The Battle to secure America's Borders", told Sean Hannity during an appearance Wednesday night on Fox News Hannity & Colmes. Appearing with co-author and Minuteman co-founder Jim Gilchrist, Corsi agreed with Hannity that border security is important for national security because Hezbollah terrorists could be coming across the border with weapons of mass destruction. Citing the arrest and conviction of Hezbollah agents who had already infiltrated the US across the border, Corsi said: "They are in federal prison. They were convicted for sending money back from Detroit to Hezbollah agents in Lebanon. So we have definitive proof that we have Hezbollah,the terrorist group that Israel is fighting today, has sleeper cells right here in the United States." Asked by Hannity if he thought we could be hit by Hezbollah agents here in the United States, Gilchrist said: "I would not be surprised if we took another attack. Everyone feels that way. It's just that no one knows where it's going to be." That, he added, "is not the only domestic terrorism we're facing. We have a literal domestic terrorism that's developing in the country. The MS-13 gangs have infused themselves in every major community around the country." Agreeing with Hannity's assertion that "the issue is so important because we are most vulnerable there," Gilchrist said: "The border is completely wide open. We know that Mexico is a drug cartel-controlled country where corruption reigns. Terrorists with money can buy their way into Mexico and just walk across our border. We've got thousands every year of what they call 'OTMs - other than Mexicans' and thousands of those are from the Middle East, and the Bush administration is not taking precautions and as a result our national security risk is increasing."
Nasrallah Met Assad, Iranian Security Chief in Damascus
July 27….(Ha Aretz) Hezbollah Secretary-General Hassan Nasrallah visited Damascus today to meet with Syrian President Bashar Assad and the head of Iran's Supreme National Security Council, Ali Larijani, the Kuwaiti daily newspaper Al-Seyassah reported. The report, which quoted Syrian sources, said Nasrallah arrived in dressed in civilian clothes, not his normal clerical garb. Al-Seyassah, known for its opposition to the Syrian regime, said the meeting was designed to discuss ways to maintain supplies to Hezbollah fighters with "Iranian arms flowing through Syrian territories." The paper said it learned of the meeting from "well-informed Syrian sources" it did not identify. According to the newspaper, Nasrallah was moving through Damascus with Syrian guards in a Syrian intelligence agency car. The Mehr news agency in Iran said Larijani was in Damascus for meetings on the crisis, but gave no other details. Nasrallah declared Wednesday the conflict with Israel had entered a new phase and that the guerrilla group would not accept any "humiliating" conditions for a ceasefire. In a televised address, Nasrallah said Israeli incursions into southern Lebanon would not stop Hezbollah rocket fire into northern Israel and that the conflict was moving "beyond Haifa." The radical Islamic group head said Israel's offensive in Lebanon was part of a conspiracy with the US to create a new Middle East.
After Losing Bin Jubeil, Hizballah Avoids Frontal Encounters
July 27….(DEBKA) After overwhelming the Hizballah stronghold of Bin Jubeil in southern Lebanon Tuesday July 25, Israeli armed ground forces and tanks are preparing to sweep forward to sanitize the town's satellites. Hizballah is reported by IDF sources to have lost 100-120 Hizballah fighters. Israel's immediate military mission now is to capture or subdue Bin Jubeil's five satellite villages, where 300 Hizballah fighters are sheltering: Ain Ebel, Hannine, Deble, Yaroun and Rmaich, the latter two very close to the Lebanese-Israeli border. These fighters know they are trapped in a tight noose; they cannot escape or hope for help, whether in the form of reinforcements or weapons. Monday night, Israeli forces dropped leaflets over these villages offering them the option of laying down their arms and saving their lives. The language was deliberately vague. It was not clear whether the men who surrendered would be allowed to go back to their families or, more likely, taken prisoner to be held against the release of Israel's kidnapped soldiers. While inflicting losses on Israel forces in the battles for towns and villages, Hizballah's losses are many times greater. They cannot stand up to the superior firepower leveled against them by a combination of tanks, special operations units and air force. Therefore fighters in the south have been instructed to discontinue face-to-face combat with Israeli troops. Instead, they were told to withdraw from the built-up areas and wage guerrilla warfare from woods, forests, dry river beds, and fruit orchards. Israeli forces are therefore braced for stealthy Hizballah strikes from ambush.
Crisis Updates From Israel by David Dolan
July 27….(David Dolan) Yesterday, a special day in the history of Israel, the nation endured a day that has turned out to be the deadliest for Israeli military forces since Hizbullah suddenly lobbed rockets into northern Israel exactly two weeks ago today to cover an unprovoked cross border raid designed to kidnap IDF soldiers. The deaths came on the first day of the Hebrew month of Av, when Jews traditionally mourn the destruction of the first and second temples in ancient times, and other catastrophes that have befallen the Jewish people over the centuries. At least nine IDF soldiers were reportedly killed in the fighting, and over two dozen others wounded. This came during intense close quarter combat in the south Lebanese Shiite town of Bint Jabail, located some three miles north of Israel's border with Lebanon. I noted yesterday that while Israel said it had secured overall control of the strategic town, hundreds of heavily armed Hizbullah militiamen were believed to be hiding inside buildings nearly empty of civilian residents. The sheltered fighters suddenly emerged at dawn to engage IDF troops surrounding the town, with horrific results. The army said some of the heaviest fire came from inside a mosque near the edge of town. The severe combat broke out as Prime Minister Ehud Olmert indicated that Israel would establish a two kilometer border buffer zone all along the international border in order to prevent future Hizbullah infiltrations into Israeli territory, and to push rocket launchers a bit further back from civilian targets in Israel. Just how long Israel might control the new buffer security zone was not spelled out. Olmert is thought to want some sort of international force to take over the area as quickly as possible so as not to give Hizbullah and its regional backers an excuse to continue rocket and ground attacks from Lebanese territory. Such a force was apparently discussed at an international summit in Rome yesterday, but no concrete decisions were apparently taken, nor was there a unified call for an immediate ceasefire. Israeli officals were said to be dismayed by comments made after the summit by Lebanese Prime Minister Siniora. He began by blasting Israel for supposedly "destroying his country" in order to "bring it to its knees". Later the Sunni politician lectured Israeli officials on the need to make peace with the Palestinians and all regional Arab countries, as if it was not Hizbullah and its Syrian and Iranian masters who successfully destroyed the "land for peace" Oslo peace process that was meant to do just that, mainly via the economic and weapons aid they have given since the early 1990s to their Palestinian Hamas and Islamic Jihad terrorist comrades. Meanwhile Israeli officials were busy dealing with the heavy political fallout from what they all insisted was an accidental shelling last evening of a UN outpost in El Khiyam, not far from the main south Lebanese Maronite Christian town of Marjayoun. Four UN "peacekeeping" soldiers were killed in the incident. Officials were dismayed when UN Secretary General Kofi Annan angrily declared that the IDF had "apparently deliberately targeted" the outpost. Some government leaders privately termed the comment anti-Semitic. PM Olmert phoned Annan this morning to offer his condolences for the tragic deaths, and to assure him that the shelling was not at all intentional. He said he would order an immediate investigation into the incident, adding that the results would be quickly forwarded to UN officials. Demonstrating again his apparent disdain for Israel, Annan insisted on a joint investigation. Israeli officials noted that Hizbullah often used the ground right around such UN outposts during the 1980 and 90s to shoot rockets at IDF forces, knowing that understandably intimidated UN personnel would not dare to stop them. In fact, UN commanders filed complaints several times over such activity, which was seemingly also going on again during yesterday's heavy artillery and rocket exchanges in the area. Indeed, the UN's own chief humanitarian officer, Jan Egeland, admitted on Monday after visiting Beirut that Hizbullah fighters were deliberately stationing themselves among Lebanese Shiite civilians to reduce their own militia casualties, knowing Israel is reluctant to strike such areas. The radical Shiite group would presumably care even less if non-Muslim infidels are killed by IDF fire in the fighting, especially knowing it would bring world wrath upon the Jewish State. Egeland said Hizbullah "must stop this cowardly blending among women and children," adding that he had "heard they are proud because they have lost very few fighters, and that it was the civilians bearing the brunt of this. I don't think anyone should be proud of having many more children and women dead than armed men."
Moscow Asks Damascus to Limit Response if Attacked
July 26….(Gulf News) Moscow has asked Syria not to use Russian missiles to retaliate if attacked by Israel, diplomats said yesterday. Deputy Russian Foreign Minister Alexander Saltanov delivered the message to senior Syrian officials in Damascus last week, as the risk of Israel's Lebanese offensive expanding into a regional war rose, the diplomats said. "Saltanov told them Syria can use Russian anti-aircraft missiles to thwart Israeli air attacks, but that Russia objected to using Russian Scuds to retaliate," one diplomat, who did not want to be identified, said. "The Russians don't want their missiles to hit Israeli cities. Syria, however, has more advanced North Korean missiles," another diplomat said. Syria, which relied on Russia for military supplies during the 1970s and 80s, has diversified its arsenal in recent years to include Chinese and North Korean weapons. Diplomats say Syria has a formidable stock of surface-to-surface missiles that can hit deep into Israel, plus an array of Russian surface-to-air batteries. Although no longer as close to Syria as during the Soviet era, Russia has called for a ceasefire in Lebanon and said Israeli attacks went beyond an anti-Hezbollah operation.
Mideast Talks in Rome Fail to Reach Cease-fire Agreement
(FOJ) The Middle East has caused so many headaches for so many diplomats over the years. Ishmael's descendents just can't seem to get along with anyone, and there is simply no way on earth to get them to live in peace with Israel.
Genesis 16:12 And he will be a wild man; his hand will be against every man, and every man's hand against him; and he shall dwell in the presence of all his brethren.
(KJV)
July 26….(CNN) Talks between key Middle East players in Rome on a plan for ending the 15-day-old conflict in Lebanon Wednesday failed to reach agreement on an immediate cease-fire. The stormy meeting, which saw the United States pitted against European and Arab leaders, resulted in calls for a truce but little concrete action to end the fighting that has killed more than 300 civilians. The meeting called for the formation of a UN-authorized force to help the Lebanese government exert its control over southern Lebanon. US Secretary of State Condoleezza Rice said the international community will be discussing the formation of that force in "the next few days." She said such a force needs to be "strong and robust to bring about peace." There were also agreements on humanitarian aid and reconstruction. statement read by Italian Foreign Minister Massimo D'Alema, who co-chaired the talks with Rice, said the conference had agreed "immediately to reach with the utmost urgency a cease-fire that puts an end to the current violence and hostilities." But with the United States resisting demands for an immediate cease-fire, insisting that a cessation of hostilities must be part of a wider plan to permanently disarm Lebanese Hezbollah militants, there was no crucial cease-fire deal. Rice said she had been moved by an impassioned plea by Lebanon's Prime Minister Fouad Siniora to "stop the killing" but said the US favors long-term efforts to end "spasms of violence" in the region. Siniora, who said his country was being "cut to pieces" by the Israeli retaliation against Hezbollah, said he came to Rome hoping for a plan on reaching a cease-fire. He said "some progress" had been made and urged the international community to press forward on actions that would end the Israeli military campaign and leave his government in control of the entire country, including the south, which is now controlled by Hezbollah. The Israeli government, which was not invited to the Rome meeting, said Wednesday it hopes the "international community will act immediately to strengthen the Lebanese Army" so that it can take charge of south Lebanon. In its statement, Israel said it wants a UN resolution calling for Lebanese militias to be disarmed and a G8 statement calling for the release of all abducted soldiers. "Israel is forced to continue to defend its citizens because of the failure to implement these resolutions until now," the statement read. Tensions were raised during the discussions, involving the United States, the United Nations, European Union countries, Arab states such as Egypt, Jordan and Saudi Arabia as well as Canada, Russia, Cyprus and Turkey, by the deaths of four UN military observers in an Israeli attack on a UN outpost.
Israel's Old Bulldozer is Fading
July 26….(FOJ) Former Israeli Prime Minister Ariel Sharon has been rushed into the intensive care unit of a Tel Aviv hospital Wednesday to undergo a form of kidney dialysis, a hospital spokeswoman in Israel has announced. Sharon's condition deteriorated significantly earlier in the week, when officials at the Sheba Medical Center said the former leader's kidneys were failing and that they had noticed changes in his brain membrane. Sharon, 78, has been in a coma since suffering a massive stroke on Jan. 4. It is so ironic that the charismatic General of Israel's offensive into Lebanon in pursuit of PLO terrorists in the early eighties appears to be dying as Israel once again is being hounded by still another terrorist outfit. Mr. Sharon, known fondly as the bulldozer needs earnest and fervent prayer just now, as does his nation.
CNN Report on Bible Prophecy was Debasement of God's Word
July 26….(FOJ) Like many people, I have been watching a lot of the news coverage about the current Middle East Crisis. As I channel surfed around to catch the various stories about the situation between Israel and Hezbollah, I happened upon a CNN report on Paula Zahn's program about how fundamental Christians avidly follow things involving Israel. A reporter doing the story on the program did a piece on what they perceived as a fanatical obsession Bible Prophecy followers have with Israel, and with the book of The Revelation. As the story concluded, the reporter interviewed three so-called religious icons. In each case the religious authority castigated the study of Prophecy. One Catholic priest remarked that the fundamentalist tend to interpret Revelation on a literal basis. He ended by saying that these Christians and their beliefs about the end-times prophecies and The Revelation was a "bunch of crock." Well, needless to say, the show was shallow and biased against the study of prophecy, but the priests remarks made me extremely angry. It is a sad case of the blind leading the blind. The priest believes that he knows more than God about what he has said. God has given us the prophetic word, including The Revelation, and its purpose is to inform us of the nearness of His return. The entire geo-political situation surrounding Israel and its rebirth in 1948 is the clearest signal in the Bible that we are to take literally the signs of the times which clearly indicate that God is getting ready to judge the nations of this world for their counsel against His people.
Focus on Jerusalem Prophecy Seminar
Itinerary Reminder: Focus on Jerusalem will be conducting a one-night prophecy presentation this Friday night (July 28) at the Sand Springs Baptist Church in Lawrenceburg, Kentucky. The presentation will be a detailed slideshow analysis of Ezekiel chapters 38 and 39. The complex subject of the prophesied invasion of Israel by a coalition of nations led, presumably by Russia is a topic that is relevant to today's news events. The presentation will be informal, and is open to all that wish to attend. Sand Springs Baptist Church is located on old US 127, (1616 Harrodsburg Road) about 2 miles south of Lawrenceburg, Kentucky. For more information, you may call the church at 502-839-3415.
Fatah Stages Anti-US Rally as Abbas Meets With Rice
July 26….(WND) (Palestinian ralliers try to storm Secretary of State, and lead Fatah officials lead chants of 'Down with America') Senior members of Palestinian Authority President Mahmoud Abbas' Fatah party staged an anti-American protest today outside the main government building here while Abbas met with US Secretary of State Condoleezza Rice, WND has learned. Most media coverage of thes Ramallah protests claimed ralliers were affiliated with Hamas and Islamic Jihad. "Down with America," "and Hizbullah leader Hassan Nasrallah hit America," "Fire rockets into Tel Aviv," and "We don't need American money," were among the major slogans shouted repeatedly today by hundreds of protesters gathered on the streets as Secretary Rice and Abbas held a meeting in the main Ramallah government building a few meters away in which the fighting in Gaza and Lebanon was reportedly discussed. The main protest organizer, who was outside leading the crowd, was Zyad Abu Ein, a senior Fatah official and general manager of the PA's Ministry of Prisoners. Ein is well known to be a close Abbas confidante and is considered one of the most important members in Ramallah of Fatah's Revolutionary Council. Today's Fatah rally follows a WND exclusive interview last week in which Abu Nasser, second-in-command of the Al Aqsa Martyrs Brigades terrorist group, warned it is only a "question of time" before Palestinian terror groups and other Islamic organizations in the Middle East target the US both abroad and on the home front. The Al Aqsa Brigades, the declared "military wing" of the Fatah party, is responsible for scores of rocket and shooting attacks, and, together with Islamic Jihad, for every suicide bombing since last February's so-called cease-fire. "The Americans deserve to be targeted because of their support to the enemy. It is a question of time before the revolutionary organizations in the Middle East will start targeting the Americans," said Abu Nasser, speaking to WND from Nablus. "Believe me, it is a new era and I am suggesting to the American people to adopt a different foreign policy and strategy very soon or they will deal with a unified Muslim world, but without the help of their agents in the Middle East."
FOJ Note: No country has done more for the Palestinians than the US, and yet they continually call for our destruction. These people, including Abbas and Fatah want nothing more than the eradication of Israel, and any Christian country that has the gall to support Israel's right to exist.
US Cease-fire Plan Includes Israeli Pullout from Shaba Farms
July 26….(Ha Aretz) The American initiative to end the Lebanon conflict includes an Israeli withdrawal from the Shaba Farms. According to a circulated report, Secretary of State Condoleezza Rice included the Shaba Farms to the plan following pressure from high ranking Lebanese officials, headed by Prime Minister Fouad Siniora, The initiative put forward by Rice during her trip to the region Monday and Tuesday, the Shaba Farms area will be transferred to Lebanon, but the local border will not be set if Syria persists in its opposition to such a move. Following the transfer to Lebanese authority, the Shaba Farms area will be the responsibility of the United Nations. Israeli sources said, however, that Rice had acknowledged the Shaba Farms region as one of the excuses given by the Lebanese government for its failure to act, but said she did not include an Israeli withdrawal in her demands. Israel seized the mountainous region from Syria in the 1967 Six-Day War, along with the neighboring Golan Heights. The area is now claimed by Beirut, with the consent of Damascus. (for the sake of keeping up the war against Israel) The UN, however, has maintained that the Israeli withdrawal from southern Lebanon in May 2000 was complete, and that any negotiations conducted over the area should be between Israel and Syria.
Rice/Olmert: Its Time For A New Middle East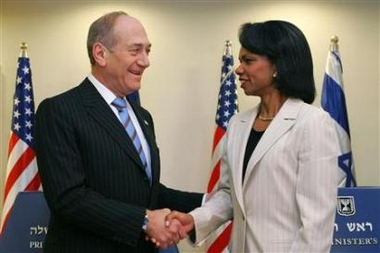 July 25….(FOJ) Secretary of State Condoleezza Rice, in a frenetic set of meetings amid Israeli-Hezbollah fighting, declared today that the United States wants an "urgent and enduring" peace where problems are solved without war. Talking to reporters after meeting with Palestinian President Mahmoud Abbas, Rice said, "We need to get to a sustainable peace, there must be a way for people to reconcile their differences." (its called conflict resolution, and is the way secular humanist societies deal with enemies) Earlier, meeting in Jerusalem with Israeli Prime Minister Ehud Olmert, Secretary Rice said the time has come for a new Middle East. "I have no doubt there are those who wish to strangle a democratic and sovereign Lebanon in its crib," Rice said, an obvious reference to Iran. "We, of course, urgently want to end the violence." In Israel, Rice reiterated the United States' position that a cessation of hostilities in Lebanon must come with conditions, saying there is "no desire" on the part of US officials to come back in weeks or months after Iran's Hezbollah terrorists find another way to disrupt any potential cease fire. "It is time for a new Middle East," she said. "It is time to say to those that don't want a different kind of Middle East that we will prevail. They will not." Olmert welcomed Rice warmly and vowed that "Israel is determined to carry on this fight against Hezbollah." He said his government "will not hesitate to take severe measures against those who are aiming thousands of rockets and missiles against innocent civilians for the sole purpose of killing them." Last week Olmert literally begged the Western world for a new "covenant of peace." It is the opinion of FOJ that the West, acting on the urgent request of Saudi Arabia for a new Peace Process, and together with Israel's thirst for survival in a neighborhood hell-bent on their eternal destruction, is taking the initial steps to construct a new Middle East that hopefully will sideline the Iranian-Hezbillah-Damascus Axis, and incorporate a pretense of a peace for Israel. This is something that the Antichrist will indeed accomplish, but He ultimately will turn his sword upon Israel too.
The Roaring Iranian Rat
July 25….(commentary by David Dolan) Ultimate responsibility for the intense fighting between Israeli and Hezbollah forces in Lebanon can be directly traced to several American presidents, especially to one Democrat who has been busy building houses ever since he left the Big Bungalow on Pennsylvania Avenue. Fearing an East-West clash of apocalyptic proportions, Lyndon Johnson thought it best to confront the powerful Soviet Union and China in an indirect manner. He would inflate John F. Kennedy's mini-war against Soviet and Chinese-backed fighters in relatively insignificant Viet Nam into a major conflict. His successor, Richard Nixon, further fanned the flames before finally agreeing to a ceasefire in January 1973. After the Communist north violated it, Nixon rushed to pull remaining war weary US forces out of the southern half of the divided Southeast Asian country, climaxing with a humiliating final retreat in April 1975. As expected, South Viet Nam was then completely overran by Communist fighters, who subsequently proved uninterested in conquering their neighbors as part of the dreaded "domino" disaster that had long been forecast if America did not decisively win the costly war. Tired of overseas adventures, a majority of American voters were then ready to scale back their country's international policeman role. This led to Jimmy Carter's election as Commander in Chief in 1976 after running on a fairly pacifist platform. During the latter years of his watch, a turban bound mullah named Ruhollah Khomeini took over a Middle East country called Iran. His January 1979 Shiite Islamic Revolution was met with shocked surprise in Washington, which was then obsessed with Soviet designs on nearby Afghanistan. After all, the radical Muslims were our allies against the red superpower giant that was preparing to end all life on planet earth in some insane nuclear showdown! The Muslim fundamentalist leader was fit as a fiddle to move to Tehran and take over the reigns of power. This was largely because Carter had naively allowed him to come to America the previous October to receive first class medical attention. After ousting the pro-West Shah, the Shiite Ayatollah repaid Carter's kindness by sanctioning the seizure of the American embassy in Tehran. Over 50 Americans, mostly government diplomats and employees, were taken captive in the November 1979 action, being held hostage for over one year. Operating in the still strong shadow of the Viet Nam fiasco, Carter refused to see the seizure for what it was—a clear act of war—and ordered relatively feeble (and definitely ineffective) military measures to free the hostages, who were only released when Ronald Reagan was sworn in as president in January 1981. Flagging American resolve to take on its declared enemies when actually necessary was thankfully reversed during the Reagan years. But the tall ex-actor also contributed to the current Mid-east crisis. Fearing an atomic showdown with Moscow, he ordered Israeli Prime Minister Menachem Begin to cancel his Defense Minister's rational plan to fully oust Syrian occupation forces from all of Lebanon in 1982. Thus Ariel Sharon's prescient goal to free Lebanon from Syrian (and thus Iranian) domination was thwarted, which opened the door for Khomeini to establish an enduring alliance with Syria that rapidly led to the formation of the extremist Lebanese Hezbollah militia. The Shiite force quickly proved to be a faithful Iranian-Syrian anti-American puppet when its operatives destroyed US Marines barracks in Beirut in October 1983, the deadliest terrorist atrocity against American servicemen to this day. But this clear act of war was also basically ignored by Soviet-obsessed White House personnel, who simply ordered a humiliating retreat from the battle zone. Hezbollah-Iran-Syria had won, and this fact would set the tone for their later "victory" over war weary Israeli forces that were rushed from the Land of the Cedars in a virtual summer re-run of the US flight from Saigon. The May 2000 Israeli getaway left its faithful Maronite-run South Lebanese Army allies dazed and confused, and in instant mortal danger from advancing Hezbollah forces. This guaranteed that no Lebanese Christian groups would ever fully ally themselves again with the Jewish-run state. Meanwhile Iran had succeeded in crushing the US-sponsored Israeli-Palestinian "land for peace" process. It began supplying weapons and training to Hamas and Islamic Jihad Palestinian terrorists, mainly via Hezbollah channels, soon after the 1993 Oslo peace accord was signed on the White House lawn by Yasser Arafat and Yitzhak Rabin. Emulating Hezbollah's mushrooming suicide attacks against IDF soldiers in Lebanon, Hamas launched its first deadly bus bombing in April 1994, followed by a flood of such wicked assaults in early 1996. Two months later, Hezbollah let loose with a massive rocket blitz upon northern Israel, leading to the election of Binyamin Netanyahu in May, and the total collapse of the peace process four years later. And so we come to today. Israel has been forced to re-enter Lebanon and the Gaza Strip with its relatively big guns blazing, leading to inevitable Arab and international condemnation. Its unilateral pullouts from both places, demanded by Lebanese and Palestinian leaders, have been tragically reversed amid a flood of blood. All this as Iran's outrageous "president," under orders from Chief Dictator Ayatollah Khameini, repeatedly vows to wipe Israel off of the Middle East map, probably with nuclear weapons. Is the current White House occupant finally ready to admit that the insidious theocratic Iranian regime has long ago declared war to the death not only against its main Mideast ally Israel, but also against America? Stay tuned. I'm not overly optimistic that the gravity of Iran's threat to Western interests is fully understood yet in Washington's halls of power, given that so much time, money and military lives have been spent going after a regional mouse named Saddam, followed by hopeless attempts to bring enduring "democracy" (how about simple stability?) to his basket case, internally divided country. All of that has only served to divert vital attention from the far more dangerous Regional Rat lurking right next door—Iran—and its supplicant surrogates Syria and Hezbollah.
Saudi King Warns of Huge Mideast War
July 25….(Jerusalem Post) Saudi King Abdullah appealed to the world Tuesday to stop Israeli attacks on Lebanon, saying that if peace moves fail, the Middle East could be engulfed in war. In a statement read out on state television, the king said: "if the option of peace fails as a result of Israeli arrogance, then the only option remaining will be war, and God alone knows what the region would witness in a conflict that would spare no one." The statement, issued by the royal court, said that the Saudi government had been trying to bring a halt to the violence since it began on July 12, when Hizbullah guerrillas snatched two Israeli soldiers in a cross-border raid from Lebanon. "It must be said that patience can't last forever, and if the brutal Israeli military continues to kill and destroy, no one can foresee what may happen," the king said.
FOJ Note: Isn't it amazing how Israel is blamed for this? Hezbollah invades Israel, kills 8 soldiers and takes 2 captive, and Israel is the arrogant aggressor. The King of the South will need protection from his fellow Muslims one of these days.
IDF Takes Control of Hezbollah's Terror Capital' Bint Jbeil
July 25….(Jerusalem Post) Col. Amnon Eshel Assulin, Commander of the IDF Armored Brigade, told The Jerusalem Post on Tuesday IDF troops operating in the village of Bint Jbeil, long considered the "capital of terror" in southern Lebanon, had proven their ability to reach any location in Lebanon, and could even enter Beirut if the government decided on that course of action.
Assulin told the Post that that the IDF had taken control over Bint Jbeil and had so far killed at least 40 Hizbullah guerrillas. "The town is completely controlled by us," Asulin said, adding that dozens of Hizbullah guerrillas had been killed in clashes with Golani troops, paratroopers, and tanks. Soldiers, Assulin said, took the guerrillas captive during the fighting. He said that there were still pockets of resistance on the outskirts of the village, and most of the Hizbullah guerrillas left inside, just under 100, were hiding in the Kasbah marketplace. The IDF was still encountering Hizbullah guerrillas who were shooting form inside mosques, hospitals, and schools. They take advantage of the population, Assulin said, "But the IDF has high moral values and does its best to avoid harming anyone uninvolved." The operation in Bint Jbeil, initially slated to take 48-72 hours, would last as long as necessary to kill all the Hizbullah terrorists and destroy the infrastructure there, Assulin said. "Two tank battalions fought bravely, killed terrorists, and evacuated their wounded comrades from the battlefield," Assulin told the Post when describing the fighting in Bint Jbeil since early Monday. He said that infantry battalions were working cohesively with tanks, and that "one could not exist without the other." Also on Tuesday, Lt.-Col. Avi Mano, commander of the Keren artillery battalion, told the Post Tuesday that his cannons have fired 3000 shells at Bint Jbeil since the beginning of operations there earlier this week. Mano said artillery cannons are capable of making direct hits on houses and other targets, while causing more damage than Katyusha rockets cause in Israel. The artillery battery is stationed along the northern border in conjunction with an artillery officer who accompanies infantry troops into Lebanon to provide coordinates for artillery fire. "One of our significant accomplishments is that we are helping infantry troops in Lebanon fulfill their mission by providing them with artillery cover fire," Mano said.
Iran Threatens Response if Syria Attacked
July 25….(YNET) Iranian media outlets published sections of interviews given by Iranian Ambassador to Lebanon Mohammad-Reza Sheybani, who said that Hizbullah's military capability has greatly increased in the last decade, and threatened that if Israel harmed Syria, the Iranians would respond with force. Sheybani stressed that Iran would support Syria if it is attacked by Israel. "There should be no doubt on this issue: If Syria is harmed, even in the slightest way, we will respond with force. This, on the basis of the joint defense agreement in effect between the two countries and already signed by the two ministers of defense," he said. Sheybani added that he thought "Israel did not have the ability to deal with Iran's capabilities." Sheybani's comments came a day after Hizbullah representative in Iran, Hussein Sif al-Din, threatened that his organization planned to increase its attacks in Israel, until "no place in Israel will be safe." At a conference in Tehran, attended also by Hamas and Palestinian Authority representatives, al-Din threatened that "this war will be remembered as the beginning of the end of Israel."
UN Official Accuses Hezbollah of 'Cowardly Blending' Among Civilians
July 25….(Ha Aretz) The UN humanitarian chief accused Hezbollah late Monday of "cowardly blending" among Lebanese civilians and causing the deaths of hundreds during two weeks of cross-border violence with Israel. The militant group has built bunkers and tunnels near the Israeli border to shelter weapons and fighters, and its members easily blend in among civilians. Jan Egeland spoke with reporters at the Larnaca airport in Cyprus after a visit to Lebanon on his mission to coordinate an international aid effort. He had strong words for Hezbollah, which crossed into Israel and (killed eight) captured two Israel Defense Forces soldiers on July 12, triggering fierce fighting from both sides. "Consistently, from the Hezbollah heartland, my message was that Hezbollah must stop this cowardly blending ... among women and children," he said. "I heard they were proud because they lost very few fighters and that it was the civilians bearing the brunt of this. I don't think anyone should be proud of having many more children and women dead than armed men. "We need a cessation of hostilities because this is a war where civilians are paying the price," said Egeland, before flying to Israel. At Ben-Gurion airport, Egeland told reporters he would negotiate over a corridor for humanitarian aid inside Lebanon. "I'm here to work on the humanitarian crisis," he said, noting he will also visit Nahariya, hit hard by Hezbollah rockets. At least 600,000 Lebanese have fled their homes since Hezbollah abducted two IDF soldiers on July 12, according to the World Health Organization.
Saudis Urge Bush to Seek Lebanon Ceasefire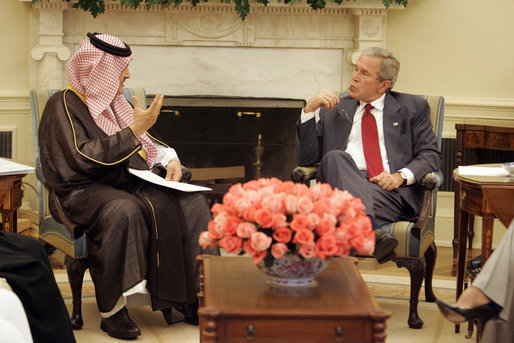 July 24….(World Watch) Top Saudi Arabian officials pressed US President George W. Bush on Sunday to agree to seek a ceasefire in the conflict between Israel and Hezbollah guerrillas in southern Lebanon. "We requested a ceasefire to allow for the cessation of hostilities, to allow for the rebuilding of the forces of Lebanon," Saudi Foreign Minister Prince Saud al-Faisal told reporters in English after a meeting of more than an hour with Bush and US Secretary of State Condoleezza Rice. President Bush has resisted calling for an immediate ceasefire, saying Israel has the right to defend itself and that a cessation of hostilities must address the root causes of the conflict, including Hizbullah's attacks on Israel and abduction of Israeli soldiers. The President has been accused by some Democrats of moving too slowly on the crisis. Secretary Rice departed Sunday evening for Israel and the Palestinian territories and will go to Rome on Wednesday to discuss the crisis with European and Arab officials, including officials from Lebanon. Speaking in Arabic, Saud said he brought a letter to Bush from Saudi King Abdullah seeking ways to end the bloodshed in Lebanon. The Saudis had requested the meeting with Bush. Saud said the letter called for an immediate ceasefire, the start of a prisoner exchange between Hizbullah and Israel and delaying the dismantling of Hizbullah for now. The Saudis did not object to an international force deployed in southern Lebanon. Saud said a ceasefire would allow time for Lebanon to build up its forces and establish its sovereignty over all of Lebanon. He said he found Bush "very conscious of the destruction and the bloodshed that the Lebanese are suffering, and his anxiety to see a cessation of hostilities." There is only one problem, and that is Lebanon, the inability of Lebanon to exercise its sovereignty over its territory. International calls for a cease-fire have increased as fighting between Israel and Hizbullah guerrillas has intensified, but Washington has rejected that approach. Rice has said she is seeking a sustainable end to violence. US ally Saudi Arabia has criticized Hizbullah and its backer Iran, saying "Elements" and "those behind them" were responsible for the Israeli offensive. But the Saudis have also been troubled by the Israeli attacks on Lebanon and their toll on civilians. Bush and Rice met at the White House with Saud, Prince Bandar bin Sultan, head of Saudi Arabia's national security council, and Saudi ambassador to the United States, Prince Turki al-Faisal.
Iraqi Shi'ite Militia ready to Join Fight
July 24….(AFP) A senior member of Muqtada al-Sadr's Iraqi Shi'ite militia, the Mahdi Army, says the group is forming a squadron of up to 1,500 elite fighters to go to Lebanon. The plan reflects the potential of the fighting between Israel and Hezbollah to strengthen radical elements in Iraq and neighboring countries and to draw other regional players into the Lebanon conflict. "We are choosing the men right now," said Abu Mujtaba, who works in the loosely organized following of radical Shi'ite cleric Muqtada al-Sadr. "We are preparing the right men for the job." Mujtaba, who was interviewed in Baghdad, said some of the men have had special training but did not specify what kind. Sheik al-Sadr's black-clad armed militia numbers in the thousands, operates throughout central and southern Iraq and is thought to be responsible for numerous killings of Sunnis. A rival Sunni cleric, Abdul Rahman al-Duleimi, said he knew about the militia's recruiting effort and that he had appealed to his own followers to fight Israel. "We know that the Mahdi militia is on this issue since the Lebanon-Israeli crisis started," said Sheik al-Duleimi. Sheik al-Duleimi said that during prayers on Friday, he "called the people to volunteer, and if they cannot, they should donate anything. I called on people to donate even one bullet, because maybe this one bullet will kill one Israeli." Iraqi Prime Minister Nouri al-Maliki has condemned Israel's assault on Lebanon. Other Shi'ite groups in Baghdad are rumored to be gathering donations to help the Hezbollah fighters in Lebanon. Sheik al-Sadr has openly voiced support for Iran, Hezbollah's main sponsor, and on Friday urged Iraqis to stand behind Lebanon to confront the "common enemy," Israel.
Russia is Stonewalling The Resolution Against Iran
(Russia now unexpectedly wants to change US-backed anti-nuclear resolution)
June 24….(FOJ) An unexpected Russian opposition to key wording of a US-backed Security Council draft resolution is straining international unity on how to deal with Iran's nuclear defiance, UN diplomats are reporting. The apparent change of heart for Russia is the latest obstacle in the months-long attempt to pressure Iran's hardline Islamic government to suspend uranium enrichment, which many countries fear Tehran wants to use for a nuclear program. Iran argues its needs enrichment to make energy and is entitled to it under the Nuclear Nonproliferation Treaty. Although it initially urged restraint, Russia, as recently as July 12 in Paris, signaled it was ready to support a tougher line. Russian Foreign Minister Sergey Lavrov and counterparts from the United States, China, Britain, France and Germany agreed then to resume Security Council deliberations after Iran refused requests to respond to an international offer to negotiate its nuclear program. Now all of a sudden, diplomats say Moscow is refusing to endorse language that would tell Tehran it has no choice but to freeze uranium enrichment or face sanctions. Russia's reluctance could seriously undermine efforts to secure a compromise from Iran, especially as the United States, Britain and France insist that the freeze be made mandatory. The West wants an Aug. 31 deadline for Iran to comply on the freeze demand. But if that demand is anything less then mandatory, any ultimatum loses much of its meaning because there is little else concrete left to enforce. Russia also vehemently opposes any military action against Iran.
The Enemy is Iran
July 24….(Jeff Jacoby) Opening a security conference in Tehran on July 8, Iranian President Mahmoud Ahmadinejad exhorted the Islamic world to mobilize against Israel and "remove the Zionist regime." The nations of the region are growing furious, he said. "It will not be long before this intense fury will lead to a huge explosion." Four days later, Hizbullah terrorists staged a raid across Israel's northern border, kidnapping two Israeli soldiers and killing eight more. Over the next day, more than 120 rockets rained down across northern Israel. Israel replied to Hizbullah's artillery barrages and hostage-taking with a military invasion, much as it did in Gaza last month in response to incessant rocket fire and the Hamas kidnapping of Gilad Shalit. In short order, Israel's warplanes struck Beirut's international airport, Hizbullah's offices and two Lebanese army bases; the Israeli navy put Lebanon under a blockade. And so, by week's end Israel was at war again, this time on two fronts against two of the most lethal terrorist forces in the world. Except that the real enemy confronting it is not Hamas and Hizbullah. Terrorist organizations cannot function without state sponsorship, and no state anywhere sponsors more Islamist terrorism than Iran. Was it just a coincidence that Ahmadinejad's prediction of "a huge explosion" came only days before Hizbullah's assault across the border and its unprecedented attack on Haifa? Or did the rabid president of the evil regime that bankrolls Hizbullah with an estimated $200 million a year know what was coming? It was Iran that supplied Hizbullah with its immense arsenal of artillery rockets. When Hizbullah launches them at Israel, it is doing the bidding of its patron. The same is true of Hamas, which is likewise financed by Iran. The top Hamas mastermind held a press conference in Damascus last week, where he extolled the Syrian regime that shelters him. Syria is in turn protected by Iran, and has signed a military alliance pact with Iran. So, it came as no surprise when Ahmadinejad warned Israel not to extend its military offensive to Syria, and threatened "a crushing response" if it did. Israel has to repair its deterrent threat, which was weakened by the unilateral retreats from Gaza and southern Lebanon, and by too many restrained and listless responses to terrorist provocations. Gaza, Hizbullah, Iraq, Al-Qaeda - it is all the same fight. No one should have any lingering doubts about what's going on in the Middle East. "It's war, and it now runs from Gaza into Israel, through Lebanon and thence to Iraq via Syria. There are different instruments, ranging from Hamas in Gaza to Hizbullah in Syria and Lebanon and on to the multifaceted 'insurgency' in Iraq. But there is a common prime mover, and that is the Iranian mullahcracy, the revolutionary Islamic fascist state that declared war on the USA 27 years ago and has yet to be held accountable." Twenty-seven years ago was 1979, the year that Islamist radicals loyal to the Ayatollah Khomeini invaded the US embassy in Tehran and held dozens of American diplomats hostage for the next 444 days. Washington's response was weak and feckless. Only after 9/11 did the United States finally acknowledge that it was in a war with militant Islam and begin fighting back in earnest. But not against Iran, which continues, unscathed and unrepentant, to stoke the terrorist fires. Its goals, unchanged since Khomeini's day, are to become the dominant power in the Middle East, to create Islamist regimes worldwide, to annihilate Israel, and to kill Americans. America will never win this war until the Iranian theocracy is brought down. That does not have to mean military action. Our aim instead should be to empower Iran's restive population, which is largely pro-Western and moderate. Give them as much support as possible, much as the Reagan administration did for Lech Walesa and Solidarity in Poland - and let them find the means to reclaim their government for themselves. Israel may be able to inflict a punishing defeat on Hizbullah, but regime change in Tehran will require American resolve. Will we muster that resolve before - or only after - the mullahs get the bomb?
Report: Sleeper Hizbullah Cells Activated
July 24….(Jerusalem Post) Hizbullah "sleeper" terror cells set up outside Lebanon with Iranian assistance have been put on standby The Jerusalem Post learned on Sunday, and are likely planning attacks against Jewish and Israeli targets throughout the world. The Shin Bet (Israel Security Agency) confirmed to the Post Sunday night that it had instructed embassies, consulates and Jewish institutions it was responsible for abroad to raise their level of awareness in light of the conflict in the North. The assumption within Military Intelligence is that Hizbullah would only attack targets abroad if it felt pushed into a corner. According to this thinking, the Islamist group hesitates to carry out such attacks because it does not want to be associated with Global Jihad and al-Qaida. Hizbullah has attacked Jewish and Israeli targets abroad in the past. The organization is believed to have been behind the attack on the Israeli Embassy in Buenos Aires in 1992 during which a suicide bomber drove a pick-up truck filled with explosives into the building, killing 29 people and wounding 242, following Israel's assassination of the group's leader at the time, Sheikh Abbas Musawi. Hizbullah is also thought to have been responsible for the attack on the Argentine Israelite Mutual Association building in Buenos Aires in 1994, when an explosives-laden van rammed into the structure and killed 85 people. Another attack attributed to the group was the 1985 hijacking of TWA flight 847. One passenger was murdered; the remainder of the hostages were released over a two-week period.
Uncovered : Russia-Syrian-Iranian Axis
July 24….(Hal Lindsay) For students of Bible prophecy, even the title of this communiqué should set off alarm sirens. I just received some electrifying intelligence data. First, from the Debka-Net-Weekly's briefing. And second, from some personal intelligence sources that confirm Debka's report.
Russia, Iran and Syria have entered a defense pact that is in the process of altering the balance of power in the entire Middle East. Russia's part in the pact has been kept relatively secret for a long time. But the facts reveal a long steady Russian commitment to the Iranian nuclear program and arms supply to Syria. A Mossad General shared with me in confidence that he had personally traced the hiring and importation to Iran 283 of the defunct Soviet Union's top nuclear and missile scientists. This meeting took place in February of 1991. I shared this information with no one until nine months later when it was first made public (although strangely not followed up by the mainstream media). All Russian leaders continued and expanded this agreement to this day, especially our supposed friend, Vladimir Putin. Russia has helped the Iranian nuclear program from its inception. Hundreds of Russian scientists with their families live around the some twenty scattered nuclear related facilities. Russian 'Spetznaz soldiers' (special forces) guard all the key nuclear facilities. Iran has had some help on missile development from the North Koreans. But even their missiles are based upon Russian designs. The unmistakable culprit in China, North Korea and Iran's nuclear development has been the Soviet Union and continued by Russia. The Soviet Union's motivation for helping China and North Korea was primarily ideological. Russia's primary reason is hard cash, although now, it is taking on a strategic importance as well. So here are the disturbing hard facts about what is taking place in what can only be viewed as a dangerous anti-western strategy in the form of a Russian-Syrian-Iranian Axis. The first part of this strategy was, as I said above, Russia enabling Iran to produce deliverable nuclear warheads. The second part was the forming of the recent mutual defense pact between Iran and Syria. The foreign ministers of Iran and Syria, Mostafa Najjar and Hassan Turkmani, signed the pact in Tehran on June 15th, 2006. Debka's intelligence sources unveiled a disturbing clause in the agreement that was reported to President Bush by US Intelligence. This report disclosed: "The clause speaks of more than one battery of upgraded SHEHAB-3 surface-to-surface missiles to be deployed on the 13,000-foot Jabal Ash Shanin ridges towering over central Syria. "The latest Syrian-Iranian exchanges are reported by DEBKA-Net-Weekly's intelligence sources as auguring the early dispatch from Tehran of a deputation of officers to take up position at al Qadnus, east of the Syrian port of Tartus, and along the road linking the port to Jabal Ash Shanin. "This team will act as the vanguard of the Iranian missile force to operate the missiles station, will check out the ground and fix its precise location. "Senior intelligence officials warned the US President that this deployment would not just throw the entire Middle East balance of strength out of kilter, but directly menace American bases as far as West and East Europe and the Central Asian republics, including those located on the shores of the oil-rich Caspian Sea." This puts virtually all of Europe within range of the soon-coming nuclear tipped Iranian missiles, and at the whim of Iranian President, Mahmoud Ahmadinejad. Remember him? He is the one who believes Allah has chosen him to fulfill an "end time" Muslim prophecy by starting a world apocalypse in which the long-awaited 'Mahdi' (Muslim Messiah) will appear and subject all survivors to Allah. As if this isn't bad enough news, there is something even more alarming developing within this new axis of evil. Russia is now making moves to protect Syria and its Shehab-3 missile base. This is what DEBKA-News-Weekly reported: "Our sources have observed the Russians dredging the port of TARTUS, Syria's second most important Mediterranean port, with a view to expanding their logistical supply point there to a fully-equipped naval base, possibly to serve the Black Sea Fleet warships when they are redeployed from the Ukrainian port of Sevastopol. It is designed to be built up into the permanent base for the fleet led by the RFS Moskva (TG Flag) missile cruiser and the RFS Azov landing ship within the next three years. "February 27, 2006, DEBKA file's exclusive sources found the MOSKVA and AZOV heading into the Mediterranean on Feb. 5, escorted by a Russian military tug, to take part in the a NATO marine exercise Operation Active Endeavor, which was to practice counter-measures against nuclear and other WMD smugglers. NATO chiefs and American generals in particular, attached great importance to Russia's participation in the exercise. NATO secretary Jaap de Hoop Scheffer had intended to make the gesture of being the North Atlantic Organization chief to visit a Russian flagship. "The visit was cancelled when it was discovered that the three Russian fleet vessels would be paying an official call at the Syrian port of Latakia. "The arrival of the Russian task force in TARTUS in March marked the opening of the Russian base. Our military experts note that the Missile Cruiser MOSKVA is armed with the weapons, radar and electronic gear of an [aircraft] carrier hunter. "The American intelligence briefing for the US President further disclosed that sophisticated Russian air defense systems are to be installed for the dual purpose of protecting the Tartus naval base and the SHEHAB-3 missile emplacements. DEBKA-Net-Weekly's military sources identify the system as the S-300PMU-2. It will be operated by Russian military crews and not put in Syrian hands. "This air defense system is comparable to the American Patriot, but is more effective. "The version to be deployed in Syria is geared to intercept ballistic missiles. It has the great advantage of being ready to fire five minutes after receiving orders …" This explains why Iran has blatantly defied the world and continued developing nuclear warheads, which are closer to becoming operational than we dare believe. Second, it explains the reason why the Iranian and Syrian defense ministers signed a mutual defense pact last June 15th. Third, it gives the reason for Hezbollah launching a war with Israel when they did. It was to divert the G-8 leaders from seriously debating action about the Iranian nuclear threat. And Vladimir Putin played a masterful game of concealing what his forces are doing.Fourth, it explains why Syria and Iran are unafraid to openly support Hezbollah in their war with Israel and support terrorist that target US troops in Iraq. Russia is in the background guaranteeing their protection. Debka reports that they found data indicating that Russia helped persuade Syrian President Bashir Assad to accept the placement of Iranian missiles on their soil by hinting that "it is part of their own deepening strategic plans for Syria. What is most important is that all this is setting up Ezekiel's 2600-year-old prophecy in Ezekiel chapter 38. Persia, or modern Iran, is listed a chief among the Muslim nations Russia will lead into an all-out assault against Israel. This is predicted to be the first battle of the war of Armageddon. The one nation that does not seem to be listed is Syria. I believe this is because as a result of actions it is now taking against Israel, Isaiah's prophecy about Damascus in the last days is going to be soon fulfilled. Twenty Seven hundred years ago, Isaiah warned, "An oracle concerning Damascus: "See, Damascus will no longer be a city but will become a heap of ruins … In that day the glory of Jacob will fade; the fat of his body will waste away." (Isaiah 17:1, 4 NIV) To establish the time of this event, look at these factors. First, Damascus is one of the oldest continuously populated cities on earth. It has never been totally destroyed – yet. Second, it is in a context of events that lead up to the catastrophes that precede the Lord Jesus' Second Coming. Third, it is far enough away from that event that Jacob (Israel) is enduring terrible circumstances. Fourth, Syria and the tribal name of its forefathers are not mentioned in the Russian led Muslim Confederacy that launches Armageddon in the middle of the Tribulation. All of this leads me to believe that Damascus will be destroyed before the Tribulation begins. I believe that Damascus is about to so threaten Israel's existence by either launching or furnishing bio-chemical weapons or radioactive dirty bombs, that Israel will nuke them. Israel has sworn that it will implement the Samson-Option against any nation that attacks them with any form of weapons of mass destruction. That means a thermonuclear strike. This may soon happen to Syria. This in turn will so terrify the world, that it will be ripe to embrace the antichrist when he is unveiled. And that could be very, very soon. Thank God that you have received the gift of pardon that Jesus purchased by dying in your place under the judgment for your sins. You will be miraculously snatched up to heaven to meet Him before the antichrist is revealed.
WEEK OF JULY 16 THROUGH JULY 23
Iran's Ahmadinejad Tells Israel to 'Pack Up' and Leave
| | |
| --- | --- |
| | Iran's president, Mahmoud Ahmadinejad, declared Sunday that Israel had "pushed the button of its own destruction" by launching its military campaign against the Iranian-backed Hizbullah in Lebanon. Ahmadinejad didn't elaborate, but suggested Islamic nations and others could somehow isolate Israel and its main backers led by the United States. |
July 23….(AFP)Iranian President Mahmoud Ahmadinejad has called for Israel to "pack up" and move somewhere outside the Middle East. "I advise them to pack up and move out of the region before being caught in the fire they have started in Lebanon," said Ahmadinejad, who has repeatedly called for the Jewish State to be relocated elsewhere on the planet, the state news agency IRNA reported. Iran refuses to recognize Israel and opposes any two-state solution to the Israeli-Palestinian conflict. Israel launched its offensive in Lebanon on July 12 after Shiite Hezbollah militiamen captured two Israeli soldiers and killed eight others in attacks on the Israel-Lebanon border. The Jewish state is also continuing with its attacks on the Gaza Strip, with the aim of retrieving a soldier snatched by Palestinian militants and stopping rocket fire.
Syria: We'll Join Conflict if Israeli Troops Approach
(Syrian information minister says country to enter Israel-Hizbullah conflict if IDF forces invade Lebanon, approach Syria border. in meeting with Spanish foreign minister in Madrid, Damascus envoy slams US for supporting Israel in fighting)
July 23….(YNET) Syria will enter the Israeli-Hizbullah conflict if Israeli ground troops enter Lebanon and approach Syria, Syrian Information Minister Mohsen Bilal said in an interview published on Sunday. Israel invades Lebanon over ground and comes near to us, Syria will not sit tight. She will join the conflict," He told newspaper ABC. "We have cooperation forces on alert," He added. "If Israeli troops provoke us, Damascus will act to guarantee the national security of Syrian territory." He criticized the United States for not working towards a ceasefire. "Are they waiting for Israel to destroy Lebanon and for it to have to be evacuated completely?" He said. Bilal denied Syria was bankrolling Hizbullah, but said the group had Damascus' moral support and sympathy. The US maintains that Syria is a main backer of Hizbullah.
US Seeks to Wedge Syria From Iran
July 23….(Washington Times) As Secretary of State Condoleeeza Rice heads to Israel on Sunday, Bush administration officials say they recognize Syria is central to any plans to resolve the crisis in the Middle East, and they are seeking ways to peel Syria away from its alliance of convenience with Iran. In interviews, senior administration officials said they had no plans right now to resume direct talks with the Syrian government. President Bush recalled his ambassador to Syria, Margaret Scobey, after the assassination of Rafik Hariri, a former Lebanese Prime Minister, in February 2005. Since then, America's contacts with Damascus have been few, and the administration has imposed an array of sanctions on Syria's government and banks, and frozen the assets of Syrian officials implicated in Mr. Hariri's killing. But officials said this week that they were at the beginning stages of a plan to encourage Saudi Arabia and Egypt to make the case to the Syrians that they must turn against Hezbollah. It is not clear how forcefully Arab countries would push a cause seen to benefit the United States and Israel. Many Middle Eastern analysts are skeptical that a lasting settlement can be achieved without direct talks between Syria and the United States. The effort begins Sunday afternoon in the Oval Office, where President Bush is to meet the Saudi foreign minister, Saud al-Faisal, and the chief of the Saudi national security council, Prince Bandar bin Sultan. Prince Bandar was the Saudi ambassador to Washington until late last year. The session was requested by the Saudis, American officials said. The Saudi's want to see Hezbollah wiped out, and they'd like to set back the Iranians." But in the Arab world, the official added, "they can't be seen to be doing that too enthusiastically.'' Several of Mr. Bush's top aides said the plan was for Mr. Bush and other senior officials to press both Saudi Arabia and Egypt to prod Syria into giving up its links with Hezbollah, and with Iran. The administration, aside from its differences with Iran over nuclear programs and with Syria over its role in Lebanon, has also objected to both nations' behavior toward their common neighbor, Iraq. "They have to make the point to them that if things go bad in the Mideast, the Iranians are not going to be a reliable lifeline,'' one of the administration officials said. Another said, "There is a presumption that the Syrians have more at stake here than the Iranians, and they are more exposed." The American officials are calculating that pressure from Egypt, Saudi Arabia and Jordan may help to get Syria on board. The US State Department lists Syria as a country that sends money to terrorist organizations. The idea is to try to drive a wedge between Syria and Iran, which have recently been drawn closer together by standoffs with Washington. Syria and Iran have been formally allied since the Iran-Iraq war began in 1980, but historically they were suspicious of each other. "Historically and strategically, they are on opposing sides, the Arabs and the Persians," Daniel Ayalon, Israel's ambassador to the United States, said in an interview on Thursday. Now, he added, "the only Arab country to ally with Iran is Syria," a position that has angered Egypt, Jordan and Saudi Arabia. Syria, like most of the Arab world, is largely Sunni. Iran and Iraq are largely Shiite. Secretary Rice said, "I have no interest in diplomacy for the sake of returning Lebanon and Israel to the status quo ante." Rather, the administration's declared aim is to carry out UN Resolution 1559, which calls for the disarming of Hezbollah and the deployment of the Lebanese Army to southern Lebanon. Syria, which was forced to withdraw its troops from Lebanon last year, may well balk at efforts to enforce it. But while analysts say it is possible for the Bush administration and Israel to work out a solution without including Syria in the diplomatic wrangling, it would be difficult. Some Bush administration officials, particularly at the State Department, are pushing to find a way to start talking to Syria again, and driving a wedge between Syria and Iran.
Syria: We Will Press for Cease-Fire to End Israel-Hezbollah Conflict
July 23….(Fox News) Syria, one of Hezbollah's's main backers, said it will press for a cease-fire to end the fighting between Israel and the Islamic militant group but only in the framework of a broader Middle East peace initiative, signaling it was ready to help defuse Lebanese crisis. Damascus warned, however, that it will not stand by if the Israelis step up their offensive in Lebanon. "Syria and Spain are working to achieve a cease-fire, a prisoners' swap and to start a peace process as one package," Syrian Information Minister Moshen Bilal was quoted as saying by the Spanish daily newspaper ABC. Bilal said Damascus would cooperate only within within the framework of a broader Middle East peace initiative that would include a return of the Golan Heights to Syria, an area captured by Israel in 1967. "Syria is working on achieving real, comprehensive, fair peace based on the withdrawal from all the occupied territories, including the Golan," Bilal said. It is unlikely that Israel would agree to such a deal, but the remarks were the first indication of Syria's willingness to be involved in international efforts to defuse the Lebanese crisis. "If Israel invades Lebanon and enters it by land, then it will be only about 12 miles from Damascus, then we will not stand with our hands tied," Bilal said.
Syrian Army on War Preparedness As Tehran Takes Control of Lebanon War
July 22, 2006 (DEBKA) ("Our sources add Syrian fighter pilots are sitting in their cockpits.") Orders went out from Syrian president Bashar Assad July 20 when Iran's Revolutionary Guards commander Brig.-Gen Yahya Rahim Safavi assumed command of the Lebanon war from Hizballah leader Hassan Nasrallah. Tehran's direct military intervention in the conflict was accompanied by an Iranian weapons air-lift which began landing Wednesday, July 19, at the Abu Ad Duhur military airfield north of Homs. The deliveries include large quantities of new missiles, including the long-range Zelzal and Fajr 3 and Fajr 5 missiles, Katyusha rockets, anti-tank and anti-air missiles sent out from RG HQ in Bandar Abbas on the Persian Gulf. Assad acted on the assumption that Israel, whose air force and ground forces are already hammering the cross-border supply routes north of the Litani River to block the passage of Iranian hardware to Hizballah, will soon decide to go for Iranian military operations in Damascus and Abu Ad Duhur. Gen. Safavi has set up two forward command posts which coordinate war operations with Hizballah chief of staff Ibrahim Akil. One center is working out of a cellar of the Iranian embassy in Beirut to regulate Hizballah rocket fire against Israel and direct the groups of 3 or 4 RG officers taking part in every Hizballah face-to-face engagement with Israeli ground troops in the south. The second, housed in the basement of the Iranian embassy in Damascus, is in charge of communications, intelligence and getting hardware into Lebanon. The deliveries were made to the Abu Ad Duhur airfield because it belongs to the joint Iranian-Syrian Scud missile factory which employs a large number of Iranian engineers and technicians. DEBKAfile's military sources report that some of the Iranian arms have Hizballah in Lebanon notwithstanding intense Israeli cutoff operations and their impact will probably be palpable in the coming days.
Palestinian Terrorists Prepare to Target US
(Al Aqsa Brigades leader tells WND of threat amid concerns of Hezbollah on American soil)
July 21….(WND) It is only a "question of time" before Palestinian terror groups and other Islamic organizations in the Middle East target the United States both abroad and on the home front, Abu Nasser, second-in-command of the Al Aqsa Martyrs Brigades, told WorldNetDaily in an exclusive interview. The information comes after FBI officials told reporters earlier this week they are searching for possible Hezbollah agents operating inside the US amid concerns escalating tensions with Iran could trigger attacks on American soil. According to Israeli security officials, Abu Nasser and the overall leader of the Al Aqsa Brigades in northern Samaria, Ala Senakreh, coordinate their groups activities directly with Hezbollah. Sources in the Brigades admitted to WND they work in tandem with Hezbollah, which they say provides funding and training. "The Americans deserve to be targeted because of their support to the enemy. It is a question of time before the revolutionary organizations in the Middle East will start targeting the Americans," said Abu Nasser, speaking to WND from Nablus. The Al Aqsa Brigades, the declared "military wing" of Palestinian Authority Chairman Mahmoud Abbas' Fatah party, is responsible for scores of rocket and shooting attacks, and, together with Islamic Jihad, for every suicide bombing since last February's so-called cease-fire. "One can say that these threats are just rhetoric, but the near past proved that these threats come more and more into reality," said Abu Nasser. "Believe me, it is a new era and I am suggesting to the American people to adopt a different policy and strategy because very soon they will deal with a unified Muslim world, but without the help of their agents in the Middle East." The Al Aqsa Brigades is not thought to possess the ability to attack inside the US, but there are concerns its ally, Hezbollah, has infiltrated America and is seeking to attack. Hezbollah representatives in Iran warned earlier this week the group stood ready to target US and Israeli interests worldwide. American law enforcement officials said they are taking the Hezbollah threats seriously. "Because of the heightened difficulties surrounding US-Iranian relations, the FBI has increased its focus on Hezbollah," said FBI spokesman Paul Bresson in Washington. "Those investigations relate particularly to the potential presence of Hezbollah members on US soil." William Kowalski, assistant special agent in charge of the FBI in Detroit, asked, "If the situation escalates, will Hezbollah take the gloves off, so to speak, and attack here in the United States, which they've been reluctant to do until now?" Detroit is home to one of the largest Muslim communities in the United States. Hezbollah sympathizers have been caught fund-raising in the city. Two men pled guilty earlier this month to racketeering charges in which a smuggling ring based in Michigan is accused of funneling profits to Hezbollah. US law enforcement agencies reportedly have indications Hezbollah agents are on US soil and may be planning attacks. In May, the New York Post cited law-enforcement and intelligence officials stating Hezbollah may be planning to activate sleeper cells in New York and other big cities as the US confrontation with Iran escalates. The sources told The Post about a dozen hard-core supporters of Hezbollah are operating in the New York area. They said the possible Hezbollah agents have been placed under heavy surveillance. Hezbollah never has launched a strike on US soil, but prior to al-Qaida's Sept. 11, 2001, attacks, it was responsible for more American deaths than any other terrorist group. Hezbollah is accused of attacking the US embassy in Lebanon, killing 63, and of a spate of kidnappings and murders of Americans in Lebanon. Hezbollah's deadliest attack against Americans was the 1983 bombing of Marine barracks in Beirut that killed 241 US servicemen.
David Dolan's Updates on the Crisis
July 21….(David Dolan) Haifa, Israel's third largest city has come under Hizbullah rocket attack again this afternoon just as those Jewish resident who have not fled the port city were making final preparations for the Sabbath. Israeli media outlets are reporting that substantial numbers of IDF soldiers are already operating inside south Lebanon, apparently working to establish a new buffer zone designed to stop most of the rocket firings into Israeli territory. Israeli Defense Minister Amir Peretz indicated today that a large military reserve call-up may be imminent. Some 3,000 men reportedly received their notices today. This came after Lebanon's Prime Minister said he may order his army to join the fight against IDF forces in the south of his country, which would significantly up the war ante. The longer the conflict goes on, the more local and regional Arab public opinion is likely to harden against the world's only Jewish-run state. This comes despite the fact that most Arabs are Sunni Muslims with no natural affinity for their Shiite cousins. Israeli leaders realize that Hizbullah is actually a Lebanese puppet force that is largely controlled by two regional Islamic powers, Iran and Syria. As the fighting goes on, it is becoming clear that the Iranian-funded and trained Hizbullah militia was far more prepared for this conflict than most Israeli security analysts and politicians had anticipated. In reality, Israel is not just battling a rogue militia force, but is already at war with both Syria and Iran. This means a much larger and longer conflict is probably in store than IDF generals were predicting just one week ago. Indeed, the chances that the intense ground fighting, Israeli air force bombings and Hizbullah rocket strikes will lead to direct Syrian involvement is seemingly growing every day. One of Israel's largest newspapers, Maariv, features a bold front page headline in today's Friday edition declaring that Sheik Nasrallah has decided to do everything in his power to draw Syria into the fighting. The article notes that many international media outlets seem to be egging this on, running repeated reports of suffering Lebanese civilians demanding regional Arab military intervention.
Think the Land-For-Peace Formula is Workable
| | |
| --- | --- |
| | A Palestinian man wears the traditional garb of his Islamic heritage. It clearly reveals a map of what the Palestinians claim as what they envision as their land, and it shows no place for Israel to ever be permitted to exist. Peace means no Israel! |
July 21….(FOJ) First Israel withdrew from 6 West Bank cities, and eventually offered Yasser Arafat almost all of the West Bank, and East Jerusalem for the envisioned new State of Palestine, in the hope of peace, only to Arafat walk away from any discussion and declare a terror war on Israel. (after he supposedly renounced terrorism)Then Israel withdrew from Gaza in another measure to trade land for peace, but Hamas and Isliamic Jihad launched more raids, rockets, and mortars into Israeli towns. Then Israel withdrew from South Lebanon in accordance with UN resolutions, only to see Hezbollah launch missiles and rockets on Israeli towns, and kidnap soldiers. Yet for some mysterious reason the world think Israel is heavy-handed and oppressive, and only seeking to occupy more and more territory. The truth is that Israel has tried every conceivable thing imaginable to live in peace with her neighbors, but the sad fact of the matter is that Israel's neighbors don't want Israel around, anywhere. The photo shown here is a close up of the typical shawl the Muslims in the West Bank wear. It clearly shows (as do PA uniforms) no room for Israel. Ironically, 2000 years ago Israel had no room for the their true Messiah (Jesus Christ) and today the world has no room for Israel, and it won't concede to making room for Israel, until Israel makes room for Jesus.
A Brief Biography of Hasan Nasrallah
| | |
| --- | --- |
| | Nasallah, the head of Lebanese Hezbollah is shown in this photo with an old friend, UN Secretary General Kofi Anan. |
July 21….(FOJ) Hasan Nasrallah, the leader of hezbollah was born in the East Beirut neighborhood of Bourj Hammoud in 1960, as the eldest of nine children. In 1975, the Lebanese Civil War forced his family to return to their ancestral home in the South Lebanese village Bassouriyeh where Nasrallah joined the Amal movement, a political and paramilitary organization representing Shiite fundamentalism in Lebanon. From south Lebanon, the young Nasrallah then moved to Najaf, Iraq, to study at a Shi'a seminary. Najaf is where Ayatollah Ruhollah Khomeini resided and taught until he fled to Paris, France. In 1978, one year before the Iranian Islamic Revolution, Nasrallah and other radical Shi'a clerics and students were forced to leave Iraq and return to Lebanon. There, Nasrallah studied and taught at Amal leader Sheikh Abbas al-Musawi's school in 1982. After the Israeli invasion of Lebanon, Nasrallah followed Musawi out of the local Amal group, and into an umbrella organization of radical Iranian and Lebanese militants called Hezbollah, or the so-called Party of God. Following Israel's military assassination of Hezbollah leader Sheikh Musawi, in 1992, Nasrallah was appointed to take over Hezbollah at the direct request of Ayatollah Khamenei himself.
Nasrallah Claims Surprises in Store for Israel
July 21….(Jerusalem Post) Hizbullah terror group leader Sheikh Hassan Nasrallah appeared in an interview on the Arabic Al Jazeera television station just one day after an Israeli air-strike on a bunker believed to be Nasrallah's hideout. "Hizbullah has so far stood fast, absorbed the strike and has retaken the initiative and made the surprises that it had promised," Nasrallah stated of his terror organization. The arch-terrorist added, "There are more surprises." Unlike leaders of other terror groups, Nasrallah is known for speaking in plain language and following up on his threats soon after they are made. Just hours after threatening to bombard Haifa last week, Katyusha rockets began raining on Israel's northernmost metropolis. With regard to additional surprises, London's MI6 reports that Hizbullah may be planning to fire "dirty bombs" with spent nuclear rods enclosed in the nose cones of rockets, according to WorldNetDaily. Hizbullah's leader warned that defeating Israel in battle would be "a defeat for the entire Islamic nation." "I can confirm without exaggerating or using psychological warfare, that we have not been harmed," Nasrallah stated, calling assertions that Israel has destroyed up to 50 percent of Hizbullah's rocket arsenal "baseless." Israel dropped over 23 tons of explosives on Hizbullah's headquarters in Beirut, Thursday. Nasrallah offered condolences to the family of two Arab brothers who were killed in Nazereth as a direct result of a Hezbollah Katyusha rocket attack. He called the brothers, who were Israeli citizens, "martyrs for the Palestinian cause."
Saudi Fatwa: Don't Support Hizbullah
July 21….(YNET) A leading Wahhabi cleric in Saudi Arabia has issued a scathing fatwa against Hizbullah, the latest in a series of condemnations from the usually supportive Arab world. Sheik Abdullah bin Jabreen declares it against Muslim Sharia law to support, join, or even pray for the terror group, writing, "our advice to the Sunnis is to denounce them and shun those who join them to show their hostility to Islam and to the Muslims," the report said. The New York Sun reports that the fatwa also condemns Iran for funding and supporting Hezbollah to further what Jabreen called its imperial ambitions. This fatwa joins a ruling by a Kuwaiti sheikh, who harshly condemned the imperialistic aspirations of Iran through Hizbullah following the abduction of Israeli soldiers on the Lebanon border. The surprising move by the Saudi sheikh demonstrates the controversy among cleric in the Middle East regarding the issue of supporting or opposing Hizbullah, which is a Shiite organization. Some Sunni clerics, such as the Muslim Brotherhood members in Egypt, have declared their support of Hizbullah. The Wahhabi faction, however, usually opposed Hizbullah's armed struggle against Israel. Jabreen ruled in his fatwa that Hizbullah members are "opposers." He added that "we advise the Sunnis to condemn them and stay away from people who join them or express their hostility towards Islam and Muslims."
Lebanese Army Will Fight Israeli Ground Invasion
July 21….(AP) Lebanon's army, which so far has sat on the sidelines of the violence raging in the country, will fight an Israeli ground invasion, Defense Minister Elias Murr said on Al-Jazeera television Thursday. "The Lebanese army - and I stress - the Lebanese army will resist and defend and will prove that it is an army that deserves respect," he said. In most of the previous Israeli attacks, including in 1978 and the 1982 invasion in which Beirut was occupied, the Lebanese army largely stayed out of the fighting. Sidestepping all blame for the current conflagration, Lebanese Prime Minister Fuad Siniora Thursday pointed an accusatory finger at Washington for its failure to rein in Israel's military actions against his country. That despite the fact that Beirut's refusal to comply with United Nations Security Council Resolution 1559, which demands the disarmament of Hizb'allah and deployment of the Lebanese army in southern Lebanon, directly facilitated the terrorist abductions and rocket attacks that sparked the current fighting.
Is Iran Planning to Strike Israel?
July 21….(JNEWSWIRE) Tehran may have ordered the current Hizb'allah rocket assault on Israel in order to swamp Israeli defenses and open the door for an Iranian missile strike on Israel's population centers, wrote a group of Iranian exiles in a full-page ad published in Wednesday's Washington Times. The Azadegan Foundation, led by former Iranian diplomat Assad Homayoun, warned that Iranian President Mahmoud Ahmadinejad intends to use weapons of mass destruction against the Jewish state. "We have known for some four years that Iran's clerical leadership has, mostly through Syria and with active participation from Syrian President Bashar al-Assad, been pouring thousands of Zalzal-2 and Fajr rockets and missiles into HizbAllah and Iranian Revolutionary Guard (Pasdaran) units in Lebanon's Beqa'a Valley, for use against Israel. g used. And, clearly, this is only the beginning. They are the mass barrages meant to swamp regional defenses so that Iran's strategic Shahab-3 ballistic missiles and other weapons can deliver WMD against Israel and other targets in the region." Adding to the growing sense of concern is the fact that Ahmadinejad earlier this week announced to Muslims throughout the region that a great day of "rejoicing" would soon be upon them. If Iran's aim is to divert Israel's missile defense systems away from its densely populated central regions, it appears to be working. World Tribune reported Wednesday that Israel is "urgently pooling its missile defense assets to defend against" the Hizb'allah threat in the north.
Urgent WMD Hunt on in Lebanon
(Report: Hizb'allah poised to launch 'dirty bomb' strike)
July 21….(WND) Israeli commandoes are hunting day and night behind enemy lines in Lebanon and Syria for weapons of mass destruction believed to be in the possession of Hizb'allah. It is widely believed that former Iraqi dictator Saddam Hussein transferred his stockpiles of chemical and biological weapons to Syria (with Russian assistance) just months prior to US invasion in March 2003. Many of those weapons were then passed on to Hizb'allah, which has a freer hand to act against Israel than its Syrian sponsors. WND reporter Chris Klein reported that special teams of IDF Druze commandoes, chosen because of their ability to blend in to the local Arab populations, have orders to destroy long-range Iranian missiles and any chemical weapons they find, after first documenting their existence. In related news, the British intelligence service MI6 has established that Hezbollah is poised to launch a new "rain of terror" on Israel with rockets equipped with "dirty bomb" nose cones, "The nose cones will contain spent nuclear rods from Iran's nuclear program. The rods are wrapped with conventional explosives. Meantime, Mossad undercover agents are desperately trying to locate where the "dirty bomb" arsenal is located. It is believed to be in the Bekaa Valley. The Israeli intelligence service has also told MI6 that it believes Hezbollah now has "up to a thousand" other rockets poised for launch.
Arabs Divided Over Hezbollah
July 21….(AP) The fighting between Israel and Hezbollah exposed divisions across the Arab world, not only between Shiites and Sunnis but also between Arab governments and their citizens. Key Arab allies of the United States, predominantly Sunni countries such as Saudi Arabia, Jordan and Egypt, fear the rising power of Shiites in the region: Hezbollah militants who virtually control southern Lebanon, Iraq's majority Shiite government, and, most worrisome, the Shiite theocracy that has run Iran for decades. Predominantly Sunni Arab states are tacitly encouraging the destruction of Hezbollah, concerned it could stage attacks and create militant cells outside of Lebanon. There is also fear that militant Sunnis could join with Hezbollah, as the Palestinian militant group Hamas has done, to build a super terrorist network. "Whenever there is a paramount cause which can bring them together, such as a jihad against the Zionists, they will be united," Gamal Sultan, editor of the Cairo-based Islamic monthly Al Mannar Al Jadid, said of the Sunni and Shiite militants. Yet on the other hand, Arab governments also fear their own populations will turn on them if they look weak and unable to challenge Israeli aggression against a fellow Arab state. Saudi Arabia, the bulwark of the Sunni Arab world has tried to balance both concerns, criticizing Iran and Hezbollah for provoking Israel but also condemning the Jewish state. The Saudi foreign minister, Saudi Al Faisal, blasted what he called "non-Arab intervention in the Arab world," a clear reference to Iran, Hezbollah's main backer along with Syria. Egyptian President Hosni Mubarak angered Shiite leaders by saying Shiites across the Middle East were more loyal to Iran than to their own countries. Former Jordanian information minister Saleh al-Qalab has described Hezbollah as an Iranian "land mine" in the Arab world. And Jordan's King Abdullah II warned of a Shiite crescent forming in the region. Many Arabs blame Washington's Middle East policies for upsetting the region's sectarian balance. "The whole problem started with the American invasion of Iraq". If Hezbollah survives the current Israeli onslaught, the sect stands to become even stronger, and Iran's hand in the region more powerful. In Iraq, the Hezbollah-Israel conflict has proved a rallying point for Sunnis and Shiites as Iraqi Muslims staged an anti-Israel protest with banners reading "Shiites and Sunnis unite" against Israel. Adding to the Shiite power base, the sect's faithful share a coherent religious view. Since splitting from their Sunni brethren in the 7th century over who should replace the Prophet Muhammad as Muslim ruler, they have developed distinct concepts of Islamic law and practices. They also dominate by sheer number: Shiites account for some 160 million of the Islamic world's population of 1.3 billion people. Shiites account about 90 percent of Iran's population, more than 60 percent of Iraq's, and some 50 percent of the people living in the arc of territory from Lebanon to India.
Three Thousand Americans Emigrate to Israel
As rockets fly, planeloads of Jews arrive in Middle East
July 21….(WND) Even as rockets slam into Israel and Israeli reprisals force Lebanese to flee the border region and parts of Beirut, more than 3,000 American citizens are leaving the comfort and security of the United States to make war-torn Israel their home. "What is the best answer to Hezbollah?" asked former Israeli prime minister and current opposition leader Benjamin Netanyahu during a welcome address to the new citizens. "You are the answer to Hezbollah." More than 250 new immigrants arrived yesterday at Israel's Ben Gurion International Airport to add to the rapidly growing Jewish population in Israel. The planeload was the second of seven flights scheduled for this summer and the first arrival since the outbreak of violence with Lebanon. The act of immigrating to Israel is called Aliyah, meaning to ascend, in Hebrew. Once they arrive in Israel, new citizens are referred to as Olim, meaning pilgrims.

Former Prime Minister Benjamin Netanyahu spoke to immigrants yesterday
While the conflict began months after the incoming flights of new Israeli citizens were arranged, the immigrants and the dignitaries who welcomed them repeatedly pointed out the symbolism of arriving in Israel during a war. "You are making Israel stronger," said Netanyahu. "Aliyah is the lifeline of Israel. Israel is the only homeland for the Jewish people, and the Jewish people must fight for its place in it." Referring to Israel's chances of victory in the war against Hamas and Hezbollah, Netanyahu stated in his address, "We have won, we have prevailed. We have built cities, we built industry, we have built infrastructure." "We are a very powerful country. We are applying only a fraction of our power," Netanyahu added. Following the speech, Netanyahu stated, "The fact that you are making Aliyah at this point in time is a vote of confidence and security in the state of Israel and the victory over terrorism." Yet despite the rocket threat, most of the new residents offered statements of confidence regarding their personal and, now, national security. Sammy Capuano, who arrived on the flight with his wife Shiri and their six-month-old son from Aventura, Fla., told WND that despite the ongoing violence, "it's a feeling of relief to be in Israel." "God could have put Israel in Texas or the Bahamas," Capuano said. "But God put us here amongst our enemies to teach us that our security comes from one source: from following God's commandments. Nachum Kligman was one of hundreds of guests ushering the arrival of immigrants at Ben Gurion Airport. He was there with his family to welcome his parents on their Aliyah. Kligman himself made Aliyah on Nefesh B'Nefesh's inaugural flight in July 2002. Kligman is not concerned about the threat to his safety in Israel, citing the terror threat as a primary component of his decision to move to Israel. "We made Aliyah in response to 9-11," he said. "When 9-11 happened, that is when I knew it was time to move to Israel. God was sending me a message." Bringing one million additional Jews to Israel was one of former Prime Minister Ariel Sharon's primary stated goals.
All-out War Ahead as Israel Warns: Get out of Southern Lebanon
July 21….(FOJ) Israel has ordered all civilians to leave southern Lebanon yesterday so that it can wage an all-out war against Hezbollah, including a possible ground offensive. Using radio broadcasts and text messages to local officials, the Israelis told the remaining inhabitants to move above the Litani River, about 25 miles north of the Israeli border. Israeli troops have already mounted cross-border attacks against Hezbollah targets, and suffered several casualties in a firefight with Hezbollah fighters near Avivim yesterday. Israel said that two of its soldiers had died. Last night two Israeli Apache helicopters collided south of the Lebanese border, seriously injuring five crewmen, Israeli media reported. A quarter of a million people usually live in area targeted by Israel in Lebanon. Up to 60 per cent have already fled after nine days of shelling and air strikes, but the Israeli order sent hundreds more streaming north from the city of Tyre. Interestingly, Hezbollah has obstructed the attempts by civilians to flee to the north, demanding that they remain in the South.
US: Iranian Specialists Observed North Korean Missile Tests
July 20….(FOJ) A number of Iranian missile specialists witnessed North Korea's recent missile tests, deepening US concerns about growing ties between two countries with troubling nuclear capabilities, a top US official said today. Asked at a US Senate hearing about reports that Iranians witnessed the July 4 tests, Assistant Secretary of State Chris Hill, the chief US negotiator with Pyongyang, replied: "Yes, that is "absolutely correct" and the Iran-North Korea relationship is extremely worrisome. US officials have long said that Iran and North Korea have been collaborating and that cash-strapped Pyongyang was selling missiles and possibly also nuclear material to Iran. "Our understanding is that North Korea has had a number of commercial relations in the Middle East with respect to missiles," Hill said.
Annan Levels Harsh Criticism at Israel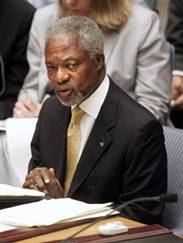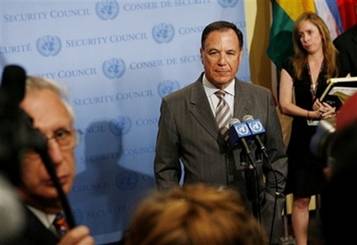 July 20….(FOJ) UN Secretary-General Kofi Annan today called for an immediate halt to the escalating conflict between Israel and Lebanon's Hezbollah militia but said there were "serious obstacles to reaching a cease-fire," an obvious slap at President Bush for suggesting that Anan press Damascus about keeping clear of Lebanon. Annan said Hezbollah's actions in launching rockets into Israel and abducting Israeli soldiers "holds an entire nation hostage" and sets back the prospects for Middle East Roadmap peace, but then Anan vehemently condemned Israel's "excessive use of force" and what he termed as, "collective punishment" of the Lebanese people, saying it had triggered a humanitarian crisis. Israel must make "a far greater and more credible effort to protect civilians and civilian infrastructure," he said. "Let me be frank with the council," Annan added. "The assessment is that there are serious obstacles to reaching a cease-fire, or even diminishing the violence quickly, because Israel was intent on destabilizing the government in Lebanon." Israel's UN Ambassador Dan Gillerman told reporters immediately after Annan's speech that there would be no cease-fire. Gillerman said he was "disturbed" that Annan's report never mentioned the word "terror" or referred to Syria and Iran's manipulations, which Israel accuses of being Hezbollah's sponsors. "The first thing that must be addressed is the cessation of terror before we even talk about cessation of hostilities," Gillerman said. "When you operate on a cancerous growth you do not stop in the middle, sew the patient up and tell him to keep living with that growth until it kills you. You make sure it is totally removed." US Ambassador John Bolton backed up Gillerman by saying that it was time for the Security Council to start considering how to accomplish a long-term cessation of hostilities that's part of a comprehensive change in the region that can produce a real foundation for peace, but still no one has explained how you conduct a cease-fire or make peace with a group of terrorists." Oddly, Mr. Anan has never said a cotton-picking word about the "collective punishment" that Hezbollah, Hamas, Fatah, PLO, Islamic Jihad, and a thousand other offshoots of terror have inflicted upon Israeli citizens for decades. But then, he is probably of the same ideological ilk that insists that Israel's birth in 1948 was the real act of punishment for the world.
Conflict News Update From David Dolan
July 20….(www.ddolan.com) Armed clashes continue along the Israel-Lebanon border today, with reports that several more Israeli soldiers have been wounded in the exchanges after two were killed yesterday. That comes after the Iranian-proxy militia force audaciously tried to infiltrate the upper Galilee Israeli town of Metulla late yesterday, lobbing rockets into the town, followed by an attempt to cut the border security fence. The apparent goal was to take Israeli residents of Metulla hostage into Lebanon. Along with the heavy border fighting yesterday and today, the attack shows that the extremist Shiite militia is still very active right along the border even after a week of intensive Israeli air force bombings and tank and artillery fire. This comes after Israel dropped some 23 tons of bombs overnight onto a building in southeast Beirut believed to be covering a bunker containing Hizbullah leader Sheik Hassan Nasrallah. Although the group claimed no Hizbullah leaders were killed in the strike, we have so far had no word from Nasrallah some 18 hours later, which some believe is a sign he was indeed killed or wounded in the massive strike. Israeli officials are beginning to concede that the Lebanese Shiite militia force, funded and trained by Iran and commanded by an estimated 200 Iranian Revolutionary Guards stationed with them, is proving harder to neutralize than many had anticipated. Thus, a substantial Israeli ground operation is becoming more likely every day. This was basically confirmed today in remarks made by Defense Minister Amir Peretz and Armed Forces Chief Dan Halutz. They announced last night that all Lebanese civilians should immediately leave their homes in the southern border region with Israel, up to the Litani River. This is estimated to be tens of thousands of people, including residents of the biblical town of Tyre. Even more telling, Chief of Staff Halutz issued his first official missive to his troops during the current conflict today, declaring that the fighting may last for "an extended period of time." A portion of his written comments reads: "The State of Israel is in the midst of fighting an extremist Islamic terrorist organization that denies our right to exist, and is operating under the auspices of Iran and Syria, which aim to threaten Israel's sovereignty. "The fighting in the north is tagged on to the fighting in Judea, Samaria and Gaza, and may continue for an extended period of time. Having viewed dozens of reports over the past 48 hours via CNN International, the BBC World Service, the British Sky network and its sister American Fox News Channel (all carried on Israel's two main cable-satellite systems), I noticed that while all are naturally focusing on foreigners and Lebanese citizens fleeing the fighting in Lebanon, not one that I saw mentioned that around a quarter of a million Israelis have also fled their homes in the north in recent days to escape Hizbullah's rockets that have already killed over a dozen civilians and wounded hundreds. This large exodus helps explain why the Israeli death toll has not been higher. The refugee situation is being duplicated in tens of thousands of Israeli homes in the center and south of the country but no one in the international media seems to be taking any notice of this aspect of the story. Another thing is that hundreds of thousands of Syrians moved into Lebanon during the 27 years that Syrian forces occupied two-thirds of the country, therefore it is only reasonable to assume that at least a fair portion of the thousands of "Lebanese refugees" crossing the border into Syria in recent days, in a highly televised movement, are actually Syrians returning home to avoid the fighting. Another thing I have not seen one international media report interviewing friends or relatives of the two young Arab Israeli brothers, aged just 3 and 7, who were brutally slaughtered when a Hizbullah rocket slammed into the alley where they were playing soccer last evening in the biblical town of Nazareth. As a journalist, I would have thought that this was a natural story to cover more intensively, but as far as I have seen it has not been the case, at least on the international outlets mentioned above. The two boys were from a Sunni Muslim family, and it would have been interesting to hear how such Israeli Muslims feel about a Shiite paramilitary force from a neighboring country lobbing rockets into their mostly Arab town, the largest Arab population center inside of Israel's pre-1967 borders. By the way, as a result of the deadly strike, Israel television has stepped up home front command announcements in Arabic instructing the country's million-plus Arab citizens how to better protect themselves during the current conflict.
Russia Rushes to Syria to Mediate For An Old Client
July 20….(FOJ) The old Soviet Union aided and armed Syria for decades in that counties wars against Israel. In those Cold War days, the Soviets used Syria, as well as other Middle Eastern states to foment a policy of antagonizing and frustrating US foreign policy in the region. With the fall of the Soviet Empire in 1989, Russia lost a lot of its clout with some of those states. However, even throughout its experiment with democracy, Russia has always continued to provide weapons to Syria, Iraq, and Iran. Now that Syria is locked into a potential geo-political showdown with Israel, Russia is again using its footing with the Assad regime to negotiate a foothold in the region with its old client. Russia's Deputy Foreign Minister Alexander Saltanov (L) rushed to meet with Syrian Vice President Farouq al-Shara in Damascus July 20, 2006. Saltanov is in Syria to discuss ways to end the Israeli attacks on Lebanon. The two leaders discussed ways in which a cease-fire might be implemented. While most of the world is encouraging a cease-fire between Israel and Lebanon's Hezbollah, Russia is likely using the situation to save its client state, and to elevate its own power-influence status with its old partners, clients that are staunchly anit-American.
Remembering Amalek
(What the Bible says about fighting terrorism)
(FOJ Note…an interesting Bible-based commentary on terrorism)
July 20….(Rabbi Marc Gellman) The Bible is the greatest collection of books, and I believe it to be the complex but discernable word of God. However, the Bible can also be a dangerous book when it is used as a blueprint for any particular political or military stance seeking sanction and support through a few carefully selected and often misleading segments. On both sides of any war debate, both pacifists and provocateurs can use the Bible and its authority for self gain. The same is true for the Koran and the Veda's. God's will and God's ways, we must always remember if we are to be true to the faith, we must conform to God's will and not our own. As Abraham Lincoln cautioned, the important question is not whether God is on our side but whether we are on God's side. However, we ought not conclude from this humble caution that the Bible is utterly recondite and irrelevant to the wars we fight. I believe that the key to the Bible's message to us in this moment is remembering Amalek. In Deuteronomy 25:17-19 we read: "Remember what Amalek did unto thee by the way, when ye were come forth out of Egypt; How he met thee by the way, and smote the hindmost of thee, even all that were feeble behind thee, when thou wast faint and weary; and he feared not God. Therefore it shall be, when the Lord thy God hath given thee rest from all thine enemies round about, in the land which the Lord thy God giveth thee for an inheritance to possess it, that thou shalt blot out the remembrance of Amalek from under heaven; thou shalt not forget it." What made Amalek so dastardly was that unlike any other enemy who attacked the Israelites fleeing slavery in Egypt from the front, Amalek attacked the rear. This meant that his soldiers could kill women and children, the elderly and the infirm and in so doing avoid engagement with the soldiers at the front. In this way he could produce maximum carnage and maximum terror. The moral problem the Bible addresses is that this is not warfare, it is the slaughter of innocents—it is terrorism. Why, I wondered, would God command us to remember the terrorist Amalek? There are other villains in the Bible, but there is no biblical command to remember Pharaoh or Nebuchadnezzar, or Cyrus. We are commanded only to remember Amalek. I believe this is because the planned and plotted slaughter of innocents even during wartime cannot be condoned and must be remembered as a bright moral line which can never be crossed. Indeed our remembrance of Amalek is combined with a chilling pledge from God that is also unique in the Bible: "The Lord will have war with Amalek from generation to generation" (Exodus 17:16). Our enemies are just our enemies except if our enemy is Amalek. In that case our enemy is also the enemy of God. Amalek thus becomes the symbol of terrorism in every generation. He is the symbol not of evil but of radical evil. In our generation Amalek is alive and well and killing the weak ones at the rear of the march. Amalek has attacked the rear of our line of march in Madrid and Bombay, in Jakarta and London, in Haifa and Tel Aviv, in New York and Washington, in a quiet field in Pennsylvania and in a hundred other homes and families, leaving them covered with blood and tears. Yes, one can disagree and debate how Amalek must be fought, but not that Amalek must be fought. One must report and mourn the innocents who are inadvertently killed by our soldiers in our battle against Amalek, but that remembrance must always make the spiritual moral and political distinction that our victims were killed by mistake and Amalek's victims were killed by design. I have no new or fresh or insightful take on the latest battle in the worldwide war on Islamic fascism except the message of our president: victory is the only way. In my heart and prayers, I thank President Bush for remembering Amalek. And to all the world leaders who are used to thinking about war as just a struggle for land or oil or power, remember that this war is different and this enemy is different. If you can, you will surely come to realize that this is a war against a lover of slaughter.
Russia Blasts Scale of Israeli Actions in Lebanon
July 20….(Jerusalem Post) Russia sharply criticized Israel over its offensive against Hizbullah guerrillas in Lebanon on Thursday, saying its actions have gone "far beyond the boundaries of an anti-terrorist operation" and repeating calls for an immediate cease-fire. In a statement issued to media, the Foreign Ministry said that Russia affirms the need to fight terrorism and called for the immediate release of Israeli hostages, but added that the "unprecedented scale of the casualties and destruction" in Lebanon indicates that Israel is using too much force.
Nasrallah's Exact Fate Unknown
July 20….(Arutz) Israel Air Force fighter planes dumped 23 tons of explosives on a bunker believed to be housing the senior Hizbullah leaders Wednesday night. There is no confirmation on whether the operation succeeded. According to intelligence received by the IDF, the bunker, located in the Bourj al-Barajneh area of southern Beirut, housed the terror organization's most senior leadership. The intelligence was considered sufficiently reliable to justify a massive attack at around 8 PM, and another one at 11 PM. Dozens of planes took part in the attacks, and the building was totally destroyed. Following the attack, Hizbullah released a statement via its Al-Manar TV broadcasts that the building was no more than a mosque under construction, and that the Hizbullah leadership was untouched. IDF sources say it is possible that the above is true, given the depth of the bunker under the building. However, even if so, it is felt that keeping the charismatic Nasrallah trapped or leashed to an underground bunker is also an achievement. A senior IDF officer told Arutz-7's Kobi Finkler that Hizbullah has "dozens or more fortified bunkers along the border with Israel. The IDF will employ various means to find the bunkers, some of which have in fact been hit over the past few days." The officer said that the bunkers are dug to a depth of up to 40 meters (130 feet), and include "stocks of weapons and ammunition, as well as communication equipment for giving orders." He even estimated that terrorists sneak out nightly to perpetrate attacks. In the meantime, the IDF continues Arabic broadcasts urging residents of southern Lebanon to evacuate the region, in order to avoid being targeted in the war against Hizbullah terrorists. Reports continue to indicate that Hizbullah is working to prevent the southern Lebanese area residents from traveling north; Hizbullah needs the civilians where they are to serve as their human shields. Lebanese leaders continue to call upon the international community to halt the Israeli military operation, turning to the United Nations, the European Union and the Vatican to apply pressure on Jerusalem. Reports from Lebanon indicate 300 people have been killed, over 1,000 injured and close to a half-million displaced in the first week of Israeli assaults against Hizbullah.
Lebanese PM Tells Italy That Hezbollah Must be Disarmed
July 20….(Ha Aretz) Hezbollah has created a "state within a state" in Lebanon and must be disarmed, Lebanese Prime Minister Fuad Siniora said in an interview published Thursday in an Italian daily. Siniora told Milan-based newspaper Corriere della Sera that the Shi'ite militia has been doing the bidding of Syria and Iran, and that it can only be disarmed with the help of the international community and once a cease-fire has been achieved in the current Middle East fighting. "It's not a mystery that Hezbollah answers to the political agendas of Tehran and Damascus," Siniora was quoted as saying by Corriere. "The entire world must help us disarm Hezbollah. But first we need to reach a cease-fire." Siniora said Lebanon is still too weak to attack Hezbollah's stranglehold in the south of the country on its own. "The important thing now is to restore full Lebanese sovereignty in the south, dismantling any armed militia parallel to the national army," he said. "The Syrians are inside our home and we are still too weak to defend ourselves. The terrible memories of the civil war are still too alive and no one is ready to take up arms."
The prime minister was quoted as saying that to disarm the militia it is also necessary for Israel to help delegitimize it by releasing Lebanese prisoners and withdrawing from the Shaaba Farms.
Rift Between US, EU Emerges on Israeli Actions
July 20….(AP) A rift is emerging between the European Union and the United States over whether Israel should cease its offensive against Hezbollah guerrillas. The Europeans fear mounting civilian casualties will play into the hands of militants and weaken Lebanon's democratically elected government. The Bush administration, while noting these concerns, is giving Israel a tacit green light to take the time it needs to neutralize the Shiite militant group. The mixed message could help Israel in its mission to destroy Hezbollah's stronghold in southern Lebanon and stop the guerrillas' deadly rocket fire on Israel. But Islamic hard-liners and terrorist groups could be long-term winners, using the vivid television imagery of the death and destruction in Lebanon to win popularity and promote their jihads. The United States, the country that holds the most sway with Israel, has said the Jewish state has the right to defend itself and that a "meaningful" cease-fire is needed, presumably one which includes the disarming of Hezbollah. White House spokesman Tony Snow said the administration opposed a return to the situation before the outbreak of violence. "A cease-fire that would leave intact a terrorist infrastructure is unacceptable," he said. By contrast, the EU has called for a cease-fire now and said Israel's "disproportionate" use of force is not only threatening Lebanon's democratic government but providing the fuel that extremist groups such as Hezbollah need to win public support. After meeting with Israeli Prime Minister Ehud Olmert and Israeli Foreign Minister Tzipi Livni on Wednesday, Javier Solana, the EU's foreign policy chief, condemned the July 12 Hezbollah raid that led to Israel's offensive and urged the guerrillas to immediately release the two soldiers they captured. But he also called for a cease-fire and said diplomatic efforts to end the crisis should continue. Asked if Israel's attacks in Lebanon were disproportionate, Solana said that if people think the offensive is causing "more suffering on the people than is necessary in order to obtain an objective," it could make it harder win their "hearts and minds" in the "battle against terrorists." However, Livni said Israel's offensive is not just a reaction to Hezbollah's raid, but a response to the broad threat of Hezbollah to Israel's security. Secretary of State Condoleezza Rice has discussed the crisis by telephone with Olmert and Solana. But Rice, who had been expected to visit the region this weekend, has refrained from setting a date, leading some to speculate that the US wanted to give Israel more time to pursue its offensive. British Prime Minister Tony Blair, Bush's top overseas ally, joined the American president on Wednesday in insisting that Hezbollah free the soldiers and stop firing rockets at Israel before asking Israel to stop its offensive. But all the other European nations backed Solana's call for an immediate cease-fire. French President Jacques Chirac called the Mideast fighting a "dramatic situation that deeply worries us." He urged Hezbollah to release the Israeli soldiers and to stop hitting Israel with missiles. But he also asked the Israelis to stop deadly bombings in Lebanon. In Moscow, Russian Defense Minister Sergei Ivanov expressed concern that "the war in the Middle East is escalating" and sternlyy criticized Israel's use of force, saying, "It is particularly painful to witness the destruction of the civilian infrastructure of Lebanon
Iran Says it Will Respond Aug. 22 to Nuclear Question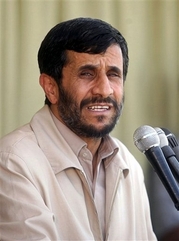 July 20….(AP) Iran has promised to formally respond on Aug. 22 to a Western package of incentives aimed at resolving the standoff over its suspect nuclear program. The Supreme National Security Council, Iran's top security decision-making body, also threatened that the country will reconsider its nuclear policies if sanctions are imposed. The council didn't elaborate, but Iranian officials repeatedly have suggested that Tehran may withdraw from the Nuclear Nonproliferation Treaty and stop cooperation with the UN inspectors. "The package of incentives requires a logical time to study it. August 22 has been set for declaring (our) views," the council said in a statement read on state-run television. "In case the path of confrontation is chosen instead of the path of dialogue, and Iran's definite rights are threatened, then there will be no option for Iran but to reconsider its nuclear policies," it added. The statement came a day after Russia said the UN Security Council is in no rush to pressure Iran over its nuclear program, striking a more conciliatory tone than the United States as diplomats began discussing a resolution to put legal muscle behind demands that Tehran suspend uranium enrichment. Russian Ambassador Vitaly Churkin said the UN council wants an answer sometime soon to the June 5 incentives package that six world powers offered to Iran if it would agree to uranium enrichment. Yet, the Russian Ambassador informed Iran that there was no rush, and that the council didn't want to ambush Iran or push them in any way. Iran said it was "surprising" that the US was creating obstacles in the way of a negotiated settlement while Iran was seriously studying the offer. "Iran is not after tension, but if others push things toward tension and create problems, then all will face problems. A senior Iranian lawmaker said Tuesday that the country's parliament was preparing to debate withdrawal from the nonproliferation treaty if the UN Security Council adopts a resolution that would force Tehran to suspend uranium enrichment. Withdrawal from the treaty could end all international oversight of Iran's nuclear program. The Russian tone contrasted with Washington's. The US has been vocal in its frustration with the Iranian response so far. US Ambassador John Bolton has stressed the need for sending strong messages to Iran, but China and Russia have lobbied for weaker actions, and for endless delays on behalf of Iran.
US Fighters Should Buzz Assad's House
July 20….(commentary by Jerome Corsi/author of Atomic Iran) Now that the ground incursions against Hezbollah in southern Lebanon have begun, Israel is turning increasing attention to Syria. The word Israel wants put out to Syria's President Bashar al-Assad is "Stop!" – stop supporting Hezbollah terrorists in Lebanon and stop sending terrorists into Iraq to disrupt the movement toward democracy. President Bush should not be pressuring Israel to use "restraint" and "allowing" Israel only one week more to solve a Hezbollah problem that has taken more than two decades to develop. He should be stepping up the pressure on Syria to act responsibly, once and for all. This is a historic moment in the Middle East, a chance for Israel to crush Hezbollah, a criminal terrorist organization that has no hesitation to lob rockets into Jewish communities, killing civilians, including women and children, indiscriminately. President Bush should pick up the telephone and ask Prime Minister Olmert: "What do you need?" Any assistance we can send Israel at this moment would be valuable. But most importantly, Condi Rice should not be dispatched to the Middle East to pull in the reins. The best sign that Hezbollah is losing badly is to see U.N. Director-General Kofi Annan call for a cease-fire. For decades, the UN has been notoriously anti-Israel, blatantly holding meetings with a backdrop of a Middle Eastern map that shows no Israel. A cease-fire now will leave Hezbollah in place, yet enough intact to be restored and resupplied by Iran via Iran's client state Syria. In Syria, President Assad made his first public comments on the war, and called for a cease-fire. Lebanon's minister of the economy, Sami Haddad, also lamented the war, saying, "We are really facing a humanitarian disaster. The ferocity of this aggression has reached inhumane proportions. The priority for us is a cease-fire. People are dying; civilians are being targeted deliberately. It's really a tragedy." Why weren't Lebanon and Syria making similar humanitarian pleas for an end to violence when Hezbollah and Hamas stepped up rocket attacks on Israeli civilian communities? Evidently, Lebanon and Syria considered Hezbollah and Hamas attacks on Israeli citizens just and proper in their moral universe where the Israelis as occupiers of Muslim land deserve all the violence the radical Islamic terrorists can send their way. Since the second inaugural, President Bush has appeared more concerned about building international coalitions than about fighting terrorism vigorously. The strategy to allow the EU-3 and the IAEA to lead negotiations with Iran has wasted nearly two years in pointless talks. Even now that the Bush administration has finally managed to get the issue of Iran's nuclear program before the UN Security Council, we are bogged down once again in diplomacy. The reality is Russia and China, both allies of Iran, will block any meaningful Security Council resolution to impose sanctions on Iran. Meanwhile, Iran day-by-day proceeds to enrich uranium, advancing toward making a nuclear weapon that can be delivered on their Shahab-3 missile. The reality is the world gives terrorist governments a pass. President Bush is at an important moment in his second term. The administration should put Syria on notice that an open route between Syria and Lebanon will no longer be left open, not as long as Syria persists in using that safe conduit to supply additional consignments of Iranian weaponry to Hezbollah. (not to mention insurgents in Iraq) The moment Bush lends his voice to the growing international chorus demanding a cease-fire he will have put an end to any credibility that the administration intends to fight a war on terrorism in any serious manner. Crushing Hezbollah and putting Assad on notice will accomplish a needed goal. Right now, Israel is positioned to deal the world of radical Islamic terrorism a severe blow. What President Bush should be doing is sending a few jet fighters to Israel so the next time Israel decides to buzz over Assad's home the Israeli jets can be joined by a few US Air Force pilots flying world-class US fighters. The escort might just deliver the message to Assad, and possibly even to Ahmadinejad, that it is the time to stop.
Latest News Update Inside Israel From David Dolan
(FOJ Note) Focus on Jerusalem will carry news reports out of Israel from David Dolan, a former news correspondent that has written extensively on Bible Prophecy as it relates to Israel and the Last Days. David Dolan is the source I respect most for news related to Israel and the Conflict. In covering hot-news such as the current crisis, the world's major media outlets are not always the best sources, (from a Biblical perspective) so FOJ wishes to provide its readers with reliable news-feeders like David Dolan. His web-site is also provided on the FOJ linkspage.
July 19….(1:45pm/est) (report by David Dolan-Jerusalem based author-journalist) Fierce ground clashes between Israeli and Hizbullah forces have broken out for the first time in the week long conflict, occurring just north of the Israeli Galilee town of Safed near Moshav Avivim. There are unconfirmed reports at this hour of two Israeli army deaths in the intense fighting, with others wounded. This came after a small IDF ground force crossed the international border earlier in the day to directly confront nearby Hizbullah fighters. As I stated yesterday, some sort of cross-border operation seemed imminent as more reserve units were being called up to free regular soldiers for such operations. A much larger operation to clear Hizbullah fighters from the border zone is expected by many analysts in the coming days. Further west, another Hizbullah rocket barrage struck the port city of Haifa and other areas this morning, directly hitting one apartment building and sending a huge plume of gray smoke over Israel's third largest city. However the attack caused no deaths since building residents had either already fled the city or had rushed to nearby bomb shelters. Two people were lightly wounded from shrapnel elsewhere as dozens of rockets came crashing down. Around 1,000 Hizbullah rockets have struck Israeli territory in the last week—the largest barrage upon Israeli population centers since the 1967 Six Day war.
FOJ / A Prophetic Evaluation on The Current Crisis
July 19….FOJ has received hundreds of e-mails about the current Middle East Crisis, regarding questions as to how the present situation might play into end-times prophecy scenarios. FOJ believes that the prophesied Magog-led invasion upon the mountains of Israel, with its chief ally Iran, is slated to occur during the Tribulation era, (the seven year time of Jacob's Trouble) probably ensuing at mid-trib and continuing all the way into the final showdown at Armageddon. FOJ has speculated for years that since Syria is not mentioned as being among the alliance that accompanies the Magog-Kings of the East vs. Western Antichrist, something of a drastic measure must occur previously concerning Damascus, as that city is prophesied to meet a cataclysmic end in the prophecies of Isaiah 17 and Jeremiah 49. Thus, FOJ has long speculated that a major terrorist war on Israel's northern border could ignite a region-wide war that could lead to a major escalation of intense war between Israel and Syria, and its proxy terrorist infrastructure, with Damascus ending up being destroyed. Writers have long speculated on this prophecy and wondered aloud how it could come to pass. Many have theorized that Israel or the US could hit Damascus with a nuclear bomb. It is ironic that several scenarios about this topic are surfacing as real possibilities right now. There is even the devious prospect that Iran could unleash a WMD in Damascus, after seeing its proxy Hezbollah wiped out, in the hopes of Israel being blamed by the world, and demanding that Israel give up their nukes. Even former CIA Chief James Woolsey has recently advocated striking Damascus forthwith, for any real regional peace to ever be achieved. It is worth noting that the G-8 nations and most of Europe, and indeed a large portion of the Arab world (Saudi Arabia, Jordan, and Egypt) now see the necessity of eliminating the Hezbollah stronghold on Lebanon. That eventuality would easily open the door for Lebanon, and perhaps Syria to amalgamated into the multi-lateral (Jordan and Egypt, and maybe the PA) circle of peace-aligned nations within the framework of a second Madrid-styled Middle East Peace Process. In fact, this point has already been enunciated by the King of Saudi Arabia, when he proclaimed the current peace process dead. FOJ contends that the eradication of the Iranian birthed Hezbollah in Lebanon could set the stage for the prospects of a successful implementation of a comprehensive peace formulation. The Bible indicates that the eventual Antichrist will accomplish many astounding state-craft (peace process) ventures in this arena, and incorporate "many nations' into a Global "peace-and-security" arrangement with Israel. I believe that Iran, although heavily invested in Hezbollah and Syria will choose to wait on its nuclear gambit, and to wait for a better opportunity to strike Israel when they can entangle Russia into leading a coalition against Israel during the Tribulation. The Bible describes this entanglement as a "hooks-in-the-jaws" element, and it most likely involves a geo-political connection to Islam. But that is only a calculated geo-political guess, but still the Bible clearly depicts that Iran, and not Syria will be around to join the Magog scenario. I have always held an elevated sensitivity to a higher probability of the Rapture event occurring around the season of Israel's Feast of Trumpets, which is to occur this fall in late September. The present situation and its potential for a major war sure does lend itself to such a breathtaking prospect. But then again, no man can know of that day or hour, yet one thing is still sure, we are certainly in the "season of time" for all these things to happen. (Luke 21:28 And when these things begin to come to pass, then look up, and lift up your heads; for your redemption draweth nigh.)
Massive Wave of Katyusha Rockets Strikes Northern Israel
July 19….(Ha Aretz) A Hezbollah rocket attack on the mainly Arab town of Nazareth on today killed two people and wounded several others, IDF authorities said. The two were killed by a direct hit from a rocket, the Israel Defense Forces said, in the first strike on the town. A massive wave of Katyusha rockets battered northern Israel from around 3pm Wednesday, with reports of strikes in Haifa, Carmiel, Tiberias and communities in the Galilee. Some 70 Katyushas were fired at Israel within the space of an hour. There were no reports of injuries in the strike, although houses in Carmiel and Tiberias sustained direct hits. One person was treated for shock in Tiberias. Rockets also struck Kiryat Shmona, Rosh Pina, Dishon, Moshav Sde Eliezer, Hatzor Haglilit, Amuka and the Jezreel Valley. There were no injuries in those strikes. Earlier Wednesday, two rockets hit Haifa and others fell in the Western Galilee and the Hula Valley. A building in Haifa was hit by one of the rockets, but it was empty at the time. One resident was lightly injured by shrapnel, and six people suffered from shock. Soon after, several rockets landed in open spaces near Nahariya, causing no injuries or damage. Over 100 Katyusha rockets were fired into Israel throughout the day on Tuesday.
Some Americans in Lebanon Are Hezbollah Supporters
July 19….(ACFT) I have been speaking with Lebanese Christians in Lebanon and they are all fine. Israel is not bombing them or their towns. Israel is bombing the Shiite radical strong holds. This is what the major news outlets are not telling you. Israel bombed the Beirut airport, the port and the bridges leading to Syria because they are used to transport weapons and support from Syria to Hezbollah. The Lebanese army doesn't even have an air-force or airplanes. They only have helicopters. The airport was used to bring support to Hezballah and that's why Israel bombed the infrastructure there. Huzballah is the A Team of terrorist organizations. They are more organized, more lethal, more structured and more calculated than Al-Qaeda. It is Hezballah who is training Al-Qaeda members in south Lebanon, and in the Bekaa and southern Beirut where Israel is bombing. It is those same Al-Qaeda terrorists who are trained in Lebanon, and are the ones who travel via Syria into Iraq and Afghanistan. Israel is doing the job that the world powers and UN should have done a long time ago. It is also in Lebanon and Hezballah where these terrorists are developing the roadside bombs used on our marines and soldiers in Iraq and Afghanistan. Those same terrorists have cells in America and are ready to unleash suicide bombings here in America. As sad as I feel watching what is happening in Lebanon, it is absolutely necessary to support Israel to kill the terror-cancer that has spread and is killing the Lebanese body. Israel is not targeting civilians. Israel is targeting terrorists. Israel has thus far launched 3000 air strikes on Lebanon since the beginning of the Operation and inflicted only 122 casualties. Yet one thing lost in all the press coverage of some of the the whining Americans who went to Lebanon of their own accord and now want the US government to pick up the tab to get them out is the fact that the majority of the Americans in Lebanon are in fact Hezbollah supporters. Most of them are Shiite Muslims, many of whom hold dual US and Lebanese citizenship. Many are anchor babies born here to Muslims in the US illegally. Some are illegal aliens who became citizens through rubber-stamping Citizenship and Immigration Services (and its INS predecessor).
Of the 25,000 American citizens and green-card holders in Lebanon, at least 7,000 are from Dearborn, Michigan, the heart of Islamic America, and especially Shia Islam. These 7,000 are mostly Shi'ite Muslims who openly and strongly support Hezbollah, and some of their number are known to be volunteers for suicide attacks in the US.
United States to Israel: One More Week to Blast Hizbullah
July 19….(YNET) The US is giving Israel a window of a week to inflict maximum damage on Hizbullah before weighing in behind international calls for a ceasefire in Lebanon, according to British, European and Israeli sources. The Bush administration, backed by Britain, has blocked efforts for an immediate halt to the fighting initiated at the UN security council, the G8 summit in St Petersburg and the European foreign ministers' meeting in Brussels. "It's clear the Americans have given the Israelis the green light. They [the Israeli attacks] will be allowed to go on longer, perhaps for another week," a senior European official said yesterday. Diplomatic sources said there was a clear time limit, partly dictated by fears that a prolonged conflict could spin out of control. US strategy in allowing Israel this freedom for a limited period has several objectives, one of which is delivering a slap to Iran and Syria, who Washington claims are directing Hizbullah and Hamas militants from behind the scenes. George Bush last night said that he suspected Syria was trying to reassert its influence in Lebanon. Speaking in Washington, he said: "It's in our interest for Syria to stay out of Lebanon and for this government in Lebanon to succeed and survive. The root cause of the problem is Hizbullah and that problem needs to be addressed."
Hezbollah Threat to US 'Serious'
(Agents seized at Mexican border, while Iranians ID targets to 'end Anglo-Saxon civilization')

Hezbollah leader
Sheik Hassan Nasrallah
July 19….(WND) The Iranian-sponsored terrorist organization Hezbollah' threats to attack US interests around the world are being taken seriously by US law enforcement and intelligence officials who say the group's agents have attempted illegal entry into the country through the southern border and have staked out 20 potential sensitive targets that Iran's President Mahmoud Ahmadinejad boasted could "end Anglo-Saxon civilization," Joseph Farah's G2 Bulletin reports. "We have 2,000 volunteers who have registered since last year," Hezbollah spokesman Mojtaba Bigdeli told Reuters yesterday. "They have been trained and they can become fully armed. We are ready to dispatch them to every corner of the world to jeopardize Israel and America's interests. We are only waiting for the supreme leader's green light to take action. If America wants to ignite World War III … we welcome it." The "supreme leader" is Iran's Ayatollah Khamenei. Hezbollah and Iranian officials are known for their hyperbolic rhetoric, but US officials say it would be a mistake to dismiss them categorically. FBI Director Robert Mueller confirmed earlier this spring that Hezbollah agents were caught trying to enter the country illegally through the Mexican border. Likewise, James Woolsey, former director of the Central Intelligence Agency, testified before the Senate Judiciary Committee in February that "Ahmadinejad who is close to Hezbollah, says that he knows of the 29 sensitive sites in the US and the West, which he has spied out and is ready to attack in order to, quote: 'End Anglo-Saxon civilization." In May, long before the recent escalation of conflict with Israel, more than 100 "martyrdom-seeking volunteers" affiliated with Iran's Islamic Revolutionary Guards Corps gathered to warn the US they would blow up American interests around the world if their country's nuclear installations came under attack. Mohammad-Ali Samadi, spokesman for a government-orchestrated campaign to recruit suicide bombers, said more than 55,000 volunteers had been registered, according to Iran Focus. The group, called the Headquarters to Commemorate the Martyrs of the Global Islamic Movement, was established in 2004 to carry out suicide attacks against three targets: "The infidels occupying Iraq," Israel and author Salman Rushdie. In February, it launched a new recruitment drive to fight "global blasphemy." Iran then estimated that Israel would strike Teheran's nuclear facilities within a year and has been planning retaliatory attacks against Israeli, American and British interests, according to senior Lebanese political sources who spoke to WorldNetDaily on condition of anonymity. The sources said while Iran is expecting lone Israeli military action, Iranian intelligence estimates the Jewish state is coordinating a planned attack with the US.
Syria, Iran Determined to Protect Hizbullah
(Damascus sources report that the two countries identified downfall of organization as red line stemming from outlook that Hizbullah's face-off with IDF precursor to strategic changes in area. In case IDF enlarges arena of confrontation, Israel to suffer large-scale offensive which will 'turn area into boundless hell.)
July 19….(YNET) The Qatar-based newspaper Al-Watan reported Wednesday that Syria and Iran will cooperate with each other in order to prevent the dissolution of Hizbullah and to preserve its struggle with Israel. According to credible Syrian sources, the newspaper reported, there is an agreement between Damascus and Tehran stating the prevention of either military or political defeat of Hizbullah as paramount, creating a joint Syrian-Iranian stance based on the clear vision that any defeat of Hizbullah is a red line for the both countries. Both Syria and Iran thoroughly understand that the measure of Hizbullah's strength against Israel gives precedent to strategic changes in the whole region. The influence of the military confrontation being conducted now, claim the same Syrian sources, extend beyond all geographic borders and have implications for the entire Middle East, from Gaza to Iraq. As such, protecting the "resistance" in Lebanon and the territories is at the center of Damascus' and Tehran's strategic decisions. The sources also added that Hizbullah's stance against "Israeli aggression" has already resulted in the moral, political, and even strategic defeat of Israel's security complex, which is currently facing a dangerous crisis. This crisis, they claim, stems from the fact that the IDF has not succeeded to destroy or liquidate Hizbullah, a reality likely to push Israel's army commanders to widen the circle of confrontation to include Syria and Lebanon as part of their attempts to avoid a political crisis within Israel and criticism of the government and army. Other Syrian sources claim that if IDF commanders dare to widen the confrontation, Israel will suffer a widened front from Tehran to Damascus, necessitating a regional, and perhaps even international, confrontation. The consequences of such a confrontation will not be to the advantage of Israel or the United States. According to the sources, there is the possibility that "the region will become a boundless hell." Damascus and Tehran are closely following the developments in Lebanon and are prepared to get involved, if needed, to protect Hizbullah or to prevent the imposition of "suspicious" political agreements or conditions on them. The sources added that there are regional attempts, international and even Lebanese, to accept Israel's conditions and to implement Security Council Resolution 1559, which entails disarmament of Hizbullah and extricating the organization from the conflict. The sources emphasized that this will never happen especially because, from their perspective, any agreement or deal needs to protect Hizbullah and to preserve its legitimate right to resist Israel, be it in Lebanon or in the territories. It should be noted that today's reports are in accordance with a report published yesterday in London-based al-Sharq al-Awsat. They also reinforce estimations in Israel that Iran is willing to do anything to keep Hizbullah on its feet after the current confrontation, just as Iran has done in past years, with the goal of rehabilitating the organization of the "Judgment Day" against Israel.
Israel Sent Strong Message to Syria via Jordan
July 19….(YNET) A diplomatic source in Tel Aviv has confirmed to YNET that Jordan passed a harsh Israeli warning on to Syria in regards to its involvement in the fighting in Lebanon, namely its aid to Hizbullah. The source mentioned that Israel has also asked the Egyptians to send a similar message to Syria, but it is unclear if it did so. Israel pointed out in their warning that the Syrians are arming Hizbullah and acting as middlemen between them and the Iranians. It was also notified the Syrians that Israel has located a number of weapon convoys on their way from Syria to Lebanon and that meetings between Hizbullah and Iranian representatives continue to take place in Damascus. The source could not say if the Israeli warning was accompanied by an explicit threat of military action against Syria, but it is known that Israel also warned them about turning a blind eye to the activities of other organizations, mainly Palestinian, in the Golan Heights. Israeli intelligence was shocked to discover that arms were still flowing across the Syria-Lebanon border. Although Hizbullah has suffered a harsh blow from Israeli air force strikes which took out a large percentage of their available weapons, Syria has continued to smuggle arms into Lebanon to rearm the group, IDF Operations Branch Head Major General Gadi Eisenkot said. Thus far, the IAF has managed to intercept a number of trucks transporting rockets from Syria to Hizbullah, including trucks laden with the 220mm-diameter rockets. Maj.-Gen. Eisenkot said he would be very surprised if official elements in Syria were unaware of these transports. "These are rockets that belong to the Syrian army. You can't find them in the Damascus market, and the Syrian government is responsible for this smuggling." Why would Syria take a chance at becoming involved in this conflict? Hizbullah has been stockpiling huge quantities of arms for years. Why do they need this fresh supply from Syria? Turns out that Hizbullah is looking for any way they can to throw off Israel's attempts to strike a blow to Hibzullah's ability to fire missiles. They were shocked to discover how much information Israel has about their weapons storehouses. When the organization recovered from the initial blow, they began looking for ways to deal with Israel's aerial pursuit of their launchers. In this context, they have started over the last few days to launch huge assaults at one time, rather than "drip" missiles all day long. Hizbullah has hundreds of such launchers. At the same time, Hizbullah is also trying not to reveal its storehouses. Organization higher-ups believe that when they bring rockets out of their hiding places, they expose the store rooms to the eyes of the IDF. Therefore, they prefer to get fresh ammunition from Syria, rather than expose their Lebanese warehouses. As soon as Israel figured out this new tactic, it started targeting trucks moving from Syria to Lebanon, not always on main roads. Israeli sources believe that Syria doesn't really want to get involved with this clash, but that the transfer of ammunition is beyond Syria's capacity to control. Syria's department of defense put the armed forces on alert last weekend. They are worried that Israeli officials aren't telling the truth when they say there are no plans to attack Syria. The emphasis Israel placed Tuesday on the trucks carrying weapons from Syria to Lebanon are a warning to Syria: Control your country, or else.
UN Working on Deal Between Israel and Lebanon
July 19….(Ha Aretz) The United Nations is working toward a new diplomatic arrangement between Israel and Lebanon that will be based on implementation of Security Council Resolution 1559, calling for the disarmament of Hezbollah, the restoration of Lebanese sovereignty, and the deployment of the Lebanese army to southern Lebanon. The arrangement will be based on principles concluded at the G8 summit in St. Petersburg earlier this week, which include the unconditional return of the abducted Israeli soldiers, cessation of rocket attacks against Israel, an end to the Israeli assault on Lebanon and the Gaza Strip, and the release of Hamas officials arrested by Israel following the raid on Kerem Shalom in late June. The UN delegation visiting Jerusalem yesterday told senior Israeli officials there is no value in a cease-fire without a broad diplomatic agreement. If Lebanon refuses direct talks with Israel, the arrangement will be negotiated through mediators or anchored in a new Security Council Resolution. The UN diplomats assessed that achieving an agreement would take weeks, perhaps even months. The UN officials stressed that it is important to settle the Shabaa Farms issue, which Hezbollah has used as an excuse for attacks against Israel. They also said it would be necessary to restructure or reorganize the UN force in southern Lebanon, UNIFIL, which is ineffective. Israeli Prime Minister Ehud Olmert told the UN diplomats that Israel "will continue fighting Hezbollah, and will carry on striking the organization's targets until its abducted soldiers are returned, and until the security of Israeli citizens is guaranteed." The prime minister also expressed serious doubts regarding the idea of a multinational force and its deployment in southern Lebanon. "It's a good headline, but our experience shows that there is nothing behind such proposals," he said. "Such a force already exists in Lebanon today, and we have seen what they have done. UNIFIL is neither effective nor relevant in its current structure.
Hizb'allah Reportedly Has Plans to Hit Tel Aviv
(Nasrallah preparing major escalation, say sources)
July 19….(WND) Hizb'allah leader Sheikh Hassan Nasrallah is directing the current conflict in a very deliberate manner, and intends to unleash a massive barrage of long-range missiles on the Israeli city of Tel Aviv in the coming days, Lebanese sources told the "Palestinian" Ma'an News Agency Tuesday. The plan, according to the sources, is to allow Israel to reach the point where it is about to declare victory, and then introduce a major escalation by bombarding Israel's largest population center. "Hassan Nasrallah will address the people of Tel Aviv and warn them to evacuate the city within one hour. As soon as the delay ends, hundreds of heavy missiles will start landing in the city, an estimated 500 missiles are expected to land in Tel Aviv in a short period of time." The obvious aim is the total demoralization of the Israeli public. The attack on Tel Aviv may be followed by increased efforts to abduct additional Israeli soldiers along the border, as well as other "surprises." Some observers remain skeptical that Hizb'allah will attack Tel Aviv, as such an outrage would give Israel a far freer hand than it has today to finish off the terror group. Others point out that Syria and Iran are calling the shots, and their regional objectives trump the short-term survival of Hizb'allah as a fighting force. Israeli Ambassador to the UN Dan Gillerman warned on Fox News Tuesday that if indeed missiles are fired on Tel Aviv, Syria and Iran will be brought into the war whether they like it or not ... and they will not. "If missiles hit Tel Aviv, it will not be an escalation, it will be doomsday! We would consider it something Hizb'allah and their sponsors, mainly in Iran and Syria, would pay very, very dearly for." Meanwhile, Iranian President Mahmoud Ahmadinejad ominously promised a great day of "rejoicing" for Muslims of the Middle East very soon.
UN Calls For International Force on Lebanon-Israel Border
July 19….(AP) UN Secretary-General Kofi Annan called Tuesday for ending the latest Middle East crisis by establishing an international force in Lebanon, saying it would have to be stronger than the ineffectual UN peacekeeping force that has been there for nearly three decades. Lebanon, badly battered by Israeli bombardment in the past week, has itself sought international help in extending its control to the border with Israel. Backed by Syria and Iran, Hezbollah guerrillas have used south Lebanon as a base to launch attacks and missiles against the Jewish state. Annan said the Lebanese government needed time to establish full control over the south and that a new force was needed, one larger and stronger than the existing outfit that numbers 2,000 troops and has lacked a strong mandate. Annan said the new force would have "different capabilities." "It is urgent that the international community acts to make a difference on the ground," he said. Annan provided few details, saying the Security Council "will have to discuss this and define the specific mandate for one to be able to talk in more concrete terms." John Bolton, the US ambassador to the U.N., said that the Security Council shouldn't start talking about sending such a force until it knows how the conflict is going to be resolved. "I think it's the cart before the horse to talk about applying force before we know what the overall military or political resolution is like to be," he told reporters at UN headquarters in New York. Bolton said that in examining the possibility of a new force there are a range of questions to be answered, including if it should be empowered to disarm Hezbollah. UNIFIL — the United Nations Interim Force in Lebanon — was created in 1978 to boost Beirut's authority after the first Israeli invasion of Lebanon, (in pursuit of the PLO) and it has remained, at various levels of deployment, through a second Israeli invasion and an 18-year Israeli occupation of the south; since Israel's May 2000 pullout, UNIFIL has never interfered with or obstructed Hezbollah's control of the area. A new force could be larger, better armed, with a mandate to use force and with resolute backing of the major Western powers. British Prime Minister Tony Blair raised the idea of such a force Monday at the G-8 summit in St. Petersburg, calling it the "only way we're going to get a cessation of hostilities" between Israel and Hezbollah militants in Lebanon. On Tuesday, there appeared to be diplomatic momentum in favor of such a force. Annan met with EU chief Jose Manuel Barroso, who said several EU nations are willing to contribute forces to a Lebanon "stabilization force" if the Security Council agrees to form one. At a news conference with Annan, Javier Solana, the EU's foreign and security chief, said the EU was "ready to send a force." Israeli Foreign Minister Tzipi Livni appeared to tacitly endorse the notion of an international force, which would constitute a revision of Israel's demand that the Lebanese army itself deploy along its border. A key question would be whether any new force would be able to use force to prevent Hezbollah from approaching the border or firing rockets, or, indeed, to stop any Israeli invasion. Israel has heavily criticized UNIFIL, saying it has stood by while Hezbollah launched cross-border attacks.
The Unseen Enemy in the Euphrates River
July 18….(FOJ) The names have become familiar to Americans. Al Qom, Hadithah, Aqabah, Fallujah, and Ramadi are just some of the cities located on the Euphrates River in the infamous Sunni Triangle in Iraq. America has experienced the devious, malicious shadowy arm of terrorism in Iraq, in much the same manner that Israel has been subjected to it for decades. Bible Prophecy conveys that there are a host of demonic forces imprisoned in the Euphrates area that will be unleashed during the Great Tribulation. God confined these evil entities in the Euphrates ages ago, but they are destined to be released to wreak havoc on the world and to deceive the Kings of the East into plotting an entrance into the Middle East Conflict. The scriptures do not mean to insinuate that the river-flow will dry up, as the river water has never inhibited any armies from battle.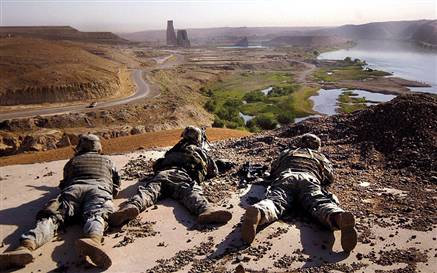 (US troops survey the infamous Euphrates River Valley for any signs of the enemy)

The "drying up of the Euphrates" refers to the release of the demons contained therein, and they will do the bidding of Satan and the future Antichrist and False Prophet. These hordes of hellish demons are lying-in-wait for the Day of God almighty.

(Revelation 9:14 Saying to the sixth angel which had the trumpet, Loose the four angels which are bound in the great river Euphrates.

Revelation16:12-14 And the sixth angel poured out his vial upon the great river Euphrates; and the water thereof was dried up, that the way of the kings of the east might be prepared. And I saw three unclean spirits like frogs come out of the mouth of the dragon, and out of the mouth of the beast, and out of the mouth of the false prophet. For they are the spirits of devils, working miracles, which go forth unto the kings of the earth and of the whole world, to gather them to the battle of that great day of God Almighty.)

Iran May Threaten to Use Oil Weapon, Arabs Say They Will Not

(FOJ Note) Saudi Arabia and the Arabian oil exporters say they will never use oil as a device for political blackmail again. Saudi Arabia's veiled charges this week against Hezbollah highlight the reality that there is a deep divide between the Arabian Peninsula and Iran.

July 18….(Reuters) Iran could threaten to use its oil weapon if Syria gets drawn into the conflict between Israel and Hizbollah guerrillas but Arab oil producers say they will not withhold their crude exports to exert pressure, analysts said today. "The only oil that could disappear from the market if this crisis develops is Iranian oil," said Mustafa Alani of the Gulf Research Council in Dubai. "If there is an attack on Syria and if Iran is connected to this attack, militarily or politically, they could decide to stop oil exports for a few days," Alani said. Tehran has threatened to use its oil exports as a weapon to defend itself in its stand-off with the West over Iran's nuclear program. Iran could face economic sanctions over Western suspicions it is seeking nuclear arms, a charge it denies. Alani said any use of Iran's oil weapon now would be brief. "It would be a token interruption and not a sustainable one, just to really undermine the psychology of oil markets and to show the Iranian muscle if the question of the nuclear issue begins to be under pressure in the future," he added. Iran, OPEC's second biggest producer, supplies the world with more than 2.4 million barrels per day, making it the fourth biggest exporter. Traders say a loss of this amount would be hard to replace as, except for about 2 million bpd of spare crude oil capacity in top exporter Saudi Arabia, OPEC is pumping flat out. Syria and Iran are the main backers of Hizbollah, whose capture of two Israeli soldiers in a cross-border raid sparked attacks on Lebanon. Mahmoud Ahmadinejad, the Iranian president, warned last week of a "fierce response" if Israel attacked Syria, which exports only about 200 000 bpd of oil. The worsening conflict helped to send oil prices to record highs over $78 a barrel last week as traders feared the violence could spread across the oil-producing region. Oil held firm above $76 today. Another source of worry for markets is Iran's commanding position on the Strait of Hormuz, a channel at the mouth of the Gulf that is a conduit for roughly two-fifths of globally traded oil. Ayatollah Ali Khamenei, Iran's supreme leader, warned last month that oil exports in the Gulf region could be seriously endangered if Washington made a wrong move over his country's nuclear program. Oil-exporting Gulf Arab states then adopted a contingency plan in case of a blockage of shipping through the mouths of the Gulf and the Red Sea. Saudi Arabia and other US-allied Gulf members of the Organization of the Petroleum Exporting Countries have made clear in the past that they do not intend to repeat the 1973 Arab oil embargo, which wreaked economic chaos on the industrialized world. "This is not an option at all," former Kuwaiti oil minister Ali al-Baghli said. "Arab countries have decided not to use this weapon ever again." In 2002, Iraq and Iran called for a one-month ban on oil exports in protest against Israeli incursions into Palestinian territories. Saudi Arabia and other Gulf states refused, saying oil was not a weapon and that its revenues should be used for the development of Arab countries. Analysts say the 1970s embargo, sanctioned by Saudi Arabia's then King Faisal to punish the West for backing Israel in the Arab-Israeli war, had backfired because it led to a crash in oil prices, the backbone of Arab economies, and encouraged energy development outside the Arab region. Therefore, don't expect the Arabian Peninsula to cut the production of oil," the Gulf Research Council's Alani said.

Mid-East Crisis Exposes Competition Between G8 Leaders

July 18….(FOJ) By now most of the world has been entertained by the use of the one-curse-word filled discussion President Bush had with British Prime Minister Tony Blair. While President Bush sat, ironically, between Russian President Putin and Chinese President Hu Jintao, (the very leaders who are enabling Iran and North Korea to defy the US) the two allies openly discussed the Israeli-Hezbollah situation. They had just finished an intense drafting session to produce a detailed statement on the current crisis which blamed unnamed extremists for starting the violence, and called on Hezbollah to stop its rocket attacks and release the captured Israeli soldiers immediately, and then for Israel to stop its bombardment. It is no small irony that these leaders were seated side-by-side amidst this debate, for they each in turn work behind the geo-political scenes to compete (and obstruct) with each other over influence all around the world. It was a supposedly private moment between Bush and Blair, but it perfectly illustrated the abiding frustration and anxiety of these G8 leaders, and their competitive desires to gain leverage in geo-political events. President Bush was adamant in his comments to Blair that Hezbollah must be dealt with, and that Syria must be hammered in order for that to be accomplished. President Bush seemed annoyed with UN Secretary General Anan that he had not sufficiently lobbied President Assad of Syria to rein in the terrorist outfit in Lebanon. One can only imagine that Putin and Jintao scoffed at his ideas, all the while they are helping to enable evil regimes to threaten the US and Great Britain. Mr. Putin even insisted in the G-8 draft that Iran and Syria not be mentioned by name, partly, he said, because he wanted to keep all His channels of communication open with them. He hinted that Russia was trying to use its influence to get a message to those holding the Israeli soldiers to ask them to release them. He argued that that the G8 could hardly blame Syria and Iran for funding and backing Hezbollah and Hamas when, to Russian eyes, Britain and the US were involved in suspicious presences in the region. Mr. Blair called Syria and Iran the legs of an "arc of extremism" reaching across Iraq and Lebanon to the Palestinian territories. Blair claimed the crisis was planned as a deliberate attempt to destabilize the region and undermine the still fragile attempts to install moderate democratic governments. Presidents Bush and Blair saw this as part of a much wider struggle for the future direction of the Middle East, a high stakes battle which is linked to the violence in Iraq, the role of Syria in Lebanon, and the current dispute between Iran and UN Security Council members about whether it is building nuclear weapons. The Russian and Chinese Presidents obviously see the whole volatility of the region as a chance to elevate their own competitive status for dominating world affairs. I can easily envision that the G-8 will evolve into the G-10, (India and China await membership) and that raises the specter of suspicion as to whether this forum will eventually represent the Ten Kings of Prophecy, that will someday give their authority to the Antichrist, who in turn will be forced to "subdue three of the ten". (Daniel 7:24 And the ten horns out of this kingdom are ten kings that shall arise: and another shall rise after them; and he shall be diverse from the first, and he shall subdue three kings.)

Today's News From Israel by David Dolan

July 18….(David Dolan) Shalom from Jerusalem, We have had another civilian death from Hizbullah fire today, as a fresh rocket barrage came crashing down on many communities along the northern border and even deeper into Israel. The death took place in Nahariya, north of Haifa along the Mediterranean coast. A man who had just left his bomb shelter in the town after an earlier alert is the reported latest victim. Another rocket made a direct hit on an apartment building, setting it on fire. Binyamin Ben Eliezer, a government cabinet minister, was reportedly in the area when the dozen of so rockets struck the resort town, but was apparently unhurt. An earlier barrage struck the strategic Haifa port area once again, where some of Israel's most sensitive and literally explosive industrial complexes are located. Ironically it actually hit the very same train repair depot that was attacked on Sunday, leaving eight Israeli male workers dead. As I stated on Sunday, Israeli officials are extremely concerned that such strikes could set off massive explosions if oil refinery storage tanks are directly hit, and even worse potential damage if nearby petrochemical plants are struck. Over 50 rockets were launched late last night, one striking the regional hospital in Safed northwest of Tiberius. Miraculously no one was killed, although eight were wounded and one wall was heavily damaged. So far 11 soldiers and 11 civilians have been killed in the week-long conflict with the obviously heavily armed Syrian and Iranian-backed Hizbullah militia. My former hometown of Kiryat Shmona in the Upper Galilee was also targeted again this afternoon, as was the area around my former kibbutz, Hagoshrim, near the Golan Heights foothills. Other rockets have hit Tiberius in the past hour, along with Safed again and many other locations. This comes after a relatively quiet morning as Israeli jets apparently scaled back their bombing raids in the Beirut area to allow several nations to carry out sea evacuations of their nationals. However the air force continues to operate in the northeast area of Hermel near the Syrian border where Israeli security officials reportedly believe Hizbullah leader Sheik Hassan Nasrallah may have escaped to on Saturday night, along with other militia leaders including the man thought to have been behind the horrific US Marine barracks attack in Beirut in October 1983 that left 241 American marines dead, the worst ever terror assault on US military personnel. I was in Lebanon when that took place, and the memories will never leave me. The radical Shiite militia leaders are said to be hiding there in a deep underground bunker. Meanwhile signs are growing that a limited army ground operation into southern Lebanon may be imminent. This was signaled by the calling up of three army reserve units overnight, to be sent into Judea and Samaria to free up regular soldiers for a possible cross border operation. Of course, such an operation will probably mean a significant upsurge in Israeli military casualties since Hizbullah has reportedly been planning for such an operation for many months, placing landmines and snipers at many locations. Despite that, many analysts concede that only such a ground operation can really clear the large Iranian-supported paramilitary force out of the border area. This comes as army officials say they believe that around 40 to 50% of Hizbullah's capabilities have already been destroyed. But all are aware of Sheik Nasrallah's televised claim on Sunday night that he has "surprises" up his sleeve for Israel, with some speculating he may even possess some chemical weapons, possibly acquired from Saddam's Iraq. Meanwhile we now have concrete evidence that Hizbullah does indeed possess Iranian made "Zilzal" rockets with a range of about 200 kilometers, meaning they could reach the Tel Aviv area. This came when Israeli jets targeted one of the rockets near Beirut Monday afternoon, either as it was being fired or as it sat on the ground (if the latter, the accurate strike caused it to fly into the air in a dramatic scene which the Lebanese media mistakenly assumed was an Israeli warplane crashing down). So a security alert remains in effect in the country's main urban and economic center. Here in Jerusalem, a stepped up terror alert remains in effect. I watched from my central Jerusalem window last night as policemen stopped Arab cars in my neighborhood to check on the occupants. Thanks to the many who have written to express that you are standing with us in prayer at this time. I cannot possibly answer all of you personally, but I do read and appreciate the notes. As I said before, I still feel safer here in the City of the Great King than I do driving on many American highways!!

Iranian Official: No Part of Israel is Safe
| | |
| --- | --- |
| | (FOJ) Teheran was the scene for yet another mass Islamic demonstration where a noted figurehead of Islamic hatred denounced Israel and the US. This photo shows a banner in the background calling upon all Muslims to rise in a bid to destroy Israel, something the Bible says the god of this world, Satan is intent on accomplishing. |
July 18….(MSN) No part of Israel is safe in the current fighting with Lebanon, Iran's parliamentary speaker warned Tuesday, referring to the range of guerrilla rockets. Speaking to a crowd of thousands of anti-Israel demonstrators in Palestine Square, Tehran, Speaker Gholam Ali Haddad Adel told Israelis: "The towns you have built in northern Palestine (Israel) are within the range of the brave Lebanese children. No part of Israel will be safe." While the speaker is not among the most influential office-bearers in Iran, Haddad Adel's comments call into question the Tehran government's official position that it is not involved in the conflict between Israel and Lebanon. Iran and its ally Syria are the principal backers of Hezbollah, the Lebanese militant group that provoked the current fighting when its guerrillas kidnapped two Israeli soldiers from a post in northern Israel last week. On Monday, Israeli military officials said their planes had destroyed a long-range missile, named "Zelzal," that Hezbollah had received from Iran. Israel has alleged that 100 members of Iran's elite Revolutionary Guards are in Lebanon acting as advisers to Hezbollah. Iran has denied the accusation, saying Hezbollah is strong enough to defend itself. In his speech, Haddad Adel praised Hezbollah leader Sheik Hassan Nasrallah, calling him a "brave lion," and argued that the Palestinians and Lebanese had every right to fight Israel because Israel has hundreds of Lebanese and Palestinians in its prisons. He was also warned that there would be no peace until the United States stopped supporting Israel. Addressing Washington, he said: "Either cut your support for Israel, or don't expect peace and compromise with the world." The crowd responded with chants of "Death to Israel!"
Iran to Hizbullah: Curb Attacks on Israel
(Arabic language newspaper reports Iran was warned by European country that Israel is ready to attack targets in Syria in campaign to liquidate Hizbullah; Tehran sends foreign minister to Damascus to demand Hizbullah curtail attacks against Israel)
July 18….(YNET) Iranian Foreign Minister Manouchehr Mottaki was sent to Damascus to urge Hizbullah to curb rocket attacks against Israel and to release the two Israel Defense Forces soldiers captured a week ago in order to avoid further escalations, a London-based Arabic daily reported. Al-Sharq al-Awsat reported that a European country warned Iran that Israel is ready for a confrontation with Syria, which recently signed a defense alliance with Iran. The alliance stipulates that Iran would send arms and troops to back Syria should Damascus be attacked. Iran was also warned that Israel is determined to crush Hizbullah's infrastructure and liquidate its leadership. The report, which was based on leaks by an Iranian presidential aide, said Iran is worried by criticism waged against Hizbullah by an array of Lebanese politicians like Prime Minister Fouad Siniora, Druze leader Walid Jumblatt and Saad Hariri, son of slain former Prime Minister Rafik Hariri. The trio outspokenly attacked Hizbullah for being Iran's proxy and condemned as "irresponsible" the kidnapping of two Israeli soldiers. The official said: "Iran enjoyed a good reputation among the Lebanese for supporting Hizbullah. Today, many of our allies have turned their backs on us." In a letter to his Syrian counterpart Bashar Assad, Iranian President Mahmoud Ahmadinejad said Iran is ready to defend Syria against Israeli attacks.
Iran's Ahmadiniejad: Israel Trying to Occupy Lebanon
July 18….(YNET) Iranian President Mahmoud Ahmadinejad said yesterday that, "The Zionist government went too far and is interested in occupying Lebanon after it failed to pressure Iran on the nuclear issue." "They thought that occupying Lebanon is the easy part and this can open the door for more occupations, but they miscalculated yet again," he said. He said Israel uses any excuse to attack and occupy, destroy infrastructure and "sow terror." Ahmadinejad denied the Holocaust and said it is an excuse to allow western nations to have more influence in the region. He said if the Holocaust did in fact happen, those who committed it should pay a price and not others. "Why do you say that six million people died in the Holocaust, check this, maybe it was 10 million, the fact that you do not allow this to be checked is problematic," he said. Ahmadinejad spoke of Iran's talks with western nations over its nuclear program: "The Americans need not try to deal with problems for no reason and we will speak with the Europeans and move forward with them." "If a problem emerges it will be everyone's problem. It is our legitimate right to enrich uranium. We are ready for negotiations and are saying to those concerned that our policy is to use nuclear power for peaceful purposes in the frame of cooperation with the International Atomic Energy Agency and based on its decisions," he said. He concluded his speech speaking of the upcoming Hiroshima bombing anniversary. "Our enemies tell us "you are forbidden from acquiring nuclear technology for peaceful purposes because you can use it inappropriately," when they used this technology in such a manner in the past," he said, referring to the United States bombing of Japan in 1945.
Bush May Want the Hizballah-Israel War to Give Iran a Bloody Nose
July 18….(DEBKA) Since the onset of the Israel-Hizballah war on July 12, US President George W. Bush has never tired of repeating that Israel has the right to defend itself against terrorists and that it is up to Syria to press Hizballah to stop shooting rockets at Israel. His Secretary of state Condoleezza Rice says she doesn't see how an immediate ceasefire can solve the Middle East crisis. UN Secretary General Kofi Annan, playing along, is in no hurry to take a hand. "It will be a while before fighting ends," he says calmly. And Germany's Angela Merkel thinks the kidnapped Israeli soldiers should be returned before any talk begins. Britain's Tony Blair would like to put an international force into southern Lebanon, but Bush put him off none too gently according to an open mike at the G-8 summit. Anyway, south Lebanon already has a UN international force. It is called UNIFIL, and it has never stopped Hizballah from firing a single cross-border shot. All the world powers assembled in St. Petersburg for the G-8 summit agreed that Hizballah started the war as Tehran's proxy terrorist arm. They picked up on the attitude of the US president, who is telling Israel: Let it run; but keep civilian casualties down and don't kick too much Lebanese infrastructure. Even Arab governments, which automatically fought any Israeli military action in the past, have formed a solid Sunni Muslim front, led by Saudi Arabia, which is content to watch the Shite Hizballah take a beating and the burgeoning Shiite assertiveness in the region squashed. The Olmert government is eagerly exploiting this leisurely international climate to smash as much of Hizballah's terror machine as he can before Washington holds up a stop sign. Monday, July 17, a clutch of would-be ceasefire brokers descended on Beirut and Jerusalem. None came with Bush's nod, so they will not get very far. In Tehran, the hardline supreme ruler, Ayatollah Khamenei, picked up on the prospect of the only export arm of Iran's Shiite revolution facing a hammering in a drawn-out conflict. Sunday, July 16, four days into the hostilities, he spoke his first words in support for Hizballah. Typically, he struck out at UN Security Council resolution 1559 when he declared: No one will ever disarm the Hizballah. On the same day, when black clouds of rockets and warplanes filled the skies of Lebanon and northern Israel, both Tehran and Damascus made a point of supporting Syria, and not Hizballah, against a possible Israel attack. This poker game between Tehran and Washington is going back and forth over the heads of Israel and Lebanon. Meanwhile, no more than 25% of Hizballah's arsenal has been destroyed in Israel's six-day air blitz and cannonade, and no one is quite sure what surprises are in store in the form of long-range, heavy rockets or missiles, what hardware is being smuggled from Iran via Syria past the Israeli blockade, and whether either or both will intervene at some poin, and how. The green light flashing in Washington may give Israeli Prime Minister Ehud Olmert a latitude never before granted any Israeli premier. But it also tells the Islamic Republic that its rulers' meddling in Iraq carries a high price tag. By pulverizing Iran's surrogate, Israel is articulating America's determination to smash Iran's strength and positions of influence around the Middle East and the Persian Gulf. This determination was sparked by an unnoticed incident in Iraq on July 4, 2006. On that day, for the first time in the Iraq War, Nasrallah activated the three-year old sleeper terror and sabotage networks Iranian and Hizballah intelligence had established across Iraq shortly after the US invasion. He was obeying orders from Iranian supreme ruler Ayatollah Ali Khamenei. America's Day of Independence 2006 was selected for this group to make its first low-key attacks against US forces in Baghdad and British units in Basra and break surface under the name of The Abu al Fadal al Abas Brigades. No one had heard of it because Tehran had kept this Iraqi arm of Hizballah dark as the ultimate weapon to spring on the Americans in Iraq at the appropriate moment. President Bush saw that if he looked away and let Iran's challenge burst into full-blown action without responding, America's standing in Iraq and the rest of the region would be forfeit. He was further stirred into a response by Tehran's developing appetite for quick gains. On July 12, believing they had got away with it in Iraq, Iran and Hizballah followed it up by opening a second front against Israel, America's ally: the Shiite terrorists kidnapped two Israeli soldiers. That was the last straw, but George W. Bush turned it around as a boomerang to hit Tehran. The Israeli Defense Forces, there to hand, were more than ready to punish Hizballah and had been raring to go after five years of forced restraint against the Lebanese group and Palestinian terrorists. For Bush, this course offered America the chance of a bold, efficient blow against a Shiite extremist terrorist group without a single American soldier having to step onto the battlefield. Therefore, Israel's Operation Just Reward, which started out as a rescue operation for its two abducted soldiers, then a campaign to push Hizballah back from its border, within six days opened Lebanon up as a major arena for the showdown building up between the United States and Tehran over a whole bagful of issues, not least Iran's nuclear defiance. However, the unacknowledged object of Israel's campaign is none of the highly rational goals outlined by officials. It is to satisfy Washington that Tehran has been given a bloody nose and is ready to pull back from its deepening political, military and intelligence interference in Iraq. To this end, Bush decided to let the armed forces of the Jewish state strike out against a fundamentalist Islamic force. For Israel, this is a first, a chance awaited since the first Gulf War of 1991 to get its own back on the radical Arab assailants besetting the country. This chance was denied even when it came under attack from Saddam Hussein's missiles in 1991. Israel was then consistently held back from ridding itself of the vicious Palestinian suicide terror launched in 2000, leaving the conflict unresolved to this day. Israel has been kept on the sidelines of the US global war on terror, even though it targeted the Jewish state more than the US. Now, Ehud Olmert has picked up the gauntlet handed by Washington and decided to settle a long score with a Shiite terror group plaguing Israel from its northern border. He has plunged the country into a conflict that may well draw Iran and Syria in on the side of the enemy. No one can tell how it will come out. Israeli generals and officials asked about the objectives of this war are cagey; they can't tell what will eventuate in the next 24 hours, and not only because of the uncertain fortunes of war. The tricky test is to correlate Israeli and American interests from one day to the next. Hizballah keeps on threatening "new surprises," because its leaders are also playing their tactics by ear, dependent on the support and weapons Tehran judges it politic to release. This conflict may only just be the beginning. None of the main players show any eagerness to cut it short before they attain their purpose.
Ex-CIA Chief: Bomb Syria!
(Woolsey says Damascus, Iran think US 'nation of cowards')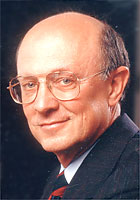 Former CIA Director James Woolsey
July 18….(World Net Daily) As violence continues to escalate between Israel and Hezbollah terrorists in Lebanon, the former head of the Central Intelligence Agency says the US should now take military action against Syria, which, along with Iran, is believed to be backing Hezbollah. "I think we ought to execute some airstrikes against Syria, against the instruments of power of that state, against the airport, which is the place where weapons shuttle through from Iran to Hezbollah and Hamas," James Woolsey said. "I think both Syria and Iran think that we're cowards. They saw us leave Lebanon after the '83 Marine Corps bombing. They saw us leave Mogadishu in '93." The former CIA chief, now a vice president for the global consulting firm Booz Allen Hamilton, said it is much too soon to talk about a realistic end to the fighting. "I think the last thing we ought to do now is to start talking about cease-fires and a rest," he said. "Iran has drawn a line in the sand. They've sent Hezbollah and Hamas against Israel. They're pushing their nuclear weapons program. They're helping North Korea, working with them on a ballistic missile program. They're doing their best to take over southern Iraq with radical Shiite cleric Muqtada al-Sadr and some of their other proxies. This is a very serious challenge from Iran and we need to weaken them badly, and undermining the Syrian government with airstrikes would help weaken them badly." Woolsey was appearing on the "The Big Story" on the Fox News Channel. Asked host John Gibson, "If taking Syria down a peg or two by actually hitting them with airstrikes would be effective, why not hit something in Iran?" "One has to take things to some degree by steps," Woolsey responded. "I think it would be a huge blow to Iran if the Israelis are able after a few more days' effort to badly damage Hezbollah and Hamas as they are doing, and if we were able to help undermine the continuation of the Assad regime in Syria, without putting troops on the ground, I wouldn't advocate that. We've got one major war in that part of the world on the ground in Iraq and that's enough for right at this moment I think." Woolsey, a former undersecretary of the Navy, was President Clinton's director of Central Intelligence from 1993 to 1995, and has been a proponent of the war in Iraq.
Is The Arab World Getting Fed up With Hizbullah?
July 18….(Jerusalem Post) With the exception of the Palestinians, the Arab world appears to be united in blaming Iran and Syria for the fighting in Lebanon. Until last week, Arab political analysts and government officials were reluctant to criticize Hizbullah in public. But now that Hizbullah Secretary-General Hassan Nasrallah and his top aides are in hiding, an anti-Hizbullah coalition is emerging not only in Lebanon, but in several other Arab countries as well. The Palestinians and Hizbullah feel that their Arab brethren have once again turned their backs on them. On Monday, hundreds of Palestinians who marched in downtown Ramallah in support of Hizbullah chanted: "Hassan Nasrallah is our hero, the rest of the Arab leaders are cowards" and "O beloved Abu Hadi Nasrallah's nickname, bomb, bomb Tel Aviv." The second battle cry is reminiscent of the famous slogan the Palestinians used during the first Gulf War: "O beloved Saddam, bomb, bomb Tel Aviv." Hizbullah and their supporters were hoping that the massive Israeli military operation in Lebanon would trigger large-scale protests throughout the Arab world, creating instability and threatening to bring down some of the Arab regimes. But the response on the Arab street has been so disappointing for Hizbullah that its leaders are now openly talking about an Arab "conspiracy" to liquidate the Shi'ite organization. The few Hizbullah supporters in Ramallah, the Gaza Strip and some Arab capitals have therefore been directing most of their criticism against the Arab presidents and monarchs, accusing them of serving the interests of the US and Israel. The anti-Hizbullah coalition, which appears to be growing with every Israeli missile that drops on the heads of Hizbullah leaders and headquarters, is spearheaded by Saudi Arabia, Egypt and Jordan. These three countries, together with many Arab commentators and political analysts, are convinced that the leaders of Teheran and Damascus are using Hizbullah to divert attention from Iran's nuclear program and Syria's involvement in the assassination of former Lebanese Prime Minister Rafik Hariri. The Saudis were the first to openly criticize Hizbullah, paving the way for other Arab countries to follow suit. The message coming out of these countries is that the Arabs and Muslims can't afford to allow an irresponsible and adventurous organization like Hizbullah to drag the region to war. The Saudi position, which surprised Hizbullah and its supporters, was outlined by an anonymous official, who said that the people should distinguish between legitimate resistance and dangerous adventurism by some parties without cooperation from their governments and the Arab states. The Saudi stand reflected the position of all the Gulf countries, which are unhappy not only with Hizbullah, but with Hamas as well. The Gulf countries are of the opinion that Hizbullah and Hamas are acting on orders from Teheran and Damascus. Bashar Assad and Ali Khamenei are using Hizbullah to achieve their direct and indirect goals in the region. They used Hizbullah to ease the pressure exerted by the international community on Syria and Iran. Some Arabs are describing Syria and Iran as the real enemies of Lebanon. Lebanon is paying the price for the sins of its real enemies - Syria and Iran, which don't dare confront Israel militarily and diplomatically. The time has come to neutralize and disarm Hizbullah before it becomes an illegitimate state inside Lebanon. Trying to explain the Arab attitude, Palestinian political analyst Ashraf al-Ajrami noted that many Arab countries were afraid of Iran and did not want to see the Iranians spread their influence. "The Arab countries, particularly Saudi Arabia, Egypt and Jordan, believe that no party has the right to drag the entire region to a military confrontation with Israel," he wrote in the Ramallah-based Al-Ayyam daily. "These countries believe that there is no room for mistakes and adventures. The Arabs are worried about Iran's plans in the region, especially with regards to Iraq and the development of nuclear weapons, and their attempts to influence events in Lebanon and Palestine. A large number of Arab countries, particularly in the Gulf, see Iran as a future adversary."
A Picture Worth A Thousand Words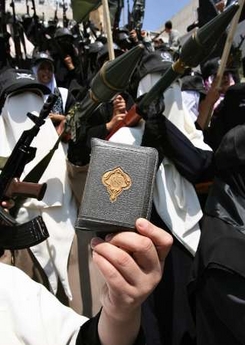 July 18….(FOJ) They say a picture can reveal more than a thousand words can sometimes. The Middle East Conflict has always been deep-rooted, and its roots go back to a religious divide between the Jews and their fellow cousins, the Arabs, who became devout followers of Mohammad when he brought the Sword of Islam out of Saudi Arabia, and conquered the Arab world. The gods of the holy books, the Koran, and the Holy Bible are diverse, and not the same god. Many people fail to perceive that fact, but the God of the Bible claims that He will gather a remnant of Jacob's descendants and plant them in the ancient Promised Land before He sends His Son back to Israel in the Last Days. The god of the Koran encourages Muslims to destroy Jews, and anything to do with Israel. So these two diverse records can't possibly be written by the same God. Ironically, Allah loves for his followers to brandish their swords and AK-47's while holding up the Koran. I wonder why, is it not because he is demonically inflaming them to march to Jerusalem and fight against God's anointed Son?
Hizballah's Hassan Nassrallah & Top Command Holed up in Hermel,
July 17….(DEBKA) According to DEBKAfile's military and Iranian sources, are Hizballah's "chief of staff" Ibrahim Akil, its head of intelligence and terror Imad Mughniyeh and commander of special operations Halil Harab have teaken refuge in the Lebanon-Syrian border town of Hermel. The group fled their Beirut HQ Saturday night, July 15, and went to ground in the emergency staff bunkers prepared in advance of their July 12 attack on Israel. After failing to prevent the top Hizballah leaders' escape from Beirut, the Israeli air force headed north Monday morning, July 17, and is clobbering the Hermel region. DEBKAfile adds: The Hermel drug-farming pocket bordered north and east by Syria is the haunt of smugglers who use the remote, strategically placed region to move fighters, weapons, cash and drugs across Syria into Iraq and as a staging post to other parts of the Middle East. The smuggling gangs' overlord is Imad Mughniyeh, a triple Hizballah-Iran-al Qaeda agent and terrorist executive, who has figured high on the US wanted terrorist list for more than two decades. On his orders, the smugglers recently relocated their main operation from the Syrian-Iraqi border to the Syrian-Lebanese border in preparation for the new warfront against Israel. In the last 48 hours, Iran has used this illicit route to beat the Israeli air, sea and land blockade and pump quantities of rockets, anti-air and anti-tank missiles and other advanced weapons systems to Hizballah for a fresh escalation. Syria's role in this smuggling operation is critical. DEBKAfile's Iranian sources add that the holds of all the Iranian passenger flights landing in Damascus from Thursday, July 13, have been crammed with weapons for Hizballah. Friday and Saturday, 25 Iranian Revolutionary Guards officers, anti-tank and anti-air missile experts, arrived in mufti in the Syrian capital. They were led by the smugglers across mountain routes into Lebanon. Mughniye, a confidant of Iran's Ali Khamenei and Osama bin Laden, is constantly at Nasrallah's side. He is believed by Israeli intelligence to have engineered the kidnap of the two Israeli soldiers on which sparked the hostilities July 12.
| | |
| --- | --- |
| | Palestinians hold Hizbollah's chief Hassan Nasrallah poster during a demonstration out side the Palestinian parliament in Gaza City July 17, 2007. Thousands of Palestinians attended the demonstration to protest Israeli attacks in Gaza and Lebanon. |
| | Syrian demonstrators carrying Lebanese flags and photos of Hizbollah leader Hassan Nasrallah and Syrian President Bashar al-Assad participate in a protest against Israeli raids on Lebanon in the Syrian capitol of Damascus! |
Iran Leader Ali Khameini Declares: Hizballah Will Never be Disarmed
July 17….(DEBKA) In Iran's first direct guarantee of support for the embattled Lebanese Shiite group since hostilities were launched Wednesday, July 12, Iran's Supreme Islamic leader Ali Khameini said that Hezbullah will never be disarmed. His remarks were meant as a repudiation of President Bush's call for Hezbollah to be disarmed before a cease-fire can ensue in the Middle East. It is interpreted as a promise of weapons and, if necessary, fighting men to avert a Hizballah defeat. DEBKAfile's counter-terror sources see also a message addressed to the Olmert government that Israel will not achieve its objectives in Lebanon or succeed in dictating new rules. Earlier, Tehran threatened Israel against attacking Syria, with a Mullah sokesman saying, "We are standing by the Syrian people, and Israel faces "unimaginable losses if it attacks Syria".
Iran, Not Hezbollah, is True Enemy
July 17….(WND) Iran is at the center of the emerging war between the terrorist organizations Hezbollah and Hamas against Israel. Far from being a typical or recurrent Middle East crisis, this shooting war risks the future of Israel's survival as a nation, as well as the security of a continuing US presence in the region. Through its dual surrogate terrorist organizations of Hezbollah and Hamas, Iran has begun its war to destroy Israel and to remove the US from the Middle East. As I noted in writing ''Atomic Iran,'' Hezbollah traces its roots to Najaf in Iraq. Najaf is an important site for Shiite Islam. Here is buried the Imam Ali, whom Shi'ites consider the first convert of Muhammad and the rightful successor to the Prophet. Ayatollah Muhammed Hussein Fadlallah, the spiritual leader of Hezbollah, studied in Najaf when he was in exile from Lebanon. There he met Ayatollah Khomeini, who was also in exile, from the Shahs Iran. Even today, Iran continues to fund Hezbollah, to the tune of some $250 million a year. There are conflicting reports as to whether a drone equipped with a bomb or a C-802 cruise missile hit the Israeli missile ship off the coast of Lebanon. Either way, the evidence points to Iran. The C-802 cruise missile is today an Iranian-made weapon, built on the design of Chinese cruise missiles that Iran bought from China during the Clinton Administration. Beginning in December 2005, Iran launched a series of war games in an attempt to demonstrate the country's military prowess, signaling to the world a willingness to resist military steps that might be taken against the nation's nuclear program. Iran has reportedly supplied Hezbullah with long range missiles. Hezbollah's use of what amounts to ''signature'' Iranian weapons provides additional evidence that Iranian Revolutionary Guard members remain on-site in Lebanon to provide Hezbollah technical weapons assistance. Hamas is a Sunni organization that owes its origin to the Muslim Brotherhood formed in Egypt in the 1920s. With the fall of Saddam Hussein, one of the primary financial backers of the Palestinian movement, Teheran stepped in to provide funding that would no longer be coming from Iraq. Then, in January 2006, after Hamas won the recent Palestinian Authority parliamentary elections, Iran stepped in to provide funding when international organizations and the US and Israel balked at providing funding to an admitted terrorist organization committed to the destruction of Israel. From the 1950s, until Anwar Sadat experienced a change of heart and decided that Islam could co-exist with the Jewish state, Egypt had led the war to wipe Israel off the map of the Middle East. Now Iran has taken up that mission. President Ahmadinejad, since his election in June 2005, has engaged in a rabid anti-Semitic rhetoric unheard from a head of state since the days of Adolph Hitler. Now, with Israel surrounded by Hezbollah in Lebanon, Hamas in control of the Palestinian Authority, and with the ultra-conservative clerics backing Ahmadinejad in Iran, we may just have reached an historic moment where a war could seriously threaten the ability of Israel to survive. The threat grows more severe each day, as Iran continues to make progress enriching uranium, undeterred from developing a nuclear weapon that could be delivered by the Shahab-3 missile. Hezbollah and Hamas today have to be seen as proxy terrorist organizations for the terror masters in Tehran. The current crisis was precipitated by an increasing intensity of rocket attacks on Israel by Hezbollah and Hamas. The timing was almost too convenient not to suspect that Tehran wanted to take the focus off their nuclear program, especially after Iran missed the July 12 deadline taken by the ''Five +1'' nations (the permanent members of the Security Council, plus Germany) to accept the UN-offered incentive package to resume the Iranian self-imposed moratorium on uranium enrichment. As long as this current radical regime remains in power in Iran, we are assured of continuing anti-Israel, anti-US terrorism coming from Tehran. Ahmadinejad has openly declared that his mission is to engage in a second Iranian revolution, completing the work begun in 1979 by Ayatollah Khomeini. A great deal of the ''insurgency'' we are experiencing in Iraq is a direct result of terrorists sent across the border by Iran in an attempt to fulminate a Sunni versus Shiite civil war that might just derail once and for all the democracy process the US has pursued since forcefully removing Saddam Hussein from power. Now, Iran and Syria have formed a mutual security defense pact which binds Syria even more firmly to Iran as a client state. Syria has yet to abandon the ambition to control Lebanon through an expanding Hezbollah that is showing increasing strength as a force within the government of Lebanon. Simply put, the major source of trouble in the Middle East remains Iran. The success Israel has dealing with Hezbollah's current aggression against Israel will determine not only the future security of Israel, but also the future of the US presence in the Middle East. If we could remove the current Iranian regime through peaceful change, there would be no more Hezbollah and no more Hamas to sow terrorism and violence throughout the region and the world. Iran supports Syria financially, relying on Damascus to manage Hezbollah in Iran and to assist in sending terrorists into Iraq. The Middle East will remain in turmoil as long as the current Iranian regime remains in power. Ahmadinejad and the ultra-conservatives who back him will continue to push to develop nuclear weapons and we have no reason today to expect UN sanctions will exert any meaningful pressure to the contrary. Iran continues to swear ''Death to Israel'' and ''Death to America,'' even after Egypt, Jordan, and even Saudi Arabia have largely reconciled to live with Israel in the Middle East and with a continued US presence in the region. This is not a war Israel has started, but if the war continues to expand, we can expect the conflict to end up as a war not against Hezbollah, but as a war with Iran. The world has never had a more urgent moment than now to unite diplomatically to control and contain Iran. This is a message President Bush must hear. The true enemy of Israel and the US today is not Hezbollah, Hamas, or Syria, the true enemy has been and will continue to be Iran, as long as the Islamic Republic of Iran remains the regime in Tehran.
Could The G-8 Become the G-10, and Thus the Ten Kings of Revelation
July 17….(FOJ) As the world's G-8 leaders meet in the plush palace of Peter the Great in St. Petersburg, Russia, its attention has been diverted from its scheduled itinerary. The G-8 leaders had gathered to discuss the trade and organization structure of the Global powers. The Bible reveals that ten kings of the Last Days will tread down the whole earth, and agree with one mind to grant their power structure to the Antichrist. The G-8 is slated to become the G-10 on the near future, with the additions of India and China. The prophecies of Daniel portray these ten kings as ten toes on the great image of the Gentile world system of Global power. Daniel reveals that the Ten Kings, although uniting briefly to form a Global Authority, will not "cleave together." The geo-political intangibles of this prophecy appear to be forming before our very eyes today. Russia and China are not cleaving with the US-UK positions on Korea or Iran, but the leaders are still pushing ahead to form their vision of a Global Trade and Security Union.
| | |
| --- | --- |
| | Leaders of the G8 are joined by other invited leaders around the table, during a meeting at the G8 Summit in St. Petersburg, Russia, Monday July 17, 2006. |
Prophetic Possibilities Surrounding the Middle East Crisis
July 17….(excerpt from David Dolan) Several have written in recent days to ask my opinion on the possible prophetic implications of the escalating crisis. It is clear to all that the fighting in Lebanon could easily mushroom into a direct Israel-Syria conflict, since the police state regime in Damascus actively supports and arms Hizbullah and has close ties to radical Iran. Just today Syrian officials stated that they would attack Israel if IDF jets strike any targets inside Syria. Iranian leaders say they will back Syria to the hilt if such a conflict erupts. While there were always questions as to Saddam's chemical weapons capabilities before the Iraqi war began in early 2003, there is no question that Syria possesses huge quantities of deadly VX nerve gas and a significant arsenal of Soviet-produced strategic missiles, including multiple SS-21 warheads capable of delivering the deadly gas to all portions of Israel. The use of such weapons against Israeli civilian centers would spark an Israeli non-conventional response, probably a nuclear one, as Israeli leaders have long made clear. Thus, we could be on the verge of the fulfillment of a prophecy I have publicly spoken about since the mid-1980s, found in Isaiah 17. It details a future complete destruction of the city of Damascus and also great suffering in Israel, indicating an Israel-Syria conflict is being foretold. GOG AND MAGOG?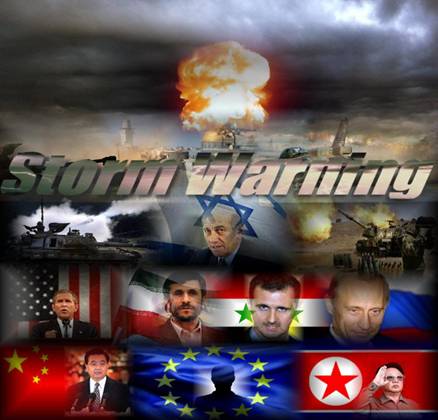 Some Christian and Jewish subscribers to my updates have suggested to me that we might instead be on the verge of the fulfillment of Ezekiel 38 and 39, which describe a massive attempted invasion of Israel led by a great power to the "far north" of Israel, assisted by Persia (modern Iran) and other regional countries. I detailed in both books why I believe that will only occur towards the very end of the prophesied final climax of history known as the time of Jacob's Troubles, or the Tribulation. I think Iran's prophesied inclusion in that massive assault, which Ezekiel says will end with God's miraculous intervention and Israel's full salvation, may well be a result of something that could occur at this very period of time; either the destruction of Damascus alone, or that along with an Israeli military assault upon Iran's nuclear facilities. Obviously nobody but the Sovereign Lord knows for sure when these prophecies will be fulfilled, and so I remain very cautious about specific speculations. But it is clear to me and many others that all the ingredients for the fulfillment of Isaiah's prophecy at least are now in active play. Whether world powers outside the region will once again intervene and bring about a halt to the escalating conflict or not remains to be seen. But it is quite evident that terror-weary Israeli leaders are determined to deal with the huge and ongoing Hizbullah threat once and for all at this time, and probably with the Hamas organization as well.

FOJ Note: The prophesied invasion upon the mountains of Israel by a Russian-led coalition of nations that includes Iran is easily in view today. The timing of this invasion is paramount to understanding how close we are to the Rapture and the Tribulation era. FOJ asserts that the Magog-led invasion is timed to be a tribulation era war, and the mere fact that we are already witnessing the rumors of war about Iran, threats to wipe Israel off the map, and Russia aiding and assisting Iran in gaining a nuclear weapon portends that we are very close to the Armageddon scenario, and that fact highlights the alarm to Christians that the Rapture is even closer!

What is Hezbollah, and Why are They There?

July 17….(FOJ) Hezbollah or Hizbollah/Hizbullah, meaning Party of God is a governmental and militant Lebanese Islamist group, with a military arm and a civilian arm, founded in 1982 to fight the Israeli Defense Forces who pursued Yasser Arafat and his PLO terrorist outfit into Lebanon, and was forced to occupy southern Lebanon until the year 2000 because of the civil war that erupted in Lebanon. Along with the Amal movement, Hezbollah is the main militant-terrorist organization representing the Shia community, Lebanon's largest religious bloc. Hezbullah was founded with the aid of Iran and is funded by it, and follows the distinctly Shiite Islamist ideology developed by Iran's Ayatollah Ruhollah Khomeini, the leader of the Islamic Revolution in Iran in 1979. Hezbollah works in conjunction with Iran's goal of establishing an Islamic state in Lebanon, a goal which it also envisions for the projected new State of Palestine. After emerging from the Lebanese civil war of the early 1980s as the dominant power, and as an Iranian-sponsored resistance movement for Lebanon's Shiite vision, Hezbollah has focused on Iran's goal of expelling Israeli and US forces first from Lebanon, and then from the entire Middle East. Hezbollah facilitated the suicide bombings on the US Embassy, which killed 63, including 17 Americans; of the US Marine barracks in Beirut in 1983 which killed 241 American Marines. There are several reasons for Hezbollah's continued conflict with Israel, aside from its shared vision with Iran that Israel must be destroyed. Hezbollah, as a pretext for its continued aggression against Israel claims that it is representing Lebanon's rights to the Shebaa. While Syria support Hezbollah's claim, the United Nations has deemed the region part of the Golan Heights, a Syrian plateau taken from Syria by Israel in 1967. Hezbollah has indicated solidarity with the Golan Heights, the West Bank and Gaza residents who are opposed to Israeli's so-called occupation of those lands. Hezbollah's role in the Israeli withdrawal from southern Lebanon gained the organization much respect in Lebanon and the wider Arab and Islamic world, particularly among the country's large Shiite community. The Shi'a are the single largest religious group in Lebanon, probably comprising at least 48% of the three million citizens. Since Israel withdrew from Southern Lebanon in 2000, and despite the fact that no official Lebanese State declaration allows it, Hezbollah has become the occupying army of South Lebanon. UN resolution 1559 requires Hezbollah to be disarmed and cease operations in Southern Lebanon. The UN Security Council adopted UNSC Resolution 1559, which was coauthored by France (former mandate power) and the United States, and it "calls upon all remaining foreign forces to withdraw from Lebanon" and "for the disbanding and disarmament of all Lebanese and non-Lebanese militias." Lebanon is currently in violation of Resolution 1559 over its refusal to disband the military wing of Hezbollah. Syria is also in violation of the resolution because of its sinister presence in Lebanon. On 11-7-04, UN Secretary General Kofi Anan reported to the Security Council regarding the lack of compliance with Resolution 1559. Annan concluded his report by saying: "It is time, 14 years after the end of hostilities and four years after the Israeli withdrawal from Lebanon, for all parties concerned to set aside the remaining vestiges of the past. The withdrawal of foreign forces and the disbandment and disarmament of militias would, with finality, end that sad chapter of Lebanese history." On 1-28-05 the UN demanded that the government of Lebanon fully extend and exercise its authority throughout the southern border with Israel, and on 1-23-06 the UN Security Council demanded that the Government of Lebanon disbanding Hezbollah, and called on Syria to cease shipments of arms and personnel into Lebanon. Irregardless, Hezbollah has continued to act as the army of Lebanon, and as such as the extended arm of the Islamic Republic of Iran.

History of the Lebanese-Israeli Conflict

July 17….(AP) Because Israel and Lebanon have never signed a peace accord, the countries remain officially in a state of war that has existed since 1948 when Lebanon joined other Arab nations against the newly formed Jewish State. The two countries have been bound by an armistice that was signed in 1949, which regulates the presence of military forces in southern Lebanon. With a large Christian minority in an overwhelmingly Muslim region, mercantile and Westernized, Lebanon was considered the least hostile Arab neighbor to Israel, and the weakest. The rare skirmishes that occurred were mostly symbolic. That began to change as Palestinian guerrillas (PLO) became active. In 1968, Israeli commandos landed at Beirut airport and blew up 13 Lebanese airliners in retaliation for Arab militants firing on an Israeli airliner in Athens, Greece. Under pressure from staunch anti-Israeli Arab regimes in 1969, Lebanon signed an agreement that effectively gave away a southern region for Palestinian guerrillas to use as a springboard to infiltrate Israel or launch cross-border attacks. Israel retaliated regularly as Palestinian guerrillas (led by Yasser Arafat) continuously fired on northern Israel, and Israeli forces were forced to invade southern Lebanon in 1978. A UN peacekeeping force deployed and the Israelis pulled out after installing a local Lebanese militia in a border buffer zone, but the attacks (again under the PLO) continued. Israel invaded again on a wider scale in 1982 to destroy Yasser Arafat's Palestinian guerrilla movement, which had established itself as a force within Lebanon during the country's civil war that began in 1975. The bulk of Palestinian guerrillas were evacuated from Lebanon, (with assistance from the US) but a new Lebanese guerrilla force, Hezbollah, emerged with the aid of Iran and it drew its support from the Shiite Muslim community that inhabits southern and eastern Lebanon. US-sponsored negotiations produced a Lebanon-Israel agreement but that deal died as Lebanon collapsed in another round of religious civil war, spurred on by Iran and Syria. After a destructive and costly military campaign that lasted for three years, Israeli forces withdrew from most of Lebanon but retained a self-proclaimed "security zone" just north of its own border. Israel left that zone in 2000, but warned that it would return if its security to the north was compromised. Hezbollah trumpeted Israel's withdrawal as a great victory but claimed that Israel continued to occupy illegally a small, empty parcel near Syria called the Shebaa Farms. Diplomats mostly see that claim as a convenient excuse to justify attacks against Israel.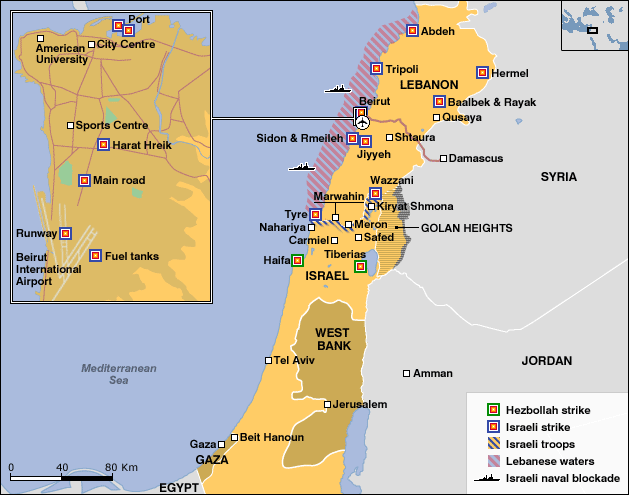 Olmert Hopes For "Eternal Covenant" With Arabs
* July 17….(FOJ) Prime Minister Ehud Olmert said Monday that he hoped an "eternal covenant" could soon be signed between Israel and its neighbors. Prime Minister Olmert's vision of an "eternal covenant" must be convenient news for the MASTER Peace Crafter the Bible calls the Antichrist. The prophet Daniel spoke of such an opportunity opening the doorway for the rise of the Antichrist. Just last week, the Arab League announced that the "Middle East Peace Process" was dead, and required an overhaul, one that necessitated new on-the ground situations in Lebanon and, perhaps in Syria. The current Middle East Crisis is lending itself to the high-probability scenario that the "false peace covenant" of the Antichrist, made with Many, can be realized!
(Daniel 9:27 And he shall confirm the covenant with many for one week: (7 years) and in the midst of the week he shall cause the sacrifice and the oblation to cease, and for the overspreading of abominations he shall make it desolate, even until the consummation, and that determined shall be poured upon the desolate. Daniel 8:25 And through his policy also he shall cause craft to prosper in his hand; and he shall magnify himself in his heart, and by peace shall destroy many: he shall also stand up against the Prince of princes; but he shall be broken without hand.)
Rice: No Point in Temporary Ceasefire
July 17….(YNET) US Secretary of State Condoleezza Rice warned that for the time being the United States is not interested to assist in negotiating a ceasefire. There is no point in achieving a ceasefire so long as Hizbullah and Hamas are capable of firing rockets at Israel, and by doing so to breach it. In a series of interviews to large American television channels, the secretary of state added that this is not the right time to make diplomatic trips to the region to solve the crisis. "Extremists in Hamas, Hizbullah, and their supporters in Syria and Iran do not want to see a resolution of these situations on the basis of 1559 and the road map, because then they would have no reason for violence," Rice said. The US government will object the reaching of a cease-fire at the G-8 summit or at the United Nations. 'Defend yourself', Speaking to Fox News, Rice reiterated the American stance which was voiced by President Bush since the crisis started. "Our message to Israel is, look, defend yourself," Bush said. "But as you do so, be mindful of the consequences. So we've urged restraint." "What you had in the Middle East before was American policies - bipartisan, by the way, it had been pursued by Democratic Presidents and by Republican Presidents - that engaged in so-called Middle East exceptionalism and was pursuing stability at the expense of democracy, and it turned out, as we learned on 9/11 or July 7th here, or in any - in London or across the world, was getting neither," she said. The Pentagon notified Congress of plans to sell Israel jet fuel valued at up to USD 210 million "to keep peace and security in the region". "The proposed sale of the JP-8 aviation fuel will enable Israel to maintain the operational capability of its aircraft inventory," the Pentagon's Defense Security Cooperation Agency said in notice required by law. It said Israel had requested the sale, but did not say when the request was made. "The jet fuel will be consumed while (Israel's) aircraft (are) in use to keep peace and security in the region," the notice to Congress said. It said the sale, which Congress may block if both houses were to enact resolutions rejecting it within 30 days, would not affect the basic military balance in the region.
WEEK OF JULY 9 THROUGH JULY 16
North Korea Renounces UN resolution
July 16….(Reuters) North Korea said on Sunday it was not bound by a UN Security Council resolution, which has created "an extremely dangerous situation" and the country would "bolster its war deterrent" in every way. The Security Council had acted with "irresponsibility," by voting unanimously for a resolution requiring nations to prevent North Korea from obtaining dangerous weapons, an unnamed North Korean foreign ministry spokesman was quoted as saying by the official KCNA news agency. The United Nations Security Council votes to unanimously approve a resolution to impose weapons-related sanctions on North Korea, in response to its flurry of missile tests earlier this month, at the United Nations headquarters in New York
Lebanese Christians Say, "Thanks Israel"
July 16….(American Congress for Truth) For the millions of Christian Lebanese, driven out of our homeland, Thank you Israel, is the sentiment echoing from around the world. The Lebanese Foundation for Peace, an international group of Lebanese Christians, made the following statement in a press release to Israeli Prime Minister Ehud Olmert concerning the latest Israeli attacks against Hezbollah: We urge you to hit them hard and destroy their terror infrastructure. It is not only Israel who is fed up with this situation, but the majority of the silent Lebanese in Lebanon who are fed up with Hezbollah and are powerless to do anything out of fear of terror retaliation. Their statement continues, On behalf of thousands of Lebanese, we ask you to open the doors of Tel Aviv's Ben Gurion Airport to thousands of volunteers in the Diaspora willing to bear arms and liberate their homeland from [Islamic] fundamentalism. We ask you for support, facilitation and logistics in order to win this struggle and achieve together the same objectives: Peace and Security for Lebanon and Israel and our future generations to come. The once dominate Lebanese Christians responsible for giving the world the Paris of the Middle East as Lebanon used to be known, have been killed, massacred, driven out of their homes and scattered around the world as radical Islam declared its holy war in the 70s and took hold of the country. They voice an opinion that they and Israel have learned from personal experience, which is now belatedly being discovered by the rest of the world. While the world protected the PLO withdrawing from Lebanon in 1983 with Israel hot on their heals, another more volatile and religiously idealistic organization was being born: Hezbollah, the Party of God, founded by Ayatollah Khomeini and financed by Iran. It was Hezbollah who blew up the US Marine barracks in Lebanon in October,1983 killing 241 Americans and 67 French paratroopers that same day. President Reagan ordered US Multilateral Force units to withdraw and closed the books on the marine massacre and US involvement in Lebanon February 1984. The civilized world, which erroneously vilified the Christians and Israel back then and continues to vilify Israel now, was not paying attention. While America and the rest of the world were concerned about the Israeli / PLO problem, terrorist regimes in Syria and Iran fanned Islamic radicalism in Lebanon and around the world. Hezbollah's Shiite extremists began multiplying like proverbial rabbits out-producing moderate Sunnis and Christians. Twenty-five years later they have produced enough people to vote themselves into 24 seats in the Lebanese parliament. Since the Israeli pull out in 2000, Lebanon has become a terrorist base completely run and controlled by Syria with its puppet Lebanese President Lahood and the Hezbollah state within a state. The Lebanese army has less than 10,000 military troops. Hezbollah has over 4,000 trained militia forces and there are approximately 700 Iranian Revolutionary Guards in Southern Lebanon and the Bekaa Valley. So why can't the army do the job? Because the majority of Lebanese Muslims making up the army will split and unite along religious lines with the Islamic forces just like what happened in 1976 at the start of the Lebanese civil war. It all boils down to a war of Islamic Jihad ideology vs. Judeo Christian Westernism. Muslims who are now the majority of Lebanon's population, support Hezbollah because they are part of the Islamic Ummah-the nation. This is the taboo subject everyone is trying to avoid. The latest attacks on Israel have been orchestrated by Iran and Syria driven by two different interests. Syria considers Lebanon a part of greater Syria. Young Syrian President Assad and his Ba'athist military intelligence henchmen in Damascus are using this latest eruption of violence to prove to the Lebanese that they need the Syrian presence to protect them from the Israeli aggression and to stabilize the country. Iran is conveniently using its Lebanese puppet army Hezbollah, to distract the attention of world leaders meeting at the G-8 summit in St. Petersburg, from its pursuit of nuclear weapons. Apocalyptic Iranian President Ahmadinejad and the ruling Mullah clerics in Tehran want to assert hegemony in the Islamic world under the banner of Shia Mahdist madness. Ahmadinejad wants to seal his place as top Jihadist for Allah by make good his promise to wipe Israel off the map. No matter how much the west avoids facing the reality of Islamic extremism of the Middle East, the west cannot hide from the fact that the same Hamas and Hezbollah that Israel is fighting over there, are of the same radical Islamic ideology that has fomented carnage and death through terrorism that America and the world are fighting. This is the same Hezbollah that Iran is threatening to unleash in America with suicide bomb attacks if America tries to stop Iran from developing nuclear weapon. They have cells in over 10 cities in the United States. Hamas, has the largest terrorist infrastructure on American soil. This is what happens when you turn a blind eye to evil for decades, hoping it will go away. Sheik Nasrallah, the head of Hezbollah, is an Iranian agent. He is not a free actor in this play. He has been involved in terrorism for over 25 years. Iran with its Islamic vision for a Shia Middle East now has its agents, troops and money in Gaza in the Palestinian territories, Lebanon, Syria, and Iraq. Behind this is this vision that drives the Iranian President Ahmadinejad who believes he is Allah's tool and facilitator bringing the end of the world as we know it and the ushering in of the era of the Mahdi. He has a blind messianic belief in the Shiite tradition of the 12th or hidden Islamic savior who will emerge from a well in the holy city of Qum in Iran after global chaos, catastrophes and mass deaths and establish the era of Islamic Justice and everlasting peace. President Ahmadinejad has refused so far to respond to proposals from the US, EU, Russia and China on the UN Security Council to cease Iran's relentless quest for nuclear enrichment and weapons development program. Ahmadinejad's extremist ideology in triggering Armageddon gives great concerns to the intelligence community.
Hezbollah Hits Haifa With Second Rocket Attack
July 16….(Jerusalem Post) A barrage of at least 20 Iranian-produced Grad rockets from Lebanon struck Haifa Bay, Upper Hadar, Krayot, as well as Acre and Nahariya. The second round targeted Kiryat Haim, Kiryat Motzkin, Acre, Carmiel and Bat Galim. The Israeli military identifies the rockets fired at Haifa as an Iranian Fajr 3, whose maximum range is 40km, although Hizballah claimed they fired Grad rockets. Close to a million residents of affected areas as far east as Tiberias, which was first attacked Saturday, are ordered to stay in shelters and protected spaces and heed sirens. Citizens south of Haifa up to Tel Aviv, covering Israel's central heartland are advised to be vigilent and be ready to take cover. Police are clearing the streets. Nahariya to the north is under Hizballah attack for the fifth day, as are western Galilee moshavim. Israel advises southern Lebanese civilians to exit area. Residents of Tel Aviv and communities to the north of the city were told on Sunday to "be alert" and that they would have a one-minute warning of any impending rocket attack in which to make their way to a shelter. "We surprised you in Haifa and promise to surprise you far past Haifa," Nasrallah said in a televised statement. Israeli Chief of General Staff Lt.-Gen. Dan Halutz said on Sunday afternoon that the more advanced Fajar missiles that were fired with a barrage of other rockets at Haifa on Sunday morning, killing eight people, were made in Syria.
World G-8 Leaders Call for Mideast Ceasefire
(FOJ)

It is quite clear that the American and Russian Presidents have a totally different perspective of the Middle East Crisis. President Bush sees Israel needing to defend itself against many enemies, and needing security, whereas President Putin, whose country supports Syria and Iran, thinks Israel is using the crisis as a pretext to expand into neighboring lands
July 16….(MSN) World leaders agreed Sunday on a statement that sends a "strong message" on the fighting in the Middle East, German Chancellor Angela Merkel announced after a long day of discussions. "It is a strong message with a clear political content," she told reporters. Merkel said the statement calls for two captured Israeli soldiers to be freed, for the attacks on Israel by Hezbollah militants to stop and for Israel to end its military action. The statement comes after the Group of Eight world leaders struggled to bridge sharp differences over how to deal with the escalating violence. The crisis has dominated talks among President Bush and the other leaders attending the annual G-8 summit of major industrial countries. The Group of Eight is made up of the United States, Russia, Japan, Germany, Britain, France, Italy, and Canada. Bush and European leaders disagreed on who should be blamed for the violence, and those differences had to be overcome for the G-8 nations to issue a joint declaration. While other G-8 leaders questioned whether Israel's response to the capture of its soldiers went too far, Bush has placed blame squarely on Hezbollah and its state sponsors, Iran and Syria, and has declined to press Israel for a cease-fire. Bush described the escalation of violence as "a moment of clarification" that should show the world how Hezbollah is disrupting the peace process. Russian President Vladimir Putin appeared to be more in line with European leaders who have condemned Israel's attacks as excessive. Putin has said it was unacceptable for Hezbollah to take hostages and shell others' territory, but also for Israel to use massive force in response. "It is our impression that aside from seeking to return the abducted soldiers, Israel is pursuing wider goals," Putin said. He did not elaborate.
Focus on Jerusalem Prophecy Ministry Presentation
The Prince of Persia And Prince of Meschech

July 15….(FOJ) Focus on Jerusalem will present a power-point slideshow presentation based upon an detailed prophetic exposition of Ezekiel chapters 38 and 39 later this month. The prophecy seminar is scheduled for July 28 (6:pm/est) and will be presented at Sand Springs Baptist Church in Lawrenceburg, Kentucky. The presentation is timely, and was designed to discuss Bible Prophecy concerning Israel and the Middle East Conflict, and it is ironic that situation playing itself out these past few days is exactly the planned agenda for this seminar.
Arab League Says Peace Process in Mideast is 'Dead'
July 15….(Fox News) Foreign ministers of 18 Arab countries passed a unanimous resolution Saturday calling on the UN Security Council to intervene to stop escalating Mideast fighting. "The Middle East peace process has failed. The whole process should now be sent back to the Security Council for a complete overhaul," said Arab League Secretary-General Amr Moussa. "We are going to the Security Council, this is a unanimous position, to discuss the whole situation from scratch," he said. "If the Security Council fails, nobody knows what might happen next," he added, pronouncing the whole Mideast peace process "dead." The league held an emergency summit in Cairo Saturday over Israel's expanding assault on Lebanon, but squabbles over the legitimacy of Hezbollah's attacks on Israel, including the capture of two Israeli soldiers that sparked the 4-day battle, appeared likely to keep participants from reaching a consensus, delegates said. The Saudi foreign minister appeared to be leading a camp of ministers criticizing the guerrilla group's actions, calling them "unexpected, inappropriate and irresponsible acts." "These acts will pull the whole region back to years ago, and we cannot simply accept them," Saudi al-Faisal told his counterparts.
FOJ Note: The Middle East Peace Process was initiated by the UN's major powers at the end of the 1991 Persian Gulf War in Madrid, Spain. (1993) FOJ has always maintained, especially since the failed 2000 Camp David Summit meetings that the region would have to undergo an extreme on-the-ground geo-political reconstruction for the Peace Process to be finalized. The current Middle East Crisis is just the exact scenario that I expected, (from Bible Prophecy) for the anticipated Last Days emergence of an entity that could craft a successful peace deal that includes the entire Middle East. Damascus is the lynchpin of Middle East terrorism, and should that terror-nest become neutralized, the prospects for a New World Order that can forge a peace with Israel can finally emerge. In the meantime, current developments plainly indicate that the stage is being set for the final drama of Bible Prophecy before the Rapture.
Israel Deploys US Patriots to Intercept Hezbullah's Iranian Supplied Rockets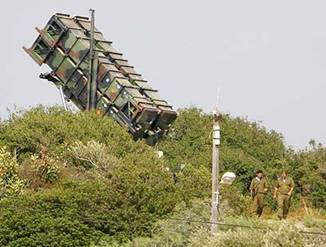 July 15….(YNET) The IDF has stationed three Patriot anti-ballistic missile batteries in Haifa Saturday, aimed at intercepting missiles launched at the area. Two of the batteries were deployed Saturday morning, and the third one was placed in the area in the afternoon. Patriot missiles were stationed across the country for the last time in 2003 during the Iraq War. The American-made Patriot batteries are part of Israel's antiaircraft defense system. The Patriot system, which was initially designed to serve as an air defense platform, later assumed the role of an anti-ballistic system. The Patriot is still in use in Israel, and the country simultaneously continues to develop the Arrow missile aimed at intercepting ground-to-ground missiles fired at the country.
Israel Gives Syria Ultimatum
| | |
| --- | --- |
| | (FOJ) The Arab Foreign Ministers meeting at the Arab League's headquarters in Cairo, Egypt, Saturday July 15, 2006. Foreign ministers of 18 Arab countries held an emergency summit over what they termed as Israel's expanding assault on Lebanon" and called it the worst Israeli attack on its neighbor in 24 years. The Arab League helped create the PLO and Yasser Arafat as its head in 1964. |
July 15….(YNET) The London-based Arabic language newspaper Al-Hayat reported Saturday that "Washington has information according to which Israel gave Damascus 72 hours to stop Hizbullah's activity along the Lebanon-Israel border and bring about the release the two kidnapped IDF soldiers or it would launch an offensive with disastrous consequences." The report said "a senior Pentagon source warned that should the Arab world and international community fail in the efforts to convince Syria to pressure Hizbullah into releasing the soldiers and halt the current escalation Israel may attack targets in the country." Al-Hayat quoted the source as saying that "the US cannot rule out the possibility of an Israeli strike in Syria," this despite the fact that the Bush administration has asked Israel to "refrain from any military activity that may result in civilian casualties. The report also mentioned that President George W. Bush has repeatedly put much of the blame for the recent escalation on Syria. "It is no coincidence that the Hizbullah operation comes at a time when the international community is working to impose sanctions on Iran due to its nuclear program and settle the score with Syria by establishing an international court to try those behind the assassination of former Lebanese Prime Minister Rafik Hariri the Pentagon source said. According to the source, Hizbullah made the same mistake as Hamas when it did not predict the ramifications of its actions and ignored the regional and international changes since the fall of Saddam Hussein. The source said that Israel has indicated that it "will not end its military activity until a new situation is created that will prevent Syria and Iran from using terror organizations, such as Hamas and Hizbullah, to threaten its security."
Chavez: US Support for Israel Will End in a 'Holocaust'
July 15….(Ha Aretz) Venezuelan President Hugo Chavez said Friday that US backing of Israel is responsible for flaming tensions in the Middle East and putting the world on course toward another "Holocaust." "The fundamental blame falls again on the US empire. It's the empire that armed and supported the abuses of the Israeli elite, which has invaded, abused and defied the United Nations for a long time," Chavez said in a speech during a military act in Caracas. "I'll seize this opportunity to condemn categorically and fully the aggression that the Israeli elite is carrying out against innocents over there in the Middle East," he said. The Venezuelan leader charged that Israel is using excessive force. "Are we going to bomb cities and tell them that we won't stop bombing until they return the soldier? That's crazy," he said. "Worse, it's craziness with nuclear bombs. (The Israelis) have their weapons of mass destruction and nobody criticizes them, nobody says anything because the empire is behind them," Chavez said. Blaming the escalation on Washington's undue influence, Chavez said: "The US empire's desire to dominate has no limits and that could take this world to a real Holocaust.
US, Russia Fail to Agree on WTO Membership
(US remains only member not backing Russia's entry into economic group)
July 15….(MSN) Negotiations on Russia's admission to the World Trade Organization broke off with no agreement being reached, US and Russian officials said Saturday. The talks ended because of differences over assurances the United States was seeking over the protection of US copyrights and patents and promises that Russia would accept greater amounts of US farm goods. President Bush, speaking at a joint news conference with Russian President Vladimir Putin, said the deal could not be reached, despite intensive talks, because the administration believed Russia needed to offer more in trade concessions to satisfy the Congress. Bush and Putin appeared to be very divided over the Middle East Crisis!
Israel Pounds Lebanon for Fourth Straight Day
(Iran implicated in attacks on Israeli ship)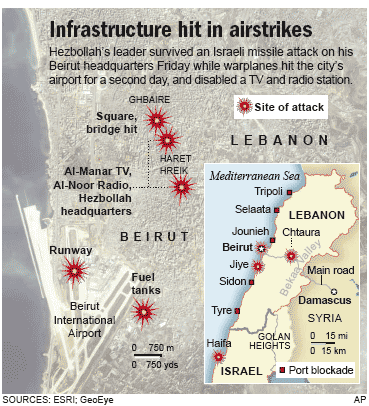 July 15….(MSNBC) Israeli warplanes pounded Hezbollah's south Beirut stronghold and roads around the country, killing at least 15 Lebanese as they fled the onslaught. Hezbollah expanded its rocket fire, hitting another of Israel's main cities, and Israel warned that the guerrillas could strike Tel Aviv. A senior Israeli intelligence official said Iranian troops helped Hezbollah fire a missile that damaged an Israeli warship off the Lebanese coast Friday night. The official, who spoke on condition of anonymity because of the sensitive nature of the information, said about 100 Iranian soldiers are in Lebanon and helped fire the Iranian-made, radar-guided C-102 at the ship that killed one and left three missing. Five Hezbollah rockets hit Tiberias in northern Israeli on Saturday, causing no injuries, the first rocket attack on Tiberias, about 22 miles south of the border, since the 1973 Mideast War. An Israeli intelligence official said Hezbollah has rockets with ranges of 60 to 120 miles that could reach Tel Aviv, Israel's largest metropolitan area. Israel also renewed bombardment of south Beirut suburbs, stronghold of Hezbollah which was blasted by several raids early and late Friday, destroying the headquarters of Hezbollah leader Sheik Hassan Nasrallah and his residence. Nasrallah survived unharmed, said Hezbollah TV. Israel also renewed bombardment of south Beirut suburbs, stronghold of Hezbollah which was blasted by several raids early and late Friday, destroying the headquarters of Hezbollah leader Sheik Hassan Nasrallah and his residence. Nasrallah survived unharmed, said Hezbollah TV.
Only An Accord With All Arab States Will Bring Peace in Middle East
July 14….(Asia News) Only a peace accord between Israel and all the Arab states will end the violence by Arieh Cohen) (Hizballah's attack confirms Lebanon's ambiguous position and inaction vis-à-vis the Tehran-led party of God.)
Once more the inherent instability of the Middle East has been violently revealed by the military attack on Israel from Lebanese territory, which is viewed in Israel as a declaration of war on Israel by the Lebanese State itself. "It is not a terrorist attack," Israeli Prime Minister Ehud Olmert insisted, "it is a military attack by one State, Lebanon, on another: Israel." Hizballah, the armed Shiite organization that actually carried out the attack, and is continuing it at the time of writing, is now an integral part of the Lebanese State, as Israel is pointing out: It is part of the parliament and the institutions, and the Lebanese State itself has openly "entrusted" to Hizballah the control of Southern Lebanon, and has continually refused the demands of the UN, and most of the rest of the world that the Lebanese Army take charge of the South, all the way to the Israeli border. In the spring of 2000, Israel withdrew totally from every centimeter of Lebanese territory, right down to the international border, in complete obedience to the UN Security Council. And the UN has officially certified, and confirmed again and again, that this is indeed so. Nonetheless, Hizballah and other armed organizations, approved and protected by the Lebanese Government, have since then several times launched attacks, not only on Israeli soldiers across the border, but also against the civilian population, sometimes with lethal results. Israel, until Wednesday this week, implemented a strategic choice to react, if at all, in a very limited way, and has mostly relied on efforts by the UN, the US, France and others to persuade Lebanon, and its alleged patron, Syria to compel Hizballah to cease such attacks. Hizballah wants to maintain war against Israel, supposedly on behalf of Islam, but in reality it is because Iran finances Hizballah and supplies it with arms and missiles, through Syria, and tells it when to act. And it is Iran that has a fundamental, publicly announced, policy of total enmity towards Israel, sometimes seeming to call quite literally for the fiery destruction of the Jewish State. It has always been clear that, at some time, Lebanon will have to face the inherent contradiction between the image of the country (peaceful, democratic, prosperous) that a great majority of the Lebanese so much desire, and the fact that this is a country that is overrun by a terrorist organization, as well as other "official" terrorist units from Iran. The time may now have come!
Once more the sudden flare-up of tension between Israel and Lebanon proves that the only real solution can be found in a comprehensive peace between Israel and all her Arab neighbors. This is an ambitious goal, of course, but perhaps the only one truly worth pursuing, and one that it is indispensably necessary to pursue. This, in fact, has been the goal of the 1991 Madrid Peace Conference, which then US President George Bush and his Secretary of State, James Baker, organized, with very wide international support. It was an order to bring together Israel and her Arab neighbors, and to work out a comprehensive system of peace treaties and multilateral agreements. It has precise terms of reference, especially Resolutions of the United Nations Security Council, accepted by all. Since then further promising formal premises have been added, including the 2002 Arab League summit resolution, calling, in essence, for normalization of relations between all Arab nations and Israel. The Madrid Formula managed to include Egypt and Jordan into peace treaties with Israel, but never Syria or Lebanon.
FOJ Note: Focus on Jerusalem Prophecy Ministry has always advocated that the "manufactured peace" of the last Gentile world empire would have to include all the Arab nations. The prophet Daniel stated that the Antichrist would "confirm the covenant with Many," and therefore I think the jest of this article is accurate, and the present geo-political crisis, or one very much like it could well prepare the stage for the advent of the prophesied "covenant with Hell" that Israel will enter into during the Tribulation!
World War IV's Shooting Phase Has Begun
(*Focus on Jerusalem highly recommends this article by Jerome Corise)
July 14….(WND/Jerome Corsi) Iran's war to remove Israel from the Middle East has begun. In writing "Atomic Iran," I argued that a new World War began on Jan. 31 and Feb. 1, 1979, when Ayatollah Khomeini prepared to leave Paris to return to Tehran. This week, that World War has entered a shooting phase. If we count the Cold War as World War III, we are forced to declare that this Iran-driven terrorist war to destroy Israel and the US is World War IV. Apparently, Iran has given its surrogate terrorist organizations, Hezbollah and Hamas, operational orders to launch rocket attacks on Israel, in part to create enough chaos that the diversion would take international pressure off Iran. Now that Israel has decided to return fire, the Jewish State has no alternative but to win. Predictably, Iran said no to the latest UN "deal" brokered by the Bush administration. Instead, Iran decided to continue enriching uranium, after having delayed as long as possible responding to the incentive package deal offered by the 5-plus-1 (the permanent Security Council members plus Germany). Iran knows that no serious sanctions will ever emerge from the Security Council, not as long as Russia and China remain permanent Security Council members. Last year, Russia sold Iran a $1 billion TOR-M1 mobile missile defense system that Iran plans to deploy around their nuclear installations. China has also concluded a $600 billion oil and natural gas deal with Iran that should make Iran the leading supplier of oil and natural gas to China for decades to come. Meanwhile, below the radar of public awareness in the US, Russia and China have moved to make their Shanghai Compact a mutual defense pact, not just an economic trading agreement. At the end of last year, Russia and China held unprecedented joint military exercises, something that in the 1960s would have been unimaginable for the then rivals and adversaries. Last month, Iran's Ahmadinejad traveled to Shanghai to join Russia and China in their thier recent round of SCC discussions, and Ahmadinejad spoke openly of ridding the Central Asian region of US domination. For the past two years, Israeli officials have been pleading with Washington to build a world coalition that would contain Iran's nuclear program diplomatically. Reluctantly, Israel now has no choice but to realize that the Bush administration's decision to allow the EU-3 (France, Germany and England) and the International Atomic Energy Agency to lead the negotiations has been a complete failure. The Bush administration "Roadmap to Peace" has been a tragic failure. Washington pushed Israeli Prime Minister Sharon and his successor, Prime Minister Olmert, to give back valuable land in the hope that "final boundaries" could be drawn and protected. That the roadmap envisions a partition of Jerusalem should not give solace to Israel, even if the plan were to include building a new Jewish temple on the Temple Mount next to the Mosque of the Golden Dome. The land was given only to see rocket attacks in return. Condoleezza Rice shows inexperience, if not incompetence, in the Middle East. Shockingly, the State Department under her direction continues to resist any hint that regime change in Iran should be Bush administration policy. At the last minute, the State Department sadly intervened to kill the recent attempt of Sen. Rick Santorum, R-Pa., to get a firm resolution on Iran passed by the Senate. This, too, was observed in Tel Aviv and Jerusalem. John Bolton is the right man to be our ambassador to the UN But even John Bolton can accomplish little when the Bush administration from the top continues to believe negotiations and sanctions are the path to follow. President Bush had Colin Powell basically thumb his nose at the UN prior to the 2003 Iraq war, but the president displays no ambition to have a similar performance played out a second time. The UN for decades has been a one-sided affair, with the Palestinians receiving blind support while the UN scorns and condemns Israel. The United States and Israel have no doubt that Iran is proceeding with a nuclear weapons program. The Eros-B satellite Israel has positioned in an orbit that circles over Iran is the best spy satellite in the sky. What Israel has observed is the systematic delivery into Natanz of centrifuge parts that can be assembled underground, advancing Tehran's goal to have 3,000 of the most sophisticated centrifuges in the world operational, enriching weapons-grade uranium right now. Ahmadinejad believes that the world is at a historic moment when Israel might just be destroyed, fulfilling one of Ayatollah Khomeini's last yet unfulfilled predictions. Khomeini's other outstanding prediction is that the United States, too, will fall, in large part because we have supported Israel with such determination. When Hamas gained control of the Palestinian authority through a democratic election, Iran had the last laugh, showing the world that President Bush was wrong, democratic elections alone do not assure a moderate outcome. Now, with Hamas in control of the Palestinian Authority, there is no strategy Israel can pursue that will lead to permanent peace, except capitulation and annihilation. Israel knows that this time the fight is "for keeps." When the Jews left Europe at the end of World War II, those fortunate few who escaped Hitler's death machine swore "never again." Unfortunately, Israel has had to come to the recognition that the world has largely abandoned the Jewish State to defend itself. When I concluded "Atomic Iran" two years ago, I predicted the "Samson Option" would be the final act in the drama with Iran. Today, I continue to see that outcome looming. I pray that the end game in the Middle East will not involve a worldwide nuclear conflict pitting the US against Russia and China. Yet I fear we may have to face that possibility all too soon. The only certainty in this unstable scenario is that Israel has decided it is now time to go to war, regardless what anyone in the world thinks, including President Bush.
World Leaders Split With US Over Israel
July 14….(FOJ) Major US allies condemned the ferocity of Israel's military attack on Lebanon, revealing a clear split with Washington's moderate call for restraint. President Bush asserted that he will exert pressure on Israel to limit damage inflicted on Lebanon through the ongoing military operation," said a statement from Siniora's office. Around the rest of world, however, leaders bluntly condemned Israel's response. "In my view, Israel is making a mistake," said Spanish Prime Minister Jose Luis Rodriguez Zapatero. "It will only lead to an escalation of the violence." In Italy, Prime Minister Romano Prodi said he recognized Israel's legitimate concerns and condemning the kidnapping of the soldiers. But "we deplore the escalation in the use of force, the serious damage to Lebanese infrastructure and the civilian casualties of the raids," the Italian leader added. The Vatican secretary of state, Angelo Sodano, said: "The Holy See deplores the attack on Lebanon, a free and sovereign country," adding that he felt for the people "who had already suffered in defence of their independence." Germany called on Israel to consider the longer term impact of its strike on Lebanon. "The international community and the UN must intervene to stop this crime," Iranian Foreign Minister Manouchehr Mottaki said during a visit to Greece. In Indonesia, the world's most populous Muslim state, President Susilo Bambang Yudhoyono was quoted by the state news agency Antara as saying: "Indonesia repeats its call for Israel to stop its military action." British Prime Minister Tony Blair called for restraint on all sides but kept closer to the US line. "I totally understand the desire and the need for Israel to defend itself properly and I also understand the plight of Lebanon and the Lebanese government, not to say the many Palestinians that are suffering as well," Blair said in London. Russian President Vladmir Putin, who was meeting with Bush before hosting a summit of Group of Eight powers in Saint Petersburg, said he would formally place the Middle East crisis on the agenda. "I consider that all sides implicated in this conflict should immediately stop military action," Putin said, but he also chided Israel for attacking Lebanon.
Hezbollah Ready for 'Open War' With Israel
July 14….Hezbollah leader Sheik Hassan Nasrallah said on Friday that his group is ready for "open war" with Israel, as each side launched attacks in the deepening crisis. "We are ready for it, war, war on every level," said Nasrallah, soon after Israel's military reportedly hit his home and destroyed Hezbollah's headquarters in southern Beirut. An Israeli naval ship was hit by an apparent rocket attack Friday, the Israel Defense Forces said, minutes after Nasrallah spoke on Hezbollah TV vowing to "burn and sink" an Israeli ship. He also threatened to strike the Israeli port of Haifa, saying: "We will not be the only ones who will lose their children and houses."
US Ambassador John Bolton Says Syria and Iran Accountable for Current Middle East Crisis
July 14….(WND) Addressing the UN Security Council in New York Friday, July 14, the US ambassador accused Syria and Iran of supporting Hizballah and regional terrorism, and demanded the immediate disbanding of the Shiite terrorist group. Israeli military sources in the Golan Heights are reporting Syrian military gunfire has been directed inside the Jewish state, and other Lebanese political sources are telling WND they expect a provocation of some kind from Damascus. Israeli Defense Forces are attempting to determine the exact source of the gunfire. If the source cannot be determined, sources say, Israel may choose to ignore or officially deny it occurred in an effort to avoid widening what is rapidly becoming a regional conflict. Meanwhile, Lebanese sources predict a small, limited provocation against Israel, perhaps a small skirmish or the use of Palestinian groups on the Syrian side of the border firing mortars under the direction of the Syrian army. It would not be a major attack, the sources say, just a minor provocation in conjunction with Iran to show Syria is in solidarity with Hezbollah and the Palestinians, who launched the original attacks against Israel on two fronts, Gaza and southern Lebanon. Yesterday, Iranian President Mahmoud Ahmadinejad said an Israeli strike on Syria would be considered an attack on the whole Islamic.
Israel Continues to Chase Hezbullah in Lebanon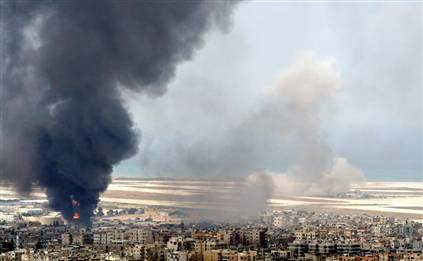 July 14….(MSN) Israel tightened its seal on Lebanon, blasting its air and road links to the outside world and bringing its offensive to the capital for the first time Friday in order to punish Hezbollah, and with it, the country, for the capture of two Israeli soldiers. Meantime, the United States appeared to be starting diplomatic efforts to rein in the crisis on the third day of Israel's massive assault on Lebanon, sparked by the Hezbollah capture of two Israeli soldiers. Lebanon's Western-backed Prime Minister Fuad Saniora said President Bush promised to pressure Israel "to limit damage to Lebanon ... and to spare civilians and innocent people from harm," according to a statement from Saniora's office. Prime Minister Ehud Olmert said Israel would not halt its offensive until Hezbollah was disarmed. He made the comment in a telephone call with UN Secretary-General Kofi Annan, Israeli government officials said. Olmert agreed to let a UN team come in and try to mediate a cease-fire, an official close to Olmert said on condition of anonymity because he is not authorized to speak to the media. Warplanes again smashed runways at Beirut's airport with hours of airstrikes, trying to render it unusable, and destroyed mountain bridges on the main highway to Syria. Warships blockaded Lebanon's ports for a second day. Smoke drifted over the capital after strikes exploded fuel tanks at one of Beirut's two main power stations, gradually escalating the damage to Lebanon's key infrastructure. Lebanese guerrillas have also fired a barrage of at least 60 Katyusha rockets throughout the day into northern Israeli towns. The Israeli army ordered residents of Haifa into bomb shelters on Friday, a day after Israel's third largest city was hit by rockets. Meantime, the United States appeared to be starting diplomatic efforts to rein in the crisis on the third day of Israel's massive assault on Lebanon, sparked by the Hezbollah capture of two Israeli soldiers. Lebanon's Western-backed Prime Minister Fuad Saniora said President Bush promised to pressure Israel "to limit damage to Lebanon ... and to spare civilians and innocent people from harm," according to a statement from Saniora's office.
Vatican Condemns Israel for Attacks on Lebanon
July 14….(Asia News) The Vatican on Friday strongly deplored Israel's strikes on Lebanon, saying they were "an attack" on a sovereign and free nation. Vatican Secretary of State Cardinal Angelo Sodano said Pope Benedict and his aides were very worried that the developments in the Middle East risked degenerating into "a conflict with international repercussions." "In particular, the Holy See deplores right now the attack on Lebanon, a free and sovereign nation, and assures its closeness to these people who already have suffered so much to defend their independence," he told Vatican Radio. Israel struck Beirut airport again on Friday and bombed Lebanese roads, power supplies and communication networks in a widening campaign after Hizbollah guerrillas seized two Israeli soldiers and killed eight. Sodano said the Vatican condemned both "terroristic attacks" and military reprisals. Hizbollah, which wants to trade its captives for prisoners held in Israel, has showered rockets across the frontier in its fiercest bombardment since 1996 when Israel launched a 17-day blitz against southern Lebanon and Hizbollah. But Sodano reserved his harshest words for Israel. "The right of defense on the part of a state does not exempt it from its responsibility to respect international law, particularly regarding the safeguarding of civilian populations," he said.
Oil Hits Another Record High at Over $78
July 14….(Reuters) Oil prices surged to record highs above $78 on Friday as global geopolitical storm clouds gathered, with supply disruption in OPEC exporter Nigeria and tensions across the Middle East driving crude into unchartered territory. US crude for August surged $1.40 to $78.10 a barrel by 0147 GMT, after hitting a record $78.40 as gains came on top of Thursday's $1.75 rally. Iran's nuclear stand-off with the West limped back to the UN Security Council, North Korea stormed out of talks with South Korea, and falling crude stocks in the world's top oil consumer, the United States, continued to bolster prices. "Oil is being hit from all fronts by geopolitical problems," said Mark Pervan, a resources analyst at Daiwa Securities. "A raft of problems could keep prices at record levels for some time." Iranian President Mahmoud Ahmadinejad on Thursday warned that any Israeli strike on Syria would be considered an attack on the whole Islamic world that would provoke "a fierce response." Israeli jets struck Hizbollah's southern Beirut stronghold on Friday, a day after blockading Lebanese ports and bombing Beirut's airport in reprisals against the Lebanese guerrilla group's capture of two Israeli soldiers. Neither Israel nor Lebanon are oil producers but both lie at the heart of the Middle East, which collectively pumps nearly a third of global output.
Iran, Syria Are 'Playing with Fire'
July 14….(Washington Times) Israel's ambassador to Washington said yesterday that Iran and Syria are "playing with fire" and "will bear the consequences" if Hezbollah transfers two kidnapped Israeli soldiers to either of its patron nations. Ambassador Daniel Ayalon did not rule out retaliatory strikes against Iran's nuclear facilities, though other Israeli officials said that was not being planned. Fears mounted that Israel's military offensive against southern Lebanon could spread to other countries after Israeli officials said yesterday they had received indications that Hezbollah was trying to move two captive Israeli soldiers to Iran. State Department spokesman Sean McCormack also expressed concern that the soldiers could be moved out of Lebanon. The department last night authorized the departure from Beirut of US Embassy family members, as well as nonessential personnel. Asked during a luncheon at the National Press Club whether Israel might respond to such a step with strikes against Iran's nuclear facilities, Mr. Ayalon said he did not want to discuss "operational details." But, he said, Iran and Syria both "are playing with fire and will bear the consequences" for any assistance they give Hezbollah in holding the two soldiers as hostages. Another Israeli official said privately that there were no immediate plans to attack Iran's nuclear facilities, although the country previously has hinted at such action and has armed itself with aircraft capable of mounting such a strike. Israeli analysts suggested that Israel was more likely to strike next at Syria, which backs Hezbollah and hosts the Hamas leader blamed for the kidnapping of an Israeli soldier in the Gaza Strip. Iranian President Mahmoud Ahmadinejad was quoted yesterday by the Iranian news agency as saying such action against Syria would be considered an assault on the whole Islamic world that would bring a "fierce response." Iran's foreign ministry also dismissed suspicions that the soldiers would be brought there as "absurdities." Several analysts told The Washington Times that they thought Israeli officials were focusing on preventing Hezbollah from moving the soldiers within Lebanon or out of the country by bombing roads, bridges and airports and imposing a naval blockade. It's premature to talk about military action against Syria and Iran," one Israeli official said. "We don't want the situation to escalate more than it already has." Wayne White, a former State Department intelligence official, said Israel was trying to determine how direct Iran's and Syria's involvement was in the attack. "It's really unlikely that they will directly attack Tehran right now, because they will respond in a tit-for-tat," Mr. White said. Israeli Brig. Gen. Michael Herzog, a visiting fellow at the Washington Institute for Near East Policy, said Israel would take into account retaliatory threats to American targets when deciding whether to strike Iran's nuclear facilities. David Makovsky, also of the Washington Institute, said that an attack on Iranian interests in Lebanon is more likely than a strike on Iran. "There is good reason to believe Tehran backed this, but there is no smoking gun yet," he said. Researchers say that about 30 sites in Iran are involved in producing and assembling nuclear components. Israel does not have the ability to strike all 30, so it likely would concentrate on major targets, such as the Russian-made Bushehr reactor and Natanz underground enrichment site. For years, Israel has been buying the American weapon systems it would need to disable Iran's ample air defenses and strike multiple targets, including the Bushehr reactor on the Persian Gulf. Ehud Yatom, member of the now-opposition Likud Party, said in 2003 that Iran's "nuclear facilities must be destroyed, just as we did the Iraqi reactor." It was a reference to the 1981 successful strike on Iraq's Osirak reactor by two F-16s. The Washington Times reported in 2004 that the Israeli air force had selected various flight plans for an attack on Iranian nuclear facilities. Unlike the Osirak attack, in which the Israeli jets briefly crossed Jordan's air space, this time perhaps scores of Israeli planes would have to cross broad stretches of Iraq. Israel likely would be forced to first notify the United States to ensure the planes are not shot down and to let U.S. commanders prepare for any Iranian counterattack. If Hezbollah were to hand over the Israeli hostages to Iran, and Iran agreed to fly them to Iranian territory, it would be Iran's ultimate test of Israeli deterrence capability," he said.
Iran Warns Israel of 'Fierce Response
(Ahmadinejad: Strike on Syria would be considered attack on whole Islamic world)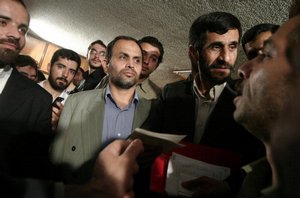 July 14….(WND) Iranian President Mahmoud Ahmadinejad said today an Israeli strike on Syria would be considered an attack on the whole Islamic world that would bring a "fierce response," Haaretz reports. "If the Zionist regime commits another stupid move and attacks Syria, this will be considered like attacking the whole Islamic world and this regime will receive a very fierce response," Ahmadinejad was quoted by Iranian state television as saying in a telephone conversation with Syrian President Bashar al-Assad. Israel has blamed Syria and Iran for the Hezbollah rocket attacks on towns and cities in northern Israel.
In recent weeks, Israel has buzzed the palace of Assad with fighter-bombers as a warning against hostile actions. Ahmadinejad has called repeatedly for the destruction of Israel, or for moving the Jewish state to Europe. Iran is believed to be developing a nuclear weapons program and has long-range missiles capable of striking the Jewish state. Hezbollah rockets today rained down on northern Israeli towns as the Jewish state's warplanes carried out strategic strikes against the Hezbollah's infrastructure and the Beirut International Airport.
War Exposes PA-Hizbullah-Iran Connection
(A source within the Palestinian Authority revealed Friday that Fatah and Hamas factions are allied with Hizbullah terrorists. The connection is not new, said the source, who asked to remain unnamed.)
| | |
| --- | --- |
| | A passenger plane sits on the tarmac of Rafik Hariri International Airport, in Beirut, Lebanon, Friday, July 14, 2006, while fuel storage tanks burn after Israeli helicopter gun ships targeted it with missiles late Thursday. Israeli air raids on suburbs of the Lebanese capital, where Hezbollah has its strongholds. |
July 14….(Arutz) IDF sources added that Iran manufactured and supplied Hizbullah with the long-range rockets that have been hitting Haifa and other areas since Thursday. "The Lebanese resistance movement, Hizbullah, and now its General Secretary Hassan Nasrallah, have affirmed commitment to aiding the Palestinians against Israeli attacks," the Palestine News Network (PNN) reported Thursday. A spokesman for the Al Aqsa Martyrs Brigades, the military wing of the Fatah faction headed by PA President Mahmoud Abbas, announced that the Hizbullah attacks were a "message and a mortal blow to Israel." In a statement released by the Al Aqsa Martyrs Brigades, the spokesman thanked Hizbullah and noted that Islamic Jihad and Hamas terrorists are also working together. Israeli military sources examined a Katyusha rocket that exploded in Haifa on Thursday night and said it had been manufactured in Iran. Hizbullah denied that its terrorists had fired the missile, but experts' examinations revealed that it was the same kind of rocket that Hizbullah terrorists fired near Carmiel, a city several miles southeast of Haifa. Iran has promised to pay for repairs resulting from Israel's bombing key targets in Lebanon as they work quickly to prevent Hizbullah terrorists from transferring the kidnapped IDF soldiers to Iran. Iranian President Mahmoud Ahmadinejad also promised Syrian President Bashar Assad that an Israeli strike on Syria would be considered an attack on the Muslim world and would bring a "fierce response." Israel and the United States have openly blamed Iran and Syria for the Hizbullah war on northern Israel. "The historical ties between Iran and Hizbullah are well known, and Syria also has very close ties to Hizbullah," said US State Department spokesman Sean McCormack. "Again, there's a long history there and it's well known," he reiterated to reporters at a news conference this week. He added that Syria "has a very particular responsibility" for peace in the Middle East, as well as for bringing about the release of two IDF soldiers kidnapped by Hizbullah terrorists Wednesday morning. McCormack said there was a clear connection between last month's kidnapping of IDF soldier Cpl. Gilad Shalit by Hamas terrorists, and the Hizbullah attack on northern Israel and the abductions of two Israeli soldiers. "If you look at these actions, these are deliberate attempts to try to escalate tensions in the region," he said. "Look at the timing, very clearly these are individuals here that are seeking to provoke a negative reaction in the region." Hamas is headquartered in Damascus, and the historical links between Hizbullah, Syria and Iran are will known, McCormack added. He said that Syria is "hosting terrorist organizations in their capital, and is trying to determine for people living in the Palestinian Authority areas and the people of Lebanon what kind of future they're going to have." He added, "You have a terrorist organization that is heading the government of the Palestinian Authority that is not a partner for peace."
Saudi Arabia Criticizes Hizbullah
July 14…..(Jerusalem Post) In a significant move, Saudi Arabia, the Arab world's political heavyweight and economic powerhouse, accused Hizbullah guerrillas, without naming them, of "uncalculated adventures" that could precipitate a new Middle East crisis. A Saudi official quoted by the state Saudi Press Agency said the Lebanese Hizbullah's brazen capture of two Israeli soldiers was not legitimate. The kingdom "clearly announces that there has to be a differentiation between legitimate resistance (to Israel) and uncalculated adventures." The Saudi official said Hizbullah's actions could lead to "an extremely serious situation which could subject all Arab nations and its achievements to destruction." "The kingdom sees that it is time for those elements to alone shoulder the full responsibility for this irresponsible behavior and that the burden of ending the crisis falls on them alone." Saudi Arabia's comments on the crisis came after most moderate Arab governments reacted with relative restraint to Israel's offensive in Lebanon, condemning attacks on civilians and infrastructure but also implicitly criticizing Hizbullah.
FOJ Note: Is Sheba and Dedan of Ezekiel 38 notoriety starting to get nervous already? (Ezek 38:13 Sheba, and Dedan, and the merchants of Tarshish, with all the young lions thereof, shall say unto thee, Art thou come to take a spoil? hast thou gathered thy company to take a prey? to carry away silver and gold, to take away cattle and goods, to take a great spoil?)
Iraqi Parliament Speaker Accuses 'Jews'
July 14….(AP) The speaker of parliament Thursday accused "Jews" of financing acts of violence in Iraq in order to discredit Islamists who control the parliament and government so they can install their "agents" in power. Speaker Mahmoud al-Mashhadani hinted that the Americans and Israelis did not want to see officials of Sunni and Shiite parties running Iraq because "this is not their agenda." "They will say that we brought you in a democratic way to the government but you are sectarian people. One of you is killing the other and you don't deserve to become leaders because you are war lords," al-Mashhadani told reporters after a parliament meeting. Al-Mashhadani is a member of the Sunni Muslim Iraqi Accordance Front while Prime Minister Nouri al-Maliki is a member of the Shiite Dawa party. "Some people say, `We saw you beheading, kidnappings and killing. In the end we even started kidnapping women who are our honor,'" al-Mashhadani said. "These acts are not the work of Iraqis. I am sure that he who does this is a Jew and the son of a Jew." "I can tell you about these Jewish, Israelis and Zionists who are using Iraqi money and oil to frustrate the Islamic movement in Iraq and come with the agent and cheap project." "No one deserves to rule Iraq other than Islamists," he said. By "agents," he appeared to be referring to secular politicians who do not identify themselves with religious or ethnic communities
Jumblatt: Don't Bomb Beirut Lebanese Leader hints Syria, Iran Orchestrated Hezbollah Raid Against Israel
Druze leader Walid Jumblatt
July 14….(WND) The Israeli army should not punish the Lebanese government and the country's civilian infrastructure for the actions of Hezbollah, which refuses to obey the authority of the Lebanese leadership and attacked the Jewish state this week without authorization, Lebanon's Druze leader Walid Jumblatt said in an exclusive interview. Jumblatt urged dialogue to solve the growing military crisis surrounding Hezbollah's kidnapping Wednesday of two Israeli soldiers and the firing of missiles yesterday into Israeli population centers. He also hinted Syria and Iran may have directed Hezbollah to attack Israel. "Hezbollah leader Hassan Nasrallah does not obey the government of Lebanon. We (in the government) don't agree with his acts. But we cannot in Lebanon force him to accept any resolution unless he accepts it himself," said Jumblatt, speaking to the WorldNetDaily. Jumblatt is the head of Lebanon's Progressive Socialist Party and is largely considered the most prominent anti-Syrian Lebanese politician. He said he saw the fingerprints of Iran and Syria on Hezbollah's actions the past few days. "They (Iran and Syria) are financially and militarily supporting Hezbollah. It is a known fact that this alliance from Tehran to Beirut is quite a solid strategic alliance." Jumblatt yesterday released a statement with other political figures in Lebanon raising the question of whether Hezbollah's abduction of two Israeli soldiers Wednesday was carried out to free Lebanese prisoners from Israeli jails or rather for the sake of a person "whose palace was flown over by Israeli planes two weeks ago," a clear suggestion Syrian President Bashar al-Assad was behind the most recent escalation.
US Stands Alone in Defending Israel
July 14….(FOJ) In Germany on Thursday, President Bush strongly supported Israel's right to defend itself, blaming Syria for harboring terror groups active in both Lebanon and Gaza. "Syria needs to be held to account," Bush says. "Syria is housing the militant wing of Hamas. Hezbollah has got an active presence in Syria." Secretary of State Condoleezza Rice blamed Iran as well, but Thursday night cautioned Israel not to go too far. But all day, the US was alone in defending Israel. At the UN, the US exercised the sole veto against a resolution condemning Israel's Gaza incursion. On Iran, Bush declined to take a hard line against Tehran, which has defied appeals from the United States, Germany and other nations to provide an answer this week on whether it would accept an international deal to end suspicious nuclear activities. "I truly think they are trying to wait us out," Bush said. "And I think they are going to be sorely mistaken. I think they are going to be disappointed, that this coalition is a lot stronger than they think." This whole scenario comes on the heels of the frustrated world powers agreeing Wednesday to send Iran before the United Nations Security Council for possible punishment, saying the Iranians had given no sign they would bargain in earnest over their disputed nuclear program. The move amounted to calling Iran's bluff. Diplomats said recent meetings with Iran's nuclear negotiator have gone nowhere and it was clear Tehran hoped to play for time or exploit potential divisions among the six powers that have offered new talks. The United States and other nations wanted Iran to say by Wednesday whether it would meet terms to begin negotiations on a package of economic and energy incentives in exchange for at least a short-term end to Tehran's program to enrich uranium. The Security Council's permanent members said Iranian leaders had had long enough to respond. The group was pushing for an agreement before world leaders meet this weekend in Russia for the Group of Eight summit of leading industrial democracies. President Bush and other leaders are now expected to issue a strongly worded rebuke to Iran during the G-8 meeting.
Albeit, the US is the only nation that is willing to stand against Iran, and also stand behind Israel, whom Iran has threatened to destroy.
Middle East Crisis Reveals Iran's Motives
July 13….(FOJ) The current chess-game of war being played out in the Middle East highlights the geo-political nightmare that would certainly exist should Iran actually gain a nuclear weapon. While the G-8 nations are currently set to gather for a meeting in St. Petersburg, Russia to discuss, among other things the pending Iranian nuclear standoff, it is now more clear than ever what kind of world it would be should a lunatic-Islamic- Israel baiting state that supports terrorism be allowed to posses a nuclear weapon. Iran's leadership has made no bones about the fact that once they acquire a nuclear bomb, they will unleash it on Israel, in spite of the prospect that Israel would retaliate in kind. The Iranian Mullahs don't care how many millions of people get nuked, as long as Israel is destroyed once and for all time. In spite of this nightmare scenario, Russia and China continue to insist that Iran be allowed to threaten the region in the manner in which it does through its asymmetrical warfare strategy. Already, economic analysts are forecasting the immediate rise of oil prices, and that converts into profits for Russia, and many Arab nations. The G-8 meeting is set to reward Russia with membership into the Global Trade Organization, and that is the wrong signal to be sending to a Security Council power that is assisting Iran in drawing the world to the brink of nuclear holocaust. The ancient "Prince of Persia" is certainly moving in these crisis to placeits Hooks-in-Russia's jaws!
Iran's President Ahmadinejad Warns Israel
July 13….(FOJ) Iran's lunatic President that called for Israel to wiped off the map, and also said that the time is near for Israel's demise is now declaring that Iran will come to the aid of Syria if Israel should even consider attacking DAMASCUS!
Hizbullah Trying To Move Israeli Soldiers to Iran
July 13….(Jerusalem Post) Israel has information that Hizbullah guerrillas who captured two Israeli soldiers are trying to transfer them to Iran, Foreign Ministry spokesman Mark Regev said. Regev did not disclose the source of his information. The IDF released the names of the two soldiers on Thursday. According to the IDF Spokesperson, the two reserve are Ehud Goldwasser, 31, from Nahariya, and Eldad Regev, 26, from Kiryat Motzkin. Hizbullah guerrillas, who are backed by Iran, seized the soldiers Wednesday in a cross-border raid.
Hezbollah Attacks Haifa With Rockets
July 13….(Debka) Hizballah rockets land in Haifa, one of Israel's three main cities and chemicals industrial center. Hizballah has denied sending the two rockets which hit a street in the Stella Maris suburb near an Israeli military base after dark Thursday. Residents of Haifa and its environs ordered to shelter in protected areas, placing more than 700,000 Israeli civilians in shelters. More than 100 rockets landed on northern Israel in a single day, 90 Israelis were injured, one woman killed in her home in the coastal resort of Nahariya which was battered by Katyusha fire through the day. After dusk, several more people were injured when another volley hit residential streets. Haifa residents are fleeing south with their children. Safed took another round of rockets after dark and more casualties. One fatality was reported, the second of the day. After nightfall, Hatzor Haglilit, Amiad and Korazim came under attack. Meanwhile, an Israeli foreign ministry spokesman said the country has information that the Lebanese guerrillas who captured the two Israeli soldiers are trying to transfer them to Iran, thus the reason that the IDF bombed the Beirut airport. We have concerns that they could be taken out of Lebanon to Iran. Those concerns have a basis," said Foreign Ministry spokesman Mark Regev. Iran's Foreign Ministry denied the allegations. Haifa is home to over 270,000 residents and a major oil refinery. The strike on Haifa is the Shiite militia's deepest strike ever into Israeli territory, some 30 miles, inside Israel, and it is certain to draw a harsh response from Israel. "Those who fire into such a densely populated area will pay a heavy price," said David Baker, an official in the Israeli prime minister's office. "This is a major, major escalation," Israeli Ambassador Daniel Ayalon said.
*(FOJ) The current geo-political volatility of the situation between Israel and Lebanon could very easily explode into a massive war involving Syria. (Syria has defense alliances with Iran and vice-versa, but don't look for Iran to come running as it is using the tension to salvage its nuclear program) Such a scenario could very quickly have repercussions for everyone in the world. The Bible contains dire warnings concerning the Burden of Damascus, which today is the lynchpin of the logistical terrorist operations aimed at Israel, and also at the American presence in Iraq. FOJ has long considered the northern border of Israel with its neighbors to be a strategic hot-spot that could propel the world to the phased-in Order of the post-rapture Tribulation era. I don't wish to cause undue alarm amongst my fellow Christian Zionists watchers just yet, as the powerbrokers of world power are all wary of nuclear holocaust, and will exert every means to coerce Israel to relent from taking the world to the edge of the geo-political abyss. Israel's enemies will never relent from their pursuit to destroy Israel, yet the Rapture event seems more imminent today than ever before!
US Blames Iran, Syria for Attacks on Israel, But Russia Could Be the Real Culprit
July 13….(KIN/Bill Wilson) The United States has publicly pointed the finger of blame for the terrorist attacks against Israel squarely at Iran and Syria, but ultimately there is a powerful source of unrest that is responsible for the financial, technological and military sustenance of Syria, Iran, Hamas and Hezbollah that has yet been unnamed—Russia! The White House condemned the attacks on Israel by leaving out Russia and by laying blame elsewhere in saying, "We also hold Syria and Iran, which have provided long-standing support for Hezbollah, responsible for today's violence." State Department Spokesman Sean McCormack linked Hamas and Hezbollah in his statement, "there is that linkage between Damascus and Hezbollah. There's also a linkage between Damascus and Hamas…So very clearly these are attempts by those in the region who want to derail any possibility of reconciliation between the Israeli Government and the Palestinian people." While all fingers point to the allied threesome of Iran, Syria and Hamas, the real culprit behind the Middle East instability is Russia. Russia has helped Iran and Syria with military advisors, military weaponry, scientists and technological input for missile systems and nuclear assistance, yet Russia is rarely mentioned as the perpetrator behind the problems in the Middle East. Russia's foreign policy goals long have been obtained through using strategic and tactical surrogates. Iran and Syria are the strategic and Hamas and Hezbollah are among the tactical implementers of Russia's Middle East strategy as it attempts to regain its Soviet-era influence over the region. And it appears Russia will be rewarded for its efforts. US and Russian diplomats are working around the clock to reach an agreement on free trade with Russia before the G-8 Summit of Industrialized nations. Russia badly wants membership into the World Trade Organization, but the United States has withheld approval because of concerns about Russia's commitments to intellectual property protection and regulations that make it difficult for foreign banks to operate in Russia. These appear to be the very same vehicles that allow Russia freedom to indirectly support Hamas and Hezbollah and other terrorist organizations. Russia has successfully avoided public blame for the situation in the Middle East, but its ability to control and hide finances and intellectual property transfer has resulted in a steady supply of weapons, finances and technology to Syria and Iran, which in turn, empower Hezbollah and Hamas. These are the foreshadows of the invasion of Israel led by Russia and Iran as prophesied in Ezekiel 38.
Oil Hits $76 as Mideast Violence Explodes
July 13….(AP) Oil prices hit a new high above $76 a barrel Thursday in a market agitated by escalating violence in the Middle East, the standoff with Iran over its nuclear program and news of explosions on Nigerian pipelines. "The oil price has become a register of geopolitical tensions and fears," said Daniel Yergin, who heads Cambridge Energy Research Associates. Yergin said the supply-demand fundamentals are improving, with global oil inventories and spare oil-production capacity rising, but clearly not enough to offset the geopolitical unrest. Light, sweet crude for August delivery shot up $1.30 to $76.25 a barrel on the New York Mercantile Exchange, surpassing the previous high of $75.78 set during trading last Friday. The surge in oil prices comes amid ominous news in the world's numerous trouble hot-spots. Adding to market tensions was news that Iran, OPEC's No. 2 supplier, was referred back to the UN Security Council Wednesday after nuclear talks failed to yield agreements. In Nigeria, officials said twin explosions hit oil installations belonging to oil company Agip, a unit of Italy's Eni SpA, in the volatile southeastern delta region. Officials suspected sabotage in the explosions Wednesday along two pipelines in Baleysa state. Nigerian officials said the oil installations belonged to Italian oil giant Agip. But in Rome, Agip's parent company Eni SpA's Agip Oil Co. issued a statement denying a report that the blasts had caused a loss of 120,000 barrels of oil a day. Elsewhere, militants attacked a boat carrying supplies to Chevron Corp.'s offshore Escravos oilfields on Wednesday, sparking a gunbattle that left four Nigerian navy sailors dead, Brig. Gen. Alfred Ilogho said Thursday. Front-month August Brent on London's ICE Futures exchange hit a high, climbing to $75.60 before easing back a bit to $75.53 a barrel, up $1.14. "With little prospect of any good news on Nigeria, Iran and global demand any time soon, the risks remain on the upside and the prospect of a move to, and through, $80 per barrel must be very real, very soon," said Paul J. Harris, head of energy and emissions at Bank of Ireland Global Markets in Dublin, Ireland. The hurricane season in the Gulf of Mexico could be a catalyst for even more price spikes, Harris said.
EU Accuses Israel Over Attacks on Lebanon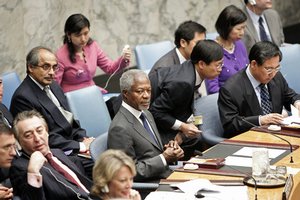 July 13….(AP) The European Union today harshly criticized Israel for using "disproportionate" force in its attacks on Lebanon following the cross-border raids and rocket attacks by Hezbollah guerillas who captured two Israeli soldiers. The EU also called Israel's naval blockade cutting off supply routes to Lebanon unjustified. Separately, EU foreign policy chief Javier Solana said he was planning a peace mission to the Middle East. "The European Union is greatly concerned about the disproportionate use of force by Israel in Lebanon in response to attacks by Hezbollah on Israel," according to a statement issued by Finland, which holds the EU's rotating presidency. In the EU's strongest comment on the escalating violence, the statement said "actions, which are contrary to international humanitarian law, can only aggravate the vicious circle of violence and retribution, and cannot serve anyone's legitimate security interests." It called for the immediate release of the Israeli soldiers, and urged "all countries in the region to work for the restoration of calm in order to avoid the further escalation of the situation into war." Solana said he was in "permanent contact" with players in the region and with UN Secretary General Kofi Annan.
Arab Leaders Scramble to Contain Mideast Crisis
July 13….(AFP) Arab leaders have condemned Israel's deadly offensives against Lebanon and the Gaza Strip as they scrambled to contain the worst crisis in the Middle East for years. As Arab foreign ministers prepared for an emergency meeting on the crisis on Saturday, Arab League secretary general Amr Mussa blamed Israel for the escalation and warned of "chaos" sweeping the region. "Israel is behind all that is happening," Mussa told reporters on Thursday. "Leaving matters as they are will lead to big chaos in the region." Mussa said Arab states would take "unified steps" over one of the most serious regional crises since the second Palestinian intifada erupted in September 2000. Egyptian Foreign Minister Ahmed Abul Gheit, who was rushed to Damascus on Wednesday to deliver a message to Syrian President Bashar al-Assad, also warned that the situation risked spiraling out of control. "The rhetorical escalation by all parties threatens to provoke an explosion of the situation and to herald a dangerous phase for the region," he told reporters. Lebanese Prime Minister Fuad Siniora said he called a number of world leaders for help, insisting that Beirut was not responsible for the acts of the Damascus and Hezbollah. Saad Hariri, leader of the anti-Syrian majority in Lebanon, made an unscheduled stopover in Egypt on his way back from China and went straight into crisis talks with President Hosni Mubarak. Mubarak and Jordan's King Abdullah II also called each other to discuss "the dangerous escalation caused by Israel's continued military operations in Gaza and the exchange of fire between Hezbollah and the Israeli army."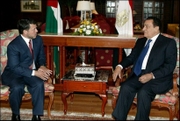 The Jordanian government issued a statement condemning "any act harming the Palestinian people and its cause or Lebanon and its sovereignty." Kuwait has stronger words, with parliament speaker Jassem al-Khorafi slamming the "excessive use of force" threatening the entire region. He held the UN Security Council "responsible for stopping the savage military operations conducted by the Israeli forces against the Lebanese and Palestinian peoples." Arab leaders, including top mediators Egypt, have been repeatedly chided by opposition and Islamist movements in the region for remaining silent while Palestinian civilians are being killed. Egypt's opposition Muslim Brothers, which gave birth to the Palestinian Hamas, itself a Hezbollah ally in the region, hailed the latest abductions of Israeli soldiers. "With its limited military capabilities compared to those of regular armies, Hezbollah has achieved what several Arab governments have not," Muslim Brotherhood supreme leader Mohammed Mehdi Akef said. Some politicians have also questioned Egypt's peace deal with Israel. Mainly Islamist opposition parties in Bahrain and Kuwait also praised Hezbollah, calling on Arabs and Muslims to close ranks against the Jewish state.
Israel is Surrounded by Enemies on All Sides
July 13….(FOJ) The faming up of geo-political hot-spots all around the world this month reveals that the whole world is headed towards a showdown in Israel. For those of us who believe in a pre-tribulational Christian rapture, the times are very serious. Only the United States has vocally stood behind Israel in its vain attempts to thwart the onslaught of aggressors that it constantly faces. It is obvious that demon princes of earthly domains are invoking some nations of the world to push and prod at certain pressure points around the world, North Korea, Venezuela, Sudan, Somalia, Iraq, Iran, Gaza, Lebanon, and the list is growing fast as the world steams unwittingly towards the scenario enunciated by Iran's loudmouth president, Mahmoud Ahmadinejad, a mission for wiping Israel off the map! How is Israel supposed to respond to all these enemies? Give up more land, how about Tel Aviv? Maybe the Israeli's should all hop aboard the next space shuttle and find a place to live on the Moon, where nobody is pushing the geo-political levers for their extermination. But them, maybe God has a plan to save Israel………better watch out enemies of Israel.
| | |
| --- | --- |
| A wounded Israeli woman is taken to an ambulance, following a Katyusha-style rocket attack in the northern Israeli town of Safed, July 13, 2006. Hizbollah guerrillas from Lebanon fired barrages of rockets into nearly 20 towns across northern Israel on Thursday, killing one civilian and wounding 42 others in their heaviest bombardment in a decade. | US President George W. Bush blamed Hezbollah and Hamas for escalating Middle East violence but warned Israel against undermining Lebanon's fragile democracy. Meanwhile, Russian President Putin condemned the attacks by Israel. |
| An Israeli man looks at the damage after a Katyusha-style rocket fired from neighboring southern Lebanon fell in the northern Israeli Galilee town of Safed. Many Israeli's living along the northern border with Lebanon fear that their northern neighbors are preparing for a full-scale missile-rocket war on them. | (FOJ) A Syrian man walks past pictures of Iran's supreme leader Ayatollah Ali Khamenei (top), Hizbollah leader Hassan Nasrallah (R) and Syrian President Bashar al-Assad (L) in Damascus. The pictures portray the fact that Iran sits atop the house of Terror that filters its way through Syria, and into Lebanon! |
| | |
Hezbollah Doing Iran & Syria's Bidding Against Israel
July 13….(Seattle Times) Hezbollah has long been described as a "state within a state," a Shiite mini-government boasting close ties to Iran and Syria, the country's largest political party and its most potent armed force. But Wednesday's move across the border to capture two Israeli soldiers went a step further: Hezbollah acted as the state itself, threatening to drag Lebanon into a war. The country's elected government was still in meetings Wednesday, arguing over what to say in public, when Hezbollah chief Sayed Hassan Nasrallah stood before television cameras with a pointed threat for the ruling elite. "Today is a time for solidarity and cooperation, and we can have discussions later. I warn you against committing any error. This is a national responsibility," said the turbaned Shiite cleric. Any criticism of the capture of the two Israeli soldiers, by citizens or officials, would be tantamount to colluding with Israel, said Nasrallah. He was careful to frame the raid as a noble strike on behalf of Lebanon and Arab nationalism. Its goal was to free Lebanese and other Arab prisoners now held in Israel, he said, by forcing Israel into a prisoner swap. Nasrallah left unclear how many prisoners he was demanding. Crossing the border to capture Israeli soldiers was a long- and carefully planned move, but also an audacious departure for the guerrillas. Since Israel withdrew from southern Lebanon in 2000, Hezbollah has generally limited its attacks on Israelis to one small patch of disputed land known as Shebaa Farms, which Hezbollah claims as Lebanese territory. "It's a very dangerous escalation," said Timur Goksel, a longtime United Nations negotiator who now teaches at the American University of Beirut. "You can't anymore claim it's an act of resistance. It's an act of war." In Lebanon, the action solidifies the group's position as an armed entity independent of government control at a time when it was coming under increasing pressure to give up its arms. In the broader region, the move lends Hezbollah and Nasrallah the credibility of taking up the Palestinian cause at a time when other Arab leaders are standing silently by
Iran and Syria
Internationally, the timing turns the Hezbollah and Hamas captures of Israel isoldiers into a symbolic strike for Hezbollah's chief patrons, Iran and Syria. Iran remains locked into a standoff with the West, particularly the United States, over its controversial nuclear ambitions. The United States also has accused Iran of improper meddling in the politics of oil-rich, war-ravaged Iraq. The Hezbollah move into Israel may, at minimum, distract US officials from their confrontation with Tehran. Syria also has clashed with the West over its support for Palestinian militants, including the sheltering of Hamas leader Khaled Mashaal, as well as its suspected role in the assassination of former Lebanese prime minister Rafik Hariri. The US also accuses Damascus of doing too little to prevent insurgents crossing its border into Iraq to fight a US-led coalition. The White House blamed Syria and Iran for the kidnapping of the two Israeli soldiers, though Syrian Vice President Farouk al-Sharaa denied any role. Last month, after Shalit was captured in Gaza, the Israeli air force further embarrassed the Syrians by plunging its planes into Syrian airspace and staging a flyover of the home of president Bashar al Assad. The buzzing of the president's house was widely interpreted as a warning to the Syrians for their support of Hamas, many of whose officials reside in Damascus. Hezbollah's action Wednesday could be read, in part, as Syria's response to Israel's fly-over of Damascus!
The Rise of Asymmetrical Warfare
July 13….(FOJ) Most of the conventional western style military thinking has traditionally assumed that conflicts will involve standard conventional warfare against an opponent of comparable might, using similar weapons on a known battlefield, and against enemies clearly distinquished. The emergence of nuclear weapons though caused some to seek other means of waging wars. Today, the US finds itself (since 9-11) confronted by a very different kind of warfare, a warfare much like Israel has been confronted with for years, and a war mentality in which defenders fight on their own terms, not those of the enemy. They don't engage in battlefield tactics or defend territory, but they resort to using petrol bombs against tanks, or human bodies as explosive devices against unsuspecting targets. This has been given the name of asymmetrical warfare by counter-terrorism experts, a term that appears to date from the early 1990s. In it, small units of terrorists or guerrillas attack points of perceived weakness in an otherwise stronger opponent by unorthodox means. All guerrilla activity, especially urban terrorism, falls within this definition. The attacks on the US on 11 September are a textbook example and the term has had wide coverage since then. Some writers extend the idea to any military situation in which a technically and militarily weaker opponent is able to gain an advantage through a relatively simple means, using hit and run-hide tactics, or utilizing suicide death teams. Another example is the use of landmine, or improvised explosive devices, that are cheap and easy to distribute, but difficult to counter. Such is the world of asymmetrical warfare, a phenomenon high on the anxiety list of military planners and national security advisers. In the asymmetrical realm, military experts say, a small band of commandos could even devastate the United States and leave no clue about who ordered the attack, or where it came from. In this sinister asymmetrical warfare, the weak terrorist attacker uses the advantages of selectivity and surprise; and the powerful defender must strive to prevent attacks on many fronts, such as where these groups receive their financial bases for operations. Such was the case with Al Qaeda, and the Bush Administration's legal pursuit of international financing for terrorism. Asymmetrical warfare is also utilized by rogue states to blackmail democratic states. It is also manipulated by established powerful states to micro-manage in an off handed manner covert operations against a competitive state, so they can remain undetected in the actual perpetration of terrorist-styled operations. Asymmetrical warfare is one of the most devious concepts of human imaginations, and its tangled multi-network web on geo-political intrigue will inevitably lead to world chaos.
Israel Warns of Prolonged Offensive in Lebanon
July 13….(MSNBC) Israel expects to carry out a prolonged offensive against Hezbollah guerrillas in Lebanon and will enforce an air and sea blockade until the conflict ends, a top officer said on Thursday. Israeli forces intensified their attacks on Thursday, imposing a naval blockade on the country and pounding its only international airport and the Hezbollah TV station in Israel's heaviest air campaign against Lebanon for 24 years. Nearly three dozen civilians were killed, officials said. The fighting came a day after Hezbollah snatched two Israeli soldiers in a cross-border raid. We should not consider this a matter of days. This is going to be long," Brigadier-General Amir Eshel, deputy chief of air force staff, told Reuters. "This blockade will last as long as the conflict goes on." Israel said it was seeking to end once and for all Hezbollah's presence on Lebanon's southern border, while the guerrillas insisted they would only release the soldiers in exchange for Israel freeing Arab prisoners. Israel maintains Hezbollah is financed and equipped by Iran, with backing by Syria. In a separate warning, the Israeli army chief said Thursday that "nothing is safe" in Lebanon and Israel's air force is prepared to strike anywhere in the country, including the capital of Beirut, if the Lebanese government fails to rein in Hezbollah guerrillas. "We are not at war, but we are in a very high volume crisis, and we have an intention to put an end to the situation here along the northern border," Brig. Gen. Dan Halutz said in Jerusalem. Hezbollah responded, threatening to attack the major Israeli port city of Haifa with rockets if Beirut and its southern suburbs are attacked. The airport, located in the Hezbollah-controlled southern suburbs of Beirut, was closed after the attacks and flights were diverted to nearby Cyprus. It was the first time since Israel's 1982 invasion of Lebanon and occupation of Beirut that the airport was hit by Israel.
Hezbollah Rockets strike Northern Israel
Lebanese guerrillas fired volleys of rockets at northern Israel, killing an Israeli woman in her home in the border town of Nahariya, officials said. Five people were wounded. Three rockets were also fired at the northern Israeli town of Safed, wounding seven people, one seriously, witnesses and medics said. Safed (located in Galilee) had not been targeted by rockets since the 1990s. On Thursday, Israeli Foreign Ministry spokesman Mark Regev said the offensive in Lebanon has far-reaching objectives, including pushing Hezbollah militants away from the Israeli border and eventually sidelining the group altogether. "We must neutralize the hostile terrorist infrastructure that exists in Lebanon," he said.
Israel Intensifies Attacks on Lebanon
An IAF jet returns from a mission over Lebanon at the Ramat David air force base in northern Israel Wednesday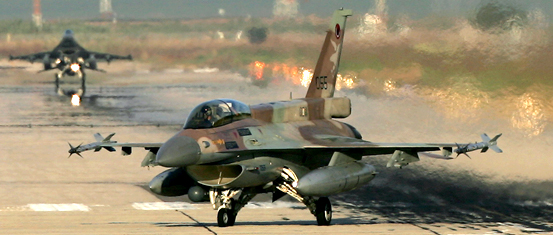 July 13….(Fox News) Israeli forces intensified their attacks in Lebanon on Thursday, imposing a naval blockade on the country and pounding its only international airport and the Hezbollah TV station in Israel's heaviest air campaign against Lebanon for 24 years. After warplanes punched holes in the airport's runways just south of Beirut, Israel's army chief Brigadier General Dan Halutz warned that "nothing is safe" in Lebanon. He said the Lebanese capital itself, particularly offices and residences of Hezbollah officials in the southern suburbs would be a target. Hezbollah threatened a rocket attack on the key Israeli port city of Haifa if Israel forces hit Beirut or its southern suburbs. A strike on Haifa, Israel's third largest city would be the deepest ever into Israel by the guerrillas and would sharply escalate the violence. The shockwaves from the fighting began to be felt as tensions sharpened, with both sides playing a high stakes game after Hezbollah snatched two Israeli soldiers: Israel seeking to end once and for all Hezbollah's presence on the border while the guerrillas insisting to trade the captured soldiers with Arab prisoners. Trapped between them was Lebanon, which Israel said it held responsible for Hezbollah's snatching of the soldiers. The Lebanese government insisted it had no prior knowledge of the move and did not condone it. Hezbollah fighters operate with almost total autonomy in southern Lebanon, and the government has no control over their actions. US President Bush pledged Thursday to work with Israel, criticizing Hezbollah for thwarting efforts for peace in the Middle East. "My attitude is this: there are a group of terrorists who want to stop the advance of peace," he said at a press conference in Germany. "Those of us who are peace loving must work together to help the agents of peace." Palestinian President Mahmoud Abbas warned that Israel's Lebanon offensive "is raising our fears of a new regional war" and urged world powers to intervene "to stop this serious deterioration." The Arab League called an emergency meeting of foreign ministers in Cairo on Saturday. The escalation of violence in the Middle East pushed crude oil prices to a new intraday record of US$75.88 a barrel. Western countries, Russia and the United Nations called for restraint and demanded the soldiers. In northern Israel, thousands of civilians spent Wednesday night in underground shelters as Hezbollah fired rockets at two cities in northern Israel. A 40-year-old Israeli woman was killed and five people were wounded in the rocket attacks, the Israeli army reported. After hitting roads and bridges in the south all day Wednesday, Israel was dramatically expanding its campaign Thursday with their biggest offensive in Lebanon since Israel's 1982 invasion. Israeli warships imposed a naval blockade of Lebanese ports, which Lebanese officials confirmed. Besides threatening to hit Beirut, the Israeli military said it could also target the Beirut to Damascus highway, the main land link between Lebanon and the outside world. Israeli Defense Minister Amir Peretz said his forces would not allow Hezbollah guerrillas to occupy positions along the southern Lebanese border. "If the government of Lebanon fails to deploy its forces, as is expected of a sovereign government, we shall not allow Hezbollah forces to remain any further on the borders of the state of Israel," Peretz said. Israeli warplanes blasted craters into all three runways at the Beirut airport, located by the seaside in the Lebanese capital's Hezbollah-controlled southern suburbs, forcing its closure and the diversion of incoming flights to Cyprus. The Israeli military said it struck the airport because it is "a central hub for the transfer of weapons and supplies to the Hezbollah terrorist organization." It was the first time since Israel's 1982 invasion of Lebanon and occupation of Beirut that the airport in south Beirut was hit by Israel. Meanwhile, helicopter gunships and jet fighters scoured southern Lebanon for guerrillas launching rockets into northern Israel. Hezbollah fired volleys of rockets at the Israelis town of Nahariya and Kiryat Shmona,saying it was using a rocket called "Thunder 1" for the first time. The missile appeared to be more advanced than the inaccurate Katyusha which has been the standard Hezbollah rocket for years. Hezbollah has declared it has over 10,000 rockets and has in the past struck northern Israeli communities in retaliation for attacks against Lebanese civilians.
President Bush Backs Israel's Right to Self Defense
July 13….(My Way) President Bush said Thursday that Israel has the right to defend itself, as it launched fresh attacks on Lebanon after the kidnapping of Israeli soldiers. Bush laid the blame for the escalation of violence along the border on Hezbollah, whose guerrillas mounted a cross-border raid earlier in the week and captured the two soldiers. He also said that Syria "needs to be held to account" for supporting and harboring Hezbollah. "The soldiers need to be returned," the president said. "It's really sad where people are willing to take innocent life in order to stop that progress (for peace). As a matter of fact, it's pathetic."
Hizbullah: Bomb Beirut, We'll Hit Haifa
July 13….(Jerusalem Post) Hizbullah warned Israel Thursday afternoon that if the IDF attacked southern Beirut, where the organization's leadership is based, they would target Haifa. "The Islamic resistance warns against targeting civilians and the infrastructure," a statement read on Hezbollah TV said. "It (resistance) specifically announces that it will quickly shell the city of Haifa and nearby areas if the southern suburbs and the city of Beirut are subjected to any direct Israeli aggression," the statement said. A high-ranking IDF source said that the current operation, dubbed Operation Just Reward, would be "long" and could last up to several months, or "as long as it takes to destroy the Hizbullah's ability to launch attacks against Israel." The IDF source said the Dahiya neighborhood of Beirut, a Hizbullah stronghold, would be targeted if rocket attacks continued to hit Israeli cities. The source said that all terrorists in Dahiya, including Hizbullah head Sheikh Hassan Nasrallah himself, were fair targets for the IDF. "We will operate against all the terrorists who operate against us," he said, warning that civilians inside Dahiya could also be hurt in a possible IDF strike. Nasrallah's family lives in the Dahiya neighborhood. The army, the senior IDF source said, took into consideration the possibility that Hizbullah would fire long-range rockets at Israeli cities like Haifa and Hadera, but warned that if such attacks occurred, Israel would strike back hard, dealing a heavy blow to Lebanese government targets. He added that the Lebanese government was responsible for Wednesday's kidnapping attack on the northern border. "The bottom line is that the Lebanese government is the address, and it needs to take responsibility for what Hizbullah is doing in southern Lebanon," he emphasized.
US Blames Syria, Iran For Israeli Soldiers' Kidnapping
July 13….(Fox News) Syria and Iran are to blame for the kidnapping of two Israeli soldiers by Hezbollah terrorists and the subsequent Israeli military response, US officials said Wednesday. The White House called for the immediate and unconditional release of the two soldiers abducted by Hezbollah guerrillas on Wednesday. "The United States condemns in the strongest terms this unprovoked act of terrorism, which was timed to exacerbate already high tensions in the region and sow further violence. We also hold Syria and Iran, which have provided long-standing support for Hezbollah, responsible for today's violence. We call for the immediate and unconditional release of the Israeli soldiers," reads a statement released by the White House press secretary. "Hezbollah's actions are not in the interest of the Lebanese people, whose welfare should not be held hostage to the interests of the Syrian and Iranian regimes. We reiterate the international community's insistence that all parties in the region fulfill their obligations under UN Security Council resolutions 1559 and 1680, and cease all support for Hezbollah," the statement continues. Secretary of State Condoleeza Rice, in Paris for talks on Iran's nuclear weapons pursuit, has been in direct contact with US allies in the region on the issue. She issued a statement saying she is continuing to consult with UN Secretary-General Kofi Annan, Lebanese Prime Minister Fuad Siniora and Israeli Prime Foreign Minister Tzipi Livni. "We are united in our determination to achieve the release of the Israeli soldiers. Syria has a special responsibility to use its influence to support a positive outcome.
Russia, France Condemn IDF's Lebanon Strike
July 13….(YNET) France Thursday condemned Israeli army strikes on Lebanon as a "disproportionate act of war". "We obviously condemn this disproportionate act of war which also has two consequences," Foreign Minister Philippe Douste-Blazy said on Europe 1 radio. The French foreign minister's reaction came after Israeli warplanes struck Beirut international airport. French Defense Minister Michele Alliot-Marie, meanwhile, described the situation as "extremely worrying", adding it must not go on "for local reasons as for world reasons". The European Union called on all sides to halt the renewed violence in the Middle East and take care to avoid more civilian casualties. "Every effort must be taken not to harm civilians," said EU spokeswoman Emma Udwin. "All parties must respect their obligations under international law to protect civilians from the effects of conflict." She restated the EU's condemnation of the seizure of two Israeli soldiers by Hizbullah militants and expressed shock at the deaths of civilians in Israel's strikes in Lebanon.
Russia Slams Israeli Offensive
Meanwhile, in a strongly worded statement Russian Foreign Ministry spokesman Mikhail Kamynin condemned the Israeli attacks on Lebanon and in Gaza, called for Israel to respect Lebanon's sovereignty and also called for the release of Israeli hostages. "The continued destruction of civilian infrastructure in Lebanon and the Palestinian territories and the disproportionate use of force by Israel, which causes suffering to the civilian population, can be neither understood nor justified," he said. "Equally unacceptable are any manifestations of terrorism and the taking of hostages, who must be released immediately and unconditionally," he said. Meanwhile, US President George W. Bush said that Israel had a right to defend itself against terrorist acts but it should not weaken the Beirut government.
IDF Provides Aid in Gaza Even as it Battles Hamas
July 13….(Arutz) IDF aircraft demolished the Hamas-run Palestinian Authority's Foreign Ministry Thursday morning. The offices, run by Hamas official Aumad Mahmoud A-Zahar, are located in northern Gaza. An IDF statement following the missile strike explaining succinctly: "A-Zahar plans and directs terrorist attacks. Hamas is a terror organization which regularly plans and carries out attacks against Israel, including attacks carried out in recent weeks. The IDF will continue to act with determination and to employ all means at its disposal against Palestinian terror infrastructure in the Gaza Strip. The IDF also continued shelling open areas in southern and central Gaza used by terror groups to launch Kassam rockets onto towns in the western Negev. Navy ships shelled similar sites in northern Gaza. Muhammah Deif, the Hamas terror-chief targeted by the IDF Wednesday, is now reported to have suffered a serious wound to his back, and is partially paralyzed. Despite the ongoing fighting, the IDF opened the Karni and Nahal Oz crossings on orders from the political echelon, despite concrete threats of attacks, in order to allow food and fuel into Gaza. At the Karni crossing, over 100 truckloads of food and 14 generators were allowed in and at the Nahal Oz fuel terminal, 500,000 liters of diesel, 100,000 liters of gasoline and 125 tons of natural gas were allowed in. Earlier in the week, more than 265 tons of food, a truckload of medicine, over a 1,000,000 liters of fuel, 65,000 liters of chlorine and additional supplies were transferred in. Last week, more than 200 truckloads of food, 1,500,000 liters of fuel, and over 400 tons of natural gas passed into Gaza. Israel also continues to provide Gaza with an uninterrupted supply of water.
Israeli's Forced to leave Homes in Nahariya en Masse
July 13….(Ha Aretz) Nahariya residents began to leave the northern border city en masse Thursday after a deadly Katyusha rocket attack killed a 40-year-old woman and wounded 29 others. Dozens of families were seen packing their belongings in the city's Green Naharyia neighborhood and making their way south to escape the reach of Hezbollah's rockets. Meanwhile, Israel Defense Forces ordered residents of communities up to 15 kilometers from the Lebanese border to take shelter in local bunkers.
Syria: A Possible Third, or Fourth Front
July 13….(Ha Aretz) Two weeks after the start of the IDF's extensive operation in the Gaza Strip, Hezbollah opened a second front on the northern border. The second front, which could expand into Israel, started just as the first did, with the abduction of soldiers from inside Israel and the deaths of others. Israel faces the danger of a third front if Syria (4th if the West Bank rocket attacks ensue) steps in to assist Hezbollah. Strategically, Israel faces an extreme foursome: Hamas, Hezbollah, Syria and Iran. Two extremist Islamic organizations considered terror organizations, and two states Washington names in the Axis of Evil. Israel has no choice but to hold Lebanon responsible for what happens in its borders and for what comes out of it. Lebanon will likely wail as Israel strikes inside its territory and hits its infrastructure, but the Lebanese government must see itself as responsible for what Hezbollah does out of Lebanon. Particularly since Lebanon essentially rejected UN resolution 1559, which called for disarming the militia. Hamas and Hezbollah made the rules of the game with the ongoing rocket fire into Israel and the abduction of Israeli soldiers. If Israel loses in handling this, its strategic and military standing in the region will change and its deterrence of guerrilla warfare and high-trajectory weapons will be undermined. From the moment the ground incursion into Gaza started, it was possible Hezbollah would try to help Hamas by attacking on the Lebanese border. This option was rejected by most military analysts. No unusual alert was evident. In addition to the desire to help Hamas, Hezbollah has its own grudge to bear with Israel. On May 28, Hezbollah taunted Israel with a Katyusha barrage at an IDF base on Mt. Meron. In response, Israel immediately hit a number of Hezbollah positions along the border. It was clear that Hezbollah, whose leader has often declared his organization would abduct Israelis, was waiting for the right moment, which came yesterday. Israel is now faced on focusing on upcoming developments and the question of how to conduct a war on two, three and maybe four fronts. Israel's options now are aggression on two fronts. Israel may be acting harshly with Lebanon cautiously in order not to open a another front with Syria, that is unless Damascus taunts Israel. For years, Israel neglected the rocket system Hezbollah built in Lebanon with Iranian and Syrian help. The Gaza front will become secondary if the fighting in the north expands.
Hizballahh Attacks Israeli Town of Safed With Rockets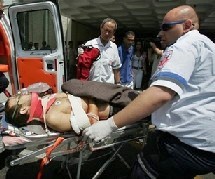 July 13….(DEBKA) Hizballah launched several rockets that struck the Safed-Acre areas yesterday. The rockets landed outside City Hall, struck a school and another landed in the town center of the ancient Kabala center, and rockets are still coming. Northern Israel went on war footing after 60 Hizballah rockets fired from Lebanon landed inside a 20-km. radius from the border. A second rocket volley that hit Nahariya wounded 29 people, after the first killed a woman in her home. The resort town's high street, Gaaton Boulevard, took direct hits. Twenty rockets have now hit the Israel. The main highways from Acre, Safed and Rosh Pina heading north are closed to civilian traffic. Targetsd for Hizballah rocket attacks also included: Kiryat Shemona, Rosh Pina, Mishmar Hayarden, Mahanayim airfield and Kibbutz Kfar Hanassi. Some of these locations have never before come under Hizballah attack. The Nahariya regional hospital has moved its wards to underground, bombproof facilities. The train service to the town is suspended. Summer schools and camps, also shops, are closed across northern Israel. The education ministry has cancelled all summer school trips to the affected region. After spending Wednesday night in bomb shelters, a quarter of a million Israeli civilians were told to stay there Thursday.
Iran Sends its NSA to Damascus!
July 13….(DEBKA) Iran's national security adviser Ali Larijani flies to Damascus aboard special military plane Wednesday night as war tension builds up around Hizballah kidnap of 2 Israeli soldiers. Larijani is also Iran's senior nuclear negotiator. He will remain in Damascus for the duration of the crisis in line with the recently Iranian-Syrian mutual defense pact. His presence affirms that an Israeli attack on Syria will be deemed an assault on Iran. It also links the Israeli hostage crisis to Iran's nuclear standoff with the West. The White House released a statement holding Syria and Iran responsible for Hizballah abduction and demanding their immediate and unconditional release. The Syrian army has been put on a state of preparedness. DEBKAfile's military sources add that the Iranian air force, missile units and navy are also on high alert. DEBKAfile's counter-terror sources report Hizballah acted on orders from Tehran to open a second front against Israel, partly to ease IDF military pressure on the Hamas in the Gaza Strip. This was in response to an appeal Hamas leader Khaled Meshaal made to the Iranian ambassador to Damascus Mohammad Hassan Akhtari Sunday, July 9. DEBKAfile's Iranian sources report Tehran's rationale as composed of three parts:
1. Iran shows the flag as a champion and defender of its ally, Hamas.
2. Sending Hizballah to open a warfront against Israel is the logical tactical complement to its latest order to go into action against American and British forces in southern Iraq.
3. Tehran hopes to hijack the agenda before the G-8 summit opening in St. Petersburg, Russia on July 15. Instead of discussing Iran's nuclear case and the situation in Iraq along the lines set by President George W. Bush, the leaders of the industrial nations will be forced to address the Middle East flare-up . Our sources also report that immediately after Nasrallah's statement to the media, Hizballah's leaders went into hiding, their bases were evacuated and their fighting strength transferred to pre-planned places of concealment. Ahead of the abduction, Hizballah ordnance and missile stocks were transferred to the Palestinian Ahmed Jibril's tunnel system at Naama, 30 km south of Beirut.
IDF Gets Nod to Crush Hizb'allah
(Northern Israel braces for long-range rocket fire)
July 13….(JNEWSWIRE) Israel's Cabinet late Wednesday night gave the IDF a green light to crush the Hizb'allah threat from southern Lebanon, even at the price of a massive terrorist missile strike on northern Israel and international condemnation. The decision came in response to a large coordinated Hizb'allah assault on the Jewish state earlier in the day, which left eight IDF soldiers dead, another seven wounded, and two more as captives in the hands of the Lebanese terrorists. Some fear Hizb'allah will counter by unleashing its arsenal of thousands of medium and long-range missiles on targets as far south as Netanya. The terror group has obtained its impressive and deadly stockpile, which includes some advanced and highly accurate weaponry, with the help of its patrons in Damascus and Tehran. If, as expected, Hizb'allah, or even Syria, respond to the Israeli operations in Gaza with missile strikes on Israeli population centers and strategic facilities, Jerusalem will likely find itself facing a full-scale war situation. Nevertheless, the Israeli Cabinet statement indicated the only way Lebanon can avoid the fury about to be loosed on it is to immediately implement UN Security Council Resolution 1559, which obligates Beirut to disarm Hizb'allah and exert control over all its territory.
Ex-Defense Minister: Israel has Lost its Deterrence
(Says policy of unilateral withdrawal emboldens enemies of Jewish state)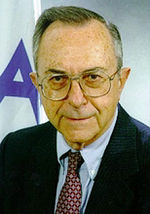 July 13….(WND) Today's attack by the Lebanese Hezbollah militia against Israel's northern border and the major Hamas raid two weeks ago that led to a ground invasion of the Gaza Strip are direct results of the "failed" Israeli policy of unilateral withdrawal, former Israeli defense minister Moshe Arens charged in a WorldNetDaily interview today. Arens is a seasoned Israeli diplomat who has served several times as defense minister, including during Israel's foray into Lebanon in the 1980s. He told WND Israel's deterrence against Palestinian terror groups and against regional foe Hezbollah has been lost by the what he called a "lack of major military response" to repeated attacks the past few months, emboldening the organizations, he said, to carry out more and more daring operations. "Israel's withdrawal from Gaza and the uprooting of Jewish communities there was interpreted by Hamas and by the Palestinian people as a victory for terrorism," said Arens. The former defense minister pointed out that since the Gaza evacuation last summer, over 1,000 rockets have been fired at nearby Jewish communities, Hamas has been elected to power, and both Israel and the Palestinian Authority say al-Qaida has moved into the territory. Israel in the last 10 months has largely responded to the regular Palestinian rocket attacks with aerial and artillery bombardments of suspected missile launch sites, failing to stop or even slow the rate of rocket launchings. "The Palestinian terrorists bombarding Israeli towns with missiles saw very little Israeli response," said Arens. "So they carried out a daring raid against Israeli troops. They are not afraid of Israel when Israel is retreating." Arens said the Hezbollah raid today along the Israel-Lebanon border was a "direct result of the failed Israeli withdrawal from that country by Prime Minister Ehud Barak in 2000. "Barak threatened Lebanon with the harshest reprisals if any aggressive cross border acts were carried out by Hezbollah," he said. "We have seen many aggressive acts, missile attacks the past few months, killings and kidnappings of Israeli soldiers, and yet, no major Israeli retaliation. The clear message received by Hezbollah is one of Israeli weakness. Deterrence has been lost."
North Korea Prefigures A Coming Showdown with China?
July 13….(FOJ) China, as it proved in the 2001 forcing down of the US Navy EP-3 Orion, is a confident aggressor that tests the US from time to time just like the Soviet Union did in its day. Today, China is testing the US by pushing the North Korean puppet regime to launch its missiles. China is intent on dominating its region and asserting hegemony over its neighbors. It has in essence engaged the US in a Pacific Cold War, a war in which it intends to step by step press the US into retreating from the region. China's real nature today is a growing expansionism that is pointed towards becoming the next superpower. China is presenting various threats to the US because it is a direct threat to all our allies and interests in the Pacific. Our main Pacific ally, Japan, is directly in China's path. South Korea, Taiwan and every other nation we have alliances with in the region are in China's way, and China is pushing at the US resolve in each of those countries. More immediately, China has chosen the wrong side in the war on terror. It's very closely allied with Iran and is a major trading partner of every state sponsor of terrorism. China is using the terrorist nations to make it impossible for the US to retain its prominence in the Pacific while holding the high ground elsewhere in the world. Iran sells China a lot of oil. In return, China is training, equipping and helping arm Iran's military. Along with Russia, they have aided Iran's nuclear weapons program. In other nations, Syria for instance, China is allying itself with the Islamic radicals. China, like Russia has allied itself with radical Islam, and with the terrorist nations, all in a calculated geo-political strategy to bring about the downfall of the US as the world's lone superpower.
North Korea is a client state of China. The Kim Jong-il regime would not be doing with its missiles without China's permission. They may even be spurring Kim on, and encouraging him to launch as the Iranian nuclear card comes before the UN. North Korea is utterly dependent on China for food. If China wanted to stop the missile launches, it could. China is also stirring trouble in Latin America. Again, the issue for China in Latin America is oil. China is the second greatest oil-consuming nation, and it wants to cut into the US alternative to Middle East oil suppliers by teaming up Hugo Chavez's Venezuela. China is working to get Chavez to cut the US off and sell that oil to them. They've also made a recent deal with Cuba to drill oil off the Florida coast. And everywhere that China purchases oil, they supply weapons to the anti-American regime.
America has defense treaties with Japan, Taiwan, and South Korea and we are required to go to war to defend these countries in the event that China threatens them. Meanwhile, China is testing the "war-nerves" of the US to gage the audacity of America.
US Blames Syria, Iran for Kidnappings
July 12….(The Times) The United States blamed Syria and Iran on Wednesday for the kidnapping of two Israeli soldiers by Hezbollah militants and an eruption of violence along the southern border of Lebanon. The White House called for the immediate and unconditional release of the two soldiers. "We condemn in the strongest terms Hezbollah's unprovoked attack on Israel and the kidnapping of the two Israeli soldiers," National Security Council spokesman Frederick Jones said as President Bush flew here for a visit. He said Hezbollah had also launched unprovoked rocket attacks on civilian targets in Israel as part of its offensive. Israel sent troops, warplanes, tanks and gunboats in a military offensive into southern Lebanon after Hezbollah militants crossed into Israel and captured two Israeli soldiers. Israel said seven of its soldiers had been killed in the violence. Secretary of State Condoleezza Rice expressed determination to achieve the release of the kidnapped soldiers and urged all sides to "act with restraint to resolve this incident peacefully." "Syria has a special responsibility to use its influence to support a positive outcome," she said in a statement. Southern Lebanon became the second front in the fight against Islamic militants by Israel, which already is waging an operation to free a soldier captured by the Palestinian militant group Hamas in the Gaza Strip. "This is a terrorist attack and it is clearly timed to exacerbate already high tensions in the region and sow further violence," Jones said. He said Rice, on a diplomatic trip to Paris, had been in direct contact with the parties in the region "with the purpose of holding Hezbollah accountable for its action." "We also hold Syria and Iran - which directly support Hezbollah - responsible for this attack and for the ensuing violence," Jones said. "Hezbollah's terrorism is not in Lebanon's interest. "This attack demonstrates that Hezbollah's continued impunity to arm itself and carry out operations from Lebanese territory is a direct threat to the security of the Lebanese people and the sovereignty of the Lebanese government," Jones said. Syria's vice president, Farouk al-Sharaa, blamed Israel for the violence both in Lebanon and the Palestinian territories and denied that his country had a role in the abductions of the soldiers. "For sure, the occupation (of the Palestinian territories) is the cause provoking both Lebanese and Palestinian people, and that's why there is Lebanese and Palestinian resistance," he said. Some of Hamas' top leaders live in Syria, putting Damascus at the center of blame by Israel and the United States.
Hamas Leader Will Bring Destruction on Middle East, Egypt Says
July 12….(CNS News) Egypt has warned Syria that it should expel the Damascus-based Hamas leadership or risk the destruction of the Syrian regime. Israel has blamed Hamas leader Khaled Mashaal for giving the order to abduct soldier Gilad Shalit during an attack on an Israeli outpost along the Israeli-Gaza border two weeks ago. And Israel says it is Mashaal who is preventing Corporal Shalit's release. Israel also warned Damascus, which hosts the headquarters of about a dozen Palestinian terrorist organizations, not to harbor Mashaal. Israeli Air Force jets buzzed the summer palace of Syrian President Bashar Assad two weeks ago as a warning. The Shalit abduction and continued rocket fire on southern Israeli communities prompted the Israeli military to return to the Gaza Strip to root out terrorists operating from there. Mashaal said on Monday that Shalit would be released only in exchange for Palestinian security prisoners in Israeli jails. Just hours before, Israeli Prime Minister Ehud Olmert called Mashaal "a terrorist with blood on his hands" and said that Israel would not negotiate with him nor would Israel release Palestinian prisoners in exchange for its abducted soldier. Egypt, a US Middle East ally which has acted as a mediator in efforts to obtain the Shalit's release, demanded that Syrian President Assad expel Mashaal because of his refusal to order the release of Shalit, Israel radio reported on Tuesday. Quoting unnamed Arab diplomatic sources, the report said the Egypt had warned Assad that Mashaal and Hamas would bring destruction on the Middle East in general and on Assad's regime.
Annan Condemns Israel Retaliatory Attacks in Lebanon
| | |
| --- | --- |
| | (FOJ) Where is Mr. Anan's condemnation of Hezbollah or Syria? Israel's attacks were "retaliatory strikes"! Why doesn't the UN condemn the instigator rather than the retaliator? |
July 12….(News agencies) UN Secretary General Kofi Annan called Wednesday for the immediate release of kidnapped Israeli soldiers, but sharply condemned Israel's immediate retaliation. "I condemn without reservations the attack in southern Lebanon, and demand that Israeli troops be released immediately," Annan said after a meeting in Rome with EU Premier Romano Prodi. Annan spoke hours after Hizbullah captured two Israeli soldiers in a cross-border raid, triggering an Israeli assault with warplanes, tanks and gunboats against southern Lebanon as Israeli troops crossed the frontier to hunt for the captives. Anan reiterated the world's common complaint against Israel, "'Occupation is what provokes the Palestinian and Lebanese people,' and Israel must withdraw from the land. "We would not want to see an expansion, an escalation of conflict in the region," Annan said. Israeli Prime Minister Ehud Olmert called the Hizbullah raid "an act of war" and held the Lebanese government responsible, vowing that the Israeli response "will be restrained, but very, very, very painful." Lebanese Prime Minister Fouad Siniora phoned Annan and asked that he "prevent further Israeli aggression" against Lebanon following the kidnappings.
| | |
| --- | --- |
| | (FOJ) Syria and the Hezbollah terrorist organization have used the token Shabaa Farms area complaint card to continue its aggressive terrorist policies against Israel, although Israel withdrew its forces from South Lebanon in accordance with UN resolutions. The Shabaa Farm area is tucked in the tri-border area between Syria, Lebanon, and Israel. Syria uses its questioned location as a pretext to foment insurrection in Lebanon against Israel. |
Siniora also called on the international community to assist the casualties of the Israeli bombings. Syria said Israel was responsible for the operation by its ally Hizbullah. "Israel's Occupation is what provokes the Palestinian and Lebanese people," Vice President Farouq al-Shara told reporters. Al-Sharaa made the comments at a press conference with Ali Larijani, Iran's top nuclear negotiator, whose country is also a top backer of Hamas and Hizbullah. "When the Zionist entity attacks and slaughters the Palestinian people, Resistance is necessary," Larijani said. UK Foreign Office Minister, Kim Howells said, "We condemn this morning's infiltration by Hezbollah and the rocket attacks by Hizbullah on northern Israel. "Hizbullah's actions will further escalate an already tense situation in the region. A further escalation is in no one's interest. We call on all parties to take actions to promote a rapid and peaceful resolution of the crisis and urge that any Israeli action be both measured and proportionate," he said.
From North Korea to Iran, Totalitarianism is Pushing
July 12….(YNET) Last week, North Korea "celebrated" US Independence Day by firing an intercontinental missile in the direction of the United States. The test was mostly marked by its failure, and the missile fell haplessly into the sea. Other tests of medium-range missiles have succeeded. Dictator Kim Jung Il approved these rocket launches despite pleas from US President Bush not to do so, and after the international community warned him not to do so. He thumbed his nose at the "cultured world, and added insult to injury by apparently declaring nuclear war against the United States and its ally, Japan. And how has the cultured world responded? In South Korea, the rich, capitalist neighbor, the elected leadership has chosen to bury its head in the sand. Most people in the free, prosperous south couldn't care less about what goes on in the poor, neglected north. Nothing could be further from the minds of young people out for a good time in Seoul than fighting a war with communist Pyongyang. North Korean nukes? Long-range missiles? Doesn't bother them. Just don't disturb their cell phone video games. According to polls, a significant percentage of South Koreans are proud of the military accomplishments of their northern cousins. It's unbelievable, but their hostility to the United States (whose military protects their country) far surpasses that towards the communist dictatorship to the north. South Korean universities are routinely host to anti-Bush demonstrations, rather than anti-Kim Jung Il protests.
Chinese, Russian compliance
But Seoul's conciliatory line with regard to North Koreas missile program appears aggressive when compared to that of China and Russia. In theory and practice, these two giants support North Korea's madness. They even block sanctions in the UN Security Council. They say they want a "diplomatic solution," just like they want a "diplomatic solution" to the kidnapping of Cpl. Gilad Shalit and a "diplomatic solution" to Iran's march towards nuclear arms. In should be noted that Russia's search for solutions in Chechniya are a bit less than diplomatic.
President Bush is politically too weak to help
What can we expect from the Bush administration? The president is so bogged down in Iraq, and his approval ratings are so low that he lacks the strength and the ability for military action anywhere else in the world. He is under constant attack in his own country from liberal politicians. Bush is tired, and bogged down, as are those around him. In reaction to the missile test, the American administration is now offering Pyongyang direct talks. This is total capitulation. North Korea is one of the poorest, most neglected countries in the world. It is ruled by a fanatic Stalinist regime who starves his people and invests what little resources he's got to building nuclear might. The dictator inherited his position from his father; without question, ship is passed from father to son, a man who was absolutely insane. Pyongyang has no strategic standing, no natural resources and it can threaten to hurt the west or its neighbors with an economic boycott. But the West continues to walk on eggshells so as not to upset North Korea.
What about Iran?
Now, we move from the Far East to the quite-a-lot-closer east. Iran's leaders watch the world's weak hand and lack of answers vis-à-vis North Korea and ask themselves: If the world is so weak towards North Korea, they will necessarily be even weaker in the face of our nuclear plans. They logically conclude that they can allow themselves to continue their nuclear drive: They've got oil, they've in a crucial geo-political location, and they have influence over the entire Muslim world. If "they" wont' do anything about North Korea, "they" wouldn't dare to seriously challenge Iran. And they're right. The United States' self-appointed role as the world's democracy police is coming to an end. Around the world, strong leaders who were willing to risk expelling evil are disappearing. The time for pistol-bearers is rapidly approaching.
(Damascus- Based) Hezbollah Kidnaps Two Israeli Soldiers
(Israel PM says it's an 'act of war' as troops cross into Lebanon)
July 12….(MSN) Hezbollah guerrillas said they had captured two Israeli soldiers in cross-border attacks from Lebanon on Wednesday in which six Israelis and two Lebanese were also killed, sharply raising Middle East tensions.
Israeli Prime Minister Ehud Olmert called the Damascus based Hezbollah that its guerrilla attack "is an act of war" and warned Hezbollah that it would pay a "heavy price" for its actions. Israeli ground forces crossed into Lebanon to search for the captured soldiers. Israel sent many troops and aircraft to take part in searches across the border. Israel has already launched a military offensive in the Gaza Strip after Palestinian militants captured a soldier on June 25 in a cross-border raid. "Fulfilling its pledge to liberate Arab prisoners and detainees, the Islamic Resistance, captured two Israeli soldiers at the border with occupied Palestine," the Syrian, and Iranian-backed Hezbollah said in a statement. "The two captives were transferred to a safe place," it said, without stating what condition the soldiers were in. Israel's Defense Ministry confirmed Israeli soldiers were kidnapped, the Associated Press reported. "The Lebanese government is responsible for the fate of the Israeli soldiers, and must take immediate action to locate them without harming them and return them to Israel," the Israeli Defense Ministry said in a statement. Lebanese security officials said that six Israeli soldiers and two Lebanese civilians were killed in fighting across the border. Hezbollah earlier fired dozens of Katyusha rockets and mortar bombs at Israeli border posts and a town, Israeli and Lebanese security sources said. Israeli troops retaliated, shelling the outskirts of four Lebanese border villages and trading fire with guerrillas. Israeli aircraft also bombed three bridges in southern Lebanon. Two Lebanese civilians were killed and a Lebanese soldier was wounded in the raid on the coastal Qasmiyeh bridge, Lebanese security sources said. Olmert has called a special cabinet session for 7 pm (12 p.m. ET). The announcement from his office did not mention the Hezbollah claim to have seized the soldiers. "These are difficult days for Israel and its citizens," Olmert told reporters after Hezbollah's announcement. "There are elements, to the north and the south, (not to mention the east) that are threatening our stability and trying to test our determination," he said. "They will fail and pay a heavy price for their actions."
Hezbollah Calls For "Celebration Rallies' in Lebanon
| | |
| --- | --- |
| | Hezbollah leader Hasan Nasrallah has called for demonstrations in Lebanon and Syria to show solidarity with the Hamas Palestinians. |
July 12….(YNET) Hezbollah called for major "celebration rallies" to be held in Lebanon today. In the past, similar celebrations have attracted tens of thousands, or even several hundred thousand people. Hezbollah sources also said the "Palestinians are very happy," clearly showing Hezbollah's solidarity with Hamas. Hezbollah supporters were seen setting off fire crackers and distributing sweets in the streets of Beirut. Similar scenes were reported across Lebanon. Meanwhile, in Gaza, Israel targeted Hamas guerrilla commanders in an air strike that killed six Palestinians and destroyed a building where the militants were believed to be meeting. The Israeli military said the air raid wounded Mohammad Deif, leader of the governing Hamas' armed wing. It coincided with an armored sweep into the central Gaza Strip that broadened an offensive aimed at freeing the captured soldier in Gaza, Corporal Gilad Shalit, and halting cross-border rocket fire.
PM Olmert Declares Hizbullah Attack 'Act of War' by Lebanon
July 12….(Arutz) Seventeen days after IDF soldier Gilad Shalit was kidnapped in Gaza, a second front was opened on Israel's northern border Wednesday morning as Hizbullah, under cover of a barrage of Katyusha rockets and mortar shells, kidnapped two more army troops. Prime Minister Ehud Olmert declared the attack as an "act of war" and not terror. During a press conference with Japanese Prime Minister Junichiro Koizumi Wednesday afternoon, he called it an unprovoked assault by a sovereign nation and held Lebanon, where Hizbullah has a minister in the government, fully responsible. "Israel's response will be restrained but very, very, very painful," Olmert added. The Defense Ministry confirmed early Wednesday afternoon that two IDF soldiers had been kidnapped by Hizbullah. IDF ground troops had been sent into Lebanon to search for the two. IAF jets, helicopters and UAVs were also flying above Lebanon searching for the soldiers. Several jets were flying patterns above Beirut, Channel 10 reported. Simultaneously, Navy gunboats and artillery along the border were shelling Hizbullah targets in Lebanon. The army has destroyed 17 targets as well as Hizbullah outposts and three bridges since the beginning of the operation. Hizbullah's Al Manar TV broadcast earlier Wednesday that the organization had kidnapped the two soldiers. A senior Hizbullah official said that at least one of the allegedly kidnapped soldiers was still alive. A senior IDF officer landed Wednesday afternoon in the northern Druse village of Kfar Yanuh apparently to inform a family there that their son had been kidnapped. Hizbullah launched a heavy barrage of Katyusha rockets and mortar shells at IDF positions and communities along the northern frontier on Wednesday morning starting about 9:15 a.m. One rocket scored a direct hit on a house in Shtula. Magen David Adom said they had treated six people so far. Both soldiers and civilians have been wounded. The wounded were being evacuated to Nahariya hospital. According to the military, an explosive charge detonated under an IDF tank, inflicting casualties. IDF Northern Command officers were in touch with UN and Red Cross officials in Lebanon to try and conduct negotiations through those organizations with the Lebanese government in an effort to retrieve the captured soldiers diplomatically. According to IDF estimations, military campaigns in Lebanon had little chance of retrieving the soldiers. Meanwhile, police all over the country have gone on high alert to prevent terror attacks. IDF sources estimated that the attack was a Hizbullah response to Israel's early Wednesday attempted strike on top Hamas terrorist Mohammad Deif in Gaza. Residents of the Western Galilee entered their shelters, and in the community of Shlomi, residents were asked to enter fortified rooms early Wednesday. The northern border has been on high alert since Operation Summer rains began.
Palestinians Ready for 'West Bank Rocket War'
July 12….(WND) (Terror leader announces start of barrage nearing Israel's main population centers) While Israeli towns near the Gaza Strip have been contending with almost daily missile attacks, Palestinian rockets will now also be launched regularly on the other side of the country aimed at Jewish communities a few miles from Tel Aviv and Jerusalem, Abu Oudai, a chief rocket coordinator for the Al Aqsa Martyrs Brigades in Judea and Samaria told WorldNetDaily in an exclusive interview. Abu Oudai claimed major Israeli cities and the country's international airport would eventually become Palestinian rocket targets, particularly following Prime Minister Ehud Olmert's planned withdrawal from most of Judea and Samaria, which borders Israel's main population centers. Judea and Samaria is also commonly called the West Bank. Abu Oudai said his group has the ability to produce rockets in northern Samaria, a claim denied by the Israeli army. He hinted at possible help in developing rockets from Iran, Syria and the Lebanese Hezbollah militia. "Our goal is to cover all Israeli regions and to bring them inside the distance of our rockets," said Abu Oudai, speaking from Nablus in northern Samaria. "Every Israeli site or city is inside our capabilities and if some sites are not yet they will be very soon. The Ben Gurion Airport, Tel Aviv, Jerusalem every site and city will be targeted. We are speaking about a new era in the conflict between us and the enemy." The rocket master's statements follow a series of claims by the Al Aqsa Brigades of firing rockets the past few days from the northern Samaria towns of Telkarem and Jenin targeting Jewish communities nearby. Israeli Security officials say any Judea and Samaria missile attack would open a whole new front of rocket targets against Jewish communities in the territories and against neighboring cities, including Jerusalem. The Israeli Defense Forces has not yet officially confirmed this week's claimed northern Samaria rocket attacks. Palestinian and Jordanian officials said the attacks indeed took place. The Al Aqsa Brigades has the past few months previously claimed they fired rockets from northern Samaria. The IDF denied the claims only to later release select information stating some rockets had been fired from the area. Security analysts maintain publicity about terror groups' current missile capabilities in the territories could generate criticism of Olmert's Judea and Samaria withdrawal plan. Abu Oudai said the missile firings from Telkarem and Jenin were "only the very beginning of our blessed operation of launching rockets from the West Bank against Israeli cities.
Israel minimizing Judea and Samaria rocket threat?
The Al Aqsa leader described his Judea and Samaria rocket infrastructure: "With the help of Allah we succeeded to transfer rockets and technology that will bring in the very next days the number of rockets in the West Bank to hundreds. As for the kinds of rockets, they are very similar to the rockets in Gaza but here in the West Bank we are making huge efforts to improve them, especially their accuracy and distance." He said his group has stockpiles in northern Samaria of primitive versions of the Qassam rocket. Qassams are improvised steel rockets, about four feet in length, filled with explosives and fuel. They can travel between one and four miles depending on the sophistication of the particular rocket. The IDF says terror groups abilities to produce rockets in Judea and Samaria are minimal. But Abu Oudai rejected the Israeli statements, claiming his group "absolutely" has the ability to manufacture Qassams and other kinds of rockets in northern Samaria. "The Israeli army said a few years ago that Gaza rockets are nothing and that they don't present any threat to the security of Israel and its citizens," Abu Oudai said. "Now we all know what is the truth and what is the real situation. Every day our rockets in Gaza become more accurate and do more killing and this is exactly what will happen in the West Bank.
Israel Could Face A Three Front War Soon!
July 12….(FOJ) At present writing, Israel has conceded that it is already facing a two-front war with terrorist and terror-sponsoring states. The first front is located in the south around Gaza where Hamas, Islamic Jihad, and lately even Al Qaeda have launched rocket barrages into neighboring Israeli towns, and recently incited a broader war by capturing two Israeli's.
In the north, on the Lebanese border, Israel faces the Hezbollah terrorist organization, a vile militant terror machine that perpetrated the 1982 killing of 282 American marines. Hezbollah leader Nasrallah is situated in Beirut, but the Hezbollah is headquartered in Damascus and receives aid from Iran. Today, the untested and untried Israeli leader Ehud
Olmert has ordered his government to convene on 7p.m. Wednesday for an emergency meeting in wake of events on Israel's northern and southern borders. The meeting will concentrate on Israel's alternatives for a response in the international arena, including the possibility of turning to the United Nations for assistance and to the Security Council with a motion to condemn the recent attack. Olmert said Israel's response will be "restrained" but "very painful." Even in the face of the prospects of a three-front war, Olmert insists that he intends to move ahead with his "convergence plan" to withdraw from the entire West Bank, a move that would cripple Israel's security perimeter.
| | |
| --- | --- |
| | In this photo released by the Israeli army, Israeli Prime Minister Ehud Olmert,left, and Defense Minister Amir Peretz, center, meet with Israeli Army Chief of Staff Dan Halutz at his office in Tel Aviv, Tuesday, July 11, 2006. Israeli leaders ordered new incursions into the Gaza Strip, security officials said Tuesday, after the Hamas leader said he would not free an Israeli soldier |
"Syria has proved it is a terror government by nature. It is a government that supports terror and encourages murderous acts by terror groups within and outside its territory. Necessary measures will be taken against the Syrian government," Olmert said. Defense Minister Amir Peretz said that "the State of Israel considers the Lebanese government responsible for the attack in the north. The government is also directly responsible for the fate of the abducted soldiers by Hezbollah and must operate immediately and firmly in order to locate them, prevent any harm from being done to them, and return them to Israel." "The Lebanese government allows Hizbullah to operate freely against Israel from within its sovereign territory, but the real master of disaster for Israel is located in Damascus! Israel Defense Forces Chief of General Staff Lit.-Gen. Dan Halutz said the kidnapping of two soldiers by Hizbullah marks a turning point in Israel's policy towards the Lebanese government. When will Israel ever learn that Syria is simply using the country of Lebanon as a proxy for their devious attacks on Israel? The IDF has taken measures to call up reserve soldiers in preparation for a wide-scale operation in southern Lebanon, but this scenario could easily turn eastward and the world witness a horrendous war between Israel and Syria.
Syria Says Israel Deserved Hizbollah Attacks
| | |
| --- | --- |
| | Hezbollah militants marching during a rally in Baalbek, eastern Lebanon. Lebanon's Hezbollah militia has captured two Israeli soldiers prompting the first Israeli ground operation into Lebanon since its 2000 pullout. |
July 12….(Reuters) Syria said on Wednesday Israel was responsible for an operation by its ally Hizbollah in which two Israeli soldiers were captured. "Occupation is what provokes the Palestinian and Lebanese people," Vice President Farouq al-Shara told reporters. "The resistance in south Lebanon and among the Palestinian people decides solely what to do and why."
Hizbullah Attacks in the North; Two Soldiers Missing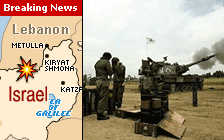 July 12….(DEBKA) Lebanon's Al-Manar television station claimed that two Israeli soldiers were taken captive by the Hizbullah attackers. Al-Manar is the on-air mouthpiece for the Lebanese terrorist group. Qatar-based Al-Jazeera also reported that Hizbullah attackers struck Israeli military outposts, taking captive two IDF soldiers at around 8:30 Wednesday morning. An IDF spokesperson later confirmed the reports of the missing personnel. With information of the kidnapped soldiers, air force planes took to the air, striking bridges and escape routes in southern Lebanon in an effort to prevent the Hizbullah from taking their Israeli captives deeper into enemy territory. Around 8:30 a.m. Wednesday, explosives and mortar shell attacks by Hizbullah on IDF positions, patrols and civilian targets along the Lebanon-Israel border injured at least eleven people and facilitated the kidnapping of two soldiers. Residents of the northern town of Shlomi were ordered into bomb shelters shortly after the first explosions were reported. IDF Chief of Staff Dan Halutz stated that "the period of quiet" has ended for Hizbullah in Lebanon. Military sources said that the Israeli retaliation to the Hizbullah attack and apparent kidnapping of IDF soldiers will be extremely strong. Prime Minister Ehud Olmert said, "These are difficult days for Israel and its citizens," adding that there are forces trying to test Israel's resolve. "They will fail and will pay a heavy price for their deeds," said the prime minister. In reaction to events along the Lebanese border and to the ongoing conflict in Gaza, Knesset Member Aryeh Eldad (National Union) called on the government Wednesday morning to carry out a "war in Lebanon and Gaza to destroy terrorist organizations." MK Eldad said that the abduction of Israeli soldier Gilad Shalit and the Hizbullah attacks this morning "again prove that it is impossible to run away from terror." Israel is calling up armored infantry and air force reserves. Israeli helicopters drop special forces over Beirut area midday Wednesday to prevent Hizballah kidnappers going to ground with Israeli hostages in Shiite district. Arabiya TV claims the two kidnapped soldiers are Druzes. Israeli reinforcements are streaming north. The Israeli force is running into roadside bombs and heavy anti-tank rocket and missile fire in the chase for the Hizballah kidnappers who snatched two soldiers early Wednesday, 12 July. Israel warplanes are striking bridges and Hizballah command posts. Naval ships are bombing Hizballah coastal positions. Preparations for the Hizballah kidnap operation were sighted well in advance at its border positions. The attack did not therefore come as a surprise. Nonetheless the first IDF probe conducted after the attack found that a Hizballah commando unit transferred from its Baalbek base had managed to infiltrate the northern border, lie in wait for two Israeli Hammer jeeps patrolling the border, and blow them up at around 0900 a.m., injuring 6 soldiers, three critically. After long moments, medical teams arrived and only then were the two kidnapped soldiers found missing. There is a strong parallel between the Hizballah kidnap operation and the Hamas attack and abduction of Gilead Shalit on June 25. The result is that Israeli is now fighting on two fronts and forced to stage incursions into two territories evacuated by its troops and used as terrorist strongholds. The Lebanese front differs from the Hamas front in Gaza in that Hizballah has arrayed its 12,000 rockets and missiles on the ready. Within their range are Israel's northern cities from Nahariya to Haifa and Hadera in central Israel. Should the war situation escalate, Syrian military and air intervention cannot be ruled out.
Syria VP Says Israeli Occupation is Root Cause of Crisis
| | |
| --- | --- |
| | The Arab-Muslim world complains that Israel is "occupying" way too much land in the Middle East! Israel has tried every conceivable way to give land away for peace, but to no avail. It is the existence of Israel that is the problem for the Arabs! |
July 12….(AFP) Syrian Vice President Faruq al-Shara has said Israel's occupation of Arab land lay at the root of a new crisis that saw Israeli troops enter Lebanon for the first time in six years. "It is certain that the occupation is provoking the Lebanese and Palestinian peoples," said Shara of the crisis prompted by the capture of three Israeli soldiers by Arab militants. "That's why there is a Lebanese resistance and a Palestinian resistance," the vice president told reporters after talks with visiting Iranian envoy Ali Larijani. Larijani too voiced strong support for the militants. "Resistance is necessary at a time when the Zionist entity is launching attacks and carrying out massacres against the Palestinian people," he said. "There are tens of thousands of Palestinians, including women and children, locked up in the Zionist entity's prisons." Syria and its key regional ally Iran are the main backers of Lebanon's Hezbollah militia, the Shiite militant group which captured two Israeli soldiers on Wednesday. The two governments also provide key backing to the governing Palestinian Islamist movement Hamas, whose military wing is among three groups which have been holding the third soldier in Gaza since June 25. Israel already fired a warning shot across Syria's bows late last month sending warplanes to buzz a presidential palace on the Mediterranean coast.
Hamas, Muslim Brotherhood Hail Hezbollah Capture of Israeli Soldiers
July 12….(AFP) The Palestinian ruling party Hamas and Egypt's opposition Muslim Brotherhood have both congratulated Lebanese militant group Hezbollah on its capture of two Israeli soldiers. "Hamas (whose military wing has also kidnaped an Israeli soldier) congratulates the leadership of Hezbollah, including Secretary General Sayyed Hassan Nasrallah and all his resistance (fighters), as well as the Palestinian people, the Arab and Muslim nations," a Hamas statement said Wednesday. "This operation which comes two weeks after the capture of an Israeli soldier in Gaza, shows the weakness of the Israeli army which boasts that it is an invincible army," it said. "Hezbollah's opération proves again the complimentarity of the resistance against the Zionist entity, whether it is in Palestine or in Lebanon." The leader of the Muslim Brotherhood also congratulated Hezbollah. "I congratulate the Lebanese Islamic resistance which managed to capture two Zionist soldiers," Mohammed Mehdi Akef said Wednesday.
Israeli Soldier Abduction Highlights US-Syria Tension
| | |
| --- | --- |
| | Tens of thousands of demonstrators march in Damascus, Monday, July 10, 2006 in a government-sanctioned protest to support Palestinians in the Gaza Strip under attack following last month's capture of an Israeli soldier. The demonstrators held Palestinian and Syrian flags, and giant photos of Syrian President Bashar Assad. |
July 11….(AP) The abduction of an Israeli soldier by Palestinian militants close to Syria is highlighting the strained relations between Washington and Damascus. The United States has been pushing Syria, which hosts leaders of the militant group Hamas, to exert pressure for the release of Cpl. Gilad Shalit, (IDF) who was captured by Hamas-linked militants on June 25. But the Bush administration has had to send the message through third parties because political contacts between the two countries are almost nonexistent. "We don't have a whole lot of communication with the Syrian government at this moment. We have an embassy there," State Department spokesman Sean McCormack said Monday. "But we have encouraged other states to tell the Syrian government to use whatever influence they may have." John Bolton, the US ambassador to the UN has called on President Bashar Assad to arrest Hamas chief Khaled Mashaal and close the militant group's office in Damascus. "We are very concerned about what we see as Syrian interference and negative activity in a variety of fields, its interference in Lebanon which continues until today, its support for Hamas which hurts the Palestinian people, and its continued interference in Iraq," said Alberto Fernandez, director for public diplomacy in the State Department's Bureau of Near Eastern Affairs. Relations between Washington and Damascus never have been warm, mainly because Syria views the United States as biased toward Israel, and Syria supports Islamic extremist groups. Washington considers the factions terrorists, but Syria says they are freedom fighters. The Bush administration has also complained about Syria letting terror-insurgents slip across the Iraq border to fight coalition soldiers. Congress has also passed the Syria Accountability Act, which accused Damascus of sponsoring terrorists and seeking weapons of mass destruction. The US also has been unhappy with Syria's refusal to expel the leaders of Hamas and the militant group Islamic Jihad. Tensions came to a head in February 2005, when Washington recalled its ambassador to Syria after the killing of former Lebanese Prime Minister Rafik Hariri in Beirut. A UN investigation has implicated top Syrian officials, but Assad has denied Syrian involvement.
Majority of Palestinians Back Kidnappings, Qassam Rocket Attacks
July 11….(DAFKA) A sizable majority of Palestinians support the continued kidnappings of Israelis as well as persistent Qassam rocket fire as a means to pressure Israel to release Palestinian prisoners, according to a new poll commissioned by the Jerusalem Media and Communication Center, the results of which were released Sunday.
Of the 1,197 respondents from the West Bank and the Gaza Strip, 66.8 percent expressed support for further kidnappings of Israeli civilians while 77.2 percent backed the Kerem Shalom tunnel operation and subsequent kidnapping of Israel Defense Forces Corporal Gilad Shalit. Nonetheless, just 47.7 percent of those polled said they believed the Shalit affair would end positively for the Palestinian side. The poll also showed that 60 percent of the Palestinian public supports the continued Qassam rocket fire into Israel as opposed to 36 percent who oppose.
President Bush to Discuss Recent Kremlin Moves With Putin
July 11….(Newsmax) While in Russia, President Bush will "speak frankly but privately" with Russian President Vladimir Putin about recent Kremlin moves to restrict political and economic freedom, Bush's national security adviser said Monday. But Stephen Hadley stopped short of suggesting that Bush would follow the course of Vice President Dick Cheney and confront Putin openly about backsliding on democracy. "There are a lot of things we have to talk about, one of which will be democracy, one of which will be energy security," Hadley told reporters in a briefing on the president's trip this week to St. Petersburg for the annual Group of Eight economic summit. Clearly, there are issues "on which we don't see eye-to-eye," Hadley said. Cheney, in a strongly worded speech in Lithuania in May, accused the Putin government of taking steps away from democracy and bullying his neighbors on energy. But with the G-8 summit approaching, and the US looking to Russia for help on North Korea and Iran, the president's criticism of Putin was expected to be far more muted. Richard McCormack, who was an undersecretary of state for economic affairs in the administration of the first President Bush, said the White House is honoring the two "unwritten traditions for economic summits." The first is that the host country sets the agenda. "The second is that you don't embarrass the host," said McCormack, now with the Center for Strategic and International Studies, a Washington-based think tank. Bush will meet separately with civil society leaders in Russia on a trip that also will take him earlier in the week to Germany. Hadley also said Bush and Putin would discuss a US decision to open discussions with Moscow on an agreement that could let Russia house spent nuclear fuel. However, Hadley said any discussions this week in St. Petersburg would just represent the beginning of talks. "It will take months to do," he said. Putin has been seeking ways to expand Russia's role in the multibillion nuclear power business by storing spent fuel, including nuclear fuel provided by the US to third countries. In the past, the US has opposed such a role, insisting on reclaiming the fuel itself. But it was seen as another issue on which the US is reaching out to Russia in exchange for help on curbing the nuclear ambitions of Iran and North Korea.
Israeli Leader Orders New Gaza Incursions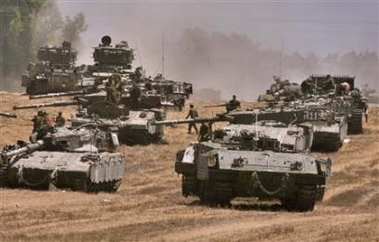 July 11….(AP) Israeli leaders have ordered new incursions into the Gaza Strip, security officials said Tuesday, after Khaleed Meshaal, the Hamas leader in Damascus said he would not free the Israeli soldier whose capture by Palestinian militants has led to the current 13-day confrontation. Prime Minister Ehud Olmert and Defense Minister Amir Peretz gave the green light to additional incursions into Gaza to free the soldier and stop Palestinian rocket attacks. The officials said the new phase would include sending troops into areas of Gaza where they have not yet operated. So far soldiers have entered southern and northern Gaza and have approached Gaza City. The European Commission, meanwhile, said it has started delivering $765,000 in monthly aid to hospitals in the Gaza Strip through an internationally backed plan that bypasses the Hamas-led government. EU spokeswoman Emma Udwin said the aid was requested by Palestinian President Mahmoud Abbas after Israel's military destroyed six transformers at a power plant during its Gaza offensive. Udwin said it was the first time the European Union was using the special aid plan, set up to keep funneling assistance to the Palestinians after the EU froze direct aid to the Palestinian government because of Hamas' militantly anti-Israel stance. Israel has demanded the unconditional release of its soldier as a condition to end the offensive. But Hamas political leader Khaled Mashaal has demanded a prisoner swap. Mashaal, speaking in Damascus, Syria, said "They will never be able to win from me any minor concession." Speaking to foreign reporters, Ehud Olmert said, "Khaled Mashaal is a terrorist with blood on his hands.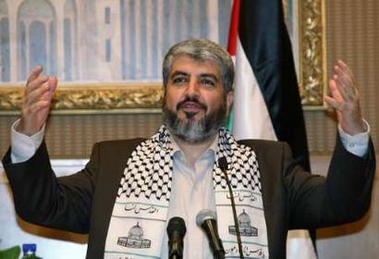 He's not a legitimate partner for anything. He's not a partner and he won't be a partner. I will not negotiate with Hamas," the Israeli leader said. At the same time, however, Olmert said the violence in Gaza would not deter him from carrying out his plan to leave the West Bank, despite a growing sentiment among Israelis that last year's Gaza pullout was a failure. Olmert said that "trading prisoners with a terrorist, bloody organization such as Hamas is a major mistake that will cause a lot of damage to the future of state of Israel." In Damascus, Meshaal appeared wearing the Palestinian checkered scarf draped over his shoulders, with an emblem of the Dome of the Rock. In another development, another Palestinian terror-militant group has fired a rocket from the northern West Bank into Israel. The Al Aqsa Martyrs' Brigades, a violent offshoot of Palestinian President Mahmoud Abbas' Fatah movement, claimed responsibility for firing rockets at an Israeli village. Palestinian rocket barrages from the West Bank could hit main Israeli population centers. At its narrowest point, Israel is only nine miles across from the Mediterranean Sea to the West Bank line.
US & Russia Discussing Deal on Nuclear Dumping
July 11….(MSNBC) In the days when the Bush administration was most worried about Russia helping to spread nukes to rogue nations, White House officials would often despair at their lack of leverage over Moscow. There seemed little they could do to alter the former superpower's behavior, especially when it came to Iran. Now, on the verge of this week's G8 summit in Russia, the White House believes it has discovered a new way to win the day: more nuclear carrots. Instead of trying to convince Russia to give up billions of dollars in contracts to build Iran's nuclear power, the White House wants to offer Moscow even bigger contracts to become the world's nuclear dump. For now, the White House says its talks with Vladimir Putin's government are at a very early stage. But the Russian nuke talks mark an important opening in at least three areas: Iran's nuclear ambitions, the US-Russian relationship and the world's growing appetite for nuclear energy. If the talks proceed smoothly, Russia would be paid to import and store spent nuclear fuel from reactors around the world. That's an expanding business opportunity for Russia: many countries are prepared to expand their use of nuclear power in the face of historically high oil prices and Russia needs Washington's agreement to take fuel from reactors supplied with uranium by the United States. What does that mean for Russia's approach to Iran's nuclear program? In public, Putin agrees that Iran should not be armed with a nuclear weapon. Yet he also stands as a roadblock to sanctions against Iran inside the United Nations Security Council. (and has warned the US against taking unilateral action against Iran) Putin's double-edged approach will come under new pressure as the nuclear talks with the United States move ahead. "We have made clear to the Russians that for an agreement on peaceful nuclear cooperation with the United States to go forward, we will need Russia's active cooperation in blocking Iran's attempts to obtain nuclear weapons," says Frederick Jones, spokesman for the National Security Council inside the White House.
US Set to Sign Russian WTO Deal At G8
July 11….(My Way) The United States and Russia are poised to sign a deal on the eve of the Group of Eight summit paving the way for Russia to join the World Trade Organization, officials and diplomats said on Tuesday. The White House played up hopes that Russia's decade-old bid to join the WTO could clear the last major hurdle when presidents George W. Bush and Vladimir Putin meet on Friday, the eve of the G8 summit in St Petersburg. Russia's Itar-Tass news agency quoted Bush as telling foreign correspondents he had sent a letter to Putin setting out the US position. "There is no lack of clarity about what should happen on the market access issue, from both sides' point of view," Bush said. "I hope that we'll sort it out." A bilateral trade deal would kick-start the first G8 summit to be hosted by Russia, and help ease recent antagonism over Moscow's growing assertiveness as a strategic energy exporter. "I hope that we will manage to successfully conclude talks with the Americans before the start of the summit," Russia's Deputy Prime Minister Alexander Zhukov told reporters. "I wouldn't want to comment on the talks now, but they are ongoing and I hope they will conclude successfully." US Trade Representative Susan Schwab is expected to travel to Moscow later this week to see if a WTO deal can be closed, the White House said on Monday. A US deal is the last major hurdle to Russian entry into the WTO. Russia is the largest economy outside the 149-member free trade club.
Ahmadinejad: Conditions for Removal of Israel Are at Hand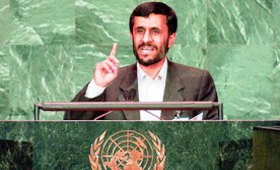 July 10….(Business Day) Iranian leader Mahmoud Ahmadinejad, clearing up any ambiguity in previous calls to "wipe Israel off the map," now used an Arabic word for the removal of body hair to describe his plans for Israel. "All the conditions for the removal of the Zionist regime are at hand," Ahmadinejad told an Arab Conference of Iraqi Neighbors meeting Saturday. For the first time, he employed the Arabic word ezaleh, which is used to describe the irreversible removal of body hairs or a woman's virginity. "Nations in the region will be more furious every day. It won't take long before the wrath of the people turns into a terrible explosion that will wipe the Zionist entity off the map," Ahmadinejad told the foreign ministers of Jordan, Syria, Saudi Arabia, Kuwait, Turkey, Bahrain and Egypt. The heads of the Arab League and the Islamic Conference were also present, in addition to a special United Nations representative. None of the foreign ministers present, including Jordan, Egypt or Turkey, commonly regarded as Israel's friends in the Arab/Muslim world, objected to the call for annihilation. Instead, the following statement was issued: "The Arab foreign ministers participating in today's Tehran meeting expressed their strong condemnation of this continuing and increasing aggression against the Palestinian people." The Iranian president went on to blame all of the region's troubles on the Jewish state. ""The basic problem in the Islamic world is the existence of the Zionist regime, and the Islamic world and the region must mobilize to remove this problem. It is a usurper that our enemies made and imposed on the Muslim world, a regime that prevented the progress of the region's nations, a regime that all Muslims must join hands in isolating worldwide." He ended with a call on all nations to cease their support of Israel. "All nations should realize that their support for the illegitimate, usurper, Zionist regime is a mistake. The waves of fury of Muslim nations will not be confined within the boundaries of the region, and the people who close their ears to the cries of the Palestinians and blindly support this regime will be responsible for the consequences." "I tell them to dissociate themselves or face the terrible consequences." Since Ahmadinejad's call to "wipe Israel off the map" last October, a quote by Iran's first Islamist leader, the late Ayatollah Khomeini, that 'this regime occupying Jerusalem must vanish from the page of time,' just as the shah's regime in Iran had vanished, Ahmadinejad has been calling for an end to the Israeli occupation of Jerusalem. The Iranian leader's threats are particularly significant as the Islamic Republic continues to pursue nuclear technology and world bodies continue to pursue diplomatic means of inducing Iran to give up its nuclear aspirations.
Syrian Officials: Golan Heights Offensive Possible
July 9….(YNET) Could the Israeli-Syrian border be heating up? Days after Israeli aircraft carried out an aerial flight over the palace of President Bashar Assad, Syrian officials began hinting that the country may open a new front in the Golan Heights if it is attacked by Israel. According to reports, the Israeli fly-over deeply embarrassed the Syrians, and officials are now seriously contemplating military action against Israel. "If Israel carries out further stupidities inside Syria, the Golan front will not remain as it is. Many Israelis will suffer as they suffered attacks from Southern Lebanon when they conducted acts of foolishness there," Parliament Member Muhammad Habash said in a television interview this week. "Syria's devotion to peace as a strategic option since the Madrid Conference does not mean that this will remain the only option forever. The Syrians have other options as well," he stated. The MP did not rule out the possibility that Syrian cells will launch a "liberation war" and "resistance" in the Golan Heights territory keeping with the tradition of the Fedayeen (armed militias). "There are many groups in Syria that are ready for a liberation and resistance war like the one the Lebanese people carried out in Southern Lebanon. There is also a front willing to carry out self-sacrificial acts on the Golan ground," Habash said. "Syria has many options. If Israel crosses the red lines, Syria won't have any," he concluded.
Mashaal: Israeli Soldier Will be Kept Alive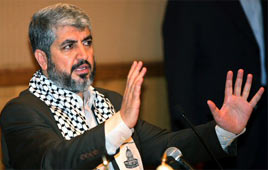 July 10….(YNET) Hamas' political leader Khaled Mashaal tells news conference in Damascus: 'Our goals and our morals command us to keep the kidnapped soldier alive.' Mashaal also insisted that Palestinian prisoners must be released in exchange for soldier. Meshaal, the Head of Hamas' politburo referred today for the first time to the kidnapping of Corporal Gilad Shalit, and said that "it's impossible to release the soldier without getting something in return. This would be humiliating for the Palestinians." Mashaal also said Israel must release Palestinian prisoners in exchange for the captured Israeli soldier. "Our people are united on the insistence to swap the captured soldier with prisoners in the jails of the Zionist enemy," Mashaal said. Mashaal told a press conference in Damascus that Shalit, captured by terrorists linked to his group is a "prisoner of war and international conventions and laws should be applied to his case." "Our goals and our morals command us to keep the soldier alive," he stressed. According to Mashaal, "the Palestinans executed a heroic operation by capturing that soldier, even though the world's response in support of Israel is not proportional to the extent of the operation. Today, the Palestinian people are united regarding this operation in a way that they had not been in the past. The operation was one of bravery for the nation. We are proud of this operation and send our condolences to the shahids and their families." "We do not claim that the tunnels, Qassam launchings and similar efforts will bring us to a balance of power Israel, given the enormous Israeli arsenal. But it is an expression of our aspirations. In essence, the Palestinian people are saying: I fight, therefore I am," he added.
WEEK OF JULY 2 THROUGH JULY 9
The Syrian Thorn
July 8….(Ha Aretz) Sometimes, when a thorn is stuck in your bottom for too long, even if it is a small thorn, an infection is liable to develop around it," a US administration official said last week. The bottom, American or Israeli; the thorn, Syrian President Bashar Assad and the Syrian regime, and now the infection is visible. The key to solving the Gaza crisis is located in Damascus, Defense Minister Amir Peretz told Secretary of State Condoleezza Rice at the beginning of the week, and it is doubtful that his words astonished her. Rice and the American administration know that Syria has become a nuisance that will continue to interfere with every process aiming to bring stability to the region. The question, of course, is how to deal with it, and to this, an adequate solution has yet to be found. Assad apparently understands the difficulty of dealing with him. The president, who earns epithets like "idiot," "childless," "hopeless," and "immature" in both Washington and Jerusalem, is showing no signs of folding. In an interview he gave to the London-based newspaper Al Hayat a few days ago, he spoke at length about his relations with Hamas. "We were asked by the Americans to lay siege to Hamas, strike at Hamas," he said. "This was the change of behavior requested of Syria." And is Syria ready to change its behavior, he was asked. "If we were, we would have done that a long time ago," he replied forcefully, leaving no room for doubt. At State Department briefings Friday, Deputy Spokesman Adam Ereli said politely that Syria's support of Hamas is "wrong, and needs to end." Behind closed doors, the Americans are sounding much harsher, but they are also prepared to admit difficulties: in the meantime, it's all words. Three years ago, the Syrians gave then secretary of state Colin Powell a kind of promise that they would close Hamas' offices in Damascus, and nothing happened. About three months ago, senior officials at both the Defense Department and State Department told Haaretz, that "the account with Syria hasn't been closed yet," and "They shouldn't think we've forgotten them." And now weeks have gone by, and there is no sign of progress. The Syrians have not been forgotten, of course, and Assad is making sure they will not be forgotten. Nevertheless, the American-French effort to bend the Syrians by means of the UN Security Council, which began with the dramatic investigation of the assassination of former Lebanese prime minister Rafik Hariri, is moving along sluggishly. And in any case, as the senior State Department official said: "The United States does not have all that many levers left for influencing the Syrians. We already have imposed nearly every possible sanction on them." Lacking an international agreement and firm action, or alternatively, a deterrent military action, Israeli, not American, it is difficult to see what will make the Syrians budge. Sami Moubayed, a Syrian political analyst, published an article about a month ago in Asia Times in which he revealed, unreservedly, the Syrian position: "Hamas was transformed, in the January 2006 election, from a political burden to a political asset." Therefore, a card was found for Assad that will prove his importance and power in the Middle Eastern arena. Khaled Meshal, the leader of external Hamas, is a pawn in his hands. If Assad decides to stop supporting him, a senior Israeli source said this week, there aren't many other countries that will agree to take him in. Perhaps Iran, but that's not certain. "Assad is watching over Meshal, because Meshal gives him power," the Israeli source said. If he wants, he lengthens the rope, and if he wants, he shortens it. An annoying situation, of course, for all concerned. The Americans, French and Israelis are angry. The Egyptians, too, are angry, mainly because of the gall involved. While Assad explains to them that he doesn't have a hand in it, Meshal is negotiating with them about the incident in which supposedly he is not involved. Nevertheless, it is unclear how the problem that Syria poses will be solved. Syria is posing a dilemma to Israel that is not simple: How far will it allow him to stretch the rope without reacting in a way that drags the region into a war, the start of which is clear but the ending of which is unknown, since already there have been sporadic, yet ineffective, attacks in the past. This is an especially annoying situation for the United States. Assad is holding up a polished mirror to it, which reflects the limitations of the superpower's strength and its ineffectiveness in dealing with the Middle Eastern arena that is a ferment of troubles and plots. True, this is a problem, a frustrated American official frankly told an Israeli colleague. "The situation in Iraq is not simple, and we are now trying to enlist the international community to deal with Iran. It's impossible to do everything all at once." Therefore, Syria is not only holding up a mirror to the United States, but also teaching a kind of lesson: It is hard to pull a thorn out of your bottom when your hands are busy stemming the bleeding from your head.
Ahmadinejad Warns of Islamic 'Explosion'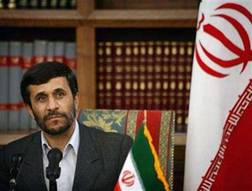 July 7….(AP) Iran's hard-line president warned Friday that continued Israeli strikes against Palestinians could lead to an Islamic "explosion" targeting Israel and its Western supporters. Mahmoud Ahmadinejad told thousands of demonstrators gathered in the capital, Tehran, to condemn the strikes in the Gaza Strip that Israel's supporters could be the target of revenge by Muslims. "They should not let things reach a point where an explosion occurs in the Islamic world," he said. "If an explosion occurs, then it won't be limited to geographical boundaries. It will also burn all those who created (Israel) over the past 60 years," he said. Ahmadinejad once again questioned Israel's right to exist. "This is a fake regime, it won't be able to survive. I think the only way (forward) is that those who created it (the West) take it away themselves," the president said. Ahmadinejad, who last year called for Israel to be "wiped off the map," has repeatedly voiced fiery rhetoric against the Jewish state. Iran supports, and has varying degrees of influence on, Islamic militant groups in the region including Hamas, Hezbollah and Palestinian Islamic Jihad. The Islamic republic also is locked in a standoff with Western nations, over its purportedly peaceful nuclear program, which the U.S. and its allies suspect is camouflage for developing an atomic bomb. At least 24 Palestinians and one Israeli soldier have been killed in fighting since Israeli army moved into northern Gaza on Thursday. The offensive is aimed at freeing a soldier captured by Palestinian militants on June 25, as well as destroying the increasingly powerful rockets that militants have been firing at Israel. Hamas' representative in Iran, Abu Osamah Abdulmota, said Cpl. Gilad Shalit would only be set free in exchange for Palestinian prisoners. "They (Israel) should know that Palestinian combatants won't release this Israeli prisoner, (unless) Palestinian prisoners are freed from Zionist jails," he said in a pre-sermon speech before weekly Friday prayers in Tehran
President Bush Chides US Partners on Iran
| | |
| --- | --- |
| | This official White House photograph shows US President George W. Bush speaking to Russian President Vladimir Putin 06 July 2006 in Washington, DC. Bush said that he was trying to get some US partners in diplomacy towards Iran and North Korea to see past their "economic interests" and take a harder line. |
July 7….(AP) US President George W. Bush said that he was trying to get some US partners in diplomacy towards Iran and North Korea to see past their "economic interests" and take a harder line. He did not name names, but he had been asked about opposition from Russia and China to imposing sanctions on Iran, which faces a US-backed deadline next week for accepting a proposal on its nuclear programs. "Some nations are more comfortable with sanctions than other nations. And part of the issue we face in some of these countries is that they've got economic interests," Bush said at a press conference here. "And part of our objective is to make sure that national security interests, security-of-the-world interests, trump economic interests. And sometimes that takes a while to get people focused in the right direction," he said. "The first step of a diplomatic solution is for there to be a common goal agreed upon by those of us participating in the process," said the US president. "I'm realistic about how things move in the world." "It takes a while for a problem to fester and grow, and then it takes a while to solve them diplomatically," he said. "That's just the nature of diplomacy. I wish we could solve them overnight, but I'm a realistic person." Bush said he expected both Iran and North Korea to be hot topics at the July 15-17 Group of Eight summit of major industrialized democracies plus Russia in Saint Petersburg. "The G-8 will be an opportunity for those of us involved with this issue to make it clear to the Iranians that we're firm in our resolve for them not to have a nuclear weapon," said the US president. "I talked to (Russian) President (Vladimir) Putin about North Korea; I also talked to him about Iran. I believe he understands the dangers of the Iranians having a nuclear weapon," said Bush.
North Korea Aimed Missile at Area off Hawaii
July 7….(AP) A North Korean missile launched on Wednesday was aimed at an area of the ocean close to Hawaii, a Japanese newspaper reported on Friday. Experts estimated the Taepodong-2 ballistic missile to have a range of up to 6,000 km, putting Alaska within its reach. Wednesday's launch apparently failed shortly after take-off and the missile landed in the sea between the Korean peninsula and Japan, a few hundred kilometres from the launch pad. But data from US and Japanese Aegis radar-equipped destroyers and surveillance aircraft on the missile's angle of take-off and altitude indicated that it was heading for waters near Hawaii, the Sankei Shimbun reported, citing multiple sources in the United States and Japan. North Korea may have targeted Hawaii to show the United States that it was capable of landing a missile there, or because it is home to the headquarters of the US Pacific fleet, the paper said. An alternative explanation might be that a missile could accidentally hit land if fired towards Alaska, the report said. A separate report in the Mainichi Shimbun daily cited US and Japanese government officials as saying a piece of the Taepodong-2 missile fell off immediately after take-off, strengthening the view that the launch was a failure.
Hamas Has Declared War on Israel
July 7….(YNET) Israeli officials are hesitant to admit it, but the Hamas rulers of the Palestinian Authority have openly declared war on Israel. Yesterday Hamas ordered their own security forces to engage IDF soldiers operating against terrorist groups in Judea, Samaria and the Gaza Strip. This action comes after Hamas orchestrated rocket attacks on Ashkelon and Sedort, before kidnapping an Israeli soldier. Hamas has given the green light to numerous rocket attacks on Israel since it withdrew from Gaza last fall.
PA Interior Minister Sayid Siam announced a high state of alert among forces in Gaza, and called on his troops "to prepare to repel the Israeli attack in Gaza. Palestinian interior and national security spokesman Abu Hilal followed up by confirming PA security forces had been given clear orders to open attack and fire on Israeli soldiers. The statements marked the first time senior PA officials have openly ordered their forces, who were armed by Israel and the West under the "Oslo" peace agreements, to turn their weapons on Israel. "Moderate" PLO chief Mahmoud Abbas reportedly refused to respond to the orders issued by the Hamas regime. Israeli cabinet minister Eitan Cabel told Ynet the Olmert government was taking the threat seriously, and was confident the IDF will be prepared and capable of defending itself. "There's no doubt that this declaration is an escalation of the situation. IDF forces will respond correctly to anyone who opens fire at them." Another senior diplomatic source said no one should be surprised by this latest development. "The Palestinian government is a terrorist government and we do not expect a terrorist government to act differently. For the sake of logic, it's worth saying that Hamas has remained Hamas, a murderous terrorist organization.
UN Council Rebukes Israeli Gaza Operation
| | |
| --- | --- |
| | Hamas and Islamic Jihad have launched hundreds of Qassam rockets into Israeli towns, hitting schools, homes, and other populated areas, but as yet the UN has not one single time renounced this activity. It is only when Israel responds to the incessant terrorist activity that the UN acts, and it always acts to condemn Israel for the situation. |
July 7….(AP) The UN Human Rights Council on Thursday deplored Israel's military operations in the West Bank and Gaza Strip as breaching international humanitarian law and voted to send a fact-finding mission to the region. By a vote of 29-11 with five abstentions, the council approved the resolution proposed by the 57-member Organization of the Islamic Conference after it was amended to suggest the Palestinians also had a responsibility to refrain from violence against civilians. "It is absolutely unacceptable" that the resolution only names Israel, Israeli Ambassador Itzhak Levanon told The Associated Press. "Obviously this resolution isn't evenhanded. It's not equitable and it's not balanced. Everybody knows that. Even those that voted in favor, they did this for political reasons." Switzerland had earlier proposed amendments saying armed Palestinian groups also should be called to account in the resolution. But the council accepted instead a more vague Islamic conference amendment that "urges all concerned parties to respect the rules of international humanitarian law, to refrain from violence against the civilian population and to treat under all circumstances all detained combatants and civilians in accordance with the Geneva Conventions." China, which was among those voting for the amendment, said the resolution should have been changed so that everyone could accept it by consensus. The resolution received considerable support from the non-Muslim members of the council, including India, Russia, South Africa, Brazil, Ecuador, Ghana, Guatemala, Cuba, the Philippines and Mauritius, Sri Lanka, Uruguay and Zambia, but a number of them said they thought the Palestinians should have been called to account as well. Canada and European countries opposed it. Neither the United States nor Israel are members. The resolution expressed "deep concern" over the "arbitrary arrest of Palestinian Cabinet ministers, members of the Palestinian Legislative Council and other officials as well as the arbitrary arrests of other civilians" and military attacks. The vote came in an emergency session of the UN body, which decided last week as one of its first acts to make it a priority to examine Israel's human rights practices in the West Bank and Gaza Strip. The emergency session, which began Wednesday, had to be carried over until Thursday after reservations arose about the Muslim states' proposal, which singled out Israel for breaches "of international humanitarian law and human rights law in the occupied Palestinian territory." US Ambassador Warren W. Tichenor said, "An historic opportunity has been lost. An historic opportunity to address the human rights situation in a fair, credible and balanced way has instead resulted in an unbalanced effort to single out and focus on Israel alone."
Al Jazeera Releases new London Bomber Tape
July 7….(Scotsman) A previously unseen videotape by one of the British suicide bombers who attacked London last July has been aired by Al Jazeera television. Speaking of the attacks which killed 52 people a year ago, the man, identified as Shehzad Tanweer, says: "What have you witnessed now is only the beginning of a string of attacks that will continue and become stronger until you pull your forces out of Afghanistan and Iraq and until you stop your financial and military support to America and Israel." Iranian protestors burn a representation of an Israeli flag in an anti-Israel rally at the Felestin (Palestine) Sq. in Tehran, Iran, Friday, July 7, 2006. Iran's hardline President Mahmoud Ahmadinejad warned on Friday that continued Israeli strikes against Palestinians in the Gaza Strip could lead to an 'explosion' in the Islamic world that would target Israel and its supporters in the West.
Iran Protests Israeli Incursion into Gaza
| | |
| --- | --- |
| | July 7….(FOJ) Pro- Palestinian government factions and Islamic organizations in Teheran today burned Israeli and American flags to demonstrate outrage at the Israeli actions against Hamas. An Islamic Mullah said that Israel was inflaming the entire Arab-Muslim world to enter the Jihad against Israel! |
China, Russia Resist UN Sanctions on North Korea
July 6….(My Way) The world's big powers appeared divided on Wednesday over whether to respond to North Korea's provocative missile tests with United Nations financial sanctions. Russia and China, as they have done with Iran, resisted calls by the US and Japan for tough action. Japan, backed by the US and Britain, circulated a resolution that would ban any country from transferring funds, material and technology that could be used in North Korea's missile and weapons of mass destruction programs. China, the North's closest ally, and Russia, which has been trying to re-establish Soviet-era ties with Pyongyang, countered that they favor a weaker council statement without any threat of sanctions. Both countries hold veto power in the council, making sanctions unlikely. North Korea, which has proclaimed itself a nuclear weapons state, has said sanctions would amount to a declaration of war. The Security Council held an emergency session at Japan's request, and council experts met late Wednesday for about 1 1/2 hours to discuss the draft resolution. Council diplomats said China and Russia stuck to their demand for a presidential statement, not a resolution. The draft resolution proposed by Japan and obtained by The Associated Press would condemn North Korea's ballistic missile launches and deplore its role as "the world's leading proliferator of ballistic missiles and related technology." It would demand that Pyongyang immediately halt "the development, testing, deployment and proliferation of ballistic missiles and reconfirm its moratorium on missile launching." If approved, the council would strongly urge North Korea to return immediately to the six-party talks "without precondition" and stop all nuclear-related activities with the aim of completely dismantling its nuclear programs, including both plutonium reprocessing and uranium enrichment. China's UN Ambassador Wang Guangya and Russia's UN Ambassador Vitaly Churkin both noted that after North Korea shocked Japan in August 1998 by blasting a Taepodong-1 missile over its territory and into the Pacific Ocean, the Security Council reacted merely with a press statement. Japan's UN Ambassador Kenzo Oshima called Wednesday's launches "far more serious." North Korea's "possible combination of nuclear weapons with missile development and testing" is unacceptable and requires "quick, strong action" by the Security Council, he said.
FOJ Note: North Korea is a mere puppet of China, and secondarily of Russia. China and Russia are using the regime in North Korea to push and prod at the US, to gage the willpower and strategy of the US in the Far East theatre. China wants the US out of the Pacific Rim arena, and Russia wants to see the US brought down from its position as the world's sole superpower, so Russia can make inroads into the Middle East and Central Asia. The wild card pushing the US out of these regions for China is North Korea, while the wildcard for Russia is Iran!
North Korea Ready to Fire More Missiles
July 6….(Newsmax) North Korea has three or four more missiles on launch pads, and the defense minister of South Korea warned that further tests were possible, South Korean media reported Thursday. "There is a possibility that North Korea will fire additional missiles," Yonhap news agency quoted South Korean Defense Minister Yoon Kwang-ung as telling lawmakers. The missiles are either short- or medium-range, reported Chosun Ilbo, one of South Korea's largest newspapers. It cited an unidentified senior South Korean official. Another major newspaper, JoongAng Ilbo, carried a similar report. The North has also barred people from sailing into some areas off the coast until July 11 in a possible sign of preparations for additional launches, Chosun Ilbo said.
Israel Creates Missile Buffer Zone in Northern Gaza
July 6….(Reuters) Israeli armored forces took over a belt of the northern Gaza Strip on Thursday, expanding an offensive after Palestinian terror-militants continued to fire rockets at a major city. Under covering fire from helicopter gunships, tanks moved into an area including the rubble of three of the Jewish settlements evacuated when Israel abandoned the Gaza Strip last summer after 38 years of occupation. The Israeli army said that troops had begun moving into the northern Gaza Strip, from where the militants fired rockets into Israel, but gave no further details. The destroyed Jewish settlements, Nissanit, Dugit and Elei Sinai are in a strategic location just along the border with Israel. Before Israel dismantled its Gaza communities, critics of the withdrawal warned that the pullout would put more Israeli cities within rocket range. A buffer zone could be the only way to keep Israeli population centers out of rocket range. But such a zone brings back bitter memories of a similar tactic Israel used in southern Lebanon, when its forces held onto a security zone for 18 years in an attempt to prevent Hezbollah guerrillas from firing rockets at Israel. Israel has said it does not intend to permanently reoccupy the territory.
North Korea Test Fire's Seventh Missile Amid Outcry

July 5….(MSNBC) North Korea test-fired another missile Wednesday, intensifying the furor ignited when the reclusive regime launched at least six missiles, including a long-range Taepodong, earlier in the day. The missiles apparently fell harmlessly into the Sea of Japan, and US officials said the long-range Taepodong-2 failed some 40 seconds after take-off, calling into question the technological capability of North Korea's feared ballistic missile program. Pyongyang last fired a long-range missile in 1998. But the audacious military exercise drew immediate attention and condemnation. The North American Aerospace Defense Command monitored the launches as they progressed but soon determined they were not a threat to the United States, a spokesman said. The political reaction was swift. The White House called the tests a "provocation," while the UN Security Council scheduled an emergency meeting for Wednesday and Tokyo warned of economic sanctions against the impoverished, communist country. NATO condemned the tests, saying the move threatened the stability of the region and beyond, and Russia expressed "serious concern".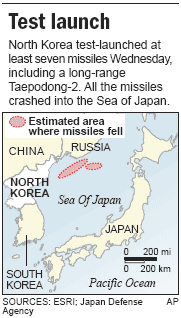 "The Russian side calls on North Korea to exercise restraint and the observances of the commitments it has taken upon itself in the missile sphere, and will outline its position on the given question within the framework of international law and taking into account the task of guaranteeing regional stability," the Foreign Ministry said in a statement. In China, which has been an ally to North Korea, Foreign Ministry spokesman Liu Jianchao said in a statement that "we are seriously concerned about the events that have occurred. We hope that all sides will maintain calm and restraint." North Korea remained defiant. A North Korea foreign ministry official told Japanese journalists in Pyongyang that the regime there has an undeniable right to test missiles. "The missile launch is an issue that is entirely within our sovereignty. No one has the right to dispute it," said Ri Pyong Dok, a researcher on Japanese affairs at North Korea's foreign ministry. "On the missile launch, we are not bound by any agreement." The United States denounced the launch, but did not consider it a threat to national security, and officials vowed a diplomatic rather than a military response. "We are urgently consulting with members of the (UN) Security Council," said John Bolton, the US ambassador to the United Nations. Thomas Schieffer, the US ambassador to Japan, called the launches "a provocative act," and the White House said Pyongyang had further alienated itself from the world community.
Russia Threatens World Trade Unless US Backs WTO Bid
July 5….(Financial Times) Vladimir Putin threatened yesterday to stop implementing global trade rules his country had signed up to unless the US agreed to Russian entry to the World Trade Organization. But two of the Russian president's senior officials said they were still hopeful agreement with the US could be reached in time for next week's Group of Eight summit in St Petersburg. Agreement between the two countries would remove the last main obstacle to Russian membership of the 149-member trade body and could give Russia a breakthrough to announce at the summit on July 15-17. A deal has been held up over US demands for Moscow to allow foreign banks to open directly owned branches, rather than having to set up Russian subsidiaries. Russia said it had security concerns about foreign banks. A WTO deal could clear the way for Gazprom, the Russian gas company, to announce the go-ahead for development of the enormous Shtokman gas field in the Barents Sea, and say which of the five short listed foreign oil companies, including two US groups it has chosen as its partners. While the US and Russia have denied any specific link, Russia is thought to have delayed announcing the Shtokman partners until it is sure of entry into the global trade body. In what some analysts saw as a tactic to put pressure on the US, Mr. Putin took an aggressive line yesterday. "If for some reason we don't manage to reach agreement, we will withdraw from those obligations that we have not only approved but which, even before entering the organization, we are already fulfilling," he told leaders of the International Chamber of Commerce. Putin did not elaborate on what he had in mind. However, recurrent gripes by trading partners include Moscow's implementation of food safety rules that have led to import restrictions on US chicken, Polish meat and Georgian and Moldovan wine, as well as concerns over intellectual property protection and security of energy supplies. Sergei Prikhodko, a senior foreign policy aide to the president, said Russia "would very much like" a deal by the summit, but cautioned that "any process has two partners".
NORAD Monitored North Korean Missile Launches
July 5….(AP) The North American Aerospace Defense Command monitored the launches of a series of missiles from North Korea Tuesday but soon determined they weren't a threat to the United States, a spokesman said. "We were immediately aware of six launches from North Korea," said Michael Kucharek, a spokesman for NORAD and the US Northern Command. NORAD, a joint US and Canadian command, monitors the skies for threats like missiles, aircraft and space objects from inside the Cheyenne Mountain Air Force Station. It relies on radar and satellites and other systems, Kucharek said. "We continue to monitor the situation (in North Korea) and are looking for and will defeat any threat to the United States and its territory," he said. US officials said that North Korea launched a long-range missile that may be capable of reaching the United States, but that the missile failed after 35 or 40 seconds. NORAD was also busy monitoring the space shuttle launch on Tuesday, Kucharek said. Cheyenne Mountain, which contains elements of both NORAD and Northern Command, was placed on heightened security within the past couple of weeks, Kucharek said, but he wouldn't say whether the change was made because of rumors of a possible missile launch in North Korea.
Hamas Launches Missiles at Israeli City
July 5….(FOJ) North Korea wasn't the only nation launching missiles over the last couple of days. Hamas, in conjunction with Palestinian national security forces with Jihad Islamic fired first Hamas Qassam missiles into Ashkelon's town center Tuesday from their vicinity near Erez. The missile attack was ordered by Hamas, and it damaged a school in Ashkelon, but caused no casualties. It took the Palestinian missile squads nine months of trial and error firing to hit the southern Israel port town of 120,000 to calculate the precise angle of fire for hitting the town center, 10km away. From northern Gaza, Hamas is able now to mount a massive missile assault on Ashkelon, an urban location more densely populated than Sderot and home to strategic facilities, the Ashkelon-Eilat oil pipeline, oil port and main power station. Israeli Prime Minister Ehud Olmert, attending the US ambassador's 4 of July reception in Herzliya, called the attack on Ashkelon an unprecedented escalation in the terrorist war. Israel's portioned response leaves Hamas free to carrying on shooting at Ashkelon and possibly other Israeli towns. In all, five Qassam missiles were fired from Gaza earlier Tuesday, one exploded in Sderot's industrial zone.
Israel To Forge Into Gaza as Mideast Crisis Spirals
July 5….(AP) Israel has authorized its army to forge deeper into Gaza and to step up attacks on the Hamas-led government after Islamist militants launched an unprecedented rocket strike on the Jewish state. Prime Minister Ehud Olmert's security cabinet ordered the military to intensify air raids against Hamas as well as so-called targeted killing operations against militants who launch or order rocket attacks. The army was also given the go-ahead to increase an assault on northern Gaza by surrounding two key towns and enlarging an interdiction zone to be enforced by aircraft and artillery in a bid to stave off rocket attacks. The decisions followed the most spectacular operation against Israel since a soldier was captured 10 days ago, plunging the Middle East in a fresh crisis, when Hamas militants fired a new type of rocket into the heart of Ashkelon. The first Qassam rocket to hit the centre of the southern coastal town ploughed into a school, causing no injuries but drawing furious calls for retribution from members of the Israeli government.
"The goals we have set forth remain: releasing the kidnapped soldier Gilad Shalit and stopping projectile fire," said a security cabinet statement. As a result, the cabinet instructed the defense establishment to prepare "for prolonged and graduated security activity". The goals of the campaign were described as "damaging Hamas in the West Bank and Gaza, with an emphasis on institutions and terror infrastructure," and "reducing terrorists' freedom of movement by continuing to section off the Gaza Strip and striking at infrastructures that serve terrorism". Olmert himself branded the rocket attack on Ashkelon an "unprecedented and severe escalation in the terrorist war being waged by Hamas," which would have "unprecedented and far-reaching consequences". But Palestinian chief negotiator Saeb Erakat said Israel's plans to enlarge an interdiction zone in northern Gaza would only make matters worse. "Israel is using the recent developments as a pretext to impose faits accomplis. A security zone will not solve the problem, but on the contrary, help further the escalation and complications," Erekat said. Repeated calls for restraint from the international community have largely fallen on deaf ears in what has become the worst Middle East crisis since Hamas came to power in March and Olmert formally took the Israeli helm in May. Overnight, Israeli warplanes attacked the Hamas-run interior ministry in Gaza City for the second time in a week, causing heavy damage and wounding four Palestinians, local medical sources said. Israeli aircraft also pounded other targets in Gaza for the eighth consecutive night as the crisis sparked by the June 25 abduction of the 19-year-old Shalit continued to mount. As dozens of Israeli tanks, bulldozers and personnel carriers edged into Gaza from the north and more forces were poised to thrust into the strip from the south, the expected major offensive appeared closer than ever. The return of ground troops to what is one of the most densely populated areas on earth comes less than 10 months after Israel executed its historic withdrawal from the territory last September following a 38-year occupation. By claiming the rocket strike, the armed wing of Hamas vowed to step up its attacks after Israel rejected a prisoner swap and pressed on with its Gaza offensive. The Ezzedine al-Qassam Brigades said it launched a "new type of rocket" with a longer range than those fired daily at Israel in recent days, promising "a new era of violence" if the Jewish state did not stop its military operation.
| | |
| --- | --- |
| | Graphic with map of Israel and the Palestinian territories locating the latest violence. Israel has authorised the army to forge deeper into Gaza and to step up attacks on the Hamas-led government after Islamist militants launched an unprecedented rocket strike on the Jewish state. |
(FOJ) Last night's Kassam rocket attack on the heart of Ashkelon, Israel's fifth-largest city, with a population of nearly 110,000 marks the latest "major escalation" in the Hamas war against Israel. Hamas has marked a number of achievements over the past year, beginning last summer with Israel's retreat from Gaza, and continuing a few months later with the Israeli and US consent to allow the terrorist group to participate in the Palestinian Authority election. Following its overwhelming victory in the PA election, Hamas has continued its success by forming a government, and then evading the Western countries' financial boycott by raising hundreds of millions of dollars from Muslim countries such as Saudi Arabia and Iran. In the meanwhile, Hamas terrorists have launched a massive rocket campaign against Sderot and other Negev areas, implemented an impressive attack in which they tunneled into Israel, killed two soldiers and kidnapped a third, and have now successfully rocketed Ashkelon. With the now-proven 10-12 kilometer range of the new Kassams, Hamas is showing that it is ready to march terror cells out of Gaza towards Jerusalem, as has always been its intent.
US $100 Million Transferred to Abbas
July 4….(Jerusalem Post) The Arab League and Saudi Arabia have transferred some US $100 million (euro 78 million) to the Palestinians, the first funding since international aid was cut off after Hamas militant won legislative elections, a top Palestinian official and the Arab League said Tuesday. Nabil Shaath, an aide to Palestinian President Mahmoud Abbas, said the Arab aid money bypassed the Hamas government and was transferred directly to Abbas on Monday. The Palestinian president will control how the funds are spent, he said. The EU, the US and other donors froze hundreds of millions of dollars (euros) in direct aid to the Palestinian government after Hamas won elections in January, demanding that the group recognize Israel and cease all support of terrorism. Speaking to reporters after a meeting with Arab League Secretary-General Amr Moussa in Cairo, Shaath said the Arab League had transferred half of the US $100 million (euro 78 million), while Saudi Arabia directly transferred the other half. "This is a glimpse of hope ... and a step toward squeezing-out of the siege," said Shaath.Moussa said the Hamas-led government had had knowledge of the transfer. "The transfer was in complete coordination with the Palestinian government," he said. Since March, Arab states have collected more than US $100 in aid for the Palestinians, but the money could not be transferred because international banks refused to allow the Arab League to transfer funds electronically to Palestinian territories, fearing sanctions from the US, which labels Hamas a terror group. Shaath and Moussa did not specify how the funds were transferred to the Palestinian Authority on Monday, or where the money had come from. The Hamas government, nearly bankrupted by the international sanctions, has resorted to bringing cash in suitcases to help keep it afloat. Twice last month, globe-trotting Palestinian cabinet ministers returned to the impoverished Gaza Strip at the border crossing with Egypt with millions of dollars stuffed in their luggage. The ministers did not specify who had donated the cash. "Money can be transferred if it is going to the President and if it is under his supervision," his deputy Mohammed Sobeih told The Associated Press. Shaath did not specify on Tuesday how Abbas will disburse the money received from the Arab League and Saudi Arabia.
North Korea Long-range Missile Fails in Test Launch
July 4….(MSNBC) Defying stern warnings from Washington and Tokyo, North Korea launched a long-range missile Wednesday that may be capable of reaching America, two US officials said. But they said the missile failed after 35 or 40 seconds. The audacious military exercise by the isolated communist nation came as the United States celebrated the Fourth of July holiday and launched the space shuttle Discovery from Cape Canaveral, Fla. "We are urgently consulting with members of the Security Council," said John Bolton, the US ambassador to the United Nations. The North also fired two other missiles, the State Department said. Initial intelligence indicates that one was a Scud missile and the other a Rodong. The Scuds are short-range and could target South Korea. The Rodong has a range of about 620 miles and could target Japan. All three landed in the Sea of Japan between Japan and the Korean Peninsula, said the Japanese government. State Department officials, who spoke on condition of anonymity, said the long-range missile was the Taepodong-2, North Korea's most advanced missile with a range of up to 9,320 miles. Experts believe a Taepodong-2 could reach the United States with a light payload. The missiles all landed hundreds of miles away from Japan and there were no reports the missiles caused damage within Japanese territory. If the timing is correct, the North Korean missiles were launched within minutes of Tuesday's liftoff of Discovery, which blasted into orbit from Cape Canaveral in the first U.S. space shuttle launch in a year. North Korea's missile program is based on Scud technology provided by the former Soviet Union or Egypt, according to American and South Korean officials. North Korea started its Rodong-1 missile project in the late 1980s and test-fired the missile for the first time in 1993. North Korea had observed a moratorium on long-range missile launches since 1999. It shocked the world in 1998 by firing a Taepodong missile over Japan and into the Pacific Ocean. The Bush administration responded by saying while it had no intention of attacking, it was determined to protect the United States if North Korea launched a long-range missile. On Monday, Undersecretary of State Nicholas Burns warned North Korea against firing the missile and urged the communist country to return to six-nation talks on its nuclear program. The six-party talks suspended by North Korea, involved negotiations by the United States, China, South Korea, Japan and Russia with Pyongyang over the country's nuclear program. The United States and its allies South Korea and Japan have taken quick steps over the past week to strengthen their missile defenses. Washington and Tokyo are working on a joint missile-defense shield, and South Korea is considering the purchase of American SM-2 defensive missiles for its destroyers.
America Formed In Her Destiny, But Can She Be Kept?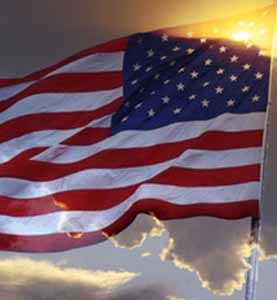 July 4….(Bill Wilson/KIN) The Lord said in Jeremiah 34:15, "And you were now turned, and had done right in My sight, in proclaiming liberty every man to his neighbor; and you had made a covenant before me in the house which is called by my name." And some 2,200 years after Jeremiah wrote these words, America stepped into what many would say what her prophetic destiny, a new land in covenant with God. But can we keep her? Even today as we celebrate the birth of our nation, there are those who seek to destroy her. Many stand before the White House today who use the very laws that preserve The United States of America to tear the nation apart. Cindy Sheehan, a communist supporter and anti-American revolutionary, along with her fellow hate-America minions, today uses her freedom of speech to rally the enemies of this great nation. We were told by the Apostle John in 2 John 9-11, "Whosoever transgresses, and abides not in the doctrine of Christ, has not God. He that abides in the doctrine of Christ, he has both the Father and the Son. If there come any unto you, and bring not this doctrine, receive him not into your house, neither bid him God speed. For he that bids him God speed is partaker of his evil deeds." Such is the case with those who twist God's word and the intent of God's law. And much of the law that governs the United States is God's law. You see, nation we know and love as America, The United States of America, really began in the early 1600's when settlers came from other countries, mainly England, on an adventure that spawned the beacon of freedom and the light of Jesus Christ for the world. The Mayflower Compact, which many believe today to be the first significant governing document of what would become the United States was very specific about the covenant these men and women were entering into with God for this new land. The Mayflower Compact of 1620 reads: "IN THE NAME OF GOD, AMEN. We, whose names are underwritten, the Loyal Subjects of our dread Sovereign Lord King James, by the Grace of God, of Great Britain, France, and Ireland, King, Defender of the Faith, &c. Having undertaken for the Glory of God, and Advancement of the Christian Faith, and the Honor of our King and Country, a Voyage to plant the first Colony in the northern Parts of Virginia; Do by these Presents, solemnly and mutually, in the Presence of God and one another, covenant and combine ourselves together into a civil Body Politick, for our better Ordering and Preservation, and Furtherance of the Ends aforesaid." Some 18 years later, The Fundamental Orders of 1638, were adopted in Connecticut. Its preamble says, "For as much as it hath pleased Almighty God…knowing where a people are gathered together the word of God requires that to maintain the peace and union of such a people there should be an orderly and decent Government established according to God, to order and dispose of the affairs of the people at all seasons as occasion shall require; to maintain and preserve the liberty and purity of the Gospel of our Lord Jesus, which according to the truth of the said Gospel is now practiced amongst us; as also in our civil affairs to be guided and governed according to such Laws, Rules, Orders and Decrees. These documents and many others like them dispel the lie that America is not a Christian nation. We allow freedom to all religions, because our God in Christ Jesus will not force Himself upon others, but rather allow them to come voluntarily. But the foundation of our nation must remain Christian otherwise we will not so long be a nation of freedom and justice. God's sovereignty must be the rule of man. Blessings to America and her sons and daughters on this day; the celebration of our nation. Remember your heritage in order to keep your future.
Olmert Issues Veiled Threat Against Syria
July 4….(AP) Prime Minister Ehud Olmert on Tuesday ignored a deadline to begin releasing Palestinian prisoners and instead issued a veiled threat against Syria, vowing to strike "those who sponsor" the militants in the Gaza Strip who seized a young Israeli soldier. Olmert's comments signaled that a flurry of diplomacy throughout the region is still no closer to securing the release of Cpl. Gilad Shalit. The Palestinian militants holding Shalit angrily said they would not release any more information about him after Israel ignored their ultimatum to begin releasing hundreds of prisoners early Tuesday. But they said they would not kill the soldier, after earlier signals that he would be harmed. Speaking at a business conference in southern Israel, Olmert repeated his long-standing refusal to negotiate with Shalit's captors. "We won't negotiate with terror elements and we won't let anyone believe that kidnapping is a tool to bring Israel to its knees," he said. He told the audience he has ordered the army to push forward with efforts "to strike terrorists and those who sent them and those who sponsor them," an apparent reference to Syria. "None of them will be immune." Since Shalit was captured June 25 in a cross-border raid, Israel has made it clear that it holds Syria and Hamas' Syrian-based leader, Khaled Mashaal, responsible. Last week, Israeli warplanes buzzed the summer residence of Syrian President Bashar Assad. Israeli officials also have implied that Mashaal is a target for assassination. Israel last week launched a ground operation in Gaza, along with a campaign of airstrikes, to pressure the ruling Hamas party to secure Shalit's release. Cabinet minister Roni Bar-On, who is close to Olmert, threatened harsh action if the soldier is harmed. "It's safe to say, the sky will fall on them if Gilad Shalit is harmed," he added. "If he is killed, we will react in ways the Palestinians haven't seen before." In Gaza City, Palestinian Prime Minister Ismail Haniyeh, a top Hamas official, called on Shalit's captors to protect the soldier and expressed hope for a peaceful resolution to the standoff. "The government is exerting efforts with Palestinian, Arab and regional parties to end this case in the appropriate manner," Haniyeh said at the opening of a Cabinet meeting. Egypt has been leading international mediation efforts, including talking to Syria. Turkey, which neighbors Syria and is a key Muslim ally of Israel, also has sent an envoy to Damascus. "We are dealing with more than one Middle Eastern government to see if the release of our serviceman can be secured. Early Tuesday, Olmert and Defense Minister Amir Peretz decided to gradually step up the military operation in northern Gaza, defense officials said.
Mary Can Bring Religions Together Says Muslim Writer
July 4….(Independent Catholic News) An Egyptian Muslim and deputy director of a prominent Italian newspaper has suggested that Mary could be the figure to bring Christians and Muslims together. Mr Magdi Allam of Il Corriere della Sera has launched an appeal in the pages of the national daily newspaper to Muslims in Italy to visit Marian shrines. The journalist said that he is convinced that the Virgin Mary is a meeting point between Christians and Muslims. "Mary is a figure present in the Koran, which dedicates an entire chapter to her and mentions her some thirty times. In Muslim countries there are Marian shrines that are the object of veneration and pilgrimage by Christian and Muslim faithful," he said. "Therefore, I believe that if this happens in Muslim countries, why can't it happen in a Christian country, especially in this historical phase in which we need to define symbols, values and figures that unite religions, spiritualities and cultures?" he asked. In Allam's opinion, "the Marian pilgrimage of Loreto - Italy's National Shrine - could represent a moment of meeting and spiritual gathering between Muslims and Catholics, around Mary, a religious figure that is venerated by both religions."
North Korea Threatens US with 'Nuclear War'
July 3….(AP) North Korea vowed today to respond with an "annihilating" nuclear strike if its atomic facilities are attacked pre-emptively by the United States. The Bush administration responded sternly, saying while it had no intention of attacking, it was determined to protect the United States if North Korea launched a long-range missile. "Should North Korea take the provocative action of launching a missile the US would respond appropriately, including by taking the necessary measures to protect ourselves," Julie Reside, a State Department spokeswoman, said. Still, Reside said, the United States and other countries that have negotiated with North Korea are seeking a fundamentally different relationship with the reclusive regime. She said that relationship must be based on the complete and verifiable elimination of North Korea's nuclear weapons and nuclear program. "We and our partners in the six-party process continue strongly to urge North Korea not to launch a long-range missile and, instead, to return to the six-party talks," she said in a statement. The six-party talks suspended by North Korea, involved negotiations by the United States, China, South Korea, Japan and Russia with Pyongyang over the country's nuclear program. The North's warning effectively stepped up its customary anti-US vitriol, in which it often accuses Washington of plotting an attack. The North has recently come under heightened scrutiny after reports by the United States and Japan that it has taken steps to prepare for a test of a long-range missile. The North's Korean Central News Agency, citing an unidentified "analyst" with the state-run Rodong Sinmun newspaper, accused the United States of harassing Pyongyang with war exercises, a massive arms buildup and increased aerial espionage by basing new spy planes in South Korea. "This is a grave military provocation and blackmail to the DPRK, being an indication that the US is rapidly pushing ahead in various fields with the extremely dangerous war moves," the dispatch said. "The army and people of the DPRK are now in full preparedness to answer a pre-emptive attack with a relentless annihilating strike and a nuclear war with a mighty nuclear deterrent," the report said. DPRK stands for the North's official name, the Democratic People's Republic of Korea. The report concluded by urging the US to "get out of South Korea promptly." About 29,500 US troops are stationed in South Korea as a deterrent against the communist North. On Friday, Pyongyang accused the United States of driving the situation on the Korean Peninsula "to the brink of war," and said it is fully prepared to counter any US aggression. Washington and Japan have said in recent weeks that spy satellite images show North Korea has taken steps to prepare a long-range Taepodong-2 missile for a test-launch. Estimates for the range of the missile vary widely, but at least one US study said it could be able to reach parts of the United States with a light payload. Speculation that Pyongyang could fire the missile has waned in recent days, however, since the country's top ally and a major source of its energy supplies, China, publicly suggested North Korea should not to go ahead with the test. A news report said Monday that China has offered a new proposal over the stalled six-party talks. Chinese State Councilor Tang Jiaxuan told Ichiro Ozawa, the head of Japan's main opposition party, that China had relayed the proposal to Japan, the two Koreas, the United States and Russia, Kyodo News agency reported, citing party officials. The United States and its allies South Korea and Japan have taken quick steps over the past week to strengthen their missile defenses. Washington and Tokyo are working on a joint missile-defense shield, and South Korea is considering the purchase of American SM-2 defensive missiles for its destroyers. The US and North Korea have been in a standoff over Pyongyang's nuclear weapons program since 2002. The North claims to have produced nuclear weapons, but that claim has not been publicly verified by outside analysts. While public information on North Korea's military capabilities is murky, experts doubt that the regime has managed to develop a nuclear warhead small enough to mount on its long-range missiles. Nonetheless, Lt. Gen. Michael Maples, director of the Defense Intelligence Agency, told US lawmakers last week that officials took the potential launch reports seriously and were looking at the full range of capabilities possessed by North Korea
Israel Rejects Hamas Demand For Prisoner Release by 6:00am Tuesday
| | |
| --- | --- |
| | IDF armored vehicles drive towards the Gaza Strip from a gathering point near Kibbutz Mefalsim, southern Israel, just outside the Gaza Strip early today. |
July 3….(Jerusalem Post) We will not conduct any negotiations on the release of prisoners," Prime Minister Ehud Olmert said Monday, officially rejecting an ultimatum released this morning by the kidnappers of IDF Cpl. Gilad Shalit that set a 6:00 a.m. Tuesday deadline for the release of Palestinian prisoners. "Israel will not give in to extortion by the Palestinian Authority and the Hamas government, which are led by murderous terrorist organizations. The PA bears full responsibility for the welfare of Gilad Shalit and for returning him safe and sound to Israel," Olmert continued. The prime minister's statement came shortly after IDF Chief of General Staff Lt.-Gen. Dan Halutz said during a visit to Shalit's family that he supported Israel's position not to give in to extortion. A statement faxed to news agencies by the three terrorist organizations that coordinated the kidnapping said that if Israel did not meet the deadline, it would have to "pay the full future consequences," but did not specify the nature of the consequences. "We give the Zionist enemy until 6:00 tomorrow morning, Tuesday, July 4," the fax said. "If the enemy does not respond to our humanitarian demands mentioned in previous leaflets on the conditions for dealing with the issue of the missing solder, we will consider the current file of the solider to be closed, and then the enemy must bear all the consequences of the future results." "The enemy proves time after time that it is trapped by personal considerations and by military illusions tainted by Palestinian blood, and fails to take into account all the human factors, even their own soldiers'," the message continued. "The enemy has not learned lessons from its missing soldiers, and continues to pursue every sliver of information, while having lost dozens of opportunities in the past." Shalit's captors initially demanded the release of about 500 women and children prisoners held in Israeli jails. They later raised their demands to include an additional 1,000 prisoners. Israel is currently holding about 9,000 Palestinians. In a series of interviews Sunday, including with CNN and Sky News, Peres said, "Hamas is responsible for what is happening in Gaza." Even Egyptian President Hosni Mubarak's efforts to bring about a solution through diplomatic measure were rejected by Hamas, he said. Peres repeated the government line that Syrian President Bashar Assad needs to expel the terrorist apparatus working from its soil, and rejected Assad's claim that he knew nothing about Damascus-based Hamas leader Khaled Mashaal's activities. "We were forced to act in order to carefully defend ourselves," Peres said Sunday. "We did not cause any civilian casualties.
Hamas Raises War Stakes
July 3….(DEBKA) Hamas has raised the stakes in its war of nerves against Israel, and will most probably keep tension high by repeated extensions of its deadline. Hamas views Israel's mixed responses to the crisis as betraying vacillation and divided resolve, as they also want to test the resolve of the new Israeli leader. On the one hand, Israeli Prime Minister Ehud Olmert and defense minister Amir Peretz, thunder repeatedly that Israel will not succumb to blackmail and reward terrorist hostage-taking by freeing Palestinian prisoners; on the other, undercover, indirect negotiations are allowed to go forward with Hamas and its kidnap team, implying Israel's willingness to discuss freeing Palestinian prisoners for the abducted soldier. The Palestinians are likewise not impressed by the military steps Israel has pursued in the Gaza Strip since Shalit was taken hostage:
1. Despite high-sounding declarations of intent, the IDF does not appear to be searching for the missing soldier or trying to bring the abductors under direct military pressure. Jerusalem's sole targeted actions have been confined to diplomacy and getting nowhere.
2. After their limited incursion, Israeli armored forces have been more or less stationary and left the Palestinian military build-up in the Gaza Strip unscathed.
3. The international machine Israel brought to bear on Syria, and through the Syrian ruler on Hamas-Damascus, has been easily parried. The statement made by US secretary of state Condoleezza Rice Sunday night, July 2, telling Israel to beware of a humanitarian crisis in the Gaza Strip is interpreted by the Palestinians as warning Israel off expanding its military offensive. Heartened by these developments, the abductors slapped down their trump card, the life of their hostage Gilead Shalit ,Monday, July 3, in a bid to goad Israel into staging its inevitable military clash with the Palestinians sooner rather than later, before Israeli intelligence tracks them to their lair. In issuing its ultimatum, Hamas set the pace by proving faster on the draw than Israel in filling the vacuum left by the failed Egyptian mediation.
Assad Continues to Shield Hamas Leaders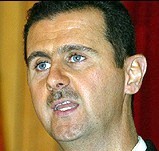 July 3….(DEBKA) Hamas politburo member Muhammed Nazal: "We shall keep the Israeli soldier alive but not release him without gain." This assurance was delivered to the Qatari foreign minister Sheikh Jassem Ben Hama al Thaini, when he traveled to Damascus Saturday, July 1, at the request of US secretary of state Condoleezza Rice. She asked him to tell Syrian president Bashar Asad that he must expel Hamas hardline leader Khaled Meshaal and his command from Damascus. Asad's reply: "I don't meddle in Palestine just as I don't interfere in Iraq." (right) He added he is willing to throw Meshaal out, on one condition: that the Americans and Israelis let him return home." DEBKAfile adds: Since Meshaal's family originates in the West Bank village of Silwad, that reply cut short the pressure on Asad to take a hand in the release of Corp. Gideon Shalit, the Israeli soldier kidnapped by Hamas. The option of stepping up military pressure on Hamas at the Gaza end was again tossed back in the laps of Israeli Prime Minister Ehud Olmert and defense minister Amir Peretz.
Israel Hits Haniyeh's Office
July 3….(AP) An Israeli helicopter fired a missile into the empty office of Palestinian Prime Minister Ismail Haniyeh on Sunday in an attack that punctuated threats to target the Hamas leadership unless an abducted soldier is freed.
| | |
| --- | --- |
| | Palestinian PM Haniyeh showing PA Chairman Mahmoud Abbas the remains of his Gaza office after it was hit by in an IAF strike early Sunday morning. |
The air strike was part of a military offensive in the Gaza Strip that has been coupled with statements from Israeli leaders that no one in the Hamas-led government should believe he was immune from attack. "We will strike anyone who harms the citizens of Israel. No one will go unpunished," Israeli Prime Minister Ehud Olmert told his cabinet in broadcast remarks, without mentioning Haniyeh. Haniyeh was not in the office at the time of the strike, witnesses said. He arrived quickly to survey the damage to find shattered furniture and windows, and a portrait of late president Yasser Arafat blown off the wall. "This is the policy of the jungle and arrogance," Haniyeh told Reuters. "Nothing will affect our spirit and nothing will affect our steadfastness." Israel last assassinated top Hamas leaders in 2004, killing Sheikh Ahmed Yassin and Abdel-Aziz al-Rantissi. Palestinian Authority Chairman Mahmoud Abbas on Sunday criticized a "criminal" Israel Air Force missile strike on the Gaza offices of Palestinian Prime Minister Ismail Haniyeh. Abbas and Haniyeh met Sunday morning, and after the meeting surveyed Haniyeh's damaged office together, waving through a hole in the wall. UN Secretary General Kofi Annan on Sunday called the strike on Haniyeh's officer "inadvisable", saying Palestinian institutions must be preserved as the basis of a Middle East peace.
"I remain very concerned about the need to preserve Palestinian institutions and infrastructure. They will be the basis for an eventual two-state solution, and now that's in the interests of both Israel and the Palestinians," Annan told a news conference at an African Union summit in Gambia. "It would therefore seem inadvisable to carry out actions that would have the opposite effect," he added. Vice Premier Shimon Peres said the attack on the office of Haniyeh came "in the middle of the night" on Sunday, when Israeli officials knew Haniyeh would not be present. "It was a clear warning that he has to stop this double behavior," Peres told CNN's Late Edition. "Either it's a government with all the responsibilities of a government, or it's a terrorist organization, with all the consequences that stem from it."
NORAD Air Defense On Heightened Alert
July 3….(WND) As the US continues to express concern about the possibility of a North Korean missile test directed toward American territory and the rest of the world holds its breath over a close encounter with an asteroid, several US air bases are on heightened alert. But no one is talking about why. The Cheyenne Mountain Air Station, which houses NORAD – charged with monitoring the North Korea situation, is now at "Bravo-Plus." Other air bases in Colorado, California and Florida are also on heightened alert status. There are five levels of alert: normal, Alpha (low), Bravo (medium), Charlie (high) and Delta (critical). "Bravo-Plus" is slightly higher than a medium threat level. The Bush administration has urged North Korea to abandon its plans to test a long range missile. The Pentagon believes the missile is capable of reaching the United States. NORAD and the US Northern Command in Colorado would play a big role in both detecting and responding to a missile launch if it ever occurred. The US missile defense system is only a few years old, but could be tested if North Korea chooses to act. Meanwhile, in a development that may or may not be related to the heightened security alert, an asteroid up to half a mile wide is due to brush past the Earth early today. Scientists who have been tracking asteroid 2004 XP14 say it will approach almost as close as the Moon, traveling at 10.5 miles per second. It has been classified as a Potentially Hazardous Asteroid (PHA), along with 782 known others. Initially there were concerns that the asteroid might collide with the Earth later this century. However, further analysis of its orbit has ruled this out, at least for the foreseeable future. If XP14 did hit the Earth the effects would be devastating. "It would probably be big enough to wipe out a small country," said Dr David Asher, from the Armagh Observatory in Northern Ireland.
The End of Deterrence
July 3….(commentary by Joseph Farah) It should surprise no one that North Korea is threatening to test-fire a long-range missile in the direction of the US. North Korea is believed to possess an arsenal of up to eight nuclear weapons. It has developed a new intercontinental ballistic missile, the Taepodong 2, which is more than capable of reaching North America. And it has a ruthless, barbaric, America-hating, socialist dictator running every aspect of what passes for life in the starving, backward, prison nation. What should America's response be to this threat? What has America's response been? For 60 years, America has deterred nuclear threats by letting its enemies know that any missile launch against it by a nuclear power would be met with an overwhelming nuclear response. This is the policy that kept the uneasy peace throughout the Cold War years and subsequently. No leader in his right mind would consider launching a missile, armed or unarmed, against the US knowing it would result in his country's total annihilation. There are two problems with this policy as it pertains to the North Korea launch: North Korea's Kim Jong-Il may or may not be in his right mind. There are many reasons to suggest he is not. He has demonstrated a complete lack of compassion toward his own people, leaving millions near starvation while he feeds his own sophisticated war machine far in excess of anything needed to defend his country, which faces no realistic external threats. In the current crisis, President Bush has completely abdicated his sworn constitutional responsibility to defend the United States from attack by refusing to reassert the nation's long-standing policy of "launch on warning." (FOJ--this national defense policy was actually changed on November 14, 1994 by a Clinton Administration executive order on our national nuclear response policy) What does "launch on warning" mean? It means when NORAD detects and confirms a missile launch toward the US, the response is an all-out nuclear attack on the country responsible. Since there is no way to determine the payload of an incoming missile, the US policy must assume such a missile launch is a potentially devastating hostile act. Tacitly, however, the Bush administration has seemingly abandoned this very sensible policy with respect to the North Korean threat. Instead, the president suggests, the US will merely "try" to shoot down the incoming missile with its primitive and incomplete anti-missile system. This sweeping policy change by the Bush administration is nothing short of suicidal and illogical. It represents, even more than North Korea's nuclear arsenal, a grave threat to the security of the US. By not reminding the world that US national defense policy is "launch on warning," Bush has invited more threats like this in the future and, even worse, an attack scenario that could spell the end of America's way of life at some point in the future. If we permit North Korea to fire a missile, armed or unarmed, toward the US, with no immediate response guaranteed, what will prevent future aggression of this kind by North Korea and other enemies determined to test America's resolve? I have to tell you I am gravely alarmed by the fact that no other analyst has yet made this point as emphatically as I am making it: The only acceptable American response to North Korea's threat is to tell the world once again that any missile launch on US territory will mean an all-out nuclear attack. We can't wait to find out if the missile carries a nuclear payload. We cannot afford to lose one American city. We cannot afford to see if North Korea's "test" is actually a nuclear electromagnetic pulse attack designed to cripple the country's electronic infrastructure. We can only rely on what has worked in the past – deterrence. Overnight, and without any public debate, America's defense strategy has dramatically shifted. By not being clear with North Korea, by not stating unequivocally that a missile launch of any kind toward our country means total devastation for the enemy responsible, America has been left vulnerable to all our enemies. N. Korea even warns of nuclear war if it is attacked. North Korea will respond to a pre-emptive US military attack with an "annihilating strike and a nuclear war," the state-run media said Monday, heightening its antagonistic rhetoric.
WEEK OF JUNE 25 THROUGH JULY 2
Israel Threatens to Hit Damascus!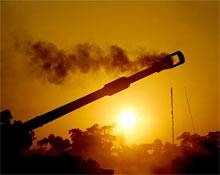 July 1….(International) Israel says that it will hold Khaled Mashal, the leader of Hamas' Syrian branch, responsible for the abduction of two Israeli soldiers and wants Syria to expel Palestinian leaders from the country. Israel threatened to kill Hamas militants based in Damascus. Al-Jazeera television said Public Security Minister Avi Dichter claimed they knew the locations of Hamas and Islamic Jihad leaders in Syria and will not hesitate to kill them. Justice Minister Chaim Ramon said, "The leader of Al Qaeda, Meshal is a terrorist of the worst kind, and the international community must exert pressure on Syrian President Bashar al-Assad to expel Meshal from Syria." Ramon claimed Meshaal gave the order for abduction and is now a target for assassination. Syrian security forces say they have tightened security measures to protect the Hamas leader.
Israel Warns Hamas: Free Soldier or PM Dies
July 1….(The Australian) Israel last night threatened to assassinate Palestinian Prime Minister Ismael Haniyeh if Hamas militants did not release a captured Israeli soldier unharmed. The unprecedented warning was delivered to Palestinian President Mahmoud Abbas in a letter as Israel debated a deal offered by Hamas to free Corporal Gilad Shalit. It came as Israeli military officials readied a second invasion force for a huge offensive into Gaza. Hamas's Gaza-based political leaders, including Mr Haniyeh, had already gone into hiding. But last night's direct threat to kill Mr Haniyeh, a democratically elected head of state, sharply raised the stakes. The bid to free Corporal Shalit was brokered by Egyptian President Hosni Mubarak, who last night warned Hamas it faced severe consequences if it did not curb its "extreme stance" and described the growing conflict as a lightning rod for Palestinian vengeance. Jerusalem has made no official comment, but Egyptian state media said Israel had found the offer unacceptable. Israel has not spelt out the terms demanded by Hamas, but earlier this week it refused to buy into talk of a prisoner swap. Thousands of Hamas supporters protested in Gaza City late on Thursday over the arrest by Israeli forces of up to 32 Hamas MPs on the West Bank that day. A Hamas spokesman said the group would never recognize Israel, in spite of a deal its leaders signed this week offering implicit recognition of the Jewish State in return for easing an economic blockade.
US: Israel Has Right to Self Defense
(US Ambassador Bolton: United States believes prerequisite for ending conflict is that Syria, Iran end their role as state sponsors of terror)
July 1….(YNET) The UN Security Council did not discuss during Saturday's emergency meeting demands made by several Arab countries that it condemn Israel's Gaza offensive, which was launched in response to the kidnapping of Corporal Gilad Shalit, and the recent arrests of senior Hamas officials in the West Bank. The discussion was summoned by Algeria, which heads the Arab bloc at the council, and was initiated by Iran in accordance with the Palestinian delegation to the UN. Israel, for its part, insisted to an emergency session of the 15-nation council that its military presence was limited to a small part of southern Gaza and intended to prevent a kidnapped Israeli soldier from being smuggled out of the area. Daniel Carmon, Israel's deputy UN ambassador said Israel was doing all it could to minimize harm to Palestinian civilians and planned immediate steps to ease the humanitarian situation on the ground. Many Middle East leaders recognized that Khaled Mashaal was "the key to resolving this humanitarian crisis" through Shalit's safe return, he said, noting the many pleas for his release directed at the Syrian government. Palestinian UN Observer Riyad Mansour accused Israel of trying to re-conquer the Gaza Strip, saying that the IDF operation in which bridges and water infrastructures were destroyed left many Palestinians without food and water. US ambassador to the UN John Bolton called for caution. "We should not undermine the limited credibility of the council by engaging in debate and rhetoric merely for their own sake," he said. The best way to resolve the crisis was for Hamas to quickly and unconditionally release the captured Israeli corporal, Gilad Shalit, he said. "The United States is of the firm view that a prerequisite for ending this conflict is that the governments of Syria and Iran end their role as state sponsors of terror and unequivocally condemn the actions of Hamas, including Shalit's kidnapping," Bolton said.
US Unwittingly Invited North Korea Threat
(Reports say bargaining with Iran led to Pyongyang's missile test)
July 1….(WND) Is testing the will of the world's lone superpower a profitable exercise? Yes, say many analysts, who suggest it is more than a coincidence that North Korea began preparations for an intercontinental ballistic missile test in the direction of the United States less than two weeks after America and its allies offered Iran new incentives for backing away from its nuclear arms program. Sources in the Pentagon and in foreign intelligence and defense establishments say North Korea was just doing what should be expected following the major powers effort to appease, or buy off – Iran. "Why wouldn't Pyongyang become just a little more bellicose?" said one foreign intelligence operative with expertise in Far East matters. "After seeing Iran getting a sweeter deal after threatening Israel's existence in a dozen different ways, it only makes sense that the squeaky wheel gets the grease. North Korea wants some grease, too." Not only is this a lesson based on observation from afar, some say, but it could well be part of a calculated effort based on consultation between North Korea and Iran, strategic allies (and both allies of Russia and China) who both see America as the ultimate evil in the world. "Iran has learned key insights from North Korea's negotiating and bargaining tactics, including the importance of maintaining strategic ambivalence over its nuclear program," Lee Chung Min, a Korean expert on Asian security, told the Associated Press. "Both are pariah states, fiercely nationalistic and mistrustful of the great powers. So, they probably share a common bond in terms of their world views, that nuclear weapons can provide prestige and power against a very hostile external environment." Iran has been a longtime customer of North Korean missile technology, and both states were linked to the network of A.Q. Khan, the founder of Pakistan's nuclear weapons program who admitted passing nuclear technology to other countries. North Korea pulled out of the Nuclear Non-Proliferation Treaty in 2003 after ejecting UN inspectors, resumed work at its plutonium-based reactor and shifted from denials or ambiguity to defiant affirmations that it made atomic bombs. Pyongyang is believed to have a nuclear arsenal of about eight or nine warheads. Tehran is considering a Western incentives package offered June 6 that would require it to suspend uranium enrichment, a process that can produce fuel for electric plants or the material for nuclear warheads. The offer is similar to one North Korea accepted in 1994, though that deal later unraveled. "The real lesson Iran learned from North Korea is that high-stakes brinksmanship brings rewards," arms control expert Mark Fitzpatrick wrote in Survival, a publication of the London-based International Institute for Strategic Studies. Fitzpatrick said North Korea's withdrawal from the nuclear arms control treaty gives credence to Iranian threats to do the same, "especially when North Korea paid no discernible price for it."
---