WEEK OF AUGUST 28 THROUGH SEPTEMBER 3

Kofi Annan Arrives in Tehran
Sept. 2….(DEBKA) UN Secretary General Kofi Anan has little hope of breaking the diplomatic stalemate over Iran's nuclear program after Tehran decided to ignore the UN Security Council's Aug. 31 deadline for halting enrichment and both Russia and China refused to go along with the US demand for sanctions. In Jerusalem last week, Annan angled for an Israeli letter of commitment to refrain from a military attack on Iran. He had hoped to present a Note on these lines to Iran's leaders and gain an interview with the Supreme Ruler Ali Khamenei. Israeli Prime Minister Ehud Olmert turned him down. The UN secretary was also rebuffed when he demanded that Israel lift its air and sea embargo against Lebanon and by Hizballah in Beirut, when he sought information on the kidnapped Israeli soldiers. After meeting Syrian president Bashar Asad in Damascus Friday, Annan reported he had promised to take steps to stop the flow of arms into Lebanon and increase border security. The Syrian president has made no comment on the talks he held with Kofi Annan. For six years, the Syrian president has been promising "steps" to stem the flow of fighters, instructors, weapons, explosives and cash to Palestinian terrorists, Hizballah, al Qaeda and Iraqi insurgents. Nothing has ever come of those pledges, although Asad could make them come true by a simple order to his relatives, led by his brother-in-law, Gen. Asaf Shawqat, to shut down the family's cross-border smuggling business. European Union foreign ministers agreed on Saturday to give diplomacy two more weeks to clarify Iran's stance on halting sensitive nuclear work after Tehran ignored a UN Deadline to stop uranium enrichment. EU foreign policy chief Javier Solana will meet Iran's chief nuclear negotiator, Ali Larijani, in Europe early next week to try to clear up ambiguities in Tehran's 21-page reply to a major power offer of cooperation if it stops work that could be used to develop a nuclear weapon.
President Bush Says US Must Win in Iraq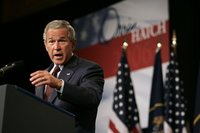 Sept. 1….(My Way) President Bush said Thursday the war against Islamic militants was like last century's fight against Nazis and communists and that a U.S. withdrawal from Iraq would lead to its conquest by America's worst enemies. "The security of the civilized world depends on victory in the war on terror, and that depends on victory in Iraq," Bush said in a speech to rally support for his unpopular war strategy two months before congressional elections. The Democrats responded by accusing Bush of pursuing failed policies that have weakened the war on terrorism. Nearly 4,000 anti-war protesters demonstrated downtown Wednesday. But there were no organized protests Thursday as Bush spoke before a friendly American Legion convention in one of the nation's most conservative states. It was the first in a series of Iraq speeches by Bush at a time when just 33 percent of Americans approve of his handling of the war, according to an AP-Ipsos poll. "Some politicians look at our efforts in Iraq and see a diversion from the war on terror," Bush said. "That would come as news to Osama bin Laden, who proclaimed that the 'third world war is raging' in Iraq." If America were to pull out before Iraq can defend itself, the consequences would be absolutely predictable, and absolutely disastrous," Bush said. "We would be handing Iraq over to our worst enemies."
President Bush said Saddam sympathizers, armed groups backed by Iran and al-Qaida terrorists from across the world would use Iraq as a base of operation. "They would have a new sanctuary to recruit and train terrorists at the heart of the Middle East, with huge oil riches to fund their ambitions," the president said. "And we know exactly where those ambitions lead. If we give up the fight in the streets of Baghdad, we will face the terrorists in the streets of our own cities." Bush accused Syria of sponsoring terrorism and said Iran was interfering in Iraq and pursuing nuclear weapons. The president spoke on the deadline the UN Security Council set for Iran to stop enriching uranium, which can be used in civilian nuclear reactions or, at greater purity, in an atomic warhead. "There must be consequences for Iran's defiance and we must not let Iran develop a nuclear weapon," Bush said. He said America's enemies include radical Sunnis who pledge allegiance to al-Qaida and militant Shiias who join groups like Hezbollah and take guidance from state sponsors like Syria and Iran. Yet, despite their differences, Bush said, they all subscribe to the same ideology that free societies are a threat to their "twisted view of Islam." "The war we fight today is more than a military conflict," the president said. "It is the decisive ideological struggle of the 21st century. On one side are those who believe in the values of freedom and moderation, and on the other side are those driven by the values of tyranny and extremism," the president said.
Palestinian Kids Idolize Terrorists
| | |
| --- | --- |
| | (FOJ) A masked Palestinian boy carrying a toy gun attends a rally in support of the Hamas. The green head band reads in Arabic ''There is no God but Allah and Mohammed is his prophet'. |
Sept. 1….(FOJ) What a sad picture. The young lad shown in this picture from Gaza can't be more than 6,7, or 8 years old, yet he is already being trained to become a terrorist, and brainwashed into believing that Israel is a cancerous entity in the world. Can you imagine the world outcry if Jews were training their children in kindergarten to idolize suicide bombers, and to admire AK-47 toting thugs? The little brown eyes behind this black mask will undoubtedly see a lot of things children should be spared, and will likely someday become cannon fodder for the overlords of evil. Everytime I see one of these pictures of poor little Palestinian boys being groomed by the demonic masters of hatred, I can't help but pray for the peace of Jerusalem. Only Jesus Christ can bring true peace to Israel and the world. In reality, Allah and his prophet Mohammad are jealous of the God of Israel, and they teach Muslims to seek Israel's destruction. That fact alone should enforce upon people's minds that Allah is not God, but an invention of Satan. There is no God but Jehovah, the Lord God Almighty, Creator of all, and he will not share his glory with a false god.
Bush: Iran Must Face Consequences
Sept. 1….(Jerusalem Post) As Iran defiantly rejected pressure to compromise over its nuclear program as a UN deadline arrived Thursday, it opened the way to the threat of sanctions against Tehran. In a rousing speech, President Mahmoud Ahmadinejad insisted that Iran would not be bullied into giving up its right to nuclear technology, defying a late Thursday deadline set by the UN Security Council to suspend uranium enrichment. Senior Israeli officials responded by saying that the onus of responsibility now rested with the international community. "Iran has thrown down the gauntlet, and it's now time for the international community pick it up, implement the UN Security Council resolution, and expedite the process of sanctions," one senior official said. Israeli officials have said recently that Israel was carefully watching to see how the world would react to Iran's continued disregard of the world's call to suspend its nuclear development, with some high-level officials arguing that it is becoming clear that in the face of the world's tentative response, Israel may eventually have to "go it alone" to stop Iran. Nevertheless, Israel continued to press the argument that nuclear weapons in the hands of Iran was a global problem, not only an Israeli one. "A nuclear Iran under the current extreme regime constitutes a threat to the Middle East and the world," Defense Minister Amir Peretz said in a statement following security consultation held Thursday at the Defense Ministry. Peretz said that Iran is a country that "publicly calls for the destruction of Israel and supports terrorism throughout the Middle East. Iran stood behind Hizbullah's control of south Lebanon and its transformation into a base for terrorism. It also supports Palestinian terrorist organizations with the aim of preventing any chance for a peace agreement." US President George Bush, meanwhile, said there must be consequences to Iran's refusal to accept the international community's demand to stop its nuclear activity. In a speech in Salt Lake City, a short time after the IAEA submitted its report, Bush said that it was now time for Iran to make a choice. "We've made our choice," Bush said, "We will continue to work closely with our allies to find a diplomatic solution but there must be consequences for Iran's defiance and we must not allow Iran to develop a nuclear weapon." The US president added that the regime in Iran is responsible also for assisting terror groups and abusing human rights of its own citizens. "This summer's crisis in Lebanon made it clearer than ever that the world now faces a threat from the radical regime in Iran," Bush said, pointing at Iran's active assistance to the Hizbullah in Lebanon. The US President said also that Iran could still choose to comply with the international community and stop its nuclear enrichment activity. "If Iran's leaders accept this offer and abandon their nuclear weapons ambitions they can set their country on a better course," Bush said. Washington also continues to hold open the possibility that it and allies, as the next step, might pursue a course outside the Security Council and impose penalties of their own against Iran. The United States, Russia, China, Britain, France and Germany offered Iran earlier this summer a package of incentives in exchange for a commitment from Tehran to freeze enrichment so talks could begin. But Tehran's response earlier this month made clear the country was not willing to suspend enrichment before talks, let alone consider a long-term moratorium on such activity. The West has struggled for years over carrots and sticks to persuade Iran to roll back its nuclear program. But Tehran has time after time played the game by its rules and kept its eyes constantly on a long-term prize: forcing the world to accept its nuclear ambitions. Iranian leaders have made clear they're willing to bear the economic blow of whatever sanctions are passed rather than give up enrichment.
Anan Says he Has Syrian Backing for Lebanon Resolution
(Following Damascus meeting, UN Secretary-General Annan says Syria promised to 'take all necessary measures' to implement arms embargo on Hizbullah. Syrian President Assad says he supports release of three IDF troops in exchange for Syrian prisoners jailed in Israel)
| | |
| --- | --- |
| | UN Secretary General Kofi Annan gestures as he speaks during a press conference at the airport in Damascus. Annan said he has won a Syrian pledge to respect an arms embargo against militant group Hezbollah, on the latest leg of a Middle East tour aimed at shoring up a truce in Lebanon. |
Sept. 1….(YNET) UN Secretary-General Kofi Annan said that Syria has promised to "take all necessary measures" to implement an arms embargo on Hezbollah. Syria will increase its patrols along the Lebanon-Syrian border, and establish joint patrols with the Lebanese army "when possible," Annan said after meeting with Syrian President Bashar Assad in Damascus. The UN resolution that halted fighting between Israel and Hizbullah calls for an arms embargo on the guerrilla group, and for Lebanon to "secure its borders and other entry points." Assad and Annan discussed the implementation of Security Council Resolution 1701 and the President told Mr. Annan that Syria supports and will help its implementation," Ahmad Fawzi, Annan's spokesman, said. The UN chief also asked Syria to "use its influence" to win the release of three Israeli soldiers, two captured by Hizbullah in a July 12 cross-border raid that started the war, and one captured by Hamas-linked militants in Gaza the previous month. Assad said he supported their release, but raised the issue of Syrian prisoners held in Israel, Annan said.
Israel, US React to Continuing Iranian Uranium Enrichment
Sept. 1….(Arutz) The United States called for the sanctions threatened by the UN Security Council earlier in the year to be imposed on Iran as the deadline ran out. "It is time for Iran to make a choice," said United States President George W. Bush. Speaking at an American Legion veterans' conference, President Bush said "We've made our choice. We will continue to work closely with our allies to find a diplomatic solution, but there must be consequences for Iran's defiance. We must not allow Iran to develop a nuclear weapon." There was dissention among the ranks of the UN with most other member nations reluctant to commit to the course they threatened months ago. The European Union continues to maintain that only through diplomatic relations will Iran be persuaded to end its race toward nuclear energy. Russia and China have also made it clear that they oppose imposing sanctions on the Islamic Republic. President Ahmadinejad reiterated earlier in the week that the country's "lofty program" would continue, ignoring the US-led threats of international sanctions. In response, Bush said, "We know the depth of suffering that Iran's sponsorship of terrorists has brought. And we can imagine how much worse it would be if Iran were allowed to acquire nuclear weapons." Ahmadinejad has consistently said Iran's uranium enrichment program is intended to produce nuclear energy solely for domestic purposes. Opposition factions in the country, however, maintain the goal is quite different, and IAEA inspectors have agreed. The IAEA officials have continued to warn that some nuclear activities in Iran have nothing to do with domestic use. This includes the detection of experimentation with polonium-210, a substance used only in deep-space exploration and production of nuclear weapons.
Vatican & Palestine Churches Attack Christian Zionism
Sept. 1….(Washington Post) The Vatican's envoy in the Holy Land and bishops from three other churches have launched a rare joint attack on the Christian Zionist movement, accusing it of promoting "racial exclusivity and perpetual war." Christian Zionists form a growing part of the pro-Israel lobby in the United States, the Jewish state's main ally. They believe the return of Jews to the Holy Land and establishment of Israel are proof of God's promises to biblical patriarchs. Churches in the Middle East often appear closer to the Palestinians, whose Christian minority makes up a substantial portion of their clergy in the region. The "Jerusalem Declaration on Christian Zionism" was signed by Latin Patriarch Michel Sabbah, a Palestinian, and by bishops of the Episcopal, Evangelical Lutheran and Syrian Orthodox Churches in Jerusalem. Many Christian Zionists are evangelical Protestants, and the declaration is a sign of a growing struggle between the groups. "The Christian Zionist program provides a world view where the Gospel is identified with the ideology of empire, colonialism and militarism," said the declaration, accusing Christian Zionists of hurting hopes for Middle East peace. "We reject the teachings of Christian Zionism that facilitate and support these policies as they advance racial exclusivity and perpetual war," the declaration added. The three main Christian Zionist groups in Jerusalem said in a statement that they were concerned at the declaration's "inflammatory language" and that it was far from the truth. Christian Zionists stress Christianity's Jewish roots. Some back the movement to settle the occupied West Bank, the cradle of Jewish civilization, which Palestinians want as part of an independent state. "We pray for peace. But we note with sadness that the present Palestinian government is totally dedicated to the destruction of Israel," the Christian Zionist groups said in their statement, referring to the governing Palestinian Islamist group Hamas. The prospect of Middle East peace talks has looked even more unlikely since Hamas's election victory in January. The group is formally dedicated to destroying Israel. "The problem in the region is not as simple as the Jerusalem Declaration makes out," the Christian Zionists' statement said. Some Christian Zionists believe that the return of the Jews to the Holy Land will bring about the end of the world and the Second Coming of Jesus Christ. Some also believe Jews themselves will have to become Christians or perish. The Christian Zionist groups in Jerusalem said they had no "thirst for Armageddon" and do not base their theological position on "end time prophecy." They called for dialogue with the clerics behind the declaration that condemned them. Christian Zionism is strongest in the United States, where support is much higher than in Europe or other parts of the world for Israel in its conflicts with the Palestinians and in its recent war with Hizbollah guerrillas in Lebanon. James Rudin, senior advisor on inter-religious affairs for the American Jewish Committee in New York, said there are "millions and millions of American Christians" who support Israel but who do not consider themselves Zionists. He said they represent a core of support far larger than those who base their backing of Israel on the Bible.
FOJ Note: It should be noted that the Vatican kept its church people in the dark for centuries about the role of Israel in the Divine plan for this world. The Vatican teaches "replacement theology" which displaces Israel's rightful place in God's providence. The concept of Christian Zionism is more correctly termed Biblical Zionism, as the Bible plainly teaches that the Lord God himself shall return a remnant of his people to the Promised Land in the last days, and that their return will be a troublesome issue for the nations of the world.
Majority of Southeners Believes God Gave Israel to the Jews
Sept. 1….(The Christian Post) A recent national poll of over 2,000 Americans found that the majority of white evangelical Protestants and those in the South support the belief that the state of Israel was given to the Jewish people by God. Among the surveyed religious groups, white evangelical Protestants stand out with 69 percent supporting the belief that God gave Israel to the Jewish people, according to the survey released by The Pew Forum on Religion & Public Life last week. Moreover, a full 59 percent subscribe to the belief that Israel is the fulfillment of biblical prophecy. The views were also well accepted among black protestants with 60 percent believing Israel was given to the Jews by God and 56 percent believing Israel fulfills the prophecy of the second coming. However, the percentage supporting these views dropped significantly among Catholics and white mainline Protestants, which both raked percentages in the low twenties for both views. In addition to their strong support among white evangelical Protestants, the beliefs were also popular in the South with some 56 percent believing that God has bestowed Israel to the Jews and nearly half, 45 percent, saying Israel fulfills biblical prophecy on the second coming of Jesus. Findings also show that a majority of those who view the Bible as the literal Word of God say Israel was given by God to the Jews and that Israel is the fulfillment of prophecy (70 percent and 62 percent, respectively). The numbers were significantly lower among those who do not believe the Bible is the actual Word of God. A more recent Pew survey conducted Aug. 9-13 found a majority of Americans (52 percent) sympathized more with Israel when compared with the Palestinians (11 percent). Support is stronger among those who believe that Israel was given by God to the Jewish people and those who see Israel as the fulfillment of biblical prophecy. Regarding the second coming of Jesus Christ, the results reflect the importance of this teaching in most Christian traditions with 79 percent of Christians saying they believe that Christ will return to earth someday. Only 20 percent believe Jesus will return to earth in their lifetime.

Abbas: No Security For Israel Without Palestinian State

Sept. 1….(AFP) There will be no lasting security in the Middle East until Israel ends its occupation and a Palestinian state is created, president Mahmud Abbas has told visiting UN chief Kofi Annan. "Continued occupation of the Arab and Palestinian territories will not achieve peace," he said after holding talks with Annan in Ramallah. "Security and stability can be attained only by guaranteeing the return of legal rights to the Palestinian people, implementing the resolutions of international legality, establishing an independent and sovereign Palestinian state with east Jerusalem as its capital and resolving the issue of Palestinian refugees." The UN secretary general echoed his comments. "The creation of a Palestinian state living side by side with Israel is the key to solving the problems in this troubled region," he said. "The suffering of the Palestinian people must not be forgotten while we strive to bring peace to Lebanon," he said. "It is important for me that I have been able to witness the suffering of the Palestinian people first hand," he said.
FOJ Note: Have you ever noticed how even the Palestinian statements hinting at negotiations always carry a threat.
Hizbullah: We're Arming for Second Round
Sept. 1….(YNET) Hizbullah's representative in Iran Muhammad Abdullah Sif al-Din, said Wednesday that Hizbullah leader Hasan Nasrallah has a new strategic plan to rearm ahead of the "next round against Israel." In an interview with the Iranian news agency Fars, al-Din said: "No one can promise us that Israel won't attack again. Whoever lives as a neighbor to the Zionist regime is in danger and must not save any effort to obtain all of the means to defend himself. We are convinced that there still danger and the situation has not yet been solved. We must, all the time, prepare ourselves for self-defense and to plan for the next stage." During an interview, al-Din was asked about Hizbullah's military situation after the war. "Our situation is very good, the Israelis didn't manage to strike Hizbullah's military command and our ability to launch missiles. In the first days we launched 100 missiles and in recent days we fired 350 missiles a day. So we have no problem from a military perspective," he replied. Unlike Nasrallah, the Hizbullah representative in Iran expressed no regret for kidnapping soldier, the operation which caused the outbreak of the war. "In retrospect, if Israel would have attacked again and we had to defend ourselves, we could have done it again and with great vigor," he said. Regarding UN Resolutions 1559 and 1701, calling for, among others, the disarmament of Hizbullah, Sif Al-Din said that his organization had no intention of disarming, as the issue was an internal Lebanese one. The Lebanese agreed among themselves that Hizbullah's disbanding is an internal issue and should be solved among one another," he said. He added that pressure from the West on Hizbullah would not be effective. "After the murder of the Lebanese Prime Minister, Rafik al-Hariri, and resolution 1559, heavy pressure was placed on Hizbullah in order to disarm. We all understood that no one can disband Hizbullah, even Israel's foreign minister admitted this," said al-Din. The Hizbullah representative to Iran added that Lebanon had one problem and that was "a possible attack by the Zionist regime on Lebanon. The Zionist regime is the danger to Lebanon, he said. One of the reasons we didn't agree in advance to the deployment of the army in south Lebanon is that we are worried for the army, because it doesn't have the capability of dealing with Israel.
EU Seeks More Power in Mideast Peace Process Based on 1967 Borders
Sept. 1….(Reuters ) The European Union is set to launch a drive this week to revive long-stalled Middle East peace negotiations based on the principle of a return to Israel's 1967 borders. At an informal meeting in Finland on Friday and Saturday, foreign ministers of the 25-nation bloc will discuss how to leverage their increased military presence in southern Lebanon to gain more political clout in future peacemaking. With the cease-fire between Israel and Lebanese Hizbollah guerrillas still fragile and a standoff between the Jewish State and Palestinian militants over an abducted Israeli soldier unresolved, the Europeans argue the situation can only be stabilized by starting processes to seek political solutions. EU foreign policy chief Javier Solana wants to create momentum for fresh talks based on the goals of a two-state solution and a return to 1967 borders "plus or minus agreed minor adjustments. Solana's objective is to build consensus for negotiations on the basis of the '67 borders, plus or minus," acknowledging it could be a lengthy process. Israel has long rejected any talk of returning to the lines it held before capturing the West Bank, the Gaza Strip and the Golan Heights from Jordan, Egypt and Syria in the 1967 Middle East war. The United States has historically backed its stance for security concerns. President George W. Bush said in 2004 it was unrealistic to expect Israel to return to those boundaries in the light of Israeli settlements on the ground. Solana's spokeswoman said the principle of a return to something close to the 1967 frontiers, with a negotiated land swap to enable Israel to keep some settlement blocs, underlay former US President Bill Clinton's 2000 peace plan and had widespread international support. There had been resistance when the Europeans first called for a two-state solution to the conflict but the United States and Israel had eventually embraced the objective, Solana noted. The EU has played second fiddle to the United States in the Quartet of international mediators that has been working, mostly unsuccessfully, to broker Israeli-Palestinian agreements. But the Europeans came to the fore in the Lebanon crisis by offering to provide more than half of the proposed 15,000 peacekeepers for a buffer force between Israel and Hizbollah, while Washington, Israel's superpower ally, will provide none. "The more we are physically involved with soldiers on the ground, the more we are going to get influence to match our military, humanitarian and economic commitment," Gallach said. French President Jacques Chirac has called for a revival of Quartet peace efforts at a high level with a bigger EU role. The EU is hoping a slow-moving Palestinian national dialogue will soon yield a national unity government between the militant Hamas movement, which won a parliamentary election in January, and President Mahmoud Abbas's Fatah movement. The US has halted aid to the Hamas-led government because of its refusal to recognize Israel, renounce violence and accept past peace agreements, but a unity cabinet could adopt a platform that could lead to an end of the boycott.
FOJ Note: The European Union is attempting to utilize the Lebanon situation to surpass America's influence in the Middle East, and to take the leadership role in brokering the Middle East Peace Process. Can the Antichrist be far behind these developments?
US President Bush: Iran Must Pay Consequences for defiance of UN
Aug. 31….(FOJ) President Bush was speaking about the war on terror in Salt Lake City, Thursday, Aug. 31, hours before the deadline expired for Iran to give up uranium enrichment and face a Security Council debate on possible sanctions. We offered to negotiate for an agreed solution to the problem, but all we got from Iran was delays and defiance, said the US president. He went on to say: Lebanon was controlled by a Syrian dictator and when we forced the Syrians to withdraw and let Lebanon establish a democratic government, Hizballah decided to attack Israel in order to derail the democratic process in Beirut. The Lebanon war showed us we are facing a great danger from the Iranian regime which supports and supplies weapons to Hizballah and sends weapons and explosives to Iraqi terrorists. That should show everyone how dangerous it would be for Iran to have nuclear weapons. The US president declared: We will not leave Iraq until victory is achieved.
Iran Again Defies the UN, and the US
| | |
| --- | --- |
| | (FOJ) In front of a picture of the Iranian late revolutionary founder, Ayatollah Khomeini, Iranian President Mahmoud Ahmadinejad Iran's president defiantly refused to compromise as a UN deadline for his country to stop enriching uranium passed. |
Aug. 31….(FOJ) Iran once again defied the UN Security Council Thursday, with President Mahmoud Ahmadinejad saying it will not be bullied on its right to uranium enrichment ahead of an International Atomic Energy Agency report that could trigger sanctions against Tehran. "The Iranian nation will not accept for one moment any bullying, invasion and violation of its rights," Ahmadinejad told a crowd of thousands in Orumiyeh in northwestern Iran, as the clock ticked down on Thursday's Security Council ultimatum for a freeze on enrichment. Iran's refusal to heed the Security Council will be detailed in the IAEA report and circulated among the Vienna-based agency's 35 board member nations along with new details on Tehran's research into advanced enrichment equipment and other details, said diplomats accredited to the agency. Once the report is tabled, the Security Council could begin to actively consider economic and political sanctions because it had asked the agency to report on Tehran's compliance with meeting the Aug. 31 deadline to freeze enrichment. Sanctions will not come immediately, with permanent council members Russia and China likely to resist US-led efforts for a quick response. US ambassador to the United Nations, John Bolton, said the United States still has not decided how it will respond once the Aug. 31 deadline expires. But he reiterated that Washington will seek sanctions if Iran disregards the resolution. Moscow and Beijing, keen to offset US influence in the Mid-east, will be quick to come to the aid of Iran, as they have economic and strategic ties with Tehran.
| | |
| --- | --- |
| | Map and fact file on Iran's nuclear programme. President Mahmoud Ahmadinejad has defiantly vowed Iran would not back down "an inch" in the face of Western pressure as time ran out on a UN deadline for Tehran to halt sensitive nuclear work. |

Earlier, Ahmadinejad warned European members of the council against resorting to sanctions, saying, "Sanctions cannot dissuade the Iranian nation from achieving our lofty goals of progress. So it's better for Europe to be independent of the US in decision-making and to settle problems through negotiations." Quick action against Iran is not likely. The US wants to preserve the semblance of international unity against Iran as long as possible. The brief war between Israel and Hizbullah has diverted Western attention, put the wind in Iran's sails, and helped give Russia and Europe a more prominent role in the Middle East Peace Process. Even now, Europe is preparing for a heavier presence in Lebanon. US ambassador to the UN, John Bolton, has suggested that the US will come up with a UN resolution that will answer the worries of those fearful of an Iraq-like scenario, where resolutions are later interpreted as opening the door to the use of force. Russia has already warned the US against taking any military action against Iran's nuclear sites. But Mr. Bolton has opened the door to another alternative to Security Council sanctions. In that scenario, countries thwarted in the Council would join the US in imposing sanctions on Iran. On Monday, Bolton told reporters at the UN, "You can envision sanctions being imposed outside of the Security Council, as the United States has unilaterally imposed sanctions on Iran pursuant to its own statutes, and other governments can do the same." But some experts doubt such a "sanctions regime of the willing" would have much impact.
Israel Says Syria, Not Just Iran, Supplied Missiles to Hezbollah
Aug. 31….(Israel Insider) New postwar intelligence indicates that the militant group Hezbollah had broader access to sophisticated weaponry than was publicly known, including large numbers of medium-range rockets made in Syria, said US and Israeli government officials and military analysts. The size of the Hezbollah arsenal and the direct role of Syria in supplying it will complicate the daunting task of keeping Hezbollah from rearming, the officials said. Before the war, Hezbollah's access to weapons supplied by Iran and shipped through other countries was well documented. So was Syria's political support for Hezbollah and its role in allowing shipments of arms into Lebanon from Iran. But Washington thought Syria for the most part was not supplying munitions directly. The new weapons data indicates a broader Syrian role, including the supplying of rockets from Russia. The examination uncovered the serial numbers and other defining characteristics of the weapons. Israel's postwar forensics have shown some of the rockets were manufactured by the Syrian munitions industry, military sources said. The disclosures about Syria's role in supplying Hezbollah dovetail with postwar diplomatic strategies. Israel, backed by the Bush administration, would like to see international peacekeepers deployed along the Syria-Lebanon border, a step it says is needed to prevent arms shipments to Hezbollah. Lebanon, backed by UN Secretary-General Kofi Annan, has resisted that idea, as have the Syrians. The forensic evidence from shell debris bolstered what Israeli officials said they had long known about Syria's role in helping to arm Hezbollah. "Syria has been a direct supplier of rockets, as well as a safe haven and weapons conduit," Eisen said. "The short-to medium-range rockets that hit Tiberias and Haifa turned out to have been directly supplied by Syria, just as we said all along," Eisen said, referring to the northern Israeli cities targeted by Hezbollah. Analysts said Syria's role in directly arming Hezbollah marked a shift in Damascus' strategy toward Lebanon. Syria was forced to withdraw its military from Lebanon last year after the assassination of former Lebanese Prime Minister Rafik Hariri. "I don't believe these kinds of technologies passed to Hezbollah under the regime of Hafez al Assad," Syria's longtime leader who died in 2000, said David Schenker, a former Pentagon official now at the Washington Institute for Near East Policy. Referring to Assad's son and successor, Bashar Assad, Schenker said, "The father saw Hezbollah as a tool; Bashar sees them differently." In addition to evidence of Syrian-made weapons, Israel also said it found evidence that Hezbollah used advanced, Russian-made Kornet antitank weapons. Israeli intelligence contends that serial numbers found on spent Kornets show they were originally supplied by Russia to Syria. Russia has disputed the claims, saying it keeps tight restrictions on shipments. The US and Israel in recent weeks have pressured nations that sell weapons to Iran and Syria to tighten restrictions on their transfer to third parties, an effort aimed at curtailing Hezbollah's arsenal. China, which has substantial economic interests in the region, is considered unlikely to stop its shipments, experts said, and Russia insists that it monitors all its arms exports to ensure that they meet UN criteria.
Israel Dismisses Golan Negotiations
Aug. 31….(Jerusalem Post) Israeli officials dismissed as "naive" a call from some European diplomats to dangle the Golan Heights as a carrot in front of Syria to get Damascus to stop arming and abetting Hizbullah. "To say that all the Syrians need is a good gesture from Israel, and then they will do everything we want regarding Hizbullah is detached from reality," one senior source in Jerusalem said. Finnish Ambassador Kari Veijalainen told The Jerusalem Post Tuesday that Israel would do well to signal a willingness to pick up negations with the Syrians where they broke off in 1999 as a way to get Damascus on board to help implement UN Security Council Resolution 1701. According to the source, Syria has historically taken an "all or nothing" approach to negotiations. He said that its position has always been against confidence-building measures and that there are no intermediate steps with Damascus. Syria won't do anything to clamp down on Hizbullah before there is a "complete peace treaty," he said. Others have pointed out that the Finnish position of Israeli "carrots" for the Syrians is not universally accepted in Europe, and that France, for instance, is opposed because of French President Jacques Chirac's antipathy to Syrian President Bashar Assad. Other voices in Europe are arguing, officials in Jerusalem said, that Syria needed to prove it was in "a constructive mood," something many doubt Assad can do. While there is division in Europe regarding what approach to take toward Syria, there is, according to Israeli officials, unanimity of opinion regarding the need to move forward with the Palestinians. Israel is bracing for a new call from Europe on this issue this weekend, following an informal meeting of EU Foreign Ministers in Finland. Finland holds the rotating EU presidency. There is a feeling in Europe, according to Israeli officials, that the Palestinian track is stagnating and "something needs to move." Following the war in Lebanon and end of vacations in Europe, Israel is preparing to face down new diplomatic initiatives aimed at replacing the road map. One such initiative, has been put forward by the Arab League.
Hamas Rains Rockets Down on Sederot
Aug. 31….(Arutz) Palestinian rocket gunners in the Gaza Strip fired at least five Qassam rockets into the area of the western Negev town of Sderot early today. The five rockets fired in the salvo saw two of them exploding inside the town. The rockets smashed into the city streets shortly after 8 AM, damaging several buildings. One rocket landed not far from a school in Kibbutz Shaar HaNegev. It had been reported earlier today that Hamas Authority Chairman Ismail Haniye had ordered an end to all Kassam rockets against Israel. So said leading Palestinian Authority figure Jibril Rajoub. But Kassam rockets were fired on Tuesday and Wednesday of this week as well, landing in open areas. The IDF has been operating in the Saja'iye neighborhood of Gaza City for the last several days, in Operation Locked Garden, killing over 20 terrorists and wounding 20 more. Among them were three armed terrorists killed last night in the midst of trying to perpetrate an attack against Israel. In addition, two Kassam launchers in Beit Hanoun, across the Gaza border from Sderot, were destroyed last night, including one from which a Kassam had been fired at Israel only hours before. The Sderot Parents Committee announced that it would strike and not send their children to school this Sunday, the first day of school around the country. The parents have been demanding that the government fulfill its pledge to rocket-proof the roofs of the city's schools. As of now, the Sderot Municipality reports, some 40% of the schools have been reinforced. A spokesman told Arutz-7 that at least one large room in each of all six elementary schools has been protected, as have all 10 of the kindergartens; no work has been done on the local high schools. The IDF arrested 12 wanted terrorists Wednesday night in Judea and Samaria, including members of Hamas, Islamic Jihad and other terror groups.
The Burning Issue For UN Secretary General Kofi Annan in Jerusalem was not Lebanon – but Iran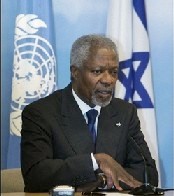 Aug. 31….(DEBKA) Our exclusive Jerusalem sources reveal that the issues raised at his press conferences with Israeli PM Ehud Olmert and FM Tzipi Livni, the full implementation of UN resolution 1701, the Israeli blockade of Lebanon, the kidnapped Israel soldiers, the embargo on imported weapons for Hizballah, were all left outside the closed doors of the conference rooms he entered in Jerusalem. Inside, the UN Secretary went straight to the point: He wanted an Israeli message to hand to Iranian leaders in Tehran which he hoped to visit later in his 11-day Middle East tour. The message was to contain an assurance that, despite the Lebanon war and the accelerated tempo of the Iranian nuclear program, Israel would not undertake an attack on Iran. Annan wanted to be the bearer of a note in this vein to dispel the Islamic Republic's fears of an imminent Israeli strike. He told Olmert he intended placing this assurance in the hands of supreme ruler Ayatollah Ali Khamenei in person. Olmert turned him down. DEBKAfile's Jerusalem sources add: Olmert asked the UN Secretary if he had procured a message in this spirit from Washington and, if so, would he submit the American and Israeli notes to Iran's rulers together or separately. According to our sources, Annan ducked the questions and instead waxed eloquent on the breakthrough in Iran-Israeli relations which an Israeli pledge to refrain from attacking Iran was capable of effecting. "With your note in my hand, I can get an interview with Khamenei himself," he said. The UN secretary rated a meeting with President Mahmoud Ahmadnejad as of "no importance" except as a courtesy call. Annan explained that, on the strength of an Israeli assurance, he would be able to promise the Iranian leader that he need not fear UN Security Council sanctions or any other unpleasantness and that the nuclear controversy could be worked out amicably. Olmert and Livni were not convinced. Secretary-General Annan departed Jerusalem empty-handed, as he did in Beirut, where Hizballah refused to part with the slightest scrap of information on the abducted Israeli soldiers for him to carry to Jerusalem.
UNIFIL – Hezbollah's Secret Intelligence Service
Aug. 31….(Hal Lindsay) Throughout the month-long conflict between Israel and Hezbollah, UNIFIL's website served as Hassan Nasrallah's personal intelligence services. All he needed to do was log on to UNIFIL's official website to find daily, real time intelligence about the location, equipment, and force structure of Israeli troops in Lebanon. UNFIL posted precise information about the movements of Israeli Defense Forces soldiers and the nature of their weaponry and materiel, even specifying the placement of IDF safety structures within hours of their construction. New information was sometimes only 30 minutes old when it was posted, and never more than 24 hours old. At the same time, not a single item of intelligence regarding Hezbollah's forces made it to UNIFIL's website, in case Israel might be checking in. The Weekly Standard reported that a review of every single UNIFIL web posting showed that, "while UNIFIL was daily revealing the towns where Israeli soldiers were located, the positions from which they were firing, and when and how they had entered Lebanese territory, it never described Hezbollah movements or locations with any specificity whatsoever." When reporting on Hezbollah, the UNFIL website spoke in vague generalities, saying only that Hezbollah fired "rockets in large numbers from various locations." Analysts from both the United States and Israel agreed the UNIFIL intel was of significant value to Hezbollah and exposed 'Israeli forces to grave danger' while obscuring intelligence about Hezbollah that would have aided the Israelis.
Jimmy Carter Will Meet With Former Iranian President
| | |
| --- | --- |
| | Iran's former President Khatami flatly stated that Iran wants nukes to destroy Israel. He insists that since Israel is such a small country that it cannot sustain a nuclear exchange with a much larger country and survive! He concludes that the intense collateral damage that may be suffered by Iran in a nuclear exchange with Israel is a price that Islam is willing to pay to exterminate Israel once and for all. |
Aug. 31….(Jerusalem Post) Former US president Jimmy Carter will meet next week in Washington with former Iranian president Mohammad Khatami, who will be visiting the US. Carter's term as president was marked by the 1979 takeover of the US embassy in Teheran, following the Islamic revolution in the country and by Carter's failed attempt to rescue the 52 Americans who were held hostage at the US embassy. Khatami is the most senior Iranian official to visit the US since the revolution. Khatami is also the Iranian President who announced that Iran would use a nuclear bomb on Israel someday. The State Department announced that no American official will meet with Khatami, but still has agreed to issue him a visa. American Jewish groups and Israeli diplomats have expressed their dismay over the fact that the US is allowing the former Iranian president to visit the US. Khatami will speak next Thursday at the National Cathedral in Washington and will also hold meetings in New York City.
Arab League Floats Proposal To Solve Israeli-Arab Dispute
Aug. 31….(New York Sun) An Arab League initiative to launch a Turtle Bay-based effort to solve the decades long Israeli-Arab dispute is gaining steam despite a cool response from Washington and Jerusalem. In Europe, several key powers have suggested an array of initiatives of their own, including a trip to the region by Prime Minister Blair and an Italian idea to use the soon-to-be deployed multinational force in Lebanon as a model for an international presence in Gaza. But even some officials at Turtle Bay appear lukewarm about the Arab League initiative. "There is a split," a UN official said yesterday when asked if Secretary-General Annan's advisers would support the proposal. The official, who requested anonymity, said that while some top advisers support the initiative, others are concerned about the lack of "enthusiasm" for it in Washington and Jerusalem. Israeli and American officials said they would not comment before the Arab League presents its ideas publicly. Several diplomats said issues such as disarming Hezbollah would have to be resolved before new regional efforts are launched. The Arab League's drive began just days after Hezbollah kidnapped two Israeli soldiers on July 12, launching a new war. Arab leaders meeting in Cairo declared the American-led road map plan "dead" and said a new initiative on the Israeli-Arab dispute, based on what is known as the Saudi plan, was needed to replace it. The idea was to convene a high-level meeting of world leaders. In recent days, the ambassador of Sudan, representing the Arab group at the United Nations, sent an official letter to the president of the UN Security Council calling for a meeting of Arab foreign ministers with the foreign ministers of countries represented on the council. The UN undersecretary-general for political affairs, Ibrahim Gambari, told the council about the new Arab League initiative on Monday. But he did not share details with them, several diplomats present at the closed-door council meeting said yesterday. The Arabs are calling for a high-level meeting of foreign ministers "around the 20th of September" and plan "to discuss the settlement of the Arab-Israeli dispute," the Arab League observer at the United Nations, Yahya Mahmassani, told The New York Sun yesterday. "The Quartet has not achieved the settlement, so we are looking for a new initiative," he said, referring to America, the European Union, Russia, and the United Nations. The Quartet is responsible for implementing the road map, a plan that envisions a new, independent Palestinian Arab democracy alongside Israel. However, Mr. Mahmassani added that as of yesterday, the Arab group had not yet finished preparing a document detailing its new plan, to be presented next month. The document, now being developed, would be ready "in a couple of days," he said. "The road map has a value in terms of telling us what we need to do," the British ambassador to the United Nations, Emyr Jones Parry, told reporters yesterday. He added, however, "My boss always uses the phrase 'we need to re-energize the process.'" Mr. Blair said earlier this month that he is planning a September trip to the region. "We must never lose sight of the fact that the conflict in Lebanon arose out of a desire to exploit the continuing impasse in Palestine," he said. "The priorities are twofold," Mr. Jones-Parry said. Besides implementing the Lebanon resolution, the council needs to "get back to the problems in Gaza and how we handle those issues. We can't put those in abeyance." In a Wall Street Journal op-ed piece yesterday, the Italian foreign minister, Massimo D'Alema, wrote that recent French and Italian pledges to contribute thousands of troops to the new UN-led force in Lebanon have turned the European Union, which has played the role of a "payer" in the Israeli-Arab dispute, into a "player." Israel, he wrote, can now gain an "enhanced security through political agreements with its neighbors, guaranteed by the UN and by multinational forces." That approach, he added, could be "possibly extended to the Gaza front." Israel has never shown enthusiasm for an international troop presence in territories that are under dispute with the Palestinian Arabs. One Jerusalem official said yesterday that the force in Lebanon would have to prove its viability first. The Israeli official, who requested anonymity, also said that before grand new plans are launched, soldiers that were recently kidnapped must be released. On the Palestinian Arab front, he added, the Hamas-led government has yet to obey the Quartet's demands that it recognize Israel, renounce terrorism, and accept prior agreements.
Most Americans Still Support Israel
Aug. 30….(World Watch) According to an annual poll conducted by Gallup, 59 percent of Americans support Israel, the highest percent of support since the first Gulf War. The support for the Palestinians, however, has decreased to 15 percent following Hamas' victory in the Palestinian parliamentary elections. The poll indicates that the majority of Americans oppose the granting of economic aid to the Palestinians. Apparently, the average American's support for Israel rises the more he or she are in tune with global events. Expectations for Middle East peace have dropped in the US since Hamas' elections victory, with most Americans contending the US should maintain diplomatic relations with the Palestinians only if they recognize Israel's right to exist. According to the poll, two out of three Americans believe the Arab countries will never agree to live in peace beside Israel; 44 percent say diplomatic relations with the Palestinians should continue only if Hamas recognizes Israel, while 22 percent believe talks should be held with the organization in any case. The poll shows that 57 percent of Americans oppose the granting of economic aid to the Palestinians; 30 percent said they would support aid should the Palestinians recognize Israel, and only 5 percent said they back monetary assistance to the Palestinians regardless of their position on Israel. Support for Israel in the US was higher (64 percent) only during the Gulf War in 1991, when Iraq fired Scud missiles at Israel. On the eve of the latest war in Iraq support for Israel climbed to 58 percent. Support for the Palestinians reached a new high of 18 percent in the last two years, but currently dropped to 15 percent. American support for the Palestinians dropped to an all-time low of seven percent in the aftermath of the September 11 attacks, when Palestinians celebrated the attacks on America. According to the Gallup poll, 77 percent of Republicans support Israel, as opposed to only 49 percent of Democrats. Americans who follow the news closely tend to support Israel more than those who are not as in tune with global affairs by a ratio of 66 to 58 percent. Israel's Ambassador to the UN Danny Ayalon responded to the poll by saying that "the findings prove once again that the US is a great friend and ally of Israel, not only with regards to the decision-makers in Washington but to the American public from coast to coast."
UN Chief Anan Demands Israel End Blockade of Lebanon
Aug. 30….(Israel Insider) UN Secretary-General Kofi Annan demanded Tuesday that Israel lift its air and sea blockade of Lebanon, but Israel said it would only remove the embargo once it is assured that forces deployed on Lebanon's borders can stop new weapons shipments to Hezbollah. The dispute was the latest threat to the fragile cease-fire that ended 34 days of fighting between Israel and Hezbollah guerrillas that left much of southern Lebanon and northern Israel devastated. Secretary Annan arrived in Israel from Lebanon as part of an 11-day Mid-east tour intended to shore-up the truce, help Lebanon recover from the fighting and secure the release of two Israeli soldiers whose capture by Hezbollah on July 12 sparked the fighting. "We need to resolve the issue of the abducted soldiers very quickly," Annan said during a visit earlier Tuesday to a UN base in south Lebanon. "We need to deal with the lifting of the embargo, sea, land and air, which for the Lebanese is a humiliation and an infringement on their sovereignty." In Israel, Annan met with Israeli Defense Minister Amir Peretz and spoke to him about lifting the blockade in order to allow Lebanon to go on with normal commercial activities and also rebuild its economy. Israel has said it will only lift the blockade once it is assured that forces deployed on Lebanon's borders can prevent Hezbollah from importing new weapons to rearm itself for another round of fighting. Israel wants international forces to help patrol the Lebanon-Syria border to enforce an arms embargo on Hezbollah. Lebanon has said that its troops would be able to secure the border on their own. Peretz said he told Annan about the importance of controlling the border "and the implementation of the embargo against the transfer of arms and ammunition between Syria and Lebanon." Annan said Israel was responsible for most of the violations of the cease-fire over the past two weeks, and harshly criticized Israel for blocking Gaza and Lebanon ports. Annan was to meet Wednesday morning with Israeli Prime Minister Ehud Olmert. Olmert planned to call for "the unconditional return of our captives in Lebanon," his spokeswoman Miri Eisen said, referring to reserve soldiers Ehud Goldwasser and Eldad Regev. A third soldier, Cpl. Gilad Shalit, was captured by Hamas-linked militants from an army post near the Gaza Strip on June 25. The families of the three soldiers met with Annan soon after he arrived in Israel and said he told them he had no new information about the captives, and that there were no negotiations, not even secret ones taking place. In Beirut, veteran civil rights leader the Rev. Jesse Jackson, on a mission to secure the soldiers' release, and no doubt Arab prisoners as well, said he was told they were alive during his meetings in Damascus with Syrian President Bashar Assad and Khaled Mashaal, Hamas' political leader. "The Hamas leadership says that the soldier they are holding is alive and well," Jackson said, apparently unable to remember the soldier's name.
Lebanon's Siniora: No Peace Deal with Israel
(Lebanese PM says his government is holding no direct talks with Israel, vows Lebanon would be last country to sign peace deal with Jewish State; Olmert said earlier ceasefire is cornerstone for peace)
Aug. 30….(YNET) Lebanese Prime Minister Fouad Siniora said Wednesday that he refused to have any direct contact with Israel and that Lebanon would be the last Arab country to ever sign a peace deal with the Jewish State. "Let it be clear, we are not seeking any agreement until there is just and comprehensive peace based on the Arab initiatives," he said. He was referring to a plan that came out of a 2002 Arab League summit in Beirut. It calls for Israel to return all territories it conquered in the 1967 Mideast war, the establishment of a Palestinian state with Jerusalem as its capital and a solution to the Palestinian refugee problem, all in exchange for peace and full normalization of Arab relations with Israel. Israel has long sought a peace deal with Lebanon, but Beirut has hesitated as long as Israel's conflicts with the Palestinians and Syria remained unresolved. Siniora said Lebanon wants to go back to the 1949 armistice agreement that formally ended the Arab-Israeli war over Israel's creation. Prime Minister Ehud Olmert said earlier Wednesday that the Israel-Hizbullah ceasefire could be "a cornerstone to build a new reality between Israel and Lebanon."
FOJ Note: Mr. Siniora is a puppet leader of Lebanon, as he does the bidding of his masters in Syria and Iran. He is not the democratic icon that the Bush Administration thinks that he is.
In Ramallah, Annan Demands Israel Desist in Gaza Strip
Aug. 30….(Ha Aretz) United Nations Secretary-General Kofi Annan said Wednesday after talks with Palestinian Authority Chairman Mahmoud Abbas that Israel must lift its closure of the Gaza Strip and open crossing points there. He also called for an end to the bloodshed that has led to the deaths of more than 200 Palestinians since the end of June. Israel has closed cargo and pedestrian crossing points for long stretches this year following security alerts and attacks by Palestinian militants, causing widespread hardship for the Palestinians. Annan and Abbas were also expected to touch on the worsening economic situation in the Palestinian territories and the fate of Israel Defense Forces soldier Gilad Shalit, held by Hamas-allied militants since June 25. The UN secretary-general is on a regional tour aimed at trying to shore up a cease-fire that ended 34 days of fighting between Israel and Lebanese Hezbollah guerrillas. Earlier Wednesday, Annan, meeting Prime Minister Ehud Olmert in Jerusalem to discuss issues relating to the cease-fire in Lebanon, took issue with Olmert's view that international peacekeepers be stationed along the Syria-Lebanon border. On the issue of stationing peacekeepers along the Syria-Lebanon border, Annan advised flexibility by Israel, arguing against a concrete demand for deployment along the border, which Hezbollah has long used as the supply route for arms, much of it from Iran. According to Annan, an effective mechanism for dealing with the issue should be set up in partnership with the government of Lebanon. Olmert did not respond specifically to Annan's demand, saying only that the cease-fire deal must be implemented in its entirety. Annan said earlier this week that the Lebanese saw the blockade as a "humiliation and infringement of their sovereignty".
Chavez: Syria, Venezuela to 'Build New World' free of US Control
Aug. 30….(Ha Aretz) Venezuelan President Hugo Chavez said Wednesday that he and Syria would "build a new world" free of U.S. domination. "We have decided to be free. We want to cooperate to build a new world where states' and people's self-determination are respected," Chavez said after a 2-1/2-hour meeting with Syrian President Bashar Assad in Damascus. "Imperialism's concern is to control the world, but we will not let them despite the pressure and aggression," the Venezuelan leader said, speaking through an interpreter. Chavez says the two nations are united against the US government's "imperialistic" aggression in the Middle East. "We are here in Damascus to call for peace," Chavez told Venezuela's state television by phone shortly after arriving in Syria late Tuesday. "These two countries are strongly united against the imperialistic aggression and hegemonic pretensions of the US empire." Chavez has built close ties with Iran, Syria and other countries of the Mideast while his relations have grown tense with Israel. The Venezuelan leader has compared Israel's strikes in Lebanon to the Holocaust, and earlier this month withdrew his country's top diplomat from Israel to protest those attacks as well as Israel's actions toward the Palestinians. Israel, which responded by calling home its ambassador to Venezuela, has criticized what it calls Chavez's "one-sided policy" and "wild slurs." Syrian President Bashar Assad greeted Chavez at the airport on Tuesday and thanked the Venezuelan leader for his backing of Middle Eastern nations. "We appreciate your sincere feelings toward the peoples who have their rights and are under occupation, as well as your sincere humanitarian and moral sentiments," Assad was quoted as saying through an interpreter. Chavez said officials of both governments will sign a document opposing Washington's "aggression" in the Middle East. In Washington, US State Department spokesman Tom Casey suggested Chavez should urge Syria to accept a UN resolution calling for the deployment of 15,000 peacekeepers in southern Lebanon and an equal number of Lebanese troops to patrol the border region when Israeli troops withdraw. The resolution helped end 34 days of fighting between Hezbollah and Israeli forces earlier this month. Casey also said Chavez should remind Syria about its international obligations to prevent Hezbollah from receiving weapons. He cited a 2004 UN resolution that called for the disarmament of all Lebanese guerrillas and the August 14 cease-fire resolution that called for an arms embargo against Hezbollah. Israel accuses Syria of supplying arms to the Lebanese militia.Israel has called on international troops to line the Lebanon-Syria border to stop alleged arms shipments to Hezbollah guerrillas in Lebanon from Syria. But the Syrian government opposes such a deployment, calling it a hostile affront. In a visit to Malaysia earlier Tuesday, Chavez suggested his country is set to win a UN Security Council seat, saying the support of Malaysia and other nations would help defeat a US campaign to block Venezuela's bid. "We're going to occupy that seat with the support of countries like Malaysia," Chavez was quoted as saying by Venezuela's state news agency at an event with Malaysian business leaders. US officials, alarmed by Chavez's deepening ties with countries such as Iran and North Korea, have sought to block his country's bid for a rotating Security Council seat and are backing Guatemala instead. Over the last six weeks, Chavez has traveled to a dozen countries, including Argentina, Russia, Belarus, Iran, Vietnam, Qatar, Mali, Benin, China, Malaysia and Syria, in what his opponents argue is a costly effort to drum up support for the UN bid. Chavez insists he has not urged other nations to vote in favor of Venezuela, saying many countries have independently voiced support.
Mexican Flag Flies at US Post Office
(Old Glory stamped on in protest by backers of illegal immigration)
Aug. 30….(WND) Backers of illegal immigration at a rally near Los Angeles took down an American flag at a US post office, stamped on it and replaced it with a Mexican flag as police looked on, according to witnesses and a video of the event. Police officers in Maywood, Calif., Saturday eventually came to the pole to remove the flag but had bottles and rocks thrown at them. Police just watched as they took the American flag off of the flag pole and stomped on it on the ground and mounted a Mexican flag. Finally, the police went over to take it down, and they had bottles and rocks thrown at them. They did not attempt to arrest anyone. They were unable to take it down because they cut the wrong line so the flag remained there for the rest of the day. All Americans need to know about this and need to see that Mexican flag hanging at an American post office. We are being invaded and the American people need to wake up!" In March, a high school in Southern California punished a student for involvement in a protest in which a Mexican flag was flown above an upside-down US flag. The incident took place at Montebello High School in Montebello, Calif., when students walked out of classes at area schools in protest of a proposed federal immigration bill.
Annan: Israel Must Stop Killing Palestinians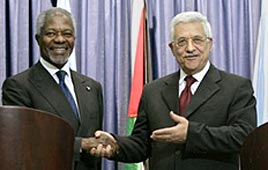 Aug. 30….(YNET) UN Secretary-General Kofi Annan visited Ramallah on Wednesday afternoon. In a meeting with Palestinian President Mahmoud Abbas he verbally slammed Israel for hurting civilians and for the ongoing blockade on Gaza. Anan said that more than 200 Palestinians have been killed since the end of June and that Israel must stop its murderous acts immediately. Annan called for the establishment of a Palestinian state, saying that it was the only solution for the problems in the region. Earlier, Annan met with Israeli Prime Minister Ehud Olmert in Jerusalem. Annan noted in a press conference in Ramallah that he made his opinions about Gaza clear during his meetings in Israel. Beyond maintaining life a way of life must also be maintained, he said, adding that the blockade on Gaza must be lifted and the crossings must be opened. Israel must not only allow goods in, but also allow Palestinians to export, he said.
FOJ Note: Gaza has become a terror-transport facility since Israel agreed to withdraw from that enclave of UN sanctioned poverty and hell.
Major Hamas Authority Tunnel-Terror Attack Thwarted
Aug. 30….(Arutz) The IDF reports that in the wake of intricate and ongoing intelligence-gathering activity by both the IDF and General Security Service, security forces succeeded earlier this week in finding a long tunnel dug from within Gaza towards the Karni crossing. Terrorists were apparently planning to carry out a major attack against Israeli personnel at the crossing itself. The tunnel is a large one, with a 13-meter-deep shaft (42.5 feet) and a 150-meter-long corridor (165 yards). Its entrance to the tunnel was found inside a house in the residential area of Saja'iye, though it is likely to have other tunnels leading to it as well. IDF forces are preparing to collapse the tunnel. The IDF forces have been operating in the Saja'iye area for several days, having killed 13 terrorists and wounding another ten. Though the Karni Crossing is one of the main lifelines of the Gaza populace, by which merchandise and medical supplies are brought into the area, terrorists continually target and use it as a transport system for illegal weapons. The targeting of Karni by the terror organizations, along with other crossings such as Erez and Kerem Shalom, is a deliberate attempt by terrorists to weaken the Palestinian economy," the IDF announced. The targeting of these crossings, which are reopened again and again after attacks, is a cynical exploitation of the Israeli effort to ease the daily lives of Palestinian civilians who are not involved in terror activity." Many more tunnels are assumed to be under construction or completed, and intelligence warnings of tunnels and intended terror attacks stream in all the while. Two tunnels were also recently discovered leading to the Kerem Shalom crossing, apparently intended for use in smuggling arms and ammunition from Egypt into Gaza. Just ten weeks ago, Corp. Gilad Shalit was kidnapped from his tank, and two soldiers were killed, when eight Hamas terrorists infiltrated Israel via a tunnel they dug from Gaza.
9/11 Attacks Show No Lasting Influence on Americans' Faith
Aug. 29….(FOJ) As the United States nears the fifth anniversary of the September 11 terrorist attacks, Americans are looking back at how their lives have changed in the half decade since that tumultuous day. How have their spiritual lives been affected? Has America turned to God in its hour of trial? A new study by The Barna Group examined data from nine national surveys, involving interviews with more than 8,600 adults, conducted right before the attacks and at regular intervals since then. The study shows that despite an intense surge in religious activity and expression in the weeks immediately following 9/11, the faith of Americans is virtually indistinguishable today compared to pre-attack conditions. Barna's tracking surveys looked at 19 dimensions of spirituality and beliefs. Remarkably, none of those 19 indicators are statistically different from the summer before the attacks on our country. In the immediate aftermath of the terrorist attacks, half of all Americans said their faith helped them cope with the shock and uncertainty. The change most widely reported was a significant spike in church attendance, with some churches experiencing more than double their normal crowd on the Sunday after the shocking event. However, by the time January 2002 rolled around, churchgoing was back to pre-attack levels, and has remained consistent in the five years since. As of the summer of 2006, the five religious beliefs that were assessed in the Barna research, beliefs about the devil, salvation, the nature of God, responsibility to evangelize, and the accuracy of the Bible's teachings, were actually less than the profile of spiritual beliefs Americans held back in the summer of 2001. If the impact of 9/11, a wake-up call for America has been indistinguishable in matters of faith, now five years removed from that fateful day, then America may soon find that God tires of being mocked and ignored!
California & Gov. Arnold Obliterates School Moral Code
Aug. 29….(WND) California Gov. Arnold Schwarzenegger has tossed out all sexual moral conduct codes at California colleges, private and Christian schools, daycare centers and other facilities throughout the state, if the institutions have any students who get state assistance. The governor yesterday signed a bill that would require all businesses and groups receiving state funding, even if it's a state grant for a student, to condone homosexuality, bisexuality and trans-sexuality. There is no exception for faith-based organizations or business owners with sincerely held religious convictions, critics note. "The gates of hell are prevailing against the church," Randy Thomasson, president of the Campaign for Children and Familes, told WorldNetDaily. "It's because Christian colleges and churches have ignored the political process for so long. Now the political process, absent religious values, is coming back to assault the church." "This isn't even a veiled attempt at subtly advancing the radical homosexual agenda," said Karen England, executive director of Capitol Resource Institute. "SB1441 is an outright, blatant assault on religious freedom in California." "Arnold Schwarzenegger has two faces," said Thomasson. "He speaks at churches and says he believes in religious freedom and family values, yet he's stabbing pro-family Californians in the back." "This bill is yet another attempt to prevent citizens with moral and religious principles from expressing their beliefs and educating their children according to those beliefs," said England. "On behalf of California families, private schools and other private organizations, I express our outrage at this attack on our freedom." "Today's disastrous action by Schwarzenegger means Christian and other faith-based colleges in California will be forced to promote trans-sexuality, bisexuality, and homosexuality if they accept students with Cal Grants," concluded Thomasson's organization. He said the governor "has trampled religious freedom to satisfy hyperactive sexual activists." The bill was supported by Democrats in the state legislature and specifically requires "any program or activity that receives any financial assistance from the state" to support the alternative sexual lifestyle choices. Still another bill pending in the California legislature would spend state money promoting transsexual, bisexual and homosexual lifestyles. The combination of bills would reinforce homosexuality and a limited number of other sexual choices but also prevent people from reflecting on their religious beliefs that may address those choices. "You cannot preach the Gospel. If you want to preach about Romans 1, you can't. Someone could say, 'That makes me feel bad,'" she said. "You cannot preach what the Bible says. If you're a Christian, it's got to be alarming, because what comes next?
Russia is Still Empowering Israel's Enemies
| | |
| --- | --- |
| | Syrian Dictator Bashar Assad is not as cunning and crafty as his Father, and he is looking east to Iran for assistance in his quest to achieve victory over Israel and obtaining the Golan Heights. In fact Bashar Assad may be just fool enough to catch his foot in a web of evil that Syria will pay dearly for. (Isaiah 17:1 and Jeremiah 49) |
Aug. 29….(FOJ) The Israel-Hezbollah war during August reveals that Israel has moved into a new and frightening chapter in its long struggle to survive as a Jewish state in a sea of hostile Arab and Muslim countries. It is now quite evident that Israel is faced with an existential confrontation with Iran. The hezbollah war was Iran's first shot in a campaign to wipe out the very existence of the Jewish state, as dictated by Ayatollah Khomeini. Today, Israelis are forced to acknowledge the fact that for the first time in its 58 year history, the Jewish state is actually under attack from a non-Arab Muslim country, Iran, whose declared goal is to annihilate their country, and as Iran continues towards acquiring a nuclear bomb, Russia is solidly behind those efforts, just as Russia was behind the Arab wars on Israel for decades. The Soviet Kremlin never directly called the military shots, nor actually commanded frontline Arab armies, yet its military and diplomatic support were a crucial factor in the Arab countries decision to go to war in both 1967 and 1973. Last month's Hizbullah assaults, which Iran is believed to have largely commanded are merely the opening shots in Iran's jihad war which they are waging to ultimately cremate the detested Zionist state. Iran is using the tiny nation of Lebanon as cannon fodder to achieve its diabolic goal. And so a portion of the Lebanese public, backed by the Baathist police state regime based in Damascus, acts as Iran's puppet surrogates. The Assad regime in Damascus is unwittingly placing itself on the chopping block for Iran's grand conspiracy. Syrian dictator Bashar Assad has even become emboldened by the Iranian example of using terrorist guerrilla/terror armies, as he announced in a fiery post-war speech that he is ready to take back the Golan Heights by force if necessary by following the Hezbollah method. He obviously feels bolder to make such statements given the fact that Iran has pledged to aid in the defense of Syria should Israel and Syria go to war. The West, hoping to extract Damascus from the grasps of the Axis of Evil, is even now sending incentives to Syria, like including the Golan Heights in a comprehensive peace agreement, if Syria would be willing to downgrade its relationship with Iran. But Russia knows, as does Iran, that Assad is in their hip pocket, and Assad himself knows he best not seriously entertain any notions of abandoning the Axis of Evil, ala Lebanon. The Bible indicates that Damascus is under a heavy burden, and that the supernatural forces reigning in Moscow and Teheran weigh heavily on Syria's geo-political position. The next war on Israel's northern border may be prophetically significant, and reveal much about the Last Days events surrounding the Time of Jacob's Trouble.
Palestinians Hamas Terrorists Building Army Modeled on Hizballah
Aug. 29….(DEBKA) Yuval Diskin reported to the Knesset foreign affairs and defense committee that Iranian terror experts together with Katyusha and Grad rockets are being smuggled through the Egyptian-Gaza Strip border right past European inspectors and Egyptian police units. The Shin Bet director said Hamas is reorganizing as a regular army modeled on Hizballah with a proper chain of command and building fortified bunkers and tunnels in the Gaza Strip. Shin Bet head Yuval Diskin reiterated at a meeting of the Foreign Affairs and Defense Committee that Palestinian terrorist organizations were studying the Lebanese-Israeli war to learn how to play on Israel's weaker points. Diskin said the West Bank has become increasingly violent, especially in the area of Samaria. Following last summer's withdrawal from the four communities in northern Samaria, the intelligence community has found it difficult to control the area and gather information. "Samaria has become the land of Islamic Jihad following the disengagement," he said. Weapons smuggling through the Rafah crossing has gone up exponentially since the Gaza pullout, Diskin warned, adding that "Rafah will soon be the garden of Eden of weapons smuggling." He estimated that approximately 15,000 guns, 4 million bullets, 2,300 pistols, 38 rockets, dozens of anti-tank missiles, 15 tons of TNT, 400 RPGs, and 10-15 Katyushas like those used in Lebanon had been smuggled into Gaza from Egypt so far, and, he said, those are just the ones we know about. After three to five years of this kind of weapons transfer, he warned, Israel will face a situation similar to south Lebanon.
FOJ Note: Left unreported in this article is the fact that Iran is the supplier of the smuggled weapons into Gaza and the West Bank.
Hezbollah Building Bunkers Near Israeli Border
(Underground system in Palestinian refugee camps, one of many violations of UN agreement)
Aug. 29….(WND) Hezbollah, with the help of Iran, has started building underground war bunkers in Palestinian camps in south Lebanon just a few miles from the Israeli border, according to senior Lebanese officials. During its 34-day confrontation with Hezbollah in Lebanon, Israel destroyed scores of complex Hezbollah bunkers that snaked along the Lebanese side of the Israel-Lebanon border. Military officials said they were surprised by the scale of the Hezbollah bunkers, in which Israeli troops reportedly found war rooms with advanced eavesdropping and surveillance equipment they noted were made by Iran. A senior Lebanese official, speaking on condition of anonymity, told WND Hezbollah has started building a new set of bunker system, this time in Palestinian refugee camps. "The Lebanese Army doesn't have the authority to patrol inside the camps," said the official. "Hezbollah knows it is safe there to rebuild their war bunkers, and they began doing so with Iranian help." Palestinian groups, including Fatah and the Popular Front for the Liberation of Palestine-General Command, maintain armed bases in Lebanon, mostly in the al-Naemeh province just south of Beirut and in the Bekaa Valley, near Lebanon's border with Syria and Israel. Several thousand members of the Lebanese Army began deploying last week in south Lebanon, taking positions vacated by Israeli Defense Forces troops, including outside the cities of Tyre and Bint Jbail, which contain large Hezbollah contingents. Israeli officials say if the Lebanese Army's deployments continue on schedule and if an international force arrives, in line with a United Nations cease-fire resolution, Israeli forces can be withdrawn to within about one mile of Israel's border with Lebanon in 10 days. The IDF is maintaining, for now, some positions throughout south Lebanon. Israel also continues to impose a sea and partial air blockade on Lebanon. The Lebanese government has stated its army will not confront Hezbollah or work to disarm the group. An agreement reached with Hezbollah last week allows the Lebanese militia to retain its weapons as long as it doesn't display the arms in public. The agreement is in violation of the UN cease-fire resolution reached earlier this month
US Plans for Sanctions on Iran
Aug. 28….(Washington Times) The Bush administration plans to move rapidly to organize and impose international economic sanctions on Iran, but not until after a Thursday UN deadline passes, according to Bush administration officials. A senior official who has reviewed Iran's 21-page response said there is still hope Iran will agree before then to stop enriching uranium, although there are no indications Tehran is ready to do so. The Iranian response, sent privately last week to several nations, contains numerous references to how Iran is moving forward with its plans for uranium enrichment. "Clearly, it falls short of meeting the condition that was set," the senior official said. "That condition was full suspension of enrichment activity." International economic sanctions likely will be imposed after passage of a United Nations Security Council Chapter 7 resolution, and sanctions will be applied in stages. The initial sanctions are expected to target Iran's weapons of mass destruction and missile programs and will be designed to make it more difficult for officials of the regime of President Mahmoud Ahmadinejad to travel abroad and conduct business abroad. A coalition of nations in Europe and Asia also is being organized to impose sanctions on Iran should the UN Security Council fail to take action after Thursday. Tougher sanctions will be imposed later if Iran continues to reject controls on its nuclear program and halt uranium enrichment. Nicholas Burns, the undersecretary of state for political affairs, is working to persuade Secretary of State Condoleezza Rice to agree to a plan by the governments of Britain, France and Germany to send Javier Solana, the European Union foreign policy chief, back to Tehran for talks before the Thursday deadline. The Europeans are arguing that if Iran is willing to discuss suspension of enrichment, then the three European governments will not pursue immediate sanctions. The planned concession is opposed by officials at the Pentagon and the office of Vice President Dick Cheney, who oppose making any further concessions to the Iranians because of Tehran's continued defiance. The Iranian response was made after Europeans, the United States and China offered Iran a package of incentives, including trade offers and regional security arrangements, to give up uranium enrichment outside International Atomic Energy Agency (IAEA) controls. Russia and China, either of which could veto any Security Council moves against Iran, oppose sanctions. The administration is encouraged by support from the governments of France, Germany and Britain for sanctions, although it is not clear whether tough action will be taken to punish Iran this week or next, the senior official said. The US intelligence community estimates that the enrichment activities will give Iran, under the guise of a civilian electricity-generating program, the ability to produce nuclear weapons within four years. "Their nuclear program is continuing," a second official said. Yesterday, Iran's nuclear negotiator Ali Larijani stated that the Islamic republic would not stop uranium enrichment despite the UN deadline, Reuters reported from Tehran. "Iran will continue its uranium enrichment," he said. "We want to produce our own nuclear fuel. We will never stop it." US officials said, "Two decades of denial, deception and concealment on the nuclear program has made a pretty convincing case for IAEA and others that they are pursuing nuclear weapons," the senior official said.
Kofi Annan Rides Roughshod over Israel's Security Concerns
Aug. 28….(DEBKA) UNIFIL-2, which will deploy in two stages starting early September, "will not be used along Lebanon's long and porous border with Syria to stop any shipments of arms reaching Hizballah," the UN Secretary General Kofi Anan admitted Friday night from Brussels. This confirms DEBKAfile's report Friday that Israel has failed to obtain a pledge to enforce the UN embargo on arms for Hizballah's rearmament from Iran and Syria. Annan also stated: "Troops are not going in there to disarm Hezbollah, let's be clear." Disarming Hizballah, he said, is a subject for "political agreement among the Lebanese," (a direct contradiction of UN Security Council resolution 1552) Annan also spoke of "international guarantees" to secure Israel against further attacks. In other words, that is not UNIFIL's job. The UN Secretary General will go ahead with raising more international soldiers from Indonesia, Malaysia and Bangladesh, despite their refusal to maintain diplomatic relations with Jerusalem. He said he would take the best peacekeepers "wherever he can find them," even if Israel does not accept this. The Muslim contingents will supplement the 6,900 soldiers 12 European governments have pledged. Italy which succeeds France as leader of the force next February deploys the largest unit of 3,000 men, followed by France's 2000 troops, Spain's 1,000, Poland's 500 and 250 from Finland. The Italian foreign minister, Massimo D'Alema, who can't wait to plant a European military presence in the Middle East, is even more relaxed about holding Hizballah to UN resolution 1701. After all, he says, Europe does not regard Hizballah as a terrorist organization. He repeated Annan's statement and declared that Italy would not engage in disarming Hizballah fighters.
European Force Is Shield for Iranian-Hizballah Military Buildup
Aug. 28….(DEBKA) Whereas Israel initially conceived of a multinational force as a guarantee of its border security against terrorist attack and a boost for the Lebanese army to displace Hizballah, the European governments contributing contingents to this force have their own ideas and interests. Less than two weeks into the UN-brokered ceasefire, the swiftly-evolving situation in Lebanon is casting the international force in the role of protector and shield for the rapid buildup of a new, beefed up Iranian-Hizballah military deployment in Lebanon up to the Israeli border. The force dubbed by Kofi Annan UNIFIL-2 has no operational plan to enforce the UN arms embargo which would entail stemming the heavy flow of Iranian arms shipments entering Lebanon day by day along two Syrian tracks. Long, heavily laden convoys are heading from the Syrian ports of Latakia and Tartus to the Lebanese Beqaa Valley, bringing Hizballah its first heavy missiles, the Russian-made Scud-B adapted by Iran as Shahab-1, which has a one-ton warhead and range of 350 km. A second track brings 3-5 Iranian air cargoes every day to Syrian air bases near the Lebanese border. Neither does the European force, to be led until February 2007 by France, plan to hinder the operation of the Iranian Revolutionary Forces command center ensconced since last week on the Syrian side of the Lebanese border. The four Iranian generals at this center have taken direct command of Hizballah, which has the distinction of being the first terrorist group ever to be supplied by a UN member-state with the armaments of a national army. Despite this ominous buildup on Israel's northern border, foreign minister Tzipi Livni is pushing hard for the European force, which will number at most 6,000 troops, to move into position and allow Israeli troops to pull out. So far, France has pledged 1,600 troops, Italy 3,000 and Belgium 400 soldiers to the expanded UNIFIL, mandated to police southern Lebanon. Greece, Finland, Spain and Holland may also pitch in. It will operate outside the bounds of NATO. The United States and Israel will have no say in its operations. This makes sense because the last thing on the minds of the European governments at this point is Israel's security. As for its attitude towards the US, the European Union's leaders believe that success in boosting the 60,000-strong Lebanese army (40% of whom are Shiites) sufficiently to extend the Fouad Siniora government's sovereignty to the whole of Lebanon would earn Europe the credit for having gone one better in Lebanon than the United States in Iraq. As peacekeepers, they could pull this feat off without having to fight anyone, or even disarming Hizballah. It should not be too hard to persuade Siniora and Hassan Nasrallah to go along with the pretence that Hizballah's armed militia has been integrated in the national army of Lebanon, exactly like the Shiite Badr Organization and Wolves have been ostensibly incorporated in the Iraqi national army. Hizballah and the Iranians have no reason to disturb the peace and the international force's deployment on the Lebanese-Israeli border, because under cover of this deployment a process contrary to Resolution 1701 will be going forward. It is starkly symbolized by the large pictures of Iran's supreme leader, Ayatollah Ali Khamnei, mushrooming alongside Nasrallah's along the highways and byways of Lebanon. Beirut and other parts of Lebanon are in the process of falling under the expanding domination, not of the Siniora government, but of Hizballah and its Iranian master. Meanwhile their fighters are training on the new state of the art weaponry and setting up new military positions ready for their next chance to resume the war against Israel. However, European imaginations and ambitions soar way beyond Lebanon. Its capitals were abuzz this week with talk of a revamped UNIFIL under a combined European command serving as the military arm of the European Union. After pacifying Lebanon, they see units of the force relocated to the Palestinian Authority as a buffer between the Palestinians and Israel in Gaza and the West Bank. In Rome and Madrid, some officials were enthusiastic enough to postulate European contingents for Iraq as dividers between American forces and insurgents until US troops are ready to depart Iraq. Israel must ask itself how far this European self-interest serves its security needs and what use UNIFIL-2 will be when Israel is faced with a fresh military threat from Iran and its Lebanese surrogate. Given Europe's motivations, foreign minister Livni's policy of encouraging the EU to establish a presence in Lebanon is far from serving Israel's national interests. It looks as though the Olmert-Livni-Peretz leadership has learned nothing from the first round of the Lebanon conflict and the dire consequences of the blunders committed by Israeli governments the last six years. Like its predecessors the incumbent government in Jerusalem prefers to hide its head in the sand.
Nearly 2/3 of Israelis Want Olmert to Quit
Aug. 28….(AP) Sixty-three percent of Israelis want Prime Minister Ehud Olmert to resign in a sharp public rebuke over his handling of the war in Lebanon against Hizbollah, a newspaper poll showed on Friday. Many Israelis view the UN-brokered ceasefire backed by Olmert as a failure for Israel because Hizbollah's leadership was left standing and the two Israeli soldiers, whose capture by Hizbollah on July 12 sparked the war, were still in captivity. The Yedioth Aronoth poll showed for the first time a majority favored Olmert stepping down. Several surveys suggested a big jump in support for the right-wing Likud party and its leader Benjamin Netanyahu after the 34-day war. A poll in the Maariv newspaper showed that only 14 percent of Israelis would vote for Olmert if new elections were held, while 26 percent would back Netanyahu, a former prime minister. The Yedioth poll said 45 percent would support Netanyahu. Olmert, a career politician who lacks the combat credentials of many of his predecessors, has seen his public standing plummet for failing to crush Hizbollah, which rained some 4,000 rockets on northern Israel during the fighting. "Olmert go home," read one sign at a protest by a few hundred army reservists and family members at the grave of former Prime Minister Golda Meir on Friday. The protesters urged Olmert to follow the lead set by Meir, who was forced to resign after the 1973 Middle East war in which Egypt and Syria scored initial successes that caused heavy Israeli casualties. Yedioth, Israel's biggest circulation daily, called Friday's poll results a political "earthquake" for Olmert, whose centrist Kadima party crushed Netanyahu's Likud in general elections in March. A similar poll published a week ago showed 41 percent wanted Olmert to resign. Twenty-two percent of Israelis in the poll deemed Netanyahu "most fit" to be prime minister, compared to 11 percent for Olmert. Olmert also trailed ultranationalist Avigdor Lieberman with 18 percent and senior statesman Shimon Peres with 12 percent, according to Yedioth. The Maariv poll showed that if elections were held today, Olmert's Kadima party would win just 14 seats in parliament, compared with the 29 it won at the last polls. Likud would win 24, compared with 12. The left-leaning Labour party would win just nine seats. In addition to calling for Olmert's resignation, 74 percent of Israelis in the Yedioth poll said Defense Minister Amir Peretz, the left-leaning Labour party leader, should step down. Fifty-four percent want army chief Dan Halutz to step down. Olmert has put on hold for now his proposal for an Israeli pullout from parts of the occupied West Bank. The proposal was the centerpiece of the government program that won him election in March. But resurgent violence in Gaza, which Israel evacuated last year, plus the Lebanon war appears to have dampened public enthusiasm for territorial withdrawals. The Maariv poll showed 73 percent of Israelis opposed future unilateral withdrawals
Iran Tests Submarine-to-Surface Missile
Aug. 28….(AP) Iran tested a new anti-ship missile fired by a submarine during war games Sunday, raising worries it could disrupt vital oil tanker traffic in the Gulf amid its standoff with the West over its suspect nuclear activities. Iranian President Mahmoud Ahmadinejad took a tough tone over the nuclear issue, saying his country's decision to pursue nuclear technology was irreversible. His comments and the missile test came only days before an Aug. 31 deadline imposed by the United Nations for Tehran to suspend the enrichment of uranium, a process the United States says the Iranians intend to use to build nuclear weapons. The Thaqeb, Farsi for Saturn is Iran's first missile that can be fired from underwater and flies above the surface to hit its target, distinguishing it from a torpedo. While the missile showed some technological advances by Iran, its main importance seemed to be that it gives the country another means for targeting ships, along with the arsenal of torpedoes and other anti-ship missiles it already has. Ahmadinejad said the United States should give up its nuclear technology because it could not be trusted with it, having developed and used nuclear weapons. Israel recently purchased two German-made Dolphin submarines capable of carrying nuclear warheads, clearly aiming to send a message to Tehran that it could strike back. The purchase beefs up Israel's deterrent power, since the subs can remain submerged for longer periods of time than the three nuclear armed-capable submarines already in Israel's fleet. Israel is believed to have hundreds of warheads, the only nuclear arsenal in the Middle East, but it has kept the information secret and refuses to confirm or deny the reports. The test-firing of the new missile underlines a card Iran can play in the nuclear standoff with the West, the ability to disrupt oil tanker shipments in the Gulf, through which about two-fifths of the world's oil supplies pass. Iran's oil minister and other government officials have said Iran would never attack Gulf tankers, but the interior minister warned in March that all options for retaliation are open and noted Iran's strategic position over Persian Gulf oil traffic.
Some Poignant Facts and Figures on Jews and Arabs
Aug. 28….(Anonymous) The World Islamic population is approximately 1,300,000,000, or 22.5% of the world population. They have received the following Nobel Prizes: Literature: 1988 - Najib Mahfooz. Peace: 1978 - Mohamed Anwar El-Sadat, 1994 - Yaser Arafat, 1990 - Elias James Corey, 1999 - Ahmed Zewai. Economics: (none), Physics – (none), Medicine: 1960 - Peter Brian Medawar, 1998 - Ferid Mourad. Total - 6
The Global Jewish population is approximately 14,000,000, or about 0.02% of the world population. They have received the following Nobel Prizes: Literature – 10, World Peace – 8, Physics – 53, Economics – 13, Medicine – 44. Total - 127
The Nobel Prize winner's listing reads like a roll call of the World Jewish population. When one stops to acknowledge that the Jews are not promoting the brain washing of children in military training camps, or teaching them how to blow themselves up and cause the maximum deaths of Jews and Christians and other non Muslims, one must consider other facts. The Jews don't hijack planes, strap on bombs to kill innocents, nor kill other countries athletes at the Olympics. The Jews don't traffic slaves, nor do their leaders call for Jihad and death to all the Infidels, nor do they call for any nations to be wiped off the face of the map. Perhaps the world's Muslims should consider investing more time in standard education and less time in blaming the Jews for all their problems. Regardless of your feelings about the Middle East crisis and the land conflict between Israel and the Palestinians and her Arab neighbors, even if you believe there is more culpability on Israel's part, the following two sentences really say it all:
(FOJ) If the Arabs put down their weapons today, and the Islamic Mullah's stopped inciting their masses of blind followers to hate Israel, (and simply accepted Israel's right to exist) there would be a lot less violence. (and practically no terrorism)
If the Jews put down their weapons today, there would be no more Israel. (and a lot fewer Nobel Prize winners)
The Jews have produced 127 Nobel Prize winners and the Arab/Muslim world just six. (and one of those being Yasser Arafat—for peace, of all things) Although the Arab/Muslims outnumber the Jews 100:1, the Jews produce 21 times as many Nobel winners. Considering the fact that the Nobel winners are generally recognized as the world's greatest contributors to the advancement of human civilization, and that most of the world's terrorist are Muslim, it could better be argued that Israel should be held up as an example for the world, and that the Arab/Muslim world be wiped off the map. But then, that would be thinking more like Allah thinks, wouldn't it? Now it should stand to reason that there is nothing wrong with the Arab capacity to achieve and contribute to the welfare of world society, but rather, it points to the fact that there is something wrong with the religion of the Arab world, a religion that evokes the very essence of intolerance.
Rep. Harris: Church-State Separation 'a Lie'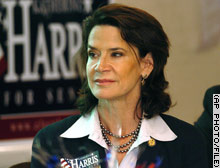 Aug. 28….(WND) US Rep. Katherine Harris told a religious journal that the idea of separation of church and state is "a lie" and God and the nation's founding fathers did not intend the country be "a nation of secular laws." The Republican candidate for US Senate also said that if Christians are not elected, politicians will "legislate sin," including abortion and gay marriage. Harris made the comments, which she clarified Saturday, in the Florida Baptist Witness, the weekly journal of the Florida Baptist State Convention, which interviewed political candidates and asked them about religion and their positions on issues. Separation of church and state is "a lie we have been force-fed," Harris said in the interview, saying separating religion and politics is "wrong because God is the one who chooses our rulers." "If you're not preferable to electing Christians, then in essence you are going to legislate sin," Harris said. Her comments drew criticism, including some from fellow Republicans who called them offensive and not representative of the party. Rep. Debbie Wasserman Schultz, D-Florida, who is Jewish, told the Orlando Sentinel that she was "disgusted" by the comments of Harris. Harris' campaign released a statement Saturday saying she had been "speaking to a Christian audience, addressing a common misperception that people of faith should not be actively involved in government." The comments reflected "her deep grounding in Judeo-Christian values," the statement said, adding that Harris had previously supported pro-Israel legislation and legislation recognizing the Holocaust. Harris' opponents in the GOP primary also gave interviews to the Florida Baptist Witness but made more general statements on their faith.
Harris, 49, faced widespread criticism for her role overseeing the 2000 presidential recount as Florida's secretary of state. State GOP leaders, including Gov. Jeb Bush don't think she can win against Democratic Sen. Bill Nelson in November.
FOJ Note: Representative Harris has told the God's honest truth on this matter. America was not founded upon the principle of Separation of Church and State, and the only wall of separation intended by the founders was to keep the State from the affairs of the churches, and to prevent the establishment of a state-sanctioned Church.
TBN Cancels Zola Levitt for Criticism of Islam
Aug. 28….(WND) "Zola Levitt Presents," a long-running, issue-oriented weekly TV program often critical of the jihadist ideology within Islam, has been canceled by the Trinity Broadcasting Network, producers says, because of efforts by TBN to cater to its growing audience in the Arab world. Though spokesmen for TBN were unavailable over the weekend for comment, the cancellation, effective today, would make it the second long-time program scrubbed by the largest Christian broadcaster because of sensitivities about Muslim content. In January of this year, Hal Lindsey's "The International Intelligence Briefing," notified TBN he would not be back because of what he considered to be efforts to muzzle his opinions about radical Islam. Lindsey, author of "The Late Great Planet Earth" and considered to be the biggest selling author alive today and a weekly columnist for WND, had anchored the program for the last 12 years on the world's largest Christian network. Zola Levitt Ministries made the announcement about TBN in the September issue of its newsletter, the Levitt Letter. "TBN committed to continuing our broadcasts only so long as we soften our programs so they are not too pro-Israel nor unduly anti-Arab. TBN, you see, is modifying its programming to be suitable for broadcast in Arab nations. Zola Levitt, known for the tagline, "Pray for the peace of Jerusalem," died last April after a battle with cancer. His television program and his teachings emphasized the Jewish roots of Christianity.
FOJ Note: The Zola Levitt Ministry is a good ministry, and one that TBN should have the backbone to support. FOJ condemns TBN for its blatant anti-Christian anti-Biblical-Zionist stands.
WEEK OF AUGUST 21 THROUGH AUGUST 27
Israel May 'Go it Alone' Against Iran
Aug. 24….(Jerusalem Post) Israel is carefully watching the world's reaction to Iran's continued refusal to suspend uranium enrichment, with some high-level officials arguing it is now clear that when it comes to stopping Iran, Israel "may have to go it alone," The Jerusalem Post has learned. One senior source said that Iran "flipped the world the bird" by not responding positively to the Western incentive plan to stop uranium enrichment. He expressed frustration that the Russians and Chinese were already saying that Iran's offer of a "new formula" and willingness to enter "serious negotiations" was an opening to keep on talking. "The Iranians know the world will do nothing," he said. "This is similar to the world's attempts to appease Hitler in the 1930s, they are trying to feed the beast." He said there was a need to understand that "when push comes to shove," Israel would have to be prepared to "slow down" the Iranian nuclear threat by itself. Having said this, he did not rule out the possibility of US military action, but said that if this were to take place, it would probably not occur until the spring or summer of 2008, a few months before President George W. Bush leaves the international stage. The US presidential elections, which Bush cannot contest because of term limits, are in November 2008. Foreign Minister Tzipi Livni said Iran "poses a global threat" and needed to be dealt with by the whole international community. "The first thing they need to do is stop the enrichment of uranium," Livni said. "Everyday that passes brings the Iranians closer to building a nuclear bomb. The world can't afford a nuclear Iran." She said the Iranian reply to the Western incentives was just an attempt to "gain time." Government officials said Israel's role at this time is to warn the world of the dangers of an Iranian nuclear potential. Some government officials are sending the message to their counterparts abroad that the firm implementation of UN Security Council Resolution 1701 on Lebanon will send a strong message to Iran, which is testing the world's resolve, that it is serious about implementing Security Council resolutions. Meanwhile, the Middle East Media Research Institute (MEMRI) reported Wednesday that the Iranian news service Al-Borz, redicted that President Mahmoud Ahmadinejad would announce what the news service called Iran's "nuclear birth" on the first anniversary of his government later this month. In addition, an article Tuesday on the Teheran Times Web site, considered to be affiliated with the Foreign Ministry, implied that Iran's nuclear technology had already reached the point of no return. "If the West is seeking to impede Iran's nuclear industry, it should realize that Iran has passed this stage," the report read. Diplomats from Europe, the US, Russia and China were poring over details of Iran's counterproposal to the Western nuclear incentives package Wednesday. Initial comments from Russia and China made clear Washington is likely to face difficulty getting at least those nations to agree to any tough sanctions against Iran. However, Russia's Foreign Ministry said it would continue to seek a political, negotiated solution to the dispute with Iran. China appealed for dialogue, urging "constructive measures" by Iran but also urging other parties to "remain calm and patient, show flexibility, stick to the orientation of peaceful resolution and create favorable conditions for resuming talks as soon as possible." The world powers, the five permanent UN Security Council members plus Germany, have given Iran until August 31 to accept the incentives package.
Syria's New 'Hezbollah' Group Training for Attacks on Israel
(Baath party official: Lebanon war proves 'resistance' against Israel works)
Aug. 24….(WND) Following what it views as a Hezbollah victory against the Jewish state, Syria is forming its own Hezbollah-like guerrilla organization to fight Israel in hopes of "liberating" the Golan Heights, according to a report aired yesterday on state-run Iranian television. Last week, WND broke the story Syria is in the process of forming what an official from Syrian President Bashar Assad's Baath Party called the Front for the Liberation of the Golan Heights, a new "resistance" group that models itself after Hezbollah. The official told WND the Front will attempt attacks to force Israel from the Golan Heights, strategic mountainous territory captured by the Jewish state after Syria used the terrain to attack Israel in 1967 and again in 1973. The Heights borders Israel, Syria and Lebanon and is claimed by Damascus. Al-Alam Iranian television yesterday featured an interview with a man who identified himself as the leader of the new Front for the Liberation of the Golan Heights. The man, whose features were blocked out, said his new group consists of "hundreds" of fighters who are currently training for guerilla-like raids against Israeli positions in and near the Golan. He claimed the Front has opened several training camps inside Syria. Last week, the Baath party official, speaking on condition of anonymity, told WND Syria learned from Hezbollah's military campaign against Israel the past month that "fighting" is more effective than peace negotiations with regard to gaining territory. He said Syria's new guerilla force would be trained by Hezbollah leaders. "Syria is very serious about establishing this new guerilla force," the official said. Hezbollah, which was embroiled in a month-long military confrontation with Israel, claims its goal is to liberate the Shebaa Farms, a small, 200-square-kilometer bloc situated between Syria, Lebanon and Israel. The Farms is the last post held by Israel after its withdrawal in 2000 from positions it took along the Lebanese border. Most Western analysts agree Hezbollah uses the pretext of the Shebaa Farms to maintain its weapons to start conflicts with the Jewish state. Hezbollah is sponsored by Syria and Iran. The cease-fire resolution accepted by Israel last week calls for negotiations leading to Israel's relinquishing of the Shebaa Farms. The resolution sought to end fighting that broke out after Hezbollah ambushed an Israeli military patrol unit July 12, kidnapping two soldiers and killing eight others. The Baath party official told WND the Front for the Liberation of the Golan Heights was formed last month. The official said the group currently consists of Syrian volunteers, many from the Syrian border with Turkey and from Palestinian refugee camps near Damascus. He said Syria held registration for volunteers to join the Front in June. The official's statements to WND came one day after Assad declared in a television address Hezbollah's path of "resistance" achieved results during the last four weeks of fighting against Israel. "The region has changed because of the achievements of the resistance Hezbollah," said Assad, speaking to a journalists association. Assad said members of Hezbollah used their "will, determination and faith" to counter Israeli arms, enabling the Lebanese militia to defeat Israel. "We tell them (Israelis) that after tasting humiliation in the latest battles, your weapons are not going to protect you, not your planes, or missiles or even your nuclear bombs. The future generations in the Arab world will find a way to defeat Israel," Assad said. "The resistance is necessary as much as it is natural and legitimate," said the Syrian president, claiming the war in Lebanon revealed the limitations of Israel's military power. "The result was more failure for Israel, its allies and masters," said Assad.
Iran Training Shiite Insurgents in Iraq
Aug. 24….(Newsmax) The Iranian government is training and equipping much of the Shiite insurgency in Iraq, a senior US general said Wednesday, drawing one of the most direct links by the Pentagon. Brig. Gen. Michael Barbero also said it was too soon to tell if the latest security crackdown in Baghdad has proved successful. Barbero said it is a "policy of the central government in Iran" to destabilize Iraq and increase the violence there. "I think it's irrefutable that Iran is responsible for training, funding and equipping some of these (Shiite) extremist groups and also providing advanced IED technology to them," Barbero said. "IED" refers to the improvised explosive devices - roadside bombs - that have caused much death and destruction in Iraq. Barbero, deputy director of operations for the Joint Chiefs of Staff, said it would be inappropriate to specify when, where and how many Iranians have been training Iraqi insurgents. Defense Secretary Donald H. Rumsfeld and other US military leaders have talked about Iran's funding of the insurgency, but generally have been reluctant to directly blame the Tehran government. Barbero said there continue to be problems policing the borders, particularly the one between Iraq and Syria, as Iraqis construct forts and slowly build up their own border patrol forces.
Neighbors Smell Blood in Israeli Cease-Fire Acceptance
(Arabs and Muslims from Iran, Hizbullah and the PA are celebrating Israel's acceptance of the UN cease-fire, dubbing it a "surrender" and calling on Arab states to attack the new "weak" Israel.)
Aug. 23….(Arutz) "After one month of war against Lebanon's resistance, Israelis are the absolute losers and Hizbullah is the absolute winner of the war," Iran's Foreign Ministry spokesman Hamida-Reza Asefi said Sunday. "The occupiers of Jerusalem failed, despite their military, economic, intelligence and diplomatic backings." The Iranian official said the Islamic Republic of Iran is "very pleased" with the ceasefire, according to state-run Iranian news agency IRNA. He warned, though, that attacks on Israel would continue as long as "occupation lingers." He declined to outline whether occupation included retaining sovereignty in regions such as the Galilee, which Hizbullah chief Hassan Nasrallah has termed "settlements" in his wartime addresses. "Let us not forget that as long as there is occupation there is resistance," he added. Hizbullah central council member Ahmed Barakat told Qatari newspaper al-Watan Sunday, "Today Arab and Muslim society is reasonably certain that the defeat of Israel is possible, and that countdown to the disappearance of the Zionist entity in the region has begun. If a mere organization succeeded in defeating Israel, why would Arab nations not succeed in doing so if they allied? Many Arabs and Muslims viewed Israel in a fictional way and the resistance has succeeded in changing this." Barakat boasted that none of Hizbullah's leadership were injured, and that the group still possesses thousands of rockets and other "surprises" for use in the days following the implementation of the UN ceasefire. He added that the remaining missiles and weapons allow Hizbullah to strike Israel from afar and do not require the group to be near Israel's border. Photos of Hizbullah-leader Hassan Nasrallah "hang everywhere in Ramallah," according to Al-Jazeera, "covering the walls and shop fronts and plastered across T-shirts and demonstration banners." The number-one song in Ramallah this summer, "blaring repeatedly out of shops and streets stalls," is "The Eagle of Lebanon," referring to the Hizbullah chief.
How the Soviets Gave the Mullahs the Bomb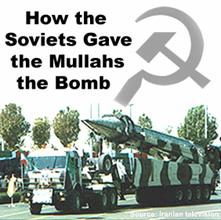 Aug. 23….(excerpt from Frontpage) Regnar Rasmussen is a former military interpreter and interrogation specialist trained at the Danish Armed Forces' Specialist School. For more than ten years, he worked as a translator in the Danish Central Police Department (immigration department) as well as in several criminal investigations departments. He affirms that, through his experience, he learned of the many ways in which the Soviet system trained the Islamist enemy we now face in the terror war. More frightening yet, he claims that his sources informed him back in 1992 that the Soviets sold the Iranian Mullahs nuclear warheads in autumn 1991. In autumn 1991 Nursultan Nazarbayev, the president of Khazakhstan, sold three nuclear warheads to the Iranians. The Iranians wanted to use them as a prototype for their own bomb manufacturing. The price was said to have been 7.5 billion USD. Whether this amount is true or just the fantasies of a less paid government official, I cannot verify. The amount was to cover all bribes and kick-offs and military protection during transport. Every country involved had demanded their fair share of the deal. Anyway, the warheads were removed from a military depot somewhere in Kazakhstan and transported by train down to Makhachkala in Daghestan. Here they were reloaded onto huge trucks and then taken through the Caucasian region and into Turkey. In the city of Dogubeyazit the Iranians met the convoy and took over. The three vehicles were then driven by Iranian drivers down to the border post Bazargan, where they entered Iranian territory. The warheads were brought down to Teheran and parked in the military campus Lavizan. Here they were seen by a soldier who later defected to Israel and told the story to the Israeli intelligence services who at that time were unable to verify the matter further. Various rumours have been circulating ever since. Some stories say two bombs, some say four. The correct number, however, is three. Long before the downfall of communism in 1989 nuclear technology had been proliferated by the Soviet Union. The Mullah Regime had had connections and cooperation with the Soviet Union since the early days of the Islamic Revolution in 1978/79, but after 1989 hundreds and hundreds of Russian nuclear scientists were hired on by the Iranians who offered exorbitant wages and golden palaces to them in order to secure their loyalty. This has to be seen on the background of Soviet living conditions in those days. No wonder the Iranians could pick and choose as they wished. I am personally convinced that Iran quickly managed to duplicate the bombs and that their only obstacle was to produce sufficient quantities of enriched uranium or other substances for their bombs. As of today I am convinced that Iran has had the nuclear bomb already for some years and is now only waiting for a good opportunity to wipe Israel off the map. I am convinced that Israel suddenly pulled out of their invasion of Lebanon long before accomplishing their stated goals simply and solely due to the threats from Iran. Israel finally realized that America was not in a position to make any pre-emptive strike against Iranian nuclear facilities. This is nothing more than my personal belief and conjecture. But you might wonder whether or not there could be something to it if you take a look at some interesting reports.
1991: A top-secret report from the newly formed Russian intelligence service claims that Iran has obtained at least two nuclear warheads from a batch listed as missing from Kazakhstan. The nuclear weapons were reportedly smuggled across the border to Iran in 1991 and are under the control of Reza Amrollahi, who is head of the Iranian Organization for Atomic Energy and is also in charge of recruiting atomic scientists from the former Soviet Union. Kazakhstan President Nursultan Nazarbayev is believed to have engineered the weapons deal with Iran, exchanging warheads for hard currency or gasoline. US officials have denied aid to Kazakhstan based on the belief that Kazakhstan has nuclear ambitions.
Nuke Defiance May Birth Domination By Iran, Russia In Middle East
Aug. 23….(Bill Wilson, KIN) Iran's response to the United Nations demand that it quit enriching uranium for its nuclear program will only continue to exacerbate the problems for the West in the Middle East. Bolstered by what it believes to be a victory by Hezbollah against the United States and Israel, Iran will continue on a destructive path as a willing partner of Russia and China for domination of the Middle East. Just days ahead of its deadline for telling the United Nations that it has every right to enrich uranium for peaceful nuclear purposes, Iran is launching a new military readiness defense structure throughout the country. Intelligence reports have indicated over the last year that North Korean tunnel builders have been assisting Iran with a sophisticated tunnel system to hide nuclear activities and bring large caches of strategic weaponry underground. In addition, Russian and Chinese scientists have been helping Iranian colleagues develop nuclear technology and missile payload systems to carry nuclear weapons. Saturday, Iran said it test fired 10 new short-range mobile missiles that can reach up to 150 miles and can evade radar systems. The missiles are very similar to those that Russia's President Vladimir Putin recently announced that his country had developed and was deploying. The missile tests were conducted during a comprehensive nationwide military exercise. Iran's state-run television reported that the exercises, called Zolfaghar's Strike in reference to a sword that belonged to Imam Ali, a revered figure in Shi'ite Islam, would occur in 14 of the country's 30 provinces and could last as long as five weeks. Ayatollah Salehi, commander-in-chief of Iran's army, said the country should be ready for possible attacks. He said, "The strengths that you see in the war games are the powers we have obtained from our experience in fighting our enemies' ominous objectives. We have designed plans that will definitely surprise our enemies." It would appear that Iran is readying itself for possible military action by either Israel or the United States. Iran believes that the perceived Hezbollah victory marks the beginning of the end of Israel and Iran intends to use this perception to bend international political opinion to its advantage. Certainly it is receiving coaching from Russia and China, its two allies on the UN Security Council. Ancient Iran, Persia, is a stronghold of Satan. As spoken by the Angel to Daniel in Daniel 10:13, "But the prince of the kingdom of Persia withstood me twenty-one days; and behold, Michael, one of the chief princes, came to help me." Look for Iran to spearhead political unrest with Russia in the shadows.
Iran's Ex-President Khatami Coming to Washington
Aug. 23….(YNET) Despite a diplomatic standoff over nuclear weapons and other difficult issues, a former Iranian president is making plans to speak next month at the Washington National Cathedral. The former president, Mohammad Khatami, would be the most senior Iranian official to visit Washington since Islamic fundamentalists seized the US Embassy in 1979 and held Americans there hostage for 444 days. The Iranian Embassy in Washington closed in April 1980 and there have been no formal relations between the two countries since then, although US and Iranian diplomats on some occasions have participated in multinational meetings, such as on Afghanistan. Several former diplomats and members of Congress have been lobbying publicly for the Bush administration to deal directly with Iran on its nuclear program and other divisive issues. A State Department official, who was not authorized to be identified by name, said notice had been received of Khatami's intention to apply for a visa but no formal request had been made. Until the request is received US officials said they could not say whether it would be granted. At the Cathedral, the Rev. Canon John L. Peterson, director of its Center for Global Justice and Reconciliation, said UN Secretary-General Kofi Annan had invited Khatami to participate in a conference Sept. 5-6 to promote dialogue. He said the church's center "thought it would be appropriate to invite the president to speak on the role that the three Abrahamic faiths can play in shaping peace." "We have a special commitment to embracing the children of Abraham," he said, referring to Muslims, Christians and Jews. "The Church calls upon us to engage in reconciliation and understanding by having conversations with people with whom we might disagree," he said. Evan Anderson, deputy director of the Center, said the former president was in Dubai preparing to apply for permission to visit the United States. "Any headway that is to be made in US-Iranian relations is very important," Anderson said. Religious groups should play a role in fostering dialogue with Iran, he said. Khatami would speak at the Cathedral Sept. 7 on the role of Muslims, Christians and Jews in improving world understanding.
Massive Western Aliyah This Week, Despite Month of War
Aug. 23….(Arutz) After a month of war, and even though they have had plenty of time to postpone or reschedule their Aliyah (immigration to Israel), four planeloads of Jews are scheduled to arrive in Ben Gurion airport in the coming week, the first on Thursday. On Wednesday, August 16th, the one year anniversary of the forced eviction of the Jews of Gaza, three simultaneous flights will arrive. Embodying the Jewish prayer that the nation be gathered "from the four corners of the Earth," the planes will depart from Canada, America and England, all arriving simultaneously in the Holy Land. The August 16, 2006 influx will constitute the largest number of Jews in history making Aliyah to Israel from Western countries in a single day. Overall this summer, 3,000 North American and British Jews are moving to Israel on specially chartered flights organized by the Nefesh b'Nefesh Aliyah assistance organization, in close cooperation with the Jewish Agency
Syria Objects to UN Monitors in Border With Lebanon
Aug. 23….(Ha Aretz) Syrian President Bashar Assad today rejected Israeli demands for the deployment of international troops on the Lebanese-Syrian border to stop what Israel says is the smuggling of arms to Hezbollah. This would be a withdrawal of Lebanese sovereignty and a hostile position," Assad said. The United Nations is trying (feebly) to assemble a force of 15,000 to monitor a truce in southern Lebanon after a 34-day war between Israeli and the Shiite Muslim terror group Hezbollah. Israel wants UN troops to police border crossings between Lebanon and Syria to prevent weapons smuggling. Israeli Prime Minister Ehud Olmert said stationing some of the international force at border crossings and Beirut airport would enable Israel to lift its air and sea blockade of Lebanon. UN envoy Terje Roed-Larsen said on Tuesday that there were indications from senior Lebanese officials that they would request help in monitoring the crossings and that the international community would heed any such requests. He said about 2,000 Lebanese forces had deployed along the border with Syria, but the United Nations was having difficulty attracting contributions for the international force. Many countries have demanded a clearer mandate for the expanded UN force, authorized by UN Security Council resolution 1701 establishing the ceasefire. That resolution also demands that Lebanon's borders be demarcated, particularly to solve a dispute over the Shebaa Farms, an Israeli-occupied strip near the border between Lebanon, Israel and Syria's Israeli-occupied Golan Heights. Assad said, however, that his country would not draw the border until Israel withdrew from the area. "There will be no drawing of the border in the Shebaa Farms before the Israeli forces leave it," Assad said. "Hizbullah's victory was enough to teach Israel a lesson, that the isolation of Syria has failed and that anyone who tries to isolate Syria isolates himself from basic issues." The Shebaa Farms is a small patch of land claimed by Lebanon, (actually it is part of Syria) but occupied by Israel since it captured the Golan Heights from Syria in 1967. Even the United Nations deems the territory Syrian until such time as Syria cedes it to Lebanon. Israeli forces withdrew from southern Lebanon in 2000, ending a 22-year occupation, but remain in Shebaa Farms. After 29 years, Syria pulled out of Lebanon last year under intense world and Lebanese pressure following the killing of a former prime minister which many blamed on Damascus. Assad said there was still a chance that peace could be achieved in the Middle East but that the window of opportunity could close within weeks or months. Olmert this week rejected suggestions from within his cabinet that Israel should talk to Syria, saying peace negotiations could only be held if it stopped backing groups like Hizbullah.
Lebanon War Riddles and Their Relevance to Moves on Syria
Aug. 22….(DEBKA) Apparently out of the blue, a clutch of Israeli ministers, Amir Peretz, defense, Tzipi Livni, foreign affairs and Avi Ditcher, internal security, have evinced a burning desire to talk peace with Syrian president Bashar Assad and even a willingness to discuss handing over the Golan captured in the 1967 war. Monday, Aug. 21, Prime Minister Ehud Olmert stepped in with a reminder: Thousands of Hizballah missiles striking Israelis came from Syria, he said. Until that stops and the Palestinian terrorist commands are ejected from Damascus, we have nothing to discuss with Syria. But the damage was done. Assad himself must have wondered what he had done to deserve this sudden attention from an American ally after three years of helping Baathist insurgents and al Qaeda fight US forces, hosting the most radical Palestinian groups including Hamas and Jihad Islami, and engineering the murder of the former Lebanese Prime Minister Rafiq Hariri. The Israeli ministers' timing was unfortunate; Syria continues to pump arms to Hizballah and Israeli soldiers are still deployed in Lebanon, holding the line against Hassan Nasrallah's men and their Syrian and Iranian sponsors. Furthermore, Saudi king Abdullah and Egyptian president Hosni Mubarak, for whose regimes the Syria-Iran-Hizballah pact poses an existential threat, must be stewing in their palaces over the senior Israeli ministers' decision to go a-wooing after the Syrian president. DEBKAfile's political, military and Washington sources offer some disclosures to account for this apparently illogical behavior:
1. After refusing to see Iran's long arm behind the Hamas in Gaza in the aftermath of the Israeli withdrawal from Gaza a year ago, in which those ministers played a lead role, they were dismayed to find themselves again face to face with Iran on a second front, behind Hizballah in Lebanon. And should Assad make good on his threat last week and go to war on the Golan, Israel will be hedged in by Tehran and its strategic partner on a third front. They therefore chose what looked like a quick fix for cutting Syria out of the hostile Iran-Syria-Hizballah-Hamas-Jihad Islami equation: Offering the Golan to appease Assad. The only trouble is that such a step would continue the land-for-peace policy which failed so strikingly in 2000 in Lebanon and in 2005 in Gaza, and which has been made irrelevant anyway by the outcome of the Lebanon war and the looming threat from Iran.
2. The second part of the ministers' rationale is even more troubling. The open letter of grievances signed by officers and men of the Israeli army's crack Alexandroni Brigade shocked and still puzzles the entire nation. The lack of clear decisions was manifested, they said, in the failure to act, the non-implementation of operational plans and the cancellation amid combat of missions assigned the unit. The result was that the unit was deployed too long in hostile country without any operational purpose for reasons that were unprofessional and, moreover, held back from making contact with the enemy. In every stage of the war, cold feet were evident in decision-making. The writers of the letter sensed the cold feet at the top but lacked the information to explain its cause or account for the cancellation and shifting about of mission directives in mid-battle. That was one of the riddles of the Lebanon War. Another was hinted at last week when Israel's deputy chief of staff Maj-Gen Moshe Kaplinsky revealed that at 1200 noon, July 12, four hours before Hizballah kidnapped two Israeli soldiers and killed eight in a cross-border raid, no one on the general staff had any notion a war was in the offing. A DEBKAfile investigation has uncovered some facts that would help explain some of the mishaps. The knife-edge threat that caught the Israeli army unprepared was welcomed in Washington.
Our sources close to the Bush administration have learned that Secretary of State Condoleezza Rice embraced the opening for an Israeli offensive against Hizballah in Lebanon. Vice President Dick Cheney also favored an Israeli air strike but worried about the lack of an Israeli plan for a parallel ground offensive. One of his aides later expressed the view that Olmert and Halutz had been cautioned that air offensives unaccompanied by ground assaults never achieved strategic goals, as the Americans discovered after bombing Baghdad at the start of the Iraq war in 2003. But Israeli Prime Minister Olmert and his chief of staff insisted that the air force was able to inflict a shock defeat on Hizballah and produce a fast and cheap victory. US defense secretary Donald Rumsfeld was leery about any Israeli military offensive against Hizballah, fearing complications for the US army in Iraq at the peak of a surging sectarian civil war. But Olmert talked Rice into asking President George W. Bush to back the air offensive. The US president acceded, only laying down two basic conditions: Israel must confine itself to an air campaign; before embarking on a ground offensive, a further American go-ahead would be required. The second was a promise to spare Lebanon's civilian infrastructure and only go for Hizballah's positions and installations. The conditions when relayed by the secretary of state were accepted by the prime minister. The first explains why Israel's ground forces were held ready in bases for three long weeks rather than being sent into battle, up until the last stage. By then, the air force offensive had proved a long way short of fast and cheap; worse, it had been ineffectual. The second condition accounts for another of the war's enigmas: Israeli forces were not allowed to destroy buildings known to be occupied by Hizballah teams firing anti-tank rockets because it would have meant destroying Lebanese infrastructure. This brought Israeli forces into extreme danger; they were forced to come back again and again to repeat cleansing operations in villages and towns close to the Israeli border, such as Maroun a-Ras, Bint Jubeil and Atia a-Chaab. This exposed them to Hizballah's attrition tactics at the cost of painful casualties. Only in the third week of the war, when the Bush administration saw the Israeli air force had failed to bring Hizballah to collapse, and the campaign would have to be salvaged in a hurry, did Rice give the green light for ground troops to go in en masse to try and finish off the Shiite terrorist group. Then too, an American stipulation was imposed: Israel troops must not reach the Litani River. The Israel army did embark on a tardy wide-scale push to the LItani River and as far as Nabatia and Arnoun, but was soon cut short in its tracks. American spy satellites spotted the advance and Olmert was cautioned by Washington to hold his horses. This last disastrous order released the welter of conflicting, incomprehensible orders which stirred up the entire chain of command, from the heads of the IDF's Northern command down to the officers in the field. Operational orders designed to meet tactical combat situations were scrapped in mid-execution and new directives tumbled down the chute from above. Soldiers later complained that in one day, they were jerked into unreasoned actions by four to six contrary instructions. None of the commanders at any level could explain what was going on because none were party to the backroom decision-making at the prime minister's office. According to our sources, Olmert kept his exchanges with Condoleezza close to his chest and members of his cabinet and high army command firmly out of the process. The prime minister even kept the chief of staff out of the picture and did not explain why he was called on to chop and change tactics in the heat of war. Olmert's absolute compliance with Rice's directives without fully comprehending their military import threw Israel's entire war campaign into disorder. This botched sequence of decisions and their consequences also ties in with the fishing expedition in Damascus subsequently embarked on by senior Israeli ministers. It appears that Condoleezza Rice was not exactly happy with the way the war turned out, nor with the failure of diplomacy to bring Lebanon's hostilities to a satisfactory conclusion or even to deploy an effective multinational force to stabilize South Lebanon. She therefore decided to explore the chances of luring Bashar Assad away from the Iranian fold. (FOJ - but Assad isn't budging from that Axis, in fact he is more determined than ever to wage war on Israel) This is a tentative idea which has not ripened into a PEACE PROCESS policy.
Israeli Soldiers Demand Olmert Resign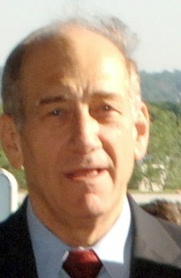 Hundreds of Israelis, including soldiers back from fighting in Lebanon, gathered last night outside the Knesset to demand a state inquiry into the government's management of the war and to call for the resignations of Prime Minister Ehud Olmert and Defense Minister Amir Peretz. (FOJ – It seems as if Peace No- Labor Chief Shimon Peres's recruited Likud party peace-nik has been exposed as a weak-kneed appeaser. Olmert simply served the peace process proponents effectively to wage political war on the land of Israel. Now Israel is in far more trouble, and will soon face a tougher war with Iranian and Syrian backed terror-machines.)
Aug. 22….(WND) Earlier, reserve soldiers signed a petition that slammed Olmert's handling of the war as "indecisive" and accused the Israeli leadership of changing course several times during the country's military campaign against Hezbollah in Lebanon, placing soldiers lives at risk. "Olmert pack your bags," read one placard being carried by one soldier across from the Knesset last night. Open a state inquiry now," read another poster. Olmert has so far been reluctant to establish a state commission to probe the Lebanon war, instead promoting a governmental panel of inquiry, the make-up of which would be appointed by the prime minister. A government panel would report directly to Olmert's cabinet and would not be required to make its findings public. Olmert would have control over the panel's parameters, including which ministries and officials to investigate and whether the panel is authorized to recommend the resignation of officials. But Olmert is coming under increasing pressure to establish a state commission of inquiry, which is mandated by Israeli law and is run by the Supreme Court. A state commission is headed by a sitting or retired Supreme Court justice; has the power to subpoena witnesses and documents and to call for officials to resign; and its findings are made public. Last week, Peretz started his own commission with the stated goal of probing the government's conduct during the war, but it disbanded yesterday without explanation. Peretz's commission had come under fierce attack from analysts and lawmakers on all sides of the political spectrum here after he appointed one of his senior advisors to lead the panel. The Israeli reserve soldiers yesterday presented a petition to the government demanding the establishment of a state commission of inquiry. The petition, which received extensive Israeli media attention, blasted the way the Lebanon war was managed. "There was one thing we were not and would not be willing to accept: We were unwilling to accept indecisiveness. The war's aim, which was not defined clearly, was even changed in the course of the fighting," stated the petition. The petition continued: "The heavy feeling that in the echelons above us there is nothing but under-preparation, insincerity, lack of foresight and inability to make rational decisions, leads to the question, were we called up for nothing? "The crisis of confidence between us as fighters and the higher echelons will not be resolved without a thorough and worthy investigative commission under the auspices of the state. When the commission completes its task, conclusions must be drawn both on the level of strategic planning and national security, and on the personal level of the parties involved. The petition accused the Olmert government of placing soldiers' lives in jeopardy on the battle field by cancelling missions or asking troops to hold positions for days without instructions. "The indecisiveness manifested itself in inaction, in not carrying out operational plans, and in canceling all the missions we were given during the fighting. This led to prolonged stays in hostile territory, without an operational purpose and out of unprofessional considerations, without seeking to engage in combat with the enemy," the petition stated. Indeed, senior military leaders told WorldNetDaily last week that on several occasions during the fighting in Lebanon while heavy diplomacy looked to be gaining momentum, such as during US Secretary of State Condoleeza Rice's visits here, the Israeli Defense Forces was asked by the political echelon to halt most operations and troop advances for up to 36 hours while negotiations ran their course. Military leaders charge that some troop battalions, instructed to hold positions outside villages but not to advance, actually became sitting ducks for Hezbollah anti-tank fire, which killed at least 35 Israeli soldiers. After the diplomacy failed, soldiers were ordered to carry on. IDF officials also blasted Olmert for allegedly refusing to approve military plans they say were necessary for dealing a decisive blow to Hezbollah. The officials tell WND that from the start of the Jewish state's campaign in Lebanon last month, the IDF petitioned for the deployment of up to 40,000 ground troops to advance immediately to the Litani River, taking up the swath of territory from which most Hezbollah rockets are fired, and from there work their way back to the Israeli border while surrounding and then cleaning out Hezbollah strongholds under heavy aerial cover. But Olmert at first only approved aerial assaults. After Hezbollah retaliated by firing large numbers of rockets into Israel, the Olmert government approved a smaller ground offensive of up to 8,000 soldiers which according to military officials were not directed to advance to the Latani. The IDF was charged with cleaning out Hezbollah's bases within about three miles of the Israeli border. IDF leaders told WND they suffered in "very specific" ways on the battlefield because of a lack of sufficient ground troops. They cited instances in which they claimed there were not enough soldiers to surround key villages, such as Bint JBail in southern Lebanon, allowing Hezbollah fighters to infiltrate cities after the IDF began combat inside the areas. After nearly four weeks of fighting, Olmert's cabinet last week approved the larger assault the IDF had petitioned for, authorizing about 40,000 troops to enter Lebanon and advance to the Latani River. The IDF estimated it would need about three days to reach central Lebanon and another four to six weeks to successfully wipe out the Hezbollah infrastructure in the areas leading back to the Israeli border. But Monday morning, three days after the Israeli army was given a green light to advance, a cease-fire was imposed and the Jewish state suspended operations. A day before the cease-fire, Hezbollah shot over 240 rockets into Israel, the largest number the group had fired in one day. One Israeli civilian was killed in the attacks; 26 others were injured. "The message sent is that Hezbollah absolutely maintains the capability of firing hundreds of rockets per day into Israel. Wasn't one of the military campaign's main goals to eliminate the rocket threat?" commented a military official.
Iran Says, Now it's Ready for 'Serious' Nuclear Talks
Aug. 22….(MSN) Iran formally responded Tuesday to a package of Western incentives aimed at persuading Tehran to suspend uranium enrichment, state-run television reported, without immediately disclosing details about the decision. Iran's chief nuclear negotiator Ali Larijani said Iran was ready to start what he called "serious talks" with the six world powers about their offer from Wednesday. Larijani was quoted by Iran's student news agency ISNA as saying Tehran was ready for talks during a meeting with envoys of the six nations to hand over Iran's reply to the offer. Although there is no justification for the other parties' illegal move to refer Iran's case to the Security Council, the answer was prepared, to pave the way for fair talks," he said. "Iran is prepared to hold serious talks from Aug. 23."
| | |
| --- | --- |
| | (FOJ) Iran's chief nuclear negotiator Ali Larijani sits underneath a picture of Iranian supreme leader Ayatollah Ali Khamenei during a meeting with the envoys of Germany, France, Britain, China, Russia and Switzerland in Tehran today. Iran said on Tuesday it hoped its response to an incentives package from world powers would lead to fresh negotiations on its nuclear dispute but gave no sign of heeding a key UN demand that it freeze uranium enrichment. The Supreme Mullah of the fundamentalist Shiite Republic is the absolute ruler of Iran, and only takes advice from his Islamic Council. The Shiite Mullahs are intent on destroying Israel, and that is the sole aim of acquiring nuclear capabilities. Former President and Supreme Leader Khatami echoed the goals of Ayatollah Khomeini by saying, when we acquire an atomic bomb, we will use it on the tiny nation of Israel, afterall just one will do the job! |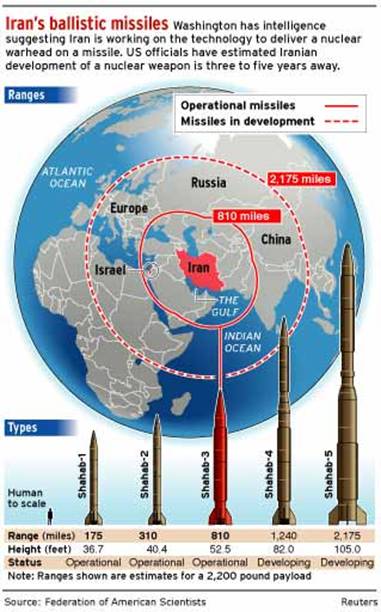 Larijani had hand delivered the response to ambassadors from Britain, China, Russia, France, Germany and Switzerland. However Iran has, in effect, rejected the West's offer because it won't accept the demand that it abandon all nuclear research before talks can proceed. The US and the allies, in a conference call on Monday, agreed to proceed with sanctions, anticipating Iran's rejection. Under the resolution that passed in July, nothing will happen until UN meetings next month. In New York, John Bolton, the U.S. ambassador to the United Nations, said Washington was prepared to move quickly on a resolution, but it was unclear how speedily other council members wanted to move. "It really is a test for the council and we will see how it responds," Bolton told reporters at UN headquarters. The United States is represented by Switzerland, which looks after U.S. interests in Tehran because it has not had diplomatic relations with Iran since 1979 when Muslim fundamentalists overran the US Embassy, and basically declared war on the US.
Iran Refuses UN Inspectors
Aug. 22….(AP) Iran has turned away UN inspectors wanting to examine its underground nuclear site in an apparent violation of the Nonproliferation Treaty, diplomats and UN officials said Monday. The officials, who spoke on condition of anonymity because of the confidentiality of the information, told The Associated Press that Iran's unprecedented refusal to allow access to the facility at Natanz could seriously hamper international efforts to ensure that Tehran is not trying to make nuclear weapons. Meanwhile, Iran's supreme leader said Tehran will pursue nuclear technology despite a UN Security Council deadline to suspend uranium enrichment by the end of the month or face the threat of economic and diplomatic sanctions. "The Islamic Republic of Iran has made its own decision and in the nuclear case, God willing, with patience and power, will continue its path," said Ayatollah Ali Khamenei, according to state television. His declaration came on the eve of Iran's self-imposed Tuesday deadline to respond to a Western incentives package for it to roll back its nuclear program. The United Nations has given Tehran until the end of August to suspend uranium enrichment. In his latest comments, Khamenei accused the United States of putting pressure on Iran despite Tehran's assertions that its nuclear program was peaceful. "Arrogant powers and the U.S. are putting their utmost pressure on Iran while knowing Iran is not pursuing nuclear weapons," he said. Iran said Sunday it will offer a "multifaceted response" to the incentives proposal. It insisted that it won't suspend uranium enrichment altogether. At a news conference Monday, President Bush said the United States is getting an inkling of Tehran's response. "We are beginning to get some indication, but we'll wait until they have a formal response," Bush said. "Dates are fine, but what really matters is will. And one of the things I will continue to remind our friends and allies about is the danger of a nuclear-armed Iran." Meanwhile, diplomats and UN officials said Monday that Iran has turned away United Nations inspectors wanting to examine its underground nuclear site at Natanz. Iran's supreme leader, Ayatollah Ali Khamenei, has already said that Tehran will continue to pursue the contentious nuclear technology. However, Iran's answer is being accompanied by a military exercise and the test firing of a new midrange missile. While the missile is not capable of striking Israel, Iran's anticipated response to the Security Council is being described in some quarters with apocalyptic terminology, due to the scheduled date for the Iranian answer. In June, Iran was asked by the five permanent members of the Security Council, plus Germany, to respond to a European Union proposal backed by the US, Russia and China. Teheran is not expected to totally reject the package, but rather to accept parts of it and reject others, while not agreeing to the basic demand to immediately stop the uranium enrichment process. According to the sources, such a response would be crafted in a way that would be seen by some Security Council members, mainly Russia and China, as a partial compliance, while the US and Europe would interpret it as a rejection of the offer. This would force the US to reenter lengthy negotiations with the five permanent members of the Security Council before a decision to impose sanctions could be reached. While a response was required quickly, Tehran said that it would give its answer on August 22. Analysts originally explained the choice of dates as marking the month's end according to the Persian calendar. However, the date has also led to speculation regarding its apocalyptic significance, as this is the date on which Muslims commemorate Mohammed's ascension to heaven on a horse. The significance lies in the site where this supposedly took place: Jerusalem. The combination of the religious symbolism, the vitriolic statements of Iranian President Mahmoud Ahmadinejad regarding the "surprises" his country is preparing, his messianic statements and beliefs in ridding Jerusalem of infidels, and the ongoing five-week-long military exercise have led some to attribute earth-shattering significance to this date. If Iran fails to accede to the Security Council's demand to cease enriching uranium, it is likely that sanctions will be imposed on Tehran. However, the nature of the sanctions is still unclear, and would require another Security Council resolution. Experts say that initially these would be minor, particularly in view of the differences of opinion in the Security Council, pitting China and Russia against the European Union and the United States.
GSS Chief Warns: Ignore Gaza and it Will Become Lebanon
Aug. 22….(YNET) Shabak General Security Service chief Yuval Diskin told the government ministers at the weekly Cabinet meeting that the "intensification of terror infrastructure in Gaza is a strategic problem which, if not treated properly, will result in a situation just like in Lebanon." "Tons of explosives and hundreds of weapons," Diskin said, "have been smuggled in recently through the Philadelphi Corridor." That corridor, a strip between Egypt and Gaza that contains the Rafah Crossing, was abandoned by Israel during the Disengagement, against the protestation of IDF intelligence. In return, Egyptian and European Union guarantees were to have ensured that the border would remain controlled and free of weapons smuggling. Few security experts expected the guarantees to act as effectively as the team of IDF anti-tunnel experts who discovered dozens of smuggling tunnels during its searches there. "This is now a strategic problem," Diskin said. "The Philadelphi Corridor has been breached. We don't have to wait three years to investigate." His statement was a reference to Defense Minister Amir Peretz's calls for an investigation into what led to the war in Lebanon and his statements claiming he was not informed of the gravity of the missile threat. Diskin said that money for Hamas is also being smuggled from Egypt to Gaza, as well as expert terrorists. He suggested that the government reexamine its agreements with Egypt prior to the Gaza withdrawal, "which are ineffective in actuality under Egyptian monitoring." With regard to Judea and Samaria, Diskin said that Hizbullah has already set up a widespread infrastructure there. "In Judea and Samaria, Hizbullah is smuggling large sums of money and encouraging terrorist attacks against Israel," he said. "Hizbullah chief Sheikh Hassan Nasrallah is seen as a national hero and they are learning from him. They understand the power of the anti-tank missile, guerilla warfare and underground bunkers now."
Bush Pushes for Quick UNIFIL Expansion
Aug. 22….(Arutz) Speaking at his first full-scale news conference in more than a month, Bush underscored the importance of deploying additional peacekeeping troops in southern Lebanon in order to avoid a collapse of the ceasefire between Israel and Hizbullah terrorists. Bush pledged an additional $230 million in humanitarian aid to help civilians in southern Lebanon rebuild their lives, but declined to commit troops to the area. Instead, the US will provide logistical support, command and control assistance and intelligence. "America will do our part," said Bush. Thousands of promised soldiers have been held back by their respective countries due to a lack of clarity about the role they are to play. Most of the European nations who pledged to send the troops which would eventually comprise a 15,000-strong UNIFIL force are adamant they will not send even one soldier until they have clear guidelines about under what circumstances they are allowed to fire their weapons. "The international community must now designate the leadership of this new international force," said Bush, "give it robust rules of engagement and deploy it as quickly as possible to secure the peace." The United States is also planning to introduce a new resolution in the United Nations Security Council calling for disarming Hizbullah in southern Lebanon, American Ambassador to the UN John Bolton said Monday. He emphasized that the move would not delay the deployment of the international force to join UNIFIL in Lebanon. The ceasefire resolution last week prohibits weapons in the area unless authorized by the Lebanese government but does not specifically target Hizbullah. The Lebanese government, as well as most countries participating in the force, has categorically stated it would not try to disarm the terrorist organization.
US Resolution Would Disarm Hezbollah
Aug. 22….(Jerusalem Post) The United States is planning to introduce a new UN resolution on disarming Hezbollah in southern Lebanon, but US Ambassador John Bolton said Monday this should not hold up the quick deployment of UN peacekeepers. Bolton said getting an expanded UN force on the ground is the most urgent priority because of the fragile cease-fire agreement that came into effect Aug. 14 under UN Resolution 1701, which calls for the 2,000-member UN force to be expanded to 15,000 troops. The UN says it wants at least 3,500 new troops on the ground in south Lebanon by Aug. 28, but countries that are potential troop contributors have expressed concern about the rules of engagement, and exactly what troops would be required to do, especially regarding the disarming of Hezbollah. While several Muslim nations have pledged troops to the new force, there have been no major pledges from European countries, which the US wants to ensure that the UN contingent is balanced. The European Union has scheduled a meeting Wednesday to discuss possible contributions to the force, known as UNIFIL. Whether the prospect of a new resolution on disarming Hezbollah could break that impasse remains to be seen. President Bush talked about a new resolution at a news conference in Washington when he was asked whether the United States would demand that UN peacekeepers disarm Hezbollah. "There will be another resolution coming out of the United Nations, giving further instructions to the international force," he said. "First things first is to get the rules of engagement clear so that the force will be robust to help the Lebanese." "One thing for certain is that when this force goes in to help Lebanon, Hezbollah won't have that safe haven or that kind of freedom to run in Lebanon's southern border," Bush said. Ambassador Bolton stressed that the US "road map" includes full implementation of Resolution 1559 adopted by the Security Council in 2004, which calls for the disarmament of all militias in Lebanon, including Hezbollah. "And we want the disarming of Hezbollah to be accomplished rapidly so that the democratically elected government of Lebanon can establish full control over its territory," he said.
Bush: Iraq 'Straining Psyche' of America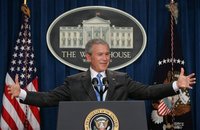 Aug. 22….(My Way) President Bush said Monday the Iraq war is "straining the psyche of our country" but leaving now would be a disaster. Bush served notice at a news conference that he would not change course or flinch from debate about the unpopular war as he campaigns for Republicans in the fall congressional elections. In fact, he suggested that national security and the economy should be the top political issues, and criticized the Democrats' approach on both. Many Democrats want to leave Iraq "before the job is done," the president said. "I can't tell you exactly when it's going to be done," he said, but "if we ever give up the desire to help people who live in freedom, we will have lost our soul as a nation, as far as I'm concerned." Now in its fourth year, the war has taken a toll, more than 2,600 Americans have died and many more Iraqis have been killed. Last month alone, about 3,500 Iraqis died violently, the highest monthly civilian toll so far. Bush's approval rating has slumped to the lowest point of his presidency, and Republicans are concerned that they could lose control of Congress because of voters' unhappiness. Bush said he was frustrated by the war at times. "War is not a time of joy," he said. "These are challenging times, and they're difficult times, and they're straining the psyche of our country. I understand that. You know, nobody likes to see innocent people die. Nobody wants to turn on their TV on a daily basis and see havoc wrought by terrorists." President Bush said he agreed with Gen. John Abizaid, the top US commander in the Middle East, that if "we leave before the mission is done, the terrorists will follow us here." So, we're not leaving, so long as I'm the president. That would be a huge mistake." "Leaving before the job is done would be a disaster." Bush opened his nearly hour-long news conference by calling for quick deployment of an international force to help uphold the fragile cease-fire in southern Lebanon. "The need is urgent," Bush said.
European countries expected to provide the bulk of peacekeepers have delayed committing troops. France disappointed allies by merely doubling its contingent of 200. The president also said the United States would seek a new UN resolution on disarming Hezbollah in southern Lebanon but he sounded doubtful about achieving results soon on the ground. "Hopefully, over time, Hezbollah will disarm," the president said.
Cataclysm Fears Raised on Islamic 'Holy' Date
(Mideast experts worry Islamic fanatics seeking heaven may spark violence)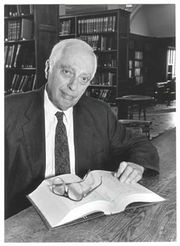 Bernard Lewis
Aug. 22….(WND) MAD, or mutually assured destruction, just won't work any more, according to one Mideast expert whose forecasts that the night of Aug. 22 may prove to be cataclysmic are fueling worry around the world. Bernard Lewis of Princeton has had opinion pieces circulating for two weeks now about how that night, the anniversary of one of Islam's holiest events, could be a time Iran would pick to spark a battle Muslims believe forever will resolve the battle between "good" and "evil." That MAD policy, which prevented nations for decades during the Cold War from pushing the button, isn't a realistic hope with fanatic Muslims, Lewis said. "There is a radical difference between the Islamic Republic of Iran and other governments with nuclear weapons," Lewis writes. "This difference is expressed in what can only be described as the apocalyptic worldview of Iran's present rulers." He said there is developing an "apparently callous unconcern" over who is a victim, or how many victims there are, for terrorists. Lewis believes the perception they hold is that in death any infidel, or non-Muslim, will go to a well-deserved punishment in hell while any Muslims would go straight to heaven. According to this view, the bombers are in fact doing their Muslim victims a favor by giving them a quick pass to heaven and its delights – the rewards without the struggles of martyrdom. School textbooks tell young Iranians to be ready for a final global struggle against an evil enemy, named as the US, and to prepare themselves for the privileges of martyrdom, Lewis said. He said while a direct attack on the US is possible, Israel is a nearer and more likely target. As WND has reported, Iranian President Mahmoud Ahmadinejad has urged his people to prepare for the coming of an Islamic "messiah," raising concerns a nuclear-armed Islamic Republic could trigger the kind of global conflagration he envisions will set the stage for the end of the world. He's also said that Islam and its followers must prepare to rule the world, because it is a "universal ideology that leads the world to justice." Now comes Lewis, who notes that the world must be concerned about a leader for whom the possibility of death is not a deterrent. "In this context, mutual assured destruction, the deterrent that worked so well during the Cold War, would have no meaning," Lewis wrote. "At the end of time, there will be general destruction anyway. What will matter will be the final destination of the dead, hell for the infidels, and heaven for the believers. "For people with this mindset, MAD is not a constraint, it is an inducement," he said. Lewis noted that Ahmadinejad has talked of Aug. 22 mulitiple times, a date that corresponds to the 27th day of the month of Rajab of the year 1427 for Muslims. "This, by tradition, is the night when many Muslims commemorate the night flight of the prophet Muhammad on the winged horse Buraq, first to 'the farthest mosque,' usually identified with Jerusalem, and then to heaven and back," Lewis wrote. Lewis wrote, "This might well be deemed an appropriate date for the apocalyptic ending of Israel and if necessary the world. It is far from certain that Mr. Ahmadanejad plans any such cataclysmic events precisely for Aug. 22. But it would be wise to bear the possibility in mind." Lewis, the Cleveland E. Dodge professor emeritus of Near Eastern Studies at Princeton University, specializes in Muslim history and interaction between Muslims and the West. His comments echoed those made just a few days earlier by Robert Spencer, another scholar of Islamic history, theology and law and the director of Jihad Watch. In an article for Frontpage Magazine, he wrote that Farid Ghadry, president of the Reform Party of Syria, noted the commemoration of Muhammad's ascent to heaven from the Aqsa Mosque in Jerusalem. Also, "Atomic Iran" author Jerome Corsi notes that it's less significant whether Hezbollah survives, "but it's really the first chapter in the play for Iran and the Shiite Islam nation to come to ascendancy in the Muslim world." In the updated edition of "Atomic Iran: How the Terrorist Regime Bought the Bomb and American Politicians," Corsi discusses many of the disturbing developments related to Iran.
Hezbollah's Final Solution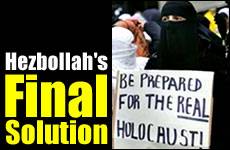 Aug. 21….(Jewish Society-Alan Dershowitz) The uniqueness of the Holocaust was not the Nazi's determination to kill the Jews of Germany and even of neighboring Poland. Other genocides, such as those by the Cambodians and the Turks, sought to rid particular areas of so called undesirables by killing them. The utter uniqueness of the Holocaust was the Nazi plan to "ingather" all the Jews of the world to the death camp and end the Jewish "race" forever. It almost succeeded. The Nazis ingathered tens of thousands of Jews (including babies, women, the elderly) from far flung corners of the world, from the Island of Rhodes from Salonika and from other obscure locations, in order to gas them at Auschwitz and at other death camps. The official leader of the Palestinian Muslims, Haj Amin al-Husseini, the grand mufti of Jerusalem, collaborated in the Nazi genocide, declaring that he sought to "solve the problems of the Jewish element in Palestine and other Arab countries" by employing "the same method" being used "in the Axis countries". Husseini, who spent the war years in Berlin and was later declared a Nazi war criminal at Nuremberg, wrote the following in his memoirs:
Our fundamental condition for cooperating with Germany was a free hand to eradicate every last Jew from Palestine and the Arab world. I asked Hitler for an explicit undertaking to allow us to solve the Jewish problem in a manner befitting our national and racial aspirations and according to the scientific methods innovated by Germany in the handling of its Jews. The answer I got was: "The Jews are yours."
Husseini planned a death camp for Jews modeled on Auschwitz, to be located in Nablus. He broadcast on Nazi Radio, calling for genocide against all the world's Jews: "kill the Jews wherever you find them, this pleases God, history, and religion." Professor Edward Said has acknowledged that this Nazi collaborator and genocidal anti-Semite "represented the Palestinian Arab consensus" and was "the voice of the Palestinian people." Yasser Arafat referred to Husseini as "our hero." Never before or since in world history has a tyrannical regime sought to murder all of the members of a particular racial, religious, ethnic or cultural group, regardless of where they live--not until now. Hezbollah's aim is not to "end the occupation of Palestine," or even to "liberate all of Palestine." Its goal is to kill the world's Jews. Listen to the words of its leader Sheikh Hassan Nasrallah: "If Jews all gather in Israel, it will save us the trouble of going after them worldwide." (NY Times, May 23, 2004, p. 15, section 2, column 1.) Nasrallah is one of the most admired men in the Muslim and Arab world today. Hitler made similar threats in Mein Kampf but they were largely ignored. Nasrallah has a reputation for keeping his promises. His genocidal goals, to kill all Jews, were proven by two recent statements. He has warned the Arabs and Muslims to leave Haifa so that his rockets can kill only Jews. And he apologized for causing the deaths of three Israeli-Arabs in Nazareth, when a Katuysha struck that religiously mixed Israeli city. Hezbollah also worked hand-in-hand with Argentine neo-Nazis to blow up a Jewish community center, murdering dozens of Jews. Nasrallah is a modern day Hitler, who currently lacks the capacity to carry out his genocide. But he is an ally of Iran, which will soon have the capacity to kill Israel's five million Jews. Listen to what the former President of Iran has said about how Iran would use its nuclear weapons:
Hashemi Rafsanjani, the former president of Iran, has threatened Israel with nuclear destruction, boasting that an attack would kill as many as five million Jews. Rafsanjani estimated that even if Israel retaliated by dropping its own nuclear bombs, Iran would probably lose only fifteen million people, which he said would be a small "sacrifice" from among the billion Muslims in the world. Now listen to the current President of Iran, Mahmoud Ahmadinejad, who denies the Nazi Holocaust, but calls for a modern Holocaust that would "wipe Israel off the map." Despite these anti-Semitic and genocidal threats, some of the hard left admire Nasrallah and his bigoted organization, as well as Iran and its anti-Semitic president. Others do not seem to take his threats seriously. The Iran-Hezbollah axis is the greatest threat to world peace, to Jewish survival, to Western values, and to civilization. Those like Finkelstein, who support Hezbollah, and even those who refuse to fight against this evil, are on the wrong side of history. They are collaborators with Islamo-fascists, today's version of Nazism.
Israel News Update by David Dolan
Aug. 21….(David Dolan) With tens of thousands of Israeli soldiers still stationed in southern Lebanon, and with senior army leaders warning that fighting with Hizbullah forces could resume at any time, fierce dissent continues to mount in Israel over how government and military leaders have handled the war so far in South Lebanon. At a tense meeting yesterday in the coastal town of Hadera, which was struck by Hizbullah rockets during the 34 day conflict, hundreds of officers and servicemen from the elite Alexandroni brigade hurled charges of ineptitude against IDF Chief of Staff Dan Halutz. One reserve solider held up a banner declaring "YOU PREVENTED US FROM WINNING." Military analysts said it was it was the first time in Israel's modern history that an entire reserve brigade had staged such a protest against senior IDF commanders. This came as retiring General Yossi Heiman, who commanded the paratroopers and infantry units in the Lebanon conflict, publicly stated that military leaders were "guilty of the sin of arrogance" in their conduct of the war. On the political front, Prime Minister Ehud Olmert continues his attempts at damage control over his handling of the war. This comes as dozens of members of the Alexandroni brigade marched to Jerusalem today to stage a protest outside of his office, demanding his immediate resignation. During a tour today of areas heavily damaged in the north of Israel during the nearly five week daily rocket barrage, Olmert said that previous governments (meaning Ariel Sharon's) knew about the dangers lurking in the north, but did nothing about it. "We knew what Iran and Syria were doing in arming Hizbullah, but we acted as if we didn't know," he said. Many of Olmert's critics say he likewise did not adequately deal with the core issue that he mentioned, Syrian frontline support for Hizbullah, backed by Iran. While the Israeli political pot continues to boil, IDF commanders are warning that fresh fighting could erupt in the coming months, or even weeks, due to stepped up Syrian and Iranian attempts to rearm their Lebanese Shiite proxy force. They say that despite the fact that UN resolution 1701 called for a total arms embargo against Hizbullah, the two rogue states have increased efforts over the past few days to supply more rockets and other weapons to their puppet militia force. This reality was behind the late Friday IDF commando raid deep into the Bekaa Valley near Syrian territory, which Lebanon called a violation of the ceasefire. Israeli officials shot back that it was Beirut that was violating the ceasefire by refusing to disarm Hizbullah fighters while turning a blind eye to Syria's re-supply activities. Israeli military leaders have asked the government for permission to bomb any trucks suspected of carrying weapons into Lebanon, even though they acknowledged this could give Hizbullah an excuse to resume rocket attacks upon northern Israel. At the same time, the IDF says that a naval blockade of Lebanon, mainly designed to keep Syrian and Iranian military supplies from arriving by sea, will continue for at least the next few weeks. All this comes as attempts to set up a viable UN buffer force continue to move ahead at an extremely slow pace, due mainly to France's last minute decision to barely participate in the international force.
While focusing on the highly volatile situation in Lebanon, Israeli officials are also keeping a wary eye on dramatic developments in Iran. Senior IDF officers told Israeli reporters that the military is keeping close tabs on a huge Iranian military exercise taking place in nearly half of the Islamic country's 30 provinces. Alarm bells rang Sunday when the extremist regime tested 10 missiles dubbed as "Lightning" in Farsi. Although relatively short range (estimated to be between 50 to 180 miles), the missiles could hit many parts of Israel if fired from Lebanese or Syrian territory. Officials also remain on alert over Iran's declared intentions to give a "surprise" answer tomorrow to the UN demand that it halt its nuclear enrichment program. While internet sights have been abuzz with speculation that Iran might fire a nuclear tipped long-rang missile at Israel, due in part to President Ahmadinejad's enigmatic statement that the sky over Jerusalem would "glow with light" on that date, most Israeli analysts strongly doubt that Iran is anywhere near that far along in its nuclear weapons program. Besides, that, Israel would undoubtedly respond by wiping out Iran with its own nuclear arsenal, known to be substantial, if undeclared. Personally I would not be surprised if Iran is preparing to test a nuclear device, as the Russian defense minister reportedly told his NATO colleagues already last December, and that this could be its August 22 "answer" to the United States and other nations. This might amount to a symbolic "glow" over Jerusalem in the minds of the Iranian Shiite extremists who rule the country, since everyone knows Iran's ultimate aim is to annihilate the world's only Jewish state and "liberate" Jerusalem from hated Zionist rule.
Qatar Played Pivotal Role in UN Cease-fire
Aug. 21….(FOJ) A couple of weeks ago, the ambassador of Qatar to the UN was rushed to New York City immediately after it became clear that Israel was set to undertake a massive ground offensive into Southern Lebanon against Hezbollah. Qatar became the mouthpiece of the Arab League, and acted on Syria's behalf to deflect any IDF intentions towards Damascus. Today the Emir of Qatar visited Beirut, and then visited Bashar Assad in Damascus. Mr. Assad is busy strutting himself around these days like a crowing rooster, and planning his own terrorist war on Israel in an attempt to gain the Golan Heights. It is the opinion of FOJ that Mr. Assad is the perfect candidate to fulfill the Bible prophecies concerning the Burden of Damascus. The geo-political logistics are already being implemented for a future war between Israel and Syria, and the next time, a cease-fire might come a little too late for somebody.
(

FOJ) Syrian President Bashar Assad, right, welcomes the emir of Qatar, Sheik Hamad Bin Khalifa Al-Thani at Damascus airport on Monday, Aug. 21, 2006. The emir of Qatar said Monday the recent fighting between Hezbollah and Israel provides 'greater opportunity' for Mideast peace. Making the first visit by an Arab head of state, Sheik Hamad Bin Khalifa Al-Thani said the 34-day fighting in Lebanon proved that Israel could not cower the Arabs. The emir of Qatar called on the Jewish state to implement the latest UN Security Council cease-fire requirements. He failed to mention that perhaps Hezbollah needed to implement any cease-fire requirements,…… like disarming, and allowing Lebanon to exercise control.
Apocalypse When?
Aug. 21….(Washington Times) It is difficult to express the scale of the defeat for Lebanon, Israel and the United States, represented by the United Nations Resolution 1701 calling for a cease-fire in Hezbollah-Israeli hostilities. With its unanimous acceptance, there is now virtually nothing in a position to stop Hezbollah from its grandiose objectives. With the full backing of Iran and Syria, the murderous Shi'ite bigots are well-positioned for taking full control of Lebanon, for rearming and rebuilding to attack Israel another day and for preparing its fanatical cadres to envelop the Middle East and strike directly at the United States. The situation is so grave that it can accurately be said the latest U.N. resolution has opened the door to a new wave of autocratic terror throughout the Muslim world that makes previous regimes, Saddam Hussein in Iraq, Hafez Assad in Syria, even the Taliban in Afghanistan, pale in comparison. It has been centuries since an indigenous force has been positioned to bring the entire region under control: Hezbollah, with Iran and Syria, have effectively been given the opportunity. As President Bush urges prompt fulfillment of the resolution, consider:
• Hezbollah leader Sheik Hassan Nasrallah has incomprehensibly announced his forces accept the cease-fire but will continue to fight until all Israeli military have left Lebanese soil.
• Israeli Prime Minister Ehud Olmert has firmly said his government will honor the cease-fire, but Israeli forces will not leave Lebanon until the UN peacekeeping force is on the ground.
• Lebanese acting Foreign Minister Tarek Mitri has logically observed that, "A cease-fire that by its terms cannot be implemented is no cease-fire."
So, where does that leave us? As written, Resolution 1701:
(1) Imposes heavy burdens on the Lebanese government and army, which are both weak and heavily influenced by Hezbollah.
(2) Does not mention Iran and Syria, Hezbollah's two greatest supporters.
(3) Postpones consideration, much less imposition, of an arms embargo and the demobilizing of Hezbollah's forces to a indeterminate day when Lebanon and Israel have agreed to a "permanent cease-fire."
Placing any serious responsibility on the Lebanese at this time all but guarantees the failure of the entire cease fire exercise. Physically incapable of significant action, the Beirut government also is heavily influenced by Hezbollah Cabinet members and the Lebanese army numbers some 40 percent Shi'ite recruits. Not taking Iran and Syria into consideration enables Iran to send Hezbollah all the munitions it wishes across the open Syria-Lebanese border. Finally, evading the issue of demobilizing Hezbollah, the central demand of Israel, the United States and the UN itself when it passed Resolution 1559 after the assassination of Lebanese Prime Minister Rafiq Hariri in 2004, allows the organization free rein to take full control of Lebanon and subsequently move against regimes in other countries including Egypt, Iraq and Yemen, not to mention training its worst and dullest in undertaking major sabotage in Europe and the US. Had the United States and France stood firm in demanding their reasonable goals as expressed in the initial resolution put forth three weeks ago, Muslim governments including Egypt, Saudi Arabia, Indonesia and Malaysia that initially opposed Hezbollah's provocations against Israel could have regained their political footing and stood firm. Lebanon's non-Shi'ite majority could similarly have been freed from their fear of Hezbollah reprisals. At the same time, Israel could have effectively eliminated the armed Hezbollah presence from Lebanon and sealed that country's border with Syria. But as things stand, the Muslim world will be coerced into accepting Hezbollah's "victor" status. Non-Shi'ite Lebanese, 60 percent to 70 percent of the population, will either have to leave the country or be subjugated to the dictatorial despotism of the Nasrallah fanatics controlling Hezbollah. Street scenes of jackbooted militia marching under Hezbollah's bellicose banner will be order of the day, as the beloved Lebanese national flag becomes, like its sovereignty, becomes a thing of the past. And the Middle East, Europe and the United States will progressively suffer more and greater assaults by Hezbollah terrorists. Make no mistake: Radical Shi'ite theology is a doomsday creed that will happily suffer and inflict on its enemies the most awful extremes, to fulfill its objective of Islam's 12th imam returning to save mankind. This is the solemn belief of Hezbollah Lebanese head Sheik Nasrallah, and Iranian President Mahmoud Ahmadinejad. For them, it is all very logical because the great imam will only return under apocalyptic conditions created by humanity. This is the awesome threat the rest of the world faces. Washington's collaboration with France effectively abets these outrageous goals. Such a horrific diplomatic blunder is a travesty that can only be explained by the State Department and the National Security Council relying on thoroughly uninformed, tragically misguided "experts." With acceptance of UN Resolution 1701, the world is left to await the next terrible attack, and it will occur on freedom-loving society by an implacable, suicidal terrorist foe. Then and only then, it seems, will we realize the magnitude of the threat we face and finally be moved to destroy an enemy that will not be satisfied until it has driven Israel into the sea and demolished the great Satan United States.
IDF Warns UN To Get Tough
(The daring weekend IDF commando strike aimed at Hizbullah leaders and Syrian weapons has put the UN on notice that Israel will not allow the ceasefire resolution to serve as a tool for terrorists.)
Aug. 21….(Jerusalem Post) United Nations Secretary-General Kofi Annan accused Israel of violating the United Nations Security Council ceasefire resolution and only vaguely referred to the violation by Hizbullah's smuggling of weapons from Syria. But the lack of a significant number of troops from European nations for the proposed international force in Lebanon (UNIFIL), along with Hizbullah's refusal to disarm, may signal an end to the erosion of Israel's diplomatic position. "If the Syrians and Iran continue to arm Hizbullah in violation of the resolution, Israel is entitled to act to defend the principle of the arms embargo," Israeli Foreign Ministry spokesman Mark Regev said. "Once the Lebanese army and the international forces are active, then such Israeli activity will become superfluous." Annan already has made it clear that the UN does not intend to enforce the resolution and disarm Hizbullah. He has claimed that the UNIFIL mandate is to keep Hizbullah from attacking Israel while leaving the matter of disarmament for diplomats. The deterrence potential of the UN has weakened with the lack of a strong European commitment, which has clearly disappointed leaders of the international body.
| | |
| --- | --- |
| | (FOJ) Apparently, these 2 rafts of French soldiers are the "robust" forces that the UN will use to guarantee Israel that Hezbollah will not attack Northern Israel again. Wow…so this is why Israel agreed to a cease-fire, so these guys could protect them! |
France is sending 200 men instead of more than 10,000 as originally planned. One sticking point is the increasing possibility that anti-Israel Muslim nations will make up a large part of the force. Brown and Israel have made contradictory statements concerning the presence of soldiers from Malaysia and Indonesia. Israel has objected to their being part of a force to protect Israel, particularly in light of Malaysia's call to other nations to cut off diplomatic ties with Israel. However, Brown stated, "As a number of people have said, the final word on what is acceptable is ours, and these troops are deployed in Lebanese territory, not Israeli territory." He added that it is important that Muslim nations be represented in the force along with European nations in order to keep a balance. The United States also has been trying to prevent arms from getting to Hizbullah, according to a report in USA Today. It stated that on the eighth day of the Hizbullah terrorist war, the US convinced Iraq and Turkey to prevent an Iranian cargo plane from entering their air space on the way to Syria with advanced missiles intended for the terrorist organization. The IDF officer interviewed by The New York Times maintained that the war showed that Hizbullah is not just Israel's problem. "The world understands that we are helping to stop the influence of Iran," he said. The officer also revealed that contrary to previous denials by the government, civilian officials delayed the IDF ground movement for four days until the administration realized that it was losing ground in diplomatic negotiations. The officer added that there is no such thing as a decisive victory against terrorism, but that Israel scored a success in the retaliation against the Hizbullah attacks on northern Israel. Israel eliminated more than three-quarters of Hizbullah's medium and long range missile launchers, he explained, and its ability to destroy launchers within one minute after their use is unmatched by any other country.
Olmert: Syria Most Aggressive Member of the Axis of Evil
| | |
| --- | --- |
| | A communications post is seen above a Golan Heights Winery vineyard in the northern Israeli village of Merom Golan. Syria, a key Hizbollah ally, wants the Lebanon war to lead to a comprehensive peace settlement that addresses what Damascus regards as the root of instability, Israeli occupation of Arab land, including the Syrian Golan Heights |
Aug. 21….(Ha Aretz) Syria is the "single most aggressive member of the axis of evil," Prime Minister Ehud Olmert said Monday, ruling out a resumption of negotiations with Damascus at this time. "I am the last person who will say I want to negotiate with Syria," Olmert said in unusually harsh comments. In a visit to northern Israel, Olmert noted that rockets that hit the town in 34 days of Israel-Hizbullah fighting came from Syria. According to the prime minister, "When Syria stops supporting terrorism, when it stops giving missiles to terror organizations, then we will be happy to negotiate with them." His comments were made hours after Internal Security Minister Avi Dichter said that he was in favor of withdrawing from the Golan Heights in return for true peace with Syria. The former head of the Shin Bet told Army Radio, "We have paid similar territorial concessions in the past when we signed peace treaties with Jordan and Egypt." "Any diplomatic initiative is preferred over war, whether in Syria or Lebanon," Dichter said. "With regards to Lebanon, conditions are even more welcoming than they are with Syria. Lebanon can today begin talks with Israel without the Syrians." According to the minister, "Talks with Syria are legitimate. If there is someone to talk to on the other side, we should talk. Israel can initiate this or turn to a third party." In response, Olmert said, "I recommend not to get carried away with any false hopes." "We are not going into any adventure when terror is on their side," Olmert said of Syria. "We're not going into any negotiations until basic steps are taken which can be the basis for any negotiations." Syrian Information Minister Mohsen Bilal said there was "no significance" to talk of peace with Israel as long as it does not withdraw from all territory in conquered in 1967. He stressed that Syria would accept the Arab peace initiative only after an independent Palestinian state is established with Jerusalem as its capital. Dichter's comments also elicited a flurry of responses from MKs, among them MK Effi Eitam, a Golan resident, who protested that "withdrawing from the Golan Heights will only endanger the security of Israel." "Syria associates itself with the evil axis of Hizbullah and Iran, and its goal is to destroy Israel," Eitam said, and declared that Syria "cannot be a partner for discussion." Dichter will certainly suggest we give the Galilee to Iran if they would be so kind as to shoot 4,000 rockets at us. Whoever doesn't understand that the equation 'land for peace' never worked and has only brought about more bloodshed, would do better not to give advice on security matters." He added, "We must not sit and wait for the next war. Still peace now activists argue that a peace agreement in exchange for giving back the Golan would disconnect Syria from Iran and disarm Hizbullah." Vice Premier Shimon Peres said Monday that the time was not right to resume negotiations with Syria, arguing that Israel was too busy trying to deal with Lebanon and the Palestinians. Peres said he believes it's unlikely Syrian President Bashar Assad was even contemplating a return to negotiations. "The Syrians, if they are serious about peace talks, should come and say 'we are interested in holding negotiations,'" Peres said. "I don't see Assad doing this." Last week Syrian President Bashar Assad warned Israel that peace was not the only way to achieve Syrian goals, referring to the territory Israel captured from Syria during the Six-Day-War, the Golan Heights.
August 22, Iran's Military Exercise/Apocalyptic Plans for Israel/World
Aug. 21….(DEBKA) Washington is keeping a sharp weather eye out for Tuesday, August 22, which this year corresponds in the Islamic calendar to the date on which many Sunni Muslims commemorate the night flight of the prophet Muhammad on his winged horse Buraq to "the farthest mosque", which is traditionally identified with Jerusalem. According to the Muslim legend, on that day, a divine white light spread over Jerusalem and the whole world. DEBKAfile's intelligence sources report that information rated "highly credible" has reached US undercover agencies of a secret report presented to Iran's supreme ruler Ali Khamenei by Abdollah Shabhazi, one of the heads of the Supreme National Security Council. He claims to expose a mega-terror plot against Jerusalem scheduled for August 22, which aims at killing large numbers of Jews, Arabs and Christians. This atrocity will reportedly arm the United States and Israel with the pretext for hitting Iran's nuclear installations, as well its capital, Tehran, and other big cities. Shabhazi says the US and Israel need to launch a military campaign to restore the deterrent strength they lost in the Lebanon war. The massive attack will reportedly focus on the Old City of Jerusalem and its eastern suburbs. The Iranian report claims that the plotters, who are not identified, are eager to recreate the divine white light whish spread over Jerusalem in the year 632. It does not rule out the use of a non-conventional weapon.
DEBKAfile reports that the authorities in Israel do not appear to be taking this threat seriously, unlike Washington, and Tehran. Deeply impressed, Iran's rulers launched a large-scale are, sea and ground exercise Saturday, Aug. 19. The maneuver, dubbed the Blow of Zolfaghar (the sword used by Imam Ali), involves 12 divisions, army Chinook helicopters, unmanned planes, parachutists, electronic war units and special forces. State-run television reported a new anti-aircraft system was tested "to make Iranian air space unsafe for our enemies." The massive military exercise will spread over 14 of Iran's 30 provinces and last about five weeks. The point of this massive display of might is in fact to place Iran's armed forces on the ready for the contingency of a US-Israeli offensive on August 22 as per Shabhazi's prediction. The exercise will be moved to Tehran to prepare the capital for a potential assault. August 22, furthermore, is also the day of Iran's formal reply to the incentives packages on offer from the West in return for halting its uranium enrichment projects. "In Islam, as in Judaism and Christianity, there are certain beliefs concerning the cosmic struggle at the end of time, Gog and Magog, anti-Christ, Armageddon, and for Shiite Muslims, the long awaited return of the Hidden Imam. Mr. Ahmadinejad and his followers clearly believe that this time is now, and that the terminal struggle has already begun and is indeed well advanced.
Hizbullah: Zionist Regime will be Destroyed
Aug. 21….(YNET) In the course of the last month a war waged between the IDF and Hezbollah on Lebanese territory, but Iran is also busy with evaluations of the situation and summaries, following the ceasefire. A conference was held on Sunday in Tehran under the banner "Clarifying the results of the Lebanon war and the future of the Middle East". During the conference, Hizbullah's representative in Iran, Muhammad Abdullah Sif al-Din said: "We think this war has one significance and it is the destruction of the Zionist regime." "The Zionist regime is a not a real regime," said the envoy, who was quoted by an Iranian news agency. "The state of Israel did not rise in a natural way but in a way different from all of the countries: First an army was set up and only after people from various nations were assembled and formed a country," said al-Din. Al-Din said that following the Hizbullah victory, Israel does not have a right to exist.
Tehran: Many Weapons Waiting for Hizbullah
Aug. 21….(YNET) Hizbullah, Iran, and Syria are working feverishly to rearm Hizbullah ahead of the next round. A senior officer of the Revolutionary Guard in Tehran said that huge quantities of weapons, including weapons of various sources reached Damascus during the last three weeks, and are waiting to be transferred to Lebanon. According to London based Arabic daily al-Sharq al-Awast, the Revolutionary Guard formed an emergency committee on logistics in Damascus, which will be responsible for supplying Hezbollah's military needs.
Annan Abuses Power – Sides Again Aainst Israel
(Anan refused to condemn Hizb'allah's violation of the ceasefire)
Aug. 21….(JNEWSWIRE) For the second time in a month, United Nations Secretary General Kofi Annan revealed his pro-Arab bias at the weekend when, instead of condemning the Hizb'allah for breaking the terms of the ceasefire between it and Israel, he condemned Israel for acting in accordance with the provisions of that agreement. Annan was backed up by his special Middle East envoy and also long-time critic of Israel, Terje Roed-Larsen. The UN chief wagged his finger at Israel after an IDF commando raid carried out an operation Saturday aimed at preventing Hizb'allah armaments from being replenished via Syria. According to the ceasefire resolution passed by the UN Security Council last week, the Lebanese government is obliged to prevent the re-supplying of Hizb'allah with weaponry, and Israel has the right to exercise self-defense to prevent such a rearmament taking place. In a 33-day-long war ignited by an unprovoked Hizb'allah attack inside sovereign Israeli territory last month, the Iranian- and Syrian supplied Muslim terrorist organization repeatedly committed war crimes under international law when it rained more than 3000 rockets down on Israeli population centers, with the express intent of killing as many Jewish civilians as possible. Throughout the war Syria was shown to be replenishing the Hizb'allah's rocket stocks. An integral part of the ceasefire subsequently imposed on the two main parties to the conflict, Israel and Lebanon, and agreed to by the parties, banned the Hizb'allah from continuing its aggression against Israel, and granted Israel the right to take self-defensive action to ensure that no further Hizb'allah aggression was facilitated against Israel. When, on Saturday, the Israeli government learned that Hizb'allah was indeed being re-supplied through Syria, it sent IDF forces to carry out a raid in order to thwart this attempt. As such, Israel's action was in full compliance with the Security Council resolution, and the Hizb'allah, together with its support base in the Lebanese government, was in violation of that resolution. Instead of scoring the guilty parties, however, Annan chose to condemn the IDF operation, accusing Israel of violating the ceasefire. Late last month, after a building collapsed following an Israeli Air Force raid, killing a still undetermined number of Lebanese in the village of Kana, Annan accused Israel of deliberately killing civilians. The one issue that most unites the nations of Annan's UN is the Arab-Israeli conflict, regarding which that organization has passed more resolutions, all of which have condemned Israel, than any other conflict on earth. On Sunday night, Annan's special envoy, Roed-Larsen, announced his intention to visit Israel and be as forceful as he could be in dealing with the government in Jerusalem. In this way the United Nations once again demonstrated the international community's intention to override Israeli sovereignty and support acts of Arab aggression against the Jewish state. The ancient Hebrew Scriptures warn repeatedly of a future when all the nations of the world will be gathered together against the restored nation of Israel. Many Christians believe that the world's unmitigated hostility towards and unjust treatment of the Jewish state evidenced in the last four decades is evidence that we are living in those foretold days.
Hezbollah Rearming, Returning to Positions Israeli, Lebanese officials warn of '2nd Round' of Confrontations
Aug. 21….(WND) Hezbollah has returned to many of its strongholds in south Lebanon and is capable of launching another round of attacks against the Jewish state, Israeli and Lebanese officials tell WorldNetDaily. The statements follow scores of reports Iran and Syria are attempting to rearm Hezbollah one week after a cease-fire between Israel and Lebanon went into effect following 34 days of confrontations that began when Lebanese militia ambushed an Israeli patrol unit, kidnapping two soldiers and killing eight others. "Hezbollah has undoubtedly returned to their positions," Walid Jumblatt, Lebanon's Druze leader and head of the country's Progressive Socialist Party, told WND. "They were victorious against Israel and now they are regrouping for another round, which is inevitable." A senior Israeli security official said the Israeli Defense Forces estimates Hezbollah members were among the tens of thousands of Lebanese who returned to the country's southern villages after the cease-fire was imposed last week. The official said some Hezbollah members returned south in full view of the Israeli army, which has ceased most operations in Lebanon. Last week, the official warned that Hezbollah maintains the ability to fire hundreds of rockets per day into northern Israel. The IDF already has transferred to a symbolic contingent of the Lebanese Army the majority of positions Israel held the past few weeks, including the cities of Tyre and Bint Jbail, which contain large Hezbollah contingents. Israeli officials say if the Lebanese Army's deployments continue on schedule and if an international force arrives, Israeli forces can be withdrawn to within about one mile of Israel's border with Lebanese in 10 days. Meanwhile, according to reports, Iran and Syria are working to quickly resupply Hezbollah. The London based Arabic daily al-Sharq al-Awast quoted leaders of Iran's Revolutionary Guards stating "huge supplies" of weapons reached Syria the past three weeks and are awaiting transfer to Lebanon. Israeli security officials told WND Turkey has been working with the United States and Israel to stop arms transfers from crossing through its territory. Israel believes nearly all of the heavy weapons that Iran has provided to Hezbollah passed through Turkish ground or airspace en route to Syria and then to Hezbollah fighters in Lebanon. The Turkish Hurriyet newspaper reported today Turkish authorities prevented five Iranian airplanes and a Syrian aircraft from flying into Lebanon, suspecting them of transporting arms to Hezbollah. According to Hurriyet and other reports in Turkish media, one of the aircraft, a private Iranian airplane, was not allowed to leave for Lebanon after American intelligence reports indicated the plane carried three missile launchers and containers with Iranian Silkworm C-802 land-to-sea missiles. A C-803 missile badly damaged an Israeli naval vessel in July. Israeli officials are worried the cease-fire will break down due to the arms transfers. "Sooner or later we will be compelled to use aerial attacks to strike if we have information arms shipments are coming in from Syria," said an Israeli Air Force official who spoke on condition his name be withheld. The IAF official warned Israeli strikes are expected to be followed by a renewal of Hezbollah rocket attacks against northern Israeli communities. Abu Oudai, chief rocket coordinator for the Al Aqsa Martyrs Brigades terror group in the West Bank, told WND if Hezbollah restarts attacks, Palestinian terror groups will join in. "We are coordinating with all the powers. We are working hard to carry out all kinds of attacks. The best is if [the next wave] is a war in more than one front," Abu Oudai said.
WEEK OF AUGUST 14 THROUGH AUGUST 20
UN Recruiting Anti-Israel Peace-Keeping Force
Aug. 19….(YNET) The Israeli envoy to the UN, Danny Gillerman, said that it would be "difficult if not inconceivable" to accept nations in the UN peace-keeping force who do not even recognize Israel's right to exist and who have no diplomatic relations with Israel. Gillerman made the statement in an interview with BBC Online, after Malaysia and Indonesia, who do not recognize Israel, have both said they were willing to send troops to the region. He said Israel would be "very happy" to accept troops from Muslim countries they have friendly relations with. "But to expect countries who don't even recognize Israel to guard Israel's safety I think would be a bit naive," Gillerman said.
America Needs to Re-pledge Itself to God & Being A Christian Republic
Aug. 19….(FOJ) Sometimes a few words of wisdom can emanate from the lips of a comedian. Such is a case in point with this quote by Jay Leno of the Tonight Show: "With hurricanes, tornados, fires out of control, mud slides, flooding, severe thunderstorms tearing up the country from one end to another, and with the threat of bird flu and terrorist attacks, are we sure this is a good time to take God out of the Pledge of Allegiance?!!?" This beautiful photo below is of a giant flag in Arizona. The photo is authentic and un-retouched, and was taken by a passerby using a regular Kodak 35 mm camera/film. The person who took the picture couldn't believe the image created by the sun's rays. I couldn't help but be reminded of the words of the "pledge of Allegiance. It forewarns us that when a nation falls away from God, it becomes more and more subjected to the penetrating forces of evil. It also conveys the fact that a nation under God cannot serve more than one god, for when a nation accepts the gods of other nations, (as Israel did) it will find itself with a populace that is more dedicated to "their false gods" than they are to the Republic! It has often been debated whether the immigration of so many Muslims into the US by virtue of their devotion to Allah might prefer allegiance to the god of Islam more than they would hold any allegiance to the traditional Christian Republic of the US. Alas, the US has abandoned the precepts of its old God, and therefore may someday find itself being abandoned by God to the folly of its new plethora of gods.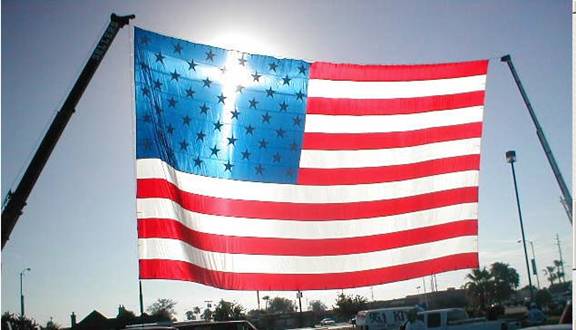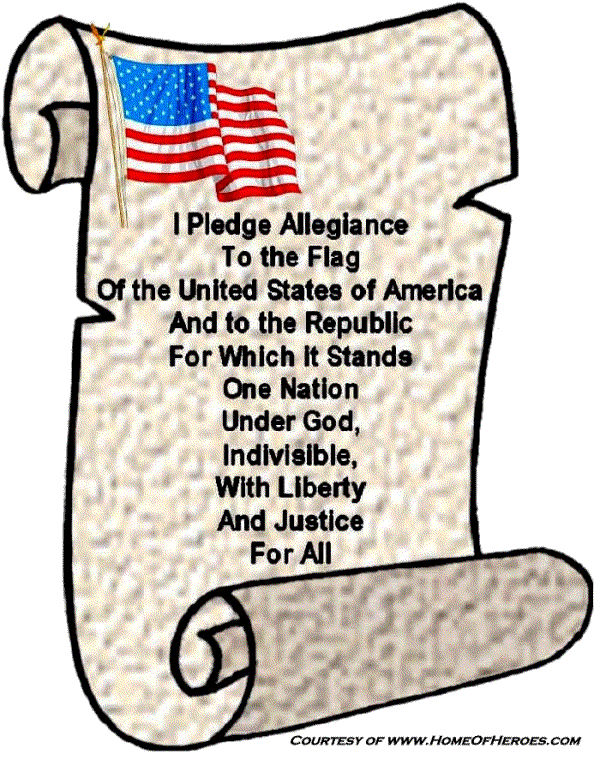 I Pledge Allegiance

I Promise to be faithful and true (Promise my loyalty)

to the flag

to the emblem that stands for and represents

of the United States

all 50 states, each of them individual, and individually represented on the flag

of America

yet formed into a UNION of one Nation.

and to the Republic

And I also pledge my loyalty to the Government that is itself a Republic, a form of government where the PEOPLE are sovereign, and recognize the laws of the Creator

for which it stands,

this government also being represented by the Flag to which I promise loyalty.

one Nation
under God,

These 50 individual states are united as a single Republic under the Divine providence of God, "our most powerful resource"

Indivisible,

and can not be separated. (This part of the original version of the pledge was written just 50 years after the beginning of the Civil War and demonstrates the unity sought in the years after that divisive period in our history)

with Liberty

The people of this Nation being afforded the freedom to pursue "life, liberty, and happiness", and as emanating from the Creator God.

and Justice

And each person entitled to be treated justly, fairly, and according to proper law and principle,

for All.

And these principles afforded to EVERY AMERICAN, regardless of race, religion, color, creed, or any other criteria. Just as the flag represents 50 individual states that can not be divided or separated, this Nation represents millions of people who can not be separated or divided.
Hizbullah Encourages Palestinian Terror
Aug. 19….(Jerusalem Post) Palestinian terror cells operating in the West Bank and the Gaza Strip in conjunction with Hizbullah are under orders by the Lebanese-based terror group to escalate their attacks against Israel, a high-ranking IDF officer has told The Jerusalem Post. On Sunday, Palestinians in the Gaza Strip fired two Grad-type Katyusha rockets at Israel, just hours before a UN-brokered cease-fire went into effect bringing 34 days of hostilities between Israel and Hizbullah to an end. Since the cease-fire went into effect in the North, there has been an increase in the number of Kassam rockets fired at Israel. On Thursday, several IDF jeeps were attacked by Palestinian terrorists as they patrolled the Gaza Strip security fence. "There is an effort to step up attacks within the Palestinian territories now that there is a cease-fire in the North," the high-ranking officer said. "Hizbullah is trying to activate their cells in Gaza and the West Bank and to ensure that Israel is still under attack even if they have stopped their rocket fire in the North." But despite the slight escalation, the IDF did not plan to begin transferring troops from the North back to the West Bank or the Gaza Strip and would keep most of its ground forces along the Lebanese border until the situation with Hizbullah stabilized, the officer said. In the West Bank, the IDF has also noticed a stepped-up effort by local Palestinian terror cells to perpetrate suicide attacks against Israeli cities. There were eight suicide and kidnapping attempts that were thwarted by the Shin Bet (Israel Security Agency) and the IDF, some within cities after terrorists had already infiltrated into Israel.
'Israel Can Only Lose Once'
Aug. 19….(WND) During one of Israel's many wars, Golda Meir offered this famous, and tragic observation: "The Arabs can fight, and lose, and return to fight another day. Israel can only lose once." Golda's assessment became a truism of the Middle East up until now. And the jury is still out as to whether her assessment remains true to this day. In the strange and surreal world that is the Middle East, Israel lost its war with Hezbollah. And while it remains intact at the moment, her enemies no longer view the Jewish state as invincible. History tells us that means the current cease-fire is a temporary condition at best, and that next time, Israel will be facing a lot more than an outlaw terrorist organization like Hezbollah. On second thought, strike that. Hezbollah is only an outlaw terrorist organization in the eyes of the United States. Europe sees Hezbollah as a radical but legitimate political party that constitutes part of Lebanon's legally elected government. The United Nations has yet, in its long history, to come up with a definition of "terrorist," let alone outlaw one. So let's rephrase it to say that Israel will likely face a lot more formidable enemy than just Hezbollah next time. And make no mistake, there will be a "next time." Israel, for the first time in its history, failed to meet a single one of its war objectives. It meekly accepted a substandard, UN-imposed cease-fire, leaving Hezbollah largely intact, Hassan Nasrallah unscathed; it failed to eliminate Hezbollah's arsenal of rockets; and, worst of all, it came home without the two hostages kidnapped by Hezbollah that prompted the war in the first place. Until now, it had been an unshakeable article of faith that Israel was capable of imposing whatever outcome it deemed necessary against any Arab force. And, until now, Israel continued to press its military advantage until it had attained its stated goals. That is no longer the case. After a month-long war, Israeli forces limped home as Hezbollah, Syria and Iran all claimed victory against the Jewish state. It was defeated by a newly invented international "law of proportionality" that dictates Israel cannot achieve a greater victory against its enemies than its enemies are capable of inflicting upon them. Of course, such a ridiculous law could only be imposed against Israel. The United States did not use "proportional" force against the Taliban and al-Qaida in Afghanistan in 2002. Osama bin Laden used three commercial airplanes against the United States. The United States used every weapon in its formidable arsenal, with the exception of nuclear weapons, to bomb Afghanistan further into the Stone Age than it had already been. Were the United States to subject itself to the law of proportionality, we would have sent 19 guys with armed with box knives to exact revenge for Sept. 11. Of course, it's stupid. But it evidently didn't sound as stupid when Secretary of State Condoleezza Rice signed on to the idea and joined the UN in demanding a cease-fire that left Hezbollah armed, in place and able to re-arm, regroup and try again. Oh, Secretary Rice spoke great, swelling words about not maintaining the status quo, but when it got down to it, she folded up like a cheap lawn chair.
The "status quo" before Israel attacked Hezbollah had the armed terror group ensconced along Israel's borders, raiding Israeli territory at will, and killing and kidnapping any Israeli soldier within reach of its infiltrating forces, without fear of interference from the incompetent and unsympathetic UNIFIL forces ostensibly stationed there to ensure Israel's border security. Following Israel's month-long war, Hezbollah remains intact, armed with long-range rockets, capable of attacking Israel at will without fear of interference from the UNIFIL forces still stationed there. The only difference is that Lebanon is dispatching a military force that it openly admits has no intention of either disarming Hezbollah or engaging it militarily if it decides to resume its previous infiltration or kidnapping tactics. The UN has yet to put together a credible military deterrent, and so far, the only nations willing to contribute troops are overwhelmingly sympathetic to Hezbollah and Lebanon. The biggest contributor so far is France. Lebanon is a former French colony. And it is hard to imagine Paris engaging its ally to defend the Jews. France is among the most openly anti-Semitic nations in Europe. Hezbollah acquired anti-tank weapons from Syria and Iran that decimated Israeli armor. Syria and Iran have both since claimed joint victory against Israel, along with Hezbollah, and have pledged to continue the conflict until Israel has been wiped from the map. Hezbollah has demonstrated that total Arab defeat is not inevitable, and with this demonstration, Israel has lost its tremendous psychological advantage. If Hezbollah could hold the mighty Israeli juggernaut at bay, then the possibility that Israel could finally and decisively be wiped from the map of the Middle East by another pan-Arab army is once again feasible. Hezbollah has emerged as a massive political force. Syria, marginalized in recent years, has re-emerged as a regional player as Hezbollah's patron. Hezbollah's victory represents a victory for Iran and the Shia. Hezbollah, a Shiite force, has done what others could not do. This will certainly result in both Jordan and Egypt rethinking their own assumptions about the viability of another war of annihilation against Israel. In a sense, the Arabs have little to lose by taking the risk. If they win, they will have succeeded in reclaiming their lost honor in previous conflicts, with the added bonus of having rid the world of the Jewish cancer in its midst. And if they lose, they can once again count on the UN imposing a cease-fire in time for them to remain intact and viable. One doesn't need a crystal ball to know that Syria and Iran will move quickly to exploit the advantage Israel's defeat at the hands of Hezbollah has given them. This is exactly the outcome that both Damascus and Tehran had been hoping for, although they certainly didn't expect it. But now that it is a reality, Golda's words echo with haunting clarity. "The Arabs can fight, and lose, and return to fight another day. Israel can only lose once."
Jimmy Carter: A Fool or An American Traitor
| | |
| --- | --- |
| | Thanks to the idiotic policies of Jimmy Carter, the world today must face the demonic threat of radical fundamentalist Islamic fascists that hate Israel and the US. Mr. Carter is one of the most anti-Israel, anti-Biblical self righteous nerds the American public arena has ever produced. He is more closely aligned in ideology with Fidel Castro than with Christian America. |
Aug. 19….(FOJ) If you'd like a picture of where the liberal socialists want to take America, just listen to former President Jimmy "wimpy" Carter. Carter is certainly not bashful about bashing the United States, even on foreign soil or to the foreign press, or even at lending public credence to terrorist election charades and to communist dictators alike. In a recent interview with the German magazine Der Spiegel, Carter fired with both barrels at President Bush, and lambasted American "fundamentalist" Christians and Israel. Expanding on the theme of his latest book, "Our Endangered Values," Carter said the Bush administration has abandoned the nation's "old" moral principles. That's a curious concept: By upholding traditional moral values President Bush has diverted the nation's moral course? Carter insists that the Islamo-fascist terrorists aren't all that bad. They are probably peace-loving people like the rest of us who just have their noses out of joint over President Bush's "unilateral" foreign policy and his "preemptive" attack on Iraq, and his misguided support for Israel. Indeed, Carter said the Arab world hates us because we invaded Iraq, and "supported and encouraging Israel in an unjustified attack on Lebanon." In the interview, Carter pointedly blamed Bush's foreign policy on his Christian "fundamentalism." Carter, after unmistakably implying that Bush is a fundamentalist, said that Christian fundamentalists believe "they are speaking for God" and "anyone who disagrees with them is inherently wrong" and "inherently inferior." "In extreme cases, as is the case with some fundamentalists around the world, it makes your opponents sub-humans, so that their lives are not significant." Since "the peace negotiating process itself is an indication of implied equality" the fundamentalist (Christian Zionists) "can't bring themselves to accept the fact that Israel is wrong, and the Arabs have legitimate complaints. Carter said that "American Christian fundamentalists that support Israel" are blinded to the truth of the Bible, and represent the biggest threat to world peace and national security.
National Evangelical Churches Refuse to Support Israel
Aug. 18….(Baptist Press) A Baptist advocate for Jewish evangelism has protested the National Association of Evangelicals' refusal to take a stand in support of Israel in defending itself from an estimated 4,000 rocket attacks by Hezbollah Muslim guerrillas. Jim Sibley, director of Criswell College's Pasche Institute of Jewish Studies in Dallas, expressed "grave disappointment" over the NAE stance in a letter Sibley wrote the association's president, Ted Haggard, Aug. 17. Haggard insists that supporting Israel could cause a backlash from Muslims. An AP article centering on why evangelicals have been "notably quiet" over the Israel-Hezbollah clash reported that Focus on the Family founder James Dobson had issued a statement on the crisis Aug. 11. Dobson voiced agony over "the terrible loss of life in Lebanon," but noted, "There is no doubt who the aggressors are in this current conflict" in which "Israel itself appears to be threatened with annihilation." Dobson's full statement follows:
I recently received a message from dear Christian friends in Beirut who poured their hearts out to us, describing what they called, 'this demonic anger and war.' Having heard from other close contacts in southern Lebanon, our Beirut friends conveyed that, 'Hezbollah is setting their missiles next to the Christian church where they are all staying and sending rockets from there into Israel, then leaving. So the Israelis are hitting their Christian area in return very hard. Heartbreaking scenes like these happened daily in Lebanon, and we are very concerned for our Lebanese friends and other innocent victims of this war. "Such personal tragedies and death raining down also occur constantly in Israel, and we hear from families and friends there, too. There is no doubt who the aggressors are in this current conflict, and we understand that Israel itself appears to be threatened with annihilation. The radical left in Western nations, including many Americans, purport to defend the weak against the strong. Yet there sits little Israel with its five million beleaguered Jews, surrounded by 500 million Muslims whose leaders are determined to drive it into the sea. Those who hate this covenant land are aided and abetted by politicians representing two billion Russians, Chinese and Europeans who won't lift a finger to save the descendants of Abraham, Isaac and Jacob. "Yet we are reminded of the Biblical skirmish between little David and the mighty Goliath," Dobson noted. "With God's intervention, the shepherd boy needed only one smooth stone and a sling to bring the Philistine crashing down. It is our prayer that Jehovah will once again give His people a miracle on the battlefield. While we are praying without ceasing for the innocent victims in Lebanon, we stand firmly with Israel and the Jews, and, with countless others around the world, we are praying for 'the peace of Jerusalem' (Psalm 122:6)."
The Psychology Behind Suicide Bombings
Aug. 18….(Pierre Rehov) On July 15, MSNBC's "Connected" program discussed the July 7th, 2005 London suicide attacks. One of the guests was Pierre Rehov, a French filmmaker who has filmed six documentaries on the intifada by going undercover in the Palestinian areas. Pierre's upcoming film, "Suicide Killers," is based on interviews that he conducted with the families of suicide bombers and would-be bombers in an attempt to find out why they do it. Pierre agreed to a request for a Q&A interview here about his work on the new film.
Q - What inspired you to produce "Suicide Killers," your seventh film?
A - I started working with victims of suicide attacks to make a film on PTSD (Post Traumatic Stress Disorder) when I became fascinated with the personalities of those who had committed those crimes, as they were described again and again by their victims. Especially the fact that suicide bombers are all smiling one second before they blow themselves up.
Q - Why is this film especially important?
A - People don't understand the devastating culture behind this unbelievable phenomenon. My film is not politically correct because it addresses the real problem, showing the real face of Islam. It points the finger against a culture of hatred in which the uneducated are brainwashed to a level where their only solution in life becomes to kill themselves and kill others in the name of a God whose word, as transmitted by other men, has become their only certitude.
Q - What insights did you gain from making this film? What do you know that other experts do not know?
A - I came to the conclusion that we are facing a neurosis at the level of an entire civilization. Most neuroses have in common a dramatic event, generally linked to an unacceptable sexual behavior. In this case, we are talking of kids living all their lives in pure frustration, with no opportunity to experience sex, love, tenderness or even understanding from the opposite sex. The separation between men and women in Islam is absolute. So is contempt toward women, who are totally dominated by men. This leads to a situation of pure anxiety, in which normal behavior is not possible. It is no coincidence that suicide killers are mostly young men dominated subconsciously by an overwhelming libido that they not only cannot satisfy but are afraid of, as if it is the work of the devil. Since Islam describes heaven as a place where everything on Earth will finally be allowed, and promises 72 virgins to those frustrated kids, killing others and killing themselves to reach this redemption becomes their only solution.
Q - What was it like to interview would-be suicide bombers, their families and survivors of suicide bombings?
A - It was a fascinating and a terrifying experience. You are dealing with seemingly normal people with very nice manners who have their own logic, which to a certain extent can make sense since they are so convinced that what they say is true. It is like dealing with pure craziness, like interviewing people in an asylum, since what they say, is for them, the absolute truth. I hear a mother saying "Thank God, my son is dead." Her son had became a shaheed, a martyr, which for her was a greater source of pride than if he had became an engineer, a doctor or a winner of the Nobel Prize. This system of values works completely backwards since their interpretation of Islam worships death much more than life. You are facing people whose only dream, only achievement goal is to fulfill what they believe to be their destiny, namely to be a Shaheed or the family of a shaheed. They don't see the innocent being killed, they only see the impure that they have to destroy.
Q - You say suicide bombers experience a moment of absolute power, beyond punishment. Is death the ultimate power?
A - Not death as an end, but death as a door opener to the after life. They are seeking the reward that they think God has promised them. They work for God, the ultimate authority, above all human laws. They therefore experience this single delusional second of absolute power, where nothing bad can ever happen to them, since they become God's sword.
Q - Are suicide bombers principally motivated by religious conviction?
A - Yes, it is their only conviction. They don't act to gain a territory or to find freedom or even dignity. They only follow Allah, the supreme judge, and what He tells them to do.
Q - Do all Muslims interpret jihad and martyrdom in the same way?
A - All Muslim believers believe that, ultimately, Islam will prevail on earth. They believe this is the only true religion and there is no room, in their mind, for interpretation. The main difference between moderate Muslims and extremists is that moderate Muslims don't think they will see the absolute victory of Islam during their lifetime, therefore they respect other beliefs. The extremists believe that the fulfillment of the Prophecy of Islam and ruling the entire world as described in the Koran, is for today. Each victory of Bin Laden convinces 20 million moderate Muslims to become extremists.
Q - Describe the culture that manufactures suicide bombers.
A - Oppression, lack of freedom, brain washing, organized poverty, placing God in charge of daily life, total separation between men and women, forbidding sex, giving women no power whatsoever, and placing men in charge of family honor, which is mainly connected to their women's behavior.
Q - What socio-economic forces support the perpetuation of suicide bombings?
A - Muslim charity is usually a cover for supporting terrorist organizations. But one has also to look at countries like Pakistan, Saudi Arabia and Iran, which are also supporting the same organizations through different networks. The ironic thing in the case of Palestinian suicide bombers is that most of the money comes through financial support from the Occidental world, donated to a culture that utterly hates and rejects the West (mainly symbolized by Israel).
Q - What role does the U.N. play in the terrorist equation?
A - The UN is in the hands of Arab countries and third world or ex-communist countries. Their hands are tied. The UN has condemned Israel more than any other country in the world, including the regime of Castro, Idi Amin or Kaddahfi. By behaving this way, the UN leaves a door open by not openly condemning terrorist organizations. In addition, through UNRWA, the UN is directly tied to terror organizations such as Hamas, representing 65 percent of their apparatus in the so-called Palestinian refugee camps. As a support to Arab countries, the UN has maintained Palestinians in camps with the hope to "return" into Israel for more than 50 years, therefore making it impossible to settle those populations, which still live in deplorable conditions. Four hundred million dollars are spent every year, mainly financed by US taxes, to support 23,000 employees of UNRWA, many of whom belong to terrorist organizations.
Q - How can we put an end to the madness of suicide bombings and terrorism in general?
A - Stop being politically correct and stop believing that this culture is a victim of ours. Radical Islamism today is nothing but a new form of Nazism. Nobody was trying to justify or excuse Hitler in the 1930s. We had to defeat him in order to make peace one day with the German people.
Q – Will suicide bombers begin bombings outside the Middle East?
A - Every successful terror attack is considered a victory by the radical Islamists. Everywhere Islam expands there is regional conflict. Right now, there are thousands of candidates for martyrdom lining up in training camps in Bosnia, Afghanistan and Pakistan. Inside Europe, hundreds of illegal mosques are preparing the next step of brain washing for lost young men who cannot find a satisfying identity in the Occidental world. Israel is much more prepared for this than the rest of the world will ever be. Yes, there will be more suicide killings and Islam is targeting the US.

How Long Does the USA Have?
Aug. 18….(unknown) About the time our original 13 states adopted their new constitution, in 1787, Alexander Tyler, a Scottish history professor at the University of Edinburgh, had this to say about the fall of the Athenian Republic some 2,000 years prior; "A democracy is always temporary in nature; it simply cannot exist as a permanent form of government. A democracy will continue to exist up until the time that voters discover that they can vote themselves generous gifts from the public treasury. From that moment on, the majority always votes for the candidates who promise the most benefits from the public treasury, with the result that every democracy will finally collapse due to loose fiscal policy, which is always followed by a dictatorship." "The average age of the worlds greatest civilizations from the beginning of history, has been about 200 years. During those 200 years, these nations always progressed through the following sequence:"
1. From bondage to spiritual faith;
2. From spiritual faith to great courage;
3. From courage to liberty;
4. From liberty to abundance;
5. From abundance to complacency;
6. From complacency to apathy;
7. From apathy to dependence;
8. From dependence back into bondage
Professor Olson believes the United States is now somewhere between the "complacency and apathy" phase of Professor Tyler's definition of democracy, with some 40 percent of the nation's population already having reached the "governmental dependency" phase. If the Senate grants Amnesty and citizenship to 20 million criminal invaders called illegals and they vote, then goodbye USA in less than 5 years. Apathy is the greatest danger to America's freedom. Added to this immigrant invasion scenario is the threat from Muslim immigration, legal and other wise that plans to Islamicize America by the year 2020.
Israel Has Been Backed Into A Corner
Aug. 18….(FOJ) Israel's Prime Minister Ehud Olmert has blindly backed his country into a corner. His planned unilateral from the West Bank, should it proceed, would in effect allow another Iranian backed resistance-terror army to take root in Israel's back door, while Hezbollah is now situated to become more powerful than ever on the northern border. Added to this nightmare is the fact that Syria now believes that it can utilize a terrorist army to wrench Israel out of the Golan Heights. Israeli Prime Minister Ehud Olmert spoke in front of the Knesset (Israeli parliament) in Jerusalem on 14 August. Israel's government, under fire over military failures in Lebanon, runs the risk of ultimate collapse with its cornerstone policy of unilateral pullback from the occupied West Bank.
FOJ believes that Israel will now turn its leadership back to a staunch defender, perhaps like Benjamin Netanyahu. Israel's loss of Ariel Sharon could not have come at a worse time, and his deteriorating condition seems to ironically reflect Israel's growing problem for survival.
| | |
| --- | --- |
| | (FOJ) The Olmert Government is a weak formulation of Peres dominated peace pacifists, and enemy appeasers. This tragic view has left Israel reeling and in great danger. I firmly expect Israel will be faced with a more serious war in the near future, a war that will likely involve Syria, and involve more lethal weapons |
| | (FOJ) Al Quds Day…Iran is attempting through its resistance-terror networks of Hezbollah and Hamas to spread its Shiite Islamic Empire into Jerusalem, the city of Jehovah, God of Israel. |
Members of the Hezbollah guerilla group parade while others in the background hold big portraits of Iran's late leader Ayatollah Khomeini, left, and Iran's supreme leader Ayatollah Ali Khamenei, right, during the annual rally to mark Al-Quds Day, Jerusalem Day, in the southern suburbs of Beirut, Lebanon, in this Friday, Oct. 28, 2005, file photo. Iran's influence is embodied in Hezbollah, the party of God, Lebanon's most robust, organized and sophisticated Shiite group. Hezbollah has become a virtual state-within-a-state, with a small army of about 6,000 soldiers who just fought off mighty Israel.
| | |
| --- | --- |
| | Lebanese soldiers have begun taking control of the war-battered south for the first time in four decades yesterday, (since Israel chased Yasser Arafat and the PLO out of its mini-terror-state there) moving across the Litani River to shore up a UN truce ending a month of deadly conflict between Israel and Iran's Hezbollah. |
How Do You Solve A Problem Named Nasrallah?
Aug. 18….(David Dolan) The international media has been abuzz with the burning question of the hour, who won the 34 day Israel-Hezbollah showdown? Most analysts seem to agree that the outcome was a draw at best. Opinion polls show that most Israelis subscribe to that conclusion as well. Israel clearly decimated the dug in Shiite militia in the southern third of Lebanon, with the destruction of an estimated 20 Hezbollah border outposts and dozens of bunkers and weapons dumps in the vicinity, and the killing of hundreds of jihad fighters. Even if shadow Lebanese "president" Sheik Hassan Nasrallah succeeds in deflecting the Lebanese Army's UN-mandated disarming of his blood-stained warriors, as already seems apparent, Hezbollah forces will probably never again openly operate as a virtual army along Israel's northern border. The Israeli public and government, if not the international community, will simply not tolerate it. Apart from that significant military achievement, which took much longer to accomplish due to the Israeli government's highly criticized delay in unleashing sufficient ground forces to make it happen, Israel clearly fell short of the rest of its declared goals in the conflict. The two Israeli soldiers whose kidnapping sparked the conflict have not been set free, nor has any news of their condition even been received in Jerusalem. The Hezbollah missile threat has not been eliminated. The rogue militia pounded the northern third of Israel with Syrian and Iranian-made rockets until the very hour that the UN-mandated ceasefire went into effect on August 14, firing the highest daily total of the war just one day before. As in the opening stage of the conflict, Israel's third largest urban center, Haifa, was among the targets struck. Another Israeli goal, voiced unofficially by several cabinet ministers at the outset of the confrontation, was also not achieved, silencing Sheik Nasrallah for good. Instead, the turbaned Shiite holy man cum politician, virtually unknown to most of the world in early July, has emerged as the new Nasser, if not the new Saladin, for the millions of Muslims around the globe who loathe the "infidel Zionist entity" with extreme passion. Many analysts maintain that Israel's image as a regional superpower, and thus her critical deterrence capability against much larger neighboring enemies, has been weakened as a result of the war. It was already badly eroded during the 1991 Gulf War when George Bush Sr. held back then Prime Minister Yitzhak Shamir from responding to unprovoked nightly Scud attacks from Iraq. Israel's tough image suffered further damage earlier this decade when it took several years to bring Palestinian suicide attacks under relative control. Israeli leaders had consistently warned that Damascus, as well as Beirut, would be held directly accountable for any major Hezbollah cross border assaults, since it was Syria that helped arm the radical group and had earlier prevented its Lebanese puppet government from disarming the militia after Israeli forces evacuated south Lebanon in May 2000. However just hours after Hezbollah forces violated the international border (as they had several times before) to kidnap and kill IDF soldiers on July 14, Israeli officials announced that Damascus would not pay a direct price after all. No wonder Syrian strongman Basher Assad crowed after the ceasefire went into effect that the war had been won by his country's proxy fighters. Still, it has to be kept in mind that Syria hardly stands alone in the region. The Baathist police state regime is heavily backed by a new emerging regional superpower, Iran, which boasts it now possesses long-range missiles that can strike every part of the Jewish State, possibly with nuclear warheads in the not too distant future. Syria too has such missiles, and stockpiles of VX nerve gas to boot. But the fact is that most of Assad's arsenal has not come from Iran, but was supplied by the former Soviet Union, a worldwide megapower in its day. The ironclad Soviet-Syrian alliance did not keep Menachem Begin's government from engaging Syrian forces in Lebanon in 1982, so why would the Damascus-Tehran axis do that today? The reason is fairly simple, if chilling. The mighty Communist giant was not thought likely to risk an all out nuclear holocaust with Israel's main international supporter, the United States. Therefore, then Defense Minister Ariel Sharon felt he could fairly safely take on the MIG-based Syrian air force with little risk to Israel's future existence. But the Shiite fascist-fanatics that rule Iran are assessed to be far more likely to disregard all rational logic by, for instance, attacking Israel's nuclear reactor in Dimona, as they have repeatedly threatened to do, even if this would probably provoke an Israeli nuclear strike in return. I warned in my first book (published under the title Holy War for the Promised Land as Saddam's Scuds were pummeling Israel in early 1991), that militant Islam would prove a far harder enemy for Israel and the West to tackle than Communism, which was then crumbling in Moscow as it already had in Warsaw. I noted that while Soviet-style Communism had many characteristics of a religion, such as "prophets and saints" like Lenin and Marx and an ideology regarded as Final Truth by many adherents, it never actually claimed to be divinely revealed. Thus, if it was failing to deliver its promised free lunch, as it was, it could be discarded relatively easily by political leaders. In stark contrast, Islam's founder is hailed by over one billion Muslims around the globe as the "seal of the prophets" who delivered a sacred book to mankind that is regarded as an exact copy of the original in heaven. I pointed out that Arab Muslim Mideast leaders, kinsman of Muhammad who are ruling in the cradle of his religion, could hardly ignore or toss aside the faith held dear by most of their people. And so tiny Israel is confronted with a huge dilemma, along with Lebanese Christian officials, the United States and indeed the entire Western world, whether they like it or not: How do "infidels" fight highly motivated jihad combatants like Hezbollah and Hamas, and indeed even Al Qaida, without igniting the Muslim masses around the world? This is probably the ultimate issue that Israeli leaders were grappling with as they hesitatingly waged war against a relatively small militia group in neighboring Lebanon during the hot summer of 2006.
Israel Protests Russian Missile Sales to Iran
Aug. 18….(Jerusalem Post) A senior Israeli delegation headed to Moscow earlier this week to complain that Russian-made anti-tank missiles had reached Hizbullah guerrillas in Lebanon and were used in the 34-day conflict, government officials said Friday. Asaf Shariv, a senior adviser to Prime Minister Ehud Olmert, confirmed the delegation had headed to Russia earlier this week, but refused to elaborate. The anti-tank missiles proved to be one of Hizbullah's most effective weapons in face-to-face combat with the IDF, killing many of the 118 soldiers that died in the fighting. Another government official said the delegation was "senior," but refused to say who they would be meeting with in Russia. Israel does not accuse Russia of directly arming Hizbullah, but rather that Russia sold the weapons to Iran and Syria, known supporters of Hizbullah, who passed them on to the guerrilla group.
FOJ Note: Why is Russia so willing to sell a rogue state like Iran anything it wants?
Olmert Government Will Fall, says Lebanese Leader
Aug. 18….(WND) Hezbollah's "victory" over the Jewish state will likely bring down Prime Minister Ehud Olmert's government and lead to a second round of confrontations between Israel and Hezbollah, Lebanon's Druze leader Walid Jumblatt said in a WorldNetDaily interview yesterday. "I see investigations inside Israel about the Israeli military's terrible performance. I see Olmert failing and former Prime Minister Benjamin]Netanyahu coming back to power. There will be a second round of confrontations with Hezbollah and with other regional elements," said Jumblatt, who is head of Lebanon's Progressive Socialist Party and is largely considered the most prominent anti-Syrian Lebanese politician. Jumblatt said in his opinion there is "no question" Hezbollah won the month-long military conflict with Israel that started July 12 after the Lebanese militia ambushed an Israeli patrol unit, kidnapping two soldiers and killing eight others. "Of course Hezbollah won," said Jumblatt. "We saw after 33 days in spite of the infliction of massive destruction on Lebanon, the Israelis were not able to advance a single inch in the south. Hezbollah still has its capabilities. They have their advanced weaponry and rockets." Attempting to fulfill obligations of a cease-fire agreement imposed Monday, a symbolic contingent of about 2,500 troops from the Lebanese army yesterday began deploying in the southern sections of the country for the first time in 40 years, while the United Nations worked to assemble an international force to be deployed in the area with the stated goal of ensuring Hezbollah does not rearm. The Lebanese army consists of some 40,000 soldiers, although some counts place its forces at lower numbers. It has about 300 tanks and armored personnel carriers. The Lebanese government has promised to deploy up to 15,000 troops in the south and along the country's border with Israel. Jumblatt said there was "no chance" the Lebanese army or any international force would disarm Hezbollah or keep the militia from regrouping. "How could the Lebanese army or some international force do what the mightiest army in the Middle East (Israel) did not do? Don't ask us to disarm them by force. It is a fantasy." The cease-fire resolution calls for the area south of Lebanon's Litani River, about 18 miles into Lebanon from the Israeli border, to be free from arms, aside from those held by Lebanese soldiers and United Nations International Forces In Lebanon troops. But a Lebanese cabinet decision reached yesterday regarding the disarmament issue allows Hezbollah to retain its weapons as long as the group refrains from carrying them in public. "Expect new confrontations," Jumblatt said. "One round of fighting is over. Hezbollah was victorious and is waiting for another round. Hezbollah is an arm of Iran and it will be used to draw Lebanon into more conflicts." Israeli officials told WND because the Israeli Defense Forces were not authorized to conduct a large-scale ground assault to the Latani River until two days before this week's cease-fire was imposed, major nearby cities such as Tyre were not cleaned out of Hezbollah fighters. Tyre and surrounding areas were routinely used by Hezbollah to fire rockets into northern Israeli cities. Israeli military officials tell WorldNetDaily that from the start of the Jewish state's campaign in Lebanon last month, the IDF petitioned for the deployment of up to 40,000 ground troops to advance immediately to the Litani River, taking up the swath of territory from which most Hezbollah rockets are fired, and from there work their way back to the Israeli border while surrounding and then cleaning out Hezbollah strongholds under heavy aerial cover. But Olmert only approved aerial assaults. After Hezbollah retaliated by firing large numbers of rockets into Israel, the Olmert government approved a smaller ground offensive of up to 8,000 soldiers who according to military officials were not directed to advance to the Litani. The IDF was charged with cleaning out Hezbollah's bases within about three miles of the Israeli border. After nearly four weeks of fighting, Olmert's cabinet finally approved the larger assault the IDF had petitioned for, authorizing about 40,000 troops to enter Lebanon and advance to the Latani River, but then the cease-fire stymied the IDF operation before it could begin. The IDF estimated it would need about three days to reach central Lebanon and another four to six weeks to successfully wipe out the Hezbollah infrastructure in the areas leading back to the Israeli border. Three days after the Israeli army was given a green light to advance – a cease-fire was imposed and the Jewish state suspended operations, and thus Israel basically surrendered.
UN Finds Only 3,500 Soldiers Committed to UN Force
Aug. 18….(WND) The United Nations got pledges of 3,500 troops for an expanded UN peacekeeping force in Lebanon, but it was unclear whether the soldiers represented the right mix of countries and units and could deploy very quickly. Bangladesh made the largest offer of up to 2,000 troops, but France, who was expected to be the dominant contingent, offered just 200 new troops, (Lebanon was a French Mandate) in addition to the 200 already sent. Deputy Secretary-General Mark Malloch Brown told a meeting of nearly 50 potential troop contributing countries that at least 3,500 new troops are needed in south Lebanon within 10 days to expand the 2,000-strong UN force trying to help maintain an uneasy truce between Israel and Hezbollah operatives. In his opening speech to the meeting, Malloch Brown warned that "every moment we delay is a moment of risk that the fighting could re-erupt." Israeli diplomatic officials expressed disappointment on Thursday with the international community's failure to come up with enough troops to fill the 15,000-member international force in Lebanon and ensure the force would compel Hizbullah to disarm. US Secretary of State Condoleezza Rice said the force would not be responsible for disarming Hizbullah. (Then Who?) That would be the responsibility of the Lebanese, Rice said in an interview with USA Today. She said that in the past, the Lebanese government had been unwilling or unable to disarm Hizbullah. "I don't think there is an expectation that this force is going to physically disarm Hizbullah," Rice said. Rice said if Hizbullah resisted international demands to disarm, "one would have to assume that there will be others who are willing to call Hizbullah what we are willing to call it, which is a terrorist organization." Questions about the size of France's contribution were raised this week when Le Monde reported that Paris planned to send in a small, purely symbolic force, and that UN officials were scrambling to convince the French that sending so few troops would be devastating to Lebanon's survival.
Israel says Assad has Chosen Camp of Terrorism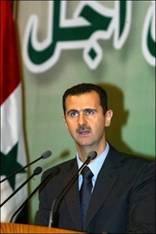 Aug. 17…(AFP) Israel has accused Syria of choosing what it called the "camp of extremism" after its president, Bashar al-Assad, hailed the victory of the Hezbollah militia and ruled out peace talks with Israel. "With this speech, Syria has shown that its strategic choice consists in aligning itself with extremists," Israeli foreign ministry spokesman Mark Regev told AFP Wednesday. Assad gave a hard-hitting speech to the Syrian parliament on Tuesday in which he praised Hezbollah for resisting the massive military offensive launched by Israel against Lebanon on July 12. Regev said Syria formed part of an "extremist axis" which included the two hardline Palestinian movements Hamas and Islamic Jihad, the Hezbollah militia and Iran. "So long as Syria belongs to this axis, no reasonable person will be able to treat it as part of the peace camp," Regev said. Assad lashed out at western powers in his speech and said he did not expect peace with the Jewish state any time soon. "Peace would involve Israel returning occupied lands to their owners and restoring their rights," Assad said. "Israel is an enemy founded on the basis of aggression and hegemony." Israel says Syria has armed and supported the Hezbollah militia in its conflict with the Jewish state, which seized the Golan Heights from Syria in 1967 and annexed them in 1981. Syrian President Bashar Al-Assad says his country is prepared for war with Israel and warned that the Golan Heights would be seized "by Syrian hands." We and the resistance (Hezbollah) read clearly that the day of confrontation is definitely approaching. Asked what the expected results would be if Israel launched an attack against Syria, Assad said: "If Israel acts with adventurism and enters into a war with Syria, this will be the beginning of a heavy price that it will pay."
Syria Will Form its Own Hezbollah
(Baath party official: Lebanon war proves 'resistance' against Israel works)
Aug. 17….(WND) On the heels of what it views as a Hezbollah victory against the Jewish state, Syria is forming its own Hezbollah-like guerilla organization to fight Israel in hopes of "liberating" the Golan Heights, an official from Syrian President Bashar Assad's Ba'ath party told WorldNetDaily yesterday. The official, speaking on condition of anonymity, said Syria learned from Hezbollah's military campaign against Israel the past month that "fighting" is more effective than peace negotiations with regard to gaining territory. He said Syria's new guerilla force would be trained by Hezbollah leaders. "Syria is very serious about establishing this new guerilla force," the official said. In a televised address yesterday, Assad declared Hezbollah's path of "resistance" achieved results during the last four weeks of fighting against Israel. "The region has changed because of the achievements of the resistance Hezbollah," said Assad, speaking to a journalists association. Assad said members of Hezbollah used their "will, determination and faith" to counter Israeli arms, enabling the Lebanese militia to defeat Israel. "We tell the Israelis that after tasting humiliation in the latest battles, your weapons are not going to protect you, not your planes, or missiles or even your nuclear bombs. The future generations in the Arab world will find a way to defeat Israel," Assad said. "The resistance is necessary as much as it is natural and legitimate," said the Syrian president, claiming the war in Lebanon revealed the limitations of Israel's military power. "The result was more failure for Israel, its allies and masters," said Assad. Hezbollah claims its goal is to liberate the Shebaa Farms, a small, 200-square-kilometer bloc situated between Syria, Lebanon and Israel. The Farms is the last post held by Israel after its withdrawal in 2000 from positions it took along the Lebanese border. Most Western analysts agree Hezbollah uses the pretext of the Shebaa Farms to maintain its weapons to start conflicts with the Jewish state. Hezbollah is sponsored by Syria and Iran. The cease-fire resolution accepted by Israel earlier this week calls for negotiations leading to Israel's relinquishing of the Shebaa Farms. The Baath party official told WND the new Syrian "resistance" group is calling itself the Front for the Liberation of the Golan, and is already in the process of being formed. He said it seeks to ensure the return of the Golan Heights. Israel captured the Heights, strategic mountainous territory, after Syria used the terrain to attack the Jewish state in 1967 and again in 1973. The Golan Heights borders Israel, Syria and Lebanon. Israeli security officials said they had no information about the Front for the Liberation of the Golan. The Ba'ath party official told WND the Front was formed last month and will attempt attacks against Israel. The official said the group currently consists of "hundreds" of Syrian volunteers, many from the Syrian border with Turkey. The official said most Front members will be Palestinian and not members of the Syrian army. "We know from history guerilla resistance works against Israel," said the official. He pointed not only to Israel's most recent confrontation with Hezbollah, but also to what he said was a previous Syrian "victory" against the Israeli Defense Forces using guerilla tactics. "After a cease-fire was imposed in 1973 [following the Yom Kippur War) for 100 days Syria led guerilla attacks against Israel in the Golan Heights and they were successful. The IDF withdrew nearly 100 kilometers from the original cease-fire lines." Indeed, after Syria accepted a United Nations cease-fire in October 1973, it waged a sporadic guerilla campaign against Israeli troops in the Golan until a disengagement agreement was reached March 31, 1974, that saw Israel withdraw from some sections of the territory.
70 Percent of Israelis Opposed Cease-Fire
Aug. 17….(Arutz) Israel's defense minister has created a military committee to investigate how the war in Lebanon was conducted, military officials said Monday. The decision came amid a UN-imposed cease-fire, and as the government came under increasing criticism over strategy in the conflict. The 34-day war against Lebanese Hezbollah guerrillas, widely seen here as just, had united Israel's fractured society, with over 90% of the country supporting the war. Hezbollah was considered a growing threat after it had vastly expanded its arsenal of missiles in recent years. But the unity crumbled after Israel's fabled army pulled out of south Lebanon without crushing Hezbollah or rescuing two soldiers whose July 12 capture by the guerillas during a raid in Israel triggered the fighting. The war began just two months after Prime Minister Ehud Olmert and Defense Minister Amir Peretz, men with little military experience, took office. Surveys in two major Hebrew-language dailies on Wednesday showed low approval ratings for both. A poll of 500 people by TNS-Teleseker showed support for Olmert sinking to 40 percent after soaring to 78 percent in the first two weeks of the offensive. Peretz' approval rating plunged to 28 percent from 61 percent, according to the poll, which has a margin of error of 4.4 percentage points. A second poll, by the Dahaf Research Institute, showed 57 percent calling for his resignation. The Dahaf poll, which had a margin of error of 4.5 percentage points, showed 70 percent opposed to a cease-fire that did not include the return of the captured soldiers, and 69 percent backing an official inquiry into the war's prosecution. Under the truce, Israel is to withdraw from southern Lebanon, and 15,000 Lebanese army forces, backed by a similar number of UN peacekeepers, are to patrol the territory, which had been controlled by Hezbollah before the war. Critics of the truce question the ability of the new force to keep Hezbollah at bay.
Hariri: Syria Supporting Hezbollah Takeover in Lebanon
(Saad Hariri, the son of former Lebanese Prime Minister Rafik Hariri, whom Syria assassinated, accuses Syrian President Bashar Assad of stirring civil strife in Lebanon; Jumblatt says Syria backing Hizbullah takeover in Lebanon)
Aug. 17….(YNTE) After 33 days of bombardments a bomb of a different kind fell on our heads today after Assad's speech," Hariri said. Assad accused Hariri and the 'March 14' anti-Syrian block of collaborating with Israel and the United States in a speech delivered on Tuesday in Damascus. Syrian parliamentarian Faisal Kulthum responded angrily to Hariri's remarks saying he is "a small and stupid agent who is pinning his hope on foreign forces. When the Israeli attack against Lebanon started the agent Hariri was in Europe and now he is claiming to be with the resistance."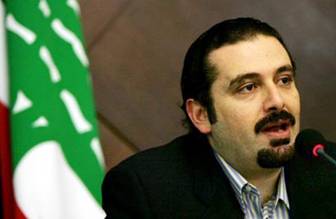 Saad Hariri, majority leader in Lebanese parliament
Kulthum said "Syria created the resistance in the Arab world," he said speaking to al-Jazeera TV. Hariri's coalition partner Walid Jumblatt lashed out at Assad on Wednesday saying he is encouraging a Hizbullah take over of Lebanon. "The common thing between them (Assad and Hizbullah) is a coup, one rose to power through his father's military takeover and the other is conspiring to bring about a political revolution in Lebanon," Jumblatt said.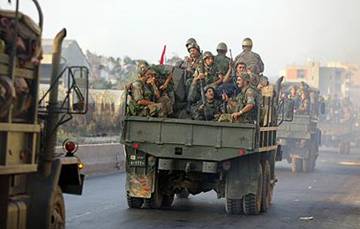 "Jumblatt said Wednesday that the March 14 block "will never give in to Assad's and Nasrallah's terms." Jumblatt is expected to deliver a tough-worded speech against Assad later Thursday. Anti-Syrian politicians have accused Syria of exploiting Israel's offensive against Hizbullah to reoccupy Lebanon.
Bush Administration Acts Fast to Get France Mobilized
Aug. 17….(DEBKA) Washington took two quiet steps to prop up the Siniora government and retrieve the vanishing multinational force ordered by Resolution 1701. The first was the promise of an air surveillance wing for UNIFIL to keep a watch over South Lebanon and the border crossings into Syria. This has brought France around to consenting to send troops to the expanded international force. UNIFIL was also promised intelligence data gathered by US satellites on military movements in Lebanon. Some 1,700 French troops will be deployed in the first stage. This promise led French defense minister Michele Alliot-Marie to announce Wednesday night that France is willing to lead a new UN presence in Lebanon at least until February, so long as it has a clear mandate, real means and strong powers. The second step taken by the Bush administration was a quiet go-ahead given by US secretary of state Condoleezza Rice to Israel's Dep. PM Shimon Peres for the Israeli air force to destroy trucks suspected of carrying rockets and other arms from Syria into Lebanon. Siniora agreed to turn a blind eye to this continuing Israeli air activity over Lebanon as he has for Hizballah's continued armed presence south of the Litani River. The first elements of the Lebanese army's 2nd 3rd and 12th Battalions crossed the Qasmiyeh Bridge over the Litani into South Lebanon before midnight Wednesday, August 16. France has given itself six months to test how the web of undercover accords and understandings between the US and Israel and the Lebanese government and Hizballah are holding up. Only then will Paris decide whether to extend the mandate of its contingent in Lebanon or even boost it.
IDF: We'll Disarm Hizbullah if UN Won't
Aug. 16….(Jerusalem Post) The IDF will have to resume operations in Lebanon if the expanded United Nations force being assembled does not fulfill its obligation to dismantle Hizbullah, an official in the Prime Minister's Office warned on Tuesday. Lebanese Prime Minister Fuad Saniora and Hizbullah leader Hassan Nasrallah reportedly reached a deal allowing Hizbullah to keep its weapons but refrain from exhibiting them in public. Israeli officials called the arrangement a violation of UN Security Council Resolution 1701, which passed over the weekend and was approved on Sunday by the cabinet. "The resolution is clear that Hizbullah needs to be removed from the border area, embargoed and dismantled," the official said. "If the resolution is not implemented, we will have to take action to prevent the rearming of Hizbullah. I don't think backtracking will serve any useful purpose. There has to be pressure on Hizbullah to disarm or there will have to be another round of war." Foreign Minister Tzipi Livni is expected to raise the issue when she meets in New York on Wednesday with UN Secretary-General Kofi Annan. Annan angered Israeli officials when he told Israel that "dismantling Hizbullah is not the direct mandate of the UN." Annan upset officials further when he said that deploying international forces in Lebanon would take "weeks or months," and not days as expected. Israeli officials said the IDF would not complete its withdrawal from southern Lebanon until the international force was deployed, even if it took months to prevent a vacuum in Lebanon that could endanger Israeli civilians. An official in the Prime Minister's Office accused Annan of having an anti-Israel agenda. "He has been one-sided," the official said. "He tried to be even-handed in a situation that was clearly asymmetrical. When one side committed crimes against humanity and engaged in genocide and the other side defended itself, he cannot treat us in the same manner." Annan rejected charges of bias, saying, "I have been very hard on Hizbullah and condemned Hizbullah for what it has done. I have condemned Israel for what I consider excessive use of force but it doesn't mean I am taking one side." Annan is set to make key decisions about the role of the multinational force. According to Foreign Ministry spokesman Mark Regev, the two main tasks of the expanded force would be enforcing a "Hizbullah-free zone" in south Lebanon and an international arms embargo on Hizbullah. He said the resolution detailed the placement of international forces at all crossing points into Lebanon, comprising those from Syria as well as airports and seaports. "The resolution meets Israel's expectations," Regev said. "The focus now is on ensuring its full and complete implementation. Unfortunately, there have been too many UN resolutions on Lebanon that have gathered dust in the archives and have not changed anything. The challenge now is to bring about the expeditious implementation of 1701." Under the UN resolution, 15,000 Lebanese troops, with the help of an expanded UNIFIL, would take over the area between the Litani River, 30 kilometers north of Israel, and the frontier to create a buffer zone free of Hizbullah gunmen. Israel wants a speedy deployment "firstly to allow the Israeli troops to pull out of south Lebanon and to ensure the creation of the Hizbullah-free zone in the south, and secondly to make sure that the international arms embargo on Hizbullah is implemented," he said. Forty-five countries have attended technical sessions for potential contributors to a beefed-up UNIFIL.
UN Ceasefire Signals How One World Government Will Position Evil War Against Israel
Aug. 16….(Bill Wilson, KIN) The end-time clock ticked forward substantially as the UN-brokered ceasefire in Lebanon has furthered its goal as becoming a one world government and it has left evil alive to amass an even greater fight that will lead to the end-time battle where Russia, Iran and the other nations of the world come against Israel. The United Nations has done its job. It has, at least temporarily, stopped a war. The conditions of the ceasefire in the Hezbollah War against Israel are unfair and probably will not stand the test of time. But the United Nations did its job. It's a poor job at that. And, even further, it is a revealing testimony to the charter of the United Nations. The UN is not in the business of right and wrong. It is in the business of stopping bloodshed whenever it arises. The UN does not recognize good and evil. In fact, because of its actions, evil prospers and will always be allowed another day to advance its cause. Never count on the United Nations to bring a lasting peace in any conflict. Such is the case with Israel and Hezbollah. The UN ceasefire did nothing to solve the problem. Hezbollah is still intact. Hezbollah withstood an onslaught for 30 days by one of the most powerful militaries in the world, and thanks to the United Nations (including the United States which voted for the UN ceasefire resolution), Hezbollah is today claiming victory and the entire Islamic world either publicly or privately praises Hezbollah for its valiant efforts against Israel. Now, thanks to the United Nations, the Lebanese government, which throughout this conflict has stood by Hezbollah and has praised its attacks against the civilians of Israel, will be strengthened and will place its troops as part of the peacekeeping buffer zone between Israel and Hezbollah. This means is that in the weeks and months ahead, Russia will increase its weapons trade with Iran and Syria. Iran will continue to export weapons, military technology and weapons systems to Syria. Syria will in turn smuggle these deadly products to Hezbollah under the watchful eye of so-called UN peacekeepers and with the help of the Lebanese Army. And when there are enough missiles, drones, sophisticated Russian-made anti-tank weapons, Iranian and Russian anti-aircraft guns situated in the civilian areas of Lebanese cities, Hezbollah will attack once again. The Islamic world has successfully manipulated the West into believing its peace propaganda so that it can continue fighting its war against the world. This UN ceasefire will only solidify the forces of evil and allow them to unleash their death culture in greater force against Israel and the West in the times ahead. In Jeremiah 8:11, the Lord says, "They have healed the hurt of the daughter of my people slightly, saying, 'Peace, peace, when there is no peace.
Desperate to Escape: Christians Flee Lebanon
Aug. 16….(CBN) Charbel and Lydia Karkour are leaving Lebanon. The newly wed Christian couple, with a baby on the way, will travel north by road from Beirut, Lebanon to Damascus, Syria. Their final destination? Toronto, Canada. "I have a baby, and we want to have a good future for him," said Charbel's wife. But the decision to leave their homeland wasn't an easy one to make. "I am trying to say goodbye to my friends and family," Lydia said. It is very sad." The Karkours are not the only ones leaving. Many of their friends at church have either left or are trying to leave the country for good. Pastor Shadi el-Aouad says that a number of families have approached him, desperate to escape. He said, "Christians are asking the question: Why would we stay? Why would we lose our homes, our businesses, and even our lives for something we are really not a part of?" But the Karkours are not just leaving because of the war. They're also concerned that Lebanon is becoming a hostile place for Christians. "The religious Muslims are really scary. They hate us," said Charbel. Christians were once the majority in Lebanon. Not anymore, not since Hezbollah took over. They now make up less than 40 percent of the population. The rest are Muslims. And their numbers are growing. Lydia said, "Lebanon is becoming a Muslim country." Charbel's work takes him around the Middle East. He says that Muslims today are out-producing Christians. "What you are seeing in reality is real," Charbel said. "They are multiplying too much." Every family produces five to 10 children. These children will then have five to 10 children. So it's 10 exponential, 10 in the second generation." The Christian population in Lebanon began to drop during the civil wars, either through emigration or declining birth rates. This latest conflict is seeing a new wave of emigration. Some suggest that up to 70 percent of the Christians that are left in Lebanon are ready to leave as soon as the Beirut airport opens. They plan to leave this country to have a life. And it is not just in Lebanon. Across the Muslim and Arab world, Christians are fleeing the growing hostility against them. "In Jordan, big numbers of Christians are leaving. In Iraq, big numbers of Christians are leaving. So too, in Syria," said Pastor Aouad. Aouad says that the real impact of Christians leaving Lebanon will only be felt in the future. "My concern is that we are losing our inheritance, our father's inheritance, and not just the land's inheritance, but our spiritual inheritance in the nation," he said.
Lebanese Ceasefire Plan in Jeopardy
Aug. 16….(Arutz) Foreign Minister Tzippy Livni said today that the government has evidence that Iran and Syria already are supplying Hizbullah terrorists with more arms via Syria. The government is relying on United Nations Security Council resolution 1701, the ceasefire, to solve the problem, but the agreement appears to have been followed by more problems than solutions. France has provided the latest hitch in the deployment of the proposed international United Nations force in Lebanon (UNIFIL). The French General in charge of UNIFIL was quoted in a French newspaper as saying that it could take up to a year to deploy the forces. Paris has promised to send thousands of troops to lead the international force to carry out the ceasefire resolution, which requires "the disarmament of all armed groups in Lebanon, so that there will be no weapons or authority in Lebanon other than that of the Lebanese State." However, the resolution also calls for "no foreign forces in Lebanon without the consent of its government," and Lebanon already has said it will not force Hizbullah give up its arms. The French defense minister also has said its forces will not take away arms from Hizbullah terrorist guerillas. Thousands of French soldiers are on ships ready to sail to Lebanon, but the government now is backtracking, Deployment of an international force is complicated by the presence of Hizbullah terrorist guerillas. Theoretically, the 18-mile swath of land south of the Litani River to the Israeli border will be manned by Lebanese troops, who have been absent for two decades from the area where Hizbullah has been firmly entrenched. Hizbullah's terrorist guerillas have built up a powerful infrastructure of weapons, especially during the six years following Israel's rapid withdrawal in 2000. It also has established itself as the social benefactor to the predominately Shi'ite Muslim population, providing services in place of the government and making itself a de facto state within the country. The Lebanese government is approaching a compromise solution that would leave Hizbullah armed on condition its weapons are concealed. This violates the UN resolution, which states in Paragraph 8 that southern Lebanon must remain free of armed groups other than the Lebanese Army and UNIFIL. In any event, leaving Hizbullah armed keeps a status quo situation which US Secretary of State Condoleezza Rice has insisted would not be tolerated. The Lebanese government has not been able to meet to discuss the deployment because of divisions within the government, which includes two representatives of the Hizbullah terrorist organization and another three ministers who are pro-Hizbullah. State Department spokesman Sean McCormack has explained the dilemma in the same language the American government used to rationalize the authority of the Hamas-led legislature in the Palestinian Authority (PA). In response to a question asking why Lebanon does not take steps to disarm Hizbullah, McCormack replied, "Well, what we are saying is the Lebanese people have a choice. They have to decide their own politics."
FOJ Note: So much for Democracy winning the Middle East, and bringing peace to the region!
Israel Finds Evidence That Syria, Iran Arm Hezbollah With Russian Weapons
Aug. 16….(Moscow News) Abandoned Hezbollah positions in Lebanon yesterday revealed conclusive evidence that Syria, and almost certainly Iran, provided the Russian-made anti-tank missiles that have blunted the power of Israel's once invincible armor, the Daily Telegraph reported. After one of the fiercest confrontations of the war, Israeli forces took the small town of Ghandouriyeh, east of the southern city of Tyre, on Sunday evening, hours before a ceasefire brokered by the United Nations took effect. At least 24 Israeli soldiers were killed in the advance on the strategic hilltop town as Hezbollah fighters were pushed back to its outskirts, abandoning many weapons. The discovery helped to explain the slow progress made by Israeli ground forces in nearly five weeks of a war which Hezbollah last night claimed as "a historic victory." Israeli political and military leaders are facing mounting criticism over the conduct of the offensive, which was intended to smash the Iranian-backed Shia militia. Outside one of the town's two mosques a van was found filled with green casings about 6ft long. The serial numbers identified them as AT-5 Spandrel anti-tank missiles. The wire-guided weapon was developed in Russia but Iran began making a copy in 2000. Beyond no-man's land, in the east of the village, was evidence of Syrian-supplied hardware. In a garden next to a junction used as an outpost by Hezbollah lay eight Kornet anti-tank rockets, described by Brig Mickey Edelstein, the commander of the Nahal troops who took Ghandouriyeh, as "some of the best in the world". Written underneath a contract number on each casing were the words: "Customer: Ministry of Defence of Syria. Supplier: KBP, Tula, Russia." Brig Edelstein said: "If they tell you that Syria knew nothing about this, just look. This is the evidence. Proof, not just talk." The discovery of the origin of the weapons proved to the Israelis that their enemy was not a ragged and lightly armed militia but a semi-professional army equipped by Syria and Iran to take on Israel. The weapons require serious training to operate and could be beyond the capabilities of some supposedly regular armies in the Middle East. The Kornet was unveiled by Russia in 1994. It is laser-guided, has a range of three miles and carries a double warhead capable of penetrating the reactive armor on Israeli Merkava tanks. Russia started supplying them to Syria in 1998. Israeli forces were taken by surprise by the sophistication of the anti-tank weapons they faced. Last night, President George W. Bush blamed Iran and Syria for fomenting the conflict between Israel and Hezbollah. "We can only imagine how much more dangerous this conflict would be if Iran had the nuclear weapon it seeks," he said.
President Bush: Israel Defeated Hezbollah
Aug. 15….(Newsmax) President Bush said Monday that Hezbollah guerillas suffered a defeat at the hands of Israel in their monthlong Mideast war. "There's going to be a new power in the south of Lebanon," Bush said. The president also said the war was part of a broader struggle between freedom and terror and "we can only imagine how much more dangerous this conflict would be if Iran had the nuclear weapon it seeks." Bush said Iran and Syria were the primary sponsors of Hezbollah guerrillas who captured two Israeli soldiers, igniting the battle with Israel. Bush said the "responsibility for this suffering lies with Hezbollah." Bush said the UN cease-fire resolution was "an important step forward that will help bring an end to the violence." "We certainly hope the cease-fire holds," he said. "Lebanon can't be a strong democracy when there is a state within a state and that's Hezbollah," Bush said. "Hezbollah attacked Israel without any knowledge of the (Lebanese) government. Hezbollah attacked Israel. Hezbollah started the crisis, and Hezbollah suffered a defeat in this crisis," the president said. In the Mideast, there were competing claims about who came out on top in the war that claimed more than 900 lives. Israeli Prime Minister Ehud Olmert said the war had shifted the strategic balance in the region and eliminated the "state within a state" run by Hezbollah, restoring Lebanon's sovereignty in the south. But Hezbollah leader Sheik Hassan Nasrallah said his guerrillas achieved a "strategic, historic victory" against Israel.
President Bush: Hizbullah Will Be Ousted From Lebanon
(Hizbullah lost the war against Israel because an international force will cut off arms supplies to the terrorist group and allow Lebanon to govern the southern part of the country, Bush said)
Aug. 15….(Arutz) Speaking at the State Department, American President George W. Bush stated that Hizbullah has "a fantastic propaganda machine" but it nevertheless lost the war. Earlier in the day, White House press secretary Terry Snow admitted that Israel did not succeed in knocking out the entire Hizbullah terrorist infrastructure. However, President Bush asserted that the United Nations Security Council resolution, brokered by the United States and France, is "an important step forward that will help bring an end to the violence." Blaming the terrorist organization for starting the war, he said that Israel's retaliation showed the world "what it means to confront terrorists" and that "you got to have hope that ultimately freedom will prevail. The Israelis grieve over the deaths of innocents, while Hezbollah supporters celebrate." President Bush stated that the war Israel waged against Hizbullah terrorist was part of the global war for freedom threatened by terrorism. He pointed out that the war never would have started if the United Nations had carried out a previous resolution that Lebanon place its army in southern Lebanon. "Lebanon can't be a strong democracy when there is a state within a state and that's Hizbullah," President Bush said. He denounced Syria and Iran for arming Hizbullah and added that Iran cannot be allowed to become a nuclear power.
Lebanon's Government Capitulates to Hezbollah (Keep Your Weapons)
Aug. 15….(Ha Aretz) A compromise agreement now being hammered out between Hezbollah and the Lebanese government would allow the Shi'ite guerillas to keep their weapons in south Lebanon, the London-based Al-Hayat newspaper reported on Tuesday.
While Hezbollah would need to keep the weapons it possesses south of the Litani River hidden, an agreement for areas north of the river would be "left to a long term solution," the paper reported. The proposed compromise by the Lebanese government would violate the terms of United Nations Security Council Resolution 1701 ending the war with Israel. The resolution rules that the Lebanese army and UNIFIL may be the only armed forces in the territory between the Litani River south to the Israeli border. This compromise is also a violation of the "one weapon" principle that appears in Lebanese Prime Minister Fuad Siniora's Seven Points Plan. Lebanon's Defense Minister Elias Murr said the Lebanese army would send 15,000 troops to the north of the Litani River around the end of the week, ready to enter the southern border area. But he said the army would not be disarming Hezbollah, who have controlled the area for six years. "The army is not going to the south to strip Hezbollah of weapons and do the work Israel did not," he told LBC Television.
Assad: Were Ready To Liberate Golan Heights
Aug. 15….(YNET) Syrian President Bashar Assad said his country is prepared for any war that may break out with Israel, adding that he is convinced that the chances for peace have decreased and that "the Golan Heights will need to be liberated by Syria." In a special interview with Egyptian newspaper Al-Osboa, Assad said "if Israel launches a war against Syria, it will pay a heavy price." He said Syria has been following Israel closely, particularly after former Prime Minister Ariel Sharon came to power. The fact that he was elected by such a large majority attests to the fact that the Israeli nation does not want peace," Assad said. "Syria and the resistance (referring to Hezbollah terrorists) read the situation correctly in that we predicted the confrontation. There have been extensive preparations for the current battle. Our disagreement focused on the nature of the resistance. There were those who thought the resistance didn't stand a chance in a time when satellites reveal everything, track everything down and can direct severe blows at the resistance, but the reality proved otherwise. "In Lebanon they (Israel) destroyed everything, but they were unable to achieve their true military objectives on the ground; the resistance has won the war, and now we must win the diplomatic battle as well." Referring to the international community's intervention in the conflict, President Assad said "they intervene only when Israel is in pain; but when the Lebanese, Palestinians and others suffer, no one intervenes." Assad took the opportunity to praise Hizbullah leader Hassan NAsrallah, describing him as "a unique commander in the history of the noble Lebanese resistance'; he also lauded Hizbullah TV station Al-Manar, saying it was the first time that the Arab media 'defeated' the enemy's. "The US and Israeli intelligence agencies are unaware of the resistance's real capabilities," he said, adding that he had rejected "lucrative offers" presented to him on condition that he abandon Hizbullah and Hamas. Assad said "there were those who believed that peace (with Israel) was the only option and they attempted to enforce it upon the Arab nation, but the resistance's firm stand and the change we see in the Arab world, due to which we can see millions of youngsters waving the Hizbullah and resistance flags, have proven that this nation is on the brink of a new phase in its history.
Assad: Hizbullah Won, Israel is The Enemy
(Syrian president speaks before press association for first time since ceasefire. He declares Hibzullah's victory in conflict, says American plans regarding better future for Middle East are 'illusion'; 'resistance (terrorism) is the only way.)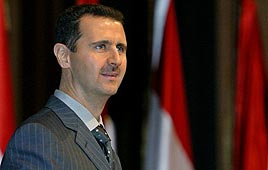 Aug. 15….(YNET) Syrian President Bashar Assad gave a speech Tuesday for the first time since a ceasefire was declared between Israel and Hezbollah. He declared that Hibzullah had won the current conflict with Israel, as the group's leader Hassan Nasrallah did on Monday. Assad said that the Middle East had changed following the resistance and that "the American plan to create a new Middle East turned into an illusion the moment Hibzullah won in Lebanon." According to Assad, Israel had planned to attack Lebanon and would have done so even without the soldiers kidnapping. "The war in Lebanon was prepared in advance and the soldiers' abduction was only an excuse, and the world accepted this excuse. They planned to attack in the winter so as not to ruin the tourism season of their accomplices in Lebanon. The current battles proved that we were right and that resistance is the only way," he said. Assad made it clear that the resistance was justified due to Israel's actions: "Resistance is necessary, required and legitimate." Its legitimacy is based on Israel's actions in the past five years, including the Air Force sorties over Syria." He noted bitterly: "Israel is trying to be part of this region through the 'big Middle East plan'. There are those who think time is on their side and every generation in the Arab world accepts them more, but I am a representative of the third generation and I hate it (Israel) more. We don't like to use the word hatred but Israel has left to option for itself but to be hated." He addressed Israelis, saying: "I tell you: You tasted the latest war in Lebanon. Your weapons won't succeed in protecting you. Generations of resistors are developing and they will manage to defeat you. Assad spoke about the peace process and said it did not prove itself. "Arabs gave everything and got nothing. And therefore Syria refused to give up its rights. Israeli is the enemy. It doesn't want peace. It was built on aggression and expansion. Assad's speech was interrupted by Syrian supporters waving posters of Hizbullah leader Sheikh Hassan Nasrallah and urging Assad to choose the "resistance path." Assad said this war revealed the limitations of Israel's military power.
Nasrallah Transferring Entire Force Into South Lebanon
Aug. 15….(DEBKA) The rockets and guns were silent up to Tuesday morning, Day 2 of the ceasefire, although during the night Hizballah fired six mortar rounds at Israeli troops who returned fire without suffering casualties. However, the swelling numbers of returning Hizballah fighters with their families are jamming the roads south, also blocking the deployment of the 15,000-strong Lebanese force ordered by UN SC resolution 1701 to take over the South and disarm Hizballah. The Hizballah are moving back into their still undamaged bunkers and fortified civilian dwellings opposite the Israeli border. Therefore, while thousands of displaced people in Israel and Lebanon head back to their ravaged homes, DEBKAfile's military sources report trepidation about the durability of the ceasefire which Israel declared Monday morning. Everyone is talking about the inevitability of a second round, and Nasrallah is already deploying his forces back into Southern Lebanon.
Iran: Victory celebrations, Threats to Israel
FOJ Note: Although Iran insisted it had nothing to do with the Hezbollah war, its government sanctioned a Victory Dat celebration in downtown Teheran.
Iranians celebrated what the Iran government classified as a strategic victory by Hezbollah against Israel. Upwards of 110 ambulances and mobile intensive care units rode through the center of Tehran Tuesday morning as a sign of solidarity with the Lebanese people, as reported by the Iranian news agency, Fars. Thousands of Iranians took to the streets in celebration of what they defined as a Shiite and Hizbullah victory over the Zionist regime. In the streets of Iran, believers took advantage of the evening prayers to praise the Lebanese nation on Hizbullah's victory. In parades toward the mosques calling "Allah is greater, Khamenei is the leader," "Lebanon won with Hizbullah's help," Lebanon is victorious, Israel is destroyed."
Basij, the volunteer army of the Iranian Revolutionary Guard, declared a holiday following the ceasefire declaration. According to reports, most of the signs across Tehran were dedicated to blessing Hizbullah's victory, and were covered in pictures of Hizbullah's leader, Hasan Nasrallah. Alongside the celebrations, senior religious figure Ahmad Khatamei announced Tuesday that "if the United States or Israel attack Iran, Iran will shoot rockets at Tel Aviv." He added: "The missiles shot by Hizbullah into Israel had a range of 70 kilometers and managed to turn Israel into a 'ghost country.' If the United States is considering attacking us, it must take into account the Iranian Shihab-3 missiles, whose range is 2,000 kilometers, and can hit the center of Tel Aviv."
Experts: London Plot not Osama's Encore
Aug. 15….(WND) Homeland security officials doubt the terror plot to blow up US-bound planes over the Atlantic was Osama bin Laden's encore to 9-11. The White House has described the foiled plot as "a second September 11." But officials say bin Laden is preparing a larger strike on US soil targeting major US cities. They cite the terror kingpin's message in January in which he warned Americans that sleeper cells were preparing a major new attack "on your own ground." "Operations are under preparation, and you will see them on your own ground once they are finished, Allah willing," bin Laden said in Arabic. Some translations have him saying "in the heart of your land" or "in your houses." The London plot, which may have rivaled 9-11 casualties, still did not involve ground targets. "While impressive in scale, the damage on the ground would have been limited if anything," a US official said. "It's not the spectacular attack he (bin Laden) is looking for to do maximum damage to our economy." Terror experts agree. "There may have been money or a blessing from al-Qaida, but I doubt that this was an operation run by al-Qaida central, by bin Laden himself," says Michael Scheuer, former head of the CIA's bin Laden unit. "It simply wasn't a big enough operation for what they intend, and it didn't occur inside the United States." Experts say the London plot appears too ad hoc. Planning began only a year ago on the heels of the London subway bombings. Bin Laden's major attacks in the past have involved several years of planning. They've also been led by the A-team of al-Qaida's Martyrdom Brigade, who coordinated with seasoned lieutenants in the network to finance and refine the mission as it developed. The London bomber cells, in contrast, appear to have been composed of fresh recruits who were less disciplined, which may explain why they were caught. "They're second-stringers," the official said. "He's holding his top operatives in reserve for a bigger operation." Former senior DHS official Clark Kent Ervin says the bureau knows of at least 1,000 al-Qaida sympathizers in the US today, a figure he calls "low." Scheuer says bin Laden is lining up his ducks for a massive attack possibly using radiological weapons. The first step, he says, was getting a green light from Saudi clerics to kill possibly millions of Americans with such weapons. Then he offered the US a truce and even recently invited President Bush to convert to Islam, all in keeping with jihadi military doctrine. And he has directly warned the America people on at least two occasions. As absurd as such moves sound, they are necessary to satisfy any theological concerns among Muslim clerics, Scheuer says. It's more about "preparing Muslims" for the doomsday attacks than Americans. Experts agree a plausible nightmare scenario involves al-Qaida shipping dirty nukes in uninspected cargo containers bound for ports in New York, New Jersey, Miami, Los Angeles, Houston and near Washington, and then detonating them once they are in position. The technology used could be as simple as GPS transmitters and cell phones. The radiological fallout from the blasts could render the cities uninhabitable for years, crippling the economy. Experts say that while the disrupted airliner plot is good news, it's not exactly comforting. In 1995, authorities disrupted al-Qaida's so-called Bojinka operation to down planes over the Pacific. Al-Qaida came back six years later with a more spectacular attack targeting New York and Washington.
Analysis: When Will the Next Phase in the War Come?
Aug. 15….(My Way) ….The war in Lebanon has badly bruised the Israeli government and boosted Hezbollah's standing in the Arab world. Israel says it has made some gains, the Lebanese army, backed by international troops, is to take control of south Lebanon. But as the guns fall silent and the dust settles, an ominous question lingers over the Jewish state: Is the next Iranian-inspired war, perhaps with even more sophisticated weaponry, just around the corner? A cease-fire that took effect Monday seeks to end the 33-day conflict in which the mightiest army in the Middle East was fought to a virtual draw by a small band of Shiite guerrillas. Developments on the ground will determine the war's ultimate winners and losers, whether Hezbollah will be pushed back from Israel's border and eventually disarmed, whether Israel will be able to prevent Iran and Syria from funneling weapons to Lebanese guerrillas, whether Islamic radicals everywhere will be propped up by Hezbollah's successes. For now, neither side can truly declare victory. Hezbollah's ability to withstand more than a month of Israel's punishing assaults while firing an uninterrupted stream of more than 4,000 rockets has given its fighters heroic status on Arab and Muslim streets. "The biggest thing here is that Hezbollah and their small force has been able to restore the dignity of the Arabs. That is the bottom line," said Timur Goksel, an American University of Beirut professor who spent more than two decades as a senior UN adviser in south Lebanon. But having joined the Lebanese government, the guerrillas are likely to pay a steep political price for provoking Israel's wrath. On July 12, they captured two Israeli soldiers and killed three others in a daring cross-border raid, sparking a war that killed more than 790 Lebanese and left much of that country in shambles. And even if Israel achieves its goal of pushing Hezbollah away from its border, it, too, has suffered great losses, with 155 dead and hundreds of thousands of people forced to flee their homes or seek refuge in bomb shelters. Israel failed to achieve its original goal of destroying Hezbollah or the group's fearsome array of Iranian- and Syrian-provided rockets. Israeli critics are warning that Israel's deterrence may have suffered a life-threatening blow, giving archenemy Iran an opening to pursue its stated goal of destroying Israel. "A couple thousand Iranian-backed Hezbollah fighters kept Israel at bay for over a month," said Chuck Freilich, Israel's former deputy National Security Adviser who is now a senior fellow at the Kennedy School of Government. "This now shows that irregular forces with Iranian support can be effective against a large and sophisticated conventional army." If Israel can't deal effectively with Hezbollah now, some Israelis ask, what's going to happen down the road when Iran sends even more lethal weapons? For many, the future looks scary. Hezbollah's rocket barrage, threatening the entire northern third of Israel, shattered taboos and seemed to signal that the Jewish state's survival is no longer a given. In a speech Monday evening, Israeli Prime Minister Ehud Olmert said the cease-fire deal had eliminated Hezbollah's "state within a state" in Lebanon, and restored the Lebanese government's sovereignty in the south. That's no small achievement for Israel, which has been trying in vain for six years, ever since it withdrew from south Lebanon following an 18-year occupation, to get Lebanon to implement a UN resolution calling for the central government to take control of the whole country. During his speech, however, Olmert acknowledged "deficiencies" in the way the war was conducted, and promised to "do better" in the next war. His government is coming under intense criticism for failing to break Hezbollah or secure the release of the two kidnapped soldiers, and for holding off on a massive land invasion that many Israelis believed was necessary to win the war. That invasion finally was given a green light just as the UN Security Council was about to approve a cease-fire deal. The last-minute IDF push failed to achieve its goal of securing the territory up to the Litani River, about 18 miles north of the Israeli border. The war has called the survival of Olmert's government into question. And Israel's experience with unilateral withdrawals, from Lebanon in 2000 and from the Gaza Strip last year, has all but ended Olmert's plans to leave the West Bank as a way of securing a long-term Jewish majority for Israel.
Bibi: Lebanon War Proves Retreat is Bankrupt Policy
Aug. 15….(Ha Aretz) Opposition leader Binyamin Netanyahu addressed Israel's Knesset Monday as the war in Lebanon came to an apparent end, noting that the month-long conflict had proved decisively that the policy of unilateral withdrawal threatened national security. Addressing the plenum following Prime Minister Ehud Olmert, Netanyahu noted: "We left Lebanon to the last centimeter and still they are firing. We left Gaza to the last centimeter and still they are firing." The conflict, the former prime minister stressed, is not about territory, it's about Islam's desire to eradicate the Jewish state, and so every Israeli withdrawal only provides the nation's enemies with "a tactical advantage." Netanyahu said Hizb'allah's unexpected aggression had been a wake-up call for Israel, and that the nation now needed to engage in some deep "soul searching" and examine the serious shortcomings in the leadership's handling of the situation. "It must be said honestly, there were many failures, failures in identifying the threat, failures in preparing to meet the threat, failures in the management of the war, failures in the management of the home front." But not all aspects of the war's outcome were negative, he said, pointing to the strength, courage and fortitude of Israel's soldiers, especially the reservists who left behind families and lives to defend the nation, as well as the residents of the north. Upon this basis of national unity and strength Israel must now focus on rebuilding its image in the region as a truly united and strong nation, Netanyahu insisted. This was made all the more urgent by the realization that Israel today is faced with an enemy in Iran's Mahmoud Ahmadinejad the likes of which the Jewish people have not faced since Adolf Hitler. Israel's battles with Hizb'allah and Hamas are merely extensions of the war of extermination being waged by Ahmadinejad and the dark forces that drive him, explained Netanyahu. Addressing the Iranian leader directly, Netanyahu declared, "We have survived greater threats than you. The nation of Israel will be here forever!"
Annan to Israel: Ignore Further Hizb'allah Violations
Aug. 15….(JNEWSWIRE) Anticipating Hizb'allah's failure to comply with a UN-brokered ceasefire, UN Secretary-General Kofi Annan sent a letter to Jerusalem at the weekend, insisting Israel not respond militarily to any violations of Security Council Resolution 1701, according to The Jerusalem Post. If Hizb'allah breaks the ceasefire, as they already have – and shoots at Israeli citizens or population centers, territory or forces, the IDF may in most cases not respond before informing the United Nations Secretary General of the violation, and obtaining his permission to shoot back. This is the expectation of Kofi Annan, as spelled out in a letter from him to the sovereign government of the State of Israel earlier this week. Annan said Israel and Lebanon must immediately inform him if either side has been fired upon, giving as much detail as possible, but "refraining from responding except where clearly required in immediate self-defense." Under the terms of the ceasefire, when Israel is firing on Hizb'allah, Israel is firing on Lebanon, and that is considered a no-no. Annan is an openly pro-Arab world leader who has on more than one occasion accused Israel of deliberately killing civilians and UN peacekeepers, but he has never been heard to unequivocally and passionately denounce acts of Arab terrorism against Jews. Annan said Israel should only respond in immediate self-defense, and not by relaunching a wider military offensive against the terror group. In effect, the UN chief was saying that Israel should totally ignore Hizb'allah efforts to reestablish itself in southern Lebanon and Syrian efforts to resupply the group, and should only respond in a very pinpoint manner to any further firing of missiles at northern Israel. Both the Lebanese military and French forces expected to bolster peacekeepers already on the ground in southern Lebanon have said they will not confront Hizb'allah with force if the terror group fails to go along with the ceasefire terms. Israeli government sources said Annan's letter was unacceptable, and that a firm response was being drafted.
News From Israel Update From David Dolan
(the cease-fire is holding, but Hezbollah remains in control of Lebanon)
Aug. 14….(David Dolan) Residents of northern Israel and southern Lebanon are breathing a huge sigh of relief this evening as the UN-mandated ceasefire has mostly held so far today. However Israeli military analysts continue to warn that the military timeout that ended nearly five weeks of intense warfare may be very short lived indeed, as the multi-religious Lebanese government is finally forced to deal with a monumental problem it failed to confront when IDF forces left southern Lebanon six years ago, the illegal rule of a rogue militia over the southern third and east of its country, founded and sustained by two countries far larger and more powerful than tiny Lebanon, Syria and Iran. Expectations that the estimated 70,000 man Lebanese army, with its substantial Shiite component estimated to be around 40%, will actually be able, or even willing, to take on the militant Hizbullah militia are fairly low here in Jerusalem, even with the promised help of a beefed up UN force. That foreign "peacekeeping" soldiers will feel secure enough to even move into the area south of the Litani River as IDF forces pull back is widely questioned here, given how Hizbullah succeeded in intimidating other UN forces in the past. Therefore many analysts expect that after a brief lull in the fighting, which will unfortunately allow Hizbullah fighters to rest and regroup, the conflict will begin again, including more rocket attacks upon northern Israel. This possibility was hinted at by Prime Minister Ehud Olmert during a Knesset speech today, who pointed out that even though Hizbullah had been "dealt a harsh blow" by the IDF, the 34 day war was really only one chapter in the much greater struggle to resist Iran's openly stated goal to annihilate the world's only Jewish state. He also acknowledged that there had been "shortcomings" in the way the government handled the conflict, which many Israeli opposition politicians consider an understatement. The likelihood of further fighting was also acknowledged by opposition leader Binyamin Netanyahu, who told his Knesset colleagues that the time had not yet arrived to publicly question the government's handling of the war, which took the lives of 115 IDF soldiers, along with over 40 civilians, and seriously wounded over 1,000 Israeli soldiers and civilians. Still, the Likud leader did note that the government's main self-declared goals of crushing the Shiite militia, killing its populist leader, and stopping the possibility of future Hizbullah rocket attacks upon Israeli civilian centers had apparently not been achieved. In fact, some military analysts speaking on Israel radio stations and quoted in national newspapers say the IDF failure to halt the daily rocket barrages upon many Israeli cities and towns, including the third largest urban center, Haifa, could embolden Syria and Iran to launch their own massive missile attacks upon Israel in the not too distant future. This possibility becomes all the more ominous given that Syria is known to possess a large chemical weapons capability, while Iran continues to develop its nuclear program. Some security analysts say they expect Syria to become directly involved in any second round of fighting. They noted that around 30 Syrian tanks moved into the UN-patrolled buffer zone on the Golan Heights in the past two days, the first time they have done so since the end of the 1973 Yom Kippur war. Reports today say that dozens of Syrian trucks are positioned just across the international border with Lebanon, loaded with fresh arms supplies for Syria's proxy Hizbullah fighters, probably including more rockets that can strike Israeli territory. Other reports say hundreds of Iranian "volunteers" (which are thought to be mostly highly trained elite Republican Guard soldiers and commanders) are waiting to cross the border as well. As everyone waits to see if and when the conflict may resume, Israeli attention is also focused tonight on the deteriorating condition of former Prime Minister Ariel Sharon, said to be slipping towards death by his doctors. As I noted last month, his passing is expected to bring many world leaders to Jerusalem for a state funeral, which will hopefully not take place in the midst of renewed fighting in Lebanon. However it is entirely possible that Syria and Iran might see such a gathering of mainly Western leaders as an opportunity to cause further trouble in the north, reinforcing their contention before Arab audiences that Israel is a foreign, Western implant that must be uprooted from the mainly Muslim Middle East.
| | |
| --- | --- |
| | (FOJ) A giant billboard of Hezbollah leader Sheik Hassan Nasrallah, right, is seen on a building as a fire smolders from an Israeli bombardment the night before, in the southern suburbs of Beirut, Monday, Aug. 14, 2006. Hours after a UN-brokered ceasefire took hold Monday. Hezbollah leader Sheik Hassan Nasrallah declared today that his terrorist guerrillas had achieved a "strategic, historic victory" against Israel. Thus, Iran wins Round One |
The UN Ceasefire Resolution Unraveling
Aug. 14….(DEBKA) The Lebanese government postponed a meeting Sunday afternoon that was scheduled to discuss the disarming of Hizballah. Hezbollah Chief Hasan Nasrallah rejected any discussion of disarming Hezbollah and reversed his conditional consent to the UN ceasefire which included a veto on an arms embargo and Hizballah's withdrawal from Lebanon. After the Israeli cabinet approved the UN ceasefire, Nasrallah told the Siniora government the deal was off. Iran and Syria even warned the Lebanese government not to let its troops and the 15,000-strong international force try and disarm Hizballah. Therefore the meeting of the Lebanese government on the disarming of Hezbollah south of the Litani River was canceled following an announcement by the Shi'ite organization that it was not willing to discuss the subject. Hezbollah informed the government of its stance through the speaker of the Lebanese Parliament, Nabih Beri, who serves as a conduit to the organization. Beri informed Lebanon's Prime Minister Fuad Siniora of Hezbollah's decision. Thus, the government of Lebanon is in reality a non-entity, with Hezbollah acting as the Lebanese government. In an interview to Al Jazeera yesterday, Joe Sarkiss, Lebanon's minister of tourism, said that "the Lebanese army will not deploy in the south."
Iran: Lebanese Hizbollah Will Never Disarm
Aug. 14….(AP) Iran officially welcomed the UN planned ceasefire to halt the month-long war between Lebanon's Hizbollah and Israel but described the UN Security Council's call for disarming the Iranian-backed group as "illogical". The UN Security Council adopted a resolution on Friday calling for a "full cessation of hostilities" and for the implementation of a previous UN resolution requiring the disarming of armed groups including Hizbollah. "We are happy for the ceasefire in Lebanon. But the resolution is not balanced," Foreign Ministry spokesman Hamid Reza Asefi told a weekly news conference. "It does not condemn the Zionist regime (Israel) and its crimes in Lebanon." Asked about the call for disarming Hizbollah, Asefi said: "This is a totally unreasonable demand, and will never be. "Let us not forget that as long as there is occupation there is resistance," he added. Israel accuses Iran of providing Hizbollah with missiles used against civilian and military targets. Although Iran armed and funded Hizbollah during the 1980s, Tehran now insists it provides only moral support to the group. Opposition to Israel is one of the founding principles of the Islamic Republic. Iranian President Mahmoud Ahmadinejad has called for Israel to be "wiped off the map".
Iran Leader: UN Serves US Interests
Aug. 14….(AP) Iranian President Mahmoud Ahmadinejad blames the US for the growing violence in the Mideast, saying fighting has continued in Lebanon because the United Nations only serves US interests. In an interview airing Sunday on "60 Minutes," Ahmadinejad said it was Hezbollah that had a right to defend itself in its war with Israel. Even so, he said Iran joined others in calling for an immediate cease-fire only to have it thwarted by US support for Israel. "We are not at all happy with war," he said. "People, innocent people are being killed." Saying the UN has failed to provide security in the region, Ahmadinejad said: "We see that it is not responding to atrocities. If we search for the root causes, we see the hand of the British and the Americans." CBS newsman Mike Wallace conducted the long sought-after interview that was aired Sunday with Iran's president in Tehran. It came 27 years after Wallace's chilling sit-down with Ayatollah Khomeini. During the interview, Ahmadinejad reiterated that Iran had no plans to develop a nuclear bomb and that it simply wanted nuclear technology to develop energy resources. The Bush administration is adamantly opposed, he said, because the US is "opposed to Iranian progress." "Mr. Bush's team and the parties that support him want to monopolize energy resources in the world," Ahmadinejad said. "Because once they have that they can impose their opinions, points of view, policies on other nations and, of course, line their pockets." "Basically we are not looking for, working for the bomb," he added. "The time of the bomb is in the past. It's behind us. Today is the era of thoughts, dialogue and cultural exchanges." Ahmadinejad also said he doubted that Iran and the US will have normalized relations anytime soon, saying that the US will "have to change their behavior" before that can happen. "Look at the makeup of the American administration, the behavior of the American administration. See how they talk down to my nation," Ahmadinejad said. "They want to build an empire. And they don't want to live side by side in peace with other nations."
The Region: Syria and Iran Get off Scot-Free
Aug. 14….(Ha Aretz) What is the impact of the Lebanon war on the Arab world? A good way to analyze this incredibly important question is to focus on Israeli deterrence, and Jerusalem's ability to prevent a war by persuading the enemy that an attack is too costly. In direct terms, it has actually been enhanced. When the governments of Saudi Arabia, Egypt, Jordan and others look at the crisis, they focus on the high cost to Lebanon. It is clear to them that getting into a war with Israel would be disastrous, and they are aware that Israel restrained itself in this case. The chance of their attacking has declined, though it was low anyway. What they fear is getting dragged into a war by radical Islamists. But in indirect terms, Israel's deterrence power has fallen, though perhaps by less than it seems. There are two such "indirect ways," both of which were central to the fighting in Lebanon: covert sponsorship of terrorism and attacking Israel from someone else's territory. (Lebanon paid the price for Iran's proxy war on Israel) The idea of a regime assaulting Israel via another country is not a new one. Egypt and Syria used Jordan and Lebanon for this purpose from the late 1960s onward. The whole history of the PLO (and more than a dozen Palestinian terrorist groups) is based on the principle of state sponsorship. Events in Lebanon have taken this concept to a new level: the sponsorship of what might be called a well-armed semi-army against Israel. This kind of technique can also be applied to the Palestinians, and that is the most important potential development of all. Consequently, the number one danger to Israeli security emerging from this crisis has nothing to do with Lebanon, but would be the large-scale arming of Hamas by Iran and Syria with rockets, advanced anti-tank weapons and high-quality explosives. There is a real chance that the northern front could be quiet for some years, but no chance at all for a similar development on the Palestinian southern or eastern fronts. It is important to note that the Syrians and Iranians were able to engage in one of the biggest terrorism-sponsorship events in history, at no cost whatsoever, a point that will surely not escape the attention of those countries' leaders. Not only did they avoid any direct material damage to their countries, there was no serious international criticism or call for sanctions. Those with a macabre sense of humor might note that paragraph 15 of the UN cease-fire resolution calls on member countries, including Syria and Iran, to ensure that arms are not smuggled into Lebanon. Does anybody believe anything will be done when Syria and Iran inevitably break that provision? Will such a violation even be reported, much less punished? On the public relations front, Israel came in for far more condemnation than Teheran and Damascus. This in itself is a victory for the latter. Imagine being able to arm, train and incite a terrorist group to violate an international border and deliberately target another country's civilians, suffer no cost, and make your victim come out looking worse! In the terrorism sponsorship business it doesn't get any better than that. Most important of all, the stock of Iran and Syria has risen across the Arab world. They are now the heroes of the resistance. For the first time, the Persian/Arab, Shi'ite/Sunni wall has been breached. Within Syria, though not Iran, the adventure also increased the regime's domestic popularity. This is a definite win/win situation. Within Lebanon, the cease-fire arrangements solve none of that country's real internal problems. Those who criticize Syria and Iran and Hizbullah know that their lives are in danger and the West won't help them. (thus the Lebanese government has been rendered powerless) Anti-American sentiment inside Lebanon is the public meal ticket, and will be as long as Hezbollah rules and reigns there. Thus while the war made Hizbullah less popular in Lebanon, it has not reduced its power in the country. Finally, throughout the Arab world the masses are responding to Hizbullah and its strategy as the new heroes. Osama bin Laden is out; Hizbullah is in. This resurgence of what might be called evil hope has set back for a generation any chance of Arab-Israeli peace or democracy. As always in the Middle East, these mistakes will come back to haunt the globe for a long time to come.
Tehran Has A Gloomy Side in the Lebanon War
Aug. 14….(DEBKA) While the damage caused Israel's military reputation tops Western assessments of the Lebanon war, DEBKAfile's Iranian sources report an entirely different perception taking hold in ruling circles in Tehran. After UN Security Council resolution 1701 calling for a truce was carried Friday, Aug. 11, the heads of the regime received two separate evaluations of the situation in Lebanon – one from Iran's foreign ministry and one from its supreme national security council. Both were bleak: their compilers were concerned that Iran had been manipulatively robbed of its primary deterrent asset ahead of a probable nuclear confrontation with the United States and Israel. While the foreign ministry report highlighted the negative aspects of the UN resolution, the council's document complained that Hizballah squandered thousands of rockets, either by firing them into Israel or having them destroyed by the Israeli air force. The writer of this report is furious over the waste of Iran's most important military investment in Lebanon merely for the sake of a conflict with Israeli over two kidnapped soldiers. It took Iran two decades to build up Hizballah's rocket inventory. DEBKAfile's sources estimate that Hizballah's adventure wiped out most of the vast sum of $4-6 billion the Iranian treasury sunk into building Hezbollah's military strength. The organization was meant to be strong and effective enough to provide Iran with a formidable deterrent to Israel embarking on a military operation to destroy the Islamic regime's nuclear infrastructure. To this end, Tehran bought the Israeli military doctrine of preferring to fight its wars on enemy soil. In the mid-1980s, Iran decided to act on this doctrine by coupling its nuclear development program with Israel's encirclement and the weakening of its deterrence strength. The Jewish state was identified at the time as the only country likely to take vigorous action to spike Iran's nuclear aspirations. The ayatollahs accordingly promoted Hizballah's rise as a socio-political force in Lebanon, at the same time building up its military might and capabilities for inflicting damage of strategic dimensions to Israel's infrastructure. That effort was accelerated after Israeli forces withdrew from the Lebanese security zone in May 2000. A bunker network and chain of fortified positions were constructed, containing war rooms equipped with the finest western hi-tech gadgetry, including night vision gear, computers and electronics, as well as protective devices against bacteriological and chemical warfare. This fortified network was designed for assault and defense alike. Short- medium- and long-range rockets gave the hard edge to Hizballah's ability to conduct a destructive war against Israel and its civilians, when the time was right for Tehran. Therefore, Iran's rulers are hopping mad and deeply anxious over news of the huge damage sustained by Hizballah's rocket inventory, which was proudly touted before the war as numbering 13,000 pieces. Hizballah fighters, they are informed, managed to fire only a small number of Khaibar-1 rockets, most of which hit Haifa and Afula, while nearly 100 were destroyed or disabled by Israeli air strikes. The long-range Zelzal-1 and Zelzal-2, designed for hitting Tel Aviv and the nuclear reactor at Dimona have been degraded even more. Iran sent over to Lebanon 50 of those missiles. The keys to the Zelzal stores stayed in the hands of the Iranian Revolutionary Guards officers who were in command of Hizballah. Nasrallah and his officers had no access to these stores. But Tehran has learned that Israel was able to destroy most of the 22 Zelzal launchers provided. That is not the end of the catalogue of misfortunes for the Islamic rulers of Iran.
1. The UN Security Council embodied in resolution 1701 a chapter requiring Hizballah to disarm, in the face of a stern warning issued by supreme ruler Ayatollah Ali Khamenei in person in the early days of the war. Revolutionary Guards commanders went so far as to boast: "No one alive is capable of disarming Hizballah." The disarming of Hizballah would therefore be a bad knock to the supreme ruler's authority and prestige as well as a disastrous blow for the deterrent force so painstakingly and expensively fashioned as a second front line to protect the Islamic republic from a safe distance.
FOJ Note: But then, who is going to disarm Hezbollah, certainly not the UN, mor the inept Lebanese Army.
Cease-Fire News Update From David Dolan
Aug. 14….(David Dolan) Despite the fact that both the Israeli and Lebanese governments have formally agreed to accept Friday's UN ceasefire resolution 1701 beginning at 8:00 AM local time Monday morning, security analysts are warning that intense fighting is likely to continue for some time in south Lebanon following Saturday's fierce Arab-Israeli ground clashes, the worst since the 1973 Yom Kippur war. Late word says the Lebanese cabinet has just postponed a meeting to discuss implementing the resolution amid growing Hizbullah opposition to the international ceasefire call. A massive barrage of Hizbullah rockets, over 215 by 6:00 PM, has landed all across northern Israel today, including in the port city of Haifa where several people were seriously wounded. Widespread property damage is reported in many places. Other civilians have been wounded near Kiryat Shmona, where nearly 1000 rockets have landed since mid-July. Earlier today, yet another Arab Israeli, a 70 year old man was killed when Syrian-supplied missiles struck the western Galilee, wounding nine other civilians. This came as IDF Air Force jets and warships once again bombed suspected Hizbullah targets in southern Beirut and other locations. The Israeli cabinet endorsed the UN ceasefire call early Sunday afternoon just as funerals were beginning for many of the 24 IDF soldiers killed during bloody clashes on Saturday, the highest one day casualty toll since the 1973 war. Heavy fighting today is believed to be taking more lives, with Hizbullah claiming to have destroyed several more IDF tanks. Army officers say they will need several more days to cleanse the area south of the Litani River of Hizbullah fighters, guaranteeing more ground clashes for at least the rest of this week, despite the UN ceasefire time line. With Shiite Lebanese cabinet ministers reportedly expressing strong reservations over several provisions of the UN ceasefire resolution, especially its implied restriction on future Hizbullah activities in south Lebanon, many Israeli analysts are expressing strong doubts that the ceasefire will hold. They note that Israel is allowed to respond to any overtly offensive attacks, which they say will surely occur as Iran eggs on its surrogate force to carry on with the conflict, especially now that tens of thousands of IDF soldiers are further away from their homeland than ever before in the conflict. Indicating that it intends to foment further trouble in the region, Iran today termed the UN resolution a "defeat for the Zionist entity," particularly denouncing the provision that effectively calls for Hizbullah fighters to be disarmed. Israeli officials have warned that they will consider any Syrian attempt to rearm the rogue Shiite force as a violation of the UN resolution, and will attack such efforts wherever they occur. An unnamed senior IDF leader told the Haaretz newspaper yesterday that Syria continues to rearm Hizbullah forces with anti-tank missiles and longer range rockets, despite IDF efforts to stop the flow. This comes as IDF forces continue to be significantly beefed up on the extremely tense Golan Heights, as Syrian troops carry out operations to clear landmines from their side of the disputed border, which many fear is another indication that Iran will be prodding its main Arab ally to open up a new front in the war, or a future war!
WEEK OF AUGUST 7 THROUGH AUGUST 13
UN Resolution Sequence Could Leave Dangerous Vacuum in S. Lebanon
Aug. 12….(DEBKA) "That's the best we can do for you," US secretary of state Condoleezza Rice told Ehud Olmert Friday, Aug. 11, after 15 UN Security Council members unanimously endorsed the revised US-French resolution calling for a cessation of hostilities in Lebanon. Olmert thanked US President George W. Bush for his work on Resolution 1701 in his first phone call to the White House since hostilities flared exactly a month ago. Across the border in Beirut, Lebanese prime minister Fouad Siniora complained to US undersecretary of state David Welch that the resolution "gives Hizballah better protection than us." He had a point. The text finally approved, rather than addressing the most urgent security concerns of Israel and Lebanon, reflects the vetoes Hizballah leader Hassan Nasrallah laid down on four points:
1. The 15,000-strong peace force to be deployed in Lebanon (based on the 2,000-member UNIFIL observer force)) is denied a mandate under the UN Charter Chapter 7 to use military force for imposing a ceasefire, disarming Hizballah or creating a buffer zone in S. Lebanon.
2. No mechanism is created to enforce the embargo on arms supplies from Iran and Syria or any other foreign source.
3. In the absence of an effective UN force, no provision is made for the enforcement of UN Security Council resolution 1559 to disarm Hizballah's militia.
4. The call for an "unconditional release" of the two Israeli soldiers, whose July 12 abduction sparked the conflict, is not accompanied by any tangible steps for its implementation.
Two further points which Nasrallah imposed on the Lebanese government are also reflected in the text. One demands the withdrawal of Israeli troops "in parallel" with the deployment of Lebanese forces for taking control of the south. Israeli soldiers are thus required to pull out before the arrival of the beefed up UN force. The second is a 30-day deadline handed the UN Secretary Kofi Annan to come up with proposals for solving the Chebaa Farms dispute. (FOJ-The Shebaa Farms is located near Mt. Hermon) Israel's military sources note that, while Israel is allowed to continue "defensive operations," the term "cessation of hostilities" is loose enough for Hizballah to continue fighting and claim it is conducting "legitimate national Lebanese resistance" rather than offensive operations. DEBKAfile's Jerusalem sources reveal that Friday night, when the Prime Minister accepted the ceasefire resolution, none of his key ministers were willing to second the decision. Olmert ran solo with the announcement without consulting his cabinet or the high military command. As far as the Israeli military command is concerned, the definitive order coming down from government is the one given on Friday a few hours before the Security Council ceasefire resolution, to broaden its offensive up until the Litani. A senior IDF officer told DEBKAfile Saturday morning: Israeli forces are already positioned at two key points on the Litani and deep into an operation in the Tyre district, which is filled with a dense concentration of Hizballah strongholds and rocket sites. The Lebanese government meets Saturday night and Israeli ministers Sunday, Aug. 13 to vote on the resolution.
Israeli Army in Race Against a UN Ceasefire in Lebanon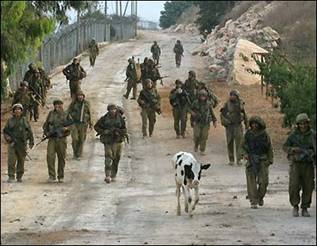 Aug. 12….(DEBKA) Israeli forces are pressing forward with the wide-scale operation against Hizballah which DEBKAfile reports was launched four days ago on Wednesday, Aug. 8. The campaign will continue until the ceasefire called for in Security Resolution 1701 approved Friday, Aug. 11, is enforced on the ground, if and when that happens. It is carried forward by four expanded divisions of 11 brigades, about 12,000 fighting men. The first stage of the new operation has succeeded in its objective of encircling Hizballah's 1,500-strong force in a large swathe stretching from the Litani River in the north, to Tyre in the southwest. This tactic follows Israel's 1982 Lebanon War stratagem of pushing Palestinian forces out of South Lebanon up to Beirut and then holding them to siege. Now, Israeli troops are pushing Hizballah into the Tyre enclave that also encompasses the Palestinian refugee camps of Rashidiya and Bourj al-Shamali, in order to contain it there. In central and northern Lebanon, Hizballah strength will be left intact with two of its three rocket brigades - medium and long range - for the time being. They will be left to the Air Force to destroy.
Olmert Faces Backlash Over Lebanon War
FOJ Note: Prime Minister Ehud Olmert had enjoyed the benefit of a national 91% approval for the war on Hezbollah, but he has single-handedly frustrated Israel's thrust to eliminate the threat of Hezbollah, and by leaping at Nasrallah's dictates for a cease-fire, Olmert has guaranteed his countrymen that Israel will soon face another, more sinister war.
Aug. 12….(My Way) Israeli Prime Minister Ehud Olmert faced a backlash on Friday over a UN proposal to end the war in Lebanon, with army officers saying they were held back and right-wing rivals calling for new elections. "Olmert must go," read a front page headline in Israel's left-leaning Haaretz newspaper. Opinion polls, conducted before details of the proposed Security Council resolution emerged, showed public support eroding for Olmert, a career politician who lacks the combat credentials of many of his predecessors. Twenty percent of those surveyed by Haaretz believed Israel was winning the war. Leading members of the right-wing opposition Likud party called the resolution a victory for Hizbollah. "We will work to bring down the government," said Likud's Silvan Shalom. Yuval Steinitz, also of Likud, said the Israeli government should resign and call new elections. Some Israeli military commanders said an expanded ground offensive, authorized by Olmert and his security cabinet on Wednesday, should not have been put on hold. They accused Olmert of denying the army a chance to gain more ground militarily to secure a ceasefire that would be more favorable to Israel and less so to Hizbollah leader Sayyed Hassan Nasrallah. Army officers said Israeli troops massed along the Lebanese border were now "sitting ducks" while Israeli political leaders awaited the outcome of the negotiations at the United Nations. "We need to keep on going with the military operation," one officer said. He did not want to be identified. Another officer told Haaretz: "Nasrallah will continue to mock us, and in the end there will be another war."
Total Resolve, Not Pacification of Terrorists
(God Almighty gave Israel to the Jewish people through his covenant with Abraham. If Israel fails to adhere to God's word, it will become another America, bogged in another Vietnam)
Aug. 12….(Earl Cox) All international attempts to solve the problem between Israel and radical Islam by diplomatic means have proven futile. And it remains certain that a peaceful resolution of this struggle will never, ever, be achieved by man. No nationality on the face of the earth can lay claim to the land of Israel, because it belongs to God Almighty, the God of the Bible, and he, the Creator of the heavens and the earth, gave it to the Jewish people through his covenant with Abraham. God entrusted the land to Israel as part of His covenant decision to redeem the world through Abraham and the Jewish people. Thus my stand with Israel and her right to the land flows out of a love and concern for all nations. No prophet, preacher, evangelist or theologian can overrule that eternal covenant. It has been proven without a shadow of a doubt throughout the ages that, eventually, destruction comes to any individual, organization or country that comes against this Holy Land and its rightful owners. There is only one word that matters, and that is the word of the living, Holy God. His word will prevail when everything else has failed. Despite many generations of people who have manipulated themselves into religious positions and then twisted that Word, God's truth will stand - now, and forever.
God laughs at the nations' World leaders repeatedly attempt to capture the hearts of barbarians bent on altering God's word and claiming ownership of a land that does not belong to them. But Israel need not put her fate in the hands of the international community. The calloused attitude of the United Nations, most of Europe and the Middle East will not prevail against God's divine order. He laughs at the nations in their attempts to alter the ownership of the Land of Israel. Israel must continue to pursue a course that will probably not be embraced by the global community, which has been reticent to face the real culprit behind terrorism: radical Islam. The world has chosen to turn a deaf ear to continued declarations by terrorist organizations that their goal is to annihilate Israel. A lack of resolve on Israel's part to respond with force will be viewed by terrorists as encouragement to continue their uncivilized aggression against a civilized nation. Until recently, the international community has been successful in seducing Israel into believing that it has to trade land for peace. Israel still carries the Name of Almighty God, and will someday welcome the promised Messiah to this land. But if Israel fails to adhere to God's word, it will become another America, bogged in another Vietnam, having to retreat in shame because of a lack of total commitment to eradicate the enemy. By seeking to please the international community, Israel has sadly placed itself in a vulnerable position and suffered much unnecessary loss and tragedy. While the international community as a whole has been oblivious to this suffering, it has been fully comprehended by many, especially Israel's brothers and sisters in the evangelical Christian community who have been supporting Israel through prayer and economic assistance. Ehud Olmert, the man God has placed in office to lead His people, can become another David, or another Saul. His obedience to the word of God to stand boldly against the enemy will determine the fate of the Jewish people for years to come. For the moment, God has put the power into Olmert's hands to spark a tsunami of support from the millions of Bible-believing Christians around the world to stand with Israel; a people strong enough in America to elect a president. These Bible-believing Christians are totally committed to the preservation of Israel and her people. Their prayer is that Israel will pursue a course of strength rather than weakness, and not negotiate away more land with people whose end goal is not peace but rather the destruction of Israel and her people. Just as a shepherd boy answered the call of God to go against Goliath, let us pray that Olmert will wisely use the most effective tools of battle to eliminate an evil cancer that is growing not only in the Middle East but throughout the world. Reality dictates that Israel must move forward and once again put her trust in an Almighty God, Who for over 100 years now has been restoring the people of Israel to their ancient homeland in faithfulness to His covenant promises to Abraham. Israel can only survive through faith in the Almighty and a total commitment to eradicate the evil of terrorism. With this two-pronged focus, Israel will emerge the victor.
FOJ Note: Sadly, Ehud Olmert, just in the last few days has decided to appease the terrorists, and to trust in the UN for the security of Israel. Olmert's decision will place Israel in further jeopardy, and hasten the Day of Jacobs Trouble!
The United Nations Fails Freedom - Again
| | |
| --- | --- |
| | (FOJ) United Nations Secretary-General Kofi Annan smiles as he takes questions at a news conference at the United Nations in New York City, June 15, 2006, knowing that he had served the forces of Anti-Semitism and anti-Americanism well, and saved Hezbollah to fight another day in the world's rush to destroy Israel. Sooner or later, Hezbollah and perhaps some other helpers will launch another war on Israel. |
Aug. 11….(Oliver North) On Wednesday, Aug. 9, when Israel finally launched a major ground operation into Lebanon aimed at crushing Hezbollah terrorists, there was a collective gasp from the striped-pants set at UN Headquarters in New York. But this offensive wouldn't have been necessary if the unaccountable, America-bashing, Jew-hating, tea sippers at the United Nations had the integrity to act in accord with their own charter. More than a month ago, Hezbollah terrorists crossed the Lebanese border, kidnapped two Israeli soldiers and started a daily barrage of Iranian-supplied rockets, missiles, even sophisticated unmanned aerial vehicles against Israeli towns and cities. All but ignored by the so-called "western media," more than 1,500 Israeli casualties were inflicted by Sheikh Hassan Nasrallah's "rain of steel." For 30 days, the Israeli Defense Forces (IDF) responded with air and naval strikes and limited ground operations against known and suspected Hezbollah positions in Lebanon, and were pummeled in the press for a "disproportionate response." The government of Israeli Prime Minister Ehud Olmert, naively hoping for a "forceful international reaction" to Hezbollah's aggression, adopted a "go-slow" approach and reigned in the IDF. To some, Olmert's caution appeared wise, but in fact it was a disaster. On Aug. 4, Kofi Annan's flaks leaked word to willing press puppets that a "diplomatic breakthrough" had been achieved to "end the conflict in Lebanon." In fact, Washington and Paris had reached only a tentative agreement on the general shape and size of a multi-national force (MNF) to "supplement" the Lebanese Army and the ineffective UN Interim Force in Lebanon (UNIFIL). But on Aug. 8, Olmert learned what he should have known all along, the United Nations will not stand up to Iranian supported and directed terrorism. Four days after promoting a UN accord that would "end the bloodshed," the deal was dead, shot in the head by Arab "leaders" who viewed a powerful, well-armed, European-led intervention force, along the lines of Kosovo in 1999 and today in Afghanistan, to be an "affront to Lebanese sovereignty." The new UN proposal: an immediate cease-fire, withdrawal of all Israeli troops, followed by the introduction of 15,000 Lebanese Army soldiers along the border, "backed up" by the same UNIFIL contingent that had done nothing to stop Hezbollah's aggression in the first place. If Olmert was surprised at this outcome, he shouldn't be. It's just the latest in a long string of failed UN initiatives emanating from the most expensive debating club on the planet. Since Israel withdrew its forces from Lebanon on May 24, 2000, there have been 40 UN Security Council Resolutions on "the situation in the Middle East, an average of one every two months. This year there have already been six, and none of them are worth the paper they are printed on to Hezbollah -- or their masters in Tehran. As Tom Kilgannon points out in his new book, "Diplomatic Divorce: Why America Should End Its Love Affair With the United Nations," the UNIFIL contingent now being so highly touted in the big blue building in Turtle Bay was established by UN Security Council 425 in 1978 "for the purpose of confirming the withdrawal of Israeli forces, restoring international peace and security and assisting the government of Lebanon in ensuring the return of its effective authority in the area." Like so much else of what the United Nations does, it did nothing to stop Iran and Syria from turning Hezbollah into the best-armed terrorist force in the world. With an annual budget of $97.5 million and contingents from China, Ghana, India, Ireland, Italy and Poland, the UN blue helmets turned a blind eye to tens of thousands of Iranian weapons, rockets, anti-tank mines and missiles being trucked across the Syrian border into the Biqa' Valley and offloaded from ships in Hezbollah-controlled Lebanese ports like Tyre. A month into a shooting war, the United Nations has yet to condemn Syrian and Iranian complicity in the carnage. For proponents of "multilateralism," the present conflict has been a missed opportunity to prove that the "international community" could respond in a coherent, forceful manner to a serious threat to peace. Unprovoked aggression, like the Hezbollah attacks that precipitated the present conflict, is after all, the raison d'etre for which the United Nations was created. Yet, the same day the bodies of Iranian Revolutionary Guards were found among dead Hezbollah terrorists, a French Foreign Ministry spokesman proclaimed, "Iran is a stabilizing factor in the Middle East." Confronted with diplomatic dithering and "globalist" lunacy such as this, the Israelis have belatedly decided to do what could not be done in the corridors of confusion at the United Nations, to crush Hezbollah's military power. It's likely to be a costly endeavor. History and war are cruel pedants. Those who know too little of the former are likely to have too much of the latter. The Olmert government has learned the hard lesson that the United Nations can't be counted on in the clinch. Hopefully, as we gauge Iran's efforts to acquire nuclear weapons, Washington will come to the same conclusion.
Hizbullah Declares Victory
Aug. 11….(YNET) Hezbollah did not wait for the official UN Security Council announcement on a cease-ire and launched its own media campaign declaring it had 'won the war against Israel.'
In the latest video aired on Al-Manar TV the terror group says it "defeated the invincible army" and "July-August 2006: Legend shattered." Lebanese officials estimate that Iran and Syria will not oppose a cease-fire deal; as this seems reasonable in light of the fact that the two countries have repeatedly called for a cease-fire, apparently in a bid to keep Hizbullah from collapsing so that it may take part in future confrontations with Israel.
FOJ Note: Israeli Prime Minister Ehud Olmert is scheduled to present the cease-fire plan to his cabinet on Sunday. Once again, an Israeli Prime Minister has snatched victory from its own military in lieu of world pressure.
Proposed Ceasefire Plan Does Not Eliminate Hizbullah Threat
Aug. 11….(Arutz) It appears that United Nations cease-fire efforts are concentrating on halting Israeli military operations throughout Lebanon, but no effort is being made to eliminate the Hizbullah threat. The draft agreement only calls for pushing Hizbullah north of the Litani, not far enough from Israel's northern border to place Hizbullah rockets out of range from northern Israeli civilian population centers. While the draft agreement supports UN Resolution 1559, demanding Hizbullah be disarmed by the Lebanese government, it does not make this a precondition to the implementation of the ceasefire. The plan calls or the deployment of the current UNIFIL force in southern Lebanon, to be supported by some 10,000 French forces and 15,000 Lebanese army troops. Other countries may also send troops to take part in the force, which will be responsible to prevent Hizbullah attacks into Israel. Lebanese authorities and Hizbullah are already signaling the plan is unacceptable since it does not demand an immediate withdrawal of Israeli forces from southern Lebanon, but permits a gradual withdrawal of forces over a month. In addition, Lebanese officials are calling the plan discriminatory, since it mentions the need to work towards the release of captive IDF soldiers while not making mention of the release of Lebanese soldiers. In Jerusalem, Prime Minister Ehud Olmert and Defense Minister Amir Peretz have put the next stage of the IDF anti-Hizbullah offensive in southern Lebanon on hold, realizing a stepped-up offensive at this time would compromise White House efforts to broker a ceasefire. The agreement is being rejected by the IDF, with members of the General Staff expressing strong opposition, stating the plan prevents planned efforts towards reducing the Hizbullah threat. Military officials fear the implementation of the draft ceasefire will do nothing to disarm the terror organization. Defense Minister Peretz in statements released in Jerusalem on Thursday stated that prior to advancing military operations; all diplomatic channels would be exhausted. The senior minister added that there are several points that must be included in any ceasefire plan, including the deployment of a multinational stabilization force in southern Lebanon, removing the threat of future Katyusha rocket attacks against Israel, disarming Hizbullah and setting in motion a plan towards the release of captive IDF soldiers. The fact that Israel is willing to significantly erode 1559, and even give Hizbullah a territorial achievement in the form of half of Israel's Mt. Hermon (Shab'a) will be understood as a clear victory for Hizbullah. This will likely invite a difficult war of rockets and commandos from Syria in the near future. A diplomatic agreement with Syria, almost by definition, would entail ceding the Golan Heights to that country. Olmert has indicated that the Shaba Farms could not be included in any deal being drawn up now so as not to be perceived as a prize for Hizbullah.
Israel Rejects Russia's Call for Truce
(Says It Would Give Hezbollah Time to Regroup)
Aug. 11….(Moscow News) Israel's representative to the United Nations Dan Gillerman has rejected Russia's proposal at the Security Council demanding a 72-hour humanitarian truce in Lebanon, AFX reports. Earlier on Thursday, Russia circulated a draft UN Security Council resolution calling for a 72-hour humanitarian cease-fire in Lebanon, saying the crisis was reaching "catastrophic" proportions and was too urgent to wait for passage of a separate US-French measure, The Associated Press reported. "It would be a very bad solution" to the crisis, because "it would allow Hezbollah to regroup," Gillerman told Israeli public radio. Russia's move came as the United States and France appeared close to breaking a deadlock on their long-awaited resolution and US Ambassador to the United Nations John Bolton said there could be a vote on their proposal on Friday. Responding to the Russian draft, Bolton said he did not think it was helpful to distract attention from negotiations over the US-French draft. "We're not playing games here," he said. "This is very serious." More than 800 people have been killed in the month long conflict which has devastated Lebanon. "This diplomatic activity is not being conducted in a quiet academic environment," Russia's UN ambassador Vitaly Churkin said. "War is raging in Lebanon and the humanitarian situation is getting catastrophic." He said that UN Secretary-General Kofi Annan supported the Russian proposal for a 72-hour cease-fire. The Russian ambassador said his proposal would also call for diplomats to speed up their efforts to seek a political solution. "We hope it will focus minds, it will energize politicians and diplomats," Churkin said. He said Russia wanted a vote on its resolution on Friday evening, which would allow the required 24 hours for other council members to consult with their governments.
Israel Pounds Border Crossings Into Syria
Aug. 11….(AP) Israeli air strikes pounded south Beirut and border crossings to Syria, killing at least 14 people across Lebanon as ground fighting picked up intensity in the south. Jets struck twice at a busy bridge at the Abboudiyeh border crossing into Syria. The checkpoint is some 10 miles inland from the Mediterranean coast, on Lebanon's northern border. Israel also struck an area close to the Lebanese border crossing at Masnaa in the Bekaa Valley, about 30 miles southeast of Beirut. Masnaa is the main border crossing with Syria, and has been closed after four previous strikes. It was the main escape route for hundreds of foreigners and displaced Lebanese who fled the country over land. Only one other official border crossing, at the northern coastal town of Arida, is open. Israeli warplanes struck roads and villages in mountainous areas in the southeastern part of the Bekaa Valley as well, security officials said. Giving the US the ability to "work the cease-fire issue" and put the proposal together was apparently behind American pressure on Israel to delay Wednesday's security cabinet decision to push forward toward the Litani River. That decision gave Olmert and Defense Minister Amir Peretz authority to decide when to embark on the campaign. Peretz said Thursday that Israel would see the diplomatic process through before giving the final okay for an expanded IDF operation. Still, the IDF wants to ensure that Syria does not resupply Hezbollah in the interim. If diplomacy fails, Peretz said, Israel would "use all of its tools" to dismantle Hizbullah.
US and France Cease-fire in Works
(Russia calls for 72 hour cessation of violence)
Aug. 11….(YNET) Are we Getting close to ceasefire? Just as the IDF is preparing to expand military operations, a French-American proposal for a ceasefire is being formulated Thursday evening and may be presented to the United Nations Security Council by Friday. According to various reports, the agreement is based on the deployment of French troops on the northern border along with UNIFIL and Lebanese army forces. UN officials expressed optimism regarding the plan but are still waiting for approval from Jerusalem and Beirut. According to sources in Jerusalem, the new formula is premised on four components:
1. The deployment of a genuine military forces, apparently French and German, in southern Lebanon
2. The implementation of Resolution 1559
3. Negotiations on a prisoner swap
4. The establishment of a mechanism for future Israeli-Lebanese dealings
French Foreign Minister Philippe Douste-Blazy said that an agreement on a Security Council proposal for an end to the fighting in Lebanon will be worked out shortly. The American-French draft resolution has been forwarded to both Israel and Lebanon for approval. Israel's UN Ambassador Danny Gillerman said the new proposal envisions the IDF staying in Lebanon until it is replaced by a multinational force. Israel hopes such force would have a mandate to deploy across the region and prevent the transfer of weapons from Iran and Syria. The proposal being formulated followed a meeting Thursday morning between the American and French UN ambassadors, and still needs to be approved by Britain, Russia and China before being presented to the Security Council. American officials again stressed the need to avoid a gap between words and deeds on the ground, in order to avoid a return to the reality that prevailed before July 12. According to various reports, the multinational forces being designed for this end includes Lebanese troops, UNIFIL forces, and several thousand French soldiers who are already in the region and can be deployed quickly, at least temporarily, until a more efficient and powerful international force is created. French soldiers are slated to play a major role in such force as well. According to reports, Hezbollah is interested in a ceasefire and will end its rocket fire once a truce is declared, while continuing to fight against IDF forces in Lebanon. A senior Israeli official said the revised UN Resolution will stop short of requiring peacekeepers to disarm Hizbullah but will call for an embargo to prevent the group from bringing in arms from Iran and Syria. If the cease-fire isn't accepted, Israel will take off the gloves." During a Jerusalem meeting with US Assistant Secretary of State David Welch Olmert stressed the importance of the deployment of an international force with enforcement capabilities, the immediate return of the kidnapped IDF troops, the preserving of Israel's right to retaliate in case of rocket attacks, the withdrawal of Hizbullah from south Lebanon and an embargo on arms sales to the terror group.
FOJ Note: It is apparanet that Hezbollah is in need of a cease-fire, especially one that allows for Lebanon's army to be the patroler of the Israel border. By this detail, Iran can maintain easy control of Lebanon's border with Israel. Obviously Russia is acting as Iran's chief lobbyist on Hezbollah's behalf in the UN Security Council, while France is representing Arab League demands.
War With Iran 'Inevitable,' Former Israeli Defense Chief Says
Aug. 10….(Ken Timmerman) War between Iran and Israel is "inevitable," a former deputy defense minister retired Maj. General Efraim Sneh told NewsMax in an exclusive interview from his home near Tel Aviv. General Sneh, who ran Israel's defense ministry under Labor Party Prime Minister Ehud Barak when Israel pulled out of Lebanon in May 2000. "At 62, I am a retired general, but I feel so strongly about this war that I volunteered to rejoin my paratrooper unit," he said. A medical doctor by profession, Sneh commanded his unit's medical corps during the toughest battle of the 1973 war. Sneh has been warning about the Hezbollah buildup in south Lebanon for many years, and opposed his government's withdrawal from Lebanon in 2000, even though he was then in charge of the Defense Ministry. I warned six years ago that unilateral Israeli withdrawal from Lebanon would bring Hezbollah to our border, with all their military capability," he said. "I was a lonely voice when the choir of Israeli politics said 'let's get out of the Lebanon mud.' I said, 'The mud will run after you.'" Warning about Hezbollah while serving in the government put him in an awkward position. "Because Barak was prime minister as well as defense minister, as his deputy I was actually running the defense ministry," Sneh told NewsMax. "I said we shouldn't withdraw, because Hezbollah rockets would bring us back to invade Lebanon, and require a big ground operation to clean up. That's what we are doing right now," he added. He said he felt vindicated, not only by what is happening in Lebanon, but because he has been warning about the threat from Iran. "Since 1993 I have been warning that Iran is the only enemy that poses an existential threat to Israel," he said. The current war in Lebanon is actually a war by Iran against Israel, he believes. "I don't have any doubt that after this round is over, there will be another round, because the war with Iran is not over. When you have the president of the world's fourth largest oil supplier preaching repeatedly that Israel should be wiped off the map, a collision is unavoidable." In speeches and writings over the past six years, Sneh predicted in detail the scenario that has played itself out between Hezbollah and Israel over the past four weeks. "But I don't know the scenario for round 2 or round 3," he said. "I just know that they will come." Asked how the current round of fighting in Lebanon would end, he replied: "slow and tough." Sneh has traveled repeatedly to Washington over the past 13 years with other Knesset members from different parties, to warn about Iran's threat to Israel and America. He believes Iran would use nuclear weapons if it acquired them. "That is the assumption we have to make," he said. "When they say they want to wipe Israel off the map, why shouldn't I take their word seriously? I don't have the privilege not to do so."
Airline Terrorist Plot Thwarted in London
Aug. 10….(MSN) The US raised its national terror alert for incoming British flights to red today after a terrorist plot to use planes for suicide attacks was thwarted in London. American security officials report the terrorists, whose airplane plot British security foiled, had targeted United Airlines, American Airlines and Continental Airlines. British Airways cancels all domestic and European flights. All flights in and out of London were cancelled as Britain interrupted the plot to blow up six or seven UK planes bound for the United States, Europe and the Middle East. All flights to the UK from Tel Aviv were cancelled. The suspects in the plot were are all British-born of Pakistani-Muslim origin. The plot had "global dimensions," Scotland Yard said. The US alert was raised to one short of maximum after Prime Minister Tony Blair briefed President George Bush on the security threat to the planes. UK police say this attack could have been bigger than 9/11, encompassing 20 attacks with substantial loss of life, had the plot not been thwarted by a British covert anti-terror operation very close to its execution. The planes were to have been blown up in mid-air by suicide bombers over cities in the US, Britain and other "allied" countries, possibly also Tel Aviv by explosives smuggled aboard in hand luggage in liquid form to evade detection. A senior US counterterrorism official said authorities believe dozens of people, possibly as many as 50 were involved in the plot, which "had a footprint to al-Qaida." The plan involved airline passengers hiding masked explosives in carry-on luggage, the official said. "They were not yet sitting on an airplane," but were very close to traveling, the official said, calling the plot "the real deal." The terror scheme disrupted in London is "suggestive of an al-Qaida plot," the Bush administration said Thursday as it issued its highest terrorism alert ever for commercial flights from Britain to the United States and raised the threat level for all domestic and international flights. Homeland Security Secretary Michael Chertoff said there was no indication of plotting in the United States but said officials cannot assume that the terror operation in Britain had been completely thwarted. Chertoff said the alleged plot appeared to be engineered by al-Qaida. "It was sophisticated, it had a lot of members and it was international in scope," said Chertoff.
Iranian Soldiers Killed in Lebanon
| | |
| --- | --- |
| | (FOJ) This photo shows Iranian revolutionary guard corps shouting anti-US and anti-Israel slogans during their typical Friday prayers in Tehran. Members of Iran's Revolutionary Guard have been found among Hizbollah guerrillas slain by Israeli forces in southern Lebanon, evidence that Iran is secretly waging war on Israel at the expense of Lebanon. |
(Bodies of Revolutionary Guards said found among Hezbollah dead)
Aug. 10….(WND) Iranian soldiers were found among the bodies of Hezbollah gunmen killed by Israel the past few days of the Jewish state's military campaign in Lebanon, a senior Israeli military official told WorldNetDaily. The official, who did not release the number of Iranian soldiers bodies found, said Israel has killed dozens of Hezbollah fighters since Monday and about 480 since the fighting began July 12 following a Hezbollah attack against a military patrol unit and the kidnapping of two soldiers. He said Israeli intelligence has so far identified about 200 of the dead Hezbollah gunmen. The information follows scores of reports the past few weeks that Iranian soldiers have been aiding Hezbollah terrorists from Lebanon in their attacks against Israel, including help with the firing of rockets into Israeli population centers. It also comes after WND broke the story about the bodies of Iranian Revolutionary Guard soldiers who were killed by the Israeli army in Lebanon and transported to Syria, then flown to Tehran, according to senior Lebanese political sources. The Lebanese sources said between six and nine deceased Iranian Revolutionary Guard soldiers were brought in trucks last month into Syria for flight back to Iran. They said the bodies were transported at the same time tens of thousands of Lebanese civilians were fleeing the country into Syria. WND previously reported Israeli security officials said they have "concrete information" hundreds of Iranian soldiers stationed at Hezbollah positions in Lebanon have helped to fire missiles into the Jewish state. The Israeli officials said Iranian guards directed the firing last month of a radar-guided C–802 missile that hit an Israeli navy vessel off the coast of Lebanon, killing four soldiers. Israel says Iran acquired the missile from China. The officials said the Iranian soldiers' duties include keeping custody of long-range missiles within Hezbollah's arsenal, including Zalzal rockets which are said to have a range of 125 miles, placing Tel Aviv within firing range. Jordanian officials told WND they are "100 percent sure" Iranian Revolutionary Guard unit soldiers have fired rockets into Israel. They also said the Syrian army has provided Hezbollah with intelligence information on the locations of strategic Israeli targets to aid in Hezbollah rocket fire.
Israel Must Fight To Survive
The Israeli incursion into Southern Lebanon against the Iranian-proxy arm Hezbollah has taken them ominously close to towns along the Syrian border. Marjayoun and Khiam are just 20-25 miles from Damascus.
Aug. 10….(FOJ) An Israeli soldier speaks to his men as they gather near the border preparing to enter southern Lebanon in northern Israel. The Israeli soldiers pray and read from the Torah before an anticipated mission to face the radical Islamic terrorist group Hezbollah that has been utilized of Iran to form a Shiite Republic in Lebanon that provides Iran with a logistical and geographical vantage point to strike at Israel without being directly implicated in the fighting. With so many deviant and sadistic enemies sworn to wipe Israel off the map, Israel has no alternative but to take the fight to the enemy. Should tiny little Israel ever lose a war with any of the hatemongering nations and terrorist enclaves surrounding her then Israel would become a name in the dustbin of history. Do you think the world care? Would the UN call for a cease-fire if Hezbollah was marching into Tel Aviv? NO WAY, because the world is deceived by the venom of Satan, and is compliant with his conspiracy to exterminate the people of Jehovah God!
Arab League Has Ambitions Parallel to Iran's
| | |
| --- | --- |
| | (FOJ) Arab League Secretary General Amr Moussa (L) shakes hands with UN Secretary-General Kofi Annan before a meeting at the United Nations in New York, August 9, 2006. As the United States and France struggle over differences over an Israeli troop withdrawal from Lebanon, the Arab League has interjected that its demand that an Israeli withdrawal from Lebanon must be the first step. The Arab League, which helped found the PLO, is staunchly anti-Israel. |
Aug. 10….(FOJ) Just as it appeared that the US and France had formed a workable plan to bring about a cease-fire for Lebanon, the Arab League rushed some its membership to the UN to demand an unconditional withdrawal of Israeli forces from southern Lebanon as the first step to any cease-fire. The Arab League, while being weary of Iran's thrust into the Middle East, is nonetheless just as anti-Israel as is Iran.

Israel Decides to Expand Ground Campaign Against Hezbollah

(FOJ Note: It is getting serious folks. The Hezbollah terror-war machine is being directed by Iranian and Syrian personnel headquartered in Anjar, Syria, just a mere 10-15 miles from DAMASCUS)

Aug. 9….(DEBKA) An expanded Israeli ground offensive to remove the Hizballah rocket threat is being launched tonight, Israeli hours after the security cabinet approved a new thrust up to the Litani River. The decision is to thrust the IDF on to the Nabatea plateau and Arnoun beyond the Litani River. The object of the extension is eliminate Hizballah's rocket-launch centers. It deepens Israel's thrust to some 45 km from the border and calls for a further large influx of army reserves. Israeli special forces are already fighting in the Qantara region east of the Litani River, near the Syrian border. Despite massive Israeli aerial strikes and ground operations in the Tyre region in the west, Hizballah fired a series of long-range Khaibar-1 missiles from there which reached Haifa, Beit Shean, Afula, Zichron Yaacov and Jenin. Late today Hassan Nasrallah went on the air to scotch international efforts to halt the hostilities by diplomacy: He warned the Lebanese Prime Minister Fouad Siniora against giving an inch to American demands for a multinational force to be deployed in South Lebanon. Siniora accordingly informed the US official David Welch that his government would only accept a Lebanese force plus UNIFIL to police the south. It has become obvious that Mr. Siniora is completely afraid of Hezbollah and is not going to lift a finger to help Lebanon overcome the plague of Iran's terror arm reigning over the country. Hassan Nasrallah's recorded statement over Hizballah's Al Manar television today had a nail-biting audience: US secretary of state Condoleezza Rice in Washington, French president Jacques Chirac at the Elysee in Paris, Israeli Prime Minister Ehud Olmert in Jerusalem and his Lebanese counterpart Fouad Siniora in Beirut. He was also watched closely by Maj-Gen Benny Gantz at the defense ministry in Tel Aviv. Gantz had been entrusted a few hours earlier with taking charge of the newly-expanded Lebanon offensive which the Israeli security cabinet had just approved. Israeli ground forces are preparing for an allout offensive up north past the Litani River to seek out and destroy Hizballah's rocket sites. But until he was good and ready, the Hizballah leader kept everyone waiting to find out where he stood in the next stage of the Lebanon war that he triggered on July 12. The day's timetable tells the story:

At 16:00,

the Israeli security cabinet approves a new ground operation deep inside southern Lebanon as far as the Nabatea plateau and Arnoun on the northern bank of the Litatani River, roughly 45 km from the Israeli border. It was limited in time to 30 days. The action would start at a signal from the prime minister and defense minister Amir Peretz.

At 16:30,

US undersecretary of state David Welch, who had arrived in Beirut Wednesday morning, was paying his second visit to PM Siniora. He informed him: If you can persuade Nasrallah to accept a broadened UNIFIL force to back up the Lebanese contingent in the south, then we can have our multinational force and save Lebanon from sinking further into a dangerous war. But if you can't, Israel will extend its invasion tonight and conquer more than a third of Lebanon.

DEBKAfile's Middle East sources report that the Lebanese Prime Minister took the point and promised to do his best to bring the Hizballah leader round. Siniora knew that the Americans had found out Monday from the Turks that Nasrallah had set up his war room in the Iranian embassy in Beirut under the protection of two Revolutionary Guards commando companies.

At 18:00,

Siniora and the Shiite parliament speaker Nabih Berri hold a meeting with Nasrallah's representatives, hoping to hear his answer to the proposal of an expanded UNIFIL that would pave the way to a halt in the fighting. But they are disappointed. Nasrallah rejected it, but stated that he was now in favor of Lebanese army forces controlling the south

At 19:00,

Lebanese Prime Minister Siniora goes back to Welch to report that his efforts failed and the Israelis cannot be stopped from moving further north.

At 19:20,

while they were talking, Al Manar interrupts its broadcasts to announce that Nasrallah will address the Lebanese people shortly. Olmert reacted to Al Manar's announcement by calling chief of staff Lt.-Gen Dan Halutz and asking him if the army was ready to move. The reply was that the units were ready to start rolling within minutes of receiving the order and would link up with the contingents already deep inside Lebanon. Gen. Halutz then phoned Gen. Gantz to confirm that everything was ready.

At 20:20,

the speech Nasrallah had recorded at the Iranian embassy went on air. Twenty minutes into his harangue, he delivered his reply: Under no circumstances would he accept a multinational force in South Lebanon. He warned the Lebanese prime minister not to give an inch on this issue. Siniora had no choice but to obey. Thus, in a few words, the Hizbalah leader scotched the US-French attempt to generate a UN Security Council resolution that would wind the conflict down by calling for a cease-fire and the deployment of a multinational force, followed by an Israeli withdrawal.

At 21:30,

Condoleezza Rice calls Olmert and informs him that her undersecretary had come away from his Beirut mission empty-handed and there is no bar to him giving the signal to launch the next stage of the Lebanon offensive.

At 22:20,

A massive movement of Israeli ground troops and tanks begins thundering across into Lebanon.

DEBKAfile's military sources note that Nasrallah in throwing down the gauntlet is undertaking the biggest gamble of his life. A defeat at Israeli hands would finish him and his militia off for the foreseeable future. At the same time, he does not have to beat Israel to claim victory; it is enough for him to hold on for another month and keep up his rocket offensive against northern Israel to come out on top. But it is worth keeping in mind that the Hizballah chief is a whiz at concocting tactical surprises and may still have one or two up his sleeve, or rather IRAN may have a surprise up its sleeve. Nasrallah is known to be backed by the full logistical and military might of Iran's radical Revolutionary Guards, as Israel today disclosed that Iranian Revolutionary Guards are supervising the Hezbollah war on Israel.

FOJ Note: Nasrallah's about face, saying that he now welcomes Lebanon's offer to send 15,000 soldiers to the Israeli border is his ace to maintain control of Southern Lebanon, as the Lebanese Army will be just as fully controlled by Hezbollah as is the Lebanese Prime Minister!

Peretz: 'Israel Fighting War of Free World Against Terror'

Aug. 9….(Ynet) Israeli Defense Minister Amir Peretz met earlier with German foreign minister saying: 'We are fighting the war of free world against terror and expect the international community to support our struggle.' Israel's National Security Cabinet is currently convened in order to decide upon a widening of the ground operations in Lebanon and potential northern advancement to the Litani River. According to Peretz, the government has no intention of foregoing Israel's right to provide defense for her citizens and that there will not be a political arrangement that will not ensure quiet and stability for years to come. Minister Peretz met with the German Foreign Minister, Dr. Frank-Walter Steinmeier and discussed Lebanese Prime Minister Fouad Siniora's proposal to deploy 15 thousand soldiers from the Lebanese army in the south of the country in order to ensure quiet in the area. The German minister arrived in Israel after a visit in Lebanon, during which he met with Siniora himself. Peretz said to Steinmeier: "We are fighting against Iranian commandos, which are armed with sophisticated, modern weaponry. This includes Russian-made anti-tank missiles, which in the past Russia promised would not fall into the hands of Hizbullah. This weapon is used today against IDF soldiers in Lebanon." "Even if Siniora has good intentions," the defense minister added, "Nasrallah has other intentions. Therefore, the international community must ensure that the political agreement will be valid, and not of the type that crumbles and evaporates after a short time." Peretz warned Steinmeier of the possibility that Israel will again be faced with the threat of terrorism from Lebanon: "We are fighting the war of the free world against terror and we expect the international community to support this struggle. However, we intend to deal with the Katyusha launching pads on our own. This is my position as I will present it to the security cabinet convening Wednesday morning." Another concern in the Prime Minister's Office is the definite possibility for a significant rise in IDF casualties. There is also concern that a deeper operation into Lebanon will encourage Hizbullah and their operatives in Teheran to use long-range missiles that can reach Dan Metropolitan. However, Prime Minister Olmert has already said in his speech to senior officials of the American Jewish community Monday that Israel will continue fighting in order to expel the rocket threat, even if it does incur a high price.

US and France At Odds over Lebanon Demand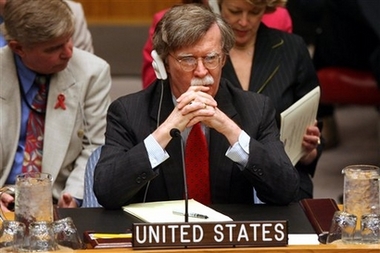 Aug. 9….(AP) The United States and France appeared at odds Wednesday over Arab demands to change a UN resolution they are co-sponsoring to call for a complete cessation of Israeli-Hezbollah hostilities and a complete withdrawal of Israeli forces, diplomats said.
France proposed new language on a total cease-fire and Israeli pullout, but the United States rejected it out of concern that without a robust international force, a vacuum would be created in southern Lebanon, in which a Hezbollah stronghold would redevelop, the diplomats said. While both countries welcomed Lebanon's announcement Monday that it will deploy 15,000 soldiers to the south when Israel withdraws, the United States does not believe this force and UN peacekeepers can prevent a vacuum, the diplomats said, speaking to The Associated Press on condition of anonymity because the negotiations are private The US-French draft circulated Saturday calls for "a full cessation of hostilities," with Hezbollah immediately stopping all attacks and Israel ending offensive military operations. But Israel would still be allowed to take defensive action and there is no call for the withdrawal of its 10,000 troops from southern Lebanon. Lebanon opposed the draft, saying it favored Israel. The Lebanese government demanded that the cessation of hostilities must be complete and said all Israeli troops must leave, warning that their presence would be viewed as a new occupation and citing Hezbollah's threat to shoot at any Israeli soldiers in the country. De La Sabliere, asked about these two demands, said "we are trying to incorporate more to take into account the concerns they have expressed about the two issues." Lebanon also wants the resolution to include a commitment to release Lebanese and Israeli prisoners, an agreement to put the disputed Chebaa Farms area on the Lebanon-Syria-Israel border under UN jurisdiction, an extension of Lebanese government authority throughout the country, a beefed-up UN force in southern Lebanon and international help to rebuild the country. At an open Security Council meeting on Tuesday, Qatar's Foreign Minister Hamad bin Jassem Al Thani, speaking on behalf of the Arab delegation, warned Israel that continuing attacks on Lebanon will "sow the seeds of hatred and extremism in the area" rather than restore peace and stability.
750,000 Christians Caught in Crossfire of Wars
(Mideast war makes believers refugees while militant Islamists attack 'infidels')
Aug. 9….(WND) An estimated 750,000 Christians have been ejected from their homes, and sometimes their own nations, as militant Islamists wage their war on infidels across the Mideast, according to several Christian refugee organizations. In just recent weeks, more than 100,000 Lebanese who are Christian have been forced to flee the violence ravaging their homeland, according to the Barnabas Fund, a Christian group established in 1993 that channels aid to projects run by Christian nationals in more than 40 countries.
"On both sides of the conflict, Israel and Lebanon, the Christian community is caught in the crossfire," Carl Moeller, the president of Open Doors USA, the Bible-delivering ministry founded by Dutch missionary Brother Andrew in 1955, told WorldNetDaily. Brother Andrew's story was portrayed in the book "God's Smuggler," which detailed his exploits of driving cars loaded with Bibles behind the Iron Curtain. After the book was published, much of his organization's work was moved to the Mideast, where projects have included the Gaza Baptist Church and Bethlehem Bible College. "The current conflict in Lebanon has caused almost a quarter of the Lebanese population to relocate, some within their own country, others to Syria and Jordan," the Barnabas Fund said. Other displaced Christians have come from Syria, Jordan, Iraq and the West Bank, numbering up to 750,000 across the region, it said. There have been about 50,000 Lebanese Christians who have fled to other parts of their own nation, 33,000 who have gone to Syria and another 30,000 who have fled to Jordan, the group said. The group also reported that large numbers of Iraqi Christians fled their country following the 1990-1991 Gulf War, and the 2003 conflict that deposed Saddam Hussein led to another surge of departures. "The increasingly ferocious anti-Christian rhetoric and violence since then have ensured that the flow of Christians out of Iraq continues," the group's report said. Iraq basically has a de facto civil war among the Shiite, Sunni and Kurd populations, and the Christians are faced with the stark choice, Moeller said.
Iran Hints at Aug. 22 Doomsday for Israel
Aug. 9….(Newsmax) Noted Middle Eastern scholar Bernard Lewis warns that Iran is preparing for an apocalyptic "end of time" – and that it could come as soon as August 22. The July 28 edition of NewsMax's Insider Report pointed to the connection between that date, when Iran leader Mahmoud Ahmadinejad said his country would respond to Western demands regarding Iran's nuclear program, and a possible attack on Israel. Now Lewis, professor emeritus of Near Eastern Studies at Princeton, writes about that scenario. He notes in the Wall Street Journal that this year, August 22 corresponds, in the Islamic calendar, to the night when Muhammad flew first to "the farthest mosque," usually identified with Jerusalem, and then to heaven and back. "This might well be deemed an appropriate date for the apocalyptic ending of Israel and if necessary the world," writes Lewis, whose most recent book is "From Babel to Dragomans: Interpreting the Middle East." He also points to an intriguing reason why the Iranians might not fret at all about an Israeli counterstrike, even with nuclear weapons. What deterred both sides from using nuclear weapons during the Cold War was the concept of MAD, mutual assured destruction. But the "apocalyptic worldview" of Iran's current leaders works against that concept, according to Lewis. Ahmadinejad is a strong believer in the Shiite tradition of a 12th imam, the so-called "hidden" Imam Mahdi who Allah has miraculously kept alive since his disappearance in 874 AD Shiites believe Imam Mahdi will return at a time of great global chaos, and the Web site Zionist.com states: "Ahmadinejad sees himself as Allah's instrument to pave the way for Imam Mahdi." According to Lewis, Ahmadinejad and his followers "clearly believe that this time is now." He cites the phrase "Allah will know his own" to explain why Iran might be willing to usher in the apocalypse even if it means the death of many Muslims. "It means that while infidel, i.e., non-Muslim, victims will go to a well-deserved punishment in hell, Muslims will be sent straight to heaven," enjoying "the rewards without the struggles of martyrdom." For people with this mindset, Lewis writes, "MAD is not a constraint; it is an inducement." He adds: "It is far from certain that Mr. Ahmadinejad plans any such cataclysmic events precisely for Aug. 22, but it would be wise to bear the possibility in mind." And in the long term, Lewis feels, the best hope of staving off an Iranian-spurred conflagration "is to appeal to those Muslims, Iranians, Arabs and others who do not share these apocalyptic perceptions and aspirations, and feel as much threatened, indeed even more threatened, than we are."
Massive Western Aliyah This Week, Despite Month of War
Aug. 9….(Arutz) Despite the two-front war, the thousands of missiles, and the evacuation of northern communities, more than 800 North American and British Jews are moving to Israel this week. After a month of war, and even though they have had plenty of time to postpone or reschedule their Aliyah (immigration to Israel), four planeloads of Jews are scheduled to arrive in Ben Gurion airport in the coming week, the first on Thursday. On Wednesday, August 16th, the one year anniversary of the forced eviction of the Jews of Gaza, three simultaneous flights will arrive. Embodying the Jewish prayer that the nation be gathered "from the four corners of the Earth," the planes will depart from Canada, America and England, all arriving simultaneously in the Holy Land. The August 16, 2006 influx will constitute the largest number of Jews in history making Aliyah to Israel from Western countries in a single day. Overall this summer, 3,000 North American and British Jews are moving to Israel on specially chartered flights organized by the Nefesh b'Nefesh Aliyah assistance organization, in close cooperation with the Jewish Agency.
97% of Palestinian Arabs Support Hizbullah
| | |
| --- | --- |
| | A young Palestinian boy holds a poster of Hizbollah leader Sayyed Hassan Nasrallah during a demonstration in the West Bank town of Dura near Hebron. Nasrallah and his Hezbollah terror group have become icons of adoration in the West Bank. |
Aug. 9….(Arutz) A poll taken early this month by Near East Consulting, a Ramallah-based data analysis firm, shows that virtually the entire Palestinian Authority, 97% of those polled support Hizbullah. Arab-affairs correspondent Dalit HaLevy reports that the poll's results are a sign of the radicalization of PA society.Among Christian Arabs in the PA, 95% said they support Hizbullah. Over 90% said the kidnapped Israeli soldiers should not be freed unconditionally, while 6% said they should never be returned. 55% of those polled said they identify with Hizbullah's goal of destroying Israel, 11% more than in a previous poll a month earlier. Only 51% said they support a diplomatic agreement with Israel, a drop of 25%, although 78% support a ceasefire.
| | |
| --- | --- |
| | Syrians walk under photos of Syrian President Bashar Assad and Hezbollah leader Sheik Hassan Nasrallah in old Damascus, Wednesday, Aug. 9, 2006. Since the eruption of the conflict in Lebanon last month, popular support for the Lebanese Hezbollah party has remarkably increased and even the souvenir industry have flourished. Souvenir vendors said that their sales have tripled thanks to the photos of Nasrallah that could be seen on t-shirts and key rings. |
| Hassan Nasrallah, head of the Lebanese Shiite militant group Hezbollah, is shown recently delivering one of his fire-brand anti –Israel sermons during an anti-Israel rally known as "Jerusalem Day" in a southern Shiite suburbs of Beirut. Death to Israel is his theme in every sermon. | |
Israeli Envoy Cites Tyre-Jerusalem Biblical Ties
| | |
| --- | --- |
| | Israeli Ambassador to the UN Dan Gillerman (top R) speaks as Tareq Mitri (bottom), Cultural Minister and Acting Foreign Minister of Lebanon, listens during a meeting of the Security Council at the United Nations in New York August 8, 2006. |
Aug. 9….(Ha ARETZ) As the ancient Lebanese port city of Tyre faced another barrage of Israeli bombs, Israel's UN ambassador reminded Lebanon's top UN envoy that Jerusalem and Tyre have a biblical connection. The Bible says King Hiram of Tyre sent cedar trees and expert craftsmen to help build the temple in Jerusalem that is sacred to Jews.
"Our people have a long and glorious history of building together," Israeli Ambassador Dan Gillerman told the UN Security Council on Tuesday, looking at his Lebanese counterpart at the opposite end of the council's horseshoe-shaped table. "Let us find the courage to rise from the ashes of war and the ruins of conflict to build together once again." For Tarek Mitri, the idea of building anew with Israel was too much. "King Hiram of Tyre sent cedar trees to build, and Israelis are destroying Tyre today. And it pains me to see the reference to Tyre at this point in time," Mitri said. Gillerman and Mitri spoke at a meeting where an Arab delegation pressed Lebanon's demand for a new UN resolution calling for an immediate cease-fire and withdrawal of all Israeli troops from southern Lebanon. The US-French draft resolution, introduced Saturday, calls for a cessation of hostilities by Hezbollah and all offensive military action by Israel. But in a concession to Israel, it allows Israeli forces to perform defensive operations and makes no mention of an Israeli pullout from southern Lebanon, where thousands of its troops have deployed to try to rout Hezbollah fighters. In his speech, Gillerman accused Hezbollah "terrorists" of killing men, women, children, Jews, Muslims and Christians by firing rockets into Israel. But turning to Mitri and addressing the Lebanese people, he said: "There is no dispute between us." "The flags of our two states, which show the cedars of Lebanon and the star of David, remind us that the common history of our people is one of building together," Gillerman said. "The biblical book of Kings recounts that King Hiram of Tyre in Lebanon sent cedar trees and expert craftsmen to King Solomon, son of (King) David, to join him in building the holy temple in the city of peace, in Jerusalem." But Mitri focused on the destruction that Israel has wrought, saying its so-called campaign against terror has been an "all-out war against Lebanon" that has been "nothing but horror" for the Lebanese people. "By wanting to destroy the infrastructure of terrorism, it is the infrastructure of Lebanon that is destroyed," he said. Mitri said the goal of Tuesday's council meeting was "to find a way out," and he urged members to consider Lebanon's plan to deploy 15,000 soldiers to southern Lebanon once Israeli troops withdraw as a way to achieve a "true, effective cessation of hostilities." Gillerman asked to speak again, saying he wanted to reply to Mitri's "genuinely expressed pain about Tyre." "We share that pain very much. We grieve for the destruction of Tyre. But there is one word ... which was curiously missing from (Mitri's) statement. That word is Hezbollah," he said. "I think that there should be at least some mention of the true root cause for this horrible conflict — which is the fact that Hezbollah has taken Lebanon, including Tyre hostage," he said.
Iran's Supreme Leader Urges Muslims to 'Defend' Hezbollah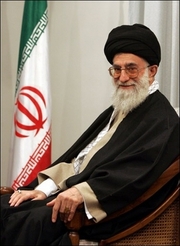 Aug. 9….(YNET) Iran's supreme leader Ayatollah Ali Khamenei has renewed calls on Muslims to rally to the defence of the Lebanese Shiite militia Hezbollah in its war against Israel, state television reported. "Today it is the entire Muslim community's duty to defend Hezbollah," Khamenei told a meeting Tuesday to mark the anniversary of the birth of the Shiites' first Imam, Ali. Iran helped to create and arm Hezbollah in 1982 in response to Israel's invasion of Lebanon, and Tehran stands accused by the United States and Israel of fomenting chaos in the region by channelling weapons to the guerrillas. Iran denies the allegation, saying it provides only moral support to the movement. Khamenei's comments came as Arab ministers were due to plead Lebanon's case in New York before the UN Security Council, which is debating a draft French-US resolution calling on Israel and Hezbollah to stop the fighting which has raged for the past month. The all-powerful Iranian leader lashed out at the United Nations for what he called its "incompetence", and also attacked some Arab countries for "looking on in silence". "Some Arabic states that have kept quiet should know that the United States will never consider their interests," Khamenei said. Khamenei also accused the US and Britain on Tuesday of encouraging the "Zionists' crimes" and "seeking to eradicate Islam in this region".
Israel: Siniora Needs to Wipe His Tears, Start Leading
Aug. 8….(YNET) Israel is paying a heavy price because of the weakness and ineptitude of Lebanese the government. Lebanese Prime Minister Fouad Siniora broke into tears twice Monday afternoon during his address to Arab foreign ministers in Beirut. Siniora started crying when he spoke about the killed in Lebanon: "We know that we are not the only ones facing this catastrophe, as our brothers in Palestine and Iraq are also suffering under the occupation." Sinora's charade of tears underscores the fact he does not have the toughness to stand up to a terrorist organization like Hezbollah, and because of his wimpishness, Israel is paying.
| | |
| --- | --- |
| | The Lebanese prime minister rejected a UN cease-fire plan backed by President George W. Bush, demanding that Israel immediately pull out from southern Lebanon even before a peacekeeping force arrives to act as a buffer between Hezbollah and the Jewish state. US President George W. Bush said any Mideast cease-fire must prevent Hezbollah from strengthening its grip in southern Lebanon, asserting "it's time to address root causes of the problems." |
Israeli Foreign Minister Tzipi Livni, in her Knesset speech to the Prime Minister of Lebanon Fouad Siniora said, "its time for you to wipe away the tears and to start acting in order to create a better future for the citizens for whom you are crying." In a special discussion in which the families of the kidnapped soldiers participated, Livni related to Siniora's crying in front of the foreign ministers of the Arab world in Beirut Monday. According to Livni, Israel is paying the price for the weakness of the Lebanese government, the same price the Lebanese people are paying. "Siniora is using his weakness to call the international community to strengthen him. We say to the international community not to leave its decisions as mere decisions on paper, which are essential to the security of Israeli and Lebanese lives to a man unable to stand up to the real enemies of Lebanon. (Syria assassinated the only man deemed powerful enough to meet Hezbollah head on….Rafik Harriri) Livni stated, "We must not give veto power to Hizbullah, by empowering Siniora's weakness as it simply gives more power to Hizbullah." Foreign Minister Tzipi Livni met with Jewish leader from all over the world and said that "Hizbullah doesn't represent Lebanese issues but Iranian interests." About the link between Hizbullah and the Palestinian problem she said: "Hizbullah wants to dictate the agenda with the Palestinians and by doing so to prevent any chances for a peace deal."
Iran Looking to use Lebanon War to Take Over Iraq
Aug. 8….(FOJ) The US ambassador to Iraq accused Iran on Tuesday of having forces in Iraq and said Tehran is strategically using the war between Hizbollah militants and Israel in Lebanon to try and further destabilize Iraq, and transform it into a nother Shiite Republic. "The entire region is very much interconnected. What happened in Lebanon affects things here," Zalmay Khalilzad told reporters. "Iran has forces here in Iraq just like it has Hezbollah in Lebanon. There is the possibility that they might encourage those forces to create increased instability here." Khalilzad was speaking at a ceremony marking the US military handover of security responsibilities to Iraqi forces in the northern town of Tikrit, ousted president Saddam Hussein's hometown. The United States has repeatedly accused non-Arab, Shi'ite Iran of fomenting violence and instability by sending weapons and fighters into Iraq, a charge Tehran denies. It also accuses Iran, as well as Syria, of backing Shi'ite Hizbollah in its fight against Israel. The Islamic Republic, which has dramatically improved ties with its fellow Shi'ites leading the Baghdad government, says it wants a stable Iraq. Iran and Iraq fought a devastating war in the 1980s which saw the United States back Saddam against Iran. After toppling him in 2003, the United States is now faced with the prospect of backing a Shi'ite-led government that is moving closer and closer to Tehran. So much for the expectation of democracy being the placebo of terrorism in the Middle East! Iraq and Lebanon would both elect terrorist groups for leadership in their elections, just as the Palestinians did with Hamas. Tens of thousands of followers of radical Shi'ite cleric Moqtada al-Sadr took to the streets of Baghdad last Friday in support of Hizbollah. Iran's Mullah's in Iraq are already spouting the Iranian Mullahcracy theme that the US is illegally occupying Iraq and backing Israeli attacks against Palestinians so Israel can occupy Palestine. The US strategy in entering Iraq obviously was to drive a wedge between Iran and Syria, but Iran is using its terrorist networks in Lebanon, Syria, and Iraq to drive a wedge between the US and the democratically elected terror entities in states near Israel.
The Daily David Dolan War News Report
Aug. 8….(David Dolan)The daily Hizbullah rocket barrage upon communities all across northern Israel continued unabated today, with over 120 rockets being fired across the Lebanese border by 6:00 PM. Several more buildings in the hard hit town of Kiryat Shmona were set on fire. Reports from the town today say the center has been virtually destroyed in the past week of heavy rocket assaults. This came as the government announced it would bus hundreds of local residents who lack the finances to evacuate the besieged town to safer locations further south. Many said they could not face a fifth week of constantly living in underground shelters. The army confirmed that three reserve soldiers were killed overnight as intense fighting raged near the town of Bint Jabail. One soldier from a Jerusalem suburb died after his armored vehicle was hit by a Hizbullah anti-tank rocket. This brings the number of confirmed IDF deaths to 65. With the Israeli Air Force carrying out over 80 sorties in Lebanon overnight and today, Prime Minister Ehud Olmert indicated today that the inner Security Cabinet may be asked to significantly expand the ground operation in southern Lebanon when it meets in special session tomorrow morning. This comes amid mounting criticism of the campaign, which has just led to the replacement of the senior northern army commander, with many military analysts and right-wing politicians charging that massive force should have been deployed in the early days of the conflict. They say the government coalition, made up primarily of former Likud party members and Labor politicians, failed to take the bull by the horns due to their dovish views. The use of overwhelming force was the exact strategy adopted in the 1982 "Peace for Galilee" operation, in which vastly outnumbered and outgunned PLO fighters were driven from the entire border region in just a couple hours. Critics, who are still speaking fairly softly due to the ongoing conflict, say the failure to deploy any ground forces inside south Lebanon at the start of the conflict, and the over-reliance on Air Force bombings, has resulted in far more rocket assaults upon northern Israel than should have occurred. They add that the initial light ground assault only emboldened Hizbullah, which can now claim a moral and political victory, and possibly even increase its ultimate influence over the weak Lebanese government.
12th Imam,' Key Facet of Islamic Prophecy, Fuels Islamic Hatred of Israel
Aug. 8….(Baptist Press) Among the nearly 68 million people in Iran, the vast majority are Muslim who place their hope not in modern-day politics or rulers but in a person who walked the earth centuries ago and is promised to return. "Both Islam and Christianity have a very well-defined eschatology, or period of the last days; both of them cannot be correct," said William Wagner, senior professor at Golden Gate Baptist Theological Seminary and author of the book, "How Islam Plans to Change the World." A majority of Shiite Muslims traditionally believe that the "12th Imam" (Islamic religious leader), born in 868AD, was placed by God into hiding (known as occultation) until the day of judgment. Southern Baptist author and evangelist Anis Shorrosh explained that many Shiites also refer to the 12th Imam as the Mahdi, an Arabic word that generally references a messiah, or a guide. "This man will come to show them the way, because the prayer of every Muslim five times a day, ends with 'Show us the right path, not the path of those who have incurred your anger or those who are lost, but those upon whom grace has come,'" Shorrosh said. Though most strains of Islam have a belief in the Mahdi, Shiites traditionally believe he is Mohammed ibn Hasan, the 12th in the line of imams who were descendents of the prophet Mohammed. Though they do not know when the Mahdi will return, they believe he will come to end the misery of his people. Some strains of Islam even hold a belief that Jesus will be the Mahdi who will return and proclaim Islam as the true religion. "Satan always tries to duplicate everything that God does," Wagner said, "and I believe he has created his own eschatology that is somewhat similar to that of Christianity, but false enough to where it is apparent that it is not the truth." Ray Tallman, director of the school of intercultural studies at Golden Gate Seminary, noted that the major eschatological question for Shiite Muslims is when the Mahdi's return will take place, and many hold the belief that the time is near. The increasing clash with Israel and that with Christianity are two indications to Shiites that the Mahdi's return could be near, said Tallman, who spent seven years as the international director for Arab World Ministries. "All of that is sort of a sign of the times that now it has come to this, and that what is actually being done now out of hate has an eschatological sign of promise to it," Tallman said of the Shiite view. Iranian president Mahmoud Ahmadinejad has been cited by various news sources as not only believing in the eventual return of the Mahdi, but that the return is near and that it is the responsibility of the Iranian government to prepare the country for his return. "Belief in a savior is universal," BBC News quoted Ahmadinejad as saying in January. "It is the pivot of our beliefs as Muslims and Iranians. We believe that an offspring of the prophet, may peace be upon him, will be the ultimate savior. His name and attributes are clear. He will come and will administer ultimate justice." The belief that the Mahdi's return is near is not a new claim among Shiites but one that has been held almost since the 12th Imam was historically placed into hiding. "Almost every generation has some figures in Islam that either claim to be the 12th Imam or claim that the 12th Imam will come to himself," Wagner said. Although Shiites and Sunnis often battle against each other, as is currently the case in Iraq, Wagner noted common efforts among both groups of Muslims to destroy Israel, which is a critical tenet of Islam taking control in the world and thus ushering in the Mahdi. "They feel like the major blocking point is Israel, and that is one reason why they feel like they must destroy Israel," Wagner said. Wagner further noted that Islam is "on the march" with the intention of the entire world becoming Muslim. "The problem is that in many parts of the world today, Christianity has become very weak," Wagner said. "It is extremely necessary for all Christians to reevaluate their faith and to become stronger in their faith in Jesus Christ. This is the one thing that Islam fears the most because, down deep; they know that they cannot compete with the truth of the Gospel of Jesus Christ." Wagner also noted that Islam is a religion of fear, with many Muslims fearing their own faith. "It is the task of Christians to proclaim the Good News of Jesus Christ to Muslims everywhere so that they can be released from this fear and find the assurance of eternal salvation through Jesus Christ," Wagner said.
Analysis: Assad is Crazy Like a Fox
Aug. 8….(Jerusalem Post) Is Syrian President Bashar Assad a fool or a genius? That cannot be determined directly. What can be said is that his policy is simultaneously brilliant and disastrous for Syria. To understand Syria, which is in many ways typical of Middle East politics, two basic principles must be taken into consideration. First, the worse Syria behaves, the better its regime does. Syrian leaders do not accept the Western view that pragmatism, moderation, compromise, an open economy, and peace are always better. When Syria acts radical, up to a point of course, it maximizes its main asset, causing trouble, rather than its weakness in terms of its bargaining position. As a dictatorship, tight control and popularity achieved through demagoguery work better. Secondly, success for the regime and state means disaster for the people, society, and economy. The Assad regime prospers by keeping Syrians believing that the battle against America and Israel, not freedom and prosperity, should be their top priority. The state's control over the economy means lower living standards for the average person, while the elite live a life of luxury. This brings us to Bashar Assad. Since the 1980s, Syria has faced big problems. Its Soviet ally (and arms supplier) collapsed; thus the Syrian economy has not done well, domestic unrest has increased, Israel has widened the military gap, and Saddam Hussein was overthrown by the Americans. Bashar's father and predecessor, Hafez, maneuvered very well. He participated in the battle against Iraq's invasion of Kuwait just enough to win economic help from the rich Gulf Arabs and the United States. His participation in negotiations with Israel also helped, though he refused to make an agreement in the end. Then, Hafez died and passed on the presidency to his inexperienced son. Clearly, Bashar is no Hafez. His father was a far better strategist. In contrast to Bashar, he probably would never have withdrawn from Lebanon and would have been more careful to avoid friction with the Gulf Arabs and America. Hafez Assad would never have let Iran turn Syria into something like a client state or treat the Hizbullah leader on an equal basis. Bashar Assad withdrew from Lebanon, but kept his security and economic assets in place. Almost 20 major bombings and assassinations have shown Lebanese that Syrian interests better be honored. By killing Rafik Hariri, the former Lebanese Prime Minister, Bashar got into some diplomatic trouble but eliminated the only man who could unite the country and stand up to Hizbullah. Today, Bashar's risk-taking seems to be paying off. On the Iraqi front, he is waging war against America at almost no cost to himself. Syria is equipping, training, and sending into battle terrorists who are killing hundreds of Iraqis and Americans without any threat of international action or even condemnation. On the Lebanese-Israeli front, he has cooperating with Iran's war against Israel, again with no cost to himself. In this case, most of the arms and money is coming from Teheran, with Syria getting a free ride, and staying out of harms way. Today in Damascus, Bashar is a hero for confronting Israel at Lebanese expense. He has also piled up considerable credit with Islamic terrorist groups by being their friend and ally in Iraq, and by continuing to ignore US demands that he close the terrorist offices and networks headquartered in Damascus. The whole thing might blow up against Bashar some day through international pressure or a domestic Islamist upheaval based on the Sunni Arab majority who hate Bashar and his Alawite minority. For the moment, though, he is riding high, and basking in seeing Israel subjected to a terrorist war through the Iranian proxy, Hezbollah.
Captured Hezbollah Guerrilla Tells Israel He Trained in Iran
| | |
| --- | --- |
| | This image made from a video released by the Israeli Defense Forces, Monday Aug. 7, 2006, purports to show a man identified by the IDF as alleged Hezbollah militant Hussein Ali Suleiman during an interrogation at an unidentified date and location. In the video, Suleiman acknowledges his part in the raid on an Israeli army patrol July 12, the spark that ignited the current conflict with Lebanon. |
Aug. 8….(Newsmax) A Hizbollah fighter captured by Israel has told interrogators he received training in Iran and arrived there on a flight from Syria, a tape of the interrogation released by the Israeli army showed on Monday. During questioning the man also confessed to taking part in the cross-border raid on July 12 in which two Israeli soldiers were captured, the incident which sparked the whole current conflict. "We trained in Iran," the man, who gave his name as Mahmoud Ali Suleiman, told the interrogator. "We went from Beirut in civilian cars to the airport in Damascus, and from there to Iran." Suleiman, who gave his age as 22, said between 40 and 50 people went with him for the training, which involved instruction in the use of Russian-made anti-tank weapons. The man, speaking in Arabic, said he joined Hizbollah in 2000 and had carried out two operations with the Lebanese guerrilla group, the first in December 2005 when they had tried to take on an Israeli tank entering southern Lebanon. The second operation was the one in July, when the two Israeli soldiers were seized and eight were killed in subsequent mortar fire and clashes. As well as the brief stint in Iran, Suleiman said he had done extensive training at a Hizbollah camp in Baalbek, in Lebanon's eastern Bekaa valley.
FBI: Hezbollah Can Strike in US
Aug. 8….(AP) A handful of money scams uncovered across the United States in recent years bearing Hezbollah's fingerprints have some experts worried that if orders were given to launch a terror attack against the US the means are in place to do so. The FBI has made Hezbollah a central target of its counter terrorism efforts, setting up a unit dedicated to tracking the group and assigning agents to develop sources in Lebanese and other Middle Eastern communities across the country. Security officials worry that if Hezbollah does one day decide to strike, it can exploit an already-existing network in this country. "You often see in these terrorist groups that people who deal in finances also have military backgrounds," Chris Hamilton, who was the FBI's unit chief for Palestinian investigations until last year says, "the fact is, they have the ability to attack in the United States." American screw-tightening on Iran over its nuclear program, might prompt Hezbollah to issue such an order. Iran is Hezbollah's main political and financial backer. It would be enough for the Iranian leadership to say the word for Hezbollah to launch an attack," Congressman Ed Royce, a Republican from California who chairs the House subcommittee on international terrorism and non-proliferation says. Support for Hezbollah leader Hassan Nasrallah runs high in Lebanese communities across the United States, (Nasrallah has visited Hezbollah groups in the US) and it spikes when Israel's war with Hizbullah or with Palestinians in the West Bank and Gaza heats up. Arab-American leaders complain US law enforcers are too quick to equate the pride some expatriots take in Hezbollah's stand against Israel, or even just the sympathy they feel for the Lebanese people-with support for terrorism. Law enforcers say there's been no sign the fighting between Israel and Hezbollah, with all the Arab anger it stirs up against America, will goad the group into action against the US. However, many experts warn that a word from Iran can change that very quickly!
Syria Transfers Deadly Russian Weapons to Hezbollah
| | |
| --- | --- |
| | Israeli soldiers carry the bodies of their fellow soldiers at the scene of a rocket attack. |
Aug. 8….(Moscow News) The majority of the Israeli Defense Force's ground-troop casualties, both infantry and armored, were the result of Russian-made anti-tank units of Hezbollah, trained in Iran, according to intelligence sources quoted by Haaretz daily. The same sources note that these units have not retreated from southern Lebanon following the deployment of large Israeli ground forces in the area. The Hezbollah anti-tank teams use a new and particularly potent version of the Russian-made RPG, the RPG-29 that was sold by Moscow to the Syrians and then transferred to the Shi'ite organization. The RPG-29's penetrating power comes from its tandem warhead, and on a number of occasions has managed to get through the massive armor of the Merkava tanks. At first Israeli inquiries that Russia was transferring modern anti-tank weapons to Syria and on to Hezbollah were received with anger. The Russians demanded proof that this had been done. Contrary to common practice, Israel transferred to Russia the tail-end of a rocket for analysis. The Russian response was that in the absence of a serial number it was difficult to identify it as part of a load delivered to Syria. Israel believes Hezbollah also has an advanced anti-aircraft missile, the SA-18, from Iran. It is particularly lethal against helicopters, and even though none of the missiles have been fired against Israeli Air Force aircraft, the flights over Lebanon are taking the necessary precautions.
FOJ Note: The Big Russian Bear knows what it is doing! It is arming all the enemies of Israel, and the enemies of the United States all over the world.
Defiant Iran Threatens to use 'Oil Weapon' Against US
Aug. 8….(Times On Line) Iran yesterday rejected a United Nations demand that it halt uranium enrichment work, vowing instead to expand its controversial nuclear program and threatening to block oil exports to the West if sanctions are imposed. In a blunt response to international concern about Iran's nuclear ambitions, Ali Larijani, the chief negotiator on atomic issues, said that Tehran was ready for a showdown with world powers when the matter was taken up by the UN Security Council this month. "We will expand nuclear technology at whatever stage it may be necessary and all of Iran's nuclear technology including the centrifuge cascades will be expanded," he said in Tehran. The announcement was regarded not simply as another rhetorical outburst from Tehran but rather the precursor of a formal reply to the West which will be delivered in full on August 22. In June the Iranians were offered a package of incentives if they agreed to suspend uranium enrichment, the process used to make nuclear fuel for atomic power stations but which can also be diverted to produce highly enriched uranium for an atomic bomb. The package included promised to build up trade, diplomatic and other relations with Tehran, including the first formal face-to-face talks with America in nearly three decades. Iran would be allowed to build light-water reactors to produce nuclear power but the nuclear fuel would be imported, probably from Russia. In return Iran would have to cease its uranium enrichment. The Iranians failed to reply to the offer and on July 31 the UN Security Council passed a resolution demanding that Iran cease its enrichment work by the end of this month or face sanctions. Mr. Larijani said yesterday that Iran had a right under the nuclear Non-Proliferation Treaty (NPT) to build a civilian nuclear program. He said Iran was planning to expand its operations at the heavily-guarded Natanz facility in central Iran, where the authorities hope to have 3,000 centrifuges, which enrich uranium by spinning it at supersonic speeds, operating by the end of this year. "We will expand nuclear activities where required. It includes all nuclear technology including the string of centrifuges," he said. "We won't accept suspension." Mr. Larijani also served warning that Iran would retaliate if the world imposed sanctions.
"We do not want to use the oil weapon, but we will if we have to." Do not force us to do something that will make people shiver in the cold. The nuclear dispute with Iran is already responsible for pushing crude oil prices up to record levels. Iran is the fourth largest OPEC exporter, and an Iranian freeze on oil sales could push up prices even further and could trigger an energy crisis. Iran would, however, also suffer greatly. Oil accounts for 80 per cent of the country's export earnings and the local economy would collapse if crude exports were halted indefinitely. In the past Iran has cleverly managed to divide the permanent members of the UN Security Council, using China and Russia, which has large commercial interests in Iran and is building the main nuclear power station at Bushher, to avoid sanctions. The international mood has hardened, however, not least because of Iran's support for Hezbollah in its war with Israel. Concerns about Iran's nuclear ambitions have been heightened by a UN report prepared last month which alleged that an illegal shipment of uranium was intercepted in Tanzania last October en route from Congo to an Iranian port.
Israel Never Receives Humanitarian Aid
Aug. 8….(FOJ) We have all seen the nightly news reports of cargo-laden ships unloading humanitarian aid in the ports of Lebanon. The whole world seems to be complaining about the plight of the poor, outcast and battered Lebanese. While humanitarian aid is always commendable, and the allocating of assistance to the war-weary is admirable, it is hypocrisy at its worst to not extend any aid to the Israeli's that are also caught in middle of war. Thousands of Israelis continue to suffer in cramped and stuffy bomb shelters across northern Israel, their plight completely ignored by an international community seemingly obsessed with the current hardships of Lebanese civilians. Nowhere is the situation worse than in the little Jewish town of Kiryat Shmona, which has been pummeled by more than 700 Hizb'allah rockets since July 12. Most of the town's population has fled, as has the populations of most of the towns of all of Northern Israel. Daily scenes from the mainstream media depict that the world will help any terrorist group in its hour of need, but never is a hand lent to help Israeli's who are targeted for extinction by the entire Arab world. While the UN is worried to death about a humanitarian crisis for countries that start wars against Israel, the Kofi Anan and the UN terrorist-savers never miss a beat to launch an investigation against Israel. When will the UN ever investigate why Hezbollah has military designs on destroying every single Jew living on the eastern shoreline of the Mediterranean Sea. The residents of northern Israel, have received no humanitarian aid whatsoever, and that is solely because the world hates Israel, and will never agree to their existence anywhere, except in a graveyard.
Israel War News Updates from David Dolan
Aug. 7….(David Dolan) Late news reports in Israel say that an unmanned Hizbullah drone loaded with powerful explosives has been shot down by IDF forces off of the coast of Haifa, some 20 miles south of the Lebanese border. The drone was thought to be heading toward Tel Aviv. Hizbullah has sent several such drones across the international border in recent years. As northern residents grow ever more weary of the daily Hizbullah onslaught, officials in Jerusalem are warning that significantly stepped up Air Force bombings in Lebanon can be expected by the end of this week if the daily barrages do not let up by then and the anticipated cease-fire does not progress. This comes amid assessments that the Lebanese government is doing next to nothing to try to reign in the rogue militia that plunged its country into this escalating conflict. Israeli Air Force jets were once again in action today, bombing south Beirut this morning and within the last few minutes, along with other suspected Hizbullah targets near Sidon and other locations. Israeli officials remain extremely skeptical of claims on the Lebanese civilian death toll, especially after it became clear that the numbers who perished in Qana early last week was greatly exaggerated, and many of the photos were staged. Such skepticism was greatly reinforced this evening when a "correction" was issued from the Lebanese Prime Minister's office. During a teary-eyed speech this afternoon at an emergency Arab League summit meeting in Beirut, PM Fuad Seniora claimed that Israel had just "carried out a massacre of 40 people" in the border town of Hula. His office has just admitted that the numbers were slightly off the mark, only one person actually died in the southern village near Metulla. Meanwhile a series of funerals have been going on all afternoon in many localities around Isarel for the 12 reserve soldiers killed when a Hizbullah rocket landed in their midst on Kibbutz Kfar Giladi yesterday. Most of the slain Israeli men, ranging in age from mid-20s to mid-40s, had wives and young families. Funerals are also going on for the five regular army soldiers killed in clashes with Hizbullah fighters yesterday. In all, 20 Israeli soldiers and civilians were killed on Sunday, making it by far the deadliest day so far of the 27 day conflict. Nearly 50 IDF soldiers have been killed so far, along with 43 civilians. Most of the civilian deaths in recent days have actually been Israeli Arabs. With border clashes continuing, northern Israeli residents are said to be wondering if Hizbullah's fanatic Muslim guerilla fighters, who hide among civilians and often shoot their rockets from towns and villages, and are told they will go to the highest heaven if they perish since they are fighting in a jihad war against the detested Jews, will actually be pushed back from the border area before a ceasefire is enforced. Military analysts agree that the Iranian and Syrian backed highly-trained fighters are proving to be much tougher to deal with than previous conventional Arab forces and Palestinian fighters. In Beirut, PM Fuad Seniora gave his emotional speech to the visiting delegation of Arab League officials. Without ever admitting that some of his own citizens had sparked off the conflict with Israel by launching an unprovoked attack across the international border, the Sunni Muslim leader called upon "his brotherly Arabs" to unite behind Lebanon in its "struggle against the Zionist enemy." Analysts also noted that Seniora claimed that Israeli forces were now "occupying" his country, despite the fact that they are barely in control of the southern border strip right next to Israel. The increasingly bellicose Lebanese leader then claimed his country had "joined the Palestinians and Iraq" in being occupied by "foreign forces," indicating his true feelings about the US-British attempt to bring stability to Iraq, and America's aid in promoting true democracy in his own country. Apparently, Prime Minister Seniora has more in common with Hezbollah than the West realized.
Bush Presses For Comprehensive UN Action
Aug. 7….(My Way) President Bush said today that he anticipates that Hezbollah and Israel will not agree with all aspects of a Mideast cease-fire resolution but said "we all recognize that the violence must stop." The President said the United States and its allies were pressing for a comprehensive solution that would restore Lebanon's sovereignty and provide a lasting peace. President Bush and Secretary of State Condoleezza Rice spoke about the Mideast during a meeting with reporters at his Texas ranch. Rice is expected to go to the United Nations for deliberations on twin resolutions for a cease-fire and the establishment of a peacekeeping force. She called the resolutions "a reasonable basis that I think both sides can accept" once details are worked out. Bush said the goal was to find consensus quickly on a resolution calling for a cessation of violence. At the United Nations, the United States and France delayed action on the cease-fire measure to consider demands from Lebanon and Arab states over the withdrawal of Israeli troops. The proposed changes include a call for Israeli forces to pull out of Lebanon once the fighting stops and hand over their positions to UN peacekeepers. A draft resolution by the United States and France would allow Israel to strike back if Hezbollah were to break a cease-fire. The draft made no mention of an Israeli withdrawal. "I don't believe anybody anticipates that there should be foreign forces on Lebanese soil as a result of what has happened here," Rice said. Bush emphasized that the UN resolution must deal with Hezbollah, which he said was the root cause of the violence. "Whatever happens in the United Nations, we must not create a vacuum in which Hezbollah and its sponsors can move more weapons," he said. "Sometimes the world likes to take the easy route in order to solve a problem," Bush said. "Our view is it's time to address root causes of problems. "The idea is to have the Lebanese government move into the south so that the government of Lebanon can protect its own territory and that there be an international force to provide the help necessary for the Lebanese government to secure its country." Rice said there was wide agreement on that point. "I think there is room on this issue to work on this issue because everybody has the same vision," the secretary said. "That its the Lebanese army with support from an international force that can actually prevent that vacuum from appearing again in the south, so that we're not right back here three or four or five months from now in the same situation." President Bush again blamed Syria and Iran for fomenting trouble by supporting Hezbollah. "Syria and Iran sponsor and promote Hezbollah activities all aimed at creating chaos, all aimed at using terror to stop the advance of democracies," the president said.
Syria Ready for Possible Regional War'
Aug. 7….(Jerusalem Post) Syrian Foreign Minister Walid Moallem crossed into Lebanon Sunday for the first visit by a top Syrian official in more than a year, Lebanon's state news agency said. Speaking to reporters after the meeting with his Lebanese counterpart, Fawzi Salloukh, Moallem said "Syria is ready for the possibility of a regional war if the Israeli aggression continues." He added that a US-French draft resolution to end the war "adopted Israel's point of view only." Underlining his support for Hizbullah, Moallem said, "as Syria's foreign minister I hope to be a soldier in the resistance." Salloukh said that "Israel cannot take in peace what it had failed to take in war." "If Israel attacks Syria by any mean, on the ground, by air, our leadership ordered the armed forces to reply immediately," he said after emerging from a meeting with Lebanese President Emil Lahoud. Israel has issued several pledges not to attack Syria. According to Moallem, the US-French cease-fire plan was "a recipe for the continuation of the war." Moallem's visit comes amid strained relations between Lebanon and Syria as a result of the Feb. 14, 2005 assassination of former Lebanese Prime Minister Rafik Hariri. A UN investigation has implicated several Syrian officials in the murder. Syria denied any involvement in the Hariri assassination that led to an international isolation of Damascus. Prompted by the crisis that followed Hariri's assassination, Syria withdrew its troops from Lebanon in April 2005, ending a 29-year military presence.
'No Cease-Fire' Until Hezbollah Disarmed
Aug. 7….(Arutz) Israeli officials say they will not agree to a cease-fire in Lebanon until Hezbollah is completely disarmed and no longer can operate as a militia force, top Israeli officials said today. Their statements upped the ante in the diplomatic game now being played out in Arab capitals and at the United Nations headquarters in New York over the terms of a US-brokered settlement to the ongoing fighting in northern Israel and Lebanon. "If Lebanon does not agree to disarm Hezbollah, there is not going to be a cease-fire," said Brig. Gen. Yossi Kupperwasser, a deputy director of Israeli military intelligence whose term ended last month. He was briefing reporters today on behalf of the Israeli military general staff along with Gideon Meir, director general of the Israeli foreign ministry. Israel intends to continue military operations in Lebanon "until Hezbollah understands that it must give up its weapons," Kupperwasser said. "I don't see the Lebanese government taking up arms against them." Nevetheless, Israel is still hoping for a diplomatic solution, "because a military solution is too costly," he added. For Israel to completely vanquish Hezbollah on the ground would require a massive ground invasion of the country and air strikes that would inevitably kill large numbers of civilians, he said. That is not the goal of this operation," said Meir. Kupperwasser said that Israel has attacked 5,000 targets in Lebanon over the past month, and for each one extraordinary efforts were taken to verify that Israeli bombs would not hit civilians. "In 4,990 cases, we did the job right. In the other cases, such as Qana, we investigate what went wrong." Israel has been able to positively identify 200 Hezbollah members it has killed in the fighting, but believes another 200 or more have been killed. Before the war started, Hezbollah had 10,000 fighters throughout Lebanon, Kupperwasser said, including "a division" of around 3,000 fighters and support personnel along the border with Israel. He estimated that Hezbollah still has "several hundred" long-range rockets and "many thousands of short-range rockets" remaining in its stockpiles.
Hezbollah Uses Syrian Command Center
(Hizballah's rocket offensive against Israel is orchestrated from a rear command located in the Syrian town of Anjar)
Aug. 7….(DEBKA) While Israeli officials keep on insisting that Syria must be kept out of the conflict, the fact is that the Assad regime is already in it up to their ears, with a leading role in the Hizballah rocket attacks on northern Israel. The command which coordinates the pace of those attacks is located at the Anjar base of the Syrian Army's 10th Division opposite the Lebanese town of Az Zabdani. It is manned by Iranian and Hizballah officers, who take their orders from a Syrian military intelligence center in Damascus to which Iranian Revolutionary Guards intelligence officers are attached. It is headed by a general from one of Syria's surface missile brigades. This joint command is provided with the most up-to-date intelligence and electronic data available to Syria on targets in Israel and IDF movements. The timing and tempo of Hizballah rocket strikes are set according to that information. To keep the rockets coming without interruption, the joint Hizballah-Syrian-Iranian command is also responsible with keeping Hizballah supplied with an inflow of rockets and launchers. They use smuggling rings to slip the supplies into Lebanon by mule and donkey which ply the 5,000-7,000 feet mountain paths that straddle the Syrian-Lebanese frontier. A senior Israeli officer told DEBKAfile: We can go on bombing Lebanon for many weeks, but that will not stop the rockets.
WEEK OF JULY 31 THROUGH AUGUST 6
Hezbollah Rockets Rain Down On Haifa, Kill 3, Hundreds Injured
| | |
| --- | --- |
| | Hezbollah rockets are launched from the Lebanese port city of Tyre. |
Aug. 6….(Fox News) Israel and guerrilla fighters on the 26th day of fighting along the southern Lebanese border. Israeli officials confirmed the rockets killed three people and injured at least 30. Earlier, Hezbollah rockets hit and killed 12 soldiers, while Israeli bombardment killed a dozen people in Lebanon as fighting intensified despite a draft UN cease-fire resolution. Israeli jets fired six missiles into Beirut's southern suburbs Sunday afternoon, Lebanese security officials said. Loud explosions shook the capital, and a column of white smoke rose over the horizon. Hezbollah and its allies rejected the US-French text of the UN resolution, saying its terms for a halt in fighting did not address Lebanon's demands, in a signal that the nearly 4-week-old battle would burn on. The US-French agreement Saturday on a UN, resolution calling for "a full cessation of hostilities" marked a significant advance after weeks of stalled diplomacy aimed at ending the conflict. But getting the two sides, particularly Hezbollah, to sign on will likely require a greater push. Israel has said it won't halt its offensive until Hezbollah rockets are silenced. The plan envisions a second resolution in a week or two that would authorize an international military force for the Israel-Lebanon frontier and the creation of a large buffer zone in southern Lebanon, monitored by the Lebanese army and foreign peacekeepers. The deployment of the international force is a cornerstone of the US-led Western effort to bring a long-term peace. US Secretary of State Condoleeza Rice stressed the resolution was aimed at stopping the large-scale violence to allow a focus on the underlying problems in the conflict. "It's the first step, not the only step," she said at a news conference in Washington. "We're trying to deal with a problem that has been festering and brewing in Lebanon now for years and years and years," Rice said. Lebanon's parliament speaker, Nabhi Berri, who represents the Shiite Islamic militant group in negotiations, said the draft was unacceptable because it would leave Israeli troops in Lebanon and did not deal with Beirut's key demands, a release of prisoners held by Israel and moves to resolve a dispute over a piece of border territory. "If Israel has not won the war but still gets all this, what would have happened had they won?" Berri said. "Lebanon, all of Lebanon, rejects any talks and any draft resolution" that do not address the Lebanese demands, he said. The Lebanese government said Saturday that it objected to portions of the draft resolution and demanded some amendments, but an aide to Prime Minister Fuad Saniora said that did not mean a flat rejection. Hezbollah's two key allies, Iran and Syria, also rejected the resolution, suggesting they backed a continued fight by the guerrillas. "The United States, which has been supporting the Zionist regime until today, has no right to enter the crisis as a mediator," Iranian President Mahmoud Ahmadinejad said in a phone conversation with Syrian President Bashar Assad. Assad said the presence of international troops with extensive power in Lebanon would cause anarchy in the country, according to a report on Ahmadinejad's official Web site. Syrian Foreign Minister Walid Moallem, on his first visit to Lebanon since Damascus ended a 29-year military presence in its smaller neighbor last year, declared that the US-French cease-fire plan was "a recipe for the continuation of the war" unless Israeli troops withdrew.
Tehran Sends Arch-Terrorist Mughniyeh to Rescue Hizballah
Aug. 6….(DEBKA) In the middle of the fourth week of the Lebanon War, the tide began to turn in Israel's favor. DEBKAfile's military sources report the battlefield finally responded to the effect of Israel's air might, its tank columns, the pounding by mobile artillery and naval craft and its repeated armored infantry assaults. After losing 44 fighting men, more than 30 civilians, many thousands of wounded and billions of dollars of damage, finally, the Israeli military was given the chance to do what it does best: focus its firepower instead of spreading it out thin over too many targets. The setbacks of the first three weeks were partly due to tactical incompetence and laggard decision-making on the part of Prime Minister Ehud Olmert and defense minister Peretz. Israeli troops therefore spent too long in abrading combat against stubborn Hizballah resistance in such places as Maroun er Ras and Bint Jubeil. But as soon as Israeli ground forces shifted to the massive, long-distance firing mode which they know best, the impact on the warfront was immediate. The battle went their way with a minimum of casualties. In places where Israeli troops adhered to the close combat tactics practiced in the first three weeks, they continued to suffer high casualties. Hizballah soon showed signs of distress. Lacking the weapons and resources to stand up to IDF's precise-shooting juggernaut, their commanders quickly pulled their men out most combat sectors of South Lebanon and ordered them to regroup in five places:
1. The Western Sector and the center of Tyre.
2. The Wadi Hajar pocket east of Tyre.
3. The Central Sector surrounding Bint Jubeil, where the outcome is still unresolved after many days of fighting.
4. The Wadi Saluki area northwest of the northernmost Israeli town of Metullah.
5. The Eastern Sector, including al Khiam, the Shabaa Farms and Mt Dov, which has seen little fighting, although last week Israeli forces began, then stopped a major offensive before it got underway. These pockets are now the main launching-pads for rockets fired into Israel. Hizballah also has also been using the Tapuach and al-Haroub areas south and northeast of Sidon for shooting rockets. It is from this region that Hizballah fired the long-range Khaibar-1 missiles at Hadera Friday night, August 4, which came 45 km short of Tel Aviv. Saturday morning, Sidon's 200,000 inhabitants and its outlying villages up to the Zahrani River were warned to leave their homes and head north to escape the coming Israeli air offensive. Until the Khaibar attack on Hadera, the concentration of Hizballah's rocket launchers and stores in and around Sidon had been immune from Israeli attack, largely because Olmert and his senior ministers refused to increase the number of ground troops deployed in Lebanon.
Iran and Syria are constantly restocking Hizballah's diminishing supplies of rockets of all types, launchers and operating manpower by a round- the-clock airlift from Iran via Syrian military air fields. Israel intends to confine Hizballah to the five pockets and place them under blockade. Hizballah's shadowy leader, the long-wanted Imad Mughniyeh, was hurriedly appointed commander of the southern front as a last resort to save South Lebanon from falling to Israel. DEBKAfile's military and counter-terror sources maintain that this appointment raises the conflict to a new and dangerous level on several counts. Mughniyeh, wanted for a quarter of a century by the FBI for the huge bombing attacks he orchestrated on the US embassy in Beirut and American and French troops, as well as a spate of hijackings and murders, is important enough to take orders from no-one ranking lower than Iran's supreme ruler, Ayatollah Ali Khamenei. Those orders come through the Revolutionary Guards commander Gen. Rahim Safavi. Therefore, placing Mughniyeh at the head of Hizballah forces in South Lebanon confronts Prime Minister Olmert uncomfortably close to Iran's supreme leader; ranges defense minister Peretz opposite his Iranian counterpart Mustafa Najer and chief of staff Lt. Gen Dan Halutz opposite Gen. Safavi, while on the warfront, Israel's war leaders face the formidable Mughniyeh, Tehran's secret weapon for rescuing Hizballah from collapse. Informed circles in the West have a high opinion of Mughniyeh's military, intelligence and tactical skills. His hand was seen in the transformation of al Qaeda's 2001 defeat in Afghanistan into a launch pad for its anti-US campaign in Iraq and many other ventures in the terror war against America. Mughniyeh is rated the world Islamic terror movement's most outstanding field commander. Therefore, while the appointment is a measure of Israel's belated military success in the Lebanese war, it also brings the conflict ever closer to two dangerous orbits, Tehran and al Qaeda. Mughniyeh is the only undercover agent in the Middle East who enjoys the complete personal trust of Khamenei and Osama bin Laden, on both of whom he is in a position to call for aid. On the diplomatic front, even if the United States and France can get together on a unified UN Security Council ceasefire resolution, DEBKAfile's military sources report that neither Iran nor Hizballah has any intention of complying with a resolution dictated by the United States, France and Israel.
Muslims Teaming Up with Marxists for DC March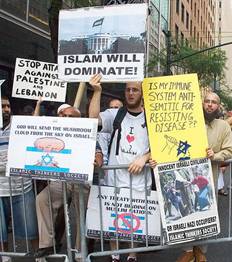 Aug. 4….(WND) A radical anti-war coalition is joining forces with a US Islamic lobby organization to stage a demonstration in front of the White House to protest "the current predicament of Muslims abroad and at home." ANSWER, a coalition led by socialist and communist activists, and Muslim American Society's Freedom Foundation are co-sponsoring the "National Emergency March" Aug. 12 at Lafayette Park. A third co-sponsor is the National Council of Arab Americans. A number of leaders for ANSWER – Act Now to Stop War and End Racism, were members of the Workers World Party and now belong to the Party for Socialism and Liberation, a Marxist-Leninist organization founded in 2004. Along with the "plight of the Palestinian people and the recent atrocities in Gaza and Lebanon," the Muslim group says it will focus on the American war in Iraq and "the continuous violation of civil rights and civil liberties within the American Muslim community."
Iraqi Shiites Chant 'Death to Israel'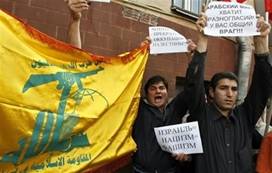 Aug. 4….(AP) Even after the US freed Iraqi Shiites from th terror-chambers of Saddam Hussein, hundreds of thousands of Iraqi Shiites chanting "Death to Israel" and "Death to America" marched through the streets of Baghdad's biggest Shiite district Friday in a massive show of support for Hezbollah in its battle against Israel. The demonstration was the biggest in the Middle East in support of Hezbollah since Israel launched its attacks against the guerrillas in Lebanon on July 12. The protest was organized by radical Shiite cleric Muqtada al-Sadr, whose political movement built around the Mahdi Army militia has been modeled after Hezbollah. Al-Sadr summoned followers from throughout the Shiite heartland of southern Iraq to converge on Baghdad for the rally but he himself did not attend. Demonstrators, wearing white shrouds symbolizing willingness to die for Hezbollah, waved the guerrillas' yellow banner and chanted slogans in support of their leader Sheik Hassan Nasrallah, which has attained a cult status in the Arab world for its defiance of Israeli military power. "Allah, Allah, give victory to Hassan Nasrallah," the crowd chanted. "Mahdi Army and Hezbollah are one, let them confront us if they dare," the predominantly male crowd shouted, waving the flags of Hezbollah, Lebanon and Iraq. Many walked with umbrellas in the searing afternoon sun. Volunteers sprayed them with water. Al-Sadr followers painted US and Israeli flags on the main road leading to the rally site, and demonstrators stepped on them, a gesture of contempt in Iraq. Alongside the painted flags was written: "These are the terrorists." Protesters set fire to American and Israeli flags, as well as effigies of President George W. Bush and Israeli Prime Minister Ehud Olmert, showing the men with Dracula teeth. Iraqi government television said the Defense Ministry had approved the demonstration, a sign of the public anger over Israel's offensive in Lebanon and of al-Sadr's stature as a major player in Iraqi politics. Although the rally was about Hezbollah, it was also a show of strength by al-Sadr, and many worried that the presence of so many Shiite demonstrators, most of them from the Mahdi Army, would add to tensions in the city that has seen almost daily clashes between Shiite and Sunni extremists. On Thursday, Gen. John Abizaid, the top US commander in the Middle East, told a Senate committee in Washington that sectarian violence in Iraq "is probably as bad as I have seen it" and that if the spiral continued the country "could move toward civil war."
FOJ Note: Iran is manipulating affairs around its Shiite client Al Sadr to establish him as the Iraqi version of Hezbollah's Hassan Naasrallah. The Bush Middle East Doctrine of planting democracies in the Middle East to win the war on terrorism is a good philosophy, except for the fact that the Muslims will always elect evil-minded volatile Islamic leaders that are hell-bent on destroying Israel and the US, as has been the case in the Palestinian Authority.
Hezbollah Threatens Tel Aviv
Aug. 4….(AP) Hizbullah's leader, for the first time since fighting began 22 days ago, offered Thursday to stop rocket attacks on northern Israel in return for an end to airstrikes throughout Lebanon. Hassan Nasrallah, however, vowed to fire rockets into Tel Aviv if Israel were to strike at Beirut proper. IAF warplanes have hit Hizbullah strongholds in southern Beirut suburbs repeatedly, and struck there hard again yesterday. "If you bomb our capital Beirut, we will bomb the capital of your usurping entity, we will bomb Tel Aviv," he said. While threatening Tel Aviv for the first time, Nasrallah also offered his first gesture toward diminishing the conflict, "Anytime you decide to stop your campaign against our cities, villages, civilians and infrastructure, we will not fire rockets on any Israeli settlement or city," he said in a taped television speech. Israel's United Nations ambassador, Dan Gillerman, said that sheik Hassan Nasrallah's offer of a truce was "a sign of weakness, and he may be looking for a way out." Gillerman warned against Hezbollah threats to launch rockets on Israel's commercial center of Tel Aviv. "We are ready for it, and I am sure that he (Nasrallah), as well as his sponsors realize the consequences of doing something as unimaginable and crazy as that."
Iran Seeks To Combine Nuclear Threat with Northern Front
Aug. 4….(YNET) Israeli Defense Minister Amir Peretz said Wednesday that Israel's military offensive against Hezbollah has "exposed what Iran has really planned."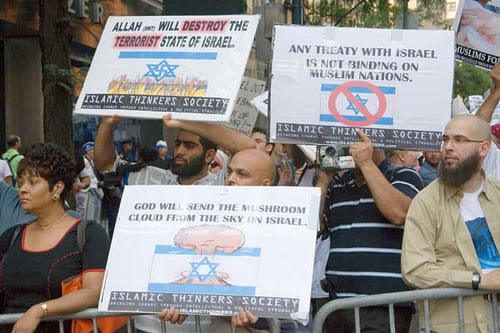 Speaking to Israel's Channel 10 TV Peretz said if the offensive were to have been launched a year from now it would have been much more complex because "they (Hizbullah) would have been combined with a nuclear threat which is being developed in Iran." He said Iran would be willing to send troops to Lebanon, which would make it more complicated for Israel to fight Hizbullah. Peretz stressed the importance of the operation. He said Hizbullah made a strategic mistake when it executed Iran's orders to attack Israeli soldiers on July 12, an attack which claimed the lives of eight soldiers and led to the capture of two others, because it didn't expect Israel to launch a large-scale operation. Asked about Hizbullah's seemingly unharmed rocket firing capability with the Shiite group managing to fire over 210 rockets into Israel on Thursday, Peretz said the intensity of the attack proves that Israel is fighting for its existence but promised that a turning point in the battle is closer than ever. Peretz said that Israel will not be pressured to end the operation despite intensifying international calls for a ceasefire, adding that the United States is fully backing Israel. Peretz said the success of Israel's military operation against Hizbullah will create the necessary conditions for the deployment of an international peacekeeping force in southern Lebanon. He said Israel's strategy of "turning a blind eye" to Hizbullah's rocket arsenal and belief that the group would not jeopardize years of economic growth and reconstruction in Lebanon by provoking Israel proved erroneous as the Shiite terrorists proved it is indifferent to the country's economic interests.
Iran/Hezbollah: No Peace As Long As Israel Exists
Aug. 3….(FOJ) Another round of indiscriminate Hezbollah rocket attacks on northern Israel killed seven innocent people today. Dozens of other people, including several children, were also injured. The deaths occurred this afternoon when a massive Hezbollah rocket barrage pounded northern Israel. The rockets of Hezbollah do not have any purpose in so far as striking IDF military positions, but each of the hundreds of rockets randomly hit in civilian areas. Hezbollah is obviously using the rockets as a tool of terrorism. Five people were killed in the northern Israeli town of Acre and two in Maalot. The seven killed marked the most fatalities in a single day since eight people were killed July 16 when another Hezbollah rocket struck a train maintenance depot in Haifa. The Acre attack also left four people critically wounded. In Acre, a rocket hit people who were standing on their balcony. Also on Thursday three Israeli soldiers were killed in fighting in Lebanon, the IDF said. The two soldiers were killed instantly when an anti-tank rocket, supplied by Russia hit their tank in during fighting. Another soldier was seriously wounded, and later died of his wounds. A total of 150 rockets were fired at northern Israel today within 90 minutes. Three weeks into the conflict, six Israeli brigades, roughly 10,000 troops have been sent into Southern Lebanon against hundreds of Hezbollah guerrillas to try to end the rocket attacks on Israeli civilians. Ironically, the international community has not raised an eyebrow about the Israeli civilian deaths, and the deviant manner in which Hezbollah launches these rockets. As more IDF troops pour into south Lebanon, the Israeli government has stated that army commanders have been instructed to establish at least a six kilometer (about three and half mile) wide enclave by this evening. The army will then use that sanitized border zone, where some 25% of the 2,000 plus Hizbullah rockets that have struck Israel have been fired from, to push forward up to the Litani River. The action will effectively recreate the buffer "security zone" that existed from June 1982 until May 2000. IDF forces will continue to clean out local pockets of Hizbullah fighters as necessary, say army commanders, until some sort of international force can take possession of the border area, finally fulfilling UN Resolution 1559 to clear the area of non-governmental militias while allowing the Lebanese army to take control of the zone. Prime Minister Ehud Olmert said today that an international force of at least 15,000 soldiers will be needed to control the zone. Efforts to create such a force are beginning at the United Nations in New York. At the United Nations, France, the former Mandate power over Lebanon and Syria circulated a revised resolution calling for an immediate cessation of Israeli-Hezbollah hostilities. Apparently, France, which called Iran and Hezbollah a positive influence in the region, wants to help Iran save the terrorist entity from destruction. So far, Washington has resisted calls for a cease-fire without simultaneous steps to deploy peacekeepers and tackle Hezbollah's disarmament. France insists the fighting be halted first. Meanwhile, Iran has used the stage of the Islamic world's biggest bloc to demand that the United Nations implement an immediate cease. Iran's hardline president said "the total obliteration of Israel would cure the Middle East's woes." Just imagine the outcry that would result if someone in the West said the same thing about Iran or Hezbollah!
| | |
| --- | --- |
| | Israeli soldiers grieve during the funeral for their comrade Staff Sergeant Michael Levin, a 21-year-old Philadelphia native, at Mount Hertzl military cemetery in Jerusalem today. Hizbollah guerrillas killed Levin and two more Israeli soldiers in battles in a Lebanese border village. |
In another war-front, this one being waged through the media, an army investigation into the Qana incident released today said that some 150 Hizbullah Katyusha rockets had been launched from inside and right around the town in the days before the IAFr bombing took place. The army report insisted that IDF commanders had hard intelligence that Hizbullah had fired and hidden rockets inside the four story civilian building that was struck, declaring again that it was not known in advance that civilian non residents of the building had taken shelter in its basement. While various international human rights and aid organizations continued to loudly condemn Israel over the inevitable deaths of hundreds of Lebanese civilians in a war started by Hezbollah, and outside the parameters of Lebanese governmental policy, as yet no international agency has condemned Hezbollah or Iran for instigating the war in the first place. Ahmadinejad's call today to wipe out Israel reveals the real intent of the Muslim world. Ahmadinejad's pledge also included indirect, but clear threats to overthrow pro-west governments ruling in Jordan and Egypt. In Malaysia, the Iranian leader condemned "regional Muslim powers" that had supposedly betrayed the Islamic cause by "doing deals under the table with the Zionist enemy," an apparent reference to existing peace treaties in force between Israel, Jordan and Egypt. Middle East writer David Dolan rightly points out that Iran and Syria crushed an American-brokered peace treaty between Israel and Lebanon in 1983 by unleashing a flood of Hizbullah terror attacks upon American and French peacekeeping forces, along with attacks upon Israeli forces who would have quickly evacuated the country if the treaty had not been wiped out before it could be implemented.
Hezbollah Terrorists in America
Aug. 3….(US News) The leader of Hezbollah has declared America the enemy. Many Arabs and Muslims in America openly support Hezbollah. Is this treason? Is this a potential threat to our safety? Several thousand people marched through the Detroit suburb of Dearborn a few weeks ago, chanting "Hezbollah" and holding up photos of Hezbollah leader Sheik Nasrallah and posters comparing President Bush to Hitler. Similar protests took place in San Francisco, New York, and other cities. The US government calls Hezbollah a terrorist organization, but don't tell that to these Americans. Osama Siblani publishes the Arab-American News, the largest Arab-American newspaper in the United States. He said, "No, They are not terrorists. Absolutely not. No. They are freedom fighters." (That's what Yasser Arafat used to say about the PLO, but these terrorist thugs have no interest in freedom) Hezbollah is an Iranian creation, and although it has a measure of independence, it's considered Iran's proxy army in southern Lebanon. As many as 15,000 of Dearborn's Arabs come from the Hezbollah stronghold of Bint Jbeil, Lebanon, the very town from which Israel has been hit with hundreds of Katushya rockets. In fact, the current mayor in Bint Jbeil, Haj Ali Bazzi, is from Dearborn. He has an American passport and a Michigan driver's license. The dominant Islamic leader in Dearborn is Mohammed Ali Elahi, an Iranian-American whose Web site displays photos of Elahi with Hezbollah spiritual leader Sheikh Fadlallah and former Iranian President Rafsanjani, who once suggested nuking Israel. Before 9-11, Hezbollah killed more Americans than any other terrorist group: 300 murdered in six separate attacks, including 243 Marines in the 1983 Beirut barracks bombing. Now, with America's building confrontation with Iran over its nuclear program, the New York Post reports that Hezbollah is prepared to activate terrorist sleeper cells in New York, Los Angeles, Boston, and Detroit. No less than nine Federal prosecutors are investigating Hezbollah ties in the Detroit area alone. And the FBI has issued a nationwide alert for local and state police to be vigilant in investigating Hezbollah sympathizers. Barbara Newman, a former investigative producer for ABC news, is co-author of the book, "L;ightning out of Lebanon: Hezbollah terrorists on American Soil. Newman said, "Hezbollah makes al-Qaeda look like Sunday-schoolers. They're the best light infantry in the world, and they're dangerous, and they're all over America." "It's an army that was started in 1982 by the Iranian Revolutionary Guards," Newman explained. "And they wanted to impose the same type of Shiite regime on Lebanon as they have in Iran. They're a mortal enemy of the West and of democracy." Hezbollah fighters have also already fought the United States in Iraq, and Newman says it is Hezbollah improvised explosive devices that kill GIs in Iraq. "The FBI just told me that Hezbollah is making the most advanced ones that are coming into play. Arab and Muslim Americans who support Hezbollah have expressed anger that their patriotism is being questioned. But critics wonder how it's possible to support both Hezbollah and the United States.
Iranian President: Israel's Destruction is Solution to Mideast Crisis
(Iranian President Mahmoud Ahmadinejad said Thursday the solution to the Middle East crisis was to destroy Israel)
| | |
| --- | --- |
| | (FOJ) Iranian President Mahmoud Ahmadinejad, left, is pictured here being greeted by Malaysia's Prime Minister Abdullah Ahmad Badawi upon arrival for the Meeting of Friends of the Chair of the 10th Islamic Summit Conference in Putrajaya, Malaysia, Thursday, Aug. 3, 2006. The Muslim world's biggest bloc held an emergency summit to muster support for a swift cease-fire, and a peacekeeping mission in the Lebanese and Palestinian territories that would include Muslim troops. |
Aug. 3…(YNET) In a speech during an emergency meeting of Muslim leaders in Malaysia, Ahmadinejad also called for an immediate ceasefire to end the fighting between Israel and the Iranian-back group Hizbullah. "Although the main solution is for the elimination of the Zionist regime, at this stage an immediate ceasefire must be implemented," Ahmadinejad said, according to state-run television in a report posted on its Web site. The UN Security Council lacks courage to condemn Israel's attacks on the Lebanese and Palestinians, the head of the world's main Islamic bloc said Thursday, adding that Muslim nations must work to prevent Israeli impunity. "The United Nations has not been able to do much except to try organizing the distribution of humanitarian aid," Malaysian Prime Minister Abdullah Ahmad Badawi said in a speech opening an emergency summit of the 56-nation Organization of the Islamic Conference. The comments by Abdullah, the current chairman of the group, reflected growing frustration among Muslim governments after the UN on Wednesday canceled, for the second time, a meeting that could possibly have committed peacekeeping forces to Lebanon. "No end seems to be in sight. The Security Council could not even muster the moral courage to condemn Israel for the attack on the Lebanese village of Qana on Sunday that killed 56 people, mostly women and children, Abdullah said. Pakistan Foreign Minister Khurshid Kasuri said Israel's three-week offensive against Hizbullah had infuriated Muslims across the world. "We do not want a clash of civilizations but all over the Muslim world a very negative feeling is arising on the street," he told reporters at the meeting. Iranian President Mahmoud Ahmadinejad said Iran extends moral support to Hizbullah and denied accusations that Tehran financed and armed its Shiite proxy in Lebanon. Lebanon's Foreign Minister Fawzi Salloukh said he wanted to see a strong condemnation of Israel's actions. "The main request, the sole request of Lebanon, is a comprehensive and immediate ceasefire, then the withdrawal of Israeli troops to the Israeli's territory," he said. Abdullah said Malaysia, which chairs the OIC, was prepared to commit troops to any UN-led peacekeeping missions in Lebanon and Palestinian territories, and urged other Muslim nations to do the same. Abdullah arranged a day-long summit of leaders and top officials from 17 Muslim-majority countries to discuss measures to end the fighting in the Middle East. "As leaders of the Islamic world, we have a moral and political obligation to do something," Abdullah said. "Israel cannot be allowed to continue with impunity its aggression" against the Lebanese and Palestinians. The leaders were likely to demand an immediate, unconditional cease-fire between Israel and the Lebanese Shiite group Hizbullah, as well as a multinational force to stabilize the Israeli-Lebanon border under the United Nations. They are also likely to push for member nations to be included among a UN peacekeeping force. "We must play a proactive role in the present conflict," Abdullah said. "Our own people are watching us, and waiting for us to make the right decisions."

Evidence Mounts that Kana "Massacre" Was Staged by Hezbollah

(The world awoke last Sunday to the news that an Israeli airstrike had killed 57 Lebanese civilians, leading Israel to stop airstrikes for 2 days - but evidence shows the "massacre" was just a fabricated fraud)

Aug. 3….(Arutz) The supposed massacre caused a major turnabout in world diplomacy. US Secretary of State Condoleezza Rice suddenly canceled her plans to fly to Beirut, saying "my work towards a ceasefire is really here in Jerusalem today." The implication was clearly that the onus was now upon Israel. French President Jacques Chirac condemned Israel's "unjustified action which demonstrates more than ever the need for an immediate ceasefire," Jordan's King Abdullah called it an "ugly crime," and other world leaders echoed these sentiments. Though Israel emphasized that Hizbullah was to blame for waging its rocket war against Israel from within a civilian population, Foreign Ministry officials repeated their "deep regret at the loss of innocent life in the campaign against Hizbullah," and were forced to promise a "thorough and comprehensive examination." Apparently, however, the incident was all one big fraud, staged by Arab elements for the world media in order to lead precisely to the situation described above. The central piece of evidence leading to this conclusion is the fact, mentioned by IDF officials from the very beginning, that the building collapsed a full seven hours after the Israel Air Force bombing. Why, then, would the residents inside not have been evacuated in the meantime? As Brig.-Gen. Amir Eshel of the Israeli Air Force told reporters Sunday night, "It is difficult for me to believe that they waited eight hours to evacuate it." Without additional evidence, Eshel merely left open the possibility that Hizbullah terrorists, or explosives they left behind, caused the explosion. "Indeed," writes Robert Spencer for Frontpage Magazine, "it strains credulity that not only did these Lebanese civilians remain in a house that had been bombed for eight hours, but peacefully went to sleep in it after the bombing, since the victims were all apparently sleeping, despite continuing Israeli air bombardment in the area, when the building collapsed." Gen. Eshel also said that the building was used by Hizbullah to store explosives. This was supported by a letter by Dr. Mounir Herzallah, a southern Lebanese Shiite, who wrote that Hizbullah terrorists came to his town, dug a munitions depot and then built a school and a residence directly over it. In addition, as Reuven Koret writes for Israel Insider, the bombing of the area occurred in three waves. The first bombs, according to CNN correspondent Brent Sadler, did not hit the building in question, but rather landed "20 or 30 meters" away. The second strike hit targets further away, and the third strike, around 7:30 in the morning, landed over 400 meters away. The first reports of a collapsed building arrived a half-hour later. Another CNN correspondent, Ben Wedeman, noted that there was a larger crater next to the building. He observed that the roof of the building was intact and that the building appeared not to have collapsed as a result of the Israeli strike. Thus, the building used to store explosives, was apparently not destroyed by the bombing, and sheltered dozens of women and children throughout a night of bombing. As an aside, the hospital in Tyre, Lebanon, and Human Rights Watch both reported today that only 28 people (not 56) were killed in the Kafr Kana bombing, and not twice that number, as originally reported. Other facts brought by Koret and Spencer:
* Sometime after dawn a call went out to journalists and rescue workers to come to the scene. Though Hizbullah claimed that civilians could not freely flee the scene due to Israeli destruction of bridges and roads, the journalists and rescue teams from nearby Tyre had no problem getting there.

*Lebanese rescue teams did not start evacuating the building until after the camera crews came. The absence of a real rescue effort was explained by saying that equipment was lacking. There were no scenes of live or injured people being extracted.

* There was little blood, CNN's Wedeman noted, concluding that the victims appeared to have died while they were sleeping, despite the thunderous Israeli air attacks. Rescue workers equipped with cameras were removing the bodies from one opening in the collapsed structure, and journalists were not allowed near it.

* Rescue workers carrying the victims on stretchers occasionally flipped up the blankets so that cameras could show the faces and bodies of the dead. But, Koret noted, the ashen-gray faces of the victims gave cause to think that the bodies looked like they had been dead for days.

* Photos of the rescue operation transmitted all over the world are "extremely suspicious," Spencer writes, citing work by EU referendum showing numerous anomalies in the photos. "Most notably," he writes, "the dating of the various photos suggests that the same bodies were paraded before reporters on different occasions, each time as if they had just been pulled from the rubble. In addition, some workers are wearing different gear in different photos, yet clearly carrying the same corpse."

* The Christian Lebanese LIBANOSCOPIE has charged that Hizbullah staged the entire incident in order to stimulate calls for a ceasefire, thereby staving off its destruction by Israel and Lebanese plans to rid themselves of this terrorist plague. Spencer concludes, "Americans and Westerners are not used to dealing with carefully orchestrated and large-scale deception of this kind. It is time that it be recognized as a weapon of warfare, and an extremely potent one at that."

FOJ Note: Iran and Hezbollah obviously want a cease-fire, since their capacity for waging war against Israel has been badly decimated. Hezbollah will never admit to its defeat, and has utilized the deception of Qama to inflame the international arena to call off Israel before Hezbollah is eliminated. The world is turning a blind eye to the Hezbollah reality, as it is in fact represents the encroachment of Iran on Israel's northern border.

The Unalienable Right to Life in Ventre sa Mere

"An infant in ventre sa mere, or in the mother's womb, is supposed in law to be born for many purposes." – Sir William Blackstone, "Commentaries on the Laws of England," Vol. I, p. 126 (1765)

Aug. 2….(Judge Roy Moore) Our nation was founded upon the "self-evident" truth that "all Men are created equal" and "endowed by their Creator with certain unalienable Rights," as our founders wrote in our nation's charter, the Declaration of Independence. "Among these" unalienable rights, the very first right the founders listed was, of course, "Life." The Declaration recognizes the self-evident truth that human beings enjoy inherent dignity and the right to life as a direct result of being created by God. "Life is the immediate gift of God," wrote Sir William Blackstone, in his "Commentaries on the Laws of England" the authoritative legal book of the American founding era, "a right inherent by nature in every individual; and it begins in contemplation of law as soon as an infant is able to stir in the mother's womb," and this "immediate donation of the great Creator, cannot legally be disposed or destroyed by any individual." (Volume I, pp. 125, 129;) Modern technology has shown unequivocally that life begins at conception. This right to life is protected by both the fifth and the 14th Amendments to the United States Constitution. The point of creation must be at the point of conception, for there is no other stage in human development that demands such a radical miracle as the fertilization of the human egg and the simultaneous formation of unique DNA material. This is the only time at which the right to life can begin. Any later point is fluid or arbitrary or both. If we are not created by God, then we have no unalienable right to life and no God-given inherent worth. Without a Creator, our worth as human beings is simply what other human beings larger or more powerful or more educated than us determine it to be. In such a society, men alone determine the worth of other men. History has taught us painfully well the terrorizing evil of such a God-less view of life. America needs to return to the principle that every life has inherent worth because God created it and endowed it with unalienable rights. Man has no right arbitrarily to take away the life that God has given.

Crisis News Update From Israel

Aug. 2….(David Dolan) Jews throughout Israel began marking the fast day of Tisha b'Av (the ninth of the Hebrew month of Av) at sundown this evening, when Jeremiah's Book of Lamentations is traditionally read. The prophets mournful words concerning the Babylonian destruction of Jerusalem will reverberate even more over the next 24 hours after northern Israeli cities and towns were struck today by the largest number of rockets since the 1967 Six Day war, and as senior officials in neighboring Syria and Iran warn that they are "prepared to defend Lebanon from Zionist aggression." A 35 year old Israeli farmer was killed this morning on Kibbutz Sar north of Nahariya. The man instantly perished when a rocket crashed down next to him as he was out riding his bicycle, pummeling his body with shrapnel and ball bearings. He leaves behind a wife and two young daughters. Israeli television tonight showed the blood-stained site of the attack, noting that his faithful dog had refused to leave the spot where he was killed throughout the day. Around 35 Israelis were injured elsewhere, one woman critically, as rockets struck in over 20 locations, including in Tiberius, Safed, Nahariya, Haifa, Afula, Kiryat Shmona, and the port of Acco near Haifa. Over 210 rockets blitzed northern Israel since yesterday. Israel's civilian death toll is up to 20, with 35 fine Israeli soldiers killed so far, but the world doesn't lament their loss, nor blame Hezbollah for their deaths. More ominously, Hizbullah fired at least one "Kybar-1" rocket today, landing over 40 miles south of the Lebanon border, the furthest penetration so far. The Syrian-made rockets have a range over four times that of most Katyushas, which explains why one landed not far from the Israeli town of Beit Shean. Another rocket actually landed in the Gilboa mountain range (where King Saul was slain over 3,000 years ago), just two miles east of the Palestinian town of Jenin in northern Samaria, demonstrating that Hizbullah's rockets can also kill the very Palestinians that the Shiite group is supposedly supporting, and grouping to help Hezbollah wage war. The IDF significantly stepped up its ground offensive throughout southern Lebanon. Over 8,000 soldiers are now operating inside the country. Heavy fighting is reported in several locations. A number of army tanks were hit by Hizbullah anti-tank rockets, but no IDF casualties were reported. The stepped up action is coming far too late according to many Israeli opposition politicians and military analysts, who particularly blame Labor party members of Prime Minister Olmert's Security Cabinet for unnecessarily putting off the inevitable. Army leaders say they need around two more weeks to completely push Hizbullah fighters and rocket launchers north of the Litani River. However it is expected that the United States and Great Britain will fully support an immediate ceasefire call at the United Nations by the end of this week, or early next week at the latest. However, PM Olmert made clear that his forces will stay put inside Israel's former border Security Zone until some sort of international peacekeeping force is sent to the region. That is expected to take some months, particularly since few expect Hizbullah's defiant leaders, fully backed by Syria and Iran, to stop attacking IDF positions, even if the Lebanese government calls upon then to halt. In fact, one Lebanese cabinet minister said that the government "fully supports Hizbullah's resistance" against Israel's clean out operation. Political analysts on Israel radio said the comment probably indicates that Lebanese officials suspect that Syria might be about to regain its dominant control over Lebanon due to growing street support for its Hizbullah surrogates. Olmert has also opened a deep political fissure here in Israel by restating his full commitment to his declared intention to tear down dozens of Israeli settlements in Judea and Samaria in the near future, uprooting an estimated 80,000 Jews from their homes. Several opposition politicians blasted the comment, noting that some of the IDF's best fighters come from the very communities slated for destruction. Meanwhile Israeli government and military leaders are keeping a wary eye on nearby Syria, where the visiting Iranian foreign minister met today with senior Syrian officials. Afterwards, the Iranian politician again stated his country's determination to continue to fully back Hizbullah in its fight "to repel the Zionist invasion forces." A similar statement was made today in Tehran by Iranian dictator Ayatollah Khameini. Syria's Baathist leaders echoed the threatening comments while rebuking Israel for carrying out a daring helicopter raid overnight into the town of Baalbek, located some 60 miles north of Israel and less than 10 miles west of the Syrian border.
The Bekaa Valley town, dubbed "Little Tehran" by some Lebanese, has been a Hizbullah stronghold since 1982.
FOJ Note: Iran's Chief Nuclear Minister Ali Larijani stalked out of the European Nuclear Incentives discussions three weeks ago, and boarded a flight bound for Teheran. Oddly enough, (probably on orders from Teheran) he stopped off his flight in Damascus, and met with Hezbollah leaders, just two days before the terrorist group penetrated the international border between Lebanon and Israel and killed eight IDF soldiers, and retreated into Southern Lebanon and began firing Katusyha rockets into Northern Israel, instigating the current Crisis.
IDF Commandoes Captures Hizbullah Operatives
Aug. 2….(Jerusalem Post) After several hours of intense fighting in and around the hospital in the eastern Lebanon town of Baalbek, which was built by Iran for the express purpose of treating Hizbullah operatives, IDF commando forces early this morning took a number of Hizbullah operatives captive. An IAF helicopter dropped commando forces a short distance from the site late Tuesday night. The force was discovered as it moved towards the structure, where Hizbullah operatives were suspected of hiding. Several hours of gunfights ensued and at least 10 Hizbullah guerrillas were reported killed. Another force was helicoptered in to extricate the commandos and provide backup for the mission. After inspecting the identification of everyone in the hospital, the IDF soldiers proceeded to arrest several Hizbullah officials, who were later transported back into Israel. The officials' names and positions in the organization were not revealed. The main target of the operation was allegedly Muhammad Yazbek, a senior figure in the organization; however, IDF Chief of General Staff Lt.-Gen. Dan Halutz said in a briefing that IDF forces "weren't there to obtain something specific." Yazbek was not in the hospital at the time of the raid. No IDF soldiers were wounded in the operation, an army spokesperson told The Jerusalem Post. Hizbullah denied those captured belonged to the guerrilla group. In a statement released Wednesday, the IDF confirmed that Hizbullah operatives had been captured and that others had been killed. This is the first confirmation by the IDF of operations so deep inside the Bekaa Valley, a known Hizbullah stronghold. Military sources report that the IDF is going all out in an effort to finally overwhelm Hizballah on all fronts and generate conditions for the deployment of a multinational force in South Lebanon. Overnight, Lebanese witnesses reported an unprecedented number of Israeli warplanes over the Beqaa valley and aerial strikes against five Hizballah positions near Baalbek. From the Mediterranean, Israel naval artillery pounded Hizballah rocket sites on the Lebanese shore.
Palestinian Complicity With Hezbollah is Revealing
(Follows calls by Abbas' party for its 'fighters in Lebanon' to enter combat)
Aug. 2….(WND) Palestinian militias operating out of Lebanon have passed large quantities of heavy weaponry, including rockets, to Hezbollah for use against Israel, a senior Lebanese political source told WND. The move comes amid calls by Palestinian groups in Judea, Samaria, and Gaza to prepare for an escalation of war against Israel and follows statements by members of Palestinian Authority President Mahmoud Abbas' Fatah party that their "fighters" in Lebanon are set to enter combat along with Hezbollah. Palestinian groups, including Fatah and the Popular Front for the Liberation of Palestine-General Command, maintain armed bases in Lebanon, mostly in the al-Naemeh province just south of Beirut and in the Bekaa Valley near Lebanon's border with Syria. The groups also have offices in Damascus. Israeli and Lebanese officials say the Palestinian groups have been provided over the years with rifles, ammunition, several kinds of long range rockets and anti-tank and anti-aircraft missiles by Iran and Syria. Israel previously has bombed Popular Front bases following rocket attacks against the Jewish state it says were launched from the Palestinian group's military camps in Lebanon. The Palestinian groups in Lebanon earlier this year clashed with the Lebanese Army. A United Nations resolution demands Lebanon disarm "all militias," including armed Palestinian groups. Lebanese officials tell WND the Palestinian groups in recent days passed heavy weaponry to Hezbollah. They said some of the weapons belonged to Hezbollah but were stored in Palestinian bases. The officials also said they had information Palestinian camps in Lebanon were being used for Hezbollah training and that some Hezbollah members are still operating out of the camps. (the camps are funded by the UN) Last week, Sultan Abu al-Aynain, leader of Fatah in Lebanon, announced Palestinian gunmen in the country are set to join the fighting against Israel. He said Fatah has thousands of fighters in Lebanon who are prepared to participate. It was unclear whether his comments were coordinated with Abbas or not. WND reported yesterday Bani al-Hassan, a senior Abbas official, sent a letter to hundreds of Fatah members asking them to prepare for an "escalated battle" against Israel while the Jewish state continues its military campaign in Lebanon. The letter also was sent to members of the Al Aqsa Martyrs Brigades terrorist group, the declared "military wing" of Fatah. "You the fighters are the new generation that will bring us victory over Israel," Hassan wrote in the letter, obtained by WND from a Fatah official.
FOJ Note: While Israel fights against Hezbollah, the Olmert government is also planning to move ahead with the "divergence plan," the unilateral move to give the Palestinians the West Bank. It is worth noting that even though Israel has tried several times to accommodate and help create a new Palestinian State in the West Bank, the Palestinians are always ready to leap at a chance to help any enemy of Israel destroy it completely. How in the world the Israeli government can believe that helping Abbas and the Fatah terrorist party establish a state can lead to peace is beyond me!
The Price of Peace in the Middle East Is Submission to Allah
Aug. 2….(Bill Wilson, KIN Senior Analyst) In the beginning of the Hezbollah war against Israel, US officials both at the White House and the State Department were concerned that the fledgling democratically-elected government in Lebanon would collapse and fall into the hands of terrorists. As the battles raged and the diplomats politicked it has become more and more apparent that the government of Lebanon is a government of state sponsored terrorism. Lebanon's President Emile Lahoud told a German magazine Hezbollah's leader Hassan Nasrallah is an ally of Lebanon. Lahoud said, "All over the Arab world you hear: Hezbollah maintains Arab honor, and even though it is very small, it stands up to Israel. And of course, Nasrallah has my respect." Lebanon, like the Palestinian Authority, is evidence of a failed foreign policy gamble taken by a well-meaning US President. President Bush and some very smart men and women who advise him believed in their heart of hearts that spreading democracy in the Middle East would lead to peace and prosperity. But the results were far less than expected. The bad guys are actually the ones supported by the electorate. In both places, the terrorist groups Hezbollah and Hamas won alarming victories. Now the news media labels Israel the aggressor against the innocent Palestinians and the citizens of Lebanon, but all the people who voted these terrorists into office are actually reaping what they have sown. And you can see their sentiment every night on the news as groups of Muslim citizens burn the Israeli and American flags. In order for the United States and the rest of the Western world to win the so-called war on terror, they must be able to identify the enemy and defeat him. The enemy is not terrorism. Terrorism is an act done by somebody. And that somebody in today's world is Islam, not militant or radical Islam, but just plain Islam. Islam supports those who conduct terrorist activities against the West not only with their money, not only with their children, not only by their religion, but also by their votes. And until we understand that this is a war waged by Islam for world domination and terrorism is its tactic, we will continue to falter under false hopes and broken promises. Not every Muslim supports this war, but because of their religious beliefs they someday will come to the conclusion that Islam is to rule the world. And they will agree that they must take it by force. Meantime, the West, America and Israel just want peace and our arms and hearts reach out for peace. But as the prophet said in Jeremiah 8:15, "We looked for peace, and no good came; and for a time of health, and behold trouble!" But peace with Islam will have its price and the cost of submission to Allah is too great of a price to pay. Christ is the answer, the only answer.
EU: Hizbullah Not A Terrorist Organization
Aug. 2….(YNET) The European Union does not intend to place Hezbollah on its list of terrorist organizations for the time being, EU President Finland said on Tuesday. "Given the sensitive situation, I don't think this is something we will be acting on now," Finnish Foreign Minister Erkki Tuomioja, told a news conference following an emergency meeting of EU foreign ministers in Brussels. Tuomioja's comments were in response to a letter signed by 213 members of the United States Congress sent to EU foreign policy chief Javier Solana asking that the EU add Hizbullah to its terrorist list. Russia recently published a list of 17 groups it regards as terrorist organizations and did not include the Palestinian movement Hamas or Lebanon's Hizbullah group, both of which are regarded as terrorists in Washington. Groups on the list, published in the official daily Rossiiskaya Gazeta, included al-Qaeda and the Taliban as well as the Pakistan-based Lashkar-e-Tayyaba, a rebel group fighting for Kashmir's independence from India, and Egypt's banned Muslim Brotherhood.
Israel Launches "Unprecedented" Attack on Baalbek, Hezbollah Capitol
| | |
| --- | --- |
| | Baalbek (ancient Heliopolis), town in eastern Lebanon, between the Lîþânî and Asi rivers, that is Hezbollah's stronghold. The name, which means "City of Baal," is derived from the early association of the town with the worship of Baal, Baalbek is located very near the Syrian border. Syria's army has gone to full-alert, yet Israel is not interested in opening a front against Syria,though the IDF will respond harshly and with its full might if President Bashar Assad decides to attack Israel, a high-raking IDF officer in the Northern Command said. |
Aug. 1….(FOJ) Baalbek, the Hezbollah stronghold that is the staging center for most of the Hezbollah terrorist organizations infrastructure and disbursements is being attacked by Israeli Air Force jets tonight. Lebanese army and security officials have announced that a major Israeli operation is underway against suspected Hezbollah positions near Baalbeek in eastern Lebanon's Bekaa Valley, with one officer saying the Israeli presence in the air above the ancient city was "unprecedented." The operation began with at least five rapid air strikes above the city. Israel says its helicopters landed Israeli soldiers on hills near the northeastern Lebanese town of Baalbek. Baalbek is known also as a center for international drug smuggling and the Damascus drop-off point for weapons from Iran. Israeli warplanes also attacked at least five suspected Hezbollah positions near Baalbek in eastern Lebanon's Bekaa Valley. The aim of the operation was not immediately clear, an Israeli army spokesman affirmed.
Iran's President Rejects UN Resolution
Aug. 1….(AP) President Mahmoud Ahmadinejad has rejected the UN Security Council resolution that would give his nation until Aug. 31 to suspend uranium enrichment. Instead, Ahmadinejad insisted that Tehran would pursue its nuclear program. "My words are the words of the Iranian nation. Throughout Iran, there is one slogan: 'The Iranian nation considers the peaceful (FOJ Note: the peaceful use of nuclear power isn't the issue) use of nuclear fuel production technology its right,'" Ahmadinejad said. The UN Security Council passed a resolution Monday calling for Iran to suspend uranium enrichment by the end of August or face the threat of economic and diplomatic sanctions. Ahmadinejad said Iran will not give in to threats from the United Nations. "If some think they can still speak with threatening language to the Iranian nation, they must know that they are badly mistaken," he said in a speech broadcast live on state-run television. "Our nation has made its decision. We have passed the difficult stages. Today, the Iranian nation has acquired the nuclear technology." The resolution drafted by Britain, France and Germany, with US backing follows a July 12 agreement by the foreign ministers of those four countries, plus Russia and China to refer Tehran to the Security Council for not responding to the incentives package. Because of Russian and Chinese demands, the resolution's text was watered down from earlier drafts that would have made the threat of political and economic sanctions immediate. Iran has said it would formally respond Aug. 22 to the incentives package, but a top Iranian lawmaker said Tuesday the Security Council resolution has effectively made the offer "null and void." Meanwhile, Iran's foreign minister blasted the UN Security Council for failing to stop the conflict between Israel and Hezbollah, and called the United States and Israel "partners in brutal crimes" against Lebanese civilians.
FOJ Note: sounds like Iran is lobbying for a cease-fire to save their terrorist infrastructure in Lebanon. Iran may be expecting Syrian President Assad to step in and support Hezbollah by activating the Syrian army, but as yet that scenario hasn't materialized, and Israel has been extra careful not to excite the Syrian dictator.
News Update From Israel by David Dolan
Aug. 1….(David Dolan comments) Israeli military commanders were given government permission late last night to widen their operations in southern Lebanon, with the goal to drive all Hizbullah ground forces and rocket launchers north of the Litani River. The hope is to achieve this goal before Friday, when growing international diplomatic pressure to end the fighting is expected to reach a climax. Yasser Arafat's PLO fighters were driven out of the very same area, some 15 to 18 miles north of the Israeli border on average, and about 25 miles wide, in just a few hours in 1982, but they were not as heavily armed or well trained as the Iranian-backed Lebanese fighters. To help accomplish the goal, up to 15,000 reserve soldiers received their call-up notices early today. Thousands more remain on alert to be drafted into the army on a moment's notice. It is not clear if the IDF will enter the main town in the zone, the ancient port of Tyre, which is a major Hizbullah stronghold. Analysts say any attempt to do so would probably involve protracted fighting, unless Hizbullah commanders order a retreat in the face of overwhelming Israeli firepower. Many analysts say capturing the town is the only way to insure that Israel's former "Security Zone" is emptied of Hizbullah rocket launchers. The IDF says it has taken total control today over the town of Taibeh, near to where the Litani River bends north. The town is located close to the main Maronite Catholic town in the south, Marjayoun, which is due north of Israel's northernmost town, Metulla. IDF spokesmen say they believe they have destroyed most of the militia group's rocket launchers, but admit that Hizbullah still probably has up to 9,000 rockets in its large arsenal, including some that could strike Tel Aviv.
Syria on Full Alert
With full ground combat now going on in many locations, Syrian dictator Bashar Assad announced today that his military forces have been placed on the highest state of alert. He said Syria could not stand by while "Israeli aggression destroys our brotherly neighbor of Lebanon." This came as Israeli Defense Minister Amir Peretz warned that the IDF would fire at any vehicle carrying arms from Syria into Lebanon, as it did overnight. Another Air Force strike was reported near the border today, along with the bombing of several Hizbullah positions in the Bekaa Valley just west of Syria. Despite the action, Peretz added that Israel has no intention to enter a war with the Syrians, who possess a substantial air force, a large army and thousands of Scud ballistic missiles and chemical capability. Various media reports say Iranian missile batteries have recently been set up in central Syria which can strike most portions of Israel as well. Military analysts here in Jerusalem continue to suspect that both Hizbullah and Iranian leaders are putting intense pressure on the Assad regime to open another war front on the stragtgic Golan Heights, captured from Syria during the 1967 Six Day war. Such concerns were intensified when Iran's foreign minister flew to Beirut yesterday to hold "urgent talks" with his Lebanese counterpart. Afterwards he told a press conference that the Islamic regime ruling Iran was offering its "full support to Lebanon's efforts to confront the criminal Zionist aggressors."
Israel-Hezbollah War Rocking Middle East & World
Aug. 1 (By David Dolan) The long and bitter Arab-Muslim conflict with Israel entered a new phase in mid-July when Lebanese Hizbullah militiamen emulated their Palestinian Hamas allies in launching an audacious cross border raid into sovereign Israeli territory in order to kidnap IDF soldiers. The radical Shiite Muslim group did this knowing full well that Israel would probably respond forcefully to the abductions, which violate international law, as they did in the Gaza Strip when a soldier was taken hostage in late June. In fact, Israeli officials suspect that the two illegal actions were directly ordered by non-Arab Iran, which supplies weapons and financial assistance to both extremist groups, in an attempt to spark a major conflict that would divert world attention from Tehran's ominous nuclear program. This suspicion was reinforced when various security agencies revealed that Iran had signed a secret mutual defense pact with Syria in mid-June. Growing concern over Hizbullah's constant acquisition of Iranian and Syrian-supplied Katyusha rockets, not to mention various longer-range missiles and untold quantities of anti-tank, anti-aircraft and anti-ship rockets and other potent weapons, has been documented in these monthly updates ever since the May 2000 IDF evacuation of positions that were first captured in the 1978 Israeli "Litani" operation to push PLO fighters from south Lebanon. Military analysts say that Hizbullah had actually become one of the largest military forces in the region, with an arsenal larger than that of many area countries.
That Israeli leaders could not forever allow a burgeoning, jihad-crazed militia to openly operate right along their northern border was a given, especially since the rogue force is largely controlled by a radical Shiite regime in Tehran vowing to completely wipe Israel off of the regional map. As this reporter has made clear in public meetings around the world over the past several years, the only question was when the government would act. As I noted, Israeli security sources had informed me that the original plan was to deal with the growing Hizbullah threat while US and UK forces were spearheading a multi-national attempt to remove Saddam Hussein from power in nearby Iraq. I was told that then Prime Minister Ariel Sharon had received White House approval for the planned operation. However, both American and Israeli officials underestimated the depth of support that the Iraqi dictator enjoyed on the Palestinian street, and thus the intensely angry response they would display against the American-led invasion. It was decided in both Washington and Jerusalem that the time was not ripe for a push against Hizbullah, lest Israel find itself fighting a two-front war in Lebanon and in the Palestinian zones (as it has ended up doing anyway in the current conflict!). There were two core reasons that Sharon wanted to take on the Shiite militia in March 2003. The first was quite practical. The Israeli public was then fully prepared for possible Iraqi Scud strikes against civilian centers, meaning they were also prepared for the anticipated Hizbullah rocket blitz that we are currently enduring. The second reason was that it was determined that both Syria and Iran would be preoccupied with the situation in Iraq, which is located smack dab between them, and therefore slow to come to Hizbullah's aid, if at all. Still, in the event, both Sharon and George W. Bush agreed it was not the ideal time to add more fuel to the burgeoning Mid-east fire. I was told that the second timeframe for a pre-planned, well laid out operation to denude the increasingly potent Hizbullah militia was early 2005. Ariel Sharon would simply wait for the next Hizbullah provocation to let lose his world renowned IDF forces, especially his excellent Air Force. However, the veteran right-wing politician had failed to anticipate the depth of passionate internal division that his unilateral Gaza withdrawal plan, unveiled in early 2004 would generate in his own country. With talk of possible civil war reverberating throughout the small Jewish state, the decorated former general decided it was not the optimum time to launch a major operation that could easily escalate into a full war with Syria. The third window of opportunity was determined to be soon after Israeli national elections this year. As the current conflict demonstrates, that plan has indeed been put into effect. This certainly does not mean that Israeli officials somehow invited Hizbullah agents to infiltrate across the border to capture and slaughter IDF soldiers on July 12th, but only that they were ready with a major "clean-out plan" when the next inevitable unprovoked Hizbullah attack took place, as it did on that day. Now, the prospects that Syria and or/Iran might become directly involved in the raging Israel-Hizbullah conflict seem to grow as the fighting continues into a third week. This is especially the case after Lebanese Prime Minister Fuad Seniora called for regional Muslim powers to "stand united with Lebanon in the face of the Israeli war criminals." His virtual war cry came in the wake of the July 30th civilian deaths in Qana, which sparked rage throughout Lebanon and the entire Muslim world. The fuming Lebanese Sunni Muslim leader charged that Israel had "deliberately massacred our innocent martyrs" before hailing Sheik Nasrallah as a great Lebanese patriot. Israeli government and army officials pointed out that Qana was being used by nearby Hizbullah rocket launchers as cover against return Israeli fire. They noted that the disaster in Qana came just two days after Hizbullah lobbed five longer-range rockets at Israeli civilian centers for the first time, striking the Jezreel Valley town of Afula nearly 40 miles south of Lebanon. Experts said the warheads were five times more explosive than the Katyushas fired up until then. Israeli analysts had been warning well before the civilian slayings in Qana that Hassan Nasrallah was attempting to draw Syria directly into the conflict. With many leaders around the world criticizing him for launching his unprovoked cross border raid more than six years after IDF forces left south Lebanon, the Shiite Sheik was said to be hoping that his Syrian Alawite patrons would open up a second war front on the Golan Heights, which the world unanimously considers occupied Syrian territory. Street pressure on regional Muslim leaders to "do something" to thwart the Israeli campaign in Lebanon seemed to grow precipitously both inside Syria and around the Middle East in the wake of the Qana tragedy. Possibly indicating that he is considering direct intervention, Syrian dictator Bashar Assad has strongly condemned the Israeli action as "state terrorism." Israeli security analysts said that the mullahs who run Iran have been putting pressure on their Syrian ally to jump into the fray. With most residents of Israel now under threat of Hizbullah rocket attack, and with most Lebanese leaders now at least publicly backing the radical Shiite cleric who has kidnapped their country, it does appear that an even more intense Mid-east war may be on the horizon.
Assad Known to be Smuggling Weapons to Hizbullah
Aug. 1….(YNET) According to new intelligence obtained by the Israeli defense establishment, Syrian President Bashar Assad, alongside senior military officials, is directly involved in the attempts to smuggle weapons and rockets to Hizbullah in Lebanon. Assad has called on his army to increase its readiness to cope with what he termed "regional challenges." In addition, the extent of Iran's intimate involvement in Hizbullah attacks is also starting to emerge. According to the defense establishment, the reason Hizbullah has not fired long-range Iranian-made Fajr missiles at Israel is due to Teheran's opposition. Israel now understands that without direct orders from the ayatollahs, Hizbullah is not allowed to use Iranian missiles in attacks against Israel. The IDF also believes that it seriously damaged Hezbollah's long-range rocket array in the first night of air strikes almost three weeks ago and impaired Hizbullah's ability to fire the rockets. Nevertheless, Hizbullah is still believed to have 10,000 short-range Katyusha rockets, after 1,500 were fired at Israel and another 1,500 were destroyed by the air force. The longer-range Zelzal missiles, manufactured by Iran and capable of reaching Tel Aviv, have also not been fired at Israel, and the IDF believes this is because it destroyed almost two-thirds of these in the Hizbullah arsenal. In addition, Israel has identified the bodies of 200 Hizbullah operatives killed in fighting, out of the organization's total number of fighters estimated to stand at 1,000. Alongside the regular Hizbullah fighters, the defense establishment has identified two senior officials in the organization who were killed in IAF missile strikes: Jihad Atayeh, head logistic officer for Hizbullah in southern Lebanon and one of the planners of the cross-border attack in 2000 during which three IDF soldiers were kidnapped; and Nur Shilhav, responsible for coordinating the smuggling of weapons from Syria into Lebanon. Iran is also believed to have a strong presence in Lebanon, including dozens of members of the Revolutionary Guard that are instructing the Hizbullah how to use advanced weaponry similar to the Iranian-supplied C-802 missile which hit a navy missile ship two weeks ago. A special Military Intelligence unit, consisting of six professional profilers, has been established to profile Hizbullah leader Sheikh Hassan Nasrallah. According to the unit, Nasrallah is scared of a massive ground incursion, which he understands could destroy his infrastructure in southern Lebanon. The bottom line is that in contrast to public perception that Hizbullah was winning the war, the defense establishment believes that the group has been dealt a severe blow and that Nasrallah is interested in reaching a cease-fire with Israel, although he will not publicly admit it.
President Bush Sets Objectives for Cease-Fire
Aug. 1….(DEBKA) (Bush says clear objectives must be achieved in Lebanon and outlines a sequence for the end of hostilities) Speaking in Miami, the US president stressed the Beirut government must be strong in power and exert full authority over all Lebanon, and a multinational force must be dispatched quickly to expedite aid. He said Tehran must stop financing terrorist groups like Hizballah and Syria must end its backing for terror and respect Lebanese sovereignty. The Lebanon war, said Bush is part of the larger struggle between the forces of freedom and the forces of terror in the Middle East. He reiterated Israel's right to defend itself. The sequence outlined by the US president are: the end of Hizballah attacks on Israel, the return of the kidnapped Israeli soldiers, suspension of Israeli operations in Lebanon and Israel's eventual withdrawal.
Lebanese Party Blames Hizbullah for Qana Deaths
(Anti-Syrian elements in Lebanon openly point finger at Hizbullah as guilty of killing of dozens of civilians in order to curtail plans for disarming group. 'Hizbullah has placed rocket launcher on building's roof and brought invalid children inside in bid to provoke Israeli response)
Aug. 1….(Israel Insider) Was Hizbullah behind the tragic deaths in the village of Qana that claimed the lives of some 60 people? While the Israeli army continues to investigate the circumstances leading to the building's collapse, some in Lebanon do not hesitate to point the finger at the Shiite organization and claim it is to blame for the death of dozens.
The Lebanese website Libanoscopie , associated with Christian elements in the country and which openly supports the anti-Syrian movement called the "March 14 Forces," reported that Hizbullah masterminded a plan that would result in the killing of innocents in the Qana village, in a bid to foil Lebanese Prime Minister Fouad Siniora's "Seven Points Plan", which calls for deployment of the Lebanese army in southern Lebanon and the disarming of Hizbullah. "We have it from a credible source that Hizbullah, alarmed by Siniora's plan, concocted an incident that would help thwart the negotiations. Knowing full well that Israel will not hesitate to bombard civilian targets, Hizbullah gunmen placed a rocket launcher on the roof in Qana and brought disabled children inside, in a bid to provoke a response by the Israeli Air Force. In this way, they were planning to take advantage of the death of innocents and curtail the negotiation initiative," the site stated. The site's editors also claimed that not only did Hizbullah stage the event, but that it also chose Qana for a specific reason: "They used Qana because the village had already turned into a symbol for massacring innocent civilians, and so they set up 'Qana 2'." Notably, the incident has indeed been dubbed "The second Qana massacre" by the Arab media, and the international media took the bait, and ran with it.
All Steamed Up Over US Flag Burnings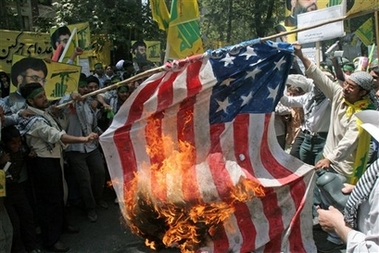 July 31….(FOJ) I don't know about everyone else, but I for one am getting pretty sick and tired of watching all these lunatic Muslims burning our wonderful Christian-rooted American flag. I just wonder what would happen if we burned some of those terrorist flags they keep flopping around all over the place with their icons of terror emblazed on them, such as a Russian AK-47, and pictures of ugly fat old men that preach hatred out of their demonic religious books. The green Hamas flag even states that "there is no God but Allah." That is an insult to all non-Muslims! So the burning of the American flag by these blood-thirsty infidels of Hell is nothing more than a symbolic attack on the God (Jehovah) that oversaw the blessed birth of our nation. These provocateurs of evil and perpetual hatred even train their toddlers to love death and destruction. The United States Flag is unique in the deep and noble significance of its message to the entire world, a message of national independence, of individual liberty, of idealism, of patriotism. It symbolizes national independence and popular sovereignty. It is not the Flag of a reigning family or royal house, but of 300 million free people welded into a Nation, one and inseparable, united not only by community of interest, but by vital unity of sentiment and purpose; a Nation distinguished for the clear individual conception of its citizens alike of their duties and their privileges, their obligations and their rights. It incarnates for all mankind the spirit of Liberty and the glorious ideal of human Freedom; not the freedom of unrestraint or the liberty of license, but an unique ideal of equal opportunity for life, liberty and the pursuit of happiness, safeguarded by the stern and lofty principles of duty, of righteousness and of justice, and attainable by obedience to self-imposed laws.
The Islamic fanatics that seek to terrorize the world are lovers of death, and are so because they hate the God of the Holy Bible, and are therefore joined with the god of the evil world-Satan!

Proverbs 8:36 But he that sinneth against me wrongeth his own soul: all they that hate me love death.
IDF: Qana Building Collapsed Eight Hours After Strike
July 31….(YNET) An IDF investigation has found that the building in Qana struck by the Air Force fell around eight hours after being hit by the IDF. "The attack on the structure in the Qana village took place between midnight and one in the morning. The gap between the timing of the collapse of the building and the time of the strike on it is unclear," Brigadier General Amir Eshel, Head of the Air Force Headquarters told journalists at the Defense Ministry in Tel Aviv, following the incidents at Qana. Eshel and the head of the IDF's Operational Branch, Major General Gadi Eisnkot said the structure was not being attacked when it collapsed, at around 8:00 in the morning. The IDF believes that Hizbullah explosives in the building were behind the explosion that caused the collapse. Another possibility is that the rickety building remained standing for a few hours, but eventually collapsed. "It could be that inside the building, things that could eventually cause an explosion were being housed, things that we could not blow up in the attack, and maybe remained there, Brigadier General Eshel said. Brigadier General Eshel explained that "since the start of fighting in Lebanon 150 rockets from a very high number of rocket launchers have been fired from the village and its surrounding areas, at a number of sites in the State of Israel. Within the village itself we have located a diverse range of activities connected to firing of rockets, beginning from forces commanding this operation, because such an operation needs ongoing command to direct it, and logistical sites that serve this end."
EU Condemns Israel; 'Nothing Justifies Qana Airstrike
July 31….(EU Observer) The EU has fiercely condemned the Israeli air-strike on the Lebanese village of Qana over the weekend as "unjustifiable," while Germany has indicated its military is too overburdened to take part in any UN peace mission to the region. EU institutions issued a series of coordinated statements following Israel's attack on Sunday morning (30 June) on a complex in a Lebanese village, in which more than 50 civilians died, among them more than 30 children. Israel apologized for the incident, but said the village had been used by Islamist Hezbollah fighters launching rockets on Israel, while civilians had been warned in advance to evacuate the place. But officials from the Finnish EU presidency, the European Commission as well as EU foreign policy chief Javier Solana agreed to condemn the bombing as "unjustifiable." "There is no justification for attacks causing casualties among innocent civilians, most of whom are women and children," a Finnish presidency statement said. Benita Ferrero-Waldner, external relations commissioner, said "Israel's attack on the city of Qana means an escalation of violence that is unjustifiable at a time when the international community is jointly working to find a solution to the conflict." Mr. Solana declared that "nothing can justify" the attack and the death of innocent civilians in Qana. Since the fighting between Israel and Hezbollah began on 12 July, the EU has walked on a diplomatic tightrope to find a common response, particularly when reacting to Israel's actions. A 17 July foreign ministers meeting saw EU states watering down language proposed by Helsinki condemning Israel's offensive as "disproportionate," with states such as Germany and the UK promoting a more lenient line towards Israel. The UN security council after a Sunday emergency session also failed to call for an immediate cessation of hostilities, with the US objecting to the idea arguing Israel's security should be dealt with first.
Hezbollah Used Russian-Supplied ATGM's Against Israel
July 31….(MENL) Israel has determined that Hizbullah deployed advanced anti-tank weapons in the war in Lebanon. Israeli military sources said many of the Hizbullah weapons were Russian-origin anti-tank guided missiles believed to have been supplied to Syria. They said the weapons were transferred to Hizbullah over the last year. The sources said Hizbullah used the advanced systems during the battle of Bint Jbail, regarded as the movement's capital in southern Lebanon. Israeli troops recovered shells or launchers of the Milan and Kornet anti-tank systems. The Hizbullah acquisition of the Russian AT-14 Kornet was said to have alarmed commanders in the Armored Corps. The Kornet, guided by a laser tracker, has a range of five kilometers, greater than that of Israel's anti-tank weapons.
Photos That Damn Hezbollah
July 31….(Herald Sun) Here is the picture that damns Hezbollah. It is one of several, smuggled from behind Lebanon's battle lines, showing that Hezbollah is waging war amid suburbia. The images, obtained exclusively by the Sunday Herald Sun, show Hezbollah using high-density residential areas as launch pads for rockets and heavy-calibre weapons. Dressed in civilian clothing so they can quickly disappear, the militants carry automatic assault rifles and ride on trucks mounted with cannon. The photographs, from the Christian area of Wadi Chahrour in the east of Beirut, were taken by a visiting journalist and smuggled out by a friend. The images include one of a group of men and youths preparing to fire an anti-aircraft gun, meters from an apartment block with sheets hanging out on a balcony to dry. Others show a militant with AK47 rifle guarding no-go zones after Israeli blitzes. Another depicts the remnants of a Hezbollah Katyusha rocket in the middle of a residential block blown up in an Israeli air attack. The Melbourne man who smuggled the shots out of Beirut and did not wish to be named said he was less than 400m from the block when it was obliterated. "Hezbollah came in to launch their rockets, then within minutes the area was blasted by Israeli jets," he said. "Until the Hezbollah fighters arrived, it had not been touched by the Israelis. Then it was totally devastated. "It was carnage. Two innocent people died in that incident, but it was so lucky it was not more." The release of the images comes as Hezbollah faces criticism for allegedly using innocent civilians as "human shields". The UN's own Jan Egeland blasted Hezbollah as "cowards" for operating among civilians.
France Calls Iran a Positive Influence, Condemns Israel
July 31….(Arutz) Prime Minister Dominique de Villepin told reporters at the news conference in France that Israel's willingness to suspend its air strikes on Hizbullah terror targets was "only a token first step, but was still not enough." De Villepin maintained that the "cessation of the aerial attacks is insufficient in light of the situation in Lebanon." At the news conference held in Beirut, French Foreign Minister Phillippe Douste-Blazy, praised Iran as a "stabilizing force in the Middle East." Douste-Blazy told reporters "Iran is an outstanding country with great people and an honorable civilization. It has a crucial role in the region." (FOJ Note) Do you think France knows or even cares that Iran is the primary patron of the Hizbullah terror organization which has fired more than a thousand missiles at northern Israeli communities in the past 20 days, killing tens of civilians and injuring hundreds more, or that Iran has armed Hizbullah with long-range rockets equipped with warheads containing more than 100 kg of explosive material and metal balls designed to wound large numbers of people and create maximum damage.
Hizbullah started the current war with Israel with a major attack on July 12th in which terrorists kidnapped two IDF soldiers, killed eight others and fired Katyusha rockets at Israeli towns along the northern border.
World's Outrage Misplaced?
July 31….(Hal Lindsay) It appears that Hizbollah has scored a major propaganda triumph through a callously staged carnage of women and children in Qana, Lebanon. You may think this is just another prejudiced attempt at propaganda in favor of Israel. But before you draw that conclusion, consider these established facts:
• Israel has both satellite and drone aircraft videos unmistakably showing Hizbollah trucks pulling into civilian buildings in Qana loaded with katyusha rockets
• Israel also has videos of many katyusha rockets being launched from the particular building containing civilians that was bombed
• Israel had pleaded with all non-combatants to leave the Qana area for several days through leaflets and radio announcements
• Israel had no idea that there were any civilians in the targeted building
• However, Hizbollah knew they were there and continued to launch missiles at Israeli cities from there
• Hizbollah also knew that Israel was tracking those missiles from their launch site
So here are some important questions:
Why were those approximately sixty women and children in that building when the rest of the city was virtually empty of civilians?
Why did Hizbollah launch multiple missiles from next to the building?
Why was there no civilian men found dead there?
Why did it take Hizbollah seven-eight hours after the guided bomb hit the building to report it?
Did the single Israeli bomb cause the building to totally collapse, or did secondary explosions from rockets stored there contribute to the disaster?
An estimated 54 people were tragically killed when the building collapsed, mostly children. This is a real lamentable tragedy that certainly could have been avoided. But the only ones who knew they were there was the Hizbollah combatants who were launching rockets next to the building. There is good reason to believe that Hizbollah did not allow the women and children to evacuate and staged this carnage. There are many established incidences of Hizbollah using civilians as human shields while fighting with the Israelis. This is what has made the going so tough for the Israeli soldiers. Hizbollah counts on the fact that Israelis do not intentionally target civilians. In this case, Hizbollah counted on many other things to achieve their propaganda goals. They knew they could count on the ingrained hatred of Israel (and the United States) by Muslims everywhere so that they would believe the worst about them despite any factual evidence. They also knew that showing the bodies of mangled children on television would turn the Lebanese over to their side. They also knew that these same horrible images would turn the entire world against Israel, and the Muslim world into a mindless rage against Israel and the United States. They also knew that this incident would incite the Useful Idiot Squad among Western liberals to demand a cease-fire that would live them "victors" in the mind of the Muslim world and still armed with missiles of every kind. As I have said in other articles, war is hell. It should only be entered when absolutely necessary. Israel had no choice but to go to war when Hamas and Hizbollah took hostage several soldiers, coupled with a rain of rockets on their cities. In view of Israel's offensive military capability, they have used remarkable restraint and care to avoid killing non-combatants. It would be very instructive to remember incidences of past wars to put this incident, though tragic, into perspective, especially for the liberals in the West.
Venezuela's Chavez and Iran's Ahmadinejad Join Ranks Against US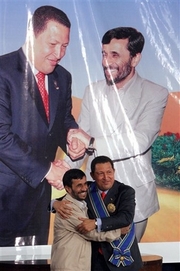 July 31….(FOJ) Iran awarded Venezuelan President Hugo Chavez its highest state medal on Sunday for supporting Tehran in its nuclear standoff with the international community, while Chavez urged the world to rise up and defeat the US, and bring to an end the American Empire. Chavez, the Communist leftist Venezuelan leader condemned Israel for what he called the "terrorism" and "madness" in its attacks in Lebanon. "Let's save the human race, let's finish off the US empire," Chavez said. "This task must be assumed with strength by the majority of the peoples of the world." Iranian President Mahmoud Ahmadinejad presented Chavez with the Islamic Republic Medal in a ceremony at Tehran University. The award was to show Iran's gratitude for his "support for Iran's stance on the international scene, especially its opposition to a resolution by the International Atomic Energy Agency and the US-led campaign to stop Iran from acquiring a nuclear bomb. Ahmadinejad described Chavez as "one who has resisted imperialism for years and has defended the interests of his and other Latin American countries. Chavez is opposed to an IAEA decision to report Iran to the UN Security Council over its disputed nuclear program. Chavez is currently lobbying other countries to support Venezuela's campaign to be elected to the UN Security Council.
---