WEEK OF FEBRUARY 5 THROUGH FEBRUARY 11
Islamic Imam Leads Democrats in Prayer of Conversion
(Muslim leader at party's winter meeting also asks Allah to stop 'the occupation')
Feb. 4….(WND) With heads bowed reverently, Democrats were led in prayer yesterday by a Muslim imam who essentially asked Allah to assist in converting the party members to Islam, according to a scholar and author. Robert Spencer, director of Jihad Watch and author of "The Truth about Muhammad," took note of the prayer given at the Democratic National Committee winter meeting by Husham Al-Husainy, Imam of the Karbala Islamic Education mosque in Dearborn, Mich. According to a transcript of the prayer, the imam said: In the name of God the most merciful, the most compassionate. We thank you, God, to bless us among your creations. We thank you, God, to make us as a great nation. We thank you God, to send us your messages through our father Abraham and Moses and Jesus and Muhammad. Through you, God, we unite. So guide us to the right path. The path of the people you bless, not the path of the people you doom. Help us God to liberate and fill this earth with justice and peace and love and equality. And help us to stop the war and violence, and oppression and occupation. Ameen. Spencer, in a post on his Jihad Watch website, said he found it interesting to see the Muslim leader praying, "in veiled terms to be sure, for their conversion to Islam, and, oh yes, for the destruction of Israel ("And help us to stop the war and violence, and oppression and occupation"). "Imagine if a Christian priest or minister had prayed at a DNC meeting that those attending be guided away from the path of those doomed by God," Spencer said. He explained the imam was echoing the Fatiha, the first sura, or chapter, of the Quran and the most common prayer of Islam. It asks Allah: "Show us the straight path, the path of those whom Thou hast favored; not the (path) of those who earn Thine anger nor of those who go astray." The traditional Islamic understanding is that the "straight path" is Islam, Spencer points out. On the other hand, he continued, the path of those who have earned Allah's anger are the Jews, and those who have gone astray are the Christians. Spencer cited the classic Quranic commentator Ibn Kathir, who says: Allah asserted that the two paths He described here are both misguided when He repeated the negation "not." These two paths are the paths of the Christians and Jews, a fact that the believer should beware of so that he avoids them. The path of the believers is knowledge of the truth and abiding by it. In comparison, the Jews abandoned practicing the religion, while the Christians lost the true knowledge. This is why "anger" descended upon the Jews, while being described as "led astray" is more appropriate of the Christians. Those who know, but avoid implementing the truth, deserve the anger, unlike those who are ignorant. The Christians want to seek the true knowledge, but are unable to find it because they did not seek it from its proper resources. This is why they were led astray. We should also mention that both the Christians and the Jews have earned the anger and are led astray, but the anger is one of the attributes more particular of the Jews. Allah said about the Jews, (Those (Jews) who incurred the curse of Allah and His wrath) (5:60). The attribute that the Christians deserve most is that of being led astray, just as Allah said about them, (Who went astray before and who misled many, and strayed (themselves) from the right path) (5:77).
US in Proxy War Against Hamas
Feb. 4….(Arutz) The US is assisting and training a growing Fatah army in an effort to defeat the Hamas faction before the militia war in Gaza engulfs the entire population in civil war and anarchy. Documents obtained by Reuters News Agency show that the Bush administration's $86.4 million in aid is going to be used beyond the previously announced objective of strengthening the Presidential Guard, the personal army of Palestinian Authority Chairman Mahmoud Abbas. Abbas also controls the National Security Forces, a larger and weaker militia than the elite Presidential Guard. The American aid is meant to help "transform and strengthen elements of the PA's security structure, specifically the National Security Forces and Presidential Guard in an effort to improve public order and fight terror," according to the sensitive but unclassified document. It states that Israel backs the American initiative, which also may cover training and equipping 1,000 Fatah fighters based in Jordan but which would become part of Abbas's forces "in the event of a deployment in Gaza." The assistance does not include giving Abbas weapons, but Egypt and Jordan, using American foreign aid, have supplied Abbas with thousands of rifles and ammunition in addition to Israel's giving arms to the PA during the Oslo Accords in the mid-1990s. The National Security Forces includes 40,0000 men and essentially has become a Fatah army, including members who also belong to other terrorist organizations. The American support is conditioned on the basis that those being trained do not have contact with terrorists, but it is not clear how this policy will be carried out. The American government fears that the growing Hamas Executive Force, heavily armed with the help of continued smuggling of weapons from Egypt, will have the upper hand against Fatah. Some analysts have warned that fighting between Hamas and Fatah could turn into a proxy war, with the United States supporting Abbas and Iran backing Hamas.
WEEK OF JANUARY 29 THROUGH FEBRUARY 4
The Quartet is Back Playing Its Roadmap Tune
Feb. 2….(FOJ) In the picture attached, Russian Foreign Minister Sergey Lavrov listens as US Secretary of State Condoleezza Rice answers a question at a news conference after a meeting of the quartet of Middle East negotiators at the US Department of State in Washington February 2, 2007.
(FOJ) One can easily notice the tension between Russian Secretary Lavrov and Secretary Rice.
Russia is continuing to prepare Iran and other clients to counter the US presence in the Middle East.
The quartet, made up of the United States, United Nations, Russia and the European Union are backing efforts again to widen international involvement in the stalled peace process between Israelis and Palestinians. The United States and Russia however clashed on over Moscow's suggestion that Syria should be included in efforts to advance an Israeli-Palestinian peace settlement. "Syria could play a constructive role," Russian Foreign Minister Sergey Lavrov said after the meeting of world powers to discuss Mideast peace strategies. It is worth noting that Russia would push the Syrian card, since Syria is an old Soviet client state, and Russia is keen on using both Syria and Iran to wedge the US out of the Middle East altogether. However, Secretary of State Condoleezza Rice expressed little enthusiasm for such a prospect. "Rice said she hoped that Syria would in fact try and play a positive role rather than a negative one. But as long as Syria's apron strings are tied to Iran and Russia, the simple fact of the matter is that Syria will not cooperate with the Peace Process. The Bush administration has resisted expanding diplomatic ties with Syria, which it blames for lending support to radical Islamic groups Hezbollah in Lebanon and Hamas in the Palestinian territories. The US has also expressed reluctance to reach out to Syria and Iran in a regional effort to reduce violence in Iraq, because both countries have shown that they have little interest in stabilizing the area, and entertaining real ideas about peace. Lavrov pointed out to the Quartet representatives that it is counterproductive to isolate nations like the US is insisting.
Israel Allows Muslim Minaret over Temple Mount
(PM Olmert consents to Muslim prayer tower while denying Jewish plans for synagogue)
Feb. 2….(WND) Prime Minister Ehud Olmert has given permission for Jordan to build a large minaret adjacent to a mosque on the Temple Mount to call Muslims to prayer at the holy site, WND has learned. The minaret will stand at a site on the Mount where Jewish groups here had petitioned to build a synagogue. A minaret is a tower usually attached to a mosque from which Muslims are called to the five Islamic daily prayers. There are four minarets on the Temple Mount, the holiest site in Judaism. The new minaret will be the largest one yet. It will be the first built on the Temple Mount in over 600 years and is slated to tower over the walls of Jerusalem's old city. It will reside next to the Al-Marwani Mosque, located at the site of Solomon's Stables. Aryeh Eldad, a Knesset member from Israel's National Union party, last year drew up plans with Jewish groups to build a synagogue near the Marwani Mosque. The synagogue was to be built in accordance with rulings from several prominent rabbis, who said Jews can ascend the Mount at certain areas. A top leader of the Waqf, the Islamic custodians of the Mount, told WND Olmert's granting of permission to build the minaret in the synagogue's place "confirms 100-percent the Haram al-Sharif (Temple Mount) belongs to Muslims." "This proves Jewish conspiracies for a synagogue will never succeed and solidifies our presence here. It will make Muslims worldwide more secure that the Jews will never take over the Haram al-Sharif," the Waqf official said. Sources in the Jordanian monarchy and the Waqf told WND Olmert earlier this month gave Jordan's King Abdullah official permission to build the minaret. The sources said the minaret will rise 130 feet above the ancient walls of Jerusalem. A senior Olmert adviser today confirmed to WND the Israeli prime minister told Abdullah he will allow the minaret's construction. In October, King Abdullah announced plans to build the fifth minaret, although at the time the Jordanians reportedly did not have Israel's permission to commence construction. Abdullah said the minaret would bear the symbol of the Jordanian monarchy. The Temple Mount's first minaret was constructed on the southwest corner in 1278; the second was built in 1297 by order of a Mameluke king; the third by a governor of Jerusalem in 1329; and the last in 1367. Prominent Israeli archeologist Gabi Barkai of Tel Aviv University blasted the new minaret plans. "I am against any change in the status quo on the Temple Mount. If the status quo is being changed, then it should not just be the addition of Muslim structures at the site," Barkai said. Rabbi Chaim Rechman said, "The decision and Israel's general attitude toward the Temple Mount is the manifestation of spiritual bankruptcy in the country's leadership. Olmert is turning his back on our Jewish heritage while the rest of the world looks at us with amazement at how we can be so insensitive to our own spiritual legacy." The Jewish Temple was the center of religious Jewish worship. It housed the Holy of Holies, which contained the Ark of the Covenant and was said to be the area upon which God's "presence" dwelt. The Al Aqsa Mosque now sits on the site. The Temple Mount compound has remained a focal point for Jewish services over the millennia. Prayers for a return to Jerusalem have been uttered by Jews since the Second Temple was destroyed, according to Jewish tradition. Jews worldwide pray facing toward the Western Wall, a portion of an outer courtyard of the Temple left intact.
Iranian Terror Agents Caught in Gaza
(Fatah says 7 military trainers including Revolutionary Guard general captured)
Feb. 2….(WND) Security forces associated with Palestinian Authority President Mahmoud Abbas' Fatah party today captured seven Iranian military trainers, including a general of the Iranian Revolutionary Guards, at a purported Hamas training facility in the Gaza Strip, Fatah security officials told WND. The Fatah officials said a raid of the Hamas dominated Islamic University in Gaza yielded the Iranian agents, 1,000 Qassam rockets and equipment to manufacture the Qassams. According to the Fatah officials, one of the Iranian agents attempted suicide prior to his capture. The officials said initial interrogation of the Iranian agents revealed one is a Revolutionary Guard general. The grounds of Islamic University are routinely used by Hamas for military training, Palestinian and Israeli sources said. Gun battles between Fatah and Hamas erupted today after Hamas ambushed a Fatah convoy it said was carrying American weapons. The two factions have engaged in nearly two months of deadly clashes after Abbas called for new Palestinian elections in a move widely seen as an attempt to dismantle the Hamas-led PA. If confirmed, Fatah's claim of capturing Iranian military agents in Gaza would mark the first time that Iranians were caught operating in the Gaza Strip since Israel's withdrawal from the territory in August, 2005. Israeli officials said they fear the Iranian training will greatly improve Hamas' military capability in any future battle with Israeli troops in Gaza. They said Hamas was seeking to learn from Hezbollah military tactics used against Israel during this summer's war in Lebanon. Abu Obayda, a spokesman for Hamas militants, declined to confirm whether his group was training in Iran. "But I confirm that we have the right to train inside or outside the country," he said. The reports followed a visit to Iran in December by Ismail Haniyeh, prime minister of the Hamas-led Palestinian government. Iran reportedly provided Haniyeh's cash-strapped government with $120 million and pledged several millions more. Senior Hamas terror leaders in Gaza, including militants from Palestinian Authority President Abbas' Fatah party, admitted they are working to copy Hezbollah warfare tactics. "We are turning Gaza into south Lebanon" said one. "It is only a matter of a small period before Gaza is ready to join the next war."
Waqf Claims 'Proof' Temple Mount 'Belongs to Muslims'
(Head custodian says site will never be returned to Jewish sovereignty)


Temple Mount in Jerusalem
Feb. 1….(WND) The replacement tomorrow in the Al Aqsa Mosque of a key podium transported with the coordination of Israeli security forces is "proof" the Temple Mount belongs only to Muslims and will never be returned to Jewish sovereignty, according to the leader of the Wafq, the Muslim custodians of the Temple Mount. "This historic occasion proves that the extremist Jews will never achieve their goals of taking over the Temple Mount. It shows that we are much closer to liberating the Al Aqsa Mosque and Jerusalem from Israeli occupation," said Waqf chief Adnan Husseini.
At a ceremony in the Al Aqsa Mosque, the podium is set to be unveiled and installed at the "exact spot" Waqf officials state the prophet Muhammad went up to heaven to receive revelations from Allah. The podium will be used by Al Aqsa preachers to deliver sermons. The new stand replaces a 1,000-year-old podium believed to have been shipped to Jerusalem by the Islamic conqueror Saladin. That stand was destroyed in 1969, when an Australian tourist set fire to the Al Aqsa Mosque. The replacement stand, a near replica of the original, was funded by the Jordanian and Saudi governments. It took craftsmen four years to construct. The podium's nearly assembled parts were shipped to Waqf offices on the Temple Mount earlier this month with help from the Israeli police, and will be installed at the center of the Al Aqsa Mosque tomorrow. According to a Waqf official speaking to WND, the theme for tomorrow's installation ceremony will focus on exclusive Islamic domination of the Temple Mount. "The official reason for the ceremony is to mark the installation, but unofficially it will be a celebration that this podium is proof we are the rightful owners of the Haram al-Sharif (Temple Mount). This podium solidifies our eternal presence here," the Waqf official said.
Al Aqsa Mosque built by angels?
The Temple Mount is the holiest site in Judaism. Muslims say it is their third holiest site.
The First Jewish Temple was built by King Solomon in the 10th century BC It was destroyed by the Babylonians in 586 BC The Second Temple was rebuilt in 515 BC after Jerusalem was freed from Babylonian captivity. That temple was destroyed by the Roman Empire in AD 70. Each temple stood for a period of about four centuries. The Jewish Temple was the center of religious Jewish worship. It housed the Holy of Holies, which contained the Ark of the Covenant and was said to be the area upon which God's "presence" dwelt. The Al Aqsa Mosque now resides on the site. The temple served as the primary location for the offering of sacrifices and was the main gathering place in Israel during Jewish holidays. The Temple Mount compound has remained a focal point for Jewish services over the millennia. Prayers for a return to Jerusalem have been uttered by Jews since the Second Temple was destroyed, according to Jewish tradition. Jews worldwide pray facing toward the Western Wall, a portion of an outer courtyard of the Temple left intact. The Al Aqsa Mosque was constructed around 709 to serve as a shrine near another shrine, the Dome of the Rock, which was built by an Islamic caliph. Al Aqsa was meant to mark what Muslims came to believe Muhammad, the founder of Islam, ascended to heaven. Jerusalem is not mentioned in the Quran. Islamic tradition states Mohammed took a journey in a single night from "a sacred mosque," believed to be in Mecca in southern Saudi Arabia, to "the farthest mosque" and from a rock there ascended to heaven. The farthest mosque later became associated with Jerusalem. Most Waqf officials deny the Jewish temples ever existed in spite of what many call overwhelming archaeological evidence, including the discovery of Temple-era artifacts linked to worship, tunnels that snake under the Temple Mount and over 100 ritual immersion pools believed to have been used by Jewish priests to cleanse themselves before services. The cleansing process is detailed in the Torah. According to the website of the Palestinian Authority's Office for Religious Affairs, the Temple Mount is Muslim property. The site claims the Western Wall, which it refers to as the Al-Boraq Wall, previously was a docking station for horses. It states Muhammed tied his horse, named Boraq, to the wall before ascending to heaven. In an interview with WND, Kamal Hatib, vice-chairman of the Islamic Movement, which will take part in the podium installation ceremonies, claimed the Al-Aqsa Mosque was built by angels, and that a Jewish Temple may have existed, but not in Jerusalem. The Movement, which works closely with the Waqf, is the Muslim group in Israel most identified with the Temple Mount. "When the First Temple was built by Solomon – God bless him – Al Aqsa was already built. We don't believe that a prophet like Solomon would have built the Temple at a place where a mosque existed," said Hatib. "And all the historical and archaeological facts deny any relation between the temples and the location of Al Aqsa. We must know that Jerusalem was occupied and that people left many things, coins and other things everywhere. This does not mean in any way that there is a link between the people who left these things and the place where these things were left," Hatib said.
Al Aqsa official to WND: Jewish Temples existed
Last June, in a widely circulated WND interview, a former senior leader of the Waqf contradicted his colleagues, saying he has come to believe the first and second Jewish Temples existed and stood at the current location of the Al Aqsa Mosque. The leader, who was dismissed from his Waqf position after he quietly made his beliefs known, said Al Aqsa custodians passed down stories for centuries from generation to generation indicating the mosque was built at the site of the former Jewish temples. He said the Muslim world's widespread denial of the existence of the Jewish temples is political in nature and is not rooted in facts. "Prophet Solomon built his famous Temple at the same place that later the Al Aqsa Mosque was built. It cannot be a coincidence that these different holy sites were built at the same place. The Jewish Temple Mount existed," said the former senior Waqf leader, speaking to WorldNetDaily from an apartment in an obscure alley in Jerusalem's Old City. The former leader, who is well known to Al Aqsa scholars and Waqf officials, spoke on condition his name be withheld, claiming an on-the-record interview would endanger his life. He told WND "true" Islamic tradition relates the Jewish temples once stood at the site of the Al Aqsa Mosque. "[The existence of the Jewish Temple at the site is obvious] according to studies, researches and archaeological signs that we were also exposed to. But especially according to the history that passed from one generation to another, we believe Al Aqsa was built on the same place were the Temple of the Jews, the first monotheistic religion existed.
Temple Mount: No-prayer zone
Currently, even though the Jewish state controls Jerusalem, the Waqf serve as the custodians of the Temple Mount under a deal made with the Israeli government that restricts non-Muslim prayer at the site. The Temple Mount was opened to the general public until September 2000, when the Palestinians started their intifada by throwing stones at Jewish worshipers after then-candidate for prime minister Ariel Sharon visited the area. Following the onset of violence, the new Sharon government closed the Mount to non-Muslims, using checkpoints to control all pedestrian traffic for fear of further clashes with the Palestinians. The Temple Mount was reopened to non-Muslims in August 2003. It still is open but only Sundays through Thursdays, 7:30 a.m. to 10 a.m. and 12:30 p.m. to 1:30 p.m., and not on any Christian, Jewish or Muslim holidays or other days considered "sensitive" by the Waqf. During "open" days, Jews and Christian are allowed to ascend the Mount, usually through organized tours and only if they conform first to a strict set of guidelines, which includes demands that they not pray or bring any "holy objects" to the site. Visitors are banned from entering any of the mosques without direct Waqf permission. Rules are enforced by Waqf agents, who watch tours closely and alert nearby Israeli police to any breaking of their guidelines.
US Funds for Abbas Goad Hamas
Feb. 1….(Arutz) The Hamas leadership was incensed Wednesday at the news that the Bush administration has agreed to transfer nearly $100 million to Fatah. America is stoking the civil war amongst us, said Hamas spokesman Ismail Radwan. "This is a flagrant interventon in the internal affairs of the Palestinians [sic]." Fifty-eight Arabs were killed in Fatah-Hamas clashes during in January, according to the PA health ministry. The US has adopted a pro-Fatah, anti-Hamas stand since the latter terror group scored an upset victory in "Palestinian" elections last year. Despite Hamas' fury, the US Congress is not expected to block the funds.
Report: US May Back 40,000-Man Fatah Army
(The US is quietly entrenching itself deeper in the sands of Gaza with a plan to back the entire Fatah-led security force. Hamas and some analysts warn the Americans will get stuck in a quagmire.)
Feb. 1….(Arutz) The Bush administration already has committed itself to give $86 million to finance training and equipment for the personal "Presidential Guard" of Palestinian Authority (PA) Chairman Mahmoud Abbas. However, it now is considering to fund all of the PA security forces in order to counter the Hamas militia, Reuters News Agency reported Thursday. Israel, the PA and the US government have not commented. The security forces include at least 40,000 members, more than twice the number allowed by the Oslo agreements, and include many convicted terrorists whom Israel has freed. It also is common for Fatah security officers to simultaneously be members of Hamas and other terrorist organizations. Extending aid to all of Abbas's forces and weeding out known terrorists could create havoc for Abbas, but officials maintain that a review process would ensure that the PA forces who receive American training have no ties to terrorist groups, Reuters added. The rival Hamas terrorist organization, which comprises the majority of the PA legislature, as well as independent analysts, have warned that the US may be setting itself up to appear as an enemy and not a friend of Arabs in Judea, Samaria and Gaza. Hamas media spokesman Ghazi Hamda charged that the American aid is aimed to promote conflict between Hamas and Fatah in order to allow the Bush administration and American Secretary of State Condoleezza Rice to be the dominant force in the area. A second Hamas spokesman, Ismail Radwan, was more blunt. Whenever the United States sees that the Palestinians are about to achieve a unity agreement, it sends Condoleezza Rice to the region, or publicly announces sending weapons and money to Abbas, because it does not want unity among the Palestinians," he asserted. Political analyst Bassem Zubeide of Ramallah's Bier Zeit University said, "Most Palestinians will think that the United States is getting heavily involved, and that will definitely weaken the Abbas point of view." The US has committed $86 million for the Presidential Guard and another $42 million to promote programs aimed to counter Hamas. The Americans maintain that its aid does not go for weapons but instead is used for training and for uniforms, radios and other equipment. However, massive American aid to Egypt and Jordan has made it easier for those countries to ship rifles, with Israel's approval, to Abbas. Lt. Gen. Keith Dayton, the special American military envoy to the PA, claims that the training by American army officers is meant to build up the Presidential Guard and not for the purpose of fighting Hamas. However, the guard has been the main fighting force in the Fatah-Hamas force militia war that broke out two months ago. Regardless of the source of the weapons, Hamas has vowed they will be used against Israel. ''The more weapons Americans give to Abbas, the more we will have to use against the Israelis when we go back to carrying out operations together,'' one Hamas leader predicted. Abbas himself has urged fighting factions to stop warring with each other and to "aim their rifles at the occupation," the same phrase used by Islamic Jihad terrorists who took responsibility for this week's suicide bakery bombing in Eilat. American State Secretary Rice remains optimistic. She recently said at a press conference, ''I want everyone to know how much we admire the leadership of President Abbas. We have made a lot of progress because of [his] hard work.''
US-Iran Tensions Could Trigger War
Feb. 1….(AP) Citing Iranian involvement with Iraqi militias and Tehran's nuclear ambitions, the Bush administration has shifted to offense in its confrontation with Iran, building up the US military in the Persian Gulf and promising more aggressive moves against Iranian operatives in Iraq and Lebanon. The behind-the-scenes struggle between the two nations could explode into open warfare over a single misstep, analysts and US military officials warn. Iraq has become a proxy battleground between Washington and Tehran, which is challenging, at least rhetorically, America's dominance of the Gulf. That has worried even Iraq's US-backed Shiite prime minister, who, in a reflection of Iraq's complexity, also has close ties to Iran. Iran and the United States are already sparring on the ground. The No. 2 US general in Iraq told USA Today in an interview published Tuesday that Iran was supplying Iraqi Shiite militias with a variety of powerful weapons, including Katyusha rockets and armor-piercing rocket-propelled grenades. The US is also building up its military presence in the Gulf in what it says is a show of strength directed at Iran. A second aircraft carrier is heading for the region, and Patriot missile batteries are being deployed. Since Bush announced his new Iraq strategy in early January, Iranian officials have raised the alarm repeatedly that the US intends to attack. President Mahmoud Ahmadinejad said Iran is "ready for anything" in its confrontation with the United States. A newspaper close to Iran's supreme leader Ayatollah Ali Khamenei last week threatened retaliation for any US military action, including stopping oil traffic through the Gulf's strategic Hormuz Straits and attacks on US interests. The top editor of the Kayhan daily warned that Iran will turn the Middle East into "hell" for the United States and Israel if America attacks. Iran expert Ray Takeyh said the risks are all the greater because Tehran has an "unhealthy" disregard for American power, which "enhances the prospect of a miscalculation." The US has also beefed up support for Lebanon's government in its power struggle with Hezbollah, the Shiite militia that Washington accuses of acting in Iran's interests. The war of words has raised fears among both Democrats and Republicans in Congress that the United States and Iran are drifting toward armed conflict at a time when America is struggling against determined foes in Iraq and Afghanistan. It has also unnerved the Iraqi government, many of whose members have close ties to Iran. "We have told the Iranians and the Americans, `We know that you have a problem with each other but we're asking you, please, solve your problems outside of Iraq,'" Prime Minister Nouri al-Maliki, a Shiite, told CNN on Wednesday. "We do not want the American forces to take Iraq as a base to attack Iran. As the rhetoric grows more strident, a US military official in the Gulf likened the US-Iran standoff to the buildup in hostility in Europe before World War I, when the assassination of the heir to the Austrian throne triggered a tragic war that engulfed a continent. "A mistake could be made and you could end up in something that neither side ever really wanted, and suddenly it's August 1914 all over again."
Regional War Looming in 2007?
Jan. 31….(commentary by David Dolan) The Middle East remains poised on a knife's edge during January as American and European officials stepped up efforts to jump start the moribund Road Map peace process. This came as Israeli army leaders released an official assessment that a major regional conflict may erupt during 2007 involving Israel, Lebanon, Syria, the Palestinians and Iran. Meanwhile violence escalated during the month between rival Palestinian factions amid renewed attempts to form a national unity government to help prevent a full blown civil war. Neighboring Lebanon crept ever closer to widespread civil conflict as the radical Shiite Hizbullah militia, backed by Syria and Iran, stepped up efforts to overthrow the duly elected Sunni-led government, which triggered intense street clashes in Beirut. Israeli newspapers published details on January 12 of an official army assessment warning that a major regional conflict is likely to erupt later this year. The annual military strategic assessment noted what was understatedly termed "a decline in regional stability in the Middle East, giving rise to the possibility of hostilities involving Lebanon, Syria, the Palestinian Authority and Iran." The army said its dire assessment took into account the "lessons learned" during the inconclusive 2006 summer war with Hizbullah militia forces operating out of Lebanon. Israeli military analysts said the main reason for growing regional instability is stepped up Iranian meddling throughout the Middle East. They noted that the oil-flushed theocratic Muslim regime in Tehran is pumping copious amounts of financial aid and weapons to its Syrian, Lebanese Hizbullah and Palestinian Hamas and Islamic Jihad allies, along with material aid going to Iranian-backed Shiite militias operating next door in violence-torn Iraq. Coming against the ominous backdrop of Iran's escalating nuclear uranium enrichment program, the mullah's meddling is succeeding in destabilizing the entire region, adding to growing prospects that major portions of the tense Middle East will erupt into full-scale warfare during 2007.
The IDF annual strategic assessment did not mention the prospect that Israel might essentially take the first shot in the apparently brewing conflict, aimed at thwarting Iran's jihad-fueled vow to destroy the world's only Jewish-ruled state in the coming days. Iran's President Mahmoud Ahmadinejad repeated his often-voiced pledge during January to wipe Israel off of the regional map, stating again that it will happen suddenly and soon. The Shiite leader's shrill threats were voiced as some Iranian media outlets reported that Ahmadinejad had recently told his closest supporters that he expects the so-called "missing Madhi," a long revered Shiite religious leader who supposedly disappeared down a well in the Middle Ages, to reemerge on the world stage sometime before the annual spring equinox occurs on March 21. The reports were received with considerable trepidation in Jerusalem, since Israeli officials understand that the Madhi is expected to surface amid massive worldwide turmoil, such as an Iranian nuclear strike on tiny Israel, or even a preemptive American or Israeli strike on Iran's nuclear outposts, would undoubtedly spark off. Adding to the prospect of a full-blown regional conflict later this year, Israeli security officials said that the global Al Qaida movement, operating from its notorious Iraqi branch, has succeeded in organizing new terror cells based in Sunni Palestinian neighborhoods located in southern Lebanon, as they had earlier done in Judea, Samaria and the Gaza Strip. Brigadier General Amos Yadin told the Knesset Foreign Affairs and Defense Committee on January 9 that up to 100 Al Qaida agents had traveled to Lebanon from Pakistan and Iraq with the intention of organizing local attacks against United Nations and Lebanese Army forces operating in southern Lebanon in the wake of last year's war. He said the anticipated attacks would be designed to repeat the massive terrorist atrocities that drove American, French and Italian peacekeeping forces from Lebanon in 1983, leaving the war torn country open to indirect Iranian control via its Syrian and Hizbullah surrogates.
With fresh war clouds gathering in the region despite further talk of peace, it is more essential than ever to remember that the Prince of Peace holds the entire world in His mighty hands! It is the Lord himself who will comfort Zion, who will "comfort all of her waste places, and her wilderness He will make like Eden, and her desert like the garden of the Lord." (Isaiah 51:3).
General Says US has Proof Iran Arming Iraqi Militias
Jan. 31….(USA Today) Iran is supplying Iraqi militias with a variety of powerful weapons including Katyusha rockets, the No. 2 US general in Iraq said Tuesday. "We have weapons that we know through serial numbers … that trace back to Iran," Lt. Gen. Raymond Odierno said in an interview with USA Today. His comments came as the Bush administration has been taking an increasingly tough stance against what it alleges is Iranian meddling in sectarian violence in Iraq. Last week, the White House confirmed that the president had authorized US troops to take action against Iranian agents in Iraq who present threats. On Tuesday, President Bush vowed to crack down on those who supply Iraqi insurgents with arms, though he denied any plans to invade Iran. "We'll deal with it by finding their supply chains and their agents and arresting them. In other words, we're going to protect our troops," Bush told ABC News. Odierno did not provide further details on how weapons were linked to Iran. The Iranian government has denied providing weapons to Iraqi militias. Most weapons supplied by Iran end up in the hands of Shiite extremists, Odierno said. He said the weapons include:
•The RPG-29, a rocket-propelled grenade that can fire armor-piercing rounds. It is larger and more sophisticated than the RPG-7 more commonly found in Iraq.
•Katyusha rockets, so large they are generally fired from trucks.
•Powerful roadside bombs, known as explosively formed projectiles, which can pierce armor. The technological know-how and "some of the elements to make them are coming out of Iran," Odierno said. Several Iranians have been detained in raids inside Iraq, and some remain in custody. The arrests have provided clues about Iranian operations, Odierno said. "Every time you pick up individuals you learn about how they facilitate themselves within a country," he said.
Attack on Iran by End of Bush's Term?
(Europe concerned over aggressive military stance recently voiced by Washington against Tehran, while US accuses European allies of dragging their feet. European source tells British Times, 'It is difficult to imagine Bush and Cheney leaving office without resolving the Iranian issue')
Jan. 31….(YNET) The British Times reported on Wednesday that Europe was concerned over the aggressive military stance recently voiced by Washington against Tehran, while the United States accused European allies of dragging their feet and not implementing the sanctions approved by the Security Council due to Iran's refusal to halt its nuclear activity. A diplomatic source in Washington told The Times, "It is difficult to imagine Bush and Cheney leaving office without resolving the Iranian issue, if necessary, by force." The Guardian reported on Wednesday that senior European policy-makers were increasingly worried that the US administration will resort to air strikes against Iran to try to destroy its suspect nuclear program. As transatlantic friction over how to deal with the Iranian impasse intensifies, there are fears in European capitals that the nuclear crisis could come to a head this year because of US frustration with Russian stalling tactics at the UN Security Council. "The clock is ticking," one European official told The Guardian. "Military action has come back on to the table more seriously than before. The language in the US has changed." The US recently began boosting its military presence in the Persian Gulf, the most serious reinforcement of forces since the US invaded Iraq in 2003. Meanwhile, the US also raised some complaints against its European allies. Washington is urging its allies to go beyond UN sanctions against Iran over its atomic program and choke off foreign investment, but is meeting strong Russian and European resistance, Western diplomats said. "A number of countries, especially Russia, feel the United States is bullying them to end even legitimate business with Iran due to the nuclear dispute," a senior Western official told Reuters. The UN Security Council passed a resolution in December imposing limited sanctions on Iran for refusing to suspend its nuclear enrichment program, which Western states fear will be used for atomic bombs. Washington is trying to get its allies to adopt punitive measures beyond the UN sanctions. US Undersecretary of State Nicholas Burns said this month European governments should curtail billions of euros of export credits available for trade with Iran. He also criticized arms deals Russia and China have with Tehran. The US goal is to make it virtually impossible to invest in Iran. It's not about stopping sales of dual-use technology. They're trying to keep investors out of Iran and are working hard to keep the price of oil low," said a European diplomat. "They (the US) think that this is what will hurt Iran most and I think they're right," he added. A diplomat from an EU country that is also in the Group of Eight (G8) club of developed states said Iranian sanctions were discussed at a meeting of G8 officials in Berlin last week. He said Russian officials had complained at the Berlin meeting that the sanctions were hurting them more than any other country because of their close business ties with Iran. "The exposure of Russian banks in New York is enormous," said the EU diplomat. "They can't ignore the US pressure (not to deal with Iran) and Moscow doesn't like it." Some large EU countries with major trade relations with Iran like Germany and Italy are resisting US pressure. Washington wants allies to end all business with Iran by preventing financial transactions and freezing assets of certain Iranians and Iranian companies. "US treasury department officials have been touring Europe to make sure officials and companies know that they've got to put more pressure on Iran," another EU diplomat said. EU foreign policy chief Javier Solana said in Brussels he was optimistic the sanctions resolution "is going to be implemented to the fullest by EU member countries." "In the last (EU) General Affairs Council, we had an agreement to look at how the sanctions can be continued to other people, to companies," he said. Still, Washington remains frustrated with what it sees as the slow place of the EU in implementing measures that could pressure the Iranian government, a US official said.
US: No Plan to Strike Iran
(Defense Secretary Robert Gates tells Senate Armed Services Committee that while US forces are trying to prevent Iran and Syria from disrupting US forces in Iraq, there were no immediate plans for an attack)
Jan. 31….(YNET) US officials have said there was no immediate plan to strike targets in Iran, but they also would not rule out military action. Their comments came after President George W. Bush vowed in a prime-time address to Americans to go after Iranian terrorist networks feeding the insurgency in Iraq. The US and Iran have been involved in a bitter standoff over Tehran's nuclear program, a clash that has intensified because the United States says Iran helped provide roadside bombs that have killed American troops in Iraq. Bush's remarks Wednesday in a speech announcing his plan to boost US forces in Iraq, prompted questions from members of Congress about whether the US is considering attacks on Iranian territory. Bush administration officials have long refused to rule out any options against Iran but said military action would be a last resort. On Friday, Defense Secretary Robert Gates and Gen. Peter Pace, chairman of the Joint Chiefs of Staff, told the Senate Armed Services Committee that while US forces are trying to prevent Iran and Syria from disrupting US forces in Iraq, there were no immediate plans for an attack. "We believe that we can interrupt these networks that are providing support through actions inside the territory of Iraq, that there is no need to attack targets in Iran itself," Gates told the panel, adding that he continues to believe that "any kind of military action inside Iran itself, that would be a very last resort." Pace said special operations forces are continually battling insurgents who are getting aid from Iran. "I think one of the reasons you keep hearing about Iran is because we keep finding their stuff in Iraq,"
Report: Israel Has Plans for Nuclear Strike on Iran
(British paper reports Israel has secret plan to take out Iranian nuclear facilities with Israeli nukes; cites 'Israeli military sources' as saying pilots already training for mission against nuclear sites in Natanz, Arak and Isfahan. Iran in response: Aggressor will very quickly regret its acts)
Jan. 31….(YNET) Israel has drawn up secret plans to destroy Iran's 's uranium enrichment facilities with tactical nuclear weapons, Britain's Sunday Times newspaper said. Following the report, Iran warned Israel of attacking its nuclear facilities. "Any military offensive on the Islamic republic will not be unanswered and the aggressor will very quickly regret its acts," Iranian Foreign Ministry spokesman Mohammad Ali Husseini said during a press conference in Tehran. Asked whether it was possible that Israel would attack Iran's nuclear facilities, Husseini replied, "This testifies to the other side's weakness and has no affect on Iran's national decisiveness to continue its nuclear activity for peacedull purposes. Husseini referred to Prime Minister Ehud Olmert 's "slip of the tongue" regarding Israel's nuclear weapons, saying that "such remarks completely clarify to the public opinion that the main threat on global peace and safety, as well as on the region's security, is the Zionist regime." Foreign Ministry spokesman Mark Regev told Ynet, "I completely deny the Sunday Times report. Israel today fully supports an immediate implementation of Security Council Resolution 1737, which deals with sanctions on Iran. We believe, however, that there is need to boost the diplomatic activity."
Citing what it said were several Israeli military sources, the paper said two Israel Air Force squadrons had been training to blow up an enrichment plant in Natanz using low-yield nuclear "bunker busters". Two other sites, a heavy water plant at Arak and a uranium conversion plant at Isfahan, would be targeted with conventional bombs, the Sunday Times said. Israel has refused to rule out pre-emptive military action against Iran along the lines of its 1981 air strike against an atomic reactor in Iraq, though many analysts believe Iran's nuclear facilities are too much for Israel to take on alone. The newspaper said the Israeli plan envisaged conventional laser-guided bombs opening "tunnels" into the targets. Nuclear warheads would then be used fired into the plant at Natanz, exploding deep underground to reduce radioactive fallout. Israeli pilots have flown to Gibraltar in recent weeks to train for the 2,000 mile (3,200 km) round-trip to the Iranian targets, the Sunday Times said, and three possible routes to Iran have been mapped out including one over Turkey. However it also quoted sources as saying a nuclear strike would only be used if a conventional attack was ruled out and if the United States declined to intervene. Disclosure of the plans could be intended to put pressure on Tehran to halt enrichment, the paper added. Washington has said military force remains an option while insisting that its priority is to reach a diplomatic solution. Iran's President Mahmoud Ahmadinejad has called for Israel to be "wiped off the map". Israel, widely believed to have the Middle East's only nuclear arsenal, has said it will not allow Iran to acquire nuclear weapons.
| | |
| --- | --- |
| | (FOJ) Iran's chief nuclear envoy Ali Larijani said on Friday that Iran is committed to the peaceful use of nuclear technology but warned the situation could change if his country is threatened, and that it would then use its nuclear capabilities against Israel. |
Russia Calls for Lifting International Sanctions on Hamas
Jan. 30….(Jerusalem Post) A senior Russian diplomat called upon the Western nations to begin the lifting of the international blockade of the Hamas-led Palestinian government. Russia's Deputy Foreign Minister Alexander Saltanov said that Moscow would use a meeting of international mediators in Washington later this week to press for the lifting of economic sanctions. "Russia has always argued against the blockade and we expect the Quartet to listen to our view". Over the weekend, Russian Foreign Minister Sergey Lavrov said that Iran and Syria, both countries viewed with suspicion of terrorism by the United States, should be included in any regional peace initiatives.
FOJ Note: Russia is undoubtedly providing the muscle behind Persia's thrust towards pushing the US out of the Middle East, and to encircle Israel with terrorist proxies.
Moscow Forges Ahead in Iran After US Sanctions Threat
Jan. 30….(DEBKA) In Tehran this week, Russian security chief Igor Ivanov promised the nuclear work for Iran would go forward and be completed on schedule in September, 2007. He also pledged that fuel that could double for the manufacture of nuclear weapons, held back till now, would be released no later than March. Until now the Russians have been going slow on the reactor they had contracted to build at Bushehr on the Gulf coast of southwestern Iran and were refusing to release the fuel. Tehran had also accused Moscow of supplying outdated technology to some parts of the reactor and cut off payments for this and other economic transactions. DEBKAfile's Moscow sources report that President Vladimir Putin decided to settle the dispute with Tehran after learning from Washington that US sanctions were to be clamped down on Russian military industrial firms supplying Iran with the advanced Tor-M1 anti-missile missile systems for guarding Iranian nuclear installations. The new weapons are meant to deter US and Israel from taking military action against Iran's nuclear industry. Our military sources report that Tehran put the new Tor-M1 systems through their paces for the first time in a missile exercise that took place in central Iran on Jan-22-25. It was led by the Revolutionary Guards missile unit commander Brig. Gen. Majid Ayine. The home-made Zelzal and Fajr-5 missiles, officially announced as the objects of the exercise, were in fact used to simulate American or Israeli missiles coming in for attacks on nuclear sites and RG bases. They tested the Tor-M1's ability to destroy them before they struck. Present at the exercise were missile experts of the Russian arms export monopoly Rosoboronexport, there to advise Iran on how to integrate the new Tor-M1 systems in their air defenses. The extent of Moscow's assistance for Iranian efforts to repel an American attack incensed the Bush administration. State department spokesman Sean McCormack intimated that the sale of the Tor-M1 to Iran was a violation of UN Security Council sanctions. "There are many legitimate acts," he said, "that should force the international community to review the selling of Russian systems for the anti-missile defenses of Tehran." Putin's instant response to Washington's move was to dispatch Ivanov to Tehran with promises to satisfy Iran's complaints, and to help Iran forge ahead with its nuclear program.
FOJ Note: Again, it should be readily apparent that Russia is preparing for an assault on the Middle East, and is being a guard for its anti-America clients. These news accounts verify that the Ezekiel prophecy relative to the Magog invasion upon the mountains of Israel is coming to a climax in our times.
'Good Luck Son, Now Go Kill us Some Jews' – Suicide Bomber's Mom
Jan. 30….(JNEWSWIRE) While Jewish mothers were packing their sons off to school Monday, Muhammed Saksak's mom was packing him off to kill some innocent Israelis. He did too, shredding his own body to pieces, along with those of the two owners of an Eilat bakery and one of their workers. "We're proud of him," his family said afterward he exploded himself in the bakery". And the woman who had brought him into the world and raised him to believe that he could best serve Allah by murdering Jews boasted: "I wished him 'good luck.'" By the dozens, neighbors and friends poured into the Saksak's home to congratulate them on their son's great achievement. He will be immortalized, and streets and parks will be named after him by a people and a society that is hate-saturated and brainwashed by the teachings of Islam.
'These Suicide'-bombing planners are loyal to Abbas
The men of one of the groups behind Monday's terrorist attack in Eilat, Israel, are loyal to PA and Fatah chairman Mahmoud Abbas, the man the world treats as a "moderate" and wants to see become the president of 'Palestine.' A leader of the Fatah's Al Aqsa Martyrs Brigades told WND Monday that while Abbas had not ordered the attack, it was carried out fully in line with "the position of Fatah that the occupation must be fought whenever and wherever possible. "The Al Aqsa Martyrs Brigades has an independent role, but we are proud to be a part of a movement (Fatah) which has a heroic leadership respected around the world," Abu Ahmed said.
Shiites in Iraq and Lebanon Commeorate Ashoura
(FOJ)

Does not the sight of this just make you sick to your soul?

The Devil is using his demon hordes to deceive
Jan. 30….(FOJ) Tens of thousands of Shiite Muslim men, some beating their chests and others slashing their heads with blades, marched through the streets of Lebanon on Tuesday to mark Ashoura, the sect's holiest day.
The marches in Lebanon, and others in Saudi Arabia, Iraq and Iran, took place despite tension between Shiites and their Sunni Muslim rivals that has risen during the past year as the power struggles in Beirut and Baghdad took sectarian lines. Ashoura marks the killing of Imam Hussein, the grandson of Prophet Muhammad, in a 680 AD battle at Karbala in Iraq. As the victors went on to become the Sunni branch of Islam, Hussein's death is regarded as the start of the schism between Sunnis and Shiites. In Beirut, squads of black-clad Hezbollah men beat their chests in rhythm as a sign of grief as they walked in cold rainy weather through the southern suburbs, passing buildings damaged by Israeli airstrikes during last year's war against their guerrilla movement. Women raised their fists and joined spectators in cries of "At your service, O, Hussein!", "Death to Israel!" and "Death to America!"
| | |
| --- | --- |
| | Iranian and Iraqi Shiite Muslims beat themselves during religious ceremonial rituals around a model of the resting place of Imam Hussein in Tehran, Iran, Tuesday, Jan. 30, 2007, on the holy day of Ashoura. Shiite Muslims celebrate Ashoura marking the death of Imam Hussein, a grand son of Islam's prophet Mohammed, who was killed in a 680 AD battle at Karbala in Iraq |
The story of Iman Hussein's final hours was recounted in a huge hall in south Beirut by a cleric who broke down and wept. Several thousand men and women listened in segregated seating, many weeping or slapping their heads in mourning. In the southern Lebanese town of Nabatiyeh, thousands of Shiite men walked in circles in the town square, many slashing their heads with swords and then pounding the wound with the palm of their hand. They wore a piece of white cloth around their neck to absorb the blood. Men brought their young sons, parts of their heads shaven, to a specially decorated hall in Nabatiyeh where a man, known as Hajj Khodor, wiped a blade with alcohol before hitting each boy three or four times on the head. Some boys cried and resisted, but the cutting proceeded. "
| | |
| --- | --- |
| | (FOJ) Tens of thousands of Shiite pilgrims from around the country and the region, meanwhile, converged on Karbala, 45 miles northwest of Najaf, for Ashoura rituals. Many, wearing black uniforms in a sign of mourning, beat their chests and foreheads as they headed to visit the two gold dome shrines that includes the tombs of Imam Hussein, and his half brother Imam Abbas. Assailants struck the Shiite worshippers in three Iraqi cities Tuesday, killing at least 36 people in bombings and ambushes during the climax of ceremonies marking Ashoura, the holiest day in the Shiite calendar. The attack came a day after Iraq's army announced it had killed the leader of a heavily armed cult of messianic Shiites called "the Soldiers of Heaven" in a gunbattle aimed at foiling a plot to attack leading Shiite clerics and pilgrims in the southern city of Najaf. |
President Bush Has Reaped A Whirlwind of Curses
Jan. 30….(FOJ) Love him or hate him, support him or not, there is one thing that has become clear, President Bush has become a president that has reaped a whirlwind of criticism and problems. It is no wonder, for FOJ forewarned its readers, (and the president) that by compromising the land that Jehovah God conveyed to Israel through his two-state solution proclamation, the day would come when the burdensome dilemma of Israel would reverberate upon his head. Our President is besieged now with the demonic and hellish situation in Iraq, a democratic Congress that hates his guts, and a news media that is set to rip him to shreds. The President surely needs our prayers, as he truly has a very difficult job, but more than anything else the President needs a better Biblical understanding of what he is dealing with in regards to Israel and the Covenanted Land. As the President prepares to send more troops into Iraq, and to possibly contend with Iranian insurgents, I can only pray that the God will continue to oversee his people, for I am truly concerned about America's fate if it continues to coerce Israel into the EU-UN sponsored Roadmap to Armageddon.
Iran's Space Venture Will Enhance its Nuclear Military Resources
Jan. 29….(DEBKA) Iran is closer than ever before to the launch of a spy satellite by a BM25 ballistic missile, 18 of which were purchased from North Korea, notwithstanding Pyongyang's denials of aid to Iran's nuclear program. Iran has reportedly finished building a reconnaissance satellite and converted a ballistic missile into a space launcher. If this claim is correct, then Iran has a launcher able to put 300 kg into earth orbit and by the same definition, an ICBM that could drop more than 300 kg anywhere in the world, including Washington DC. While the new Shehab 3ER can strike any part of the Middle East as far west as Turkey, according to the former head of the Israel Missile Defense Organization, Uzi Rubin, the BM25s with a range of up to 4,000 km can reach targets in Europe. Little is known about this missile. However, its conversion to a space launcher would produce an intercontinental ballistic missile (ICBM) able to drop a payload weighing 300 km, the estimated weight of a reconnaissance satellite, anywhere in the world. DEBKAfile's military sources report that Iran has just finished upgrading its Shehab series, adapting them to solid fuel. Although most military and intelligence experts doubt the Iranian satellite would survive in orbit for more than a few months before burning out, Tehran's technological feats cannot be overstated. Its initial goal appears to be deterrence at a time that the United States is massing heavy naval, air and amphibious might opposite Iranian shores. However, the Islamic Republic's progress in missile development is as much or more cause for concern than the announcement Jan. 27 by a senior Majlis lawmaker that Tehran has begun installing 3,000 nuclear centrifuges ahead of schedule at the Natanz underground facility. Washington has been impelled by Tehran's rapid progress in missile technology and uranium enrichment to make haste and get elements of its anti-ballistic missile system quickly based in Poland and the Czech Republic, ready to intercept any prospective Iranian missiles heading towards Europe. Moscow objects strongly to US missiles being based in the two former Warsaw Pact countries.
FOJ Note: What seems to be going unnoticed or unsuspected with Iran's launching of a space missile is the possibility that Iran would utilize a satellite to ignite an EMP burst over, or near the United States, effectively dismantling America's electric grid and powering system, disabling all electrical energy consumption. Such an attack would render America totally defenseless, and result in domestic chaos.
Palestinian Suicide Bomber Kills 3 in Eilat Bakery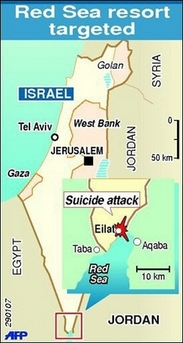 Jan. 29….(YNET) A Palestinian suicide bomber attacked a small bakery in the southern Israeli resort town of Eilat on Monday, killing himself and three other people, police said. It was the first suicide attack in Israel in nine months and the first ever to hit Israel's southernmost city. A spokesman for Hamas, the radical Islamic group that controls the Palestinian parliament and Cabinet, praised the bombing as a "natural response" to Israeli policies, a position likely to complicate the group's efforts to end a crippling aid boycott imposed by the international community. Two Palestinian militant groups, Islamic Jihad and the Al Aqsa Martyrs' Brigades, (loyal to Abbas) claimed joint responsibility for the attack
The bomber struck a small bakery in a residential neighborhood. Shattered glass was visible on the sidewalk outside, alongside bread trays scattered by the blast. Benny Mazgini, 45, said he was in an apartment across the street when the building shook from the force of the blast. When he ran outside, Mazgini said, he saw body parts scattered on the sidewalk. The attack was the second suicide bombing in Israel since Hamas won Palestinian parliamentary elections last January. The group came under heavy criticism for making statements in support of an April suicide bombing in a Tel Aviv restaurant that killed 12 people shortly after it took power. Fawzi Barhoum, a Hamas spokesman in Gaza, called the attack a "natural response" to Israeli military policies in the West Bank and Gaza Strip, as well as its ongoing boycott of the Hamas-led Palestinian government. "So long as there is occupation, resistance is legitimate," he said.
| | |
| --- | --- |
| | A relative holds photographs of Mohammed Saksak, 21, in the northern Gaza town of Beit Lahiya , Monday. A Palestinian suicide bomber identified as Mohammed Saksak, 21, of Gaza City, attacked a bakery in Eilat on Monday, killing himself and three people, police said. It was the first suicide attack in Israel in nine months and the first ever to hit Eilat, Israel's southernmost city. |
PA: Iran, Syria Promoting Civil War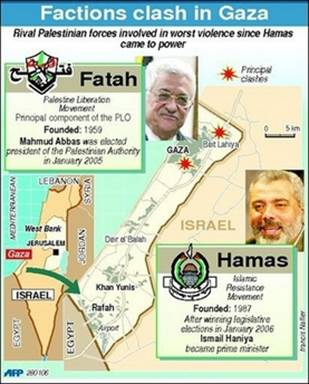 Jan. 29….(Jerusalem Post) Palestinian Authority officials on Sunday accused Iran and Syria of pushing the Palestinians toward civil war, saying Hamas is acting on orders from Teheran and Damascus. Hamas and Fatah gunmen, meanwhile, continued to battle each other across the Gaza Strip early Monday, attacking security compounds, knocking out an electrical transformer and kidnapping several local commanders in some of the most extensive factional fighting in recent weeks. Four people were killed and large parts of Gaza City were plunged into darkness. Since infighting re-erupted late Thursday, 29 Palestinians have been killed. In a related development, Hamas and Fatah officials welcomed a Saudi invitation to hold reconciliation talks in Mecca. The invitation, which was issued by King Abdullah bin Abdel Aziz, is the first of its kind and signals the Saudi government's concern over the growing involvement of Iran and Syria in Palestinian affairs. In Nablus, the largest West Bank city, Fatah gunmen kidnapped 10 Hamas members and demanded the resignation of PA Interior Minister Said Siam of Hamas and the dismantlement of Hamas's "Executive Force" in the Gaza Strip. "Iran and Syria are encouraging Hamas to continue fighting against Fatah," said a senior official in PA Chairman Mahmoud Abbas's office. "They want to deliver a message to the Americans that there will be no stability in Palestine, Iraq and Lebanon as long as Washington continues to ignore Syria and Iran." Another PA official said the leaders of Iran and Syria were also responsible for the failure of talks between Fatah and Hamas over the formation of a Palestinian unity government. "They are putting heavy pressure on Hamas not to make any concessions that would facilitate the formation of a unity government," he said. "They are trying to undermine US allies in Palestine, Iraq and Lebanon." PA Prime Minister Ismail Haniyeh urged Palestinians to abandon violence and endorse dialogue as the only means for solving differences. He appealed to Abbas to order all militiamen to withdraw from the streets and to remove security checkpoints set up in many areas in the Gaza Strip. "Palestinian society does not need to be further militarized," Haniyeh said.
WEEK OF JANUARY 22 THROUGH JANUARY 28
Russia: Include Syria, Iran in Peace Process
(Russian Foreign Minister Sergei Lavrov embarks on new attack against United States, demanding that the superpower explain its heavy military presence in Middle East. Lavrov also calls to include Syria, Iran in peace process)

Jan. 27….(YNET) Russia expects the United States to explain its growing military presence in the Middle East when the countries next meet to discuss the region, Russian Foreign Minister Sergei Lavrov told Russian news agencies on Saturday. "I have seen no change in Washington's fairly aggressive rhetoric," Lavrov said. "It continues, just like its actions to increase the military presence in the region. It will be one of the questions which we want to clarify in Washington. What's it all about?" Lavrov is expected to take part in a meeting of the Middle East quartet group in Washington on February 2 to try to get a peace process between Israelis and Palestinians back on track. US Secretary of State Condoleezza is due to host the meeting. The United States is in the process of sending an additional 21,500 troops to Iraq, which it invaded in 2003, to try to quell an insurgency. It already has 134,000 troops in the country. Washington has said it is also deploying a second aircraft carrier group in the Gulf as well as Patriot missile defense systems—steps widely seen as a warning to Iran and Syria. It maintains a significant military presence in Kuwait, Qatar and Bahrain, which houses the US Navy's Fifth fleet.
'Don't isolate Syria, Iran'
Lavrov said unilateral US sanctions against Iran would be counterproductive to efforts to resolve the problem of the country's nuclear ambitions and would force Tehran out of the negotiating process. Russia's number two diplomat, Security Council Secretary Igor Ivanov, is due hold talks in Iran on Sunday and is expected to discuss nuclear issues.
Lavrov said Iran and Syria should not be isolated but should understand that they were expected to play a positive role and in return they would receive an appropriate position in the regional dialogue. "We are deeply convinced that Iran and Syria should not be isolated but brought into the peace process," he said, speaking on return from a visit to India with President Vladimir Putin. "In general, the problems that exist in the Middle East and in the surrounding region are linked to muddle-headed ideas about prestige. Someone says something once and from then on he can't break with this principle. This is an inflexible policy, and it's short-sighted."
Iran Prepares People for 'Messiah Miracles'
(Government broadcasts series on imminent appearance of apocalyptic Islamic 'Mahdi')
Jan. 27….(WND) Official Iranian radio has completed broadcasting a lengthy series on the imminent appearance of a messianic figure who will defeat Islam's enemies and impose Islamic Shiite rule over the entire world, even speculating on specific dates the so-called "Mahdi" will be revealed. "Be joyous my heart, miracles of the Messiah will soon be here," reads a poem used to conclude the first broadcast. "The scent of breaths of the One we know comes from near. Grieve not of sorrow and melancholy, as assured I was last night that a Savior will come, it's clear." After the coming of the 12th imam, or Mahdi, "liberal democratic civilization" will be found only in "history museums," explained the program. "Contrary to the views of western theoreticians, who usually depict an ambiguous and dark future for mankind, Muslim experts believe human history, despite its many ups and downs, has a very auspicious fate," explained the program. "Muslims believe hopes for the realization of such a happy ending for the world are called 'Awaiting Redemption,' and means waiting for man's problems to be solved by the Savior at the end of time. This awaiting influences many, and inspired them with activity and enthusiasm in confronting darkness and oppression for changing the existing situation. This messianic figure is expected to be a direct descendant of Muhammad, according to the broadcasts. "In short, when he reappears, peace, justice and security will overcome oppression and deceit and one global government, the most perfect ever, will be established," it said. The Mahdi will appear suddenly, according to the report, in Mecca. Though no one can know the day, Shiites believe, the report actually suggests possibilities in the Muslim calendar. The Mahdi will lead a cataclysmic battle against a descendant of Muhammad's archenemy, Abu Sofyan, culminating in the cities of Kufa and Najaf. His enemy, though, is destroyed later in Jerusalem. "Another beautiful moment of the Savior's appearance is the coming down of Prophet Jesus (PBUH) from heaven," says the report. "Hazrat Mahdi receives him courteously and asks him to lead the prayers. But Jesus says you are more qualified for this than me.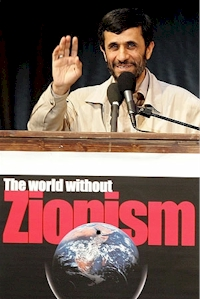 We read in the book Tazkarat ol-Olia, 'the Mahdi will come with Jesus son of Mary accompanying him.' This indicates that these two great men are (sic) complement each other. Imam Mahdi will be the leader while Prophet Jesus will act as his lieutenant in the struggle against oppression and establishment of justice in the world. Jesus had himself given the tidings of the coming of God's last messenger and will see Mohammad's ideals materialize in the time of the Mahdi. Ahmadinejad's sees his main mission, as he recounted in a Nov. 16 speech in Tehran, as to "pave the path for the glorious reappearance of Imam Mahdi, may Allah hasten his reappearance." According to Shiites, the 12th imam disappeared as a child in the year 941. When he returns, they believe, he will reign on earth for seven years, before bringing about a final judgment and the end of the world.
Ahmadinejad is urging Iranians to prepare for the coming of the Mahdi by turning the country into a mighty and advanced Islamic society and by avoiding the corruption and excesses of the West. All Iran is buzzing about the Mahdi, the 12th imam and the role Iran and Ahmadinejad are playing in his anticipated return. There's a new messiah hotline. There are news agencies especially devoted to the latest developments. "People are anxious to know when and how will He rise; what they must do to receive this worldwide salvation," says Ali Lari, a cleric at the Bright Future Institute in Iran's religious center of Qom. "The timing is not clear, but the conditions are more specific," he adds. "There is a saying: 'When the students are ready, the teacher will come.'
UN Adopts Resolution Condemning Holocaust Denial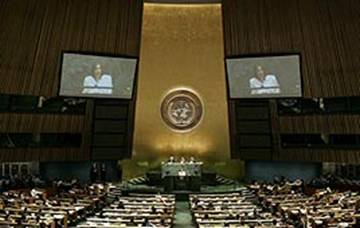 Jan. 26….(Ha Aretz) The United Nations General Assembly today adopted a resolution condemning denials of the Holocaust, just weeks after Iran sponsored a meeting dominated by speakers questioning the extermination of six million Jews in World War Two. The resolution, co-sponsored by 103 countries, was approved by consensus, without a vote, but Iran disassociated itself from the action, calling the US-drafted resolution a political exercise. The draft resolution circulated by the United States "condemns without reservation any denial of the Holocaust" and urges UN member states "unreservedly to reject any denial of the Holocaust as a historical event." The United States submitted the proposal on Tuesday and representatives of the European Union, Canada, Australia and Israel mustered the majority support for it. The conference in Iran was sponsored by President Mahmoud Ahmadinejad, who called the Holocaust a "myth" and said Israel was a "tumor" in the Middle East. A senior Western diplomat told Haaretz on Thursday that a number of representatives of Arab states said that, in principle, they did not object to the resolution. "I have rarely seen such harmonious cooperation among central member states," he said. UN Secretary-General Ban Ki-moon said last Friday that the Holocaust was "a unique tragedy that is impossible to deny." He said the Nazis' ability to rally supporters despite their "pure evil" is still frightening. Remembering the Holocaust is "an essential answer to people who were deceived and argue that the Holocaust never happened, or that the stories about it are exaggerated," he said.
Israeli-Palestinian Peace Process Was a 'Scam'
Jan. 26….(Israel Today) The Israeli-Palestinian peace process was a "scam" during the 1990s and because of that Washington should not be pushing Israel to make a "land for peace deal" now, James Woolsey, the former head of the CIA said at the Herzilya Conference. Yet President Bush is the first US leader to publicly back the idea of a "two-state solution" to the Israeli-Palestinian conflict. But James Woolsey said this week the US should learn from past experience. Until something changes in the PA there should not be an Israeli-Palestinian deal, he said. Woolsey told Cybercast News Service the US had "pushed hard" during the 1990s and especially in the final stages of the Clinton administration, exerting "a great deal of effort to produce an Israeli-Palestinian deal." In 1993, President Clinton presided over a White House signing of an agreement between the late Israeli Prime Minister Yitzhak Rabin and the late Palestine Liberation Organization Chairman Yasser Arafat. The pact, which became known as the Oslo Accords, required Israel, in exchange for Palestinian recognition and peace, to surrender land, which would become an independent Palestinian entity. During the next few years, Israel turned over large tracts of land, including areas many Israelis regard as a biblical inheritance to the self-rule P.A. The land relinquished included areas inhabited by 90 percent of the Palestinians living in the West Bank and Gaza Strip. But despite Arafat's pledge to abandon terrorism, terrorism against Israelis continued, and in September 2000, a violent Palestinian uprising erupted. The following January, then Prime Minister Ehud Barak made what Woolsey called an "extremely generous offer" to Arafat, who refused it. "Arafat effectively walked away and picked up the pace of murdering Israeli women and kids in pizza parlors," said Woolsey. "I think that we should learn from the fact that the 90s were a scam, and that the Palestinian Authority under Arafat demonstrably never had the remotest interest or will to cut a land-for-peace deal with Israel," he said. "They never effectively changed their charter," Woolsey said of the PLO. "It is still committed to the destruction of Israel." "I don't know how you realistically expect a friend and ally to negotiate a land-for-peace deal with an entity that in effect still wants to destroy it," he added. Woolsey did not rule out an eventual Israeli-Palestinian deal some years down the road but said this would not happen as long as Hamas is involved in the government and while the PA educational system was heavily influenced by radical Islam. In spite of Woolsey's analysis, other Israeli analysts agreed that due to growing Iranian influence in the region and failure of the Palestinians to live up to past agreements, the idea of an Israeli-Palestinian peace process and a "two-state solution" should be revisited. Dr. Dore Gold, director of the Jerusalem Center for Public Affairs, said this week a "historical turning point" is occurring in the way the Middle East is being viewed, and this could have an impact on Israeli-Palestinian relations. In the past, the assumption held by many in the West was that the Israeli-Palestinian and Israeli-Arab conflicts were the crux of problems in the Middle East. Therefore, if they could be solved, other problems would be solved too. It was also assumed that if efforts were made, a "stable agreement" could be obtained within a "real time frame," Gold said, speaking at the annual Herzliya Conference on the Balance of Israel's National Security. But Gold said it was now recognized that Iran, not the Israeli-Arab conflict, is the source of instability in the region. This raises new questions for Israel, he said, such as whether it should attempt to reach agreements with the Palestinians at a time when Iran was rising and whether the Israeli-Palestinian conflict is part of the wider conflict between the West and forces of global jihad. Speaking at the same conference, former Israeli army Chief of Staff Lt. Gen. Moshe Ya'alon said there were no "immediate solutions" to the conflict. Israel needs to think in terms of "long-term strategic concepts." "In the long-term, we have to think out of the box of the two-state solution," Ya'alon said, adding that further Israeli unilateral territorial withdrawals would only reinforce the jihadist enemy. Since there was no effective Palestinian leadership "capable and willing" to implement a two-state solution and since Palestinian youngsters were being raised in a "culture of hatred and death," the idea of a two-state solution was irrelevant in the foreseeable future, he argued. Israel should undo the "conventional wisdom" that finding a solution to the Arab-Israeli conflict would bring stability to the Middle East and instead "reinforce the willingness of the West to deal with Iraq and Iran," Ya'alon said.
Land for Peace Concept Failed, Lieberman Says
Jan. 26….(YNET) Israeli Strategic affairs minister says, 'Since 1977 we have given up land equal to four times the size of Israel, and the result is that today we have less security'; adds: The fact that Hamas leader Mashaal and Islamic Jihad are operating from Syria is proof to all of us that this is a country that does not want peace. Israel must do away with the concept according to which peace can only be achieved by giving up territories, Strategic Affairs Minister Avignor Lieberman said Friday regarding Syria'srecent peace overtures. "This concept has failed," he said during a tour of IDF outposts in northern Israel. "Since 1977 we have given up land equal to four times the size of Israeland the result is that today we have less security." The minister said the fact that Hamas leader Khaled Mashaal and Islamic Jihad are operating from Syria "is proof to all of us that this is a country that does not want peace, but rather acts like a terror state." As to the riots sparked by Hizbullah supporters in Beirut, Lieberman said the situation is volatile and may affect Israel. "As I said while the fighting in Lebanon was still going on, Israel must be prepared for any scenario. We don't know when and at what level of intensity this volcano will erupt," he said.
UN IAEA Director Says Iran Planning Nuclear Weapons, but US Attack Would be Catastrophic
| | |
| --- | --- |
| | Any attack on Iran would be catastrophic and encourage it to develop a nuclear bomb, Mohamed ElBaradei, Director-General of the International Atomic Energy Agency said today while attending the World Economic Forum in Davos, Switzerland. |
Jan. 26….(AP) Iran expects to start installing thousands of centrifuges in an underground facility next month, the head of the UN nuclear watchdog agency said Friday. The installation would pave the way to large-scale uranium enrichment, a potential way of making nuclear weapons. On the sidelines of the World Economic Forum, Mohamed ElBaradei said: "I understand that they are going to announce that they are going to build up their 3,000 centrifuge facility sometime next month." Iran ultimately plans to expand its enrichment program to 54,000 centrifuges, which spin uranium gas into enriched material to produce nuclear fuel. That would give it the capacity to produce dozens of nuclear warheads a year, if it chose to develop weapons. Diplomats briefed on the IAEA's latest findings said earlier this month the Iranians recently finished all pre-assembly work at their Natanz facility, which is underground as protection against attack. And senior Iranian officials have repeatedly said recently that large-scale installation work at Natanz would begin soon. But the comments by the UN officials were the first independent confirmation that the Iranians had informed the IAEA, the UN nuclear monitor of such plans, even if informally. Any start of underground installations at Natanz, however, would sharply escalate the conflict between Tehran and world powers over its refusal to suspend enrichment.
US Troops Authorized to Kill Iranians in Iraq
Jan. 26….(MSNBC) The Bush administration has authorized the US military to kill or capture Iranian operatives inside Iraq as part of an aggressive new strategy to weaken Tehran's influence across the Middle East and compel it to give up its nuclear program, according to government and counterterrorism officials with direct knowledge of the effort. For more than a year, US forces in Iraq have secretly detained dozens of suspected Iranian agents, holding them for three to four days at a time. The "catch and release" policy was designed to avoid escalating tensions with Iran and yet intimidate its emissaries. Last summer, however, senior administration officials decided that a more confrontational approach was necessary, as Iran's regional influence grew and US efforts to isolate Tehran appeared to be failing. The country's nuclear work was advancing, US allies were resisting robust sanctions against the Tehran government, and Iran was aggravating sectarian violence in Iraq. "There were no costs for the Iranians," said one senior administration official. "They are hurting our mission in Iraq, and we were bending over backwards not to fight back." Three officials said that about 150 Iranian intelligence officers, plus members of Iran's Revolutionary Guard Command, are believed to be active inside Iraq at any given time. The Iranians have operated an embedding program in Iraq for 3 years, offering operational training, intelligence and weaponry to several Shiite militias connected to the Iraqi government, to the insurgency and to the violence against Sunni factions. Gen. Michael V. Hayden, the director of the CIA, told the Senate recently that the amount of Iranian-supplied materiel used against US troops in Iraq "has been quite striking." The new "kill or capture" program was authorized by President Bush in a meeting of his most senior advisers last fall, along with other measures meant to curtail Iranian influence from Kabul to Beirut and, ultimately, to shake Iran's commitment to its nuclear efforts. The administration's plans contain five "theaters of interest," as one senior official put it, with military, intelligence, political and diplomatic strategies designed to target Iranian interests across the Middle East. The White House has authorized a widening of what is known inside the intelligence community as the "Blue Game Matrix," a list of approved operations that can be carried out against the Iranian-backed Hezbollah in Lebanon. US officials are preparing more aggressive moves to disrupt Tehran's funding of the radical Palestinian group Hamas and to undermine Iranian interests among Shiites in western Afghanistan. In Iraq, US troops now have the authority to target any member of Iran's Revolutionary Guard, as well as officers of its intelligence services believed to be working with Iraqi militias. The policy does not extend to Iranian civilians or diplomats. The wide-ranging plan has several influential skeptics in the intelligence community, at the State Department and at the Defense Department who said that they worry it could push the growing conflict between Tehran and Washington into the center of a chaotic Iraq war.
Senior administration officials said the policy is based on the theory that Tehran will back down from its nuclear ambitions if the United States hits it hard in Iraq and elsewhere, creating a sense of vulnerability among Iranian leaders. But if Iran responds with escalation, it has the means to put US citizens and national interests at greater risk in Iraq, Afghanistan and elsewhere. But in response to questions about the "kill or capture" authorization, Gordon Johndroe, spokesman for the NSC, said: "The president has made clear for some time that we will take the steps necessary to protect Americans on the ground in Iraq and disrupt activity that could lead to their harm. Our forces have standing authority, consistent with the mandate of the UN Security Council."
'Iranian and Syrian meddling'
Officials said US and British special forces in Iraq will work together in some operations, and are developing the program's rules of engagement to define the exact circumstances for using force. Army Lt. Gen. David H. Petraeus, told Congress in writing this week that a top priority will be "countering the threats posed by Iranian and Syrian meddling in Iraq, and the continued mission of dismantling terrorist networks and killing or capturing those who refuse to support a unified, is a stable Iraq." With aspects of the plan also targeting Iran's influence in Lebanon, Afghanistan and the Palestinian territories, the policy goes beyond the threats President Bush issued earlier this month to "interrupt the flow of support from Iran and Syria" into Iraq. The United States knows that Iran "is providing support to Hezbollah and Hamas and supporting insurgent groups in Iraq that pose a problem for our military forces. The decision to use lethal force against Iranians inside Iraq began taking shape last summer, when Israel was at war with Hezbollah in Lebanon. Officials said a group of senior Bush administration officials who regularly attend the highest-level counterterrorism meetings agreed that the conflict provided an opening to portray Iran as a nuclear-ambitious link between al-Qaeda, Hezbollah and the death squads in Iraq. At the time, Bush publicly emphasized diplomacy as his preferred path for dealing with Iran. Standing before the UN General Assembly in New York on Sept. 19, Bush spoke directly to the Iranian people: "We look to the day when you can live in freedom, and America and Iran can be good friends and close partners in the cause of peace."
Some State Department official's have expressed different views about the new efforts aimed at Iran, suggesting that the United States is escalating toward an unnecessary conflict to shift attention away from Iraq and to blame Iran for the United States' increasing inability to stanch the violence there. But some officials within the Bush administration say that targeting Iran's Revolutionary Guard Command, and specifically a Guard unit known as the Quds Force, should be as much a priority as fighting al-Qaeda in Iraq. The Quds Force is considered by Western intelligence to be tasked directly by Iran's supreme leader, Ayatollah Ali Khamenei, to support Iraqi militias, Hamas and Hezbollah.
Prophecy Clock Moves Forward With Chinese Space Weapons
Jan. 25….(Bill Wilson/KIN) China has disrupted the balance of world power by successfully launching a ground-based missile and destroying a satellite orbiting some 500 miles above the earth. This single event has the possibility of escalating an arms race in space that would make the Star Wars movie series look like prophecy. The United States and other countries depend on low earth orbiting satellites for much of their military surveillance, the kind that China just obliterated into 400,000 pieces in its test January 11. The implications are so alarming that the United States, Canada, Australia, Britain, Japan, South Korea and other countries have filed or are about to register diplomatic protests. The United States, under President Ronald Reagan, developed similar capabilities, but has not tested them since 1985. In August, President George W. Bush authorized a new US policy for outer space. The policy claims the US has a right to "freedom of action in space" and will "deter others from either impeding those rights or developing capabilities intended to do so." The doctrine also states it can "deny, if necessary, adversaries the use of space capabilities hostile to US national interests." The National Security Council responded: "The US believes China's development and testing of such weapons is inconsistent with the spirit of co-operation that both countries aspire to in the civil space area." China, who owns a record $230 billion trade surplus with the US and has $1.1 trillion in foreign exchange reserves, could pose a triple threat to American national security. If China cashes in on its foreign exchange in dollars, the US economy could be devastated. If China determined to escalate a space arms race, the American military could suffer tremendous damage. But the looming threat is if China would share its newfound missile capabilities with its major oil supplier and missile development partner, Iran, which is the world's largest state sponsor of terror. The Russia-Iran-China plan for a new world order is coming into very clear focus. As if economic threats and proven space war capabilities with terrorist implications are not enough, China reported last week that within 15 years there will be 30 million more adult Chinese men than women. China's one child policy and the widespread practice of sex selected abortion is causing a gender-based social problem that could result in a huge army of men who cannot find a wife and may be predestined for military service. The apocalyptic Bible book Revelation predicts a massive military assembly originating from China in the latter days, "Then the sixth angel poured out his bowl on the great river Euphrates, and its water dried up so that the way of the kings from the east might be prepared." Are you prepared?
Iraqi PM Maliki Vows To Fight (Iran-backed) Shia Terrorists
(Al-Maliki says he'll target Shiites, Sunnis equally in new security crackdown)
Jan. 25….(MSNBC) Iraqi Prime Minister Nuri al-Maliki vowed on Thursday that his crackdown in Baghdad would leave militants nowhere to hide, even if they sought refuge in mosques or schools. In a speech to parliament, Maliki urged politicians on all sides to support his Baghdad security plan, backed by some 17,000 US reinforcements, which is seen by many as a last chance to stem sectarian violence in the capital. "There will be no safe haven, no school, no home, no (Sunni) mosque or Shiite mosque. They will all be raided if they are turned into a launchpad for terrorism, even the headquarters of political parties," he said. Maliki, criticized for not doing enough about Shiite militias linked to some of his allies, has vowed to take on armed groups regardless of sect or political affiliation. "We have worked hard to get professional officers to lead this plan, with no political affiliations. So let's all help these officers," he said, answering criticism that the Iraqi army and police are infiltrated by sectarian militias. Washington has identified the Mahdi Army, a militia loyal to radical Shiite cleric Muqtada al-Sadr, as the greatest threat to security in Iraq, and has warned that the success of al-Maliki's plan depends on him going after Shiite militias with as much determination as he deals with Sunni Arab insurgents. The prime minister, who depends on Sadr's political movement for key support in parliament, has been accused of failing to crack down on the Mahdi Army in the past, but officials in his Shiite Alliance say he has now accepted he must take action.
Maliki said Iraqi security forces would start to remove squatters from Baghdad homes they have illegally occupied since the owners fled sectarian intimidation and ethnic cleansing. "Maliki rejected suggestions his security plan represented a last chance, saying there were no timetables for success. "The battle between us and terrorism is an open-ended battle," he said. "It does not stop with the end of this plan." With US public patience with the war running thin, Bush's plan to send 21,500 extra troops, most of them to Baghdad, has met stiff opposition in the new Democrat-dominated Congress. The US Senate Foreign Relations Committee on Wednesday brushed aside Bush's plea to give his new war strategy a chance and voted 12-9 for the resolution against it.
Ex-CIA Director: PA Arabs Don't Deserve A State
Jan. 25….(Arutz) James Woolsey, former Director of the CIA, told Israel National Radio's Alex Traiman that a Palestinian state should wait "many decades" until they stop teaching their children to hate and murder. Traiman asked about Woolsey's choice of terminology in calling the present conflict between the West and Islam as World War Four. Woolsey explained that shortly after 9/11, "I saw an op-ed in the Wall Street Journal by Eliot Cohen of Johns Hopkins University where he wrote that the Cold War was World War III, and that the war against what I call Islamist totalitarianism is World War IV. We have a situation where democracies in the west such as Israel and the US, and Japan and others too, are at war with a group of Islamist totalitarianism ideologies and movements, very loosely analogous to the movements of the 20s and 30s - Fascism, Nazism, Communism, and Japanese imperialism." Asked his opinion on the establishment of a Palestinian state, the former CIA director recommended that it should not happen in the coming decades. He said that though the Jewish presence in this region precedes the Moslem claim, "for some Muslims like Arafat to deny that Jews were ever present here is idiotic," the Moslems also have national rights in the area. Openly avoiding the question of the nature or borders of a Palestinian state, he emphasized his opinion that "the Palestinians should not be granted the right to statehood until they start to treat Israeli Jews who settle in the West Bank as fairly as Israel treats its Muslim citizens." "An Arab Muslim living in Jaffa," Woolsey said, "enjoys freedom of speech, religion, and expression, and can vote for his representatives in the Knesset, and doesn't go to sleep worrying that some government element might come and kill him. I think that once the Palestinians start treating Jewish settlers with that same degree of humanity, and they're very, very far from doing that now, at that point I think we have to seriously consider how they could have some degree of self-governing. I won't get into the question of borders, but what I think is that the Palestinians must be held to the same standards as Israel regarding how they treat the other. I am sure this will be many decades from now, though, because their children are taught the Wahhabi doctrine of being suicide bombers and the like." Woolsey said that this past summer's war between Israel and Hizbullah was a lost opportunity for the United States and Israel to jointly decide on Syrian targets to be attacked. This type of mistake must not be repeated, he said:
"We ought to make sure that if there is another legitimate and reasonable occasion for us to use force in this part of the world against Syria or Iran, we must not waste it. We should move towards encouraging peaceful regime change there; but if we are absolutely forced to use force against Iran, for instance, in order to stop its nuclear program, that should not be the limit of our use of force, it ought to be used also to break the power of the terrible Iranian regime and give the people of Iran a chance to live under a better one."


Washington to Release Evidence of Iranian Terror-Activity in Iraq
Jan. 25….(DEBKA) US ambassador to Iraq, Zalmay Khalilzad and State department spokesman Sean McCormack said the US would soon present evidence of Iran's hand in the violence besetting Iraq. The spoke as US-Iran military tensions over Iraq continued to rise. The ambassador stressed too that the charges against the Revolutionary Guards al Quds Brigade agents detained at the Iranian "liaison center" in Irbil on Jan 11 would be made public. The detainees are still in custody. McCormack spoke of "solid evidence" that Iranian agents sent by the Iranian government are working with individuals and groups in Iraq. He quoted President Bush who vowed to confront the networks and individuals "trying to harm our troops." Eight days after the US raid on Irbil, DEBKA-Net-Weekly 286 exclusively revealed some of the evidence referred to by the two US officials of Iran's Revolutionary Guards's direct involvement in terrorist operations in Iraq. Quote: Their biggest catch was Iranian colonel Fars Hassami, No. 3 in the Revolutionary Guards al Quds Brigade's hierarchy, two below the Brigades commander, General Qassem Sulemaini. Officers of the al Quds Brigade also serve with Hizballah combat units in Lebanon and Hamas in the Gaza Strip. The interrogation of Hassami and his four fellow detainees yielded some eye-openers, supplemented by sweeps of their offices and computers.
1. Col. Hassam was found to have been in charge of Iranian operations in northern and central Iraq, from Kurdish Irbil down to the northern outskirts of Baghdad, and all links with Iraq's Shiite militias, including Moqtada Sadr's Medhi Army, and Sunni insurgent groups. Hassam was the live wire behind Iran's military, intelligence and logistic operations in the violence-stricken towns of the northern half of Iraq, Tal Afar, Mosul, Haditha, Kirkuk, Samarra, the Banji refinery town, Tikrit, Ramadi, Falluja and Baquba.
2. This same RG colonel managed an intensive recruitment campaign for the Sadrist Mehdi Army, which controls a large section of Baghdad and against which a combined Iraqi-US crackdown is under preparation.
3. A second US raid in Irbil uncovered a stockpile of Iranian weapons. It consisted of 40 tons of explosives, shoulder-borne anti-air missiles, anti-tank missiles, hundreds of automatic rifles and a pile of ordnance made in Iran.
4. Inventories of the weapons and ammo supplied the Medhi Army in Baghdad and Kirkuk by Iran in the last two months were detailed on computer hard disks. Maps showed the locations of anti-air missile positions for shooting down American helicopters.
5. Questioning of the captives yielded the identity of the RGs' overall commander for orchestrating Tehran's program to dominate Iraq. The name of Col. Bassem Abtakhi struck a familiar chord with the American interrogators. Informed Middle East intelligence circles have come up against him before as the RGs representative attached to the Hizballah command in Lebanon in 2004 and 2005. They were told he now operates out of the Fajr base in Ahwaz, capital of the southern Iranian province of Khozestan.
Ambassador Khalilzad pointed out Wednesday, Jan 24, that Shiite political groups now dominating the Iraqi government had developed close relationships with the Iranian security forces while they were opposing Saddam Hussein. He singled out the biggest Shiite party, SCIRI for mention. DEBKAfile's military sources note that the threat by high US officials of detailed disclosures of Iran's clandestine campaign to control Iraq and its hand in the spiraling sectarian violence further raises the military tensions between Iran and the United States. It adds fuel to the fears in Tehran that Washington may not be satisfied with filing a UN Security Council complaint against Iran's complicity in terrorism, but may also conduct cross-border commando raids against the RGs' al Quds bases near the Iranian-Iraqi border.
Iran Receives Russian Defense Missile Systems
| | |
| --- | --- |
| | (FOJ) Here they are! Russia is busy arming every rogue anti-American terror- regime in the world. The big question is; "why". |
Jan. 25….(AP) Iranian officials said Wednesday that they have taken delivery of advanced Russian air defense missile systems, weapons intended, according to one Russian news agency, to defend Tehran's major nuclear facilities. Announcement of the delivery of the Tor-M1 mobile missile launchers came as Iran launched three days of military maneuvers, its first since the UN Security Council approved sanctions against Iran on Dec. 23. "We have had constructive defense transactions with Russia and we purchased Tor-M1 missiles that were recently delivered to us," Minister of Defense Mostafa Mohammad Najjar said". Previously Moscow said it would supply 29 of the mobile surface-to-air missile systems to Iran under a $700 million contract signed in December 2005, Russian media has reported. In New York, spokesman for the US mission to the United Nations, Richard Grenell, called the development "troublesome given that Iran is the leading state sponsor of terror in the world." "It certainly isn't an appropriate signal to be sending a government which is under UN sanctions for trying to develop a nuclear weapon," Grenell said. According to Russia's ITAR-Tass news agency, the weapons were expected to be used to protect major government and military installations such the nuclear facilities at Isfahan, Bushehr, Tehran and in eastern Iran.
Paris: International Donors Raise Funds for Lebanon Government
| | |
| --- | --- |
| | France's President Jacques Chirac (centre) shakes hands with UN Secretary General Ban Ki-Moon during the International Conference for Support to Lebanon, in Paris January 25, 2007. Lebanon asked the International community for financial aid to shore up its heavily indebted economy and help the country recover from last year's war between Israel and Hezbollah. Meanwhile, Hezbollah is situated to bring down the Lebanese government. |
Jan. 25….(AP) International donors pledged billions of dollars in aid at a conference Thursday to raise money for Lebanon's US-backed prime minister and his economic reform program for the war-scarred country. Saudi Arabia said it would channel US$1 billion (€770 million) in development funding and an additional US$100 million (€77 million) grant for the Lebanese government. French President Jacques Chirac, the conference host, said that half of a new €500 million (US$650 million) loan from France would be extended this year. The European Commission, the EU's executive arm, pledged some €400 million (US$522 million) in loans or aid, and US Secretary of State Condoleezza Rice confirmed that the Bush administration would seek US$770 million (€592 million) for a new comprehensive package of which "a substantial part would be grants, not loans." That money must be approved by US Congress.
The United States plans to more than triple its economic aid to the fragile democratic government in Lebanon as US business executives detail new investment and development plans in the tiny, troubled country. Secretary of State Condoleezza Rice said Wednesday the Bush administration is seeking $770 million (€592.1 million) in new aid for Lebanon. The money, which must be approved by Congress, would finance long-term redevelopment and immediate rebuilding from last year's devastating war between Hezbollah militants and Israel. A 35-nation pledging session was expected to bring in about $5 billion (€3.8 billion) for Lebanon even as the nation is being threatened with takeover by Hezbollah. It is not clear whether any of the money would directly pay for efforts to disarm Hezbollah, which the United States insisted must be part of a settlement to end the war but which has never happened. Lebanon remains tense after Hezbollah-led protesters who want to topple Saniora clashed with government supporters across the country.
US Defense Officials Fear Space Wars by China
Jan. 24….(Washington Times) China's anti-satellite-interceptor test Jan. 11 is part of a covert space-weapons program designed to cripple the US military in a conflict, defense officials said yesterday as Beijing confirmed it had destroyed one of its weather satellites. China said it had not "weaponized" space. The anti-satellite weapon was identified by US government officials as a nonexplosive "kinetic kill vehicle," which destroys its target simply by colliding with it. It was the first success in four attempts by China to destroy an orbiting object in space over the past two years. Chinese Foreign Ministry spokesman Liu Jianchao said in Beijing that the government briefed the Bush administration on the test and that international fears of Chinese space weapons were groundless. "This test was not directed at any country and does not constitute a threat to any country," Mr. Liu said. It was the first official confirmation of the test, which was kept secret in Beijing as well as Washington until the magazine Aviation Week reported it Friday. "What needs to be stressed is that China has always advocated the peaceful use of space, opposes the weaponization of space and arms races in space," Mr. Liu said at a press briefing. The White House said China's explanation was not sufficient. Protests were raised by the governments of Japan, Australia, India, Canada and other states, which saw the test as part of increasing Chinese military power that contrast with Beijing's public assurances of being engaged in a "peaceful rise." For example, China has not explained the intent of this weapons test, nor has it stated whether or not it plans future tests. China's government has failed to explain how the test "is compatible with its public stance against the weaponization of space," noting the issue will be pursued further in diplomatic channels. Some defense officials said the test has raised alarm bells because it exposed a key strategic vulnerability. They also said that there are major gaps in US intelligence about which other space weapons and capabilities China has or is developing that could cripple or disable US satellites, which handle about 90 percent of all military communications, as well as intelligence and missile guidance. The Jan. 11 test also alarmed military and defense officials because it undermined American intelligence estimates that China's military trails the US military in terms of weapons and war-fighting capabilities by 10 years. US intelligence agencies received some advance indications of the test, in which a commercial KT-1 rocket, a version of the medium-range DF-21 missile, was launched from the Xichang space center, in southwestern Sichuan province. The ASAT weapon separated from the last stage in space and then destroyed the Feng Yun-1C weather satellite, launched in 1999 and orbiting over both poles, by ramming into it at high speed. US officials said debris from the destroyed satellite continues to orbit and poses a risk to some of the 800 satellites now in space, 400 of which are American. China also illuminated a US satellite with a ground-based laser in another anti-satellite test, according to a report by the congressional US-China Economic and Security Review Commission. The report, produced by defense analyst Michael Pillsbury, revealed that China has plans for secret space weapons that include ground-based lasers, air-to-space missile interceptors and an exotic plasma bomb that would destroy orbiting satellites by enveloping them in an electronic cloud. The report also stated that three books written by Chinese colonels in 2001, 2002 and 2005 contain "proposals for covert deployment of anti-satellite weapons directed at US assets." One author, Col. Jia Junming, stated in his 2002 book that Chinese space-weapons development should be covert and "intense internally but relaxed in external appearance to maintain our good international image and position." The 2005 book, "Joint Space War Campaigns," by Col. Yuan Zelu, calls for deploying an orbiting network of strike weapons that "will be concealed and launched only in a crisis or emergency" to "bring the opponent to his knees."
Arab League Warns US Against Attacking Iran
Jan. 24….(Jerusalem Post) The threat of a US attack on Iran is very serious and would risk spreading sectarian violence throughout the Middle East, Arab League Secretary General Amr Moussa said on Wednesday. "It's a 50/50 proposition, and we hope that it won't happen. Attacking Iran would be counterproductive," Moussa told Reuters at the World Economic Forum. US President George Bush in his State of the Union address on Tuesday spoke of an "escalating danger" from Shi'ite extremists, many taking direction from Iran. Bush called them just as dangerous to the United States as Al-Qaida. Moussa advocated dialogue rather than military action to resolve both Iraq and US-Iranian tensions. "If there were to be a war, other genies will get out of the bottle. You cannot imagine the impact on the Gulf countries, and on the Mediterranean," Moussa said. His concern over a looming US-Iran confrontation was shared by business leaders and political commentators at an opening session on the Middle East at the Forum, an annual gathering of the world's rich and powerful. Some said it would risk sectarian divisions spilling over and ripping at the fabric of other nations, such as Lebanon, Bahrain and Saudi Arabia. It would also undermine strong economic growth in many Arab countries in the past three years. This growth is important for stabilizing the region, they said. One panelist said a serious danger would be any crash in the crude oil price, engineered by Saudi Arabia, to squeeze Iran's finances as a way to bring the country to its knees. As a major crude producer, Iran relies heavily on oil revenues. These have soared since crude prices roughly doubled in the past three years, almost reaching e80 a barrel last summer before retreating to the mid e50s currently. Moussa also said that Bush's plan to build up troops in Iraq and pursue a military solution will not resolve sectarian clashes that are ripping the country apart, he said. "Iraq is broken," Moussa said. He proposed a diplomatic solution, advocating a UN Security Council resolution that Iraq should not be partitioned, an agreement on reconciliation and amendment to its constitution.
Iran: Israel, US Will Soon be Destroyed
(Ahmadinejad: Be assured that the US and Israel will soon end)
Jan. 24….(YNET) Israel and the United States will soon be destroyed, Iran's President Mahmoud Ahmadinejad said Tuesday during a meeting with Syria's foreign minister, the Islamic Republic of Iran Broadcasting (IRIB) said in a report. "Iranian President Mahmoud Ahmadinejad assured the Syrian diplomat that the United States and the Zionist regime of Israel will soon come to the end of their lives," the Iranian president was quoted as saying. "Sparking discord among Muslims, especially between the Shiites and Sunnis, is a plot hatched by the Zionists and the US for dominating regional nations and looting their resources," Ahmadinejad added, according to the report. The Iranian president also directly tied events in Lebanon to a wider plan aimed at Israel's destruction. He called on "regional countries" to "support the Islamic resistance of the Lebanese people and strive to enhance solidarity and unity among the different Palestinian groups in a bid to pave the ground for the undermining of the Zionist regime whose demise is, of course, imminent." Ahmadinejad has threatened the State of Israel with annihilation several times in recent months, and has recently added the US and Britain to the list of countries he says will be destroyed. Syria's Foreign Minister, Wailed Mualem, accused the US of attempting to carry out a "massacre of Muslims" and of sowing "discord among Islamic faiths in the region."
North Korea Helping Iran Acquire Nukes
Jan. 24….(Telegraph) North Korea and Iran are cooperating on Iran's nuclear program, The Daily Telegraph reported Wednesday. According to a new agreement between the two countries, North Korea is reportedly passing over technical information from the underground nuclear test it carried out in October. Citing an anonymous senior European defense official, the paper reported that a team of Iranian scientists was invited recently to North Korea to study the data. Western officials fear this new cooperation amongst the so-called "axis of evil" countries could enable Iran to carry out a nuclear test possibly even by the end of the year. "The Iranians are working closely with the North Koreans to study the results of last year's North Korean nuclear bomb test," the European defense official told the Telegraph. "We have identified increased activity at all of Iran's nuclear facilities since the turn of the year," he said. "All the indications are that the Iranians are working hard to prepare for their own underground nuclear test."
Iran Believes it Could Destroy Israel with a Single Nuke
Jan. 24….(World Tribune) Iran's nuclear program seeks first-strike capability against Israel, a leading strategist said. The Israeli strategist and former intelligence officer said Iran believes it could destroy the Jewish State with one nuclear weapon. "Iranians believe that it holds, may hold, a first strike capability against Israel once it has a nuclear capability," said Shmuel Bar, director of studies at the Institute of Police and Strategy. Iran believes "that Israel is a one-bomb country, one bomb from the point-of-view of the receiving side; that the US would not intervene against Iran under such conditions; and all of that with apocalyptic zeal may result in actual use of nuclear weapons," he said. Bar, who for years worked in the Israeli intelligence community, told a conference on Jan. 9 that Iran was prepared to destroy Muslim cities as the price for firing nuclear missiles toward Israel. He said the ruling Islamic clergy would support a nuclear attack on Israel even at the risk of killing millions of Palestinian Muslims. "They're developing weapons both as deterrents and that part of the Iranian regime, the more revolutionary part, has all of the components for developing a doctrine of use of nuclear weapons, as opposed to adoption of using nuclear weapons as deterrents," Bar said. "I think that it's a religious background which brings them to this sort of a doctrine." a said Iran has studied the US wars against the former Saddam Hussein regime in Iraq. The chief Iranian lesson was that only nuclear weapons could deter a US attack. "Nuclear weapons are strategic necessity for deterring the West and Israel and for achieving their strategic goals," Bar said. "Until they arrive at nuclear weapons, Iran's strategic deterrence must rely on terrorism and subversive potential." Bar said Iran has scored its sole foreign success in the operation of the Hizbullah militia in Lebanon. Hizbullah lost 800 fighters in the war against Israel in the summer of 2006. Bar cited funerals in Lebanon for those termed "holy warriors." "Whatever they may say, they lost somewhere around 800 men who we can account for," Bar said. "You count the funerals and the names, and you count the names of the people in the documents in south Lebanon."
Defense Analyst: Bill Clinton Helped China Develop Space Missile
Jan. 24….(One News) An Australian-born national defense analyst says the recent successful test of a satellite-killing missile by China would probably not have happened so soon if it weren't for technology approved for transfer to that nation by former US President Bill Clinton. Both the United States and Japan have expressed outrage over the announcement that the People's Republic of China (PRC) destroyed one of its old weather satellites with a missile. Analysts say the Chinese weather satellites travel at about the same altitude as US spy satellites, so the test represented an indirect threat to American defense systems. Greg Copley, president of the International Strategic Studies Association (ISSA), says he knows why the Communist Chinese want Satellite killing missiles. "They want to ensure that once they launch military operations against Taiwan, there will be confusion in US space-based targeting systems, navigation systems, and communication systems in particular," he states. Copley says the Chinese owe a debt of gratitude to a former American president for being able to develop their missile. "It certainly relied on guidance technology for missiles given to the PRC by President William Clinton in the 1990s," he offers. The ISSA spokesman suggests that that presidential decision sped things up for the Chinese. "There's no question that without the technology which President Clinton personally authorized to transfer to the PRC, the Chinese capability would have been much later in coming," he says. But instead, Copley contends the Chinese are now certainly in the lead when it comes to satellite warfare technology.
US Tells Iran to Back Off in The Persian Gulf
(Burns says US 'will protect its interests if Iran seeks to confront us')
Jan. 23….(MSNBC) A second US aircraft carrier strike group now steaming toward the Middle East is Washington's way of warning Iran to back down in its attempts to dominate the region, a top US diplomat said here Tuesday. Nicholas Burns, US undersecretary of state for political affairs, ruled out direct negotiations with Iran and said a rapprochement between Washington and Tehran was "not possible" until Iran halts uranium enrichment. "The Middle East isn't a region to be dominated by Iran. The Gulf isn't a body of water to be controlled by Iran. That's why we've seen the United States station two carrier battle groups in the region," Burns said in an address to the Dubai-based Gulf Research Center, an influential think-tank. Iran is going to have to understand that the United States will protect its interests if Iran seeks to confront us," Burns continued. Iran is in a standoff with the West over its defiance of UN demands to halt uranium enrichment, which can produce fuel for both nuclear energy and nuclear weapons. Iran says its atomic program is aimed solely at generating energy, but the United States and some of its allies suspect it is geared toward making weapons. The UN imposed limited sanctions on Iran last month.
Meanwhile, Iranian President Mahmoud Ahmadinejad said last week that Iran is "ready for anything" in its confrontation with the United States. Iran conducted missile tests on Monday, the first of five days of military maneuvers southeast of Tehran. US Defense Secretary Robert Gates has said the US buildup in the Gulf was intended to impress on Iran that the four-year war in Iraq has not made America vulnerable. The American aircraft carrier USS John C. Stennis and several accompanying ships are heading toward the Gulf to join an aircraft carrier group already in the region, the USS Dwight D. Eisenhower. The Stennis is expected to arrive in late February. The Stennis's arrival in the Middle East will mark the first time since the US-led Iraq invasion in 2003 that the United States has had two carrier battle groups in the region. The US Navy said Tuesday that the minesweeper USS Gladiator arrived in the Persian Gulf, one of six such ships, four American, two British, now plying the Gulf for anti-ship mines. US officials have long said Iran was likely to block busy Gulf shipping lanes in a conflict. Some among the audience of Dubai-based diplomats and analysts complained that American wars in the Middle East were already threatening the region's stability and asked Burns to sort out Iraq and the Israel-Palestinian conflict before turning attention to Iran. "What we are not interested in is another war in the region," Mohammed al-Naqbi, who heads the Gulf Negotiations Center, told Burns. "Iraq is your problem, not the problem of the Arabs. You destroyed a country that had institutions. You handed that country to Iran. Now you are crying to Europe and the Arabs to help you out of this mess." Burns' speech appeared to respond to similar comments by Iranian officials in Dubai and Bahrain last month when Iran's top national security adviser, Ali Larijani, appealed to Gulf Arabs to shut down American bases on their soil and instead join Iran in a regional security alliance.
US Captures 600 Sadr-Mahdi Fighters in Iraq
Jan. 23….(AP) Iraqi and US forces have captured more than 600 fighters loyal to firebrand Shiite cleric Moqtada al-Sadr, the US military said, following a day of carnage that left 100 dead in a string of bombings in and around Baghdad. In a major crackdown launched in the past few weeks against the Mahdi Army, the militia headed by Sadr and now considered the biggest security threat to Iraq by the Pentagon, more than 600 fighters and 16 militia leaders have been detained, the military said. "There are currently over 600 illegal Jaish al-Mahdi (JAM) militia in detention awaiting prosecution from the government of Iraq," a statement said. It said Iraqi and US forces had also detained 16 high-level militiamen and killed one commander in a series of operations against the Mahdi Army, known for its fiercely anti-US stance. "The detainees are responsible for attacks against the government of Iraq, Iraqi citizens and coalition forces," the military said. Combined Iraqi and US forces have carried out 52 operations in the past 45 days focused on the Mahdi Army as well as 42 operations that targeted Sunni extremists, it said. The operations against the Sunni extremists led to the capture of 33 cell leaders in Baghdad, the statement said, charging that the detainees were mainly involved in facilitating the entry of foreign fighters into Iraq. The US military has accused the Mahdi Army, which is believed to have up to 60,000 fighters, of being heavily involved in the sectarian killing of Sunni Arabs in Baghdad and other regions of the country. US and Iraqi forces aim to take down these fighters as part of a Baghdad security plan announced by US President George W. Bush earlier this month to crush the sectarian fighting that killed tens of thousands of people last year. Before joining Iraq's political process, Sadr led two bloody rebellions against US forces in April and August 2004, a year after the US-led invasion to topple Saddam Hussein. Mahdi fighters suffered heavy casualties in battles fought in the Shiite holy city of Najaf, after which Sadr joined Iraq's political process and emerged as a powerbroker in the current Shiite-dominated parliament. He commands a group of 32 MPs in the 275-member parliament and six ministers in Prime Minister Nuri al-Maliki's embattled cabinet. To rein in the growing insurgent attacks and the sectarian militias the US military has begun deploying more troops in Baghdad, a plan mocked by Al-Qaeda's second-in-command, Ayman al-Zawahiri.
'We Are on the Precipice of A Second Holocaust'
(Newt Gingrich: Haifa, Tel Aviv, Jerusalem facing mortal Iranian threat)
Jan. 23….(YNET) The Israeli people are facing the threat of a nuclear Holocaust, Former US Speaker of the House of Representatives Newt Gingrich warned the Herzliya Conference on Tuesday afternoon. Meanwhile, he said, the United States could lose a few million people or a number of cities to a terrorist attack with weapons of mass destruction. Gingrich, who addressed the conference via satellite from the United States, said he thought Israel's existence was under threat again for the first time in 40 years. "Israel is in the greatest danger it has been in since 1967. Prior to '67, many wondered if Israel would survive. After '67, Israel seemed military dominant, despite the '73 war. I would say we are now back to the question of mere survival," Gingrich said. He added that the United States could "lose two or three cities to nuclear weapons, or more than a million to biological weapons." Gingrich added that in such a scenario, "freedom as we know it will disappear, and we will become a much grimmer, much more militarized, dictatorial society." "Three nuclear weapons are a second Holocaust," Gingrich declared, adding: "People are greatly underestimating how dangerous the world is becoming. I'll repeat it, three nuclear weapons are a second Holocaust. Our enemies are quite explicit in their desire to destroy us. The former House speaker expressed concern that the Israeli and American political establishments were not fully equipped to take stock of the current threat level. "Our enemies are fully as determined as Nazi Germany, and more determined that the Soviets. Our enemies will kill us the first chance they get. There is no rational ability to deny that fact. They are suicidal in that threat! It's very clear that the problems are larger and more immediate than the political systems in Israel or the US are currently capable of dealing with," said Gingrich. He also said "citizens who do not wake up every morning and think about the possible catastrophic civilian casualties are deluding themselves." "If we knew that tomorrow morning we would lose Haifa, Tel Aviv, and Jerusalem, what we would do to stop it? If we knew we would tomorrow lose Boston, San Francisco, or Atlanta, what would we do? Today, those threats are probably one, two, five years away? Earlier, Mitt Romney, former governor of Massachusetts, said that Islamic jihadism was "the nightmare of this century." "The war in Lebanon demonstrated that Israel is facing a jihadist threat that runs through Tehran, to Damascus, to Gaza. Hizbullah are not fighting for the coming into being of a Palestinian state, but for the going out of being of the Israeli state," he said. Romney emphasized that Iran could not be compared to the former Soviet threat, because the Islamic Republic was following a suicidal path. "For all of the Soviets' deep flaws, they were never suicidal. Soviet commitment to national survival was never in question. That assumption cannot be made to an irrational regime (Iran) that celebrates martyrdom," he said.
Israel-Palestinian Secret Talks Aimed at Giving West Bank to Abbas
('historic changes' could come in a matter of weeks)

Israeli Prime Minister Ehud Olmert
Jan. 23….(WND) Israel and the Palestinians have been conducting behind-the-scene negotiations regarding handing over most of the West Bank to Palestinian Authority President Mahmoud Abbas, according to top Egyptian and European diplomatic sources who told WND they were directly involved with the talks. The West Bank borders Jerusalem and is within rocket-firing range of Tel Aviv and Israel's international airport. The Egyptian and European sources told WND the negotiations for an Israeli withdrawal were mediated by Egypt and the European Union, with US input. The sources said major changes in Israeli-Palestinian affairs are expected within a few weeks to two months. According to an aid to European Union foreign policy chief Javier Solana, speaking on condition of anonymity, there will be a "historic political evolution and movement in negotiations in the next few weeks and few months, unseen since the Camp David peace talks in 2000." During the Camp David talks, then-Prime Minister Ehud Barak offered late-Palestinian leader Yasser Arafat a state in the West Bank, Gaza Strip and eastern sections of Jerusalem. According to the top diplomatic sources speaking to WND, Israel has agreed in principal to hand over most of the West Bank in deal with Abbas. The sources said Israel is studying the transfer of responsibility in the central and southern West Bank to Abbas' security forces, which are receiving training and funding from the US. They said one proposal being considered for the northern West Bank would see Jordan and the EU supervise the transfer to Abbas' security forces. Still being debated is the role of Hamas, which leads the PA and maintains the majority of seats in the Palestinian parliament. Negotiations between Abbas and Hamas leaders for a national unity government have mostly fallen through. Yesterday, Israeli Defense Minister Amir Peretz said he viewed any Palestinian elements recognizing the state of Israel as a partner for negotiations "even if it is Hamas." Prime Minister Ehud Olmert has made similar comments. So far, Hamas has refused to recognize Israel, but recently offered a 10-year truce with the Jewish state. Hamas leaders told WND during any 10-year truce period they would build a large Palestinian army and plan for the destruction of Israel. Secretary of State Condoleezza Rice recently announced she is planning to mediate talks between Olmert and Abbas next month. Asked about the alleged behind-the-scenes negotiations to hand over the West Bank, a spokesman in Olmert's office stated he "doesn't know about any West Bank withdrawal." Olmert was elected prime minister on the platform of carrying out a withdrawal from the West Bank, but after this summer's Lebanon war he has stated a West Bank withdrawal would not occur. Olmert in August called the policy of unilateral withdrawal a "failure" and said it was "no longer relevant." But he can argue handing the West Bank to Abbas in an agreement is not unilateral. Regarding a West Bank withdrawal, Israeli Interior Minister Roni Bar-On said this summer, "The withdrawal plan is not dead, though its implementation has been postponed. The plan is now on the shelf or in the freezer, but when the time comes it will be accessed." Several recent public opinion polls showed the majority of Israelis now oppose a West Bank withdrawal.
Israel May Become A Member of NATO
Jan. 23….(Jerusalem Post) In an effort to establish more effective deterrence in the face of Iran's race to obtain nuclear weapons, government ministries are, for the first time, working on drafting a position paper that will include guidelines and a strategy for turning Israel into a full-fledged member of NATO, The Jerusalem Post has learned. The paper is being drafted by an interministerial committee made up of representatives from the Israeli Defense Ministry and the Foreign Ministry and headed by the National Security Council. The committee plans to complete the paper by the end of February and present it to Prime Minister Ehud Olmert for approval. Meanwhile Monday, in an exclusive interview, former Spanish Prime minister Jos Mar a Aznar told the Post that "Israel needs to join NATO as soon as possible." According to Aznar, the Iranian threat serves as "an excellent occasion to enforce Israeli deterrence by making Israel a member of NATO." The former Spanish leader and current president of the FAES Spanish think tank said that if Israel became a member of NATO, "the perception in Iran would change, knowing that it's not only Israel they are dealing with, but all of NATO." Aznar said that NATO needed to change its focus to counter the growing threat of global terrorism. "The threat today is terror and we need to restructure NATO to deal with this threat," he said. Aznar said he believed diplomatic efforts and sanctions, at the current level like those passed last month, would not succeed in getting Iran to suspend its nuclear ambitions. Later, speaking at the Herzliya Conference, Aznar said: "We must do everything we can to prevent a nuclear Iran, but we must also prepare to seek a possibility to make a nuclear Iran act appropriately." He hinted that he would understand if Israel decided to take unilateral military action to stop Iran, claiming that "Israel has what to be concerned about." Sen. John Edwards of South Carolina, who is running for president of the United States on the Democratic ticket, told conference members via satellite that one day Israel could be a member of NATO. In the interim, he said, "We ought to find a way to upgrade Israel's cooperation with NATO." He added that the United States should lead the charge to strengthen that relationship. General Lord Charles Guthrie of Craigiebank, former chief of the UK Defense Staff, said he favored Israel joining NATO even though he doubted that it could happen any time soon. "Israel hasn't been invited to join NATO, and realistically it is unlikely that she will be invited until the Palestinian-Israeli conflict is resolved. But it would be a huge advantage if Israel could join," Guthrie said. As a democratic country, Israel is a natural ally for NATO, with whom it shared many similar strategic concerns, he commented. Israel would benefit diplomatically, strategically and technically by joining NATO, Guthrie said, adding that it was not true that NATO membership would militarily restrict Israel or prevent it from taking unilateral military action. The problem lies more with the military contributions that Israel would have to make to NATO actions elsewhere in the world, such as in Afghanistan and Somalia. From a technical perspective, "Israel would make a wonderful partner for NATO. It would beat anything the Europeans could field," said Joffe. He added that Israel had more tanks than Germany or France, but NATO was unlikely to admit Israel because it didn't want to be bound in a strategic alliance with a country that had so many ongoing military conflicts. "From a rational perspective, would NATO leaders want to fight Israel's wars?" he asked. "What NATO country wants to put its soldiers in Israel?"
Hizballah-led, Pro-Syrian Demonstrators Paralyze Beirut
Jan. 23….(DEBKA) Hezbollah has activated opposition supporters to enforce a general strike aiming to topple the Siniora-led Lebanese government. The strike was called by Hizballah chief Hassan Nasrallah. He summoned a million and a half demonstrators to turn out and paralyze the country until the government collapsed. Blazing roadblocks cut off the road to Beirut international airport and the highway linking the capital with the road to Damascus. Government officials said the disturbances staged by pro-Syrian factions was an attempted coup. Contrary to former reports, prime minister Fouad Siniora was believed still in Beirut although he was to have flown to France to attend an international donors conference in Paris.
Hezbollah Protests Paralyze Lebanon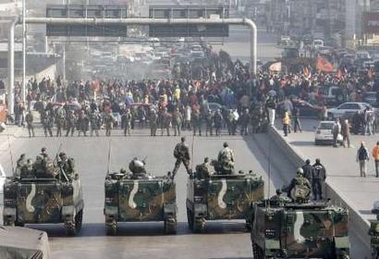 Jan. 23….(AP) Thousands of Shi'ite Muslim protesters blocked roads in Lebanon with blazing tires on Tuesday in a campaign to oust the government, and at least a dozen people were wounded in gunfire between rival factions. At least 48 people were hurt in scuffles, especially in Beirut and Christian areas, security sources said. Black smoke billowed over Beirut as demonstrators shut main roads, including those to the port and international airport. Black-masked Hezbollah organizers prowled the streets on motorcycles, walkie-talkies clamped to their mouths. Lebanese soldiers fired into the air to keep stone-throwing crowds apart in Beirut and on a highway to the north. The strike dramatically escalates a campaign by Hezbollah, which is backed by Syria and Iran, and its allies to replace the government and hold early parliamentary elections. The army, which has been guarding government offices in central Beirut since the opposition began protesting there on December 1, has few extra troops to deploy. It is already stretched after moving thousands of men to south Lebanon and the Syrian border following Hezbollah's war with Israel last year. One Christian leader said Tuesday's protests were tantamount to a coup attempt against the Western-backed government. Prime Minister Fouad Siniora has shrugged off the opposition demands and announced an economic reform plan before Thursday's conference in Paris, where foreign donors are expected to pledge billions of dollars for Lebanon's debt-laden economy. Officials said Siniora, who had been scheduled to leave for Paris on Tuesday, was following the unrest from his office in central Beirut. They did not say if he would fly out or how. A senior US official said the Paris conference would offer economic and political support for the Lebanese government. "We (the United States) will make a long-term financial contribution to help Lebanon rebuild itself," said Under Secretary of State Nicholas Burns at a seminar in Dubai. Such support would help thwart those trying "to overturn a democratically elected government through mobs "What is happening is a revolution and a coup attempt," Christian leader Samir Geagea told al-Jazeera television. "This is direct terrorism to paralyze the country." Hezbollah followers chanted slogans as they lit tires in downtown Beirut, close to the prime minister's office. "Siniora out, down with the government." The opposition campaign has raised tension between Sunnis and Shi'ites in Lebanon, still recovering from a 1975-90 civil war. The government is backed by anti-Syrian Sunni leader Saad al-Hariri. Its opponents include Shi'ite groups Hezbollah and Amal. Christians are split between the two camps.
"Cup Of Trembling" Nears As Revived Rome's Solana Favors Jump To "Endgame" In Middle East
Jan. 22….(JNEWSWIRE) The European Union joined Egypt, Jordan and Palestinian President Mahmoud Abbas on Thursday in suggesting that Middle East peace talks move straight to the disputes at the heart of the Israeli-Palestinian dispute. For the past few years, peace attempts such as the "road map" of 2003 have concentrated on small confidence-building measures, leaving aside bigger questions such as the status of Jerusalem, the borders of a Palestinian state and refugees. EU foreign policy chief Javier Solana also said a meeting of the Quartet of Middle East mediators in February would try to find ways to ensure progress toward peace before the summer. "What we would like to do with our friends is to know what is the endgame, once we have the endgame, to know really how we can get there," Solana told a news conference with Egyptian Foreign Minister Ahmed Aboul Gheit. "Endgame" is the diplomatic code for negotiating aspects of a lasting peace agreement between Israel and its neighbors. US Secretary of State Condoleezza Rice said this week she would bring Abbas and Israeli Prime Minister Ehud Olmert together in informal talks to discuss how to set up a Palestinian state. A senior US administration official, however, has said the meeting would not forsake the road map, raising doubts about Washington's commitment to accelerating the process. Rice said the three-way summit would focus on the "political horizon" that would ultimately lead to the establishment of a Palestinian state. "It has different names with different partners. With the Europeans it's "framework." With the Egyptians it's the "endgame." With the Americans it's "the political horizon." But the concept is almost one," Aboul Gheit told reporters. Solana, who will also visit Israel and the Palestinian territories, said the European Union, a member of the quartet along with the United States, the United Nations and Russia, was serious about reviving the peace process. "Please be assured the European Union is going to do its utmost to try and see if we can move the process forward in a real manner, not just theoretically or rhetorically," he said, and move to the endgame.
EU, Arabs Want 'Final Solution' to Israel Question
Jan. 22….(JNEWSWIRE) European Union foreign policy chief Javier Solana said Sunday all the parties to the Middle East "peace" process he had recently met with were ready to now re-launch that process because they have the "political will" to make it happen. Speaking in Amman, Jordan, before leaving for a meeting with Israeli Prime Minister Ehud Olmert in Jerusalem Sunday evening, Solana said a "final status solution" was the goal now sought by the states of the European Union and the Middle East. Solana has long sought to position himself and the EU, sometimes called the revived Roman Empire, in a more pivotal position in Middle East peace-making and nudge the United States somewhat to the side. The 'final status solution' he is pushing for contrasts with the approach taken by visiting US Secretary of State Condoleezza Rice last week. She sought "Palestinian" agreement to the idea of setting up a state with temporary borders in the short term, but this was rebuffed by the PA. Before he left Jordan, Solana heard King Abd'allah stress his belief that the EU should "upgrade" its role in the peace process. The monarch also expressed the hope that the role of the Quartet, scheduled to meet again on February 2, would be reactivated. A number of political leaders have publicly expressed their belief that resolving the Israel-Palestinian conflict is the key to bringing peace to the Middle East and to the world. Finding a final solution to this question is thus becoming a top priority for the international community.
Palestinian PM Haniyeh Claims US Aims to Topple his Government
| | |
| --- | --- |
| | (FOJ) The Palestinians certainly do not lack for contending terror leaders. Haniyeh apparently takes his marching orders from Mashaal, who is exiled in Damascus. Israel considers Mashaal a very dangerous individual, as he has numerous contacts with Iran, and enjoys influence with Bashar Assad. |
Jan. 22….(AP) Palestinian Prime Minister Ismail Haniyeh of Hamas said on Sunday the United States was determined to bring down his government despite the Islamist group's standing offer of a long-term truce with Israel. Haniyeh, speaking before talks in Damascus between Palestinian President Mahmoud Abbas of Fatah and Hamas leader Khaled Meshaal, reiterated that any such accommodation with Israel did not entail recognition of the Jewish state. "We accept a Palestinian state on the lands (Israel) occupied in 1967, but in return for a long-term truce and not recognition," Haniyeh said in a speech. He described the offer as an alternative to Western demands for Hamas to recognize Israel, renounce violence and accept existing interim peace agreements. "With respect to the resistance, we say that there is calm," Haniyeh said. "As for the agreements, we say there is respect for them." A Gaza ceasefire in November sharply reduced rocket attacks launched by militants against southern Israel and Israeli forces halted an offensive in the coastal territory. Calling for a dialogue with the Quartet of Middle East peace mediators, the United States, the European Union, Russia and the United Nations,- Haniyeh urged the international community to lift an aid boycott against the Hamas-led government. But he said the United States and other members of the Quartet "practically and effectively want to bring down the government," which came to power in elections last year. Talks between Hamas and Fatah on forming a unity government broke down last year and Abbas called for new elections, balloting which Hamas said would be tantamount to a coup. While the two factions spar, the United States and Israel have been trying to bolster Abbas in his struggle against Hamas. Washington has put together an $86 million US program to strengthen Abbas's presidential guard and Israel transferred $100 million in withheld Palestinian tax revenues to the moderate leader on Friday.
Abbas, Hamas Chief Meshaal Meet in Damascus
Jan. 22….(AP) Palestinian President Mahmoud Abbas and the exiled chief of the rival Hamas faction failed Sunday night to resolve their differences over forming a unity government, dashing hopes for a quick end to deadly clashes between their supporters. But Abbas and Hamas leader Khaled Mashaal said in a statement that they "achieved major progress" during the meeting, their first since July 2005, and hoped to resume talks within two weeks. "There are still points of disagreement, but we will try to resolve them through a national dialogue until we form a national unity government," Mashaal said during a joint news conference with Abbas in the Syrian capital, Damascus. The two sides stressed that recent Palestinian fighting, which has killed at least 62 people, was unacceptable and pledged to exert efforts to avoid political friction. Palestinian bloodshed was considered totally prohibited, and we must exert all efforts to avoid frictions and internal clashes, Abbas said. The thorniest issues have been control of the two factions' security forces and Hamas' refusal to recognize Israel or commit to previous accords signed between Israel and the Palestinian Authority. Hamas, which controls the Palestinian parliament and Cabinet, and Abbas' more moderate Fatah movement have been stuck in political deadlock since Hamas' victory in legislative elections last year. Syria hosts the exiled leadership of several Palestinian militant groups, including Mashaal, who has lived in Damascus since 1997, when he survived an Israeli assassination attempt in Jordan.
President Bush Would Approve Attack on Iran
Jan. 22….(YNET) If all options were exhausted in the attempt to stop the Iranian nuclear project, and US military involvement was needed for a successful strike on Tehran, US President George Bush would give the green light for the operation, former director of the US Defense Policy Board Advisory Committee, Richard Perle, told the Herzliya Conference on Sunday evening. "The worst outcome is a failed military option," Perle said. Discussing a possible US involvement in a strike on Iran, he added: "Would this president do it? I think that until the day he leaves office, this is a president that, if he is told, 'Mr. President, you are at the point of no return,' I have very little doubt that this president would order the necessary military action." Perle began his speech by saying it wasn't clear whether "it's our time or Iran's that is over." He said the "current policy, will not by itself lead the Iranians to abandon their nuclear weapons program. If we continue to do what we are doing, Iran will become a nuclear weapons state." "Iran with nuclear weapons will not be so easily deterred and contained as we sometimes think, as we have become accustomed to deterrence in the Cold War," Perle said, adding: "When deterrence fails, it fails not gently, but catastrophically." Perle hypothesized a nightmare scenario, saying: "In possession of nuclear weapons, or even in possession of nuclear material, Iran is perfectly capable of using its terrorist networks to enable others to inflict grievous damage." "At some point, those of us who believe that the current policy will not lead to an abandonment of nuclear weapons (by Iran) have to begin to face the question of when is the point of no return," Perle added. Perle expressed astonishment at the lack of support granted by the West to Iranian opposition movements who wish to overthrow the regime of the Ayatollahs. "I'm not convinced that we have a lot of time. Given the peril that would result, its astonishing to me that we do not now have a serious political strategy with Iran," he said, adding he thought regime change is "the only significant effective way" to deal with the Iranian threat. "If we continue on our current course, we have only a military option. So what I'm urging, and this should have happened a very long time ago, is that we make a serious effort to work with the internal (Iranian) opposition," Perle said.
Burns: We Have to Confront Iran
Jan. 22….(Jerusalem Post) Iran must be confronted, the No. 2 official in the US State Department reported at the Herzliya Conference on Sunday, shortly after a five-hour meeting with Transportation Minister Shaul Mofaz, in charge of Israel's strategic dialogue with the US. US Undersecretary of State for Political Affairs Nicholas Burns said, "We have to confront Iran." Iran, Burns said on the first day of the conference, "is our most important challenge, a country with a radical agenda, a president that asserts that the Holocaust did not occur." Burns vowed that the US "will continue to assert the right and the responsibility to maintain stability in the region. "The Iranians have played a negative role in all the recent conflicts in the Middle East," Burns said, adding that while the US did not seek a confrontation with Iran, "no options were off the table." Burns, along with US Deputy Secretary of Defense Gordon England, who also participated in the conference, met with Mofaz and Gabi Ashkenazi, currently the Defense Ministry director-general and the leading candidate to replace Dan Halutz as chief of General Staff. Following the meeting Mofaz told the conference that 2007 will be "a year of decision." "This is the year when the world will have the responsibility of determining whether the Middle East will face a nuclear arms race, the strengthening of the radical axis and the strengthening of world terrorism, or whether it will be possible to lead the Middle East to new horizons, to a moderate, pragmatic and stable future." Mofaz said that it was necessary to look reality in the face and say clearly: "Iran is the heart of the problem in the Middle East, it is the most urgent threat facing the world, and this is a problem that needs to be dealt with before it is too late." Saying that a Middle East with a nuclear Iran "will not be the same Middle East," Mofaz also stressed that Iran with a nuclear weapon "is an existential threat to Israel. This is the time to stop Iran," before it is too late." Burns added that the American administration viewed Iran as increasingly more isolated in the international community. He said that "Israel, Egypt, Jordan, Saudi Arabia and the Gulf states are US allies," later listing only four countries which support Iran: Belarus, Syria, Cuba and Venezuela. "With friends like that," Burns said to chuckles in the audience, "well, you can finish the sentence." Meanwhile, many of the American and Israeli analysts, both official and unofficial at the conference were cautiously optimistic that Iranian influence in the Middle East could be curtailed, and that this process had already begun. The causes: isolation in the international system, economic mismanagement and a growing opposition to Iranian President Mahmoud Ahmadinejad.
Mahmoud Abbas and Hamas Politburo Chief Khaled Meshaal Meet in Damascus Under Iranian-Syrian-Libyan Aegis
Jan. 22….(DEBKA) DEBKAfile reports that Abbas finally agreed to talk to Meshaal Sunday night, 24 hours after his first refusal, under the influence of three matchmakers: Iranian national security adviser Ali Larijani, who arrived in Damascus for the purpose, Syrian president Bashar Asad through his deputy Farouk al-Shar'a and cousin of Libyan ruler, intelligence chief Ahmed Gadhaf al-Dam. By this about-turn, Abbas upended the effort made by US secretary of state Condoleezza Rice earlier this month to keep the Palestinians out of the Iranian-Syrian-Hizballah orbit and in the pro-Western Arab camp along with Egypt and Saudi Arabia. By his action, he also showed contempt for the understandings he reached with Israeli prime minister Ehud Olmert following which Israel transferred $100 m in frozen Palestinian revenues to Abbas this week. Abbas had led both the US secretary and Israeli prime minister to understand that he would not deal with the hard-line Hamas leader Khaled Meshaal or his Iranian sponsors. DEBKAfile's Middle East sources report that the let-down for Washington goes beyond Abbas' perfidy. His senior Fatah aide, Muhamad Dahlan, and Palestinian-Kurdish tycoon Muhammed Rashid were the live wires behind the Abbas-Meshaal encounter. Both were bankrolled by Muammer Qaddafi's son Seif al-Islam, who lent them his private Boeing 747 for the flight to Damascus. Since 2004-2005, when the Libyan ruler voluntarily gave up his weapons of mass destruction and severed his ties with terrorist organizations, the Bush administration has held him up as a radical Arab ruler who mended his ways under the influence of US campaign in Iraq. The top-level involvement of the Qaddafi clan in the latest Iranian-Syrian-Palestinian enterprise in Damascus is an ill omen, signifying Qaddafi has decided to hark back to his extremist orientation and work with Iran and Syria.
Sadr Ends Boycott of Iraqi Government to Avert Iraqi-US crackdown on his Mehdi Army
Jan. 22….(DEBKA) He has also warned the Palestinians living in Iraq, most of them Sunni Muslims, they will be killed unless they leave the country immediately. The Sadrist parliamentary bloc of 30 and its six ministers ended their two-month boycott Sunday, Jan. 21, clearing the way for Shiite PM Nouri al-Maliki to muster majority support for the planned US-Iraqi security crackdown in Baghdad. This was one of several steps taken by Sadr to save his Mehdi Army militia, the largest Shiite private army, and their strongholds in Baghdad's Sadr City from being targeted as the source of much of the sectarian violence besetting the capital. Sheik Mahmoud El Hassani, spokesman of Sadr's militia ordered all 20,000 Palestinians living in Iraq to quit the country or face death. He said the Palestinians, for whom Saddam Hussein provided housing and money, had brought their suffering on themselves by joining forces with Sunni extremists and al Qaeda and for killing Shiites in the Saddam era. "They lived off our blood under Saddam. We were hungry when they were comfortable. They should leave now or they will have to pay," said the Shiite sheik. Moqtada Sadr is maneuvering to avert a clash between his militia and beefed up American forces, while at the same time continuing his sectarian onslaught on Sunnis. To be on the safe side, he has ordered his men to melt into the 2.5 million inhabitants of Sadr City and hide their weapons. His tactic is to keep his powder dry in the coming months until the Iraqi-US forces massing Baghdad pull back. He will then re-activate his militia and send them into battle to take over parts of the capital. He hopes the US and Iraqi forces, seeing the Shiites falling back, will turn their guns on the Sunni insurgents instead. By turning his Mehdi Army against the Palestinians, Sadr wants to win points for helping the Americans quell Sunni extremists and al Qaeda and divert their offensive away from his militia. When the Americans invaded Iraq in 2003, there were 40,000 Palestinians living in Baghdad, most in the Haifa Street district, today a Sunni insurgent-al Qaeda stronghold. More than half have been driven out and killed. Thousands of Palestinian refugees are stranded on the Iraqi-Jordanian border which has been closed to prevent them crossing into the Hashemite Kingdom. No Palestinian leader, whether Mahmoud Abbas or Hamas, has intervened to alleviate their hardship.
WEEK OF JANUARY 15 THROUGH JANUARY 22
Australian Muslim Cleric Urges Children to be Martyrs
Jan. 19….(MSNBC) An Australian Muslim cleric has urged children to be martyrs for Islam and referred to Jews as pigs in a series of DVDs, sparking condemnation by the government and further straining tensions with the nation's Muslims. Sheik Feiz Mohammed, head of the Global Islamic Youth Center in Sydney's western suburbs, is the second cleric to inflame anti-Muslim sentiment in Australia with controversial comments. Sheikh Taj El-Din Hilaly, the imam of Australia's biggest mosque, was accused of justifying rape in November after a Ramadan sermon in which he said unveiled women were like uncovered meat. Australian media said Feiz has lived in Lebanon for the past year and that his "Death Series" DVDs were made public by a British documentary this week called "Undercover Mosque". "We want to have children and offer them as soldiers defending Islam," said Feiz in the video, reported Sydney's Daily Telegraph newspaper. "Teach them this: There is nothing more beloved to me than wanting to die as a mujahid. Put in their soft, tender hearts the zeal of jihad and a love of martyrdom," he said. The paper also said Feiz had insulted Jews, referring to them as pigs. The Australian government and ethnic leaders, including Muslims, condemned Feiz's comments on Thursday. Australia's ethnic leaders called for Feiz to face possible racial hatred charged for his speeches, which were published in part by Australian newspapers on Thursday. "Hate speech such as these remarks by Sheik Mohammed has no place in Australian society and must be vigorously condemned by all," said Vic Alhadeff, chief executive of Jewish Board of Deputies in the state of New South Wales. Islamic Friendship Association spokesman Kaysar Trad said the comments did not reflect the sentiments of Australian Muslims. "As a community, it is quite disconcerting for us that these comments are found from time to time and they're broadcast all over the news," said Trad. "They certainly give the public an erroneous impression about Islam and Muslims."
US Hopes Quartet Can Revive Mideast Peace Process
Jan. 19….(Reuters) Britain and the United States explored ways of persuading Israel and the Palestinians to revive peace talks on Thursday after Secretary of State Condoleezza Rice invited Middle East negotiators to Washington. "I have issued an invitation to the members of the quartet for a meeting in Washington, likely to take place on February 2," Rice told reporters in Berlin earlier. Several European countries want the quartet, the United States, the United Nations, Russia and the European Union to play a bigger role. "The whole region is looking for a way to accelerate progress and to drive toward the establishment of a Palestinian state, and so this is a very important time." The two sides have yet to fulfill their obligations under the first stage of the quartet-drafted "road map", a halt to Israeli settlement-building and the dismantling of Palestinian militant groups. Western diplomats and Israeli officials said Washington was exploring several options including the creation of a Palestinian state with temporary borders, an idea proposed in the second stage of the road map but rejected by Abbas. Rice has said she plans to bring Abbas and Olmert together in a few weeks for informal talks on a Palestinian state. Abbas has told Rice he is ready for "end-game" negotiations over the final borders of a Palestinian state, an aide said. European and Arab allies have long pressed Washington to get more involved in the peace process. Critics say Washington is only responding now because it needs help in containing violence in Iraq and Iran's nuclear program. Rice's visit took her to Egypt, Israel, the Palestinian territories, Jordan, Saudi Arabia and Kuwait, where she received apparent support from Arab allies for US plans to deploy more troops to try to stabilize Iraq. Middle East peace efforts have made little progress since 2000 when a Palestinian uprising broke out months after the collapse of talks brokered by US President Bill Clinton.
Israel Transfers $100m in Frozen Funds to Abbas
Jan. 19….(Ha Aretz) Israel transfered $100 million in frozen tax funds to Palestinian Authority Chairman Mahmoud Abbas as promised on Thursday, an official in Prime Minister Ehud Olmert's office said Friday. "The money has been transferred," said the official. The funds are part of the customs duties and Value-Added Tax that Israel collects on behalf of the Palestinian Authority. The prime minister agreed to transfer the funds during his meeting with Abbas last month, as part of a series of steps designed to bolster the PA chairman. The transfer is intended to give Abbas a boost ahead of crucial talks in Damascus with the head of Hamas' political bureau, Khaled Meshal, and is the first such Israeli payment since Hamas won control of the Palestinian government last March. Following Hamas' victory in the parliamentary elections, Olmert's government decided to halt the tax revenue transfers, estimated at $50 million to $60 million per month. The official said the money would be transferred directly to Abbas for use in humanitarian efforts and to boost his security force. The official, speaking on condition of anonymity because the decision had not yet been formally announced, said Israel was satisfied by assurances that the money would not go to the Palestinian Finance Ministry, which is controlled by Hamas. A senior aide to Abbas, Saeb Erekat, said the funds would be channeled towards humanitarian projects and the private sector, but declined to say whether any would go toward boosting Abbas' security. Israel, the United States and the European Union define Hamas as a terror group because it is sworn to the destruction of Israel and is responsible for the deaths of hundreds of Israelis. The international community has frozen foreign aid that has kept the Palestinian Authority afloat since it was created in 1994. Israeli officials, speaking on condition of anonymity, have previously said the money would be earmarked for humanitarian needs and a US-backed program to strengthen Abbas' presidential guard against threats from Hamas.
What's My Line - The Barak Obama Hoopla
| | |
| --- | --- |
| | (FOJ) It is hard to fathom in the aftermath of 9-11 and the war on terror, but could it be possible that America actually could elect an atheist, and former Muslim as president? Why has the media gone absolutely bonkers over this stranger? The next US presidential election should prove to be very interesting, considering the dynamics of current events and Bible Prophecy |
Jan. 18…..(Bill Wilson/KIN) He was born of a Muslim father and an atheist mother, who in his own words was "a lonely witness for secular humanism, a soldier for New Deal, Peace Corps, and position paper liberalism." She divorced when he was two years old and remarried another Muslim living in Indonesia, where the young man was educated in Catholic and Muslim schools in one of the most radical Islamic countries in the world. Though his father and stepfather were both Muslim, he tries to mitigate their religion by saying that by the time his mother married them, they had become atheists. After he was ten years old, he mostly was raised by his atheist grandparents. The New York Daily News reports that he changed his life in his junior year of college at Columbia: he said he stopped doing drugs, ran three miles a day, and "He went to socialist conferences at Cooper Union and African cultural fairs in Brooklyn and started lecturing his relatives." After graduating Columbia and then Harvard, he began working in Chicago supporting social programs. He recruited a local United Church of Christ Church on a government-sponsored community outreach. Around 1988, he joined the church because, he says, "that religious commitment did not require me to suspend critical thinking, disengage from the battle for social justice, or otherwise retreat from the world that I knew and loved." The United Church of Christ is not to be confused with the "Church of Christ." The United Church of Christ, however, supports homosexual marriage, abortion, environmental justice, globalism, the International Criminal Court, the Palestinian movement and believes that Israel is illegally occupying the covenant land. The UCC seems to conveniently justify and legitimize his beliefs that social progressivism is equal to Christ and he writes in his memoirs that his own salvation was not an "epiphany." He reasoned after his daughter asked about life after death, "I wasn't sure what happens when we die, any more than I was sure where the soul resides or what existed before the Big Bang." His name is Barak Hussein Obama. And he is running for President. He is courting evangelical Christians from the pulpit at Rick Warren's Saddleback church and by using public proclamations reported in the news media. Some Christians are saying he is a Democrat that evangelical Christians can support. Many have suggested that his Islamic and atheist upbringing combined with his social progressive membership in the United Church of Christ make him an outstanding presidential candidate. Others believe he may be a threat to the national security. Will the real Obama please stand up? Jesus said in Matthew 7:15, "Beware of false prophets, which come to you in sheep's clothing, but inwardly they are ravening wolves."
Israel Warns Russia About Iran Arms Sales
Jan. 17….(Jerusalem Post) Voicing extreme concern over Russia's recent sale of advanced anti-aircraft missiles to Iran, senior Israeli diplomatic and defense officials warned Moscow that the deal could have serious security implications that would even "get back to Russia." Senior officials in Jerusalem said they "were not pleased" with the sale of the anti-aircraft missiles, but that Russia was a sovereign country and they could not intervene. They did, however, issue a warning: "We hope they understand that this is a threat that could come back to them as well." Earlier Tuesday, Russian Defense Minister Sergei Ivanov said Moscow had sent air defense missiles to Teheran, the first high-level confirmation that their delivery took place despite US complaints. Ivanov did not specify how many missile systems had been delivered. "We have delivered short-range Tor-M1 missiles to Iran in accordance with the contract," Ivanov told reporters. The Tor-M1 is an advanced anti-aircraft system that can identify up to 48 targets and fire at two targets simultaneously, at altitudes of up to 6,000 meters. Defense officials predicted the systems would be used to defend Iran's nuclear facilities, particularly the uranium enrichment center at Natanz. The officials said that while the missiles were advanced and "highly-capable," the Israel Air Force was "well-trained" and knew how to deal with multiple and varied threats. Russian officials previously said Moscow would supply 29 of the sophisticated missile systems to Iran under a $700 million contract signed in December 2005, according to Russian media reports. "If the Iranian leadership has a desire to purchase more defensive weapons, we would do that," Ivanov said, without elaborating. The United States called on all countries last year to stop all arms exports to Iran, as well as end all nuclear cooperation with it, to pressure Teheran to halt uranium enrichment. Foreign Ministry spokesman Mark Regev said Israel "would be concerned at any arms sales to the extremist regime in Teheran, a regime that has already been sanctioned by the international community because of its ongoing and flagrant violations of UN Security Council resolutions." Russian officials said the missiles were purely defensive weapons with a limited range, and argued that the Tor-M1 deal, involving conventional weapons, did not violate any international agreements. "We are developing military-technical cooperation with Iran based on international law," they said. Moscow already has a $1 billion contract to build the Bushehr nuclear power plant. Neither Israel nor the Americans can stop us from equipping Iran, Ivanov said. As long as we don't give them offensive weapons, you have nothing to complain of." According to Moscow sources, Putin and Ivanov are determined to equip Tehran and Damascus with defensive hardware to deter the United States and Israel from attacking both countries by the threat of heavy casualties. Last December, military sources reported the conviction of some Iranian and Russian aid defense experts that the deployment of Tor-M1 missiles at Iran's nuclear installations will make it almost impossible for the Americans or Israelis to knock out those facilities for any lengthy period. Therefore, they estimated that any US or Israeli strike against Iran's nuclear sites must go forward in the next six months before the new Russian anti-air systems are in place.
Ahmadinejad: Israel and the US Would not Dare Attack Iran
Jan. 17….(Ha Aretz) Iran's President Mahmoud Ahmadinejad said neither Israel, nor the United States, would dare attack the Islamic Republic over its nuclear program, a Spanish newspaper quoted him as saying in an interview. The Iranian president was responding to a question on a recent article by Britain's Sunday Times that Israel had secret plans to destroy Iran's uranium enrichment facilities with tactical nuclear weapons. "They well know the power of the Iranian people. I don't think they would ever dare to attack us, neither them nor their masters. They won't do such a stupid thing," Ahmadinejad told El Mundo during a visit to Nicaragua, referring to Israel. Iran does not recognize Israel and Ahmadinejad has previously called for Israel to be "wiped off the map." Israel has refused to rule out pre-emptive military action against Iran along the lines of its 1981 air strike against an atomic reactor in Iraq, although many analysts think Iran's nuclear facilities are too much for Israel to destroy alone. Asked about whether he wants to see Israel destroyed, Ahmadinejad avoided a direct answer, but seemed to refer to an earlier statement in which had said that Israel would be wiped out "just as the Soviet Union was wiped out." "Where is the Soviet Union?" he told El Mundo, "It has disappeared." The Iranian president has also called the Holocaust a "pretext" for the establishment of the "dictatorial, totalitarian" Israeli regime which "was created essentially to threaten other nations.
Washington Ups Military Stakes against Iran
(deploys 600 Patriot anti-missile missiles in Middle East)
Jan. 17….(DEBKA) For the first time, the Pentagon released the figures of US and British casualties in Iraq from the extra-lethal explosive devices manufactured in Iran: 198 dead and more than 600 wounded. These devices are smuggled in through the southern marshes and along the Tigris River. The Chairman of the US Joint Chiefs of Staff told Congress that Iranians are now on the US target list in Iraq. He spoke of an "aggressive ground campaign" against Iranian networks operating inside Iraq. The Pentagon has also referred to possible cross-border raids into Iran, but so far none has been approved. The stakes have been rising since Wednesday, Jan. 10, when the US president vowed to seek out and destroy Iranian and Syrian networks disrupting US operations in Iran and fomenting violence. Attempts to disrupt these networks combine with the decision to send a second aircraft carrier, the USS John. C. Stennis, to the Persian Gulf as a warning to Iran plus a Patriot air defense missile battalion to the Middle East and the deployment of a large number of warplanes in the Turkish base of Incirlik. A US military spokesman has said the two carrier strike groups will not just be showing force but actively involved in combat operations and providing air support across the region. All these actions are raising the ante of the conference Condoleezza Rice will lead in mid-week in Kuwait of Arab foreign ministers from Saudi Arabia, the UAE, Oman, Qatar, Bahrain, Egypt and Jordan. She will try to build a pro-American alliance by selling the argument that an American failure in Iraq would pose an existential threat to all their nations.
Some Thoughts on Israel Hitting Iran's Nuclear Facilities
Jan. 16….(JNEWSWIRE) A week ago, the London Sunday Times ran a story about Israel's plan to use small atomic bombs against Iran. "Israel has drawn up secret plans to destroy Iran's uranium enrichment facilities with tactical nuclear weapons. Two Israeli air force squadrons are training to blow up an Iranian facility using low-yield nuclear 'bunker-busters,' according to several Israeli military sources," said the paper. The Times quoted another source as saying, "As soon as the green light is given, it will be one mission, one strike and the Iranian nuclear project will be demolished." One obviously has to ask why various Israeli military sources would spill the beans on such a sensitive mission. If you're going to launch a surprise attack against your enemy, you normally would want to keep your actions a secret. The Times reporters who produced the story were also wondering why Israeli officials would leak this type of information. They consulted with military analysts and came up with three possible reasons:
1. The disclosure of the plans could be intended to put pressure on Tehran to halt enrichment.
2. Israel may have been trying to cajole America into action.
3. They might have wanted to soften up world opinion in advance of an Israeli attack.
I would add a fourth reason as possibly being Israel's incapability of carrying out a successful attack. US Army War College has recently concluded that there are too many geopolitical limitations for Israel to carry out a preemptive air strike targeting Iran's nuclear sites. The report, entitled "Getting Ready for a Nuclear-Ready Iran," said that Israel does not have the military capability to locate and destroy Iranian nuclear facilities, adding that Israel's Air Force cannot operate at such long distances from its bases. "The Israeli Air Force has formidable capabilities and enjoys unchallenged supremacy vis-à-vis the other Middle East air powers, but Israel has no aircraft carriers and it cannot use airbases in other Middle East states," the report said. Unlike the now-legendary strike on Iraq's Osirak nuclear reactor, a bombing run against Iran would be vastly more complex. In the 1981 strike, Iraq only had one facility. The Iranian nuclear project is scattered around anywhere from 200 to 300 sites. While the Osirak reactor was above ground, many of Iran's facilities are in deep underground bunkers. If Israel is going to take action, nuclear weaponry is the only option that has a chance of working. The one thing preventing the button from being pushed is the perceived notion that the deployment of nuclear weapons is unthinkable. Even though several nations around the world have spent hundreds of billions of dollars devolving nukes, the fear of them triggering a nuclear holocaust has prevented anyone from using them. Just over a year ago, another news story suggested Israel might use nukes to end Iran's atomic ambitions. At the time, the story received a sharp negative reaction in Israel. Several leaders said such an idea was crazy, and poured scorn on the paper for printing such a suggestion. This time around, the reaction was much more muted. The most common reaction was the standard, "Israel is still committed to negotiations with Iran." However, just about every leader in Israel has made some statement that it may be time to consider using force to prevent Iran from becoming a dangerous nuclear power. When considering that conventional weapons have already been ruled out, you can see where Israel's thinking is headed. As much as President Bush has been occupied with Iraq, he still realizes the danger Iran poses to Israel. "I want to remind you that the current president of Iran has announced that the destruction of Israel is an important part of their agenda. And that's unacceptable. And the development of a nuclear weapon, it seems like to me, would make them a step closer to achieving that objective," said Bush at a joint press conference in Washington, DC with German Chancellor Angela Merkel. I don't see western nations putting enough pressure on Iran to force it to change its nuclear plans. Many of our friends in Europe rely on Iran for a large portion of their oil imports, which makes them reluctant to support any major sanctions. I expect to wake up some morning to the news that Israel has attacked Iran's nuclear program. It would surprise me to learn that the US helped with this effort. After all, President Bush is at the point where he has nothing to lose. I have no idea what would happen next. An attack by Israel against Iran would completely change the dynamics of the Middle East. The world would basically have a cow, and the stage would be set for Russia and the Antichrist to play their end-time roles.
Rice Lobbies Arab Allies for Backing in Iraq
| | |
| --- | --- |
| | (FOJ) The US is caught in a geo-political wedge-trap in Iraq. It looks all the more as if the takedown of Saddam Hussein in 2003 has played right into Iran's hands, and left the door open for the Prince of Persia to wreak further havoc in the region. Iran is utilizing its grip on Russia to position itself as the lynchpin of instability. |
Jan. 16….(CNN) US Secretary of State Condoleezza Rice's appeal for Arab states to support the fragile government in Iraq received only a tepid endorsement Tuesday from America's strongest ally in the Middle East. Saudi Foreign Minister Saud al-Faisal said his government hopes the US plans to turn around the situation in Iraq are successful, but he was plainly skeptical that the Iraqi government is up to the task.
"We are hoping these objectives will be implemented, but the means are not in our hands," he said. "They are in the hands of the Iraqis themselves." Al-Faisal spoke at length about the centuries-old civilization in Iraq where Sunni and Shiite Muslims have been living together for years but are now threatened by sectarian violence that has killed thousands. Secretary Rice thanked the Saudis for their past help in urging national reconciliation in Iraq, but did not press specific new requests for the predominantly Sunni kingdom's help. Although a distinct minority, Sunnis had dominated the government in Iraq until the US-led ouster of Saddam Hussein in 2003.
Rice, who has said debt relief would be a good way for Saudi Arabia to help its neighbor, sounded more optimistic than al-Faisal about the will of the Iraqi government. "As the President has said, Iraqis have to decide what kind of country they will be," Rice said, alluding to US President George W. Bush's assertion that the ultimate future of Iraq is in the hands of Iraqis. Rice and al-Faisal spoke to reporters after a morning meeting. Rice arrived in the kingdom on Monday evening and dined with King Abdullah. She was heading to Kuwait later Tuesday to meet the foreign ministers of eight Arab countries to continue her quest for assistance on Iraq. "We share risk and we share responsibility, because this is an area of the world which will very much be affected by how Iraq turns out," Rice told a news conference in Egypt on Monday. The Arab leaders are eager for the US to take a larger role in brokering peace between Israel, the Palestinians and others in the region. While in Egypt, Rice announced she will bring together the Israeli and Palestinian leaders in the coming weeks for a summit dedicated to exploring ideas for an eventual Palestinian state. Before she left Washington, Rice told Congress that Saudi Arabia should do more to help the Iraqi government because a "failed state" next door to the kingdom would ensure an expanded role in the region for old rival Iran. She warned that if Iraq descends into chaos, Shiite-dominated Iran could fill the vacuum. Jordanian King Abdullah II warned Rice that Iraqi political reconciliation would fail if Sunni Iraqis were not engaged in their country's decision-making. "Any political process that doesn't ensure the participation of all segments of Iraqi society will fail and will lead to more violence," Abdullah told Rice in their weekend talks, according to a statement from his office. Like other US allies such as Egypt and Saudi Arabia, Jordan is concerned about the growing Shiite Muslim influence, stretching from Iran through Iraq and Syria to Lebanon. The fear is that the hardline Tehran government will dominate the Mideast and give rise to more extremism, jeopardizing a Mideast peace settlement and threatening those nations. Bush's new strategy to send thousands more troops to Iraq met with strong skepticism across the Mideast, where many predicted that even with more soldiers, America would fail to break the cycle of violence. There were deep doubts that US troops, or the Shiite-led Iraqi government, would tackle what many in the Sunni-dominated Arab world see as the chief threat to Iraq: Shiite militias, blamed for fueling the cycle of sectarian slayings. Iraqi Prime Minister Nuri al-Maliki has resisted US pressure in the past to move against militias, but last week he pledged to crack down on political ally Muqtada al-Sadr's Mehdi Army. Many in the Arab world profoundly distrust al-Maliki's government, believing it is serving Iran's interests at the expense of Sunnis.
Russia Delivers Missiles to Iran
FOJ Note: Magog is busy preparing its allies in the region for a future venture against Israel. For the time being, the military armament is meant to be a deterrent and counter to US dominance in the region, but eventually, America will be suffocated from the region by the dynamics of losing in Iraq.)
Jan. 16….(Reuters) Russia has delivered new anti-aircraft missile systems to Iran and will consider further requests by Tehran for defensive weapons, Russian Defense Minister Sergei Ivanov said on Tuesday. "We have supplied the modern short-range anti-aircraft systems TOR-M1 in accordance with our contracts," Ivanov told reporters. "Iran is not under sanctions and if it wants to buy defensive equipment for its armed forces then why not?" A defense ministry source later told Reuters deliveries of hardware under the $1 billion deal, which has been criticized by the West, have not yet been completed. Washington and Israel have criticized the contract to supply the TOR-M1 missiles to Iran, saying Tehran could use them against its neighbors. Late last year Russia reluctantly joined UN sanctions against Iran, which introduced restrictions on Iran's trade in sensitive nuclear materials and technology, aimed at curbing Tehran's nuclear ambitions. But Moscow says the sanctions do not apply to the missiles. The Russian military insists that the missile systems will protect Iran from air attacks, but do not pose a threat to neighboring countries. Last year Russia dropped the idea of selling longer-range S300 anti-aircraft missiles to Iran. However, Washington imposed sanctions against four Russian arms firms for selling weapons to Iran and Syria.
Syrian Armed Forces Being Revamped by Iran
Jan. 15….(DEBKA) The Syrian army has begun striking out in new directions for the first time since Bashar Assad succeeded his father as president seven years ago, DEBKA-Net-Weekly's military sources reveal. Two new mechanized divisions are under construction. When they are completed in the coming spring, the Syrian armed forces will consist of 12 divisions, five deployed opposite Israel on the Golan, of which 3 are in forward positions facing Israeli troops and tanks and 2 further back on call as reinforcements should war erupt. Two armored divisions are stationed outside the Syrian towns of Homs and Der'a; the Republican Guard division 569 is permanently assigned to securing the ruling Assad family in Damascus; an infantry division is posted on the Syrian-Turkish border and another on the Syria-Iraq frontier. Hafez Asad's military doctrine was based on Syria being too poor in money and technology to maintain modern air and naval forces; it must therefore rely on a very strong anti-air defense system based on large quantities of medium range missiles, mostly Soviet Scuds-B, C and D, equipped with chemical and biological warheads. These missiles are capable of reaching every densely-populated corner of Israel. Asad senior also bought a huge fleet of tanks from Moscow. Today, the Syrian army is one of the few in the world, outside Africa and the Third World, to maintain in active service the anachronistic T-54 and T-55 tanks. The later model, T-72, is obsolete too, and most would be destroyed in combat with up-to-date tanks. When Assad the younger assumed power in June 2000, he more or less adhered to his father's military concept with two important exceptions: He signed a mutual defense pact with Iran binding each country to come to the aid of the other against an external aggressor. The pact covered a merger between the Syrian and Iranian military industries, including Syria's missile factories (the biggest is an underground facility near the northern town of Homs). Syria thus procured advanced missile technology from Iran. Assad's second project was to develop commando units for penetrating Israel's home front in the even of a war with the Jewish state. Ten of these battalions have been created. But the Israel-Hizballah war of summer 2006 was the Syrian ruler's real eye-opener. He saw the legendary IDF fail to subdue the enemy; Hizballah pounding northern Israel's towns and villages day after day and forcing one million Israelis to abandon their homes. And he saw Hizballah using anti-tank rockets with devastating effect against advancing Israeli armored forces regardless of steady Israeli air bombardment. The Syrian army has consequently undergone fundamental strategic changes. Syria is preparing its army, especially the commando battalions, for such reprisals to take the form of cross-border operations and since the second half of November, 2006, small special units of 10-12 men are in training as terrorist teams for strikes inside Israel, starting with the Israeli Golan. In Moscow last month, the Syrian president signed a big arms deal with Russia. He was taken round a base near Moscow for a display of the latest Russian anti-air missiles. In particular, he examined the S-300PMU2 FAVORIT system, which is designed to defend strategic facilities and armed forces against attack by modern aircraft, cruise missiles, and ballistic missiles in heavy ECM environments. This air defense system is equipped with 30N6E2 fire-control radar, a 96L6E target acquisition and designation radar, eight 5P85SE launchers and 48N6E2 missiles with a range of 200km against aircraft and 40 km against ballistic missiles. The system can engage six targets simultaneously with 12 missiles. DEBKA-Net-Weekly's military experts describe this as a highly sophisticated, extremely expensive piece of hardware. Each battery costs $600 million. Our sources report that before he left, Assad clinched a deal with Moscow to purchase this system on credit from Iran as part of Tehran's arms transactions with the Russians. This is worrisome news indeed. It will place in the radical Assad regime's hands a strategic weapon capable not only of downing Israeli planes while still in Israeli air space, but also US and European aircraft taking off from carriers in the eastern Mediterranean.
John Bolton: Mideast Peace Efforts Are a Waste
Jan. 15…..(Fox News) As Secretary of State Condoleeza Rice meets with Mideast leaders to jumpstart the peace process, former US Ambassador to the UN John Bolton called the attempt a waste of time. Bolton, who also said it's time another body replace the United Nations, told the Sunday Times of London the Arab-Israeli conflict was "not a priority," adding: "I don't see linkage to Iraq, and Hamas and Fatah are in a state of civil war." Now back at the American Enterprise Insitute, Bolton let loose on a variety of topics during the interview, from negotiating nuclear weapons with to the reunification of the Korean peninsula. "I wouldn't have engaged in negotiations with Iran in the first place," he told the paper, in a nod to Britain, France and Germany, nations that have made contact with Tehran. "The policy has failed. Sanctions won't stop Iran from getting nuclear weapons." Bolton said and President Bush his administration would "rather find a way for diplomacy to succeed but time is running out, that's me speaking." Regime change, he said is "preferable" to a US attack on Iran's nuclear sites, though "the only course worse than the use of force is an Iran with nuclear weapons." "President Bush has said it is unacceptable for Iran to have nuclear weapons and he will not accept it," Bolton said. "There are all kinds of ways to change the regime," he said, mentioning covert and overt means to topple the government. "We have an extensive Diaspora of people with Iranian heritage in America who we don't use effectively." As to the threat of nuclear weapons posed by North Korean leader Kim Jong-Il, Bolton said that the only solution was through a "peaceful reunification of the [Korean] peninsula." The vocal critic of the UN still believes that other organizations such as might be better suited to governing world affairs. "Fifteen years ago people said NATO would either go out of area or out of existence and now it is in Afghanistan and it is all but NATO, absent Germany and France, in Iraq," he said. "I think NATO should go global. There is no reason why Japan and Australia shouldn't join." In Bolton's view, America needs to take the lead in global affairs because "Who else will?"
Iranian-Trained Army in Iraq
(40,000 ex-POW Shiites armed, prepared for Islamic revolution)
Jan. 15….(WND) Iran has armed and trained some 40,000 Shiite Iraqi fighters, most of whom are former prisoners of war captured during the Iran-Iraq war, and sent them to Iraq to foment an Islamic revolution WND reports. The online intelligence newsletter says this small army represents the vanguard of Iran's effort to subvert the US-led liberation of Iraq and use the toppling of Saddam Hussein's regime for its own ends. "Ayatollah Mohammed Bakir Khakim is on record pledging more than once to his followers a plan to impose Islamic rule over Iraq with the help of Iran," reports G2 Bulletin. "The Tehran ayatollahs, or the Pasadran, the powerful revolutionary guard, repeatedly have been telling the Iraqis they would be their legitimate allies and partners. In such a scenario, there is no room for the US. The coalition that liberated Iraq is seen by the Iraqi Shiite militants and their Iranian sponsors as a tool for handing Iraq over to them without the need to use a massive force of their own." The report says US war planners were caught off-guard last week by a massive rally of as many as 1 million Shiites in southern Iraq cities, some celebrating the demise of Hussein, others protesting the continued presence of US. troops. G2 Bulletin quotes a CIA source as saying the role of the Iranian security apparatus in Iraq was identified in the mid-1990s as a force to compete fiercely with the US should the Hussein regime collapse. Shiites represent some 60 percent of the Iraqi population. Neighboring Iran is the only Shiite-governed nation in the world.
Iraqi President Visits Syria After Bush's Threats
Jan. 15….(USA Today) Syria's leader promised to help ease tensions in neighboring Iraq during Iraqi President Jalal Talabani's landmark visit to Damascus on Sunday, just days after President Bush accused Syria of backing the Iraqi insurgency. A veteran Kurdish politician who spent years in exile living in Syria, Talabani is the first Iraqi president to visit Damascus in nearly three decades. His trip was seen as part of an attempt to warm relations between the longtime rivals. A prominent Iraqi lawmaker with close ties to Talabani said the president's visit to Syria was not meant as a snub to Bush. The six-day trip had been planned for nearly a year and its date was finalized about two weeks ago, Kurdish lawmaker Mahmoud Othman said from Baghdad. But he acknowledged that the timing "may seem a little tricky" after Bush's speech and said Iraq needed to follow its own foreign policy goals independent from Washington's agenda. "Our interests differ from those of the United States," he said. "The enmity between the United States and Syria and Iran doesn't benefit the situation in Iraq." The United States and Iraqi officials accuse Damascus of providing refuge to Sunni insurgents and allowing them to cross the border freely into Iraq to fight American and Iraqi troops. In an address Wednesday outlining his new strategy for Iraq, Bush vowed to take military action to disrupt insurgent supply lines coming into Iraq from Syria and Iran. Muqtada al-Sadr, the anti-US Shiite cleric whose Mahdi Army militia is blamed for much of Iraq's sectarian violence, was given a warm welcome by Assad when he visited Syria last year. Al-Sadr is one of al-Maliki's main political backers. The US believes al Maliki is too beholden to al Sadr, and is demanding that the Iraq President take action against Sadr.
WEEK OF JANUARY 8 THROUGH JANUARY 14
Scientists Prepare to Move Doomsday Clock Forward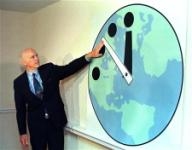 Jan. 13….(Reuters) The keepers of the "Doomsday Clock" plan to move its hands forward next Wednesday to reflect what they call worsening nuclear and climate threats to the world. The symbolic clock, maintained by the Bulletin of Atomic Scientists, currently is set at seven minutes to midnight, with midnight marking global catastrophe. The group did not say in which direction the hands would move. But in a news release previewing an event next Wednesday, they said the change was based on "worsening nuclear, climate threats" to the world. "The major new step reflects growing concerns about a 'Second Nuclear Age' marked by grave threats, including: nuclear ambitions in Iran and North Korea, unsecured nuclear materials in Russia and elsewhere, the continuing 'launch-ready' status of 2,000 of the 25,000 nuclear weapons held by the US and Russia, escalating terrorism, and new pressure from climate change for expanded civilian nuclear power that could increase proliferation risks," the release reads. The clock was last pushed forward by two minutes to seven minutes to midnight in 2002 amid concerns about the proliferation of nuclear, biological and other weapons and the threat of terrorism. When it was created by the magazine's staff in 1947, it was initially set at seven minutes to midnight and has moved 17 times since then. It was as close as two minutes to midnight in 1953 following US and Soviet hydrogen bomb tests, and as far away as 17 minutes to midnight in 1991 after the superpowers reached agreement on a nuclear arms reductions.
Hillary Doubts Mission Can Work in Iraq
Jan. 13….(Newsmax) US Sen. Hillary Rodham Clinton of New York expressed doubt Saturday that Iraq's government would follow through with its promises to secure Baghdad as she met with top Iraqi officials and American commanders. It was the third trip to Iraq for Clinton, a Democrat from New York who is considering running for president, and comes amid opposition from the Democratic-controlled Congress to President Bush's plans to send in 21,500 more troops to stop the rampant violence. "I don't know that the American people or the Congress at this point believe this mission can work," she told ABC News in Baghdad. "And in the absence of a commitment that is backed up by actions from the Iraqi government, why should we believe it?" Noting she had to travel wearing body armor and surrounded by soldiers and security guards, Clinton called the situation in Iraq "heartbreaking." "This is my third trip here. I've seen the violence and security problems increase, not decrease," she said, calling on Bush to start withdrawing US troops. "I'm skeptical that the Iraqi government will do what they have promised to do, and that I think is the concern of all of us who have heard this before," she said, referring to earlier security efforts that have failed to stop the sectarian attacks that have been increasing since the Feb. 22 bombing of a Shiite shrine in Samarra.
CIA Receives Go-Ahead to Tackle Hezbollah in Lebanon
Jan. 12….(Israel Today) The Central Intelligence Agency has been authorized to take covert action against Hizbollah as part of a secret plan by President George W. Bush to help the Lebanese government prevent the spread of Iranian influence. Senators and congressmen have been briefed on the classified "non-lethal presidential finding" that allows the CIA to provide financial and logistical support to Lebanese Prime Minister, Fouad Siniora. The finding was signed by President Bush before Christmas after discussions between his aides and Saudi Arabian officials. Details of its existence, known only to a small circle of White House officials, intelligence officials and members of Congress, have been passed to The Daily Telegraph. It authorizes the CIA and other US intelligence agencies to fund anti-Hizbollah groups in Lebanon and pay for activists who support the Siniora government. The secrecy of the finding means that US involvement in the activities is officially deniable. The Bush administration hopes Siniora's government, severely weakened after its war with Israel last year, will become a bulwark against the growing power of the Shia sect of Islam, championed by Iran and Syria, since the fall of Saddam Hussein. President Bush's move is at the centre of a fresh drive by America, supported by the Sunni states of Saudi Arabia, Jordan and Egypt as well as Israel, to stop Iranian hegemony in the Middle East emerging from the collapse of Iraq. The finding, drawn up at the White House by National Security Council (NSC) officials, is a sign of Mr. Bush's growing alarm at the threat posed by Iran, which has infiltrated the Iraqi government and is training Shia insurgents as well as supplying them with roadside bombs. A former US government official said: "Siniora's under siege from Hezbollah and Iran and we are always looking for ways to help allies. As Richard Armitage [a former deputy US secretary of state] said, Hizbollah is the A-team of terrorism and certainly Iran and Syria have not let up in their support of the group." Prince Bandar bin-Sultan, the former Saudi Arabian ambassador to Washington, is understood to have been closely involved in the decision to prop up Mr. Siniora's administration and the Israeli government, which views Iran as its chief enemy, has also been supportive. "There's a feeling both in Jerusalem and in Riyadh that the anti-Sunni tilt in the region has gone too far," said an intelligence source. By removing Saddam, we've shifted things in favor of the Shia and this is a counter-balancing exercise, and one that has worked to undermine the regional balance of power away from American dominance. As a quid pro quo to the Sunni Arab states, President Bush and Israeli Prime Minister Ehud Olmert have agreed to work harder to re-start negotiations about a peace deal with the Palestinians. Bush administration officials have spoken of their desire to promote "mainstream" Arab states and have even spoken of the existence of a "Sunni crescent" in the Middle East. But there is tension between this policy and the support for Nouri al-Maliki's Shia-led government in Iraq, which has links to Shia death squads and Iran. The administration is reaping its own whirlwind after Iraq," said the intelligence source. "For 50 years the US preferred stability over legitimacy in the Middle East and now it's got neither. It's a situation replete with ironies.
Sharon Warned Bush, "Arabs Won't Take to Democracy"
Jan. 12….(Jerusalem Post) Former prime minister Ariel Sharon told President George W. Bush ahead of the US-led invasion of Iraq of the dangers Saddam Hussein posed for the region, but also warned him that the Arab world would not be receptive to democracy, former ambassador to the US Danny Ayalon told The Jerusalem Post on Thursday. Ayalon, who sat in on numerous Bush-Sharon meetings, said the US and Israel held close consultations during the run-up to the war, but that Sharon was very careful not to advocate any particular American action. Ayalon said he served as "Sharon's watchdog," ensuring that when officials from the Defense or Foreign ministries came to Washington they would give US officials a "true analysis, but never cross the line of recommending policy." Israel, Ayalon said, did not tell the Americans what they should do, since Sharon was "astute and careful enough" to realize that this could lead to future accusations that Israel led the US into Iraq. But, Ayalon said, Bush did receive Sharon's analysis of the situation. According to Sharon, Saddam was an acute threat, and he supported his analysis by pointing to the Iraqi dictator's conduct during the Iran-Iraq War; his launching of 39 Scud missiles at Israel, and more than 40 at Saudi Arabia, Kuwait and Bahrain, during the first Gulf War; his material and logistical support for terrorists; and his track record of intimidating his neighbors. In addition, Ayalon said the Saddam threat factor was driven home by the intelligence information that "we all shared" that Saddam had weapons of mass destruction, "especially in the chemical area." Another element involved in these analyses was the fact that despite Israel's bombing of Iraq's Osirak nuclear plant in 1981, Iraq still had the blueprints and technological know-how to create nuclear weapons, "and it was just the matter of finding the right moment to put their program back on track in a fast manner." Regarding democratization of the region, Ayalon said Sharon told Bush it would take a long time, and "the president understood that this was something that would not be done overnight. Based on his intimate knowledge of the Arab world, Sharon was skeptical of the idea that Arab societies were ready to receive democratic culture," Ayalon said. Former Sharon spokesman Ra'anan Gissin, meanwhile, said Sharon "used his expertise on guerrilla warfare" during his discussions with Bush, and advised that before trying to impose democracy on Iraq it was necessary to bring about stability. Gissin said Sharon told Bush that whatever he decided, the US would eventually leave the region, but Israel would have to stay and deal with the consequences of US action or inaction. Gissin described one meeting where Sharon gave Bush a "lecture on how to deal with counterinsurgency," and discussed with him in detail the need to isolate Iraq, prevent the flow of money and weapons and keep the insurgents under constant pressure. According to Gissin, Sharon was adamant that no Israeli official should speak publicly about what the US should do. However, he said, in the private meetings Sharon warned against "putting the cart before the horse, and said that there can't be democracy without stability." Gissin said Sharon also warned Bush that democratization would drive a wedge between the US and its moderate Arab allies in the region - Egypt, Saudi Arabia, Jordan and the Persian Gulf countries, who were worried about what this democratization would mean for their regimes.
Carter Center Advisers Resign Over Former President Jimmy Carter's Anti-Semitic Book
Jan. 12….(Fox News) Fourteen members of a leadership group under former President Carter's think tank resigned Thursday over concerns that Carter's book on the Middle East does not represent "the Jimmy Carter we came to respect and support." The members of the 200-member Board of Councilors, a leadership advisory group founded in 1987, join a longtime Carter aide, Jewish groups and lawmakers who have publicly criticized the former president's best-selling book "Palestine: Peace, Not Apartheid" for inaccuracies and distorting history. It comes to the result of deep soul searching and a tremendous amount of angst," said Steve Berman, a member who was appointed six months ago. Berman, an Atlanta commercial real estate developer, said he was led to resign after becoming deeply troubled after reviewing Carter's book, shocked by factual errors and a message that doesn't serve the cause of peace. "We're trying to send a message that the issue of the Middle East is very complicated and complex," Berman said. "There are two narratives that need to be heard." Berman refers to two narratives between the Israelis and Palestinians in contesting one piece of land. "Palestinian leaders have had chances since 1947 to have their own state, including during your own presidency when they snubbed your efforts," the letter reads. The members submitted a joint resignation letter, saying the book confuses opinion with fact. "We can no longer endorse your strident and uncompromising position. This is not the Carter Center or the Jimmy Carter we came to respect and support. Therefore it is with sadness and regret that we hereby tender our resignation from the Board of Councilors of the Carter Center effective immediately," the letter said. The list of members resigning includes Alan Abrams, Berman, Michael Coles, Jon Golden, Doug Hertz, Barbara Babbit Kaufman, Levetan, Jeff Levy, Leon Novak, Ambassador William B. Schwartz Jr., William B. Schwartz III, Steve Selig, Cathey Steinberg and Gail Solomon. Another member plans to resign privately, Berman said. The members say the book "portrays the conflict between Israel and her neighbors as a purely one-sided affair with Israel holding all the responsibility for resolving the conflict." The resignations come after Kenneth Stein, director of the Institute for the Study of Modern Israel of Emory University, resigned in December, saying the book distorts history to shape the reader's opinion to one side of the issue. The latest resignation also follows other questions to surface over the book. Last month, Ambassador Dennis Ross, a former Mideast envoy and FOX News foreign affairs analyst, claims maps commissioned and published by him were improperly republished in Carter's book. "I think there should be a correction and an attribution," Ross said. "These were maps that never existed, I created them." After Ross saw the maps in Carter's book, he told his publisher he wanted a correction. When asked if the former president ripped him off, Ross replied, "It sure looks that way."
Negroponte: Al-Qaeda the Biggest Threat
Jan. 12….(USA Today) Al-Qaeda poses the gravest terrorist threat to the United States and an emboldened Hezbollah is a growing danger, the US intelligence chief said Thursday. In his annual review of global threats, National Intelligence Director John Negroponte highlighted an increasingly worrisome assessment of Hezbollah, backed by Iran and Syria, since its 34-day war with Israel last year. "As a result of last summer's hostilities, Hezbollah's self-confidence and hostility toward the United States as a supporter of Israel could cause the group to increase its contingency planning against United States interests," Negroponte told the Senate Intelligence Committee. He depicted a more multifaceted terrorist threat than in years past. Since the attacks of Sept. 11, 2001, US spy agencies have stressed the threat from al-Qaeda and associated Sunni extremist groups, rather than from Hezbollah and other Shiite Muslim groups. Hezbollah has a global fundraising network, but has not directly attacked US interests in years. It was responsible for the 1983 bombings of the US Embassy and the Marine barracks in Beirut, that killed hundreds of American servicemen. The group's Saudi wing, in coordination with the larger Lebanese Hezbollah, is blamed for the Khobar Towers bombing in Saudi Arabia in 1996. A separate report by government task force predicted that attacks against America and its allies probably would increase in the next few years because terrorists' intentions have not diminished and their methods are "very nimble and very complex." The panel said al-Qaeda is a diminished organization overall with a core that is "resilient and in some respects resurgent," according to the chairman, former Rep. Lee Hamilton, D-Ind. Negroponte said Iraq is at a "precarious juncture" and the Baghdad government needs to establish secular institutions that can bridge sectarian differences. The flow of weapons and fighters from Iran and Syria in support of Shiites must be stemmed, he said, and al-Qaeda in Iraq must be stopped. The head of the Defense Intelligence Agency painted a picture of unchecked bloodshed in Iraq that has led more people to turn to sectarian groups for their basic needs and threatened the country's unity. Robust criminal networks are exacerbating the situation, Lt. Gen. Michael Maples said. His agency believes the US-led coalition in Iraq "is the primary counter to a breakdown in central authority," Maples said. Al-Qaeda is America's top concern among terrorist groups, he said. Osama bin Laden's network maintains active connections "that radiate outward from their leaders' secure hide-out in Pakistan to affiliates throughout the Middle East, northern Africa and Europe," Negroponte said. Conventional explosives are the "most probable" means of attack from the group, he said, but there are reports al-Qaeda is trying to obtain chemical, biological, radiological and nuclear weapons. In his written testimony, FBI Director Robert Mueller said al-Qaeda's choice of targets and methods most likely will focus on the aviation, energy and mass transit sectors. The group is interested, too, in attacks against large public gatherings and symbolic targets such as monuments.
Carter, Clinton Join Forces to Reshape Baptist Image
(Former Presidents Jimmy Carter and Bill Clinton are part of an initiative to create a new Baptist voice and improve the negative image of Baptists in North America.)
Jan. 12….(Christian Posts) Former Presidents Bill Clinton, left, and Jimmy Carter talk before a State Funeral service for former President Gerald Ford at the Washington National Cathedral in Washington Tuesday, Jan. 2, 2007. An annual North American Baptist Fellowship meeting in Atlanta, Ga., was scheduled to conclude Tuesday morning at the Carter Center with the announcement of a historic 2008 convocation. The convocation, part of Carter's new Baptist voice initiative, is expected to draw more than 20,000 Baptist participants from throughout the United States and Canada in an effort to counter the negative and judgmental image of Baptists, according to the Associated Baptist Press. "North America desperately needs a true Baptist witness," Bill Underwood, president of Mercer University in Atlanta, told Baptist leaders at an April summit last year. Underwood said the current image of Baptists is largely painted by conservative leaders who frequently appear on television news shows or other media. Such leaders represent some of the most conservative political views and fundamentalist theology among Baptist denominations. According to Carter, the most common opinion about Baptists is that they cannot get along. Carter alluded to the schism the Southern Baptist Convention experienced two decades ago. In a former interview with Mother Jones, Carter said there has been an evolution within the SBC, the largest Protestant denomination in the states, "toward a more and more rigid and strict creed that embodies the fundamentalist principles" that he mentioned in his book Our Endangered Values: America's Moral Crisis. The negative image of Baptists has pushed some congregations to drop their denominational label. "People tend to think of Baptists as very narrow-minded, sometimes mean-spirited and self-righteous," said the Rev. David Spencer, who changed his church name from First Baptist Church to Centerpoint Church in December. "That's not who we are at all," he added, according to the Associated Press. Spencer made the change to distance the church from some of the negative connotations of the word "Baptist." In the meantime, Underwood said Baptists need to be known for feeding the hungry, healing the sick and working for justice. SBC's North American Mission Board is one of the largest disaster relief organizations in the nation and it had provided sizable aid and contributions to the relief and recovery work in the Gulf Coast after Hurricane Katrina hit. Southern Baptist representatives have not been involved in the Carter initiative so far, the Associated Baptist Press reported, but organizers say they hope the 2008 convocation can include SBC leaders and other conservatives who are open to working with a diverse array of Baptists. Carter, member of Maranatha Baptist Church in Plains, Ga., and Clinton, member of Immanuel Baptist Church in Little Rock, Ark., are slated to speak at the convocation. Both identify with more progressive Baptist groups. Last April, Baptist leaders signed the North American Baptist Covenant in a commitment to "work together to create an authentic and genuine prophetic Baptist voice in these complex times." The convocation is scheduled for Jan. 30 - Feb. 1, 2008.
President Bush Targets Iran in Speech, Implies Military Action
Jan. 11….(Newsmax) Though President Bush's national address Wednesday night was about Iraq, his most provocative comments focused on her neighbor, Iran. Early in his speech Bush raised the matter of Iran, suggesting that if US efforts to secure Iraq failed, "Iran would be emboldened in its pursuit of nuclear weapons." Bush blamed both Syria and Iran in helping radical insurgents within Iraq. "These two regimes are allowing terrorists and insurgents to use their territory to move in and out of Iraq," he said. He then singled out Iran, adding that she "is providing material support for attacks on American troops." Bush made an implied military threat against both nations: "We will disrupt the attacks on our forces. We will interrupt the flow of support from Iran and Syria. And we will seek out and destroy the networks providing advanced weaponry and training to our enemies in Iraq." The President continued in this vein, suggesting a larger US goal of stopping Iran's nuclear program: "We are also taking other steps to bolster the security of Iraq and protect American interests in the Middle East. I recently ordered the deployment of an additional carrier strike group to the region. We will expand intelligence sharing, and deploy Patriot air defense systems to reassure our friends and allies. We will work with the governments of Turkey and Iraq to help them resolve problems along their border. And we will work with others to prevent Iran from gaining nuclear weapons and dominating the region."
President Bush's New Iraq Plan
(Plan will highlight security in Baghdad, add 20,000 extra US troops to boost Iraqi security effort, and will "seek out and destroy" networks Iran and Syria allows to attack US forces from their territory)
Jan. 11….(DEBKA) This vow does not limit US military operations to Iraqi territory. President Bush stated: "I recently ordered the deployment of additional carrier strike group in the region. We will deploy Patriot air defense systems to reassure our friends and allies." This indicates that the US expects Iran and Syria to retaliate with missile attacks on US targets across the Middle East and against "friends" such as Turkey the Arab emirates and Israel. Here is the gist of the long-awaited speech delivered Wednesday, Jan 10:
US president George W. Bush noted that 80% of Iraq's sectarian violence occurs within 30 miles of the capital. The Iraqi government has put forward an aggressive plan to deal with it. Efforts to secure Baghdad failed in the past for insufficient Iraq and American troops to secure neighborhoods cleared of terrorists and insurgents. "Our military commanders report that the new plan ensures past mistakes and can work." The Iraqi government will appoint a military commander and two deputy commanders for the capital, deploying Iraqi Army and national police brigades across its nine districts. Eighteen of these brigades will be committed. For the Iraqi commitment to succeed, "I have committed more than 20,000 additional American troops to Iraq," five brigades deployed in Baghdad. Their mission: to help Iraqis clear and secure neighborhoods, protect the local population and ensure the Iraqi forces left behind can provide security. This time, unlike the past, "we will have the force levels we need to hold the areas cleared." This time, Iraqi and American forces will have a green light to enter these neighborhoods and Prime Minister Maliki has pledged that political or sectarian interference will not be tolerated. President Bush stressed that succeeding in Iraq also requires defending its territorial integrity and stabilizing the region in the face of extremist challenge. This begins with addressing Iran and Syria, "which allow terrorists and insurgents to use their territory to move in and out of Iraq." He accused Iran of providing material support for attacks on American troops. "I recently ordered the deployment of an additional carrier strike group in the region," said the president. We will work with the governments of Turkey and Iraq to help them resolve border problems. And we will work with others to prevent Iran from gaining nuclear weapons and dominating the region." America's commitment is not open-ended. If the Iraqi government does not follow through on its promises, it will lose the support of the American people.
FOJ Note: President Bush said a surge of US troops in Iraq will 'break the current cycle of violence, and hasten the day our troops begin coming home.' Succeeding in Iraq also requires defending its territorial integrity and stabilizing the region in the face of extremist challenges. This begins with addressing Iran and Syria. These two regimes are allowing terrorists and insurgents to use their territory to move in and out of Iraq. Iran is providing material support for attacks on American troops. We will disrupt the attacks on our forces. We'll interrupt the flow of support from Iran and Syria. And we will seek out and destroy the networks providing advanced weaponry and training to our enemies in Iraq. Confrontation with either Syria, and or Iran may be imminent!
The Battle For Baghdad No. 2 Has Begun
Jan. 11….(DEBKA) Joint US-Iraqi forces were deep into their biggest operation ever to subdue the Iraqi capital forty-eight hours before US president George W. Bush formally unveiled his new Iraq plan on Wednesday Jan. 10. The operation started out against "terrorist hideouts" in and around the Sunni stronghold of Haifa Street. Some 50 insurgents and jihadists were reported killed while fighting back with mortar and rocket-propelled grenade fire. "A great number of Arab nationals," many of them Syrians, were detained, according to the Iraqi government. The second battle in four years for Baghdad, a city of nine million inhabitants, places American armed forces in active combat on three anti-al Qaeda fronts: Iraq, Somalia and Afghanistan. DEBKAfile's military sources report that in Baghdad, one US brigade is fighting alongside two Iraqi brigades, supported by tanks, warplanes and helicopters. Their mission is to purge and control Haifa Street, which is situated near the Green Zone government-US command center along the southern bank of the Tigris River which cuts through the town center. The street has been a major source of Sunni and al Qaeda terrorist violence since its former inhabitants, mostly Palestinians, were driven out. The US-Iraqi mission includes taking over two important Tigris bridges, Tamuz and Jumhuriya, and three smaller ones in between. These bridges, which link the northern and southern Baghdad districts, have been under Sunni-al Qaeda guns, and US and Iraqi military vehicles have drive across at their peril. Despite heavy losses, the Baathist Sunni insurgents and al Qaeda are putting up heavy resistance; the battle is still at its outset. Large groups of buildings are occupied by fresh, heavily armed fighters and will have to be flushed out one by one. After this is done, the US-Iraq military force must proceed to three further missions in the operation to cleanse, hold and stabilize Baghdad.
DEBKAfile's exclusive military sources describe those missions:
1. Once Haifa Street is purged, large-scale US and Iraqi forces will throw a steel ring around Baghdad in an effort to seal it off from the rest of Iraq, block its roads and entrances to incoming insurgent reinforcements and cut off their routes of escape.
2. Another force will head into the Shiite districts of Sadr City and Azamiyah, strongholds of the radical cleric Moqtada Sadr's Mehdi Army militia, whose loyalists are riding high after taking charge of the Saddam Hussein execution on Dec. 30.
3. A third force will head south to Sunni insurgent bastions in the Baghdad district of Dura. The Iraqi-US campaign to cleanse the Iraqi capital of militias, death squads, terrorists and insurgents and provide a measure of stability will in the process reduce much of Baghdad to a war zone for the foreseeable future.
A big question mark hangs over Moqtada Sadr's intentions, and what direction he receives from Iran. There is no knowing yet whether he will order his militiamen to forcibly block US-Iraqi force's ingress to the Shiite suburbs or pull them back to avoid a frontal clash. Today, the Mehdi Army militia is much bigger than the one which was routed three years ago, and is also better organized and equipped. Its commander is expected by US commanders to be swayed in his decision on whether to stand up or stand aside by two main factors. First, Sadr will be influenced by the outcome of the Haifa Street battle and how long it takes. Second, before taking on the combined Iraqi-US strength, the radical Shiite leader will want clear guarantees from Tehran for a steady supply of military assistance should the engagement be protracted. He will tax the officers of the Revolutionary Guards al Quds battalion attached to the Medhi Army's command in Baghdad with this errand. Such guarantees would be bad news for the US-Iraq campaign to stabilize Baghdad because it could lengthen hostilities. Given these imponderables, military sources estimate that the second battle for Baghdad will take at least two or three months, if not longer. This estimate matches President Bush's most probable timeline for the dispatch of another 20,000 US troops to Baghdad and the need to spread the "surge" over several months until early April, 2007.
US Forces Raid Iranian Consulate in Iraq
Jan. 11….(AP) US forces stormed an Iranian consular office in the northern Iraqi Kurdish city of Arbil early on Thursday and arrested five people, including diplomats and staff, Iranian officials said. The US military made no direct mention of Iranians but in answer to a query issued a statement saying six "individuals" were arrested during "routine" operations in the area. As the overnight raid was in progress, President George W. Bush was vowing in a keynote address on American television to disrupt what he called the "flow of support" from Iran and Syria for insurgent attacks on US forces in Iraq. Iranian Foreign Ministry spokesman Mohammad Ali Hosseini condemned the raid, the second such operation in the past month as tensions between Washington and Tehran have mounted, and said it was a violation of international law. In a statement, the US military said it had detained six people around Arbil on suspicion of being "closely tied to activities targeting Iraqi and coalition forces. This operation was part of an ongoing effort by coalition forces targeting individuals involved in activities aimed at the killing of Iraqi citizens and Coalition forces," it said, adding the suspects surrendered without incident. US Secretary of State Condoleezza Rice, while not commenting on the operation in Arbil, told Fox News: "The president made very clear last night that we know that Iran is engaged in activities that are endangering our troops, activities that are destabilizing the young Iraqi government and that we're going to pursue those who may be involved in those activities."
US officials have repeatedly accused non-Arab, Shi'ite Iran of interfering in Iraq, where the long-oppressed Shi'ite majority is now in power. Tehran denies US charges of supplying Shi'ite militias with weapons. In December, US forces in Baghdad arrested a number of Iranians they said were suspected of planning attacks on Iraqi security forces, including diplomats who were later turned over to Iraqi authorities. A British official told the BBC this month that the Iranians arrested in Baghdad were senior intelligence officers on a covert mission to influence the Iraqi government. Iraqi government spokesman Ali al-Dabbagh, whose boss Prime Minister Nuri al-Maliki traveled last year to Tehran as part of a series of high-level contacts that have sealed a warming of relations between former enemies Iraq and Iran, said Baghdad had demanded an explanation from Iran and Washington on the matter.
US Vows it Will Stand by Israel in Face of Iranian Threat
Jan. 11….(Jerusalem Post) United States Ambassador Richard Jones said on Tuesday that his country was committed to Israel's security in light of the "serious threat" Iran and Hamas posed to Israel's existence. "Iran's president Mahmoud Ahmadinejad openly calls for wiping Israel off the map. Hamas leader Khaled Mashal stubbornly refuses to accept that Israel even has a right to exist," said Jones. He spoke in Jerusalem to gathering of the biennial national convention of the Association of Americans and Canadians in Israel. "When you add Iran's nuclear ambition to an already unstable mix of regional tensions the serious nature of Israel's security challenge becomes clear," Jones said. He assured the audience that, "Israel's security and well being are of vital importance to the United States." Military threats are not the only problem Israel faces, Jones said. "Even some Western artists and academics afflicted with a peculiar strain of ideological blindness have proposed a cultural boycott of Israel, while saying nothing about those who deny the holocaust," Jones said. He also acknowledged Israel's struggle to preserve its identity as a Jewish and democratic state while at the same time preserving minority rights. "Balancing full participation by minorities with the majority's legitimate desire to preserve the original character of the country will not always be easy," Jones said. He added that he was confident that Israel would reconcile those goals for the benefit of its citizens. In turning his attention to the Israeli-Palestinian conflict Jones said US President George Bush believed that solving this issue was one of the "greatest objectives" of his presidency. On Monday, Deputy Defense Minister Ephraim Sneh told The Jerusalem Post that Bush's road map for peace, which Israel and the Palestinian Authority initially signed onto as a method to resolve their differences, had expired, Jones said that the US remains committed to the Road Map as the best tool by which to move forward toward a two-state solution, even though he did not specially address Sneh's comment. He added that that the US would also "encourage engagement by regional leaders in support of peace."
Syrian Response to Bush - Peace Now not Possible
Jan. 11….(JNEWSWIRE) US President George W. Bush's plan to send more troops to Iraq has stymied the chance to bring peace to the Middle East. This was Syria's official response to Bush's unveiled "new strategy" on Iraq, which is virtually in a state of civil war. While the Bush plan called for both Syria and Iran to play a "constructive" role in helping to stabilize the region, Damascus appears unwilling to play ball. Syrian dictator Bashar el-Assad is reportedly hopeful of soon signing a deal to purchase modern surface-to-surface missiles from Moscow, which is looking to regain its role as a major payer in the Middle East.
Iran, Syria Denounce Bush's Iraq Plan
Jan. 11….(AP) Iran and Syria on Thursday denounced President Bush's new Iraq strategy that blames them for fueling violence in the war-torn country, and they said the plan to send more US troops would only increase bloodshed. Bush's speech Wednesday night underlined his staunch rejection of recommendations that Washington reach out to Syria and Iran in an attempt to calm Iraq. Instead, President Bush set out plans to isolate the two countries, calling on help from Arab allies and vowing to cut off Syrian and Iranian aid to militants in Iraq. He announced the deployment of an additional aircraft carrier battle group and Patriot air defense missiles to the region, seen as muscle-flexing toward Iran. In Tehran, Foreign Ministry spokesman Mohammad Ali Hosseini said Bush's plan to send 21,000 more troops to Iraq was a "continuation of occupation" that will only "extend insecurity, danger and tension in the country. This will not help to solve Iraq's problems." Syrian Vice President Farouk al-Sharaa said Wednesday prior to Bush's speech that the American troop surge was "not a positive step" and would only "pour oil on the fire." Iran has close ties to Shiite militias blamed in Iraq's wave of sectarian killings, and Washington accuses it of providing the fighters with weapons and money. The United States also accuses Syria, Iran's ally, of providing refuge for some leaders of the Sunni-led insurgency and allowing militants to cross its border into Iraq. As Bush spoke in Washington, US-led multinational forces detained five Iranians in an overnight raid on Tehran's diplomatic mission in the northern Iraqi city of Irbil. Iranian Foreign Ministry spokesman Mohammad Ali Hosseini denounced the raid, saying it reflected a "continuation of pressure" on Iran, aiming to "create tension" between Iraq and its neighbors. The bipartisan Iraqi Study Group said last month the US should put aside misgivings and engage Syria, Iran and the leaders of insurgent forces in negotiations on Iraq's future. However, President Bush has said he would not deal with countries that fund terrorism. Iran and Syria both denied supporting fighters in Iraq. Hosseini said the US was trying to "cover up its wrong policies" by accusing other countries of meddling in Iraq. Iran depicted the US plan as an attempt to control Iraq for the benefit of Israel. Hosseini said the deployment of Patriot missiles in the region "is part of the US policy direction to create a support umbrella for the Zionist regime through an Islamic country." In Damascus, there were signs of disappointment that Washington had rejected the idea of opening a dialogue with the country. Syrian analyst Imad Shueibi, who often reflects the government's view, called Bush's accusations of Syrian and Iranian support for militants "a worthless broken record." "If Bush wants to ignore Syria, he would thereby ignore the possibility of finding a solution to the situation in Iraq and to stability in the region," he said. The state-run Syrian newspaper Tishrin predicted "Bush's strategy will be another catastrophe and the Iraqi people will be the only loser."
Thomas Jefferson Obtained A Quran to Know his Enemies
FOJ Note: (We all know well the lines from the Marine Hymn…"from the halls of Montezuma to the shores of Tripoli"….but most of us don't realize that Thomas Jefferson sent our troops to Tripoli to fight against Muslim terrorists.)

Minnesota Muslim Keith Ellison
Jan. 10….(WND) A Special Forces veteran and commentator says new Muslim Congressman Keith Ellison (Hakim-Mohammad) of Minnesota was absolutely right when he said Thomas Jefferson gleaned knowledge from the Quran, only it was knowledge about his Muslim enemies that Jefferson likely gleaned as America faced its first threat from Islamic terrorists. A report in the FreePress reported Congressman Ellison said the fact that Jefferson owned the book confirmed that it was "definitely an important historical document in our national history" and said that it "demonstrates that Jefferson was a broad visionary thinker who not only possessed a Quran, but read it." "It would have been something that contributed to his own thinking," Ellison was quoted as saying. In an interview with USINFO, Ellison spokesman Rick Jauert went further, saying the choice of Jefferson's Quran was significant because it "dates religious tolerance back to the time of our founding fathers." "Jefferson was one of the more profound thinkers of the time, who recognized even then that there was nothing to fear, and in fact there was strength in recognizing religious tolerance," he said.
Ted Sampley, the publisher of US Veteran Dispatch agreed with Ellison, who used the Library of Congress Quran that Jefferson once owned for his ceremonial swearing-in to Congress, that Jefferson used the Quran for his own thinking, but not because he was a free-thinker or to promote religiously tolerance. "At the time Jefferson owned the book, he needed to know everything possible about Muslims because he was about to advocate war against the Islamic 'Barbary' states of Morocco, Algeria, Tunisia and Tripoli." He noted that over 10 centuries, Muslim pirates had cruised the African and Mediterranean coastline, pillaging villages and abducting slaves, mostly by making pre-dawn raids that left high casualty rates. It was typical of Muslim raiders to kill off as many of the 'non-Muslim' older men and women as possible so the preferred 'booty' of only young women could be collected," he said. The women were sought for their value as concubines in Islamic markets. Boys, as young as 9 or 10 years old, were often mutilated to create eunuchs who would bring higher prices in the slave markets of the Middle East," Sampley wrote. When American colonists rebelled against the English in 1776, merchant ships from what later would be the United States lost British navy protection, and they were attacked "and their Christian crews enslaved by Muslim pirates operating under the control of the 'Dey of Algiers,' an Islamist warlord ruling Algeria." The Continental Congress then met in 1784 to talk about treaties with leaders of the region, and John Adams, Thomas Jefferson and Benjamin Franklin were appointed to oversee the work. "Tribute" and "ransoms" first were paid to the Muslim slavers, and Adams argued that was the cheapest way to get commerce moving, Sampley wrote. But Jefferson was opposed, proposing a settlement of the issue "through the medium of war." Sampley writes that two years later, when Jefferson was ambassador to France, and Adams was ambassador to Britain, they met in London with Sidi Haji Abdul Rahman Adja, the ambassador to Britain from the "Dey of Algiers." Seeking a peace treaty, based on Congress' vote to pay tribute, Jefferson and Adams asked Dey's ambassador why Muslims had so much hostility towards America. They later reported to Congress the ambassador told them Islam "was founded on the Laws of their Prophet, that it was written in their Quran, that all nations who should not have acknowledged their authority were sinners, that it was their right and duty to make war upon them wherever they could be found, and to make slaves of all they could take as Prisoners, and that every Musselman (Muslim) who should be slain in Battle was sure to go to Paradise. Sampley notes that for years the fledgling American government paid Muslims millions of dollars for the safe passage of American ships or the return of American hostages, but not long after Jefferson's inauguration in 1801, he dispatched the USS Constitution, USS Constellation, USS Philadelphia, USS Chesapeake, USS Argus, USS Syren and USS Intrepid to the Mediterranean. Jefferson's first presidency coincided with what generally is called the Barbary Wars running from approximately 1801-1805. That year the Marines marched from Egypt into Tripolitania, freeing Americans held there as slaves, he wrote. Gary DeMar, president of AmericanVision.org added his endorsement of Sampley's interpretation of history. DeMar cites Joseph Wheelan's book, "Jefferson's War: America's First War on Terror," in noting Jefferson said, "Too long, for the honor of nations, have those Barbarians been permitted to trample on the sacred faith of treaties, on the rights and laws of human nature!" DeMar notes that research treatise concludes that, "Jefferson's war pitted a modern republic with a free-trade, entrepreneurial creed against a medieval autocracy whose credo was piracy and terror. It matched an ostensibly Christian nation against an avowed Islamic one that professed to despise Christians." "Wheelan's historical assessment of the time is on target," DeMar noted. "'Except for its Native American population and a small percentage of Jews, the United States was solidly Christian, while the North African regencies were just as solidly Muslim, openly hostile toward Christians.'" "So what did Jefferson learn from the Quran? Unless a nation is submitted to Islam, whether it was the aggressor or not, that nation was by definition at war with Islam. It's no wonder that Jefferson studied the Quran. He realized that if Americans ever capitulated, the Muslims would be singing 'From the Halls of Montezuma to the Shores of A-mer-i-ca,'" DeMar concluded.
House Report: Sandy Berger Damaged National Security
Authorities trusted 'fox to be truthful after being nabbed in the hen house'


Sandy Berger
Jan. 10….(WND) A House committee released a report yesterday that concluded that former Clinton National Security Adviser Sandy Berger went to extraordinary lengths to compromise national security and that the Department of Justice could not assure the 9/11 commission it received requested documents. Rep. Tom Davis of Virginia, ranking Republican member of the House Oversight and Government Reform Committee, said his staff's investigation reveals Berger "compromised national security much more than was originally disclosed." "It is now also clear that Mr. Berger was willing to go to extraordinary lengths to compromise national security, apparently for his own convenience," Davis said. (and to save Bill Clinton from blame for 9-11) As WND reported, a newly released investigation report by the National Archives and Records Administration showed President Bill Clinton signed a letter authorizing Berger's access to the classified documents. Davis said the 9/11 commission "relied on incomplete and misleading information regarding its access to documents" Berger reviewed. The 9-11 commission was never told Berger had access to original documents that he could have taken without detection, Davis stated. Davis said the "compromised law enforcement effort contributes to reduced confidence that the 9/11 commission received all the documents it requested." "The execution of a search warrant before Mr. Berger knew there was an investigation would have either located additional documents or enhanced confidence that he stole no others than those he admitted to taking," he said. Davis also said the public statements of the former chief of the public integrity section, Noel Hillman, were "incomplete and misleading." "Because Mr. Berger had access to original documents that he could have taken without detection, we do not know if anything 'was lost to the public or the process,'" Davis said. The congressman contended the Justice Department's assertion that Berger's statements are credible after being caught is "misplaced." "One wouldn't rely on the fox to be truthful after being nabbed in the hen house," Davis said. The document upon which Berger focused was the National Security Council's "Millennium After Action Review" on the Clinton administration's handling of the al-Qaida terror threats in December 1999. Then Attorney General John Ashcroft testified before the 9-11 commission about the millennium report, urging the panel to ask why the document's warnings and "blueprint" to thwart al-Qaida's plans to target the US were ignored by the Clinton administration and not shared with the incoming Bush security staff.
Evangelical Christians: We'll Fight for Israel
(Evangelical delegates from around the world arrive at Knesset to express 'love for Israel')
Jan. 10….(YNET) Millions of Evangelical Christians around the world support and constantly pray for the State of Israel, representatives at a meeting of the Knesset's Christian Allies Caucus said Wednesday. Dozens of Evangelical pastors, parliament members, and leaders from an array of countries gathered at the Knesset in Jerusalem to proclaim their support for the country, during a meeting of the Caucus, which was also attended by Knesset Members from across the political spectrum. "We see Israelis as our spiritual mothers and fathers. It's an honor for us to be here," Pastor Norman Miller of Australia told Ynetnews. "We love your God, Israel," Miller told the meeting, to a round of warm applause. "The line between the political and the biblical is disappearing," Josh Reinstein, Director of the Caucus, told the meeting. "Around the world, we see the rise of radical Islam come against our Judeo-Christian values, and we must meet it with a well organized response," Reinstein said. "We formed the Christian Allies Caucus to coordinate, cooperate and communicate with our Christian allies around the world. Speaking to Ynetnews, Reinstein said that modern events were shaping up to fit well with Torah prophecies. "If you can read the newspaper, than you can read the Torah, because things are coming into place like people have predicted many years before us." "This isn't just a time to shake hands, this is really the start of a relationship, of a political relationship, and that means an economic relationship, a social cooperation, and that also means political support for the State of Israel," he said. Addressing concerns voiced by some about an alliance with Evangelical Christianity, Reinstein said: "Of course we have to be vigilant to make sure that we're not working with organizations that are just befriending us to convert us, but what we are doing is finding real friends and creating real relationships, so we can promote each other. Evangelical Christians around the world are the greatest friends Israel has. And for us to turn our noses at them because of past transgressions is a ridiculous idea. The relationship between Jews and Christians in the 21st century is going to be the most important issue of our time, I think." Reinstein said concerns about the Evangelical belief in the second coming of Jesus were unfounded: "We also have our own beliefs. For our purpose, it's completely irrelevant. If you're a Jew and you're concerned about what's going to happen in the Christian faith, you're not really a practicing Jew, because that's something you shouldn't be concerned about." During the lunch-meeting, delegates introduced themselves, declaring their love for Israel. "The friendship that we receive from you, our Christian friends, has significance far beyond the good feeling it gives to us Israelis," Knesset Member Gilad Eran said. "It is clear proof to us, and to the whole world, and particularly to the terrorists, that Israel is not alone," he said. "It says in the book of Isaiah that Egypt, Israel, and Syria will worship God together," Tom Hess, an American Evangelical pastor who has lived in Israel for the past 19 years, told the delegates. "What's beginning to happen in the Middle East is that there are Arab leaders that God's raising up as pillars, that are standing with God's covenant, that are saying the land of Israel belongs to the Jewish people," Hess said, introducing a number of Evangelical pastors from east Jerusalem, Egypt, and Turkey, described by Hess as "biblical Syria." "They are teaching their people in their nations, against replacement theology, and to stand with God's covenant with the people of Israel and the Land of Israel," Hess said.
MI Chief: Al-Qaeda Operatives Flocking to Lebanon
(Israel's Military Intelligence chief Amos Yadlin says hundreds of al-Qaeda operatives flocking to Lebanon, Jordan, Egypt, and Syria)
Jan. 10….(YNET) Military Intelligence Chief Maj.-Gen. Amos Yadlin said Tuesday that the al-Qaeda terror organization is seeking to widen its base in the Middle East by dispatching hundreds of operative to Lebanon, Syria, Jordan, and Egypt. "Dozens, if not hundreds, of al-Qaeda operatives arrived in Lebanon. These operatives are trained and have terror knowledge. According to estimates, the organization's number 2, Ayman al-Zwahiri, gave orders to operatives to spread into Syria, Lebanon and Egypt," he told the Knesset Foreign Affairs and Defense Committee. He said that Lebanon is the weakest link among the four Arab destinations as its security forces are relatively weak, warning that members of the United Nations peacekeeping forces in the country, as well as western targets, are most likely to be attacked. In the Gaza Strip there are a handful of al-Qaeda operatives while a few operatives were arrested in Nablus. The terror organization's intentions is to launch attacks in Israel and al-Zawahiri has made public calls for Israel to be destroyed.
Carter, Clinton Back (Liberal) Moderate Baptists
Jan. 10….(Newsmax) With the help of former President Carter, Baptists who have distanced themselves from the conservative Southern Baptist Convention announced plans Tuesday for a major meeting that aims to improve the Baptist image and broaden its agenda. Carter, (who supports the ordination of women) who left the Southern Baptists in 2000 after the denomination came under conservative control, and former President Bill Clinton, also a Baptist, joined leaders of about 40 Baptist groups in making the announcement at The Carter Center. "Our goal is to have a major demonstration of harmony and a common commitment to personifying and to accomplish the goals that Jesus Christ expressed," Carter said. Bill Underwood, president of Mercer University, a Georgia school with Baptist ties, stressed that the assembly was not a partisan effort, despite the support of the Democratic ex-presidents. But Richard Land, head of the Southern Baptists' public policy arm, noted that the gathering will be held during a presidential election year. Land said organizers will have to work hard to ensure the event is not viewed as "overly political." Organizers say the event could draw more than 20,000 Baptists. Among the groups supporting the effort are several historically black Baptist denominations. Carter stressed that Southern Baptists are invited to the gathering. The announcement Tuesday is the latest chapter in fierce Baptist battles over how to interpret Scripture. Starting in 1979, Southern Baptists who believe the Bible is without error took leadership of the convention, which now claims 16.4 million members. The denomination became a leading voice opposing gay marriage and abortion, and took stands on many other public policy issues. Southern Baptists with a more moderate-liberal outlook responded by forming their own groups, including the Cooperative Baptist Fellowship, an organizer of next year's assembly.
FOJ Note: Replacement theology proponents dominate the moderate-liberal camp of Southern Baptists, which explains a lot about the Carter and Clinton Administrations.
US Air Strike Kills Al Qaeda's East African Commander
Jan. 10….(DEBKA) Officials in Washington say the Somali air strikes are based on credible intelligence of the presence of al Qaeda's regional leaders in the seafront jungle areas to which they and Islamist leaders headed after being routed in Mogadishu. Mohammad Fazul, a Comorian, was a big fish. His FBI dossier is long and diverse. DEBKAfile's counter-terror sources report he was one of al Qaeda's most outstanding, versatile and elusive commanders. In 1993, Fazul took part in the 1993 in the Black Hawk Down ambush which left 18 US soldiers dead; in 1995, he was part of a failed assassination conspiracy against Egyptian president Hosni Mubarak in Addis Ababa; in 1998, he masterminded the bombings of US embassies in Nairobi and Dar es-Salaam. Fazul was more directly involved in anti-Israel attacks than any other al Qaeda leader: In, he set up the 1996 Ethiopian Airline hijack in which four Israeli air industry directors and 3 Israeli civilians were murdered. He was among the organizers of the Oct. 2000 ramming of the USS Cole in Aden Harbor, which cost the lives of 19 US seamen. In 2002, he set up the coordinated anti-air missiles attack and raid of the Israeli Mombasa Paradise hotel in Kenya and the Israeli Arkia airliner flying tourists into the resort. Our sources add that Mohammed Fazul was the senior contact between al Qaeda's East African network and its Sinai cells. Still at large are senior al Qaeda leaders Ali Saleh Nabhan, from Kenya, and Abu Taha al-Sudani, from Sudan. Fazul's death is a major American feat in the war on global terror. It is pivotal to eradicating al Qaeda's operational network in East Africa which the dead jihadist designed and headed. It will have vindicated Washington's investment in the Somali operation, described by DEBKAfile's military sources as the biggest anti-al Qaeda operation since the 2001 invasion of Afghanistan. The ongoing operation has focused substantial naval, air and marine strength around Somali shores, led by The USS Eisenhower carrier which is patrolling the water between Ras Kamboni on the Somali-Kenyan border and Kismayo port. Kenyan units and the German navy are also deployed. They have cornered the embattled al Qaeda and Islamic Courts fugitives who are fighting out of their last positions after being driven south from Mogadishu. Warplanes from the Eisenhower continue to pound al Qaeda-Islamist routes to safety to the high peaks on the Somali-Kenyan frontier, or to sea, disguised as fishermen, through a chain of small Indian Ocean islands. The AC-130 gunship strikes from US air bases in Kenya were launched Monday night, Jan. 8, when a combined Ethiopian-Somali military onslaught failed to resolve the battle with the Islamists in this southern tip of S. Somalia and casualties were mounting steeply on both sides. DEBKAfile's military sources disclose that even when Kenyan special forces under US command were thrown into the fray, the battle was undecided. The US warships now engaged in the Somali campaign, the first direct American military intervention in the country since the 1993 mission, also include the guided missile destroyers USS Ramage and USS Bunker Hill, as well as German naval units stationed in Kenyan ports. They are blasting the Islamist concentrations from the sea.
FOJ Note: Incidentally, for the record, the strategy for the Somali campaign against Al Qaeda was planned in 2001 by former Defense Secretary Don Rumsfeld, when he arranged for the financing and training of Somali and Kenyan counter-terror units in Dijbouti.
US Launches Military Strike Against Al Qaeda in Somalia
Jan. 9….(DEBKA) US officials have long maintained that extremists with ties to al-Qaida operated a training camp at Ras Kamboni and that Al Qaeda members are believed to have visited it. Leaders of the Islamic movement have vowed from these hideouts to launch an Iraq-style guerrilla war in Somalia, and bin Laden's deputy has called on Muslim militants to carry out suicide attacks on the Ethiopian troops. Somalia has not had an effective central government since clan-based warlords toppled dictator Mohamed Siad Barre in 1991 and then turned on each other, sinking the Horn of Africa nation of 7 million people into chaos. A UN peacekeeping force, including US troops, arrived in 1992, but the experiment in nation-building ended the next year when fighters loyal to clan leader Mohamed Farah Aideed shot down a US Army Black Hawk helicopter and battled American troops, killing 18 servicemen. At least 13 attempts at government have failed since then. The current government was established in 2004 with UN backing. Somali president Abdulahi Yusuf, was able to return to Mogadishu, after a US-led assault on Al Qaeda. Yusuf justified the US air attacks against al Qaeda. The Bahrain-based US navy's Fifth Fleet announced Tuesday that the USS Dwight D. Eisenhower has joined three other warships in the coastal waters of Somalia "due to rapidly developing events in Somalia." Planes from the carrier have begun flying over the country after a series of intelligence-gathering missions. DEBKAfile: the air strikes signal increasing US involvement in the Ethiopian-backed operation to reinstate the Somali government six months after it was swept from power by al-Qaeda linked Islamists and lay hands on al Qaeda's East African leaders. Somali president Abdulahi Yusuf arrived in Mogadishu Monday and announced his objection to dialogue with the Islamists. It was the first time he set foot in the capital since he was elected in 2004 and his arrival coincided with the second day of Islamic guerrilla attacks on Ethiopian and government forces. After driving the Islamic Courts fighters from the rest of Somalia, Ethiopian and government troops were poised Monday, Jan. 8, to capture their stronghold at Ras Kamboni between the sea and the Kenyan border. Both sides have taken heavy casualties in two days of battles. The Islamists holed up in the jungle fastness are cut off from escape by sea by patrolling US warships and across the Kenyan border by the Kenyan military. US special forces have joined the hunt for wanted al Qaeda leaders. Ras Kamboni was described after 9/11 as an al Qaeda-supported training ground and refuge of al Qaeda terrorist masterminds including Fazul Abdullah Fazul, perpetrator of the 1988 embassy bombings in East Africa and many other acts of terror. US assistant secretary of state of Africa Jendayi Frazer is in Mogadishu to promote talks between the government headed by Prime Minister Ali Mohamed Gedi and moderate non-al Qaeda Islamists, including the Somali parliament speaker Sherif Hassan Sheikh Aden. Somalia is strategically located at the point where the Red Sea opens into the Indian Ocean. She said Washington had already opened dialogue with some ICU officials. The African Union is planning a peacekeeping mission to stabilize Mogadishu amid the chaos and deprivation of a country which has had no organized government since 1991. DEBKAfile's counter-terror sources identify the three notorious al Qaeda leaders as: Abdullah Fazul, from the Comoro Islands, Ali Saleh Nabhan, from Kenya, and Abu Taha al-Sudani, from Sudan. Fazul, the most senior, is wanted for lead roles in the 1998 US embassy bombings in Dar es Salaam and Nairobi, the 1996 Ethiopian Airline hijack in which four Israeli air industry directors and 3 Israeli civilians were murdered; the Oct. 2000 ramming of the USS Cole in Aden Harbor which cost the lives of 19 US seamen, and the 2002 coordinated air-missiles attacks on the Mombasa Paradise hotel and the Israeli Arkia airliner bringing Israelis to the hotel. Fazul is also the highest ranking operative in contact with clandestine al Qaeda networks in the Sinai Peninsula. His capture and interrogation would for the first time provide access to a primary source on al Qaeda's precise plans for operations against Israel, but he has more than once escaped when his pursuers were hot on his heels. The strike took place near the Kenyan border, according to a senior officer at the Pentagon. Other sources said it was launched at night from the US military facility in neighboring Djibouti. It was based on joint military-CIA intelligence and on information provided by Ethiopian and Kenyan military forces operating in the border area.

Bush to Announce New Iraq Plan Tommorrow
Jan. 9….(MSNBC) With Democrats taking their first steps to formally rein in the Bush Administration's spending in Iraq, the president planned to go over their heads by taking his case for more troops to the American people in a nationally televised address this week. White House press secretary Tony Snow would not reveal details of the president's address, which was scheduled for 9 p.m. ET Wednesday, saying: "There will be a debate about the particulars in the way forward, as there should be. We welcome it." NBC News has reported that Bush is expected to ask for 20,000 more US troops in Iraq and will announce a new program to speed reconstruction and provide jobs for Iraqis. While Bush will pledge renewed support for the Iraqi government, administration officials said, he will couple that support with a demand that Prime Minister Nouri al-Maliki meet specific benchmarks for reducing sectarian violence. The president hopes to make an end run around skeptical Democratic leaders in Congress, who are warning that they could seek to choke off the funding for an expansion in Iraq, which they see as the only way to restrain the administration. "The burden is on the president to justify any additional resources for a mission," House Speaker Nancy Pelosi, D-Calif., said Sunday on CBS's "Face the Nation." "Congress is ready to use its constitutional authority of oversight to question what is the justification for this spending, what are the results we are receiving." Pelosi and Senate Majority Leader Harry Reid, D-Nev. told Bush in a letter last week that they opposed sending more US forces to Iraq, and would move to defund the war.
Israel plans 'nuclear' strike on Iran
Jan. 8….(Newsmax) In a story that topped world headlines today in all Israel's news media Sunday, the widely read and highly influential London Sunday Times reported that the Israel Air Force was preparing to carry out a nuclear attack on Iranian's nuclear plants. IAF pilots had been carrying out special training in Gibraltar and three flight paths to target sites in Iran had already been mapped out. The plan, according to the paper, is for Israel to use bunker-busting bombs to drill 'tunnels" through thickly reinforced steel and concrete shields at the Natanz plant, and then drop relatively small tactical nuclear bombs into the actual facility, destroying it. Conventional bombs will be used on two of the country's other sites at Isfahan and Arak. If employed, it would be the first time that nuclear weapons were used in war since 1945. The Israeli nukes for this operation are thought to render about one-fifteenth of the yield of the atomic bomb dropped on Hiroshima. Israel's plan has been formulated as Tehran continues its race to acquire nuclear know-how unperturbed by the international community's half-hearted effort to boycott the Islamic Republic into compliance. The growing fear in Israel is that the world will sit by and allow yet another genocide of the Jews. While Israeli governments have long insisted that Israel will not be the first to introduce nuclear weapons into the region, the nation feels that it has its back to the wall in the face of increasingly determined Islam-driven efforts to destroy it.
Israel Denies Plan to hit Iran Enrichment Plant with Tactical Nukes
Jan. 8….(Ha Aretz) The Foreign Ministry in Jerusalem denied Sunday a report in the British media that Israel has drawn up secret plans to destroy Iran's uranium enrichment facilities with conventional and tactical nuclear weapons. Citing what it said were several Israel Defense Forces sources, the British newspaper The Sunday Times said two Israel Air Force squadrons had been training to blow up an enrichment plant in Natanz using low-yield nuclear "bunker busters."
But Foreign Ministry spokesman Mark Regev said that Israel wanted the issue of Iran's nuclear program resolved through diplomacy. "The focus of the Israeli activity today is to give full support to diplomatic actions and the expeditious and full implementation of Security Council resolution 1737. If diplomacy succeeds, the problem can be solved peaceably. "Prime Minister Ehud Olmert's office declined earlier to respond to the report. "We don't comment on stories like this in the Sunday Times," said Olmert's spokeswoman, Miri Eisin. Minister of Strategic Threats Avigdor Lieberman also declined to comment. In Tehran, Iran's Foreign Ministry spokesman Mohammad Ali Hosseini told a news conference that the newspaper report "will make clear to the world public opinion that the Zionist regime is the main menace to global peace and the region." He said "any measure against Iran will not be left without a response and the invader will regret its act immediately." The United Nations Security Council voted unanimously last month to slap sanctions on Iran to try to stop uranium enrichment that Western powers fear could lead to making bombs. Tehran insists its plans are peaceful and says it will continue enrichment. Israel has refused to rule out pre-emptive military action against Iran along the lines of its 1981 air strike against an atomic reactor in Iraq, though many analysts believe Iran's nuclear facilities are too much for Israel to take on alone. The newspaper said the Israeli plan envisaged conventional laser-guided bombs opening "tunnels" into the targets. Nuclear warheads would then be used fired into the plant at Natanz, exploding deep underground to reduce radioactive fallout. IAF pilots have flown to Gibraltar in recent weeks to train for the 2,000 mile round-trip to the Iranian targets, the Sunday Times said, and three possible routes to Iran have been mapped out including one over Turkey. However, it also quoted sources as saying a nuclear strike would only be used if a conventional attack was ruled out and if the United States declined to intervene. Disclosure of the plans could be intended to put pressure on Tehran to halt enrichment, the paper added. Washington has said military force remains an option while insisting that its priority is to reach a diplomatic solution. Iran's President Mahmoud Ahmadinejad has called for Israel to be "wiped off the map." Israel, widely believed to have the Middle East's only nuclear arsenal, has said it will not allow Iran to acquire nuclear weapons.
Teheran: Israel Will Regret any Attack
Jan. 8….(Jerusalem Post) Israel on Sunday denied a British newspaper report that it is planning to attack Teheran's nuclear sites using low-yield nuclear "bunker busters." Iran said any such attack would provoke a reaction and that "anyone who attacks will regret their actions very quickly." According to Iranian Foreign Ministry spokesman Muhammad Ali Husseini, the report, published in The Sunday Times, confirmed the danger posed by Israel's possession of nuclear weapons. "This step even comes after the Israeli prime minister's admission, which revealed the fact that the Israeli regime has nuclear weapons in its possession," Husseini said, referring to Prime Minister Ehud Olmert's slip-of-the-tongue last month, when he hinted on German television that Israel was among the world's nuclear-equipped nations. "Now this will convince the international community that the main threat to the world, and to our region in particular, is the Zionist regime," Husseini added. Olmert's office said it would not comment on The Sunday Times claim. "We don't respond to publications in The Sunday Times," said Miri Eisin, Olmert's spokeswoman. Strategic Affairs Minister Avigdor Lieberman also declined to comment on the report, which claimed that Israel had drawn up plans to destroy Iran's uranium enrichment facilities with tactical nuclear weapons. But Foreign Ministry spokesman Mark Regev denied the report and said: "The focus of the Israeli activity today is to give full support to diplomatic actions and the expeditious and full implementation of Security Council Resolution 1737. If diplomacy succeeds, the problem [of Iran's nuclear drive] can be solved peaceably." Earlier, Meretz MK Zehava Gal-On urged Olmert to refute the report. "It is impossible that Israel would plan to get caught up in another adventure after [our] experience in Lebanon, and act as the world's sheriff," Israel Radio quoted Gal-On as saying. She added that diplomacy was the only way to solve the problem. According to the British report, military sources have disclosed details of two IAF squadrons that have been training to blow up an enrichment plant in Natanz using low-yield nuclear bunker busters. A heavy-water plant at Arak and a uranium conversion plant at Isfahan would also be targeted, using conventional bombs, according to the newspaper. Reportedly, the plan envisages conventional laser-guided bombs opening "tunnels" into the targets. Nuclear warheads would then be fired into the plant at Natanz, exploding deep underground to reduce radioactive fallout. IAF pilots have flown to Gibraltar in recent weeks to train for the 2,000 mile round-trip to the Iranian targets, the newspaper said, adding that three possible routes to Iran had been mapped out, including one over Turkey. It suggested that Israel may be trying to scare Iran or to cajole the US into taking stronger action against Teheran's nuclear program. However, the report went on to speculate that Israel may strike at Iran's nuclear facilities and pressure the Americans to agree with the move after the event. Israeli analysts derided the report. Ephraim Kam, a strategic expert at Tel Aviv University's Institute for National Strategic Studies and formerly a senior IDF intelligence officer, said: "No reliable source would ever speak about this, certainly not to The Sunday Times."
WEEK OF JANUARY 1 THROUGH JANUARY 7
French President Chirac Calls for Middle East Peace Conference
Jan. 5….(Ha Aretz) French President Jacques Chirac on Friday renewed a call for an international conference to help restore Middle East stability, saying that, "At the gates of Europe, the Middle East has become the epicentre of international tensions." Chirac, in what is likely to be one of his last major foreign policy addresses before April presidential elections, repeated his criticism of the US-led war in Iraq. He told diplomats in Paris that the situation risked spilling over into wider conflict. As France feared and warned, the war in Iraq set off upheavals whose effects have not yet been fully played out," he said, adding that conflict in the wider region could produce a confrontation "on an unimaginable scale." "The Israeli-Palestinian conflict crystallizes all these resentments," he said. He said the international community had to act to restore the peace process and backed proposals to revive the so-called "Quartet" of Middle East mediators: the European Union, Russia, the United Nations and the United States. "Let us propose within the Quartet an international conference of a new type which, without presuming to dictate the terms of a settlement to the parties, would bring the guarantees to which they aspire," he said, according to the text of his speech. "I firmly believe there can be a real impetus for negotiation." Chirac also backed German Chancellor Angela Merkel's drive for progress on reforms to make decision-making easier in a European Union that now counts 27 members. "Everyone today can see the urgent need for reform," he said, adding that any solution would have to take into account the concerns over the bloc's powers raised by the rejection by French and Dutch voters of the proposed constitution in 2005. Germany, which assumed the rotating presidency of the bloc at the start of the year, has made reviving the reform a top priority. Welcoming the EU's new members, Romania and Bulgaria, Chirac said the 50th anniversary of the signing of the founding Treaty of Rome, due to be celebrated in Berlin later this year, was a major opportunity to reach a new consensus. France is expected to continue the work begun by Germany when it takes over the EU presidency in 2008, although by then Chirac is expected to have left the scene he has helped shape over more than a decade in power.
Chirac: Iraq War Boosting Terrorism
Jan. 5….(Middle East Online) France's President says the Iraq war offers terrorism new field for expansion, undermines stability of entire region. Jacques Chirac on Friday unleashed a torrent of criticism against the US-led war in Iraq, saying the conflict, which he fiercely opposed, had boosted the spread of terrorism. In a wide-ranging New Year's foreign policy speech, Chirac fired a broadside at what he called Washington's "adventure" in the Middle Eastern country, torn by sectarian strife three years after the invasion. "As France had foreseen and feared, the war in Iraq has sparked upheavals that have yet to show their full effects," Chirac told the French diplomatic corps gathered in Paris. He said the conflict, which the United States still describes as part of the "war on terror" it launched in 2001 following the September 11 attacks, had "offered terrorism a new field for expansion." Chirac said it had "exacerbated the divisions between communities and threatened the very integrity of Iraq". "It undermined the stability of the entire region, where every country now fears for its security and its independence." As US President George W. Bush prepares next week to announce a major overhaul in Washington's military strategy in Iraq, Chirac said "the priority, more than ever, is to restore full sovereignty to the Iraqi people." Although Chirac, at 74, is thought deeply unlikely to stand for a third term in France's presidential elections in April, he has delivered a string of combative New Year's speeches to defend his 12-year legacy and fight off suggestions he is a "lame-duck" president. The French leader attacked the "pitfalls of unilateralism" in foreign affairs, a scarcely veiled reference to Washington's decision to launch the Iraq war without United Nations backing. Chirac said France looked forward to the emergence of a "multipolar" world, as China, India and Brazil take on "the status of global powers", with influence shared between the old and new giants. He predicted their "rise will mark the end of the centuries long, undivided Western domination of the world", and hopefully address the "persistence of extreme poverty in a world growing ever richer,"and "a moral scandal as much as an economic absurdity and a major political threat." Speaking of the broader tensions gripping the Middle East, Chirac made a fresh appeal to Tehran in the standoff over its nuclear program. Iran "is feeding the world's apprehension through its proliferation activities and the unacceptable and provocative statements of some of its leaders." "It is up to it to restore trust through a sovereign gesture," he said, urging Iran to suspend uranium enrichment-related activities and resume talks with the international community. Chirac also renewed a call for an international conference on the Israeli-Palestinian peace process that would "provide the security guarantees sought by both parties, without dictating the terms of a settlement." "What still lacks is trust. It is up to the international community to kickstart the process that will allow the restoration of trust."
FOJ Note: When President Chirac states that he prefers a "multi-polar world structure," he is in fact saying he prefers a world where the USA is not a power. Chirac's vision of a multi-polar power-sharing world order fits squarely with the prophecy concerning the Ten Kings (ten toes of Daniel) mentioned in Revelation chapter 17. Mr. Chirac's vision of a Middle East Peace based upon security guarantees also fits perfectly for the prophecy expected for the coming Antichrist and the peace-with-safety pact he will forge with Israel and the Arab world.
US to Provide Abbas' Forces with $86 Million
Jan. 5….(Ha Aretz) The Bush administration will provide $86.4 million to strengthen security forces loyal to Palestinian Authority Chairman Mahmoud Abbas, expanding US involvement in Abbas' power struggle with Hamas, US documents showed on Friday. Fighting between Abbas's Fatah faction and Hamas has surged since talks on forming a unity government collapsed and Abbas called for early parliamentary and presidential elections. Hamas accused Abbas of mounting a coup. The US money will be used to "assist the Palestinian Authority presidency in fulfilling PA commitments under the road map to dismantle the infrastructure of terrorism and establish law and order in the West Bank and Gaza," a US government document obtained by Reuters said.
FOJ Note: The Bush Administration is wasting taxpayer money by sending it to Mr. Abbas and his terrorist band. For clearer insight on this reason, just read the FATAH charter, and the article in the FOJ Newsroom about Fatah's 42nd anniversary posted yesterday.
The Wild Man's Hand is Still Evident Today
Jan. 4….(FOJ) Palestinians today are celebrating the birth of the movement Fatah. Fatah was led for decades by Yasser Arafat, and means "conquest" or literally "opening", in the Arabic language. The acronym "Fatah" is created from the complete Arabic name: HArakat al-TAhrir al-Watani al-Filastini, becoming "Hataf", which, since it means "sudden death" in Arabic, was reversed to become "Fatah." Arafat and his Fatah terrorist organization took over the leadership of the Palestinian Liberation Organization in 1964.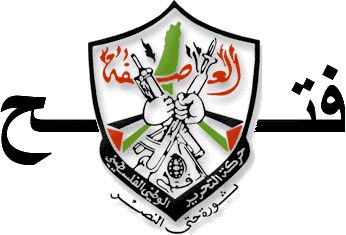 Fatah's emblem shows two fists clutching AK-47's, with a hand-grenade covering in green what Fatah claims as Palestine, which clearly demarks no room for Israel. God foretold in the book of Genesis that Ishmael would be a wild man, and that his hand would be at others throats, and others would be at his throat. The prophecy depicts a people that have no regard for peace, or for getting along with neighbors. Such is the case of the numerous modern Palestinian terrorists that plague everyone in the Middle East, and most of the world.
Genesis 16:11-12 And the angel of the Lord said unto her, Behold, thou art with child, and shalt bear a son, and shalt call his name Ishmael; because the Lord hath heard thy affliction. And he will be a wild man; his hand will be against every man, and every man's hand against him; and he shall dwell in the presence of all his brethren.
The picture above shows an armed Palestinian militant from Fatah's networked al-Aqsa Martyrs terror-Brigades, an armed wing of President Mahmoud Abbas' Fatah. He is seen standings in front of posters depicting the late Palestinian leader Yasser Arafat and former Iraqi President Saddam Hussein during a rally marking the 42nd anniversary of Fatah's founding. The next picture shows a Palestinian woman holding a poster depicting former Iraqi President Saddam Hussein during the 42nd anniversary of the Fatah rally. Fatah and Hamas are presently fighting and backstabbing each other over which terrorist organization will control the Palestinian Authority governing apparatus, and which will receive funds from interested foreign powers. Each of these wild men uses his terror tentacles to cajole millions from geo-political and religious interests. The picture below shows a masked al-Aqsa Martyrs Brigades terrorist with weapon in hand, in front of a picture of Fatah President Mahmoud Abbas. The West thinks Abbas is a cool fellow that wants to make peace with Israel, but in the end analysis, Abbas is just a more clever kind of wild man in his ideology that, like all of his comrades is simply aimed at destroying Israel.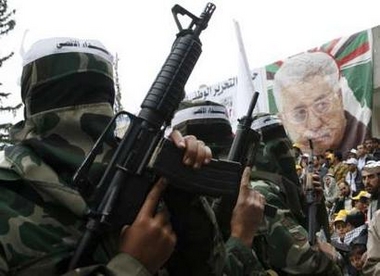 Gaza Rocket-Launching Terrorists Loyal to Abbas
Jan. 4….(YNET) Terrorists associated with Palestinian Authority President Mahmoud Abbas' Fatah party who have been firing rockets from the Gaza Strip into nearby Jewish towns are loyal to Abbas and commit their attacks in accordance with Fatah, the northern Gaza leader of Fatah's declared "military wing" told WND in an interview. Since a ceasefire between Israel and Gaza-based terror groups was agreed to in November, more than 60 rockets have been fired by Palestinians in Gaza, disrupting life in Israeli cities neighboring the Gaza Strip. (The Olmert government has decided not to respond to the attacks) The al-Aqsa Martyrs' Brigades, which bills itself as the "military wing" of Fatah, has taken responsibility for about one-third of the recent rocket fire. Abbas, when criticized has claimed that the Brigades leaders firing rockets from Gaza during the truce are "renegade" members of the group, and that he doesn't have authority over the terrorists. Olmert spokespersons however say the terrorists are directed by the Iranian-backed Lebanese Hizbullah militia. Olmert last month held talks with Abbas and has said he is willing to conclude a peace agreement with the Palestinian leader. But Abu Ahmed, the al-Aqsa Martyrs' Brigades leader in the northern Gaza Strip, told WND his group, including the terrorists launching rockets, are loyal to Abbas and coordinates "resistance operations" with the Fatah party. "The al-Aqsa Brigades is the military wing of the Fatah and the President Abu Mazen (Abbas) is the chairman of the movement. We are committed to our leadership, to Abu Mazen. All our activity is in accordance with the political line of Fatah, which consists of fighting the occupation until the creation of a Palestinian state. The rocket shooting is part of this vision," Abu Ahmed said. All rockets fired from Gaza have been launched from the northern part of the territory, which falls within Abu Ahmed's jurisdiction in the Brigades. Asked why Abbas distances himself from al-Aqsa's rocket firing, Abu Ahmed told WND, "Listen, we are aware of our president's (Abbas') declarations but we are also aware of the international political system that brings the president to adopt this position." The terror leader said Abbas has never asked his group to halt the rocket fire. Abu Ahmed refused to address information released by Israeli security officials his group is financed by Hizbullah, but sources in the al-Aqsa Martyrs' Brigades admitted they receive some funds and training from the Lebanese militia. The Brigades sources also said they regularly coordinate their attacks with Mahmoud Dahlan, Fatah's strongman in Gaza. "We are still totally committed to Fatah and (Abbas) regardless of help from other groups. Some Israeli and Palestinian security officials told WND Fatah militants are launching rockets at Israel for internal political reasons. Calm in Gaza favors the opposition Hamas government, said one Israeli security source. "It gives Hamas a chance to govern during quiet times and not during Israeli operations in Gaza, during which the Palestinian take some frustration out on the Hamas government. Fatah wants violence and Israeli retaliation to generate opposition to Hamas," the source said. Both Israel and the US State Department consider the al-Aqsa Martyrs' Brigades to be a terror organization. US policy calls Fatah "moderate" and dictates the Brigades as a separate entity, but still affiliated with Fatah. The al-Aqsa Martyrs Brigades, together with Islamic Jihad, has taken responsibility for every suicide bombing in Israel the past two years. All Brigades leaders are also members of Fatah. Many openly serve in Fatah's security organizations, including Force 17, which functions as police forces in Gaza and the West Bank. The US reportedly has provided training, funds, and weapons to Fatah's Force 17. Abbas last June appointed senior al-Aqsa Martyrs' Brigades leader Mahmoud Damra as commander of Force 17. Damra, who was arrested by Israel in November, was on the Jewish state's most-wanted list of terrorists.
President Bush's Revised Iraq Strategy under Development
Jan. 4….(DEBKA) US President George Bush has decided to shift John Negroponte out of the job of National Intelligence Director after 20 months and appoint him deputy Secretary of State, as weighty backup for Condoleezza Rice. The USS John C. Stennis strike group will this month join the USS Dwight Eisenhower aircraft carrier group and USS Boxer strike force in the Persian Gulf "as a warning to Syria and Iran" in face of acts seen as provocative, and to give commanders more flexibility in the region. Continuation of Iran's banned nuclear activities would come under the heading of "provocative." This is the second buildup of US naval, air and marine strength in the strategic waterway in four months. Deployment of the Stennis group puts a total of 16,000 US sailors in the region as well as another nuclear carrier and 7 escort warships, 10 air squadrons, 2 submarines and helicopters to support amphibious landings on enemy soil. DEBKAfile's military experts see in the new deployment evidence that President George W. Bush has rejected the key Baker-Hamilton Iraq Study Group's recommendation to engage Iran and Syria for an exit strategy on Iraq. He has instead come down finally behind his own fundamental conviction that the Iraq war is winnable and Iran can be simultaneously confronted.
New UN Chief – Israel at the Heart of the Problem
Jan. 4….(JNEWSWIRE) Israel, which as a nation does not celebrate the Gregorian New Year, nonetheless woke up on January 1 to learn that their little country is set to be more than ever at the center of world scrutiny and pressure in 2007. In an interview published concomitant with his assumption of office on the first day of the year, brand new United Nations Secretary-General Ban Ki-Moon revealed that he, like British Prime Minister Tony Blair and the majority of world leaders, saw solving the Israel-'Palestine' conflict as key to sorting out the rest of the mess in the Middle East. This does not necessarily mean Ban believes Israel per se is to blame, Israelis have expressed the hope that he would be friendly towards their country. It strongly suggests, however, that under his leadership the international community which is pushing so hard to see Israel surrender its land to the Arabs will continue, and very likely intensify that push; and all the more as an appeasement-inclined West becomes desperate to defuse the Iranian nuclear standoff. "If the issues with the conflicts between Israel and Palestine go well, [resolutions of] other issues in the Middle East, including Lebanon, Iran, Iraq and Syria, are likely to follow suit. His urgency echoes Tony Blair's. Due to resign later this year, the British premier has pledged to do "everything in my power" to oversee the implementation of a solution to the 'Palestinian'-Israeli conflict. To strip aside what little "democratese" these statements are cloaked in; and to see their words in the context of a global village that is increasingly impatient with the situation, and particularly with Israel's part in it, is to understand the growing fear that the world may soon regard the Jewish state as an intolerable aggravation. Reporting on Ban's comments, The Jerusalem Post said that his perception is at variance with Israel's. Jerusalem holds that the roots of the problem in the region are "terrorism, Islamic radicalism and extremism, and hatred of the West." In its 'war on terror' the United States under President George W. Bush has been inclined to address the threat from a point closer to Israel's, confronting the merchants of jihad and giving Israel a little more room to maneuver. That relative "grace period" is now thought to be over. With Washington having to give the lion's share of its attention to Iraq, where 3000 US servicemen have lost their lives, the UN and the EU are free to move things forward in line with the Blair-Ban point of view. For Israel this means that last Monday heralded anything but a "happy" New Year. From a biblical perspective, however, the position adopted from the get-go by the new UN chief signals that the day of Israel's redemption will soon be here.
Hamas and Fatah Clash in Gaza as Haniyeh Urges Calm
| | |
| --- | --- |
| | Palestinian Authority Prime Minister Ismail Haniyeh of Hamas speaks after returning to his house in Gaza City Thursday, Jan. 4, 2007. In response to the renewed fighting between Hamas and Fatah in recent days, Haniyeh cut short a tour of Arab nations and returned to Gaza |
Jan. 4….(AP) Gunbattles broke out between forces loyal to Palestinian President Mahmoud Abbas and the Hamas government in northern Gaza on Thursday, killing a Hamas policeman and wounding two other people, witnesses said. Prime Minister Ismail Haniyeh, a senior Hamas leader, called for calm in the wake of the renewed internal violence. Five people were killed on Wednesday in fighting. "These clashes must stop, this bloodshed must end. Let all of you love one another, let's resolve differences through dialogue and not with weapons," Haniyeh told reporters after returning from making the Haj pilgrimage in Saudi Arabia. "Our weapons must only be directed against the Israeli occupation." Wednesday's violence was the worst internal fighting since Hamas and Abbas's Fatah agreed a shaky ceasefire two weeks ago. The two sides declared the truce in an attempt to end violence that surged after Abbas challenged Hamas by calling for early parliamentary and presidential elections after unity government talks failed. Hamas has labeled Abbas's move a coup to oust it less than a year after it surprised the once dominant Fatah faction to win a parliamentary ballot. Abbas, the leader of Fatah, and considered a moderate by the West who favor peace negotiations with Israel, has not set any date for fresh elections. Prime Minister Haniyeh of Hamas supports Hamas charter which calls for Israel's total destruction.
Fatah´s PA TV: Saddam and Arafat, Were the Ideal Men
Jan. 3….(Arutz) (Palestinian Authority TV (PA TV) continues its passionate condemnation of the hanging of Saddam Hussein while lauding the former Iraqi dictator and late PLO Chairman Yasser Arafat as "the men.") The latest PA TV programming focuses on a mammoth street poster displaying a joint portrait of Saddam and late Palestine Liberation Organization (PLO) Chairman Yasser Arafat, with the caption, "Only... because we love the MEN." The PA media outlet is a mouthpiece for PA Chairman Mahmoud Abbas (Abu Mazen)'s Fatah faction, according to the Palestine Media Watch. The program praised the PLO chief terrorist and his most generous benefactor as real men. Despite Saddam's secular lifestyle, the Fatah-backed media outlet highlighted the street-side billboard that used a passage from the Koran to raise the Iraqi murderer to Muslim martyrdom. "Of the believers are men who are true to their covenant with Allah. Some of them have paid their vow by death [in battle], and some of them still are waiting," read the passage at the top of the street-side billboard. The PA was a staunch supporter of the Iraqi dictator during the country's wars with the United States and continues to back insurgents in the country who carry out daily terror attacks against US soldiers. The PMW report adds that the Fatah television network also regularly runs programs calling for Arabs to kill Americans.
US General Shrugs off Responsibility for Saddam Hussein's Execution
Jan. 3….(DEBKA) US military spokesman Gen. William Caldwell made this statement to the media in Iraq Wednesday. Commenting, "We would have done things differently, upheld proper decorum and demeanor," the US general noted that the Iraqi government was in full legal and security control of the condemned former dictator. Shortly after the general's briefing, Nouri al-Maliki told the Wall Street Journal he dislikes being the country's leader and would prefer to leave the job before his term ends. Caldwell stressed that the Iraqi government decided on all the procedures for the execution, including who attended and who kept their cell-phones (which exposed the disastrous scene). Only at the Iraqi government's request did coalition forces provide helicopters for moving people with the body from the execution site to Tikrit for Saddam's final burial at nearby Awja. Again on request, US helicopters transported those officials back to the Green Zone. Iraqis made all those decisions, he stressed repeatedly.
Islam Poised to Swallow Jesus' Boyhood Home
Jan. 3….(Stan Goodenough) The Islamic world's ambition of forcing Judeo-Christian civilization into submission to Allah is steadily being realized in the Land of Israel, birthplace of both targeted faiths. According to a report in WND Monday Nazareth, the Galilee town marking the place where Jesus lived as a boy with His mother Mary and carpenter "step-father" Joseph is on the verge of being submerged under the authority of a Muslim-dominated city council. Like Bethlehem in Judea, the population of Nazareth which was once overwhelmingly Christian, has long been replaced by a Muslim majority.
As Muslims have grown in number, Christians have increasingly felt threatened by them, and are leaving. WorldNetDaily (WND) has Israel's Bureau of Statistics today pegging the Christian population at 37 percent, and on a steadily downward trend. Sunday saw hundreds of Nazareth's Muslims marching militantly through the streets, purportedly in "celebration" of the Islamic holiday of Eid but, in the eyes of many of the city's Christians, in an act of intentional intimidation. According to a Muslim Nazareth city councilor quoted in the report tension between the Muslim and Christian Arabs is "very bad." Nazareth was sitting on a powder keg, said Siham el-Fahum. Another round of anti-Christian riots could break out "at any time." WND reported that tens of thousands of residents looked on while leaders of the Islamic Movement, the main Muslim political party in Nazareth, paraded down the main thoroughfare in battle gear, beating their drums and "brandishing their party's green flag, as a man on loudspeaker repeatedly exclaimed in Arabic, 'Allah is great' and hundreds of activists strutted screaming Islamist epithets, including 'Islam is the only truth' and 'Islam shall rule all!'" Islam is well on the way to ruling Nazareth and Bethlehem, plum pickings indeed for the religion that has become (whether or not the politically-correct admit it) the arch enemy of Christians and Jews. Apart from being Jesus' hometown, Nazareth is revered by millions of Christians as the place where the Angel Gabriel visited Miriam (Mary) and informed her that she would become the mother of the Messiah. Marking this event is the largest church building in Nazareth, the Church of the Annunciation. In 2002 the Israeli government, under pressure from a variety of Christian groups including the Vatican, prevented the city's Muslims from building an enormous mosque right in front of the church. It is believed that the structure, in accordance with the Muslim tradition of expressing Islam's "superiority" over Jewish and Christian sacred sites, would have had a number of minarets towering over the Church of Annunciation. Muslim members of Nazareth's city council believe that as soon as they hold a majority they will be able to move ahead and build their mosque. They are currently just one councilor short of being able to do so. Unwilling even to wait until then, Muslims are already holding regular prayer services on the designated plot of land. Christians inside the church are able to clearly hear the imam's loud proclamations of "Islam will dominate the world!" Meanwhile down in Bethlehem:
The burial place of Rachel, Jacob's wife and Joseph's mother; the home of Boaz and Ruth and the birthplace of their grandson David, Israel's greatest king; the town from which, according to the prophet Micah, the Ruler would come Who would shepherd the people of Israel; the city in which Jesus the Messiah ("Christ" in Greek) was born, that ancient Judean city which 60 years ago had a solid Christian majority, long ago ceased to be a Christian town and more recently ceased to be under Israeli control. Today Bethlehem has an overwhelming Muslim majority and in December 1995 it became one of the first of Israel's heartland population centers surrendered to Yasser Arafat, a significant milestone on Islam's quest that went almost completely ignored by Christians and Jews alike. Multitudes of Christians remain blind to the gravity of this takeover. Instead of asking themselves why Mahmoud Abbas, the chairman of the Palestinian Authority, attended Christmas Mass at Bethlehem's St Catherine's Church on Manger Square (what business does a Muslim have at a Communion Service, unless he plans to convert to Christianity?) they blame the Israeli "occupation" for the exodus of Christian Bethlehemites and for the dearth in Christian tourists at Christmas time. Taking a look at the wider picture: Iranian mullahs and Arabian imams repeatedly describe the Jewish State as the "Little Satan." The United States, the last real mainstay of Christianity, is the "Great Satan." What tens of thousands of Muslim clerics teach their followers throughout the Islamic world is that Allah will first give them victory over the "Little Satan" in the Middle East, and then over the "Great Satan" in the west. They lead their people in chanting: "First we'll fight on Saturday; then on Sunday." Or a variation: "First we'll kill the Saturday people; then we'll kill the Sunday people." In its fight against the "Little Satan" Islam is constantly gaining ground. The land-for-peace process has handed it many victories, and inflicted many defeats on the Judeo-Christian world. While the jihad is being fought on numerous fronts and using numerous means (including, for example, 9-11 and the Second Intifada) it is most effectively being fought here on the ground in the Land of Israel. There is no doubt that the Islamic world would see it as of major symbolic and spiritual significance if Muslims succeeded in bringing both the city where Jesus was born and the city where He spent His boyhood totally under their control. All they would need to get their hands on then is the city in which He died and rose again. They already have the heart of that city, Israel's most sacred site and the only place on the planet which God calls holy, and where He has said He desires to dwell – the Temple Mount. Jews and Christians are already forbidden from praying, and even from taking their personal Bibles onto that Hill
Iran: Hitler was a Jew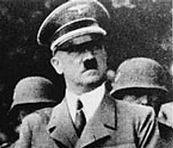 Jan. 2….(YNET) Just when you thought the Iranian leadership could stoop no further: A top advisor to Iranian President Mahmoud Ahmadinejad claimed in an interview with Iranian website Baztab that Nazi leader Adolf Hitler's parents were both Jewish and that Hitler himself was one of the founders of the State of Israel. In the interview, translated by MEMRI (Middle East Media Research Institute) Mohammad-Ali Ramin, a chief aide to Ahmadinejad, told Baztab that Hitler's paternal grandmother was a Jewish prostitute and his father even kept his Jewish name until finally changing it to Hitler when he was 40. Ramin also claimed that the reason Hitler developed such an aversion to Judaism was because his Jewish mother was a promiscuous woman. Hitler therefore, says Ramin, tried to escape his religion. Ramin cites a 1974 book by Hennecke Kardel titled 'Adolf Hitler: Founder of Israel', which alleges that Hitler strived to create a Jewish state as a result of being influenced by his Jewish relatives and his cooperation with Britain, which also wanted to drive the Jews out of Europe. Ramin claims in the interview that Hitler both identified with his Judaism and was disgusted by it. It is these ambivalent feelings, said Ramin, that formed the basis for his treatment of Jews. According to Ramin on the one hand Hitler's relatives and the friends who brought him to power, as well as his mistresses and personal physician, were all Jewish. On the other hand he welcomed the expulsion of ambitious and influential Jews from Europe to the British Mandate of Palestine.
A Palestinian man holds a poster depicting former Iraqi President Saddam Hussein late Palestinian leader Yasser Arafat and the late President of Egypt Gamal Abdel Nasser. Meanwhile Palestinians held a memorial funeral for Saddam Hussein in Bethlehem.
Iranian Cleric Says West Plotting to Divide Shia and Sunni
Jan. 2….(Teheran Times) Tehran's Substitute Friday prayers leader Ayatollah Emami Kashani warned Muslims against plots made by the West to sow discord among the Shia and Sunni. "The enemy is preparing a massive plan for the Islamic world and for the entire region," said the cleric addressing the worshipers at Tehran University campus. He stressed that after the Western states were obliged to admit the defeat of their policies in Iraq, Lebanon and Afghanistan, they have decided to set up new plans. "Shia-Sunni division is a dirty lesson taught by the world arrogance in Muslim countries," Ayatollah Kashani said regretting that the lesson was used by some of the Muslim states. The cleric urged Muslims countries to stay united and close their ranks further in order "to disappoint enemies of the Islamic world." Referring to adoption of the anti-Iran Resolution 1737 by the United Nations Security Council, the ayatollah said that West has "falsely portrayed Iran as a country which threatens international security by developing nuclear weapons." "Those who produce atomic arms and kill other human beings by giving such arms to other countries are now accusing Iran of developing nuclear weapons," Ayatollah Kashani said. He added that the West was to question Iran's political and economic place by introducing it as threat to the world security. "Iran is committed to its international obligations and favors negotiations," said the cleric reassuring that Tehran was not pursuing any program to develop nuclear arms. However, he stressed, the Iranian nation would not give up its efforts to achieve its scientific goals. Stressing that the issue of Iran's peaceful nuclear activities was politicized, the cleric said "it is now considered as a cold war."
---