| | |
| --- | --- |
| | Saudi King Abdullah bin Abdul Aziz addresses the closing session of the Arab Summit in Riyadh. The White House said Thursday that the US occupation of Iraq is "certainly not" illegitimate, hitting back at the King's rhetorical attack on the US military presence in Iraq. |
March 29….(AP) The White House said Thursday that the US occupation of Iraq is "certainly not" illegitimate, hitting back at Saudi King Abdullah's rhetorical attack on the US military presence in a speech this week. "When it comes to the coalition forces being in Iraq, we are there under the UN Security Council resolutions and at the invitation of the Iraqi people," spokeswoman Dana Perino told reporters. Asked whether the US military presence in Iraq was illegitimate, as the Saudi King said yesterday in a speech to the annual Arab summit in Riyadh, Perino replied: "Certainly not." Asked whether Iraq's population had endorsed the US-led occupation, Perino said "we are there at the invitation of the sovereign government of Iraq." The spokeswoman said the deadly violence wracking Iraq daily was "absolutely atrocious, and that is why we are there, in order to try to get the situation under control so that the innocent Iraqis can go about their daily lives and have a hopeful future." On Wednesday, the Saudi king charged that "in beloved Iraq, blood is being shed among brothers in the shadow of an illegitimate foreign occupation and ugly sectarianism threatens civil war." Today Iraqi President Jalal Talabani charged that the US-led invasion of his country four years ago had turned into an occupation with dire consequences for Iraq. Talabani, a member of the Kurdish minority which has been largely insulated from the violence and devastation visited on other parts of the country since Saddam Hussein fell, was addressing the Arab summit in the Saudi capital. "The decision to turn the liberation of Iraq into an occupation with the dire consequences this had internally and the fears (it aroused) in Arab, regional and international arenas, all this was contrary to what Iraqi parties and national forces were planning at the time," he said.
Arab Leaders Meet to Revive Peace Plan
(FOJ) The Arab League Summit meeting in Riyadh is a crafty council session designed to do away with Israel.

Psalms 83:1-8 Keep not thou silence, O God: hold not thy peace, and be not still, O God. For, lo, thine enemies make a tumult: and they that hate thee have lifted up the head. They have taken crafty counsel against thy people, and consulted against thy hidden ones. They have said, Come, and let us cut them off from being a nation; that the name of Israel may be no more in remembrance. For they have consulted together with one consent: they are confederate against thee: The tabernacles of Edom, and the Ishmaelites; of Moab, and the Hagarenes; Gebal, and Ammon, and Amalek; the Philistines with the inhabitants of Tyre; Assur also is joined with them: they have holpen the children of Lot.
March 29….(AP) Arab leaders opened a summit Wednesday to revive the Arab League's old plan for peace with Israel, with US allies trying to enlist other Arabs in efforts to win Israeli and Western acceptance of the deal. The two-day summit in the Saudi capital comes at a time when the United States has shown some progress in maneuvering all sides into place for a resumption in the long-stalled negotiations. Saudi Foreign Minister Saud al-Faisal and other Arab officials said Israel must accept the Arab offer. "If Israel refuses, that means it doesn't want peace. Then (the conflict) goes back into the hands of the lords of war," al-Faisal said Tuesday. The initiative, first launched by the Arab summit in 2002, offers Israel recognition and permanent peace with all Arab countries in return for Israeli withdrawal from lands captured in the 1967 Mideast war. It also calls for setting up a Palestinian state with east Jerusalem as its capital and a "just solution" to the issue of Palestinian refugees forced out of lands in what is now Israel. Israel rejects a full withdrawal from the West Bank and east Jerusalem, and it strongly opposes the influx of large numbers of Palestinian refugees into the Jewish state. Israel rejected the Arab initiative in 2002, but Prime Minister Ehud Olmert said last week his country was willing to accept it with some changes, particularly if demands on Palestinian refugees were watered down. The Arab summit plans to relaunch the peace plan without any changes. "Israel tells us to amend it, but we tell them to accept it first, then we can sit down at the negotiating table," Arab League Secretary-General Amr Moussa said in a speech at the summit opening. But the summit will create "working groups" to promote the offer in talks with the United States, United Nations and Europe, and perhaps Israel. US allies Saudi Arabia, Jordan and Egypt are hoping that the groups can work behind the scenes to make the initiative more palatable to Israel and the West and the basis for a relaunching of talks. Jordanian Foreign Minister Abdul-Ilah al-Khatib said there was a "potential" that the working groups could hold direct talks with Israel. Some have spoken of restricting the membership to Saudi Arabia, Jordan, Egypt and the United Arab Emirates. But the more hard-line Syria, which opposed changing the peace initiative, also may seek to join the working groups, fearing it will be sidelined by the moderates. UN Secretary-General Ban Ki-moon, a guest speaker, said he had urged Israel "to take a fresh look at this initiative" during a visit to Israel earlier this week. "The Arab peace initiative is one of the pillars of the peace process," he said. European Union foreign policy Chief Javier Solana urged Arab states to be flexible in their offer to Israel, calling the Arab initiative "a general concept that has to be developed." He also called for an end to Israel's occupation of lands seized in the 1967 Mideast war. Saudi King Abdullah opened the summit with a sharply worded speech saying Arab nations are "further from unity than they were at the time of the founding of the Arab League," the 22-member body formed in 1945 to promote Arab unity. Abdullah met Tuesday night with Syrian President Bashar Assad, their first meeting since last summer's Israel-Hezbollah war, which raised tensions between the two leaders. King Abdullah is a supporter of Lebanon's anti-Syrian Prime Minister Fuad Saniora, while Assad backs Lebanon's president, Emile Lahoud, and the Hezbollah militant group. The Riyadh summit comes amid a more assertive diplomatic role by Saudi Arabia in trying to resolve a string of crises in the Middle East, particularly the Lebanon crisis, the bloodshed in Iraq and Sunni Arab fears over the growing power of mainly Shiite Iran. The Arab League is dominated by Sunni Muslim-led nations that are deeply suspicious of mainly Shiite Iran's influence in the region and see Iraq's Shiites as backing Iranian interests.
Saudi King Blasts 'Illegitimate Occupation' of Iraq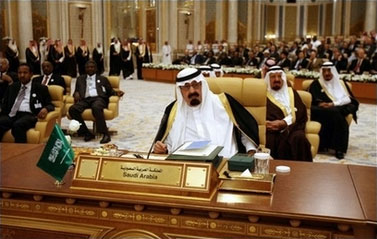 March 29….(AP) Saudi Arabian King Abdullah, whose country is a close US ally, today slammed the "illegitimate foreign occupation" of Iraq in an opening speech to the annual Arab summit in Riyadh. "In beloved Iraq, blood is being shed among brothers in the shadow of an illegitimate foreign occupation, and ugly sectarianism threatens civil war," Abdullah said. He also said that Arab nations, which are planning to revive a five-year-old Middle East peace plan at the summit, would not allow any foreign force to decide the future of the region. In the past, Saudi leaders including Foreign Minister Prince Saud al-Faisal have often criticized US policy in Iraq but have never described its presence there as "illegitimate." If Arab leaders recover trust in each other and regain their credibility, "the winds of hope will blow on the nation, and then, we will not allow forces from outside the region to determine the future of the region, and only the flag of Arabism will be raised on Arab soil," Abdullah said. Arab foreign ministers meeting ahead of the summit agreed on Monday to call for an amendment of Iraq's 2005 constitution to give Sunni Arabs a greater share of power in the war-ravaged country and prevent its breakup. But Iraqi Foreign Minister Hoshyar Zebari responded by saying the government did not need a "diktat" from the Arabs on how to amend its constitution and boost national reconciliation. The Iraqi government has initiated moves to review a de-Baathification law in a bid to woo former members of the regime of executed dictator Saddam Hussein back into politics and government jobs. Under a controversial de-Baathification law, tens of thousands of members of Iraq's former ruling Baath party were stripped of their posts in government, at universities and in business after the 2003 US-led invasion. The law has been a major source of grievance for the minority Sunnis, who have waged a deadly insurgency against US troops and the Shiite-led American-backed government in Baghdad. Iraq's once-ruling Sunnis also want an amendment of the constitution, which they fear leaves their central regions without natural resources and Iraq's oil wealth in the hands of the governing Shiites and the autonomous Kurds.
US Congress: Treason By Any Other Name
March 29….(commentary by Bill Wilson) The US Congress has turned against American troops in Iraq by voting down party lines to withdraw US military forces by next year, the Senate voted 50-48 to cut and run by March and the House has voted 218-212 to give the terrorists a victory by September. This act by congressional Democrats, though legal, is an unethical, unpatriotic revelation to the American people. An entire political party is no longer interested in the national security of the nation, but rather creating political theater and allowing the will of communist and terrorist-backed special interests to trump the national interest. Those bringing these votes before Congress and supporting such legislation should be booted out of office and tried for treason, aiding and abetting the enemy in a time of war. Their actions signal to the enemy that the United States of America does not have the political will to fight and win over the terrorists. Their actions endanger the lives of every noble and honorable son and daughter of America who is in Iraq or other places in the world fighting on the frontlines in the war against terror. Their actions bolster every enemy of the United States who is sitting in his bunker saying, "now is the time to hit them hard because they have no political will to fight and win." If these members of Congress were American Patriots, they would have found a way to band together privately and work with the President on a powerful secret strategy to overwhelm the enemy, to isolate the enemy, to completely and comprehensively annihilate the enemy in the shortest time possible. Wars are to be won, not to be politically pontificated. But these members of Congress are the same communist-inspired anti-war radicals of the 1960's. Some of them have cut their hair and have put on suits so that they look presentable to the public, but inside they are the same old radical idealists of the failed Soviet-era socialist democratic experiment. And Americans have been hoodwinked into believing their vile drivel. Believe me, I do not like the Iraq war, but it, for better or for worse, has become the frontlines in the war on terror. What will all the abortion-supporting, homosexual-advocating, ice-berg hugging, human secularists be saying when they are being hunted down in their own neighborhoods by the terrorist fascists when they move the war front to the continental United States? Will they be burning effigies of American soldiers and the American flag then? We as Christians must decide if we are going to be deceived by the communists and anarchists or if are we going to fight to preserve this nation founded in covenant with God. Solomon wrote in Ecclesiastes 10:8, "He that diggeth a pit shall fall into it." How deep does it have to get?
President Bush Demands A Clean War Funding Bill
March 29….(AP) President Bush and the Democratic-controlled Congress lurched toward a veto showdown over Iraq on Wednesday, the commander in chief demanding a replenishment of war funding with no strings and Speaker Nancy Pelosi counseling him, "calm down with the threats." President Bush said imposition of a "specific and random date of withdrawal would be disastrous" for US troops in Iraq and he predicted that lawmakers would take the blame if the money ran short. "The clock is ticking for our troops in the field," he said. "If Congress fails to pass a bill to fund our troops on the front lines, the American people will know who to hold responsible." Bush spoke as the Senate moved toward passage of legislation that would require the beginning of a troop withdrawal within 120 days, and would set a goal of March 31, 2008, for its completion. The House approved a more sweeping measure last week, including a mandatory withdrawal deadline for nearly all combat troops of Sept. 1, 2008. Both bills would provide more than $90 billion to sustain military efforts in Iraq and Afghanistan. After passage, the next step would be a House-Senate compromise measure almost certain to include conditions that President Bush has said he finds objectionable, and the president's remarks seemed designed to lay the political groundwork for a veto showdown with the new Democratic majority later this spring. Confidently predicting his veto would be sustained in Congress, he said, "Funding for our forces in Iraq will begin to run out in mid-April. Members of Congress need to stop making political statements, and start providing vital funds for our troops. Democratic leaders, determined to force Bush to change course in Iraq, also disputed his contention that Congress would be to blame for any funding difficulties in a war they have vowed to end. Democrats took control of Congress in January after elections framed by voter dissatisfaction over a war that has now claimed the lives of more than 3,200 US troops and cost more than $350 billion. "This war must end. The American people have lost faith in the president's conduct of the war," added Pelosi, D-Calif.
Great Britain Seeks UN Condemnation of Iran
March 29….(AP) Iran may delay the release of the female British sailor if Britain takes the issue to the UN Security Council or freezes relations, the country's top negotiator Ali Larijani said Thursday. The Foreign Office in London, meanwhile, said Britain is seeking condemnation of Iran at the United Nations. The seizure of 15 British sailors and marines took place during operations in Iraqi waters under a UN Security Council mandate, said the Foreign Office official, speaking on condition of anonymity because he was not authorized to speak on the subject. "There are some plans to say something on behalf of the United Nations (about the seized troops) but they have not been finalized," said the official. Speaking on Iranian state radio, Larijani said: "British leaders have miscalculated this issue." If Britain follows through with its policies on the 15 British sailors and marines detained by Iran last week, Larijani said "this case may face a legal path," a clear reference to Iran's prosecuting the sailors in court. Britain asked the Security Council to support a call for the immediate release of the detainees, saying in a statement Wednesday they were operating in Iraqi waters under a mandate from the Security Council and at the request of Iraq, according to council diplomats, speaking on condition of anonymity because the text was not released. On Wednesday, Britain announced it was freezing relations with Iran.
Iran's foreign minister said Wednesday that Britain must admit that its 15 sailors and marines entered Iranian waters in order to resolve a standoff over their capture by Iranian authorities. Foreign Minister Manouchehr Mottaki's announcement came on a day of escalating tensions, highlighted by an Iranian video of the detained Britons that showed the only woman captive saying her group had "trespassed" in Iranian waters. Britain angrily denounced the video as unacceptable and froze most dealings with the mideast nation. "First they have to admit that they have made a mistake. Admitting the mistake will facilitate a solution to the problem," Mottaki told The Associated Press in an interview in Riyadh, Saudi Arabia. "But unfortunately the British have not admitted their mistake." Meanwhile, President Bush gave his full backing to PM Blair in the crisis after they spoke by telephone Wednesday night. The US statement adds that the US military maneuver in the Gulf is completely unrelated to the capture of the British personnel, having been planned as far back as January. Earlier, the White House spokesperson said there is no escalation of tensions "on our part" with Iran.
Iranian television on Wednesday displayed some of 15 British sailors and marines detained at sea last week, and included the only woman crew member saying they had "trespassed" into Iranian waters. Great Britain protested the airing of the sailors on video. Shown wearing an Islamic headscarf and speaking calmly, the woman was named by British media as 26-year-old Faye Turney.
Abbas Warns Israel of Violence if 'Peace Plan' Rejected
(Palestinian Authority president accuses Israel of evading peace by demanding Arab peace initiative be amended, says region could slide into violence if peace not achieved in near future)
March 29….(YNET) Palestinian Authority President Mahmoud Abbas warned on Thursday of extreme violence if Israel rejected a Palestinian "hand of peace", and called for an international conference on reaching a final peace agreement with the Jewish State. Speaking at the Arab League summit in Saudi Arabia, Abbas accused Israel of evading peace by demanding that Arab states alter a land-for-peace initiative. "Demanding that amendments be introduced to the Arab peace initiative, is seeking to avoid the realization of peace," Abbas said at the summit's closing ceremony. Israel called on Arab states to drop a clause demanding that Palestinian refugees who fled Palestine in 1948 be allowed to return to their home within Israeli sovereign territory.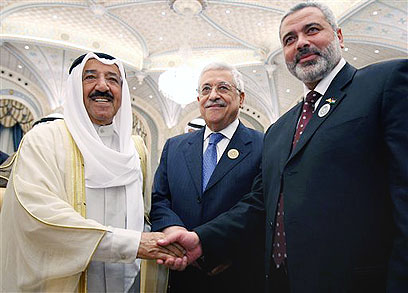 Palestinian PM Haniyeh (R) and Abbas shaking hands with Emir of Kuwait
"I reiterate the sincerity of the Palestinian will in extending the hand of peace to the Israeli people. We should not waste more chances in the history of this long and painful cause," he added. "The entire region will be under renewed threats of war, explosions, as well as regional and international confrontations, as a result of the absence of a solution or the impossibility of implementing one," Abbas said. "We hope our summit would result in the formation of an Arab committee headed by the Saudi Arabian monarchy, the head of the summit, to follow up implementation of the Arab initiative," he said, referring to an Arab land-for-peace proposal. He called for a "negotiated settlement that will be sponsored by the international community and within the framework of an international peace conference in the region."
Why Are Bush & Rice Misrepresenting 'Palestinian' Intentions
March 29….(By Ryan Jones/Jnewswire) The Bush administration is purposely misrepresenting the true feelings and intentions of the Palestinian Arabs toward Israel as it makes a final major push for "peace" in the Middle East. So charged the Zionist Organization of America on Tuesday in a critical response to statements made by US Secretary of State Condoleeza Rice during her visit to the region earlier this week. Following meetings with Israeli and "Palestinian" leaders, Rice told a Jerusalem press conference: I think that the desire for peace and support for a two-state solution is far broader among the Palestinian people [sic] and among the Israeli people than just the two leaders [Ehud Olmert and Mahmoud Abbas]. It's, in fact, something that has shown up in all kinds of polls. That statement stood in complete contrast to the results of nearly every "Palestinian" opinion poll conducted over the past several years. A few of the more recent poll results showed that:
*75 percent of Palestinian Arabs do not recognize Israel's right to exist as a Jewish state, and 70 percent in fact support a one-state solution where Jews would be a minority. (Near East Consulting poll, February 12-15, 2007)
*67 percent of Palestinian Arabs support Hamas in its refusal to recognize Israel's right to exist. (Palestinian Center for Policy and Survey Research poll, September 14-16, 2007)
*61.3 percent of Palestinian Arabs support continued terrorist attacks on Israeli civilians, and 52.5 percent support rocket attacks on Israeli towns, even during peace talks. (Center for Opinion Polls and Survey Studies at An-Najah University, September 7-9, 2006)
*69 percent of Palestinian Arabs see terrorism against Israelis as legitimate; furthermore,
*65 percent support Al Qaeda attacks on the US and Europe. (Fafo poll, December 22, 2005)
Amid such figures, ZOA President Morton Klein said it is disingenuous, to say the least, for the Bush administration to talk of the "Palestinians" as peace partners, and that such a policy will ultimately backfire. By stating the opposite of what the facts warrant, Secretary Rice is misleading the American public and pursuing a policy which lacks any factual basis and which will lead to another terrorist state while appeasing terrorists and terrorism. Klein said the Bush administration would do far more good for the region if it would "fearlessly state the truth" and demand a change in "Palestinian" society and strict adherence to already-signed agreements. It would also more accurately represent the wishes of its constituents. A poll carried out by McLaughlin & Associates on behalf of the ZOA this week showed that a strong majority of Americans oppose their governments current approach to the Israeli-Arab Conflict. According to the results of that survey, a 45 percent majority of Americans believe an independent Palestinian Arab state would be a terrorist state. Only 22 percent felt the opposite. A far larger 60 percent majority said that Israel should make no more land concessions to the "Palestinians."
Arabs to Israel: Peace on "Our Terms" or War
March 29….(Ryan Jones) In a statement betraying the true intentions of the Arab world, Saudi Arabia's foreign minister on Tuesday warned Israel to accept the pan-Arab peace proposal as is or face war. The Arab League convened in Riyadh on Wednesday to discuss the plan, which was first presented by Saudi King Abdullah at a Beirut meeting of the organization in 2002. It offers Israel the promise of peace with its neighbors in return for surrendering every inch of land liberated in 1967 and opening its borders to millions of foreign-born Arabs who called themselves "Palestinian refugees." Israel's failure to accept these "generous" terms means it must want war, Saudi Foreign Minister Saud al-Faisal told Britain's Daily Telegraph. If Israel refuses, that means it doesn't want peace and it places everything back into the hands of fate. They will be putting their future not in the hands of the peacemakers but in the hands of the lords of war. Prince Saud went on to reiterate that the Arabs have no intention of altering the plan to accommodate Israeli concerns, and claimed that reaching out to Israel never achieved anything for the Arabs. In doing so he completely ignored that by reaching out only a very little bit (and then never actually fulfilling his promises), Yasser Arafat gained a great deal from Israel. Despite its clearly dangerous language, Israeli leaders have actually voiced optimism over the proposal, stating that it could serve as a basis for regional peace if only the issue of "Palestinian" refugees were removed. The vast majority of Israelis recognize that to bow to the demand for an Arab "right of return" would demographically destroy the Jewish state. Yasser Arafat and his deputies used to boast that the right of return was their diplomatic trump card to win the battle against Israel's existence.
Russia Warns US Against Attacking Iran
March 29….(IranMania) Russia's Foreign Ministry has sharply criticized the United States for what it called over-reliance on force and warned Washington against military action against Iran, The Associated Press reported. But in a major review of foreign policy priorities, the ministry said yesterday that Moscow was ready to cooperate to end global crises if Washington treats it as an equal partner. The 70-page document, echoing a tough speech by President Vladimir Putin in Germany last month, reaffirms Russia's determination to challenge the United States when it feels it has to, despite Moscow's recent decision to increase pressure on Iran's nuclear program. The statement reflects Russia's growing confidence and economic clout, and appears to be a signal to Washington that, while the two nations can work together, Russia will not always follow the US lead. The document also plays to national pride in advance of parliamentary and presidential elections. "The international community mustn't take risks connected to the escalation of the situation around Iran until the United States takes sincere, conscientious efforts to normalize its relations with Tehran," the ministry said. Russia criticized what it called "the creeping American strategy of dragging the global community into a large-scale crisis around Iran," saying that Tehran helps maintain stability in Afghanistan and Central Asia.
Russian Intelligence Sees US Military Buildup on Iran Border
March 28….(NOVOST) Russian military intelligence services are reporting a flurry of activity by US Armed Forces near Iran's borders, a high-ranking security source said Tuesday. "The latest military intelligence data point to heightened US military preparations for both an air and ground operation against Iran," the official said, adding that the Pentagon has probably not yet made a final decision as to when an attack will be launched. He said the Pentagon is looking for a way to deliver a strike against Iran "that would enable the Americans to bring the country to its knees at minimal cost." He also said the US Naval presence in the Persian Gulf has for the first time in the past four years reached the level that existed shortly before the invasion of Iraq in March 2003. Col.-Gen. Leonid Ivashov, vice president of the Academy of Geopolitical Sciences, said last week that the Pentagon is planning to deliver a massive air strike on Iran's military infrastructure in the near future. (One source in Moscow claims the US intends to strike Iran during the month of April) A new US carrier battle group has been dispatched to the Gulf. The USS John C. Stennis, with a crew of 3,200 and around 80 fixed-wing aircraft, including F/A-18 Hornet and Superhornet fighter-bombers, eight support ships and four nuclear submarines are heading for the Gulf, where a similar group led by the USS Dwight D. Eisenhower has been deployed since December 2006. The US is also sending Patriot anti-missile systems to the region
'Islam Will Enter Every House,' Conquer the World
(Hamas leader Mahmoud Zahar: Religion of Islam will take over entire world)
March 28….(YNET) Islam will enter "every house" and become the dominant religion across the entire planet, Hamas leader Mahmoud al-Zahar said during a mass rally in Gaza this week. Zahar was previously the Palestinian Authority's foreign minister. He spoke at a rally held for the late Hamas founder Ahmed Yassin, and his comments were translated by the Palestinian Media Watch (PMW) organization "The prophetic foundation is the message of the prophet Muhammad, that Islam will enter every house and will spread over the entire world," Zahar was quoted as saying. "The divine promise made in the 'Al-Israa Sura' is that we will liberate the blessed al-Aqsa Mosque, and we will enter it as we have entered it the first time," he added. "Our position is the liberation of Palestine," Zahar declared, adding: "All of Palestine. This is the final and strategic solution for us. There is a Quranic message for us, that we will enter the Al-Aqsa mosque, and the entrance to the mosque means the entrance into all of Palestine. This is the message, no one can deny it. Anyone who denies it must check his faith and his Islam." Commenting on Zahar's comments, PMW Director Itamar Marcus and Associate Director Barbara Crook wrote: "While the Hamas goal of destroying Israel is well known, its aspiration for Islamic subjugation of the entire world is just as basic to Hamas dogma." "Both aims appear in the Hamas Charter as God's irrepressible will, and both aims were reiterated this week by senior Hamas leader and former PA foreign minister Mahmoud al-Zahar," they added.
Rejecting Arab Peace Plan is Asking for War, Says Saudi Prince
(Saudi foreign minister says that Israel will put its fate in the hands of war mongers if it turns down peace initiative; Both sides must want peace equally, he says)
March 28….(YNET) Saudi foreign minister Prince Saud al-Faisal said Tuesday that if Israel rejects the Arab peace proposal, its fate will be determined by the "lords of war." He said this in an interview to the British Daily Telegraph ahead of the Riyadh Arab League Summit, starting Wednesday. According to the Saudi peace initiative, all Arab countries will officially recognize Israel in return for its withdrawal from all land occupied in the 1967 war. A Palestinian state will be established in the Gaza Strip and the West Bank with East Jerusalem as the capital. The plan also proposes granting the right of return to all Palestinian refugees, a clause that Israel is opposed to adamantly. The Telegraph quoted al-Faisal as saying that Israel could choose whether to accept the proposal or reject it. "What we have the power to do in the Arab world, we think we have done," he said. "So now it is up to the other side because if you want peace, it is not enough for one side only to want it. Both sides must want it equally." He predicted a gloomy reality in the event that Israel rejects the initiative: "If Israel refuses, that means it doesn't want peace and it places everything back into the hands of fate. They will be putting their future not in the hands of the peacemakers but in the hands of the lords of war." "It has never been proven that reaching out to Israel achieves anything," he told the Telegraph. "Other Arab countries have recognized Israel and what has that achieved? The largest Arab country, Egypt, recognized Israel and what was the result? Not one iota of change happened in the attitude of Israel towards peace."
Tony Blair: Time to 'Ratchet Up' Pressure on Iran
March 28….(Newsmax) Prime Minister Tony Blair said Wednesday it was time to increase the pressure on Iran to release 15 Royal Navy personnel who were detained last week. "There was no justification whatever, for their detention, it was completely unacceptable, wrong and illegal," Blair told the House of Commons, shortly after the Ministry of Defense released satellite data that it said proved the crew was in Iraqi waters. "We had hoped to see their immediate release; this has not happened. It is now time to ratchet up the diplomatic and international pressure in order to make sure the Iranian government understands its total isolation on this issue," Blair said. He said he believed the crew acted sensibly in not putting up fight after being confronted by six Iranian vessels. "If they had engaged in military combat at that stage, there would have undoubtedly been severe loss of life. I think they took the right decision and did what was entirely sensible," Blair said. Early Wednesday morning Britain's military said that navy boats were 1.7 nautical miles (2 miles; 3.1 kilometers) inside Iraqi waters when Iran seized their 15 crew members, supporting Prime Minister Tony Blair's contention that the captured personnel had not crossed into Iranian territory, as Teheran claims. Vice Admiral Charles Style told reporters that the Iranians had provided a position on Sunday, a location that he said was in Iraqi waters. By Tuesday, Iranian officials had given a revised position two miles east, placing the British inside Iranian waters, a claim he said was not verified by GPS coordinates. "It is hard to understand a legitimate reason for this change of coordinates," Style said. He gave the coordinates as 29.50.36 north and 048.43.08 east. However in Tehran, Iranian foreign ministry spokesman Mohammad Ali Hosseini denounced the British remarks. "The media campaigns and provocative remarks regarding the violation of Iranian territorial waters by the British sailors are doing nothing to help settle the affair," he said. "The British service personnel entered Iranian waters illegally and the case will follow its legal and judicial course." Hosseini said that British diplomats would be able to meet the 15, who include a woman, once investigators had completed questioning them about what they had been doing in Iranian waters.
Iran's Border Muddies Captivity Issue
March 28….(AP) Shifting river channels, national rivalries and decades-old grudges all complicate what should be a simple question: Whether British sailors were in Iraqi or Iranian waters when they were seized by Iranian forces. The British insist the 15 sailors and marines were in Iraqi waters of the Shatt al-Arab waterway when they were captured Friday by naval units of the Iranian Revolutionary Guards. At the time, the British were inspecting an Indian-flagged ship suspected of smuggling cars. Iran is equally insistent that the incident occurred in its territorial waters. Officials in Tehran say they are investigating whether the British strayed into Iranian waters intentionally. Neither side has released map coordinates to prove its case. Even if one side did, it is unclear that would be enough to convince the other. "If this happened south of where the river boundary ends, knowing the coordinates wouldn't necessarily help us," said Richard Schofield of King's College in London, who is an expert on the waterway. "We have to accept the British claim with as much salt as the Iranian claim." And, even if the incident occurred well before the spot where the river empties into the Gulf, the issue could be equally unclear, because the question of where the river border actually runs is as murky as the brown silt waters of the Shatt al-Arab. The waterway is formed by the confluence of the Tigris and Euphrates rivers at the southern Iraqi town of Qurnah. From there, the Shatt al-Arab, which the Iranians call the Arvand River, meanders south between Iran and Iraq until it spills into the northern Persian Gulf. The waterway provides Iraq with its only outlet to the sea. Major port cities of both countries, Basra in Iraq and Khorramshahr and Abadan in Iran, lie on its banks. Because the waterway is so important, both Iraq and Iran have long sought to promote their own interests in determining who has the right to use it, and under what conditions. A 1937 treaty gave Iraq full rights to most of the Shatt al-Arab and fixed the border on the Iranian shore. Iran resented the terms, maintaining it accepted them only under pressure from the British. Lingering bitterness over the treaty may have influenced last week's Iranian action. "The fact that British forces were involved made the (latest) incident especially sensitive for Iran," says Simon Henderson of The Washington Institute for Near East Policy. "Iran resented this display of British dominance." Iran scrapped the border pact in 1969. Four years later, Algeria mediated another deal setting the border in the middle of the river's most navigable channel. The river splits into a multi-channel delta as it nears the Gulf. But Saddam Hussein tore up that treaty in 1980 and invaded Iran, setting off a bloody eight-year war. Although the war ended without a formal peace treaty, both Iraq and Iran have generally accepted that the border runs down the middle of the main channel. But the channel shifts due to silting. Because the two countries have not agreed on updated charts, that means there is no universal agreement on exactly where the border line runs. If the seizure occurred near the mouth of the Shatt al-Arab, which is likely, the issue becomes even more complicated because Iraq and Iran have never agreed on each others' claim to Gulf waters near the mouth of the waterway. Without such an agreement, international law requires countries not to extend their territorial waters "beyond the median line with neighboring states," said Martin Pratt of the University of Durham in Britain. But defining that line is difficult because of conflicting claims to rock formations, sandbars and barrier islands in the shallow waters of the northern Gulf, Pratt said. As a result, there may be "legitimate grounds for arguing for a different definition" of those median lines, Pratt said. "Until a boundary is agreed, you could only be certain that the personnel were in Iraqi territorial waters if they were within 12 miles of the (Iraqi) coast and, at the same time, more than 12 miles from any island, spit, bar or sand bank claimed by Iran," said Craig Murray, former chief of the Maritime Section of the British Foreign and Commonwealth Office. That means ships operating near the mouth of the Shatt al-Arab, where marshes and sandbars make navigation difficult and where "ownership" of the water is ambiguous, could easily run into trouble. "There's a lot of room for making mischief, if that's what you want to do," Schofield said, and apparently Iran wanted to cause some mischief.
10,000 US Personnel, 2 Aircraft Carriers and 100 Warplanes Begin Biggest simulated Show of Force in Gulf since the 2003 Invasion of Iraq
March 28….(DEBKA) DEBKAfile's military sources note that the exercise was launched March 27 the day before the Arab League summit opens in Riyadh, to demonstrate the Bush administration's determination not to let Iran block the Strait of Hormuz to oil exports from the Persian Gulf, or continue its nuclear program. Taking part are the USS Stennis and USS Eisenhower strike forces. With Iran's Revolutionary Guards one week into their marine maneuvers, military tensions in the Gulf region are skyrocketing and boosting world oil prices. Intelligence sources in Moscow claim to have information that a US strike against Iranian nuclear installations has been scheduled for April 6 at 0040 hours. The Russian sources say the US operation, code-named "Bite," will last no more than 12 hours and consist of missile and aerial strikes devastating enough to set Tehran's nuclear program several years back. The maneuver also occurs four days after 14 British seamen and one crew-woman were seized by an Iranian Revolutionary Guards warship, with no sign that their release is imminent. London insists its marines were on routine patrol on the Iraqi side of the Shatt al Arb on behalf of the Iraqi government. Tony Blair has threatened "a new phase" in the crisis if the captured personnel are not speedily released. The warplanes are flying simulated attack maneuvers on enemy shipping with aircraft and ships, hunting enemy submarines and seeking mines, off the coast of Iran. US Navy Cmdr Kevin Aandahl declined to say when the maneuver was planned or how long it would last. He said US warships would stay out of Iranian territorial waters up to 12 miles from the Iranian coast. Tehran does not recognize this limit and claims a deeper stretch of water. Our military sources explain the presence of the French naval strike group led by the nuclear aircraft carrier Charles de Gaulle which joined the two US carriers last Friday: The group will carry out security missions in the Arabian Sea and its warplanes fly in support of NATO in Afghanistan.
PM Blair Warns Iran over Navy Captives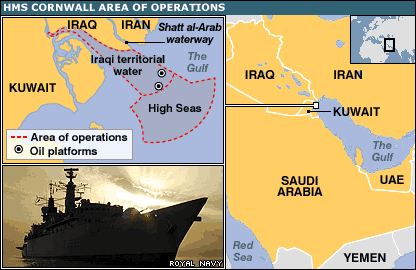 March 27….(BBC) Prime Minister Tony Blair said the UK could end up releasing evidence proving the group had not ventured into Iranian waters. Iran says they were trespassing in Iranian waters when they were seized on Friday, but the prime minister said the group was in Iraqi waters under a UN mandate. Mr. Blair said the most important thing presently was the welfare of the eight sailors and seven marines from HMS Cornwall and securing their release. The prime minister's official spokesman said Mr. Blair's remarks about a "different phase" did not refer to any extreme diplomatic action, such as expelling Iranian diplomats from Britain or military action. "We have been clearly stating that we are utterly certain that the personnel were in Iraqi waters. "We so far have not made explicit why we know that, because we don't want to escalate this." Britain's former ambassador to Iran, Sir Richard Dalton, said "different phase" could mean generating pressure on Iran from the international community. "I expect he means that we shall have to step up criticism and generate additional international pressures on Iran," he said. "It could be that they think that by dramatizing the fact that these people were taken on an international mission while in Iraqi waters even further, will give Iran pause and give them a chance to rethink." There is speculation that the capture was linked to the seizure of five Iranians by US forces in Iraq. Mr. Blair said the situations were "completely distinct" as any Iranian forces inside Iraq were breaching a UN mandate. "In the end, it is a question really for the Iranian government as to whether they want to abide by international law or not," he said.
Palestinian Unity Heads Meet With Saudi King Abdullah
| | |
| --- | --- |
| | Saudi King Abdullah bin Abd al-Aziz, center, speaks to Palestinian Prime Minister Ismail Haniyeh, right, after he arrived with Palestinian president Mahmoud Abbas, left, at Riyadh airport, Tuesday, March 27, 2007, one day before the start of the Arab Summit. |
March 27….(FOJ) Palestinian Unity leaders Ismail Haniyeh and Mahmoud Abbas are again in Saudi Arabia, just a mere 3 weeks after the Saudi King compelled upon the Fatah and Hamas terrorist leaders to form a new government. Bible Prophecy scholars have always speculated about the identity of the King of the South, so prominently mentioned in end-times events, and it is becoming more and more obvious that the King of Saudi Arabia is a major player in the ongoing drama of the Israeli-Arab conflict. The Saudi kingdom is a main ally of the US in the Middle East, but prophecy portends that the Arabian kingdom will become anxious about the future Russian thrust into the equation in the Middle East, when Magog leads a coalition of nations against Israel, a coalition that will include Iran. One only needs to stay tuned into current events to watch the Bible come alive in today's fast moving world.
US Launches Show of Force in Persian Gulf
(Aircraft carriers, warplanes feature in maneuvers off the coast of Iran)
March 27….(MSNBC) The US Navy on Tuesday began its largest demonstration of force in the Persian Gulf since the 2003 invasion of Iraq, led by a pair of aircraft carriers and backed by warplanes flying simulated attack maneuvers off the coast of Iran. The maneuvers bring together two strike groups of US warships and more than 100 US warplanes to conduct simulated air warfare in the crowded Gulf shipping lanes. The US exercises come just four days after Iran's capture of 15 British sailors and marines who Iran said had strayed into Iranian waters near the Gulf. Britain and the US Navy have insisted the British sailors were operating in Iraqi waters. US Navy Cmdr. Kevin Aandahl said the US maneuvers were not organized in response to the capture of the British sailors, nor were they meant to threaten the Islamic Republic, whose navy operates in the same waters. He declined to specify when the Navy planned the exercises. Aandahl said the US warships would stay out of Iranian territorial waters, which extend 12 miles off the Iranian coast. Overall, the exercises involve more than 10,000 US personnel on warships and aircraft making simulated attacks on enemy shipping with aircraft and ships, hunting enemy submarines and finding mines. "What it should be seen as by Iran or anyone else is that it's for regional stability and security," Aandahl said. "These ships are just another demonstration of that. If there's a destabilizing effect, it's Iran's behavior."
Hamas Prepares 'Rocket War' in Ex-Settlement
(Terrorists use evacuated lands to test weapons targeted at Israel)
March 27….(Ha Aretz) Palestinian terrorist groups on Monday used the former Jewish settlement of Neve Dekalim, which was evacuated by Israel in 2005, to test new explosives and rockets for use against the Jewish state, senior members of Hamas' so-called military wing told WorldNetDaily. The Hamas members said they set up an explosives testing zone in Gush Katif, Gaza's former slate of Jewish communities evacuated by Israel 17 months ago. They said among the explosives Hamas tested Monday in Neve Dekalim were what they called new "Yassin" rockets, which they said were improved versions of Russian-made rocket propelled grenades. The Hamas members said the rocket was named after late Hamas spiritual leader Sheik Ahmed Yassin, who was assassinated by Israel in 2004. Hamas would not describe the specifics of the purported new rocket, but a Hamas member said his group was preparing for a "rocket war" against Israel. The use of Neve Dekalim as an explosives training zone is the latest in a string of WND exclusive reports of Gaza's former Jewish communities being utilized for terror. Abu Abdullah, considered one of the most important operational members of Hamas' Izzedine al-Qassam Martyrs Brigades, Hamas' declared "resistance" department, said in an interview Hamas turned lands in Eli Sinai and Dagit are being used for "physical shape exercises; use of weapons training; practice lands for ambushes of Israeli forces; courses for the reading of maps and (production and use of) explosives and many other trainings; military techniques, fighting in open fields and in built and populated areas; and rockets shooting." Abu Abdullah called the utilization by Hamas of the former Jewish towns for anti-Israel activity "proof that the resistance works."
UN Chief Meets Abbas, Welcomes new Palestinian Unity Government
March 27….(Jerusalem Post) United Nations Secretary-General Ban Ki-moon met yesterday morning with Palestinian Authority Chairman Mahmoud Abbas, following a tour of the West Bank separation fence in the Al-Ayada refugee camp near Bethlehem. "It saddens me deeply to see many people suffering as a result of the establishment of the separation fence, which prevents them from enjoying any possibility for basic sustenance," he said. "This has strengthened my determination and commitment to advance peace in the Middle East." During a joint press conference yesterday with Abbas, Ban welcomed the formation of the PA unity government, but called on it to accept international demands and reimpose law and order in the territories. Ban said "the time is not ripe" to meet with the government's Hamas members. Ban laid a wreath at former PA chairman Yasser Arafat's grave and met with the parents of Palestinians held in Israeli jails. Said Nemer, a prisoners affairs activist, said he presented Ban with a petition calling for the release of Palestinians imprisoned in Israel, and the UN secretary-general promised to raise the issue during his meetings with Israeli officials.
FOJ Note: The imposing security fence would never have been constructed by Israel had the Palestinian governing apparatus implemented any efforts toward thwarting terrorist attacks.
Putin: Russia Will Not Seek EU Membership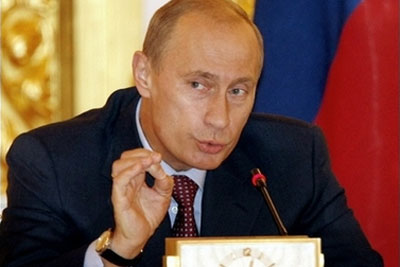 March 26….(Moscow News) Russian President Vladimir Putin says Russia will not be seeking membership of the European Union, but hopes to develop ties with the group, Reuters news agency reported on Monday. "A stable, flourishing and united Europe answers our interests," Putin said in an article marking the 50th anniversary of the European Union's founding "Treaty of Rome." The Kremlin leader, who is due to step down next year after presiding over eight years of strong economic growth, praised Russia-EU relations which he said were heading towards a comprehensive, intensive and long-term co-operation". "We are not going to join the European Union or engage in any form of association in the foreseeable future," Putin said in the article posted on the Kremlin website. "Russia is ready to build relations with the European Union through treaties and strategic partnership," he added. In the past few years, ties between Moscow and the European Union have been marred by disagreements in the energy sector. EU members, worried by a growing dependence on Russian gas, are seeking to diversify their imports. They have been alarmed by Moscow's refusal to ratify the Energy Charter which would give their companies access to Russian pipelines and deposits. Russia in turn blames EU partners for blocking attempts to buy into European energy production and distribution sectors.
The Bear is Back: Russia's Return to the Middle East
March 26….(Daily Star) The recent visit to Moscow of Hamas leader Khaled Meshaal came shortly after Russian President Vladimir Putin's trip to Saudi Arabia, Qatar and Jordan. There he aligned Russia with the Arab consensus supporting the Saudi-mediated Mecca Agreement between the Palestinian factions, called for the lifting of sanctions against the new Palestinian unity government, discussed energy cooperation and sought both to increase Russian arms exports to the Arab world and to attract Arab investment for the non-energy sector of the Russian economy. These moves have underscored the resurgence of Russian interest in the Middle East. Under Putin, Russia has sought to achieve three major goals in the region. The first is to demonstrate its renewed power and influence in an area where American influence is on the decline. The second is to increase trade with the nations of the region so as to buttress the Russian economy, especially its non-energy sectors. The third goal is to minimize Arab, Turkish and Iranian support for the Chechen rebellion against Russian control, which the rebels are carrying out in the name of Islam. Putin has always wanted to restore Russia to the ranks of the great powers, and this became clear soon after he took office in 2000. However, the then-weak Russian economy and the increasingly severe Chechen rebellion against the 1999 Russian invasion limited his options. After the terrorist attacks on the United States on September 11, 2001, Putin moved to form a tactical alliance with the United States because the Taliban in Afghanistan, who hosted terrorist leader Osama bin Laden, were as much a threat to Russia and Russia's allies in Central Asia as they were to the US. Russia moved away from Washington, however, during and after the Anglo-American invasion of Iraq in 2003. Putin has always sought an area where he could once again demonstrate that Russia was a great power. That area is the Middle East. Beginning in December 2004, Putin began a major effort to increase Russian influence in the region. As the US, hitherto the dominant external power in the region, became badly bogged down in Iraq and in Afghanistan, Russia exerted more and more influence with America's enemies. Second, a sharp rise in oil prices strengthened the Russian economy and gave Moscow the ability to waive the debts that a number of Arab countries had incurred with the USSR. More than two years later, what is the balance sheet for this concerted Russian undertaking? First, Russian activity in the Middle East has become a major challenge to the United States, whose position in the region is weakening. Moscow's arms sales to Iran and Syria and its diplomatic efforts to legitimize Hamas and the Hamas-led Palestinian national unity government have rendered US efforts to bring about an Israeli-Palestinian agreement, already a difficult task, far more difficult. While Russia's recent delay in the supply of nuclear fuel for the Bushehr reactor and its willingness to consider additional limited sanctions against Iran in the UN Security Council may be seen as an effort to reverse the trend of deteriorating US-Russian relations, they may also be interpreted as an important gesture to key Arab states such as Saudi Arabia, Jordan and Egypt, all very concerned about the prospect of Iran acquiring nuclear weapons. Second, Russian-Israeli relations have also suffered a major blow in recent years because of Putin's policies. Relations were soured by arms sales to Syria, some of which were transferred to Hizbullah and used in its summer 2006 war against Israel, as well as by the decision to supply a nuclear reactor and sophisticated surface-to-air missiles to Iran, whose president, Mahmoud Ahmadinejad, has called for Israel to be wiped off the map. Moscow's embrace of Hamas, an organization that remains dedicated to Israel's destruction, has further damaged relations, and few Israelis believe Putin's protestations of friendship to Israel. While Russian-US and Russian-Israeli relations have been severely damaged by Russian policies in the Middle East, one thing has improved, and that is Russian influence in the Arab region. On the diplomatic front, despite its weakened position, the US remains the main guarantor of the Arab regimes of the Gulf as well as of Egypt and Jordan. But Putin's efforts in the region have enabled these countries to distance themselves somewhat from the US, and increase the pressure being place on Israel.
Moscow's Troubling, Confusing Course
One of the few positive developments regarding Iran's nuclear weapons programs is Russia's refusal to supply uranium for Iran's nuclear power station at Bushehr. The decision by Russian President Vladimir Putin (which has been officially attributed to Tehran's failure to pay its bills on time) deserves praise. But unfortunately, Bushehr is only part of the picture. Russia remains the largest arms supplier to Iran. And US analysts frequently overlook some of Moscow's other harmful actions in the region, which include destabilizing arms sales to Syria. Moscow's peculiar flirtation with the terrorist group Hamas is yet another area in which the Putin government is undermining US interests in the region and working at cross-purposes with its own efforts to improve relations with Israel. As the Soviet Union collapsed in the early 1990s, Russia cut off arms sales to Syria, which had accumulated billions in unpaid debt for Cold War-era arms purchases from Moscow. Russia resumed arms sales to Syria during the late 1990s, but the arms supply relationship between the two countries remained limited until January 2005, when President Bashar Assad visited Moscow and Russia agreed to write off nearly three-quarters of Syrian debt. Russia's decision reportedly followed an intense lobbying campaign by Tehran on Mr. Assad's behalf. In exchange, notes Heritage Foundation scholar Ariel Cohen, Tehran is believed to have promised to reward Moscow with new weapons purchases and other contracts. Russia's sales of Strelets air-defense missile systems to Syria in 2005 serve to illustrate how complicated these maneuverings can get. The Putin government agreed to the deal to sell the vehicle-mounted Strelets to Syria over protests from Washington and Jerusalem. But at the same time, Moscow managed to deflect some of the criticism from Washington with a concession: denying the Syrian strongman's request for superior air-defense systems such as the S-300. One factor entering into Russia's decision not to sell the S-300 was probably its thriving economic relationship with Israel, home to more than 1 million citizens of the former Soviet Union, many of whom have a deep attachment with family members and friends living in post-communist Russia. But even as Moscow refrained from going ahead with the S-300 sale, it has continued to engage in other activities that undercut American foreign policy interests and endanger Israel as well. Last summer, Israeli forces in Lebanon found evidence that Russian-made Kornet-E and Metis-M anti-tank systems had been provided to Hezbollah. In the final hours of the war last August, at least 24 Israeli soldiers died in a fierce battle to capture the Lebanese town of Ghandouriyeh. After the Israel Defense Forces captured the village, they found Syrian-supplied hardware near a Hezbollah outpost: eight Kornet anti-tank rockets. Written beneath a contract number on each casing, the London Telegraph reported, were the words: "Customer: Ministry of Defense of Syria. Supplier: KBP, Tula, Russia." Yet Russian officials dismiss such evidence as anti-Moscow propaganda. Lately, attention has been focused on the death of Ivan Safronov, military correspondent of Russia's Kommersant Daily, who "committed suicide" March 2 under suspicious circumstances. Mr. Safronov claimed to have indisputable evidence that Russia intended to sell modern Pantsir-S1 anti-aircraft systems, Inskander surface-to-air missiles and MiG-29 fighter-jets to Syria through Belarus. Then there are Moscow's efforts to court Hamas. Recently Russia hosted Hamas leader Khaled Meshal in Moscow for the second time within a year, even though Hamas expresses solidarity with Chechen Islamists, including suicide bombers, who are at war with Russia. Putin has said that Russia does not view Hezbollah and Hamas as terrorist organizations, a viewpoint that conflicts with the positions of the United States and the European Union. In addition, Moscow is using its economic might in ways that could undercut US interests. For example, Mr. Putin has publicly left the door open for a proposal by Iran's supreme leader, Ayatollah Ali Khamenei, to create an OPEC-style cartel for natural gas. While this is taking place, Russia has also become a center for loud, anti-Western propaganda that is increasingly popular in the Moslem world, with Mr. Putin's searing attack on the United States at a recent security forum in Munich a prominent example. In this context, what are we to make of Russia's current discord with Teheran, where Moscow is pressing the Islamic Republic to resolve its dispute with the International Atomic Energy Agency and stop enriching uranium? It may well be that Mr. Putin has concluded that Tehran has escalated the conflict with Washington too far and needs to be put in its place. He may also be responding to concerns from the Saudis and others about the dangers of a wider regional war, and reluctant to engage President Mahmoud Ahmadinejad's broader desire to wipe Israel off the map, which could lead to a Russian exchange with the US.
Iran Kidnaps Brits to 'Show' the World its Playing With Fire
March 26….(FOJ) Iran warned the world that the 15 British sailors and marines could face charges for allegedly entering Iranian waters and rejected British requests to meet with the servicemen detained off the coast of Iraq. Iranian Foreign Minister Manouchehr Mottaki threatened unspecified consequences for the Royal Navy crew in comments to reporters in New York on Sunday. He described the charge against them as "an illegal entrance into Iranian waters." British Prime Minister Tony Blair on Sunday called the detentions "unjustified and wrong," and insisted during a European Union meeting that Royal Navy crew was in Iraqi waters. "It is simply not true that they went into Iranian territorial waters, and I hope the Iranian government understands how fundamental an issue this is for us," he said. Iran is simply eIran warned that 15 British sailors and marines could face charges for allegedly entering Iranian waters and rejected British requests to meet with the servicemen detained off the coast of Iraq.Iran warned that 15 British sailors and marines could face charges for allegedly entering Iranian waters and rejected British requests to meet with the servicemen detained off the coast of Iraq.mploying a favorite and effective Muslim tactic by kidnapping the British seamen. It planned this escapade Friday as the United Nations Security Council was discussing imposing a slightly more stringent boycott on the rogue state. Iran, though its no military match for great western states like the US and England, still does not shy away from brandishing the weapons of terrorism and coercion to threaten its enemies. Senior Iranian officials admit that they pre-planned the kidnapping on March 18. Tehran is threatening to charge the captured crew for spying against the Islamic Republic, aka the ploy used against US Embassy personnel back in 1979. The plan is to use them as bargaining chips to get five Iranians arrested by US troops set free. Speaking in Berlin last night, Tony Blair said he still hoped that there could be a diplomatic solution. "I hope that this is resolved in the next few days," he said. "The quicker it is resolved, the easier it will be for all of us. "We have certainly sent the message back to them very clearly indeed. They should not be under any doubt at all about how seriously we regard this act, which is unjustified and wrong." The seizure of the 14 men and one woman by Iran was a "very serious situation", Mr. Blair added. He warned Teheran that it was a "fundamental" issue for Britain and insisted that the personnel had not strayed into Iranian waters. He also pointed out that this is a very serious situation.
Arab Governments Will Up Hamas-Palestinian Aid
| | |
| --- | --- |
| | (FOJ) A billboard showing Saudi King Abdullah bin Abd al-Aziz, right, and Crown Prince Sultan bin Abdul Aziz, and flags of Arab countries, is seen at a Square in downtown Riyadh, Saudi Arabia, in preparation for the upcoming Arab summit on March 28. At a donor's conference in Istanbul last week King Abdullah said he hoped the two-day summit in Riyadh would lead to solutions 'to help Iraq break out of the current cycle of violence.' Abdullah emphasized the need for assistance to the new PA Unity government. |
March 26….(AP) Arab governments hope to increase aid to the Palestinians, including channeling more money to the newly formed Palestinian unity government, according to a document prepared for this week's summit of Arab leaders. The proposal, expected to be endorsed by Arab leaders later this week, comes as Secretary of State Condoleezza Rice visits the region to seek common footing with Arab allies on how to revive the stalled Middle East peace process. Arab diplomats said the aid increase would be aimed at coaxing the militant Hamas movement toward more compromise and would give it equal billing with Western-backed moderates in the Palestinian coalition government. According to a draft resolution obtained by The Associated Press, Arabs would add some $150 million more in funding each year to the annual $750 million economic and financial package they have pledged to the Palestinians each year since 2001. Only part of the $750 million has actually gone to the Palestinians in any year, however, because many Arab governments have balked at their pledges. The leaders also are expected to renew a pledge made at last year's summit to provide some $55 million monthly to the Palestinian government. That money has so far been sent to the office of Palestinian President Mahmoud Abbas. Arab diplomats taking part in Sunday discussions, speaking on condition of anonymity because of the issue's sensitivity, said Arab leaders will decide whether the money should go to the government. Speaking to reporters Sunday, Saudi Foreign Minister Saudi al-Faisal confirmed the summit would extend the aid to the Palestinians but did not say whether the money would go directly to the government. Hamas, branded a terrorist group by the US and European Union, joined the more moderate Fatah party in a coalition government last week. Palestinian officials have expressed hope that the alliance would lead to an end of international sanctions imposed against the previous Hamas government. The diplomats said any Arab aid to the government would be channeled through the minister of finance, Salam Fayyad, an internationally respected economist and political independent. Fayyad, a former World Bank official, is leading Palestinian efforts to end international sanctions imposed a year ago when Hamas won an election and set up a government. Overall, international aid to the Palestinians grew from about $1 billion in 2005 to more than $1.2 billion in 2006, according to the UN.
WEEK OF MARCH 19 THROUGH MARCH 25
A Lesson From My Mom
March 23….(FOJ) Last year on January 19th 2006, my Mother suffered a severe heart attack. Thanks to God and to prayer, she has fully recovered and is still here today for my good pleasure. Come to think of it, we were all created for our Lord's good pleasure. But unfortunately, many people take no pleasure in satisfying the Lord. My Mother and my Father got married way back in 1950. She relates to me today that they have never regretted any of their days together. My parents favorite song when they were courting was a country song called, "Where you go I'll tag along", and that is about how it was, and still is today for them. Mom says, "Some day one of us will go on to Heaven, and the one left will tag along shortly after." She has left a teaching legacy to me, and a word of admonition. You better be prepared to "tag along" too one of these days.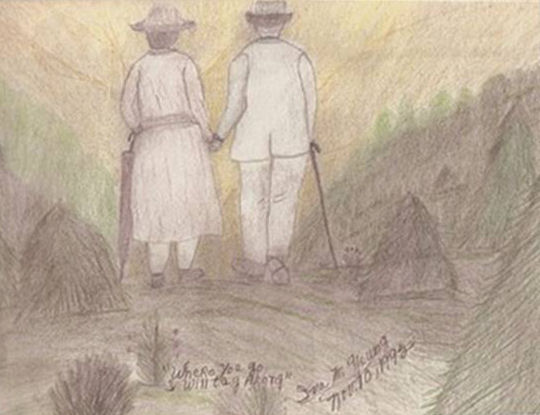 Mom's heart's desire is that her sons, and Grandkids will also tag along to Heaven, and we will all have a happy home again that will never end in a place where we will never grow old again, and will have eternity to enjoy together with Jesus. Everybody needs to be ready and prepared to take that "Final Flight" from this earthly life to a better home in Heaven. When this life's journey is concluded, and if Jesus should not come soon, we all need to be prepared to start a new beginning that will be happier than this one ever could be. We should all pray that our family circle will not be broken. The only right road is through Jesus, and that old Rugged Cross, where he paid for our sins, and made it possible for us to be in Heaven when he comes, or when we die. The pictures my Mom showed me and taught me from in our old family Bible paved the way for my home in Heaven, and instilled in me the zeal for watching for my Lord's return.
Iran's Capture of UK Sailors Response to Iranian Officers' Arrest'
March 24….(YNET) The decision to capture British sailors in the Persian Gulf was reached by the Iranian General Staff six days ago in response to the arrest of Iranian officers by US forces in Iraq, an Iranian military official said.
On Saturday the UK-based newspaper al-Sharq al-Awsat quoted the Iranian military source as saying that a plan to capture American or British coalition troops was formulated by the Islamic Republic's Supreme Security Council. The decision was reached after a report submitted to Iran's ground forces commander warned that information on the activities of the Revolutionary Guards and the "Al-Quds Force" in Iraq was being leaked to British and American intelligence agencies following the arrest of senior "Al-Quds Force" officers by US troops in northern Iraq. The kidnapping of Iran's Intelligence Ministry envoy in Baghdad and the disappearance of Iranian Colonel Amir Muhammad Shirazi in Turkey (according to Iranian estimations Shirazi was kidnapped by Americans) , also played a part in the decision to kidnap the British soldiers. Senior Revolutionary Guards officials suggested kidnapping US and British soldiers with the aim of eventually exchanging them in return for the captured Iranian officers. According to the military source, the Iranian General Staff initially asked to exhaust all the available diplomatic channels, adding that Iraqi Foreign Minister Hoshyar Zebari promised his Iranian counterpart that the officers would be released by the Iranian New Year, which was marked three days ago. However, in light of the failed diplomatic efforts, Revolutionary Guards' naval forces were ordered to carry out the initial plan and seize one of the British ships combating arms smuggling in the Persian Gulf. Meanwhile, the Fars news agency reported that the British navy personnel have been transferred to Tehran to explain their "aggressive action." "There were growing fears that the 15 British sailors and Royal Marines were victims of a deliberate ambush by Iran's Revolutionary Guards, perhaps seeking to use the captives as hostages in the increasingly tense stand-off between the West and Iran over its nuclear program," said The Times. "There is now what looks like a hostage crisis," wrote The Guardian. "These anti-smuggling patrols are relatively uncontentious, but they represent an opportunity for Iran to grasp.
Iran Says British Sailors 'Confess' to Illegal Entry
March 24….(CNN) Iran says the 15 British sailors and marines seized by Iran in the Persian Gulf have confessed to trespassing into Iranian territory, the semi-official FARS News Agency reported Saturday. But the British Ministry of Defense would not confirm the report.) The British government said its request to communicate with the detained troops has not been granted by Iran. Earlier Saturday, FARS reported that the sailors and marines were brought to Tehran to explain their "aggressive behavior.") The British Ministry of Defense said Friday the Iranian Revolutionary Guard Corps Navy surrounded and seized the marines while they were conducting a routine inspection on a merchant vessel. They were then "escorted by Iranian vessels into Iranian territorial waters." Iran's foreign ministry spokesman on Saturday condemned the British government for attempting to cover up its "blunder" and said it should stop "putting blame on others," according to IRNA, the state-run Iranian news agency. Hours after reports of the arrests surfaced, a flurry of diplomatic activity ensued. Britain announced it had called Iran's ambassador for a meeting and demanded the immediate release of the marines while Iran announced on state-run TV that it had asked Britain's representative to Tehran to explain why the personnel had crossed into Iranian territory. Iran waited until late Friday to release a statement. UK Foreign Secretary Margaret Beckett said Friday her office was making clear it expected the personnel to be released immediately, along with "a full explanation of what happened." The incident threatened to exacerbate the tension between Iran and much of the West on the eve of a UN Security Council vote to impose new sanctions on Iran. The world powers will meet Saturday to consider that next step in the dispute over Tehran's nuclear ambitions
High Alert at US and UK bases, Middle East Armies on the Ready
March 24….(DEBKA) Our military sources report that Middle East and Persian Gulf nations as well as the US and UK are bracing for further Iranian marine, air or terrorist operations in Iraq and other places in reprisal for the sanctions measure before the UN Security Council in New York. On the ready too are the Saudi armed forces and some Israeli air and naval units. According to Iranian sources the 15 British Royal navy seamen and marines which an Iranian warship seized with their commando craft Friday, March 23, have been taken to Tehran to explain their "aggressive action." London insists the UK marines routinely inspecting merchant vessels for smuggled goods were on the Iraqi side of the divided Shat al Arb waterway which flows into the Persian Gulf. Tehran accuses them of entering Iranian waters. DEBKAfile's military sources say the incident was but a pretext. According to incoming intelligence, Tehran plans to release a series of reprisals after sanctions are approved in New York Saturday evening, March 24. The Islamic Republic is also cautioning its Gulf neighbors Saudi Arabia, Qatar and the United Arab Emirates, whose foreign ministers meet visiting US secretary of state Condoleezza Rice in Assuan Saturday morning, not to cooperate with Washington's regional policies and to stay neutral in the US-Iran dispute. President Mahmoud Admadinejad's last-minute cancellation of his appearance before the Security Council is further indication that Tehran gave up on diplomatic maneuvers for pre-empting the sanctions resolution and, assuming their approval was not preventable, turned instead to ramping up military tensions. Thursday, DEBKAfile reported exclusively a rendezvous Wednesday between the French nuclear carrier Charles de Gaulle and its task force with the USS John C. Stennis in the Arabian Sea Wednesday for joint missions in the global war on terror. The next day, Iran launched a new naval war game in the Persian Gulf. Just before the British sailors were seized, UK commanders in Basra accused Iran of being behind 90% of the violence in S. Iraq and paying out $250 to anyone willing to attack British troops. Amid rising tensions in the strategic Gulf waters, DEBKAfile's military sources disclose the American-French rendezvous was timed to coincide with the UN Security Council session Wednesday to debate expanded sanctions against Iran for continuing its banned uranium enrichment program.
Iranian Warship Seizes British Seamen Inspecting Ship for Terrorists
March 23….(DEBKA) London is demanding the immediate release of the 15 British sailors and marines Iran took captive yesterday and has summoned the Iranian ambassador to the foreign office. The British Ministry of Defense claims Iranian vessels seized the British seamen on the Iraqi side of the waterway while they were searching merchant vessels for smuggled arms and terrorists in the Siban area near the al-Faw peninsula. An Iranian naval vessel then pulled alongside and detained them. The Shatt al-Arb which flows into the Persian Gulf is divided between Iran and Iraq. DEBKAfile reported exclusively Thursday that the French nuclear carrier Charles de Gaulle and its task force had rendezvoused with the USS John C. Stennis in the Arabian Sea Wednesday for joint missions in the global war on terror. The next day, Iran launched a new naval war game in the Persian Gulf. Just before the British sailors were seized, UK commanders in Basra accused Iran of being behind 90% of the violence in Southern Iraq and paying out $250 to anyone willing to attack British troops. Amid rising tensions in the strategic Gulf waters, DEBKAfile's military sources disclose the American-French rendezvous was timed to coincide with the UN Security Council session Wednesday to debate expanded sanctions against Iran for continuing its banned uranium enrichment program. The Iranians were bowled over by the appearance of the Charles de Gaulle opposite their southern coast, having assumed that Paris took issue with Washington's tough stand on their nuclear activities and was seeking improved relations with Tehran. However, Western military circles explain that French President Jacques Chirac has decided before he leaves office in May to repair the bad impression he left in early February when he urged the world, and Israel in particular, to learn to live with "an Iranian nuclear bomb or two." Rafale fighter-bombers on the French carrier's decks will fly missions over Afghanistan alongside US warplanes. Its arrival raises to four the number of Western aircraft carriers cruising within striking distance of Iran, including the USS Eisenhower and USS Boxer. The Charles de Gaulle is accompanied by French Task Force 473, which consists of five warships: the FNS Cassard guided missile destroyer, the FNS Tourville anti-submarine frigate, the FNS Dupleix destroyer adapted for escorting oil tankers and the FNS Marne, a command and supply vessel. In June 2004, six British marines and two sailors were seized by Iran in the Shatt al-Arab between Iran and Iraq. They were presented blindfolded on Iranian television and admitted entering Iranian waters illegally.
PA Deals New Blow to 'Hopes' for Peace
March 23….(JNEWSWIRE) Hopes of achieving peace between Arabs and Jews were dealt another, long-lasting blow this week. It happened even as European and American diplomats began meeting with members of the re-constituted, but still Hamas-led, Palestinian Authority (PA), hoping to re-start the stalled land-for-promises-of-peace process. Tens of thousands of "Palestinian" children were treated to a special television film broadcast from Al-Aqsa TV, a station run by Hamas. To moving music and heart-rending lyrics, powerful images impacted impressionable viewers throughout Gaza, Judea and Samaria, sowing young hearts with seeds that will one day see a bountiful harvest reaped among their people. The singer is a little Arab girl, four, perhaps five years old. Her dark eyes fixed on her mother, she follows her around the bedroom as she prepares to go out. Curiosity aroused, she wants to know what her mother is putting into the folds of her clothes, why she is donning her veil, where she is going. Palestinian Media Watch translates the words for us. ("Mommy, what are you carrying in your arms instead of me," the girl, whose name is Duha, wants to know. "A toy, or a present for me?" Without answering the mother tenderly puts Duha and her baby brother, Ubaydah, into their beds, then leaves the house. The children run to watch her from the window. "Come back quickly, Mommy," Duha calls, waving goodbye. Later the uncomprehending children see images of their mother on the television news. Their father rushes into the room to comfort them. Mommy has blown herself up at the crossing from Gaza "into" Israel. She has killed at least four Jews for the sake of Allah and Muhammed. Seven more have been wounded. Crying, Duha lies on her bed. Little Ubaydah strokes her, trying to comfort her. "Come back Mommy," Duha sings. We "are awake and waiting for you to come to put us to sleep. We still need you to wipe our tears.") The scene changes to show us what happened. Brave, beautiful Reem Riyashi walks towards the crossing. When Israeli soldiers stop her, she blows herself up. "Instead of me, you carried a bomb in your hands," the orphaned Duha cries, wondering why. Then, as the camera zooms in on the Dome of the Rock that straddles the Muslim-occupied Temple Mount, she finally understands. "Only now, I know what was more precious than us. May your steps be blessed, and may you be flawless for Jerusalem," she wails. "Me and Ubaydah wish we were there with you. Send greetings to our messenger [Mohammed], and tell him, 'Duha loves you.'" Ominously, the little girl vows that she will not restrict her love for Mohammed to merely "words." We watch as, in slow motion, she opens the drawer in her dead mother's bedside dresser, reaches in, and takes out explosives. "I am following Mommy in her steps," she sings bravely, her song ending as she turns to gaze steadily into the camera. "Oh my mother. Oh my mother." The video formed part of an ongoing program of indoctrination of young Palestinian Arabs carried out by the terrorist groups that govern them. It was screened to help feed the hatred of Jews that already saturates the hearts of untold numbers of young "Palestinians;" ensuring they grow up ready to kill fearlessly for Allah, as many of their heroes have done.
Europe Claims Israel Preparing for War

Bashar Assad
March 23….(WND) European officials have been proclaiming to Syrian leaders the past few weeks that Israel is preparing for a military confrontation with Damascus, in some cases providing Syria with inaccurate information, WND has learned. A top source in Syrian President Bashar Assad's Baath party told WND European leaders visiting Damascus in recent weeks delivered messages stating Israel was taking measures in advance of a large-scale conflict with Syria, including updating battle plans, training reservist soldiers and preparing the home front for missile attacks. One senior European Union official told Assad the Israeli government instructed its major hospitals not to allow staff to take vacation time during the summer months for fear a conflict will break out during that period, according to the Baath party source. Israeli security officials and spokesmen for several major Israeli hospitals denied the claim. The European officials advised Assad to engage in dialogue with the Jewish state and the US leading to a full Israeli withdrawal of the Golan Heights, the Baath official said. The Golan is strategic mountainous territory looking down on Israeli population centers twice used by Syria to mount ground invasions into Israel. Israel this week engaged in a nationwide drill, acting out responses to various wartime scenarios, including salvoes of chemical-tipped missiles and major terrorist attacks. It was the largest war drill held in Israel since its establishment in 1948. According to a report today in the London-based Al-Hayat daily, talks between Israel and France concerning Syria concluded Israel is not interested in weakening Assad, because it does not know whether his replacement would present superior diplomatic alternatives. Assad, who has signed a military alliance with Iran, is accused of supporting the insurgency against US troops in Iraq and funneling money and weapons to Hezbollah. Leaders of major Palestinian terror groups, including Hamas and Islamic Jihad, reside openly in Damascus. The European Union is pressing the US to alter its policy toward Syria to be more in line with recommendations made last December by the Iraq Study Group, which petitioned Washington to engage in dialogue with Damascus. A diplomat from Britain's Foreign Ministry touring Israel this week said the UK received signals Washington is ready to act on some of the Study Group recommendations. "America understands that Iraq cannot be solved unless Syria is engaged and Israel withdraws from the Golan Heights and the West Bank," the diplomat said, speaking on condition his name be withheld. The diplomat pointed to a visit to Syria last week by Ellen Sauerbrey, the US assistant secretary of state for population, refugees and migration, as a public gesture that Washington is willing to engage Damascus. Sauerbrey was the most senior US official to visit Syria since the US withdrew its ambassador following the 2005 assassination of former Lebanese Prime Minister Rafik Hariri, for which Syria was widely blamed. Syrian Deputy Foreign Minister Fayssal Mekdad told reporters following last week's meeting Damascus is ready to engage in "serious" dialogue with Washington on all Middle East issues. Also last week, EU Foreign Policy Chief Javier Solana told Syria he expected Israel to evacuate the entire Golan Heights as part of any future peace deal. Solana's remarks were blasted by Israeli Knesset members, who pointed out the EU chief did not call for Syria to stop supporting Hezbollah or providing refuge to the leadership of the Hamas and Islamic Jihad terror groups, who live openly in Damascus.
New Jewish Sanhedrin Plans a Passover Sacrifice
March 22….(Weekend) In a donated apartment concealed among the narrow streets of the Jerusalem suburb of Nahlaot, 13 Orthodox Jewish men meet every Tuesday to debate matters of Jewish law. They are the management team of a larger developing Sanhedrin, or religious court, in Israel. And they plan to sacrifice sheep on the Temple Mount on the day before or one month after Passover, which starts at sundown April 2. Either date is permissible under Jewish law. "If the government will not resist," said Rabbi Dov Stein, 68, a member of the group, "we will do it." As Easter eclipses the last days of Passover this year, Christians will focus again on the sacrifice and resurrection of Jesus. The Sanhedrin, meanwhile, will literally attempt to resurrect the Passover sacrifice of old.
Russia: US Using Cold War Tactics to Sell Missile Defense Shield
March 22….(Newsmax) Russia accused the United States on Wednesday of using Cold War methods to persuade Europe to host an anti-missile shield that Moscow says is a threat to its national security. Foreign Minister Sergei Lavrov said Washington had failed to respect its European partners by devising the scheme unilaterally and then attempting to impose it. "This is an old approach," Lavrov told the Russian State Duma (parliament) in televised remarks. "This is how the US acted in past times, during the Cold War, when they scared everyone with the Soviet threat and persuaded everybody to group together in a disciplined block". Washington plans to install warning radars and missile batteries in Poland and the Czech Republic as part of a scheme designed to counter future long-range rocket attacks by hostile states such as Iran or North Korea. Moscow has strongly attacked the plan, saying Iran does not possess long-range missiles and charges that the shield threatens Russia's security instead. It has pledged to develop counter-measures. President Vladimir Putin says the missile shield exemplifies a unilateralist approach by the United States to global security, a policy he says has made the world a more dangerous place. Amid worsening relations with the United States and attempts to project its own power beyond its borders, Moscow has called instead for greater multilateral cooperation to deal with emerging global threats. Lavrov said Russian military experts wanted to discuss the shield with the Americans to persuade them that "so far hypothetical threats can be neutralized using other methods that would not pose a tangible threat to the Russian Federation".
Israel Does Not Want to Weaken Syrian President Assad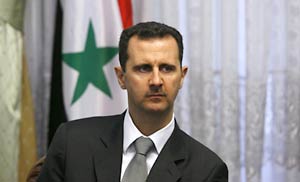 March 22….(Ha Aretz) Israel is not interested in weakening Syrian President Bashar Assad because it does not know whether his replacement would present superior diplomatic alternatives, French sources were quoted as saying in a report published Thursday by the London-based Al-Hayat daily. The sources were also quoted as saying that Israel perceives Assad as weak, but is not interested in confronting Syria, out of fear that intervention would alter the political situation there. According to the report, Israeli and French officials have carried out assessments recently of the situation in Syria and Lebanon. The sources said that Israel has complained to France that Hezbollah is rehabilitating its forces with the blessing of the Lebanese government. The French sources also stated that there are differing opinions amongst international authorities on the issue of Syria, adding that as the US withdraws further away from Assad, Israel remains more interested in letting him remain in power, at least for the near future.
France Urged Israel to Invade Syria Last Year
March 22….(JNEWSWIRE) During last summer's Lebanon war, France reportedly urged Israel to do everyone a favor and rid the region of the Assad regime in Damascus. According to an unnamed Israeli official who spoke to Army Radio, France assumed that Syria had encouraged Hizb'allah to start the cross-border conflict, and offered to lend Israel its full support if Jerusalem decided to assault the regime of Bashar al-Assad. France has had increasingly strained ties with Syria after leading a UN effort two years ago to end a decades-old Syrian occupation of Lebanon. Paris has also been at the forefront of the investigation into the assassination of former Lebanese Prime Minister Rafik Hariri. Syria is the primary suspect.
Bolton: US Backed Israel's Bid to Eliminate Hizbullah
March 22….(Jerusalem Post) The United States resisted calls for an early cease-fire in last summer's Israel-Lebanon war in order to give Israel time to defeat Hizbullah, the former US ambassador to the United Nations said. The demand for an immediate cease-fire, backed by much of the international community but ignored for weeks by the United States and Britain, had been "dangerous and misguided," John Bolton said in a British Broadcasting Corp. interview aired Thursday. Bolton agreed with the assertion that the US had given Israel free reign in its fight against Lebanon's Hizbullah guerrillas. "What was wrong with that?" Bolton said. "They had been attacked, they were responding. The fact was that Israel was subject to a military threat from Hizbullah on a continuous basis. "Hizbullah had committed an act of aggression and Israel was reacting in its own self-defense. And if reacting in its own self defense meant the defeat of the enemy, then that was perfectly legitimate, under international law and frankly under good politics." Bolton, who stepped down from his UN post in December, said he was "damned proud of what we did." The former ambassador, who has a reputation as a blunt-spoken hawk, is writing a book about his days at the UN titled "Surrender is Not an Option."
Israel-Jordan Tensions Flare over King's Covert Support for hard-line Hamas Leader Khaled Meshaal
March 22….(DEBKA) Israeli officials and army chiefs were taken aback by an intelligence report summing up two years of research, which exposed Jordan's King Abdullah, Israel's partner in peace and the war on terror, as being secretly in league with the Damascus-based radical Khaled Meshaal. A high-placed Israeli source commented: "All these years Israel was guided by the knowledge that Meshaal was sponsored by Damascus and more recently by Tehran. We now learn that the entire Hamas leadership also enjoyed the patronage of the Hashemite court in Amman. It has been a real shock." It also catches Israel in a diplomatic crisis with both its Arab peace partners a week before the Arab summit in Riyadh. The Jordanian-Hamas connection came to light during Israel's information-gathering on the stages leading up to the formation of the Palestinian Fatah-Hamas government. The rancor spilled out into acerbic exchanges between Jerusalem and Amman. March 16, Prime Minister Ehud Olmert said a precipitate US withdrawal from Iraq would jeopardize and may even bring down the regime in Amman. The King riposted that Olmert had better to deal with the shaky situation of his own government than with Jordanian affairs. The dispute casts a long shadow on Israel-Jordanian collaboration in the war on Islamist terror, DEBKAfile's counter-terror reports. US president's security coordinator Lt. Gen. Keith Dayton, joined by the British and Canadians, is organizing a Jordanian-Palestinian military force to prop up Mahmoud Abbas and his Fatah in relation to Hamas. Tuesday, March 20, the American general reported to Congress in Washington that Hamas commands a well-trained army which is bigger and equipped by Iran with superior weaponry to Abbas' security forces. This was the first time an American military officer has made such an assessment of relative Fatah-Hamas strength. The compilers of the Israeli intelligence report question the consistency of Jordan on the one hand contributing to a military force supposed to bolster Palestinian moderates while at the same time backing Hamas. They also ask, according to DEBKAfile's sources, if Jordan can be relied on to select non-Hamas members for the Palestinian unit designed to offset Hamas' military strength. The ties between the royal house and Hamas, according to Israeli intelligence researchers, have always been managed by Muslim Brotherhood leaders close to the throne.
US Concerned by Continued Russian arms sales to Iran, Syria
| | |
| --- | --- |
| | Russian President Vladimir Putin (R) shakes hands with Iran's top nuclear negotiator Ali Larijani as an unidentified official watches in the presidential residence, the Novo-Ogaryovo, outside Moscow November 11, 2006. The United States expressed concern on Wednesday about Russia's arms sales to Iran, Syria and Venezuela and accused Moscow of bullying its neighbors, and threatening US allies. |
March 22….(AP) The United States expressed concern on Wednesday about Russia's arms sales to Iran, Syria and Venezuela and accused Moscow of bullying its neighbors. Speaking in Brussels before talks with EU officials, US Assistant Secretary of State David Kramer welcomed Russian cooperation on issues such as counter-terrorism and the nuclear crises with Iran and North Korea and Middle East tensions. But he also highlighted what Washington saw as negative aspects of Russian policy complicating post-Cold War relations. "We have areas on which we disagree and those issues include the internal situation in Russia, some aggressive pressure policies against neighboring states," he told a news briefing. "We have serious concerns about Russian arms sales to states we feel are countries that they should not be engaging, such as Iran, such as Syria and also, Venezuela as well." However he said there had been no significant change in the US-Russia relations since Russian President Vladimir Putin accused the United States last month of seeking to impose its will on the world with dangerous policies. "None of us wants to see a return to Cold War, we have been through one and that was enough," he said. "Our hope is to move forward with Russia in a way that we may pursue common interests." Kramer also said Washington hoped for positive developments in strained relations between Russia and new EU states like Poland that were once Soviet satellites. "The challenge for the entire EU is to try to figure out a path and direction to improve relations to advance everyone's interests," he said. Concerns about Russia's internal policies ranged from concentration of power and pressures on the media, political opponents and non-governmental organizations. Kramer said the United States was not trying to impose its values on Russia but did seek to encourage democratic progress.
Rice to Palestinians: End Incitement Against Israel
March 22….(FOJ) US Secretary of State Condoleezza Rice said Wednesday that the US is discussing with the Palestinians the need to end incitement against Israel in schools and print maps that include the State of Israel.
Rice Concedes US Possibly Funding Terrorism
(Can't guarantee funds to Palestinians won't reach 'the wrong hands')
March 22….(WND) Secretary of State Condoleezza Rice today admitted she cannot guarantee US funding for security forces associated with Palestinian Authority President Mahmoud Abbas' Fatah organization would not reach "the wrong hands." Rice said she would reduce a funding request for Fatah forces following concerns last month expressed by key lawmakers that some of the money would be used for terror-related purposes. The Bush administration in January pledged $86.4 million to strengthen the Fatah forces, including Force 17, Abbas' security detail, which also serves as de facto police units in the Gaza Strip and West Bank. At the time, Abu Yousuf, a Fatah militant from Abba's Force 17 security forces, told WND while US funds and weapons being transferred to his group would be utilized to "hit the Zionists." Last month, Congress placed a hold on the $86 million transfer pending a clarification from Rice as to where exactly the money would end up. During a hearing today before the House of Representatives Appropriations subcommittee, Rice said she would make a new request for less money. She conceded, "It will request less money, precisely because some of the money that I would have requested I did not think I could fully account for." She did not say how much money would be cut from the original request. "I hope that is a sign for you that we take very seriously our responsibilities," she said. "I have no interest in having to come here one day and say, 'you know this funding did not end up in the right place.' I will do my very best," she told the committee. While the aid is being temporarily blocked, it wasn't immediately clear if US weapons would continue to be transferred to Fatah. The US has been regularly shipping convoys of weapons to Fatah security forces in Gaza and the West Bank. WND reported the US in February transferred 7,000 assault rifles and more than 1 million rounds of ammunition to Fatah militias. According to Palestinian officials, no US weapons have been transferred since last week's unity government was forged. The last confirmed American arms shipment to Fatah took place in May. At first, the shipment, consisting of 3,000 rifles, was denied by the US and Israel, but Olmert in June admitted the transfer took place, telling reporters, "I needed to approve the shipment to help bolster Abbas." Fatah's Abu Yousuf told WND if there is a major conflict with Israel, US weapons provided to Fatah may be shared with other "Palestinian resistance organizations." He admitted previous American arms supplied to Fatah were used in "resistance operations" against the Jewish state. "If Israel will deliver what it promised to Abu Mazen (Abbas), [meaning a] withdrawal from Palestinian lands, including east Jerusalem and the Temple Mount, remove all the checkpoints in the West Bank, release our prisoners and find a clear solution for our refugees, we'll control our forces and the distribution of weapons. "But if Israel doesn't deliver, and we find ourselves manipulated by Israel, we cannot guarantee members of the Al Aqsa Martyrs Brigades and Force 17 will not use these weapons against Israel. "It's unnatural to think these American weapons won't be used against the Israelis," he said.
US Revises Aid Package to Palestinian Government
| | |
| --- | --- |
| | US Secretary of State Condoleezza Rice spoke during a press conference with German Foreign Affairs Minister Frank-Walter Steinmeier in the capacity of the EU Presidency, EU foreign policy supreme Javier Solana (R) and EU Commissioner for External Relations Benita Ferrero-Waldner at the US State Department in Washington today. US and EU officials met with members of the new Palestinian unity government as world powers mulled how to deal with a cabinet led by the Islamist Hamas terrorist organization |
March 21….(AP) The Bush Administration will reduce by nearly half a proposed $86 million security assistance package to the Palestinian government to see that none of the money ends up with forces loyal to the radical Hamas movement. As she prepares to visit the Middle East later this week, Secretary of State Condoleezza Rice said today that she would soon send Congress a revised package that will fund only security elements loyal to moderate Palestinian President Mahmoud Abbas. She did not provide specifics, but a senior US official said the cut would amount to about $36 million, leaving only $50 million of the original package. "I have reformulated the plan," Rice told lawmakers. "It will request less money, precisely because some of the money I would have requested I could not fully account for." Rice said the revisions would strengthen a "firewall" to keep money away from Hamas, a partner in the new Palestinian unity government established last weekend. Some in Congress have questioned the funding plan, saying money could end up with Hamas, which controls most of the Palestinian government but is considered a terrorist organization by the United States, European countries and Israel. Testifying before a House subcommittee that controls foreign aid, Secretary Rice defended the assistance but said the inclusion of Hamas in the government posed a challenge because of its refusal to recognize Israel and reject violence to achieve its aims. "Frankly, the formation of the Palestinian unity government has provided something of a challenge," she said. "The United States is not prepared to change its assistance policies toward this government because it does not recognize those foundational principles." Rice said the US remained committed to peace and would carry on contacts with Mahmoud Abbas, also known as Abu Mazen, and other moderates in his administration. "I think it is extremely important to show American commitment to a political horizon so that the Palestinian people can see their future rests with moderate forces like Abu Mazen, not with those forces that are extreme," Rice said. Rice used the phrase "political horizon" to refer to the long-range goal of creating a Palestinian state that would coexist with Israel. "We will not suspend our contacts with those in the Palestinian government who have a record of fighting for peace," she said. (FOJ Note: Where oh where are the Palestinian elements fighting for peace?) Israel has said it will not deal with the government and Tuesday's meeting was seen by many as a sign of a rift between Washington and its top Midieast ally.
Russia Nixes 'Excessive' Iran Sanctions
(Russia also denies it is interrupting nuclear fuel deliveries to Iran)
March 21….(AP) Russia's foreign minister said Wednesday that it will not support "excessive" sanctions against its economic partner Iran, as the UN Security Council drew closer to a vote on a new, harsher set of measures intended to push Tehran to freeze its nuclear program. Ambassadors from the 15 Security Council nations held informal discussions at Britain's UN Mission in New York on Tuesday ahead of a meeting Wednesday afternoon to discuss possible changes to the draft resolution. Germany and the five veto-wielding permanent council nations, the United States, Russia, China, Britain and France, agreed on the modest package of new sanctions Thursday to step up pressure on Iran to suspend uranium enrichment, which can be used to produce nuclear energy or nuclear weapons. Russian Foreign Minister Sergey Lavrov said Wednesday that Moscow "will not support excessive sanctions against Iran," and added that the draft resolution has been softened at Moscow's behest. The proposed new sanctions in the draft resolution would ban Iranian arms exports and freeze the assets of 28 additional individuals and organizations involved in the country's nuclear and missile programs, about a third linked to Iran's Revolutionary Guard, an elite military corps. The package also calls for voluntary restrictions on travel by the individuals subject to sanctions, on arms sales to Iran, and on new financial assistance or loans to the Iranian government. Lavrov also denied allegations that Moscow has told Iran it would not deliver nuclear fuel for the Russian-built Bushehr nuclear plant unless Tehran complies with the U.N. demands. "There is no link whatsoever between the UN resolution, and the implementation of the Bushehr project," Lavrov told lawmakers in the lower parliament house. European and US officials who spoke on condition of anonymity because of the sensitivity of the talks said Tuesday that Moscow had bluntly told Tehran it would not ship fuel for Bushehr until Tehran freezes its uranium enrichment program, as demanded by the UN Security Council. Lavrov dismissed the claims as an "unscrupulous trick." "It's not the first time that we are seeing such an unscrupulous approach aimed at driving a wedge between us and Iran," he said. Russia has said fuel for Bushehr would not be supplied this month, as had been planned earlier, because of alleged Iranian payment delays that prompted Moscow to indefinitely postpone the Bushehr reactor's launch, which had been set for September. Russian officials also said that the number of workers at Bushehr had dwindled due to the funding shortage. Iran angrily denied falling behind in payments and accused Russia of caving in to US pressure to take a tougher line on Tehran. But, apparently, Russia and Iran are still cooperating to complete the Bushehr project.
Conflict With Iran Inevitable, Ya'alon Says
(Former IDF chief of staff criticizes West's weakness, preventing it from handling Iranian regime)
March 20….(YNET) "The question of who won the war in Lebanon has yet to be determined," former Chief of Staff Moshe Ya'alon said at a lecture in Tel Aviv Tuesday. He stated that conflict with the Iranian regime was inevitable. "The Western world is avoiding it because it is weak and that is only bringing it closer." He said that Iran had declared war on the West and its culture. "In the last war we fought their agent." He added that this battle is also against such organizations as el-Qaeda and could take decades and will have many secondary wars. Ya'alon described the battle as being fought on many fronts simultaneously: "In Lebanon between Hizbullah and the Christians and Druze; in the Palestinian Authority, the fight between Hamas and the other factions; in Iran, the fundamentalist regime against the majority of the population that would gladly forsake the ayatollah regime but has not yet been able to translate that into political power." Ya'alon agrees that "we can and should talk about the weakening in Israel's deterrence," because of the war in Lebanon. He said it was a direct result from creating very high expectations during the fighting, probably due to the successes of the very first days. The objectives were impossible to achieve and more moderate goals should have been set, for example aim to lessen Hizbullah's potency in the Lebanese internal scene. We missed the opportunity to end the war so it would better suit our political goals. Today's wars have different character: "It is the endurance of Israeli society that is put to test and it is no longer the IDF, our military might, on the front line." Ya'alon criticized the "Palestinian culture of death" that is bringing about self destruction. "I think that standing by the Palestinian Authority in the last few years was clearly non-ethical. As long as Palestinian school books educate for death instead of life, and fail to mention Israel, we must continue fighting," he concluded.
Oregon Biology Teacher Fired Over Bible References
March 20….(Fox News) During his eight days as a part-time high school biology teacher, Kris Helphinstine included Biblical references in material he provided to students and gave a PowerPoint presentation that made links between evolution, Nazi Germany and Planned Parenthood. That was enough for the Sisters School Board, which fired the teacher Monday night for deviating from the curriculum on the theory of evolution. "I think his performance was not just a little bit over the line," board member Jeff Smith said. "It was a severe contradiction of what we trust teachers to do in our classrooms." Helphinstine, 27, said in a phone interview with The Bulletin newspaper of Bend that he included the supplemental material to teach students about bias in sources, and his only agenda was to teach critical thinking. "Critical thinking is vital to scientific inquiry," said Helphinstine, who has a master's degree in science from Oregon State. "My whole purpose was to give accurate information and to get them thinking." Helphinstine said he did not teach the idea that God created the world. "I never taught creationism," he said. "I know what it is, and I went out of my way not to teach it." Parent John Rahm told the newspaper that he became concerned when his freshman daughter said she was confused by the supplemental material provided by Helphinstine. "He took passages that had all kinds of Biblical references," Rahm said. "It prevented her from learning what she needed to learn." Board members met with Helphinstine privately for about 90 minutes before the meeting. The teacher did not stay for the public portion. "How many minds did he pollute?" Dan Harrison, the father of a student in Helphinstine's class, said at the meeting. "It's a thinly veiled attempt to hide his own agenda."
FOJ Note: Amazing is it not, that people readily accept false theories over absolute truth. The Father in Oregon was worried about his daughter having her mind polluted by the teaching of Creationism, and yet it is the truth. Natural man is at enmity with the Creator, and would prefer to have his mind polluted with absolute garbage rather than to be enlightened with the knowledge and wisdom of an almighty God. By sequestering his daughter away from the "real truth" the Oregon parent is opening his daughter up for more pollution.
Clinton and Obama: The Immoralists
March 20….(excerpt from Mychal Massie) It took none other than the liberal presidential candidates, Hillary Clinton, D-NY, and Barack Obama, D-Illinois, to definitively conclude that the Bible is wrong and that they are more enlightened than the authors of same, after all, they're progressive, educated politicians in a contest for the presidency of United States; the authors of Scripture were only ignorant men, guided by, and filled with, the Holy Spirit of God. Hillary Clinton told Bloomberg News that she "does not think homosexuality is immoral." I digress to say she has an interesting perspective on immorality. She obviously didn't think serial adultery, groping, alleged rape, lying to a grand jury, supplying missile technology to the Chinese (that now allows their weapons to reach our shores) and her husband using every means necessary to protect himself while putting the nation at risk was immoral, either. Obama released a statement saying, "I do not agree that homosexuality is immoral." Here again, we have an interesting perspective on immorality, this time from someone who claims to be a churchman. What is of note is that both Clinton and Obama did their best to sidestep taking a position on the comments made by Gen. Peter Pace, chairman of the Joint Chiefs of Staff, when he stated that homosexual behavior is "immoral." It was not until they were criticized in a not so veiled admonishing by the executive director of a homosexual group that they openly stated what many already knew, they confessed, in effect, that they were immoralists. If Hillary and Obama claim can claim to be a Christian, yet willfully disobeys the precepts that Christians are to adhere to, how can he be trusted to obey and faithfully uphold the Constitution of the United States? If they were ordinary citizens, their moral opprobrium's could be overlooked, but they are not. They seek the highest office in the land, they seek to lead America and represent her people. Ergo, they must be held to a higher standard. However, it is how quickly these liberals dance to the tune of homosexual and abortion groups that should give all cause for concern. Leaders are to be resolute, with clarity of purpose and objective. They are called upon to make difficult decisions and then stand by them. Leaders are not to be the stringed marionettes of those who would subvert the traditions and values of the majority of this great country.
US Decries New Palestinian Government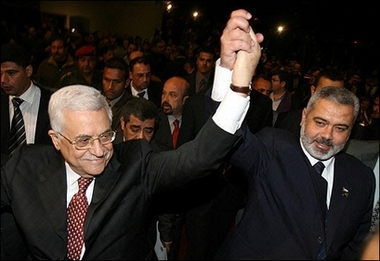 March 19….(AP) The Bush administration found little good to say today about a Palestinian coalition government that falls short of Western demands and complicates US plans to revive long-stalled Israeli-Palestinian peace talks. US State Department spokesman Sean McCormack said part of the platform announced Saturday is disturbing, and he called Palestinian Prime Minister Ismail Haniyeh's introductory speech disappointing. Islamic Hamas militants will govern alongside a secular, Western-backed Palestinian president whose standing seemed to be weakened by terms of the government announced Saturday. The terms do not fully satisfy requirements imposed by international donors and would-be peacemakers that Palestinian leaders renounce violence, accept Israel's right to exist and abide by previous agreements the Palestinians made with Israel and others. The blended government is a marriage of convenience meant to end a Western aid boycott in place since shortly after the militants won a surprise victory in legislative elections last year. But although its platform and makeup are more moderate than the hardline Hamas would draw on its own, it contains an implicit endorsement of terrorism. "The reference to 'right of resistance' is disturbing and contradicts directly the quartet principle of renunciation of violence," McCormack said, referring to the international peacemaking coalition of the United States, United Nations, European Union and Russia. A rollout speech that Haniyeh delivered to the Palestinian Legislative Council "was disappointing and inconsistent with the quartet principles, as well as a missed opportunity" to affirm the new government's commitment to peace, McCormack said. Israeli officials went further, saying the platform "thumbs its nose" at the international demands. "This is a great disappointment and a severe blow to peace," said Sallai Meridor, Israel's ambassador in Washington. "Not only does this government call for continued terror attacks against Israel, it arms the extremists with veto power over any future agreements, with the intention of slamming the door on future prospects for peace." The announcement frustrates US hopes for a clean slate with the Palestinians after more than a year of uncertainty and delay since the Hamas election, but preserves the status quo for contact with Palestinian officials. McCormack said the United States will continue to deal with Palestinian President Mahmoud Abbas, who has pledged to seek peace with Israel, and will continue to refuse dealings with Hamas officials. Abbas, a supposed moderate, focused on conciliatory language, asserting that the Palestinian people "reject violence in all its forms" and seek a comprehensive "peace of freedom and equality" that would be based on negotiations. The alliance preserves Abbas' role as negotiator for any future deals, even as its platform allows for a popular referendum that would presumably be carried out under rules approved by Hamas.
Israel's Ballistic-Missile Defense and WMD
March 19….(Washington Times) To defend against Iranian missiles fitted with nuclear warheads, Israel continues to advance the Arrow. In fact, recent test results of this enduring anti-ballistic missile program have been very strong. It would seem, therefore, that Israel's pertinent military technologies remain up to the growing existential challenge. It also seems that the mutual benefits of continuing strategic cooperation between Washington and Jerusalem remain incontestable. But the multiple security threats facing Israel are enormously complex. Jerusalem must soon decide if it can depend upon some combination of deterrence and active defense, or whether it must now also prepare for certain defensive first strikes against selected hard targets in Iran. On its face, Israel's pre-emption option should now be less critical. "The Arrow's success proves that Israel is prepared to deal with a nuclear missile attack," Col. Moshe Petael, head of the Israeli Defense Ministry's Homa Missile Defense Agency, said on Feb. 12. He made this statement only one day after the Israel Air Force had successfully tested the Arrow for the 15th time in its first nighttime exercise against a missile mocking Iran's Shehab-3. If the Arrow were truly efficient in its expected reliability of intercept, even an irrational Iranian adversary armed with nuclear and/or biological weapons could be controlled. If Israel's nuclear deterrent were ignored by an enemy state willing to risk a massive "counter-city" Israeli retaliation, that country's first-strike aggression could still be stopped by the Arrow. Speaking about the same recent Arrow test as Col. Petael, Likud Knesset member Yuval Steinitz commented on Feb. 12: "The test yesterday was exceptional. It proved that the Arrow can bring down any kind of ballistic missile, a capability no power in the world possesses." Ballistic missile defense cannot be appraised simply as "reliable" or "unreliable." No missile-defense system, however successful in testing, can ever be "leak-proof." Whether or not leakage would be tolerable will depend upon the precise kinds of incoming enemy missile warheads. "Even if Iran or Syria were to develop more sophisticated missiles than they now have," said Mr. Steinitz, "Israel is one step ahead." Perhaps. But the Arrow's test successes might not be replicated in real-world Israeli confrontations with more advanced enemy missiles. In evaluating its disappearing pre-emption option vis-a-vis Iran, Israeli planners will need to calculate the Arrow's expected leakage rate. In principle, a small number of enemy missiles penetrating Arrow defenses might still be "tolerable." But if the incoming warheads were nuclear and/or biological, no rate of leakage could be acceptable. A fully zero leakage rate would be necessary to adequately protect Israel against nuclear and/or biological warheads, and such a rate is unattainable. There is another serious problem with placing too great a reliance on ballistic missile defense. Iran would not necessarily have to deliver its nuclear bomb via Shehab-3 or other missile. Instead, it could simply enlist its various proxies in the Middle East, especially Hezbollah. Using a ship or car to explode a nuclear device, such a surrogate operation would leave no identifiable Iranian signature. This means that Israel cannot depend upon the Arrow to fully defend against any future WMD attack from Iran, and that even a very capable defensive system would not obviate Israel's pre-emption option. To be deterred, a rational enemy will always need to calculate that Israel's second-strike forces are substantially invulnerable. This enemy will now require many more missiles for an assuredly destructive first strike against Israel than would be the case without Arrow. Israel's anti-missile defense, therefore, will compel a rational adversary to delay any intended first-strike missile attack until that enemy country can deploy a more robust nuclear and/or biological missile force. This is partially good news. But Israel still faces a number of state enemies whose undisguised preparations for attacking the Jewish state are literally genocidal, and who may not always be rational. Nowhere is it written that Israel must now simply sit back passively and respond only after a nuclear and/or biological attack has already been absorbed. Israel has the very same right granted to all states to act pre-emptively when facing an existential assault. Known formally as "anticipatory self-defense," this right is affirmed in general international law, and in the Sept. 20, 2002, American policy codification, the National Security Strategy of the United States of America. To be sure, even though there are also proxy terror threats to consider, Israel must continue to develop, test and implement a ballistic-missile interception capability. Simultaneously, it must prepare for certain possible pre-emptions and to enhance the credibility of its nuclear deterrent. To deter WMD aggressions, Israel must deploy a recognizable second-strike force, sufficiently hardened, dispersed and able to inflict a decisive retaliatory salvo against enemy cities. Israel needs to coordinate its preparations for pre-emption and deterrence. Together with the United States, Israel exists in the crosshairs of a determined jihad that is profoundly theological and will not conform to rules of international law. Under no circumstances can Israel and the United States afford to allow this seventh-century view of the world to be combined with 21st-century weapons of mass destruction.

Palestinian PM Says New Cabinet Backs 'Resistance' (Terrorism)
March 19….(Newsmax) Palestinian lawmakers prepared to endorse a new unity cabinet on Saturday after Prime Minister Ismail Haniyeh of the Islamist Hamas movement declared that it would uphold the right to "all forms" of resistance to Israel. Haniyeh's defiant note contrasted with a conciliatory speech by President Mahmoud Abbas of the rival secular Fatah faction, who stressed the search for peace and urged the world to end a crippling year-old boycott of the Palestinian government. Israel ruled out dealing with the Fatah-Hamas coalition, citing Hamas's refusal to accept demands, set by a Quartet of foreign peace mediators a year ago, that it forswear violence, recognize the Jewish state and accept past interim peace deals. "We're not going to work with this government," said Israeli Prime Minister Ehud Olmert's spokeswoman Miri Eisin. "This government does not recognize our existence, it does not recognize the treaties, and most important, does not in any way renounce terror," she said, seizing on Haniyeh's remarks. But with international anxiety mounting over the diplomatic impasse, factional violence and deepening Palestinian poverty, there have been signs of Western flexibility on talking to non-Hamas members of the new cabinet. "This national unity wedding has received an Arab and international welcome, which we hope will be transformed into practical steps to end the siege," Abbas told lawmakers. Abbas, who heads the Palestine Liberation Organization, again endorsed an Arab offer of full peace with Israel if it quits all the land it occupied in the 1967 Middle East war. But Haniyeh, who signed a power-sharing deal with Fatah leader Abbas last month, struck an uncompromising tone. "The government affirms that resistance in all its forms, including popular resistance to occupation, is a legitimate right of the Palestinian people," he said. The coalition's future may hang on whether it can erode the foreign boycott of the aid-dependent Palestinian Authority, which has been unable to pay its employees in full for a year. The Quartet, the United States, the European Union, Russia and the United Nations, suspended direct aid to the government after Hamas beat Fatah in elections and took power last March. The United States is expected to continue its boycott,
Netanyahu Issues Call to World From Jerusalem Conference
March 19….(Arutz) Binyamin Netanyahu, speaking at the 4th Annual Jerusalem Conference Monday morning, repeated his call for the world to prove that now is not like the 1930s and that the world knows how to respond this time. "Historic tragedies occur when leaders do not foresee dangers, and the opposite is true: Great things happened when leaders foresaw and took advantage of opportunities," he said. "Today we have both. The great threat of the spread of militant Islam around the world, and the opportunity of globalization, which can bring a great blessing to mankind and especially to small countries like us, if we are smart enough to take advantage of this opportunity. Ten years ago, after I was elected PM and I went to speak before both houses of Congress. I recently looked up my speech and I saw that I said the same things, the dangers of Iran arming with nuclear power and its becoming a menace to humanity. I can't say I was successful in convincing many people: I tried to convince Clinton and Yeltsin and the President of China, but they just didn't see the dangers. "A few months ago, I said that it is now 1938 and Iran is Germany. I was told that things are different now, and that the world now has a different approach. So I say: 'Great, if it's different, let's see how it's different!' The difference is not that then it was a 'race superiority' issue and now it's a 'religious superiority' issue - that's not the point. The only difference is that Hitler first tried to conquer the world and only afterwards was going to try for atomic power, while now, Ahmadinajad is trying first for nuclear power and only then will he try to conquer the world! That's the whole difference! This is a tidal wave that threatens to engulf first Israel, and then the rest of the world. They are talking openly about a new Reich - except that they call it a Khalifate; that's what they want to establish in the world. But for this to happen, they need a cataclysmic event to bring it on, and they are working on that. "The question is what have we learned from 1939? If, as everyone says, we didn't act in time to stop Hitler, so let's see if they act in time now! The way to do this is first by exerting economic pressure on Iran, to which it is very vulnerable. They have 20% unemployment, and we can take advantage of this in order to cause a destabilization of the government. Of course, we must also enact sanctions against the 400 companies that do business with Iran, among them some very big ones such as the French oil company Total. We need a world coalition against genocide! This is what I tell the world: If we're not in the 30s now, then let's prove it! Sanctions against Iran are a good idea for a few months or a year, let's see if they work, but not longer than that! Iran must not be allowed to obtain nuclear power! "There is a simple principle that governs negotiations with our neighbors, as we have learned ever since 1993 [the signing of the Oslo Accords –ed.]. We thought that we had to demand Arab acceptance and an erasure of their desire to destroy us. Yet then came the actual talks, and we found ourselves making concessions, including some very painful ones, and all without receiving our basic demand of an erasure of their intention to destroy us. They have not abandoned this plan! So what we have learned is that this cannot be part of the negotiations; it must be made clear that this cannot be negotiated, whether in the form of our very existence, or in the form of a demand for the "right of return" and the deluge of millions of Arabs, which can destroy us in the same way! If they don't understand that at the outset, they cannot be our partners for negotiations! It's very nice that our government is happy that the Mecca Agreement doesn't demand the right of return right now at - what time is it? 11:05? - right now. But what about a bit later on?"
WEEK OF MARCH 12 THROUGH MARCH 18
Christian Replacement Theology Groups Gather to Protest Iraq War in DC
March 17….(World Watch) Organizers expected up to 30,000 Iraq war protesters to descend upon Washington, DC, Saturday, three days ahead of the four-year anniversary of the US-led invasion of Iraq and a day after more than 200 protesters were arrested outside the White House. Anti-war activists were planning to march from the Viet Nam Veterans Memorial across to the Potomic River to the Pentagon; smaller demonstrations are planned in cities across the country. Thousands of anti-war activist Christians prayed for peace at an anti-war service Friday night at the Washington National Cathedral, kicking off a weekend of protests around the country to mark the fourth anniversary of the war in Iraq. Afterward, participants marched with battery-operated faux candles through snow and wind toward the White House, where police began arresting protesters shortly before midnight. Protest guidelines require demonstrators to continue moving while on the White House sidewalk. "We gave them three warnings, and they broke the guidelines," said Lt. Scott Fear. "There's an area on the White House sidewalk where you have to keep moving." About 100 people crossed the street from Lafayette Park, where thousands of protesters were gathered, to demonstrate on the White House sidewalk late Friday. Police began cuffing them and putting them on buses to be taken for processing. (sounds real Christian-like, does it not?) Fear said 222 people had been arrested by Saturday morning. The first 100 were charged with disobeying a lawful order, and the others with crossing a police line. "A lot of the rhetoric that we hear coming from Christians has been dominated by the religious right and has been strong advocacy for the war," one replacement theology spokesman said. "That's just not the way I read my Gospel." The ecumenical coalition that organized the event, Christian Peace Witness for Iraq, distributed 3,200 tickets for the service in the cathedral, with two smaller churches hosting overflow crowds. The cathedral appeared to be packed, although sleet and snow prevented some from attending. "This war, from a Christian point of view, is morally wrong, and was from the beginning," the Rev. Jim Wallis, founder of Sojourners/Call to Renewal, one of the event's sponsors, said toward the end of the service to cheers and applause. "This war is an offense against God." In his speech, the Rev. Raphael G. Warnock, senior pastor at Atlanta's Ebenezer Baptist Church, lashed out at Congress for being "too morally inept to intervene" to stop the war, but even more harshly against President Bush. "Mr. Bush, my Christian brother, we do need a surge in troops. We need a surge in the nonviolent army of the Lord," he said. "We need a surge in conscience and a surge in activism and a surge in truth-telling." The Friday night events marked the beginning of what is planned as a weekend of protests ahead of Tuesday's anniversary of the US-led invasion, which began on March 20, 2003.
Christian America Must Arise Against the Destruction of our Nation
March 16….(Bill Wilson/KIN) America is being attacked on so many fronts that only its citizens with strident and aggressive action can save the nation from being destroyed. The American way of life, steeped with its roots in Christianity and proclaimed as "One Nation Under God," is in grave and immediate danger, yet its citizenry lays dormant, seemingly in a drunken stupor or deep slumber unawares. Not even the religious leadership seems capable of rallying all good Christians to come to the aid of their nation because many pulpits across the country do not preach Godly words, but instead are drenched in the stench of tolerance, common ground, and ungodly love for abominations and misguided rights. At every corner, America's values are attacked by the homosexual minions whose only way of survival is indoctrination of the young. Americans have allowed, even welcomed in the name of tolerance, the brainwashing of our children that homosexuality is normal and moral. When in reality, it is the seedling of pedophilia, AIDS, pornography and death. American children are killed by the millions before they even have an opportunity to exercise their right to life as the founding documents of America declare were endowed by the Creator. Abortion rights have been allowed by the Christian citizens of this country to trump the right of life, liberty and the pursuit of happiness. And that anti-Christ world system once known as Communism has been regenerated into a "common ground" movement in the United States that seeks to destroy the country from within using the goodness of Christian hearts. Communism is the root under the strangling vines of today's movement where the church abdicates is responsibilities to governments by demanding they eliminate poverty, and protect the environment from fears of unproven myths such as global warming. Communism is the foundation of finding common ground with the enemies of Christianity to work together for the common good, accepting that all have differing views. This is the immoral company that dilutes the word of God and defiles the generations. Indeed, the US government is waning on its Constitutional duties to protect and defend the United States. Plans such as the Security and Prosperity Partnership, as complimented by the North America Superior Corridor Coalition (NASCO) and the support of the Council on Foreign Relations, are moving forward to make the United States, Mexico and Canada a North American Union with common security and common borders. Immigration reform proposals that include amnesty for illegal aliens, current social security benefits for illegals, and plans by major banks to give them credit cards all threaten the sovereignty and security of the United States. Yet many Christian organizations and pastors are supporting such efforts, citing Biblical principles of being kind and welcoming to strangers. America claims to be some 90% Christian, yet this nation is being destroyed from within by the tolerance of its citizens. In Ezekiel 22:30 the Lord says, "So I sought for a man among them who would make a wall, and stand in the gap before Me on behalf of the land, that I should not destroy it; but I found no one." Christian Americans must repent from their wicked ways and heed the words of Christ in Matthew 5:13, "You are the salt of the earth; but if the salt loses its flavor, how shall it be seasoned? It is then good for nothing but to be thrown out and trampled underfoot by men." Are you the light of the world? Or will you be trampled by those who seek to use distorted values to destroy this land? If not us, who? If not now, when?
PA: Israel Must Recognize Us if it Wants Peace
(Palestinian Authority information minister-designate, Dr Mustafa Barghouti, warned against an Israeli boycott of the new PA unity government. 'Today's Palestinian government is not only a Hamas government, but the government of all the Palestinian people,' he said, adding that if Israel wants peace, it must recognize the new PA.)
March 16….(YNET) If Israel boycotts the Palestinian unity government, this means it is interested in continuing the occupation and is not interested in peace," Palestinian information minister-designate, Dr Mustafa Barghouti, told Ynet on Friday. Israel's stance is wrong. The new Palestinian government is not only a Hamas government, but the government of all the Palestinian people. The unity government represents the choice of 90 percent of Palestinian voters," he explained. "Israel's problem is that it is a colonialist state, but we refuse to be a people living under occupation and under a colonialist regime. The refugee problem should be solved in an appropriate manner, while taking into account the rights and dignity of the refugees," Barghouti said. The designated minister said that Israel was making a big mistake if it thought the pressures it was exerting would cause the Palestinians to concede their rights. "If Israel wants peace, it must recognize the new government and must agree to a removal of the siege imposed on the PA. Lifting the siege is an Israeli interest," he added. Barghouti noted that the new government had four main objectives: "We must put an end to the internal battles and impose order and security, work to lift the economic and diplomatic siege imposed on the PA, implement a comprehensive reform in all areas of government and life in order to better serve the Palestinian public, and unite all the forces in the Palestinian people in order to work together to put an end to the occupation.
In Accordance With PA Platform, Fatah Fires Rockets at Israel
March 16….(Arutz) On the very same day that Mahmoud Abbas's Fatah group signed onto a joint platform with Hamas, Fatah's Al Aksa Brigades group fired five Kassam rockets toward Israeli towns in the western Negev. Abbas's Al Aksa Brigades Fatah terror group said the five rockets it launched Thursday were aimed at Ashkelon, Sderot and the resettled community of Elei Sinai, whose residents were expelled by the government from northern Gaza almost two years ago. The new Unity Government platform agreement apparently seems to commit Fatah to respecting the right to use terrorism against Israel rather than the commitment by Hamas to eschew terror hoped for by the so-called Quartet of nations. "Our people have the right to defend themselves before any Israeli aggression," the platform reads. The platform also says that such rocket attacks will be launched until the conditions of surrender outlined here are met:
"The right of return of Palestinian refugees"
"Ending all forms of occupation in the Palestinian territories, including removing the racist wall, settlements and stopping the Judaization of Jerusalem."
* Concerning the Gaza ceasefire, which has been broken more than 150 times by Arab terrorists since it was announced in late November: It will be maintained "in return for Israel's cessation of its occupation measures, such as assassinations, arrests, incursions, house demolition, clearing of lands, excavation in Jerusalem and the lifting of checkpoints and reopening of crossing points, the ending of travel restrictions and the release of prisoners".
Israeli Minister of Strategic Affairs Avigdor Lieberman called the new political platform of the Palestinian Authority a declaration of war Thursday night. Lieberman said that the goal of the new PA leadership is clearly the destruction of Israel and that Israel is now obliged to cut off ties with PA chief and Fatah chairman Mahmoud Abbas. "The PA is now clearly run by Hamas," he said, "and Abbas is trying to get international approval for Hamas terrorism." MK Zevulun Orlev (National Union /NRP) said that the platform shows a united Arab decision to continue with terrorism until Israel is destroyed. MK Silvan Shalom (Likud) said the new joint control of the PA is a ploy to obtain international acceptance and blamed the Olmert government for failing to maintain an international boycott of the PA. The United States is withholding judgment on the new Hamas-Fatah unity government "until its policies become clearer," according to State Department Spokesman Sean McCormack. He said the US would continue to work with Abbas, regardless of the decision. White House spokesman Tony Snow reiterated that the Bush administration will only recognize the new PA government if it recognizes Israel, renounces violence and accepts existing agreements. Meanwhile, schools nationwide held drills on Thursday to practice for an enemy rocket attack. Students practiced running into bomb shelters and remaining calm. The exercise gave teachers a chance to check preparedness, both of the students and of the bomb shelters. While school would be cancelled in case of a nationwide attack, the exercise prepared students and teachers for the time between the beginning of an attack and the cancellation of classes. During the war with Hizbullah last summer, students in many schools and universities were caught off guard by rocket fire, and did not know where to find shelter.
Clinton, Obama: Homosexuality is Not Immoral
March 16….(Newsday) (America's Joint Chiefs General Pace remarked earlier this week that homosexuality in the military is immoral, and was an immoral act similar to adultery. The firestorm from the General's comments has caused a stir amongst presidential campaigns. It necessitated the following responses from Hillary Clinton and Barack Obama) Homosexuality is not immoral, Hillary Rodham Clinton and Barack Obama said Thursday, after gay and lesbian Democrats pressured them to denounce Gen. Peter Pace's claim that same-sex relationships were wrong. Over the previous 48 hours, Clinton and Obama had dodged reporters who asked them point-blank if homosexuality was immoral. Instead, both emphasized their opposition to the military's "don't ask, don't tell" policy. Both campaigns also dispatched spokesmen to say they disagreed with General Pace's remarks, but that wasn't good enough for gay rights activists faced with Democratic front-runners who refused to endorse the morality of their lifestyles. On Thursday, the campaigns were bombarded with calls from supporters and officials at the Human Rights Campaign, a leading gay and lesbian political group. By mid-afternoon, both candidates had issued unequivocal denunciations of General Pace's position. "I have heard from many of my friends in the gay community that my response yesterday to a question about homosexuality being immoral sounded evasive," Clinton said in a mea culpa posted on her Senate Web site. "Homosexuality is not immoral. ... That is what I believe."
Obama released a statement saying, "I do not agree with General Pace that homosexuality is immoral. Attempts to divide people like this have consumed too much of our politics over the past six years."
FOJ Note: Any Christian American voters that are considering voting for either one of these candidates, (or any others Democrat or Republican, that openly suggest homosexuality is moral) since they legitimize the sin of homosexuality are violating a fundamental teaching of God and his law. God is not mocked, and furthermore, a nation that mocks God will be judged. The sin of homosexuality is a serious cancer on our nation's body. Homosexuals can receive God's loving forgiveness through repentance, but a nation that condones this sin as a "new morality" will be turned into Hell.
Al-Qaida No. 3 Planned 9/11 to Highlight "War of Victims"
March 15….(FOJ) Khalid Sheikh Mohammed confirmed his place in history as al-Qaida's most ambitious operational terrorist planner when he confessed in a US military tribunal to planning and supporting 31 terrorist attacks, topped by the 9/11 attack on America that killed thousands of innocent victims. "I was responsible for the 9/11 operation from A to Z," Mohammed said in a statement read Saturday during a Combatant Status Review Tribunal at the US detention facility at Guantanamo Bay, Cuba. In his first public statements since his capture, his radical Islamic ideology and hatred came through. He expressed mild regret for taking the lives of children, and said Islam doesn't give a "green light" to killing, except in exceptions. "The language of the war is victims," he said. The bloodier the attacks, and the more public, the more power we can have, Mohammed said.
Russia Having Second Thoughts on Nuclear Aid to Iran
March 15….(Ha Aretz) The crisis between Russia and Iran regarding the construction of the Iranian nuclear plant at Bushehr worsened this week, as the state-owned Russian company building the reactor announced Monday that the plant would not be launched in September and nuclear fuel will not be delivered to the station this month as earlier planned, due the unpaid bills. Further more, Atomstroiexport warned Wednesday that "If the Iranian side doesn't resume funding for the project, the process could become irretrievable," adding that it was having difficulties trying to appease subcontractors who had demanded urgent payments. The company's statement emphasized that as soon as Iran resumes making payments, the nuclear fuel will be delivered. However, American and Israeli experts who are following the developments in Iran believe that there is more to the Russian announcement than a financial dispute, and say it is essentially a strategic decision by Russia that represents a changing diplomatic stance. For the past five years, Russia has used various excuses to delay the transfer of low-level enriched uranium to the Bushehr plant. Russia comes up with new technical reasons and explanations for every delay in the fuel transfer and the reactor's construction. This week, Sergei Kiriyenko, Russia's deputy prime minister and the head of its atomic energy agency, said the delay is "not a political step." But there are growing signs that Russia is having second thoughts about its assistance to Iran's nuclear program. During Prime Minister Ehud Olmert's meeting with Russian President Vladimir Putin in Moscow several months ago, Putin admitted during a conversation with the prime minister that there are divisions in the Russian government regarding Iran's true intentions and whether Russia should continue with its assistance. Statements made by US spokesmen also hinted at the change in the Russian position. Twice in the past two weeks have official administration spokesmen praised Russia's stance and the fact that it is delaying the completion of the Bushehr nuclear reactor. On Wednesday, US Deputy Energy Secretary Clay Sell told reporters in Moscow that "the actions taken by the Russian government ... are consistent with our common interests and common concerns as to what's going on in Iran." This assessment is accepted by experts in Israel Defense Forces Military Intelligence and the Foreign Ministry, but is disputed by Mossad researchers, who continue to view Russia as helping Iran gain nuclear technology and know-how. It also appears that Russia no longer presents an obstacle to attempts to approve further United Nations sanctions against Iran, this time including restrictions on trade with the country.
UN Security Council Agrees in Principal to Iran Nuke Sanctions
March 15….(Fox News) A proposed new package of sanctions against Iran for enriching uranium appeared headed to the UN Security Council after ambassadors for six world powers resolved remaining differences. The six-nation show of unity would be unlikely to meet strong opposition from the other 10 members on the council, which must approve the measures. A vote was expected in the days to come. "We have an agreement in principle based on some additional changes that were introduced and presented today by some delegations," acting US Ambassador Alejandro Wolff said Wednesday. He said the new elements still needed to be approved by government officials in the five countries that hold permanent council seats, the US, Russia, China, France and Britain. But he and other envoys expressed confidence the package would be presented to the council on Thursday with support from those governments and the sixth nation involved in the negotiations, Germany. Iranian President Mahmoud Ahmadinejad on Wednesday warned the West that it would deepen the rift with his country by imposing more UN sanctions. "You are wrong if you think you can sit and draft, something in order to isolate the Iranian nation," Ahmadinejad said in a speech to several thousand people in the Iranian city of Yazd. "Not only are you unable to hurt Iran, but you would further isolate yourselves and make yourselves more hated," he added. Iranian President Mahmoud Ahmadinejad said on Thursday a United Nations Security Council resolution could not stop the Islamic state from obtaining nuclear technology, the official IRNA news agency reported. "What is the aim of issuing such resolutions? Today we are mastering the nuclear fuel cycle completely," Ahmadinejad said in a speech at a rally in central Iran. "If all of you (Westerners) get together and call your ancestors from hell as well, you will not be able to stop the Iranian nation."
PA Unity Government Established
(Abbas-Haniyeh accord demonstrates Palestinian unity in favor of continued terror, pursuit of Hamas' goal to destroy Israel)
| | |
| --- | --- |
| | (FOJ) Why are these two men smiling so gleefully? They have just agreed to a power sharing scheme. The common thread that allows them to share power is their desire to destroy Israel. That is why they have are gleaming. |
March 15….(YNET) Palestinian Prime Minister Ismail Haniyeh gave President Mahmoud Abbas an agreed list of ministers in a new unity government on Thursday after weeks of haggling in a move designed to end bloody factional violence. Haniyeh told reporters the government list would be submitted to parliament for a confidence vote on Saturday. "I handed the president the names of brothers, ministers of the unity government and he thankfully accepted it," Haniyeh said in a joint news conference with Abbas. "We hope that this government will launch a new dawn for the Palestinian people." The platform of the Palestinian unity government reflects Palestinian unity about the continuation of terror attacks and the implementation of Hamas' platform for the destruction of Israel," said Knesset Member Zevulun Orlev (National Union-National Religious Party) on Thursday. The platform also states that the Palestinian Authority government is committed to the right of return for Palestinian refugees. Israeli Foreign Ministry spokesman Mark Regev said Israel would not be able to cooperate with the new Palestinian government as it did not meet the Quartet conditions by failing to renounce terror and recognize past agreements signed with Israel. "We hope the international community will stick to its principles and refuse to cooperate with a government saying no to peace and reconciliation," Regev added 'Israel will not deal with the Palestinian unity government'
While the terrorist rivals Hamas and Fatah formed a long-elusive Palestinian Authority unity government, hoping to lead the Palestinians out of international isolation, they were immediately rebuffed by Israel which said it would not deal with the new coalition. A draft of the coalition platform posted on Hamas and Fatah Web sites calls for continued observance of a truce with Israel but falls short of Israeli, US and European requirements that the new government recognize Israel, renounce violence and accept previous peace deals. The platform includes only a vague pledge to "respect" past peace deals, falling short of explicit recognition of Israel. It also affirms the Palestinians' right to resist and "defend themselves against any Israeli aggression." Israeli Foreign Ministry spokesman Mark Regev said the program falls short of requirements. "Unfortunately the new Palestinian government seems to have said no to the three benchmarks of the international community," he said. "Accordingly, Israel will not deal with this new government and we hope the international community will stand firmly by its own principles and refuse to deal with a government that says no to peace and no to reconciliation." As Palestinian Authority Prime Minister Ismail Haniyeh presented the list of ministers in his new cabinet to PA Chairman Mahmoud Abbas, thus concluding the formation of the new Hamas-Fatah coalition, Knesset members expressed reactions ranging from virulent opposition to enthusiastic praise. Likud MK Yisrael Katz came out harshly against the unity deal and called on Prime Minister Ehud Olmert to sever all contact with Abbas, since the new government's platform calls to continue the armed struggle against Israel. In Katz's words, it has once again been proven that Abbas and Hamas are one unit, at least as far as the struggle against Israel is concerned. According to a description of the unity government's platform on two Hamas Web sites, "The government confirms that the resistance is a legitimate right for the Palestinian people, halting resistance depends on ending the occupation and achieving freedom and [the right of] return and independence." Katz declared that this was essentially a call to obliterate the State of Israel. MK Zevulun Orlev (NU-NRP) seconded this sentiment, saying that "this government's unity is a unity based on continued terror and the Hamas objective of destroying Israel." However, Meretz Chairman MK Yossi Beilin, however, was optimistic. "The new unity government, based on the Saudi initiative, is a welcome invitation to embark once again upon the peace process. Hopefully, they will be able to create a secure and solid partner for Israel," he said
Hagee: Giant of Christian Zionism Has Awakened
March 15….(JNEWSWIRE) American evangelical leader John Hagee took a powerful message of support for Israel to the American Israel Public Affairs Committee's 2007 policy conference in Washington DC earlier this week. "I want to say this as clearly and as plainly as I can possibly say it," he emphasized, his booming voice filling the auditorium. "Israel you are not alone. There are 50 million Christians standing up and applauding the State of Israel." Hagee, pastor of the 18,000 member Cornerstone Church in San Antonio, Texas, and founder of the newly-formed national organization Christians United for Israel (CUFI), repeatedly triggered standing ovations from the crowd. "It's a new day in America," he cried. "The sleeping giant of Christian Zionism has awakened. Millions of Christians across America consider the Jewish people the apple of God's eye; the chosen people; a cherished people." These Christians, standing with America's five million Jews on behalf of Israel, had powerful potential to shape the future and were "a match made in heaven." Hagee said CUFI was spreading quickly across the United States, its goal being to ensure "that Congress knows that the matter of Israel is no longer just a Jewish issue. "It is a Christian-Jewish issue from this day forward." Speaking to the megalomanic rantings and actions of Iranian leader Mahmoud Ahmadinejad, Hagee said it was imperative that "we must stop Iran's nuclear threat and stop it now. "The only way to win a nuclear war," he stressed, "is to make certain it never starts." As far as Israel and the nations were concerned, the only real truth pertaining to them was to be found in the pages of the Bible, in which God warned that He would bless those who bless Israel and curse him who curses Israel. Those threatened judgments, Hagee said, are "very real." "Where are the nations that have persecuted the Jewish people," he asked, listing Pharaoh and his army, the Babylonians, the Greeks, the Romans, the Ottomon Empire and "that goose-stepping lunatic Adolf Hitler and his Nazi hordes?" All were "historic footnotes in the bone yard of human history." As for Israel and the Jewish people, "they are alive and well. They are thriving. They are prospering. They are growing. Even in the day of adversity they are still going forward." "Israel lives," Hagee proclaimed, his voice rising and his hand stabbing the air in front of him. "Shout it from the housetop: Israel lives! Let every Islamic terrorist group hear it: Israel lives! Let every tin horn dictator in the Middle East hear it; Israel lives! Let it be heard in the halls of the UN: Israel lives! Let it echo down the marble halls of the presidential palace in Iran: Israel lives! Let it ring in the terrorist camps of Osama bin Laden: Israel lives! Israel Lives! Israel lives!" Answering the often-asked question of why Christians support Israel, Hagee said it was because Christians believe that they owe "a debt of gratitude" to the Jewish people. "You gave us the Word of God. You gave us the Patriarchs, Abraham, Isaac and Jacob. You gave us the prophets. [You gave us ] the first family of Christianity Mary, Joseph, and Jesus; the Apostles. "If you take away the Jewish contribution from Christianity there would be no Christianity," he continued. "Judaism does not need Christianity to explain its existence. But Christianity cannot explain its existence without Judaism." Hagee "humbly ask[ed] forgiveness of the Jewish people, for the deafening silence of Christianity in your greatest hour of need, during the Holocaust. "We were not there. We cannot change the past. But together we can shape the future," he said. Ending his message, the Texan declared: "Let the word go forth from Washington DC tonight: There is a new beginning in America between Christians and Jews. "We pledge to God and to the Jewish people to fulfill the words of the prophet Isaiah: 'For Zion's sake I will not hold my peace and for Jerusalem's sake I will not rest. You who make mention of the Lord do not keep silent and give the LORD no rest until He makes Jerusalem the praise of all the earth.'"
New PA Government Will Not Recognize Israel
March 15….(Arutz) The Palestinian Authority has a new government, one that doesn't recognize Israel nor renounce terrorism, and which Shabak chief terms as a "ticking time-bomb." The new unity government, which must be approved in the PA legislature on Saturday, is the 11th PA government since the establishment of the Palestinian Authority in 1993. The new government does not fulfill the Quartet's three demands, and therefore Israel will not cooperate with it. The Quartet has demanded that the PA, led by Hamas, recognize Israel and the existing Israeli-PA agreements, and give up terrorism. Hamas officials also said that the new government's platform "supports continued fighting against Israel until the right of return of millions of Arabs who left Israel in 1948 is achieved." General Security Service chief Yuval Diskin told the Knesset Foreign Affairs and Defense Committee this week that the relationship between Hamas and Fatah is "a ticking time bomb, despite the power-sharing arrangement there. Both sides see the period of calm as a chance for strengthening and getting organized in order to revive their movement's various institutions and militias, which creates an arms race between the parties." MK Zevulun Orlev (National Religious Party) said that the new PA unity government "reflects unity in the Palestinian goal of continued terrorism and implementation of the Hamas platform of destroying Israel."
Hamas TV: Disengagement Key to Israel's Destruction
March 15….(Arutz) Hamas-controlled television is broadcasting a statement by the group's late leader Ahmed Yassin several times a day saying Israel's withdrawal from Gaza is the key to the destruction of the entire Jewish state. The Islamist terror group, which has ruled the Palestinian Authority since it overcame the Fatah group in parliamentary elections a year ago, has launched the Al Aksa Satellite TV channel. "Al Aqsa Satellite TV broadcasts numerous political messages during its daily programming," reads a report by Palestinian Media Watch (PMW), which monitors and translates PA broadcasts. "The message that has been repeating most frequently this month is a statement made by Ahmed Yassin, founder and former head of Hamas, who was killed by Israel." Yassin's statement was made in 2005, in response to Ariel Sharon's announcement of an Israeli withdrawal from Gaza: "Sharon said yesterday that 'Nezarim [Israeli town in Gaza Strip] is [like] Tel Aviv.' Today he says: 'The day is near when we will leave Gaza.' That's it, it's lost, Tel Aviv is gone. They are defeated, they have no words left." Continuing his prediction of where the Disengagement would lead, Yassin said: "When this process will end, they will become a state with no ability, helpless. They established a state to protect the Jews from death and murder. If death and murder chase them in Tel Aviv, Jerusalem, Netanya and everywhere among them, then they will say: 'What am I doing here? I founded a state to protect me from death, and if death chases me, I want to flee and go back to Europe and America.'" PMW says the video clip is shown multiple times daily. "The frequency that this has been playing on Hamas TV, for example, seven times on March 12th alone, indicates how important this political message is to Hamas," PMW Director Itamar Marcus says. "Fatah and Hamas have been competing for years in taking credit for the terror that they say forced the government of Ariel Sharon to decide to leave Israeli towns in the Gaza Strip."
Arab Nations Charge Israel Doesn't Want Peace
March 14….(Arutz) Arab nations have expressed outrage over Israeli contentions that their 2002 Arab League peace plan, known as the Saudi Arabian plan, enquires changes in order to work for both sides, and charge that Israel doesn't want peace. The 5-year-old Arab initiative was recently dragged out of mothballs for re-examination in light of the Palestinian Authority failures to make headway on creating peace on its own, neither with Israel nor internally between its own terrorist factions. Foreign Minister Tzipi Livni said last week that there were elements of the plan that needed to be changed, a comment that evoked the ire of Syria, Egypt and Saudi Arabia.
(Arabs Say Saudi Plan is Best Offer --'Take It or Leave It')
Saudi Arabia has taken a "take it or leave it" stance on the 2002 Arab peace plan authored by Saudi King Abdullah. That view has been backed by other Arab leaders who will meet late this month at the Arab League summit in Riyadh. The 5-year-old peace plan is expected to be a main focus of the discussions. Saudi Foreign Affairs Minister Saud Al-Faisal said, in response to comments by Israeli officials that some of the language of the proposal was "problematic," that there was nothing to talk about. "We have no desire to negotiate over this," he said. "They accept the resolution and then they talk about putting preconditions that should be accepted before negotiations or discussions or even the acceptance of the proposal. This is not a good way to do business." Egyptian President Hosni Mubarak joined in the chorus. A spokesman for the Egyptian leader told reporters after a meeting with Syrian Vice President Farouk al-Sharaa that Israel "cannot pick and choose from the initiative and then jump into establishing normal relations with Arabs." Mubarak's spokesman rejected Israel's insistence that some of the plan's elements were unacceptable. "The Arab plan requires full withdrawal for full peace," he said. Foreign Minister Livni, responding to the attacks in New York, said that Israel had never accepted the plan in toto, and that it was always said to be a matter for negotiations. "To the best of my understanding," she said, "peace initiatives are not yes-or-no affairs or package deals, they must be negotiated."
Arab Peace Plans Have One Goal - to Destroy Israel
Historian and Middle East expert Prof. Moshe Sharon of Hebrew University told Arutz-7's Hebrew newsmagazine today, "We must understand that the goal of all Arab peace initiatives is the same, the liquidation of the State of Israel. There is no Arab initiative that is not Islamic in essence. As far as the Arabs are concerned, Israel is a reversal of Allah's promise that Islam can and must rule over the entire world, and this reversal must be corrected. The State of Israel is not led by wise leaders who understand this." Syria too has expressed support for Saudi Arabia's stance that its 2002 Arab peace plan cannot be amended or changed in any way. "We have the Arab peace plan and we are committed to it as a whole," said Syrian Vice President Farouk al-Shara. "Talk about amending it is baseless." Al-Shara bluntly told reporters Tuesday, after his talks Mubarak, "What we want is returning all the occupied land including Jerusalem." Jordan's King Abdullah II also warned Tuesday evening that violence and Islamic extremism is likely to return to the region if Israel does not come to the negotiating table.
Israel-PA Talks Less Than Promising
Talks between Prime Minister Ehud Olmert and Palestinian Authority Chairman Mahmoud Abbas, which were revived in December 2006, have been less than promising, as expected. Both the US and Israel have remained firm that the Hamas-led PA government must meet the criteria of the four-member Quartet of nations, comprised of the US, Russia, the United Nations and European Union, official recognition of the State of Israel, renunciation of terrorism and fulfillment of agreements signed by previous PA governments. Hamas has repeatedly refused to comply with those demands, which the international community has set as a precondition for serious negotiations. Despite weeks of peace process groundwork by Rice, who met for weeks with Arab leaders and Quartet representatives, there was little accomplished other than Israeli concessions to the Hamas-led PA government. These included relaxation of travel restrictions on PA Arabs in Judea and Samaria, removal of a number of security checkpoints, and the transfer of $100 million in tax monies, collected by Israel on behalf of the PA, to Abbas's office. Moreover, Reuters reported yesterday that Hamas terrorists received most of those funds. At their meeting this week, Olmert demanded that Abbas provide an accounting of how the tax funds were spent; Abbas was unable to do so.
EU Backs Returning Golan Heights to Syria
March 14….(AP) Europe supports Syria's plans to get back the Golan Heights, EU Foreign Policy Chief Javier Solana said on Wednesday following a meeting with Syrian President Bashar Assad. Solana said at a press conference that "we are interested in working for your country to return to itself the territories that were captured in the 1967 war." In what was the first high-level visit by an EU official to Syria in more than two years, Solana met with Syrian Foreign Minister Walid Moallem and Vice President Farouk al-Sharaa earlier Wednesday morning and discussed the Lebanese crisis. Syria, through its state-run press, welcomed Solana's visit as a good move "after a long absence." Solana came to Syria as the final stop of a three-nation attempt to mediate an end to the crisis in Lebanon, where the Hizbullah-led opposition has staged three months of mass protests in a bid to topple the government. In Lebanon on Monday, where he began his mediating, Solana said he hoped his trip to Damascus would help spur an improvement in relations between the EU and Syria, but he added that Syrian policies had to change. "In order to resume the relationship, we have to have a frank and sincere discussion about things that can change, and we have to see how the behavior of our friends in Syria may change," Solana said. He did not elaborate, but EU member states have criticized Syria for its role in Lebanon, where it is seen as undermining the government of Prime Minister Fuad Saniora and is suspected of involvement in the 2005 assassination of former Prime Minister Rafik Hariri. European governments also fault Syria for being the major patron of Hizbullah, whose abduction of two IDF soldiers last July sparked a 34-day war with the Jewish state, and for hosting Palestinian terrorists opposed to the peace process. "Solana's visit to Damascus is a big and important step on the road to repairing two years' of damage in Arab-EU relations," said the official Syrian newspaper Tishrin said in an editorial Wednesday. "Syria is receiving Solana with a lot of openness and a readiness to hear what he has to say as an EU envoy." Syria is a frontline state in the conflict with Israel and has been waiting for nearly 40 years to regain the strategic Golan Heights it lost in 1967. President Bashar al-Assad succeeded his father, Hafez, in 2000 but has not stayed the course as the liberal reformer of western hopes. Long influential in Lebanon, Syria was forced to withdraw its forces in 2005 after the Hariri assassination, and has been facing down pressure over the incident ever since. The US has refused to remove Syria from its list of states sponsoring terrorism because of its links to Hizbullah in Lebanon and the Palestinian Hamas and Islamic Jihad, which Damascus insists are resistance movements.
Olmert Stands To Lose Job over Hezbollah War in New Elections
March 14….(Israel Insider) Israel's ruling Kadima Party met in an emergency session to discuss mounting fears that early elections may be coming as a result of the failures in the Lebanon war. Feverish speculation mounted in Israel on Wednesday that a report into the failures of last year's Lebanon war could lead to the ouster of Prime Minister Ehud Olmert and force snap elections. The high-level commission appointed by Olmert to deflect public anger over the war said on Tuesday that its interim report will assess his personal responsibility, and that of defence minister Amir Peretz and the army chief who has already resigned. Its partial findings may not be due out until April and its conclusions yet to be written, but newspapers claim Olmert's Kadima party was already preparing for his possible resignation as opposition leaders united to demand snap polls. Olmert, whose coalition government has been in power less than a year, has been significantly weakened by the conflict with Shi'ite militia Hezbollah that failed to secure its security. Former prime minister and Likud chairperson Benjamin Netanyahu said recently he had been in contact with Kadima MPs who were thinking about returning to Likud, just over a year after they left the veteran right-wing party to form Kadima. Although Olmert enjoys the support of 78 MPs, Netanyahu would need backing from at least 61 MPs in the 120-member parliament to form a government amid stepped up calls from across the political spectrum for Olmert to go. "He should vacate the most important post in the country. The state of Israel cannot afford to have a paralysed prime minister," the chairperson of the centre-left Meretz party, Yossi Beilin, told Yediot Aharonot. wo main war aims, and spiralling corruption allegations.
Israel, US Storm Out of UN's Nuclear Forum
March 14….(YNET) The Israel and US delegations walked out of the United Nations' disarmament forum in Geneva, Switzerland yesterday after Iran said Israel was the "real source of nuclear danger in the Middle East" and had a "dark record of crimes." Iranian Foreign Minister Manouchehr Mottaki told the Conference on Disarmament that Israel's nuclear weapons posed a "uniquely grave threat to regional and international peace and security" requiring action by the international community. In a statement, Israel's ambassador Itzhak Levanon to the UN in Geneva said that he and his aides, and the entire US delegation had "abruptly left the room as the Foreign Minister of Iran, was in the middle of a vitriolic speech". A US spokeswoman in Geneva confirmed the walk-out and called Mottaki's remarks "outrageous and divisive" at a time the forum was trying to find common ground on global arms issues. Vice Premier Shimon Peres said yesterday that a peaceful solution must be found to the Iranian nuclear problem, despite its president's vow to wipe Israel off the map.
FOJ Note: Can you imagine the world wide uproar if an Israeli leader threatened to wipe Iran off the map?
General Petraeus: Iran Training, Arming Terrorists, Militants
March 14….(ABC) The top US commander in Iraq said in an interview released Monday that it's "indisputable" Iran is training and arming militants to fight against US-led troops in Iraq. Gen. David Petraeus also told ABC News that suicide bombers are streaming across Iraq's border from Syria and making their way into the country's volatile western Anbar province. His comments follow a harsh exchange of words over the weekend between the US and Iran at a conference in Baghdad on Iraq's security. The US envoy to the talks, David Satterfield, said he had evidence that Iran was arming Shiite Muslim militias in Iraq, which his Iranian counterpart, Abbas Araghchi, vehemently denied. He called such accusations a "cover" for US failures in Iraq. At the conference, both Iran and Syria pledged to support moves to stabilize Iraq, including reconciliation among Iraq's factions. But US and Iraqi leaders have questioned Iran's commitment to backing such American-led efforts. In the interview with ABC, General Petraeus said cooperation from Iran and Syria would be key to stopping the violence in Iraq. He said there are elements of Iran's Revolutionary Guards elite Quds Force that are training fighters and sending them into Iraq to fight US-led forces. He said Iran is also sending "rockets, mortars and other explosives and munitions" into the country. "That's indisputable and again it's a very, very problematic situation four our soldiers and Iraqi soldiers," he told ABC. "And if it's something that can be brought to a halt through these initiatives of the Iraqi government, we would applaud that vigorously," he said, referring to the talks in Baghdad aimed at bringing security to the country.
Saudi Peace Plan Would Be Suicide for Israel
March 14….(JNEWSWIRE) Former Israeli Ambassador to the US Zalman Shoval has denounced the much-touted Saudi peace plan as an attempt to get Israel to commit suicide. The Arab plan, which will be featured at an Arab League summit in Riyadh later this month and has been the focus of recent visits to the region by senior US officials, demands the following of Israel:
* A full withdrawal from every inch of Judea and Samaria;
* The surrender of the eastern half of Jerusalem, including the Old City, Temple Mount and Western Wall;
* A full withdrawal from every inch of the Golan Heights;
* Conferring citizenship on millions of foreign-born Arabs who, with the full backing of the international community, claim to be "Palestinian refugees."
* In return, the Arab states promise to make peace with what would no longer be the Jewish state. (Another piece of worthless paper)
Zalmon Shoval noted that the demands on Israel contained in the Saudi plan are actually presented as preconditions for peace, effectively making the initiative a "recipe for the destruction of Israel" that is not up for negotiation. Meanwhile, Israeli Prime Minister Ehud Olmert and Foreign Minister Tzipi Livni continue to talk of the Saudi plan as a positive development and a basis for future peace. Olmert and Livni hope that at the upcoming Arab League summit, delegates will take into consideration Israel's concerns about a "Palestinian right of return," and alter the plan in a way that will facilitate the commencement of a regional peace process. Arab diplomats have assured Israel they will do no such thing. Nevertheless, Washington and Europe can be expected to push the deal on Israel, while deferring the issues of refugees and control of Jerusalem to a future undetermined date.
UN to Place Israel Under Permanent Investigation
March 14….(JNEWSWIRE) The United Nations is set to make official its exaggerated focus on Israel by establishing a permanent investigation of the Jewish state's alleged violations of international law. That according to Hillel Neuer, director of UN Watch, who is in Geneva to keep on eye on the current session of the UN Human Rights Council. Since its creation last June to replace the overly biased Human Rights Commission, the Human Rights Council has passed eight resolutions against Israel, and none against any other nation. Additionally, the council has met in three special sessions to condemn the Jewish State. Meanwhile, a full-fledged human rights crisis in Darfur, as well as religious and political discrimination and persecution in a vast number of nations has all been ignored.
GSS: Israeli-Arabs are Existential Danger to Israel
March 13….(Arutz) An internal Shabak document says Israel's Arabs are a long-range strategic danger to Israel's character and very existence. Though many believe that Iran is currently Israel's greatest danger, the General Secret Service believes that the worst threat may actually come from within. An internal General Security Service document says that Israel's Arab population is a "genuine long-range danger to the Jewish character and very existence of the State of Israel." A recent meeting in the Prime Minister's office presented Prime Minister Ehud Olmert with worrisome data in various spheres, including increasing Israeli-Arab solidarity and identification with terrorist elements, Hizbullah and the Hamas government in the Palestinian Authority. The GSS has found that in the year 2006, 21 Israeli-Arab terror cells were uncovered, involving 24 Arab citizens. In 2005, the numbers were 17 terror cells involving 22 Arabs. Arabs of Israel are generally recruited into terrorist gangs based on their family or business ties with Arabs of Judea and Samaria (Yesha), usually those of Samaria. The terrorists in Yesha find it easier to transport weapons using the services of Israeli-Arabs who are not bound by restrictions at checkpoints and the like. For instance, in November 2006, a smuggling cell of ten Israeli-Arabs was found to be active in smuggling weapons from pre-1967 Israel to Judea and Samaria. In the Negev, as well, Bedouin Arabs help out in smuggling weapons, to Gaza. Six such smuggling gangs were cracked open in 2006. Involvement of Hizbullah in Israeli-Arab terrorist initiatives has also been long noted. In July 2006, an Israeli-Arab was arrested who admitted to his interrogators that during the recent war with Hizbullah, he transmitted information to a Lebanese Hizbullah drug-dealer regarding IDF forces, military plans, and location of rocket hits. Some 40% of the Israeli-Arabs involved in terrorism originated in Yesha, but were permitted to come to pre-'67 Israel and receive Israeli residency after marrying Israeli-Arabs. They are then permitted to travel freely throughout the country. Just this morning, six Israeli-Arabs from a Galilee village were indicted on charges of four brutal rapes over the past two years. The rapes were apparently another form of anti-Israel terrorism, as one victim told investigators that the rapists had told her that he was "avenging" IDF operations in Gaza.
Livni, Cheney: Don't Show Weakness in Middle East

March 13….(Arutz) Israeli Foreign Minister Tzipi Livni and US Vice President Dick Cheney both warned Americans at the annual conference of the American Israel Public Affairs Committee (AIPAC) that an early pullout by US-led forces from Iraq would be a disaster for the entire Middle East. Livni told participants at the Washington event that "impressions are important" in this region and added, "This is relevant concerning decisions on Iran, it is true regarding Iraq, and it is true throughout the Middle East." The Foreign Minister underscored the nuclear threat presented to the region by Iran's drive to develop nuclear energy and its extreme Islamist views. Many in the global community are convinced the Islamic Republic is intent on building a nuclear weapon and well on the way to doing so. Livni also added pointedly that Iranian President Mahmoud Ahmadinejad has made no secret of his intent to annihilate the State of Israel. "To address extremism is to address Iran," she said. "It is a regime which denies the Holocaust while threatening the world with a new one." Livni also appealed to Arab nations for help in dealing with the Palestinian Authority. "You have the power to change reality and to encourage the Palestinians to embrace co-existence," she told the 5,000-strong crowd. "Normalize relations with us now," the Foreign Minister exhorted Israel's neighbors, "and peace will come." Cheney, who together with Livni, headlined the list of power brokers who were set to address this year's conference, reiterated his country's support for Israel in its struggle against radical Islam. Cheney too, spoke about the need to not rush out of Iraq, which, he said, could end up harming Israel if its enemies feel empowered. The American Vice President also chided opponents of the war in Iraq who have called on the Bush administration to ratchet up the pressure on Iran. "It is simply not consistent for anyone to demand aggressive action against the menace posed by the Iranian regime while at the same time acquiescing in a retreat from Iraq that would leave our worst enemies dramatically emboldened and Israel's best friend, the United States, dangerously weakened," said Cheney. He added that the international Al-Qaeda terrorist organization, or Iran, would benefit the most from an early American pullout from Iraq. "A sudden withdrawal of our coalition would dissipate much of the effort that's gone into fighting the global war on terror," he said.
General Pace calls Homosexuality Immoral
(US not well served by policy that 'says it is OK to be immoral in any way)
| | |
| --- | --- |
| | (FOJ) General Pace is 100% correct. In fact, America's armed forces should not expect blessing from God in its endeavors when it condones such a deviant sin. Likewise, neither can a nation mock God and expect to continue to enjoy his hedges of protection. |
March 13….(AP) Chairman of the Joint Chiefs of Staff General Peter Pace said yesterday that he considers homosexuality to be blatant immoral and the military should not condone it by allowing gay personnel to serve openly, the Chicago Tribune reported. Marine Gen. Peter Pace likened homosexuality to adultery, which he said was also immoral, the newspaper reported on its Web site. "I do not believe the United States is well served by a policy that says it is OK to be immoral in any way," Pace told the newspaper in a wide-ranging interview. Pace, a native of Brooklyn, NY, and a 1967 graduate of the US Naval Academy, said he based his views on his upbringing. He said he supports the Pentagon's "don't ask, don't tell policy" in which gay men and women are allowed in the military as long as they keep their sexual orientation private. The policy, signed into law by President Clinton in 1994, prohibits commanders from asking about a person's sexual orientation. "I believe homosexual acts between two individuals are immoral and that we should not condone immoral acts," Pace said. The newspaper said Pace did not address concerns raised by a 2005 government audit that showed some 10,000 troops, including more than 50 specialists in Arabic, have been discharged because of the policy.
Cheney: Failure in Iraq Endangers Israel
March 13….(Jerusalem Post) Opposition leader Binyamin Netanyahu told the AIPAC annual conference in Washington on Monday that the military option against the Iranian threat must be "the last resort," Army Radio reported. Netanyahu added that economic sanctions must be immediately implemented in every way possible. "It's possible to hit the Iranian economy hard, as 80% of it relies on oil exports," he said. Earlier, US Vice President Dick Cheney warned 6,000 supporters gathered at AIPAC's annual policy conference on Monday that failure in Iraq would endanger Israel. Cheney warned of "chaos and mounting danger," as well as a strengthened Iran and emboldened terrorists, in the case of an early American withdrawal from Iraq. Stressing that he stood before the crowd "as a strong supporter of Israel" and that "Israel has never had a better friend in the White House than George Bush," Cheney declared: "A precipitous American withdrawal from Iraq would be a disaster for the United States and the entire Middle East." His address comes at a time of swelling criticism of the Iraq war in America as a whole as well as from many quarters of the Jewish community. Many US Jewish leaders have moved away from supporting the war or been quiet on the issue. At the same time, AIPAC and the community at large have stepped up efforts to prevent Iran from acquiring nuclear weapons. But in Cheney's speech to AIPAC, a lobbying organization widely regarded as the most powerful on matters of foreign policy, he charged: "It is simply not consistent for anyone to demand aggressive action against the menace posed by the Iranian regime while at the same time acquiescing in a retreat from Iraq that would leave our worst enemies dramatically emboldened, and Israel's best friend, the United States, dangerously weakened." One Jewish leader who spoke on condition of anonymity said Cheney seemed to be asking the AIPAC members to reevaluate their positions on Iraq and to support the administration's case.
Jordan Quietly Gaining Temple Mount Control
(Officials say Arab kingdom using shell firms to buy key properties with access to holy site)
March 13….(WND) Jordan has been quietly purchasing real estate surrounding the Temple Mount in Jerusalem in hopes of gaining more control over the area accessing the holy site, according to Palestinian and Israeli officials. The officials confirmed to WND the Jordanian Kingdom has been using shell companies during the past year to purchase several apartments and shops located at key peripheral sections of the Temple Mount.
The officials said Jordan also set up a commission to use the companies to petition mostly Arab landowners adjacent to eastern sections of the Temple Mount to sell their properties. They said profits from sales at any purchased shops would be reinvested to buy more real estate near the Mount and in eastern Jerusalem neighborhoods. The shell companies at times have presented themselves as acting on behalf of the Waqf, the Muslim custodians of the Temple Mount, WND has learned. Sheik Azzam Khateeb, who was installed last month as the new manager of the Waqf, is known to be close to the Jordanian monarchy. The previous Waqf manager, Sheik Adnon Husseini, was loyal to Palestinian Authority President Mahmoud Abbas' Fatah party and had relations with Israel and some Jewish groups. "Khateeb answers directly to Jordan," a Fatah official told WND. The Israeli and Palestinian officials said Jordan recently placed a bid to purchase Jerusalem's Intercontinental Hotel, which is situated on an important road that leads to an ancient cemetery on the Mount of Olives, adjacent to the Temple Mount. Informed sources tell WND the hotel is owned by groups representing the Israeli government and is leased every 10 years to a new company. The last lease was signed in 1997 and expires later this year. It was not immediately clear whether Jordan's bid was accepted. The Mount of Olives is site of many biblical events and is considered important to Judaism and Christianity. Real estate ownership in Jerusalem's Old City is widely considered a sensitive matter. Previous Israeli-Palestinian peace proposals tentatively divided parts of the city based on Jewish or Arab residence. Jordan previously controlled eastern Jerusalem and the Temple Mount from 1948 until Israel liberated the territory in the 1967 Six Day War. During the period of Jordanian control, Jews were barred from the Western Wall and Temple Mount, Judaism's holiest sites, and hundreds of synagogues were destroyed. Last month WND first reported Prime Minister Ehud Olmert granted permission to Jordan to construct a large minaret at a site on the Temple Mount where Jewish groups here had petitioned to build a synagogue. A minaret is a tower usually attached to a mosque from which Muslims are called to the five Islamic daily prayers. There are four minarets on the Temple Mount. The new minaret will be the largest one yet. It will be the first built on the Temple Mount in more than 600 years and is slated to tower over the walls of Jerusalem's Old City. It will reside next to the Al-Marwani Mosque, located at the site of Solomon's Stables. A top leader of the Waqf told WND Olmert's granting of permission to build the minaret in the synagogue's place "confirms 100 percent the Haram al-Sharif (Temple Mount) belongs to Muslims." "This proves Jewish conspiracies for a synagogue will never succeed and solidifies our presence here. It will make Muslims worldwide more secure that the Jews will never take over the Haram al-Sharif," the Waqf official said.
Al Qaeda-Gaza Declares War on Palestinian Rivals: Hamas and Fatah
March 13….(DEBKA) As Palestinian and Israeli leaders, Mahmoud Abbas and Ehud Olmert finished discussing the Gaza Strip's fate Sunday, March 11, three events showed how little they and Hamas are in control. Al Qaeda's No. 2, Ayman Zawahri issued a declaration of war on the Palestinian Authority and Hamas in a videotape aired by the Arabic TV Al Jazeera. An hour later, the Islamic Brotherhood of Justice (another name for al Qaeda's operational branch in the Gaza Strip) announced the launching of its Operation White Land, targeting the political and military leaders of Fatah and Hamas. DEBKAfile's military sources also reveal that a rebellion has sprung up against the top Hamas leadership. Olmert and Abbas nonetheless continue to act out a Pan-Arab diplomatic process at Washington's behest, which has as much chance of getting off the ground in Gaza as Fatah's Abbas' assurance that the kidnapped Israeli soldier, Gilead Shalit, would be freed very soon. The Zuwahri statement assailed the legitimacy Saudi Arabia extended to moves for a Palestinian unity government at the Mecca peace conference as recently as Feb. 8. Negotiations between the two factions are bogged down anyway. "The leadership of the Hamas government has committed an aggression against the rights of the Islamic nation by respecting international agreements," thundered Ayman Zawahri Sunday. "I am sorry to have to offer the Islamic nation my condolences for the Hamas leadership as it has fallen into the quagmire of surrender." The Gaza al Qaeda cell then defined the four missions of Operation White Land:
1. Targeting the most senior figures of the Palestinian Authority and Hamas leaders.
2. Focusing on group abductions rather than individuals, especially symbols of political corruption.
3. Beheading is ordained for members of these groups. Their executions and confessions will be videotaped and aired as they are in Iraq.
4. Blowing up Internet cafes and businesses selling alcohol; putting prostitutes to death to cleanse the streets of Gaza of prostitution.
Announcing these missions have won the sanction of Palestinian religious scholars, the communiqué ends with the words: "Operation White Land has begun." As for the revolt in Hamas, its Executive Force chief Jemal Jarah and his deputy, Yusouf a-Zahar (brother of Hamas foreign minister Mahmoud a-Zahar), accuse prime minister Ismail Haniyeh of being too soft with Abbas and Fatah and failing to follow through to victory on the battles they fought for weeks against Fatah. Determined to finish the job, Hamas rebels were back on the streets of Gaza this week, shooting and abducting their rivals, the Mecca Reconciliation Accords already a dead letter. With the control of affairs in the Gaza Strip slipping out of the hands of Prime Minister Haniyeh, it is hard to see how any progress can be achieved towards peace.
Israel Urged to End Its Nuclear Ambiguity
March 12….(Jerusalem Post) Israel should pursue a strategy of "open nuclear deterrence" towards Iran if international attempts to curtail Teheran's nuclear ambitions fail, a London think tank argues in a report to be released Monday. Openly declaring its nuclear weapons stockpile and laying out the conditions of their use in the event of an Iranian attack is an option worth considering, a report published by the Royal Institute for International Affairs (Chatham House) stated, "if it is conceded that diplomatic efforts are doomed to fail, yet the price of war is too high." Of all the options available to Israel to counter the Iranian nuclear threat, "the military option is the least desirable" as a strike against Iran "might push an already volatile Middle East into further hostilities, uniting anti-Western groups worldwide" against Israel and the US while "isolating moderate Muslim forces," the report states. "Israel and Iran Report: War of Words or Words of War" will be the subject of debate Monday afternoon at a meeting of the All-Party Iran Group and the All-Party Group on Global Security and Non-Proliferation at the Palace of Westminster. While in recent weeks "there seems to have been some softening of the Iranian position" and possible openings for a diplomatic solution to the nuclear impasse, it would be "naive to believe that there has been a complete change of heart in Teheran" or a lessening of Iranian President Mahmoud Ahmadinejad's bluster, the report states. "The likelihood of military action by Israel against Iran's nuclear installations is increasing every day the international community does not act," observed Yossi Mekelberg, an associate fellow of the Middle East Program at Chatham House, director of the International Relations Department in the Webster Graduate Center of Regents College and author of the paper. However, diplomacy and not a preemptive military strike remains the "preferred option" for the West, Mekelberg stated, arguing that a tightening of international supervision of Iran's nuclear production facilities and a halt to "enriching uranium to weapons grade" would likely satisfy Israel and the US. Israel has been successful in diplomatically "internationalizing" the Iranian threat, but Israel's weak government, the "lack of a genuine insightful public debate" and of a critical discussion of the implications of military action made a preemptive strike more likely, Mekelberg argued. "Weak governments can be more adventurous than stable ones, and herein lies the danger," the Chatham House paper states, "as a successful operation in Iran might be a useful way to bury other bad news." The IAF could cripple Iran's nuclear program, but Israel on its own had "insufficient military capability to destroy all Iran's nuclear program." A joint strike by the US and Israel "would delay the Iranian nuclear program for a few years, but would have grave consequences," the paper states. Possible Iranian responses include a "missile counterattack on Israel" targeting Haifa and Tel Aviv, the closure of the Straits of Hormuz, destabilizing Iraq and restarting the proxy war in Lebanon with Hizbullah. "The international community would condemn Israel for acting unilaterally" while moderate Muslims "would be put in an untenable position" worldwide. If diplomatic efforts fail to rein in Teheran's nuclear ambitions, Israel should consider changing its "nuclear doctrine from one of ambiguity to openness, while accepting that other countries, including Iran, may acquire a nuclear capability." With an open nuclear policy should come an open statement of deterrence, where Israel would "clarify and define its response in the event of a nuclear attack, supported by international guarantees," the Chatham House paper argues. While "deterrence of this sort might not work at the same level as during the Cold War," the credible threat of retaliation to forestall enemy attacks would be "satisfactory" on a "state-to-state level" in the Middle East. Fears that the success of the US nuclear deterrence policy towards the Soviet Union could not be replicated by an Israeli nuclear deterrence program are unfounded. "An Iran with nuclear weapons will not interfere with the international nuclear balance of terror; hence it will be irrational for Iran to use these either as a threat or in practice," Mekelberg concluded. Openly declaring its nuclear stockpile and laying out its response to aggression could serve as a spur towards regional arms control and the "eventual removal of all weapons of mass destruction," the report states. Since weapons of mass destruction "generate fear because of what they can potentially do rather than because of their widespread use, the proliferation itself becomes an incentive to disarm through negotiation." Mekelberg conceded the "main problem" with open deterrence would be the "proliferation of nuclear technology and materials" and the chance they would fall into the hands of "rogue or terrorist elements not bound by the same rules of the game that all states, including Iran, abide by." However, citing Cold War theoretician Kenneth Walz, Mekelberg argued that "nuclear weapons make miscalculated war even less probable because of the awareness of how lethal such weapons can be."
US in Talks with Israel, Saudi Arabia
March 12….(Ha Aretz) The US administration is holding separate talks with Israel and Saudi Arabia before the Arab League summit in Riyadh late this month that will deliberate renewed approval of the overall Arab peace plan known as the Saudi initiative. The initiative won the support of the Arab League during a summit in Beirut five years ago, calling for an Israeli withdrawal to 1967 lines, the establishment of a Palestinian state with east Jerusalem as its capital, and a "just and negotiated" agreement to the problem of the refugees. In return, the members of the Arab League offer Israel full normalization of relations and an end to the Arab-Israeli conflict. As reported in Haaretz 10 days ago, Israel wants to see some changes to the Saudi initiative so that it can serve as an agreed basis for the renewal of the diplomatic process. Prime Minister Ehud Olmert said yesterday at a cabinet meeting that the initiative should be taken very seriously. "We hope very much that during the meeting of the heads of Arab states that will be held in Riyadh, the positive elements expressed in the Saudi initiative will be validated and perhaps will enable the strengthening of the chances for negotiations between us and the Palestinians," Olmert added. Olmert made the statement at the start of the cabinet meeting, in front of television cameras. It was both more positive and detailed than his previous comments on this issue. Previously he only referred to the "positive elements" in the Saudi initiative. Political sources in Jerusalem confirmed yesterday that diplomatic talks are being held concerning the Saudi initiative, but refused to give details. Palestinian Authority Chairman Mahmoud Abbas raised the issue during talks with Olmert in Jerusalem, the sources said. Saudi National Security Adviser Prince Bandar bin Sultan, the main interlocutor of the kingdom with Israel, is visiting Washington.
Bowing to Washington, Olmert agrees to Unconditional Final-Status Talks with Palestinians
March 12….(DEBKA) Israeli Prime minister Ehud Olmert met with Palestinian leader Mahmoud Abbas and conceded key Israeli policy. Last week, Bush administration officials notified Olmert's senor aides Yoram Turbovitch and Shalom Turjman in Washington that the wait for the Palestinians to comply with roadmap conditions to recognize Israel and renounce violence was at an end. Whether a Palestinian government was led by Hamas or shared with Fatah, they were told, Israel must now initiate final settlement talks with Abbas. Saudi and Jordanian leaders had won President George W. Bush over on this point as leverage for cooperation on the Iraq and Iranian issues. At the Sunday cabinet meeting in Jerusalem, the prime minister therefore announced he was seriously considering accepting the 2002 Saudi peace plan. He already knew the Saudis had informed the White House that the plan would not be revised at the coming Arab summit in Riyadh on March 28. This means that Olmert has agreed to rescind the road map's conditions for peace talks in favor of the tough Saudi peace plan. It was left to Abbas to run down for Olmert's benefit the steps expected from Israel, now that the road map's provisions were out of the way:
1. The Israeli government must pledge unconditionally that the IDF will refrain from attacking the Gaza Strip. Abbas called this "a mutual ceasefire" although he offered no guarantee for the Palestinian termination of missile fire or other terrorist attacks emanating form the Gaza Strip. After the Olmert-Abbas talks, Israeli officials spread reports of an Israel military alert in the area around the Gaza Strip in an effort to lay a smokescreen to conceal the prime minister's concession.
2. Abbas said he would do his best to obtain the release of Hamas hostage Gilead Shalit, but offered no promises.
3. The "mutual ceasefire" is the first step to fast-track Israel-Palestinian negotiations on its extension to the West Bank. DEBKAfile reports that Israeli military and intelligence chiefs are trying to impress on the prime minister that the cessation of Israel's intense counter-terror operations on the West Bank will result in an eruption of a fresh wave of Palestinian suicide bombings inside Israel and the transfer of Palestinian missiles and rockets to launching positions opposite central Israel, including its main cities.
4. Security restrictions on Palestinian movements in the West Bank must be further relaxed.
5. In May or June of 2007, Israel will enter into direct negotiations with the Palestinians on a final -status framework. Since the road map was formulated, Abbas has lobbied hard to skip the document's prior condition for an end to Palestinian violence as the sine qua non for talks on a final settlement. Now the Palestinian leader has got is way.
6. Abbas voiced the hope that Israel's flexibility in negotiating with the Palestinians would be rewarded by the willingness of "moderate" Arab and Muslim nations, like Saudi Arabia, Pakistan, Malaysia and Indonesia, to establish diplomatic and open economic relations with the Jewish state. DEBKAfile's sources note that the Olmert-Abbas conversation did not discuss the role to be played by Hamas in the diplomatic process dictated the Israeli government, when it heads the Palestinian government. Also left up in the air was the framework in which the moderate Arab and Muslim governments would "normalize" their relations with Israel. This would call for amendments of the Saudi peace plan. However, Riyadh has informed Washington that no such amendments would be tabled at the coming Arab summit.
Iranian Defector Becomes A Catalyst for Iranian Talks
March 12….(JNEWSWIRE) An Iranian defense official who reportedly defected to the West last week may be in possession of evidence that could be used justify military action against Iran. Former Iranian deputy defense minister Ali Rez Asgari was secreted away from Turkey to an undisclosed location in Europe by Western officials. This after he informed American officials several weeks earlier that he wished to defect and provide assistance in bringing down those running his country. According to a London-based Arabic newspaper, Asgari was in possession of documents definitively linking the Iranian regime to the actions of Lebanon's Hizb'allah, the Palestinian Islamic Jihad and the two main insurgency forces in Iraq, the Mahdi Army and the Badr Corps. Asgari was also well acquainted with Iran's nuclear and ballistic missile programs, as well as Tehran's preparations for possible military conflict with the US. If the evidence, particularly regarding Iran's role in Iraq's instability, is verifiable, it could be enough to prompt Washington to begin putting war preparations in motion.
Bush Presses Iran, Syria to Help Stabilize Iraq
March 12….(AP) President Bush said Sunday that Iran and Syria need to follow through on pledges to help Iraq, but left the door open to additional contacts between Washington and its chief Mideast foes. "If they really want to help stabilize Iraq, there are things for them to do, such as cutting off weapons flows and or the flow of suicide bombers into Iraq," Bush said. It was his first public comment on Saturday's international conference held in Baghdad with Iraq, its neighbors and other key countries, such as the United States. The one-day, closed-door meeting featured rare direct communication between Iran and the United States. Envoys from the two countries did not meet outside the larger meeting, and each blamed the other for Iraq's security crisis. Reports of testy exchanges aside, Bush praised the session as constructive. He said he hoped momentum from this conference will carry over to the next, which is expected to be held next month in Turkey. As a sign of the US commitment, he said, Secretary of State Condoleezza Rice will be the nation's representative next time. "People are now committed publicly to helping Iraq, which I thought was very positive. The other benefit from the conference was that the government gained some confidence," he said. "In terms of the expectations of the next meetings, we'll see." Iran said it was ready to support any plan that would help end the bloodshed in its neighbor. Responded Bush: "Those are nice statements, and now they can act on them."
WEEK OF MARCH 5 THROUGH MARCH 11
Terror Group Claims Usage of Improved Rockets
March 8….(WND) Palestinians in the Gaza Strip have manufactured improved rockets that can travel deeper into the Jewish state, placing hundreds of thousands more Israelis within firing range, a leader and spokesman of the Islamic Jihad terror group claimed to WND. Israeli security officials said the improved rocket capabilities of Palestinians in Gaza likely came about with the aid of Iran, which provided technology and training to the terror groups. Abu Muhammad, a Gaza-based militant and spokesperson for Islamic Jihad, said his organization manufactured rockets that can travel up to 14.3 miles into Israel from Gaza. He said the new projectiles afford Palestinian groups the ability to reach further into Israel and to launch the rockets from anywhere within the Strip. Since Israel evacuated the Gaza Strip in August 2005, Islamic Jihad has been responsible for firing hundreds of rockets from the territory aimed at nearby Jewish cities. The Qassams have been almost daily bombarding Israeli towns, including Sderot, a city of 25,000 some three miles from the Gaza border, and Ashkelon, a port city that is home to important strategic industrial plants and one of Israel's largest electricity generators. The new claim suggests a dozen more Israeli cities would be within range of the rockets, bringing to about 250,000 the total Israeli population that could live under rocket threat from Gaza. Abu Muhammad vowed to continue launching rockets deeper into Israel. "In the coming period, the strategy of Islamic Jihad and other organizations is to turn Ashkelon into the next Sderot and keep bombarding towns regularly until reaching deeper and deeper," said the terrorist. Abu Muhammad claimed Israel would be "very surprised and astonished soon by our rocket capacities. We will not abide by any ceasefire." Abu Muhammad would not confirm if Iran assisted his group in developing its new purported rocket capabilities. "It is not the business of anyone where we receive rockets or training," he said. Yon Wednesday, Chief of the Gaza Command for the Israel Defense Forces Yoav Galant told reporters Iran has been helping Hamas and other Palestinian terror groups upgrade its military capabilities by providing technology, funding, and direct military training. He said hundreds of militants have been traveling to Iranian bases in Iran, Syria and Lebanon and said "people from Iran" also visit Gaza to inspect the area.
Netanyahu Calls for New Elections
March 8….(JNEWSWIRE) Breaking months of relative political silence, opposition leader and Likud chairman Binyamin Netanyahu on Wednesday declared that the time has come for new elections in Israel. Speaking to reporters in Jerusalem, Netanyahu cited poll numbers that show plummeting public confidence in the ability of the Olmert-led Kadima government to effectively lead the nation. Those same polls show that if elections were held today, Netanyahu and the Likud would win by a fairly large margin. In the latest survey, only three percent of Israelis said they want Olmert as Prime Minister, while 30 percent said Netanyahu is best suited for the job. Fifty-seven percent of respondents demanded immediate elections to correct the mistake that was made in last year's election.
Damascus-Based Hamas Leader Mashaal says Israel will 'Disappear'
FOJ Note: Hamas leader Khaleed Meshaal is echoing the same rhetoric that Iran's President Ahmadinejad routinely bellows about….."wiping Israel off the map."
March 8….(Jerusalem Post) Israel will eventually disappear from the world, and the Palestinians should be prepared for that, Israel Radio reported Hamas leader-in-exile Khaled Mashaal saying Tuesday during a meeting in Teheran with Iranian President Mahmoud Ahamdinejad. At a press conference, Mashaal was asked if Hamas had now recognized Israel. The Hamas leader did not answer directly, but said: "The Palestinian government insists on June 4, 1967 borders (for Israel), full Palestinian sovereignty with Jerusalem as its capital." He was referring to the borders of the Israeli State before the 1967 war, which broke out on June 5 that year. Iranian Foreign Minister Manoucheher Mottaki said that his government backed the Mecca accord. "Iran supports this initiative, and it also supports any step toward achieving greater unity among Palestinians," the foreign minister said. Last month, Mashaal and Palestinian Authority President Mahmoud Abbas signed a Saudi-brokered agreement in Mecca under which they would form a coalition government and Hamas promised to "respect" the previous agreements. Mashaal also extracted from Iran a pledge to fund his Palestinian movement to compensate for the West's financial blockade of the Palestinian Authority government. Mashaal, who arrived in Iran early Tuesday, said that Iran had been giving financial and political support to the Palestinians, whose government has been cut off from Western aid since Hamas took office in March last year. "We look forward to getting support from Iran to break the political and economic sanctions," Mashaal said. Mottaki told reporters that Iran would continue to provide money to Hamas, but he did not give any figures. Iran is known to have given sums of money to Hamas since it took office following its victory in the PA legislative elections. Mashaal met Ahmadinejad on Tuesday and was expected to meet the country's supreme leader Ayatollah Ali Khamenei before he leaves the country.
You Can't Make Peace with a Violent Hate-Filled People
March 8….(Zionsit.com) No nation on earth can possibly make peace with a neighbor steeped in violent tendencies, that teaches its future generations to hate and to seek death while doing as much harm as possible to its enemies. And yet, the world demands that Israel do just that - make peace with a Palestinian Arab society that cannot even keep from killing each other. All the nice declarations of unity and brotherhood aside, the "Palestinians" are demonstrating before the whole world that the only language they know and understand is the language of violence. This shouldn't be a difficult concept for the West to grasp. During World War II, the Allies battled two societies that were likewise taught to see violence as the answer to every question: Nazi Germany and Imperial Japan. Back then, the West understood that merely entering into peace negotiations with these enemies would not be enough, it would not alter their violent character. No, Nazi Germany and Imperial Japan had to be completely re-educated. Why does anyone think the Arab Middle East (and the "Palestinian" in particular), which has for decades taught its people to view Israel as a cancer that must be eradicated, is any different?
King Abdullah Exhorts US to Take Lead in Peace Process
(Jordan's king tells joint meeting of Congress history has shown no progress in Middle East peacemaking is possible without American leadership. 'The goal must be a peace in which all sides gain, and in which Israelis will be part of the neighborhood,' and the US must stop being partial to one side)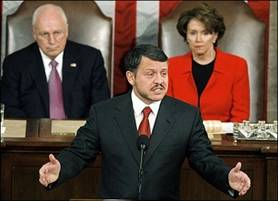 March 8….(YNET) Citing the risks of further delay, Jordan's King Abdullah II said Wednesday the United States must take the lead in creating conditions for a permanent peace between Israel and the Palestinians. Speaking to a joint meeting of Congress, Abdullah said that history has shown that no progress in Middle East peacemaking is possible without American leadership, and prodding of Israel. "We look to you to play a historic role," he said, adding that results are needed "not in one year or five years but this year. "Your responsibility today is paramount, potential to help Palestinians and Israelis find peace is unrivalled. The ground work for a comprehensive, final settlement is already in place. "No more bloodshed, no more lives pointlessly taken," Abdullah declared. Palestinians and Israelis, he said, are not the only victims of the conflict. "We saw the violence ricochet into destruction in Lebanon last summer. And people around the world have been the victims of terrorists and extremists, who use the grievances of this conflict to legitimize and encourage acts of violence." "The security of all nations and the stability of our global economy are directly affected by the Middle East conflict," he cautioned. "Across oceans, the conflict has estranged societies that should be friends. I meet Muslims thousands of miles away who have a deep, personal response to the suffering of the Palestinian people. "They want to know how it is that ordinary Palestinians are still without rights and without a country. They ask whether the West really means what is says about equality and respect and universal justice."
'Main responsibility lies with Israel'
King Abdullah made no direct reference to Hamas, to the current divisions in the Palestinian leadership or to recent efforts by Secretary of State Condoleezza Rice to revive peace efforts. Instead, he spoke of the suffering that both Israelis and Palestinians have suffered. At one point, he lamented "the 40 years of occupation" that he said Palestinians have endured. "The goal must be a peace in which all sides gain," he said. "There must be a peace in which Israelis will be part of the neighborhood." His comments on the Middle East issue before his departure for Washington were far more critical of Israel than the ones he delivered on Wednesday. Last Friday, he said, "The main responsibility for achieving peace lies with Israel, which must choose either to remain a prisoner of the mentality of 'Israel the fortress' or to live in peace and stability with its neighbors." Over the past two days, King Abdullah also held talks with US President George W. Bush, Vice President Dick Cheney, Secretary of State Condoleezza Rice and Secretary of Defense Robert Gates. His talks with administration officials focused on the importance of the US role in bringing Palestinians and Israelis back to the negotiating table, with the objective of reaching a final settlement that would allow the emergence of a Palestinian state and reflect international legality. He also emphasized the importance of realizing tangible, on-the-ground progress in the peace process this year. The King's visit to the US is part of a comprehensive Arab diplomatic initiative to refocus world attention on the Palestinian-Israeli conflict and to project the Arab position on regional peace in world capitals.
FOJ Note: The Jordanian King is wrong about the subject of "occupation." Israel did not possess the West Bank in 1948 and 1967 when the Arab world launched extermination wars against the State of Israel. Jordan occupied the disputed territory in those years, and yet they were never accused of "occupying" Palestinian lands.
Iran Expanding Proxy War Against Israel
| | |
| --- | --- |
| | Iranian Foreign Minister Manouchehr Mottaki (R) shakes hands with Hamas leader Khaled Mashaal as they attend a joint news conference in Tehran March 6, 2007. |
March 7….(Arutz) Iran is expanding its influence among the ranks of the Arab terrorist organizations targeting Israel. General Security Services (Shabak) Director Yuval Diskin told a group of foreign journalists on Monday that dozens of Hamas terrorists have arrived in Iran for advanced weapons and tactics training. He told the reporters that hundreds more Hamas terrorists are expected to follow the first contingent, as well. The Iranian involvement in Hamas training is a development that Diskin characterized as a greater strategic danger to Israel than the thousands of weapons smuggled into the Gaza Strip across the Egyptian border. Diskin warned that Israel "will have to do something about it" if the process of Iranian involvement continues. Dozens of Hamas terrorists have arrived in Iran for advanced weapons and tactics training. Iran pledged US$50 million to the Hamas-led Palestinian Authority government shortly after it was elected in 2006, when it became clear that the Western assistance to the PA was to be cut off. Also in 2006, Israel publicly charged that Iran had already been supporting Hamas with tens of millions of US dollars annually for the Hamas offices in Damascus. The Islamic Republic currently supports the Shiite Hizbullah in Lebanon, which relatively successfully fought a direct war with Israel in the summer of 2006. Iran provides the organization with weapons, money and training. Despite the periodic bloody clashes elsewhere in the Middle East between Sunni and Shiite Muslims, the Hizbullah itself funnels Iranian support to the Sunni Palestinian Islamic Jihad (PIJ) in the Palestinian Authority. The PIJ has been sending its own men to Lebanon and Iran for training for some time, as well. The PIJ claimed responsibility for two Kassam rockets that were launched from northern Gaza Tuesday morning. Four people were lightly injured in the attack. One rocket landed near the port city of Ashkelon and the other in farmland outside Kibbutz Zikkim, in the western Negev. The wounded were brought to Barzilai Hospital. Later in the day, the PIJ boasted that it possesses longer-range rockets, which can reach farther north than Ashkelon. Abu Ahmed, spokesman for the Al-Quds Brigades of the PIJ, told the Israeli news service Ynet that the terrorists "will continue to respond to all the enemy's crimes, even if it happens in the West Bank." In addition to the PIJ, the Intelligence and Terrorism Information Center at the Center for Special Studies noted in 2004 that Fatah terrorists in the PA also received hundreds of thousands of shekels from Iran and Hizbullah. Beyond its support for Islamist terrorist groups focused on Israel, Iran also uses the Shiite insurgents in Iraq as proxy agents to fight the United States; and the Iranians have generously contributed to Islamic movements and insurgencies in the Balkans, in the Persian Gulf's Arab kingdoms, in Turkey and in Africa.
Syria Now Seeking New Russian Attack Aircraft
March 7….(YNET) Damascus has approached Moscow with a request to purchase new Sukhoi 30 fighter aircraft as part of Damascus' drive to upgrade its ailing army. The Sukhoi 30 was developed in 1996 and has been compared with the US-made F15 E Super Eagle. The Syrian air force's fleet consists of Russian MiG 29 aircraft. Israeli defense officials believe Syria is endeavoring for a military buildup in ancticipation of a possible confrontation with Israel. Syria was said to have recently purchased sophisticated anti-tank missiles from Russia.
PA Textbooks Still Incite Hatred of Israel and US
March 6….(PMW) Contrary to the "education for peace" that has been a fundamental demand and principle of the Oslo peace process, new 12th grade schoolbooks in the Palestinian Authority repeatedly reject Israel's right to exist, present the Israel-PA conflict as a religious battle on behalf of Islam, and actively portray a picture of the Middle East in which Israel does not exist at all. So finds the Palestinian Media Watch organization. The PMW report leads with this quote from a language-arts book: Palestine's war ended with a catastrophe that is unprecedented in history, when the Zionist gangs stole Palestine and expelled its people from their cities, their villages, their lands and their houses, and established the State of Israel." [Arabic Language, Analysis, Literature and Criticism, grade 12, p. 104] In the same book, on the next page, Palestinian terror against Israel since Israel's founding in 1948 is defined as: "resistance, or acts of the most glorious heroism." Similar findings have been made for years. In 2002, for example, the Center for Monitoring the Impact of Peace, after a comprehensive survey of 58 new Palestinian Authority textbooks and teachers' guides, found that they "do not educate to peace and reconciliation with Israel, but rather foster a multi-faceted rejection of its existence." This, despite the long-running demands for "education towards peace" on the part of the PA. Ariel Sharon said in 2001, for example, that Israel's expectations from the Palestinian Authority "lie in three spheres: preventive action against terrorism and the infrastructures of terrorism; cessation of incitement and education for peace; and economic cooperation." PA textbook maps of the region likewise teach children to visualize a world without Israel, as Israel does not appear on any map and its area is marked as "Palestine." [Physical Geography and Human Geography, grade 12, p. 105-107] A book teaching about language states, "Palestine will be liberated by its men, its women, its young ones and its elderly." [Arabic Language and the Science of Language, grade 12, p. 44] The PMW report explains, "Since all of Israel and all its cities are taught to be an 'occupation' of 'Palestine,' and 'Palestine' in all the school books replaces all of Israel, the above teaching can only mean that Israel's destruction is inevitable. The PMW reports concludes: "One of the most meaningful gauges of the ideology and aspirations of a people is the education of its youth. For this reason, the new Palestinian Authority schoolbooks, introduced in the end of 2006 by the PA Ministry of Higher Education apparatus, are a continuation of the tragic disappointment of the earlier books. Instead of seizing the opportunity to educate future generations to live with Israel in peace, the PA schoolbooks glorify terror and teach their children to hate Israel, vilify Israel's existence and define the battle with Israel as an uncompromising religious war. Instead of working to minimize the current hate, the new PA curriculum is ingraining it into the next generation's consciousness, and packaging the war against Israel as existential, mandatory and religious. The new PA schoolbooks are guaranteeing that the next generation will grow up seeing Israel as an illegitimate enemy to be hated, fought, and destroyed, rather than as a neighbor to negotiate with and to ultimately live beside in peace."
Americans Remain More Pro Israel, More Polarized
March 6….(Arutz) A solid majority of Americans (58%) say their sympathies lie with the Israelis and only 20% say their sympathies are more with the Arabs of the Palestinian Authority, according to Gallup's annual World Affairs survey. Americans' sympathy towards Israel is holding at the same levels as in 2005 and 2006. A comparison between Gallup polls conducted in the 1990s and those conducted since 2000 shows that the average level of sympathy for Israelis has risen, long term, from 41% to 53%, while the average sympathy for the Arab side of the conflict rose from 13% to 16%. The question posed was simply, "In the Middle East situation, are your sympathies more with the Israelis or more with the Palestinians?" Gallup's experts explain the results as "clearly" showing that "as Americans have moved out of the 'no preference' columns (on the Israeli-Arab issue), they have moved disproportionately into the pro-Israeli column." Public preferences for Israelis in last year's February 2006 survey were at their highest since the 1991 Gulf War. The recent shifts may be attributed to the events preceding them, namely Ariel Sharon's hospitalization and Hamas' election victory. The same general pattern is seen in a separate set of questions asking Americans to give their opinions of various countries. The total percentage of Americans viewing Israel favorably fell slightly between 2006 and 2007, from 68% to 63%, while favorable views of "Palestine," as the Palestinian Authority was presented in the poll, increased slightly, from 11% to 16%. However, between the two, Israel enjoys the much more positive image in the United States. Americans are more pro-Israeli in their views today than they were 10 and 20 years ago, but, they are also more polarized generally. Today, a combined 78% of Americans favor one side or the other, while the remaining 22% express no partiality. Fourteen years ago, 43% of Americans had no preference in the dispute.
Abdullah to 'Enlighten' US on Arab Peace Offer
March 6….(JNEWSWIRE/Ryan Jones) Jordan's King Abdullah II arrived in Washington on Monday on a quest to educate the US administration on the importance of strong-arming Israel into accepting a pan-Arab "peace" offer. Following his arrival, Abdullah met with Vice President Dick Cheney and Secretary of State Condoleezza Rice. On Tuesday he was scheduled to dine with President Bush, and on Wednesday address a joint session of Congress. A Washington-based Jordanian diplomat told The Jerusalem Post that Abdullah wants to "better explain" the Saudi-authored Arab League-backed regional peace initiative in order to elicit greater US participation in the peace process. That plan, which will be the focus of an Arab League summit in Riyadh later this month, calls for Israel to fully surrender the Golan Heights, Judea, Samaria and eastern Jerusalem, and open its borders to millions of so-called "Palestinian refugees." In exchange for taking those suicidal steps, Israel's neighbors say they will sign peace agreements and normalize relations with what would no longer be the Jewish state. For the past several weeks, Abdullah has been strongly urging Washington to get more involved in solving the Israeli-Arab conflict along the lines of the Saudi proposal. Until it does so, Abdullah suggested that he and other Arab allies will view America as biased in Israel's favor. "It is our duty to push the US, to take balanced positions and support the peace process," the King said in an interview with Jordanian television. Abdullah maintains that until Israel is made to accept Arab terms for "peace," there can be no stability in Iraq. Many in Israel fear that Washington's desire to make progress in Iraq and turn Abdullah into an ally against Iran may cause the Bush administration to more fully adopt the Arab position, and in fact begin to strong-arm Israel.
World sees Israel as Negative Influence
March 6….(JNEWSWIRE) More than half the people in the world view Israel in a negative light, according to the results of a new global opinion poll conducted by the BBC. Asked to rate various nations as either positive or negative influences, 56 percent of the 28,000 respondents from around the world gave Israel a failing grade. Even Iran scored better, which 54 percent rating the Islamic Republic as a negative influence. Not surprisingly, the US also fared poorly, getting a thumbs-down from 51 percent of respondents. A couple years ago, a similar poll conducted within the European Union ranked Israel as the greatest threat to world peace. Israel, Iran and the United States were the countries with the most negative image. The survey for the British Broadcasting Corp.'s World Service asked more than 28,000 people to rate 12 countries, Britain, Canada, China, France, India, Iran, Israel, Japan, North Korea, Russia, the United States and Venezuela, as having a positive or negative influence on the world. Israel was viewed as the worst country, with the US viewed as the 3rd worst country, after Iran.
FOJ Note: How ironic it is that the world holds in contempt the very nation that gave the world Jesus Christ, and the Holy Bible. The Bible indicated that the world would have such a negative view of Israel in the Last Days, so this poll only verifies the accuracy of Bible prophecy.
Arab League to Re-Launch Peace Bid with Israel
March 5….(AP) Arabs will re-launch a 2002 land-for-peace offer in an effort to end the decades-long conflict with Israel at a summit later this month, but without the changes Israel has been pushing, the Arab League's Secretary-General said Sunday. Amr Moussa's remarks to a meeting of Arab foreign ministers came as Saudi Arabia announced that hard-line Iranian President Mahmoud Ahmadinejad offered support for the initiative during talks with Saudi officials, though Iran later denied the two discussed the peace plan. "The Arab peace initiative expresses an Arab consensus and will not be redrafted as demanded by some foreign powers," Moussa told the ministers, who were meeting in Cairo ahead of the Arab League summit scheduled for March 28-29 in the Saudi capital. "Maneuvering and watering down (the initiative) will be a strategic mistake," Moussa said. "It perhaps will lead to new bloodshed. Last week, Israeli newspapers quoted Foreign Minister Tzipi Livni as saying Israel would not accept the Arab peace plan as is and asked to drop any reference to the right of the Palestinians displaced in the 1948 Mideast war to return to their homes inside the Jewish state. Moussa reiterated that Israel should give back all territories it seized in the 1967 war and allow Palestinian refugees to return. The 2002 plan calls for the establishment of a Palestinian state and full recognition of Israel in return for an Israeli withdrawal from all territory captured in the Arab-Israeli wars. A later version of the initiative states that Israel should return all Arab land and also allow Palestinian refugees to return. In what appeared to be a reversal of anti-Israel rhetoric by Iran's president, Saudi Arabia's official news agency reported Sunday that Ahmadinejad expressed support the 2002 initiative during talks Saturday with Saudi's King Abdullah. But further details about the talks were not released, and Iran's state media reported that an Iranian official denied the initiative was even discussed. Libya's foreign minister said Sunday his country would not attend the upcoming summit in Saudi Arabia, adding that the Arab world "is not serious" and that "joint Arab action is dysfunctional." "Libya is insisting on a real Arab mechanism, not policies of axes, groups and unilateral changes to decisions," Foreign Minister Abdel-Rahman Shalqam said at Arab League headquarters in Cairo. Hesham Youssef, an aide to the Arab League secretary-general, said there was still time to discuss the issue and that officials hoped Libya would reconsider. Arab foreign ministers also gave full support Sunday to a regional conference on Iraq to be held in Baghdad beginning Saturday. Iraqi officials have said the country's neighbors, including Iran, Syria and Saudi Arabia, have agreed to join US and British representatives to discuss the Iraqi security crisis.
Israel Needs US Support to Attack Iran
March 5….(Reuters) Israel has long been the wild card in debates on the Iranian nuclear program, a country that while formally outside negotiations, has lobbying clout given its strategic fears and penchant for pre-emptive strikes. But Israeli officials, once quick to project military menace in the face of what Prime Minister Ehud Olmert has called an "existential threa," are increasingly taking a softer public line on how to meet Iran's refusal to halt uranium enrichment. It appears that many Israelis have grudgingly decided that Iran is too tough an enemy for their armed forces to take on alone, and that the international community senses this too. "The last thing Israel is interested in is an escalation or some military action against Iran," said Avigdor Lieberman, the usually ultra-hawkish Israeli strategic affairs minister. Opposition leader Benjamin Netanyahu, who suggested a year ago that Israel consider attacking Iran in a mission akin to its 1981 air strike on Iraq's atomic reactor, is now redirecting his rhetoric to calls for crippling Western sanctions on Tehran. There's no question that if stiffer measures are needed, it's better that the United States lead the way," Netanyahu told foreign reporters last month. Like its US ally, Israel refuses to rule out pre-emptive strikes as a last-ditch means of curbing a nuclear program that Iran insists is peaceful. But unlike with Iraq under Saddam Hussein, Iran's nuclear facilities may be too distant, numerous and fortified for Israel to tackle. The sense of tactical limitation was reinforced, throughout the region and beyond, by last year's inconclusive Israeli war against Lebanese Hezbollah guerrillas. "It is becoming increasingly clear that Israel has no viable military option on Iran, and is pinning its hopes on some sort of solution by the Americans," said Alon Ben-David, Israel analyst for Jane's Defense Weekly. "But there are also a growing number of Israelis who think the country will just have to live with a nuclear-armed Iran," he said. Resigning itself to an Iranian bomb could spell a major credibility crisis for Israel, which was founded on the promise of preventing a "second Holocaust" and, to that end, is believed to have procured the Middle East's only nuclear arsenal. Iranian President Mahmoud Ahmadinejad has fuelled fears of a catastrophic regional conflict by denying the Nazi genocide took place and urging that the Jewish state be "wiped off the map", though Tehran officials said this did not constitute a threat. FAIT ACCOMPLI? The tension is especially felt in war-wary Europe, which has robust trade ties with Iran. There have been recent European proposals for accommodating Iran by allowing it limited uranium enrichment, something anathema to the United States and Israel. "The possibility of a preventive Israeli strike helps to concentrate European thinking on options for resolving the impending crisis before it would get to that stage," said Mark Fitzpatrick, senior fellow for nuclear non-proliferation at London's International Institute for Strategic Studies. At least one European leader, French President Jacques Chirac, has already spoken of a nuclear-armed Iran as a possible fait accompli. In a late-January interview that he later tried to retract, Chirac said Iran would not attempt a nuclear attack on Israel for fear that Tehran would be "razed" in response. Went unmentioned in Chirac's newspaper comments was the possibility that Israel might launch pre-emptive strikes on Iran. Sam Gardiner, a retired US air force colonel turned strategic analyst, noted that such pre-emption would only apply to Iran's potential nuclear weaponry. It would not put paid to conventional Iranian arms such as long-range missiles capable of targeting Israel as well as US interests in the Gulf. Foreign analysts agree that, given Israel's close US ties, it would have to coordinate any attack on Iran with Washington. Whether US approval would be forthcoming is in doubt.
Russia Demands Israel Join Nuclear Non-Proliferation Treaty – NPT
March 5….(DEBKA) Russia's Defense minister Sergey Lavrov's comment to the Syrian News Agency Friday was repeated by the foreign ministry in Moscow. DEBKAfile's sources report Lavrov's comment was released in reprisal for disclosures in Israel 24 hours earlier that Moscow was selling large amounts of sophisticated anti-air and anti-tank missile systems to Syria with Iranian funding. Moscow was fighting off Israel's accusations with a threat of more pressure unless Jerusalem backed down. The Russian minister said Israel, who has never admitted nuclear status, must join the NPT if the Middle East is to become a nuclear-free zone. Israeli has consistently refused to join the treaty and submit to international nuclear watchdog control.
---