WEEK OF APRIL 23 THROUGH APRIL 29
Russia Suspends Arms Treaty over US Missile Dispute
| | |
| --- | --- |
| | President Vladimir Putin on Friday renewed criticism of US plans to deploy a missile shield in Eastern Europe, saying Russia would take "appropriate measures" to counter the system. Putin told Czech President Vaclav Klaus at a Kremlin meeting that the proposed missile shield would be used to track Russian military activities. "These systems will monitor Russian territory as far as the Ural mountains if we don't come out with a response," Putin told Klaus. "And we will indeed do this. Anyone would." "We will not get hysterical about this. We will just take appropriate measures," he said, without elaborating. |
April 28….(Telegraph) Russia withdrew from Europe's main arms control treaty today in a furious retaliation against American plans to deploy a missile defense system in two former Warsaw Pact countries. Announcing a suspension of Moscow's participation in the Conventional Forces in Europe (CFE) Treaty, president Vladimir Putin accused the United States of a plot to build up its military forces on Russia's western borders. "Our partners are conducting themselves incorrectly to say the least, gaining one-sided advances," Putin said in his annual state-of-the-nation address. "They are using the complicated situation to expand military bases near our borders. Moreover they plan to locate elements of a missile defense system in the Czech Republic and Poland." Already strained relations between the two Cold War superpowers deteriorated markedly when the Pentagon announced plans to deploy 10 interceptor missiles in Poland and a radar system in the Czech Republic. Moscow has rejected Washington's pleas that the shield is meant to defend Europe from a rogue missile attack by Iran, claiming that Russia's nuclear arsenal was the target. Putin said he had decided to declare a moratorium on an updated version of the CFE treaty because NATO powers had failed to ratify it. The treaty, which was signed in the dying months of the Cold War, is regarded as the cornerstone of security and stability in Europe. It places limits on the number of conventional weapons and foreign forces that can be deployed among member nations. The United States and its NATO allies have said they will not ratify the treaty until Russia withdraws its troops from Moscow-backed breakaway republics in Georgia and Moldova, an argument the Kremlin dismisses as a pretext to allow Washington to boost its military presence in eastern Europe. Russian defense spending has quadrupled since Putin came to power in 2000, and an ambitious strategy to modernize the military was announced last year, including plans to develop a new generation of ballistic missiles capable of breaching any US defense shield.
Democrats Unite Against Bush US Iraq Policy
Democratic Presidential Candidates united: "Leave Iraq Now"
April 27….(MENL) Eight Democrats vying for the White House were united Thursday in condemning President George W. Bush's Iraq policy, at a presidential campaign debate more notable for the candidates' easy consensus than disagreement. In the first televised debate of the 2008 campaign, more than 18 months before the November 4, 2008 election, Democrats were strongly critical of the Bush administration for continuing to funnel thousands of US troops and billions of dollars into what they see as a faltering Iraq war effort, and the wrong war. "The American people have said that it's time to end this war," said top-tier candidate Senator Barack Obama, who aspires to become the country's first African-American president. Obama criticized the "disastrous conditions that we've seen on the ground in Iraq." Equally emphatic was Senator Joseph Biden, who condemned Bush's "fundamentally flawed policy." "The real question," said Biden, "is are we going to be able to leave Iraq, get our troops out, and leave behind something other than chaos?" The candidates pressed the case for a dramatic policy change in Iraq, armed with poll results showing a majority of Americans backing the Democratic push for a troop pullout. Thursday's debate also was seen as a key step for each candidate in helping raise funds and attract staff, in what is becoming the longest and most expensive campaign for the US presidency in history. The event was viewed as a golden opportunity for lesser-known candidates such as senators Biden and Christopher Dodd, New Mexico Governor Bill Richardson, former senator Mike Gravel and Representative Dennis Kucinich to boost their profiles. All eight roundly criticized President Bush's handling of the four-year-old Iraq war that continues to be plagued by sectarian strife and a stubborn insurgency. "This is not America's war to win or lose," Clinton said, adding that the United States had gone as far as it could in bringing democracy to Iraq without greater Iraqi input. "We have given the Iraqi people the chance to have freedom, to have their own country. It is up to them to decide whether or not they're going to take that chance," the New York senator said. Ms. Clinton headed into the 90-minute debate narrowly leading Obama, according to the latest national polls, with former senator John Edwards a bit further behind in third place. The eight Democratic presidential candidates squared off just hours after the Democratic-controlled Congress adopted a timetable for the withdrawal of US troops starting in October, despite President Bush's certain veto of the bill, a milestone Ms. Clinton was quick to note. "Congress has voted, as of today, to end this war," Clinton said. "Now we can only hope that the president will listen."
| | |
| --- | --- |
| | (FOJ) I can't help but remember the very serious and somber words of our President, and many of our top army Generals telling us that, "losing in Iraq" is not an option. I believe that assessment was right, and I also wrote 4 years ago that victory depended upon the Iraqi people's desire for freedom. If America has lost this war, then the question must be asked, "Who is the winner?" It isn't the Iraqi people. Iran stands to be the winner, and Iran will move the "War on Terror" closer to their intended targets, otherwise known as the "Great and Little Satans." |
Ignoring President George W. Bush's staunch vow of a veto, the US House of Representatives on Wednesday approved a war funding bill that includes a timetable for pulling US troops out of Iraq. The Democratic lawmakers paid little heed to the visiting top army general in Iraq, David Petraeus, who during a closed-door session earlier in the day championed the troop "surge" strategy and appealed for time so it could show results.
The narrow 218-208 vote by the Democratic-majority House links release of 124 billion dollars in military spending for Iraq and Afghanistan to a schedule for the pullout of American troops, beginning as early as October. The bill next faces a vote in the Senate, expected on Thursday, when it is likely to be approved. Then it heads to Bush, who has repeatedly vowed to block it. Democratic House leader Nancy Pelosi played up the thousands of casualties endured by US troops and the "scores of thousands" of Iraqi lives lost in the war, which she added would "cost well over a trillion dollars if it ended today."
"The sacrifices borne by our troops and their families demand more than the blank checks the president is asking for, for a war without end," she said. She urged Bush "to sign the bill so that we can focus on winning the war against terrorism, which is the real threat to the American people." Democrats were also boosted by the release of a poll that showed a majority of Americans side with them on the issue and believe victory in Iraq is no longer possible.
Iran to Have Nuclear Weapons in Three Years
April 27….(Ha Aretz) A new US military intelligence assessment claims Iran could have a nuclear weapon by 2010, CBS reported on Friday. Iranian scientists have recently overcome difficulties which may enable Tehran to be in possession of a nuclear bomb three years earlier than previously thought, the report postulated. However, the uranium enrichment plant currently under construction will have to become operational ahead of time in order for Tehran to create a nuclear bomb. The report was based on an intelligence analysis conducted by David Albright, a leading expert, who thinks that the official international estimates do not give Iranian scientists enough credit. According to CBS News, US intelligence officials estimated that would take Iran until 2015 to become a nuclear power, as it would have to make further technical progress in operating a uranium enrichment plant now under construction. "I think Iran can get enough highly enriched uranium for a nuclear weapon sooner than that," Albright says. "I think the 2015 number reflects too much skepticism about Iran's technical capabilities, and they are making progress." Although US intelligence still considers an Iranian nuclear weapon by 2010 as a worst-case scenario, CBS said, Pentagon officials say the new report narrows the window in which Israel might launch a preemptive strike against Iran, as Israel is the country most threatened by the prospect of an Iranian nuclear weapon. According to the CBS report, former CIA officer Bruce Riedel says this latest intelligence would increase the chances of an Israeli strike launched with American-built warplanes, CBS reported. "The Israelis have long believed that Iran is closer than US intelligence believes it is," Riedel says. "If they now hear that the Americans think it's getting closer as well, it puts pressure on Israel to take its own action."
Massive IDF War Games Simulate Conflict with Syria
April 27….(Israel Insider) The IDF this week carried out, in the Judean Desert, division-strength maneuvers in preparation for a possible conflict with Syria on the Golan Heights. Since last summer's war, there has been a heightened state of alert, and tensions in recent months have been rising. President Bashar Assad, some Israeli analysts say, was emboldened by Hizbullah's success against the IDF and may be tempted to launch hostilities in an attempt to retake the Golan Heights, either by initiating a surprise attack and firing long-range ballistic missiles at Israeli cities.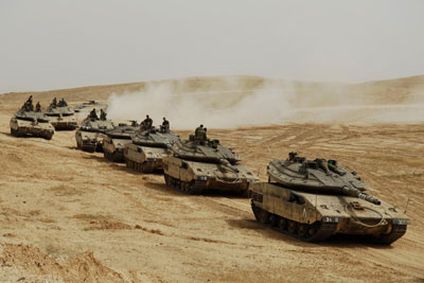 The division-strength war games, involving hundreds of tanks and thousands of soldiers, backed by helicopters and drones, took place in the Judean Desert. The training exercise featured Israel's most advanced tank - the Merkava Mark 4, pitted against Syria's best armor, the Russian-made T-72 tank. The drill put to rest belief that the age of tank battles is gone forever, and raised the specter of a reprise of armored conflict such as that which pitted the IDF against Syrian forces in 1967 and 1973. The simulation began Thursday with the tanks gathering in an offensive posture on the outskirts of the battlefield, the Jerusalem Post reported. The first mission given to the armored forces was to create passageways and build makeshift bridges over deep ravines, similar to the valleys and rivers in the Golan Heights. The tanks were backed up by artillery fire and supported by infantry troops, some traveling in armored personnel carriers and others being flown into the field by transport helicopters, the Post said. IDF Merkava tanks were used to emulate Syrian ones, a change from previous drills in which the army made de with Hummer patrol vehicles. "We are preparing for the possibility of war on all fronts," said Col. Roni Belkin, deputy commander of Division 162. "To do that, we need to find a solution for a wide range of scenarios." In one of the possible scenarios envisaged by analysts, the Post reported, Syrian soldiers would sweep across the Israeli side of the border, taking over the northern community of Merom Golan with an elite commando unit from the 14th Special Forces Division of the Syrian Armed Forces. Simultaneously, Syrian Chief of Staff Gen. Ali Habib would give the order and hundreds of T-72 tanks from the Damascus-based Republican Guard Mechanized Division, alongside thousands of commandos and infantry troops, would begin deploying along the Syrian side of the border. The Syrian would prepare to fire its long-range Scud D ballistic missiles, capable of hitting any target inside Israel and of being armed with chemical warheads. This kind of scenario would pave the way for an apocalyptic showdown. One of the IDF's prime concerns is the use of advanced antitank missiles, which Hizbullah successfully deployed to inflict punishing damage against IDF tanks, including the Merkava. The IDF has since announced plans to acquire, before the end of the year, several dozen "Trophy" protection systems capable of intercepting incoming antitank missiles but also to more effectively deploy countermeasures like tank-generated smokescreens, which the Merkava can generate but that the IDF has rarely had occasion to deploy. "The tank is still an excellent tool for achieving our goals in the battlefield," Rudoy told the Jerusalem Post. "But you need to know how to use it."
Top US Iraq Commander: Iraq War May Get Tougher
(Gen. Petraeus calls Iraq situation 'the most complex, challenging I have ever seen)
| | |
| --- | --- |
| | (FOJ) Careful note should be taken of the General's comments about the trouble that Iran is causing the US within Iraq. Too often American politicians gloss over the fact that Iran declared war on the US 28 years ago, and that an untimely American withdrawal from Iraq would be viewed in Iran as a victory for Islamic terrorists. The infamous "Prince of Persia" could easily take over in Iraq. |
April 26….(MSN) General David Petraeus, the top US commander in Iraq, depicted the situation there as "exceedingly complex and very tough" Thursday and said the US effort might become more difficult before it gets easier. The four-star general called the war there "the most complex and challenging I have ever seen." He said there have been some improvements in the two months since President Bush's troop buildup began, but "there is vastly more work to be done across the board. We are just getting started with the new effort." General Petraeus spoke as the Senate debated House-passed legislation to begin withdrawing US troops in October. Asked about the impact on the effort in Iraq if that legislation passed, Petraeus said, "I have tried to stay clear of the political minefields of various legislative proposals." President Bush has said he will veto the bill. The general also said, however, that improvements can be seen both in the capital of Baghdad and the volatile Anbar Province in Western Iraq. Still, he said, these achievements "have not come without sacrifice." He said that the increasing use of car bombs and suicide attacks, plus the greater concentration of US troops among the population, has "led to greater US losses" as well as increased Iraqi military casualties. Petraeus sidestepped a direct question on how long US troops would have to remain in Iraq. "I wouldn't try to truly anticipate what level might be some years down the road," he said. Still, Petraeus noted, it was "an endeavor that clearly is going to require an enormous commitment over time." Petraeus said that the situation was made worse by "exceedingly unhelpful activities by Iran and Syria, especially those by Iran." Asked whether senior officials in the Iranian government were sanctioning sending weapons and technology to insurgents in Iraq, the US general said it was hard to say. "We do not have a direct link of Iranian involvement," in attacks, he said. General Petraeus also said that, while the fledgling Iraqi government is often billed as a unity government among Shiites, Sunnis and Kurds, it actually is not. "It is not a government of national unity at all".
Iranian Official: US Seeking to Undermine Clerical Regime
April 26….(Jerusalem Post) A top security official accused the United States Thursday of seeking to undermine Iran's clerical regime by stoking sectarian and ethnic tensions in the country and using newspapers and non-governmental agencies toward that goal. "A soft threat is the main plan of the US due to its incapability to launch a military operation [against Iran,]" Deputy Interior Minister Mohammad Baqer Zolqadr was quoted as saying by the official IRNA news agency. Zolqadr, whose comments came in a speech he made in Iran's Kurdistan province, said, "The threat is being implemented through the creation of instability and tension inside Iran as well as fanning ethnic and sectarian differences." "The threat is being implemented through the creation of instability and tension inside Iran as well as fanning ethnic and sectarian differences," said Zolqadr. Earlier Thursday, he said that his country would attack Israel and American targets throughout the world if Teheran were attacked over its nuclear program, Israel Radio reported. According to the official Iranian news agency, the official, who deals with defense issues, said that no American would be safe from Iran's long-range missiles. "We are prepared to fire tens of thousands of these missiles every day," he said. He added that the Shahab 3 missiles, which have a range of some 2,000 kilometers, could hit Israel, as well as US Army bases in the Persian Gulf.
Iranian Chief Threatens US and Israel if Iran is Attacked
April 26….(DEBKA) Mohammad Baqer Solghadr, deputy interior minister, has been tagged for Iran's top military post by Iranian leaders engrossed in war preparations, according to DEBKAfile's Iranian sources. He told the official Iranian news agency IRNA Thursday: "Nowhere would be safe for America with Iran's long-range missiles, we can fire tens of thousands of missiles every day." He added: "With long-range missiles Iran can also threaten Israel as America's ally" and US Middle East bases. DEBKAfile's military sources report that Solghadr was not overstating Iran's missile capabilities. The Islamic Republic's expanded war preparations must be taken into account as encompassing Syria, the Lebanese Hizballah and the Palestinian Hamas, the Jihad Islami, Abbas's Fatah-al Aqsa Brigades and the Popular Resistance Committees. Tehran has armed and harnessed these allies and proxies for response to a US or Israeli attack on Iran which Tehran is certain is planned for the summer months. They have been fed with an assortment of missiles of varying ranges by Iranian air and sea lifts. Putting together the missile arsenals piled up in Iran, Syria, and amassed by Hizballah and Palestinian groups yields a total that makes a daily barrage of several thousand missiles against Israel and US regional bases feasible. This deterrent, put in place over several months, allowed Zolghadr to issue his threat with confidence. His words were also a response to last week's visits by US defense secretary Robert Gates to Egypt, Jordan, Israel and Iraq, which Tehran took to be a rallying of allies as part of Washington's preparations for war
Christians in Bull's-Eye in New 'Hate Crimes' Plan
(Congress working to create penalties for non-PC views)
April 26….(WND) A fast-tracked congressional plan to add special protections for homosexuals to federal law would turn "thoughts, feelings, and beliefs" into criminal offenses and put Christians in the bull's-eye, according to opponents. "H.R. 1592 is a discriminatory measure that criminalizes thoughts, feelings, and beliefs and has the potential of interfering with religious liberty and freedom of speech," according to a white paper submitted by Glen Lavy, of the Alliance Defense Fund. "As James Jacobs and Kimberly Potter observed in Hate Crimes, Criminal Law, and Identity Politics, 'It would appear that the only additional purpose for enhancing punishment of bias crimes is to provide extra punishment based on the offender's politically incorrect opinions and viewpoints,'" said Lavy. The proposal has been endorsed by majority Democrats on the committee, and already has 137 sponsors in the full House, making it possible it could be voted on in a matter of days or weeks. "This is a terrible thing, to criminalize thought or emotion or even speech," Lavy told WND, referring to H.R. 1592, now pending at the committee level in the US House. Democrats there have been turning back amendments that would strip it of its worst provisions, according to an observer. Bishop Harry Jackson, chairman of the High Impact Leadership Coalition, said the plan, the Local Law Enforcement Hate Crimes Protection Act of 2007, is no more than "a surreptitious attempt by some in Congress to strip the nation of religious freedom and the ability to preach the gospel from our church pulpits." "It will stamp all over our doctrine and practice of our faith," he said. "We believe what the Bible says. If you start there we've got a major problem." Secondly, it unfairly restricts the expression of fair opinion by Christians, he told WND. "If anything, gays are getting undue deference awarded to them by the courts. That's why we have the same-sex marriage fight and that kind of thing." Rev. Louis Sheldon, director of the traditional Values Coalition which represents 43,000 churches across the nation, told WND that the Democrats sponsoring and supporting the issue "have sold out to the homosexual agenda." He said churches need to awaken to the dangers of having pastors, lay leaders, or even those sitting in the pews sent to jail for their biblical views. "When they realize that they could go to jail for preaching the Word of God, (against the sin of homosexuality) they'll be concerned," he told WND. Sheldon's organization is releasing a poster showing Jesus as a wanted fugitive, for "crimes" under the planned "hate crimes" legislation.
Palestinians 'are Taking Their Que' from Iraq
(Nine Americans killed in bombing is proof resistance is more powerful than American war planes)
April 26….(YNET) A leader of the Al Aqsa Martyrs Brigades, the military wing of Palestinian Authority President Mahmoud Abbas' Fatah organization, said the suicide car bombing that killed nine US soldiers in Iraq on Monday bolstered his belief that the US would soon be defeated and retreat from "Muslim lands." "It is a very happy day for us as Palestinians to hear nine more American dogs were killed in Iraq. We feel encouraged and we feel great solidarity with our (terrorist) brothers in Iraq, and we consider this heroic operation, which aims to humiliate the Americans, as proof that the will of our resistance is more powerful than any American war airplanes," Abu Ahmed, the northern Gaza commander of the Brigades terror group said. Abu Ahmed said Palestinians were learning from the Iraq insurgency for their own war against Israel. "The coming victory in Iraq proves the next step is to release Palestine if we speak in one voice," he said. "We the Palestinians are learning both on the political and military level from our brothers, the heroes in Iraq. Iraq is a model for us. We can be inspired from them because the challenge the Americans are under in the Green Zone is similar to the challenge the Zionists are putting on us. And in spite of Israeli pilot-less drones, we are succeeding to shoot rockets and winning." Asked if his group or other Palestinian organizations received help from Iraqi insurgent elements, Abu Ahmed replied, "Thanks to Allah the Palestinian people have enough fighting capacity and don't need outside help, but it is our full right to get assistance from anyone for our fight against Israel. The Palestinian revolution throughout history witnessed participation of different nationalities, but for the moment we don't need help." The Al Aqsa Martyrs Brigades (under Abbas) has taken responsibility together with the Islamic Jihad terror group for every suicide bombing in Israel the past two years. Many members of the Fatah militias, including dozens recently arrested by Israel, are openly members of the Al Aqsa Martyrs Brigades. Abbas last June appointed senior Al Aqsa Martyrs Brigades leader Mahmoud Damra as commander of Force 17, Fatah's presidential guard units, which are trained by America. Damra, who was arrested by Israel in November, was on the Jewish state's most-wanted list of terrorists. Abu Ahmed said his group, including the militants launching rockets, are loyal to Abbas and coordinated "resistance operations" with the Fatah party. "The Al Aqsa Brigades is the military wing of the Fatah and the President Abu Mazen (Abbas) is the chairman of the movement," Abu Ahmed said. "We are committed to our leadership, to Abu Mazen. All our activity is in accordance with the political line of Fatah, which consists of fighting the occupation until the creation of a Palestinian state. The rocket-shooting is part of this vision." Asked why Abbas distances himself from Al Aqsa's rocket firing, Abu Ahmed said, "Listen, we are aware of our president's (Abbas) declarations, but we are also aware of the international political system that brings the president to adopt this position."
Olmert's Future Hangs in Balance Ahead of Lebanon War Report
April 26….(AFP) The political future of Israeli Prime Minister Ehud Olmert, implicated in a series of corruption probes, hung in the balance on Thursday ahead of a report on last year's war against Hezbollah. An Israeli commission investigating the 34-day war with Lebanon's Shiite militia on Monday will present its eagerly-awaited interim findings that many observers say will determine Olmert's fortunes. Speculation mounted over whether the report would explicitly recommend that Olmert and his Defense Minister Amir Peretz resign over a war that is widely seen as a failure inside Israel. "The pressure is rising all around Ehud Olmert and his chair could soon be vacated," said a commentator on army radio. But the commission, headed by retired judge Eliahu Winograd, has declined to specify the nature of its findings ahead of time. The report will include "conclusions of a personal nature, including against the prime minister," commission spokesman Eli Shaked told AFP. He did not, however, say whether these would include a call for Olmert and Peretz to step down, as demanded by the opposition and the numerous critics of the war in Israel. "It will be up to the public to make judgments based on the report," Shaked said. So far the most senior head to roll over the conflict was former army chief of staff Dan Halutz, who quit in January. An Olmert aide said on Thursday that the embattled premier, whose ratings have reached unprecedented lows, will step down if the commission recommends such a move. "There is no doubt that everything recommended by the Winograd Commission, which enjoys the confidence of the population, will be applied, including if it delivers personal recommendations," Lior Horev told army radio.
But if there is no recommendation for Olmert to go "this could give the prime minister an electoral upswing," Horev said. In addition to fierce criticism over the war, the 61-year-old Olmert has been implicated in several corruption affairs that have sunk his ratings to nearly zero, only two percent of Israelis trust him, according to polls. In the latest such blow, State Comptroller Micha Lindenstrauss on Wednesday recommended that a criminal probe be opened into whether Olmert, while trade and industry minister, tried to advance a former business partner's interests by extending state funds to help him set up a factory in southern Israel. Attorney General Menachem Mazuz, who has the actual power to open such a probe, will now examine whether there is justification for an inquiry. Justice authorities have already ordered one criminal probe against Olmert, over whether he abused his influence while acting finance minister in 2005 in allegedly trying to steer the privatisation of Israel's second-largest bank toward a friend. He has denied all charges against him. Olmert has also faced charges over several allegedly improper property deals and appointments of political cronies while trade and industry minister, but no criminal probes have so far been opened in these cases. The premier has also been weakened by a series of scandals involving senior figures in his government, including the justice and finance ministers.
Abbas Group Rejoices over US Deaths in Iraq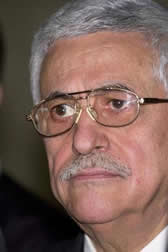 Mahmoud Abbas
April 26….(WND) Members of Palestinian Authority President Mahmoud Abbas' Fatah militias are celebrating a suicide car bombing that killed nine US soldiers in Iraq earlier this week, stating the attack bolsters their belief the US will soon be defeated and retreat from "Muslim lands." "It was a very happy day for us Palestinians to hear nine American dogs were killed in Iraq. We feel encouraged and we feel great solidarity with our brothers in Iraq, and we consider this heroic operation, which aims to humiliate the Americans, as proof that the will of the our resistance is more powerful than any [big] American war airplanes," Abu Ahmed, the northern Gaza commander of the Al Aqsa Martyrs Brigades terror group, said in a WND interview today. The Brigades is the declared military wing of Abbas' US-backed Fatah party, which American policy largely considers moderate. Abu Ahmed was responding to news Monday of a suicide car bomber that struck a patrol base northeast of Baghdad, killing nine US soldiers and wounding 20. It was one of the deadliest attacks against American ground forces since the Iraq war started more than four years ago. "The Iraqi people, with the help of the mujahedeen fighters all over the world, are teaching the American dogs a huge lesson that will serve for generations for anybody who will dare attack lands of Muslims," Abu Ahmed said. "Iraq will be the beginning of the collapse of the American empire." The Palestinian terror leader said he believes the US will soon withdraw from Iraq, and he labeled any retreat a victory for "resistance." (terrorism) President Bush is staying in Iraq now only because Cheney and the Israelis are pressing on him." Abu Ahmed said Palestinians are learning from America's problems in Iraq. The Al Aqsa Martyrs Brigades has taken responsibility together with the Islamic Jihad terror group for every suicide bombing in Israel the past two years. The Brigades recently carried out scores of shootings and rocket attacks against Jewish population centers. Ironically, the US regularly provides weapons and funds to Abbas's Fatah militias. Congress earlier this month approved a $59 million aid package to bolster Fatah forces. Many members of the Fatah militias, including dozens recently arrested by Israel, are openly members of the Al Aqsa Martyrs Brigades.
FOJ Note: It appears that the American Democratic Party and the Palestinian Terrorist leaders have the same objective, defeating American interests in the Middle East, and surrendering in Iraq.
Secretary Gates Offers Russia Cooperation on Missile Defense
| | |
| --- | --- |
| | (FOJ) It is amazing to me that the US prioritizes spending 3.5 billion dollars for missile defense stations in Poland. Why isn't the EU providing the funding on this missile defense plan, when the plan is basically about a missile shield for Western Europe? Oddly enough, the US may be compromising its own defense by allowing Russia to inspect it. |
April 25….(AP) US Defense Secretary Robert Gates offered Russia an unprecedented level of cooperation in missile defense activities on Monday, but Russia made clear they were still against any planned missile shields in Europe. The United States says it wants to station elements of its shield in Poland and the Czech Republic as protection from missile attacks by countries such as Iran or North Korea. But Russia says the project threatens its national security. The dispute has badly strained relations between Moscow and Washington and prompted some officials to draw comparisons with the Cold War. "The days of the Cold War are over and no one should seek a return to them," said Gates, on a European tour to ease concerns over US missile defense plans. "We invite Russia to join our defensive endeavor as a partner." On Sunday, a senior US official traveling with Gates said the Pentagon intended to move forward on the missile shield plan, whatever the response from Russia. The United States wants to station 10 interceptor missiles in Poland and radar equipment in the Czech Republic, at a cost of $3.5 billion. Gates, former CIA director and career Soviet analyst at the US intelligence agency, met Russian President Vladimir Putin. A Russian official who briefed reporters said Putin and Gates had a "serious and principled" discussion but gave no indication Moscow would take the Pentagon up on its offers of missile defense cooperation. Russian Defense Minister Anatoly Serdyukov reacted coolly after talks with Gates earlier on Monday. "The Russian position on this issue remains unchanged," he said. "The strategic missile defense system is a serious destabilizing factor which could have significant impact on regional and global security," he said. Gates said he was willing to explore sharing missile defense technology with Russia, like data from early warning systems, and cooperating "across the full spectrum of missile defense activities." Washington has proposed sharing missile defense information with Russia in the past but the offers were rejected. Gates said the current offer went well beyond prior proposals in scope and scale, and that that could tip the Russians toward agreement. The US proposal also included an invitation to Russia to inspect missile defense installations in the United States that are similar to those proposed for Europe, US officials said. "When both the United States and Russia work together, both countries and others win. When we fail to work together, both countries may lose," said Gates.
Compromising America's Defense With Magog
April 25….(Bill Wilson/KIN) US Defense Secretary Robert Gates may well have accelerated an ancient prophecy about Russia and Iran attacking Israel by offering the Russians an opportunity to see how America would defend herself against Iranian missiles made with Russian-assistance. Gates was trying to sweeten the pot for Russian approval of US missile defense deployments in Poland and the Czech Republic. Gates, however, came away from the meeting with Russian President Vladimir Putin with no change in Russian policy, but a certain agreement that the Russians will have access to American missile defense technology. Gates announced that Russia and the United States have agreed to cooperate by forming a working group where the US will share technical aspects of the proposed missile shield and develop a joint missile defense effort. The Russians, however, remained concerned that the missile defense systems to be deployed may be turned against Russia in the future. While the Russians apparently agreed to participating in the working group and getting a first hand view of the inner workings of American missile defense systems, Russian Defense minister Anatoly Serdyukov told reporters that "The Russian position remains unchanged." Gates agreed to share with Russia the technology, radar interceptors and development aspects of the missile shield that would be used by the United States. According to reports, Gates even invited the Russians to visit the American missile defense sites in Alaska and California to see the non-explosive interceptors and the missile tracking radar systems that would be used in Eastern Europe. Russia is likely to absorb all the technical detail it can on US anti-missile installations because Iran would use missiles similar to Russia's in the event of an attack. According to the New York Times, the owners of Russia's largest independent radio network, The Russian News Service, have ordered the network to portray the United States as an enemy. It appears that Gates and the Bush Administration do not understand the Russian intent. The Apostle Paul writes in 2 Corinthians 3:14, "But their minds were blinded: for until this day remains the same veil untaken away in the reading of the Old Testament." The reading of the Old Testament, especially in Ezekiel 38, shows that Russia is prophesied to join with Iran in coming against Israel. The United States may have accelerated this prophesy by agreeing to share missile defense technology with the Russians.
Military Confrontation with Hamas in Gaza is Inevitable
(FOJ) So often when reading news from the Palestinian sector, one sees reports that indicate a distinctive difference between political machines and terrorist wings. But in reality, one cannot differentiate between Hamas' military wing and Hamas' political wing. The purpose of the group's use of separate wings is to boast a moderate political image while using the other as a terrorist entity. The same goes for Abbas' Fatah, who uses numerous military and terrorist wings to collect political clout.
April 25….(Ha Aretz) From Israel's perspective, the timing of Hamas' attack on southern Israel on Monday was problematic. With the government and army virtually paralyzed by fear of the upcoming publication of the Winograd Committee's report, Prime Minister Ehud Olmert cannot easily order a harsh reprisal in Gaza. And this time, good intelligence and the army's preparedness foiled what was apparently another kidnapping attempt, which ostensibly enables Olmert to make do with a limited response. Yet the premier must ask himself whether this would not be a mistake. Just as Hamas did in its kidnapping of Gilad Shalit last June, the organization, or parts of it, is signaling that all its promises of a cease-fire are nonbinding. Since Hamas agreed to the cease-fire in Gaza, more than 200 Qassam rockets have been fired at Israel from Gaza and some 50 bombs have been planted along the border fence. Hamas' military wing was involved in many of these attacks. On the tactical level, the lessons of Shalit's kidnapping were learned: For instance, the IDF is now allowed to penetrate a few hundred meters into Gaza in order to thwart kidnappings. Yet it must be remembered that last July's kidnapping of two soldiers along the northern border by Hezbollah was preceded by many attempted kidnappings that Israel successfully foiled; it was Israel's muted response to these attempts that convinced Hezbollah that it would only pay a minimal price for a successful abduction. Unlike its response to previous thwarted kidnappings, the army refrained from celebrating on Monday. This was partly due to the two successful abductions that occurred last year, but also to awareness that a major escalation in Gaza is likely relatively soon. Government officials criticized Hamas minutes before a meeting Wednesday morning convened by Prime Minster Ehud Olmert to discuss Israel's response to Tuesday's rocket barrage. "The Palestinians crossed a red line, said another official. The IDF, he said, will not hesitate to enter the Gaza Strip. Infrastructures Minister Binyamin Ben Eliezer said that if Hamas kidnaps a soldier, the IDF will not hesitate to enter the Gaza Strip and extract Palestinian Authority Prime Minister from his home. However, Olmert remains completely unenthusiastic about a large-scale operation in Gaza even after the Winograd report is published. But for years, Israel's response to Palestinian attacks has been based on one thing only: the attacks' results. A successful kidnapping, or a Qassam rocket that causes multiple deaths, will hasten the decision to act. Olmert is well acquainted with the situation assessment of GOC Southern Command Yoav Galant: that a military confrontation with Hamas is inevitable. Hamas' claim of responsibility for Monday's rocket and mortar fire was unusual. Since November, it has refrained from such announcements. This time, Hamas was apparently motivated by a desire to regain its fighting image in the eyes of the Palestinian public. Its statement even exaggerated the number of rockets and missiles fired. The attack was apparently timed for Independence Day to maximize its effect.
Hamas Fires Rockets at Israel
(Hamas's military wing claims responsibility for firing of 10 Qassam rockets, over a dozen mortar shells at Israel on Independence Day, ending a five-month ceasefire along Gaza border)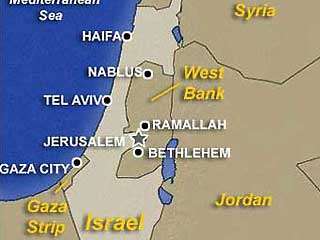 April 24….(YNET) Hamas gunmen fired a barrage of rockets and mortar shells at Israel from the northern Gaza Strip on Tuesday morning, security officials said. Hamas's military wing, the Izz el-Din al-Qassam Brigades, claimed responsibility for the attack, saying that a five-month ceasefire with Israel along the Gaza border "no longer exists," the French news agency AFP reported. A statement issued by the brigades in Gaza City said the attack was in response to "Israel's crimes in the West Bank." The army and the police said ten Qassam rockets and over a dozen mortar shells landed in open fields in the western Negev. No injuries were reported but police said damage to property has been reported by residents of an unidentified community. The army responded by dispatching helicopters to intercept the gunmen behind the attacks. Missiles were fired at launch pads used to wage the attacks, the army said. Prime Minister Ehud Olmert consulted a number of his military advisors about a possible response to the attack. "For the first time, the Hamas government has taken responsibility for a criminal terror attack which includes the firing of missiles into Israel," a senior aide told Ynet. "Israel needs no evidence to prove that this is Hamas's real face." Minister for Strategic Affairs Avigdor Lieberman said Tuesday that Israel's continued restraint was being interpreted as weakness and was encouraging terror groups to fire more rockets towards its territory. "We need to take immediate steps to ensure the safety of Sderot's residents," Lieberman said. Hamas claimed its gunmen fired 28 Qassam rockets and 61 mortar shells at Israel on Tuesday morning. The Islamic group has largely abided by a November ceasefire between Israel and Palestinian armed groups along the Gaza border, but the attack could signal a change of direction. Palestinian sources said Hamas commanders are split over the ceasefire as many want to renew attacks against the Jewish State. Palestinian Prime Minister Ismail Haniyeh, whose Hamas-led government negotiated the cease-fire with its militant wing, blamed Israel for the attack. (duh) The Islamic group's political leaders forged a national unity government with President Mahmoud Abbas's Fatah party last month in a bid to end an international aid embargo imposed on the Palestinian Authority. The attack coincided with celebrations to mark the 59th anniversary of Israel's establishment.
Hamas Blasts Israel With Mortars and Missiles
(Message to Zionist enemy, our strikes will continue)
| | |
| --- | --- |
| | Masked Palestinian militants from Hamas fired a barrage of rockets and mortar shells toward Israel on Tuesday and said they considered a five-month truce with Israel to have come to an end. Hamas politicians stopped just short of declaring the cease-fire over. However, it's unlikely the militants would have launched the attack, the biggest by the tightly organized group in months, without the tacit approval of Hamas politicians, and Hamas leader Ismael Haniyeh. |
April 24….(DEBKA) Ten mortar shells struck Sderot's Hadar district by 8:30 a.m. local time; 6 Qassam missiles exploded in other parts of the W. Negev up to Ashkelon causing damage but no casualties The Hamas military arm, Ezz-e-Din al Qassam, announced shortly before 8.00 am that it had shot 80 missiles and mortar rounds at Israeli targets in retaliation for IDF operations. Hamas spokesman Abu Obeida said later: "This is a message to the Zionist enemy that our strikes will continue. We have the means and we hold Gilead Shalit." The Abbas-led Fatah-al Aqsa Brigades and Jihad Islami lent a helping hand to the Hamas barrage. The Hamas ending of a "truce" on Israel's 59th Day of Independence comes after several months of holding back on overt violence for power-sharing talks with Fatah. In fact, the daily missile barrage form Gaza resumed four days ago on Saturday, together with new threats. DEBKAfile's military sources report: Hamas' strategic decision to go back to its missile, terror and suicide operations was taken recently, after the organization, which dominates the Palestinian government, judged its stockpile of ordnance sufficient to sustain a heavy blitz of Israel's towns and villages, and its units equipped and ready to withstand a responsive Israeli military incursion. Military sources in southern Israel told DEBKAfile they do not rule out a further escalation capable of dragging the sector into an open clash. They explain that Hamas' new offensive was no independent decision, but undertaken in conjunction with Tehran and Hizballah on the orders of Hamas politburo chief Khaled Meshaal in Damascus. The overall plan may be to extend it to other fronts. The direction in which Hamas was headed was clearly visible, said those sources. Many Israeli commanders view it as the consequence of the Olmert government's laxness which enabled Hamas and other Palestinian organizations to build up their strength, send units to train in Iran and work under the guidance of Revolutionary Guards instructors, who come and go as they please to and from the Gaza Strip, and import ever more sophisticated weapons and explosives through Sinai. The government also neglected to press Cairo and the European border monitors posted on the Gaza-Egyptian border to put a stop to Iranian and Hizballah passage. For two years, the border, including the Philadelphi sector evacuated by Israeli in 2005, has been wide open. DEBKAfile adds: The Hamas offensive launched April 24 makes a mockery of Israeli, US and European bids to reach out to "unaffiliated ministers" of the new Hamas-led Palestinian government, in the hope of toning down its innate violence. The Europeans, Saudis, Egyptians and PA chairman Mahmoud Abbas, by lifting the international heat from the Palestinians, gave them the chance to top up their arsenal, perfect their skills, and hatch their schemes undisturbed. Saturday, April 21, Hamas threatened to start abducting Israelis and Jews overseas after Israel rejected terms for releasing the Israeli soldier Gilead Shalit and BBC correspondent Alan Johnston. Lacking networks outside the Gaza Strip and West Bank, Hamas is expected to employ the extensive Lebanese Hizballah covert infrastructure which branches out across the Middle East, Africa and Europe.
Pope Benedict Embraces Abbas
| | |
| --- | --- |
| | (FOJ) Palestinian President Mahmoud Abbas (L) speaks with Pope Benedict XVI during their meeting in the pontiff's private library at the Vatican April today. The Vatican said it appreciated new efforts to restart peace talks between Israel and the Palestinians after Benedict XVI met Abbas. The Palestinian president traveled to Rome as part of a seven-nation tour to persuade European countries to end economic sanctions on the Palestinian government. |
Abbas: Mideast Peace Will Solve 'all Flash Points in The World'
April 23….(Ha Aretz) Palestinian Authority Chairman Mahmoud Abbas on Monday said a resolution to the Israeli Palestinian conflict would pacify all major conflicts around the world. Speaking in Athens after talks Monday with Greek Prime Minister Costas Karamanlis, Abbas said, "Everyone recognizes that peace in the Middle East and a resolution of the Israeli-Palestinian conflict can put out the fires at all the flash points in the world." Abbas also appealed to the international community to lift an aid embargo imposed on the Palestinian Authority after Hamas came into power, saying the sanctions hurt prospects for peace in the Middle East.
Al-Qaida Planning 'Hiroshima' Attack
April 23….(Times On Line) Al-Qaeda leaders in Iraq are planning the first "large-scale" terrorist attacks on Britain and other western targets with the help of supporters in Iran, according to a leaked intelligence report. Spy chiefs warn that one operative had said he was planning an attack on "a par with Hiroshima and Nagasaki" in an attempt to "shake the Roman throne", a reference to the West. Another plot could be timed to coincide with Tony Blair stepping down as prime minister, an event described by Al-Qaeda planners as a "change in the head of the company". The report, produced earlier this month and seen by The Sunday Times, appears to provide evidence that Al-Qaeda is active in Iran and has ambitions far beyond the improvised attacks it has been waging against British and American soldiers in Iraq. There is no evidence of a formal relationship between Al-Qaeda, a Sunni group, and the Shi'ite regime of President Mah-moud Ahmadinejad, but experts suggest that Iran's leaders may be turning a blind eye to the terrorist organization's activities. The intelligence report also makes it clear that senior Al-Qaeda figures in the region have been in recent contact with operatives in Britain. It follows revelations last year that up to 150 Britons had traveled to Iraq to fight as part of Al-Qaeda's "foreign legion". A number are thought to have returned to the UK, after receiving terrorist training, to form sleeper cells. The report was compiled by the Joint Terrorism Analysis Centre (JTAC) based at MI5's London headquarters, and provides a quarterly review of the international terror threat to Britain. It draws a distinction between Osama Bin Laden and Al-Qaeda's core leadership, who are thought to be hiding on the Afghan-Pakistan border, and affiliated organizations elsewhere. The document states: "While networks linked to AQ [Al-Qaeda] Core pose the greatest threat to the UK, the intelligence during this quarter has highlighted the potential threat from other areas, particularly AQI [Al-Qaeda in Iraq]." The report continues: "Recent reporting has described AQI's Kurdish network in Iran planning what we believe may be a large-scale attack against a western target. "A member of this network is reportedly involved in an operation which he believes requires AQ Core authorization. He claims the operation will be on 'a par with Hiroshima and Naga-saki' and will 'shake the Roman throne'. We assess that this operation is most likely to be a large-scale, mass casualty attack against the West." Analysts believe the reference to Hiroshima and Naga-saki, where more than 200,000 people died in nuclear attacks on Japan at the end of the second world war is unlikely to be a literal boast. "It could be just a reference to a huge explosion," said a counter-terrorist source. "They [Al-Qaeda] have got to do something soon that is radical otherwise they start losing credibility." Despite aspiring to a nuclear capability, Al-Qaeda is not thought to have acquired weapons grade material. However, several plots involving "dirty bombs," conventional explosive devices surrounded by radioactive material, have been foiled. Last year Al-Qaeda's leader in Iraq called on nuclear scientists to apply their knowledge of biological and radiological weapons to "the field of jihad". Details of a separate plot to attack Britain, "ideally" before Blair steps down this summer, were contained in a letter written by Abdul al-Hadi al-Iraqi, an Iraqi Kurd and senior Al-Qaeda commander. According to the JTAC document, Hadi "stressed the need to take care to ensure that the attack was successful and on a large scale". The plan was to be relayed to an Iran-based Al-Qaeda facilitator.
Did US Have Emergency Plan for Attacking Israel in 1967
April 23….(Ha Aretz) Apparently the United States had had an reserved emergency plan to attack Israel, in a plan updated just prior to the 1967 war, aimed at preventing Israel from expanding westward, into Sinai, or eastward, into the West Bank. In May 1967, one of the US commands was charged with the task of removing the plan from the safe, refreshing it and preparing for an order to go into action. This unknown aspect of the war was revealed in what was originally a top-secret study conducted by the Institute for Defense Analyses in Washington. In February 1968, an institute expert, L. Weinstein, wrote an article called "Critical Incident No. 14," about the US involvement in the Middle East crisis of May-June 1967.Only 30 copies of his study were printed for distribution. Years later the material was declassified and can now be read by everyone, although details that are liable to give away sources' identities and operational ideas have remained censored. Strike Command, the entity that was to have launched the attack on Israel no longer exists. It was annulled in 1971 for domestic American reasons and superseded by Readiness Command, which was abolished in the 1980s in favor of Central Command (CENTCOM) which today includes forces in Iraq, Iran, Syria, Lebanon, Egypt, Jordan and Afghanistan; and the Special Operations Command (SOCOM). The general who oversaw the planning in 1967 was Theodore John ("Ted") Conway, then 56 and a four-star general, the head of Strike Command. On May 20, 1967, according to L. Weinstein's confidential study for the Institute for Defense Analyses, cable No. 5886 of the Joint Chiefs of Staff was sent to EUCOM and STRICOM. STRICOM was asked to refresh the emergency plans for intervention in an Israeli-Arab war: one plan on behalf of Israel and the other, on behalf of the Arabs. The basis for the directive was Washington's policy of support for the existence, independence and territorial integrity of all the states of the region. This translated into adherence to the Israeli-Arab armistice lines of 1949. The policy was not to allow Egypt, or any combination of Arab states, to destroy Israel, but also not to allow Israel to expand westward, into Sinai, or eastward, into the West Bank. The American pressure in this regard brought the IDF back from El Arish in Operation Horev in 1949 and from Sinai in 1956. A version of it would appear in Henry Kissinger's directives after the IDF encircled Egypt's Third Army at the end of the Yom Kippur War of 1973. The plan laid out how the United States should act if the war were to be launched by an Arab action or, alternatively, by an Israeli strike. "The ultimate objective would be to stop aggression and insure the territorial integrity of all the Middle Eastern states," Conway was informed in cable No. 6365 of the Joint Chiefs, with a copy to EUCOM. Conway's reply to this, dated May 28, is described in the top-secret study as "a strong plea for complete impartiality." The United States was liable to lose its influence to the Soviets, the general warned, and therefore it must demonstrate "strict neutrality" and avoid open support for Israel. The true importance of the Middle East lay in the American-Soviet context of the Cold War, Conway argued, and the American stance must derive from those considerations, not from "local issues." Only as a last resort should the United States take unilateral action, and then only to put an end to the fighting. In the estimation of the STRICOM commander, the Egyptian forces were deployed defensively, whereas the Israelis were deployed in rapid-strike offensive capability. On May 29, Conway recommended that any US intervention be launched early in order to ensure the territorial integrity of all the countries involved; restoring the status quo ante would become more complicated as the attacking army captured more territory. It might be difficult to determine which side had launched the hostilities, he noted, but the American response should be identical in both cases: a display of force, warnings to both sides, and if that should prove insufficient, "air and naval action to stabilize the situation, enforce grounding of aviation of both sides plus attacks on all moving armor or active artillery." Following the cease-fire, US ground forces would be moved in for peacekeeping missions. The return of territories would be achieved primarily by diplomatic means, with military force to be used only if "absolutely necessary." General Earle Wheeler, chairman of the Joint Chiefs of Staff, barred the distribution of the planning concept to subordinate levels. A preliminary paper was prepared by June 5, the day the war erupted, and became outdated even before it could be used. On June 6, when the success of the Israel Air Force was known, and as the divisions under IDF Generals Israel Tal, Ariel Sharon and Avraham Yoffe advanced into Sinai, the Joint Chiefs sent McNamara top-secret memorandum No. 315-67, recommending that the United States not intervene militarily, that it continue to work through the United Nations and bilateral diplomatic channels, including consultation with the Soviets, to stop the war, and that logistical support for all sides be suspended. The American sigh of relief at the demise of the worst-case scenario, the danger that Israel would be destroyed, was replaced by the fear that the Arab defeat had been so crushing that the Soviets would intervene on their behalf, or at least would reap a diplomatic profit. Because the United States did not know what Israel was aiming at, despite declarations by Eshkol and by Defense Minister Moshe Dayan that Israel had no territorial ambitions, the administration "now felt that it was necessary to limit the Israeli success to reasonable bounds."
Syrian Generals on Secret Mission to Tehran
April 23….(DEBKA) Led by Maj. Gen. Yahya L. Solayman, War Planning chief at the Syrian armed forces General Staff, the delegation represents all branches of the Syrian armed forces. On their arrival on April 18, the Syrian officers went straight into conference with Iranian defense minister Brig. Gen. Mostafa Mohammad-Najjar, Revolutionary Commanders chief Maj. Gen. Yahya Rahim-Safavi and dep. chief of staff Maj. Gen. Hassani Sa'di, who is Iran's chief of military war preparations. The Syrian visitors were taken around RG and armed forces training installations and given a display of the latest Iranian weapons systems, including stealth missiles, electronic warfare appliances and undersea missiles and torpedoes. They also visited the big Imam Ali training base in N. Tehran, where hundreds of Lebanese Hizballah and Palestinian Hamas and Jihad Islami terrorists are taking courses. In Washington and Jerusalem, there is little doubt that the two allies timed the Syrian delegation's mission to Tehran as a rejoinder to US defense secretary Robert Gates' Middle East tour last week.
Israel sees four causes for concern:
1. The unusually large size of the Syrian delegation and the presence of operations officers from the various army corps.
2. The elevated positions of the Iranian officials hosting the Syrians: the top men with responsibility for preparing the RGs and armed forces for armed conflict.
US and Israeli intelligence experts agreed in their talks during Gates' two-day visit to Israel last week on the object of the Syrian mission: to tighten operational coordination at the highest level between the Syria military and Iran's armed forces and Revolutionary Guards.
3. The installations and weapons shown the Syrian officers. The intelligence estimate is that they saw the weapons systems soon to be consigned by Iran to the Syrian army and Hizballah, as well as the types of assistance pledged for Syria in the event of a military showdown with the United States or Israel. Syrian-Iranian consultations must also be presumed to have cleared the routes by which these weapons would reach Syria and Hizballah in a military contingency. During the 2006 Hizballah-Israel war, Iran ran an airlift to Damascus through Turkish airspace and over the Mediterranean.
4. The unusual length of the visit. Monday, April 23 the Syrian officers were still busy in Tehran after six days and showed no sign of leaving.
'Syria Prepping for Summer War'?
(Officials: Iran helping Damascus produce rockets, move troops, missiles)
April 23….(WND) Syria aided by Iran is making preparations for a summer war with Israel, including acquisition of advanced weaponry, placement of missiles near the Jewish state's border, and training and movements of strategic troop battalions, Israeli security officials told WND. The information follows media interviews last week in which Syrian President Bashar Assad stated he doesn't rule out the possibility of war with Israel. Syrian officials recently have also been warning if Israel doesn't vacate the Golan Heights, Damascus will resort to "resistance." The Heights is strategic mountainous territory that looks down on Israeli and Syrian population centers; it was twice used by Damascus to mount ground invasions into the Jewish state. According to Israeli security officials, the Syrian military in recent week has been carrying out stepped-up training of troops and has increased the readiness of its army. The officials noted movement of Syrian Scud missiles near the border with Israel and said Syria has been increasing production of rockets capable of hitting central Israeli population centers. The security officials said the greatest threat Syria poses to the Jewish state are the country's missiles and rockets. They noted Syria recently test-fired two Scud-D surface-to-surface missiles, which have a range of about 250 miles, covering most Israeli territory. The officials said the Syrian missile test was coordinated with Iran and is believed to have been successful. It is not known what type of warhead the missiles had. In addition to longer range Scuds, Syria is in possession of shorter range missiles such as 220 millimeter and 305 millimeter rockets, some of which have been passed on to Hezbollah. In addition, Israel has information Syria recently acquired and deployed Chinese-made C-802 missiles, which were successfully used against the Israeli navy during Israel's war against the Lebanese Hezbollah militia this pasty July and August. The missiles were passed to Syria by Iran, Israeli security officials told WND. Russia recently sold to Syria advanced anti-tank missiles similar to the projectiles that devastated Israeli tanks during the last Lebanon war, causing the highest number of Israeli troop casualties during the 34 days of military confrontations. Syria and Russia are negotiating the sale of advanced anti-aircraft missiles. Israeli security officials told WND Syria is preparing for a summer war, but said the war preparations are defensive in nature. They said Syrian war preparations are being coordinated by Iran. The officials said Syria believes Israel will attack first in response to ongoing support of Hezbollah, including the passage of large quantities of rockets to the Lebanese group. The officials also said Syria estimates the U.S. or Israel will attack Iran, and that Syria will be drawn into a larger military confrontation. Israeli security officials don't rule out the possibility Syria may start a low-grade military conflict with Israel over the Golan Heights, noting multiple Syria officials in recent months warned if Israel doesn't vacate the territory, Damascus will launch "resistance." In one recent example, Syrian Information Minister Mohsen Bilal last month announced, "If in the next coming months there will not be a political solution, military resistance will be the only solution for Syrians." Israeli security officials note in recent months, state-run Syrian media have been broadcasting regular warlike messages unseen since the 1973 Yom Kippur War, in which Syria and Egypt launched invasions from the Golan and the Sinai desert. "The tone in Syria is one of preparing the public for a war," said one senior security official. He said any Syrian provocation would likely be coordinated with Iran. Tehran and Damascus, which both support Hezbollah, have signed several military pacts.
WEEK OF APRIL 15 THROUGH APRIL 22
Zahar: Koran Forbids Recognizing Israel
April 20….(Jerusalem Post) Former PA foreign minister Mahmoud A-Zahar of Hamas said Friday that recognizing Israel contradicts the Koran, Israel Radio reported. In an interview with a Hamas-affiliated Web site, A-Zahar said that Hamas had not given up on the principle that all of Palestine is Muslim land. According to the report, A-Zahar also claimed that Fatah was building a new army and training operatives in various Arab countries in a renewed effort to eliminate Hamas. Hamas and Fatah have been attempting to maintain a shaky truce since they signed a peace treaty in Mecca in February, following weeks of brutal infighting Gaza and the West Bank. However, violence has continued sporadically since the accord was signed, and political tensions remain between the two parties as they try to form a unity government.
Nuclear Terror: How Likely Is It?
(50% chance of detonation within 10 years, says expert)
April 20….(WND) How likely is it that terrorists will some day be successful at detonating a nuclear device in a major American city? That was the question debated in an online forum sponsored by the Council on Foreign Relations this week. And while Harvard's Graham T. Allison and the CFR's Michael A. Levi may disagree over the likelihood of such an attack, they agreed it is a serious threat and much more needs to be done to avoid the disastrous consequences. Levi, the skeptic, said: "Al-Qaida has grand ambitions and seeks mass casualties. And regardless of the probability of nuclear terrorism, the potential consequences of a successful attack should be enough to prompt us to more urgent action than we are currently taking." Allison, author of the forthcoming book, "On Nuclear Terrorism," pointed out a growing consensus on the severity of the threat. "In the hotly contested American presidential election in 2004, the two candidates agreed on only one fundamental point," he said. "In the first televised debate, they were asked, what is 'the single most serious threat to the national security to the United States?' President Bush, answering second, said: 'I agree with my opponent that the biggest threat facing this country is weapons of mass destruction in the hands of a terrorist network.'"
| | |
| --- | --- |
| Graham T. Allison | Michael A. Levi |
Allison cited other authorities, including former Sen. Sam Nunn, who is on record as saying the likelihood of a single nuclear bomb exploding in a single city is greater today than at the height of the Cold War. Perhaps no one, however, has studied the issue more thoroughly than Allison. In his book, based on the current trend line, he concludes the chances of a nuclear terrorist attack in the next decade are greater than 50 percent. He said former Secretary of Defense William Perry believes that assessment underestimates the risk. "From the technical side, Richard Garwin, a designer of the hydrogen bomb who Enrico Fermi once called, 'the only true genius I had ever met,' told Congress in March he estimated a '20 percent per year probability with American cities and European cities included' of 'a nuclear explosion, not just a contamination, dirty bomb, a nuclear explosion.'" Discounting arguments that terrorists don't want to take chances with potential failure, Allison explains why the stakes are so high for terrorists to conduct a nuclear attack. "The effect of a nuclear terrorist attack would reverberate beyond US shores," he says. "After a nuclear detonation, the immediate reaction would be to block all entry points to prevent another bomb from reaching its target. Vital markets for international products would disappear, and closely linked financial markets would crash. Researchers at RAND, a US government-funded think tank, estimated that a nuclear explosion at the Port of Los Angeles would cause immediate costs worldwide of more than $1 trillion and that shutting down US ports would cut world trade by 7.5 percent." Even a so-called "dud" in nuclear terms would cause more destruction than the most dramatic conventional attack. "Such an explosion would torch anyone one-tenth of a mile from the epicenter, and topple buildings up to one-third of a mile out." Allison concludes: "The most important takeaway from this debate is that we must do everything technically feasible on the fastest possible time line to prevent terrorists from getting their hands on nuclear materials. The repercussions of such materials in jihadist clutches are unacceptable." The government's own National Planning Scenario projects even a small, improvised 10-kiloton nuclear bomb would likely kill hundreds of thousands in a medium-sized city. President Bush, Vice President Dick Cheney and the 9/11 commission have all concluded a nuclear terrorist attack is not only the nation's No. 1 nightmare but also something of an inevitability at some time in the future.
Olmert: Misunderstanding Might Lead to War
(US Secretary of Defense Robert Gates, warns of 'miscalculations' that may push Syrian and Israel to a war none of them wants) (Olmert says arms smuggling to Hizbullah must be stopped)
April 19….(Ha Aretz) "We must be wary of miscalculations that might lead Syria and Israel to a conflict they are not interested in," Prime Minister Ehud Olmert warned Thursday in a meeting with US Defense Secretary Robert Gates.
| | |
| --- | --- |
| | US Defense Secretary Robert Gates sought Thursday to ease Israeli concerns about a planned American weapons sale to Gulf Arab allies, saying the US remains committed to preserving Israel's military edge over its neighbors. The Secretary also noted that Russia is providing military upgrades to client states around Israel, which is another continuing concern. |
Olmert stressed that Israel does not plan to attack Syria. In their meeting, the prime minister voiced concern regarding the increasing flow of arms from Syria to Hizbullah in Lebanon, and noted that the international community must ensure that UN Resolution 1701 is implemented in full and that the smuggling stops. The two politicians referred to the strategic changes taking place in the Middle East, and to attempts by moderate Arab countries to tackle radical Islam, "The most immediate and central threat to stability in the Middle East." Olmert said that these changes also influence the Arab countries' willingness to make peace with Israel and promote the peace process between Israel and the Palestinians. Gates and Olmert also discussed a series of regional issues, including the strategic and security relationships between the two states and developments in Iran, Iraq, Lebanon, Syria and the Palestinian Authority. Earlier Thursday, Foreign Minister Tzipi Livni urged Gates to send a firm message to Iran over the country's refusal to put an end to its nuclear program. "The free world is being tested by those countries that are being threatened by Iran, mostly its Arab and Muslim neighbors. Every hesitation is being interpreted as weakness, and it's only the world's determination that can preserve the moderate camp," Livni told Gates during their meeting in Jerusalem. "We live in a neighborhood where impression is important, and if they get the impression that the world can beat the neighborhood's bully, the Arab countries will join the world," she added.
Half of All Israeli Terror Victims Died in Six Years of Oslo War
April 19….(IsraelNN.com) Arab terrorists have killed 864 Israelis and wounded more than 14,000 others since they launched the Oslo War, also known as the Second Intifada, in October 2000. The number of terrorism fatalities represents half of the 1,635 citizens who died in terrorist attacks since the establishment of the State of Israel in 1948. The statistics were reported Thursday by the National Insurance Institute (Bituach Leumi) in a press release ahead of Memorial Day, which falls on Monday. Arab terrorists have killed 864 Israelis and wounded more than 14,000. The Almagor terror victims' organization also recently released figures showing that no fewer than 177 innocent citizens, mostly Israeli Jews, were murdered in recent years in attacks perpetrated by terrorists freed from Israeli jails. In 30 separate attacks by rescidivist terrorists, scores of Israelis were also seriously wounded. The Palestinian Authority decision to launch the Oslo War in 2000 followed PA leader Yasser Arafat's refusal of an offer from then-Prime Minister Ehud Barak for a new Arab state. Barak was ready to surrender more than 90 percent of lands in Judea, Samaria and Gaza, including much of Jerusalem in exchange for commitments from Arafat. In December 2000, Imad Falouji, PA Communications Diector that the sustained terrorist campaign "was already planned ever since Yasser Arafat's return from the last talks at Camp David, at which he stood up to President Clinton and firmly rejected the American terms." A visit by former Prime Minister Ariel Sharon to the Temple Mount, Judaism's holiest site, just a few days after the first attack by PA militiamen on their IDF counterparts in a joint patrol, was later used by Arafat as propaganda for inciting further attacks. The PA later dubbed their terror war the "Al-Aksa Intifada," in a reference to one of the mosques on the Temple Mount. The Oslo Peace Accords, which gave the Oslo War its name, were negotiated in Oslo, Norway, and signed in September 1993. The set of agreements set out to solve the Israeli-Arab conflict by providing the leadership of the Palestine Liberation Organization (PLO) with guns and land in exchange for assurances of peace. At the signing ceremony in Washington, US President Bill Clinton called the Oslo Accords a "brave gamble." Prime Minister Yitzhak Rabin admitted in an October 1994 speech in Casablanca that the Oslo initiative was a "calculated risk for peace." Since last Independence Day, 66 Israeli civilians have died in terrorist attacks, including those who perished during the Second Lebanon War waged by Hizbullah.
Arab FMs Plot Next Step in Israel Carve-up
April 19….(Stan Goodenough/Jnewswire) The foreign ministers of 12 Arab states met in Cairo on Wednesday to discuss how most effectively to push for the realization of their vision for an Israel-free Middle East. They selected Jordan and Egypt, the two countries that have signed agreements with Israel, to approach Israel and push the Olmert government towards going along with the Saudi-drafted "peace" plan. A weak leader who has turned his back on Zionism, Prime Minister Ehud Olmert recently voiced his appreciation for the Saudi plan. It sees Israel relinquishing hold and claim to its biblical heartland and withdrawing to the 1949 ceasefire lines so that a Palestinian state can be created in Judea, Samaria and Gaza. The plan requires the Jewish state to surrender large parts of Jerusalem, Israel's ancient capital, including the Old City and the Jews' holiest site, the Temple Mount so that "Palestine" can have its capital there. It also insists that Israel allow millions of Arabs who claim that they, or their parents, were driven from Israel in 1948 and 1967, to "return home." If permitted, this "right of return" would swamp what would be left of Israel with Arabs, who would then go on to fight for their right to vote, thereby ousting the Jewish-led government and quickly seeing Israel ingested into "Palestine." The states represented at Wednesday's meeting were Algeria, Bahrain, Egypt, Jordan, Lebanon, Morocco, Qatar, Saudi Arabia, Syria, Sudan, Tunisia and Yemen. Of course, a representative of the Palestinian Authority was also present. While differences on a whole gamut of issues have long divided the Arabs, a uniting factor has always been their commitment to the eventual "cleansing" from their Muslim midst of what the press in their countries frequently refers to as "the Jewish cancer." The current step in their strategy employs the creation of a Palestinian state on whatever parts of the Land of Israel they can obtain, either through terrorism or negotiation or a combination of both. For this step they enjoy the support of most the nations of the world.

Va. Tech Convocation told of Allah, not Jesus
(Speakers invoke Buddha, Dalai Lama, Allah, but not Jesus)
April 18….(WND) Speakers at the Virginia Tech convocation yesterday called on Allah and Buddha in their efforts to minister to the survivors, family and friends of victims of the shooting massacre at the school – but Jesus wasn't mentioned by name. President Bush did offer a biblical message of hope, when he suggested the school community that lost 32 members to the shootings by an out-of-control resident alien student find "comfort in the grace and guidance of a loving God." But even he didn't bring Jesus, the only hope of comfort and future life for Christians, into the memorials. "I'm sitting here watching the convocation service at VT," wrote a WND reader who was given anonymity. "Five minutes ago they had four representatives from the local 'religious community.' The Muslim specifically invoked Allah's blessings… and he didn't shy away from saying the name of Allah. The Jewish rep asked for God's blessings. Buddha was represented. The only name that [was] omitted, of course, Jesus Christ." And another WND reader cited the speakers, in order:
· "1st Speaker: A Muslim cleric invoking the name of Allah and quoting the Quran."
· "2nd Speaker: A Buddhist Community Leader preaching that mankind is basically 'good.'"
· "3rd Speaker: A Female speaker from the Jewish Community quoting Ecclesiastes: 'There is a time for everything.'"
· "4th Speaker: A Liberal Lutheran Minister talking about 'healing,' etc. and how everyone needs to come together (blah, blah, blah…)."
"BUT NOT ONE EVANGELICAL CHRISTIAN PASTOR/PREACHER. NO INVOCATION OF THE NAME OF CHRIST JESUS." "The only thing that surprised me, though, is that they didn't have a rep from the Universal Life 'church' or the 'Church of Satan.' Go figure," said the first reader. Yet another reader wondered why a Muslim cleric was the first member of the clergy to deliver remarks. "By the prominence of the Muslim speaker in the service are we to assume that Virginia Tech is mainly a Muslim student body? ... How are we to know this wasn't a signal to a sleeper cell? ... I pray the students and staff find tangible comfort from the God who freely gave us the Lord Jesus to show us how to live." It was up to the president to deliver references to Christianity. He never mentioned Jesus Christ either.
US Scolds Russia for Breakup of anti-Kremlin Protests
April 17….(Reuters) The United States scolded Russia on Monday over a police crackdown on anti-Kremlin protests, calling it a heavy-handed response that raised new questions about Moscow's commitment to democracy. The US reaction marked the sharpest criticism of President Vladimir Putin's government since he accused Washington in February of trying to impose its will on the world, and could further strain bilateral relations. Riot police wielding batons beat, kicked and chased opposition demonstrators in St. Petersburg on Sunday, a day after authorities detained several hundred protesters in Moscow, including former world chess champion Garry Kasparov. "We are deeply disturbed by the heavy-handed manner in which this weekend's demonstrations were broken up by the authorities and by an emerging pattern of use of excessive force by the authorities in reaction to similar events," White House spokeswoman Dana Perino told reporters. "We think that these types of disruptions at peaceful protests are unacceptable," she added. US State Department spokesman Sean McCormack joined in the criticism, saying, "At the very least it is inconsistent with the Russian government's stated democratic values." The Kremlin defended the police action, saying they were trying to stop "ultra-radicals" from violating law and order. Germany, holding the rotating presidency of the European Union, said Russia's crackdown was "unacceptable" and demanded Moscow explain its actions. US officials over the past year have accused Putin of rolling back democratic reforms and using Russia's vast energy resources to pressure its neighbors. Such verbal attacks had tapered off as US President George W. Bush sought Russian support for curbing Iran and North Korea's nuclear programs. The Bush administration was measured in response to Putin's tirade at a Munich conference in which he accused Washington of pursuing policies aimed at making it "one single master." Many Russians have voiced suspicion that US efforts to spread democracy in former East bloc countries is actually an attempt to encroach on their traditional spheres of influence.
Syria: Without Peace, We Will Go to War to Liberate Golan Heights
(Syrian information minister says Damascus wants peace, but will resort to violence if Israel rejects Arab peace proposal)
April 17….(YNET) If Israel rejects the Arab League peace proposal, resistance will be the only way to liberate the Golan Heights," warns Syrian Information Minister Muhsen Bilal, at a press conference in Damascus Monday. The minister explained that Syria had an interest in renewing talks with Israel with support from America and Russia. "Syria wants to reach a fair, comprehensive peace," he added. However, he also stated that "any nation living under occupation has the prerogative to resist. In Lebanon, Palestine and Iraq, we must liberate all occupied Arab land." Damascus also announced Monday that it planned to host an international conference to discuss "media coverage of the Palestinian problem and Iran's right to have nuclear technology for peaceful purposes." The conference will take place on April 30; it will be headed by Syrian President Bashar Assad.
Slain Israeli Professor Saved Others in Va. Tech Massacre

April 17….(IsraelNN.com) As Israel observed Holocaust Day, thousands of miles away, A Rumanian-born Holocaust survivor gave his life in another senseless murder, and apparently in an act of heroism. Among the 32 people killed by a lone gunman at Virginia Tech Monday is 77-year-old engineering professor, Liviu Librescu, a citizen of Israel. According to eyewitness accounts, Librescu ran to the door of his classroom and blocked it with his body, preventing the gunman from entering but getting shot to death himself as a result. Alec Calhoun, a 20-year-old student who had been in Librescu's class in room 204, told a reporter that at 9:05 a.m. the heard screams and a loud banging sound from the next-door classroom. When the students realized it was gunfire, he said, some hid behind tables, and others leapt from the classroom's windows. Calhoun himself was among the last to jump. "Before I jumped from the window, I turned around and looked at the professor, who stayed behind to block the door. He had been killed."
Librescu is survived by his wife of 42 years, Marlena, who was with him in Virginia, and sons Aryeh and Joe who are in Israel. They intend to bury him in Israel. Asael Arad, an Israeli student who visited the widow after the tragedy, told Army Radio Tuesday that Marlena had been receiving e-mails from students who credited Prof. Librescu with saving their lives. Marlena said someone had initially informed her that her husband was injured in the shooting. "I looked for him in the hospitals all day but I didn't find him," she said. The Librescus are Rumanian Jews who came on aliyah (immigrated to Israel) in 1978, after then-Prime Minister Begin interceded on their behalf with the Rumanian government, according to Marlena. The couple went on a sabbatical to the United States since 1986 and has been living there ever since.
Tehran Arms Lebanese Hizballah with Air Defense Missile Wing
April 17….(DEBKA) Yesterday, during Israel's Holocaust Remembrance Day, Hizballah and Iranian Revolutionary Guards commanders staged a grand ceremony at the Imam Ali base in northern Tehran to celebrate the launch of Hizballah's anti-air missile wing. They cheered the 500 Lebanese graduates of a course in the use of three anti-air missiles supplied by Iran: The Sayyad 1 (Hunter), the Misagh 1 (Convention [with Allah]) and the Shahab Sagheb (Meteor), which is based on the Chinese Feimeng-80 system. DEBKAfile's military sources report that these new weapons will seriously restrict the Israeli Air Force's tactical freedom over Lebanon. In the event of hostilities, Israeli warplanes will have to evade a dense array of Hizballah-operated anti-air missiles which will also defend the terrorist group's surface rocket batteries. Those sources disclose that the Iranian-Chinese missile has already been smuggled into Lebanon and is in Hizballah's hands. It is designed to shoot down planes and helicopters flying at ultra-low altitudes under radar screens for surprise assaults on ground targets such as military bases, missile positions and artillery. Ordinary radar and air defense missiles are mostly ineffective against these low-flying tactics. The new missile makes up for this shortcoming. On March 7, the 500 Hizballah trainees flew out of Damascus airport for Tehran aboard two civilian airliners; on April 16, they returned home, again through the Syrian airport after training in the Imam Ali base under Iranian experts commanded by Iranian Col. Mohammed Mnafi. DEBKAfile hears from military circles wry remarks to the effect that, while Israel's heads of state and chief of staff solemnly declared: "Never again!" in speeches marking Holocaust Remembrance day, they are seriously short on action for curbing Hizballah-Hamas preparations for their next war on the Jewish state. Surface missiles are routinely smuggled into Lebanon and the Gaza Strip, unopposed. But the arming of Iran's Lebanese proxy with deadly anti-air missiles poses a new and extraordinarily threat to the Israeli Air Force and, moreover, prevents air attacks on the Hizballah batteries shooting rockets into Israel. Questions are being asked about how Israel's policy-makers and top brass could have allowed 500 Hizballah trainees to fly out of Damascus airport unhindered and return as air defense specialists, highly trained for shooting missiles at the Israeli Air Force and preventing Israeli warplanes from halting surface rockets should they fly against Israeli civilian locations once more.
An Ideology of Hatred
(Holocaust unique because of hideous ideology behind it)
April 16….(YNET/Sever Plocker) In a will written in the bombed-out bunker in Berlin as Germany faced defeat, Adolf Hitler called on his people to continue the merciless war against the people responsible for poisoning the world – international Jewry. Hitler was consistent in his theory: For him and the Nazi leadership the Holocaust was not just another war maneuver. For them it was a sacred mission whose goal was the wiping out, once and for all, of a hostile, criminal and defiled race that was responsible for all of humanity's problems throughout the generations: The Jewish race. This was the essence of his worldview, the driver and the flag. The Nazi anti-Semitic propaganda, as shown in Professor Jeffrey Herf's revealing new book The Jewish Enemy, did not weaken when defeat was near, but rather became increasingly more powerful. Its level of poison consistently increased until it became the sole means that explained the reasoning of the war to the German masses. The will to wipe out the Jews, writes Professor Herf, has remained the leading factor in the Nazi ideology in general. Did the Nazi leadership believe in its anti-Semitic propaganda? Was it convinced by the satanic statements made by the press office headed by Hitler's right-hand man, Otto Dietrich? The answer is yes. It sheds light on the Nazis' persistence in continuing to operate the Jewish extermination machine even when resources allocated for this purpose hampered the Germans' final war effort. The anti-Semitic dybbuk that gripped the Nazis didn't let up: According to Professor Herf, they believed until the end that the Jews conspired globally to destroy Germany and enslave the Aryan race. Those trying to relate to the Holocaust today as a hideous war crime, but one that is not unique and not only "Jewish," are ignoring the overall historic anti-Semitic connection prevalent throughout the generations. One had to be blind not to see the roots of the Holocaust's conscious awareness, and its drawing from an age-old culture of European hatred. The Holocaust constituted the final link, until now in the anti-Jewish blood dynasty: Since exiled from their homeland, Jews had been ostracized, humiliated, hated and held guilty for all of mankind's misdemeanors. The sword of persecution over the heads of Jews was not put away for a moment, until they were led to the gas chambers. No other tragedy or war crime throughout human history equals the Holocaust of the Jewish people, not because of the extent and not because of its methodology, but rather, because of the ideology behind it.
FOJ Note: (Deuteronomy 28:64-66 And the Lord shall scatter thee (Jews) among all people, from the one end of the earth even unto the other; and there thou shalt serve other gods, which neither thou nor thy fathers have known, even wood and stone. And among these nations shalt thou find no ease, neither shall the sole of thy foot have rest: but the Lord shall give thee there a trembling heart, and failing of eyes, and sorrow of mind: And thy life shall hang in doubt before thee; and thou shalt fear day and night, and shalt have none assurance of thy life:)
Remembering the Muslim Who Inspired Hitler to Wipe Out The Jews
April 16….(Israel Insider) The 27th day of Nisan year marks the day when the Warsaw Ghetto uprising began against the Nazis in 1943. The 27th of Nisan was therefore selected as Holocaust Remembrance and Heroism Day in Israel, the day on which Israel would remember the mass murder of Jews in World War II, not only as a day of mourning and remorse, but also as a day to remember those who fought back against the Nazis and their allies. To paraphrase the question asked on Passover two weeks ago, people often ask why this persecution of Jews in Christian countries was different than other persecutions? After all, Jews had suffered persecution in Christian lands over the centuries. The answer: This time, Nazis incorporated the Moslem idea of Jihad -- the impulse for total destruction and complete annihilation in the spirit of a Holy War. The Moslem cleric who inspired Adolf Hitler with the idea of Jihad was none other than the Mufti of Jerusalem, Haj Amin El Husseini, who did not want masses of exiled Jews to wind up in the land of Israel, which he claimed as a future Arab Palestine, devoid of Jews. Indeed, in 1936, the Mufti welcomed Hitler's deputy, Adolf Eichmann, to his office at the Supreme Islamic Council based at the Palace Hotel in the center of Jerusalem, where Eichmann kept meticulous records of his meetings with the Mufti, where the Palestinian Arab leader of that generation taught Eichmann about the philosophy of Jihad. Journalist Maurice Pearlman, who reviewed the records of Eichmann's meetings with the Mufti at the trials for Nazi leader in Nuremberg, wrote a book entitled The Mufti of Jerusalem, published in 1947, in which Pearlman noted that the Mufti instructed Eichmann that the way in which the Nazis could best persecute the Jews was to do so slowly and in stages, so as to catch them unaware of the next stage of persecution. Eichmann offered reciprocal hospitality for the Mufti in Nazi Germany. In 1939, with the outbreak of World War II, the British government, then presiding over the mandatory government in Palestine, expelled the Mufti, who chose to travel to fascist Italy and then to Berlin, where he remained for the remainder of World War II. Hitler provided the Mufti with a radio station in Berlin from where he propagated the Nazi message in the Arabic language, and the Mufti was assigned the task of organizing a Moslem contingent of the Nazi murder machine which killed Jews throughout Yuogoslavia. The Mufti obtained Hitler's assurance in November 1941 that after dealing with the Jews of Europe, Hitler would treat the Jews of the Middle East similarly. Husseini promised the support of the Arabs for the Nazi war effort. In Berlin, Husseini used the money confiscated from Jewish victims, to finance pro-Nazi activities in the Middle East and to raise 20,000 Muslim troops in Bosnia, in the Hanjar Waffen SS, who murdered tens of thousands of Serbs and Jews in the Balkans and served as police auxiliary in Hungary. Heinreich Himmler, the chief administrator of the Nazi death machine, brought the Mufti on numerous tours of the death camps. Most recently, a book was written about the ZunderKommandos, whose task it was to remove the dead Jews from the crematoria. One of those ZuderKommandos remarked in an interview with a researcher that he witnessed a man with a turban whom the Nazi camp commandant brought to witness the gassing of the Jews and the removal of the bodies from the gas chambers, the stripping of their valuables and the burning of their remains. The Nazi told the ZunderKommando that this was the Mufti of Jerusalem. During the final months of the war, the Mufti actually lived in Hitler's bunker. Although arrested by the French army, the Mufti was somehow able to escape to Cairo. The Mufti was later sentenced to death in absentia in Yugoslavia. After Adolf Eichmann was abducted and brought to Jerusalem for trial in 1961, Golda Meir, then the foreign minister of Israel, demanded that the Mufti also be brought to trial for the same crime of genocide against the Jewish people. The Mufti's legacy did not stop when he escaped a defeated Nazi Germany. Upon arrival in Cairo, he resumed the role that he had left, as the spiritual leader -- in exile -- of the Palestinian Arab community. The Mufti played a key role in the decision of the Arab League to reject the UN Paritition plan in 1947 to declare a Jewish and an Arab state in Palestine. Instead, the Mufti rallied Arabs throughout the Arab world to apply Hitler's concept of the final solution to wipe out the Jews in their nascent state of Israel. The Mufti raised a new generation of young Palestinian Arabs to form a new Moslem brotherhood to take up the cause of a lifelong effort to eradicate the Jewish state. The Mufti also became a surrogate father to a young man who took upon the name Yassir Arafat, a name given to him by the Mufti in memory of Yasser bin Ammar, a celebrated Muslim warrior and companion of the prophet. The relationship between the Mufti and Arafat was related by Arafat's brother Fatchi to the HaAretz newspaper in December, 1996. The Mufti died in July 1974, one month after the PLO National Council met and ratified the Mufti's "strategy of stages," to conquer Palestine in phases, as the strategic methodology that the PLO uses to this day. With the outbreak of the Palestinian Arab rebellion known as the Second Intifada in October 2000, a theme that repeated itself over and over on the official Palestinian television station overseen by Arafat was the use of an academic lectures, broken up by martial music, to highlight the comparison between Yasser Arafat and the late Grand Mufti Haj Amin al-Husseini. Listeners were told how Husseini opposed the Jews (al-Yahoud) in Jerusalem and how he stood up to then-world power Great Britain, as a model for Arafat's struggle in the modern era.
It's The Oil, Stupid
April 16….By Victor Davis Hanson
It is usually silly to offer a single solution to complex problems. But it's hard not to when looking at the serial savagery in Iran and the Arab world. Oil, the huge profits it provides and the insidious influence it gives those selling it, explains most of the world's worries over the Middle East. No, that does not mean the United States is fighting in Iraq to get control of its petroleum. For all the charges of "No blood for oil," the so-called American occupation has neither been able to reverse a decline in oil production in Iraq nor alleviate skyrocketing oil prices worldwide. And, recently, the first new contracts of the now-transparent Iraqi oil ministry went to non-American companies. What it does mean, though, is that the vast, imported petroleum needs of the West, India and China, and the resulting huge profits that pour into oil-exporting states, have super-sized the Middle East's problems. Much of the Islamic world is struggling to come to grips with modernity and globalization. While the West pays little attention to disenchanted Muslims in India, Indochina or Malaysia, we focus our attention on Iranian and Arab radicals. They alone, thanks to oil, have the cash to fund jihadists and hate-filled madrassas. The Palestinian problem is illustrative. Since Israel's occupation of land taken after the 1967 war, much of the world has seen this issue as a threat to regional and global peace. Such old territorial disputes are, of course, common, and go relatively unnoticed throughout the world. Japan's Kurile Islands are still held by Russia. Tibet has been absorbed by China. Nuclear Pakistan and nuclear India fight over Kashmir. The list goes on. Yet it's the anger over the tiny West Bank that in the past caused the Arab patrons of the Palestinians to embargo oil to the West and created long gas lines in Europe and America. As a result, a single suicide bomber from Jericho earns more press than anonymous thousands slaughtered in Darfur. Today, terrorists operate from East Timor to Peru. But global anxiety has been continually focused on Middle Eastern terrorists, from the Palestinian assassins and hijackers of the 1970s to al Qaeda's suicide bombers. These killers alone have had the means to disrupt the Western way of life. Take away Hezbollah's Iranian petrodollars and it could never afford weapons and foot soldiers to slaughter Westerners in the Middle East and beyond. An oil-rich Saddam Hussein was a threat only because he had purchased more military hardware than most European powers own, and used it to attack oil-exporting neighbors in a bid to control more of the world's petroleum reserves. In Iran, President Mahmoud Ahmadinejad is confident that powerful nations abroad will overlook his thuggery in hopes of getting a chance to buy his country's oil, or in worry that any tension would send world prices even higher. Mr. Ahmadinejad also knows, and fears, that without supporting terrorists or trying to acquire a nuclear bomb he would be just another tinhorn loudmouth like Cuba's Fidel Castro or Zimbabwe's Robert Mugabe. Yet vast oil profits do little to help, and probably much to harm Middle Eastern countries. Unlike in places where economic achievement is the result of savvy business leaders, a hardworking labor force and a literate public, tribal hierarchies in the Middle East simply metamorphosed into billion-dollar nations by virtue of sitting atop crude oil. One result is a big inferiority complex in the Middle East. There is always the fear the gas and oil reserves will dry up, leaving a Libya, Iran or Saudi Arabia with as much global attention as a Chad or Bulgaria. Another result is unstable societies. When nations acquire collective wealth gradually through their own industry, a middle class can arise. But in the Middle East, a few tribal and religious sects with oil are fabulously wealthy; almost everyone else is abjectly poor. Illegitimate monarchies and jittery dictatorships, always in fear of coups, terrorists and revolutions, depend upon oil-needy foreigners, trading scarce oil and endless petrodollars for export goods and protection. If the US could curb its voracious foreign oil purchases by using conservation, additional petroleum production, nuclear power, alternate fuels, coal gasification and new technologies, the world price might return to below $40 a barrel. That decline would dry up the oil profits of those in the Middle East who now so desperately use them to ensure that their own problems must also be the world's.
British Journalists Vote to Boycott Israeli Goods
(British seek to enforce a protest against the Lebanon war)
April 16….(DEBKA) The British National Union of Journalists voted to boycott Israeli goods as part of a protest against last year's war in Lebanon. The vote, carried 66 to 54, read: "This ADM calls for a boycott of Israeli goods similar to those boycotts in the struggles against apartheid in South Africa. It also called for sanctions to be imposed on Israel by the British government and the United Nations. After a show of hands twice failed to give a clear result, the conference room was closed for the final vote. The motion also called for the end of "Israeli aggression in Gaza and other occupied territories." DEBKAfile notes that no sanctions were proposed against the Palestinian kidnappers of the British journalists' BBC colleague Alan Johnston, and who now claimed to have killed him. On the contrary; the NUJ's national executive committee was instructed to support pro-Palestinian organizations. DEBKAfile also reports a move to remove the Holocaust from the British schools curriculum on the grounds that the subject "offended" some members of the Muslim population, which claims it never occurred. In 2006, the UK had the highest incidence of fast-rising anti-Semitic violence in the world, followed by France, Canada and Australia. The figures were released by Tel Aviv University's Stephen Roth Institute for the Study of Contemporary Anti-Semitism and Racism on the occasion of the Day of Remembrance for victims of the Nazi Holocaust.
Third of Israeli Youth Fears A Second Holocaust
(Holocaust Memorial Day poll carried out by Anti-Defamation League shows Israeli youth well aware of anti-Semitism around the world)
April 16….(YNET) On the eve of 2007's Holocaust Memorial Day, a poll showed that 37 percent of Israel's youth feel another Holocaust is possible. The poll on anti-Semitism was conducted among Israeli youth by the Anti-Defamation League. While about a third of the respondents said they felt another Holocaust was a possibility, six percent said there was a significant chance that this may occur very soon. Sixty-two percent of the youth said there was no way another Holocaust would take place and one percent said they were not sure. The survey was conducted among a representative sample of 500 teens aged 15-18. ADL Director Abraham Foxman said that the Israeli youth is well aware of the existence of anti-Semitism even if they don't experience it first hand. Foxman stressed that anti-Semitism is not just a history lesson, but a contemporary phenomenon.
Many Israeli Jews Fear Another Holocaust
As Israel prepares to mark the Nazi slaughter of six million of their fellow Jews during World War II, many young Israelis say they fear another Holocaust may not be far off. On the eve of Holocaust Remembrance Day, many Israeli's believe there is a significant chance that another Holocaust will happen soon. Apart from Iran, whose present leadership has openly stated its desire to annihilate the Jewish state, and is in a race to develop the weapons needed to do so, most do not recognize other nations today as fertile ground for the birth of another anti-Jewish genocide. But a new study showed that acts of violence and intimidation against Jews worldwide doubled in 2006 over the previous year. The countries that experienced the sharpest rise in antisemitism were in Europe, home of the first Holocaust, according to the Stephen Roth Institute for the Study of Anti-Semitism.
FOJ Note: Ironically, Bible prophecy speaks to this very issue. Israel will indeed see that wrath of the world expressed against it once again, and it will be even more sinister than the Nazi perpetrated Holocaust. The Holocaust, or Final Solution was a scheme between Adolph Hitler and Palestinian Grand Mufti Al Husseini to exterminate all the Jews in Europe, and in the Middle East. (Matthew 24:21-22 For then shall be great tribulation, such as was not since the beginning of the world to this time, no, nor ever shall be. And except those days should be shortened, there should no flesh be saved: but for the elect's sake those days shall be shortened.) Even now, the Devil is planning in the affairs of the nations for that day.
Israel Observes Holocaust Day
April 16….(AP) Sirens sounded across Israel on Monday morning, bringing life to a standstill as millions of Israelis observed a moment of silence to honor the memory of the victims of the Holocaust. The two-minute siren at 10am is an annual tradition marking Israel's Holocaust remembrance day, which began Sunday evening and ends at sundown Monday. Pedestrians froze in their tracks, buses stopped on busy streets, and cars on major highways pulled over as the country paused to pay respect to the 6 million Jews killed by the Nazis. All day, television stations devoted their broadcasts to historical documentaries and movies, and radio stations played somber music and interviews with survivors. At a ceremony Sunday at Yad Vashem, Israel's official Holocaust memorial and museum, Prime Minister Ehud Olmert noted that Israel celebrates its 59th independence day next week. "The renewal of the Jewish people, its shaking off the ashes of the Holocaust for a new life and national rebirth in its historic birthplace, is the pinnacle of its victory," he said. Sunday's ceremony threatened to cause a diplomatic flap between Israel and the Vatican, after the Roman Catholic church's envoy to Israel said he would boycott the event because of a caption at the museum describing the wartime conduct of Pope Pius XII. But hours before the ceremony, Monsignor Antonio Franco reversed his decision, averting what could have been a blow to a fragile relationship. Israel and the Vatican established diplomatic relations in 1993, after hundreds of years of painful relations between Catholicism and Judaism. Though ties have warmed considerably in recent years, many sensitive issues remain unresolved, including the Vatican's actions during the Nazi genocide. The caption next to the picture of Pius in Yad Vashem's museum reads, "even when reports about the murder of Jews reached the Vatican, the pope did not protest," refusing to sign a 1942 Allied condemnation of the massacre of Jews. The Vatican has struggled to defend its wartime pope as it pushes his sainthood cause, insisting that Pius spearheaded discreet diplomacy that saved thousands of Jews.
US to Fund Hamas Terror Cells?
(Agreement calls for forces to be integrated with American-backed militias)
April 16….(WND) The Hamas terror group and Palestinian Authority President Mahmoud Abbas' Fatah party have approved a plan to incorporate Hamas militias and terror cells into a unified security force under the authority Abbas. The agreement comes just days after Congress approved $59 million in aid to Fatah's militias after an earlier pledge of $86.5 million was blocked for fear the money might reach terrorist groups. WND first reported a unity deal signed in February by leaders of the rival Fatah and Hamas factions included a clause calling for the integration of Hamas militias into security forces controlled by Abbas. The US has armed, trained and funded Abbas' militias. Yesterday, the PA cabinet yesterday approved a comprehensive security plan that incorporates Fatah and Hamas militias into one central organization. According to the plan, Hamas' so-called military wing, responsible for scores of anti-Israel terror attacks, will be allowed to continue operating under the aegis of the PA's Interior Ministry. The plan calls for all armed organizations, including the Al Aqsa Martyrs Brigades terror group, to maintain a single operations center under the authority of Mahmoud Abbas. The Brigades, Fatah's declared military wing, took responsibility together with the Islamic Jihad terror organization, for every suicide bombing in Israel the past two years and for scores of shootings and rocket attacks. Last week's approval of US funds for Fatah includes $14.5 million for "basic and advanced training," $23 million for equipment, $2.9 million to upgrade the guard's facilities and $3 million to provide "capacity building and technical assistance" to the office of Mahmoud Dahlan, Fatah's strongman in Gaza. The US said the bulk of the new proposed aid package, $43.4 million, will be used to strengthen Abbas' Force 17 presidential guard units. Israeli security officials say Hamas has infiltrated the Fatah security forces. Many Fatah security members are openly also members of the Al Aqsa Martyrs Brigades terror group, which has carried out scores of recent suicide bombings. Often times during large confrontations with Israel, such as the Jewish state's 2002 anti-terror raid in Jenin, Fatah distributed weapons to Hamas and Islamic Jihad.
Russia to Israel: Beware of Conflict with Syria
April 15….(Jnewswire) Russia has warned Israel to take care not to miscalculate either its or Syria's strength lest tensions between the enemy states explode. The caution came during a regional visit by Russian National Security Council Secretary Igor Ivanov last week, according to the Israeli daily Ha'aretz Sunday. Ivanov appeared unperturbed when Israeli officials retorted that his country's supplying of arms to Syria and Iran was itself destablizing the Middle East. Moscow is suspected of selling Syria Pantsir-C1 anti-aircraft systems and the advanced Iskander surface -to-air missile. Last January Russia sold 29 state-of-the-art Tor M1 radar-guided anti-aircraft missile launchers to Iran. The deal, valued at $700 million, impressively strengthened Iran's air defences against a possible US or Israeli strike on the rogue state's nuclear facilities. Russia thus effectively encouraged Mahmoud Ahmadinejad to continue his pursuit of nuclear weapons. The weapons we are providing to both Damascus and Tehran are for those nations' self-defense only, Ivanov purred. And anyway, Syrian dictator Bashar el-Assad was really interested in making peace with Israel, so what's the big deal, Ivanov added.
The Deadly Syrian Threat
April 15….(Stan Goodenough) For hundreds of thousands of Israelis, agonizing death by nerve-gas-induced asphyxiation lies just minutes away from where they live their daily lives. Inside hardened concrete structures, awaiting the signal from Damascus, hundreds of long-range missiles sit on their launchers, many tipped with warheads containing some of the most lethal substances known to man. In the Syrian-occupied part of the Golan Heights 300 SCUD missiles, some self-manufactured by Syria, have been deployed. But it is in Hama, 270 km north of Israel's border, that the heart of Syria's missile program beats. There, according to CBN reporter Chris Mitchell, whose story was referenced in the Jerusalem Post on April 13, multiple launchers and missiles are housed in more than 30 bunkers. "Another missile site near Homs [50 km south of Hama] contains a previously undisclosed chemical warhead facility where a drive-through building leads to a facility where warheads are installed on ballistic missiles," said the Post. Already back in 2003, the respected Jane's Foreign Report quoted a senior Israeli defense source as saying that Syria has "at least 100 long-range ballistic nerve-gas missiles aimed at central Israel." Damascus' non-conventional weapon of choice is VX gas, one of the most toxic nerve agents ever synthesized. The Israeli told Jane's that, with the VX, the Syrians believed they had balanced Israel's nuclear advantage. Last summer Syria watched, enthralled, as the Lebanese Hizb'allah with its small and primitive Katyusha rockets dealt devastating blows to the Israeli military, economy and political leadership. The hiding Hizb'allah gave Israel has led Syria to believe that it may be able to defeat the mighty IDF. Syria is no Lebanon; the 400-000 strong Syrian military machine with its 10,000 elite fighters no paltry Hizb'allah (which has at most 11,000 fighters, only 1,000 of them full-time.) Like his late father, Hafez, Syria's Bashar el-Assad is considered Israel's most dangerous immediate foe. Syria has a pact with Iran and has warned that it will retaliate against Israel in the event of an attack on Iran's nuclear facilities. Jerusalem believes it is only a matter of time before those facilities give Iran the nuclear weapons it needs to destroy Israel. It is increasingly clear that they must be dealt with, but Syria is holding a gun to Israel's head. Israeli officials should be relaying these alarming facts to the United States at every opportunity: Today, right now, Syria poses a clear and present danger to the Jewish state.
On Holocaust Memorial Eve, PM Olmert Meets Holocaust Denier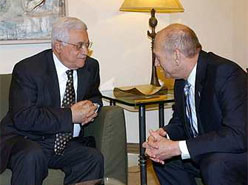 April 15….(Arutz) In a statement released by Professors For a Strong Israel (PSI), the group of Israeli academics said, "On the very Eve of Holocaust Remembrance Day, the Prime, Defense, and Foreign Ministers of Israel will meet with a man [Abu Mazen] who wrote a doctorate denying the holocaust." "At an hour when holocaust survivors are not receiving governmental assistance and many live in poverty in the Jewish State," the PSI statement continued, "Prime Minister Ehud Olmert, Foreign Minister Tzipi Livni, and Defense Minister Amir Peretz will negotiate concessions to the Arab enemy." Abbas wrote his doctorate in 1982 in Moscow, at the Institute for Oriental Studies. The heading of his doctoral thesis was: "Zionist Leadership and the Nazis." The introduction dealt with, among other topics, "the secret ties between the Nazis and the Zionist movement leadership." It further raised doubts that gas chambers were used to kill the Jews. He argued that the gas chambers were not used to kill people, but only to disinfect them and burn bodies to prevent disease. Abbas's dissertation was adapted into a book and published in Jordan in 1984. Journalist David Bedein noted that the book is currently in use in the Palestinian Authority education system, under the direct control of the PA chairman. Abbas claimed in his work that the Zionist leadership was interested in convincing the world that a large number of Jews were killed during the war in order to "attain larger gains" after the war and to "divide the booty." His primary claim is that the Zionist movement and its various branches worked hand-in-hand with the Nazis against the Jewish people, collaborating with them for the Jews' destruction, because the Zionist leaders viewed "Palestine" as the only legitimate place for Jewish immigration. The meeting between the Israeli leaders and Abbas is scheduled to take place at the Prime Minister's official residence in Jerusalem, and will deal with security-related issues. Commentators surmise that Abu Mazen (AKA Abbas) will bring to the meeting a list of demands to ease security measures and restrictions which were established to prevent terrorists from infiltrating Israel. PA Hamas officials said that these talks were on the agenda for the sole purpose of pleasing US Secretary of State Condoleezza Rice and that nothing good will come out of them.
Bill Clinton: Israeli-Syrian Conflict Could Be Resolved in 1/2 Hour

April 15….(Ha Aretz) Former US president Bill Clinton said that peace between Israel and Syria could be achieved within 35 minutes, if Iran would stay out of the matter. In an interview with London-based Arabic newspaper Asharq Al-Awsat, Clinton said that the two states were on the verge of reaching a peace agreement in 1998, adding that negotiations behind closed doors and without media intervention, such as those conducted in Oslo in 1993, were the only way to solve the conflict. The former US president said the talks between then-Prime Minister Ehud Barak and Syrian Foreign Minister Farouk al-Sharaa in Shepherdstown, West Virginia in 2000, which were held during his term, could serve as the basis for a solution to the conflict. In his book "My Life" from 2004 Clinton wrote that the Syrians were more flexible than the Israelis in the negotiations and claimed that former Prime Minister Benjamin Netanyahu agreed to give up the Golan Heights in exchange for a defense treaty with the US.
FOJ Note: For once the former President is right about something. If Iran were to be dissected out of the Israeli-Arab Conflict, peace accords with Syria and Lebanon could be quickly concluded. If Iran could be extracted from Syria, then the Saudi Arab Peace Plan could be realized in short order, and it could possibly qualify as the confirmation of the covenant with many, spoken of by the prophet Daniel. (Daniel 9:27 And he shall confirm the covenant with many for one week: and in the midst of the week he shall cause the sacrifice and the oblation to cease, and for the overspreading of abominations he shall make it desolate, even until the consummation, and that determined shall be poured upon the desolate.)
WEEK APRIL 9 THROUGH APRIL 15
Israel Can Only Lose Once
April 14….(Hal Lindsay) Golda Meir astutely summed up Israel's precarious position in the Middle East, "The Muslims can fight and lose, then come back and fight again. But Israel can only lose once." Israel's present liberal government is learning the hard way that their situation is even more precarious than Golda's maxim. When Israel fought Iranian-Syrian backed Hezbollah in Lebanon last year and failed to win decisively, they placed Israel into escalating danger. They are now learning that Israel must not only win, but also achieve absolute victory. You see, in the Muslim mind, because Hezbollah managed to fight for over a month before Israeli leaders mustered enough reserves and resolve to fight them to a draw, they achieved a colossal victory. Of course, the UN, as usual, stepped in to save them before the IDF really destroyed them. Nevertheless, they believe that Israel has lost the will to fight and that a suicidal guerrilla force can defeat the vaunted Israeli tanks, air force and technical superiority. Israel's past experience in their numerous wars with the Arab armies taught one thing clearly, that Israel not only has to win decisively, but also has to do it quickly. They have to win before the Muslim's use the liberal media to turn world opinion against them and the UN comes to save the Muslim armies' glutomus maximi. Ehud Olmert's indecisiveness, the ineptness of a politically appointed general and failure to immediately go all out to defeat Hezbollah has inspired the entire Muslim world to believe now is the time to attack and destroy Israel. The IDF paid a heavy price for Israeli "appeasers" giving back southern Lebanon in the hope of peace. The country is also paying heavily for the Muslim mentality created by unilaterally giving over Gaza to Palestinians who had never kept one part of the "Road to Peace" agreements. Muslim radicals, more than any enemy we have yet faced, view every act of appeasement as a weakness. We should learn from the words of Winston Churchill. After England's liberal government capitulated to Adolf Hitler at Munich in 1938, Churchill prophetically warned the British people, "This is only the first sip, the first foretaste of a bitter cup which will be proffered to us year by year. His words are even truer today. No concession to Iran's mullahs, no overtures of peace to the terror masters in Damascus and Tehran, no appeasement of Hamas, Hezbollah and Islamic Jihad will ever be enough to bring peace. These things only spur them to bolder demands. Their holiest book, the Quran, spells out their methods of deception and attack. So how can any Western leader not be charged with criminal negligence? After the disastrous response of the free world to the criminal taking of British seamen hostage, Mahmoud Ahmadinejad has issued even more outrageous threats to the West. In the words of Gary Bauer summing up Ahmadinejad's threats, '"If the West continues to object to its [Iran's] march toward an Islamic bomb, Iran will be forced to withdraw from the nuclear non-proliferation treaty.' In other words, emboldened by our weakness, Iran now implicitly threatens to transfer its nuclear technology to al-Qaida." The cup it offers us is bitter indeed! Bible prophecy about the events of the "last days" before Christ's return clearly predict that countries and peoples that are now Muslim will start the last war of the world in alliance with Russia. As I have written many times before, today's Middle East events are fitting exactly into Ezekiel's predictions recorded in chapters 36 through 39. The "Ezekiel Factor" begins with a miraculous return of Israelites from a long world dispersion; then an even more miraculous rebirth of its nation against impossible odds; then immediate and escalating hostile responses by all of its surrounding neighbors (which are all Muslim today); and finally an all-out attack against Israel by a Persian-led Muslim confederacy, aided by Russia. Hey, it is like a script that was written 2,600 years ago. And in the end, Israel will turn in true faith to her Messiah, who will deliver her. However, it will be a bit shocking when she finds out His name.
Al-Qaida Claims Iraq Parliament Attack
April 13….(My Way) The Islamic State of Iraq, an umbrella insurgent organization that includes al-Qaida in Iraq, claimed Friday it carried out the parliament suicide bombing in Baghdad's Green Zone, a major security breach that left one Sunni legislator dead. The Islamic State said in Internet postings that it had delayed claiming responsibility to allow its men to flee from investigators who have been rounding up and questioning parliament employees. "A knight from the state of Islam reached the heart of the Green Zone, the temporary headquarters of the mice of the infidel parliament and blew himself up among a gathering of the infidel masters," the Islamic State said in the statement posted on one Islamist Web site commonly used by insurgents. The Site Institute, which tracks militant postings, said the claim by the Islamic State appeared authentic. Nassar al-Rubaie, head of the parliamentary bloc allied with radical Shiite cleric Muqtada al-Sadr, (who has called for war against America) accused the US of lax security that allowed the bomber in. Rubaie said, "the occupation forces (referring to the US) are in charge of security of this area, but no one dares to hold them responsible for this." US military spokesman Maj. Gen. William Caldwell said the attack bore the trademarks of al-Qaida in Iraq.
FOJ Note: While the immediate blame for the Parliament attack is being pointed at Al Qaeda, it should be noted that it is quite likely that Muqtada al Sadr's Mahdi army is quite likely behind the attack, as it is ironic that they quickly referred to the so-called "occupation forces." Iran wants the US out of Iraq, so they can take over.
Exiled Russian Tycoon Calls For Ouster of Putin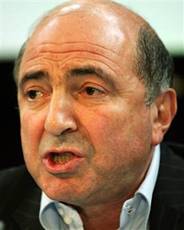 April 13….(NOVOST) Boris Berezovsky, the exiled Russian tycoon who has emerged as one of the Kremlin's most vocal opponents, called Friday for the use of force to oust President Vladimir Putin and claimed he has support from some in the country's political elite. In response, Russian authorities angrily urged Britain to strip Berezovsky of his political asylum and extradite him to Russia. Russia's chief prosecutor said he ordered a new criminal investigation opened over Berezovsky's remarks, which appeared aimed at rattling the Kremlin and fomenting political unrest ahead of crucial elections. The exiled billionaire said that the Russian leadership could only be replaced by force and that he was in contact with Kremlin insiders who supported his vision for change. "Putin has created an authoritarian regime against the Russian constitution," Berezovsky told The Associated Press by telephone in Britain. Britain's Foreign Office said it was monitoring Berezovsky's comments. "We deplore any calls for violent overthrow of any sovereign state. We expect everyone living, working or visiting the UK whatever their status to obey our laws," said a Foreign Office spokeswoman, speaking on condition of anonymity in line with department policy. Berezovsky later issued a statement to "clarify" his words, saying he did not "advocate or support violence." He did, however, say that under Putin's government "elections are not a viable means of ensuring democratic change in Russia." Russian officials responded that that Berezovsky was abusing his asylum status and stressing that Britain must now reconsider its previous refusal to hand him over for prosecution. "I think London has lots of good lawyers who know perfectly well that calls for the forceful overthrow of the constitutional regime in a foreign country are enough grounds for proper legal measures," Foreign Minister Sergey Lavrov said. When Berezovsky was pressed about what he meant by "force," he said he wanted to institute change by using "force like in Ukraine or Georgia." In those two former Soviet republics, opposition leaders won power after nonviolent street demonstrations. Berezovsky won't reveal the identities of his associates in Russia because, he said, "they will be killed like Alexander Litvinenko." Litvinenko, a former KGB officer and friend of Berezovsky, died in a London hospital in November after being poisoned by radioactive polonium-210. The tycoon described his supporters in the government as "very close to Putin," but critical of his policies. "They say they agree that Putin's Russia is corrupt and destroying Russia," he said. A former Kremlin insider, Berezovsky fell out with Putin and fled to Britain, which granted him refugee status in 2003, turning down an earlier Russian extradition request. Berezovsky's latest remarks come amid rising tensions ahead of Russia's parliamentary elections in December and a presidential vote next March. Putin is barred by the constitution from seeking a third consecutive term. Critics say Putin has rolled back democracy and consolidated power in the Kremlin, in an effort to ensure the current leadership retains power following the presidential election.
Berezovsky said it was unlikely he would be extradited to Russia, following the mysterious death of Litvinenko. On his deathbed, Litvinenko accused Putin of ordering his poisoning but cited no evidence. Russian authorities have denied involvement. There has been widespread speculation in the West that Litvinenko was killed by Russian agents, acting on their own or with official sanction, possibly as punishment for his relentless criticism of Putin. Berezovsky, who once controlled an oil, automobiles and media empire in Russia gained a reputation for ruthlessness in the 1990s when he became one of Russia's wealthiest tycoons in the chaotic and often violent post-Soviet period.
Gorbachev Says US Seeks Control of Europe Through Missile Shield
April 13….(Novost) Deployment of US missile-defense bases in Poland and the Czech Republic is an attempt by the US to control Europe, the former Soviet president said Thursday. "It is all about influence and domination in Europe," Mikhail Gorbachev said. "I believe it is wrong that America did not even bother to consult its NATO allies." Asked how Russia could respond to these plans, he only said: "Time will show." The US revealed plans in January to deploy elements of its missile defense system in the Czech Republic and Poland to counter possible attacks from Iran or North Korea, whose nuclear programs have provoked serious international concerns. Russia, which has been anxious about NATO bases that have appeared in former Communist-bloc countries and ex-Soviet republics, has blasted the plans to deploy anti-missile systems in Central Europe as a national security threat and a destabilizing factor for Europe. The Bush administration has once again cited Ukraine on a list of 15 countries cooperating with the US on its national missile defense system, the Department of Defense said Thursday. "Today, 15 countries (including nine in NATO) are engaged in missile defense efforts of some kind, whether by hosting key facilities or assets on their territory or actively discussing the possibility, pursuing R&D programs, signing cooperative agreements with the US, or maintaining capabilities," Brian R. Green, deputy assistant secretary of defense for strategic capabilities, told the Senate Armed Services subcommittee on strategic forces. He also said that in addition to the US, "the list includes Australia, the Czech Republic, Denmark, France, Germany, Italy, Israel, India, Japan, the Netherlands, Poland, Spain, Taiwan, Ukraine, and the UK," adding that Russia "clearly believes in the value of missile defense as it continues to maintain a missile defense system around its major population center, Moscow, and has developed defenses against shorter-range missiles." Another senior Defense Department official said the United States must continue development of its missile defense program. Lt. Gen. Henry Obering, director of the US Missile Defense Agency, said the US will launch three missile-defense satellites, in April and November. The Russia-NATO Council is expected to consider the US missile defense plans April 19, diplomatic sources in Brussels said in March.
FOJ Note: I have never understood how a defensive system constitutes a threat to anybody. It sounds more like Russia doesn't want nations to be able to defend themselves against a missile attack.
Hamas Calls for Genocide of the Jews
April 13….(Arutz) The "Palestinian" Hamas organization continues to call, in Arabic, for Muslims to wage genocidal war on the Jewish people in order to bring about "resurrection day." Rocks and trees will reveal the location of fugitive Jews and call on Muslims to kill them. So said Hamas spokesman Ismail Radwan to his Arab audience on Palestinian Authority Television March 30. In his sermon, translated by PMW, Radwan said it was important to "remind our Arab and Muslim nation, its leaders and people, its scholars and students, remind them that Palestine and the Al Aqsa mosque will not be liberated through summits nor by international resolutions, but it will be liberated through the rifle." "Resurrection day will not take place until the Muslims fight the Jews and the Muslims kill them, and the rock and the tree will say: 'Oh, Muslim, servant of Allah, there is a Jew behind me, kill him!'" The western world is not impressed or moved by such calls to finish what Hitler started. Washington and the rest of the Quartet insists that Israel must negotiate with these Muslims and permit them to build a state on great chunks of Jewish land. Yet their repeated vows to use their State of Palestine to visit genocide on the Jews is not taken seriously; or simply not opposed.
Hamas: Genocide of Jews Still Paramount
(Ruling Palestinian group has different message in English to court favor)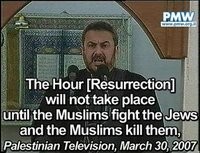 April 13….(WND) While Hamas courts favor internationally, an Arabic sermon on Palestinian TV showed the ruling party continues to call for the genocide of Jews. Hamas spokesman Ismail Radwan, quoting the hadith, the oral tradition of Muhammad, declared to the Palestinian audience: "The Hour of Resurrection will not take place until the Muslims fight the Jews and the Muslims kill them, and the rock and the tree will say: "Oh, Muslim, servant of Allah, there is a Jew behind me, kill him!" Radwan concluded with a prayer for Allah to "take" Israel and the US, off the map, reported the Israel-based media monitor Palestinian Media Watch. "We must remind our Arab and Muslim nation, its leaders and people, its scholars and students, remind them that Palestine and the Al Aqsa mosque will not be liberated through summits nor by international resolutions, but it will be liberated through the rifle," he said. "It will not be liberated through negotiations, but through the rifle, since this occupation knows no language but the language of force," Radwan continued. He concluded: "O Allah, strengthen Islam and Muslims, and bring victory to your jihad-fighting worshipers, in Palestine and everywhere. Allah take the oppressor Jews and Americans and their supporters!" As WND reported, Hamas in January said it was willing to accept a temporary Palestinian state in exchange for a 10-year truce with Israel, but top Hamas officials and spokesmen for the terror group told WND the truce was meant to show some flexibility to the international community. They said Hamas' goal of destroying Israel had not changed, and that the terror group has a 10-year plan to build a large army and defeat the Jewish state. "We are with liberating any inch of Palestine, but we will not close the door for the next generation, because the weak don't always stay weak, and the strong won't stay strong," Haniyeh said today in a televised address, explaining his 10-year truce proposal. Hamas, responsible for scores of suicide bombings, shooting attacks and rocket firings, is classified by the State Department as a terrorist organization. The group's official charter calls for the murder of Jews and quotes widely from the anti-Semitic creed, the Protocols of the Elders of Zion. Since winning Palestinian legislative elections in January 2006, Hamas has refused to recognize Israel or denounce terrorism.
Norway: We Will Directly Fund Hamas
April 13….(WND) Norway, the country whose politicians seized the chance to incubate and spawn the Oslo Accords that cost thousands of Israelis their lives and limbs, has chosen to defy Europe and the United States and break the boycott imposed on the Palestinian Authority when it became Hamas-controlled. The small but prosperous Scandinavian country, which has boasted of being first to "recognize" the restructured Hamas Authority, announced Thursday it intends to resume direct aid to it. Looking proud and pleased as he made the announcement in Oslo, Norwegian Foreign Minister Jonas Gahr Stoere shook the hand of visiting PA "FInance Minister" Salam Fayad, who praised Norway's willingness to embrace the "Palestinian" cause once more. Norway would maintain its annual support of $100 million to the PA, Stoere pledged. Fayad, who simply ignored international demands that the PA's Hamas members renounce terrorism, recognize Israel and honor agreements the PA previously signed with the Jewish state - demands which, if met, would open the way for masses of money to flood the PA from around the world, bemoaned the "misery" and "poverty everywhere" experienced by his people, and called for banking restrictions to be removed from the PA treasury.
When that happens, he declared, "Palestine [sic] will be ready for business."
Persistently Praying For Israel's Destruction
| | |
| --- | --- |
| | (FOJ) Palestinian President Mahmoud Abbas attends Friday prayers at his headquarters in the West Bank city of Ramallah, April 13, 2007. The Fatah terrorist leader who helped champion Yasser Arafat's terrorist movement prays regularly every Friday, as most observant Muslims do. One can only guess at what his prayers entail, but one thing can be gleamed from his political life that hints at what he and most Palestinians are praying for. Fatah, like Hamas today, actively sought the destruction of Israel for 40 years until they saw the "political pathway" to destroy Israel through a "piece-by-piece process." |
FBI: Hizbullah avoiding attacks on US
April 13….(Jerusalem Post) Hizbullah hasn't conducted attacks in America out of concern that it would provoke too strong a response and disrupt the organization's fund-raising in the US, according to Federal Bureau of Investigation assessments. "They want to maintain a low profile by engaging in criminal activity, but not direct attacks," Thomas Fuentes, special agent in charge of the FBI's International Operations, said Wednesday at a foreign press briefing. "They've not been enthusiastic about doing it on US soil because of the attention and reaction that would occur." Fuentes said any attack in America would mean a large boost in US resources devoted to countering Hizbullah. Fuentes described the FBI as having a "close relationship" with Israel when it comes to combating terrorism, adding that that was also true for the FBI's counterparts in neighboring countries. Fuentes contrasted Hizbullah's strategy with that of al-Qaida. "If they could come in an attack us again, they would," he said of the latter. Hizbullah, for its part, has focused its efforts in America on recruiting money. "These are fund-raising support cells in the organization as opposed to planning cells," according to Fuentes. He pointed to a case in Charlotte, North Carolina in which brothers Muhammad and Chawki Hamoud were sentenced in 2002 for funneling funds to Hizbullah. They made money by smuggling cigarettes, for which they and their ring were also charged, along with money laundering, credit card fraud, marriage fraud and immigrations violations. Speaking generally, Fuentes said organized crime syndicates will sometimes perform services such as document falsification for terrorists. But, he explained, that doesn't mean there are "true partnerships" between the two entities, as terrorist and organized crime groups tend not to trust each other and don't have shared goals. "The motive of a terrorist is to make a statement, political, religious," Fuentes said. "Usually the motive of organized crime is greed.
Vatican Threatens to Boycott Jewish Holocaust Memorial
April 12….(Yahoo) The Vatican ambassador to Israel threatened on Thursday to boycott a Holocaust memorial ceremony next week over a museum's portrayal of Pope Pius XII's conduct during the Nazis' killing of Jews in World War Two. Archbishop Antonio Franco said he had written to the director of the Yad Vashem Holocaust Museum asking for the revision of a caption suggesting the wartime Pope had been apathetic to the Jews' plight. The caption, quoted in the Israeli press, says Pope Pius XII "abstained from signing the Allied declaration condemning the extermination of the Jews" and "maintained his neutral position throughout the war." Archbishop Franco said that in his letter he advised the Holocaust museum he "would not feel comfortable going to Yad Vashem" unless the wording was amended or the photo removed. The photo appears in a new part of the museum that was opened in 2005. Yad Vashem hosts Israel's annual state ceremony to mark Holocaust Martyrs' and Heroes' Remembrance Day, which will take place on Sunday. Defenders of Pope Pius XII have said he did everything possible to help Jews, while critics have portrayed him as an anti-Semite and Germanophile whose views were formed while working in Germany before his election as Pope in 1939. Yad Vashem, which contains the largest archive of data on the Holocaust in which six million Jews were killed, said in a statement it had told the Vatican's representative "it was willing to continue examining the issue." In its statement, Yad Vashem said it would welcome the opportunity to study the Vatican's archives relating to Pope Pius XII "to possibly learn new and different information" about him. Historians have called on the Vatican to fully open archives for the papacy of Pius XII, which ended in 1958, but the Vatican has never consented to a review of Pope Pius's archives.
| | |
| --- | --- |
| | (FOJ) Orthodox Jewish men visit the Yad Vashem Holocaust Museum in Jerusalem. The Vatican ambassador to Israel threatened today to boycott a Holocaust memorial ceremony next week over a museum's portrayal of Pope Pius XII's conduct during the Nazis' killing of Jews in World War II. The Vatican was the last state in the world to grant diplomatic recognition to Israel. |
'Iran Making Battle Plans'
(Tehran believes US attack coming, buying support from terror groups)
April 12….(WND) Iran is preparing for a possible confrontation with the United States and Israel over its nuclear program and has been training and funding Palestinian groups to carry out large-scale terror operations in the event of a US or Israeli attack against Tehran, according to Palestinian security officials and terror leaders speaking to WND. The officials and terror leaders said Iran has in recent days been funneling money to Palestinian terror groups in the West Bank and Gaza Strip to compensate for the loss of loyalty of other Palestinian terror groups receiving funds from competing sources. The Palestinian security officials said Palestinian Authority President Mahmoud Abbas' Fatah organization, in coordination with Israel-based US security coordinators, has stepped up payments to Fatah militias and cells of the Al Aqsa Martyrs Brigades terror group on condition the militias and Brigades members cut contact with Iran and the Iranian-backed Hezbollah militia. The Al Aqsa Martyrs Brigades, Fatah's declared military wing, took responsibility together with the Islamic Jihad terror group for every suicide bombing in Israel the past two years. Israel says cells of the Brigades receive funding from and have coordinated attacks with Hezbollah. A senior leader of the Brigades in the northern West Bank City of Nablus confirmed to WND his cell has recently received funds from Fatah to compete with financing from Iranian groups. Palestinian security officials say Iran has been compensating for the loss of loyalty of some militias and Palestinian groups by stepping up financing for units of Islamic Jihad, Hamas' so-called military wing, and the Gaza-based Popular Resistance Committees terror organization. "Iran is making contingency plans for war," said a security official. Earlier this month, the IDF warned that Iran, Syria and the Lebanese Hezbollah militia are preparing for a US-led war this summer. IDF Military Intelligence chief Amos Yadlin said Iran and Syria believes a war this summer will be initiated by the US and that Israel will be involved. Brigadier General Yossi Baidatz, head of the IDF's intelligence research division, said the Syrian army has been placed on high alert for attacks. He said Syrian President Bashar Assad ordered increased production of long-range missiles and instructed the Syrian military to position anti-tank missiles closer to the Syrian border with Israel. Security officials say state-run Syrian media have been broadcasting regular warlike messages unseen since the 1973 Yom Kippur War, in which Syria and Egypt launched invasions from the Golan and the Sinai desert. "The tone in Syria is one of preparing the public for a war," said a senior security official. Tehran and Damascus, which both support Hezbollah, have signed several military pacts. According to Israeli intelligence officials, Iran and Syria have been smuggling mass quantities of weaponry to Hezbollah in Lebanon. The officials say Hezbollah has regained most of its strength since the militia's war last summer with the Jewish state and that the rate of weapons smuggling has nearly doubled the past few weeks. "The Iranian weapons are coming in so furiously, there are even indications Syria is worried about Israeli deterrent action against Hezbollah," a security official said.
Explosion Hits Iraqi Parliament
| | |
| --- | --- |
| | Emergency services look for survivors next to a collapsed bridge in Baghdad, Iraq, Thursday, April 12, 2007. A suicide truck bomb exploded on a major al-Sarafiya bridge in Baghdad early Thursday, collapsing the steel structure and sending cars toppling into the Tigris river below, police and witnesses said. At least 10 people were killed and 26 injured. |
April 12….(AP) A bomb exploded in the Iraqi parliament's cafeteria in a stunning assault in the heart of the heavily fortified Green Zone Thursday, killing at least two lawmakers and wounding 10 other people. The blast in the parliament building came hours after a suicide truck bomb blew up on a major bridge in Baghdad, collapsing the steel structure and sending cars tumbling into the Tigris River, police and witnesses said. At least 10 people were killed. The bomb in parliament went off in a cafeteria while several lawmakers were eating lunch, media reports said. The bombing came amid the two-month-old security crackdown in Baghdad, which has sought to restore stability in the capital so that the government of Iraq can take key political steps by June 30 or face a withdrawal of American support. Another member of the National Dialogue Front, Mohammed al-Dayni, suggested in an interview with Iraq's Sharqiya television that the attack was carried by a suicide bomber. The brazen bombing was the clearest evidence yet that militants can penetrate even the most secure locations. Masses of US and Iraqi soldiers are on the streets of Baghdad in the ninth week of a security crackdown in the capital and security measures inside the Green Zone have been significantly hardened in recent weeks.
'Pagan Morality' On Way to Becoming Law in Oregon
(State aims to 'eliminate attitudes' that oppose homosexuality)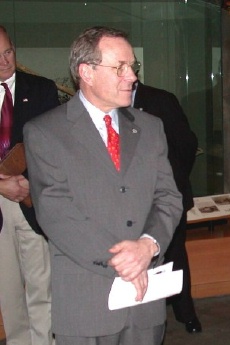 Gov. Ted Kulongoski, D-Ore.
April 12….(WND) A legislative plan to "eliminate attitudes" opposing homosexuality is moving forward in Oregon, even though opponents claim it threatens churches and establishes pagan morality as a benchmark for their operations. Senate Bill 2, already endorsed by the state Senate and favored by Gov. Ted Kulongoski, a Democrat, now heads to the floor of the state House following a 5-1 committee endorsement. It is expected to be voted on within the next week. In the House Rules Committee, an amendment was offered that would have provided an exemption for Christian churches and Christian groups in the proposal to grant broad new powers to the homosexual community by designating them as members of a protected minority class. However, the amendment was rejected in favor of a plan to continue to allow homosexuals to demand Christian churches hire them when there are job openings, among other issues. "This is still an intrusion of the state into religious liberty, and makes Christian organizations subject to state control," David Crowe, of Restore America told WND. "It favors the homosexual community and puts the church in a defensive posture, having to defend itself and its beliefs, policies, doctrines and employment," he said. The Oregon Family Council had proposed an amendment derived from similar legislative plans in other states where homosexual community members have been granted special rights, but it was rejected. "This is very objectionable. It reveals that this is an agenda. "We're going to tell the world what is being dictated to Christians and Christian churches in Oregon," Crowe said. Crowe said the homosexual-rights promoters are becoming "very righteous" in their attitudes, saying, "We're against any kind of discrimination and certainly this kind as well." Churches, meanwhile, are being portrayed as impeding "what is really good." The proposal leaves churches unprotected in their religious beliefs and actions that derive from those beliefs, he said. It states churches are exempted "only if the employment, housing or the use of facilities is closely connected with or related to the primary purposes of the church or institution. Then the issue is left to the state courts to determine any relationship to "the primary purposes of the church." One letter to the editor apparently spoke for many Christians in Oregon. "Oregon Senate Bill 2 elevates immoral behavior to acceptance and approval. Will polygamy be granted civil rights status next?" wrote Mike Knutz of McMinnville. "People who view homosexual conduct as wrong, sinful and or unhealthy will see their tax dollars at work against their own moral code." Crowe said the results of the bill would be to "limit your free speech rights and rights of conscience; require public schools to teach that homosexual/lesbian/bisexual behavior is 'okay' and 'moral'; impact your rights as a business owner; and put judges in authority on certain church matters." "The law, and this is onerous, has a clause that talks about developing a program of education to change our attitudes," Crowe said. "To change our attitudes? Is it the government's business to change attitudes? But that's precisely what's in the bill." Nearly 500 Christian pastors, including one leader representing the 30,000 people in his organization's many churches, have opposed the proposal but have been fighting an uphill battle in a legislature dominated by Democrats. Crowe called the plan "the most sweeping and culturally devastating law in Oregon history, establishing pagan morality under the guise of a 'civil right,' and imposing it upon all Oregonians under the cover of 'law.'"
Palestinian Minister Seeks $1.3 Billion More in Aid
| | |
| --- | --- |
| | Hamas official Mahmoud al-Zahar and Palestinian finance minister Salam Fayyad attend a news conference. Fayyad told the EU today that the new national unity government needed more than $1.3 billion in international aid this year to avert a 'devastating'humanitarian crisis. The PA has received millions of dollars in foreign aid and yet has not accomplished anything |
April 11….(AP) Palestinian Finance Minister Salam Fayyad told the European Union on Wednesday that the new PA national unity government needed more than $1.3 billion in international aid this year to avert a "devastating" humanitarian crisis. He won a cautious endorsement from EU External Relations Commissioner Benita Ferrero-Waldner, who promised technical assistance to enable his ministry to receive aid once the Palestinian Authority meets key political conditions. "We are looking for external support to bridge a gap of nearly 1 billion euros ($1.34 billion) for 2007," Fayyad told a joint news conference, stressing his government's commitment to respect all peace accords with Israel. Asked what would happen if aid was not forthcoming, he said: "The consequences are far too grave, quite frankly." Fayyad, a respected independent technocrat, was on the first visit to Brussels by a member of the new government after the EU boycotted the former Hamas-led administration due to the Islamic movement's refusal to recognize Israel or renounce violence. Ferrero-Waldner praised his personal commitment to peace but made clear the EU's engagement would be selective, gradual and dependent on the government's words and actions. "I've made very clear that possible financial engagement would not mean resuming direct financial assistance overnight," she said, pledging that a temporary aid system created to bypass the Hamas-led government would remain for as long as necessary. The Finance Ministry will take time to meet international standards for absorbing aid, and "the EU will also need time to come to a decision then on this political issue," she said.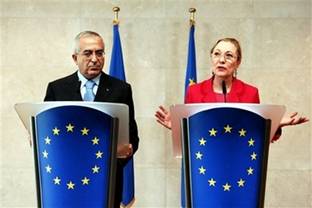 The EU, the Palestinians' biggest donor, increased aid from 500 million to 700 million euros last year, paying subsistence allowances to 150,000 families and keeping essential services going through the Temporary International Mechanism. Fayyad told Reuters he had inherited public finances in disrepair and the EU should keep that lifeline going and develop it until his ministry was able to receive foreign transfers, which would require the lifting of US banking restrictions. Asked how long it would take before the ministry was ready to receive direct aid, he said: "Insofar as setting up a system or re-establishing a central treasury is concerned, I think we are there now, but for the restrictions which make it not possible for us to receive international assistance." The Quartet of Middle East peace brokers, the United States, Russia, the United Nations and the European Union, suspended direct aid to the Palestinian Authority after Hamas formed a government last year. Fayyad met the EU's Middle East peace envoy, Marc Otte, and European Parliament leaders and was to travel on to Norway, which brokered a landmark 1993 Israeli-Palestinian peace deal. The parliamentary leaders said they respected Fayyad's integrity and told him it was vital the Palestinians build transparent financial management and avoid past errors, when millions of dollars in aid sent to the PA was lost.
Ramping Up to Old Jerusalem
April 11….(Israel Insider) Israeli government authorities are building a walking ramp to allow non-Muslims to reach the enormous platform atop the Temple Mount in Jerusalem. The old ramp was condemned as unsafe and torn down several years ago. The interim ramp that replaced it was designed for short-term service only. (Muslims have their own private access routes.) The new ramp is controversial. Some ramps must be built or non-Muslims will have no way to reach the site; but leading Israeli experts say that the ramp under construction will disturb an archeological garden outside the Mount's boundaries, and ought to be moved. Still, Muslim complaints (and blood-curdling threats) to the contrary, the new ramp poses "no risk whatsoever to the Al-Aqsa Mosque, which stands about 100 meters to the east," says the eminent archaeologist Eilat Mazar of the Hebrew University and the Shalem Center. Israelis have a perfect right to build it if they want. Muslim objections are ludicrous, especially in view of the site's history. Jerusalem is holy to Muslims because it was holy to Jews first, and is associated with the Jewish patriarch Abraham, who plays a central role in Islam. For Jews, Jerusalem is the holiest spot on Earth. Nonetheless, they are willing to share their Temple Mount. Muslims want it all for themselves. When the United Nations voted in 1947 to create twin states in British Palestine, one Jewish and one Arab state side-by-side, Jerusalem was to be internationalized and belong to neither. Zionists accepted the plan, but Arabs rejected it, and Lebanon, Syria, Iraq, Egypt and Transjordan all simultaneously attacked the new Jewish state. They failed to destroy it but did capture Old Jerusalem, where the Temple Mount stands. This huge platform was built by King Herod of Judea (who ruled from 37 to 4 BC) to support the magnificently refurbished temple that replaced an older, more pedestrian structure. Nowadays some people speak of that temple as if it were a fairy tale, but it was exactly as real as the World Trade Center; it is attested in many contemporary sources, Jewish and otherwise. In 70 AD, the temple was destroyed by Roman legions sent to suppress a Jewish rebellion against Roman overlordship. During the long centuries since, Muslims built magnificent shrines on Herod's platform, including the Dome of the Rock and the Al-Aqsa Mosque. Jews prayed before the platform's western retaining wall, long believed to be one wall of the temple itself. Between 1948 and 1967, the Jordanians who had captured old Jerusalem refused to allow Jews to enter, and systematically destroyed Jewish monuments. Come 1967, Egypt provoked another pan-Arab war against Israel (the Six-Day War) by ordering UN peacekeepers out of the Sinai Peninsula and blockading the Straits of Tiran. When Israeli soldiers recaptured Old Jerusalem a few days later, they discovered that Jordanians had not only dynamited synagogues; they had torn up Jewish tombstones and paved roads and built latrines with them. Yet, soon after that great victory of '67, Israel unilaterally awarded control of the Temple Mount to the Islamic Authority of Jerusalem, the Waqf. In the mid-1990s, Israeli authorities approved a Waqf proposal to build a new underground mosque on the Mount, where the soil, studded with fragments of the last temple, is invaluable to archaeologists. (Israel must approve any new building on the Mount.) "The world's patrimony is being carried off in dump trucks," wrote the editor of Biblical Archaeology Review in disbelief; the Waqf is "illegally destroying precious remnants of history." Today, Arab leaders preach violence against Israel because a new ramp is said to threaten a mosque that is nowhere near it. Arab leaders have reduced the comity of nations to a tired joke, on Israel. Today, after generations of Israeli generosity and returned Arab ferocity in Old Jerusalem, why should Israel just settle for a ramp up to their own Temple Mount?
Israel Threatened With War in North & South
April 11….(Arutz) Brig.-Gen. (ret.) Tzvika Fogel, in the clearest warning yet of his long-running series of such warnings, says that though Israel chooses to ignore it, war can be expected in Gaza by this summer - and possibly within a month. Fogel, a former chief of staff for the Southern Command, spoke this morning on Channel Ten television. He warned of two scenarios. One is that Israel will "continue its ostrich-like stance" until military/terrorist forces in Gaza surprise-attack Israel. A second alternative, if this does not happen by the summer, is that Israel will have no choice but to begin a full-scale offensive against the increasingly-strengthened Hamas-Fatah military machine. General Fogel noted, as he and others have done many times in the past, the wide-scale smuggling network into Gaza that has been developed since Israel quit Gaza during the Disengagement in 2005. "During this period, the Palestinians have brought in anything they wanted through the tunnels they dug," he said, "and Hamas has built up its army in this time in preparation for the conflict with Israel." The repeated PA declarations of insistence on the full "right of return" for millions of Arabs to Israel, together with PA war readiness, were also cited by Fogel as indications that war appears close. He had strong criticism of official Israel: "In the face of this Palestinian threat, Israel chooses to reinforce its buildings, to close its eyes and hide it head in the sand. Ever since the ceasefire with Abu Mazen went into effect some four months ago, about 200 Kassam rockets have been fired from Gaza, almost two a day. Yet Israel does nothing, and would rather deal with prisoner exchanges and reinforcing communities." On Israel's northern border, a high-ranking Hizbullah official says there is a possibility of war with Israel this summer. Hizbullah's Deputy Secretary-General Naim Kassam told The Guardian of London that the US is "pushing Israel towards a violent clash."
Iran leads attack against US dollar
(Iran quietly waging economic war as it builds nuclear program)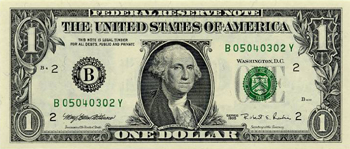 April 11….(WND/Jerome R. Corsi) While the world press has focused on Iran's plans to move ahead with enriching uranium, Tehran continues to wage economic war against the US dollar behind the scenes. Tehran has reached a decision to end all oil sales in dollars, according to statements by Iran's central bank governor, Ehrabhim Sheibany, in Kuala Lumpur at the end of last month. Zhuhai Zhenrong Trading, a Chinese state-run company that buys 240,000 barrels of oil per day from Iran, approximately 10 percent of Iran's 2.2 million barrels per day total output, has confirmed a shift to the euro for its Iranian oil purchases. About 60 percent of Iran's oil income is currently in non-dollar currencies, according to Hojjatollah Ghanimifard, who is responsible for international affairs for National Iranian Oil. Even Japanese refiners who buy some 550,000 barrels of oil a day from Iran have indicated their willingness to buy Iran's oil in yen. China, which buys approximately 12 percent of its crude oil supply from Iran, signed last year a long-term $100 billion deal with Iran to develop Iran's giant Yadvaran oil field. Estimates indicate China could draw 150,000 barrels of oil from the Yadvaran field for the next 25 years, assuring Iran's position as one of the major suppliers of oil to China for decades to come. One possibility is that China may begin paying Iran for oil in yuans. Meanwhile, China which now holds $1 trillion in foreign reserve holdings, announced March 20 it will no longer accumulate foreign exchange reserves. This is more bad news for the dollar, since approximately 70 percent of China's $1 trillion in foreign reserve holdings are held in US dollar assets. About half of China's foreign exchange US assets are invested in US treasuries, which are vital to financing the continuing US federal budget deficits. The recent push by Iran to demand payment for Iranian oil in currencies other than the dollar marks a move away from a previous announcement that Tehran planned to open an Iranian oil bourse in March 2006, designed to quote oil prices in the euro. Iran has yet to open an Iranian oil bourse, but demanding payment for Iranian oil in currencies other than the dollar is seen by many experts as a more direct attack on the dollar, especially if the Iranian decision backs a worldwide move away from using the dollar as the underpinning of world foreign exchange reserves. Iran's central bank governor Sheibany also confirmed Iran is cutting US dollar reserves to less than 20 percent of its total foreign reserve currency holdings. Iran plans to manage its foreign reserve currencies from oil sales in a basket of 20 different currencies. The move by both Iran and China to hold fewer dollars in their foreign exchange reserve reflects a desire to diversify foreign exchange reserve portfolios amid concerns the dollar will continue to lose value versus the euro. The dollar has lost 9 percent of its value against the euro in the last year and is down 35 percent against the euro in the last five years. WND previously reported how the late Iraqi dictator Saddam Hussein virtually signed his death warrant when he obtained the United Nations' permission to hold his Oil for Food foreign exchange reserves in the euro.
Pelosi May Undertake A Diplomatic Trip to Iran
| | |
| --- | --- |
| | (FOJ) House Speaker Sen. Nancy Pelosi (D-CA), right, and Rep. Tom Lantos (D-CA) chairman of the Foreign Affairs Committee, left, listen to questions during a news conference in San Francisco, Tuesday, April 10, 2007. The House speaker talked about her delegation's visit to the Middle East last week that included stops in Israel, Lebanon, the Palestinian Territories, Syria and Saudi Arabia. Pelosi now says she would be interested in meeting with Iranian President Mahmoud Ahmadinejad. Since returning from the Middle East and meeting with many of America's staunchest enemies, Ms. Pelosi has steadfastly refused to even meet with President Bush. It seems that Ms. Pelosi is forging American foreign policy on her own terms by end-running around the President. |
April 11….(San Francisco Chronicle) House Speaker Nancy Pelosi and Rep. Tom Lantos, D-San Mateo, just back from a trip to Syria that sparked sharp criticism from Republicans and the Bush administration, suggested Tuesday that they may be interested in taking another diplomatic trip, to open a dialogue with Iran. The Democratic speaker from San Francisco and Lantos, chairman of the House Foreign Affairs Committee, were asked at a press conference in San Francisco Tuesday whether on the heels of their recent trip to the Middle East they would be interested in extending their diplomacy in the troubled region with a visit to Iran. "Speaking just for myself, I would be ready to get on a plane tomorrow morning, because however objectionable, unfair and inaccurate many of (Iranian President Mahmoud Ahmadinejad's) statements are, it is important that we have a dialogue with him,'' Lantos said. "Speaking for myself, I'm ready to go, and knowing the speaker, I think that she might be.'' Pelosi did not dispute that statement, and noted that Lantos, a Hungarian-born survivor of the Holocaust, brought "great experience, knowledge and judgment" to the recent bipartisan congressional delegation trip to Israel, the Palestinian territories, Lebanon and Saudi Arabia in addition to Syria. "I find the president of Iran's remarks to be so repulsive that they are outside the circle of civilized human behavior,'' Pelosi said, referring to Ahmadinejad's past comments that Israel should be wiped off the face of the map and his questioning of the existence of the Holocaust. "But a person of Mr. Lantos' stature and personal experience is saying that, even as a Holocaust survivor and even recognizing the outrageous statements of the president of Iran, it's important to have dialogue. I think that speaks volumes.'' Pelosi was criticized by President Bush, Vice President Dick Cheney and other members of the administration for meeting with Syrian President Bashar Assad, who the administration said has meddled in the politics and fomented violence in Iraq and Lebanon and is a state sponsor of terrorism. The president also has tried to isolate Iran, saying its government, too, has aided attacks against Americans in Iraq and elsewhere while ramping up its efforts to build nuclear weapons. Lantos said that for more than a decade, he has been trying to obtain a visa to visit Tehran with the help of former UN Secretary General Kofi Annan, and to date neither he nor any other member of Congress has been successful. Pelosi said that throughout the congressional delegation's recent Middle East trip, "every place we went we had a constant message: the safety and security of Israel, fighting terrorism.'' "There was, of course, a shadow over all of it, Iran: Iran's support of terrorist groups is something that must be stopped,'' she said. "Iran's quest for a nuclear weapon is something that must not happen and we must stop them with the strongest of diplomatic measures.'' Lantos noted that "with the speaker's support,'' he has co-sponsored legislation in the House that calls for making available to all countries, including Iran, nuclear fuel for peaceful purposes under international oversight by establishing a "nuclear fuel bank." "So if the Iranian president says that he is developing (nuclear material) for peaceful purposes, we are assisting him in that process,'' said Lantos.
Ahmadinejad Aims to Keep Bush, Israel Hopping
April 10….(Jerusalem Post) When Iranian President Mahmoud Ahmadinejad announced the release of the 15 captured British sailors and marines, he already knew that exactly four days later he would be celebrating Iran's "joining the nuclear club." In the same way, his regime is closely monitoring and controlling the actions of Hizbullah in Lebanon; they were fully aware of Hassan Nasrallah's intention to publicly promise that the organization was defying UN Resolution 1701 and would continue arming itself for a future confrontation with Israel, while stepping up its campaign of undermining the Siniora government. It is hard to glean any hard information from the announcement that Iran has begun enriching uranium with 3,000 centrifuges at the Natanz facility, as Ahmadinejad and other Iranian officials were not forthcoming with details. But the latest development doesn't seem to have altered in any significant way the forecast of Israeli and Western intelligence agencies as to the future timetable of the nuclear program. The 3,000-centrifuge figure, if that is indeed authentic, is still a great deal short of the number of centrifuges necessary for enriching sufficient uranium for a single warhead. There is no indication that the "point of no return" for Iran's achieving military nuclear capability is any closer. But Ahmadinejad has other intentions. After proving that they can thumb their noses at the United States major ally and abduct its soldiers at will, while continuing to supply and direct the terrorists attacking US and British forces in Iraq, the Iranians are now demonstrating that resolutions and sanctions at the UN aren't about to cow them or their Lebanese proxies into submission. If they have indeed begun industrial-scale uranium enrichment, that will have also launched them on a collision course with the International Atomic Energy Agency. After giving the devotees of diplomacy some short-lived hope by releasing the sailors, Ahmadinejad is keeping the entire international community on its toes with these latest provocations. But above all his taunts are aimed at one specific address. Ahmadinejad is simultaneously raising the stakes in all three arenas of concern to US President George W. Bush. By stepping up the nuclear program, keeping the lethal heat on American soldiers in Iraq and prolonging the threat of a coup d'etat against the US-backed Siniora government in Lebanon, he is wagering that Bush, politically beleaguered in Washington, will prove incapable of responding to his challenges. The US Navy might have carried out a major exercise in the Persian Gulf over the last few weeks, involving no less than two whole aircraft carrier groups, but Ahmadinejad is intent on showing up Bush as a paper tiger. With British Prime Minister Tony Blair about to resign in a few months, Israel still licking its wounds from the summer's war in Lebanon and a hostile Congress trying to limit Bush's powers to use the military, Ahmadinejad is convinced that Bush is too isolated to order a military strike against Iran's nuclear facilities. Ahmadinejad is still confident of continued backing from Russia and China to veto anything more than another round of ineffectual sanctions at the Security Council.
US Will Financially Prop up Abbas, Our Favorite Terrorist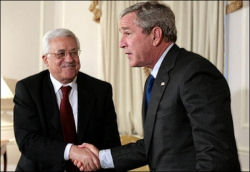 April 10….(FOJ) US President George W. Bush is shown here with Palestinian Authority president Mahmud Abbas in 2006. Today, the United States announced it will provide nearly 60 million dollars in aid to boost security forces loyal to Abbas after members of Congress dropped their objections to the deal. Apparently, the US government has not learned about the consequences of partnering up with terrorists.
Tehran's Provocations and US Military Build-up Ratchet up War Tensions
April 9….(DEBKA) No attempt was made to conceal the visit a cluster of top US brass paid April 4 to American marine units aboard the multipurpose amphibious assault ship USS Baatan (LHD 5) and other vessels of the strike group deployed in the Persian Gulf. In fact they were happy to answer questions about policies, equipment and future plans. The group visiting the 26th Marine Expeditionary Unit (MEU) aboard the Baatan was led by Gen. James Conway. With him were Lt. Gen. Keith Stadler, Commanding General of II Marine Expeditionary Force (MEF), Marine Corps Sgt. Maj. John Estrada and Rear Adm. Richard Jeffries, medical officer of the Marine Corps. Tehran took this public flurry of activity as another sign of an impending US assault. Its response came four days later. On April 8, the foreign ministry spokesman in Tehran Mohammad Ali Hossein said the Iranian army had completed all its preparations for defending the homeland and Iran was prepared to repel a military offensive. The tenor of the language emitting from Iran is one of defiance across the board. The foreign ministry in Tehran announced Monday, April 9: "Talks with the US are not on Iran's agenda," in reference to planned meetings on the sidelines of the second Iraq security conference taking place in Cairo next month. This was the final death blow to the US-Saudi initiative to engage Iran, which was fathered earlier this year by the Bush administration and Saudi King Abdullah. Washington had pinned high hopes on the follow-up Cairo meeting providing the forum for direct talks between US and Iranian foreign ministers. Since Tehran has knocked this prospect on the head, not much is expected to come out of the Cairo gathering of UN Security Council and G-8 members as well as Iraq's neighbors, even if it takes place. This too is in question, given the menacing tone of Iranian foreign minister Manouchehr Mottaki. On Monday, he warned that things in Iraq could deteriorate if the five Iranians detained in Iraq by US troops last February are not freed. Radical president Mahmoud Ahmadinejad's proclamation of National Nuclear Energy Day celebrations to mark the first anniversary of Iran's initial breakthrough on uranium enrichment is taken as a red flag to the West. Notwithstanding persistent speculation, the Iranian leader refrained from announcing the installation of 3,000 centrifuges, which would have marked an important stride in large-scale uranium enrichment. He only announced "industrial scale" production of enriched uranium." DEBKAfile's intelligence sources disclose that Iran has not managed to install more than 1,000 centrifuges, and possibly less, for lack of progress in overcoming technical hitches. The other 2,000 are either still being run in or inoperative. Last week, ABC News revealed that in the last three months, Iran has more than tripled its ability to produce enriched uranium, adding some 1,000 centrifuges which are used to separate radioactive particles from the raw material. The addition of 1,000 new centrifuges, which are not yet operational, means Iran is expanding its enrichment program at a pace much faster than US intelligence experts had predicted. The Islamic Republic may indeed have a bomb by 2009. This is six years earlier than the previous US intelligence time frame of 2015 and closer to Israeli intelligence assessments. And this week, Aviation Week & Space Technology brought out some new data relevant to Iran's missile program about the expansion of Chinese missile strength US monitoring operations. The weekly reports that US Air Force Defense Support Program monitors have noted that both the Chinese and the Iranians "have very vigorous test programs. The number of ballistic missile launch events we are seeing with DSP is increasing." USAF Lt. Col, Joe Coniligio is quoted as saying: "with major new Chinese and Iranian flight test activity to monitor, the DSP program has major initiatives underway to extract more intelligence out of the infrared data stream from each of the satellites." Also Monday, Iranian state TV announced Revolutionary Guard Gen. Mohammad Baqer Zolqadr had demonstrated the "ineffectiveness" of UN sanctions by spending six days in Moscow in defiance of the international ban on his travel. The Russians confirmed this. The general is listed with 15 individuals, whose visits all governments are required to ban. DEBKAfile's sources note additional factors contributing to heightened tensions in the region, chiefly the high death toll the US and British military are sustaining in Iraq from high-powered Iranian roadside bombs, 10 Americans and 6 Britons killed over the Easter weekend alone. Quantities of lethal weapons continued to flow across the border to the anti-US Shiite cleric Moqtada Sadr's Mehdi Army militia. US and Iraqi forces have been battling these militia units for almost a week in the town of Diwaniya south of Baghdad. The Shiites are armed to the teeth with smuggled Iranian arms, including anti-tank and anti-air missiles. Sadr brought out to the streets of Najef and Kufa on Monday, April, 9, the fourth anniversary of the fall of Baghdad, tens of thousands of anti-American demonstrators who burned US flags and demanded the end of the s-called "American occupation."
(FOJ) Followers of radical anti-US cleric Muqtada al-Sadr tear up an American flag the holy city of Najaf, Iraq, on the fourth anniversary of the fall of Baghdad to the US forces. Tens of thousands draped themselves in Iraqi flags and marched through the streets of two Shiite holy cities Najaf and Kufa in a rally that was called for by al-Sadr who issued a statement ordering his militiamen to redouble their battle to oust American forces and argued that Iraq's army and police should join him in defeating 'your archenemy.' Iran is hoping that the US will do exactly what many American politicians are suggesting, "leave Iraq" so it can become another Shiite Republic under the umbrella of the Islamic Revolution.
Shiite Al Sadr Rallies Masses in Iraq Against the US
April 9….(Washington Times) Radical cleric Sheik Muqtada al-Sadr, ending weeks of tacit cooperation with American forces, called for renewed efforts to drive US forces out of Iraq on the eve of a major anti-American rally in Najaf today. Thousands of supporters, mainly Shi'ites, were streaming into the central Iraqi city for the rally, according to reports from Najaf, while Iraqi authorities closed the capital to all vehicle traffic during today's anniversary of the fall of Saddam Hussein. The US military, meanwhile, reported the deaths of 10 American troops, six of them killed yesterday in areas in and around Baghdad. US military leaders said they would be closely watching the rally in Najaf, where automobile traffic also has been banned and buses will be provided to transport protesters to the city center, the Associated Press quoted police spokesman Col. Ali Jiryo as saying. "We have response forces on standby," said Lt. Col. Barry Huggins, battalion commander of the 2nd Battalion, 3rd Infantry Regiment of the Stryker Brigade, part of the military's rapid-reaction force for Iraq. "We are prepared to go anywhere. My bag is packed. My bag is always packed." Even before the rally, defiant handbills appeared in the shrine city bearing Sheik al-Sadr's official seal, the Associated Press reported. The warning appears to signal an end to eight weeks of tacit cooperation with the US military, which has permitted a reduction in Shi'ite militia violence under the Baghdad Security Plan. "You, the Iraqi army and police forces, don't walk alongside the occupiers, because they are your archenemy," said the statement, which also urged the cleric's followers to end sectarian infighting and turn all their efforts on the Americans. "God has ordered you to be patient in front of your enemy, and unify your efforts against them, not against the sons of Iraq," the statement said. Despite the appeal, some four dozen Iraqis were killed or found dead yesterday, including 17 obvious victims of sectarian executions. Col. Huggins said US forces would defend themselves against any attacks inspired by Sheik al-Sadr's message, but would not be provoked to overreact. Over the past two weeks, there has been a steady pattern of increased attacks, including car bombs, against American fixed sites in Baghdad by both Sheik al-Sadr's Mahdi's Army militia and Sunni forces allied with Al Qaeda in Iraq, according to a military official. "We know they are looking for weaknesses in the defenses and patterns that are targetable," said the official, who spoke on the condition of anonymity. He said the Baghdad curfew was aimed at preventing any eruption of violence in the capital as well as the movement of car bombs. Roads leading to Najaf from the mainly Shi'ite neighborhood of Sadr City in Baghdad were clogged yesterday with hundreds of buses loaded with supporters of Sheik al-Sadr. "It will be all the Shi'ite people," said one Shi'ite man close to the Mahdi's Army. "In the Friday prayers at the mosque, they said we need to kick out the invaders and each one is to take the Iraqi flag in hand to say we are one country." One American observer said the crowds appeared disciplined, contradicting the ragtag reputation that the Mahdi's Army has earned over the past four years. Iraqis close to the militia say its members have been to Iran for training, acquiring better weapons and better techniques. Sheik al-Sadr reportedly has told his followers to wear civilian clothing rather than their signature black clothes, and to carry the Iraqi flag rather than the Shi'ite black banner. By Saturday, along one street in northeast Mansour known to be a Mahdi's Army stronghold, Iraqi flags were waving from every other lamppost. Al-Sadr is changing his strategy now. He is trying to turn the Mahdi militia into a true people's militia," said Hassan, a secular Shi'ite who lives in a mixed neighborhood. He said until now the only power the Mahdi's Army has had is the power to kill and intimidate.
Russians Continue to Be Insistent on US Iran Attack
(Ahmadinejad announcing atomic 'good news' today)
April 9….(WND) With Tehran continuing to move ahead with its nuclear plans, rumors persist the White House is planning a military strike on Iran in April. "Preparations to strike Iran's strategic facilities continue," Col. Gen. Leonid Ivashov, president of the Academy for Geopolitical Problems, a Russian think tank, told Moscow based news service interfax. "Three major groups of US forces are still in the Arabian Sea and the Persian Gulf. Altogether, they have up to 450 cruise missiles on alert." "Military operations against Tehran will begin with the launch of at least two unexpected strikes using Tomahawk cruise missiles and air power in order to disable Iran's air-defense capabilities." "According to our data, up to 150 aircraft are to be involved in each strike on Iran. Land-based air-defense systems will be disabled in the first place, then mobile short-range systems, which Tehran has (including some 30 new systems)," he said. Ivashov also did not rule out the possibility of nuclear weapons being used against Iran.

Leonid Ivashov
"Combat nuclear weapons may be used for bombing. This will result in radioactive contamination of the Iranian territory, which could possibly spread to neighboring countries," he said. A press conference Ivashov held in Moscow March 30 led to speculation the US would strike Iran on April 6 in a military attack code-named "Operation Bite." In his most recent warning, Ivashov stressed the release of the 15 British sailors and marines captured by Iran robbed the US of the pretext planned for a military strike last week. Still, Ivashov warned the US had not given up plans to launch a missile and air strike on Iran before the end of April. Ivashov gained international notice at the Axis for Peace Conference in 2005 for his claim that "international terrorism does not exist and that the 9-11 attack was a set-up orchestrated by the US government. On Friday, RIA Novosti quoted an unnamed Russian security source as saying, "Russian intelligence has information that the US Armed Forces stationed in the Persian Gulf have nearly completed preparations for a missile strike against Iranian territory." The US Navy has announced the aircraft carrier USS Nimitz is headed to the Persian Gulf. The Nimitz is expected to relieve the USS Eisenhower currently on station in the Gulf. The Nimitz will join the USS Stennis in a continued two-carrier battle group presence in the Gulf. The White House continues to deny categorically there are any imminent plans to launch a military attack on Iran. Iran's President Ahmadinejad is expected to make a major "good news" announcement today at ceremonies marking the country's national day of nuclear technology. This is the second time Ahmadinejad has raised expectations of such an announcement. Today's ceremonies are scheduled at Natanz, the site of Iran's deeply buried facility where Iran is currently enriching uranium, giving rise to speculation Iran will announce advancement toward its goal of installing 3,000 centrifuges to enrich uranium. Ivashov was chief of staff of the Russian armed forces when the 9-11 attack took place.
WEEK OF APRIL 1 THROUGH APRIL 8
The Saudi Surrender Plan
April 6….(David Hornik/Frontpage) The media reported three violent threats against Israel that came out of the "Arab summit" in Riyadh last week. Palestinian Authority President Mahmoud Abbas said at the summit's close on Thursday that by "demanding that amendments be introduced to the Arab peace initiative, Israel is seeking to avoid the realization of peace. The entire region will be under renewed threats of war, explosions, as well as regional and international confrontations, as a result of the absence of a solution or the impossibility of implementing one." Saudi Foreign Minister Saud al-Faisal warned that "If Israel refuses, that means it doesn't want peace and it places everything back into the hands of fate. They will be putting their future not in the hands of the peacemakers but in the hands of the lords of war." Arab League chief Amr Moussa said, "The Israeli response was to ask for an amendment. We tell them to accept it first. We are at a crossroads, either we move toward a real peace or see an escalation in the situation." Despite being called an "Arab summit," a large Iranian delegation also attended and its leader, Foreign Minister Manouchehr Mottaki, reportedly discussed with his Arab hosts "a mutual defense treaty between Iran and the Arabs on the lines of the Tehran-Damascus pact." Earlier Jim Hoagland, in his Washington Post column noted "Saudi decisions to seek common ground with Iran and the radicals of Hezbollah and Hamas." Yet Western reactions to the Riyadh summit, which reaffirmed the "Saudi plan" for an Arab-Israeli settlement without changes, were ecstatic. AP reported that "the State Department welcomed the Arab League's reaffirmation of the plan. 'That is something we view as very positive,' spokesman Sean McCormack told reporters. He said the United States has no interest in seeking revisions to the initiative. 'We are not and have not asked them to amend it,' he said." Asked for his response to Abdullah, the Saudi monarch, calling America's presence in Iraq an "illegitimate foreign occupation," McCormack "characterized Saudi Arabia as a good friend and ally." Translation: "That's not spit, it's salubrious Saudi oil." EU foreign policy chief Javier Solana weighed in with, "I think after the meeting in Riyadh, Arab nations will be constructive and active in moving the peace process forward. The moment in which we are living is a moment of hope that we may be able to move the process of a comprehensive peace forward." And Israeli Prime Minister Ehud Olmert, for his part, had these things to say: "I look very favorably at the active role the Saudis are now playing in the Middle East for many years, I think that the change in the way of thinking, the willingness to accept the state of Israel as a fact and to argue about the characteristics of a future solution, is something that I can't but appreciate." What is the Saudi plan that wins such praise from Western, and even Israeli, leaders even in the face of a bellicose joint Arab-Iranian summit? The Saudi plan is, simply, a blueprint for Israel's destruction. Back in 2002 when the plan was hatched, as Dore Gold notes in an insightful column, "it was apparent that it was not directed toward Israel but rather to post-9/11 American public opinion, which had been shocked to learn that 15 of the 19 hijackers, were Saudi citizens." Gold also points out that "the last time the Saudi initiative was discussed during the 2002 Arab summit in Beirut, Hamas attacked the Park Hotel in Netanya during the first night of Passover, killing 29 Israelis and wounding over 150." Yet Saudi "financial support of Hamas in fact grew to over 50 percent of Hamas's total income in 2003," tradition that Hamas continued very recently when it pressured Abbas into formally "uniting" with Hamas in a junior role, thereby putting Hamas indisputably at the helm of the Palestinian Authority.
As for the Saudi plan, it calls for:
1. Full Israeli withdrawal from all the territories occupied since 1967, including the Syrian Golan Heights, to the June 4, 1967 lines as well as the remaining occupied Lebanese territories in the south of Lebanon.
2. Achievement of a just solution to the Palestinian refugee problem to be agreed upon in accordance with UN General Assembly Resolution 194.
3. The acceptance of the establishment of a sovereign independent Palestinian state on the Palestinian territories occupied since June 4, 1967 in the West Bank and Gaza Strip, with East Jerusalem as its capital.
Israel, in asking for revisions to the plan, refers most often to the second clause, an obvious call to dissolve Israel demographically by flooding it with descendants of Arabs who fled the fighting in Israel's 1948-49 independence war, maintained ever since in "refugee camps" for exactly that purpose. Yet, as Gold points out, "the real problems with the Saudi peace initiative go well beyond the, 'right of return.'" The demand for "'full withdrawal,' negates the territorial flexibility contained in UN Security Council Resolution 242 that intentionally did not use this limiting language." The result would be to "strip Israel of the 'defensible borders' that President Bush said were Israel's right in his April 2004 letter to Prime Minister Ariel Sharon." President Bush's letter said: "As part of a final peace settlement, Israel must have secure and recognized borders, which should emerge from negotiations. In light of new realities on the ground, including already existing major Israeli population centers, it is unrealistic to expect that the outcome of final status negotiations will be a full and complete return to the armistice lines of 1949." "Yet now," Gold observes, "the letter seems to have been forgotten. Indeed, there was a glaring contradiction between the Bush administration's new embrace of the Saudi initiative and the assurances it gave Sharon only three years ago." The picture, then, is not pretty. Faced with an "Arab peace plan" blatantly calling for Israel's demographic and military demise, Israel and the United States effusively praise the Saudi contribution to regional amity while trashing their own agreements and the hard-won diplomatic achievements of the past. Israel only asks gingerly and with exquisite politeness for some emendation at least of the demographic clause of the plan. The Saudis respond by snubbing the United States and hosting a conference with some of the most radical actors in the Middle East that not only contemptuously refuses to change a jot or title of the plan but openly threatens Israel with war for not acceding to it exactly as it is and has been since 2002.
Russia Seeks Closer Producer Ties, Not a `Gas OPEC'
April 6….(Bloomberg) Russia, the world's biggest energy supplier, will seek closer ties with gas-producing nations at an industry meeting next week in Qatar, Energy Minister Viktor Khristenko said. Russia, however, won't sign an accord creating a pricing cartel or "gas OPEC," Khristenko told reporters today in Moscow. To sign something, it has to be prepared first. Energy ministers from Russia, Iran and Qatar, holders of the world's biggest gas reserves, will meet April 9 with envoys from gas-producing nations under the umbrella of the Gas Exporting Countries Forum. Russia expects the group to evolve into a place where producers can share technology, investment and data, Kremlin spokesman Dmitry Peskov said in an April 4 interview. Russia has been in a fortunate position, benefiting from high oil prices supported by an oil cartel while not being a member, said Kim Iskyan, co-head of research at UralSib Financial Corp. in Moscow. It risks demonization if it joins a gas exporters group where it couldn't be neutral during a conflict between producers and consumers. Iran has been seeking to turn the forum into a cartel that would control more than 70 percent of the world's gas reserves. A cartel isn't possible until more gas is liquefied and shipped by tanker than is shipped through pipelines, Khristenko said today. President Vladimir Putin fanned concerns among energy-consuming nations when he said in February that Iran's proposal to unite gas producers in a group similar to the Organization of Petroleum Exporting Countries was an interesting idea. The European Union, which gets a quarter of its gas from Russia, has criticized closer cooperation among producers of the fuel.
Results of Treason / Pelosi Brings Anarchy To US Foreign Policy
April 5….(Bill Wilson) House Speaker Nancy Pelosi's visit with Bashar Assad drew praise from various sectors of the world as a good first step toward peace in the Middle East, but her act of insolent treason brought anarchy to American foreign policy. Leaders of the terrorist groups Islamic Jihad and the Al Aksa Martyrs Brigade, as reported by WorldNetDaily, praised Pelosi. These two organizations have carried out every recent terrorist attack in Israel and are based in Syria. And the Syrian Foreign Minister said that Pelosi's visit took place because Americans and Europeans had realized their policy of isolating Syria has failed. Pelosi also found praise from former President Jimmy Carter, who recently wrote a book in support of the Palestinian terrorists. Strange how praise for Pelosi's visit with one of the world's foremost sponsors of terrorism is coming from the terrorists themselves and a former US President whose bungling of foreign policy thirty years ago accelerated the development of modern terrorism. One has to ask: do these people, Pelosi and the likes of Carter, actually believe they are doing right by legitimizing terrorists and the policies of governments who kill Christians and Jews, who oppress women, who sell children into slavery and prostitution, who sponsor the death of the innocent around the world? Or are they just willing dupes? Or has the desire for fame and power overridden their good sense about America's national defense? The fact is that the American Constitution has granted foreign policy power to the chief executive of the nation-the President—for a reason. And the problem is that there are so many 1960's radical anarchist communist-influenced politicians in Congressional leadership that they believe their personal missions far outweigh the laws of the land. Pelosi not only committed an act of treason by going against American policy toward an enemy during a time of war, she has also misrepresented the position of another country (Israel) to a terrorist-sponsoring regime. Proverbs 30:12 says, "There is a generation that are pure in their own eyes, and yet is not washed from their filthiness."
Terrorists Endorse Pelosi's 'Policy of Dialogue'
(Militants call House speaker's visit 'brave' and hope for talks with Iran)
April 5….(WND) House Speaker Nancy Pelosi's visit to Syria, in which she called for dialogue with Damascus, was "brave" and "very appreciated" and could bring about "important changes" to America's foreign policy, including talks with "Middle East resistance groups," according to members of terrorist organizations here whose top leaders live in Syria. One terror leader, Khaled Al-Batch, a militant and spokesman for Islamic Jihad, expressed hope Pelosi would continue winning elections, explaining the House speaker's Damascus visit demonstrated she understands the Middle East. Pelosi's visit was opposed by President Bush, who called Syria a "state sponsor of terror." "Nancy Pelosi understands the Middle East better, more than Bush and Rice," said Al-Batch, speaking to WND from Gaza. "If the Democrats want to make negotiations with Syria, Hamas, and Hezbollah, this means the Democratic Party understands well what happens in this area and I think Pelosi will succeed. I hope she wins the next elections." Islamic Jihad has carried out scores of shootings and rocket attacks, and, together with the Al Aqsa Martyrs Brigades terror group, has taken responsibility for every suicide bombing in Israel the past two years. Ramadan Shallah, overall chief of Islamic Jihad, lives in Syria, as does Hamas chieftain Khaled Meshaal. Israel has accused the Syrian-based Hamas and Islamic Jihad leadership of ordering militants in the West Bank and Gaza Strip to carry out terror attacks. Al-Batch expressed hope Pelosi and the Democratic Party will pressure President Bush to create dialogue with Syria and Middle East "resistance movements" and prompt an American withdrawal from Iraq. The terrorist leader also said, "I think some changes are happening for the Bush administration's foreign policy because of the hand of Nancy Pelosi. I think the Democratic Party can do things the best." Abu Abdullah, a leader of Hamas' military wing in the Gaza Strip, said the willingness by some lawmakers to talk with Syria "is proof of the importance of the resistance against the US." "The Americans know and understand they are losing in Iraq and the Middle East and that their only chance to survive is to reduce hostilities with Arab countries and with Islam. Islam is the new giant of the world." "Pelosi's visit to Syria was very brave. She is a brave woman," Jihad Jaara, a senior member of the Al Aqsa Martyrs Brigades terror group told WND. "I think it's very nice and I think it's much better when you sit face to face and talk to Syrian President Bashar Assad. All the American people must make peace with Syria and Iran and with Hamas. Why not?" Jaara said. Pelosi said that during her talks with Assad she "determined that the road to Damascus is the road to peace." "We came in friendship and hope," she said.
House Speaker Pelosi Travels To Saudi Arabia
April 5….(AP) Speaker of the House Nancy Pelosi continued her Mideast tour today, a day after coming under sharp attack from the Bush administration for meeting with Syria's leader. Pelosi arrived in Saudi Arabia, a key US ally, Wednesday night from Syria, where she defied the White House's Middle East policy by meeting with President Bashar Assad and insisting "the road to Damascus is a road to peace." She met with Saudi King Abdullah when she first arrived in the kingdom and is meeting with several members of the Shura Council, an unelected advisory assembly named by the king. The Bush administration accuses Syria of backing Hamas and Hezbollah, two groups it deems terrorist organizations, and has rejected direct talks with Damascus until its changes its ways. "Unfortunately that road is lined with the victims of Hamas and Hezbollah, the victims of terrorists who cross from Syria into Iraq," said Gordon Johndroe, a spokesman for President Bush's National Security Council. "It's unfortunate that she took this unilateral trip which we only see as counterproductive." The Bush administration also says Syria is fueling Iraq's violence by allowing Sunni insurgents to operate from its territory and is destabilizing Lebanon's government. Pelosi is the highest-ranking American politician to visit Syria since relations began to deteriorate in 2003. Then-Secretary of State Colin Powell went to Damascus in May 2003. In an interview with ABC News, Cheney said Assad has "been isolated and cut off because of his bad behavior and the unfortunate thing about the speaker's visit is that it breaks down that barrier." "It means without him having done any of those things he should do in order to be acceptable, from an international standpoint, he gets a visit from a high-ranking American anyway," Cheney said.
Iranian Extremists Kill 4 British Troops in Basra
(Action was Iran's rejoinder to release of 15 captured Britons)
April 5….(DEBKA) Approximately two hours before the freed British sailors and marines flew out of Tehran for home, formally released by President Mahmoud Ahmadinejad after 12 days' in captivity, a patrol of two British armored vehicles was struck by a roadside bomb trap northwest of Basra and 4 soldiers killed. In London, Tony Blair said there was a clear link to elements in Iran who support terrorism in Iraq. Two powerful roadside bombs were planted on both sides of their patrol route very near an Iraqi army checkpoint in Hayaniya, a stronghold of Shiite cleric Mogtada Sadr's pro-Iranian Mehdi Army militia on the northwestern outskirts of Basra. Since the British lookout had not warned the patrol of its danger, the bombs were presumed to have been planted by the Iraqi soldiers who would not have aroused suspicion. The Iraqi troops were indeed arrested. The bombs themselves were of Iranian manufacture, as are 95% of all such devices which explode in Iraq. DEBKAfile's Tehran sources report the Revolutionary Guards used their deep penetration of the British-controlled Basra to stage a "serious incident" that would prove to Washington, London, Iraq, and rivals at home, that Iran's radical elements had the last word in the crisis. They were showing their resolve not to let the pragmatists, who had insisted on liberating the Britons for the sake of continuing engagement with Washington on Iran's nuclear program, get away with any concessions to the West. It was a demonstration of defiance against the path of engagement with Washington and Europe advocated on the nuclear issue by supreme ruler Ayatollah Khamenei and head of the supreme security council, Ali Larijani. From the start of the crisis, DEBKAfile's exclusive sources in Tehran have followed the debate on the issue splitting the Iranian leadership. Throughout, the president and his Revolutionary Guards following demanded that the crisis with Britain be pushed to its limits to provoke a limited military confrontation with the Americans in support of their British allies in the Persian Gulf. They argued that this showdown should not be delayed untill the US was fully prepared. Khamenei forced Ahmadinejad to pardon the Britons and let them go free. But the debate in the Iranian hierarchy is far from over. Teheran media Thursday morning denounced the Iranian regime for cutting short the British captives' detention and asking why infidels deserved to be given a gift on the Prophet's birth anniversary.
White House Srongly Disputes Nancy Pelosi's Assertion that "Her Road to Damascus was a Road to Peace"
April 5….(DEBKA) Gordon Johndroe, a spokesman for the National Security Council commented: "Unfortunately, the Damascus road is lined with the victims of Hamas and Hizballah, the victims of terrorists who cross from Syria into Iraq. It's lined with the victims in Lebanon who are trying to fight for democracy. Speaking on Air Force One as the president traveled to California, Johndroe said "we don't think these meetings Pelosi is having are productive." Before flying to Saudi Arabia, the US House Speaker Nancy Pelosi summed up her talks Wednesday, April 4, with Syrian president Bashar Assad. She said she and her delegation had "expressed our concern about Syria's connections to Hizballah and Hamas" and discussed the issue of fighters slipping across the Syrian border into Iraq. Vice President Dick Cheney commented in a radio interview that Syrian President Bashar Assad has been isolated and cut off internationally because of his government's behavior. "The unfortunate thing about the speaker's visit is it sort of breaks down that barrier. In other words, his bad behavior is being rewarded." Pelosi went on to say: "We were very pleased with the reassurances we received from the president Assad that he was ready to resume the peace process. He was ready to engage in negotiations for peace with Israel," she said. "(Our) meeting with the president enabled us to communicate a message from Prime Minister Olmert that Israel was ready to engage in peace talks as well," a Pelosi official told reporters. An Israeli government official said that was not the message Olmert had asked Pelosi earlier this week to convey to Assad. "The prime minister said Israel is interested in peace with Syria, but Syria would first have to abandon the path of terror and providing support for terrorist groups," the official said, in reference to Palestinian group Hamas and Lebanon's Hezbollah.
Olmert: We Sent No Message With Pelosi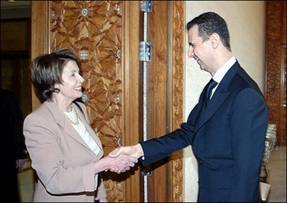 April 5….(Jerusalem Post) Contrary to claims made by US House Speaker Nancy Pelosi, the Israeli government did not ask her to carry a message to Syrian dictator Bashar el-Assad that Jerusalem was willing to reopen peace talks with Damascus. This is according to a "clarification" issued by the Prime Minister's Office immediately after Pelosi, who visited with Assad Wednesday, said Olmert had given her such a message for the Syrian dictator. Before the rare rebuttal was released, however, Arabist CNN reporter Brent Sadler gave a push to Pelosi's "mediation" effort by claiming that, just as Olmert had given her a message for Assad, likewise Damascus has now sent a message to Israel via Pelosi that Syria is willing to resume talks with Israel. What Olmert actually told Pelosi, according to the PMO statement, was that Syria's sincerity about making peace with Israel would be judged by its willingness to "cease its support of terror, cease its sponsoring of the Hamas and Islamic Jihad organizations, refrain from providing weapons to Hizb'allah and bringing about the destabilizing of Lebanon, cease its support of terror in Iraq, and relinquish the strategic ties it is building with the extremist regime in Iran." Notwithstanding its content, the official denial will likely be portrayed by the hostile press Israel routinely receives as "yet another example of the Jewish state's unwillingness to make peace with its neighbors."
Iran Announces Release of British Sailors
April 4….(MSN) Iranian President Mahmoud Ahmadinejad said today he will free 15 British sailors and marines, offering a "gift" to the British people that ends a 13-day crisis. Iranian state television showed the troops meeting with Ahmadinejad at the presidential palace in Tehran, where he shook hands and chatted with them. A caption to the footage said the conversation was taking place as part of the "process of release" of the British crew. "We appreciate it. Your people have been really kind to us, and we appreciate it very much," one of the detainees could be heard saying in English to Ahmadinejad and a translator. One of the service-members also was heard saying, "We are grateful for your forgiveness." Ahmadinejad responded to him in Farsi: "You are welcome." British Prime Minister Tony Blair's office said it "welcomed" Iran's move. Iranian state TV said in a news flash that the 15 British sailors and marines watched Ahmadinejad's news conference live and were ecstatic when a translator told them what the president had said. Aboard Air Force One, US President Bush's national security spokesman, Gordon Johndroe, said Bush "welcomes the news." At a news conference announcing the release, Ahmadinejad said, "On the occasion of the birthday of the great prophet (Mohammed) and for the occasion of the passing of Christ, I say the Islamic Republic government and the Iranian people, with all powers and legal right to put the soldiers on trial, pardon those 15." He was referring to the Muslim prophet's birthday last Saturday and Easter, next Sunday. Ahmadinejad said the British government had "sent a letter to the Foreign Ministry pledging that it (entering Iranian waters) will not happen again." Moments before announcing the crew's release, Ahmadinejad praised the Iranian coast guard members who seized the troops, and he pinned a medal of bravery on the chest of their commander. "On behalf of the great Iranian people, I want to thank the Iranian coast guard who courageously defended and captured those who violated their territorial waters," Ahmadinejad said, vowing that Iran will "not accept trespassing on its territorial waters." Geoffrey Kemp, a Middle East expert at the Nixon Center, a think tank in Washington, said the Iranian regime "had milked this for all it was worth" and decided it was best to release the Britons now. "The next step would have been incarceration and trial and that would have given the United States and the Europeans more wiggle room" to increase pressure against Iran over its nuclear program, he said.
Did USS Nimitz Force Iran's Decision?
April 4….(Newsmax) The announcement Wednesday by Iranian president Mahmoud Ahmadinejad that his government would release the 15 captured British sailors and marines came after an intense and often bitter internal debate, sources in Tehran told NewsMax. The capture of the British naval inspection team was clearly a coordinated effort by the Iranian government aimed at demonstrating Iran's ability to confront the US-led multinational forces in Iraq and to divert international attention from the nuclear showdown. The decision to release the hostages showed the limits of Iran's power and the fears of some leaders in Iran that too much provocation could backfire. Within four days of their capture on March 23, the 15 Britons were split up into smaller groups and held in different areas, Iranian sources told NewsMax. This was a lesson learned from the 1979-1981 hostage crisis, when all 55 US hostages were initially kept in one place. That crisis, which occurred during the Jimmy Carter administration, prompted a US attempt to rescue the hostages by force. After that attempt failed at Desert One in April 1980, the Iranians split up the US hostages so it would be more difficult to rescue them. At one point during the current hostage crisis, the British team was split up into five groups of three, with each group kept at a different military base. The Iranians would then bring several groups together and film them, to give the impression they were being held together. The order to capture the British sailors and marines was given by Supreme Leader Ayatollah Ali Khamenei himself, NewsMax sources believe. Khamenei's top advisers argued that by striking out against a US ally in Iraq, they would be sending a message to other European nations to step back from supporting the US strategy of increasing pressure on Iran over its nuclear program. They saw the move as a clear test of Western resolve. But as Britain refused to apologize for the behavior of its boarding party, continuing to insist that they were operating in Iraqi waters, not inside Iran's territorial waters, as Tehran alleged, some of Khamenei's advisers began to have second thoughts. Adding to those doubts were reports that the USS Nimitz was steaming toward the Persian Gulf, making it the third Carrier Strike Group in the area. The Nimitz is expected to join the USS Dwight D. Eisenhower and the USS John C. Stennis, both currently in the Persian Gulf, in the coming weeks. On Friday, March 30, Khamenei's top advisers met in an emergency session of the Supreme Council on National Security, chaired by Ali Larijani. Larijani is the regime's top nuclear negotiator, and is a confidant of the Supreme Leader, while maintaining close ties to President Ahmadinejad. At that meeting, Revolutionary Guards commander Maj. Gen. Rahim Safavi reported that the deployment of the Nimitz suggested that a US military invasion of Iran was being prepared for early May. He urged the Council to order the release of the British hostages as a gesture to defuse the tension in the region. The next day, however, the head of the Political and Cultural bureau of the Revolutionary Guards, Dr. Yadollah Javani, called Safavi a "traitor" for proposing the release of the hostages. While this internal dispute raged, Revolutionary Guards intelligence officers in charge of guarding the hostages continued intense debriefings, aimed at eliciting "confessions" from the British captives that were aired on Iranian television. The intention was to build a legal "case" against the captives and haul them before a Revolutionary court. During the trial, the regime intended to use forced "confessions" from some of the hostages who alleged they had personal knowledge of British government support for Iranian separatist groups operating in Arab-dominated Khuzestan along the Iraqi border and in Sistan-Balouchestan province, next to Pakistan. The first inkling that the faction urging release of the hostages was winning appeared on Tuesday evening, when the influential Baztab Web site, run by former Revolutionary Guards commander Gen. Mohsen Rezai, reported that the British captives would soon be released. "It can now be said that the politicians who are for continuing relations with London have got the upper hand," Baztab reported. Fars News Agency also reported on Tuesday that a prominent cleric, Hojatt-ol eslam Ghorbanali Najafabadi, was urging the public prosecutor not to pursue a legal case against the British sailors, but to solve the hostage crisis "through international diplomatic channels." For now, Tehran's leaders have backed down. Why? Most bets are on the Nimitz. Unless Iran already has nuclear warheads, a direct military confrontation with the United States would most likely provoke a popular uprising against the regime. And retaining power is the one thing that Ayatollah Khamenei and his clerical cohorts actually care about.
Arab Expert: Pelosi Appeasing Dictators in Middle East
April 4….(Newsmax) Syrian politicians have hailed House Speaker Nancy Pelosi's visit to Damascus as a diplomatic triumph that may force the Bush administration, which opposed the visit, to change its policy toward President Bashar Assad's regime. Pelosi, the most senior US official to visit Syria in several years, met with Assad today. But President Bush was not amused by Ms. Pelosi's trip to Damascus. "Photo opportunities and/or meetings with President Assad lead the Assad government to believe they're part of the mainstream of the international community," Bush told reporters in Washington. Syrian parliamentarian George Jabour said in a radio interview that Pelosi is the most powerful woman in American politics and predicted her visit would put pressure on the White House and lead to a policy change. Arab experts say that Syria is already viewing the visit by the American politician third in line to the presidency as a victory for Syrian diplomacy and a sign that President Bush's isolation policy has failed. Arab affairs expert Dr. Mordechai Kedar, of the BESA Center for Strategic Studies near Tel Aviv, said the visit had more to do with domestic American issues than Middle East peacemaking efforts. "Pelosi understands nothing in the Middle East," he told Cybercast News Service, describing the visit as "a hammer to hit President Bush." Kedar said Pelosi is trying to force a return to the former US foreign policy of appeasing Mideast dictators. Kedar noted that Syria is Iran's key ally, and said without Syria, Iran would not be able to export its Islamic revolution to Lebanon or Iraq. Syria is a conduit for Iranian shipments of missiles and weapons to Hizballah, which opposes the pro-Western government in Beirut. Washington has also accused Syria of allowing anti-coalition insurgents to cross its borders into Iraq. "Thanks to Syria and Iran, thousands of American soldiers were killed in Iraq," Kedar said. "And now, Pelosi is willing to appease them. Syria has been on the State Department's list of state sponsors of terrorism for decades. The headquarters of Hamas and other Palestinian terrorist groups are located in Damascus. Syria is also a key backer of Hizballah, which was implicated in the largest terror attacks against Americans prior to 9/11. Hizballah was responsible in 1983 for the bombings of the US Embassy and the US Marine barracks in Beirut. Fifty people were killed in the April embassy blast, and 241 service personnel were killed in the October bombing of the barracks. After the meeting with Bashar Assad in Damascus, the Pelosi delegation left for Saudi Arabia.
Nancye Pelosi Defies President Bush and American Policy, Meets Assad
April 4….(FOJ) Newly elected US House Speaker Nancy Pelosi met Syrian President Bashar Assad on today for peace-talks criticized by the White House as undermining American efforts to isolate the hard-line Arab country. Pelosi said Assad assured her of his willingness to engage in peace talks with Israel, and that she and other members of her congressional delegation raised their concern about militants crossing from Syria into Iraq, as well the Israeli soldiers kidnapped by the Lebanese militant group Hezbollah and the Palestinian group Hamas. She said the delegation gave the Syrian leader a message from Israeli Prime Minister Ehud Olmert whose essence was that Israel was ready to hold peace talks with Syria. She did not say more about the message, but Israel has previously made such talks conditional on Syria's cutting off its support for hard-line Palestinian groups and Hezbollah. "We were very pleased with the assurances we received from the president that he was ready to resume the peace process. He's ready to engage in negotiations for peace with Israel," Pelosi said.
| | |
| --- | --- |
| | (FOJ) There is a coup-de-tat underway in American politics to undermine the American Presidency. Liberal and Socialist leaning American politicians are cozying up with known terrorists and enemies of America in an effort to gang up on "Old America." Here Ms. Pelosi sits in her short skirt and makes nicey with a murderer. |
Ms. Pelosi's visit to Syria was the latest challenge to the White House by congressional Democrats, who are taking a more assertive role in influencing policy in the Middle East and the Iraq war, and in direct opposition to the policies of the US President and his military commanders. Bush has said Pelosi's trip signals that the Assad government is part of the international mainstream when it is not. The United States says Syria allows Iraqi Sunni insurgents to operate from its territory, backs the Hezbollah and Hamas militant groups and is trying to destabilize the Lebanese government. Democrats have argued that the United States should engage its top rivals in the Mideast, Iran and Syria, to make headway in easing crises in Iraq, Lebanon and the Israeli-Arab peace process. Last year, the bipartisan Iraq Study Group recommended talks with the two countries. President Bush rejected those recommendations as unsound and rewarding to our enemies. He was right. Nevertheless, Ms. Pelosi has met with America's enemies in the Middle East, saying, "We have no illusions but we have great hope." Pelosi alos met with Palestinian President Mahmoud Abbas in the West Bank city of Ramallah earlier Tuesday.
Pelosi Fraternizes With the Enemy
April 4….(Stan Goodenough/Jnewswire) For Republican US President George W. Bush, Syrian strongman Bashar e-Assad is a destabilizing Middle Eastern force, a major contributor to last summer's war between Israel and the Lebanese Hizb'allah, and responsible for aiding and abetting many of the insurgents who have killed thousands of people in Iraq, among them US servicemen. Along with Cuba and Libya, Syria is one of the states the Bush administration described as being "beyond the axis of evil." For Democrat and Speaker of the House Nancy Pelosi, however, Assad and Syria present a beckoning door, a platform upon which the newly-appointed third-most-powerful American politician can begin to lay her legacy. On Wednesday, then, wearing a skirt short enough to offend the sensitivities of many in the Arab world, Pelosi sat down in with Assad in Damascus, smiling for the cameras and nodding sagely in apparent agreement as her host earnestly directed a stream of conversation in her direction. According to journalists at the press conference, Assad quickly drew Pelosi into discussing the Arab-Israeli conflict, and this became the issue that dominated their remarks. The Syrian appeared pleased to have Bush's most powerful political foe at his side. Pelosi said afterwards she had been pleased with the "assurances we received from the president" that he was ready to resume the Middle East peace [sic] process and to talk with the Israelis. "I hope the road to Damascus can be the road to peace," she said. Jerusalem had earlier asked Pelosi to convey to Assad that Israel is willing to resume negotiations with Syria. "Likewise Damascus has now sent a message to Israel via Palosi that Syria is willing to resume talks with Israel," reported CNN. Palosi asked Assad to help secure the release of three kidnapped Israeli soldiers, something he affably agreed to do, but only on condition Israel set free thousands of terrorists it is holding in its jails. Trying to justify her decision to lead a congressional delegation into enemy territory, Palosi said doing so opened the doors of dialogue with the country's leadership which the Bush administration had been keeping closed. But Bush scored the visit sent mixed messages to the Syrian leadership. But the Syrians don't seem t be confused. One veteran Middle East journalist reported afterwards that Syria was "feeling very satisfied that this visit has gone ahead over the heads of the US administration and even of the president himself."
Gold: Western Inaction Pushing Saudi Arabia to Hamas, Hizbullah
April 4….(Arutz) For Saudi Arabia, the Israeli-Palestinian conflict is not the main issue; it is rather Iran, and the West's inaction vis-a-vis the Iranian threat. So writes former Israeli Ambassador to the UN Dore Gold in a brief for the Jerusalem Center for Public Affairs' Institute for Contemporary Affairs. "What is shaping Saudi Arabia's new diplomatic activism," Gold explains, "is the rapidly expanding Iranian threat and the weakness of the Western response." Gold feels that though expectations were raised that "the Riyadh Arab summit might provide a mechanism for restarting the Arab-Israeli peace process," it got off to a "bad start when Saudi Foreign Minister Saud al-Faisal warned Israel that its rejection of the [Saudi complete-withdrawal] plan would leave its fate in the hands of the 'lords of war.' Rather than obtaining some flexibility, Israel was handed an ultimatum." Saudi Arabia's King Abdullah was to have had a mid-April gala dinner with President George W. Bush at the White House later this month - but abruptly canceled it. This was a clear signal, Gold writes, that the time was far from ripe for a Saudi-Israeli rapprochement under an American umbrella.
Saudi Arabia Turns to Hamas and Hizbullah
Why were the hopes of both the US and Olmert-government diplomats dashed? Gold quotes the Washington Post that "Riyadh had decided for now to seek common ground with Iran, Hamas, and Hizbullah." Why? Because the West has responded weakly to the growing Iranian threat. Gold concurs with other experts in positing that Saudi Arabia feels threatened by Shiite-controlled Iran. Haifa University's Middle Eastern affairs expert Dr. David Bukai said at last month's Jerusalem Conference, "The main dispute in the Middle East is between the Shiites (10% of the world's Moslems) and the Sunnis and the so-called moderate nations. The Shiites are more threatening to Saudi Arabia than to Israel." Iran is committed to "a second Iranian revolution," Gold writes, referring to a "revival of Iranian efforts to export revolutionary Shiism, wherever possible. In some Sunni-dominated countries, like Sudan and Syria, the Iranians hope to convert Sunnis to Shiism. In the [Persian] Gulf, there are already substantial Shiite populations. Indeed, Saudi Arabia's main vulnerability is in its oil-rich Eastern Province, which has nearly a majority of Shiites. Neighboring Bahrain, now connected to Saudi Arabia by a bridge, has an 80 percent Shiite majority. The potential for revolutionary subversion is enormous," as has already happened in the past.
Israel and the Saudi Plan
The Saudi plan, first advanced in 2002, has two demands that are anathema to most, if not all, Israelis. One is the "right of return" of millions of descendants of the roughly half-million Arabs who left Israel during the 1948 War for Independence. The second is a total and complete withdrawal from every inch Israel liberated in the 1967 Six Day War, thus stripping Israel of the "defensible borders" that President Bush said was Israel's right in his April 2004 letter to Prime Minister Ariel Sharon. Despite this, Gold writes, "Israeli diplomats had hoped that a modified peace plan might be adopted by the Arab heads of state that would leave out any references to the return of Palestinian refugees to Israel. When that seemed unlikely, there was increasing speculation that while the formal initiative would remain unchanged, then at least some other statements would be made separately that would try to reach out to Israeli public opinion and build mutual confidence." But this did not occur.
No More Western Apathy or Israeli Withdrawals
What must be done, Gold writes, is the following: For one thing, the West must be more assertive about countering Iranian power. In addition, bombastic summits and Israeli withdrawals are not helpful at this time: "The last thing [Saudi Arabia] needs are planeloads of Israeli negotiators and journalists in Riyadh. And with Hamas in power among the Palestinians and building its military strength daily in Gaza, Israel does not need to experiment with new withdrawals. Under such circumstances, quiet contacts between Israel and its neighbors make far more sense than grandiose public diplomacy."
Damascus is Central Hub for Hizballah, Hamas, Jihad Islami
(Thousands of fighters heading out to Iranian training camps from Damascus)
April 3….(DEBKA) According to DEBKAfile's military and intelligence sources, in the last several weeks, Damascus international airport main has become the main transport hub for a stream of Lebanese and Palestinian terrorists heading for Revolutionary Guards installations in Iran. Hence Israel military intelligence chief's pessimistic briefing to the Israeli cabinet Sunday, April 1. (See separate item on this page) Damascus airport is also the transit point for returning terrorists to gather and pick up their assignment for various Middle East countries, as well as Lebanon, the Gaza Strip and the West Bank. Syrian military intelligence and Iranian RG officers have set up a joint depot at the Syrian airport for directing the incoming and outgoing traffic, much of it ferried by Syrian Airways. A high-ranking Western intelligence source in the Middle East told DEBKAfile that the number of such terrorist-trainees commuting between Damascus and Tehran has grown to more than three times the volume of Muslim and al Qaeda fighters heading out from Syria into Iraq. This source calculates Iran is running a crash program to prepare an army of trained terrorist strength to retaliate for a potential US attack on its nuclear installations. That will be the signal for these men to ignite a regional war of terror across Iraq, Lebanon, Israel, the Gaza Strip, the West Bank and out to Sinai and Egypt. Four Iranian command centers have been set up at home, in Iraq, Syria and Lebanon, to coordinate the movements of fighting men and the arms consignments that are being shipped through marine smuggling routes to their various destinations. According to our intelligence and military sources, new training methods are employed for the new intake of terrorists. They are no longer being trained at special facilities provided for them at the camps run by the Al Quds Brigades, the RGs international branch. From the beginning of 2007, they have been integrated in regular RG training facilities and are taking basic training along with Iranian recruits in line with a revised Iranian military doctrine. The entire Middle East is deemed henceforth a single integrated line designed to defend the ayatollahs' regime in Tehran in case of American attack. This line will be manned entirely by units which underwent training in the same combat tactics and operate the same weapons systems and communications. Syria's high command and military intelligence are pivotal to the construction, administration and control of this new fighting-terrorist machine. The personal say-so of President Bashar Assad would have been necessary for this project. Damascus airport facilities are a pivotal link in the mechanism wiring Tehran to the terrorist groups and transporting them from training centers to operating bases ready to fight for the Islamic Republic. Without Damascus' aid, the operation would have taken much longer. Israel's AMAN chief, Maj. Gen. Amos Yadlin views this burgeoning war-cum-terror machine as a dangerous element that could tip the region over into a full-blown conflict without prior warning. No one outside Iran, even seasoned military intelligence observers, can know for certain when, why or for which location, some high-up in the wildly-radical Revolutionary Guards will decide to push the button to activate it.
Blair: These Are Critical Days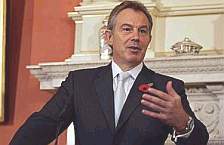 April 3….(Jerusalem Post) An Iranian diplomat kidnapped two months ago in Iraq has been freed, Iranian officials said Tuesday, as Teheran reported diplomatic talks were beginning to try to resolve the standoff over 15 British sailors seized in the Persian Gulf. Jalal Sharafi, second secretary at the Iranian Embassy in Baghdad, was released Monday and has already left Iraq, an Iranian diplomat said in the Iraqi capital. He spoke on condition of anonymity because of the sensitivity of the case. Iran said Sharafi had been abducted by a special Iraqi unit which reports directly to American forces, an allegation supported by several Iraqi Shi'ite lawmakers. Earlier, British Prime Minister Tony Blair said that the next two days are crucial to resolving the dispute over the British captives. "The next 48 hours will be fairly critical," Blair said. He said Iranian negotiator Ali Larijani's suggestion of talks offered the hope of an end to the crisis. "If they want to resolve this in a diplomatic way the door is open," the premier said. But if negotiations to win the quick release of the 15 sailors and marines stalled, Britain would "take an increasingly tougher position," he said. Also Tuesday, the British Independent reported that the British hostage crisis was the result of hostilities between Iran and the coalition forces in Iraq set off in January by an alleged US attempt to abduct two of Iran's leading security figures in Iraq.
Senior Russian General Warns Washington About Attacking Iran
April 3….(DEBKA) The RIA-Novosty news service quotes Yury Baluyevsky, head of the armed forces general staff as sayin Tuesday, April 3: Such an attack would have global implications. "Inflicting damage on Iran's military and industrial potential might be realistic, but winning [the war] is unachievable, its reverberations would be heard across the world." Baluyevsky said that the US should bear in mind negative experience in other countries of the region. "Our strategic partners," he said, have already got bogged down in Afghanistan and Iraq." He warned that if the US goes to war with Iran as well, the world may see America decline as "the world's mightiest and most powerful state." DEBKAfile: This warning from Moscow against a US attack on Iran comes from a named source. Last week, "Russian intelligence circles" claimed a US strike against Iranian nuclear installations codenamed Operation Bite had been scheduled for April 6 at 0040 hours. They claimed missiles and air raids will conduct strikes designed to be devastating enough to set Tehran's nuclear program several years back.
Abdullah: Israel Should Leave All 'Arab' Territory'
April 3….(Jerusalem Post) Israel should withdraw from Arab territory and allow the creation of a Palestinian state before Arabs recognize it, a Saudi official said Monday, the first Saudi statement on the issue since Prime Minister Ehud Olmert publicly invited Arab leaders to discuss their ideas for peace with him. Olmert specifically called on Saudi Arabia to take the lead, the first time Israel has made such a request of the Saudis, who maintain a state of war with Israel but are pushing for a peace deal. The Saudi official told The Associated Press that "before any meeting could be considered," Israel should accept the 2002 Arab peace initiative that would recognize Israel in exchange for withdrawal from captured territory and a just solution for the Palestinian refugees. At a summit in Saudi Arabia last week, the Arab League renewed its commitment to the peace initiative, which was initially proposed by Saudi Arabia.
| | |
| --- | --- |
| | (FOJ) US Speaker of the House, Nancye Pelosi is busy cozying up to known terrorists these days as part of a political agenda to pressure the President to withdraw from Iraq. She is slated to pay a call to Syrian leader Bashar Assad today, who facilitates the multi-faceted terrorist networks in the Middle East. |
At a meeting on Sunday, Ehud Olmert asked US House Speaker Nancy Pelosi to take a message to Syrian President Bashar Assad that if Syria stops its support for terrorism, Israel would be interested in making peace. In a March 22 interview with French television, Assad said seeking peace with Israel is a "firm principle," but stressed that the return of the Golan Heights, captured by Israel in the Six Day War, was a Syrian right that would not be compromised. "The land must be returned in full. Any other details are subject to negotiations but land is not. It is Syrian land," he said.
Israeli Court nixes Passover Lamb Sacrifice at Temple Mount
April 3….(Ha Aretz) In their efforts to sacrifice a live animal at the Temple Mount, the New Sanhedrin Council adopted an almost underground modus operandi. Rabbis Adin Steinsaltz, Israel Ariel, Yishai Baved and their associates secretly located a butcher, found a Cohen hailing from a lineage 1,000 years old and worked out a plan to quickly erect an alter on the Temple Mount. They tried to revive the customs of the ancient Sanhedrin tribunal, which was the highest judicial body for the Jewish people in Israel some 1,600 years ago. They sought to slaughter a sacrificial animal across from the Western Wall. The activists, who belong to various religious circles such as the Temple Mount and Land of Israel Faithful Movement, also petitioned the High Court of Justice for the right to perform the ritual. Their plans were thwarted yesterday when the court rejected their request, ruling that "the rights of the petitioners to practice their faith are outweighed by other considerations such as public order and safety." Despite the ruling, the followers decided to hold a colorful procession yesterday in Jerusalem, heading to the Western Wall along with two sheep. The Temple Mount Movement followers present were joined by partners from the Temple Institute, which has for years prepared the traditional holy tools and utensils for the Third Temple, according to Torah specifications. The spectacular display did not, however, persuade authorities to allow the participants to perform the practice. Their petition to the court was by no means the first one. In recent years, the High Court of Justice rejected several such petitions filed by the Temple Mount Movement and other associations, dedicated to erecting the Third Temple on the Temple Mount in Jerusalem. The court invariably cited the same reasons for its ruling.
Saudi King Shifting Away From America
(How the Saudi King, disillusioned with President Bush, is trying to save the Arabs)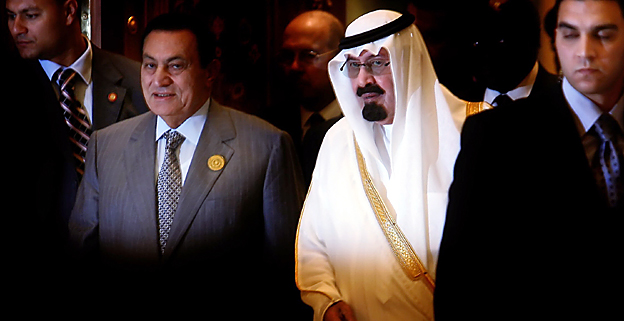 April 2….(Newsweek) Saudi Arabia's King Abdullah often has the weary air of a simple man who's lived long enough to see it all, and in many ways he has. When he was born more than 80 years ago, his father had yet to found the nation Abdullah rules. No oil flowed from beneath the sands, and Israel didn't exist. And yet, senior Saudi princes tell Newsweek, Abdullah is surprised and angered by the disastrous turmoil that now afflicts the region. He's grown disillusioned with Saudi Arabia's longtime ally, the United States. He is frustrated with the fecklessness of a divided Arab world. As if by default, the old son of the desert is now trying to lead on virtually every sensitive issue from the peace process to Darfur. Bush administration officials have yet to decide whether Abdullah's new activism ultimately will support US policy or undermine it, and some privately suggest they're baffled. Why would Abdullah tell the summit of Arab kings and presidents he convened in Riyadh last week that "in Iraq blood flows between brothers in the shadow of an illegitimate foreign occupation"? While the Saudis opposed the 2003 Iraq invasion, they've insisted the United States should stay and fix what it broke. But by distancing himself from Washington, Abdullah gains credibility in the vital fight against Tehran for Arab hearts and minds. The Saudis see President Mahmoud Ahmadinejad's incendiary rhetoric against Israel, his backing for Hizbullah and his support for Hamas as crass bids to win support not only among the region's Shiites but also among the Sunnis. At the same time, Tehran's race to become a nuclear power is a threat to Saudi Arabia's influence, if not its survival, and a provocation to George W. Bush. "Do you think those US warships are out there on vacation?" Abdullah warned Ahmadinejad when they met recently, according to sources close to the royal family. Abdullah's sense of urgency about the Iranian threat goes back at least to September 2005, when "Iraq was being presented to the Iranians on a silver platter" by US policy, says Turki al-Faisal, then ambassador to Washington. His brother, Foreign Minister Saud al-Faisal, met with Bush last May to press Saudi concerns. "We have two nightmares," Saud told the president, according to Turki. "One is that Iran will develop a nuclear bomb, and the other is that America will take military action to prevent Iran from getting a nuclear bomb."
Over the summer, however, US officials started getting what seemed to be very different signals. Word spread that Saudi Arabia secretly supported a much more aggressive line against Tehran and its clients: that it would undermine Hamas; encourage Israel's efforts to take out Hizbullah; maybe even facilitate strikes on Iran's nuclear installations. But when Dick Cheney flew to Saudi Arabia last Thanksgiving weekend to meet directly with the king, Abdullah didn't support military action. Instead, his policy has been to talk to Iran, Hizbullah and Hamas, using money, diplomacy, even religion to defuse each regional flashpoint, push for peace and block Iran. The biggest test so far came earlier this year when clashes erupted between Hamas and the Fatah party, threatening full-blown civil war in the Palestinian territories. "He just couldn't take that," Foreign Minister al-Faisal told Newsweek. Summoning Palestinian leaders to Mecca, Abdullah successfully pressured them to form a unity government. When the Bush administration and Israel criticized him for undermining efforts to isolate Hamas, the king was "furious," said a source not authorized to speak on the record. But Abdullah was on a roll. He used the Arab summit to relaunch a peace initiative he first proposed five years ago. It promises full peace for Israel with all Arab states if the Jewish state withdraws to its 1967 borders and an equitable solution is found for Palestinian refugees. Far from dismissing the plan, Israeli Prime Minister Ehud Olmert has left the door open to further talks. "Saudi Arabia is the country that in the end will determine the ability of the Arabs to reach a compromise with Israel," he said. To Abdullah, who has seen so much, peace now looks like the best way to revive the beleaguered Arab world—and stifle Iran's ambitions.
Passover Rumors of War
April 2….(Stan Goodenough/Jnewswire) Rumors of war were circulating again in Israel Monday, keeping the country's security forces on their toes even as the Jews were preparing for their annual Passover celebrations, scheduled to begin at sundown. Reports out of Russia suggested that the United States, which has been building up its armed presence in the Persian Gulf, could strike at Iran's nuclear facilities at any moment. One source said Friday, April 6, was when it would happen. Unnamed officials in Damascus conveyed fears that such an attack would be followed by an IDF offensive against Syria and Lebanon's Hizb'allah. Both parties have threatened to hit Israel if Iran comes under American fire. Not wanting to be taken by surprise again, as Israel was in 1973, the Olmert government and upper echelons of the Israel Defense Forces have for weeks been ordering and overseeing intensive training by all branches of the military so as "to be ready for any eventuality." While the Muslim Arabs do not need an excuse to try and excise the hated Jewish 'tumor' from their midst, their habitually cowardly methods of fighting Israel have sensitized the IDF to intelligence information which their enemies may use as a cover to "justify" them attacking Israel first. Israel believes the Assad government, which has been encouraged by sympathetic western leaders supporting the surrender of the Golan Heights to Syrian rule, could "misread" Israel's military exercises and use them as an excuse to try and take the heights. Israeli Prime Minister Ehud Olmert sent a message to Syrian dictator Bashar el-Assad at the weekend, trying to assure him of Israel's peaceful intentions vis-à-vis Syria. The daily newspaper, Ha'aretz, quoted Olmert as saying Israel has "no intention to attack the Syrians. "We prefer to make peace with the Syrians," he continued, "but it is a fact that the army is carrying out very intensive training in all systems, all branches, all units, in all areas, and it will continue doing so as part of its annual plans, and it will be ready for any eventuality, including the possibility of what is called miscalculation. "But we take into account everything, and hope that the things that should not happen, do not happen." Other political sources said Sunday the question was "whether Assad is looking for an excuse so that he can carry out an attack against Israel in the summer, or whether this is a mistaken assessment." Despite the heightened military awareness, Jerusalem's streets were active into the early afternoon Monday, then quieted down as businesses closed and people hurried home to complete their Passover preparations. Those who hate the Jews have been trying uninterruptedly for millennia to destroy the nation of Israel. As they celebrate their deliverance from Egypt this week, many Israelis will doubtless be looking to God, at least in their hearts, to deliver them from their foes once again. The Bible, a unique book that thousands of years ago foretold the modern-day rebirth of Israel in their ancient land, also records God's promises to fight against Israel's enemies, and defeat them.
Iran's Tough Stance Shows Shiite Hardline Power
| | |
| --- | --- |
| | (AP) A video grab from footage shown on Iranian television on April 1, shows a British man in a khaki uniform standing in front of a map of the gulf while speaking. Iranian television showed pictures of two of the 15 British sailors and marines held in Iran, and said they admitted that they were captured after entering Iranian waters. State-run Al-Alam television showed footage of the two men in khaki uniforms standing separately in front of a large map of the Persian Gulf. |
April 2….(AP) Iran's tough stance in the standoff over 15 captured British sailors is a demonstration of the power of Shiite hardliners unafraid to confront the West, analysts say. After several days of tough talk and threats to isolate Iran, Britain offered to consider discussing ways to avoid disputes in the contested waters of the Persian Gulf, an official said Monday. For their part, the Iranians pledged not to air more videos of the captured service members, citing "positive changes" in the British position. The 15 Britons were detained by Iranian naval units on March 23 while patrolling for smugglers as part of a UN-mandated force monitoring the Persian Gulf. They were seized by Iranian naval units near the mouth of the Shatt al-Arab, a waterway that has long been a disputed dividing line between Iraq and Iran. The comments from the British official, who spoke on condition of anonymity because of the sensitivity of the crisis, clear signs over the weekend that Iran was prepared to hang tough. On Sunday, two of the sailors appeared on state TV, saying they trespassed into Iranian waters, and about 200 angry Iranian youths threw rocks and firecrackers at the British Embassy and unsuccessfully tried to rush its grounds. Iranian students from several universities shouted "Death to Britain!" and "Death to America!" and demanded the government shut down the "den of spies," echoes of slogans from a crisis of a generation ago, when American captives were held hostage by Tehran for 444 days.
| | |
| --- | --- |
| | (FOJ) President Bush said on Saturday that Iran's detention of 15 British sailors and marines was inexcusable and called on Tehran to release 'the hostages' immediately. |
Iran has brushed aside diplomatic overtures from the European Union, Japan and Turkey in recent days. And hardline President Mahmoud Ahmadinejad has taken a higher-profile role, declaring in his most extensive comments on the crisis that Britain and its allies were "arrogant and selfish" for not apologizing over what he called the Britons' incursion into Iranian waters. British officials have ruled out Iran's demand that they apologize for the alleged "illegal entry" of the sailors and marines into Iranian territory. Prime Minister Tony Blair insists the seizure occurred well inside Iraqi waters. Obviously, Iran's Shardline hiite clerical leadership is using the same gambit it used 28 years ago when it took American Embassy personnel hostage, and paraded them around as fodder for their Islamic revolution.
Hamas to World: Give us Your Money, or Else
April 1….(JNEWSWIRE) Hamas has threatened to end its charade of relative moderation and revert to openly seeking Israel's demise if the international community does not start sending money soon. Speaking to Muslim worshipers at a Gaza mosque last Friday, Hamas Prime Minister Ismail Haniyeh claimed that his government had done everything asked by the international community when it forged a unity coalition with Mahmoud Abbas' Fatah. Now, said Haniyeh, the world must respond by ending the economic siege of the Hamas-led Palestinian Authority, or Hamas will be forced to rethink its current policies. A US-led economic embargo against the PA has been in place since Hamas took power last year. Western powers promised to end the sanctions if Hamas explicitly recognized Israel's right to exist and renounced the use of terrorism. Hamas did neither when it signed a power-sharing agreement with Abbas and Fatah. In fact, the platform of the new government safeguards the right of Palestinians to employ terrorism against Israel.
Israel Will be Forced to War by Summer
April 1….(Newsmax) Israel will be at war by summer, a prominent opposition member of the Israeli Knesset told NewsMax in an exclusive interview this week. "We have no choice. We will have to do it," said Dr. Arieh Eldad, member of the opposition National Union Party. In a wide-ranging interview during a Passover visit to the United States, Dr. Eldad explained that Israel was facing a new strategic threat, caused in part by its own failure to deal a crushing blow to Hezbollah in Lebanon and the impression of weakness last summer's failed war created in the minds of Israel's enemies. "Hezbollah is becoming stronger every day," he said. "They are rebuilding their ammunition stores, their medium and long missiles. They are going back to their bunkers in the south of Lebanon." Israel has "no choice" but to launch a pre-emptive war to destroy Hezbollah as an effective fighting force, he believes. "There is no way the United Nations force [currently in south Lebanon] is going to prevent the smuggling of these missiles across the Syrian border or the fortification of south Lebanon." The Hezbollah template for attacking Israel is being repeated in Gaza, Dr. Eldad said. "Hamas is building bunkers. They are bringing missiles across the Egyptian border, and the Egyptian government is failing to prevent it. So I hope the next Israeli government will be courageous enough to carry out these operations before it is too late." By too late, he meant before Iran "crosses the red line" and becomes a nuclear weapons-capable state. "If we do not neutralize Hamas, Hezbollah and Syria as a preliminary step, we will not be able to engage Iran," he added. Eldad is not suggesting economic or diplomatic "engagement," as the State Department might use the term. He is talking about having Israel's military take out Iranian nuclear and missile sites if the Western nations refuse to do the job. He is convinced Iran will use nuclear weapons against Israel, should it ever acquire them. And he is equally convinced that economic pressure and diplomatic sanctions will fail to deter Iran from that path. Sanctions are based on Western logic, he argued. "But when states have missions that are bigger than life, they are not obeying the basic rules of logic that Western civilization obeys."
Iran's New Hostage Crisis
April 1….(Joseph Farah) Let me give you my prediction about where the latest Iran hostage crisis will go in the next few days. Unless the British and their allies take some forceful action to recover 15 sailors captured while on patrol in Iraqi waters, or make the mullah government pay a severe price for this act of war, this hostage situation will escalate. The Iranians want to negotiate. Talking gives them power, stature, prestige. Bargaining must be avoided at all costs. What an opportune moment the Iranians have provided for a strike on their nuclear facilities, if such a strike can be successful. It's time for Tony Blair to go dark, to stop talking about stepping up the pressure on Tehran. It's time for action. It's time to show the Iranians that Britain, Europe, NATO, America and the Western world are not just paper tigers. Unfortunately, we've been acting like paper tigers. Think of how these sailors got captured, without a fight! It's one thing when civilian contractors are abducted. It's one thing when outnumbered troops surrender in battle. It's another thing when the rules of engagement prevent sailors and soldiers in a war zone from fighting back at all. It is that kind of stupidity by appeasement-minded political leaders that will lose this war and bring it home to our own streets, our own waterways, our own cities. Armed troops and sailors should be trained to fight and ordered to fight. Surrender is a last option, not a first. Those ridiculous rules of non-engagement must end immediately, for the British, for the Americans and for all our allies in Iraq and Afghanistan. But based on what I have seen over the last few days, here's what I predict Iran will do next. You will notice Tehran has called on the British to admit their forces violated Iranian waters as a precondition for the release of the sailors. Whether the Brits capitulate or not, at some point in this standoff, if it continues much longer, you will see Iran up the ante. You will witness the mullah regime demand Britain's withdrawal from Iraq as a requirement for freeing the 15 sailors. That extortion threat is not far off. We have already seen captured sailor Faye Turney plead for her government to pull out of the Middle East. I'm sure those words were whispered in her ear by her captors. That's what the enemy wants. That's what this incident is all about. The attack on the British patrol boat was a deliberate provocation, an effort to appeal to a British public that just doesn't understand the stakes of this fight. Iran is going to add the new demand soon. The longer the drama continues without actions, only words, from Britain, the more likely that scenario becomes. Iran is giddy at this moment that there has been no price to pay for abducting 15 members of the royal navy. The leadership there is more persuaded each day that the West fears them. They are more convinced each moment that the West is impotent. They believe, and maybe they are right, that the West will do nothing to jeopardize the flow of oil from the Persian Gulf.
Israeli Military Intell Chief Predicts Iran-Hizballah-Syria Attack on Israel This Summer
April 1….(DEBKA) In his briefing to the Israeli cabinet Sunday, April 1, Maj. Gen. Amos Yadlin, AMAN chief, reported that Iran, Syria, Hizballah and Hamas expect the United States to attack Iran in the summer and they are preparing to retaliate by going to war with Israel. In Yadlin's view, a proliferation of players and a many imponderables could ignite a conflict, which none of the parties wants, as happened in the Six Day War of 1967. DEBKAfile analysts note five salient points in Gen. Yadlin's briefing:
1. His comments came one day after Iran's chief of staff, Gen. Hassan Fayrouz Abadi, urged the Arabs to hurry up and join Iran in a defense treaty because, he claimed, Israel threatened a war offensive in summer, two months hence. According to the Iranian general, Israel was bent on a "suicide assault" against a number of Arab states to save the Americans from having to pull their troops out of Iraq (sic).
1. Iran, Syria, Hizballah and Hamas may be presumed to be acting on some piece of intelligence that point to a forthcoming US attack some time between April and early September 2007. Therefore, the Middle East faces at least five months of incendiary military instability during with everyone braced for an axe to fall.
2. A coordinated Iranian-Syrian-Hizballah-Hamas attack would lay Israel open to four warfronts and the common weapon to them all: missiles, anti-tank, short-range surface, medium range ballistic and surface-to-air.
3. Hamas threatens to launch the third Palestinian uprising (intifada) against Israel within three months unless the international blockade is lifted and funds are released to the Palestinian Authority. The cabinet was informed that the IDF would start operating behind Gazan lines against the massive Palestinian military build-up. For five months, the Olmert government's policy was one of military restraint at the behest of US and European governments. This week, Israel's leaders watched British discomfiture as the United States, the UN and the Europeans turned aside when asked for help to free 15 sailors seized by Iran in the Persian Gulf. It is obvious that Israel must be ready to stand alone and defend itself if attacked on four fronts.
4. Neither the chief of AMAN nor the ministers discussed the state of Israel's armed forces' preparedness. Asked about this, DEBKAfile's military sources said their readiness was only partial as yet: The air force, some of the combat divisions are ready; other parts of the military, such as some reservist brigades, the Navy and the home front are not.
Iranian President Lauds Suicide Bombers as Invincible
(Ahmadinejad praises Iran for being able to recruit thousands of suicide bombers a day)
April 1….(YNET) Iranian President Mahmoud Ahmadinejad praised his country's ability to recruit "hundreds of suicide bombers a day," saying "suicide is an invincible weapon." Ahmadinejad made the comments during a visit to a site south Iran used to prepare suicide bombers during the Iraq-Iran war, Iranian state television reported. He praised Hizbullah fighters for their suicidal spirit during last summer's confrontation with Israel. Iran recruited thousands of suicide bombers, many of whom were children, and sent them to the frontline to face Saddam Hussein's army. "Suicide bombers in this land showed us the way, and they enlighten our future," he said. The Iranian president said the will to commit suicide was "one of the best ways of life."
---