WEEK OF JUNE 25 THROUGH JULY 1
President Bush: Israel Is a Perfect Example for Iraq
June 29….(Jerusalem Post) President George W. Bush held up Israel as a model for defining success in Iraq, saying Thursday that the goal of the US mission in the war-ravaged Arab nation is not eliminating attacks but enabling a democracy that can function despite continuing violence. With his Iraq policies under increasing fire from the American public and lawmakers from both parties, Bush went to the US Naval War College here to declare progress. The White House thought it had until an expected September assessment by military commanders to deal with political fallout on the unpopular war. But criticism is mounting now. A majority of senators now believes that troops should start coming home within the next few months. And House Republicans are calling to revive the independent Iraq Study Group to give the nation new options. Bush sought in his speech to put the brakes on these efforts. He said that success in Iraq would usher in "a dawn of a Middle East where leaders are at peace with their own people, where children enjoy the opportunities their parents only dreamed of, and where America has new allies in the cause of freedom." He characterized the fight in Iraq, where tensions between Shiite and Sunni factions have kept the country in a cycle of violence, as primarily one against al-Qaida forces and their use of grisly suicide attacks and car bombings to sow chaos and despair. "They understand that sensational images are the best way to overwhelm the quiet progress on the ground," Bush said. But in some of his plainest terms yet, he laid out how to define when the US presence in Iraq has achieved its goals. "Our success in Iraq must not be measured by the enemy's ability to get a car bombing in the evening news," he said. "No matter how good the security, terrorists will always be able to explode a bomb on a crowded street." He suggested Israel as a model. There, Bush said, "Terrorists have taken innocent human life for years in suicide attacks. The difference is that Israel is a functioning democracy and it's not prevented from carrying out its responsibilities. And that's a good indicator of success that we're looking for in Iraq." It was likely to be controversial, and possibly even explosive, for Bush to set out Israel as a model for a Muslim Middle Eastern nation. Israel has been locked for decades in an intractable dispute with Palestinians in the neighboring occupied territories, a conflict that is viewed as a major recruiting tool for Islamic extremist groups like al-Qaida. What America is aiming for in Iraq, Bush said, is "the rise of a government that can protect its people, deliver basic services for all its citizens and function as a democracy even amid violence." Achieving this, he said, would herald the dawning "of a Middle East where leaders are at peace with their own people, where children enjoy the opportunities their parents only dreamed of, and where America has new allies in the cause of freedom." Observers who support Bush keeping troops in Iraq are nonetheless skeptical of his belief in the viability of democracy taking root in a religious Muslim country. Israel, unlike Iraq, is mostly Jewish – a very different belief system than in the Arab world, when it comes to democracy.
Muslim Journalist on Trial for Supporting Israel

June 29….(IsraelNN.com) Muslim journalist Salah Uddin Shoaib Choudhury is on trial in Bangladesh for the crime of supporting Israel, although the official charges are listed as treason and blasphemy. Choudhury, who has urged the Bangladeshi government to recognize the State of Israel, was back in the courtroom Thursday to face allegations of spying for the Mossad, Israel's international espionage agency. Although the government privately agreed to drop the charges, which officials quietly admitted were false, the Public Prosecutor said in the brief court session that he intends to proceed with the case. A new trial date has been set for July 18th. If convicted, Choudhury will be executed by hanging or be sentenced to 30 years in prison, itself a death sentence, according to Bangladeshi sources. The Muslim writer was arrested several years ago by agents of the previous government as he was leaving the country for a speaking engagement in Israel. The initial charge was violation of the country's ban on travel to the Jewish State, The real issue, according to the Independent Media Review Analysis (IMRA), is his Zionism, which he expresses in articles that also expose the rise of radical Islam in Bangladesh.
"Choudhury is on trial because he writes plainly about the danger of extremist Islamic madrassas teaching children as young as five to hate Jews and Israel."
Bangladesh proclaims that Shoaib's support for Israel is treason because it is in opposition to their policy and that is blasphemous
US and Israel Lose in Blair's First Step as Middle East Quartet's Envoy
June 29….(DEBKA) Shortly after the former British prime minister stepped into his new job, he assured Russia and the Europeans that he did not mean to adhere to the US-Israeli boycott of Hamas. One of his first tasks would be to establish ties with Hamas representatives in Gaza and Damascus. Blair conveyed this intention in a telephone conversation with Russian president Vladimir Putin, who requested that he do so Tuesday, June 26. This assurance by Blair persuaded Moscow to drop its resistance to naming him envoy. Those sources affirm that Blair's sudden turnaround contradicts the understandings he reached with US president George W. Bush and secretary of state Condoleezza Rice on his leave-taking visit earlier this month. German chancellor Angela Merkel is also looking askance at the new Blair strategy.
Blair: New Point Man for Palestine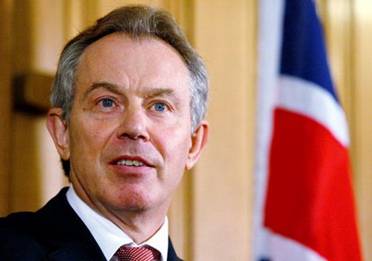 June 29….(Stan Goodenough / JNEWSWIRE) After 25 years in British politics, 13 years at the head of the Labor Party and 10 years as the head of government, Tony Blair bowed out as prime minister and Member of Parliament Wednesday and stepped into his new post as special envoy to the Middle East. Contrary to many expectations, his job will not be to try and come up with ways to restart the quagmired "Road Map" peace plan, according to reports. Instead, he will focus on finding a fast track to establishing an Arab state called Palestine on the Arab-occupied Jewish lands of Samaria, Judea and Gaza. Blair, who counts as probably his greatest achievement as prime minister his success at brokering the Northern Ireland Peace Agreement, is on record as saying he believes resolving the "Palestinian"-Israeli conflict is key to bringing peace to the entire Middle East. Speaking earlier this week in response to speculation that he would be offered the envoy's post, he said he would do "whatever I can to help bring about a solution." His appointment was confirmed by the so-called Quartet of powers – the US, EU, UN and Russia, Wednesday as he was on his way to Buckingham Palace to relinquish his premiership in a day of intense activity beamed to millions of television viewers around the world. Blair didn't waste a minute getting started. Barely had he departed the palace as plain Mr. Tony Blair, citizen, than he began work, announcing in a newspaper interview published Thursday that he will make his first trip to Israel and the "Palestinian territories" possibly as early as next month. Before the sun had set on his first day out of office, Blair had been on the phone to King Abd'allah of Saudi Arabia, King Abd'allah of Jordan, Egyptian President Hosni Mubarak, Palestinian Authority chairman Mahmoud Abbas, and Israeli Prime Minister Ehud Olmert. All had reportedly welcomed him to his new post and said they looked forward to working with him. Blair will reportedly be based out of an office in Jerusalem, though he does not recognize the city as Israel's capital. Blair would "spend significant time in the region working with the parties and others to help create viable and lasting government institutions representing all Palestinians, a robust economy, and a climate of law and order for the Palestinian people," the statement continued.
The Blair peace project and EU-American cooperation
Blair also stated: "I think that anybody who cares about greater peace and stability in the world knows that a lasting and enduring resolution of the Israeli-Palestinian issue is essential." But even this is to underplay his own preoccupation with the issue during his three terms as prime minister. During those years, Blair described the Arab-Israeli conflict as the "single most pressing political challenge in our world" and pledged to make a resolution of the dispute his own "personal priority" as well as a "central priority" of British foreign policy. Since the meltdown in Arab- Israeli relations following the collapse of the Oslo peace process in 2000, Blair has attempted to bring to the table what a Downing Street spokesman termed a "constructive spirit." He has also avoided the inflammatory language that other EU leaders have employed to condemn Israel and has shown more understanding of Israeli concerns than most of its European counterparts. Blair's motives must be placed in their proper context. They are first and foremost a corollary of his perception of the Arab-Israeli conflict as a function of EU-American relations. As he said on Monday, peace in the Middle East is essential for "greater peace and stability in the world." For him the key to such stability is a strong working relationship between Europe and the US that is not consistently damaged by the Arab-Israeli debacle. Having found himself in the middle of an acrimonious breakdown in the trans-Atlantic alliance, his primary goal since 9/11 has been to minimize the adverse effects of the Arab-Israeli conflict on US-EU relations. This explains the British government's opposition to a unilateral French proposal in early 2002 that the EU recognize a Palestinian state as a starting point, not a concluding one, for peace negotiations. It also explains why Blair, unlike most other EU leaders who condemned President George W. Bush's June 2002 statement calling on Arafat to give up political power, expressed understanding for these remarks; and why, when his EU partners greeted Bush's subsequent endorsement of Israel's unilateral disengagement from Gaza with barely concealed contempt, the British prime minister described it as giving the Palestinians "a chance to create a reformed, just and free government." There is no doubting Blair's conviction that the Arab-Israeli conflict must not be allowed to further erode EU-US ties and that "any attempt to push for a solution without American support would be short-sighted and self-defeating." This has, on occasion, benefited Israeli interests; but whenever Blair felt that the best way to bring the EU closer to Washington has been to adopt a stance detrimental to Israel, he has not hesitated to do so. Throughout the Iraq campaign, and especially following Arafat's death in November 2004, Blair expended much of the political capital he earned since 9/11 in trying to push Bush to make concessions to the Palestinians at Israel's expense, which he felt would help improve US-EU relations and reduce resentment over the Iraq war in Europe. During his visit to Washington in late 2004, for instance, Blair urged Bush to support the convening of an international conference on the peace process, something that Israel had opposed for decades, but which has been an official objective of the EU since 1986. Blair also expressed support for the EU's attempt to re-launch a "fast-track" version of the "road map" for Middle East peace, nothing more than a restatement of France's 2002 proposal for immediate recognition of a Palestinian state. During the 2006 war in Lebanon, which once more seemed likely to divide many of his EU partners, including France, Spain and Italy, from Washington, Blair again acted to prevent this by refusing to join other EU and UN leaders in calling for a cease-fire. He believed that siding with the Bush administration on this issue at this time was the best way to bridge the gap between the US and Europe. As special envoy, Blair will be seeking a state for the Palestinians and peace in the Middle East, and to safeguard the one thing that has been at the center of his foreign policy as British Prime Minister: making sure the crisis in the Middle East does not cause the traditional EU-American alliance to fall by the wayside.
(FOJ Note:) Tony Blair is feverishly working to resolve the Israeli-Palestinian Conflict because he believes it holds the key to Global Peace, and the only way that the West can retain its role as the leader of the world. This geo-political strategy would be befitting the theory that the Antichrist would arise in the arena of a revived Rome.
New PA Prime Minister Fayyad Warns Islamic Preachers
(FOJ) Islamic clerics are notorious for delivering explosive political sermons every Friday in the Middle East, and especially in the Palestinian sector. Fatah has long sponsored and coordinated with the clerics in the promotion of the hate-filled rhetoric these preachers espouse. The Grand Mufti of Jerusalem, with Fatah approval routinely inspires his listeners with anti-America-Israel rantings, and encouraging violence.
(Mr. Fayyad won't last long)
June 28….(AP) The new Palestinian Prime Minister delivered a stern warning Thursday to hundreds of Islamic preachers, including Hamas supporters: He won't tolerate calls for violence delivered from mosque pulpits and plans to collect militants' weapons. Salam Fayyad's meeting with some 800 Muslim clergy marked the latest attempt to stem the influence of Hamas in the West Bank following the Islamists' violent takeover of Gaza this month. Security forces have arrested dozens of Hamas activists in the West Bank, and President Mahmoud Abbas is trying to dry up funding to Hamas with a review of all private organizations. This week, Abbas issued a decree barring militants from carrying weapons, but it is doubtful he will be able to disarm Fatah's violent offshoot, the Al Aqsa Martyrs' Brigades. Fatah gunmen said they need their weapons for future confrontations with Hamas and Israel, and will not surrender them. In his meeting with Islamic clergymen, Fayyad was accompanied by Abbas' top security official, Interior Minister Abdel Razak Yehiyeh. "We will collect weapons and replace them with pens and books," the minister told the crowd. "The phenomenon of militants is very dangerous, and we want to stop it in all forms." Fayyad told the preachers to take politics out of their sermons. "We won't allow them (mosques) to be turned into places of incitement and intimidation," he said. "It's the responsibility of men of religion to present religion as a way of tolerance, not as a cover for bloodshed." Hamas is influential in many mosques in the West Bank and Gaza, and has been using Friday sermons as a vehicle for spreading its hard-line message. Mohammed Abu al-Hasan, a Hamas preacher from the West Bank town of Jenin, said clerics would continue to speak their minds, regardless of any government directive. "We will not accept these restrictions and we are going to respond with our own message in this Friday's sermons," he said.
Palestinians Back Iran Acquiring The Bomb
(Palestinians support Iranian nuclear weapons; Israel is top supporter of US in world)
June 28….(YNET) Of 37 populations around the world, Palestinians rank first in their level of support for a nuclear-armed Iran, a new poll has revealed. The survey, taken by the Pew Global Attitudes Project, found that 58 percent of the Palestinian public are in favor of Tehran acquiring atomic weapons, making Palestinians the only Middle Eastern population not opposed to an Iranian bomb. "Most of the Muslim countries surveyed have negative or mixed opinions of Iran. Majorities among just three Muslim publics, in Pakistan, Bangladesh and the Palestinian territories, say they favor Iran acquiring nuclear weapons," the survey said. The poll added that "positive views of Iran have declined sharply over the past year in three Muslim countries, Indonesia, Egypt, and, especially, Turkey." When it came to attitudes towards the US, Israel and the Palestinians were placed, unsurprisingly, on opposite ends of the spectrum. Only six percent of Palestinians expressed support for the US-led war on terror, the lowest of any population, while just 21 percent of Palestinians said they had positive feelings toward the American people, as opposed to American policies, the survey found. "America's closest ally in the region, Israel, continues to have overwhelmingly favorable views of the US. Nearly eight-in-ten Israelis (78 percent) give the US a positive rating," the research found. "More than three-in-four Palestinians, Turks, Egyptians, and Jordanians express unfavorable opinions of the US. In fact, the United States receives a lower favorable rating (9 percent) in Turkey, a NATO ally, than in any country surveyed," the poll said. It added that "one country in the region where attitudes toward the US have actually improved is Lebanon," where 47 percent of people held positive views of the US, a rise in recent years. However, the fractured Lebanese society was deeply divided in its views on the US, the poll added, saying that Christians and Sunnis provided support for Washington, while Shiites were overwhelmingly anti-American.
'Culture of hatred and violence must be confronted'
Commenting on the poll, June Walker, chairperson of The Conference of Presidents of Major American Jewish Organizations and Malcolm Hoenlein, executive vice chairman, released a statement saying, "Israelis are America's number one supporters in the world (outside of Africa), far ahead of the populations of Britain, Germany, Japan, and other close allies. "Seventy-eight percent of Israelis have a favorable opinion of the US, which almost matches the figure for Americans with favorable opinions of the US (80 percent). Americans too continue to show overwhelming support for Israel in its efforts to counter terrorism and threats to its security. "The Pew Global Attitudes public opinion survey released today adds to the evidence of many previous opinion polls that show that there is a special relationship between the American public and the Israeli public, a bond based on shared values and interests and reflected in the strong and consistent mutual support of the US and Israeli governments." The Conference of Presidents is the central coordinating body representing 50 American Jewish organizations on issues of national and international concern. "By contrast," the statement continued, "the Palestinians are the number one supporters of a nuclear-armed Iran in the survey of 37 populations, with 58 percent of the Palestinian public in favor, and the only Middle Eastern population not opposed to an Iranian bomb. "Only 6 percent of Palestinians support the US-led 'War on Terror,' the lowest of any population, and only 21 percent of Palestinians have favorable feelings toward the American people, (in spite of billions of dollars in US foreign aid) as opposed to US policies. "The entire spectrum of America's political leadership and the American people recognize Iran's nuclear program and Islamic terrorism as major threats to the United States, Europe, our allies in the region, and our interests in the Middle East and around the world. "While the US and Israel are working to strengthen the more moderate elements in the Palestinian Authority, the effect of the constant incitement in the media, mosques, and public statements by officials and in textbooks have led to these most disturbing results. "It is equally troubling that 77 percent of Palestinians do not believe in coexistence with Israel. Instead, they appear to support Iranian President Ahmadinejad's threat to 'wipe Israel off the map.'
John Bolton: I'm 'Very Worried' for Israel
June 27….(Jerusalem Post) Sanctions and diplomacy have failed and it may be too late for internal opposition to oust the Islamist regime, leaving only military intervention to stop Iran's drive to nuclear weapons, the US's former ambassador to the UN, John Bolton, told The Jerusalem Post on Tuesday. Worse still, according to Ambassador Bolton, the Bush administration does not recognize the urgency of the hour and that the options are now limited to only the possibility of regime change from within or a last-resort military intervention, and it is still clinging to the dangerous and misguided belief that sanctions can be effective. As a consequence, Bolton said he was "very worried" about the well-being of Israel. If he were in Israel's predicament, he said, "I'd be pushing the US very hard. I am pushing the US [administration] very hard, from the outside, in Washington." Bolton, interviewed by telephone from Washington, was speaking a day after the International Atomic Energy Agency announced it would send a team to Teheran, at Iran's request, to work jointly on a plan ostensibly meant to clear up suspicions about the nuclear program. Iran's chief nuclear negotiator Ali Larijani had met on Sunday with IAEA head Mohamed ElBaradei, and a day earlier with top EU foreign policy envoy Javier Solana. Bolton, however, was witheringly critical of the ongoing diplomatic contacts with Teheran, which he said were merely playing into the hands of the regime. "The current approach of the Europeans and the Americans is not just doomed to failure, but dangerous," he said. "Dealing with [the Iranians] just gives them what they want, which is more time. "We have fiddled away four years, in which Europe tried to persuade Iran to give up voluntarily," he complained. "Iran in those four years mastered uranium conversion from solid to gas and now enrichment to weapons grade. We lost four years to feckless European diplomacy and our options are very limited." Bolton said flatly that "diplomacy and sanctions have failed. So we have to look at:
1, overthrowing the regime and getting in a new one that won't pursue nuclear weapons; 2, a last-resort use of force."
However, he added a caution as to the viability of the first of those remaining options: While "the regime is more susceptible to overthrow from within than people think," he said, such a process "may take more time than we have." Overall, said Bolton, it was clear that Iran had surmounted "all the technical problems of uranium enrichment," and it "may well be that we have passed the point of Iran mastering the nuclear fuel cycle." If so, it was now merely a matter of time before Iran reached a bomb-making capability, "a matter of resources and available equipment," he said, and it was solely up to Iran to set the pace. To his dismay, however, the Bush administration was still clinging to the empty notion that the sanctions route could work, "even though the UN's sanction Resolutions 1737 and 1747 were full of loopholes. The US is still seeking another sanctions resolution and Solana is still pursuing diplomacy," he said bitterly. Bolton lamented that the Bush administration today was "not the same" as a presumably more robust incarnation three years ago, because of what he said was now the State Department's overwhelming dominance of foreign policy. "The State Department has adopted the European view on how to deal with Iran and other voices have been sidelined," he said. Secretary of State Condoleezza Rice "is overwhelmingly predominant on foreign policy." Asked where this left Israel, Bolton said simply: "Israel's options are as limited as those of the US, except that you are in more danger in that you are closer." Bolton, who served as undersecretary of state for arms control and international security from 2001 to 2005, before taking the ambassadorial posting to the UN from August 2005 to December 2006, said the failed handling of the Iran nuclear crisis was one of the reasons he had left the Bush administration. "I felt we were watching Europe fiddling while Rome burned," he said. "It's still fiddling."
Saudi King Visits Jordan After His Failed Mecca Summit
June 27….(Jerusalem Post) Saudi Arabia's King Abdullah is in Jordan today for talks on ways to restart Palestinian-Israeli peacemaking and stop the violence wracking Iraq and Lebanon. Jordan's King Abdullah II and top government officials greeted the Saudi ruler on arrival at Amman airport ahead of talks due to open later Wednesday. Chief Jordanian government spokesman Nasser Judeh said discussions with the Saudi king will focus on Mideast peacemaking, Iraq and Lebanon. "The talks are very important due to regional circumstances and their repercussions," he said. Abdullah's visit was hailed in the Jordanian media as "historic" because it was the first by a Saudi ruler in more than 25 years. Abdullah is on the second leg of a regional tour that has also taken him to Egypt. Before his departure Thursday, the Saudi king is due to meet with Palestinian President Mahmoud Abbas. A Palestinian official said Abbas would brief the Saudi monarch on "details of the coup carried out by Hamas in Gaza," a reference to the militant group's takeover of the coastal strip two weeks ago. In remarks published in Jordan's semi-government Al Rai newspaper, the Saudi king urged the Palestinians to put aside their differences. "I call upon our Palestinian brothers to put above all reason and wisdom, shoulder their responsibility toward their people and nation and to reconcile to avoid the worst," he said. He said Palestinian infighting will only benefit the real enemy-Israel, whose "intransigent peace policies" he blamed for the security deterioration in the Palestinian territories. Abdullah also voiced a similar call to Lebanese leaders, urging them to "meet and talk as partners, not rivals." He blamed the tensions in Lebanon on unnamed "regional forces," a clear reference to Shi'ite-ruled Iran, whose hard-line policies and growing influence in the Middle East is worrisome to Saudi Arabia and US-allied Arab countries, like Jordan and Egypt. He ruled out sectarian division among Shiite and Sunni Arabs, saying "Berlin's wall has fallen. And there's no room for a wall among Arabs." Jordan has traditionally maintained close relations with its Saudi neighbor over the years. (since the 1930's Saud-Hashemite civil war) Riyadh ostracized Amman for its perceived tilt toward Saddam Hussein following his August 1990 invasion of Kuwait. Saudi Arabia reacted by cutting off crucial oil supplies to cash-strapped Jordan, which then said it had only sought to take a neutral position in the crisis with Saddam. Saudi Arabia, a regional powerhouse, is one of Jordan's main bankrollers, contributing millions of dollars in cash and oil donations annually to keep Amman's economy afloat.
Abbas in January: 'All our Guns are Aimed at Israel'
June 27….(Stan Goodenough) "Our rifles, all our rifles are aimed at "The Occupation," declared Palestinian leader Mahmoud Abbas in January, in what Israeli analyst David Bedein described as "a major speech that was warm to Hamas and harsh to Israel and the United States." Abbas's comments, wrote Bedein, "were interpreted by Palestinians themselves as a clear reference to attacking Israel and were repeated almost exactly in later television shows by other Palestinian officials, who called Israel 'the enemy' and 'the Zionist enemy,' respectively. "As if to remove any doubt about the militancy of Abbas' words, minutes after his own speech Palestinian television's senior announcer described Israel's establishment as the beginning of 'occupation.'" Abbas made this speech before Hamas turned on him and drove his Fatah PLO faction from the Gaza Strip. Apart from that event, however, nothing else has changed, least of all Fatah's resolve to wipe Israel off the map of the Middle East. And while the Gaza putsch has been interpreted as signaling the end to Hamas-Fatah relations, Arab groups have a long and colorful history of splitting up and then making up again, to attack Israel. It is the enduring common hatred of Israel that most frequently works to heal those fractured Arab friendships. And Hamas has been extending a hand to Fatah from the moment it completed its takeover of the Gaza Strip. Egyptian President Hosni Mubarak said Tuesday he believed Hamas and Fatah would overcome their "differences" and offered to play a mediating role to bring them back together.
Ahmadinejad Places "Moderate" Arabs on Notice
June 27….(Jnewswire) Egypt and Jordan were informed Tuesday that Iranian president Mahmoud Ahmadinejad disapproves of their "moderate" stance towards Israel and holds them accountable for "helping the Zionist regime oppress the Palestinian people [sic]." They are guilty, he said, of "betrayal." Although the majority of Egyptians and Jordanians hate Israel and support efforts to destroy it, the leadership in both countries has signed peace agreements with the Jewish state. Ahmadinejad has ambitions to dominate the Middle East by rushing to fill the void left when a "defeated" United States pulls its soldiers out of Iraq. Middle East observers expect that, with 45 percent of Middle East oil then under its control, and with nuclear weapons within reach, Tehran will seek to coerce Saudi Arabia, Egypt and Jordan into once again adopting rejectionist policies towards Israel.
Quartet Makes A Call in Capital it Rejects
June 27….(JNEWWIRE) The Quartet of Powers held an official meeting in Jerusalem Tuesday to discuss ways in which to elbow forward the process that would see Israel robbed of its capital and half its land. Arrogant in their own conceits, representatives of the United States, the European Union, Russia and the United Nations convened for three hours at the USA's "West Jerusalem" consulate. The expected outcome of their get-together, an announcement that retiring British Prime Minister Tony Blair has been appointed as their special envoy to the region, was postponed because of some objections from Russia. The obstacles were reportedly small, and today the announcement was made that Blair is the new Middle East envoy for Peace. While gathering under the guise of "peacemaking," the Quartet's primary concern was to keep the Arab world happy so as to ensure, as far as possible, the uninterrupted flow of relatively inexpensive oil upon which so much of the world depends. To this end these nations have shown themselves more than willing to gamble with Israel's existence. Meanwhile, bowing and scraping to the Arab world, not one of these nations has its embassy in Israel's capital. The Bush administration, which describes itself as a strong ally of Israel, straddles the fence, refusing to move its embassy to Jerusalem, and instead maintains consulates in both the "eastern" and "western" sides of the city. In fact, Jerusalem is daily crawling with representatives of international organizations that reject the Jews' right to Jerusalem and to most of the Promised Land.
The Prince of Persia is Stirring the Turmoil
| | |
| --- | --- |
| | (FOJ) Iraqi President Jalal Talebani (C) and his Iranian counterpart Mahmoud Ahmadinejad (L) meet with Iran's Supreme Leader Ayatollah Ali Khamenei in Tehran June 26, 2007. Iran is training fighters in Iraq and helping to plan attacks there despite diplomatic pressure from the US. |
PA Children Learn That Death is Preferable to Life
June 27….(Arutz) In a bulletin released on Tuesday, Itamar Marcus and Barbara Crook of the Palestinian Media Watch organization, report on a Palestinian Authority journalist who wrote about the "death culture" in Gaza. The PMW analysts point out that the yearning for death is not limited to Hamas and has been inculcated primarily by PA Chairman Mahmoud Abbas's ruling Fatah organization. The PA journalist, Ghassan Zaqtan, wrote in the June 18 edition of the PA's Al-Ayyam newspaper: "We knew that they would do it, especially in Gaza, where a mother brushes her young son's hair at 7:00, so that he will be killed at 7:30, and where the children learn that death is preferable to life! We knew that they would do this, it was clear to us: with language overflowing with the rhetoric of death and the norms of killing, in the religious rulings [fatwas] and in Friday and holiday sermons." "The journalist's critical mistake," Marcus and Crook write, "is that he seems to attribute the death culture only to Hamas, whereas it has been the Fatah leadership and its educational initiatives that still actively teach that death is preferable to life." The PMW directors go on to quote a 2002 PA schoolbook written under Fatah auspices: "O heroes, Allah has promised you victory. Do not talk yourselves into flight. Your enemies seek life while you seek death. They seek spoils to fill their empty stomachs while you seek a Garden [Paradise] as wide as are the heavens and the earth. Do not be anxious to meet our enemies, for death is not bitter in the mouth of the believers. These drops of blood that gush from your bodies will be transformed tomorrow into blazing red meteors that will fall down upon the heads of your enemies." (Reading and Texts Part II, Grade 8 (2002), p. 16) PMW also notes a statement made by the Director of the Palestinian Children's Aid Association, Firial Hillis, on PA television in May 2003, in which she admits that PA schools indoctrinate to love self-immolation in order "to meet... God." Hillis said: "The concept of shahada for the child means belonging to the homeland, from a religious point of view. Sacrifice for his homeland. Achieving shahada in order to reach Paradise and to meet his God. This is the best. We also teach our children to protect the homeland, belonging and to reach shahada." Another tool used by the Fatah-controlled PA media over the years to influence children to see death as an ideal has been music videos. Marcus and Crook note some examples: In a video broadcast on Fatah-controlled Palestinian Authority TV hundreds of times from 2001 to 2004, a young boy leaves a farewell letter to his parents and goes off to seek shahada, describing the death he achieves as 'sweet.' This PA clip is designed to offset a child's natural fear of death by depicting shahada as heroic and tranquil," the PMW directors explain. "From 2000 to 2003," Marcus and Crook continue, "PA TV broadcast a music video depicting the delightful shahid paradise of Muhammad Al-Dura, who died in a crossfire. The child actor is shown flying a kite, frolicking on the beach and even at an amusement park. The clip opens with an invitation to other children from Al-Dura to aspire to death: 'I am waving to you not in parting, but to say "follow me."'
"The result of such virulent PA indoctrination is apparent," Marcus and Crook conclude, "when listening to the interview on PA TV with two 11-year-old Palestinian girls talking about shahada and describing it as a primary ideal and personal goal. They explain that 'all Palestinian children' view shahada as more worthwhile than living, because of its promised grand Afterlife."
The Hamas Blitzkrieg
June 27….(Walid Pheres) The Hamas' blitzkrieg in Gaza was "ordered" by the Tehran-Damascus "axis" to make the peace and democratic processes in Iraq, Lebanon, Afghanistan and Palestine crumble. These putsches (as well as Hezbollah's) were parallel to the perceived weakening of America's resolve against the two regimes. Last year's congressional elections were read by the axis not in terms of partisan results but in terms of divisions affecting US foreign policy. The offensives led by Hezbollah and Hamas immediately after publicizing the Baker-Hamilton report are the evidence. When advice to the US president recommended "talking" to Iran and Syria about the "future of the region," followed by a visit to Damascus by House Speaker Nancy Pelosi, the axis gave the green light to the spring offensives. Hamas' putsch pre-empted its opponents. The brutality was part of psychological deterrence: beheadings, torture, executions and other horrors. These repugnant images were never seen by Palestinians before, even at the hands of whom they believe were worse enemies in Israel, Jordan and Lebanon over four decades. The jihadist massacre of Palestinians created shock among the civilians in Gaza and beyond. Hamas wanted this Talibanesque-style to serve as a deterrent, but no one can guarantee future reactions. However, the Gaza "Taliban" will consolidate its grip as a prelude to destabilizing the West Bank and transform the enclave into a bastion for jihad with the following actions:
*Levy an army of 60,000 fighters with Iran, Syria and Hezbollah expected to provide weapons and training.
*Establish many "Fallujahs" in the strip in anticipation of an "outside" offensive: no-surrender urban fortresses to deter any would-be attacker.
*Deploy batteries of missiles while using the population as human shields.
*Use civilian travel to the West Bank to insert cells inside the Palestinian Authority territories.
*Link up with supporters within the camps in Lebanon, in Jordan and among Arabs inside Israel.
*Activate overseas cells (including in the United States and the West) to deter American and international potential action in the future.
*And last but not least, the Gaza Taliban could become the recipient of future Iranian non-conventional weaponry, including tactical nuclear deployment.
Hamas will consolidate its "acquisition" with Iran and Syria. Fatah's negative past needs to be addressed by the West before the Palestinian Authority is upgraded to full partnership in the war on terror. The immediate future of Hamastan demands keen skills from Washington and Brussels, to calibrate the response to the regional Syrian-Iranian threat.
Blair: Intense Focus on Reaching Two-State Solution Necessary
June 27….(Ha Aretz) Outgoing British Prime Minister Tony Blair said in his final question-time address to the British parliament Wednesday that Middle East diplomacy must focus on resolving the Israeli-Palestinian conflict. "The absolute priority in the Middle East is to seek a two-state solution to the Israeli-Palestinian conflict," said Blair, who steps down Wednesday after 10 years in power. Blair said his priority in the role would be to effect the current international consensus that a two-state solution is vital to peace in the Middle East. That meant a secure Israel and a Palestinian state "that is not merely viable in terms of its territory but in terms of its institutions and governance." he said. "I believe it is possible to do that but it will require a huge intensity of focus and work." Prime Minister Ehud Olmert called outgoing Blair "a true friend of the State of Israel," on Tuesday evening. An Israeli government statement released overnight Wednesday said Olmert called Blair to congratulate him for ending his term in office. The prime minister told Blair that should he be appointed as the Quartet's new special envoy to the region, Israel would "cooperate with him to the fullest." The Quartet will ask Blair to work with PA Chairman Mahmoud Abbas to build up institutions needed for a future state, diplomats said.
Russian FM: We Don't Support 'Divide and Conquer' Policy in PA
| | |
| --- | --- |
| | (FOJ) Russia was the first country to openly embrace Hamas, and assist it in decrying the closure of US funding, after Hamas victory in the Palestinian elections. |
June 26….(Ha Aretz) Russian Foreign Minister Sergey Lavrov said Tuesday during a brief visit to Israel and to the Palestinian Authority in Ramallah, that Russia does not believe in implementing a "divide and conquer" policy in regard to rival Palestinian groups Fatah and Hamas. Two weeks ago, Hamas seized control over the Gaza Strip in violent clashes with Fatah. The "divide and conquer" policy would isolate Hamas in the Gaza Strip and Fatah in the West Bank.
Israel's government is interested in Russia's stance on the Palestinian power struggle because Moscow has not ruled out diplomatic negotiations with Hamas, even after the group's Gaza takeover, and also prevented the passage of a United Nations Security Council resolution expressing the council's unequivocal support of Abbas. As in previous Russian foreign ministers' visits to Israel, Lavrov will also discuss Iran's nuclear program and Russia's sale of arms to Iran. Lavrov also commented that, "Hamas' political leadership must realize that there will not be a Palestinian nation if the Palestinians don't behave in a cultured way."
Tony Blair Will Bring Impetus to Middle East Peace Process
June 26….(FOJ) Outgoing British Prime Minister Tony Blair has been a constant pressure applier on the Bush Administration to invigorate the Middle East Peace Process. Mr. Blair, though a keen ally in the war-on-terror has always insisted that Global peace can only be achieved by resolving the Israeli-Palestinian Conflict. His presence as special envoy emphasizes the urgency of the prophetic times as it relates to the covenant of peace that the eventual Antichrist will confirm with many in the Middle East
| | |
| --- | --- |
| | (FOJ) Israeli Prime Minister Ehud Olmert (L) shakes hands with Palestinian leader Mahumd Abbas during a regional summit in the Red Sea resort of Sharm el-Sheikh. The four powers sponsoring the stagnant Middle East peace process have met for the first time since Hamas seized Gaza, amid mounting speculation they could anoint outgoing British Prime Minister Tony Blair as their envoy. |
Chavez Warns of 'Resistance War' Against US
June 26….(MSN) President Hugo Chavez urged soldiers on Sunday to prepare for a guerrilla-style war against the United States, saying that Washington is using psychological and economic warfare as part of an unconventional campaign aimed at derailing his government. Dressed in olive green fatigues and a red beret, Chavez spoke inside Tiuna Fort, Venezuela's military nerve-center, before hundreds of uniformed soldiers standing alongside armored vehicles and tanks decorated with banners reading: "Fatherland, Socialism, or Death! We will triumph!" "We must continue developing the resistance war, that's the anti-imperialist weapon. We must think and prepare for the resistance war everyday," said Chavez, who has repeatedly warned that American soldiers could invade Venezuela to seize control of the South American nation's immense oil reserves. US officials reject claims that Washington is considering a military attack. But the US government has expressed concern over what it perceives as a significant arms built-up here. Chavez, a close ally of Cuban leader Fidel Castro, told soldiers the Washington was trying to weaken and divide Venezuelan society, including the armed forces, without resorting to combat. "It's not just armed warfare," said Chavez, a former army officer who is leading what he calls the "Bolivarian Revolution," a socialist movement named after 19th-century independence hero Simon Bolivar. "I'm also referring to psychological warfare, media warfare, political warfare, economic warfare." Under Chavez, Venezuela has recently purchased some $3 billion worth of arms from Russia, including 53 military helicopters, 100,000 Kalashnikov rifles, 24 SU-30 Sukhoi fighter jets. Last week, Chavez said he is considering arms purchases, including submarines and a missile-equipped air defense system, as he prepares for a tour of Russia, Belarus and Iran.
'Hamas Coup was Coordinated with Iran'
June 26….(Jerusalem Post) The Palestinian Authority intelligence chief on Sunday accused Iran of close involvement in Hamas' violent takeover of Gaza, saying Teheran funded the group and trained hundreds of their gunmen. The intelligence chief, Tawfiq Tirawi, said the battle for Gaza earlier this month was carefully orchestrated. "It was a joint program with Iran," he said. In implied criticism of Syria, he noted that Hamas' leadership is based there. He said that a month before the battle for Gaza began, the Syrian-based leaders of Hamas met with the heads of the Hamas military wing in an undisclosed Arab capital. "In this meeting, they discussed all the details of the operation." Tirawi told a news conference. Tirawi warned that Hamas militants are hoarding weapons in the West Bank and might try to target Palestinian government installations there. The West Bank is a stronghold of the rival Fatah movement of moderate Palestinian Authority Chairman Mahmoud Abbas. Meanwhile, Hamas spokesman Sami Abu Zuhari said Sunday that the group was hurt by Egyptian President Hosni Mubarak's statement made the previous day during which he denounced Hamas's takeover of the Gaza Strip. Mubarak described Hamas's takeover of Gaza as a "coup" and warned that group's conflict with the moderate Fatah movement could lead to the creation of two Palestinian entities. Abu Zuhari told BBC radio that the Egyptian president supports only one side on account of the other side. "Hamas was elected by law and agreed to establish a unity government with Fatah, but the one responsible for dissolving it is Palestinian Authority Chairman Abu Mazzen, and not Hamas." He said.
Obama Says Fundamentalists Have `Hijacked' Christian Faith
June 26….(Newsmax) Sen. Barack Obama told a church convention Saturday that some right-wing evangelical leaders have exploited and politicized religious beliefs in an effort to sow division. "Somehow, somewhere along the way, faith stopped being used to bring us together and started being used to drive us apart. It got hijacked," the Democratic presidential candidate said in remarks prepared for delivery before the national meeting of the United Church of Christ. "Part of it's because of the so-called leaders of the Christian Right, who've been all too eager to exploit what divides us," the Illinois senator said. "At every opportunity, they've told evangelical Christians that Democrats disrespect their values and dislike their church, while suggesting to the rest of the country that religious Americans care only about issues like abortion and gay marriage, school prayer and intelligent design," according to an advance copy of his speech. "There was even a time when the Christian Coalition determined that its number one legislative priority was tax cuts for the rich," Obama said. "I don't know what Bible they're reading, but it doesn't jibe with my version." Obama is a member of the United Church of Christ, a church of about 1.2 million members that is considered one the most liberal of the mainline Protestant groups. In 1972, the church was the first to ordain an openly gay man. Two years ago, the church endorsed same-sex marriage, the largest Christian denomination to do so. Obama believes that states should decide whether to allow gay marriage, and he opposes a constitutional amendment against it. Conservative Christian bloggers have linked Obama to what they call the "unbiblical" teachings of his church. Theological conservatives believe gay relationships violate Scripture, while more liberal Christians emphasize the Bible's social justice teachings. Obama supports gay rights, homosexual priests, abortion, and Palestinian rights to the West Bank, and he is a ardent critic of Christian Zionism.
Israel Bracing for July War With up to Five Eenemies
June 26….(World Tribune) Israel is preparing for an imminent war with Iran, Syria and/or their non-state clients. Israeli military intelligence has projected that a major attack could come from any of five adversaries in the Middle East. Officials said such a strike could spark a war as early as July 2007. On Sunday, Israeli military intelligence chief Maj. Gen. Amos Yadlin told the Cabinet that the Jewish state faces five adversaries in what could result in an imminent confrontation. Yadlin cited Iran, Syria, Hizbullah, Hamas and Al Qaida. Each of these adversaries is capable of sparking a war in the summer," Yadlin was quoted as saying. On Monday, Al Qaida's No. 2 Ayman Zawahiri endorsed the Hamas takeover of the Gaza Strip, Middle East Newsline reported. The Al Qaida statement came after Zawahiri repeatedly criticized Hamas for tolerating Palestinian Authority cooperation with the United States. Yadlin said Hamas could be planning a major attack to divert attention away from efforts by the Palestinian Authority to isolate the Gaza Strip. He said Syria might be promoting such an attack. Officials said Iran has direct influence over Syria, Hizbullah and Hamas. He said Al Qaida has increasingly come under Iranian influence and was being used by Iran and Syria in such countries as Iraq, Jordan and Lebanon. Already, military intelligence has assessed that Hamas acquired more than 50 missiles with a range of 22 kilometers. Officials said this would allow Palestinian missile strikes on any part of Ashkelon, the largest city in southeastern Israel and which contains strategic sites. Hamas has also deployed at least 20 SA-7 anti-aircraft systems, officials said. They said the missiles threaten Israeli combat helicopters and fixed-wing aircraft that conduct missions over the Gaza Strip. Israeli military intelligence has assessed that Hamas is also being quietly supported by neighboring Egypt. Officials said that despite Egypt's announced ban, Cairo has continued to allow Hamas leaders to enter the Sinai Peninsula from the Gaza Strip.
Ahmadinejad Tells Arabs: Stop the Betrayal
(Iranian president accuses Jordan, Egypt of 'helping Zionist regime oppress Palestinian people', urges them to 'aim to placate the Lord' rather than 'arrogant western world'. Hamas representative in Tehran enlists parliament's support as members cry 'death to Israel')
June 26….(YNET) Iranian President Mahmoud Ahmadinejad criticized Tuesday Arab countries who maintain ties with Israel, saying they "help the Zionist regime oppress the Palestinian people." According to the Iranian news agency IRNA, Ahmadinejad appealed to Jordan and Egypt to "stop this betrayal." "What do you want? You want to placate the arrogant western world? Try placating the Lord and the suppressed people. If it's power you want, this is the better way to go. "If you think you can sell Palestine to the leaders of arrogance, you are wrong. These steps will arouse the rage of the peoples and you will lose their support." Addressing western leaders, Ahmadinejad added, "Notice that the age of power, threat and coercion of the people is over. Do not think that if a number of people convene in one city and make a few decisions, they can solve the problem of Palestine." The Iranian president sent out a warning to the western world, saying, "You must know that the peoples of the region have woken up and they will repay your betrayal with tight fists. "They will not allow the traitors to continue their work. The way to solve the problem of Palestine is through justice and respectful treatment of the Palestinian people."
'Death to Israel'
In the meantime, Hamas' representative in Iran, Abu Osama al-Muti, arrived at the Iranian Parliament in Tehran to enlist the support of the parliament members on the Palestinian matter. The Iranian news agency reported that after al-Muti made his speech, the parliament members called out "death to Israel". Iranian Parliament Speaker Gholam-Ali Hadad-Adel said that a Hamas representative in Tehran presented the parliament with a report on developments between Fatah and Hamas in the Gaza Strip. The speaker called for Palestinian unity, and said that Iran would always back the Palestinians' goals. "The goals of the Palestinian people are the goals of the Muslim world, and this matter is at the top of our priority list, including destroying the state of Israel," Hadad-Adel said.
Quartet Meets in Jerusalem To Appoint Tony Blair as Special Middle East Envoy
| | |
| --- | --- |
| | Britain's Prime Minister Tony Blair is set to become a special Middle East mediator as the Quartet cleared the way for the appointment of Blair as their envoy to try to revive peace prospects. Blair has long been an advocate of reviving the Israeli-Arab Peace Process. |
June 26….(Israel DAILY) The Roadmap Quartet of Middle East negotiators met Monday in Jerusalem, in what the British press reported were talks on confirming the appointment of outgoing British Prime Minister Tony Blair as special Mideast envoy. Envoys from the United States, United Nations, European Union and Russia, which comprise the Quartet, met Tuesday for nearly three hours at the US consulate in Jerusalem for their first talks since Hamas seized control of the Gaza Strip nearly two weeks ago. Speaking to reporters in London, Blair said: "I think anybody who cares about greater peace and stability in the world knows that a lasting and enduring resolution of the Israeli-Palestinian issue is essential and, as I have said on many occasions, I would do whatever I could to help such a resolution come about." Russia's Foreign Minister Sergei Lavrov is thought to have discussed the appointment with President Vladimir Putin, who had reservations about Blair, but did not oppose his appointment. Tony Blair views finding a solution to the Middle East crisis as central to tackling global extremism and has visited the region several times. But his role as a peace broker has been seen as tainted because of Britain's involvement in Iraq and his refusal, with the United States, to call for a ceasefire in Israel's conflict with Hezbollah in Lebanon last year. EU foreign policy chief Javier Solana has also expressed opposition to the move, saying it would distract from his own mediation efforts in the region. According to the UK newspaper The Guardian, Blair might be placed in charge of persuading Hamas to accept international demands that it recognize Israel, renounce violence, and accept previously-signed agreements. Blair will step aside Wednesday after a decade in power, handing over the reigns of power to Chancellor Gordon Brown.
Olmert Promises to Release 250 Prisoners
June 26….(Guardian) Israel's prime minister promised Monday to free 250 Palestinian prisoners and promised to improve life in the West Bank in an attempt to boost Palestinian President Mahmoud Abbas after Hamas' takeover in Gaza. Prime Minister Ehud Olmert made the pledges at a summit in this Egyptian Red Sea resort with Abbas and the leaders of Egypt and Jordan. The Arab leaders hope the high-profile gathering can lead to a resumption of the long-blocked peace process, rally Palestinian support behind Abbas and isolate Hamas after the Islamic militant group's stunning and bloody victory in Gaza. Olmert did not promise an immediate resumption of peace negotiations, but said the steps he was announcing aimed to prepare the ground for them. I don't intend to let this opportunity pass,'' the Israeli said, adding that he told Abbas that we will work with the new government and maintain frequent meetings with it. Olmert promised to substantially' improve freedom of movement in the West Bank by easing roadblocks and other security measures and reopening trade ties with the territory. The residents of the West Bank will feel that choosing the path of no terror or violence, the way of peace and dialogue will bring a better, more comfortable, more peaceful life,'' Olmert said. He said the release of 250 Fatah prisoners who do not have blood on their hands' was meant as a gesture of goodwill toward the Palestinians.' Olmert spokeswoman Miri Eisin said the prisoners would be freed within 48 hours of Cabinet approval Sunday. PM Ehud Olmert also laid out plans for transferring military equipment, including APCs and bulletproof vests to Palestinian forces. The prisoner release would be the largest since February 2005, when Israel freed 500 Palestinian terrorists after a summit in Sharm el-Sheik also aimed at bolstering Abbas, who had just won election as Palestinian president.
Bush Administration Spins Palestinian Upheaval As Responsible
June 25….(Bill Wilson, KIN Senior Analyst) The US government has essentially performed an about face on the democratically elected government of the Palestinian Authority with President George W. Bush's support of the new government formed by Palestinian Authority President Mahmoud Abbas. In a briefing at the State Department, Secretary of State Condoleezza Rice told reporters that Bush phoned Abbas and said "that the United States supports his legitimate decision to form an emergency government of responsible Palestinians." This statement ignores the fact it was those same "responsible Palestinians" that elected the terrorist government in the first place. Sec. Rice went on to say that "A fundamental choice confronts the Palestinians, and all people in the Middle East, more clearly now, than ever. It is a choice between violent extremism on the one hand and tolerance and responsibility on the other. Hamas has made its choice. It has sought to attempt to extinguish democratic debate with violence and to impose its extremist agenda on the Palestinian people in Gaza. Now, responsible Palestinians are making their choice and it is the duty of the international community to support those Palestinians who wish to build a better life and a future of peace." This is an incredible spin by Rice and the Bush Administration. To infer that the Palestinian people are making a choice to dissolve a terrorist government is painting a blatantly false picture. The Palestinian people, whoever they really are, are represented by terrorists and thugs, including Abbas, as they were by Arafat. The terrorists and thugs are educating their children and an entire generation of Arabs in the region that Israel should not exist, that it is good to be a martyr for Islam, that the only peace is when Islam rules over the land that they say Israel now "occupies." And as soon as land was given for peace, Gaza became a staging ground for terrorist attacks and weapons smuggling from Egypt. Now the US is buying into the moderate terrorists promise for peace, which is really no peace. And millions upon millions of hard earned US taxpayer dollars are flowing into the eager hands of the Palestinian Authority which will equate to more terror and violence in the near future. It is time for the American people to say "no more" to the funding of terrorism. And it is time for the Bush Administration to quit spinning the Fatah Palestinians as "responsible." This is a charade by the government at the expense of every American citizen. II Timothy 2:16 says to "shun profane and vain babblings: for they will increase unto more ungodliness." And the more money given to terrorists will increase unto more ungodliness.
Iran Establishes Missile Defense Shield in Syria
June 25….(MENL) Iran is deploying missiles in Syria in preparation for military action if it is attacked over its nuclear program, UN officials in the region said. Under a mutual defense pact signed between Damascus and Teheran in 2005, Syria agreed to the deployment of sophisticated weaponry on its territory by Iran, with the assistance of Russia. The Iranians have now decided to implement the agreement following a meeting last month of Iran's Supreme National Security Council, which is chaired by former president, Ali Akbar Hashemi Rafsanjani. Iran is preparing to transfer dozens of medium-range Shahab-3 and Russian-made Scud-C missiles, together with Scud-B missiles to Syria. Most of the missiles can be fired from mobile launchers and are capable of hitting targets all across Israel. "Iran is preparing itself for the possibility of military action over its nuclear program," a senior UN official in Lebanon said. If Iran is attacked then this will give it a number of retaliation options." UN officials said work on the new missile storage facilities will take about a year to complete. Besides shipping the weapons, Iran has also sent missile engineers to help to train the Syrian military and Hezbollah, the Lebanese Shiite Muslim group with which Israel fought last year's war. In addition, Iran is reported to have made similar arrangements with the Sudanese government to enable it to attack pro-Western Arab countries, such as Saudi Arabia. Tehran's decision to deploy missiles abroad is taken at a time when it finds itself under mounting international pressure over its nuclear program. Last week, it announced that it had processed 100 kilograms of uranium to a level that would enable it to move quickly toward producing weapons-grade material. In a separate development, Russia was reported last week to be ready to sell advanced fighter jets to Syria in a move that is already causing disquiet in Israel.
WEEK OF JUNE 18 THROUGH JUNE 24
Gaza: A Joint Iran-Syria Production
June 23….(Walid Pheres) The latest dramatic military and terror events in Gaza and Lebanon can be viewed from a regional geopolitical perspective: A Syro-Iranian axis offensive on its (their) primarily western front stretching along the Mediterranean coast. In previous analyses I have argued that the Tehran-Damascus axis is involved in a regional campaign to seize as much physical terrain and score as many victories across the Middle East in order to consolidate their strategic posture before 2008; the year they believe Americans will limit, perhaps diminish, their moves because of the US presidential campaign season. Iran's and Syria's offensives have been well-coordinated on battlefields across the Levant since last January, with a clear escalation since early spring. The following are the main fronts:
Eastern Front: There have been multiple reports and much evidence of arming and supplying neo-Taliban and other Jihadi forces in Afghanistan in order that they may engage US-led NATO forces and provoke chaos across the country.
Central Front: The axis has intensified its actions against US and coalition forces, as wells as Iraqi civilians in an attempt to create more sectarian tension, with the greater objective of disrupting "surge" operations in particular, and generally eroding U.S. and allied efforts in Iraq.
Western Front: The axis has unleashed two blitzkrieg-like offensives, one on the upper western front (Lebanon). The other within the lower western front (Gaza).
1. In Lebanon, the Tehran-Damascus axis has had as its goals to crumble the Seniora Government, cripple the Lebanese Army, and crush the Cedars Revolution. To accomplish these, two approaches have been taken:
. a) Terrorism: The assassination of MP Walid Eido in Beirut, other bombing attacks including car-bombs targeting and killing civilians.
b) Fatah al Islam attacks against the Lebanese Army in Nahr al bared and Tripoli in the north. .In Lebanon, the axis is expected to launch more terror attacks. We are looking at all Syro-Iranian assets in Lebanon, monitoring which ones will be deployed to battle next, and when.
2. The axis has also been involved in Gaza where they surprised observers with their decision to throw Hamas fully against Fatah and the PA in the enclave. The plan to seize control of Gaza was projected a long time ago. But the timing was at the discretion of the Syro-Iranian war room, which funds and strategically controls Hamas and Islamic Jihad.
The heavy fighting in Gaza represents an important decision made by the regional masters: The acceleration of the axis offensive so that by the end of summer, four battlefields will be fully ignited against the US, its allies and regional democracies: Afghanistan, Iraq, Lebanon and Gaza (Palestinian territories). But just as important is the fact that an entire Taliban-like zone has been established on the eastern Mediterranean under Hamas control and with Syro-Iranian backing. Our expectations are that, short of a large-scale counter-operation aimed at dislodging the "coup" in the enclave, the area will become a massive terror base of operations. In the final analysis, the axis' offensive on their western front is peaking. The immediate goal of the axis is to protect the Syrian regime's western (Lebanon) flank and southern (Israel) flank. Thrusting in Lebanon and spreading chaos, also would potentially shield Bashar al Assad from the upcoming UN investigation into the assassination of Lebanese Prime Minister Rafik Hariri (and others). Seizing Gaza would, in their estimation, curtail US efforts in Iraq, and pressure Israel away from Syria and Hezbollah. The Jihadi strategic mind is in its full offensive mode in the region
World Council of Churches Launches Anti- Israel Crusade
June 23….(AP) A Geneva-based church body said Monday it would launch a global initiative to have churches worldwide rally for an end to Israel's occupation of Arab lands seized in the 1967 Mideast war. The World Council of Churches said in a statement that it designated Jordan as a venue for its initiative, which would enlist support from religious groups worldwide. "The initiative aims at calling on all churches to work seriously for putting an end to the Israeli occupation of Palestinian and Arab lands," the statement said. The World Council of Churches, founded in 1948, groups 347 Protestant, Orthodox, Anglican and other churches representing over 560 million Christians in more than 110 countries. The council also will create an advocacy initiative, the Palestine Israel Ecumenical Forum, meant to improve cooperation among churches worldwide advocating for Mideast peace. The council's call came during the opening of a three-day meeting gathering 130 member churches and related organizations from around the world.
IAF Training for Possible Strike Against Iran
June 22….(Jerusalem Post) The Israeli Air Force (IAF) has been training on long-range flights, including refueling in mid-flight, in preparation for potential strikes against Iranian nuclear targets, the Ma'ariv daily reported Friday. The training program has been taking place for some time but has only been released for publication Friday. Intelligence assessments received by the defense establishment concur that once Iran passes the point of no return in its nuclear efforts, the entire Middle East will enter a frantic nuclear armament race. Egypt and Saudi Arabia are expected to lead such an armament race. At the end of 2007 the US and Israel are expected to hold a joint assessment to ascertain the influence of economic sanctions against Iran. A new package of upgraded sanctions, which includes exerting pressure on European governments to cancel US $22 billion in loan guarantees given annually to European companies trading with Iran. The new package also includes sanctions against banks working with Iran, non-renewal of oil infrastructure in Iran and a long series of economic actions that are meant to seriously hurt the Iranian economy. Following the end-of-year assessment, Washington will decide how to move forward in the struggle against Iran's nuclear race. Members of the international community - the US and Israel leading - are convinced that Iran's race to enrich uranium is aimed at producing nuclear weapons. The Islamic Republic, on its side, insists it is looking for energy sources that would be an alternative to fossil fuels. Iran has so far remained defiant in face of the demands voiced by the international community that it make its nuclear program transparent to UN-mandated monitoring. In related news, the Jerusalem Post has learned that the IAF has significantly upgraded the level of its cooperation with the United States Air Force and now receives regular updates on American procurement decisions. An agreement on the cooperation was reached at meetings last month between head of IAF Procurement and Equipment Brig.-Gen. Dr. Kobi Bortman and senior USAF officers in Washington and Dayton, Ohio. Bortman, an expert on aircraft structural engineering with a doctorate from Washington University in St. Louis, gave the Americans a demonstration of the IAF's Enterprise Resources Planning system. The system serves as a single database for both manpower and inventory lists and enables cost-effective maintenance of supplies and other resources. The USAF, which briefed Bortman on its own new cost-saving system for keeping track of inventory, decided following the meeting to establish its own Enterprise Resources Planning database. "We are interested in many of the same platforms and systems, and the Americans look at us as a small-scale laboratory of themselves," a high-ranking IAF officer told the Post. "Now every time the USAF signs a contract and purchases something new, they will update us." The updates will only be given to Israel, the officer said, when America purchases a system or platform related to the IAF. An American delegation will come to Israel to meet with Bortman again toward the end of the year. One issue of common interest for the IAF and USAF is the "J" model of Lockheed Martin's C-130 Hercules transport plane. Israel is considering purchasing the new model for its 40-year-old fleet of transport aircraft and in March submitted a Request for Information to Lockheed Martin to receive details on the J model's cost and performance. India, Norway and Canada recently signed contracts to purchase the new aircraft. The newest version of the Hercules, the J model is externally similar to the classic Hercules, but inside it is a different aircraft and includes new Rolls-Royce Allison AE21000 turboprops with six-bladed composite propellers and digital avionics, including heads-up displays for the pilots. According to a top IAF officer, Israel would like to buy the new aircraft but is waiting to receive a price offer from Lockheed before it begins negotiations. The decision to buy the aircraft is also pending a decision in the General Staff. The IAF is also considering sending its younger Hercules planes to Boeing Co. for an upgrade under the company's C-130 Avionics Modernization Program. In September, Boeing announced the first flight of a C-130 aircraft that had had its cockpit gutted and revamped to improve navigation and communication.
Israeli Pilots Preparing for Iran Strike
June 22….(Israel Daily) The Israeli Air Force has been training for long-range flights, including mid-flight refueling, possibly in preparation for strikes against Iranian nuclear targets, the Israels Ma'ariv newspaper reported today. The training program has been taking place for some time but was only released to the press this morning. Israeli intelligence authorities concur that if Iran passes the point of no return in its nuclear efforts, the entire Middle East will enter a frantic nuclear armament race. Egypt and Saudi Arabia are expected to lead such an arms race. Although the Islamic Republic insists it is looking for energy sources that could be an alternative to fossil fuel, the US, Israel and much of Europe is convinced that Iran's race to enrich uranium is aimed at producing nuclear weapons. So far, Iran has refused to allow the United Nations nuclear watchdog organization to enforce its UN-mandated monitoring program in Iran.
Netanyahu: Bring Jordanian Troops into Yesha
June 22….(Arutz) Opposition leader Binyamin Netanyahu has expanded on his general call for Egyptian and Jordanian intervention in the PA, and says Jordan should send over its PLO brigade. Speaking with Israeli reporters in Washington on Thursday, the former Prime Minister said that Fatah chief Abu Mazen cannot be expected to maintain law and order in Judea and Samaria on his own. He said that Jordan should dispatch its Palestinian force, known as the Badr Brigade. "The Badr Brigade, which is Jordanian-Palestinian, can create law and order," Netanyahu said. Jordan is ruled by the Hashemite family, though much of its population is considered "Palestinian." Netanyahu also said that Egypt must be more forceful in manning its border with Gaza, where tons of arms and explosives have been smuggled in during the past two years. Shortly after Israel quit Gaza in the summer of 2005, it also left the Philadelphi Route on the southern Gaza border in the hands of Egyptian and European Union monitors. "Palestinian society is not functional. On the one hand, it is ruled by extremist Islam and is supported by Iran, and on the other hand, it is led by a moderate but weak regime. The moderate elements must be strengthened. I think that [PA Chairman] Abu Mazen has good intentions. The fact that he called Hamas 'terrorists and murderers' is important... I hope that his recent statements indicate that he plans to fight terrorists wherever they are. Therefore, until he does this, we see that his leadership is too weak to take the Palestinians along a new path." Netanyahu said that in both Lebanon and Gaza, Israel had created Iranian bases on its border by withdrawing unilaterally. "What's clear to me is that we must not make the same mistake in [Judea and Samaria]. We must isolate Hamas and strengthen the moderates with the help of our neighbors. It is clear to all that in the Middle East there are extremists supported by Iran and Al-Qaeda, and, on the other side, moderates. The Arab nations can already say clearly that extremist Islam is a common enemy to both themselves and Israel."
Ahmadinejad: Israeli Regime Must be Replaced by Palestinian Government
(Iranian leader's aide says anti-Israel statements aimed at rallying Arab world around Islamic revolution's values. 'All Muslims want to see Zionist regime change into a Palestinian regime,' he says.)
June 22….(YNET) Mahmoud Ahmadinejad does want the Jews to be annihilated but rather to change the regime in Israel," a senior aide to the Iranian president said Friday. On August 3, 2006 the Iranian president said that the Middle East would be better off "without the existence of the Zionist regime." He also called Israel an "illegitimate regime" with "no legal basis for its existence." During the Iranian-organized conference questioning the Holocaust on December 12, 2006 Ahmadinejad said Israel would "soon be wiped out." In an interview published on the pro-regime Raja news website, Rohalla Housseinian, the Iranian leader's consultant for political and security affairs, said, "Ahmadinejad is not interested in annihilating the Jews who live in occupied Palestine. What he wants is to change the Zionist regime. "All Muslims want to see the Zionist regime change into a Palestinian one. Why is the United States permitted to call for changing the regime in Iran and our leaders are forbidden from calling for an end to the Zionist regime?" he said. Asked whether Ahmadinejad's controversial statements did not add to the West's negative perception of the Islamic Republic, Mousavian said the US has always been against Iran. "The US has been aggressive (toward Iran) throughout history. We must not forget the lessons from history, when Mohammad Khatami (previous Iranian president) suggested warming the relations between the countries and the threats only increased," he said. Housseinian said Ahmadinejad's anti-Israel statements were aimed at rallying the Arab world around the Iranian leadership and the "values of the Islamic revolution". "If the president is one of the most popular leaders in the Arab world, it is due to such statements," the aide said. "The western superpowers spend billions of dollars and while Ahmadinejad managed to revive the global Islamic revolution through his anti-Zionist standpoint."
Fatah Police Seized Baptist Church During Gaza War
June 21….(Israel Today) Behind the crocodile tears Palestinian Authority Chairman Mahmoud Abbas shed after Hamas militants sacked a Catholic compound in Gaza City lies the fact that his own men similarly abused and endangered local Christians at the height of last week's civil war. As Hamas forces advanced through Gaza City, members of the Palestinian Authority security forces loyal to Abbas demanded entrance to the Gaza Baptist Church, the only Evangelical church in the coastal strip, in order to use the place of worship as a lookout post. Pastor Hanna Massad told the Associated Baptist Press that when he refused to open the gates, the officers forced their way in and seized control of the church. He later found that Abbas' men had stolen about $4,000 worth of computers and other electronic equipment. International law enshrined in the Geneva Conventions forbids the use of religious sites and places of worship as military positions during an armed conflict, a stipulation that is regularly ignored in the Muslim Middle East. In other news, since Hamas swept to victory in last year's Palestinian parliamentary election, some of the terror group's voters are now kicking themselves for not voting for Fatah. "I wanted to shoot myself for voting Hamas," a Palestinian man whose brother was wounded in Gaza last week told Ha'aretz from an Israeli hospital. "We really believed Hamas would change things." And now, "Hamas has enough money and weapons to rule for the next 20 years," lamented the man. He went on to complain that Israel did not intervene militarily as Hamas overran Gaza last week. The Palestinians usually decry Israeli military activity in any of the territories, but when faced with threats, they turn to Israel for security. Another wounded Palestinian noted the irony in the fact that "Israel is rescuing us from our Muslim 'brothers.'"
Russian Fighter Planes Sale to Syria Alarms Israel
June 21….(Breitbart) Israel is concerned about reported Russian deliveries of advanced MiG-31 fighter planes to its enemy Syria as part of an armaments drive, the top-selling Hebrew daily reported on Tuesday. The MiG-31, considered one of the best fighters in the world, can carry guided missiles with a range of more than 200 kilometres (125 miles) and is capable of striking 24 different targets simultaneously, Yediot Aharonot said. "This information is more concerning when put in the context of massive armaments purchases made recently by the Syrians," Yuval Steinitz, an MP from Israel's right-wing opposition Likud party, was quoted as telling the daily. "If Syria acquires the MiG-31 we can no longer rule out the idea that this country is preparing for war," said Steinitz, a former chairman of Israel's defence and foreign affairs parliamentary committee. A Russian newspaper reported on Tuesday that Russia has begun delivering five MiG-31E interceptors to Syria as part of an agreement reached this year, and that Moscow also plans to sell Damascus its MiG-29M/M2 dual role fighters. The Israeli media has recently carried alarmist reports that a war with Syria could erupt as early as this summer, following Israeli intelligence reports that Damascus was preparing for such a conflict.
Ahmadinejad: A strong Iran will help Russia
June 21….(Rostov) "Iran's relations with Russia are strategically significant," Iranian President Mahmoud Ahmadinejad said in a meeting with Russian Foreign Minister Sergei Lavrov, the state-run IRNA news agency reported Wednesday. "We believe a strong Iran will be beneficial to Russia," IRNA quoted the president as saying. Russian Foreign Affairs Minister Sergei Lavrov said that he does not view Iran's missile arsenal as a threat of any sort, to anybody in the West. "We do not see the Iranian missiles as a threat, and therefore we do not understand why the Americans are using them as an excuse for setting up anti-missile systems in Europe," said Lavrov.
FOJ Note: Magog and Persia are "preparing themselves" for the day when they will lead an assault upon Israel. (Ezekiel 38:7 Be thou prepared, and prepare for thyself, thou, and all thy company that are assembled unto thee, and be thou a guard unto them.)
A Third US Carrier, USS Enterprise Speeding to the Persian Gulf

June 21….(DEBKA) According to DEBKAfile's military sources, the US naval build-up off the shores of Iran marks rising military tensions in the region, accentuated by last week's Hamas victory which has endowed Iran with a military foothold on Israel's southwestern border. The USS Enterprise CVN 65-Big E Strike Group, the US Navy's largest air carrier, will join the USS Stennis and the USS Nimitz carriers, building up the largest sea, air, marine concentration the United States has ever deployed opposite Iran. This goes towards making good on the assurances of four carriers US Vice President Dick Cheney offered the Gulf and Middle East nations during his May tour of the region. The "Big E" leads a strike group consisting of the guided-missile destroyers USS Arleigh Burke DDG 51, USS Stout DDG 55, Forrest Sherman DDG 98 and USS James E. Williams DDG 95, as well as the guided missile cruiser USS Gettysburg CG 64, the SS Philadelphia SSN 690 nuclear submarine and the USNS Supply T-AOE 6. On its decks are the Carrier Air Wing CVW 1, whose pilots fought combat missions in the Gulf and Arabian Sea during 2006. The Air Wing is made up of F/Q-18 Super Hornet strike craft, the Sidewinders Strike Fighter Squadron VFA-86, the 251st Marine Fighter Attack Squadron MFA, and the Electronic Attack Squadron VAQ 137. The 32nd Sea Control Squadron VS consists of S-3B Vikings. The Airborne Early Warning Squadron VAQ 3 flies E-2C Hawkeye craft. The Fleet Logistics Support Squadron VRC is based on C-2A Greyhounds. DEBKAfile's military sources report Washington is considering deploying the fourth US carrier for the region in the Red Sea opposite Saudi Arabian western coast to secure the three US carriers in the Gulf from the rear as well as the Gulf of Aqaba and Suez Canal.
Abbas Lamblasts Talks with Hamas 'Terrorists'
(Palestinian President Mahmoud Abbas today delivered a withering attack on Hamas in his first public speech since the Islamists' takeover of Gaza, and ruled out any dialogue with them)
June 21….(Israel Insider) Mr. Abbas accused Hamas of carrying out killings against his security forces "unprecedented" in Palestinian history and plotting its takeover at the behest of foreign powers. Palestinian Authority Chairman Mahmoud Abbas, addressing his people on TV Wednesday in an unusually fiery speech, slammed Hamas for attacking "national symbols" during its Gaza takeover and, adopting for the first time the terminology of the rest of the world, referred to them as "murderous terrorists." He said that Hamas replaced the "national project" with "its project of darkness," and expressed outrage at the ransacking of the house of Yasser Arafat, in which his Nobel Prize was stolen. Abbas accused Hamas of trying to set up its own state in Gaza, a step he said would scuttle Palestinian hopes for independence. "It's a fight between the national project and this small kingdom they want to establish in Gaza, the kingdom of Gaza, between those who are using assassination and killing to achieve their goals, and those who are using the rules of law." He said that although he had tried to prevent the conflict through "continuous dialogue," instead "we are seeing assassination of leaders of Palestinian security and Fatah in Gaza." The result, he said, was that "The PLO flag is being trampled beneath Hamas's feet." Abbas accused Hamas of trying to assassinate him on a planned visit to Gaza a month ago, digging a tunnel under a road where his car was to pass and trying to fill it with 250 kilograms of explosives. He said he had watched videotapes of the operation, showing militants with Hamas insignias on their shirts doing the work, dismissing Hamas claims that the explosives tunnel was aimed at Israelis. "I have sent these tapes to all the Arab countries, to show how this dark movement is acting," he said. He said the Hamas militia was now illegal, but he warned Israel not to take advantage of the Gaza situation to tighten its control of the West Bank. "The coup seekers through their madness have given a golden opportunity to those who want to separate Gaza from the West Bank," he said.
He said the Hamas Islamists had given Israel an "excuse to punish an entire people" and even accused the group with which he uneasily shared power for 15. "It was a premeditated plan agreed between Hamas leaders in Gaza and abroad, with foreign elements (Iran-Syria) from the region," he said of the Islamists' seizure of control in the territory last Friday after a week of ferocious fighting. "No dialogue with putschists, murderers and terrorists," he thundered in an address to a meeting of the Palestine Liberation Organization, of which he is chairman but of which Hamas is not a member.
| | |
| --- | --- |
| | Hamas fighters attend a protest against Palestinian President Mahmoud Abbas' speech, in Gaza, June 20, 2007. |
Abbas strongly defended his decision to dismiss the Hamas-led national unity government last Thursday and swear in an emergency cabinet at the weekend that Hamas has dismissed as an illegitimate lackey of Israel and the US. "Our main objective is to prevent the chaos from spreading to the West Bank," he said, adding that the new government of technocrats led by US-educated prime minister Salam Fayyad was the "clear answer to the coup". Israel has seized on the formation of the new government in the West Bank, the first without Hamas representation since the Islamists routed Abbas's secular Fatah faction in parliamentary elections early last year, as a historic opportunity to relaunch the peace process. Israeli Foreign Minister Tzipi Livni telephoned Mr. Fayyad yesterday to open dialogue with his government after the 15-month hiatus while the Islamists of Hamas - blacklisted as a terror group by Israel and the West - were in power. The EU, which like the US, said it would resume direct aid to the Palestinian Authority, said today it was making its first transfer of 22 million euros ($US29.5 million). Abbas called for an international conference to be convened to oversee the relaunch of the moribund peace process, like the Madrid conference of 1991 that helped pave the way for the secret talks that led to the 1993 Oslo accords. "We call for negotiations to resume, and in the framework an international conference the details of which we will agree" with the Israelis, he said. A meeting of the top diplomats of the Middle East peace Quartet, US Secretary of State Condoleezza Rice, Russian Foreign Minister Sergei Lavrov, UN chief Ban Ki-moon and EU envoy Javier Solana, set for June 26-27 in Egypt was reportedly called off because of the crisis stemming from Hamas' bloody takeover of Gaza. Abbas's speech in his West Bank powerbase of Ramallah came as Israeli troops battled militants in the Gaza Strip in the first deadly clashes since Hamas's takeover. At least four militants, two of them from Hamas, were killed and an Israeli soldier wounded in the fighting in the south of the territory, sources on both sides said. Rocket fire against southern Israel claimed by the hardline Islamic Jihad group also prompted the first Israeli air strike against Gaza since the Hamas takeover.
Egyptian President Mubarak Initiates ME Summit
June 21….(Israel Today) Egyptian President Hosni Mubarak has invited Prime Minister Ehud Olmert, Palestinian Authority Chairman Mahmoud Abbas and Jordanian King Abdullah II to participate in a four-way summit to discuss methods of supporting Fatah in the West Bank and ways to deal with Hamas in Gaza. The summit will be held in the Sinai resort, Sharm e-Sheikh, early next week. According to Abbas aide Yasser Abed Rabbo, "We want the summit to remove the (economic) siege and the checkpoints that suffocate the life of the Palestinian people," he said. "Abbas would also seek a resumption of peace talks between Israel and the PA." Abed Rabbo warned that if the summit did not achieve real results, it could cause more harm than good. Chief PA negotiator Saeb Erekat was likewise foreboding, warning that achieving Palestinian statehood and ending occupation was the only way to counteract Hamas. "The most important thing to realize is that time is of the essence," Erekat said. "We need to deliver the end of occupation, a Palestinian state. If we don't have hope, Hamas will export despair to the people." The Oslo peace partners, Jordan and Israel said that Egypt must really act to stop arms smuggling into Gaza. They can do that if they want to," he said.
Two States of Destruction
June 20….(Cal Thomas/Washington Times) The Bush administration's announced goal for Israel and the "Palestinian people" has been two states, living side by side in peace. The administration is two-thirds there. There are now two states — one in Gaza, headed by the militant Hamas organization, which shot its way to power; and another in the West Bank headed by accused Holocaust denier Mahmoud Abbas. Unfortunately for Israel, there is no peace, which should not surprise those who have been predicting exactly what is now coming to pass. Whatever their names, be they groups like Hamas, Fatah, Hezbollah, Islamic Jihad and al Qaeda, or states like Saudi Arabia, Syria and Iran, their objectives are identical: the annihilation of the democratic Jewish State and the elimination of all Jews, either by death or displacement, from the land. To argue otherwise and to continue believing the fiction that "infidel" diplomats from the State Department or European Union can magically transform people commanded to hate Jews and Israel based on a twisted mandate from their corrupt notion of God, is to be in extreme denial. Hamas won't stop with Gaza. After Hezbollah's victory over poorly directed Israeli forces in Lebanon last summer, why should it? The one thing terrorists understand is weakness. They perceive Israel, under Prime Minister Ehud Olmert, as weak and they are going for Israel's jugular. Benyamin Elon, a conservative member of Israel's Knesset, said, "The Fatah is diminishing in front of our eyes, and a group of gangsters is taking over. Israel can wake up now from the delusion of an independent Palestinian state." Will it, or will Mr. Olmert be passing out and swallowing, himself, more diplomatic sleeping pills during meetings this week with President Bush, Secretary of State Condoleezza Rice and members of Congress? The violence and broken agreements are not being perpetrated by Israel. They are being perpetrated on Israel. It is mystifying why Western diplomats continue to pressure Israel to "do more" when "more" has brought Israel less. Each time Israel gives up something necessary for its security, it receives in return more war, more terror and more insecurity. If more for less remains the "strategy" of the United States, Israel has two choices: surrender now or prepare for all-out war with catastrophic results. Since President Bush laid out his "vision" for a two-state solution to Middle East turmoil four years ago this month, Israel has frozen expansion of Jewish communities beyond the armistice lines of 1949 (a major Palestinian demand). As Caroline Glick wrote in the Jerusalem Post, "Israel expelled all Israeli residents of Gaza and northern Samaria in order to render the areas Jew-free to the Palestinians." What was the Palestinian response to Israel's construction halt? Did they suddenly embrace the two-state solution of peace and harmony with Israel? No. The Palestinians held elections in January 2006 and instead of picking leaders to make peace with Israel, they overwhelmingly voted in members of Hamas to head the Palestinian Authority. A flood tide of terrorists and arms subsequently flowed into Gaza. The intentions of Hamas and other terrorist groups are not hidden. They openly proclaim what they intend to do and do it. Osama bin Laden said five years before September 11, 2001, that he planned to attack the United States. Few took his statement seriously enough to eliminate him when they had the chance. Those still in doubt or denial about what Israel's (and America's) enemies plan might benefit from reading Jed Babbin's new book, "In the Words of Our Enemies" (Regnery Publishing). In it, Mr. Babbin assembles what the Islamic terrorists, Chinese and North Korean communists and Venezuelan president Hugo Chavez are saying they want to do to us. This quote from the al Qaeda training manual leaves no room for diplomacy: "The confrontation that Islam calls for with these godless and apostate regimes, does not know Socratic debates, Platonic ideals nor Aristotelian diplomacy. But it knows the dialogue of bullets, the ideals of assassination, bombing and destruction, and the diplomacy of the cannon and machine-gun." Anyone who questions the sincerity of such a statement is a fool. Apparently enough fools remain in leadership in Israel, the United States and Europe to encourage the killers to fight on until victory is attained.
Hamas Anticipates Inheriting Fatah Arms in Judea and Samaria
June 20….(Arutz) Even as Prime Minister Ehud Olmert continues to pledge his support for the newly formed PA shadow-government set up by Fatah, Hamas is looking forward to inheriting the aid. Fatah, which was trounced by Hamas in PA elections, has taken advantage of its being violently expelled from Gaza to claim that it has established a Hamas-free government in Judea and Samaria, which both the Israel government and the international community has quickly embraced and begun to fund. A prominent Hamas leader from the Gaza, however, was appointed Tuesday as Social Welfare and Agriculture Minister in Fatah's unilaterally declared government Tuesday. Sheikh Mahmoud Habbash said he agreed to be a part of Fatah's new PA government because it is his "national duty at this very sensitive and difficult stage." "The Western nations are refusing to accept the results of a free and democratic election that brought Hamas to power," Hamas spokesman Sami Abu Zuhri said Tuesday. "Instead, they are now supporting the illegitimate government of Fatah's Salem Fayed." Hamas Foreign Minister Mahmoud a-Zahar claimed Wednesday that Gaza now is enjoying a period of calm and stability not experienced since the establishment of Yassir Arafat's regime in 1994. The senior Hamas terrorist told WND that Hamas is encouraged by the American funding and arming of Fatah in Judea and Samaria, as the Islamist group is certain it will inherit those weapons and funds just as it did when it took over Gaza. "Like the American weapons in Gaza we told you would come to Hamas, also the weapons and aid the Americans are giving to Abu Mazen (Abbas) as part of their conspiracy against us in the West Bank will find its way to the Palestinian resistance and Hamas," Hamas's Abu Abdullah said. He would not say whether Hamas was planning to take over Judea and Samaria from Fatah in the near future, but said he "hopes" that the US continues to provide large quantities of weaponry to Fatah so Hamas can inherit them. Hamas is currently "swimming" in American weapons seized last week from Fatah facilities, according to Abdullah. As Fatah continues to arrest Hamas members in Judea and Samaria, Hamas has threatened to begin attacking Fatah in the region if the persecution of its terrorists continues. A Hamas spokesman told the Associated Press that the Islamist group would use its terrorist tactics of suicide bombers and car-bombs against Fatah in an upcoming battle. The group continues to execute Fatah men in Gaza, where checkpoints have been set up, with laptop databases upon which it is marked whether the person should be executed, crippled or arrested. Fatah terror chief Mohammed Dahlan, who fled Gaza for Egypt two months ago, fearing for his life, and now is living in Ramallah, warned that there is a grave danger of Hamas beating Fatah in Judea and Samaria as well. Dahlan told Reuters that the US and Israel were not funding and arming Fatah enough, calling Hamas's takeover of Gaza "an occupation."

Jimmy Carter: Stop Favoring Fatah Over Hamas
| | |
| --- | --- |
| | (FOJ) Jimmy Carter recently called George W. Bush the worst president in American history. Personally, I believe that Mr. Carter is actually the worst president in American history, and if he were a decent human being, he would just go off to his farm and keep his idiotic ideas to himself. |
June 20….(Arutz) Former President Jimmy Carter says the US should stop favoring the Fatah movement of Palestinian Authority Chairman Mahmoud Abbas over the terrorist organization Hamas. Addressing a conference of Irish human rights officials, Carter also said the Bush administration's refusal to accept Hamas' 2006 election victory was "criminal." Hamas fighters routed Fatah and seized control of Gaza Strip last week. Abbas then dissolved the power-sharing government with Hamas and set up a Fatah-led administration to govern the West Bank. Carter said the decision by the US, Israel and the European Union to reopen direct aid to the new government in the West Bank, but to deny aid to the Hamas-controlled Gaza Strip, represented an "effort to divide Palestinians into two peoples," according to the Jerusalem Post. He added: "This effort to divide Palestinians into two peoples now is a step in the wrong direction. All efforts of the international community should be to reconcile the two, but there's no effort from the outside to bring the two together."
President Bush is Blind to the Prophetic Reality of Israel's Presence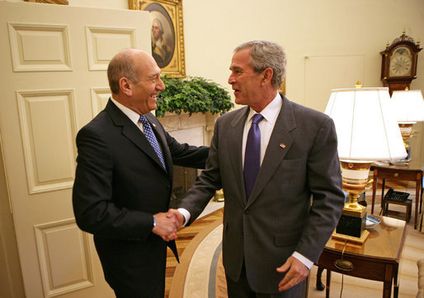 June 20….(FOJ) US President George W. Bush continues to affirm his deluted vision of a Palestinian state living peacefully alongside Israel in a meeting with Israeli PM Ehud Olmert, saying he hoped to bolster Palestinian leader Mahmoud Abbas against Hamas Islamists who have seized control of Gaza.
"We share a common vision of two states living side by side in peace," President Bush said, pushing what he called a "common strategy to fight off" Islamic extremists in Gaza. The Bush administration signaled what it sees a "West Bank first" policy as the best way to salvage something from Hamas' victory in Gaza. In the wake of the Hamas takeover in Gaza, the speech that Bush was planning to make next week to commemorate the launching of his "two-state vision" five years ago, has been canceled, and a planned visit to the region by Secretary of State Condoleezza Rice has been postponed. The cancellations underscore the fact that President Bush's vision for two-states is a mirage. The President, unfortunately, does not understand the seriousness of compromising the Promised Land. God almighty, Jehovah himself has overseen the complex gathering of a remnant of Jews to this disputed territory referred to as Palestine. To coerce Israel into making land concessions for peace goes against God's providential plans. Oh yes, there are a great many problems and complex issues regarding the various peoples in the land today, but these explosive problems were foretold of the Lord 2500 years ago. They should foretell of his soon judgment, and the Lord's return to Zion. That is why Satan is aggravating the dynamics involved about the Holy Land.
Suicide Bomber Teams Sent to US & Europe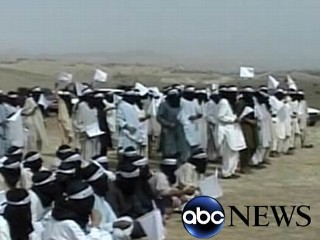 June 20….(ABC News) Large teams of newly trained suicide bombers are being sent to the United States and Europe, according to evidence contained on a new videotape obtained by the Blotter on ABCNews.com. Teams assigned to carry out attacks in the United States, Canada, Great Britain and Germany were introduced at an al Qaeda/Taliban training camp graduation ceremony held June 9. A Pakistani journalist was invited to attend and take pictures as some 300 recruits, including boys as young as 12, were supposedly sent off on their suicide missions. The tape shows Taliban military commander Mansoor Dadullah, whose brother was killed by the US last month, introducing and congratulating each team as they stood. "These Americans, Canadians, British and Germans come here to Afghanistan from faraway places," Dadullah says on the tape. "Why shouldn't we go after them?" The leader of the team assigned to attack Great Britain spoke in English. "So let me say something about why we are going, along with my team, for a suicide attack in Britain," he said. "Whether my colleagues, companions and Muslim brothers die today or tonight, every drop of our blood will invigorate the Muslim (unintelligible)." US intelligence officials described the event as another example of "an aggressive and sophisticated propaganda campaign." Others take it very seriously. "It doesn't take too many who are willing to actually do it and be able to slip through the net and get into the United States or England and cause a lot of damage," said ABC News consultant Richard Clarke, the former White House counter-terrorism official.
Russia Supplying MIG's To Defend Syria and Iran
| | |
| --- | --- |
| | In Syria, Syrian children are taught to love Russian military hardware, and they have ever since the Soviet MiG-17 took part in the 1973 war against Israel. |
June 20….(Kommersant) Russia has begun to implement the contract signed by Rosoboronexport with Syria this year for the delivery of MiG-31E fighter-interceptors. That means that Russia is renewing its arms deliveries to the Middle East after a hiatus due to the war in Lebanon. Iran may be the big winner from the deal, since there exists an Iranian-Syrian mutual defense agreement, and Iran is financing Damascus's MIG purchase. The total value of the contract for the MiG-31 and MiG-29M/M2 aircraft is estimated at $1 billion. Several questions are raised by the deal. First, where did Syria get the money for such expensive weapons. In the winter of 2005, Russia wrote off 70 percent of Syria's foreign debt, which was $13.4 billion at the time. Under that agreement, Syria's debt to Russia was reduced to $3.6 billion. Russia renewed military-technical cooperation with Syrian at the same time, and directed Pantsir, Strelets and Igla missiles be sent to Syria. Syrian President Bashar Assad was in Moscow in December of last year for negotiations with Putin, at which Syria's desire to replace its aging MiG-25 planes with new MiG-29 or MiG-31 models. Western experts think that one of the reasons for Syria's spending spree may be that it is buying weapons for not only for itself, or not for itself at all. Moscow and Damascus concluded a contract last year for the delivery of 36 Pantsir-S1E artillery missile systems. In May of this year, the authoritative British Jane's Defence Weekly reported that at least ten of those Pantsirs would be handed over to Iran by the end of 2008. According to that publication, Iran is the main sponsor of the deal and is paying Syria for its services as intermediary. Tehran and Damascus are linked by a number of agreements on mutual defense. A Syrian-Iranian strategic alliance was wrought in the 1980s during the Iran-Iraq war. In recent years, Syria and Iran have signed a whole series of agreements on closely coordinated defense activities. In February 2005, for example, almost simultaneously with Russia's forgiveness of much of Syria's debt to it, Syrian Prime Minister Naji Otari and Iranian Vice President Mohammad Reza Aref signed a mutual defense pact and, in July 2006, the defense ministers of the two countries, Hasan Turkmani and Mostafa Mohammad Najar, signed an agreement creating a high defense commission and one on military cooperation that envisaged Iranian financing of Syrian arms deals with Russia, Ukraine and China. Iran's interest in Russian arms is explained by the conflict developing between it and the United States and the likelihood of armed conflict in the region. The MiG-31's are intended to defend Syria from Israeli aircraft. The MIG's will most likely seriously limit the Israeli Air Force's freedom of action. over the Golan Heights or Lebanon. The MIG's are a quantitative leap in Syria's ability to wage an air war against Israel. Last year, Israel alleged to Moscow in confidential negotiations that some of the arms it sold to Syria fell into the hands of the Hezbollah and being used in the war in Lebanon last summer. The sale of Russian jets to Syria will undoubtedly have repercussions in the West. Moscow is not likely to be concerned with American criticism at the moment, since the main problem in US-Russian relations is the US missile defense system in Eastern Europe. Iran's position on the missile defense system can be considered indirect confirmation that it is deriving some sort of benefit from the present deal. When Putin suggested to US President Bush that they counter the Iranian threat by using the Gabala radar station in Azerbaijan together, Tehran unexpectedly announced that it does not consider Russia's proposal hostile and that it will not affect Russia's good relations with Iran. The MiG-31 was produced at the Sokol plant in Nizhny Novgorod until 1994. More than 500 planes were produced. There are about 300 of them in the Russian Air Force at present and about 40 in Kazakhstan.
The Golan Endgame
June 20….(Louis Rene Beres and Major Paul E. Vallely) Once again, a misguided Prime Minister of Israel believes that the Israel Defense Force (IDF) could defend his imperiled country's borders without the 452-square mile Golan plateau. Israel annexed the Golan in 1981 after defeating Syrian aggression in June 1967, and after enduring the Yom Kippur surprise attacks of October 1973. When Israeli opponents of the annexation argued that the application of Israeli law did not apply real sovereignty, the Israeli Supreme Court ruled otherwise: "Wherever in the law it says Israel or the State of Israel," said the Court, "Ramat HaGolan is included." Now Prime Minister Olmert seeks a "settlement" with Syria. But Damascus shares with Iran a determined commitment to destroy Israel and to support assorted terrorist groups seeking the same goal. Mr. Olmert's position is premised on an exchange of the Golan for a codified peace with Syria. Trying to placate the United States, he fails to appreciate the overwhelming strategic consequences of territorial surrender. Nor, it seems, does Mr. Olmert acknowledge the historic importance of Ramat HaGolan in Jewish nationhood. If Syrian President Bashar Assad were serious about peace, he would agree to crack down on Lebanon's Hizbullah and also to close down offices of the many terrorist organizations that still thrive in his country. Even if formal talks were reopened, Syria would be risking nothing. Israel's risks, on the other hand, could be existential. Before 1967, Syria routinely attacked Israeli kibbutzim east of the Kinneret (Sea of Galilee), from the mountainous areas. Today, an Israeli Golan withdrawal, from an area less than 1% (0.6%) of Syria's total size, could leave the northern region of Israel open to wider Syrian or even Iranian invasion through the Jordan Valley. History records that more than sixty assaults on the Land of Israel west of the Jordan were launched from or through the Golan. Such a withdrawal could also destroy and uproot 32 Golan Jewish communities and threaten a third of Israel's water supply. Syria is a riparian state, and any Golan transfer would damage Israel's tourism and fishing industries. The proposed Olmert argument is based on a naïve legalism. Without an Israel-Syria peace agreement (only at Syria's insistence, a state of belligerency remains), a major war could presumably erupt at any time. Further, any Israeli plan to prevent war with Syria would allegedly require a demilitarized Golan Heights. In reality, a Syrian demilitarization of the Golan, which is roughly the size of New York City's borough of Queens, could never happen. The core problem of the Prime Minister's incorrect reasoning lies in the stark limits of legal guarantees in our anarchic world. A related problem inheres in constantly changing missile and satellite technologies. For real security, the IDF must retain its surveillance positions on the Golan, especially on Mt. Harmon. Pre-1967 warning stations do not have a clear line of sight deep into Syrian territory. Israel should not be dependent upon third parties for crucial intelligence. Even a demilitarized Golan with advanced early warning systems involving the United States would be inadequate. This was already understood shortly after the June 1967 war, when the US Joint Chiefs (JCS) issued an authoritative report advising permanent Israeli retention of the Golan. Ironically, for the past forty years, Israel's border with Syria has been more quiet than that country's borders with Egypt and Jordan, states with which Israel is formally "at peace." Damascus still demands that Israel withdraw to the pre-1967 line, not to the international border (as in the case of Egypt), but all the way to the Sea of Galilee. Yet, before 1948, the lake was entirely within Mandatory Palestine. Syria has missiles that place all of Israel within easy range of chemical and other WMD warheads. An Israeli abandonment of the Golan would do nothing to change this intolerable strategic situation. Nor would it reduce the prospect of all-out war on the Lebanese front or impair the influence of various Palestinian terrorist factions still based securely in Damascus. The Golan, which ranges up to a height of 7300 feet, dominates the Jordan Valley (the lowest point on Earth) as well as the Bashan Plateau, northeast up to Damascus. Here there are only two natural terrain bottlenecks. These choke points are defensible. With this plateau in Syrian hands, however, enemy tanks, backed up by missiles and aircraft, could potentially penetrate Israel. This would remain true even if the area were "demilitarized." Surrender of the Golan Heights would be inconsistent with Israel's overall security and its protection of vulnerable populations. Israel must properly define its northern borders accordingly. Such definition is logically prior to defense. The Golan, long important in Jewish history, must remain firmly in Israeli hands. Israel and the United States have coincident security interests. Together, both countries must now "stand up" to an especially determined enemy of peace and democracy in the Middle East. It is manifestly not in Israel's or America's interest to encourage renewed Syrian aggressions or to enlarge geographic opportunity for radical Islamist sanctuaries. By resisting an additional Israeli territorial loss on the Golan, there would be greater safety for the citizens of New York, Chicago and Los Angeles as well as those of Jerusalem and Tel-Aviv. Within such an understanding of courage, determination and inter-dependence lies the most meaningful endgame.
Terrorists Strike Baghdad Mosque
June 19….(AP) A truck bomb struck a Shiite mosque Tuesday in central Baghdad, killing 75 people and wounding more than 200, even as 10,000 US soldiers northeast of the capital used heavily armored Stryker and Bradley fighting vehicles to battle their way into an al-Qaida sanctuary.
The thunderous explosion at the Khillani mosque in the capital's commercial area of Sinak sent smoke billowing over concrete buildings, nearly a week after a bombing brought down the twin minarets of a revered Shiite shrine in the northern city of Samarra and two days after officials lifted a curfew aimed at preventing retaliatory violence from that attack. Gunfire erupted shortly after the blast, which police said occurred in a parking lot near the mosque, causing the outer wall and a building just inside it to crumble. Police and hospital officials, speaking on condition of anonymity because they feared retribution, said at least 75 people were killed and 204 were wounded, adding that the toll could rise as bodies were pulled from the debris. The mosque's imam, Sheik Saleh al-Haidari, said it was a truck bomb and the explosion hit worshippers as they were leaving afternoon prayers. "This attack was planned and carried out by sick souls, damaging the mosque's outer wall and collapsing my office and the room above it," al-Haidari told The Associated Press by telephone. "There are number of bodies being pulled from the rubble and a number of worshippers were killed or injured," he said, adding that he was not inside the mosque when the blast occurred. The Khillani mosque is named after a much-revered Shiite figure who, according to Shiite tradition, was one of four deputies anointed by the Imam Mohammed al-Mahdi, who disappeared in the 9th century and will return to restore justice to humanity.
Meanwhile, the US raids, dubbed "Operation Arrowhead Ripper," took place in Baqouba, the capital of Diyala province, and involved air assaults under the cover of darkness, the military said. The operation was still in its opening stages, it added. The troops, under cover of attack helicopters, killed at least 22 insurgents in the offensive, the US military said. The commander of Iraqi military operations in Diyala, Maj. Gen. Abdul-Karim al-Rubaie, said handcuffs, swords and electricity cables, apparently used as torture implements had been seized from militant safe houses in the area. The operation was part of new US and Iraqi attacks on Baghdad's northern and southern flanks, which military officials said were aimed at clearing out Sunni insurgents, al-Qaida fighters and Shiite militiamen who had fled the capital and Anbar during a four-month-old security operation. A top US military official said American forces were taking advantage of the arrival of the final brigade of 30,000 additional US troops to open the concerted attacks. "We are going into the areas that have been sanctuaries of al-Qaida and other extremists to take them on and weed them out, to help get the areas clear and to really take on al-Qaida," the senior official said." Al-Qaida has proven to be an extremely agile foe for US and Iraqi forces, as shown by its ability to transfer major operations to Baqouba from Anbar province, the sprawling desert region in western Iraq. There is no guarantee that driving the organization out of current sanctuaries would prevent it from migrating to other regions to continue the fight. Al-Qaida has conducted public killings in the Baqouba main square and otherwise sought to enforce an extreme Taliban-style Islamic code. The terror organization's actions in the province have caused some Sunni militants, al-Qaida's natural allies, to turn their guns on the group with US assistance and blessing. Some militant Shiites are likewise joining government forces in a bid to oust the foreign fighters and Muslim extremists.
US-Israel Back Palestinian Fatah Leader Abbas
June 19….(Middle East Daily) President Bush and Israeli Prime Minister Ehud Olmert on Tuesday sought to bolster Palestinian President Mahmoud Abbas, calling him a moderate voice and the only true leader of the Palestinian people. Bush and Olmert, at a meeting in the Oval Office, both spoke positively of new meetings between Abbas and the Israelis. I'm going to make every possible effort to cooperate with him," the prime minister said. Bush called Abbas "the president of all the Palestinians" and "a voice for moderation."
| | |
| --- | --- |
| | (FOJ) President Bush's Middle East Doctrine is in shambles. While Bush rightly classified Arafat as a terrorist, he nonetheless aligned his democracy push on yet another terrorist, Fatah's Mahmoud Abbas. |
Calling Mr. Abbas "the president of all the Palestinian people", both men pledged to work with his new emergency government, which excludes Hamas. Olmert insisted he was ready to meet Abbas on a regular basis, until peace was achieved. The talks in Washington are expected to focus on the practicalities of Israel's resumption of direct contact with the Palestinian Authority. On Monday, US Secretary of State Condoleezza Rice announced that the US government would resume full diplomatic relations with the Palestinian Authority immediately. She criticized Hamas, which she said had tried to impose an extremist agenda on the Palestinian people. "It is the duty of the international community to support those Palestinians who wish to build a better life, and a future of peace," Ms Rice added. She also announced $40m (£20m) of emergency aid to the UN Relief and Works Agency (UNRWA), which runs relief efforts in Gaza, now controlled by Hamas. Earlier, in a 15-minute phone call with President Bush, Abbas said the time was now right to push for new peace talks.
| | |
| --- | --- |
| | (FOJ) In this photo released by the Israeli Government Press Office, Israeli Prime Minister Ehud Olmert, right, shakes hand with US Secretary of State Condoleezza Rice during their meeting in Washington Monday, June 18, 2007. The US decision to end an economic and political embargo on the Palestinians increased pressure for a reciprocal move from Israel as the Bush administration hoped to improve the chances for peace. |
| | | |
| --- | --- | --- |
| | (FOJ) Gaza is now an Iranian type militant Islamic enclave on Israel's southern border. Sharia law is likely to be established in Gaza. It should be noted that Israel intercepted the Karine A weapons ship from Iran in 2002, 5 years before Israel "disengaged" from Iran. The weapons ship should have been foretelling of what Iran's intentions were in Gaza with Hamas | |
He said the new set-up could pave the way for talks on a permanent peace agreement between Israel and the Palestinians. "We will be ready to discuss with Mr Abbas the political horizon for what will eventually become the basis for a permanent agreement between us and the Palestinians," he said on Sunday. Mr Olmert said he was ready to renew regular contact with the Palestinian leader in order to "resolve the outstanding daily issues and move forward to finding ways to solve grander issues". Earlier, Mr. Olmert said he would be willing to take "more risks" with co-operating with what he called a "genuine partner" in the West Bank.
Iran Says Oil Will Be Used as a Weapon
June 19….(Israel Daily) Iran will not rule out using oil as a weapon if the United States resorts to military action against the Islamic Republic over its nuclear program, an Iranian oil official said in remarks published on Tuesday. "When the Americans say that military action in regard to the nuclear issue has not been put aside, Iran can also say that it will not put aside oil as a tool," Iran's OPEC governor, Hossein Kazempour Ardebili, told Iran's Sharq newspaper. Washington says it wants a diplomatic end to a row over Iran's nuclear ambitions but has not ruled out force if that route fails. Iranian officials say they do not want to use oil as a weapon but have also said they might do so if pushed. The United States accuses Iran of seeking to build atomic bombs, a charge Tehran denies. "We will not start using this tool (of oil) but if others use their tools that they have not put aside to put pressure on negotiations, it is natural that the two sides would discuss all their tools," Kazempour Ardebili said. Asked what would be the impact if Iran stopped its oil exports, Kazempour Ardebili said: "Definitely the market will be faced with a new shock and oil prices will increase strongly." He added that prices would climb above $100 a barrel. Although Iran is OPEC's No. 2 oil producer, it has to import about 40 percent of its domestic gasoline needs to meet domestic demand for fuel because it lacks refining capacity.
Hamastan: 'Christians Must Accept Islamic Rule'
(Militant Hamas leader in Gaza says missionaries will be 'dealt with harshly,' demands women wear headscarfs)
June 19….(WND) Christians can only continue living safely in the Gaza Strip if they accept Islamic law, including a ban on alcohol and on women roaming publicly without proper head coverings, an Islamist militant leader in Gaza told WND in an exclusive interview. The militant leader said Christians in Gaza who engage in "missionary activity" will be "dealt with harshly." The threats come two days after a church and Christian school in Gaza were attacked following the seizure of power in the territory by the Hamas terror group. "I expect our Christian neighbors to understand the new Hamas rule means real changes. They must be ready to live by Islamic rule if they want to live in peace in Gaza," said Sheik Abu Saqer, leader of Jihadia Salafiya, an Islamic outreach movement that recently announced the opening of a "military wing" to enforce Muslim law in Gaza. Jihadia Salafiya is suspected of attacking a United Nations school in Gaza last month, after the school allowed boys and girls to participate in the same sporting event. One person was killed in that attack. "The situation has now changed 180 degrees in Gaza," said Abu Saqer, speaking from Gaza yesterday. "Jihadia Salafiya and other Islamic movements will ensure Christian schools and institutions show publicly what they are teaching to be sure they are not carrying out missionary activity. No more alcohol on the streets. All women, including non-Muslims, need to understand they must be covered at all times while in public," Abu Asqer told WND. "Also the activities of Internet cafes, pool halls and bars must be stopped," he said. "If it goes on, we'll attack these things very harshly." Abu Saqer accused the leadership of the Gaza Christian community of "proselytizing and trying to convert Muslims with funding from American evangelicals." "This missionary activity is endangering the entire Christian community in Gaza," he said. Abu Saqer claimed there was "no need" for the thousands of Christians in Gaza to maintain a large number of institutions in the territory. About 2,000 Christians live in the Gaza Strip, which has a population of over 1 million. Abu Saqer said Hamas "must work to impose an Islamic rule or it will lose the authority it has and the will of the people." His comments come after gunmen on Sunday attacked Gaza's Latin Church and adjacent Rosary Sisters School, reportedly destroying crosses, bibles, pictures of Jesus and furniture and equipment. The attack was the first targeting of Christian institutions since Hamas last week staged a coup against the rival Fatah party of Palestinian Authority President Mahmoud Abbas, seizing all Fatah positions and security compounds, essentially taking complete control of the Gaza Strip.
Abbas Aide Admits Iran told Hamas to Start Coup in Gaza
June 19….(Ha Aretz) An aide to Palestinian Authority Chairman Mahmoud Abbas admitted on Monday that Iran had encouraged Hamas to use violence to take control of the Gaza Strip. "Iran supports non-democratic groups in Palestine, Lebanon and in Iraq and we hold Iran responsible for encouraging Hamas to carry out its coup in Gaza," senior Palestinian official Yasser Abed Rabbo said. A Hamas spokesman in Gaza said the charges were "weak and false." "The involvement of senior Fatah leaders with the occupation (Israel) has become clear and Abed Rabbo is trying to cover up for this by spreading weak and false allegations that will not fool the Palestinian people," Hamas's Sami Abu Zuhri said. Abbas swore in an emergency government on Sunday after Hamas's violent takeover of the Gaza Strip last week forced him to sack the Hamas-led unity government. "We reject accusations by Iranian Foreign Minister Manouchehr Mottaki that the formation of the emergency government is a step that is hostile to democracy. Iran has no right to give us lessons in democracy," Abed Rabbo, a senior Abbas aide, told Reuters. Iran, which supports Hamas, blamed the United States and other foreign parties for the crisis between Hamas and secular Fatah, an Iranian news agency reported. Mottaki said: "America and some foreign parties in the region are trying to increase clashes in Palestine, although individual movements of the Palestinian groups can make the current gap wider." Iran is one of the few states which provided financial support to Hamas despite the international restrictions imposed on the government which it led. Despite Abbas's sacking of Ismail Haniyeh's three-month-old unity government, Haniyeh insists his administration is still legitimate, and Iran concurs .
Abbas Fails in bid to Gain Support From Syria's Assad
June 19….(DEBKA) Mahmoud Abbas asked Syrian President Assad to follow in his father's footsteps and recognize a single Palestinian authority, the PLO and himself as its head, while treating Hamas as an occupying force in Gaza. Abbas appealed to Assad that his first step should be to denounce the Hamas' coup d'etat in Gaza and recognize the Fatah government in Ramallah. When Assad did not immediately agree, DEBKAfile's Middle East sources report Abbas threatened to publicly expose Syria's active role in abetting Hamas' takeover of the Gaza Strip. Assad finally agreed to talk further with an Abbas emissary to Damascus. This did not work out either. The PLO executive member Abbas Zaki, who is in charge of Palestinian refugee camps in Lebanon, was sent post-haste to the Syrian capital where President Assad declined to even receive him. Syrian Foreign minister Walid Moallem, who did, said he would pass his message on. Taking this as a brush-off, Abbas turned for support to Syrian opposition Muslim Brotherhood leader in exile Sadr e-Din Bayouni. In Cairo, however, the Muslim Brotherhood leader Muhammed Mahdi Aqef came out openly behind Hamas, its Palestinian offshoot, breaking away from the official Egyptian line which has led to the severance of ties with Hamas and a decision to relocate the Egyptian diplomatic mission to Ramallah, the Fatah government's capital.
Saudi King Expresses Fear Middle East Conflicts Could Become Global
June 18….(Israel Today) Saudi Arabia's King Abdullah, a key player in Middle East politics, said he fears conflicts in the Palestinian territories, Lebanon and Iraq could explode into a "global one," adding that his monarchy was making great efforts to reach peace. "My fears are similar to those of all sensible people, that the continuation of all these conflicts will provoke an explosion that will not be restricted to the region, but will have global dimensions," the monarch told Spain's leading daily El Pais in an interview published Monday prior to his arrival in Spain for a three-day visit. Regarding the latest outbreak of internal Palestinian violence, Abdullah said: "I feel profoundly hurt by what is happening in Palestine. We are in contact with all the parties involved within the Palestinian community," he said in the interview conducted in Morocco. Saudi Arabia has commented little on the recent clashes in Gaza between Hamas and their rivals in the Fatah movement, a sign some see as anger at the two sides and reluctance to get involved. In February, the Saudi Kingdom hosted a summit between Palestinian President Mahmoud Abbas of Fatah and Hamas leader Khaled Mashaal aimed at ending a previous bout of fighting between them. The meeting in the holy city of Mecca ended with a deal on a Hamas-Fatah unity government that Saudi Arabia touted as a major breakthrough, and that has now collapsed, following Hamas' violent takeover of the Gaza Strip last week. "The Middle East has suffered from one of the longest conflicts of contemporary history, the Israeli-Palestinian clash and the side effects including Israeli occupation of Arab lands," King Abdullah told El Pais. "Just as we are deploying enormous efforts to resolve these conflicts, we have the extensions of instability in Iraq and Lebanon, and let's not forget Darfur," he said. Abdullah described the Iranian nuclear issue as another problem for the region.
EU Backs New Palestinian Government
June 18….(Israel Insider) EU foreign policy chief Javier Solana announced Monday that direct aid will be reinstated to Palestinian Authority Chairman Mahmoud Abbas' new government headed by Prime Minister Salam Fayyad.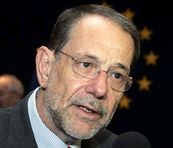 The emergency government that Palestinian President Mahmoud Abbas installed after Islamic militants seized control of Gaza reaped its first windfall on Monday, with the European Union promising to restore hundreds of millions of dollars in crucial aid. The EU traditionally has been the Palestinian Authority's largest donor, and the reinstatement of aid, cut off after the Islamic Hamas movement took power 15 months ago, could signal the beginning of the end to a crippling international boycott. The international community has largely rallied behind Abbas' government, led by Prime Minister Salam Fayyad, an internationally respected economist. In a major boost to Abbas, EU foreign policy chief Javier Solana announced in Luxembourg on Monday that the 27-nation bloc would resume direct financial aid to the Palestinian Authority now that Hamas is no longer part of the government. "We absolutely have to back" the new government in the West Bank, said Luxembourg Foreign Minister Jean Asselborn. The United States, another major donor to the Palestinians, has said it will end its financial embargo, while Israel has signaled that it too will ease sanctions on the Palestinians. Israel collects some $55 million a month in customs duties on behalf of the Palestinians, but has withheld the funds since Hamas took power. The stark division between Gaza and the West Bank since Hamas' lightning takeover of Gaza has raised grave questions about the ability to stave off a humanitarian crisis in Gaza. Both Israel and Egypt have sealed off the area's borders. In New York, Israeli Prime Minister Ehud Olmert said Sunday that his country would be a "genuine partner" of the new Palestinian government and promised to consider releasing hundreds of millions of dollars in frozen tax funds. And the top US diplomat in Jerusalem, Jacob Walles, said Sunday that Washington would fully support Abbas' new government and resume aid.
Abbas Wants Israeli Concessions If He is to Counter Hamas
June 18….(DEBKAfile Exclusive Analysis) Mahmoud Abbas has good reason to rejoice over Ehud Olmert's strange celebration of the Hamas victory in Gaza as "a new peace opportunity," especially as the prime minister brings this message to his White House talks with President George W. Bush Tuesday, June 19. The rest of the West is lamenting the fact a jihadist Islamic terrorist organization has acquired rule over a territory for the first time. Abbas is making hay. His Fatah government installed in Ramallah Sunday, June 17, is already getting a shower of direct Western aid. The European Union has added its usual two bits of advice for Israel to add its support. The Palestinian leader has translated this advice into a list of extortionate concessions, which Israel previously denied as opening the door to suicidal terror in its cities. Abbas means to demand the massive release of the most dangerous Palestinian security prisoners, including multiple murderers, and the sweeping removal of the West Bank checkpoints which screen and intercept potential bombers. He was quick to grasp that Olmert in this mode will be openhanded enough to give him a fresh lease of life in the form of concessions to buy his passport to credibility in Palestinian eyes. He will then have the leverage he needs for his next move, not a war to prevent Hamas domination of the West Bank, but to the contrary, reconciliation with the jihadists of Gaza. He is gearing up to establish another Palestinian unity government, one which endorses Hamas as masters of Gaza and grants him wall-to-wall approval at the top of the Palestinian tree instead of a flop in Gaza. A serious obstacle to this ambition, the presence at his side of the ex-Gaza strongman Muhammed Dahlan, the object of Hamas' abhorrence, as national security adviser, is about to removed. The inquiry commission Abbas announced Monday to probe the Gaza fiasco will take care of that. In the meantime, the 11 ministers he named to his emergency cabinet in Ramallah Sunday, June 17, are mostly nonentities, except for the pro-Western Prime Minister, Salim Fayyed, who is trusted in Washington and Brussels with aid funds. The portfolios are available for returning Hamas ministers, including the prize bait of the interior ministry which controls Palestinian security forces.
That Abbas was building a façade was obvious from his choice of interior minister: the 80-year old pensioned-off general Razek Yahya, who lives in retirement in Amman and is clearly a stopgap. Had he intended to put up serious resistance to a Hamas takeover of the West Bank, Abbas would have installed a charismatic military leader with operational qualifications. As for the Western aid funds about to pour into Ramallah, Abbas will not invest the cash in a security force capable of taking on Hamas, because not a single soldier will be sent into battle against the Islamist group, any more than he sent his Presidential Guardsmen into action to save Gaza from Hamas domination last week. For his needs, the force built by the Americans will suffice. Aid funds will be used to cover the wages of the Palestinian Authority security personnel remaining in the Gaza Strip under Hamas rule and preserve their loyalty. DEBKAfile's Israeli military sources with long experience of Palestinian dealings say this is a typical formula, familiar from the aftermath of the 1983 Oslo accords: Fatah officers will survive in Gaza by serving two masters, Abbas and Hamas, and drawing salaries from both. The rampage his security forces conducted under Col. Tawfiq Tirawi against Hamas activists and institutions in the last three days is described as no more than token action to gain Abbas an extra bargaining chip against Hamas. Once a deal is struck, Hamas will be reinstated on the West Bank as before. Abbas' candidate to replace Dahlan as his number two is Jibril Rajoub, former chief of the West Bank Preventive Security Service and Dahlan's old enemy, who gets on well with Hamas. He has been designated Abbas' lead negotiator, DEBKAfile's sources disclose, for the reconciliation talks with Hamas, which are due to start in a couple of months after the dust settles in Gaza. Rajoub is already doing some spadework in Cairo. He has advised Egyptian leaders not to cut of their ties with Hamas, after pulling out their diplomatic and military missions from Gaza last week, but to work with the Hamas' "moderate" wing and the "right people" in Fatah as future power-sharing partners. So why is the Israeli prime minister so pleased with the Gaza episode? And what blinds him to Abbas' manipulations for consolidating Hamas' grip on Gaza, ensconcing Iran and Damascus on Israel's border, and strengthening Hamas' position on the West Bank and in Palestinian government? DEBKAfile's sources report that Olmert hopes his Gaza line will make Israelis and Americans forget his blunders in supporting Israel's disengagement from Gaza in 2005, his permission for the Jan. 2006 Palestinian general poll which brought Hamas to power through the ballot and his mismanagement of the Lebanon war last summer. He will argue that his policies will eventually triumph in the Middle East if he is allowed to pursue them to the finish.
Fresh Guns for Fatah From America
June 18….(Arutz) American officials have asked the US Congress to restore funding that was to beef up weapons, ammunition and other materiel for Palestinian Authority Chairman Mahmoud Abbas's Force 17 personal militia last year. The reason: Fatah lost a massive amount of military supplies when its Gaza forces were vanquished by Hamas last week in the PA civil war. A PA official warned during the Hamas takeover that the terrorist faction had succeeded in grabbing "thousands of rifles, large amounts of ammunition and dozens of vehicles," including armored jeeps and armored personnel carriers supplied by the US, Egypt and Israel. "This is really bad news for all," he said. According to the State Department, Assistant Secretary of State David Welch submitted the request at the end of recent Congressional hearings to restore $27 million in aid to the Fatah militia in order to help Force 17 re-arm. The original aid package, more than $50 million, was approved six months ago to help train the Fatah forces under the direct supervision of US military envoy Lt.-Gen. Keith Dayton. The package was trimmed by half however, after Secretary of State Condoleezza Rice warned she could not guarantee that Hamas would not end up with the equipment supplied by the US. Thousands of weapons and other materiel were shipped to the PA militia from American allies Egypt and Jordan, with Israel's full knowledge and approval. Of those, however, many were confiscated by Hamas as it won smaller skirmishes with Fatah over the year. Lt.-Gen. Dayton's performance is now being questioned in the wake of his protégés' stunning defeat at the hands of Hamas terrorists in Gaza, who honed their military skills under the tutelage of Iranian-backed Hizbullah terrorists in Syria, Lebanon and possibly Iran
Hezbollah Fires Katyusha Rockets into Kiryat Shmona
June 18….(Arutz) Three Katyusha rockets slammed into northern Israel at approximately 5:25 p.m. Sunday, with no prior warning. Some damage was caused, though no one was hurt. Two rockets landed in Kiryat Shmona and one near Kfar Blum. The streets of Kiryat Shmona quickly emptied of pedestrians and cars, but returned to routine two hours later. The rockets, 107 mm Katyushas, were fired from Lebanon, although there are conflicting reports as to who actually launched the attack, though they were most likely from Hezbollah. Hizbullah broadcast firm denials of any connection with the attack, and Lebanese army officials agreed: they said they believed the rocket fire came from a Palestinian enclave. IDF sources identified three launches from opposite the Ramim ridge, five to seven kilometers north of Israel's northern border. The area adjoins a number of positions occupied by the United Nations Interim Force in Lebanon (UNIFIL). One of the rockets landed in the town's industrial area near the Neviot water factory, damaging the building and barely missing a crowd of people standing nearby. Passenger cars were also hit by shrapnel, and one car sustained moderate damage in the front. One woman suffered shock and more people suffered anxiety attacks, but no other injuries were reported. A second rocket exploded in a residential area in the city, and the third landed in a field next to Kfar Blum. Approximately 1,000 Katyusha rockets hit Kiryat Shmona during the Second Lebanon War last summer.
Damascus Ordered Katyusha Attack on Kiryat Shemona
June 18….(DEBKA) The three 107mm rockets fired against Kiryat Shemona from Wadi Taiba Sunday, June 17, by a Palestinian radical group called Ansar Allah based in the Ain Hilwa refugee camp near Sidon was ordered by Syrian military intelligence as the first in a series, DEBKAfile's military sources report. Hizballah intelligence officers supplied the rockets and pinpointed the launching site to make sure they struck the Israeli town. Residents rushed for bomb shelters for the first time since the Lebanon War ended eleven months ago. A factory and parked vehicles were damaged. The hit squad drove up in a rental Toyota, rigged the rockets and drove off. DEBKAfile's intelligence sources report that Syria and Hizballah are preparing an escalating series of rocket barrages against northern Israel civilian and military locations in the coming weeks. It is a stage in an overall plan orchestrated by Tehran, Damascus and Hizballah to stage attacks in Lebanon, Israel and Palestinian territory. Its objectives are to destabilize the pro-Western Siniora government in Beirut and whittle down Israel's deterrent strength. Rocketing Kiryat Shemona was Stage 3 of the plan. Stage one is the five-week old radical Islamic, pro-Damascus uprising in the Palestinian refugee camp of Nahr al-Bared, which the Lebanese army has not yet subdued. Stage two was Hamas' just-completed capture of the Gaza Strip from Fatah and the Palestinian Authority. DEBKAfile's military sources disclose that in the name of "restraint," Israel's government and military leaders refrain from connecting the dots of the campaign ahead and its links to Tehran and Damascus in time to foil it, in the same way as they glossed over Hizballah's build-up for the 2006 Lebanon war. According to our intelligence sources, a former Fatah officer called Jamal Suleiman is Ansar Allah's leader. He moved to Damascus in the 1980s and returned to the Ain Hilwa in Lebanon in April loaded with cash. He then began recruiting for his Ansar al Allah, working to exactly the same Damascus-designed format as the Fatah al-Islam was embedded in the northern camp of Nahr al-Bared. If Israeli leaders refuse to call a spade a spade, Fatah leaders are more outspoken. Sunday, Azam al Ahmad declared in an interview in Ramallah that the perpetrators of the crime against the Palestinian Authority in Gaza are the same people who sent assassins to murder the Lebanese politician Rafiq Hariri, "Both come from the same hand [Syria]," he said.
Netanyahu: Where We Unilaterally Withdraw, Terrorists Take Over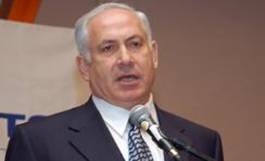 June 18…..(Arutz) Opposition leader Binyamin Netanyahu says we must learn the lessons from the Hamas takeover of Gaza, and ensure that it doesn't happen in Judea and Samaria. Speaking with government-run Voice of Israel Radio, Netanyahu said, "We must understand the dangers: Every piece of land that we unilaterally evacuate, becomes a place where rockets are deployed against us. We must ensure that what is happening in Gaza doesn't reach Judea and Samaria as well. Unilateral withdrawals are not the answer. We said in the past that the retreat from Gush Katif would lead to increased terrorism and arms-smuggling, and we were right." Netanyahu did not negate territorial concessions, but merely said they must not be unilateral. He said that the same mistake occurred in Lebanon seven years ago: "Our hasty withdrawal from southern Lebanon in May 2000, under then-Prime Minister and incoming Defense Minister Ehud Barak turned it into Hizbulland, and our hasty exit from Gaza caused it to become Hamastan. If we leave Judea and Samaria, terrorism will increase; the IDF's presence there is preventing it from becoming Hamastan as well." Speaking with reporters touring the Golan Heights this morning, Netanyahu warned that Gaza will rapidly develop into a springboard for Iranian activities if the IDF does not move to crush Hamas. "We cannot have an Iranian base on the outskirts of Be'er Sheva and Tel Aviv," the former prime minister said.
The News Week in Gaza
June 18….(David Dolan) I have been receiving requests to comment on this week's massive upheaval in the Gaza Strip, now also affecting areas around Jerusalem. the main thing I can say is that it signals far more regional trouble ahead—possibly including the collapse of the Hashemite regime in Jordan, and drives the final coffin nail into the imaginary Western-backed Oslo peace process, which was based on the naïve proposition that Arab populations, especially the Palestinians, but later also the Iraqis, are ready for stable, Western style democracy. The brutal, bloody Hamas takeover of the Gaza Strip this week also portends another round of armed attacks upon Israel from Iranian-back forces, including Hamas, Hizbullah and this time probably also Syria. It is also another serious blow to US foreign policy in the region, which has been off course in my estimation ever since President Bill Clinton pushed a skeptical Yitzhak Rabin to shake hands with the weak Yasser Arafat on the White House lawn in September 1993, followed by the Bush Administration's post 9/11 strategic error to widen the justified war against Taliban forces in Afghanistan with an attack upon Saddam Hussein, which could only predictably bring a Shiite-dominated government to that country. This in turn would predictably further embolden the region's main threatening Muslim actor, Shiite Iran, and all of its allies, especially Hamas, Syria, and Hizbullah, the Iranian-Syrian puppet Lebanese Shiite force. So now we have an Islamic fundamentalist state, Hamastan, backed by Syria and Iran, not far from Tel Aviv, Ben Gurion airport, and Jerusalem. The sad, disturbing fact is that a majority of Palestinians around Jerusalem also support the radical, banal thugs, as the Palestinian elections showed in early 2006, followed by municipal elections in several cities, and recent opinion polls also demonstrate, meaning the struggle could easily spill over to those areas as well. This in my opinion is clearly Iran's hope and intention. Of course, the Israeli government and military are well aware of this ominous prospect, which partly explains why a new, more experienced Israeli Defense Minister was quickly installed this week, the former army general and former prime minister, Ehud Barak. As some of you know, I was the first Israel-based journalist to focus on what was then a new offshoot of the Egyptian-based Muslim Brotherhood, called Hamas. Reporting on the first Palestinian uprising that began in December 1987, I began the section on the top of page 169 with the subtitle "ISLAM LEADS THE REVOT." That was followed two pages later by a five page examination of the new Hamas founding charter under the subtitle "An Islamic Covenant." Then I noted that Hamas represented the true "will of the people" in my estimation, predicting that PLO chairman Yasser Arafat would not in the end be able to thwart the Iranian-inspired threat that Hamas would eventually pose to his declared intentions to lead his people to a two-state peace solution with Israel. All that has sadly proved to be correct, as the radical group began blowing up Israeli buses, and thus wrecking the Oslo process, in April 1994, leading to its total collapse in the summer of 2000. I was heavily criticized by several well-known media colleagues here in Israel for focusing so much attention on Hamas, and especially for predicting that they would be able to crush any peace accord between Israel and the PLO, with the help of Iran and Syria. The growing fundamentalist Muslim convictions are the convictions of the Palestinian people, inspired by the Khomeini Islamic revolution. As Gaza demonstrates, neither the Palestinians or Iraqis, nor any other regional Arab people group, are even remotely ready for western style democracy in my on-scene estimation. If we insist that they have a fully "free" vote, as the State Department and others did in 2005, imploring Israeli leaders to allow Hamas to run in the January 2006 PA elections since that was "true democracy," despite the fact that the elections were set up as part of an Israel-Palestinian peace accord that Hamas totally opposed, radical Muslim groups backed by Iran and Al Qaida will only use such votes as a further tool in their aspirations to strike down all pro-Western regional governments, including in Lebanon, Egypt, Jordan, Saudi Arabia, and of course in Israel. And if the nations insist that Israeli leaders hand over more territory to her determined enemies, such land will only be used to launch further assaults against the only functional democracy in the turbulent Middle East.
Israel Planning Attack on Gaza?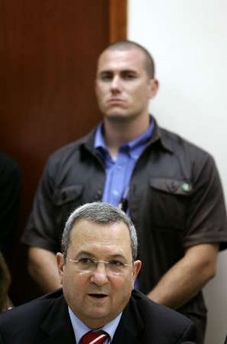 June 18….(Times on Line) Israel's sudden new defense minister Ehud Barak may be planning an attack on Gaza within weeks to crush the Hamas militants who have seized power there. According to senior Israeli military sources, the plan calls for 20,000 troops to destroy much of Hamas's military capability in days. The raid would be triggered by Hamas rocket attacks against Israel or a resumption of suicide bombings. Barak, who is expected to become defence minister tomorrow, has already demanded detailed plans to deploy two armoured divisions and an infantry division, accompanied by assault drones and F-16 jets, against Hamas. The Israeli forces would expect to be confronted by about 12,000 Hamas fighters with arms confiscated from the Fatah faction that they defeated in last week's three-day civil war in Gaza. Details of the plan emerged as Fatah forces in the West Bank stormed Hamas-run buildings, including the parliament in Ramallah, where they tried to seize the deputy speaker. Israeli officials believe their forces would face even tougher resistance in Gaza than they encountered during last summer's war against Hezbollah in south Lebanon. A source close to Barak said that Israel could not tolerate an aggressive "Hamastan" on its border and an attack seemed unavoidable. "The question is not if but how and when," he said.
Israel Is Threatened By Hezbollah & Hamastan
June 18….(DEBKA) More and more Israeli commentators are frankly admitting that Israel's pull-out from Gaza in the summer of 2005 was an open invitation to the forces of radical Islam to set up house in the defenseless territory. Now, Israeli prime minister Ehud Olmert, foreign minister Tzipi Livni and the rest of their Kadima party who presided over that withdrawal are building new castles in the sky to vindicate that error. Hamas has not triumphed, they say, but offered Israel the chance of a fresh start to separate Gaza, a mere "terrorist entity," from the West Bank. There, a Hamas-free regime led by Abbas is a fit partner for peace diplomacy. With this fallacious thesis, Olmert is on his way to a three-day visit to the United States including talks with President George W. Bush as the White House Tuesday, June 17. It was this thinking that led him to heed the advice, which DEBKAfile's military sources report came from chief of staff Lt. Gen Gaby Ashkenazi, and was opposed by the OC Southern Command Brig. Gen Yoav Galant, to refrain from interfering in the Hamas takeover. His predecessor, Dan Halutz, likewise played down the Hizballah threat from Lebanon until it was too late. Rather than getting to grips with the Gaza crisis, Olmert shored up his cabinet and political strength by designating the newly-elected Labor leader Ehud Barak defense minister to mind the store in his absence. The onus is now on the new minister, a former prime minister, to come up with an ingenious remedy for restoring Israel's security initiative and deterrence, however belatedly. A former Israeli national security adviser Gen (ret.) Giora Eiland argues now that the influx of tons of smuggled weapons and explosives into Gaza Strip must be halted at any price. There is a real danger of Hamas importing reinforcements from Syria and Lebanon for its next offensive. Egypt will, as usual, stand aside. Eiland was the only defense official at the time to oppose disengagement as a recipe for bringing Iran and al Qaeda to Israel's borders. Having been proved correct, he now proposes to limit the damage by recapturing the Philadelphi route and the southern outskirts of Palestinian Rafah, flatten the houses there and evict 15,000-20,000 people. Gaza must be cut off from Israel to block Hamas and its Iranian and Syrian sponsors' path to a second victory on the West Bank. Olmert will discuss "internationalization" and other knee-jerk remedies with President Bush, including the tightening of the financial squeeze by Western powers and Arab governments on Hamas and placing Gaza under siege. Olmert can expect a sympathetic hearing from a president who is grappling with his own reverses in Iraq and now in Lebanon. He will no doubt follow Washington's lead in releasing frozen funds withheld from the Hamas-led Palestinian government in the past to Abbas and his No. 2, Mohammed Dahlan, who made sure of arriving in Ramallah only after the Gaza debacle was over. DEBKAfile's Middle East analysts point to six fallacies in their thinking:
1. Hamas is not short of cash. The people of Gaza are in deep distress because that cash is not spent on feeding them or creating jobs but on the tools of war for Hamas' Executive Force. The Islamist group is subsidized by Iran, Damascus and other Arab and Muslim states. The Islamist lords of Gaza will no more be starved into submission than Iran is cowed by sanctions to give up its nuclear ambitions.
2. Pouring US and Israeli hopes and investments into the Abbas-Dahlan outfit ended in disaster in Gaza. The Fatah-forces built and trained under the supervision of an American general were utterly humiliated in Gaza. Any hope of their coming up to scratch in a second round on the West Bank, which is bound to follow, is a pipe dream.
3. Not only Iran and Syria, but six Arab governments, including Saudi Arabia and Qatar, refuse to cut their ties with the Hamas regime or hold back funds. So forget about an Arab boycott of Hamas. Forget also about a siege; it never works.
For Abbas, the unkindest cut of all was Qatar's announcement at the Arab League foreign ministers' meeting in Cairo Friday, that it would not recognize the emergency government Mahmoud Abbas is installing in Ramallah with Salim Fayyad at its head. Abbas' main base of residence and personal business is located in Doha. The Arab League's resolution carried Friday contained another painful barb: The Palestinians were called on to respect the legitimacy of Ismail Haniyeh .
4. The premise that Fatah forces are strong on the West Bank compared with their weakness in Gaza is another illusion floated to corroborate Olmert's reading of the Palestinian crisis. After losing the Gaza Strip, masked Fatah gunmen seized several hundred Hamas officials and stormed Hamas-controlled parliament, government and local council premises across the West Bank. But they do not have the popular leverage for purging Hamas' influence in the key West Bank towns of Greater Nablus, Tulkarm, Qaiqilya, Ramallah, Hebron and East Jerusalem. There, Hamas is not only popular, but works hand in glove with radical factions of Abbas' own Fatah al Aqsa Martyrs' Brigades, who like Hamas are in the pay of Iran, Syria and Hizballah.
One Israeli parliamentarian said Abbas had been reduced to being "mayor of Ramallah."
5. Neither Hamas nor its generous sponsors in Tehran and Damascus intend to stop at the Gazan border. When the moment is opportune, they will go for the West Bank too and unite both under fundamentalist Islamic rule which will then be armed for its next target, Israel.
Iran's Long Game Strategy Sets Stage for Regional War
June 18….(Times On Line) Israel awoke last Friday to find itself encircled by enemies with its most determined foe, Iran, entrenched on its southern doorstep in Gaza. Hamas's stunningly swift victory in a brief civil war has left the Jewish state at its must vulnerable for three decades. Inspired by a philosophy of militant Islam and backed by Iranian weaponry and military training, Hamas poses a direct threat to Israel and, if left unchecked, will soon be in a position to step up its lethal rocket attacks on towns and villages across the border. In Lebanon to the north, Israel faces Hezbollah, the militant Syrian-backed militia, which has rebuilt its frontline forces, also with Iranian help, since last summer's war exposed the shortcomings of the Israeli defense forces. The Lebanese government can do little to curb Hezbollah's growing strength. "Tehran has succeeded in planting an Iranian division in the north and now they have a foothold in the south by establishing their southern division - Hamas," said a source in Israel's defense ministry. Then there is Syria, with which Israel is still officially at war. Damascus is demanding the return of the Golan Heights, occupied by Israel since 1967. Ehud Olmert, the Israeli prime minister, said recently his country did not want war with Syria but warned that a "miscalculation" could spark one. To the east, beyond Jordan, lies the deeply unstable Iraq, and the greatest threat of all in Israeli eyes, Iran. Mahmoud Ahmadinejad, the Iranian president, has declared that Israel should be "wiped off the map" and continues to advance a nuclear programme in defiance of the United Nations Security Council. Israeli intelligence has little doubt that if Israel or the US attacks Iran's burgeoning uranium enrichment programme, much of the retaliation will come from Tehran's clients on its borders. They are also watching a fierce debate inside the US administration between doves led by Condoleezza Rice, the secretary of state, and hawks such as Vice-President Dick Cheney, on the repercussions of any military strike against Iran. With the doves seemingly holding the upper hand in Washington, US support for a hardline Israeli response may be fading. But Israeli leaders continue to warn that they will prevent Iran from acquiring nuclear weapons. Ehud Barak, who is expected to be appointed defence minister tomorrow, met Olmert to agree a crisis plan to deal with the threat of Hamas before Olmert left for Washington to meet President George W Bush this week. "Israel will not tolerate a Hamastan at its back door," said one of Barak's close associates.
Iran Condemns Knighthood for Salman Rushdie
June 18….(AP) Iran on Sunday condemned Britain's decision to knight Salman Rushdie, the author who was forced into hiding for a decade after the leader of the Iranian revolution ordered his assassination by issuing a fatwa for his death. Iran Foreign Ministry spokesman Mohammad Ali Hosseini said granting Britain's highest honor to Rushdie, whose novel "The Satanic Verses" sparked the death threat, insulted the Muslim world. His comments came during a time of especially tense relations between the Islamic republic and the West. "Awarding a person who is among the most detested characters in the Islamic society is obvious proof of anti-Islamism by ranking British officials," Hosseini said at his weekly press conference. Rushdie went into hiding after Iran's Ayatollah Ruhollah Khomeini issued a 1989 fatwa, or religious edict, ordering Muslims to kill the author because of contents in "The Satanic Verses" were offensive to Islam.
WEEK OF JUNE 11 THROUGH JUNE 17
Gaza – What a Surprise!
The US State Department and the Israeli government appeasers are wringing their hands today because Hamas has consolidated its power in the Gaza Strip, executing members of the opposition and, effectively, declared all-out war on the state of Israel. It didn't have to be this way. It turned out this way because, under international pressure, Israel caved, capitulated and appeased these Islamo-fascist terrorist monsters, presumably thinking an act of goodwill would win the favor of a population that has been bred on hatred of Jews, Christians and the West. It was a stupid, counter-productive decision to evacuate Jews from Gaza and turn it over to the Palestinian Authority. It showed weakness. It encouraged more terrorism, more murder, more unprovoked attacks. It was predictable. I saw it coming. The only question left on the table is whether Israel and the US will learn from this debacle. Will people who advocated the ethnic cleansing of Gaza see the seriousness of the miscalculation? Weapons and financial aid provided to the Palestinian Authority by the US and Israel will now be used against Israelis, and likely against the US in the form of international terrorism as well. Al-Qaida allies now have a bona fide beachhead in the Mediterranean. They have a mini-state of their own, and they will use it as a base to win more territory. First on their agenda will be a Hamas government in the West Bank, still held by the Mahmoud Abbas Palestinian Authority. What should be done now?
· Israel and the US should cancel all plans for moving closer to establishing a Palestinian state, anywhere, any time.
· Israel and the US should cut off all aid to the Palestinian Authority, which has demonstrated its inability to rein in those who will never live in peace with their neighbors.
· Israel and the US should reverse all plans for disengagement in Judea and Samaria. No more Jews and Christians leave, not now, not ever!
· The first attack on Israel from Gaza should be greeted as an act of war and Gaza should be reconquered and reoccupied.
These will seem like harsh recommendations to some in the US State Department, even now suggesting further negotiations as a means of solving the crisis. Gaza demonstrates vividly why you cannot compromise with evil. Gaza demonstrates vividly what happens when the West runs up the white flag of surrender and appeasement. Gaza demonstrates the seriousness of the stakes in the battle against Islamo-fascism in the Middle East and around the world. Gaza should also demonstrate to all Americans it is no time to consider withdrawals under pressure in Iraq. There is no alternative to military victory over the Islamo-fascists of al-Qaida and Hamas and Hezbollah and the Iranian regime that supports all of these groups to one extent or another. Not another square inch of territory should be allowed to fall to them. It's time for a major counteroffensive. It's time to begin fighting to win. The enemy must be destroyed, vanquished, beaten, killed. Halfway measures will never work. We are dealing with an uncompromising force of pure evil. That's what the coup in Gaza demonstrates
Arafat's Children
(Gaza's mayhem is the bitter fruit of terror as statecraft)
June 16….(Opinion Journal) Scores of Palestinians were killed this week in Gaza in factional fighting between loyalists of President Mahmoud Abbas of Fatah and those of Prime Minister Ismail Haniyeh of Hamas. As if on cue, it took about 24 hours before pundits the world over blamed the violence on Israel and President Bush. This is the Israel that dismantled its settlements in Gaza in August 2005, a unilateral concession for which it asked, and got, nothing in return. And it is the US President who, in a landmark speech five years ago this month, called on Palestinians to "elect new leaders, leaders not compromised by terror." Had Palestinians done so, they could be living today in a peaceful, independent state. Instead, in January 2006 they freely handed the reins of government to Hamas in parliamentary elections. What is happening today is the result of that choice--their choice. That election didn't simply emerge from a vacuum, however. It is a consequence of the cult of violence that has typified the Palestinian movement for much of its history and which has been tolerated and often celebrated by the international community. If Palestinians now think they can advance their domestic interests by violence, nobody should be surprised: The way of the gun has been paying dividends for 40 years. In 1972 Palestinian terrorists murdered Israeli athletes at the Munich Olympics. Yet only two years later Yasser Arafat addressed the UN's General Assembly--the first non-government official so honored. In 1970 Arafat attempted to overthrow Jordan's King Hussein and tried to do the same a few years later in Lebanon. Yet in 1980, the European Community, in its Venice Declaration, recognized Arafat's Palestine Liberation Organization as a legitimate negotiating partner. In 1973, the National Security Agency recorded Arafat's telephoned instructions to PLO terrorists to murder Cleo Noel, the US ambassador in Sudan, and his deputy George Curtis Moore. Yet in 1993, Arafat was welcomed in the White House for the signing of the Oslo Accords with Israel. That same year, the British National Criminal Intelligence Service reported that the PLO made its money from "extortion, payoffs, illegal arms-dealing, drug trafficking, money laundering and fraud." Yet over the next several years, the Palestinian Authority would become the largest single recipient of foreign aid on a per capita basis. In 1996, after he had formally renounced terrorism in the Oslo Accords, Arafat told a rally in Gaza that "we are committed to all martyrs who died for the cause of Jerusalem starting with Ahmed Musa until the last martyr Yihye Ayyash"--Musa being the first PLO terrorist to be killed in 1965 and Ayyash being the Hamas mastermind of a series of suicide bombings in which scores of Israeli civilians were killed. Yet the Clinton Administration continued to pretend that Arafat was an ally in the fight against Hamas. In 2000, Arafat rejected an Israeli offer of statehood midwifed by President Clinton and instead initiated the bloody intifada that left 1,000 Israelis and 3,000 Palestinians dead. In 2005, only months after Arafat's death, Israel dismantled its settlements and withdrew its forces from the Gaza Strip. Palestinians have used the opportunity to intensify their rocket fire at civilian targets within Israel. Last month, Israeli security services arrested two Gazan women, one of them pregnant, who were planning to enter Israel on medical pretexts in order to carry out suicide attacks. Yet the same month, the World Bank issued a report faulting Israel for restricting Palestinian freedom of movement. Now it appears Hamas has taken control of the Gaza Strip's main road and its border with Egypt, as well as the offices of the so-called Preventive Security Services, traditionally a Fatah stronghold. "They are executing them one by one," a witness told the Associated Press of Hamas's reprisals against the Preventive Security personnel. We do not pretend to know where all this will lead. On Thursday, Mr. Abbas dissolved the government and declared a state of emergency, though he seems powerless to change the course of events in Gaza. Israel could conceivably intervene, as could Egypt, and both states have powerful reasons to prevent the emergence of a Hamastan with close links to Iran hard on their borders. But neither do they wish to become stuck in the Strip's bottomless factionalism and fanaticism. At the same time, pressure will surely mount on Israel and the US to accept Hamas's ascendancy and begin negotiations with its leaders. According to this reasoning, the Bush Administration cannot demand democracy of the Palestinians and then refuse to recognize the results of a democratic election. But leave aside the fact that Mr. Bush did not simply call for an election: Is it wise to negotiate with a group that kills its fellow Palestinians almost as freely as it does Israelis? And what would there be to negotiate about? The best-case scenario--a suspension of hostilities in exchange for renewed international funding--would simply give Hamas time and money to consolidate its rule and rebuild an arsenal for future terror assaults. Then, too, the last thing the Palestinians need is yet further validation from the wider world that the violence they now inflict so indiscriminately works.
Meshaal Rules Hamas From Damascus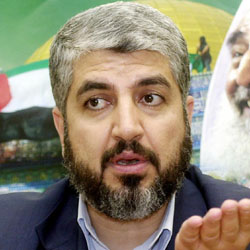 June 16….(Jerusalem Post) Hamas leader-in-exile, Damascus-based Khaled Mashaal said Friday evening that Hamas recognizes Mahmoud Abbas as the head of the Palestinian Authority, and that his group wants to cooperate with him for the sake of the Palestinian people. Mashaal also said that Hamas did not want to take over the Gaza Strip, but was "forced" to, Israel Radio reported. Referring to Abbas's proposed emergency government, Mashaal said that it had no legal standing and that Prime Minister Ismail Haniyeh would remain the Palestinian premier. According to Haniyeh, the Palestinians voted for Hamas so the group would ensure security and end bloodshed in Gaza. Mashaal also stressed that Hamas would not accept international peacekeepers or a deployment of Arab forces, and called on Fatah not to extend the power struggle to the West Bank. Senior Abbas aide Ahmed Abdel Rahman rejected Mashaal's overtures. Rahman told Al-Jazeera that Fatah would not hold talks with "murderers." Earlier Friday, Hamas condemned the appointment of political independent Salam Fayyad as the new Palestinian Authority Prime Minister as a "coup." Abbas announced the appointment in the West Bank, a day after Hamas defeated forces loyal to Abbas' Fatah movement and took control of the Gaza Strip. Fayyad, an economist who is well-respected by the international community, will replace Haniyeh, who was fired by Abbas on Thursday. In Gaza, Hamas spokesman Ismail Ridwan accused Abbas of taking "hasty and illegal steps" meant to please Israel and the United States. He said the appointment will divide the Palestinians. "This is a political coup and it has serious consequences," he said.
Gaza's Forgotten And Threatened Christians
June 15….(Israel Today) Caught amid the infighting between Hamas and Fatah and Israel's retaliation for rockets launched at its southern cities is an easily overlooked segment of the population: Christians number only 2,000 among 1.5 million in the Gaza Strip—less than 1 percent of the population. And if you break it down even further, evangelical Christians number far less than that. "We are a minority of minorities," Hanna Massad, pastor of Gaza Baptist Church, told Israel Today. "It is really difficult. The Christian community here is 2,000 including Catholic, Greek Orthodox and evangelical Christians." Gaza Baptist Church, the only evangelical church in the Gaza Strip, ministers to 150 to 200 people. Frequently, one Palestinian faction or the other commandeers the church's buildings to use as a lookout point. Not long ago, militants carried through on a threat to bomb the Gaza Bible Society where Massad's wife is a director. Now the church itself has been threatened, and with Hamas taking over, it is suspected that Christians will be executed.
Arab League Calls For Emergency Meeting on Mideast
June 15….(World News) Foreign ministers of Arab League countries will hold an emergency session in Cairo today on the situation in Palestinian territories and Lebanon, announced Secretary General Amr Moussa. Amr Moussa said earlier that factional fighting in Gaza had escalated to the point where "the entire Palestinian issue is at stake." The Gaza Strip has been swept by a new wave of armed conflict between the pro-presidential Fatah movement and Hamas militants since late last week. Over the past five days, more than 70 people have been killed, in the worst violence the region has seen since Hamas won parliamentary elections in early 2006. The Arab League ministers will also discuss the situation in Lebanon following the deaths of Anti-Syrian lawmaker Walid Ido and nine other people in a bomb blast in northwest Beirut on Wednesday. Mussa called for an immediate halt to deadly infighting in the Gaza Strip, warning of the danger it poses to the Palestinian cause. "We will hold an extraordinary meeting later today to examine the situation in the Palestinian territories and in Lebanon," Hisham Yussef, Arab League Secretary General Amr Mussa's chief of staff told AFP late Wednesday. On Wednesday, Lebanese Prime Minister Fuad Siniora called for crisis talks to discuss the murder of MP Walid Eido, a vocal critic of the Syrian regime, who was killed along with his eldest son, two bodyguards and six other people in a seafront bomb blast.
With the surrender to Hamas fighters of the last Fatah outpost in Gaza loyal to the Palestinian President, the future for Mahmoud Abbas looks bleak. After the death of more than 80 people in widespread fighting, his authority has now virtually disappeared in Gaza and is fast waning on the West Bank. His calls for another ceasefire have been ignored. The agreement he signed in Mecca four months ago to share power with Hamas is in ruins. Abbas has now dissolved the unity government and appealed to ordinary Palestinians for support. He still retains personal popularity, and knows that a majority of Palestinian voters want an end to violence and back moderation. But it may be too late to go over the heads of the Hamas gunmen who control the streets. At the start of the year, in an earlier confrontation, the President threatened to call a referendum that would have sidelined Hamas. Now, in the present atmosphere of violence, a formal vote could not be held, and whatever the result, the faction with the most power on the streets would ignore it. Abbas risks becoming fatally tarnished not only as a man who compromised Palestinian unity, but as a collaborator with Israel and its Western supporters. He now has little option, however. If he resigns, he would see the collapse of all attempts to seek a peaceful political solution with Israel. Such is the level of bitterness that he would have to move to another country for his own safety. He is therefore likely to call on other Arab countries, especially Saudi Arabia, Egypt and Jordan, to back a force that would impose itself in Gaza and end the fighting. Whether they would be willing, however, to prop up his rule by Presidential decree remains less certain. They, too, may conclude that the battle for Gaza is lost.
Haniyeh: Abbas has no Authority to Dissolve Government
June 15….(World News) Palestinian Prime Minister Ismail Haniyeh, dismissed from his position by PA President Mahmoud Abbas, rejected the decision today to dissolve the PA coalition government and declared that his government would continue in power. At a late-night press conference, he said, "The Hamas' presence in the government is the decision of the Palestinian people. Unilateral decisions, made without cooperation or coordination, do not suit the current situation. Therefore, the present government will continue operating and will not give up its position and responsibility towards the Palestinian people," he said. A spokesman for Abbas, Tayeb Abdel-Rahim, said that the intention was to form a new government, eventually. "The President is determined to go back to the Palestinian public, when the situation allows that." But, Abbas declarations ring hollow as Hamas' bloody takeover of Strip is being completed and Fatah officials are running for their lives. "Abbas' decision was hasty, and it seems his advisors did not fully consider its consequences," Haniyeh added. He said his government would set up a unified security apparatus under his control. In the formerly Fatah-run General Security Services building in Gaza City, Hamas gunmen claimed to have found documents proving ties between Fatah and the CIA. "The Gaza Strip is inseparable from the West Bank," Haniyeh said. "There will not be a Palestinian state without the 'West Bank,' and it will be led by HAMAS."
Hamas Poised to Convert Captured Gaza Strip into Islamist Enclave
June 15….(DEBKA) Hamas has seized control of strategic Philadelphi enclave on Egyptian border and all Gaza's border crossings with Egypt and Israel. At least 35 people died in the fighting Wednesday. Any international force in Gaza will be resisted in the same way as an Israeli occupation army, said a Hamas spokesman Thursday, June 14. Senior Israeli officers described the Hamas victory to DEBKAfile as a greater misfortune for Israel than its Lebanon War setbacks. There, Hizballah was forced by Israeli military action to accept a UN ceasefire and international peacekeepers. Hamas has no such incentive. In the case of Gaza, the winner takes all and can dictate terms. A radical Islamic enclave with a dominant Iranian-Syrian military presence has sprung up unopposed as a hostile reality on Israel's southwestern border. It has made the Israeli-Middle East Quartet's boycott an irrelevance. The Israeli government, which decided to stay out of the Hamas-Fatah conflict, must now decide whether to break off ties with Hamas-controlled Gaza and seal the crossings, or interact with the new masters. Hamas' planning and combat tactics displayed in the Gaza takeover clearly betray the professional hands of Syrian and Hizballah officers who have set up a command center in the Gaza Strip. Hamas threw its entire 5,000-strong Executive Force armed with mortars, RPGs, heavy machine guns and grenades into the final bid to conquer the Gaza Strip. It was a planned military campaign from the beginning, and it was plotted in Damascus and Teheran!
Hamas Takeover Shows Failure of Bush's Two-State Vision
June 15….(MSN) Five years ago this month, President Bush stood in the Rose Garden and laid out a vision for the Middle East that included Israel and a state called Palestine living together in peace. "I call on the Palestinian people to elect new leaders, leaders not compromised by terror," the president declared. The takeover this week of the Gaza Strip by the Hamas militant (terrorist) group dedicated to the elimination of Israel demonstrates how much that vision has failed to materialize, in part because of actions taken by the administration. The United States championed Israel's departure from the Gaza Strip as a first step toward peace and then pressed both Israelis and Palestinians to schedule legislative elections, which Hamas unexpectedly won. Now Hamas is the unchallenged power in Gaza. After his reelection in 2004, President Bush said he would use his "political capital" to help create a Palestinian state by the end of his second term. In his final 18 months as president, he faces the prospect of a shattered Palestinian Authority, a radical Islamic state on Israel's border and increasingly dwindling options to turn the tide against Hamas and create a functioning Palestinian state. The two-state vision is dead. It really is," said Edward G. Abington Jr., a former State Department official who was once an adviser to Palestinian President MAhmoud Abbas. Abbas, whose bouts of vacillation have irritated US officials, yesterday dissolved the Palestinian government in response to Hamas's takeover of Gaza. The evolving US strategy would let the Hamas-run Gaza Strip fend for itself while attempting to bolster Abbas as a moderate leader who can actually govern and deliver peace with Israel. The senior administration official noted that Gaza has no territorial issues with Israel, since there are no longer any Israelis in Gaza, so the Hamas entity there would have no stake in potential peace talks concerning the border on the West Bank. "Almost every decision the United States has made to interfere with Palestinian politics has boomeranged." Bush made his speech at the height of a bloody Palestinian uprising, after concluding that then-Palestinian leader Yasser Arafat was too tied to terrorism to make peace. Bush ordered US diplomats to never again meet with Arafat. Under international pressure, Arafat agreed to name Abbas as a newly empowered prime minister in 2003. But Abbas quit within months, saying he never got enough support from the United States or Israel to be effective.
The US, in Denial, Wants Fast Track Talks to Boost Abbas
June 15….(Jnewswire/ Stan Goodenough) The Gaza Strip's violent transformation this week from PA-controlled territory to Iranian-Syrian sponsored gunmen-controlled Hamastan will not, according to the leftist Israeli daily, Haaretz, give Washington any pause in its pursuit of President George W. Bush's two-state solution to the 'Palestinian- Israeli conflict. On the contrary, reports the paper Friday, Bush and Secretary of State Condoleezza Rice now plan to try and "fast track" "peace talks" that will see Judea and Samaria (the "West Bank") handed over to PA chairman Mahmoud Abbas in order to "boost" his battered standing among his people. The US "aims to accelerate the Israeli-Palestinian negotiations to allow Abbas to present some achievements," Ha'aretz says. Israeli Prime Minister Ehud Olmert, who is scheduled to visit the White House next week, "intends to tell Bush that the Hamas' coup d'etat must be contained in the Gaza Strip and not allowed to occur in Judea and Samaria as well." While many would argue that this is precisely why Israel should immediately shelve any further talk of giving land to the PLO, the US favors exactly the opposite tack. Haaretz reports that Washington will urge Israel to reconsider loosening its military grip on the PA-occupied parts of Judea and Samaria, and to unfreeze tax funds being withheld from the PA. These candies apparently will persuade the Palestinian Arabs that Abbas' Fatah, and not Hamas, should really be in charge. Such an approach, as anyone who understands Middle East realities knows, will backfire. The increasingly popular Hamas is growing its support base precisely because Abbas and his Fatah are seen as stooges of the US. Any US effort to push ahead with the land-for-peace process in the face of its implosion in Gaza will be looked upon as folly of the worst kind by many in Israel. As hard as it is to admit the failure of its two-state plan, the mayhem in Gaza, under cover of which the "Palestinians" have successfully established an Islamist terror mini-state, should, observers believe, compel Washington to admit to the bankruptcy of its policy.
Abbas, Arafat, Now Hamas: One Brand of Terrorist Replaces Another
| | |
| --- | --- |
| | (FOJ) Hamas gunmen posed for "pointed photos" by Palestinian Authority Chairman Mahmoud Abbas' desk, inside his personal office in Gaza City. |
June 15….(FOJ) Palestinian Authority Chairman Mahmoud Abbas fired PA Prime Minister Ismail Haniyeh and appointed former finance minister Salam Fayyad as the new PA prime minister today. It is a desperate measure for a desperate man, trying to hang on to power. Meanwhile, PA Prime Minister Ismail Haniyeh, who defied Abbas's "presidential decree" to dissolve the Hamas-led government, called for unity among Palestinians, an obvious plea for West Bank Palestinians to leave the Fatah movement and join the Hamas. Finance Minister Salam Fayyad, an independent in the terrorist thrust for power, was chosen by Abbas as the new Palestinian prime minister, because he has an appeal in the West. His appointment is a move to gain political and economic aid from Europe and America.
Meanwhile, Hamas fighters seized control of the Palestinian presidential compound in Gaza City, where Abbas ran the Fatah, calling it the "last bastion" of Palestinian Authority Chairman Mahmoud Abbas' Fatah forces in the Gaza Strip.

The presidential compound is the last of four key Fatah-run security compounds in the city, which are now all under Hamas control, as the group completed its conquest of Gaza City amidst a campaign to gain complete control over the coastal strip. Hamas fighters had earlier surrounded the compound. Hamas gunmen also broke into the Gaza homes of Abbas and Dahlan and looted them.
| | |
| --- | --- |
| | (FOJ) Hamas terrorist thugs walk over the pictures of Abbas and his former terrorist partner, Yasser Arafat. One can wonder what new terror leader will arise now! |
It is ironic, that Mahmoud Abbas, like his predecessor, Yasser Arafat finds himself surrounded in his own mess. The terror-directing Palestinian Authority leader became the victim of his own policies and practices, futilely calling for a state of emergency, as HAMAS and new terror leader Ismail Haniyeh ignored him. But the "terrorist in a tie" who succeeded kaffiyeh-sporting Yasser Arafat a few years ago has neither the stature not the authority of his late, demonically-inspired boss. Few in "Palestine" will listen to him, and Hamas certainly will not. Senior officials scorned his declarations, some saying it was "unconstitutional" for him to fire the "government," while others wanted to know how a state of emergency could be imposed and maintained when there was no government to do so. Abbas, in an apparent attempt to look presidential, called US Secretary of State Condoleezza Rice late Thursday to "brief" her. It was an obvious attempt to show his Fatah colleagues that he could still exercise power by extracting help from the US, and get the PA out of its mess.
Mahmoud Abbas Fires Hamas PM Haniyeh,
June 15….(DEBKA) Palestinian leader Mahmoud Abbas took the final step of dissolving the Palestinian unity government, by firing Prime Minister Ismail Haniyeh, thereby splitting the Palestinian Authority into two mutually hostile segments, the Fatah-ruled entity in the West Bank and the Hamas region in the Gaza Strip. This step does not alter the fact that Abbas' forces in Gaza were overtaken by a military disaster; in 36 hours of bloody combat, the Palestinian Authority folded like a house of cards. Olmert government officials maintained the Gaza Strip can now be held to military and economic siege and cut off from Israel, while a reasonable Palestinian government will rise on the West Bank and be amenable to an accommodation with Israel. DEBKAfile's Middle East sources say they are deluding themselves. Iran, Syria, Hizballah and Hamas will build on their epic victory in Gaza to drive on until they capture the West Bank too, even if it takes years. They are on the offensive and will not rest until they attain their objectives.
Its Flag Day in America
The first official national flag was approved by the Continental Congress on June 14, 1777.
On August 3, 1949 President Truman officially declared June 14th Flag Day.
The stripes represent the 13 original colonies.
The 50 stars represent the number of states.
The colors of the flag have meaning as well: Red symbolizes Hardiness and Valor. White symbolizes Purity and Innocence. Blue represents Vigilance, Perseverance and Justice.
The flag folding ceremony described by the Uniformed Services is a dramatic and uplifting way to honor the flag on special days, like Memorial Day or Veterans Day, and is sometimes used at retirement ceremonies. Here is a typical sequence of the reading.
The flag folding ceremony represents the same religious principles on which our country was originally founded. The portion of the flag denoting honor is the canton of blue containing the stars representing the states our veterans served in uniform. In the Armed Forces of the United States, at the ceremony of retreat the flag is lowered, folded in a triangle fold and kept under watch throughout the night as a tribute to our nation's honored dead. The next morning it is brought out and, at the ceremony of reveille, run aloft as a symbol of our belief in the resurrection of the body.
The first fold of our flag is a symbol of life.
The second fold is a symbol of our belief in the eternal life.
The third fold is made in honor and remembrance of the veteran departing our ranks who gave a portion of life for the defense of our country to attain a peace throughout the world.
The fourth fold represents our weaker nature, for as American citizens trusting in God, it is to Him we turn in times of peace as well as in times of war for His divine guidance.
The fifth fold is a tribute to our country, for in the words of Stephen Decatur, "Our country, in dealing with other countries, may she always be right; but it is still our country, right or wrong."
The sixth fold is for where our hearts lie. It is with our heart that we pledge allegiance to the flag of the United States of America, and to the republic for which it stands, one nation, under God, indivisible, with liberty and justice for all.
The seventh fold is a tribute to our Armed Forces, for it is through the Armed Forces that we protect our country and our flag against all her enemies, whether they be found within or without the boundaries of our republic.
The eighth fold is a tribute to the one who entered in to the valley of the shadow of death, that we might see the light of day, and to honor mother, for whom it flies on mother's day.
The ninth fold is a tribute to womanhood; for it has been through their faith, love, loyalty and devotion that the character of the men and women who have made this country great have been molded.
The tenth fold is a tribute to father, for he, too, has given his sons and daughters for the defense of our country since they were first born.
The eleventh fold, in the eyes of a Hebrew citizen, represents the lower portion of the seal of King David and King Solomon, and glorifies, in their eyes, the God of Abraham, Isaac, and Jacob.
The twelfth fold, in the eyes of a Christian citizen, represents an emblem of eternity and glorifies, in their eyes, God the Father, the Son, and Holy Ghost.
When the flag is completely folded, the stars are uppermost, reminding us of our national motto, "In God we Trust." After the flag is completely folded and tucked in, it takes on the appearance of a cocked hat, ever reminding us of the soldiers who served under General George Washington and the sailors and marines who served under Captain John Paul Jones who were followed by their comrades and shipmates in the Armed Forces of the United States, preserving for us the rights, privileges, and freedoms we enjoy today.
Hamas Victory a Blow to US Mid-East Policy
June 14….(Time) US policy towards an Israeli-Palestinian solution suffered a serious blow today, when fighters loyal to Hamas seized control of nearly all of the 30-mile stretch of land known as the Gaza Strip. Ever since Islamic Militant Hamas won the Palestinian legislative elections 18 months ago, Washington has worked to strengthen President Mahmoud Abbas, who, for all his failings, was seen as the best hope for concluding a peace accord with Israel. The US had spent millions of dollars training security forces that were supposedly disciplined and loyal to Abbas, but as Hamas militia advanced across Gaza on a third day of fierce fighting, many of these simply cut and ran; at least 40 officers of Abbas's elite presidential guard blew a hole in the Israeli security wall corralling Gaza and fled into Egypt. Hamas' conquest of Gaza is now inevitable. By yesterday, hundreds of Fatah forces loyal to Abbas had either run out of ammunition, fled or been cornered into surrender. Thousands of others simply melted away. By Wednesday night, the last three Fatah bastions in Central Gaza were under siege by mortars and heavy machine-gun fire, and were expected to fall. President Abbas himself was in the distant West Bank town of Ramallah (as were many of his senior commanders), far from the fighting. In Gaza, the 18,000-man police force on Abbas' payroll failed to help the president's men. One Western diplomat, when asked if there were any concentration of Fatah commanders still left in Gaza, replied sarcastically: "No. But try Switzerland, or their mansions in Kuwait." From the safety of Ramallah, Abbas urged the Gaza fighters to halt "the madness." US State Department spokesman Sean McCormack called the situation in Gaza Wednesday "fluid," and added that the US is "continuing to support President Abbas" and has called on others in the region to express their support.
For months, Abbas, urged on by US advisers, had been strengthening his security forces in Gaza. But Hamas was not idle during that interlude. The well-disciplined Islamists were busy plotting for this final assault, stockpiling ammunition, mortars and tons of explosives. They drew up lists and established the whereabouts of senior Fatah officers to be executed. "We are fighting for our faith," one Hamas spokesman explained to a radio interviewer, "and Fatah are fighting for their salaries. That is why we will win." Israeli officials say Washington had tried to avert the rout of Fatah in Gaza by pleading with Israel to rush in a new supply of arms. But Israeli intelligence sources told TIME that Prime Minister Ehud Olmert's office refused to help Abbas, fearing that the arms would fail to make the difference and would end up in the hands of Hamas. Western diplomats blame Olmert's government for consistently undermining Abbas, thus strengthening the Islamic militants. Olmert is expected to meet with President George W. Bush in Washington next week, and may face a grilling over why he hasn't done more to prop up the moderate Abbas. On the Israeli side, one senior intelligence official told TIME: "Nobody here is sorry that this fighting is happening. We know of at least six known Hamas terrorists who were killed. Israeli officials are also mulling over whether to ask UN peacekeepers to monitor Gaza's border with Egypt to prevent arms being smuggled to Hamas, although it is doubtful that either Egypt or the UN would agree to such a move.
Fatah-Hamas Violence Moving to Judea and Samaria
June 14….(Arutz) Fears of a spillover of violence from Gaza into Judea and Samaria are apparently coming true. Coming off three days in which some 80 Arabs were killed in Fatah-Hamas warring in Gaza, Wednesday night saw shootings, arsons, mass arrests and building takeovers in Ramallah, Jenin, Shechem and elsewhere in Judea and Samaria. In Jenin, Fatah terrorists seized a Hamas school, hospital and offices on Wednesday, and 200 Fatah activists marched in Jenin streets and shot in the air, after having burned down a Hamas club center. Al-Aqsa Brigades terror chief Zakhariya Zubeidi announced a ban on all Hamas activity in the city until further notice. In Ramallah and nearby Bituniyah, Fatah is engaged in rounding up and arresting Hamas commanders from their homes. Hamas reported that armed Fatah men had kidnapped a Ramallah city councilman and burned his office. Two prominent Hamas officials in the araea were shot at in separate incidents, but no one was hurt in those attempts. South of Ariel, in Salfit, Fatah men burned a Hamas office and raided other offices in the region. In Tul Karem, as well, east of Netanya, a Hamas office was shot at, and two Hamas cars were burnt. Fatah-Hamas gun battles were reported in Shechem and Bethlehem as well. With Fatah on the run in Gaza, it has now called on Hamas members in Judea and Samaria to renounce their allegiance to Hamas if they do not wish to be harmed. Fatah has begun mass-arrests of Hamas leaders, and Fatah chief Abu Mazen has reportedly ordered a counter-attack in Judea and Samaria. Analyst Gideon Greenfeld of the Reut Institute says that Israel may soon have to deal with not one, but two Palestinian entities, Hamastan in Gaza and Fatahland in Samaria/Judea. A Hamas victory may work against it, Greenfeld explains, in that it is likely to turn the international community against it. One specific ramification of a Hamas victory is that without Hamas recognition of the Oslo Accords, it cannot demand that Israel fulfill its Oslo-obligation to provide a land-corridor between Gaza and Judea. Fatah, however, does recognize Oslo.
Israel Must Stop Gaza from Becoming Hamastan
(With Hamas taking over Gaza, former IDF Generals are concerned that the area will turn into a Hizbullah-like "Hamastan" within reach of large parts of Israel)
June 14….(Arutz) IDF Gaza Formation sources, quoted anonymously on the NRG-Maariv Hebrew news site, say that if Israel had listened to ex-Chief of Staff Moshe Yaalon before the Disengagement, Israel might not now be facing such a dangerous situation in Gaza and the Negev. Yaalon warned at the time that the unilateral withdrawal would empower and give a "supportive tail wind" to Gaza terrorists. Statements of this nature cost Yaalon his job, it is generally believed; then-Prime Minister Ariel Sharon hired Gen. Dan Halutz to carry out the withdrawal/expulsion for him instead. "What we are seeing now in Gaza," Gen. Yaalon now says, "is just the first step. Hamas is taking over. Our entry into Gaza is inevitable; no one else will do it for us. There are many questions and dilemmas, of course, but the writing is already on the wall. We must enter before the threat reaches Ashdod and elsewhere." Yaalon says he is aware of the dangers and price that a ground entry into Gaza will cost, "but that's the job of the army; there is no alternative other than a broad ground operation against the terror infrastructures." Former IDF Intelligence Deputy Chief Gen. (ret.) Yaakov Amidror is even more abrupt: "Israel must be willing to enter Gaza and remain there for years," he told Ynet. While Fatah was "busy stealing public monies," Amidror feels, Hamas was getting stronger militarily. Hamas is now set to take over Gaza, "turning Gaza into Hamastan like Hizbullah in Lebanon, with Iranian and Al-Qaeda elements. We will have a full-fledged terrorist state on our borders. Like Yaalon, Amidror too blames the Disengagement: "Israel's irresponsible departure from Gaza enabled Hamas to get stronger with tremendous quantities of explosives, weapons, training, money and more." Sixteen months ago, in February 2006, ex-Chief of Staff Yaalon summed up the problem caused by Ariel Sharon's unilateral withdrawal: We wanted to disengage ourselves from any connection with and responsibility for Gaza. Thus, today, we have Gaza becoming Hamastan, Hizbullahstan and Al-Qaedastan.
Meanwhile, there is talk of bringing United Nations troops into Gaza to keep the peace, with UN Secretary-General Ban Ki-moon saying Wednesday that the Security Council was considering this option. Prime Minister Ehud Olmert, Foreign Minister Tzipi Livni and the far-left Meretz party have all recently expressed support for an international patrolling force in Gaza, while Minister of Strategic Affairs Avigdor Lieberman says NATO troops should be deployed there. It won't happen, however, if Hamas has anything to do with it. On the eve of its apparent victory over Fatah, Hamas announced today that it opposes an international force, and would relate to such a thing as if it were the "Israeli occupiers." Sami Abu Zuhri, a Hamas spokesman, heralded what he called "Gaza's second liberation," after Israel's 2005 evacuation of the coastal strip
Hamas TV: We'll Execute Fatah Leaders
(Hamas completes takeover of Fatah Preventive Security Service headquarters in Gaza Strip, one of PA's symbols. Hamas TV broadcasts from inside building, displaying weapons 'sent by Israel'; gunmen declare, 'This is the first step in the establishment of an Islamic state')
June 14….(YNET) Hamas gunmen on Thursday afternoon completed the takeover of the central building of the Fatah Palestinian Preventive Security Service's headquarters in the Gaza Strip. The Preventive Security Service cooperated to some extent with Israel in the past and is identified with Fatah strongman Mohammed Dahlan. The gunmen who entered the compound held a prayer there and waved a flag on the building's rooftop. The Hamas TV also broadcasted a display of weapons inside the building, as well as jeeps, mortar shells and bulletproof vests seized in the compound, which according to Hamas, were smuggled to Fatah by Israel and the Americans in the past few months through the border with Egypt. Hamas members held a prayer in the compound, which they referred to as the "heresy compound." Hamas also changed the name of the neighborhood where the building is located from "Tel al-Hawa" to "Tel al-Islam." Hamas' media outlets threatened to reach Fatah and the PA's official radio and television stations, and provided the names of senior Fatah officials they planned to execute. "We will reach you," Hamas members told the Fatah leaders. Meanwhile, the gunmen collected weapons and ammunitions from the Fatah members' homes and from families affiliated with them.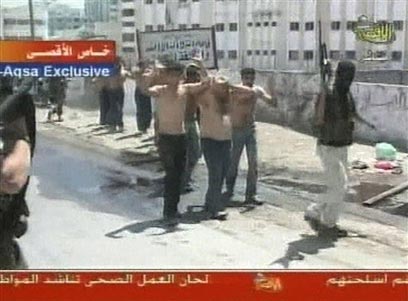 Hamas members lead Fatah officers out of building,
and then kill them.
"This is the first step in the establishment of the Islamic state," a Hamas member told Ynet from inside the Preventive Security Service building. "This is Islam's victory, Allah's victory, and we pray to Allah for bringing us this victory."
According to reports, the Palestinian president was looking into the possibility of declaring the disbandment of the Palestinian government and parliament, as well as declaring the Gaza Strip a "rebelling district" and saying that the only legal and official rule in the Palestinian Authority was in Ramllah. This would force Hamas to decide whether it wants to run the Strip on its own, with all the political and economic consequences. Hamas sources said that after taking over the Preventive Security Service building, they would move to Muntada and Ansar compounds, where Abbas' office and the rest of the PA's security headquarters are located, and would also take over the Palestinian television building. Meanwhile, Fatah has begun broadcasting security instructions to the Palestinian security officers on television, calling on them not to surrender to Hamas. The television warned of a military coup and cautioned the Palestinians not to be lured in by the propaganda and the psychological war led by Hamas.
'The Gaza Strip has Fallen'
(2 years after Israeli retreat, Hamas creating 'Islamic caliphate' in territory)
June 14….(WND) Two years after Israel's unilateral retreat from the Gaza Strip, the territory today fell into the near complete control of the Hamas terror group, which now administers Gaza and its borders with Israel and Egypt. A senior Palestinian Authority official from the Fatah party told WND today "Gaza has fallen. It's now Hamas land. The official said Hamas will create an "Islamic caliphate" in Gaza and that it is expected to put former Hamas Foreign Minister Mahmoud Al-Zahar in control of the terror group's reign in Gaza. Israeli security officials are "gravely concerned" about Iran's influence over the territory Hamas now controls. Hamas militants are proceeding to the Ansar Compound and the National Security Forces, where the US has the past few months delivered large quantities of weaponry to Fatah purportedly to aid it in clashes against Hamas. The US recently designated $4 million in taxpayer funds to refurbish Ansar. Hamas said if the Fatah security forces don't turn over their weapons, including US arms, by 7 p.m. Friday, they will take the weapons by force. The US in the past year has given large quantities of weapons to bolster Fatah in clashes against Hamas. Hamas' Al Aqsa Television broadcast footage of Hamas gunmen brandishing American assault rifles, rocket-propelled grenades, rocket launchers and ammunition the US reportedly provided to Fatah over the past few months. The terror group has surrounded Ansar. In one of the most significant Hamas advances, the terror group took complete control of the Philadelphi road, the border area between Gaza and the Sinai desert. Hamas also took over the Rafah crossing, which until recently was monitored by a joint PA and European force. The Egypt-Gaza border has been the site of rampant weapons smuggling into Gaza.
Ballistic Missile Triad – New Axis of Evil
June 14….(By Fred Stakelbeck) A slew of incendiary statements coming out of Moscow over the past few weeks have many Western observers concerned that a new Cold War between Russia and the United Sates is rapidly taking shape. Bolstered by an ambitious military modernization program, energy and arms revenues and a growing global distaste for perceived US hegemony, Russian President Vladimir Putin has used his growing influence both at home and abroad to confront what he sees as Washington's growing "imperialist" actions. Mr. Putin has clearly gone on the offensive. Speaking with a group of reporters recently, he said actions by the United States to place a missile-defense shield in Europe would cause Russia to "acquire new targets in Europe" which could "unleash a nuclear conflict." The successful test two weeks ago of two separate ballistic missiles, coupled with Russia's plan to spend upward of $200 billion by 2017 on bombers, air-defense systems and tanks, points to the formulation of a revised Russian military doctrine. In addition, Mr. Putin has also threatened to withdraw from a number of important arms treaties, such as the Conventional Forces in Europe (CFE) Treaty and the Intermediate Nuclear Forces (INF) Treaty. But as alarming as Mr. Putin's statements and related actions have been, they are even more menacing when viewed in the context of ongoing international ballistic-missile development and deployment by two of Moscow's closest allies, China and Iran. Russia, China and Iran, the new Axis of Evil, present a dire "ballistic missile triad" that has become difficult for the West to ignore. Working closely together, all three countries continue to improve their ballistic missile technology demonstrating an increased willingness to replace constructive dialogue with outright confrontation. The recently released 2007 Defense Department annual report to Congress on China's military power catalogs in great detail the country's continued efforts to establish not only a defensive ballistic missile capability, but an offensive "first strike" capability as well. The expected deployment of additional mobile, land and sea-based ballistic nuclear missiles that can reach the U.S. mainland have raised serious questions in Washington about the county's regional and global intentions. Beijing's communist leaders have reacted to US criticism of its military build-up by strongly denouncing calls for greater transparency, stating Washington is now treating the country as a "Cold War-style" enemy. But China's recent moves to expand its ballistic missile force capabilities are undeniable, as its build-up of missiles across the Taiwan Strait confirms. Adding to US concerns, China's continued development and deployment of asymmetrical cyber warfare and anti-satellite systems designed to cripple sophisticated communication, global positioning and defense networks makes a preemptive ballistic missile attack increasingly plausible. Over the past few years, Chinese Gens. Zhu Chenghu and Xiong Guangkai, both high-ranking military officials, have stated that China would attack US cities if the country intervened in any Taiwan conflict. Led by President Mahmoud Ahmadinejad, Iran continues to pose the greatest short-term threat to world peace and stability. Tehran continues to publicly state that its nuclear program is for peaceful purposes, but its actual intentions remain a troubling mystery, since International Atomic Energy Agency inspectors have been halted on numerous occasions from conducting thorough examinations. State Department spokesman Sean McCormack noted in March, "We do have outstanding concerns about Iran's missile program and we are very much concerned about the possible nexus between that program and their nuclear ambitions." With the direct assistance of Russia, China and North Korea, Iran is already in possession of the medium-range Shahab-3 ballistic missile which is capable of striking Israel. The country has also made improvements to the Shahab-4 ballistic missile which is believed to be capable of hitting Europe. Iran's Islamic regime is also pursuing a proprietary space program, allocating over $500 million for 2005 through 2010. NATO spokesman James Appathurai's comments this month that Mr. Putin's continued antagonism is "unhelpful and unwelcome" is an encouraging sign that the United States will not have to stand alone in its fight against global nuclear brinksmanship and proliferation. In the meantime, the United States and its allies should consider increasing funding dedicated to the research, development and testing of a more agile anti-missile defense umbrella. By taking this important step, the combined offensive intercontinental ballistic missile capabilities of China, Russia and Iran, as well as rogue nations such as North Korea, will be made increasingly irrelevant. The world is an uncertain place, filled with more and more turmoil and questions. Recognizing this, the United States must display the technological ingenuity, global leadership and perseverance necessary to confront the enormous geopolitical challenges that lie ahead. Only with such a firm response will the world be able to overcome the diverse and ever-increasing threats from nations that view the future from the tip of a ballistic missile.
Anti-Syrian Lebanese MP Walid Eido Assassinated
(Another anti-Syrian lawmaker, along nine others were killed Wednesday after a car bomb exploded on Beirut's waterfront) (Syrian terrorists behind yet another assassination)
June 13….( FOJ) Lebanese Druze leader, and vocal anti-Syrian parliamentarian Walid Eido, 65, was killed today in yet another terrorist assassination hit team, probably from Syria. Mr. Eido is now the seventh political opponent of Damascus to be killed in the past two years. Of course, Syrian President and dictator, Bashar Assad disclaimed that Syria was behind the attack. And of course, donkeys fly too.
Eido, 65, was an ally of Saad Hariri, the leader of the parliamentary majority and son of Rafik Hariri, who was assassinated on Feb. 14, 2005, in a suicide truck bombing in Beirut. Eido is just another in a long line of anti-Syria Lebanese politicians to be killed. Lebanon has accused Syria of internal meddling in Lebanon, either through Syrian terror networks or through the Iranian backed Hezbollah. The explosion occurred less than a mile from the site of blast that killed Rafik Hariri and 22 others. A car-bomb was in flames and black smoke was seen rising from a narrow street off the main waterfront in Manara, which is in the Muslim sector of the capital. The Lebanese Broadcasting Corp. said the explosion came from a bomb-rigged car, a method that has been used to assassinate opponents of Syria in the past. The UN Security Council has ordered the creation of a tribunal to prosecute those responsible for Hariri's assassination, despite virulent opposition from Syrian-backed groups in Lebanon. Hariri's killing sparked huge protests against Syria, which was widely seen as culpable. Syria denied involvement but was forced to withdraw its troops from Lebanon, ending a 29-year presence, but of course that doesn't stop Hezbollah and Syrian backed insurgents from dominating the country. The Hariri Future political bloc, dominated by moderate Sunnis, has come out strongly in support of the Lebanese army in their fight against Fatah Islam.
The Teheran-Damascus Axis is Advancing
| | |
| --- | --- |
| | Smoke rises from the headquarters for security forces loyal to President Mahmoud Abbas after it was blown up by Hamas militants |
June 13….(FOJ) Hamas terrorists and associated militants have captured the headquarters of security forces loyal to Palestinian President Mahmoud in the southern Gaza Strip. They blew up a tunnel under the security and killed 13 members of Abbas' preventive security service. Hamas also seized many armored carrier vehicles and weapons from the headquarters of security forces loyal to Palestinian President Mahmoud Abbas that had been supplied to Fatah by the US. Just a mere 18 months after Israel "disengaged" from Gaza, it has become a fortress for Iranian and Syrian designs. Ironically, while Hamas is taking over the southern border of Israel, Syria is using the Palestinian Islamic Fatah in Lebanon to secure greater control over the northern border with Israel. It is obvious that the Teheran-Damascus Axis is moving to strengthen their geographical strongholds around Israel's immediate perimeter in order to launch another war. It is a safe bet to predict that the much-advertised withdrawal of American forces from Iraq would tremendously empower and embolden Iran and Syria for the encirclement of Israel. And to think, good ole Russia is arming, equipping, and empowering the Axis of terror.
| | |
| --- | --- |
| | Smoke rises up from Lebanese Army shelling of the Palestinian Nahr el-Bared refugee camp near Tripoli, Lebanon, Wednesday. The Lebanese army clashed with Islamic militants in the camp on Wednesday while a leading human rights watchdog criticized the military for allegedly mistreating some Palestinian men fleeing the besieged camp. Most of the 31,000 residents of Nahr el-Bared, near the northern city of Tripoli, have fled the camp since fighting between the Lebanese army and Fatah Islam militants and terrorists holed up inside. |
| | |
| --- | --- |
| Iranian students hold a poster of Lebanese Hassan Nasrallah, the secretary general of Hezbollah,left, Venezuelan President Hugo Chavez, center, and American Malcolm X , left, as they listen to the speech of Nicaragua's President Daniel Ortega at Tehran university in a ceremony in Iran, Sunday, June 10, 2007. President Mahmoud Ahmadinejad said Sunday he hopes Nicaragua and Iran can work together to create a fairer world order. | |
Hamas Publishes Fatah Hit-List, Confiscates US-Supplied Weapons
June 13….(YNET) The civil war between Hamas and Fatah terrorists raged on in Gaza Wednesday, with Hamas on the verge of complete victory. Hamas seized thousands of weapons and vehicles granted to Fatah by the Oslo Accords. Most of which were provided by the US. A Hamas spokesman said that a decision had been taken to kill all of Fatah's leading officials, who he referred to as "dogs beholden to their Israeli masters." Hamas has distributed a list of at least 30 Fatah officials it seeks to have killed for complicity, they say, in a US-backed plan to topple Hamas. The first name is senior Fatah terrorist Mohammed Dahlan, who holds the position of National Security Adviser in the Fatah-Hamas PA unity government. He has been hiding out in Egypt for the past two months. Many of the other Fatah men on the list have fled Gaza. Hamas took over nearly all Fatah positions in Gaza and confiscated thousands of rifles, tons of ammunition and armored jeeps and APCs supplied by the US, Egypt and Israel over the years. Eight Fatah men were killed Wednesday morning defending the home of senior Fatah official Mahr Mekhdad, who escaped the fighting. About 200 Hamas terrorists surrounded the home of Yassir Arafat confidant Nabil Shaath, shooting one of his body guards. Hamas has completely taken control of northern Gaza, declaring it closed to members of the Fatah-loyal PA forces. Hamas leaders blamed the Gaza fighting on President Mahmoud Abbas, saying his security forces were corrupt and riddled with criminals. Abbas, of Fatah, called the fighting "madness" and appealed to Hamas' exiled leader, Khaled Mashaal, (in Damascus) to end the violence.
Iran and Syria are the Winners of Hamas' Military Coup Against Fatah
June 13….(DEBKA) It was the second triumph in a week for a Palestinian force backed by Iran and Syria, after the Lebanese army failed in four weeks' combat to crush the pro-Syrian factions' barricaded in the Nahr al-Bared Palestinian camp near Tripoli in four weeks of combat. Tuesday, Mahmoud Abbas' Fatah Palestinian Authority forces faced disaster. Their inevitable ejection from the Gaza Strip effectively severs Palestinian rule between Ramallah, where Fatah will have to fight to retain control of the West Bank and Gaza, dominated now by an Islamist Palestinian force manipulated from Tehran and Damascus. The Iran-Syrian alliance has acquired by brute force two Mediterranean coastal enclaves in northern Lebanon and the Gaza Strip. Its momentum, launched a month ago in both sectors was unchecked. The Fouad Siniora government's troops failed to break through to the Palestinian camp and crush the pro-Syrian uprising. The Olmert government stood by unmoved as the most radical elements in the Middle East snatched the Gaza Strip on Israel's southwestern border. The Bush Administration is finding itself forced out of key Middle East positions, its main assets Siniora and Mahmoud Abbas trounced on the battlefield. Israel's technological feat of placing the Ofeq-7 surveillance satellite in orbit Monday quickly proved ineffective against the sort of tactics Tehran and Syria employ: mobile, suicidal Palestinian terrorists, heavily and cheaply armed with primitive weapons, who are winning the first round of the Summer 2007 war and preparing for the next.
'Iran, Syria Pushed Hamas to take Gaza'
June 13….(Stan Goodenough) The Iranian regime of Mahmoud Ahmadinejad and his Syrian ally Bashar el-Assad are fueling the inter-"Palestinian" violence in the Gaza Strip. So insinuated Egyptian Intelligence Chief Omar Suleiman Tuesday, after trying to get Damascus-based Hamas leader Khaled Mashaal to get his people to agree to a ceasefire. A senior Fatah official was more explicit, telling a London-based Arab newspaper that Iran and Syria have poured millions of dollars into Hamas' coffers, and the money is being used to establish a Hamas state in the Gaza Strip. Tehran is a serious exporter of radical Islam and scorns the so-called moderate Muslim regimes of Saudi Arabia, Egypt and Jordan. The goal of the mullahs is to establish a Shi'ite-run Middle East. US Under-Secretary of State Nicholas Burns told CNN Wednesday Iran is funding insurrection all across the Middle East, including the Taliban in Afghanistan, Hizb'allah in Lebanon and Hamas in Gaza. Israeli Prime Minister Ehud Olmert said Tuesday that "if Gaza falls into the hands of Hamas it will have regional implications."
FOJ Note: Looks like President Bush's vision of two-states is turning out to include a state on which he hadn't counted……..Hamastan
Abbas Says Hamas Orchestrating a Coup
(Fatah strongholds attacked after Hamas Islamic militants set deadline)
| | |
| --- | --- |
| | Palestinian president Mahmud Abbas chairs a meeting in Gaza City. The Palestinian president accused leaders of Hamas of plotting a coup and propelling the Palestinian territories towards a civil war. The real leaders of Hamas reside in Damascus, in the person of Khaleed Meshaal, who operates Hamas with the blessing of Assad and Iran. |
June 12….(AP) Hamas gunmen attacked the headquarters of Fatah-allied forces in northern Gaza with mortars and grenades todayy and captured several smaller positions in what Palestinian President Mahmoud Abbas of Fatah alleged was a coup attempt by the Islamic militants.
Hamas gunmen stormed a Fatah security headquarters in Gaza City, moving Palestinians closer to civil war, minutes after a deadline from the Islamic group to its rival to withdraw from key government buildings expired. Palestinian President Mahmoud Abbas accused his Hamas rivals of staging a coup and called for a cease-fire. That call went unheeded and instead Hamas and Fatah militants threatened to kill each other's leaders. Abbas' Fatah faction said its Central Committee would meet Tuesday night to decide whether to remain in the unity government it formed with Hamas in March in a bid to stop internal violence and ease Western sanctions. In an ultimatum verging on a declaration of war, Hamas' armed wing had given Fatah a deadline to evacuate the military intelligence, presidential guard, national security and preventive security headquarters in Gaza City. After the deadline passed, Hamas fighters attacked a large compound controlled by the Fatah-dominated national security forces in Gaza and surrounded the city's main security complex. Heavy gunfire was heard throughout Gaza City, and a huge plume of white smoke rose into the air. One battle took place around the headquarters of the Preventive Security agency, a powerful pro-Fatah force. Hamas demanded that Fatah-allied security forces abandon their positions. "The warning which we have given you to surrender has ended, and we will attack this position of Zionist collaborators," Hamas warned over a mosque loudspeaker in Gaza City, shortly before taking up positions near the headquarters of the pro-Fatah Preventive Security Service.
Moscow Sends Nuclear Fuel for Iran's Bushehr Reactor
(Putin's move is seen as an anti-American power-play)
June 12….(DEBKA) Russian President Vladimir Putin put teeth in his threats and his cynically helpful alternative suggestions regarding the deployment of US missile defenses in Poland and the Czech Republic. DEBKA-Net disclosed on June 8 that the week before the G8 opened in Germany, Moscow released the long-withheld nuclear fuel for Iran's atomic reactor in Bushehr. It was delivered 24 hours before Israel launched its new military imaging satellite Ofeq-7, bringing forward the Iranian threat to Israel. One immediate result has been the stiffening of Tehran's negative posture toward the UN, sparking what nuclear watchdog director Mohammed ElBaradei called Monday, June 11, a confrontation that needs to be urgently defused. As DEBKA reported, special nuclear containers were loaded on a train in the yard of the manufacturers JSC Novosibirsk Chemical Concentrates Plant on June 2-3. They contained two types of nuclear fuel, WER-440 and WER-1000. The special train then headed out of Novosibirsk to Astrakhan on the Caspian Sea, 2,000 km away. There, the containers awaited loading aboard a Russian ship destined for Bandar Anzili, the Iranian military port on the Caspian shore. According to our Iranian sources, a fleet of Iranian trucks was waiting at the other end outside Bandar Anzili port to transport the nuclear fuel and drive it slowly and carefully to Bushehr, a distance of 850km, arriving June 10 or 11. But DEBKAfile's sources added the journey was interrupted by holdups ordered by the Kremlin in an episode which also laid bare the interdependence of Iran's nuclear industry and Tehran's program for arming Syria for war with Israel with the latest Russian munitions. Arguments over payments due from Tehran have dogged relations with Moscow before and Putin is far from trusting. A few days before the nuclear fuel left the Siberian factory, Tehran delivered the sum of $327m for a fresh delivery of Russian missiles to Syria. Iran pledged another $438m for further arms consignments before the fuel cargo was allowed to go forward. Putin then ordered the cargo to be loaded at Astrakhan, but await delivery in port until payment was made. Iran duly deposited the money and the ship was then permitted by Putin to set sail and cross the Caspian Sea to Iran. Putin never promised Bush that Russia would deny Iran the nuclear fuel for its Bushehr reactor in perpetuity, as some administration circles in Washington have claimed in the last two years. He did assure Washington, mainly in conversations with US Secretary of State Condoleezza Rice, that he would postpone delivery as long as he could, despite Moscow's contractual commitments to Tehran. The Bush administration's plan to deploy missiles in East Europe made the Russian president mad enough to set this former assurance with Bush aside. His move hits the US where it hurts most, and just when it hurts the most: The UN Security Council meets at the end of June to approve harsher sanctions against Iran for continuing to enrich uranium in defiance of previous resolutions. The Russian fuel delivery will substantially dilute the effect of any such penalties, especially when the Islamic Republic is about to clinch a deal for the acquisition of long-range ballistic missiles from North Korea.
1. A second consignment of nuclear fuel went out to India from the same Russian factory which supplied Bushehr. This was a swipe by Putin at US-Indian nuclear cooperation which it is also under attack in the US Congress. It was also meant to place Moscow at dead center of the Russian-American-Israeli contest over domination of the Indian arms market. This contest also pertains to the developing military ties between New Delhi and Tehran, which Moscow is working hard to turn to its benefit.
2. Monday, June 4, the Russian president sent the director of the Russian Nuclear Energy Commission, Sergei Kirienko, to the Russian Interfax news agency with an announcement: "I have just visited the Novosibirsk Chemical Concentrates Plant; fuel for Iran and India is ready," he said. "It will be delivered six months before the physical launch." This statement has granted the Russian president six months' leeway for jumping whichever way he finds expedient. It is obvious that Moscow and Washington are at odds on the Iran issue as well as the East Europe missile deployments. If the Bush administration digs its heels in on the missile defense shield, Russian engineers employed at Bushehr will be told by Putin to go ahead and activate the reactor even before December 2007, thereby enabling Iran nuclear weaponry. But if Washington relents, Russian personnel can always be told to go back to dragging their feet, as Moscow did on the nuclear fuel.
President Bush Will Push Palestinian Peace Track
June 12….(Ha Aretz) Israeli officials have learned that US President George W. Bush will make new suggestions for an Israeli-Palestinian agreement in a speech slated for June 24. The event will mark the fifth anniversary of the speech in which he unveiled his famous "two-state vision" to end the conflict. It was not clear what ideas the Bush Administration is formulating, the officials said. Prime Minister Ehud Olmert is scheduled to meet with Bush in the White House on June 19, a few days before the presidential speech. Their meetings will focus on advancing an agreement with the Palestinians, as well as efforts to block Iran's nuclear program. Olmert aides Yoram Turbowicz and Shalom Turgeman left for Washington yesterday for preparatory talks ahead of Olmert's visit. The officials said Bush was expected to report progress on a memorandum of understanding to increase US military aid to Israel. The current accord expires next year, as does the civil economic aid package. Israel wants the US to gradually raise the military aid to more than $2.4 billion annually, as the current accord stipulates. The Israeli officials said the Americans see increasing military aid to Israel and supplying new American weapons to the Gulf States as important steps to bolster the moderate countries in the region and counter Iran's rising strength. This is why the US wishes to supply the JDAM bombs to Iraq despite Israel's objection.
Last week in Rome, Pope Benedict Urged Bush to give Middle East Peace a Chance
Pope Benedict XVI and President Bush for the first time last Saturday as the President finished up his trip to the G8 Summit in Germany. The Pope politely pressed the president to seek "regional" and "negotiated" solutions to Iraq, the Israeli-Palestinian conflict and other crises in the Middle East. The Vatican said Bush had "warm" talks with the Pope and the Vatican's No. 2 official, Cardinal Tarcisio Bertone. They discussed international politics, particularly in the Middle East, the Israel-Palestinian conflict, Lebanon, the "worrisome situation in Iraq" and the "critical conditions in which the Christian communities in Iraq are threatened. The pontiff expressed his hope for a `'regional" and `'negotiated" solution of conflicts and crises that afflict the region, and urged the President to reinvigorate the Israeli-Palestinian peace talks.
Rocket Propelled Grenade Strikes Home of Palestinian PM
June 12….(MSN) Hamas officials reported that a rocket-propelled grenade was fired at the house of Palestinian Prime Minister Ismail Haniyeh, causing damage but no injuries. That attack came just hours after Monday's brutal infighting that killed 17 Palestinians. Haniyeh and his family were present during the attack on the house in the Shati refugee camp on the outskirts of Gaza City, the Hamas security officials said. A day earlier, Haniyeh's house had also come under fire. Meanwhile, rival gunmen exchanged fire at two Gaza hospitals and Cabinet ministers fled their weekly meeting after the government headquarters was caught in the crossfire. The battles came a day after two militants from the rival Hamas and Fatah factions were dragged onto high-rise rooftops and thrown to their death in a power struggle that appears to be rapidly descending into all-out confrontation. After sundown Monday, gunmen, apparently from Hamas, laid siege to the house of Jamal Abu al-Jediyan, the senior Fatah official in northern Gaza. They then dragged him outside and killed him, security officials said. Medics said he was hit by 45 bullets. Al-Jediyan was a top aide to Gaza Fatah strongman Mohammed Dahlan and al-Jediyan's brother was also killed, apparently in the same shootout. Fatah spokesman Maher Mikdad harshly denounced the killing and threatened revenge. "What is this, if not a civil war," he said. Fatah called on its members to target all Hamas political and military leaders.
| | |
| --- | --- |
| | (FOJ) Hamas and Fatah erupt in gangland war! Palestinian mourners shout as they carry the body of Fatah leader Jamal Al-Jedyan, during his funeral in the Jebaliya refugee camp, northern Gaza Strip. Gunmen from Hamas, laid siege to the house of the senior Fatah official in northern Gaza, then dragged him outside and pummeled him with 45 bullets. |
The bloodiest clashes of the day took place in the northern Gaza town of Beit Hanoun. Fatah and Hamas gunmen exchanged fire near Beit Hanoun Hospital, killing a Hamas supporter. The battle then moved to the hospital, where three men from a Fatah-allied clan were shot dead. At Gaza's largest hospital, Shifa, combatants fired mortars, grenades and assault rifles. Two other Palestinians were killed in battles late Monday night in northern Gaza, security and hospital officials said. Later, Hamas said one of its men, who was kidnapped earlier, was found dead in a Gaza street. Early Tuesday, three women and a child were killed when Hamas militants attacked the home of a senior Fatah security official with mortars and grenades, security officials said. The gunmen seized Hassan Abu Rabie and killed his 14-year-old son and three other women in the house, hospital officials said. Also, Fatah gunmen stormed the house of a Hamas lawmaker and burned it to the ground. In the West Bank city of Nablus, Fatah gunmen kidnapped a Hamas activist and torched the car of a local Hamas politician, Hamas officials said. Monday's deaths brought to more than 80 the number of Palestinians killed since the latest round of infighting erupted in May. Haniyeh himself was apparently the target of an attack early on Monday when militants, apparently from the rival Fatah, fired at his home. No one was reported hurt in the incident. "This is shameful for our people," Abbas, the Fatah leader and purported moderate said during a visit to a West Bank school. "I call on everyone to stop this immediately, not only because of the examinations, but also for our people to live a normal life."
| | |
| --- | --- |
| | Palestinian president Mahmud Abbas (C) is surrounded by security and the press in the West Bank city of Ramallah, |
The terrorist gang fighting took a grisly turn on Sunday, when Hamas militants kidnapped a member of Abbas' elite presidential guard, took him to the roof of a 15-story apartment building and threw him to his death. That set off skirmishes throughout the city, including gun battles and shelling. Fatah militants surrounded the house of a Hamas mosque preacher, Mohammed al-Rifati, and killed him. "They came up the stairs and broke open the door," said the preacher's 14-year-old son, Hamzeh. "He opened the door. He said, 'What do you want?' They held him and they shot him in the leg. He began screaming and blood was on the floor." And just before midnight, a Hamas activist was thrown off the 12th floor of a building and killed, security officials said, in an apparent retaliation for the earlier killing of the Fatah man from the 15th floor of a building. The deadly infighting has overlapped with new clashes between Israel and Palestinian militants who have been firing rockets at southern Israeli communities bordering Gaza. Early Monday, Palestinian Hamas militants fired five rockets into southern Israel, the army said. There were no injuries, but high school students in the battered border town of Sderot were moved to towns out of rocket range to take their final exams.
Civil War in Gaza
June 12….(IsraelNN.com) With 19 Arabs killed by Arabs in 24 hours, mortar shells at Abu Mazen's office, and a rocket attack at Hamas PM Haniye's home, what has until now been known as "violence" is now widely being called, even in Gaza, all-out civil war. The fighting in Gaza is now in its latest and most severe round since it broke out well over a year ago. On Tuesday morning, Fatah gunmen fired an RPG rocket at the home of the head of the Fatah-Hamas unity government Prime Minister Ismail Haniye. Haniye, who was home at the time but was not hurt, lives in the Shati section of Gaza City. The RPG attack followed the firing of four mortar shells by Hamas at the office of Palestinian Authority Chairman Mahmoud Abbas (Abu Mazen). The RPG attack against Haniye was far from the first time he has been targeted. Fatah men have shot at his house more than once over the past month, and last October, Haniyeh's convoy came under gunfire in Gaza and one of the cars was set on fire. Tuesday at noon, exchanges of fire were reported at the hospital in Khan Yunis (near the site of what was N'vei Dekalim). Hamas men have taken up positions on the hospital's roof, and Fatah men are firing at them from an adjacent building. The Hamas military faction has warned Fatah security personnel not to show up for work. "Every security force agent who comes to work will be suspected of taking part in the struggle against the Palestinian people and is liable to be hurt," Hamas warned. Fatah accuses Iran of encouraging Hamas in its attacks, particularly against innocent civilians for "shock value." Three women and a boy in a Fatah family were murdered in their Monday night. The civil war in Gaza has also included at least one case of armed terrorists throwing people out of their home and then blowing it up. Heavy gun battles erupted in several locations, in what security officials described as a Hamas assault on positions of the Fatah-allied security forces, and four security bases were overrun by Hamas in the southern town of Khan Younis. Abbas, who is now in the West Bank, accused Hamas of trying to seize control of Gaza by force and appealed for a new cease-fire. Hamas and Fatah have been sharing power in an uneasy coalition for three months, but put off the key disputes, including wrangling over control of the security forces. Most of the forces are dominated by Fatah loyalists, while Hamas has formed its own militia over the past year in addition to the thousands of gunmen at its command. Abbas's office said in a statement that "some Hamas political and military leaders are planning to stage a coup, thinking they will be able to control Gaza by force. Each group used Web sites and text messages to call for the execution of the other side's military and political leaders. Both sides described the fighting, which is turning more brutal with each day, as all-out civil war.
Palestinian Civil War Breaks up Hamas-Fatah Unity Government
June 12….(DEBKA) The outcome unfolding after at least 17 deaths in 24 hours is the separation of Palestinian rule between Hamas-controlled Gaza and the Fatah-led West Bank. Hamas posted an ultimatum Tuesday threatening to storm Fatah's Gaza command posts unless they are evacuated at once. Mahmoud Abbas accused Hamas of attempting to overthrow the Palestinian Authority which he heads. His Fatah mounted an RPG attack on the Hamas Prime Minister Ismail Haniya's home in Gaza. Hamas gunmen then shot dead the top Fatah commander in northern Gaza, his brother and cousin. Monday, they bound a Fatah fighter hand and foot and hurled him from a 15-story building in Gaza to his death. For two days, Hamas gunmen have been targeting injured Fatah fighters, killing them in ambulances and Beit Hanoun hospital beds. Fatah has retaliated with mortar and RPG attacks on the Hamas-controlled Shifa hospital. Several attempts by the Egyptian mission in Gaza to arrange a ceasefire have been short-lived. In Cairo Tuesday, President Hosni Mubarak and Jordanian King Abdullah discussed the Palestinian crisis.
Palestinian Civil War Mirrors Iranian Tactics in Iraq
June 12….(FOJ) The outbreak of a civil terrorist war in Gaza oddly enough mirrors the ongoing conflict being instigated by Iran in Palestinian refugee camps in northern Lebanon and in Iraq. Hamas, Hebollah, and numerous other terrorist networks seem to be operating on a convened schedule at the behest of the Teheran-Damascus Axis. Unquestionably, there will be calls from many quarters today for more US involvement on the Palestinian peace process track, and yet the same voices will cry out for the US to vacate Iraq. Could there be an agenda behind all this madness? Iran and Syria are heavily involved in fomenting civil strife throughout the Middle East, and it is all contrived to keep pushing the frontline of the terrorist war towards Israel, and a Middle East free from any US presence.
Deterring Iran
June 11….(Washington Times/By Louis Rene Beres and Isaac Ben-Israel) The "doomsday clock" continues its advance to "midnight." Existential atomic danger is most immediate to Israel, with Iran posing the greatest problem. Israel knows that the Iranian president's exterminatory threat is real. In law, this threat signifies the intent to commit genocide. Israel also recognizes that the pre-emptive destruction of Iran's growing nuclear infrastructures would involve serious operational and international difficulties. For interception, Israel has deployed elements of the tested Arrow system of ballistic missile defense, but even the Arrow would have "leakage." A single incoming nuclear missile that manages to penetrate Arrow could promptly kill 25,000-50,000 civilians, and even more if we include long-term fatalities. Iran could also share its nuclear assets with terror groups that would use cars and ships rather than missiles as delivery vehicles. These enemies might seek nuclear targets in New York or Chicago as well as Israel. Iran now augments its declared intent with a corresponding capacity. Left to violate binding treaty rules with impunity, Tehran might be undeterred by threats of Israeli and/or American retaliation. Such a failure of nuclear deterrence could be the result of a presumed lack of threat credibility or even of willful Iranian indifference. Iran could even become the suicide bomber in macrocosm, a nuclear-armed state willing to "die" as a "martyr." Iran's illegal nuclearization has already started a perilous domino effect in the region. Both Saudi Arabia and Egypt have announced possible plans to develop nuclear capability "for peaceful purposes." Strategic stability in a proliferating Middle East could never resemble earlier US-Soviet deterrence dynamics. Even the key assumption of rationality might be unwarranted. A nuclear Iran could therefore lead to a nuclear war in the Middle East. Israel will need to choose wisely between "assured destruction" and "nuclear war-fighting." These are alternative strategies in which one side primarily targets its strategic weapons on the other side's populations and infrastructures or on that enemy state's weapons systems and supporting military assets. Israel could also opt for a "mixed" strategy, but any targeting policy that might encourage nuclear war, fighting would be more costly than gainful. Israel should opt for nuclear deterrence based upon assured destruction. A counterforce targeting doctrine would be less persuasive as a nuclear deterrent, especially to leaders who might sacrifice their armies as "martyrs." And if Israel were to opt for nuclear deterrence based upon counterforce capabilities, its pertinent enemies could feel especially threatened. This could heighten the prospect of nuclear aggression against Israel and of subsequent nuclear war. Israel's decisions on strategic targeting will depend, in part, on: (1) enemy inclinations to strike first; and (2) enemy inclinations to strike all at once. Should Israel assume that an enemy state in the process of "going nuclear" is apt to strike first and to strike with all of its nuclear weapons right away, Israeli counterforce-targeted warheads, used in retaliation, would hit only empty launchers. In such circumstances, Israel's only application of counterforce doctrine would be to strike first itself, an option that Israel clearly and completely rejects. For intra-war deterrence, a counter-value strategy would prove more appropriate to prompt war termination. Should Israeli planners assume that an enemy country "going nuclear" is apt to strike first and in stages, Israeli counterforce-targeted warheads could have damage-limiting benefits. Here, counterforce operations could appear to serve both an Israeli non-nuclear preemption or an Israeli retaliatory strike. But the assumption about enemy self-limitation is itself implausible. Thoughtful steps are needed to prevent a regional nuclear war. These will require awareness of how a nuclear war might start in the Middle East, and an informed Israeli identification of the best available strategic doctrine. To protect itself against a still-nuclearizing and recalcitrant Iran, Israel's best course may well be a prompt and law-enforcing conventional pre-emption. Without pre-emption, if Iran goes nuclear, Israel could feel compelled to end its policy of nuclear ambiguity. Taking the "bomb out of the basement" could allow Israel to enhance its strategic deterrent, but Jerusalem could still never be quite certain of enemy rationality. Every state has the right to defend against aggression, especially where attacks would involve mass-destruction weapons. Now facing the risk of genocidal war from Iran, Israel would not itself consider the first use of nuclear weapons. But should Iranian nuclear weapons ever be unleashed against Israel's cities, either directly or via terrorist proxies, Tehran should understand fully that Israel would respond with at least proportionate destructiveness.


Iran Will Trigger all-out Regional War if Attacked, Official Says
(US weekly Defense News quotes a number of senior Iranian officials threatening to fire ballistic missiles in masses against targets in Arab Gulf states and Israel if US forces strike Tehran's nuclear facilities)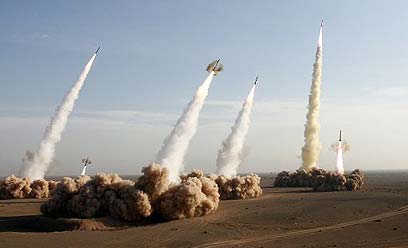 Iranian missile test last November
June 11….(YNET) If US forces strike Iranian nuclear facilities, Tehran will respond by triggering an all-out regional war, Iranian officials said last week in an interview with the Defense News weekly. "Ballistic missiles would be fired in masses against targets in Arab Gulf states and Israel," one Foreign Ministry official said. "The objective would be to overwhelm US missile defense systems with dozens and maybe hundreds of missiles fired simultaneously at specific targets." The newspaper quotes a number of Iranian officials whose comments reflect Tehran's official line but who could not obtain permission to speak on the record at short notice. According to the officials, Tehran's primary targets would be US military installations and strategic targets in US-allied Arabian Gulf states, including oil depots, refineries, power plants and desalination facilities. US warships would also face waves of surface-to-surface cruise missiles sent to overwhelm their countermeasures.
One Iranian official with knowledge of the leadership's national-security discussions said his country's leaders anticipate that US forces will strike with no warning against the military's command-and-control network, and have ordered ballistic and cruise-missile battery crews to launch the retaliation plan within an hour after a US attack begins. "The US will be as surprised with Iranian military capabilities as the Israelis were with Hizbullah in last summer's war in Lebanon," he said. "Most of our people are confident we would give the Americans hell and likely emerge victorious." Admiral Ali Shamkhani, a former Iranian defense minister, told Defense News that special targets would include Arabian Gulf states that help Washington to justify a strike. Shamkhani runs the Center of Strategic Studies, a think tank comprised of former senior foreign, defense and interior ministers who advise Ayatollah Ali Khameni, the country's supreme leader. "Allegations by some Arab gulf states that the Iranian nuclear program poses an environmental threat to the area and that it would spark a nuclear arms race are aimed at helping the US establish legitimacy for its anticipated aggression against Iran," Shamkhani said. US military action threatens Iran's existence, he said, "but most of those who speak about the war option are well aware that Iran has the capability to face this choice." According to the report, in case of an American attack Tehran will also allow al-Qaeda and other Islamic terrorist groups free passage across its borders from Afghanistan and Asia into the Middle East. "Iran will open a freeway for terrorists from Afghanistan all the way to Lebanon, enabling the terrorists to strike in almost every country in the Middle East," said the official with knowledge of national-security discussions.
Pentagon Backs Iran Attack
June 11….(Newsmax) Senior American military officers have told the Jerusalem Post they support President Bush's position that the US must do everything necessary to stop Iran from obtaining a nuclear weapon. Iran has insisted that its nuclear effort has no malicious intent, but a skeptical Bush has repeatedly said the United States would not allow Iran to "go nuclear." That stance is supported by senior officers in the US armed forces, a high-ranking American military officer told the Post. The officers believe that additional steps beyond diplomacy must be taken to stop Iran. Officers are predicting that Bush will do something before he leaves office in 2009, including possibly launching a military strike against its nuclear facilities. If military action is taken, according to the high-ranking American military officer, the US Navy and Air Force would play the primary roles. One idea under consideration is a naval blockade designed to cut off Iran's oil exports, the Post reported. Rather than block the Strait of Hormuz, though, US forces would probably patrol farther out and turn away tankers on their way to load oil. The US officer told the Post Iranian nukes may not even be the most dangerous threat to Israel and the Western world. The officer cited the possibility that a terrorist cell could attack the West with a highly radioactive "dirty bomb" or a vial of deadly chemical or biological agents.
Lieberman Endorses Military Strikes Against Iran
June 11….(Newsmax) Sen. Joe Lieberman on Sunday advocated the use of military action against Iran to halt what he said was that nation's training and support of terrorists against US troops in Iraq. "I think we've got to be prepared to take aggressive military action against the Iranians to stop them from killing Americans in Iraq," he said on CBS's "Face the Nation." "And to me, that would include a strike into, or over the border into Iran, where we have good evidence that they have a base at which they are training these people coming back into Iraq to kill our soldiers," he said. Lieberman, I-Conn., said he supports US talks with Iran, but negotiations would not alone be sufficient if Iranian backing of terrorism continues. US and Iranian diplomats met on May 28 to discuss security in Iraq. It was the first formal, scheduled meeting between since the United States broke diplomatic relations with Iran following the Nov. 4, 1979 seizure of the US Embassy in Teheran. "What we did was present them with evidence that we have, that I've seen, that I believe is incontrovertible that the Iranians are training and equipping Iraqi extremists to come into Iraq, and they're killing American soldiers and Iraqis," Lieberman said. Lieberman also said talks might not be enough to force Iran to halt its nuclear program. "But if there's any hope of the Iranians living according to the international rule of law and stopping, for instance, their nuclear weapons development, we can't just talk to them. If they don't play by the rules, we've got to use our force and to me that would include taking military action to stop them from doing what they're doing." Asked if he would support ground combat forces or air strikes, Lieberman said: "I'd leave that to the generals in charge. I think you could probably do a lot of it from the air, but they can't believe that they have immunity for training and equipping people to come in and kill Americans." He said he is "not talking about a massive ground invasion of Iran."
Russia Calls for New Economic World Order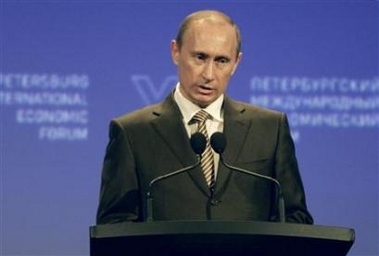 June 11….(Timeson Line) Russian President Vladimir Putin on Sunday called for practical steps to redraw the world economic order to reflect the growing role of fast-growing emerging nations. He told an economic forum in St Petersburg many global trade and financial institutions tailored to meet the interests of a few key economies were ineffective and pointed to flexible regional groupings as an alternative. Putin told the gathering of foreign officials and top executives 60 percent of the world's GDP was produced outside the Group of Seven (G7) leading nations, the United States, France, Germany, Britain, Japan, Italy and Canada. "The interests of stable economic development demand the creation of a new architecture of international economic relations based on trust and mutually beneficial integration," Putin said, days after attending a summit of the Group of Eight industrial nations, which includes Russia. Putin, who has pledged to stop the Group of Eight from turning into a club of "fat cats," said the principle of international investment was not applied fairly in practice. Making an apparent reference to the rebuffs Russian companies have received when trying to invest in some Western markets, Putin said: "We see the doctrine of free investment being replaced in the developed countries by completely different approaches." "It turns out that foreign investment is not always seen as positive and foreign participation is practically closed in sectors such as infrastructure, telecoms and energy." Putin said Western protectionism was damaging the work of the World Trade Organization (WTO), of which Russia wants to become a member. "Today protectionism, which the WTO is meant to fight, often comes from developed economies," he said, adding that new regional unions and agreements were already being formed. Putin made clear he saw the Commonwealth of Independent States, (CIS) a grouping of 12 ex-Soviet states, as one of potential core structures of the new world. Russia, resurging after years of post-Soviet decline, is building up its positions in ex-Soviet states, especially in the energy-rich countries of Central Asia. Last month it signed deals with Turkmenistan, Uzbekistan and Kazakhstan to revive the Soviet-era united system of gas pipelines, which will help Russia strengthen its role of the monopoly supplier from the region. But Kazakh President Nursultan Nazarbayev, who spoke after Putin, poured cold water on his optimism, saying the CIS had failed to become an effective instrument of cooperation.
Putin also rang a skeptical note about the current financial system based on few currencies and financial centers. "There is only one possible response to this challenge, the creation of several international reserve currencies and more financial centers," he said.
Iran Threatens Gulf Blitz if US hits Nuclear Plants
June 11….(YNET) Iran has threatened to launch a missile blitz against the Gulf states and plunge the entire Middle East into war if America attacks its nuclear facilities. Admiral Ali Shamkhani, a senior defence adviser to the supreme leader, Ayatollah Ali Khamenei, warned that Gulf states providing the US with military cooperation would be the key targets of a barrage of ballistic missiles. Shamkhani told the US journal Defense News that missiles would be launched not only at US military bases but also at strategic targets such as oil refineries and power stations. Qatar, Bahrain and Oman all host important US bases and British forces are based in all three countries. Any Iranian attack would be bound to draw in the other Gulf Cooperation Council states: Saudi Arabia, the United Arab Emirates and Kuwait. The attacks on Arab states would be in addition to airstrikes on Israel, which have been threatened repeatedly. Our objective would be to overwhelm US missile defense systems with dozens and maybe hundreds of missiles fired simultaneously at specific targets. Shamkhani, a former Iranian defense minister, accused the Gulf states of "helping the US establish legitimacy for its anticipated aggression against Iran". Shamkhani is the head of Iran's Centre for Strategic Studies, a think tank made up of former foreign, defence and interior ministers that advises the supreme leader. Another Iranian official said to be familiar with the "retaliation plan" claimed it would be launched within an hour of a US attack and would be accompanied by increased support for terrorist groups. President Mahmoud Ahmad-inejad said last week it was too late to stop Iran's nuclear program. He likened his country to a cornered lion and warned America "not to play with the lion's tail". President George W Bush is said to be determined to resolve the issue before he leaves office and there have been repeated suggestions that the US could attack Iran's nuclear facilities. Some analysts however say that by engaging Iran in direct talks, the US has decided against any Military offensive.
Syrian and Iranian Generals in Intensive War Consultations
June 11….(DEBKA) During most of last week, two high-ranking Iranian delegations spent time in Damascus. One was composed of generals who held talks with Syrian leaders on coordinated preparations for a Middle East w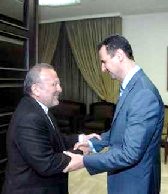 Syria and Iran
march together
ar in the coming months. At the Iranian end, a similar high-ranking Syrian military delegation called in at Iranian army and Revolutionary Guards headquarters to tighten operational coordination between them at the command level, as well as inspecting the Iranian arsenal. The Syrian general staff will draw up a list of items it is short of for a possible military confrontation with Israel this summer. Our sources report that last week, Tehran sent Moscow a check for $327 m to pay for assorted missiles consigned to Damascus. A further $438 m has been pledged by the end of June for more hardware to Syria. Iranian foreign minister Manouchehr Mottaki's three days of talks in Damascus at the end of May further consolidated the strategic partnership between the two governments under the mutual defense pact they signed a year ago. Their deliberations produced concurrence on the following issues:
1. Expanded economic cooperation, i.e. an enlarged Iranian aid package for Syria including monetary assistance and an extra 5 million tons of oil gratis per annum on top of the one million already guaranteed. Syrian president Bashar Assad drove a hard bargain: He demanded a larger slice of economic aid as the price for entering into strategic cooperation with Iran for the coming war.
2. The Assad government agreed not to take any military, or other steps with military connotations, without prior notice to Tehran and its assent. This clause applies equally to activating the Lebanese Hizballah and the Palestinian Hamas' Damascus headquarters.
3. Reciprocal visits by Syrian and Iranian generals and political officials will be stepped up.
4. In Iraq, Iran and Syria agreed to jointly intensify their terrorist operations against US and British troops.
The regime heads in Tehran are basing their common front with Damascus on intelligence reports whereby the US and Israel have drawn up plans for coordinated military action against Iran, Syria and Hizballah in the summer. According to this hypothesis, Iranian leaders foresee the next UN Security Council in New York at the end of June or early July ending with an American announcement that the sanctions against Tehran are inadequate because Russia and China has toned them down. Therefore, the military option is the only one left on the table. The ayatollahs have concluded that US President George W. Bush is determined to bow out of office on the high note of a glittering military success against Iran to eclipse his failures in Iraq. They believe he will not risk the lives of more Americans by mounting a ground operation, but rather unleash a broad missile assault that will wipe out Iran's nuclear facilities and seriously cripple its economic infrastructure. According to the Iranian scenario, the timeline for hostilities has already been fixed between Washington and Jerusalem, and so has the plan of action. The US will strike Iran first, after which Israel will use the opportunity to go for Syria, targeting its air force, missile bases and deployments, as well as Hizballah's missile and weapons stocks which Iran replenished this year. Officials in Tehran and Damascus find confirmation of their intelligence evaluations in the visit Israel's transport minister Shaul Mofaz paid to Washington last week at the head of a large military delegation. They are certain Mofaz, a former defense minister and chief of staff used the strategic talks to tie the last ends of the planned offensive. They were perturbed in particular by the Israel minister's reported advice to secretary of state Condoleezza Rice of the importance of setting a deadline, beyond which the US will abandon sanctions as ineffective and turn to its remaining options for dealing with Iran's advance towards a nuclear weapons capability. Considering the climate in Damascus and Tehran and their active pursuit of preparations for imminent attack, it is not surprising that Israeli prime minister Ehud Olmert received no reply to the note he sent to Assad proposing peace talks and offering the Golan as an incentive. Assad was not inclined to take the Israeli prime minister seriously. According to DEBKAfile's sources in Jerusalem, Olmert did not really expect him to. The offer was more in the nature of clearing the decks ahead of Olmert's White House visit later this month.
Iran, Syria Orchestrated Raid on Jewish State Over Weekend
(Terrorists storm Israeli border, attempt kidnapping)
June 11….(WND) An attempted Palestinian raid of the Israeli border this weekend, purportedly to kidnap an Israeli soldier, was orchestrated by Syria and Iran, according to security officials associated with Palestinian Authority President Mahmoud Abbas' Fatah party. The Israel Defense Forces on Saturday thwarted an attempt by the Iranian-backed Islamic Jihad terror group to kidnap a soldier on the Israeli side of a major crossing into the Gaza Strip. Four terrorists approached the Israeli border in an SUV bearing "TV" signs in an attempt to disguise themselves as journalists. Reporters working in Gaza usually travel in cars with "TV" symbols to identify themselves. Upon reaching the crossing, the terrorists blew a hole in the border fence and attempted to storm an IDF position. IDF troops rushed to the scene, chasing three of the gunmen back to the Gaza Strip. One of militants, 19-year-old Mohammed Jaabari, became separated from the group and hid inside Israel. Jaabari was shot dead after he opened fire when soldiers approached him, the IDF said. Islamic Jihad claimed responsibility for the attack. "The aim of the operation was to retreat with a prisoner," said Abu Ahmed, a spokesman for Islamic Jihad. "This was prevented by the use of Israeli helicopters." This attempted kidnapping took place just before the one year anniversary of the kidnapping by Hamas and two other groups of Israeli soldier Gilad Shalit, who has been held in Gaza and is being used as a bargaining chip by the Hamas-led Palestinian government to release Palestinian prisoners, including arrested terrorists, held in Israeli jails. Palestinian security officials associated with Fatah told WND this weekend's Islamic Jihad kidnap attempt was "completely orchestrated" by Syria and Iran. They said the operation was directly ordered by Ramadan Shallah, the overall chief of Islamic Jihad who resides in Syria and travels frequently to Iran. The Palestinian security officials said they had information phone calls were made between Islamic Jihad in the Gaza Strip and the group's leadership in Damascus right before, during and after Saturday's kidnapping attempt. "This operation was an Iranian and Syrian way to explode things and have another card on the table," said a Palestinian security official.
WEEK OF JUNE 4 THROUGH JUNE 10
US Decides Against Iran Strike
June 8….(MENL) The Bush administration has decided not to strike Iran's nuclear facilities. Administration sources said President George Bush has decided that barring a "catastrophic development," the United States would not attack Iran. The sources said the administration has been relaying the decision to US allies in the Middle East. "The United States has decided that Iran's cooperation was needed for a withdrawal from Iraq," an administration source said. "There won't be a situation where there will be cooperation and then war with Iran." The sources said the administration plans to discuss its decision with Israel during their annual strategic dialogue, which takes place on Wednesday in Washington. The Israeli delegation would be headed by Transportation Minister Shaul Mofaz, a former defense minister and military chief of staff. Mofaz was scheduled to meet Secretary of State Condoleezza Rice and other senior administration officials. The sources said the administration plans to discuss its decision with Israel during their annual strategic dialogue, which takes place on Wednesday in Washington. The Israeli delegation would be headed by Transportation Minister Shaul Mofaz, a former defense minister and military chief of staff. Mofaz was scheduled to meet Secretary of State Condoleezza Rice and other senior administration officials.
Olmert to Syria: Cut Ties With Iran, Receive Golan
(Prime Minister Ehud Olmert has offered the Golan to Syria, in exchange for full peace, including cutting ties with Iran and terrorists.)
| | |
| --- | --- |
| | Prime Minister Olmert has relayed a secret message to Syrian President Bashar Assad saying Israel, wanting peace would be willing to pay it, Yedioth Ahronoth reports. According to the report, Olmert conveyed to Assad that Israel would return the Golan in exchange for a comprehensive peace agreement and the severing of Damascus' alliance with Iran and terror groups in the region. |
June 8….(Arutz) Israel's daily Yediot Acharonot reports Friday that PM Olmert has agreed to a deal with Syrian leader Bashar Assad, whereby Syria would receive control of the Golan Heights in exchange for revoking the Syrian-Iranian alliance and cutting all ties with terrorist organizations. Olmert reportedly informed Syria, via a third party, that he is aware that a peace agreement with Syria "means returning the Golan to Syrian sovereignty." He said he is willing to do so, but wishes to know if Syria, in return, will "dismantle, in stages, its alliance with Iran, Hizbullah and Palestinian terrorist organizations."Just this past April, Olmert projected a different message, releasing a statement that "despite Israel's sincere wish for peace with Syria, Syria continues to be part of the Axis of Evil and a terror-encouraging element throughout the Middle East." Assad has not yet responded to Israel's latest offer.
v FOJ Note: Ehud Olmert's offer to concede the Golan, even in the face of the threat of war from Syria is tantamount to Neville Chamberlain's appeasement of Adolph Hitler in 1939.

Panoramic view of the Golan Heights, with Mt. Hermon mountains on the left side
Nation Up in Arms at Olmert's Golan Offer
| | |
| --- | --- |
| | Israel captured the Heights from Syria in the 1967 Six Day War (and again in the 1973 Yom Kippur War). The UN resolutions, including 242, consider the area Israeli occupied from which Israel should withdraw under a peace treaty. In 1981, Israel applied its "laws, jurisdiction and administration" in the Golan Heights with the Golan Heights, governing it as part of its Norther district. Syria asserts that the Heights are part of Al Qunitrah. |
June 8….(Arutz) As polls continue to show overwhelming national opposition to giving up the Golan, opposition MK's blasedt PM Olmert for offering it to Syria. Left-wing MKs, on the other hand, want him to act, not just talk. Prime Minister Ehud Olmert's latest offer to give the Golan Heights to Syria flies in the face of polls showing public opposition to ceding the Golan, and has many MKs on both sides of the political spectrum up in arms. Olmert reportedly informed Syria last month that he is willing to cede the Golan to Syrian sovereignty, but wishes to verify that Syria will, in turn, cut its ties with Iran, Hizbullah and Palestinian terrorist organizations. MKs from the Likud and National Union/National Religious Party came out vehemently against Olmert. Likud faction head Gideon Saar called upon Shas and Yisrael Beiteinu, two coalition parties whose voters are nearly all right-wing, to immediately quit the government. "Olmert has no public legitimacy for a withdrawal from the Golan," Saar said. "Far from our eyes, processes are taking place that will be hard to stop in the future. The responsibility for this lies upon all the members of the government and coalition." Likud MK Yisrael Katz was more succinct, saying, "It would be better to replace Olmert than to give up the Golan Heights." MK Effie Eitam (National Union), a former IDF Galilee Formation Commander and a resident of the Golan, told Ynet that the initiative is merely an attempt by the government to cover up its responsibility for its failures in the Second Lebanon War. Along the same lines, National Religious Party leader Zevulun Orlev said, "Olmert is willing to sell the Golan to save his seat. This is his last-gasp effort to survive." Left-wing MKs, on the other hand, attacked Olmert for only offering the Golan and not actually taking steps to actualize the offer. Meretz Party leader Yossi Beilin said the agreement to give back the Golan has been ready to sign "ever since 2000 when then-PM Ehud Barak became scared of himself and ended the meeting with the Syrians in Shepherdstown, West Virginia." Barak is currently running once again for leadership of Labor; the internal election will be held this Tuesday. MK Zahava Gal'on of Meretz said that Olmert must not suffice with declarations, but initiated a meeting with Syria's Foreign Minister.
Polls Show Support for Golan
A poll commissioned last summer by the Harry S. Truman Research Institute for the Advancement of Peace at the Hebrew University found that 56% of the Israelis oppose full evacuation of the Golan Heights in return for a full peace agreement with Syria. A more recent poll, carried out this week by Teleseker for Maariv, shows that a full 84% of the public opposes a full withdrawal from the Golan. Some 44% oppose a withdrawal from any part of the Golan Heights, and 40% said they support only a partial withdrawal. In addition, 74% of the public do not believe that Assad is even interested in peace.
Bush, Putin Meet on Sidelines of G-8 Summit
(President Bush: US missile system not an issue 'to be hyperventilating about')
June 8….(MSN) President Bush said he hoped to convince Russian President Vladimir Putin on Thursday that their dispute over a US missile defense system is not an issue either side should "be hyperventilating about." Bush and Putin were holding talks Thursday afternoon on the sidelines of the Group of Eight summit, their first meeting since a clash over US plans for a missile defense system in eastern Europe flared into Cold War-style rhetoric. Bush said he would try to ease Russia's concerns about the shield and convince him the intention is to block missiles from Iran, not from Russia, which has a huge arsenal of nuclear rockets that the system would not be capable of deterring. A missile defense system cannot stop multilaunch regimes. The fact is that you can't stop two, three, four, five missiles," Bush said after a meeting with British Prime Minister Tony Blair. "Russia is not a threat," Bush said. This is not something that we ought to be hyperventilating about.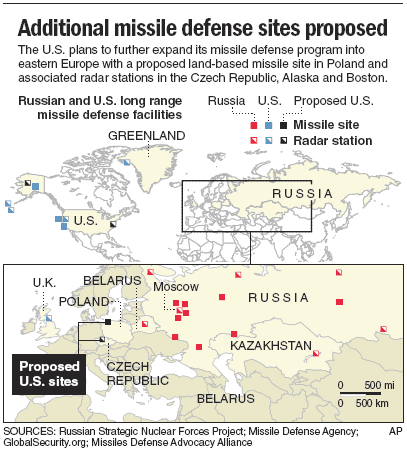 There are other items on the US-Russia disagreement list, notably What we ought to be doing is figuring out ways to work together." But Moscow has dismissed that as an "insufficient" explanation. Putin warned earlier this week that a new shield could require Russia to retarget missiles toward Europe or take other buildup measures, and a Kremlin spokesman promised "uncomfortable consequences" if the shield is deployed. But, spokesman Dmitry Peskov added, "Russia is the last country in this world who is thinking about confrontation or starting another Cold War." Russia's unhappiness with US support for independence for the breakaway Serbian province of Kosovo. Russia bristles at what it sees as US meddling in its traditional sphere of influence. Bush this week put Russia on a par with China, calling US-Russian ties "complex" and criticizing democracy as having being "derailed" under Putin. The remarks carried extra sting because they were delivered publicly and in the Czech Republic. The NATO membership of the former Soviet satellite, which threw off communism in 1989, along with others, is a thorn in Russia's side.
Forgotten Truths About UN Resolution 242 & Occupied Territory
June 7…..(Ryan Jones/Jnewswire) United Nations Resolution 242 is again the focus of media attention, as the world remembers 40 years since Israel crushed the numerically superior combined forces of Egypt, Syria and Jordan. Resolution 242 was the document that brought an end to the 1967 Six Day War, but only after Israel had taken control of (and in some cases liberated from illegal occupation) the so-called "West Bank," the Gaza Strip, the Golan Heights and the Sinai Peninsula. A flood of newspaper editorials and television documentaries are being produced to mark the anniversary, and, as expected, the Arab world and its loudest allies are again using 242 as a banner to call attention to what they insist is Israeli non-compliance with international law. The arguments and calls for "justice" are the same as they have been for the past four decades, with Israel's detractors relying on the same misrepresentations and misuse of the resolution. After years of media indoctrination, the common misconception today is that 242 is a firm order for Israel to hand over every inch of Judea, Samaria and the Gaza Strip to the Palestinian Arabs, and allow millions of foreign-born Arabs who claim they are refugees of Israeli aggression to take up residence inside the Jewish state. Nothing could be further from the truth.
First of all, 242 does not even make mention of the Palestinians, who were not even an official party to the conflict. At the time, the Arabs of Judea and Samaria were Jordanian citizens, just as the Arabs of Gaza were Egyptian citizens. Nor did that fact seem to bother Yasser Arafat's Palestine Liberation Organization (PLO) at the time. Immediately following the UN Security Council's adoption of 242, a PLO representative told the General Assembly that "implementation of said resolution will lead to the loss of every hope for the establishment of peace and security in Palestine and the Middle East region."
What the resolution did do was call for Israel to relinquish some of the territory it had captured and for the Arab states to finally allow Israel to live at peace within secure and recognized borders free from the threat of armed aggression. The ambiguous wording of the resolution's call for an Israeli withdrawal was completely purposeful. The US and British authors of the document insisted that they had deliberately omitted the words "the" and "all" before the word "territories." Stated former US ambassador to the UN Arthur Greenberg: ("The notable omissions, which were not accidental, in regard to withdrawal are the words 'the' or 'all' and 'the June 5, 1967 lines,' the resolution speaks of withdrawal from occupied territories without defining the extent of withdrawal.) " Former British ambassador Lord Caradon added: ("It would have been wrong to demand that Israel return to its positions of June 4, 1967, because those positions were undesirable and artificial.") Greenberg and Caradon were supported in this decision by a firm majority in the General Assembly, which rejected a Russian and Arab demand to alter the wording. Many apologists of the Arab position try to sidestep the above facts by noting the resolution also emphasizes the "inadmissibility of the acquisition of territory by war." The argument can be made, however, that this phrase was included to condemn the acquisition of land in an offensive war, which was the goal of the planned Arab assault. Israel's acquisition of territory resulted from a defensive war on its part, which is permitted by international law. If the legitimate loss of territory as a consequence for aggression was outlawed, hostile nations would have little to lose in waging war. An honest examination of the subject reveals that Israel has already complied with its major obligation under Resolution 242 by surrendering more than 90% of the territories it captured in 1967 (the entire Sinai Peninsula, the whole of the Gaza Strip, and large portions of Judea and Samaria). Likewise, two of the three offending Arab parties - Egypt and Jordan - have since made peace with Israel. Outside of Syria's outstanding non-compliance with its obligation to make peace, 242 is a dead issue. Its use by the Palestinians in their endeavor to turn Israel's biblical heartland into yet another Arab state is a total misrepresentation of the resolution.
Syria's Secret Surrogate: The Truth About Fatah al-Islam's Uprising in Lebanon
June 7….(IMRA) Fatah al-Islam, a Palestinian Islamist group, has been waging an uprising in Lebanon which has attracted huge media coverage. Most journalists identify
this group with al-Qaida or are just plain confused as to its identity. In fact, what is happening is a major deception operation by Syria, a rather typical case of how radical forces in the region fool the West, score against their adversaries, and avoid any retaliation for their deeds. Let's first describe the story briefly, then explain the motives and proof behind it. An outline goes like this:
Step 1: Syria wants to sponsor violence and terrorism in Lebanon to bring that country back under its control and intimidate the Lebanese from supporting an international tribunal to investigate and punish those responsible for murdering Lebanon's most popular politician, former prime minister Rafiq Hariri and 22 bystanders on February 14, 2005. Since all the evidence points at Syria's leaders as the murderers, killing the
investigation is their highest priority. The timing of this uprising came at the very moment that the UN Security Council was voting to hold the tribunal.
Step 2: Organize and order a shadowy group of terrorists, called Fatah al-Islam, to disrupt Lebanon.
Step 3: And this is the scheme's most clever part, blame the terrorism on your victim, Lebanon's own government, and your enemy, the United States. Get some gullible or ideologically inclined journalists to talk to Syrian officials, be fed this line, and then spread it throughout the world. So how do we know that the uprising in the Palestinian camp of Nahr al-Bared in northern Lebanon, which killed well over 100 people and led the Lebanese army to shell the camp, was a Syrian operation? Well, first, the group itself Fatah al-Islam, is merely part of an older group, Fatah al-Intifada which has been a Syrian front group for almost 25 years. That is a rather strong hint of whose these people are and from where their pay and arms come. But there is much more. The leader of this group is a man by the name of Colonel Abu Khaled al-Amleh. And he lives and operates out of Damascus, Syria. The Syrians do not let terrorist groups function in the country unless the regime likes them and finds them useful. That is also a major piece of evidence. But we are just getting started. The field commander of the group is a man named Shaker al-Absi. He has been working as a Syrian agent since 1983. In 2003, Absi joined the insurgency in Iraq against the US and Western forces there. Of course, Syria is the insurgency's main sponsor. Hundreds of fighters cross the Syria-Iraq border, reportedly there is a special government bus that takes them to a good jumping-off point. This record reinforces the idea that Absi is working for Syria. In Iraq, Absi worked with Abu Mus'ab al-Zarqawi, the head of al-Qaida-Usama bin Ladin's group-there. There is no inconsistency here. After all, when Syria helps the insurgency, most of the forces they assist are led by al-Qaida. While al-Qaida is by no means controlled by Syria, the radical duo has some common interests. Mr. Absi was involved in the murder of a US diplomat, Lawrence Foley, in Jordan on October 28, 2003. Naturally, the Jordanians wanted Syria to extradite him so he could be questioned and punished. Syria refused, clearly because its regime would not benefit from having Absi tell what he knew, especially about Syria's own role in his activities. In 2004, Jordan sentenced Absi to death in absentia. Immediately, Syria approved a plan for Absi to "split" his old group and begin Fatah
al-Islam. The ideology of the group, merging Arab nationalism and Islamism, is very much in line with Syria's current political doctrine. Within Lebanon today, independent and pro-government newspapers have run detailed articles about Absi, his Syrian credentials, and the motives of Damascus for bashing Lebanon. Since Hariri's murder three years ago, there have been 15 major terrorist attacks, mostly aimed at assassinating critics of Syrian attempts to dominate Lebanon. Meanwhile, Syrian officials have been briefing some Western journalists, who know no Arabic and have no serious background in studying the Middle East. They tell these people that Fatah al-Islam is a front for Lebanon's government and even the United States. The situation in Lebanon is complicated. But the majority of Lebanese want their country to be independent. They have suffered under 20 years of Syrian occupation which looted the country and repressed its people systematically. The moderate, democratic leadership needs and deserves Western support against a terrorist offensive directed by the neighboring Syrian dictatorship. It would be a pity to be fooled, by such transparent schemes as the Fatah al-Islam affair, into supporting the oppressors.
Remembering D-Day and the Challenge for Freedom
June 6…(FOJ) On June 6th, 1944 Allied forces which included America's finest landed on the beaches of Normandy, in northwestern France, across the Channel from Great Britain. In the previous few years, Adolph Hitler's Nazi armies had experienced stunning victories on all fronts, including Holland, Luxembourg and Belgium, Poland and Czechoslovakia. Paris fell to Hitler on June 14, 1940. Three days later, France surrendered to Germany and sued for peace. Adolph Hitler, a prototype antichrist, was poised to become the "Super President" of Europe.
Subsequently, in his famous speech to the House of Commons, British Prime Minister Winston Churchill discussed the disastrous turn of events in Europe with the realization that Great Britain now stood alone against the seemingly unstoppable German Axis military juggernaut. Churchill reviewed the fact that British General Weygand called the Battle of France over, and that the Battle of Britain was about to begin. Upon that battle back then with Hitler truly depended the survival of Christian civilization, as Churchill pointed out in his speech. "Upon it depends our own British life, and the long continuity of our institutions and our Empire. The whole fury and might of the enemy must very soon be turned on us. Hitler knows that he will have to break us in this Island or lose the war. If we can stand up to him, all Europe may be free and the life of the world may move forward into broad, sunlit uplands. But if we fail, then the whole world, including the United States, including all that we have known and cared for, will sink into the abyss of a new Dark Age made more sinister, and perhaps more protracted, by the lights of perverted science. Let us therefore brace ourselves to our duties, and so bear ourselves that if the British Empire and its Commonwealth last for a thousand years, men will still say, 'This was their finest hour. After America was attacked by Japan in 1941, America joined with Great Britain to fight for freedom in the Christian West.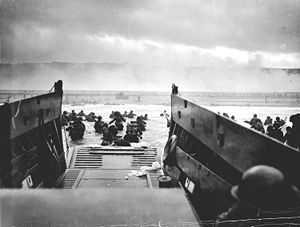 Four years later, Allied forces landed on the beaches of Normandy, France and began the liberation of France, and the defeat of Hitler and his Satanic hordes. Christian civilization was saved, and the era of God's liberty and freedom was extended. We in America have enjoyed that liberty for over sixty more years since. Yet today, Christian civilization is on the wane because America and Britain have forgotten their blessing and abandoned God. And so, another sinister enemy of liberty has arisen, and once again Satan is marshaling the forces of Evil and darkness to strike at the remnant outposts of Christian civilization. And this time, Satan's strategy, as it would have been had Hitler succeeded, is to encircle Israel for the final showdown with Jesus Christ. Satan's strategy is to destroy the state of Israel, and this time around the prophecies relative to the Tribulation era are precisely fixed, unlike in 1940.
Refined in the Fire For Him
June 6….(FOJ) There is no fire like the fire of God's jealousy. Without God's manifest sacrifice through his son Jesus Christ, we are all condemned. Even so, while in this world Satan has ignited a fire all around us. Yet, God watches over his own in the midst of these fires, even as he brought Daniel and his companions through the firey furnace.
Malachi 3:2-4 But who may abide the day of his coming? and who shall stand when he appeareth? for he is like a refiner's fire, and like fullers' soap: And he shall sit as a refiner and purifier of silver: and he shall purify the sons of Levi, and purge them as gold and silver, that they may offer unto the LORD an offering in righteousness. Then shall the offering of Judah and Jerusalem be pleasant unto the LORD, as in the days of old, and as in former years.
This verse puzzles many as they engage in Bible study and the prophetic word. This metallurgy analogy reveals something about the character and nature of God. Analyzing a silversmith and his work reveals much about God's work on us. If we watched a silversmith, he would hold a piece of silver over the fire and let it heat up. In the refining silver, one needs to hold the silver directly in the middle of the fire over where the flames are the hottest so as to burn away all the impurities. Reviewing Malachi's analogy, we can see that while we are in this world, God holds us in our hot spot: "He sits over us as a refiner and purifier of silver." The working silversmith has to sit there in front of the fire the whole time the silver was being refined. He not only has to sit there holding the silver, but he has to keep his eyes on the silver the entire time that it is in the fire. If the silver is left for even a moment too long in the flames, it could be destroyed. That is an amazing analogy about how God oversees us through the fires of this wicked world. How does one know when the silver is fully refined that the silversmith heats?" Well, in reality, any silversmith will tell you that the purification point is reached when he see his image in it. It is also true with God's work on us. He is looking for his Son in each of us. So, today if you are feeling the heat of the fire of Satan, remember that God has his eye on you and will keep watching you until He sees His Son completely in you. Who can abide the day of the Lord's coming? Only those who belong to him! Soon, Israel will pass through the fire of the "Day of the Lord", and they too will be refined as the Lord God watches over them, and saves them from the fires of the Great Red Dragon.
After the Six Day War
June 6….(Jerusalem Post / FOJ) An Arab sword of Damocles hung over Israel's neck in June 1967, and so perilous was its blade that foreign capitals spoke chillingly of the country's imminent slaughter. But then, within six amazing days, the IDF crushed army after Arab army and felt the jubilation of David with Goliath prostrate at his feet. Then the seventh day dawned. Soviet Russia swiftly replenished Goliath's arsenals, while David's sling lost much of its propellant thrust. France, long Israel's backer, imposed an arms embargo, and only America could redress the balance. It was this, above all, that drove Israeli Prime Minister Levi Eshkol to seek an urgent meeting with President Lyndon Johnson who, in January 1968, extended to him a friendly invitation to his Texas ranch.
The talks took place in the president's den around an rustic oak desk. No two men appeared so absolutely unalike in appearance and temperament. The one was a towering Texan, vigorous, groomed, abrasive, and commanding, the other a paunchy, stooped, bespectacled, balding Jerusalemite with a wise, family-friend countenance. Without much ado, the prime minister bent his mind to the hub of his argument:
"The heart of my mission here, Mr. President," he said, "is how to create peace in the Middle East, at a time when the Syrian and Egyptian armies are being rebuilt by the Soviets at a menacing pace so fast that the Arab leaders are contemplating a renewed war." (7 years later the Arabs would indeed launch yet another war) "How fast?" asked Johnson. He was sitting at the very edge of his chair, his demeanor intense. "Egypt, Syria and Iraq have already replenished their air forces to a combined strength of 460 fighters and 47 bombers," answered Eshkol. "Egypt alone is now almost back to its prewar air strength. Moreover, the quality of their aircraft is vastly improved." "And their ground forces, what of them?" asked the president. "In tanks," replied the premier referring to a typed page, "the Egyptians are almost back to their prewar strength. The Egyptian navy is stronger than before, with rocket-equipped vessels. The number of ground troops is rapidly rising beyond their June 1967 strength."
"Do you see signs of an actual Russian physical presence there?"
"Absolutely, and our assessment is that there are at least 2,500 Soviet military experts in Egypt today."
"OK, that's the Arab side. Now what about your side? What do you have?" The president was eyeing the prime minister unblinkingly, as if trying to track the motives behind his thoughts. Eshkol's response, when it came, was slow, soft, and disturbing:
"We have no more than 150 aircraft, all French, 66 of them virtually obsolete. The French are contracted to send us 50 more, but because of their boycott we won't get them. In a word, Mr. President," their eyes met and caught, "we presently do not have the minimum means to defend ourselves." A wrinkle crossed Johnson's brow and he exchanged glances with his advisers. "So what are you asking for exactly as his voice was terse and tight. Eshkol, knowing this was the decisive moment, adjusted his spectacles, cleared his throat, and said in a measured tone, "What I'm asking for, Mr. President, is the one aircraft that has the necessary range and versatility to enable us to face down our enemies. I'm asking for your F-4 Phantom jets." President Johnson's eyes became strangely veiled and concerned. The Phantom was America's newest state-of-the-art fighter-bomber.
Mr. President," pressed Eshkol, a sudden edge of desperation in his voice, "please understand, my country is extremely vulnerable. One defeat in the field can be fatal to our survival. What I ask of you is the minimum for our self-defense. Without those Phantoms we will be deprived of our minimum security. We need 50 Phantoms as rapidly as possible."
Johnson returned him an unreceptive look and Eshkol, really charged up now, said, "Mr. President, last June our enemies tried to destroy us, and we defeated them all. Had we waited one more day, even one more hour, before forestalling them the outcome might have been very different. Yet I come here with no sense of boastful triumph; nor have I entered the struggle for peace in the role of victor. The only feeling I have is one of relief that we were saved from national disaster, and I thank God for that. Now, all my thoughts are turned toward winning the peace - peace with honor between equals."
"That is a noble thought," said Johnson.
"Thank you, but we need the tools to help bring that peace about. I regret to say that "the United States is the only source we have for those tools. Within two years our Arab neighbors will have 900-1,000 Soviet aircraft. So it's an either/or situation. Either you provide us with the arms we need, or you leave us to our fate. It's as simple as that." "Mr. President, Israel is pleading for your help."
Lyndon Baines Johnson put the back of his hand against his mouth, chewed on his knuckles contemplatively, made a tent of his hairy fingers, and said: "I am impressed by your statement, Mr. Prime Minister. However, as you know, we are facing a difficult situation in Vietnam, calling on our resources. I suggest, therefore, you look elsewhere to find your weapons, not only here in the United States." Eshkol threw him a cynical smile. "Please tell me where. I would be delighted to look elsewhere if you can give me an address." "That's as may be, but I regret that your visit here is so closely tied to this matter of the Phantoms. Planes won't radically change your realities. Your big problem is how two-and-a-half million Jews [Israel's population at the time] can live in a sea of Arabs."
Secretary of state Dean Rusk, a solid and benevolent sort, chimed in to say in a reasonable and persuasive tone, "Mr. Prime Minister, in all honesty, whatever efforts Israel makes in the field of military build-up, the Arabs will better you every time. If the Arabs see an Israel they cannot live with, one that is intolerable to them, they won't back away from an arms race. On the contrary, they will turn increasingly to the Soviets, to the detriment of the American interest. So what we would like to hear from you today is, what kind of an Israel do you want the Arabs to live with, and what kind of an Israel do you want the American people to support? The answer, surely, is not to be found in military hardware."
"These are difficult remarks you are making, Mr. Secretary," said Eshkol stonily. "All I can say to you now is that our victory in the Six Day War blocked the Soviet Union from taking over the Middle East; and that, surely, is an American interest. As for the kind of an Israel the Arabs can live with and which the American people can support, the only answer I can presently give is an Israel whose map will be different from the one of the eve of the Six Day War."
"How different?" quizzed Rusk cagily.
Eshkol, his voice brimming with sincerity, replied, "Please understand, we did not want that June war. We could have lived indefinitely within the old pre-1967 armistice lines. But now that there has been a war, we cannot return to those old, vulnerable frontiers." Clearly not wanting a high-stress exchange to escalate into an all-out dispute, the president intervened and suggested a break. When the talks resumed, the president said he would like to try and get a peace process going, to which Eshkol interjected with uncharacteristic adamancy:
"Mr. President, I would love somebody here in this room to tell me when and where and how I can get a peace process going. I wouldn't be here asking for Phantoms if somebody could tell me that. But instead of peace we are faced with an unprecedented Arab rearmament that again threatens our very existence. The immediate issue is the means to defend ourselves against another attempted onslaught. Israel feels weaker now than before the Six Day War. Why? Because as you rightly said, we are a small country of two-and-a-half million Jews surrounded by a sea of Arabs. So what are we supposed to do, wait until Russia gives them so many planes that they can dictate their terms at will?" His face had gone white. "Mr. President," he galloped on, "the State of Israel is the last chance for the Jewish people. I pray with all my heart to avoid another war. But I know of only one address to acquire the means to defend ourselves - and that address is you."
Robert McNamara, the then secretary of defense, raised a finger. He was a handsome man in his early fifties, with a square chin, a fine mop of hair parted in the middle, and rimless glasses that gave him an intellectual look. There was nothing about him to suggest he was in the midst of a Vietnamese war that would prove one of the bloodiest America had ever fought. "Having studied the evidence," he began with dispassion, "it seems clear to me that two-and-a half million Jews truly cannot withstand the whole of the Arab world, particularly if the Arabs are assisted by the Russians. Therefore, the supply of a substantial number of the most sophisticated aircraft could only increase Russian support for the Arabs. At the same time, there is no reason for Israel to say it has been abandoned. This will not occur while President Johnson is president. However, for the US to supply you with planes might greatly increase the supply of Russian planes to the Arabs. So, given these unknowns, we have to proceed with the utmost caution."
This obscure and contradictory comment by McNamara aroused the ire of General Motti Hod, commander of Israel's Air Force, who, with undisguised cynicism, countered: "The arms race, Mr. McNamara, has never been influenced by what we have in our hangers. The only limiting factor is the Arab capacity to absorb (buy) the aircraft the Soviets supply."
And then to Johnson, "Your secretary of defense says that as long as you, Mr. President, are president, Israel will never be abandoned. Might I suggest that the one way of guaranteeing that, and of assuring that US forces will never have to come to our rescue, is by keeping our air force strong."
President Johnson then suggested another brief break for consultations, after which he said in summation: "I think we can agree on three objectives. First, there is the need to do what we can to bring about a stable peace. Second, we are all anxious to deter, if possible, an arms race. Third, the United States has a hope and a purpose of assuring, if necessary, adequate equipment to the Israel Air Force to defend itself. And in connection with this goal I suggest that the following sentence be written into our joint communique at the conclusion of this session." He picked up a paper, and read: "The president agreed to keep Israel's defense capability under active and sympathetic review in light of all the relevant factors, including the shipment of military equipment by others into the area." To this he added by way of explanation, "This statement will be helpful in deterring the Arabs, and might even push them toward restraint. It also says to the Soviets, 'Stop, look, and listen.' And it gives you something concrete, Mr. Prime Minister, to stand on."
This, in diplomatic-speak, could be translated into, "Yes. You'll have your Phantoms," and a deeply relieved prime minister responded, "Thank you, Mr. President. I thank you from the heart." Lyndon B. Johnson kept his word. Historically, a profound change in the relationship between Jerusalem and Washington was set in motion. America threw in its strategic lot with Israel so that, henceforth, it would become Israel's main source of sophisticated weaponry. This strategic alliance, for all its ups and downs, endures as a bedrock of US bipartisan support for Israel, for not only does it enable Israel to retain a qualitative edge in the face of extraordinary odds, it is the indispensable key to any process of peace in the future.
(FOJ) With hindsight as the great revealer of historic truth, it is now known that Israel did not want the 1967 or 1973 wars. Many people think the Arabs may have even been reluctant to start the 67 war. But armed to the teeth by the Soviet Union, the Arab nations felt supremely confident that the annihilation of Israel was at hand. Little did anyone realize at the time that the nation that wanted the 67 war the most, was, the Soviet Union. The Soviet Communist Politburo desperately wanted to eliminate Israel's nuclear facility at Dimona, and with it the country's aspiration to develop nuclear weapons. Russia viewed Israel's nuclear capability as an affront to Soviet expansionism in the Middle East through its client states in the Arab world. Their scheme against Israel was to force the US out of the Middle East altogether, leaving a power vacuum that only Russia could fill. Apparently, with the US bogged down in Viet Nam, the Johnson Administration devalued the Israeli situation in the Middle East, but America's decision to support Israel then, as it always has been, has been America's blessing!
In 1967, Moscow had devised a complex geo-political scheme to lure the Israelis into starting a war with the Arabs, which would end with a Soviet attack on Dimona. Militarily, the Kremlin prepared by surrounding Israel with an armada of nuclear-armed forces in both the Mediterranean and Red seas, pre-positioning material on land, and training troops nearby with the expectation of attacking Israel on behalf of the Arab nations. The Soviet Union was prepared to send troops to attack Israeli territory, and specifically to bombard oil refineries and reservoirs, and reach out to Israeli Arabs, by doing for them the one thing they desired most; "destroy Israel" or at least destroy their nuclear capacity. Soviet photo-reconnaissance MiG-25s directly overflew the Israeli Dimona reactor in May 1967. Politically, the Soviet scheme consisted of fabricating intelligence reports about Israeli threats to Syria, thereby goading the Egyptian, Syrian, and Jordanian forces to go on a war-footing. As his Soviet masters then instructed, Egypt's Gamal Abdel Nasser moved his troops toward Israel, removed a United Nations buffer force, and blockaded a key naval route to Israel, three steps that together compelled the Israelis to move to a full-alert defense. Unable to sustain this posture for long, Israel struck first, thereby, it appeared, falling into the Soviet trap. But then the Israel Defense Forces did something astonishing. Rather than fight to a draw, as the Soviets expected, they quickly won what has become "the most overwhelming victory in the annals of warfare." Actually, it was the hand of Almighty God that used the events of 1967 to rescue Israel from a trap. Using purely conventional means, Israel defeated three enemy Arab states in six days, thereby preempting the planned Soviet invasion, which had to be scuttled. Moscow decided to obscure its role in engineering the war (its second major strategic debacle of the decade, the attempt to place missiles in Cuba having been the first). The cover-up succeeded so well that Moscow's responsibility for the Six-Day War has disappeared from histories of the conflict.
· Today, Russia is scheming to assist Iran in acquiring a nuclear capability that includes atomic bombs. The plan is meant to counter the Israeli nuclear deterrent, and to once again confront the US with a geo-political power-play. Like in 1967, America is once again bogged down in a Viet Nam-like situation, and Russia is actively supporting many anti-American and anti-Israel states around the world.

Finally in 2007, forty years later after the 1967 war, where might things be had the Soviets' preconceived Six-Day War not occurred, or had Israel lost? However bad circumstances are at present, they would presumably be yet worse without that stunning Israeli victory. One thing is for sure, Ezekiel's prophecies concerning the Magog led invasion against Israel is the geo-political scenario still coming into fruition on the world stage.
House of Representatives: Move US Embassy to Jerusalem
June 6….(YNET) The House of Representatives on Tuesday once again voted unanimously and passed a resolution calling on President George W. Bush to move the American embassy from Tel Aviv to Jerusalem, this on the 40th anniversary of the Six Day War. The Senate is expected to approve a similar motion later in the day. In the Jerusalem Embassy Act of 1995 Congress determined that Jerusalem should be recognized as the capital of the State of Israel and that the US Embassy should be established there no later than May 31, 1999. However, both the Clinton and Bush administrations have refrained from moving the embassy for fear of riots (terrorism) against American embassies in Arab countries and a possible decline in the US's status. "The House declaration congratulates the citizens of Israel on the 40th anniversary of the Six Day War in which Israel defeated enemies aiming to destroy the Jewish State. Jerusalem has been the focal point of Jewish religious devotion and the site of a continuous Jewish presence for over three millennia, with a Jewish majority since at least 1896," the resolution said. "The vibrant Jewish population of the historic Old City of Jerusalem was driven out by force during the 1948 Arab-Israeli War. In six days of war in 67, Israel defeated those forces seeking its total destruction and reunited the city of Jerusalem which had been artificially divided for 19 years."
FOJ Note: The US has been paying blackmail to the Arabs and surrendering to terrorist demands by not placing its embassy in Israel's capital.
UAE May End Dollar Peg Next
June 6….(Money News) One day after Syria announced it intended to discontinue using the U.S. dollar peg in July and instead link its currency to the International Monetary Fund's Special Drawing Right (SDR), indications from trading in currency forwards hint that the United Arab Emirates may be the next Middle Eastern country to stop pegging its exchange rate to the US dollar. A leading news source said the second-largest Arab economy may follow Syria and Kuwait, which both said in the past two weeks they planned to dump the dollar peg to curb rising import costs and inflation. One expert said the market expects that the UAE dirham is the most likely of the Gulf countries to follow. "Forwards show what the market is betting on," she was quoted as saying. If that happens, the dirham would reportedly climb to 3.66025 to the dollar in a year, 0.35 percent higher than the current exchange rate. The average premium in the so-called implied rate in the past year was 0.04 percent. In comparison, the premium on one-year Qatari riyal forwards is reportedly 0.06 percent at the present time. Kuwait switched to a currency basket on May 20, and yesterday the Central Bank of Syria governor said his country needed to broaden its peg to "stabilize the Syrian pound and bring down inflation." On May 22, the UAW Prime Minister said the country would maintain its link to the dollar, even after inflation heightened to 10.1 percent in 2006, from 7.8 percent the previous year. One Middle East economist opined that Syria's move could lead to further speculation of another country "de-pegging" from the dollar. He noted that any change in the UAE's exchange rate regime would be in coordination with other Gulf states. The six members of the Gulf Cooperation Council, including Saudi Arabia, are planning to launch a unified currency in 2010.
Another Middle East War Erupts as 50,000 Turkish Troops Invade N. Iraq to Strike Rebel Kurdish PKK Bases
June 6….(DEBKA) The official Turkish news agency Cihan reports the force, backed by armored vehicles and combat aircraft, is targeting rebel strongholds in 11 provinces in southeastern Turkey and Iraqi Kurdistan Wednesday, June 6. DEBKAfile's military sources report that this is only the first wave of Turkish invaders, with more to come. A Turkish force of 90,000 troops has been massed at the southern town of Sirank opposite the meeting point of the Turkish, Iraqi and Syrian borders, drawing a warning to Ankara from US defense secretary Robert Gates to stay out of Iraq. June 2, DEBKAfile reported that the US had removed troops from northern Iraq and passed responsibility for the region's security to the Iraqi Kurdish peshmerga. Two days ago, Kurdish PKK rebels killed at least 8 soldiers, wounding 6, in a suicide attack on an E. Turkish checkpoint at Tunceli. After the attack, Turkish foreign minister Abdullah Gulf defended his country's right to drive into neighboring Iraq to destroy rebel bases. Up to 3,500 separatists are believed based in northern Iraq poised for hit-and-run terrorist attacks in Turkey. The Turkish news agency reports three F-16 Falcon fighter bombers have carried out bombing raids on positions of the PKK Kurdistan Workers Party in northern Iraq. Artillery deployed at the border with Iraq has fired at pinpointed targets." DEBKAfile's Iraq sources reported last week that Iraqi Kurdistan's president, Massoud Barzani, had sent a personal emissary, Safin Dizai, to Ankara with an urgent warning. Turkish tanks would not be allowed to cross into northern Iraq, he said. The Kurdish peshmerga would repel them. "The people of Kurdistan," said the messenger, "would not stand by as spectators if Turkish tanks and panzers entered Kirkuk."
Syria Holds back Full-scale War with Israel While its Proxies Fight in Lebanon and Gaza
June 6….(DEBKA) Israeli defense ministers holding a cabinet session Wednesday, June 6, are divided over the mixed war and peace signals coming from Damascus. DEBKAfile's military and intelligence sources report that Syrian ruler Bashar Assad's war intentions and methods are easy enough to read in Lebanon and Gaza, where Damascus launched proxy offensives on the same day, May 15. The pro-Western Fouad Siniora in Beirut has abruptly called off his army's efforts to crush Damascus-backed uprisings in the Palestinian refugee camps of Nahar al-Bared in the north and Ain Hilwa in the south. Lebanese troops failed to break through despite military assistance from the US and friendly Arabs governments. Therefore, Fatah al-Islam and the pro-Syrian Palestinian Fronts headed by Ahmad Jibril and Naif Hawatme have come out on top. Assad has pulled off a signal victory in Lebanon. In Gaza, Israel's half-hearted aerial strikes did nothing to snuff out the missile offensive Hamas and its Syrian and Iranian patrons launched three weeks ago, the same day as the Palestinian uprising in Lebanon. The missiles fly at a slower pace but the initiative for resuming them to the 20-per-day level rests with Hamas. Its ceasefire proposal reads like a dictated Israeli capitulation plan. Here, too, the Syrian proxy tactic is working well. Bashar Assad is likely to maintain this local war pressure while deploying his surrogates in additional targeted zones. The UN force in southern Lebanon is in his sights. During the summer months, the Golan can expect to be targeted by "Golan Liberation Fronts" fashioned in Damascus out of Syrian and Palestinian "resistance fighters" (terrorists). They will find succor and sanctuary in the Druze villages of the territory for harassing Israeli civilian locations, military positions and roads. This will go on until Israel is goaded into striking back against targets inside Syria. At that point, Damascus will fire up Hizballah for action against Israel from the Lebanese border, just as it activates the Palestinians in Lebanon and the Gaza Strip. The Syrian army will meanwhile stand ready for the final confrontation with Israel. The Assad regime is getting away with this low-intensity combat tactic for waging war through proxies on Israel, the Lebanese government and the Palestinian Authority headed by the Fatah leader Mahmoud Abbas, with little risk to itself. No one is raising a finger to scotch this war of attrition, even though it is building up step by step to the next full-scale Middle East conflict.
| | |
| --- | --- |
| | (FOJ) A Map of Lebanon locating the Palestinian refugee camps of Nahr al-Bared, where deadly fighting between government troops and Islamic militants entered its third week, and Ein al-Helweh, where new clashes erupted Sunday. Syria is covertly orchestrating the attacks. |
Arabs Blame Their Problems on 1967 War Defeat & Israel's Rise
June 6….(AP) Forty years after Israel's stunning victory over three Arab armies, the defeat still lingers in the Arab world, so much so, some blame it for everything from a lack of democracy in the region to the rise of religious extremism. On June 5, 1967, Israeli warplanes destroyed 400 aircraft belonging to Egypt, Syria, Jordan and Iraq, most of them sitting on airport tarmacs. Egypt lost the Sinai Peninsula and Gaza Strip, Syria gave up the Golan Heights, and Jordan relinquished the West Bank and east Jerusalem. Trying to minimize the defeat, Arabs have long called the Six Day War the "naksa," or "setback," but its impact remains a deep wound for the Arab-Muslim world. There have been many steps between Israel and its Arab neighbors to rectify the problems between the two. Egypt was the first Arab country to sign a peace deal with Israel in 1979. Jordan signed a treaty in 1994. More recently, Saudi Arabia has reintroduced a land-for-peace plan. While Israel has welcomed the plan as a good starting point, it objects to key provisions such as pulling back to the pre-1967 borders and taking in millions of Palestinian refugees. Yet, with or without peace treaties, the majority of Arabs still consider Israel as the arch enemy, and protests against Israel's existence regularly draw huge crowds in Arab and Muslim nations. In the Arab view, Israel will never be secure or comfortable because it is an occupation state.
The Saddam-Al Qaeda Connection
(Captured Baathists reveal alliance with Islamo-terrorists)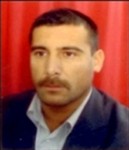 Izzat Ibrahim
al-Douri

Muhammed Hila
Hammad Ubaydi
June 6….(WND) It has been denied, downplayed, overlooked, forgotten, disregarded and omitted from the public record. But a thorough review of open-source material demonstrates conclusive and widespread cooperation between former members of Saddam Hussein's Baathist regime and terrorists from the Iraqi al-Qaida network. Dozens of former Saddam Hussein loyalists captured by US-led coalition forces in Iraq were found to be working with al-Qaida or linked to their operations. Here are some notable players in that alliance:
Muhammed Hila Hammad Ubaydi, aka Abu Ayman, was the former aide to the chief of staff of intelligence during the Saddam regime for 30 years. Ubaydi later led the Secret Islamic Army in the Northern Babil Province and was said to have had strong ties to the former terror leader Abu Musab Al-Zarqawi. He was captured April 6, 2006, in southern Baghdad.
Izzat Ibrahim al-Douri is "the former vice chairman of Saddam's Baathist Revolutionary Command Council who swore fealty to Zarqawi and provided funding for al-Qaida and significant element of the Baathist/al-Qaida converts and collaborators.
Abdel Faith Isa is a former Iraqi army officer who was later identified as an al-Qaida emir. He was captured May 6, 2004. Abu Abdullah Rashid al-Baghdadi is "believed to be a former officer in Saddam's army, or its elite Republican Guard, who worked closely with al-Zarqawi since the overthrow of the Iraqi dictator in April 2003." Al-Baghdadi was among the candidates nominated as potential Abu Musab al Zarqawi's leadership position in al-Qaida in Iraq. Ahmad Hasan Kaka al-'Ubaydi was a former Iraqi Intelligence Service officer, and believed to have later become associated with al-Qaida affiliate Ansar al-Islam. Abu Aseel is a "former high ranking Saddam official" who was working with Abu Musab al-Zarqawi after 2002. Abu Asim was a Special Republican Guard officer under Saddam Hussein and is said to have been active within the insurgency after the fall of the former regime, including association with Abu Musab al-Zarqawi. Abu Maysira al-Iraqi was reportedly a "minister of information" for al-Qaida in Iraq and formerly an expert in information technology for Saddam's army. "He was an expert in information technology in Saddam's army and was entrusted with the additional task of waging the jihad through the Internet" for Zarqawi's al-Qaida in Iraq." Abdul-Hadi al-Iraqi is being held in Guantanamo Bay and was called "a top leader with al-Qaida in Iraq and the Mujahedeen Shura Council and originally comes from Nineveh province. He was a major in Saddam's army but left to travel to Iraq to fight against the Soviet occupation of Afghanistan in the 1990s" and was later identified as a "liaison between bin Laden and al-Qaida's leadership in Afghanistan, and the al-Qaida network formerly headed by Abu Musab al-Zarqawi in Iraq." Al-Iraqi has also been cited as one of bin Laden's top al-Qaida commanders. For more links of Saddam Hussein to Al Qaeda, visit the World Net Daily website article (http://www.worldnetdaily.com/news/article.asp?ARTICLE_ID=56020)
Omar Hadid, according to Middle East news outlets cited by Powerlineblog.com, was a former personal body guard of Saddam and had trained with al-Qaida in Afghanistan before fighting against coalition forces in Fallujah and elsewhere. Hadid, according to an al-Qaida biography after his death, also had a relative who was an official for Iraq's intelligence services and worked with Hadid on postwar operations.
Adullah Rahman al-Shamary "was an officer in [Iraq's] feared Mukhabarat General, an intelligence service run by Saddam's son, Qusay." Al-Shamary told Richard Miniter, from a prison cell, that Qusay Hussein "oversaw the Mukhabarat's relationship with Jund al-Islam, an al-Qaida wing operating in northern Iraq before the 2003 American invasion" and he was involved in the Jund al-Islam-Mukhabarat relationship.
The Islamic Army in Iraq is an insurgent group that includes former members of Saddam's Baath Party, Muslim Brotherhood members and worked with al-Qaida in the past until a recent spilt in which an IAI spokesman told al Jazeera "the Islamic Army in Iraq had decided to disunite from al-Qaida in Iraq. In the beginning we were dealing with Tawhid and Jihad organization, which turned into al-Qaida in Iraq." Mohammad's Army, also known as Jaish-e-Mohammed, is a group that includes pro-Saddam members of the former regime's Intelligence, Security and Police services. Responsibility for the 2003 attack on the U.N. building in Iraq was claimed both by members of al-Qaida in Iraq (including Zarqawi) and Mohammed's Army. The material for the bomb was from the former regime's stock, for which members would have had superior access, though observers said insurgents could have acquired it on their own. Abu Omar al-Kurdi, an al-Qaida/Zarqawi associate later admitted responsibility for making the bomb after his capture.
While the Bush administration contended there was evidence of a Saddam Hussein/al-Qaida connection before the war, those assertions have come under heavy criticism, especially from Democrats who contend they and others were deceived about the presence of weapons of mass destruction. However, as WND reported last year, pre-war documents posted online by the Pentagon included a letter from a member of Saddam's intelligence apparatus indicating al-Qaida and the Taliban had a relationship with the regime prior to the 9/11 attacks. A letter by the member of Saddam's Al Mukabarat to a superior, dated Sept. 15, 2001, reported a pre-9/11 conversation between an Iraqi intelligence source and a Taliban Afghani consul. The information had been released on the orders of National Intelligence Director John Negroponte, and the letter was reviewed by an independent Middle East analyst who concluded it appeared genuine. The letter indicated bin Laden and the Taliban in Afghanistan were in contact with Iraq – noting a specific visit to Baghdad – and said the US had proof Saddam's regime and al-Qaida were cooperating to hit a target in the US. The documents also suggested the possibility the US could strike Iraq and Afghanistan if an attack on the US proved to be tied to bin Laden and the Taliban.
Israeli Defense Delegation to US To Discuss Iranian Threat
(Bush has no intention of stopping Iran)
June 5….(Arutz) Israeli Transportation Minister Sha'ul Mofaz, who has served as the IDF Chief of Staff and as Defense Minister, is heading a defense delegation to the United States Tuesday. The Israeli delegation is slated to hold a series of talks with American officials on Iran's nuclear weapons potential and the possibility of Israeli negotiations with Syria. The planned marathon of meetings comes on the heels of information reaching Israel to the effect that US President George Bush has no intention to carry out a military strike against Iran. Israel is seeking to clarify the matter, particularly in light of continuing virulent anti-Israel statements by Iranian President Mahmoud Ahmadinejad and his declared intention to ignore international demands that Iran freeze its nuclear program.
Poll Shows Greater Acceptance of Homosexuality in US
June 5….(Baptist Press) Americans are becoming increasingly more liberal on the issues of homosexuality and "gay marriage," according to a new Gallup Poll. The survey of 1,003 adults, conducted May 10-13 and released May 29, showed on a number of questions that Americans' tolerance of homosexuality is at an all-time high. For instance:
* 57 percent of US adults say homosexuality "should be considered an acceptable alternative lifestyle." The previous high was 54 percent, a mark reached three times, including last year. In the current poll, 39 percent say such relations should not be accepted.
* 47 percent say they personally believe homosexual relations are morally acceptable. The previous high was 44 percent. While 49 percent say such relations are unacceptable, it is the first time that particular number has dropped below 50 percent.
* 59 percent say homosexual relations should be legal, just one percentage point below the all-time high of 60 percent in May 2003. Thirty-seven percent say they should not be legal.
* 42 percent now say homosexuality is "something a person is born with," matching the all-time high from last year. Thirty-five percent, an all-time low, say it is a combination of upbringing and environment.
A majority of adults remain opposed to "gay marriage" legalization, although that percentage also is falling. In the latest poll, 53 percent of American adults oppose "gay marriage," while 46 percent support it. Although both numbers are records, they come with caveats. Unlike other Gallup polls in most years, this year's "gay marriage" question was preceded by a number of questions concerning homosexuality that could make the person polled sympathetic to the marriage issue. "When the same question is asked in other Gallup surveys that do not include such questions, a lower level of support for gay marriage is usually found," Gallup's Lydia Saad wrote in an online analysis. For instance, in 2005, when the question was not preceded by other questions about homosexuality, opposition to "gay marriage" stood at 56-39 percent. In 2004, it was 61-33 percent. Additionally, the wording in the question changed. For apparently the first time, Gallup's "gay marriage" question used the phrase "same-sex couples" to describe homosexuals. In past years the question simple referred to "homosexuals." For years, homosexual activists have complained that Gallup's poll was biased because it used the term "homosexual." Last November seven states passed constitutional amendments prohibiting "gay marriage" with an average of 63.6 percent of the vote. Including those seven, a majority of states, 27, have similar amendments.

Iranian President Cautions World 'Not to Play with Lion's Tail'
(Ahmadinejad warns Security Council not to enforce more sanctions on Iran)
| | |
| --- | --- |
| | Iranians sit under huge banners of Iran's supreme leader Ayatollah Ali Khamenei, second right, Iran's late leader Ayatollah Ruhollah Khomeini, (who declared was on the US) the founder of the Islamic revolution, right, and his sons Ahmad, left, and Mustafa, second left, during the 18th anniversary of death of Ayatollah Ruhollah Khomeini, in Tehran. |
June 5….(YNET) The Iranian President, Mahmoud Ahmadinejad, has warned the Security Council "not to play with the Iranian lion's tail" by enforcing further sanctions on the country. "The Security Council must stop acting illegally. Iran is a lion on the prowl, and we tell the Security Council: 'Don't play with the lion's tail,'" Ahmadinejad said at a press conference marking 18 years since the death of Ayatollah Khomeini, the instigator of the Islamic revolution in Iran. He added that it was too late to stop the Iranian nuclear program. The US, Britain, France, Russia, China and Germany are working on drafting additional sanctions against Iran after it violated, for the third time, demands to stop enriching Uranium. This is one of the most pressing issues on the agenda of the G-8 summit starting on Wednesday in Germany. Regarding the possibility of an American attack on his country, Ahmadinejad said: "We are not saying that some of the American leaders do not want to hurt us; we are saying that they cannot, because they have been trying to hurt us for 28 years and have still not succeeded, and Iran is getting stronger every day." "When we look at the situation in the region we can see that the US cannot seriously damage Iran. Do they have a way out of the Iraqi crisis? Are they capable of entering a new conflict?" No, they are caught in the lions den! Ahmadinejad had a further warning for Israel; We have warned the region's enemies to not even consider repeating last year's crime of invading Lebanon, as the lion will devour you."
Ahmadinijad's Bluster Boosted by Secret Deal for North Korean Taep'o-dong-2 Ballistic Missiles
June 5….(DEBKA) Iran and North Korea are in advanced negotiations for Tehran's purchase of Taep'o-dong-2 ballistic missiles, whose estimate range is 3,500-4,000 km., (2500 miles) DEBKAfile's exclusive intelligence sources report. North Korea's deputy foreign minister Kim Hyong brought the proposition to its final stages when he visited Tehran in the first week of May. Delivery was promised for late July or early August. US Vice President Richard Cheney informed Saudi King Abdullah of this development during his May visit to Riyadh. Israeli military sources say that Iranian president Mahoud Ahmadinejad's declarations are made more outrageous than ever by knowledge of the deal. Sunday he declared the countdown has begun for the demise of the Zionist state. Aly Larijani, head of Iran's Supreme national Security Council said Monday: "The deployment of the US air system in Europe to counter Iranian missiles is the joke of the year." He said Iran's missiles could not reach Europe. That may have been true at this moment, but not after the delivery of the North Korean missiles at summer's end. Russian President Vladimir Putin may have been unaware of this when he said Europe is not threatened by long-range missiles from Iran, but one has to wonder. In fact, Tehran's acquisition of the Taep'o-dong-2 will triple its long-range missile arsenal and upgrade its range and quality.
Iran's Shiite Hard-Liners pay Homage to Khomeini
June 5….(AP) The chant for the dead echoed off the massive shrine and rolled across a sea of asphalt, mixing with the roar of diesel buses disgorging pilgrims from across Iran. Inside the shrine of Ayatollah Ruhollah Khomeini, leader of Iran's Islamic revolution, President Ahmadinejad stabbed a finger in the air and promised no retreat from the government's nuclear ambitions for nuclear power. The annual commemoration of Ayatollah Khomeini's death in 1989 was part funeral, part festival and part political rally for the base that sustains Iran's hard-liners amid rising dissatisfaction with inflation, unemployment and social constraints. In a country with few reliable opinion polls, the hard-line base has been estimated at anywhere between 10 and 30 percent of the 46.7 million voters. Its turnout was seen as key to hard-line victories in the last four years, including the election that brought President Mahmoud Ahmadinejad to power. Inside the shrine, Ahmadinejad praised the memory of Khomeini. He also called on Iranians to support the government's nuclear program, which Iran says it wants for electric power, but Washington calls part of a weapons program. "The nation that believes in the Imam will not retreat!" Ahmadinejad declared, standing before a three-story-tall portrait of Khomeini.
Abbas: Palestinian State Will Erase 1967 Arab Defeat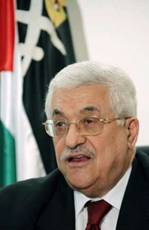 June 5….(AP) Palestinian president Mahmud Abbas said on Tuesday that creating a Palestinian state would wipe out the memory of the Arab defeat to Israel in 1967, in a speech marking 40 years since the war..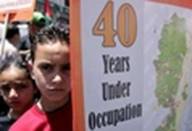 Palestinians are holding demonstrations to protest at the continued occupation of Arab land captured by Israel in the six-day war of June 1967. "June 1967 went down in the Middle East and world history as a massive defeat inflicted by Israel on the Arabs," the Palestinian president declared in a televised speech. "Despite all the difficulties, however, our revolt was equal to this defeat, the memory of which we hope will be erased by ending the occupation of Arab and Palestinian territory and by establishing our independent state." Abbas said he still nurtured hope of seeing an independent Palestinian state despite current stalemate in the peace process. "The whole world agrees in unanimity that the birth of a Palestinian state is an inevitability and a fundamental element for regional and international stability." In 1967, Israel captured the West Bank and east Jerusalem from Jordan, the Golan Heights from Syria, and the Gaza Strip and Sinai peninsula from Egypt, an area more than three times bigger than the state of Israel at the time. "Our people and our nation paid a very price for this heavy defeat," said Abbas, calling the war a "black date". "We can say in total confidence that we have overcome defeat through revolt (TERROR) and therefore we are in the process of moving decisively towards our state, an objective that we consider close."
Golan Heights Residents Ready for Resistance (Terror)
(Syrian official warns of attacks if Israel won't vacate strategic territory)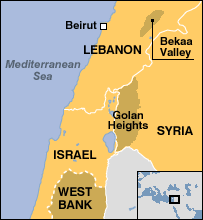 June 5….(WND) If the Jewish state doesn't vacate the Golan Heights in the very near future, Golan residents living under Israeli administration will launch "resistance operations" aimed at prompting an Israeli retreat from the territory, an official from Syrian President Bashar Assad's Baath party told WND in an exclusive interview yesterday. "Syria is ready to talk with Israel, but only if negotiations lead to a complete Israeli withdrawal from the Golan Heights. There may be peace; there may be war. If there is no movement, Syrian resistance will be launched and not from the government but from the people of the Golan," said the Baath party official, who spoke on condition his name be withheld. "We Syria have weapons and soldiers on the border with Israel, and the Syrian residents of the Golan are ready to launch the resistance," the official claimed. The Golan Heights is strategic mountainous territory looking down on Israeli and Syrian population centers captured by Israel after Damascus twice used the territory to attack the Jewish state. The Heights has a population of about 35,000, approximately 18,000 Jewish residents and 17,000 Arabs, mostly Druze. Syria, which signed a military alliance with Iran, openly hosts Hamas and Islamic Jihad leaders, aids the insurgency in Iraq. Syria has also been allowing large quantities of weapons to be transported from its borders to the Lebanese-based Hezbollah militia, which last summer engaged in a war with the Jewish state. Syrian President Bashar Assad has made a number of statements the past few months his army is preparing for a war with Israel, claiming the Jewish state is planning to attack first. Last weekend, Assad reportedly called for "better cooperation" between Damascus and Tehran in "the confrontation with the Zionist regime and the USA." Syria's new Committees for the Liberation of the Golan Heights (guerilla terrorist group) consists of Syrian volunteers, many from the Syrian border with Turkey and from Palestinian refugee camps near Damascus. The official said attacks by the Committees may include the infiltration of Jewish communities in the Golan, rocket attacks against Israeli positions or raids of Golan-based Israeli military installations. He said all attacks would be launched from the Syrian side of the border.
Palestinian Kids Perform Death Cult For Graduation
June 4….(Israel Insider) Well, it's springtime, time for school plays and graduation ceremonies for kids all around the world. The same holds true in the Palestinian school system too, except that Palestinian kids are taught and perform the ceremonies that celebrate suicide bombing, killings and martyrdom. Here's a school play photo, in which children in Gaza, dressed as suicide bombers and terrorists, waving knives and guns, in front of a crowd of doting parents, all bent on the destruction of Israel. A broadcast on Hamas' Al Aqsa TV yesterday and captured by MEMRI TV shows a kindergarten graduation ceremony, with young boys dressed as terrorists, wearing Hamas headbands, waving toy guns and swords and chanting? Death for the sake of Allah!? Boys: Allah Akbar. Praise be to Allah. Allah Akbar. Praise be to Allah. Allah Akbar. Praise be to Allah. Allah Akbar. Praise be to Allah. Who is your role model? The Prophet. Who is your role model? The Prophet. What is your path? Jihad. What is your path? Jihad. What is your most lofty aspiration? Death for the sake of Allah. What is your most lofty aspiration? Death for the sake of Allah. Death to Israel and the US.
| | |
| --- | --- |
| | (FOJ) If Palestinian leaders were truly even remotely interested in the two-state-solution to the Israeli Problem, as it is classified, then why teach your kindergartners the path of Jihad? Muslim clerics regularly exhort Palestinian women to produce babies for the sake of simply providing human bombs for the sake of Allah. Ironically, the one true God, Jehovah declares, "all those that hate me, love death." (the path of Jihad) |
Putin: 'Warns US Over Missile Shield Plans,' New Cold War
(Russian president issues warning over US missile defense ahead of G-8)
June 4….(MSN) Russian President Vladimir Putin warned that Moscow could take "retaliatory steps" if Washington proceeds with plans to build a missile defense system for Europe, including possibly aiming nuclear weapons at targets on the continent. Speaking to foreign reporters days before he travels to Germany for the annual summit with President Bush and the other Group of Eight leaders, Putin assailed the White House plan to place a radar system in the Czech Republic and interceptor missiles in neighboring Poland. Washington says the system is needed to counter a potential threat from Iran. In an interview released Monday, Putin suggested that Russia may respond to the threat by aiming its nuclear weapons at Europe. "If a part of the strategic nuclear potential of the United States appears in Europe and, in the opinion of our military specialists, will threaten us, then we will have to take appropriate steps in response. What kind of steps? We will have to have new targets in Europe," Putin said, according to a transcript released by the Kremlin. These could be targeted with "ballistic or cruise missiles or maybe a completely new system" he said. On Monday, Iran's top security official called the US plans for the missile defense shield a "joke," saying Tehran's missiles do not have the capability to reach Europe. "Claims by US officials that installing a missile defense system in Europe is aimed at confronting Iranian missiles and protecting Europe against Iran is the joke of the year," Ali Larijani told the state-run IRNA news agency. "The range of Iran's missiles doesn't reach Europe at all," IRNA quoted Larijani as saying in Iran's first public reaction to the plans. Larijani is secretary of Iran's Supreme National Security Council, the country's top security decision-making body. Iran is known to possess a medium-range ballistic missile called the Shahab-3 that has a range of at least 800 miles, capable of striking Israel. In 2005, Iranian officials said they had improved the range of the Shahab-3 to 1,200 miles. Although Western experts believe Iran is developing the Shahab-4 missile, thought to have a range between 1,200 and 1,900 miles, which would enable it to hit much of Europe, Iran has not confirmed such reports.
Putin: 'The strategic balance in the world is being upset'
"The strategic balance in the world is being upset and in order to restore this balance without creating an anti-missile defense on our territory we will be creating a system of countering that anti-missile system, which is what we are doing now," Putin said. Last week, Russia tested a new ballistic missile capable of carrying multiple nuclear warheads and a new cruise missile. While Western analysts said the system has probably been under development for several years, Putin has described the test as part of Moscow's response to the US anti-missile plan. Putin also suggested that in the absence of a real threat from Iranian and North Korean missiles, the US plan could be an attempt to spoil Russia's relations with Europe. Relations between Moscow and Washington have soured in the past year. The two former Cold War foes are at odds over Washington's missile plans, over Russia's conflicts with former Soviet nations, including Ukraine, Georgia and Estonia, and over US concerns of democratic backsliding in Russia. Putin's most strident statements to date against the U.S. plans and came just days before he is to join President Bush and other leaders at a Group of Eight Summit in Germany. The three-day summit, Wednesday to Friday at the Baltic Sea resort of Heiligendamm, will bring together leaders of the United States, Britain, Canada, Germany, France, Italy, Russia, and Japan.
Netanyahu: Staying in the West Bank Means We're Unbeatable
('Automatic assumption of withdrawal to 1967 borders is unjustified, immoral and very dangerous for the State of Israel,' opposition leader tells conference marking Six Day War's 40th anniversary)
| | |
| --- | --- |
| | Israel's Defense Minister Moshe Dayan (C), Army Chief of Staff Yitzhak Rabin (R) and Jerusalem Commander Uzi Narkis walk through the Lion's Gate into Jerusalem's Old City in June 1967 during the Middle East War, also widely known as the Six Day War, in this picture released June 4, 2007 by the Israeli Government Press Office (GPO). Forty years ago this week, Israel swept to victory in six days in a war with Egypt, Syria and Jordan. |
June 4….(YNET) "Since the Six Day War the Arab world has been trying to get us off the mountains of Judea and Samaria, but as long as we are on this mountain, we are unbeatable," opposition leader Benjamin Netanyahu said Monday. Speaking at a conference held in the capital by the Jerusalem Center for Public Affairs (JCPA) to mark the 40th anniversary of the Six Day War, Netanyahu said that "the Six Day War was a turning point in which we turned from a fetal and fragile country whose existence was questionable, into a state which cannot be defeated." The conference was dedicated to United Nations Resolution 242, which was adopted five months after the war and outlined guidelines for a peaceful solution in the Middle East. "This possibility was on the agenda. The fact that we were unbeatable made us move from war to peace. It was a necessary condition in causing parts of the Arab world to recognize the State of Israel and its right to exist. Today the peace process is in retreat following the unilateral withdrawal from Lebanon, the pullout from Gaza and the Second Lebanon War," Netanyahu said. "Today not only our enemies, but also our friends, question the fact that we are unbeatable. This moves us away from peace and brings us closer to war. The Six Day War was aimed at removing the question mark over our existence and paving the road to peace. "All those who lament the terrible thing that happened to us during the Six Day War are wrong, because something wonderful happened to us. Our weakness today is that we are not claiming our rights. If we fail to fight for our rights, they will disappear. "This is the weakness of our policy. If the voters decide that I must return to lead the country, I do not plan to control the Palestinians and annex them to Israel. On the contrary, they should be independent. Today they are also controlled by their own people. "I do not see a possibility of returning to control the Palestinians through the military. This is not on the agenda. The argument today is not about the populated territories, but about the empty territories. The argument is about parts of our homeland, which are also the foundations of our defense." The opposition leader noted that "the automatic assumption of withdrawing to the 1967 borders is unjustified, immoral and very dangerous to the State of Israel. We must set defendable borders which do not include an additional Arab population. I plan to try and reach such an agreement, which will be supported by Egypt and Jordan. "We must change the Oslo Accords. The main flaw of the Oslo Accords is that Israel is required to make more and more concessions, while the Palestinians continue to demand their right of return. We must find a partner for peace and take the right of return off the agenda. Canceling the right of return is a precondition for concessions. At the moment we have no partner for peace negotiations, because those standing in front of us declare that they want to destroy us. "If we reach an agreement with a partner which is not a partner and reach an agreement with Hamas, we will not achieve peace but will only be giving Iran an advantage, like what happened in the withdrawal from Lebanon and the disengagement. Our main effort should be directed at preventing Iran from arming itself." Netanyahu said that Israel must not leave the Golan Heights. "If we leave the Golan Heights we will get a piece of paper but not a defendable border, and therefore we must remain on the Golan Heights."
A convoy of Israeli tanks rolls towards the front during the 1967 Middle East War, widely known as the Six Day War, in this picture released on June 4, 2007 by Israel's Defens Ministry. Forty years ago this week, Israel swept to victory in six days in a war with Egypt, Syria and Jordan, capturing the Sinai Peninsula, the Golan Heights, Gaza Strip and the West Bank, including Arab East Jerusalem. Israel has traded the Sinai for a peace treaty with Egypt, and attempted to trade land for treaties with the Palestinians
(FOJ) Israeli soldiers sit in front of the Western Wall in Jerusalem's Old City in June 1967 after it was captured during the Six Day War. Israel swept to victory in six days in a war with Egypt, Syria and Jordan, who had launched the war in an attempt to destroy the state of Israel. In 1967 Israel did not possess, but captured the Sinai peninsula, Golan Heights, Gaza Strip and West Bank, including Arab East Jerusalem. Thus, Jerusalem became the burdensome dilemma the prophet Zechariah predicted it would in the Last Days as a result of Israel's 1967 victory.

(Zechariah 12:2-3 Behold, I will make Jerusalem a cup of trembling unto all the people round about, when they shall be in the siege both against Judah and against Jerusalem. And in that day will I make Jerusalem a burdensome stone for all people: all that burden themselves with it shall be cut in pieces, though all the people of the earth be gathered together against it.)
Plot to Blow up JFK is 'Tip of the Jihadist Iceberg'
June 4….(Tribune) The alleged conspiracy to blow up John F. Kennedy aiport in New York, and a recent plot to kill soldiers at a nearby United States Army base represent only the "tip of the iceberg" of terrorist plots against America, according to US officials. "There's a lot of activity out there," a counter-terrorism official said yesterday.
"Obviously, you don't want to tip off every suspect that they are being monitored. On the other hand, we are not going to wait until the fuse is lit." He said that the airport plot, which sparked a lengthy FBI sting operation, was first detected by CIA operatives in the Caribbean and South America nearly 18 months ago. "Our intelligence agencies pay careful attention to what goes on there," the official told The Daily Telegraph. "Although a lot of the public focus is on Europe, we're also looking closely at the home-grown threat and what's going on in our own back yard." He indicated that dozens of other plots were being monitored but that improved co-operation between the CIA and FBI, the patchy nature of which was a major criticism of the 9/11 Commission Report - was bearing fruit. The FBI announced at the weekend that they had foiled a plan to blow up a 40-mile fuel pipeline to JFK airport, which handles a thousand flights a day. It was allegedly hatched by Russell Defreitas, a Guyanese-born American citizen who had enlisted the help of a Guyanese politician and a radical Islamist group in Trinidad, when he worked as a cargo handler at the airport before 1995. The counter-terrorism official said that although the plan "was not technically possible" it was one of many cases being investigated by the US government and highlighted the twin dangers of Muslim Islamists holding American passports and plots with links to other countries. Three alleged plotters have been arrested. Surveillance tapes recorded Defreitas, 63, becoming enraged at seeing American missiles being shipped to Israel where, he believed, they would be used to kill Muslims. He was recorded saying that he "wanted to do something to get those bastards". The airport was a symbol that would put "the whole country in mourning" if it were destroyed. Any time you hit Kennedy, it is the most hurtful thing to the United States. His scheme could have "caused greater destruction than in the September 11 attacks" and would be so large that "even the Twin Towers can't touch it", Defreitas said on separate occasions, a boast the authorities said was overblown. According to the FBI, Defreitas linked up with Kareem Ibrahim, a Trinidanian connected to the Jamaat Al-Muslimeen, an extremist Black Muslim group that attempted to overthrow the government of Trinidad in 1990, and two Guyanans, Abdul Kadir and Abdel Nur. Nur, of Pakistani origin, is still at large. Kadir, an imam and former member of the Guyanese parliament, was arrested after a plane on which he was flying to Venezuela was turned back to Trinidad. His wife said he was heading to Iran for a "religious conference". FBI officers taped another cell member, identified only as "Individual F" stating that Kadir had connections to terrorists in the Middle East and South America. Both Trinidad and Guyana have large South Asian populations and influential Muslim communities.

Storage tanks are seen on the grounds of John F. Kennedy Airport
The arrests came less than a month after the FBI announced that it had broken up another Islamist cell, mainly involving ethnic Albanians. Its members were accused of plotting to kill soldiers at the Fort Dix base in New Jersey. As in the Fort Dix case, an FBI informant was used to infiltrate the alleged airport plotters. "The FBI was all over the plot from the start and there was textbook co-operation with other agencies," said the counter-terrorism official. "But this shows the threat posed by the unknown terrorist, the person who becomes almost self-radicalised.
"In this modern era, you can quickly gather a lot of information on-line and also reach out to international networks," he said.
Ahmadinejad: Israel's Destruction Getting Close
June 4….(YNET) Iran's hard-line President Mahmoud Ahmadinejad on Sunday said the world would soon witness the destruction of Israel! Ahmadinejad said last summer's war between Israel and Hezbollah showed for the first time that the "hegemony of the occupier regime Israel had collapsed, and the Lebanese nation pushed the button to begin counting the days until the destruction of the Zionist regime," IRNA quoted him as saying, "God willing, in the near future we will witness the destruction of the corrupt occupier regime," Ahmadinejad was quoted as saying during a speech to foreign guests who attended ceremonies marking the 18th anniversary of the death of Ayatollah Ruhollah Khomeini, who is known as the father of Iran's 1979 Islamic Revolution. Embattled Israeli Prime Minister Ehud Olmert has lost public support after Israel failed to achieve its goals during last summer's 34-day war with Hezbollah guerrillas in Lebanon, freeing two captured soldiers and crushing the militant group
Countdown to Israel's destruction has begun, says Ahmadinejad
(Iranian president says Israel's disappearance imminent, 'Zionist regime' will have to bow down to Palestinians. Iranian FM meets with Hamas, Jihad, leader in Damascus, urging them to continue struggle against Jewish state)
June 4….(Arutz) The countdown to Israel's destruction has begun, Iranian President Mahmoud Ahmadinejad said in a speech commemorating the death of Iranian revolution leader Ayatollah Ruhollah Khomeini on Sunday. "The arrogant superpowers and the Zionist regime invested all their efforts during the 33-day war, but after 60 years, their pride has been trampled and the countdown to the destruction of this regime has been started by Hizbullah fighters," the president was quoted as saying by Iranian news agency Mehr. Ahmadinejad added that "with the help of all the Lebanese and Palestinian fighters, we will soon witness the destruction of this regime in the near future. Anyone who works for Allah and believes in the power of the people will prevail." Israel is not the only nation about to collapse, according to the Iranian president. The other "corrupt" nations will also give in to the Islamic republic's strength and suffer the same fate. "We are already witnessing the repercussions of the surrender. The people of Iraq, Palestine, Lebanon, Afghanistan and all over the world are joining this river that will soon be linked to the ocean of truth and justice," he said. Discussing the resistance of suppressed nations, Ahmadinejad said that according to Khomeini's teachings, "no power can stand in the way of a people's will for independence." He pointed out the Palestinians as an example of a people who draw encouragement from the ways of the Iranian people. "The Palestinian people have begun their movement out of oppression and the world's nations and the Zionist regime will be forced to bow down to the Palestinians and officially acknowledge this people." Not commenting on the nuclear problem directly, the president hinted that "Khomeini believed that when a nation reaches a point where it makes a decision, no power can tackle it and this is the road Iran is taking." Ahmadinejaed ended his speech by urging the nations of the world to believe in God, saying, "The final victory, the power of the people, and the destruction of tryants is near."
Tehran urges Hamas, Jihad to fight Israel
On Saturday, Iranian Foreign Minister Manouchehr Mottaki urged Hamas and the Islamic Jihad to carry on with their armed struggle against Israel during meetings with leaders of the Palestinian groups in Damascus Saturday. According to the London-based al-Hayat daily, Mottaki met with Hamas' politburo head Khaled Mashaal and a delegation of Islamic Jihad leaders in the framework an official visit to Damascus. "The Palestinian people are a mighty people and there is a need to continue with the resistance," al-Hayat quoted Mottaki as saying. Mottaki also called on rival Palestinian factions to end internal strife which has threatened to ignite a civil war in the Gaza Strip. "Mashaal for his part accused Israel of seeking to force Hamas to surrender through military force and intimidation, the newspaper said. "The Israelis have tried in the past to force Hamas to surrender and to fail us, and now they are trying to do the same through the arrest of legislators and ministers," he said. Last week, Israel nabbed a handful of Hamas lawmakers and ministers in the West Bank in response to the group's decision a week earlier to intensify rocket fire towards towns and kibbutzim near the Gaza Strip. The move came parallel to a stepped-up military offensive that left 50 Palestinians, mostly gunmen, killed in airstrikes on rocket cells and terror facilities in the coastal territory. Al-Hayat also reported that Mottaki met with top political advisor to Hizbullah leader Hasan Nasrallah as well as a delegation of the pro-Syrian Lebanese Amal faction while in DAMASCUS.
---