American military planners are in the throes of an unprecedented modernization and expansion project for the Gulf emirates' air, missiles and air defense forces. Its linchpins are the kingdom of Saudi Arabia and sultanate of Oman. At the end of the project, the Saudi air force will be the biggest in the Middle East, nearly the size of Israel's, and equipped with the last word in avionics, electronic warfare systems and missiles. The function assigned Saudi air fighters in the integrated US defense program is to take on the Iranian air force in an emergency, and prevent its antiquated, low-performance air force from providing support for Iranian naval forces and Iranian marines and saboteurs, should they attempt to seize territory in the Arab emirates. Iran is known to command 600 bomber-fighters in operating condition. They include outdated F-4E Phantom II, F5-E and F-14A Tomcats, French Mirage F-1EQ/BQ, Russian MIG-29, Mig-27, MIG-31 and Sukhoi Su-20, 22 and 25. Iran has produced two homemade models: Saeqeh-80 Owj and Azarakhsh. Iran's most advanced fighting craft will be the Sukhoi Su-27 when it enters service in late 2008. The Saudi air force, with 350 warplanes organized in 17 squadrons, is much smaller than Iran's and not much more advanced. Its backbone of 134 Tornado aircraft includes 48 Tornado IDS. Seventy-two F-15S were added in the second half of the 1990s, joining 41 F-15C/D aircraft which served the Saudi Air Fore from the early 1990s. Washington plans to double the Saudi combat air fleet, by selling the kingdom front-line fighters, including F-16 C and D and F-15 E - or even possibly the F-22 Raptor stealth plane, to which Israel is strongly opposed, although most Saudi Arabian operational aircraft are piloted by Western aviators, some American. Another key element in Gates' Level 2 for the Persian Gulf is the conversion of Camp Justice, the US air facility on the Omani island of Masirah, into the biggest American air base in the Persian Gulf and Middle East. An Arabian Sea island, 65 km long by 18 km wide, Masirah lies close to the Strait of Hormuz and the western coast of Iran. A western military source in the Gulf also reports that a large increment of Marine forces is to be deployed permanently in Kuwait, which lies 130 km west of the nuclear reactor town of Bushehr on the southern Iranian coast.
Washington and Riyadh remain at odds on Iraq. In the beginning, the Americans approved of Saudi financial assistance to Iraqi insurgent groups to give them an incentive to pull away from al Qaeda. In recent weeks, however, the Saudis are equally active in undermining the Iraqi prime minister Nouri al-Maliki, calling him Iran's agent. This has brought the oil kingdom in direct conflict with the Bush policy.
A similar conflict has developed on the Palestinian question. King Abdullah strongly disapproves of US-Israeli backing for the Fatah's Mahmoud Abbas and Salam Fayyad and imposition of an economic boycott against Hamas to overturn its rule in Gaza. The Saudis strongly advocate Palestinian reconciliation, unification of the West Bank and Gaza Strip and acceptance of Hamas as a dominant factor in shaping Palestinian destiny.
As oil prices roar towards $80, and the price of $100 not too far over the horizon, the Bush administration is increasingly critical of Abdullah's refusal to raise sustained capacity production past its permanent 2.1 million barrels per day. If only Riyadh would relent, they say, world markets would be reassured and demand would cool. Responding to the Bush administration's Gulf plans for the Saudi air force and Bush's plan to maintain a post-withdrawal military presence in Iraq, Russian president Vladimir Putin has stepped in with a move of his own: the sale of 250 long-range SU-30MKM fighter-bombers to Iran.
Russia is a member of the Quartet of Mideast negotiators, which also includes the United States, the United Nations and the European Union. Last year, Moscow attracted the ire of Israel and Western nations by hosting Hamas' top leadership for talks. Many observers have said the Hamas talks in Russia were part of an effort by Moscow to regain influence it enjoyed in the Middle East during the Soviet era. Abbas, who met with Putin in Jordan in February, and made a previous trip to Moscow in May 2006. Abbas repeated his argument that Hamas' Gaza takeover was a coup d'etat. "We can talk about the reestablishment of dialogue and settlement of relations only after Hamas abandons this coup and its results," he said. Abbas was educated and trained at the University of Moscow.
They had written "to thank Bush for his efforts (including the major address on July 16) to reinvigorate the Israeli-Palestinian negotiations to achieve a lasting peace in the region.
Iran's Khamenei Classifies US and Israel As Enemies
July 29….(Ha Aretz) Iranian Supreme Leader Ayatollah Ali Khamenei said on Saturday the United States and Israel were his country's main enemies, just days after US-Iranian talks about Iraq's security. Iran and the United States cut diplomatic ties shortly after Iran's 1979 Islamic Revolution. They held talks in Baghdad on Tuesday to find ways to restore security in Iraq, after an earlier round in May. "The Zionist regime (Israel) and the American government are the main enemies of Iran, and hatred for America is deepening every day around the globe," Khamenei said in a televised speech. Khamenei has the last say in all state matters, including resumption of ties with the United States and Iran's disputed nuclear program.Washington accuses Shi'ite Muslim Iran of fomenting violence in Iraq. Iran denies the charge and blames the US-led invasion in 2003 for the bloodshed between Iraq's majority Shi'ite and minority Sunni Arabs. During the two rounds of talks in Baghdad, the sides agreed to establish a trilateral committee to investigate issues such as support for militias and al Qaeda in Iraq.
Bush: $20bn Arms Sale to Saudis and 30Billion to Israel Over Next Ten Years
July 29….(DEBKA) Israeli Prime Minister Ehud Olmert was quick to praise the 25% US military aid increase as an important boost to Israel's security at the weekly cabinet meeting Sunday, July 29. He added that President Bush had promised him Israel's qualitative military edge in the region would be preserved. DEBKAfile's Washington sources report that the president cannot guarantee this aid level beyond 2009. The Israeli package (and another $13 bn for Egypt) was announced Saturday to counter-balance the Bush administration's plan to sell Saudi Arabia and five other Persian Gulf states $20 billion of advanced weaponry. This massive arms transaction has encountered a threat of blockage in Congress, which must approve major arms sales. Part of the deal is a Saudi commitment to keep the new warplanes and missile systems away Israel's borders. A similar Saudi pledge offered in the 1990s for US F-15 warplanes was never kept despite reminders from Washington. The planes were housed at Tabuk close to the Jordanian border, Israel's Red Sea port of Eilat and its Negev bases. Ultimately, Israel informed Riyadh through Washington that Tabuk would not be immune from attack in a fresh all-out Middle East conflict. US Secretary of state Condoleezza Rice and Defense Secretary Robert Gates are due in Jeddah Tuesday, July 31, to discuss the arms transaction as part of the US plan for a three-level regional strategy to counter the spreading threat from Iran. A big question mark hangs over their mission in view of the widening gap between the Middle East peace policies of the Bush administration and Saudi King Abdullah
WEEK OF JULY 23 THROUGH JULY 29
Gorbachev Blames US for World 'Disorder'
(Ex-Soviet premier blasts President Bush as helping create 'very dangerous' situation)
July 27….(MSN) Former Soviet president Mikhail Gorbachev harshly criticized the United States, and President Bush in particular, today for sowing what he termed as disorder across the world by seeking to build an empire. Gorbachev, who presided over the break-up of the Soviet Union, said Washington had sought to build an empire after the Cold War ended, and had failed to understand the changing world. "The Americans then got the idea of building a new empire, and world leadership by a single power in itself, and what followed;" Gorbachev asked reporters at a news conference in Moscow. "What has followed are unilateral actions, what has followed are preemptive wars, what has followed is ignoring the UN Security Council, ignoring international law and ignoring the will of the people, even the will of the American people," he said. Russian President Vladimir Putin and Bush are friends but their ties have been strained by US plans for a missile defense shield in Europe, disagreements over Kosovo and the war in Iraq, and competition for allies in the former Soviet Union. Many Russians still view the United States as a rival and enemy. Gorbachev, 76, who left politics after the 1991 collapse of the Soviet Union, is deeply unpopular in Russia. Though feted abroad, he is blamed in Russia for sinking the Soviet empire and plunging millions into poverty. "When I look at today's world I have a worrying feeling about the growth of world disorder," Gorbachev says. "I don't think the current president of the US and his administration will be able to change the world situation as it is developing now, and it is a very dangerous situation," he said. Gorbachev said Russia's hopes of building stronger ties with Washington had waned in the face of what he called a series of US administrations interested in building a world empire. "It is a massive strategic mistake: no single center can command the entire world, no one," he said.
FOJ Note: Russia is very jealous of the position of the United States, as is China, and even to some extent, the European Union. However, the EU feels that it has the capacity to successfully micromanage the US into following the European concepts of Globalism. The US is not really seeking to build a World Empire, but there is someone that is. The Antichrist will rise to head a world empire in the Last Days! And by following events in the Middle East, and specifically involving Israel, we know from Bible Prophecy that the time is near at hand for the World Order of the Antichrist, that will be built out of Disorder! Mr. Gorbachev, like many other Globalists, such as Jimmy Carter, and many other prominent American politicians despise America's position as a superpower, and want to see it amalgamated into a new Global Order.
New PA Platform: Peace with Israel, Jerusalem as Joint Capital
*(PA, for the first time ever will not stress using resistance to the so-called occupation)
July 27….(Jerusalem Post) The new Palestinian Authority government's platform presented by PA Prime Minister Salaam Fayad on Friday includes the attainment of an Israeli-Palestinian peace agreement consisting of pre-1967 borders, Jerusalem as the capital of both states and the honoring of past agreements between the two. The platform also calls for a just and agreed-upon resolution to the refugee problem on the basis of UN resolutions. The proposal, which was presented to PA ministers, requires the approval of the PA parliament. Also, for the first time in the history of the PA, the government does not mention in its political program the Arabic word mokawamah, meaning "resistance" (terrorism) or "armed struggle." Instead, the guidelines adhere to PA Chairman Mahmoud Abbas's call for "national opposition to the occupation" and therefore support the Arab peace initiative. Government sources expressed cautious optimism over the omission of "armed struggle" from the new proposed guidelines. "It is an important declaration and a basis for continuing cooperation with the PA government," Israel Radio quoted the sources as saying. However, Jerusalem officials stressed that they had not actually received the guidelines in writing and would therefore not give an official response. Hamas slammed the proposal and vowed that it would continue the armed struggle. Israel Army Radio reported that Abbas and Fayad showed the new Palestinian document to Meretz Chairman Yossi Beilin during their meeting in Ramallah the previous day. "It concerns peace with Israel and honoring past agreement with Israel," confirmed the Meretz chairman. Beilin went on to say that it was "peace as an ideology" as opposed to an agreement as a last resort. Abbas told reporters on Thursday that he hoped for "a comprehensive peace with the Israelis within a year or even less than that." He also told the daily Ma'ariv that President Bush wished to broker a deal within a year. "I heard this with my own ears from the President himself and from Secretary of State Rice," he said. The new proposed PA document also includes the government's declaration of its intention to restore PA rule to the Gaza Strip and extensively blames Hamas for "deviously and forcefully" taking over PA institutions. According to the new proposed principles, Fayad's government would end the anarchy in the PA and prevent citizens from moving around openly with weapons in Palestinians cities. Only PA security forces would have the right to bear arms. The new PA platform also vows to battle corruption and fight against the use of religion to justify murder and destructive practices. Also Friday, Vice Premier Haim Ramon said that Israel should withdraw from most of the West Bank in a deal with the Palestinians. Ramon told Israel Radio that he supported a withdrawal from "most" of the West Bank, "except for large settlement blocs." He suggested NATO forces could replace IDF troops in the areas evacuated. "In my eyes, the occupation of the territories threatens our very existence, our legitimacy and our international standing," Ramon said in the radio interview. Ramon would not specify the scope of the proposed pullout, but said a plan floated by Prime Minster Ehud Olmert before his election in 2006 for a unilateral pullout from 90 percent of the West Bank was no longer a possibility, "certainly not in one step." Ramon said Israel should try to arrive at an agreement with Abbas on the "principles of the final-status agreement, "since it was "the first time in seven years" that Israel had a partner on the Palestinian side. Interior Minister Ze'ev Boim (Kadima) expressed bewilderment Ramon's remarks. Boim said that recently, much effort had been made to bolster Palestinian Authority Chairman Mahmoud Abbas and other Palestinian moderates but that Abbas and his colleagues did not have the tools to stop terrorist acts, which, Boim claimed, were prevented only due to the operations of the IDF and the Shin Bet (Israel Security Service). "If we withdraw from the settlements, Hamas will raise its head," Israel Radio quoted the interior minister as saying.
China Arming Both Sides in Iraq
July 27….(Washington Times) Iraq's new government recently concluded a deal with China worth almost $100 million to outfit Iraqi police with Kalashnikov-design assault rifles and other small arms in a move that has US defense and national security officials fuming. The arms deal shows that Beijing is arming both sides of the Iraq conflict, as recent intelligence reports show that Chinese weaponry is being shipped to Iraqi and Afghan insurgents through Iran. Defense officials said the arms deal with Baghdad was concluded during the visit to Beijing by Iraqi President Jalal Talbani last month. Brig. General Qasim Ata, an Iraq police spokesman, was quoted recently as saying the contracts with China were for imports of "advanced" Chinese weapons for the Iraqi armed forces. One Bush administration official called the deal "extremely foolish." "Buying weapons from China will accelerate the alienation of America," the official said. "Iraq purchasing PLA weapons along with the emerging PRC oil deal will contribute mightily to the end game in Iraq for the United States." The PLA is the acronym for China's military. The official said the Iraqi government needs to better understand that the US military is fighting and dying to give their nation the opportunity for a free and open society and government. "It is not the PLA, in fact the PLA is arming Iranians to kill Iraqis and Americans," the official said. Disclosure of the Iraqi government arms deal with China comes as a US military spokesman this week confirmed the flow of Chinese shoulder-fired anti-aircraft missiles to insurgents, first reported in this paper June 5. Rear Adm. Mark Fox told reporters Sunday Chinese missiles found in Iraq likely were smuggled into the country from Iran. "We have seen ordnance and weapons that come from other places, but we assess that they have come through Iran," Adm. Fox said. "There are missiles that are actually manufactured in China that we assess come through Iran as well." China's Foreign Ministry accused the United States yesterday of misleading the public over the Chinese weapons smuggling. Richard Fisher, a China specialist with the International Assessment and Strategy Center, said the Iraqi government deal heightens the danger from insurgents. "Soon we will face two Chinese threats in Iraq, the first from Chinese arms arriving via their Iranian allies, and second from Chinese arms captured from the Iraqi government," he said. "From oil deals now to arms deals, we are allowing China to benefit from the stability earned with American blood," Mr. Fisher said. "China, let's recall, was helping Saddam to shoot down US aircraft," a reference to China's supplying fiber-optic communications to Saddam's military.
US Outfitting B-2's with Bunker Buster Bombs - Iran May Be Target
July 27….(Newsmax) The US is retrofitting its B-2 Stealth bombers with massive bunker-buster bombs, a move that could be a prelude to an attack on Iran and its nuclear facilities. Experts have noted that a US or Israeli strike on Iran's nuclear program could be difficult due to the large number of installations, some of which are buried deep underground in hardened bunkers. In a recent NewsMax Magazine, Kenneth R. Timmerman's report "The Coming War with Iran: 6 Days of Hell" predicted the US would outfit B-2's as a prelude to an attack on Iran. The company is doing the work under a seven-month, $2.5 million contract awarded June 1 by the Air Force's Aeronautical Systems Center, Wright Patterson Air Force Base, Ohio. Northrop Grumman is the Air Force's prime contractor on the B-2, the flagship of the nation's long-range strike arsenal. The new Massive Ordnance Penetrator (MOP), which is being developed by the Boeing Co., is a GPS-guided weapon containing more than 5,300 pounds of conventional explosives inside a 20.5-foot-long enclosure of hardened steel. It is designed to penetrate dirt, rock and reinforced concrete to reach enemy bunker or tunnel installations. The B-2 is capable of carrying two MOPs, one in each weapons bay. "This integration contract is part of Northrop Grumman's on-going effort to ensure that the B-2 remains capable of delivering a decisive blow to an increasingly sophisticated enemy," said Dave Mazur, vice president of long-range strike for the company's Integrated Systems sector.
President Bush Pushing for Israel-Palestine Peace Deal in One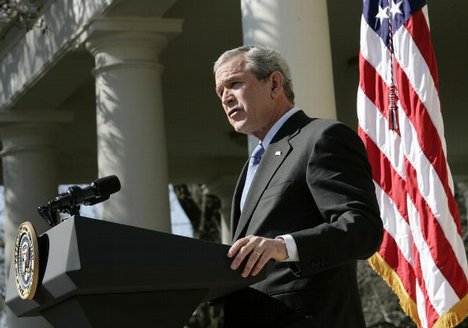 July 27….(Israel DAILY) Palestinian President Mahmoud Abbas said yesterday that he hopes to reach a full peace deal with Israel within a year, after Israel's prime minister floated the idea of starting with a joint declaration on the contours of a Palestinian state. Abbas spoke to reporters at his headquarters after telling an Israeli newspaper that US President George W. Bush promised him he would push hard to conclude a Mideast agreement before he leaves the White House in January 2009. US President George W. Bush is looking to reach a final status Israeli-Palestinian agreement before he leaves office, Palestinian president Mahmud Abbas was quoted in an interview published on Thursday. "The Americans are determined to push the parties into reaching an arrangement during President Bush's current term," Abbas was quoted as saying in an interview. "I heard this in person from the president himself and from Secretary of State (Condoleezza) Rice. They want to reach an arrangement between Israel and the Palestinians in the coming year," he added. Bush leaves office in January 2009 after two terms in the White House. "We have to reach the final formula, the end game, and then think about the implementation and set a timetable for the implementation on the ground," said Abbas, when asked about his plan for a final-status arrangement. "First we have to resolve the problems and arrive at an outline for the final agreement," he added, listing his principles of this agreement. "A Palestinian state within the 1967 borders with east Jerusalem as its capital and a solution to all the problems on the agenda, including the refugee problem," he said. That is why we are pushing ahead with a new platform disavowing resistance to the occupation!
Rice: Israel Must End Occupation of 'West Bank'
July 26….(IsraelNN.com) Speaking with Arabic-language Radio Sawa, based in Washington and Dubai, US Secretary of State Condoleeza Rice went further in her demands on Israel than President Bush did in his recent speech on Israel. Rice, about to depart for the Middle East to prepare an upcoming international meeting of regional leaders, said that President Bush recently stated "very clearly that Israel's future will rest in Israel, in places like Galilee and in the Negev, and that the occupation of the West Bank will have to end, and a Palestinian state will need to be established." In fact, however, in his recent speech, President Bush did not phrase this as a demand upon Israel, but rather cited Prime Minister Olmert as having "made clear that Israel's future lies in developing areas like the Negev and Galilee, not in continuing occupation of the West Bank. This is a reality that Prime Minister Sharon recognized, as well. So unauthorized outposts should be removed and settlement expansion ended." President Bush also stopped short of saying Israel must withdraw from all of Judea and Samaria. Bush said rather that future Israel-PA negotiations must "lead to a territorial settlement, with mutually agreed borders reflecting previous lines and current realities, and mutually agreed adjustments." By stating so clearly that the "the occupation of the West Bank will have to end," Rice has set a new standard for United States officials of her stature in opposition to Israel's presence in Judea and Samaria. Secretary Rice did not deal with the question of what to do with the 240,000 Jews living in the non-annexed areas of Judea and Samaria (nor the roughly equal amount living in the outlying neighborhoods of Jerusalem beyond Israel's pre-1967 borders). Israel has not yet been able to solve the problems of the fewer than 10,000 Jews it evicted from Gaza two years ago; those Jews are still living in transient camps of temporary pre-fab houses, with no long-term housing or employment solutions in sight. President Bush, in his speech ten days ago, compared Hamas and Fatah in stark terms, painting a picture of contrasts in which the Arabs under PA jurisdiction can, seemingly, choose either evil (Hamas) or good (Fatah). There's another option," Bush continued, "and that's a hopeful option. It is the vision of Fatah President Abbas and Prime Minister Fayyad; it's the vision of their government; it's the vision of a peaceful state called Palestine as a homeland for the Palestinian people. To realize this vision, these leaders are striving to build the institutions of a modern democracy. They're working to strengthen the Palestinian security services, so they can confront the terrorists and protect the innocent. And they're ensuring that Palestinian society operates under the rule of law. By following this path, Palestinians can reclaim their dignity and their future, and establish a state of their own."
Rampant Fatah Terrorism and Hatred
In fact, however, Fatah's Al Aqsa Martyrs Brigades have actually taken responsibility for every suicide bombing in Israel the past three years. Just this week, Abbas's own Fatah terrorists have organized yet another terrorist cell in Samaria for attacks against Israel. In addition, the 178 wanted Fatah terrorists whom Israel agreed to pardon last week if they would renounce terrorism described their hand-in of weapons as a "big joke." Interestingly, President Bush noted that Hamas men threw Fatah members out of apartment buildings during their recent battles, but neglected to mention that Fatah did the same to Hamas members. As Caroline Glick wrote in the Jerusalem Post on Dec. 26, 2006, "If Abbas were interested in peace, he would not be demanding that Israel do the following: release terrorists from prison; stop arresting wanted terrorists; make it easier for terrorists to operate in Judea and Samaria by suspending IDF counter-terror operations and give him money to pay the salaries of terrorists."
***FOJ Note: It is all too obvious that President Bush and Secretary of State Condoleeza Rice, while being Christians, are nonetheless deeply schooled in Replacement Theology. Their misunderstanding of eschatology will have dire consequences for our nation. It is truly sad to watch American leaders play such foolish roles in the world's zeal to carve up the Land of God, and give it over to the enemies of Israel. These foolish decisions being made by our President will cause the curse of God to be unleashed on our nation.
King Abdullah Visits Bush on Middle East Peace Initiative
July 25….(FOJ) King Abdullah of Jordan, made an urgent trip to Washington this week for a "private" meeting with US President Bush. Officials say the King 'urged the US to intensify its efforts' to advance talks between Israel and the Palestinian Authority, and requested that Bush coerce Israel to prove its earnestness for peace by making goodwill gestures, dismantling settlements and easing restrictions on Palestinians.
The hastily arranged state meeting came with many of the trappings of an official state dinner, a red-carpet welcome that included US Marines in dress uniform and the president and first lady standing on the North Portico steps to await the king's motorcade.
White House aides said there would be no comment on the talks since the meal was deemed ''a private dinner.'' The impromptu meeting comes a week after President Bush unveiled plans for a Middle East peace conference aimed at breaking the stalemate plaguing the region for years. "King Abdullah urged the US to intensify its efforts in the coming weeks and months so as to avoid a major war in the Middle East. President Bush once again promoted the "two-state solution" after last month's violent takeover of the Gaza Strip by Iranian nacked Hamas militants added new complications to any peace plans. At the meeting, Abdullah also urged Israel to take steps to build confidence that it was serious about peace, (you have got to be kidding) including ending all settlement activities as well as relaxing restrictions on the movement of Palestinians. Roughly 18 months before Bush's term in office ends, US allies such as Jordan, Saudi Arabia and Egypt want the US president to get more involved in helping broker peace in the Middle East. At the same time, Bush has been pressing Abdullah as well as other Middle East leaders to continue supporting Palestinian President Mahmoud Abbas of the secular Fatah party after it lost control of Gaza to Hamas. The Bush administration apparently has become convinced the US can no longer be a back-seat driver in the fraught Israeli-Palestinian relationship, as it seems to be a part of the formula for success in Iraq. Jordan and Egypt are the only Arab countries that have made peace with Israel. Abdullah told Bush that progress requires convincing Palestinians that their short, and long-term needs are being addressed, including final status issues such as the borders of a Palestinian state.
Millions for Charity, Nothing for Tribute?
| | |
| --- | --- |
| | (FOJ) US aid funding for the West Bank and Gaza between 1993 and 2004 totaled approximately $1.3 billion. After the Oslo Accords in 1993, the US provided another $375 million to help implement a development program for the PA. The US is the largest bilateral donor to the Palestinians, yet they routinely call for America's destruction. The Palestinians are the most foreign-aid dependent society on earth, and that aid has always empowered terror leaders. The US also contributes 150 million/year to the UNRWA, a UN agency designed to underwrite the Palestinian camps. |
July 25….(FOJ) Aspen institute board member and MEII Chairman, Berl Benhard, Palestinian Prime Minister Salam Fayyad, President and CEO of the Overseas Private Investment Corporation (OPIC), Robert Mosbacher, Palestinian President Mahmoud Abbas, US Undersecretary of State Karen Hughes, and Fatah representative & investment fund chairman Mohammed Mustafa, in Ramallah. The United States on Wednesday announced a program providing $228 million in loans to Palestinian businesses. Funding will come from a variety of sources, including the US, Norway, the state-run Palestine Investment Fund and the nonprofit Aspen Institute. Last week, the US announced the gift of 190 million for strengthening Abbas in the West Bank.
Arab League Delegation Visits Israel
| | |
| --- | --- |
| | (FOJ) Israel's President Shimon Peres, Jordan's Foreign Minister Abdelelah al-Khatib (L) and Egypt's Foreign Minister Ahmed Aboul Gheit met in Jerusalem today in this picture released by the Israeli GPO. Egyptian and Jordanian envoys opened the first talks in Israel over a landmark Arab League land-for-peace plan. |
Egypt Says the Delegation is not mandated by Arab League
*The Egyptian and Jordanian foreign ministers made clear that their arrival today in Jerusalem to hold talks on the Arab Peace Initiative was not "historic," denying the Israeli Foreign Ministry's claim that they had come to represent the Arab League. The Egyptian State Information service released a statement on Saturday saying that Foreign Minister Ahmed Abul Gheit will be "representing Egypt and only Egypt, not the Arab League" during his visit to Israel. The Israeli Foreign Ministry thought he was coming on behalf of the League, as Arab League Secretary-General Amr Moussa acknowledged in a BBC interview last week.
July 25….(AP) The foreign ministers of Egypt and Jordan began a historic visit to Israel on Wednesday to formally present an Arab peace plan, saying they were extending "a hand of peace" on behalf of the region. The ministers arrived as representatives of the Arab League, the first time the 22-member group has sent a delegation to the Jewish state. The Arab League peace plan envisions full recognition of Israel in return for evacuation of lands captured in the 1967 Middle East war. "We are extending a hand of peace on behalf of the whole region to you, and we hope that we will be able to create the momentum needed to resume fruitful and productive negotiations" between Israel and the Palestinians and the rest of the Arab world, Jordan's foreign minister, Abdul-Ilah Khatib, said at a news conference with Israeli President Shimon Peres. Egyptian Foreign Minister Ahmed Aboul Gheit said the two delegates had been asked by the league "to come and offer Israel the Arab peace initiative." He urged Israel to consider the plan seriously. "We hope that upon our return, we would also convey to the Arab League, the responses of Israel and I hope that such responses will be positive," he said. Aboul Gheit and Khatib were slated to meet later Wednesday with Prime Minister Ehud Olmert and to appear at the Israeli parliament. The visit, which came a day after former British Prime Minister Tony Blair made his first trip as new Mideast peace envoy, is part of a flurry of diplomatic efforts meant to restart peace talks after a seven-year lull. Egypt and Jordan both have peace treaties with Israel and have sent their leaders to the country before, but never on behalf of the Arab League, which has traditionally been hostile toward the Jewish state. Foreign ministry spokesman Mark Regev said the visit was historic. "This is the first time that a delegation is coming here under the auspices of the Arab League," he said. "In the past, the Arab League has opposed dialogue, normalization and any contact with Israel and this is the first time the Arab League has authorized a delegation to visit Israel." The Arab League asked Jordan and Egypt to take the lead in pushing forward their newly revived peace plan, which offers a comprehensive peace agreement in exchange for Israel's withdrawal from all territories captured in 1967. Israel rejected the plan when Saudi Arabia first proposed it in 2002, at the height of the Palestinian uprising. But it softened its resistance after moderate Arab states endorsed the plan again in March, sharing their concerns about Iran's growing influence. Israel has welcomed the plan as a basis for negotiations, but raised concerns about certain aspects. Israel rejects a full withdrawal from the West Bank and east Jerusalem. It also objects to the plan's apparent call for the return of Palestinians who became refugees in the 1948 Mideast war and their descendants. Israel says a large-scale return of refugees would destroy the country's Jewish character. Moderate Arab countries and the West have been pushing for renewed Israeli-Palestinian peacemaking since Gaza fell to Hamas, a group that refuses to recognize Israel's right to exist and has killed more than 250 Israelis in suicide bombings. Palestinian President Mahmoud Abbas ejected Hamas from government after the Gaza takeover and set up an emergency Cabinet of loyalists that has Western and moderate Arab backing. Israel has welcomed Abbas' government and made a series of confidence-building gestures, while saying it is too early to resume negotiations on a final peace deal.
Olmert Offers Abbas An Agreement of Principles toward Palestinian Statehood
July 25….(Ha Aretz) Prime Minister Ehud Olmert is offering to hold negotiations toward an "Agreement of Principles" for the establishment of a Palestinian state on most of the territory of the West Bank and the Gaza Strip. Olmert's proposal to Palestinian Authority Chairman Mahmoud Abbas is based on his view that it is important to first discuss issues that are relatively easy for the two sides to agree upon. No less important is Olmert's assessment that such an accord will enjoy the overwhelming support of the Israeli public and the Knesset. If Olmert's proposal is accepted by the Palestinians, the two sides will begin negotiations on the characteristics of the Palestinian state, its official institutions, its economy, and the customs arrangement it will have with Israel. After an "Agreement of Principles," the two sides will tackle the more sensitive diplomatic issues, like final borders and the transit arrangements. Such agreement is believed to offer both Abbas and Olmert domestic political gains, and the Palestinian leader will be able to use it as part of his reelection campaign. According to surveys, Olmert knows that the Israeli public is overwhelmingly supportive of a two-state solution, and that the current balance of power in the Knesset will allow him to rally a firm majority of 82 MKs behind such an agreement. In the prime minister's view, this is not the time to deal with the minute details of the agreement, because it will be very difficult to reach agreement on final status issues, such as borders, Jerusalem and the refugees. These, Olmert proposes, should be left to the end of the negotiations. Olmert would like to reach an agreement on principles, and then proceed to the more difficult issues, such as Jerusalem! This way, the prime minister claims, it will be possible to restart the peace process, in spite the weakness of the Palestinian Authority, and the skepticism regarding its ability to keep its part of the agreement and guarantee security. The likely principles that Olmert will offer as part of the the agreement will be as follows:
*The establishment of a Palestinian state comprising about 90 percent of the territory of the West Bank and in the Gaza Strip.
Even prior to the 2006 elections, Olmert suggested that Israel unilaterally evacuate from such territory in the West Bank, and withdraw to the separation fence, for the primary purpose of retaining a Jewish majority in its territory, behind a defensible border. Palestinian support for such agreement will contribute to Israeli public and political support for the deal.
*Exchange of territory to compensate for the large settlement blocs that will remain under Israeli control in the West Bank.
*Connecting the West Bank and the Gaza Strip through a tunnel in order to offer the Palestinians territorial contiguity, prevent friction between Israelis and Palestinians, and preserve security. Israel will request territorial compensation for the digging of a tunnel in its sovereign territory. From Israel's point of view, a tunnel connecting the West Bank and the Strip is the best option to link the two, and is better than the elevated or sunken highway proposals.
*The Palestinians will be able to declare Jerusalem their capital. In the past Olmert has hinted that he would be willing to withdraw from the Arab neighborhoods of East Jerusalem "on the edge," which have never been considered part of the historical city. The Old City, its environs and the Mount of Olives would remain in Israel's control.
The prime minister initiated discussions on the political vision during his recent meetings with Abbas. The goals and the framework of the negotiations was also discussed during the routine meetings between Olmert's senior aides, Yoram Turbowicz and Shalom Turjeman and their Palestinian counterparts, Rafik Huseini and Saeb Erekat. Olmert turned down the proposal of Secretary of State Condoleezza Rice for a "shelf agreement," which would be a complete final status agreement, negotiated by the US, whose implementation would be postponed. The prime minister explained that he is concerned that the PA will be unable to implement the agreement. Olmert is also worried that such a plan would be used as the starting points for further negotiations, as happened to the proposals of Prime Minister Ehud Barak at Camp David in 2000, and the Clinton Plan, that are now seen by the international community as the basis to any future agreement.
Hezbollah Has Cells in the USA: US Must Free Assad From Iran
July 25….(Ha Aretz) The head of American intelligence, Admiral (ret.) Mike McConnell, revealed a secret a week ago: Hezbollah sleeper cells are waiting in the United States for the order to carry out terror attacks. The unclassified version of the intelligence assessment, the one distributed to the public, has been stating for years that Hezbollah has the ability and intentions to act against American targets and assets. However, this description has been vague enough to deceive the public into thinking that attacks are expected only in Lebanon and other places in the Middle East. McConnell, who crafted his speech on the fly while on the way from the White House to another location in Washington, tripped up and let slip what the American intelligence community had discovered from its sources and was trying to hide. The difference between the two versions is significant for the American citizen. Attacks on his soldiers in Iraq, Afghanistan and other ends of the earth have become routine. This is not the case if inside America they are on the alert for terror acts by underground cells. Ostensibly, it is a considerable intelligence achievement if the Central Intelligence Agency has acquired information about Hezbollah's emergency plans. On the day the attacks come, the surprise will not be total. But this is a deterrent rather than a warning, and the true achievement belongs to Hassan Nasrallah, his operations officer Imad Morniyeh, and the dispatchers in Tehran who want to frighten Washington to the point of thwarting a military initiative against them. In this complex game, the big winner could well be Syria. The expected trigger for Hezbollah attacks, both in the secret assessment and the censored version, is if America or Israel crosses what McConnell calls a "red line" as far as Hezbollah is concerned: an attack on Iran. A response to this will shed American blood. Politicians will have to explain to the public, the day after a bombing in Iran and reprisals in Detroit or Los Angeles, why it has brought down this unnecessary trouble, which intelligence had warned about, on the tranquil civilians between the two oceans. The recent past has taught the Iranians that the Americans, like cold business people, tend to cut their losses and get rid of failed investments. They were defeated and they surrendered after the takeover of the embassy in Tehran. Two attacks on the embassy in Beirut and one on the Marines at the airport at Khaldeh expelled the Sixth Fleet from Lebanon's shores. The kidnapping of its citizens led the Americans, with Israel's help, to sell arms to the Iranians in their war against the Iraqis. You don't have to be Pavlov to recognize a behavior pattern here. This is precisely why Syria is so important to the administration of President George W. Bush in its ability to influence important sectors: Iraq, Iran and Lebanon. The administration's top priority this quarter, which ends in September, is in Baghdad. The report by the commander of the forces there, General David Petraeus, is due on the implementation of American policy in Iraq. These efforts are characterized by an escalation meant to improve the situation; achieving victory there is an illusion that has long been abandoned. The forces have been beefed up and have been leaving their bases in attempts to kill their enemies. The result has been an increase in the number of American casualties, many of them because of the expertise that has been flowing in from Iran, whether directly or via Hezbollah and through the Syrian border. To weaken the front against him, President Bush aspires to release Syrian President Bashar Assad from Iranian President Mahmoud Ahmadinejad's embrace. A signal from Assad about a less anti-American policy will find an ear in Washington, in the spirit of the recommendations of the Baker-Hamilton report last fall.
Israeli Funds Pays Haniyeh's Salary
(Funds transferred by Jewish state to Palestinian Authority used by Prime Minister Fayyad to pay wages of government workers, including dismissed Hamas ministers)
July 24….(YNET) When Israel decided to unfreeze $600 million it owed the Palestinian Authority, it did not intend for the money to be used to fill the bank account of former Palestinian Prime Minister Ismail Haniyeh. After receiving the funds from Israel and additional aid from the United States and European countries, the Palestinian Finance Ministry decided to pay the monthly salaries of government members, including dismissed Hamas ministers and the group's representatives in the Legislative Council. Each of these officials received on Monday NIS 12,000 (about $2,836) from Palestinian Prime Minister and Finance Minister Salam Fayyad's treasury. One of the people to receive this sum was former Palestinian Foreign Minister Mahmoud al-Zahar, one of Hamas' most radical members. Young Fatah members slammed the move, saying that Palestinian President Mahmoud Abbas was "using double standards against Hamas, he declared war on them, but pays their wages and helps them stabilize their government in Gaza." Meanwhile, former US President Jimmy Carter has offered to serve a mediator between Hamas and Fatah. The proposal was conveyed the Haniyeh through Carter's envoy. Haniyeh welcomed the offer.
Today is Tisha B'Av 5767
July 24….(IsraelNN.com) Today is Tisha B'Av, the 9th day of Av, commemorating many of the worst tragedies that have befallen the Jewish People over the past 3,300 years. Jews the world over are praying for the Temple's rebuilding. Though this day is the saddest in the Jewish calendar, it contains several hopeful features. It is referred to in the Book of Lamentations (Eichah) as an "appointed season" (moed, in Hebrew), which generally refers to a festive day, and in fact, it is expected to be the day on which the Messiah will have been born. When reading Eichah aloud following the evening prayer service, the pen-ultimate verse is repeated, with the prayer, "Return us unto You, G-d, and we will return. Renew our days as of old!" In addition, the somber Tachanun prayer is not recited on Tisha B'Av. On the other hand, many calamities occurred on this day. Among them were the following, in chronological order:
*the refusal of the Jewish People to ignore the report of the Twelve Scouts and agree to go with Moses to the Promised Land
*the destruction of the First and Second Holy Temples in Jerusalem at the hands of the Babylonians and Romans, respectively;
*the failure of the Bar Kokhba uprising in the second century;
the day on which all of Spanish Jewry was to be expelled from the country in 1492; the beginning of World War I in 1917;
*the end of legal Jewish residence in Gush Katif, in 2005.
As on every Tisha B'Av since the liberation of the Old City in 1967, tens of thousands of Jews frequented the Western Wall (Kotel) last night and today, praying for the rebuilding of the Holy Temple just behind it. Over one hundred thousand Jews flooded the Kotel (Western Wall) Plaza on Monday night and Tuesday to say traditional Tisha B'Av lamentations for the loss of the First and Second Jerusalem Temples. Thousands encircled the walls of the Old City of Jerusalem, as well, to mark the day of mourning. Police prevented a group of Jews led by right-wing activists Noam Federman and Itamar Ben Gvir from praying at a gate leading up to the Temple Mount. Noam Federman was arrested. Tisha B'Av, the ninth day of Av in the Hebrew calendar, is a sundown-to-sundown day of fasting and mourning marking the destruction of the First and Second Jewish Temples in Jerusalem, the subsequent exile from the Land of Israel, as well as other historical calamities that befell the Jewish People on the same date. Traditional rabbinical literature links the ninth of Av date with the day that the spies in the Biblical account brought back their negative report of the Land of Israel, which the children of Israel believed and over which they wept. Jewish tradition treats Tisha B'Av as one of the most severe of fast days, in that it lasts more than 24 hours and entails stringencies of behavior akin to those observed by mourners. In fact, the rabbis enacted a prohibition of the study of Torah on Tisha B'Av, as such learning is considered too joyful an activity for this day of distress over the destruction of the Temple and the loss of Jewish sovereignty. Among the special prayers of the day are the reading of the scroll of Eicha (Lamentations) and a recitation of dirges memorializing the Jewish victims of Roman, Babylonian and other persecutions through the ages. Since World War II, many communities include additional dirges composed in memory of the victims of the Holocaust. The ninth of Av this year marks 1,939 years since the Roman conquest and destruction of the Second Temple. The Temple was the symbol of continuing Jewish national life in the Land of Israel and its destruction marked the end of a Jewish revolt against foreign, in this case, Roman, domination. Following their hard-won victory over the Jewish rebels, the Romans renamed Jerusalem "Aelia Capitolina," and the Land of Israel, then known as Judea, they renamed "Paelestina," in an effort to erase the Jewish connection with the area. It is from this imperial effort at revisionist history that the term "Palestine" for the region roughly between Iraq and the Mediterranean Sea is derived.
Olmert: 'There are Giants in the Land'
July 24….(JNEWSWIRE) Israeli Prime Minister Ehud Olmert tried Friday to explain the reasons why the Jewish people have "no choice" but to surrender the cradle of their nationhood and the land promised to Abraham, Isaac and Jacob to the Muslim Arabs for the creation of a Palestinian State. Anyone who believes that Israel can maintain its current hold on all Judea and Samaria is "living in a dream," he insisted. Israel "needs to withdraw." In an apparent effort to sweeten the pill, Olmert told a group of Jezreel Valley farmers Israel would not withdraw unilaterally as it did from the Gaza Strip in 2005. The abandonment of any more land to the Arabs would be negotiated step-by-step with the terrorist Palestinian Authority, he pledged. Olmert further tried to persuade his audience as to the "necessity" of taking these steps. "Everyone understands that the State of Israel can't exist without a guarantee of a Jewish majority," he said. In order "to ensure" this majority Israel would have to make "tough decisions." Israeli leftists have successfully used this specter of the "demographic bomb" to buttress their arguments in favor of land surrender. The findings of other groups which dispute this demographic threat and show that Israel does not need to fear being overrun by Arabs have been disregarded or pooh-poohed. Olmert's appeasement approach is shared by a seeming majority of Israelis who, despite the miracle of their nation's survival against mountainous odds, do not believe God can save them out of their predicament, or that He will fight their battles for them if they would only put their trust in Him. Only a minority of Jews trust God to deliver them. Most of these are settlers - that group of Jews most hated and opposed by the world.
Fatah Terror-Guerilla Group Swears to Continue Terror Against Israel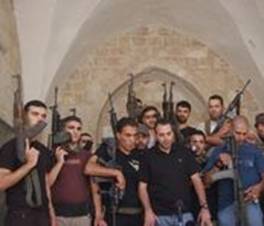 July 24….(Israel Insider) A Fatah terrorist cell, loyal to Mahmous Abbas, in the West Bank, called the Abu Ammar Brigades, is refusing to renounce terrorism and has condemned members who have in accordance with recent agreements. According to Abu Muhammad, one of the group's leaders, Abu Ammar consists of "tens" of Fatah fighters. Prime Minister Ehud Olmert last week agreed to grant amnesty to 178 Fatah fugitives and release 256 Palestinian prisoners in a move to bolster PA Chairman Mahmoud AbbasAbu Muhammad said his group of militants has already committed recent attacks against Israeli soldiers in the northern West Bank, including two shootings and one failed grenade attack. He claimed the Abu Ammar Brigades is "working independently," although some members of his group are from Abbas's al-Aqsa Martyrs Brigades, a terrorist group responsible for numerous suicide bombings inside Israel.
Rabbis Say Bible Forbids Uprooting Jewish Settlements
July 23….(Arutz) The Bible forbids Jews to participate in the uprooting of Jewish communities in the Land of Israel, ruled a council of chief rabbis from Judea and Samaria (the West Bank) on Thursday. Israel National News reported that the rabbis had been asked by many Israeli soldiers whether or not it was lawful from a biblical standpoint to forcibly remove fellow Jews from portions of their God-given inheritance. The response of the council was unequivocal: "It is forbidden to lend a hand to this task in any way." Fearing a national backlash, many rabbis declined to issue such rulings or interpretations of scripture prior to the 2005 evacuation of all Jews from the Gaza Strip. But with polls showing that a majority of Israelis now believe the Gaza "disengagement" was a mistake, religious leaders are becoming bolder in their application of biblical precepts to modern political moves. Prime Minister Ehud Olmert last week said it was an unrealistic "dream" for Israel to retain control of all Judea and Samaria, and that he intends to uproot additional settlements despite the public's views on further land withdrawals.
Nasrallah: Hizbullah Can Strike anywhere in Israel
(Nasrallah tells al-Jazeera, 'In July and August (2006) we were certain that we could reach any corner or spot in occupied Palestine and now we are certain that we can reach them')
July 23….(Ha Aretz) Hizbullah's missiles can reach any spot in Israel, the Lebanese Shiite terror leader Hasan Nasrallah cliamed in remarks aired on Sunday, months after the United Nations beefed up its peacekeeping force in southern Lebanon. "In July and August (2006), there was no place in occupied Palestine which was out of the reach of the resistance missiles," Hasan Nasrallah told al-Jazeera television. "Tel Aviv or elsewhere, we were certain that we could reach any corner or spot in occupied Palestine and now we are certain that we can reach them," Nasrallah said. Lebanese security and political sources said in May that Hizbullah had replenished its rocket arsenal and received improved anti-aircraft and anti-tank missiles from Iran via Syria since a UN-backed truce halted hostilities in August. Israel and the United States accuse Syria and Iran of arming, training and funding Hizbullah. Israel has complained about Hizbullah's resupply system from Syria and Iran, but as yet the UN has done nothing about it.
Hamas: We Will Talk With Blair, but Never with Israel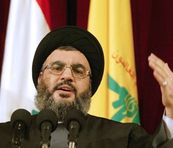 July 23….(Israel Insider) Hamas spokesman Sami Abu Zuhri said Monday that his organization would be willing to talk with the Quartet's new Mideast envoy, former British prime minister Tony Blair, but not with Israel. "We won't say no to anyone, including Tony Blair," Zuhri told The Times on Monday. "We are willing to maintain ties with anyone as long as it isn't the occupier." Hamas responded with outrage when Blair was appointed in late June by the Quartet of Middle East peace negotiators, the United States, the European Union, Russia and the United Nations as their special envoy. Last week, Hamas warned Blair not to ignore the group, and maintained that marginalizing Hamas would erode his credibility in his new position. Political sources in Jerusalem said Sunday that Blair is expected to stray from his mandate and try to further diplomatic talks between Israel and the Palestinians. Sources in the Foreign Ministry say that Blair is unlikely to deal with "technical" matters, building institutions and mobilizing the support of donor countries, and will focus on furthering the diplomatic process. "From this point of view, Israel is less enthusiastic," a political source in Jerusalem said Sunday. Blair arrived in Israel on Monday for a series of meetings in Jerusalem and Ramallah. His spokesman described a meeting in Amman with Jordanian Foreign Minister Abdul Ilah Khatib as "positive" before Blair flew on to Tel Aviv. The former British prime minister is on his first visit to the region in his new capacity, and senior political sources in Jerusalem say he will begin studying the Palestinian Authority's situation before starting his official mandate of helping the Palestinians build institutions of state. Some sources expressed the hope Sunday that Blair would not seek to broaden this mandate and attempt to negotiate sensitive political issues. "As British Prime Minister, he only had superficial familiarity with Israel and the Palestinians, and he will now have to do his homework," one of the sources said. These sources expect Blair to first seek to gain the confidence of the two sides in the framework of his mandate, and not rush into any far-reaching efforts that may undermine his mission in the region. At Israel's Prime Minister's Office and Foreign Ministry, preparations have been underway for Blair's arrival, the first step in what will be a busy week in regional diplomacy. On Wednesday, the foreign ministers of Jordan and Egypt are scheduled to visit Jerusalem as official representatives of the Arab League in an effort to gain Israeli support for the Arab peace initiative. For their meeting with Blair, Israeli officials plan to send the Quartet envoy two main messages. The first is that Israel welcomes the former British prime minister in his new role. The second is that in the medium and distant future, Israel will work to ensure that Blair will not stray from his mandate, namely the creation of Palestinian institutions of governance. "The way we understand his mandate, he will concentrate on building institutions in the Palestinian Authority to bolster the chairman, Mahmoud Abbas, and this is what we will discuss with him," a source in the Prime Minister's Office said last night.
| | |
| --- | --- |
| | Hezbollah members carry mock rockets during a festival organized by the group to commemorate last year's war with Israel, in Sidon, southern Lebanon, July 22, 2007. Hezbollah's missiles can reach any spot in Israel, the Lebanese guerrilla group's chief said in remarks aired on Sunday, months after the United Nations beefed up its peacekeeping force in south Lebanon. |
Iran 'Pays Syria to Spurn "Peace With Israel'
(Iran has pledged to provide Syria with US $1 billion ($1.13 billion) for arms acquisitions in return for a pledge from Syrian President Bashar al-Assad to drop peace overtures to Israel, reports said yesterday.)
July 23….(Israel Daily) Citing an Iranian source, the London-based Arabic newspaper al-Sharq al-Awsat said Iranian President Mahmoud Ahmadinejad and Mr Assad signed the arms agreement at a meeting in Damascus last Thursday. The report said that Iran agreed to assist Syria in developing a nuclear research program, a detail Israeli commentators were skeptical about, and to advance its chemical weapons potential. The Iranian leader's visit to Damascus came two days after Mr Assad publicly called for peace negotiations with Israel. The mooted peace accord revolves around the return of the Golan Heights, captured by Israel in 1967, to Syria. Israeli political figures at the weekend expressed alarm at the reported Syrian-Iranian pact. Minister for Strategic Affairs Avigdor Lieberman said: "The strengthening of the relationship between Assad and Ahmadinejad demands that Israel reorganize its political and military strategies." He called on Prime Minister Ehud Olmert to consider formation of a national unity government embracing opposition parties. Knesset member Arye Eldad said the reported Damascus agreement was reminiscent of agreements signed by Arab states with each other on the eve of the 1967 Six Day War and 1973 Yom Kippur War. "This will lead to attacks on Israel from Gaza, the West Bank, Lebanon, Syria and Iran," said Mr. Eldad, a member of the foreign affairs and defense committee. An official in Olmert's office yesterday expressed reservations about the newspaper account. "We are doubtful about the credibility of the report in al-Sharq al-Awsat," he said. The official said Israel was attempting to learn through its own sources the purpose and actual results of the Damascus meeting. But he said the fact that the meeting with Ahmadinejad took place despite Israel's declared readiness for talks with Assad showed that the Syrian leader was still aligned with "the axis of evil". During his day-long visit, Mr Ahmadinejad also met Hezbollah leader Hassan Nasrallah and leaders of Hamas and other Palestinian militant groups funded by Iran. An Israeli military analyst, General Giora Eiland, said that Assad's intention was apparently to signal in two directions. "He's saying, I want peace but if I can't get it I have a military option." The newspaper report said that Iran had agreed to fund the purchase by Syria of 400 Russian T-72 tanks, 18 MiG-31 warplanes, eight Sukhoi fighters, helicopters and other equipment. Iran also agreed to help Syria build factories for missiles and to provide it with Iranian-made tanks and armored personnel carriers. In addition, the newspaper said that Iran agreed to support Syria's political objectives in Lebanon, including the toppling of the moderate Government led by Prime Minister Fouad Siniora. During his visit to Damascus, Ahmadinejad declared that his country and Syria "will remain allies". Ephraim Sneh, who served as deputy Israeli defense minister until last month, said that moderate Arab states share Israel's worries over efforts by Iran, a Muslim but non-Arab country, to spread its influence far beyond its borders through political-military pacts, including with Hezbollah in Lebanon and Hamas in the Palestinian territories. It was precisely because of this, he said, that the Arab League was this week for the first time sending a delegation, including the foreign ministers of Egypt and Jordan, to Jerusalem to discuss with Israeli officials the league's proposal for a Palestinian-Israeli settlement. This is a signal from Arab moderates who are as concerned as we are at Iranian aggression.
Evangelist Hagee calls Carter "Enemy of Israel," Cites Saudi Funding
July 23….(Israel Insider) An influential pro-Israel evangelical Christian pastor has demanded that Jimmy Carter come clean on the sources of funding for his "peace center." In a speech to the Washington conference of the organization he leads, Christians United For Israel, John Hagee said the former US president is Israel's "enemy in America." and slammed Carter for likening Israel's settlement policy to apartheid and calling the isolation of the Hamas-led Gaza Strip "criminal." Hagee referred to a report in a conservative journal, National Review, which revealed that a large chunk of the funding for the Carter Center comes from Saudis seeking to influence US Middle East policy, using the ex-President as a foreign mouthpiece. "I call on former President Carter to publicly disclose how much of the Carter Center's funding is coming from anti-Israel sources in the Middle East," Hagee demanded. CUFI is a grassroots organization provides a national umbrella for pro-Israel Christian groups in America. Hagee created the group in 2006 as a national movement focused based on the support of Israel. Directors from all 50 states were present at Wednesday's event. "It's 1938 all over again," said Hagee, cribbing a line from Israeli opposition leader Benjamin Netanyahu. "Iran is Germany, Ahmadinejad is Hitler and he is talking about killing the Jews. The only way to prevent a nuclear war is to make certain it never starts."
WEEK OF JULY 16 THROUGH JULY 22
Pentagon to Sen. Hillary Clinton: You're Aiding the Enemy
July 20….(Fox News) The pentagon told Democratic presidential front-runner Hillary Clinton that her questions about how the US plans to eventually withdraw from Iraq boosts enemy propaganda. In a stinging rebuke to a member of the Senate Armed Services Committee, Undersecretary of Defense Eric Edelman responded to questions Clinton raised in May in which she urged the Pentagon to start planning now for the withdrawal of American forces. A copy of Edelman's response, dated July 16, was obtained Thursday by The Associated Press. "Premature and public discussion of the withdrawal of US forces from Iraq reinforces enemy propaganda that the United States will abandon its allies in Iraq, much as we are perceived to have done in Vietnam, Lebanon and Somalia," Edelman wrote. He added that "such talk understandably unnerves the very same Iraqi allies we are asking to assume enormous personal risks." Clinton spokesman Philippe Reines called Edelman's answer "at once outrageous and dangerous," and said the senator would respond to his boss, Defense Secretary Robert Gates. Clinton has privately and publicly pushed Gates and Joint Chiefs Chairman Peter Pace two months ago to begin drafting the plans for what she said will be a complicated withdrawal of troops, trucks and equipment. "If we're not planning for it, it will be difficult to execute it in a safe and efficacious way," she said then. The strong wording of the response is unusual, particularly for a missive to a member of the Senate committee with oversight of the Defense Department and its budget. Clinton aides said the letter ignored important military matters and focuses instead on political payback. "Redeploying out of Iraq with the same combination of arrogance and incompetence with which the Bush administration deployed our young men and women into Iraq is completely unacceptable, and our troops deserve far better," said Reines, who said military leaders should offer a withdrawal plan rather than "a political plan to attack those who question them." As she runs for president, the New York senator has ratcheted up her criticism of the Bush administration's war effort, answering critics of her 2002 vote to authorize the Iraq invasion by saying she would end the war if elected president. If she wins, Clinton may find herself overseeing such a withdrawal policy from Iraq.
Israelis Disgusted at Release of 255 PA Terrorists
July 20….(Ha Aretz) Upon addressing the former inmates at the Mukata 'presidential' compound in Ramallah, Palestinian Authority Chairman Mahmoud Abbas said: "This is just the beginning. Efforts must continue. Our work must continue until every prisoner returns to his home." PA Prime Minister Salaam Fayad and other PA ministers also greeted the prisoners at the Mukata Friday morning. While in Ramallah, the freed prisoners placed wreaths on former PA chairman Yasser Arafat's grave.
| | |
| --- | --- |
| | Released Palestinian prisoners lean out of bus windows, as they are greeted by relatives shortly after their release at the Beituniya checkpoint on their way to the West Bank city of Ramallah today as Israel released more than 250 Palestinian prisoners. |
| | |
| --- | --- |
| A Palestinian militant holds his weapon as other shout slogans while they walk with released Palestinian prisoners in Ramallah. Israel released more than 250 Palestinian prisoners to help strengthen Abbas's standing in the West Bank. After their release, the former prisoners hailed Yasser Arafat and pledged to destroy Israel. | |
Speaking from the Ketziot prison, where over 250 Palestinian terrorist prisoners were released this morning, terror victims' activist Meir Indo says many Israelis are disgusted at the idea. "This cheapens the blood of our slaughtered people." The 255 prisoners were freed today as a gesture by Prime Minister Olmert to Fatah leader and Palestinian Authority chairman Abu Mazen (Mahmoud Abbas), in order to strengthen his waning stature. Olmert promised the release four weeks ago at the Sharm el-Sheikh summit with Abbas, Jordan's King Abdullah and Egyptian President Hosni Mubarak. "Olmert just threw out the number 250," Indor said, "and then told the security services to deal with finding the right ones. And then when they came up with a list, Olmert behaved like a gangster and said, 'That would be insulting to Abu Mazen. I need bigger fish!' And so they gave him bigger fish, people who placed bombs, who used to be sentenced to 20 years and now are sentenced to only 10, and now they got out after 3-4 years, just because they were lucky and the bomb didn't kill anyone but only damaged the car. And they included attempted murderers, and those who fired shots and missed, etc." Reminded that the terrorists signed a commitment not to return to terrorism as a condition for being released, Indor said, "We have 196 families whose loved ones were murdered by terrorists who were once in prison. The lesson is simply not learned, and we see that Olmert's decisions are made hastily, not only in last summer's war, but here as well." Fatah claimed that 30 of the 255 freed prisoners were Hamas members, Among the 255 is Abdel Rahim Mallouh, who was Deputy Secretary General of the Popular Front for the Liberation of Palestine (PFLP). Mallouh's PFLP terrorists were behind the assassination of Tourism Minister Rehavam Ze'evi, the suicide bombing in a pizzeria in Karnei Shomron, murdering two teenagers, and more. Mallouh is a personal friend of Abbas.
In another Olmert gesture to Abu Mazen, 178 wanted Fatah terrorists have been taken off of Israel's wanted list.
Ahmadinejad Rushes to Meet Assad in Damascus
(This summer will see Muslim victories in the region and the defeat of our enemies!")
| | |
| --- | --- |
| | (FOJ) The Burden of Damascus is getting heavier. Syria is truly feeling the heat from the Prince of Persia to keep up the war-fever against Israel, while at the same time Syria is getting feelers from the West for a peace deal on the Golan Heights and membership in the Euro-Med. |
July 20….(DEBKA) DEBKAfile's Middle East sources reveal that behind the braggadocio of destroying Israel, Ahmadinejad's conversation with Iran's closest ally, Syrian president Bashar Assad, was acrimonious. In fact, he warned Assad he had better stop signaling his willingness for peace talks with Israel because this behavior was hampering Iran's plans for a war this summer. Ahmadinejad reminded Assad that Tehran had spent almost a year on detailed preparations for a summer war and would not tolerate the Syrian ruler sabotaging this effort. Assad was reminded of his huge debt to the Islamic Republic. In the last few months alone, Iran put up hundreds of millions of dollars for Syria's arms purchases from Russia; Syria gets its oil gratis and raw materials and finished goods at subsidized prices. Assad replied that with all due respect and appreciation for his Iranian brother's assistance, he is obliged to look after his country's interests, while of course cherishing his friendship with Tehran. Ahmadinejad pointed out that the Israeli Prime Minister Ehud Olmert's condition for talks was the severance of Damascus' ties with Tehran. Far from pleasant too was the Iranian president's conversation with Hizballah's secretary-general Hassan Nasrallah, who drove to the Syrian capital from Lebanon in a heavily secured convoy. Nasrallah, who lives in fear of any Israel attack, rarely leaves his bunker hideout. Ahmadinejad asked Tehran's protégé to try and understand that his government was financially squeezed by its preparations for war and was therefore unable at the moment to remit the one million dollars promised to repair the war damage suffered by South Lebanon last year. The Hizballah leader said that, while he fully understood Teheran's difficulty, he too was weighed down by the heavy cost of his pledges to the inhabitants of southern Lebanon. Ahmadinejad had an easier time with the heads of eight of the nine Palestinian terrorist leaders hosted in the Syrian capital. With them he was upbeat. Israel is a lot weaker than it pretends, he said, and a concerted struggle with Syria could easily bring down the Zionist state. He recalled Hizballah's "victory" last year as demonstrating that the Palestinians would be able to crush Israel without recourse to a large army. The coming months, he boasted, would see him marching into Israel shoulder to shoulder with the Palestinian brothers. After meeting the group, the Iranian president held face to face interviews with each of the hard-line Palestinian leaders and heard their requests for armaments and funding. Before flying home, he left a group of Revolutionary Guards al Qods Brigade officers with instructions for the missions to be assigned to each of the Palestinian terror chiefs in the forthcoming summer war.
Iran's Ahmadinejad jets to Damascus for 'Sensitive Talks'
July 20….(IRNA) Iranian megalomaniac Mahmoud Ahmadinejad flew to Syria at the top of a high-level delegation on a visit made necessary by the "extremely sensitive" regional situation, according to the official Islamic Republic News Agency (IRNA). His trip came as war drums continued to sound throughout the Middle East, warning of a potential conflagration between Syria and Israel. IRNA quoted the head of the Syrian Foreign Ministry's Strategic Studies Center as saying Monday that "the 'extremely sensitive' regional status" made Ahmadinejad's visit to Damascus "quite necessary." Tehran is bracing for a US or possibly Israeli attack on its nuclear program, and is reported to have entered into a pact with Damascus whereby Syria would hit back at Israel in the event of such a strike. Analysts believe Ahmadinejad will want to, in the very least, create the impression of solidifying relations with Syria in the hope that this will help deter western intervention until it has passed the point of no return on its quest for nuclear weapons. Meanwhile the US ambassador to the United Nations has verified clear evidence of weapons smuggling across the Syrian border to the Hizb'allah and other terrorist groups into Lebanon. Syria continues to deny the charges, despite testimony from UN personnel in Lebanon that these arms transfers are taking place. Israeli intelligence officials have reported that the Hizb'allah has rearmed itself to a level exceeding what it had before the war with Israel last year.
Iran's Ahmadinejad Visits Syria
July 20….(AP) Iranian President Mahmoud Ahmadinejad lashed out Thursday at unspecified enemies of the troubled Middle East, warning them to abandon their "hostile plans." During a one-day trip to Damascus, Ahmadinejad held talks with Syrian President Bashar Assad, who said their discussions focused on Iraq, the Palestinian territories and Lebanon, where both Tehran and Damascus wield influence. "The enemies of the region should abandon plans to attack the interests of this region, or they will be burned by the wrath of the region's peoples," the hardline Iranian leader said at a joint press conference with Assad. Both Iran and Syria face US accusations of fueling violence in Iraq, supporting Lebanon's Hezbollah guerrilla group, which Washington labels a terrorist organization. They are also accused of supporting anti-Israeli militant Palestinian groups, like the Islamic Hamas. Later Thursday, Ahmadinejad met in Damascus with Hezbollah leader Sheik Hassan Nasrallah, who apparently came from Lebanon for the meeting. It was believed to be the first encounter of the two since last summer's war between the Lebanese militants and Israel, and the first confirmed time that Nasrallah came to Syria. At the news conference, Ahmadinejad voiced support for Hezbollah, alluding to the 2006 war. "We hope that the hot weather of this summer would coincide with similar victories for the region's peoples, and with consequent defeat for the region's enemies," Ahmadinejad said. He described Syrian-Iranian relations as "amicable, excellent and extremely deep," adding that the two countries have common stands on regional issues and face common enemies. Syria is Iran's closest Arab ally. The two countries have had close relations since 1980 when Syria sided with Iran in the 1980-88 Iran-Iraq war. Assad mentioned those relations and said the "farsighted policies" of both governments have proven to be correct. Syria and Iran have growing economic ties, with the annual two-way trade estimated at about $200 million. Iranian companies have invested more than $1 billion in Syria, in sectors such as power generation, automobiles, cement and agriculture, Syrian newspapers reported Thursday. Syria's most important exports to Iran are cotton and textiles, olive oil and fruit. Iranian exports to Syria are mainly industrial equipment, spare parts, chemicals and locomotives. More than half a million Iranian tourists visit Syria annually, touring Shiite Muslim religious sites. The Syrian leader said they also discussed "ways of restoring dialogue among all Palestinian factions." Syria also backed Iran's right to pursue a nuclear program and the two called for the "departure of all occupation forces" from Iraq — a reference to US troops. Israeli Prime Minister Ehud Olmert has called on Syria to cut its relations with Iran as a precondition to restart peace process, deadlocked since 2000. Syrian officials have shunned Olmert's demand and stressed that Syria's relations with Iran are a matter of sovereignty.
Ahmadinejad, Assad Stress Lebanon Unity
July 20….(Arab News) Iranian President Mahmoud Ahmadinejad yesterday flew in to Damascus where he and opposite number Bashar Assad issued a joint statement calling for unity in Syria's neighbor, Lebanon. The two presidents met privately before officials from both sides joined their talks, state news agency SANA reported. Afterward, they issued a statement saying that it "is necessary to consolidate national unity and harmony among all Lebanese to assure the stability and security of Lebanon." They expressed their "support for all decisions taken by all Lebanese." Syria was the power broker in Lebanon until two years ago, when it was forced by an international outcry to withdraw its troops from the country following the assassination of anti-Syrian former Lebanese Premier Rafik Hariri. Since then, Lebanon has lurched from one political crisis to another, pitting pro, and anti-Syrian forces against each other. The statement also referred to the "right of the Lebanese people to resist repeated Israeli aggressions, and to recover land occupied" by Israel, calling on the international community to force a halt to those alleged aggressions. Israel ended its decades-long occupation of southern Lebanon seven years ago, but still holds on to a small sliver of land (Shabaa Farms) it captured from Syria in 1967 and which Lebanon now claims with Damascus' approval. During his Damascus visit, Ahmadinejad was to meet Syrian Vice President Farouk Shara and Prime Minister Naji Otri. Ahmadinejad also met Hezbollah's leader Hassan Nasrallah in Damascus, witnesses said. It was also expected that Ahmadinejad would meet Khaled Meshaal, exiled head in Damascus of the Palestinian movement Hamas, a month after the Islamists seized control of Gaza after routing rival Fatah forces and effectively dividing the Palestinian territories.
Just Who is Ismail Haniyeh, the Hamas Chief in Gaza
| | |
| --- | --- |
| | (FOJ) Ismail Haniyeh was an instrumental force in upstaging Yasser Arafat, and urging Palestinian kids to become Shaids. He is beholden to Iran. |
July 20….(FOJ) Ismail Haniyeh was probably born in the al-Shati refugee camp in the Gaza Strip. His parents became refugees after they fled their homes in Ashkelon in modern-day Israel during the 1948 Arab-Israeli War. In 1987, he graduated from the Islamic University of Gaza with a degree in Arabic literature. In 1989, he was imprisoned for three years by Israeli authorities for his leadership participation in the first Intifada against Israel. Following his release in 1992, he was deported to Lebanon along with Ahmed Yassin, (the blind Islamic cleric that headed Hamas) and with Abdel-Aziz Rantissi and other senior Hamas politicians. In Lebanon, the three associated with Hezbollah and the strict Islamic cells that were supported by Iran. A year later, he returned to Gaza and was appointed as Dean of the Gaza Islamic University. There he became more active in the Islamist movement, leading an offshoot of the Muslim Brotherhood known as Hamas. Hamas, of course advocates a government based on Islamic principles, and their terrorist-military wing has carried out numerous suicide attacks on Israelis (whom they call "Zionist occupiers") since 1987. After Sheikh Ahmed Yassin, Hamas' spiritual leader, was released from prison in 1997, Haniyeh was appointed to head his office. Haniyeh has been targeted by the IDF for his alleged involvement in terrorist attacks against Israeli citizens. Haniyeh gradually came to prominence because of his leadership within Hamas during the 2000 Al Aqsa Intifada terrorist campaign against Israel in which hundreds of Israeli citizens were killed.
US Charges Syria With Transferring Arms to Hezbollah
July 19….(Jerusalem Post) The United States accused Syria and Iran on Wednesday of playing a negative role in Lebanon and said there is clear evidence of arms smuggling across the Syrian border to terrorist groups. US Ambassador Zalmay Khalilzad made the accusations after a closed Security Council meeting to discuss progress on a UN resolution that ended last summer's war between Israel and Hizbullah guerrillas backed by Syria and Iran. "We also made it clear that we condemn all efforts to destabilize Lebanon and expressed particular concern with regard to the arms transfers that are taking place particularly across the Syrian border," Khalilzad told reporters after the session. Syria's UN Ambassador Bashar Ja'afari dismissed allegations that arms were being smuggled across his country's border with neighboring Lebanon. "We denied it many times and we are still denying it," he told reporters after the meeting. A UN-appointed team that assessed the border reported late last month that security was too lax to prevent arms smuggling. UN Secretary-General Ban Ki-moon urged Syria and Iran to do more to prevent arms smuggling into Lebanon, citing Lebanese and Israeli government allegations of violations of the UN arms embargo. Khalilzad said there was clear evidence of "arms transfers to terrorist groups" inside Lebanon. "There is evidence of preparations by groups such as Fatah al-Islam, preparations by groups such as PFLP-General Command that is also carrying out some preparations for attacks. There are arms that are coming in for Hizbullah," he said. Ja'afari claimed the information about arms smuggling provided to the Security Council came only from Israeli intelligence and none of it was from Lebanese authorities. However, UN Mideast envoy Michael Williams said "virtually all" of the arms smuggling documented in the secretary-general's report to the Security Council last month came from the Lebanese government or Lebanese security agencies. "I think the situation is very serious," he told reporters. Syria dominated Lebanon for nearly three decades. But in 2005, it was forced to withdraw its tens of thousands of troops from the neighboring country amid an uproar over allegations that Damascus played a role in the assassination of former premier Rafik Hariri.
Saudi Arabia Applauds Bush's Mideast Peace Push
July 19….(Khaleej Times) Saudi Arabia on Tuesday welcomed US President George W. Bush's call for a Middle East peace conference, saying the meeting should tackle the core issues of the Israeli-Palestinian conflict. "Saudi Arabia welcomes Bush's initiative, which contains important positive elements, including the call to end occupation and establish an independent, contiguous and viable Palestinian state," an official spokesman told the state SPA news agency. "Regarding the international peace conference due to be held next fall, Saudi Arabia hopes this will come within the framework of a serious international endeavour that tackles the core issues of the conflict," leading to the dismantling of Jewish settlements in the Palestinian territories, he said. US President Bush telephoned Saudi King Abdullah as well as the leaders of Egypt and Jordan on Monday after announcing plans for the conference to be chaired by US Secretary of State Condoleezza Rice later this year. (Saudi King Abdullah will not attend) The Saudi spokesman said Bush's call for a Palestinian state, as well as "his reference that peace should cover the issue of Jerusalem and negotiations for a solution of the refugee problem, are compatible with the Arab peace initiative" revived at an Arab summit in Riyadh in March. The Saudi-authored Arab plan stipulates clearly that "normal relations between Israel and all Arab states will come as a logical outcome of Israeli withdrawal from Arab lands occupied in 1967," he added. Oil powerhouse Saudi Arabia has lately upped its diplomatic activity in the Middle East, including brokering a deal to form a short-lived Palestinian unity government earlier this year between Hamas and Fatah, and pushing for the revival of the five-year-old Arab peace plan at the Riyadh summit. Egypt and Jordan have also welcomed Bush's proposal, made in a speech aimed at bolstering Palestinian president Mahmud Abbas and undercutting Hamas. Israel said it supported Bush's call, as did Abbas, whose moderate Fatah party heads a government in the West Bank after the violent takeover of the Gaza Strip last month by Hamas militants, who said the conference would only serve "the interests of the Zionist enemy."
Islamists In America vs. The National Intelligence Estimate
July 18….(Bill Wilson, KIN Senior Analyst) Just as the first Muslim US Congressman, Democrat Keith Ellison, was implying that President Bush may have staged the 9/11 terrorist attack on America, the Director of National Intelligence released a report that said the radical and violent segment of the West's Muslim population is expanding in the United States. The report said, "The arrest and prosecution by US law enforcement of a small number of violent Islamic extremists inside the United States, who are becoming more connected ideologically, virtually, and/or in a physical sense to the global extremist movement, points to the possibility that others may become sufficiently radicalized that they will view the use of violence here as legitimate." The 2007 National Intelligence Estimate indicated that al Qaeda would continue to leverage its capabilities through greater cooperation with regional terrorist groups, especially in Iraq, to attack the American homeland. The report said al Qaeda in Iraq helps the overall al Qaeda network "to energize the broader Sunni extremist community, raise resources, and to recruit and indoctrinate operatives, including for Homeland attacks." The report concludes that al Qaeda will "continue to try to acquire and employ chemical, biological, radiological, or nuclear material in attacks and would not hesitate to use them if it develops what it deems is sufficient capability." Meanwhile, the Democrats in Congress point to the report as justification that the United States should never had gone into Iraq in the first place because it has become a haven for terrorists, especially al Qaeda. They say that we should pull out and leave Islam alone and, in turn, Islam will leave America alone. Sounds good, except for the very fact that Islam is the one that attacked the United States in the first place, not once, but several times before the US government responded. Americans should realize they are in a life and death struggle with Islamic terrorists and that the war of Islamic aggression will not end by leaving these terrorists alone. Which brings the discussion back to Congress' Democratic Islamist Keith Ellison, who believes by his own words that President Bush is akin to Hitler and that the Bush administration planned the 9/11 terrorist attacks in order to gain more power. The ramblings of a madman? Maybe so, but results of a recent Pew Research Center poll of American Muslims indicate that only 40% of the US Muslim population believe Arabs were involved in the 9/11 terrorist attacks. Jeremiah 51:14 says, "I will fill you with men, as with locusts; and they shall raise up a battle cry against you." The locusts are among us and America's liberal politicians and media are deceived.
UN Determines Shaba Farms Area
July 18….(Ha Aretz) United Nations cartographer Miklos Pinter has determined that the Shaba Farms, an area on the slopes of Mount Hermon claimed by Lebanon and under Israeli control, spans 20 to 40 square kilometers, according to diplomatic sources. The area of Mount Hermon that is under Israeli control extends to 70 square kilometers, and the entire Golan Heights is 1,250 square kilometers. Pinter's report will not be released ahead of the upcoming UN Security Council meeting on the situation in Lebanon and an extension of the mandate of the UN Interim Force in Lebanon. The United Nations has decided there is no reason to raise the issue in the absence of an agreement on a diplomatic process to resolve the dispute and transfer control of the territory. As Haaretz reported last week, Israel has warned the United Nations against releasing the Shaba Farms map, fearing it could reignite the conflict and give Hezbollah an excuse to renew hostilities. Pinter is due to visit the Shaba Farms area before submitting his final report on the matter. His current findings are based on material submitted by the Lebanese government as well as his familiarity with the area from the period when he coordinated the mapping of the Blue Line border between Israel and Lebanon after Israel withdrew from southern Lebanon in 2000. The Shaba Farms was pastureland of the Lebanese village Shaba, in a region that had been part of the French mandate over Syria and Lebanon. The border between Syria and Lebanon, set in a 1923 agreement between the British and French mandatory powers, was not made completely clear. After the Israel Defense Forces withdrew from Lebanon, the Lebanese said Shaba Farms was part of their sovereign territory, and Hezbollah said its struggle with Israel was intended, in part, for "the liberation of the occupied land." Lebanon's claim was accepted by the Arab League, and forms part of the Arab peace initiative. Israel convinced the United Nations in 2000 that the Shaba Farms are part of the Golan Heights and do not belong to Lebanon, and that the future of that area will be determined in Israeli-Syrian negotiations over the Golan. But the controversy has not abated, and after the Second Lebanon War last summer, the United Nations decided to map the area as a basis for determining who should have sovereignty over it. Prime Minister Ehud Olmert rejected an American proposal during the war to transfer the Shaba Farms to the United Nations, saying that doing so would be rewarding terrorism. After the war, Olmert told UN representatives that he would agree to resolve the dispute as part of a package deal including the resolution of the situation along the Lebanese border. He even spoke about a state ceremony for the land transfer if the United Nations were to conclude that it belongs to Lebanon. However, the diplomatic sources said that over the past few months, Israeli interest in resolving the dispute has waned as Lebanon has become immersed in its own internal struggles.
Bush's Middle East Peace Conference Petering out after Saudi King Abdullah Rejects Attending
July 18….(DEBKA) Our Washington sources report that the White House tried to play down the importance of the proposal put forward by President George W. Bush Monday, July 16, after Saudi King Abdullah said he would not attend. White House spokesman Tony Snow said it was too early to say where or when the conference for discussing the Israeli-Palestinian conflict would take place. "I think a lot of people are inclined to try to treat this as a big peace conference" said. "It's not." Neither could it be. According to DEBKAfile's Middle East sources, the president could have known before he unveiled his conference plan that not only the Saudi ruler but also Egypt's Hosni Mubarak, both key regional players, would not be coming. Neither leader goes along with Bush's boycott of Hamas. Washington's total rejection of the Islamist terrorists who seized the Gaza Strip was highlighted in his speech. Egyptian intelligence minister Gen. Omar Suleiman arrived in Washington to try and persuade White House advisers to rewrite some changes into the speech. No chance, he was told. Middle East sources note that the Bush Middle East statement had the effect of accentuating the gaps dividing the very Arab rulers most needed to back peacemaking. Three opposing camps emerged more clearly than ever:
One - The US, Israel and Jordan, who are convinced that an uncompromising boycott of Hamas will bring down its Gaza government and restore the rule of Mahmoud Abbas and his Fatah.
Two - Saudi Arabia, Egypt, Morocco and most of the Gulf emirates object to this boycott and advocate power-sharing between Hamas and Fatah because they are convinced the latter will never recoup its military strength either in Gaza or the West Bank.
Three - Iran and Co. - Syria, Yemen and Hizballah, whose solid backing for the Palestinian Islamists is expressed in cash, arms, advisers and combat training.
By concretizing these gaps, the Bush speech has motivated the three camps to prove its path is the correct one. Therefore, Camp One, while backing Abbas all the way will find it harder than ever before to isolate Hamas. So long as the extremist rulers of Gaza benefit from the support of Saudi Arabia, Egypt, Iran and Syria, the massive US-Israeli cornucopia of cash, benefits and concessions showered on the Salam Fayyad government in Ramallah will lend Fatah rule not much more than a limited and artificial lease of life.
Bush's Int'l Mideast Meeting Already Falling Apart
July 18….(AP) The White House said Tuesday the international meeting on the Middle East proposed by US President George W. Bush should not be viewed as a big peace conference and it is too early to say where or when it will be. However, the US State Department said Tuesday that the meeting would most likely be held in the United States but the participants are still to be worked out. White House spokesman Tony Snow at first described the meeting as an international conference, but several hours later he backed away from that portrayal as being too ambitious. After many years of disappointments and setbacks in the search for peace in the Middle East, the Bush administration appears intent on preventing expectations from rising too high. Bush has avoided direct engagement in peace talks between Israel and the Palestinians for several years, and he has been reluctant to ask hard compromises of close ally Israel. With less than 18 months years remaining in his presidency, Bush has little time to achieve a significant foreign policy victory in the Middle East. His popularity has been darkened by the unpopular war in Iraq, now in its fifth year, that has claimed the lives of more than 3,600 members of the US military, many thousands of Iraqis and contributed to Bush's sagging approval ratings. Damascus-based Hamas political leader Khaled Meshal scoffed at the White House call for new talks between Israel and Palestinian Authority Chairman Mahmoud Abbas. "This process will lead to nowhere," Meshal told the Al-Jazeera TV network late Tuesday. He blamed Bush for trying to widen the rift between Abbas' Fatah and Hamas. "As usual, Bush wants to divide the Palestinians and the Arabs into moderates and radicals," Meshal said. "A moderate is accepted by America and a radical is rejected by America. This division was made in the past and now they [Americans] want to do it in the Palestinian arena," he said. Though the fall meeting's exact date, location, agenda and participants remain unknown, without support from Hamas and its main backer, Syria, there were doubts that the conference would have much real impact. A 1991 Mideast peace conference in Madrid, sponsored by Bush's father, former president George Bush, paved the way for the Oslo peace accords and the establishment of the Palestinian Authority. But repeated stalemates have since left many skeptical that a repeat of that gathering would lead to a major, and enduring, breakthrough. Syria's UN ambassador, Bashar Ja'afari, said the conference's legitimacy hinged on the involvement of Washington adversaries Syria and Iran. The Saudi news agency did not say whether Saudi Arabia, which unlike Egypt and Jordan does not have diplomatic relations with Israel, would actually participate at the proposed international conference. Saudi participation would mark a significant development in Riyadh's policy. Earlier Tuesday, Syrian President Bashar Assad expressed skepticism, dismissing Bush's international summit initiative as "just words." Assad said he hoped Bush's announcement was serious, and that Syria was ready for peace talks with Israel, but only in the presence of an honest broker. He did not elaborate on whether he considered the United States as such. Without Saudi Arabia on board, the proposed peace conference will fall short of its vision.
Terror Threat Against US Said to be Serious
July 17….(AP) The terrorist network Al-Qaida will likely leverage its contacts and capabilities in Iraq to mount an attack on US soil, according to a new National Intelligence Estimate on threats to the American homeland. The declassified key findings, to be released publicly on Tuesday, were obtained in advance by The Associated Press. The report lays out a range of dangers, from al-Qaida to Lebanese Hezbollah to non-Muslim radical groups that pose a "persistent and evolving threat" to the country over the next three years. As expected, however, the findings focus most of their attention on the gravest terror problem: Osama bin Laden's al-Qaida network. The report makes clear that al Qaeda in Iraq, which has not yet posed a direct threat to US soil, could become a problem here. "Of note," the analysts said, "we assess that al-Qaida will probably seek to leverage the contacts and capabilities of al-Qaida in Iraq (AQI), its most visible and capable affiliate and the only one known to have expressed a desire to attack the homeland." The analysts also found that al-Qaida's association with its Iraqi affiliate helps the group to energize the broader Sunni Muslim extremist community, raise resources and recruit and indoctrinate operatives, "including for homeland attacks." National Intelligence Estimates are the most authoritative written judgments of the 16 spy agencies across the breadth of the US government. These agencies reflect the consensus, long-term thinking of top intelligence analysts. Portions of the documents are occasionally declassified for public release. The new report echoed statements made by senior intelligence officials over the last year, but provided some new depth on their thinking and concerns. For instance, the report says that worldwide counterterrorism efforts since 2001 have constrained al-Qaida's ability to attack the US again and convinced terror groups that US soil is a tougher target. But, the report quickly adds, analysts are concerned "that this level of international cooperation may wane as 9/11 becomes a more distant memory and perceptions of the threat diverge." Among the report's other findings:
*Al-Qaida is likely to continue to focus on high-profile political, economic and infrastructure targets to cause mass casualties, visually dramatic destruction, economic aftershocks and fear. "The group is proficient with conventional small arms and improvised explosive devices and is innovative in creating new capabilities and overcoming security obstacles."
*The group has been able to restore key elements it would need to launch an attack on US soil: a safe haven in Pakistan's tribal areas, operational lieutenants and senior leaders.
*The group will continue to seek weapons of mass destruction, chemical, biological or nuclear material—and "would not hesitate to use them."
*Lebanese Hezbollah, a Shiite Muslim extremist group that has conducted anti-American attacks overseas, may be more likely to consider attacking here, especially if it believes the United States is directly threatening the group or its main sponsor, Iran.
Blair is the Point Man for Two-State Solution
| | |
| --- | --- |
| | (FOJ) New Middle East peace envoy Tony Blair, left, met with European Union foreign policy chief Javier Solana during a meeting at the EU Council building in Brussels, Tuesday July 17, 2007. Blair is set to hold talks with more EU officials Tuesday amid renewed international efforts to seek a solution to the Israeli-Palestinian conflict |
July 17….(FOJ) Barely minutes after President Bush went before cameras at the White House to announce his full support of PA Prime Minister Mahmoud Abbas, and again pledged his presidency to the two-state solution in the Israeli-Palestinian Conflict, former British Prime Minister Tony Blair began a series of meetings on the topic in Brussels at the EU council. President Bush has thrown all his eggs in the Blair thrust for a solution in the Middle East, and an end-of-conflict environment, and their hopes for peace are built around dividing the Biblical heartland of Israel. It is a politically pragmatic strategy, but it is simply wishful thinking, and is a strategy fraught with a curse. But it does foretell of the coming strategy of the Antichrist, who will successfully implement a peace plan to "divide the land." (Daniel 11:39 Thus shall he do in the most strong holds with a strange god, whom he shall acknowledge and increase with glory: and he shall cause them to rule over many, and shall divide the land for gain.)
Abbas is Politically Weak, Therefore US is Backing a Loser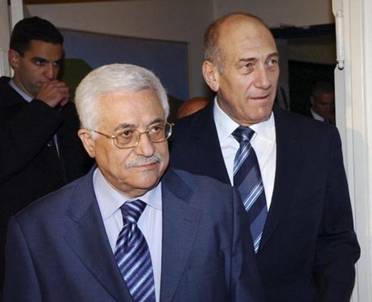 July 17….(Israel Insider) A flurry of intelligence assessments has warned that Palestinian leader Mahmoud Abbas, the man US policymakers hope can help salvage the Middle East peace process, may not be politically strong enough to achieve that goal, according to US officials. The assessments have also cautioned that his opponents in Hamas that is being shunned by Abbas, Israel and the United States - will not be easily marginalized. The White House is now betting that Abbas, replenished by the return of aid from the West and tax revenue withheld by Israel, can create a stable enclave in the West Bank and resume peace negotiations with Israel. The "West Bank first" strategy is the White House's biggest and potentially riskiest policy departure in its dealings with the Palestinian National Authority since it was created in 1994. Intelligence reports over the past month, since Hamas' seizure of the Gaza Strip effectively split the Palestinian National Authority into two parts, have assessed Abbas' position as vulnerable even in the West Bank. Hamas' popularity has dropped slightly since the split, but a poll by the Palestinian Centre for Policy and Survey Research taken a week after the fissure said that Hamas was still more popular than Fatah among more than one-quarter of West Bank Palestinians. "Fatah faces significant challenges in effectively governing the West Bank. Israeli military operations are the major factor restricting Hamas activity, and Abbas can at best influence, not control, the Al Aqsa Martyrs Brigade forces that are the power on the street in several towns," Prime Minister Ehud Olmert warned PA Chairman Mahmoud Abbas in a meeting yesterday that peace talks would collapse if Abbas' Fatah party reunited with Hamas. Despite the Palestinian delegation's push to discuss Jerusalem, the refugee question and borders, Olmert rejected their proposal. The Israeli prime minister said that there are other issues to be dealt with first. Abbas vowed to Olmert that he would not reunite with Hamas.
Analyst: President Bush Will Act on Iran
July 16….(Guardian) Vice President "Cheney has limited political capital left, but if he wanted to use all his capital on just one issue, he could still have an impact," Patrick Cronin, director of studies at the International Institute for Strategic Studies, told Britain's Guardian newspaper. And what issue is he speaking of? An attack on Iran. President Bush had, as recently as last year, favored and international approach to containing Iran and its nuclear threat, a position espoused by Sec. of State Condoleezza Rice and Defense Sec. Robert Gates. Although Rice did tell the Voice of America, when asked if the United States should consider military action in Iran, that President Bush "is never going to take his options off the table." But the Guardian now reports that Bush has lately been listening more to Dick Cheney's point of view, which entails military action. A well-placed source in Washington told the Guardian: "Bush is not going to leave office with Iran still in limbo," adding, "The balance has tilted. There is cause for concern." The Guardian's source in Washington explained that as of now, Bush and Cheney do not trust potential successors from either political party to deal with Iran decisively. Any reluctance to strike, however, originates with Israel. "The red line is not in Iran. The red line is in Israel. If Israel is adamant it will attack, the U.S. will have to take decisive action," Cronin adds. "The choices are: tell Israel no, let Israel do the job, or do the job yourself." Israel's Minister of Strategic Affairs said last week he had received approval from the U.S. and Europe for an Israeli attack on Iran's nuclear facilities. "If we start military operations against Iran alone, then Europe and the U.S. will support us," Avigdor Lieberman said following a meeting with NATO and European Union officials. The United States says Iran is intent on building a nuclear weapon and is arming insurgents in Iraq and Afghanistan.
Oil and Terrorism: An Explosive Prophetic Mix
July 16….(Montana News/Bill Wilson) Iran has steadily moved to control the entire Middle East using its natural resources such as gas and oil in combination with exporting terrorism to strengthen and stabilize trade relations while, at the same time, destabilizing the region with its financial and military support of terrorist organizations and its own insurgents. The recent military protection agreement with Syria put the squeeze on American and Coalition efforts in Iraq by placing highly trained terrorist insurgents on the ground there from staging areas along the Iraqi borders with Syria and Iran. Meantime, Iran is steadfastly building a nuclear program with the help of North Korean, Russian and Chinese scientists and technicians. The Russians and Chinese seem to be most interested in Iran's oil and gas resources, making them extraordinary partners in leveraging energy and terror to control the Middle East region. Documentation provided by a source on the House Armed Services Committee indicates that Iran's theocracy has an intimate superstructure of support for terrorists throughout the region. Its aim is to foment insurgency against the United States and Israel, destabilize the region and coalesce its power. Meantime, the rogue nation is speedily working to develop and/or acquire nuclear weapons for use against Israel and the US. Intelligence sources abroad indicate that Iran has set up a coordinating committee of sorts to support command and control of the actions between several terrorist organizations, including Islamic Jihad, Hamas, Hezbollah and al Qaeda. And the nation is highly suspected of giving safe & secure haven to the world's number one terrorist, Osama bin Laden. Iran apparently assists in terrorist activities by planning, funding and providing other support to these organizations in such a way that it is not readily traced to the Persian country itself. However, Iran and Syria, even Libya, are in coordination and many of the recent terrorist events may have Iran's invisible fingerprints, if not their visible claim. Couple this with Iran's oil and gas strategy. For example, the oil monopoly OPEC controls the production and price of oil. Iran is one nation that has refused to increase its oil production in order to provide relief to world oil prices, especially prices in the US and other Western nations. Several reasons for this: perhaps Iran's oil infrastructure is a fraction of what it once was under the Shah in the late 1970's. However, there seems to be no problem with gas and oil deals among allies with Iran—Russia, China among them. And recently, India and Pakistan were added to the list, over the objections of the United States. India announced this week that it was moving ahead with a 2,000-mile-plus, $4.5 billion gas pipeline project originating in Iran, moving through Pakistan and ending in India. This project, which will take some three years to complete, puts Iran in the driver's seat with regard to strategic energy importance to two thirds of the world's population, China and India. Add Russia and North Korea to the mix and there is a ready made explosion awaiting detonation, target Israel and its ally, the "Great Satan," the United States. There are several prophetic fulfillments in process with these nations. Ezekiel 38 is certainly one of them. The Lord says he will put a hook in the jaw of Gog and bring it with Magog and Persia, Ethiopia and Libya and all the nations to face battle with Israel where they will be destroyed in battle and the weapons will burn for seven years. Joel 3 prophesies that God will bring all the nations down to the valley of Jehoshaphat for judgment. And Zechariah 12:9, the Lord says, "And it shall come to pass in that day, that I will seek to destroy all the nations that come against Jerusalem." The point being that these nations are aligning faster than ever before. The world sees these things in categories like strategic energy needs, or radical Islam or rapidly expanding economies. But from a prophetic and Biblical standpoint, they could be viewed, and are viewed by some, as fulfillment of God's word in this very generation.
Bush Calls for Mideast Peace Conference
'Hamas Must Recognize Israel'
(In a landmark speech, US President George W. Bush calls on Hamas to recognize the State of Israel; and declares for a Mideast summit)
| | |
| --- | --- |
| | (FOJ) US President George W. Bush makes remarks about the Israeli-Palestinian situation from the White House in Washington July 16, 2007. President Bush offerred new support for the Fatah-led government of Palestinian President Mahmoud Abbas, marking a higher profile effort to resolve the Middle East conflict. The President's resolve for the 2-state solution is a national policy that flies smack in the crosshairs of Jehovah. This action will bring retribution back on America |
July 16….(YNET) US President George W. Bush called Monday for an international conference to revive Middle East peace talks and warned Palestinians that backing Hamas would "crush" their hopes for their own state. Bush used the speech to call for an international Mideast peace summit of Israelis, Palestinians, and representatives of neighboring states, to be chaired by Secretary of State Condoleezza Rice. "We will continue to deliver a firm message to Hamas. You must stop being a safe heaven for attacks against Israel. You must accept the legitimate Palestinian state. And you must reject violence and recognize Israel's right to exist and commit to previous agreements between the parties," Bush said. "There is the vision of Hamas, which the world saw in Gaza. By following the Hamas path the Palestinian people would surrender to Hamas' sponsors in Syria and Iran. And they would crush the possibility of a Palestinian state," Bush warned. "There is another option, a hopeful option, of a peaceful state called Palestine as a homeland for the Palestinian people," Bush said, adding that the Fatah government was "working to strengthen the security services to confront the terrorists and protect the innocent." "By following this path, Palestinians can reclaim their dignity and establish a state of their own," Bush added. The US president went on to offer unprecedented levels of American financial and political support for the West Bank Fatah government of PA President Mahmoud Abbas and Prime Minister Fayyad Salam. "By supporting the reforms of President Abbas and PM Fayyad, we help prove to the world, region, and Israel, that a Palestinian state would be a partner, not a danger," Bush said. "The US is taking a series of steps to strengthen the forces of moderation and peace among the Palestinian people," he added, before announcing that "this year we will provide the Palestinian people with more than 190 million dollars, including for humanitarian work in Gaza, 228 million dollars have been earmarked by the US for loans for Palestinian businesses, Bush said, adding that a direct contribution will also be made to Palestinians to reform their security service, under US oversight. Bush expressed hope that a strengthening of moderate forces among Palestinians would lead to the formation of a Palestinian state in the West Bank and Gaza. "With all this assistance we are showing the Palestinian people that a commitment to peace leads to generous support by the US," he added.
Bush: 'No future for Israel in West Bank'
Turning to the Israeli government, Bush said: "Israel has a clear path. Prime Minister Olmert must continue to release tax revenues to the Palestinian Authority." "Prime Minister Olmert has made it clear that Israel's future is in the development of Negev and Galilee, not through occupation in the West Bank," Bush said. "The US will never abandon its commitment to Israel as a Jewish state and a homeland to the Jewish people," the US president vowed. At the end of his speech, Bush announced "an international meeting this fall of representatives of nations that support two state solution and reject violence," adding that the key participants will be Israelis, Palestinians, and their neighbors in the region." The plan won instant backing from Israel and Abbas, but swift condemnation from Hamas, with spokesman Ismail Radwan telling AFP: "We condemn this American conference which aims to serve the interests of the Zionist enemy."
Sons of Aaron, The Priestly Tribe, Convene in Jerusalem
July 16….(Arutz) A four-day International Conference of Descendants of the biblical figure Aaron, the Priestly Tribe (Kohanim) and the whole Tribe of Levi to which the Kohanim are a part, begins on Sunday, July 15. "Bring forth Aharon's sons….Then anoint them, just as you anointed their father, so that they will be Kohanim ("priests") to Me. It will be done so that their anointing will make them an eternal [hereditary] priesthood for all generations. Moses proceeded to do exactly as G-d had commanded him." (Exodus 40:14, 15) Throughout Jewish history and to this day, Jews are careful to note which families belong to the tribe of Levi and the priestly family of Aaron. At the special gathering this week in Jerusalem, they will learn more about their roots and discuss the latest research proving their genetic ties. The International Conference of Kohanim and the Tribe of Levi falls on the first day of the Hebrew month of Av and the beginning of the nine-day period leading up to Tisha B'Av, the second-most solemn fast day in the Jewish calendar. It is also the date on which Aharon the High Priest, brother of Moses left this world to enter the World to Come. Recent scientific research and DNA testing has allegedly proven a genetic connection between the descendants of the Tribe of Levi, the biblical priests and their assistants who began with the sons of Aharon. Project director Professor Karl Skorecki, one of the main researchers in the seminal "Kohen Genetic Signature" study, is scheduled to present the findings Monday, July 16 at 11:30 a.m. in "HaKotel Hall" auditorium, near the Western Wall Plaza. "This is not only the first family reunion of the Jewish priestly dynasty in nearly 2,000 years," said conference organizer Rabbi Yaakov Kleiman in a statement sent to the media. "The research and information we will share will play an important role in appreciating and maintaining our unique and precious heritage." Rabbi Kleiman is the director of The Center for Kohanim in Jerusalem and the author of "DNA & Tradition." Molecular geneticists have recently discovered the "Kohen Modal Haplotype," a Y-chromosome DNA lineage signature shared by a majority of both Ashkenazic and Sephardic Kohanim. This indicates direct patrilineal descent of present-day Kohanim from an ancient ancestor, genetically dated to have lived approximately 3,000 years ago, corresponding to the time of the Exodus from Egypt. Kohanim and other "members of the tribe," the Levi'im (Levites), are being invited to participate in what has been billed as the "first 'family reunion' held since the days of the Temple in Jerusalem."
Bush to Reaffirm Vision for a Palestinian State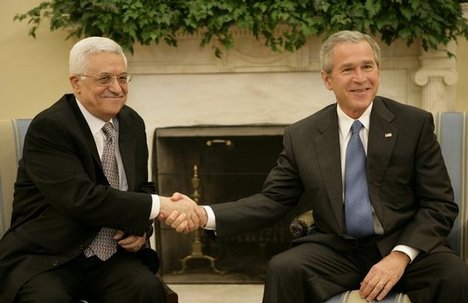 July 16….(Reuters) President George W. Bush will reaffirm his vision of a Palestinian state at peace with Israel on Monday as former British Prime Minister Tony Blair this week assumes the role of envoy for the Quartet of Middle East mediators. Bush will reassert his commitment to a two-state solution and address what the United States can do to bolster support for the Fatah-led government of Palestinian President Mahmoud Abbas, a senior White House official said on Sunday television news programs. "He will have some ideas to suggest about what we are going to do to support them financially, diplomatically," national security advisor Stephen Hadley said on ABC's "This Week." "The president sees there is an opportunity there now to show the Palestinian people a choice between the kind of violence and chaos under Hamas Islamists in Gaza and the prospect, under President Abbas and Prime Minister (Salam) Fayyad for an effective democratic state," Hadley said. Bush would also speak about what was expected of Blair as the new envoy for the Quartet, comprised of the United States, the European Union, Russia and the United Nations, he said. Bush was scheduled to make remarks on Israeli-Palestinian issues at 1:15 p.m. EDT (1715 GMT). The Quartet will convene in Lisbon on Thursday at what will be the group's first meeting since naming Blair its envoy to spearhead talks between Israel, the Palestinians and Arab states. US Secretary of State Condoleezza Rice and UN Secretary-General Ban Ki-moon will attend the Lisbon meeting. The Quartet's meeting will be its first since Hamas captured Gaza from Abbas' Fatah movement in June, effectively dividing the Palestinians between Fatah in the West Bank and Hamas in Gaza. Bush and Israeli Prime Minister Ehud Olmert pledged last month to work together to strengthen Abbas against Hamas Islamists. The United States, Israel and the EU regard Hamas as a terrorist group. Fatah backs a negotiated peace with the Jewish state.
Rabbis Attempt to Resume Animal Sacrifices on the Temple Mount
July 16….(Israel Today) The present-day Sanhedrin Court along with a group of extremist rabbis announced their plans on Wednesday to resume ancient Temple practices of animal sacrifices on the Temple Mount in Jerusalem, despite religious bans by Moslems and Jews. The court purchased herds of sheep for ritual sacrifice, which they have planned for the eve of Passover, depending on the situation at the controversial religious site. "Regrettably, there are many extremist Israeli groups who want to carry out their plans," said Jerusalem's senior Islamic cleric, Mohammed Hussein. "Let them say what they want, Al Aksa is a Moslem mosque." The 71 members of the Sanhedrin have all the required elements necessary for Temple sacrifice, including the ritual altar, and said they want to begin sacrificing animals again, despite the absence of the Temple. Professor Hillel Weiss, a member of the Sanhedrin, said it is an important step to show that it's not only talk. Rabbi Dov Stein, secretary of the new Sanhedrin Court, believes Temple sacrifices won't happen any time soon. "We want to do the sacrifice, but we have political problems," Stein said. "We hope there will come a time when the government will agree. We will push for that to happen." Not all religious Jews are in favor of the sacrifices however. "Animal sacrifice, as a mode of religious worship, stopped for Jews, Christians and Moslems," said Rabbi Daniel Hartman of the Shalom Hartman Institute in Jerusalem. "Moving back in that direction is not progress."
The Samson Option
July 16….(Hal Lindsay) Last week, WND reported a stunning admission from a Syrian official. He said that Syria had "learned from the Hezbollah experience last summer and we can have hundreds of missiles hitting Tel Aviv that will overwhelm Israel's anti-missile batteries." He claimed Syria has "proof" Israel is also readying for a war. "We hear about special Israeli trainings to take Damascus. We see that Israel is re-establishing bases of the Israeli army in the Golan that are unusual and not needed except for war. We believe the Israeli government has an interest in confronting Syria to rehabilitate its image of losing to Hezbollah." The WND report also says that Damascus believes newly-installed Israeli Defense Minister Ehud Barak, a former prime minister, "wants to prove he is a military expert." This information is perfectly in line with the official statements made by both Bashar Assad and Mushen Bilal to several major Arab newspapers. Furthermore, London's Daily Telegraph reported June 25 that Tehran was establishing a missile defense shield for Syria. Iran is also preparing to ship sophisticated military hardware, including "dozens of medium-range Shahab-3 and Russian-made Scud-C missiles, together with Scud-B missiles." Syria recently test-fired two Scud-D surface-to-surface missiles that have a range of about 250 miles. This puts virtually all of Israel's population centers within range. Analysts say the planned Iranian arms shipment to Syria may be coordinated with the delivery of advanced Russian fighter jets. Syria is also known to be producing non-conventional warheads, including those containing V-X gas for delivery via the new longer range and more accurate Scuds. All Israel's cities are within range of these missiles. Most of them can be reached in less than three minutes. Syria is gambling that Israel's performance in the Hezbollah war of June 2006 means that it has seen all Israel has to offer. Apparently, Bashar Assad now believes Israel can be beaten. Assad is miscalculating. In the event Syria launches a gas attack on Israel, it's a virtual certainty that Damascus would be instantly obliterated by Israeli nuclear weapons. The thought of being gassed evokes a visceral response among Israel's Holocaust survivors and their descendants that Damascus wildly underestimates. Israel has more than 400 nuclear weapons in hidden silos in various places within its borders, as well as at least two submarines in the Mediterranean that are launch capable. And you can be certain that in the event of a massive WMD attack by the Syrians, Israel will respond in kind. There are two particular codes used by Israeli Defense Forces when planning worst-case scenario responses. One is called the "Masada Option." Masada was an ancient fortress taken by the Romans following a three-year siege. Just before they were overrun, the defending Jews committed suicide rather than be captured. The other code term, "The Samson Option," refers to Samson, who said just before he pulled down the house of the Philistines on himself, and them, "Let me die with the Philistines." Judges 16:30 records it this way: "Then Samson said, 'Let me die with the Philistines!' And he pushed with all his might, and the temple fell on the lords and all the people who were in it. So the dead that he killed at his death were more than he had killed in his life." That's pretty clear imagery. Israel will not just meekly fade away into destruction. And it certainly won't die alone, even if it has to destroy itself in the process of nuking the Middle East.
I once encountered Ariel Sharon in the Knesset in the late 1970s. I asked him if Israel still had a Masada Option. He boldly announced, "No longer 'Masada Option' – now 'Samson Option.'" Moshe Dayan and Golda Meir almost used that "Option" in the first days of the Yom Kippur War, when it appeared they were going to be overrun. Dayan gave the code for its use when he told Prime Minister Meir, "Arm the doomsday weapons, the Third Temple is about to fall." War with Syria threatens to bring all nations of the Middle East into direct conflict with Israel, even the supposedly moderate state of Jordan. Jordan has never recovered from the defeats it suffered at the hands of the Israelis, particularly in 1967, in which it lost both the West Bank and East Jerusalem. Amman plays a cagey game, sitting on the fence, not quite friends with Israel and not quite enemies, but certainly ready to reclaim Jerusalem should the opportunity arise. The words of Zephaniah outline both Amman's history and its future. "I have heard the reproach of Moab, and the revilings of the children of Amman, by which they have reproached my people, and made boasts against their border. Therefore as I live, says the LORD of hosts, the God of Israel, Surely Moab shall be as Sodom, and the children of Amman as Gomorrah, even the breeding of weeds, and salt pits, and a perpetual desolation: the residue of my people shall plunder them, and the remnant of my people shall possess them." (Zephaniah 2:8-9) Each of these events is in the future, according to Scripture. In each case, these prophecies remain unfulfilled. But current events suggest that all could be fulfilled to the letter, in an instant of time. Never in history have any of these events occurred. More than that, at no time in recorded history were any of these things even possible. And never before have all the causative factors been present at the same moment in history. But today, they are the only logical conclusion if current events continue along their current path. It's a terrifying scenario, but to those who trust that these signs point to the imminent return of Christ for His Church, it is, nonetheless, an exciting time to be alive.
Bush to Reaffirm Commitment to Mideast-Two State Solution
(Administration officials say US president to announce new aid to help Abbas create viable state that can exist with Israel)
July 16….(YNET) US President George W. Bush is set to renew his commitment to Mideast peace and announce new aid to help the embattled Palestinian president create a viable state that can exist with Israel administration officials said Sunday. Bush, taking on a more personal, high-profile role in the conflict, planned to speak Monday at the White House about US financial and diplomatic support for President Mahmoud Abbas. He controls just the West Bank after the Islamic militant group Hamas gained authority in Gaza in June. The president sees there is an opportunity there now to show the Palestinian people a choice between the kind of violence and chaos under Hamas in Gaza and the prospect, under President Abbas and Prime Minister (Salem) Fayyad, for an effective, democratic Palestinian state that can be on the way toward what we all want, which is a two-state solution, a Palestinian homeland for the Palestinian people," Bush's national security adviser said. Stephen Hadley did not elaborate about the type of financial assistance Bush planned to discuss. But a senior administration official said Hadley was signaling that the president would announce aid above the $86 million that the White House already has requested from Congress. That money was to help provide security for Abbas. The administration also has said that it would contribute $40 million to the United Nations to help the Palestinians, particularly in the Gaza Strip now controlled by Hamas. The official spoke on condition of anonymity because Bush had not made the announcement. The nearly 3 million Palestinians essentially have two governments, one controlled by Hamas in Gaza, the other by Abbas in the West Bank. Hamas is sworn to Israel's destruction and is regarded a terrorist organization by the United States and Israel. Abbas' more moderate Fatah movement "supposedly" seeks peace with the Jewish state. Abbas, who planned to meet with Israeli Prime Minister Ehud Olmert on Monday, consolidated his control of the West Bank on Saturday and installed a government of moderates, led by Fayyad. Hamas said Abbas' move was unconstitutional and the group pledged to challenge the new government. Five years ago, Bush called for a separate, independent Palestine alongside Israel. He was the first US president to back that notion so fully and publicly. Some in the United States and in Europe have advocated a policy dubbed the "West Bank first" in which Abbas and the West Bank would stand as an example of what a future Palestinian state could be. Critics on the other side say that leaves Palestinians living in the Gaza Strip without international aid. Europeans oppose this idea, and others worry it would leave the Gaza Strip open to funding and influence from Iran and Syria. International negotiators trying to bring peace to the Mideast plan to meet Thursday in Portugal. The group, which is expected to include Rice, will confer with former British Prime Minister Tony Blair for the first time in his new role promoting peace between Israel and the Palestinians.
Shimon Peres Sworn in as Israel's President
July 16….(YNET) Shimon Peres was sworn in as Israel's ninth president before hundreds in festive ceremony at Knesset. 'Peres said that as President, he would call on religious leaders and the secular public to find common ground, and urge Palestinians, Arab countries to take part in the great journey towards world built on logic, not just land. Israel's ninth president went on to say "your trust is dear to me; it bestows upon me a great obligation, one that I will carry with me as president. I promise to nurture those delicate strings of cloth that hold us together as a nation…We must remember that we are all the sons and daughters on one Israel. We have no other country, and we are not looking for one either. While aware of the constraints of the new job, Peres said he would not halt his crusade for peace with the Palestinians. He said that would require Israel to withdraw from significant pieces of territory captured in the Six Day War, a position still opposed by large parts of the Israeli public. "We have to get rid of the territories," he said, referring to the West Bank, insisting that this is the majority view in Israel today.
WEEK OF JULY 9 THROUGH JULY 15
Israel 'Approved' to Strike Iran
July 14….(Newsmax) Israel's Minister of Strategic Affairs said he has received approval from the US and Europe for an Israeli attack on Iran's nuclear facilities. "If we start military operations against Iran alone, then Europe and the US will support us," Avigdor Lieberman said following a meeting with NATO and European Union officials. Lieberman said the Western powers recognized the Iranian nuclear threat to Israel, Israel Today magazine reported. But military operations in Iraq and Afghanistan are "going to prevent the leaders of countries in Europe and America from deciding on the use of force to destroy Iran's nuclear facilities," and they are sending the message that Israel should "prevent the threat herself."
Globalists To Formally Propose Merger Of US, Canada, Mexico
(North American Union to be presented to Congress by powerful think tank)
July 14….(WND) A powerful group of Globalist political heavyweights are preparing to formally propose to Congress the merger of the US, Canada and Mexico into a North American Union at the end of summer after they held secret meetings to devise a plan that will be presented to representatives of all three governments. "A powerful think tank chaired by former Sen. Sam Nunn and guided by trustees including Richard Armitage, Zbigniew Brzezinski, Harold Brown, William Cohen and Henry Kissinger, is in the final stages of preparing a report to the White House and US Congress on the benefits of integrating the U.S., Mexico and Canada into one political, economic and security bloc. The data collected for the report is based on seven secret roundtable sessions involving between 21 and 45 people and conducted by CSIS. The participants are politicians, business people, labor leaders and academics from all three countries with equal representation." The report is entitled North American Future 2025 Project and was prepared in collaboration with the Center for Strategic & International Studies (CSIS), who were previously instrumental in the passage of the North American Free Trade Agreement in 1994. The plan outlines an agenda to unify the three countries into a European Union style power bloc. SPP documents released under the FOIA show that a wide range of US administrative law is being re-written in stealth under this program to "integrate" and "harmonize" with administrative law in Mexico and Canada, just as has become commonplace within the EU. The United States and the European Union have signed up to a new transatlantic economic partnership that will see regulatory standards "harmonized" and will lay the basis for a merging of the US and EU into one single market. 18 states have introduced resolutions calling on their federal representatives to halt work on the North American Union (they include Virginia and South Carolina). Three of these states (Idaho, Montana and Oklahoma) have passed their resolutions. 22 US Congressmen, including NC's Virginia Foxx and Walter Jones, along with all three Republican Congressmen running for President, have signed on as co-sponsors of HCR40, which calls on the executive branch to end all work on the North American Union and NAFTA superhighway.
Senators Hillary Clinton and Harry Reid Refuse to Allow Chaplain Who Prays 'in Jesus Name,' but Welcome Hinduism to the Floor of the US Senate
July 14….(Christian Newswire) A Hindu chaplain will pray a Hindu prayer on the floor of the US Senate for the first time in history. But yesterday, staffers from the offices of Senator Clinton (D-NY) and Harry Reid (D-NV) both denied a request for equal access to a chaplain who prays "in Jesus name." Former Navy Chaplain Gordon James Klingenschmitt personally visited the Washington offices of both Senators on July 10th, but was turned away. "Yes, we sponsored today's Hindu chaplain from Nevada to pray Hindu prayers on the Senate floor," admitted Reid's staff, "but we won't sponsor you because you're from New York," they told Chaplain Klingenschmitt. Senator Clinton's office also turned away her own constituent. "We won't sponsor you to pray 'in Jesus name' on the floor of the Senate," her staff told Klingenschmitt, "because Senate Chaplain Barry Black is a Seventh-Day Adventist who regularly prays on the Senate floor, so we don't need a Pentecostal chaplain who prays in Jesus name. You can ask Chaplain Black if he'll sponsor you, but Senator Clinton won't." Senate Chaplain Barry Black, who is a former Chief of Navy Chaplains, refused to help. "How did you get in here?" his staffer asked Klingenschmitt. When he pointed to the sign above Black's door that says "welcome, please come in," the staffer replied, "Chaplain Black knows who you are, and he likely won't talk to you, and his personal calendar is booked with appointments until 2009." "Our national motto isn't 'in gods we trust.'" said Janet Folger, President of Faith2Action. I believe US Government-sanctioned Hindu prayers are an abomination, said Folger
Syria is Still Playing A Dangerous Game in the Mideast
July 13….(Ha Aretz) Foreign Minister Tzipi Livni on Thursday denied rumors Israel would resume peace talks with Syria, saying Syria poses a serious problem which must be tackled by the region, as Damascus continues to play a dangerous game in the Middle East. Her comments contrast with Prime Minister Ehud Olmert's recent offers of direct talks if Syrian President Bashar Assad cuts ties to Iran as well as Palestinian and Lebanese Islamist militant groups. In an interview published Thursday by the French magazine Le Nouvel Observateur, Livni was asked whether she could confirm rumors of a resumption in talks between Israel and Syria, a year after fighting erupted between Israel and Syrian-backed Hezbollah guerrillas in Lebanon. "Absolutely not," she said. "Syria is still pursuing the dangerous game it plays in the region. It is supporting Hezbollah, refusing the principle of independence for Lebanon and remains a threat," she said, adding that "Moreover, Damascus, which is still the regional centre of support for terrorism, is today associated with Iran in a partnership which also constitutes a grave danger." Also Thursday, United Nations special envoy to the Middle East Michael Williams said that Syria has signaled its willingness to change its relationship with Iran, Hezbollah and Hamas if progress were made towards a peace deal with Israel. Israel has offered direct talks on returning the Golan Heights, captured 40 years ago, if Assad would in return cut his ties to Iran and hostile Palestinian and Lebanese Islamist groups. But Williams acknowledged deep-rooted suspicions on both sides would make reviving the peace process difficult. But US President George W. Bush has shown little enthusiasm for an Israeli-Syrian peace track, casting doubt on the chances of progress, based on Syria's performance in Iraq. Olmert has said he is willing to hold direct talks with Damascus provided it is willing to sever ties with Iran and the militant groups Hezbollah in Lebanon and Hamas in the Palestinian territories. Asked if Syria had shown a willingness to sever those relations, Williams said, "The impression I got from my visit to Damascus was that if there was progress in terms of establishing a peace track, then we would see some changes in Syrian behavior on the three issues, Iran, Hezbollah and Hamas." Muhammad Muslih, a university professor who is an expert on Syrian affairs, said last month Damascus would resist any pressure to cut links with Iran and the militant groups Hezbollah and Hamas as a precondition of talks. But he predicted that, if Israel made concessions in peace talks, Syria would be "more than willing" to change the nature of its relationship with Iran. In a television interview this week, Olmert urged Assad to begin direct peace negotiations between the two countries, and advised him not to wait for American engagement.
Congressional Battle Brewing Over Iraq
July 13….(AP) A new US report Thursday painted a bleak picture of progress by Iraq's government, heaping more pressure on a weakened President George W. Bush and fueling a revolt over the Iraq war in the US Congress.
Facing a maelstrom of criticism, Bush insisted America could still win the four-year war, and warned a US pull-back would mean "surrendering the future of Iraq to Al-Qaeda" and spawn chaos throughout the Middle East. The interim report into Bush's plan to surge an extra 30,000 more troops into Iraq, found satisfactory progress by the Baghdad government on only eight of 18 security and political benchmarks set by Congress. Bush said however he still had "confidence" in Iraqi Prime Minister Nuri al-Maliki and styled the report as an initial snapshot of the surge. He said he would not make final judgments about the success of the surge strategy until he had received a definitive study by US commander in Iraq General David Petraeus in September. "I believe we can succeed in Iraq, and I also know we must," Bush told a press conference called to defend his unpopular strategy and warned plummeting public opinion would not force his hand. The report revealed efforts by Iraq to get its armed forces operating independently of US units, a key goal of the administration's hopes to eventually cut US troop numbers, had made "unsatisfactory progress." Bush defended his decisions on Iraq, saying "I will be able to say, I looked in the mirror and made decisions based upon principle, not based upon politics." Democratic presidential candidate Senator Barack Obama said: "Don't tell us it's progress when the Iraqi leadership has done nothing to take the political steps necessary to end their civil war." But Bush had a blunt message for lawmakers, hours before the House of Representatives was due to vote on a measure calling for the return of most US combat troops from Iraq by April 1. "I don't think Congress ought to be running the war," he said in remarks likely to fuel a bitter struggle with lawmakers for control of US strategy. The House bill calls for a redeployment to begin within 120 days and would force the president to report to Congress on why American soldiers should stay in Iraq.
IDF: Israel Must Appease Syria to Avert Major War
July 13….(JNEWSWIRE) The Israel Defense Forces believes that if war should erupt between Israel and Syria, it would be far more destructive than last summer's conflict with the Lebanese Hizb'allah. "Ten times worse," according to sources quoted in The Jerusalem Post Wednesday. The recommendations of those making this assessment is that Israel must engage Syria in peace talks as soon as possible in order to avert such a war. Israel's peacemaking history suggests the Jewish state will resort to appeasement to try mollify the aggressors in Damascus. Syria demands, with the full support of the international community, that Israel hand over the Golan Heights if it wants to live in peace: The state of war will continue until the Jews relinquish the plateau. Despite Israel's far superior claim to the land, all its recent leaders, at least some motivated by a sincere desire to make peace, have indicated a willingness to surrender the Golan. The Golan Heights were included in the inheritance of the Israelite half-tribe of Manasseh, which settled them three-and-a-half millennia ago. At the time of Jesus, 2000 years ago, they were part of Roman-occupied Judea. Their inhabitants revolted against Rome, which responded by killing and driving out the Jews. In the second half of the 1800s and the first two decades of the 1900s, returning Jews purchased tracts of land and established communities on the Golan. Arab marauders and rioters killed many of them and drove the rest off their lands in 1920. In 1967, Israel took the heights from Syria in a war of self defense. They have been under Israel's control for 40 years, and part of the sovereign State of Israel since 1981. Syria only held the heights for a mere 26 years from its independence until the Six Day War. During that time, the Arabs used the Golan solely as a platform from which to launch attacks on Jews in the Upper Galilee kibbutzim and on Lake Kinneret. Israel's presence on the heights, from which the IDF can monitor events deep inside Syria, has helped keep that frontier the quietest of all Israel's borders.
UN Preparing to Hand Hizb'allah a Propaganda Victory
July 13….(JNEWSWIRE) The United Nations is poised to publish a report that will, in essence, "vindicate" the Lebanese Hizb'allah's aggression against Israel. According to reports in the Israeli press Wednesday, a UN cartographer has come to Jerusalem to complete his task of "proving" that the so-called Sheba'a Farms situated between Israel, Lebanon and Syria belong to Lebanon after all, and not to Syria. This will amount to a u-turn from a previous UN position that Israel did indeed pull out of every inch of Lebanon in its unilateral withdrawal in 2000. And it will lend credibility to Hizb'allah's assertions that it has continued to act aggressively against Israel because of the "continued occupation of Lebanese land." Israel did not vacate the land in question when it left southern Lebanon because it said it was Syrian and not Lebanese land. Jerusalem's position was that the future of that land would be decided in Israel-Syria negotiations. The UN effectively if reluctantly supported that position after its surveyors confirmed Israel's complete withdrawal. Massive Arab pressure appears to have now given rise to "second thoughts" which could spur Hizb'allah into once again turning up the heat on Israel's northern border. UN Secretary-General Ban Ki-Moon tried to downplay the situation Wednesday, saying that discussion of the ownership of the farms was premature.
Olmert allows Muslims to dig on Temple Mount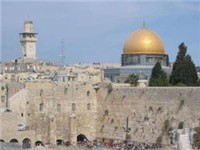 Temple Mount
July 13….(WND) Prime Minister Ehud Olmert has quietly granted the Waqf, the Muslim custodians of the Temple Mount, permission to dig unsupervised on the sacred Temple Mount site. The permission was granted in spite of longstanding fears from leading Israeli archeologists that the Waqf might hide or dispose of Jewish Temple artifacts discovered during any Muslim digs. The last time the Waqf conducted an unsupervised excavation on the Temple Mount, in 1997, the Muslim custodians ultimately were caught by Israeli authorities disposing truckloads of Mount dirt that contained Jewish Temple artifacts. Most Palestinian leaders routinely deny well-documented Jewish ties to the Temple Mount, the holiest site in Judaism, and incite violence every time a Jew steps near the place. Prominent Temple Mount archeologist Eilat Mazar, a professor of Hebrew University and a member of the Public Committee for Prevention of the Destruction of Antiquities on Temple Mount, slammed the Waqf dig. Mazar said she was concerned the Muslims were excavating "without real, professional and careful archaeological supervision involving meticulous documentation." Mazar, a third-generation Israeli Temple Mount archaeologist, is the discoverer and lead archaeologist of Israel's City of David, believed to be the palace of the biblical King David, the second leader of a united Kingdom of Israel, who ruled from around 1005 to 965 BC. The Waqf has always attemptedg to hide evidence of the existence of the Jewish Temples on the mount. Speaking to WND in a recent interview, Waqf official and chief Palestinian Justice Taysir Tamimi claimed the Jewish Temples "never existed." "About these so-called two Temples, they never existed, certainly not at the Haram Al- Sharif (Temple Mount)," said Tamimi, who is considered the second most important Palestinian cleric after Muhammad Hussein, the Grand Mufti of Jerusalem. The Palestinian media also regularly state the Jewish Temples never existed. In a series of WND exclusive interviews, Palestinian terror leaders denied the existence of the Jewish Temples. "We are fed up with this crap nonsense of the Temple Mount," said Nasser Abu Aziz, the deputy commander of Fatah's Al Aqsa Martyrs Brigades in the northern West Bank. There is no historical or archeological proof that your legendary Temples even existed. We are sick of this story. But Allah warned us that Jews will look for an excuse in order to corrupt things and take our Mosque. Even if there was such a thing (as a Jewish Temple) do you really believe that Solomon, who was a prophet, would have built a Temple in the place that Allah wanted for the Al Aqsa Mosque?" The Al Aqsa Mosque was constructed around AD 709 to serve as a shrine near another shrine, the Dome of the Rock, which was built by an Islamic caliph. Al Aqsa was meant to mark where Muslims came to believe Muhammad, the founder of Islam, ascended to heaven. In contrast to the Holy Bible, Jerusalem is not mentioned even oncein the Quran.
Muslims Desecrating Israel's Temple Mount - Again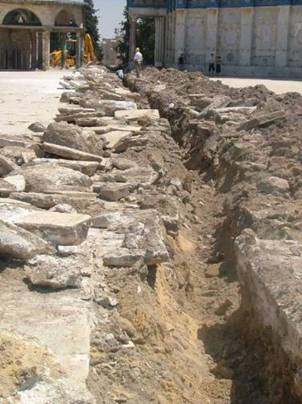 July 13….(JNEWSWIRE) Muslim Arabs, with the blessing of the Israeli government, are digging a large tunnel between the Dome of the Rock and the Al-Aqsa mosque. These two large structures straddle the Temple Mount, Israel's holiest site. The Arabs are bringing in heavy earth-moving equipment that could cause serious damage to the sacred site.
No-one is supervising what the Muslims are doing, despite the fact that Waqf (Islamic Trust) officials in recent years have desecrated the mount and destroyed untold quantities of archeological remains and artifacts dating from the periods of Israel's first and second temples. Both temples stood on the site, identified in the Bible as Mount Moriah where Abraham was prepared to sacrifice his son Isaac. The first temple was built by Israel's King Solomon; the second by the Jewish exiles who returned from exile in Babylon. It was later beautified and expanded by Herod the Great. Israel returned to the Mount in 1967, but failed to extend its authority over it, preferring, at the urging of leftist Defense Minister Moshe Dayan, to leave the Islamic structures intact and allow the Waqf to continue supervising the site. The Waqf forbids Jews and Christians from praying and reading their Bibles on the Temple Mount. Israel's governments have for years helped reinforce that ban. Numerous Arab leaders and spokesmen reject outright the uncontestable evidence, and refute the fact that Israel's temples ever stood on the hill.
The Bible is Accurate: Babylonian King's Eunuch Really Existed!
July 12….(IsraelNN.com) A routine research visit to the British Museum nets a landmark archaeological discovery and proof of the truth of the Bible. British newspapers report that ancient Babylonian expert Dr. Michael Jursa of Vienna discovered a small clay tablet that provides proof of the Bible's veracity. Though the tablet was unearthed near Baghdad in 1920, only last week was it deciphered for the first time, by Dr. Jursa. Upon reading the tablet, which records a donation of gold by "the chief eunuch of King Nebuchadnezzar," a man named Nabu-sharrussu-ukin, Jursa suddenly realized that the name sounded familiar. He quickly consulted Jeremiah 39, where he found the man's name listed as one of Nebuchadnezzar's top ministers who took part in the destruction of the First Holy Temple 2,500 years ago. The Biblical account, however, has his named spelled slightly differently: (Samgar) Nevo Sarsekim. Irving Finkel, assistant keeper in the British Museum's Middle East Department, was very excited: "This is a fantastic discovery," he told The Telegraph, "a world-class find. If Nevo-Sarsekim existed, [then] which other lesser figures in the Old Testament existed? A throwaway detail in the Old Testament turns out to be accurate and true. I think that it means that the whole of the narrative [of Jeremiah] takes on a new kind of power." Speaking with The Times, Finkel said, "A mundane commercial transaction takes its place as a primary witness to one of the turning points in Old Testament history. This is a tablet that deserves to be famous." Dr. Jursa, associate professor at the University of Vienna, said, "It's very exciting and very surprising. Finding something like this tablet, where we see a person mentioned in the Bible making an everyday payment to the temple in Babylon and quoting the exact date, is quite extraordinary." Dr. Jursa has been visiting the museum for over 15 years to study a collection of more than 100,000 inscribed tablets. Reading and piecing together fragments is painstaking work, The Times reports, and more than half are yet to be published. The full translation of the tablet, as provided in The Telegraph, reads: "[Regarding] 1.5 minas (0.75 kg) of gold, the property of Nabu-sharrussu-ukin, the chief eunuch, which he sent via Arad-Banitu the eunuch to [the temple] Esangila: Arad-Banitu has delivered [it] to Esangila. In the presence of Bel-usat, son of Alpaya, the royal bodyguard, [and of] Nadin, son of Marduk-zer-ibni. Month XI, day 18, year 10 [of] Nebuchadnezzar, king of Babylon."
Jibril: Abu Mazen Confirmed to me Yasser Arafat Died of AIDS
July 12….(Israel Insider) Ahmad Jibril, Secretary-General of the PFLP General Command, said on Al-Manar TV on July 5, 2007 that PA Chairman Mahmoud Abbas and his team told him that the French medical inquest into the death of Yasser Arafat concluded that he had indeed died of AIDS.
Following is the transcript of the interview, in which Jibril questions the entourage of Abbas ["Abu Mazen"] about the investigation of the death of the PLO leader, expressing his initial assumption that Arafat was the victim of an Israeli assassination plot. "When Abu Mazen came to Damascus with his team, I asked them: 'What happened to the investigation into the death of Abu Ammar [Arafat]? The Israelis killed him. He was my colleague ever since 1965 and used to sleep at my home. He and I followed the same path. Is it conceivable that when Rafiq Al-Hariri was killed, all hell broke loose, even though he was just a merchant in Saudi Arabia, who later entered politics, whereas the death of Yasser Arafat, who for 40 years had been carrying his gun from one place to another, is not investigated? Is this conceivable?'" But Abbas' men, after a moment of hesitation, told Jibril that his assumptions about the cause of Arafat's death were incorrect. "They were silent, and then one of them said to me: 'To be honest, the French gave us the medical report that stated that the cause of Abu Ammar's death was AIDS.' Now they pretend that they miss Yasser Arafat, and complain that Hamas entered his house in Gaza and so on. I say to every honorable member of the Fatah movement that he should be happy that we got rid of the plague, (Arafat) which had been imposed upon them and upon the Palestinian people. The Fatah movement now has an opportunity to renew itself."
Democratic Presidential Candidates in 'Gay' Debate
(Unprecedented event will feature Clinton, Obama, Edwards)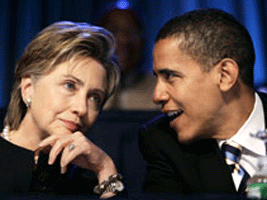 July 11….(WND) Leading Democratic presidential candidates will participate in an unprecedented televised debate focusing exclusively on "gay," bisexual and transgender issues. Sens. Hillary Clinton and Barack Obama and former Sen. John Edwards have confirmed they will take part in the one-hour Aug. 9 event in Los Angeles scheduled to be broadcast on the homosexual-oriented LOGO network. Several other Democratic candidates also might join the debate, reports 365Gay.com, a subsidiary of LOGO. MTV Networks launched LOGO two years ago as the television "home" for homosexual viewers. The panel questioning the candidates will include singer Melissa Etheridge, who identifies herself as a lesbian, and Joe Solmonese, president of the homosexual activist group Human Rights Campaign. "In the 2008 presidential election, issues of concern to the LGBT community have already been at the forefront of the national conversation," said Solmonese, according to 365Gay.com. Solomonese, who also is a singer, said voters undoubtedly will demand a response to issues such as repeal of the military's "Don't ask, don't tell" policy and the recent signing of a civil union bill in New Hampshire. Other debate topics will include same-sex marriage, HIV/AIDS, "hate crimes" and job discrimination. Los Angeles was chosen, LOGO said, because of California's early primary election, Feb. 5, 2008. The "LGBT," (lesbian, gay, bisexual, transgender) vote, LOGO says, "is considered a decisive electoral force and according to exit poll data make up approximately 4 percent of the voting population." "We're honored to give the presidential candidates an historic opportunity to share their views directly with the LGBT audience," said Brian Graden, president of entertainment for MTV Networks Music Group and president of LOGO.
FOJ Note: What is this country coming to?
IDF: Iran May Go Nuclear in 6 Months; NATO Tells Israel: Go It Alone

July 11….(Arutz) According to the IDF, Iran will be able to produce nuclear weapons within six months. NATO says Israel must 'go it alone' according to Strategic Affairs Minister Avigdor Lieberman. The IDF Military Intelligence (MI) assessment was reported Tuesday to the Knesset and included a concrete assessment determining that Iran could cross the technological threshold required to produce nuclear weapons in the next 6-12 months and possess an operational warhead by the middle of 2009. The assessment is at odds with US estimates that put the date between 2010 and 2013. Both agree, however, that military strikes could set back the technology for years. IDF MI also is of the opinion that sanctions against Iran have not weakened the regime, because huge oil reserves still provide all the money necessary to neutralize any pressure created by the international community. The assessment also revealed that Israel's withdrawals, from Lebanon in 2000 and Gaza in 2005, have added precedents and solidified belief throughout the Middle East that armed struggle can achieve the destruction of Israel within this generation.
Lieberman: NATO Says 'Go It Alone'
Minister of Strategic Affairs Avigdor Lieberman (Yisrael Beiteinu party), whose government portfolio was created specifically to deal with the Iranian threat, met with NATO's Assistant Secretary-General Alexandro Minoto Rizo and the European Union's representative Franco Partini earlier this week. Lieberman reported that NATO's senior officials said Israel should not assume that the international community will stop Iran just to help Israel. "Israel should prevent the threat, herself, and should not expect support of other countries," Lieberman reported as the conclusions reached at the meeting. "NATO is stuck in Afghanistan and European and American troops are wallowing in the Iraqi quagmire, which is something that is going to prevent the leaders of countries in Europe and America from deciding on the use of force to destroy Iran's nuclear facilities," he said. "Winds of Chamberlain are blowing in Europe," Lieberman told Army Radio, referring to that leader's conciliatory policy toward the Nazis in WWII. "When I hear from a respected prime minister like Italian Prime Minister Romano Prodi that Israel should agree to a peaceful Iranian nuclear program, it seems like something surreal. The political situation is such that they are trying to turn this into our problem alone." Lieberman said that although Europe or the US could not be relied upon to attack Iran on Israel's behalf, they would support Israel's actions. "If we start military operations against Iran alone, then Europe and the US will support us," he said.
Another Lieberman in Favor of Iran Strike
US Senator Joseph Lieberman has been publicly calling for US strikes on Iran. He repeated the call last week, saying the Islamic Republic "has declared war on the US" and is waging a "proxy war" against coalition forces in Iraq. The Connecticut Senator and former Vice-Presidential candidate said intelligence reports proved Iran was behind much of the terrorism in Iraq and must be confronted directly. "Although no one desires a conflict with Iran, the fact is that the Iranian government by its actions has declared war on us."
China Backs Syrian Golan Claim
July 11….(Jerusalem Post) Chinese Prime Minister Wen Jiabao said on Tuesday that his country supported Syria's rights to the Golan Heights, Syrian news agency SANA reported. The government-controlled service also claimed that, in a meeting with Syrian Deputy Premier for Economic affairs Abdullah Dardari, Jiabao expressed China's commitment to boosting ties with Syria and developing them in all areas. Last year China upset Israel by inviting the foreign minister of the Hamas-led PA government - boycotted by Israel and the West, to attend a conference in Beijing. China is Israel's third-largest trading partner, following the United States and Germany.
Israel vs. Hezbollah, Round 2
July 11….(Washington Times) Whether Iran's President Mahmoud Ahmadinejad said he wants to wipe Israel off the map is still contested, even by anti-mullah Iranian-Americans. But that he wants to wipe out the Jewish state, there can be no doubt. As he completes his visits to every Iranian town, the collection of his pronunciamentos is edifying reading. Culled from a wide variety of sources, ranging from Agence France Presse (AFP), the French national news agency, to the London Daily Telegraph, to the Suddeutsche Zeitung Online, to France's Le Monde and Liberation, Mr. Ahmadinejad spells out the target and the strategy: "This regime [Israel] will one day disappear. The Zionist regime is a rotten tree that will be blown away by one storm. The countdown for the destruction of Israel has begun. Zionists are the personification of Satan. "In the case of any unwise move by the fake regime of Israel, Iran's response will be so destructive and quick the regime will regret its move forever. The West invented the myth of the massacre of the Jews (in World War II) and placed it above Allah, religions and prophets." Mr. Ahmadinejad's strategic recipe: "We don't shy away from declaring Islam is ready to rule the world. The wave of the Islamist revolution will soon reach the entire world. Our revolution's main mission is to pave the way for the reappearance of the 12th Imam, the Mahdi [a 5-year-old boy who vanished 1,100 years ago and who will lead the world into an era of peace and prosperity, but not before the planet is convulsed by death and destruction]. "Soon Islam will become the dominating force in the world, occupying first place in the number of followers among all other religions. "Is there a craft more beautiful, more sublime, more divine, than the craft of giving yourself to martyrdom and becoming holy? Do not doubt Allah will prevail, and Islam will conquer mountaintops of the entire world. Iran can recruit hundreds of suicide bombers a day. Suicide is an invincible weapon. Suicide bombers in this land showed us the way, and they enlighten our future.... The will to commit suicide is one of the best ways of life. "By the grace of Allah we will be a nuclear power and Iran does not give a damn about [International Atomic Energy Agency] demands [to freeze enrichment of nuclear fuel]. Iran does not give a dam about resolutions. "The Islamic Republic of Iran has the capacity to quickly become a world superpower. Iran's enemies know your courage, faith and commitment to Islam and, Iran has created a powerful army that can powerfully defend the political borders and the integrity of the Iranian nation and cut off the hand of any aggressor and place the sign of disgrace on their forehead. "In parallel to the official political war there is a hidden war going on and the Islamic states should benefit from their economic potential to cut off the hands of the enemies." Addressing a conference on "The World Without Zionism," Mr. Ahmadinejad said, "To those who doubt, to those who say is it not possible, I say accomplishment of a world without America and Israel is both possible and feasible." Intelligence mounts daily of Iranian efforts to undermine US efforts to stabilize Iraq and Afghanistan and UN efforts to stem the violence in Lebanon. There is little doubt Israel and Hezbollah are suiting up to resume last summer's 34-day war in which the Israel Defense Force came off second-best due to poor political and military leadership. Hezbollah is also shorthand for Syria and Iran. Tehran supplies the equipment and the funding. Syria acts as the transmission belt and is generously compensated. Damascus has evidently concluded an Israeli offensive across the Golan Heights is in the offing. For the first time in 40 years, Syria dismantled military checkpoints on the road to Kuneitra on its side of the Golan. One of the more plausible scenarios has Israel preparing for a drive into Syria across the Golan Heights, and then fighting a "decisive" battle with the Syrian army on the road to Damascus, followed by a left "hook" into Lebanon to execute an outflanking attack on Hezbollah. Syria has advised its citizens to leave Lebanon as soon as possible. That could also be a strategically propitious moment for US action against Iran. It remains to be seen whether the key players in President Bush's National Security Council would agree an opportunity is at hand to dust off an Air Force and Navy contingency plan to take out Iran's 23 nuclear facilities
'UN Concludes Sheba Farms are Lebanese, not Syrian'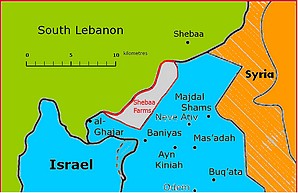 July 11….(Jerusalem Post) The Sheba Farms, a small tract of land in the north of Israel, is Lebanese territory, according to an expert UN cartographer, Israel Radio reported Wednesday, quoting an unnamed official in Jerusalem. An official UN statement on the issue was yet to be published. The long-disputed farms were not returned to Lebanon during the 2000 pullout after Israel insisted the farms were claimed by Syria. Israel then said that only as part of a peace deal with Syria, which would potentially include returning part or all of the Golan Heights, would it consider returning the Sheba Farms to Syria. The source said Israel rejected a request by the UN to be in control of the Sheba Farms until the dispute was resolved. The cartographer, meanwhile, has moved to Jerusalem to continue his work, and a UN official denied that a demand from Israel to rescind control of the territory has been made. Reportedly, Syria and Lebanon agreed that the Sheba Farms was Lebanese territory. The confusion regarding the ownership of the farms dates back to the partition of the French mandate territory during the period between the two world wars that shaped the borders of Syria and Lebanon. Israel was against any decisive UN statements regarding the area, fearing that a public admission that the territory was Lebanese would effectively render Israel's 2000 pullout from Lebanon incomplete and give Hizbullah justification to re-ignite a military confrontation with Israel.
EU to Blair: Turn the Screws on the Jews
July 11….(JNEWSWIRE) Ten European Union foreign ministers Monday messaged newly-appointed Middle East envoy Tony Blair to increase the pressure on Israel to make more "concessions for peace." And they let the former British prime minister know that they want to see an international conference on the Arab-Israeli conflict convened, one at which Israel would stand decidedly alone against the pro-"Palestinian" world. YNET news reported that, in an open letter to the new big-power envoy, "the foreign ministers of the EU's Mediterranean states, Bulgaria, Cyprus, Spain, France, Greece, Italy, Portugal, Malta, Romania and Slovenia, welcomed Arab states' efforts for peace following the stalled US-backed 'road map.'" "The Road Map has failed," the ministers reportedly said in the letter that appeared in the newspaper Le Monde. There was therefore a need to "redefine our objectives." Europe and the Quartet of Middle East mediators should firmly tell Israel to make more concessions in support of Palestinian Authority chairman Mahmoud Abbas, they continued. One of their new objectives was "to obtain from Israel concrete and immediate measures in favor of Mahmoud Abbas. "Among these, the transfer of all taxes due, the release of the thousands of prisoners who do not have blood on their hands, the release as well of the main Palestinian leaders [like Marwan Barghouti who does have blood on his hands] to ensure succession within Fatah, a freeze in new [Jewish] settlements and the evacuation of unauthorized settlements, [read ethnically cleansing the land of Jews]" they said. While these challenges were surely daunting, the ministers said, "we know how inventive and resolute you are," the ministers told Blair. They also called for an examination of the idea, put forward by Abbas, that a robust international force be brought into the PA areas to impose a ceasefire between rival Arab factions. Israel has always resisted suggestions that foreign troops be introduced into the Jews' ancient homeland, knowing that once inside it would be difficult to get them out.
Hindu Prayer Before Senate Should Raise Concerns
July 11….(Rapture Ready) A prominent Christian historian and constitutional expert is expressing concern that the US Senate will be opened up for the first time with a non-monotheistic prayer. On Thursday, a Hindu chaplain from Reno, Nevada, by the name of Rajan Zed is scheduled to deliver the opening prayer in the US Senate. Zed tells the Las Vegas Sun that in his prayer he will likely include references to ancient Hindu scriptures, including Rig Veda, Upanishards, and Bhagavard-Gita. Historians believe it will be the first Hindu prayer ever read at the Senate since it was formed in 1789. Wallbuilders President David Barton is questioning why the US government is seeking the invocation of a non-monotheistic god. Barton points out that since Hindus worship multiple gods, the prayer will be completely outside the American paradigm, flying in the face of the American motto "One Nation Under God." "In Hindu, you have not one God, but many, many, many, many, many gods," the Christian historian explains. "And certainly that was never in the minds of those who did the Constitution, did the Declaration of Independence when they talked about Creator, that's not one that fits here because we don't know which creator we're talking about within the Hindu religion." Barton says given the fact that Hindus are a tiny constituency of the American public, he questions the motivation of Senate leaders. "This is not a religion that has produced great things in the world," he observes. "You look at India, you look at Nepal, there's persecution going in both of those countries that is gendered by the religious belief that is present there, and Hindu dominates in both of those countries." And while Barton acknowledges there is not a constitutional problem with a Hindu prayer in the Senate, he wonders about the political side of it. "One definitely wonders about the pragmatic side of it," he says. "What is the message, and why is the message needed? And will it actually communicate anything other than engender with folks like me a lot of questions?" Barton says he knows of at least seven cases where Christians have lost their bid to express their own faith in a public prayer. Zed is reportedly the first Hindu to deliver opening prayers in an American state legislature, having done so in both the Nevada State Assembly and Nevada State Senate earlier this year. He has stated that Thursday's prayer will be "universal in approach," despite being drawn from Hindu religious texts.
Pope: Only Catholics Have 'Means Of Salvation'

(Document Stresses Distinction Between Church, Denominations)
Pope: Other Denominations not True Churches, Followers not Christians
(Benedict issues statement asserting that Jesus established 'only one church')
July 10….(MSN) Pope Benedict XVI has reasserted the universal primacy of the Roman Catholic Church, approving a document released Tuesday that says Orthodox churches were defective and that other Christian denominations were not true churches. Benedict approved a document from his old offices at the Congregation for the Doctrine of the Faith that restates church teaching on relations with other Christians. It was the second time in a week the pope has corrected what he says are erroneous interpretations of the Second Vatican Council, the 1962-65 meetings that modernized the church. On Saturday, Benedict revisited another key aspect of Vatican II by reviving the old Latin mass. Traditional Catholics cheered the move, but more liberal ones called it a step back from Vatican II. In the latest document, formulated as five questions and answers, the Vatican seeks to set the record straight on Vatican II's ecumenical intent, saying some contemporary theological interpretation had been "erroneous or ambiguous" and had prompted confusion and doubt. It restates key sections of a 2000 document the Pope wrote when he was prefect of the congregation, "Dominus Iesus," which set off a firestorm of criticism among Protestant and other Christian denominations because it said they were not true churches but merely ecclesial communities and therefore did not have the "means of salvation." In the new document and an accompanying commentary, which were released as the pope vacations here in Italy's Dolomite mountains, the Vatican repeated that position. "Christ 'established here on earth' only one church," (the Roman Catholic Church) the document said. The other communities (churches) "cannot be called 'churches' in the proper sense" because they do not have apostolic succession, the ability to trace their bishops back to Christ's original apostles. The document said Orthodox churches were indeed "churches" because they have apostolic succession and that they enjoyed "many elements of sanctification and of truth." But it said they lack something because they do not recognize the primacy of the pope, a defect, or a "wound" that harmed them, it said. "This is obviously not compatible with the doctrine of primacy which, according to the Catholic faith, is an 'internal constitutive principle' of the very existence of a particular church," the commentary said. Despite the harsh tone of the document, it stresses that Benedict remains committed to ecumenical dialogue,
Abbas Attacks Hamas
July 10….(Arutz) The Hamas-Fatah rift shows signs of becoming wider, as Fatah Chief Abbas calls Hamas a front for Al-Qaeda. Speaking on Italian television Monday, Palestinian Authority leader Mahmoud Abbas, known also as Fatah chief Abu Mazen, says he has no intention of partnering up with Hamas. He says he has no plans to even talk with Hamas on the topic. The Fatah leader attacked Hamas for being a "defensive shield for the international terrorist organization Al-Qaeda." He said Hamas "enables Al-Qaeda terrorists to enter Gaza, thus endangering Gaza and causing it to require urgent aid." Some say the Hamas-Fatah war is not a sign of genuine differences, however. Even Egyptian President Hosni Mubarak predicted recently that Fatah and Hamas would soon patch up their dispute and resume dialogue. Some commentators see the situation as a "good cop, bad cop" routine, with both Fatah and Hamas having the same end goal. (destroying Israel) Commentator Emanuel A. Winston, for instance, writes this week that Fatah's inexplicable and sudden loss to Hamas can be explained as being a system by which Hamas seizes armaments that it otherwise would not have received, and the "moderate" Fatah is later reimbursed by the US and other donor countries. These groups will then re-unite into one happy Palestinian Authority, the theory goes, and will receive ever-stronger world sympathy for their demands that Israel evacuate Judea and Samaria.
FOJ Note: (Genesis 16:12 And he will be a wild man; his hand will be against every man, and every man's hand against him; and he shall dwell in the presence of all his brethren.)
Russia Proposes Integrated Global Missile Shield
July 10….(Moscow Times) Russia has offered a global integrated missile shield for the whole of Europe as an alternative to the US National Missile Defense (NMD), seen as a threat to the country. Proposing the shield, Russia's First Deputy Prime Minister Sergei Ivanov, widely seen as likely successor of President Vladimir Putin said Moscow's proposal would include both the United States and European countries, including neutral states like Austria, Finland and Sweden He said all participating countries in the program will have equal access to the system's control. "We are proposing to create a single missile defense system for all participants with equal access to the system's control," Ivanov told the state-run Rossia channel. He said that the Russian proposal provides pooling efforts to create missile defense data exchange centres in Moscow and Brussels, headquarters of NATO and the European Union. Ivanov did not rule out that under the project Russia could share some of its "highly sensitive" technologies with the West to generate trust in thwarting rouge missile threat
UN's ElBaradei Asking For More Time For Iran To Develop Nuke
July 10….(Bill Wilson) Egyptian born Muslim Mohamed ElBaradei, the head of the United Nations International Atomic Energy Agency, is now saying that Iran has slowed down its nuclear development and ElBaradei is calling for Iran's government to give up its nuclear program altogether. The message from ElBaradei is confusing, but typical of the diplomatic drivel that has become the hallmark of the UN handling of thug nations such as Iran, the world's foremost sponsor of terrorism. ElBaradei's positioning is to try to get the West to delay any substantial action against Iran while promoting idle talk about Iran cooperating with the international community by shutting down its nuclear program. In fact, ElBaradei told reporters he is seeking a "time out" in the confrontation between Iran and the West over Iran's nuclear program. But that is just the very issue. ElBaradei has given Iran nearly four years worth of a "time out" by allowing the nation to hold the Western world at bay through fruitless negotiations while all the while Iran has beefed up its uranium enrichment to levels capable of producing material for a nuclear bomb. Little has changed for ElBaradei since November 23, 2004 when he said of Iran, "I am not ready to jump to the conclusion and say this is a weapons program unless I see a diversion of nuclear material to such a program or I see clear cut proof that this is a weapons program." Once again, ElBaradei is giving Iran the benefit of the doubt. And now one has to question ElBaradei's alliances. He told reporters that there is a "need to shift from the mode of confrontation to the mode of goodwill and cooperation." But who is cooperating? Russia and China are certainly cooperating with Iran to provide nuclear technology, missile technology and other weapons information that assist Iran in its quest for nuclear weapons. Those who are not cooperating are the United States, Israel and Great Britain, who would like to see Iran shut down its nuclear program as Iran's President continues to threaten Israel with destruction and the United States with demise. Trusting an Islamic Egyptian to police radical Islamists in a war against Israel and the West is probably not the wisest course of action. Isaiah 31:1 says, "Woe to them that go down to Egypt for help; and stay on horses and trust in chariots, because they are many; and in horsemen because they are very strong; but they look not unto the Holy One of Israel, neither seek the Lord!" In war, deception is key. When the United Nations point man on curbing nuclear weapons continues to ask for more time when the perpetrator is threatening annihilation of an entire people, the world ought to take notice and have some discernment.
'Jews Face A Gathering Storm'
(Former Canadian justice minister Irwin Cotler: Threat to Israel and Diaspora at level unprecedented since 1938)
July 10….(YNET) The Jewish people are facing a "gathering storm" in the form of threats posed by a genocidal Iran, Hizbullah, al-Qaeda, Hamas, and local terror cells which target Diaspora Jews, former Canadian Justice Minister and Jewish activist Irwin Cotler told a conference on the future of Jewish people in Jerusalem on Tuesday. The conference, organized by the Jewish People Policy Planning Institute (JPPPI) attracted Jewish leaders and representatives from around the world who came to discuss strategies for ensuring Jewish continuity. During his address, Cotler described the current threat level to the Jewish people as being "without parallel or precedent since 1938." He added, however, that "2007 is not 1938. There is a Jewish State, an antidote to vulnerabilities. There are non-Jews prepared to join the Jewish people. Israel has diplomatic relations with the two emerging super powers, India and China." "Ahmadinejad's Iran is threat not only to Israel but to international stability, peace and security as a whole," Cotler added. "I do believe there is a gathering storm, but there is no inevitability about the negatives," Cotler said. "We have some powerful historical assets at our disposal," he added. Dennis Ross, the former US ambassador to Israel said that "Iran is led today by a regime that believes in the destruction of Israel, and they're developing the means to actually do it." "Radical Islam expresses hatred and hostility, there is an onslaught there against the Jewish people," he said. Responding to claims that Hamas should be negotiated with, Ross stated: "Look at the charter of the Hamas. (It says) Jews are responsible for everything from the French Revolution to World War One." Ross also emphasized the growing challenges faced by the American-Jewish community. "There is an onslaught on the positions of Jews in the US," he said. He called for a redefinition of the issues in order to raise awareness of the challenges faced by the Jewish people.
Al-Qaeda Linked to Operations from Iran
July 10….(Financial Times) Evidence that Iranian territory is being used as a base by al-Qaeda to help in terrorist operations in Iraq and elsewhere is growing, say western officials. It is not clear how much the al-Qaeda operation, described by one official as a money and communications hub, is being tolerated or encouraged by the Iranian government, they said. The group's operatives, who link the al-Qaeda leadership in Pakistan with their disciples in Iraq, the Levant and North Africa, move with relative freedom in the country, they said. The officials said the creation of some kind of al-Qaeda hub in Iran appears to be separate from the group of seven senior al-Qaeda figures, including Saad bin Laden, son of the group's figurehead, that Iran is said to have detained since 2002. A senior US official said the information had produced different assessments. "The most conservative, cautious intelligence assessment is that [the Iranian authorities] are turning a blind eye. But there are a lot of doubts about that," he said. "They are benefiting from the mayhem that AQ is carrying out. They don't have to deal with al-Qaeda to benefit."Yet while Tehran might be content with the pressure al-Qaeda is placing on the US occupation in Iraq, Iran, as a state based on Shia Islam surrounded by mainly Sunni countries, has long been wary of al-Qaeda's fierce brand of Sunni Islam. A former Iranian official said Iran feared al-Qaeda and did not want to distract it from Iraq, dismissing any idea that Iran was supplying it with weapons. "Our relationship with al-Qaeda, at an intelligence level, can be said to be successful as long as they are at a distance," he said. Analysts say several Sunni extremist groups, some presumed linked to al-Qaeda and from various ethnic groups including Kurds, are in Iran. US-led military action in Iraq has led some to seek refuge over the border. In the past, Tehran has also been a target of al-Qaeda attacks. A militant Sunni group based in Pakistan and possibly linked to al-Qaeda was suspected of the 1994 bombing of the shrine of the seventh Shia Imam, Reza, in Mashhad, killing 26 people. Iran has also shown growing concern over Jundullah, a radical Sunni group from the restive south-east area of Balucestan that has carried out violent attacks in recent years. Three years ago, Pakistani officials said members of al-Qaeda had begun leaving Pakistan's border region close to Afghanistan and heading for Iraq. Of the routes used, going overland via Iran was the easiest. That traffic might have increased as links between al-Qaeda and its Iraq offshoot intensify.
'Time Running out for Iran Strike'
(The Natanz uranium enrichment facility buildings, 200 miles south of Teheran, Iran)
July 10….(Jerusalem Post) Predicting that sanctions will ultimately fail to stop Teheran's nuclear program, Brig.-Gen. (res.) Yossi Kuperwasser, former head of Military Intelligence's Research Division, told The Jerusalem Post on Monday that time to launch an effective military strike against Iran's nuclear installations was running out. According to Kuperwasser, who stepped down from his post last year, Iran is "very close" to the point that it will cross the technological threshold and have the capability to enrich uranium at an industrial level. Once they master the technology, the Iranians will have the ability to manufacture a nuclear device within two to three years, he added. "The program's vulnerability to a military operation is diminishing as time passes," Kuperwasser said, "and they are very close to the point that they will be able to enrich uranium at an industrial level." In an article entitled "Halting Iran's Nuclear Weapons Program: Iranian Vulnerabilities and Western Policy Options" published this week by the Jerusalem Center for Public Affairs - run by former Israeli ambassador to the UN Dr. Dore Gold - Kuperwasser spells out what he believes is the only course of action that will stop Iran's race to nuclear power. Thanks to technological sophistication, advances in producing raw materials as well as intermediate products and the improvement in protection of the program's components, the Western world is beginning to find it difficult to plan an effective strike against Iran's nuclear facilities, he said. On Monday, The Washington Post revealed new satellite photos of Iran's enrichment facility at Natanz which showed the digging of a tunnel that analysts said could be used to hide and protect key nuclear components. Iran, Kuperwasser said, was working on two parallel tracks, one at Natanz to enrich uranium and the plutogenic track being worked on at the Arak heavy water facility. As long as Russia is not aligned with the US, Kuperwasser said sanctions would not work on their own to stop Iran. "For significant sanctions to be effective the world needs to at the same time threaten the use of military force," he said. "Iran needs to be made to understand that if the sanctions won't work, the world is prepared to use military force to stop the nuclear program." He said Iran was preparing for the possibility of war, but that deep down the Islamic leadership did not believe that either the United States or Israel were in a position of strength that would enable them to launch such a complicated military operation. Iran, he said, was purchasing Russian air defense systems and was fortifying its nuclear facilities and moving key elements to underground bunkers in preparation for the possibility that its assessments were wrong and it would in the end be attacked. "The Iranians are working around the clock on improving military capabilities and they are also moving centrifuges to underground facilities," he said. Kuperwasser said that a real threat of military action, backed up by credible threats by world leaders as well as the deployment of a large military force to the region, could have the right effect in deterring Iranian leaders from continuing with their nuclear program. A credible military threat combined with economic leverage had a chance at preventing the need for a future clash with a nuclear Iran and perhaps could also make it unnecessary to deal today with an Iran that is close to nuclearization, he said.
In the Middle East, America's Exit from Iraq Attracts Less Interest than Gathering War Clouds
July 10….(DEBKA) Since April 2007, George W. Bush has had on his desk an exit plan from Iraq, built around the phased pull-back by early 2008 of a little more than half of the 170,000 or so troops there at present. Around 50-70,000 soldiers are to be redeployed to large strategic fortified enclaves in the south and the north as a semi-permanent US presence. They will be backed by four naval and aerial strike groups in the Persian Gulf and Red Sea and a chain of giant air bases, some expanded, others built from scratch, in Oman, Qatar and Jordan. The military sources of DEBKAfile have been tracking the evolution of this White House master plan since April 27. Building up in Persian Gulf waters as a key element of this post-withdrawal military plan are three American carriers and their strike groups. The USS Enterprise CVN 65 Big E Strike Group departed for the region Monday, July 8, to join the USS Stennis and USS Nimitz carriers which are already there. A clue to the coming American deployment can be seen in the Basra Province of southern Iraq where British troops have shut themselves away in a well-fortified compound south of the oil city. It is blasted daily by mortars and other heavy weapons. From time to time, British commando patrols emerge to hit enemy assault concentrations. In short, even after the Americans quit Iraq, the Iraq War will continue, with one difference: it will no longer rage in the main cities such as Baghdad, but in wide open spaces. It is already apparent that the US army's main enemy, certainly in the initial phase after withdrawal, will be al Qaeda, as it is today. From the end of 2005, Iraq watchers realized there was no way of preventing Iraq fragmenting into sectarian or ethnic segments: an independent Kurdish state in the north and one, or even two, independent Shiite entities south of Baghdad. The American campaign today focuses mainly on rooting the jihadist terrorists out of Baghdad, Baqouba, Ramadi and Falluja in order to determine the identity and character of the third segment, an independent Sunni Muslim enclave in central Iraq. This task cannot be finished within the timeframe dictated by political realities in America. There is no way therefore of saying for certain which Sunnis will rule that part of the country, indigenous Iraqi Arabs or al Qaeda, or even, by remote control through a surge of cash, Saudi Arabia. Therefore, the outcome of the current US-al Qaeda showdown in Iraq will bear long-term consequences for American positions in the Persian Gulf, especially in relation to Iran. DEBKAfile's Washington sources report that on three points the Bush administration has not yet made final decisions:
1. Whether to launch a military operation to destroy Iran's nuclear facilities and cripple its strategic-economic infrastructure.
2. How to respond if Iran decides on a pre-emptive attack on US Middle East interests by fomenting local assaults against Israel by Syria, Hizballah and Hamas and a civil war in Lebanon. Some Middle East military and intelligence sources say this decision is already in the bag in Tehran. Will President Bush seek to avert these flare-ups of violence? Or use them as the starting shot for his military strike against Iran?
3. The timeline for beginning the US military pullout from Iraq, the third decision in abeyance, hinges heavily on the White House's actions regarding the first two.
The optional exit dates for now are September 2000 or January-March 2008. The latter is seen as the more realistic by American commanders and soldiers serving in Iraq. Amid the furious political controversy over the Bush administration's handling of the Iraq war, most Americans find it hard to imagine the US army capable of even contemplating taking on another conflict with Iran. It is seen by many as a nightmare scenario. But Tehran sees nothing far-fetched about it. Quite the reverse, Iranians are all but certain an US attack is inevitable this summer or, at latest, in the fall. They note that the President Bush has never taken the military option off the table for dealing with Iran's strongly suspected nuclear weapons program. The overriding importance of removing this threat is not in dispute between Bush and Democratic Party leaders.
The Middle East is therefore on the move, in readiness for the worst:
* Monday, July 9, Damascus called on Syrian civilians to depart Lebanon to avoid "an eruption" expected next week.
* US defense secretary Robert Gates cancelled a planned four-nation Latin American tour, officially to help complete the Pentagon's "benchmark" report due in September. However, as perceived in Middle East capitals, Gates can see a conflagration building up in the region and decided his place was in Washington.
* Israel, Syria and Hizballah have prepared their armies for a war contingency entailing a possible clash on Golan and the Lebanese-Israeli frontier regions.
* Iran has imposed gasoline rationing on civilian vehicles. An Iranian official admitted in Tehran two days ago that the country was preparing for an emergency and stocking up on fuel for the military.
* The Turkish army has 140,000 troops poised to invade northern Iraq's Kurdistan. Notwithstanding denials in Ankara and Baghdad, Turkish units are operating in northern Iraq against Turkish Kurdish PKK rebels.
* The American carrier, the USS Enterprise, is on its way to the Middle East with a powerful strike group.
Two months ago, military high commands in the Middle East stopped asking when the American army would leave Iraq. They took for granted that a major pull-back is in the works and not far away. The question exercising most minds these days is which of the two leading antagonists in the current regional contest will be first to assemble all the pieces of the war puzzle and gain the advantage over his rival, the Bush administration in Washington or Ali Khamenei's mullahs in Tehran?
Arab League Plans First Israel Mission
July 9….(My Way) The 22-country Arab League will send envoys on a historic first mission to Israel this week to discuss a sweeping Arab peace initiative and how it might prop up embattled Palestinian President Mahmoud Abbas, Israeli and Arab diplomats said Sunday. The announcement came the same day Israel's Cabinet approved the release of 250 Palestinian prisoners, hoping to bolster Abbas in his power struggle with the Islamic militant Hamas. An official League visit would be a diplomatic coup for Israel. The League historically has been hostile toward the Jewish state, but has grown increasingly conciliatory in response to the expanding influence of Islamic extremists in the region, a concern underscored by Hamas' violent takeover of the Gaza Strip last month. Jordan's foreign ministry said the Jordanian and Egyptian foreign ministers would arrive in Jerusalem on Thursday for talks with Prime Minister Ehud Olmert and other Israeli officials. Israeli Foreign Ministry spokesman Mark Regev said the foreign ministers would lead an Arab League mission to Israel to discuss the Arab peace plan, which would trade full Arab recognition of Israel for an Israeli withdrawal from all lands captured in the 1967 Mideast war and the creation of a Palestinian state. "This is the first time the Arab League is coming to Israel," Regev said. "From its inception the Arab League has been hostile to Israel. It will be the first time we'll be flying the Arab League flag." The two foreign ministers, Abdul-Ilah al-Khatib of Jordan and Ahmed Aboul Gheit of Egypt, whose countries have peace agreements with Israel, have been designated as the League's official point men for the Arab peace initiative. Israeli Foreign Minister Tzipi Livni met them in Cairo in May for the first official, public talks between the two sides, and the Arab peace initiative was the focus. Israel rejected the Arab League plan outright when Saudi Arabia first proposed it in 2002, at the height of the Palestinian uprising. But it softened its resistance after moderate Arab states endorsed the plan again in March, sharing their concerns about Iran's growing influence. Israel has welcomed aspects of the plan, while rejecting its call for a return of all of the West Bank and an implied demand to resettle within Israeli borders the Palestinian families who became refugees from the 1948 war that followed Israel's creation. Moderate Arab countries and the West have been pushing for renewed Israeli-Palestinian peacemaking since Gaza fell to Hamas, a group that refuses to recognize Israel's right to exist and has killed more than 250 Israelis in suicide bombings. Last month, Egypt hosted a summit of the Israeli, Palestinian and Jordanian leaders to show support for Abbas and to discuss the resumption of peace talks.
FOJ Note: The 22 member Arab League could be considered part of the "many" whom the Antichrist will include in a covenant of peace with Israel. (Daniel 9:27 And he shall confirm the covenant with many for one week: and in the midst of the week he shall cause the sacrifice and the oblation to cease, and for the overspreading of abominations he shall make it desolate, even until the consummation, and that determined shall be poured upon the desolate.)
Muslims Declare Sovereignty over US & UK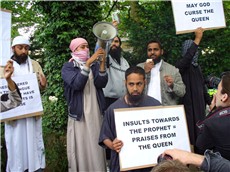 July 9….(WND) Across town from the site of the recent attempted car-bomb attacks, several thousand Muslims gathered in front of the London Central Mosque to applaud fiery Islamic preachers prophesying the overthrow of the British government, a future vision that encompasses an Islamic takeover of the White House and the rule of the Quran over America. "One day my dear Muslims," shouted Anjem Choudary, "Islam will govern Britain!" Choudary was a co-founder of Al Muhajiroun, the now-banned group tied to suspects in the July 7, 2005, London transport bombings and a proponent of the 9-11 attacks on America. "Democracy, hypocrisy," Choudary chanted as the crowd echoed him. "Tony Blair, terrorist! Tony Blair, murderer! Queen Elizabeth, go to hell!" Muslim leader Abu Saif, who kept his voice at a fever pitch through declarations such as: "Brothers and sisters, make no mistake. Make no mistake. The British government, the queen, the MPs in this country, they are enemies to you, enemies to Allah and enemies to the Muslims." Abu Saif is believed to be a member of the group Hizb ut-Tahrir, the Party of Liberation, which states its aim is to unify Muslims and establish Islamic rule over the world. The group's Cambridge cell reportedly had tried to recruit the Iraqi doctor now suspected of mounting the attack on Glasgow's airport June 30. Abu Saif spoke with disdain of Blair's appointment as a special envoy to the Middle East, issuing an apparent threat. "Inshallah," meaning "Allah willing," he told the crowd, Blair will "go to the Middle East as an envoy, and he'll come back in a box. An estimated 3,000 Muslims were gathered in front of the mosque in north London June 22, after Friday prayers, to protest Queen Elizabeth's knighting of Indian author Salman Rushdie, the target of a death-sentence fatwa for "insulting" Islam's prophet Muhammad in his 1988 book "The Satanic Verses." Like the UK, the US has three major vulnerabilities to patient, fundamentalist Muslims who believe their purpose for living in the West is to help fulfill Islamic prophecies: The loss of border control, the inability to say no and lack of assimilation. "I feel like I'm Rusty Revere. I'm out there yelling the Muslims are coming, the Muslims are coming," he said. "But we don't want to hear it. We don't want to hurt people's feelings." Saif said, "we also believe that one day America will be ruled by Islam." Abu Saif explained Islam, like Christianity, has a prophetic tradition. "One of the prophecies of the message of Muhammad was the hour will never come, i.e., the last day, which you also believe in, will never come until a group of the Muslims rise and conquer the white house." Islamic leaders in the US largely have been careful to not assert publicly the Muslim belief that Islam ultimately will gain worldwide supremacy. Abu Saif presented a typical list of grievances Muslims have with the U.S. and Britain, such as the nations' part in the Israeli-Palestinian conflict and the wars in Afghanistan and Iran. But the Islamic leader admitted he believes Jews and Christians will always hate Muslims, because Allah has said it is so. He also had a simple solution to the conflict in the Holy Land. "We want the Jews to leave Israel, and to hand the whole of Israel, not just Gaza and the West Bank, the whole of Israel to the Muslims. Only then will the Muslims stop."
Syrian Official Threatens: 'Mideast War this Summer'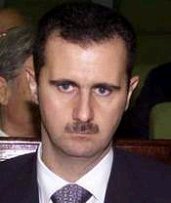 July 9….(WND) If Israel doesn't vacate the strategic Golan Heights before September, Syrian guerrillas will immediately launch "resistance operations" against the Golan's Jewish communities, a top official from Syrian President Bashar Assad's Baath party told WND. The Baath official, who spoke on condition his name be withheld, said Damascus is preparing for anticipated Israeli retaliation following Syrian guerrilla attacks and for a larger war with the Jewish state in August or September. He said in the opening salvo of any conflict, Syria has the capabilities of firing "hundreds" of missiles at Tel Aviv. "Syria passed repeated messages to the US that we demand the return of the Golan either through negotiations or through war. If the Golan is not in our hands by August or September, we will be poised to launch resistance, including raids and attacks against Jewish positions (in the Golan Heights)," the Baath official said. The Golan Heights is strategic mountainous territory looking down on Israeli population centers captured by Israel after Syria twice used the territory to attack the Jewish state. The Baath official said a new purported guerrilla group called the Committees for the Liberation of the Golan Heights has been training and is ready to attacks against Jewish communities in the Golan in August or September. He said Syria is indeed preparing for a war, and will launch that war this summer. The official said Syria "learned from the Hezbollah experience last summer and we can have hundreds of missiles hitting Tel Aviv that will overwhelm Israel's anti-missile batteries." He claimed Syria has "proof" Israel is also readying for a war. "We hear about special Israeli trainings to take Damascus. We see that Israel is re-establishing bases of the Israeli army in the Golan that are unusual and not needed except for war. We believe the Israeli government has an interest in confronting Syria to rehabilitate its image of losing to Hezbollah," he said. He also claimed newly installed Israeli Defense Minister Ehud Barak, a former prime minister, "wants to prove he is a military expert." Israeli security officials confirmed the stepped-up military presence of Syrian troops deployed along the Syrian side of the Golan Heights with strengthened forces after carrying out increased training the last few months. The security officials noted the movement of Syrian Scud missiles near the border with Israel and said Syria recently increased production of rockets and acquired missiles capable of hitting central Israeli population centers. The Syrian army has improved its fortifications, according to the Israeli security officials, and has received modern, Russian-made anti-tank missiles and Russian advanced anti-aircraft missiles. The security officials said any conflict with Syria could degenerate into a larger war involving Hezbollah along Israel's northern border and Palestinian terror groups launching attacks from Gaza in the south and the West Bank toward the center of Israel. Israeli security officials said Syria is indeed preparing for a summer war. But they said there was an argument within the Israeli intelligence community whether the military buildup is for an attack or is meant by Syria to pressure Israel into vacating the Golan Heights. Some officials said Syria estimates the US or Israel will attack Iran, and Syria will be drawn into a larger military confrontation by opening up a front against northern Israel. According to security officials, recent US intelligence estimates also predict a strong possibility of war between Israel and Syria in the coming months.
WEEK OF JULY 2 THROUGH JULY 8
Israel-Syria War Rumors Continue to Rise
July 6….(Stan Goodenough) The US state department's Dennis Ross, who played point man in the Middle East for the Clinton administration, believes war could erupt between Israel and Syria this summer. Ross, who now heads up the Jewish People Policy Planning Insitutue, told Ynetnews Friday "there is a risk of war" between the two countries. His warning comes two days after Syria denounced a massive IDF exercise being carried out on the Golan Heights this week as not merely a training practice, but preparation for war.
An analyst speaking on Syrian radio said Israel was responsible for the instability in the Middle East and was "lying" about the exercise. The editor in chief of Syria's official daily newspaper Al-Thawra wrote Wednesday Damascus was expecting an attack at any time, and warned that an Israeli strike would be a mistake. A year after the IDF went to war against the Iranian- and Syrian-supported Lebanese Hizb'allah; tension is rising in Israel, fuelled by media speculation and conflicting intelligence assessments about preparations for and the imminence of another Arab-Israeli conflict. On almost every day of the week, one or more of Israel's news outlets carries a report or commentary on the likelihood of conflict erupting. While the chief of Israel's military intelligence warned last month that five or six different triggers could ignite a war, the focus seems to be sharpening on Syria. "Syria has rearmed Hizb'allah to the teeth," Ross said, without America doing anything to punish the Assad regime. Defense officials have warned that Syria could direct Hizb'allah to draw Israel into war. Meanwhile Iran is strengthening its partnership with Syria – Tehran's chief regional ally – in an effort to prevent or counter an attack on the Iranian nuclear program. The British newspaper, The Daily Telegraph, reported on June 25 that Tehran was establishing a missile defense shield for Syria and preparing to ship sophisticated military hardware, including "dozens of medium-range Shahab-3 and Russian-made Scud-C missiles, together with Scud-B missiles." Analysts said the planned arms shipment may complement a Syrian deal for advanced fighter jets from Russia. Syria is known to be producing non-conventional warheads, including those containing VX gas, to deliver by SCUDs. All Israel's cities are within range of those missiles – which can cover the distance to them in mere minutes. In the 2006 war, Hizb'allah's infinitely inferior rocket arsenal almost paralyzed the Jewish state, something Syria noted well.
President Bush Removes His Shoes for Allah
July 6….(Stan Goodenough) The God of the Bible – the God worshiped by Jews and Christians – instructed Moses and Joshua to take off their shoes when they stood in His presence because they were standing on "holy ground." Last week, United States President George W. Bush, a professing Christian, removed his shoes in order to stand in, and rededicate, the Islamic Center in Washington DC. By standing in his socks in a Muslim place of worship, the president was showing deference to a being the Bible describes as a false god and to an idolatrous religion whose followers are responsible for 90 percent of conflicts raging in the world today. While, as with his similar Islam-supporting statements, Bush may have meant to demonstrate "tolerance and respect" for another religion, his actions would have only entrenched millions of Muslims around the world in their belief that Christianity is a weak and dying faith, and that Islam has usurped, and will conquer it. According to Jerusalem Post columnist Daniel Pipes the President, who is on record as calling Islam "a religion of peace" and Allah "the same God" as the One worshipped by Jews and Christians – made the following statement: "I have invested the heart of my presidency in helping Muslims fight terrorism, and claim their liberty, and find their own unique paths to prosperity and peace." Bush is also known to have invested the heart of his presidency in pursuing a Middle East policy that has damaged Israel's security and threatened to cut the Jews' homeland in two. He has also pledged to work for 2 states in the Promised Land.
Hamas Parades BBC Journalist For A Payoff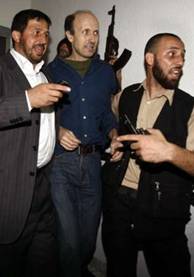 July 6….(JNEWSWIRE) The "Palestinian" terrorist organization Hamas delivered a masterful performance in cynical manipulation Wednesday, parading kidnapped BBC journalist Alan Johnston in front of the world's press cameras after having "secured" his release. In looking to the world for applause and admiration for this proof of its "humanity," Hamas had a clear and unmistakable goal: to lever enough appreciation from the media so as to be portrayed in a different light, thereby nudging western nations into recognizing the organization as an address for doing business with. The world's press fell for it, hook-line and sinker, as did some of its politicians. Beaming benevolently, Hamas leader Ismail Haniyeh, who was Palestinian Authority prime minister until his terrorist gang usurped control of Gaza in an orgy of barbarous bloodletting two weeks ago, smiled at Johnston and joked with reporters as he draped a double-sided "Palestinian" flag around the neck of the still dazed Briton.
Johnston sheepishly removed the flag but an unfazed Haniyeh smiled and pressed a "Palestine" badge onto his lapel, before shaking his hand once more and describing the event as "a happy moment for the Palestinian people [sic]." Turning to the cameras, the Hamas leader sent his "congratulations" to Johnston's family. Still smiling, as if he were really committing a charitable act, he went on to tell Israel how it could secure the release of its son, IDF Corporal Gilad Shalit who Hamas kidnapped more than a year ago and has held without once allowing a member of his family to see a picture of his face.
"If the Israelis think reasonably and rationally, and take into account the humanitarian issue and the suffering of the Palestinian prisoners, we will be able to reach a deal," the generous Hamas leader said.
A spokesman for Hamas, Ahmad Yussof, described the light in which the terror group regarded Johnston: "We tried to get the kidnappers to release Alan saying he served us very well; his coverage of the Palestinian Arab plight was very positive," he said. Journalists fell over themselves to extol Haniyeh's largesse, with one Sky News anchor going so far as to say that Hamas "should be praised," and "this release could improve relations between Hamas and the western world." Britain's new foreign minister, David Miliband, followed suit. "The Palestinian people showed their repugnance at Alan's kidnap," he gushed. "Palestinian president [sic] Abbas strongly condemned Alan's kidnapping and demanded that it be brought to an end. "Ismail Haniyeh and Hamas spokesmen denounced the hostage takers and demanded Alan's release. "I fully acknowledge the crucial role they have played in securing this happy outcome." Back in Gaza it was meanwhile made clear that Johnston's kidnappers would not have to pay for their crime. Asked what would happen to them, a Hamas spokesman said they had secured Johnston's release with a "gentleman's agreement" and that those responsible for the kidnap had "got the message." The message was that "legitimate resistance: (read terrorist attacks on Jews) was "fine," but what they had done was "extremist; they took a position far away from our moderate Palestinian perspective."
| | |
| --- | --- |
| | (FOJ) Not to be outdone in the propaganda field, Mahmoud Abbas had Johnston flown into Ramallah for a picture taking session. |
Expert: Nuclear Terror is an Even Bet
(Attack likely to exploit existing network of cross-border human, drug traffickers)
July 6….(WND) A nuclear terrorist attack on the US is better than an even bet in the next 10 years, says a former assistant secretary of defense and author of a book on the subject. "Based on current trends, a nuclear terrorist attack on the United States is more likely than not in the decade ahead," says Graham Allison, director of the Belfer Center for Science and International Affairs at Harvard's Kennedy School of Government and author of "Nuclear Terrorism: The Ultimate Preventable Catastrophe." Allison, who has testified before Congress on the subject, says the illicit economy for narcotics and illegal alien trafficking "has built up a vast infrastructure that terrorists could exploit" in delivering a nuclear weapon to its target in the US. Al-Qaida, which has threatened to launch an "American Hiroshima" attack on the US, remains Allison's No. 1 suspect to pull off such a mission. "Former CIA Director George J. Tenet wrote in his memoirs that al-Qaida's leadership has remained 'singularly focused on acquiring WMD' – weapons of mass destruction, and willing to 'pay whatever it would cost to get their hands on fissile material,'" Allison wrote in an opinion piece appearing in the Baltimore Sun prior to Independence Day. Allison says there are several viable options open to terrorists determined to secure nuclear weapons. "They could acquire an existing bomb from one of the nuclear weapons states or construct an elementary nuclear device from highly enriched uranium made by a state," he wrote. "Theft of a warhead or material would not be easy, but attempted thefts in Russia and elsewhere are not uncommon." Allison says terrorists are capable of building their own nuclear weapons if they can simply secure the fissile material. "Once a terrorist group acquires about 100 pounds of highly enriched uranium, it could conceivably use publicly available documents and items commercially obtainable in any technologically advanced country to construct a bomb such as the one dropped on Hiroshima," he states. The threat is imminent, says Allison. "If terrorists bought or stole a nuclear weapon in good working condition, they could explode it today," he explains. "If the weapon had a lock, detonation would be delayed for several days. If terrorists acquired 100 pounds of highly enriched uranium, they could have a working elementary nuclear bomb in less than a year." WND first broke the story of Osama bin Laden's plans for a nuclear terrorist attack on multiple cities in the US. President Bush, Vice President Dick Cheney and the 9/11 commission have all concluded a nuclear terrorist attack is not only the nation's No. 1 nightmare but also something of an inevitability at some time in the future.
Lieberman: Iran Has Declared War on USA
July 5….(Courant) Connecticut Sen. Joseph I. Lieberman asserted Monday that the Iranian government has in effect declared war on the United States. Lieberman commented after a US military spokesman said Tehran's senior officials were aware of efforts to encourage violence against Americans in Iraq. "The fact is that the Iranian government has by its actions declared war on us," said Lieberman, an independent who caucuses with Senate Democrats. As a result, he continued, "The United States government has a responsibility to use all instruments at its disposal to stop these terrorist attacks against our soldiers and allies in Iraq, including keeping open the possibility of using military force against the terrorist infrastructure inside Iran." He stopped short of advocating a military strike, but said that "while I sincerely hope that diplomacy alone can convince the Iranian government to stop these attacks, our diplomatic efforts are only likely to succeed if backed by a credible threat of force." Lieberman said he hoped the latest news about Iran would help quash calls in Congress to withdraw US troops. Withdrawing US troops from Iraq at this time, he added, "will give Iranians exactly what they want most," an "epic victory" for forces of terrorism. "Iran's purpose in sponsoring these attacks against our soldiers is clear," he said. "The Iranian government wants to push the United States out of Iraq. "For Congress to mandate a retreat from Iraq," he said, "will give the Iranians exactly what they want most. A retreat would not only represent a catastrophic defeat for the United States, but an epic victory for Iran, Hezbollah and the forces of Islamist terrorism." Lieberman's comments came after Brigadier Gen. Kevin Bergner said today that Iran's Qods Force was involved in a January attack in Kerbala. Gunmen posing as Americans found their way into a government compound and killed five people, including a US soldier. According to wire services, Shi'ite Iran denies involvement in violence in Iraq, and blames the US-led war on Iraq for the problems. But Bergner said otherwise, telling a press conference that "Our intelligence reveals that senior leadership in Iran is aware of this activity. We also understand that senior Iraqi leaders have expressed their concerns to the Iranian government about the activities," Reuters reported. To Lieberman, this news was further evidence that the US should get tougher on Iran. "These revelations should be a wake-up call to the United States about the threat posed by the Islamic Republic of Iran," he said, "as well as a reminder why Iraq is, in fact, the centralf ront of the global war on terror." He said Iran's "sponsorship of terrorism in Iraq fits into a larger, dangerous pattern of behavior we see across the Middle East today." Lieberman cited events in Lebanon, Palestine and Afghanistan. "Despite a mounting economic crisis in its own country and growing international isolation," he said, "the regime in Tehran is sacrificing the blood and treasure of the Iranian people to fund terrorism against its neighbors."
45 Muslim Doctors Plotted Attack on US
(Message says they wanted to 'take the battle inside America')
July 5….(WND) With doctors in custody over attempted terrorist attacks in London and Glasgow, British police have now discovered a group of 45 Muslim doctors threatened an attack in the U.S. with car bombs and rocket grenades. The threat was found in an Internet chat room run by Younis Tsouli, 23, of London, one of three members of a "cyber-terrorist" gang, according to the Daily Telegraph of London. One message read: "We are 45 doctors and we are determined to undertake jihad and take the battle inside America. "The first target which will be penetrated by nine brothers is the naval base which gives shelter to the ship Kennedy." The reference apparently is to the USS John F. Kennedy and its home port, the Mayport Naval Base in Jacksonville, Fla., the Telegraph said. The message discussed targets at the base, including gasoline tanks and "clubs for naked women." It also referred to using six Chevrolet GT vehicles and three fishing boats to carry out the attacks. The Telegraph quoted officials saying it was "definitely spooky" jihadis were discussing the use of doctors up to three years ago. Investigators of the London and Glasgow incidents want to know whether al-Qaida has recruited doctors because they are less suspicious and can move around more easily in Western countries. Tsouli is facing a long jail sentence with Tariq Daour, a biochemistry student, and Waseem Mughal, a law student. The three "cyber terrorists," who had close links with al-Qaida in Iraq, admitted using the Internet to incite Muslims to a violent holy war. The Telegraph said the three men ran the "cyber-jihad" on websites run from their bedrooms. They appeared to normal lives, studying and living with their parents. Tsouli came to Britain with his family from Morocco in 2001. In one of his messages, he said he was "very happy" about the July 7 bombings in London in 2005.
America….America, It's Time To Seek Thy God
July 4….(FOJ) My fellow Americans, its high time that America was wakened out of its long night of cultural drunkenness and spiritual slumber. Our nation stands on the threshold of a national calamity, and if we do not repent as a nation and seek the God of our forefathers, then our national dream about a shining city set on a hill, will be turned into a nightmare, wherein we shall awake one day to find that our enemies have breeched our borders to inflict an unimaginable evil upon us. Let there be no misunderstanding about it, Satan; in his cosmic conspiracy to destroy Israel (as is revealed in Revelation 12) is endeavoring to use certain sinister entities in the world to destroy the last Christian bastion and benefactor to Israel, God's chosen nation. We are in the eye of that storm, and this is why terrorists are seeking to perpetrate an "American Hiroshima," here, in the land of freedom!
Alas, just as God stipulated to national Israel many years ago, if we as a nation will simply return unto the rock of our liberty, we shall find strength in the day of the storm.
II Chronicles 7:14-22 If my people, which are called by my name, shall humble themselves, and pray, and seek my face, and turn from their wicked ways; then will I hear from heaven, and will forgive their sin, and will heal their land.
Now mine eyes shall be open, and mine ears attent unto the prayer that is made in this place. For now have I chosen and sanctified this house, that my name may be there for ever: and mine eyes and mine heart shall be there perpetually. And as for thee, if thou wilt walk before me, as David thy father walked, and do according to all that I have commanded thee, and shalt observe my statutes and my judgments; Then will I establish the throne of thy kingdom, according as I have covenanted with David thy father, saying, There shall not fail thee a man to be ruler in Israel. But if ye turn away, and forsake my statutes and my commandments, which I have set before you, and shall go and serve other gods, and worship them; Then will I pluck them up by the roots out of my land which I have given them; and this house, which I have sanctified for my name, will I cast out of my sight, and will make it to be a proverb and a byword among all nations. And this house, which is high, shall be an astonishment to every one that passeth by it; so that he shall say, Why hath the Lord done thus unto this land, and unto this house? And it shall be answered, Because they forsook the Lord God of their fathers, which brought them forth out of the land of Egypt, and laid hold on other gods, and worshipped them, and served them: therefore hath he brought all this evil upon them.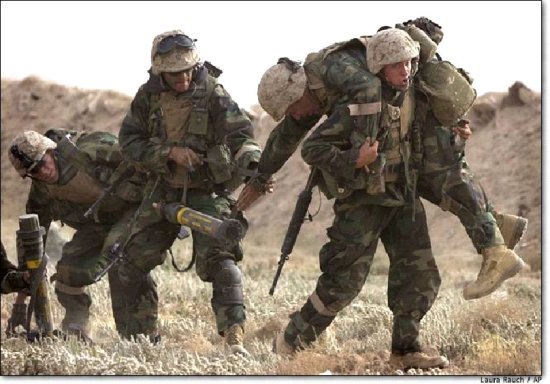 The mandate from God revealed in II Chronicles, however, details some attitudes and spiritual conditions that I do not see in our nation today. *First; we do not seem any longer to be a people that belong to God, for we have abandoned him and turned to other gods. *Second, we are not humble, and we as a nation, do not seem to sense the urgency of needing God's help. *Third, we have made no effort to turn from our wicked ways, as we have ignored the 9-11 wake-up call, and continued in our sinful ways. Therefore, I am gravely concerned that a time of trouble for our nation cannot be assuaged. We are a spiritually fallen nation-soldier, in dire need of God carrying us across the battlefield of this present world. But, will God hear us if we do not call upon him? And if we do not beseech his help, and stop compromising Israel's Promised Land, then he will not heal Our Land! By coercing Israel to give away its God-ordained blessing, to appease the forces of evil, we are in effect destroying the hedges of our own protection. As Israel lost its land for disobedience, so too can we lose our land for forsaking God.
Iran, Venezuela Form "Axis of Unity" Against US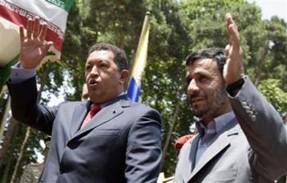 July 3….(Reuters) The presidents of Iran and Venezuela launched construction of a joint petrochemical plant on Monday, strengthening an "axis of unity" between two oil-rich nations staunchly opposed to the United States. Venezuela's Hugo Chavez and Iran's Mahmoud Ahmadinejad, who both often rail against Washington, also signed a series of other deals to expand economic cooperation, ranging from setting up a dairy factory in Venezuela to forming an oil company. "The two countries pledged to unite to defeat the imperialism of North America," a beaming Chavez told a news conference during an official visit to the Islamic Republic, which the United States has labeled part of an "axis of evil". "When I come to Iran Washington gets upset," he said. Iran and Venezuela are forming an axis of unity, Chavez said, as the two leaders hugged each other and shook hands. Chavez, who last week pushed two US oil giants out of his country as part of his self-styled socialist revolution, said: "This is the unity of the Persian Gulf and the Caribbean Sea." In comments certain to please his hosts, who have often called on the United States to leave Iraq, Chavez branded those invading Iran's neighbor as "barbarians", drawing parallels with the European colonization of Latin America centuries ago. Iran sits atop the world's second-largest oil and gas reserves, but US-led efforts to isolate it over its nuclear ambitions are hurting investment in the sector, analysts say. The Islamic state rejects accusations it is seeking to build atom bombs, saying it only aims to generate electricity. Chavez last week forced US oil majors from Venezuela, seizing oilfields from Exxon Mobil and ConocoPhillips.
'Iran Uses Hizbullah as 'Proxy' to Organize Iraq Insurgents'
July 3….(Jerusalem Post) The United States said Monday that Hizbullah was operating as an Iranian proxy in Iraq to arm Shi'ite militants and had played a role in a January sophisticated attack on US troops. The coordination highlights the growing Iranian presence in Iraq and its preparations for ensuring Shiite dominance should America withdraw, raising the stakes and complexity of US policymaking on Iraq. US military spokesman Brig. Gen. Kevin J. Bergner announced Monday that senior Lebanese Hizbullah operative Ali Mussa Dakdouk had been captured March 20 in southern Iraq. Dakdouk served for 24 years in Hizbullah and was "working in Iraq as a surrogate for the Iranian Quds Force," Bergner said. The general also said that Dakdouk was a liaison between the Iranians and a breakaway Shi'ite group led by Qais al-Khazaali, a former spokesman for cleric Muqtada al-Sadr. Bergner said Khazaali's group carried out the January attack against a provincial government building in Karbala and that the Iranians assisted in preparations. Khazaali and his brother Ali al-Khazaali were captured with Dakdouk. Dakdouk told US interrogators that the Karbala attackers "could not have conducted this complex operation without the support and direction of the Quds force," Bergner said. Marius Deeb, an expert on Hizbullah at Johns Hopkins' School of Advanced International Studies, said that Iran would see Islamic militant groups as a valuable proxy in attacks on US soldiers because of the know-how it brings from its years of guerrilla warfare against Israel in Southern Lebanon, particularly using roadside bombs and remote-controlled explosives. In addition, he said, the Iranians are looking to secure Shi'ite domination of Iraq and fend off the threat of the Sunnis in the event of a US withdrawal. "Iran allowed Hizbullah into Iraq and they might need it, because if the US leaves now, there's no guarantee that the Shi'ites will control the country," he said. "Having Hizbullah strengthens the Shi'ites." Deeb added that the current Shi'ite ambivalence about how soon they'd like to see American forces withdraw reflects concerns about the strength of the Sunnis right now, as well as a desire to see America "bleed" as much as possible in Iraq. The US, he continued, is left in a precarious position where staying or leaving both carry considerable risks.
US Implicates Iran in Attacks in Iraq
July 3….(DEBKA) The US military formally accused Iran on Monday of a direct role in a sophisticated militant attack that killed five American troops in Iraq, portraying Tehran as waging a proxy war through Shiite extremists. The claims over the January attack marked a sharp escalation in US accusations that Iran has been arming and financing Iraqi militants, and for the first time linked the Iranian effort to its ally, Lebanon's Shiite Hezbollah militia. US military spokesman Brig. Gen. Kevin J. Bergner said the Quds Force, part of Iran's elite Republican Guards, was seeking to build an Iraqi version of Hezbollah to fight US and Iraqi forces, and had brought in Hezbollah operatives to help train and organize militants. "Our intelligence reveals that the senior leadership in Iran is aware of this activity," Bergner said an extensive Quds Force program was revealed through interrogations of an alleged Lebanese Hezbollah operative. The Quds Force is providing up to $3 million a month to Iraqi militants and bringing them to three training camps outside Tehran to learn how to carry out bombings, raids and kidnappings, Bergner said. Bergner told a Baghdad news conference. He said it would be "hard to imagine" that Iran's supreme leader Ayatollah Ali Khamenei did not know about the activity. In Washington, State Department spokesman Sean McCormack echoed Bergner's charges, saying they were "another data point in what is a troubling picture of Iranian negative involvement in Iraq." "We have found that the Iranian Revolutionary Guard has essentially subcontracted out to some elements of Hezbollah, using them as a pass through for material, technology and other material assistance," McCormack said. "It is of deep concern to us." Ray Takeyh, a senior fellow at the Council on Foreign Relations, said the allegations about Hezbollah were not surprising. "Iran has always worked through Hezbollah
Bush "Blindly" Remains a Faithful Friend to Putin
| | |
| --- | --- |
| | (FOJ) President Bush may believe that Mr. Putin is a kind and decent friend, but the fact remains that Putin is arming and abetting our nation's worst enemies, like Iran, Syria, and Venezuela. |
July 3….(My Way) After hearing scathing criticism of the US and its foreign policy from his Russian counterpart for months, President Bush praised President Vladimir Putin for his truthfulness and frankness, a move that drew criticism from some Russia experts. Coming on Monday at the end of Putin's brief visit to the Bush family compound on the rugged Maine coast, Bush's praise was evidence that Russia is once again considered a nation to be reckoned with by the White House. But Bush's support for Putin drew puzzlement from many Russia scholars, who say the Russian president is being rewarded for behavior that the West should be discouraging. "Here's the thing, when you're dealing with a world leader, you wonder whether or not he's telling the truth," Bush told reporters Monday. "I've never had to worry about that with Vladimir Putin. Sometimes he says things I don't want to hear, but I know he's always telling me the truth."
Bush and Putin have had a personal friendship since June 2001, when both held their first summit in Slovenia. "I looked the man in the eye," Bush told reporters after that meeting. "I found him to be very straightforward and trustworthy ... I was able to get a sense of his soul." In recent years, though, that friendship has undergone strains that might have wrecked others. In February, the Russian president accused the US, and by implication the Bush administration, of using "an almost uncontained hyper use of force" in global affairs. In recent months, Putin seemed to compare the US to Nazi Germany, and threatened to target Europe with missiles if the US builds a missile defense system in Poland and the Czech Republic, as planned. Michael McFaul, an expert on Russia at Stanford University, said he is puzzled by how easily the White House forgave and forgot Putin's harsh rhetoric. "He says all this, and for that he gets invited to a special event," McFaul said. "It's better that they're cooperating than when Putin threatens the United States as if we were Nazi Germany. But suddenly we're buddies riding in the boat ... I don't get it." Speaking of Putin's comparison between Russia's political system and that of the US, McFaul, an expert in how democratic societies develop, said that Putin "has probably rolled back democracy further than any other world leader during Bush's presidency." Sarah Mendelson, a Russia scholar with the Center for Strategic and International Relations in Washington, said she, too, was surprised by Bush's comments that he found Putin to be honest and forthright. The last thing I would expect to hear anyone say about the Putin administration is, truth, trust, comfort," said Mendelson. The US and Russia are scrambling to stop the slide toward ever more antagonistic relations. President Bush has tried everything from brow-beating to begging in six years of pushing Putin to clamp down on Iran's nuclear ambitions, but the two men may just be working to bring their countries' interests into alignment.
Former Fanatical Islamic Jihadist: Its About Religion, Not Foreign Policy
July 2….(Hassan Butt) When I was still a member of what is probably best termed the British Jihadi Network, a series of British Muslim terrorist groups linked by a single ideology, I remember how we used to laugh in celebration whenever analysts on TV proclaimed that the sole cause for Islamic acts of terror like 9/11, the Madrid bombings and 7/7 was because of Western foreign policy. By blaming the Government for our actions, those who pushed this "Blair's bombs" line did our propaganda work for us. More important, they also helped to draw away any critical examination from the real engine of our violence: Islamic theology. The attempts to cause mass destruction in London and Glasgow are so reminiscent of other recent British Islamic extremist plots that they are likely to have been carried out by my former peers. And as with previous terror attacks, people are again saying that violence carried out by Muslims is all to do with foreign policy. For example, on Saturday on Radio 4's Today program, the Mayor of London, Ken Livingstone, said: "What all our intelligence shows about the opinions of disaffected young Muslims is the main driving force is not Afghanistan, it is mainly Iraq." I left the British Jihadi Network in February 2006 because I realized that its members had simply become mindless killers. But if I were still fighting for their cause, I'd be laughing once again, because the Western political analysts still don't get it.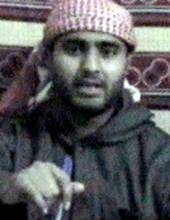 Mohammad Sidique Khan, (left) the leader of the July 7 bombings, and I were both part of the network. And though many British extremists are angered by the deaths of fellow Muslim across the world, what drove me and many others to plot acts of extreme terrorism within Britain and abroad was a sense that we were fighting for the creation of a revolutionary worldwide Islamic state that would dispense Islamic justice. If we were interested in justice, you may ask, how did this continuing violence come to be the means of promoting such a flawed utopian goal? How do Islamic radicals justify such terror in the name of their religion? There isn't enough room to outline everything here, but the foundation of extremist reasoning rests upon a model of the world in which you are either a believer or an infidel. Formal Islamic theology, unlike Christian theology, does not allow for the separation of state and religion: they are considered to be one and the same. For centuries, the reasoning of Islamic jurists has set down rules of interaction between Dar ul-Islam (the Land of Islam) and Dar ul-Kufr (the Land of Unbelief) to cover almost every matter of trade, peace and war. But what radicals and extremists do is to take this concept two steps further. Their first step has been to argue that, since there is no pure Islamic state, the whole world must be Dar ul-Kufr (The Land of Unbelief). Since Islam must declare war on unbelief, they have declared war upon the whole world, and seek to impose Islamic law on the whole world.
Bush, Putin Meeting in Maine
July 2….(My Way) US relations with Russia are on simmer, so President Bush's meeting Monday with Russian President Vladimir Putin will be judged on how respectfully the two leaders agree to disagree. They have different views on democracy and missile defense, NATO expansion into Russia's backyard and independence for Kosovo. They both want to stymie Iran's nuclear weapons ambitions, but they don't see eye-to-eye on whether Iranian missiles currently pose a threat. It was all handshakes, smiles and kisses when Putin arrived at the Bush family estate that overlooks the rocky Atlantic seacoast. Putin gave pecks on the cheeks to first lady Laura Bush and the president's mother, Barbara Bush, and handed them bouquets of flowers. Before disappearing from public view, Putin was seen aboard former President George H.W. Bush's speedboat, zooming along the coastline, grinning and waving to photographers.
But for all the pleasantries and talk about patching up the Bush-Putin friendship and forging fresh relations with Russia as it transitions from its communist past, the rhetoric coming out of the Kremlin of late seems mired in the Cold War. Buoyed by a strong economy, Putin has become more assertive on the international stage. At home, he's stoked nationalism, encouraging Russians who want their country to be viewed with respect, as a powerful player, not a world power wannabe. In short, Putin feels he's gotten the brush-off from Bush. "It's vital that this relationship be doctored a bit," said Sarah Mendelson, Russia policy expert and senior fellow at the Center for Strategic and International Studies. In February, Putin blasted the United States, saying it had "overstepped its national borders" in every way. And Putin has taken a tough stance against a US missile system planned for Europe, even threatening to reposition Russian rockets in retaliation for an American-engineered missile shield in Poland and the Czech Republic. Last month, Putin surprised Bush in Germany by proposing the shared use of a Russia-rented early warning radar in Azerbaijan as a substitute for radar and interceptors the United States wants to place in Poland and the Czech Republic. Defense Secretary Robert Gates has said the United States will not embrace the facility in Azerbaijan as a substitute, but Peskov says Putin wants to hear that from Bush himself at Kennebunkport.
Putin has repeatedly rejected US assurances that the planned missile defense installations pose no danger to Russia and are meant to counter a potential threat from other nations, such as Iran. "We know that Iran is not a threat," Peskov said. "If radar will not have any missiles to track from the Iranian parts, then the job of radar will be inevitably to work against Russian military infrastructure. And this is a problem for us. This is a threat for our security." While both sides downplayed expectations for the meeting, the two leaders were expected to call their missile defense experts to a joint meeting so they can learn about the installations the United States is proposing and the capabilities of the Azerbaijan system. They might also come to a closer understanding about getting a third, tougher round of UN Security Council sanctions against Iran because of its refusal to stop enriching uranium. Regardless, President Bush and Russian President Vladimir Putin projected a united front against Iran's suspected nuclear weapons program. "When Russia and the United States speak along the same lines, it tends to have an effect and therefore I appreciate the Russians' attitude in the United Nations," Bush said. "We're close on recognizing that we got to work together to send a common message." Putin predicted that "we will continue to be successful" as they work through the UN Security Council.
Hamas's Plans for Temple Mount Foiled
July 2….(Jerusalem Post) Hamas's attempts to take over control of the Temple Mount as well as spread its ideology and recruit new members in Jerusalem have been foiled by the Shin Bet (Israel Security Agency,) senior security official announced Monday. According to officials, Hamas has invested millions of shekels in recent years in Jerusalem charities and religious institutions, as well as in construction on the Temple Mount, in an effort to recruit Israeli Arab residents of Jerusalem into its ranks, thus bolstering its presence in the capital. The official said that Hamas recently built a bathroom on the Temple Mount and also enlarged a library and prayer halls in Solomon's Stables. "Their goal is to gain full control over the Temple Mount," a high-ranking security officer said Monday, adding that Hamas also tried to infiltrate members into the Temple Mount as maintenance staff, in addition to its religious leaders who preach, give tours, and teach Koran classes there. The official said Hamas had taken advantage of the Jordanian Wakf, which is responsible for the holy site. The Wakf has been suffering from finance constraints since 2000, when the Temple Mount mosques were closed to visitors. Official said the Hamas takeover of the Temple Mount was a "strategic" move to bolster its standing in the Palestinian territories and throughout the Muslim world. During a year-long operation, Shin Bet arrested 11 Hamas officials based in Jerusalem, 10 of whom held Israeli identity cards. Hamas's Jerusalem headquarters were funded by Hamas headquarters in Syria, as well as a chain of charity institutions based in Saudi Arabia. In addition to Hamas's efforts to take over the Temple Mount, the movement increased in recent years its activity in east Jerusalem, where it had set up religious institutions and used what seemed to be innocent festivities to "brainwash" Muslims with Hamas ideology. In order to implement its goals, Hams had also set up a number of institutions of a semi-religious nature to front illegal activities. According to officials, there are no Hamas institutions currently active in Jerusalem. The Shin Bet also focused its operations in curbing the flow of money into Hamas. A senior Hamas official, Yakub Abu Assab, was arrested for allegedly running a courier service that transferred funds from the West Bank and abroad to the Hamas headquarters in Jerusalem. Israeli efforts to stop Hamas also included the arrests of Hamas parliamentarians, including Khaled Abu Afa, former Hamas minister for Jerusalem affairs. All 11 detainees were due to be indicted for membership in a terror group and financing illegal terror activity.
Secret Document: US Fears Terror 'Spectacular' Planned
(Official Cites Resemblance to Warnings and Intelligence Before 9/11)
July 2….(ABC News) A secret US law enforcement report, prepared for the Department of Homeland Security, warns that al Qaeda is planning a terror "spectacular" this summer, according to a senior official with access to the document. "This is reminiscent of the warnings and intelligence we were getting in the summer of 2001," the official told ABCNews.com. US officials have kept the information secret, and Homeland Security Secretary Michael Chertoff said today on ABC News' "This Week with George Stephanopoulos" that the United States did not have "have any specific credible evidence that there's an attack focused on the United States at this point." As ABCNews.com reported, US law enforcement officials received intelligence reports two weeks ago warning of terror attacks in Glasgow and Prague, the Czech Republic, against "airport infrastructure and aircraft." The warnings apparently never reached officials in Scotland, who said this weekend they had received "no advance intelligence" that Glasgow might be a target. Homeland Security Secretary Chertoff declined to comment specifically on on the report today, but said "everything that we get is shared virtually instantaneously with our counterparts in Britain and vice versa." Unlike the United States, officials in Germany have publicly warned that the country could face a major attack this summer, also comparing the situation to the pre-9/11 summer of 2001.
No Respect From Russia
(Moscow-Kremlin adopts traditional pro-Arab policy)
July 2….(YNET) It isn't difficult to guess what promoted Sergey Lavrov to rush here last week. The Russian foreign minister arrived in order to demonstrate his presence in our region following the Hamas coup in Gaza. Russia, which is currently attempting to regain its status as a global power of equal strength to the United States, must demonstrate an active presence in the Middle East at a time when developments that may change it are taking place. Otherwise, it will be perceived both by the world and by itself as only a supporting player on a stage where the US, European Union, and United Nations play major roles. This was his visit's main purpose. In addition to that, Lavrov sought to find out firsthand how Israel intends to address the new situation that has been created in the Palestinian arena and to also discover the genuine intentions of the other major players in the boiling Palestinian pot. Jerusalem is well aware of the Russian foreign minister's intentions. On the other hand, Moscow has shown creativity and determination in torpedoing moves aimed at restraining Iran: It supplies weapons to our enemies and does not miss an opportunity to condemn military moves undertaken by Israel in order to defend against Hamas rocket terror. When it comes to the Middle East, the man Putin relies on in Mideast regional matters is Yevgeny Primakov. He was the foreign minister and prime minister serving under some of the former USSR's Communist Party's secretary-generals and presidents. He is also an avid supporter of the Arab positions and was openly Saddam Hussein's friend. Under Primakov's influence, the Kremlin has adopted the traditional Mideastern policy that characterized the former Soviet Union. That is: To erode as much as is possible the American influence and hold on the region while acquiring Arab support through diplomatic backing and arms supplies. The policy is the same old policy yet the motives and modus operandi are new: Now, for example, Russia aims to torpedo the US moves vis-à-vis Iran, Iraq and Syria not for ideological reasons, but rather, as an act of reprisal over the fact the US does not take Russia's interests and wishes in Europe into consideration. The expansion of NATO to former Warsaw Pact countries, the plan to deploy American troops and an anti-missile system in the Czech Republic and in Poland, as well as the interference against Russian influence in Ukraine undermine Russia's national security and pride in the view of Putin and his people. The Kremlin responded by obstructing the efforts to curb the Iranian nuke plan, while arming Syria. The Russian policy on Iran is influenced by yet another major interest: The fear of unrest in the Russian Federation's Muslim regions and states, and particularly in the Caucuses and in the South. Russia does not fear a nuclear Iran: Russia could destroy all of Iran several times if it only dared threaten Russia, I was told by a senior researcher at the Institute of Middle East Studies in Moscow. Indeed, we don't want Iran to possess a nuclear bomb, but Russia would be able to handle it even if they acquire one, he said. However, the Russians are scared of subversive Iranian activity that would prompt a radical Muslim rebellion in Muslim states in the Caucuses. Such rebellion could disrupt the supply of oil from the region and would force Russia to fight in other areas just as it fights in Chechnya. This fear is also the main element that dictates Russia's blatantly pro-Hamas policy.
Another important element that dictates Russia's policy in the Middle East is the country's arms, missiles and airplane corporations, which make billions of dollars every year. These corporations are usually headed by former top communist officials who enjoy preferential treatment at the Kremlin, not only because of past ties with the communist establishment but also because of the "formidable financial basis" they provide for Putin and his close associates. Almost anyone considered in the know in Moscow will tell you openly that corruption within the Russian establishment is an affliction that became chronic a long time ago and is almost as common as "borscht" at restaurants, and possibly even more so. Arms corporations and their patrons in the Kremlin have an interest in exporting at almost any price. Therefore they sell weapons, submarines and missiles for billions of dollars to Iran, and a little less than a year ago they complied with Bashar Assad's requests. Russia erased 70 percent of the $12 billion owed by Syria for old arms deals, and now Moscow supplies the Syrians with new anti-tank missiles, relatively old anti-aircraft missiles, and new Mig 31 and Mig 29 fighter jets. For now, Putin refuses to sell Syria accurate surface-to-surface Iskander missiles. Russia's official argument used to justify these sales is that we are not talking about offensive weapons, but rather, defensive ones, and in any case they do not change the regional balance of power. This is an odd argument, particularly when uttered by Putin, who argues that the American system aimed at intercepting ballistic missiles in the Czech Republic and Poland constitutes a strategic threat to Russia's national security. The bottom line: And as long as Russia faces confrontation with the US in Europe and is scared of unrest in its Muslim republics, there is no chance for the apathetic Moscow-Jerusalem relationship to warm up.
Al-Qaida May be Planning US Attack
(US counter-terror authorities fear major campaign in Europe, possibly even 9/11-scale mega-attack in America presaged by failed London and Glasgow bombings)
July 2….(DEBKA) DEBKAfile counter-terror sources report that ten days ago, the US gave the Czech government specific warning of large-scale al Qaeda terrorist attacks in Prague, targeting government buildings, the US embassy, American firms and Jewish and Israel locations in the Czech capital. All American missions and military facilities in Europe were placed on alert. France, Germany, Italy, Denmark and Spain have also tightened their anti-terror precautions. Our sources add that the London and Glasgow bombing attempts took the Americans by surprise. They had expected the jihadists to strike elsewhere in Europe. US homeland security secretary Michael Chertoff Monday played down the threat by denying knowledge of any specific warning in the United States. He said the current alert level of yellow would not be raised for now as it has been in the UK. However, al Qaeda's coded messages on internal forums announcing that preparations are now in place for attacks in the US during this summer are appearing with greater frequency than the traffic prior to the 2001 attacks in America and the 2004 Madrid rail bombings. Security has been tightened at US airports and transport systems ahead of the Fourth of July holiday and New York stepped up security at airports, rail stations, tourist spots and crowd centers after the botched attacks in Britain. Chertoff spoke of increasing concerns about "the movement of Europeans, including people with European citizenship, into areas of South Asia to get trained and get experience and then coming back to carry out operations in Europe or in the United States using Europe as a departure point."
Jordan's King: Israel 'Solid Enemy' of the Palestinians'
July 2….(Stan Goodenough) Jordanian King Abdallah II slammed Israel in an interview published Sunday, calling the Jewish state a "solid enemy" of the Palestinian Arabs and warning that Israel would not know peace unless and until "Palestinian political rights [sic] are addressed." According to a report in the Associated Press, the Hashemite (who rules over a "kingdom" created by the British out of two-thirds of the promised Jewish homeland) delivered his "harsh words" to the country Jordan has a peace treaty with in the Arabic newspaper el-Ghad. Abdallah was reportedly angry after being asked whether Jordan, whose population is around 75 percent made Palestinian Arab, would be interested in forming some kind of federation with a Palestinian state created on the "West Bank," the biblical heartland of the Jewish people. Such suggestions were "a conspiracy against both Jordan and Palestine," he said. Some opponents of the land-for-peace process suggest that Jordan is already a Palestinian state, and that the Palestinian Arabs should establish their state there. Others don't want to see a Palestinian state (which has never existed anywhere in history) created at all. Not only does Jordan consist of two-thirds of the land promised the Jews by the Balfour Declaration and the subsequent San Remo Conference; vast swathes of the east bank of the Jordan River are biblically part of the Promised Land. Hashemites like Abdallah, on the other hand, have their roots in the Saudi peninsula, and have no historical claims to Jordan or any other part of "Palestine" at all.
'Jerusalem is Not Holy to Muslims'
(Muslims tell at least five big lies)
July 2….(JNEWSWIRE) First of all, they have Mecca and Medina as their "holy" cities, and their Quran does not mention Jerusalem even once, meaning their claim to Israel's capital as their "third holiest" city is fraudulent and aimed simply at stealing the city from the Jews. Secondly they adamantly assert that the "Palestinians" comprise a nation, although they have no national history, and that Israel has to give Judea, Samaria and Gaza "back" to these "Palestinians," although those lands have never been under their rule. Thirdly, they claim the Jews occupy Arab lands, when in fact the Arabs are the occupiers in the Middle East, they belong in Arabia and have no right to Egypt, Syria, Jordan or Lebanon. Judea, Samaria and Gaza is not Israeli-occupied territory but Arab-occupied territory. Fourthly, they proclaim that Islam is a religion of peace, when Islam was established by the edge of the sword; when Muslims are involved in almost every war on the planet; and when Muslims introduced terrorism as we know it today to the world, and are responsible for almost all terrorist attacks in the world. Fifthly, they repeat ad nauseum that they want to live in peace with Israel when an overwhelming mountain of both factual and circumstantial evidence proves that their unaltered aim and goal is to destroy the Jewish state. This was the thrust of blistering remarks made by one of the few Jewish leaders still courageous enough to withstand the flood of lies about the Arab-Israeli conflict that have been swallowed and championed as facts. Zionist Organization of America (ZOA) President Morton Klein assailed these core myths upon which the whole "Middle East Peace Process" is predicated in a speech in a Canadian synagogue. According to a report in The Canadian Jewish News Friday, he also slammed Israeli Prime Minister Ehud Olmert's willingness to even consider the Saudi Arabian "peace" plan that sees the Jews returned to the 1967 "Auschwitz borders."
Muslims Warn: More London Bombings on Way
July 2….(WND) The thwarted car bombings in London last week and the terror attack this weekend against Scotland's busiest airport were "completely justified" and likely the beginning of many more attacks in Britain, a prominent UK Islamist leader connected to terror supporting groups told WND yesterday. "There is no doubt whatsoever that there will continue to be attacks against the British government, its interests and the home front as long as we see the continued British and American occupation of Muslim land in Iraq and Afghanistan, support for criminal Israel, and draconian measures taken against Muslims in the UK," said Anjem Choudary, founder and former chief of two Islamic groups disbanded by the British authorities under anti-terror legislation. "A war is being waged against Muslims on every level. There are many in Britain who take their ideology from Osama bin Laden and al-Qaida and are ready to carry out many more attacks," Choudary said. Choudary said the attempted terror attacks the past few days were "probably carried out by local British Muslims." Choudary currently presents himself as an Islamic lecturer and a leader of Britain's Shariah Islamic court. He is a founder and former chief of Al Muhajiroun, a British group that sought to impose an Islamic state on the UK and that was allied with the goals of al-Qaida. Al Muhajiroun, officially disbanded by the British government citing antiterrorism laws in 2004, and its main leader, Omar Bakri Muhammad, were banned from the UK in 2005. Choudary then became a leader of Al Ghurabaa, which was reportedly a continuation of Al Muhajiroun. Al Ghurabaa was banned in 2006 by the UK for reportedly supporting terrorism. Former Al Muhajiroun members led by Choudary reportedly continue their activism at public protests and on Internet forums under a new banner group called Ahlus Sunnah wal Jamaah.
| | |
| --- | --- |
| | Protest last week outside London's Central Mosque (WND photo) |
Choudary last weekend led a protest outside London's Central Mosque attended by WND and Talk Radio Network's "The Rusty Humphries Show." The protest called for the downfall of the British government for offering nighthood to novelist and essayist Salman Rushdie, who was accused by Muslims of defaming Islam and Muhammad in his 1998 book "The Satanic Verses." Depictions of British flags were burned at Choudary's protest. Ralliers chanted, "Down with Britain, down with the Queen." Choudary told WND the perpetuators of the attempted terror attacks in London the past few days "have their own justifications for carrying out their plans." "Muslims in Britain are under siege. There has been unjustified internment, innocent Muslims are in prison, extradition laws have been applied for made up crimes, individuals are arbitrarily arrested. Don't be surprised when Muslims fight back," he said. British police said they arrested five people yesterday in conjunction with the airport attack carried out by two men driving a fuel-filled Jeep rammed into Scotland's busiest airport. Police called the incident a terrorist attack linked to failed car bombings in London last week. The two men in the Jeep, who witnesses described as Asians, were immediately taken into custody. According to reports, one of them men was wearing an explosive device around his waist, said to be a suicide-bomb belt. The airport attack came barely 36 hours after police thwarted what is being described to the media by security officials as a possible al-Qaida plot in London in which two cars loaded with fuel, gas canisters and nails were left in the center of the city poised to detonate. Newly installed British Prime Minister Gordon Brown addressed his nation yesterday, stating Britons must realize the terrorist threat their country faces is long-term and sustained and that they must remain constantly vigilant about security. The British Home Office raised the national security alert level to "critical," the highest ranking and one which indicates further attacks are expected imminently. "I want all British people to be vigilant and want them to support the police and all the authorities. I know the British people will stand together united, resolute and strong," Brown said. The last terror attack in Britain took place in July 2005, when four British Islamists blew themselves up on London's transport system, killing 52 commuters.
---